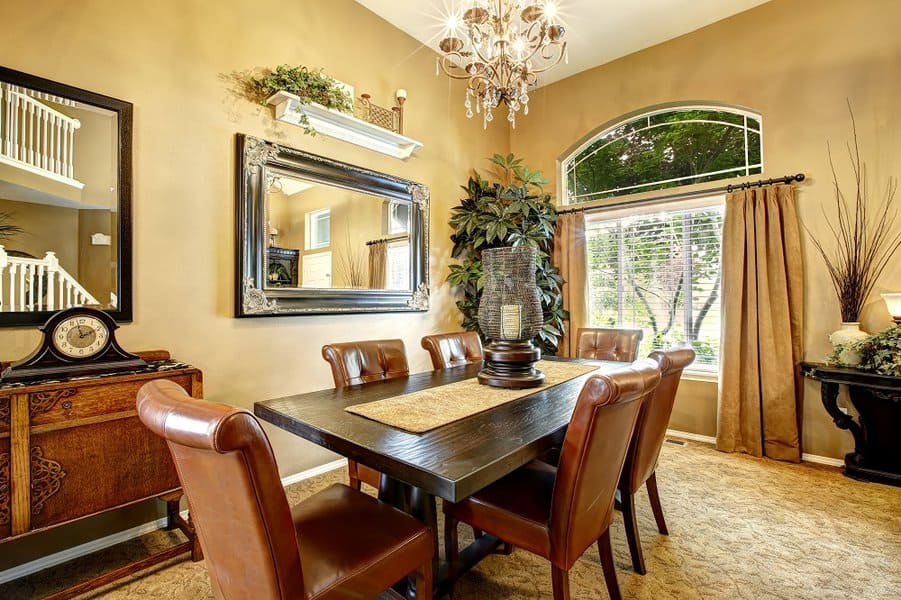 Best Fabric for Dining Room Chairs
The dining table and chairs you choose for your dining room can set the stage for the entire room. This includes the style, construction material, design, and size. For example, the fabric used to upholster the chairs can take a traditional craftsman-style chair and turn it into a contemporary or bohemian chair. The fabric also affects the dining experience of those eating at the table. For example, a rough and scratchy material can be unpleasant to sit on, while a soft leather can make the experience more enjoyable as it feels nicer. Keep these tips in mind, and you won't have any trouble choosing the best fabric for dining room chairs. 
What to Look For When Choosing Fabric for Dining Room Chairs

?

Choosing new fabric for reupholstering dining room chairs is about more than finding a color or pattern that you like. Look at the old fabric and upholstery foam that is on your chairs. You could choose an upholstery fabric that is already on your dining chairs to keep things simple. However, if you're changing out the main material on your chair frame, why not upgrade the upholstery fill material and fabric. If you have a solid wood seat base, choose a fill material and fabric that is just as durable. The fabric should be stain-resistant and easy to clean. This helps your chairs to look beautiful for years to come.
Best Type of Fabric for Dining Room Chairs
1.

Cotton blend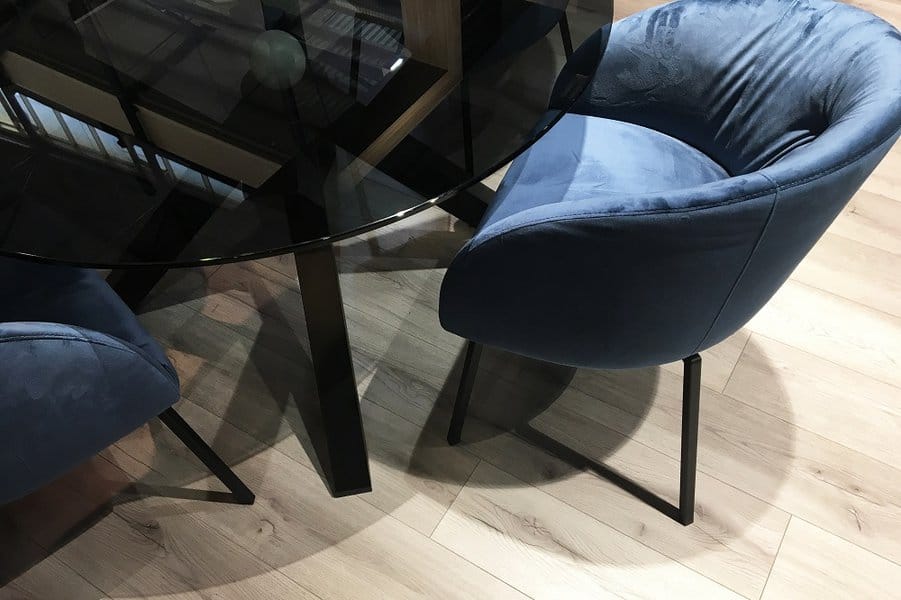 Using a cotton fabric to upholster your dining room chairs is a smart choice because this performance fabric is stain resistant, easy to clean, and durable. This is also why you see it so often used on kitchen chairs. However, for the best performance, don't use plain cotton. Instead, use a cotton fabric that has a blend of synthetic fabrics. This blend works best because the synthetic fibers give the cotton fibers increased strength and stability. The higher the percentage of polyester in the blend, the more durable your polyester upholstery will be. Ideally, look for a fabric that is a 50/50 or a 60/40 blend of cotton to polyester fibers. You can also treat the fabric with Scotch Guard to protect it.
Advantages
The biggest advantage of using cotton or cotton blend is the fabric's strength and durability. You can expect the upholstery to last a long time. Cotton blends are also affordable, making them ideal for people on a budget. You also don't have to sacrifice style with countless patterns, colors, and styles available.
Disadvantages
The drawback of using cotton blends on your upholstered chairs is that cotton absorbs liquids. This can make treating stains more difficult if the liquid is allowed to soak into the fabric.
2.
Leather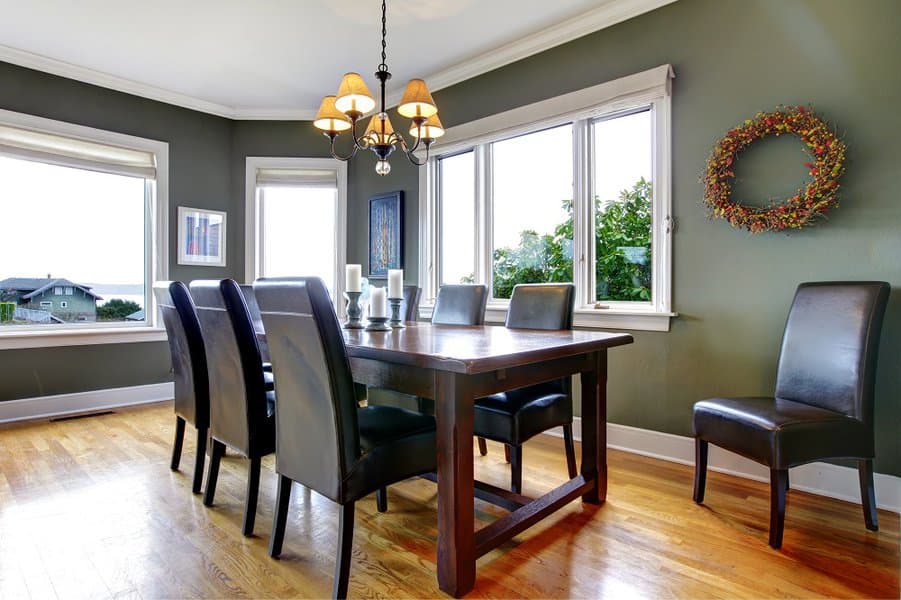 Whether you decide to use real or faux leather, this type of material on your dining chairs will give your home an elegant and sophisticated feel. Leather is a bigger investment, but it can be worth the investment for its longevity and looks. Leather is also easy to use throughout the rest of your home decor, making it possible to have a coordinated look throughout your home. The leather gets wrapped around the chair seat and stapled into place. Continue using leather throughout your home, such as your office chair in your home office or a sofa in your living room. When choosing leather, there are three grades for the main material details. Top grain leather is the highest grade, full-grain is the next best level and might have slight imperfections, and the lowest grade is genuine or corrected grain leather. 
Advantages
Using leather as the upholstery material for your chairs will give you the benefit of having a classy look in your home. It's easy to coordinate with other home decor elements and furniture. Leather is easy to clean and hypoallergenic. It will continue to look beautiful as it ages if you care for it.
Disadvantages
The cost of leather can be the biggest deterrent for most people. High-quality leather can be expensive. It's also limited in the color options you can choose from. There may not be a color available that works with your interior design. Leather can also be unpleasant to sit on when the weather is hot or humid. The leather can turn sticky and be uncomfortable against bare skin. Finally, leather can be damaged, which can degrade the look of the leather. It could be scratched or marked. Pet's clause or metal elements on clothing can cause these scratches.
3.
Faux suede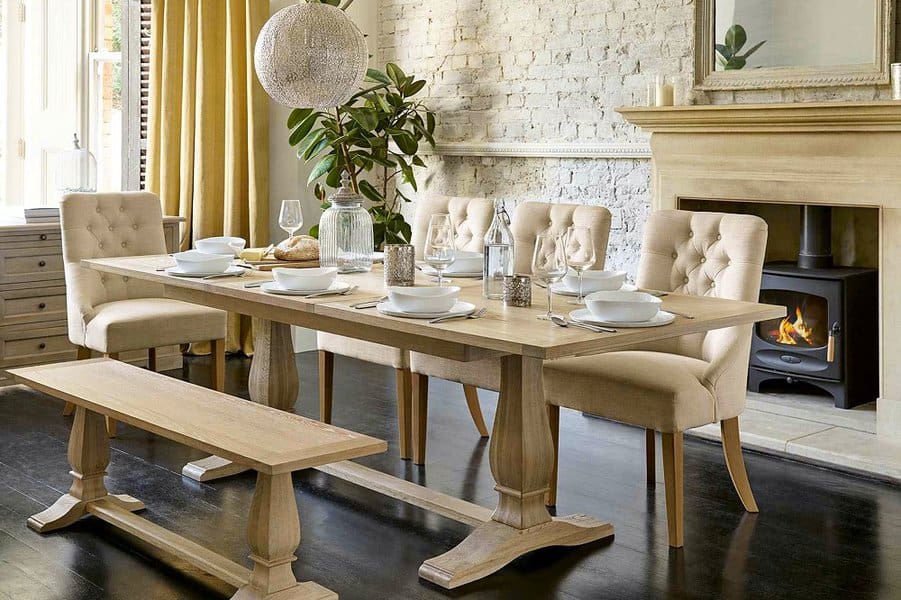 Faux suede or microsuede is a modern material that is an affordable alternative to leather. The fabric is man-made and designed to mimic the look of real suede. It typically has a grain, so it looks one way if you rub your hand on it in one direction. Then when you rub your hand in the opposite direction, it creates another look. This soft fabric wears well, making it a good investment for long-term use. In addition, it comes in a wide range of colors and patterns, so creating a custom look is easy.
Advantages
Using microsuede on your dining chairs can give them a soft and luxurious feel without the cost of leather. In addition, cleaning and maintenance are a breeze, with dirt and stains being easily removed. This makes the fabric an ideal choice for homes that have pets and children. It won't attract pet hair the way velvet does, and if hair does get on the chair, it's much easier to remove. 
Disadvantages
The main drawback of using microsuede is that it's a faux material, so it isn't as durable as actual leather. Additionally, if you choose a light color for your fabric, it will show marks and dirt easily, which can quickly degrade the look of your chairs.
4.
Tweed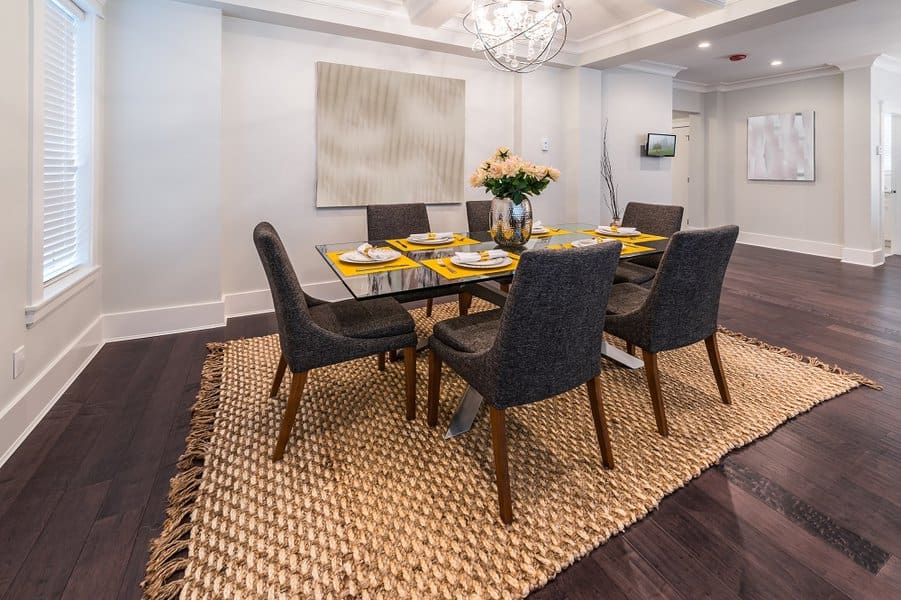 Fabric dining chairs that use tweed to cover the chair cushion look traditional and have a classic sense of formality and sophistication. Tweed is also a smart choice for upholstery because the fibers are durable and have a nice feeling natural texture. In addition, you can easily maintain tweed fabric with routine vacuuming. If something gets spilled on them, you can spot clean the fabric with a mild detergent.
Advantages
Choosing tweed for your dining chairs will give you the benefit of it being water, soil, and odor resistant. This hardy fabric is ideal for chairs that will experience high use or in homes where there are pets and children. The course fabric has lots of texture, which can be a sophisticated accent to your home. Despite there being a lot of texture, the fabric still feels nice and comfortable.
Disadvantages
Because tweed is a woven fabric, liquids can quickly and easily absorb into the fabric. Once there, the stain can become locked into the fibers, making it difficult to completely remove the stain. Be careful with your cleaning methods so that you don't grind the stain further into the fabric.
5.
Velvet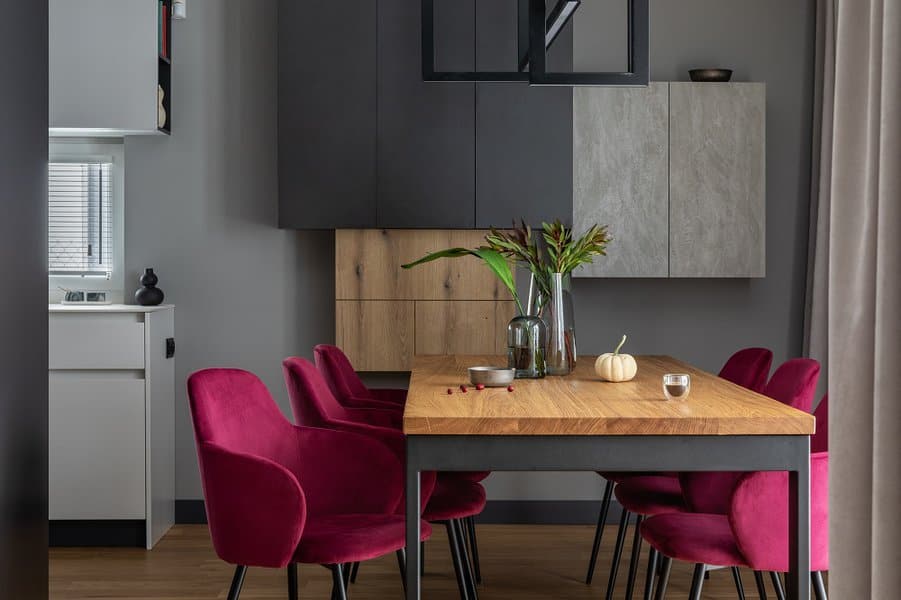 Give your upholstered dining chairs a soft touch of luxury with velvet fabric. This fabric works well as both the seat cushion and the back lining. Despite its expensive feel and look, it's relatively affordable. In addition, it comes in a wide range of colors and styles. Velvet finishes include plain, stretch, embossed, crushed, panne, and pile-on-pile. Each of these can create a different look for your chairs.
Advantages
What's nice about using velvet is that you can use the excess fabric to sew custom window treatments for your formal dining room. The fabric is strong and durable, making it suitable for both the chair upholstery and window curtains. There are different types of velvet made from polyester, cotton, and mohair fibers. This lets you choose a velvet with the right look, feel, and price point for your project. Velvet has an ultra-plush feel that has a pleasing tactile feel.
Disadvantages
Dust and pet hair is a struggle for velvet. That plush texture attracted pet hair like crazy. If your velvet chairs are exposed to sunlight, the fabric will fade. The fabric breaks down and suffers damage from sunlight exposure over time.
6.
Vinyl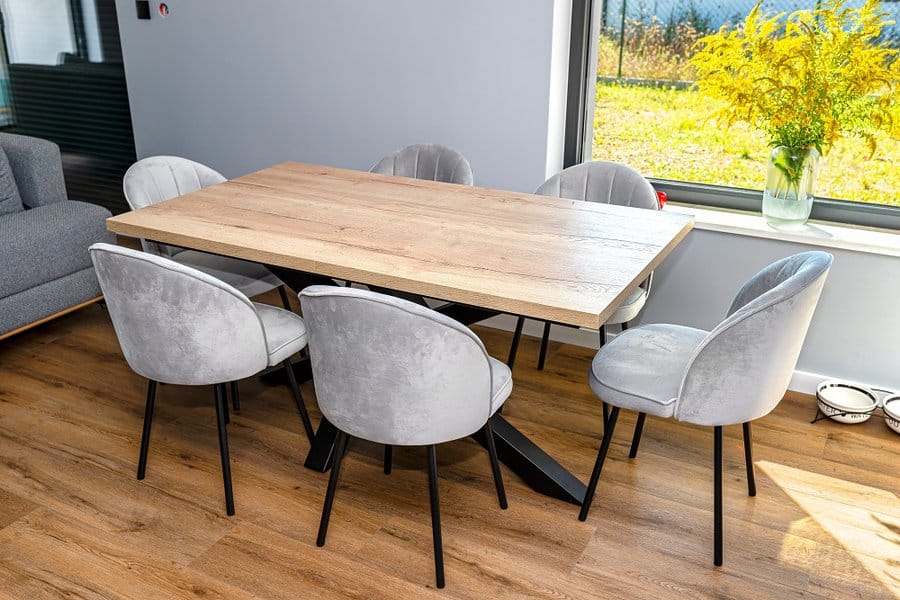 This synthetic fabric is popular for dining chairs because it's affordable and durable. That is why you see it so often used on restaurant seating. Wipe it down with a damp cloth to keep it looking nice. You don't have to worry about it suffering sun damage or fading if you leave the blinds open and let the natural light in. When buying vinyl, you'll see that it comes in several finishes, similar to leather. There are textured, woven, leather, and ornate embossed designs.
Advantages
If you live in a messy house full of children and pets, then vinyl will be a lifesaver. You can easily wipe it clean and prevent stains. The smooth, durable finish is similar to leather, so liquids won't absorb into the fabric. There are also many color and grain options, making it possible to create a custom look with your chairs.
Disadvantages
The problem with vinyl is that it tends to look and feel cheap. This can pull down the overall look and feel of your dining room. Vinyl also doesn't age well, with tears, cracks, and rips developing over time. The material tends to dry out, which makes these issues worse.
Worst Fabrics for Dining Room Chairs
Some designers suggest linen as a suitable fabric for upholstering dining room chairs. However, be careful because linen is better suited for formal spaces and adult-only environments. In addition, it tends to get dirty easily and won't withstand heavy wear and tear. While the fabric isn't susceptible to fading or piling, it does require professional cleaning if it gets soiled.
Silk is not a good option for your dining chairs. This fabric is delicate and is best used in a formal room that rarely gets used. In addition, it requires special care and professional cleaning if it gets soiled. There is a synthetic alternative acetate, but it tends to not offer much more durability and will fade when exposed to the sun.