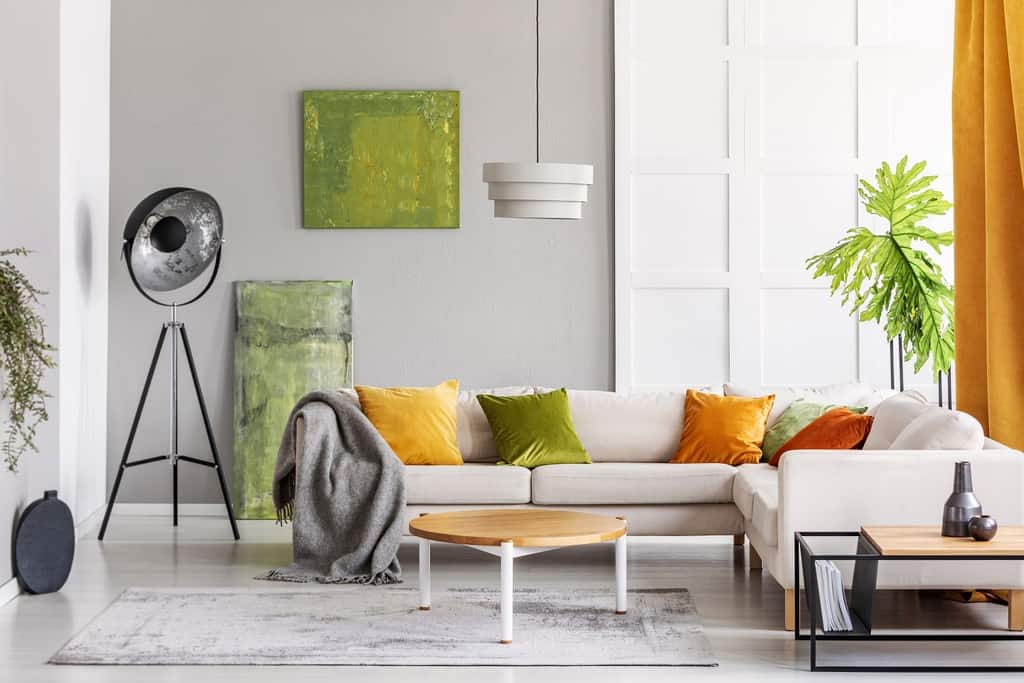 How to Arrange Two Sofas in Your Living Room
Oversized living rooms and open floor plans have become popular in modern home architectural design. However, these large spaces now create a new problem for homeowners. You now have a big space that you need to fill to create an intimate and comfortable space. You don't want to overstuff the space, but you also don't want it to feel sparse and vacant. A good option is to arrange two sofas to create a cozy entertaining space that's perfect for engaging with friends, family, and guests. Use these tips to arrange two sofas in your living room. 
The Wide Angle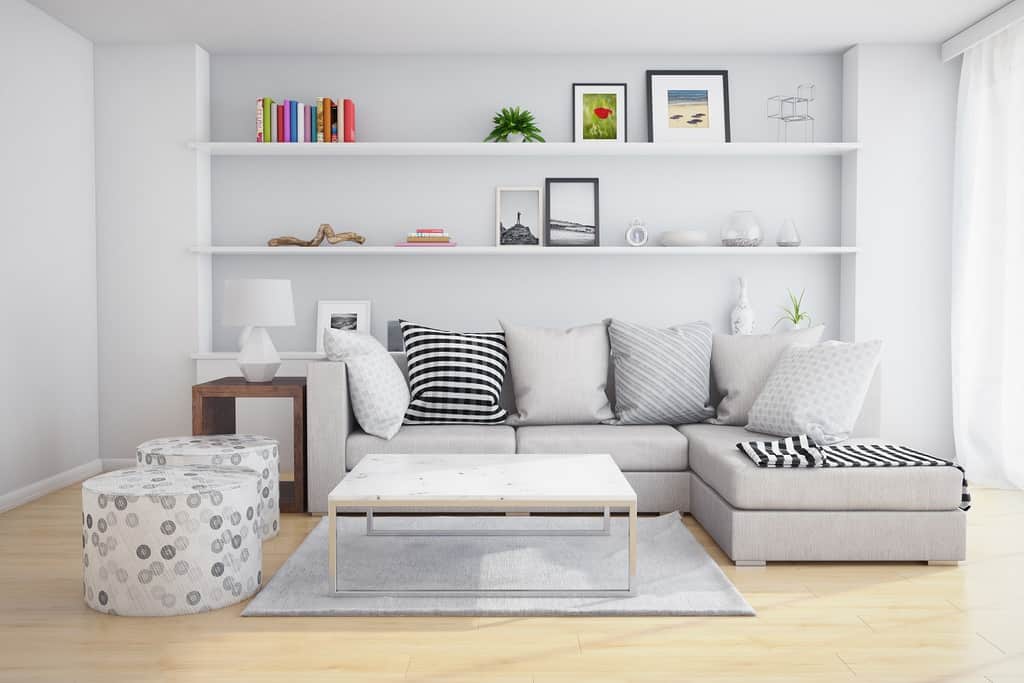 Because this arrangement doesn't have a clearly defined shape or arrangement, it's perfect for unique rooms. If your living room is awkward or undefined, consider this arrangement. You can start with your two sofas but easily add in other seating.
To achieve this arrangement, space the sofas out with plenty of room in between them. Position the sofas at an angle to each other, like a wide "V" shape with less harsh angles. The final look should have a gentle slope or curve to it. If you have more than one piece of furniture, the angle degree should match each piece of furniture. Be careful not to create a disjointed or too angular setup. This will make the room feel awkward, hard to navigate, and even more difficult to communicate with people sitting on the other sofas.
Add small tables between or in front of the sofas. This creates more definition and helps to tie the entire arrangement together. A large area is also good for tying the room together and can actually make the room feel even larger.
Two Opposite Facing Sofas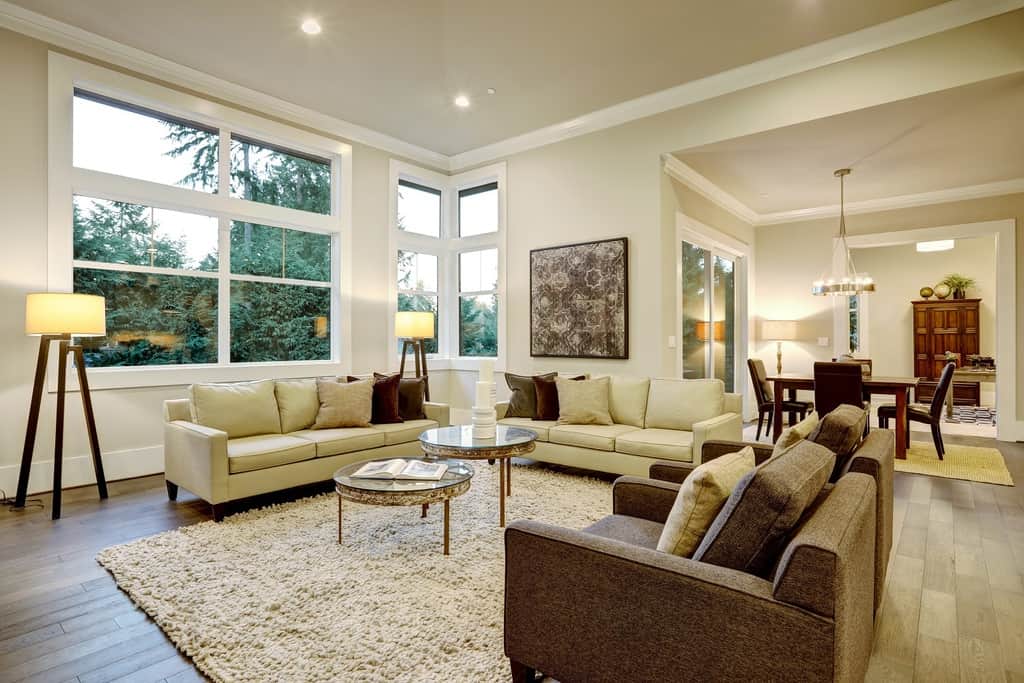 One of the most common arrangements is to place their two sofas parallel to and facing each other. This positioning makes it easy for everyone to engage with each other. It also creates an asymmetrical design in your living room, which is visually appealing. The angular and mirrored arrangement makes it perfect for rectangle and square rooms, which is the most common living room shape.
Because it's so simple, you have a lot of freedom in how you implement this arrangement in your living room. Larger spaces mean you can scale up the size of the sofas, push them far apart, and place a coffee table in the middle. Small spaces are easily adaptable by removing the centra coffee table and adding small end tables. Whatever your living room size, add a large area rug to tie everything together and give your arrangement a completed look. 
The downfall of this setup is that it makes watching a movie or playing video games difficult. You either need to lay full length on the sofa, leaving no room for anyone else, or crane your neck to one side.
Back to Back Sofas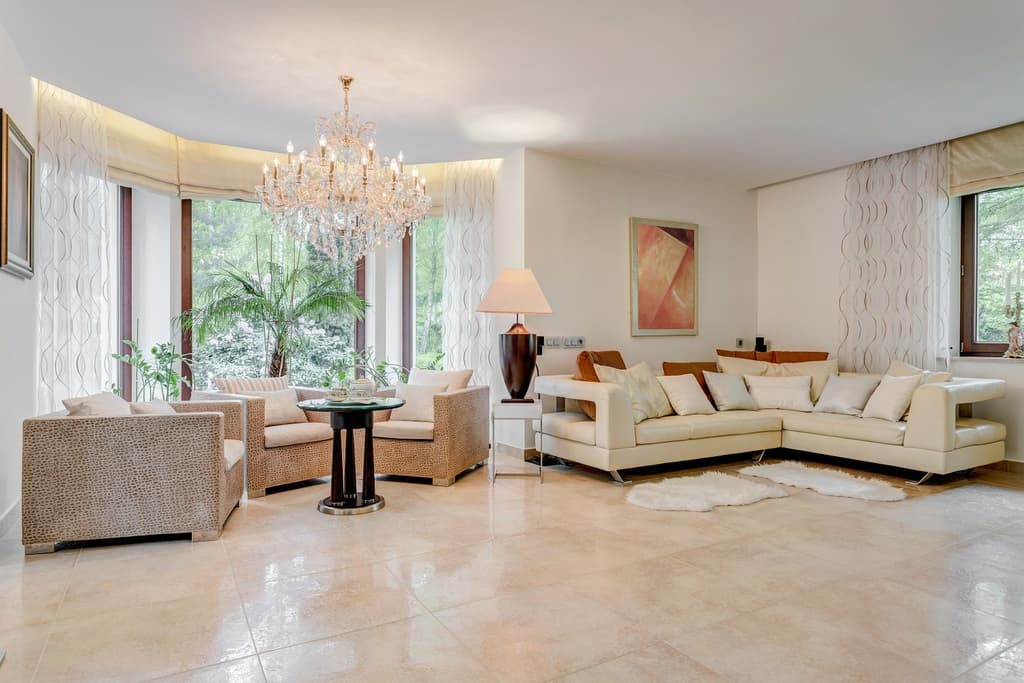 If your home has an open floor plan or an extra-large living space, then consider back-to-back sofas. This creates a visual divider between the two separate spaces. That way, you have a natural way of breaking up the space into smaller, more intimate spaces. Typically, you would place the sofas in the center of the room to equally divide the space. Push the sofas so that their backs are up against each other. If you want to give the sofas a bit of space, pull them apart and place a sofa table between them. This is a table that's long and narrow, with the tabletop at the same or close to the same height as the sofa back.
L-Shaped Arrangement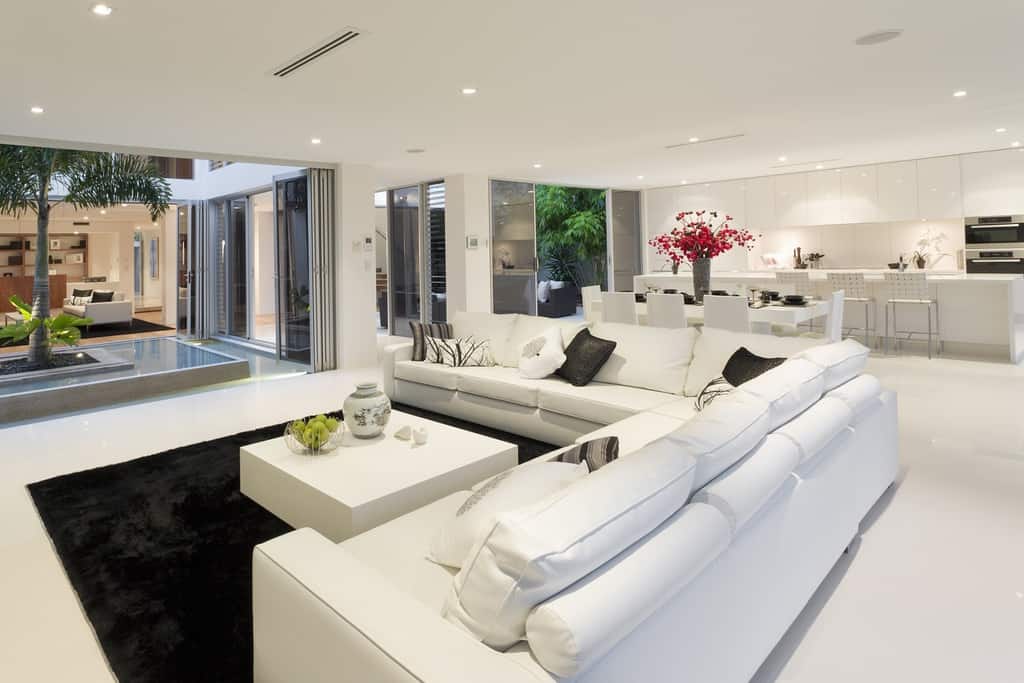 If you have a rectangular or long and narrow living room, then this is an ideal arrangement. You will use two sofas, one longer than the other. Place the long sofa along the longest wall of your living room. Then place the short sofa at a 90-degree angle to the end of the longer sofa. This approach is good if you aren't concerned about symmetry and want to utilize the entire room.
The advantage of this setup is that it works well for family living rooms. Because the sofas don't face each other, everyone can easily watch a movie, play video games, or do some other group activity without having to stare their neck to one side. However, this also means that an L-shaped arrangement is less beneficial for living rooms where you hope to engage and conversate with your guests.
To make this arrangement a success, always follow the lines of the room. Try to place the two sofas in the corner of the room. That way, the sofas follow the shape of the room and can easily be pushed back to create more space in front. This helps to prevent the space from looking closed in or cramped.
Room Size and Shape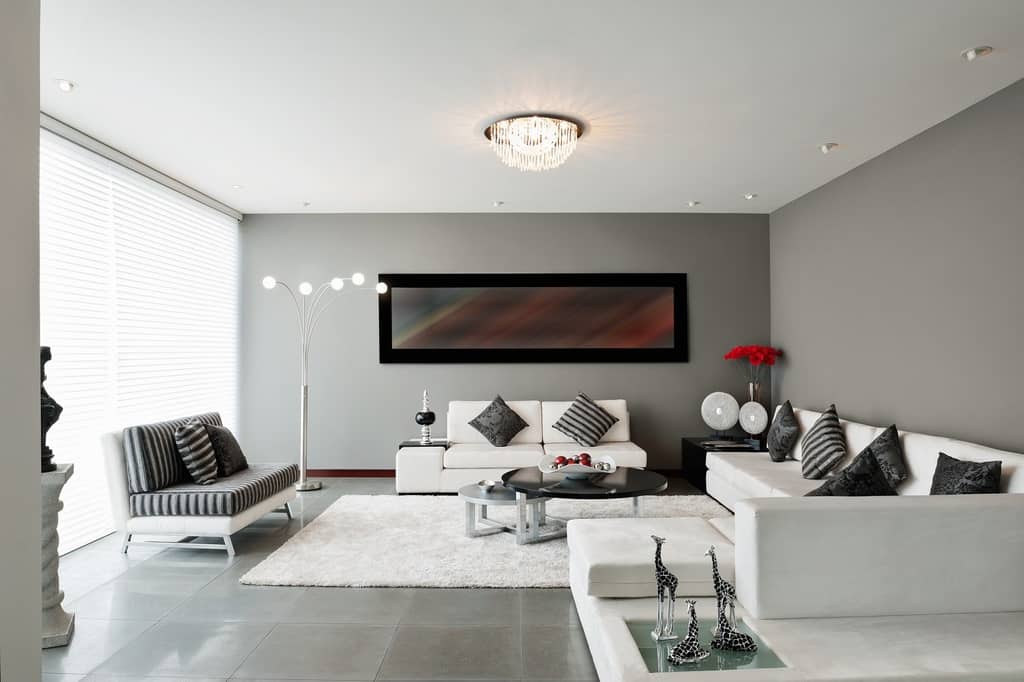 The size and shape of the room guide you in how you arrange your two sofas. That way, you're working with the space and not against it. The shape of the room will dictate the layout. A large square or wide rectangle is pretty flexible in your setup. A long and narrow room will be more limited. Oddly shaped rooms work best with angled arrangements because you can change the angle to suit the room. Trying to have the sofas facing each other or at a 90-degree angle results in awkward dead spaces.
When it comes to the size of the room, scale the furniture up or down to fit the room. It doesn't matter what arrangement you choose; if the furniture is too large, your living room will feel cramped and overstuffed. IF the furniture is scaled down too much, it will look too small in the space. The living room will feel empty and bare. 
Read also: What Colors Go With a Gray Sofa?
Intended Use
How you plan to use your living room will dictate the layout that works best for you. If you do a lot of entertaining, then perhaps you want multiple smaller spaces for intimate conversation. If you have children or a large family, then perhaps you'll want a more casual space. Sofas that are angled towards the TV can make movie night more fun as everyone can lounge back and easily watch the movie.
Can My Living Room Have Two Different Couches?
Yes! You can use two different sofas in your living room. To prevent a hodge-podge look, try to at least coordinate your sofas. Some people will think a mismatched sofa look will have a bohemian or rustic look. Others will think that mismatched sofas look like a mess with no real design theme. They should share a common design element, such as color, pattern, or theme. 
Keep in mind that it's typically cheaper to buy a set of matching sofas. Retailers and manufacturers are more likely to give you a volume discount when you buy more than one sofa.