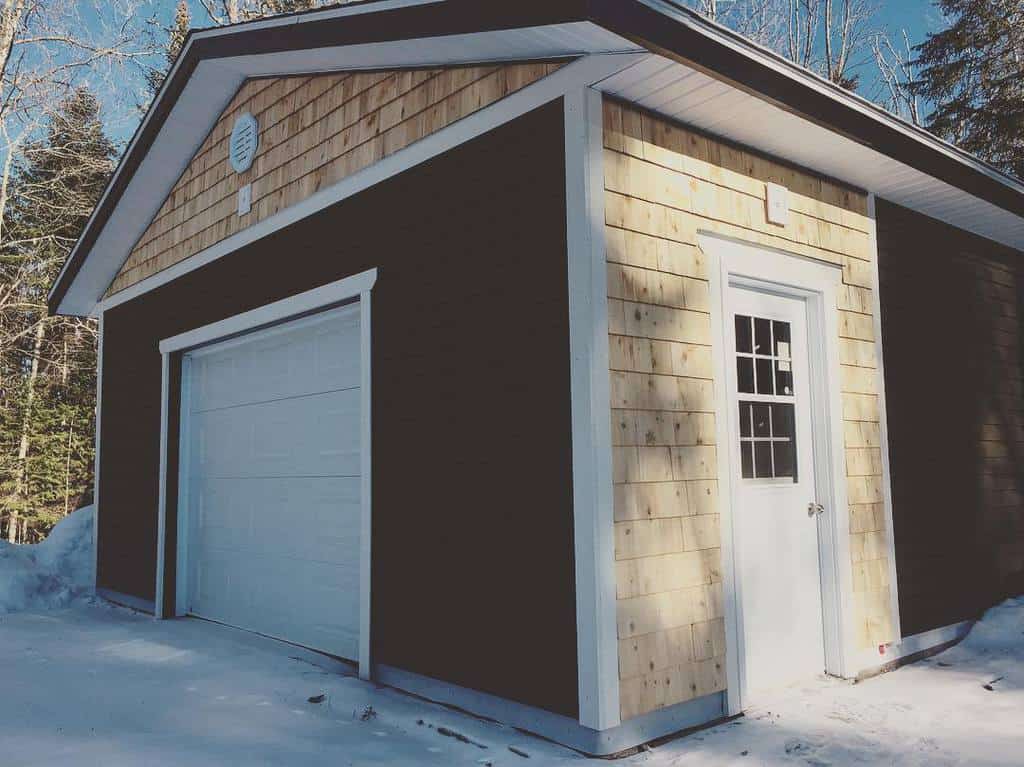 34 Best Garage Wall Ideas and Designs
What do the walls in your garage look like? If yours is anything like the average American home, they are painted concrete blocks. It is clod and boring. There could even be some shelving or cabinets in front of the wall, but it does not change the fact that your garage walls tend to like style and panache. What you need are some garage wall ideas to help you take your garage from ho-hum to wow!
1. Creative Bee Mural Art
When you enter the garage, a black and white bee mural art against a grey and yellow backdrop creates a striking focal point to pull your gaze upward.
The bright colors of the mural inject brightness and personality into the normally utilitarian garage space, creating a lively atmosphere that breaks up the monotonous walls. Whether you're looking for the perfect place to park or gather with friends and family, this unique wall ensures an inspiring setting for your time there.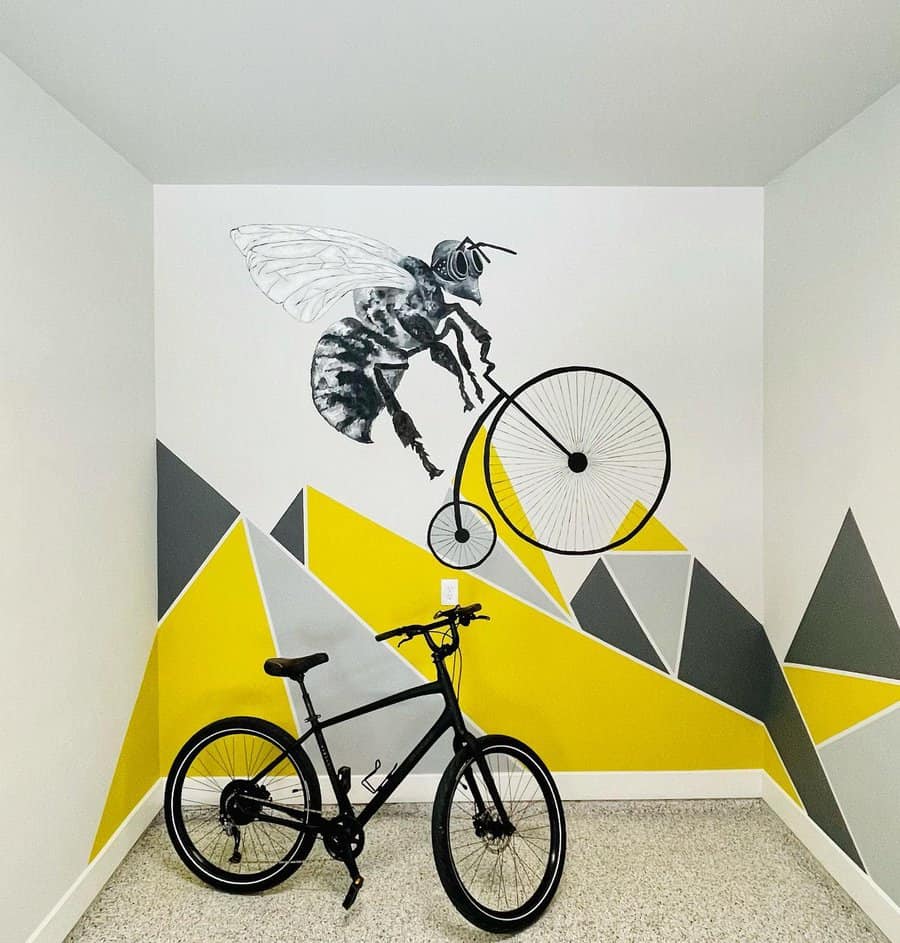 2. Cartoon Doodle Mural Art
The dull, black garage gate could use a bit of sprucing up. How about creating a flower cartoon doodle mural art with bright colors and whimsical graphics?
Just think how the flower-filled oasis would instantly transform the drab, mundane wall into something delightful, captivating visitors — painting smiles across everyone's faces when they gaze upon its detailed beauty.
What an excellent way to liven up your garage wall!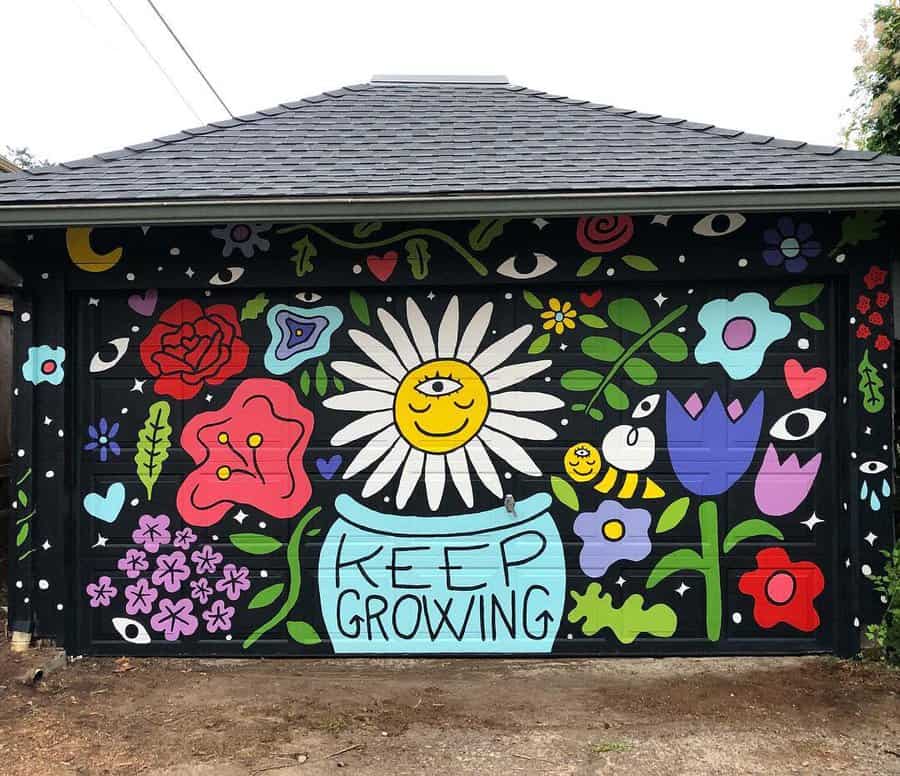 3. Vintage Posters
A vintage-style garage featuring Gulf car posters and white subway brick walls wouldn't have gone out of style fifty years ago, and it surely won't now. A sense of nostalgia and modernism blend together in such a design to form an interesting backdrop for any space.
The vintage posters framed among the white subway tiles will create enough visual stimulation to keep anyone captivated, yet still, give the room a vintage feel. It's a perfect combination for those times when you want to hang out in a garage that embodies both the past and present in equal measure!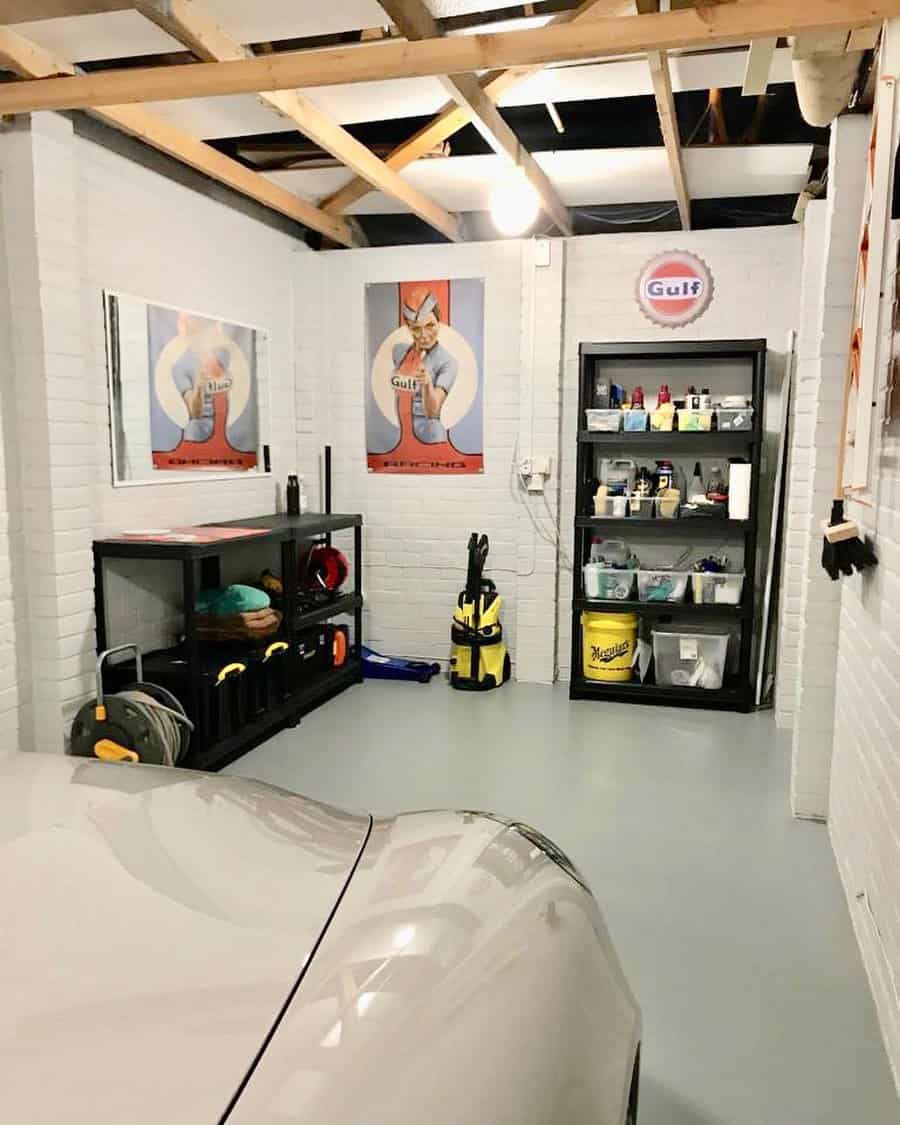 4. Organizer Shelves
The garage wall can be transformed from a mundane space to one that is both functional and aesthetically pleasing. With mini organizer shelves, a place for all the tools and sporting goods can be found in neat rows; exposed brick walls can add just the right amount of rustic charm that helps bring the wall to life.
Finally, if lighting fixtures are involved, areas for hobbies and detailed work can start becoming reality in the space! Who knows what adventures may come when opening up the possibilities of any garage wall?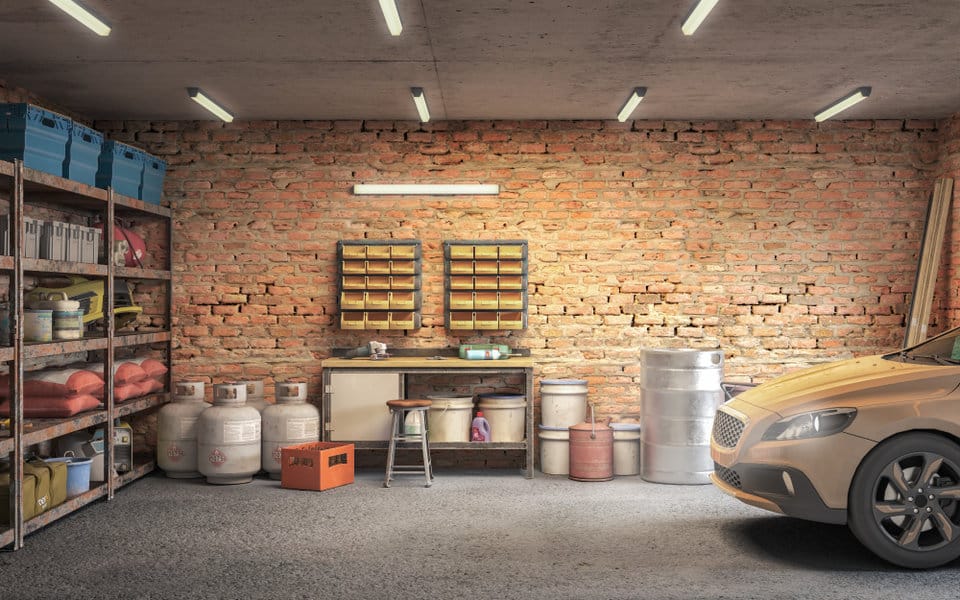 5. Wall Mounted Track System
Turning your garage wall into a functional space can seem like an insurmountable task. However, with a wall-mounted track system, closet shelves, and plenty of other storage options, you can create an organized spot right in the heart of your home. It's time to unlock the potential of your wall and finally makes use of every available inch.
Whether you're looking for additional room to store items or need help clearing out the clutter, wall storage is the perfect place to start. A properly used wall in your garage can turn unused air into leased space — all while adding value to your property.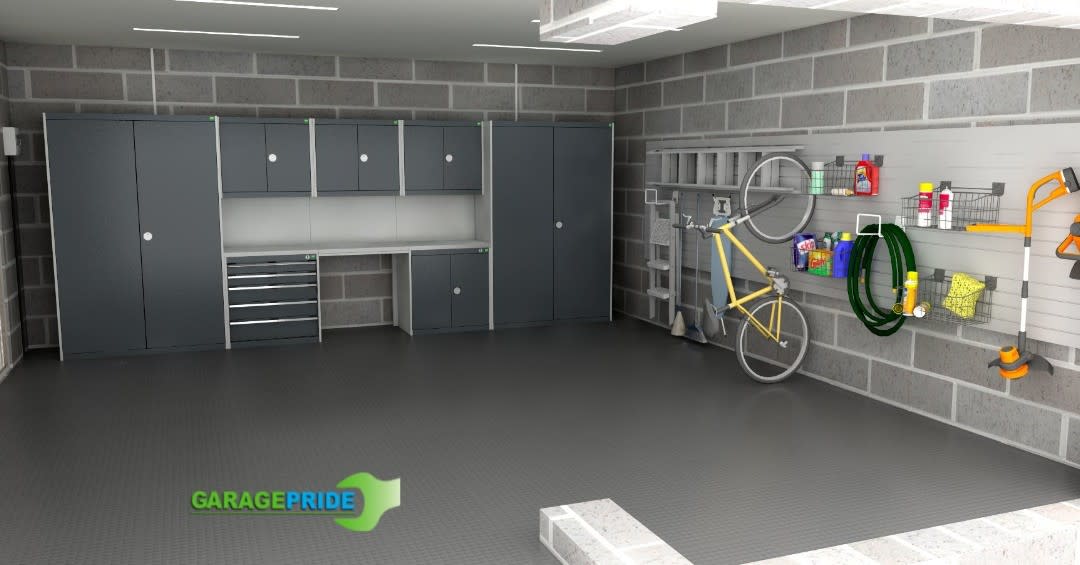 6. Dark Grey Brick Walls
The dark grey brick walls of the small garage bring a cozy feeling to any space. Its minimalist aesthetic is perfect for creating a focused working environment. The walls also highlight any decorations you add, giving them an eye-catching pop to draw attention and brighten the dark tones.
Whether it's a few printed art pieces or shelves with plants on them, whatever your choice may be, they will definitely stand out against the dark grey brick walls!
7. Projector Screen
When it comes to transforming a simple garage into the perfect hangout spot, the possibilities are endless. Why not paint the walls a comforting hue and opt for warm lighting to create an inviting atmosphere?
For movie nights or entertainment purposes, you can even turn your wall into a movie projector screen. Imagine gathering around with friends and family to watch your favorite films on the very wall that is part of your home.
This reimagining of the garage space will create memories that will last forever!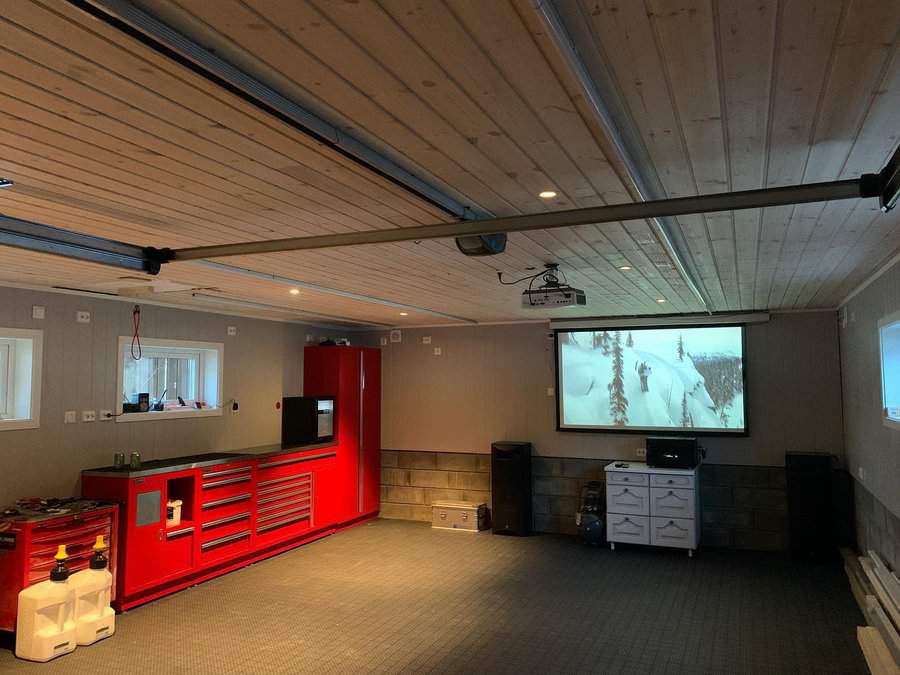 8. Wall-mounted Bike
The garage wall is often an overlooked canvas, but with a little creativity, it can be transformed into something beautiful. Take wall-mounted bike storage, for example.
After mounting a few raw concrete brick walls to the wall's surface, you can hang your bicycle and other items for easy reconfiguration of the wall space.
It's an ideal way to add a pop of color to an otherwise plain wall, while also freeing up some much-needed floor space!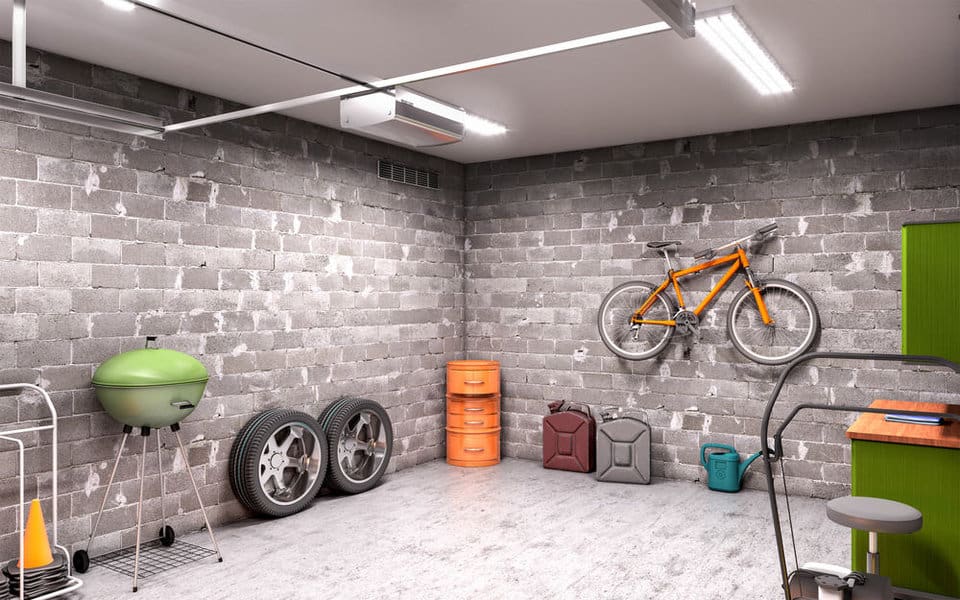 9. Framed Automobile Photo & Art Collage
If you're looking for a way to brighten up your garage without skimping on its industrial aesthetic, why not try out a framed automobile photo collage on the wall? Not only is it a great way to inject some style into your space, but also it allows you to pay homage to the rich history of the automobile industry.
Plus, framed photographs are guaranteed to add a personal touch to any solid brick or concrete wall. Go ahead and see how many framed photos you can fit in your garage!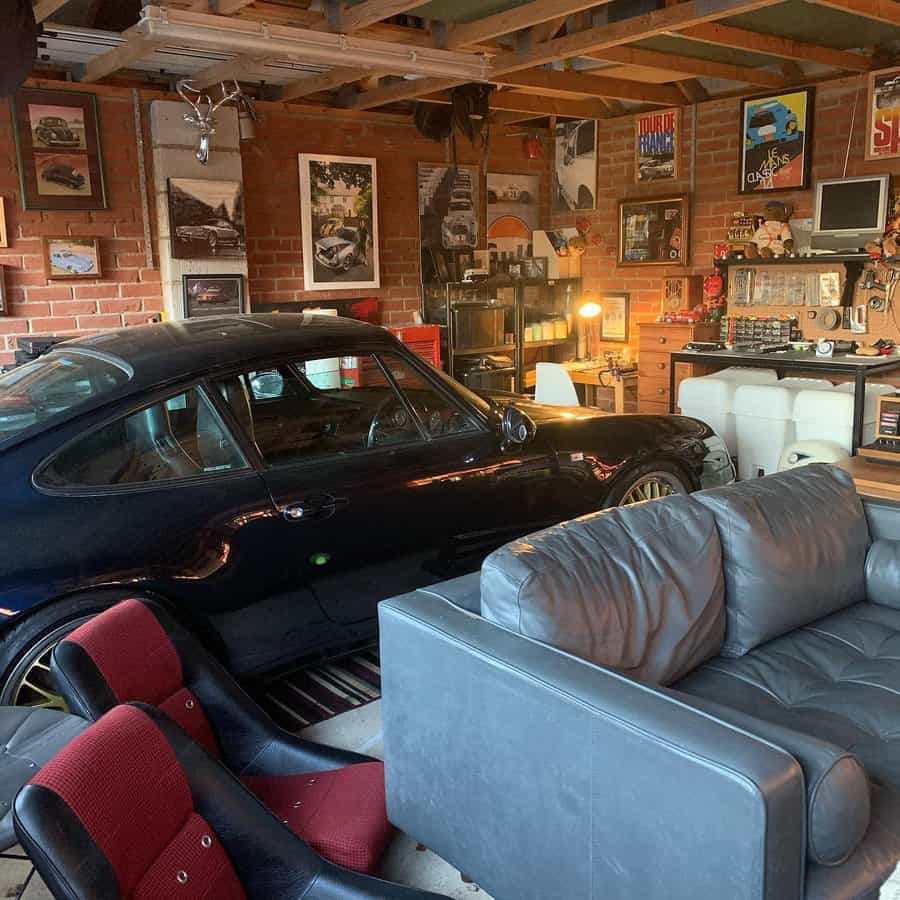 10. Biker-themed Wall Collage
For bikers, a garage wall may just be concrete and brown paint, but it can be so much more. With a biker-themed wall collage, the dull backdrop of any biker's home garage can become transformed. What better way to get creative than with creative and often sentimental photos of biker friends who have shared your road?
Whether it's bikers against the background of the open road or snapshots from one epic ride after another adorning your walls – this wall collage is a special way to not only boast about all your biker adventures but also made as a loving bond between bikers friends.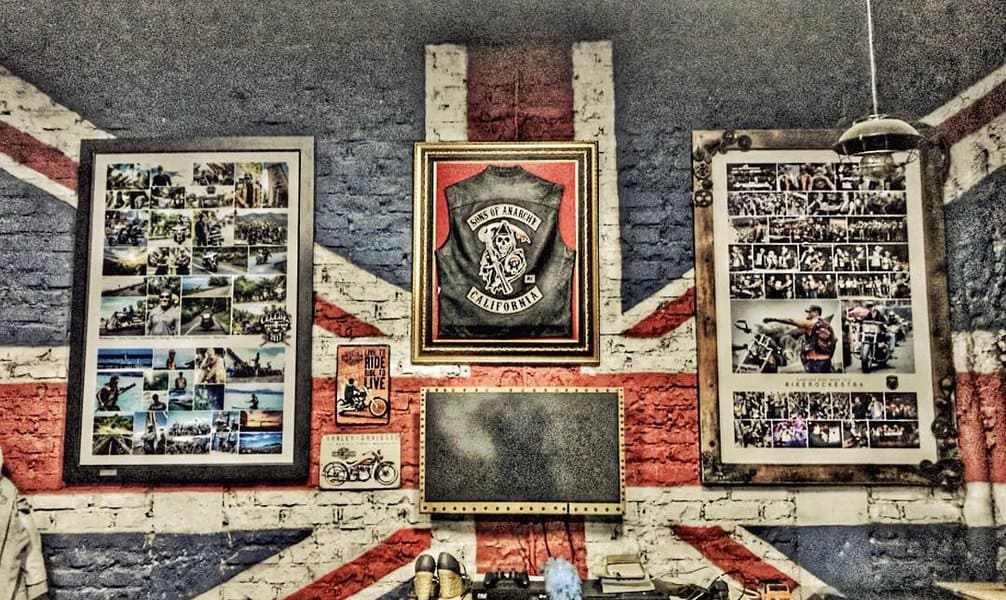 11. Collectible Vintage License Plates
A statement piece in any garage, a wood wall adds character and charm to the space. Adorning this wall with collectible vintage license plates is an excellent way to personalize it and make it stand out from the rest.
Not only will such collectibles bring back memories from the past but can also be used as conversation pieces for many years to come.
Turning your garage wall into a stylish focus point is a great way to perfectly reflect your own style for all who visit.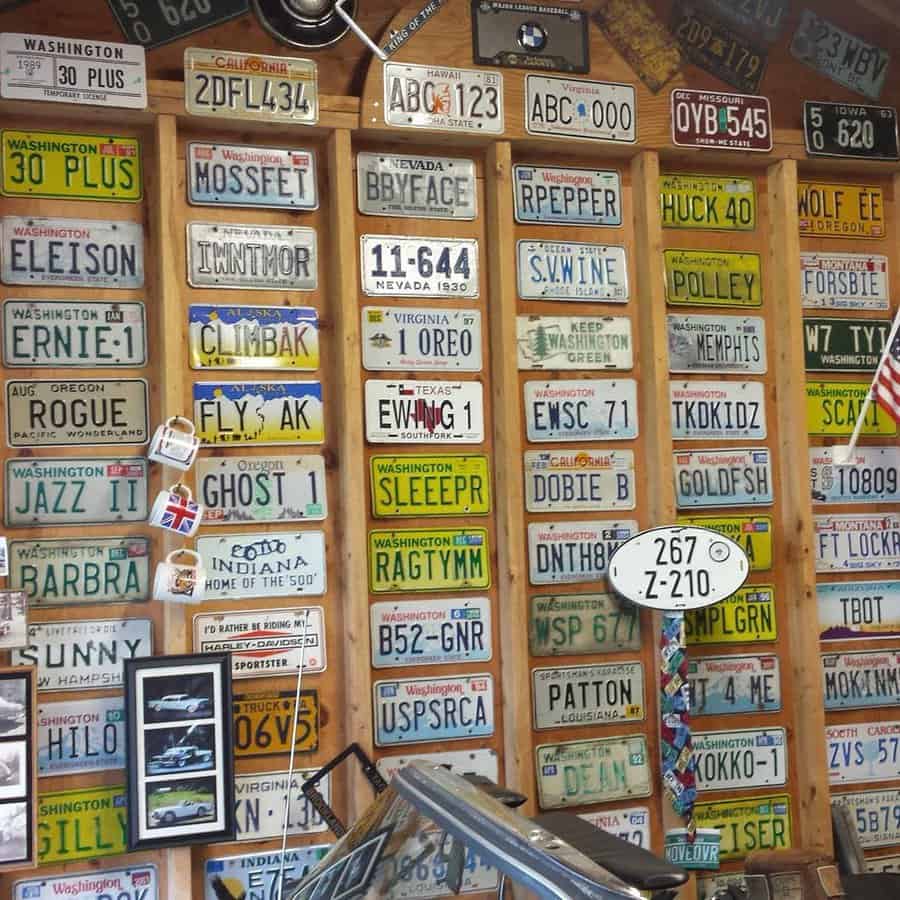 12. Mustang-themed Wall
If the walls of your garage could talk, they'd probably tell you stories about the Mustang-themed wall. You know, that one portion of the room that pops with colors and captures your attention as soon as you step in?
From Mustang enthusiasts to muscle car fans alike, it's a must-see wall. But if muscle cars aren't your thing, take a look at the neat Matchbox collection housed in a stylish wood cabinet. Memorabilia filled with bright colors and small details will surely draw your eye, just like the Mustang wall!
There's nothing quite like these displays to bring life to any plain garage space.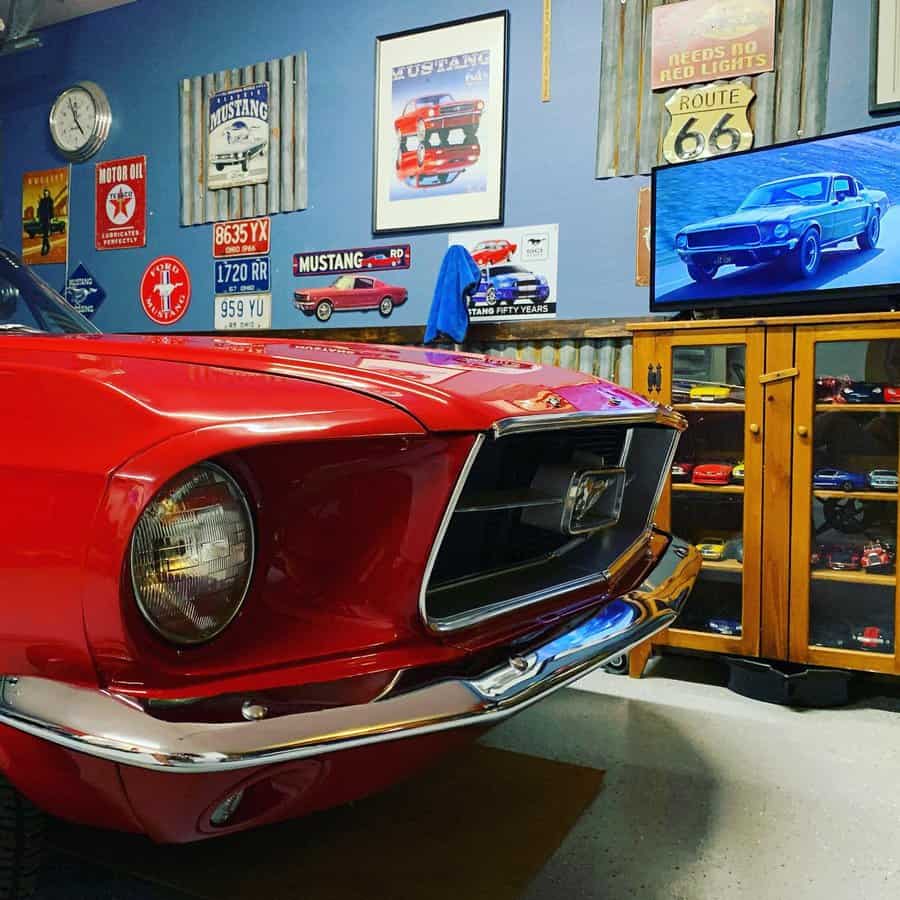 13. Man-cave Vintage Gallery Wall
Transform your boring and plain garage wall into an artistic vintage zone. Sprucing it up with vintage wall art featuring beers, cars, poker, and football you'll make the room come alive.
Whether you want to channel a saloon-style setting or just make the space slightly more cozy and vintage, these prints add both character and personality to any area they are in.
Use this vintage wall art as a conversation starter when entertaining friends or as a playful reminder of your favorite pastimes – cheers!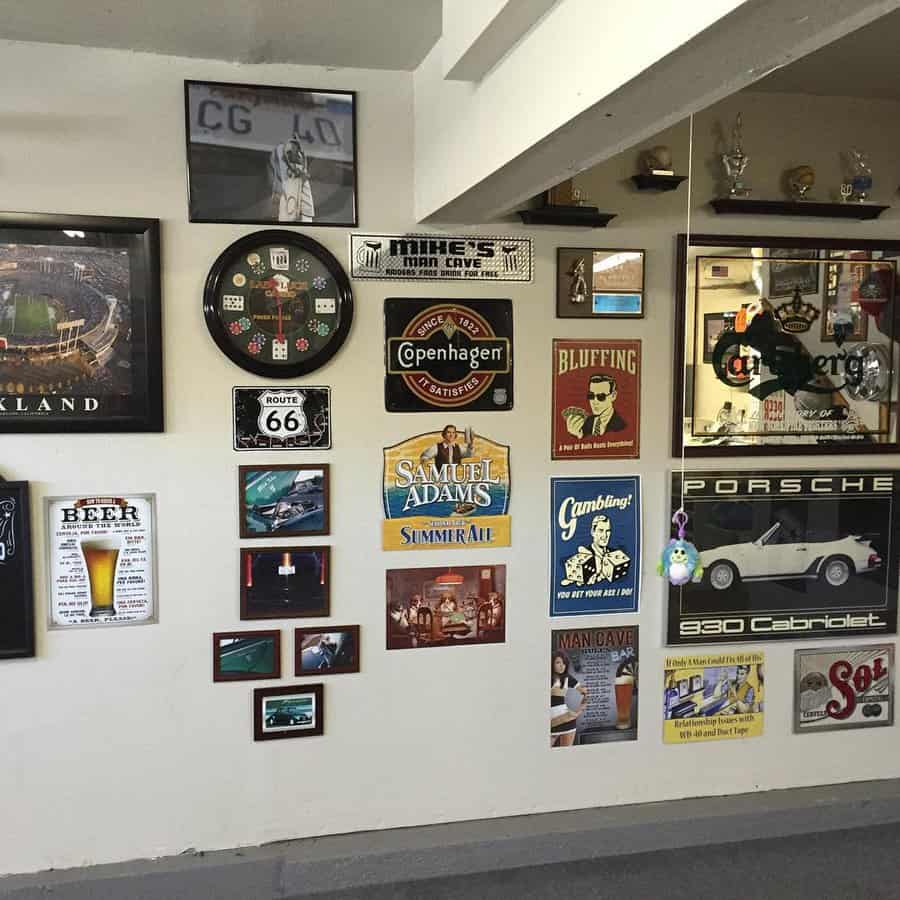 14. Hot Wheels Collection
A hot new change is set to revamp the bare grey wall of garages everywhere: hot wheels. The hottest cars and motorcycles in the block are conveniently displayed at eye level, creating a hot new addition to any garage.
Not only do hot wheels instantly transform a boring interior into an instantly impressive focal point, but they also inspire friendly competition amongst family members as to who can put together the best hot wheels collection. From speedway tracks to classic hot rods, hot wheels are revolutionizing garages with savvy and style.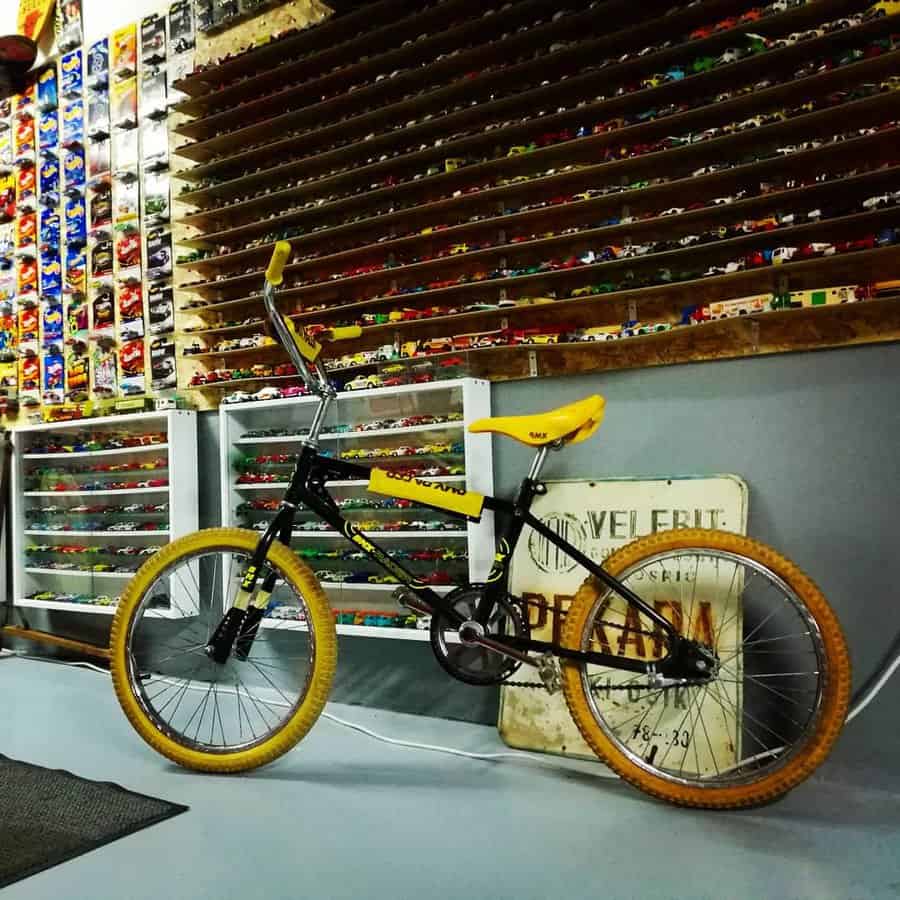 15. Wall-mounted Container Organizer
A garage wall isn't just a wall — it can be an inspirational space to jump-start projects big and small. Whether you're reorganizing for better storage solutions or turning a two-car garage into a motorcycle haven, the wall holds the key to success.
Transform the wall into a wall-mounted box container organizer, quickly sorting and easily accessing tools, supplies, or other items of your desire in an efficient manner. And if that's not enough, you can even designate wall space for hanging racks or shelves so that every inch of your garage wall is organized perfectly for any job.
With these ideas and more, making the wall your project's focus is sure to make achieving goals creative and effortless.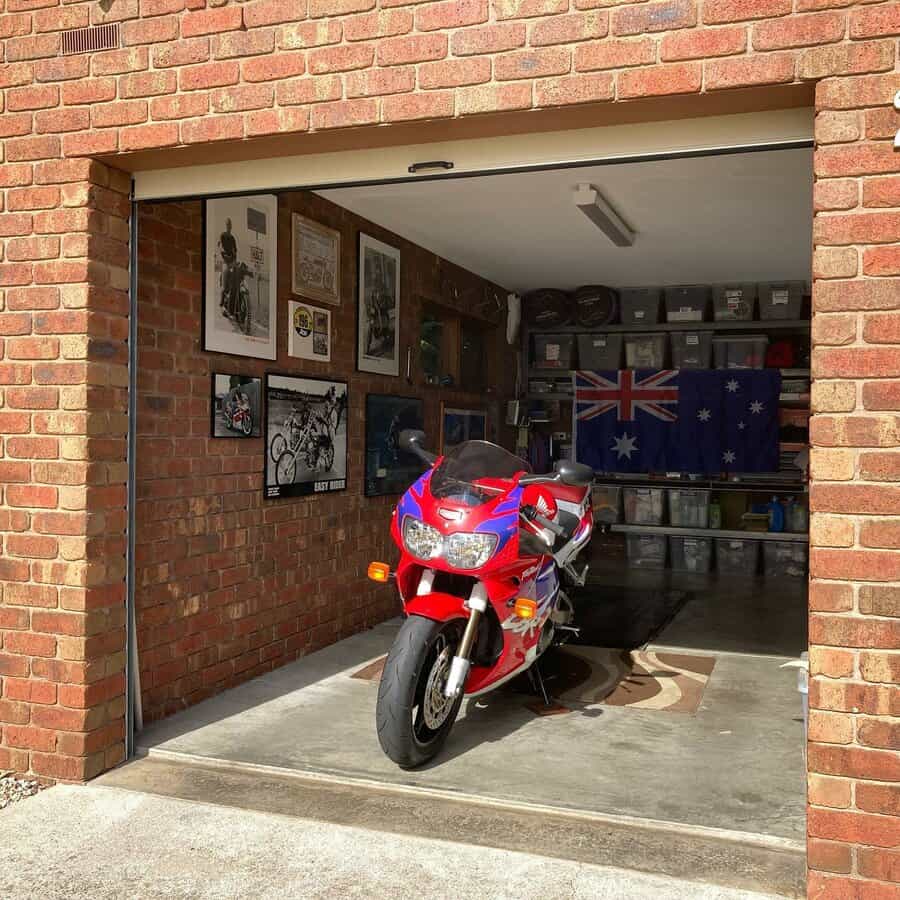 16. Outdoor Garage Privacy Screen
For outdoor garages in need of a bit of privacy or style, why not consider a wooden outdoor privacy screen? A well-constructed outdoor trellis can provide both aesthetic and functional value, allowing one to enjoy the beauty of nature while also providing a much-needed barrier from neighboring yards.
What's more, outdoor garage wooden privacy screens are durable and easy to install. Why not give one a try today to see how it can improve the look and feel of your outdoor space?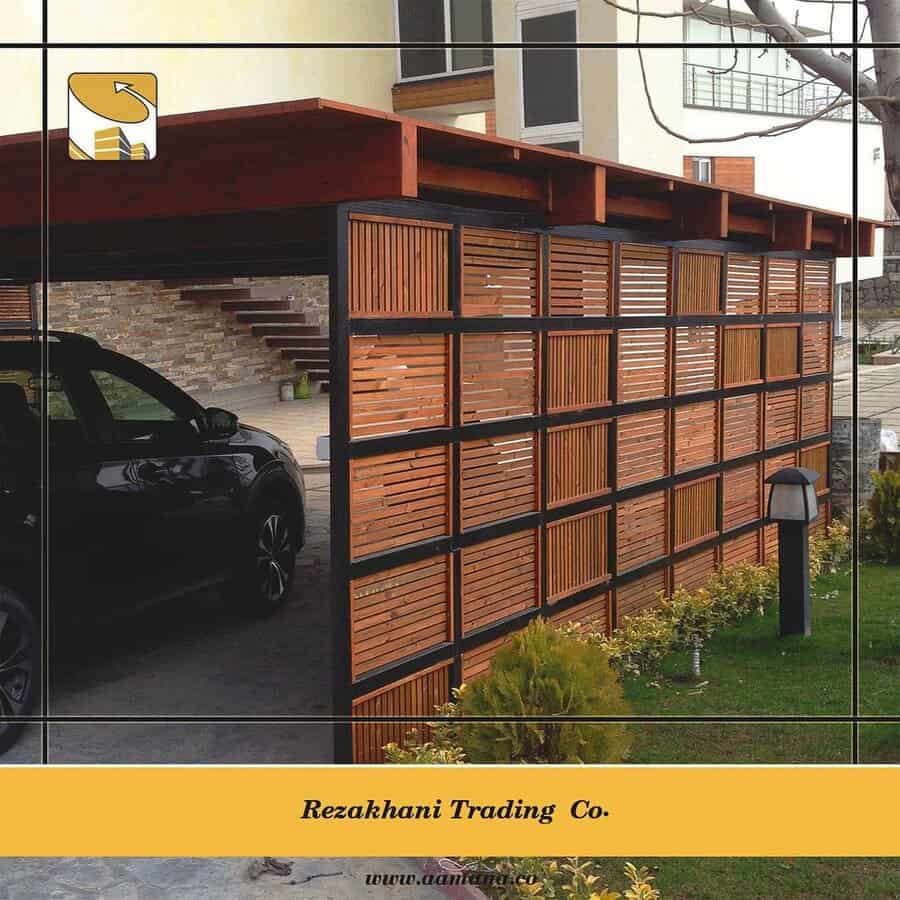 17. Wood Stable Garage
It's something special to look up at a wooden stable garage with a black roof, it's like suddenly feeling transported back in time to a simpler era. The garage wall stands strong in the face of time and elements, its wooden slats sturdily protecting whatever is stored within.
It may be lined with tools, boxes of memories, or even sports memorabilia fit for an obsessed fan. No matter what lies within, the wooden garage wall stands confidently ready to protect it all.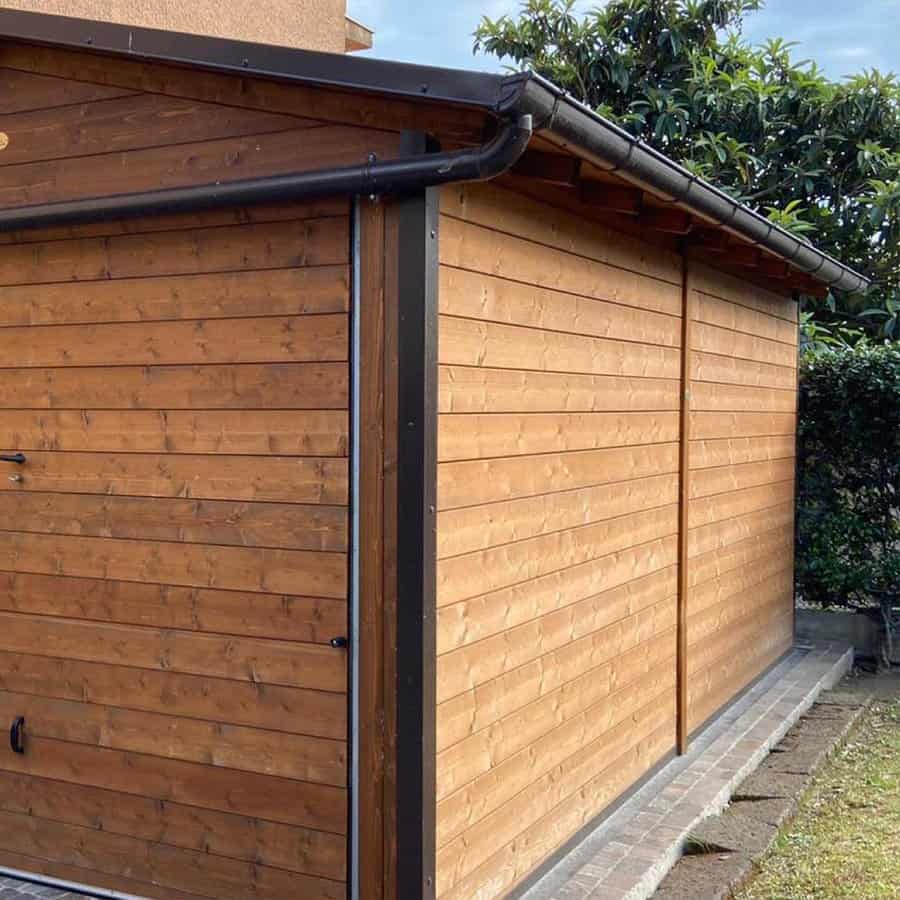 18. Wood Cladding
Adding wood cladding to the walls of your garage can bring a rustic and industrial vibe that will instantly upgrade its look. The distressed timber gives it a raw and natural effect, sure to make an impression on whoever steps inside.
What makes wood cladding so attractive is that it not only looks great but also offers superb insulation properties, meaning your garage will be sealed off from the elements. Absolutely perfect for those chilly winter months!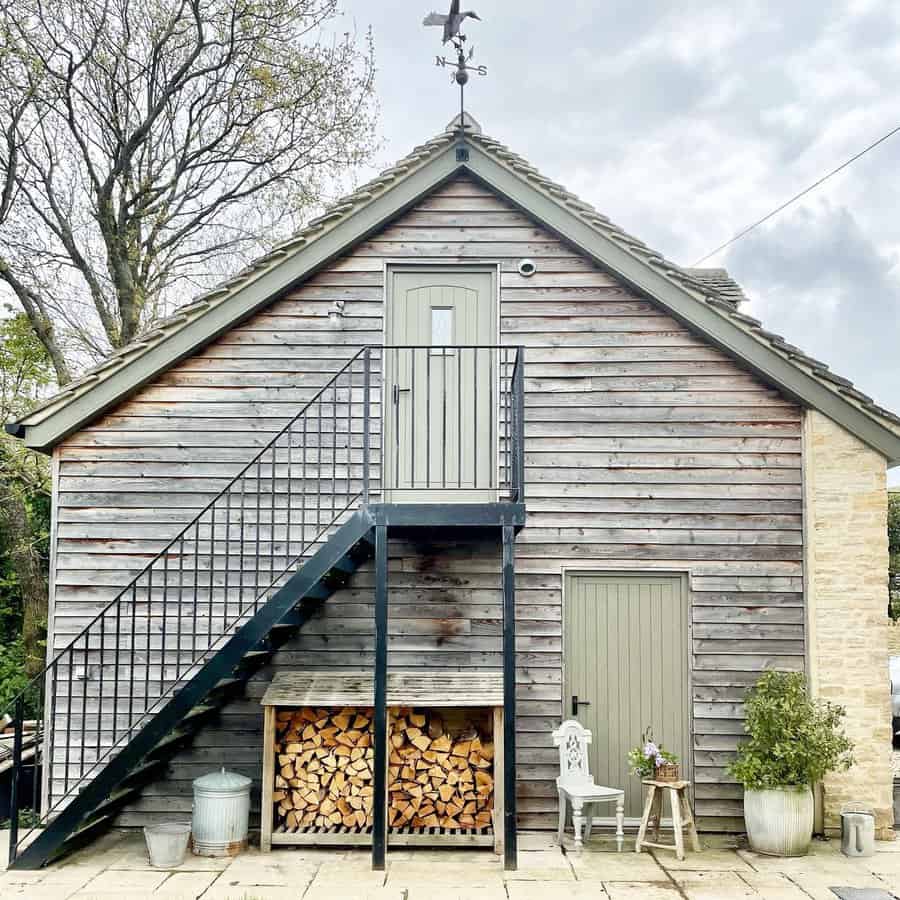 19. Narrow Wood Paneling
One of the most transformative updates you can make to your garage is to give it a facelift with narrow wood paneling. Whether you opt for a classic design with single-toned wood panels or a more modern look with complementary dual-toned wood panels, the possibilities are endless.
This sturdy material will help create a backdrop that's both aesthetically pleasing and reliable – perfect for storage rooms, mudrooms, and even as DIY project areas. With just a few narrow wood panels, you can take your garage from being simply functional to something truly special.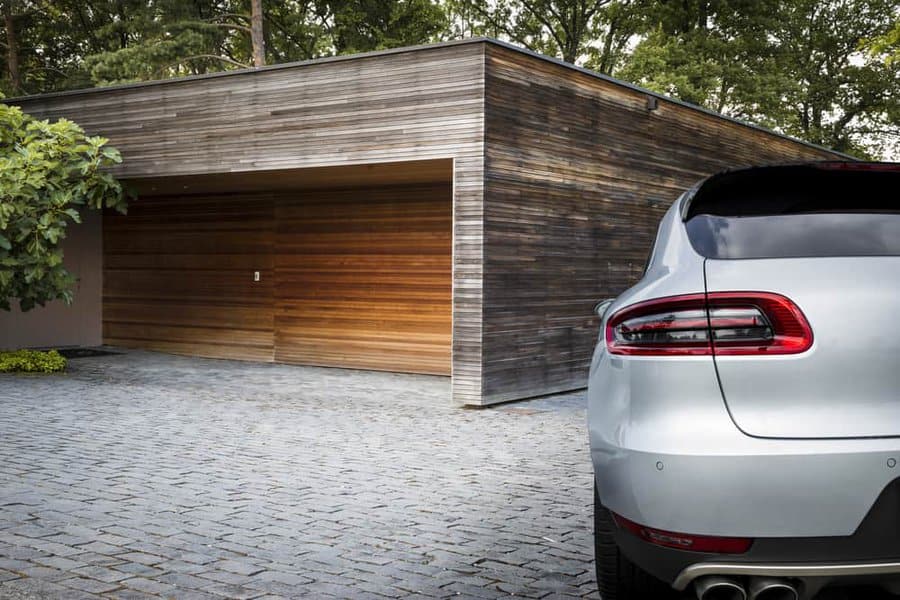 20. Forma Steel
If you're looking for a classic yet modern solution to your standalone garage needs, Forma steel may be the way to go. Its modern design and dependable form add instant sophistication to any wall, with its quick and painless installation process – forma steel is guaranteed to make your project easier.
Durable and versatile, forma steel allows for superior abrasion resistance, making it perfect for any garage wall. Now you can focus more on putting together the perfect look for your space, instead of worrying about eventual wear and tear from everyday use.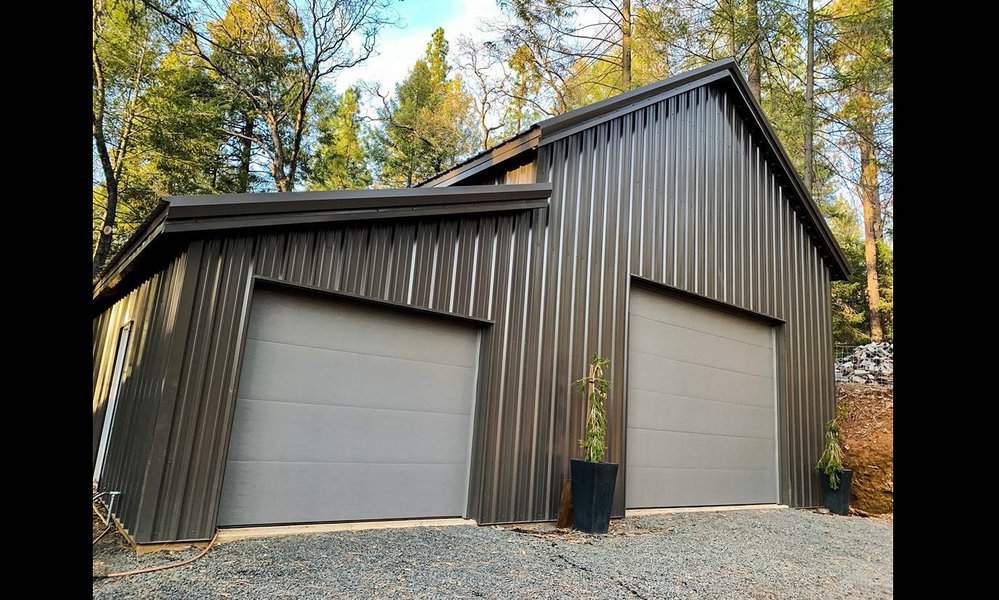 21. High-Ceiling Walls
With high-ceiling walls made of Forma Steel, your spacious garage can finally reach its full potential. From extra storage space to large hobbies and projects, additional room to move around and organize makes life a little easier. Just imagine what style and design possibilities this high-quality material can offer– that's right, anything.
You'll really be able to spruce up the entire look of the garage by going with high-end wall materials like Forma Steel. The high walls create a sense of grandeur and it will surely be a conversation starter among friends visiting or any passerby!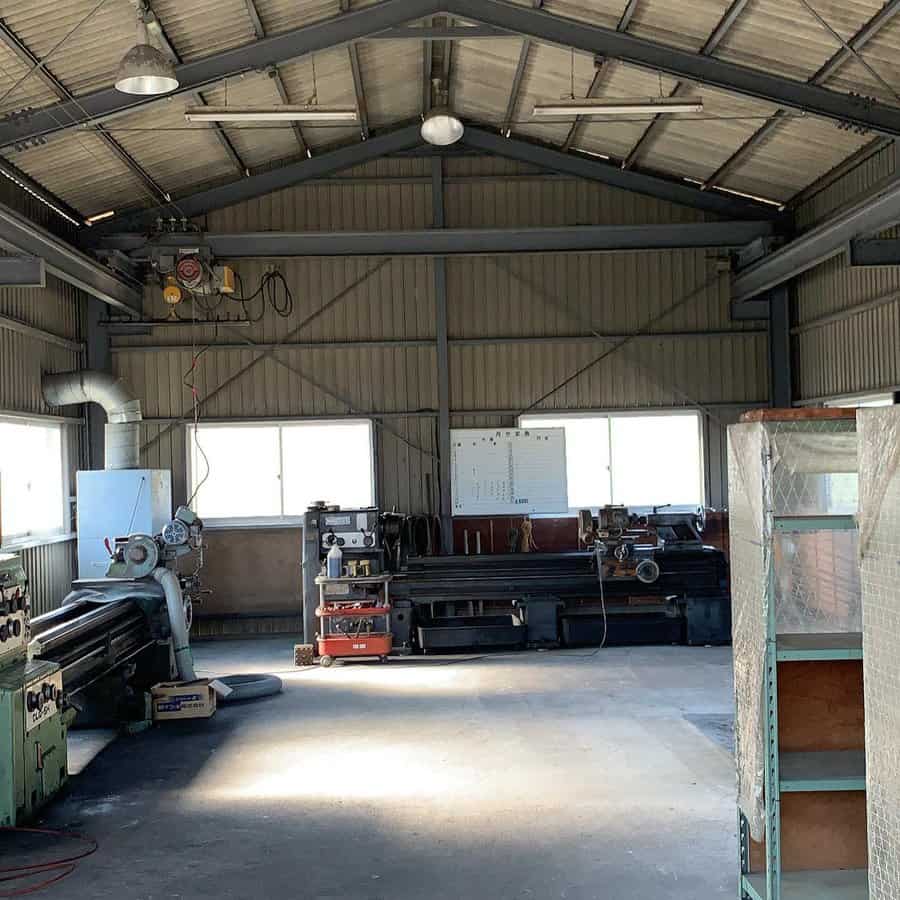 22. Red Paint And Aluminum Sheet
The walls of a garage are essential components that have to be tough, durable, and easy to clean. Our walls were made with a unique combination of red paint and aluminum diamond sheet, creating an eye-catching finish that can stand up against whatever the garage throws at it.
The concrete flooring is rugged yet flexible, providing a great surface for storing tools and heavy machinery. With walls and floors like ours, your garage will be ready to protect your stuff and impress visitors.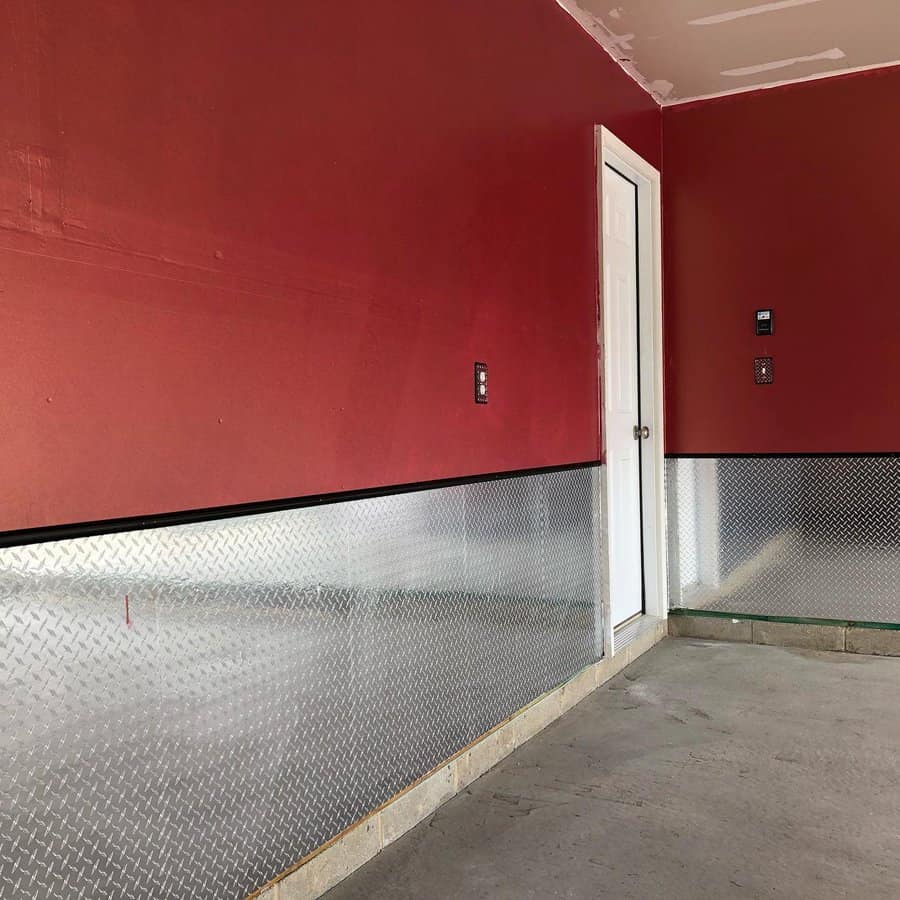 23. Dual-toned Walls
The walls of the garage are striped in white and blue with an aluminum sheet as the backdrop. It's an unexpected but creative take on a classic scene. Not only does the sleek aluminum sheeting bounce the artificial light around, but it also reflects on the walls, providing complementary shades that pick up the natural light from the outside.
The walls create a gentle gradient, one side warmer and calmer than the other, creating balance in texture and color yet still highlighting its unique character.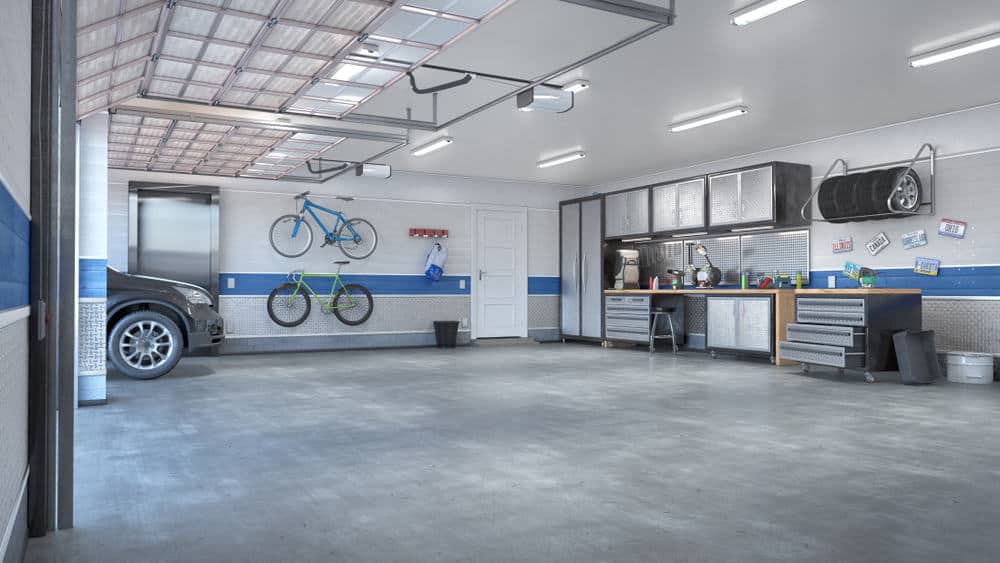 24. Fluorescent Wall Lighting
Making use of the space in a garage can be difficult. With Forma steel walls, fluorescent wall lighting over a work desk, and other proper materials, there is the potential to turn the walls of your garage into a useful workspace.
A fluorescent wall lighting system will offer plenty of light so you can see what you are working on clearly; Forma Steel gives the strength and insulation of the wall when it comes to storing heavy or large items. With these two core components working together, you can create a productive environment where all tools and supplies are easy to find and manage.
Even if your workshop ends up being slightly smaller than expected, Forma Steel walls can make any area feel larger yet still highly functional.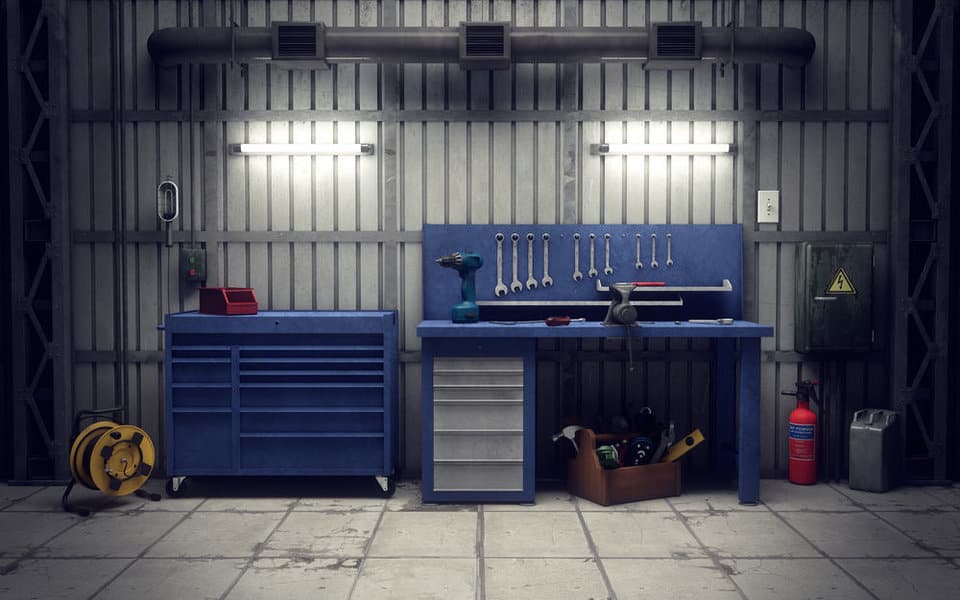 25. Clean White
Gone are the days of white walls and cluttered clutter in your garage; now, with a few touches, transform your space into a luxurious showroom. Add glass viewing screens to your white walls and organize your luxury car collection in style.
For those extra special vehicles, you can even hang stylish art or graphics for all to admire. With this modern set up, you'll be able to proudly showcase the fruits of your labor and make any passerby fortunate enough to catch a glimpse truly envious.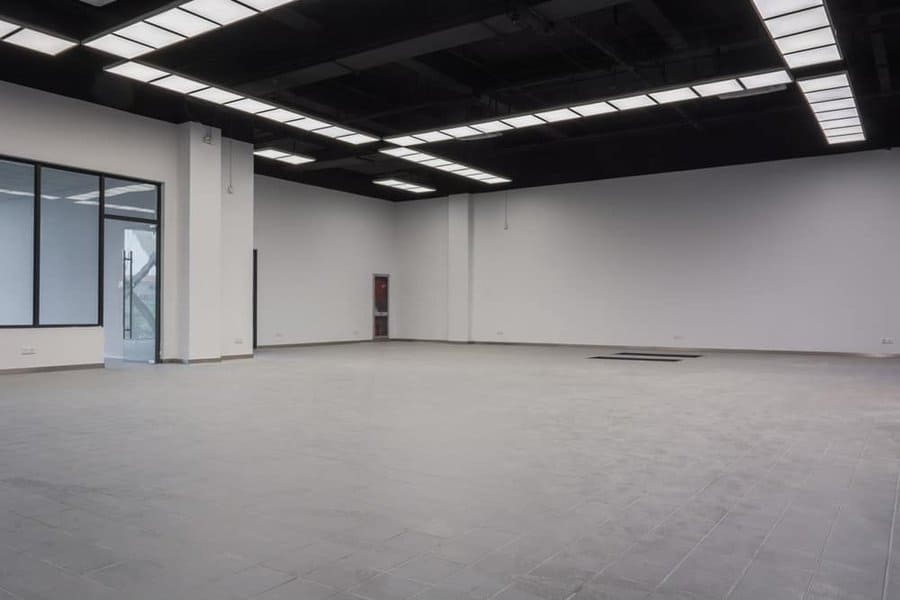 26. Cargo Walls
If you're looking for creative ways to breathe new life into your garage, cargo walls are the perfect way to go. Installing cargo walls gives you lots of options; from adding a fresh coat of paint to transforming the wall into a tool storage area.
Paired with simple white flooring, cargo walls can bring a contemporary feel to your garage – not to mention lots of extra storage space! If you're ready to give your garage an upgrade, cargo walls are the perfect solution.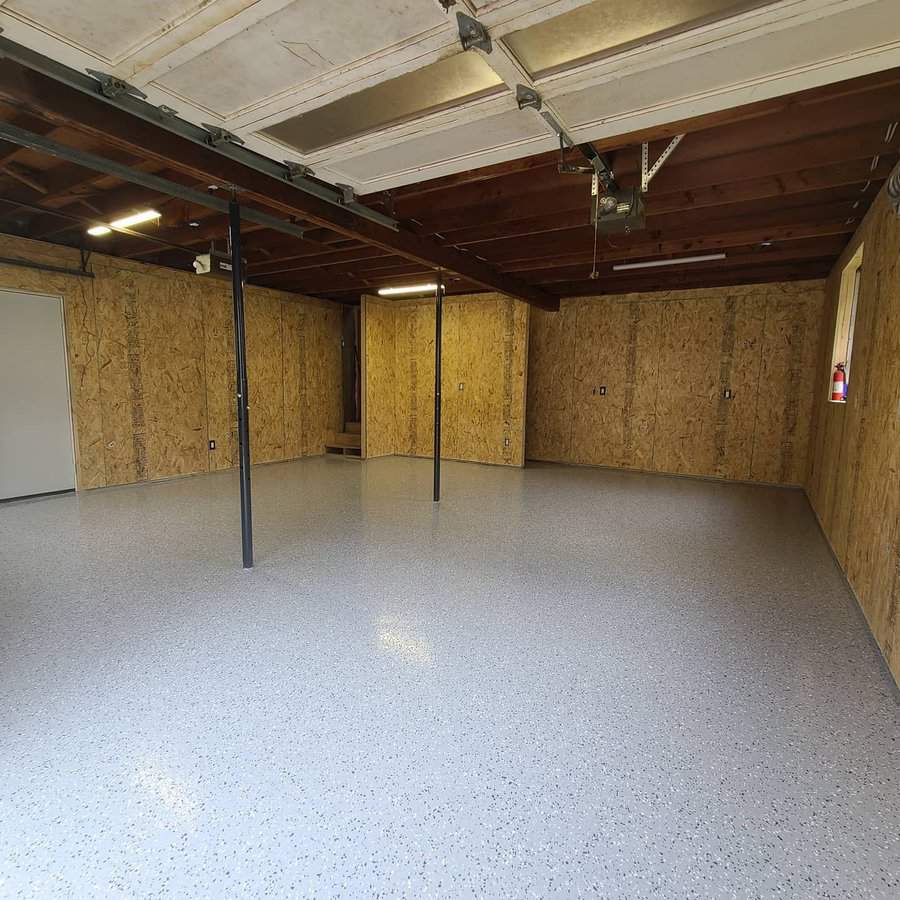 27. Concrete Grey Walls With Rustic Door
A visit to the garage overlooking concrete grey walls often brings an uninspiring feeling. But what if we could enliven those walls and make them a bit more inviting?
Consider painting a chalk-painted door that stands out amidst the concrete grey walls. This will be sure to bring a bit of cheerfulness to your garage, making it more fun than ever before!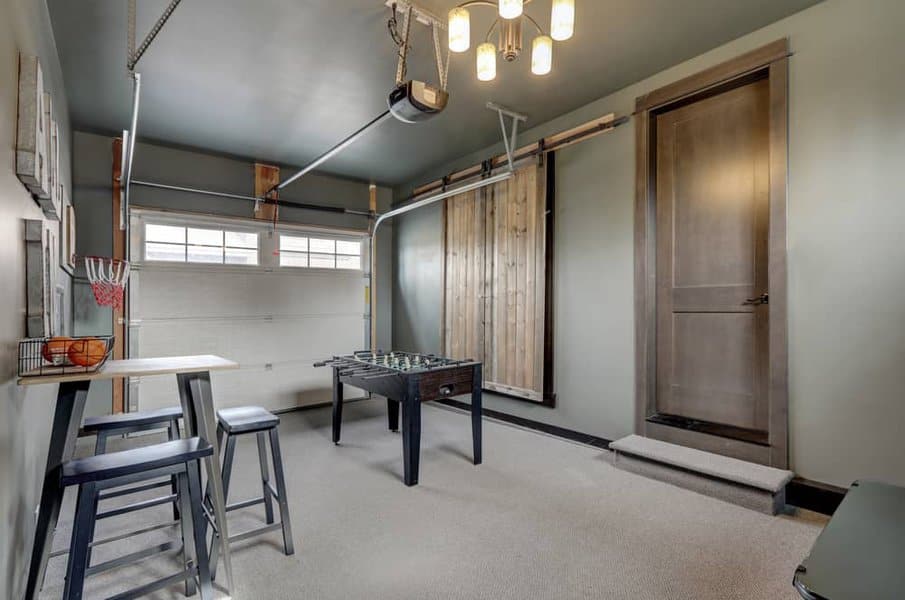 28. Full-length Mirror
Turning a boring garage wall into an eye-catching space full of utility and organization can be as simple as adding some full-length mirrors and bike mounts!
A full-length mirror can add depth to your otherwise long, flat walls – perfect for not just checking out your reflection, but for taking a moment to clear your head and refocus.
The full-length mirror combined with some practical bike mounts adds both style and function to the utilitarian space – you can hop off the bike and take a gander at how you look before riding off in style!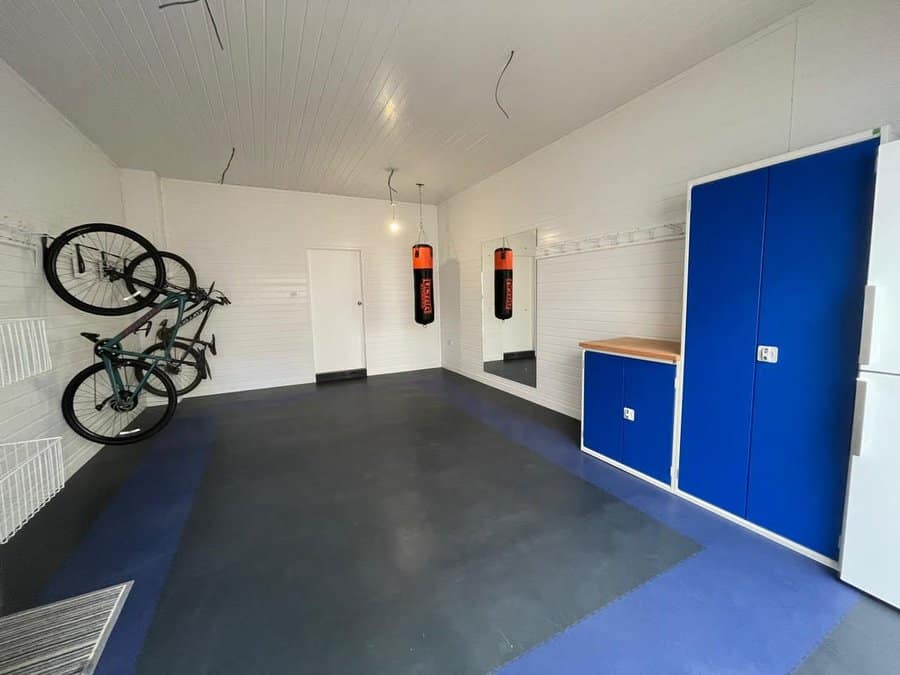 29. Cladded Walls With Windows
Looking for a unique way to brighten up enclosed garages with windows? Cladded wall panels could be the perfect solution. These panels come in a variety of materials, sizes, and colors to match any aesthetic. Not only do they add a dash of color and texture, but they can also provide insulation.
From the simple elegance of wood to the bold style of brick-look panels, you'll find something that fits your needs while adding a personalized touch to your enclosed garage walls.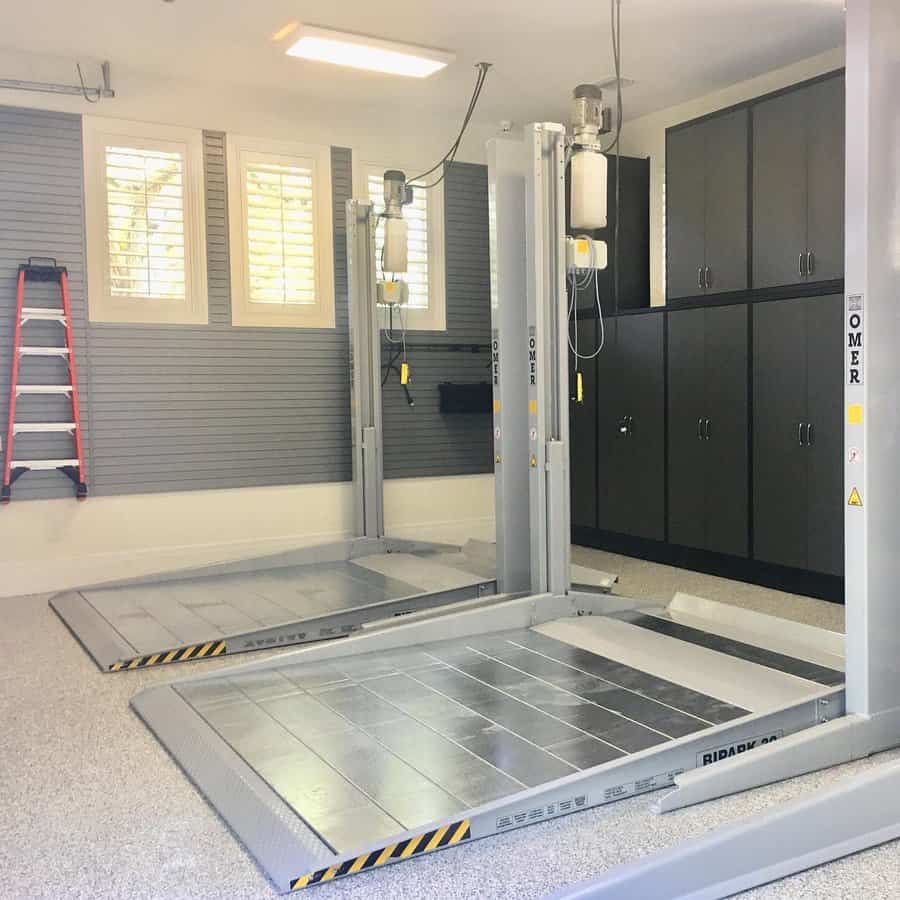 30. Tool Peg Board
Give your garage a facelift…without compromising on functionality. An easy way to transform the dull wall of your garage is with a tool peg board made to look like wall art.
There's no better feeling than transforming the mundane into something special, and tool peg boards provide the perfect combination of aesthetic appeal and functionality for all your tool storage needs.
Add an L-shaped working desk to complete the setup, creating a workshop where you can get creative and tackle any sort of home improvement project in style.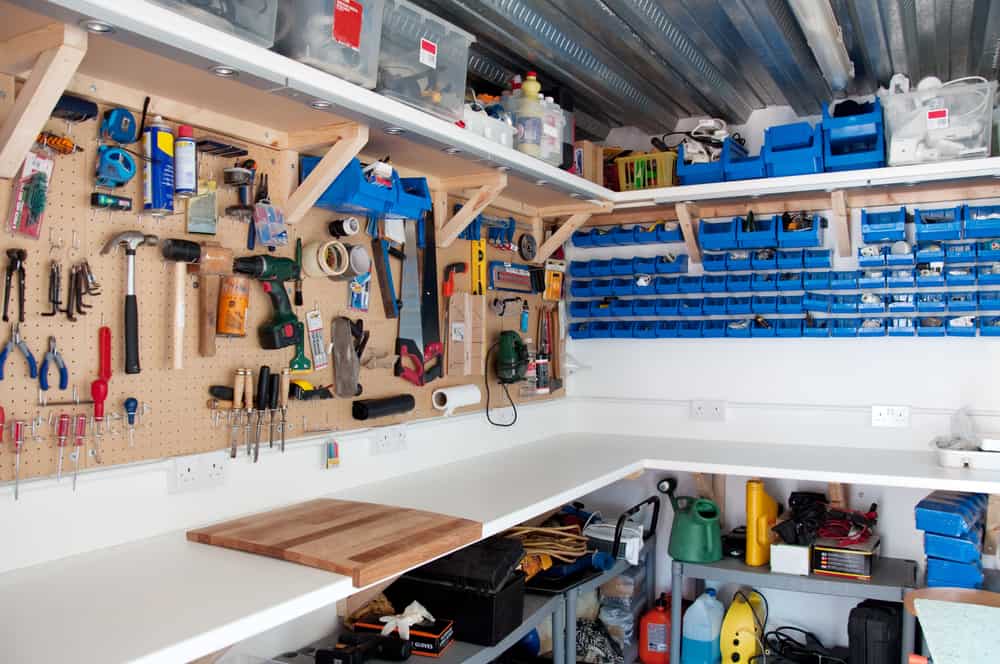 31. Multi-purpose Wall Mount
The multi-purpose wall mount is the ideal way to turn any garage wall into a multi-functional storage space.
Its transparent construction provides the perfect view of all items, while its sturdy construction keeps them securely arranged and functioning as they should.
Installing this wall mount can be done in minutes, saving you lots of time in organizing your items. With it, having an orderly and organized garage will come easily!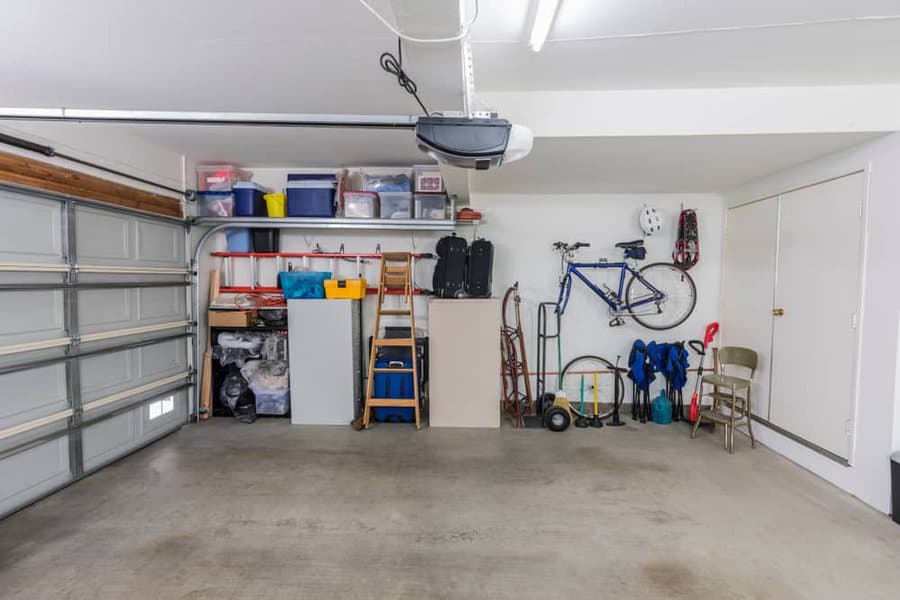 32. Wooden Plank
Transforming a dingy garage with wooden plank walls and fluorescent lighting is an easy yet effective way to turn a drab space into something special. Whether you want to create an inviting work area, host intimate gatherings or even use the space for storage, wooden plank walls can help to create an inviting atmosphere that encourages creativity.
With the right combination of materials and colors, you can transform any ordinary garage wall into a visually appealing feature that adds style and warmth. The extra light from fluorescent lighting will only add to the effect, making it both practical and stylish.
So if your garage needs some sprucing up, wooden plank walls are just the thing you need!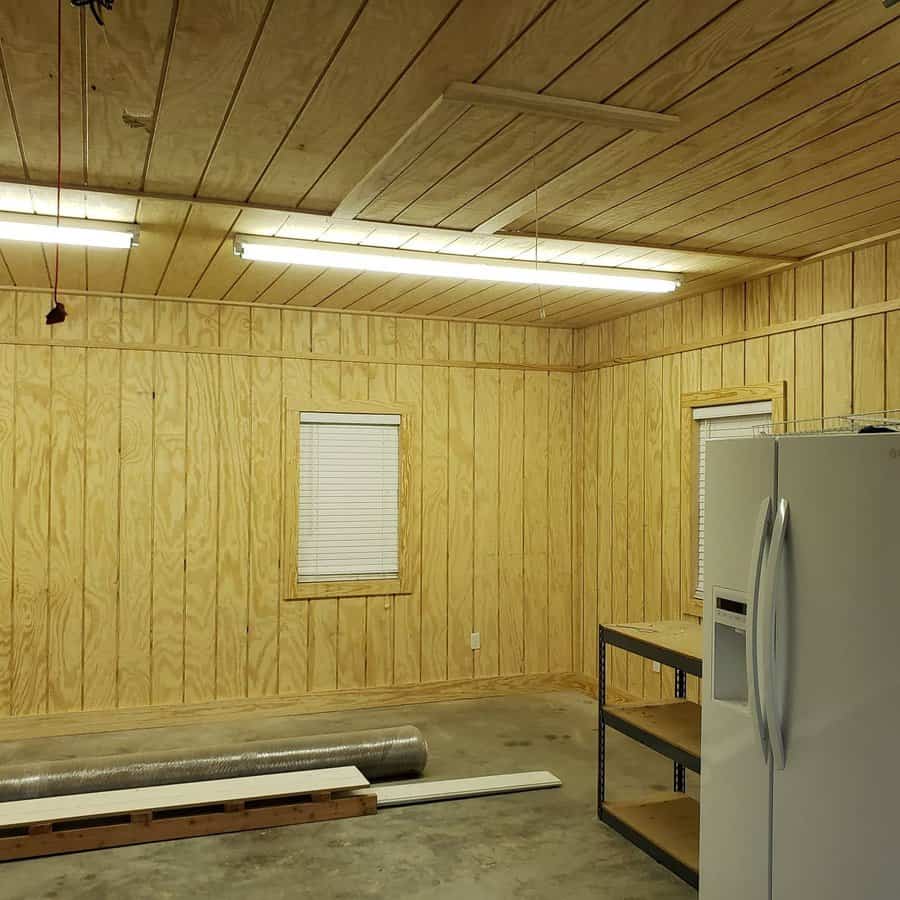 33. Mustang Wall Tapestry
Whether you're a Mustang enthusiast or simply looking to add a touch of Mustang style to your garage, a Mustang wall tapestry on wooden walls is one of the best ways to make that happen. This timeless wall decor piece adds a classic automotive vibe without cluttering up the room and provides eye-catching visuals with its colorful design.
Hang it up and suddenly you have an inviting atmosphere in what was just another ordinary space. Moreover, it increases the desirability of both road-users as well as bystanders whenever someone enters your driveway, adding purity and style to one of your most prized possessions – your garage.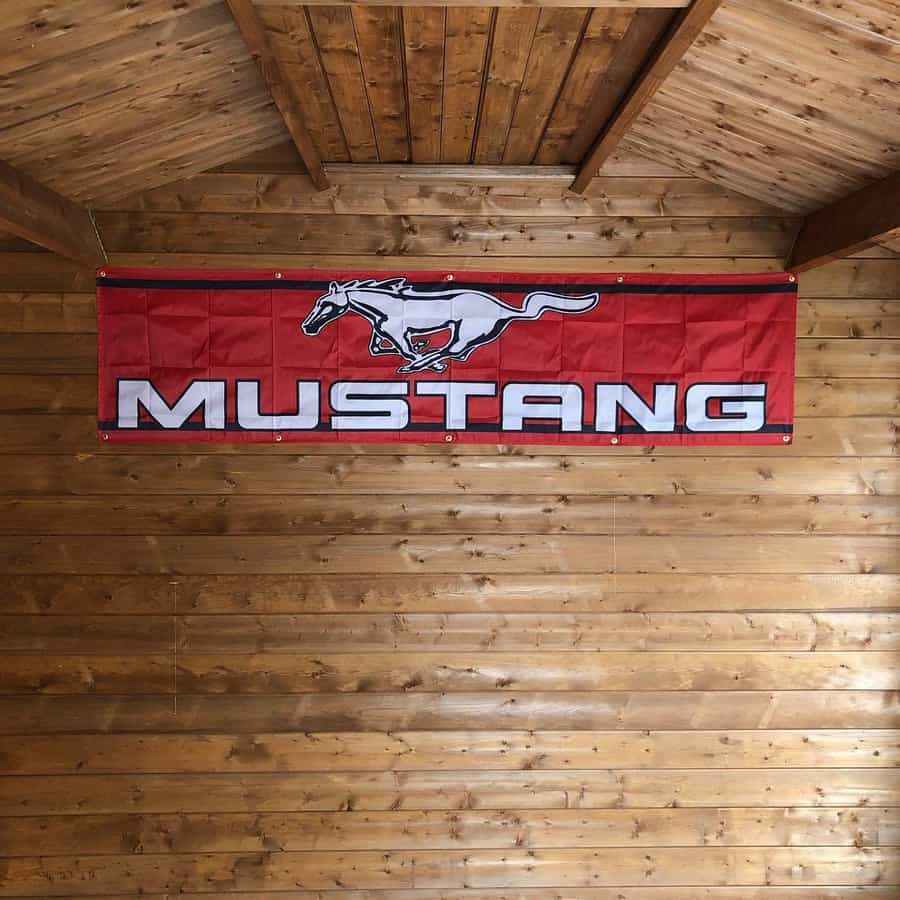 34. Bike Mount With Work Desk
A garage wall can easily be transformed with a unique bike mount that doubles as an L-shaped work desk! Create an area for tinkering and bike maintenance, or even use the bike mount to organize cleaning and craft supplies.
This is a great way to utilize vertical space in your garage, adding some extra real estate along with a bit of charm. And don't forget: fashion meets function at its best with this bike mount/L-shaped work desk combo!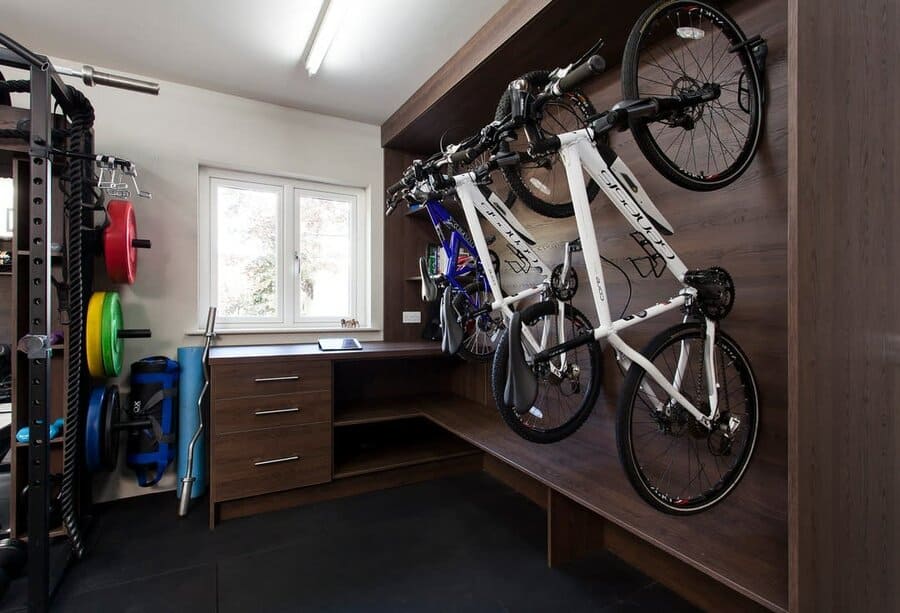 FAQs
What is the cheapest way to finish a garage wall?
Head to your local home improvement store, such as Home Depot, and purchase sheets of shiplap. You can then mount these on the garage wall for affordable and simple finishing treatment. It is more affordable and easier to install than drywall, and you can mount hooks or nails to it.
Should you insulate garage walls?
If you plan to use your garage for anything other than parking your car or storing tools, you will want to add insulation to the walls. Without insulation, it will be hard to regulate the heating and cooling of your garage space. Fiberglass roll is the cheapest option, and you can install it yourself.
Can I put up a wall in my garage?
Yes, you are probably ok with building an additional wall in your garage. You can create separate spaces by adding walls. Start by adding a stud framework. Then add any wiring for electrical that you need. Add insulation if necessary and finish with drywall.