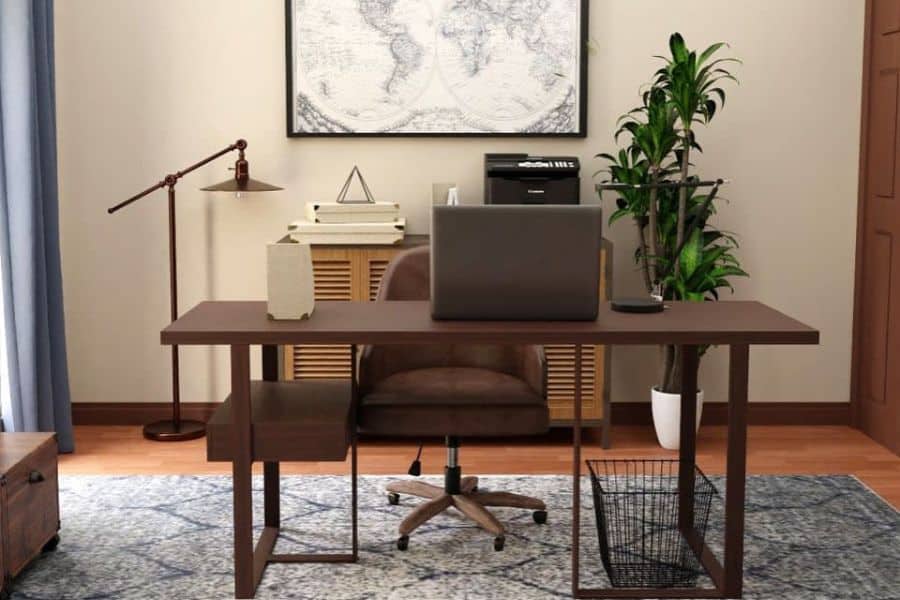 67 Home Office Desk Ideas for a Home Workstation
"People think that I must be a very strange person. This is not correct. I have the heart of a small boy. It is in a glass jar on my desk." – Stephen King
Working from home has become more normal, and this means more people are looking for ways to make their home office space more functional. The first step is finding the perfect desk. It needs to be big enough to have enough space to work and also fit the available space you have in your home. Its style needs to feel comfortable to you and make sense for the type of work you do.
These home office desk ideas will help you find the perfect desk for your home office desk.
1. Chic
Choosing a desk chic design is in the eye of the beholder. Look for a desk with design elements that embody modern design trends. This could be a brushed gold metal frame for the supports. They could have geometric shapes and lots of sleek lines. The body of the desk could feature a bold color like hunter green, deep blue, or crisp white.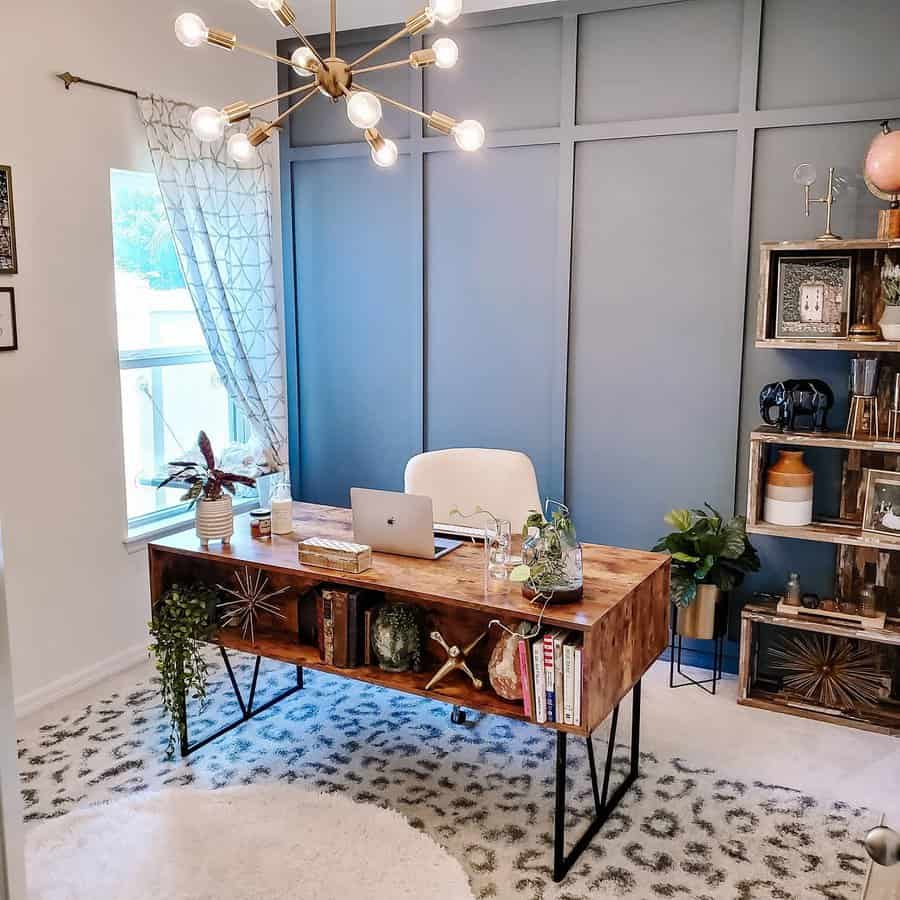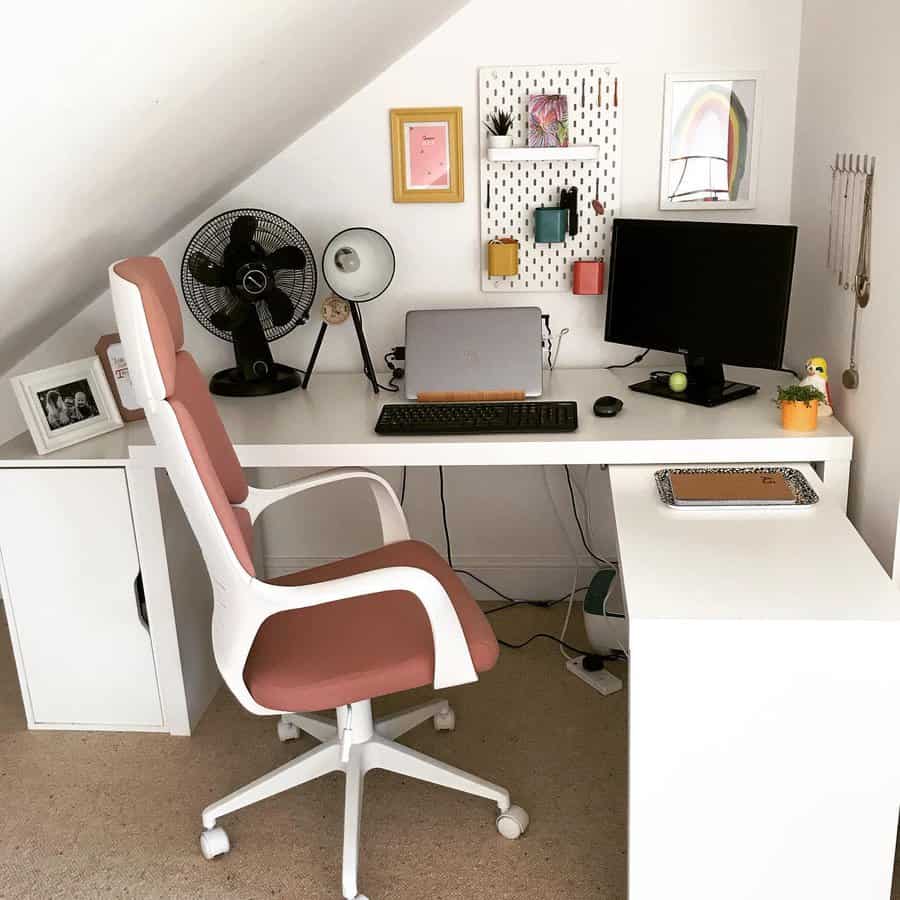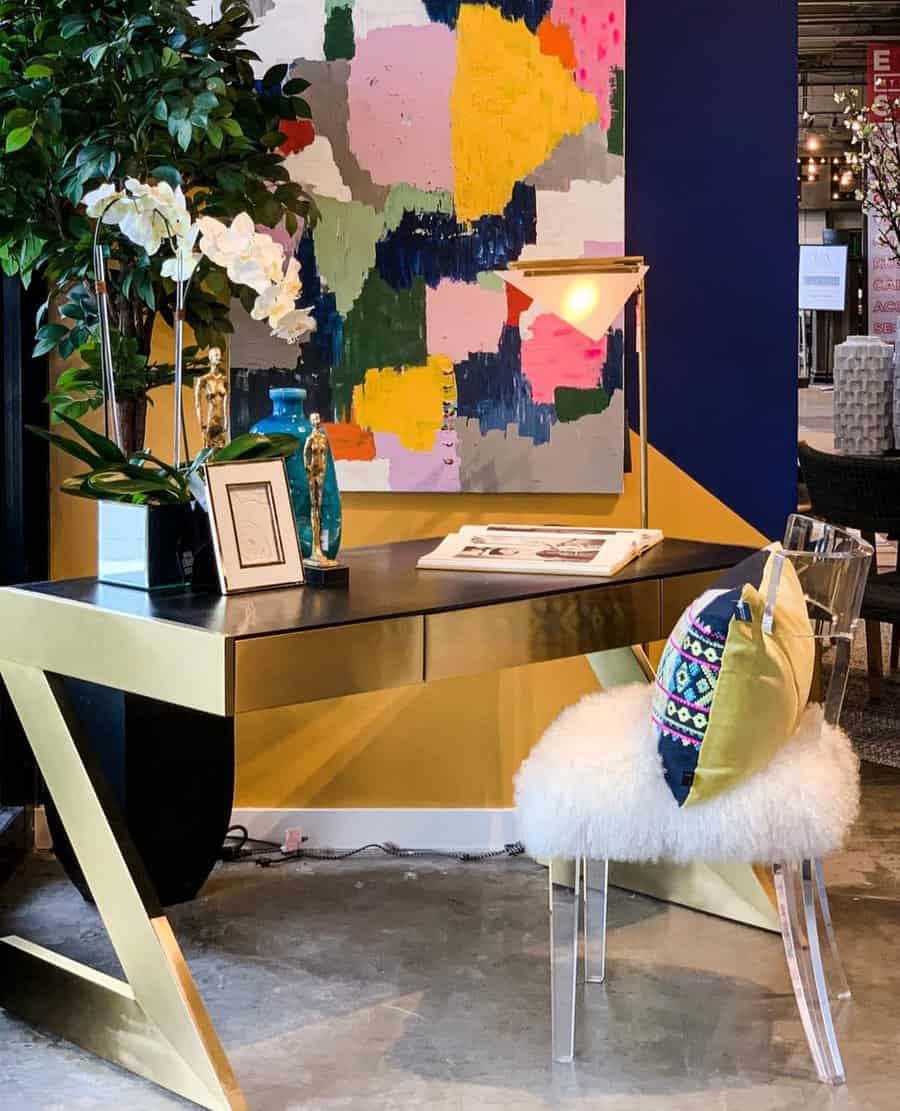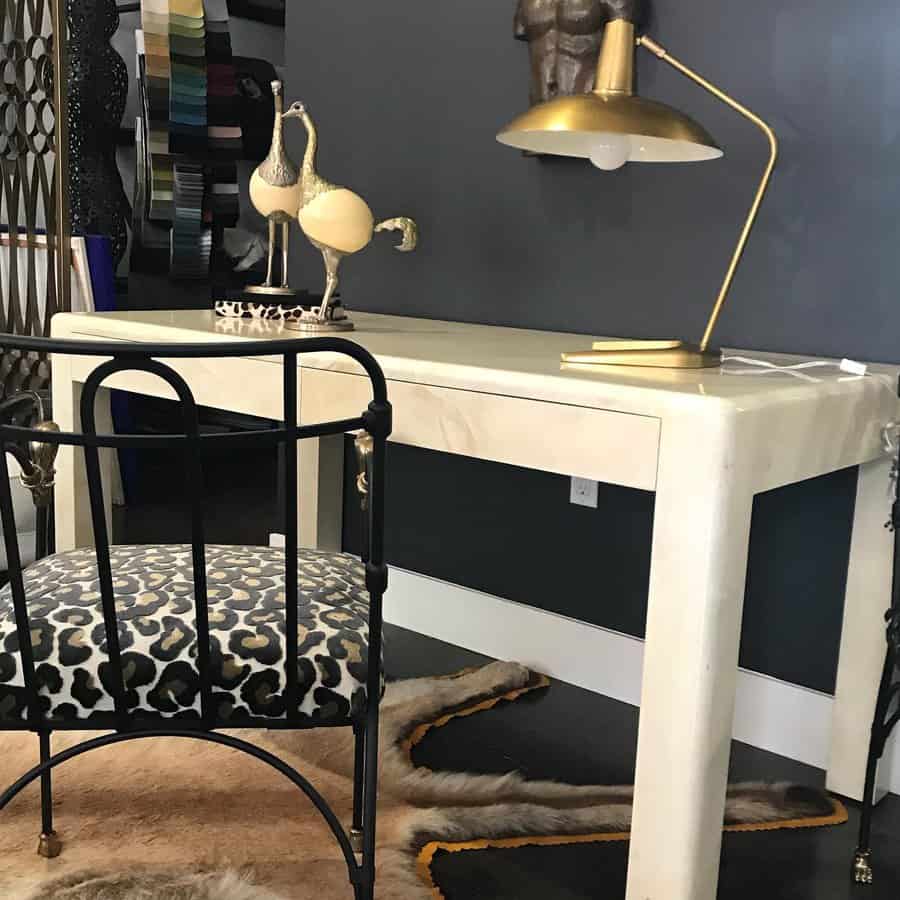 To complete the look, match your office supplies, desk lamp, and the rest of the decor to your desk. This completes the chic look. Add home decor to your desk that you would typically find in other areas of the home and not in an office. A vase with fresh blooms keeps your desk feeling fresh and welcoming.
2. Computer
Technology is a part of our lives, and a computer desk is a modern solution. Look for a desk that can accommodate your laptop, keyboard, and other peripherals. It should also have a way to keep your papers and other non-electronic supplies organized.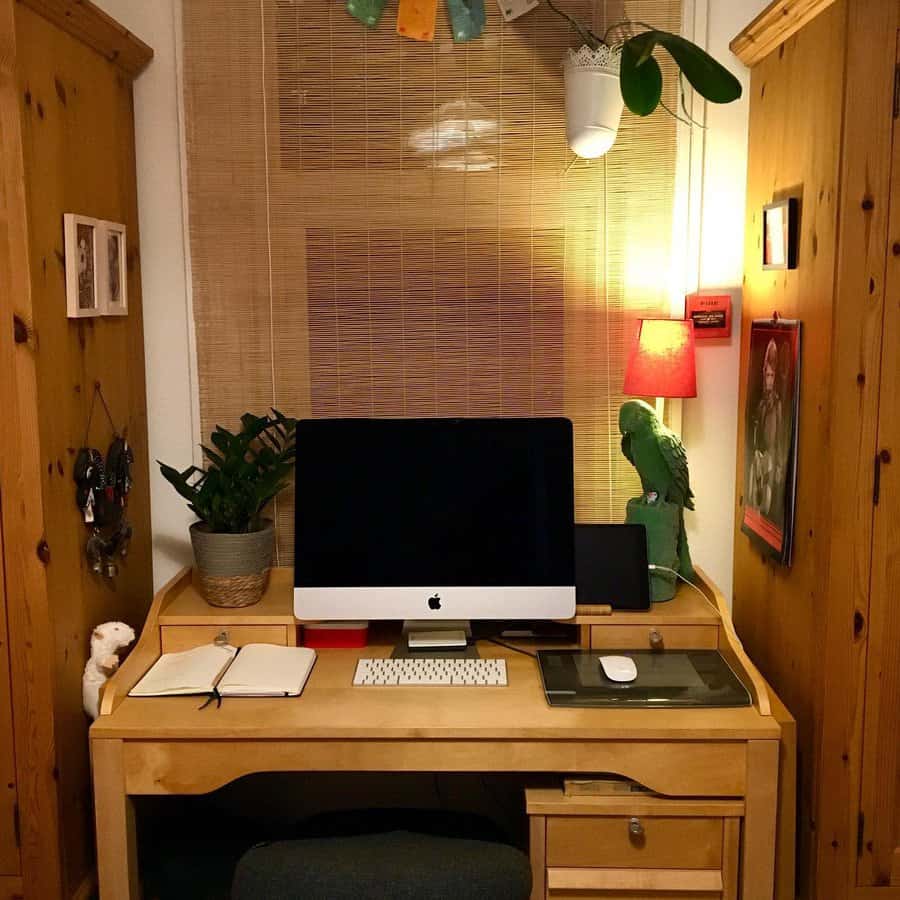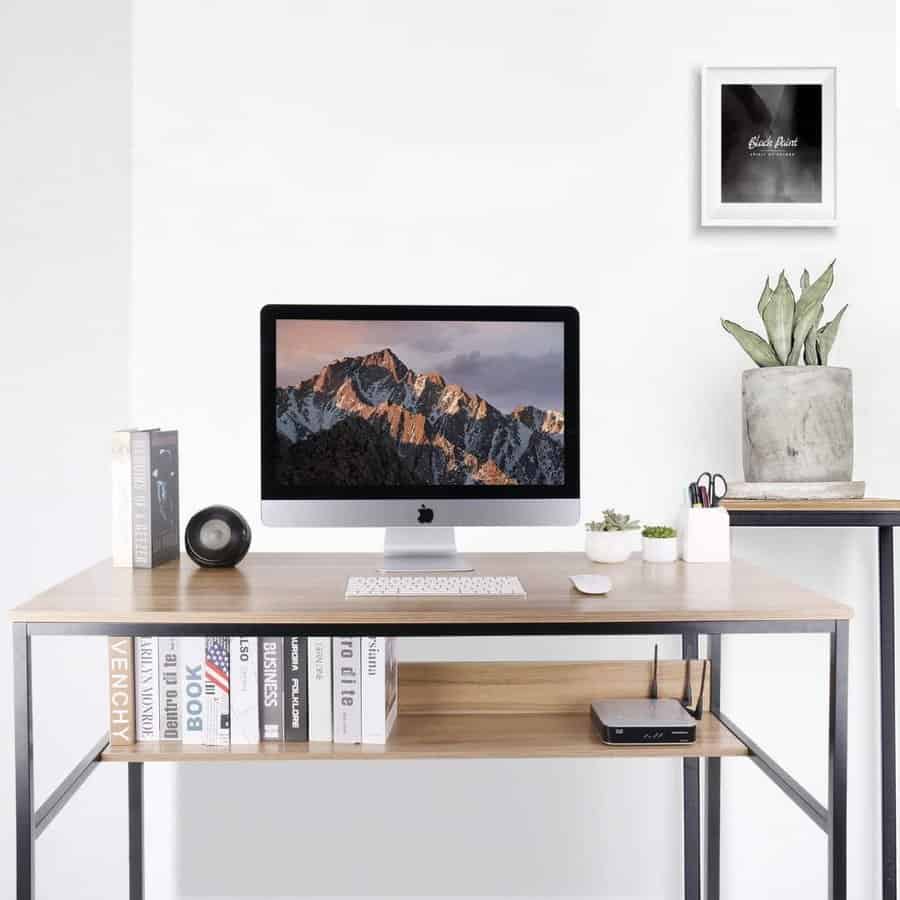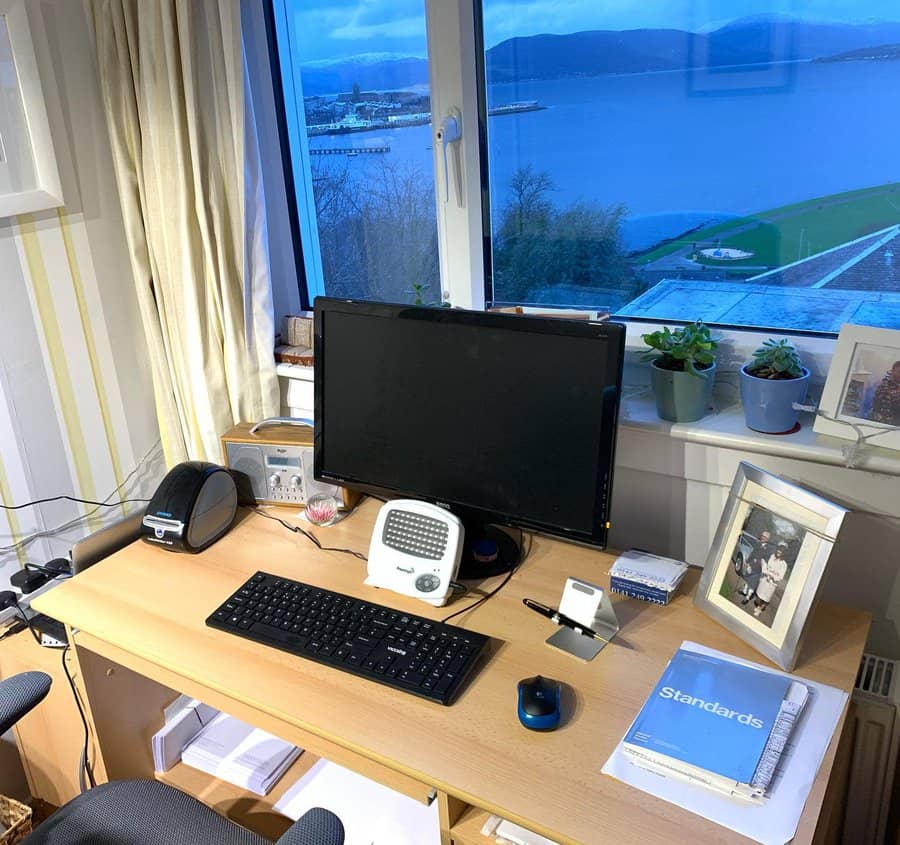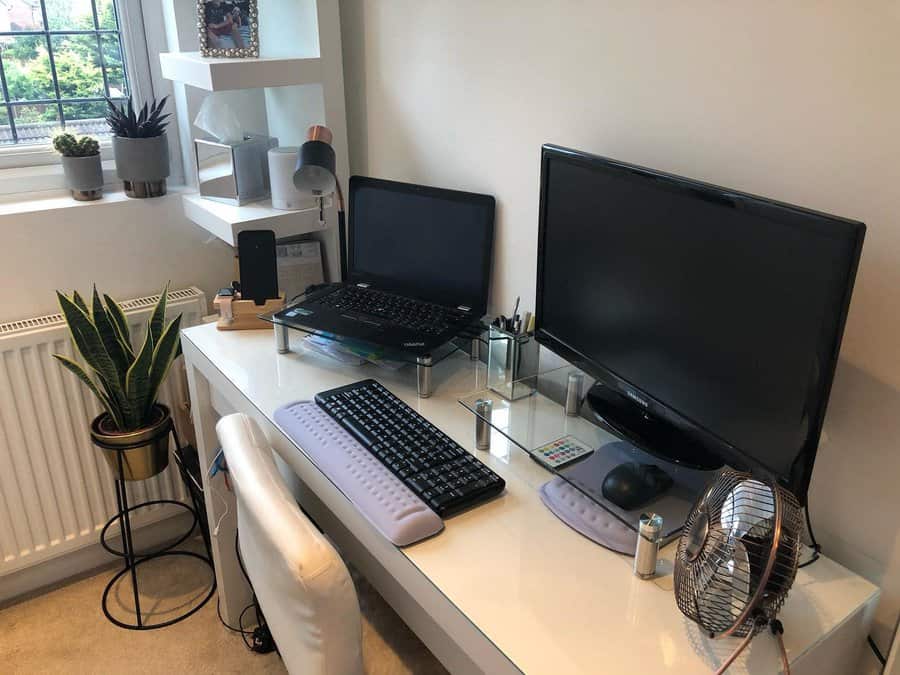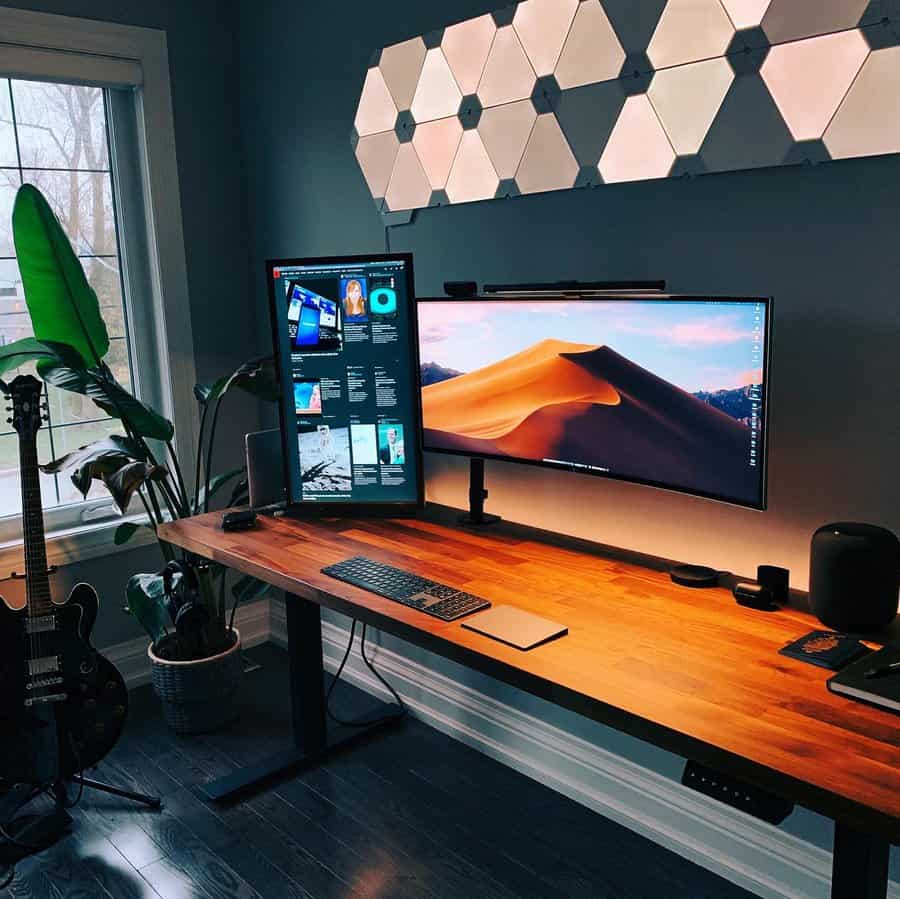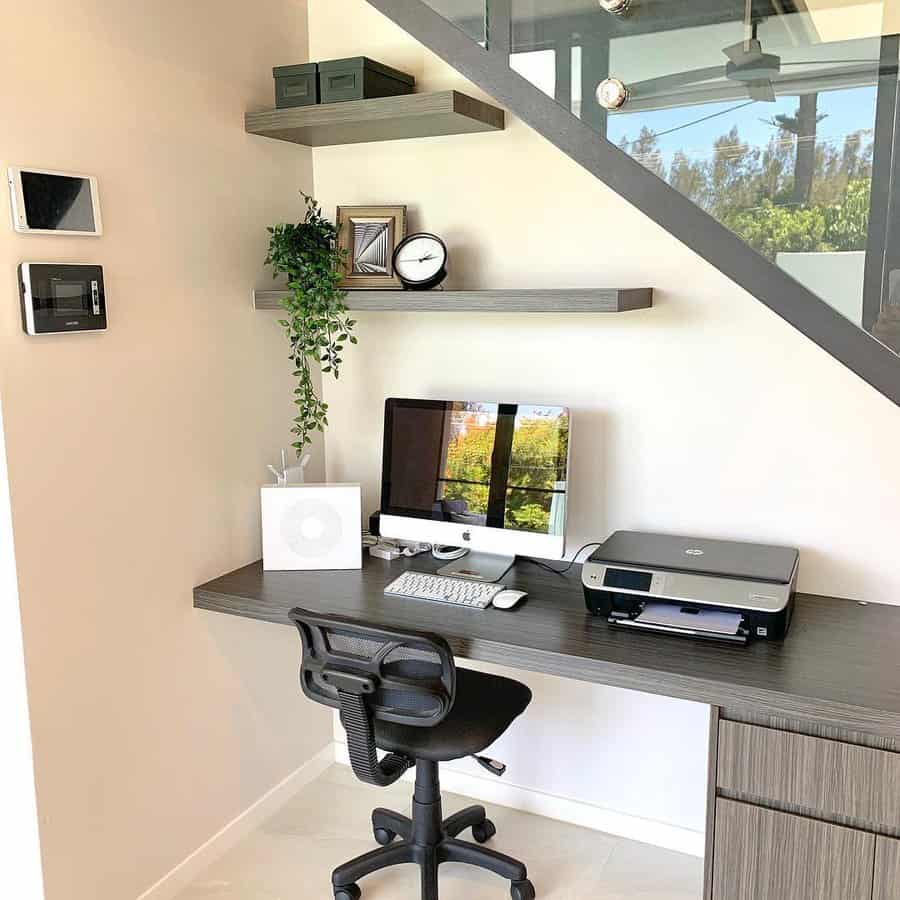 What's nice about computer desks is that they don't have to be modern or minimalist in design. You could have one that looks vintage, rustic, retro, or even Victorian. Make sure the desktop is at the right height to create the ideal ergonomic setup for maximum body comfort for all-day work.
3. Corner
A corner desk gives you plenty of space to the left and right and in front of you. The corner is deeper, giving you more space to push the computer screen further away, reducing the stress on your eyes. Pay attention to the supports under the desk, as these could restrict your movements while working.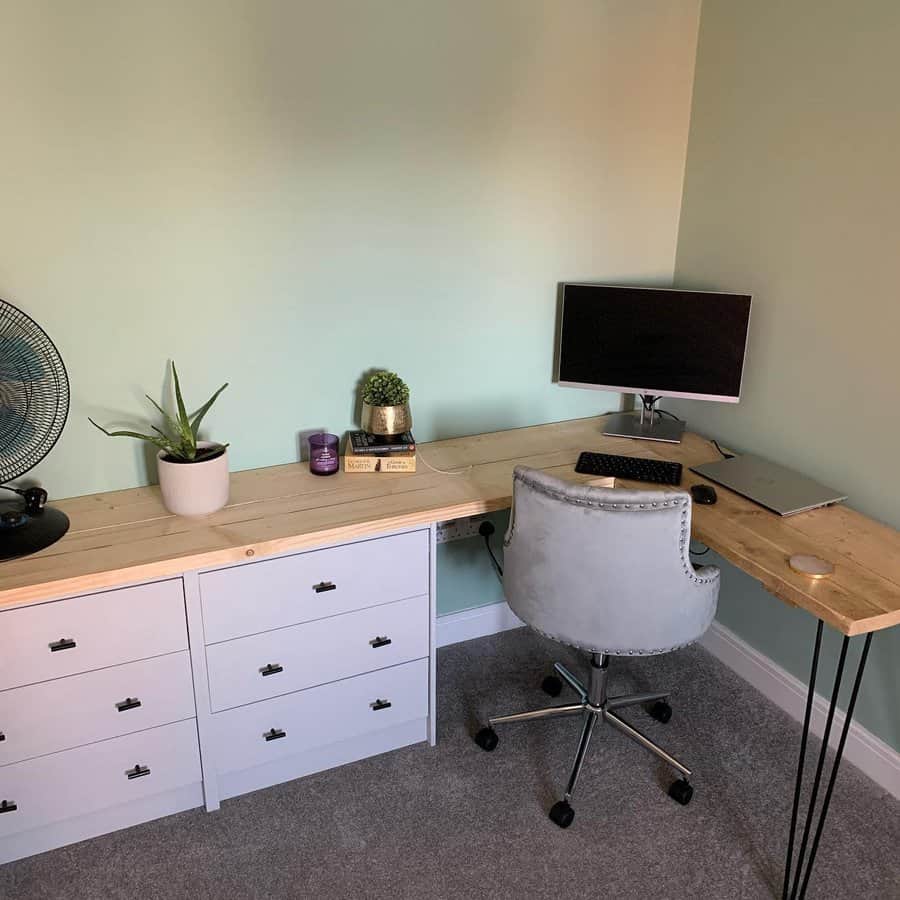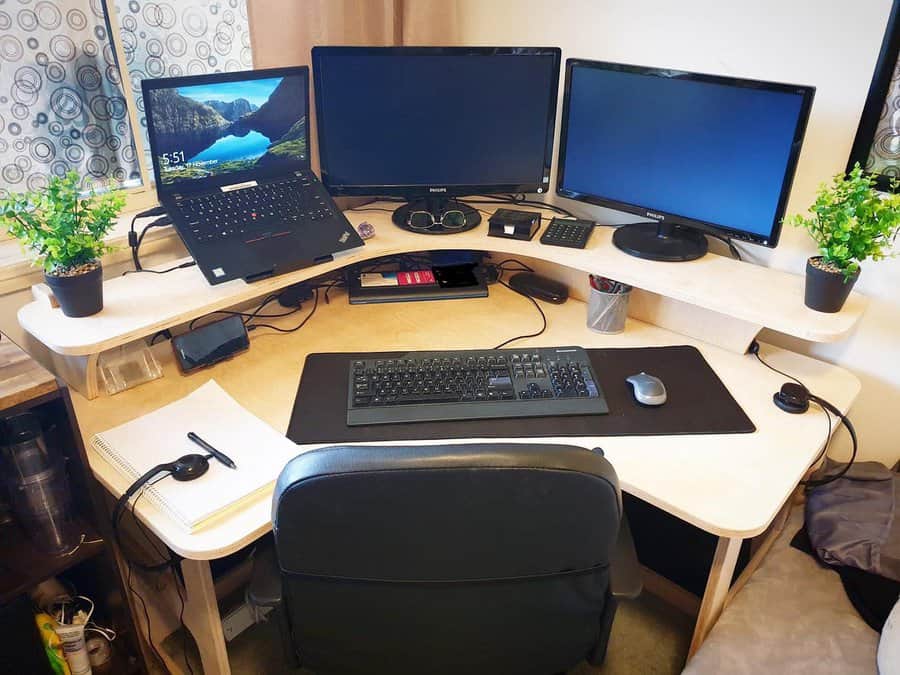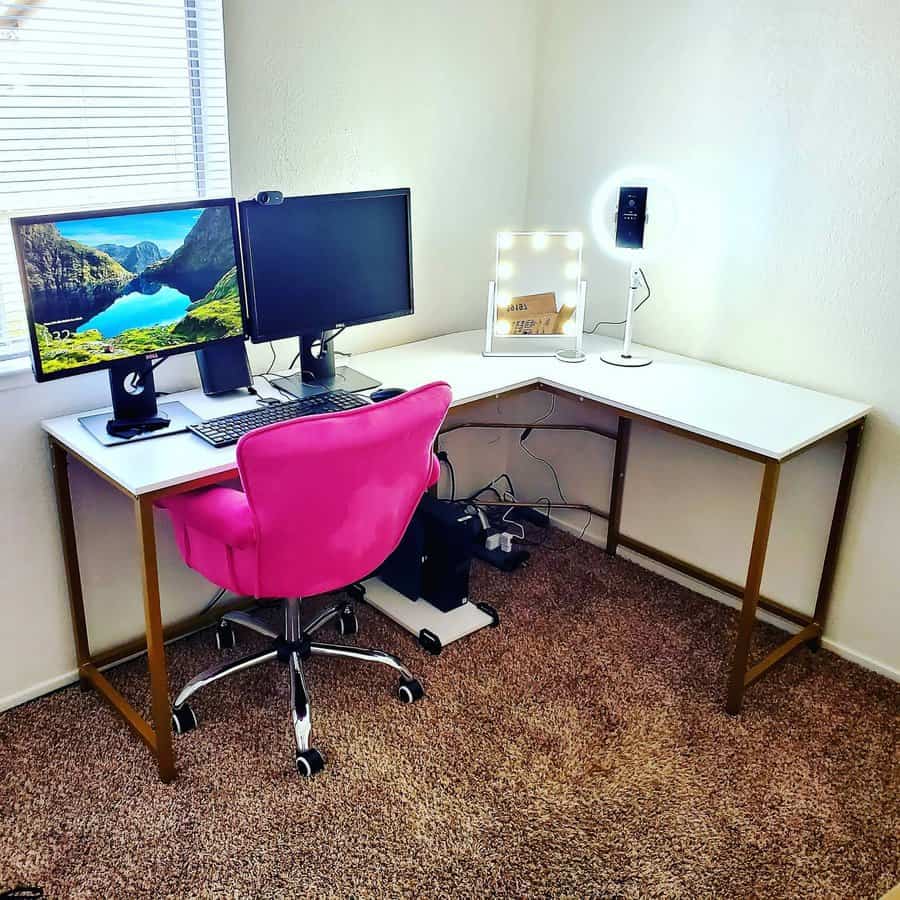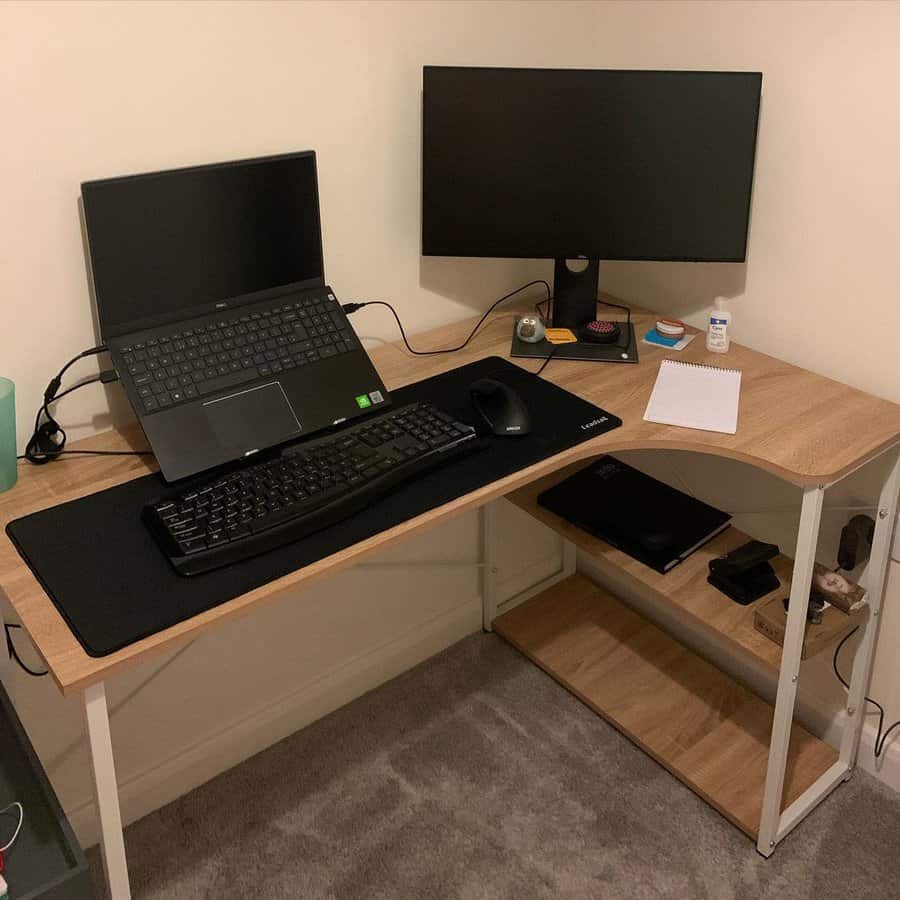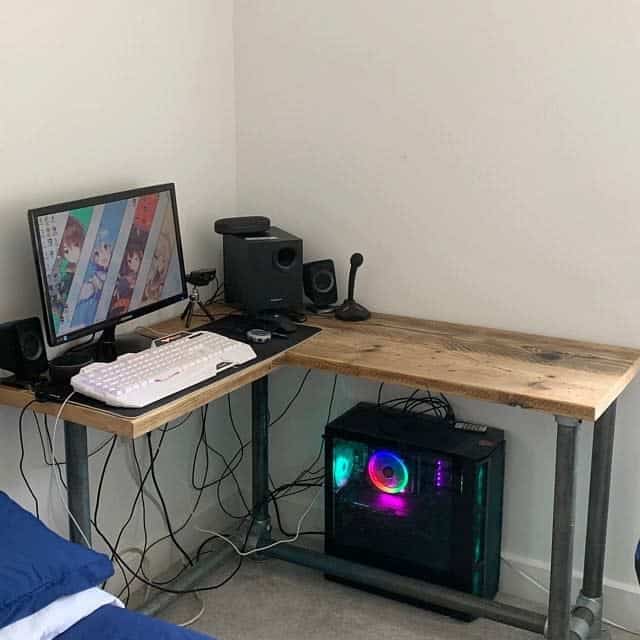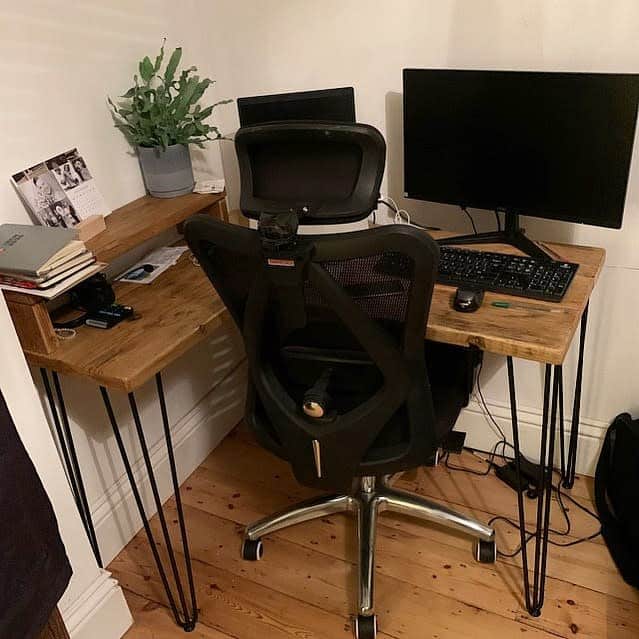 The drawback of a corner desk is that you are stuck staring at the corner of your office. This could put your back to the door, which can be uncomfortable. It could also restrict your ability to look out the window.
4. Custom
Add a custom desk to your home office for a workspace solution that is exactly what you need. It could be a fold-out desk that is hidden in your built-in cabinets. Or you could have an office desk with multiple levels. Sit in standard office furniture at one park and then have a stand-up office desk in another part. Perhaps you need additional storage space and build extra cabinets into your desk.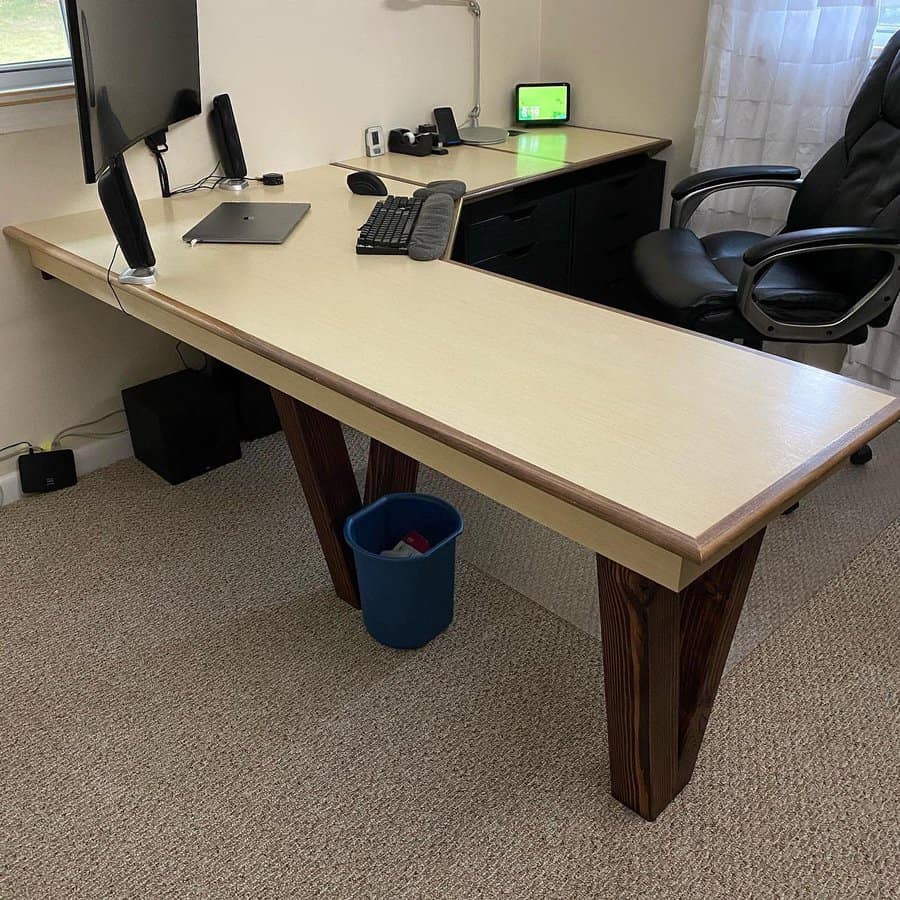 If you want to build your desk into a non-traditional space, then you'll need a custom desk to fit. An example of this is in a closet. You can't put a traditional desk in the closet, so you'll need to build one into the available space.
5. DIY
Sometimes the only option is to build your own desk. The easiest way to do this is by setting up two sawhorses and placing a piece of wood on top. If you are looking for something more stable and permanent, then you could still build your DIY desk out of wood. Start with the legs and base and then add desktop.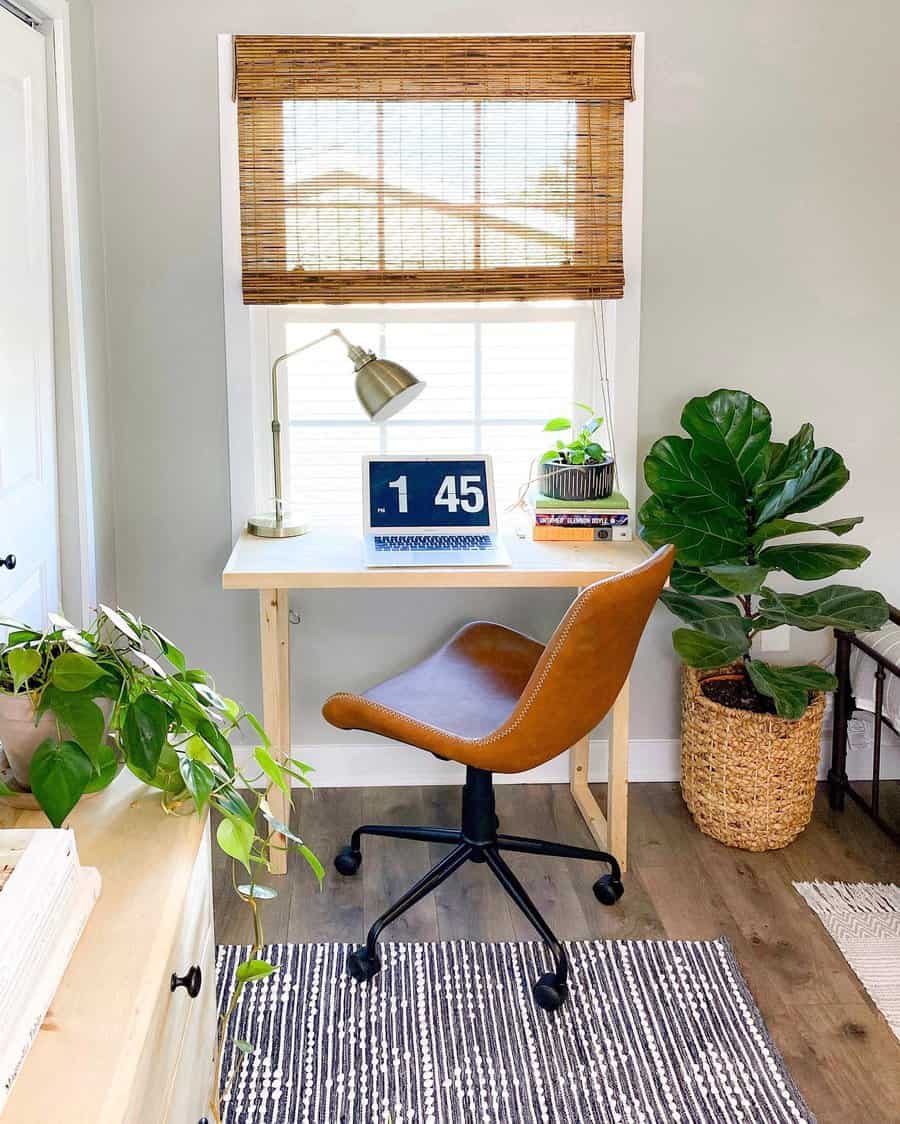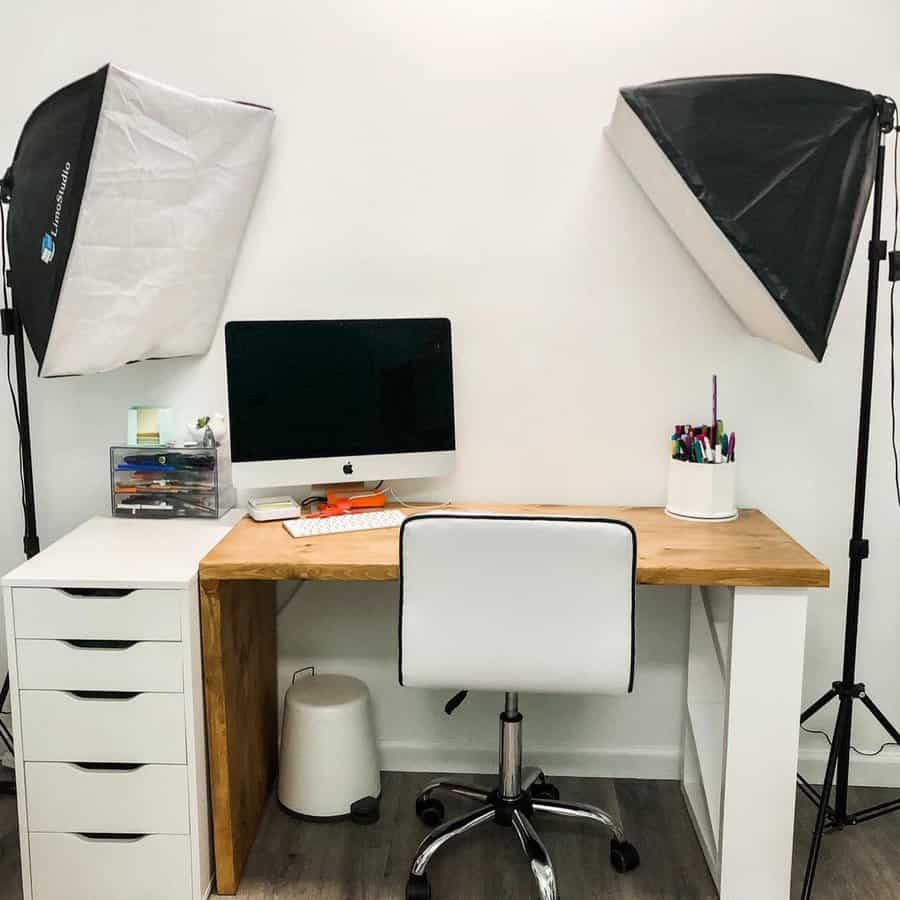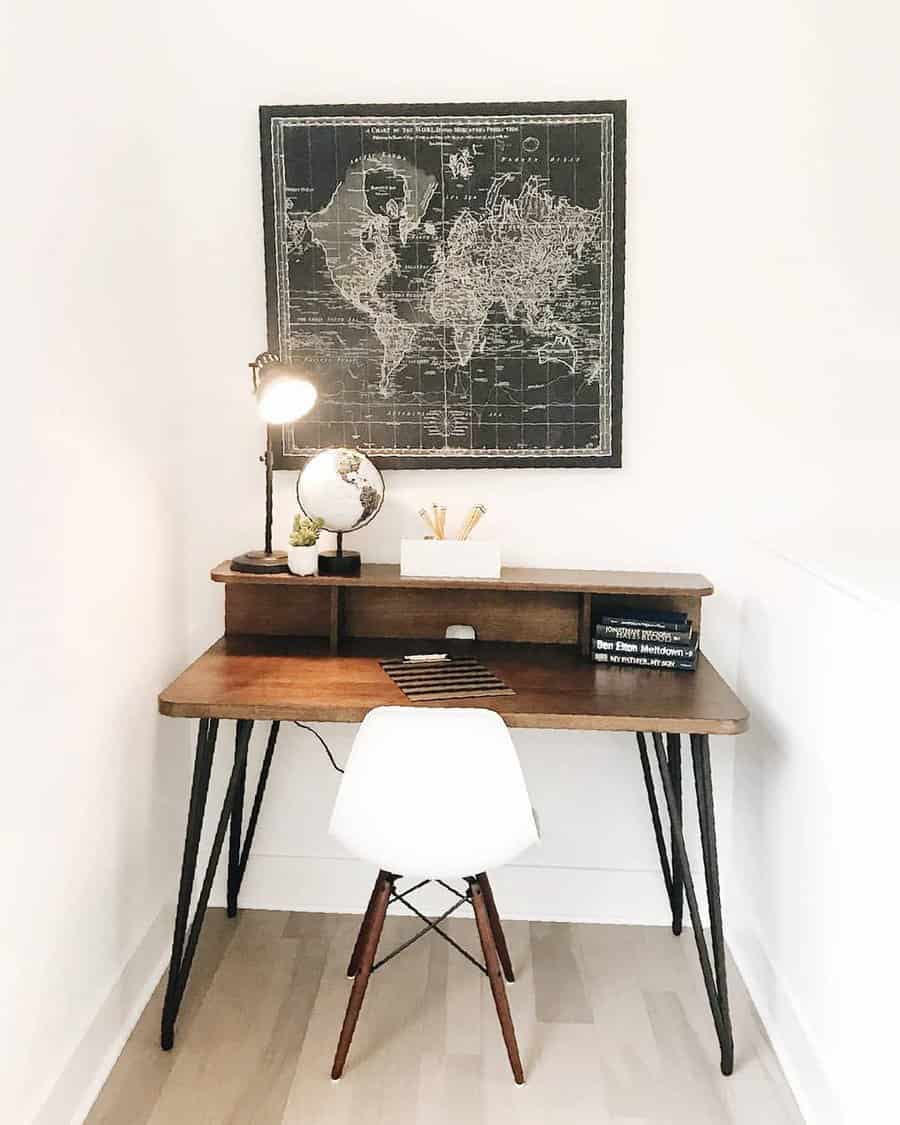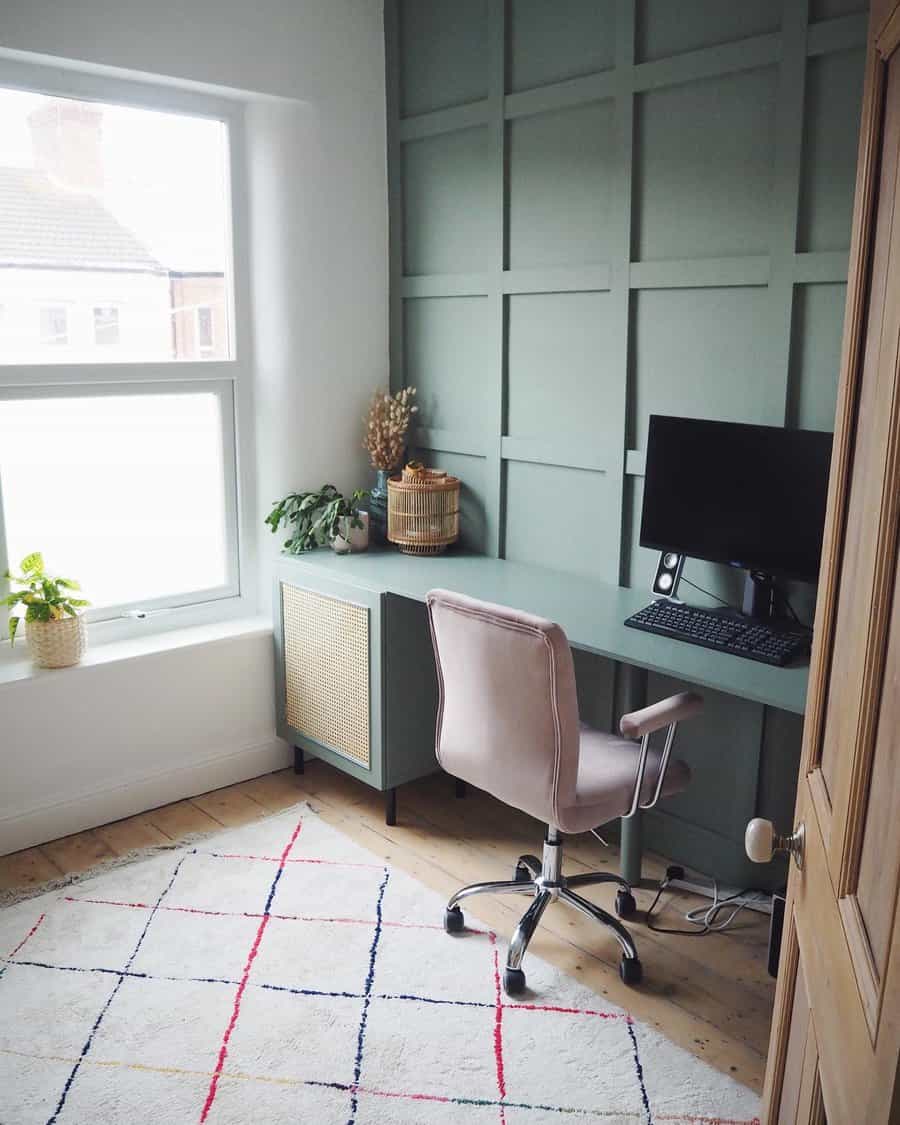 For a rustic touch, you could use pallet wood. Take the pallets apart and use the planks to build your customized desk. Sand down the wood so it's smooth and won't give you splinters. Be careful to only use steam-treated pallets that don't have harmful chemicals.
6. Design
The design of your desk can help create an energy and mood in your home office space. A large traditional desk will give your home office a formal feel that is perfect for financial, legal, and executive-level professionals. A stand-up desk or one with a modern design work well for creative types and freelancers.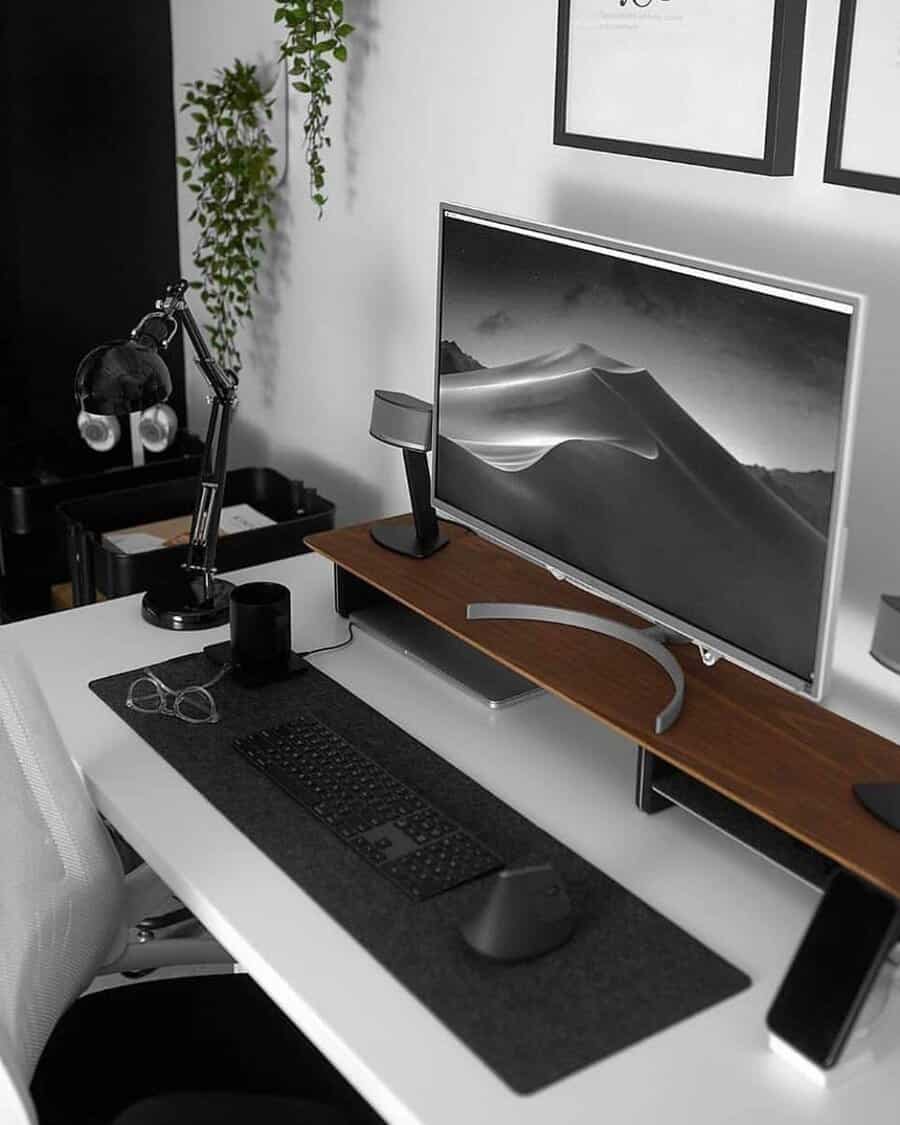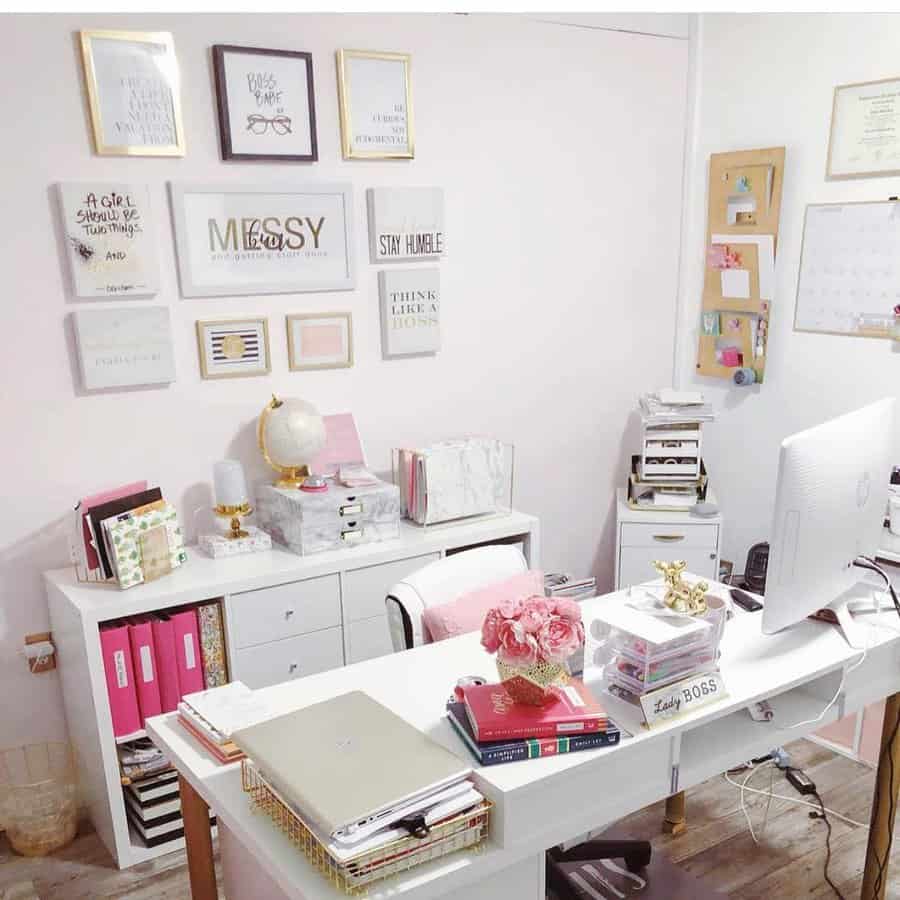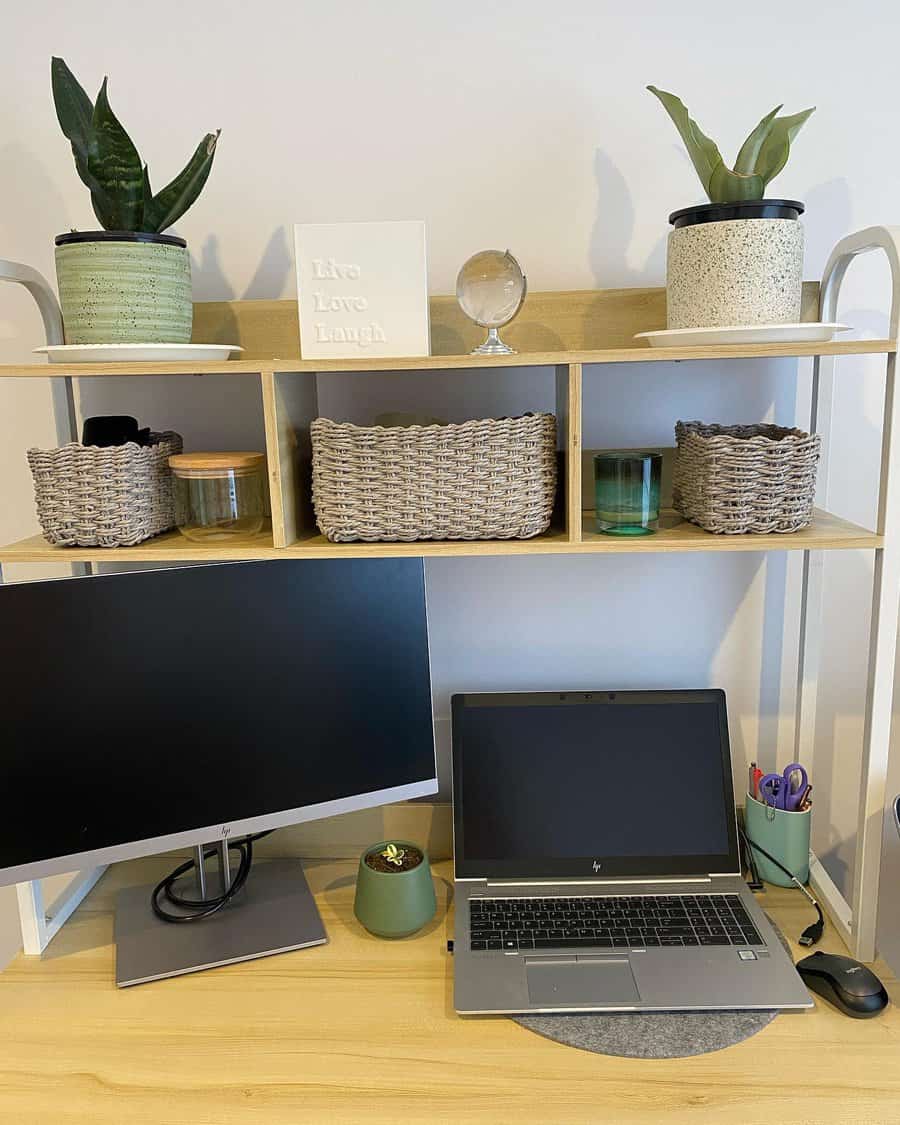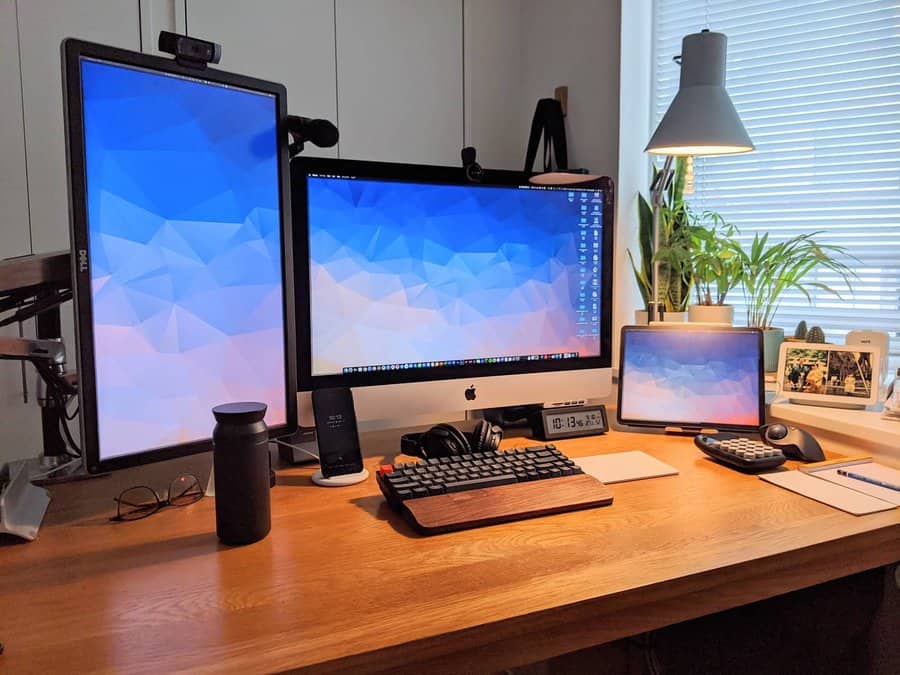 Consider the size and shape of your office space when choosing your desk. Scale the desk to the size of the room so that you have enough space to work while also not overpowering the room.
7. Double
When you live with someone who also works from home, you need to have more than one workspace. A U-shaped desk is a perfect solution. There are two separate workspaces that give each person their own desk to work at without interfering with the other person.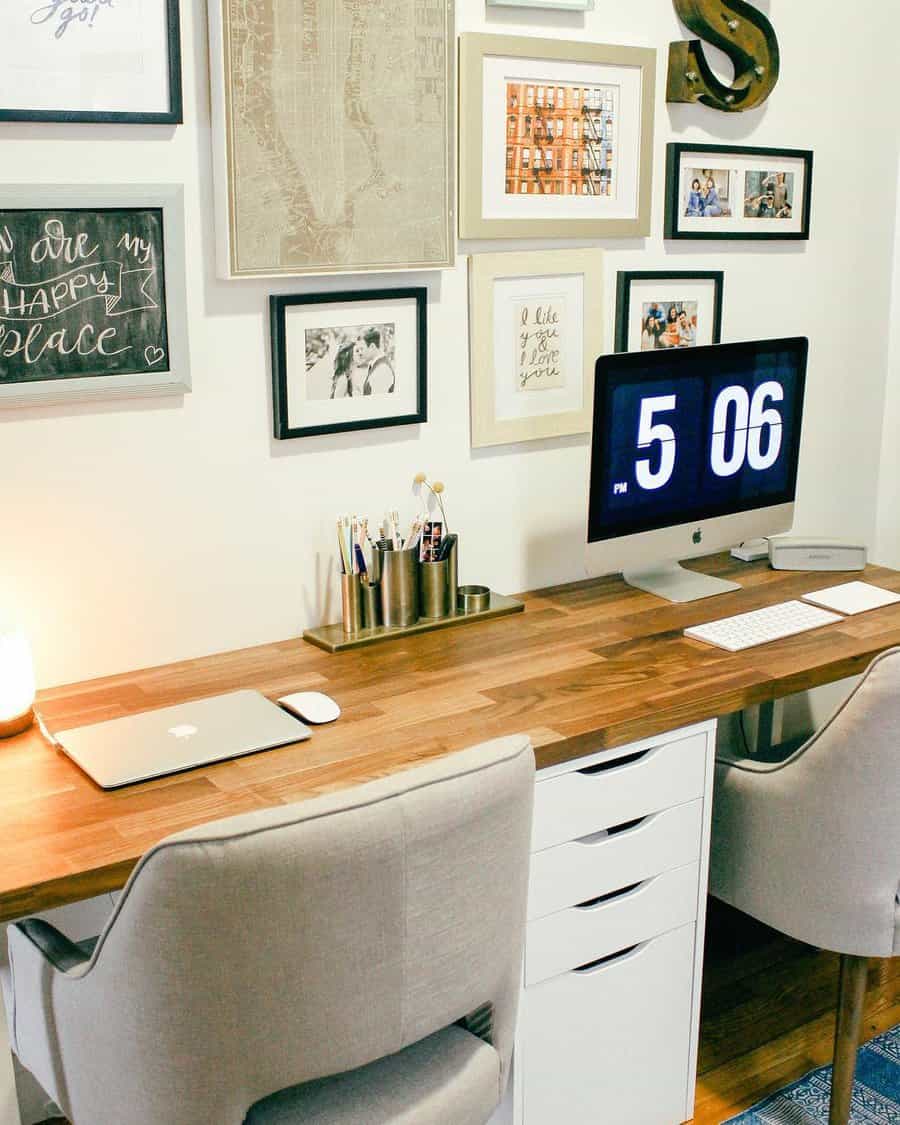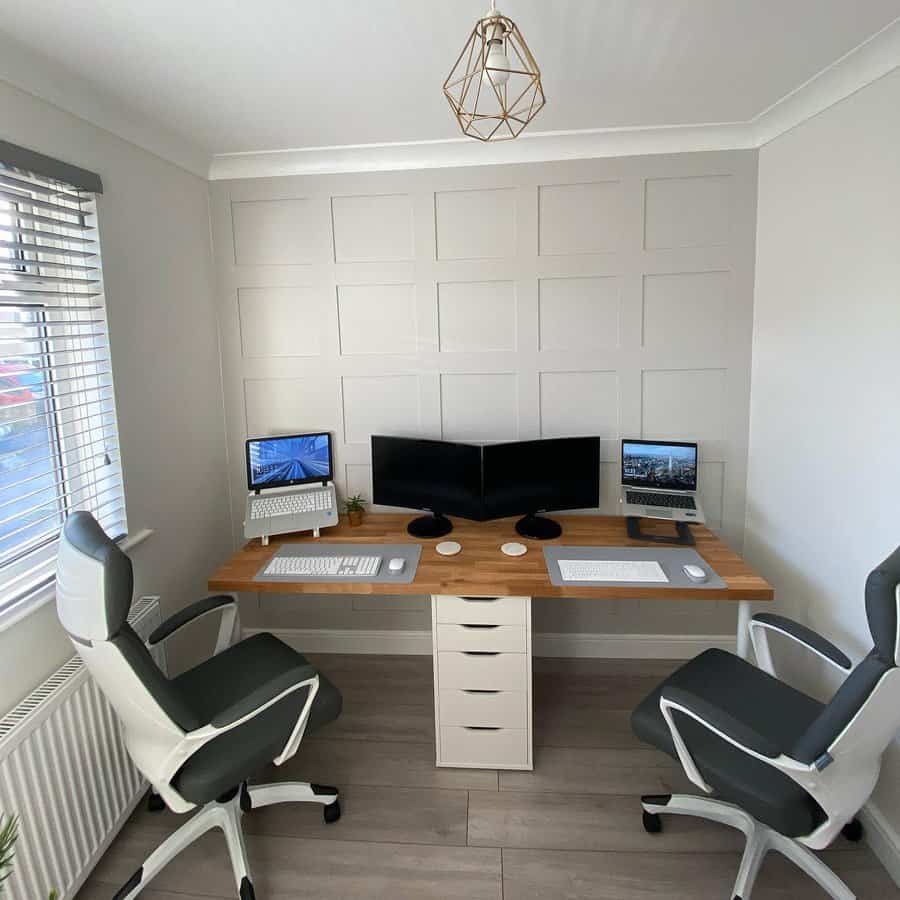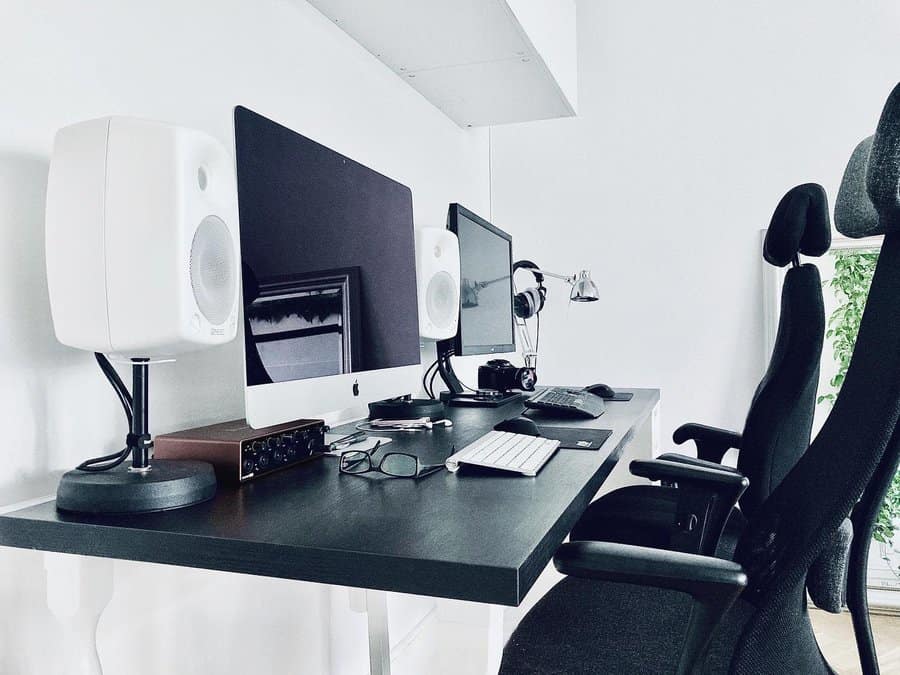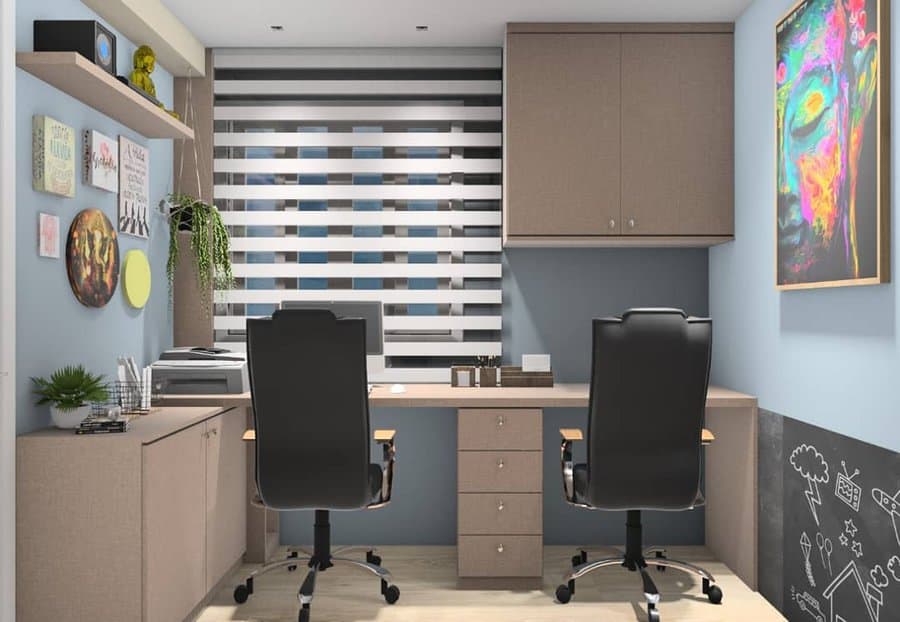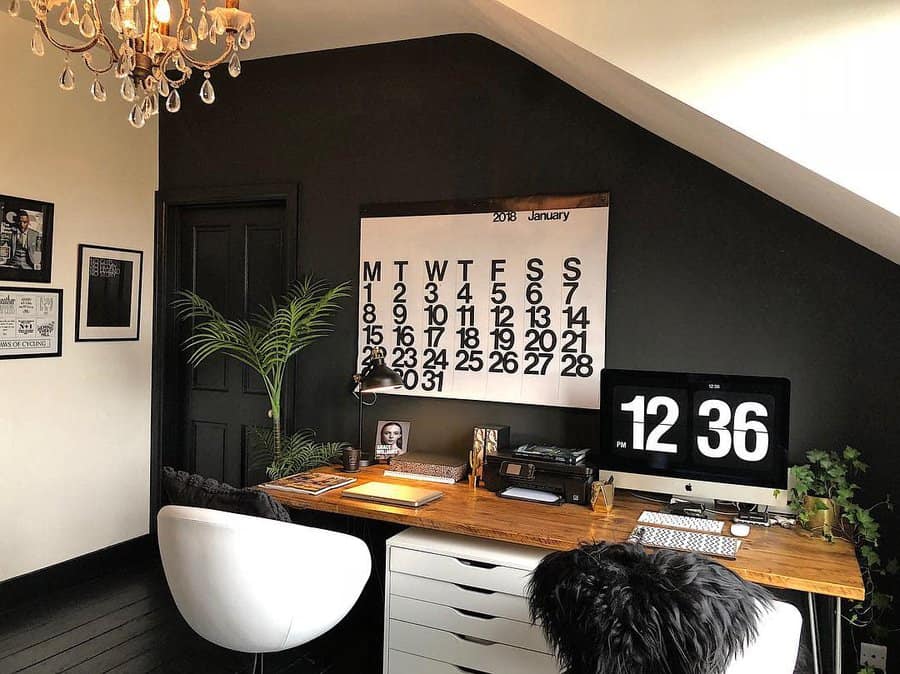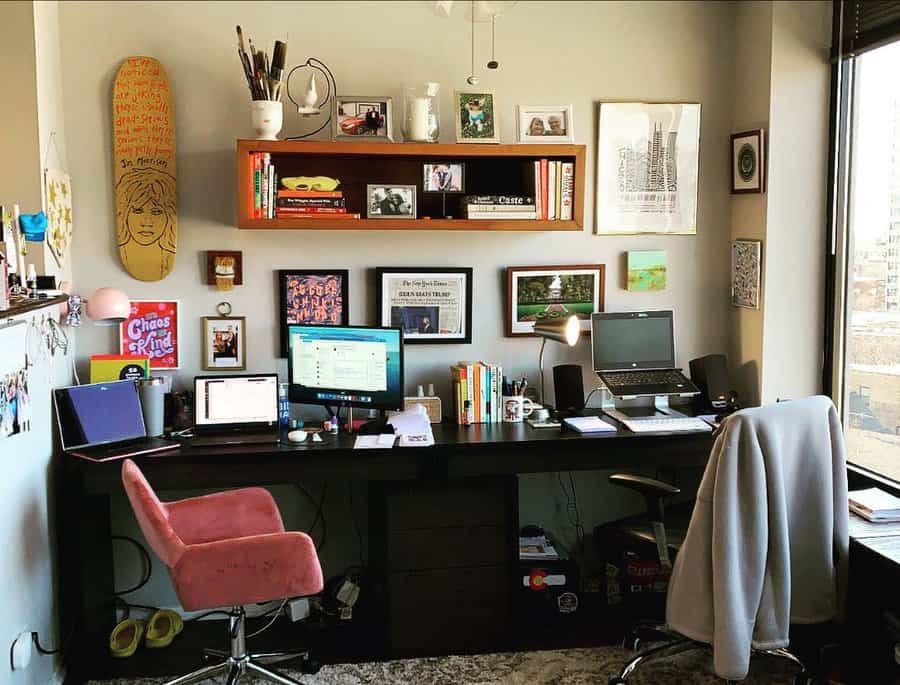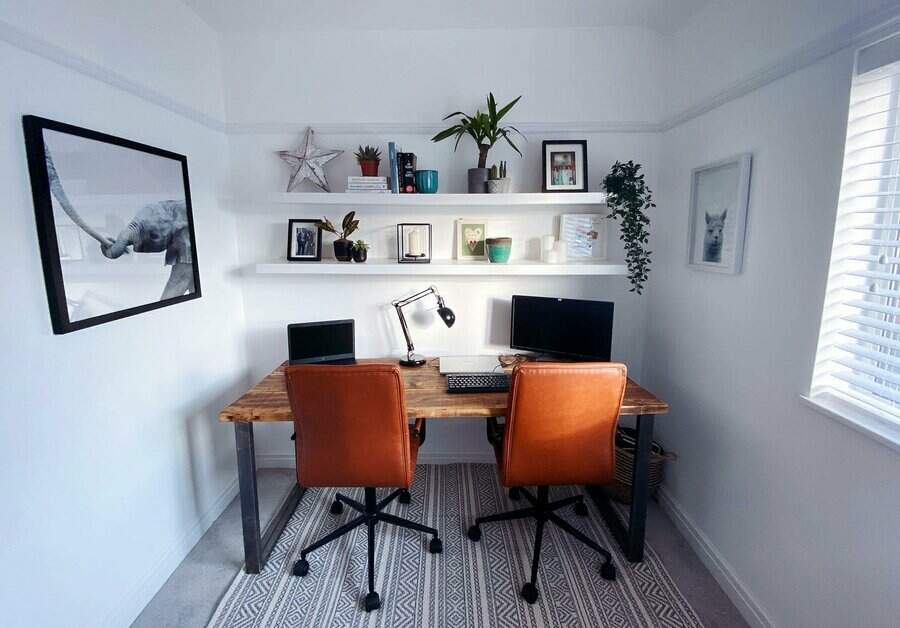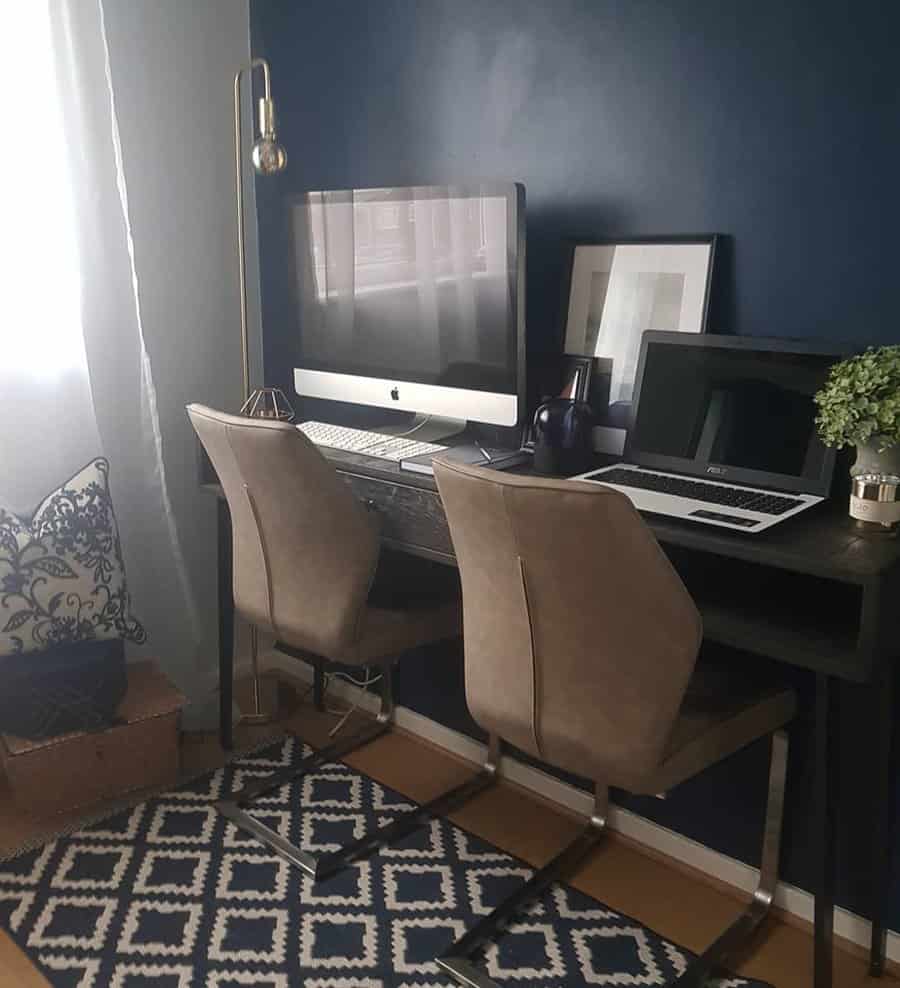 The drawback of this double desk is that it takes up more room. Therefore, you will need to have a large room to accommodate two desks. Measure your floor space to ensure you can accommodate the desks and the required amount of space to move around them.
8. Farmhouse
Using a vintage secretary desk can give your home a classic farmhouse feel. Their small design makes them perfect for someone who doesn't need a lot of space. A writing desk is small, with just enough room for a laptop or writing paper.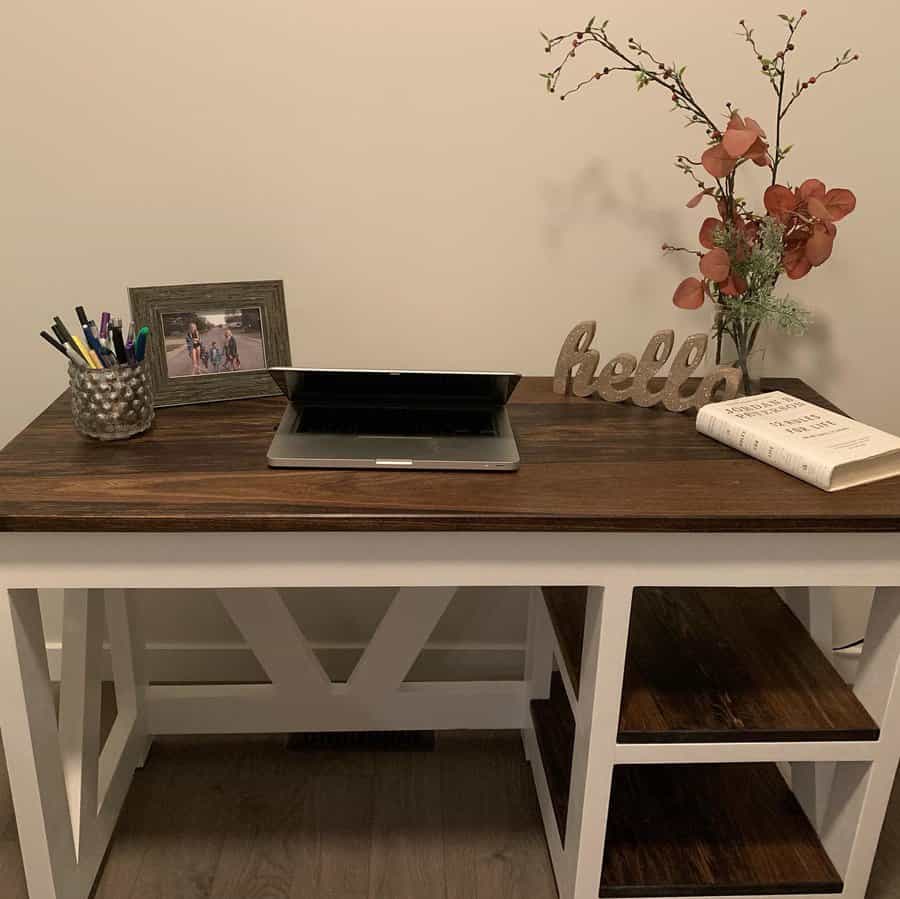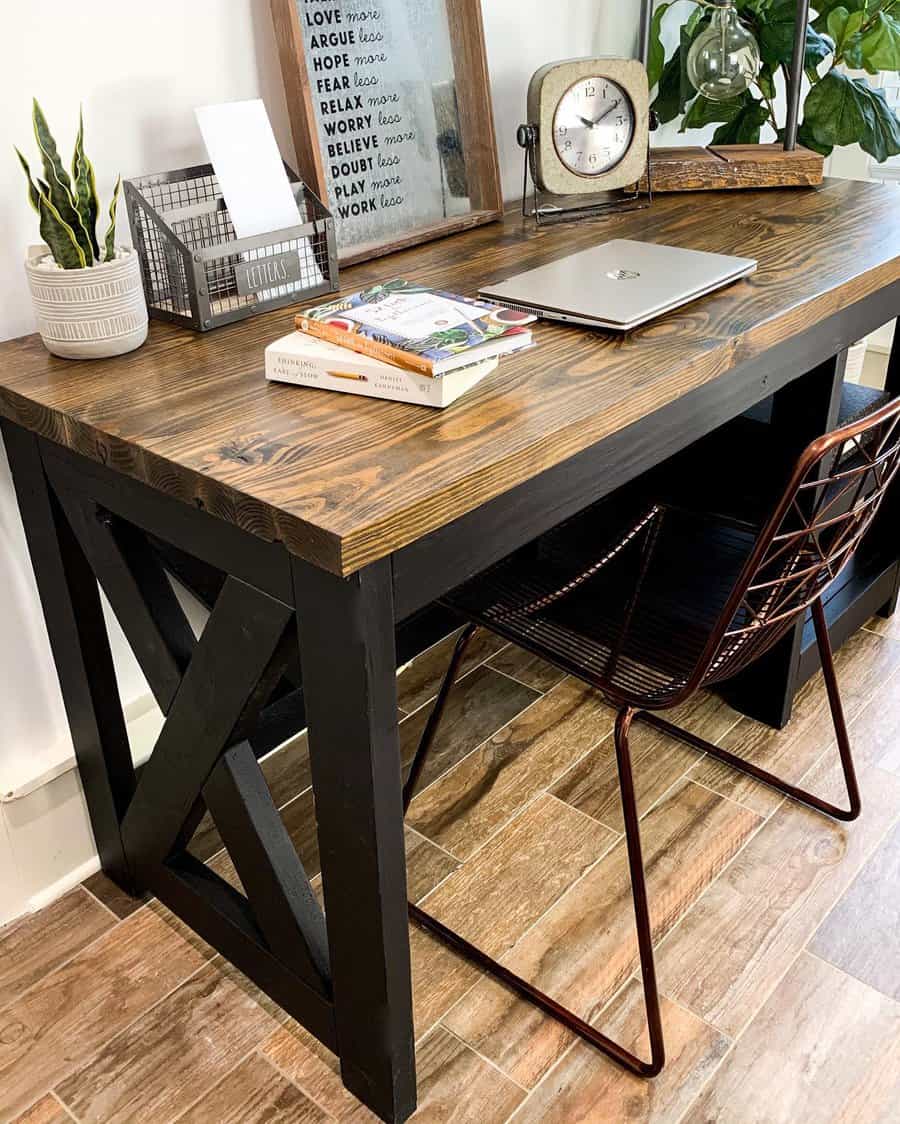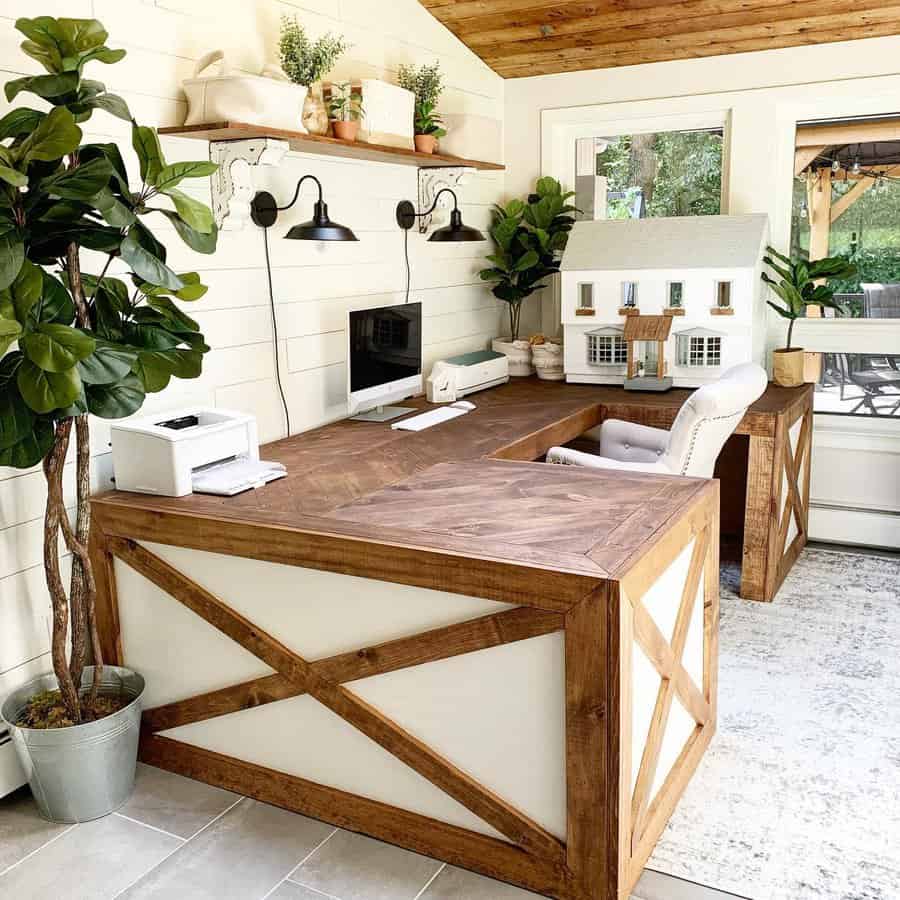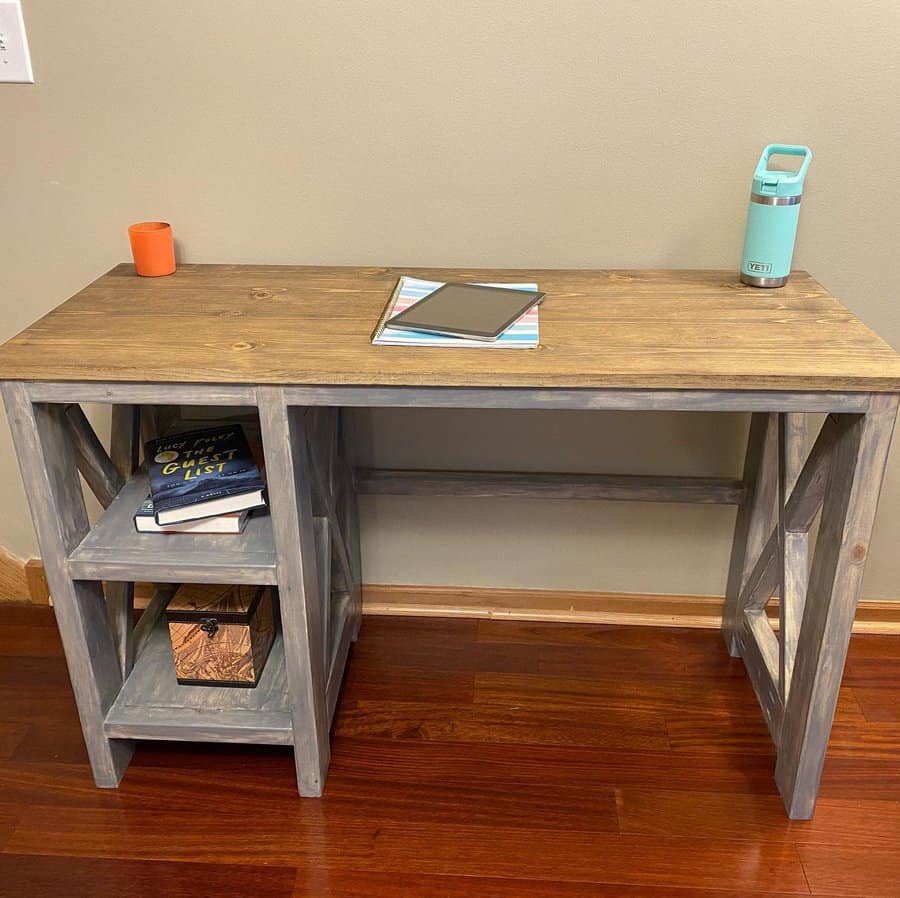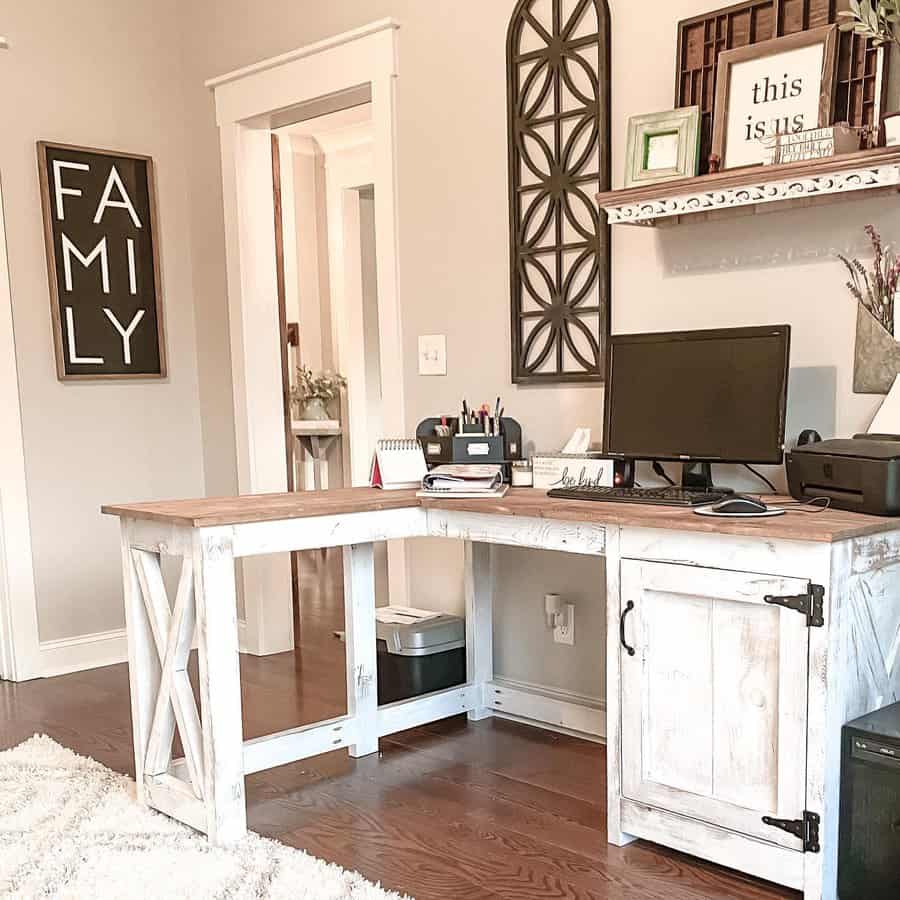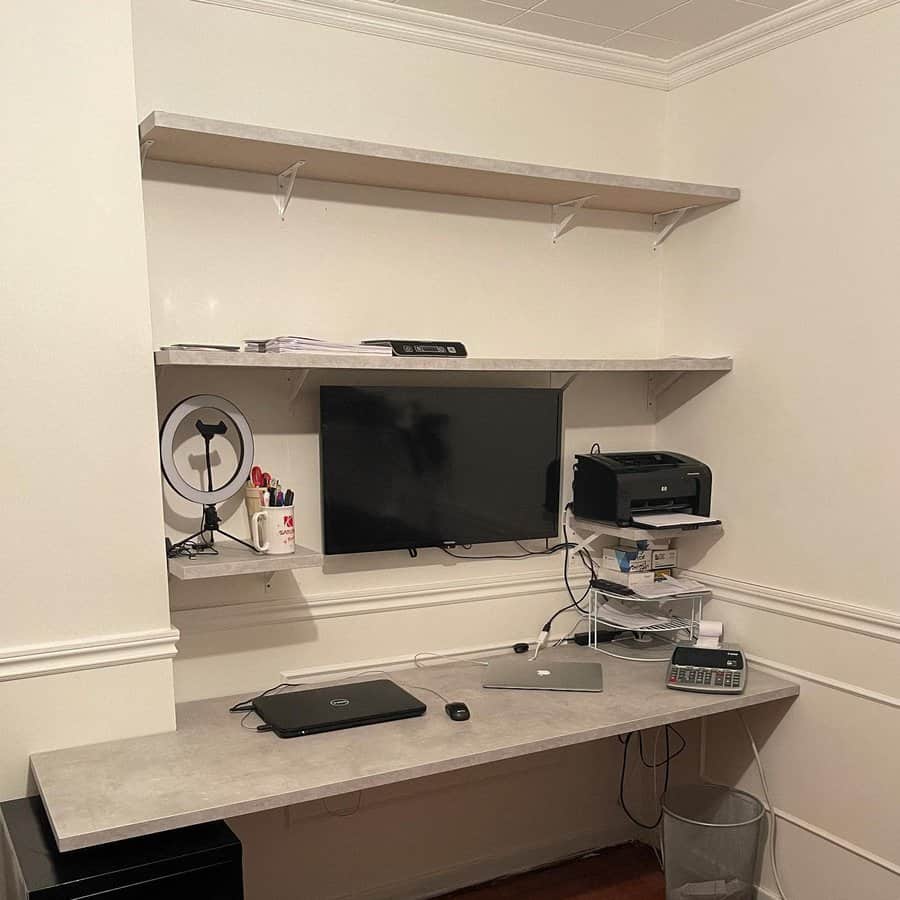 These small desks are also good if you have a small space that you need to fit your desk into. Look for one that folds out or has a roll top. Then you can close the desk and hide your work.
9. Glass
A glass desk is perfect for small spaces because you can see through them. This gives the illusion of the room feeling bigger than it really is. Glass can also elevate your home office design to feel more upscale.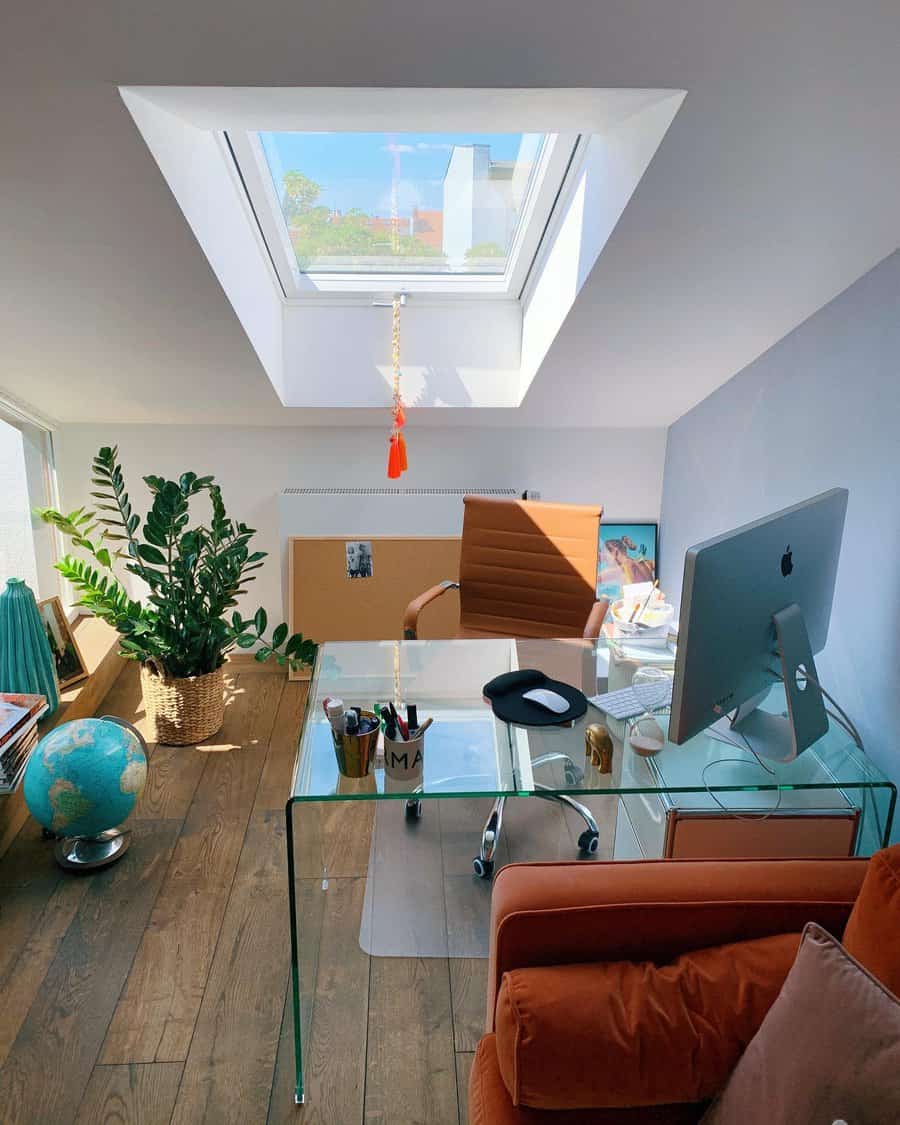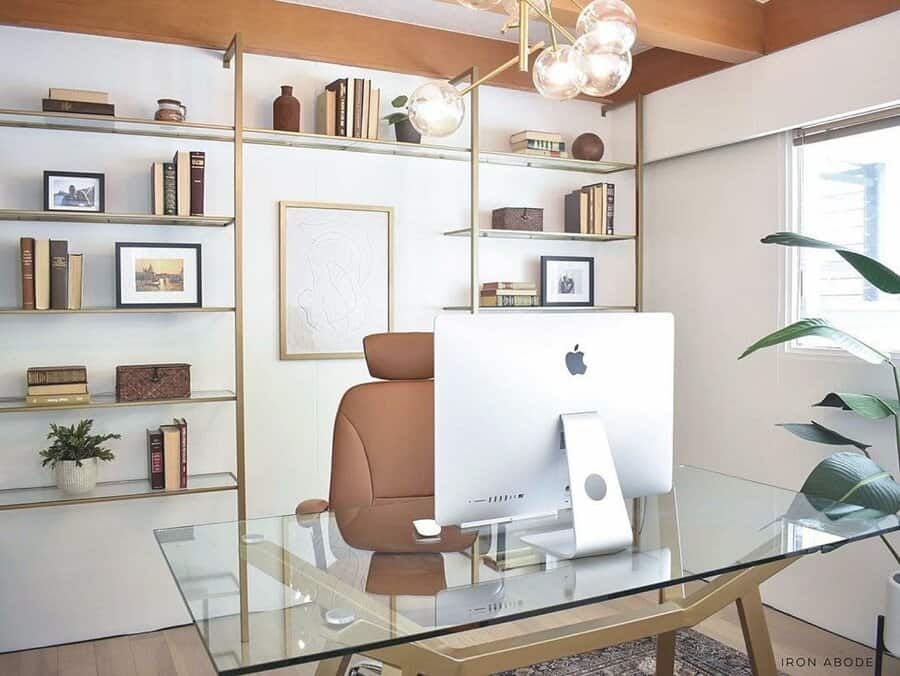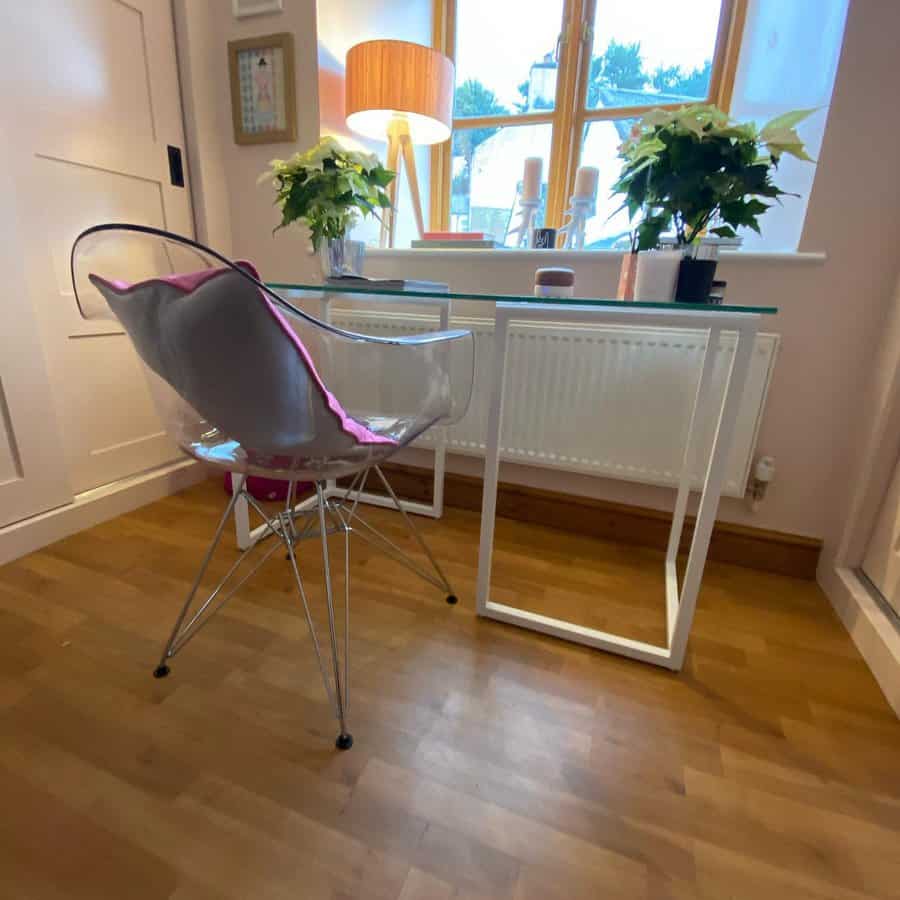 The drawback of a glass desk is that you will have to keep your desk and office clean. A messy desk looks even messier when you can easily see through it to the clutter underneath. What's nice about glass desks is their surprising level of durability. The glass is thick and made to not break easily.
10. L-shaped
An L-shaped desk has two legs that extend out at a 90-degree angle. This design gives you plenty of desk space for your computer and papers. It helps to choose a desk chair on wheels for this type of desk. That way, you can shift and move about from one side to the other without having to get up from your office chair.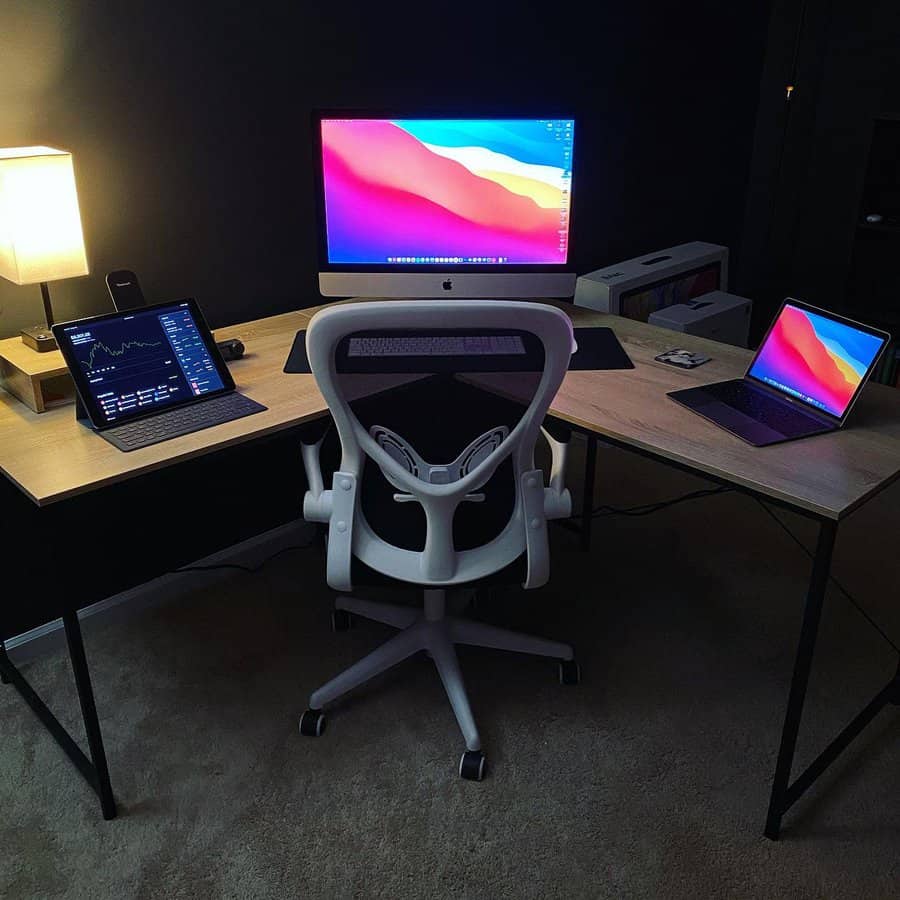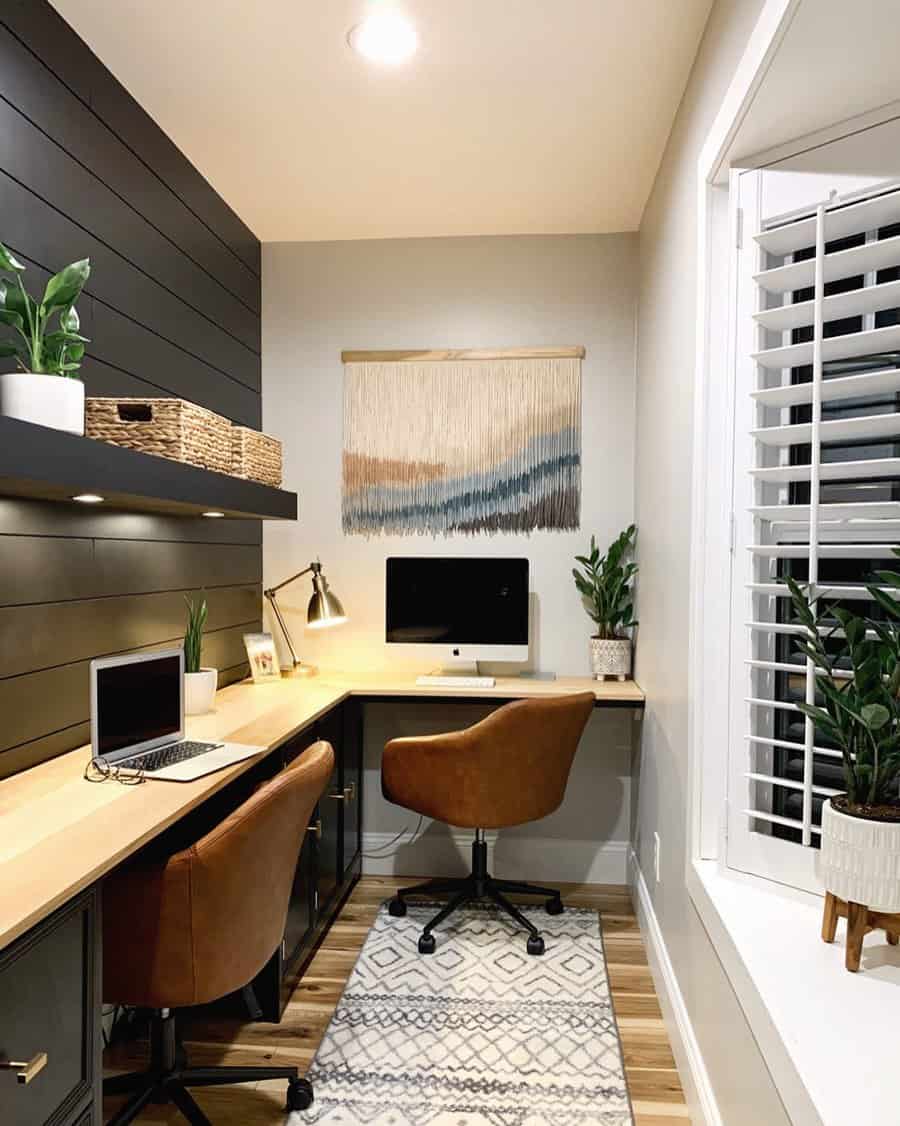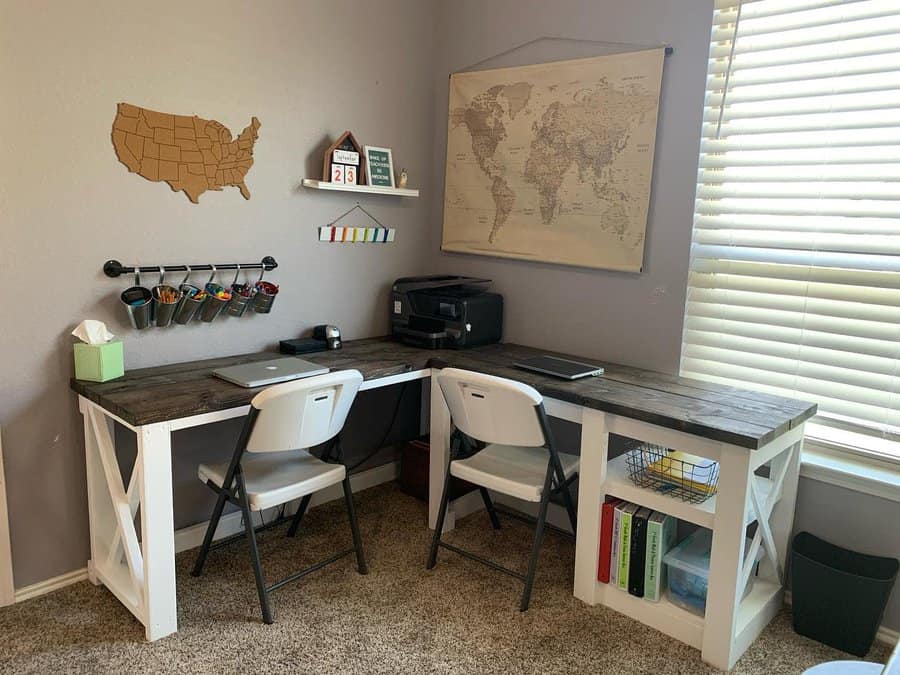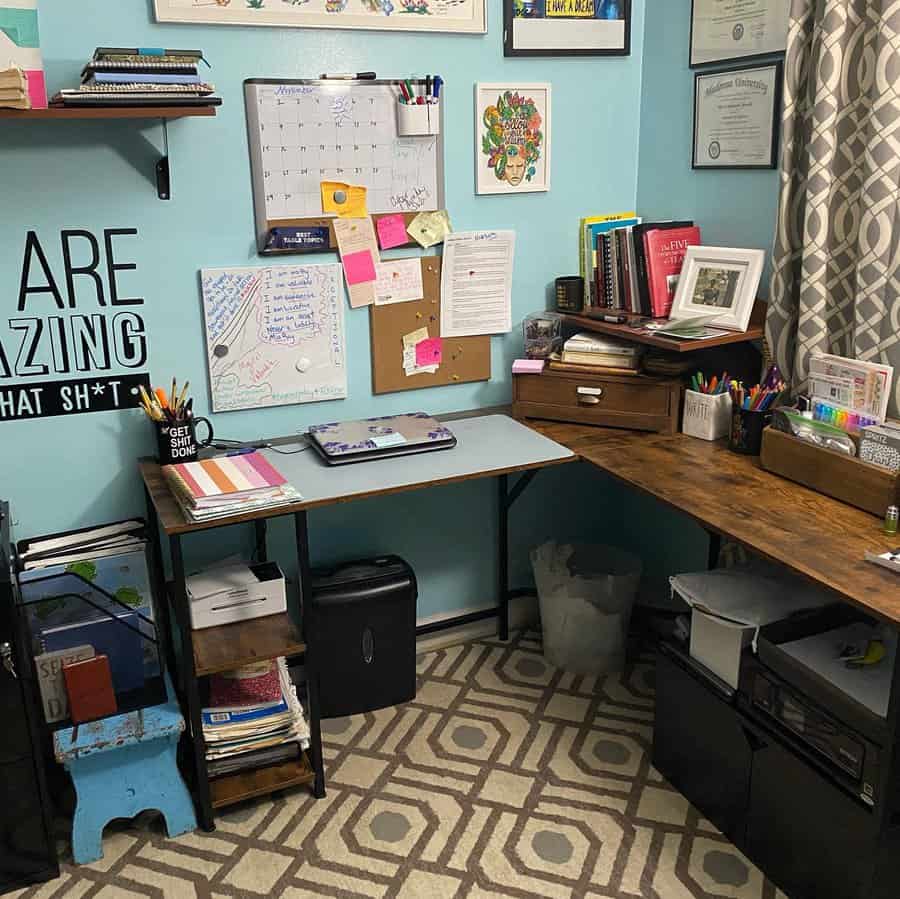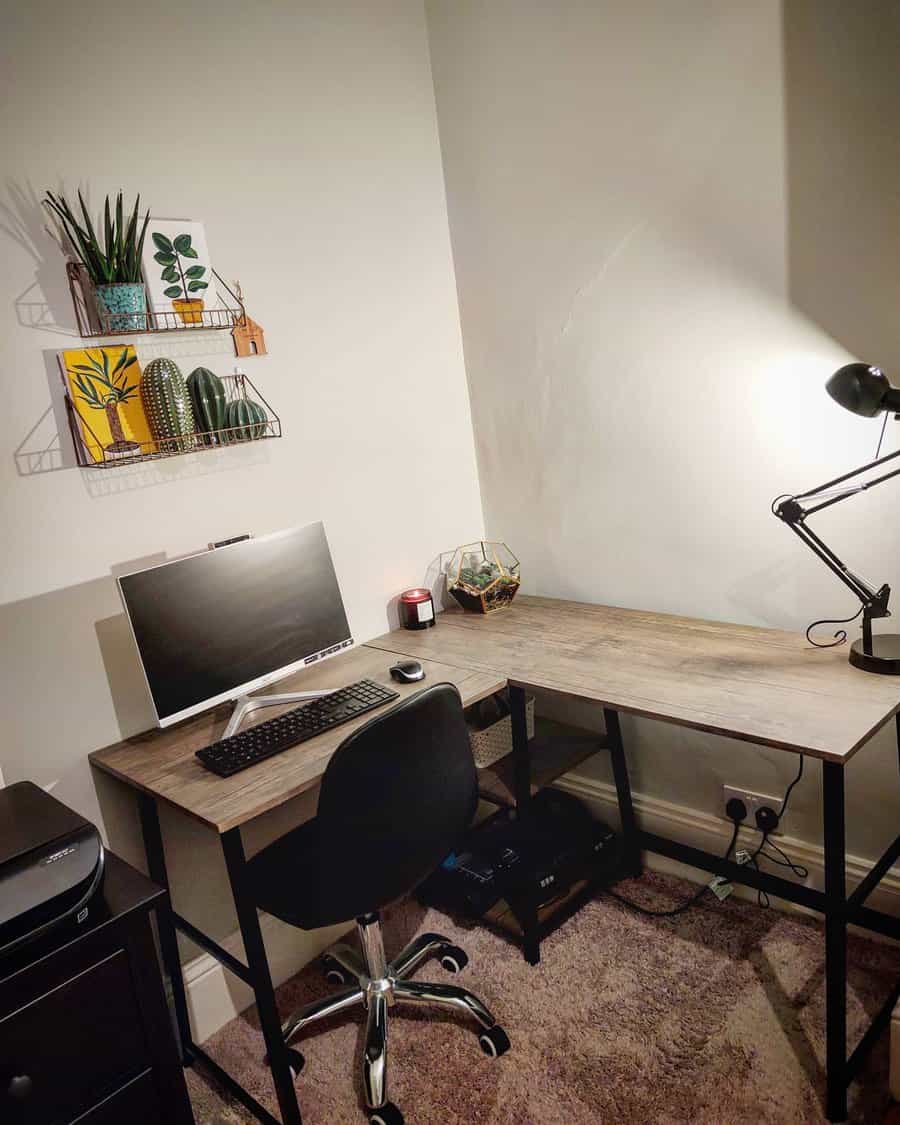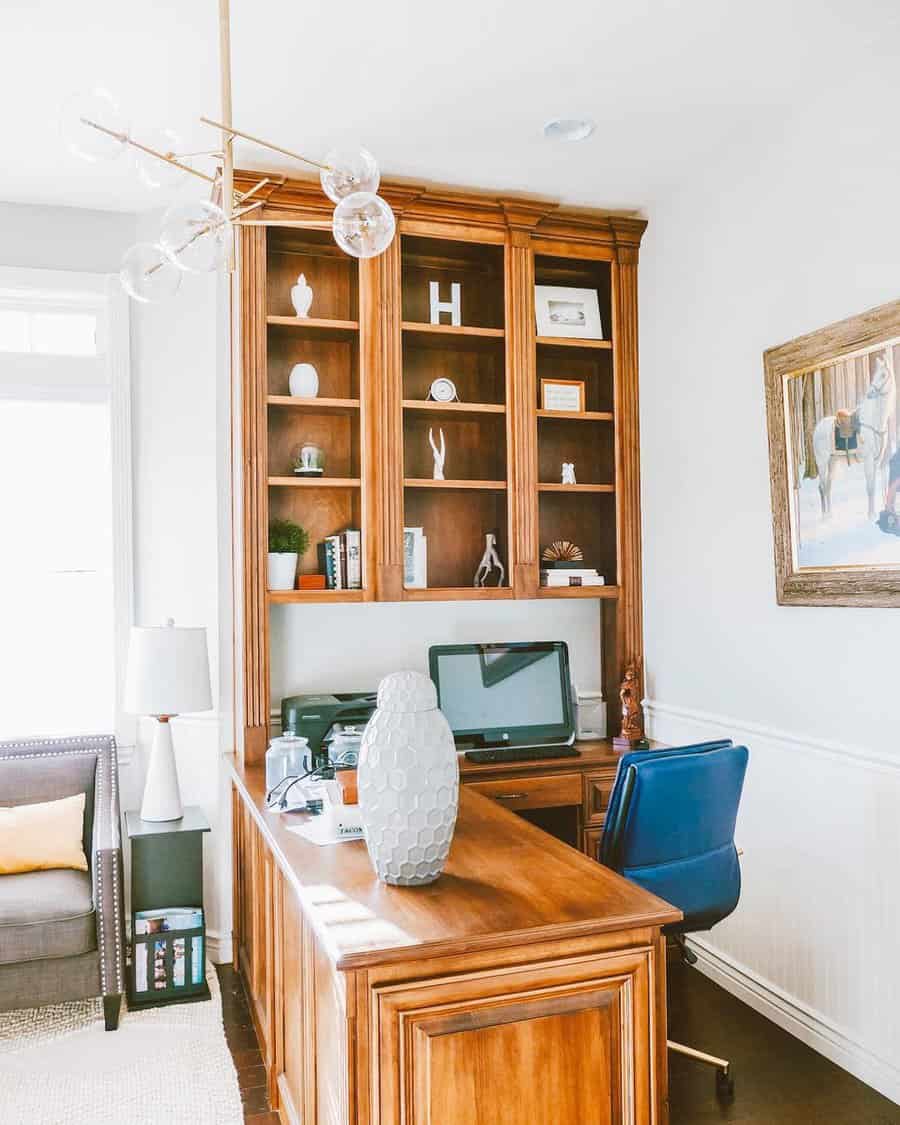 With this style of home office setup, you have twice the desk space for displaying home office decor. Tie the room together with artwork on the walls or a large area rug on the floor.
11. Minimalist
For the ultimate minimalist office design, your desk could be a simple floating shelf. Mount it on the wall at desk height and have it run the length of the room. This floating desk should be deep enough that you can comfortably sit in a chair and work without your knees bumping into the wall.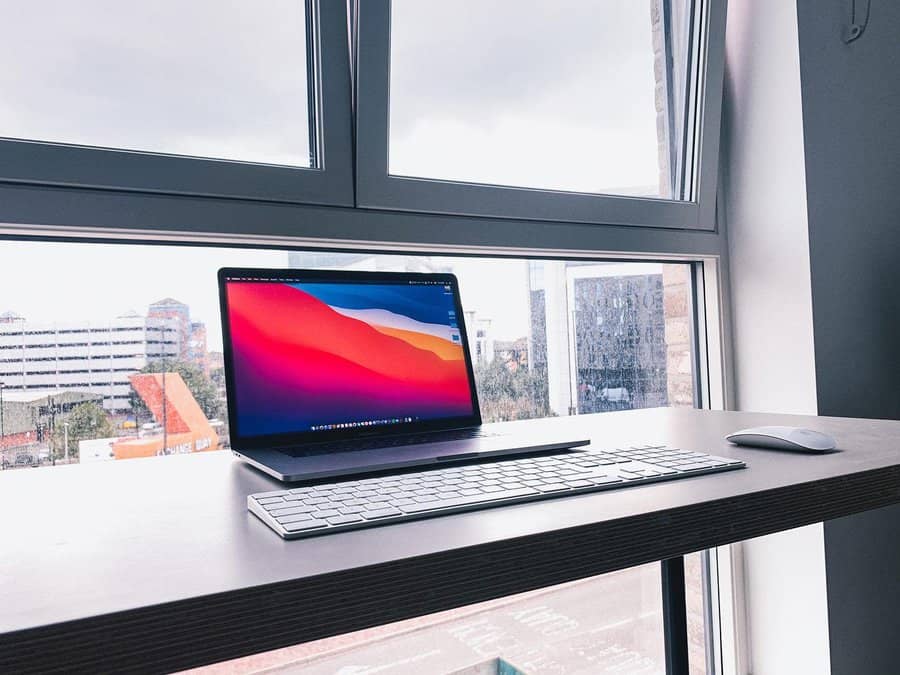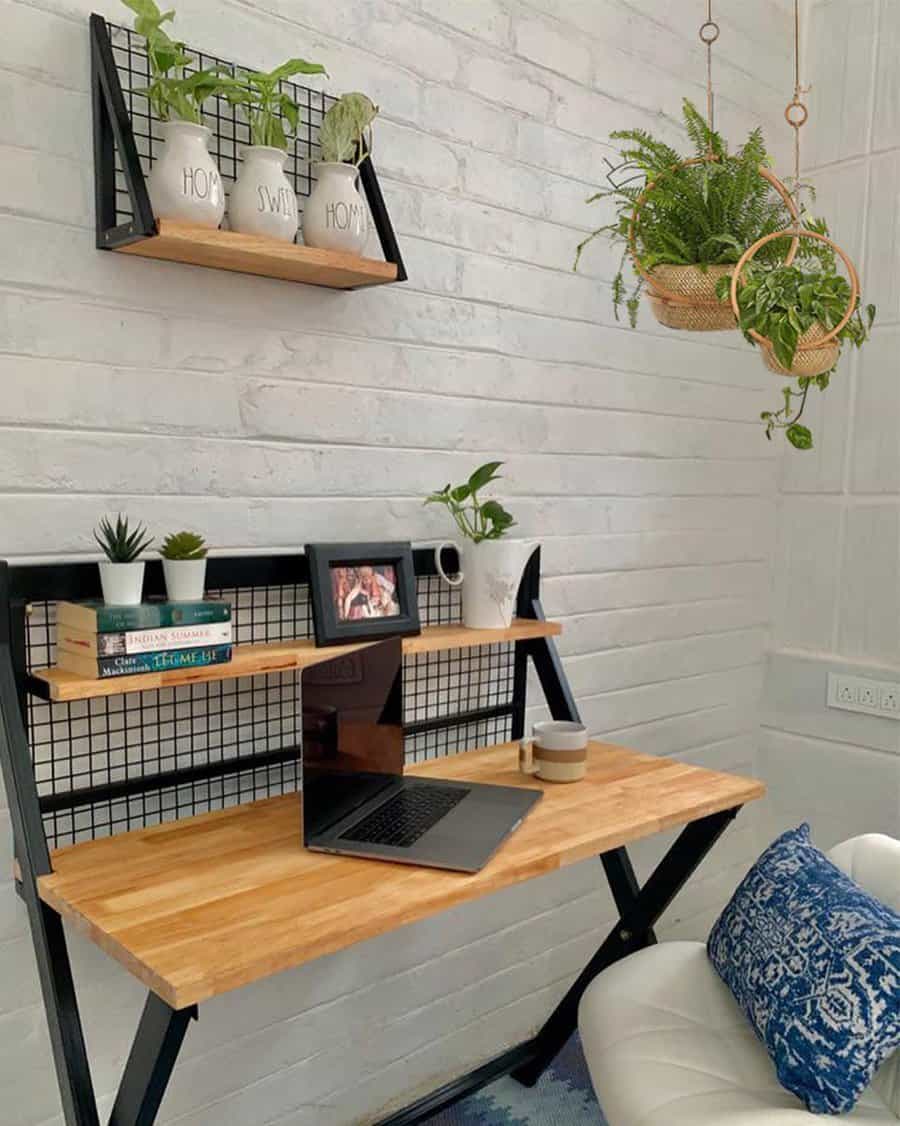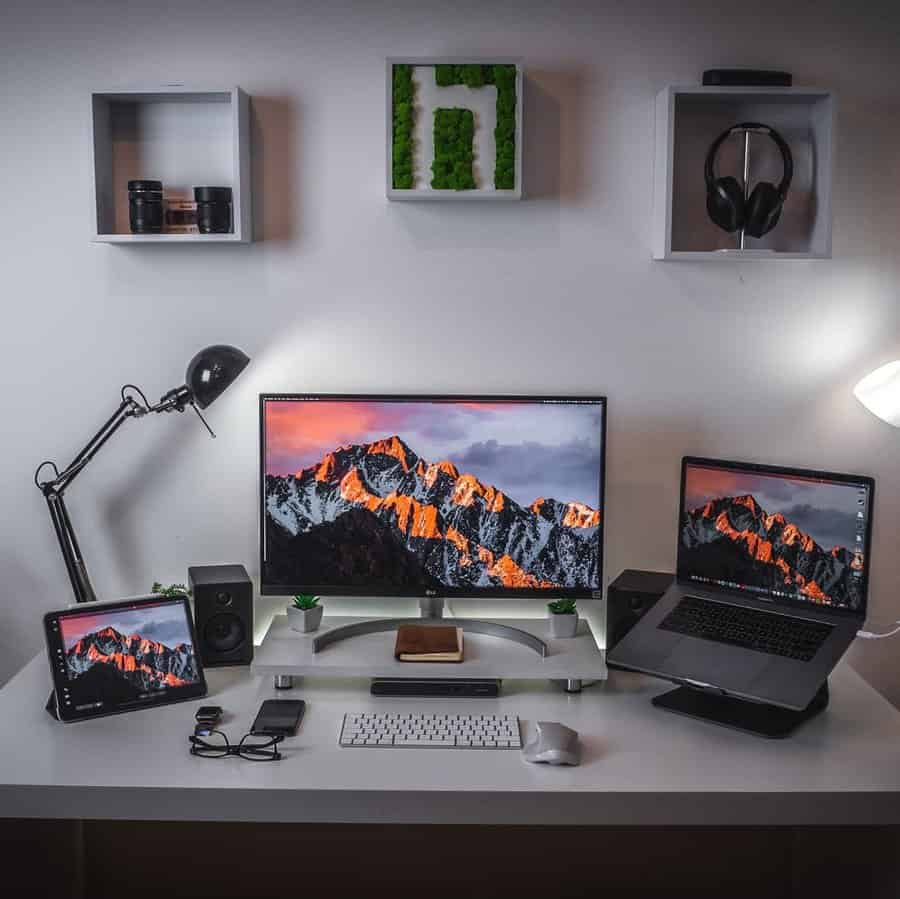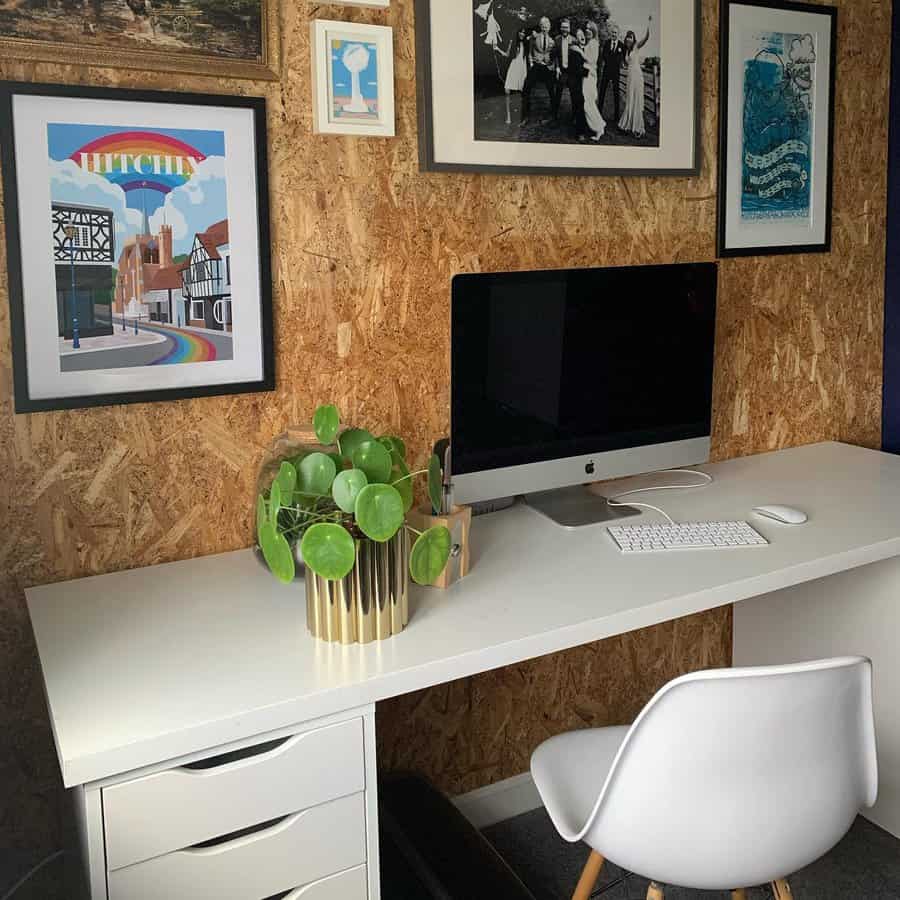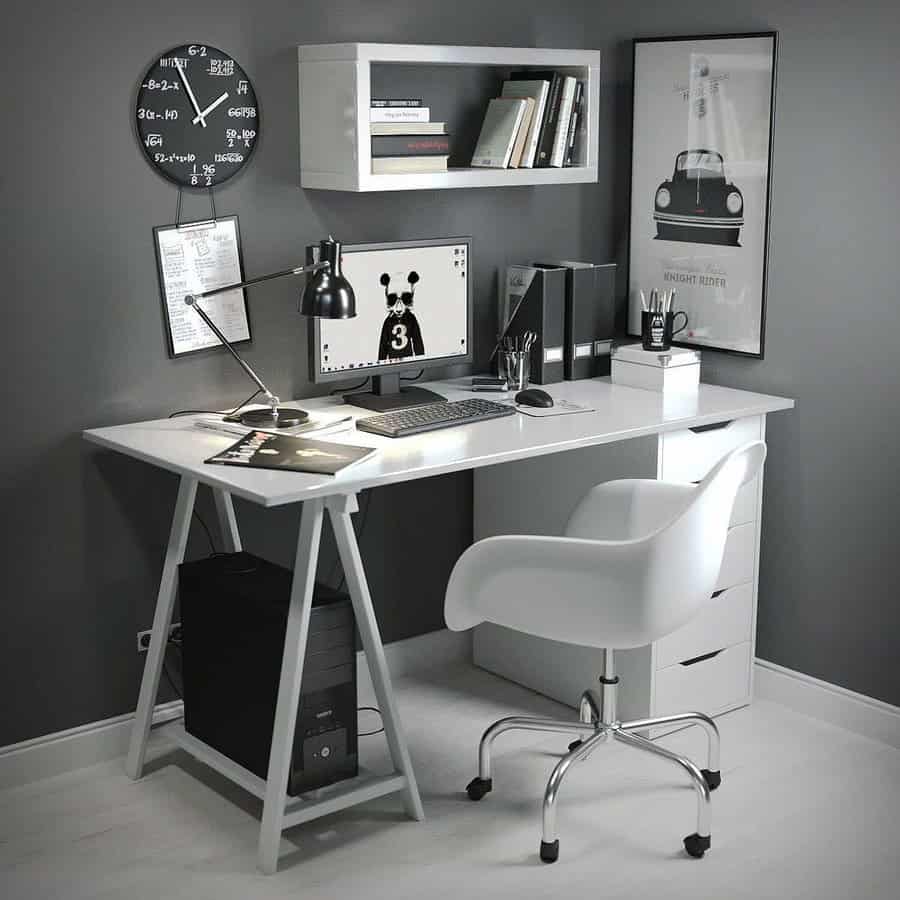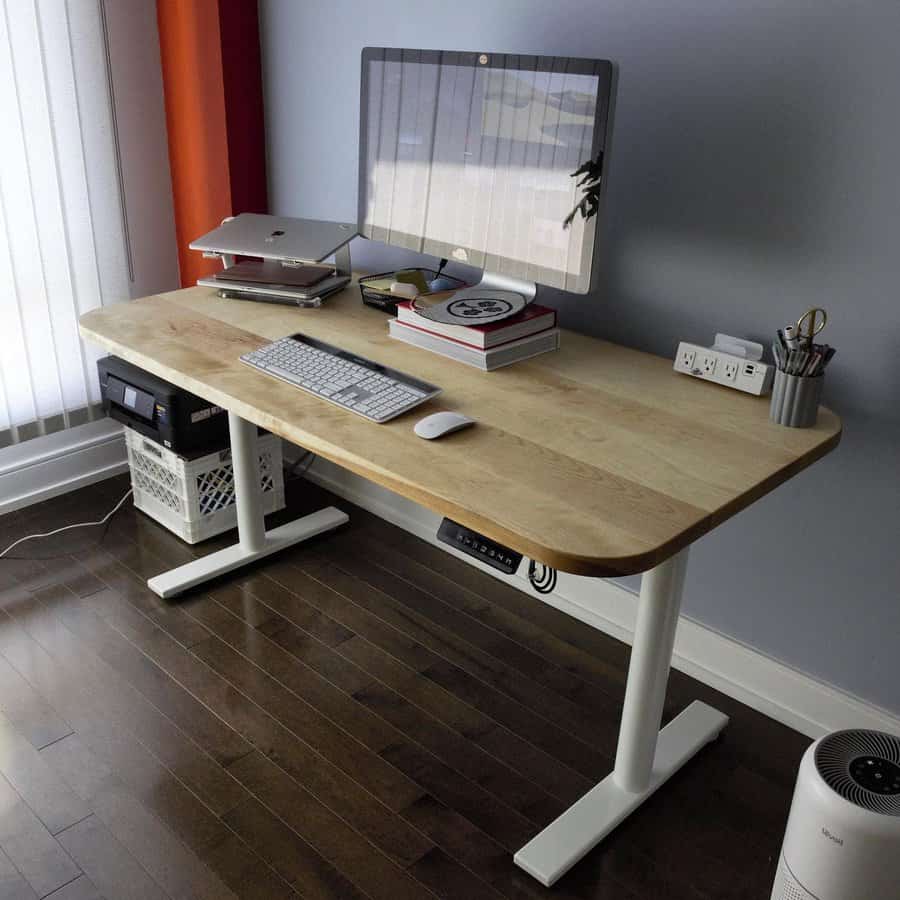 Minimalist desks have a sleek and open design with menial ornamentation. They often mix materials together. They could have metal or wood legs with a metal, wood, or glass top. They are typically open underneath with little to no additional storage.
12. Modern
People often confuse a minimalist and modern desk. Modern desks have the same simple and sleek design with minimal ornamentation. However, this is where the similarities end. A modern desk will have more styling and bulk to the body of the desk. They are more likely to have cabinets and storage underneath. You can also find a few designs that come in a standing desk design.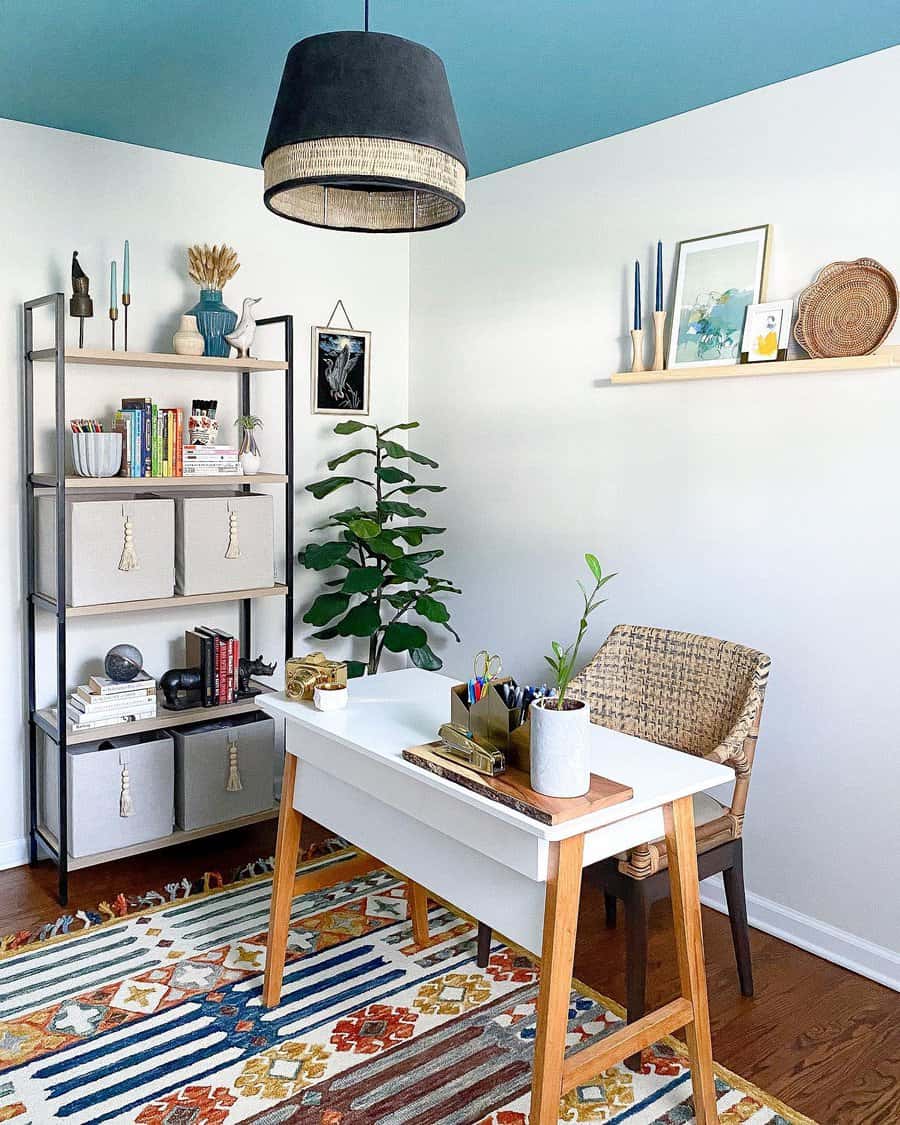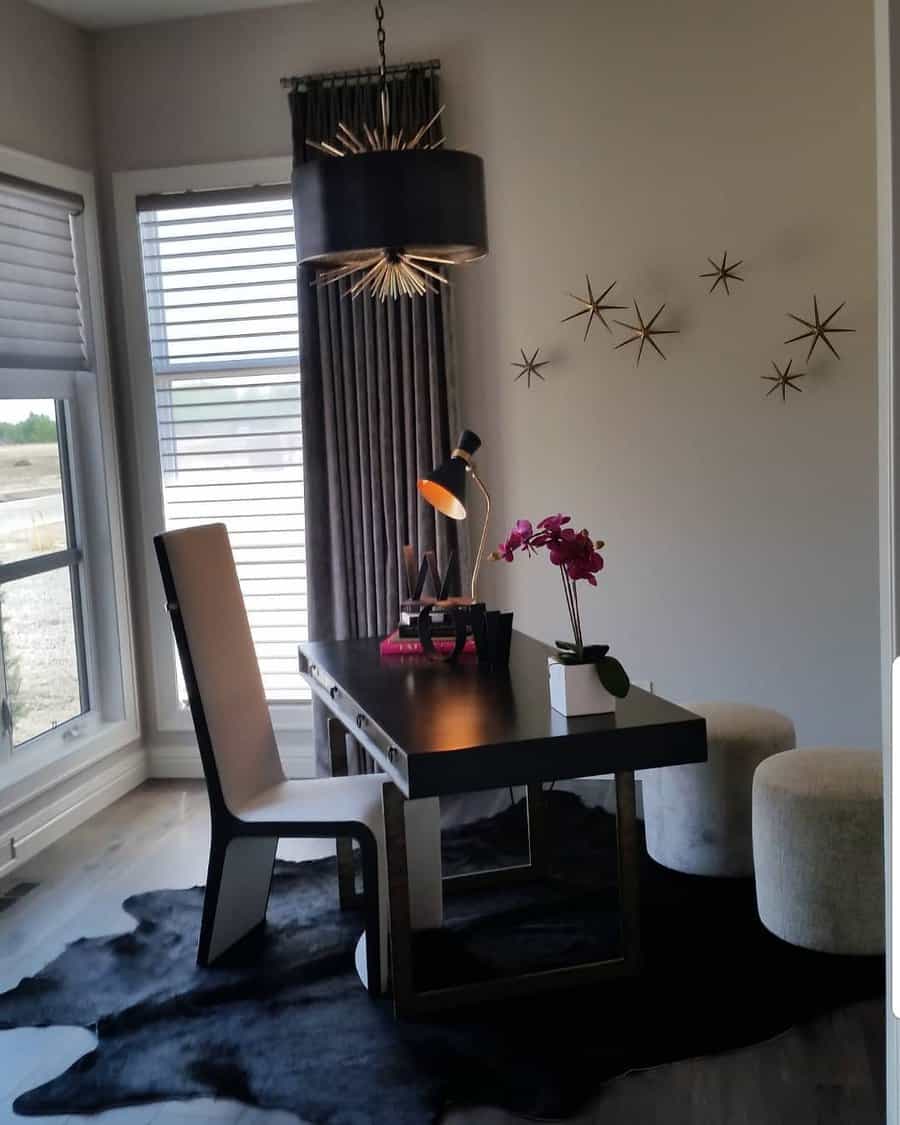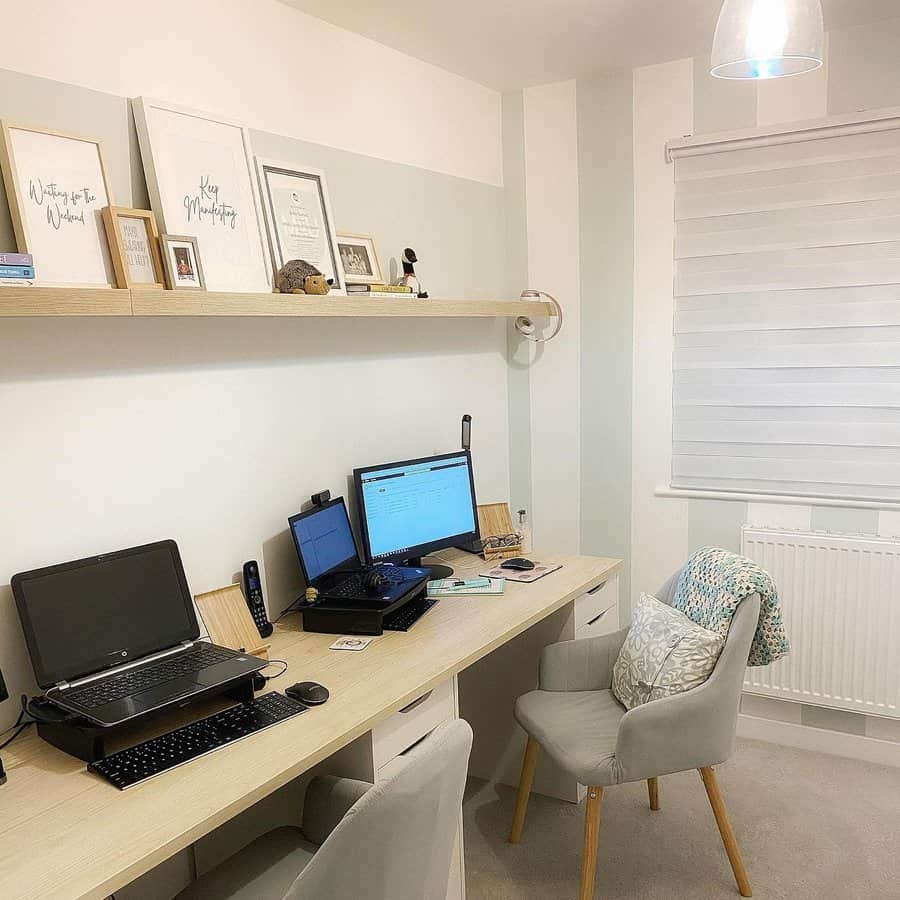 A modern desk is perfect for a living room. You can then decorate your desk with non-traditional office decor to help it blend into the rest of your living room. This office idea is perfect for homes that are small and don't have enough space to dedicate a whole room to your office.
Read also: 71 Modern Home Office Ideas
13. Rustic
Give your small home office ideas a rustic touch to help it feel more homey and welcoming. What's nice about a rustic desk is that it already looks lived in, so you don't have to worry about protecting it or taking extra care with it. This makes it ideal for busy or active homes where there are pets, children, and many people.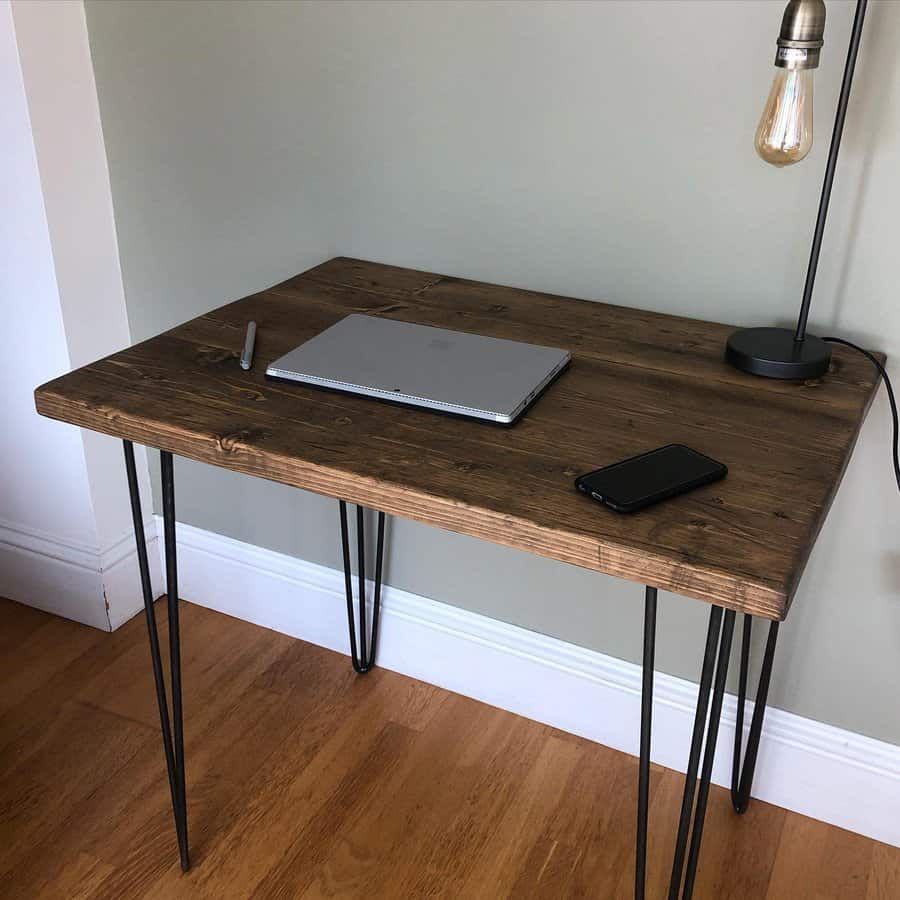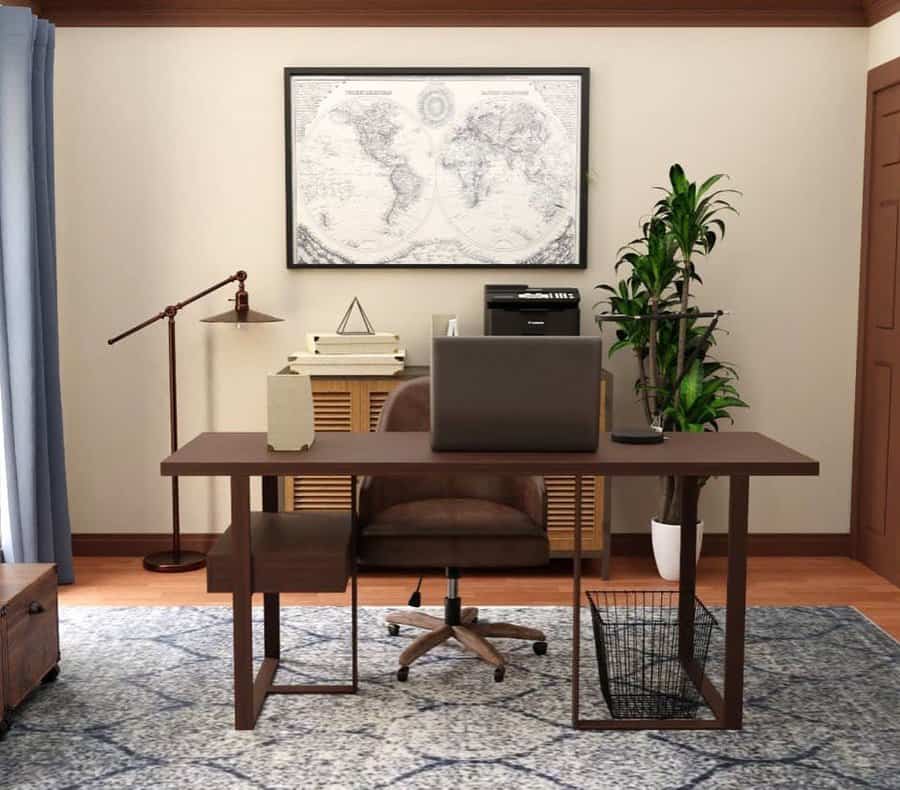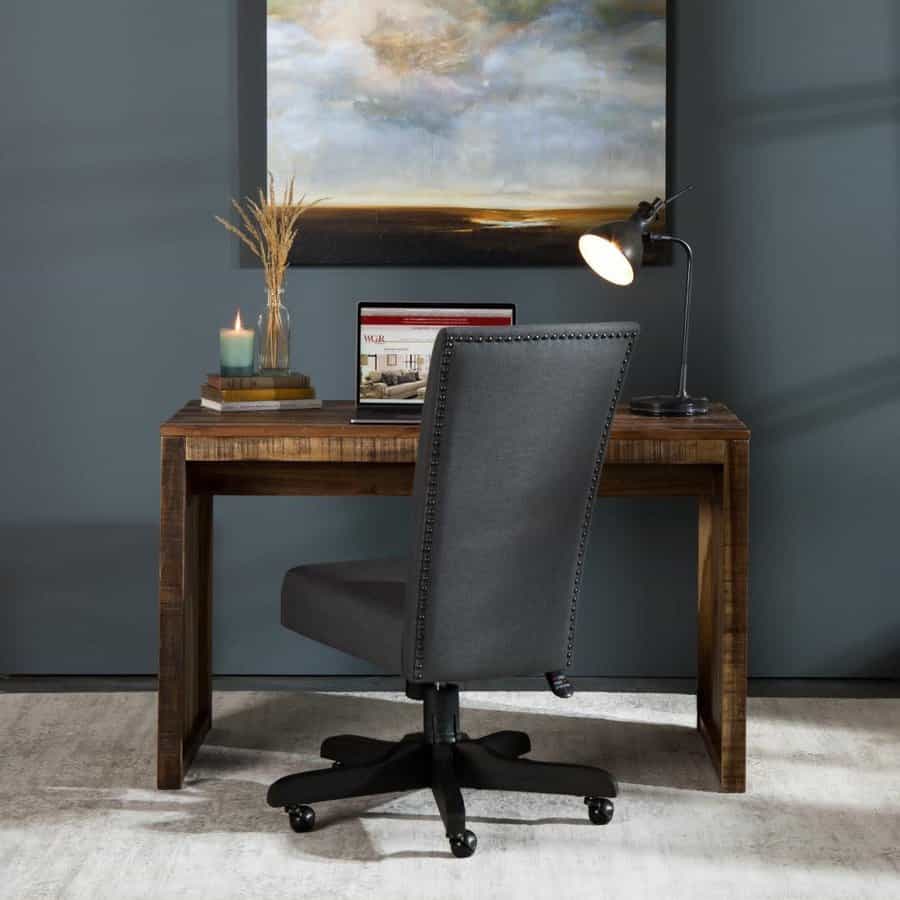 A rustic computer desk can have an aged finish, but it should still have a smooth top. This helps it to still be a functional work space. While your rustic desk could be made entirely out of wood, a better option is for it to have a metal frame and wood top. This helps to keep the desk looking modern and light while also rustic.
14. Wood
Having a desk made of wood can add natural beauty and warmth to your office. The rich colors of the wood will add a touch of nature that you simply can't replicate with other materials. Choose a desk that matches the rest of the furniture in the office. You could have cabinet doors on the front of a built-in unit on the wall behind the desk that is a similar style. A modern desk would be a simple slab of wood with sleek metal legs. Then have slab cabinet doors for storage.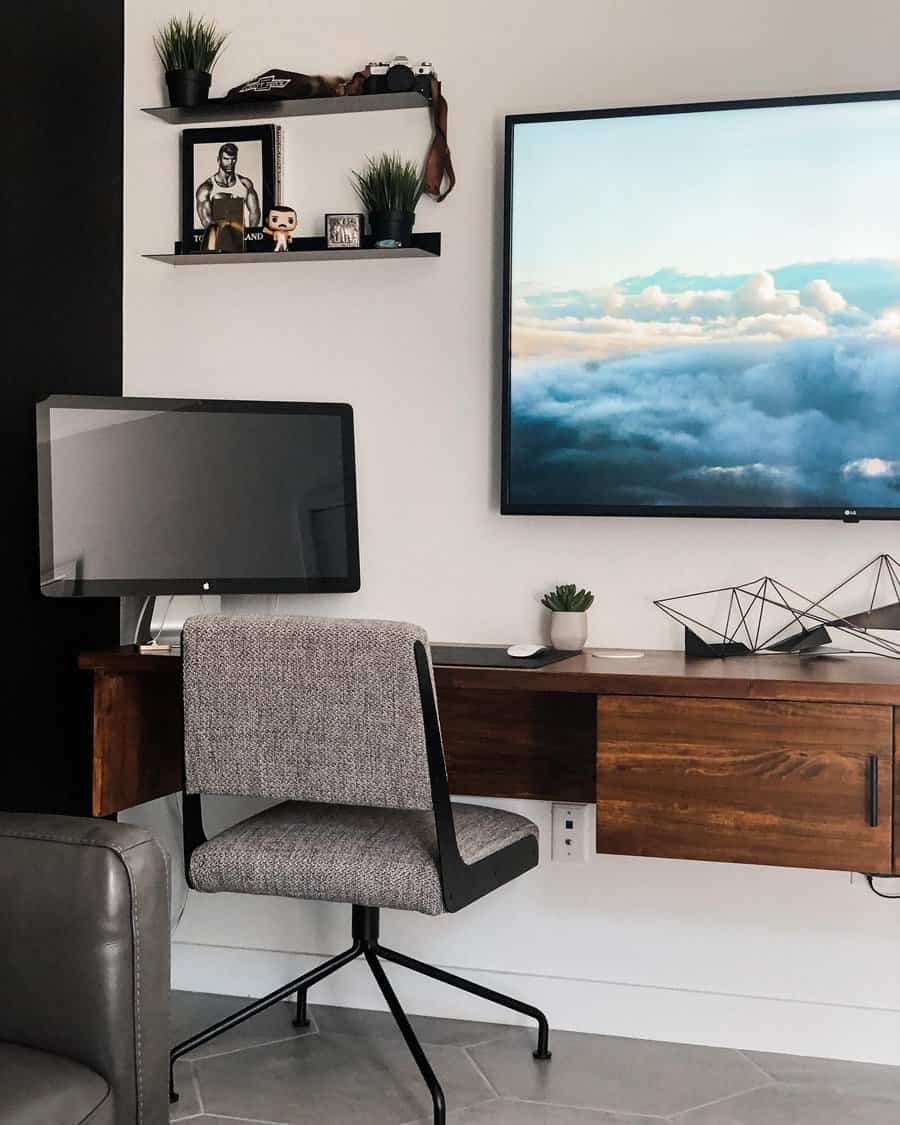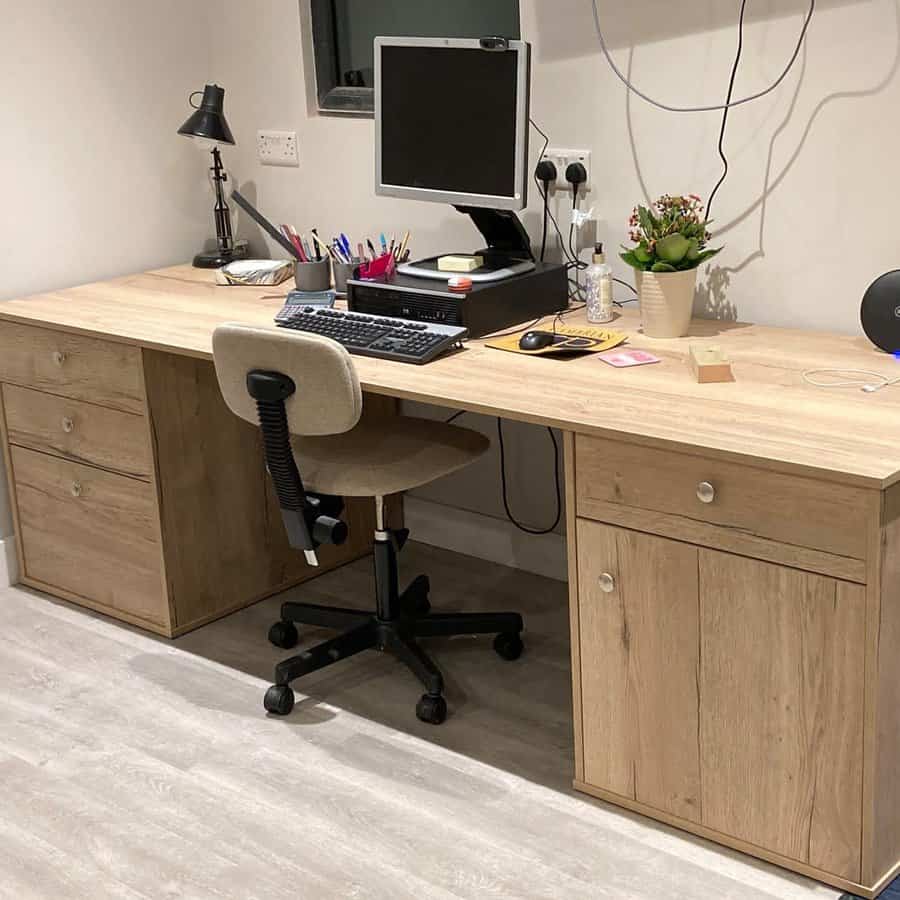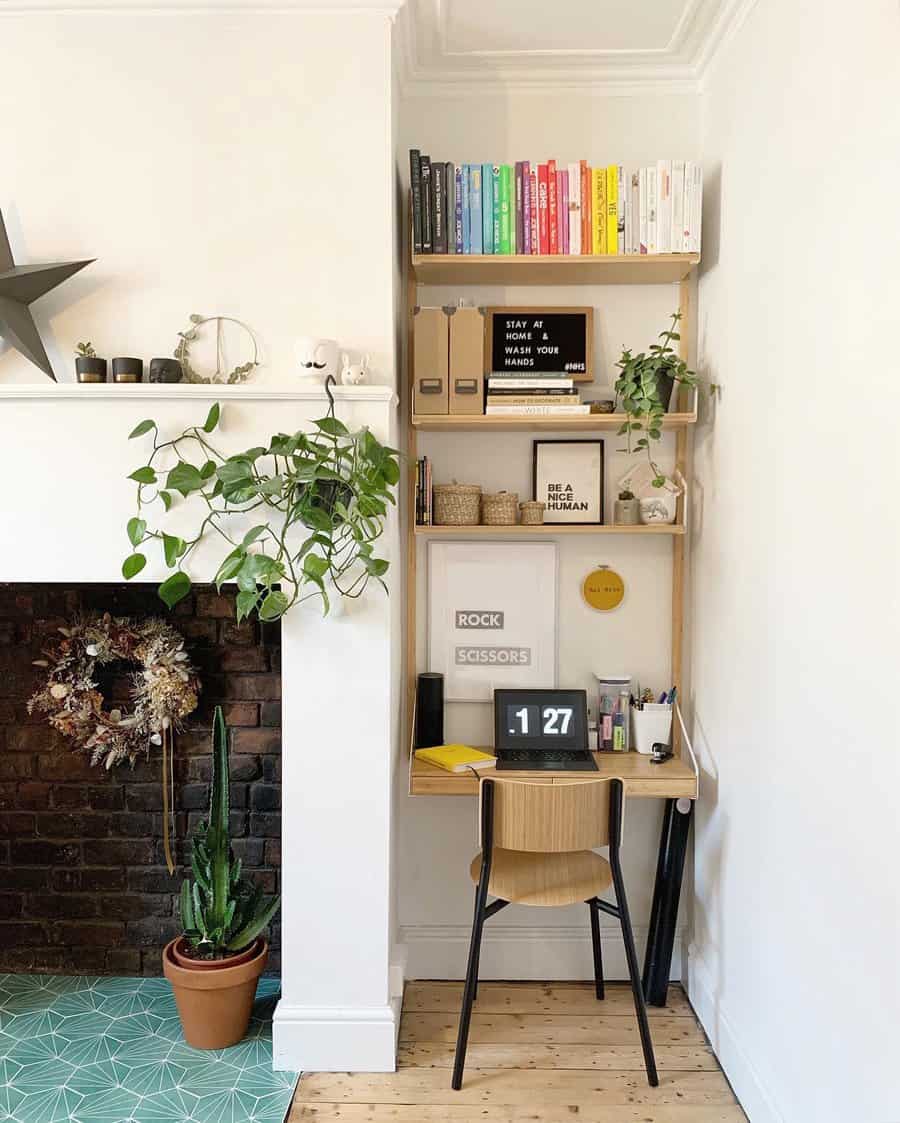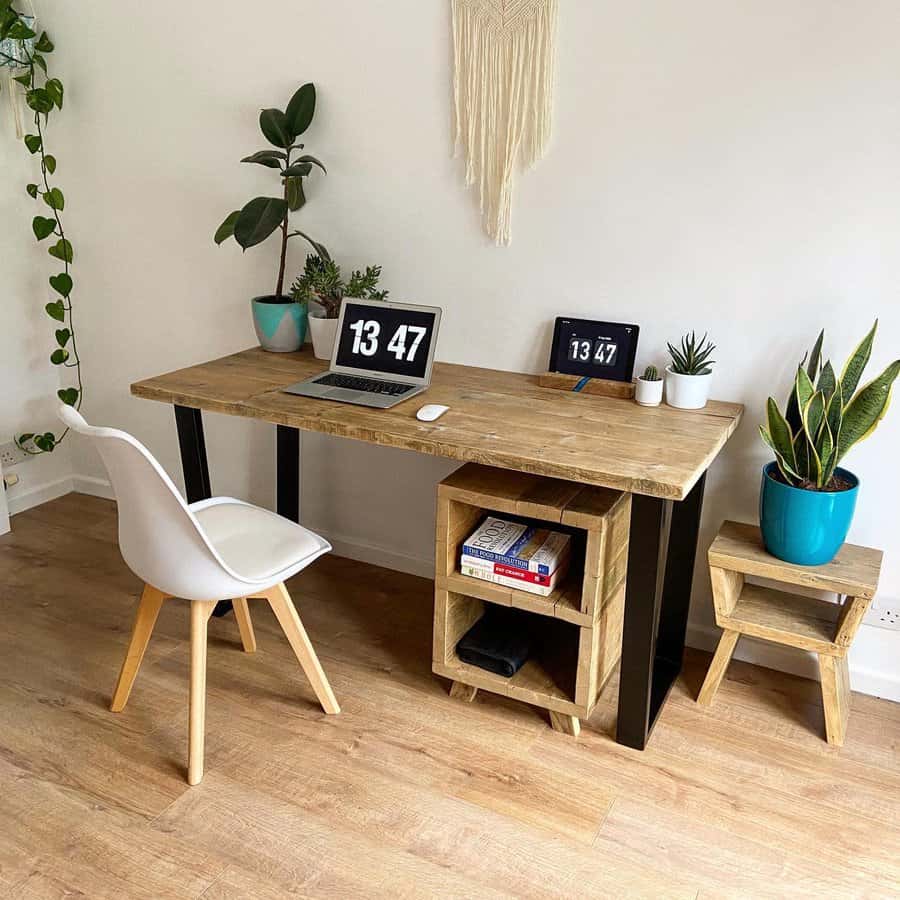 Dark wood is typically associated with traditional desks that are large and heavy with ornate detailing. Light-colored wood is generally used for modern and Scandinavian designs that are simple with menial ornamentation.
Read also: 78 Must-Read Office Organization Ideas
Home Office Desk FAQs
Which way should a desk face in a home office?
Most people prefer to have their desk facing the entryway. That way, they can easily see who comes into their office and don't have people walking up behind them. However, if this isn't a concern, then it can be nice to have the desk facing a window. Be careful to not let the scenery outside be distracting.
How can I make my home office feel cozy?
The easiest method for making a home office feel cozy is with the lighting. Change the bulbs out for ones that emit a warm yellow glow. You don't want them too warm where they look obviously yellow. Aim for just slightly warmer than daylight light. This makes the space feel more welcoming and less like an office. Add home touches to the decor, also. This could include a plant, candle, throw pillow, or plush rug.
How do you make a small office look good?
It all starts with the furniture arrangement. Get it right, and the space feels comfortable and welcoming. Get it wrong, and the space feels cramped and crowded. Utilize the vertical space in the office to have more storage and functionality without cluttering up the floor. Give the office a bright color scheme to add some style and visual interest.