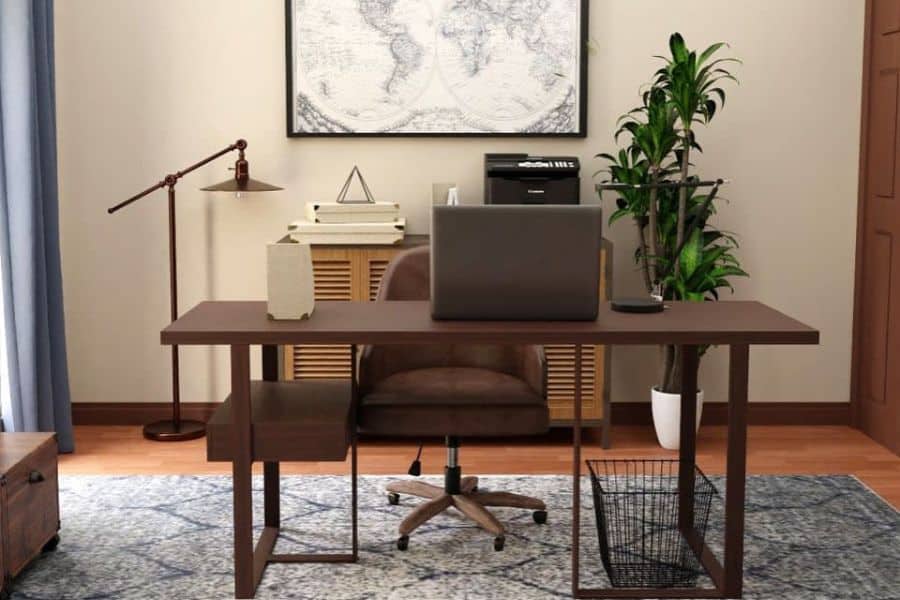 67 Home Office Desk Ideas for a Home Workstation
"People think that I must be a very strange person. This is not correct. I have the heart of a small boy. It is in a glass jar on my desk." – Stephen King
Working from home has become more normal, and this means more people are looking for ways to make their home office space more functional. The first step is finding the perfect desk. It needs to be big enough to have enough space to work and also fit the available space you have in your home. Its style needs to feel comfortable to you and make sense for the type of work you do.
These home office desk ideas will help you find the perfect desk for your home office desk.
1. Opt For A Rustic Work Desk
Working from home has become more common these days. If you're looking for new desk ideas for your home office, why not consider rustic and reclaimed wood elements? A rustic work desk is an easy and budget-friendly way to bring character and charm to the room. With their charming rustic style, rustic desks feel like they were taken from a farmhouse in the countryside.
Or if you really want to go rustic chic, you can opt for a desk made of reclaimed wood that not only looks great but helps reduce your carbon footprint as well. So don't wait any longer and give your home office the perfect rustic touch with one of these eye-catching desks!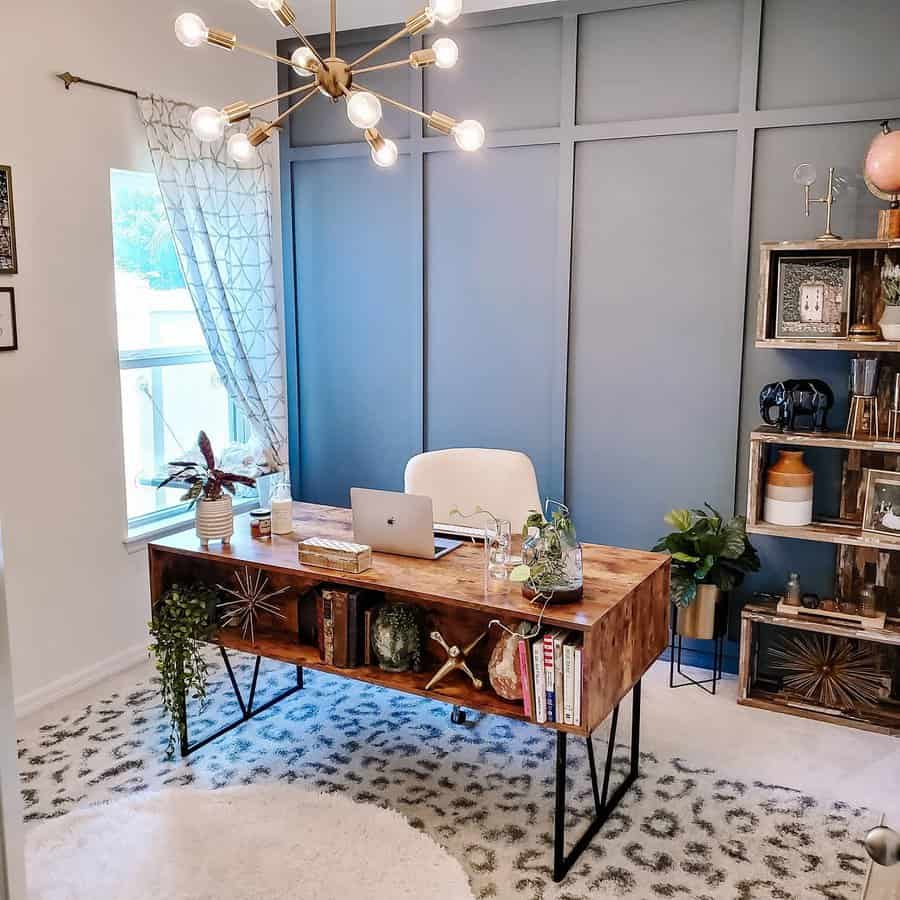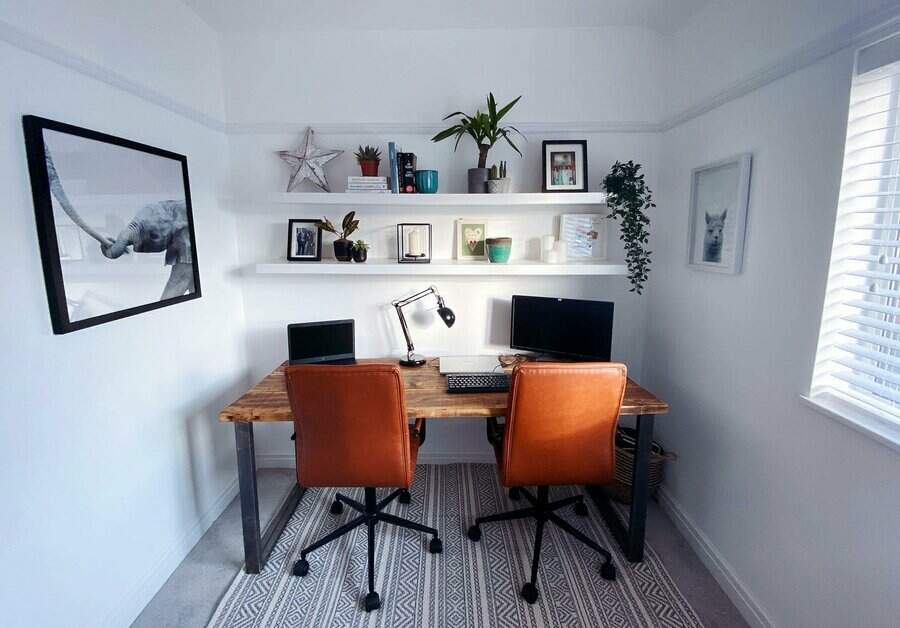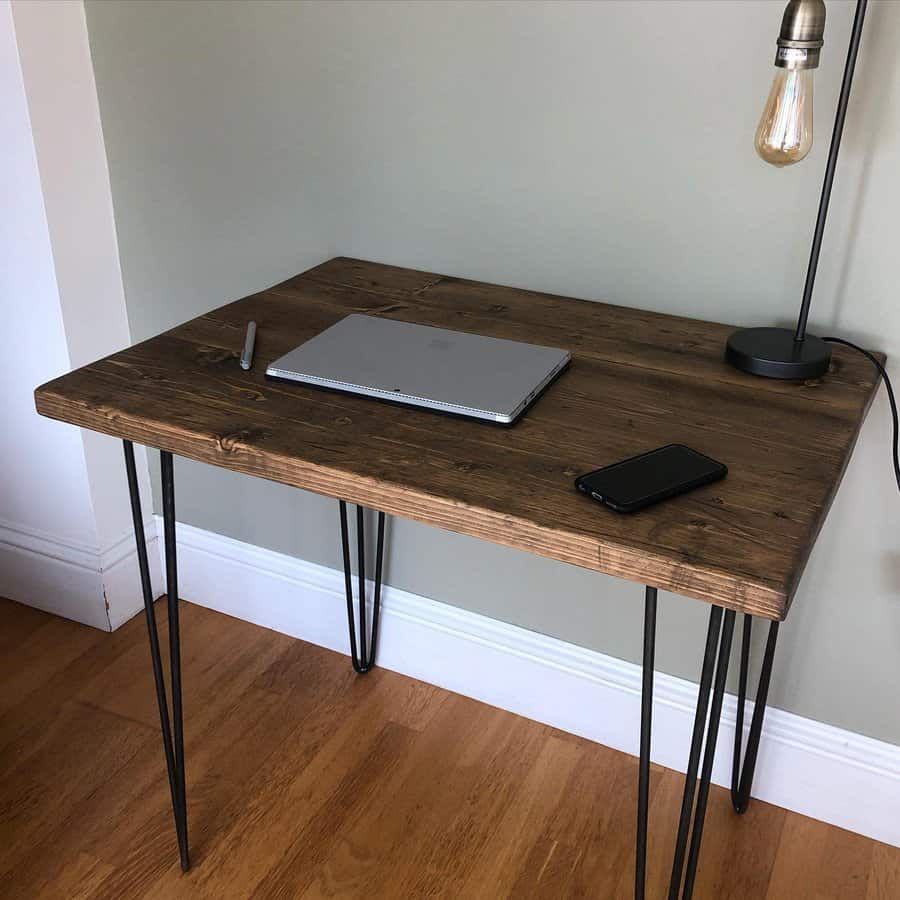 2. Utilize The Space With An L-Desk
Have you ever felt limited by your cramped workspace at home? L-shaped office desks can be a great solution for maximizing your working space. L-shaped desks make it easy to fit into practically any corner of your home, yet they still provide ample desk space for projects and laptops.
You'll be surprised how much more productive you can be with an L-shaped office desk – you not only get more storage capacity but also experience less eye strain that comes with long hours spent in front of the computer.
So don't limit yourself anymore – create a comfortable, functional home office today using an L-shaped office desk!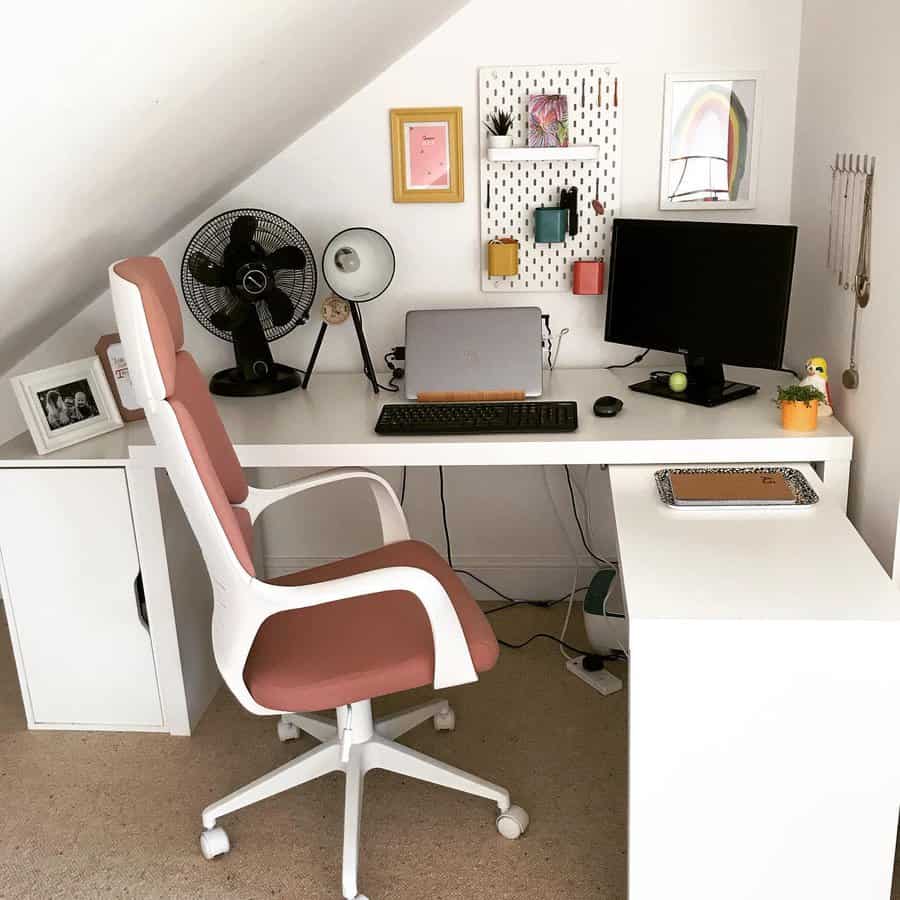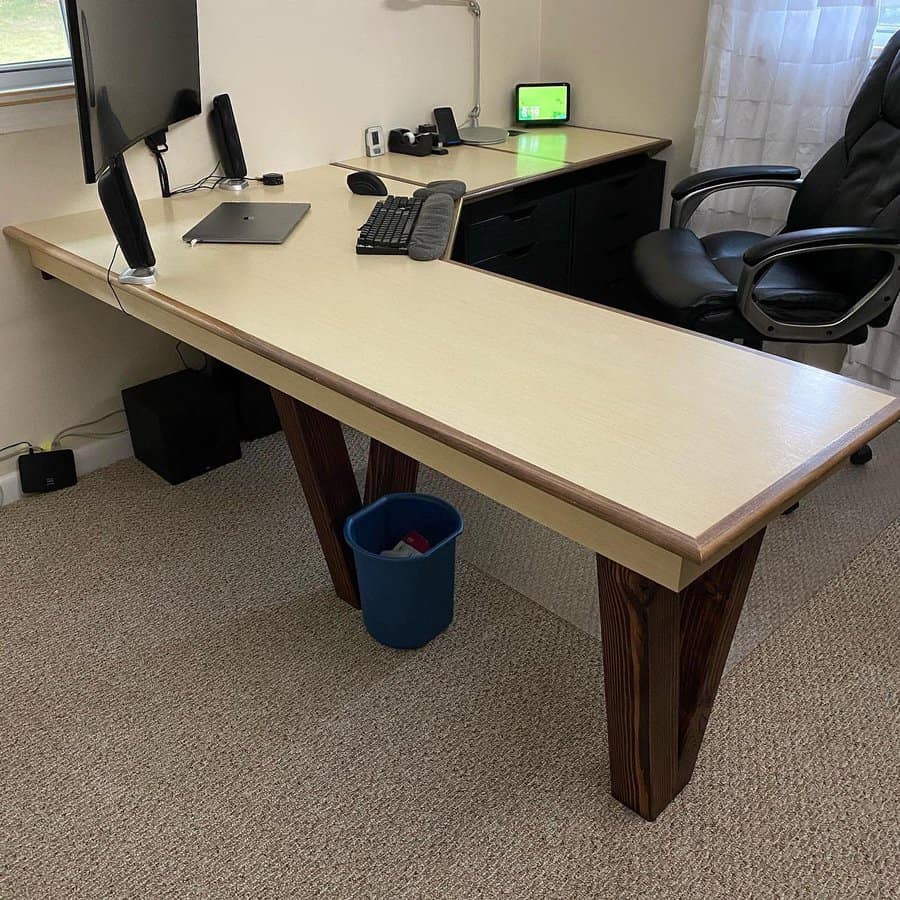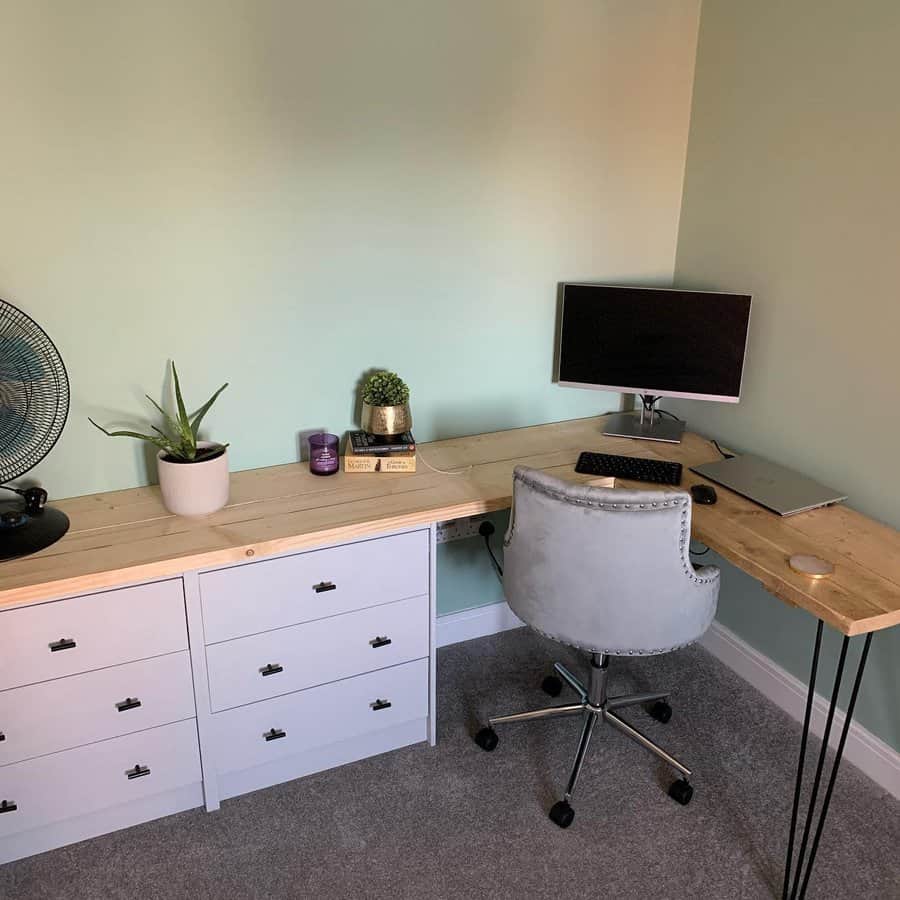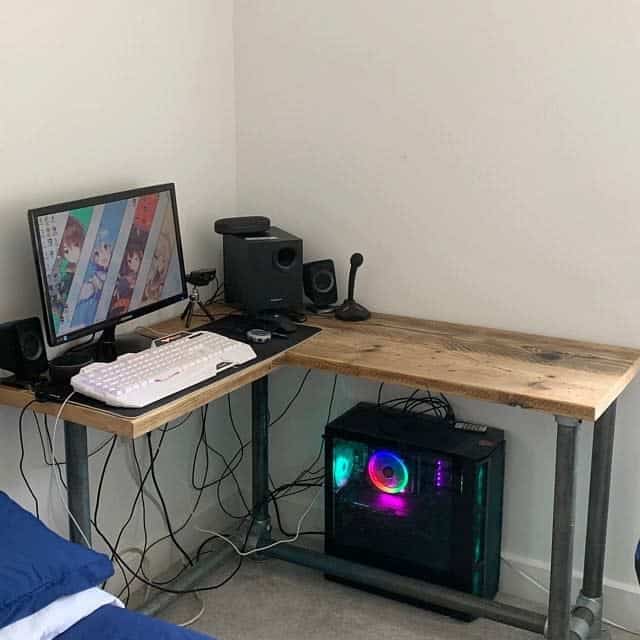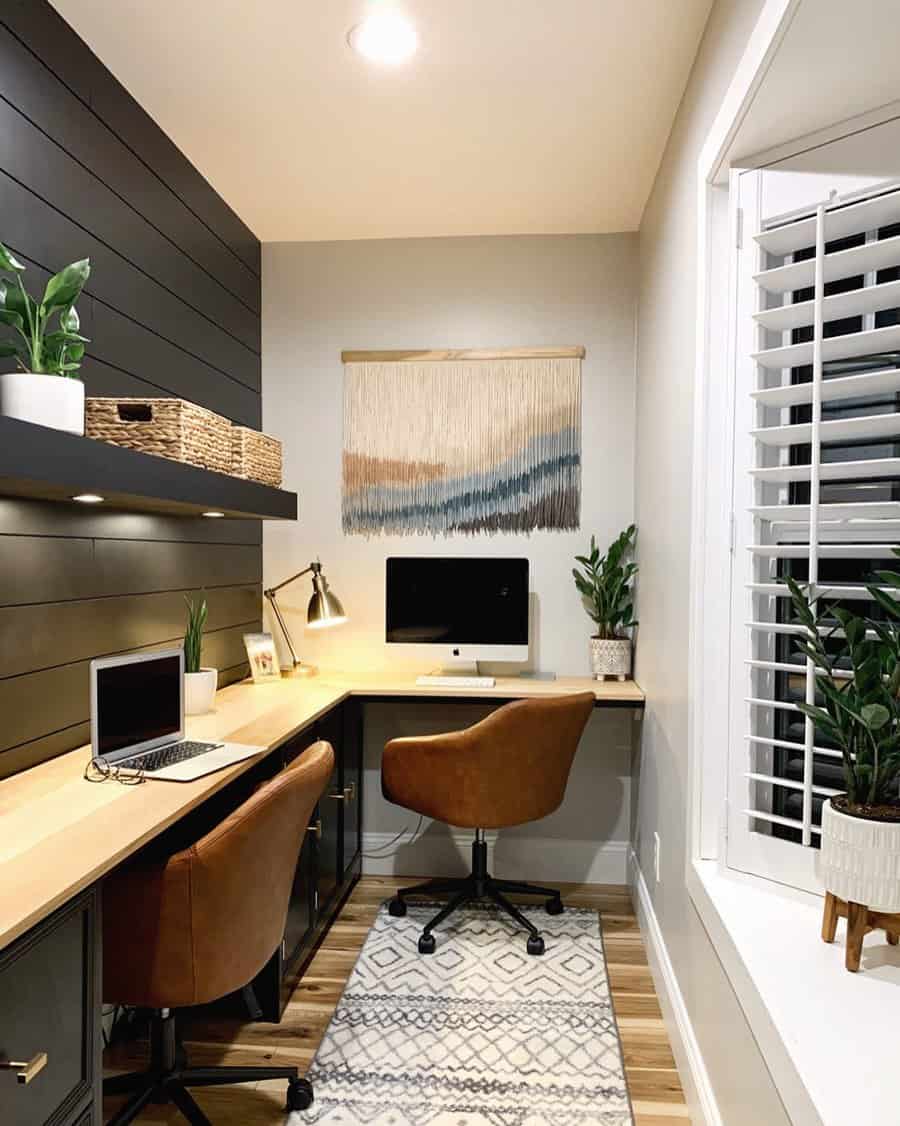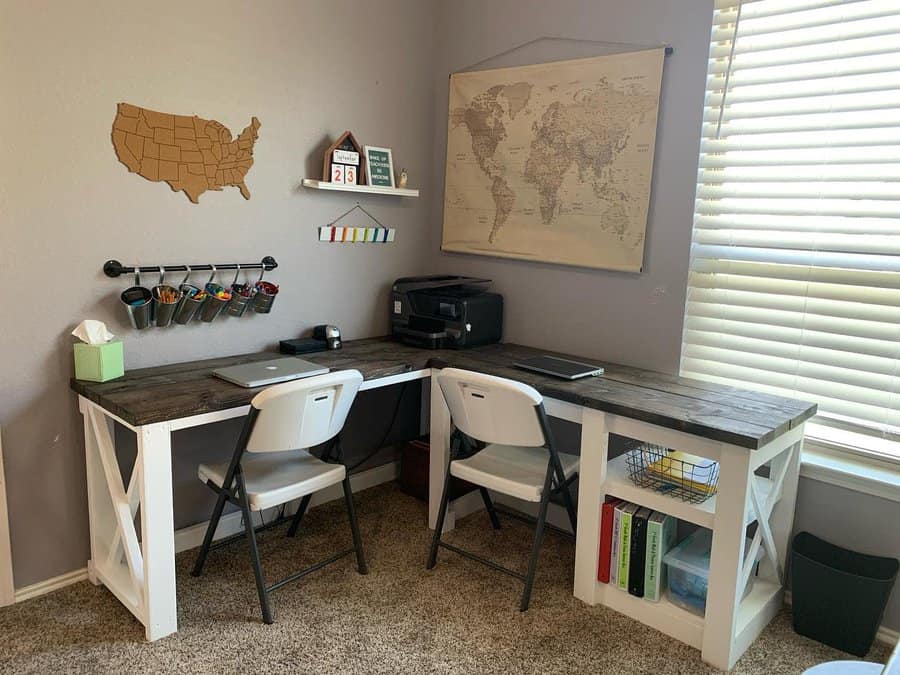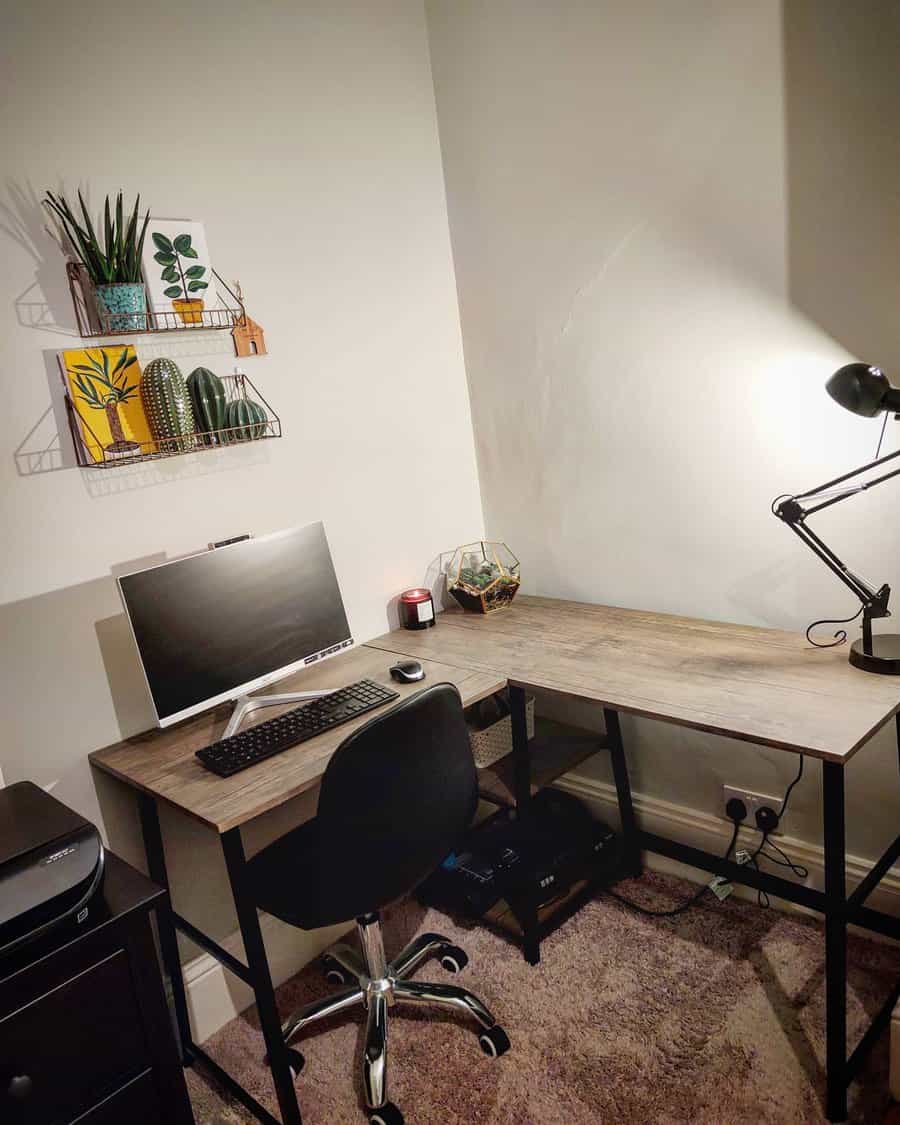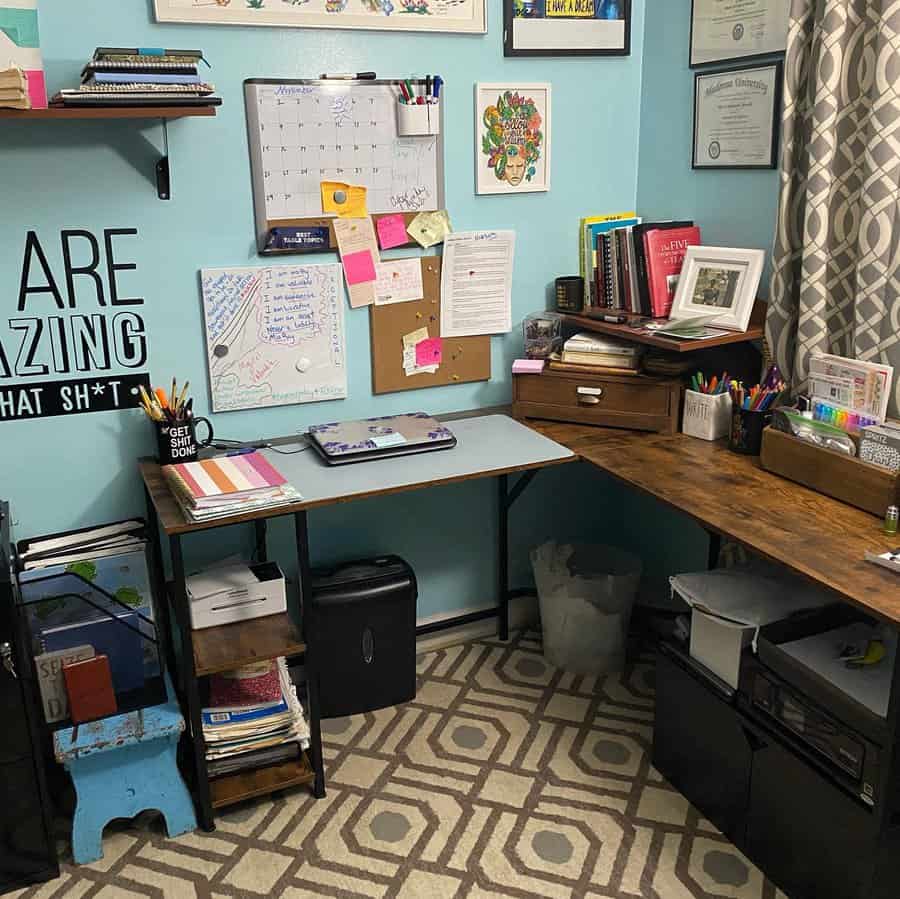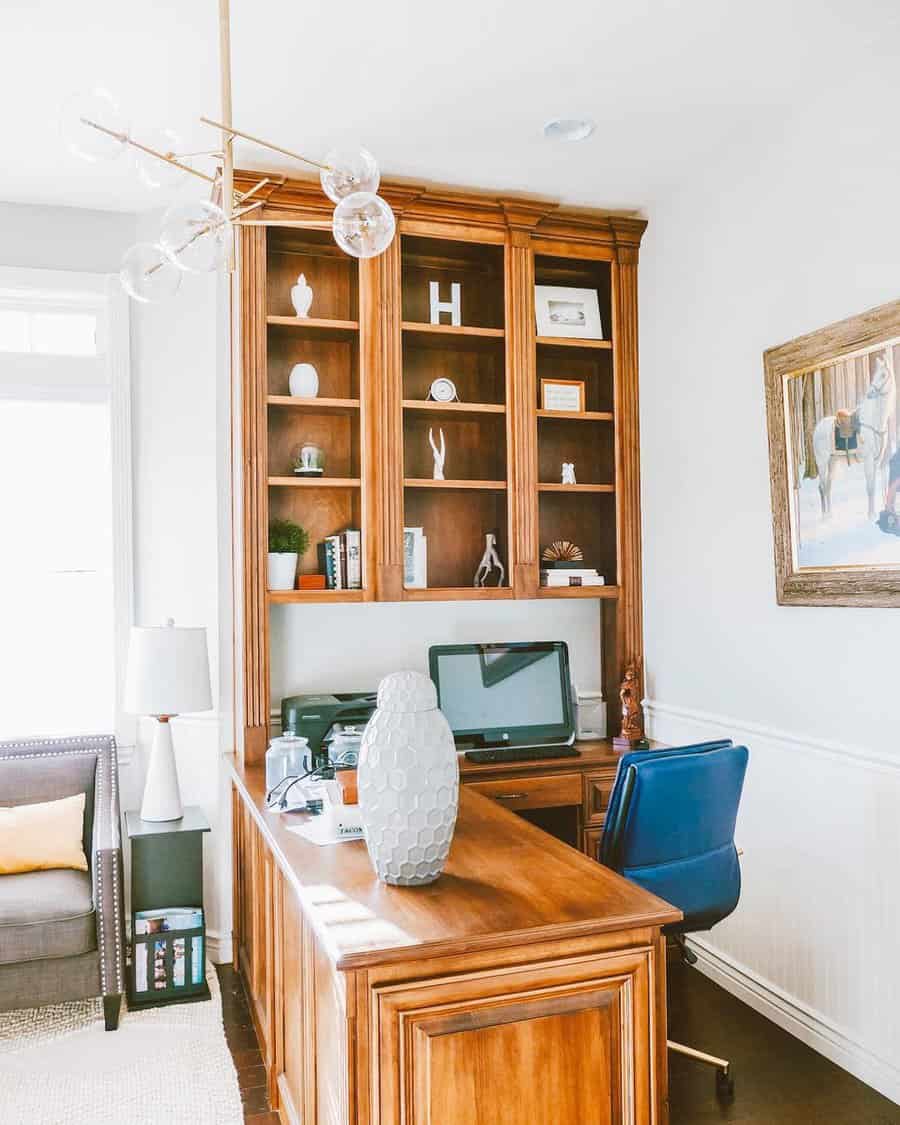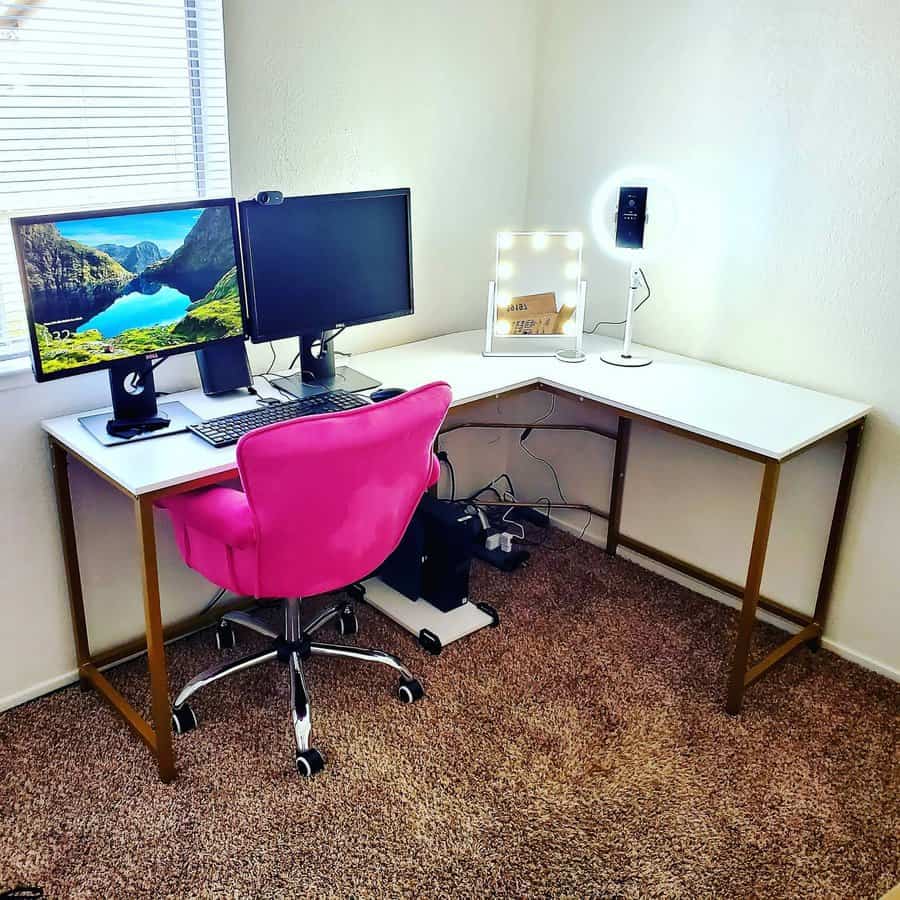 3. Office Desk With Gold Fixtures
If you're looking for office desk ideas that are sure to make a statement, why not look into purchasing one with gold fixtures? Not only can these office desks be fun and stylishly elegant, but the addition of gold accents will help provide an air of authority and sophistication to your office.
Try pairing it with a comfortable office chair and warm tones in the paint or fabric of any curtains or wall art to complete the perfect office space.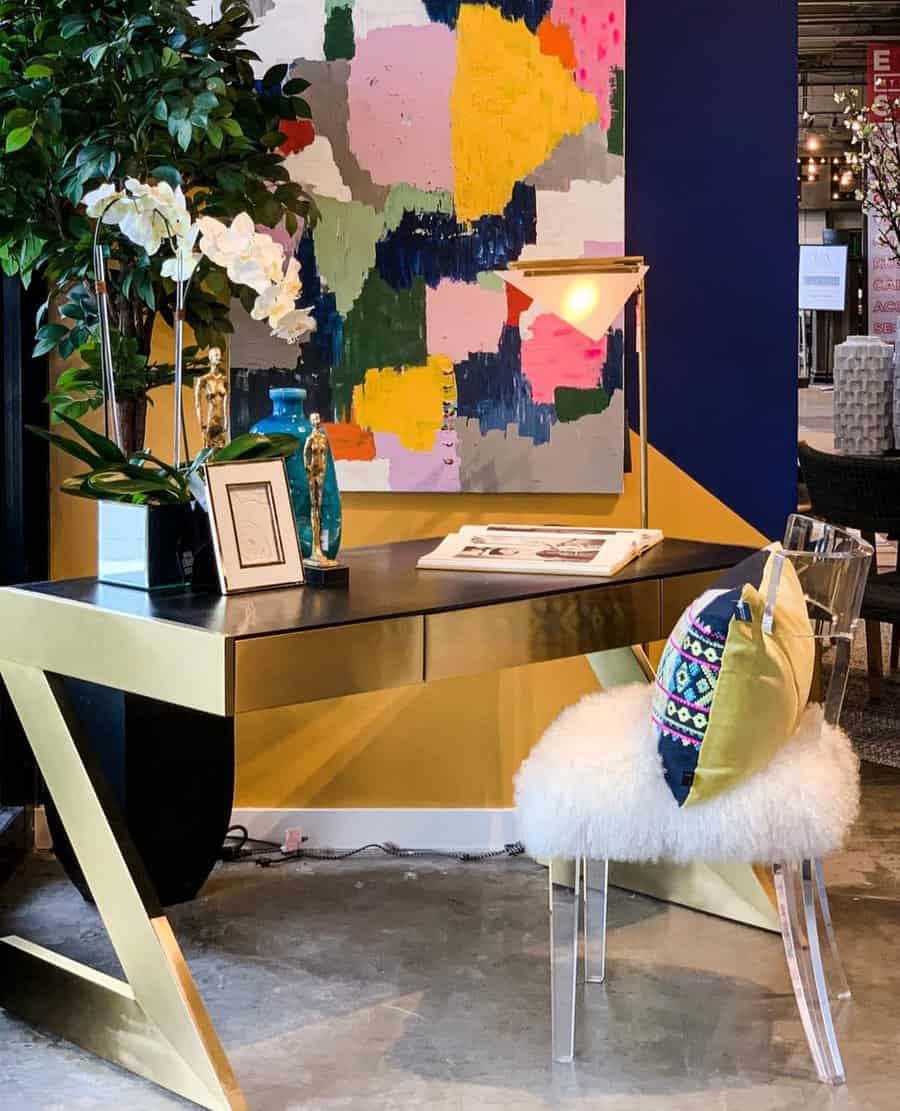 4. Tidy White For A Bright, Clean Look
For those looking to create a professional workspace at home, white desks are an ideal choice. Not only do they look sleek and stylish, but white works perfectly with any design style and helps to give your work area a bright and clean look.
When it comes to keeping distractions at bay, while also does a great job of minimizing visual noise compared to research that suggests clutter can cause distraction and reduce productivity. Investing in a white desk is the perfect way to create a beautiful workspace that's both efficient and organized!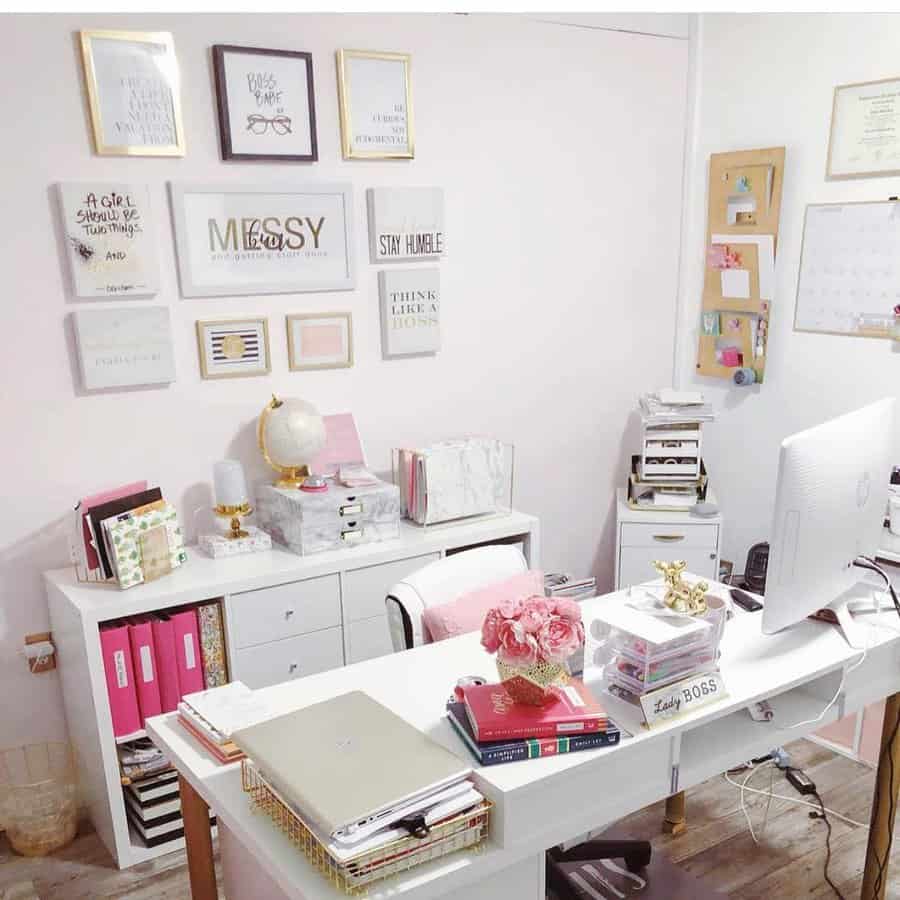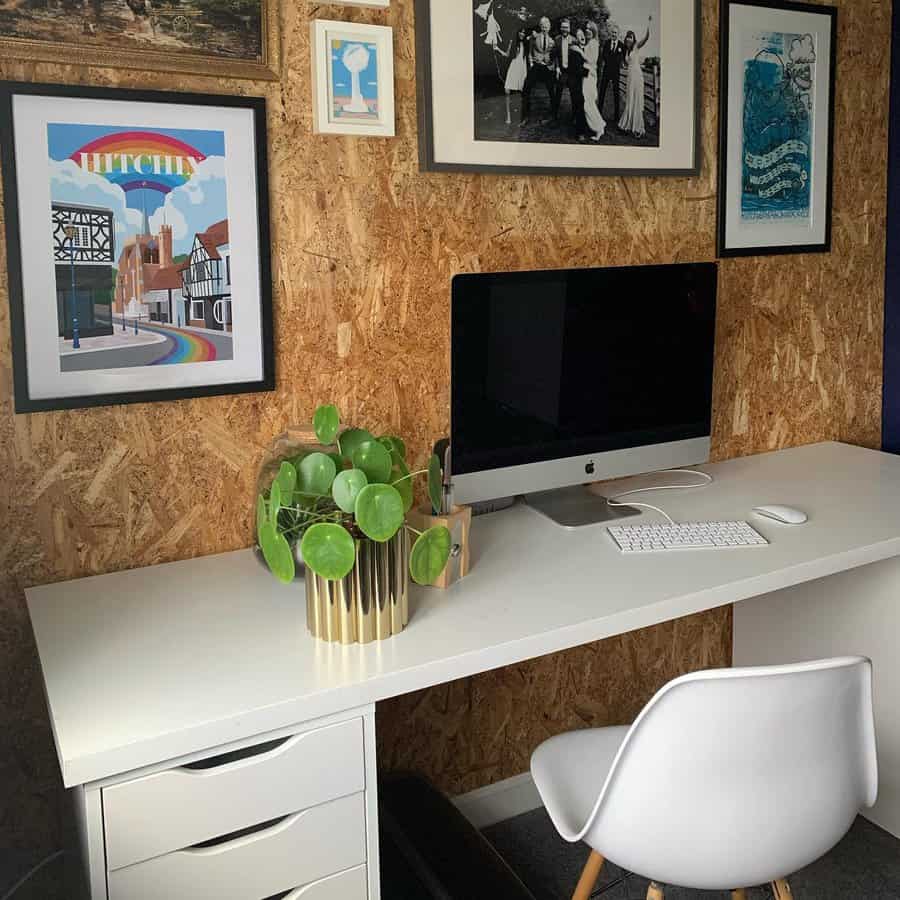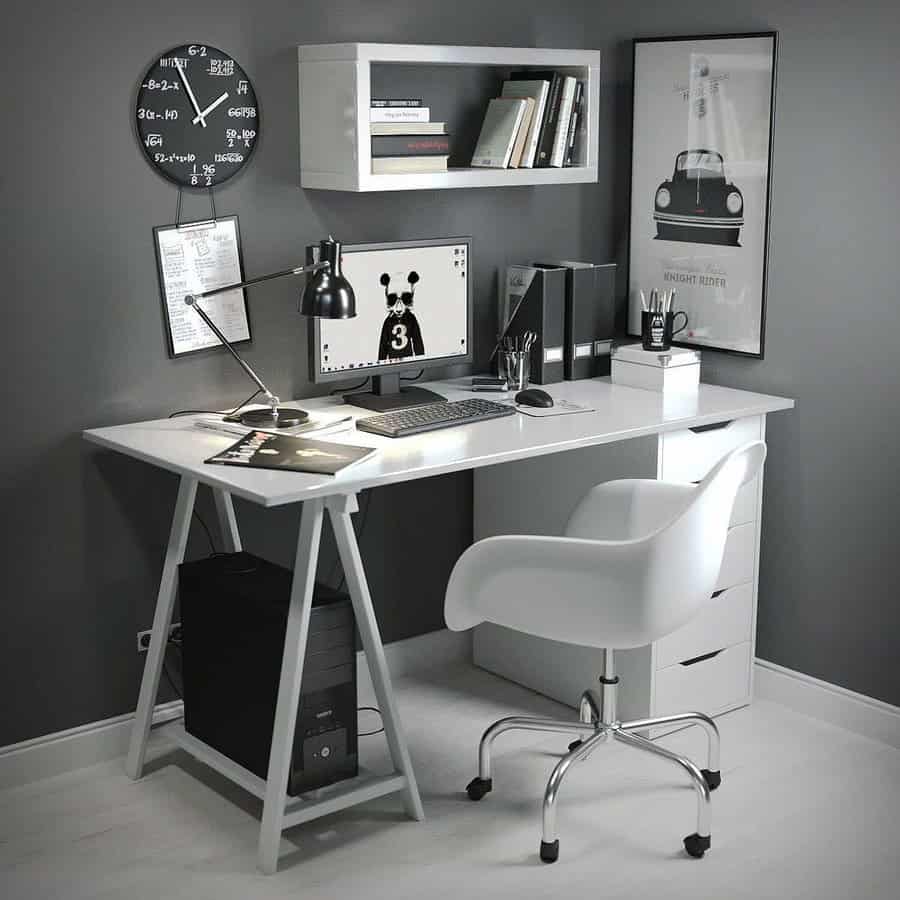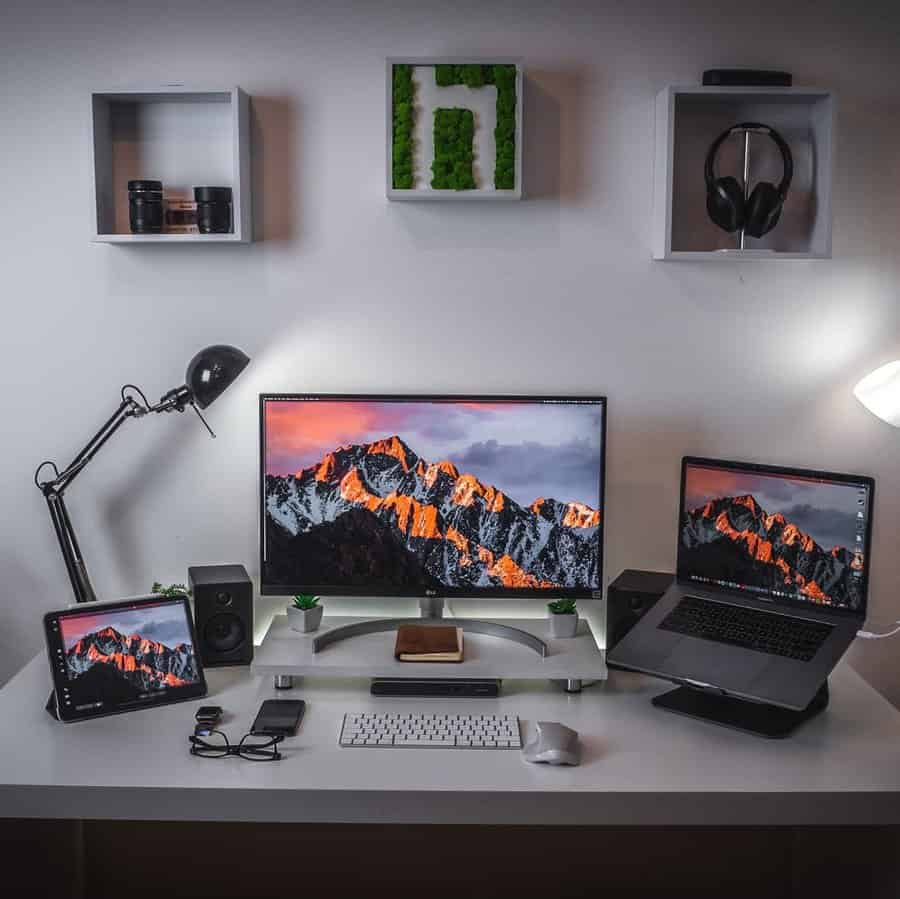 5. Wood For A Warm Look
If you're looking for a home office desk setup with a cozy ambiance, wood is the way to go. Not only will wood bring a warm and inviting look to your area, but wood can also be customized in numerous ways with different wood types, stains, finishes, and shapes.
For those wanting something more modern, metal desks are ideal — they come in sleek varieties and offer plenty of drawer storage space. Keep in mind adding pieces such as cabinets or cord organizers to complete your home office setup.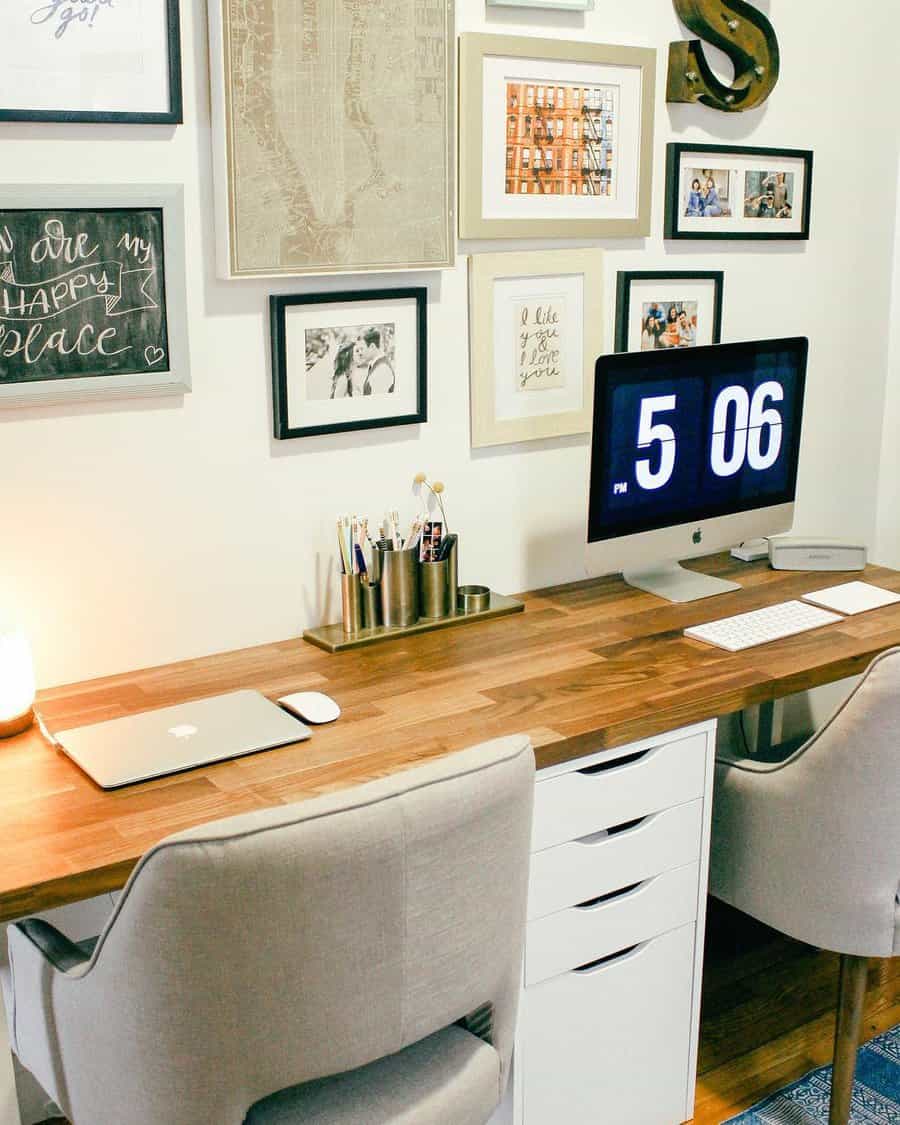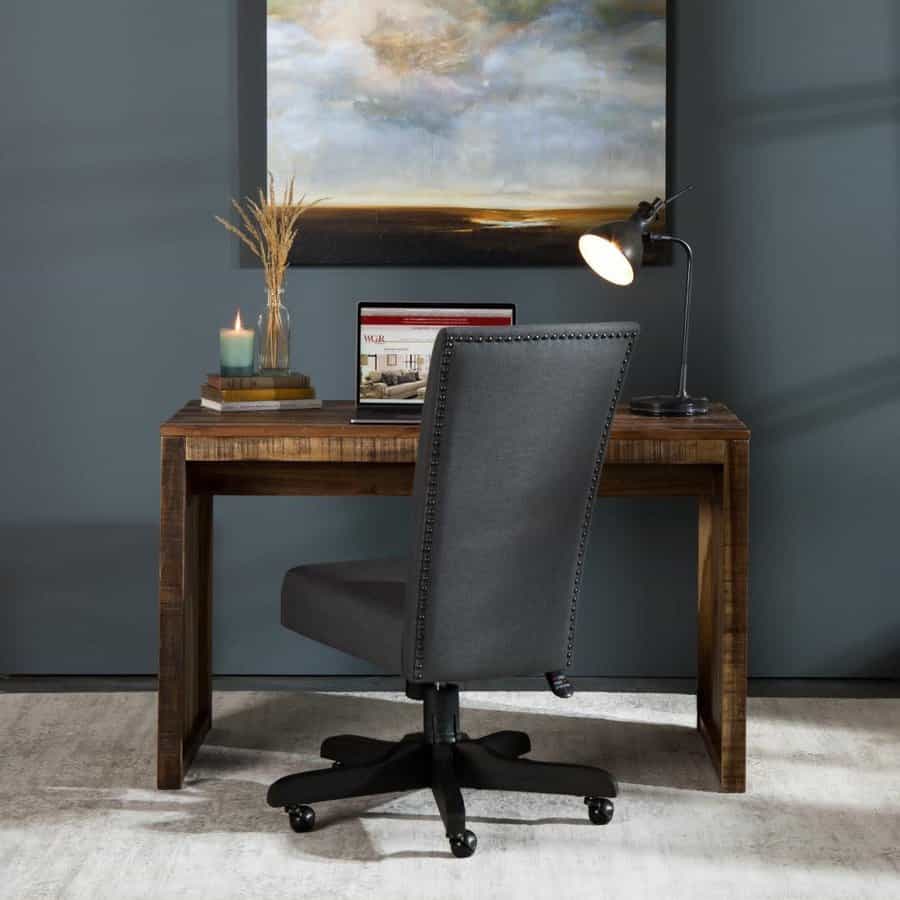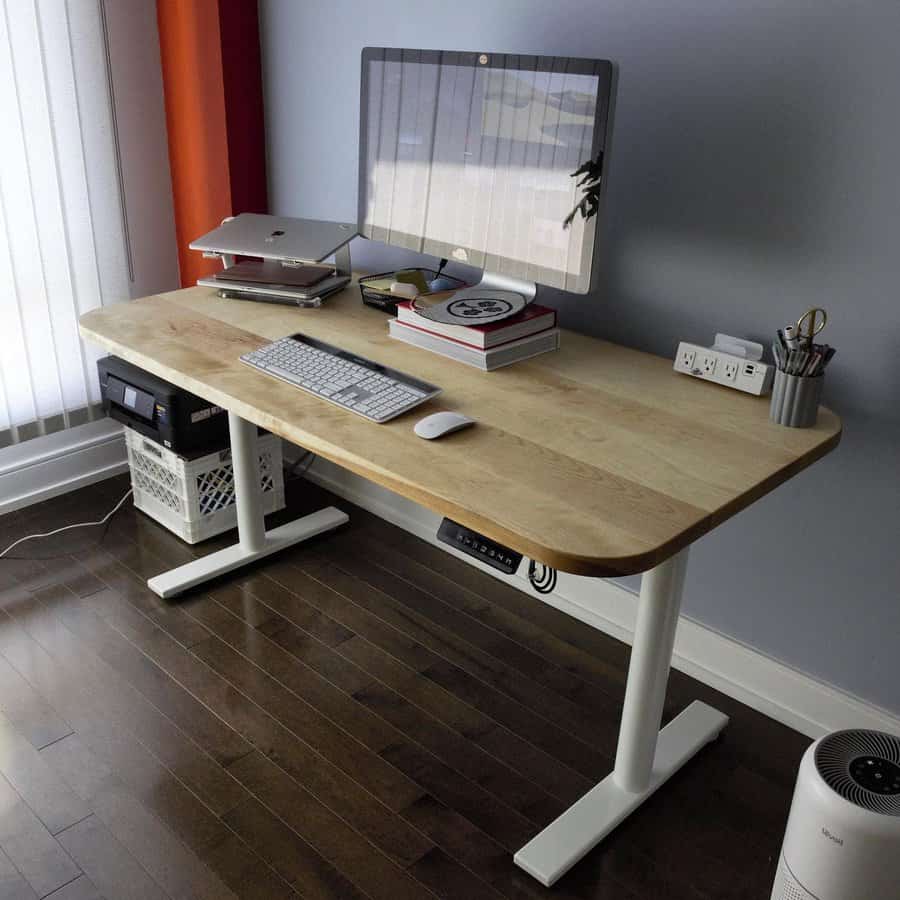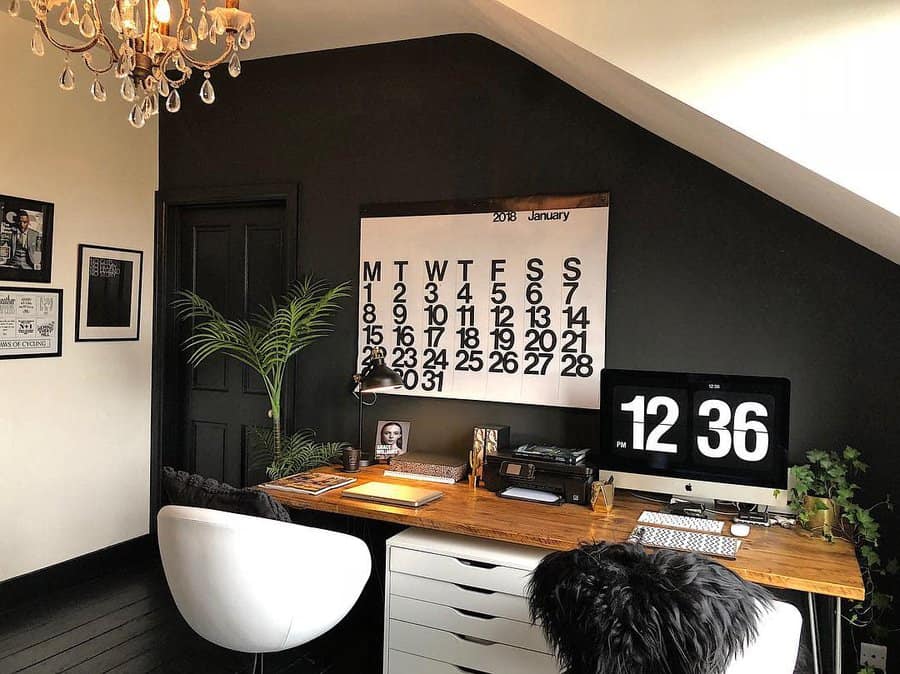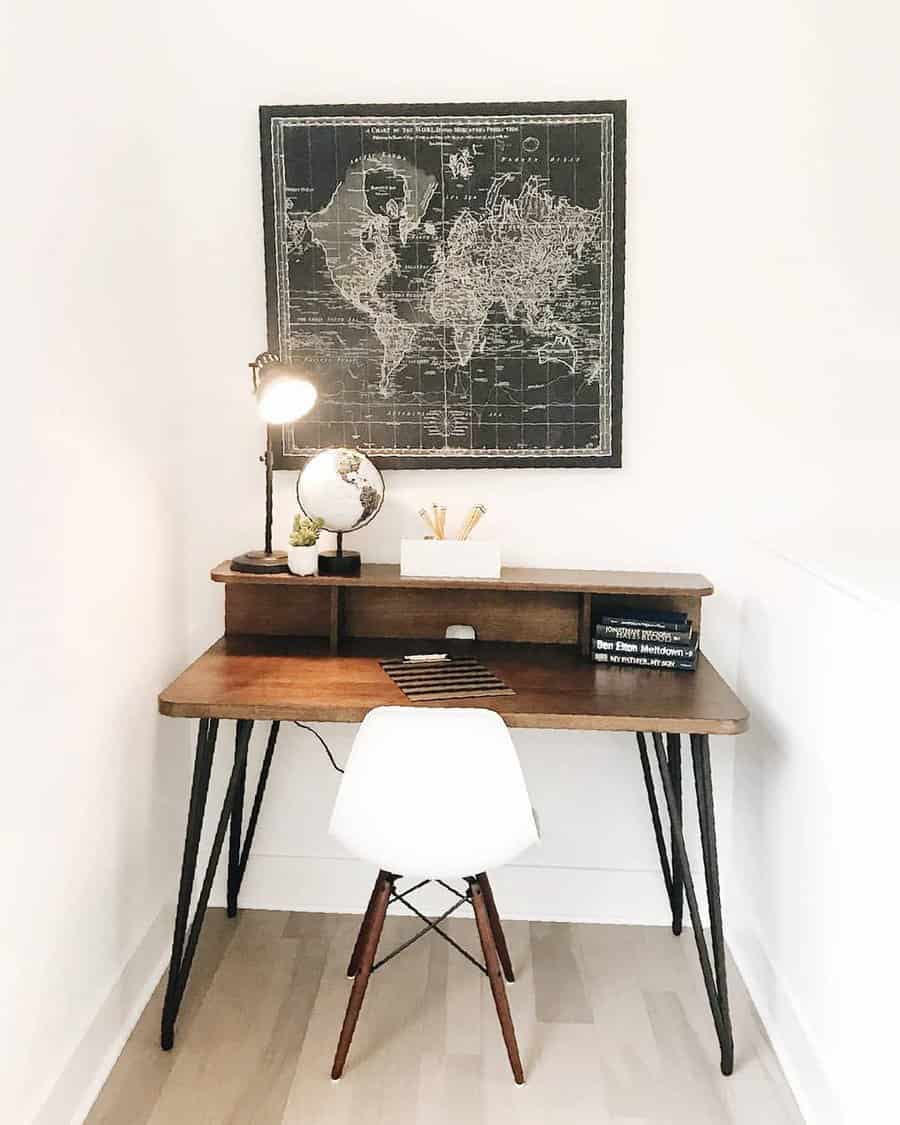 6. Black Desks For Masculine Office Spaces
Whether you're creating a black-accented, masculine office or just looking for ways to spruce up your current workspace, home office desk ideas are an essential piece of the puzzle. If black is your go-to color scheme, consider purchasing a black desk to anchor the room – this will add sophistication and make the other design elements really pop.
If black isn't your cup of tea, introduce black detailing in items such as drawers or light fixtures. If you prefer organic touches, try adding live plants like succulents that can bring life to any space. Finally, customize your setup with office accessories that showcase your personal style!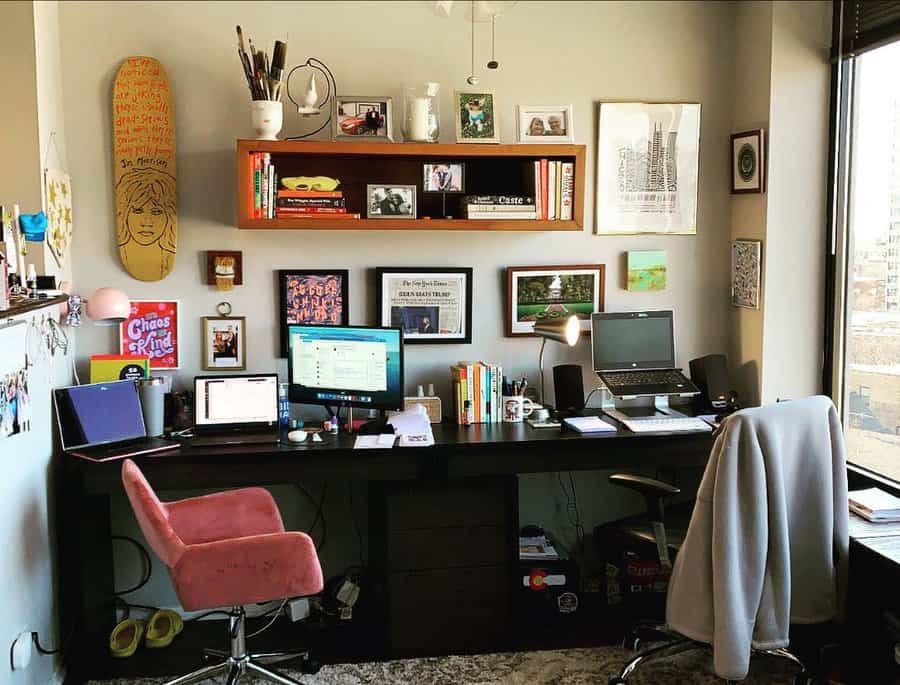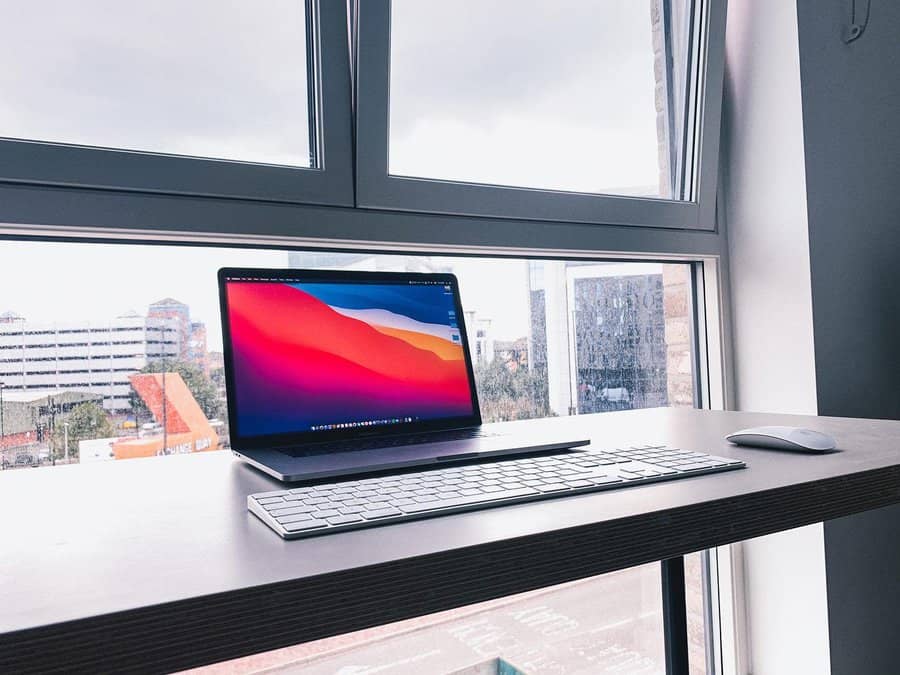 7. Beige Desk For A Calming Ambiance
A beige desk can be the perfect centerpiece for a calming and productive work setting. Not only does beige provide a neutral backdrop that won't be too distracting, but it can be easily accessorized with plants, prints, and other art pieces.
With beige as the base color scheme of your home office, you can explore new ways to liven up your area without compromising on a soothing ambiance. Start by swapping out furniture styles – go for rounded lines, angled legs, or copper accents. Don't be afraid to mix bright colors and rustic textures for a balanced look!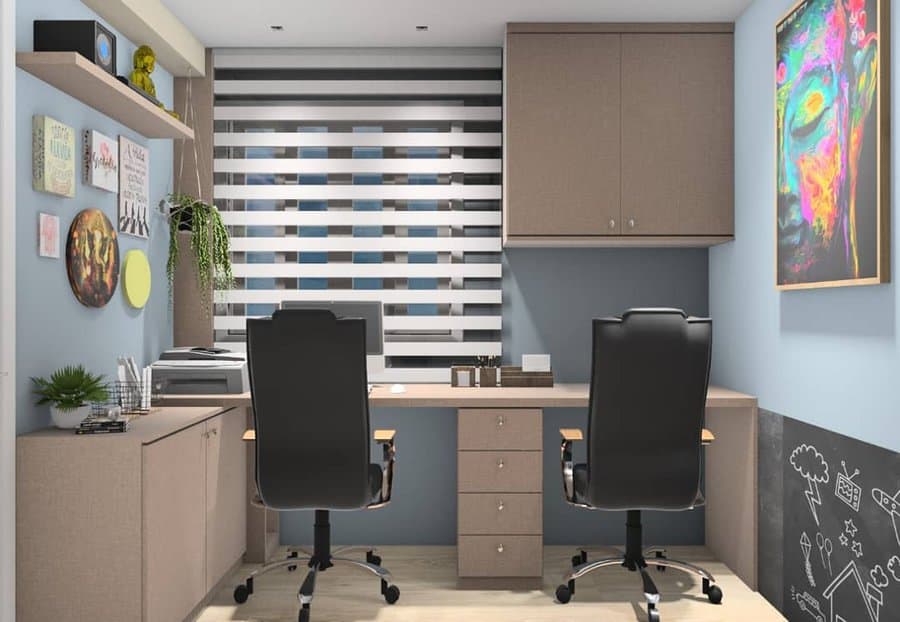 8. Add A Functional & Aesthetic Lamp
With more and more people spending considerable amounts of their day in the home office, it's no surprise that finding the perfect desk is one of your priorities. When outfitting your workstation, add a functional and aesthetic lamp – natural light can only do so much. Consider adding a few personalized treats to your workspace such as frames or plants, as bringing life into the room can add creativity and cheer on those long hours.
Keep yourself organized by having separate drawers or compartments for important items like documents or pens, allowing for greater focus and control over your workflow. Finally, add some flair with some well-placed decorative elements – just make sure to keep them in moderation so as not to be too distracting from the task at hand. With these tips, you're sure to create a refined yet inviting space that you'll want to spend every day in!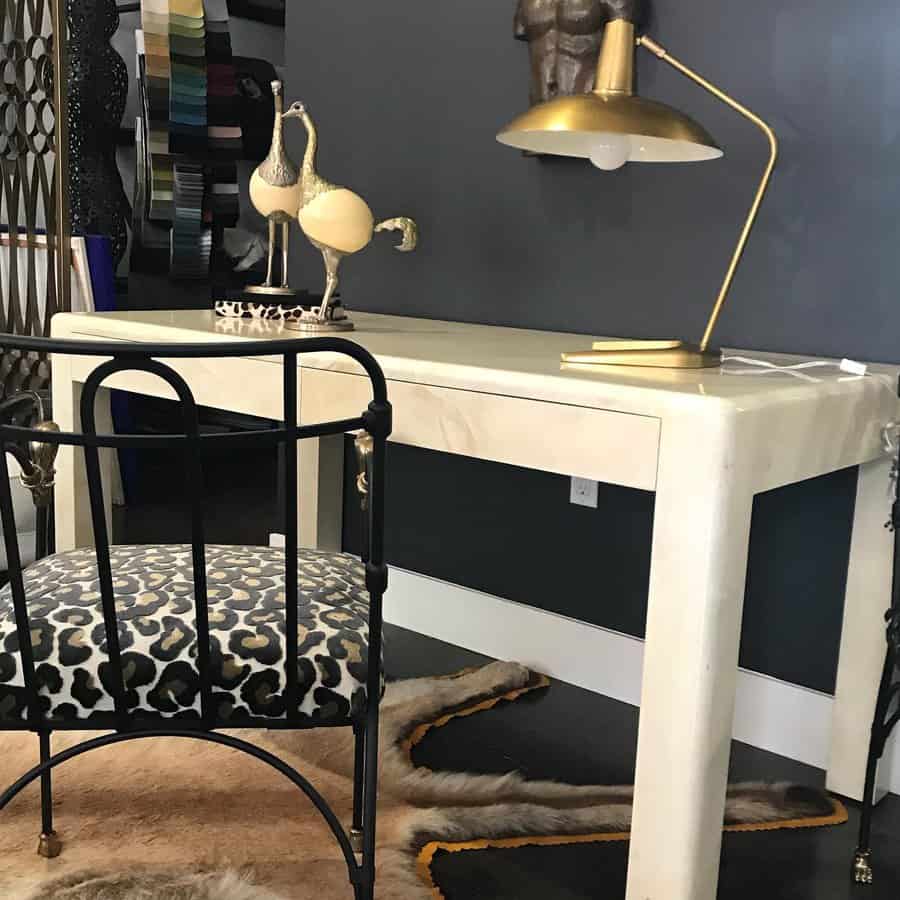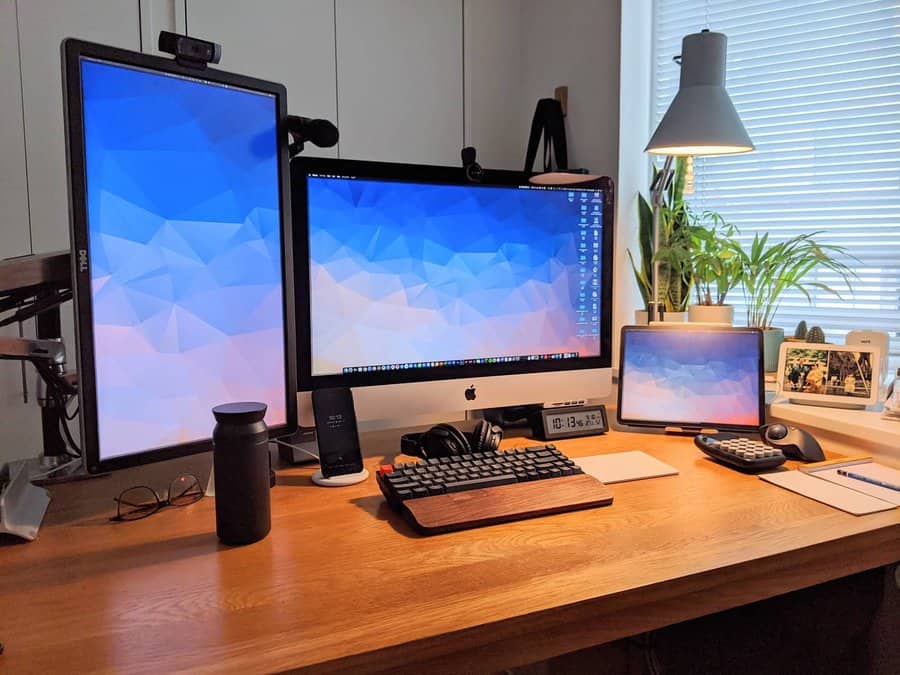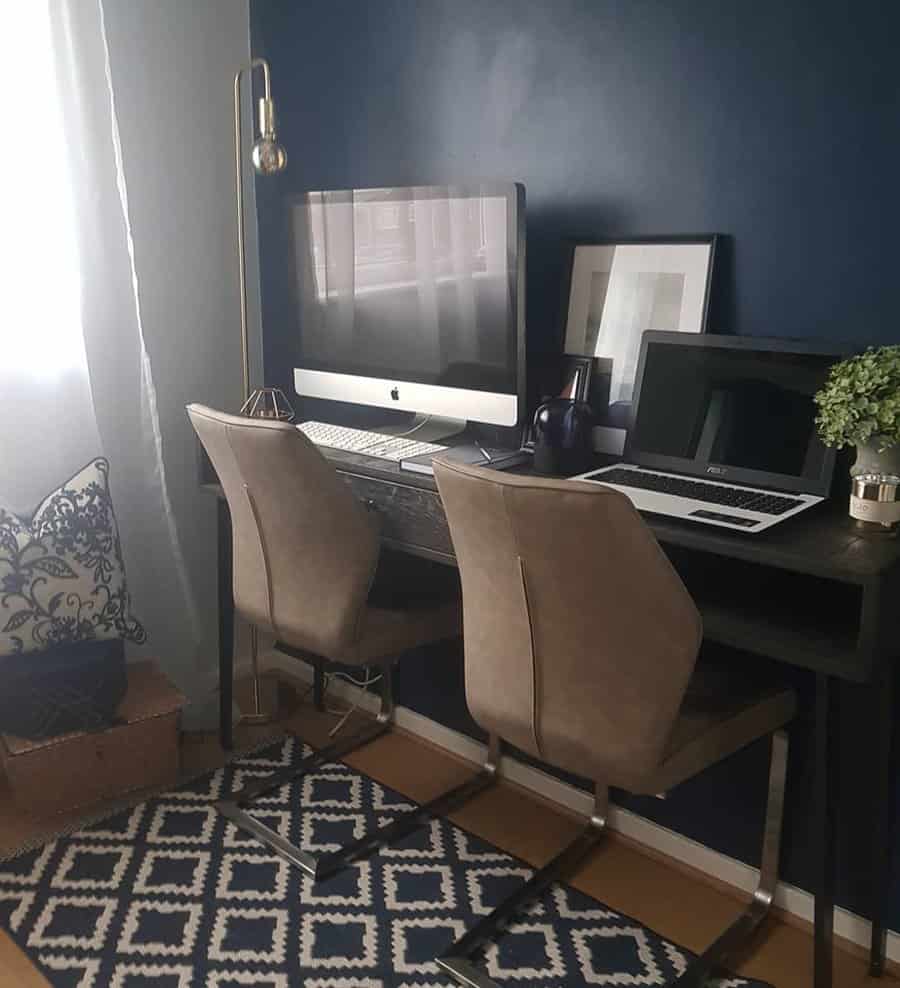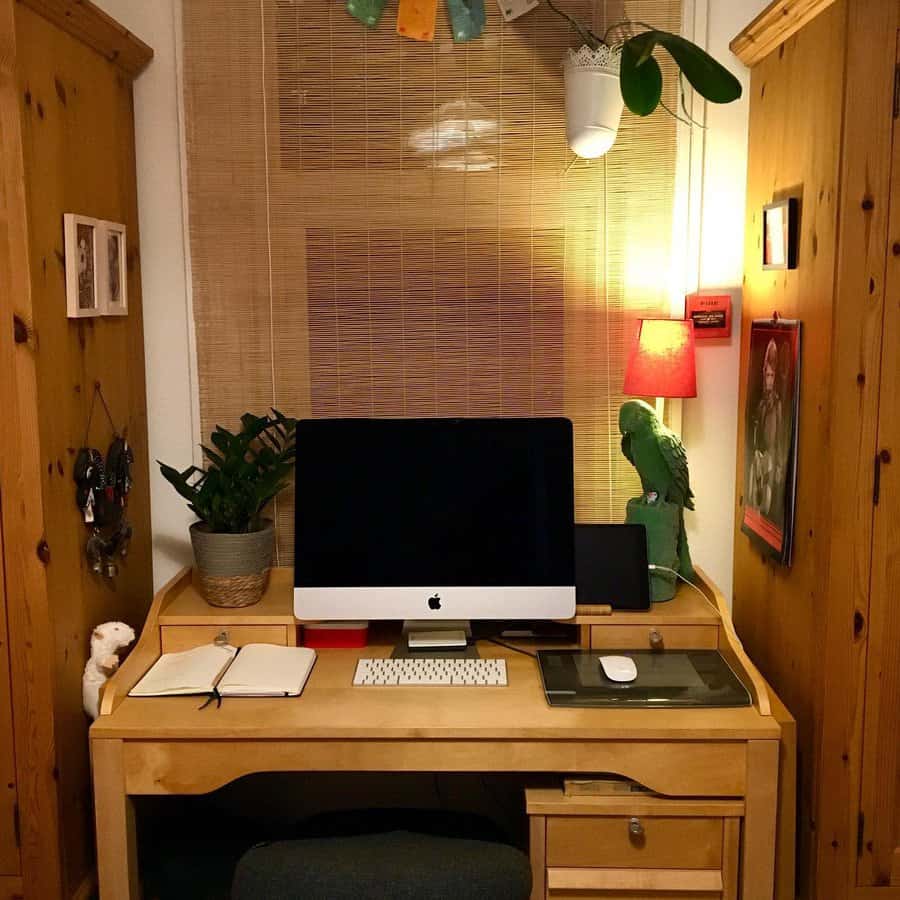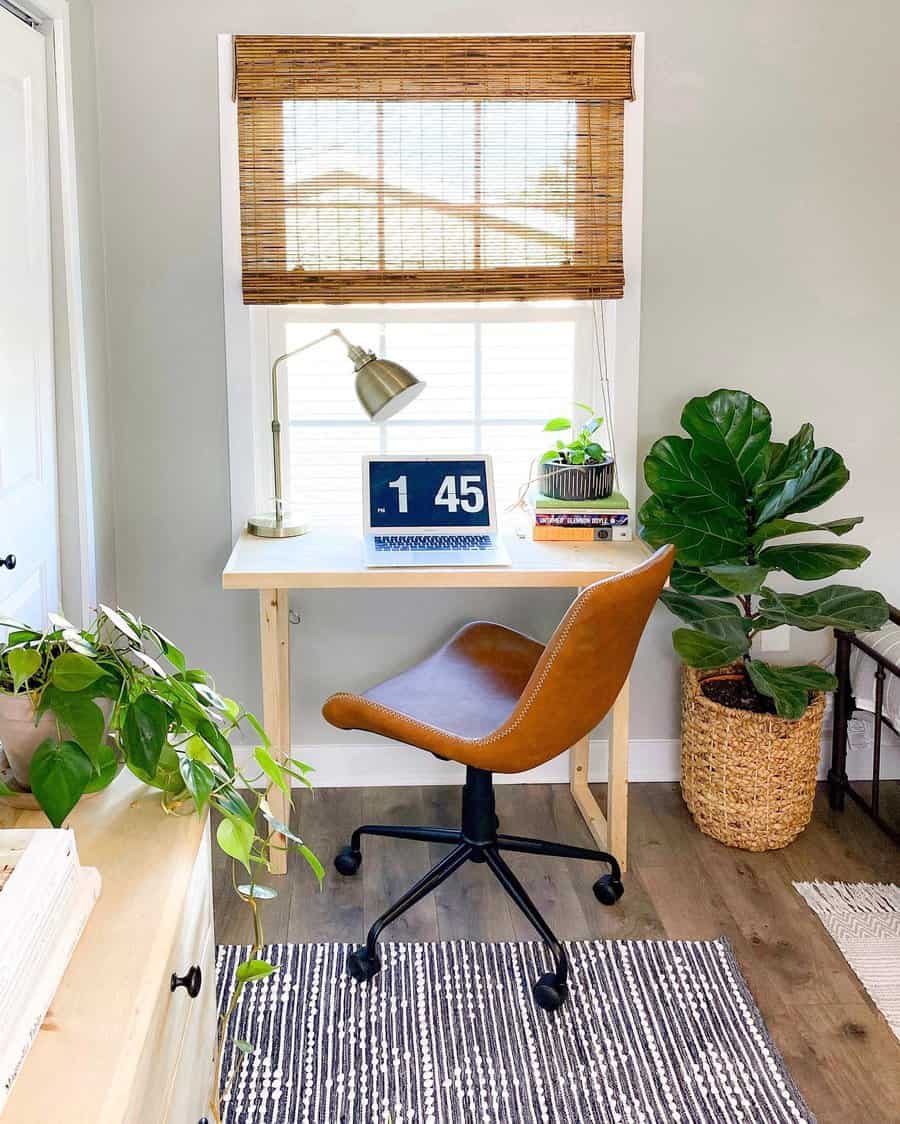 4. Place The Desk By The Window
If you have the option, place your desk in a spot near a window for access to natural light. Not only does the natural light create a pleasant work atmosphere, but it has also been proven to boost productivity and increase energy levels.
Consider adding plants to your office as well; plants help filter out pollutants and naturally freshen your air. Finally, make sure you choose furniture that reflects your own style and promotes comfort while working. A little bit of creativity with some practical ideas can turn any space into a beautiful and productive place to work!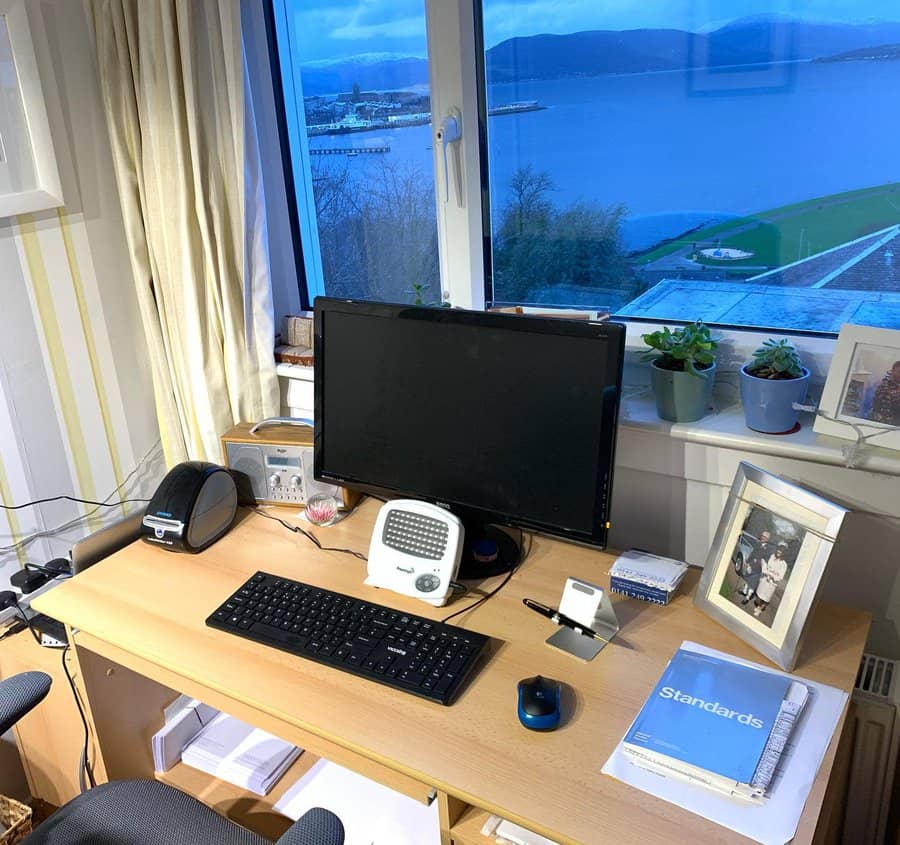 5. Incorporate Plants To Your Desk
Speaking of plants, it's time to incorporate plants into your desk! This can be an easy, yet effective way to incorporate a breath of fresh air into your workspace. Whether you opt for real or faux plants is completely up to you. Real plants can help improve air quality within the room and often liven up the entire area with their presence.
However, faux plants are great alternatives if you don't have much time to take care of them on a daily basis – which makes them ideal for busy professionals. Either way, adding a little bit of nature right next to your laptop and notebooks sure will make the atmosphere more pleasant and inspiring!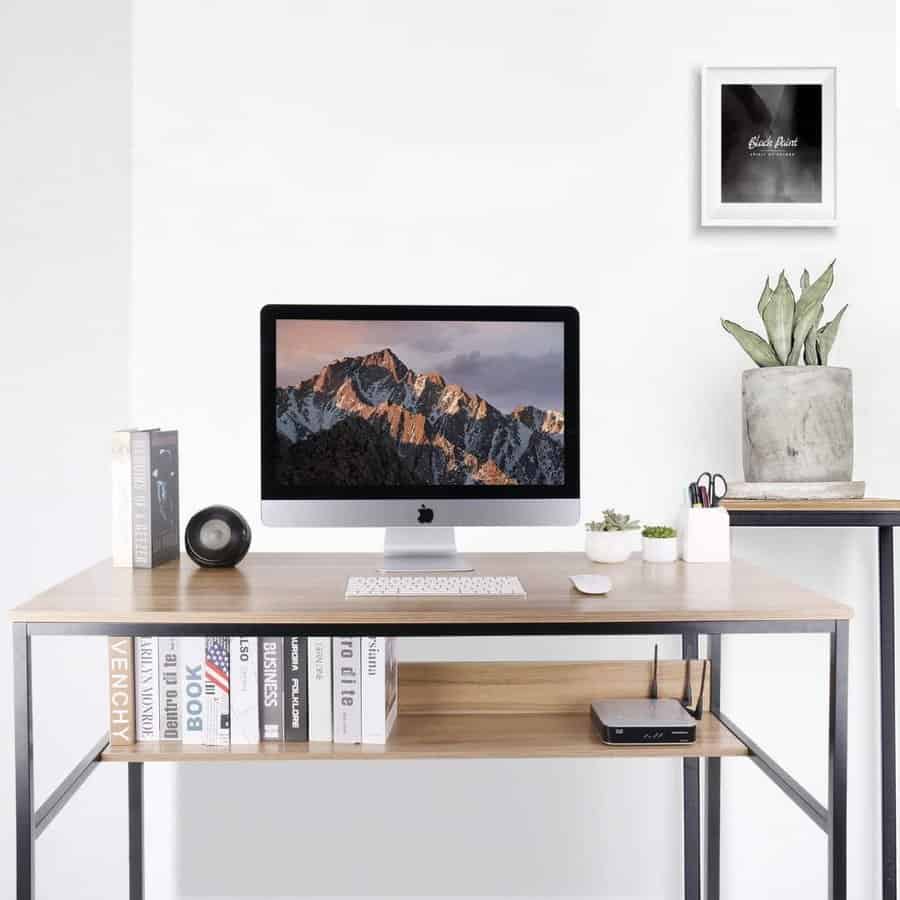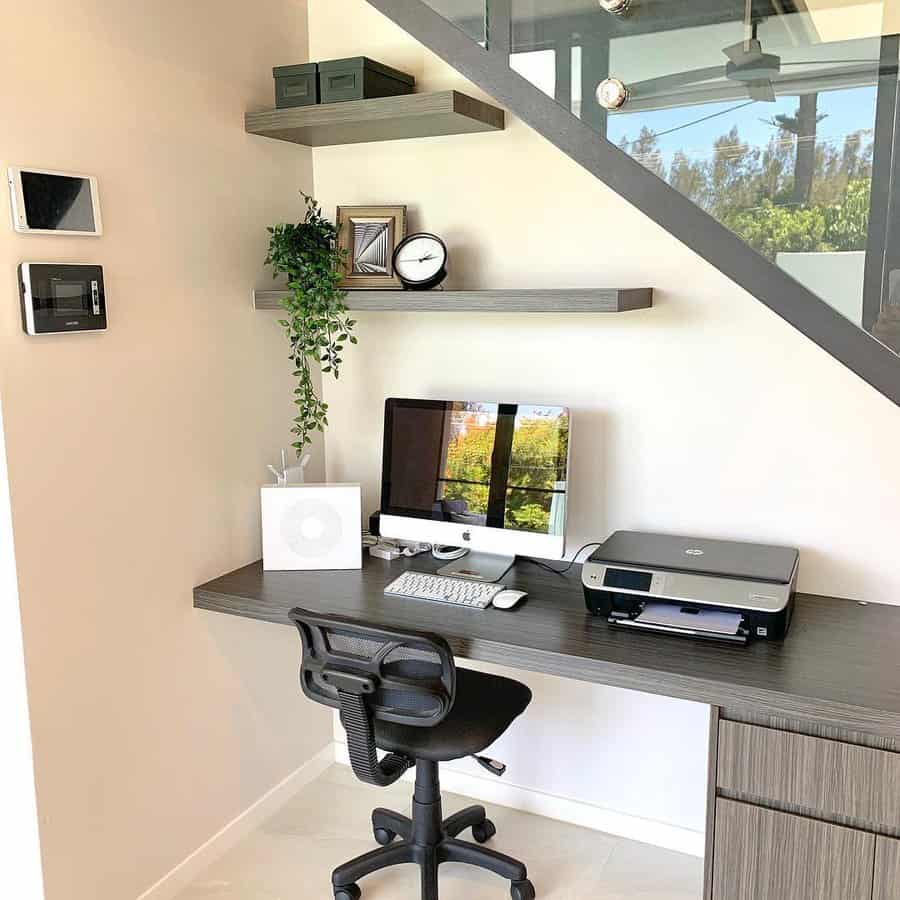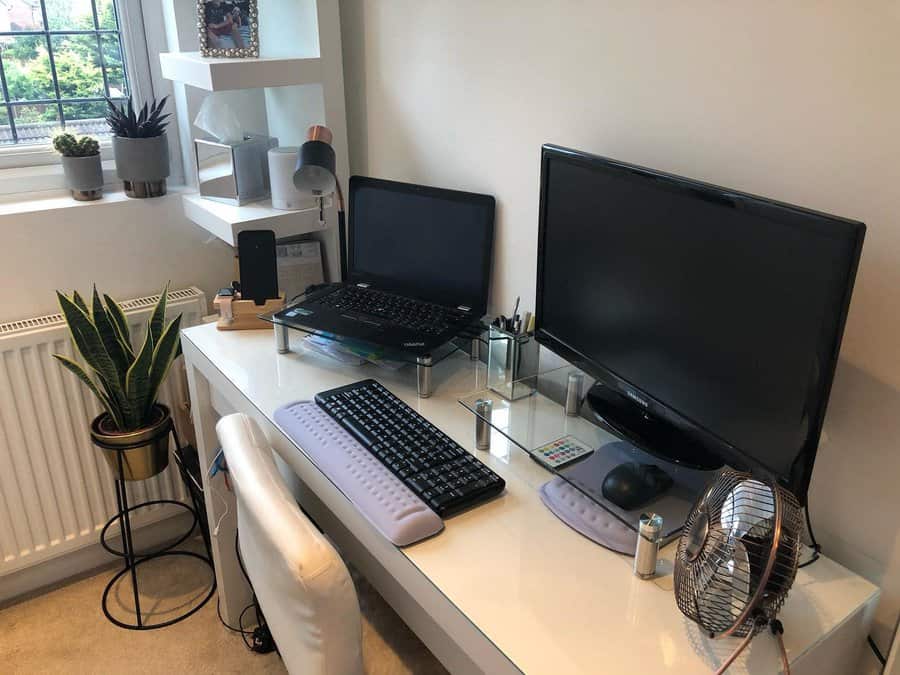 6. Wall-Mounted Computer For More Desk Space
Setting up a home office can be tough with all the different desk options available. If you're looking for ways to maximize your workspace, one great option is wall-mounting your computer. Not only does this free up more counter space on your desk, but it also makes it easier to tuck away electrical cables and keep everything organized.
Plus wall-mounting your monitor is a great way to express a bit of creativity, by adding wallpapers or cute decals around it. No matter what layout you end up going with in your home office, wall-mounting gives you more freedom and flexibility when organizing your work area.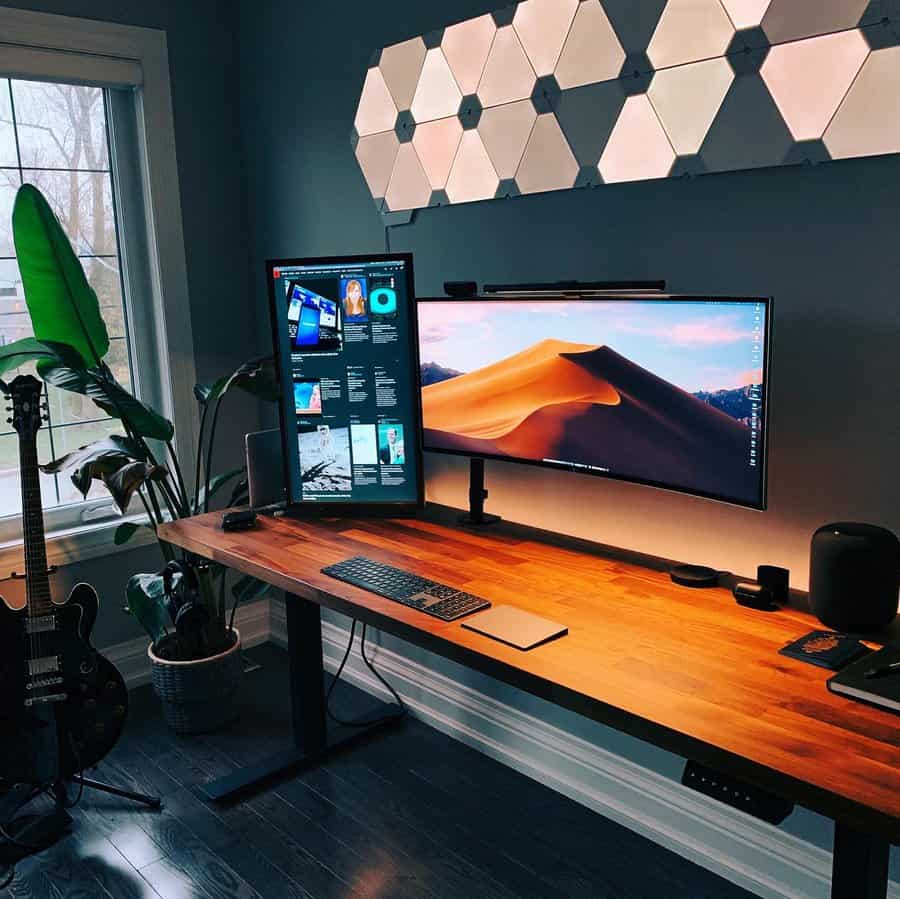 7. Corner Desks For Multi-Taskers
Corner desks are a great choice for the busy multi-tasker who needs more than one computer screen – they make great use of corner space and look sleek and trendy.
For those that need storage, consider an L-shaped desk with drawers or shelves included so your documents can always be within reach. And don't forget to finish it off with some fun decor that fits you!
Use pieces to reflect your personalities, such as framed love letters or plants that bring some life into the corner. With the right touches, the corner of your home office can become your favorite spot in the house.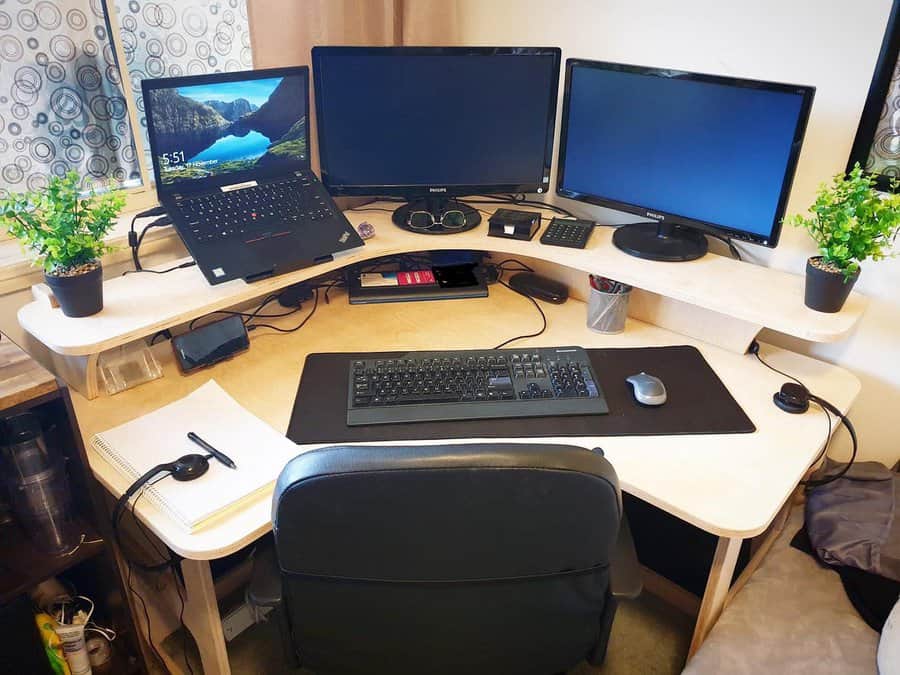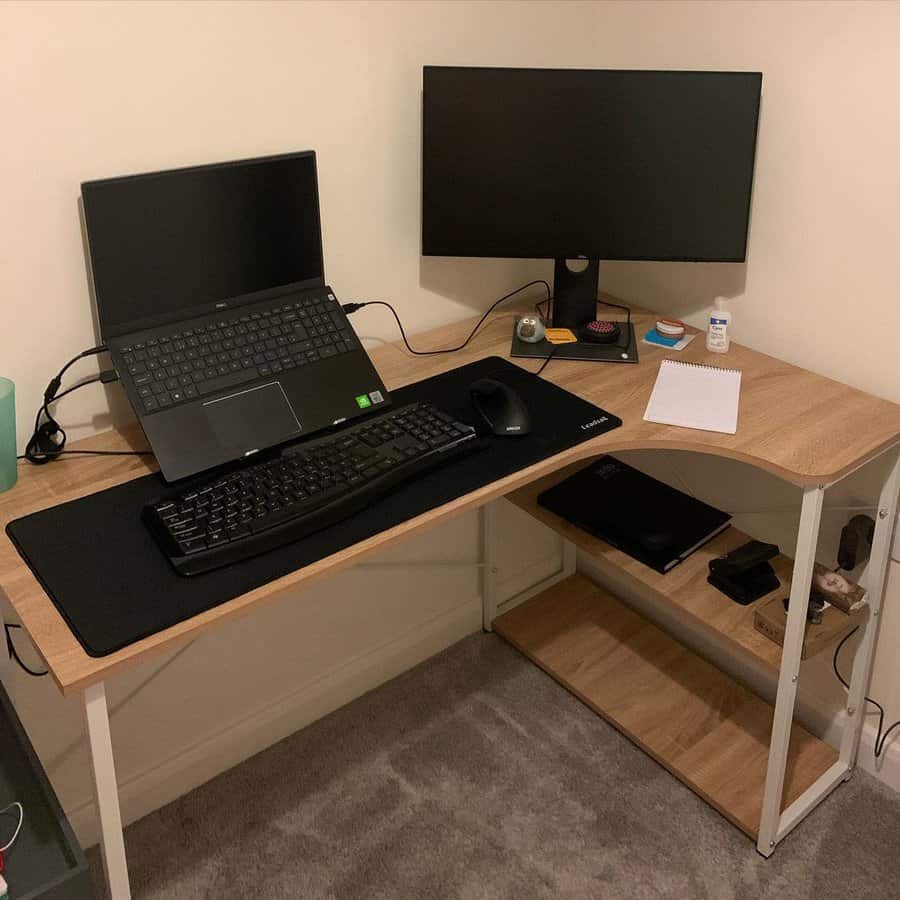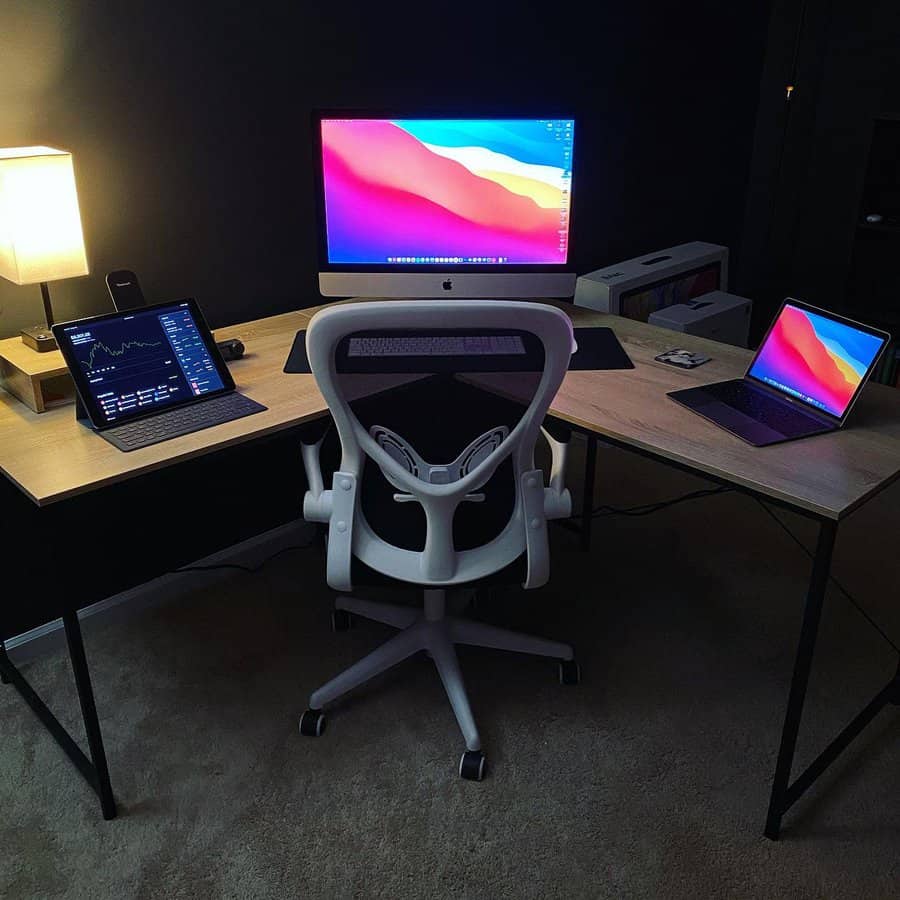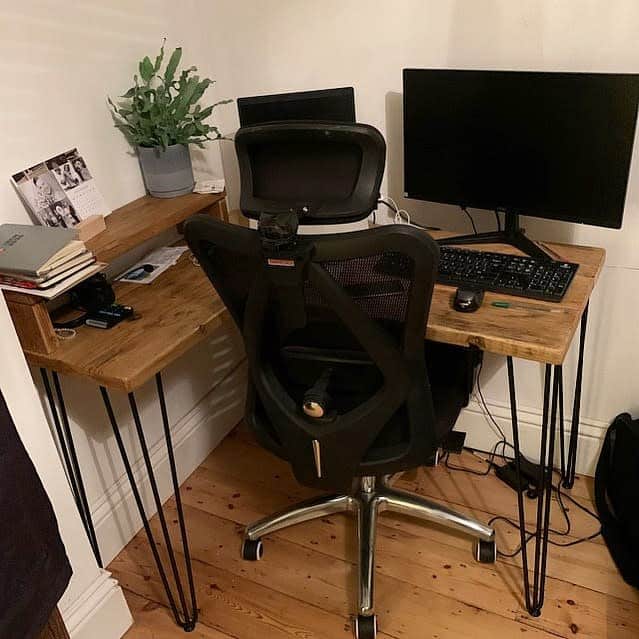 8. Wall-Built In Desk
When it comes to home office desk ideas, there are so many creative solutions to choose from. To maximize a smaller space and keep the flow of your room in check, wall-built-in desks are an excellent option. If you prefer something more minimalist, both in aesthetic and footprint, try experimenting with a floating desk.
This style gives the appearance that your work surface is hovering above the ground yet conserves precious square footage. Whatever you choose, personalizing your home office is essential to creating an inspiring workspace that gets used day after day.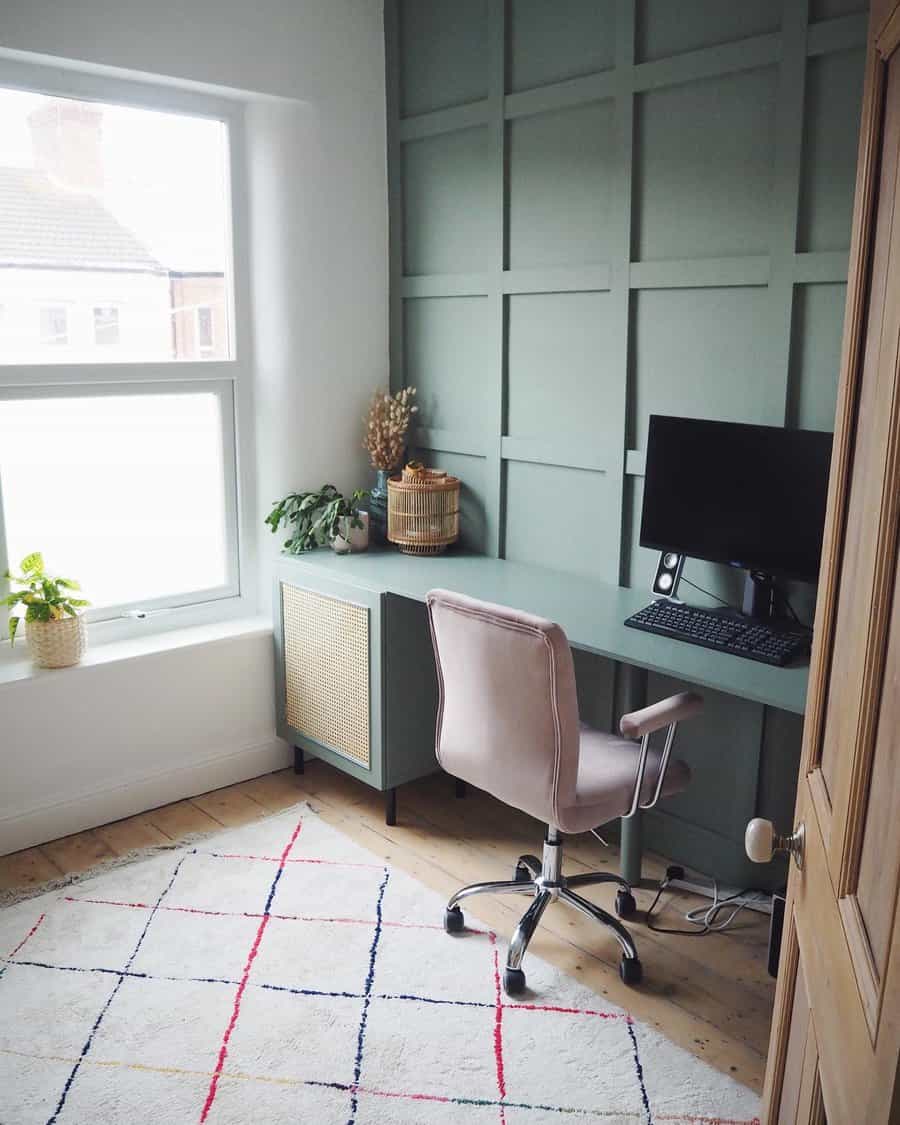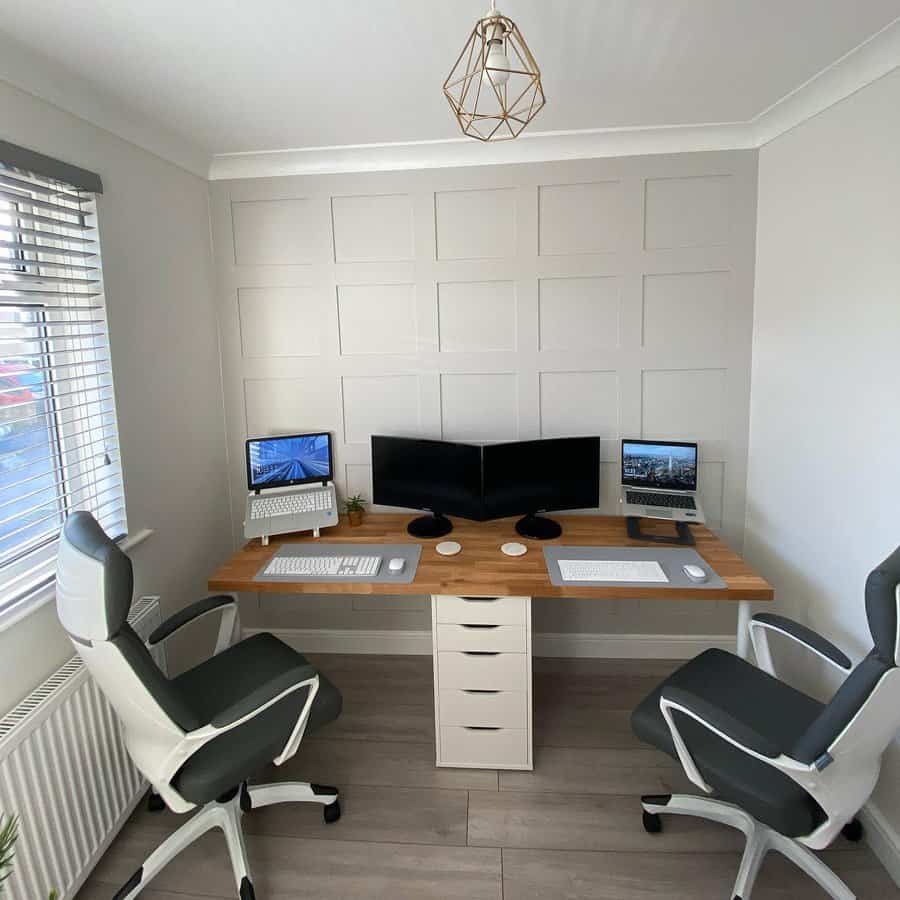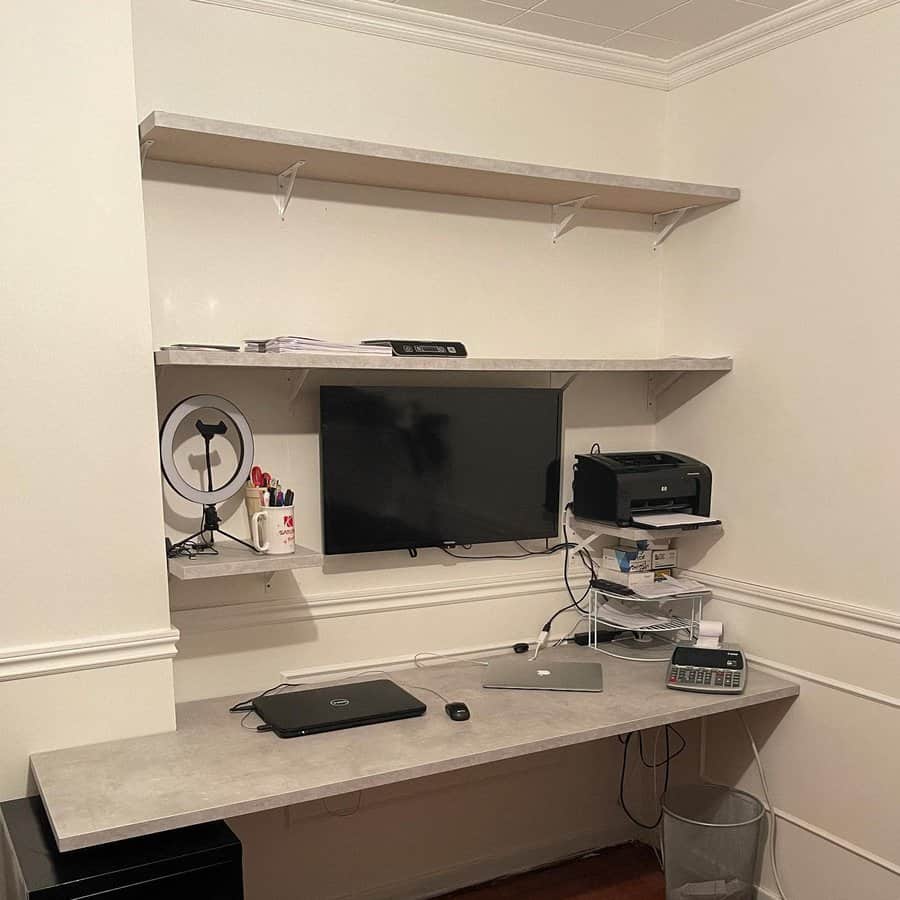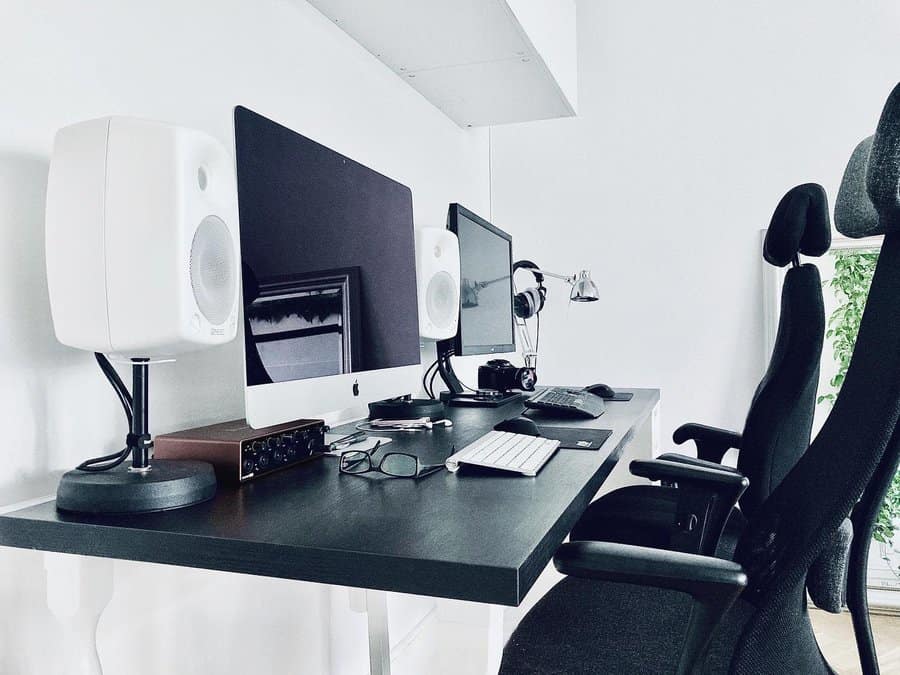 9. Desk Organizers For Extra Storage Space
Whether you're creating a space from scratch or just reorganizing an existing desk, the key to a successful home office desk is customizing it to fit your needs. Utilize desk organizers to make sure all of your desk supplies are accessible without taking up any desk space and add extra storage, with either drawers or extended shelves for materials that could otherwise clutter up your workspace, allowing for a more productive work environment.
Look for multifunctional furniture items like ottomans and bookcases to double your desk's capabilities in one single piece and find pieces that fit in with the aesthetics of the rest of the room. With thoughtful planning and creative ideas, you'll be sure to have a desk that fits all of your work-related needs!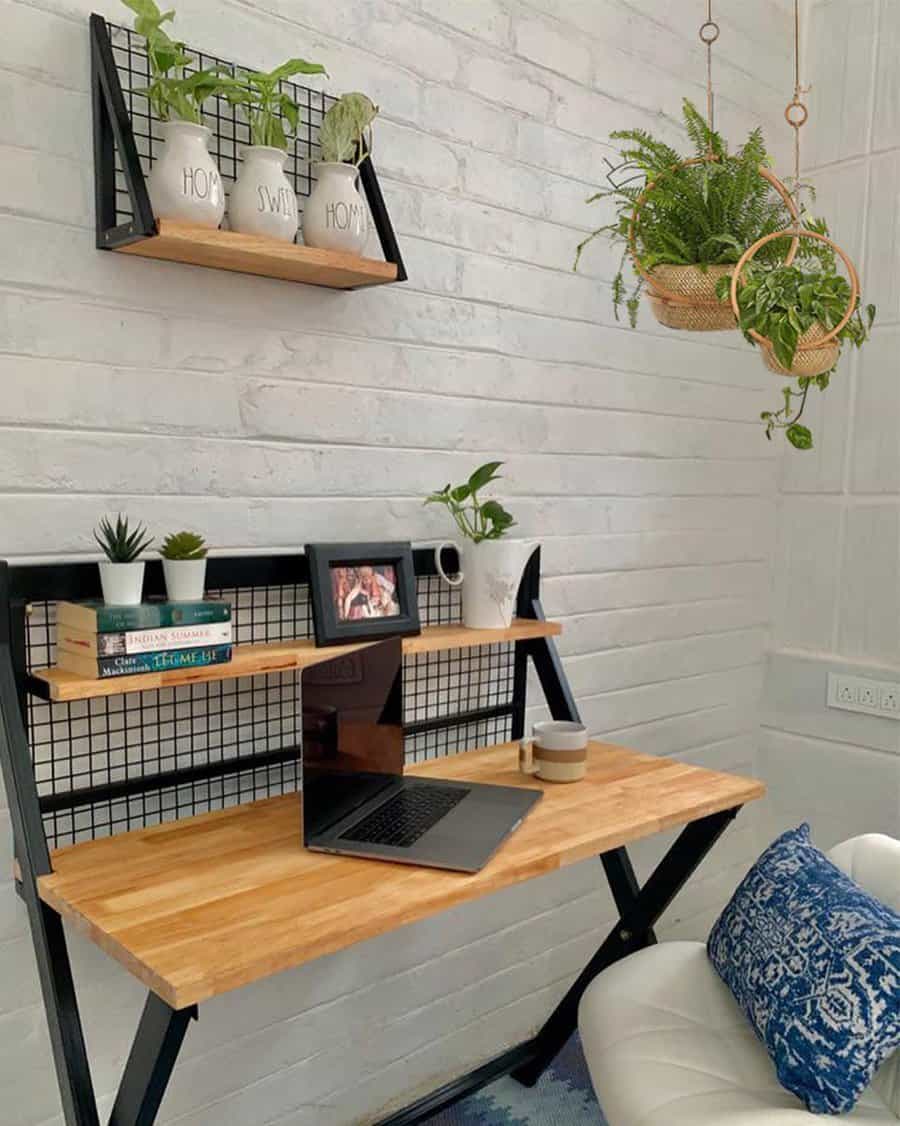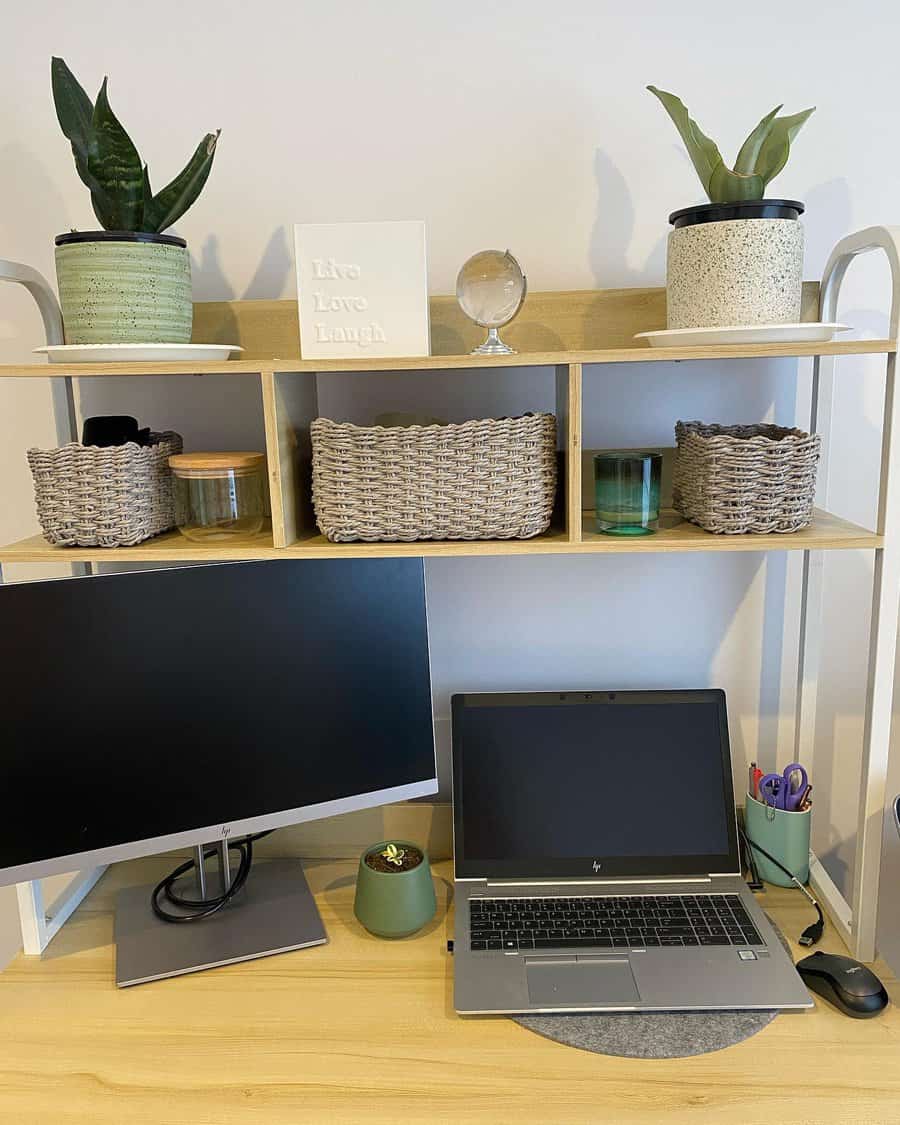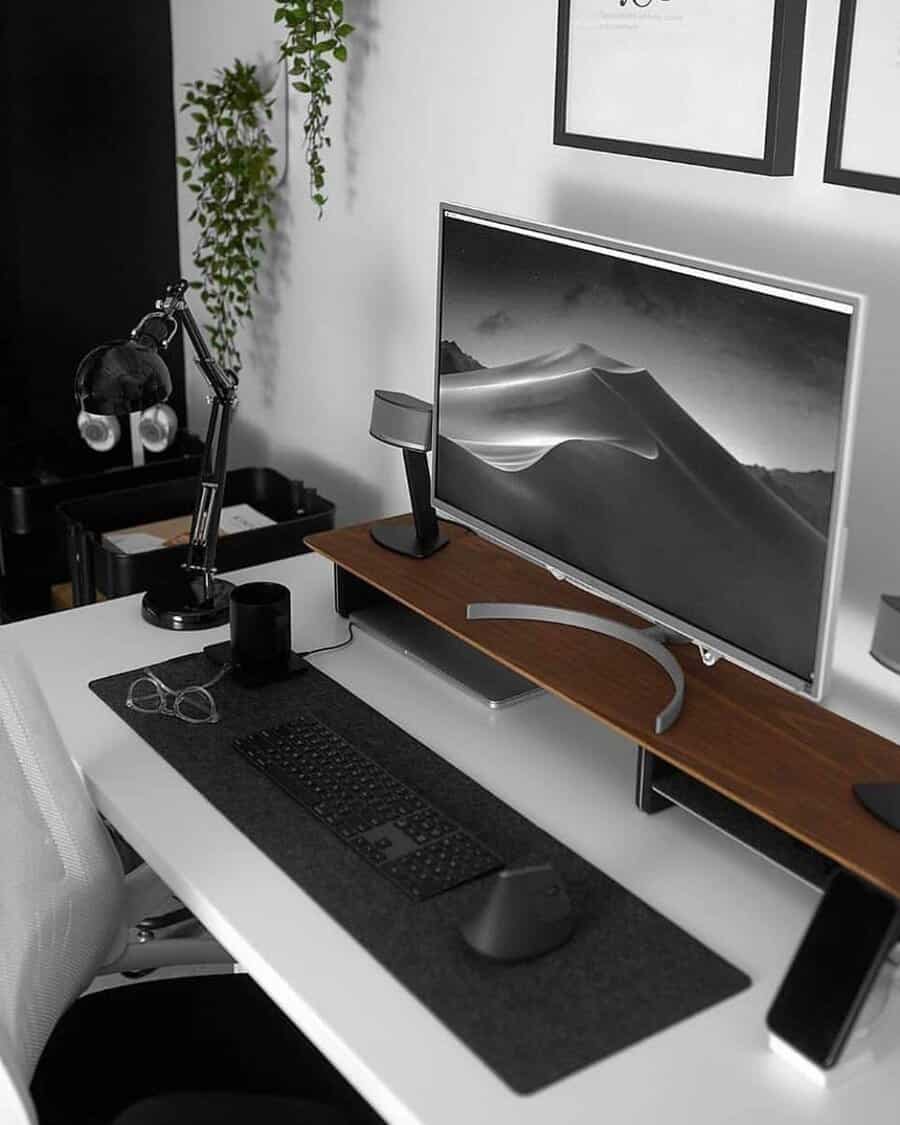 10. Farmhouse-Style Desk
If you're after a farmhouse-style office desk that is both stylish and functional, look no further than the rustic look to create your dream workspace. Go for a farmhouse-style wooden desk and add some shabby chic interior items such as metal window grilles, old wooden trunks, or even mismatched vintage chairs to craft an inspirational workspace with an industrial yet homely feel.
Incorporate natural textures such as burlap lighting fixtures and woven baskets for a beautiful farmhouse vibe that won't take over your office space. With these tips in mind, you'll find the perfect farmhouse-style office desk for your working nook at home.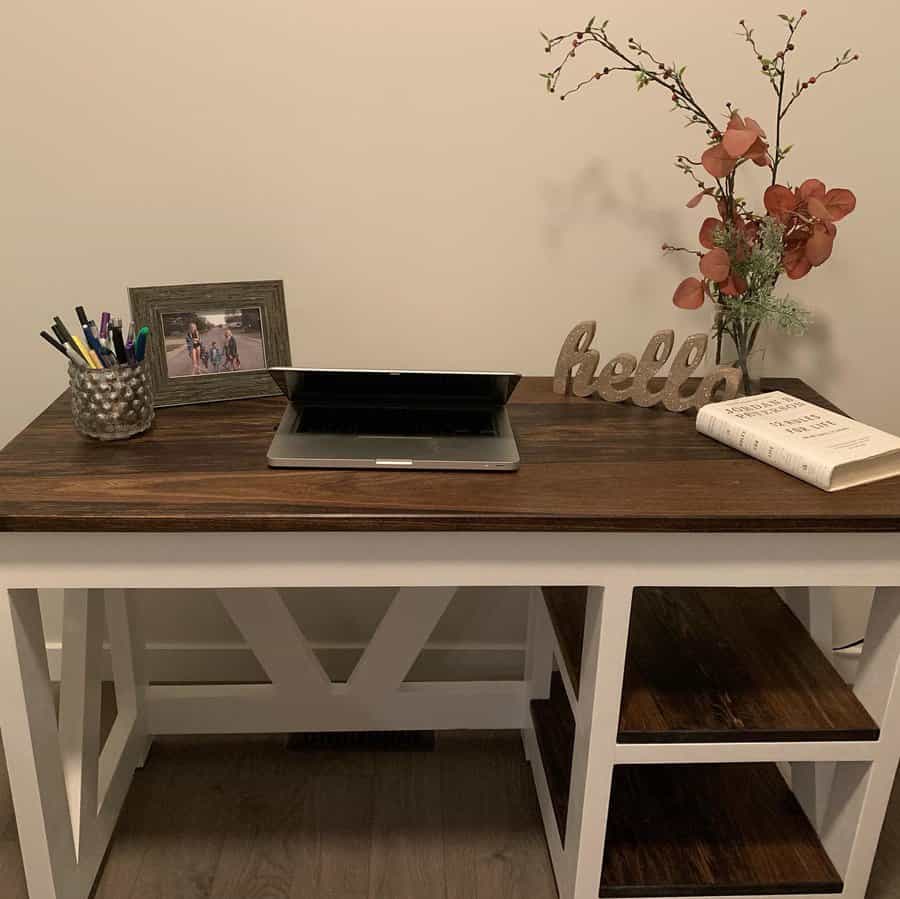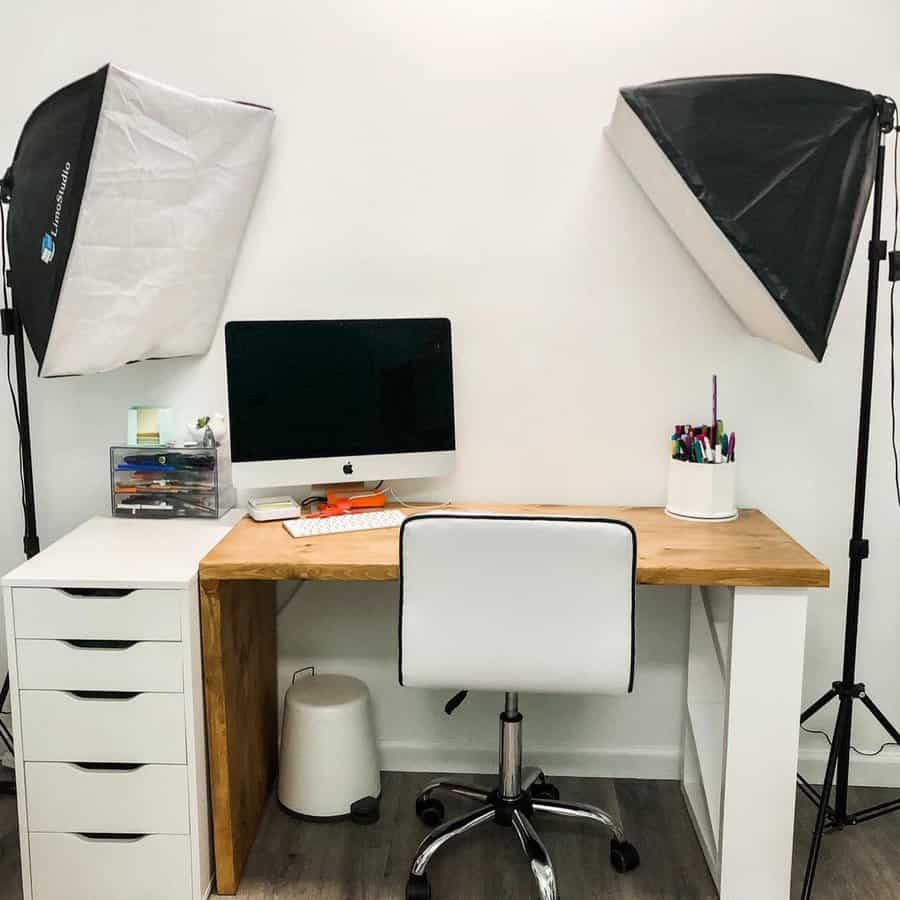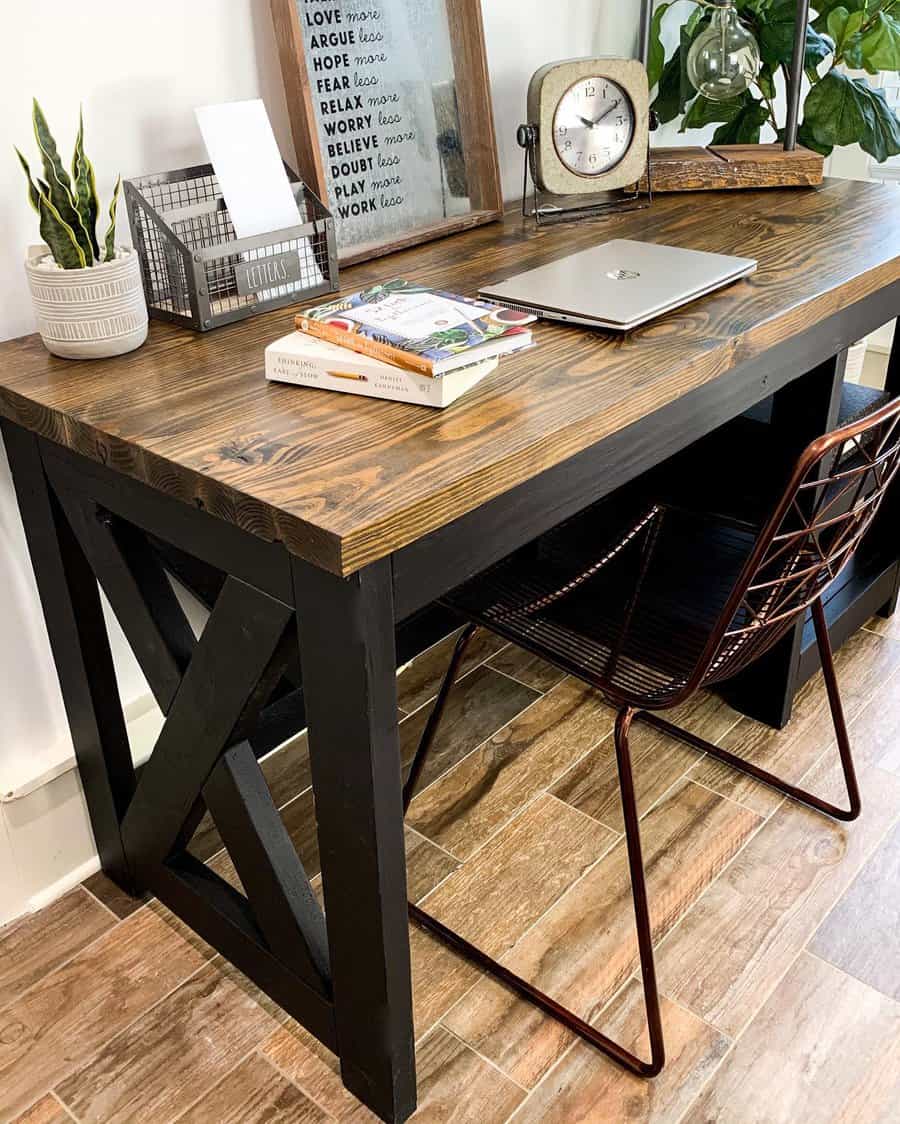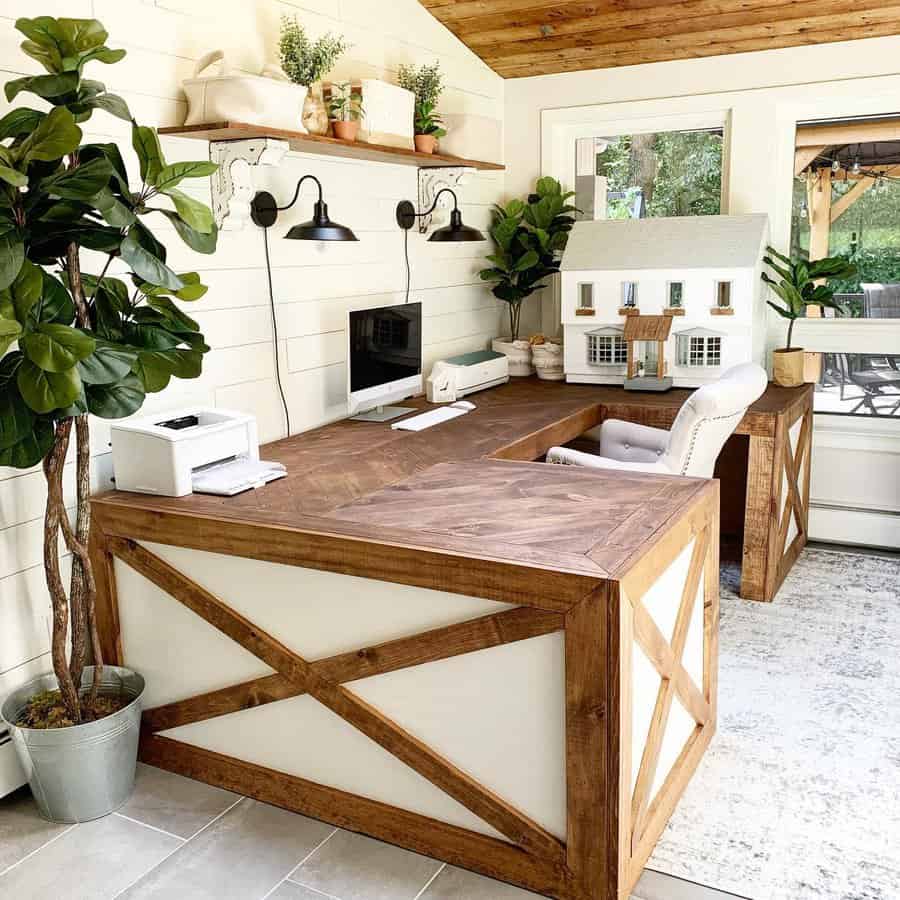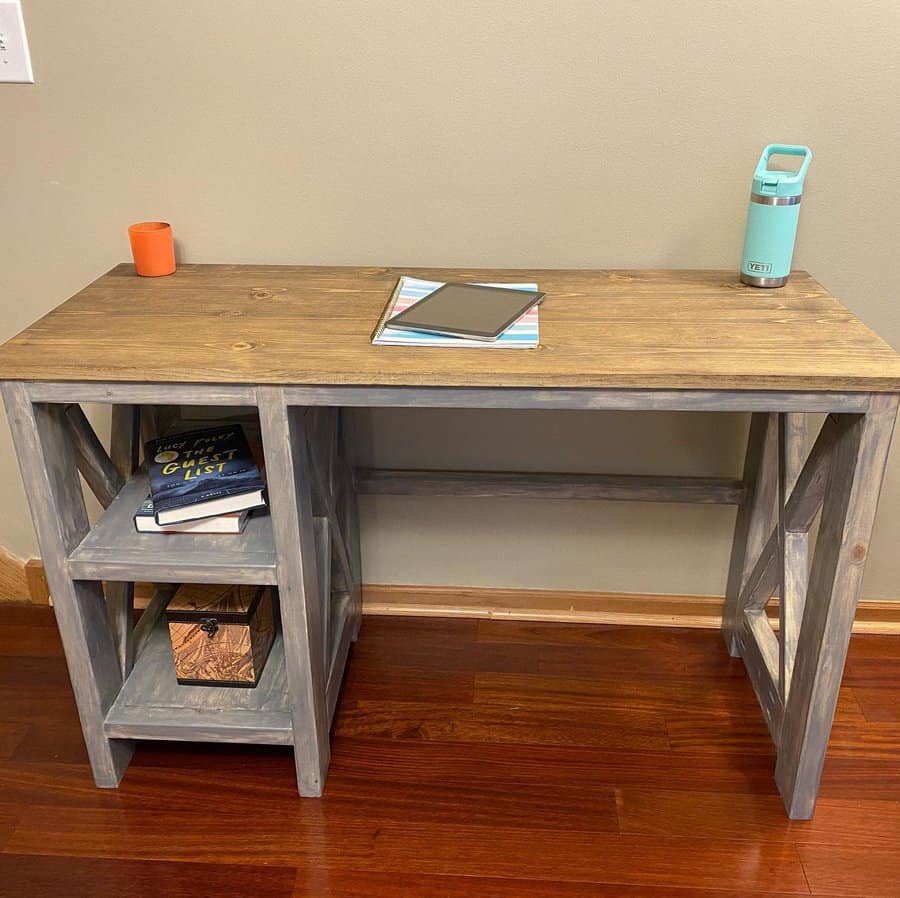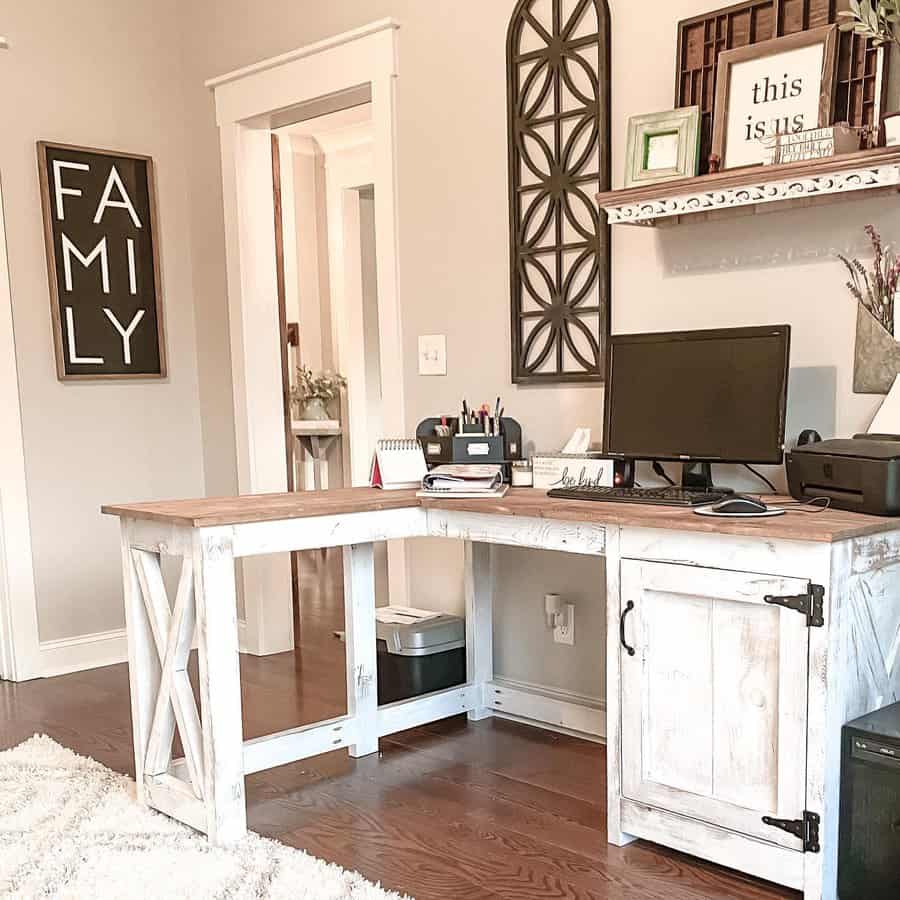 11. Glass Desk For Small Spaces
When you're decorating your home office, a glass desk can be an ideal choice, especially if you have limited space. Such a desk can open up the room while giving off the illusion of more space, making it feel bigger than it really is.
Plus, glass desks tend to complement many different types of furnishing styles, so no matter what kind of atmosphere your office has, a glass desk could be perfect for giving it an added touch of style that doesn't take away from its overall look.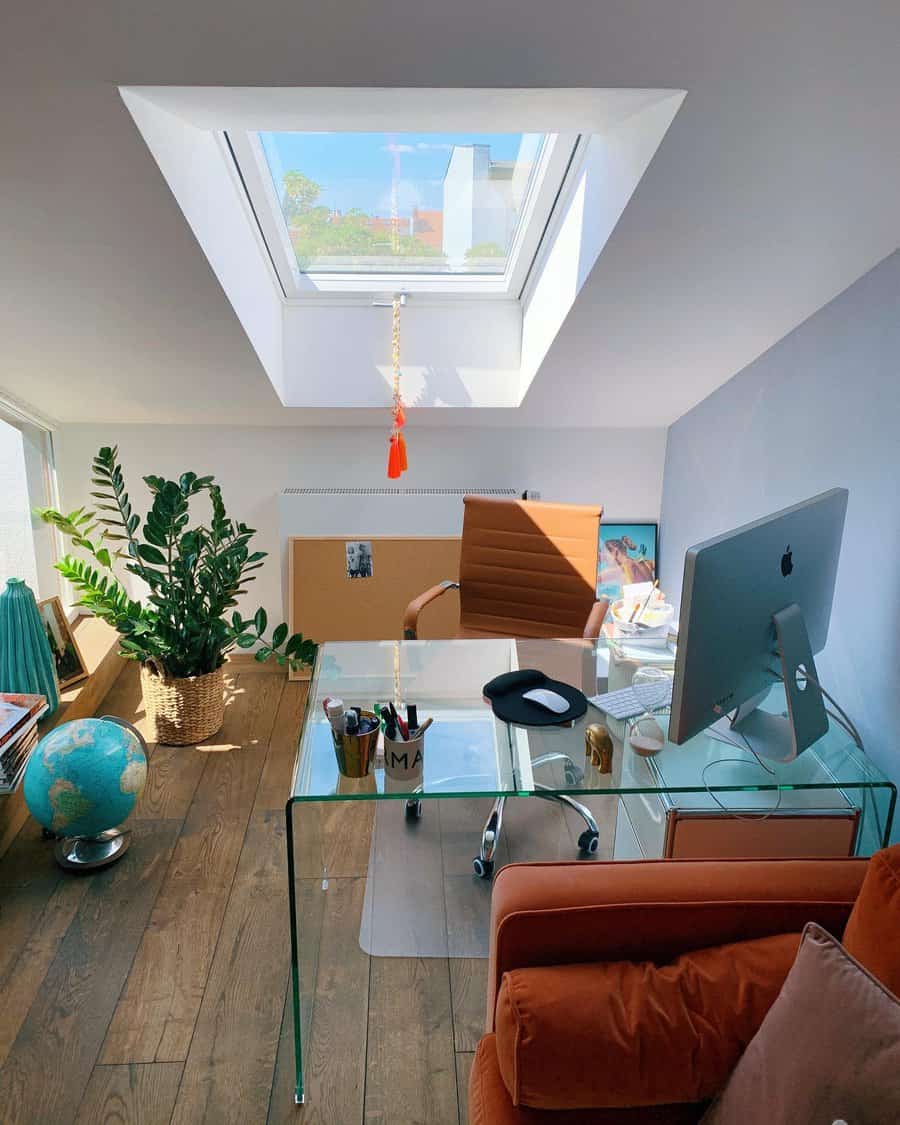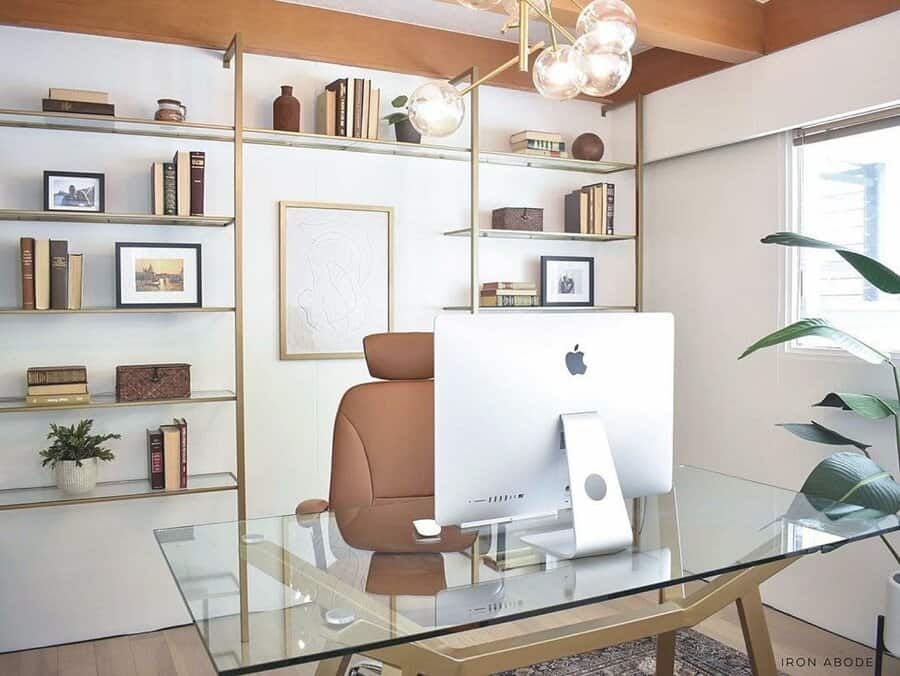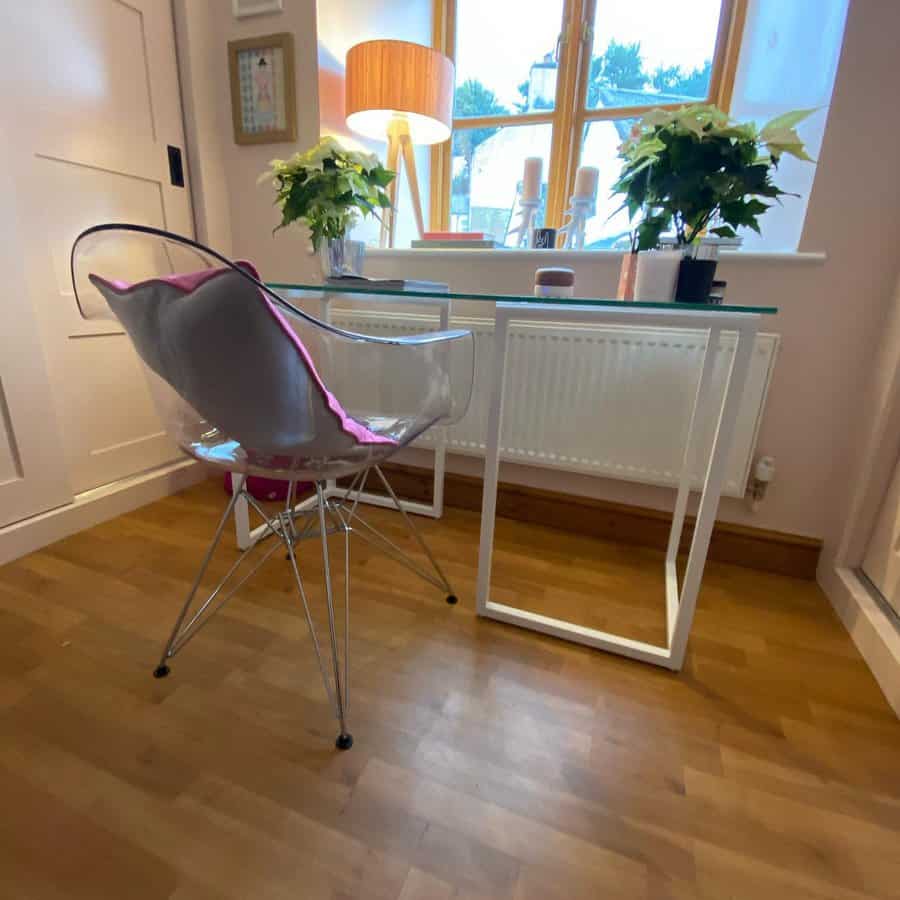 12. Minimalist Desks For Scandinavian Interiors
Designing a minimalist home office space is an exciting task! While building a workspace that truly speaks to your style, there are endless opportunities to experiment with different ideas. For starters, consider incorporating a minimalist desk – its sleek and minimalist design will instantly transform the room creating a modern Scandinavian interior, perfect for keeping productivity levels high.
The great thing about minimalist desks is they don't take up too much space while providing ample storage features to keep clutter away. A minimalist desk paired with pastel-colored walls and subtle lighting fixtures can do wonders in creating an area that both looks stylish and is conducive to work.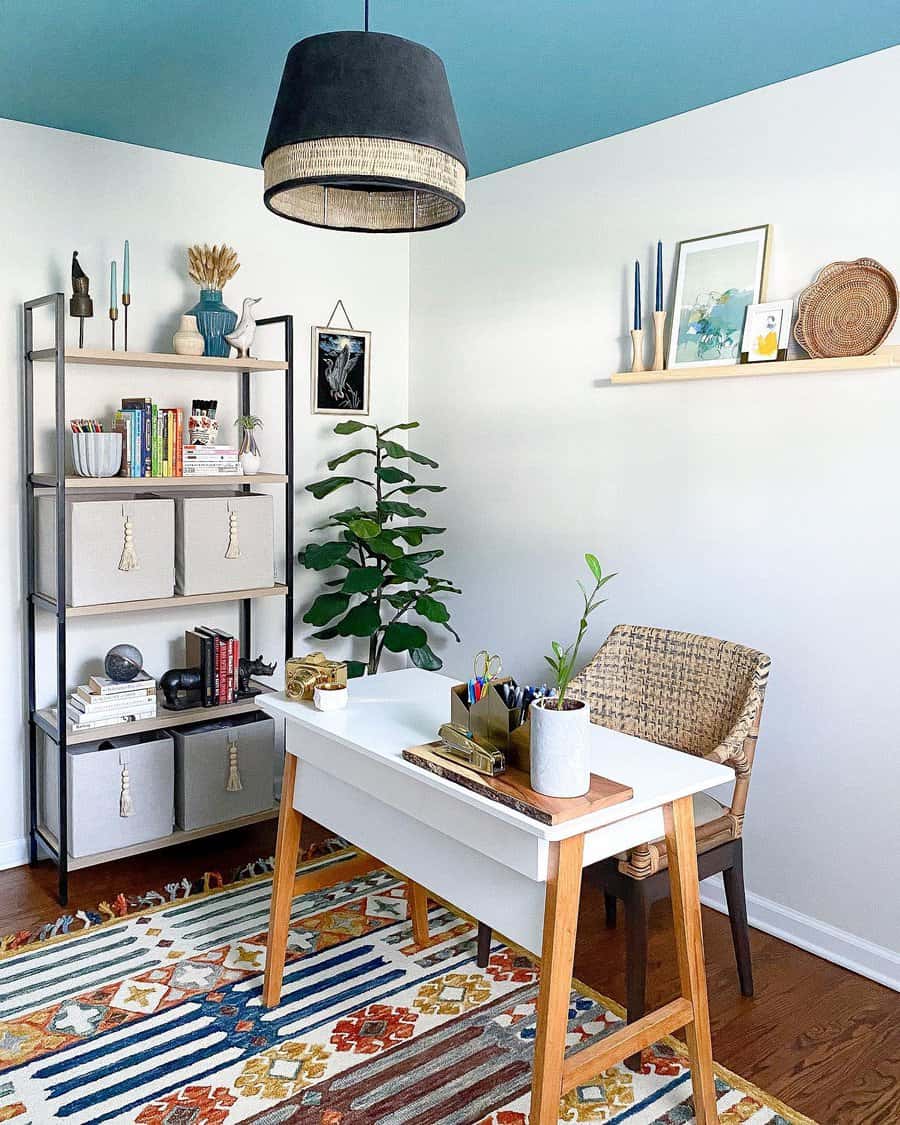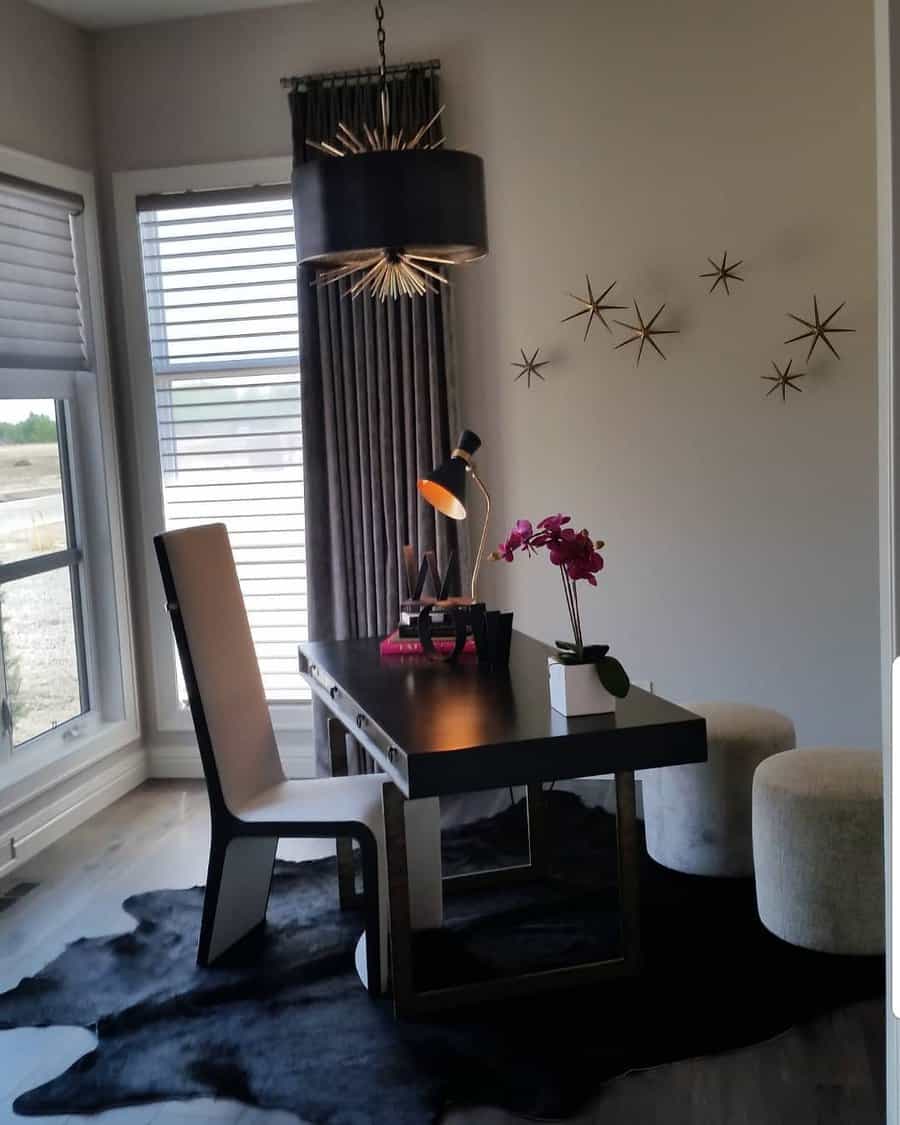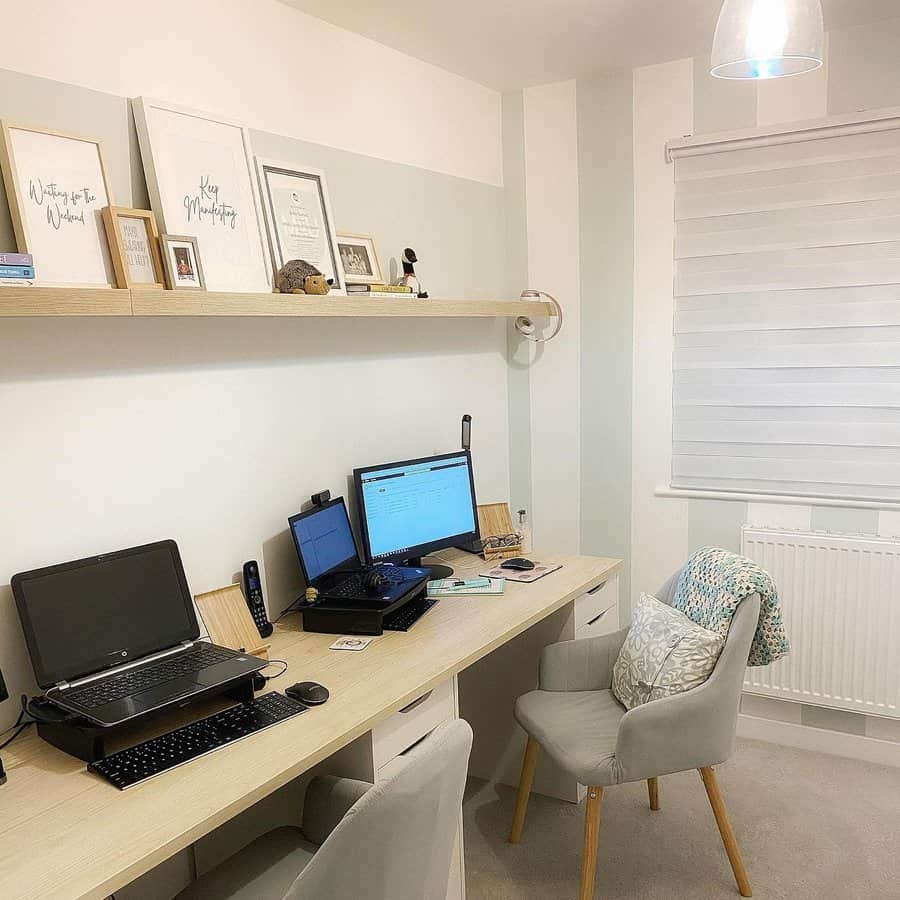 13. Work Table With Under-Desk Storage
Working from home can be difficult, but with the right workstation setup, it can become much more comfortable! One of the best home office desk ideas is to find a work table with under-the-desk storage compartments.
This setup can provide you with extra filing space and also help keep your work area tidier while allowing you to stay comfortable while working.
Planning ahead to create an organized and comfortable workspace will help make your at-home workspace harmonious and productive.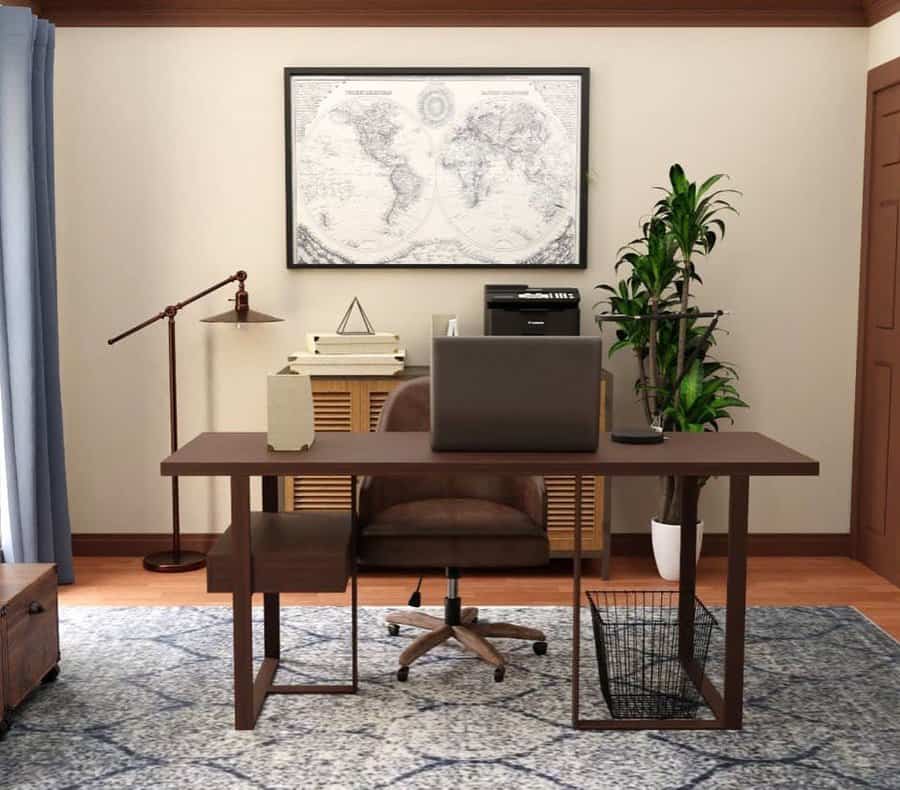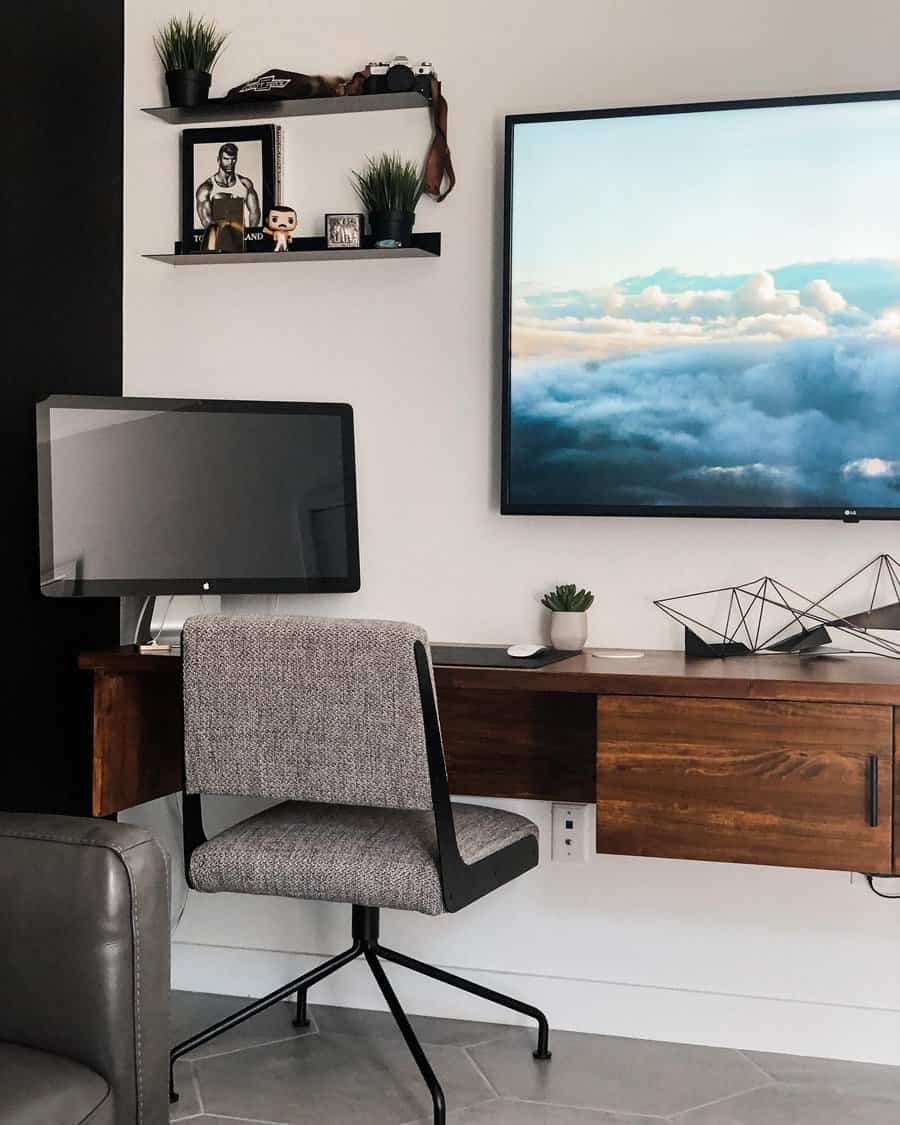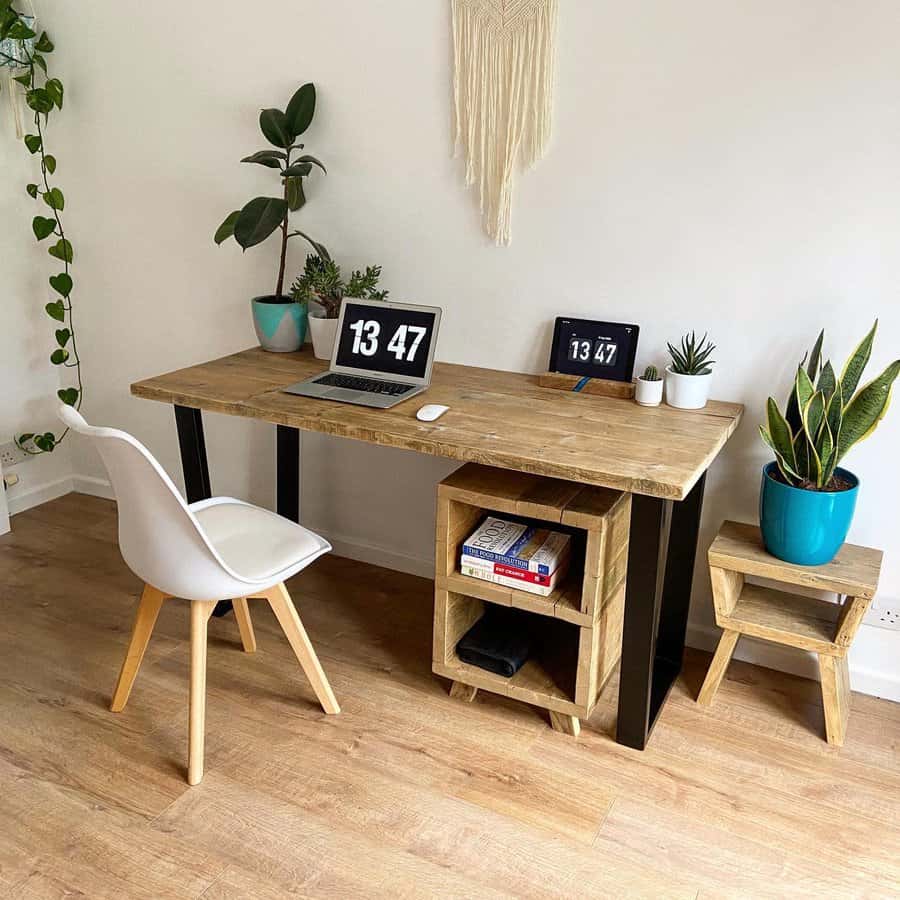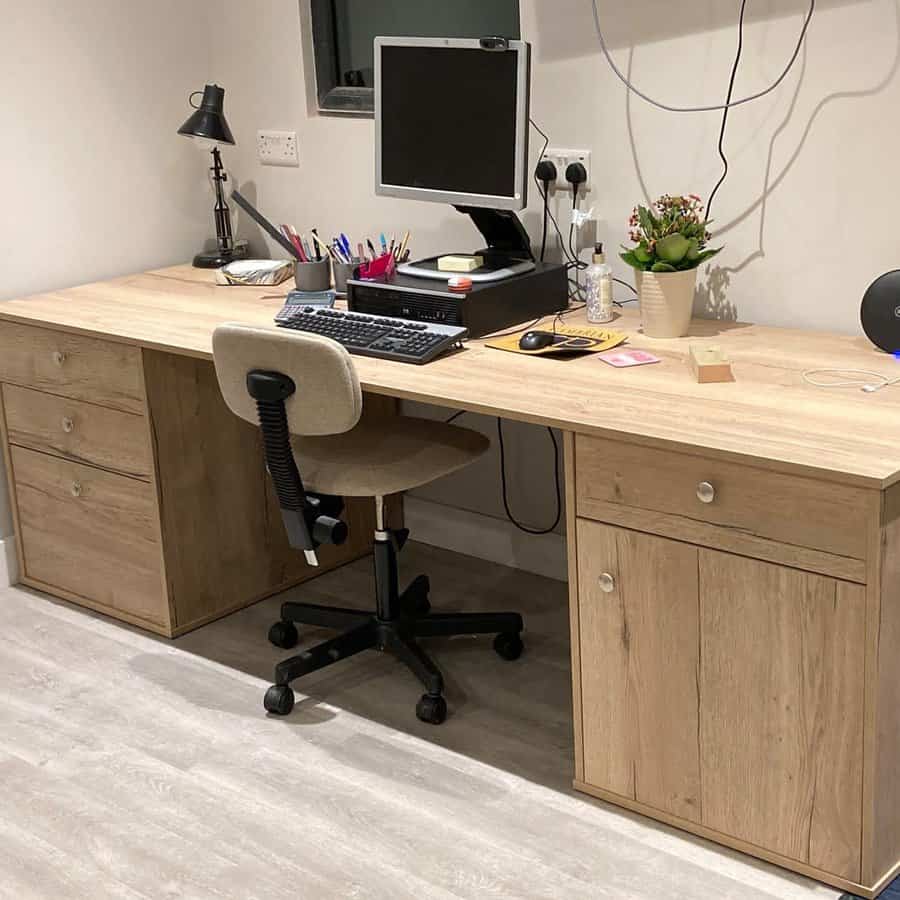 14. Narrow Desk For Recessed Spaces
When you're creating a home office and you don't have a lot of room, you can still make the most out of narrow spaces with creative ideas. If you are dealing with what is essentially a recessed space, try a narrow desk that can fit comfortably between walls or in an alcove.
Built-in shelves along the walls above the desk can provide additional storage and help keep your workspace organized. For smaller spaces, narrow desks that have vertical shelving built into them can be an excellent way to maximize the room available and provide plenty of organizational possibilities.
Keeping these helpful tips in mind can transform any narrow space into a functional and comfortable home office.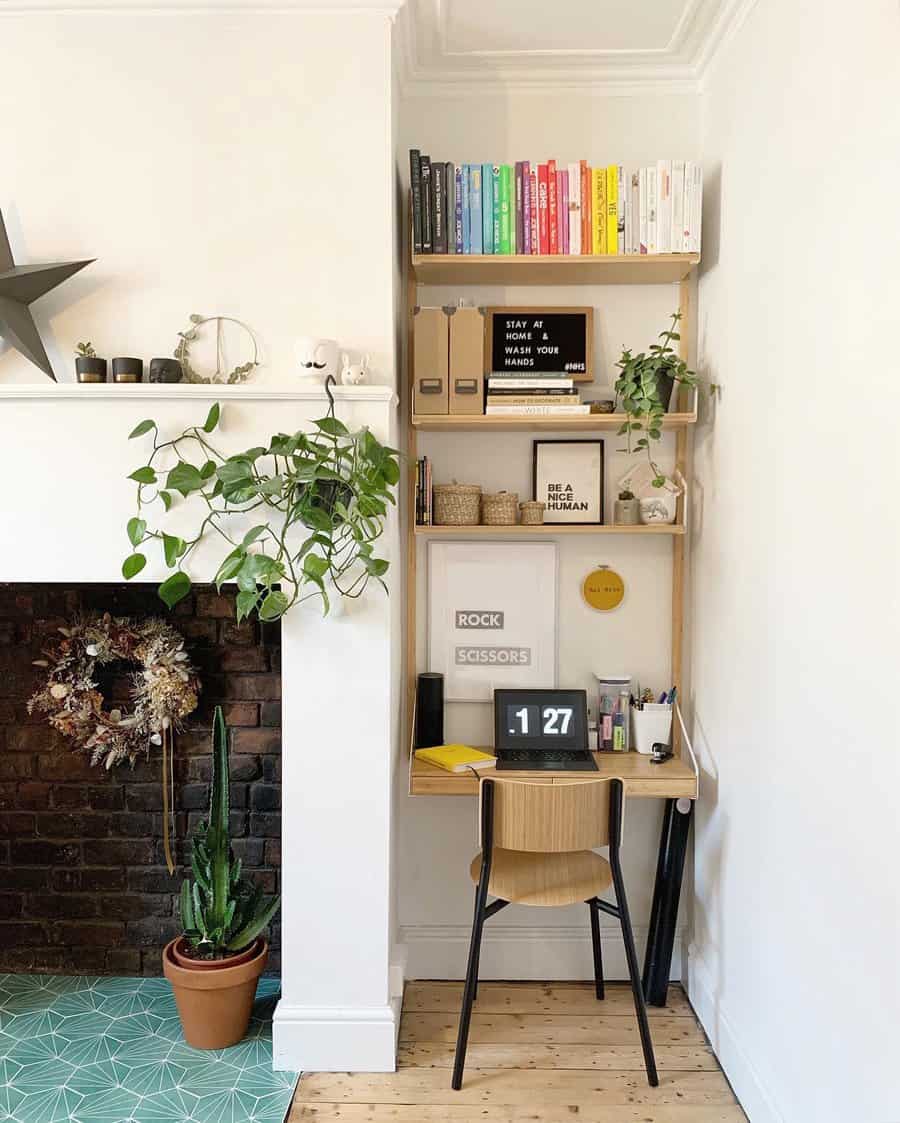 Home Office Desk FAQs
Which way should a desk face in a home office?
Most people prefer to have their desk facing the entryway. That way, they can easily see who comes into their office and don't have people walking up behind them. However, if this isn't a concern, then it can be nice to have the desk facing a window. Be careful to not let the scenery outside be distracting.
How can I make my home office feel cozy?
The easiest method for making a home office feel cozy is with the lighting. Change the bulbs out for ones that emit a warm yellow glow. You don't want them too warm where they look obviously yellow. Aim for just slightly warmer than daylight light. This makes the space feel more welcoming and less like an office. Add home touches to the decor, also. This could include a plant, candle, throw pillow, or plush rug.
How do you make a small office look good?
It all starts with the furniture arrangement. Get it right, and the space feels comfortable and welcoming. Get it wrong, and the space feels cramped and crowded. Utilize the vertical space in the office to have more storage and functionality without cluttering up the floor. Give the office a bright color scheme to add some style and visual interest.