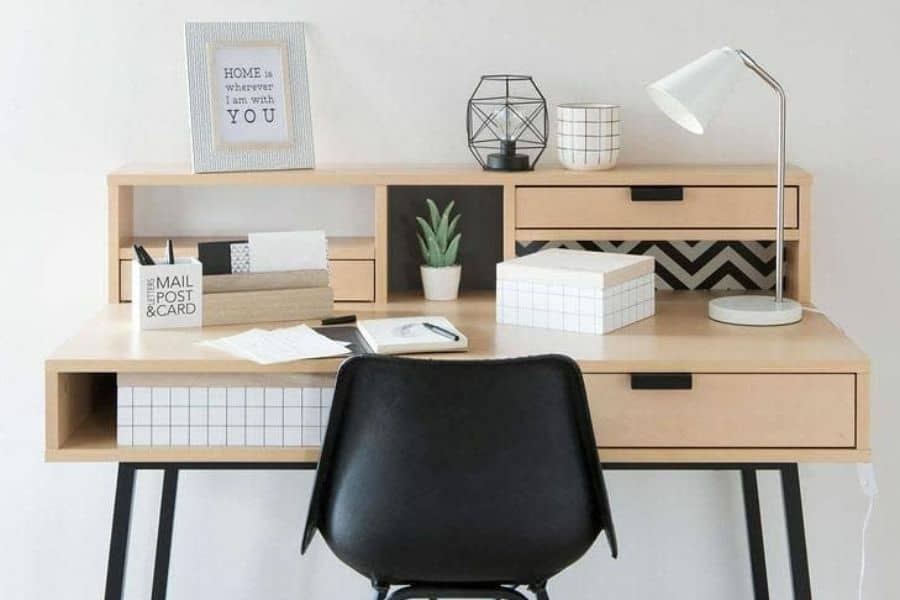 83 Small Home Office Ideas
There are plenty of reasons to dread the workday (no matter how much you love your job!). Your office space shouldn't be one of them.
With more people working from home than perhaps ever before, we've found ourselves with a ton of freedom to decorate our offices to suit our needs and personal styles. So what's stopping you?
If you're like most at-home workers, space is a major concern. The good news is that decorating a small space doesn't need to be a chore! Keep reading for our favorite small office ideas you can recreate whether you work at home or in a cubicle.
1. Keep It Simple With A Desk Lamp
Working from home can be a fun and productive way to tackle your work day. To get the most out of it, invest in a quality office desk and add a lamp that sheds bright natural light over your workspace. Natural lighting will reduce eye strain and create a comfortable working atmosphere.
Additionally, there are many small-size desks or laptop tables you can find in stores or online that fit perfectly into any small home office space – so don't worry about sacrificing the aesthetics of the room to squeeze in an office. A small home office doesn't have to mean compromising on any of your designs!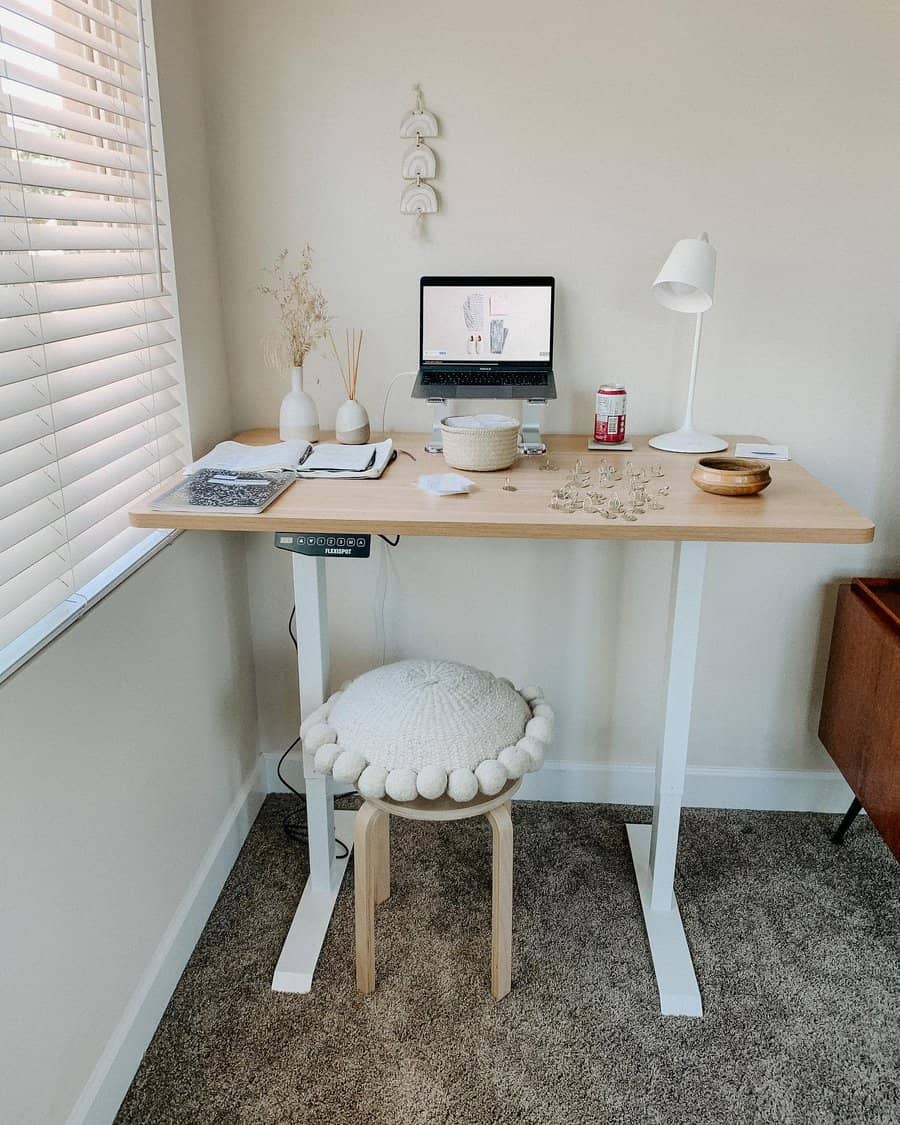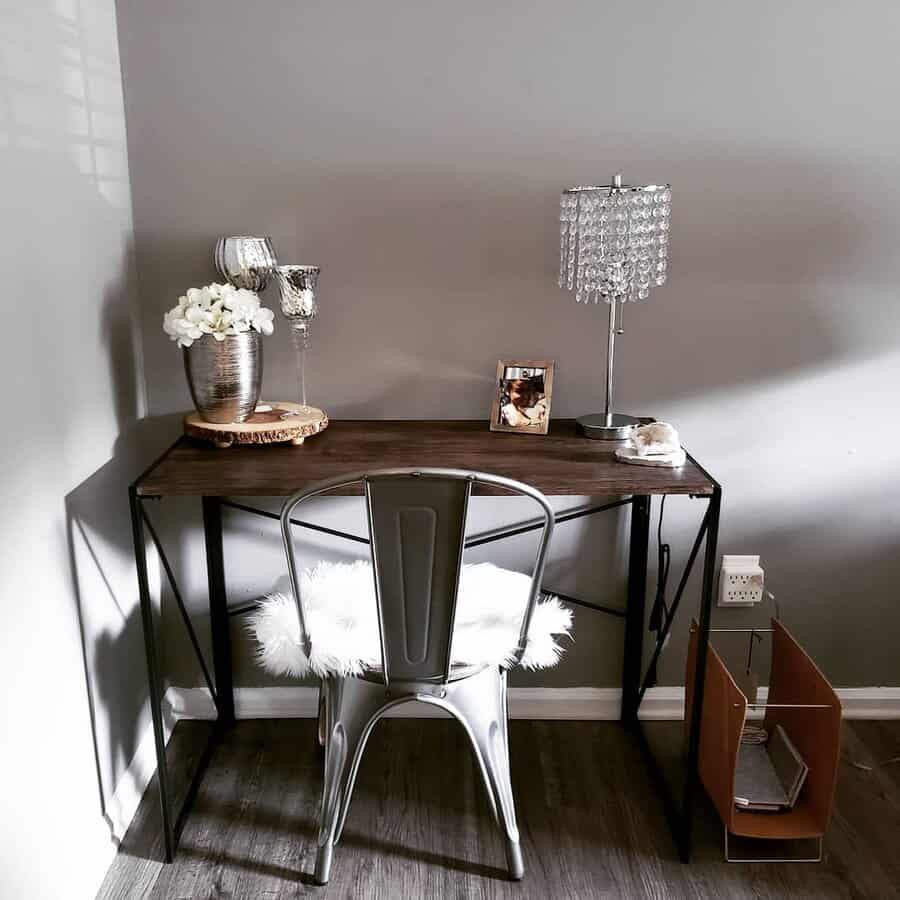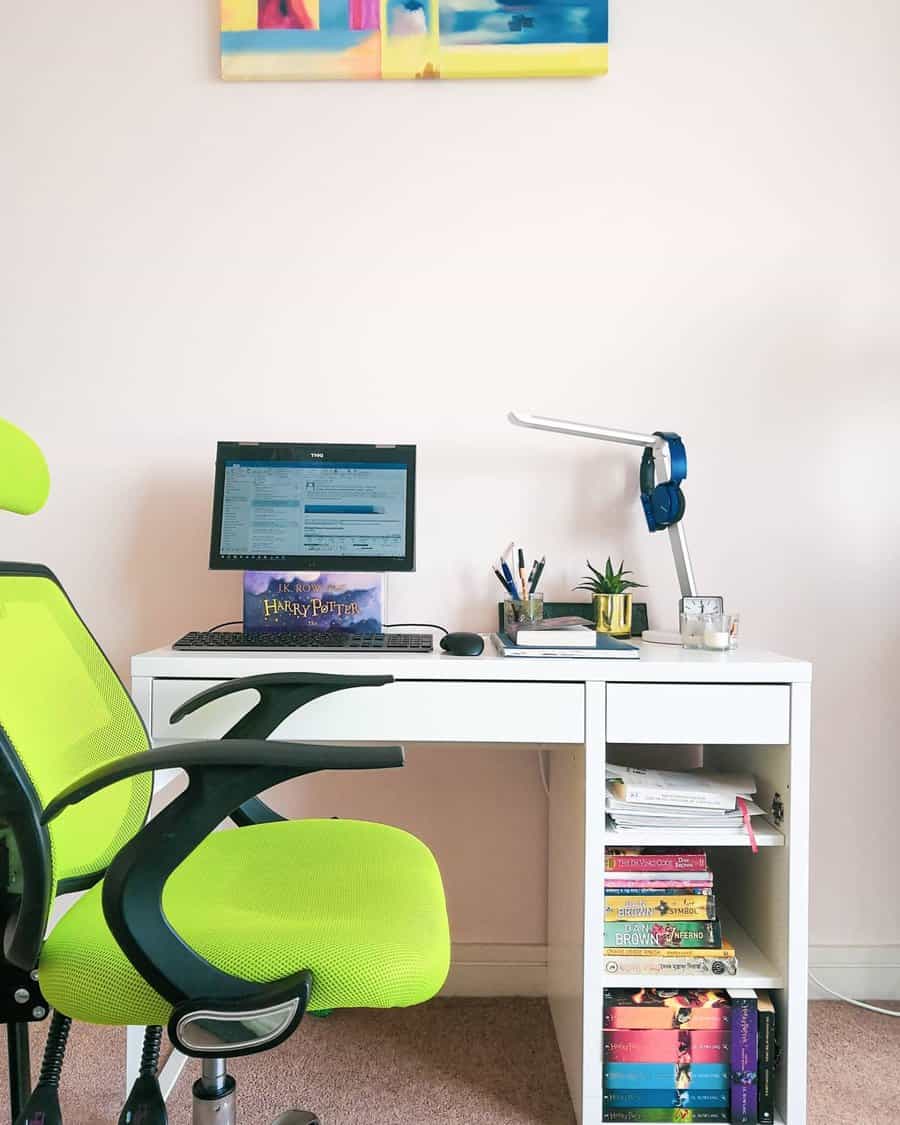 2. Invest In Pull-Out Desks
Having a small home office need not mean sacrificing comfort and productivity when working. To gain the most from limited space, investing in desks with pull-out tables can help to save room. This way, you can lay out what you need while only taking up minimal area. Adding standalone shelves and drawers to store materials also helps keep the area organized and tidy.
With these practical design considerations, even the smallest of abodes can be transformed into fully functional workstations for you to carry out your work productively and in style.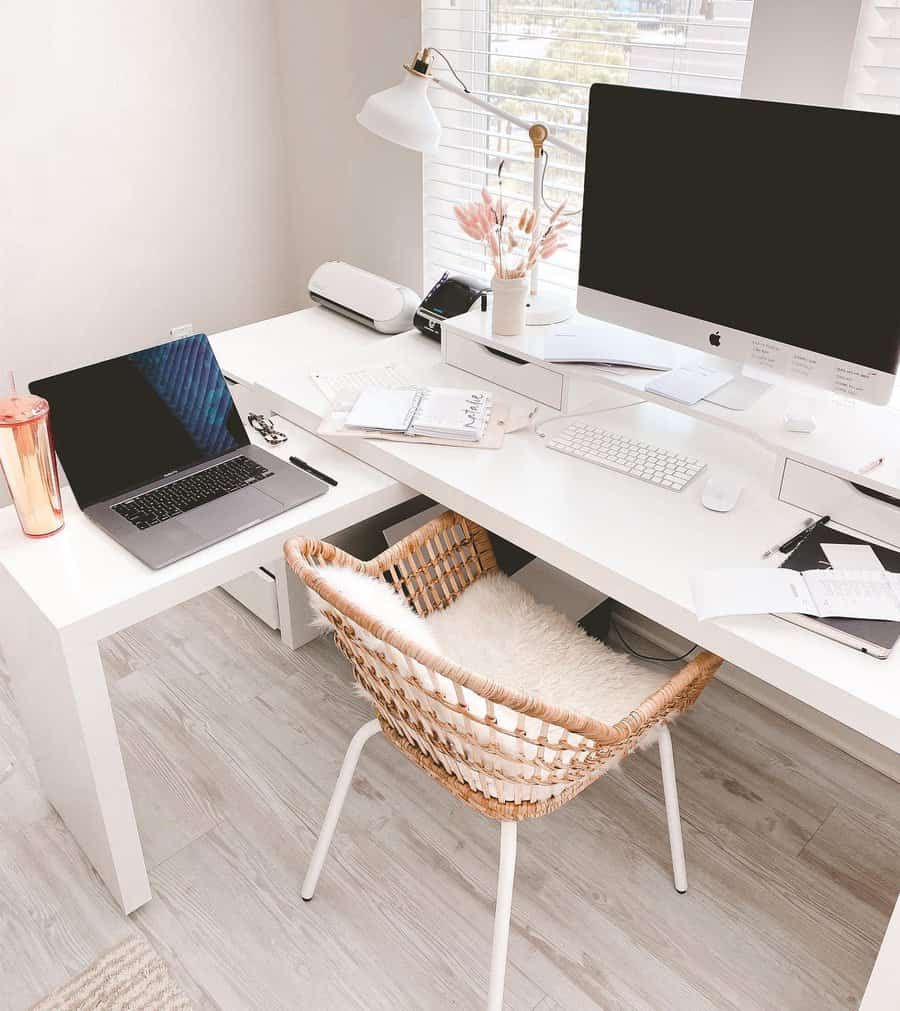 3. Maximize Space With A Corner Desk
If you're looking to set up a small home office, it's important to maximize your space. Consider investing in a corner office desk that allows you to make the most of the walls in your room and reduce the amount of furniture you need. Not only does this save space, but it also adds an air of professionalism to your office.
There are plenty of creative ideas out there for sprucing up your corner desk too—wall hangings or plants can really tie together a look and bring life into the atmosphere. All in all, cleverly utilizing a corner desk is an investment in both style and comfort for your small home office.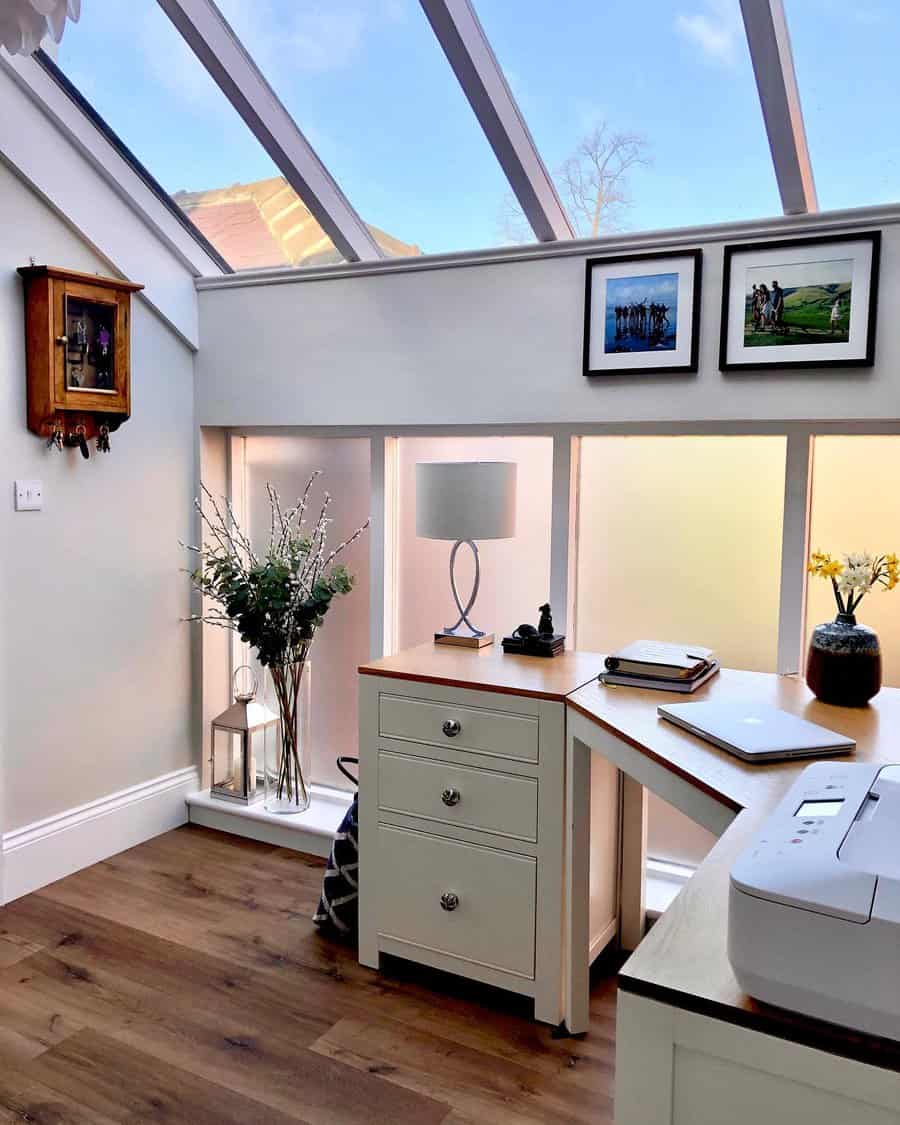 4. Add A Peg Board
A great way to create a home office without taking up too much room is by utilizing a peg board. Not only does this provide plenty of storage space for all your office supplies, but it also makes a great foundation for an office desk setup.
You can paint it any color to fit in with the look and feel of your space, and then run shelves and cupboards along it for additional storage. This gives you the perfect work area to get creative and productive, no matter how small your home might be.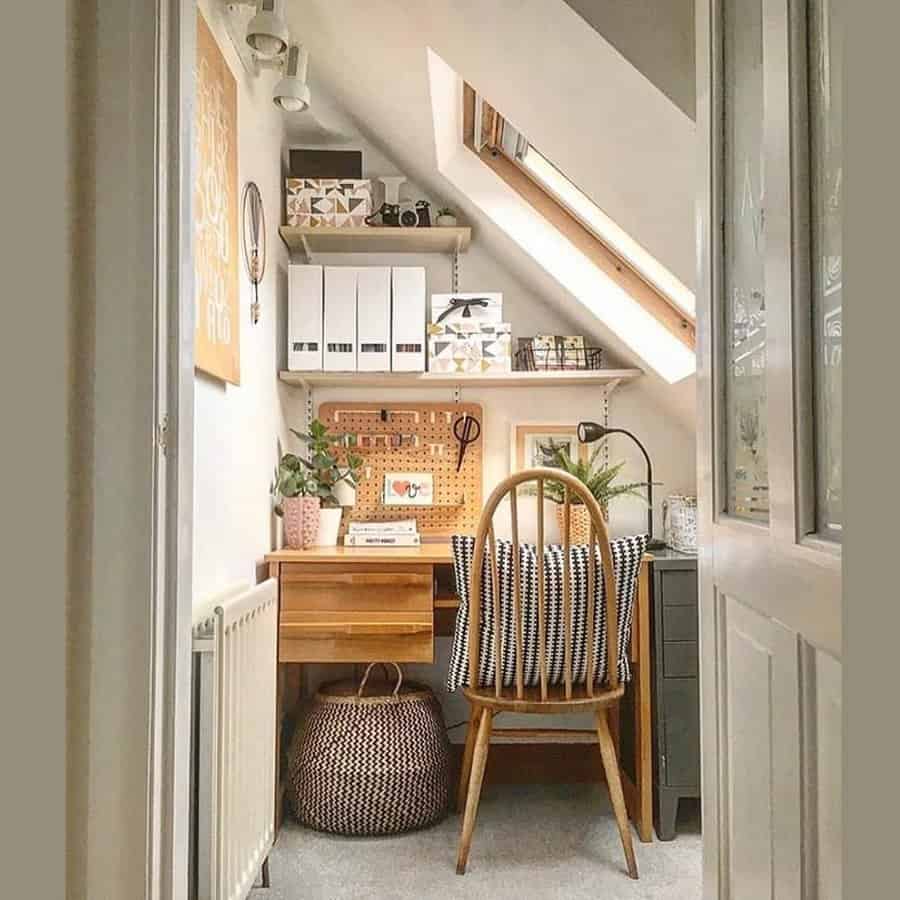 5. Stay Up-To-Date With A Black Board
Working from the comfort and convenience of your own home is often a dream come true for many. If you are considering making this dream into a reality, why not make it visually appealing as well? Start by investing in an office desk with an integrated chalkboard surface.
This will not just provide ample workspace but also provide a place to jot down ideas and plan out projects right at your fingertips. Alternatively, create an entire chalkboard wall to add a unique twist of creativity to the room that can become your go-to spot when looking to brainstorm any out-of-the-box ideas!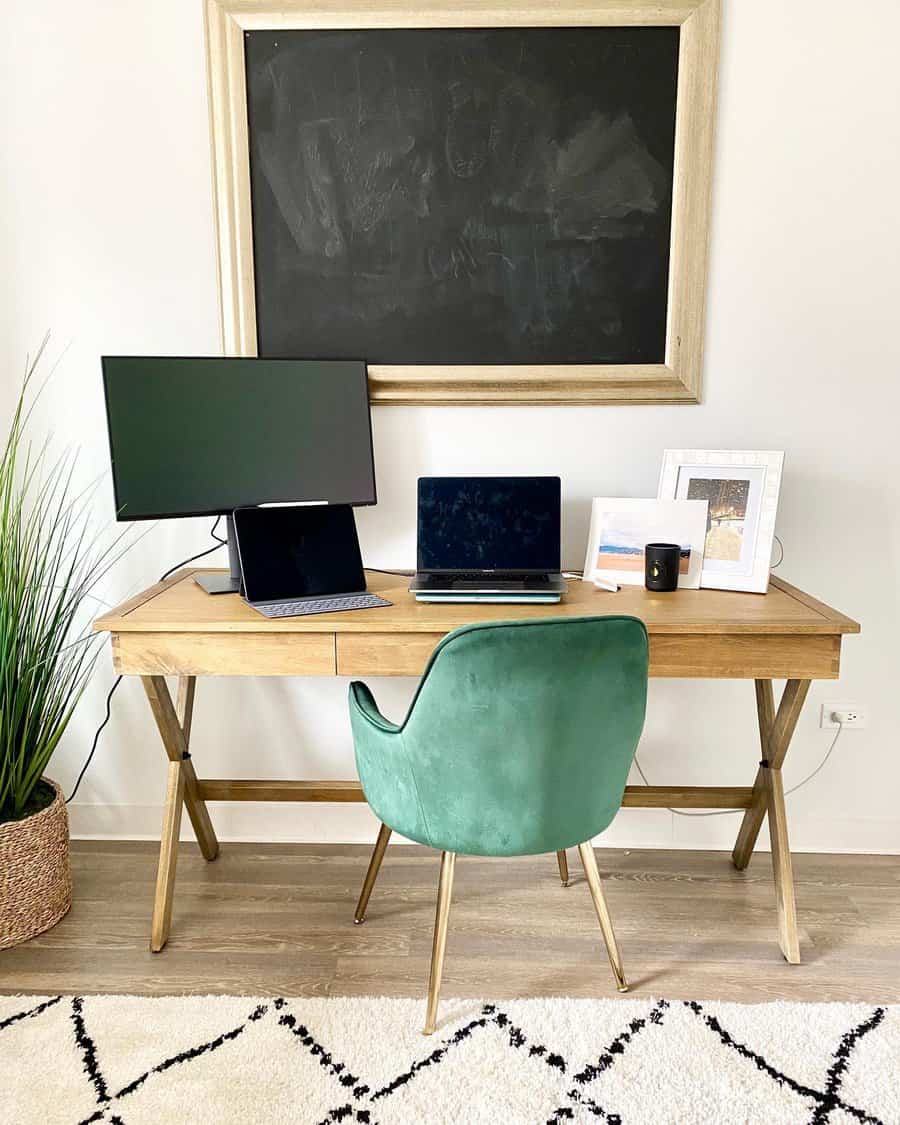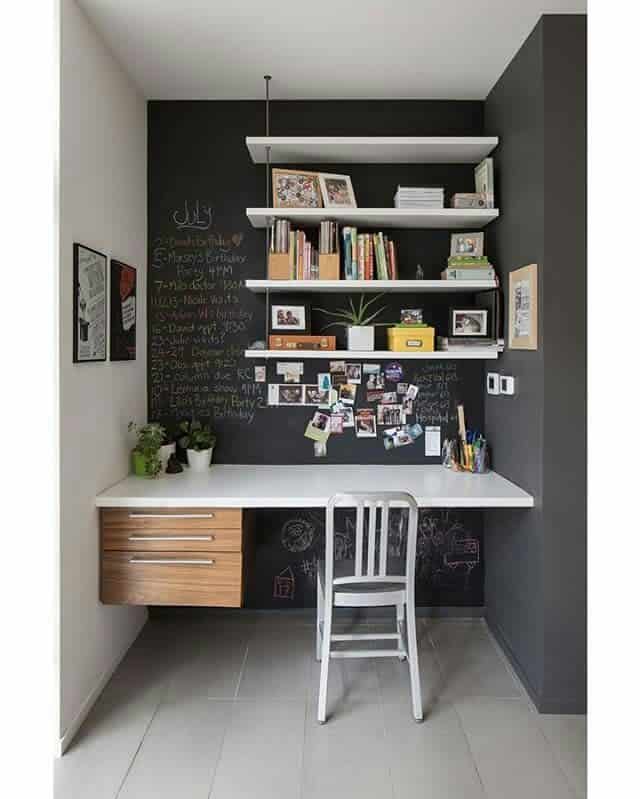 6. Bay Window Office Desk
Drawing inspiration from the outdoors, creating a home office in a bay window is an excellent idea with the potential to add beauty and creativity to your workspace. It's important to get abundant natural light, so you should position your bay window office desk near your window for optimal productivity. Also, go for simple decorations like potted plants or hung artwork to bring life to the room.
Since there's not much floor space in this type of work area, wall-mounted shelves, and storage units make great alternatives for organizing important documents and supplies. Overall, with a bit of ingenuity and style, you can achieve a dazzling home office look that's still practical and organized!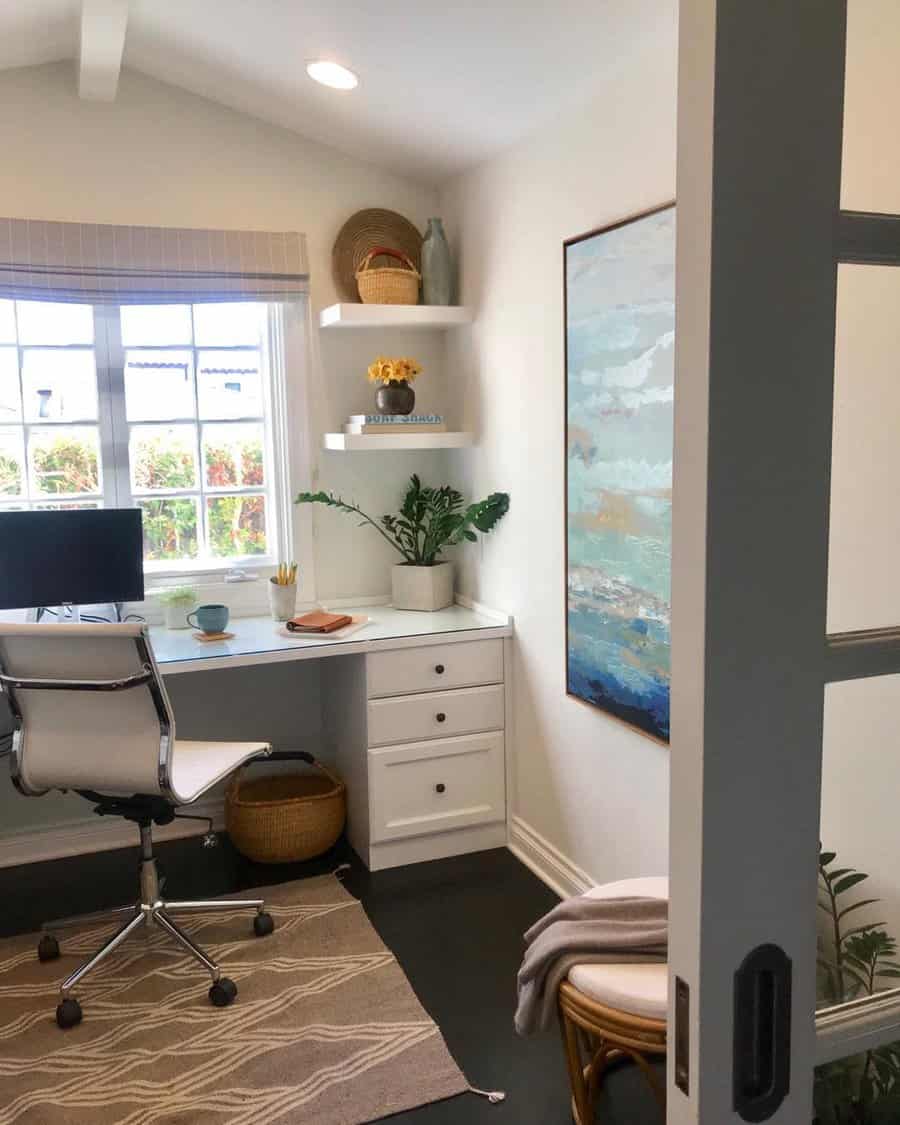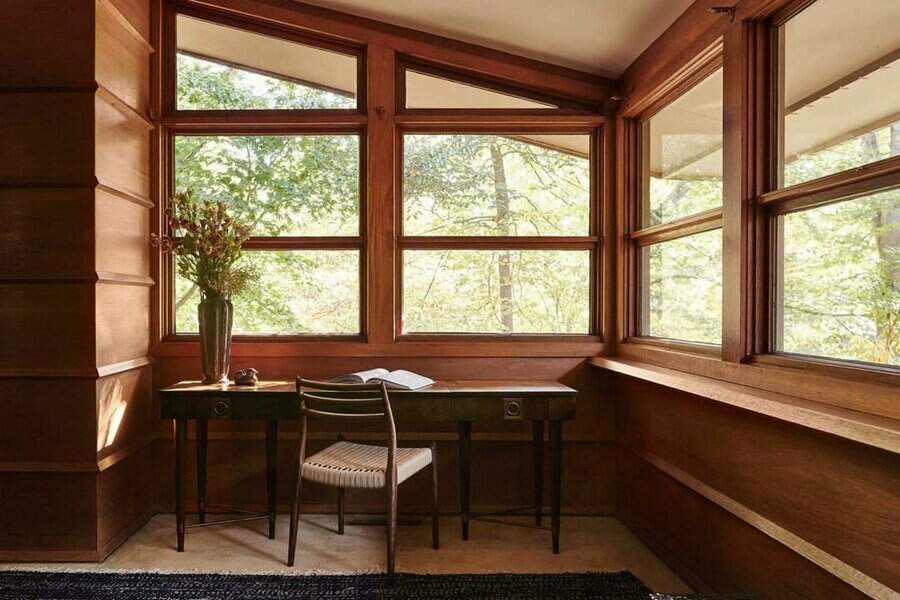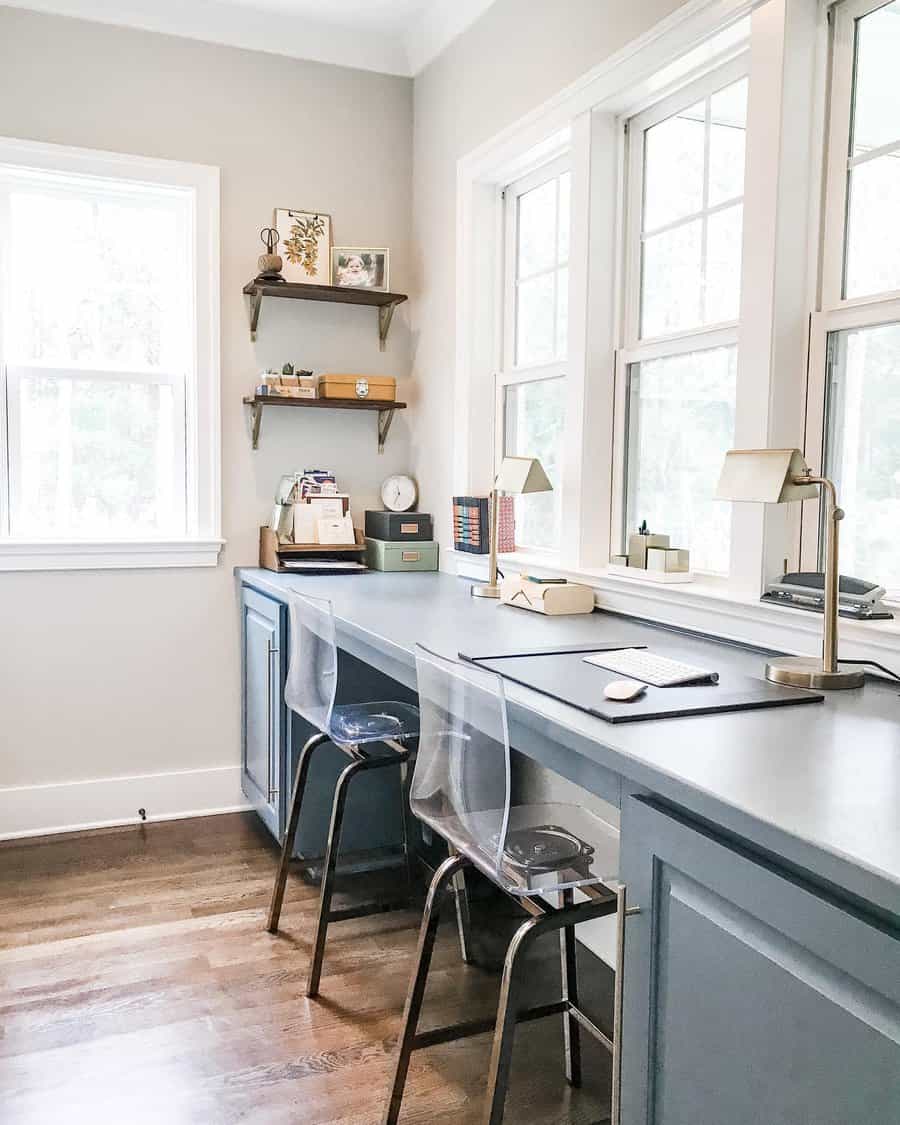 7. Living Room Office
If you're working from home and don't have a dedicated office room, try getting creative in transforming your living room into a small home office. Start with clearing out an unused corner of the living room and adding a small table and comfortable chair. To keep the area from seeming cluttered, consider having fun with wall decor to designate the space as an office section.
Get some color-coordinated organizational pieces for storage, such as bright wire baskets where you can tuck away paperwork or digital devices when not in use. Don't forget to personalize the spot with some creative items that inspire you. You'll be ready to create the perfect balance of work and relaxation!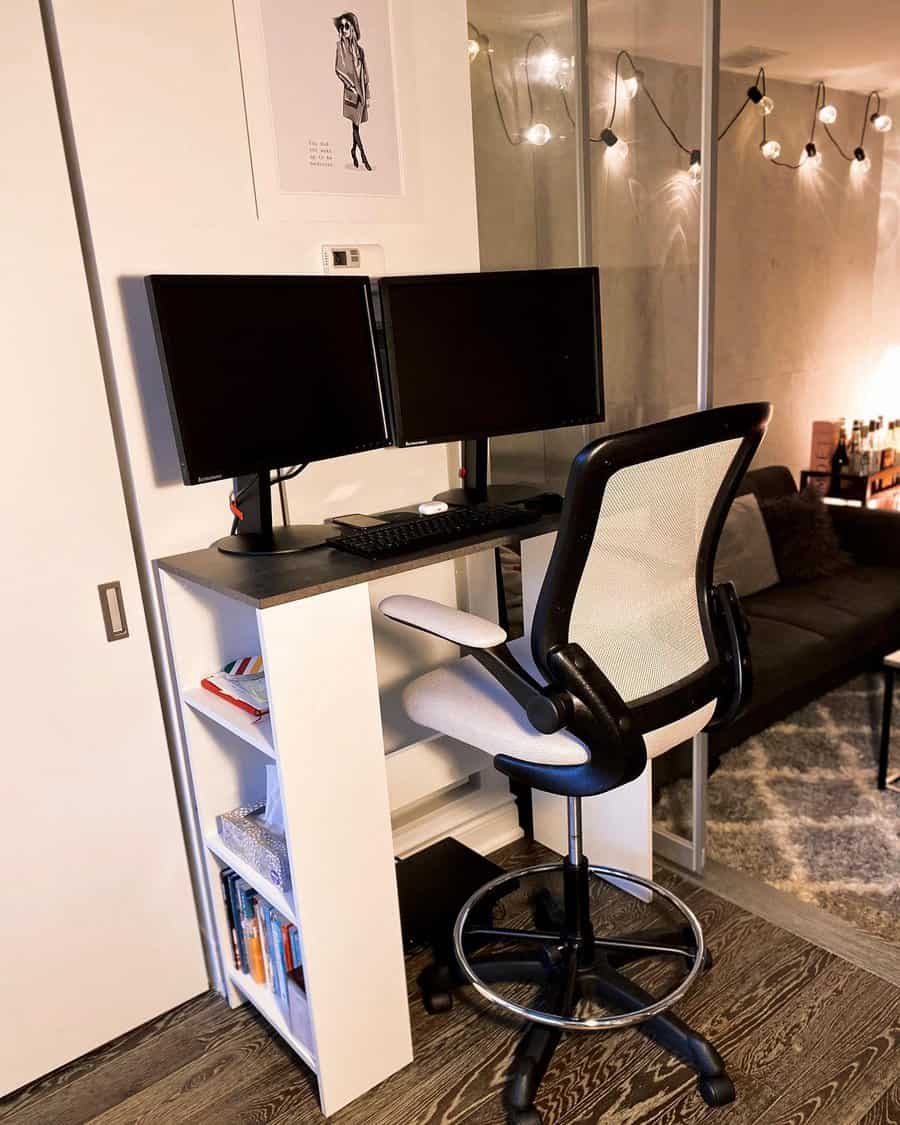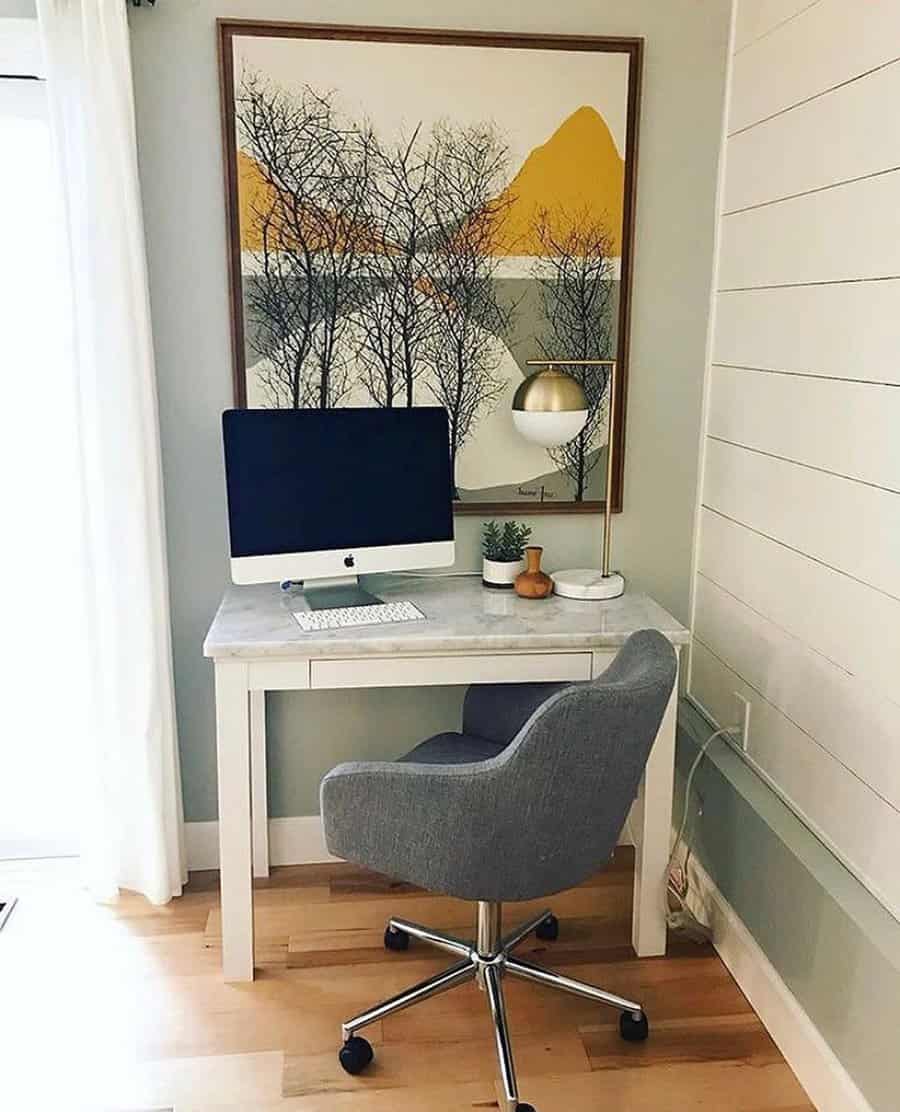 8. Keep It White & Clean
A white home office is a great way to create an energizing space in your home to get creative and get things done. Making use of bright whites and light can truly make you feel more productive. Consider going all-white with the furniture, and walls, or even invest in some plants for a fresher vibe.
Whether you choose to go minimalistic or add some personal touches, try to keep the space as neat and tidy as possible. Clean up after you're done with tasks for a fresh start every day that will inspire motivation and possibly spark creativity.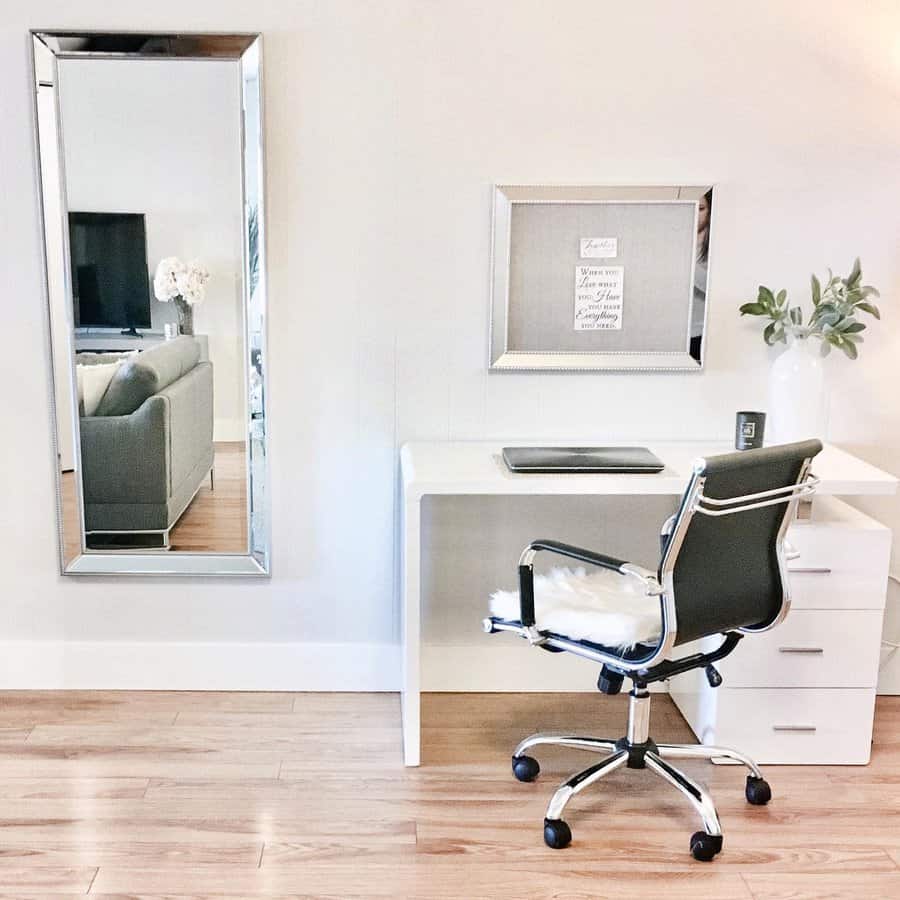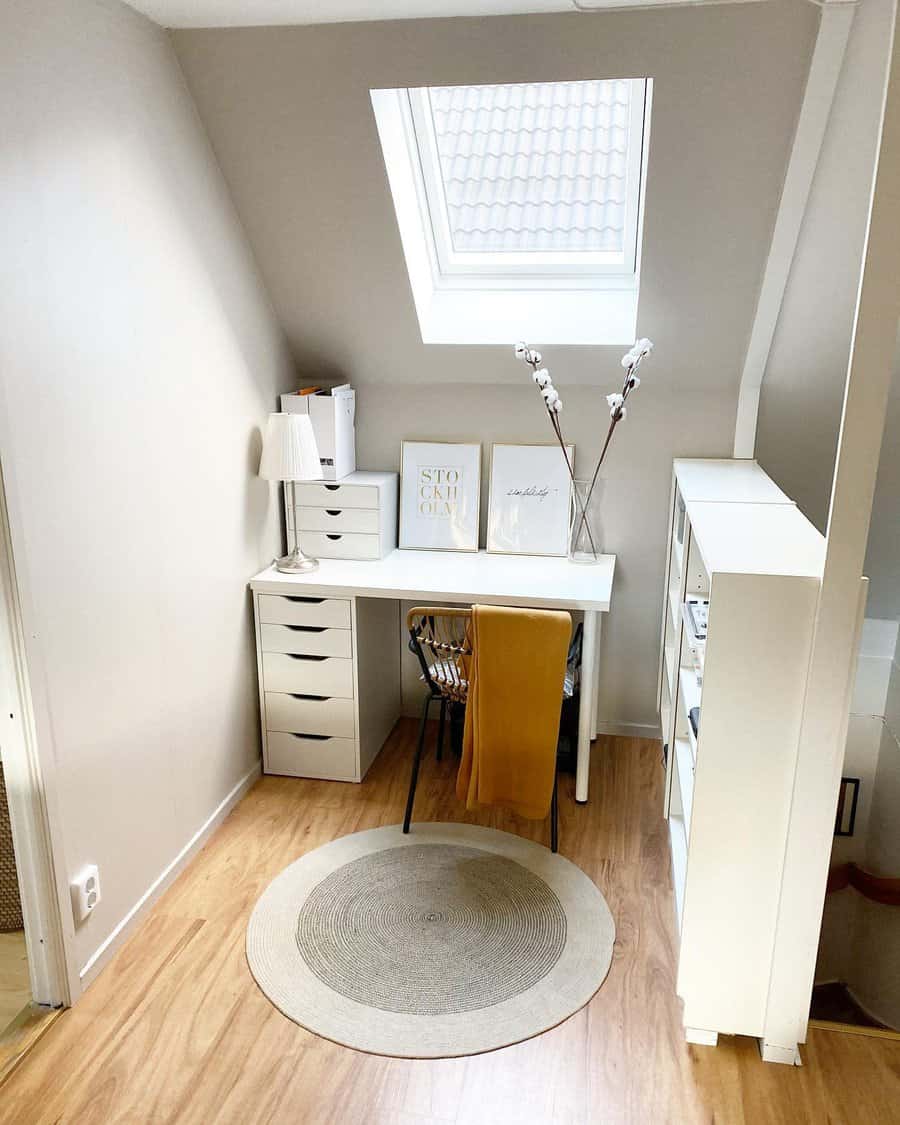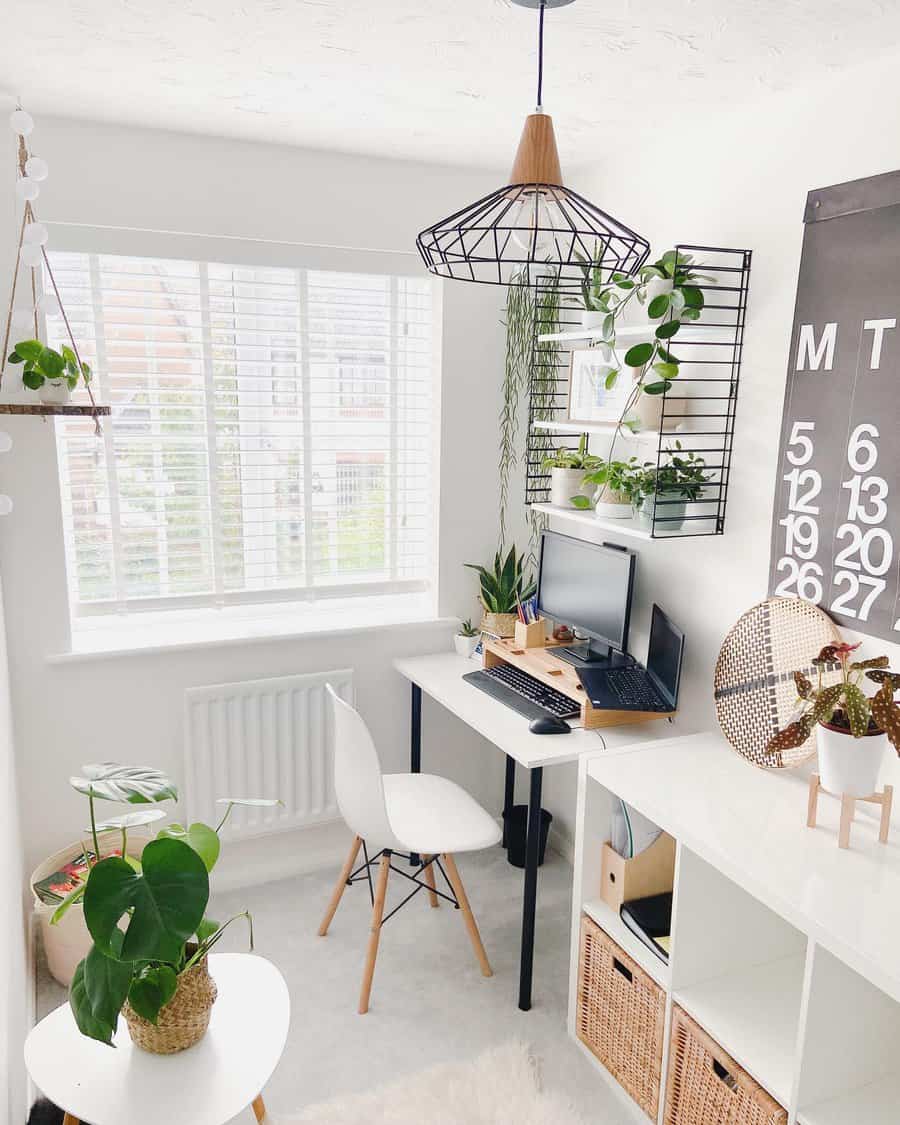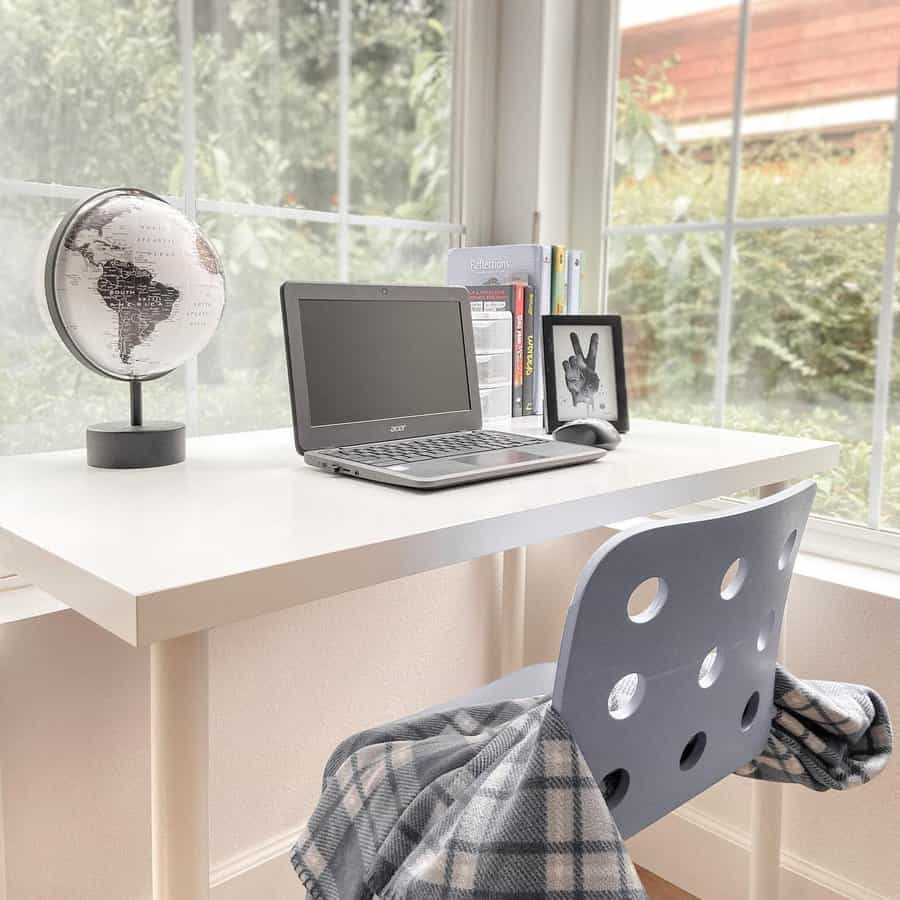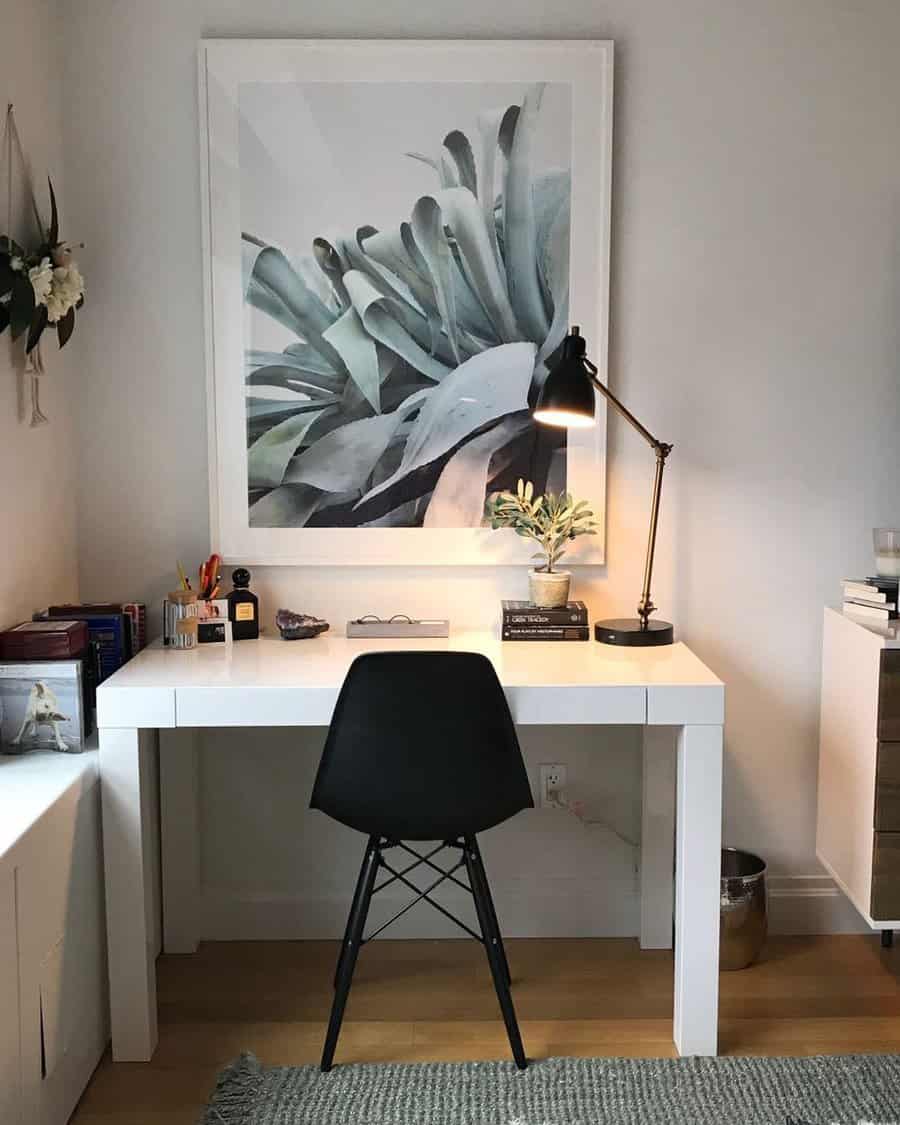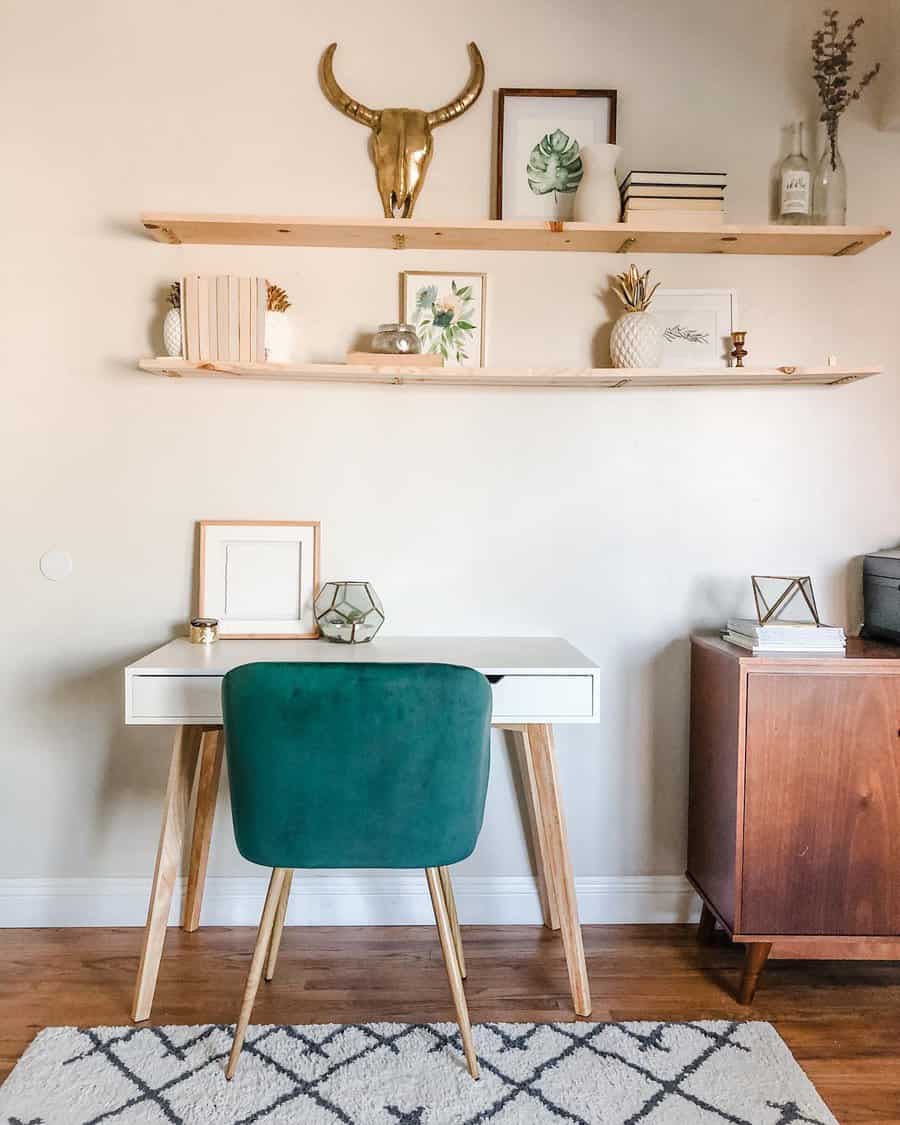 9. Keep A Desk Plant
Setting up a home office can often seem like a daunting task, but don't let it intimidate you! Add some whimsy to your workspace with vibrant wallpaper, or add texture with tapestries. Keep things organized and aesthetically pleasing by adding cabinets or racks for books or documents, and keep a desk plant to add some life to the room.
Switching out photos or artwork regularly is also a great way to break up the monotony of working from home. With just a few easy tips, your home office can become an inspiring space for whatever project you choose to embark on!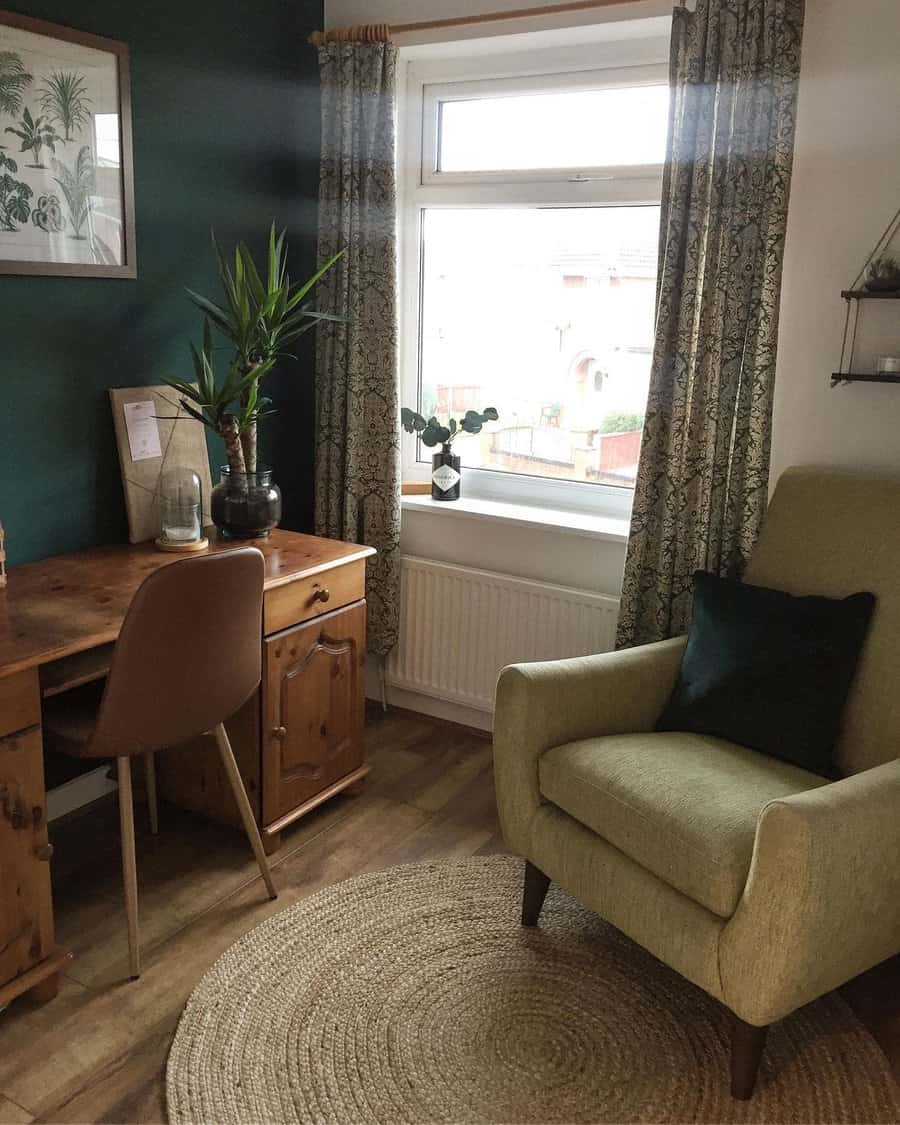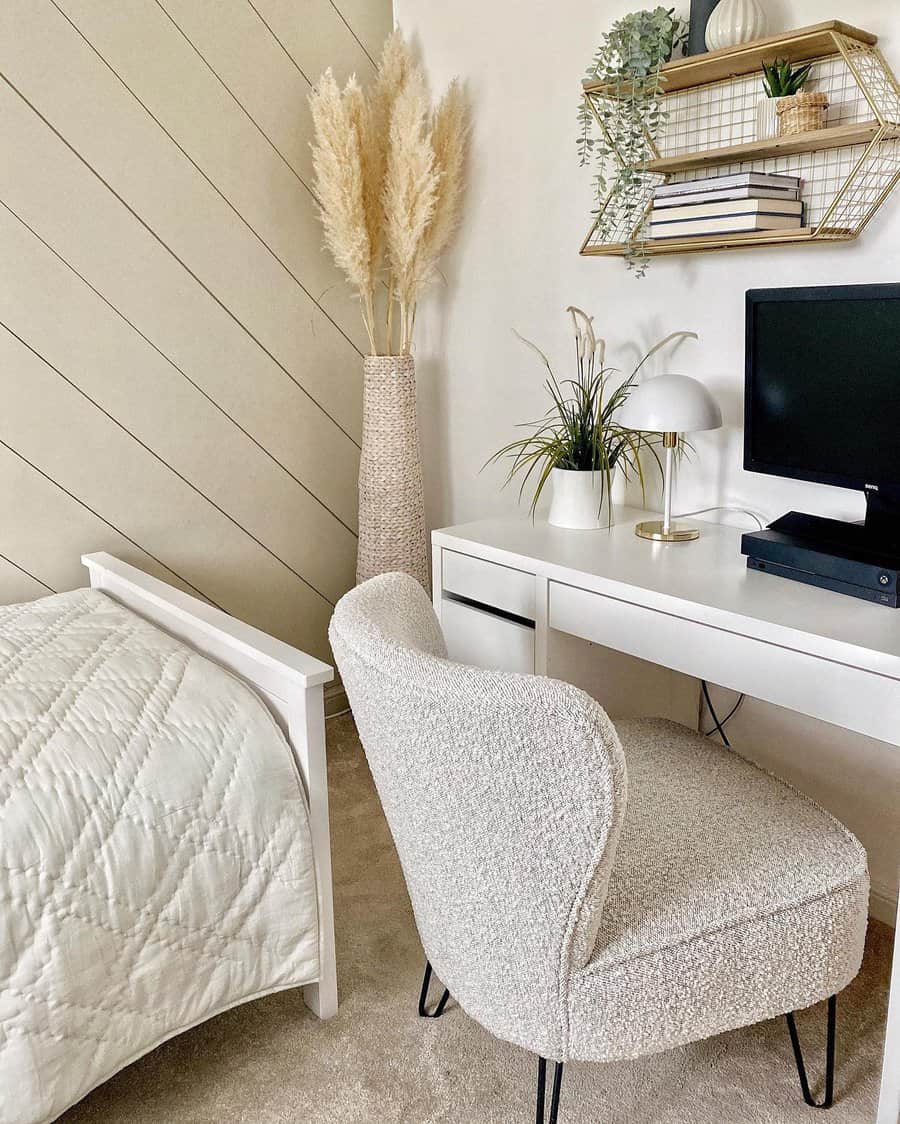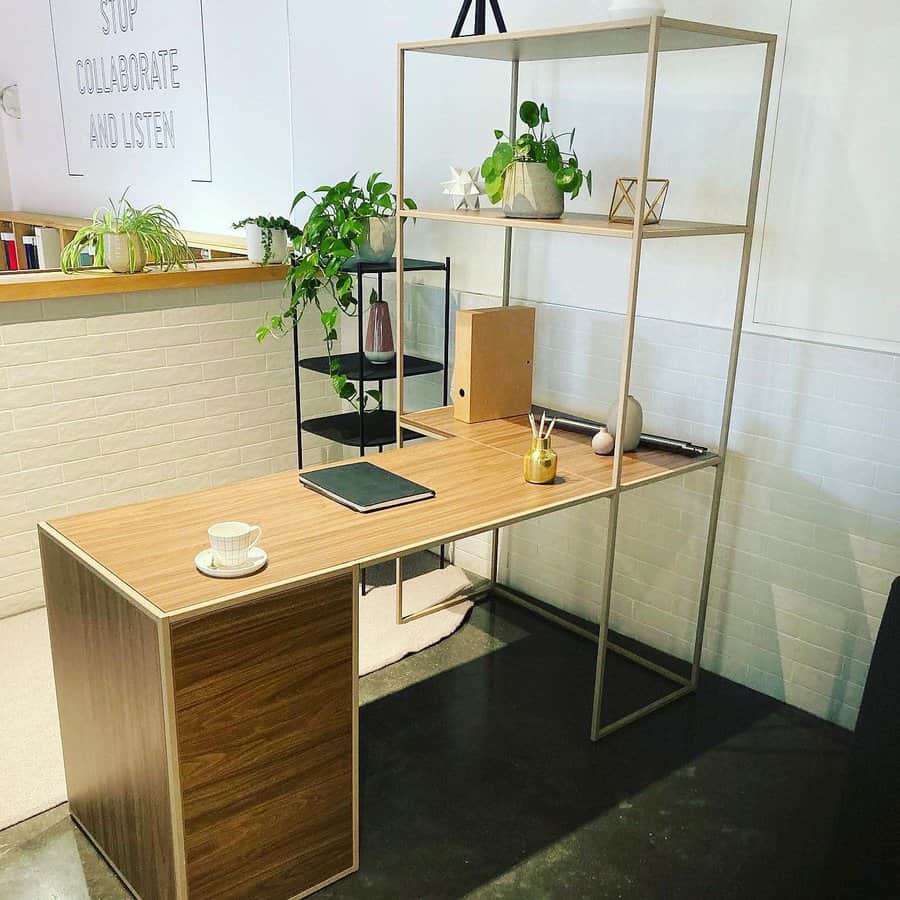 10. Hang Background Art To Jazz Up Your Zoom Meetings
If you're looking for some creative small home office ideas to make your space feel productive and pleasant, one of the best tips is to hang background art. By selecting the right piece of art, you can make sure that your Zoom meetings have a professional polish while also making your home office come alive.
You don't need to invest in expensive artwork; there are tons of prints available online at great prices that let you express yourself with beautiful colors and fascinating images. With art on the walls, it can help invoke inspiration as well as let others know what kind of personality you possess during virtual meetings.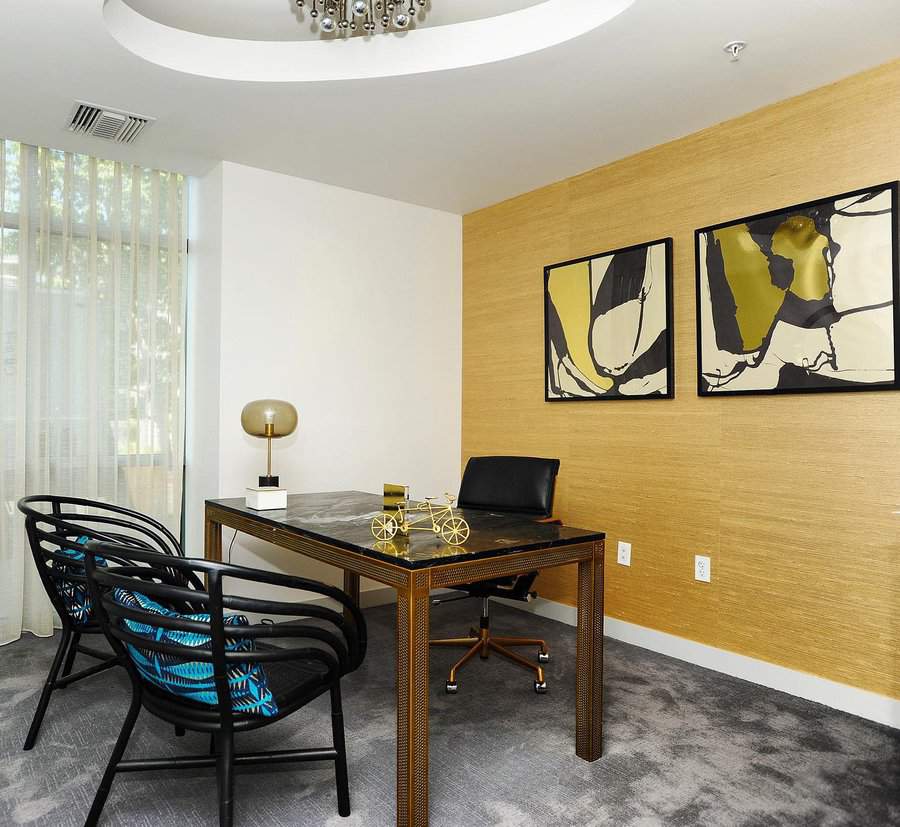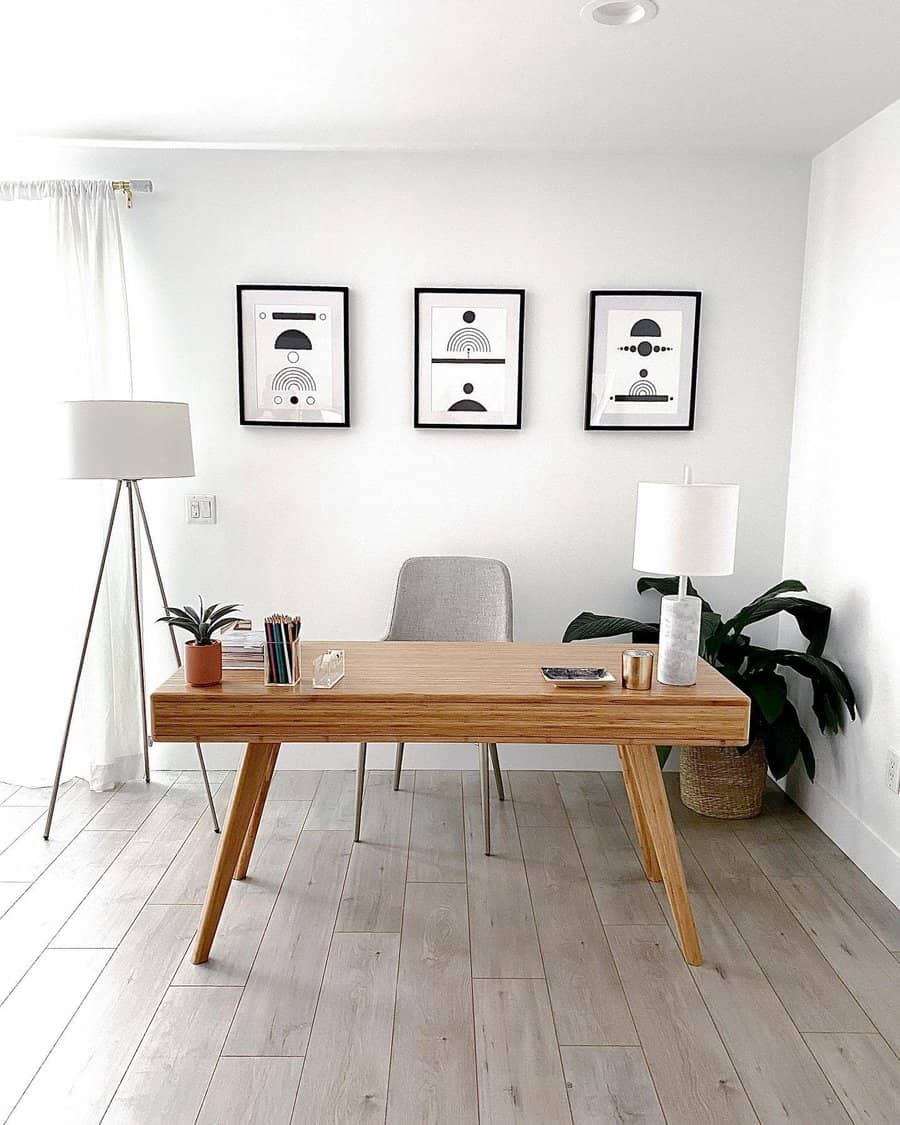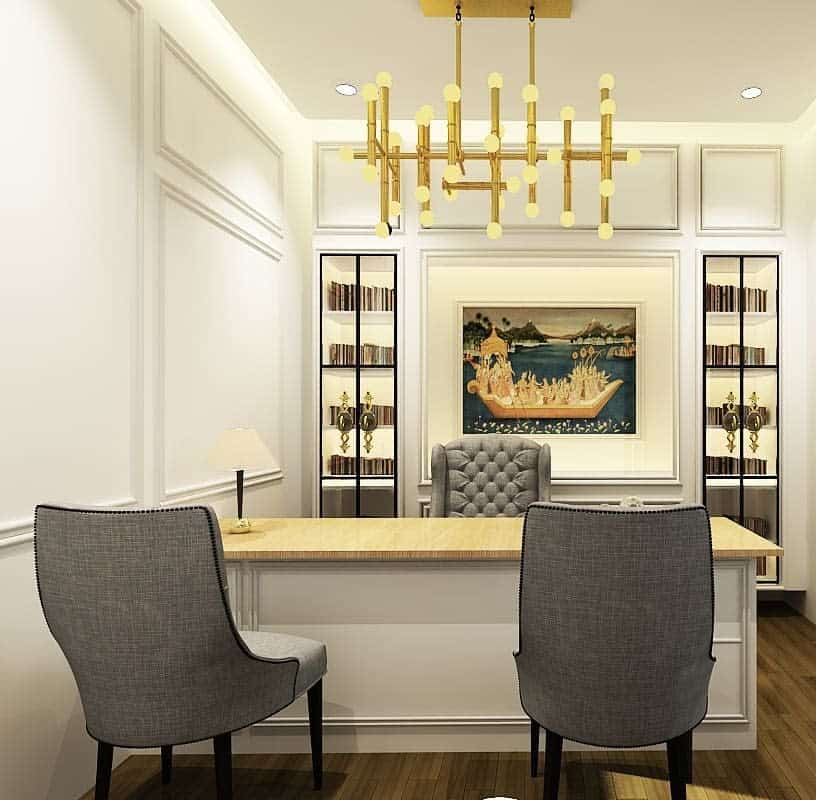 11. Install Cabinets & Shelves
If you're looking for ways to add a home office to your dwelling, there are plenty of creative options to choose from. For example, installing a full wall of cabinets and shelves is a great way to discreetly separate your workspace from the rest of the house while giving you plenty of storage space.
This solution could even double as a bookcase in your living area! Additionally, investing in multifunctional furniture like an armoire and fold-away desk can provide ample workspace without compromising on style – and when not in use, it can become extra storage space instead. With simple solutions like these, creating an inspiring home office has never been easier!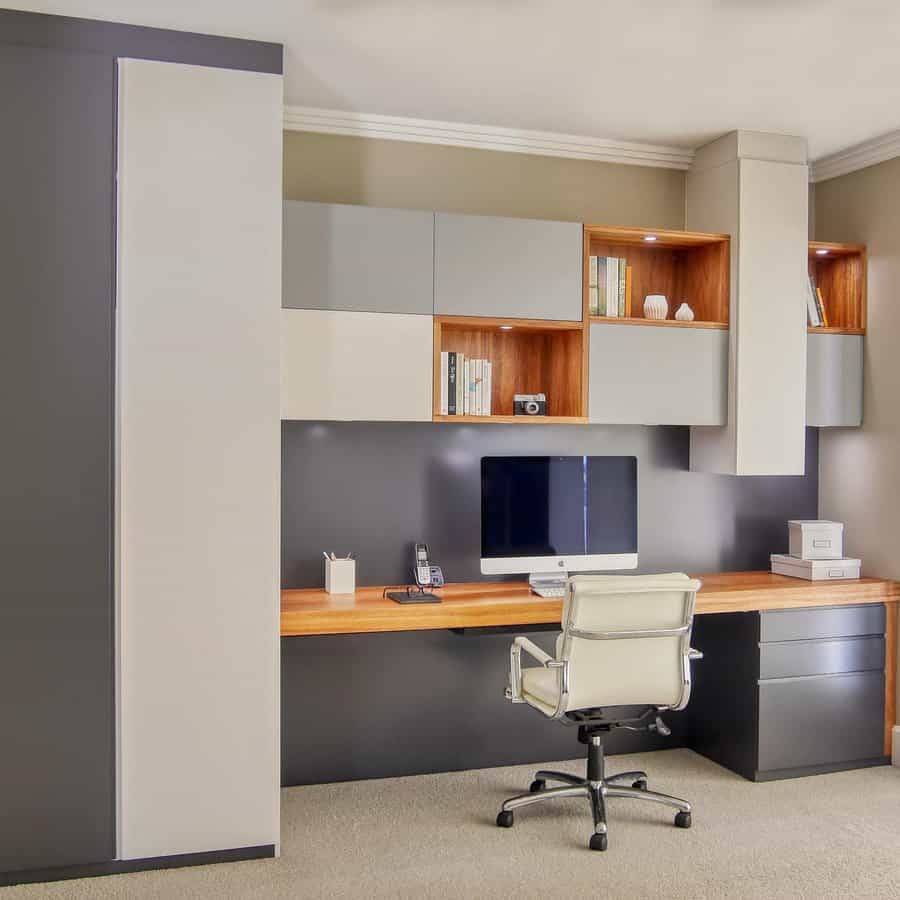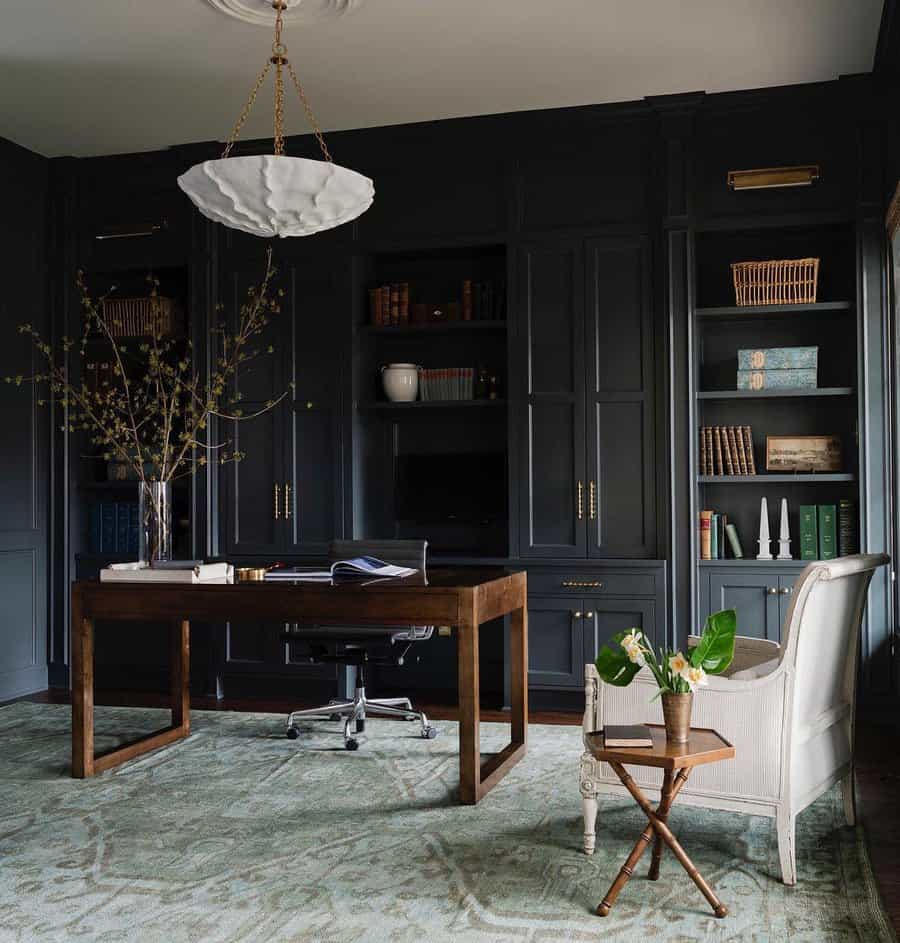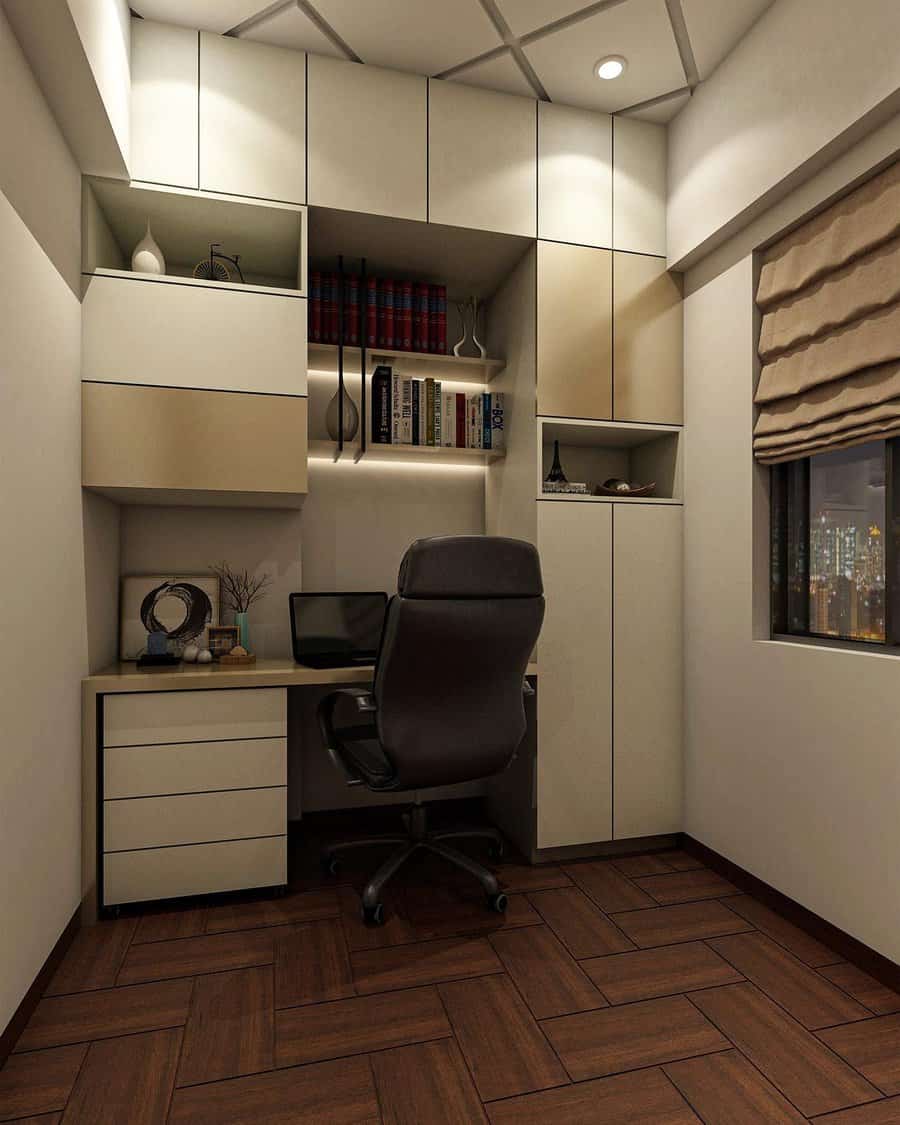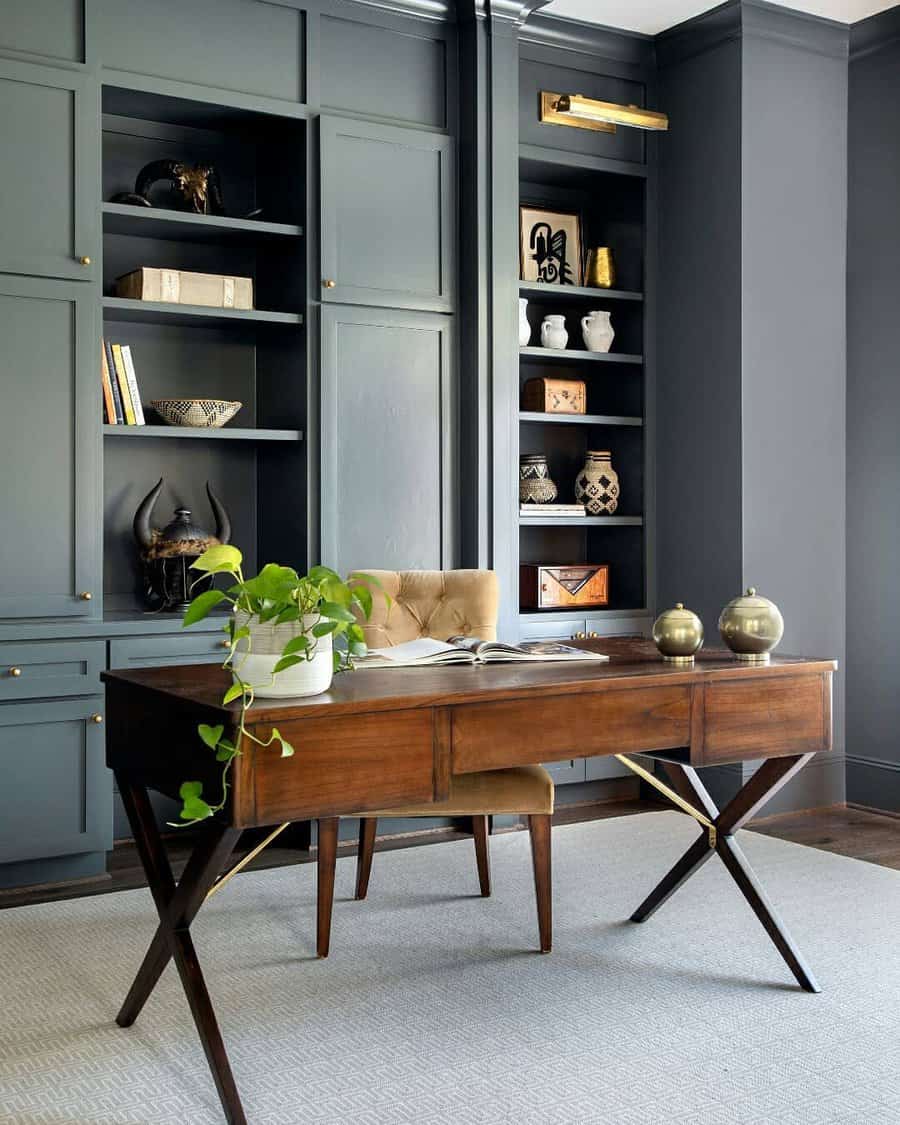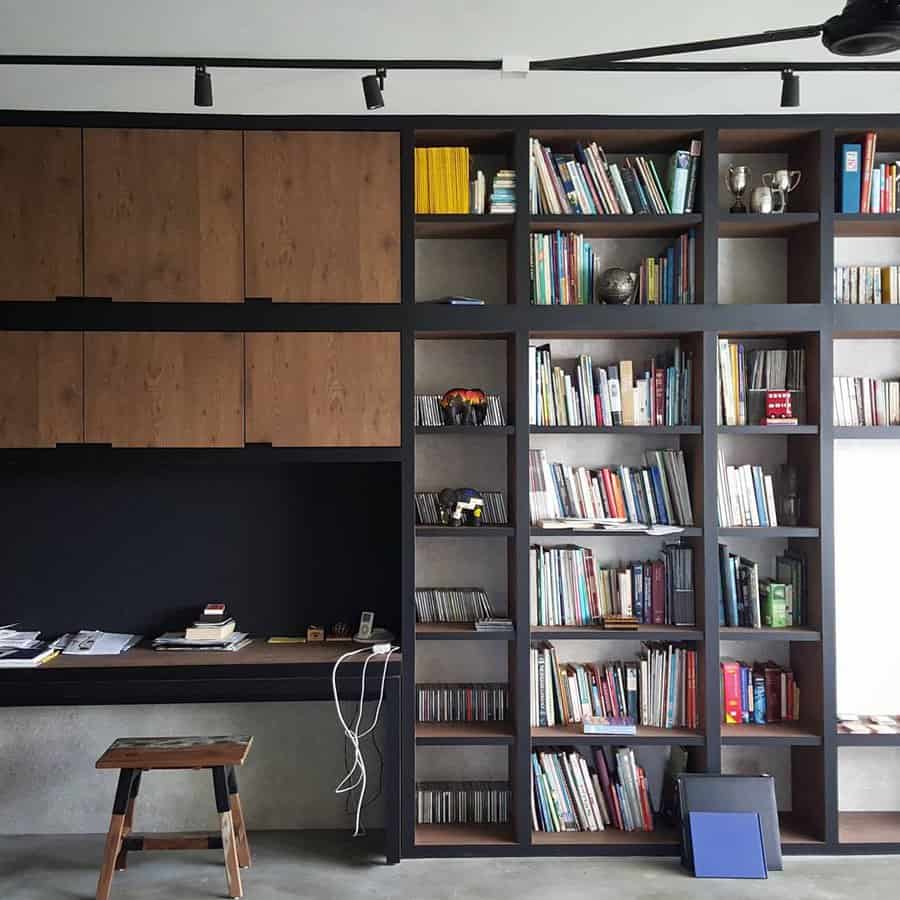 12. Craft A Mood Or Theme In Your Office Space
For those of us who are now accustomed to working from home, it can be hard to find new and interesting ways to invigorate our workspace. One way to make your small home office stand out is by crafting a mood or theme for the room.
Consider hanging printed wallpaper that resonates with who you are and what you're working towards. Incorporate themed decor pieces that stimulate creativity and productivity, such as string lights, posters and artwork, plants, furniture of a certain color palette, and statement rugs.
Whatever you choose to do, remember that a little goes a long way in the case of office themes—make it attractive but keep it simple so you don't overwhelm yourself and retain focus throughout the day!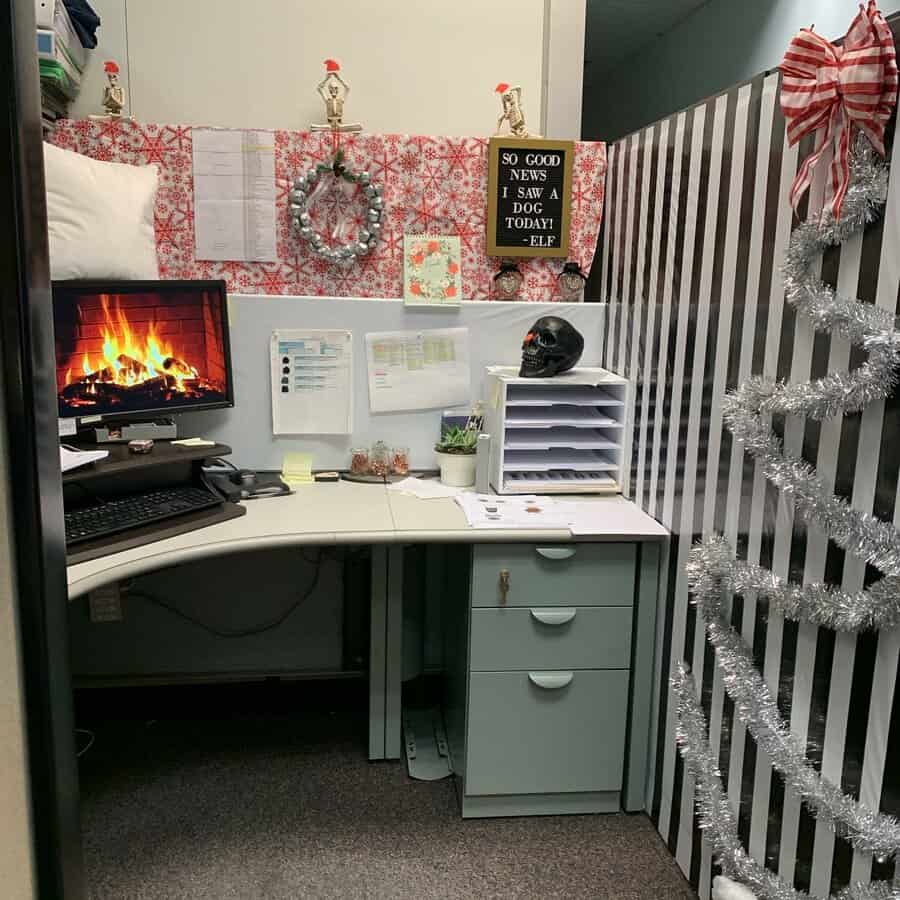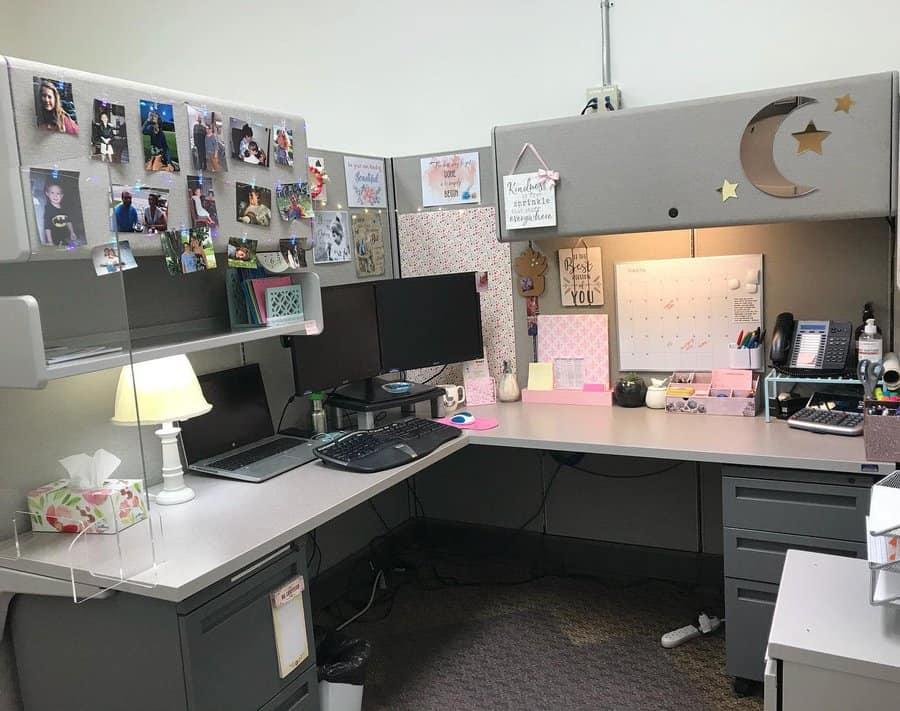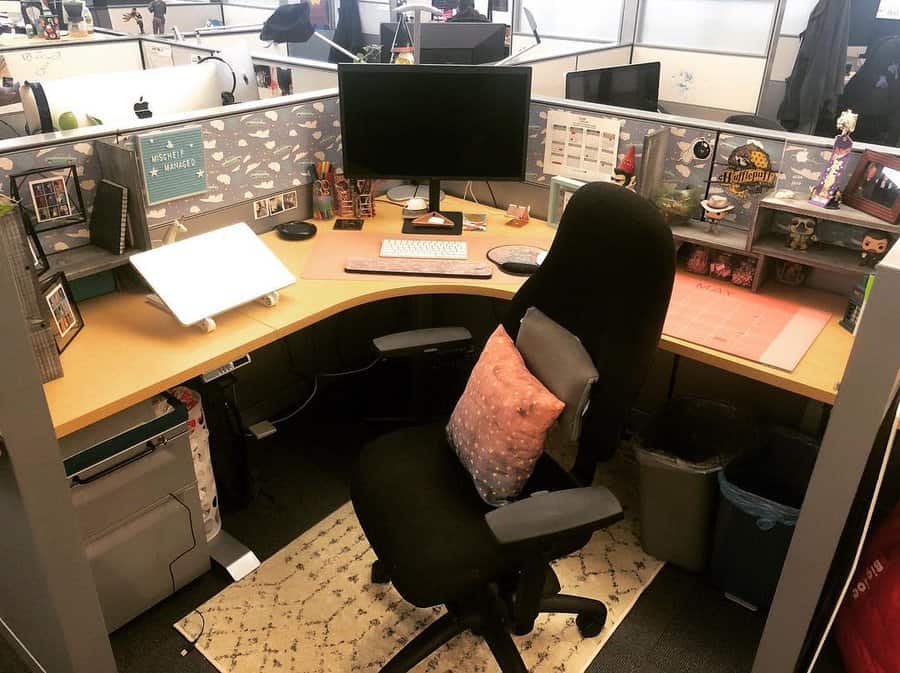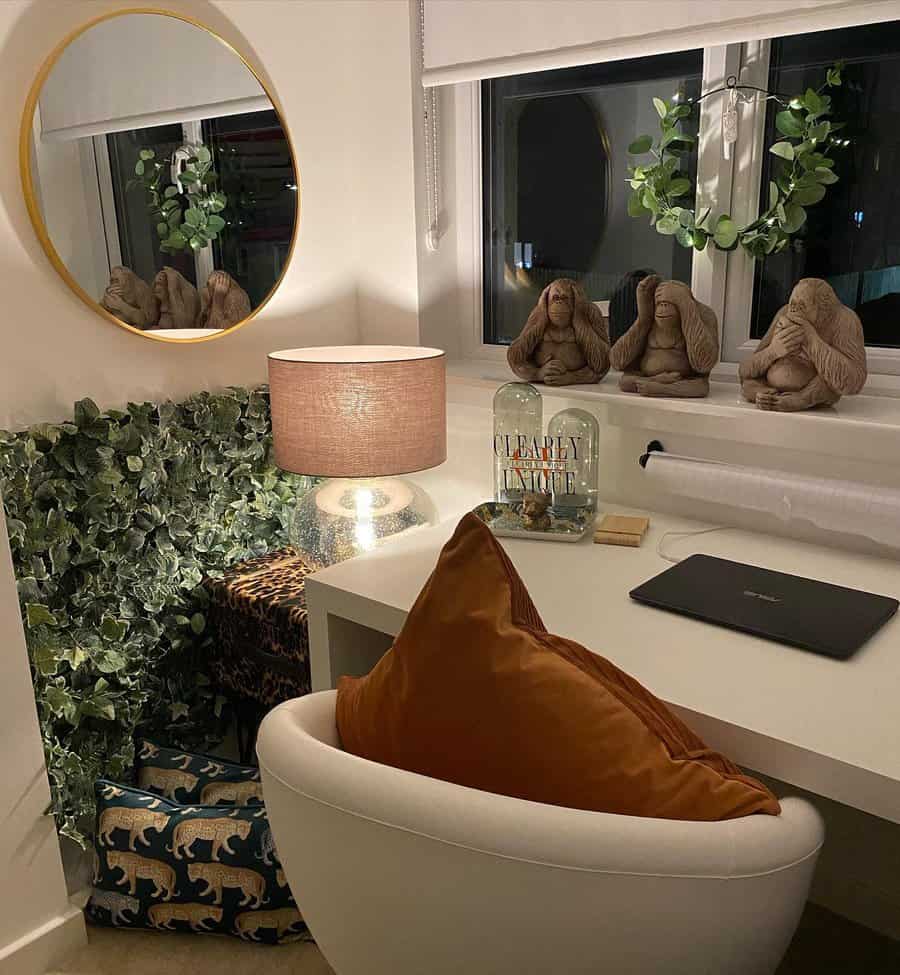 13. Hang Wall Tapestry
Working from home isn't just about the practical elements like setting up your desk and filing system. If you want an office that truly reflects who you are, consider adding some creative touches. A great way to bring more personality into your space is to hang a wall tapestry!
Tapping into different aspects of color therapy and design psychology, wall tapestries can provide a much-needed sense of relaxation as you work – when picked correctly, these textiles can energize the space and inspire a calming ambiance. Best of all, they're budget-friendly while making a bold statement in any home office!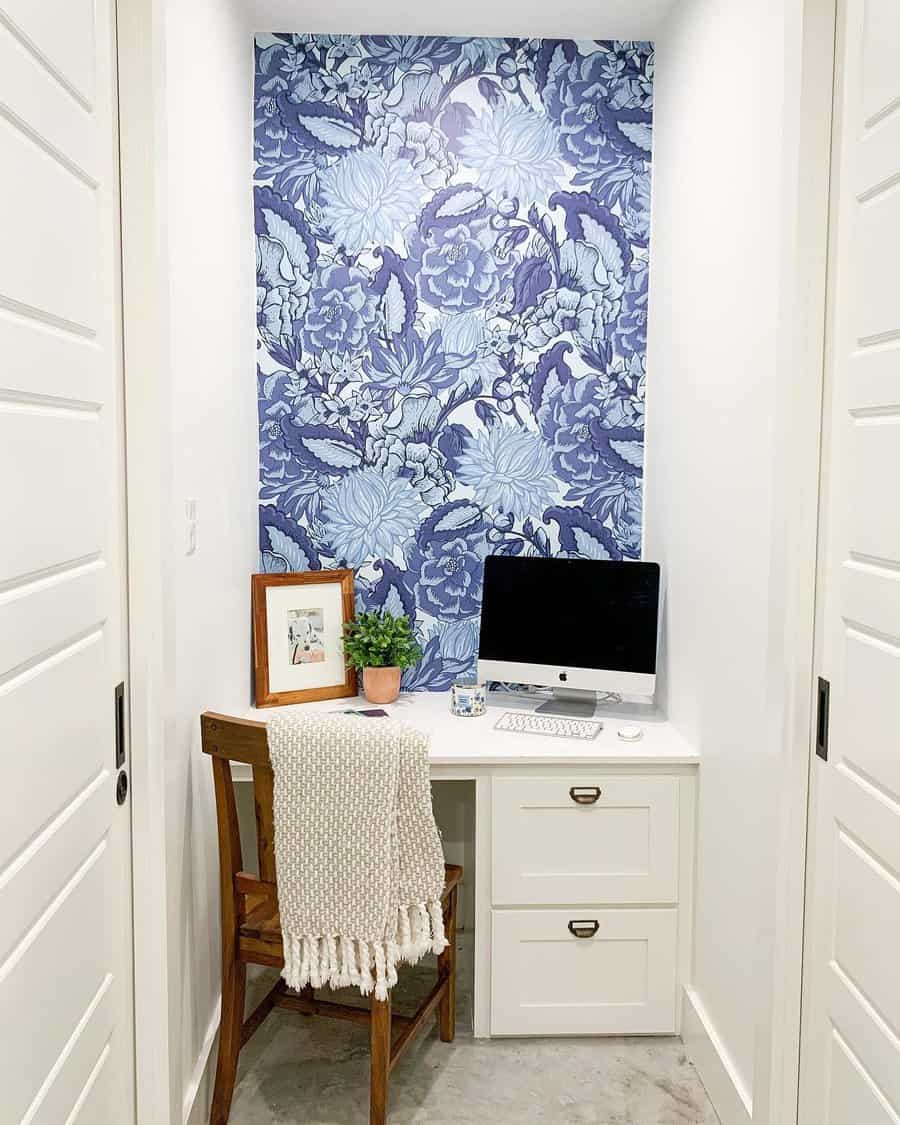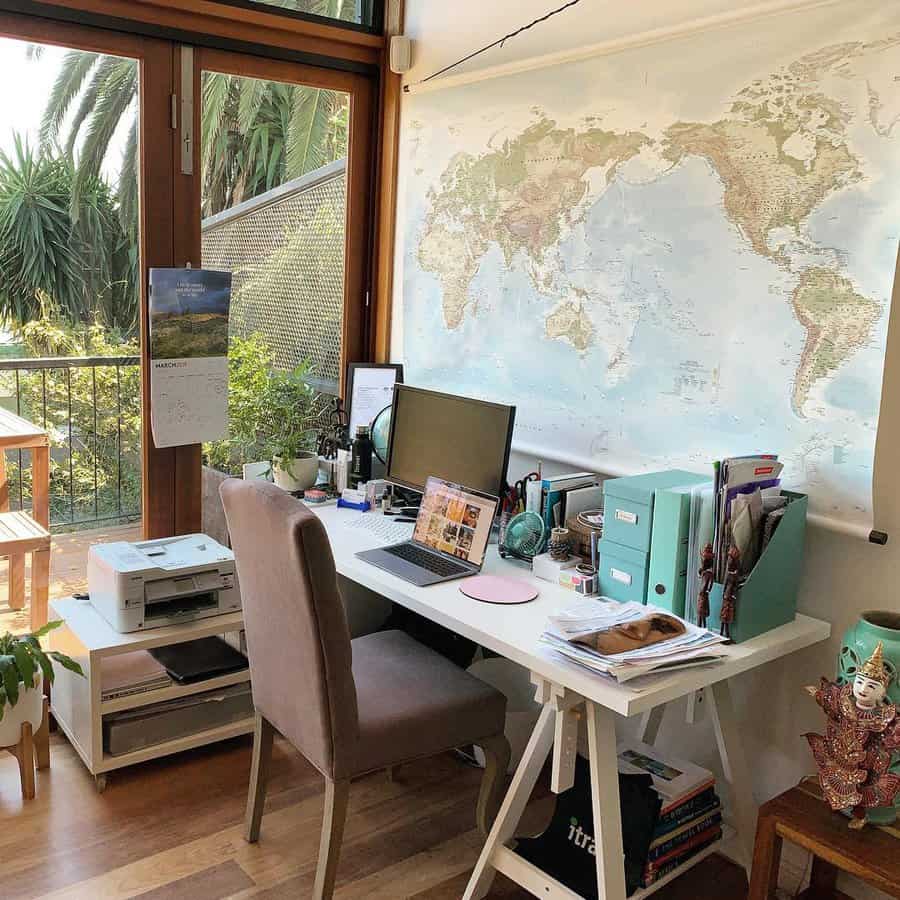 14. Closet Office Desk
A small home office doesn't need to feel cramped and claustrophobic! Efficiency is key when creating a workspace in a tiny area. Consider utilizing a closet office desk with a door that can be used as storage when not needed.
This way, you could switch easily between using the desk for work and closing it up for more space in your room. Adding some houseplants and uplifting wall art will also create a pleasant atmosphere for productivity. With just a few creative ideas, you can transform your small home office into an inviting place to get work done.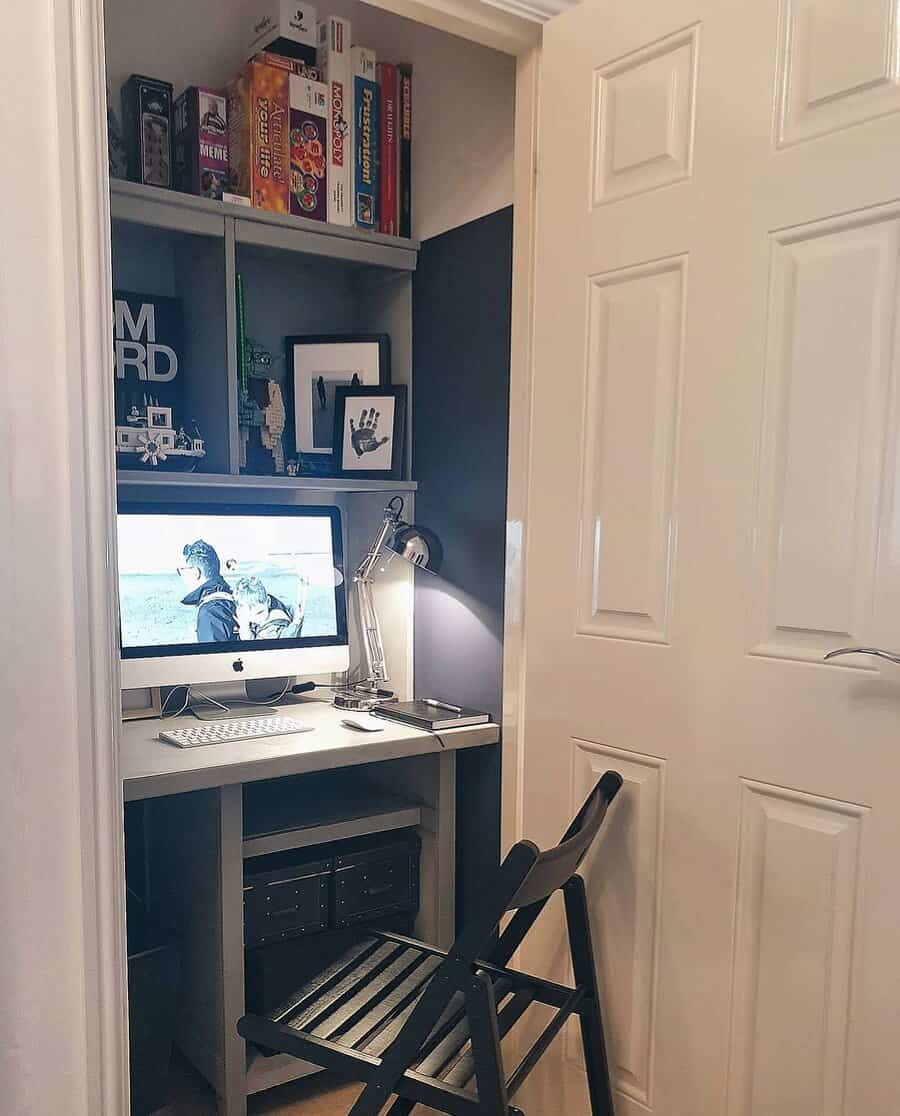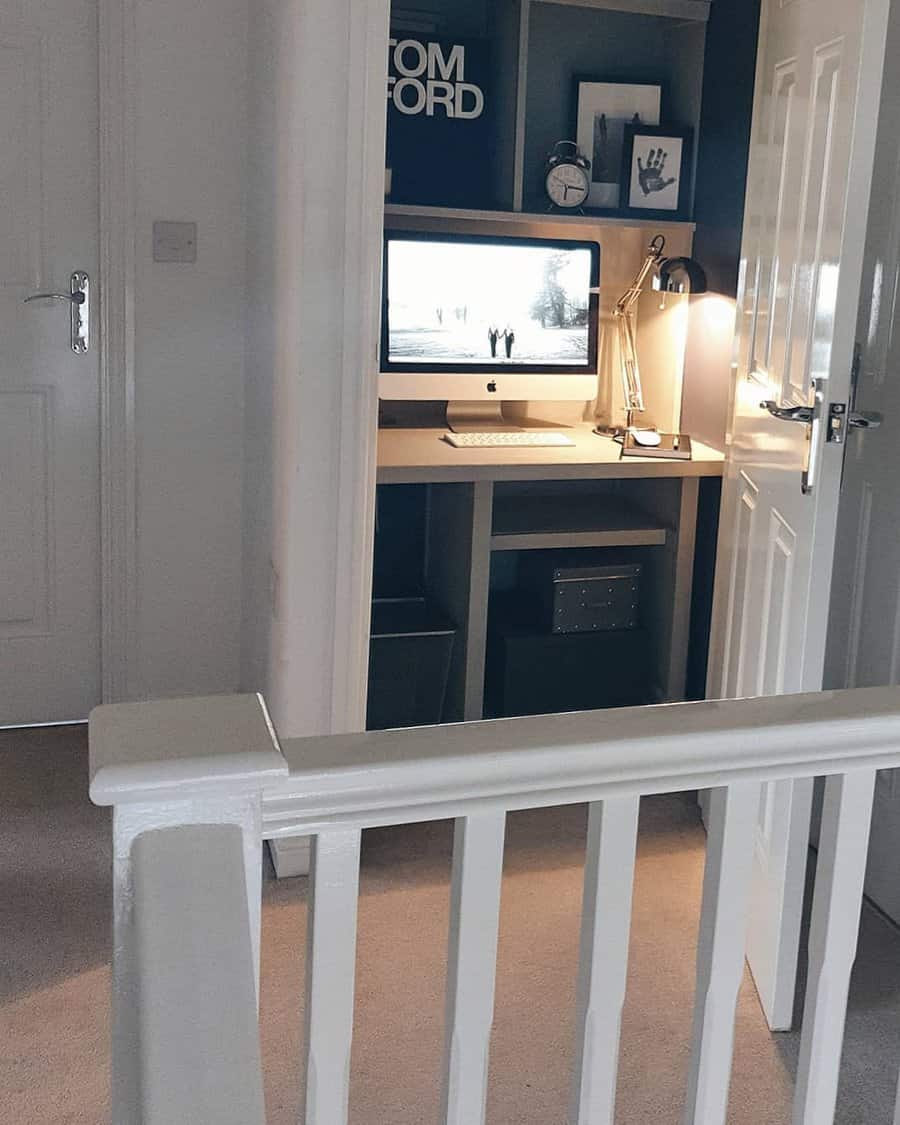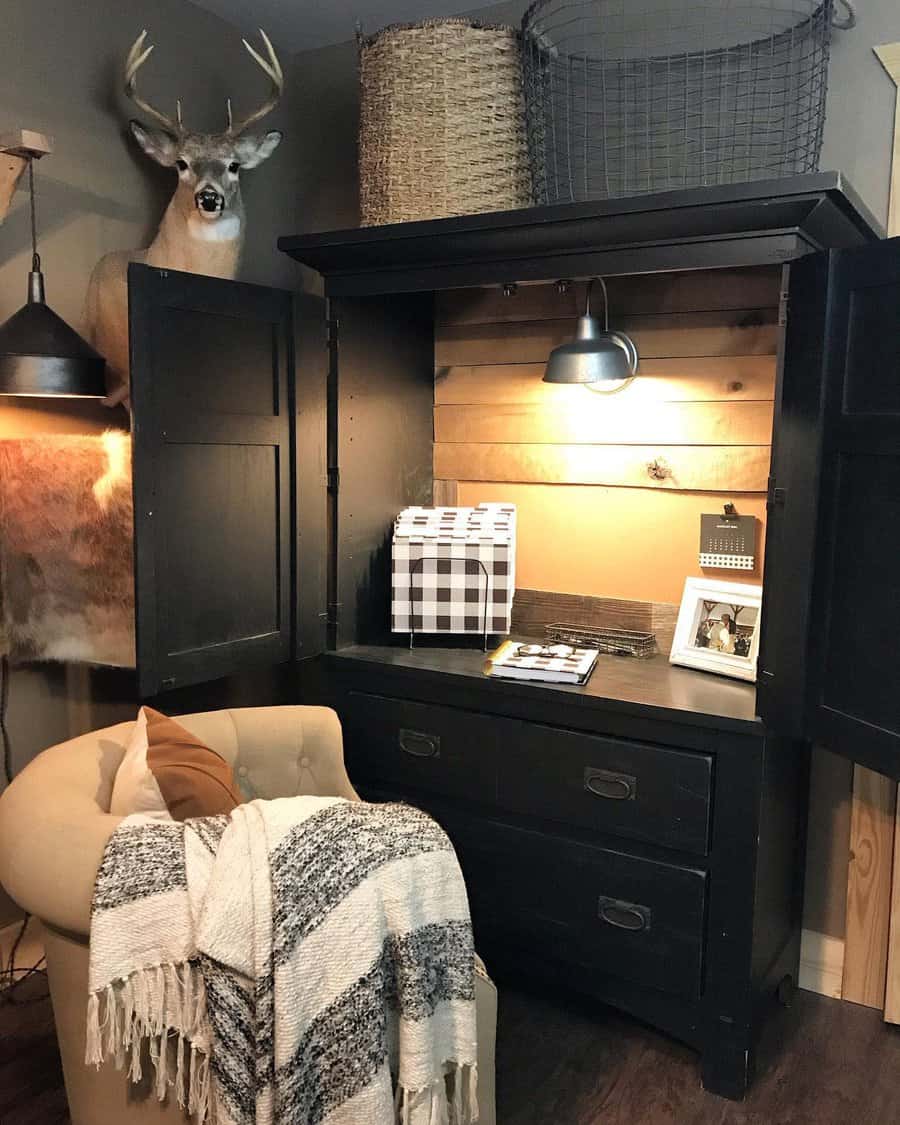 15. Printed Wall Accent
If you're looking to set up a home office that is both inspiring and functional, why not consider adding a unique design element to your space? Utilizing a printed wall can do just the trick! By including printed patterned wallpaper or vibrant artwork, you're able to create an endearing milieu in your home office. In addition to creating an energizing atmosphere, a printed wall can also define boundaries between creative projects and personal projects.
If your budget allows, custom-framed prints that reflect your interests can be the perfect touch for your custom office setup. Furthermore, don't forget about low-cost options such as wrapping paper or pages from old magazines – these can make all the difference in producing an eye-catching yet cost-effective home office.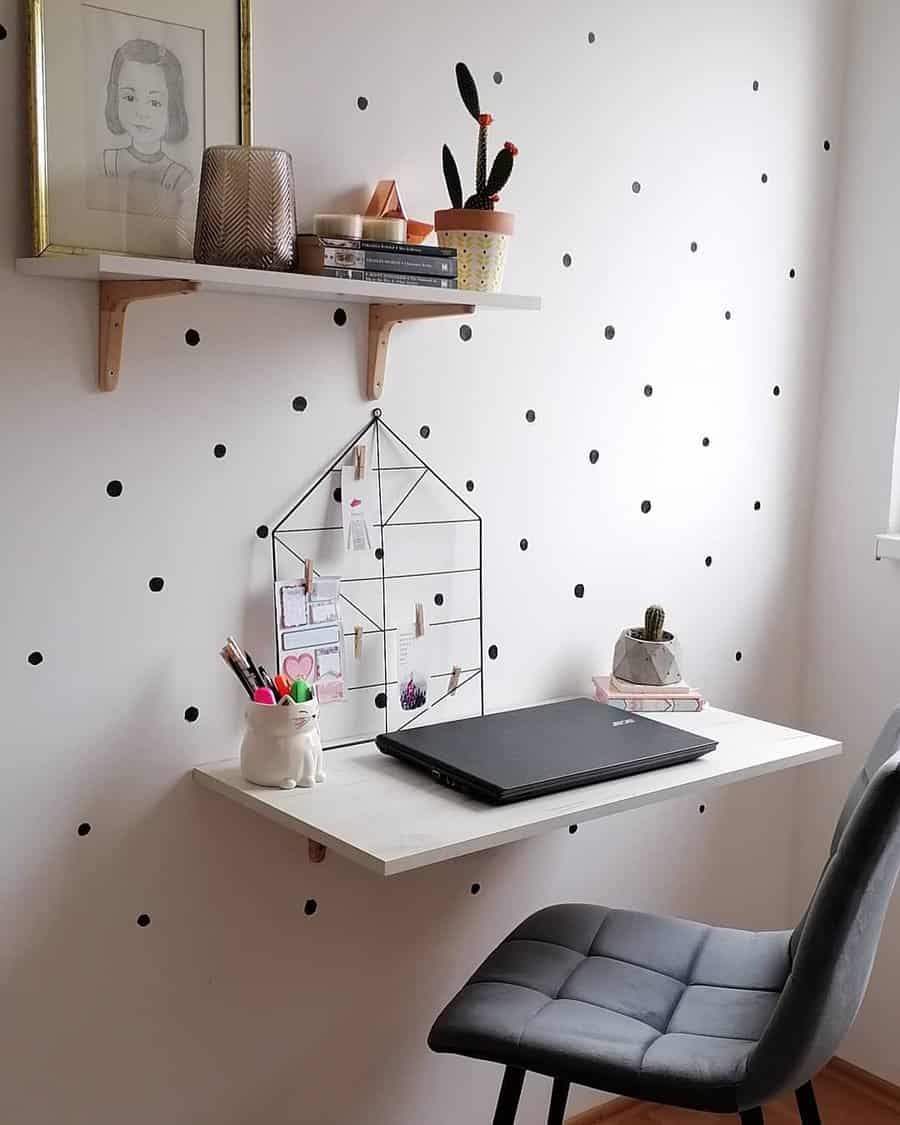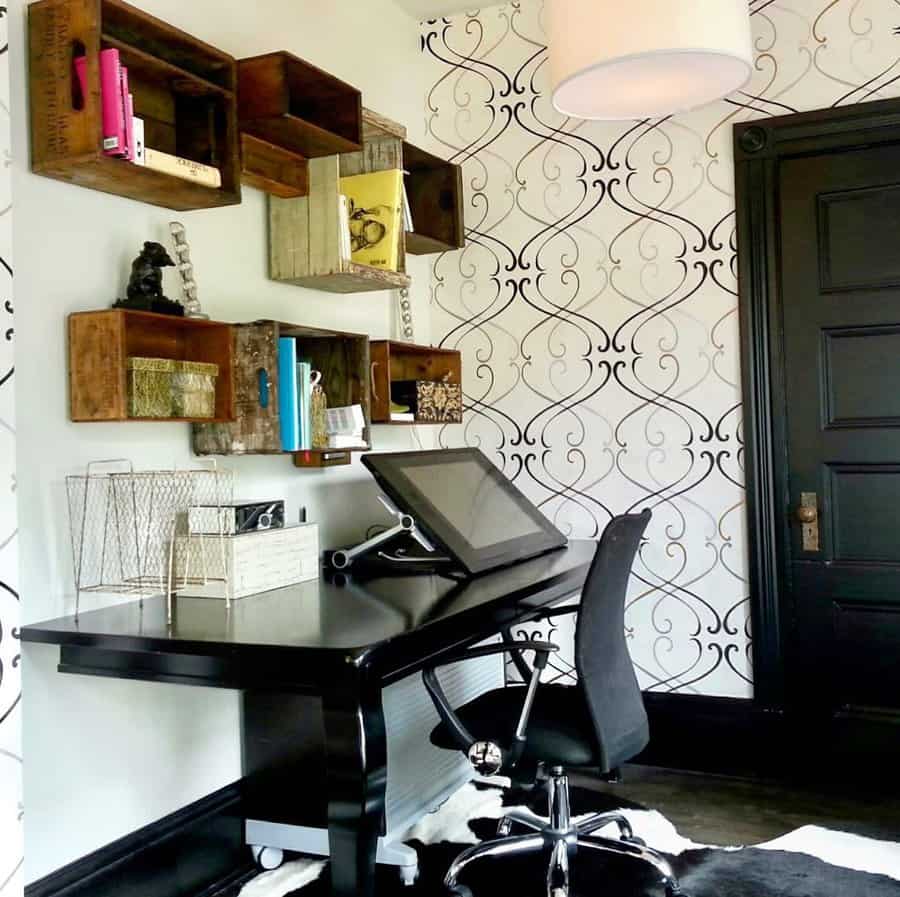 16. Art Gallery Wall
If you're looking to transform your regular home office into something special, why not create an art gallery wall?
Choose some stunning statement prints or artwork and arrange them in a creative layout on the back wall. Not only will it be eye-catching but it'll also help improve your focus and productivity as you take time out of the day to appreciate the artistic expression around you.
If you plan properly and choose colors that complement each other, your office can be transformed into a beautiful space where creativity is inspired.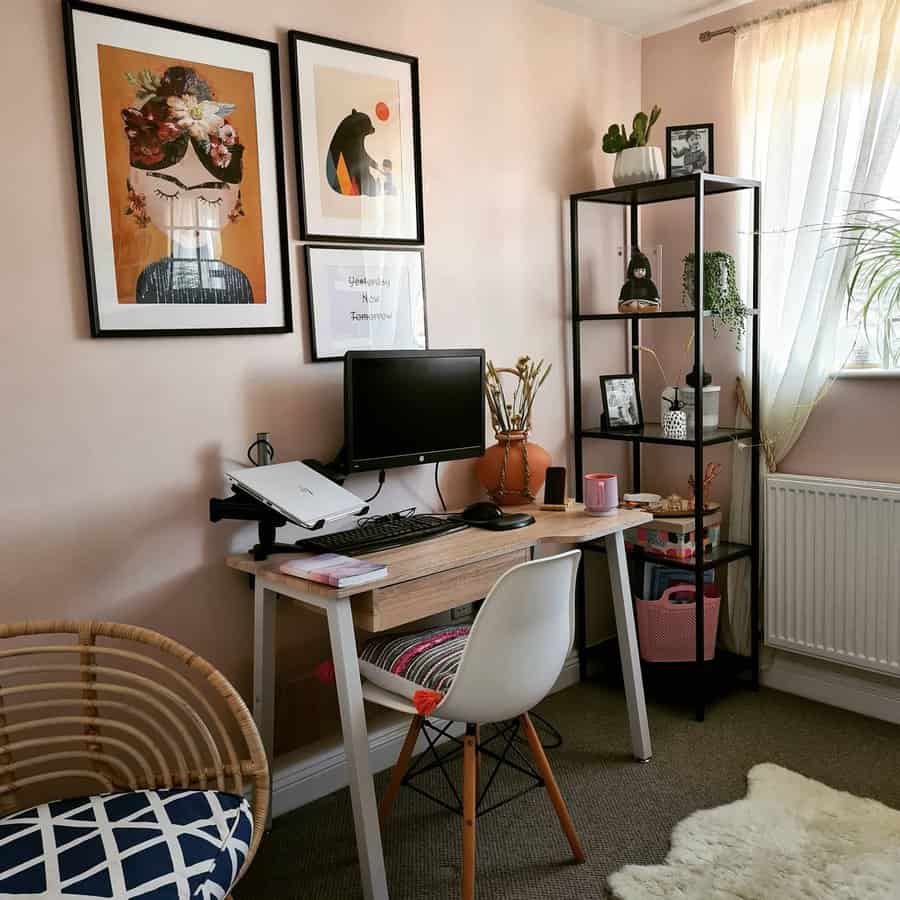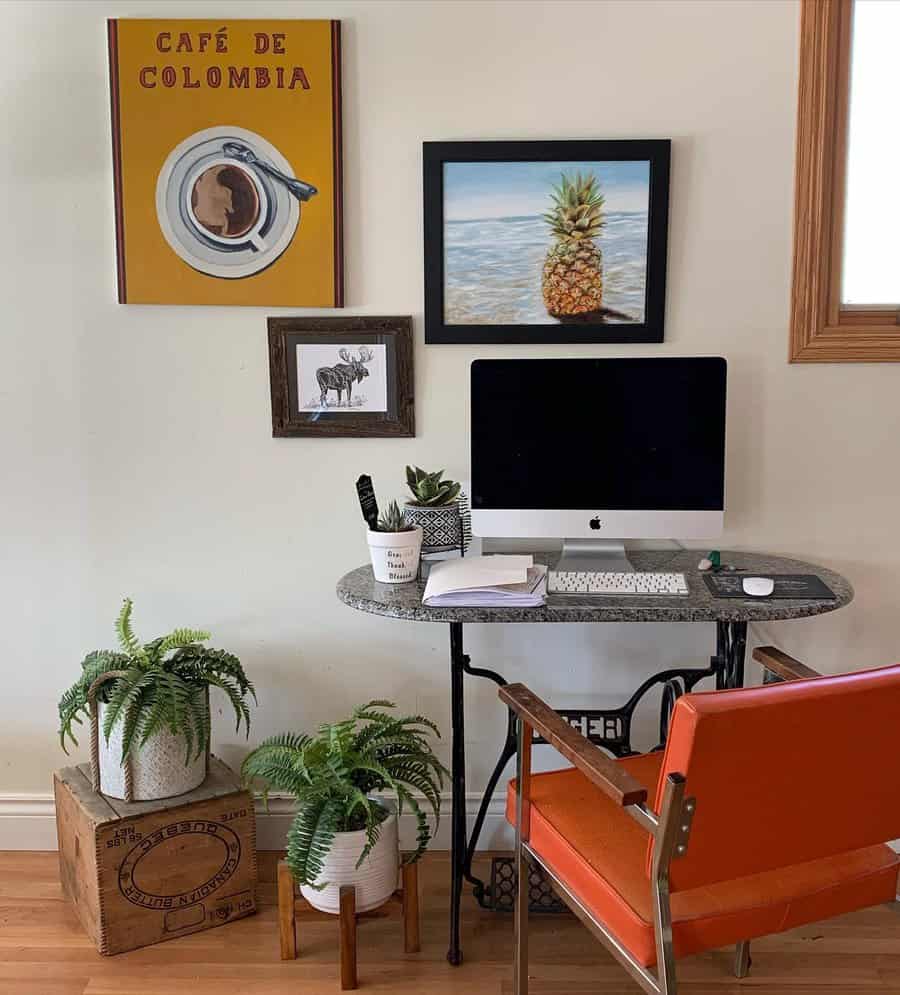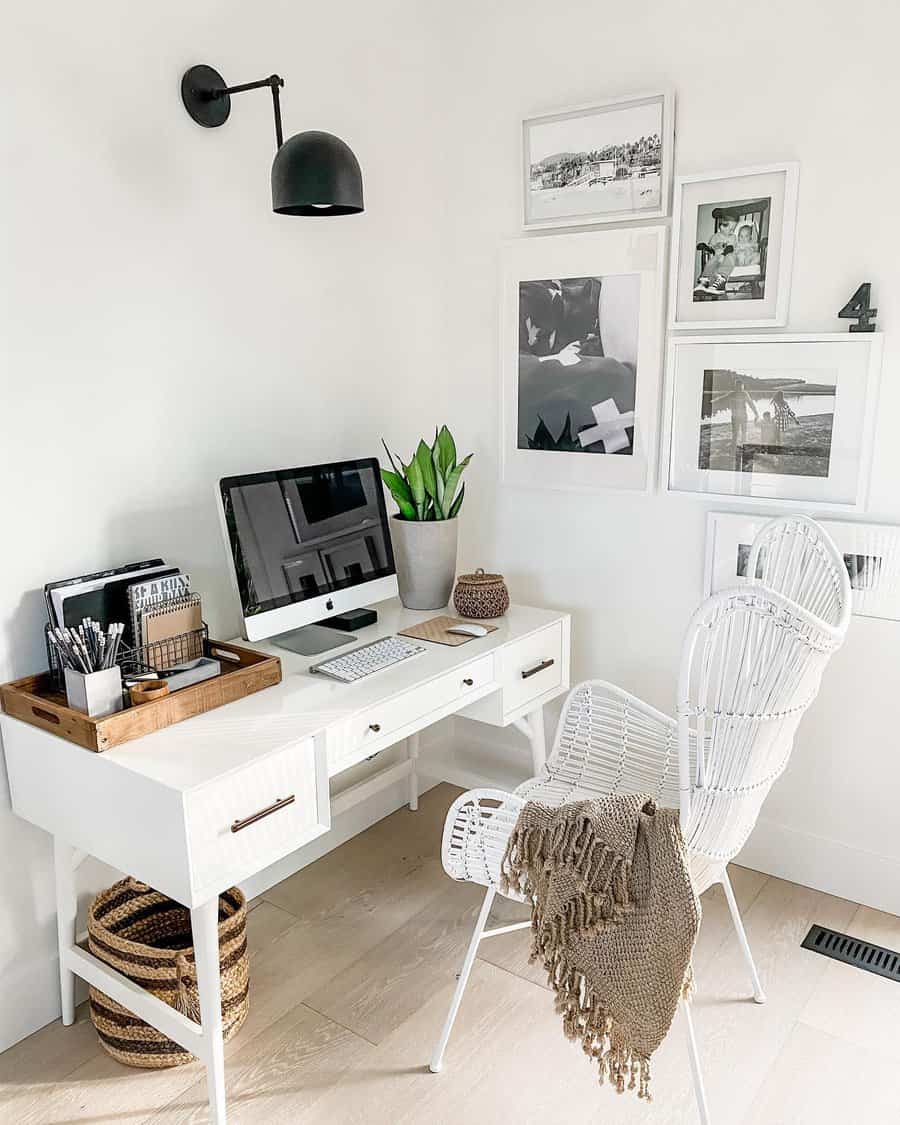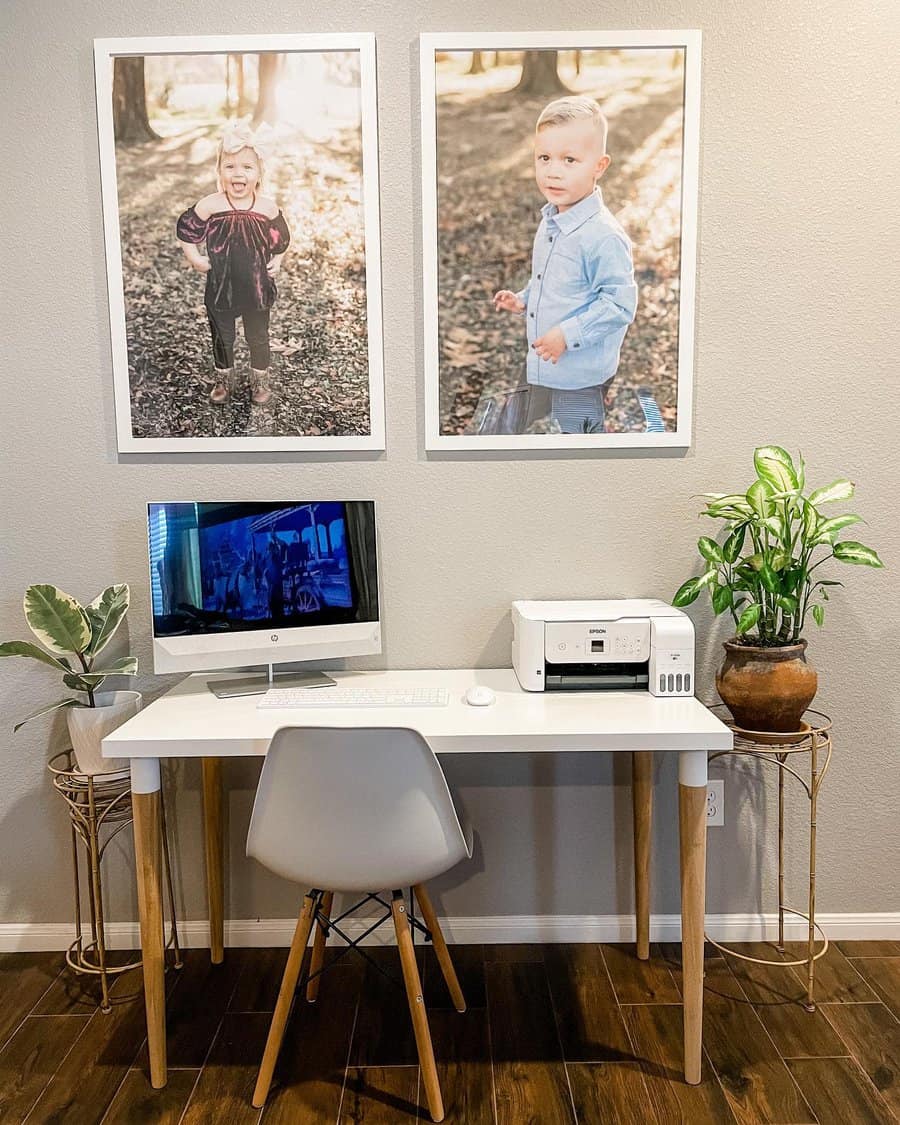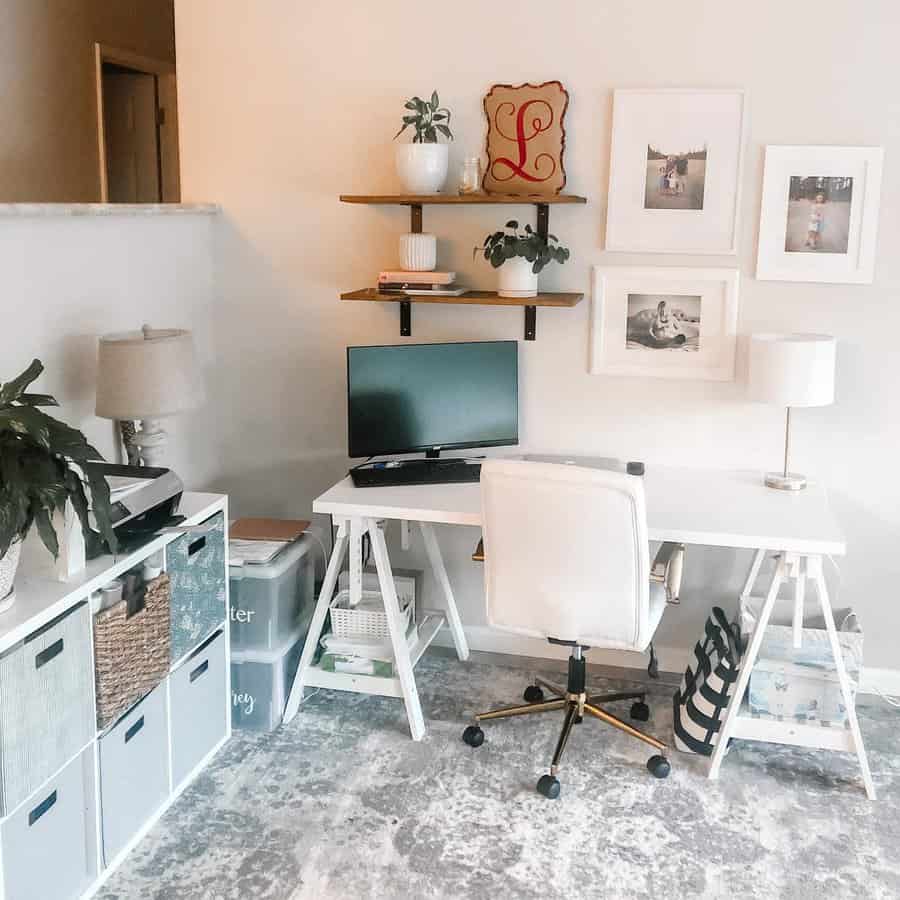 17. Wall Shelves
When it comes to setting up a productive home office, it pays to think small. If you're operating out of a room or space with limited square footage, maximizing every inch of vertical space can be key. Investing in wall shelves is an excellent way to achieve this purpose and also add decoration at the same time. This can help bring your office to life and motivate you while working.
Choose brightly colored containers that fit on the shelves, so all the supplies and documents you need stay organized and accessible. Adding items such as lamps, book stands, and hanging plants is also a great way to spruce up and individualize your workspace without taking up too much floor space.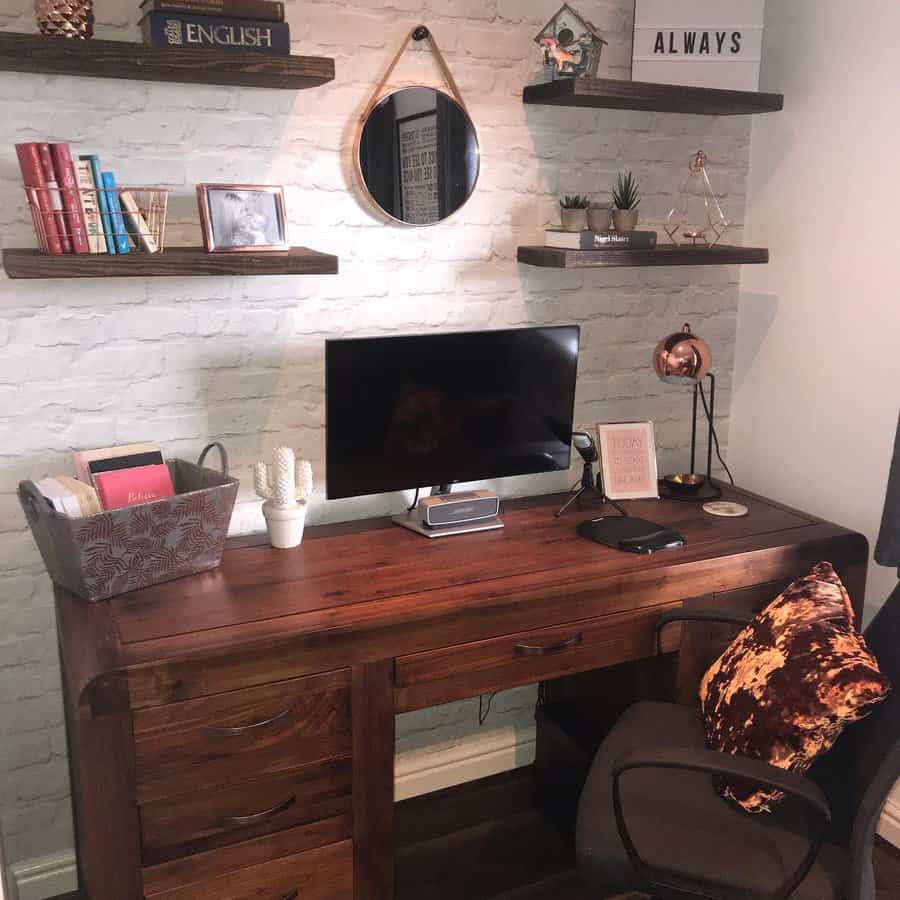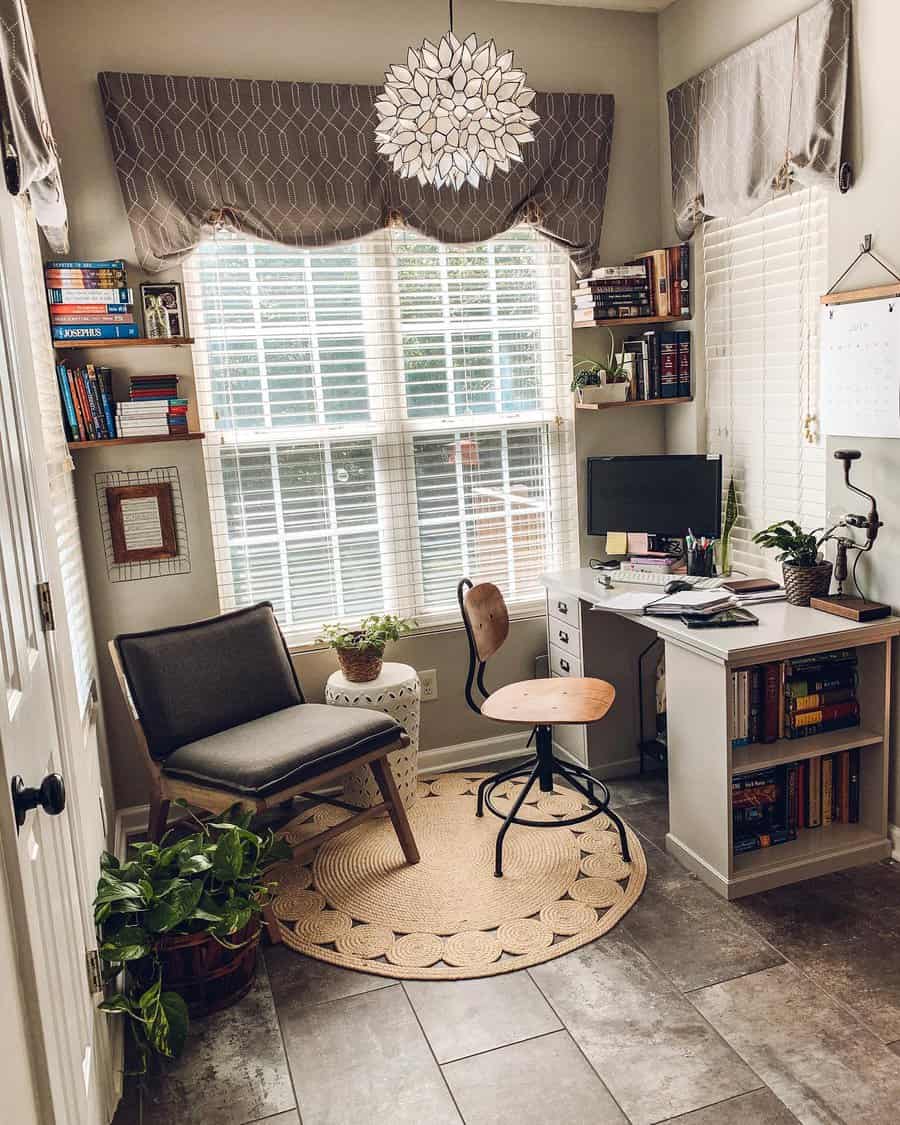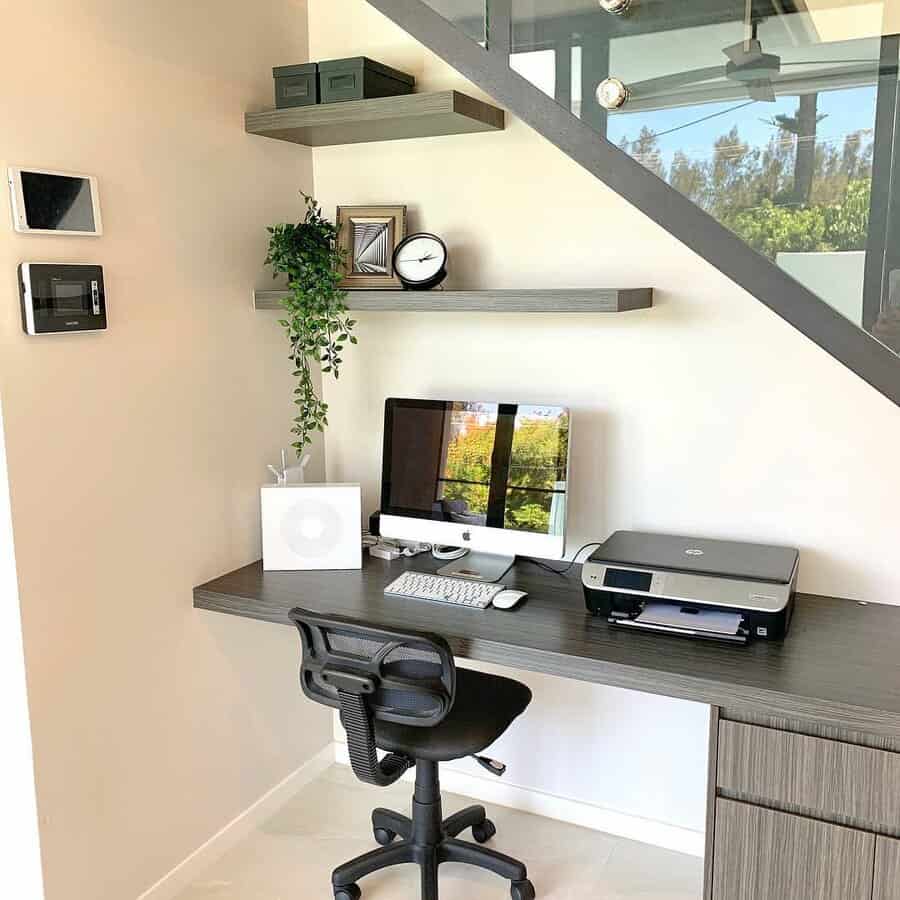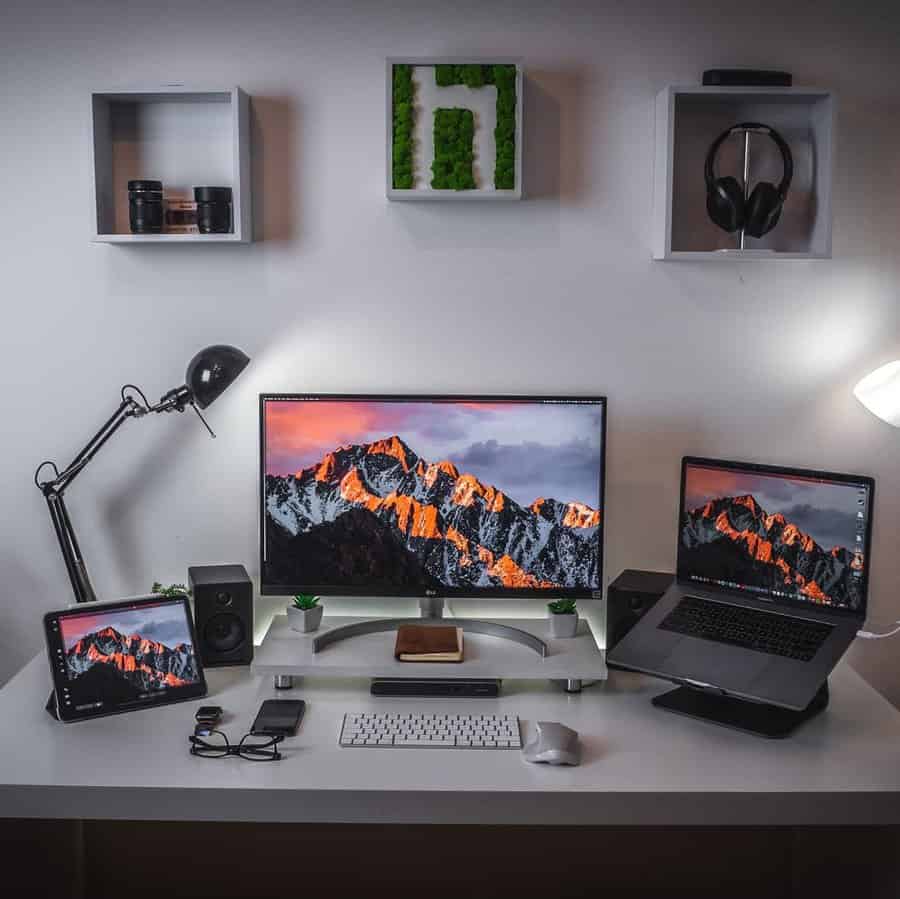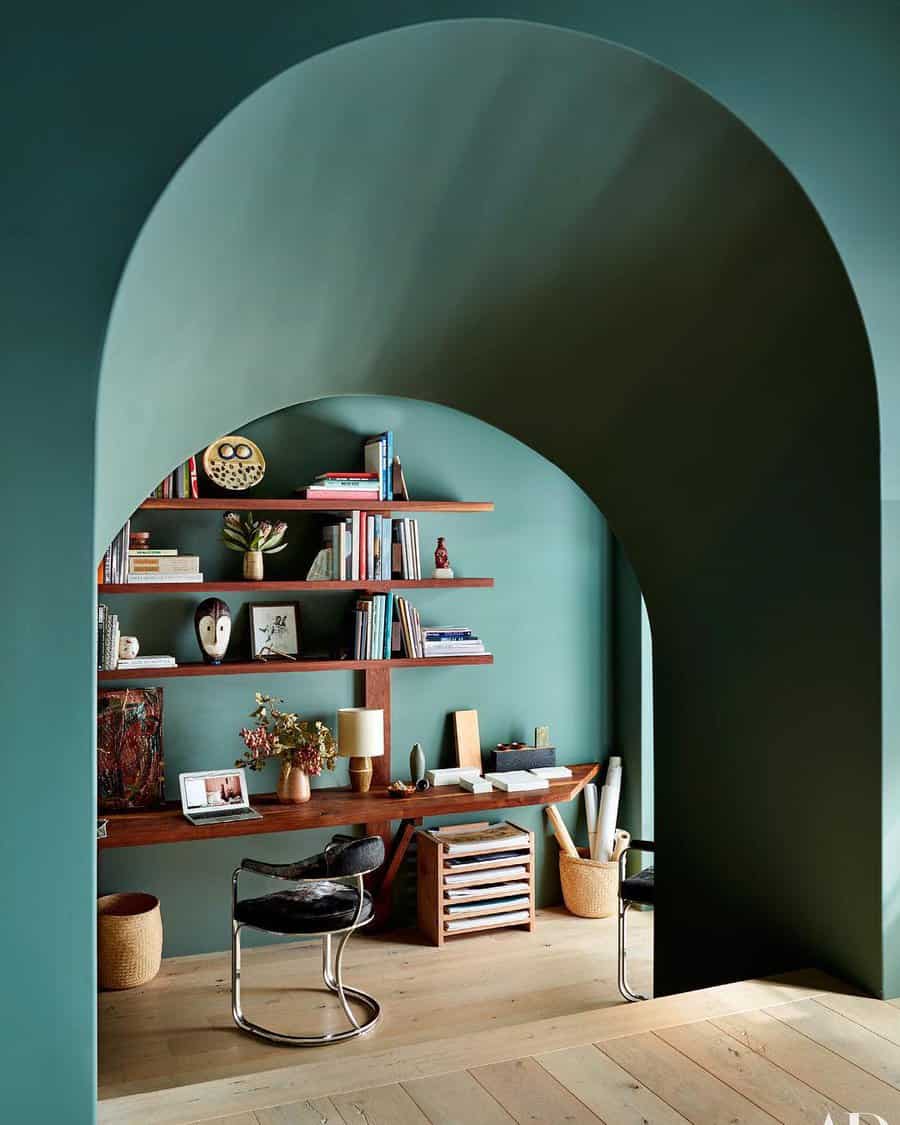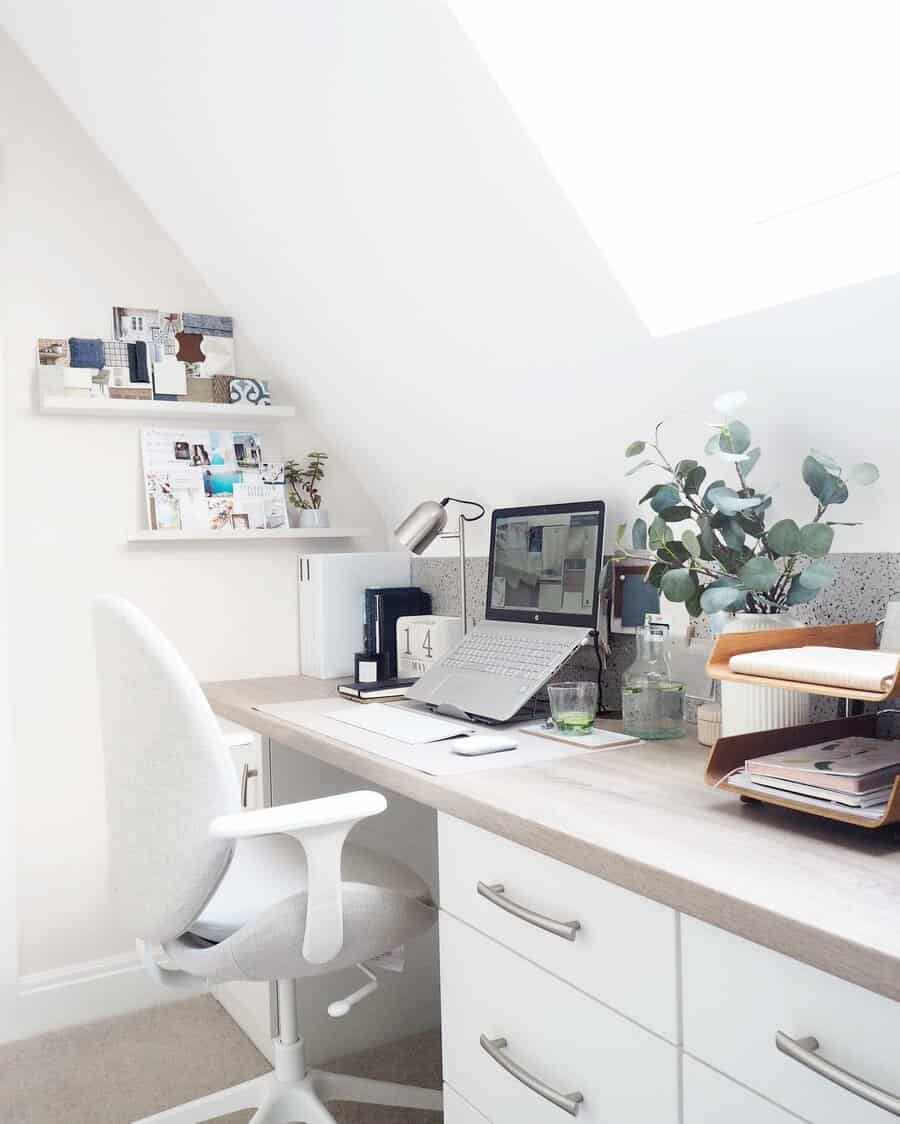 18. L-Shaped Desk
If you are looking for creative and practical ideas to help you set up the perfect home office, consider an L-shaped desk. This type of desk offers generous surface space while taking up minimal room, giving you the opportunity to customize and declutter your workspace.
Additionally, its corner design creates a designated workspace and allows any other supply storage items to be tucked in neatly behind or beside it. Best of all, if you live in a tighter space, you can use this style of the desk without compromising too much of your overall living area.
With a little ingenuity and some great design choices, you can transform your small home office into a professional-looking workstation fit for your every need.
19. Monochromatic Home Office
If you're looking for inspired small home office ideas, consider a monochromatic black-and-white design with splashes of wood. This stylish fusion invokes a sense of serenity and elegance while remaining minimalistic enough to fit just about any room size.
Paint the walls a clean shade of white and make use of an oversized wall clock as a statement piece. Adding further visual interest, choose furniture pieces in either warm woods or black matte finishes, then finish off your look with sleek metallic accents. With this color palette, you can't go wrong!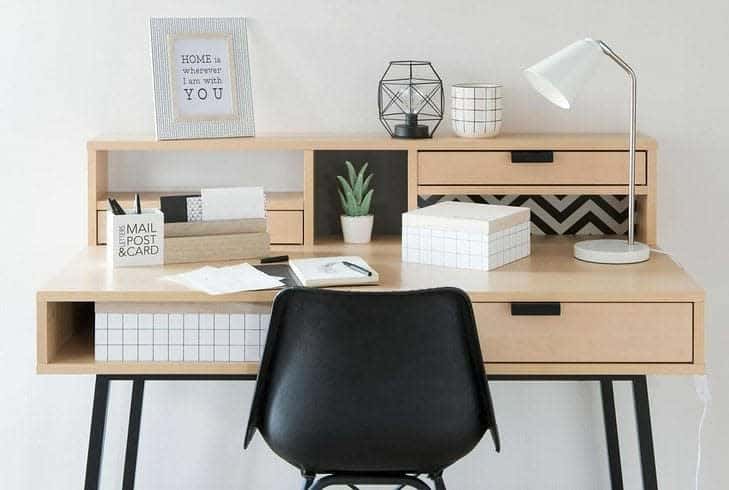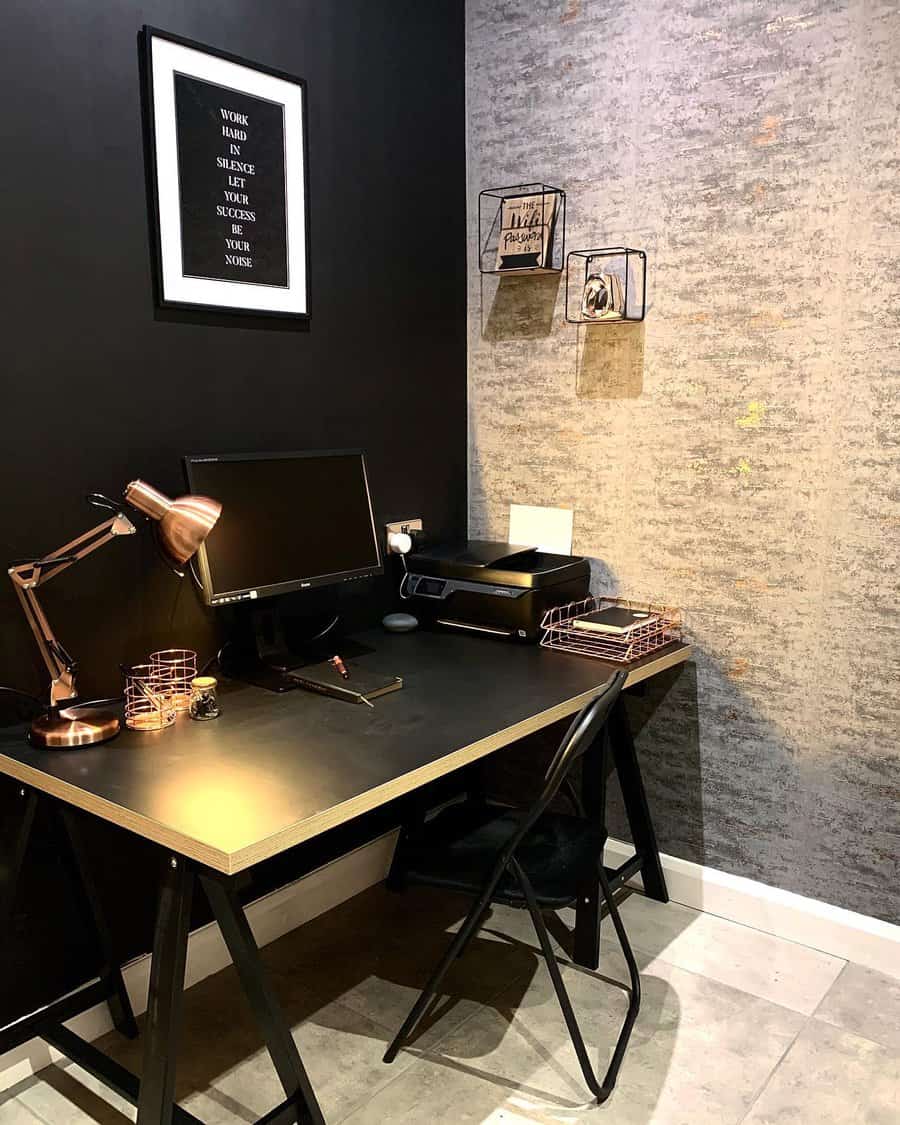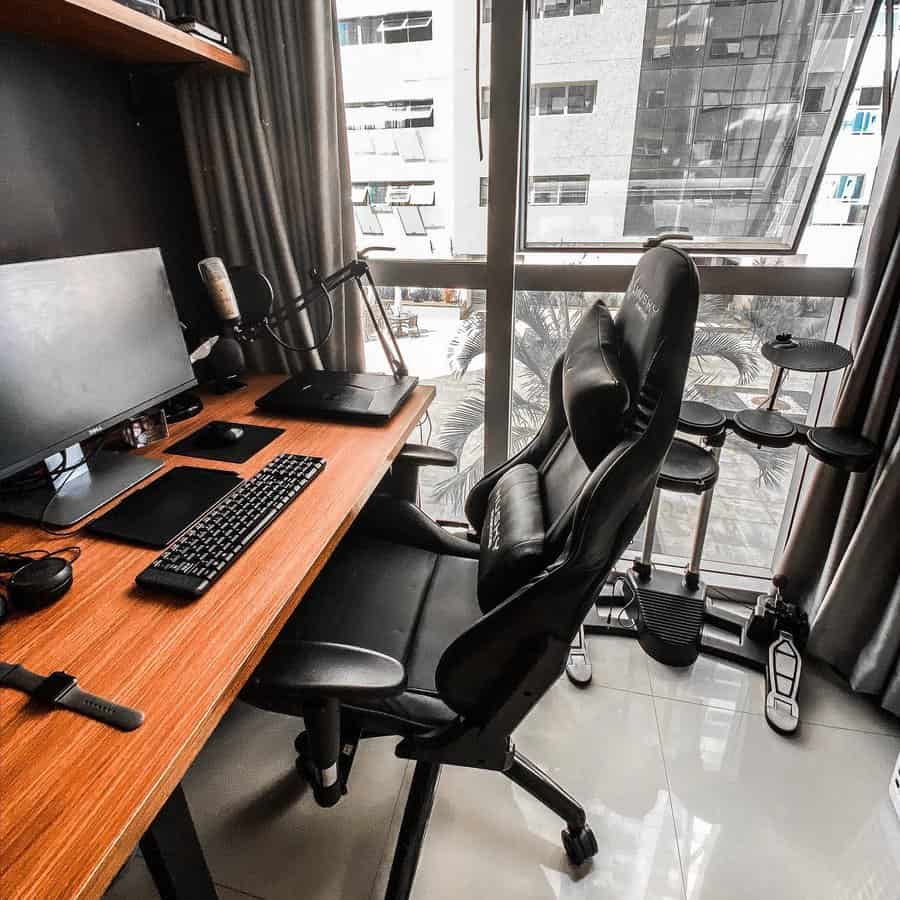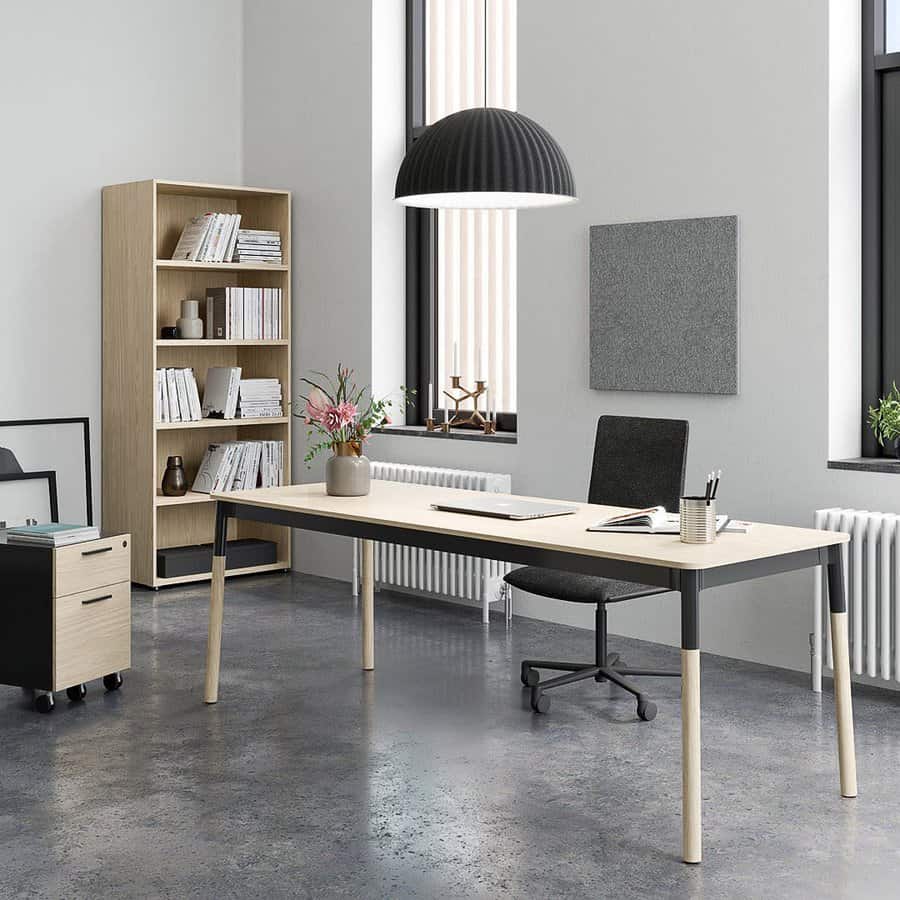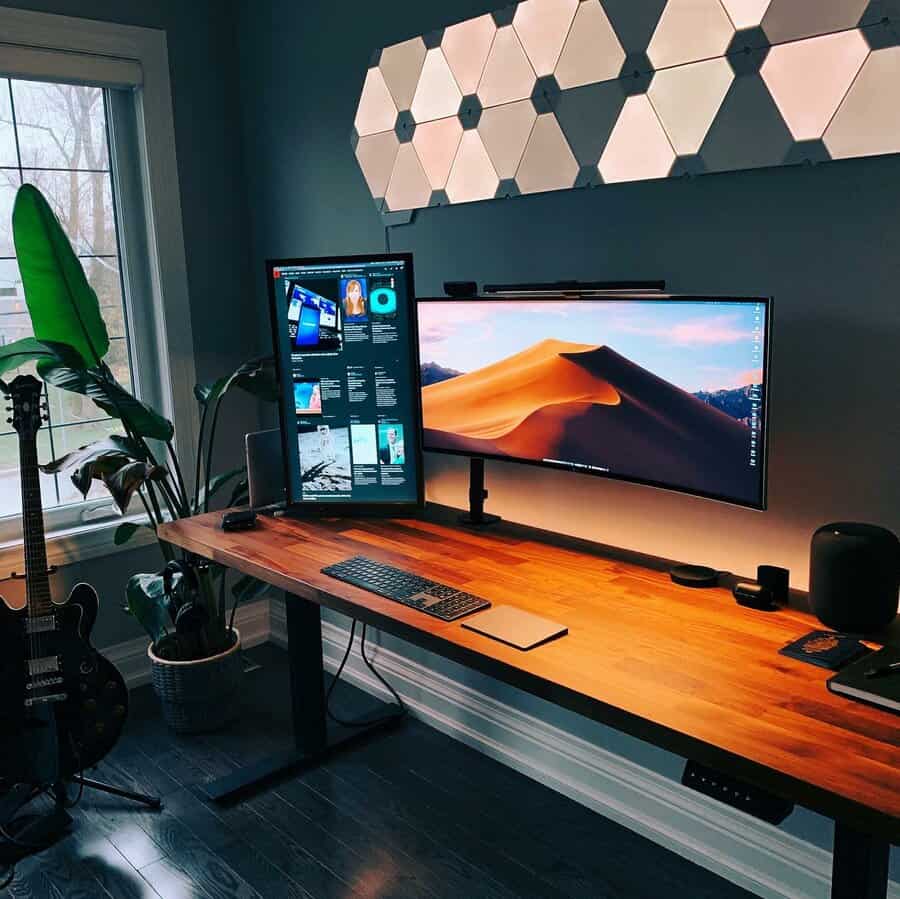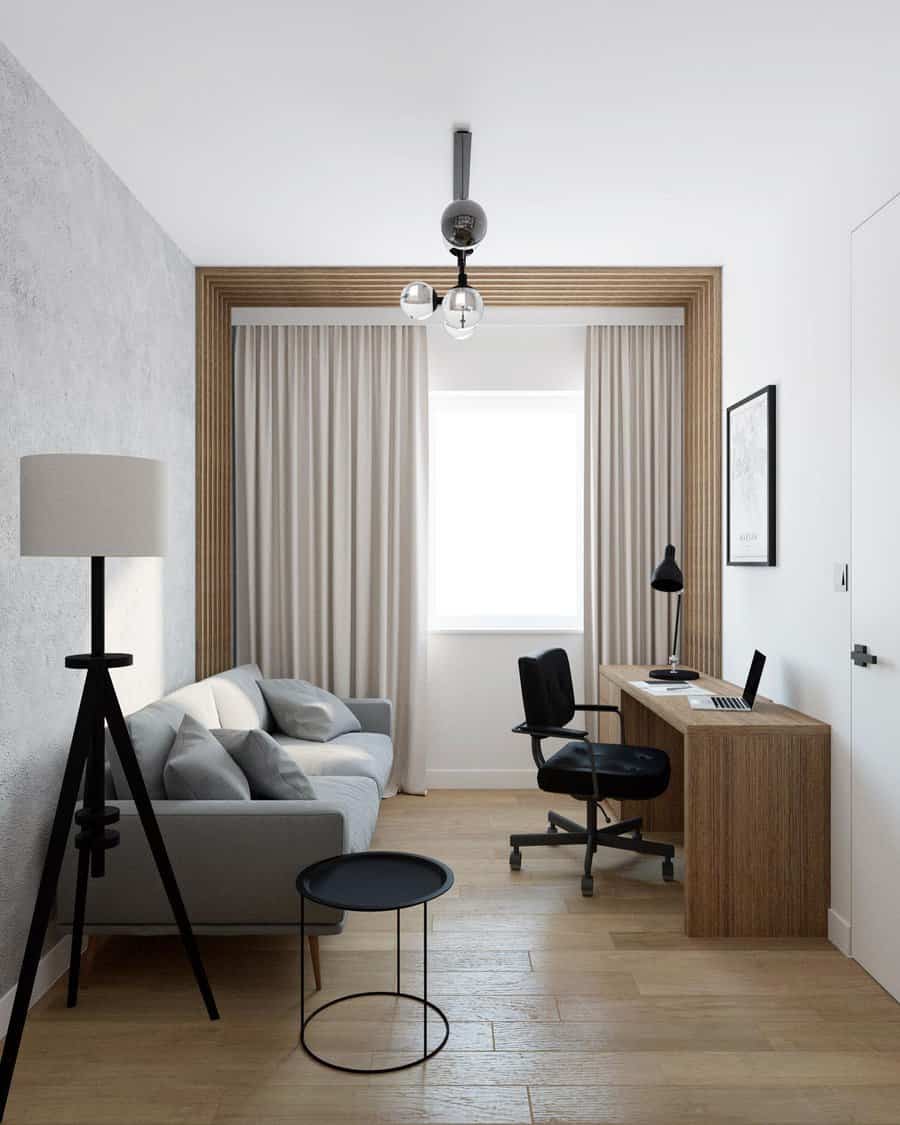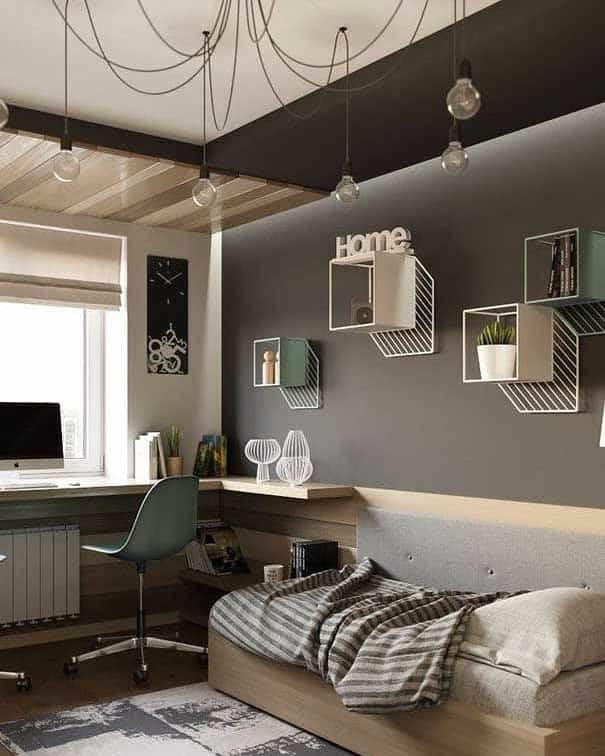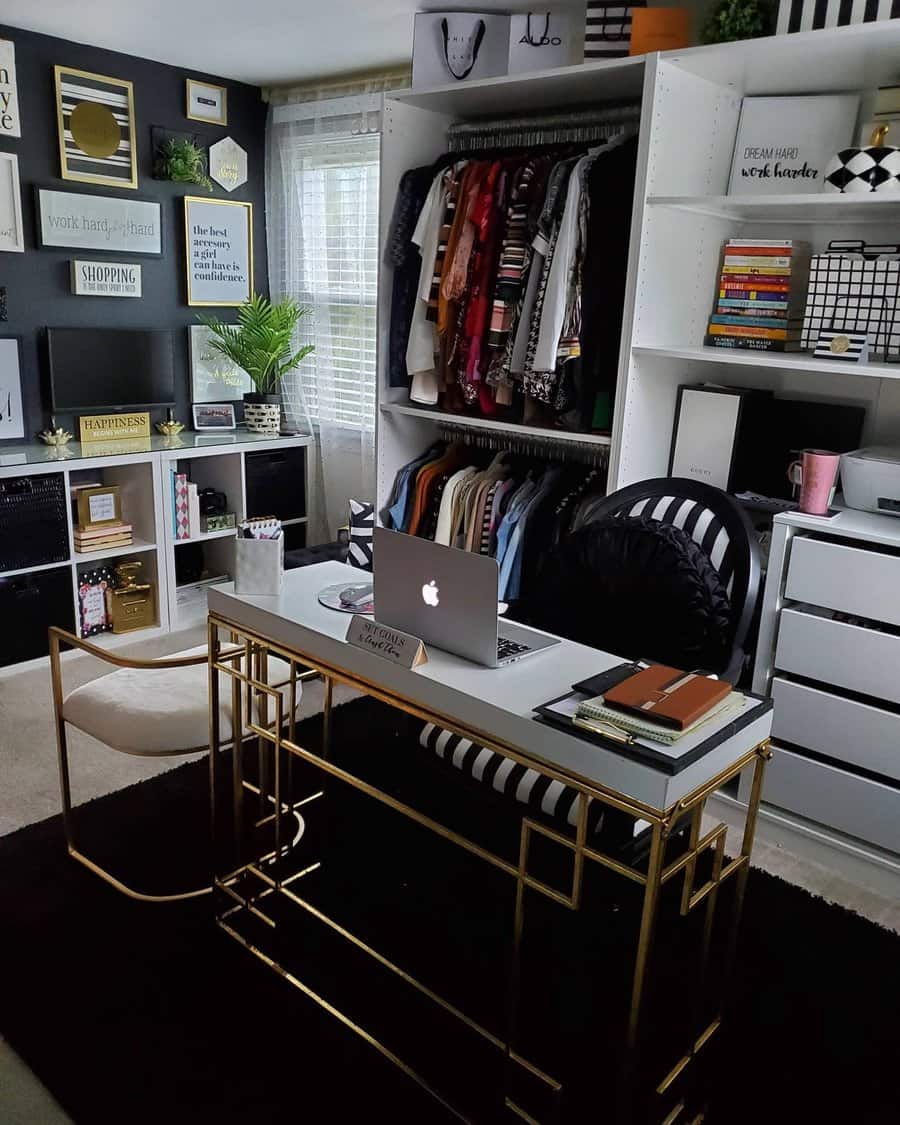 20. Shabby Chic Office
If you are looking to spruce up your home office, shabby chic is a great way to go. Think of using classic tones and a hint of rustic. For example, create shiplap walls with a white-washed desk for the ultimate chic effect.
You could also paint delicate accents around the walls and incorporate stylish decor pieces for an inviting atmosphere that you can work in comfortably. Soft lighting would bring out the charm perfectly. Shabby chic offers unique small home office ideas for those on a budget who still want to make their workspace look fantastic!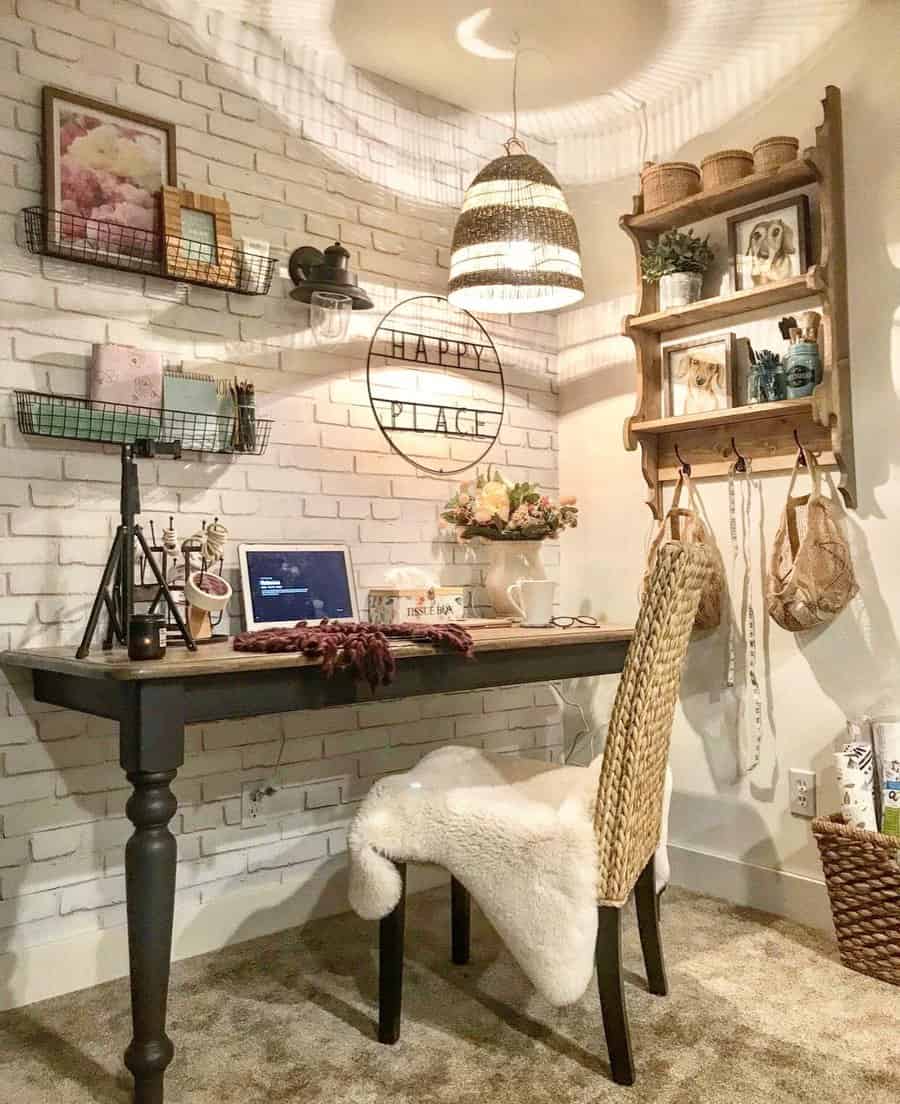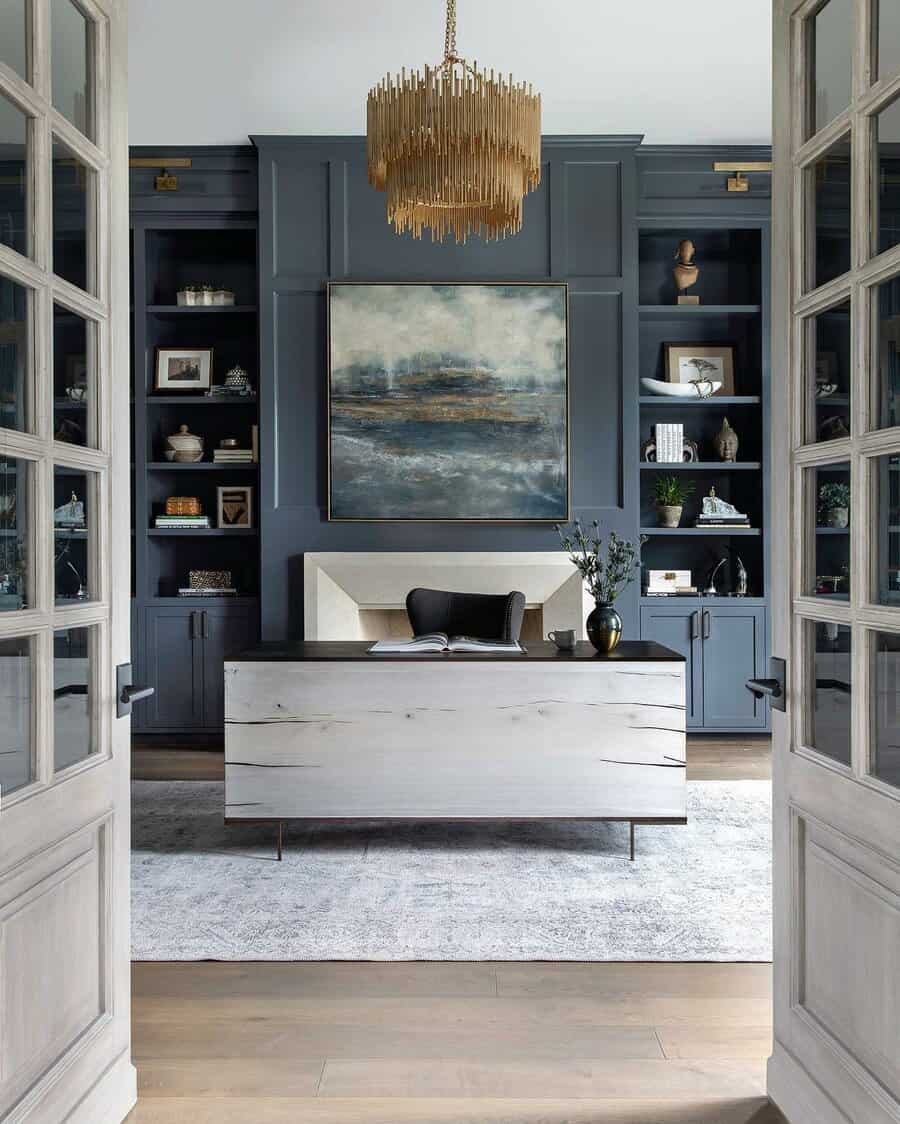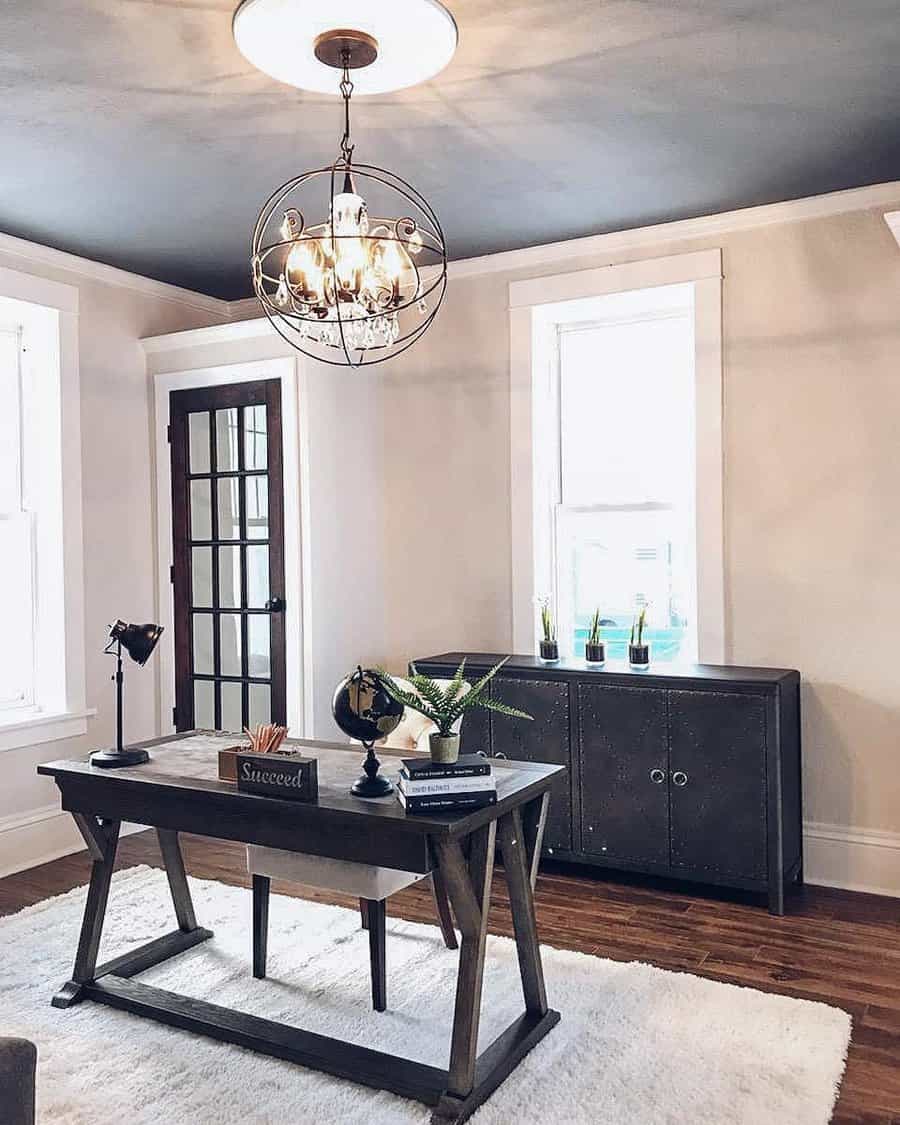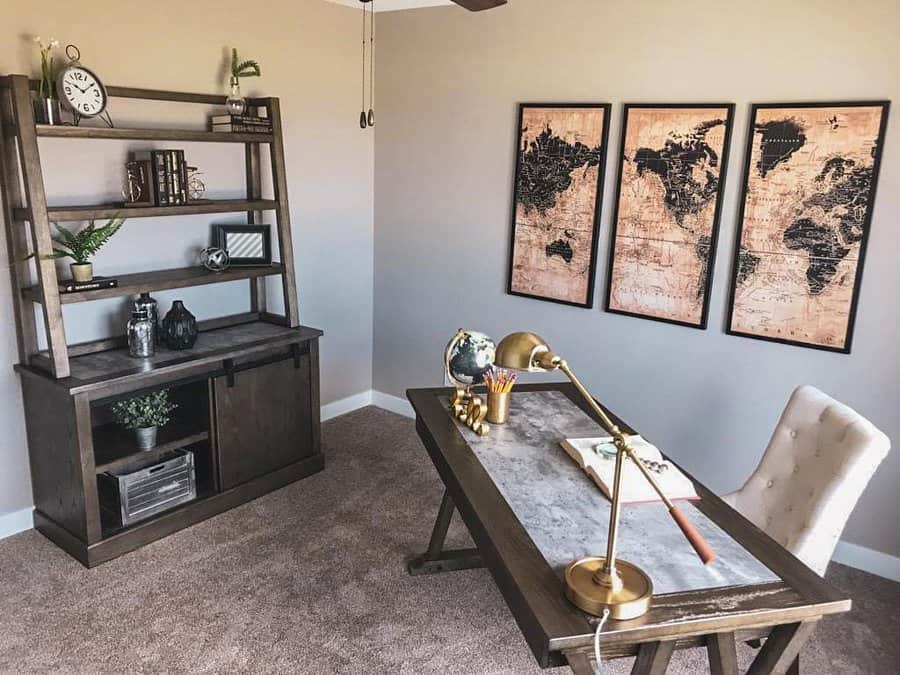 21. Accent Wall Trimming
Establishing a productive and creative home office has never been easier. Consider dedicating an entire wall to a feature, such as an accent wall trimming, for additional inspiration and visual intrigue. An accent wall will embellish your workspace with color or pattern and add an interesting dynamic to the layout of the room.
Think outside of the traditional desk setup – keep it fun and childlike with sturdy chairs and wiggle cushions to help stoke creativity while at work! Overall, small home offices are all about finding inventive ways to make your workspace comfortable and reflective of your personality.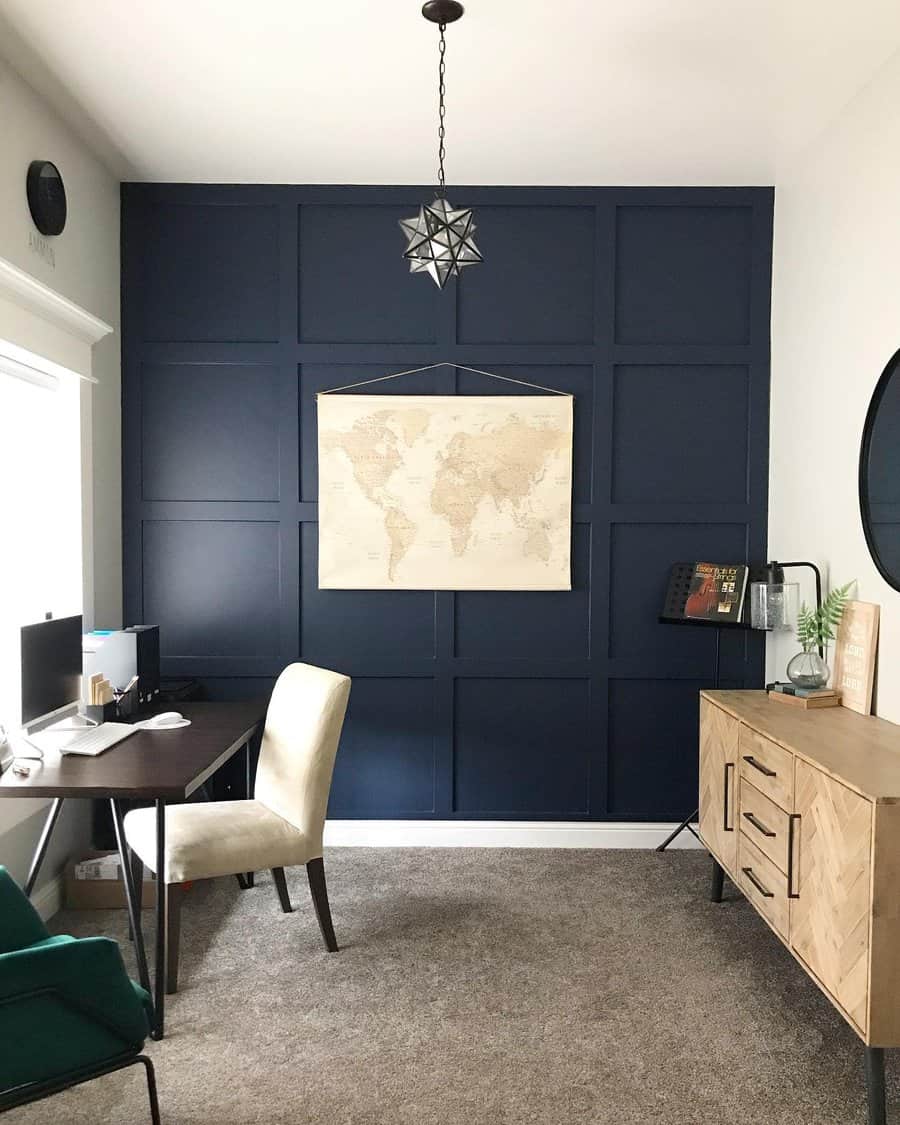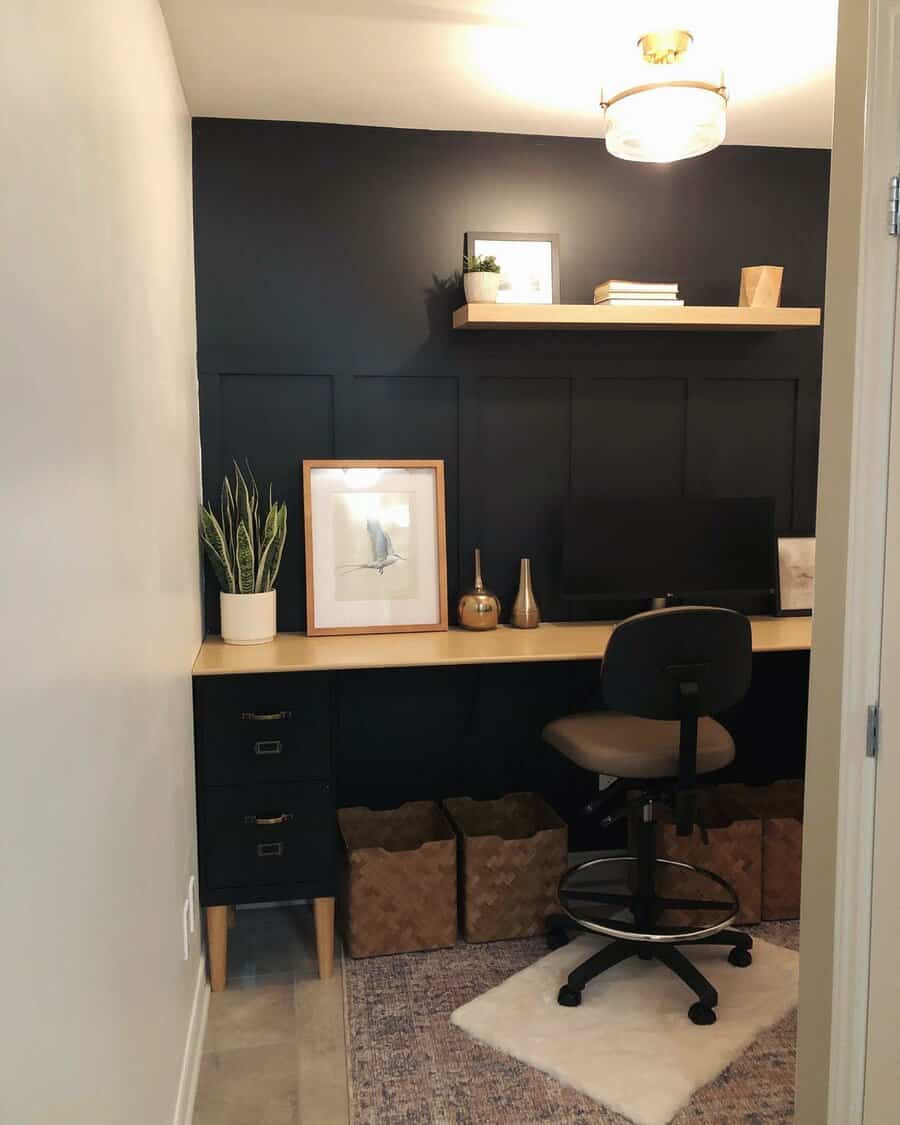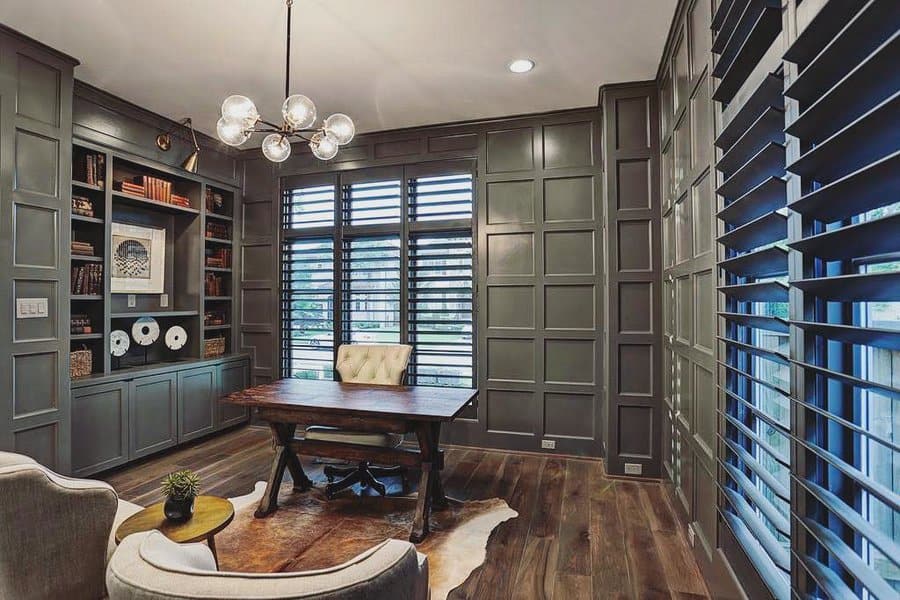 22. Throw An Area Rug
Creating a home office that is also relatively small can be a bit of a challenge, however, there are many great ideas to help maximize the space you have. One such example is a desk with an area rug below it – this helps create the illusion of more space while also creating an inviting aesthetic.
From there, select pieces of furniture and decorations that serve multiple purposes such as shelves for books, but also that double as decor. Lastly, don't forget to make sure your office space has adequate natural light and plenty of air circulation which will help to increase productivity. Following these tips should help create a creative and functional small home office.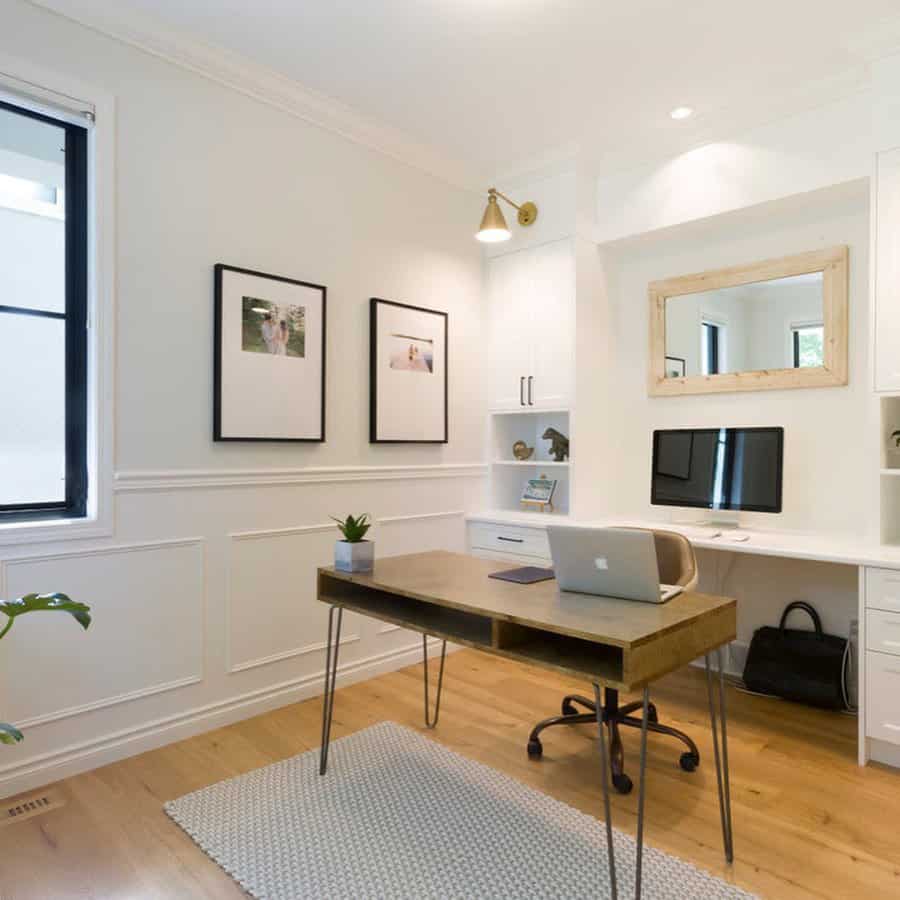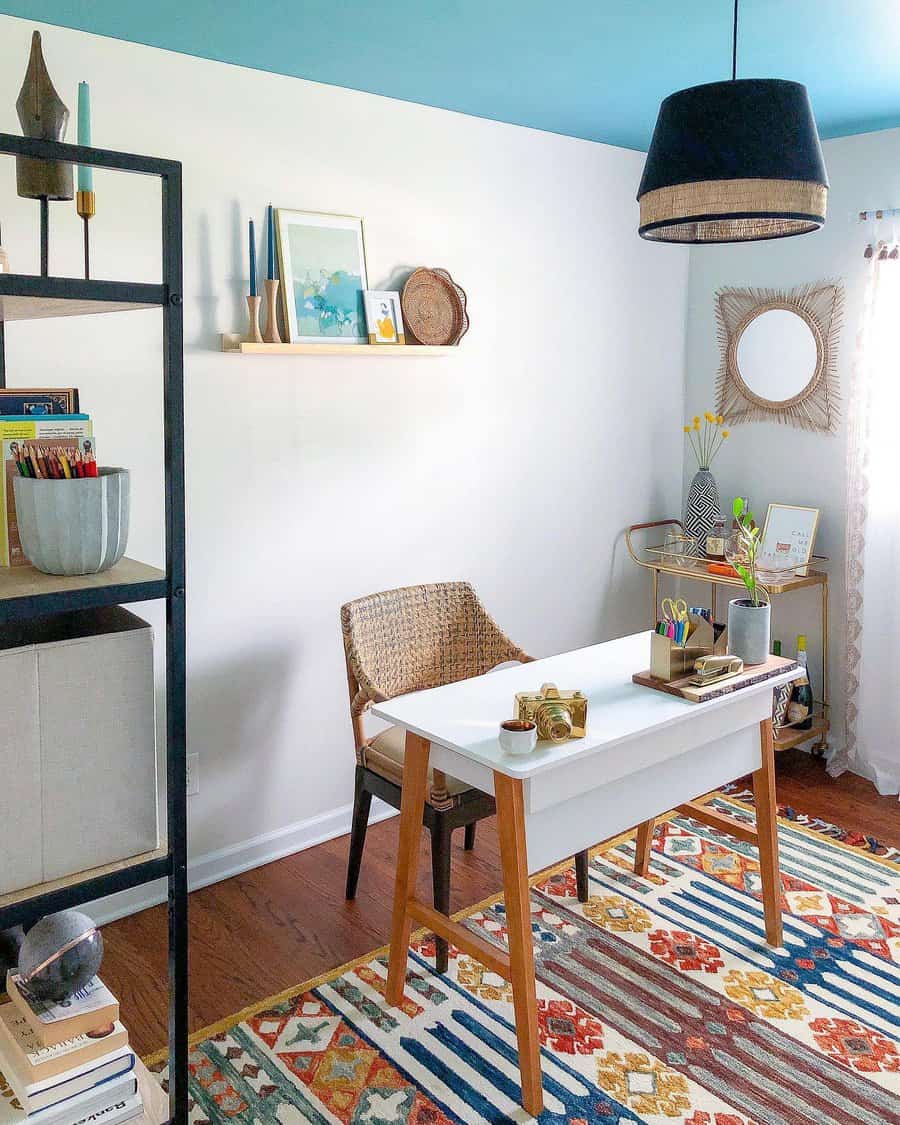 23. Wall Desk Drop Light
Creating a small home office doesn't have to seem daunting. With a few creative ideas, you can make the most of the limited space. Having an office desk with a wall drop light is one excellent way to save on desk space, allowing for more seating or mediums in which to work.
Think about repurposing items such as bookshelves and dressers to create multifunctional storage and organization options. Utilizing blank walls for inspiration boards will help keep your space open, but also be helpful in consolidating and organizing ideas that might otherwise be scattered around your workspace.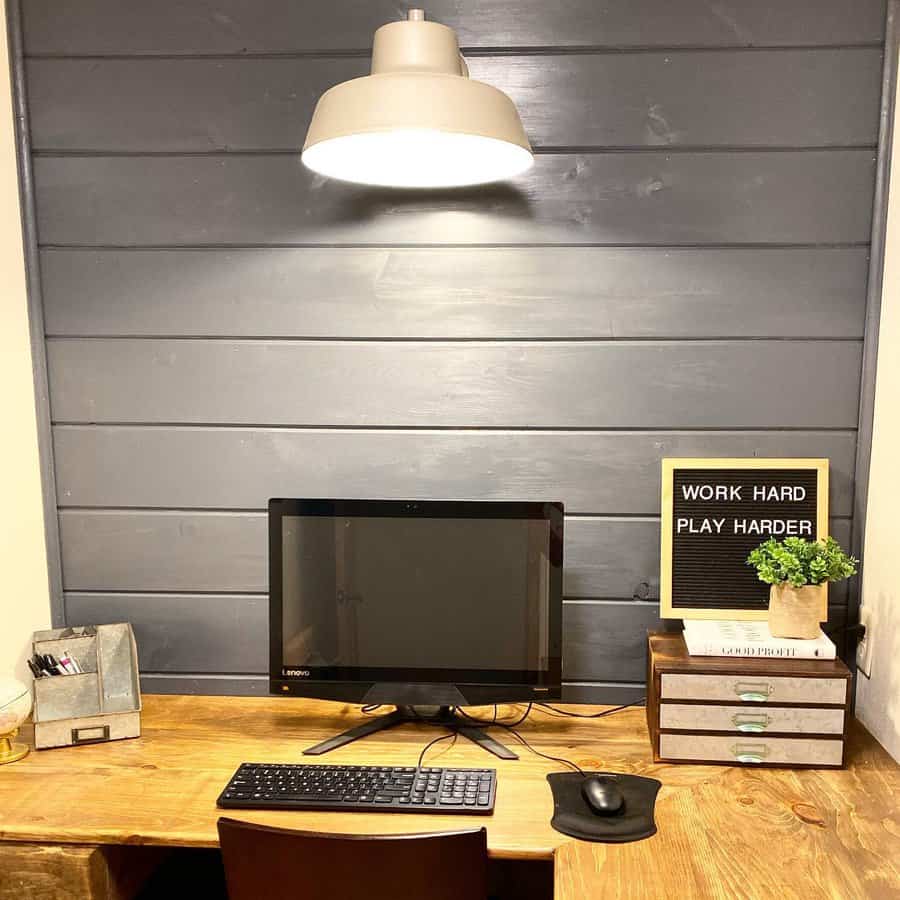 24. Gold & White Home Office
If you're looking for the perfect home office space, why not get inspired by a gold and white theme? A light, neutral wall color like off-white will help to keep your productive energy levels high. Try something unique by adding in gold accents like desk and lamp fixtures, or look for decorative storage solutions like woven baskets or open shelving made of natural wood.
Adding more personality can be achieved through potted plants, framed artwork, and colorful rugs. When designing a small home office layout, staying organized with clever storage solutions is key to making sure everything has its place. With these tips in mind, it's time to create your own stylish and functional workstation.
26. Scandinavian-Style Office
Working from home has quickly become the norm and an even more desirable option for many, but with it comes designing a functional yet stylish home office. If you're looking for ideas on how to create one, consider Scandinavian-style interiors.
Decor is kept minimal and airy with natural materials like wood, metal, and cotton dominating; neutral colors like greys, whites, and beiges provide a calming background when it's time to get to work. Utilizing decluttering techniques can also maximize the aesthetics of your space; look for multipurpose furnishings like laptop desks that double as storage units or floating shelves that take up minimal space and store paperwork and have multi-tasking abilities.
Finally, bringing in some green plants not only freshens up the room but also improves air quality so you can breathe easily while working hard.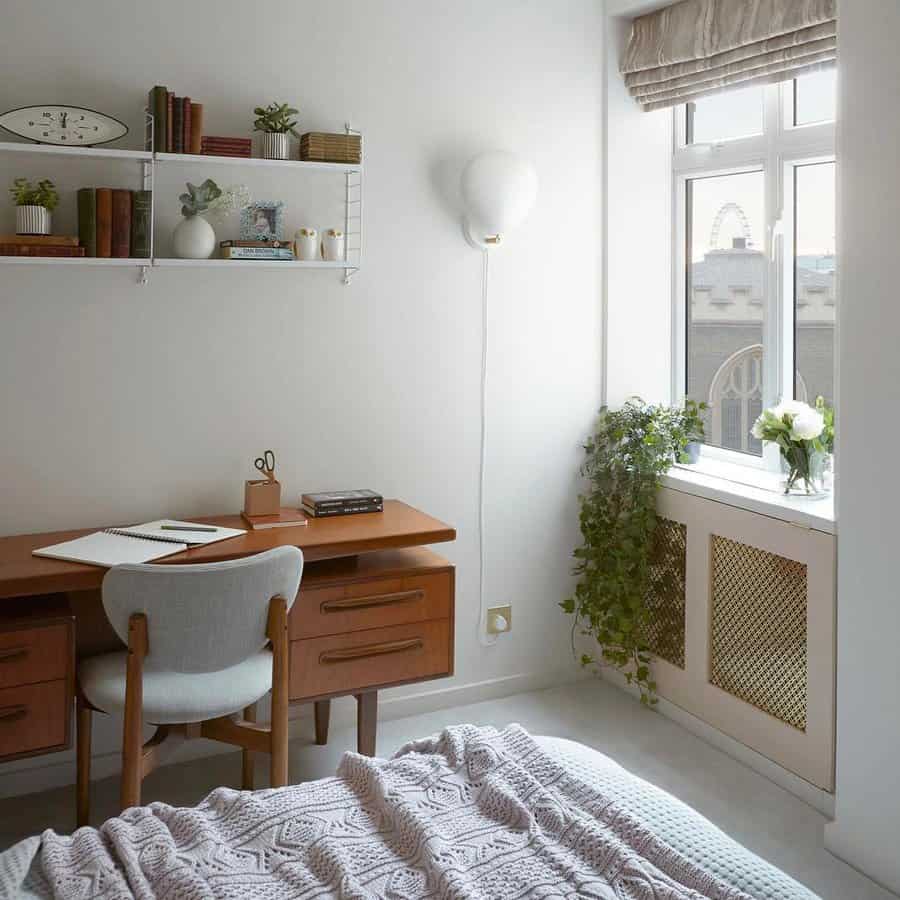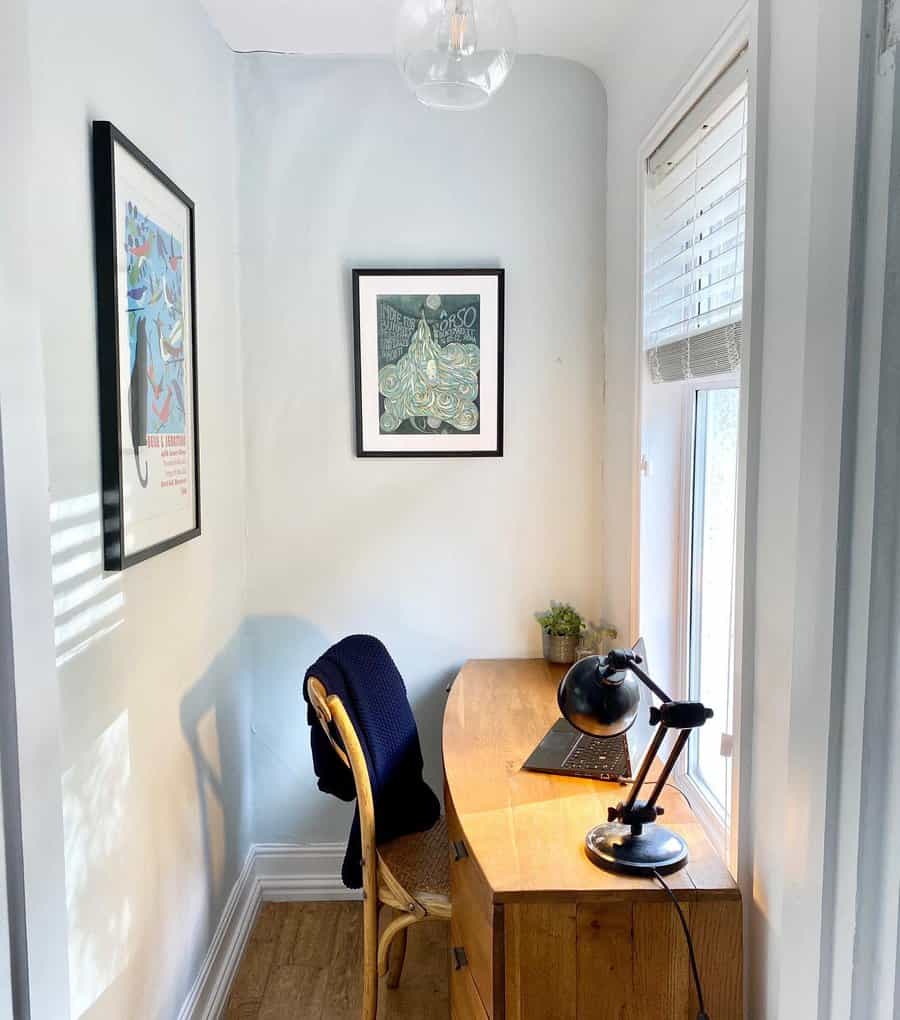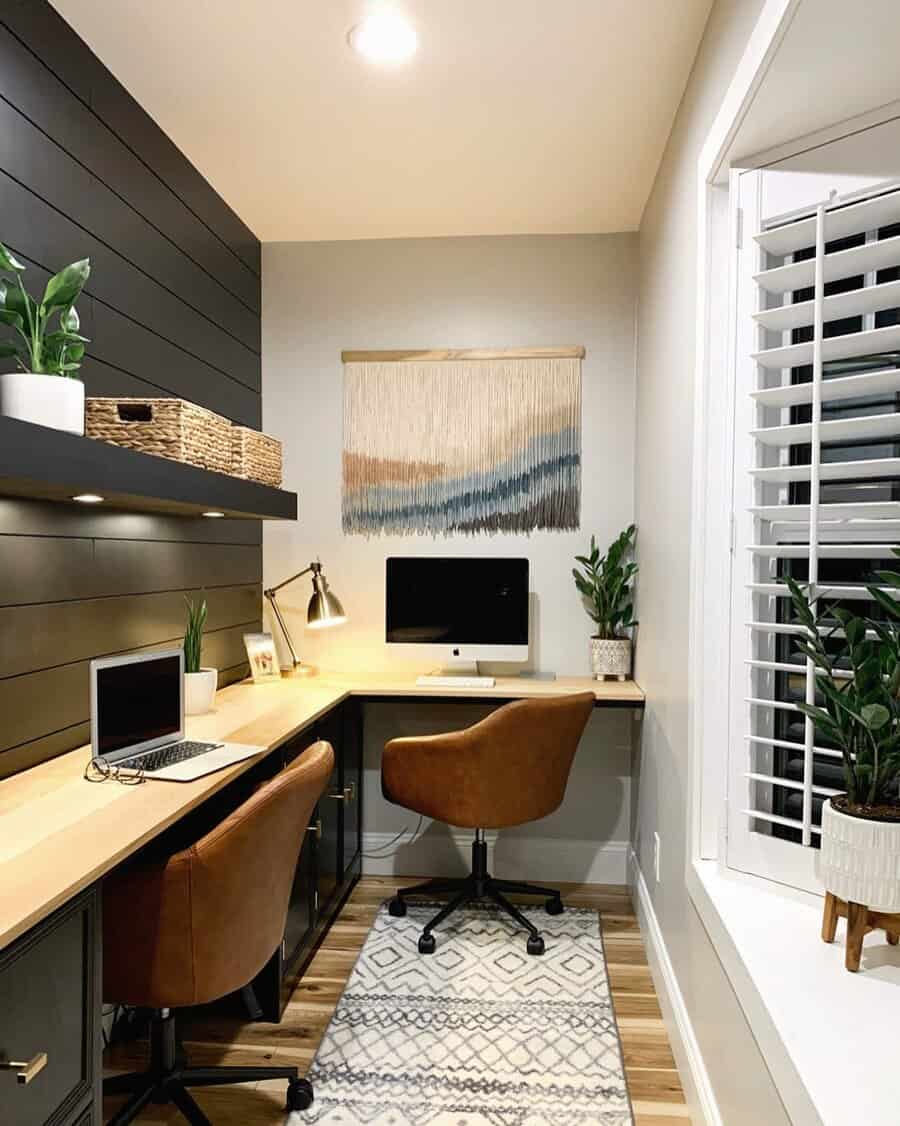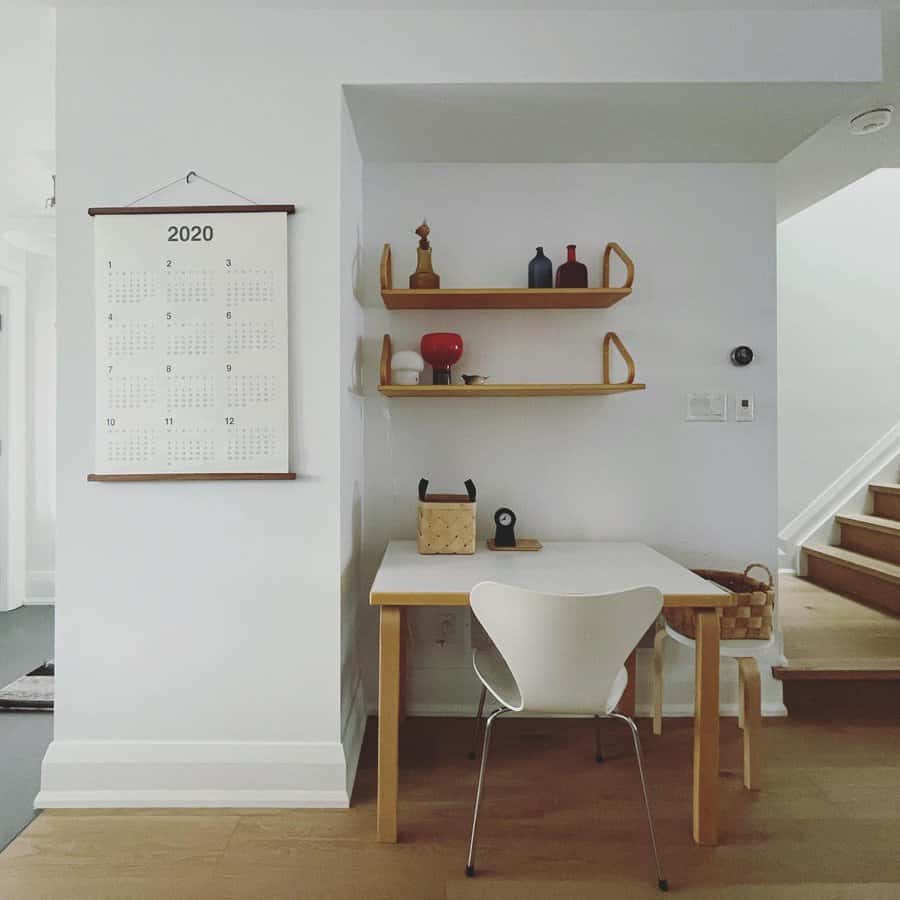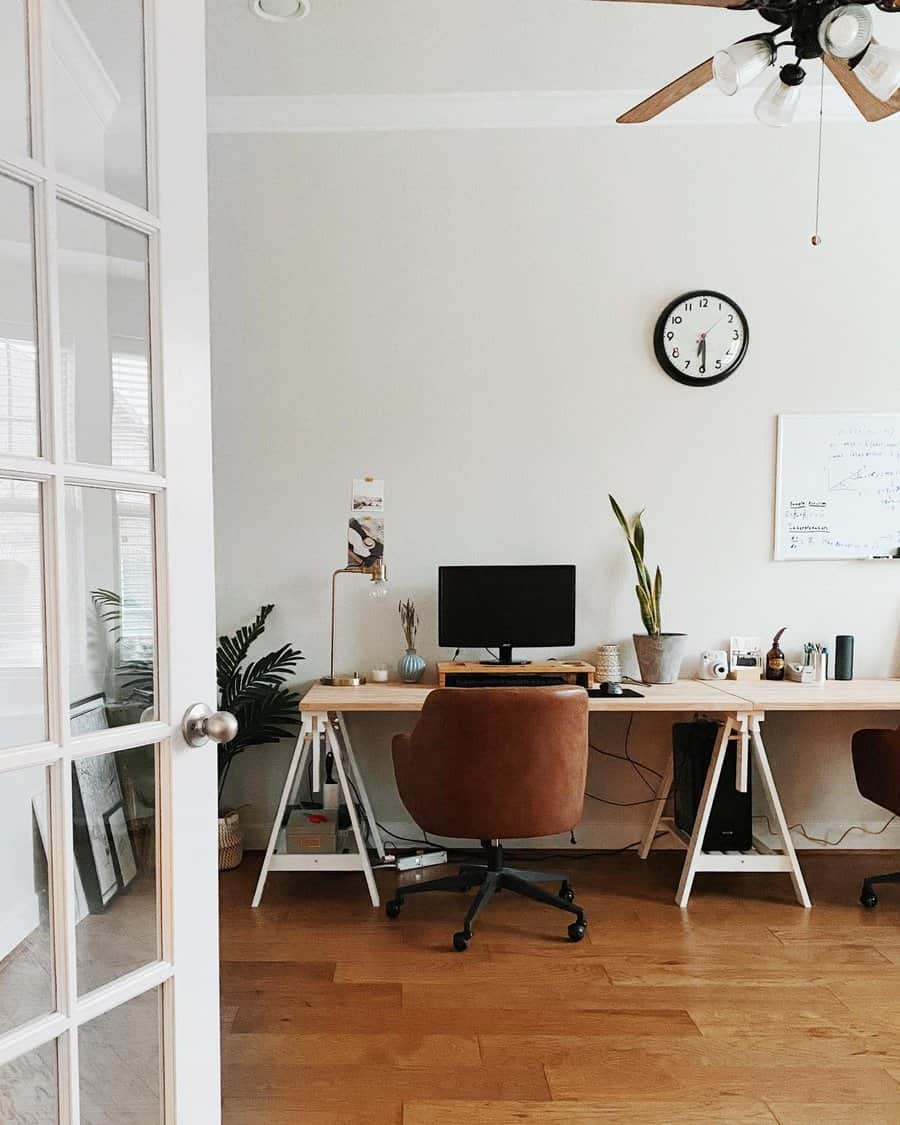 27. Recessed Office Desk
If you're looking for a creative way to turn a small room into a home office, consider adding a recessed office desk. This is essentially an area near the wall that has been built out and provides you with the perfect-sized workspace for any project.
Not only does it free up precious floor space, but it also reduces visual clutter and keeps distractions to a minimum – helping you stay focused and productive. You can find DIY instructions online if you're feeling crafty or hire a professional to ensure that the job is done properly. Either way, having an effective home workspace in your small living space will help minimize stress and make working from home more enjoyable!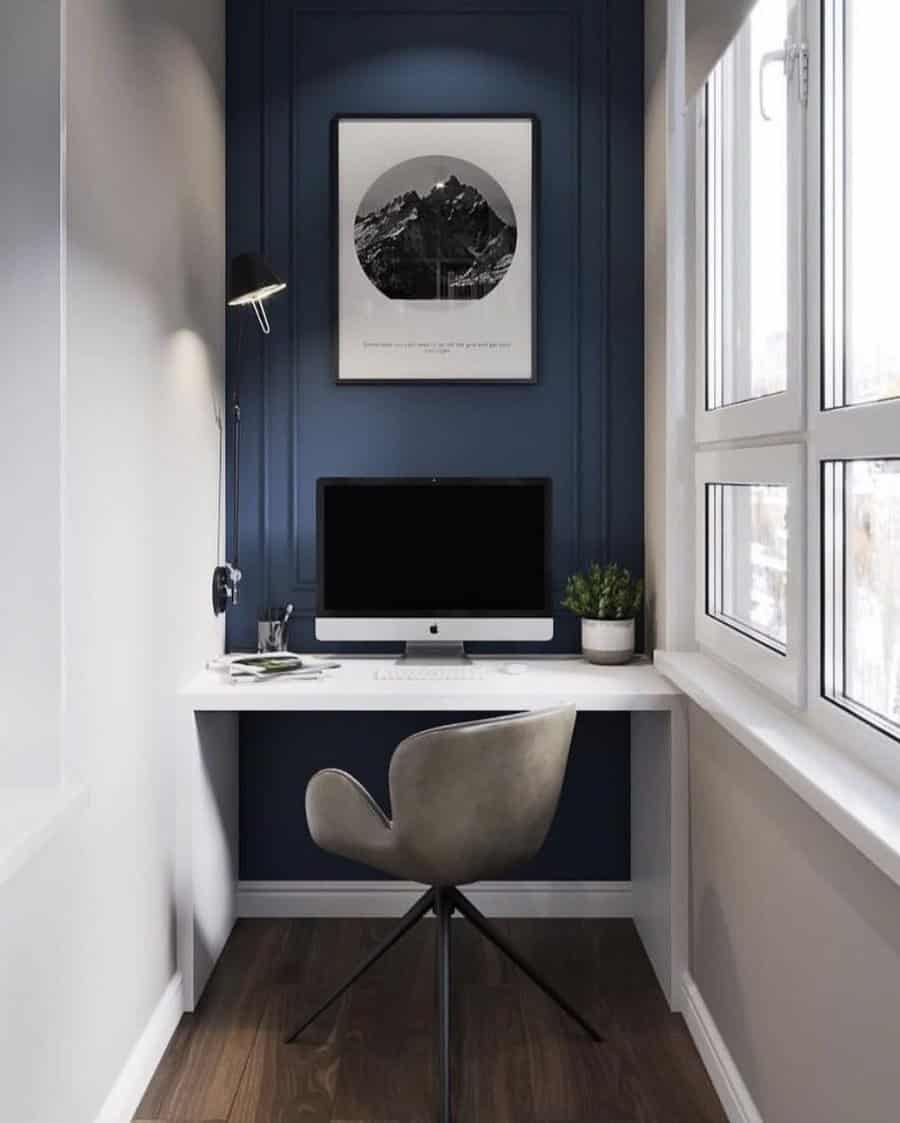 Small Office FAQs
Which paint colors are best for a home office?
Most designers recommend off-white or beige walls for an office space. White walls are simple and easy to decorate around. But any neutral shade will do in most cases.
The industry your work in may play a role in the ideal wall color for your home office. For example, creative industries tend to embrace far more eclectic design choices than more traditional industries.
At the end of the day, you are the one spending the most time in your home office space. Unless you take frequent video calls or see in-home clients, you can technically paint your office walls any color you like!
Where is the best location for a home office?
Ideally, your home office should be in a separate area rather than in the middle of your main living space. A guest bedroom or even closet can be easily transformed into a cozy office nook.
Try to keep your workspace away from living areas meant for relaxation. For example, a home office should only be placed in a master bedroom if there is no other option available.