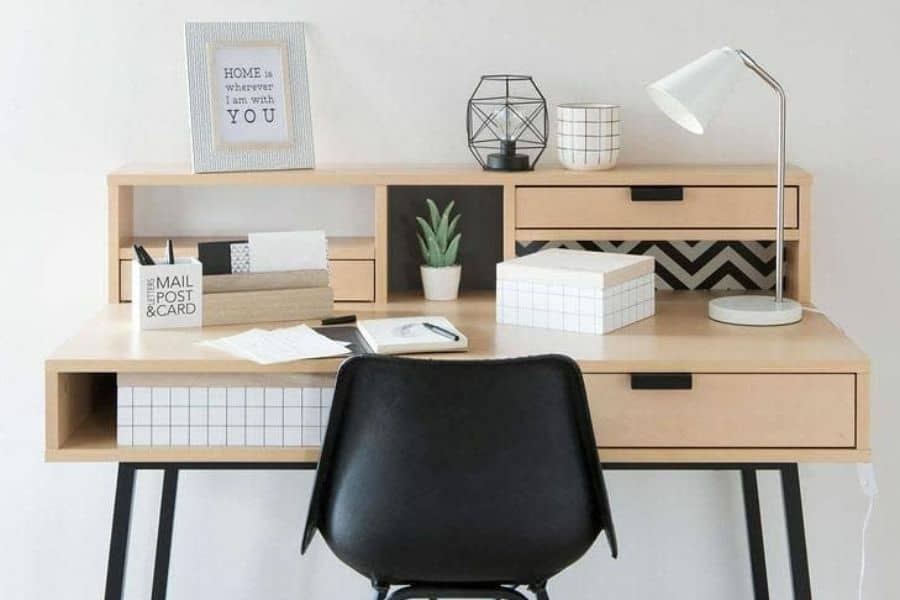 83 Small Home Office Ideas
by — Kendrick Hulse

Published on July 12, 2021

Updated on September 28, 2023
There are plenty of reasons to dread the workday (no matter how much you love your job!). Your office space shouldn't be one of them.
With more people working from home than perhaps ever before, we've found ourselves with a ton of freedom to decorate our offices to suit our needs and personal styles. So what's stopping you?
If you're like most at-home workers, space is a major concern. The good news is that decorating a small space doesn't need to be a chore! Keep reading for our favorite small office ideas you can recreate whether you work at home or in a cubicle.
1. Illuminate Your Space with Desk Lamps
Maximize your small home office's functionality and aesthetics by incorporating desk lamps. Enhance your workspace with quality office desks and strategically place desk lamps to provide ample, eye-friendly illumination. Consider natural light sources to reduce strain and foster a comfortable work environment. Plus, explore compact desk options available both in stores and online to maintain your room's aesthetic while accommodating your office needs. Small home offices can harmonize style and productivity seamlessly.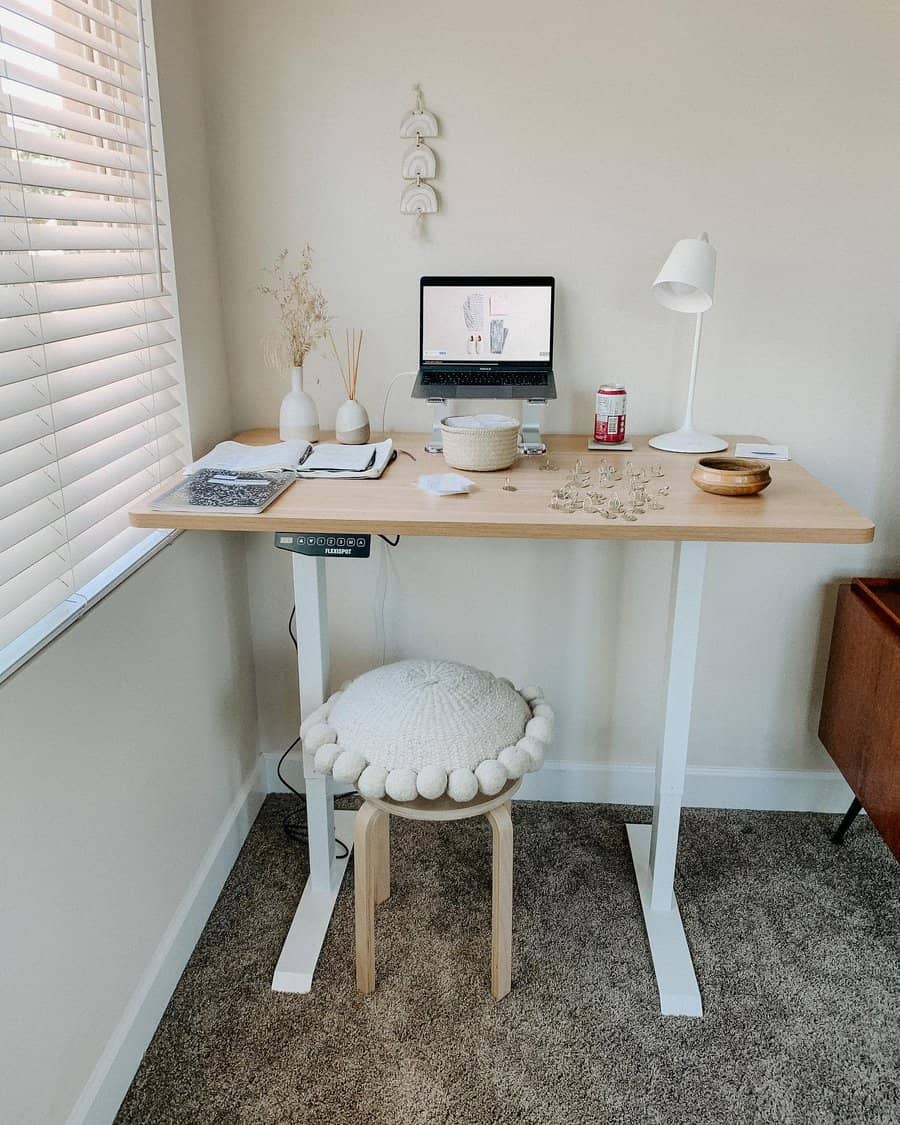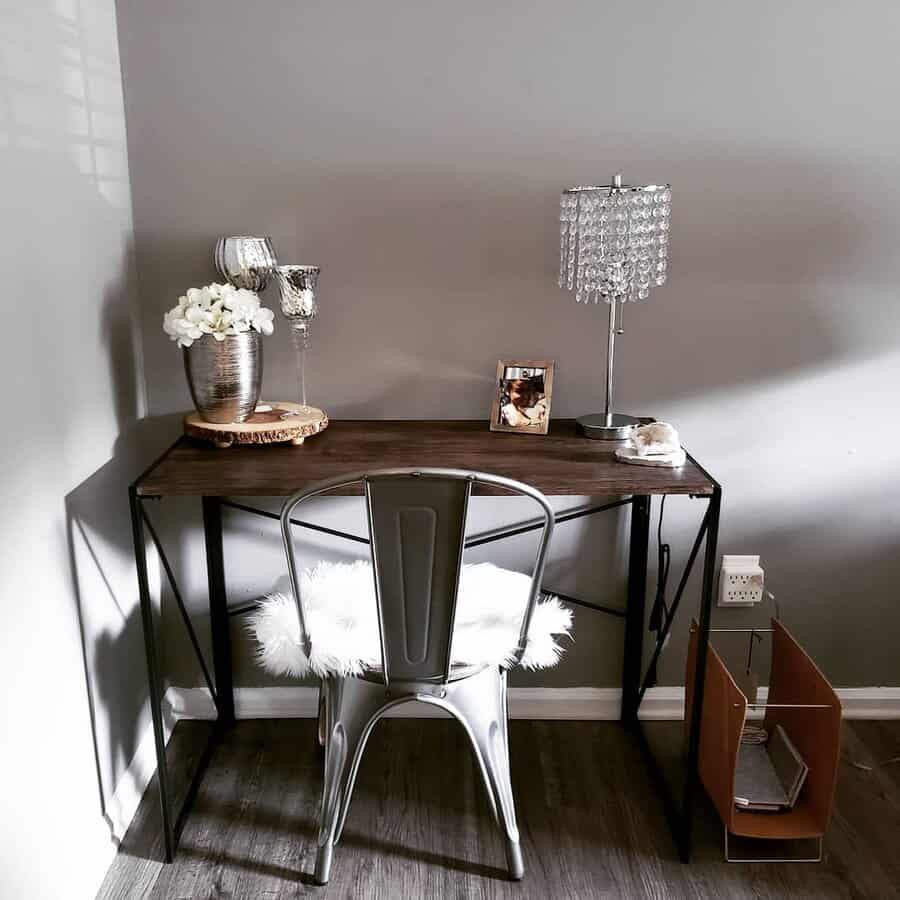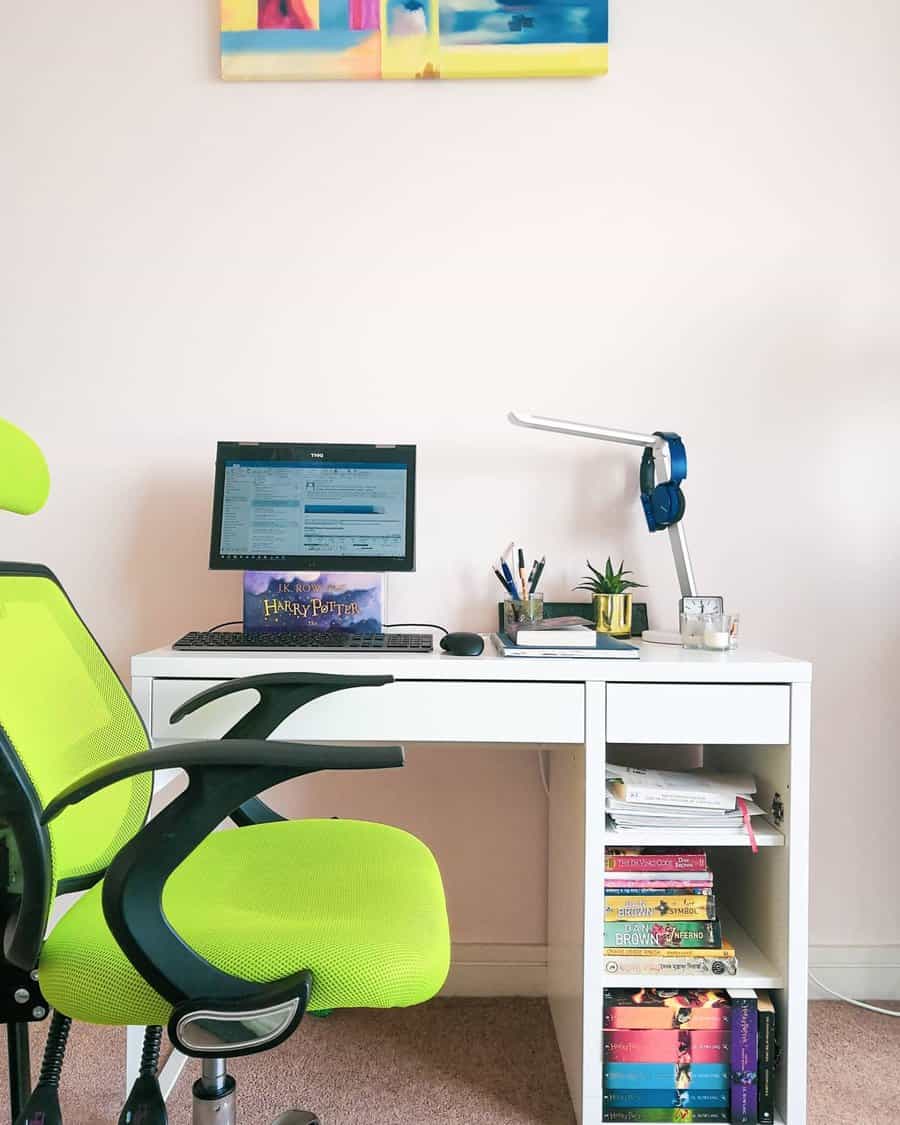 2. Optimize Space with Pull-Out Desks
Don't compromise on comfort and productivity in your small home office. Make the most of limited space by opting for desks with pull-out extensions. These versatile desks provide extra workspace when needed, minimizing the footprint. Enhance organization with standalone shelves and drawers, ensuring your office supplies are neatly stored.
By integrating pull-out desks and smart storage solutions, you can transform even the coziest spaces into efficient workstations that cater to both functionality and aesthetics, allowing you to work comfortably and stylishly from home.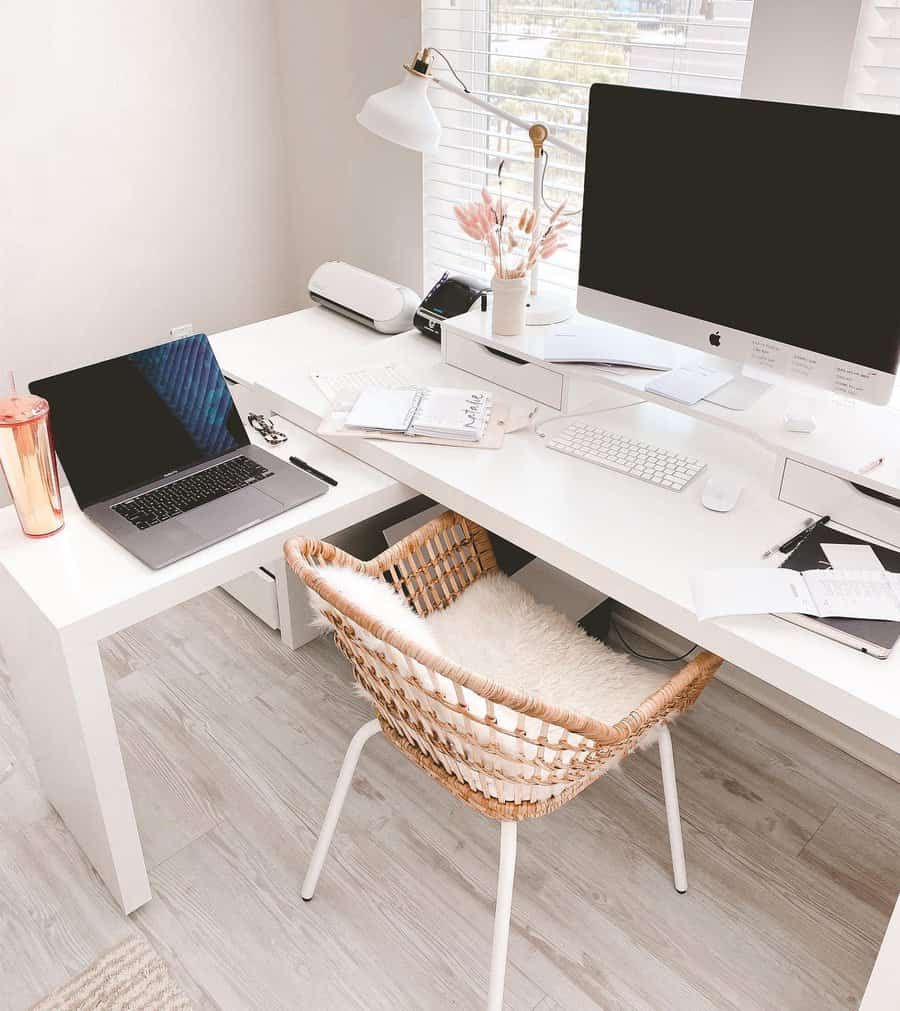 3. Utilize Corners with Corner Desks
When setting up a compact home office, leverage the potential of your room's corners by choosing a corner desk. This design allows you to maximize wall space and reduce the need for additional furniture. Not only does it save precious room, but it also imbues your workspace with a professional touch.
Get creative with your corner desk setup by adding wall hangings or greenery to enhance the ambiance. These decorative elements can tie the look together and infuse vitality into the atmosphere. In essence, opting for a corner desk is a stylish and space-saving investment that elevates both the aesthetics and comfort of your small home office.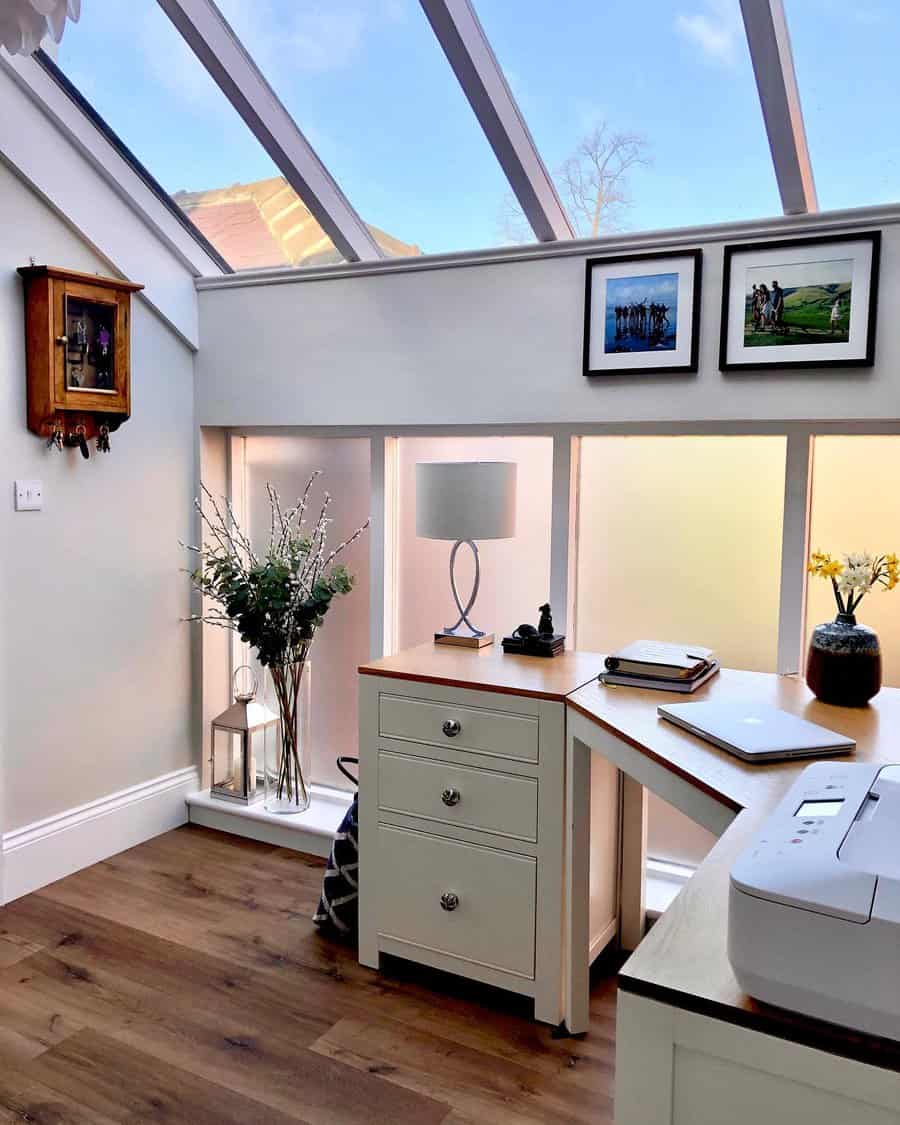 4. Organize with a Pegboard Wall
Efficiently craft your home office in limited space with a pegboard wall. This versatile solution not only offers ample storage for office supplies but also serves as a sturdy base for your desk setup. Customize its appearance by painting it to match your room's aesthetics, and then add shelves and cupboards for extra storage.
With this practical approach, you can create a workspace that's conducive to creativity and productivity, regardless of your home's size. A pegboard wall maximizes functionality while maintaining a clutter-free and visually appealing small home office.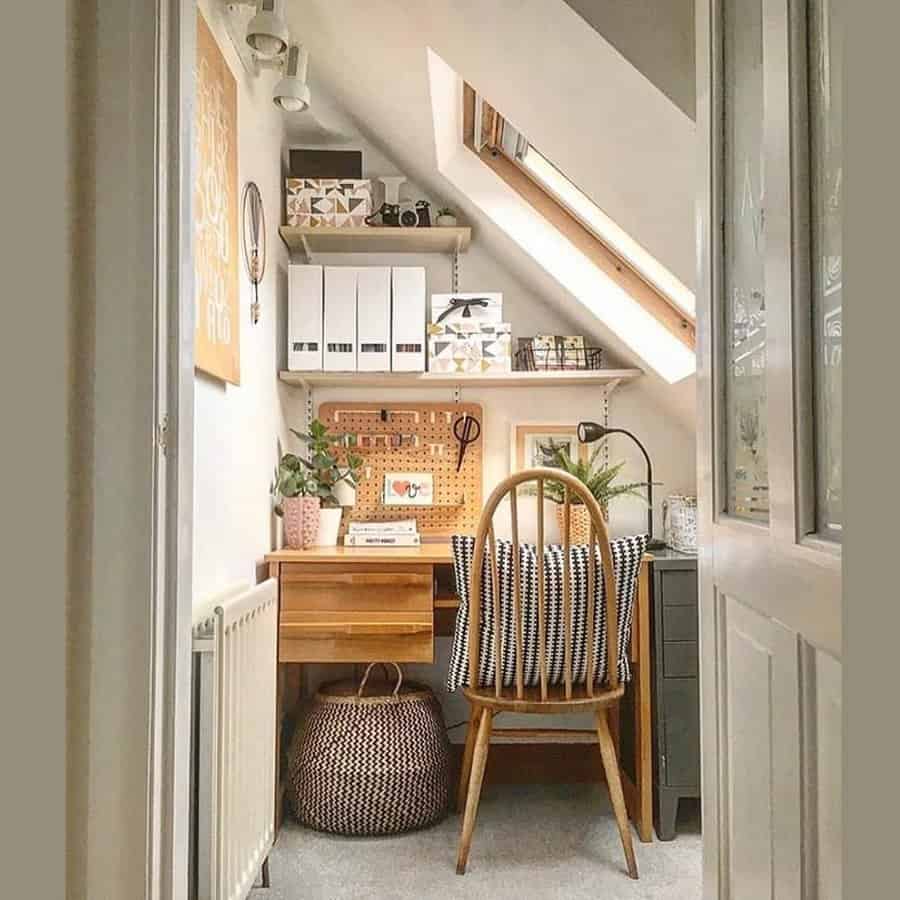 5. Stay Organized with a Blackboard
Transform your home-based work into an aesthetic delight by incorporating an office desk with an integrated chalkboard surface. Beyond offering a spacious work area, this feature becomes a handy space to brainstorm ideas and outline projects conveniently.
For a distinctive touch of creativity, consider dedicating an entire wall as a chalkboard, serving as your go-to canvas for thinking outside the box. Embracing this versatile blackboard element elevates both the functionality and visual appeal of your home office, making it a dreamy and productive workspace.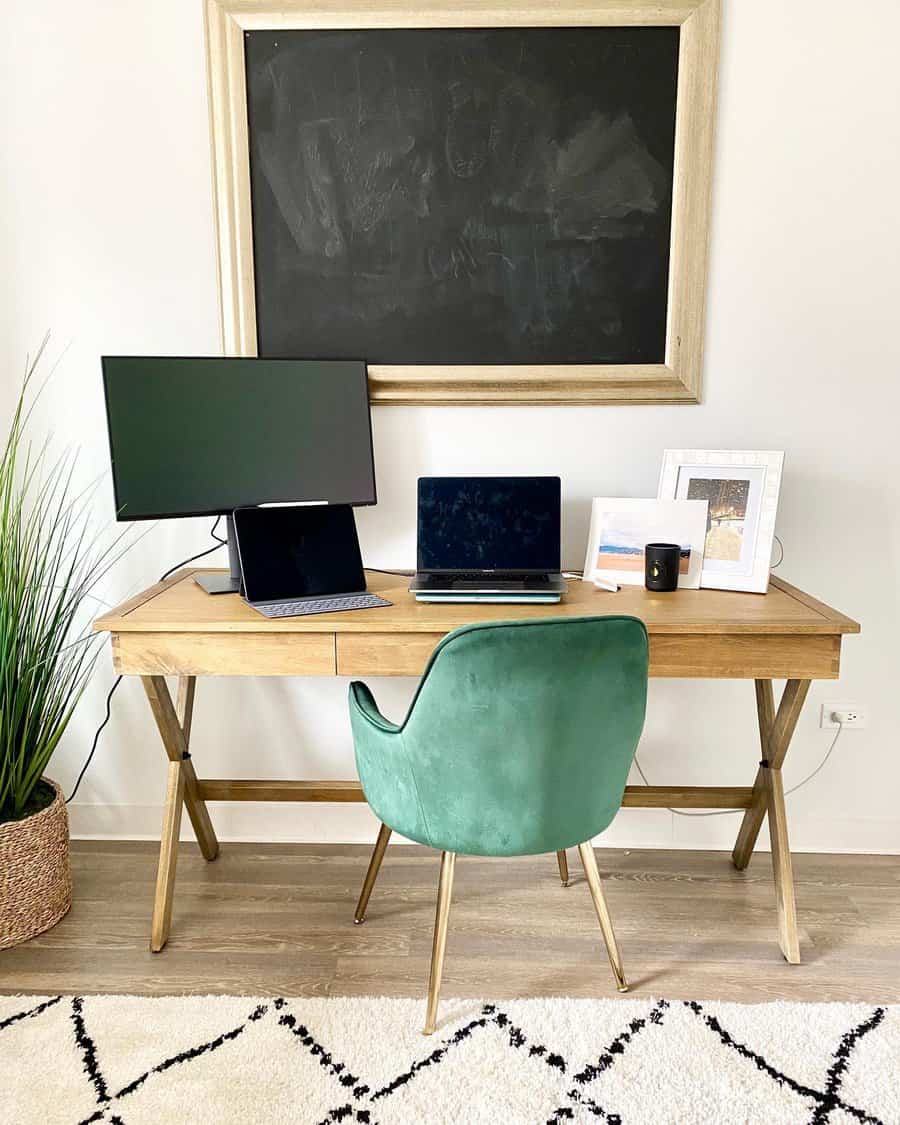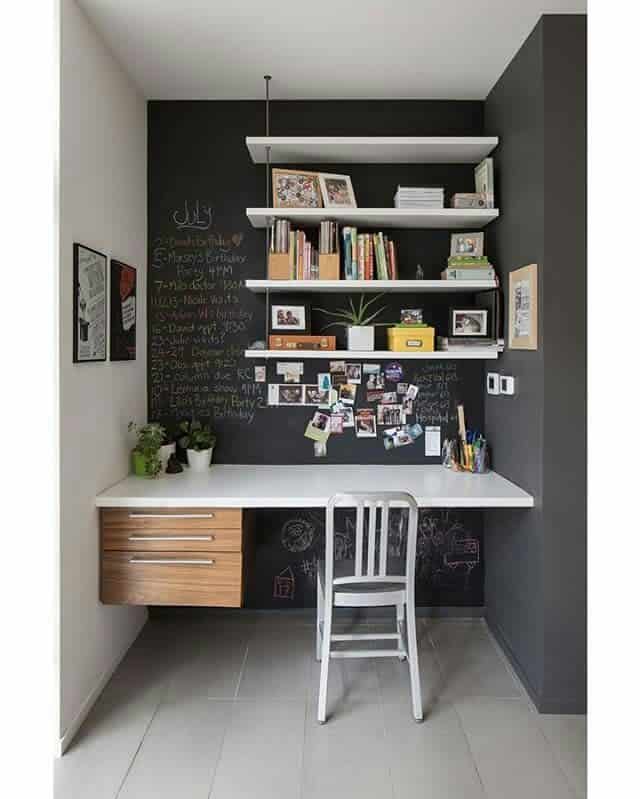 6. Embrace Natural Light in Bay Window Offices
Transform your home office by embracing a bay window setup that draws inspiration from the outdoors. To infuse beauty and creativity into your workspace, position your desk near the bay window to maximize natural light, boosting productivity. Complement the space with simple decor such as potted plants and hung artwork for added vibrancy.
Since bay window offices often lack floor space, opt for wall-mounted shelves and storage units to keep essential documents and supplies organized. With a touch of creativity and style, you can achieve a stunning home office that seamlessly blends aesthetics with practicality, fostering a productive and organized environment.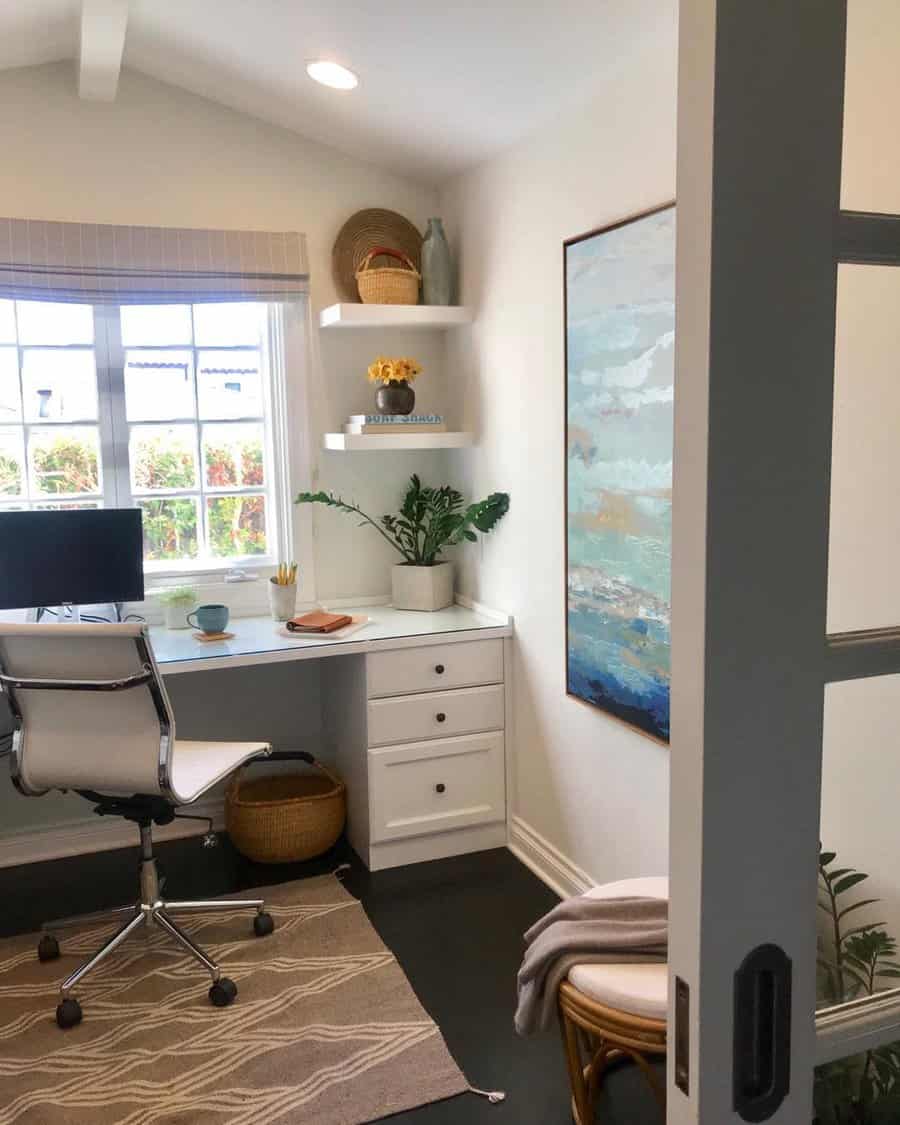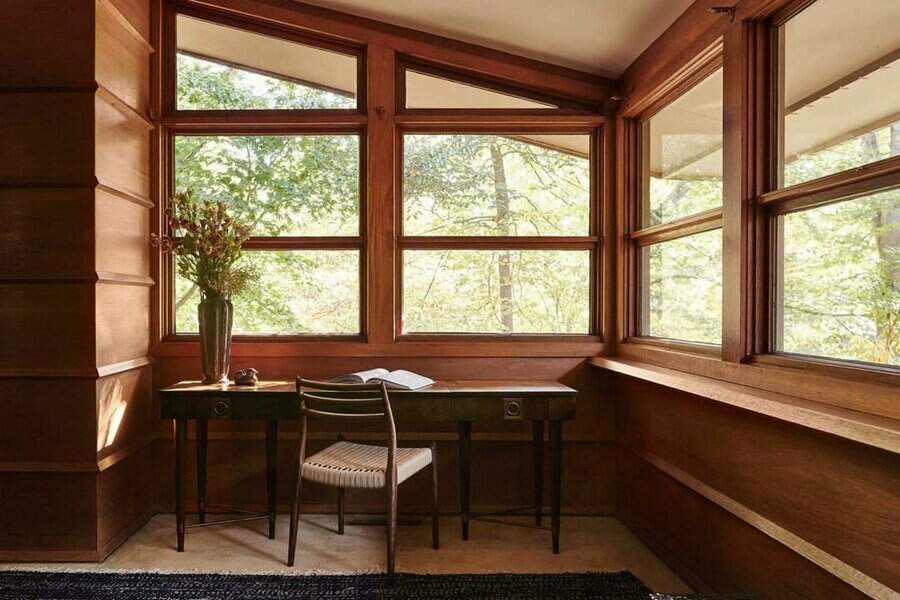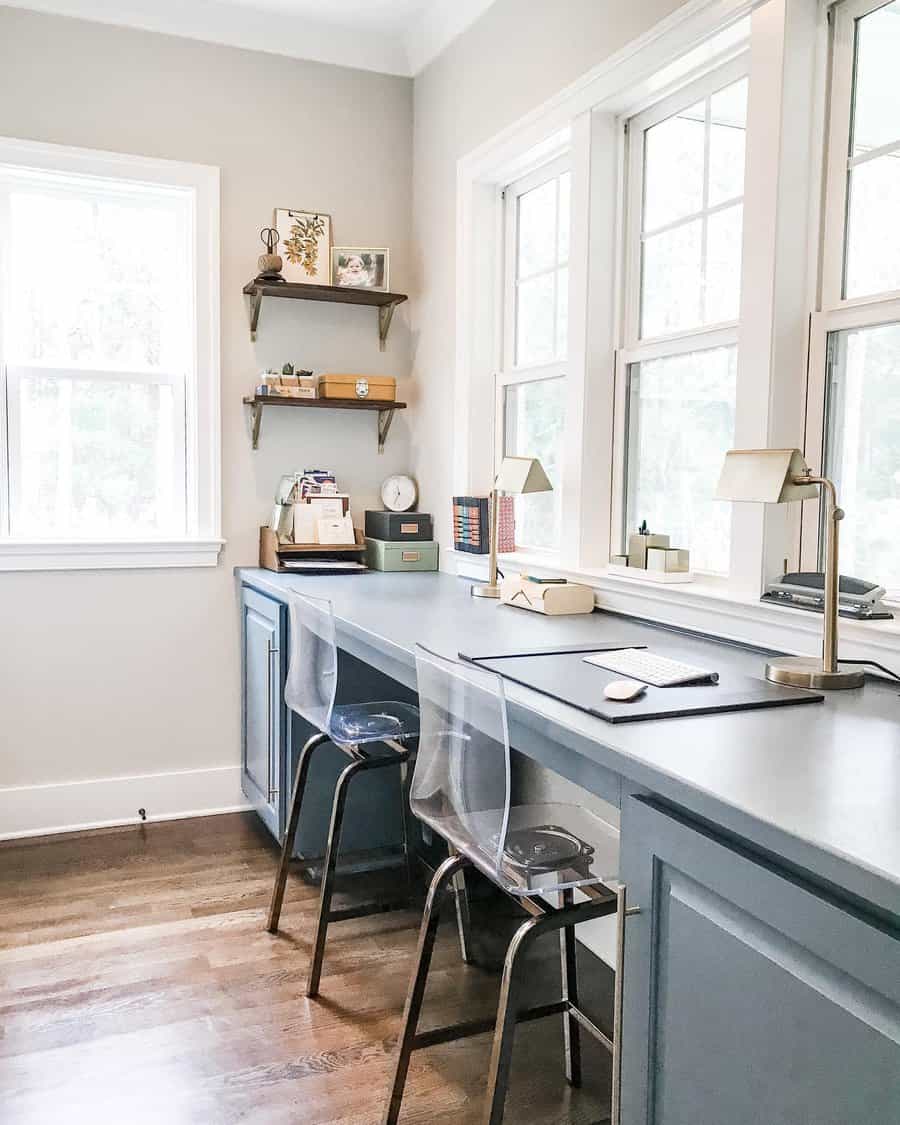 7. Merge Work and Home in the Living Room
Transform your living room into a functional small home office if you lack a dedicated workspace. Start by clearing an unused corner and adding a compact table and comfortable chair. Use creative wall decor to define the office area, preventing it from feeling cluttered.
Incorporate color-coordinated storage solutions like vibrant wire baskets to neatly stow away paperwork and devices when not in use. Personalize the space with inspiring decor items to strike a harmonious balance between work and relaxation. With these thoughtful touches, your living room becomes a versatile hub for both productivity and leisure.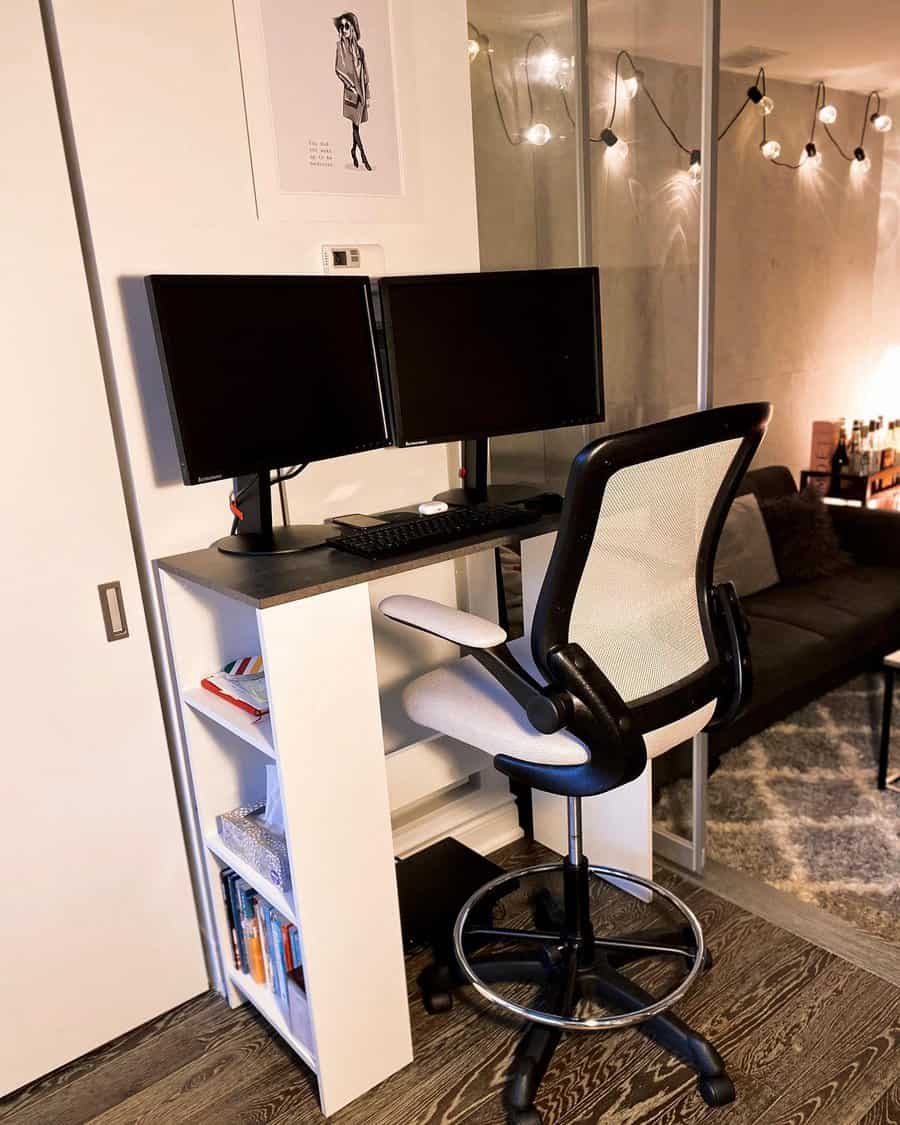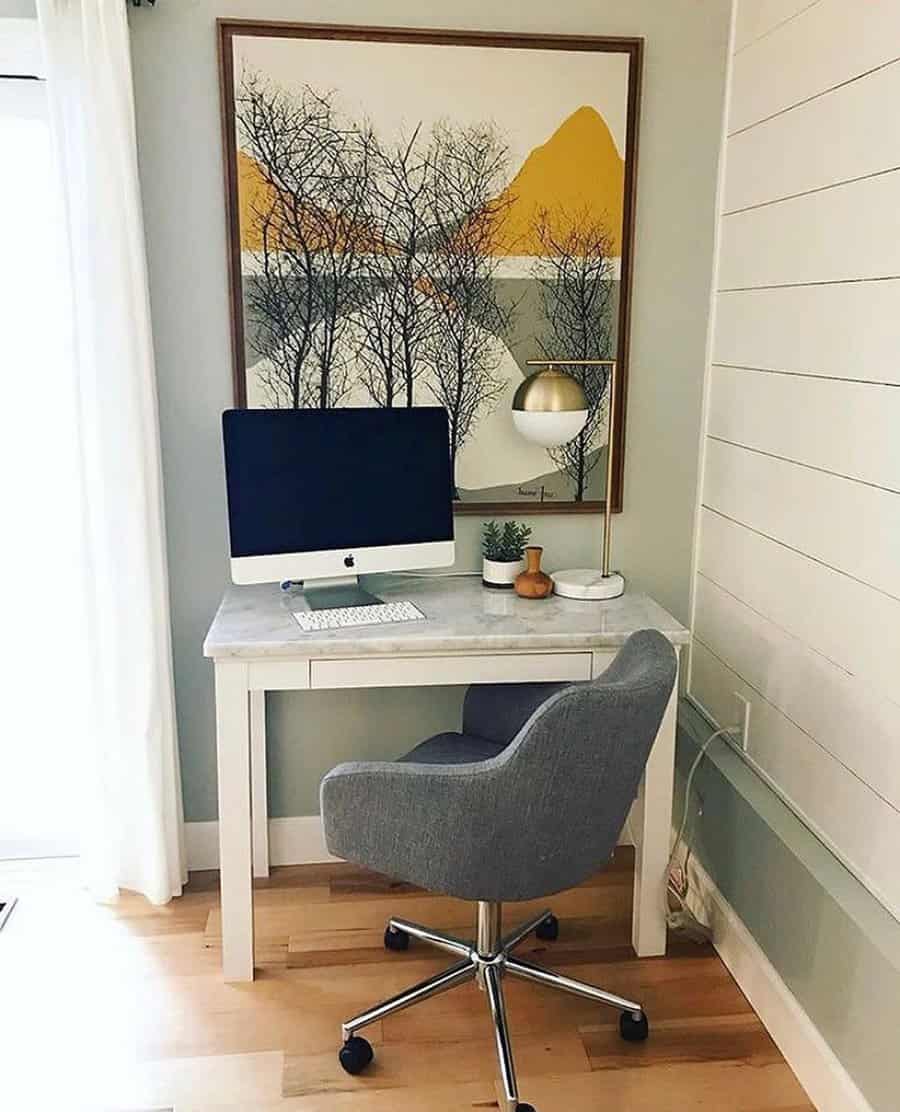 8. Achieve Clean Aesthetics with White Decor
Craft an invigorating home office by embracing white decor, fostering a productive atmosphere. Opt for bright whites and light tones to enhance creativity and productivity. You can go all-in with white furniture and walls or introduce plants for a refreshing ambiance.
Whether you lean toward minimalism or personalization, prioritize tidiness. Regularly declutter the space to maintain a fresh and inspiring environment that fuels motivation and sparks creativity. A white-themed home office promotes a clean and energizing workspace where you can accomplish tasks efficiently.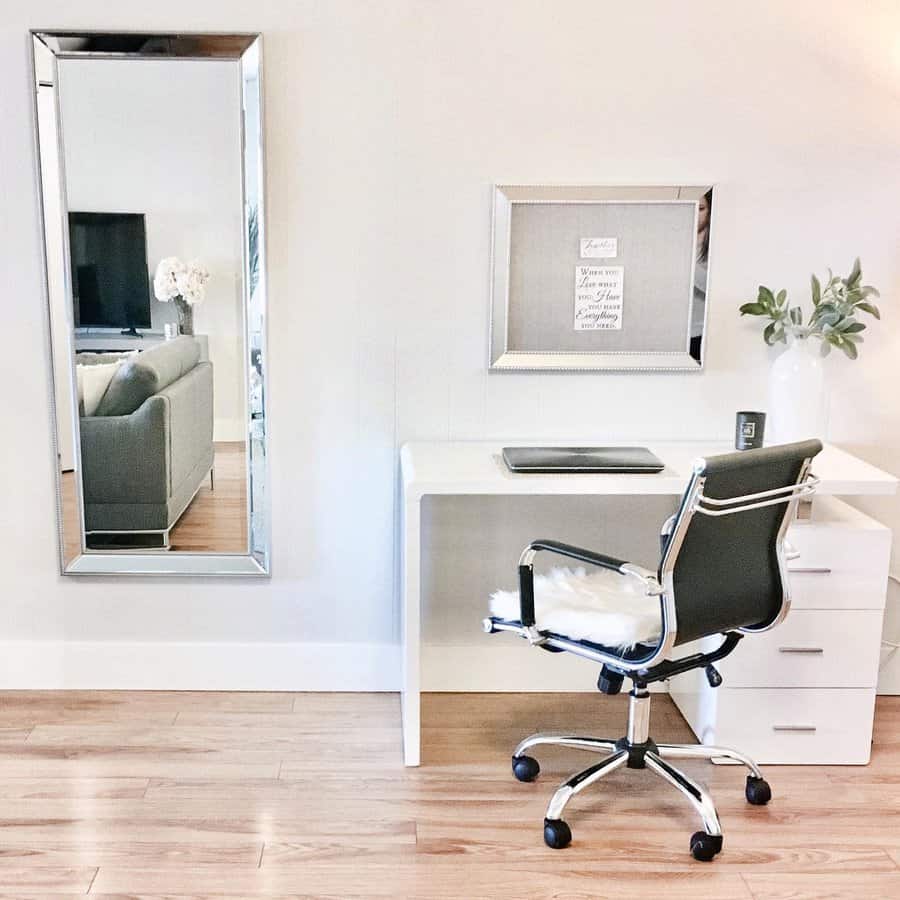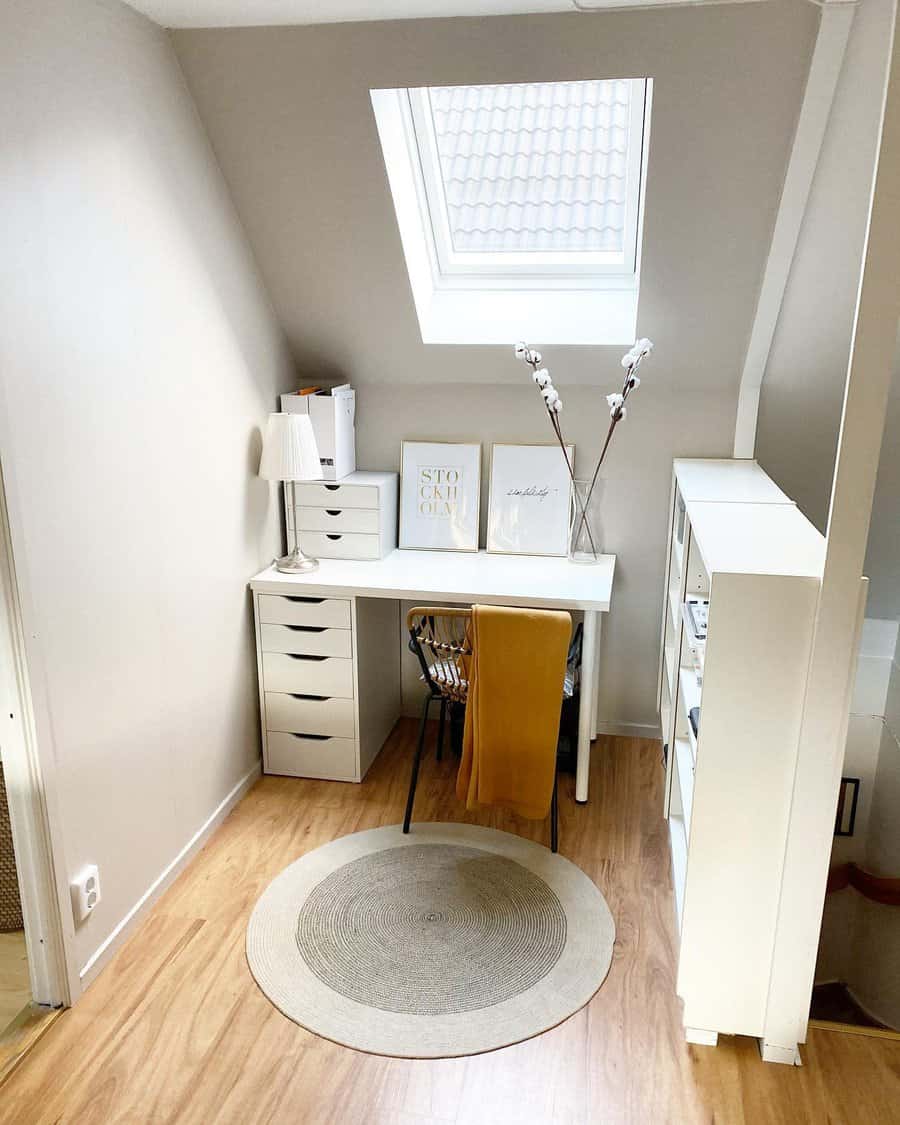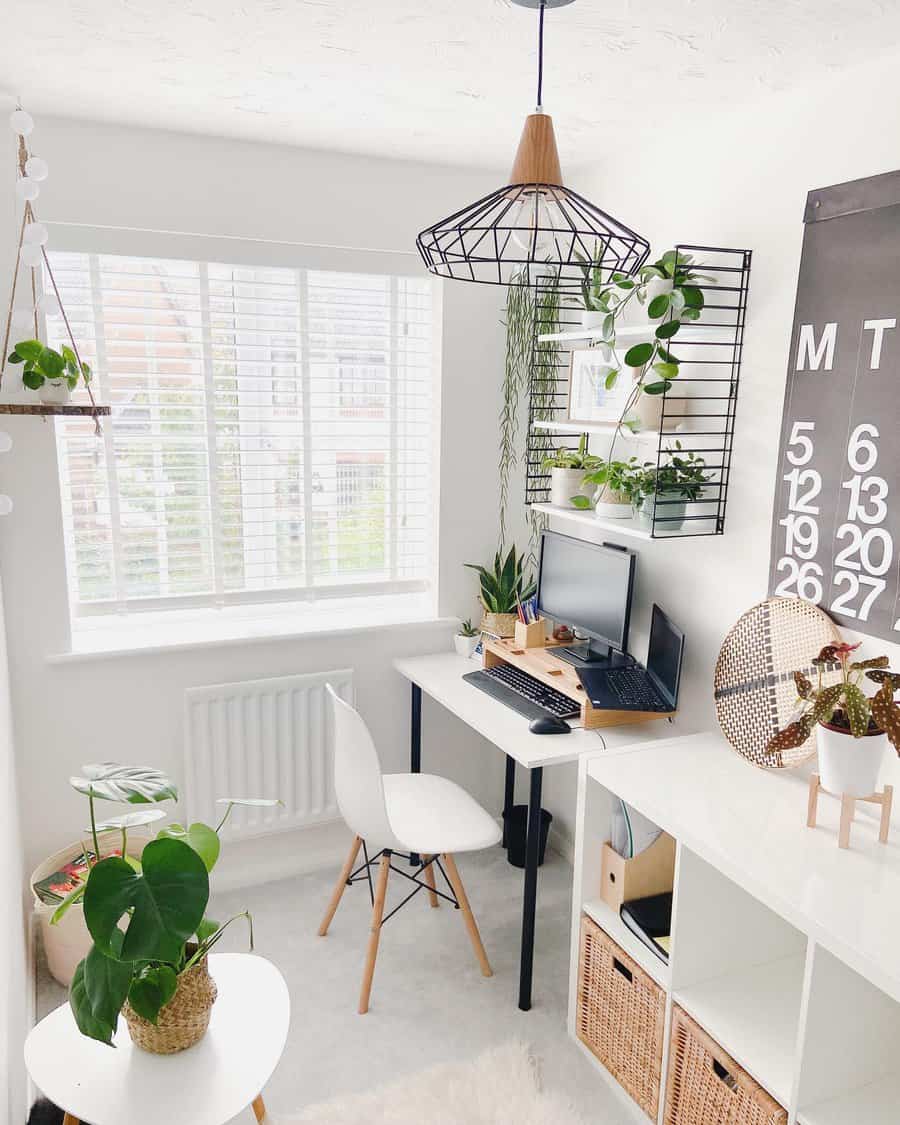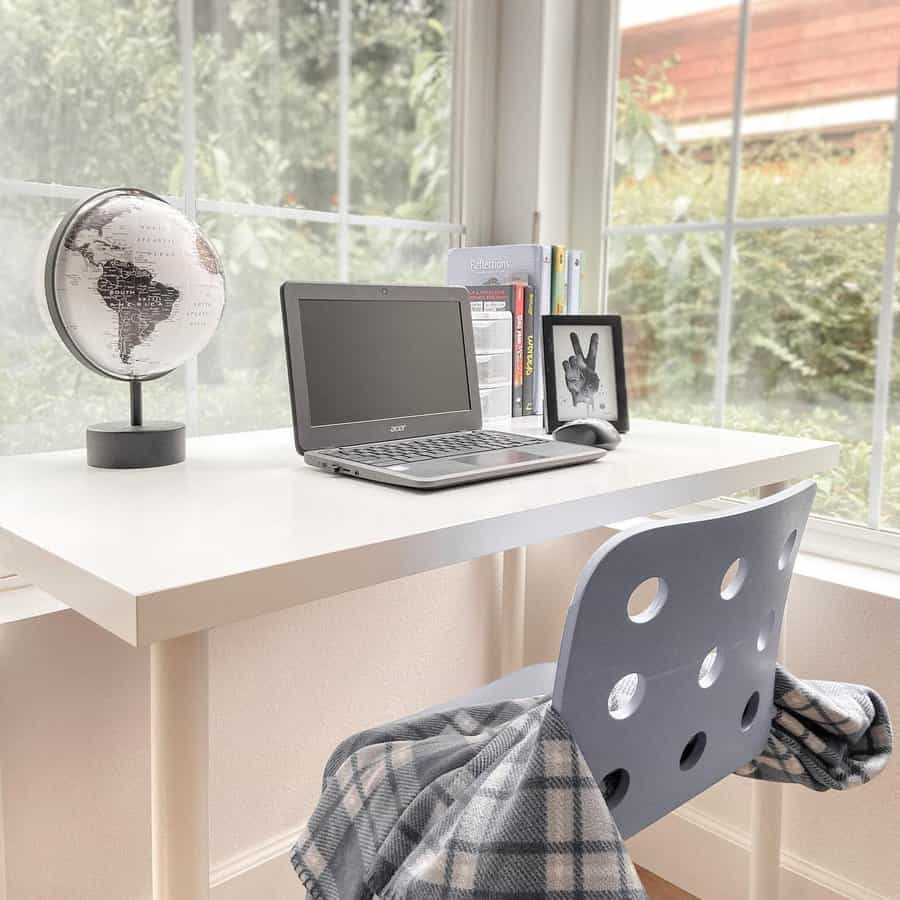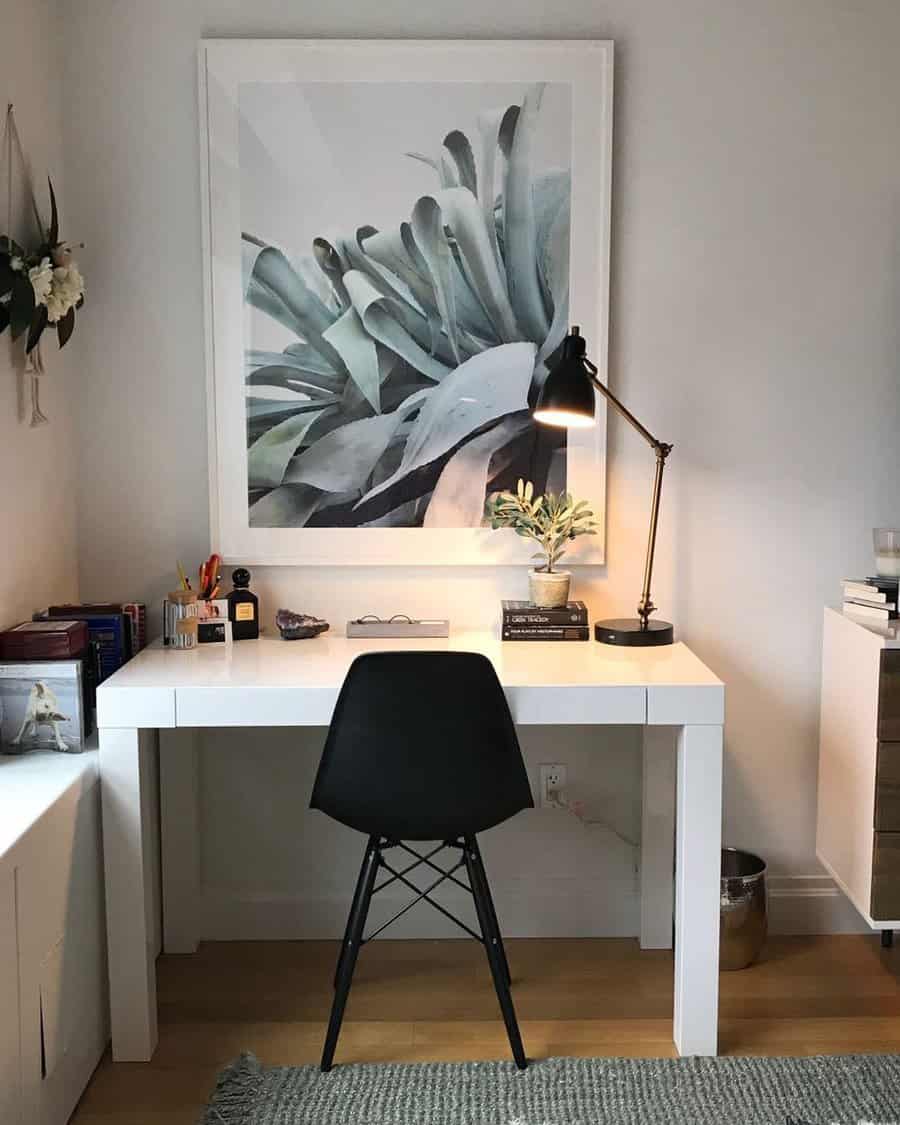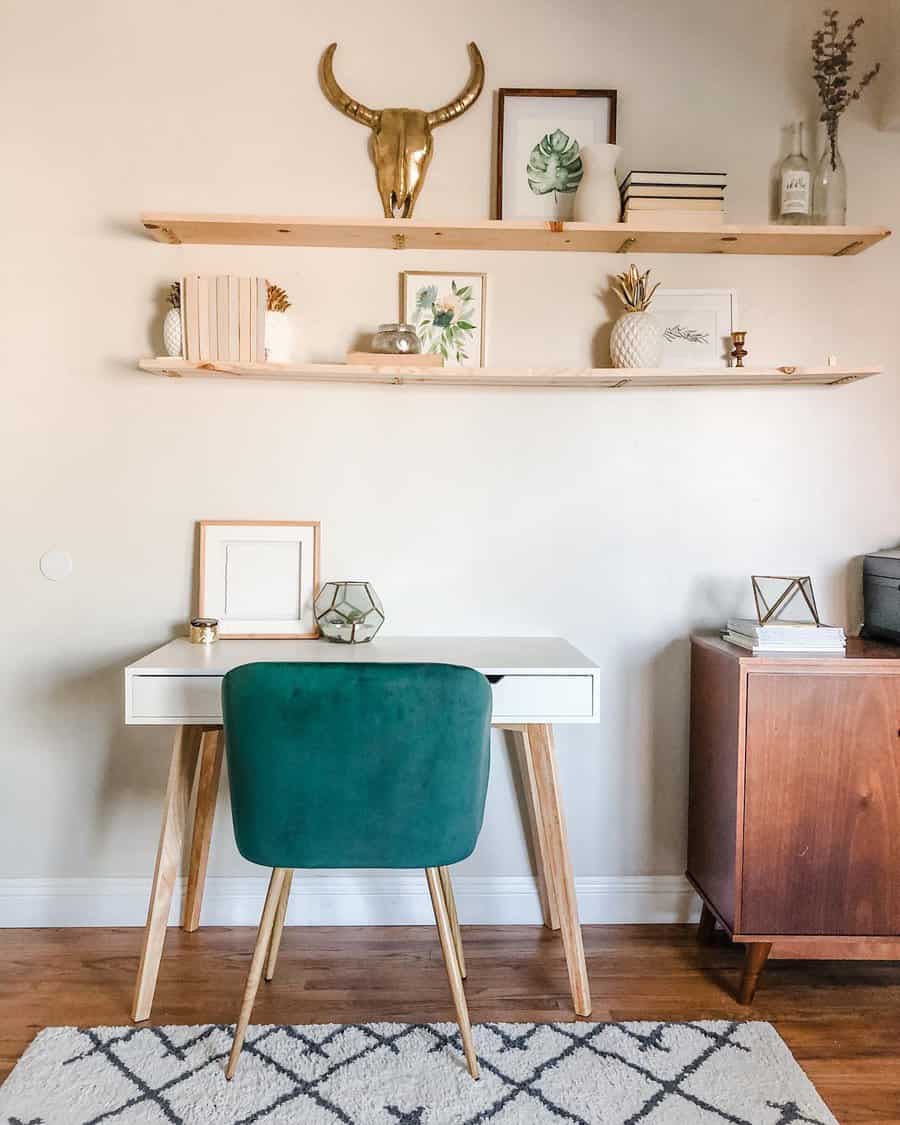 9. Elevate Ambiance with Desk Plants
Creating a home office doesn't have to be overwhelming. Infuse whimsy with vibrant wallpaper or texture with tapestries to spruce up your workspace. Maintain organization and aesthetics by incorporating cabinets or racks for books and documents, and breathe life into the room with a desk plant.
To keep your space dynamic, regularly rotate photos or artwork, preventing the monotony of working from home. By following these straightforward tips, your home office can evolve into an inspiring haven for all your projects, big or small.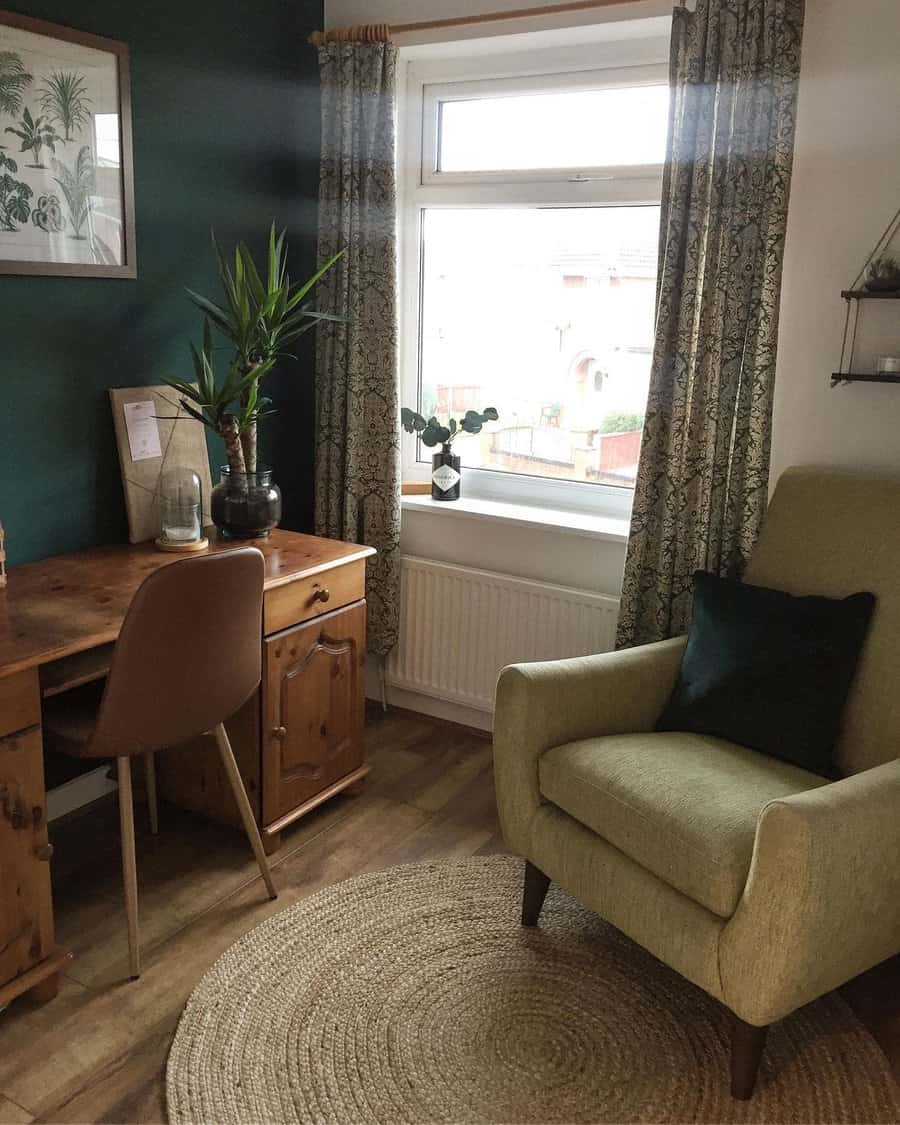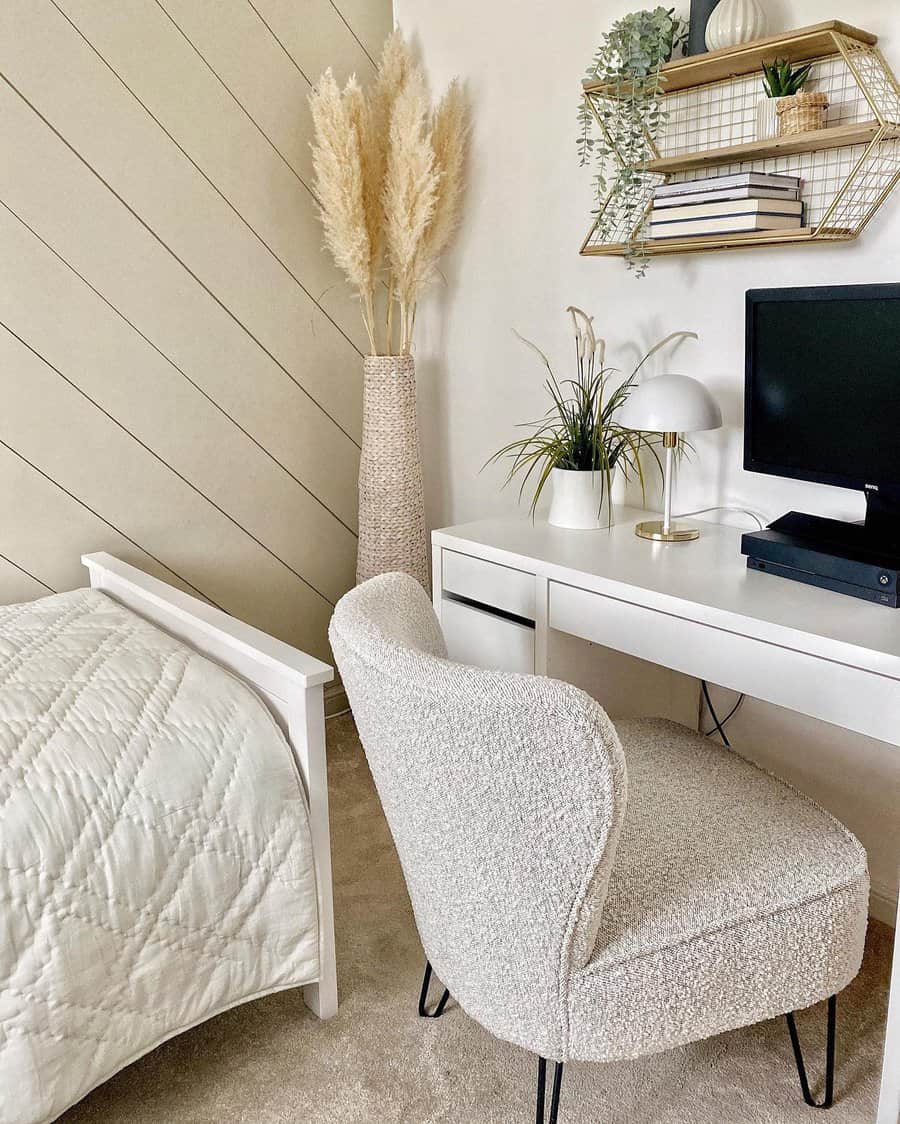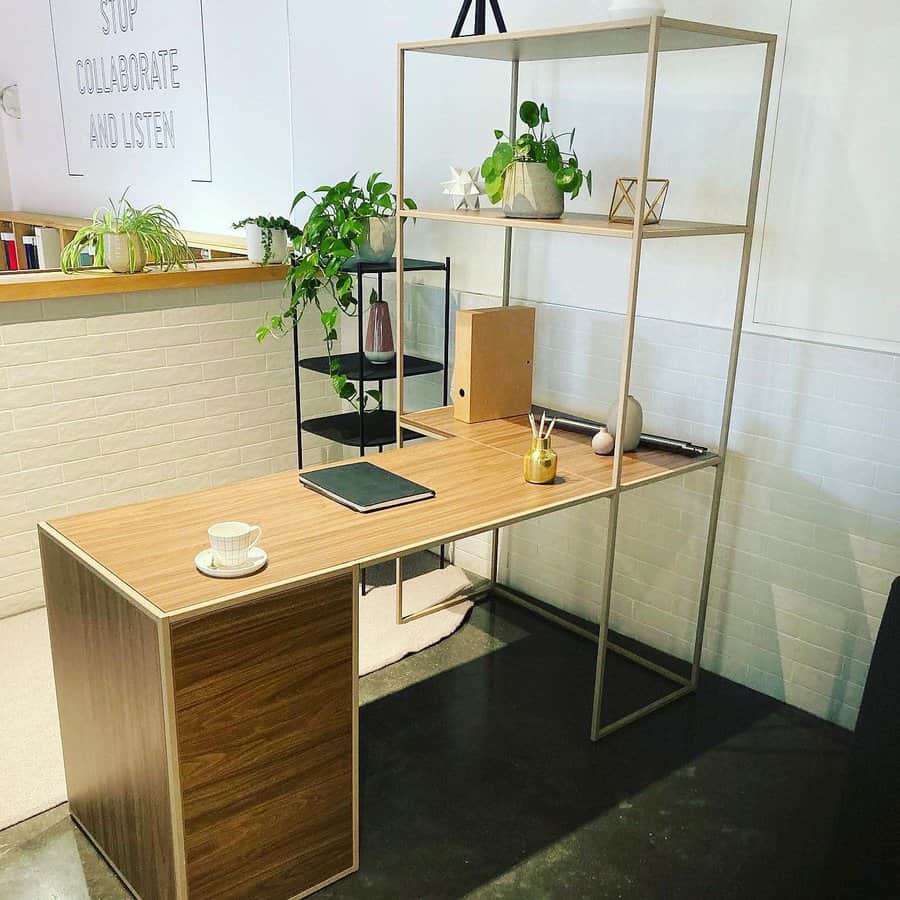 10. Enhance Zoom Meetings with Background Art
If you're looking for some creative small home office ideas to make your space feel productive and pleasant, one of the best tips is to hang background art. By selecting the right piece of art, you can make sure that your Zoom meetings have a professional polish while also making your home office come alive.
You don't need to invest in expensive artwork; there are tons of prints available online at great prices that let you express yourself with beautiful colors and fascinating images. With art on the walls, it can help invoke inspiration as well as let others know what kind of personality you possess during virtual meetings.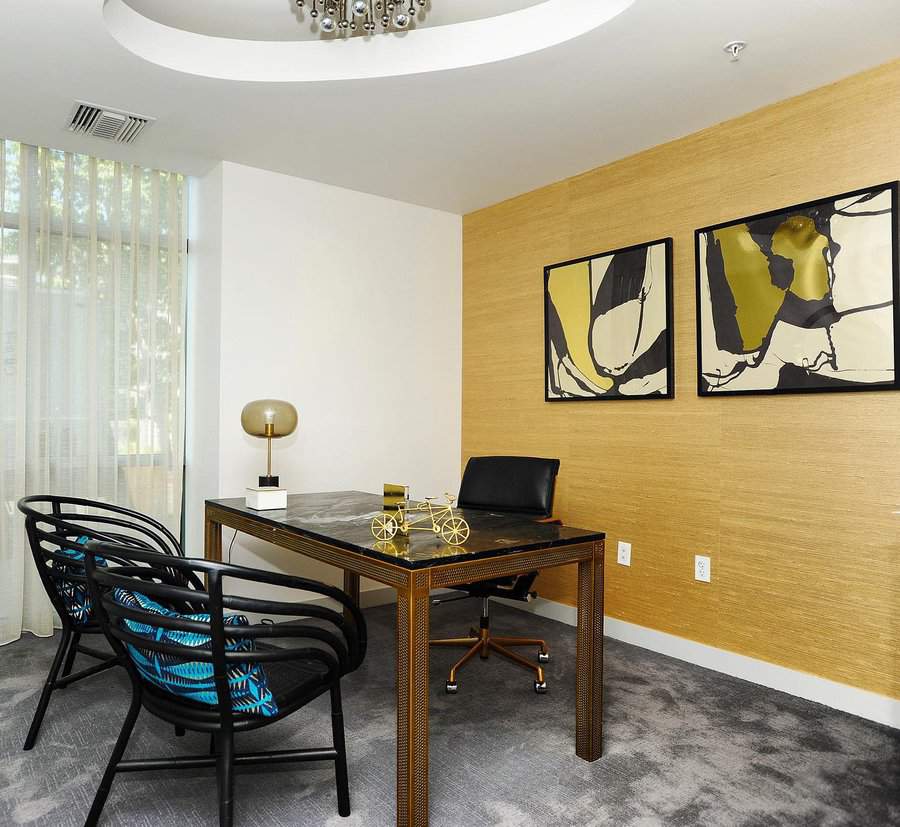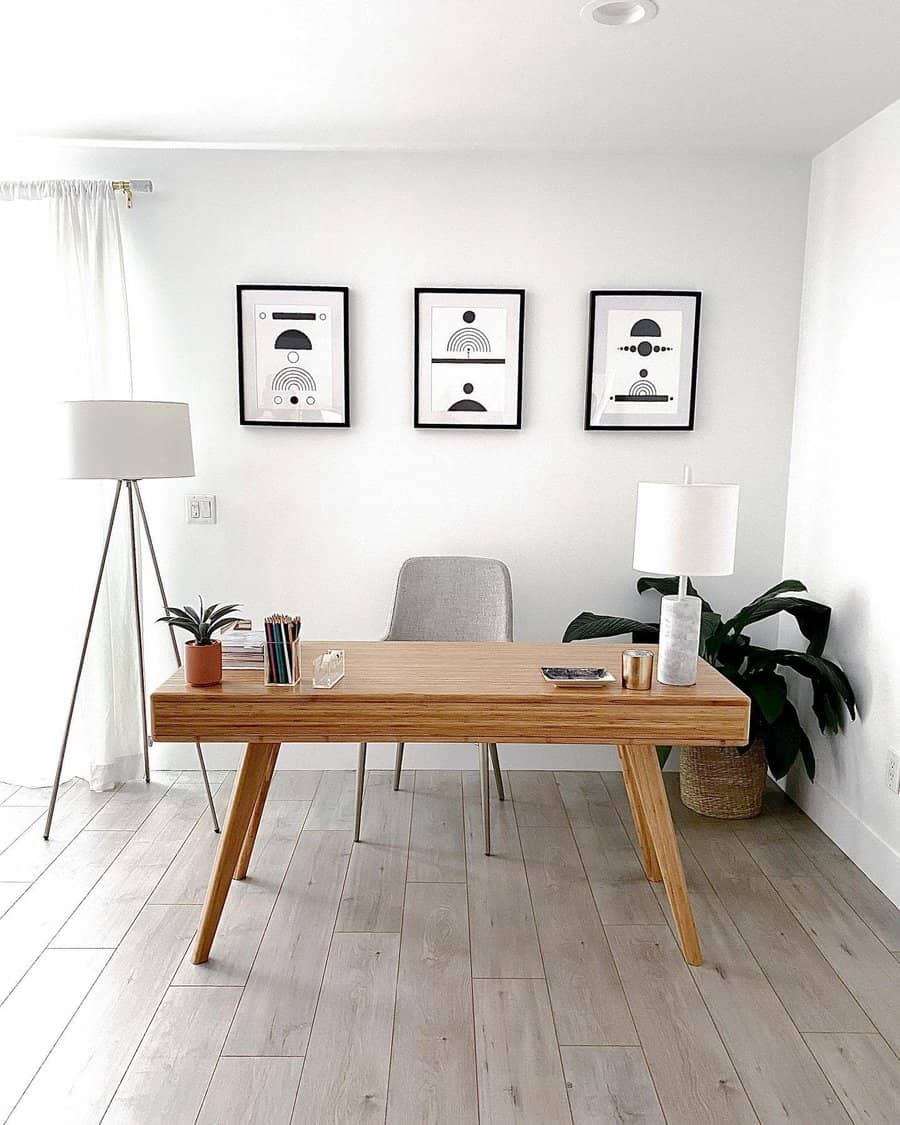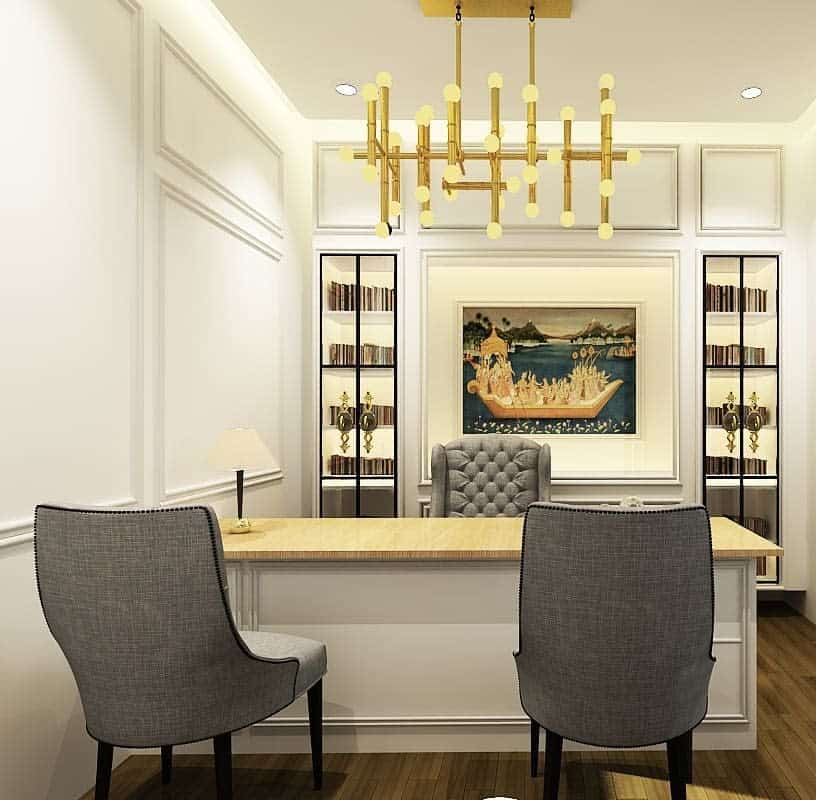 11. Maximize Storage with Cabinets and Shelves
When contemplating a home office addition, explore creative options to optimize your space. Consider installing a wall of cabinets and shelves to discreetly delineate your workspace while offering abundant storage. This versatile solution can also serve as a stylish bookcase in your living area.
Investing in multifunctional furniture, such as an armoire with a fold-away desk, maximizes workspace without sacrificing style. When not in use, it seamlessly transforms into additional storage space. These simple yet effective solutions make it effortless to create an inspiring home office that harmonizes style and functionality.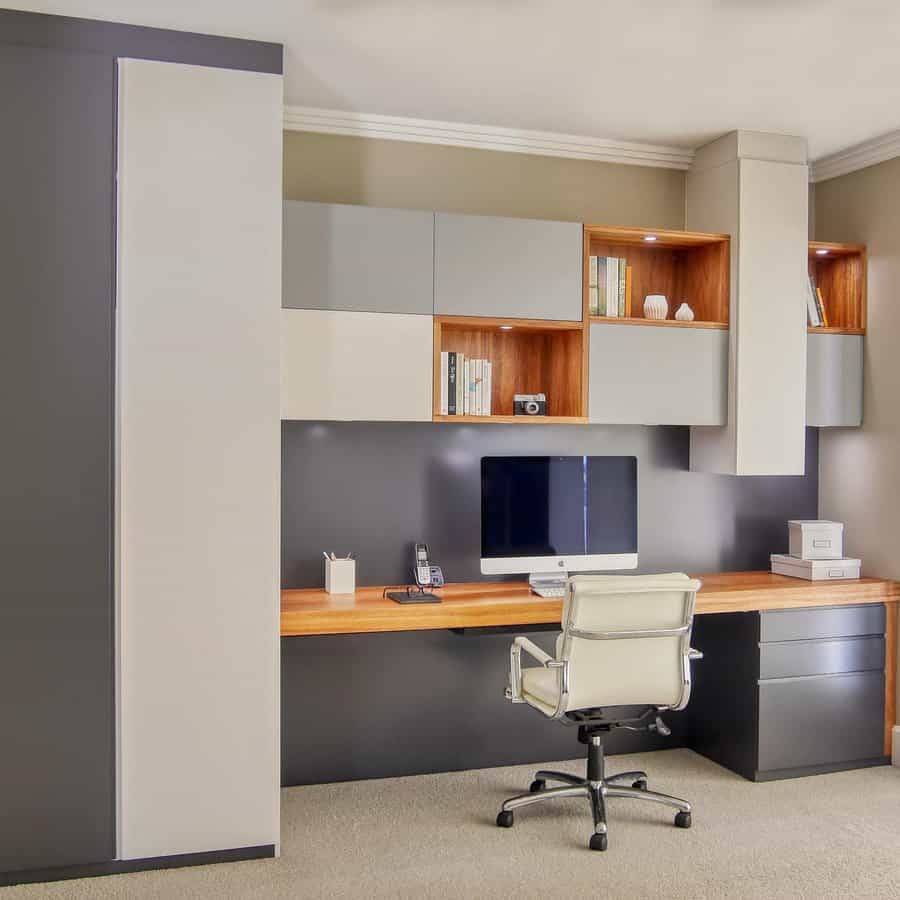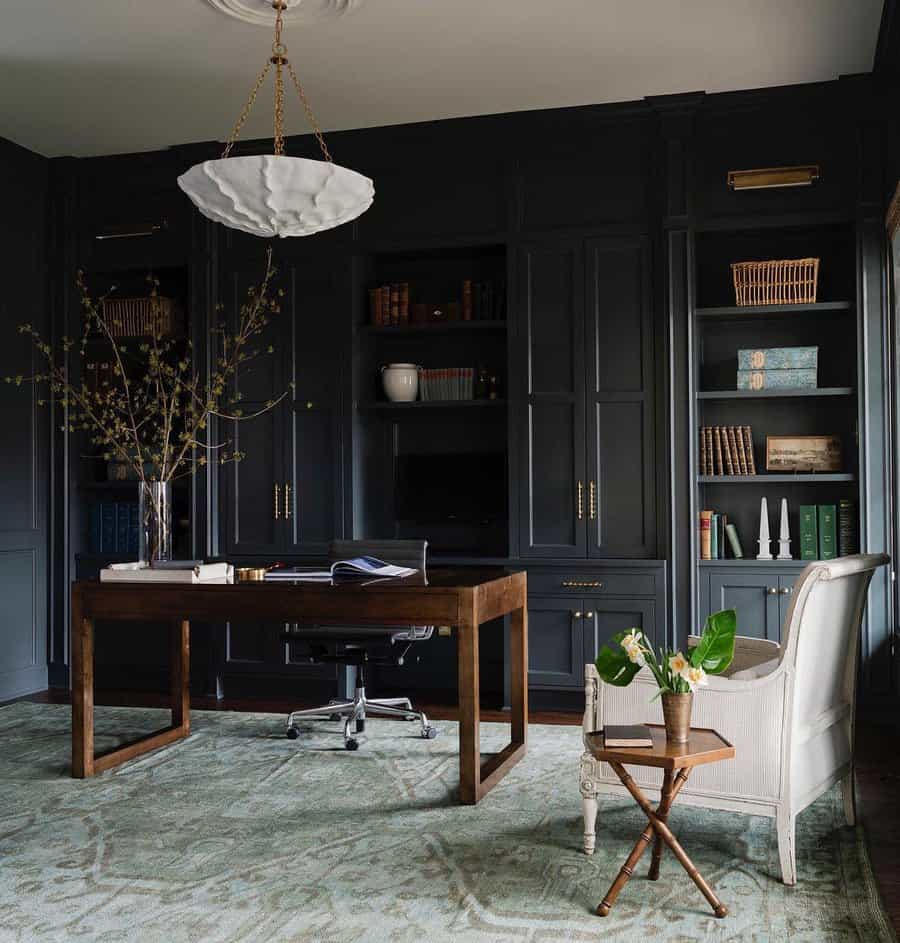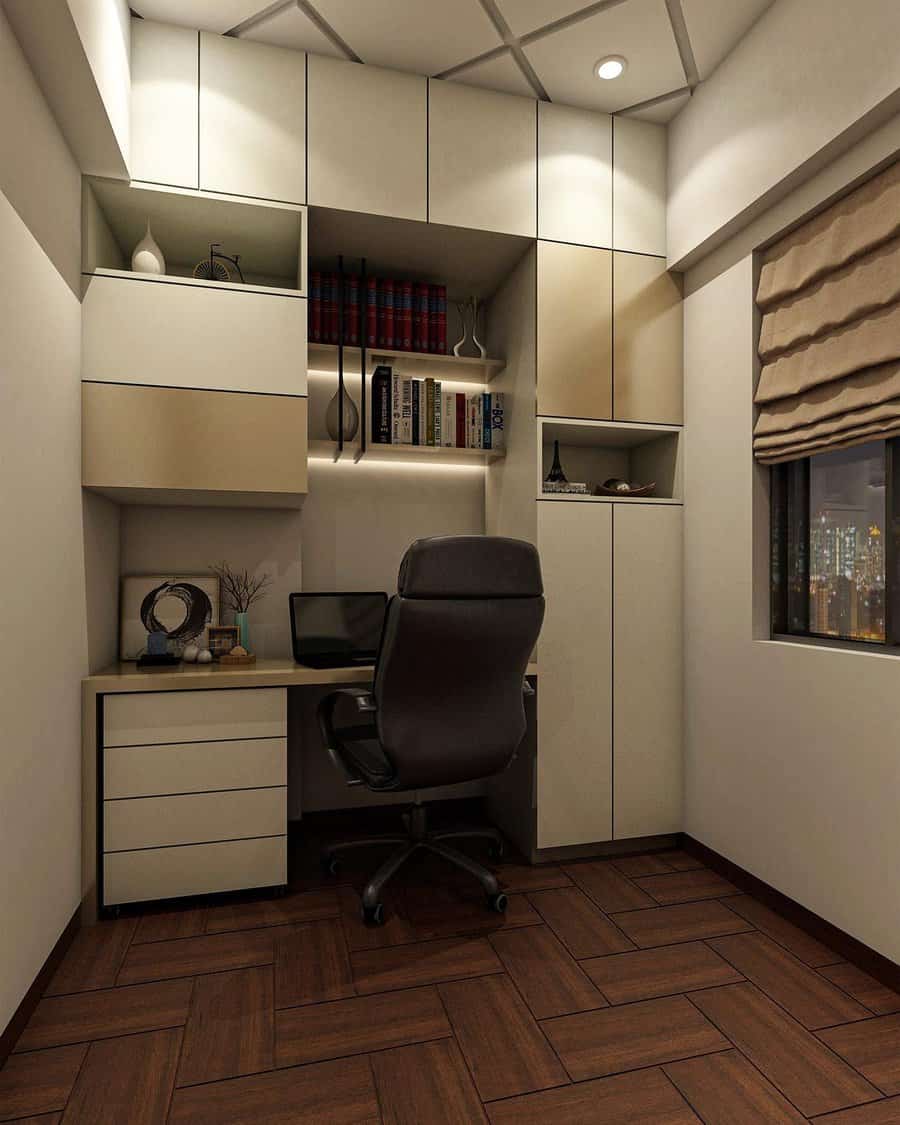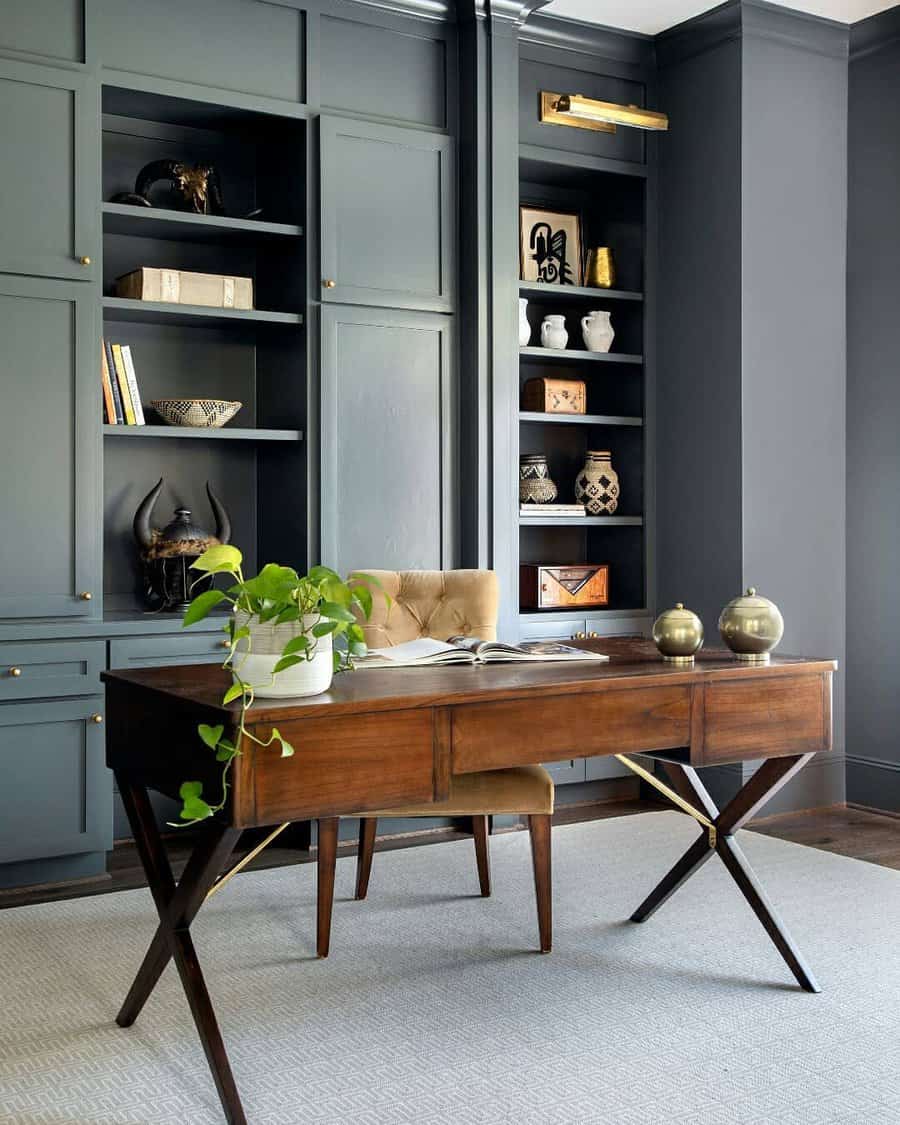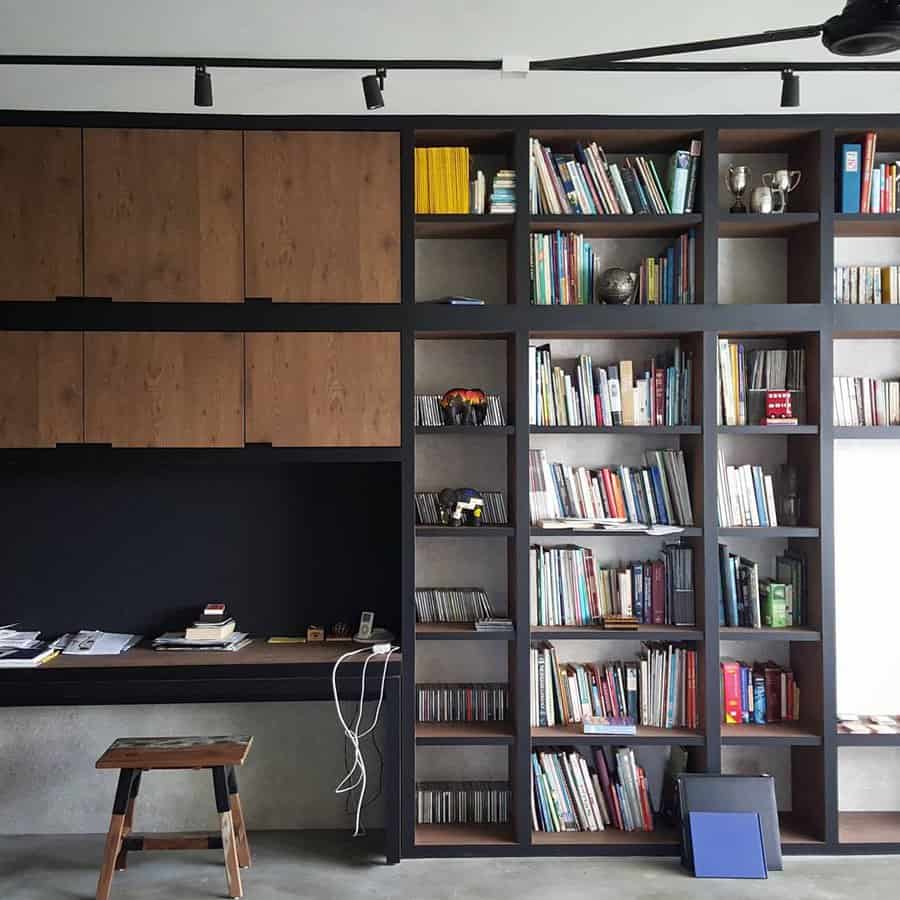 12. Create a Themed Office Mood
Elevate your work-from-home experience by infusing creativity into your small home office. Begin by crafting a distinct mood or theme for the room, offering a fresh perspective on your workspace.
Explore printed wallpaper options that resonate with your personality and goals. Incorporate thematic decor elements, such as energizing string lights, inspiring posters, greenery, furniture within a specific color palette, and statement rugs. Remember, less is often more when it comes to office themes—create an appealing but uncluttered environment to maintain focus and enhance productivity throughout the day.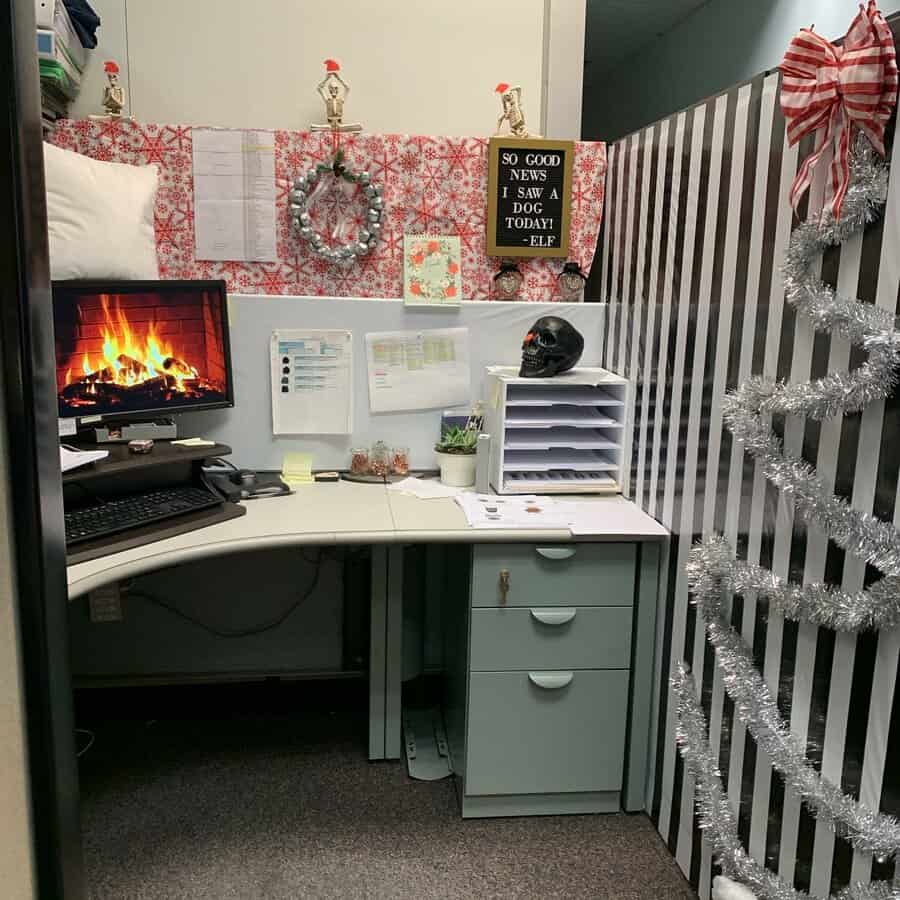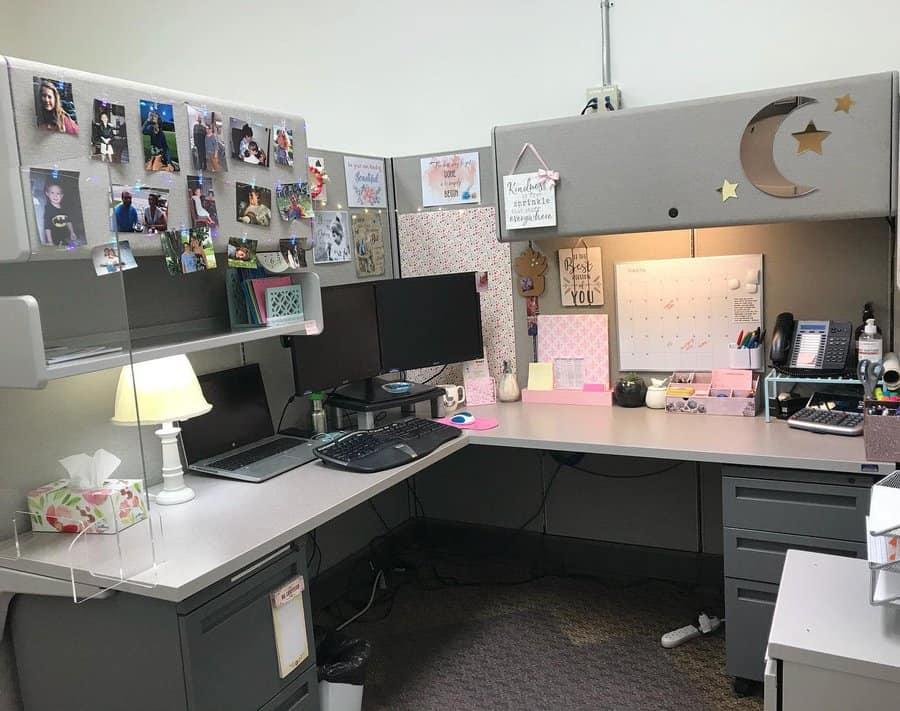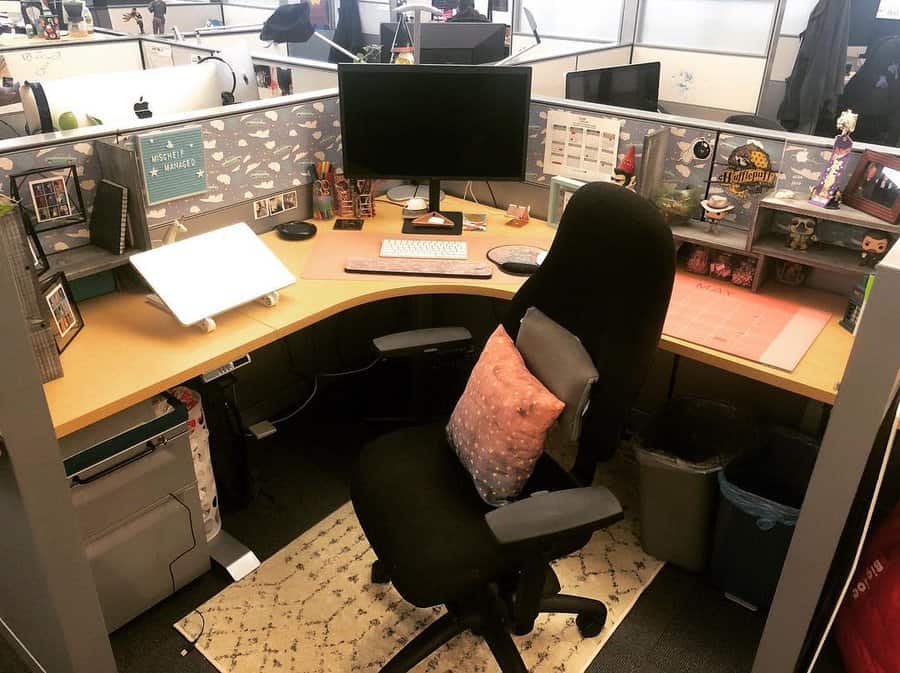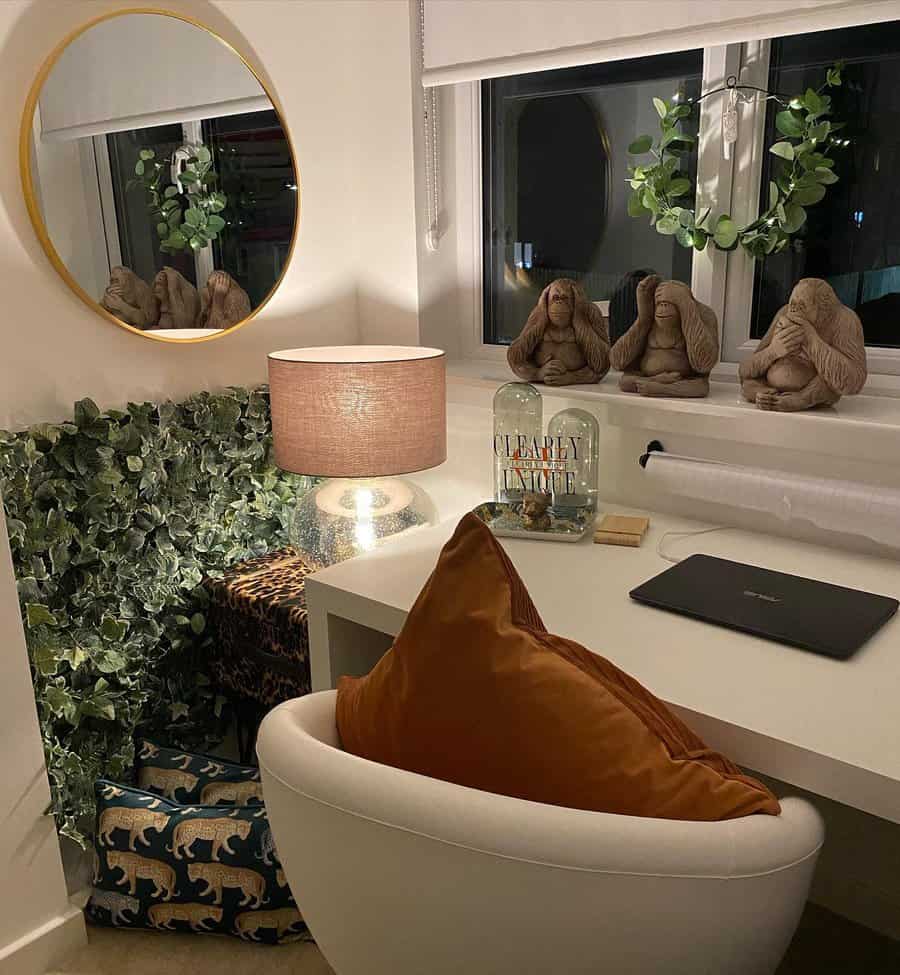 13. Decorate with Wall Tapestries
Personalize your home office to reflect your unique identity by incorporating creative elements beyond the practical setup. Infuse personality and tranquility into your workspace by adorning your walls with captivating wall tapestries.
Explore the world of color therapy and design psychology when selecting tapestries to promote relaxation and inspiration during work hours. These budget-friendly decor pieces can energize your space while cultivating a calming ambiance, making a striking and cost-effective statement in any home office.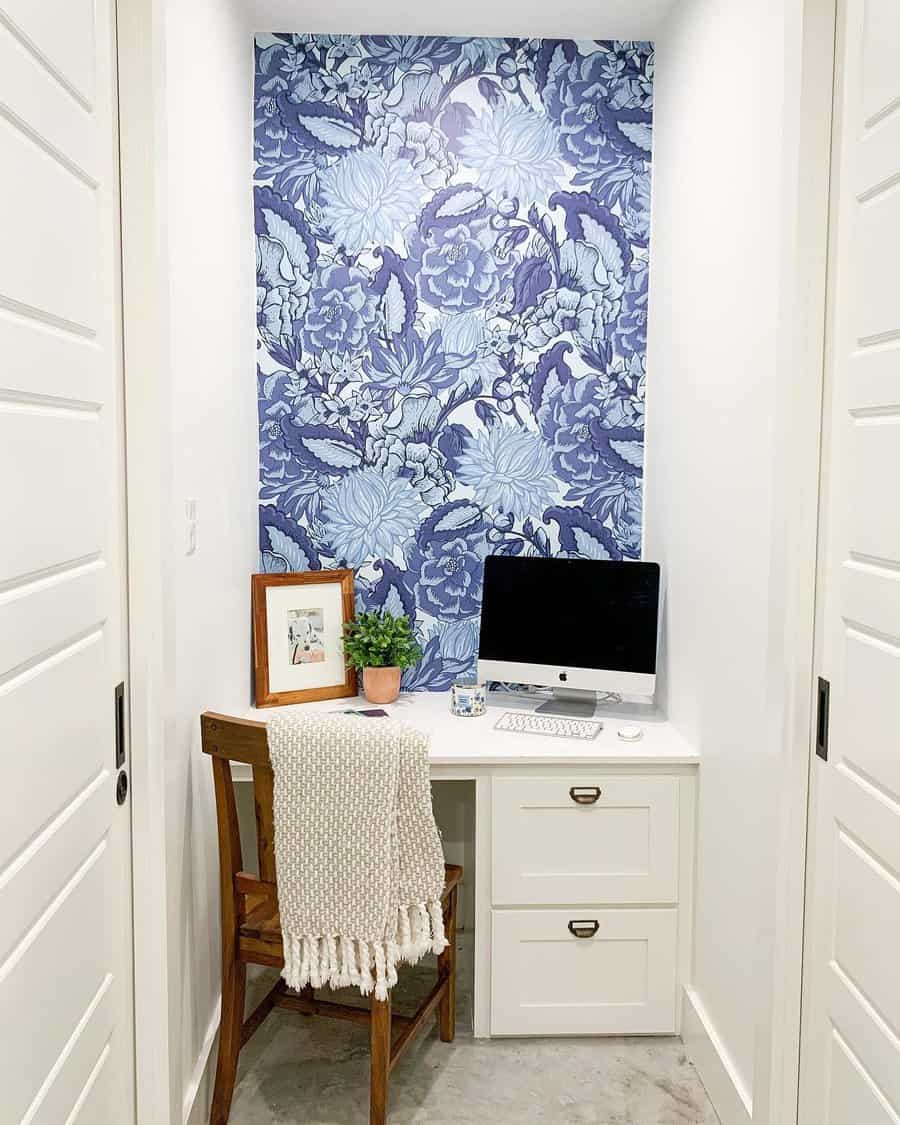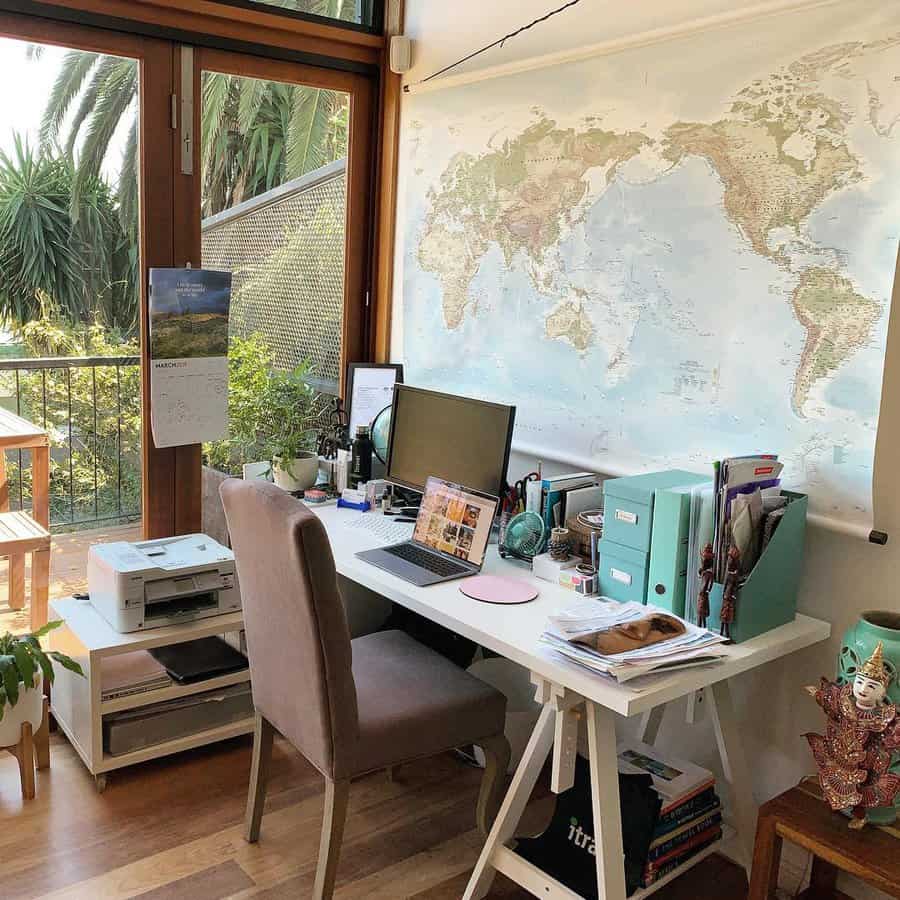 14. Transform Closets into Workspaces
Don't let a lack of space cramp your home office style. In compact areas, efficiency is paramount. Explore the concept of a closet office desk with a door that doubles as storage when workspace isn't in use.
This versatile solution allows you to seamlessly transition between work and open space. Elevate the atmosphere by introducing houseplants and uplifting wall art, creating a pleasant and productive ambiance. With a touch of creativity, your small home office can become an inviting haven for focused work.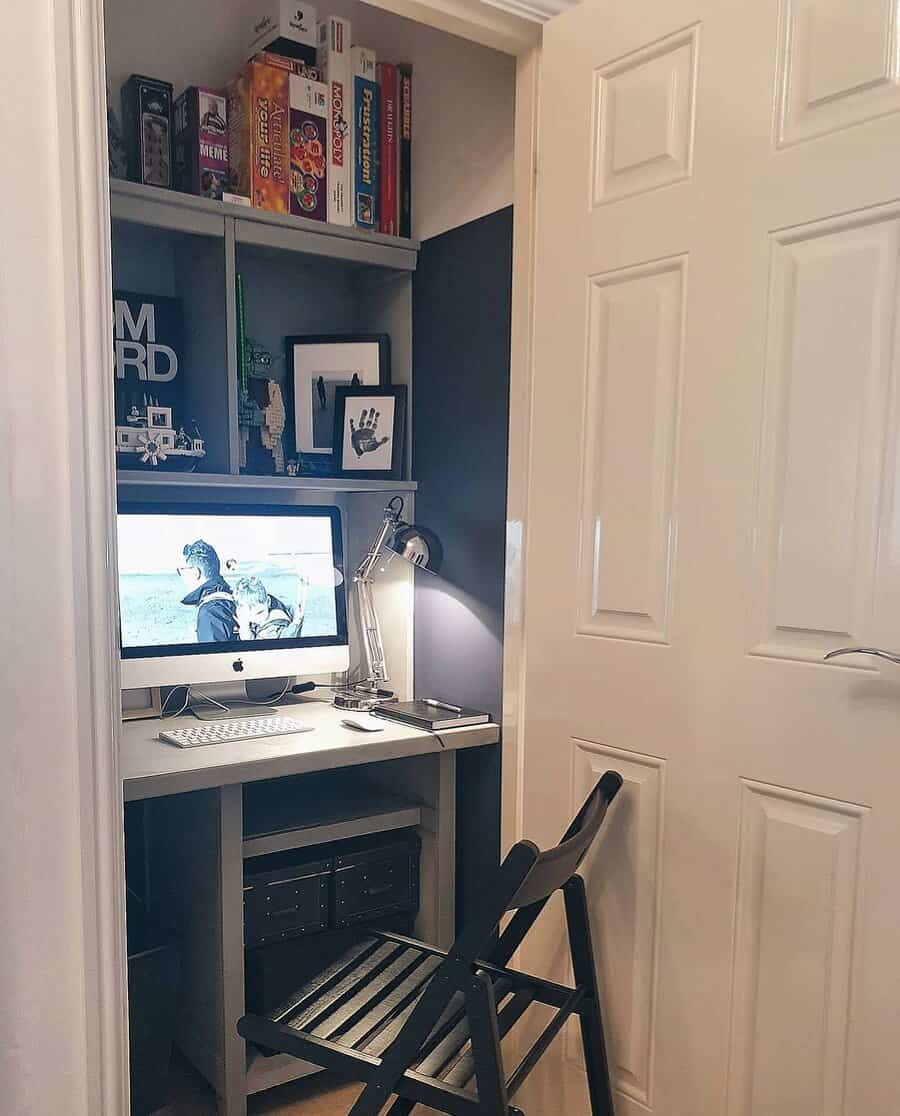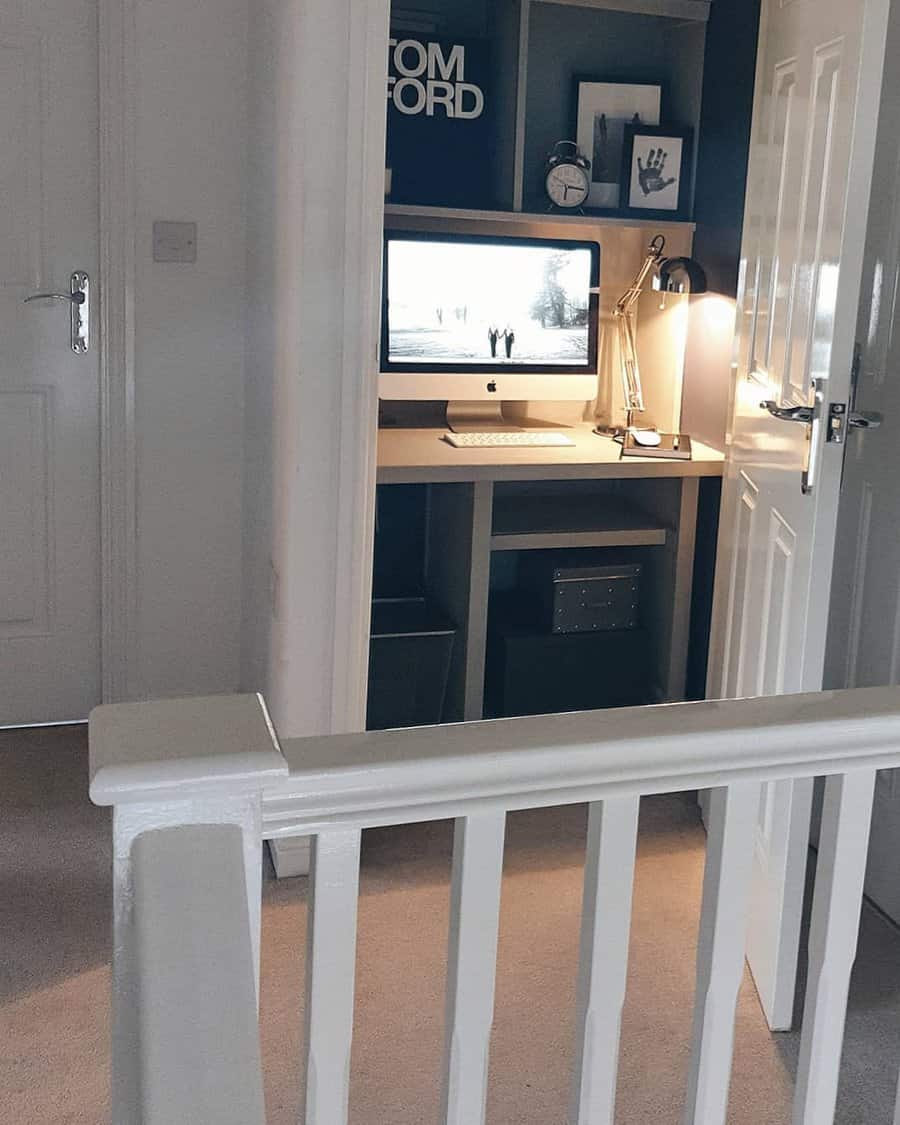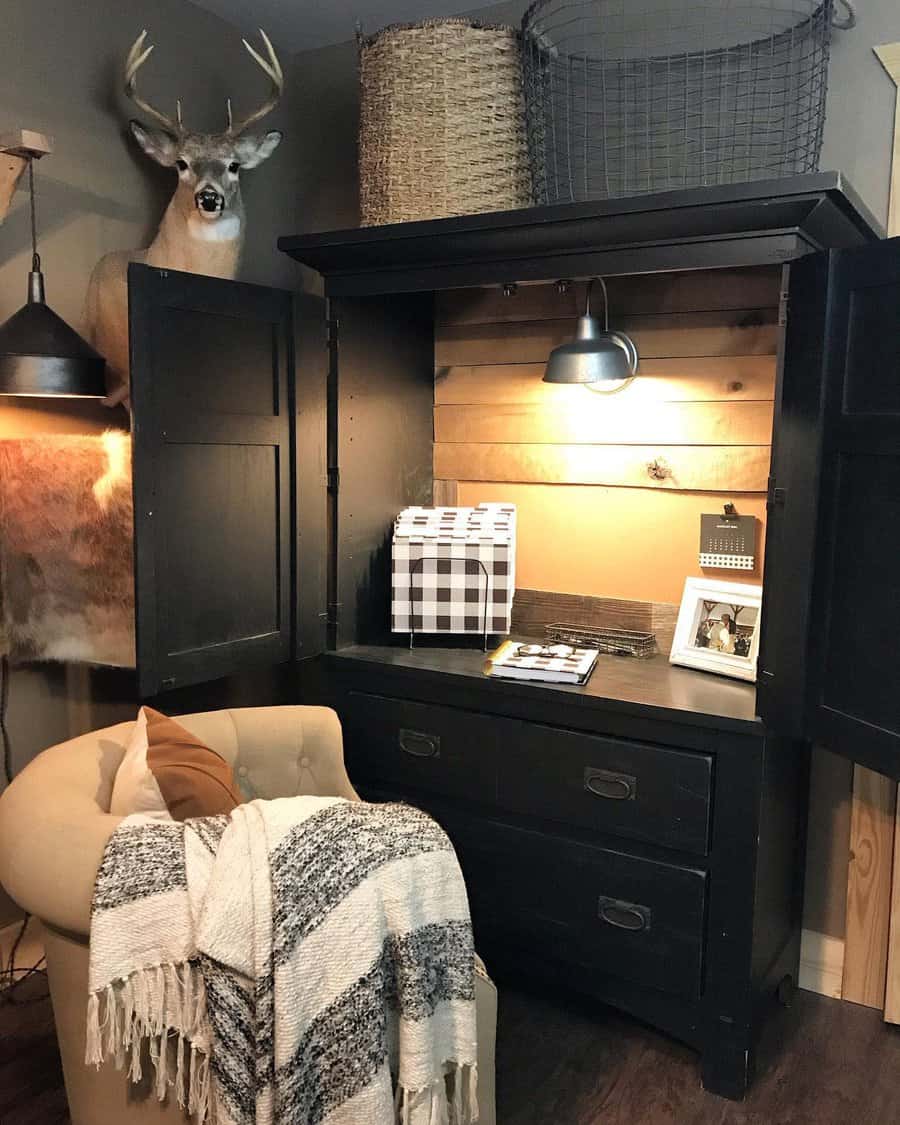 15. Elevate Walls with Printed Accents
To craft an inspiring and functional home office, infuse a unique design element into your space. Consider embracing printed elements like patterned wallpaper or vibrant artwork to create an enchanting ambiance in your workspace.
Beyond energizing the atmosphere, a printed wall can effectively delineate boundaries between different projects, enhancing productivity. If your budget allows, explore custom-framed prints that reflect your interests, adding a personal touch to your office setup. Alternatively, explore cost-effective options like using wrapping paper or pages from old magazines to achieve eye-catching and budget-friendly decor in your home office.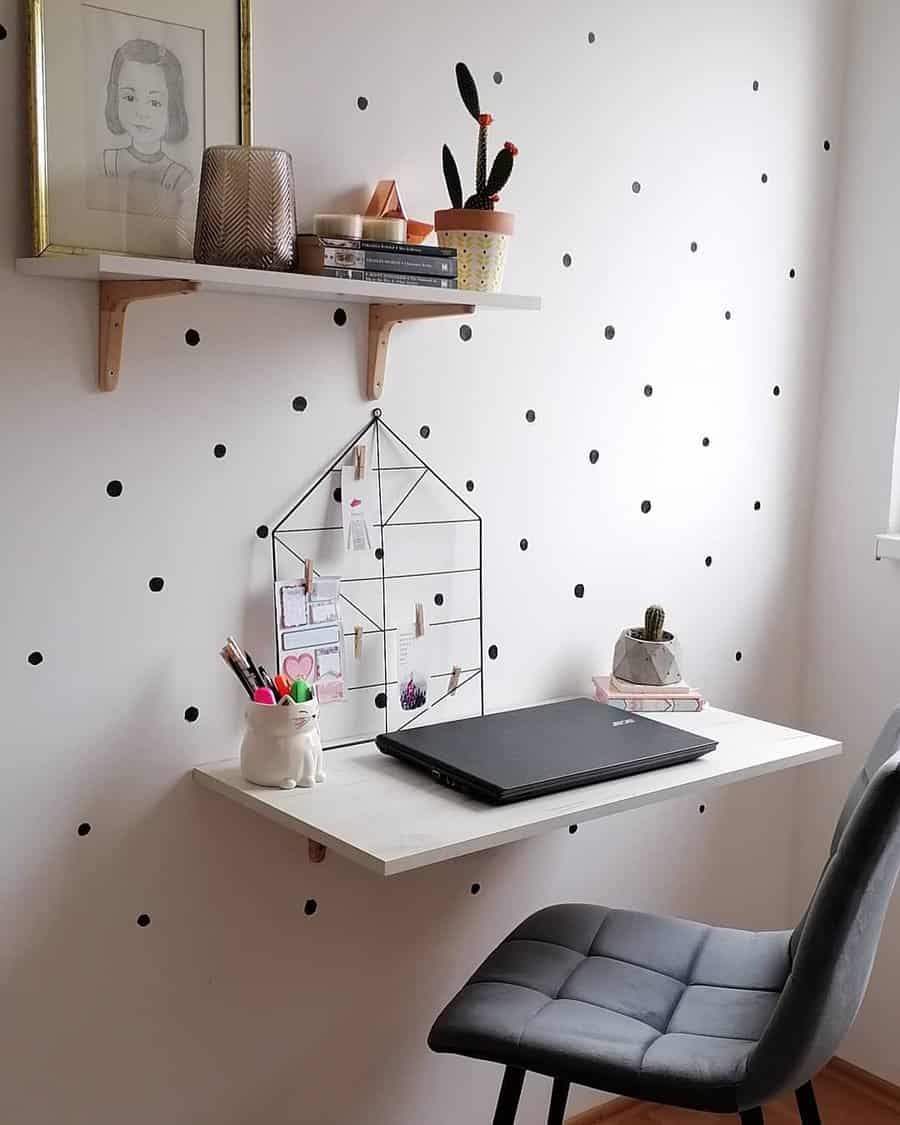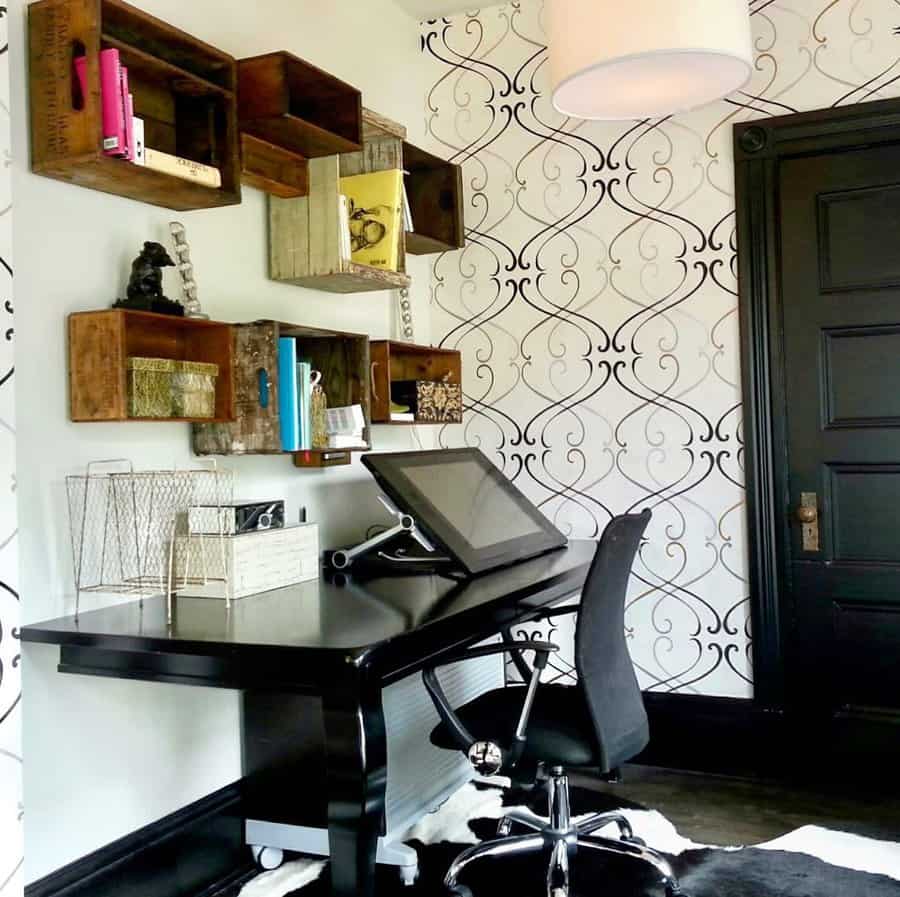 16. Showcase Art in a Gallery Wall
Elevate your ordinary home office into an extraordinary space by crafting an art gallery wall. Select captivating statement prints or artwork and arrange them creatively on the back wall. This eye-catching display not only adds visual interest but also enhances focus and productivity by surrounding you with artistic inspiration.
Ensure thoughtful planning and opt for colors that harmonize, transforming your office into a beautiful, creativity-inspiring haven. A gallery wall can breathe life into your workspace and foster a more inspired and productive work environment.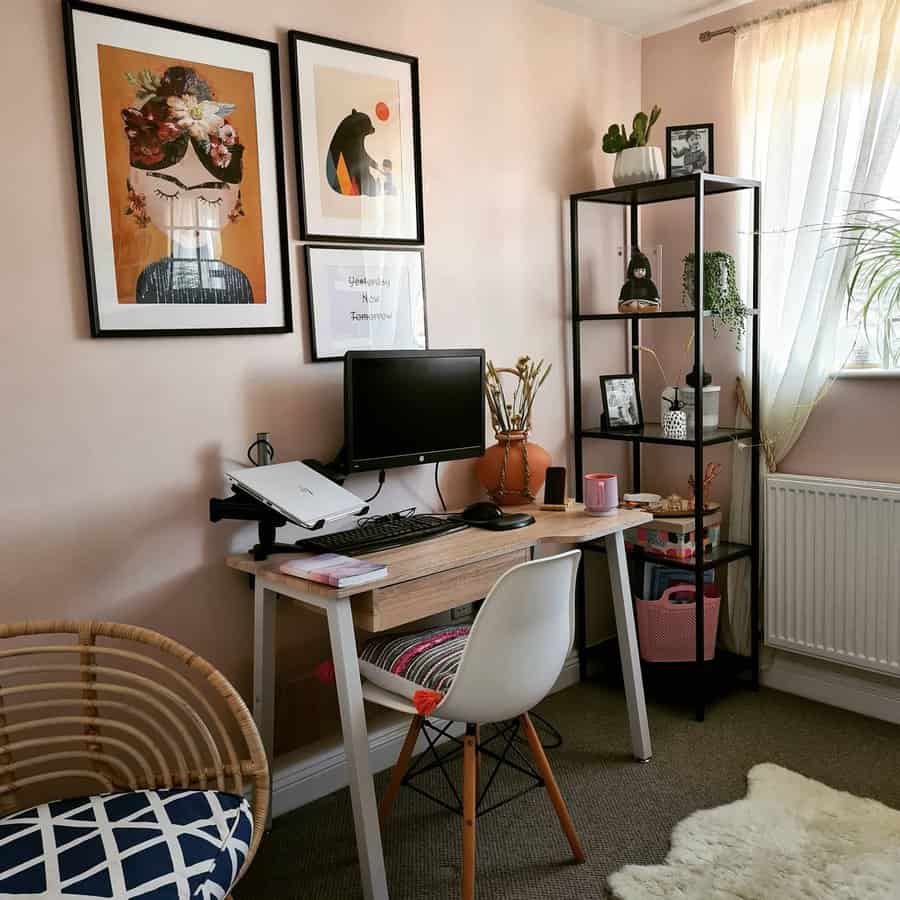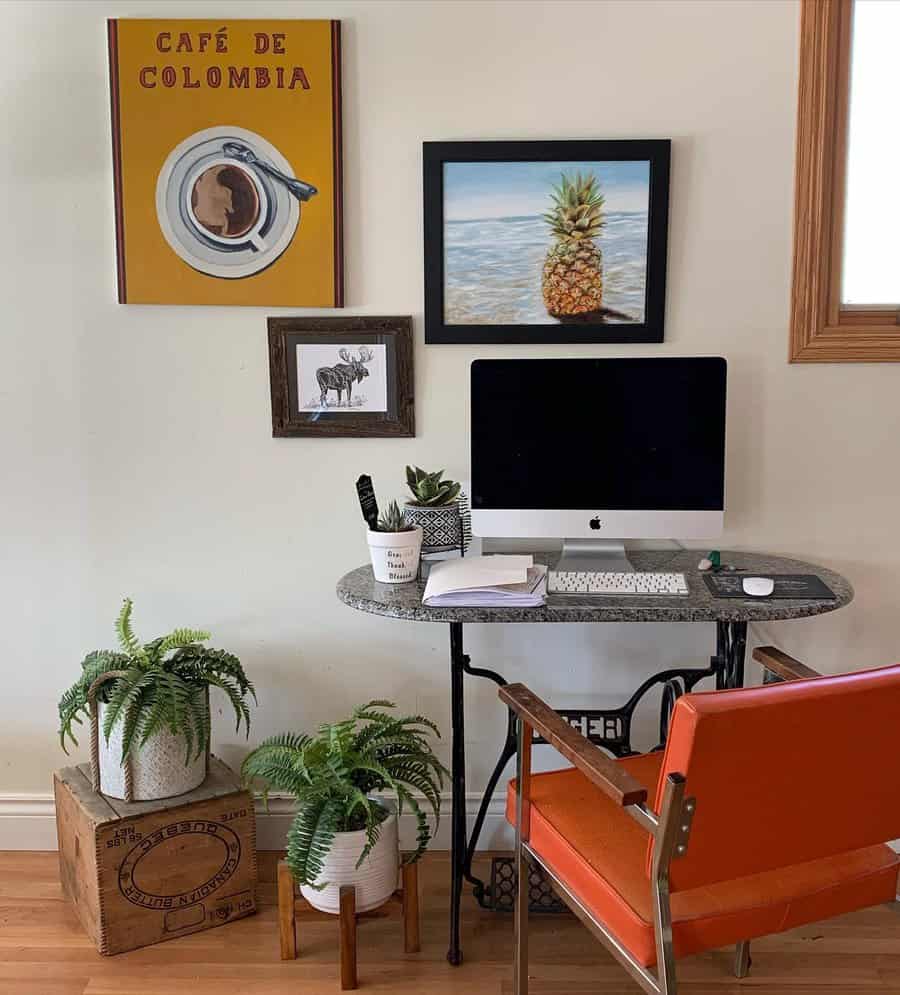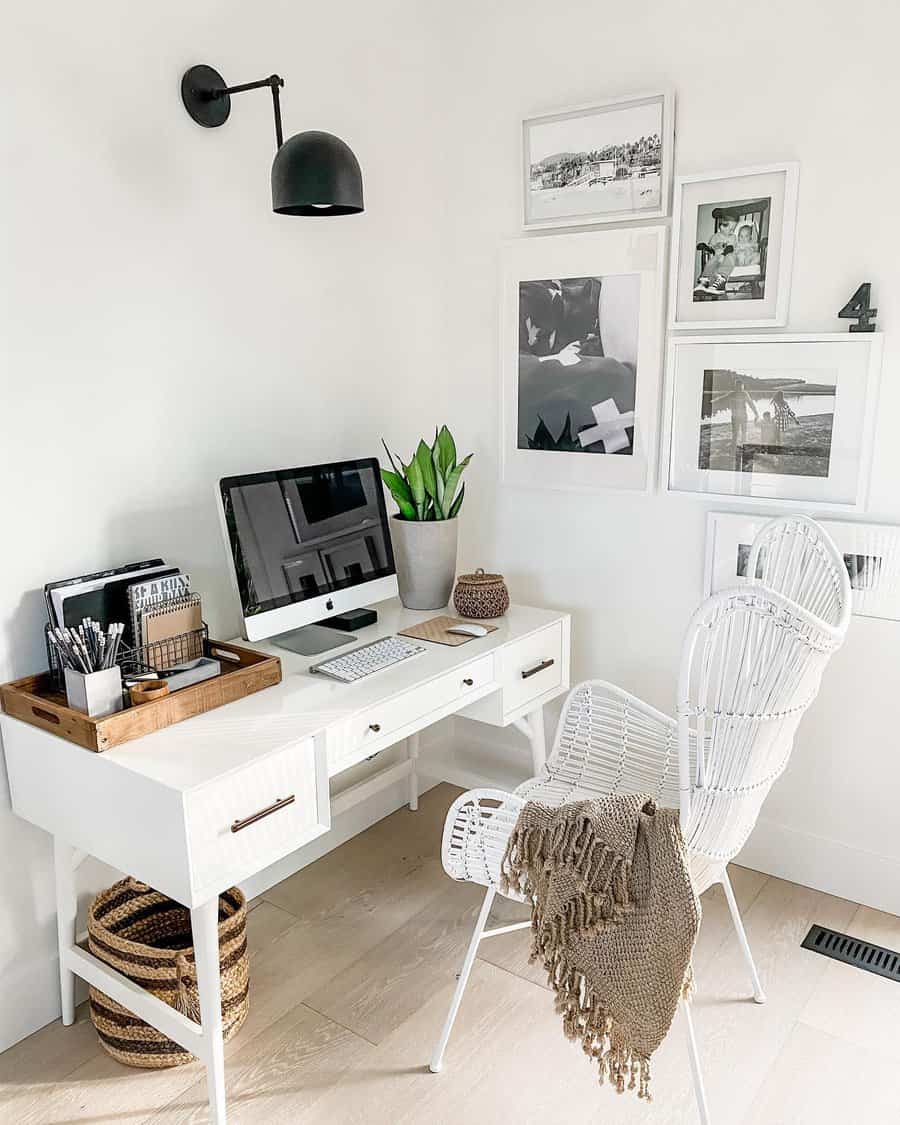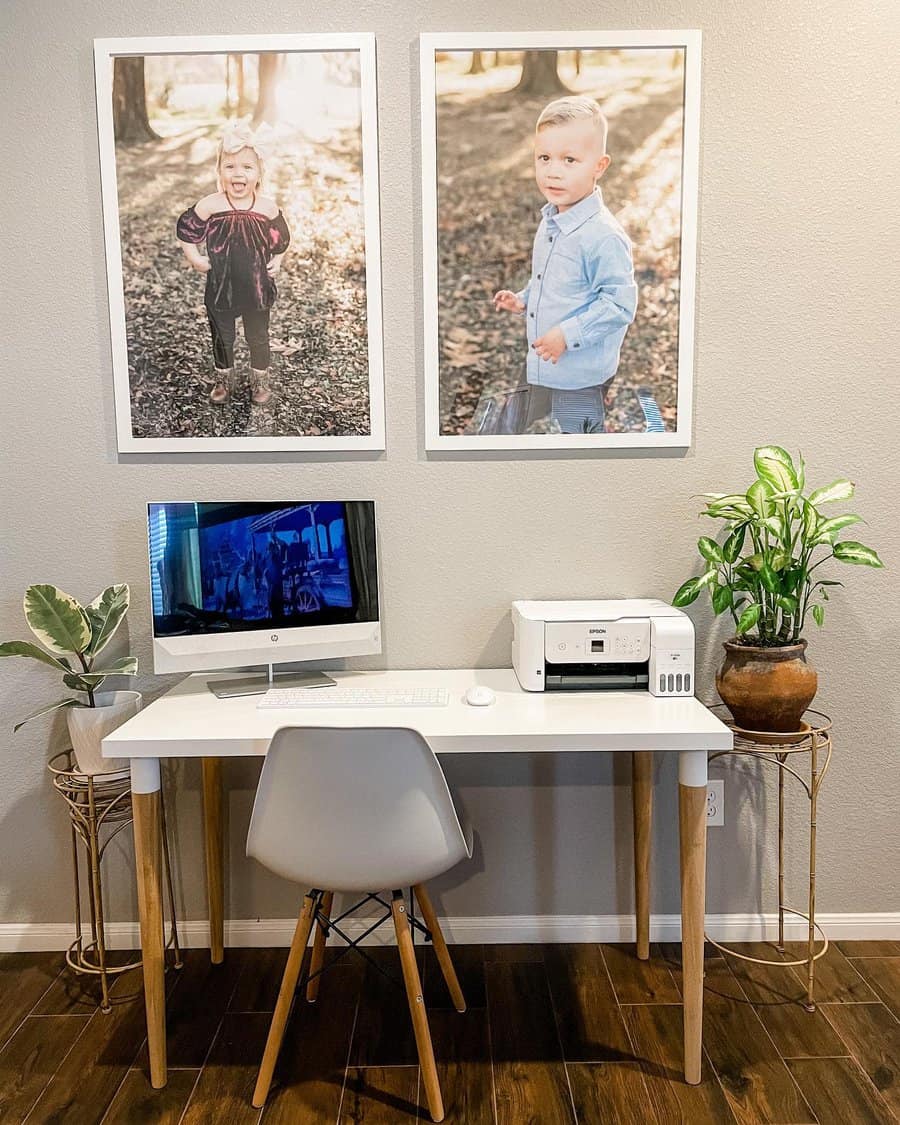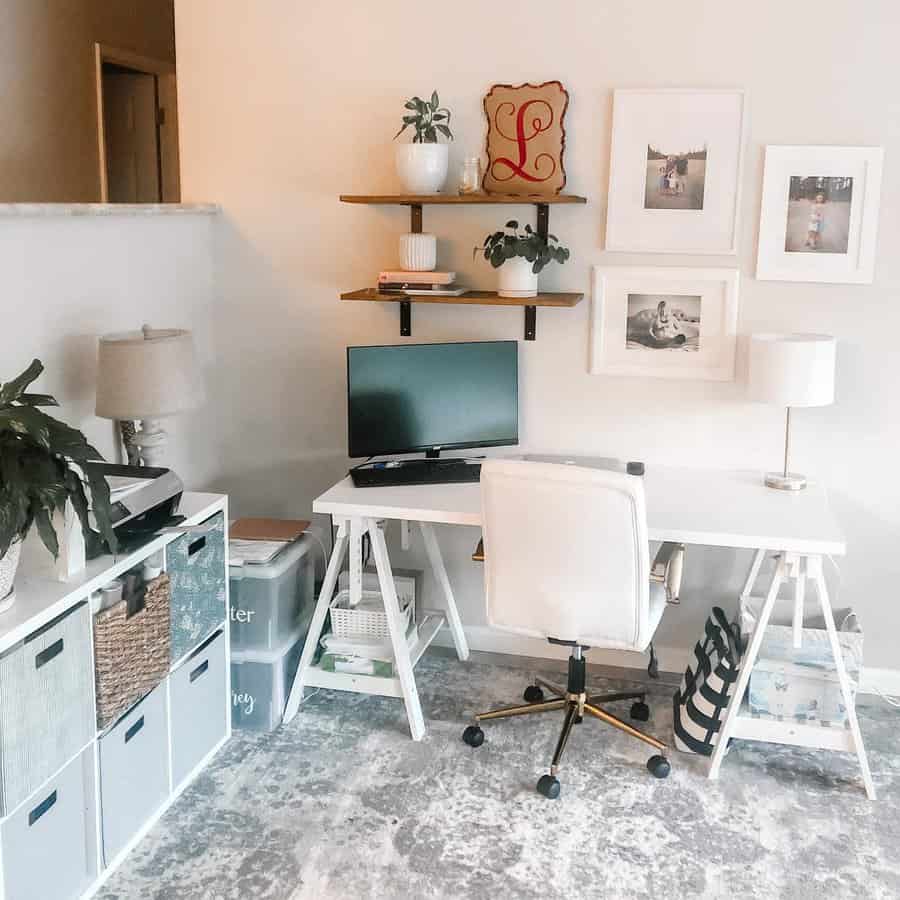 17. Organize with Wall-Mounted Shelves
When it comes to setting up a productive home office, it pays to think small. If you're operating out of a room or space with limited square footage, maximizing every inch of vertical space can be key. Investing in wall shelves is an excellent way to achieve this purpose and also add decoration at the same time. This can help bring your office to life and motivate you while working.
Choose brightly colored containers that fit on the shelves, so all the supplies and documents you need stay organized and accessible. Adding items such as lamps, book stands, and hanging plants is also a great way to spruce up and individualize your workspace without taking up too much floor space.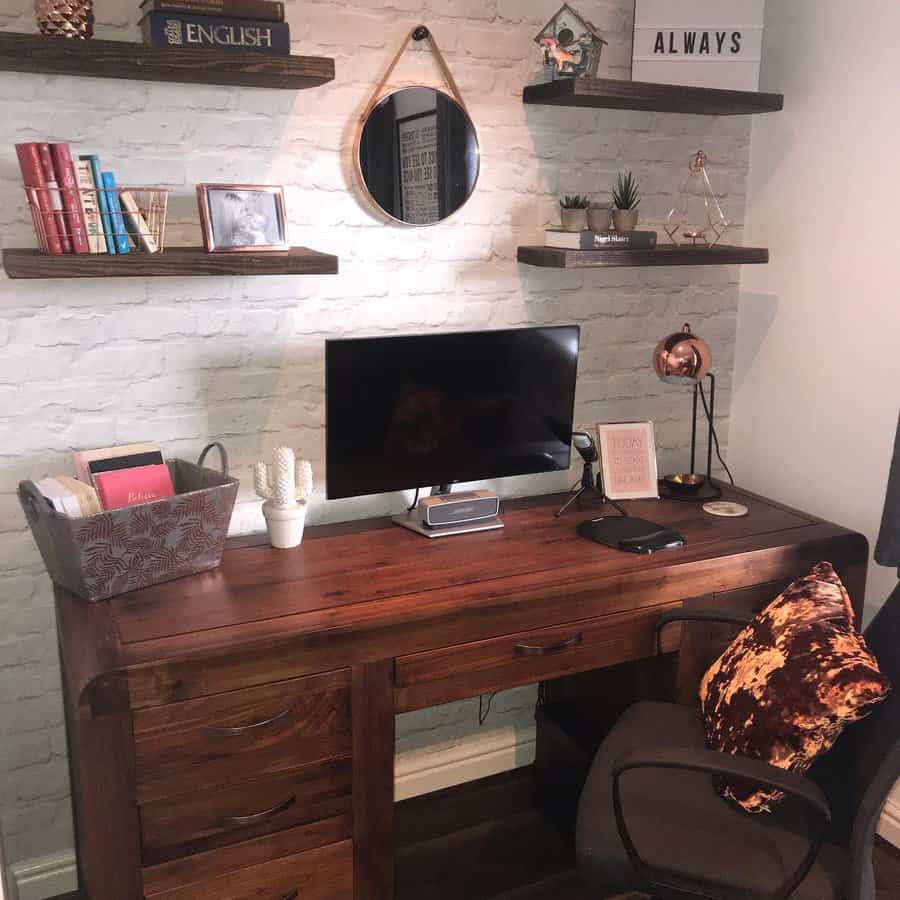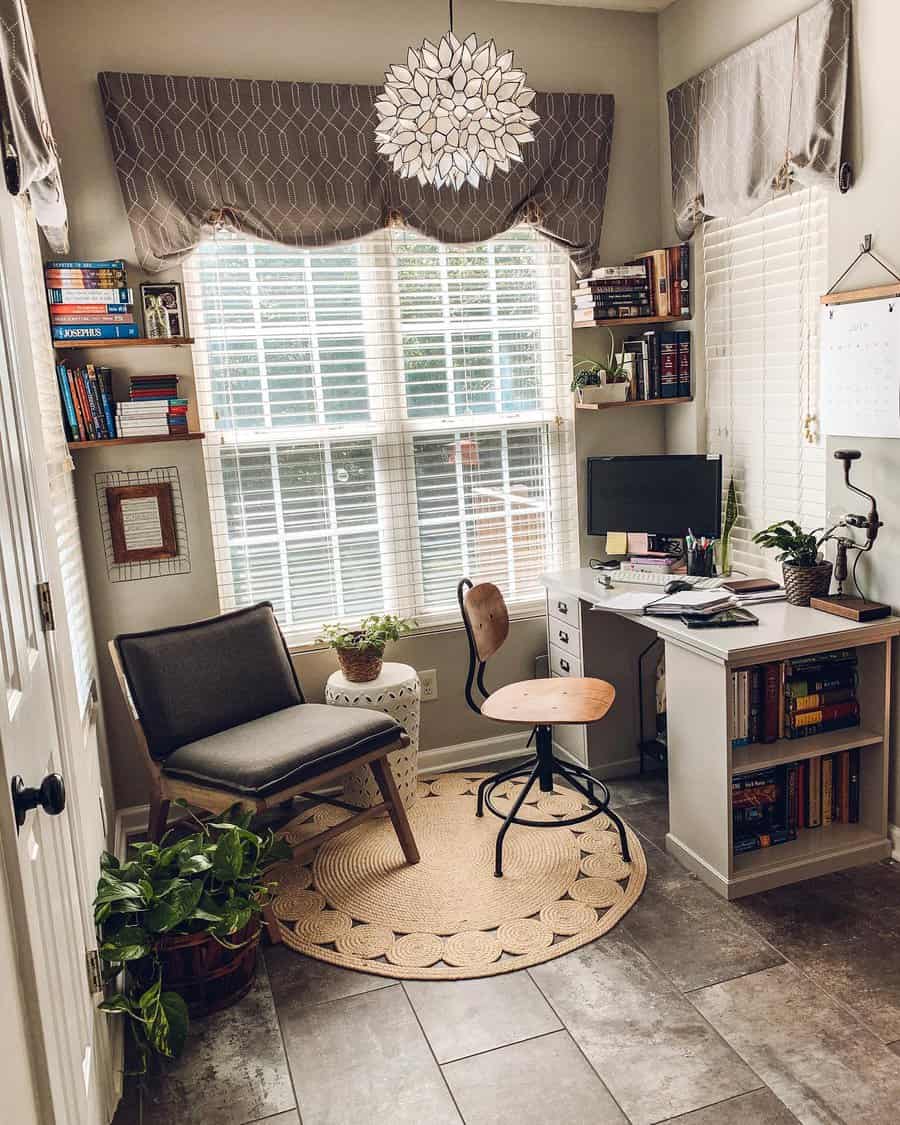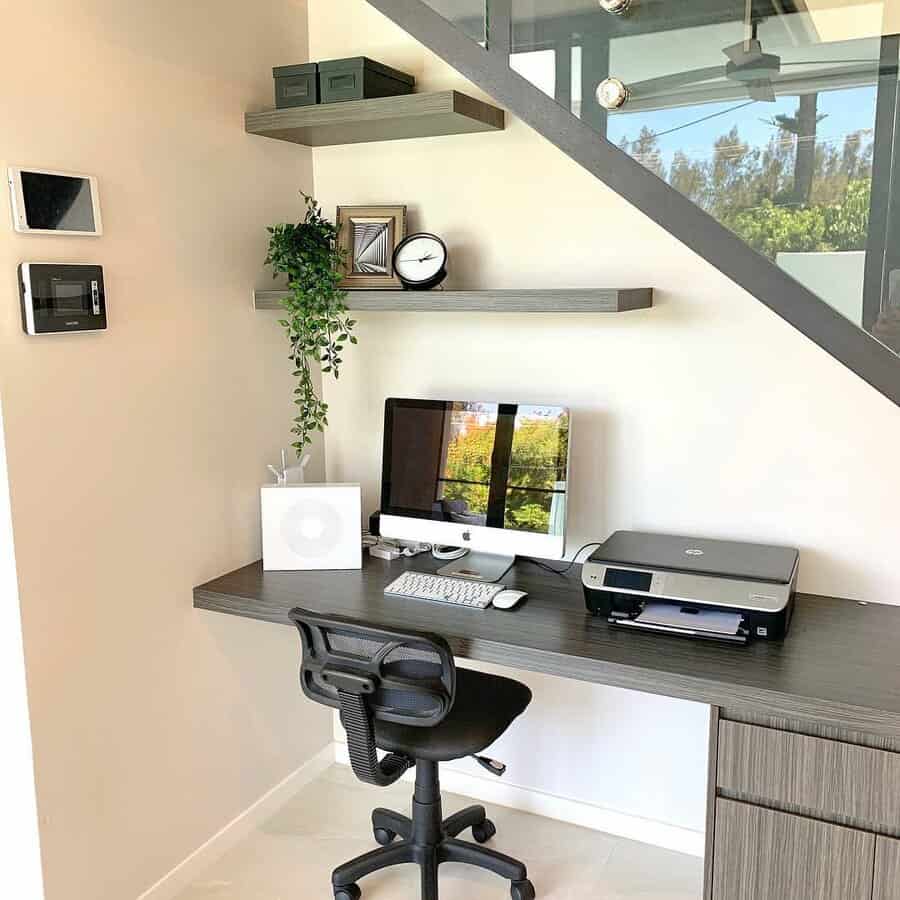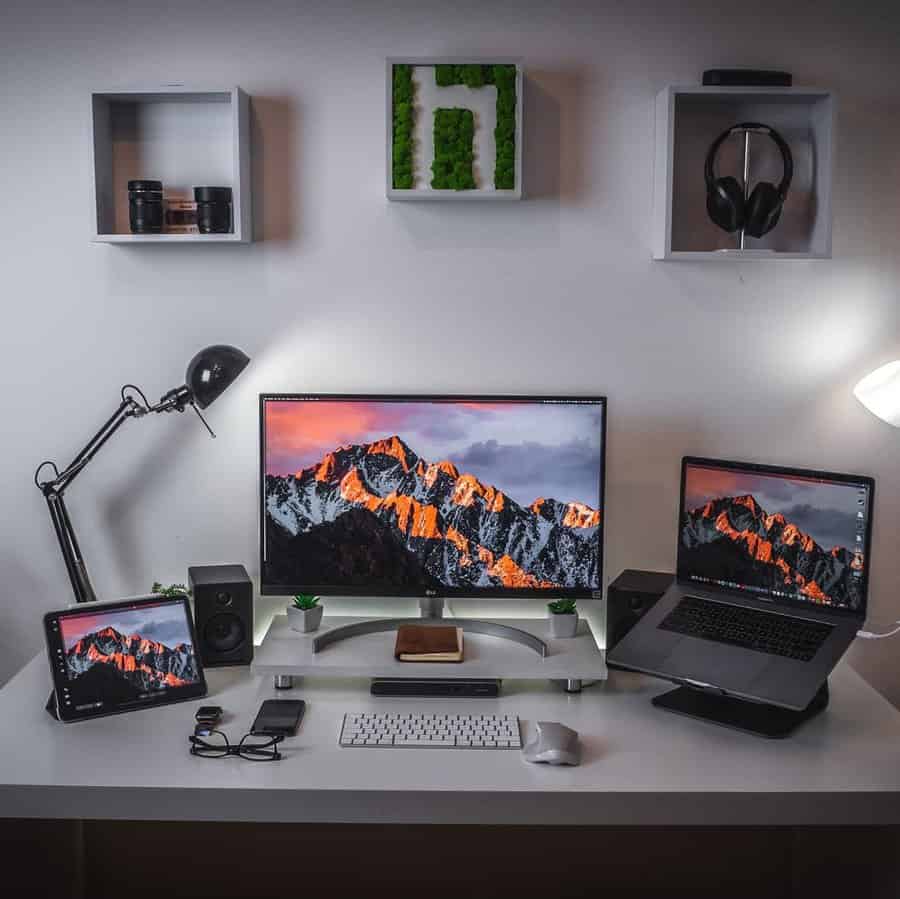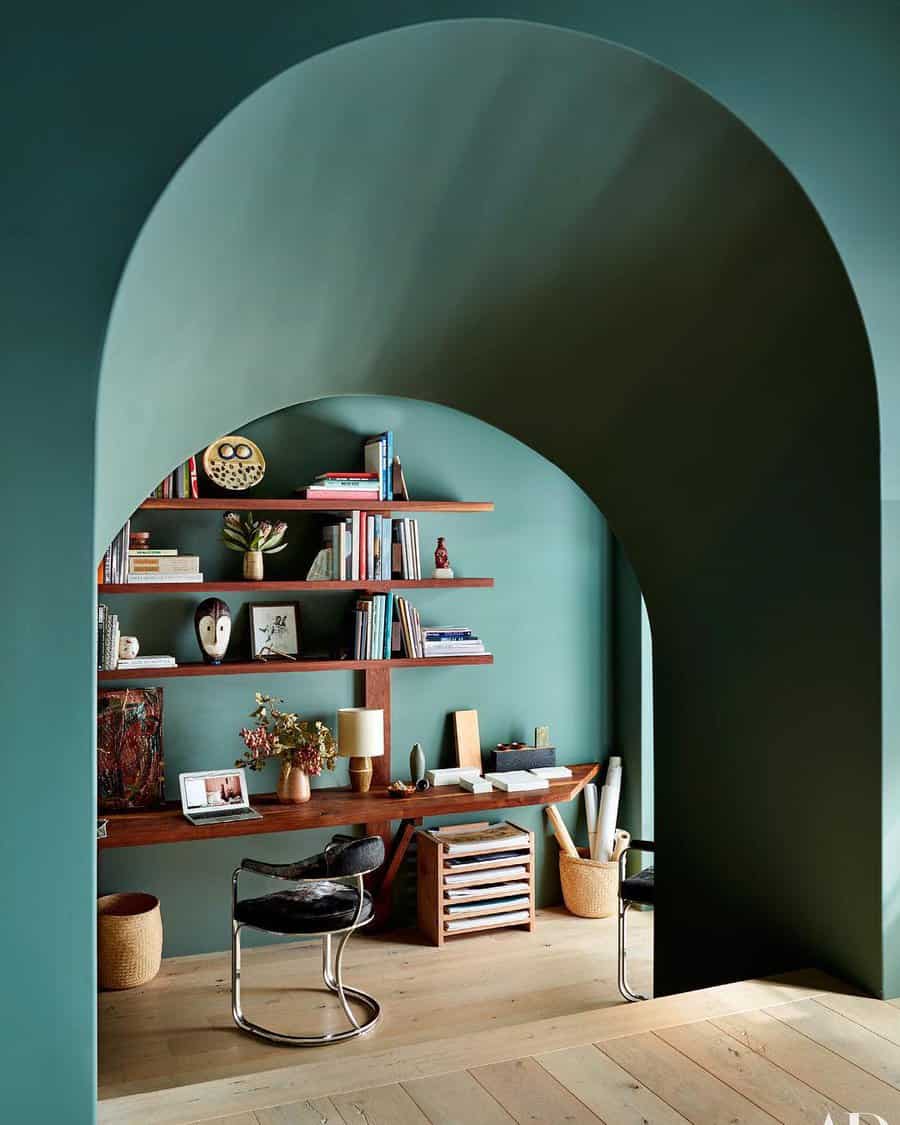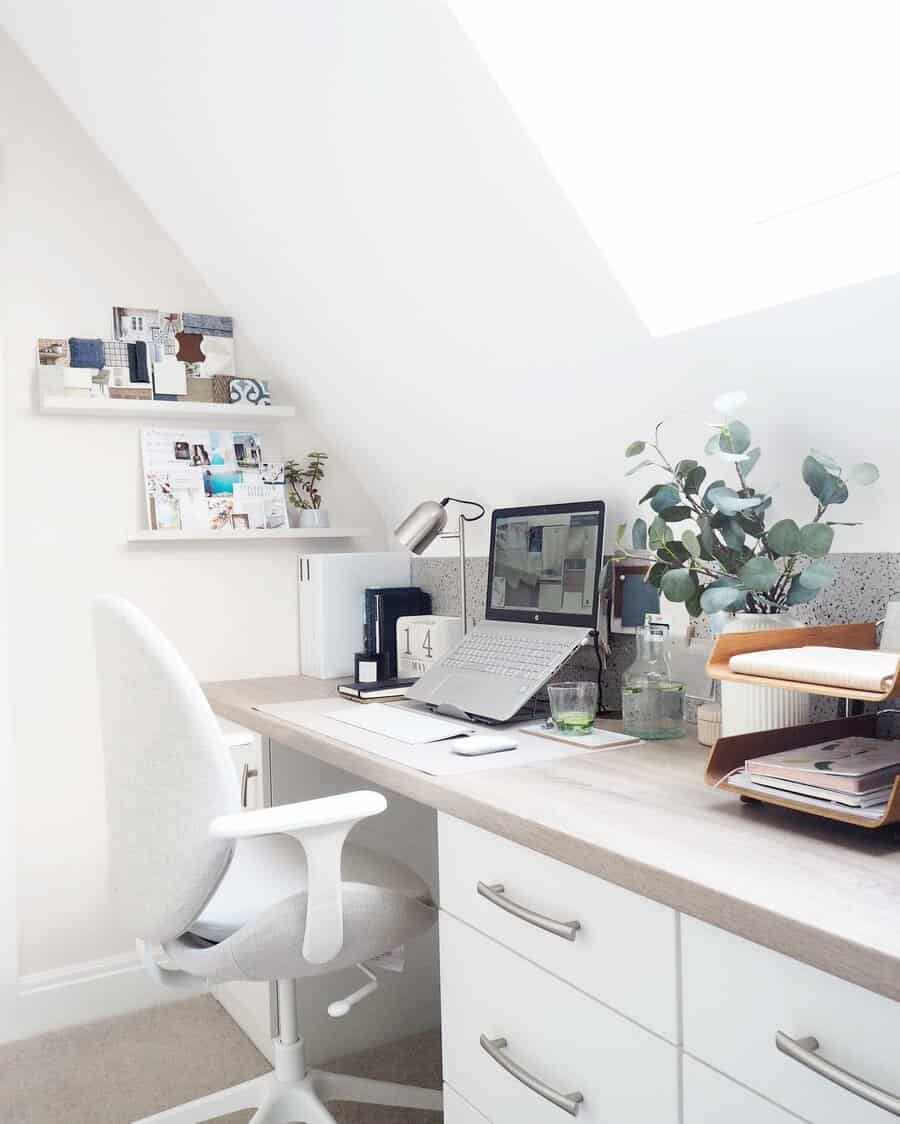 18. Opt for L-Shaped Desk Designs
For a creative and practical home office setup, consider the versatility of an L-shaped desk. This desk style provides ample surface area while optimizing space utilization, allowing you to personalize and declutter your workspace effectively.
The corner design of an L-shaped desk creates a dedicated work zone and neatly accommodates additional storage items behind or alongside it. Even in smaller living spaces, you can seamlessly integrate this desk style without sacrificing too much room. With smart design choices and a touch of ingenuity, you can transform your small home office into a professional, fully functional workstation tailored to your needs.
19. Embrace Monochromatic Home Offices
For small home office inspiration, delve into the world of monochromatic design with black-and-white elements and touches of wood. This chic fusion exudes elegance and tranquility, making it a versatile choice for various room sizes.
Start with pristine white walls as your canvas and incorporate an oversized wall clock as a striking centerpiece. Enhance visual appeal by selecting furniture in warm wood tones or sleek black matte finishes, accentuated with stylish metallic details. With this timeless color palette, you can create a sophisticated and harmonious workspace that's sure to impress.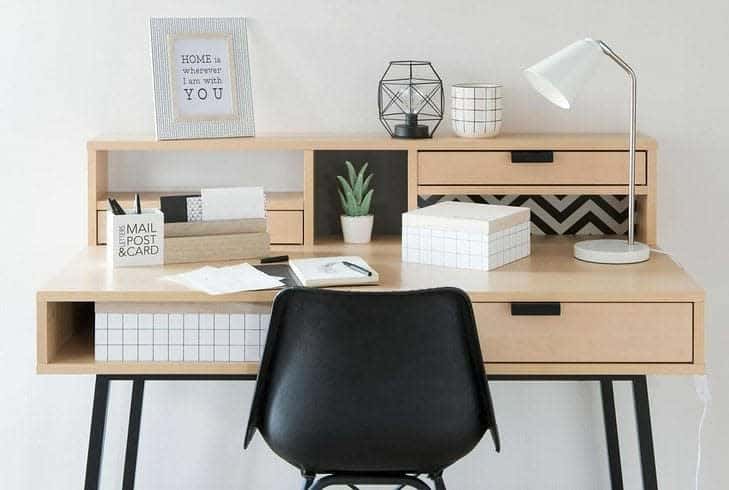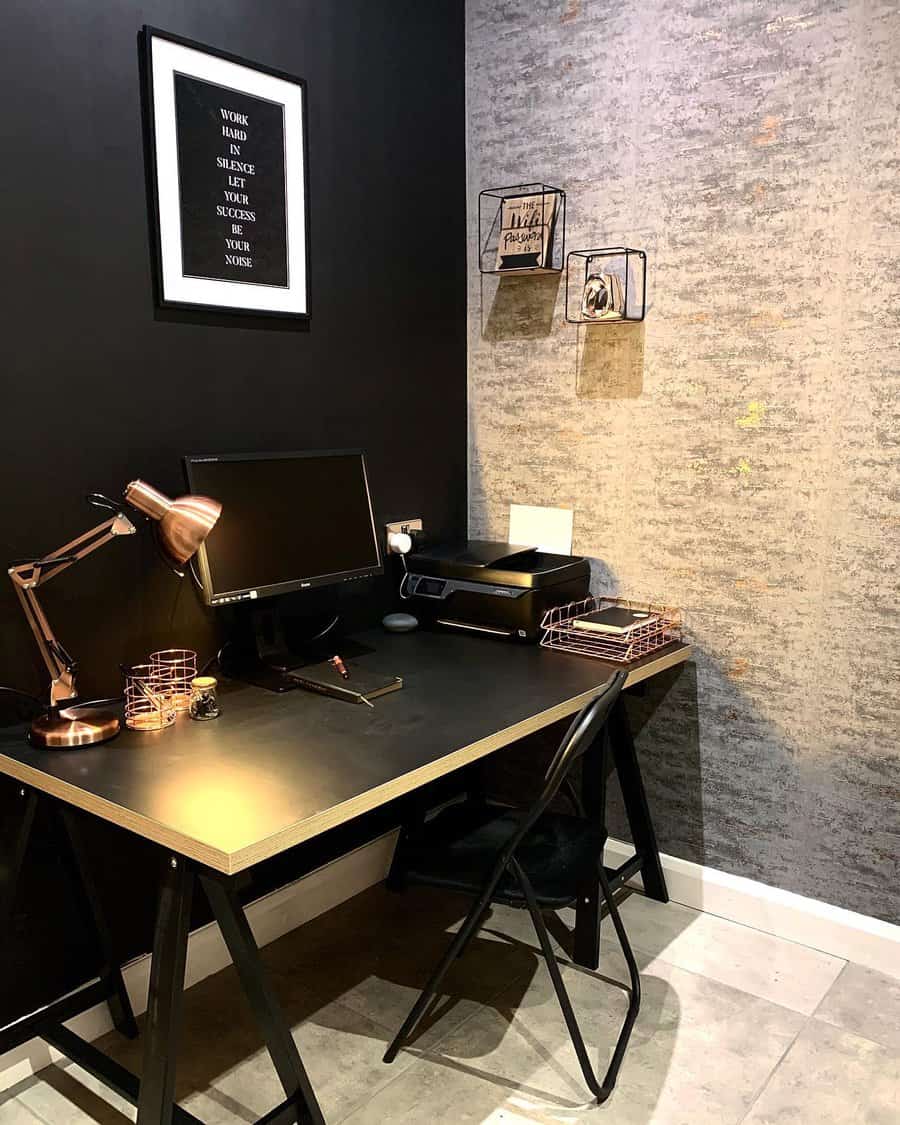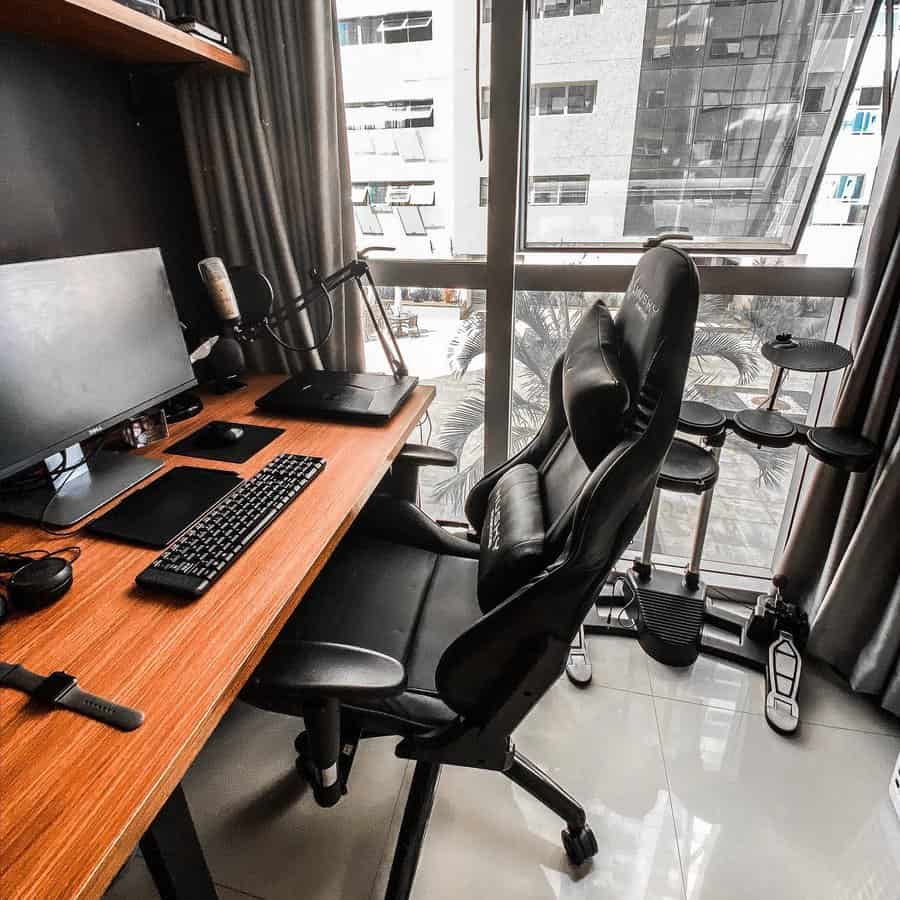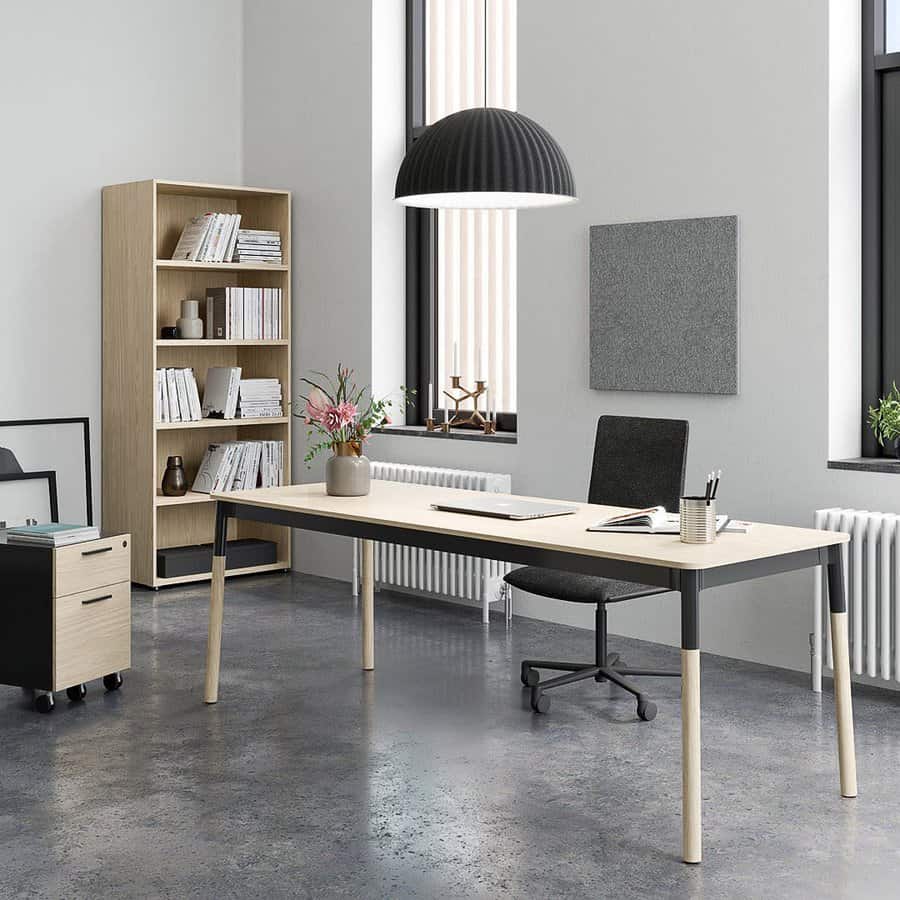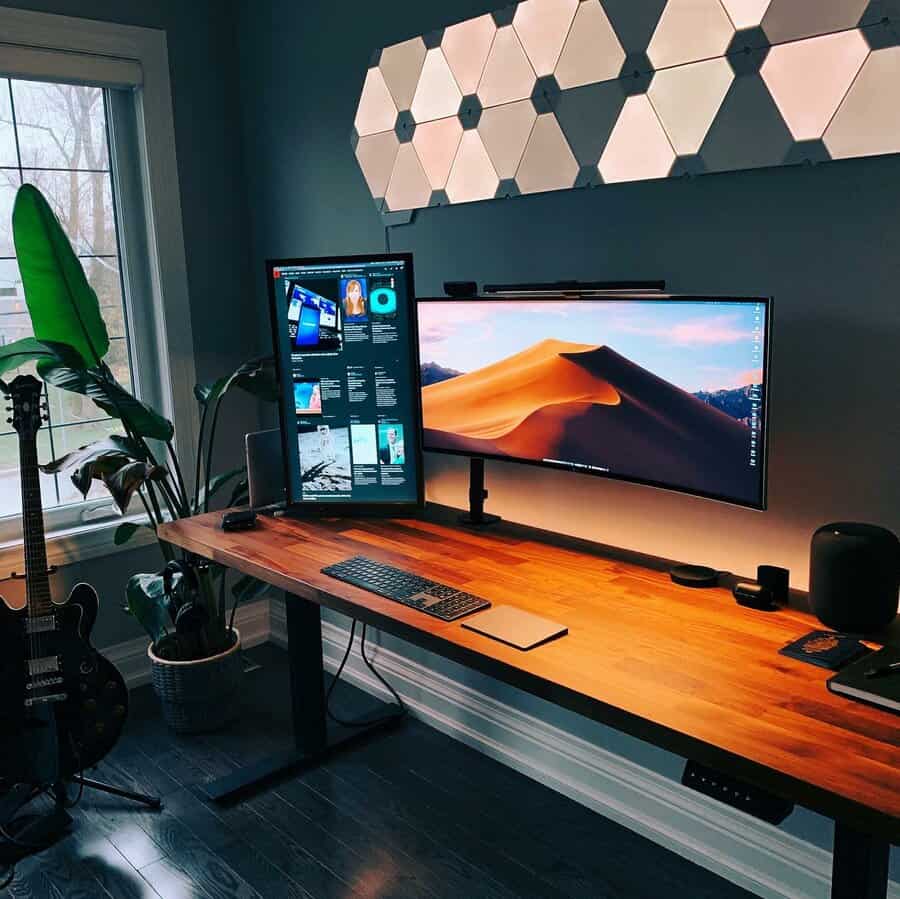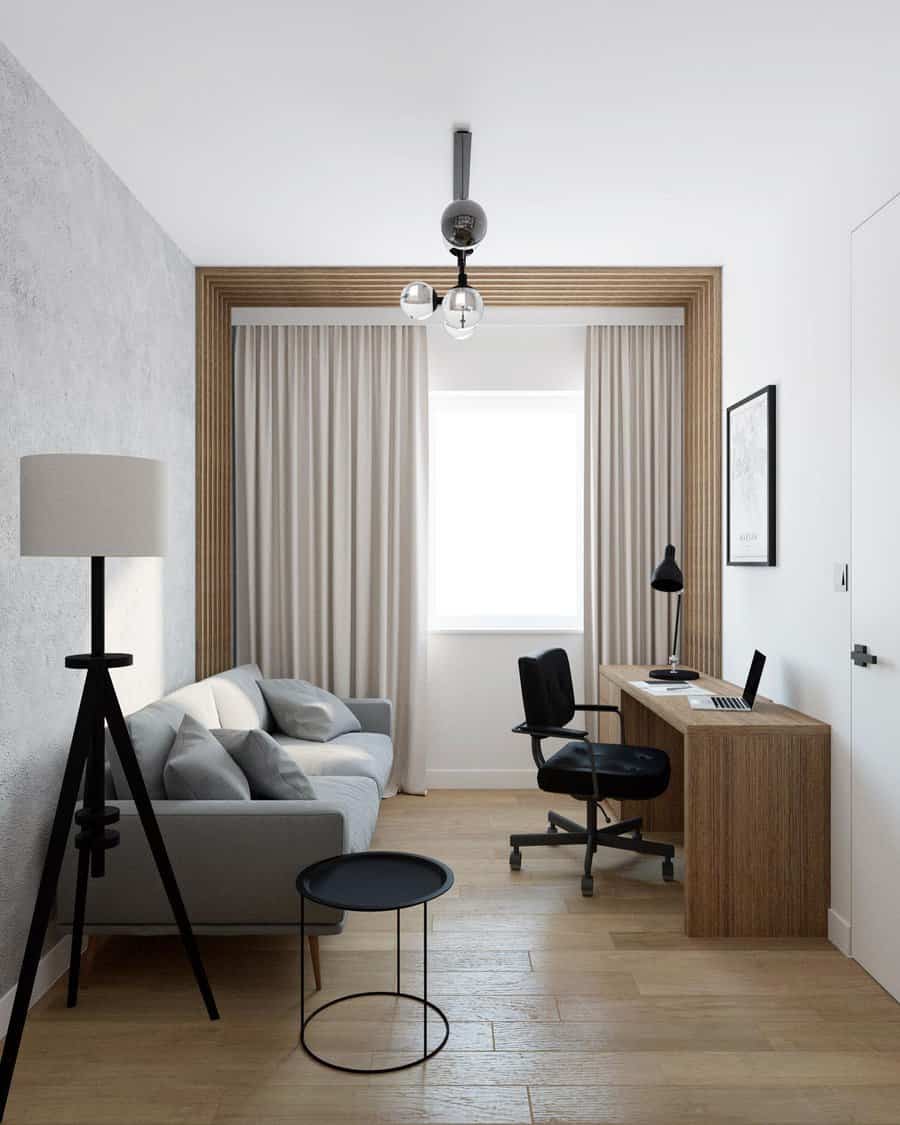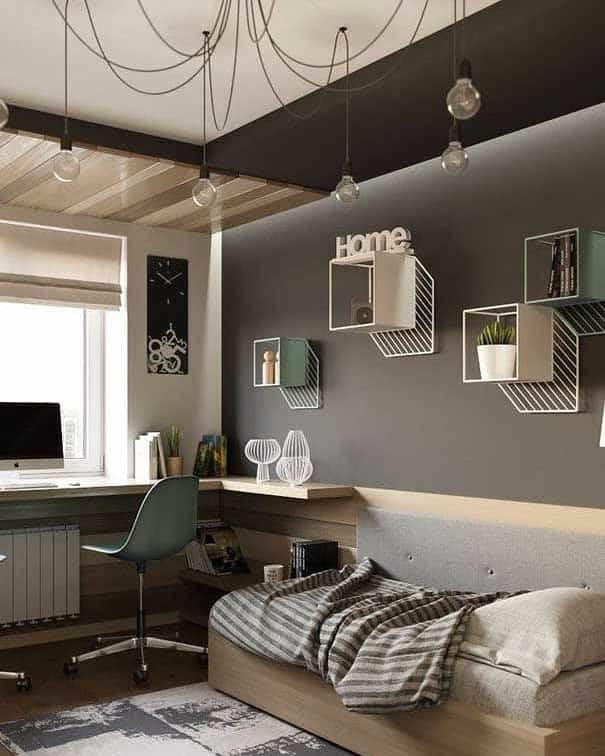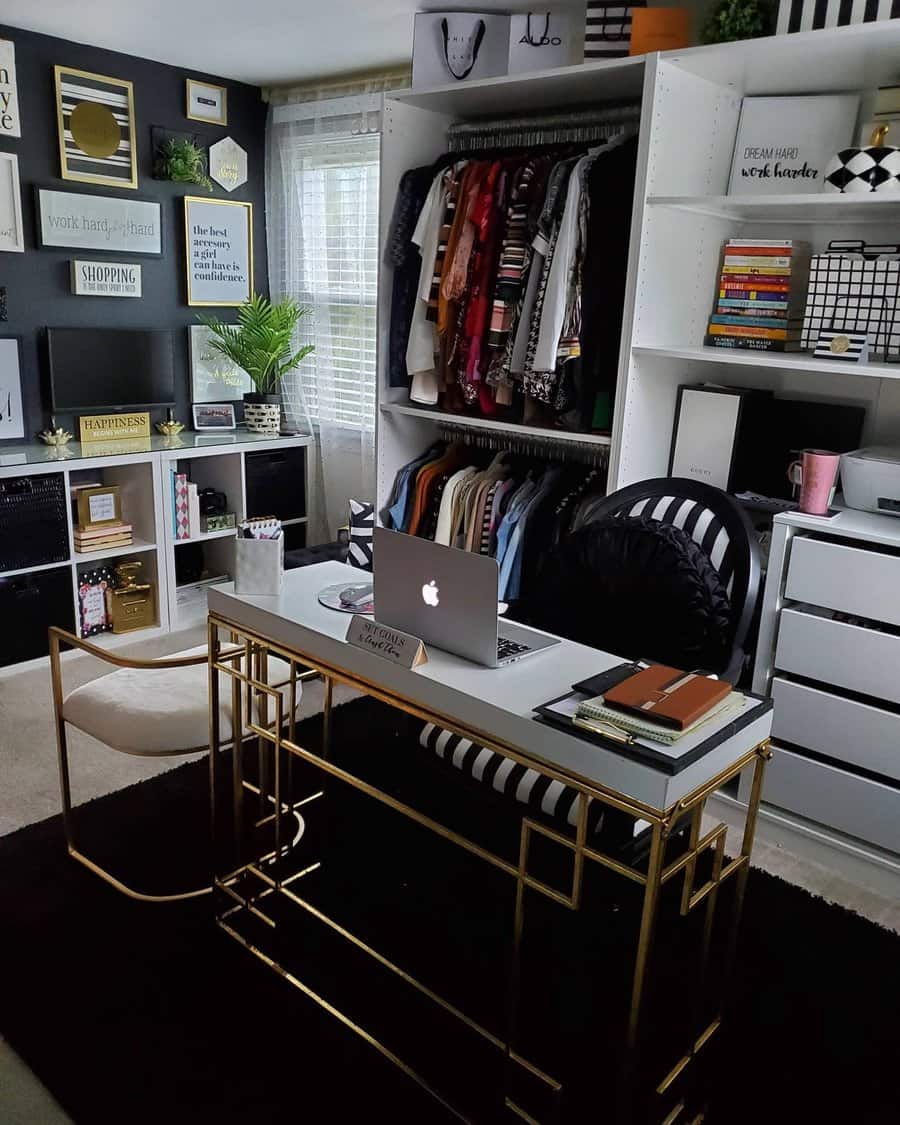 20. Infuse Charm with Shabby Chic Decor
Revamp your home office with the timeless appeal of shabby chic decor. Embrace classic tones and a touch of rustic elegance to elevate your workspace. Consider creating shiplap walls and pairing them with a white-washed desk for an authentically chic effect.
Enhance the ambiance with delicate wall accents and stylish decor pieces, cultivating an inviting atmosphere for comfortable work. Soft, warm lighting can further accentuate the charm of shabby chic design. This style offers budget-friendly small home office ideas, allowing you to transform your workspace into a truly fantastic retreat.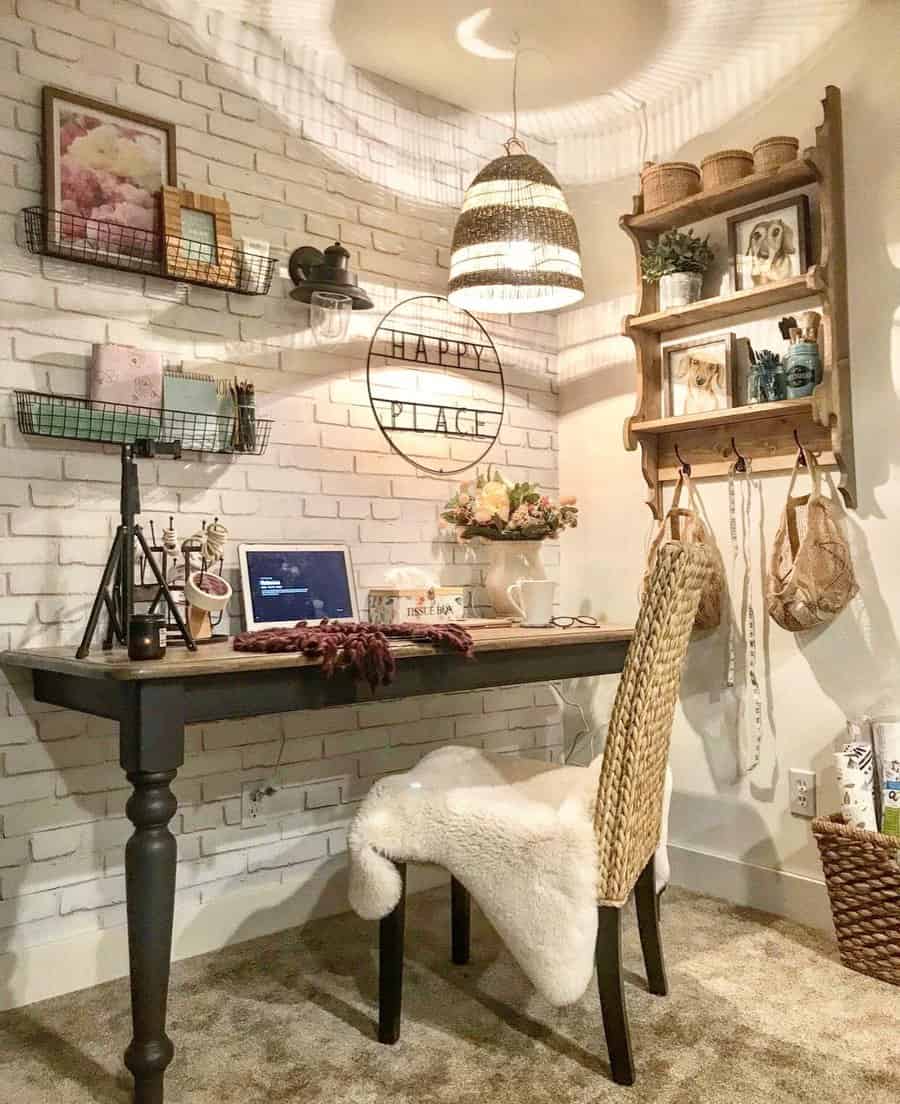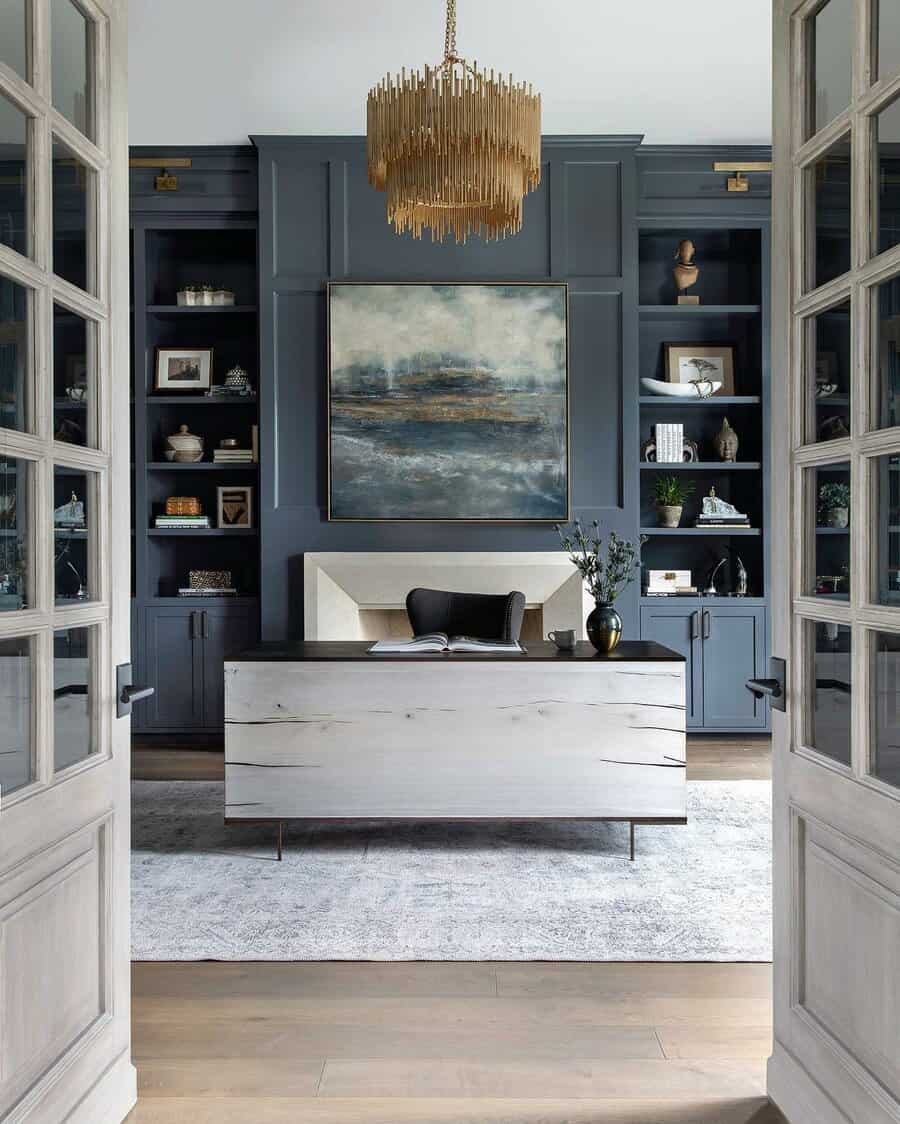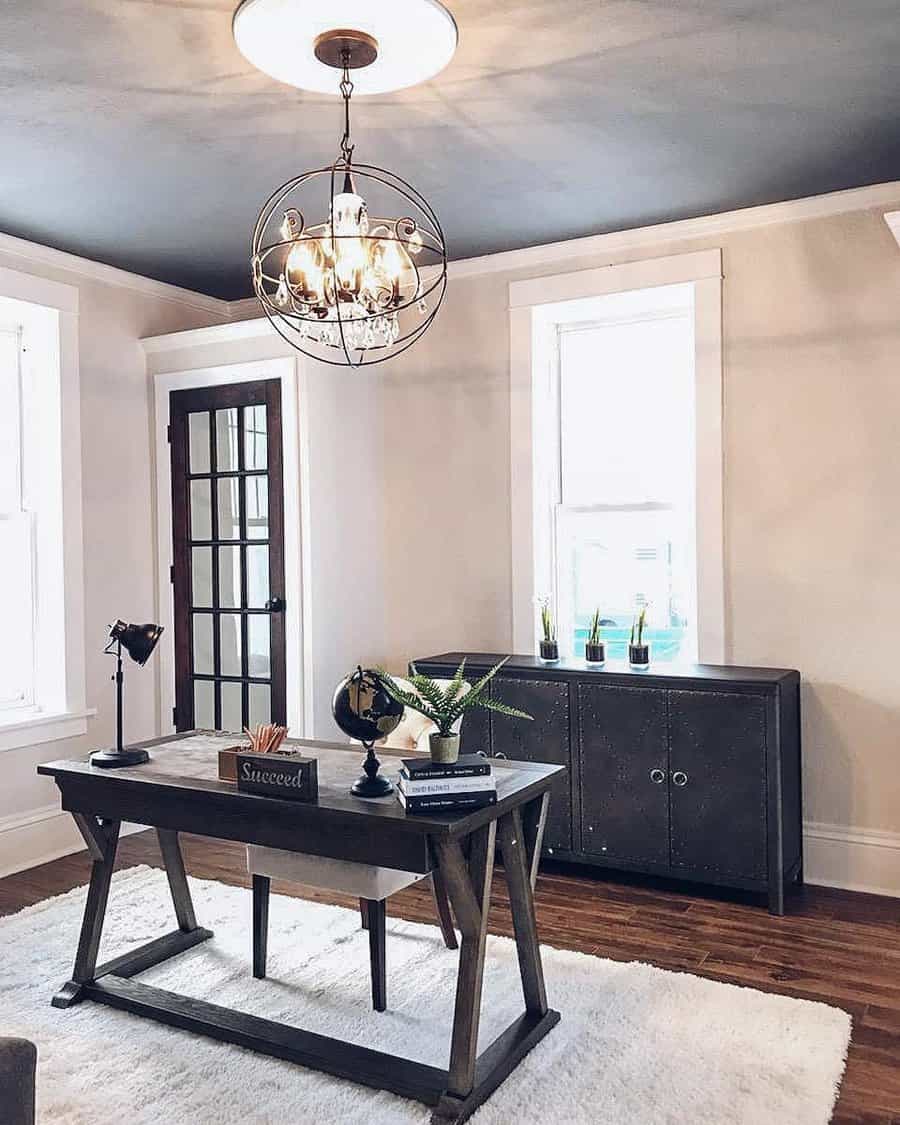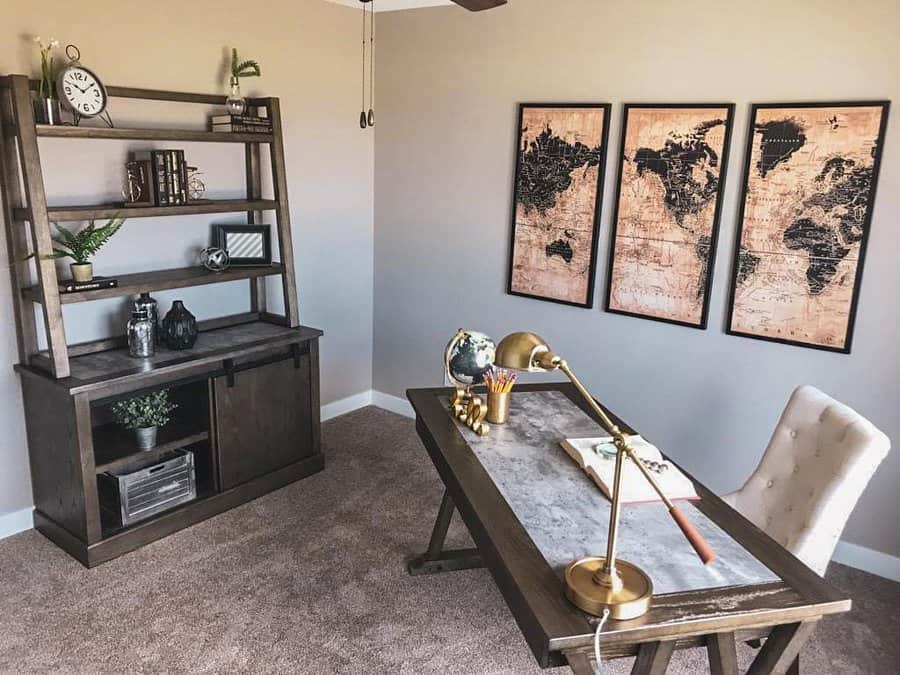 21. Define Spaces with Accent Wall Trims
Crafting an inspiring home office is a breeze with a strategic approach. Devote an entire wall to a distinctive feature like accent wall trims to infuse your workspace with both inspiration and visual allure. These accent walls introduce captivating colors or patterns, transforming the room's dynamics.
Break away from conventional desk setups by incorporating playful elements like sturdy chairs and wiggle cushions, fostering creativity during work hours. In small home offices, creativity thrives when you find inventive ways to make your workspace comfortable and reflective of your unique personality.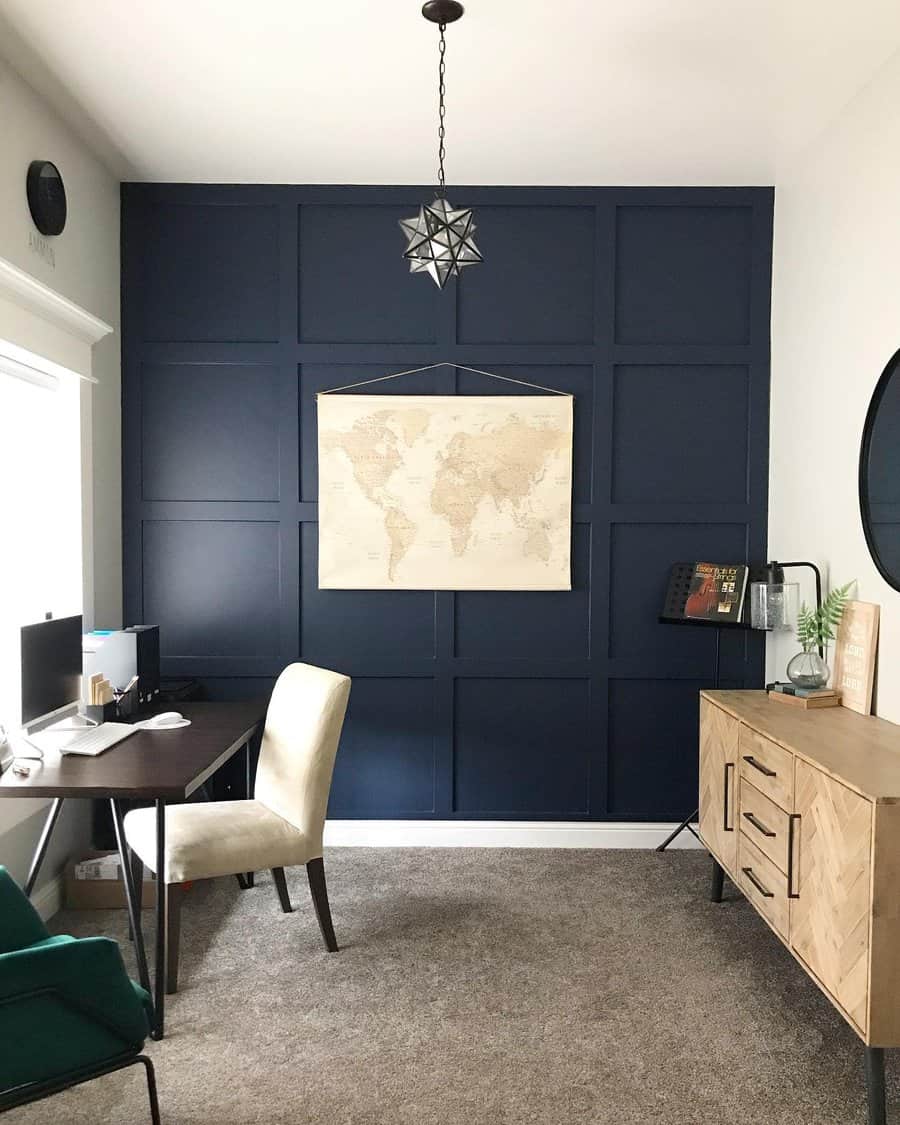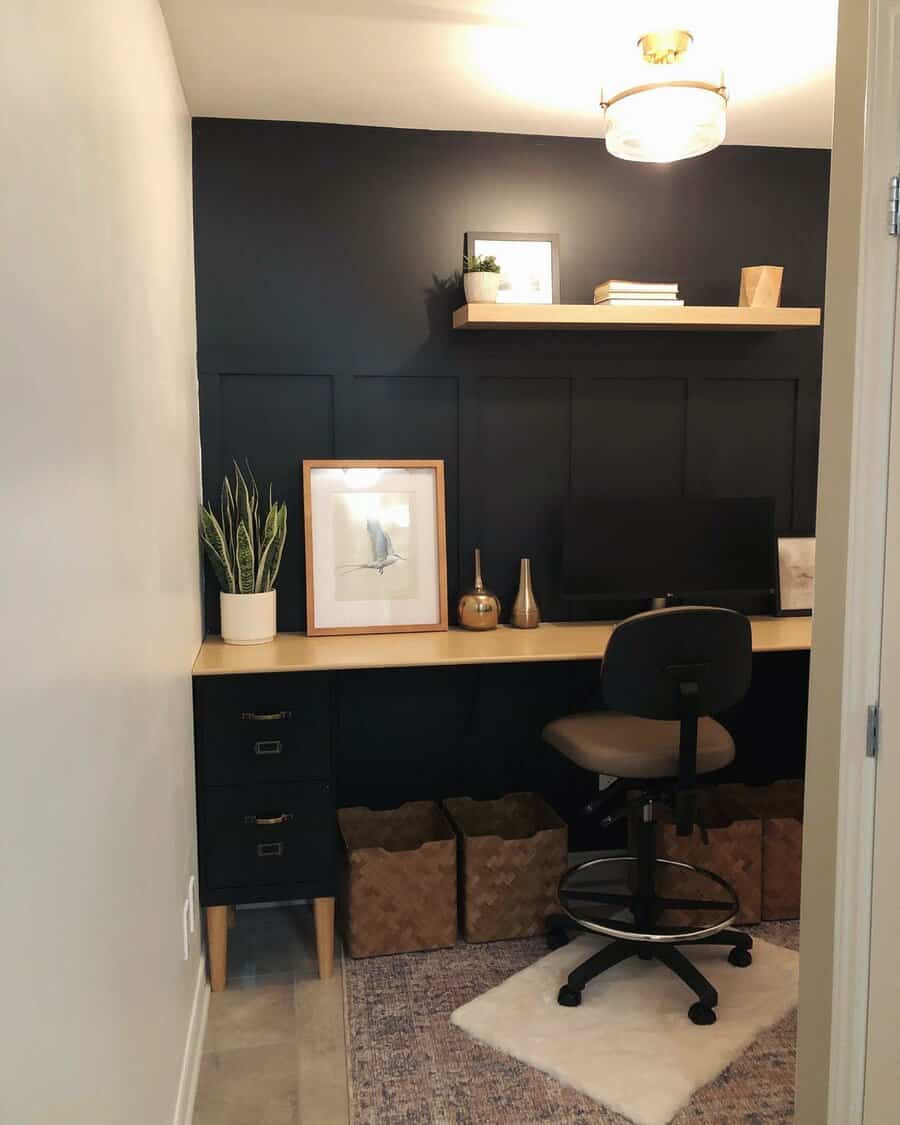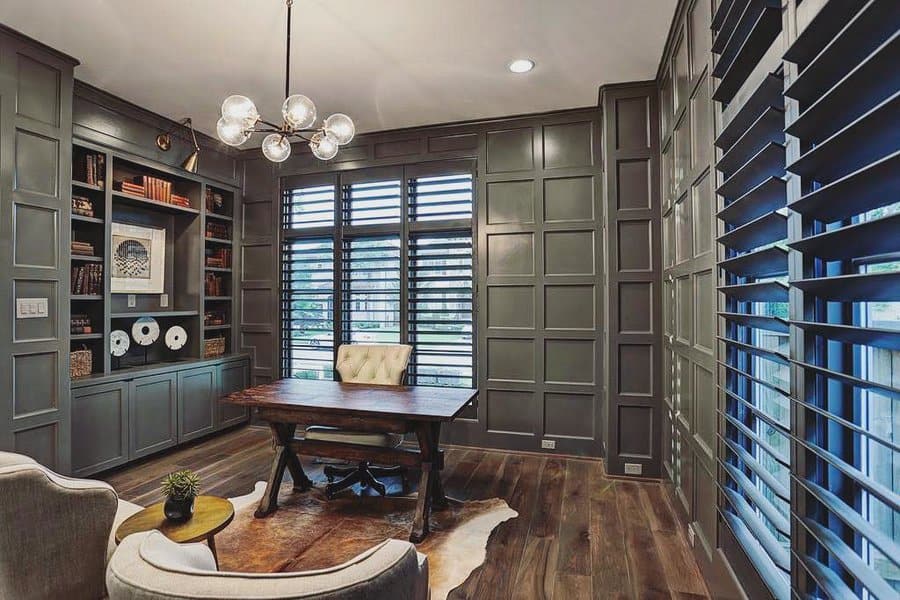 22. Add Comfort with Area Rugs
Designing an efficient small home office may present challenges, but clever ideas can maximize your available space. Opt for a desk with an area rug underneath to create the illusion of a larger workspace while enhancing its inviting appeal.
Choose multifunctional furniture and decor items, such as shelves that serve both as book storage and decorative elements. Ensure your office enjoys ample natural light and proper air circulation to boost productivity. By following these strategies, you can craft a creative and functional small home office that optimizes space without compromising aesthetics or functionality.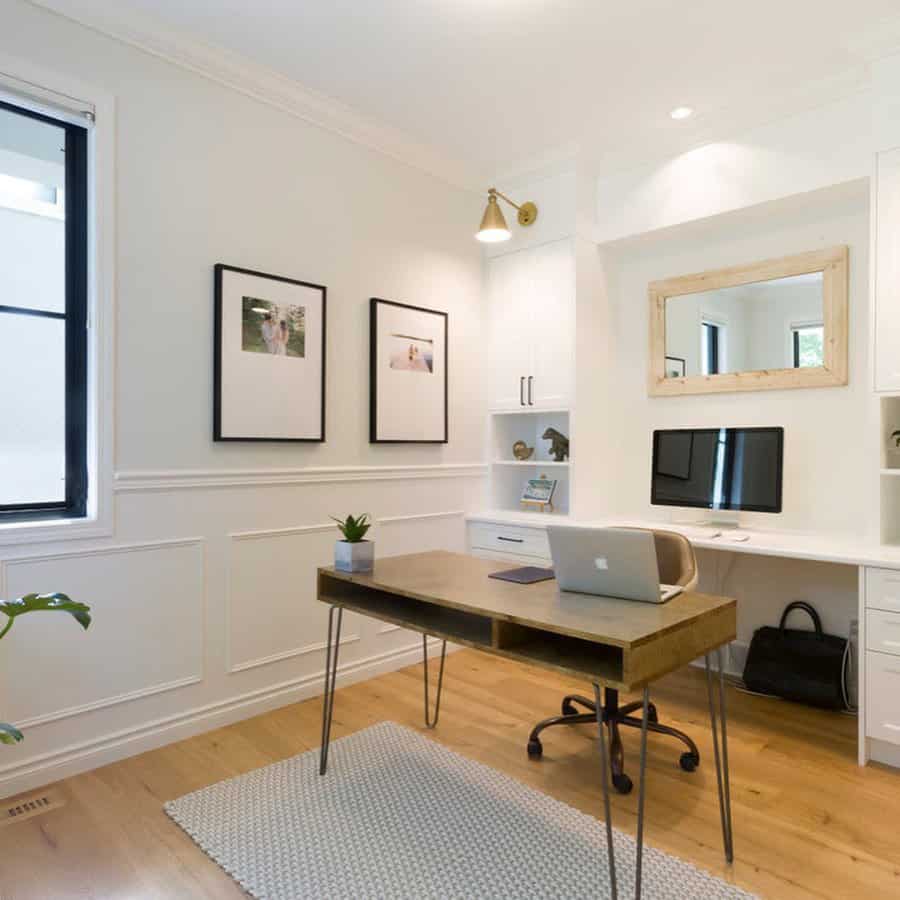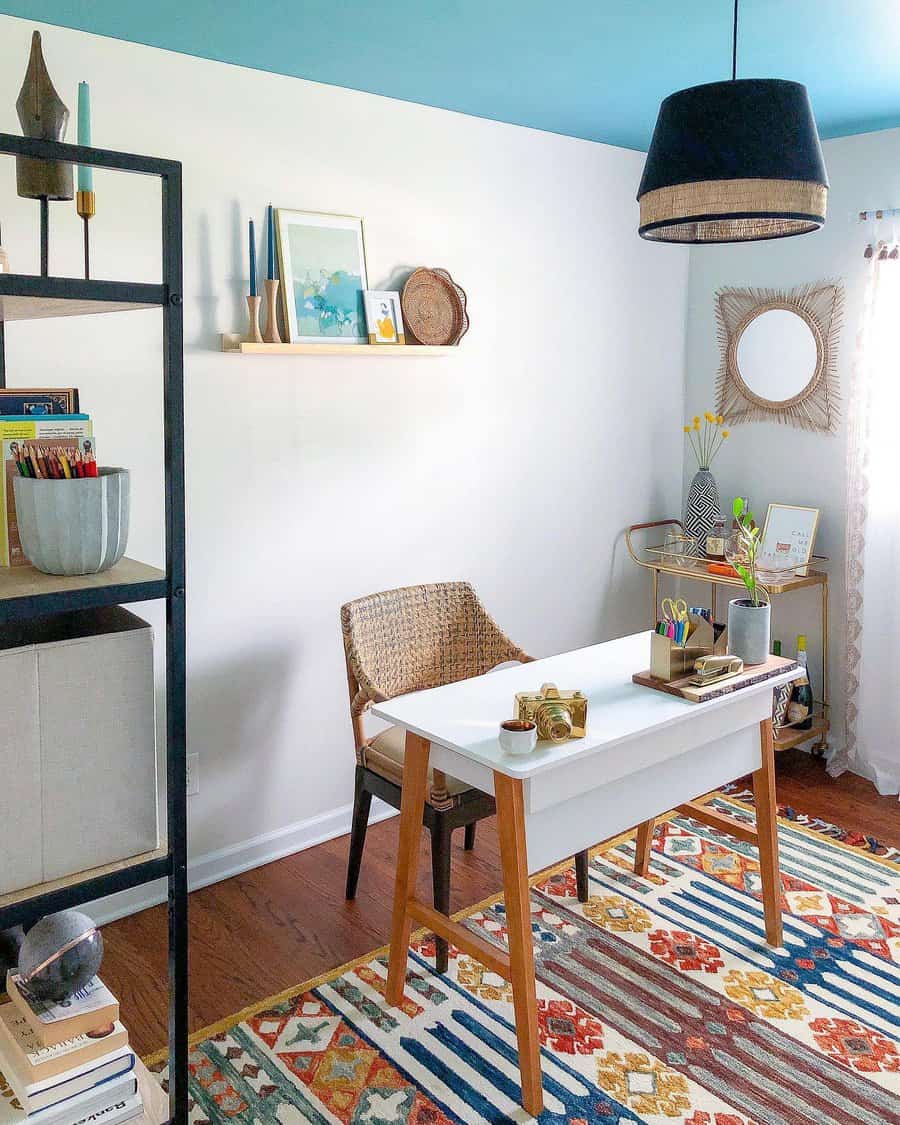 23. Illuminate with Wall-Mounted Desk Lights
Establishing a small home office need not be overwhelming. Incorporate creative solutions to maximize your limited space. Opt for an office desk with a wall-mounted drop light to free up desk space, providing room for additional seating or workspace.
Consider repurposing items like bookshelves and dressers to create multifunctional storage and organization solutions. Harness blank walls for inspiration boards, keeping your space open while consolidating and organizing ideas effectively. These strategies enable you to design an efficient and organized small home office that optimizes every inch of space.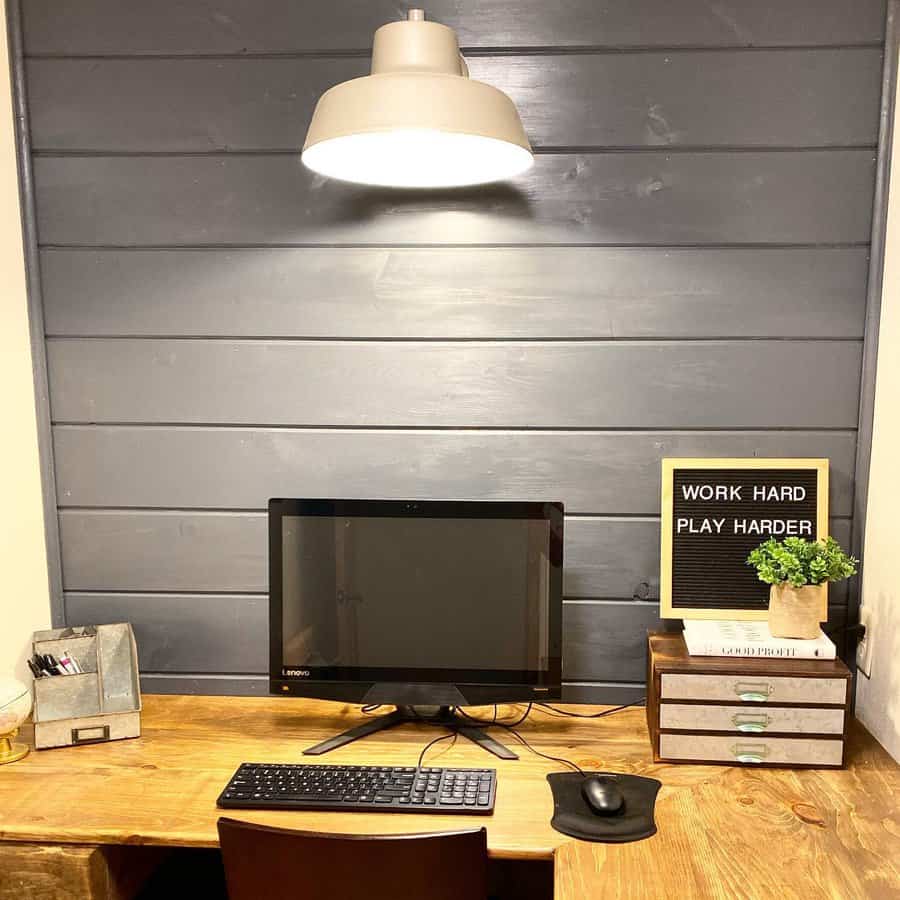 24. Luxuriate in Gold and White Elegance
For the ideal home office ambiance, draw inspiration from a luxurious gold and white theme. Start with a light, neutral wall color like off-white to boost productivity. Introduce distinctive flair with gold accents on your desk and lamp fixtures, or seek decorative storage solutions like natural wood shelving and woven baskets.
Inject personality into the space by incorporating potted plants, framed artwork, and colorful rugs. When planning the layout of your small home office, prioritize clever storage solutions to maintain organization and ensure everything has its designated place. Armed with these ideas, you're ready to craft a stylish and functional workstation that exudes elegance.
25. Embrace Scandinavian Office Style
Designing a functional yet stylish home office has become essential, and Scandinavian-style interiors offer compelling ideas for achieving this balance. This style emphasizes minimal and airy decor, featuring natural materials like wood, metal, and cotton. Neutral colors such as greys, whites, and beiges create a serene backdrop for focused work.
Implement decluttering techniques to enhance aesthetics; opt for multipurpose furnishings like storage-integrated laptop desks and space-saving floating shelves for efficient organization. Introduce green plants to refresh the atmosphere while improving air quality, ensuring a productive and healthy workspace in line with the Scandinavian ethos.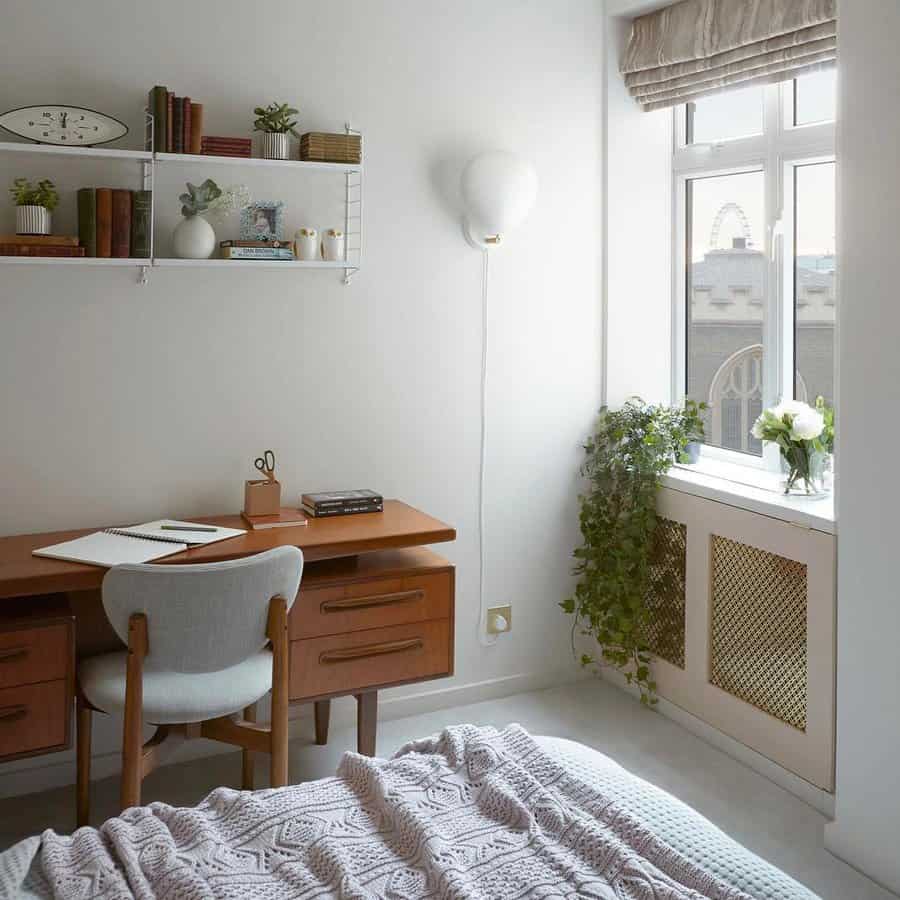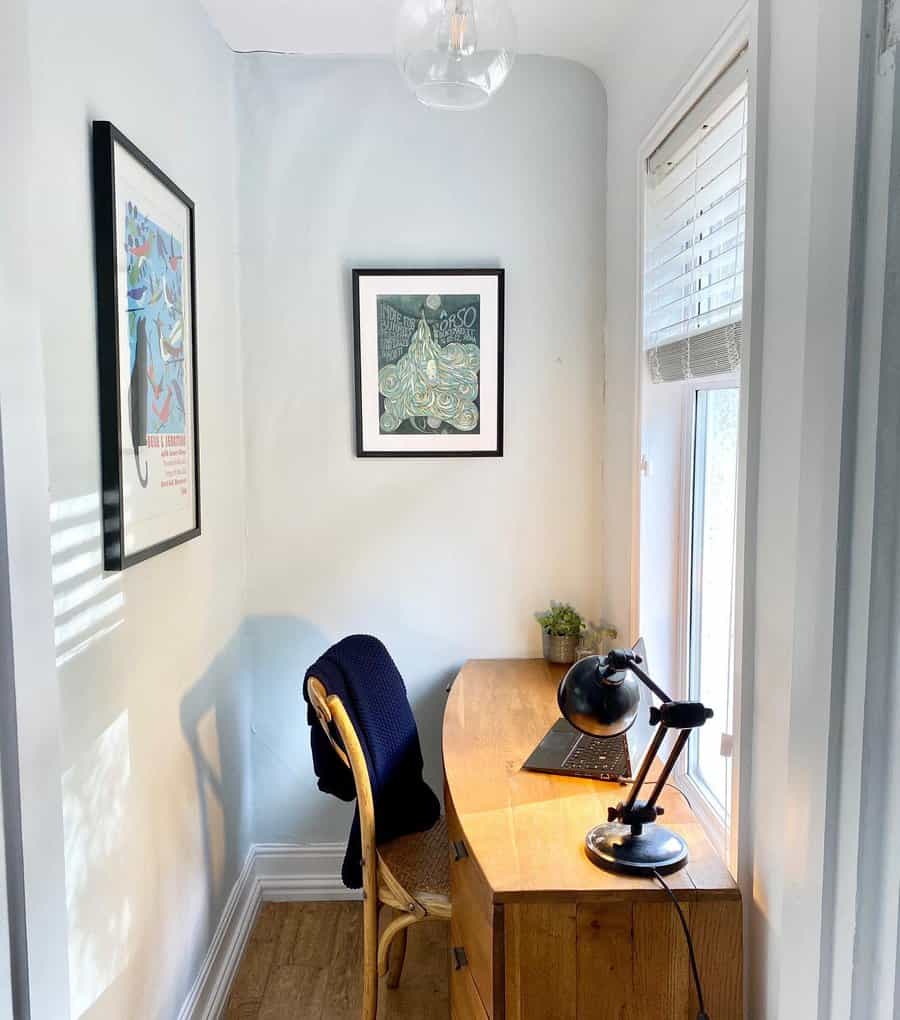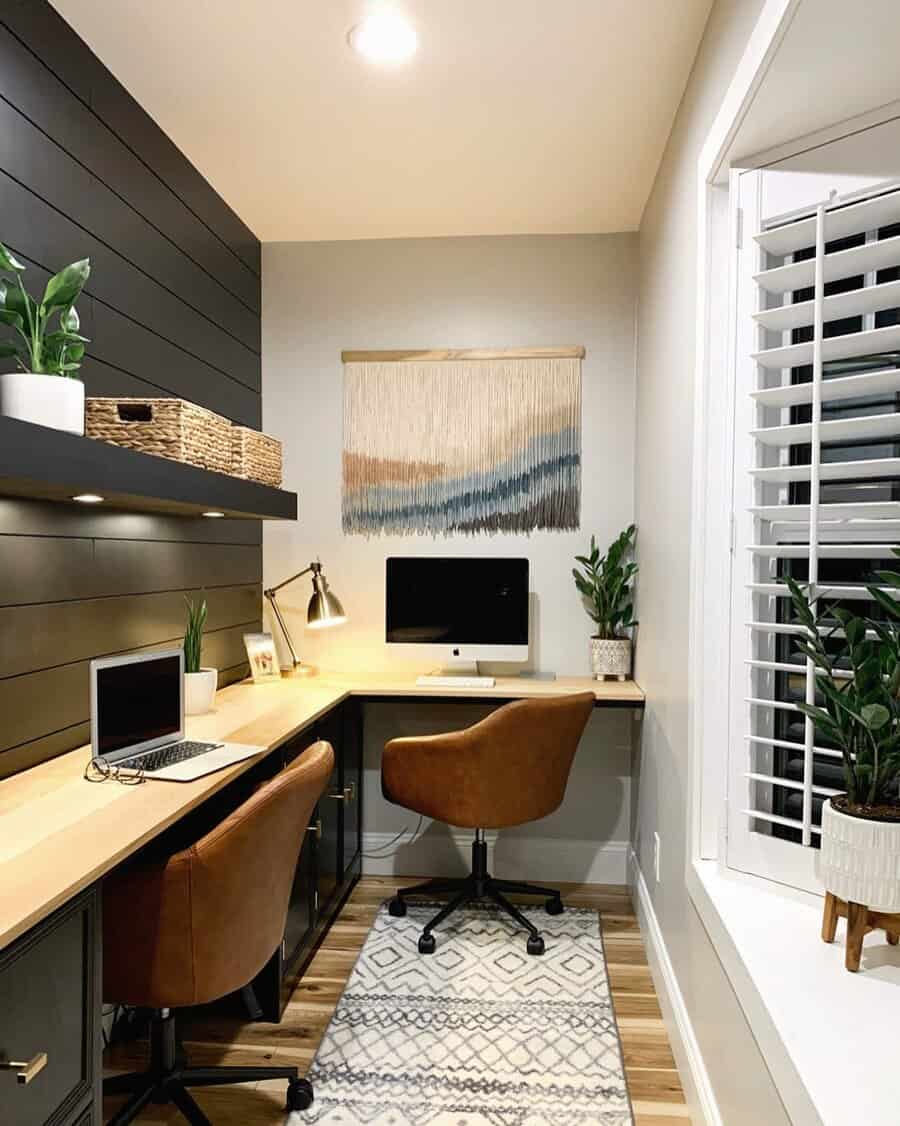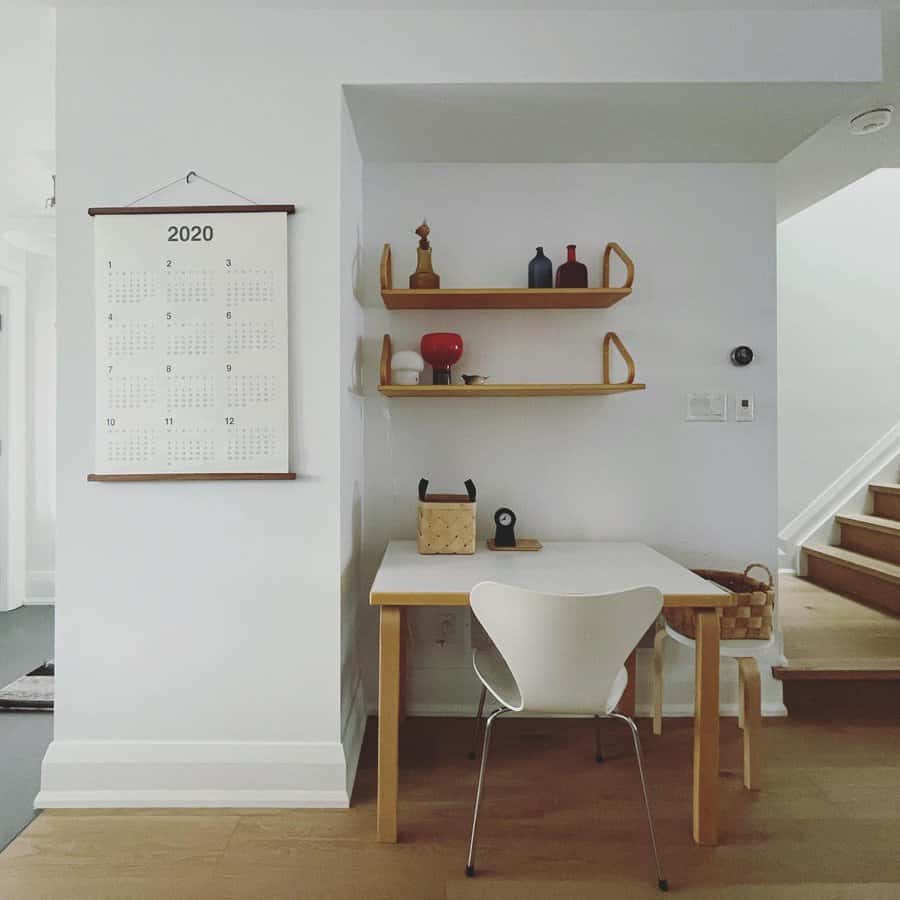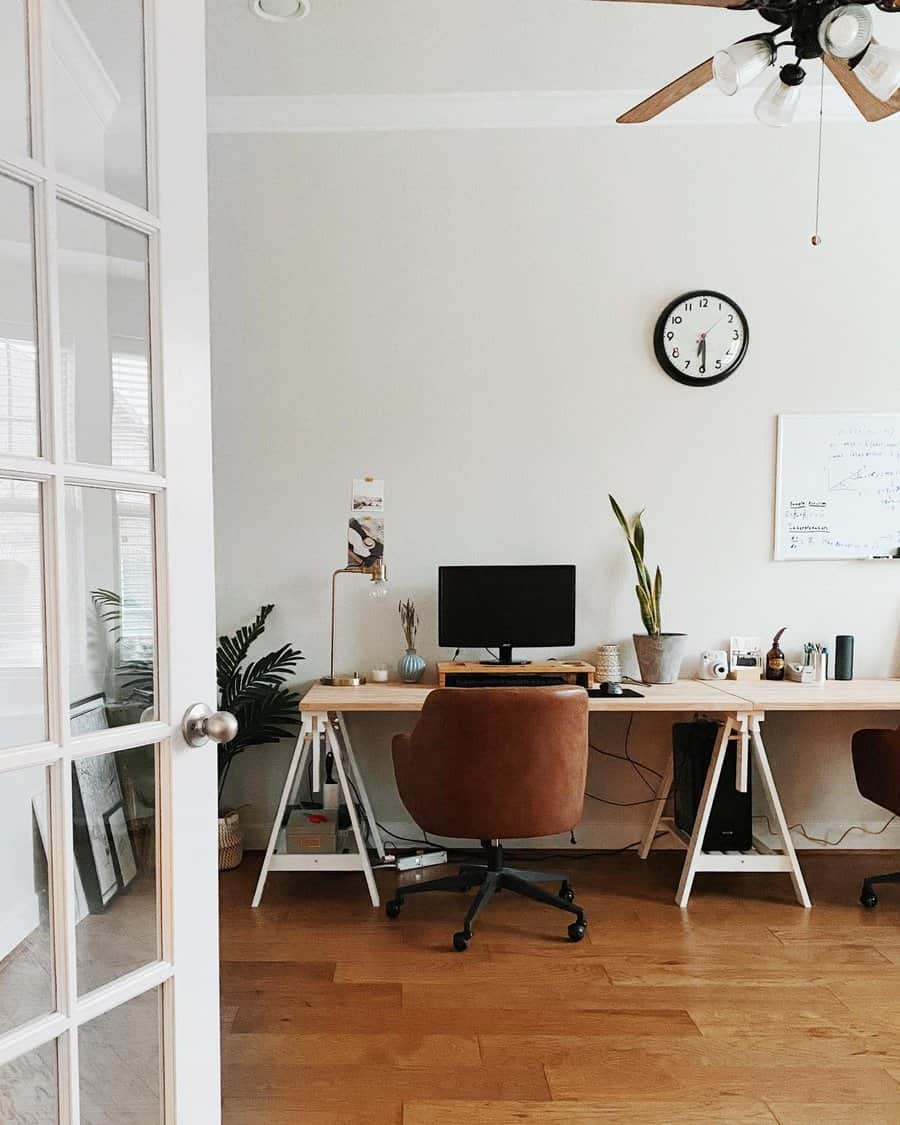 26. Optimize Space with Recessed Desks
Transforming a small room into a functional home office can be achieved creatively by incorporating a recessed office desk. This niche near the wall offers an ideal workspace for various projects, optimizing space utilization.
In addition to freeing up valuable floor space, a recessed desk minimizes visual clutter and distractions, promoting focus and productivity. Whether you're DIY-savvy or prefer professional assistance, online instructions and experts are available to ensure a proper installation. Regardless of the approach, creating an efficient home workspace in your compact living area can reduce stress and enhance the enjoyment of working from home.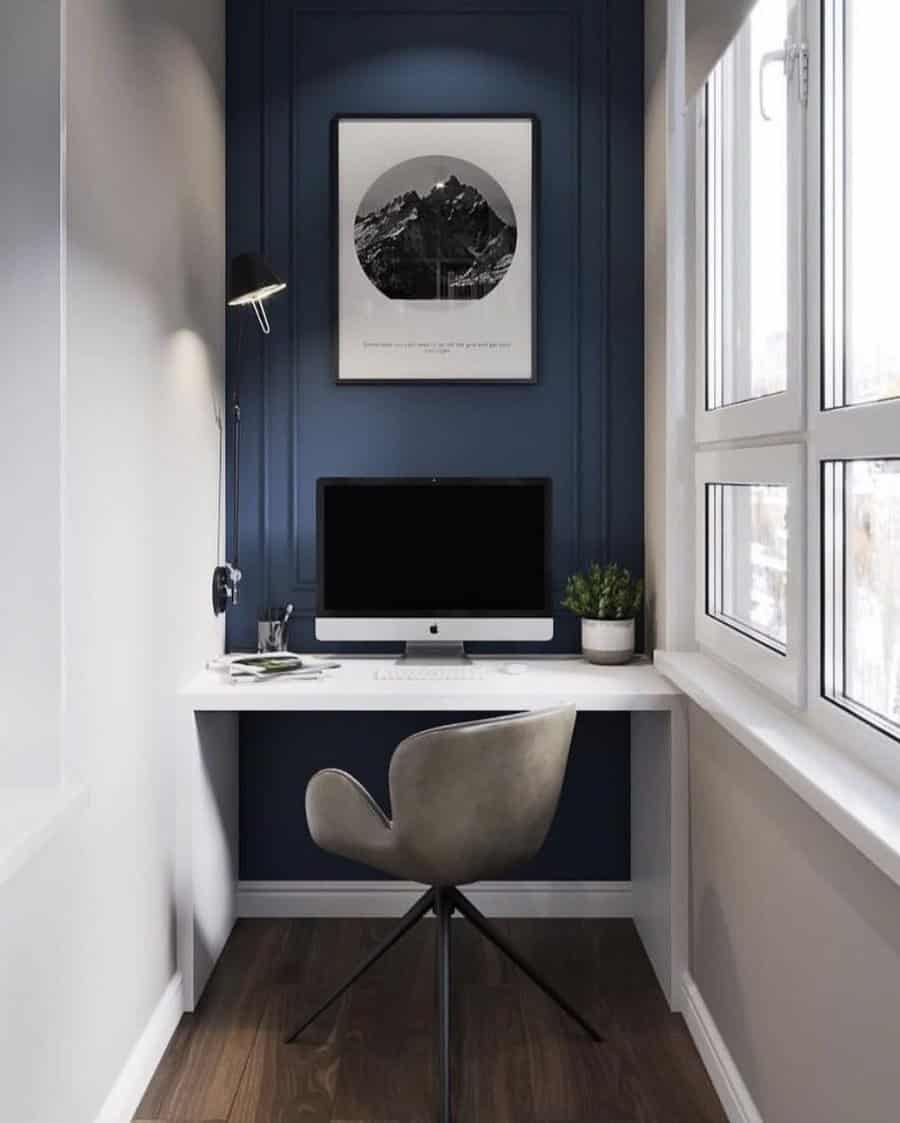 Small Office FAQs
Which paint colors are best for a home office?
Most designers recommend off-white or beige walls for an office space. White walls are simple and easy to decorate around. But any neutral shade will do in most cases.
The industry your work in may play a role in the ideal wall color for your home office. For example, creative industries tend to embrace far more eclectic design choices than more traditional industries.
At the end of the day, you are the one spending the most time in your home office space. Unless you take frequent video calls or see in-home clients, you can technically paint your office walls any color you like!
Where is the best location for a home office?
Ideally, your home office should be in a separate area rather than in the middle of your main living space. A guest bedroom or even closet can be easily transformed into a cozy office nook.
Try to keep your workspace away from living areas meant for relaxation. For example, a home office should only be placed in a master bedroom if there is no other option available.