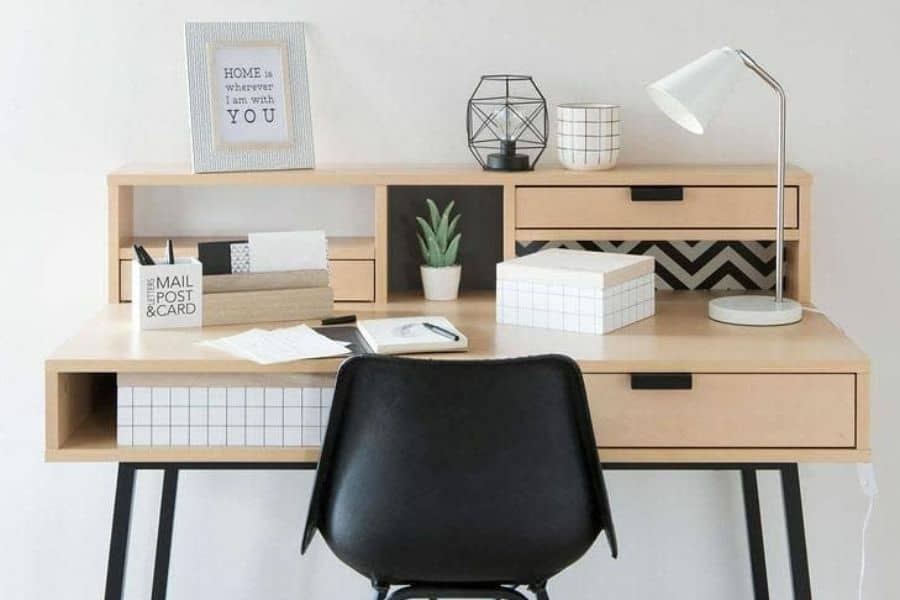 83 Small Home Office Ideas
There are plenty of reasons to dread the workday (no matter how much you love your job!). Your office space shouldn't be one of them.
With more people working from home than perhaps ever before, we've found ourselves with a ton of freedom to decorate our offices to suit our needs and personal styles. So what's stopping you?
If you're like most at-home workers, space is a major concern. The good news is that decorating a small space doesn't need to be a chore! Keep reading for our favorite small office ideas you can recreate whether you work at home or in a cubicle.
1. Apartment
Apartment life isn't for everyone. But you can make things a bit more tolerable by investing in a living space that suits your lifestyle (including working from home) and personal aesthetic.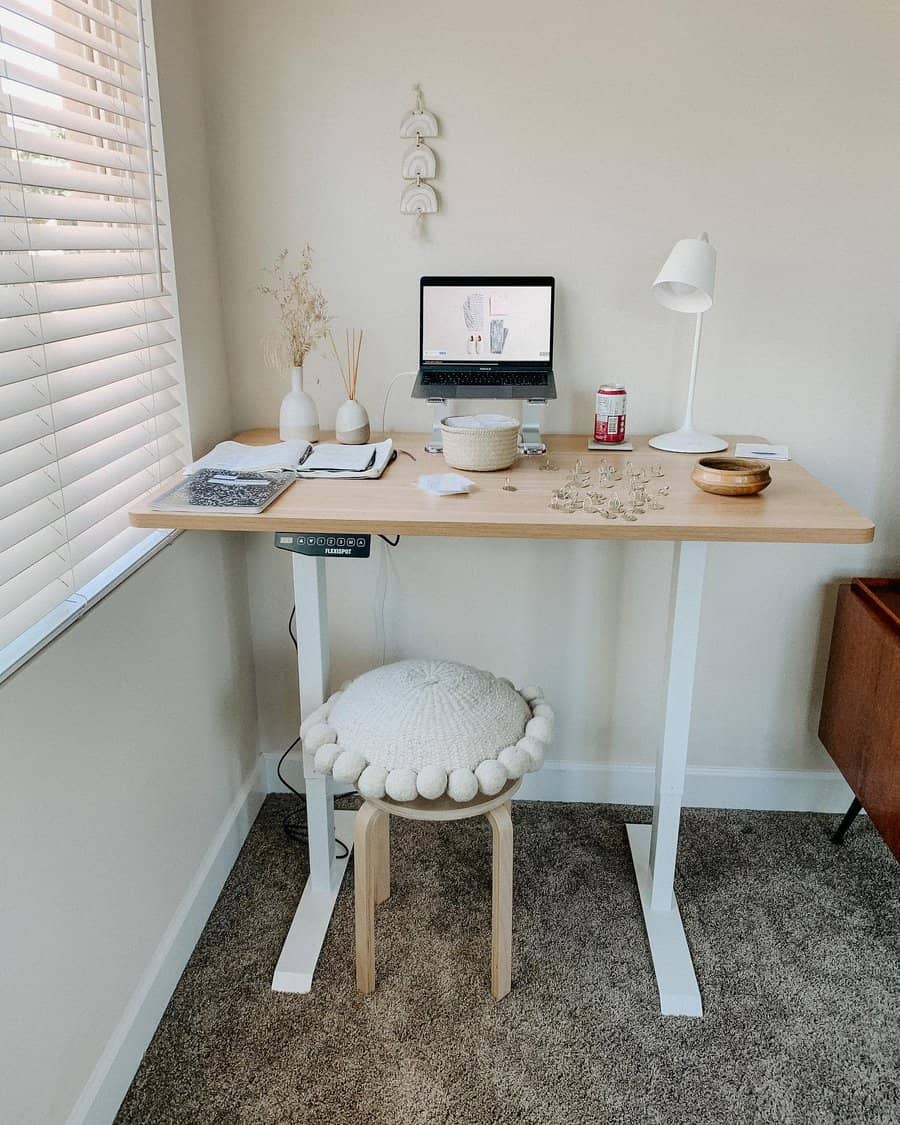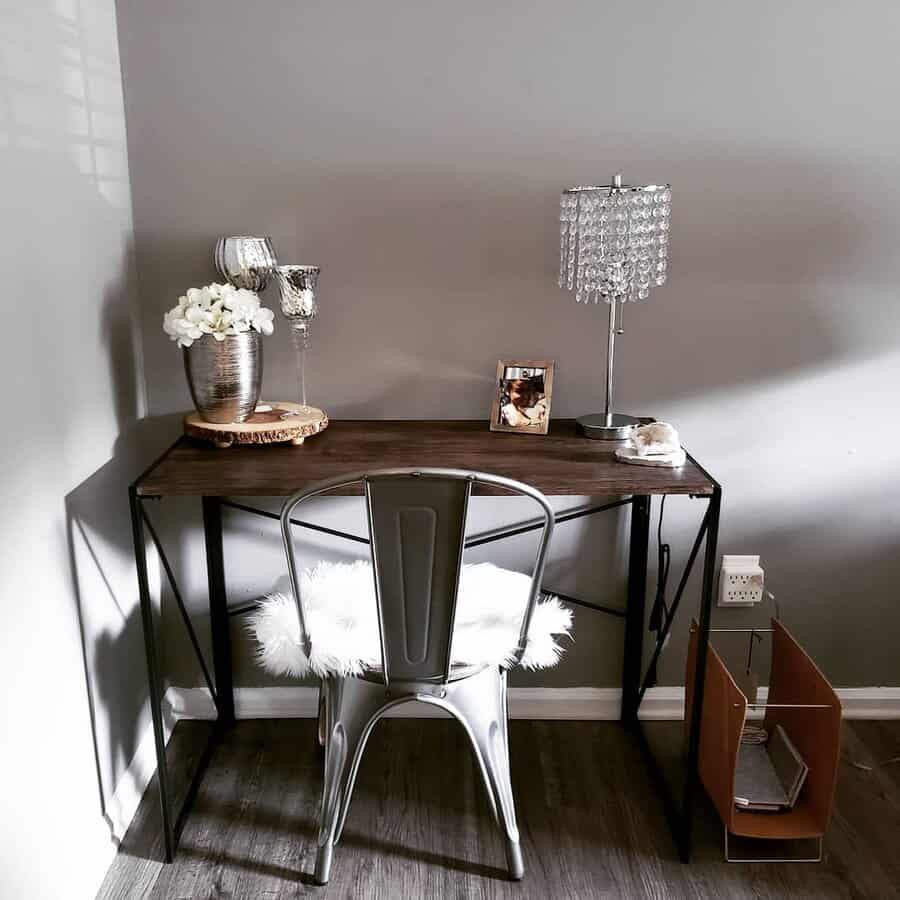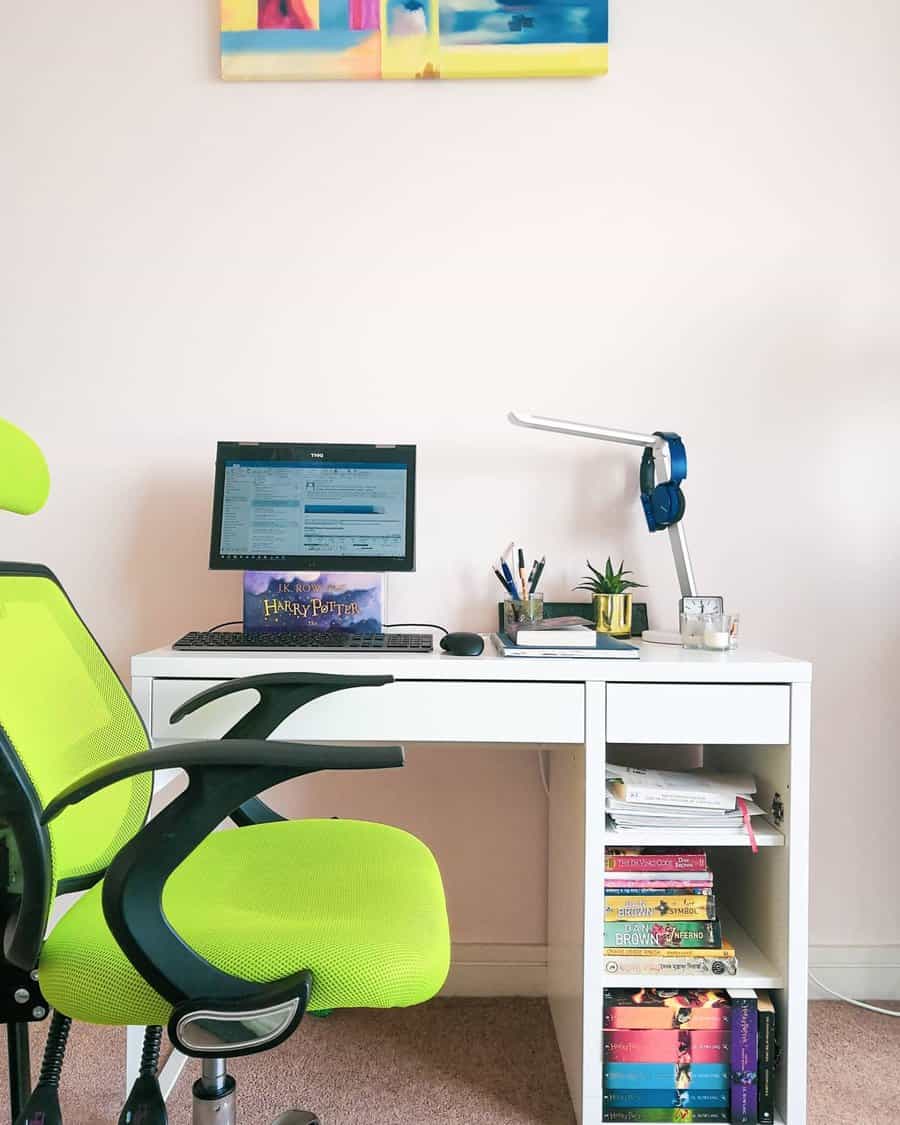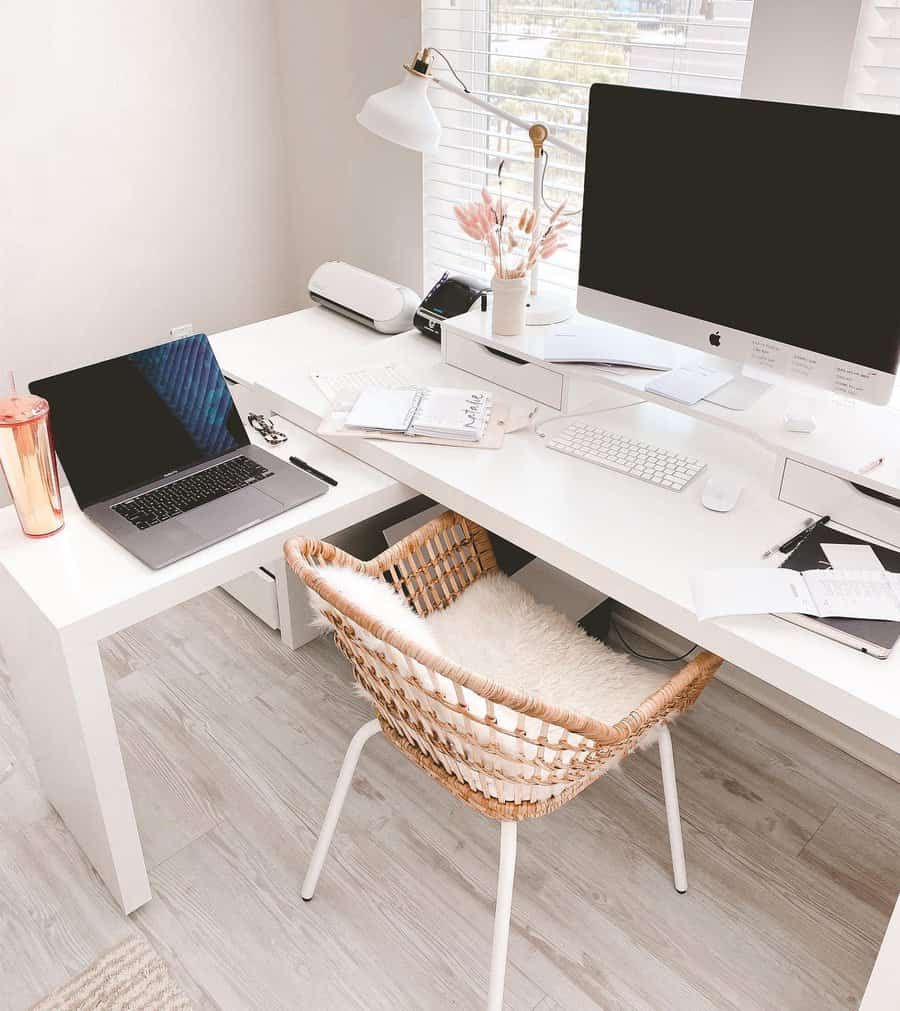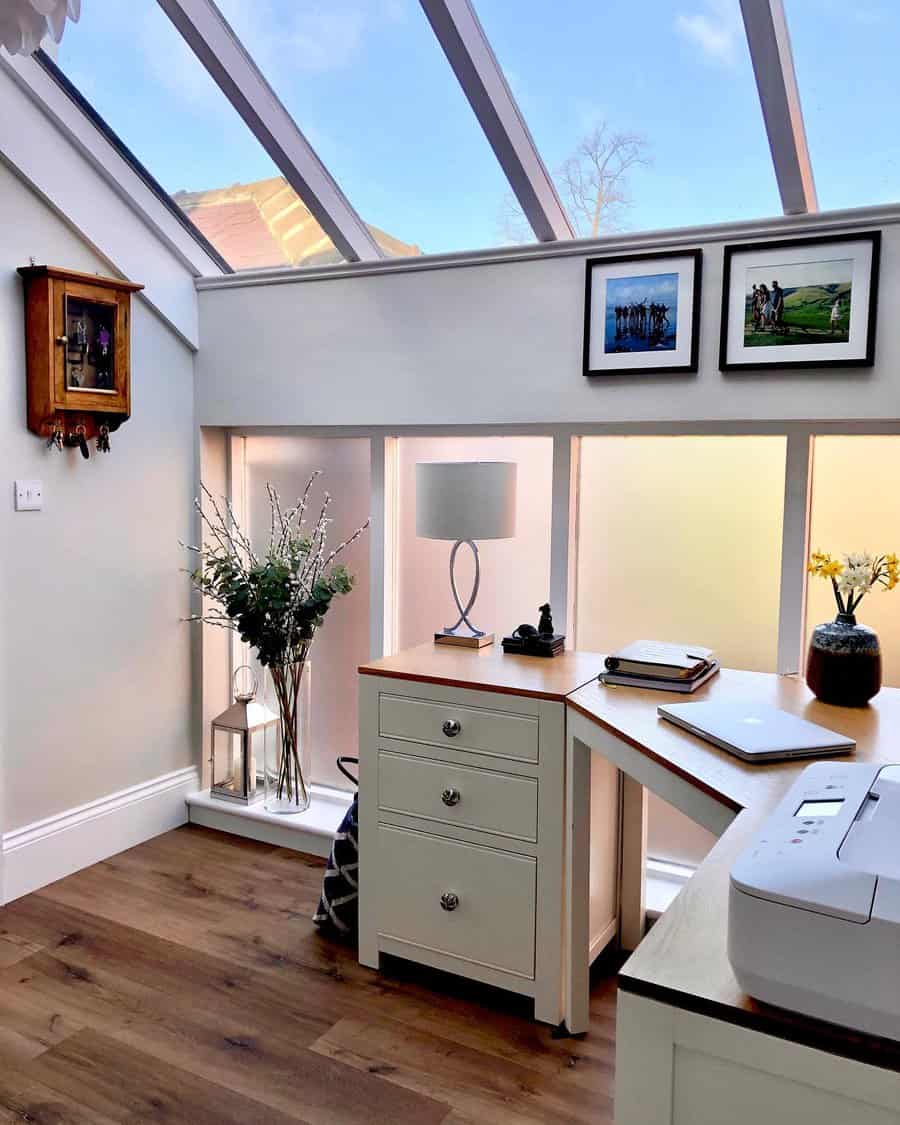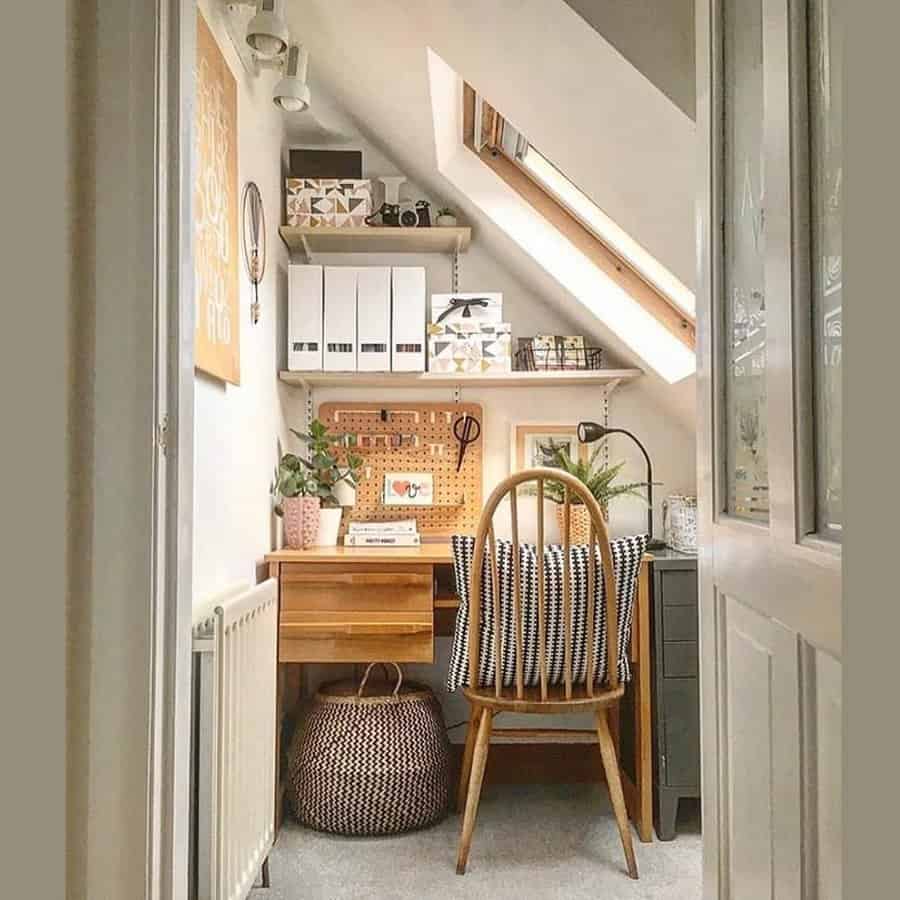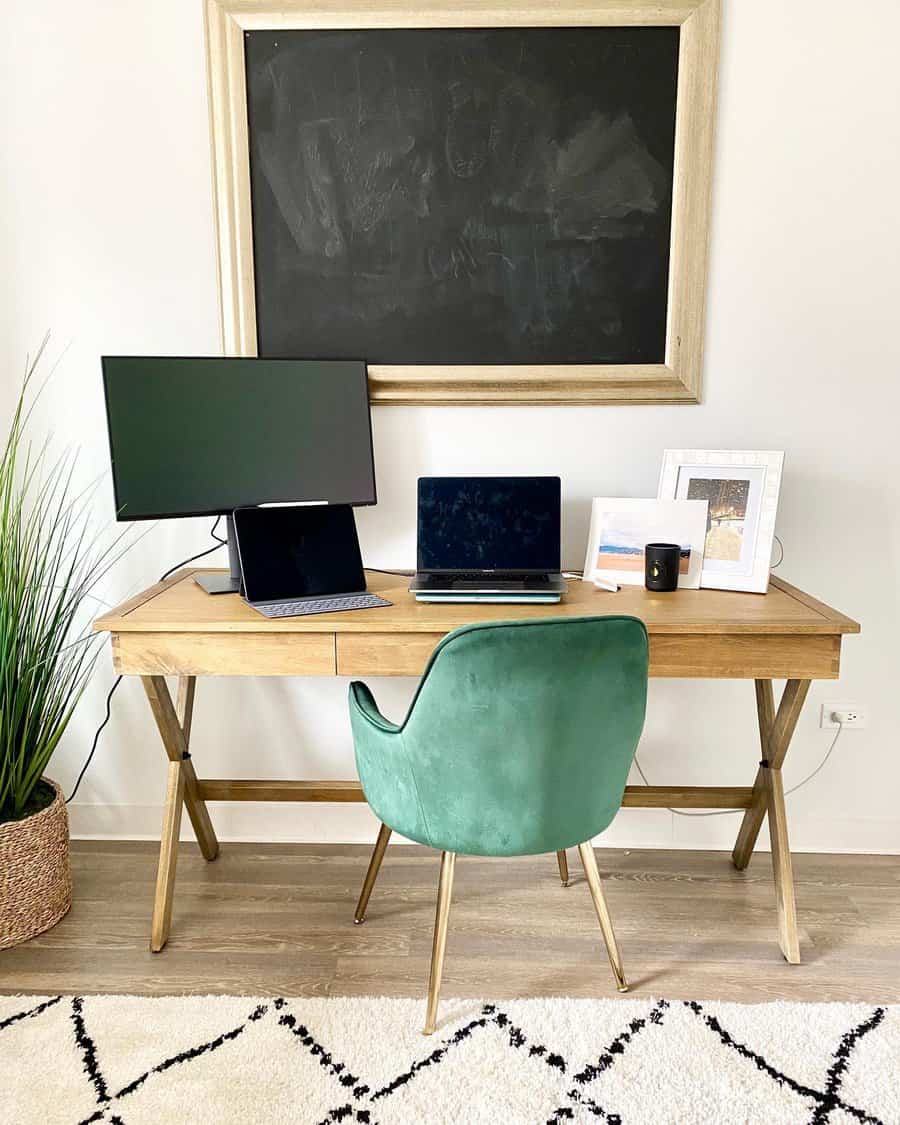 Dedicating an entire room to your home office may not be possible in an apartment or condo. Yet you may have a spare closet or corner nook perfectly suited to holding a desk and office chair.
Invest in an office setup that can be "closed down" at the end of the workday. Letting your projects sit out in the open is a good way to blur the line between work and personal time. Ample drawer space and a simple organization system are invaluable.
2. Chair
The right office chair can boost productivity and save your back from future aches and pains. However, the most comfortable desk chairs are rarely the most space-conscious.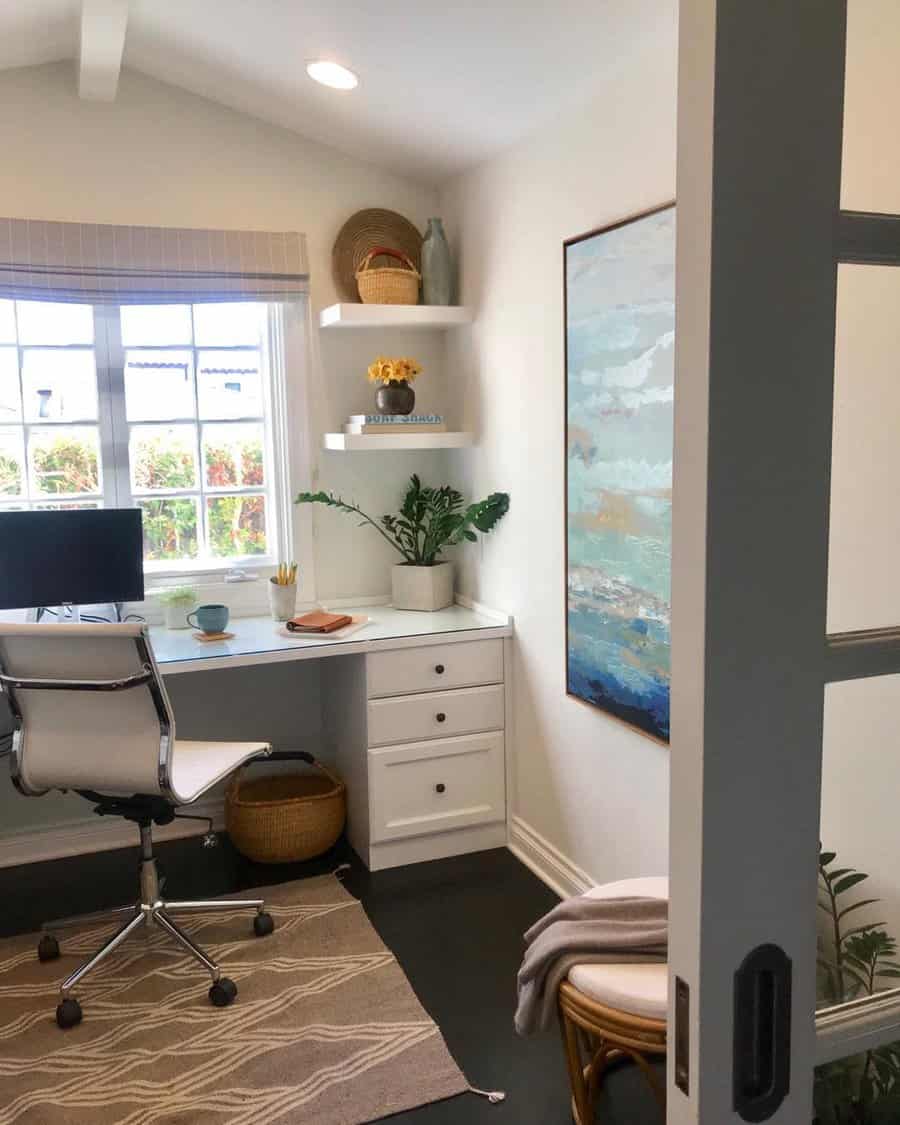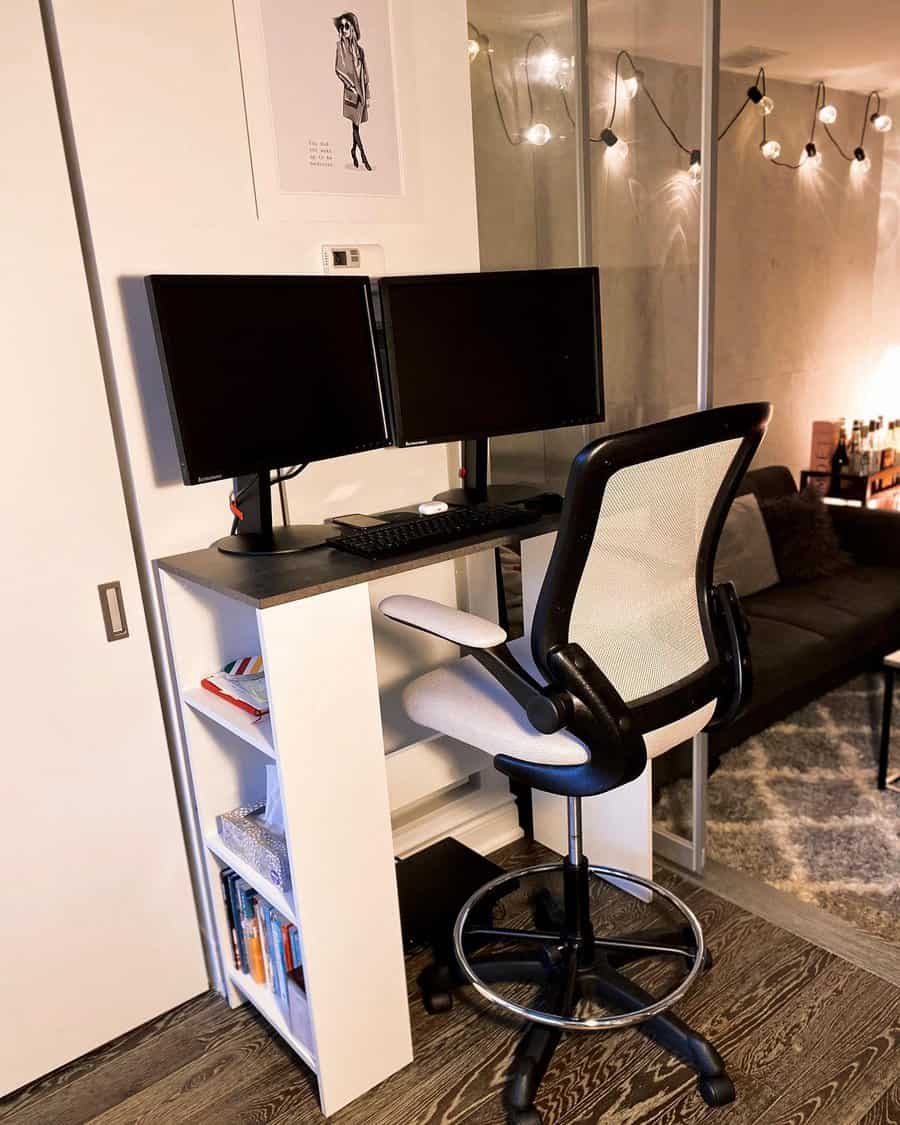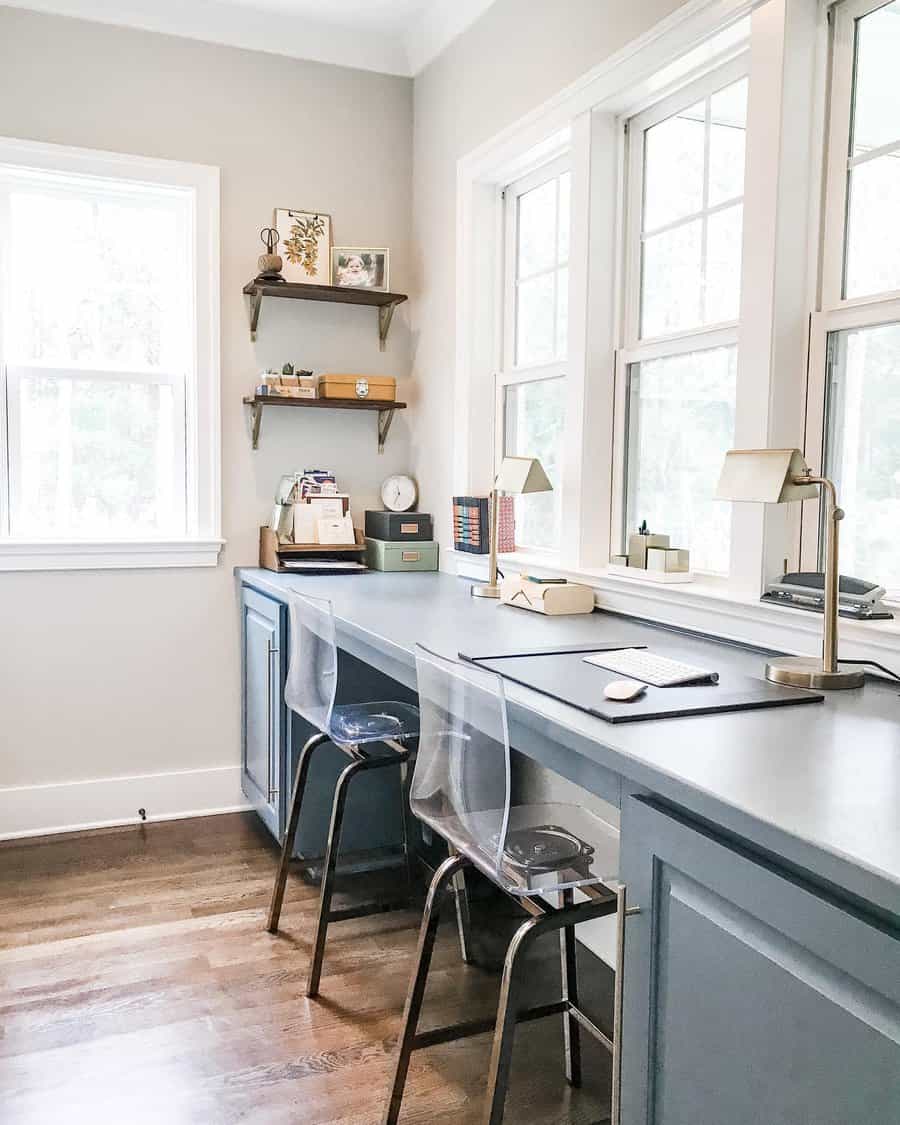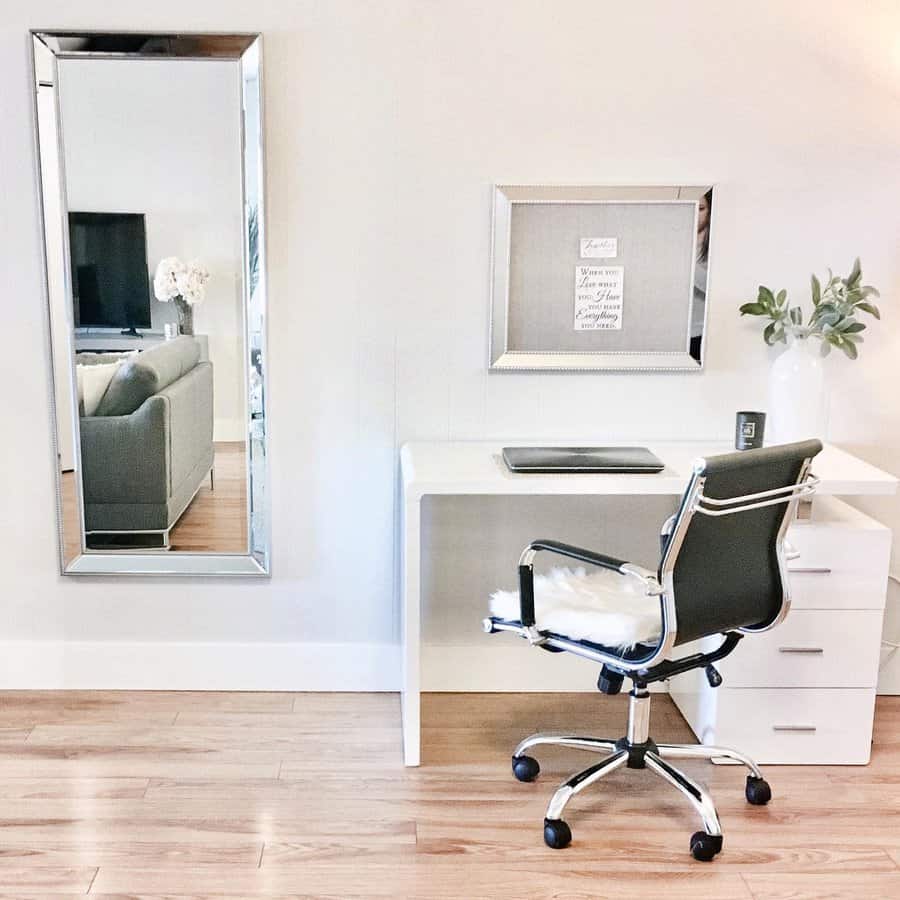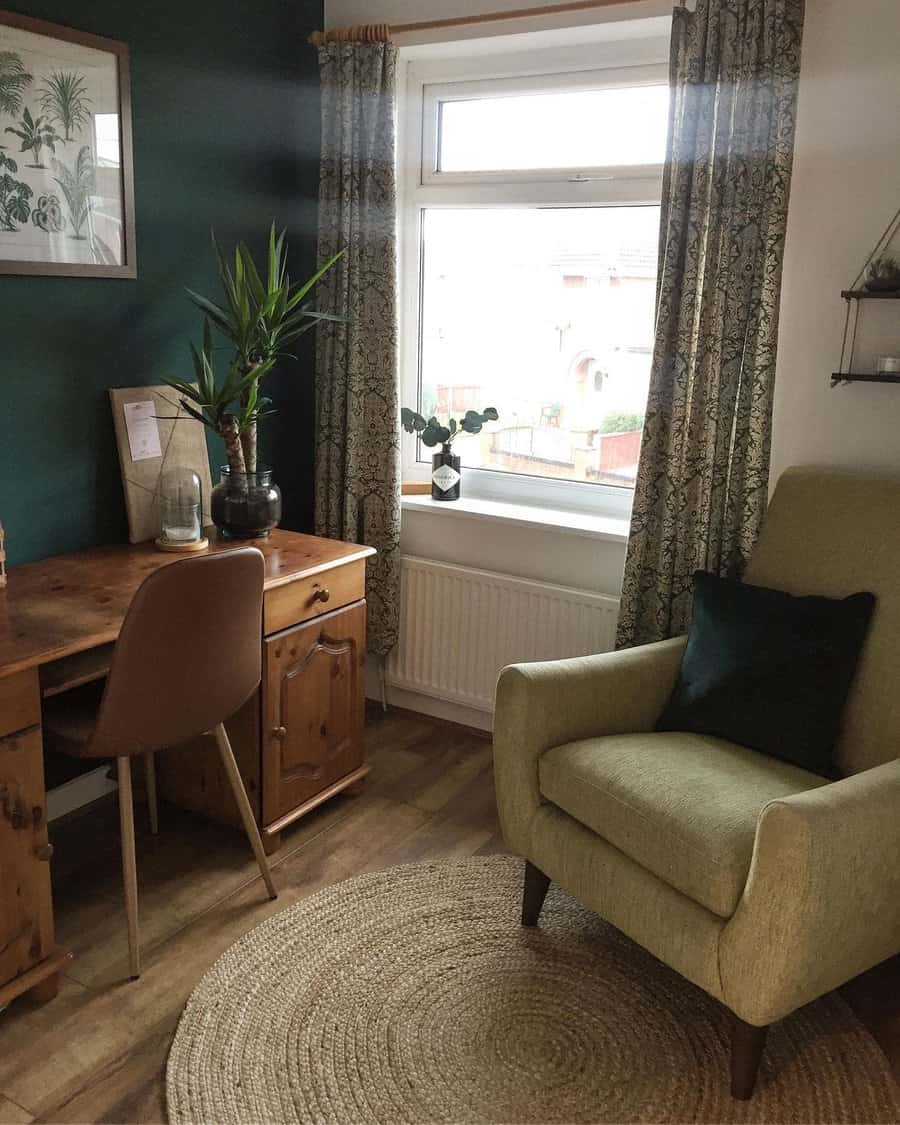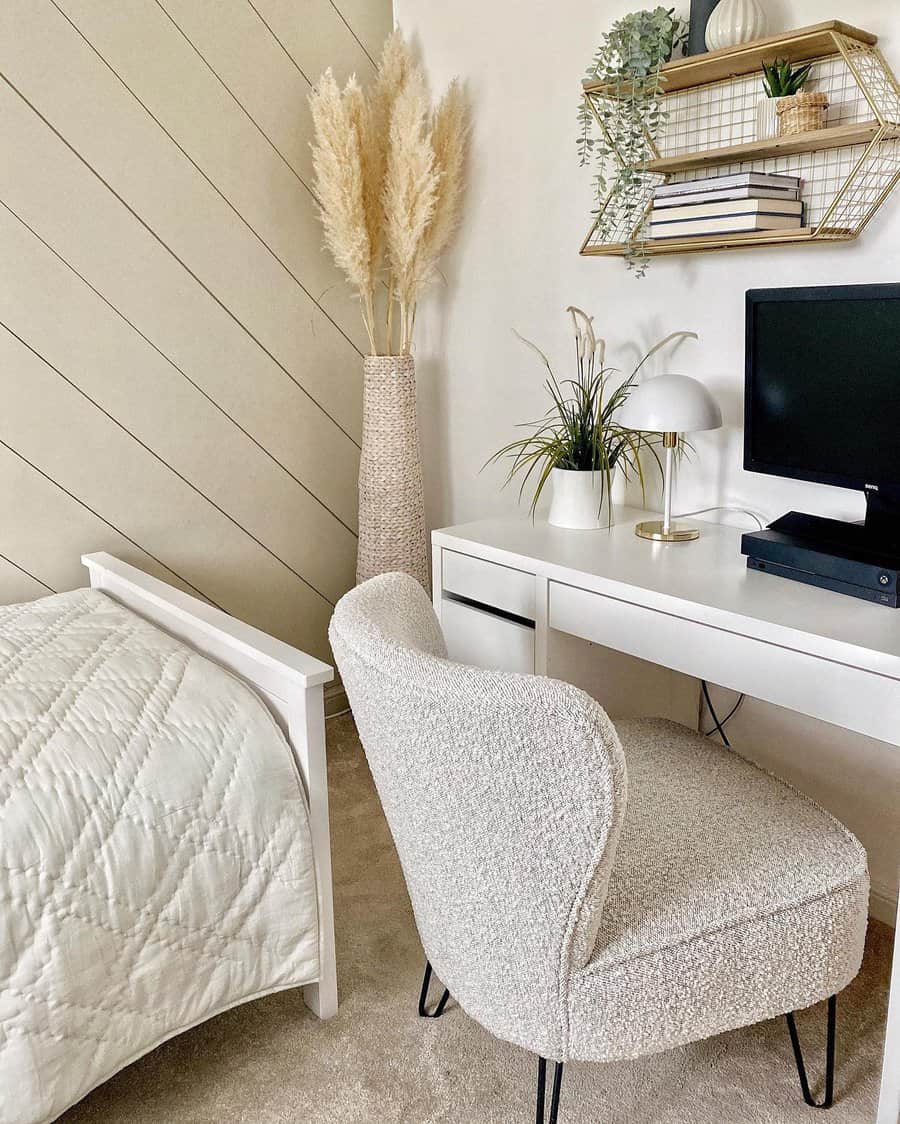 While comfort is extremely important for any chair you spend hours a day sitting in, you also don't want to sacrifice looks. This is especially true if your home office space is located in your bedroom, living room, or another common area.
A compact chair that can be dressed up with a throw pillow or blanket is ideal for any small home office. If you can't find an office chair to suit your style, check out accent chairs with a similar shape and support.
3. Contemporary
A fresh and exciting home office design can boost productivity and morale. And if you work in a creative industry, impressing potential clients often starts with your personal aesthetic.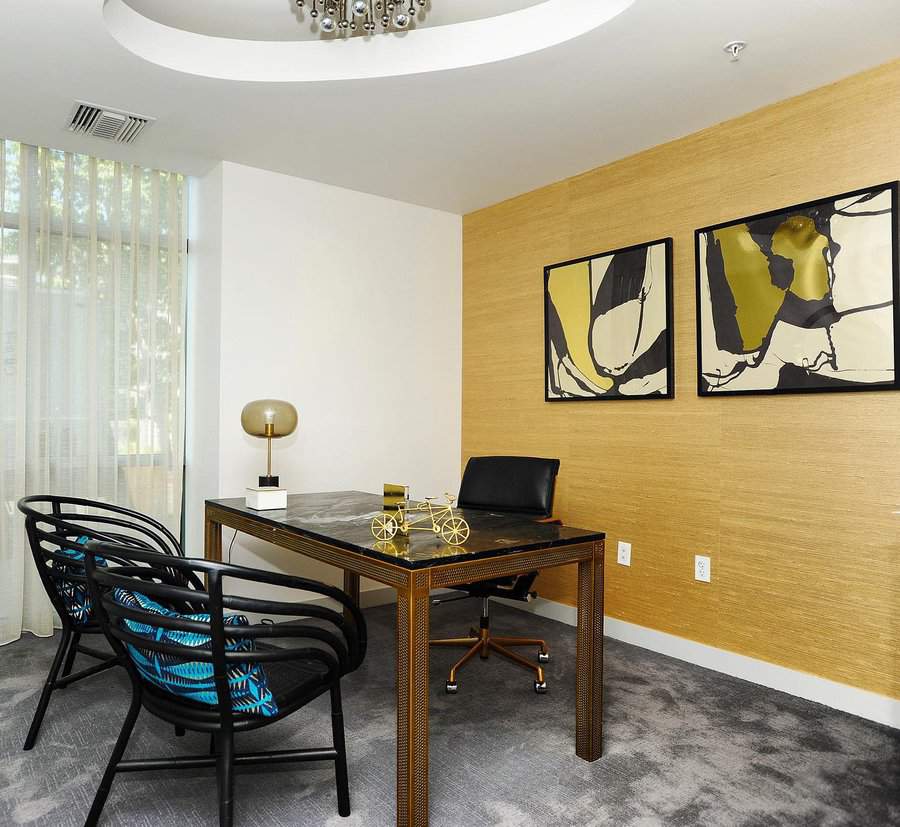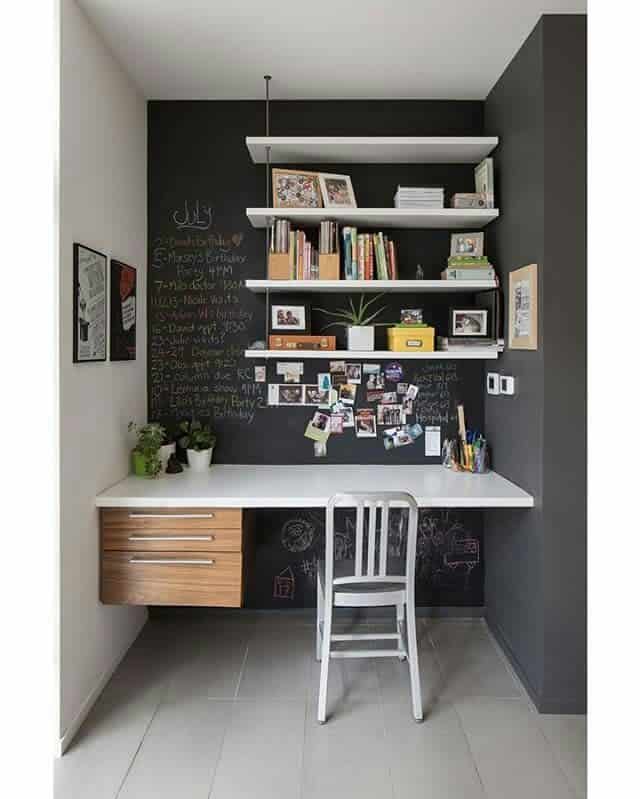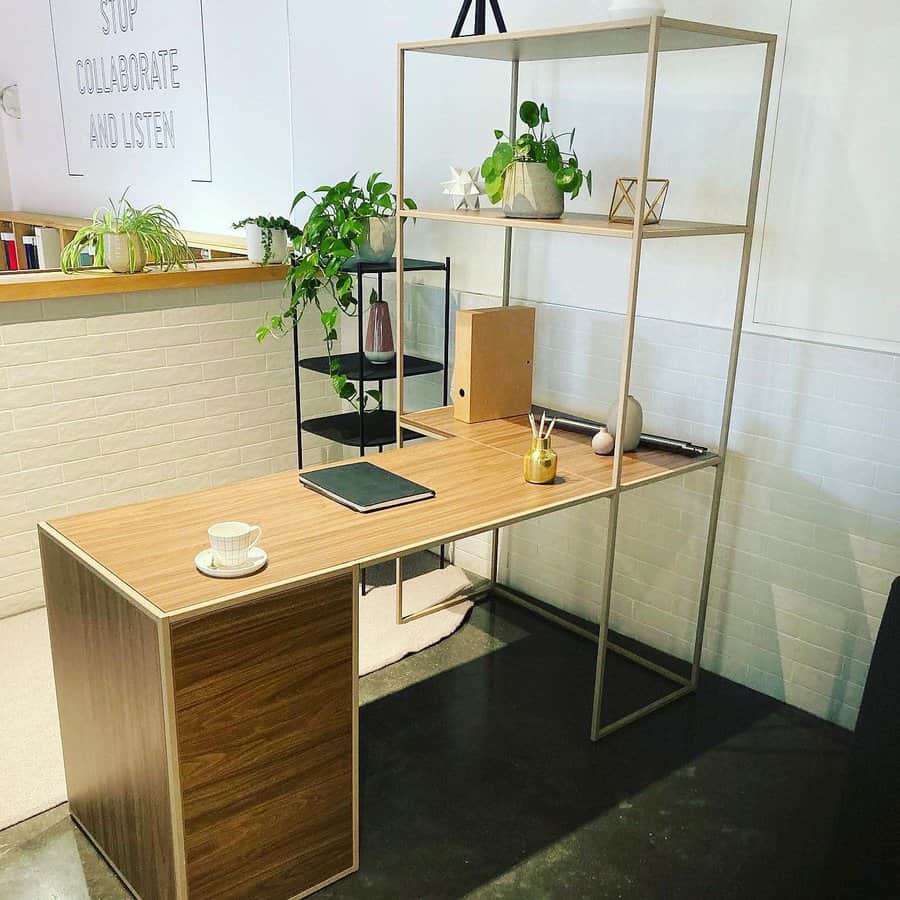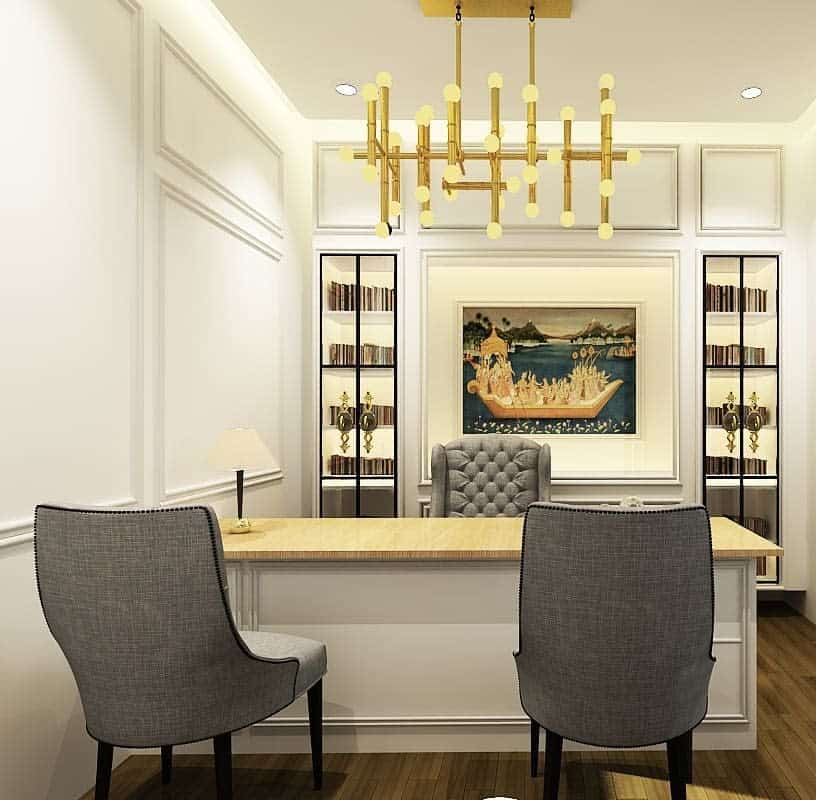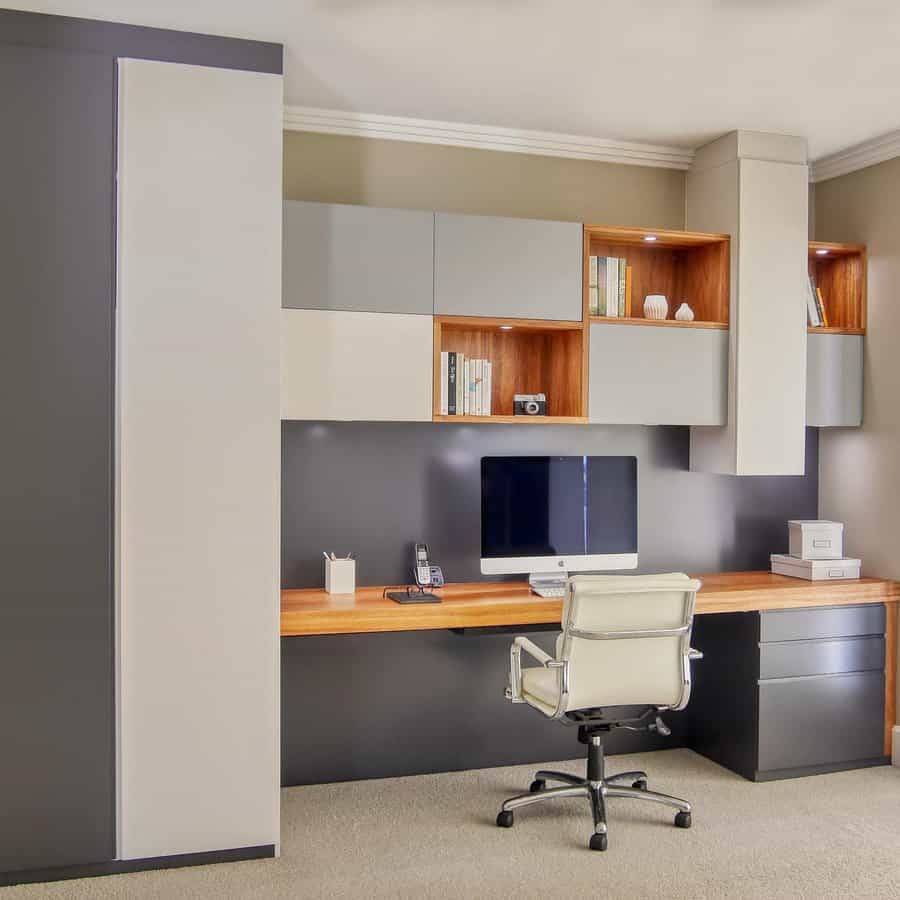 Decorating a small office without taking up any usable square footage isn't easy. Rather than fill the area with furniture and decor, try painting a section of your office wall with a statement color. Painted arches and other geometric shapes are particularly popular right now.
For a small home office that will always look freshly curated, don't spend your money on ultra-trendy furniture. Instead, choose timeless office furniture that can be updated with smaller pieces of decor as the styles change.
4. Corner
A private home office is a concept few workers can imagine. But placing your workspace in a corner may be the perfect compromise.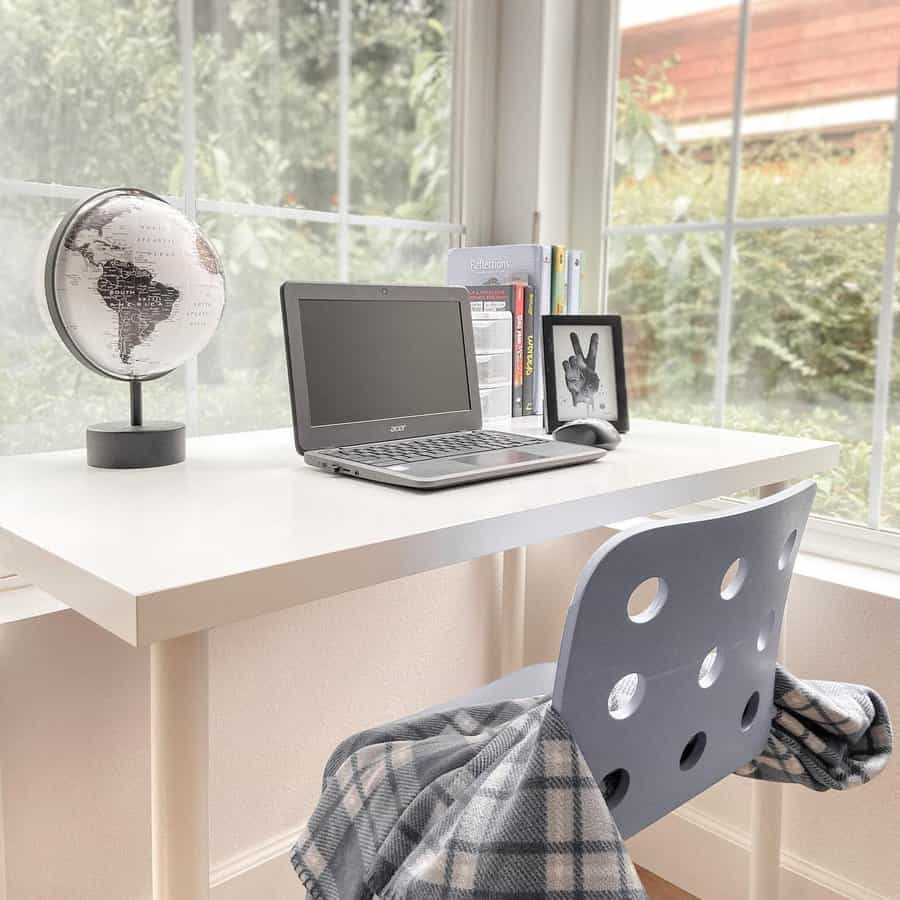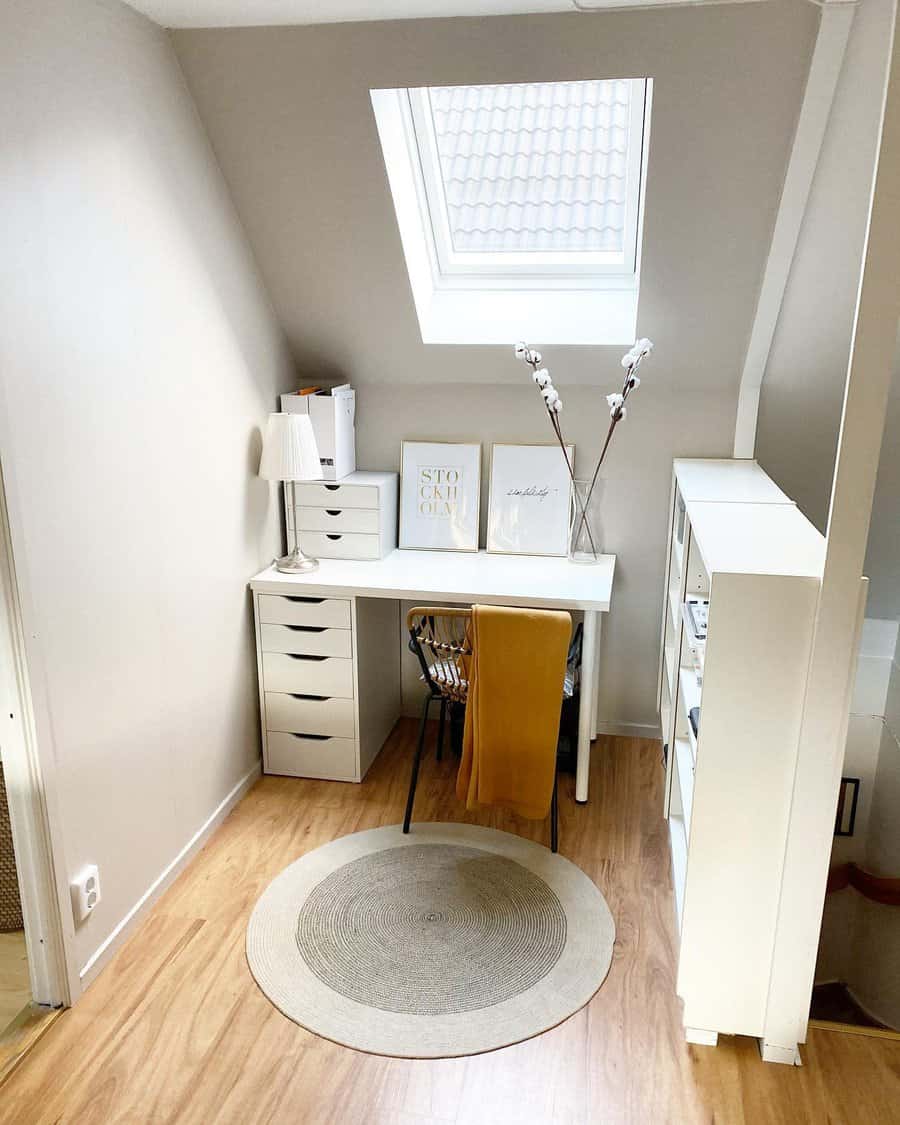 Arranging your small home office in an unused corner of your living room or another space serves more than one purpose. On top of cutting down on distractions and giving you some semblance of privacy, it also helps preserve floor space.
For all of its benefits, a corner office space can quickly become dim and depressing. Be sure to invest in bright decor and adequate lighting before spending hours at your corner desk.
5. Cubicle
The cubicle has been the punchline of countless sitcoms and comic strips. Yet it doesn't seem like this small workspace is leaving the greater office culture anytime soon.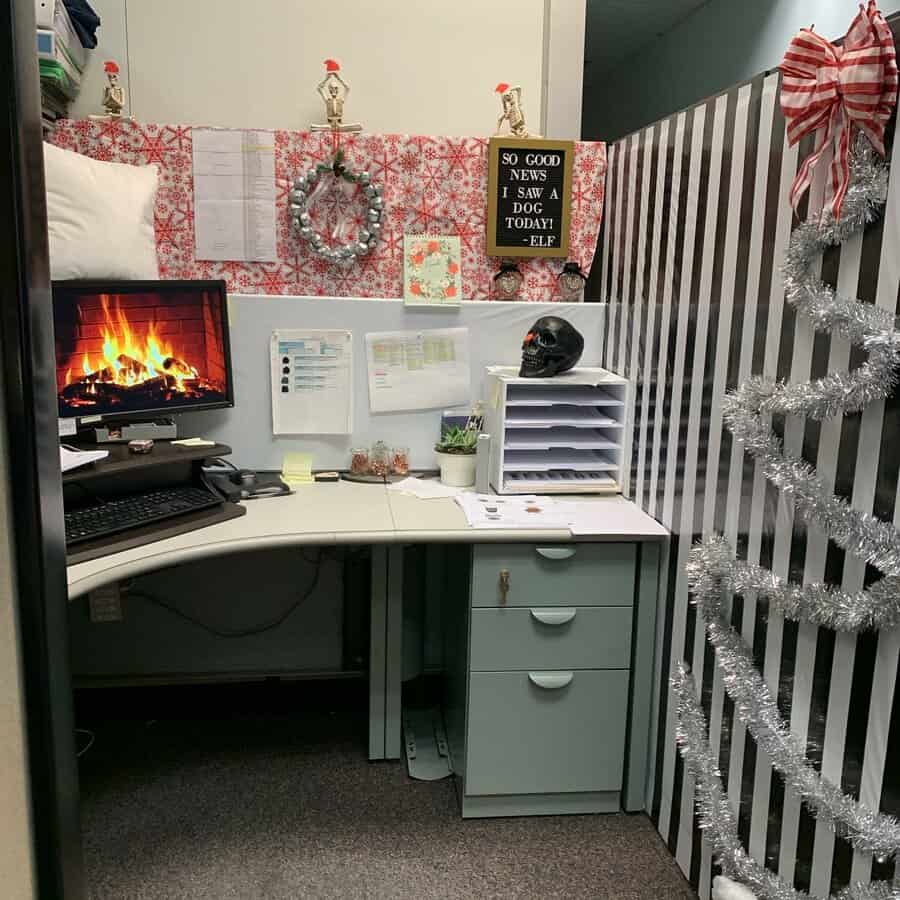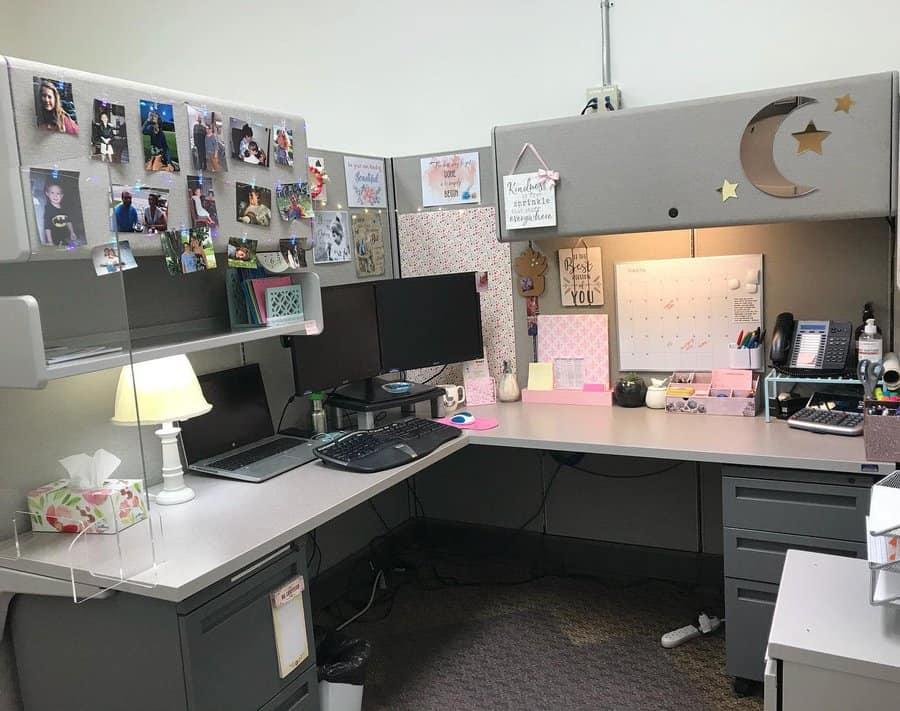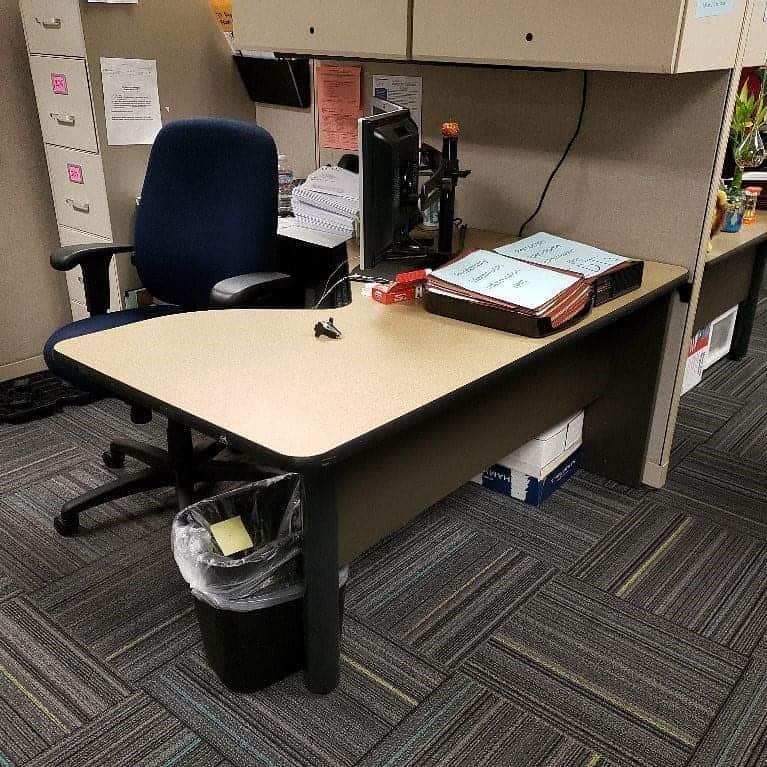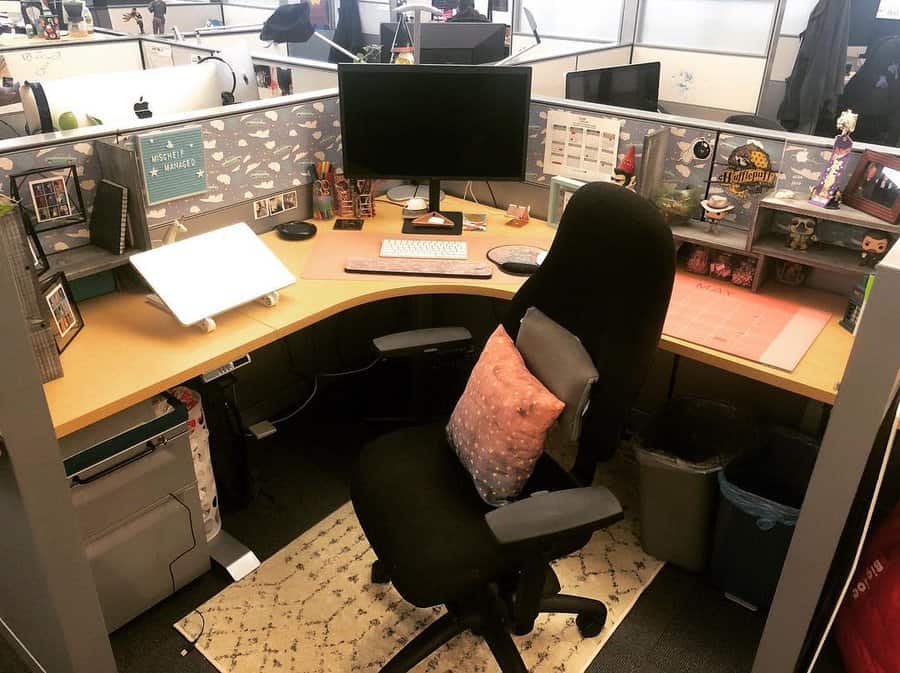 A cubicle might not be as private as a traditional office but you still have plenty of desk space to work with. You may even be able to mount shelving on your cubicle walls for even more storage space.
Your workplace might have rules about what can and cannot be used as cubicle decor. You may have much more freedom to make your cubicle more comfortable and inviting than you realize. You'll never know unless you ask!
6. DIY
We can all agree that a stylish home office is the key to a positive work environment. That doesn't change the fact that new decor and furniture costs money.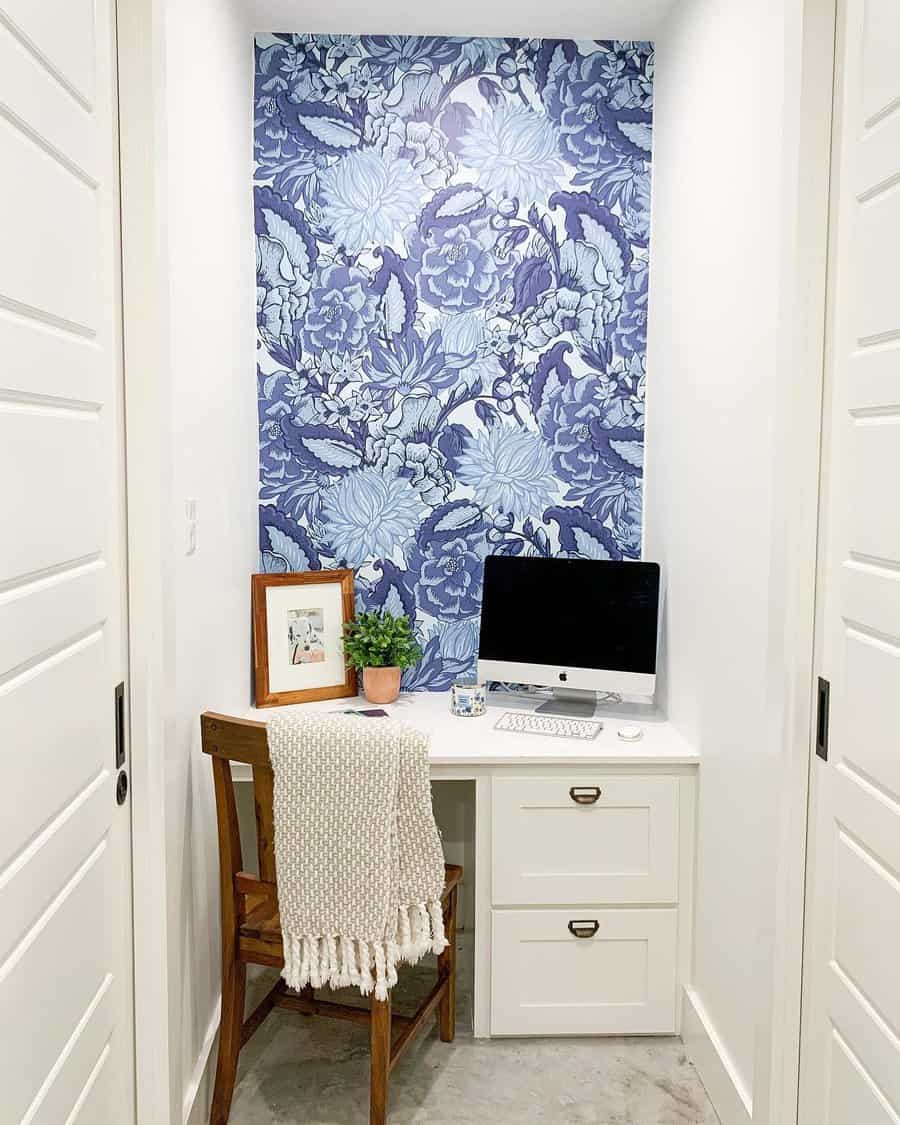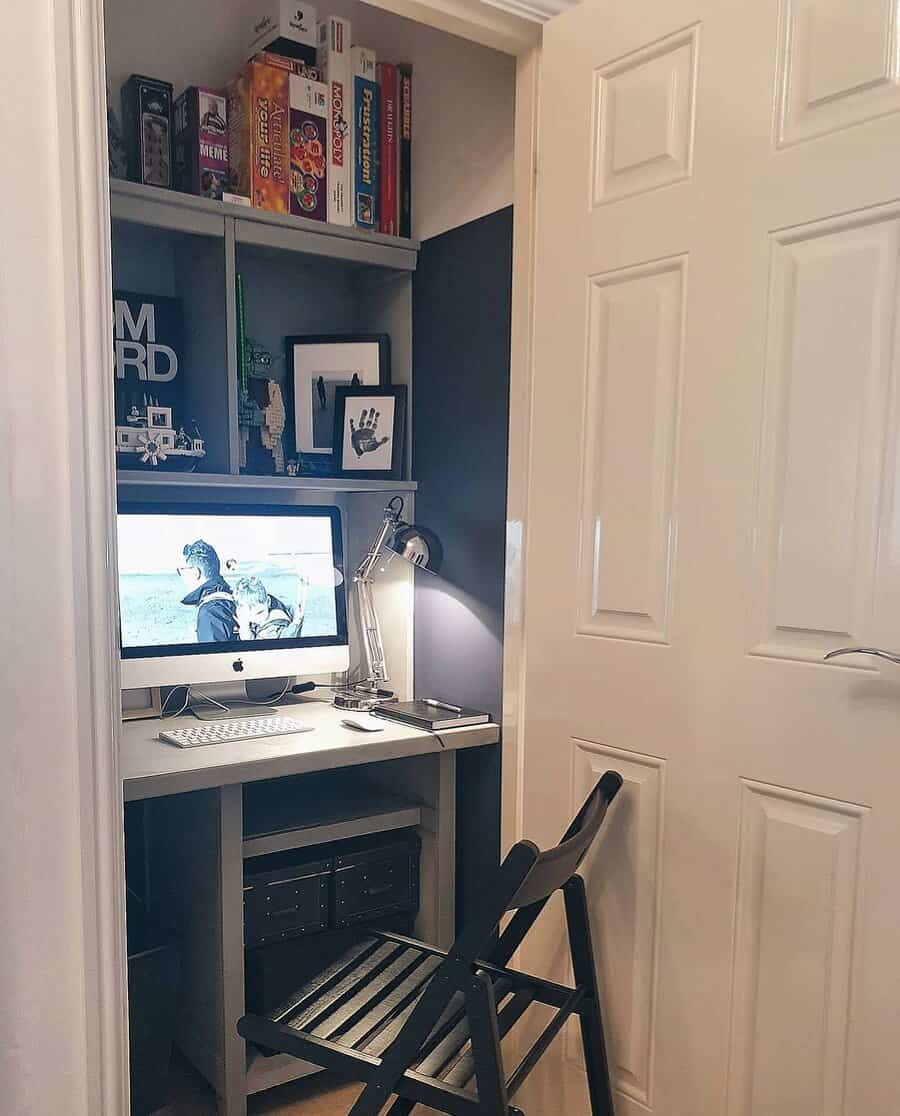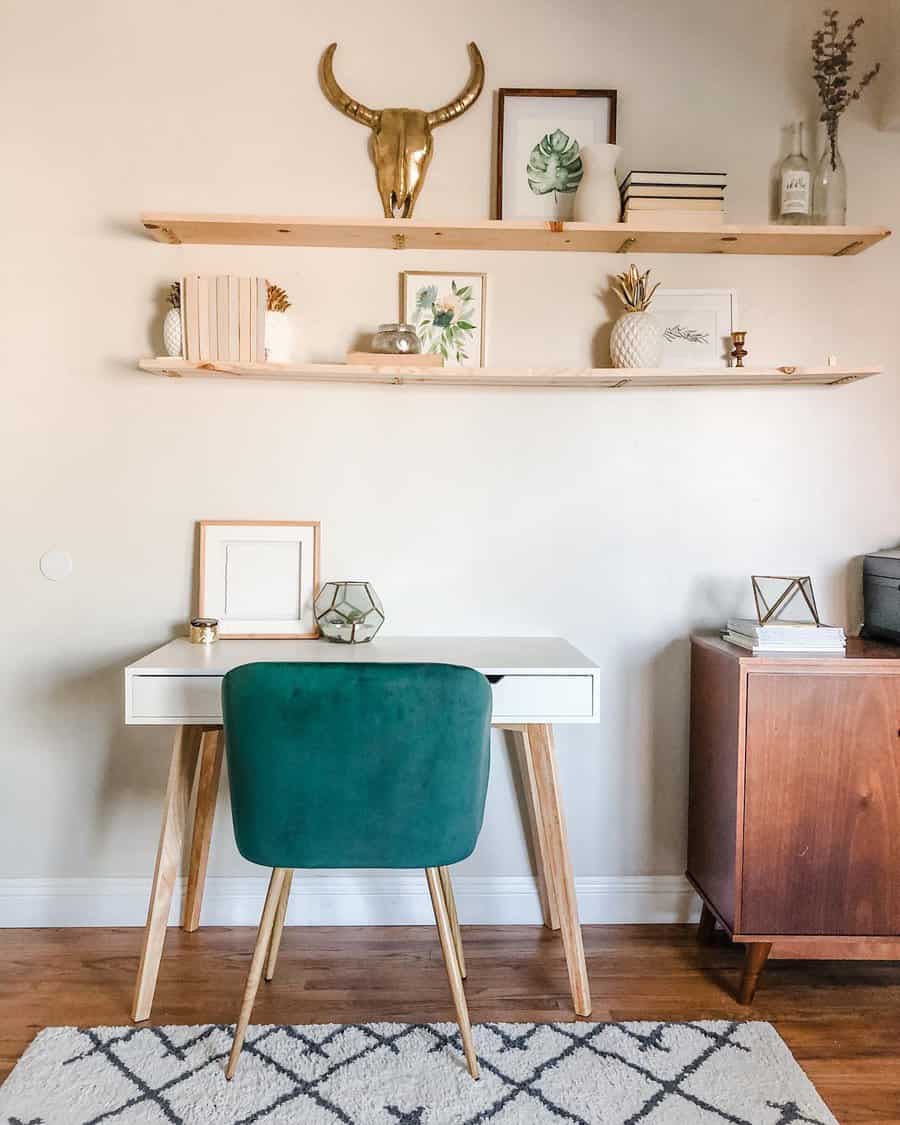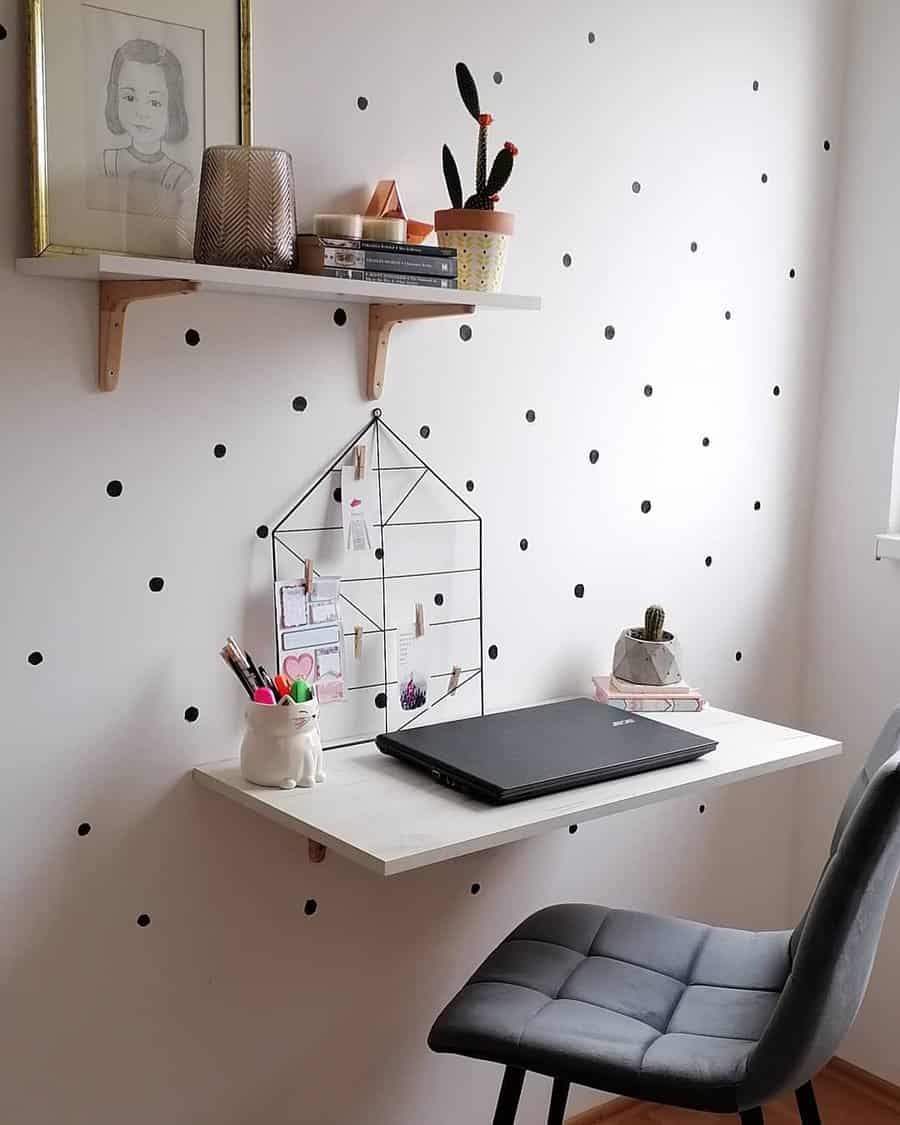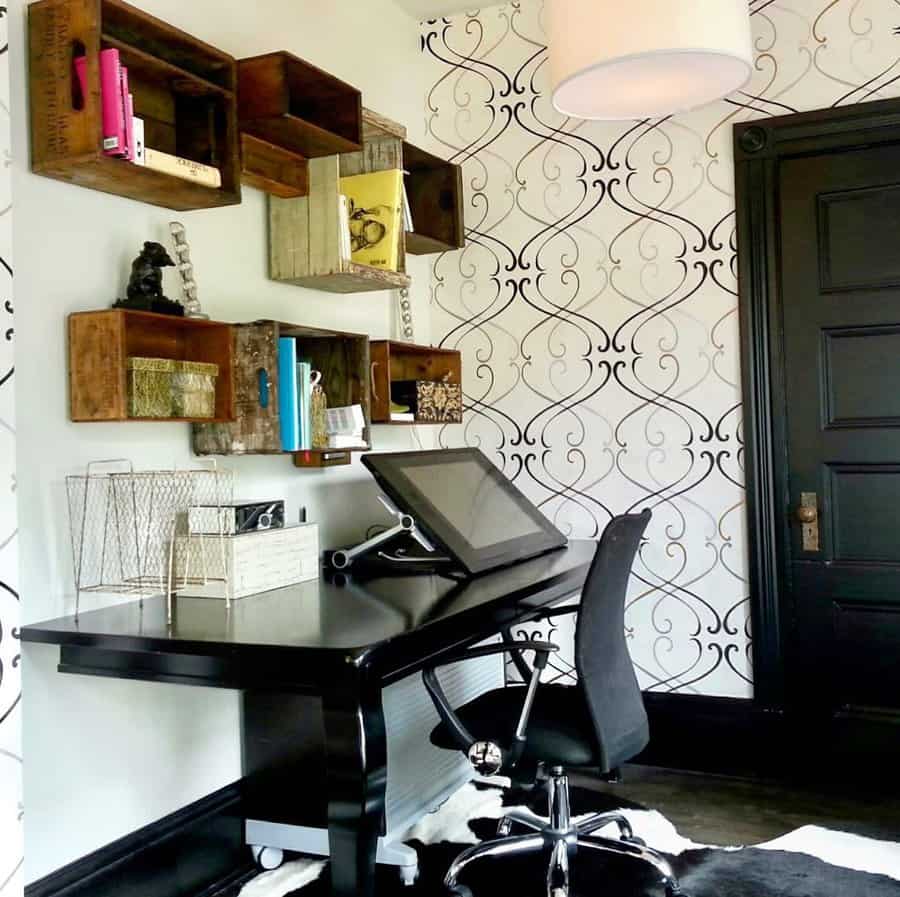 Simple DIY solutions like painting an accent wall or installing wallpaper can beautify your home office space without spending a fortune. Look for instructions to finish and mount your own floating shelving above your desk.
Of course, office furniture is the priciest factor in outfitting an at-home work area. You can build a DIY desk using a repurposed tabletop and filing cabinets. With a little elbow grease, you can even design and build your own built-in office space in a closet or cozy nook.
7. Design Ideas
The importance of a comfortable workspace can't be overstated. But we often focus solely on physical comfort and completely overlook how our visual surroundings make us feel.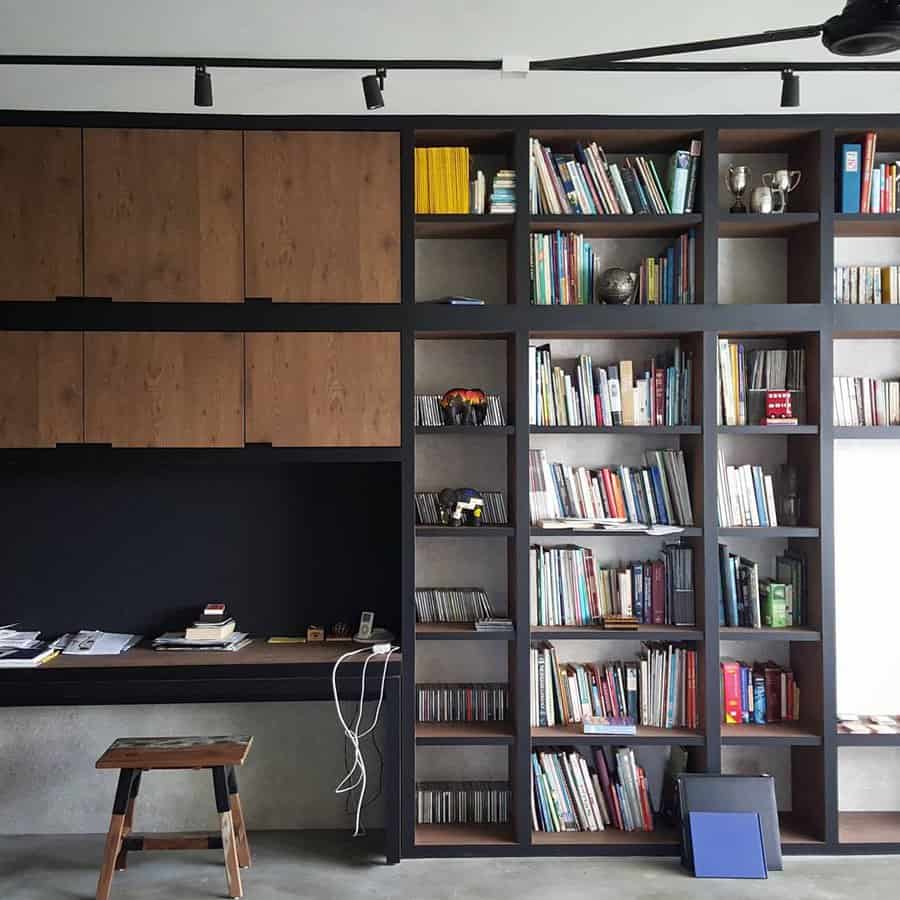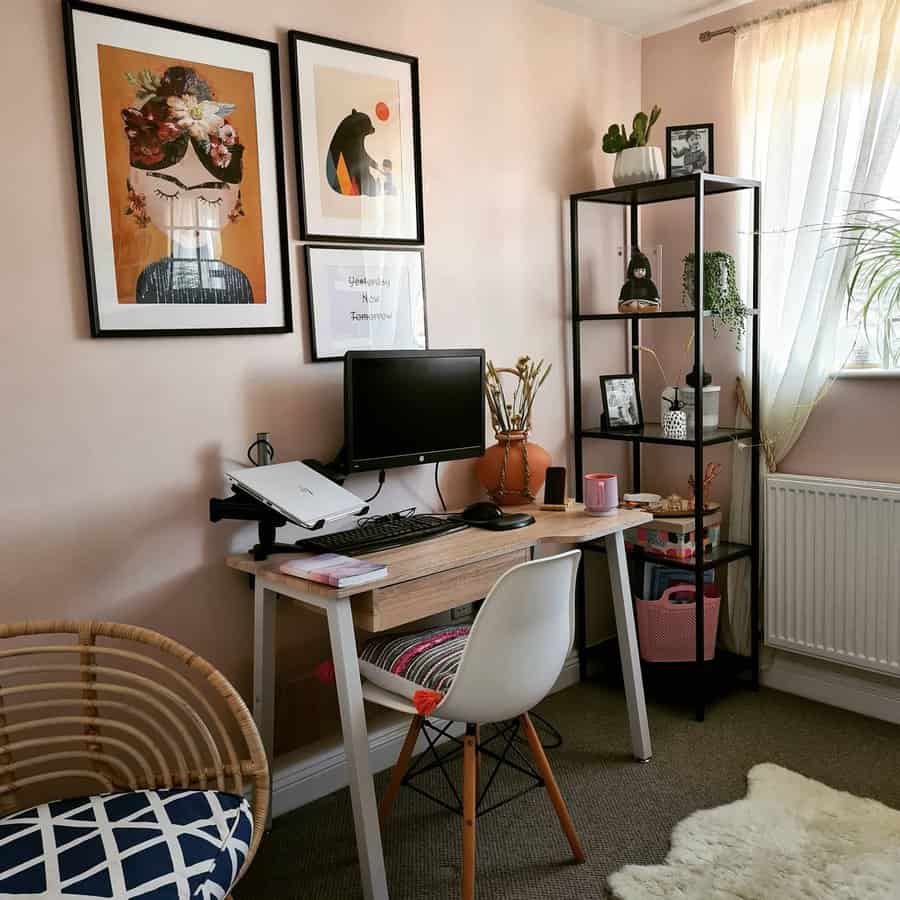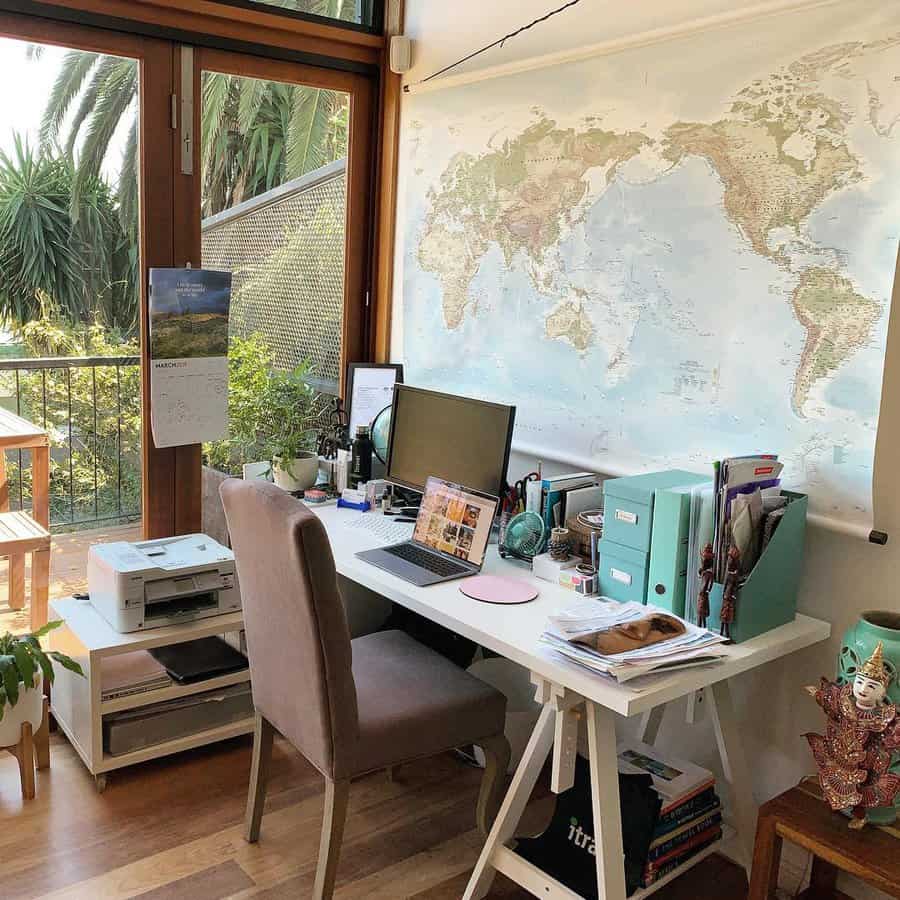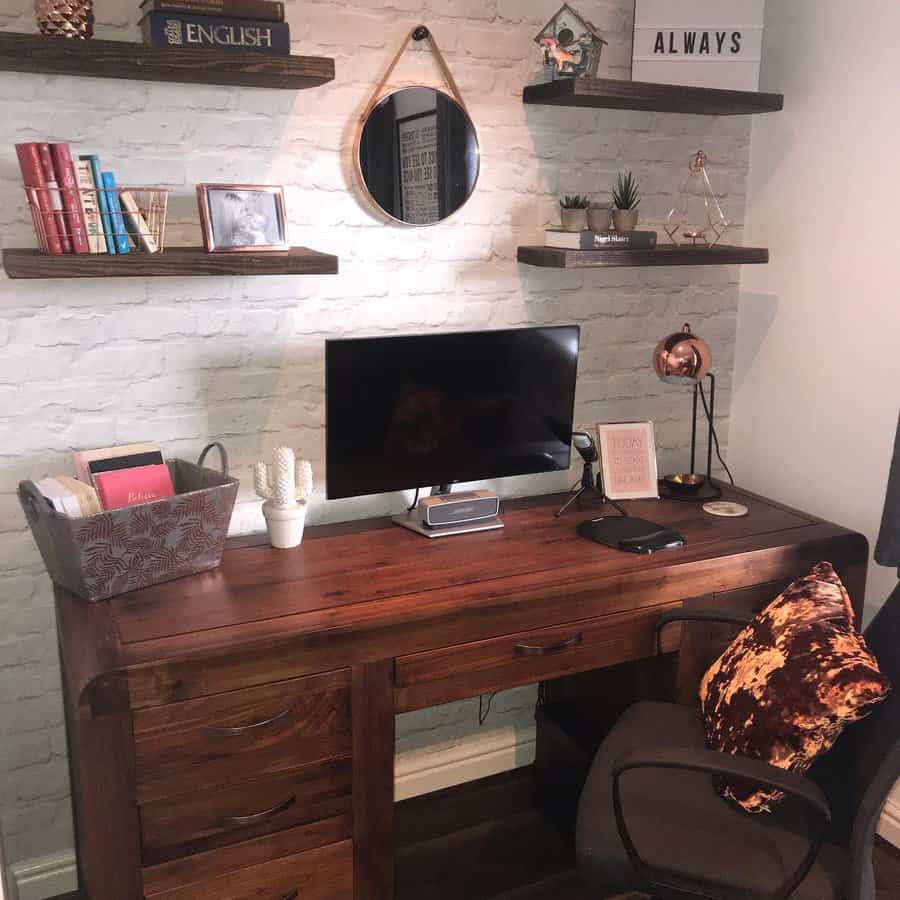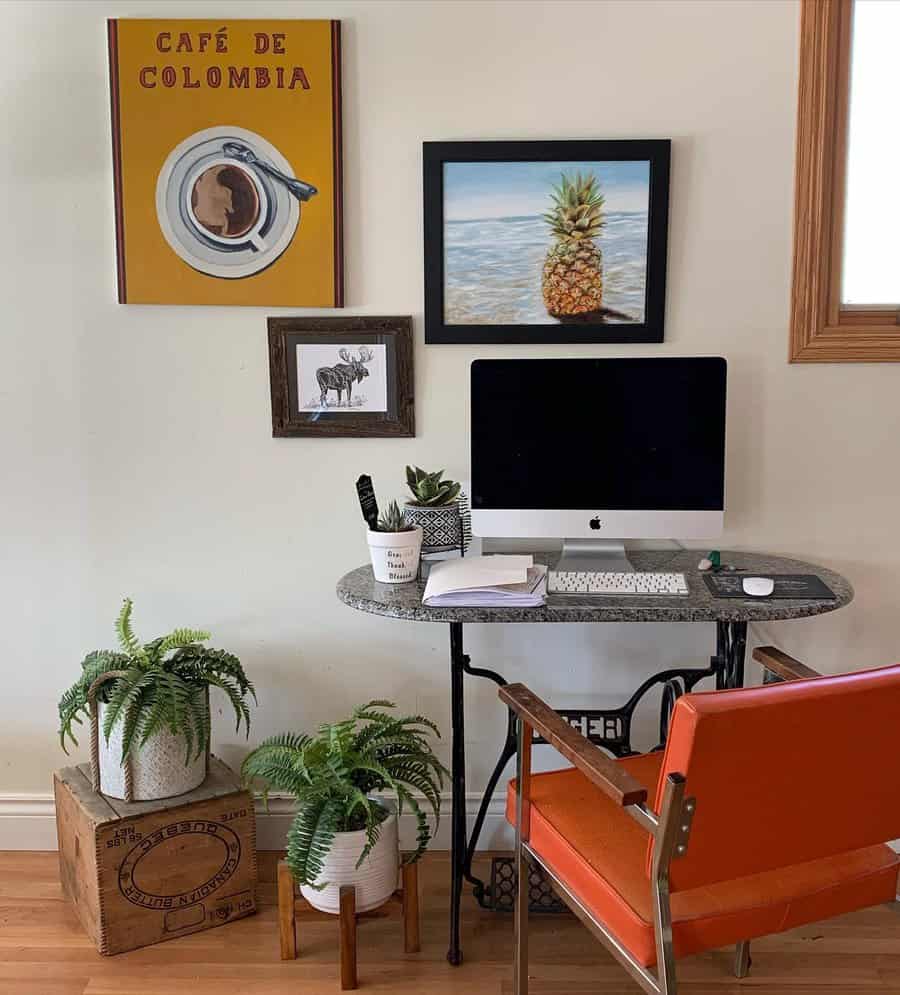 To conserve space while letting your office personality shine, be sure to select decorative items that are also functional. A stylish desk lamp or floating shelf will communicate your decor style without getting in the way of your work.
There is no rule that your small office design idea needs to look like the office of anyone else. Modern decor is extremely popular in office design. However, you may prefer a more traditional or even maximalist approach.
8. Desk
In the modern age, the vast majority of work projects and communication happens at the computer. Whether you use a laptop or a desktop computer, there's no better place to set up shop than an office desk.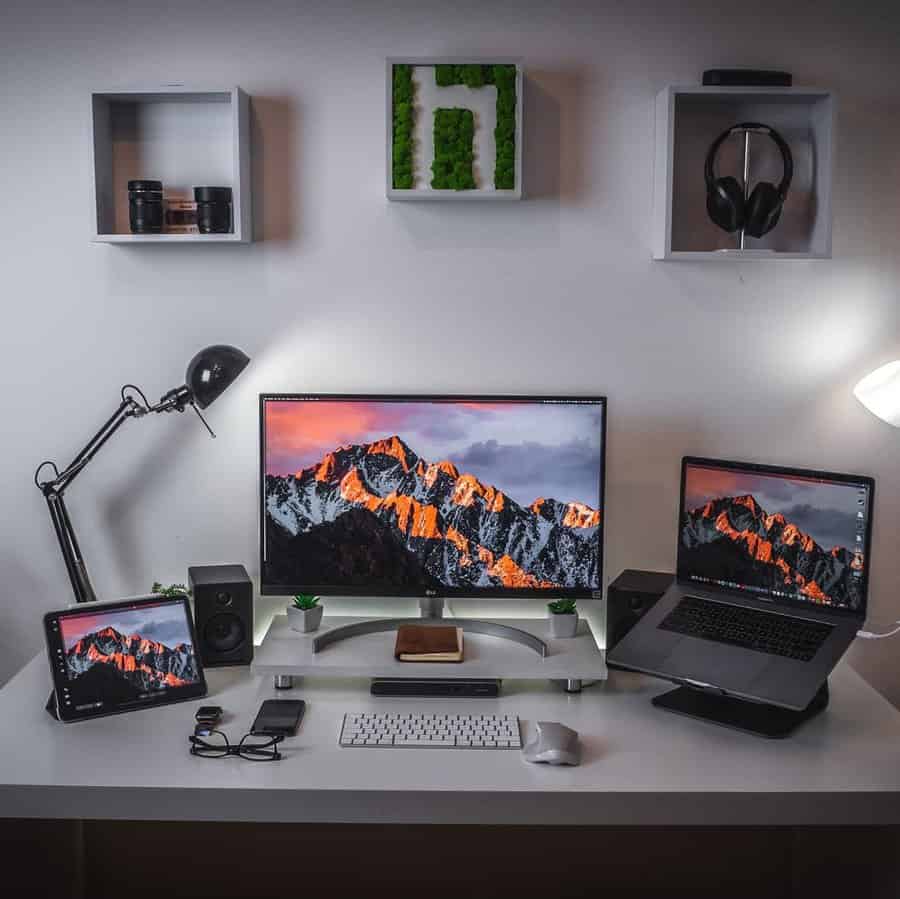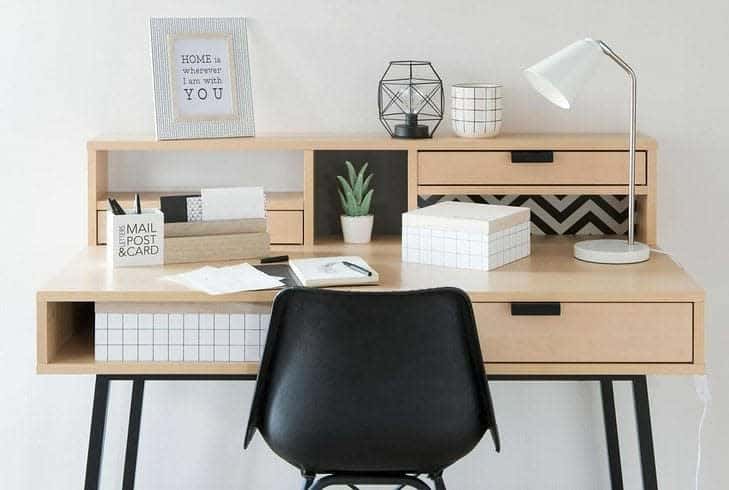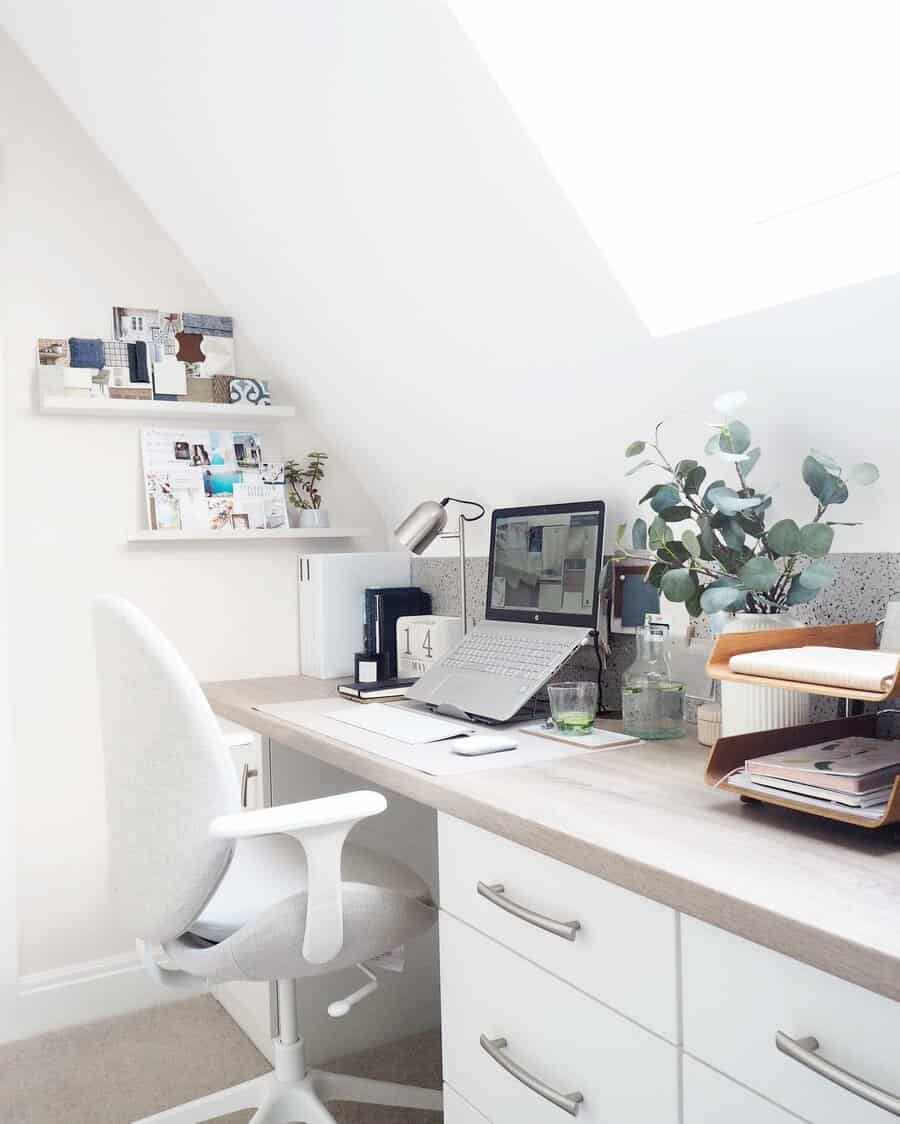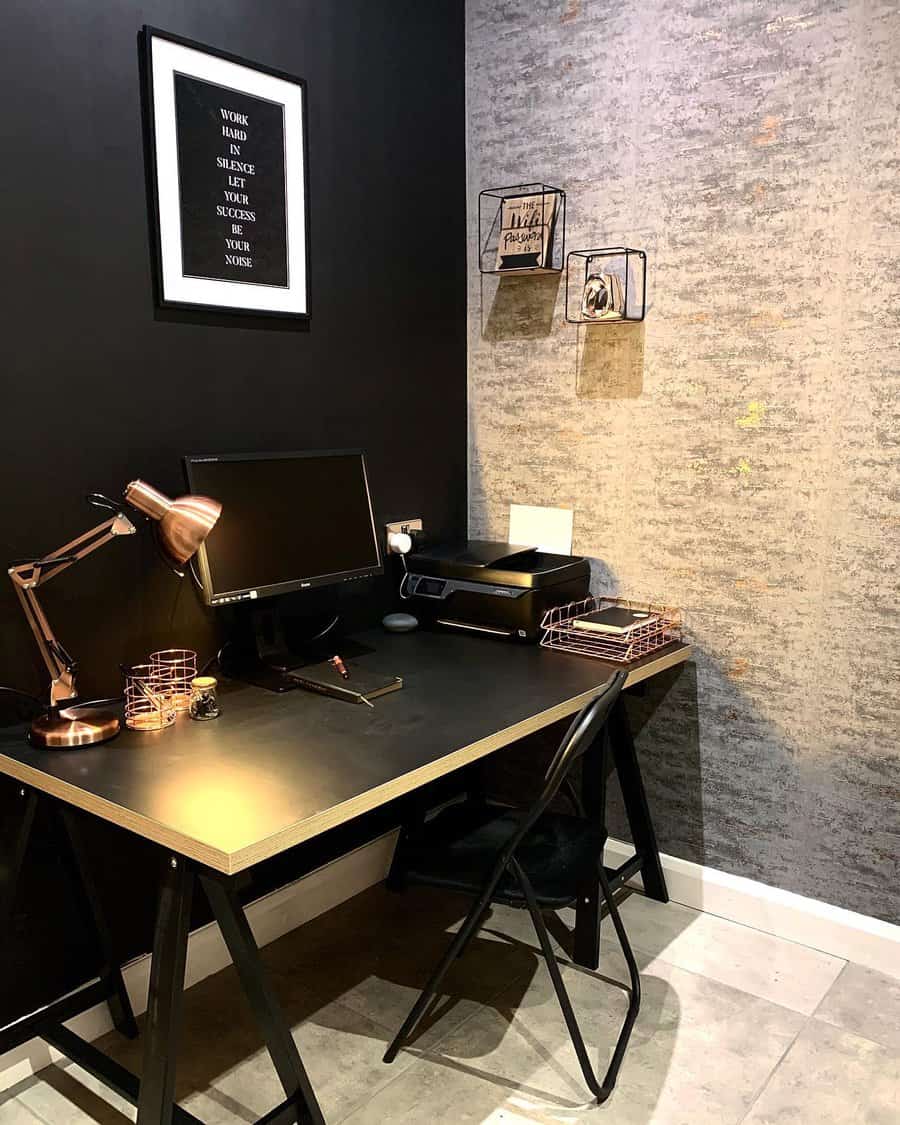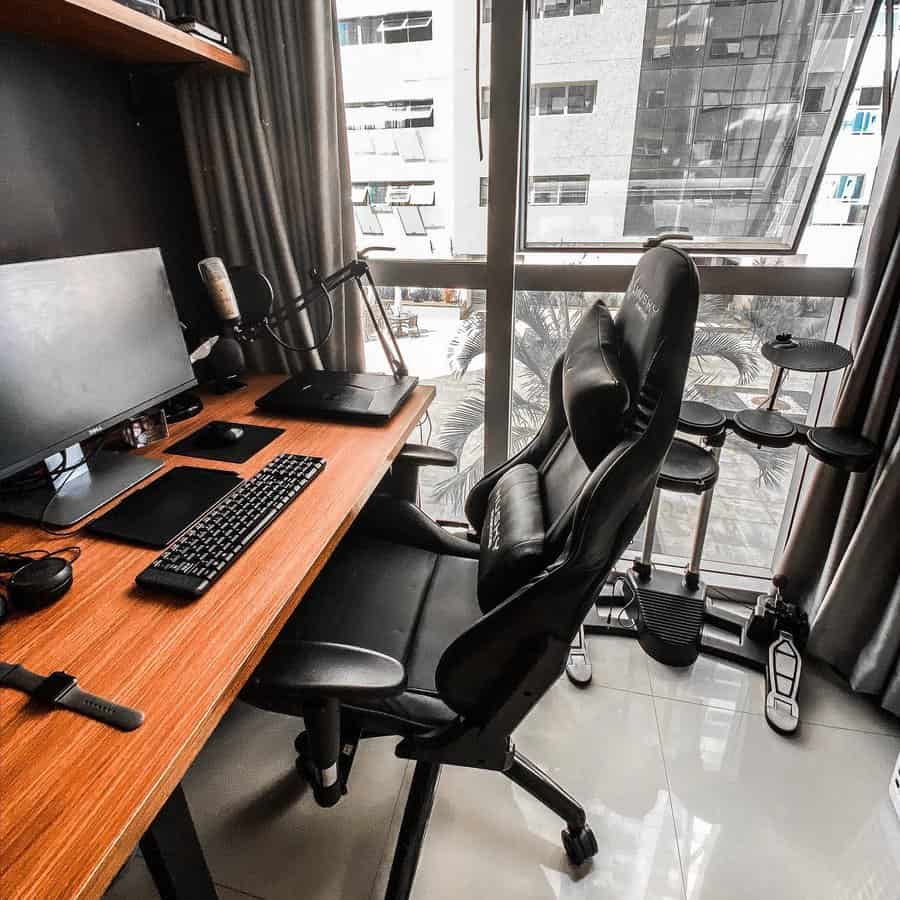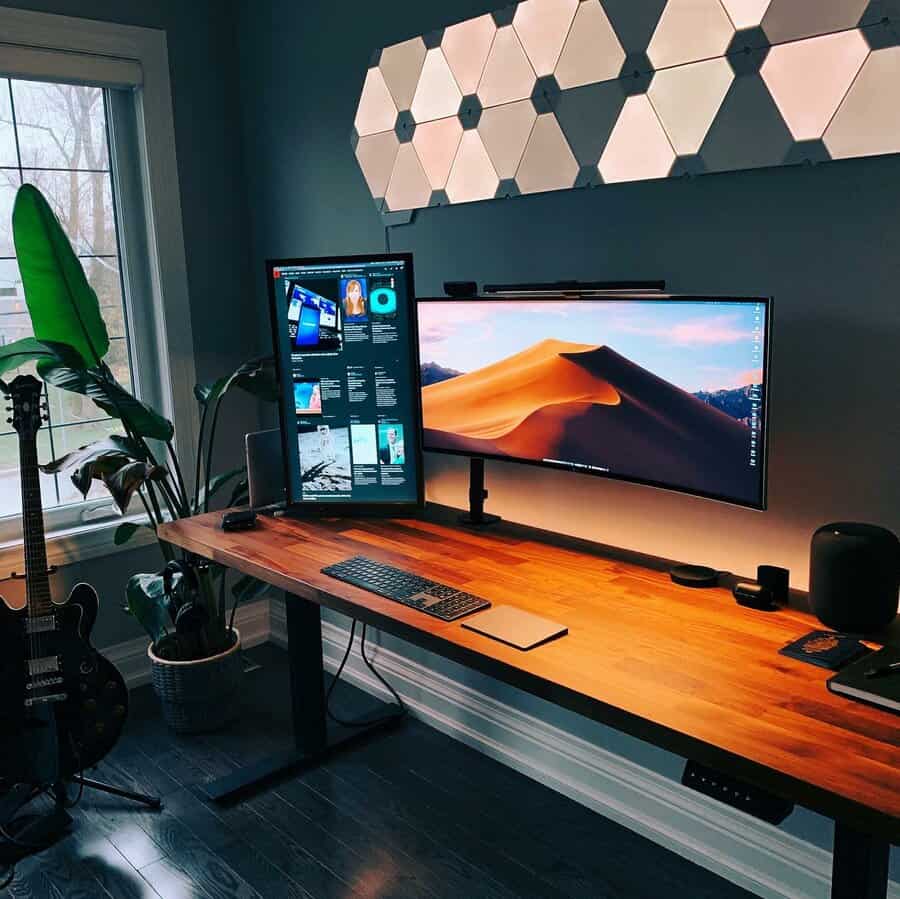 An executive desk is the last thing you want to include in a small office space. Instead, opt for a sleek floating desk or multi-functional standing desk for maximum versatility.
The most compact office desk available probably won't offer much storage space. You may need to make concessions to ensure your workspace stays organized and free of clutter. Selecting a too-small desk may even create the illusion of a more cramped space.
See some intersting home office desk ideas here.
9. Home
Some workers want their home office to feel like an entirely separate location from their actual living space. Others want their work area to seamlessly blend into the rest of their home.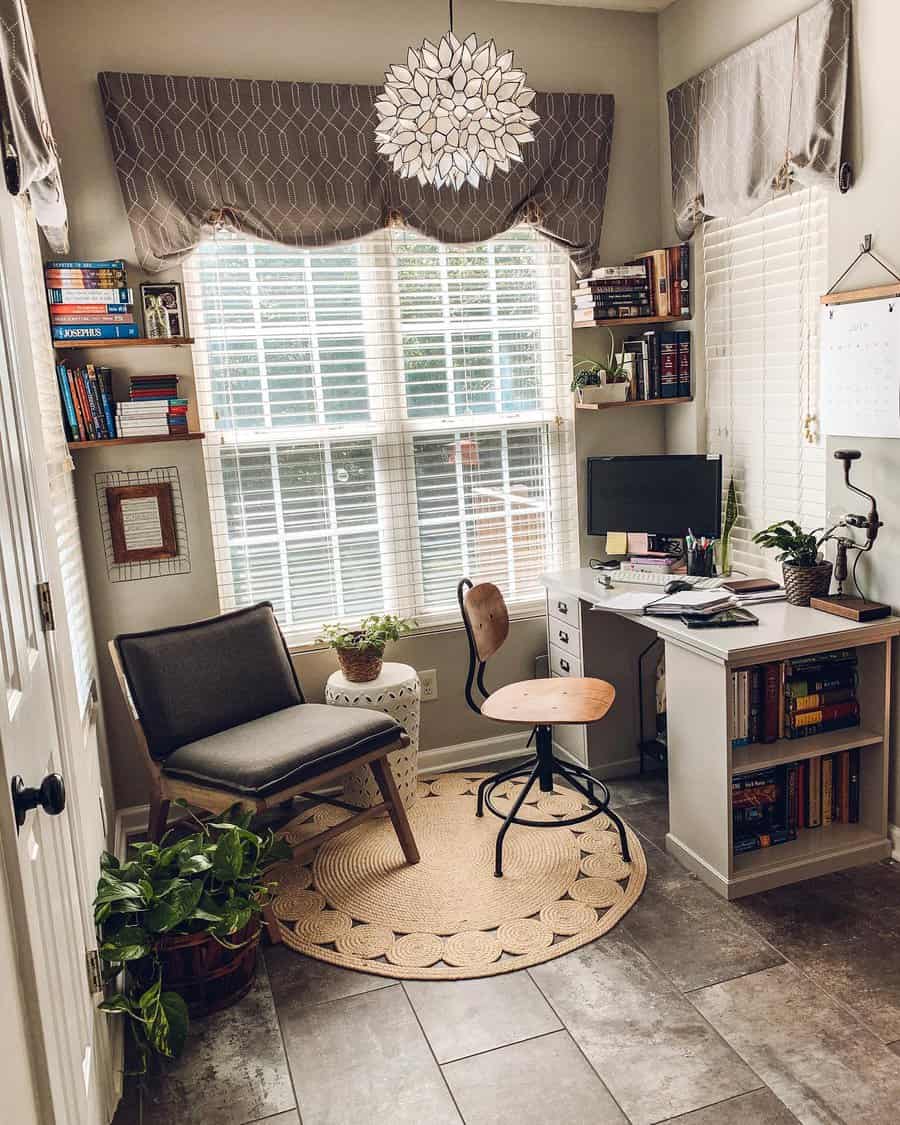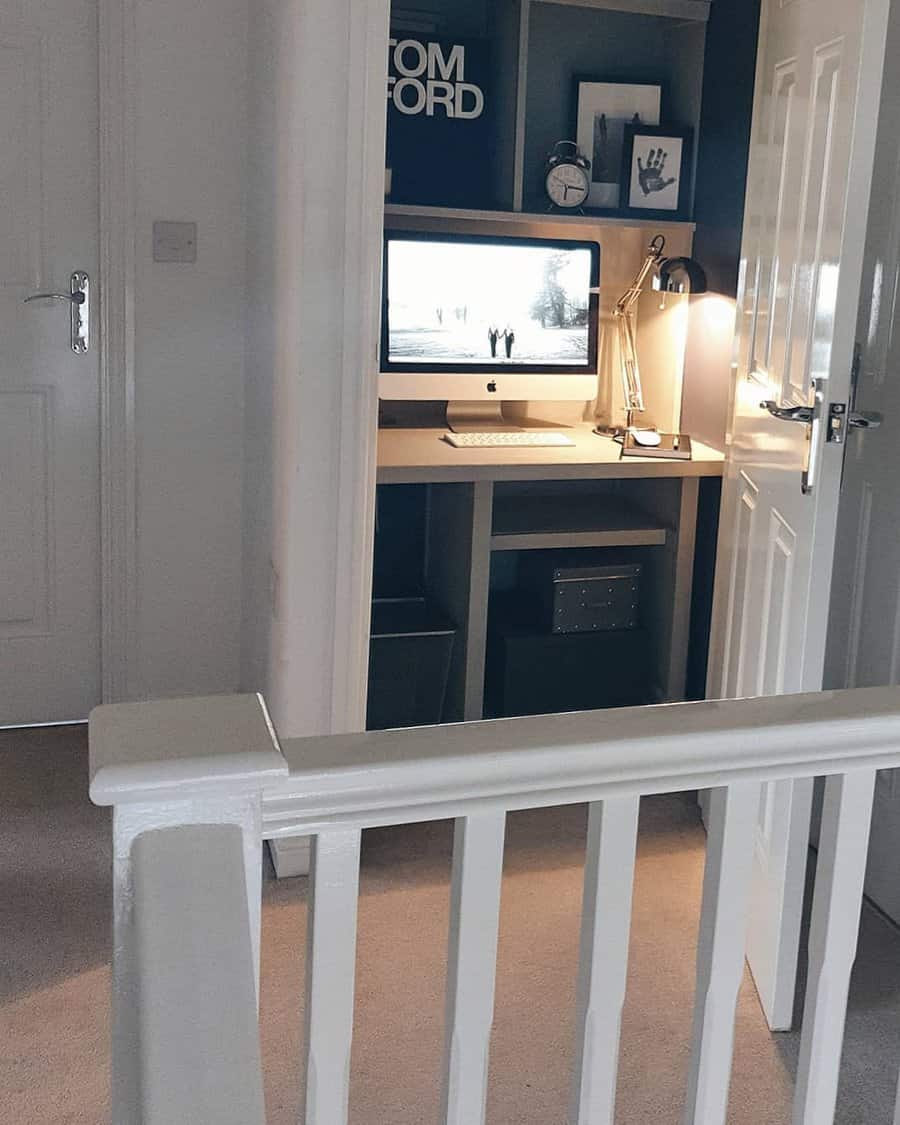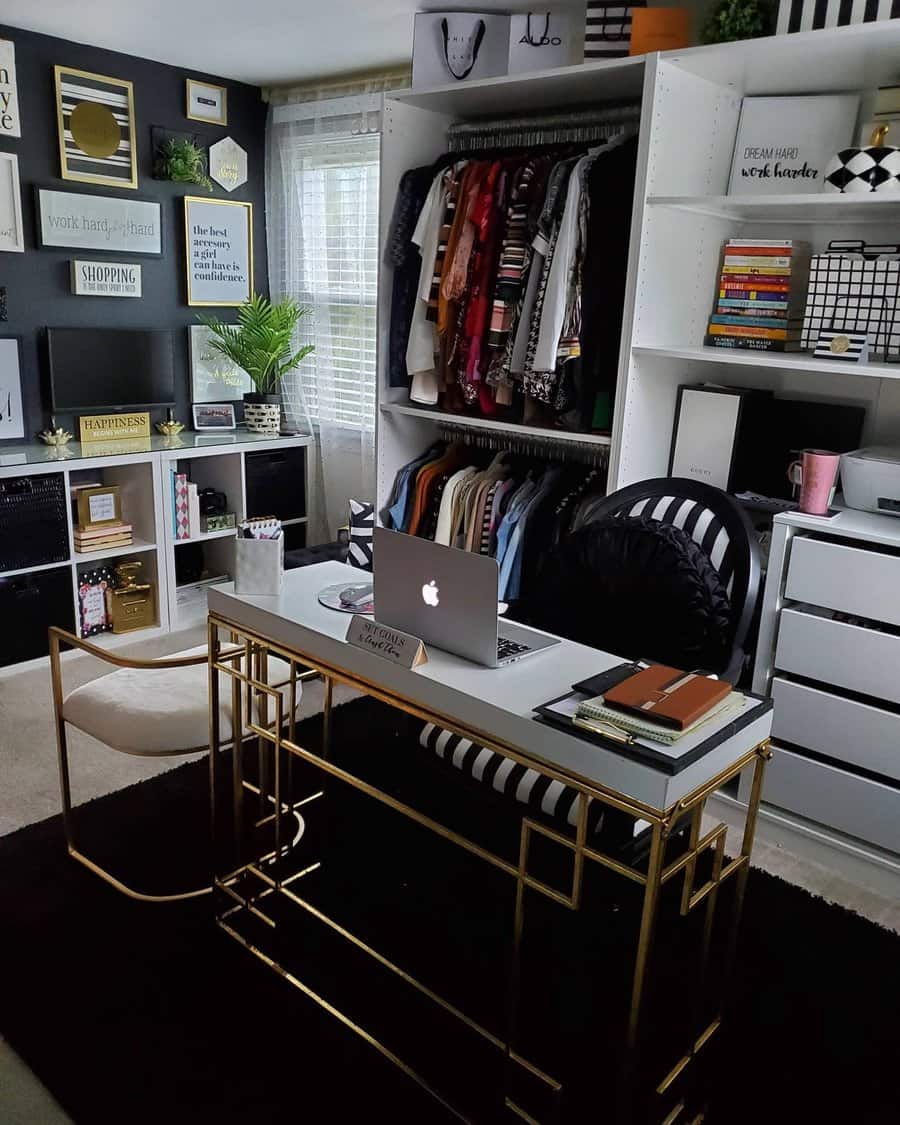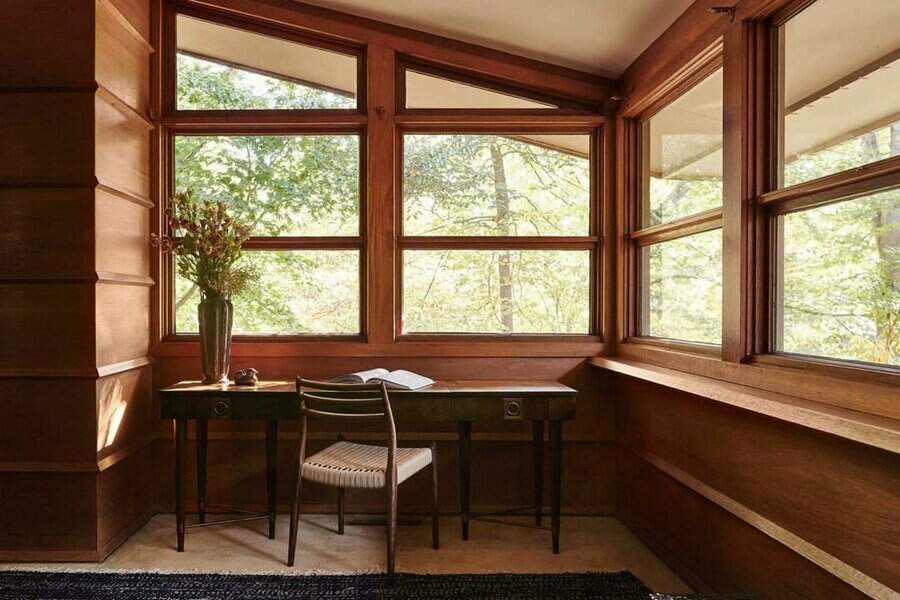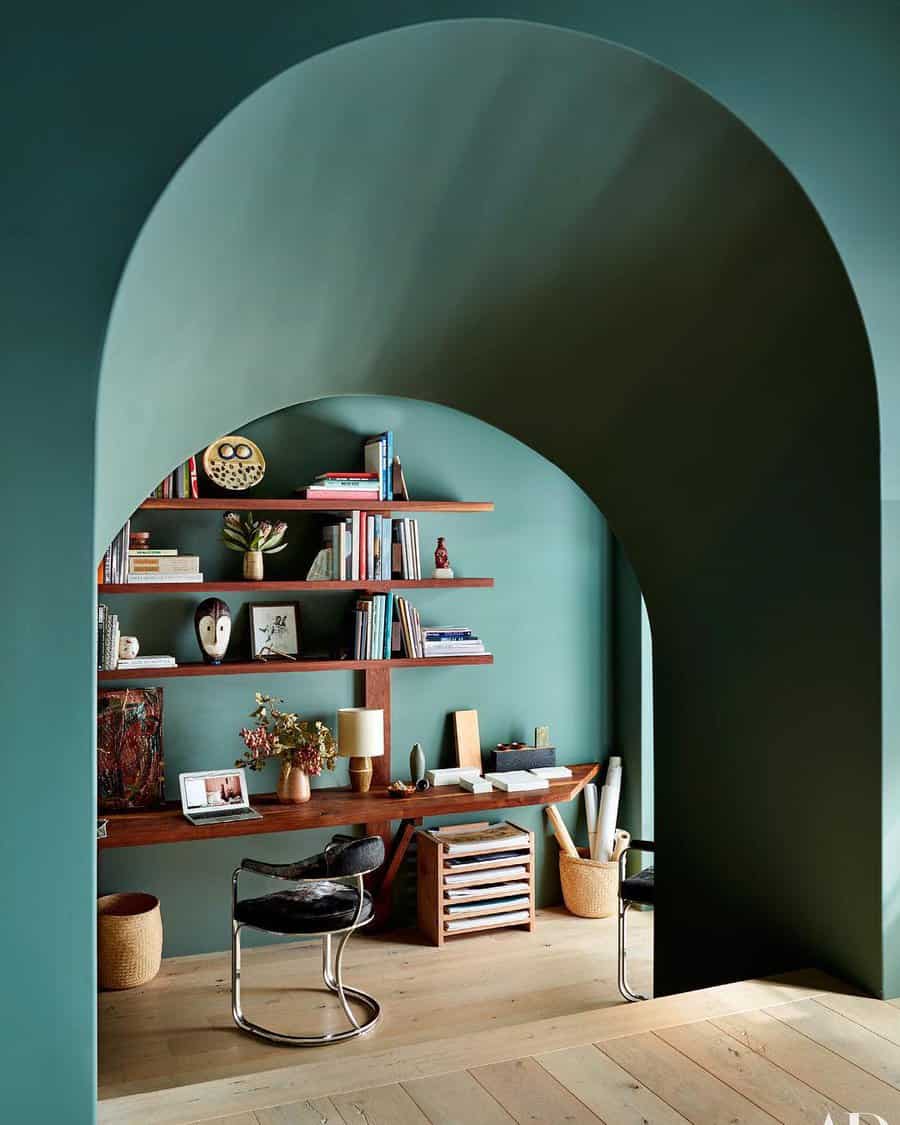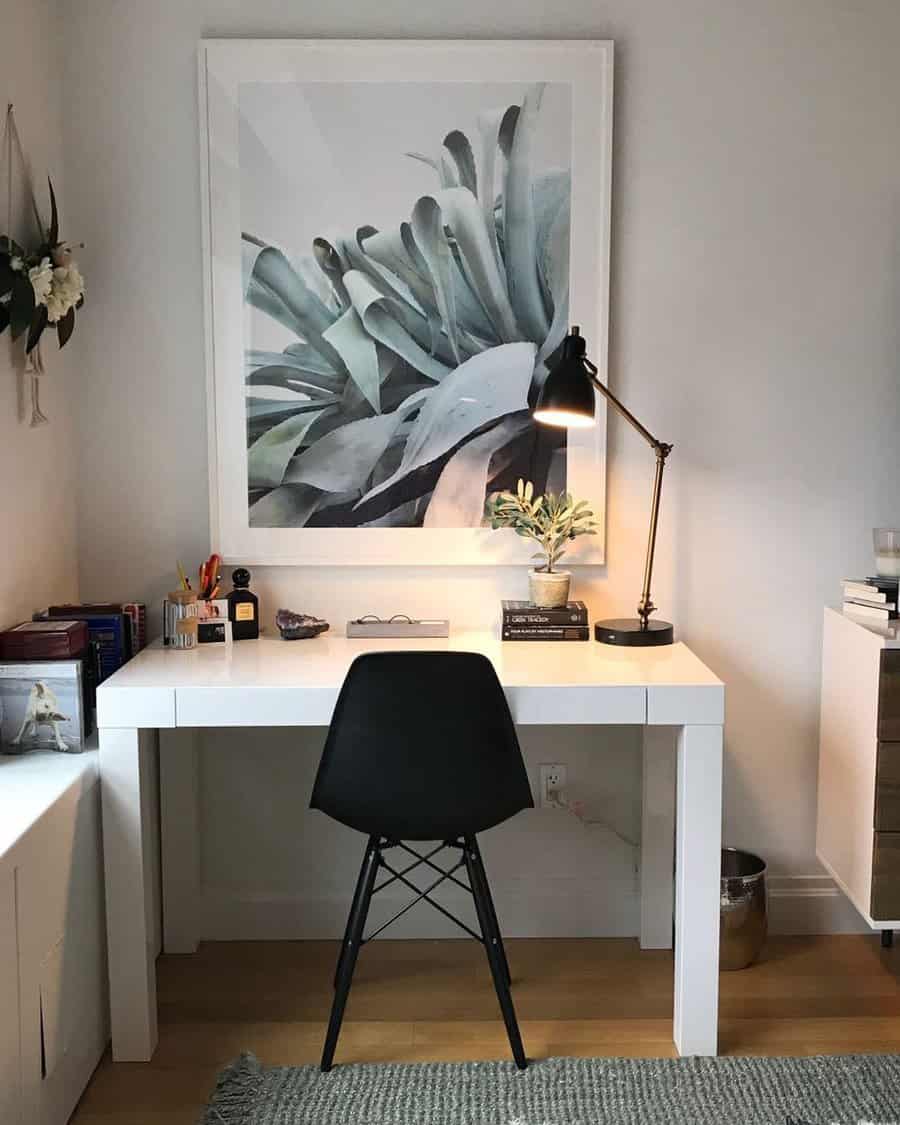 Take a look around your home and identify elements that could be incorporated into your office — colors, textures, materials, and artwork. This is equally important no matter how far removed your workspace is from your functional living areas.
Finding a balance between comfort and professionalism isn't as hard as it seems. But starting out with a well-curated home certainly makes things easier.
10. Lighting
Light can completely transform the atmosphere of a room. In the context of a home office, lighting can also play a role in preventing (or causing) eye strain and fatigue.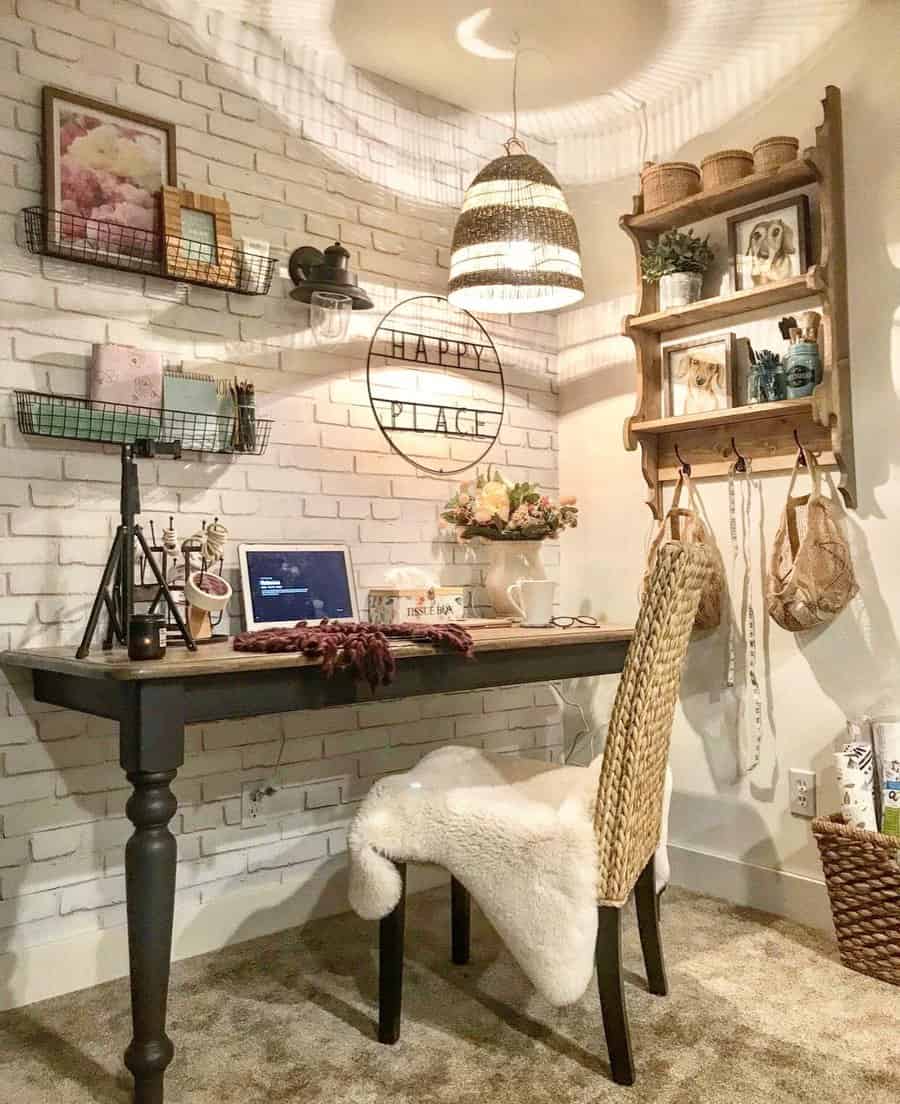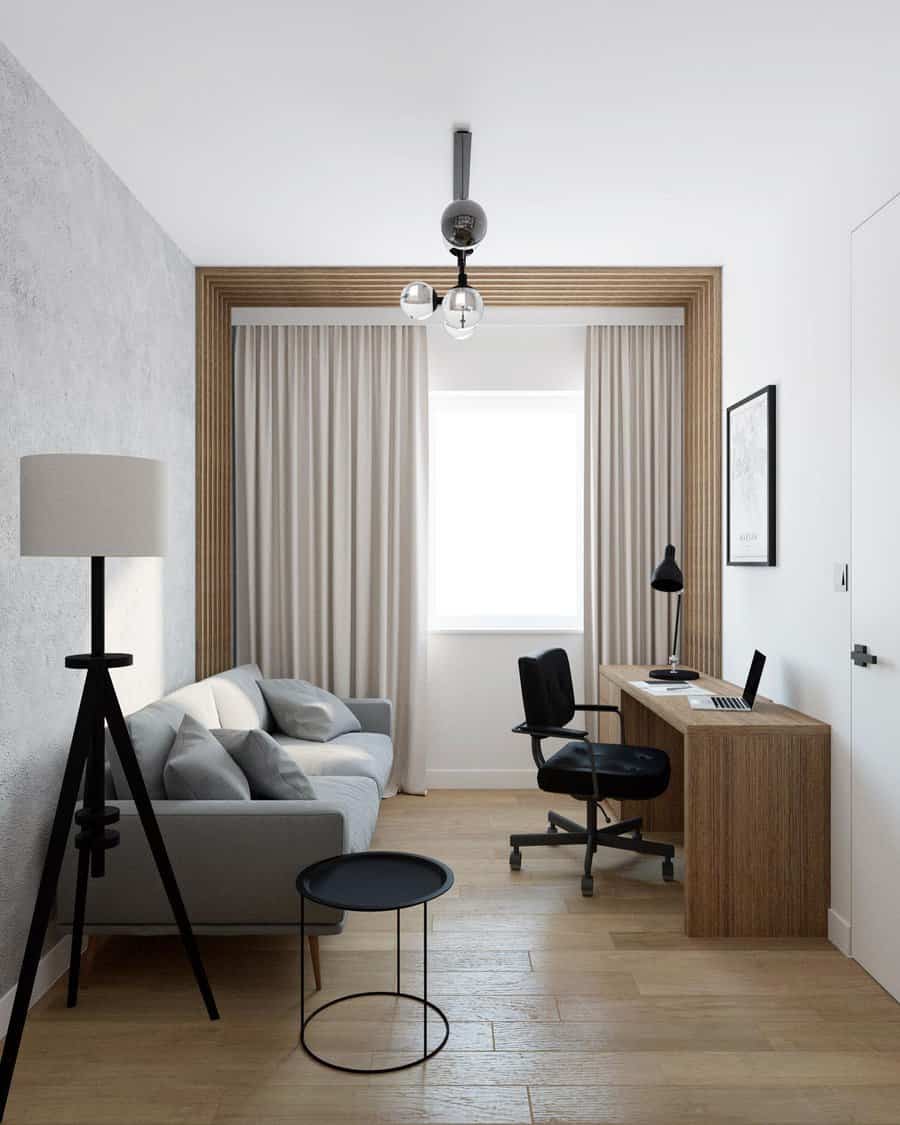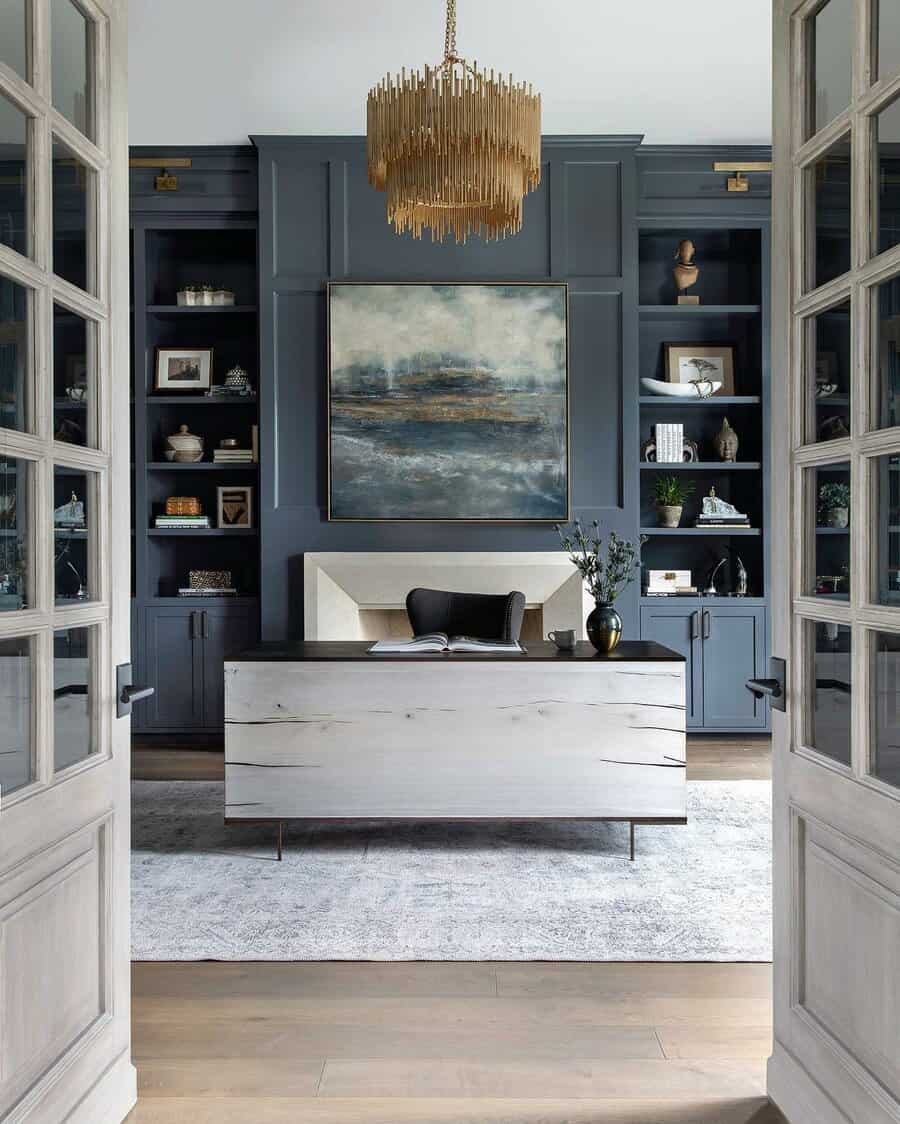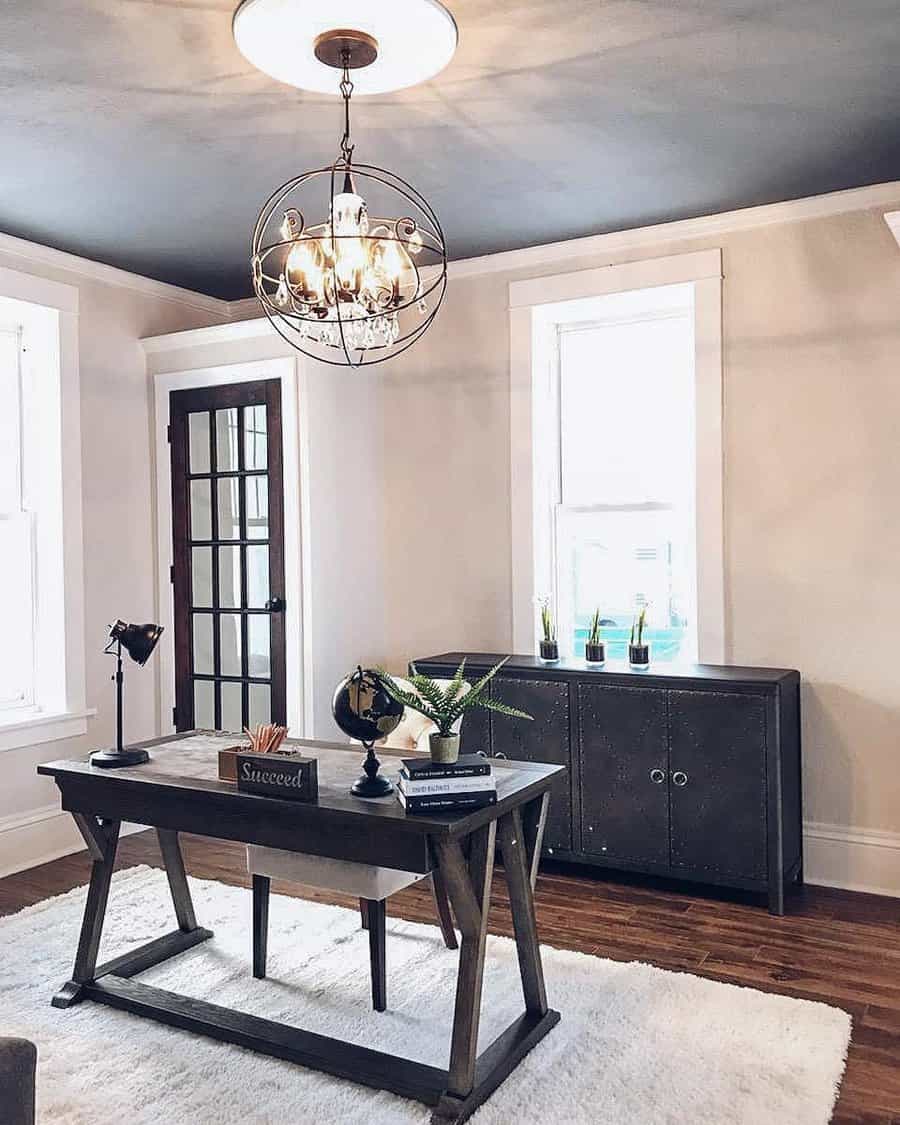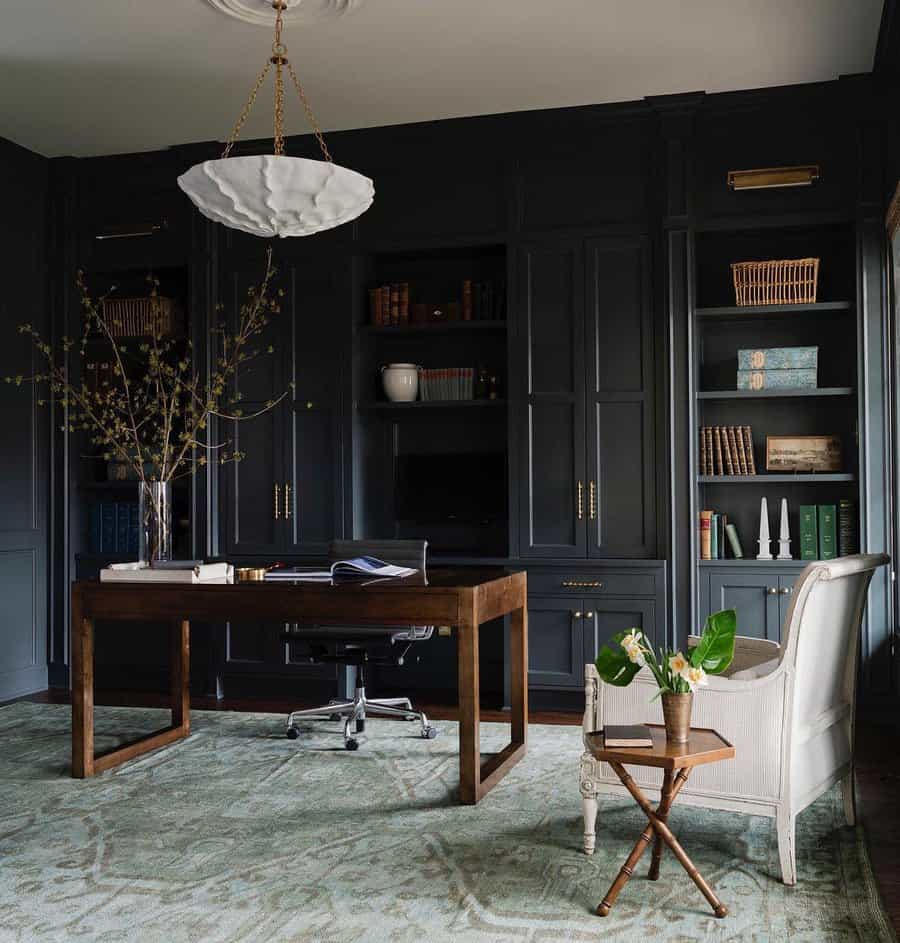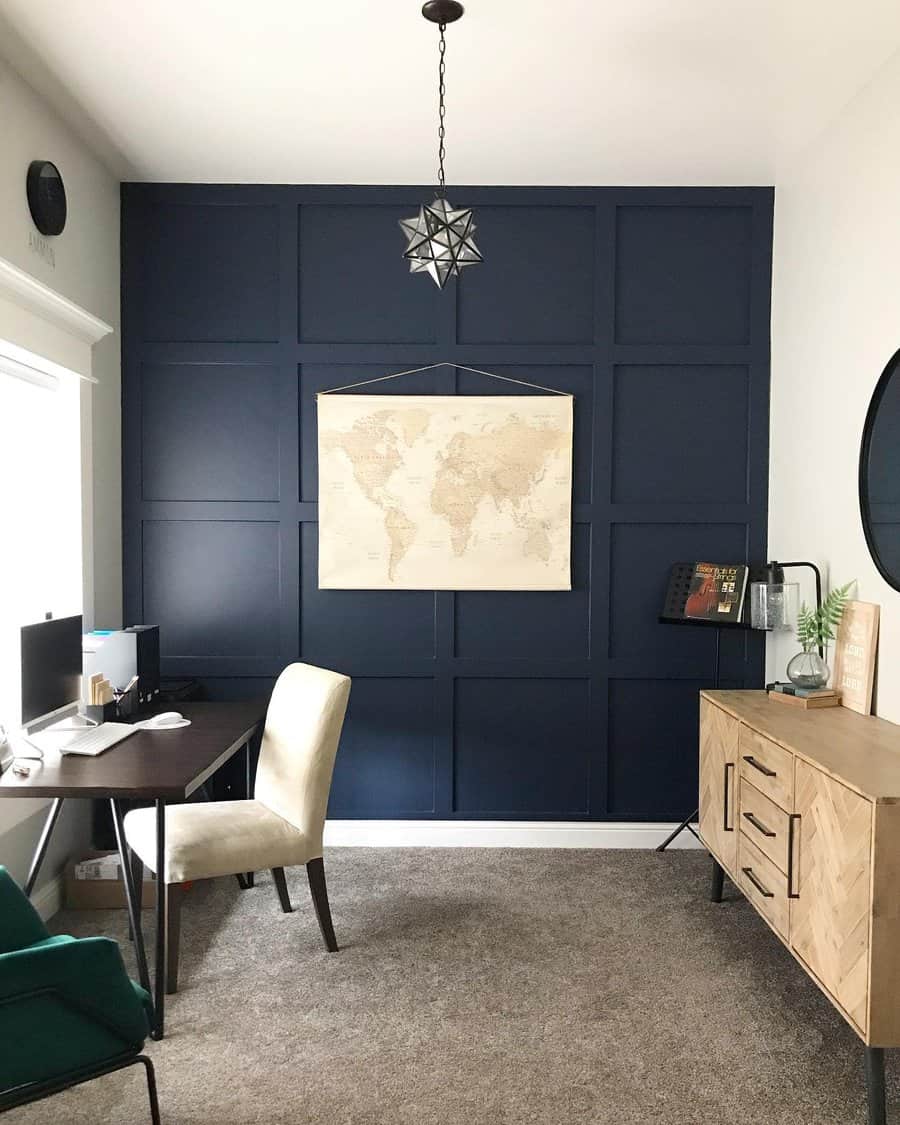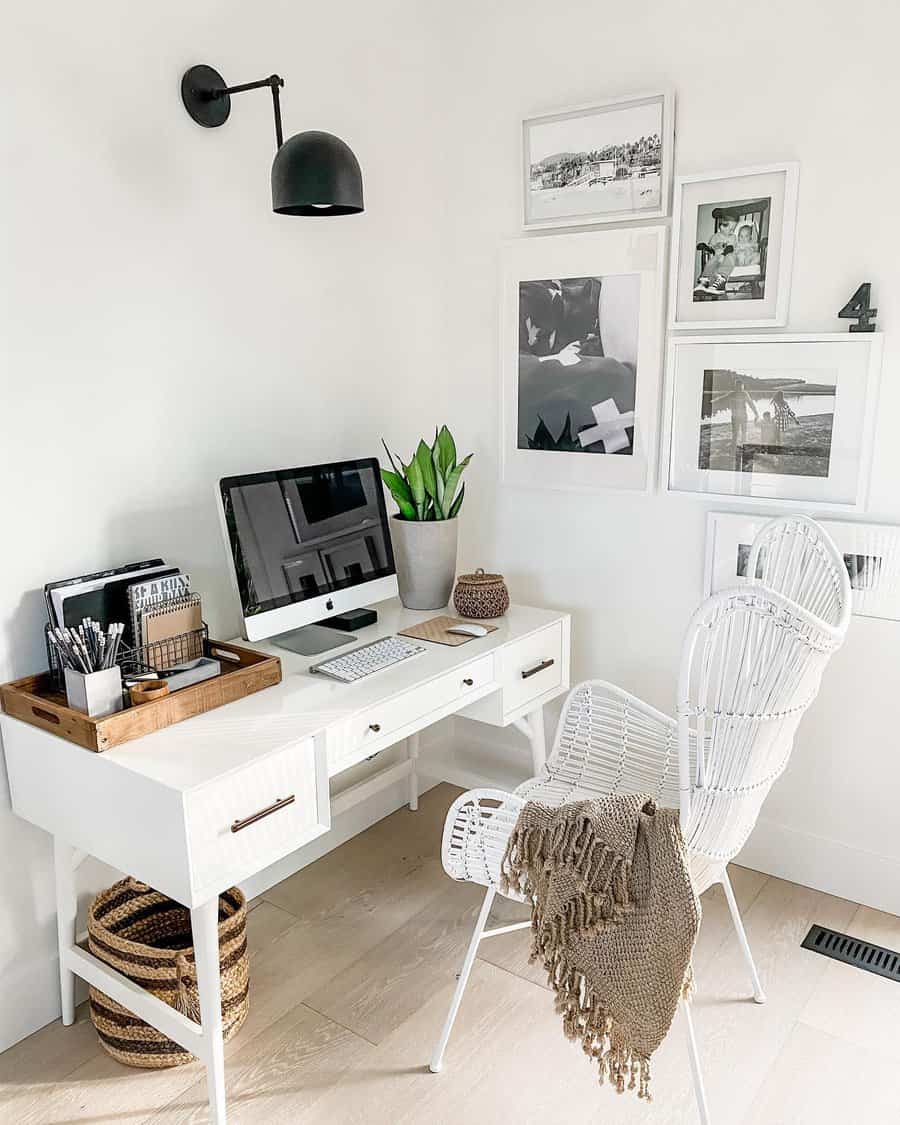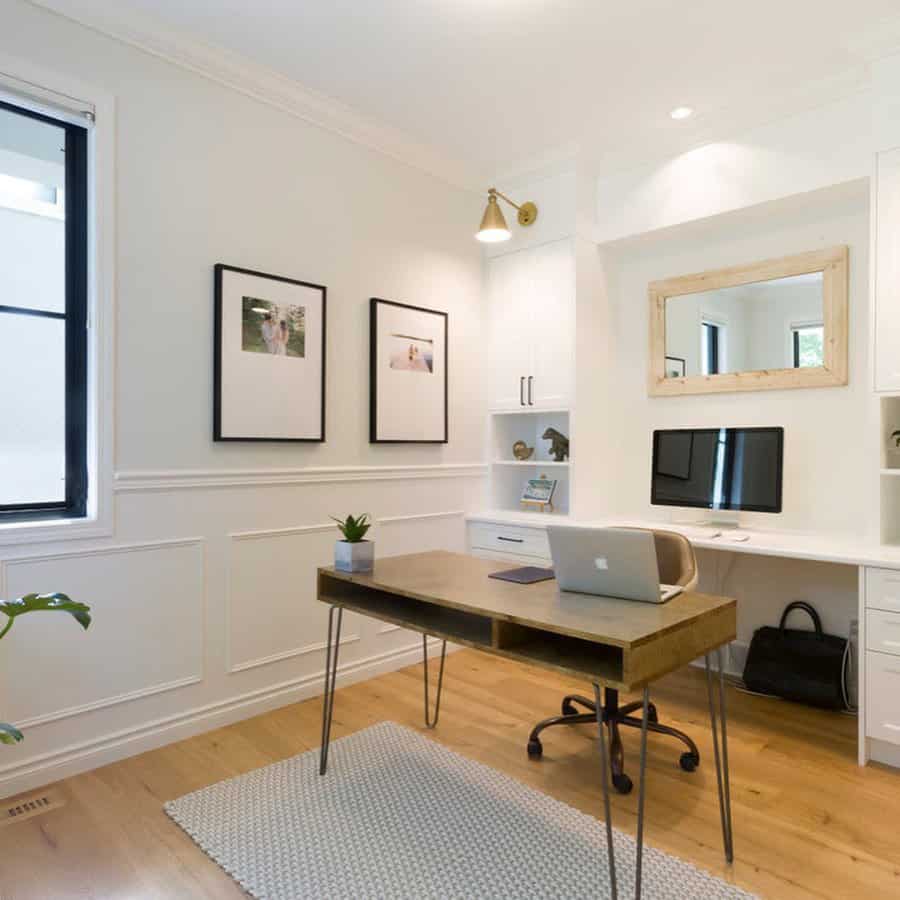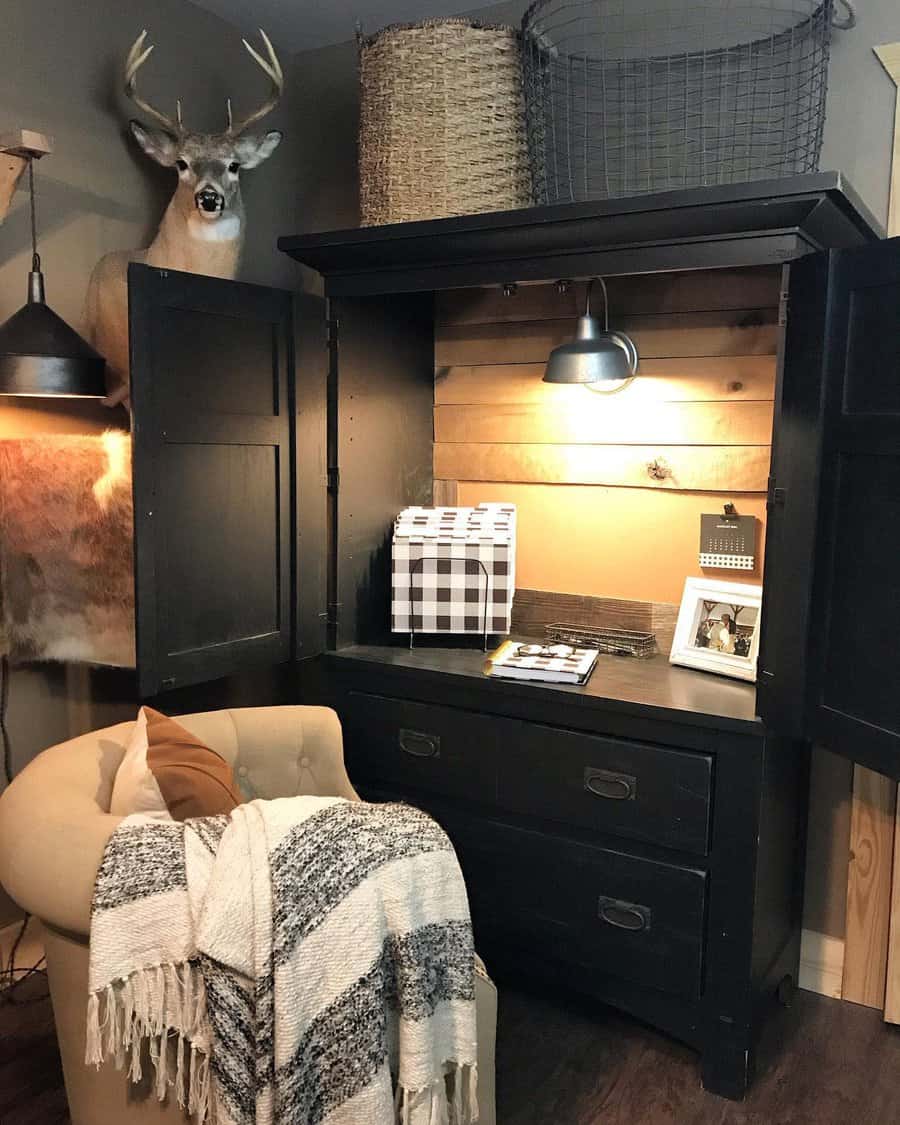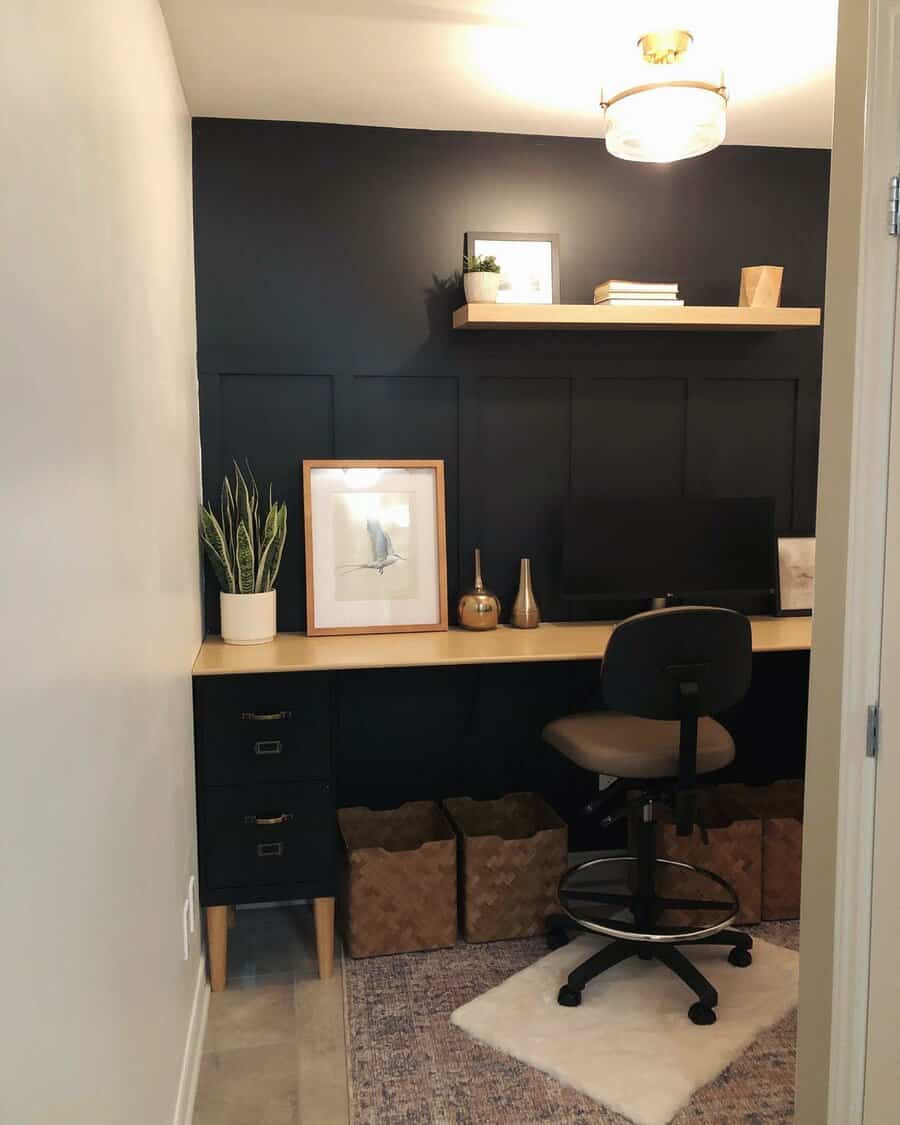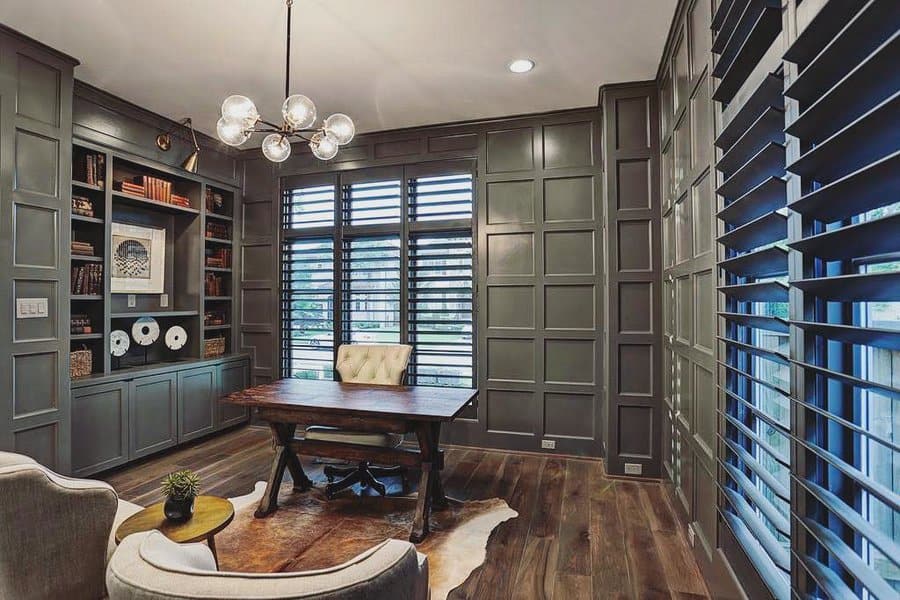 Your office lighting can be divided into two parts: The fixtures and the light bulbs inside them. You can use almost any fixture in your office as long as you equip it with the right light bulbs.
Natural sunlight from a window is the best possible lighting for an office. Supplement your office windows (if available) with soft overhead lighting and extra fixtures like a floor lamp or wall sconces.
11. Living Room
A living room can take on several roles: Playroom, media room, family room, and even dining room. For many households, the living room also serves as a home office.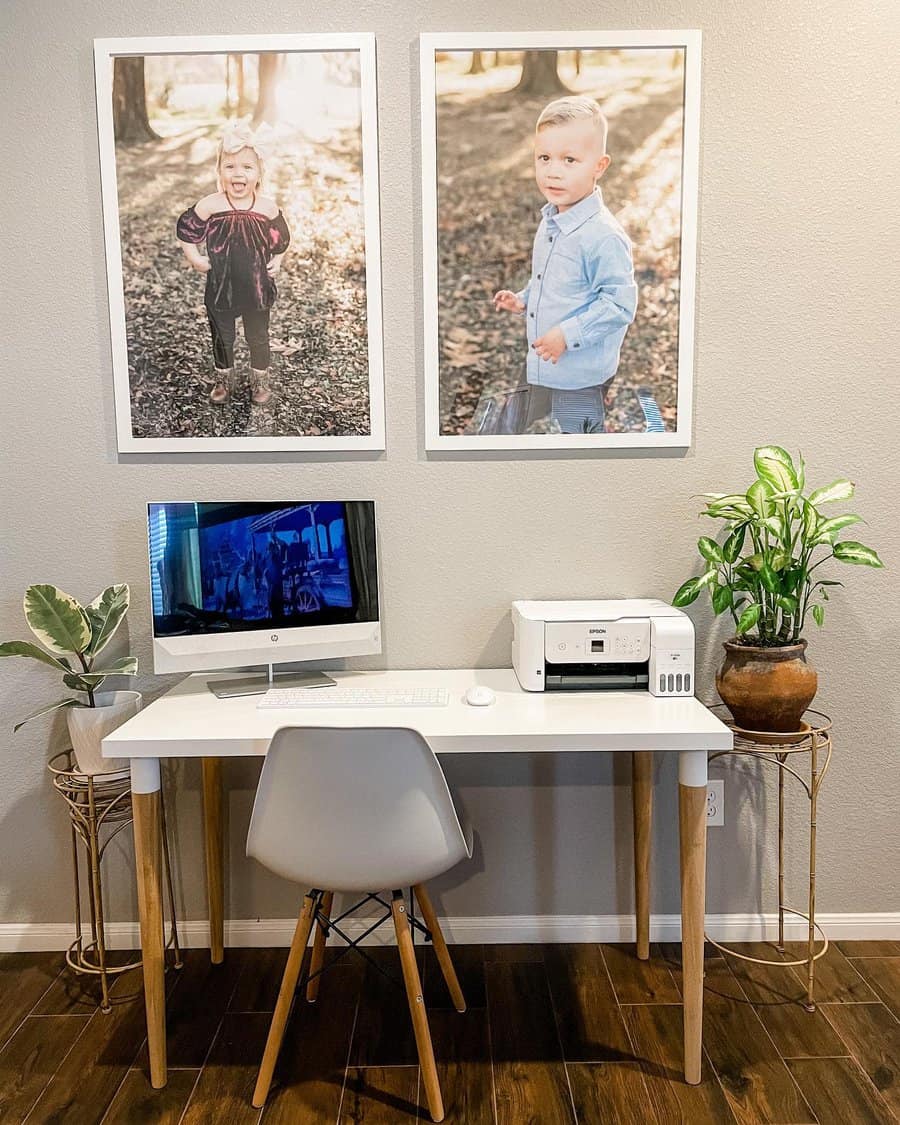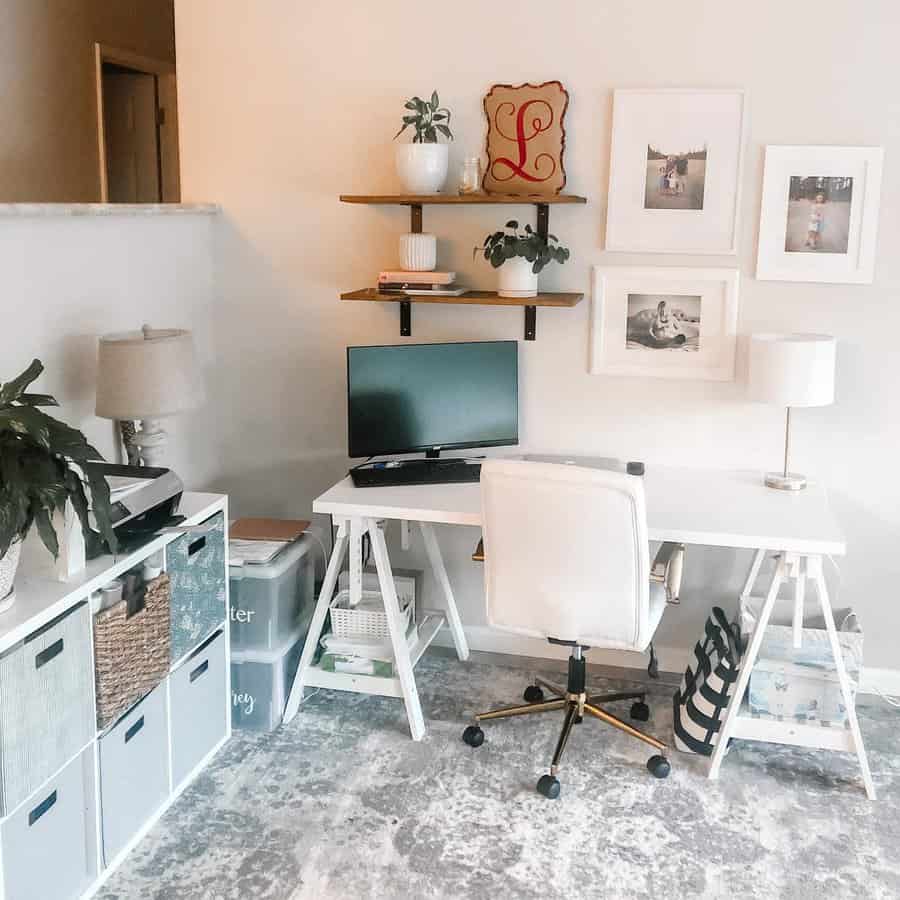 As with any small space, the best thing you can do for your living room office is to make it multi-functional. Invest in a desk that doubles as a console table. Or a chair that can be placed in a corner as an accent piece when not in use.
Photos of loved ones or your favorite scenery can bridge the gap between your private living space and office area. Be sure to include plenty of storage space in your setup so things stay out of sight outside of working hours!
12. Minimalist
If a clean, minimal backdrop makes you feel focused and productive, you're definitely not alone. There's a reason minimalist decor is so popular in the workplace.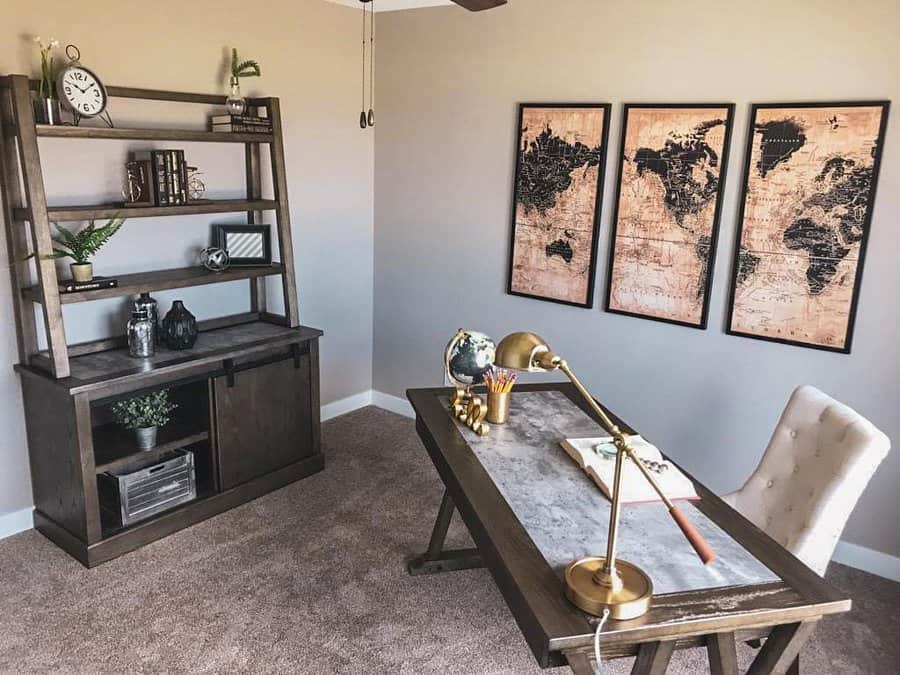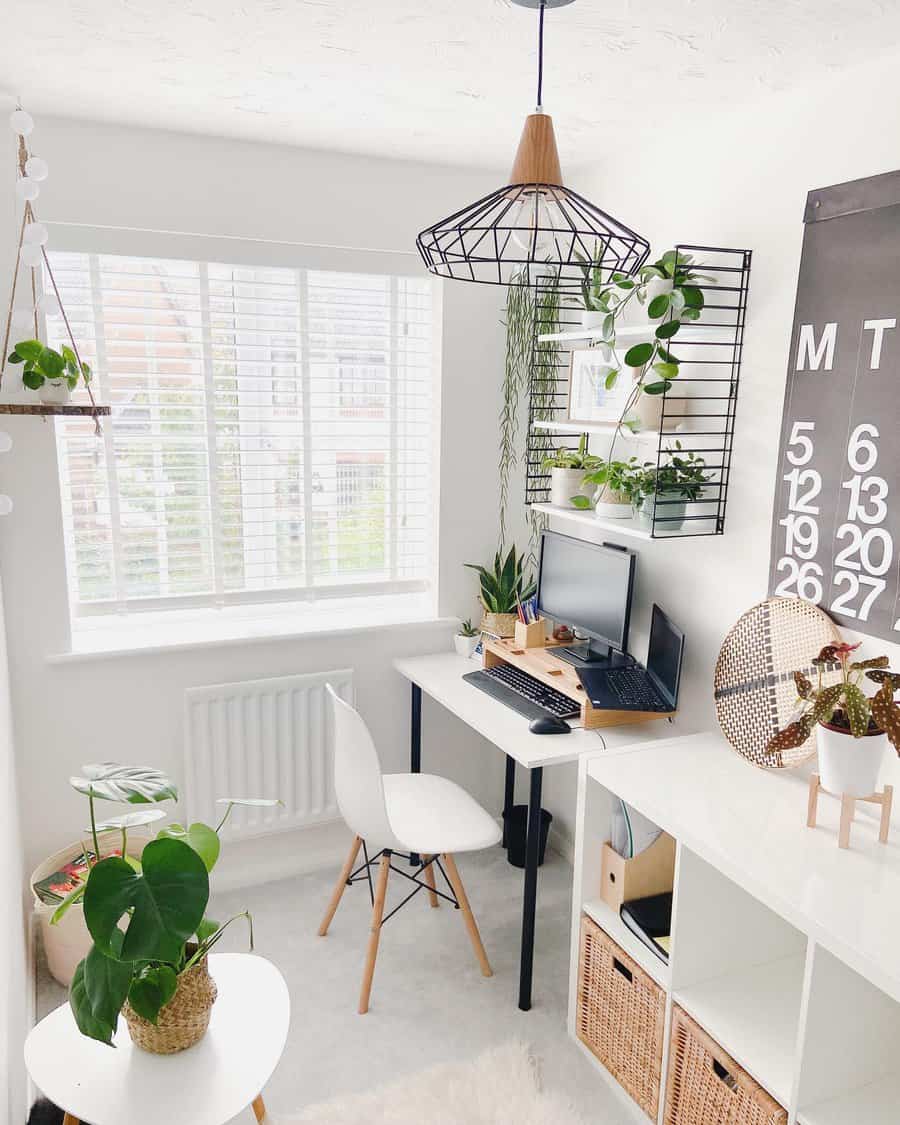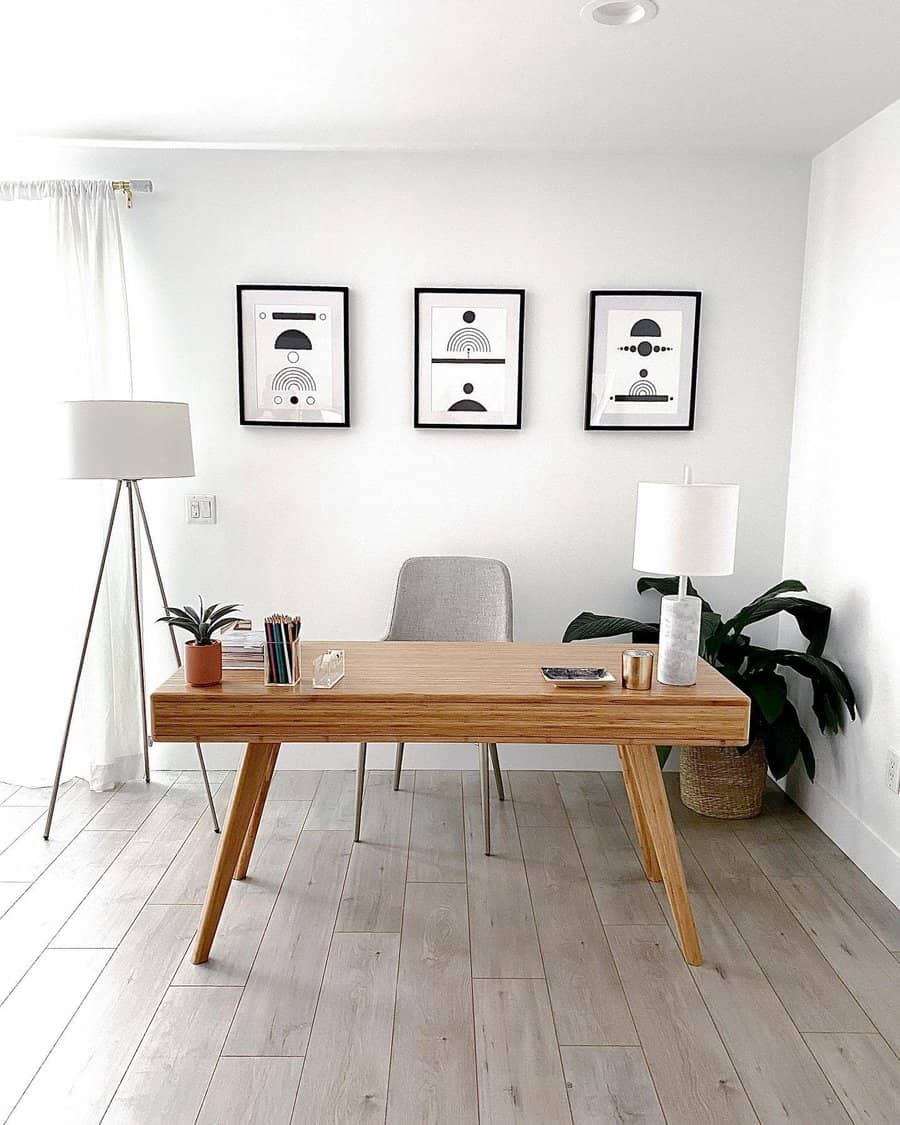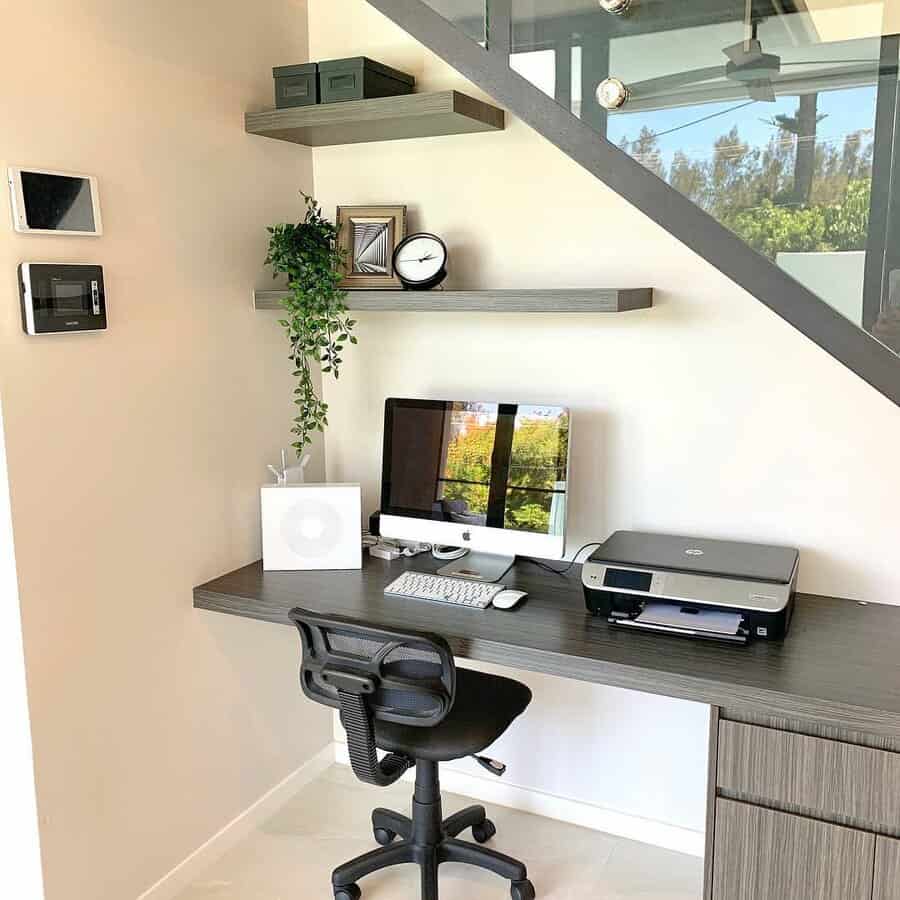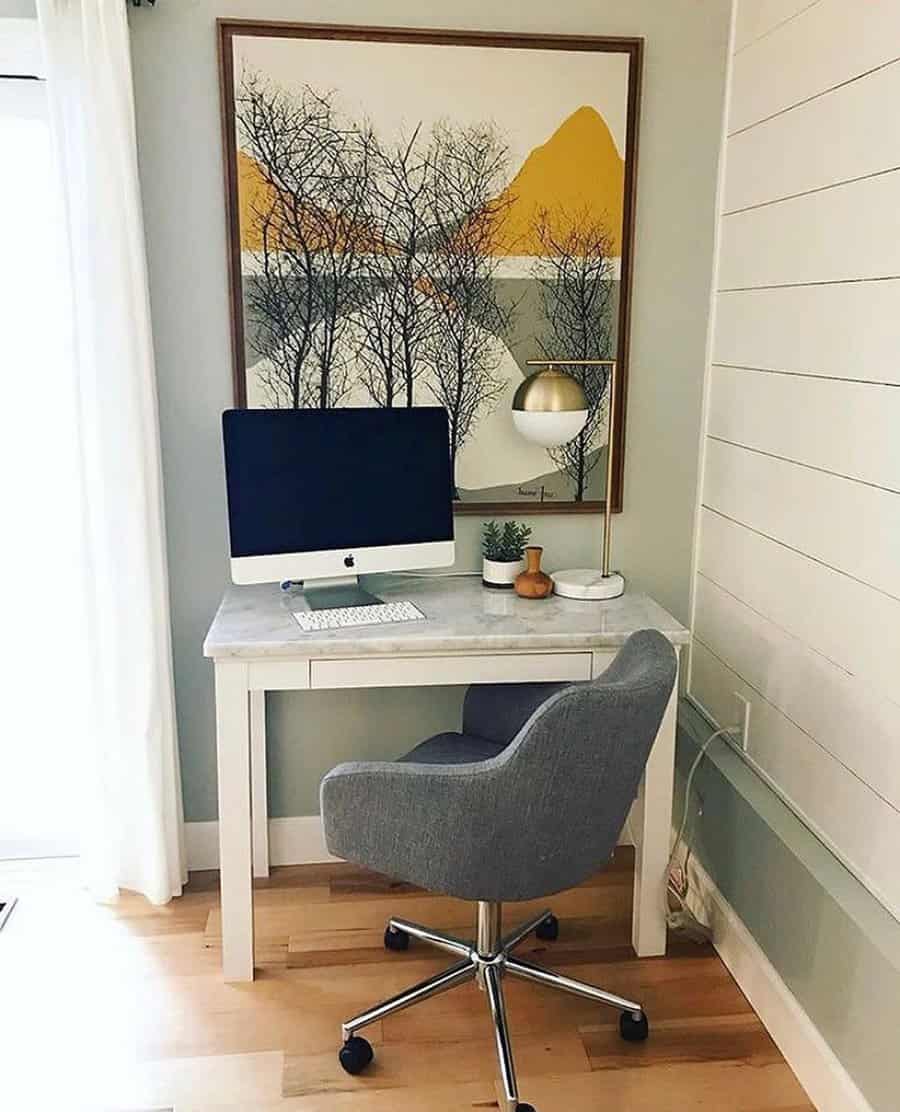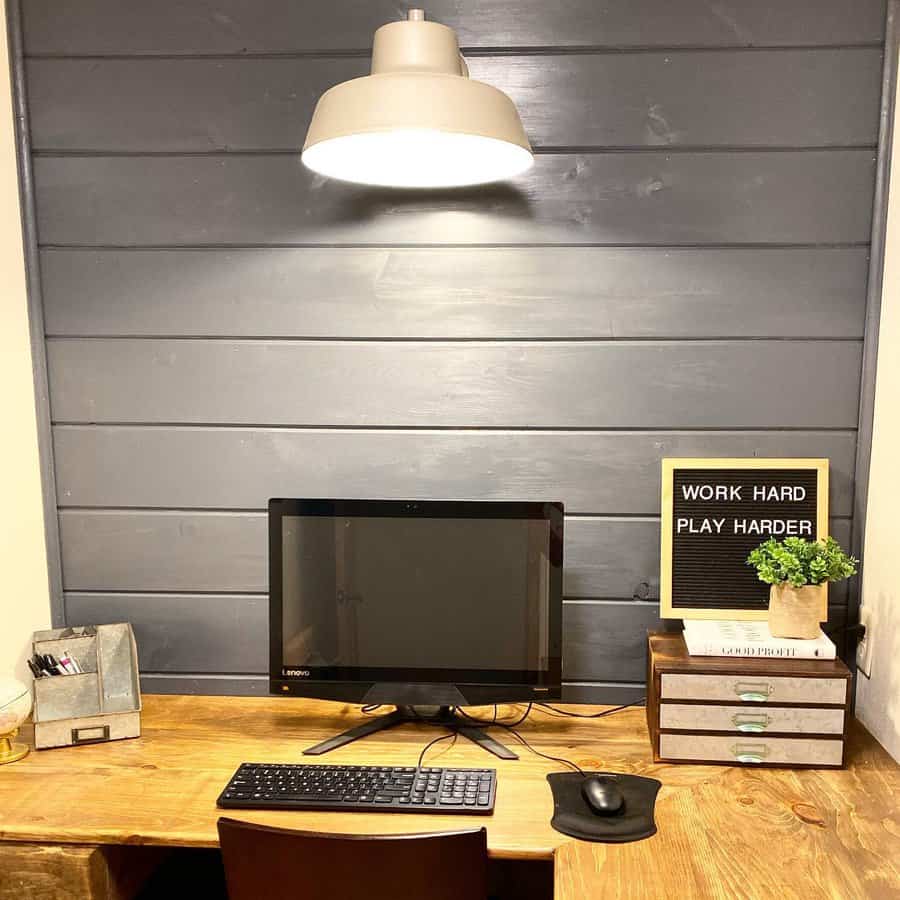 Starting with plain white walls is an excellent way to make your small space look as big and bright as possible. It also sets the stage for showing off your favorite decor items without overloading your office with visual clutter.
You may find that an all-white office space is ideal for your needs. If not, organic textiles like wood, macrame, and potted plants will add warmth to a minimalist design without ruining its simplicity.
13. Modern
Modern design is sleek and innovative. So it's no surprise that the trend has been used (and continues to be used) to decorate office spaces around the world.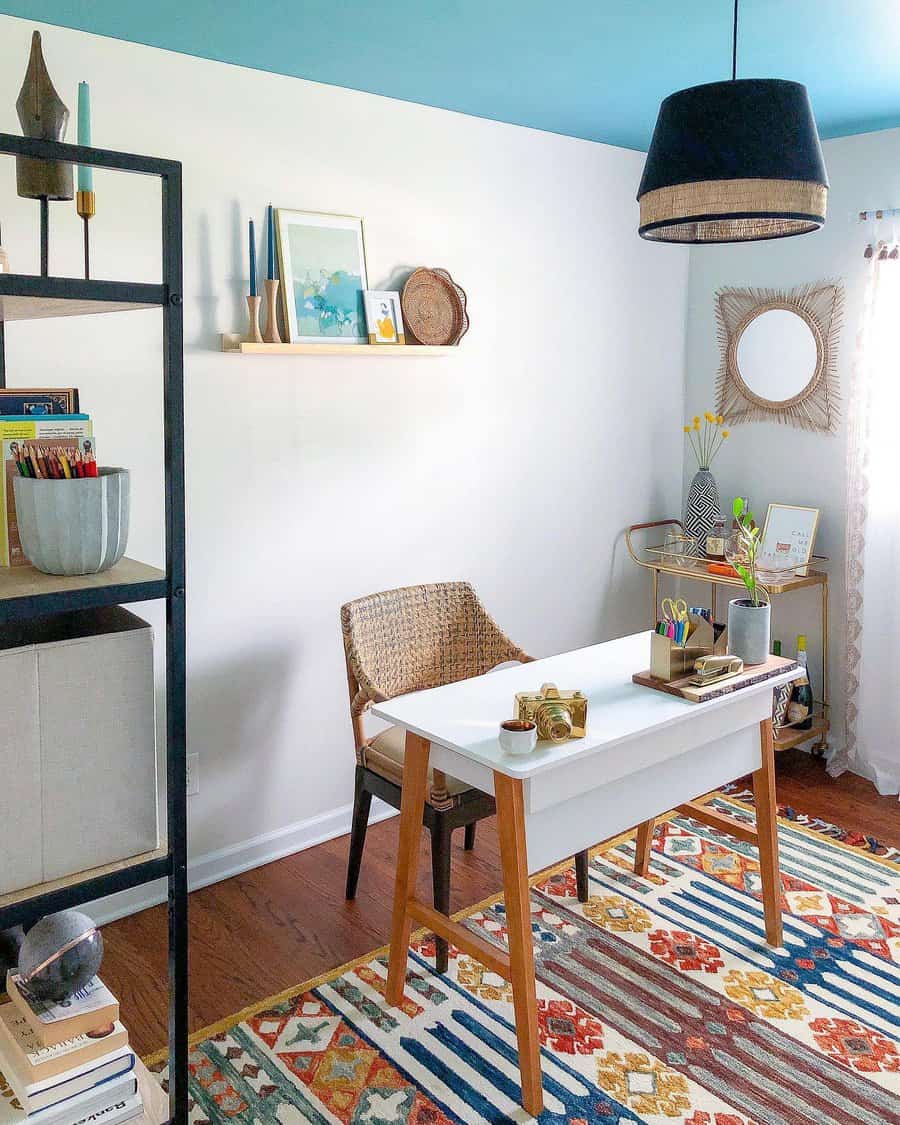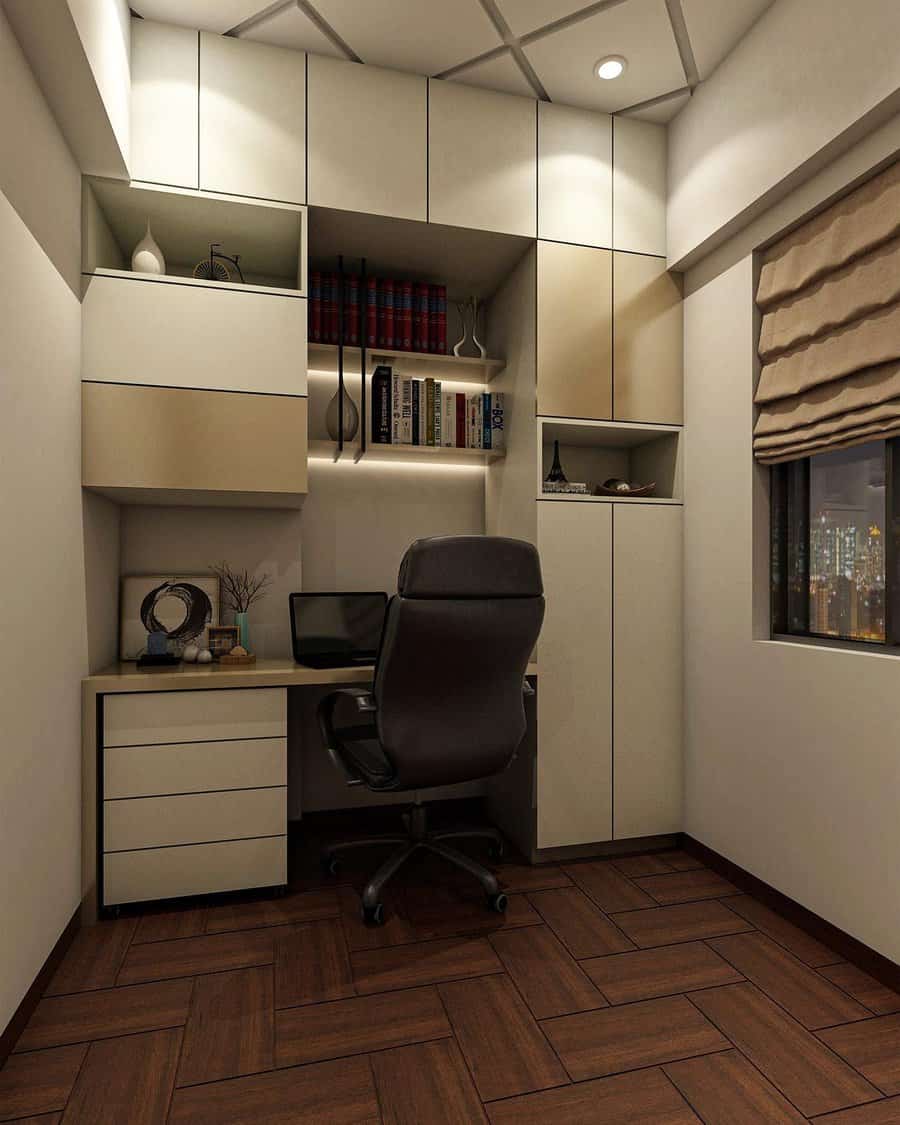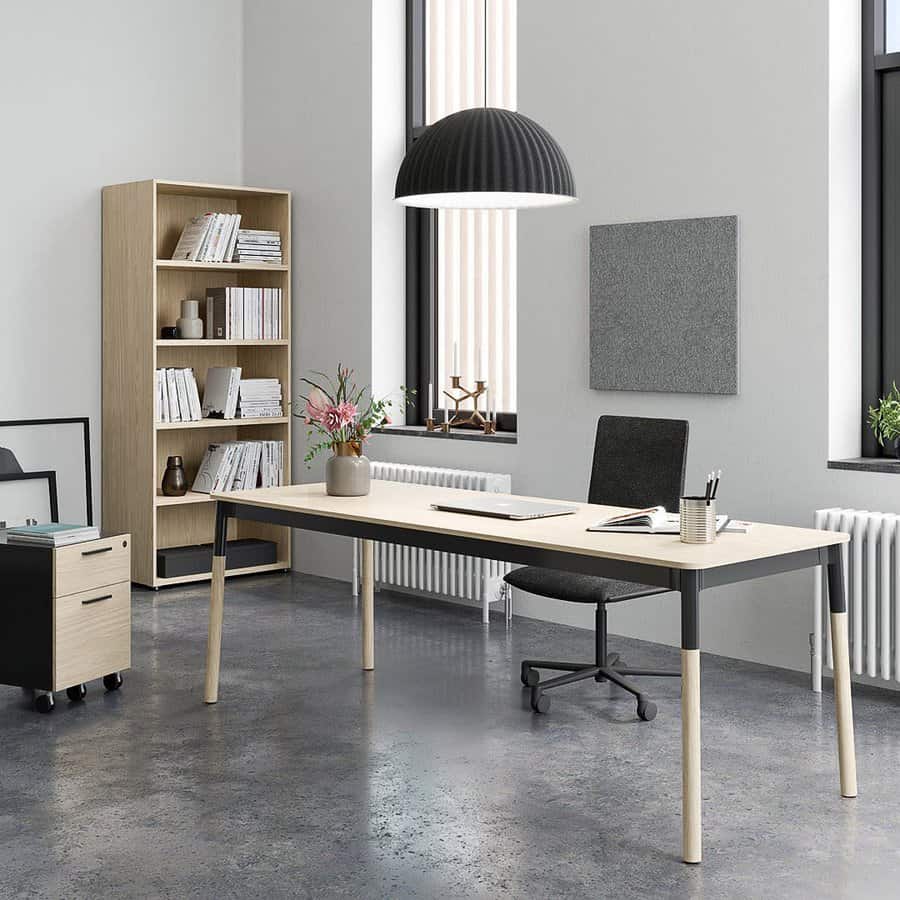 Most modern looks utilize neutral color palettes. However, you can also include a vibrant accent color in your home office design for a more daring aesthetic. High-contrast shades like black and white are ideal for this style of office decor.
The modern design movement includes many sub-trends, including mid-century modern and Scandinavian decor. Don't hesitate to borrow design elements from these trends to outfit your small office space.
See more modern home office ideas here.
14. Wall
Wall decor is the best way to add visual intrigue to a small space. Motivational quotes are a top pick among office designers. But you can also include artwork that inspires you in less direct ways.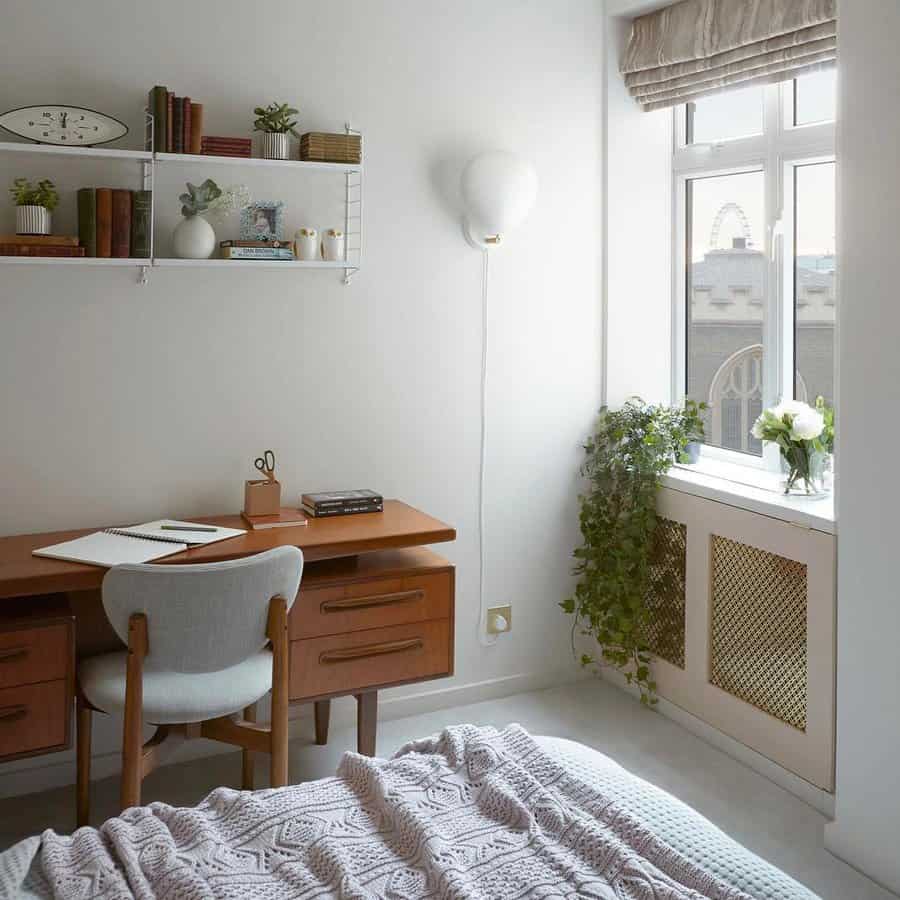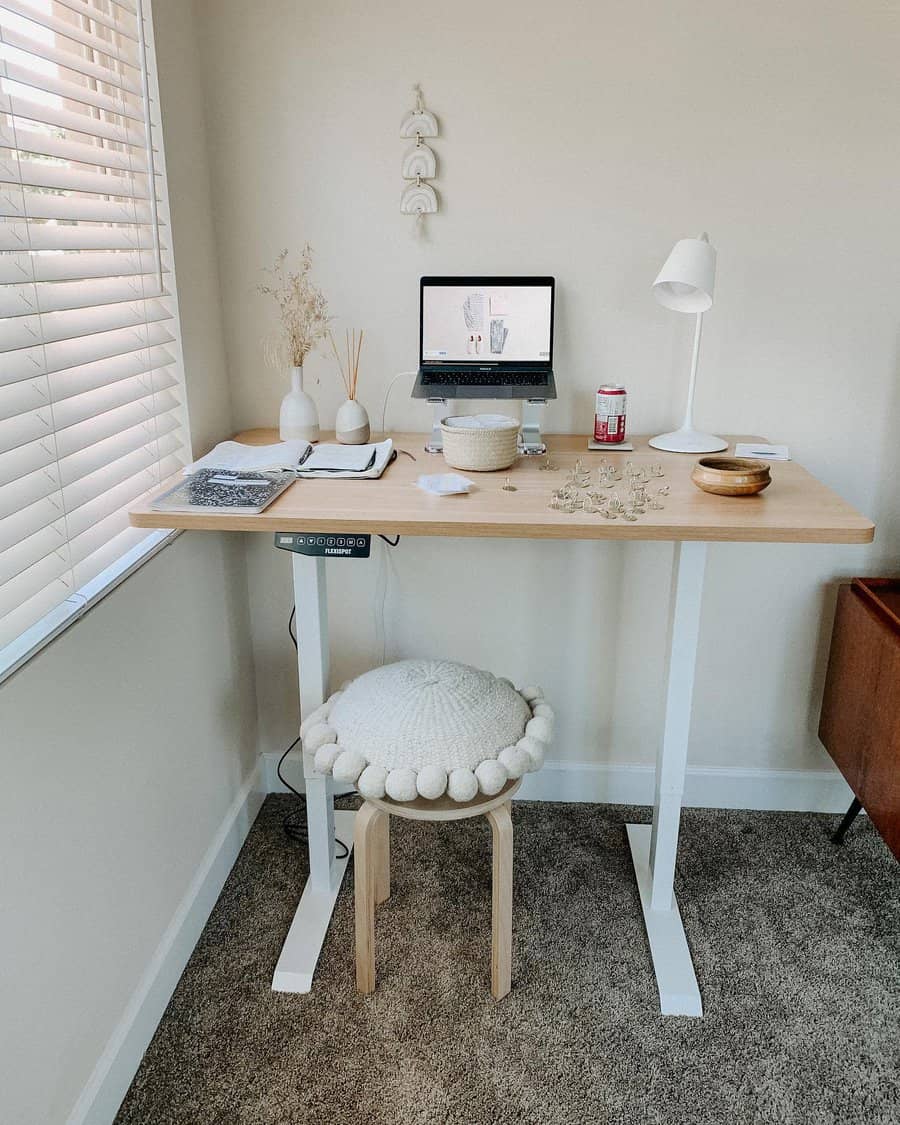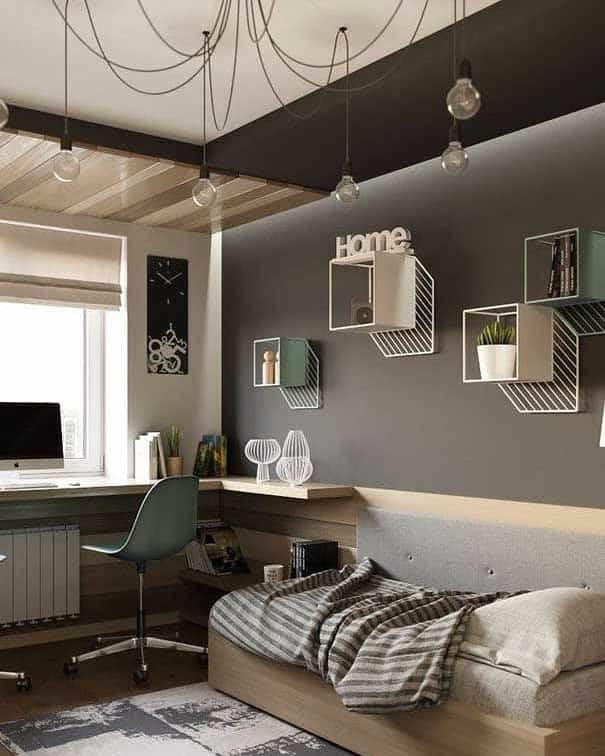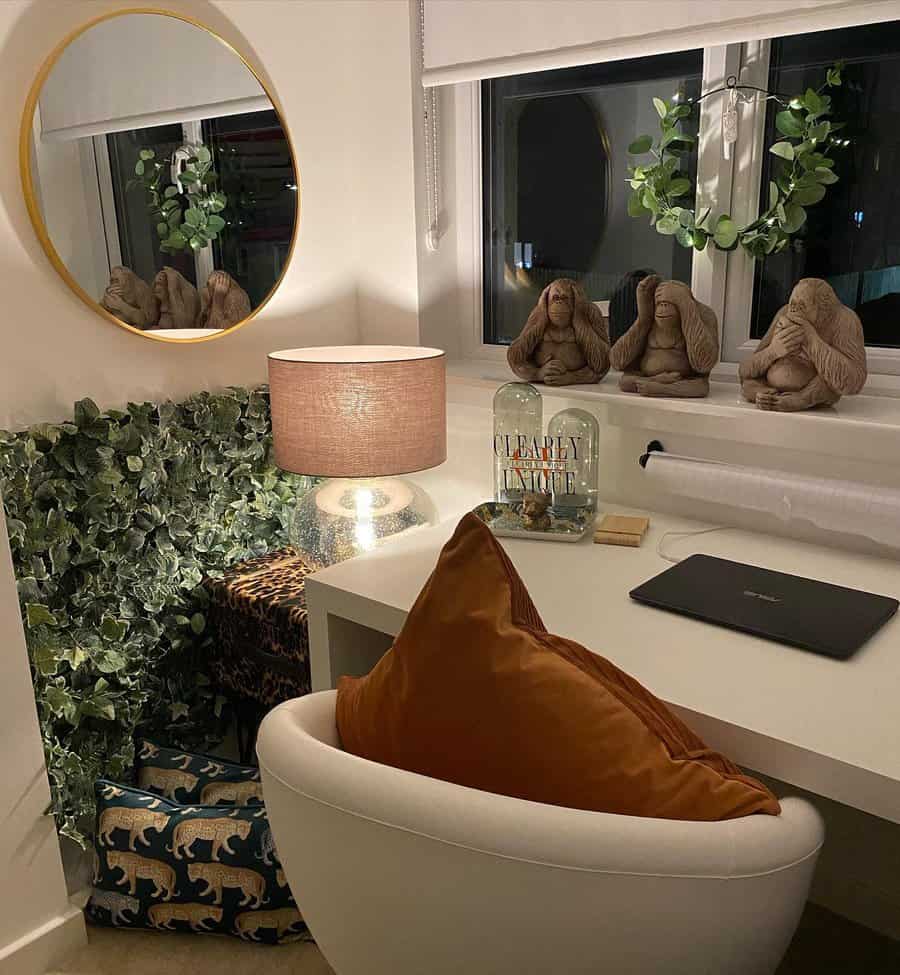 Hanging a statement mirror above your main work area will make the room feel larger and brighter. Otherwise, consider installing a wall-mounted light fixture above your desk for added visibility at night.
Shelving can be used to make up for too little storage space elsewhere or display your favorite decorative items. Don't hesitate to use your office shelves for both purposes at once. Doing so may even keep clutter off your desk!
15. Workspace
The actual workspace is just a small part of any office setup. However, it's also the most important.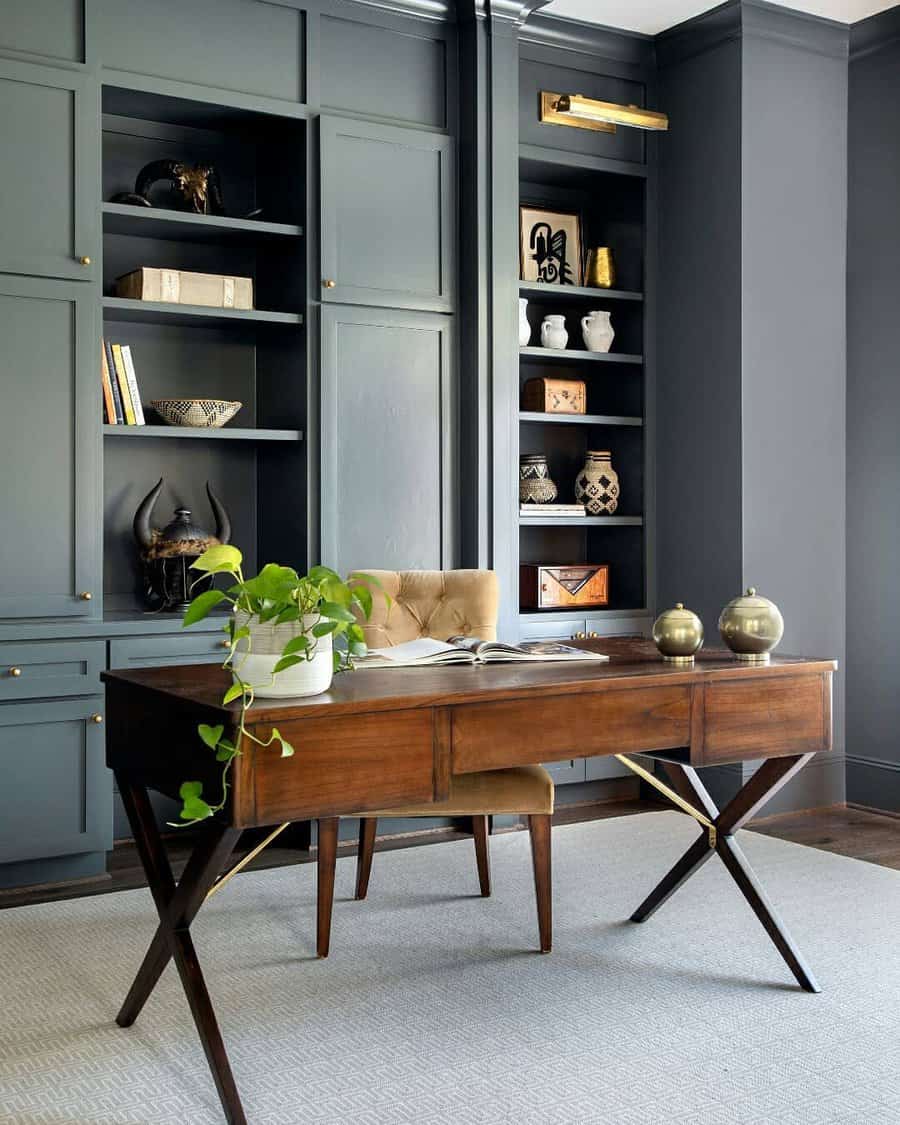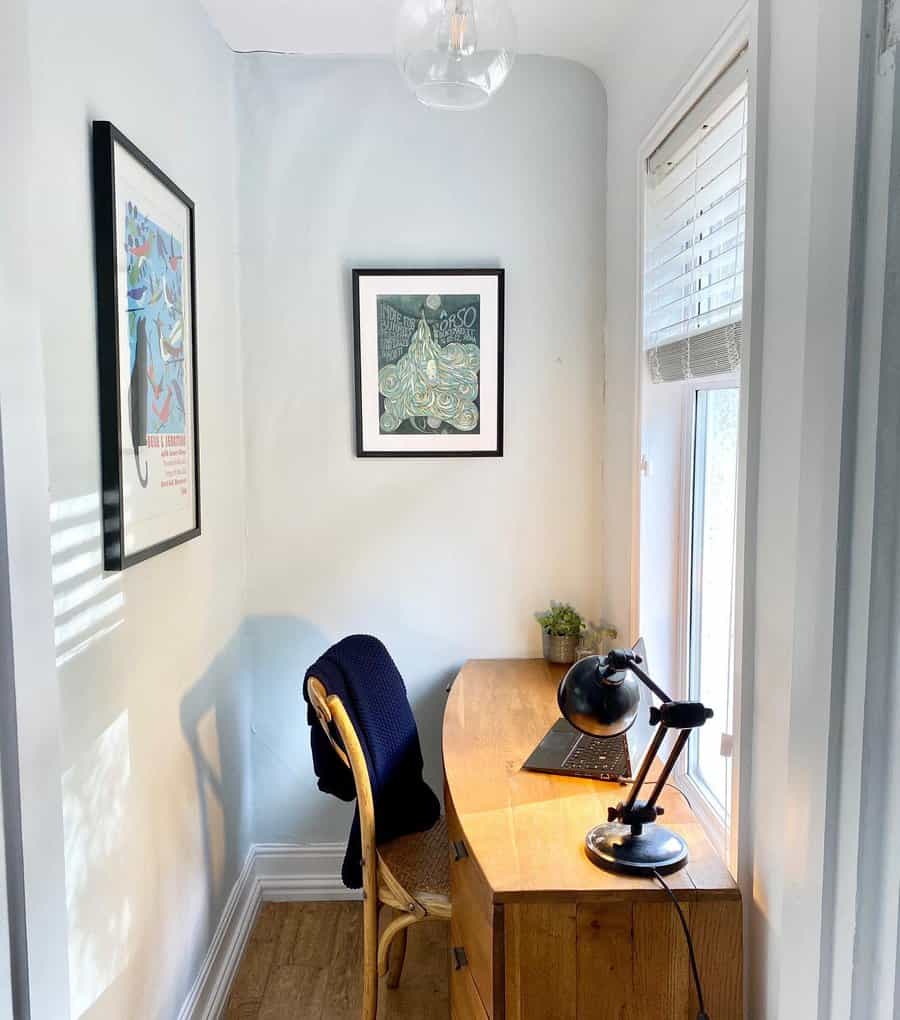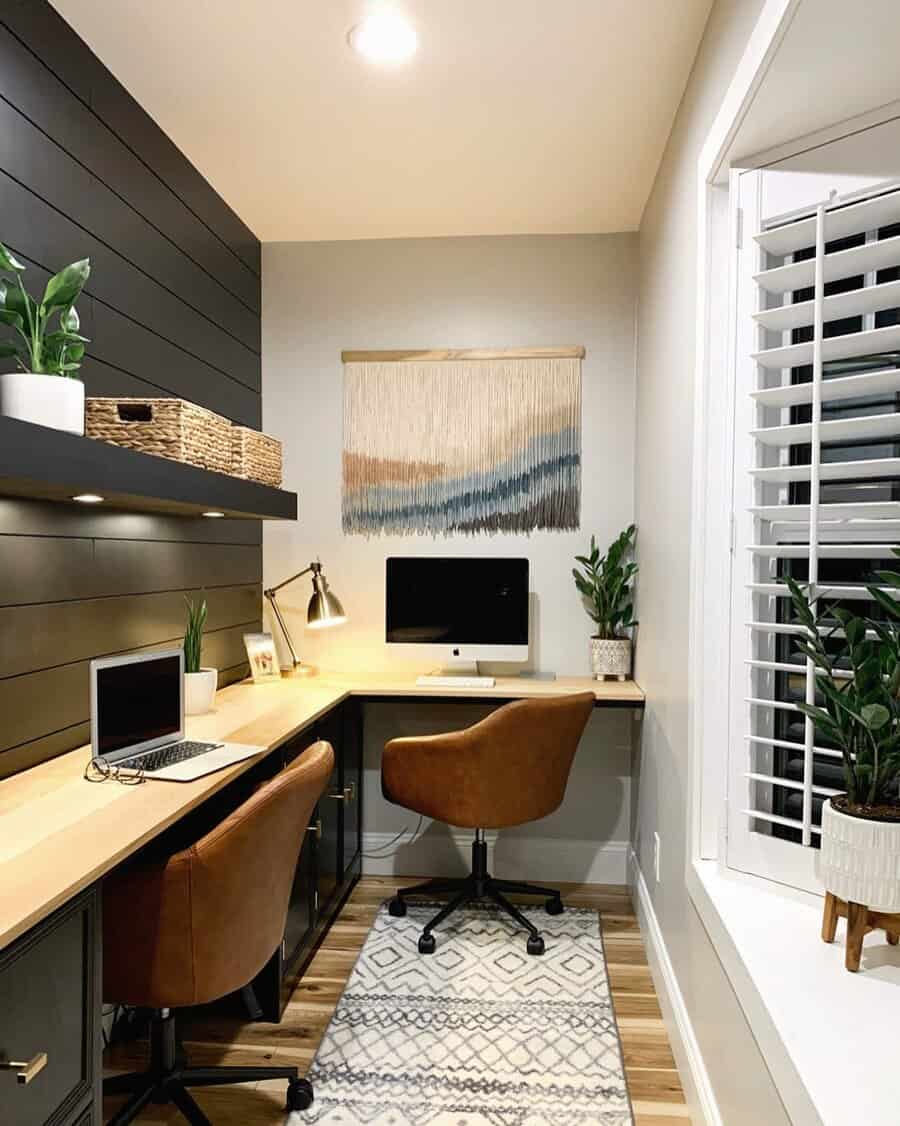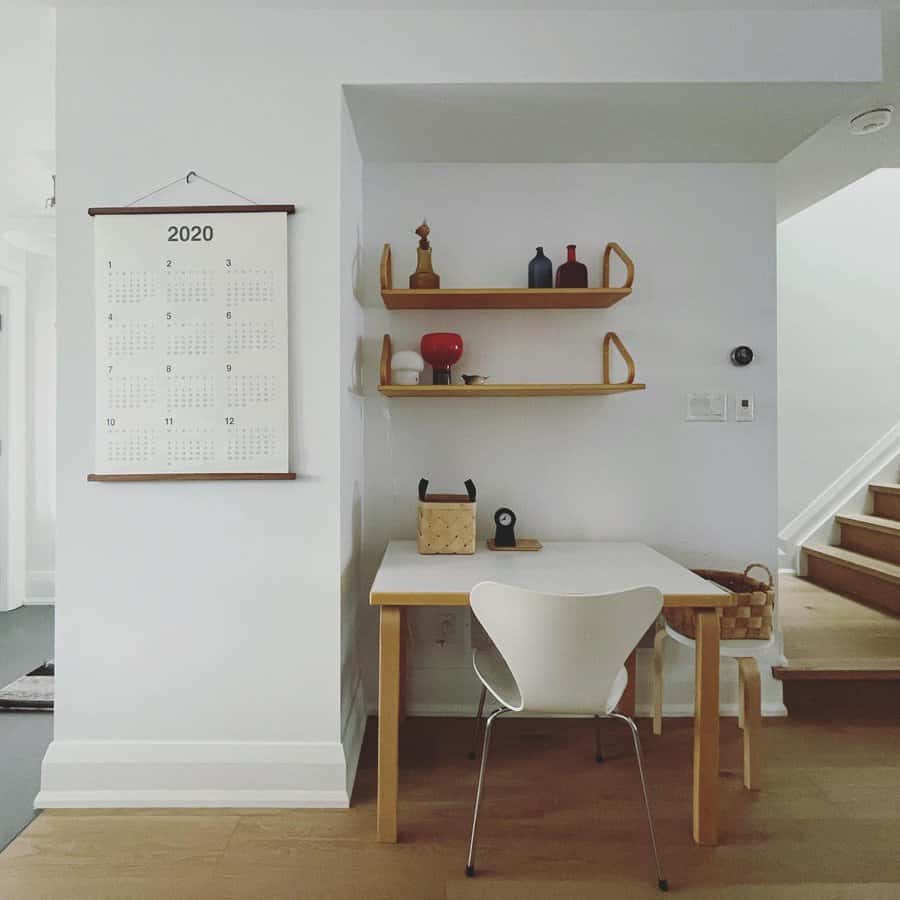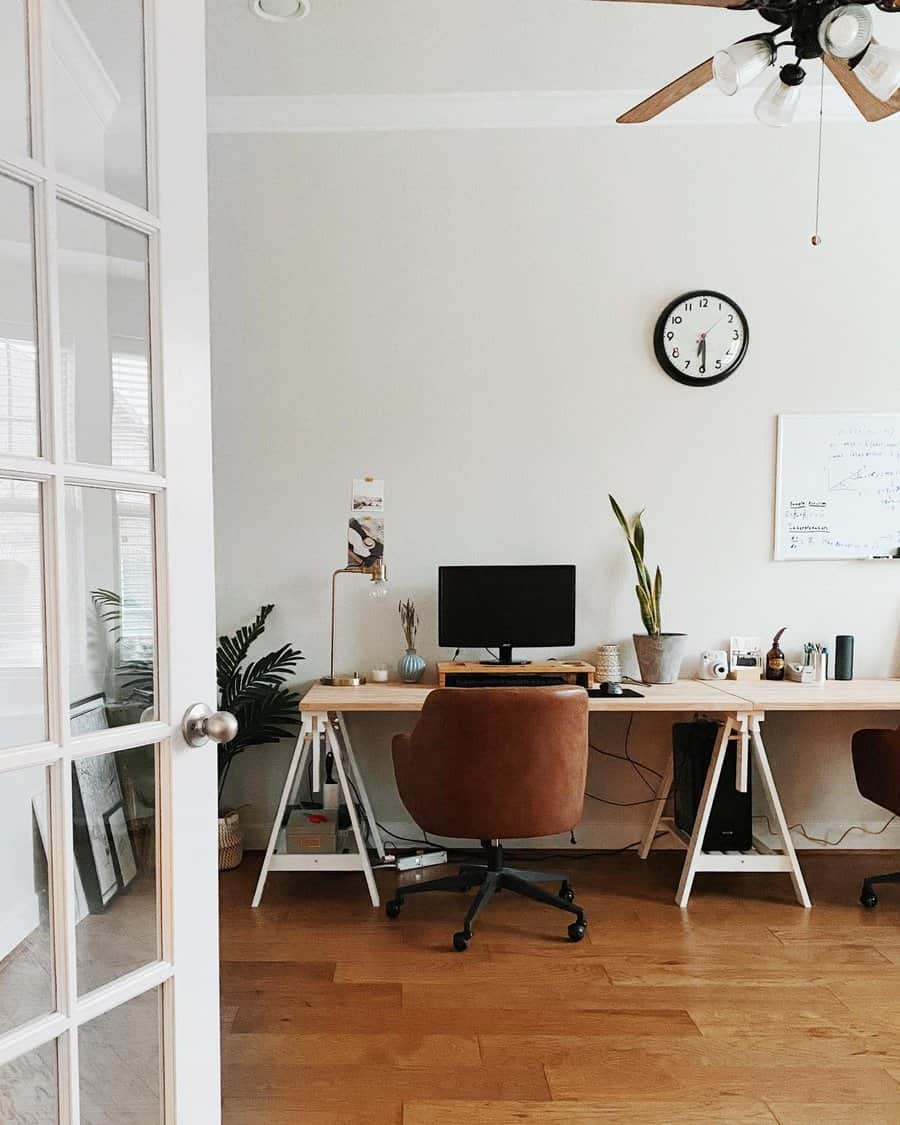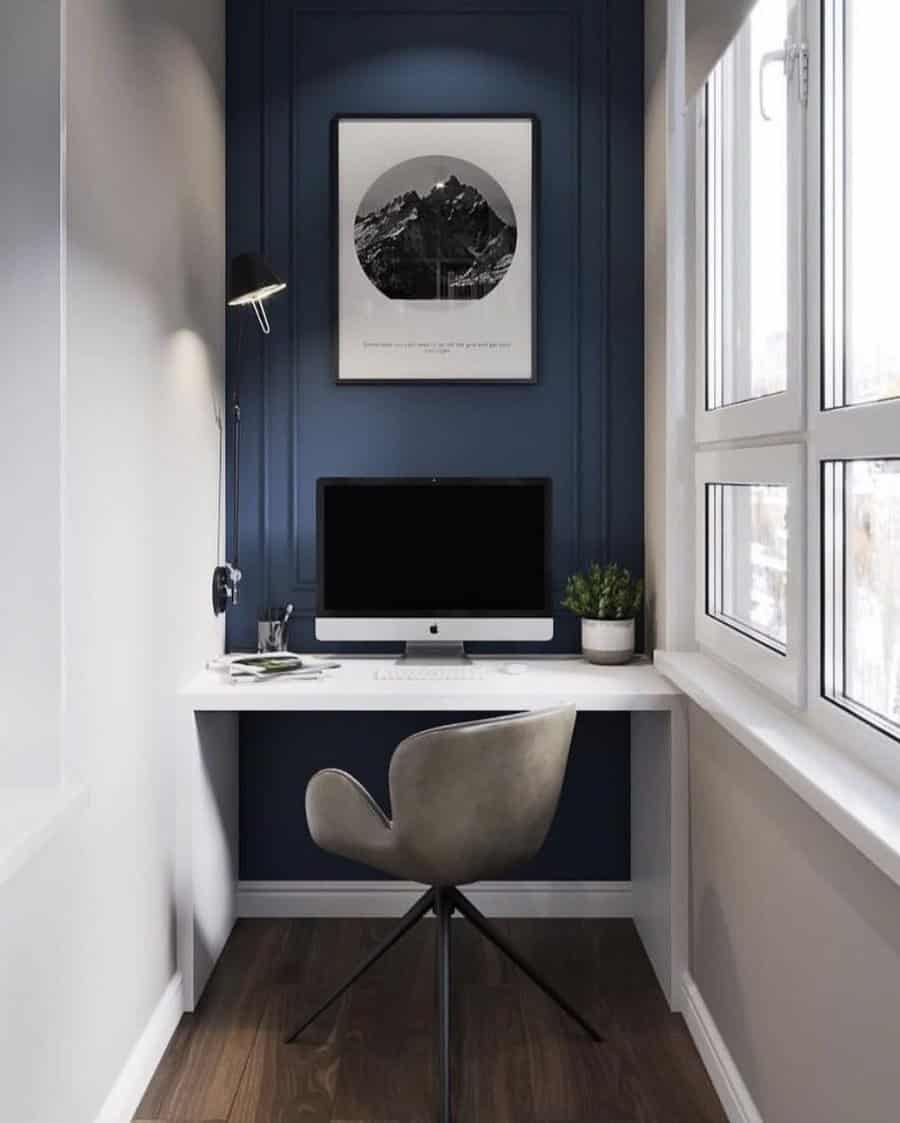 If your work occurs entirely on the computer, then you might not need a workspace any larger than your monitor and keyboard. Those who rely on paperwork or other physical materials will need much more room to work.
Including plenty of potential storage space in your office design from the start will make maintaining a clean and organized work surface much, much easier. Give yourself permission to keep one or two personal items on your desk if space permits, such as a potted plant or figurines.
Small Office FAQs
Which paint colors are best for a home office?
Most designers recommend off-white or beige walls for an office space. White walls are simple and easy to decorate around. But any neutral shade will do in most cases.
The industry your work in may play a role in the ideal wall color for your home office. For example, creative industries tend to embrace far more eclectic design choices than more traditional industries.
At the end of the day, you are the one spending the most time in your home office space. Unless you take frequent video calls or see in-home clients, you can technically paint your office walls any color you like!
Where is the best location for a home office?
Ideally, your home office should be in a separate area rather than in the middle of your main living space. A guest bedroom or even closet can be easily transformed into a cozy office nook.
Try to keep your workspace away from living areas meant for relaxation. For example, a home office should only be placed in a master bedroom if there is no other option available.