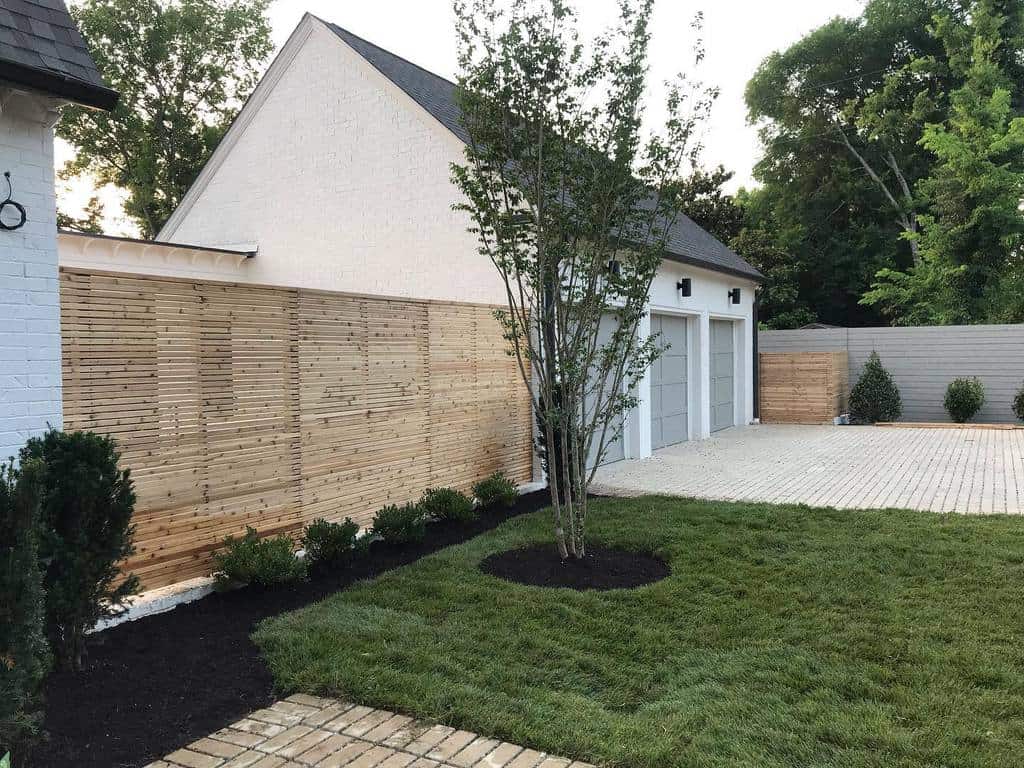 30 Horizontal Fence Ideas for Backyard
"Don't ever take a fence down until you know why it was put up." – Robert Frost
They say that great fences make great neighbors. But what is a great fence? Is it a low picket fence that simply marks your property line? Is it a tall privacy fence that completely blocks the view?
How about choosing a fence that does both of these and looks good? That is what a horizontal wood fence can do for you and your property.
This style of wood fence creates privacy, something that a chain link and standard post and rail fence can't do. Horizontal fencing also looks beautiful and modern.
Check out these horizontal fence ideas and find the perfect fencing for your property.
1. Backyard
Adding a backyard fence gives you more privacy so that you can enjoy your property in peace without interruption or observation.
You don't even have to build a full-height privacy fence. However, this is a smart idea if you plan to try out some outdoor bathtub ideas. A horizontal fence can give your outdoor bathroom a spa-like feel.
A garden fence is also a smart idea for preventing unwanted guests from "sampling" your crop. It doesn't have to be a tall privacy fence, but it could be just high enough to make it difficult for someone to enter your yard.
2. Cedar
If you want a fence that can easily last 15-20 years, choosing cedar is smart. This type of wood is a beautiful light honey color. However, you'll need to treat the wood and perform regular maintenance to keep that color. Otherwise, it will weather and turn grey. The grey isn't an ugly color, though, so you may enjoy this patina.
What's nice about a horizontal cedar fence is that it's more durable than other types of treated lumber. It won't crack, warp, splinter, or fall apart on you. However, cedar is susceptible to dents and scratches, so you'll want to be careful about not bumping or banging your fence.
3. Contemporary
A contemporary horizontal fence to your property can transform your property from a boring backyard to a cool and chic place to hang out. The horizontal boards mirror the modern, clean lines of contemporary interior design.
For an easy DIY fence, use premade panels that have horizontal rails and a black metal frame. You can then mount them on posts, and you're done. Add a decorative cut-out metal panel to create some visual interest and give your fence a custom design.
4. Custom
Don't be afraid to get several ideas and put them together for a custom design. Perhaps you want a wall privacy fence, but you don't want a plain fence around your entire yard.
You could use a horizontal fence design but break it up with panels of plants or stone. A dense, slow-growing hedge the same width as your fence panels or a vine that covers the panel are both great options for adding some greenery.
You could also build a chicken wire cage and fill it with river rocks or small natural stones. This adds texture and upgrades the look of your fence.
Adding custom touches can be as simple as painting the rails. They could be all one color or a combination of colors. Another option is to add shelving. Then you can arrange small decorate potted plants like succulents or herbs.
5. Design
The design of your horizontal fence will depend on your property size and shape. It should also complement the design of your home. A more traditional ranch-style house will look better with an all-wood design.
A contemporary home can look beautiful with a metal frame. While an ultra-modern home can support more metal, such as metal posts in addition to the metal frames,
Sometimes, you may want to be able to see out but also want to maintain your privacy. Angle the rails so that you can easily see out, but they still provide privacy.
Adding more shelves or flower boxes can give you more space for growing plants. This is a good idea if you have one section of your backyard that you use as a garden.
6. Front Yard
Skip the white picket fence and build a horizontal fence in your front yard. This creates a uniform look from the front to the back of the house. It also upgrades your home's curb appeal and gives it a modern feel.
You can mirror this look with the raised plant beds or flower boxes on the front of your property. Use the same horizontal rails design for your retaining walls. Build the functional wall out of concrete blocks or pavers. Then create a decorative front with the rails.
7. Gate
You need to add a gate to your horizontal fence design. For both convenience and safety reasons, your fence should have two gates on opposite sides of the fenced-in enclosure. This enables you to exit the property through the gate without having to walk to one specific spot.
When designing your fence gate, you have two options. The first is to make the gate look like another panel in the fence. This camouflages the gate and creates a continuous fence design.
The other option is to go bold with your gate design. Choose an ornamental metal gate that complements the metal framework around the horizontal panels.
8. Modern
If you want a modern fence, then you are on the right track by considering a horizontal plank fence. The sleek straight lines and minimal ornamentation help them to create a modern aesthetic in your backyard.
Choose a black metal frame to accent the wood, and you have a mixed media fence that looks chic and modern.
Choose the right wood for your modern wood fence. It should either be light or very dark wood. Skip the cherry and reddish colors. You'll also want to use treated wood. Otherwise, it will grow mold and look gross, which is not what you want.
9. Privacy
Be careful with privacy fence ideas. The first step is knowing how high you can build your privacy fence. Check your local laws, ordinances, and HOA rules.
Once you have this information, you choose fence panels that are the maximum height allowed. What's nice about horizontal privacy fences is that they give you more privacy than a vertical fence.
They typically have less space between the rails. This limits how much someone can easily see when looking through the fence. The horizontal design limits how much someone can see while standing.
10. Slope
People assume that they can't build a horizontal slat fence on a sloped piece of property. However, this isn't the case. There are two ways you can go about achieving this fence design.
The first is a simple method that can be achieved relatively easily. Start with horizontal fence panels. Step them down the hill as you build the fence. You'll need to account for the width of the panels and the angle of the slope.
The other method is to custom-build your horizontal fence. This lets you custom arrange your rails to have continuous horizontal lines. You could then add and remove rails from the top and bottom as you build your fence up or down the slope.
11. Wood
The most common material used when building a horizontal slat fence is wood. This is because wooden fences are affordable, low maintenance, and last for a long time.
Always use treated wood for your fence board. This wood is designed for exposure to the elements and will stay looking nicer for longer.
When looking at DIY backyard fence ideas, pay attention to the creative designs. Use rails that are different widths for a subtle pattern to your fence. Thinner rails give your fence a more modern look.
Using standard 2×4 planks gives your fence a traditional look. Have a more solid design with small gaps on the lower portion and a decorative line across the top with wider spaces.
Horizontal Fence FAQs
Is it cheaper to build a horizontal or vertical fence?
Horizontal fences tend to be more expensive than their vertical counterparts. Higher grade lumber is needed for horizontal fences to reduce warping and sagging. They also use more materials.
How do you keep a horizontal fence from warping?
To prevent your fence from warping, you need to install back rails. These are horizontal rails at the top and bottom of the fence. They should be no more than eight inches from the top and bottom. If you have a tall fence, six feet or taller, then you'll want an additional support rail in the middle too. Fences taller than eight feet need two middle support rails.
How far apart should fence posts be for a horizontal fence?
Layout the placement of your fence before you start building it. The posts should be no more than six feet apart. Any further apart, and you compromise the structure and stability of your fence. Too close together, and it will look too busy and lose the horizontal plank effect. If you buy pre-made fence panels, you can place the posts the distance that the panel is wide.