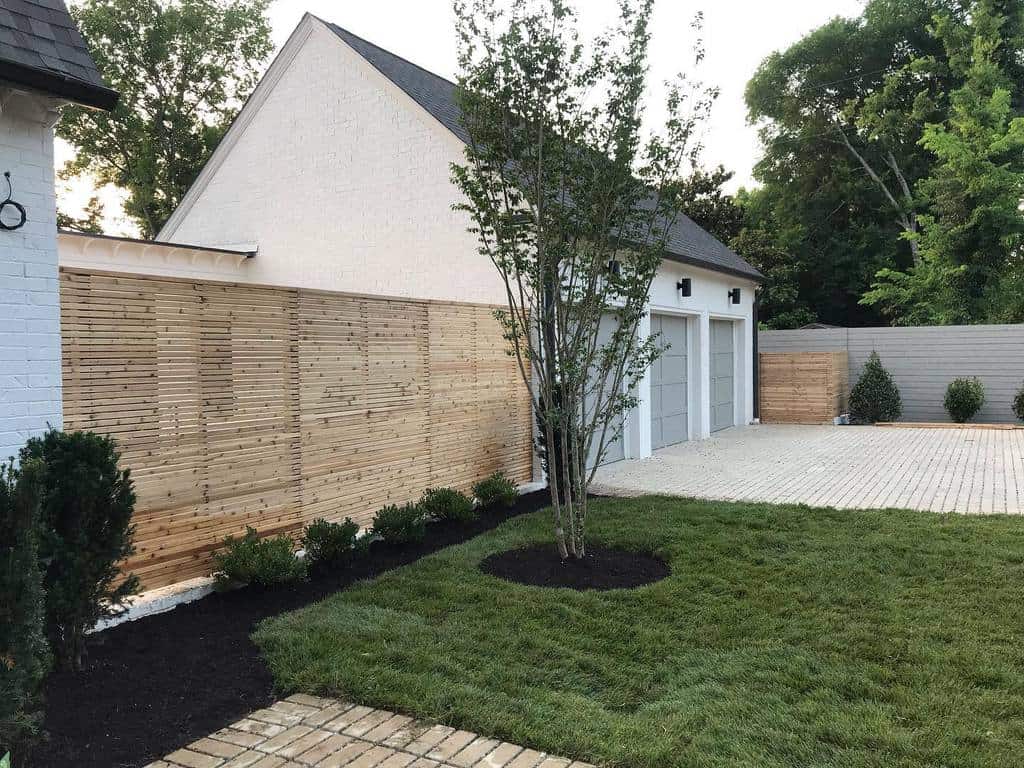 30 Horizontal Fence Ideas for Backyard
by — Andra DelMonico

Published on August 22, 2021

Updated on September 26, 2023
"Don't ever take a fence down until you know why it was put up." – Robert Frost
They say that great fences make great neighbors. But what is a great fence? Is it a low picket fence that simply marks your property line? Is it a tall privacy fence that completely blocks the view?
How about choosing a fence that does both of these and looks good? That is what a horizontal wood fence can do for you and your property.
This style of wood fence creates privacy, something that a chain link and standard post and rail fence can't do. Horizontal fencing also looks beautiful and modern.
Check out these horizontal fence ideas and find the perfect fencing for your property.
1. Stylish Metal and Cedarwood Fencing
Enhance your backyard's elegance and structure with a black-metal and cedarwood fence. To complement this design, incorporate small pebble pathways or a well-maintained lawn for a dynamic and welcoming atmosphere. With thoughtful hardscape and landscaping choices, horizontal fencing can transform your outdoor space into a versatile haven. From family-friendly gathering areas to romantic evenings under the stars, this classic style offers endless possibilities for creating a memorable backyard retreat.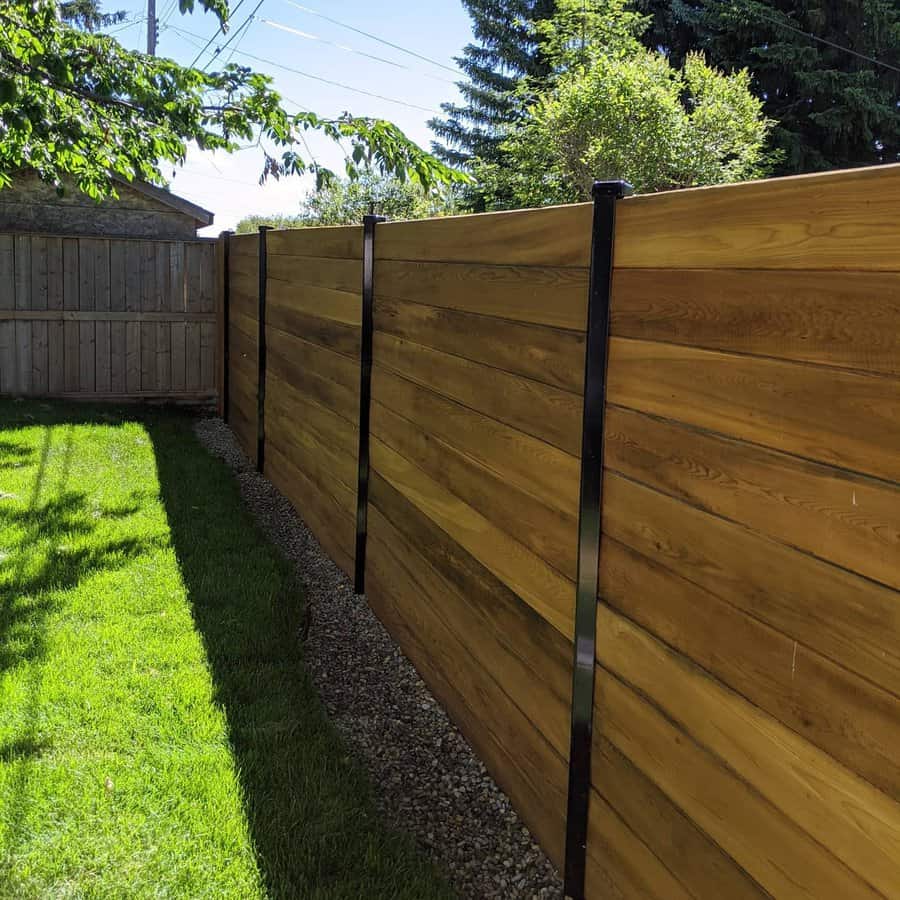 2. Red Cedarwood Enhanced by Lighting
Integrating a red cedarwood fence into your backyard can infuse it with warmth and privacy. By installing this fence horizontally, you create a cozy and inviting atmosphere with its soothing red hue. To complement the red cedarwood, consider paving your backyard and adding white pebbles for a textural contrast. This not only enhances the visual appeal but also fosters a tranquil ambiance in your private outdoor haven.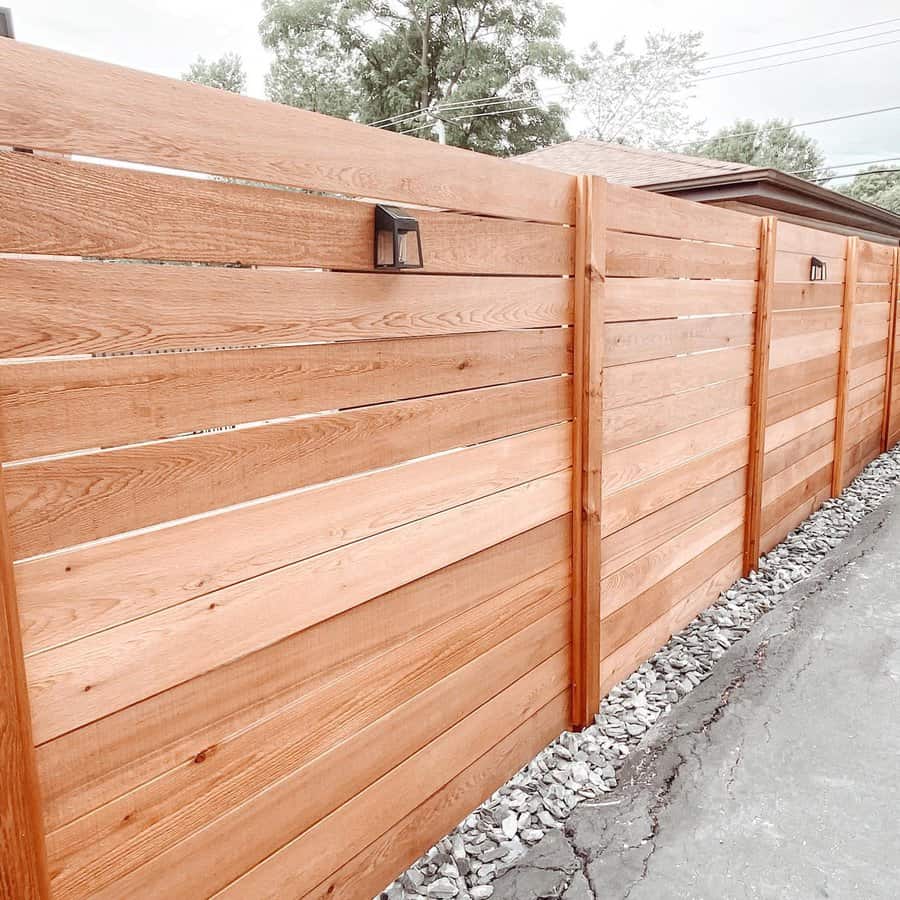 3. Durable Hardwood Fence Ideas
Picture the elegance of a natural hardwood fence in your backyard, embracing the lush grass and providing both aesthetics and durability. A horizontal hardwood fence offers timeless style and exceptional resilience, making it ideal for keeping pets and wildlife at bay.
Elevate its appeal by suspending trellises and climbing plants, creating a captivating afternoon backdrop that enchants all who enter. If you seek to make a lasting impression with your outdoor design, consider incorporating this enduring horizontal fence.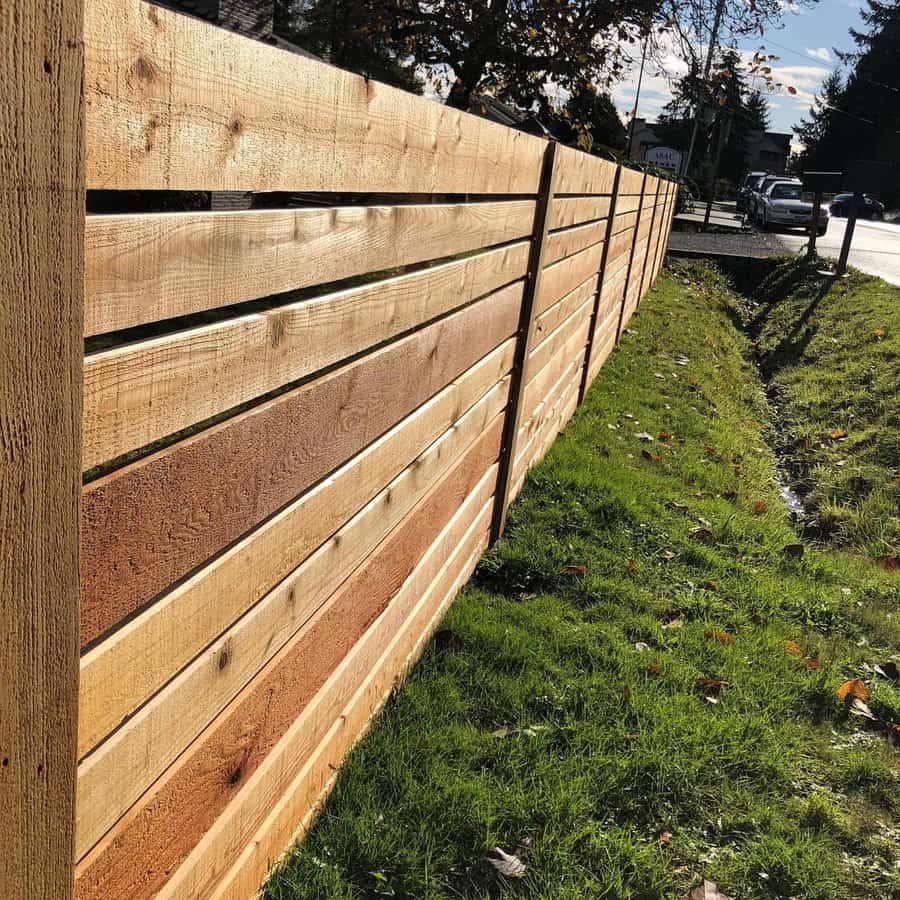 4. Modern Metal Framed Cedarwood Gate
Imagine enhancing your outdoor garage with a sleek black metal-framed cedarwood gate and a horizontal fence, achieving both style and practicality. This stunning black iron fence combines timeless elegance with essential security for your valued possessions.
Its horizontal design not only promotes better ventilation but also welcomes ample natural light, eliminating overheating issues in your backyard. To complete the look, consider incorporating outdoor lighting and landscaping to create a functional and aesthetically pleasing outdoor space.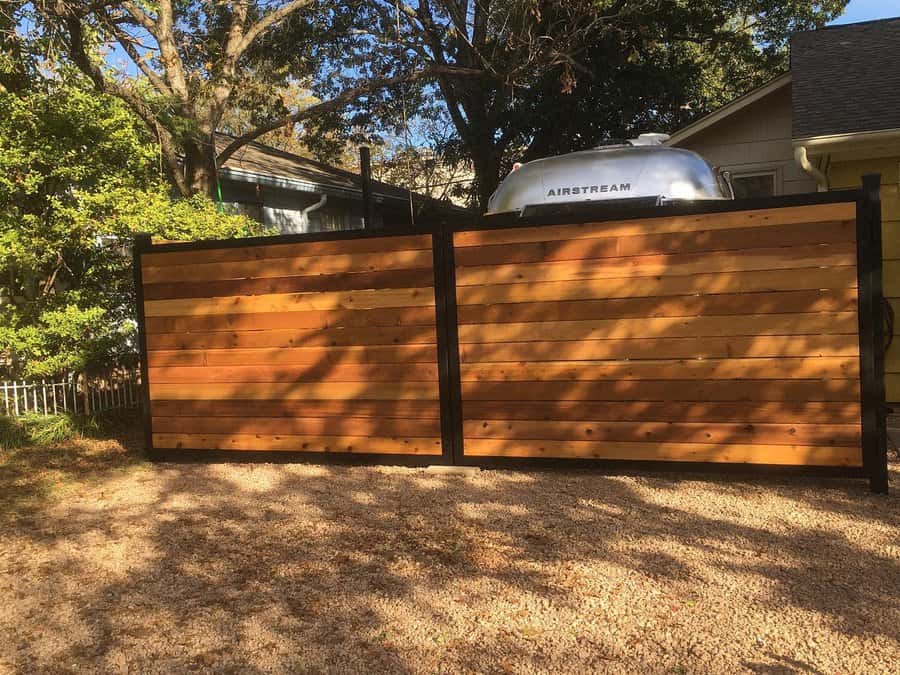 5. Contemporary Side Yard Fences
Consider installing a horizontal fence to elegantly divide your side yards, delineate garden borders, or establish secure outdoor living zones within your property. This creative approach offers a refreshing departure from traditional vertical fencing and can visually separate various areas in your landscape.
Horizontal fences not only enhance aesthetics but also provide enhanced stability and security. To make the most of this design, complement it with thoughtful landscaping, lighting, and outdoor furniture to create a well-defined and functional outdoor oasis that suits your needs.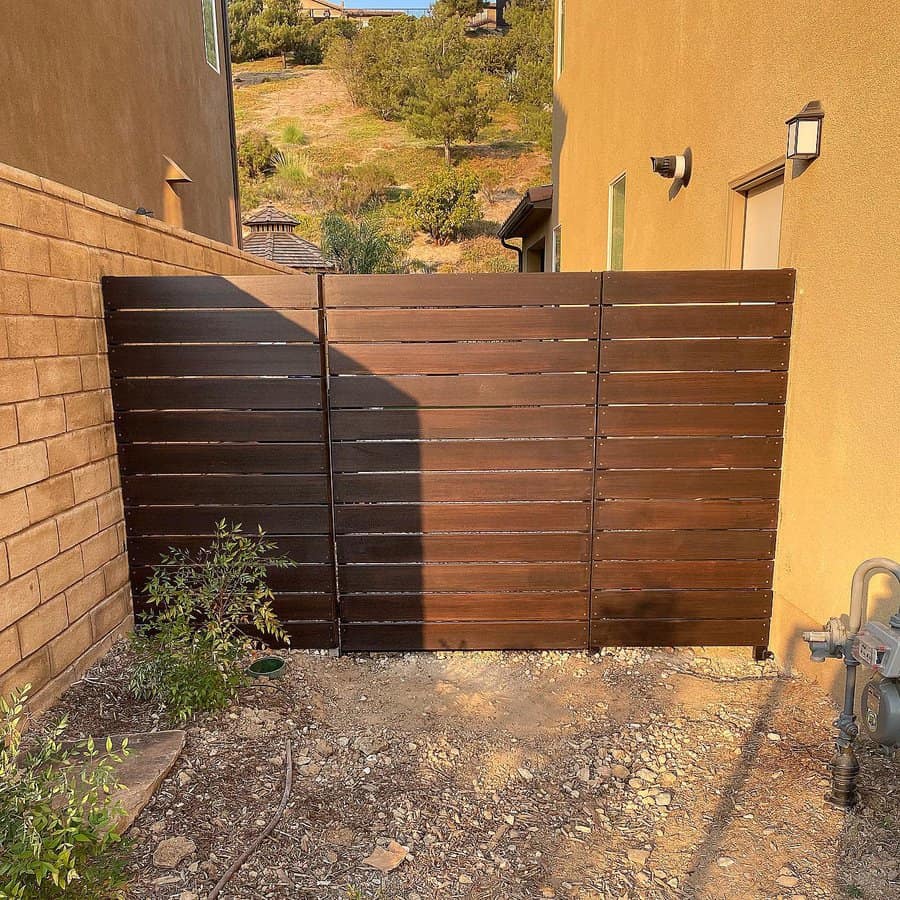 6. Elegant Venetian Style Fencing
Embrace the timeless elegance of Venetian-style horizontal fencing to create a striking boundary in your outdoor area. The narrow panels of this design lend themselves beautifully to enclose a garden, adding an effortless touch of chic sophistication.
Alternatively, consider elevating your Venetian fence for unique landscaping opportunities, such as raised flower beds or a decorative wall adorned with climbing vines. To complete the look, select ornamental plants and outdoor lighting to transform your space into an enchanting outdoor haven that will remain stunning for years.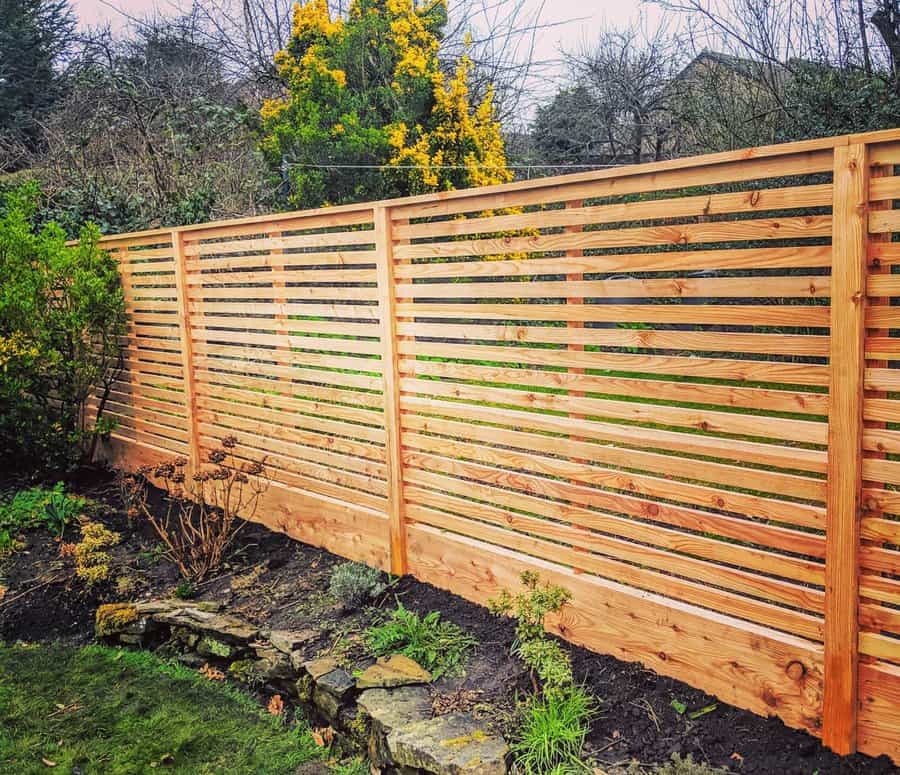 7. Fully Enclosed Composite Fence Designs
For a contemporary update to your outdoor space, consider dark green and white fully enclosed composite fencing. Its robust construction complements a horizontal fence design, making it an ideal addition to enhance the aesthetics of your concrete patio.
To achieve this look, explore both wood and metal-framed options to suit your preferences. Customizing your yard with this timeless design not only creates a stylish environment but also establishes a secure boundary for your enjoyment.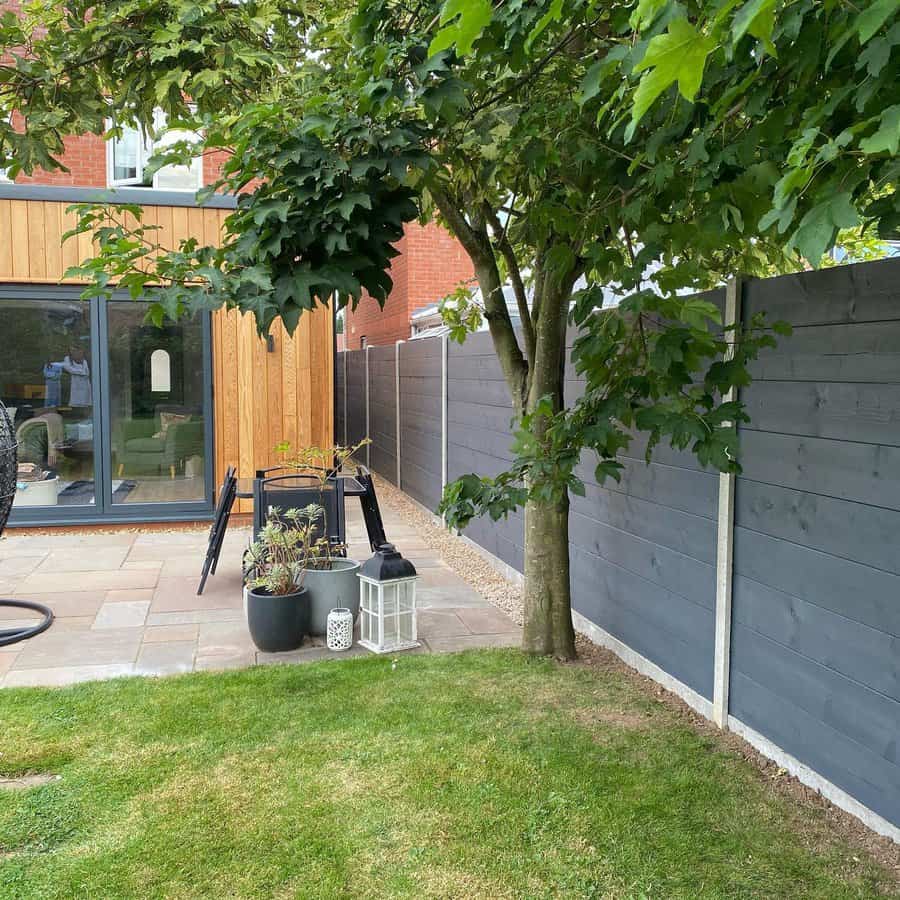 8. Sleek Slatted Fence without Poles
Achieve a contemporary and minimalist look with a slatted fence without poles, instantly elevating your property's aesthetic. Imagine a sleek row of slats hovering above the grass, with a sunken patio in the foreground for practical relaxation. This is the transformative power of a horizontal fence, turning an ordinary outdoor space into something extraordinary. By establishing elevated boundaries, you can create distinct areas, from ground level to deck or balcony, adding style and functionality to your outdoor area.
Whether you opt for a custom-made design or a store-bought solution, pairing a horizontal fence with living elements like plants, stone slabs, and furniture enhances the texture, structure, and beauty of your outdoor space.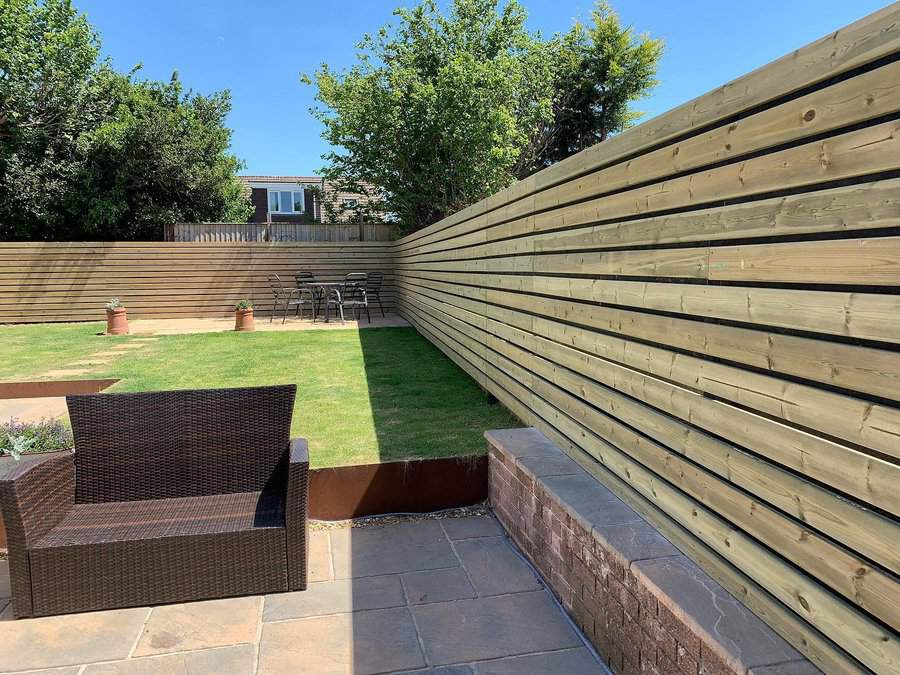 9. Alternating Horizontal Fence Styles
Consider incorporating alternating horizontal fence styles to elevate your home's outdoor ambiance. Pair this unique design with an elevated concrete patio, creating a versatile space for family enjoyment. In warmer months, it's an ideal spot for hosting barbecues, sunbathing, or allowing your pets to play freely.
The captivating aesthetic of alternating horizontal fencing adds undeniable charm and style to your backyard landscape. To achieve this look, explore various materials and finishes that suit your home's overall design, and complement it with outdoor furniture and decor for a cohesive and inviting outdoor oasis.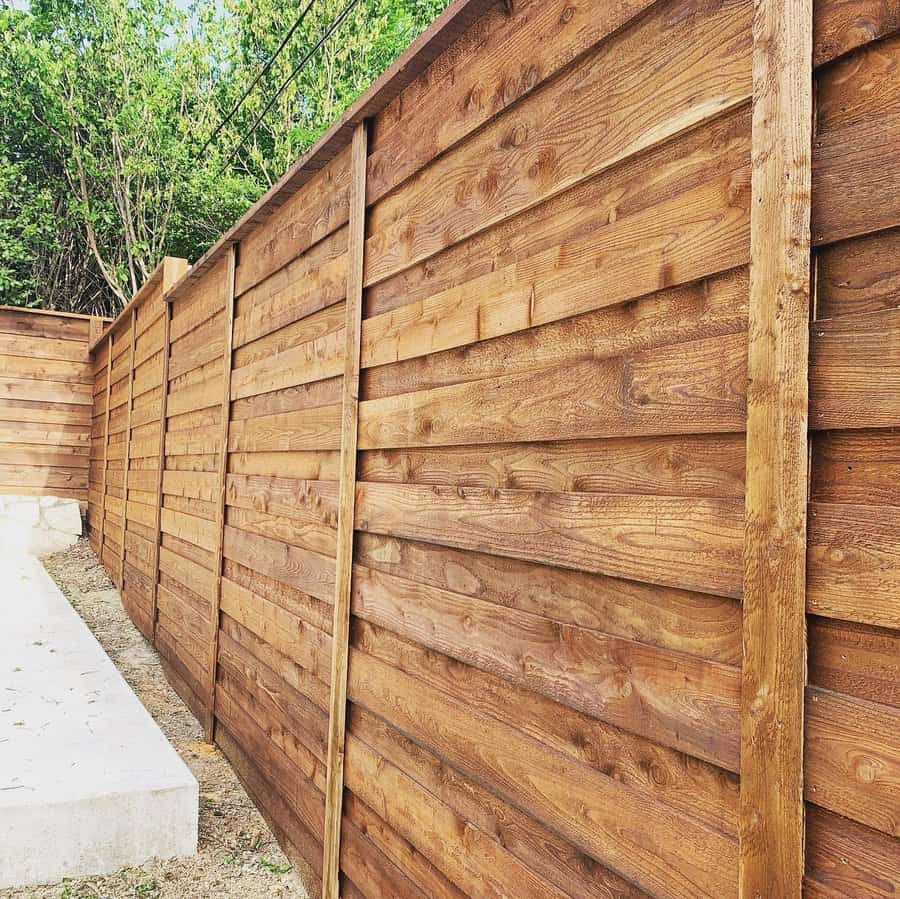 10. Creative Repurposed Wood Fencing
A horizontal fence can transform your outdoor space, adding allure and character. Opting for repurposed wood fencing not only exudes a rustic charm but also bolsters security for your outdoor haven. The horizontal design introduces dimension and texture, elevating the overall aesthetics of your surroundings.
By embracing repurposed wood, you contribute to sustainability efforts by reusing materials and minimizing waste. Discover how to implement this eco-friendly and visually captivating design while complementing it with other outdoor elements for a harmonious backyard retreat.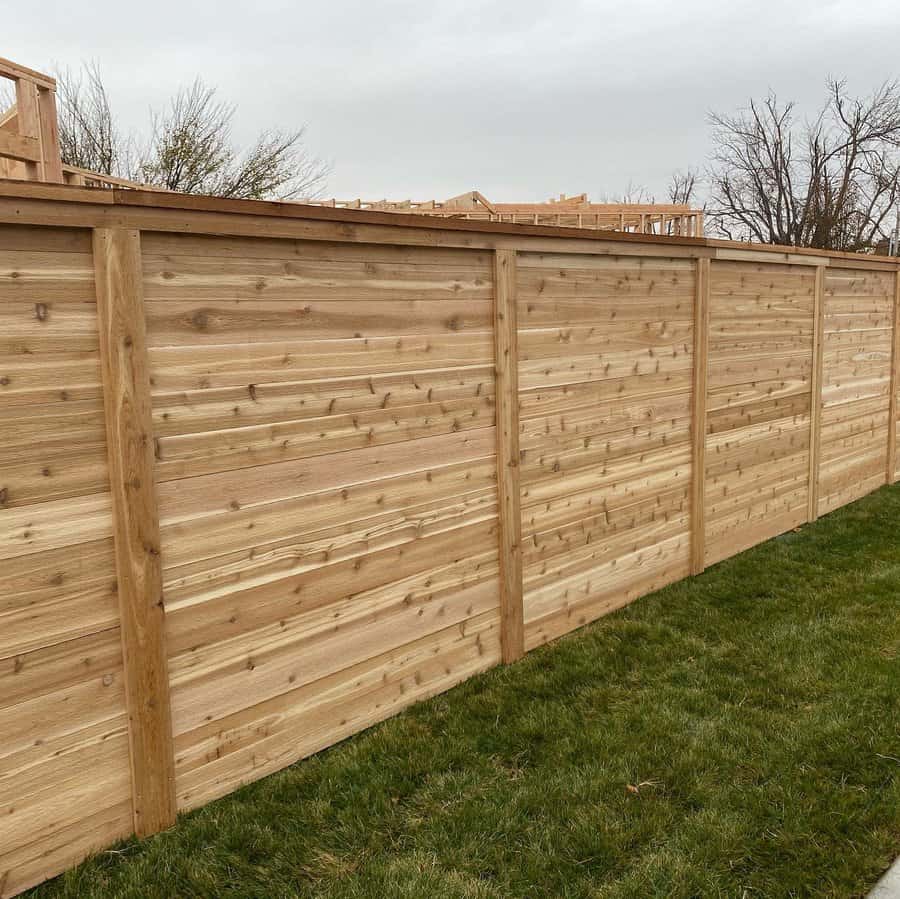 11. Attractive Slatted Timber Garden Screens
Introducing a slatted timber garden screen can instantly enhance the appeal of your backyard. These versatile horizontal fences seamlessly blend with any landscape, whether your garden is lush and wild or in need of character.
Explore DIY possibilities using a range of materials or consider charming woven willow screens to align with your distinct style. Discover how to integrate this attractive design element to bring beauty, security, and added privacy to your outdoor haven while harmonizing with other essential design features.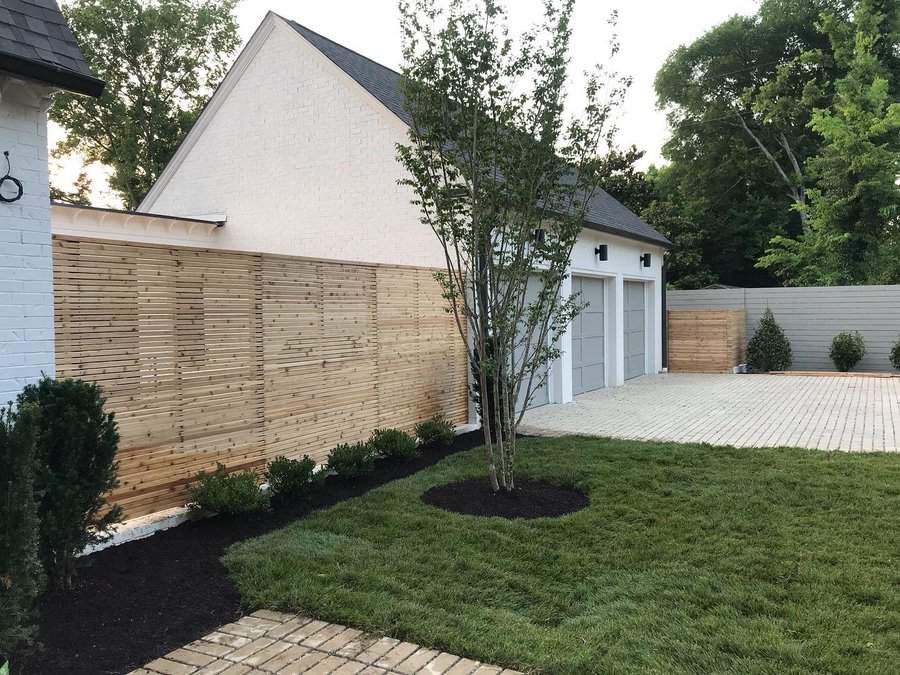 12. Ambient Horizontal Wood Fencing
Create an inviting ambiance in your backyard by opting for horizontal wood fencing paired with charming string lights. This combination adds a distinctive touch to your outdoor space, perfect for gatherings with loved ones.
Enhance the design further by introducing cozy outdoor seating, allowing you to relax in comfort. For an added touch of warmth and coziness, consider adding a fire pit, creating the perfect setting for stargazing and savoring s'mores. Horizontal fencing combined with string lights is a cost-effective way to elevate your outdoor experience.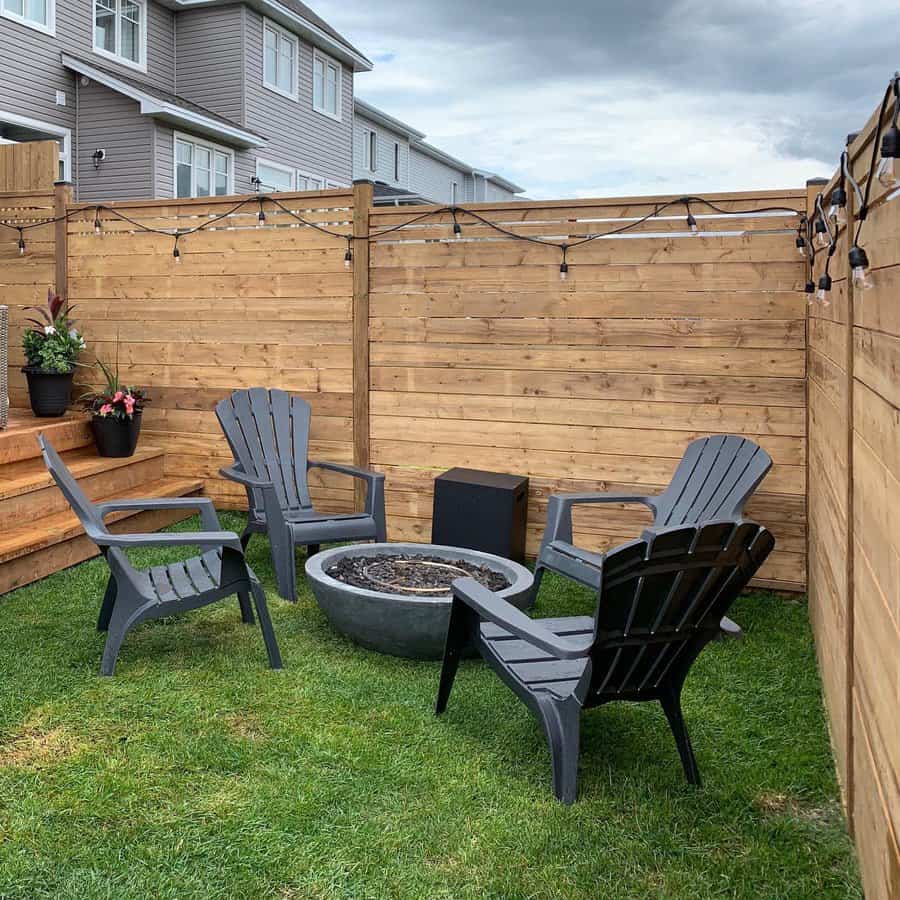 13. Trendy Composite Fencing Options
Explore the latest trends in backyard aesthetics with composite fencing. Incorporate narrow panels and a brick base to create a distinctive designer look. These fences serve as an excellent choice for defining entrances or property boundaries. With a variety of colors available for composite fence panels, you can craft imaginative pathways throughout your yard, elevating its modern visual appeal. Beyond privacy, horizontal composite fencing effortlessly infuses style into your outdoor space, making it a smart and stylish addition.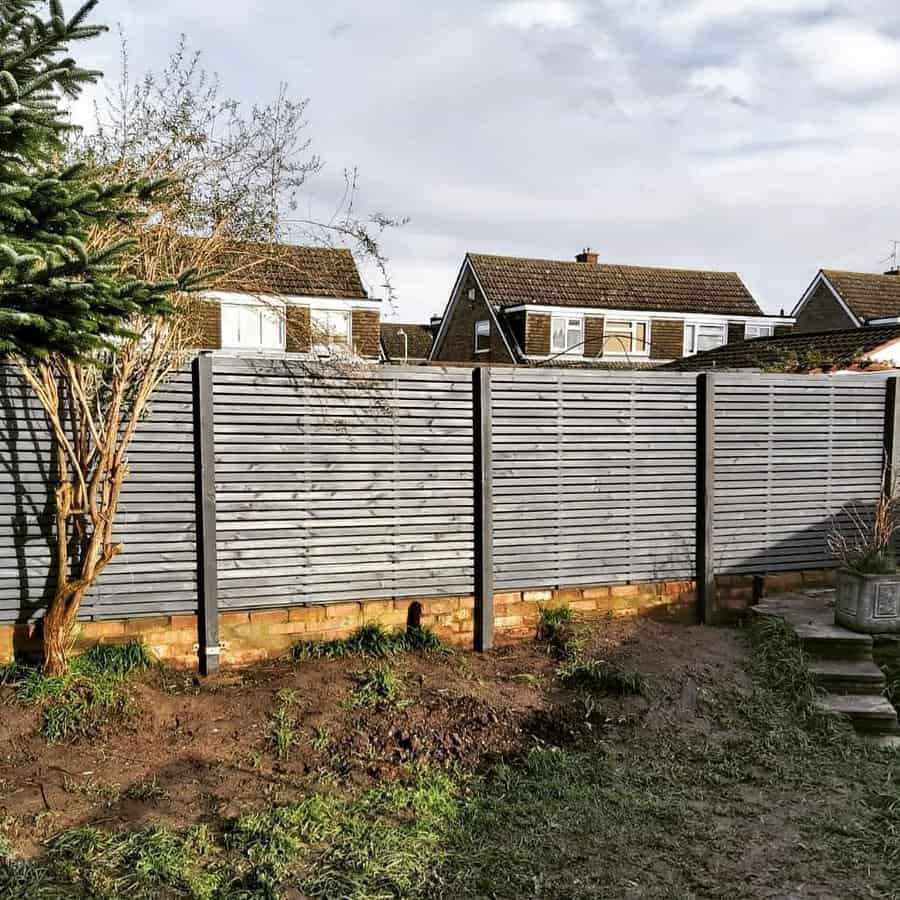 14. White Horizontal Garden Fence Ideas
A white horizontal garden fence can significantly enhance your backyard's privacy. If you're seeking seclusion or aiming to block out neighbors, this fence style is ideal. Complement this design with white pebbles around the fence to create a cohesive and scenic landscape. Move away from conventional fence options and opt for a unique white horizontal garden fence to transform your backyard.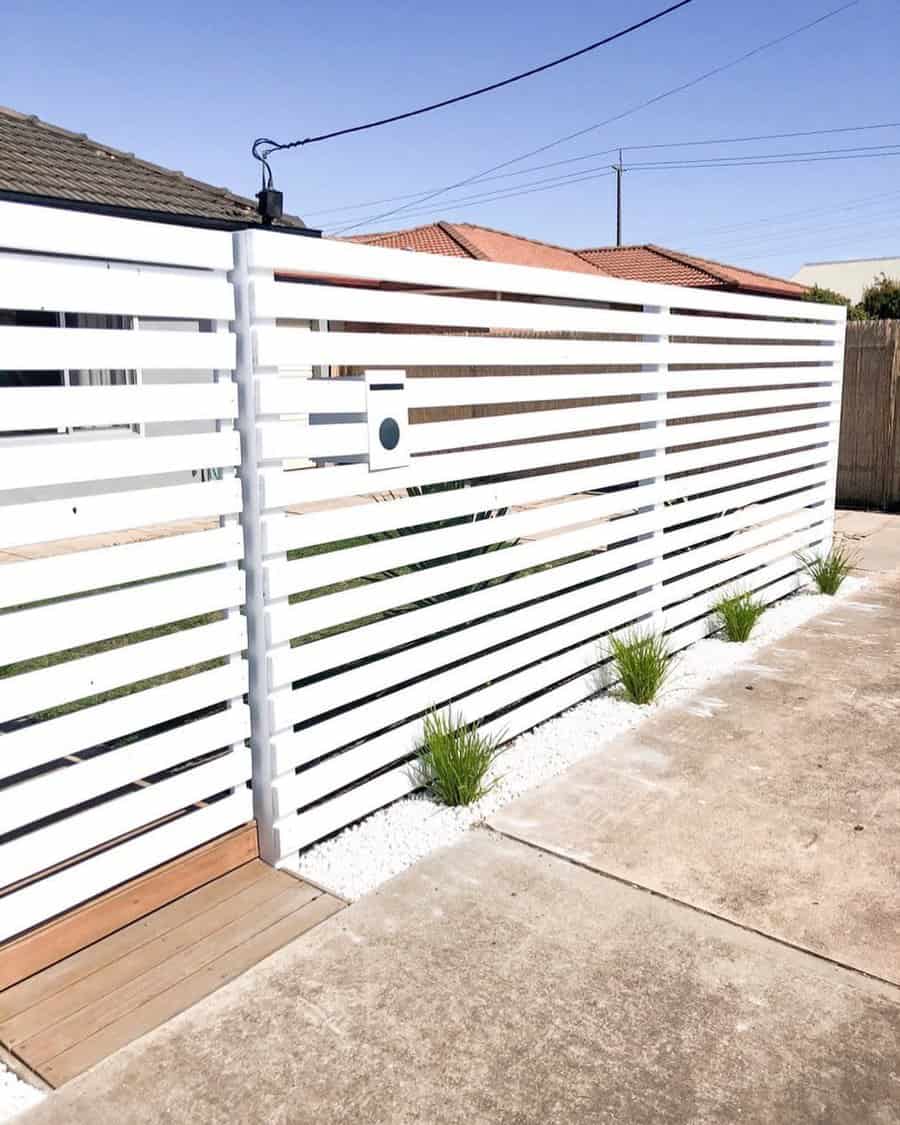 15. Backyard Accent Fencing Inspiration
Discover a creative approach to enhance your backyard this summer by incorporating a wood accent patio fence. Installing a horizontal wood fence as a backdrop for your outdoor entertainment area adds depth and personality effortlessly.
To achieve a polished look, consider laying artificial grass beneath the fence, creating an inviting space for picnics or evening campfires. Take it up a notch by incorporating a campfire feature with brick outlines and ample firewood, ensuring memorable moments during cozy summer nights.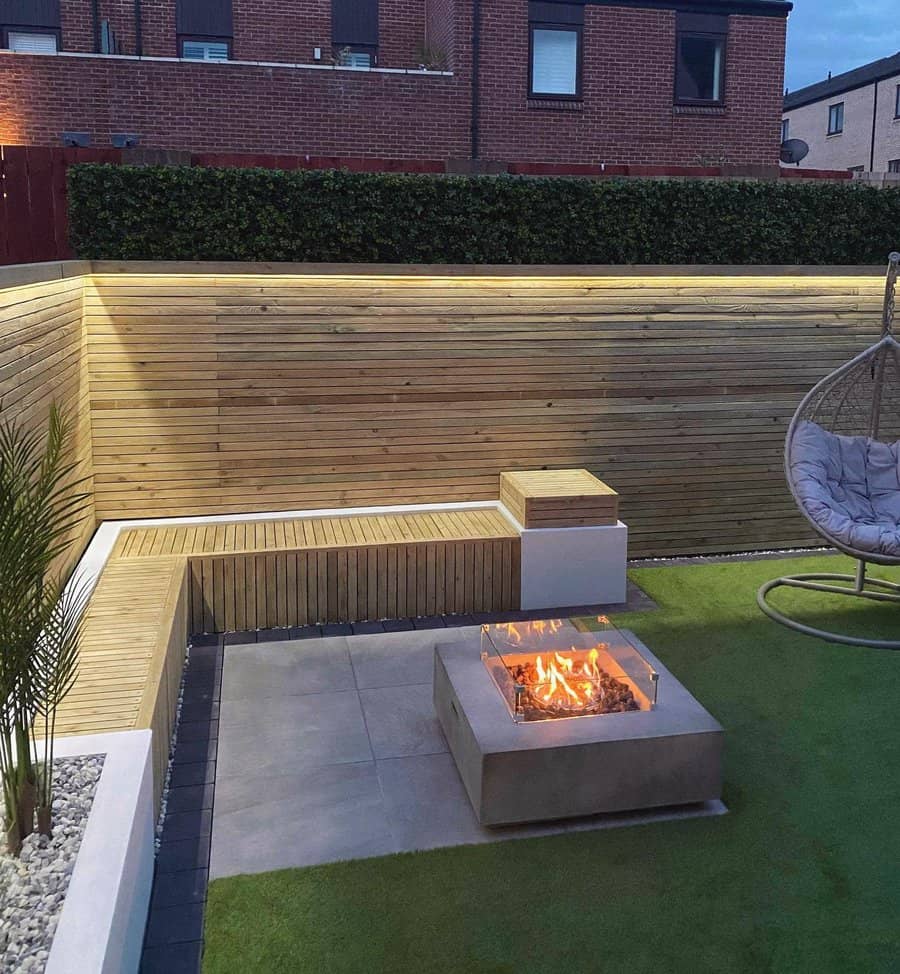 16. Functional Wooden Divider Screens
For a cozy outdoor living area, consider incorporating functional wooden divider screens as horizontal fences in your backyard. These screens strike the perfect balance between privacy and garden visibility. To elevate this design, enclose your patio area with a wooden fence, complemented by comfortable patio furniture, tables, and a layer of white pebbles on the ground. This not only enhances the visual appeal of your patio but also creates an inviting environment for relaxation after a busy day. With this addition to your backyard, you'll find it hard to resist the allure of the outdoors.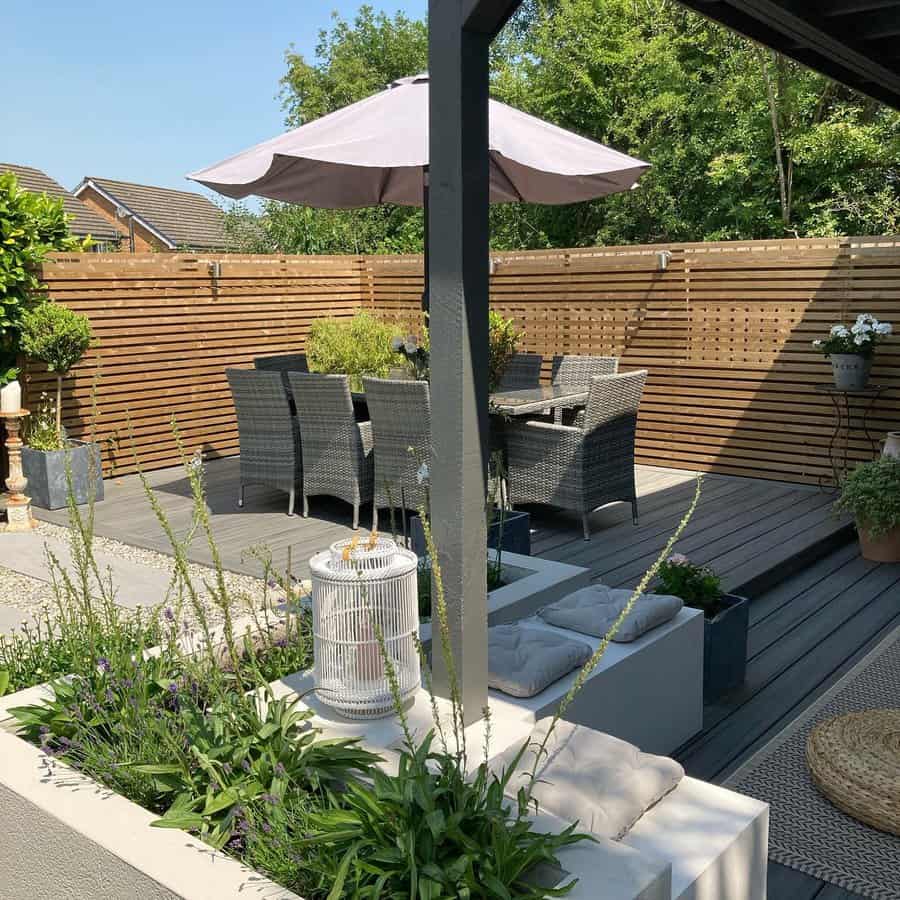 17. Redwood Fences Enhanced by Landscaping
A horizontal redwood fence can be a game-changer for your outdoor area, providing both beauty and functionality. To maximize its impact, complement the fence with strategic landscaping. Incorporate vibrant plants and shrubs along the fence line to create a captivating backdrop.
Additionally, consider adding a wooden deck that not only expands your entertaining space but also harmonizes seamlessly with the redwood fence, as it shares similar materials. This fusion of redwood fencing and wooden decks will transform your backyard into a stunning oasis.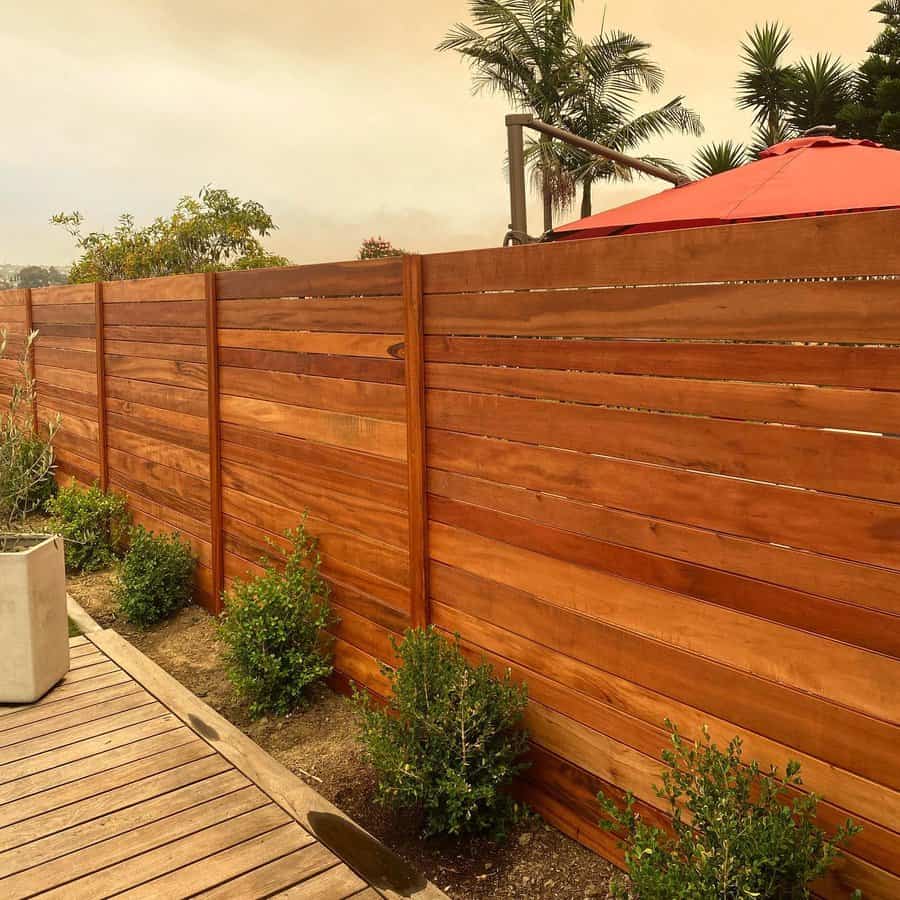 18. Merbau Wood for Front Fencing
Enhance your backyard's aesthetic appeal by incorporating a stunning Merbau wood fence in the front. Merbau wood offers a versatile palette with walnut red and meridian gray tones for a personalized touch.
This horizontal fence design will not only elevate your home's exterior but also create a stylish and inviting oasis in your backyard. To complete the look, consider complementing it with well-chosen landscaping and outdoor furnishings to achieve a harmonious and welcoming outdoor space.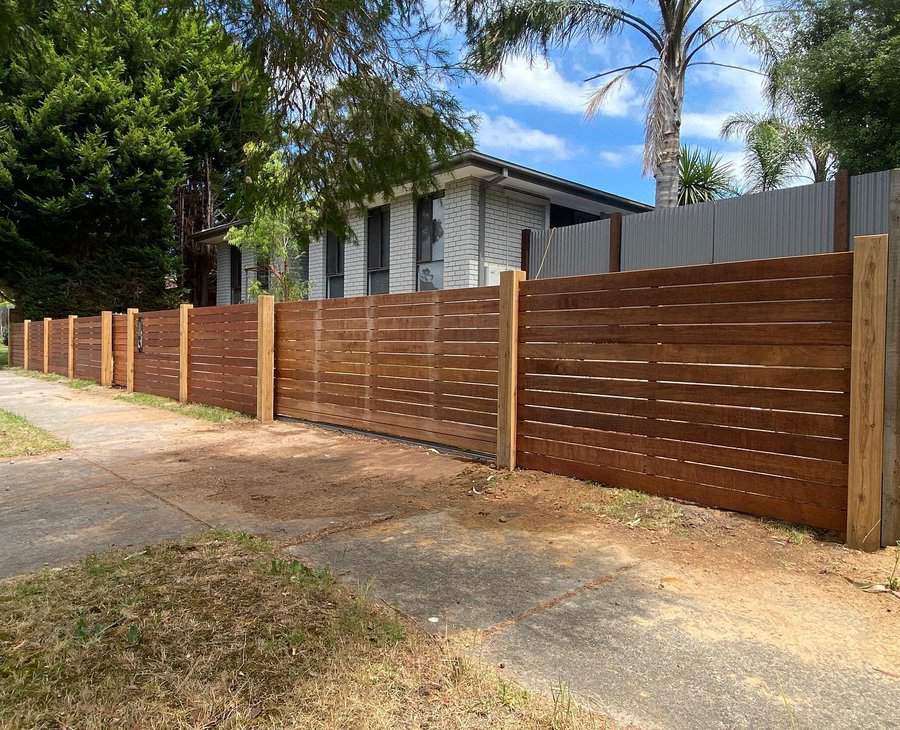 19. Horizontal Wood Fencing with Gates
Incorporate gates seamlessly into your horizontal wood fence design for added convenience and safety. Consider placing two gates on opposite sides of the enclosure to ensure easy access from various points in your backyard. This thoughtful design not only enhances functionality but also contributes to the overall aesthetic appeal of your outdoor space. To further elevate the design, select gate materials and finishes that harmonize with your fence, creating a cohesive and visually pleasing backyard enclosure.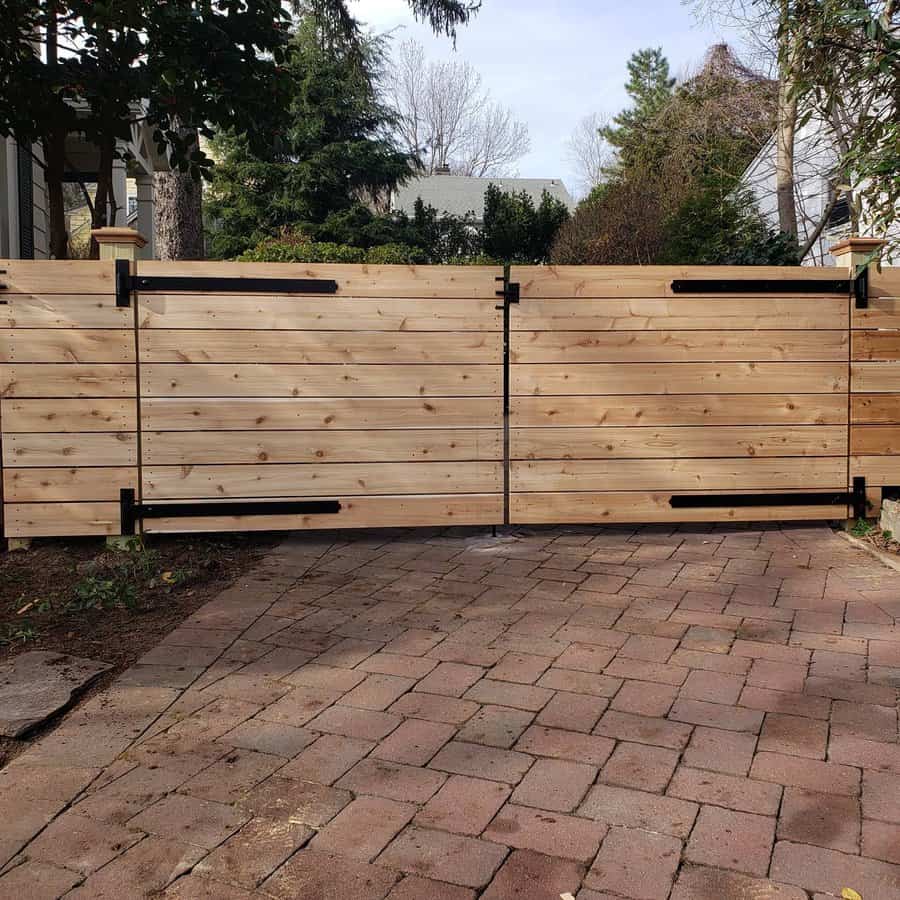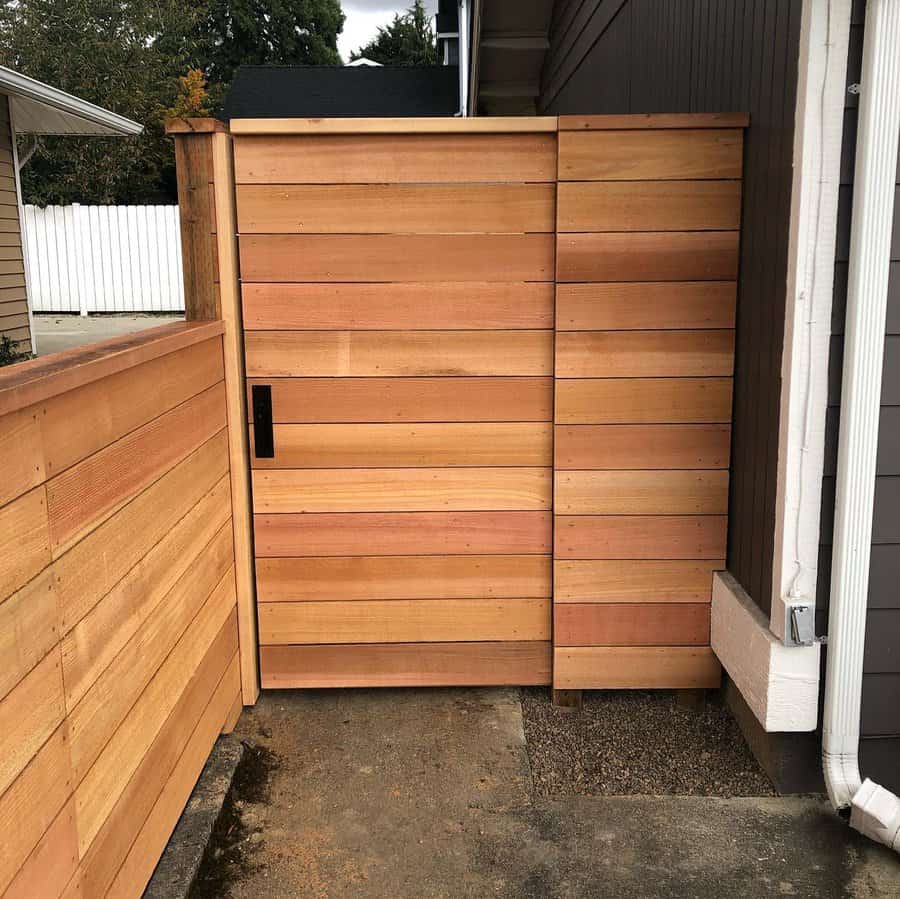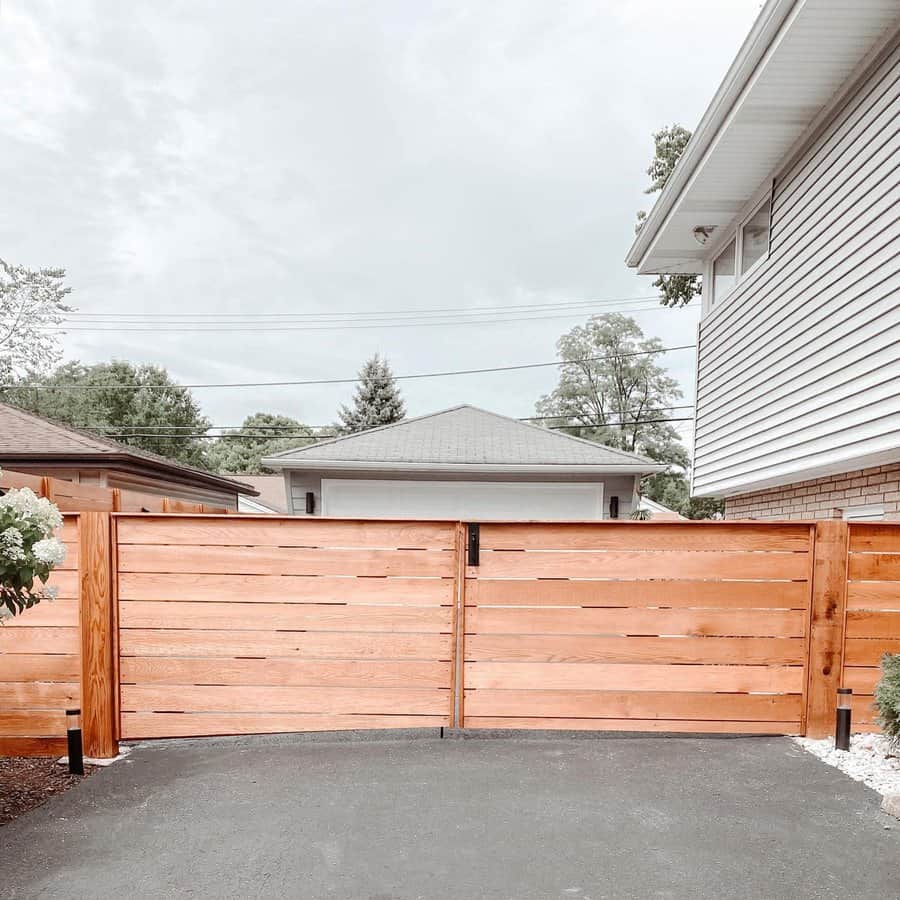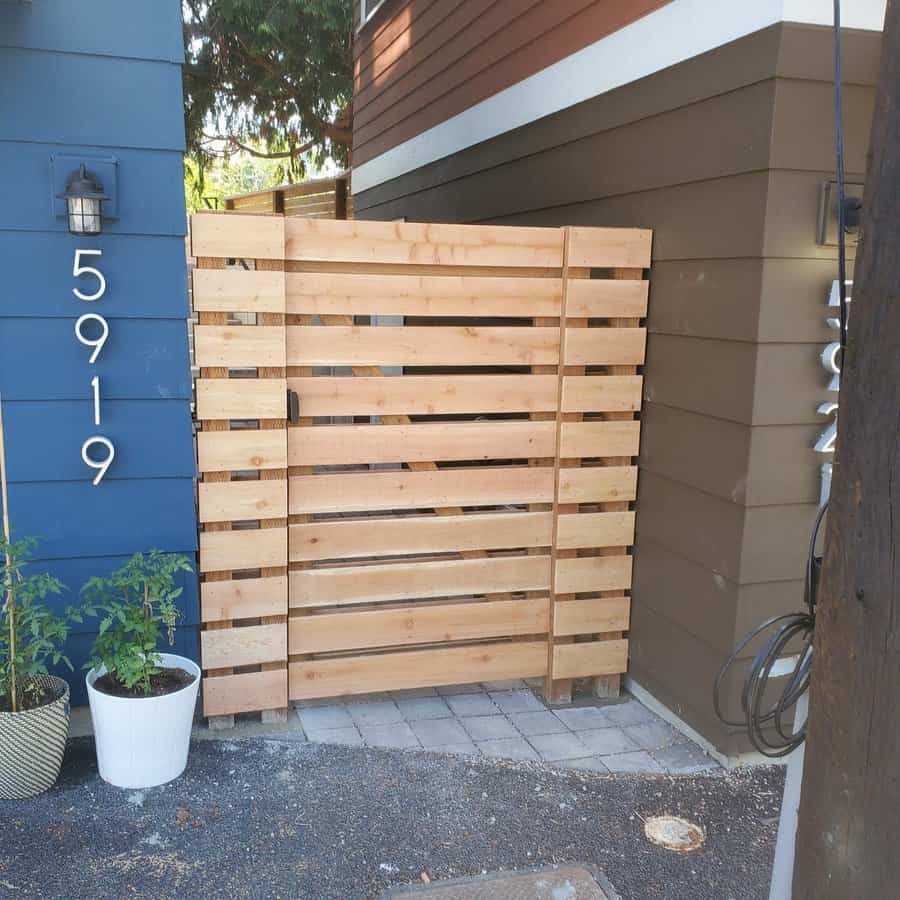 20. Panel Fence Varieties
Explore the world of narrow panel horizontal fences to elevate your backyard's aesthetics. These fences offer a sleek and non-obtrusive design, requiring fewer posts and enabling uninterrupted views of your lush green landscape or vibrant garden.
To enhance the appeal, consider planting bougainvillea, which complements the narrow horizontal fence beautifully, instantly transforming your outdoor space into a captivating and enchanting oasis. This combination adds a touch of magic to even the most ordinary areas of your backyard.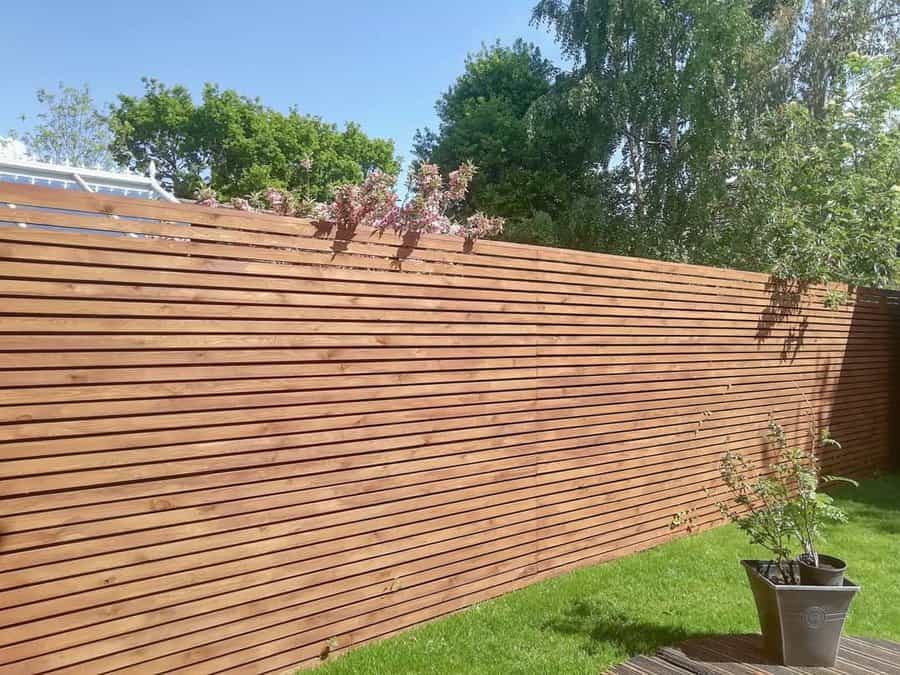 21. Modern Aluminum Fencing Ideas
Introducing a horizontal aluminum fence to your backyard can infuse a contemporary industrial vibe into your outdoor haven. This choice not only elevates aesthetics but also bolsters security and seclusion. For a cohesive look, pair it with a planned concrete patio and complementing outdoor furniture. Whether for style or utility, a horizontal aluminum fence is a versatile addition to any backyard.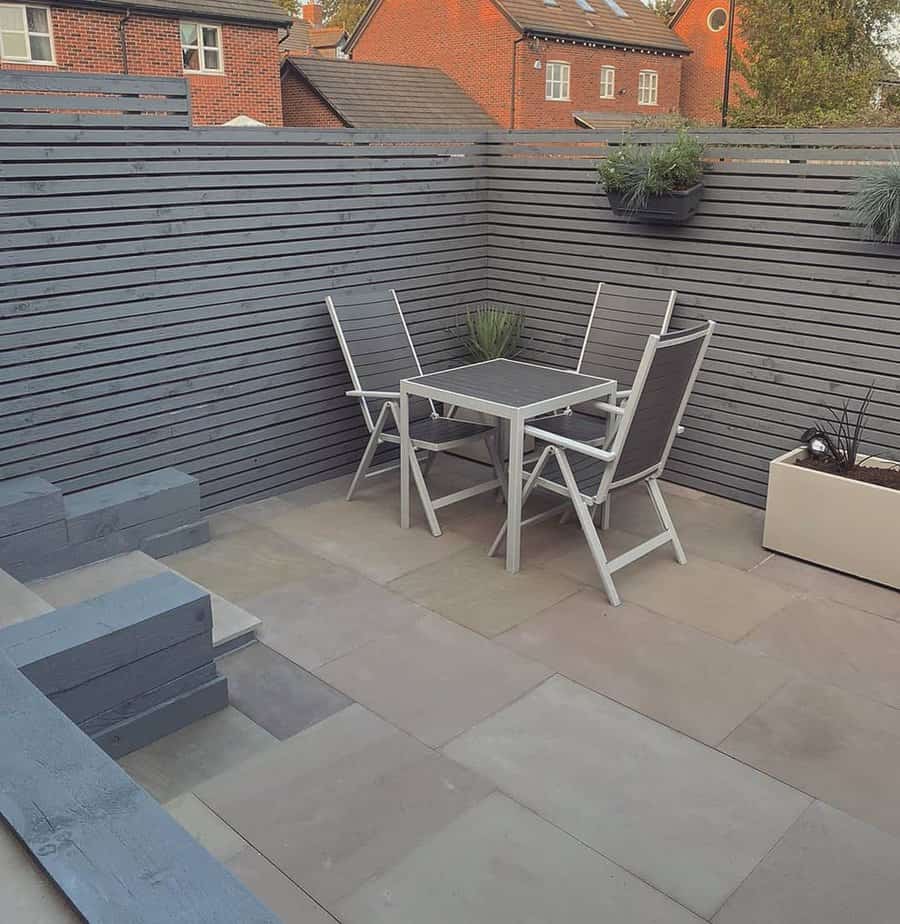 22. Wooden Privacy Fence Designs
When considering wooden privacy fence designs, start by checking local regulations and HOA rules to determine the maximum allowable height. Opt for fence panels that align with these guidelines.
Horizontal privacy fences are an excellent choice for enhanced privacy compared to vertical options. To elevate the design, consider staining or painting the wood to match your outdoor aesthetic. Additionally, complement your fence with landscaping elements like tall shrubs or climbing vines to create a more secluded and visually appealing backyard retreat.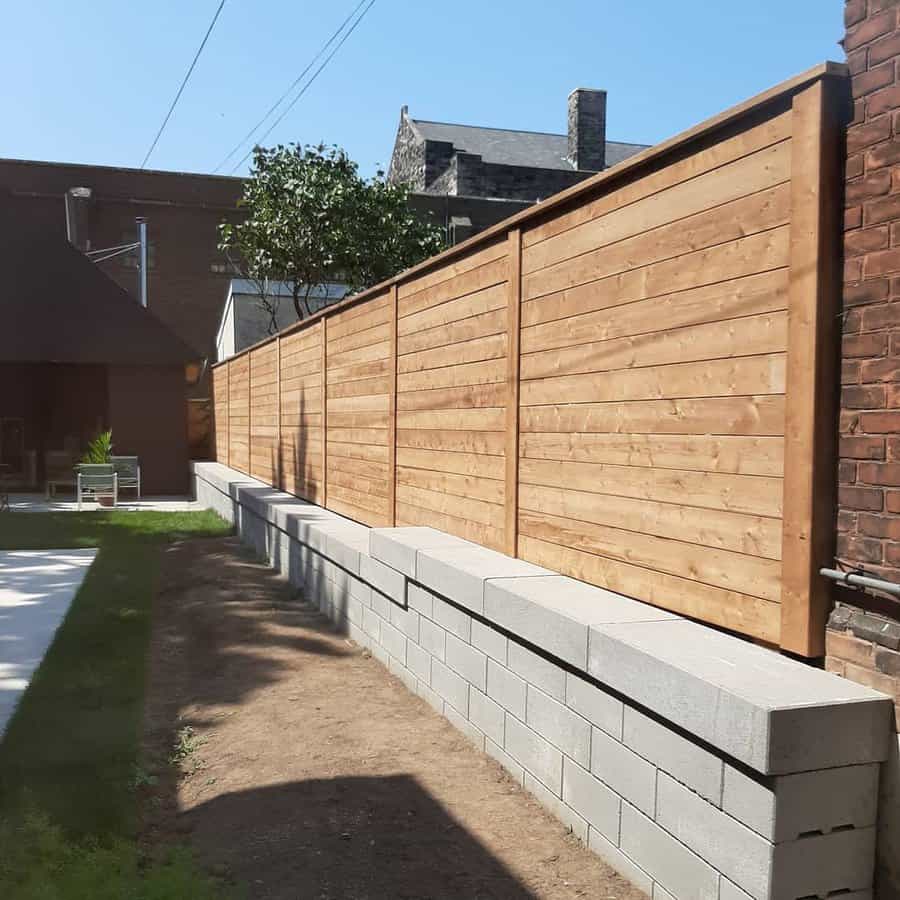 23. Stylish Slope Fencing Solutions
Building a horizontal slat fence on a sloped property is entirely possible and adds a unique touch to your backyard. There are two methods to achieve this design. The simpler approach involves using horizontal fence panels and stepping them down the slope.
Ensure you account for panel width and the slope angle during installation. To enhance the aesthetic, consider staining or painting the fence to match your outdoor decor. Additionally, incorporate terraced landscaping or retaining walls to create a harmonious and visually pleasing backyard space.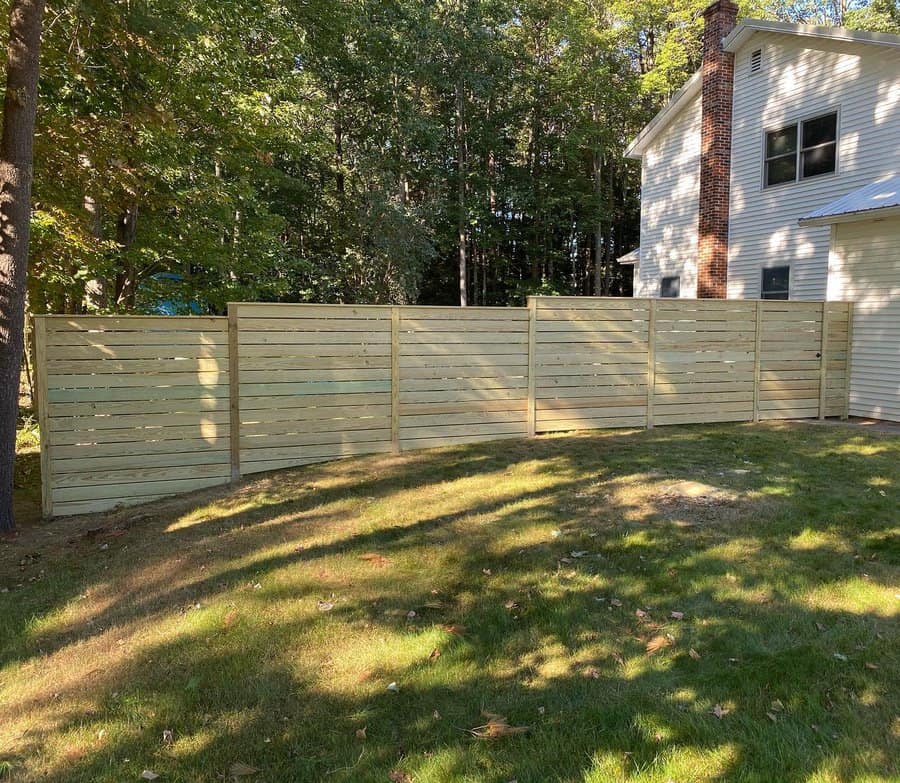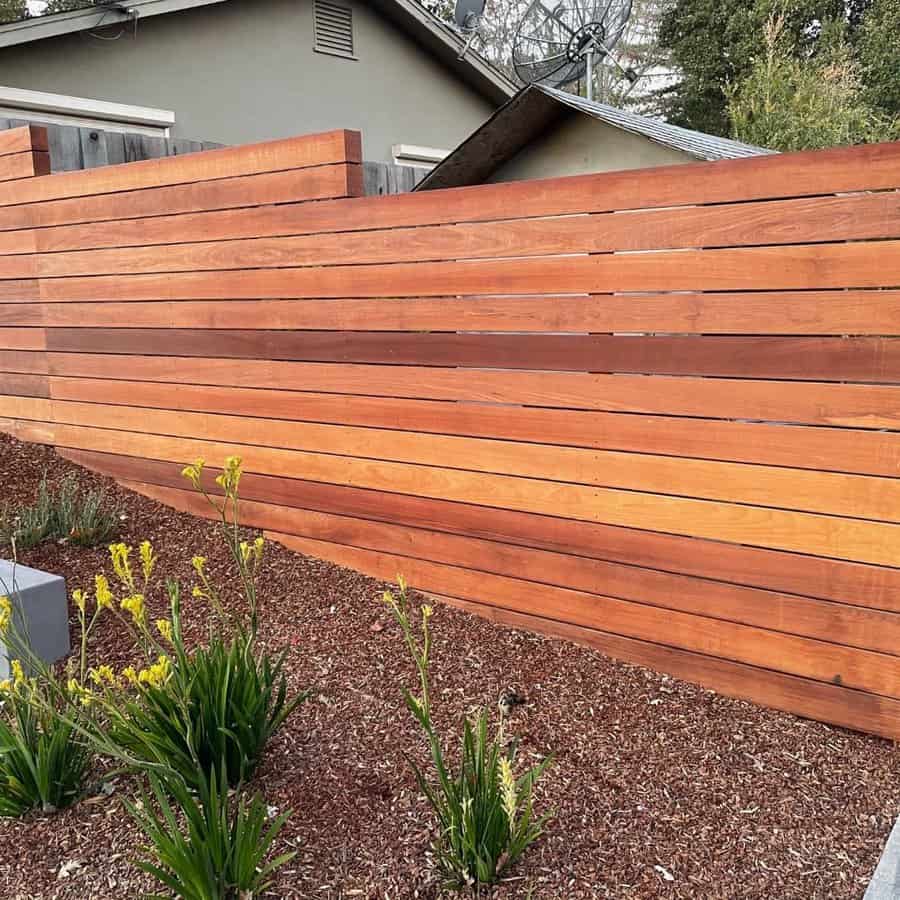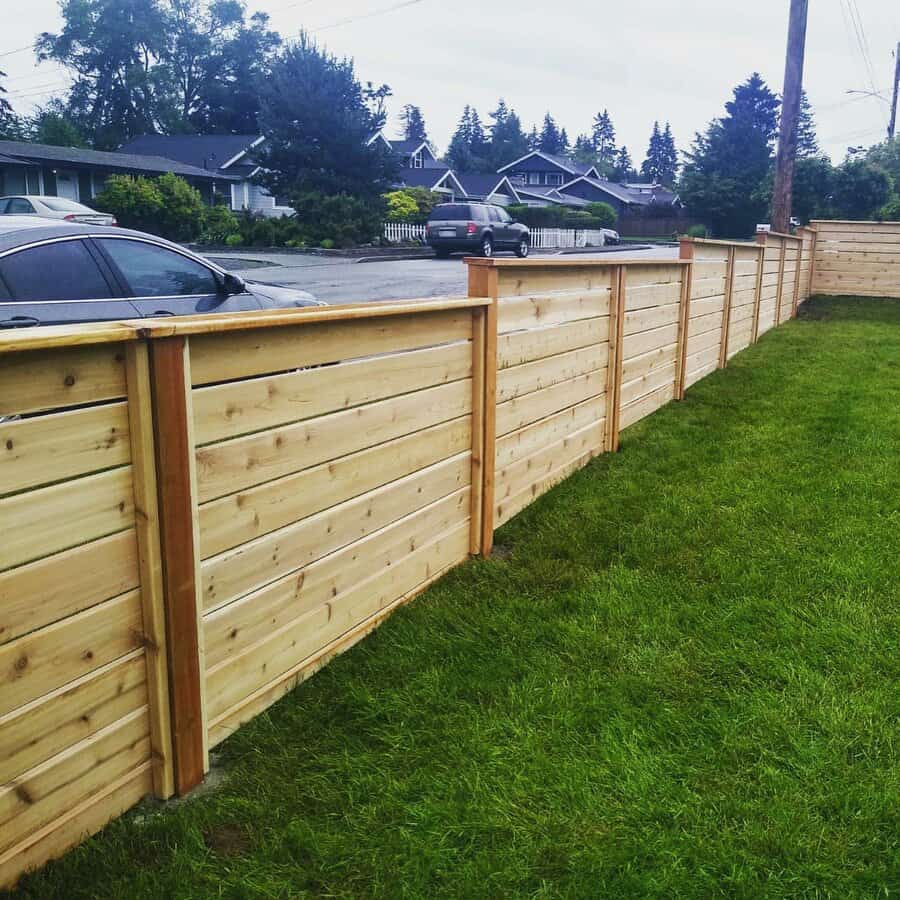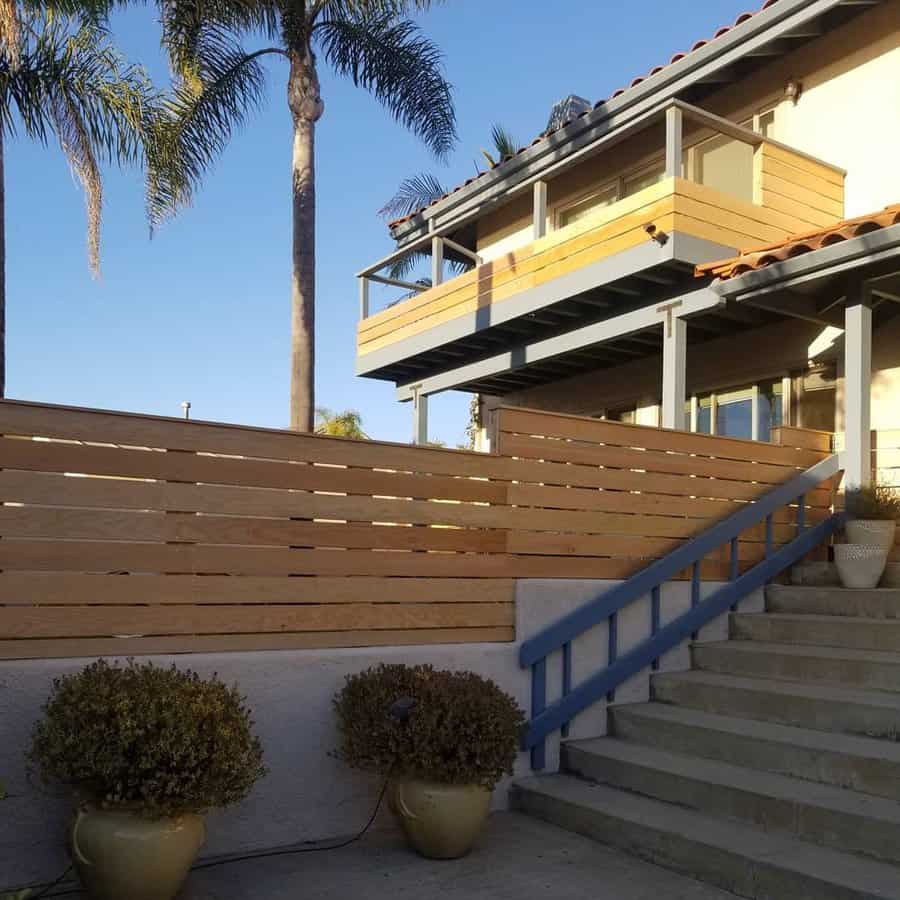 24. Hickory Wood for Beautiful Fences
Consider elevating your backyard by incorporating hickory wood fencing, a stylish addition that can instantly elevate your outdoor space. These fences not only exude charm but also offer privacy control, enhancing your hosting and leisure activities.
The key advantage lies in their durability and minimal upkeep requirements, ensuring your backyard remains inviting for years without constant maintenance. To complement this design, consider adding outdoor furniture and landscaping elements that harmonize with the rustic warmth of hickory wood.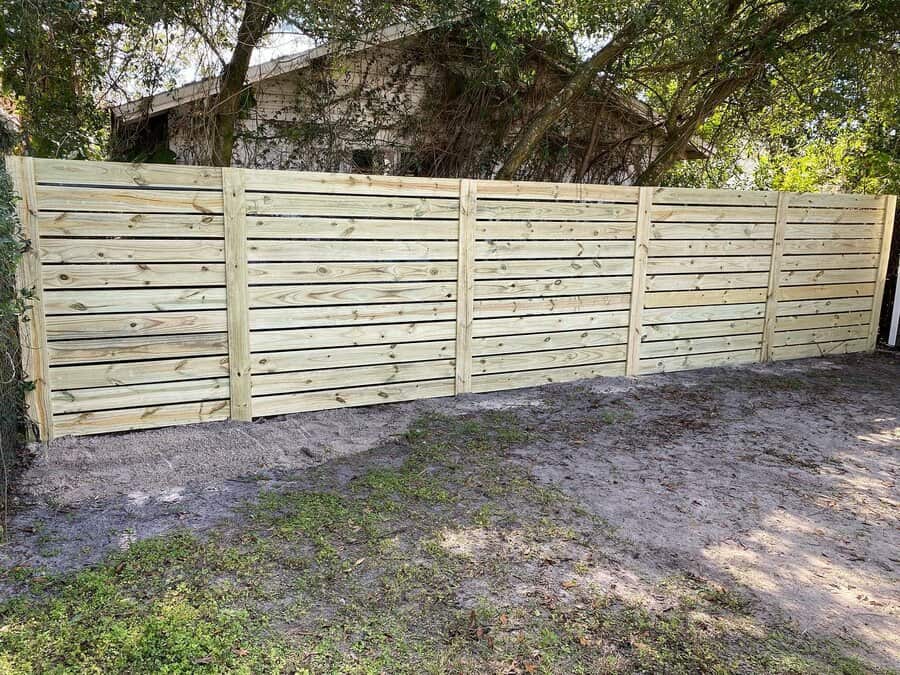 Horizontal Fence FAQs
Is it cheaper to build a horizontal or vertical fence?
Horizontal fences tend to be more expensive than their vertical counterparts. Higher grade lumber is needed for horizontal fences to reduce warping and sagging. They also use more materials.
How do you keep a horizontal fence from warping?
To prevent your fence from warping, you need to install back rails. These are horizontal rails at the top and bottom of the fence. They should be no more than eight inches from the top and bottom. If you have a tall fence, six feet or taller, then you'll want an additional support rail in the middle too. Fences taller than eight feet need two middle support rails.
How far apart should fence posts be for a horizontal fence?
Layout the placement of your fence before you start building it. The posts should be no more than six feet apart. Any further apart, and you compromise the structure and stability of your fence. Too close together, and it will look too busy and lose the horizontal plank effect. If you buy pre-made fence panels, you can place the posts the distance that the panel is wide.