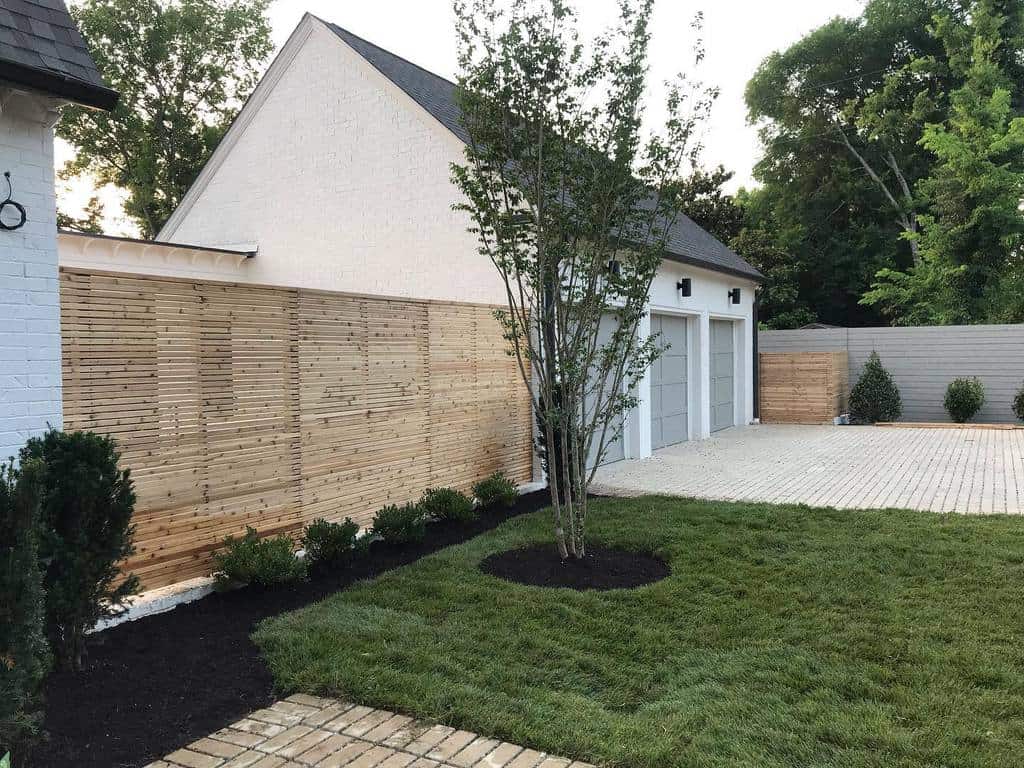 30 Horizontal Fence Ideas for Backyard
"Don't ever take a fence down until you know why it was put up." – Robert Frost
They say that great fences make great neighbors. But what is a great fence? Is it a low picket fence that simply marks your property line? Is it a tall privacy fence that completely blocks the view?
How about choosing a fence that does both of these and looks good? That is what a horizontal wood fence can do for you and your property.
This style of wood fence creates privacy, something that a chain link and standard post and rail fence can't do. Horizontal fencing also looks beautiful and modern.
Check out these horizontal fence ideas and find the perfect fencing for your property.
1. Metal and Cedarwood
A black-metal and cedarwood fence can bring a sense of order and sophistication to any backyard. Paired with the right elements, such as small pebbles cut into interesting designs for pathways or a lush lawn, it creates an inviting and dynamic environment.
With careful thought, hardscape and landscape, the classic yet versatile style of a horizontal fence can allow one to create an unforgettable space: from playful gathering areas for your family, to romantic evenings out under the stars.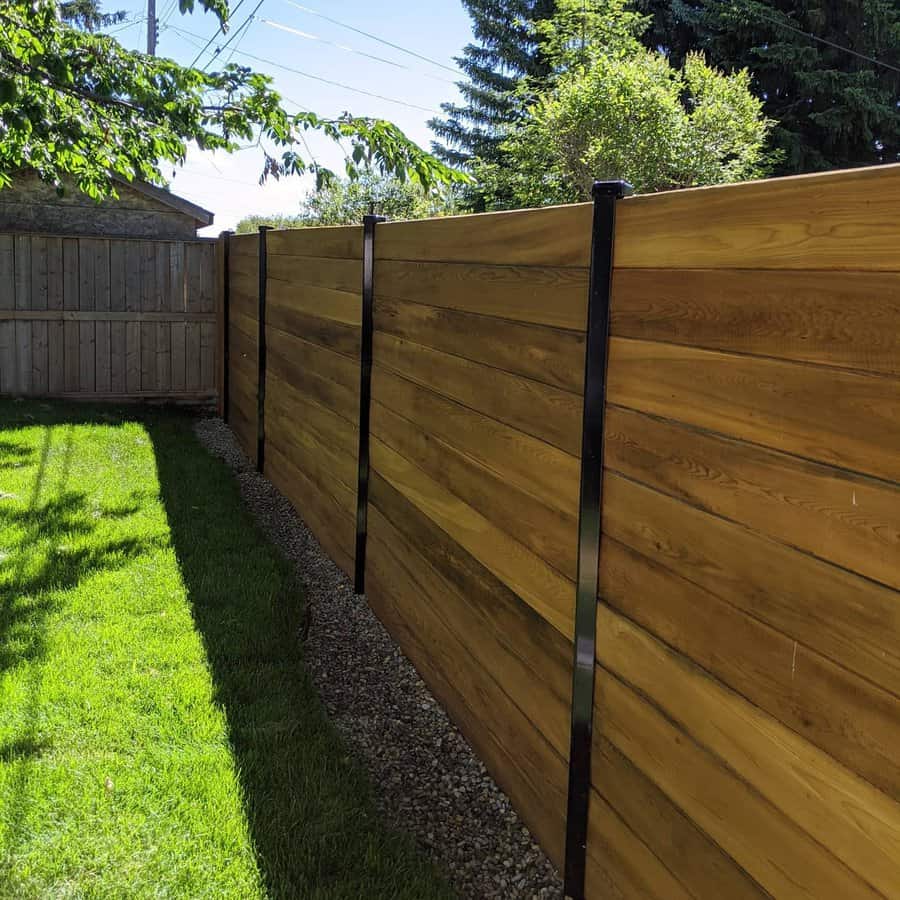 2. Red Cedarwood With Lighting
Adding a red cedarwood fence to your backyard is the perfect way to add mellow beauty while still providing privacy. Constructing the fence along the horizon, makes your outdoor space feel cozy and inviting with its peaceful, red hue.
To tie in with the red cedarwood fence, why not cement your backyard and fill it with white pebbles for a contrast in texture? Not only does this look aesthetically pleasing but gives it a more relaxed feeling as you lounge in your private paradise.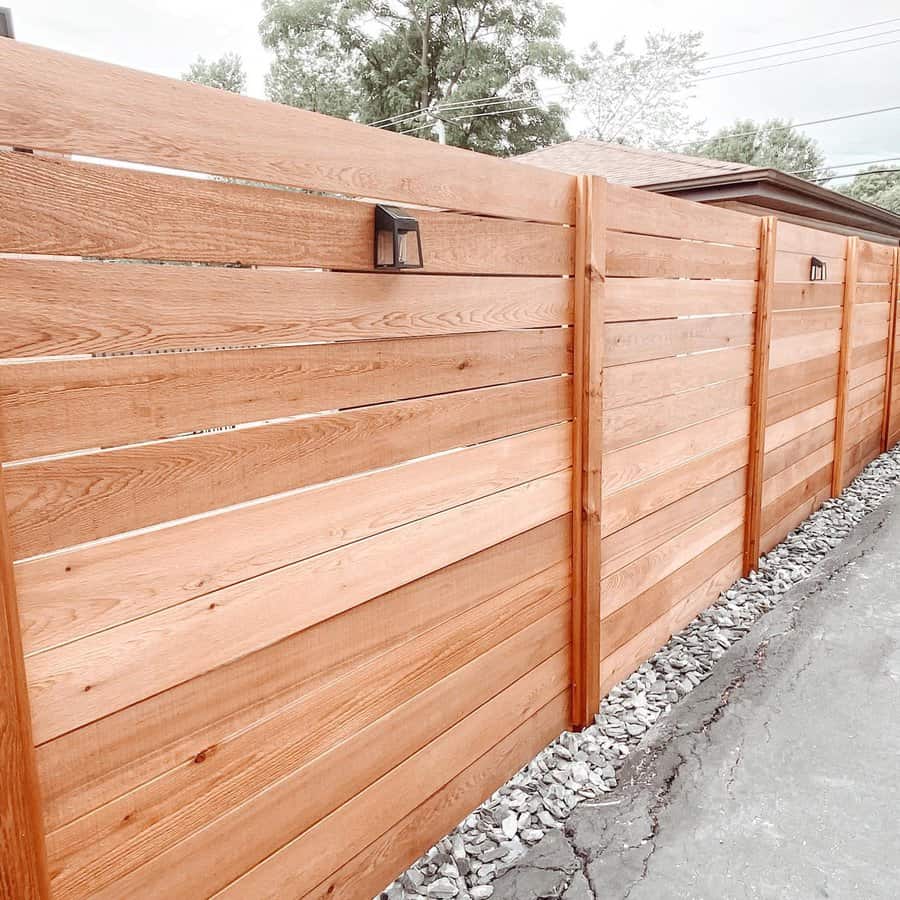 3. Hard Wood Fencing
Imagine the visual spectacle of a non-tinted hardwood fence in your backyard, rising up from lush grass and encompassing it like a protective shield. This horizontal fence will not only create a beautiful dynamic landscape with unparalleled style, but it's also durable enough to keep out the most curious of animals.
Moreover, you can suspend trellises and plants atop the fence for an awe-inspiring afternoon backdrop that is sure to captivate everyone who steps inside.
So if you're looking to make a statement with your outdoor decor, building this horizontal fence may be just what you need!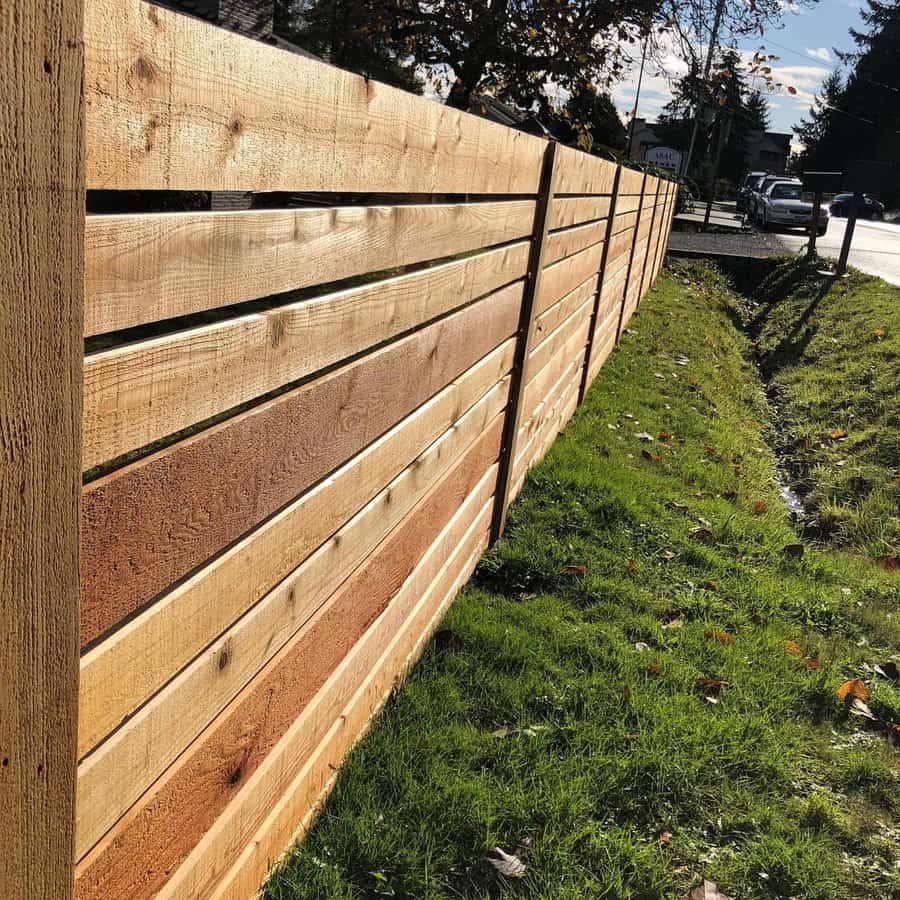 4. Metal Framed Cedarwood Gate
With a black metal framed cedarwood fence gate and a horizontal fence, you can turn your outdoor garage into something both stylish and functional.
This beautiful black iron fence holds the elegance of timelessness while providing the security you need to protect what is most precious to you.
Thanks to the horizontal design that allows for enhanced ventilation and direct sunlight, say goodbye to overheated backyard spaces – this black iron fence will keep problems at bay!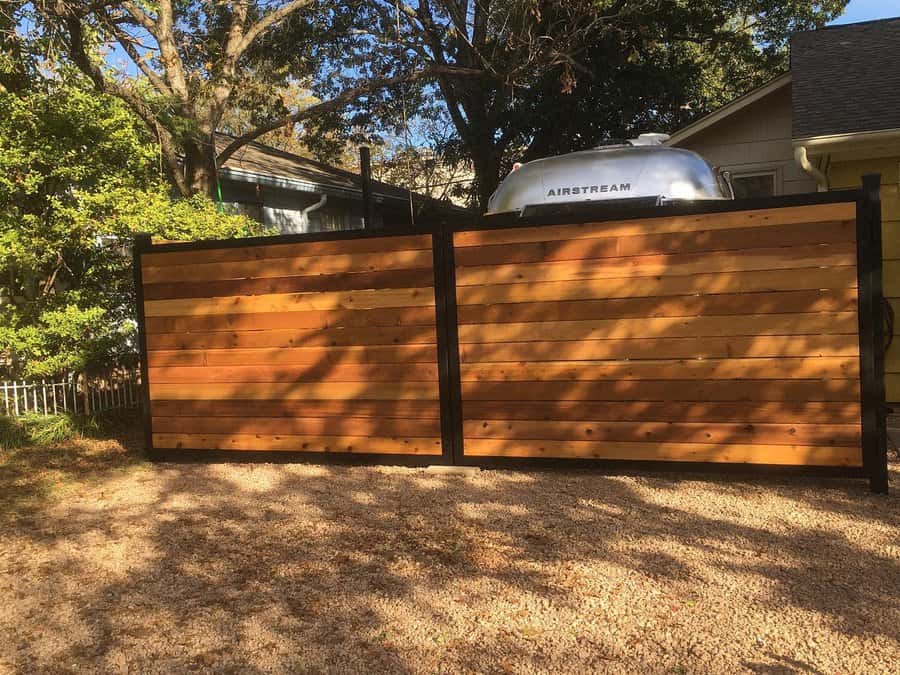 5. Side Yard Fencing
Installing a horizontal fence can be an excellent way to divide side yards, define garden borders, or provide secured outdoor living spaces within your yard. It's a creative option that truly stands out from the usual vertical fencing and can help set apart different areas of your landscape.
Not only do horizontal fences look good—they tend to be more sturdy and secure than another fencing. Whether you're looking for side yard fencing or just have dreams of creating your own outdoor oasis, this horizontal fence may be the perfect solution!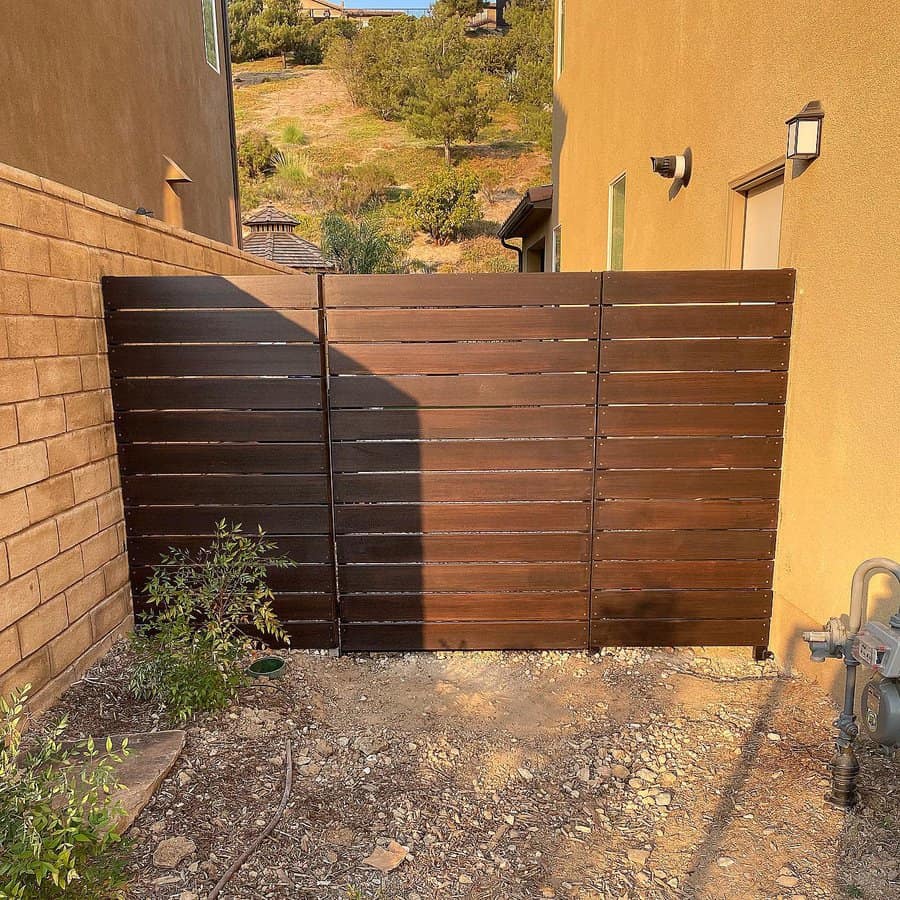 6. Venetian Style Fencing
A Venetian-style horizontal fence is a perfect way to create an eye-catching boundary in any outdoor space. With its narrow panels, it can be used to surround a garden and make it look effortlessly chic.
Alternatively, build your Venetian fence higher than usual and use it as elevated landscaping; think raised flower beds or a low wall adorned with climbing vines and plants. Regardless of how you choose to use one, your Venetian-style horizontal fence will look beautiful for years to come.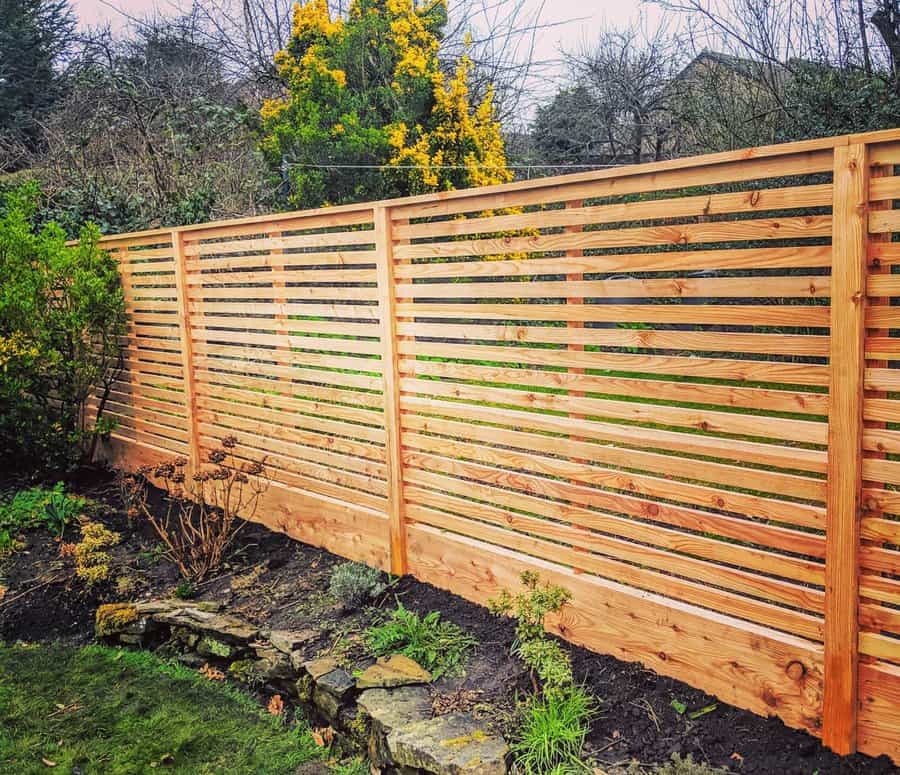 7. Fully Enclosed Composite Fencing
If you're looking to add a modern twist to your outdoor living space then look no further than dark green and white fully-enclosed composite fencing.
With an impressive, sturdy construction a horizontal fence is the perfect addition to the frame and set off any concrete patio, creating a safe and stylish environment you can enjoy for years.
Available in either wood or metal-framed options, this timeless design will help you customize your yard and create an impressive boundary between you and the outside world.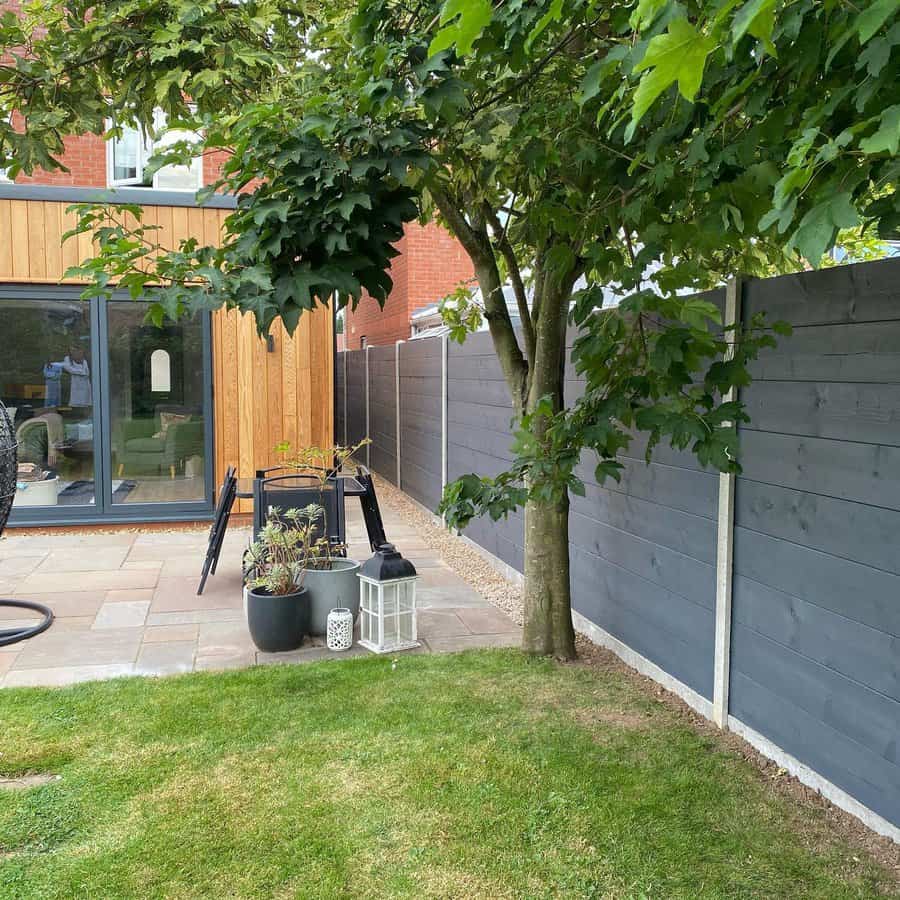 8. Slatted Fence Without Poles
A slatted fence without poles gives a modern and minimalist edge to any property. Picture this: a sliver of slats elevated off the grass landscape with lowered patio set in the foreground for practical lounging. That is the magic of a horizontal fence, elevating an ordinary outdoor space into something spectacular.
By creating a sense of elevated boundaries, homeowners have the opportunity to set apart designated spaces from ground level to deck or balcony level and infuse some stunning style into their outdoor area.
Whether it's custom-made or store-bought, pairing a horizontal fence with living elements like plants, stone slabs, and furniture can add just the right amount of texture, structure, and beauty that your outdoor space needs!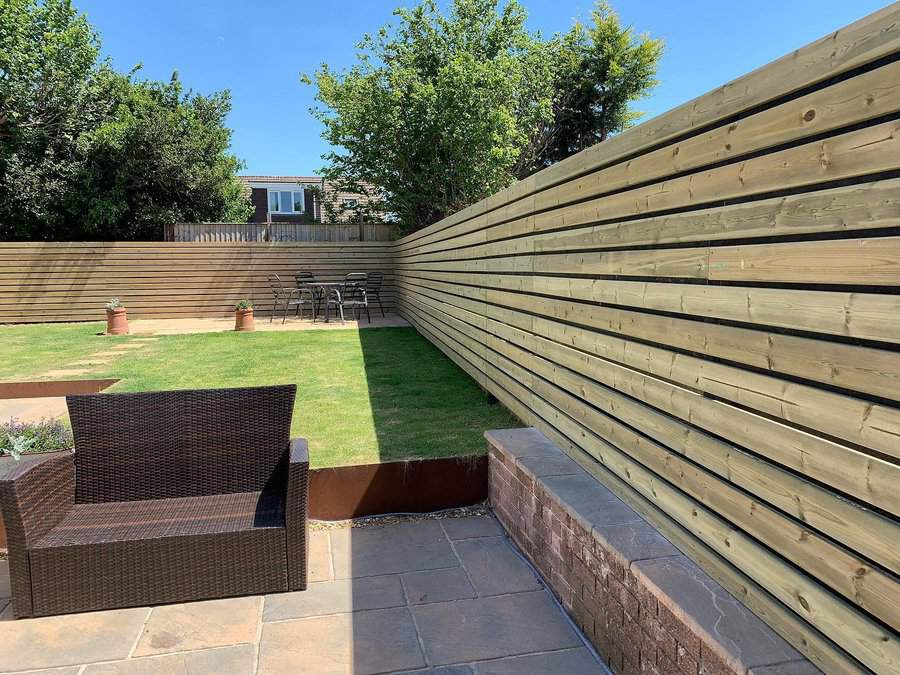 9. Alternating Horizontal Fence
The alternating horizontal fence is just the beginning of a beautiful home setup. Complete with an elevated concrete patio, the back of your house has transformed into an area that both you and your family can enjoy.
In the warmer months, it's a great place to host barbeques or just lay out in the sun—not to mention, there's plenty of room for your four-legged friends to frolic around too! The eye-catching aesthetic gives an alluring look and feel, no doubt adding charm and style to any backyard landscape.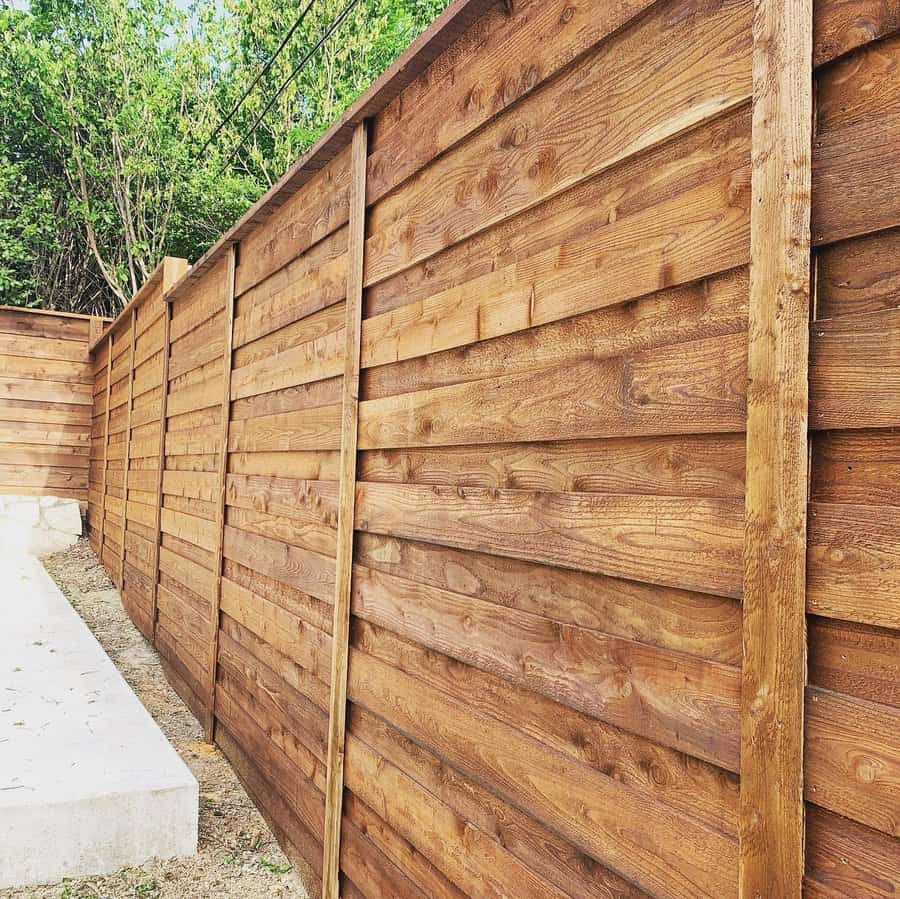 10. Repurposed Wood Fencing
A horizontal fence is a great way to add interest and charm to any outdoor living space. Repurposed wood fencing gives off an earthy, rustic vibe, and the enclosed design allows you to have more security while enjoying your outdoor area.
A horizontal fence creates depth and texture which adds beauty and sophistication. It also creates an illusion of a bigger space and further improves outdoor aesthetics. Furthermore, repurposed wood fencing is environmentally conscious and aids in reducing waste since it repurposes wood instead of using new resources.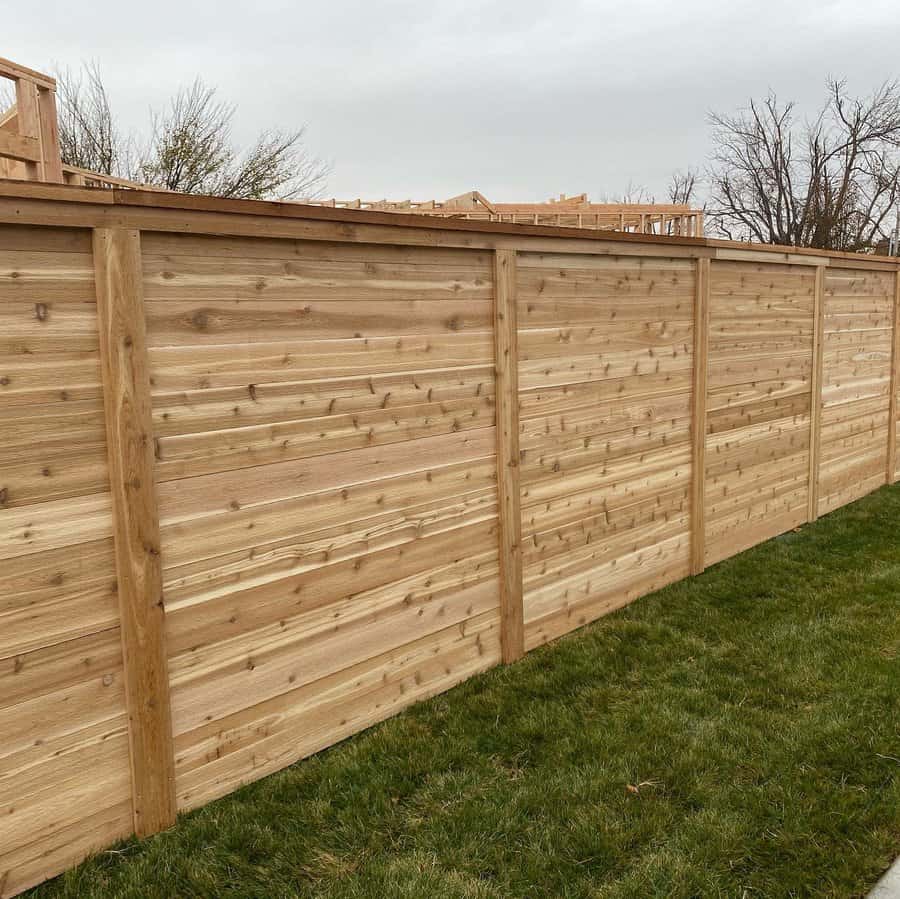 11. Slatted Timber Garden Screen
A slatted timber garden screen can be a fantastic addition to any backyard, bringing its own natural charm to the space. Whether your backyard features a lush and bushy landscape or is simply looking for a touch of character, a horizontal fence is versatile enough to incorporate easily into any environment.
From creative DIY designs using slats cut from various materials to woven willow screens, you're sure to find an attractive fence option that would fit in beautifully with your unique taste.
With the addition of a horizontal fence, you can add beauty, security, and even some additional privacy to your sanctuary for outdoor living.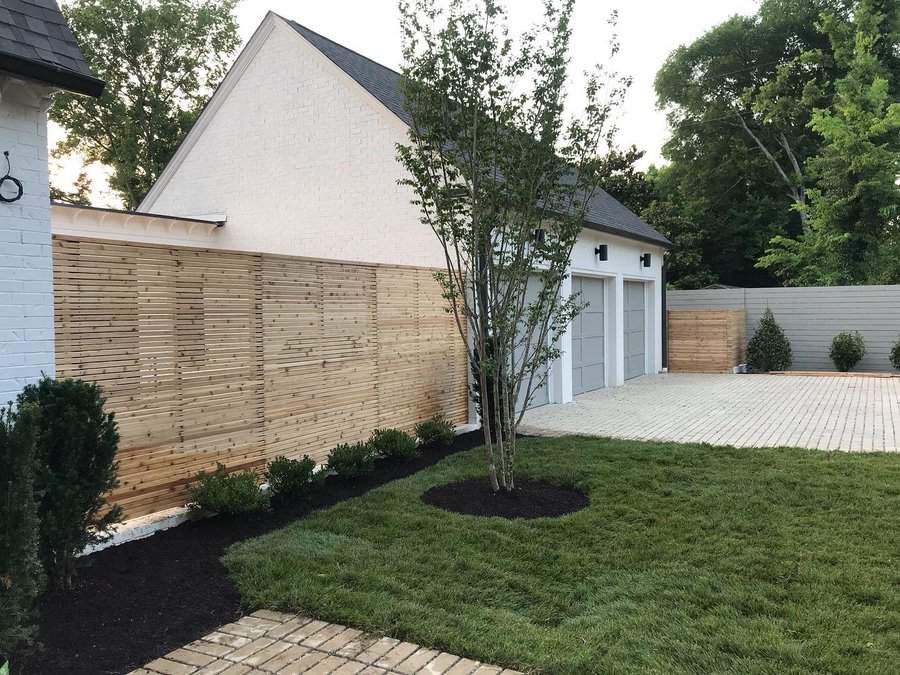 12. Horizontal Wood Fencing With String Lights
Decorating your backyard with horizontal wood fencing and string lights can create a unique atmosphere for outdoor enjoyment with family and friends. Get creative with the horizontal fence design and incorporate some outdoor furniture, like cozy seats to get comfortable in.
Don't forget to build a campfire so you can enjoy s'mores under the stars while staying warm around the fire! A horizontal fence with lights offers an inviting atmosphere that won't break the bank but will add to your outdoor experience.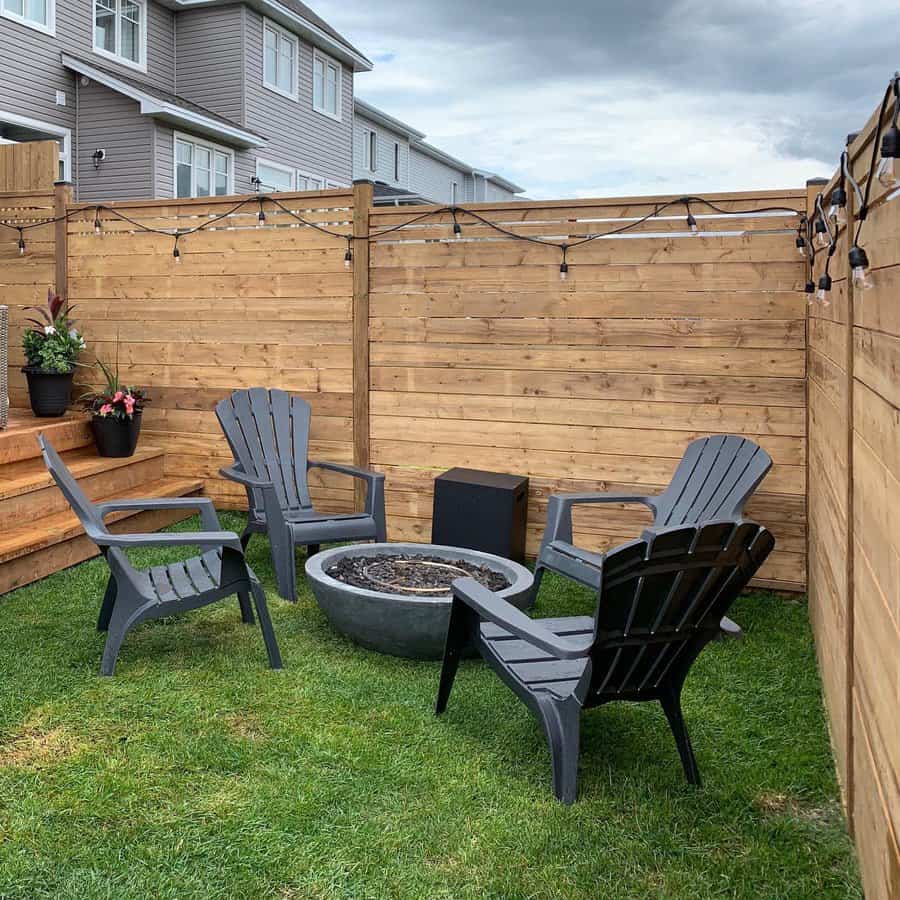 13. Composite Fencing
Add a unique designer touch to your backyard with composite fencing, featuring narrow panels and a brick base. Perfect for softening and configuring an attractive entrance or defining boundaries.
With composite fence panels that come in various colors, the composite materials give you multiple options when creating imaginative routes throughout the yard while providing a modern, visual aesthetic.
Offering more than just privacy, installing horizontal composite fencing is an easy choice that will add style to your outdoor space.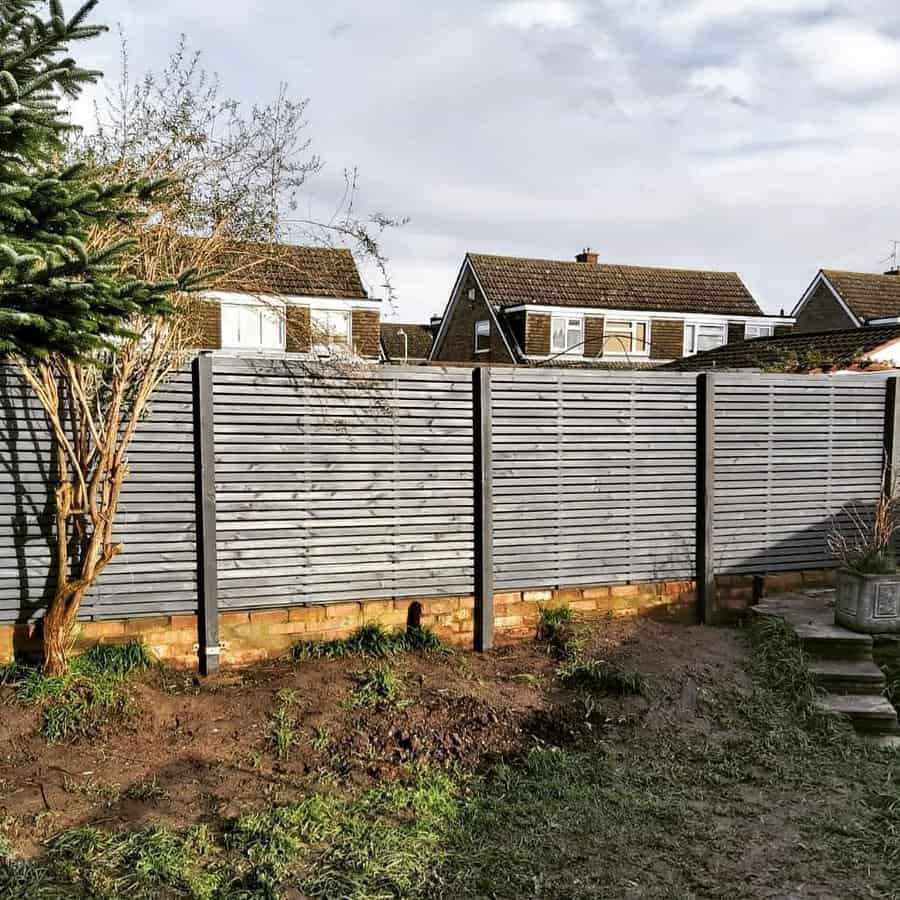 14. White Horizontal Garden Fence
Installing a white horizontal garden fence can be the perfect way to add privacy to your backyard. Whether you want to block out pesky neighbors or just want the feeling of being secluded, a white fence does the trick!
Don't forget about landscaping – white pebbles spread around the fence will tie everything together and give it an extra scenic look. Forget about traditional fences that have been done time and time again and switch it up with a white horizontal garden fence in your backyard.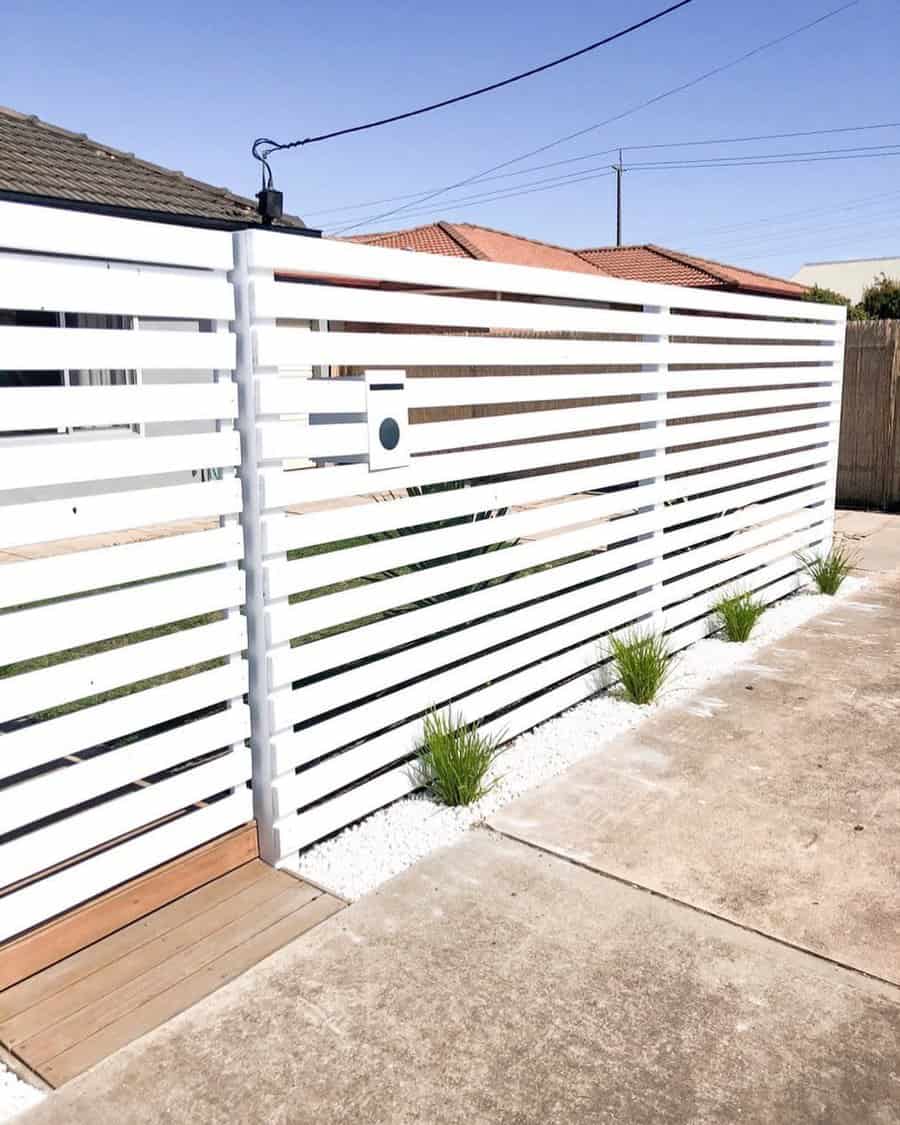 15. Backyard Accent Fencing
If you're looking for a creative way to spruce up your backyard this summer, look no further than a wood accent patio fence. Installing a horizontal wood fence as a backdrop for a small entertaining area is an easy way to add dimension and character.
To complete the look, lay some artificial grass beneath your new wood fence, perfect for outdoor picnics or cozy campfires.
Go one step further and build in a campfire feature – with brick outlines and plenty of wood, it'll be all you need for making warm memories on cozy summer nights.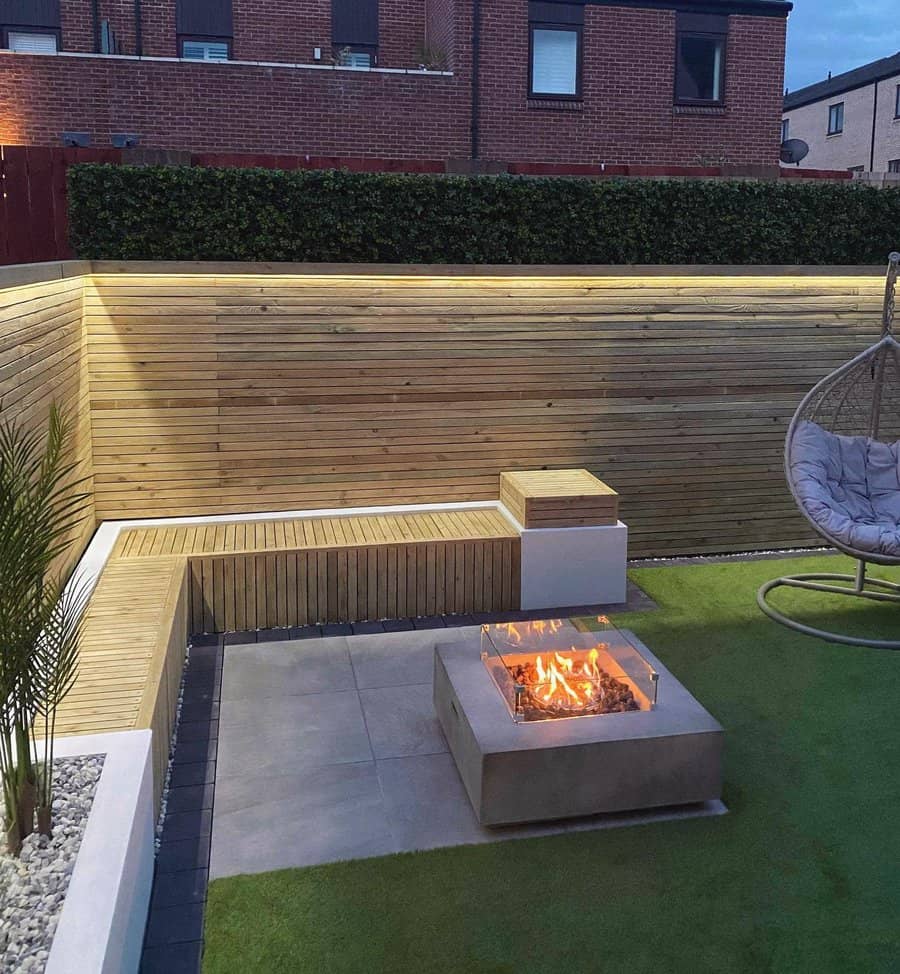 16. Wooden Divider Screen
When it comes to creating a comfortable outdoor living space, a wooden divider screen is the ideal horizontal fence for any backyard. It can provide the perfect hint of privacy while allowing the beauty of your garden to be admired from afar. Going further with this option, you can opt for a wooden fence within an enclosure furnished with patio chairs, tables, and white pebbles spread across the floor.
Not only will this make your patio look breathtakingly gorgeous, but it will also give you an inviting atmosphere to relax and unwind after a long day. With this wooden fence addition to your backyard, you'll never want to stay indoors again!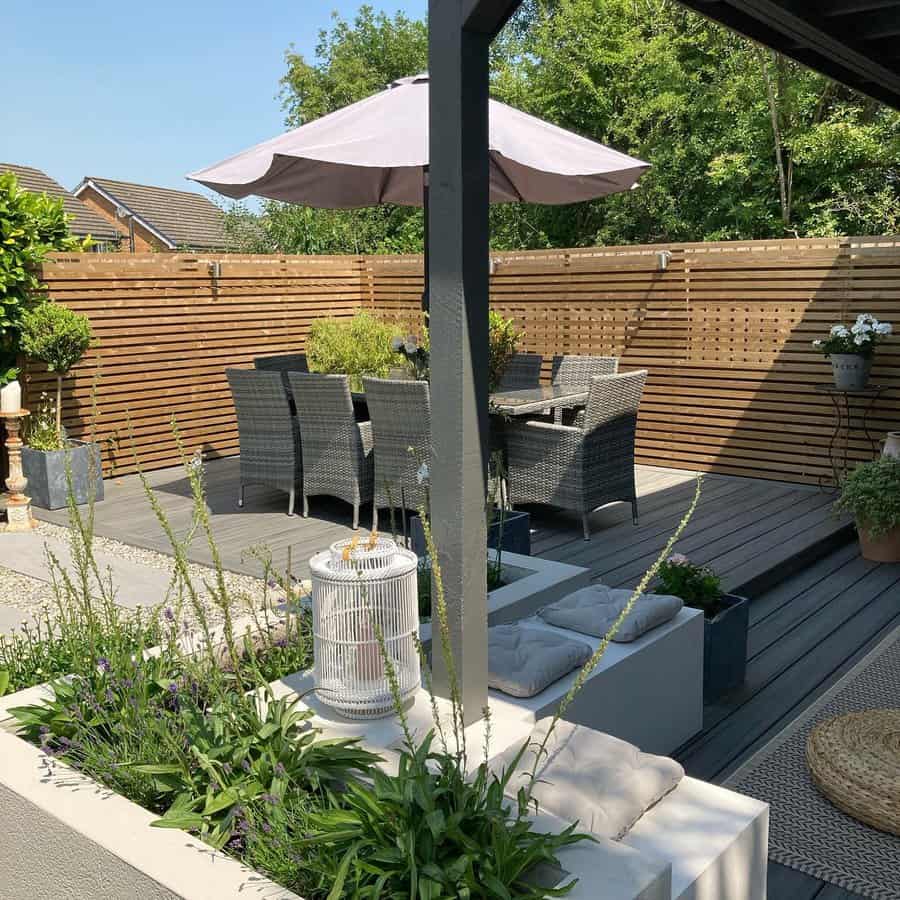 17. Redwood Fence With Landscaping
Installing a horizontal redwood fence in your backyard is the perfect way to transform your outdoor space. Not only will it look beautiful, with its stunning redwood planks, but you can further enhance the effect by landscaping around the fence to create a mesmerizing setting.
Consider also adding a wooden deck, which won't just provide more space for entertaining and relaxing, but also blend naturally with the redwood fence since it is made from similar materials. This combination of redwood fencing and wooden decks for your backyard will give you an area that looks out of this world!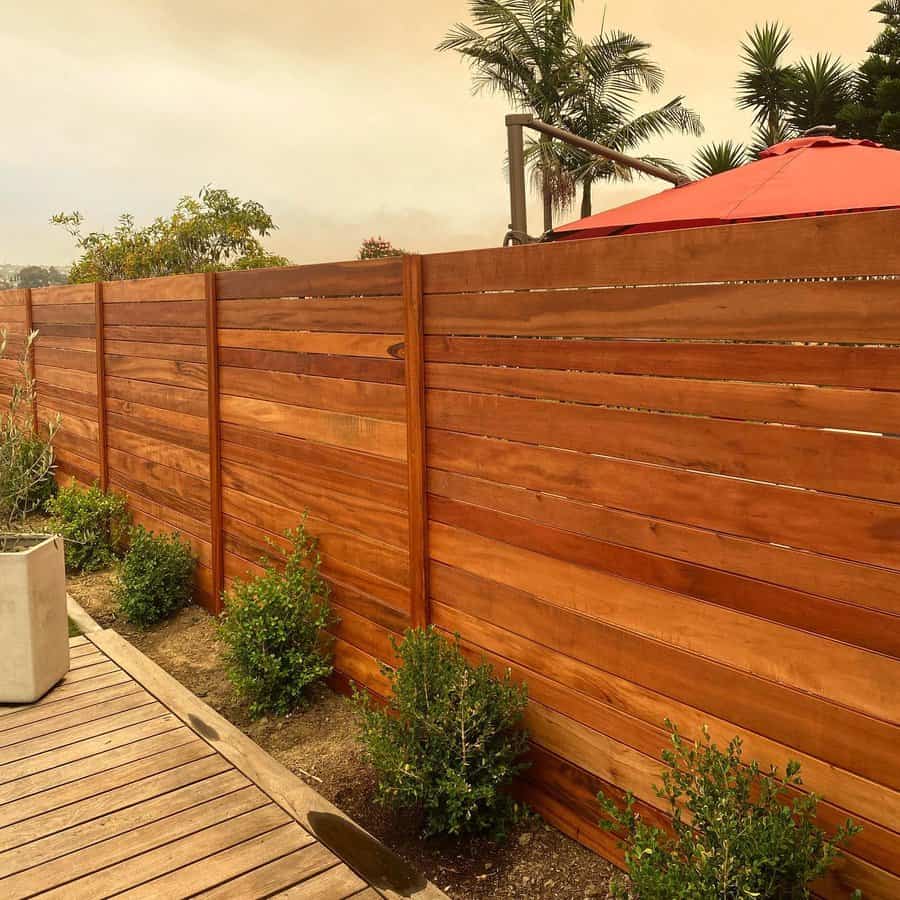 18. Merbau Wood Front Fence
Add a breathtaking Merbau wood fence to your backyard and upgrade the entire look of your home's exterior. Its dual-toned fence allows for creative freedom; with colors like walnut red and meridian gray, you can customize it to your own personal taste!
With this horizontal fence, your backyard will be the most stylish on the block – an oasis adjoining your abode that would make anyone proud.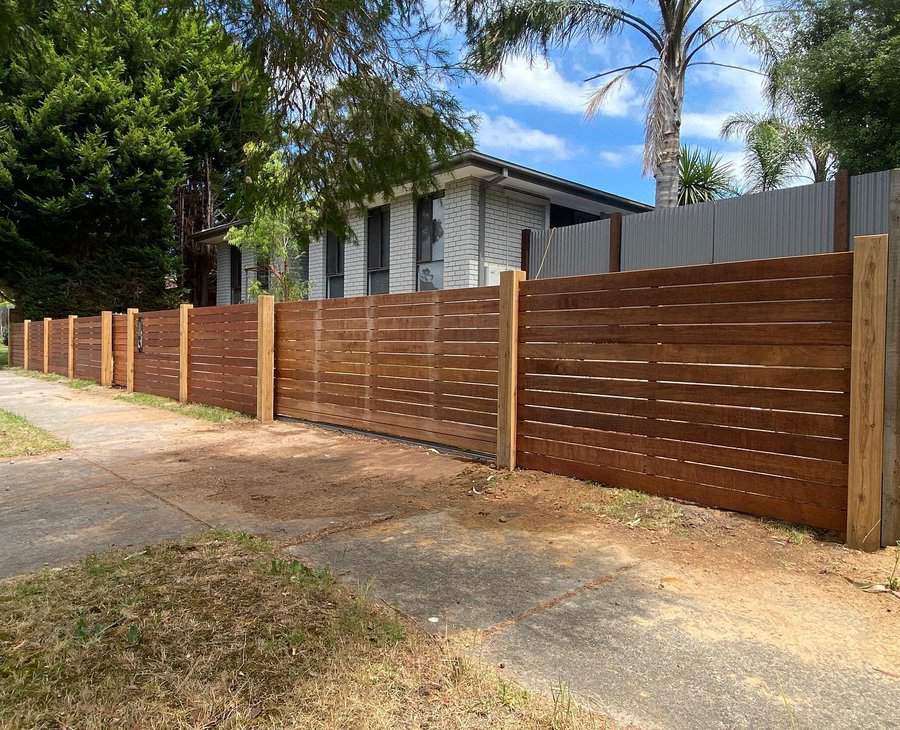 19. Horizontal Wood Fencing With Gate
You need to add a gate to your horizontal fence design. For both convenience and safety reasons, your fence should have two gates on opposite sides of the fenced-in enclosure. This enables you to exit the property through the gate without having to walk to one specific spot.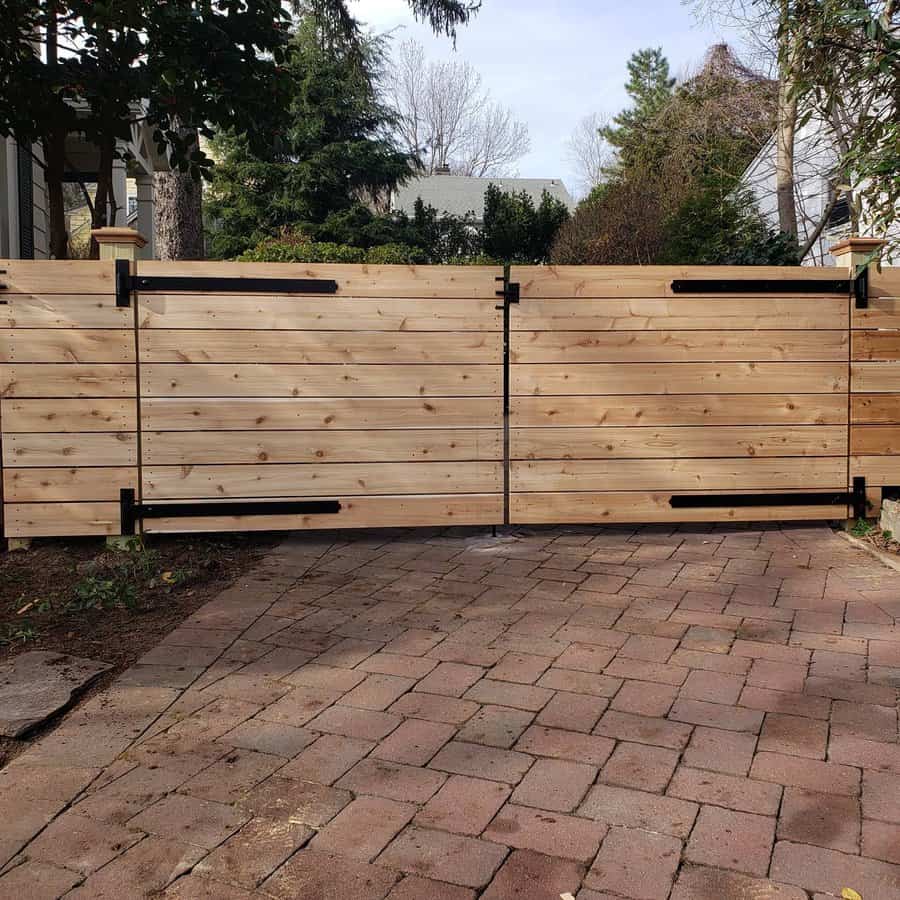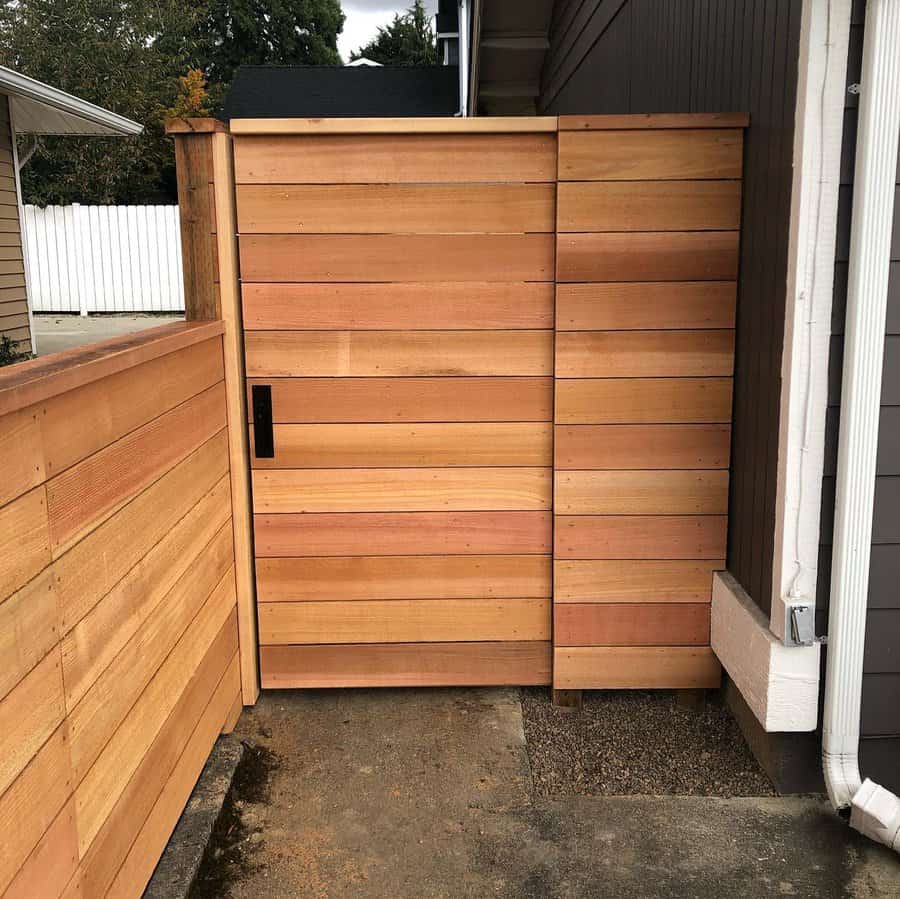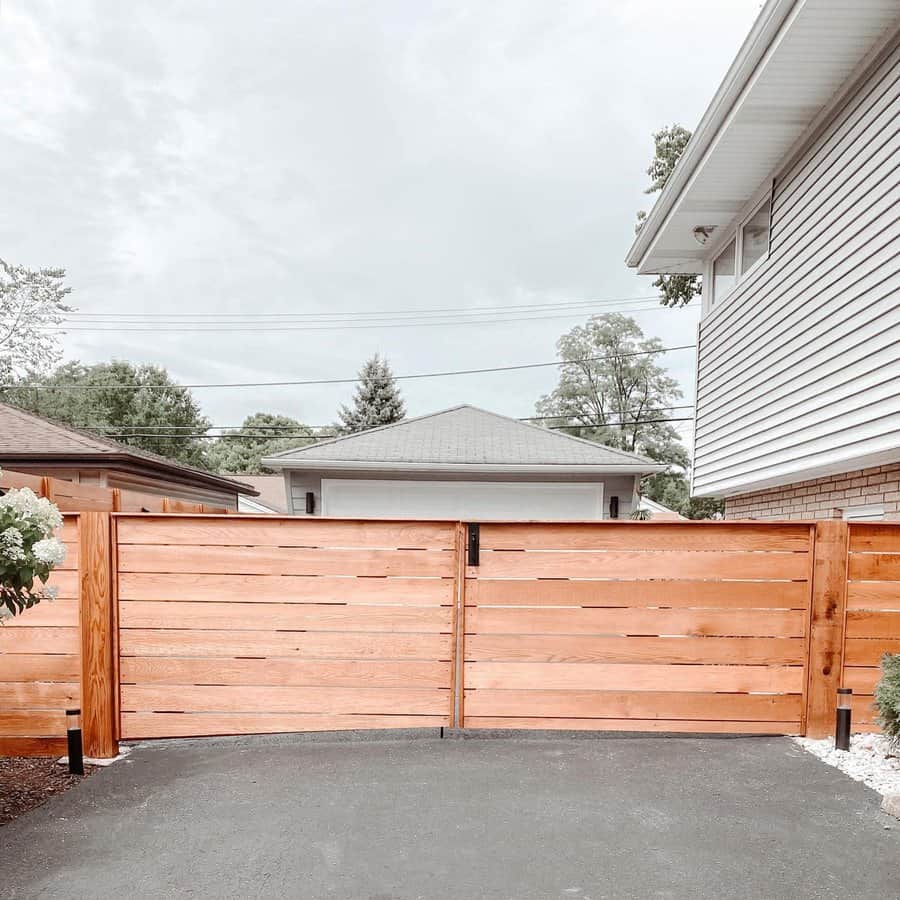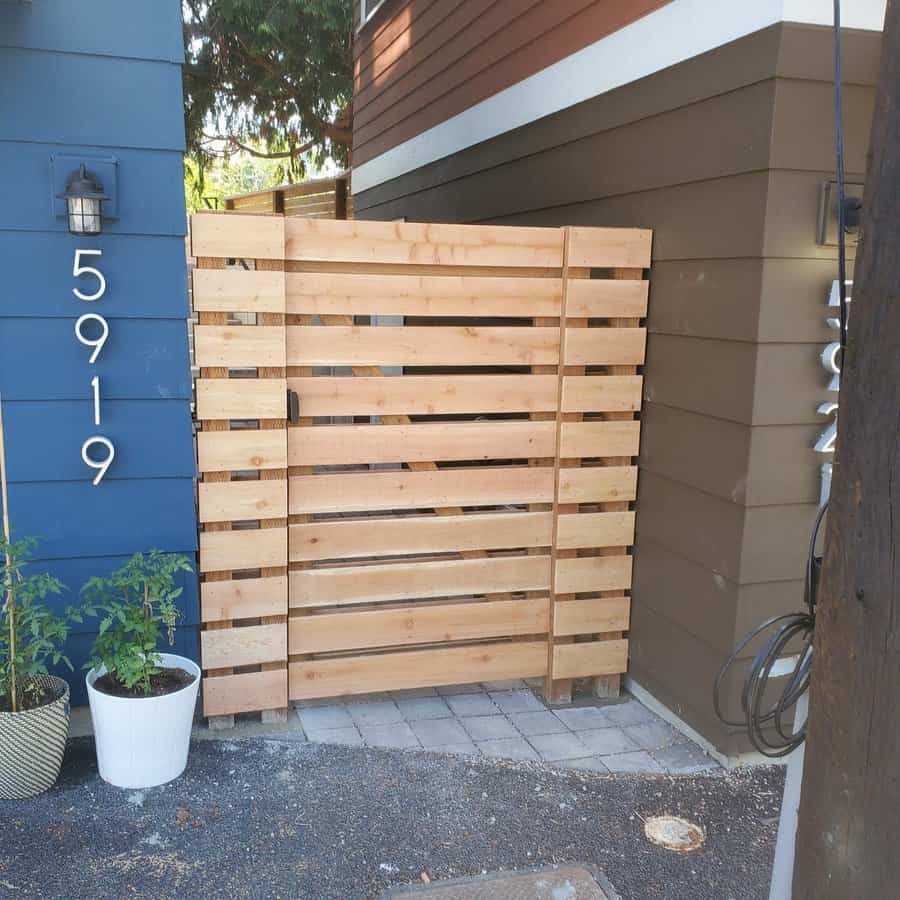 20. Panel Fence
If your backyard is lacking that extra something special, you can create an amazing and creative space with a narrow panel horizontal fence. This type of fence isn't bulky or obstructive and requires fewer posts than a traditional vertical fence – allowing for an unobstructed view of lush green grass or a vibrant gardenscape.
To give the look a true wow factor, add in some beautiful bougainvillea to amp up the vibrancy! The narrow horizontal fence provides the perfect backdrop to this exotic plant, and can instantly transform even the most mundane space into something magical.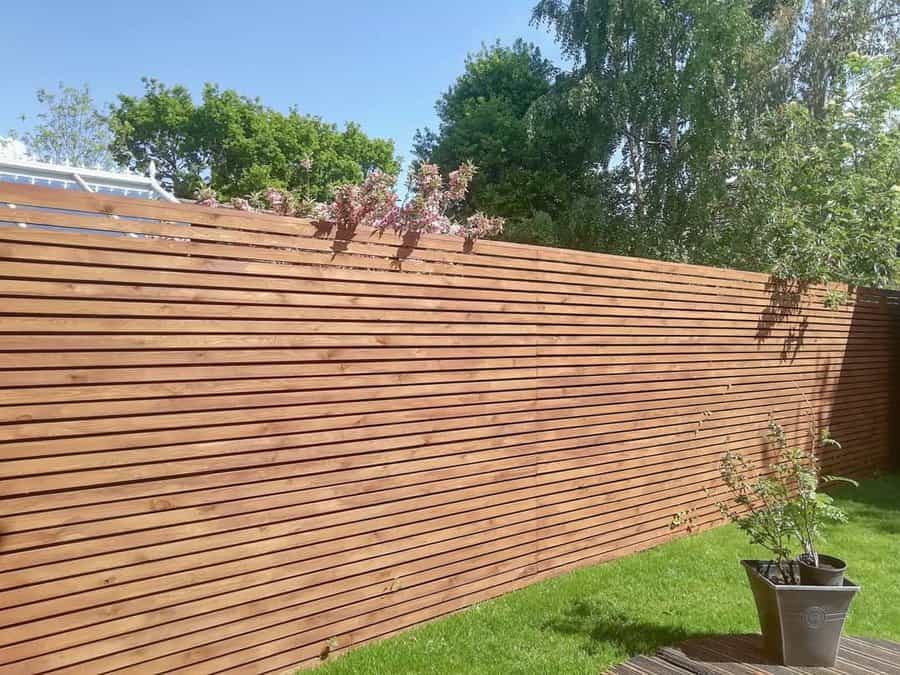 21. Aluminum Fencing
Installing a horizontal aluminum fence in your backyard is an excellent way to add a modern industrial touch to your outdoor space. This type of fencing will not only make for a beautiful, eye-catching statement but also provide much-needed security and privacy.
It perfectly complements the concrete patio you've been planning for months and will look great with the matching coffee table you recently bought. Whether it's for aesthetics or practicality, a horizontal aluminum fence is a perfect option for any backyard.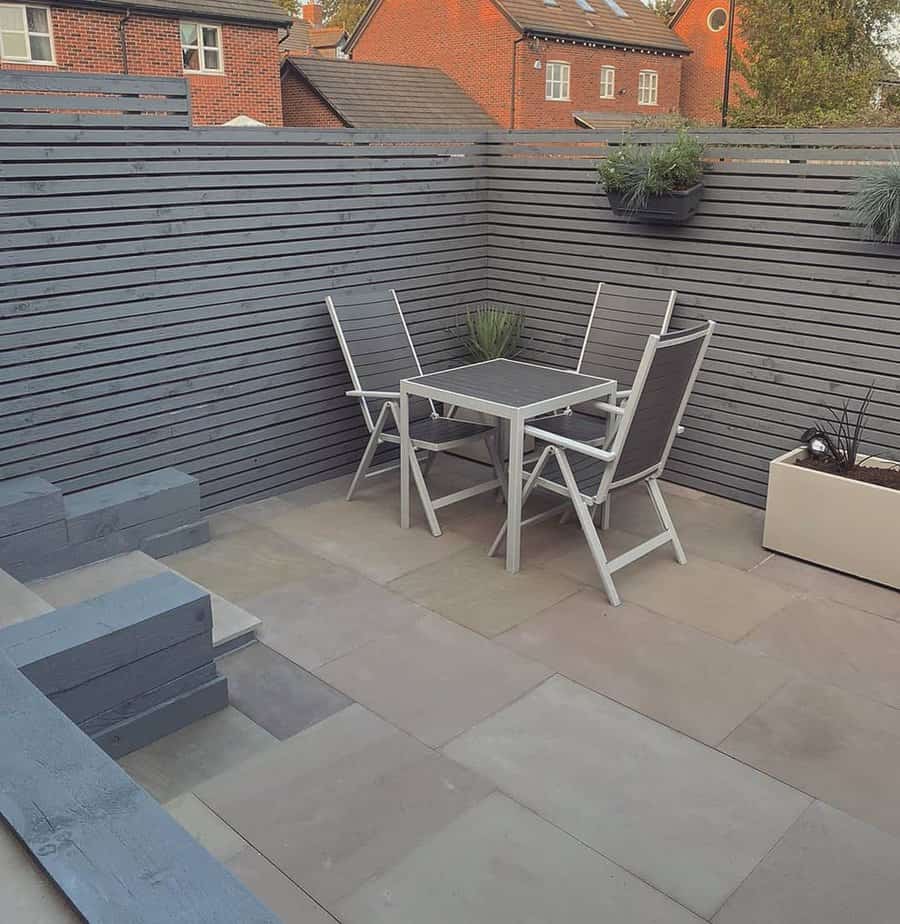 22. Wooden Privacy Fence
Be careful with privacy fence ideas. The first step is knowing how high you can build your privacy fence. Check your local laws, ordinances, and HOA rules.
Once you have this information, you choose fence panels that are the maximum height allowed. What's nice about horizontal privacy fences is that they give you more privacy than vertical fences.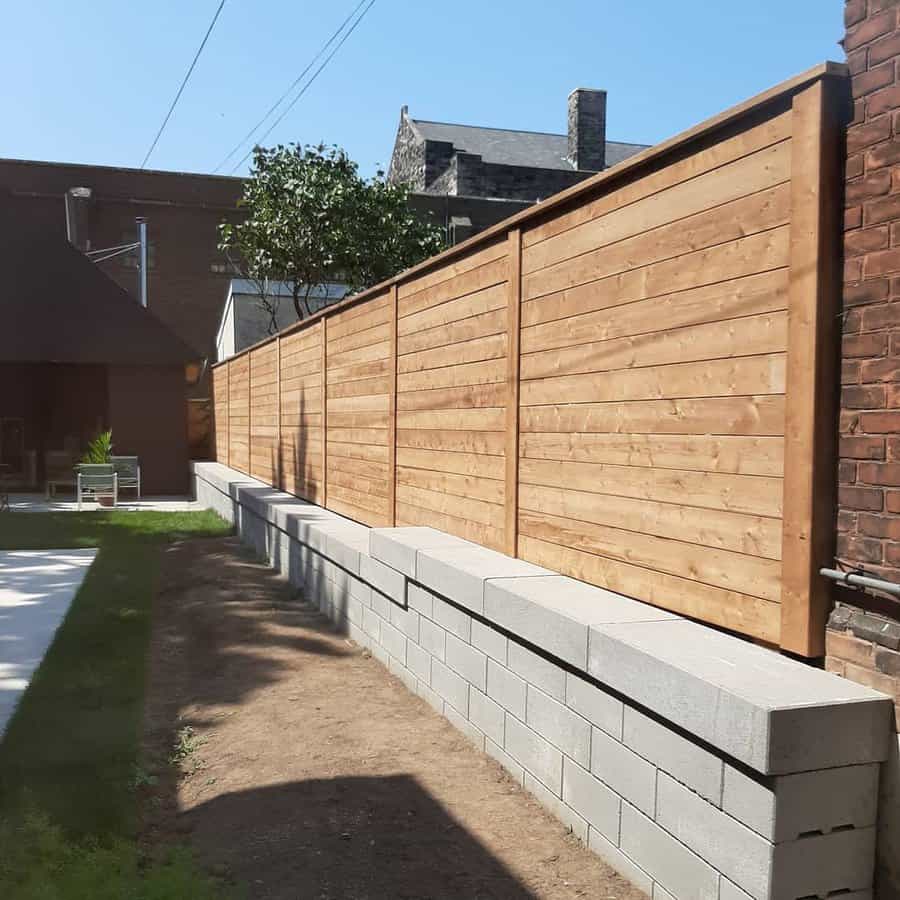 They typically have less space between the rails. This limits how much someone can easily see when looking through the fence. The horizontal design limits how much someone can see while standing.
23. Slope Fencing
People assume that they can't build a horizontal slat fence on a sloped piece of property. However, this isn't the case. There are two ways you can go about achieving this fence design.
The first is a simple method that can be achieved relatively easily. Start with horizontal fence panels. Step them down the hill as you build the fence. You'll need to account for the width of the panels and the angle of the slope.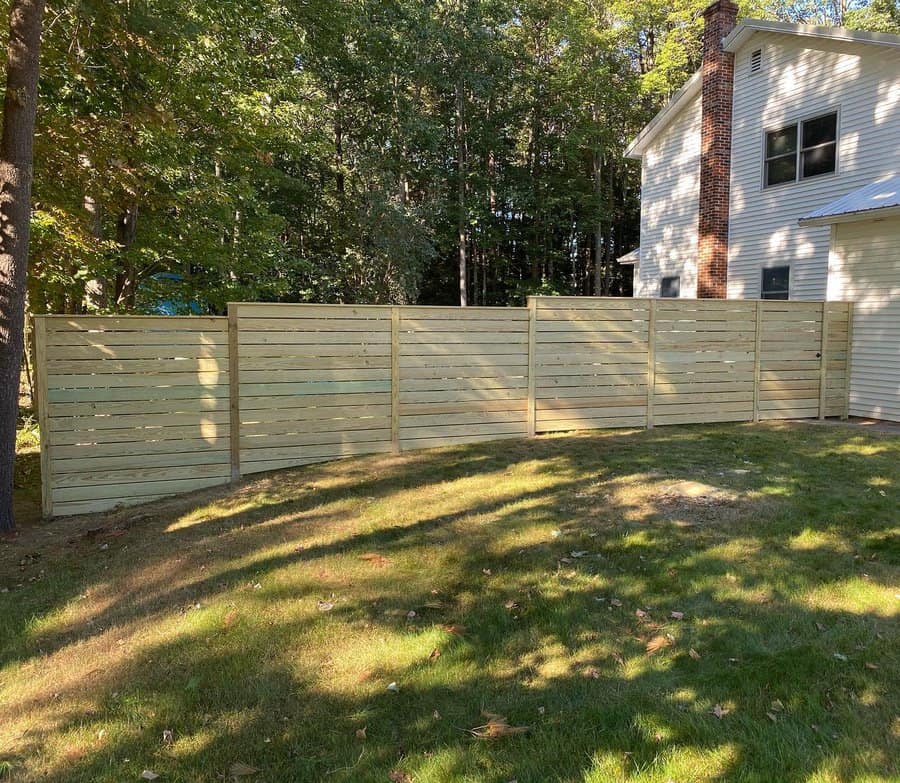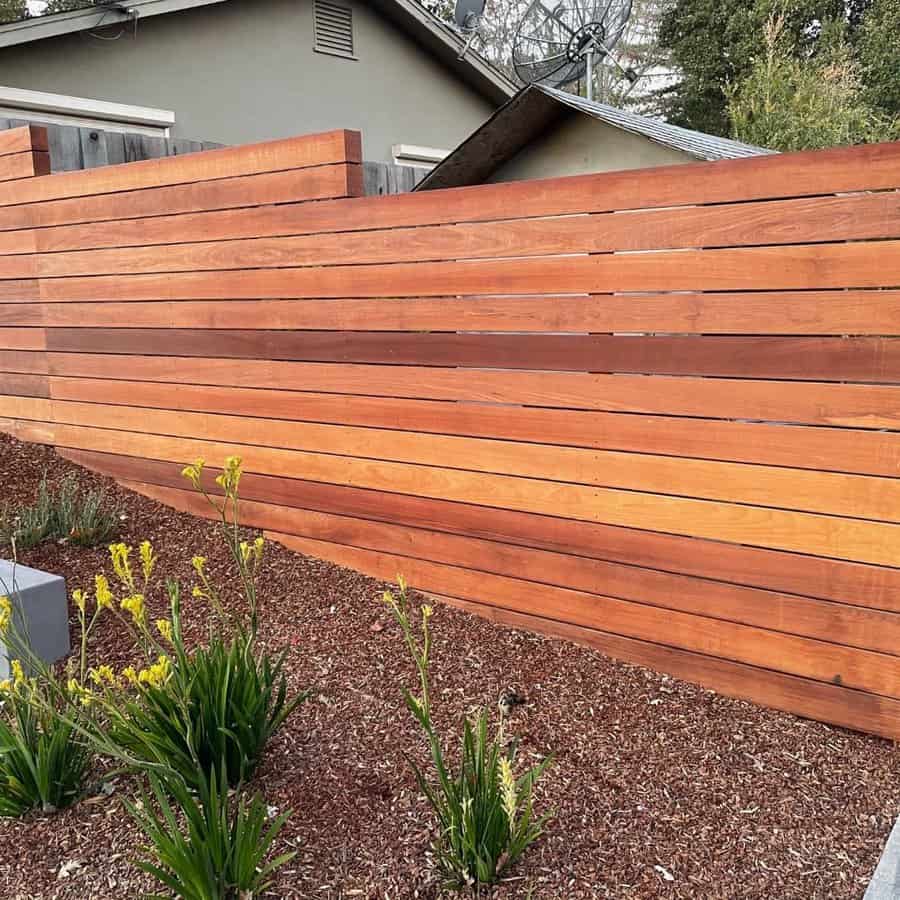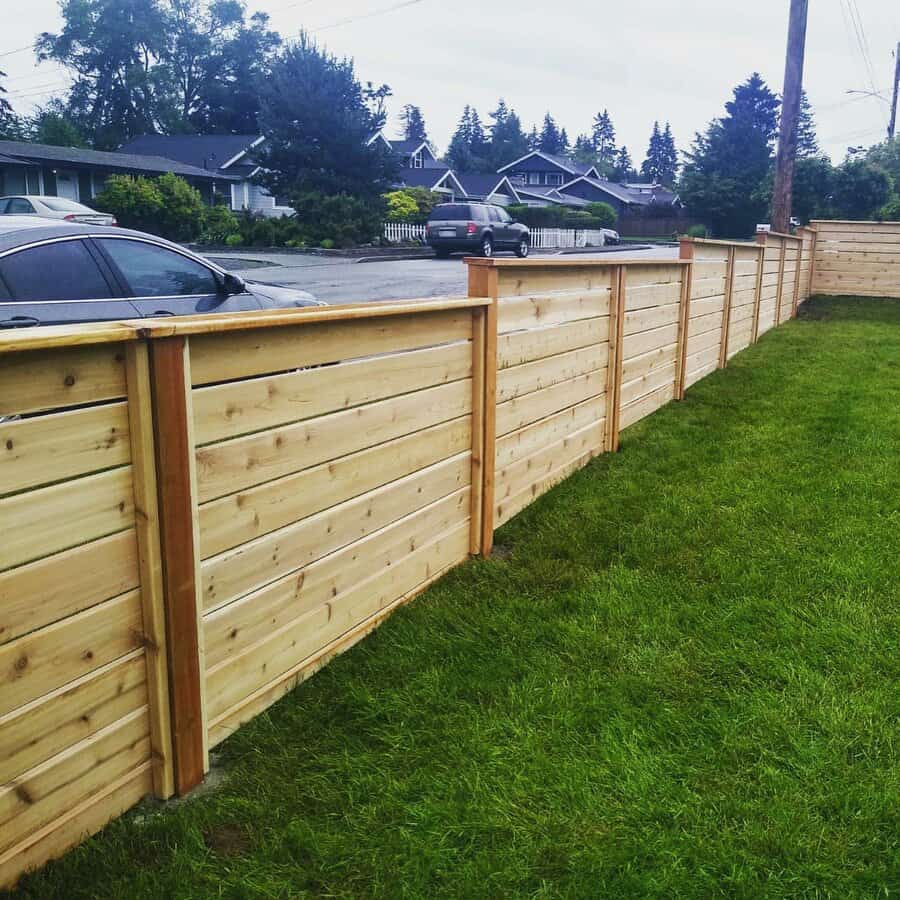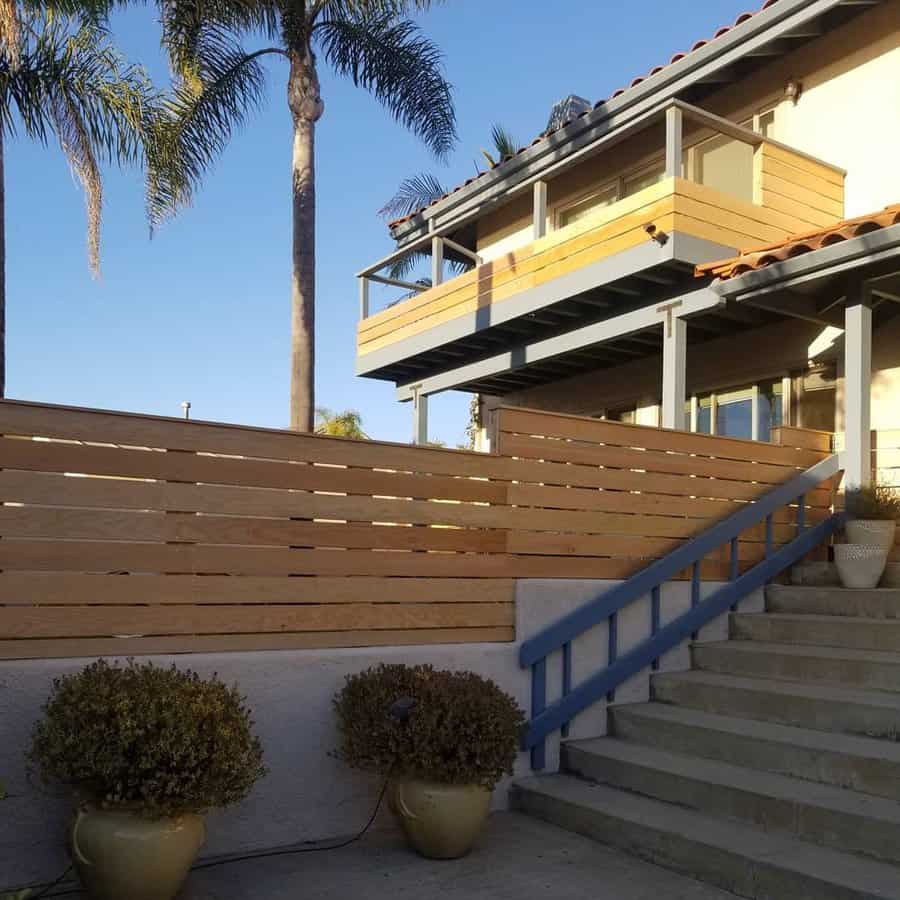 The other method is to custom-build your horizontal fence. This lets you custom arrange your rails to have continuous horizontal lines. You could then add and remove rails from the top and bottom as you build your fence up or down the slope.
24. Hickory Wood Fencing
Adding a hickory wood fence to your backyard can transform it from a bare landscape into an oasis of cozy warmth. With this spectacular feature, you can create the perfect space for hosting dinner parties, lounging in the sun, and playing games with friends and family.
Not only is this type of fencing extremely attractive, but it also adds to the privacy of your outdoor space since you'll be able to control who comes and goes through your gate.
Best of all, hickory wood fences are known for their durability and low-maintenance needs, so you won't have to worry about repair or touch-ups for years to come.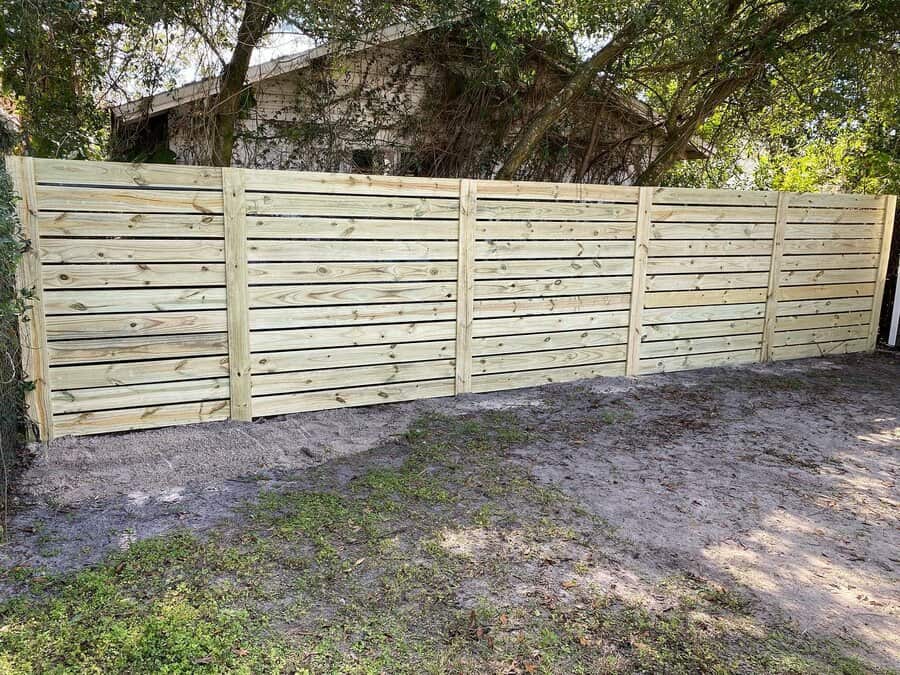 Horizontal Fence FAQs
Is it cheaper to build a horizontal or vertical fence?
Horizontal fences tend to be more expensive than their vertical counterparts. Higher grade lumber is needed for horizontal fences to reduce warping and sagging. They also use more materials.
How do you keep a horizontal fence from warping?
To prevent your fence from warping, you need to install back rails. These are horizontal rails at the top and bottom of the fence. They should be no more than eight inches from the top and bottom. If you have a tall fence, six feet or taller, then you'll want an additional support rail in the middle too. Fences taller than eight feet need two middle support rails.
How far apart should fence posts be for a horizontal fence?
Layout the placement of your fence before you start building it. The posts should be no more than six feet apart. Any further apart, and you compromise the structure and stability of your fence. Too close together, and it will look too busy and lose the horizontal plank effect. If you buy pre-made fence panels, you can place the posts the distance that the panel is wide.