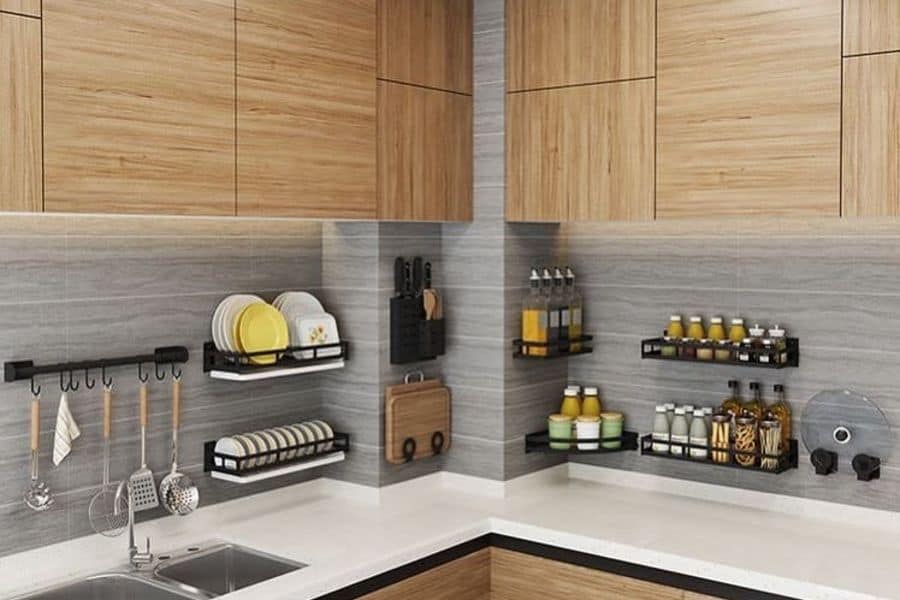 The Top 98 Kitchen Shelf Ideas
You've been slowly collecting kitchen tools and small appliances over the years.
You didn't notice as it was happening, but you've now run out of counter space. It's time to take your counters back. Adding shelves to your kitchen can give you more kitchen storage.
You could buy a utilitarian rack from your local home improvement store. But this won't add to the decor and aesthetic of your kitchen.
Instead, why not add shelves that will be both visually pleasing and functional? These kitchen shelf ideas will help you create more storage space in your kitchen.
1. Floating Shelves
A floating shelf has a modern look with a sleek shelf and no visible hardware. You can make your floating kitchen shelves be as large or as small as you want.
You could have one large floating shelf that extends the entire length of your kitchen. Or you could have several smaller shelves mounted above each other.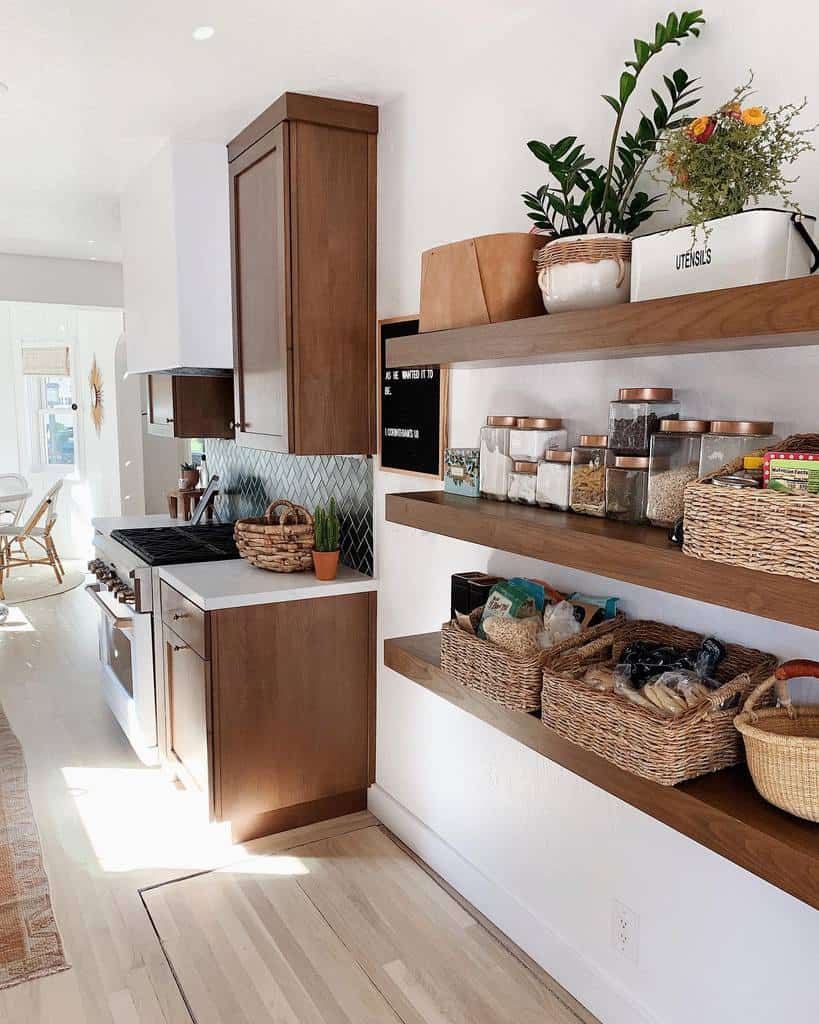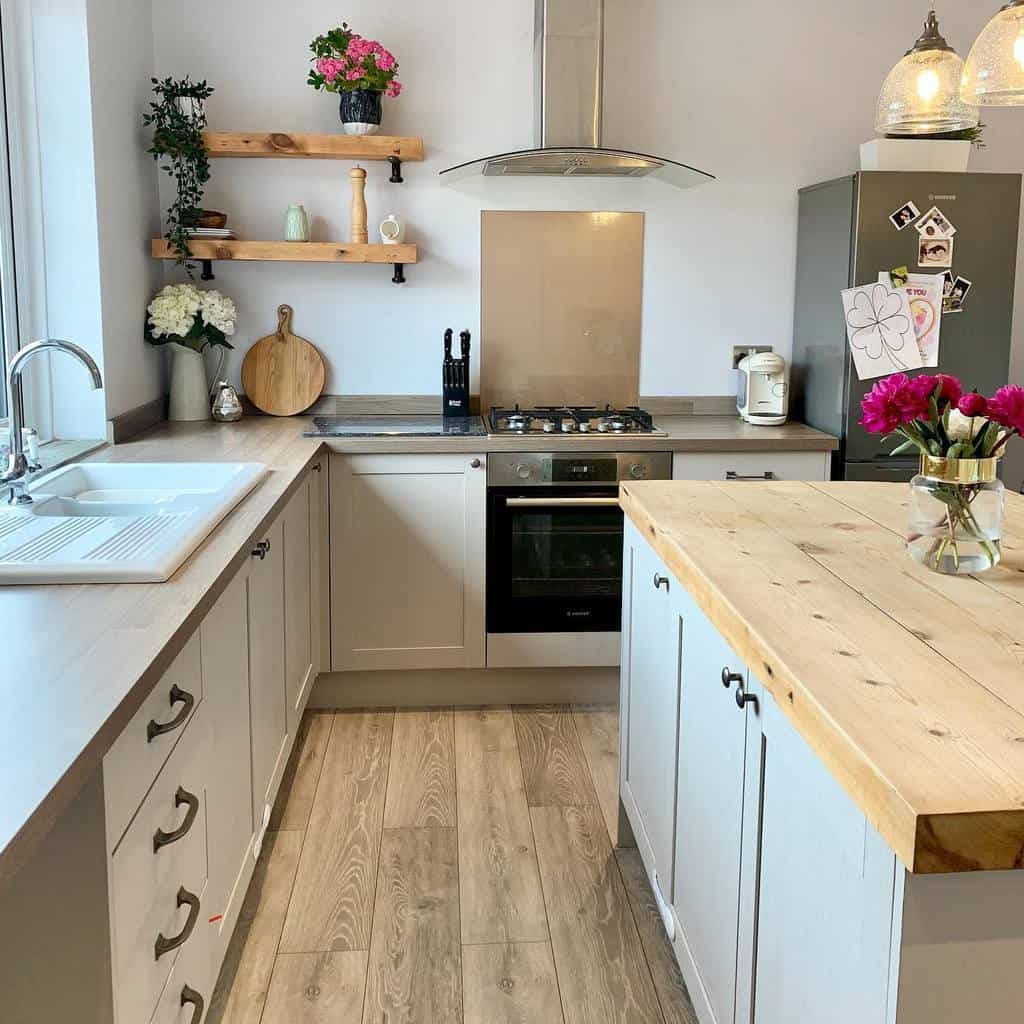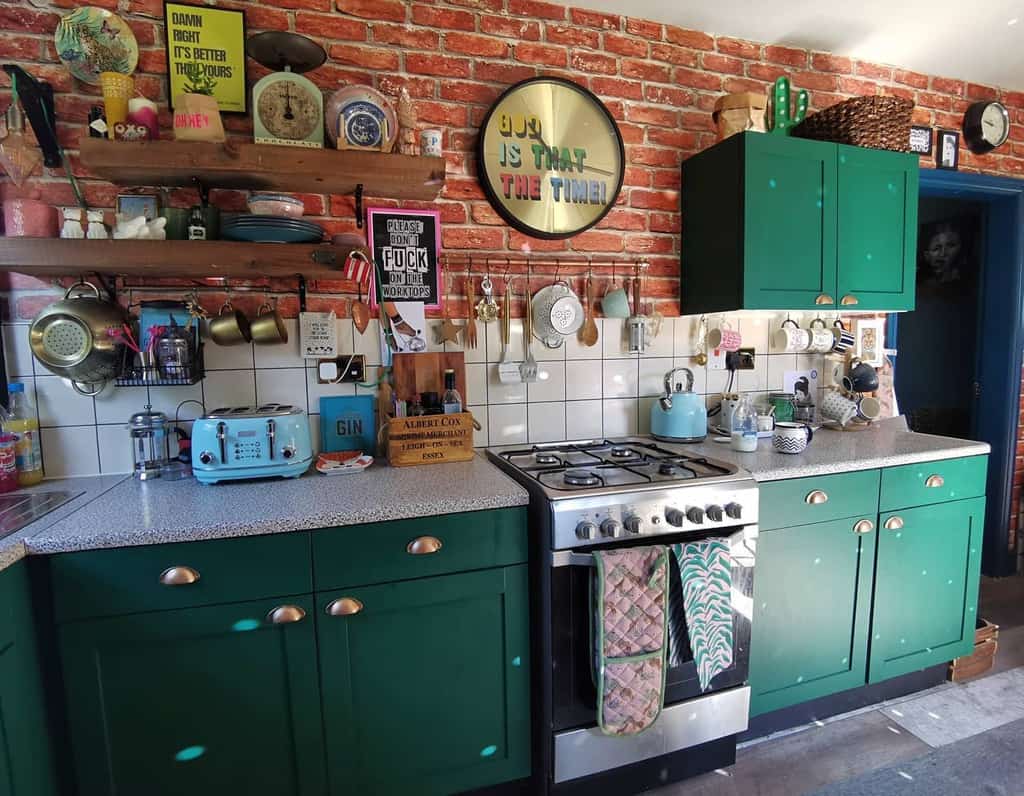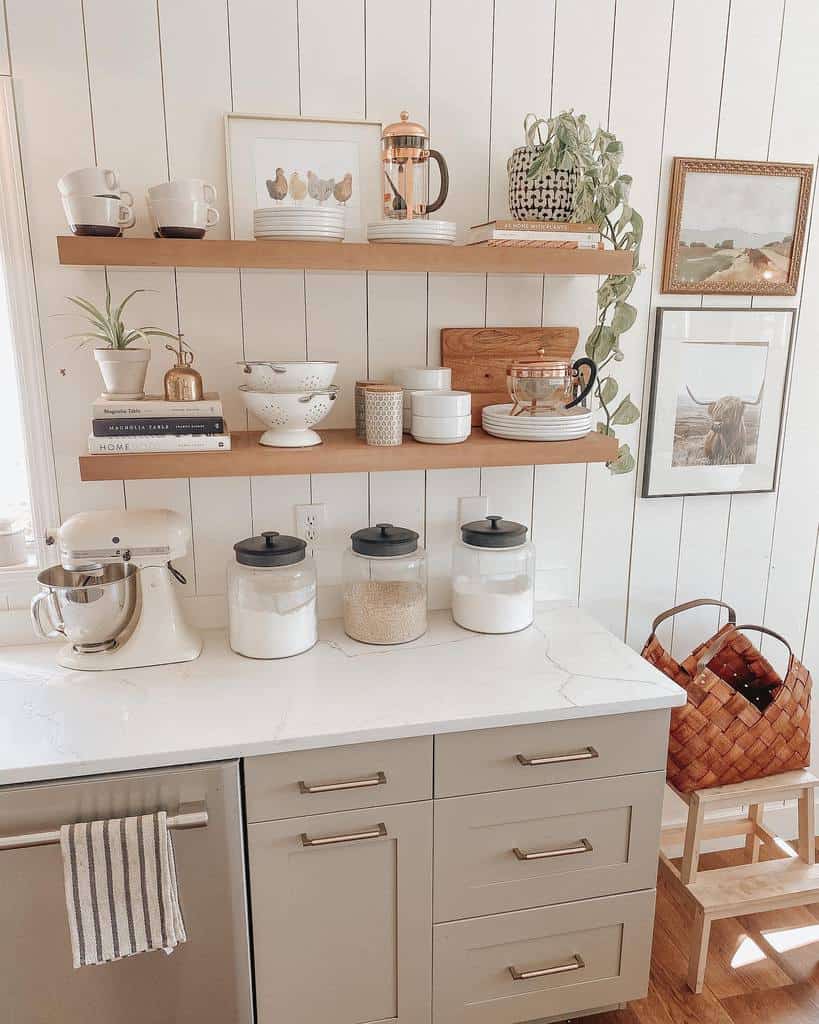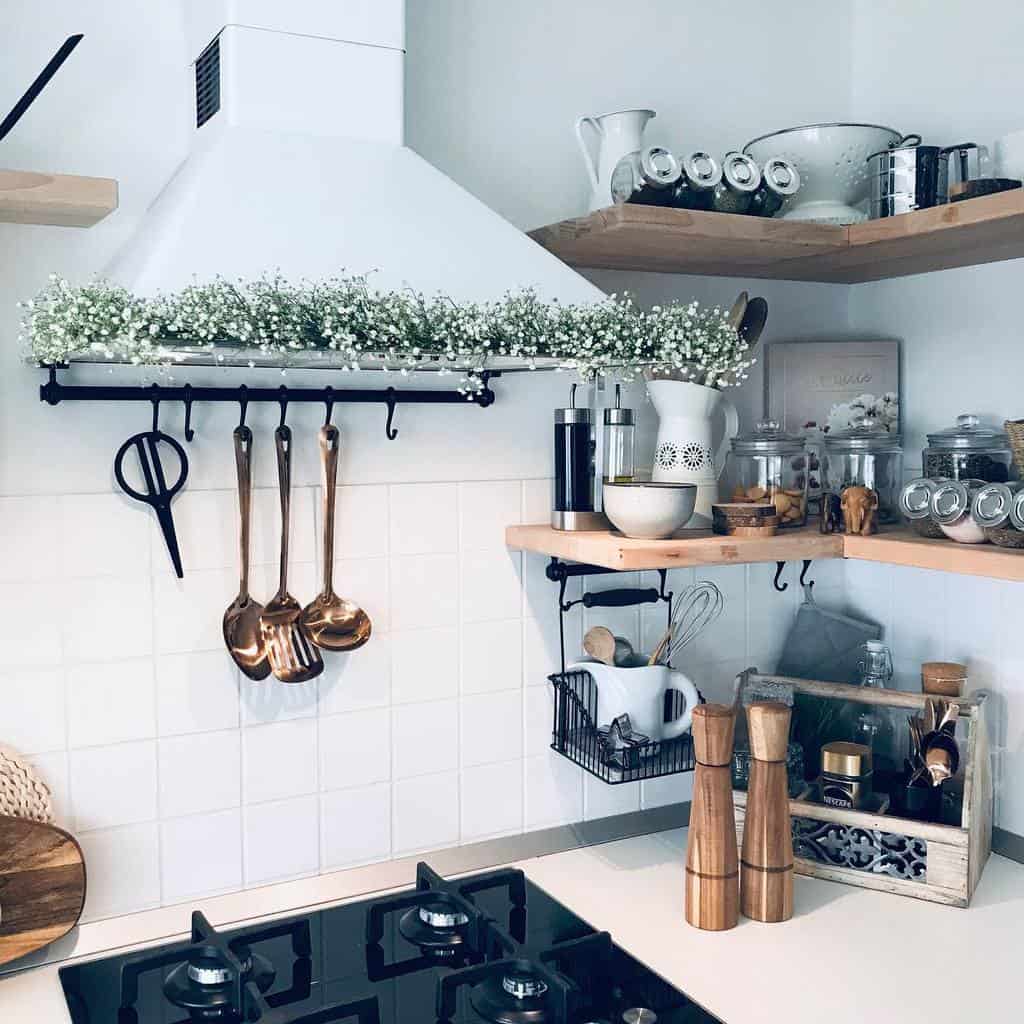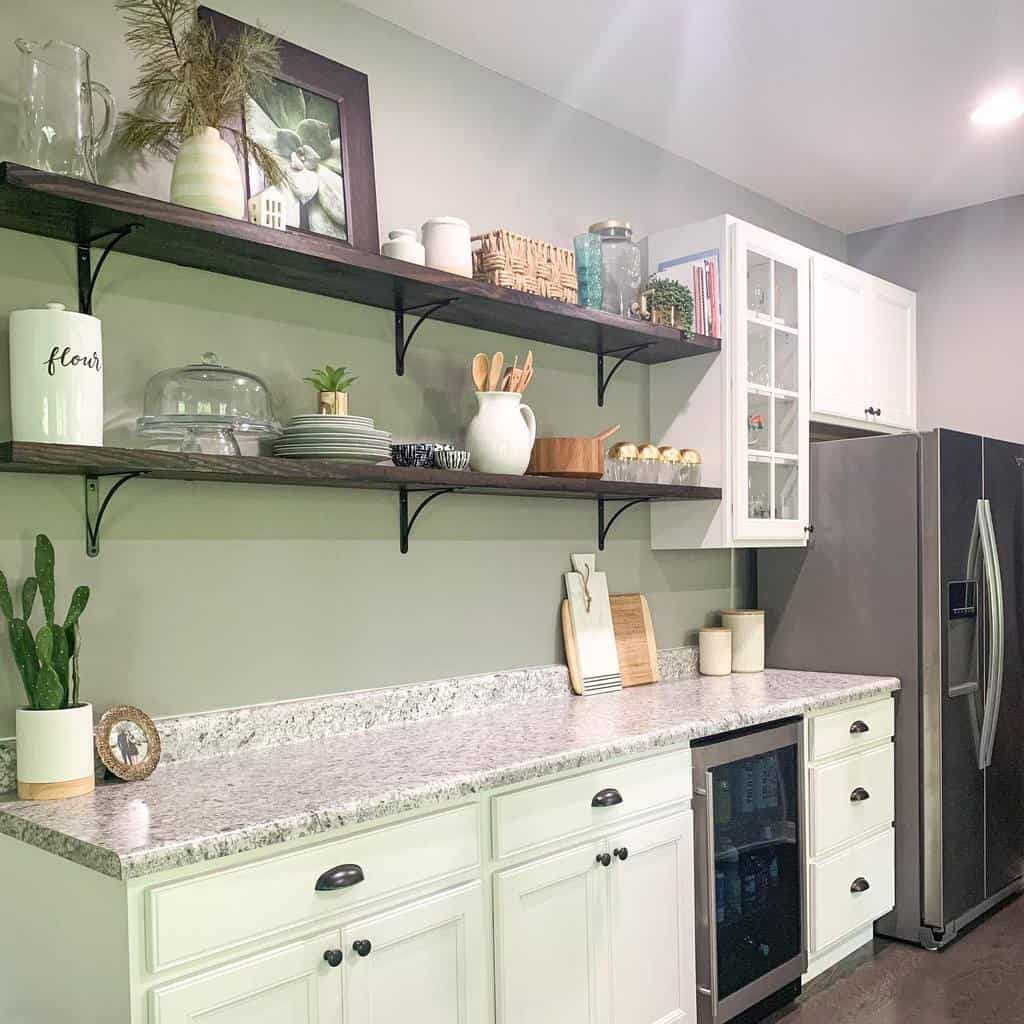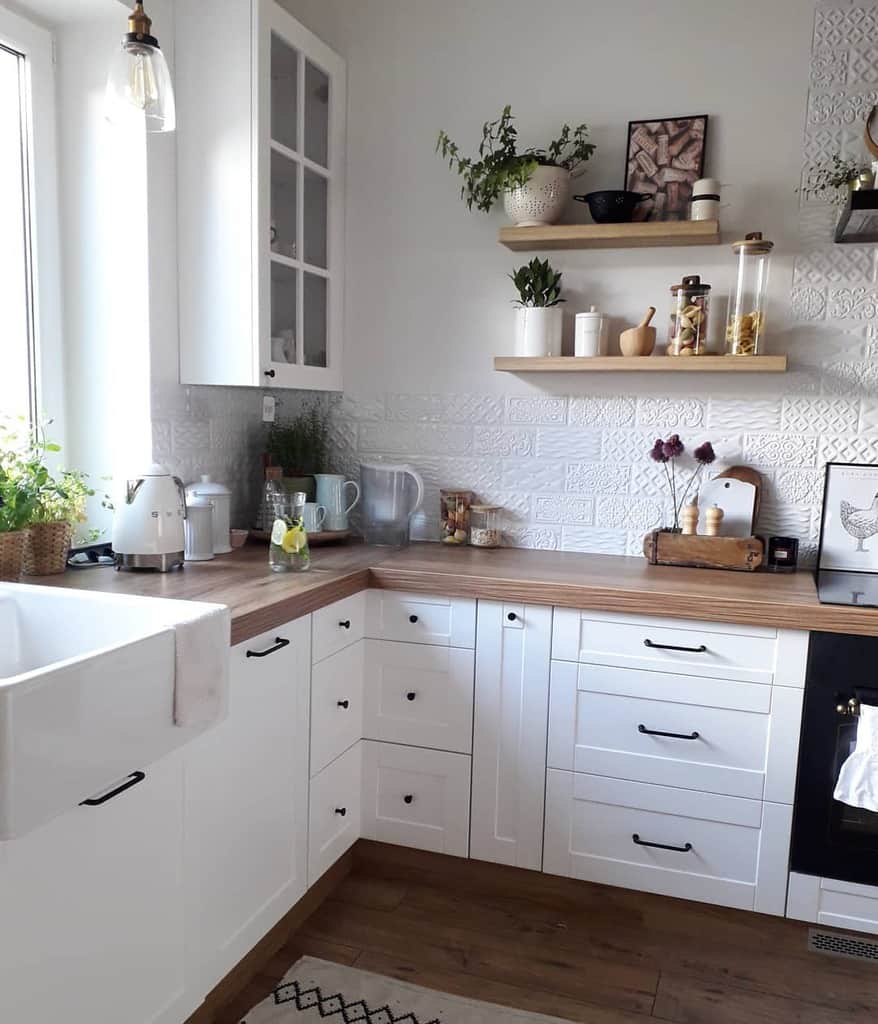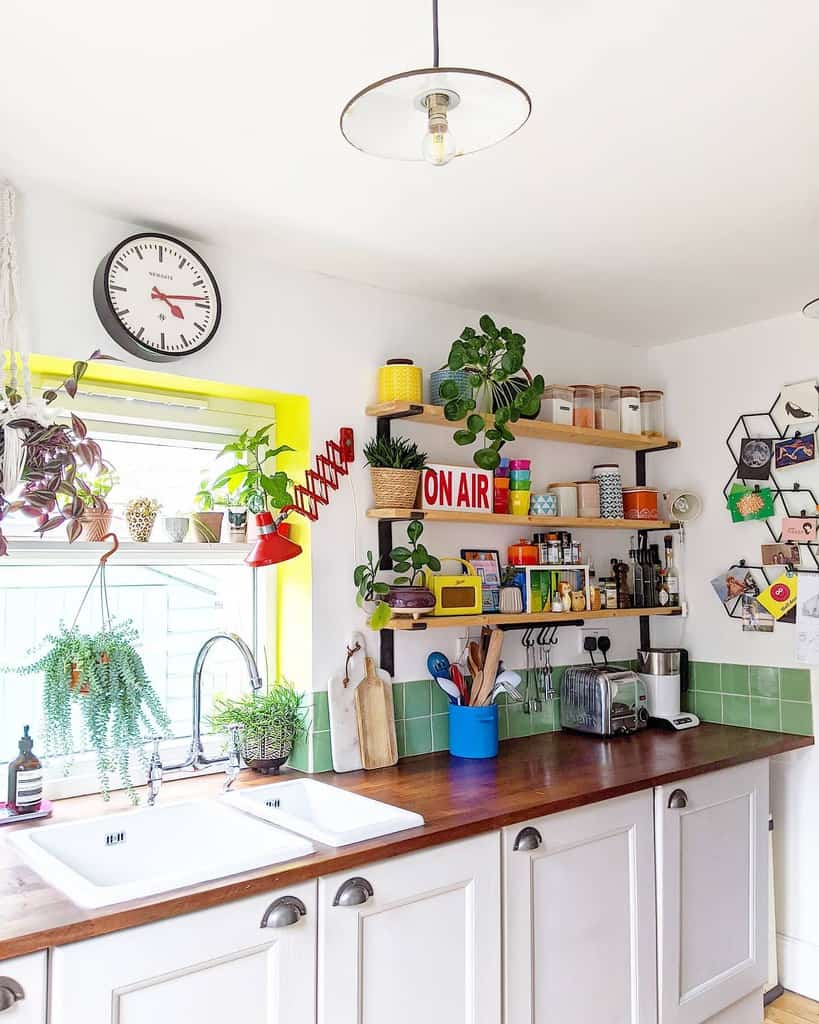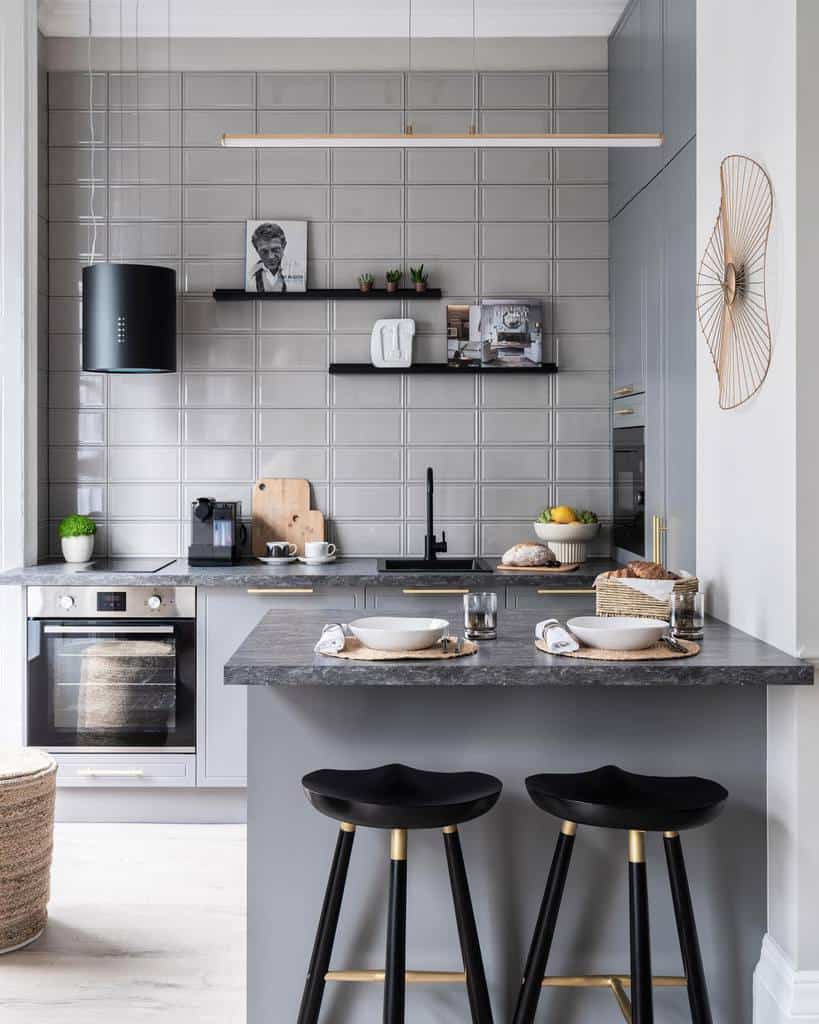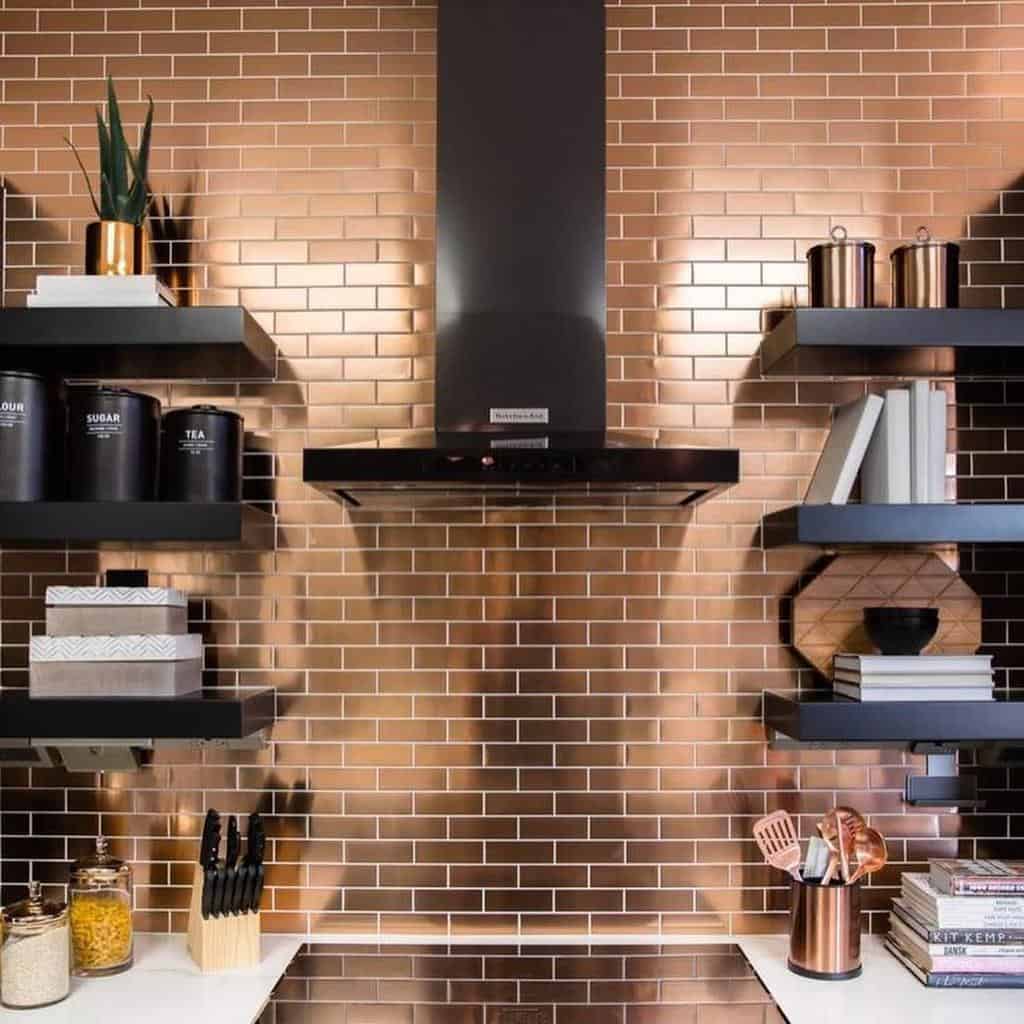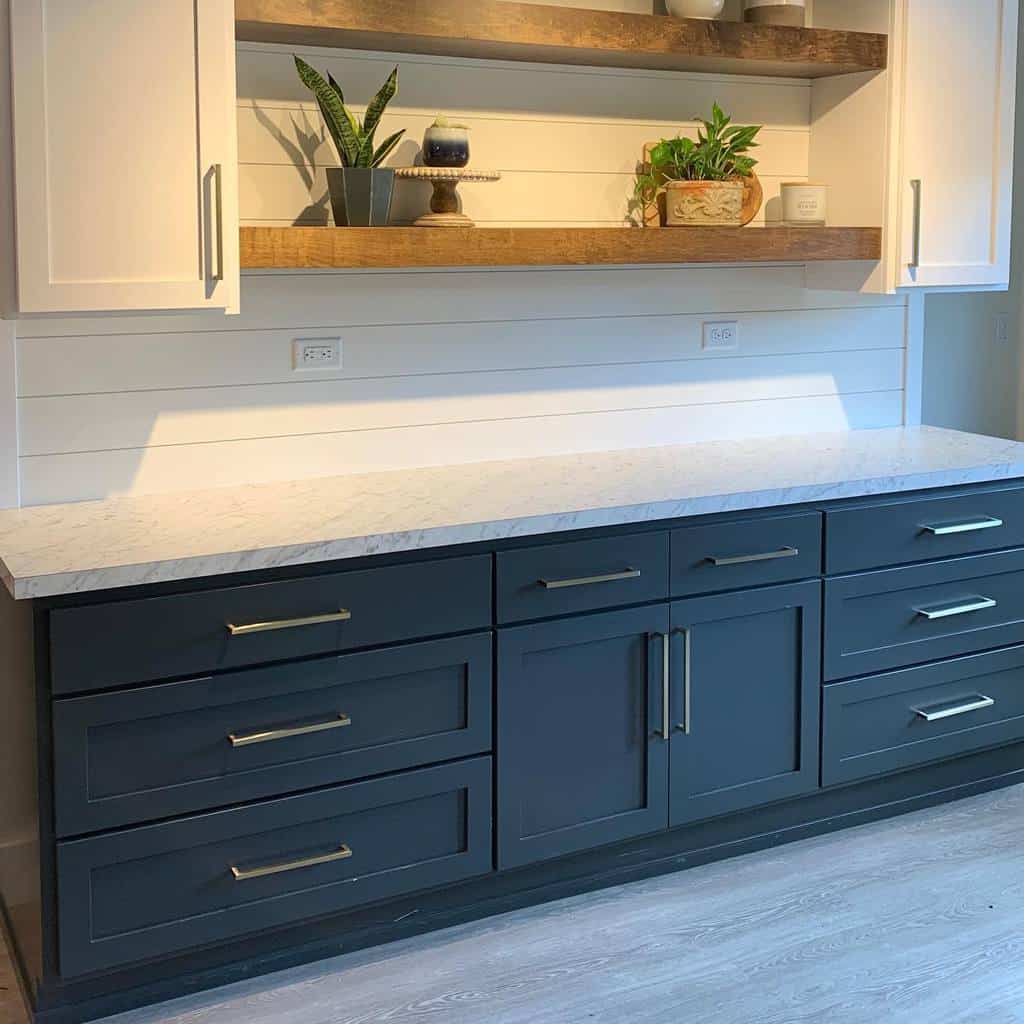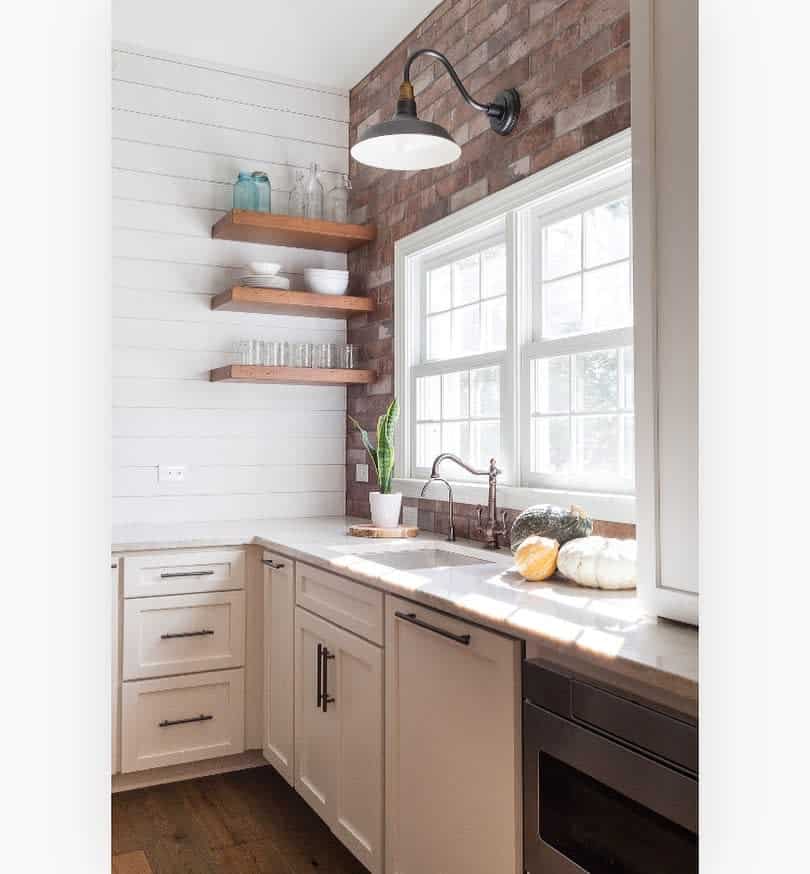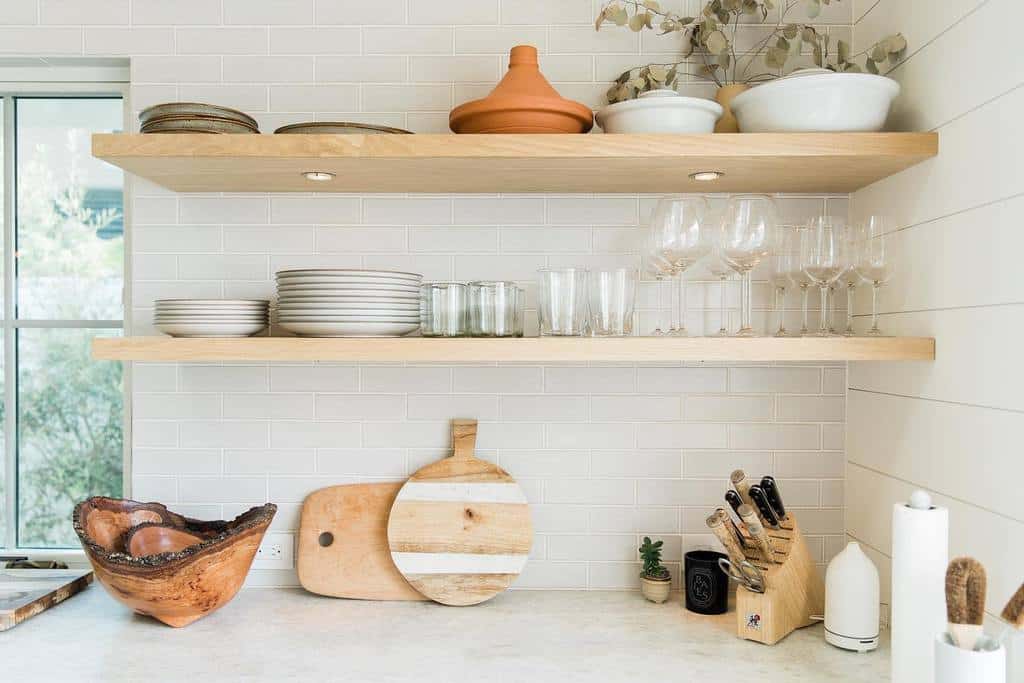 When mounting your floating shelves, be sure to mount them to the studs. This will ensure your shelf has the most strength to support whatever you decide to place on it.
2. Metal Shelves
If you have a modern kitchen, then add open kitchen shelving that matches this aesthetic. Metal or glass shelves are a smart choice for a contemporary kitchen design.
Floating shelf brackets are the best hardware for this style of shelf. However, you could choose a straight-line bracket with minimal hardware.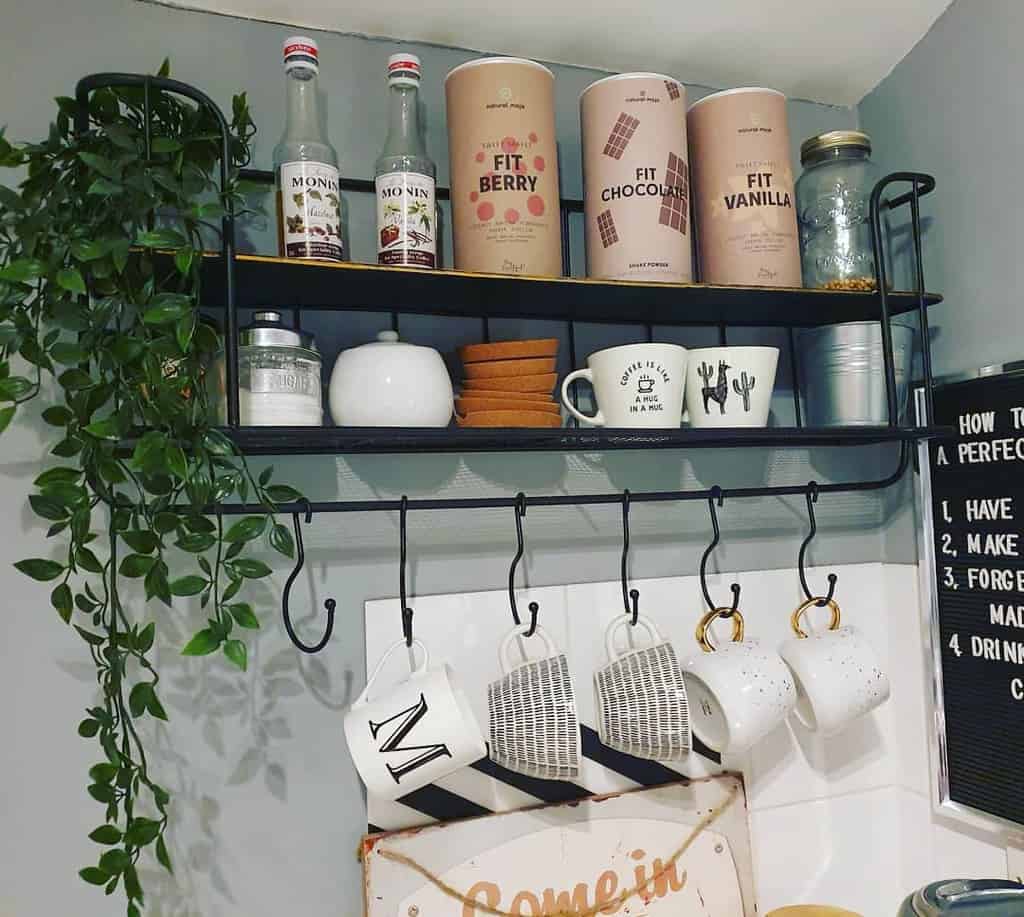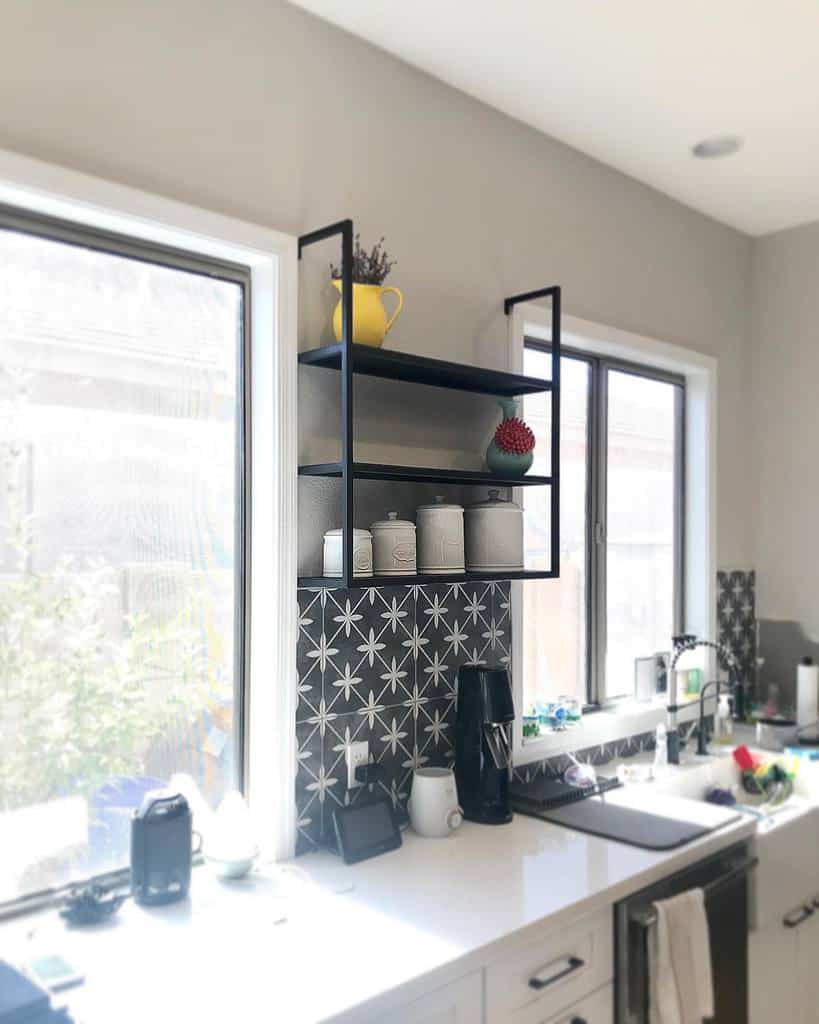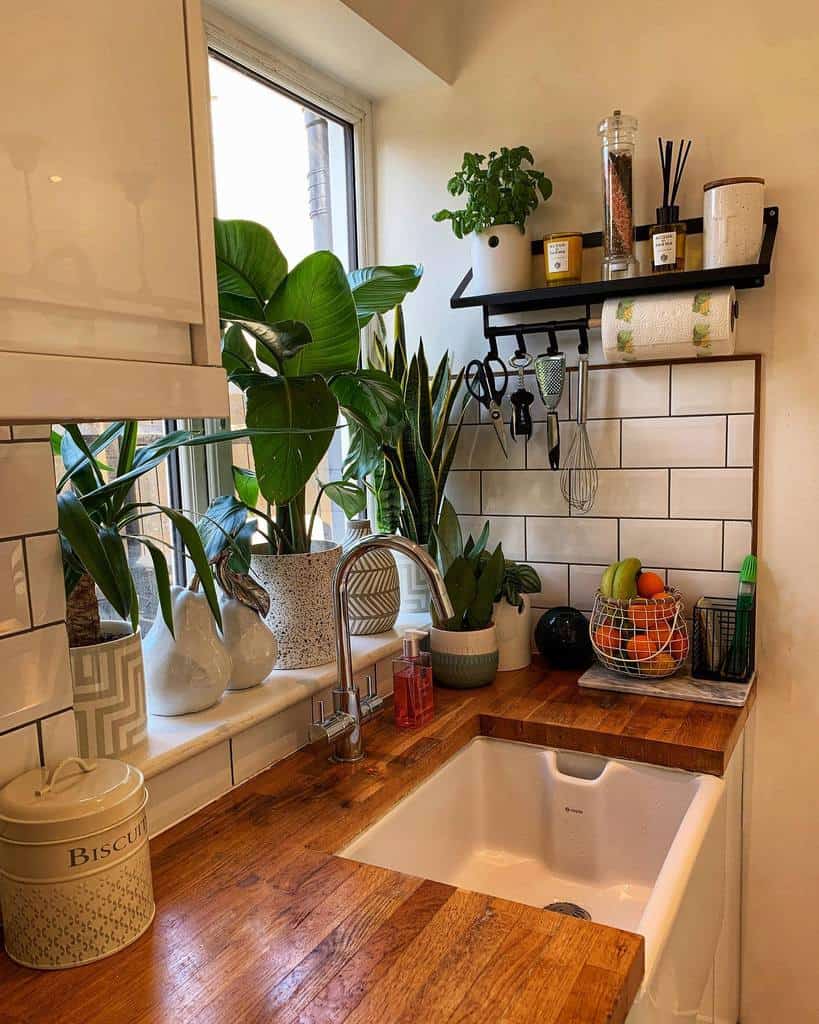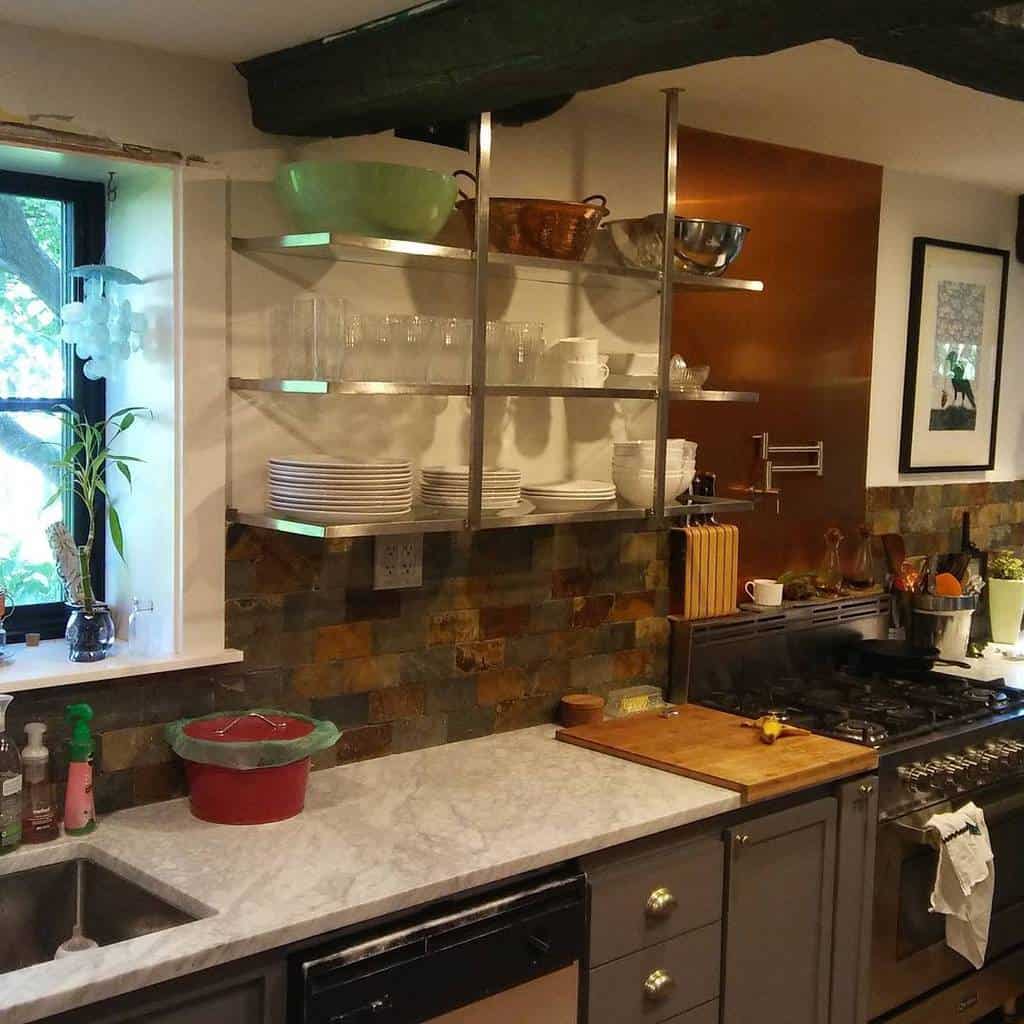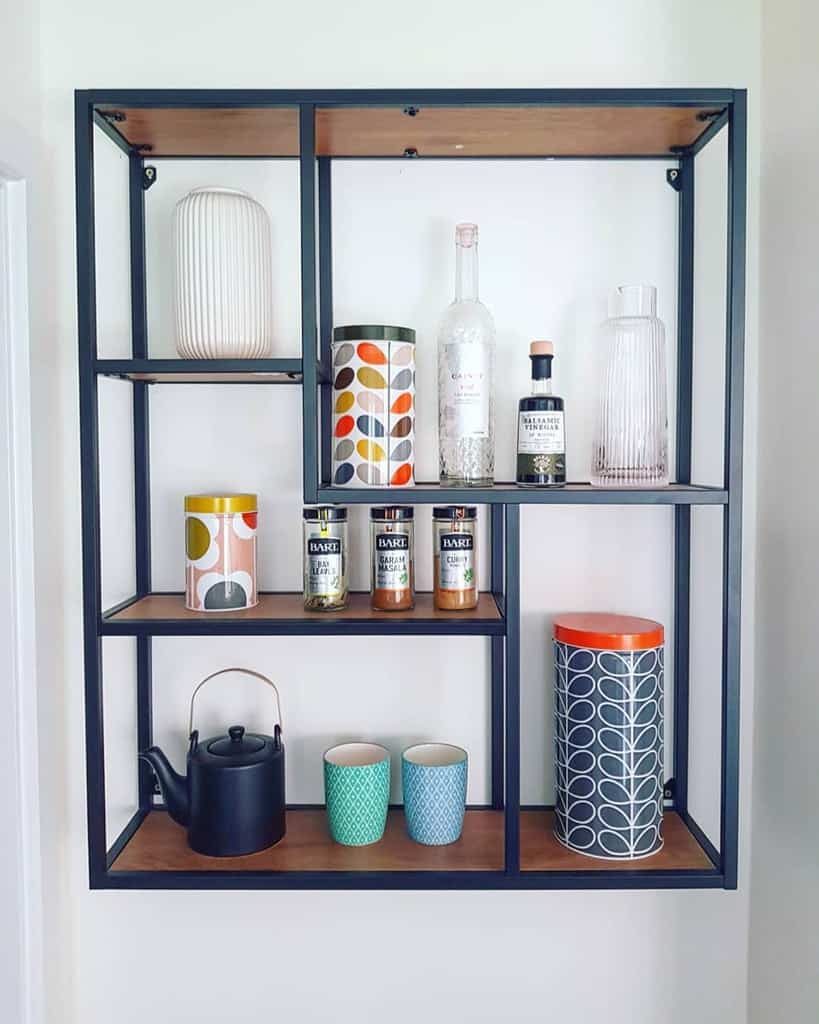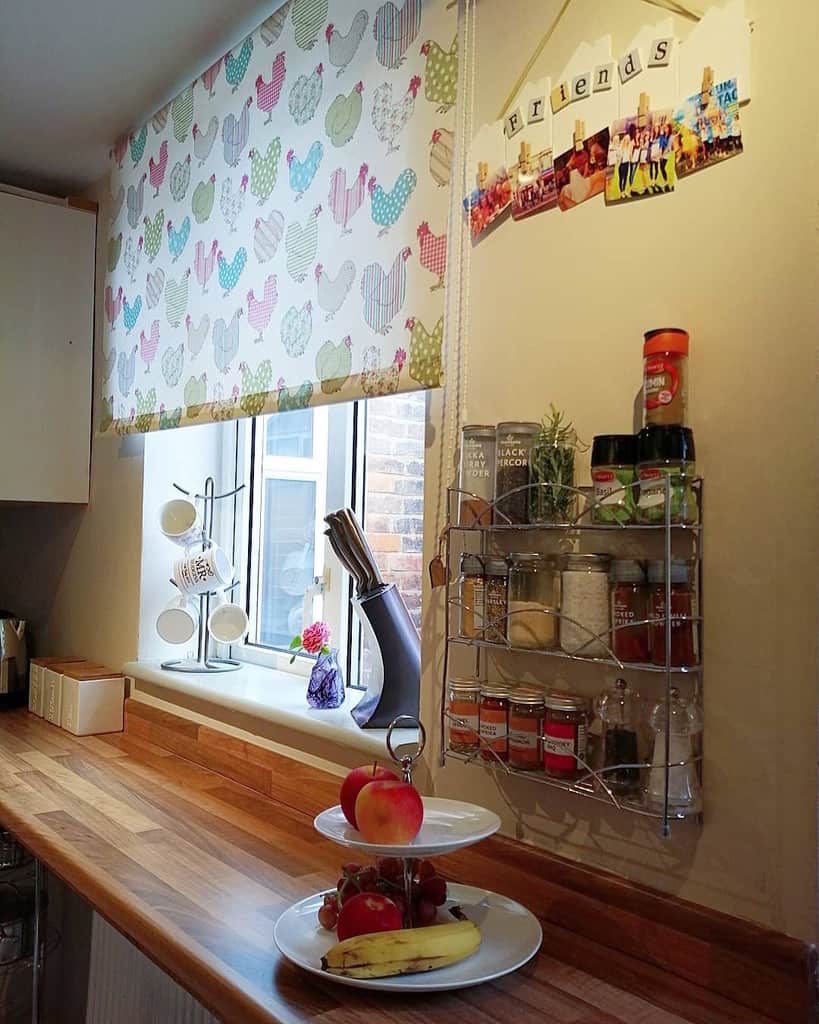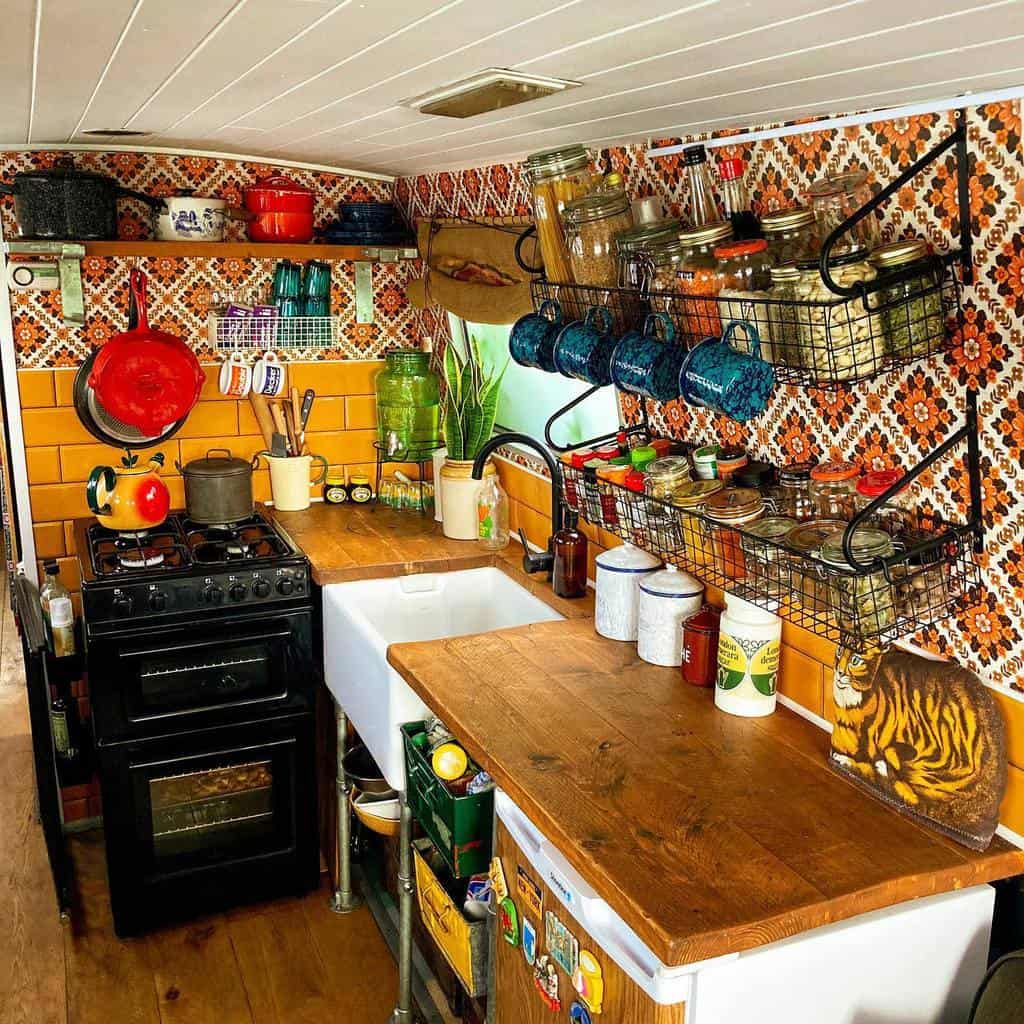 When choosing the metal for your hardware, you'll want to look for something that is corrosion-resistant and durable. You can't go wrong with high-quality stainless steel.
Aluminum and iron are also good choices. Choose a metal that fits your budget and has the design aesthetic you're hoping to create.
5. Narrow Shelves
If you have a tiny kitchen, then look for narrow shelves. They will take up less room by having a shallow depth. The reduced depth will help to keep your kitchen feeling open.
You can also do this by using glass shelves. Look at kitchen shelving ideas with glass shelves, and you'll see how the kitchen still feels large.
This is because you can easily see through and beyond the shelf, tricking your eye into thinking the kitchen is larger than it is.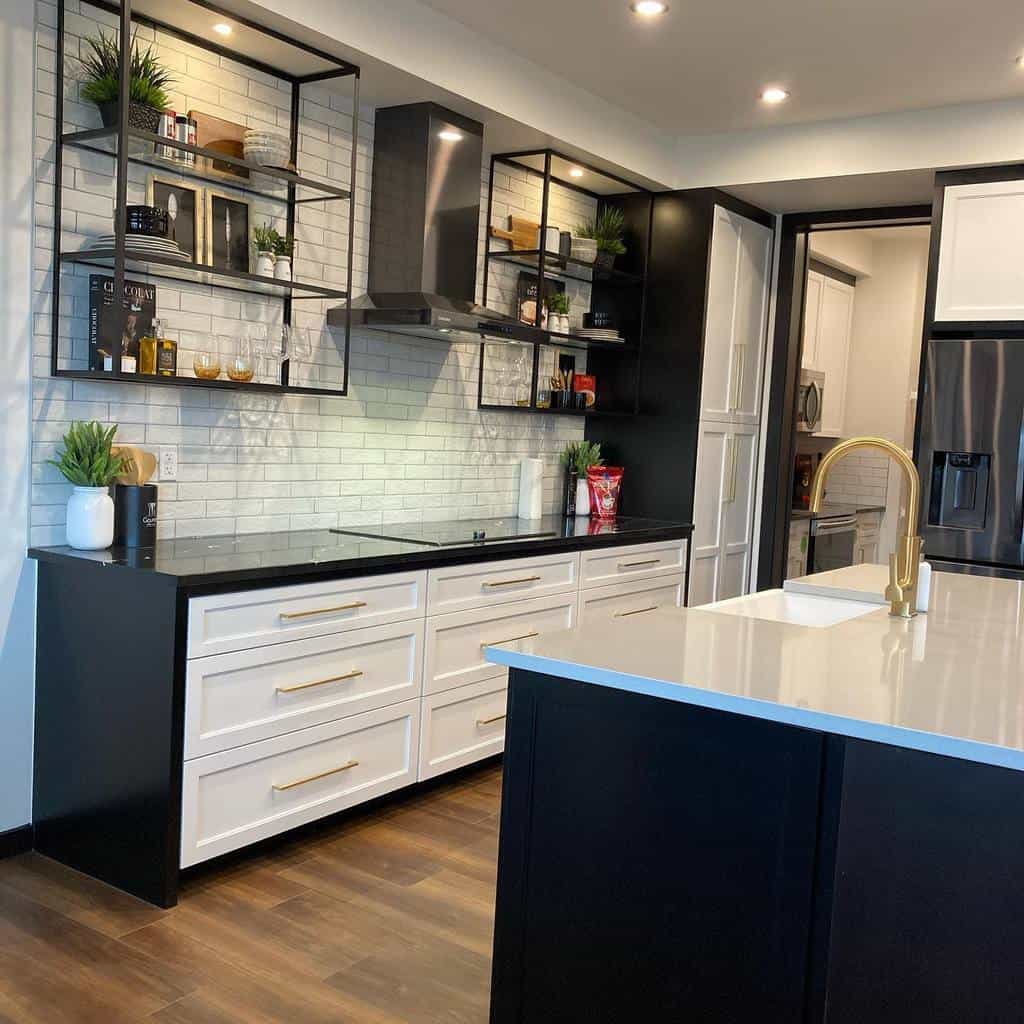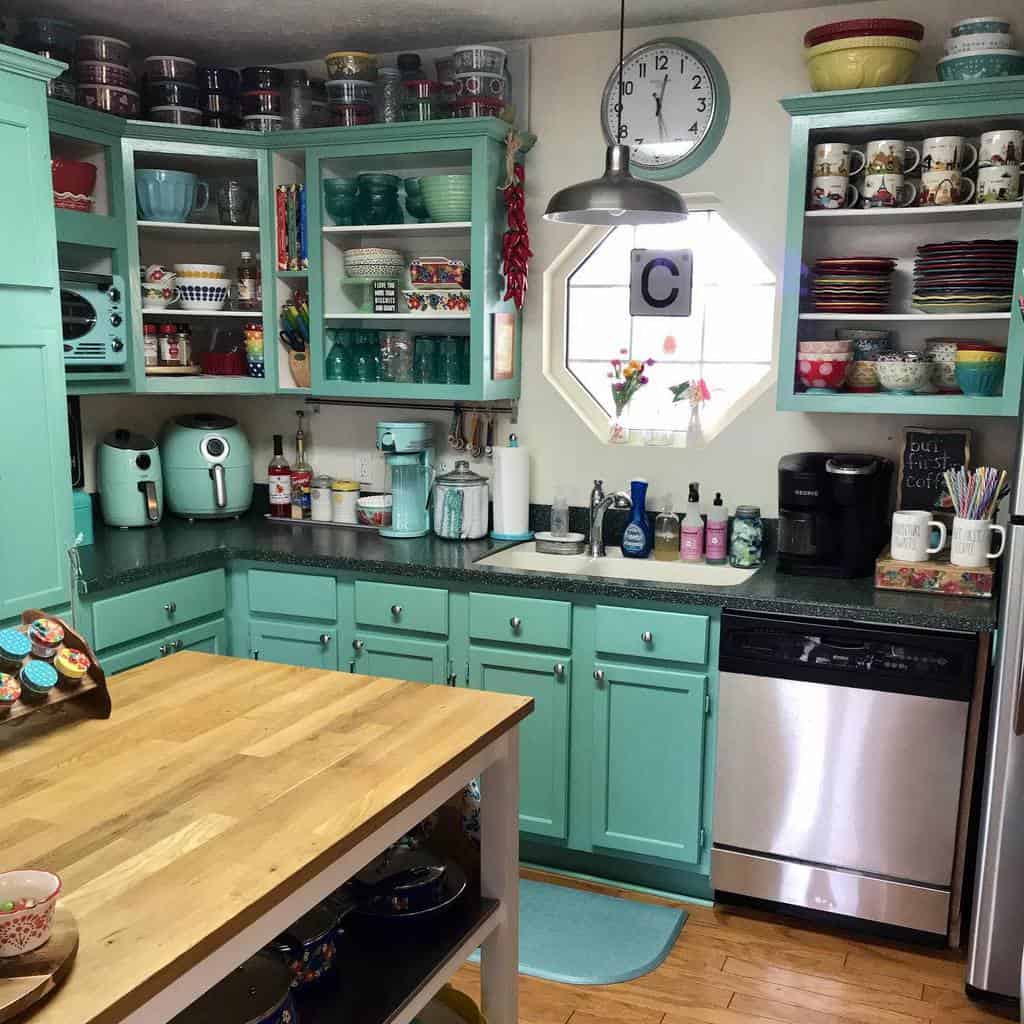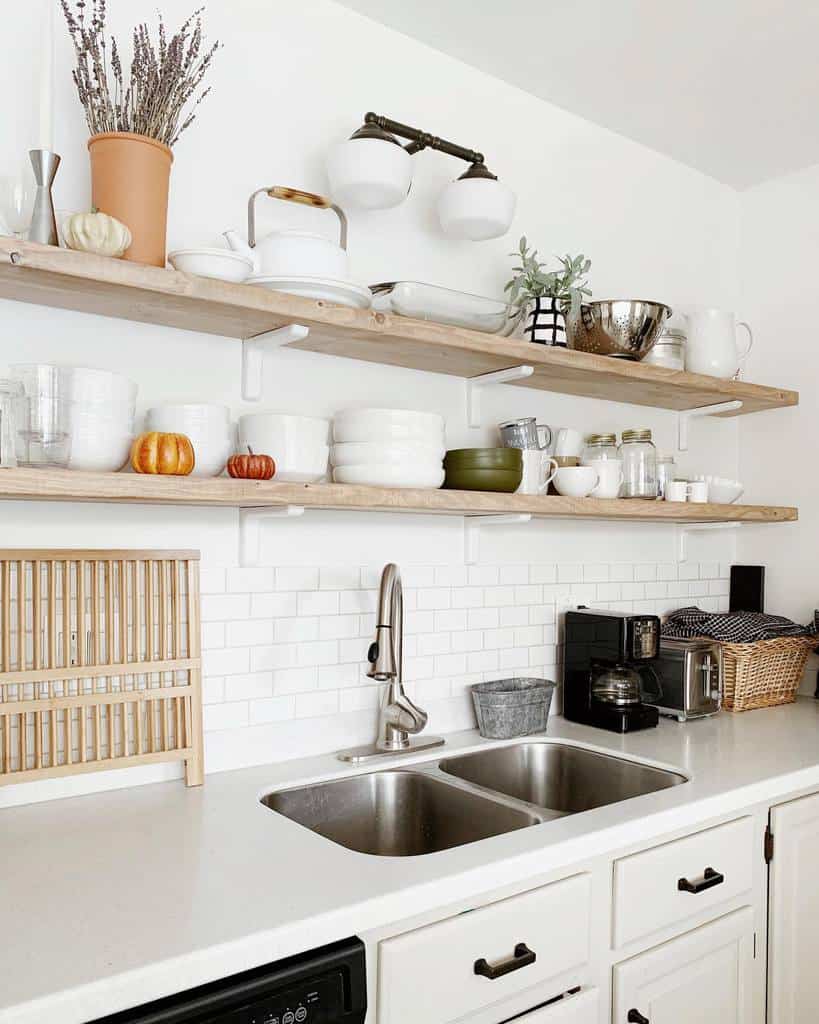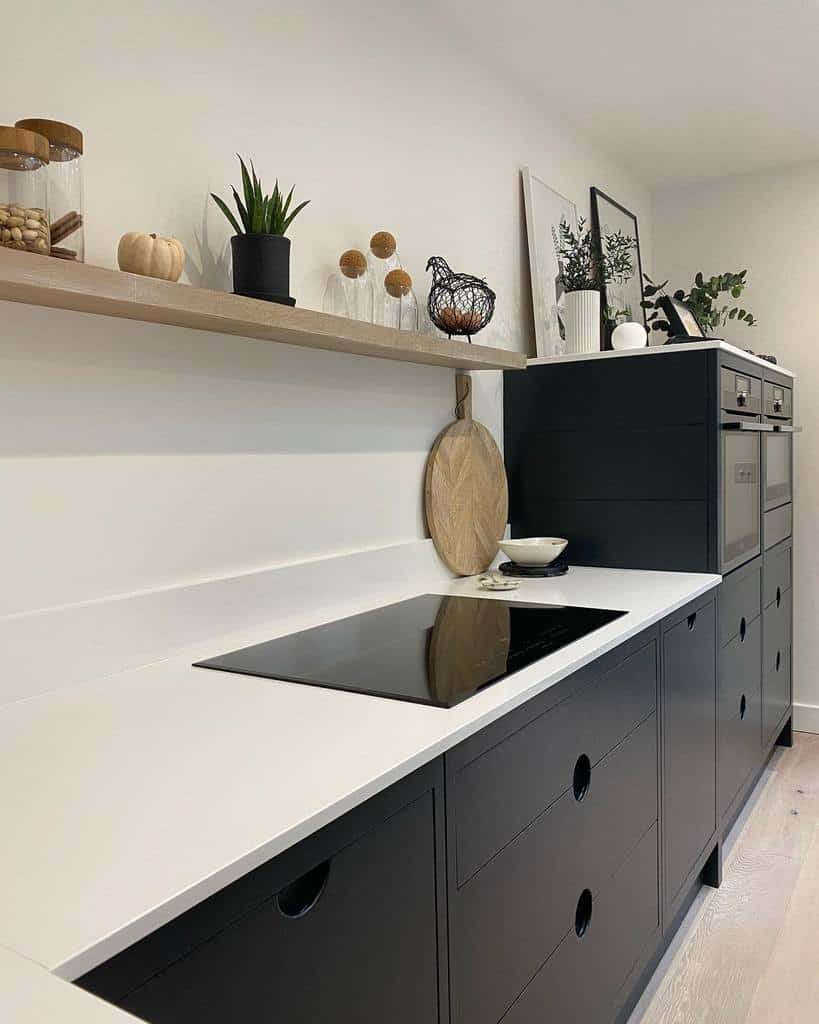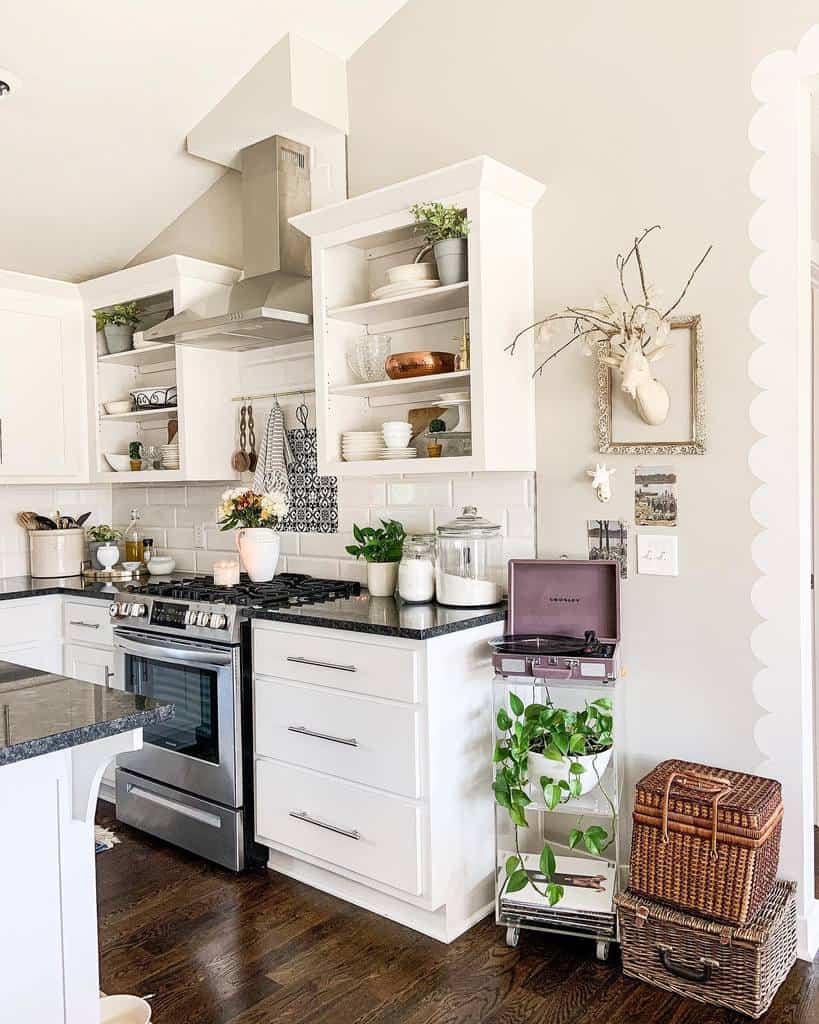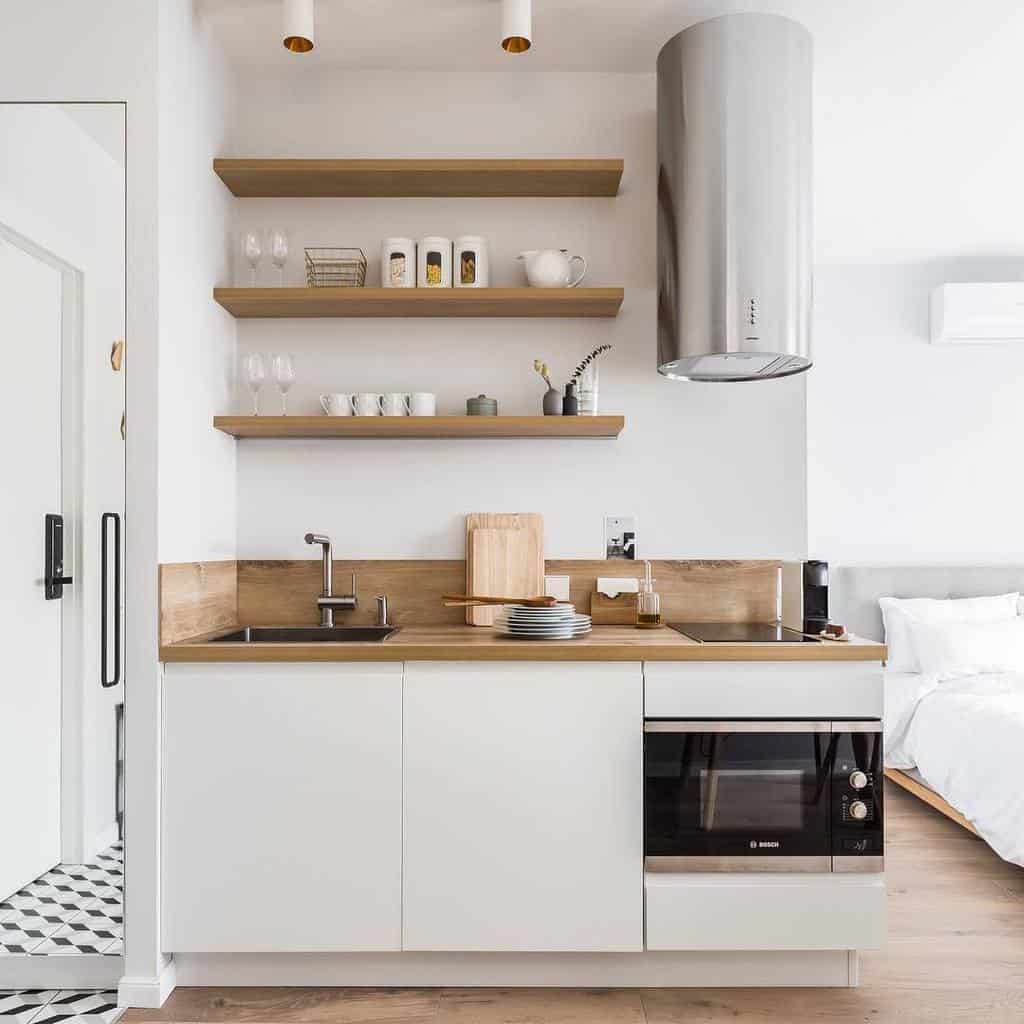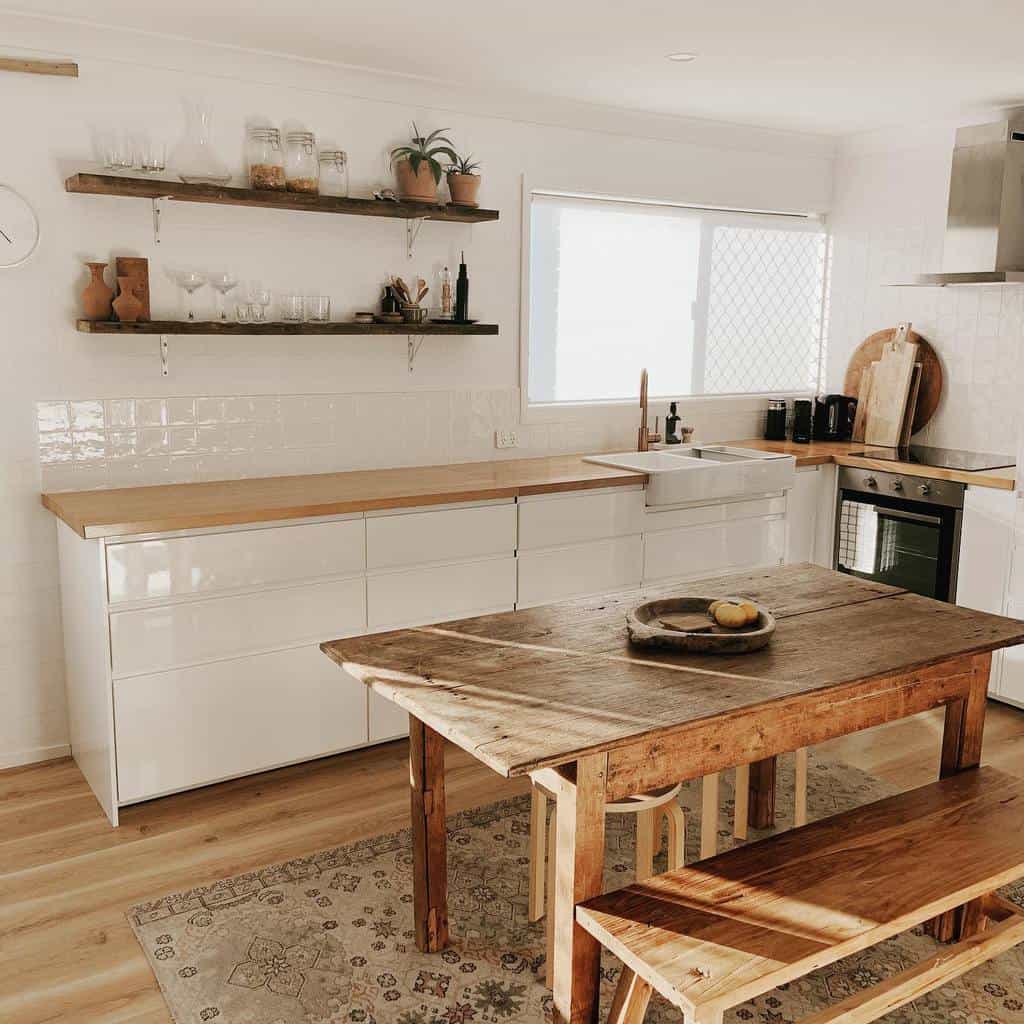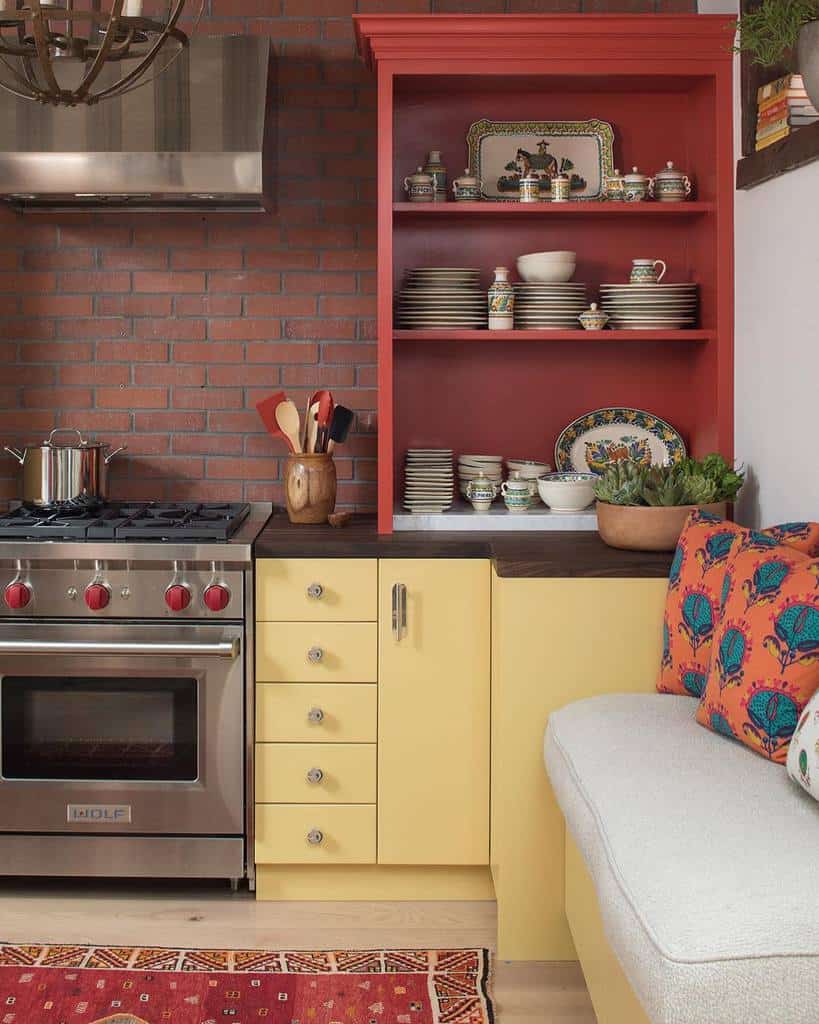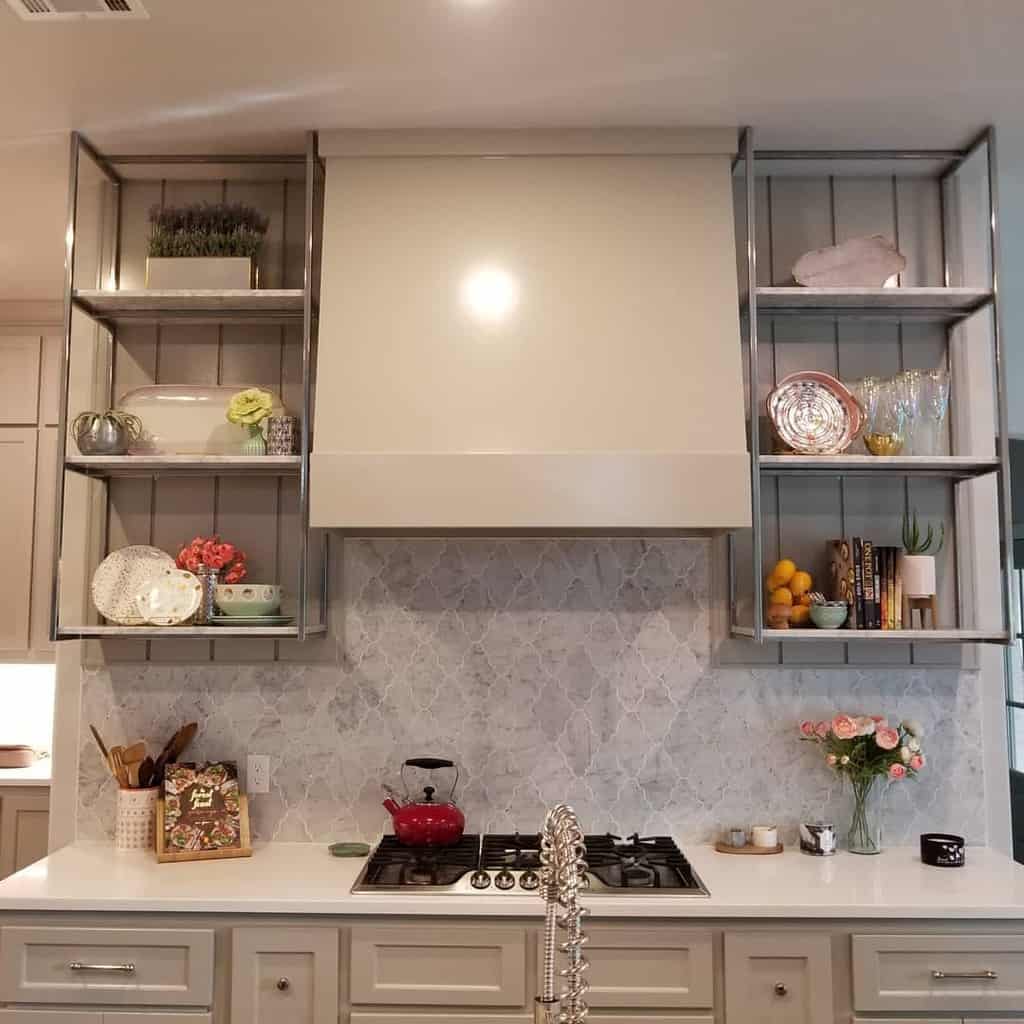 You can also think of narrow as the length of the shelves. You only need a small amount of wall space to add kitchen shelving. Perhaps you have a narrow space where you can mount several shelves above each other. Then place a single item on each shelf.
6. Open
If you love open kitchen shelving ideas, you can try them out in your home. You could go big and commit to open shelving throughout your entire kitchen. Take out all of your cabinets and replace them with open shelves.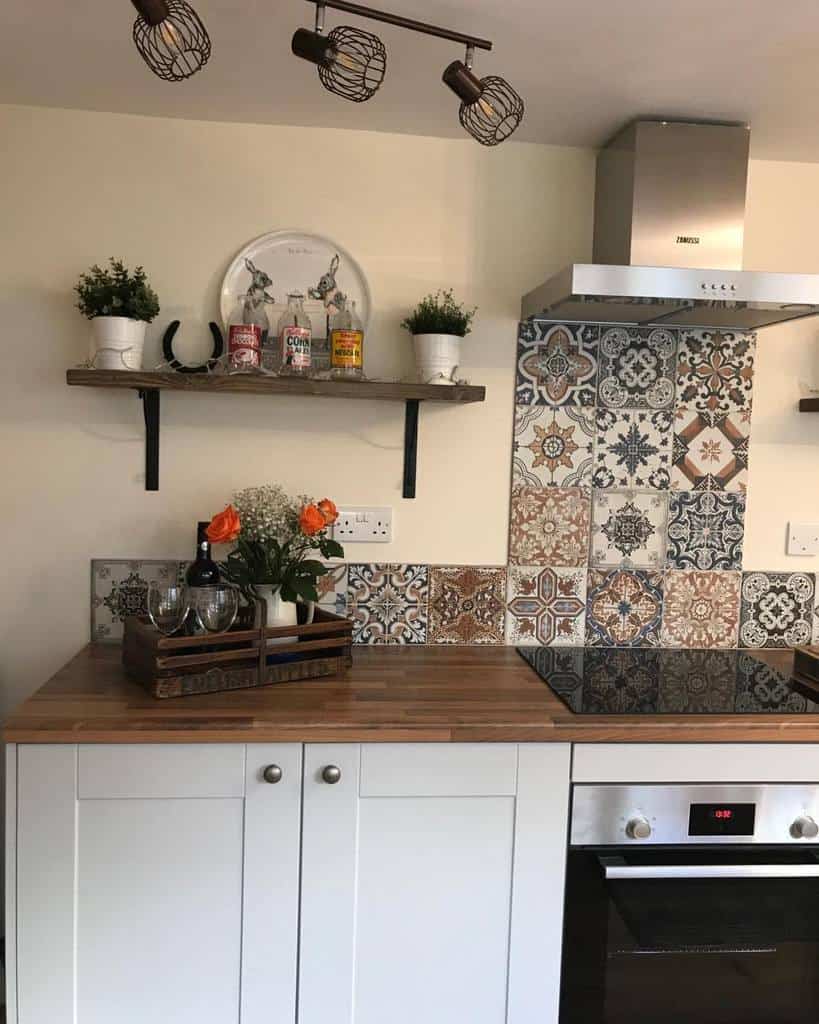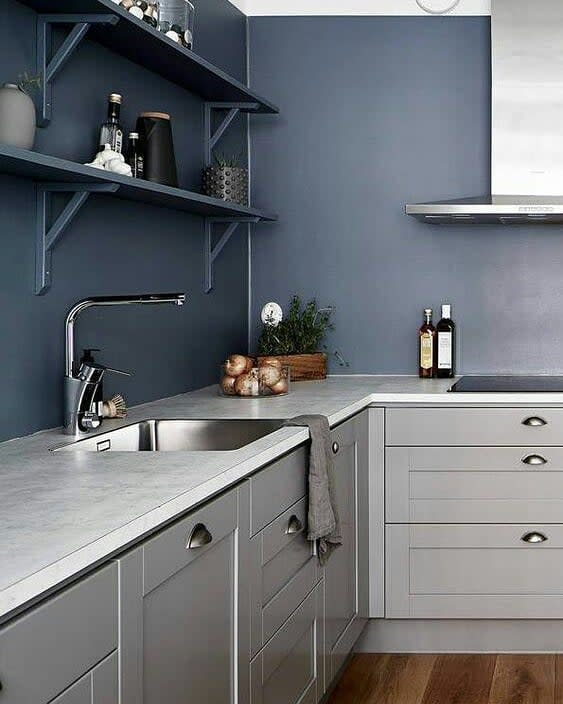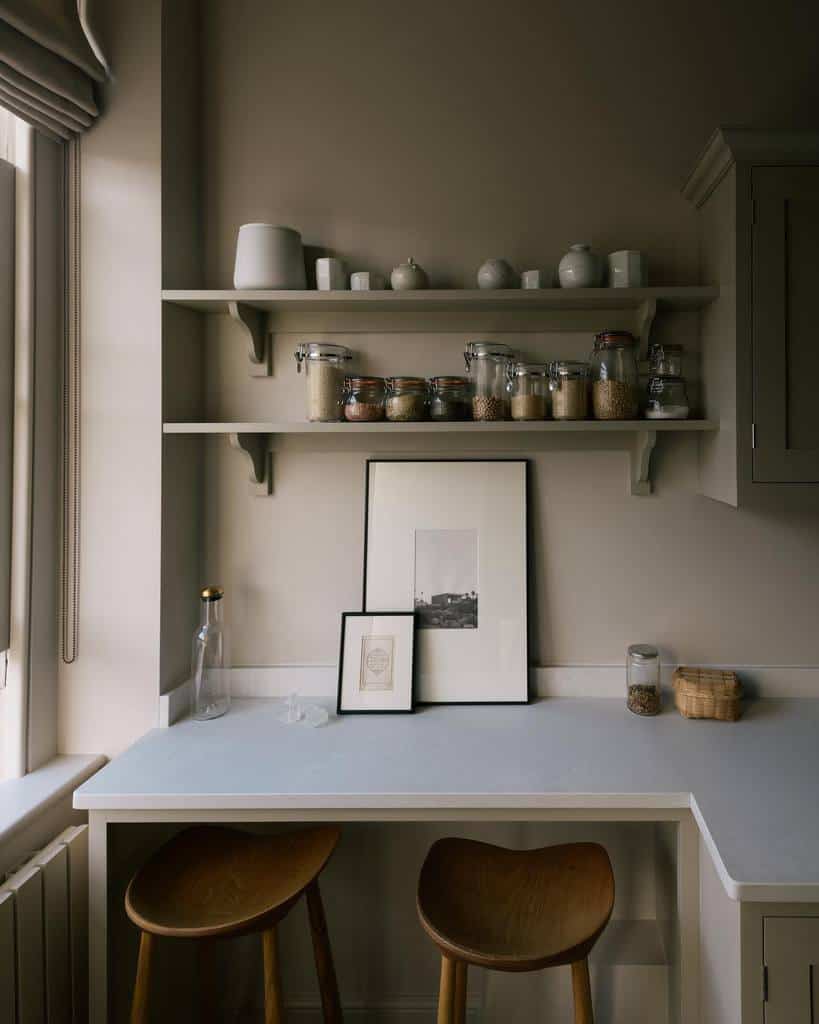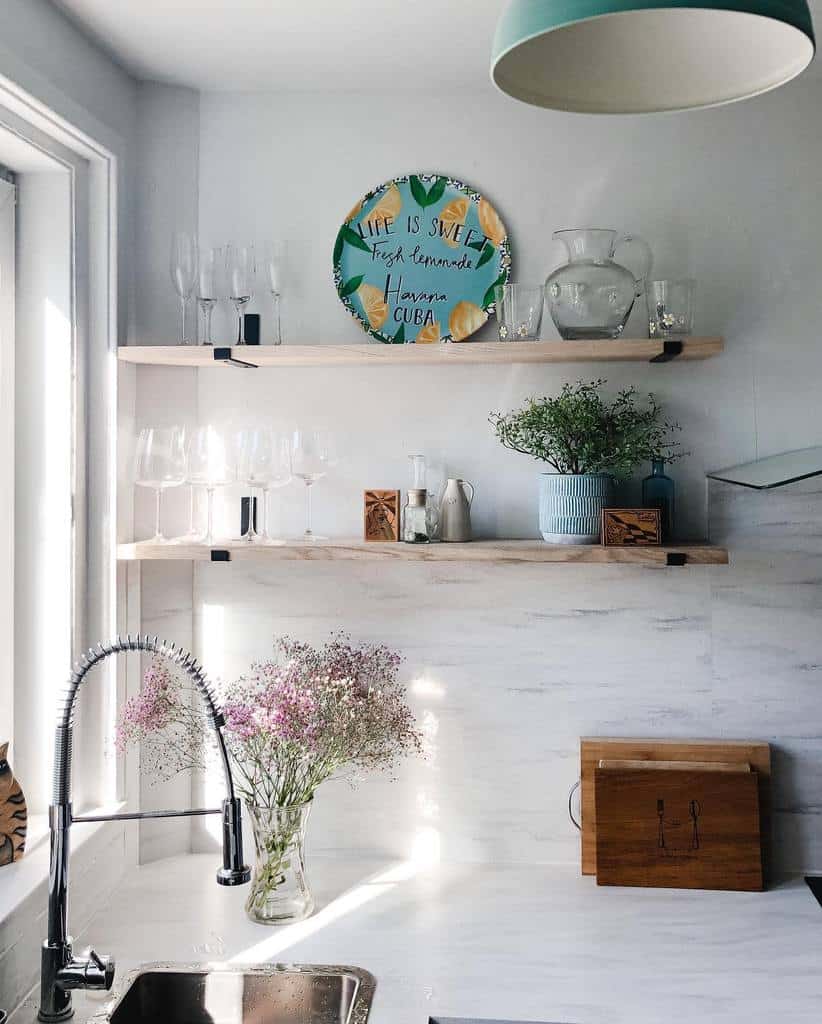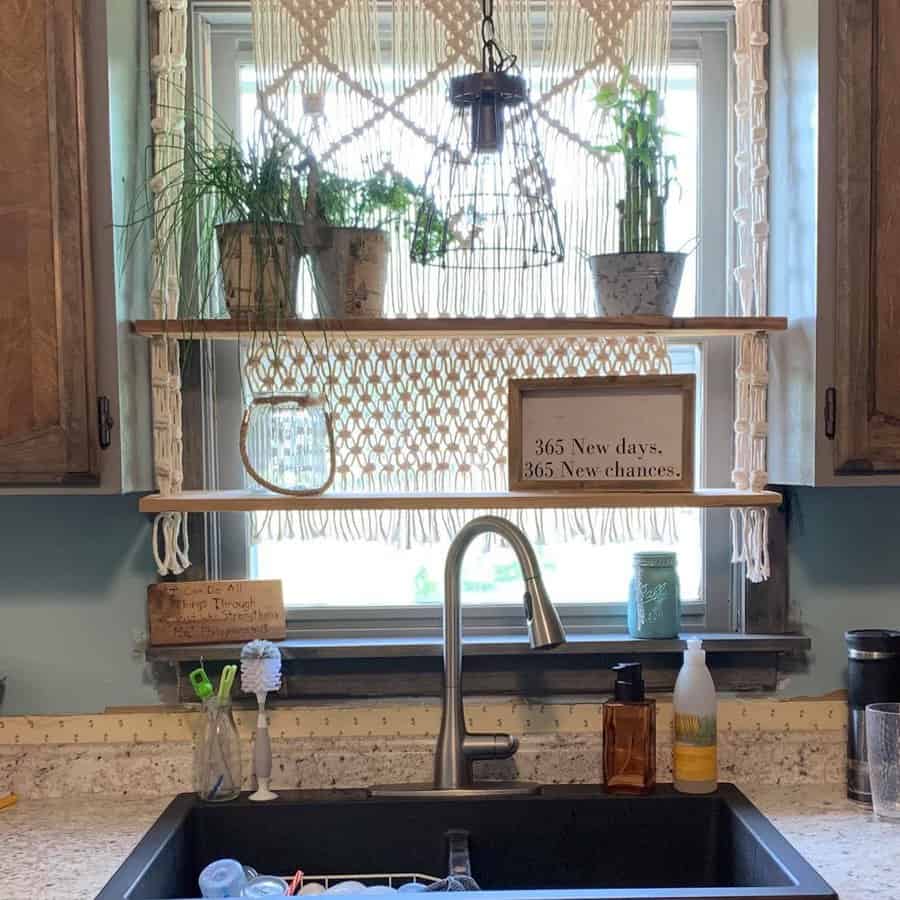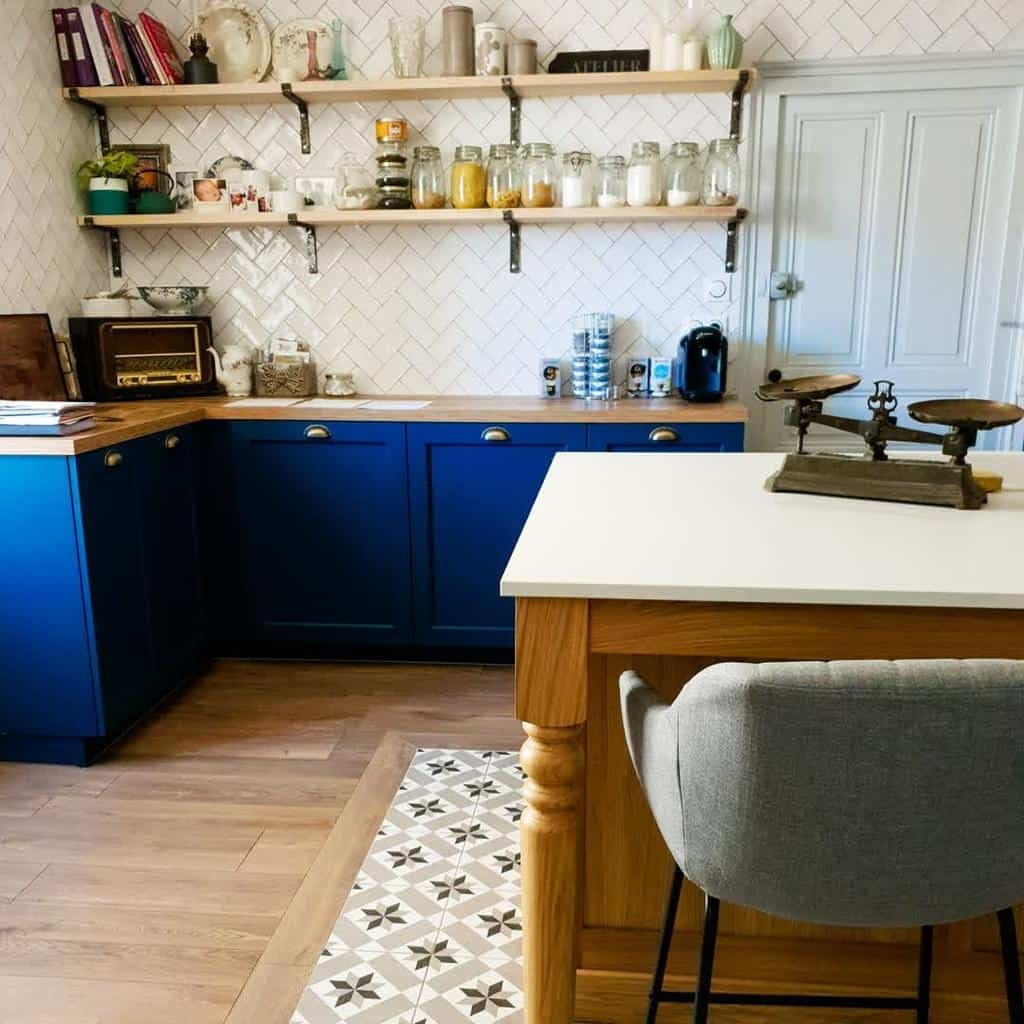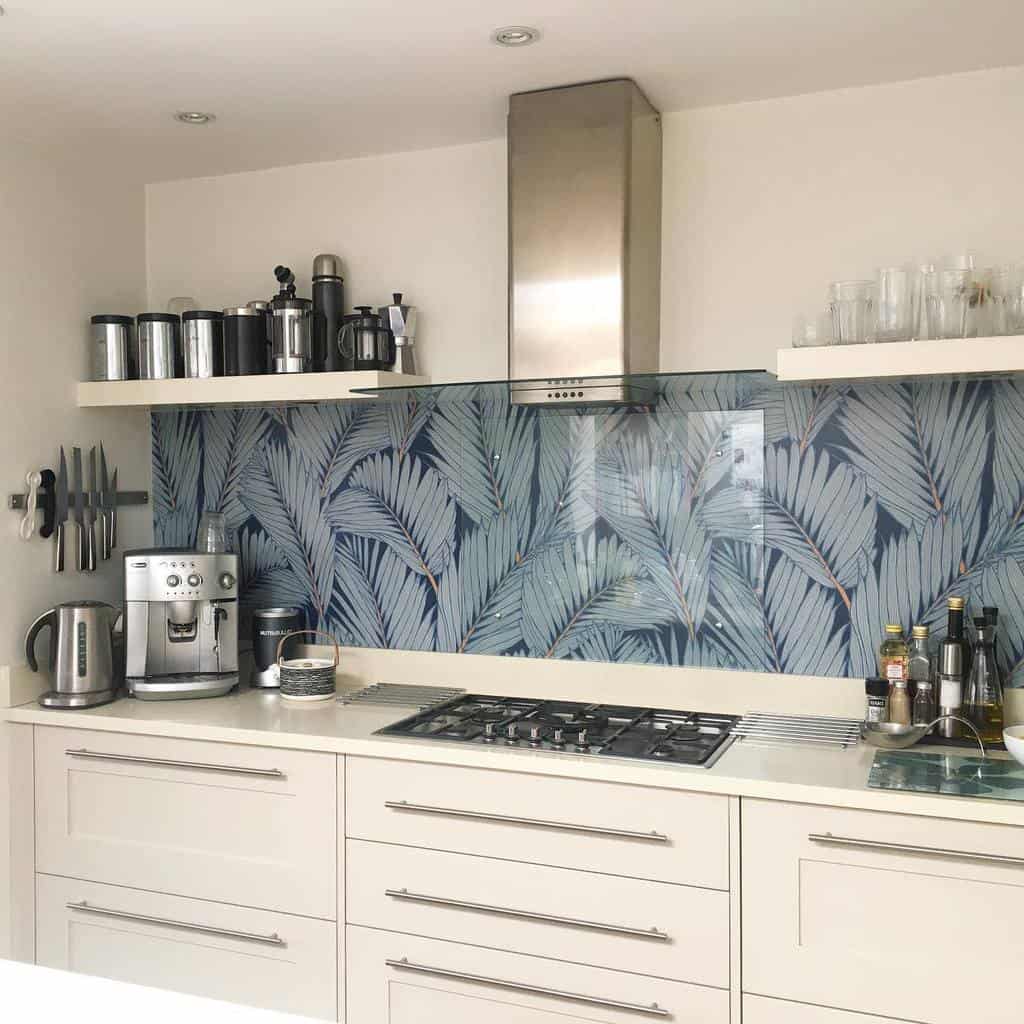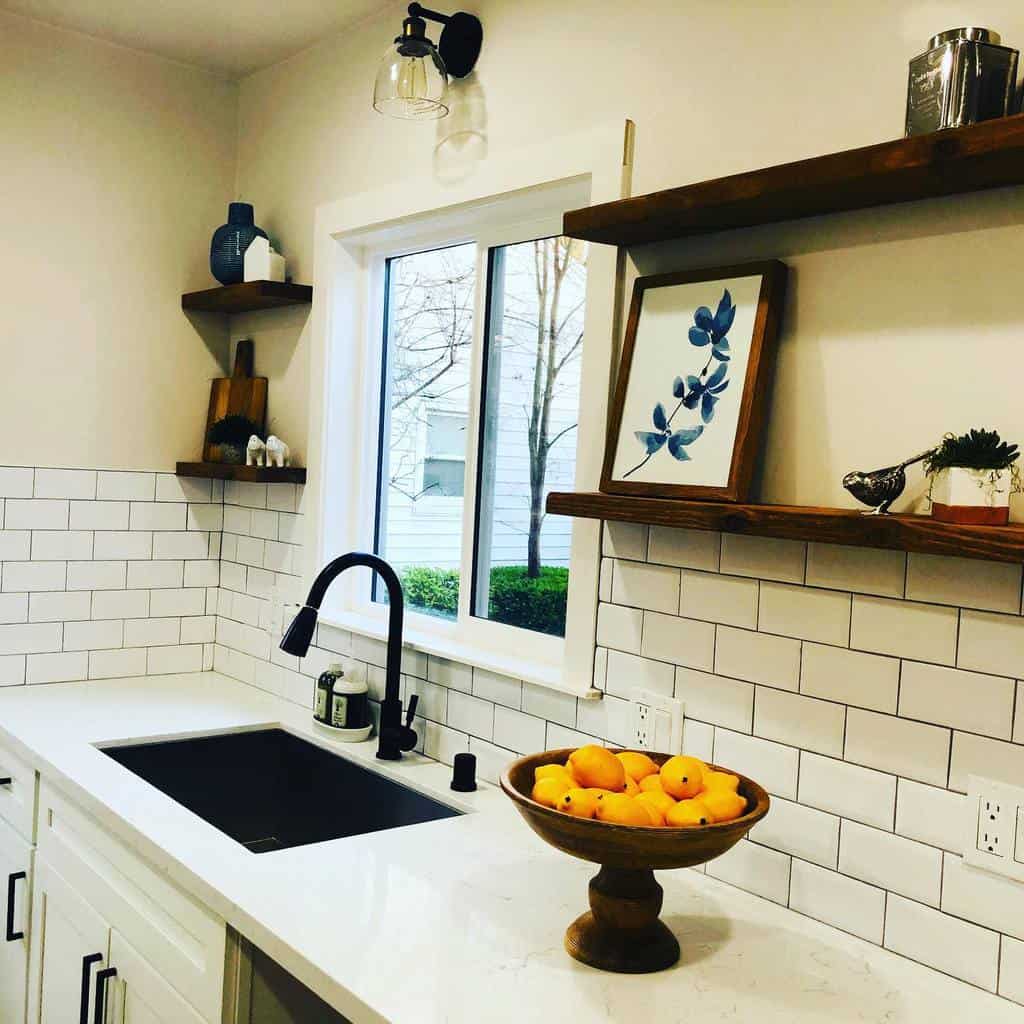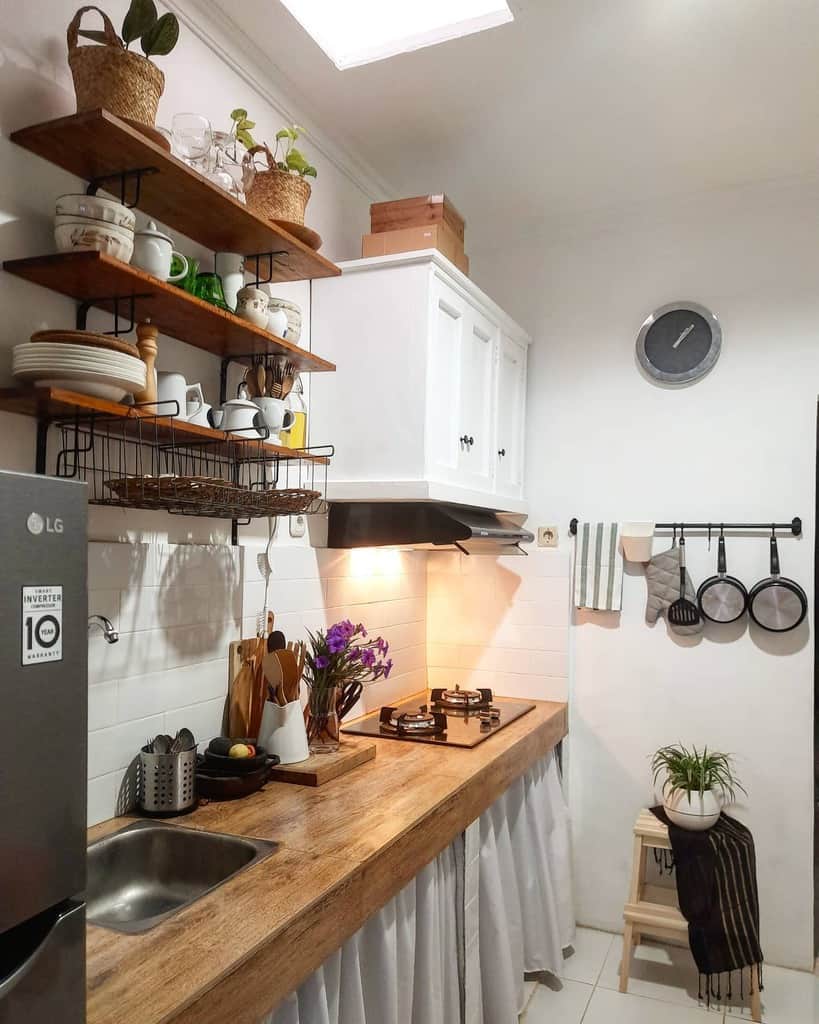 Not everyone is ready to take out all of their cabinets. That doesn't mean you have to give up on open shelving in your kitchen.
Instead, take out one or two cabinets and replace them with an open shelf. That way, you don't lose all of your cabinets but can still try out the open shelving look in your home.
7. Pallet
If you're a homeowner who enjoys doing DIY projects, then try your hand at building kitchen shelves out of pallet wood.
You could hang a pallet cut in half for a simple spice rack. Line the spice jars up in the compartment of the pallet.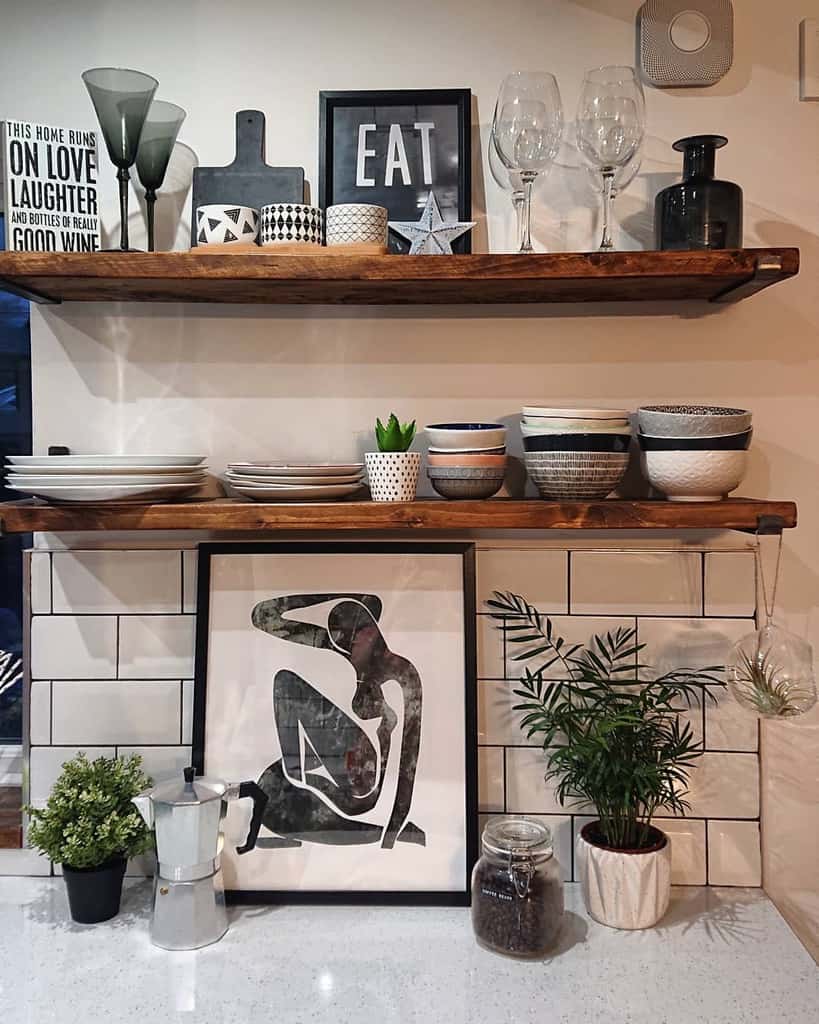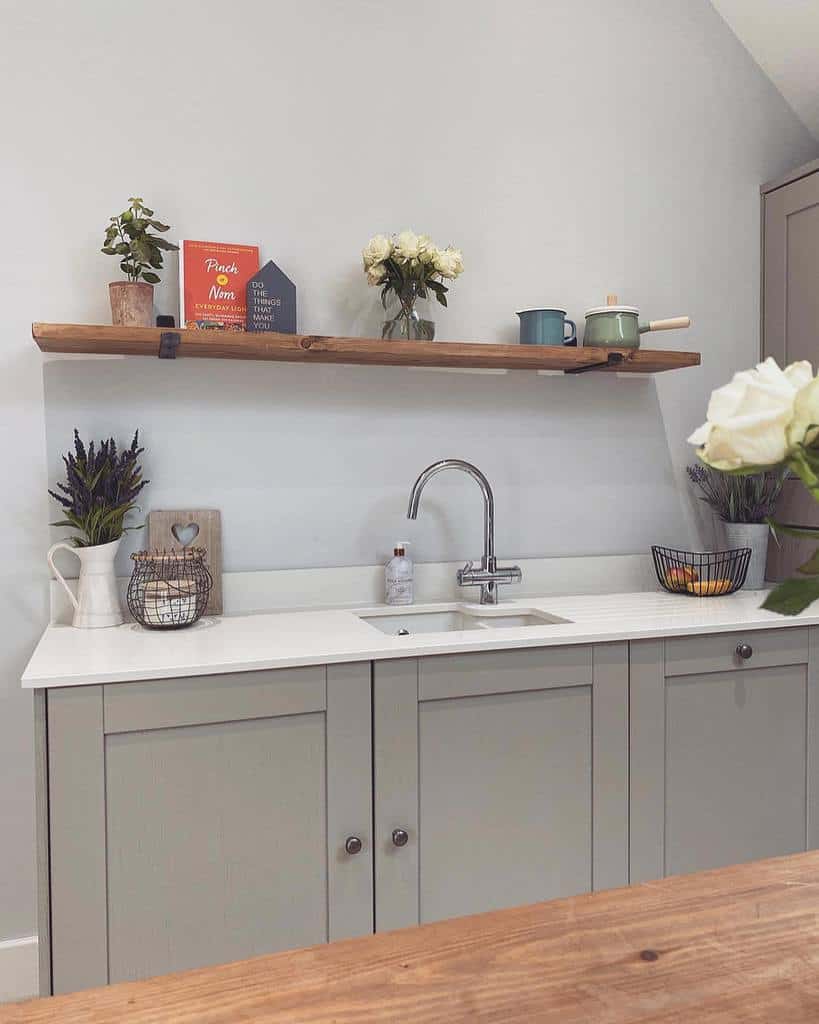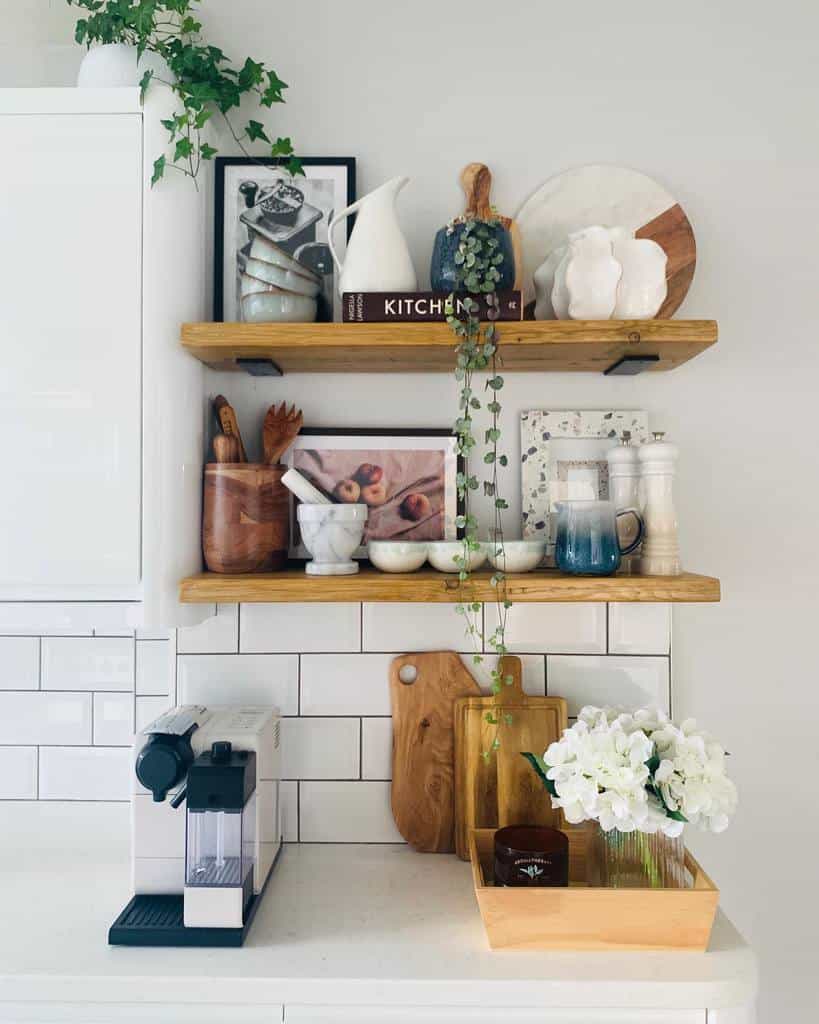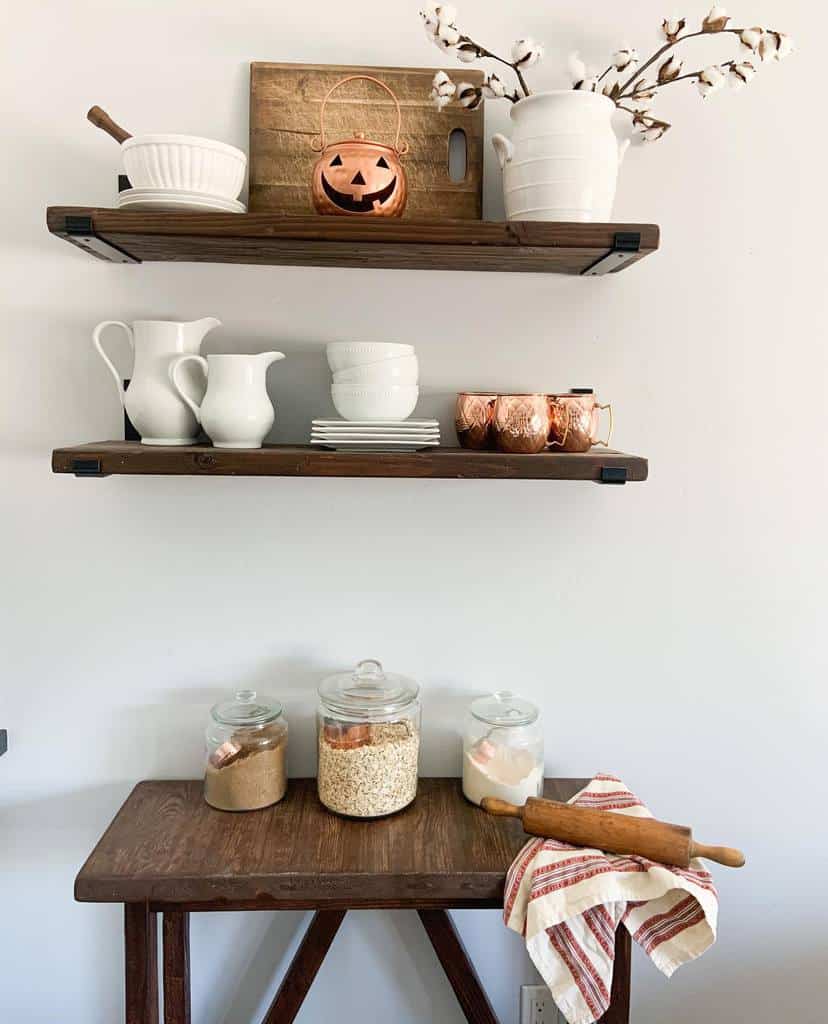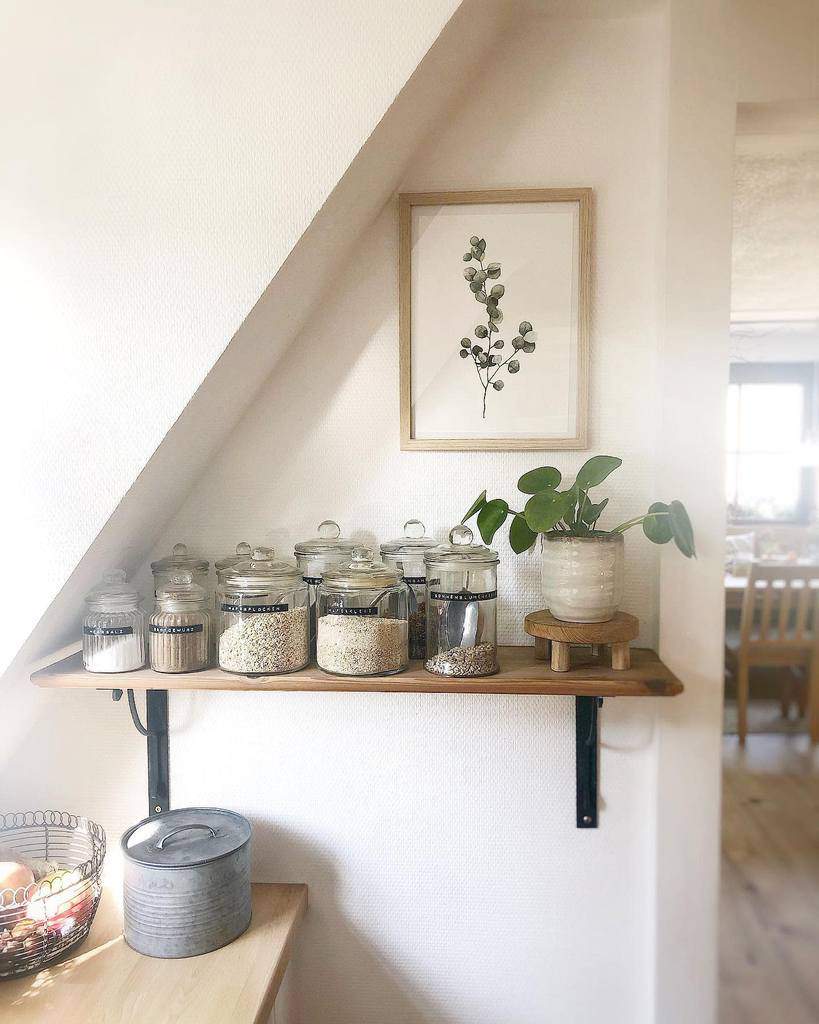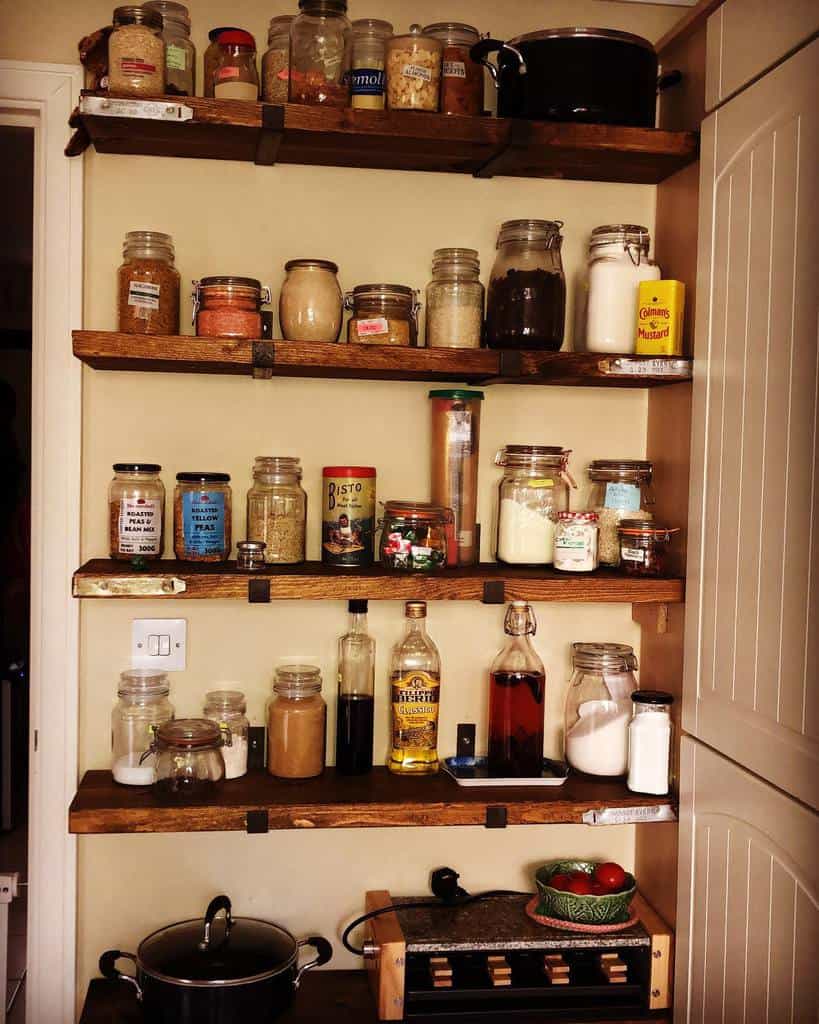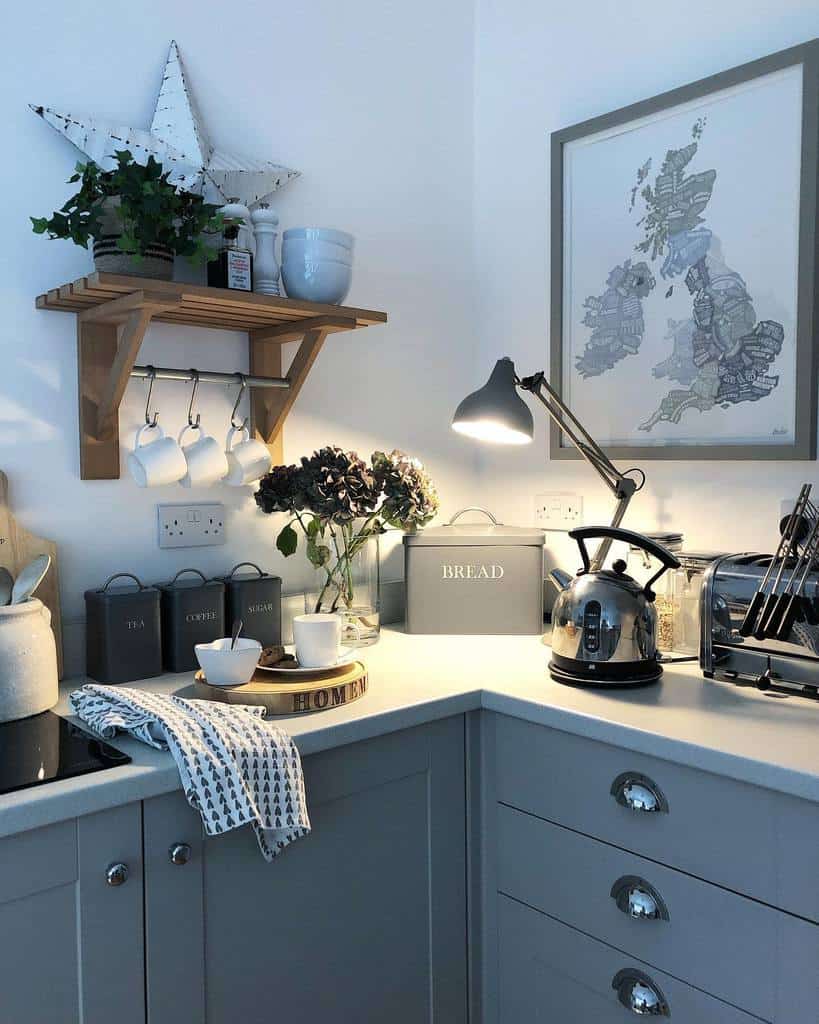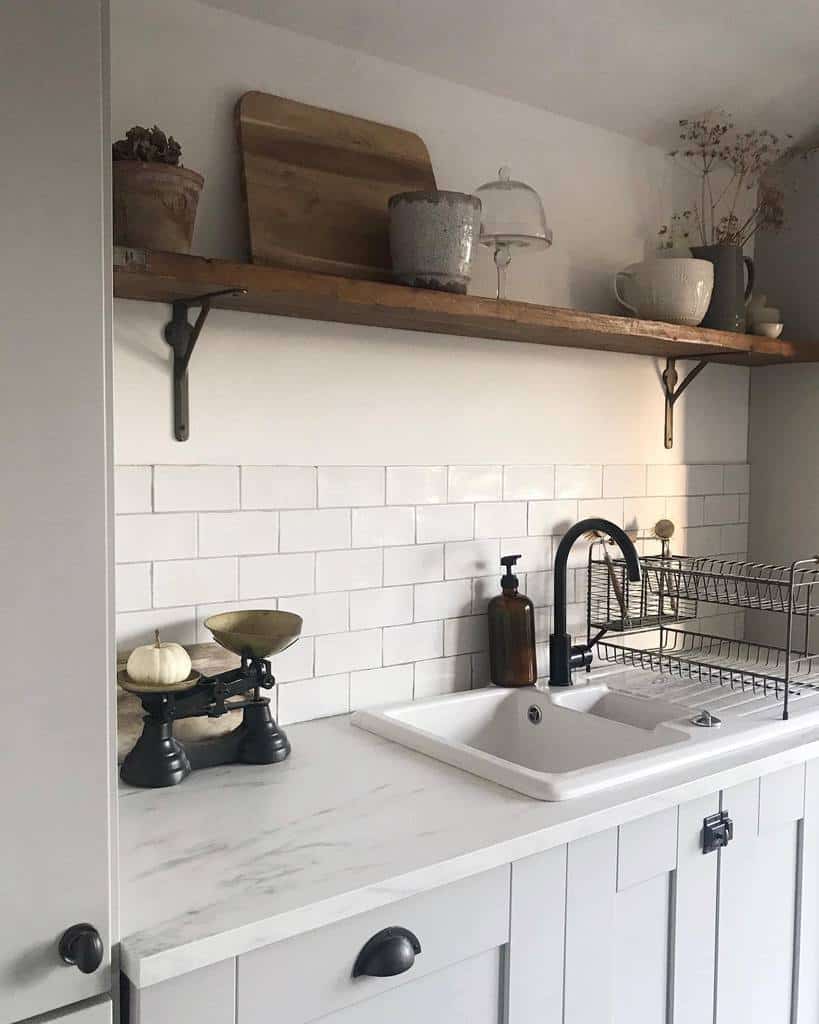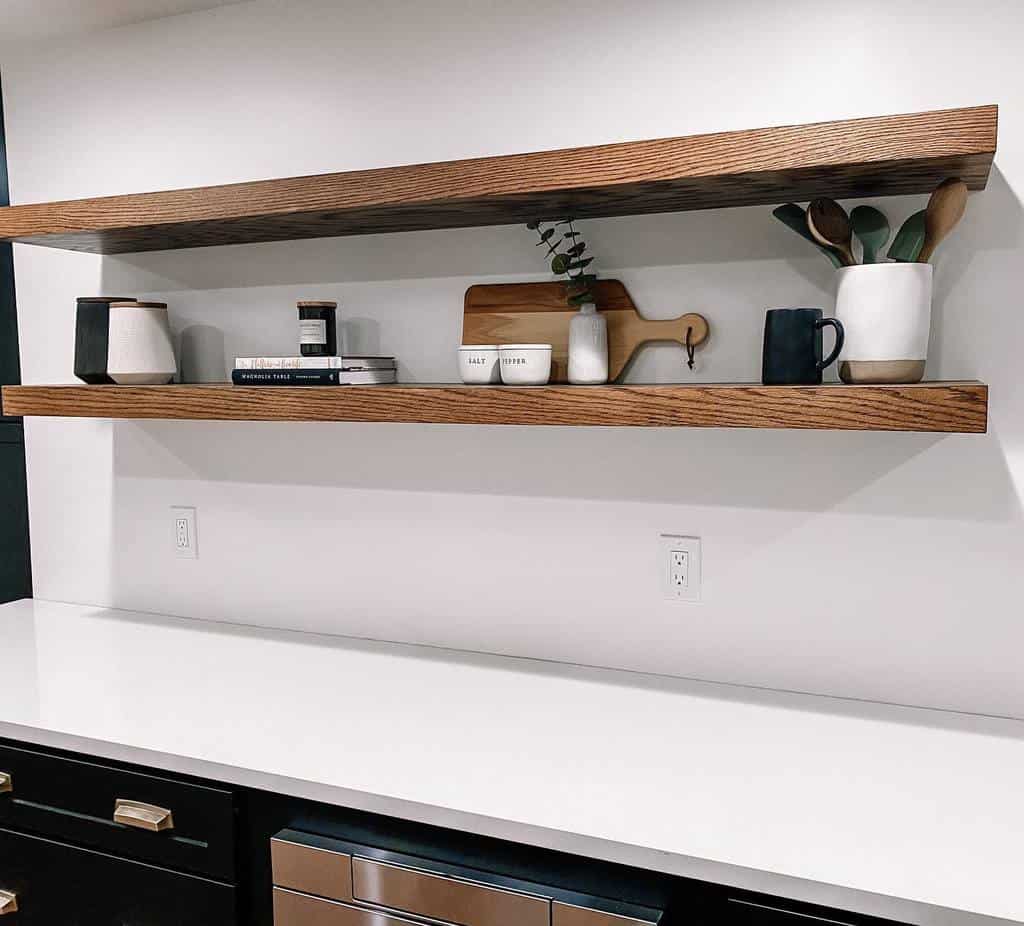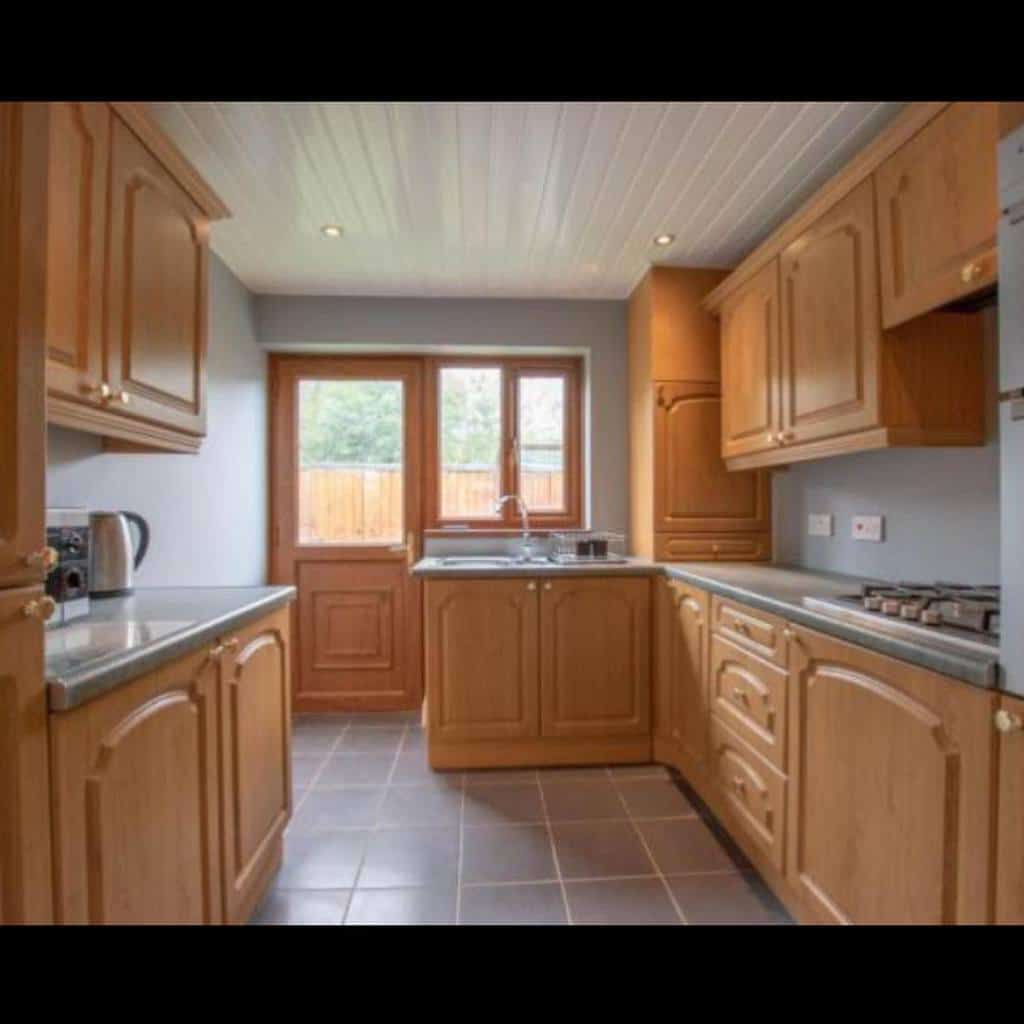 This type of kitchen shelf works great in a small kitchen space. The wood pallet pieces are a set size, making it easy to build uniform shelves.
You could take the pallet apart and use brackets to mount the planks on your wall. Or you can use them to build your own rack with multiple shelves.
8. Pantry
Treat your pantry like you would your master bedroom closet. Skip the basic industrial-looking wire shelving and replace it with a closet organizational system.
You'll have so much more space when you start creating shelving that's designed with your specific pantry in mind. You could have shelves of different heights to accommodate different items.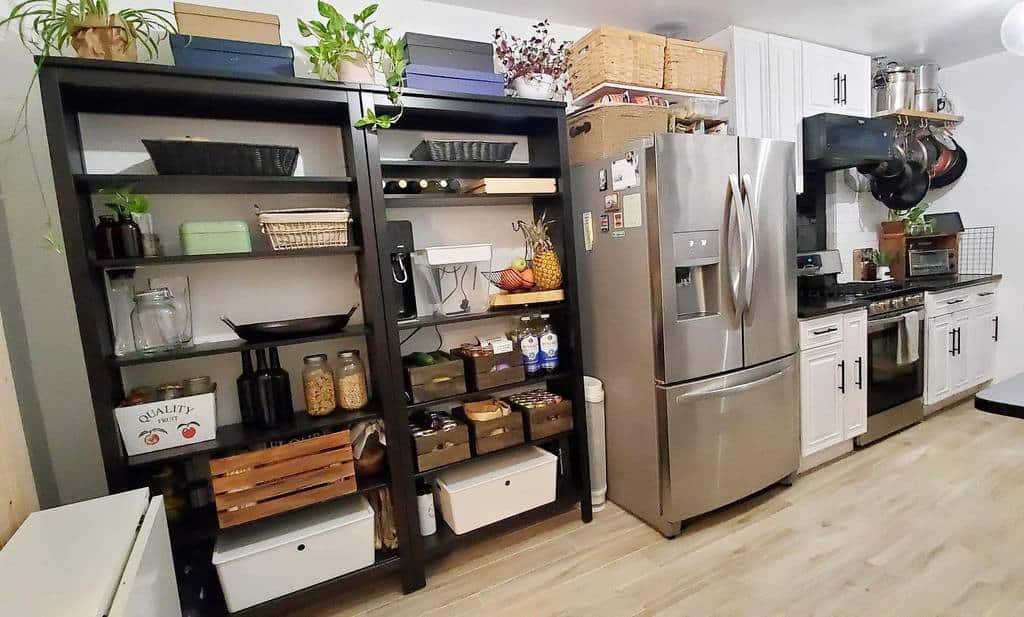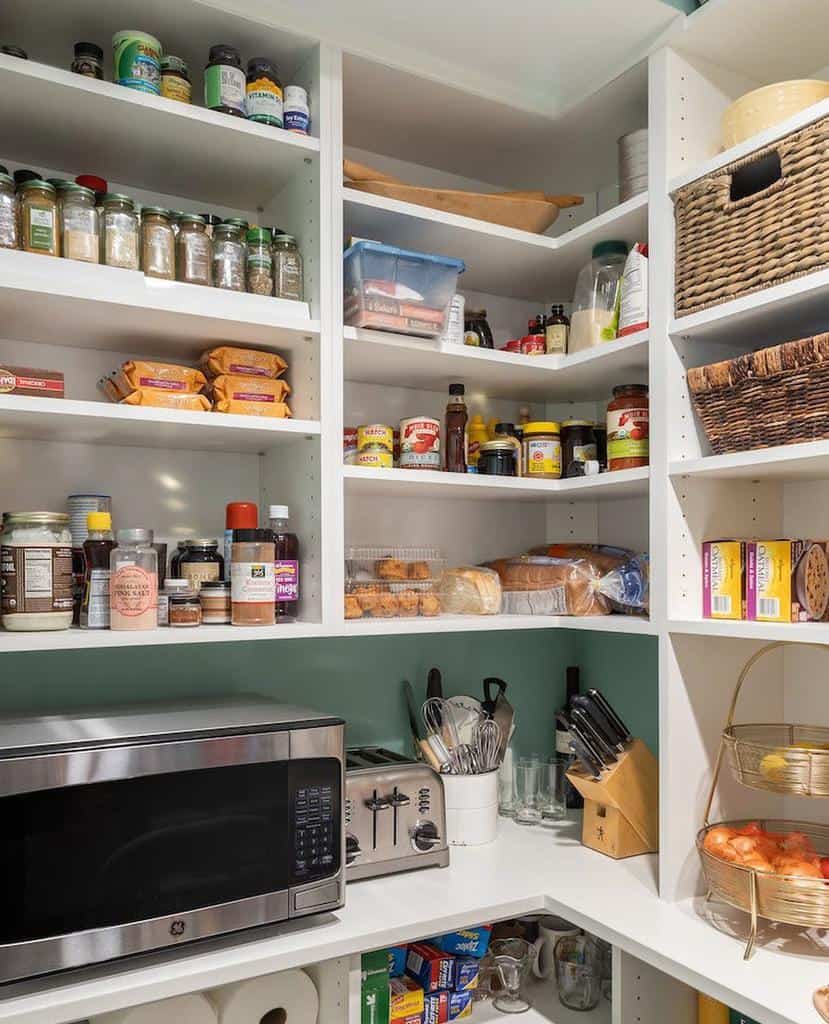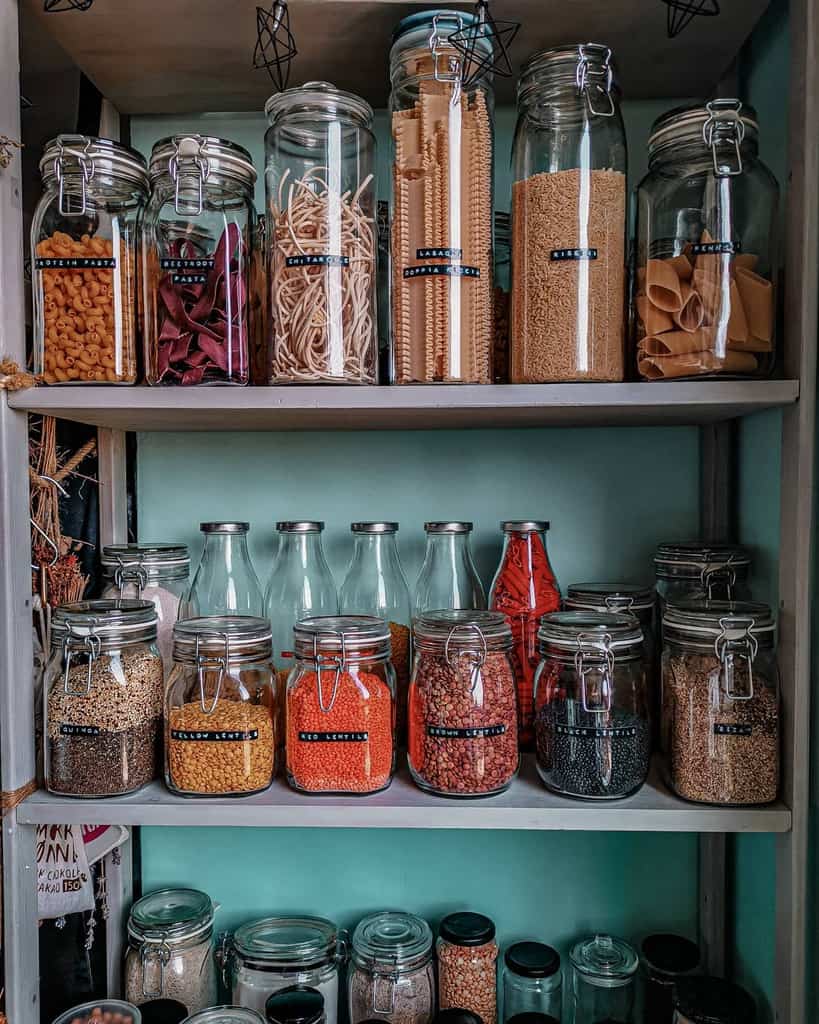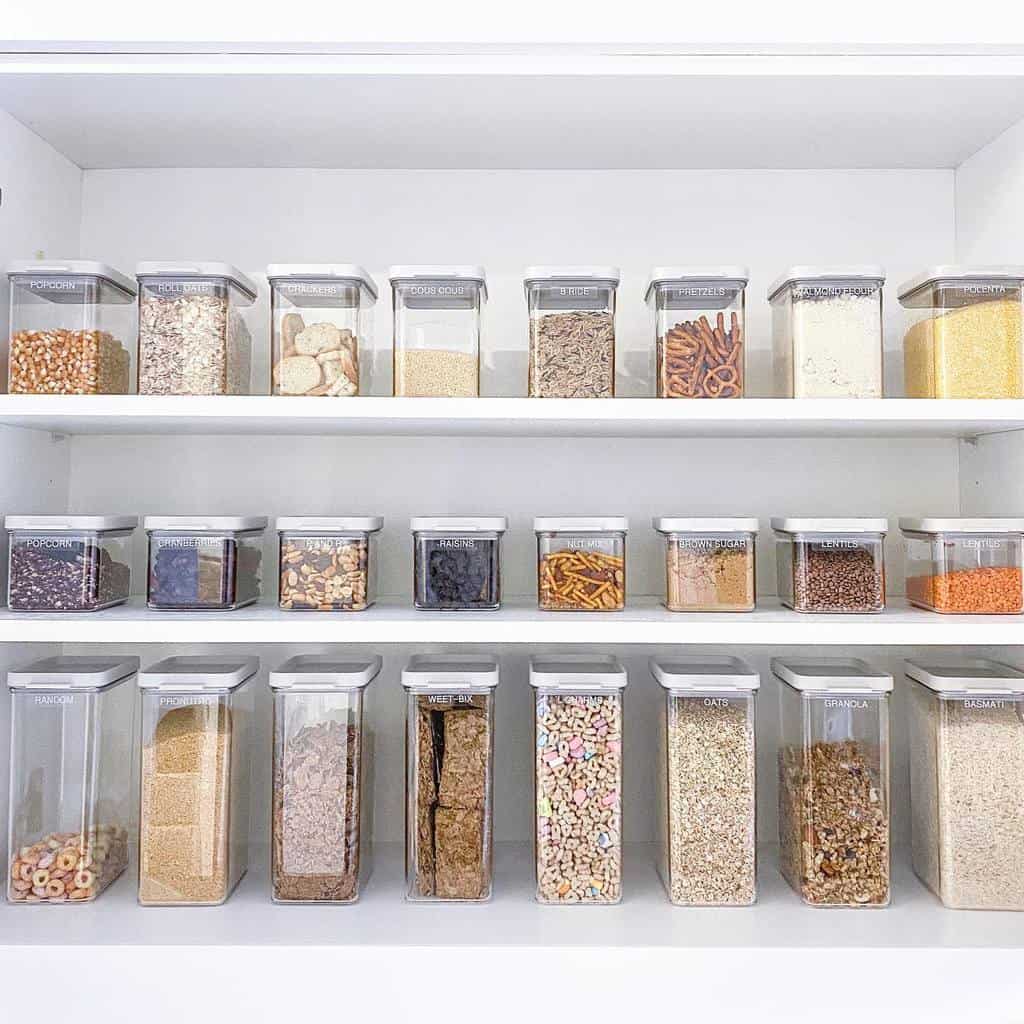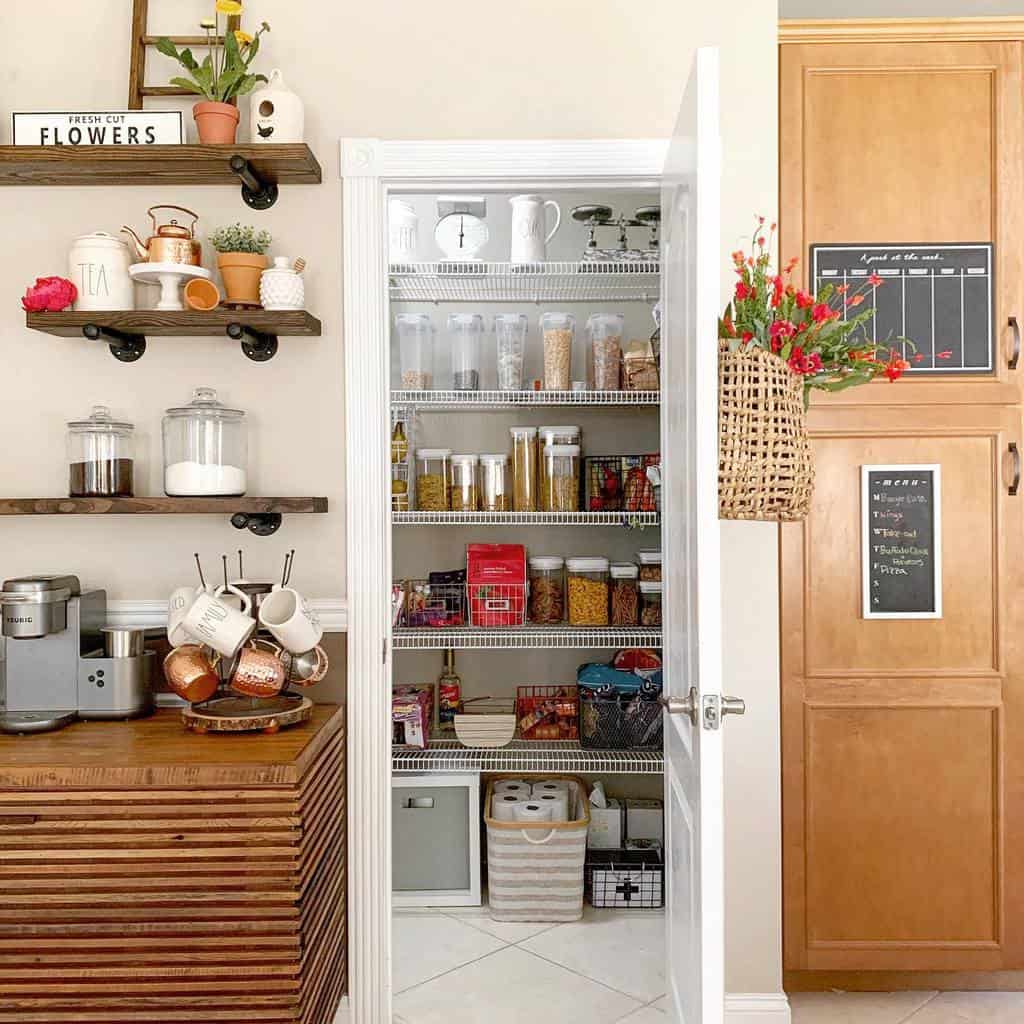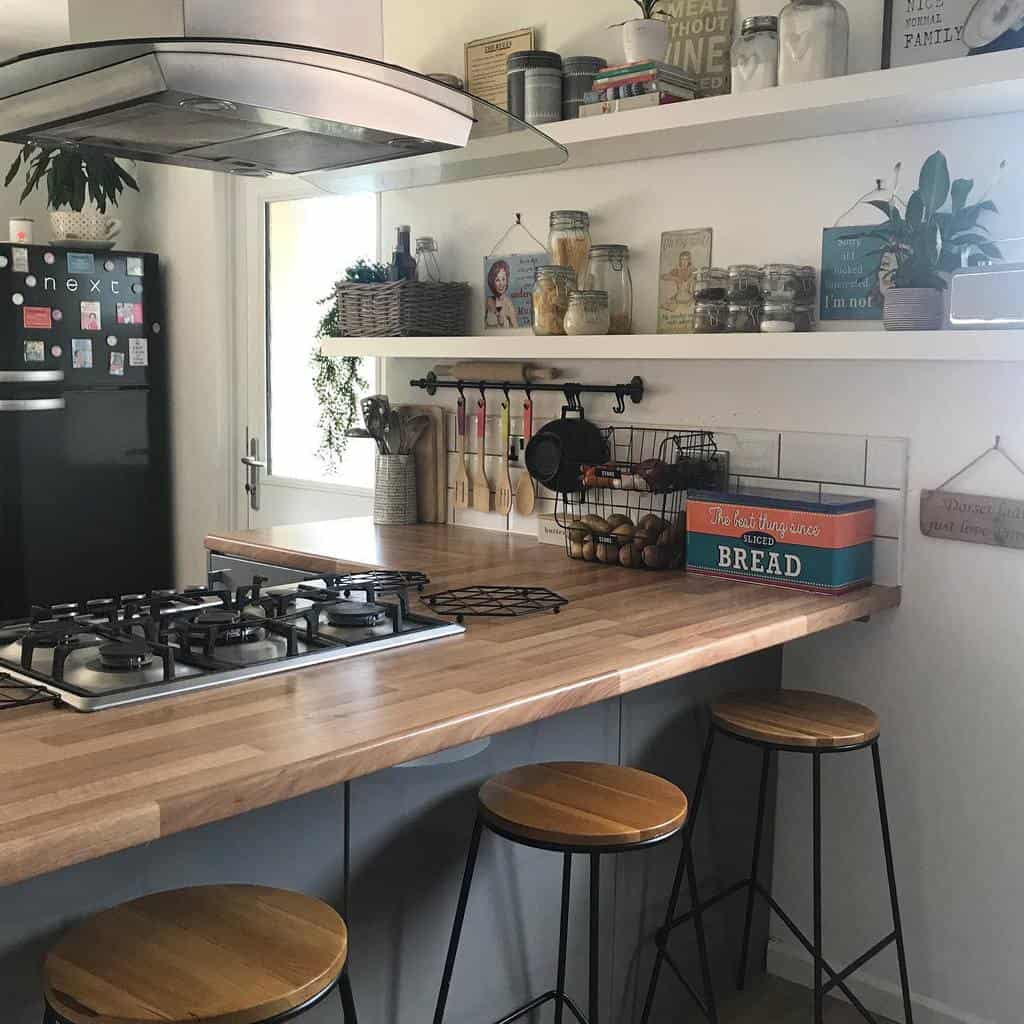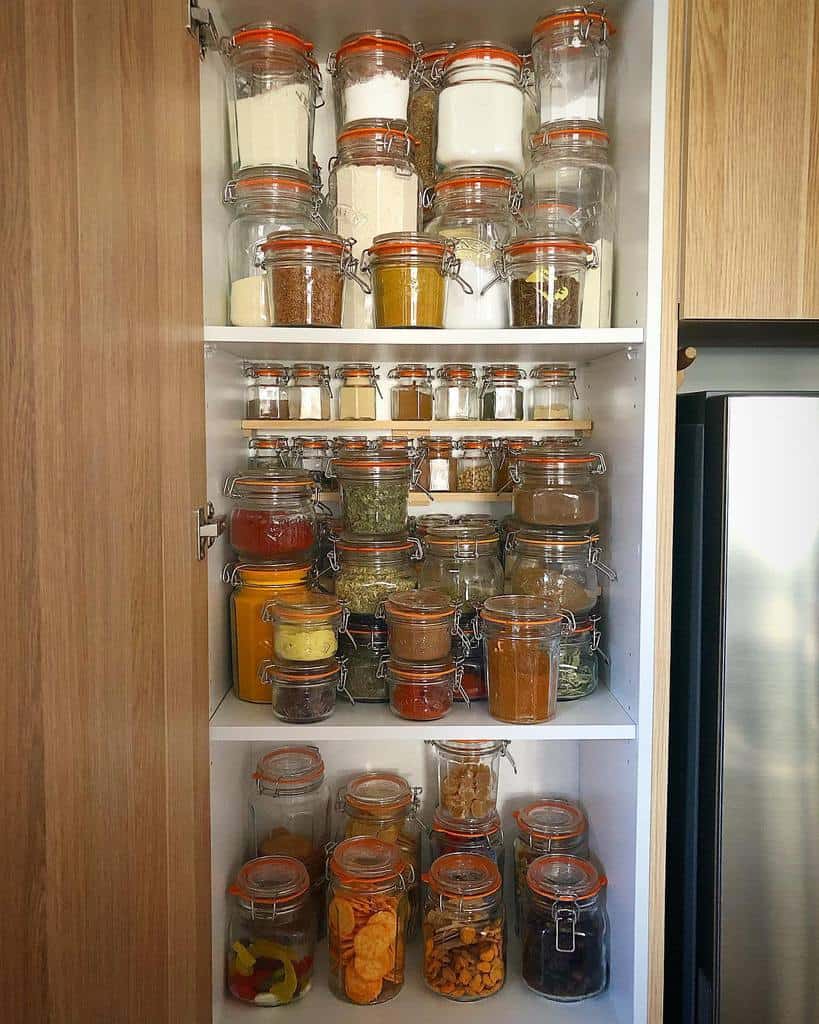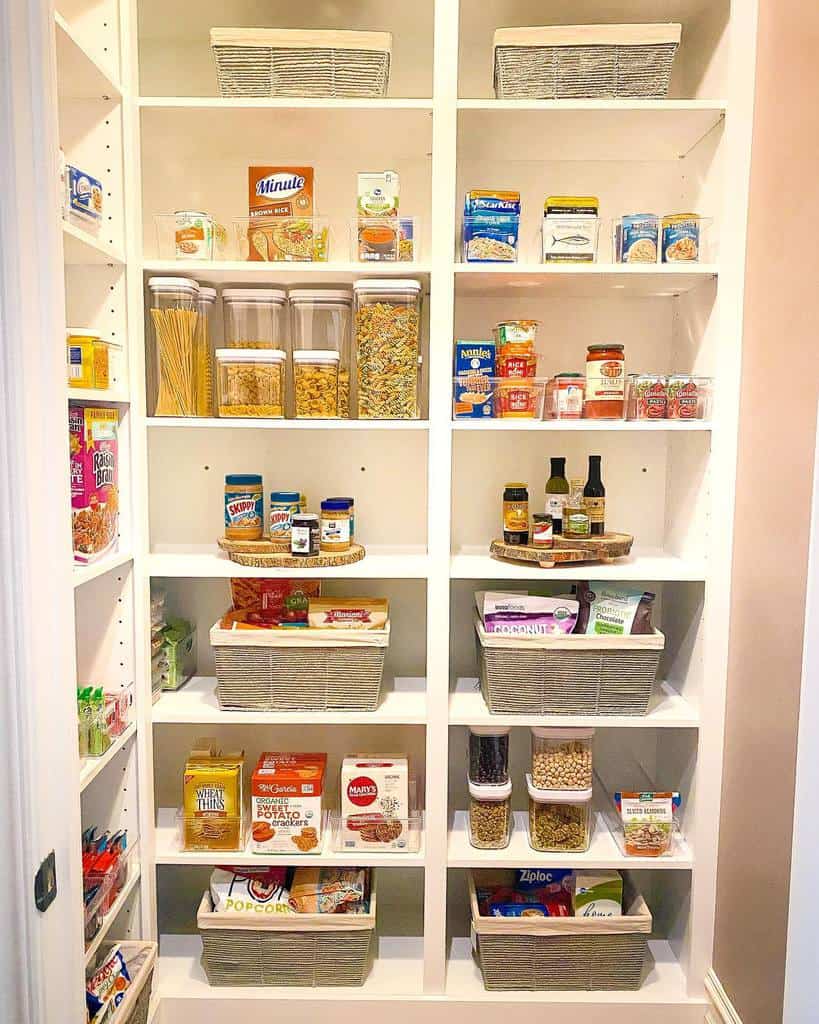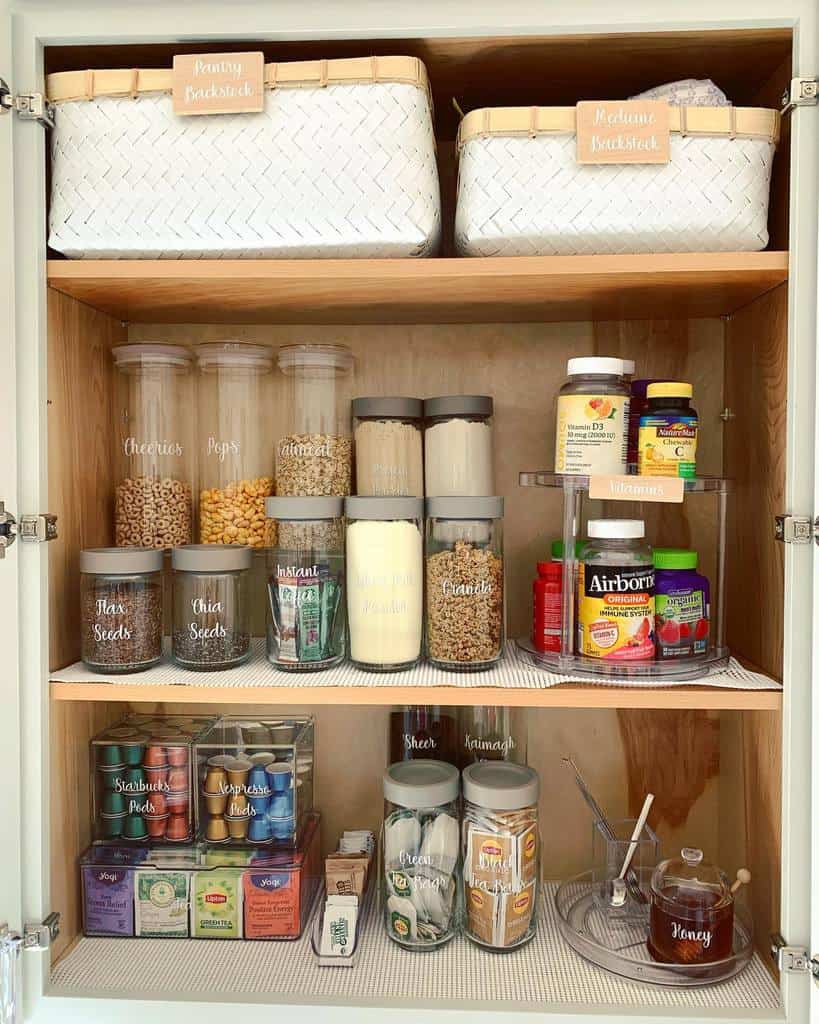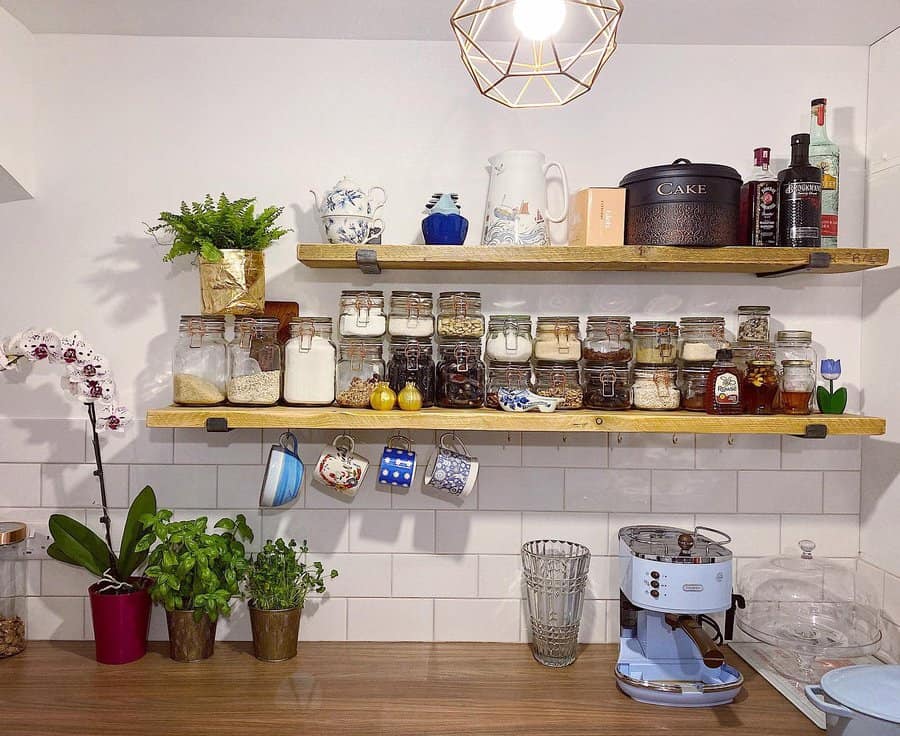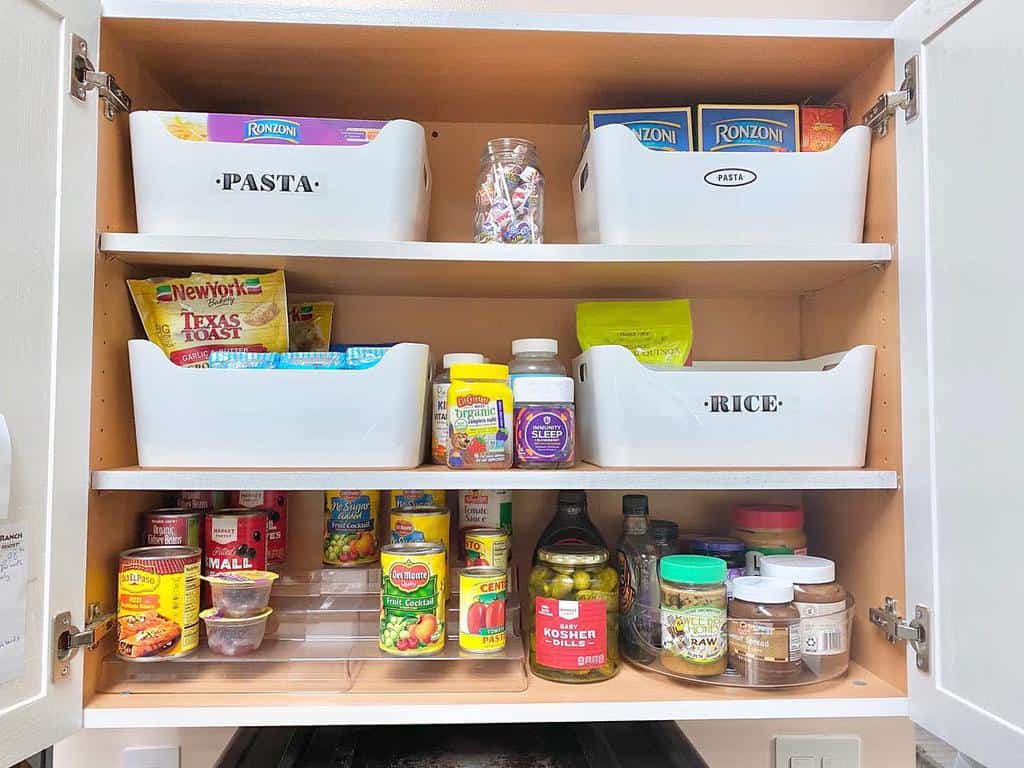 This kitchen organization idea works no matter what size pantry you have. Small pantries could have a few simple shelves. Larger pantries or those that are walk-in could have a complete system with shelves, drawers, and gravity can racks.
9. White
White has always been a popular color for the kitchen. It's bright and looks clean. Consider using it for the color of your open kitchen shelves.
The shelves could block the natural light in your kitchen, so making them white will reflect the light and keep the space feeling bright.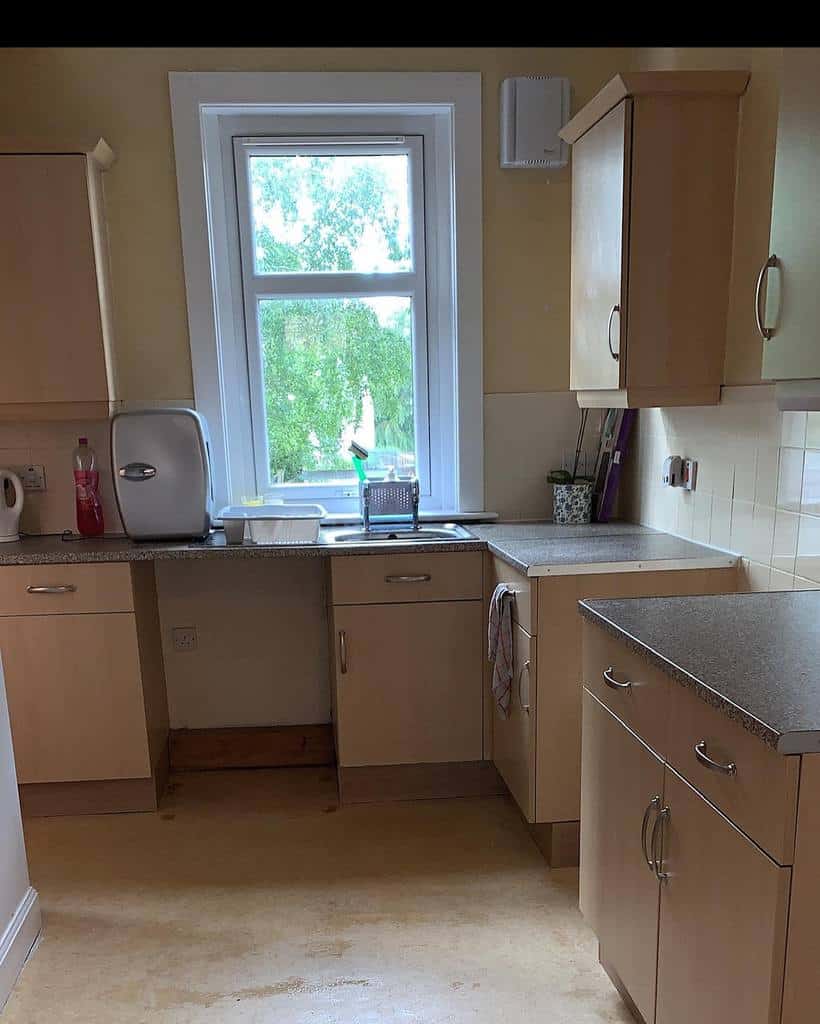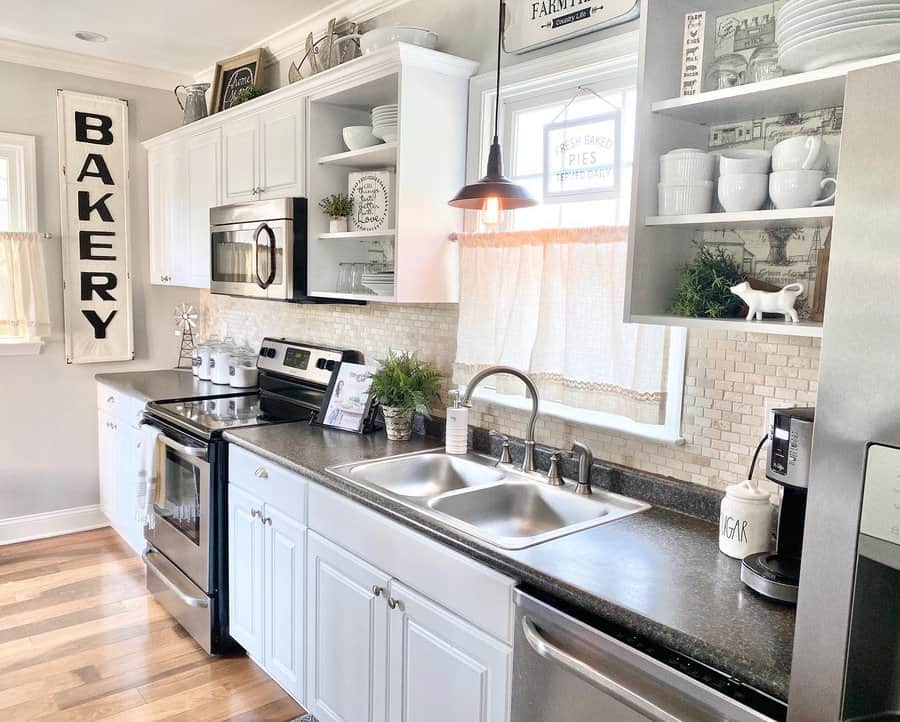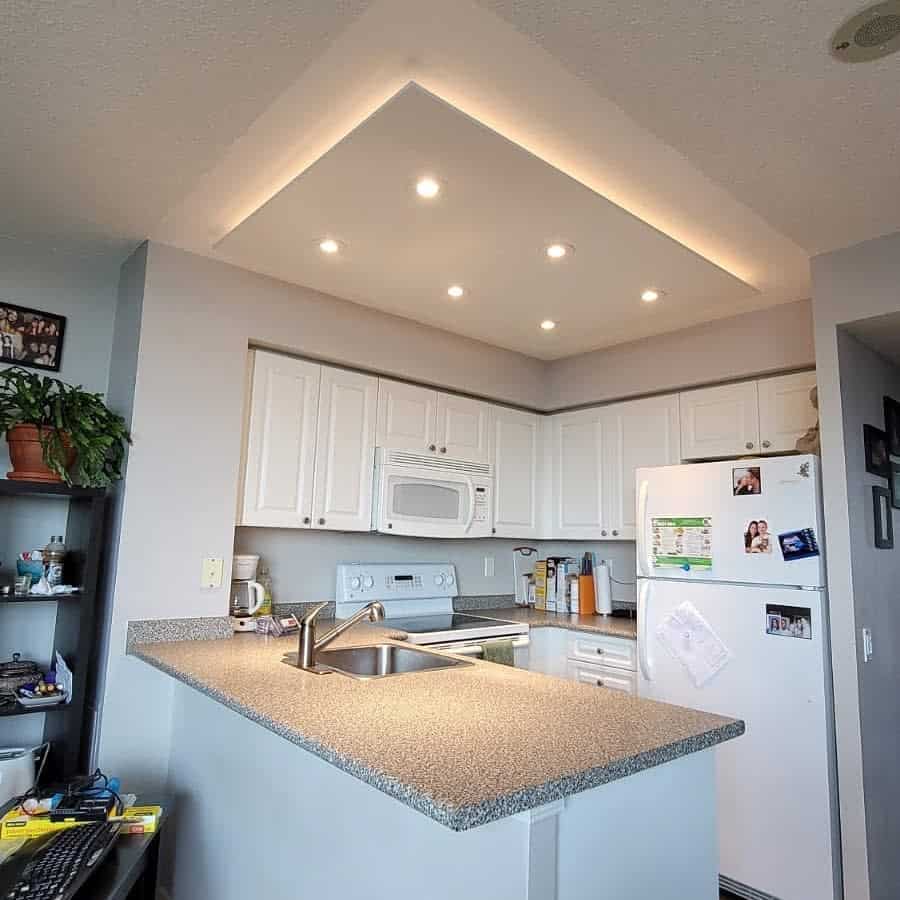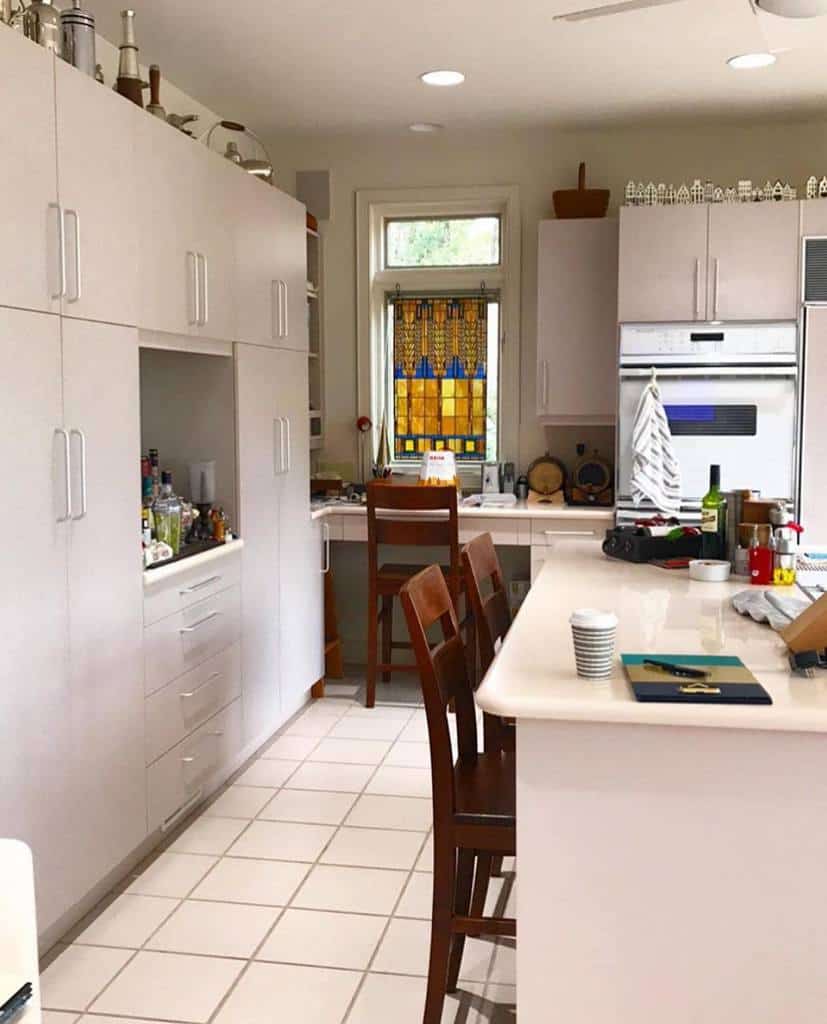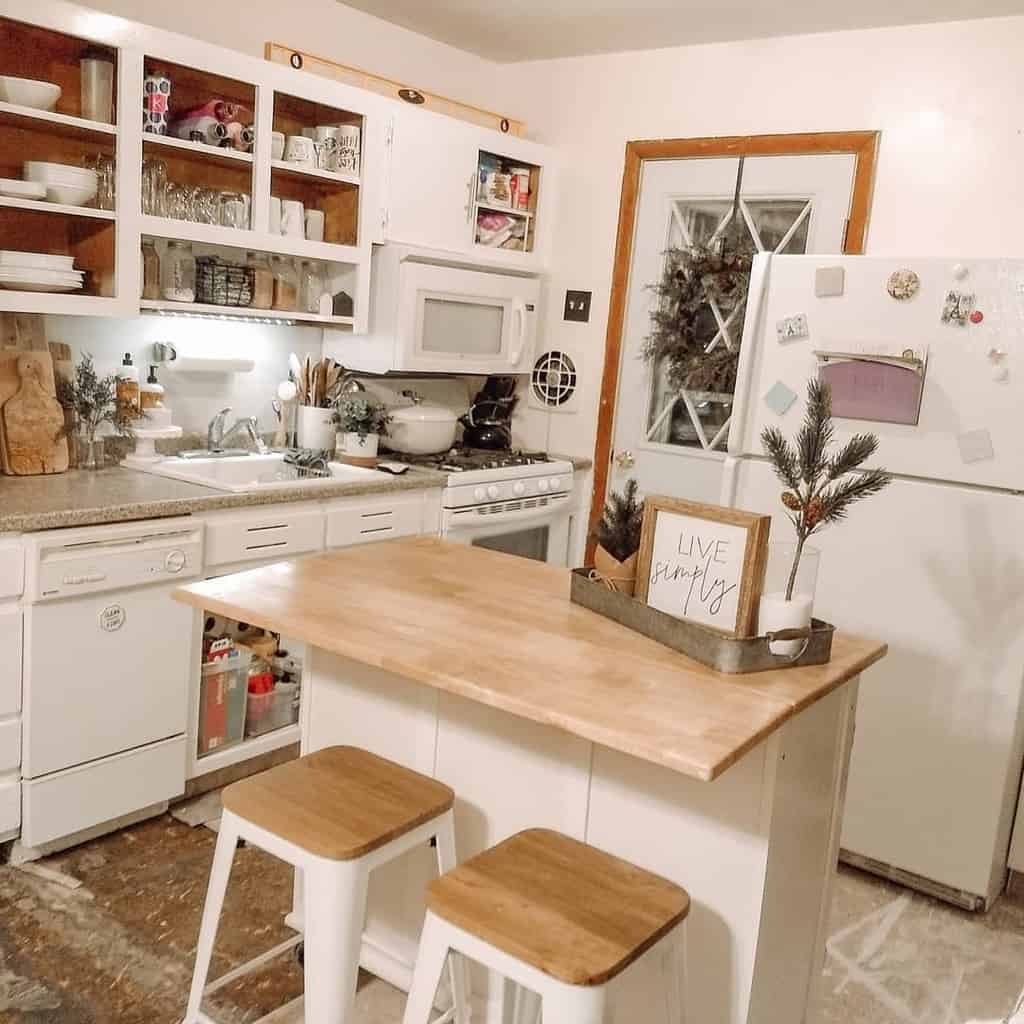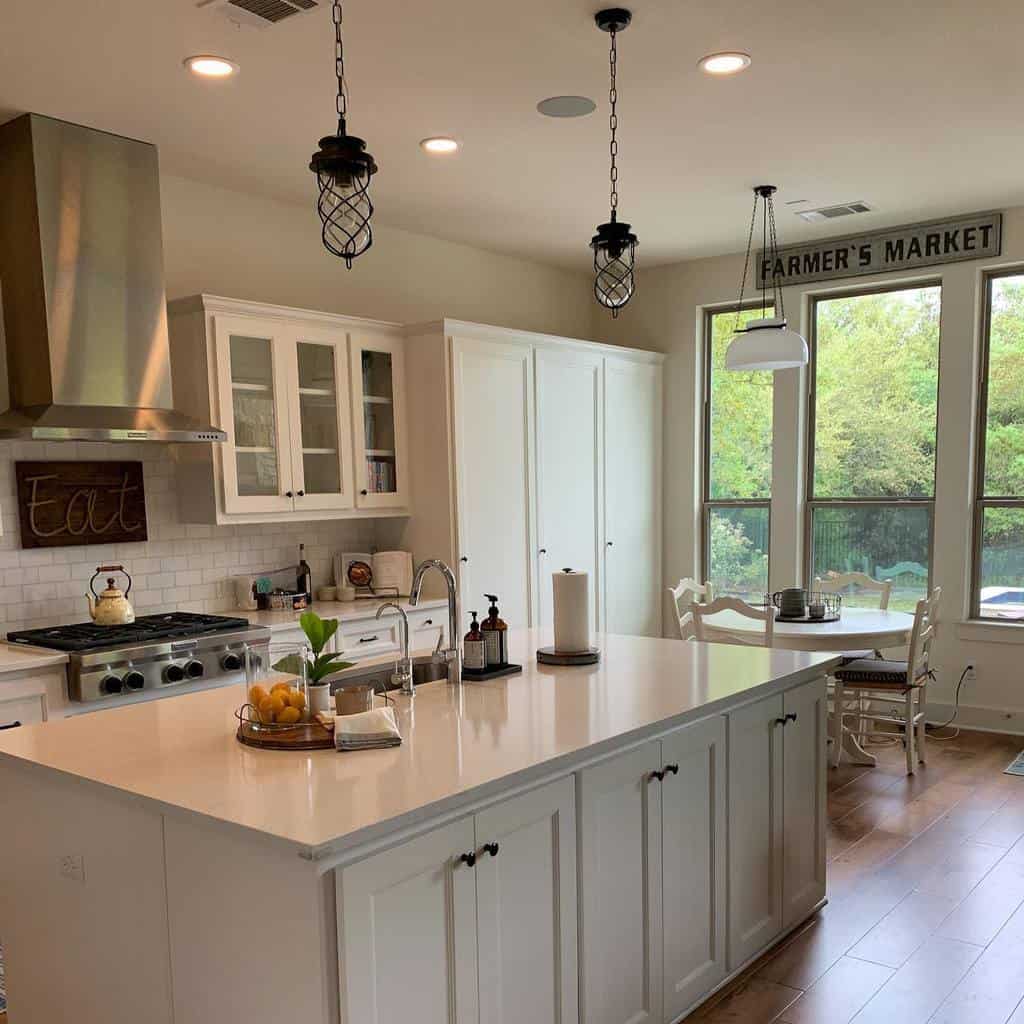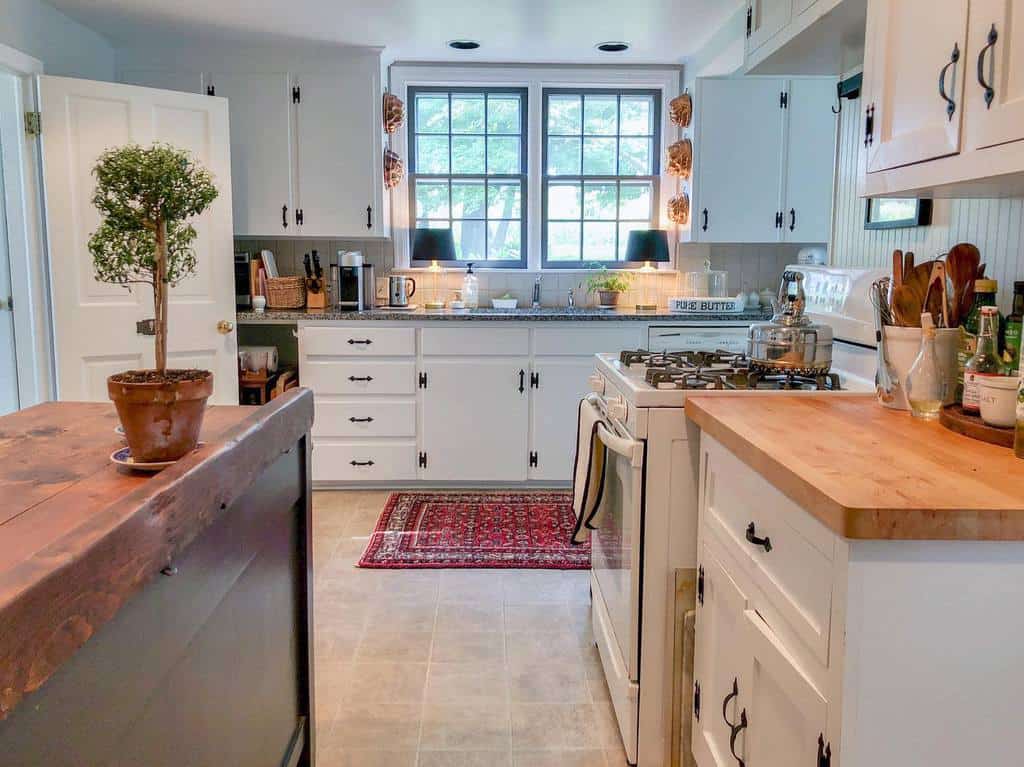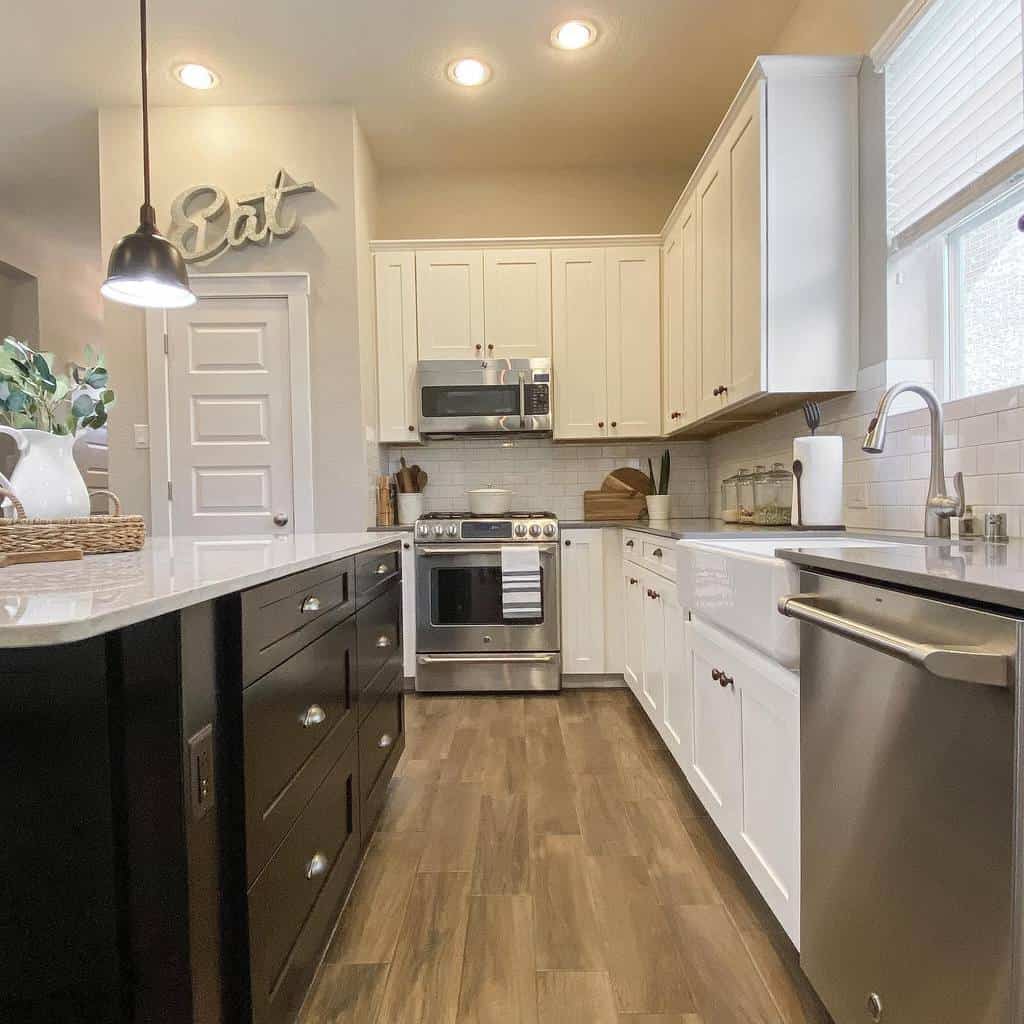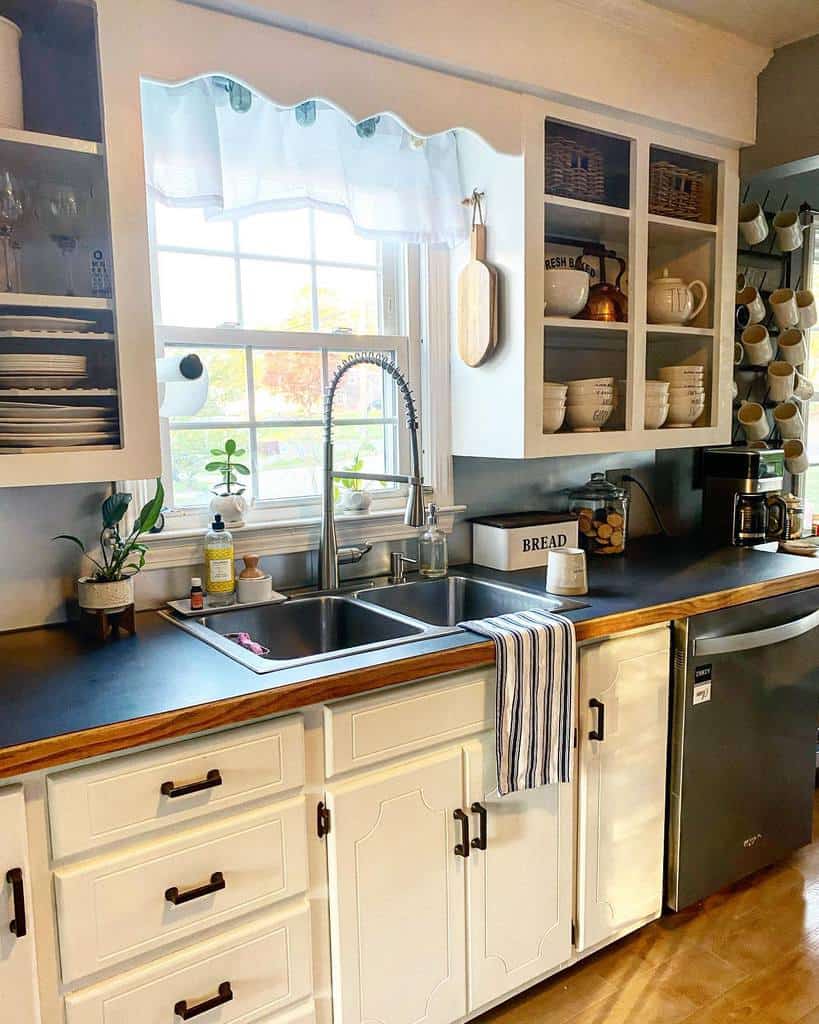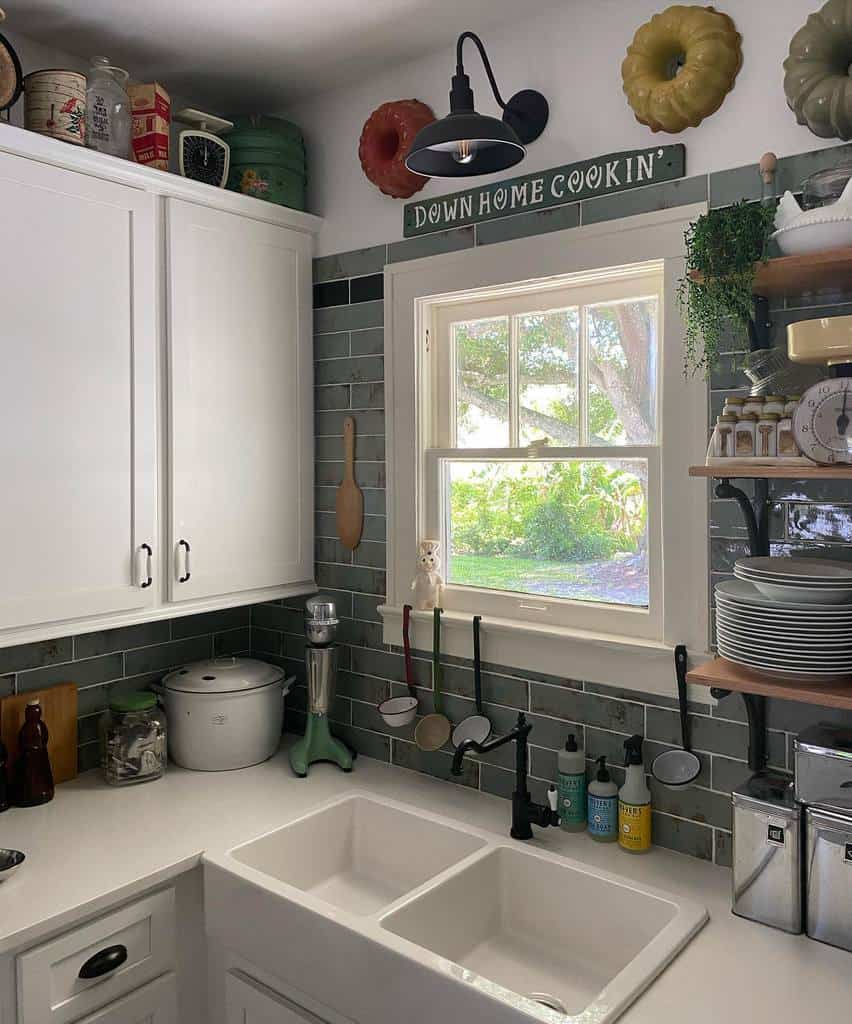 The white color is a nice neutral, making it easy to change your kitchen's design aesthetic. When you decide to sell your home, the broad appeal of white will come in handy. You won't need to make any changes to make your home more attractive to potential buyers.
10. Wood
A natural wooden shelf can add warmth and a touch of nature to your kitchen. Use reclaimed wood for your wood shelf for a rustic or farmhouse look. Embrace the uneven and worn look of the wood.
For a cabin-inspired or farmhouse kitchen look, use a piece of wood with a raw edge. The edge is unfinished and may still have bark on it.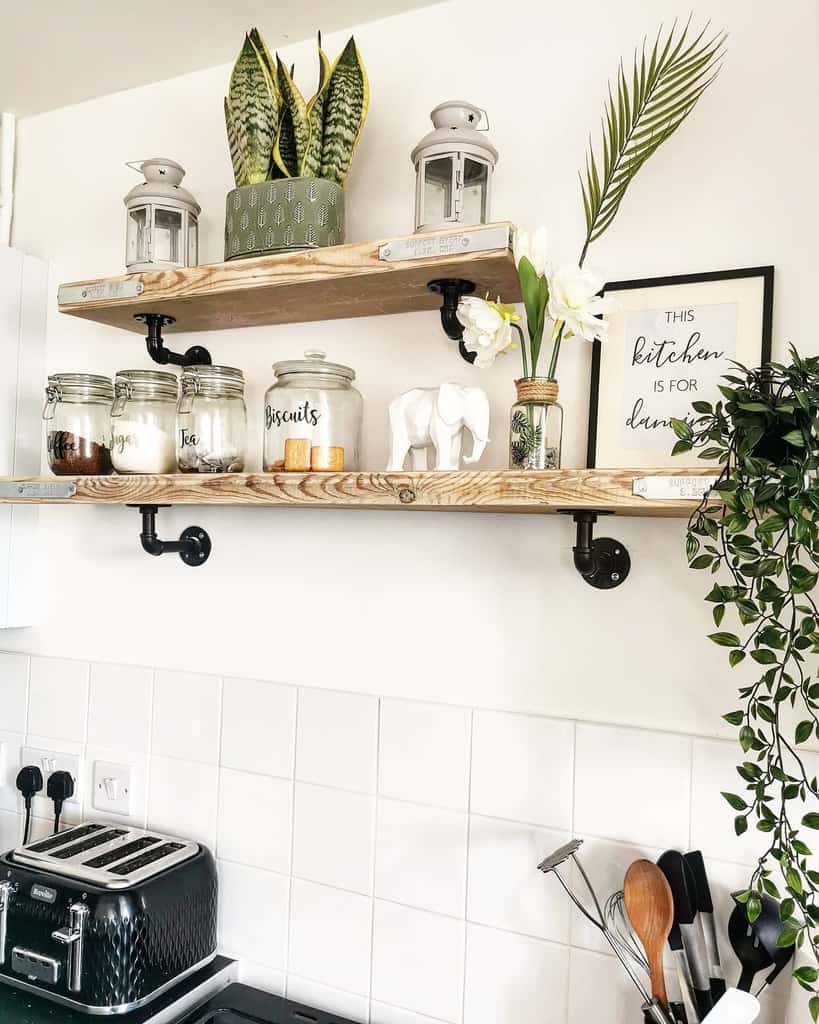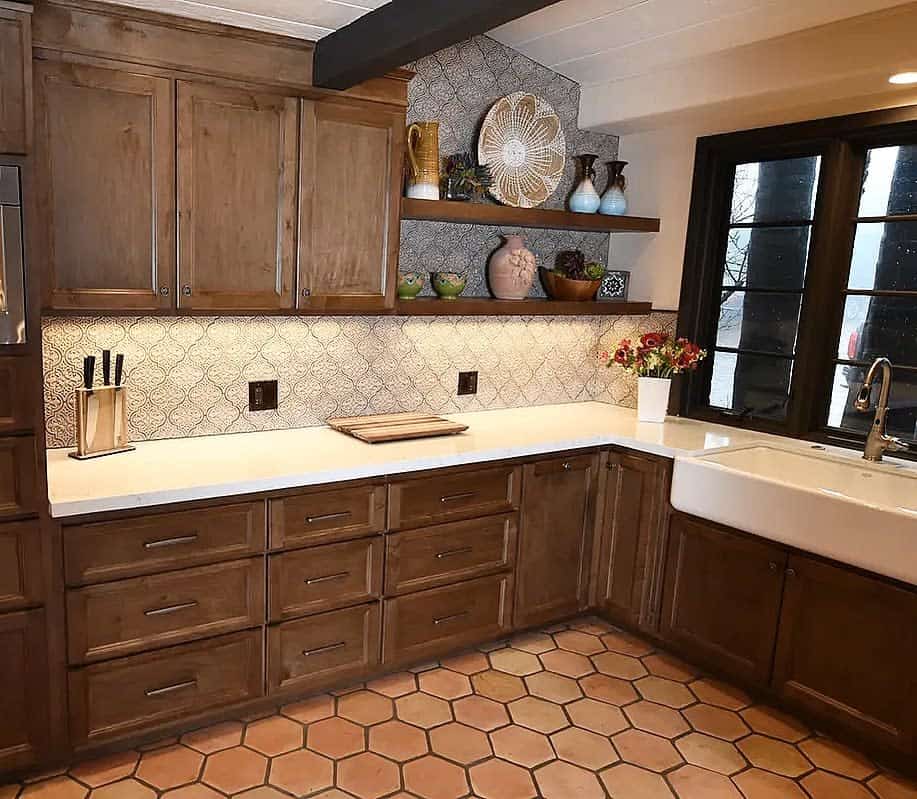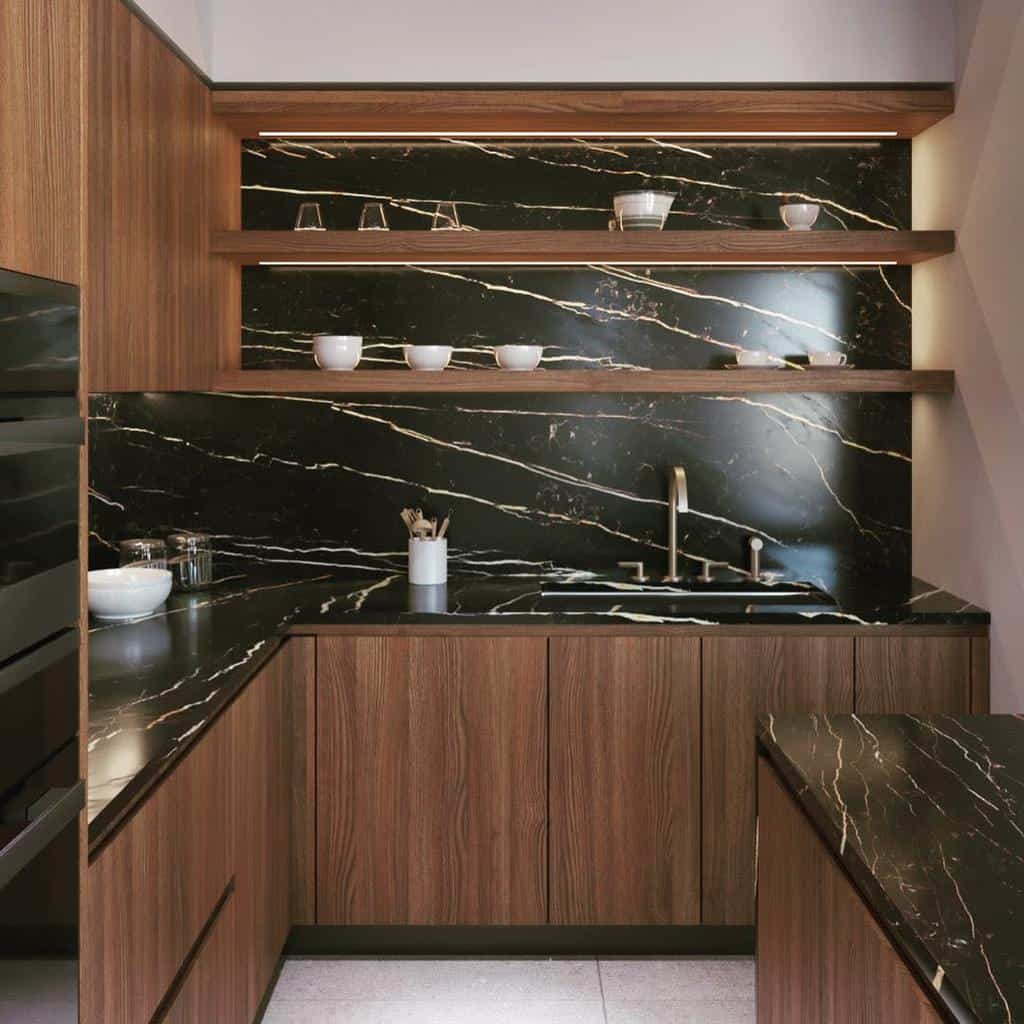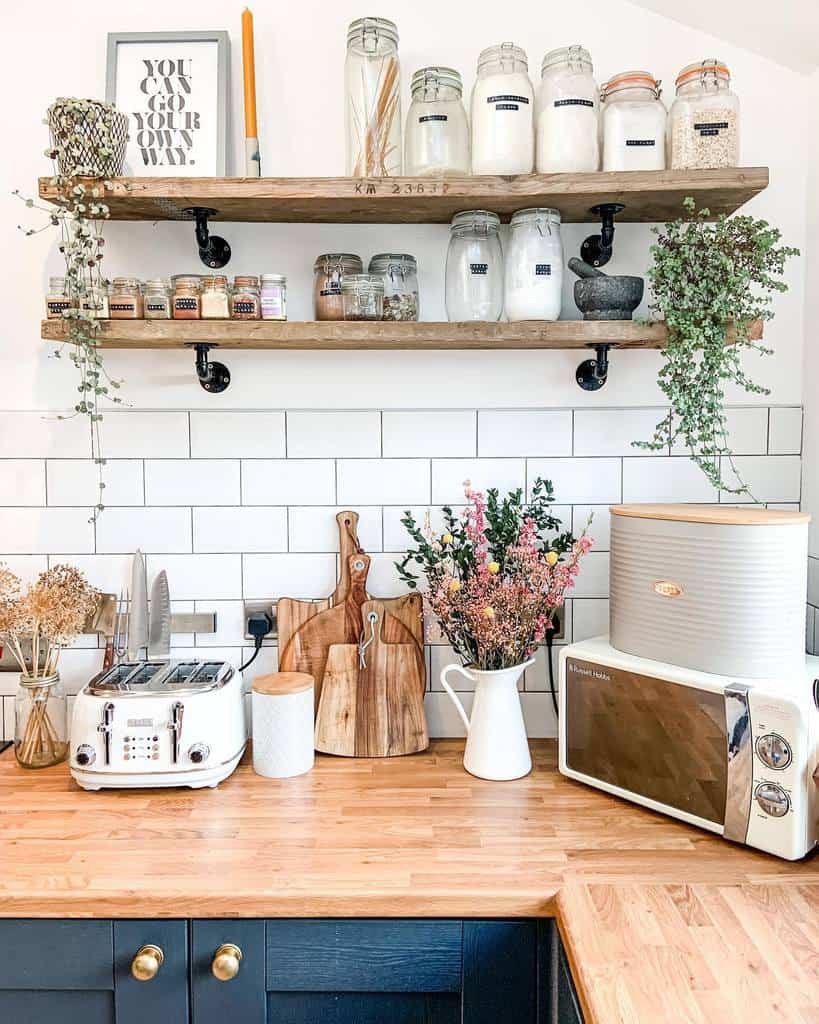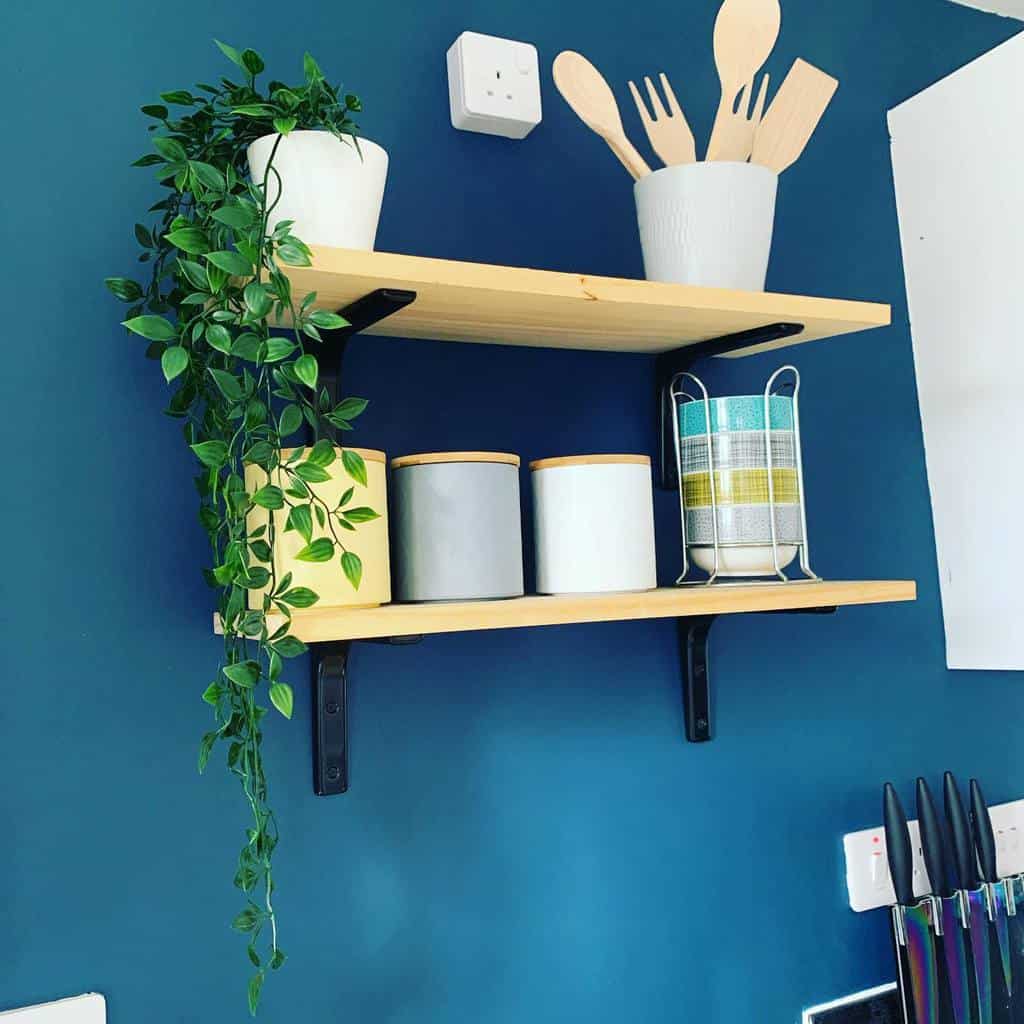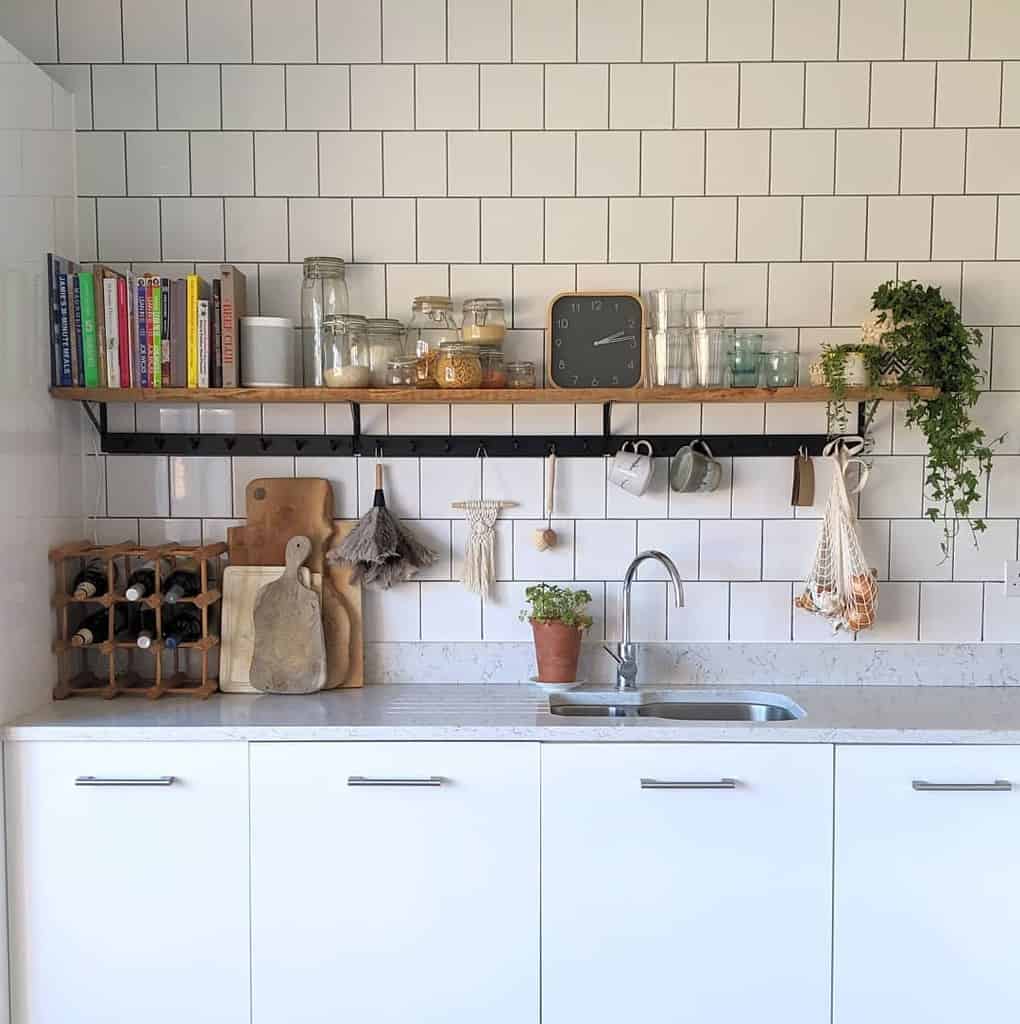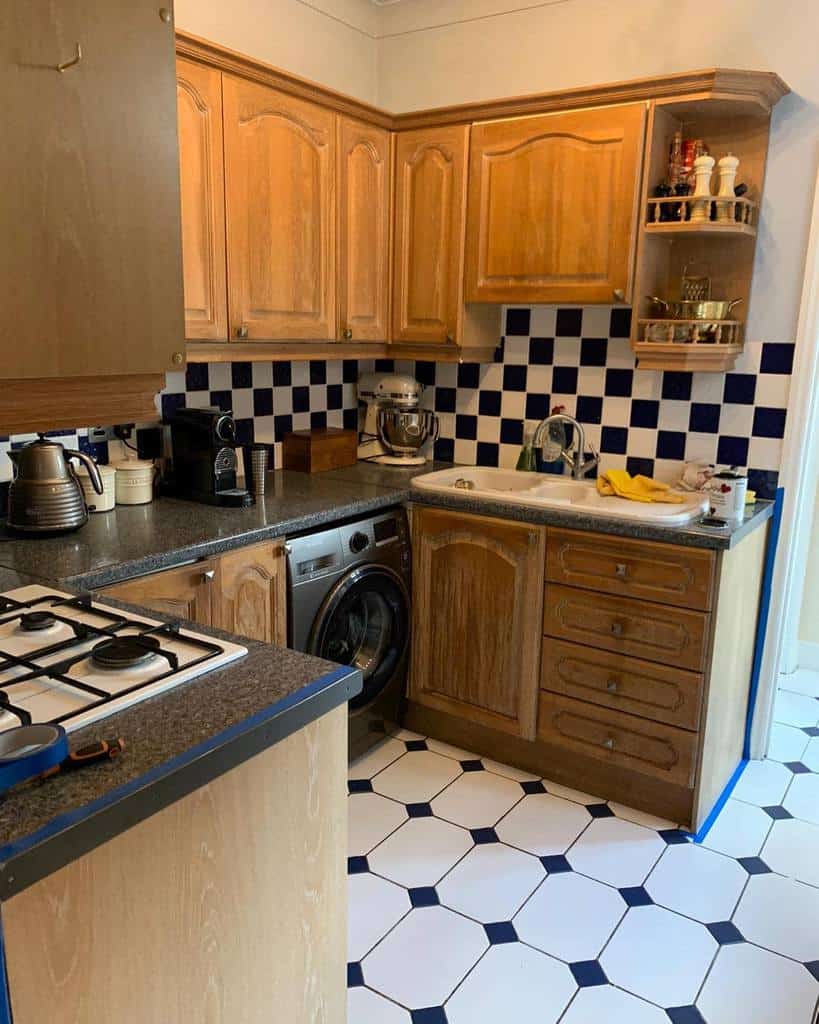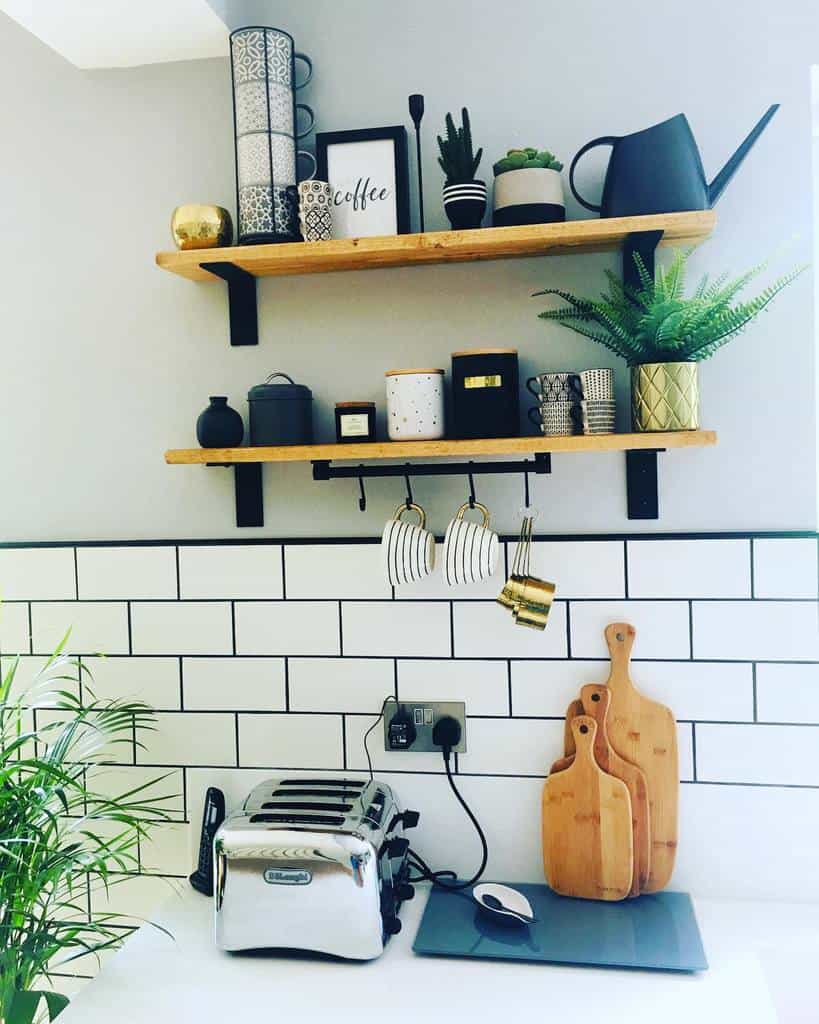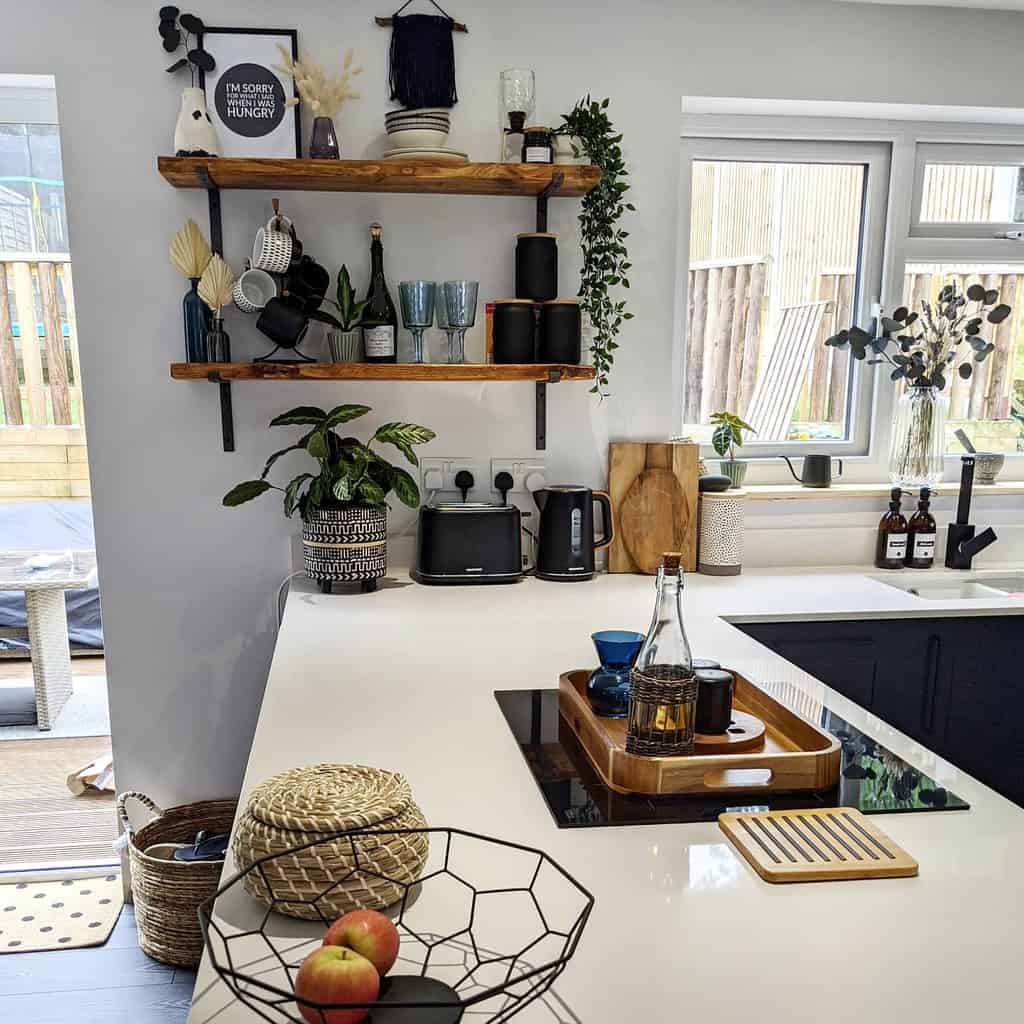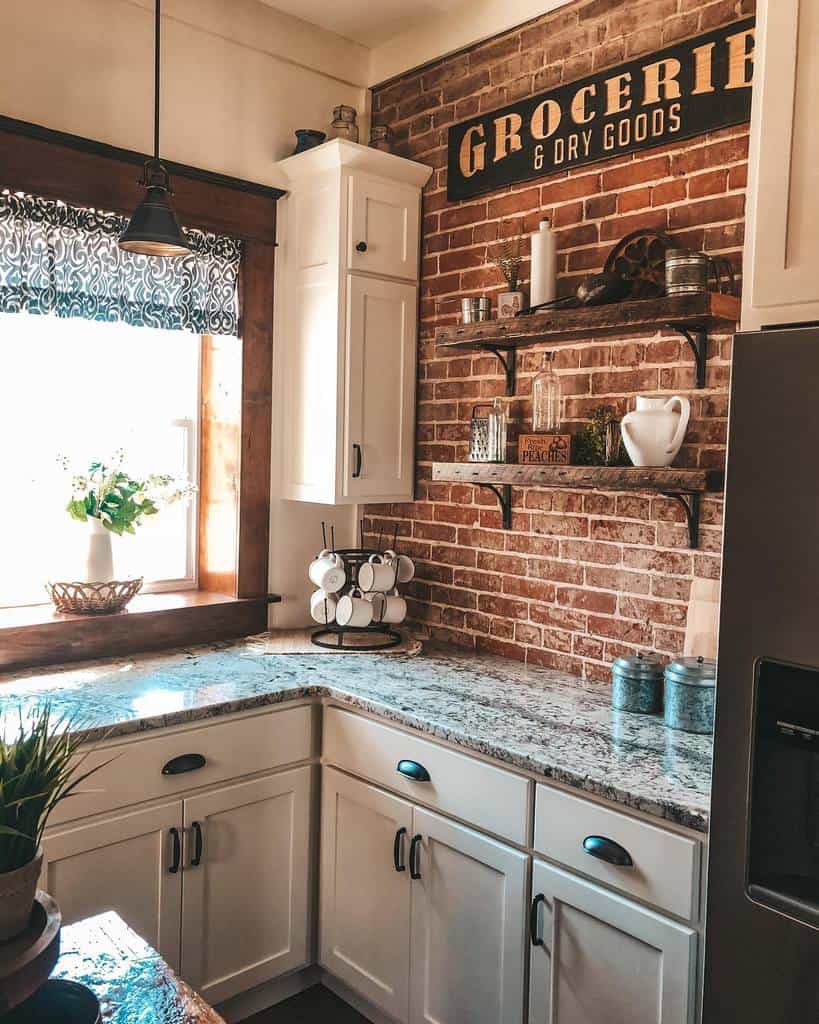 Not all wood shelves need to be rustic, though. Choose a beautiful piece of maple or cherry and have it finished with varnish. The shiny, smooth surface will look elegant in your kitchen. The sealed wood will also be easier to keep clean.
Kitchen Shelf FAQs
What should I put on my kitchen shelf?
You can put anything you want on your kitchen shelf. Many people choose to put decorative items on their kitchen shelves. Others use their shelf to store their cookbooks, spices, cooking staples, or dishware. You could grow a mini herb garden on your shelf. A shelf is also a great place to display artwork or family photos.
How do you make open shelves look good?
Fill them, but don't overpack them. You don't want them to look bare, but you also don't want them to look cluttered. Vary the heights of the items on the shelf and place some more forward than others. This will create visual interest. Choose containers that are both functional and beautiful to look at.
How thick should Wood be for shelves?
The ideal thickness will depend on the amount of weight you want the shelf to hold. Too thin, and the shelf will begin to bend from the excessive weight. A 3/4-inch thickness is good for bookshelves. For extra support, a thickness of 1-1/4 inches is better.