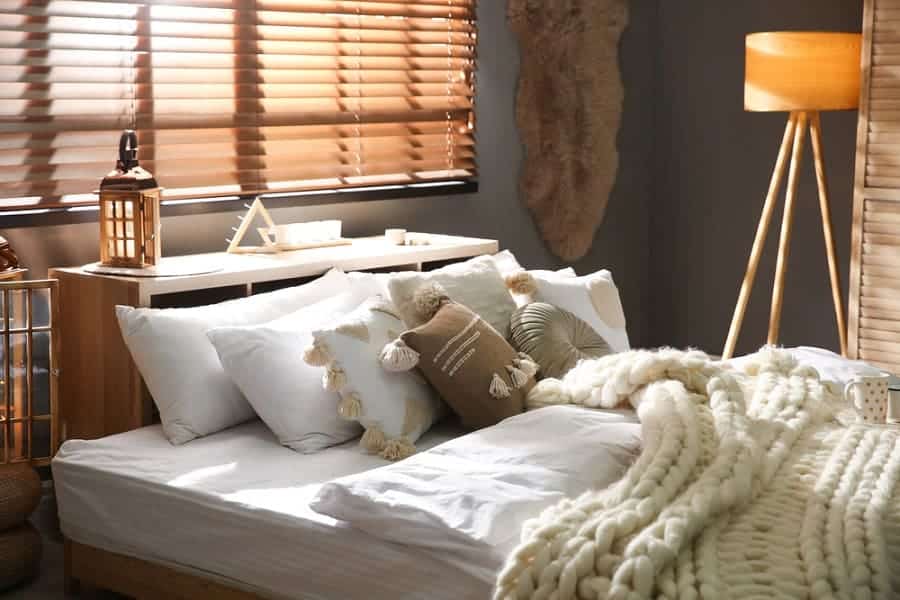 How to Make a Bedroom Cozy
Of all the rooms in your home that need a cozy feeling, the bedroom tops the list. Nothing's better than retreating to your own private haven at the end of a long day.
But coziness doesn't just happen—you need certain elements to create the warmth you want to feel in the bedroom. We've compiled 11 of our favorite cozy bedroom ideas to help guide you in the right direction.
1. Lush Linens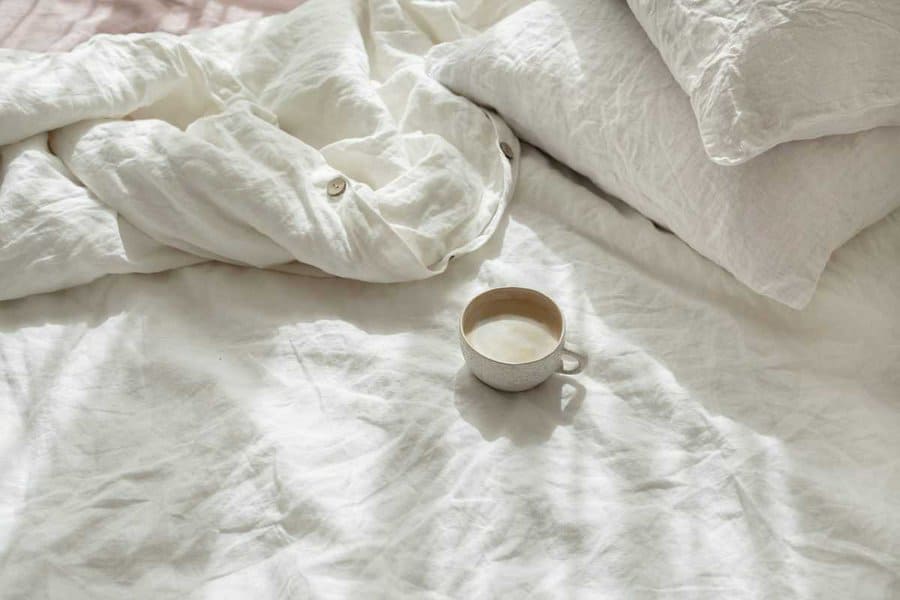 A comfortable bed is the foundation of creating the ultimate cozy bedroom. Although a sturdy frame and supportive mattress are a must, it's the linens that elevate your bed to the highest levels of coziness.
Don't skimp when buying bed sheets. The higher the sheet count, the better the material feels against your skin. Look for sheets made of Egyptian cotton or organic bamboo and aim for a 600 thread count or above. Top the bed with a fluffy duvet and a cover that conveys the cozy vibe you're going for.
Chunky knits are perfect additions to a cozy bedroom. If you're crafty, you can learn online how to make your own chunky knit throw blanket for under $30.
2. Neutral Tones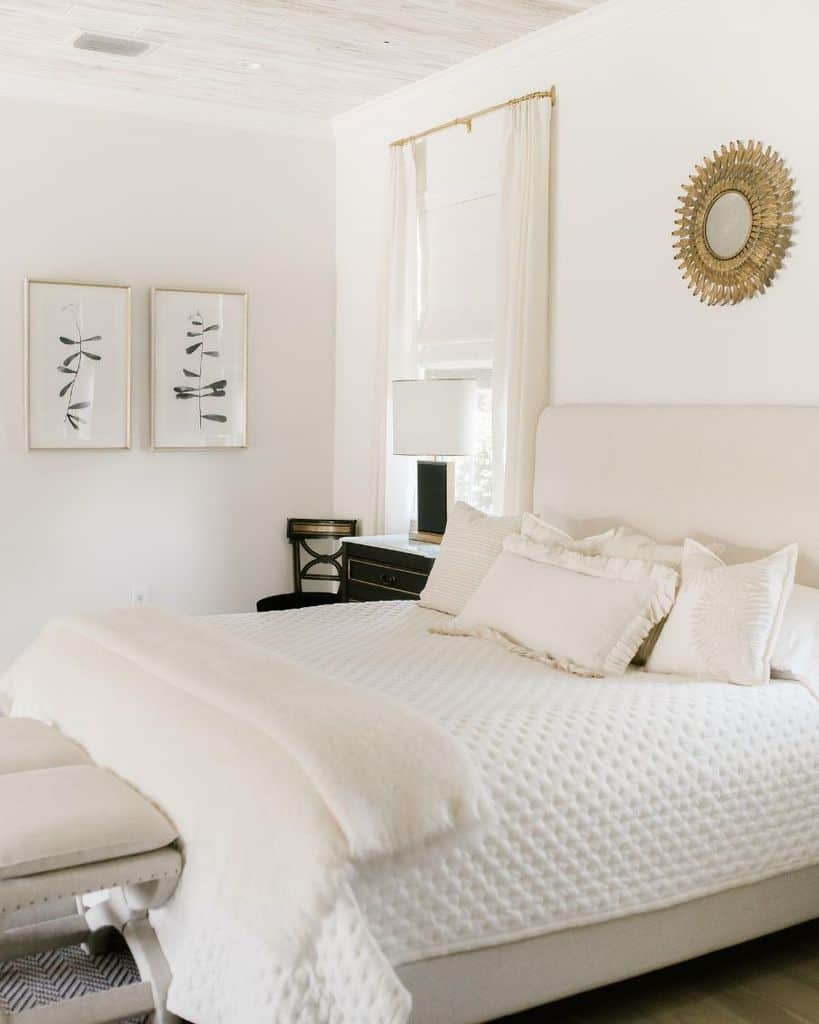 Why are neutral colors so incredibly cozy in the bedroom? We think it's because they don't compete for your attention. They just calmly exist in the background, allowing your focus to fall elsewhere.
Soft whites, mid-tone greys, shades of brown that mimic warm wood tones—all of these help create a serene bedroom environment. Decorating the entire room in light-hued neutrals is a great way to make a small bedroom feel more spacious.
For many, darkness is an essential ingredient in the recipe for how to make a bedroom cozy. Don't be afraid to use deep neutral shades as well as lighter tones. Paint the walls a warm charcoal grey or paint the wall behind the bed chocolate brown or even black to add depth and light-absorbing calmness.
Drape a sheer neutral-tone canopy over your bed to soften its look and add another texture and layer to your neutral color palette. A canopy bed always feels much cozier than one that's open to the entire room.
3. Warm Colors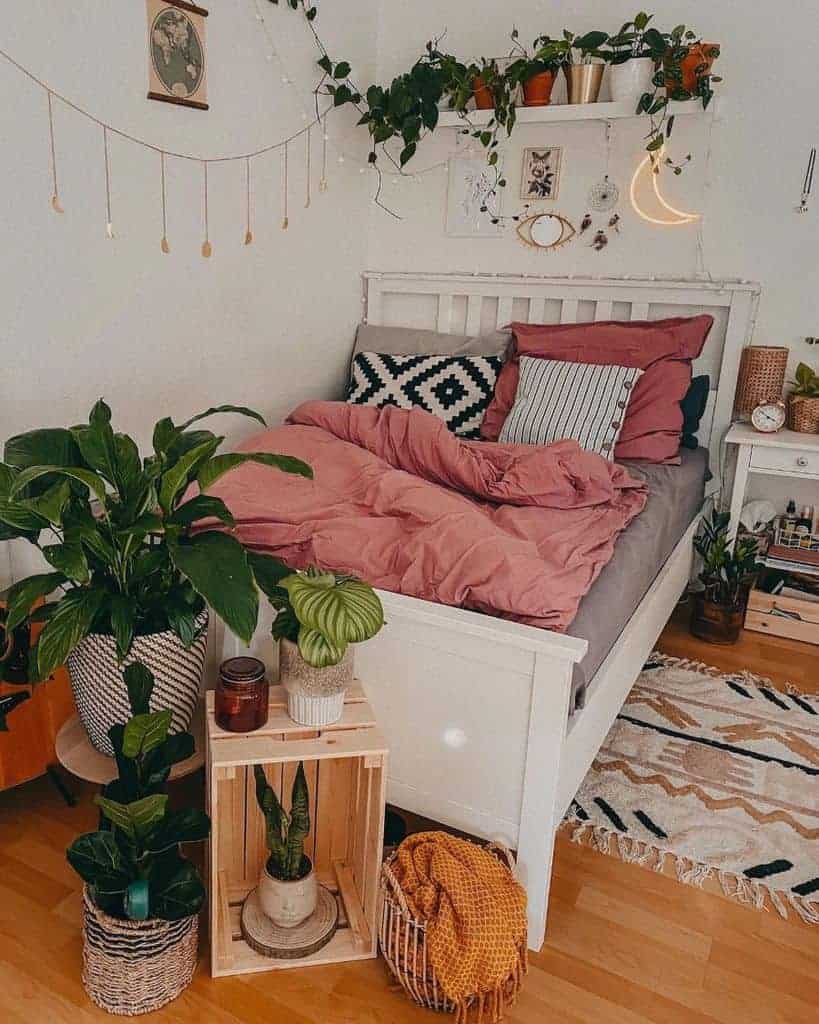 A neutral-colored bedroom might not sound at all appealing if you're a big fan of color. And that's fine because there are plenty of cozy decorating ideas that can incorporate your favorite colors. Bring home paint color swatches and samples to see which ones feel the best inside your room.
Because fire signifies warmth, flame-like soft yellow and gold hues are a logical choice for cozy room colors. Blush pink, burnt orange, and maroon are great warm color paint choices for cozy walls and furniture.
Boho—or bohemian—style is a particularly cozy interior design style that incorporates many colors. It's an eclectic type of decor that incorporates multiple prints, textures, and colors from home decor used around the world. It celebrates reusing and repurposing old items—which in itself adds warm reminiscence to the room.
4. Soft Textures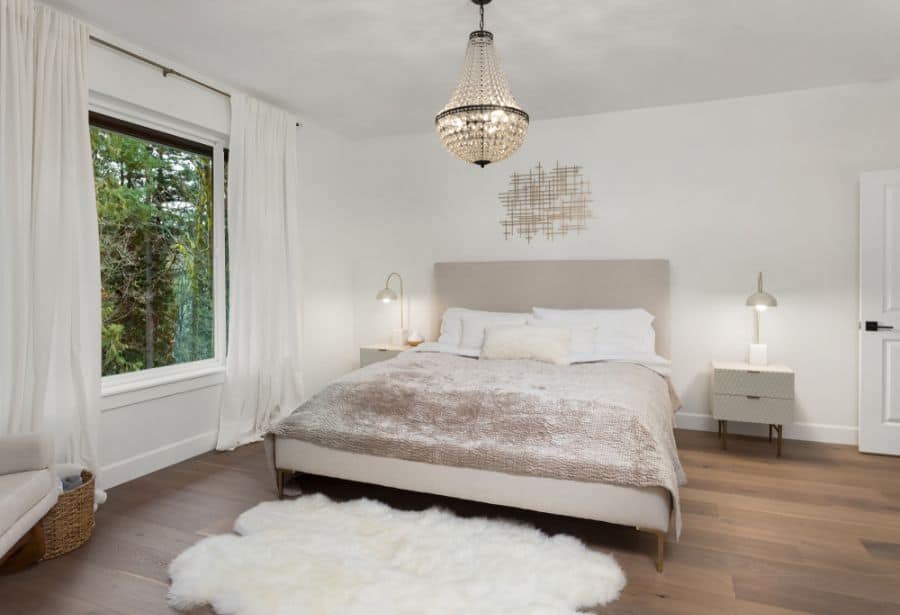 True coziness cannot exist without soft, comforting textures. Think flokati rugs, cashmere, velour, and other materials with a luxurious feel to them. Not only should your cozy room incorporate softly-textured items, but they should also be layered to multiply the lushness.
Wherever you can, replace a hard texture with a soft one. For example, choose a padded, upholstered headboard instead of a wooden or metal one. And don't be a fanatic about making the bed every day. A loosely covered bed is infinitely more inviting than one with square corners and perfect pillow placement.
Faux fur is really hot in cozy bedroom decor right now. New synthetics are so silky soft, and their plush texture makes you just want to settle in and cuddle. If you love this texture, invest in a good-quality faux fur throw blanket. If you only want a touch of it to add an earthy warmth to your bedroom, shop for furry throw pillows instead.
5. Comfy Flooring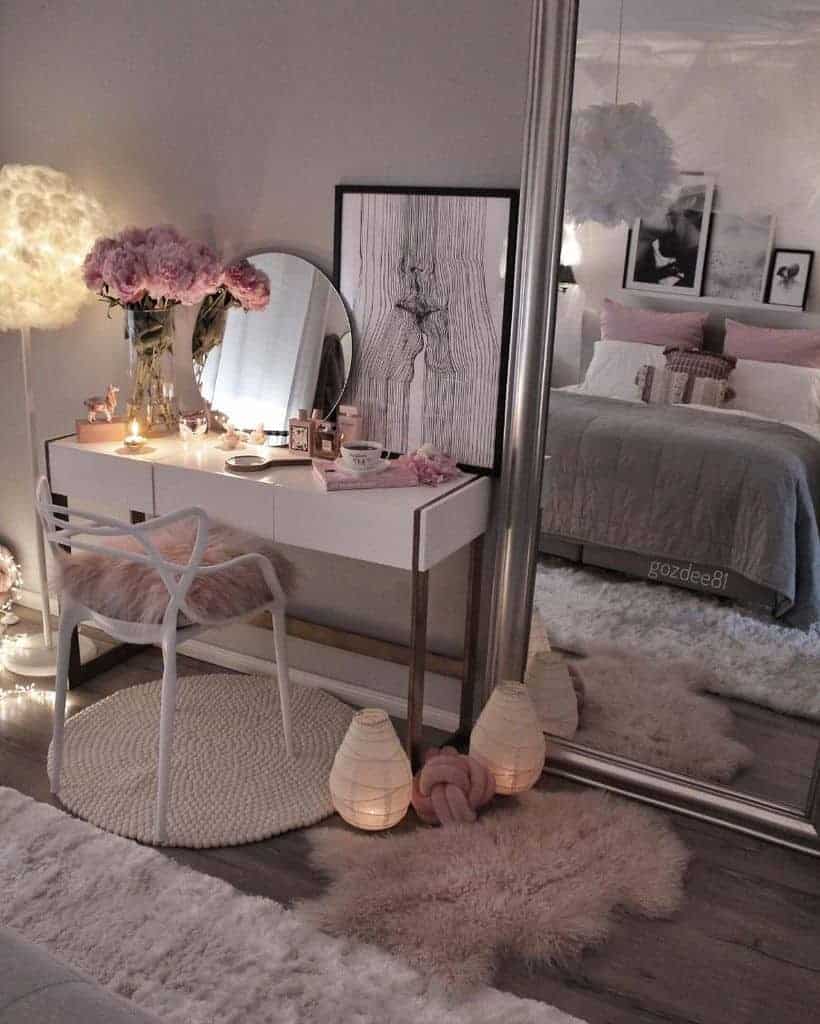 Yes, even the way you cover the floor can add a layer of coziness to your room. If you're remodeling the bedroom, the warm appearance of natural hardwood is tough to beat. A weathered white or pale grey finish is an excellent choice in a coastal cottage, while stained wood goes with any type of decor.
Carpet is another option for a cozy bedroom, and provides the added bonus of sound reduction. If you can afford it, wool is the softest natural carpet fiber on the market. Certain synthetic carpets are made to feel silky smooth under your feet, while others feel more like walking on a straw mat. Keep in mind that the padding under the carpet adds a significant layer of comfort, so don't skimp on this important layer.
If you don't have a choice in the type of flooring that's in your room, it's time to up your rug game. Adding large and strategically-placed rugs will soften the harsh presence of a concrete or tile floor. Cotton, wool, and silk are the softest natural fibers to look for and some synthetics are nearly as good.
Sheepskin rugs—real or synthetic—are great additions to a cozy bedroom. Not only do they feel incredible underfoot, but they also look like soft, fluffy clouds.
6. Cozier Window Treatments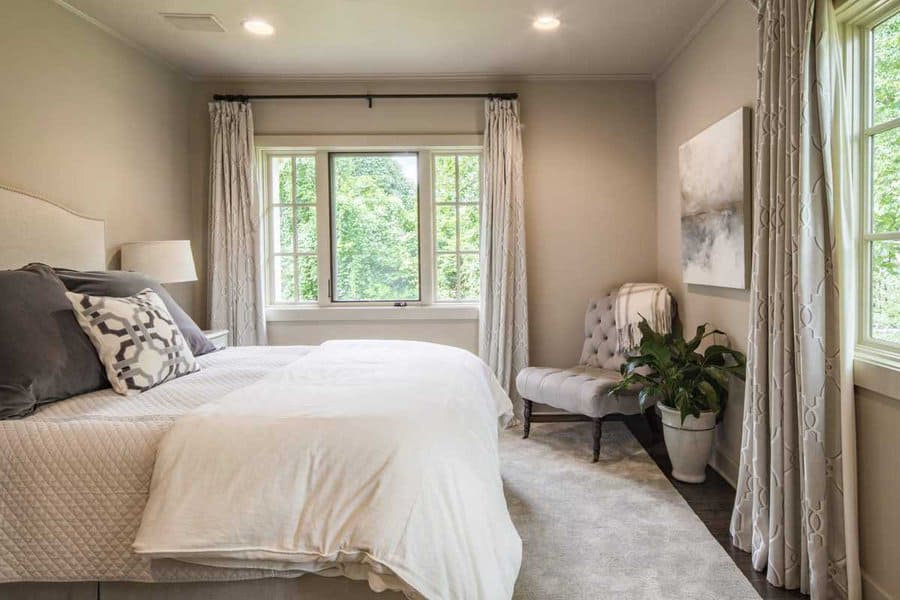 There's nothing particularly cozy about the builder-standard aluminum mini-blinds you see in many homes and apartments, so it's up to you to add that coziness factor to your windows. Since controlling the amount of natural light is key to creating a sense of coziness, blackout curtains may be a good choice.
No longer ugly panels of solid black fabric, today's blackout curtains offer superior light-blocking capabilities while providing the look you want. You can even find solid white blackout curtain.
7. Living Decor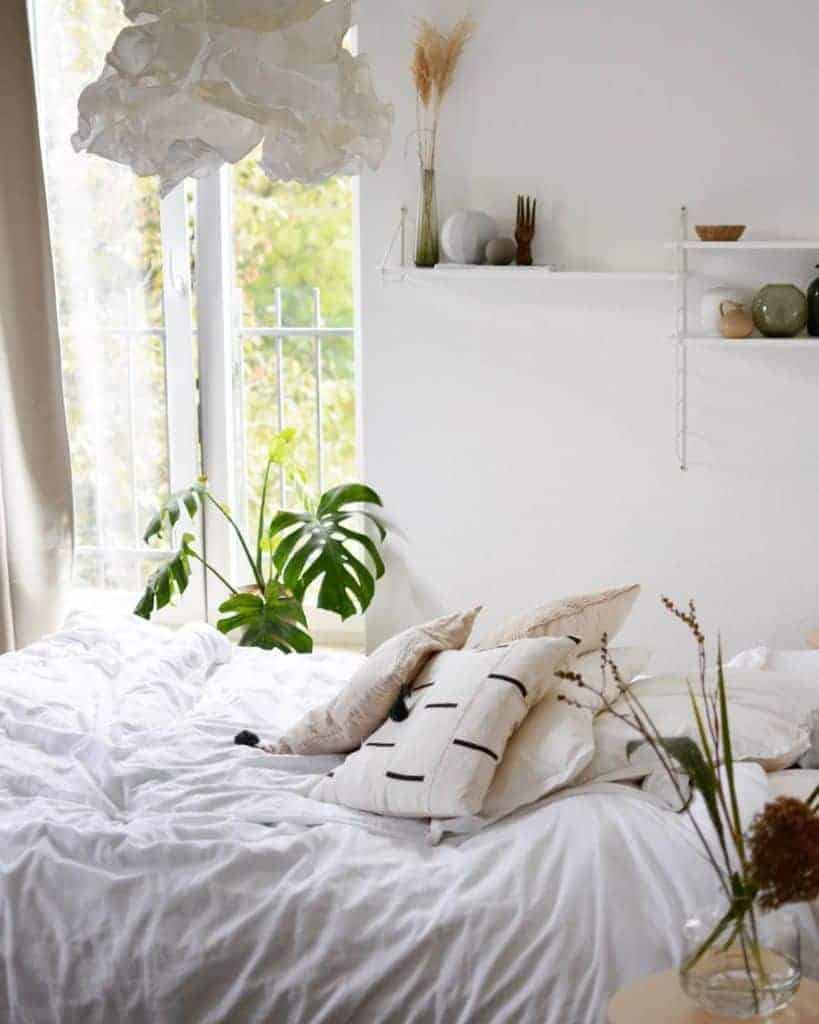 Living plants quite literally add life to any room. Today's home decor suggestions include plenty of greenery—everything from trailing vines to prickly succulents. Add a hanging basket of pothos in a bare corner. Nearly anyone can keep it alive and it will add a soft splash of color and texture in an otherwise unremarkable area of the room.
Plants thrive in clusters. Arrange several small potted succulents on a tray or inside a beautiful ceramic bowl. If you'd rather not worry about keeping a plant alive, craft stores sell remarkably lifelike faux plants that provide the ambience without the commitment. Just be sure to dust them occasionally so they don't scream, "Fake!"
Vases of fresh flowers are another great decoration to include in a cozy room. Their soft curves and colors become a focal point, especially set against a neutral color palette. Speaking of flowers, floral prints are a time-tested interior designer trick for adding a dash of old-world charm. Pair subtle floral fabrics with plaid in similar hues for a cozy cottage vibe.
8. Piles of Pillows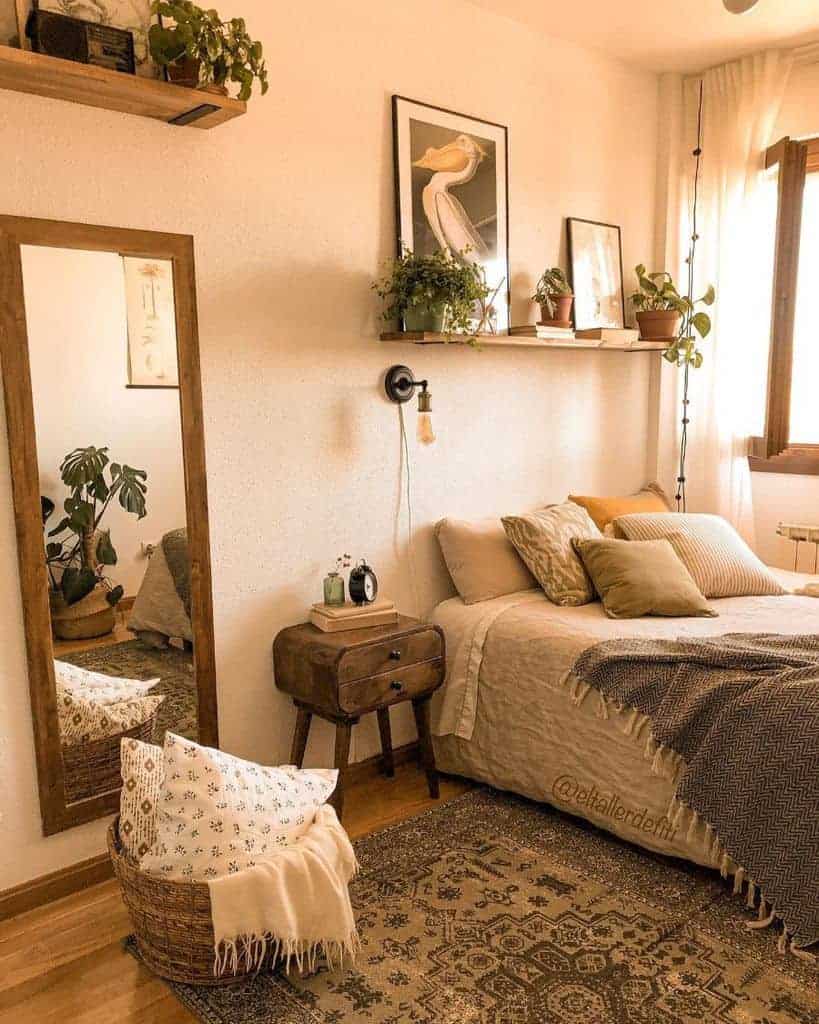 What's more inviting than a pile of fluffy pillows? Whether placed on the bed or piled up as floor cushions, few can resist diving into a stack of pillowy softness. Aim for at least three different types of pillows on your bed, in addition to the one you use for sleeping. Remember that odd numbers are more visually interesting than even numbers when accessorizing a room.
Vary your throw pillow colors, textures, and shapes. In addition to the classic square and rectangular pillow shapes, look for long bolsters, round pillows, and canister-shaped neck rolls. If your bed is in the corner, line long pillows along the wall to create a daybed effect that gives a living room vibe to the bedroom.
9. Low Illumination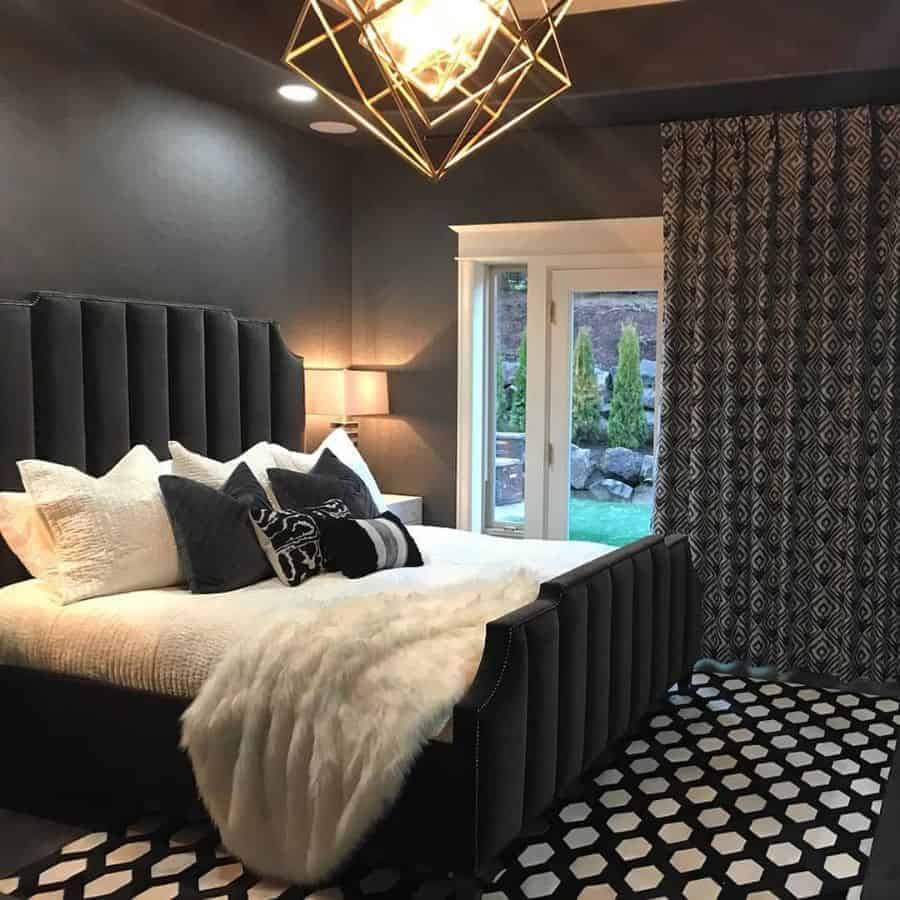 Low-level lighting helps create a cozy environment. Your goal should be to have several sources of low, warm light in your bedroom that can be turned on or off to create the ambiance you crave in the moment.
Start with overhead lighting. While that may seem to stark for a cozy room, you'll be glad for it when you're trying to find a lost button or contact lens. Look for overhead light fixtures that have a dimming option, or hire someone to replace your ordinary light switch with a dimmable fixture.
Fairy lights are another essential ingredient for creating a cozy bedroom. Strung from the rafters, draped over the headboard, or simply tacked along the ceiling line, they provide a perfectly warm, candle-like glow. String light options have matured beyond the basic twinkling Christmas strands everyone knows. Globe lights, Edison bulbs, and tiny paper lanterns are just a few of the hundreds of string lights available today.
10. Flowing Fragrances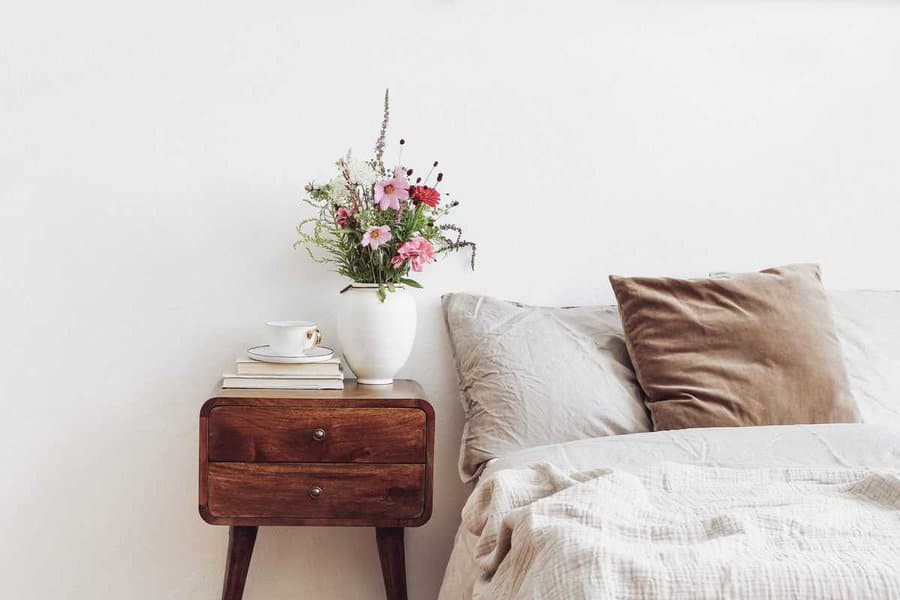 We experience coziness through all of our senses—including smell. Scented candles are an obvious choice for adding aromatherapy to your bedroom. Look for jar candles in various sizes and place them around the room. Or arrange scented pillar candles on a reflective tray and place them on the dresser or another sturdy piece of furniture.
An essential oil diffuser is an excellent alternative to a candle collection. Not only does a diffuser remove the risk of open flames burning near fabrics and furniture, but certain health benefits have also been linked to inhaling essential oils. Some diffusers even come with lights that cast a warm candle-like glow.
11. Fireplace Features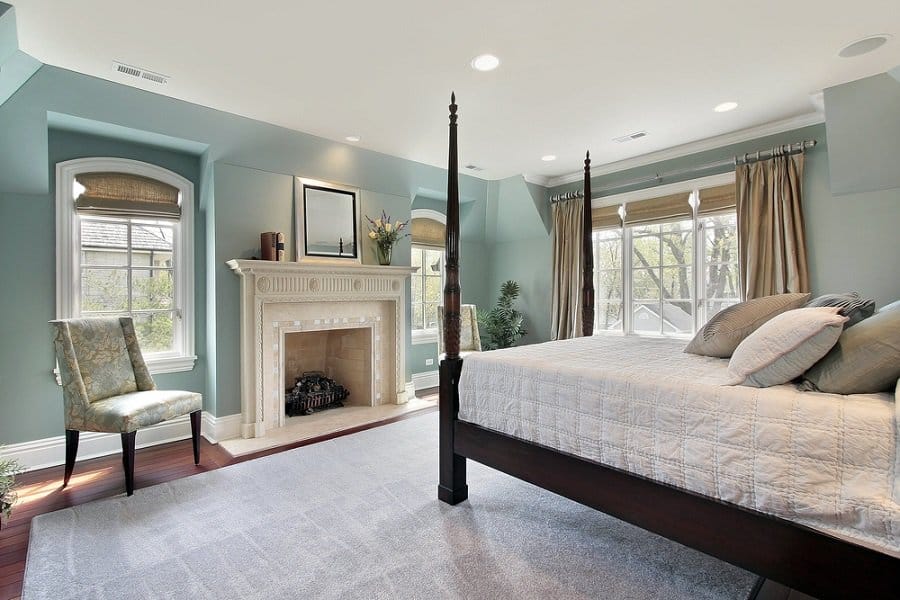 If you're lucky enough to have a fireplace built into your bedroom, that's a huge plus for building a cozy hideaway. If not, you can still add a different type of fireplace to capture the same atmosphere.
Wall-mounted gas and electric fireplaces come in a huge range of shapes and sizes. Many have a decidedly modern design while others are styled more like a traditional fireplace or wood-burning stove. Some modern models can be controlled through a phone app and many have color-changing crystals and other unique features.
Another bonus of electric fireplaces is that you can choose a no-heat setting that allows you to enjoy warm firelight without heating up the room. You can do something similar with a built-in wood burning fireplace. Replace the logs with log-shaped candleholders, or arrange battery-powered candles inside the fireplace opening.