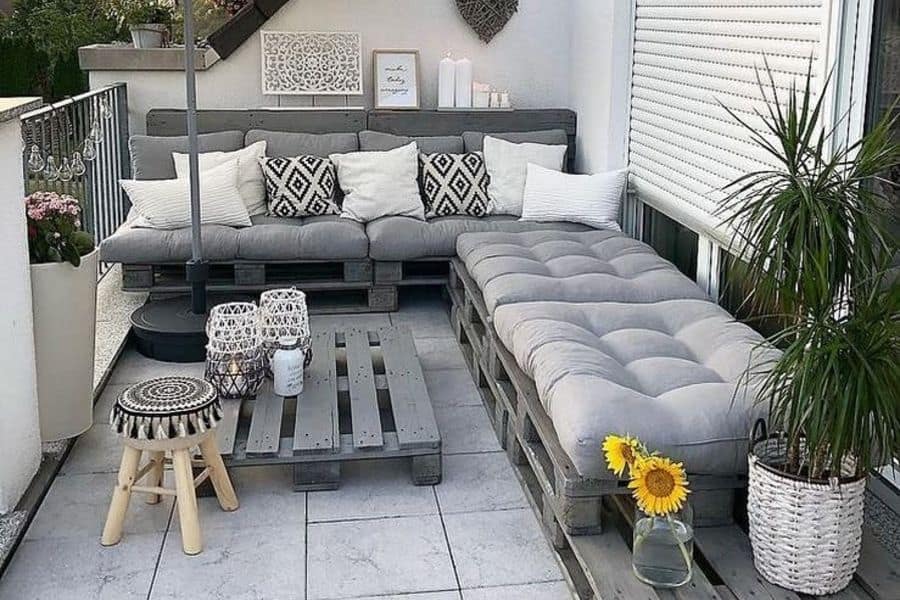 48 DIY Pallet Furniture Ideas
Wouldn't it be cool if you could build your own furniture? It's easier than you think. All it takes is gathering up some pallets. These pallet furniture ideas will get you inspired to build your own pallet furniture.
Perhaps you have a large backyard patio, and you haven't found the right furniture for the space. Build a large lounging sofa that encircles the outer edge. Then there's plenty of room for everyone.
Continue the look inside with a pallet wood table in your kitchen, tv stand in your living room, and nightstand in your bedroom.
1. Bar
Never spend money at the bar again when you build your own pallet bar in your backyard. This easy DIY pallet project can be built in a weekend with old pallets.
The simplest method is to stand the pallets on their side and attach them at the corners. Then all that's left to do is build the flat bar top with a wide plank of wood.
If you're handy, you can take the pallets apart and build a custom bar from scratch. This method is nice because you have more control over the size of the bar.
You can build it to fit your patio or deck space perfectly. Distribute the planks by color and quality so that you have a visually appealing look to the front of the bar.
2. Bedroom
Get rid of your old store-bought bed frame and replace it with a custom-designed pallet bed. The simplest solution is to let the pallets down and stack them to your desired bed height. Most people use two or three pallets stacked for a low to the ground look.
You'll want to lay a solid piece of plywood over the pallets to give you a smooth surface to place your mattress on. Otherwise, it'll begin to fall through the slats and feel uncomfortable.
You don't have to commit to a pallet board bed to have a rustic look. Keep your traditional bed frame and use pallet slats to create a headboard. Or build a pallet wall at the head of your bed.
3. Chair
Build your own outdoor furniture out of pallets. The simplest DIY pallet chair is to stack pallets until you get to your desired seat height. Then use three standing on their sides to build the armrests and chair back.
You'll want to put a cushion over the seat and back to make the chair comfortable to sit in.
Another option is to take the pallets apart and build a fancier custom chair, like a pallet Adirondack chair.
These are more comfortable because they are closer in size to a traditional chair. They also have a slightly reclined back and smooth seating area.
4. Desk
Need a small desk area? Use two pallets for the sides and one for the top. You'll have a pallet desk that's just big enough to sit at and work on your laptop or paperwork.
You can thread the wires and cable through the pallets to help hide them for a cleaner look.
One drawback of pallet wood is that it's rough. It was never designed for indoor desk use. You'll want to sand it smooth, especially on the desktop.
Otherwise, your writing will be a mess. Another option is to place a sheet of glass over the wood. This will give you a perfectly smooth and hard surface for writing on.
5. DIY
DIY pallet furniture ideas are beginner-friendly and perfect for the person who wants to build their own furniture but doesn't know where to start. The precut pieces are uniform in size, making it easier to build a symmetrical and balanced piece of furniture.
Check out DIY ideas that use upcycled pallets. Some are simple, requiring you to stack and attach whole pallets together. Others are more complicated, requiring you to take the pallet apart and then use the pieces to build something new.
6. Nightstand
This is not the place to use a whole pallet in its original form. Nightstands are small tables that sit next to your bed, so a whole pallet would be way too big. Because of this, you'll find this wooden pallet project requires a bit of skill.
Take the pallet apart and build a box. The simplest option is an open box with four legs and a tabletop. Something more complicated would require you to enclose the nightstand and attach a door on the front with hinges. If you're experienced with woodworking, you can build drawers.
7. Racks and Shelving
Build more than just furniture with your pallet wood. Try your hand at pallet crafts and create custom home decor for every room in your home. Hang a pallet wine rack in your kitchen or dining room for a rustic display of your vino collection.
Don't like wine? Turn it into a mini bar display with your favorite spirits. Add a glassware rack to the bottom and hang your glasses for an all-in-one station.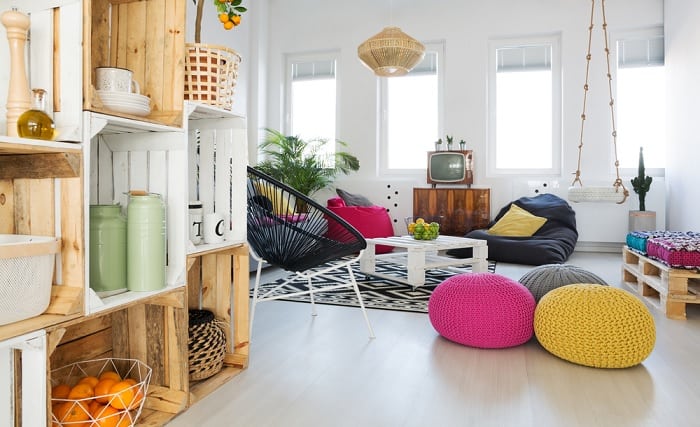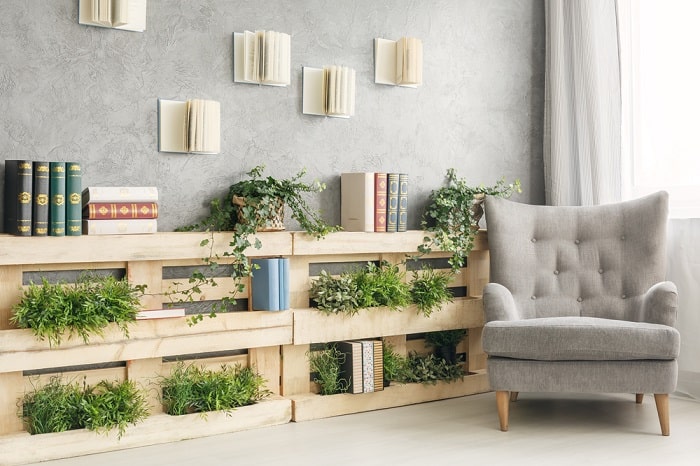 Hang a pallet planter in your kitchen for holding your fresh herbs. Put one in your bathroom for holding succulents for a mini living wall. Another could be outside on your deck or patio for a modern greenery display.
8. Recycled/Upcycled
Using reclaimed pallet wood is a great way to recycle and upcycle cast-off wood. However, it's not the nicest or cleanest wood you could use. You may not want to bring it into your home. Instead, stick with outdoor projects. Use your pallet wood to make outdoor furniture for your patio.
You can place pallet garden furniture in your backyard as a place to sit and admire your seasonal blooms.
Build a gardening table or shed out of pallet wood. The wood's rustic nature makes it perfect for use in your garden and outdoor applications where it's going to get dirty anyway.
9. Sofa
If you have a large living room, recreate the large DIY pallet sofas that you see on social media. Stack several pallets on the floor and use planks to fill in the gaps. Then place large cushions to make the seating soft. Go further than this and place several throw pillows of varying shapes and sizes on your sofa. This will create a plush lounging area that's perfect for watching a game or good movie.
You can create seating that's similar to a pallet couch but smaller. A pallet bench will look quaint and welcoming in your entryway or hallway. A pallet swing is a unique take on the traditional porch swing. Hang one in your backyard or on your porch.
10. Table
Build a perfectly sized country-style pallet table for your kitchen. Pair it with a pallet bench for plenty of seating. The tabletop could be pallets supported by wood or metal legs. Or you can take the pallets apart to construct your table from scratch.
Sand all of the pieces to give you a smooth tabletop and sides. You could even stain or paint it for a more elegant looking pallet dining table.
Skip the long legs and use short ones instead for a perfectly matched pallet coffee table. Try this approach if you have an open floor plan where you can easily see from the living room to the kitchen.
11. TV Stand
Give your living room a rustic feel by building a TV stand out of recycled pallet wood. This is one of the more intricate and advanced wood pallet furniture ideas.
Small living rooms can get away with using two pallets stacked on top of each other. However, you'll need to add planks to make them a smooth service. You'll also want to paint the pallets to hide their gross look or look for nice like-new pallets.
A better option is to break the pallets down and build your own TV stand. Build one that's large enough to support the size of your TV. It should also be scaled to fit comfortably in your living room.
Give your stand an industrial look by building it on a metal frame. This balances the look of rustic wood and metal perfectly.
Pallet Furniture FAQs
What are the best pallets to use for furniture?
Some pallets are designed for industrial or commercial use; these are not good for home furniture making. Avoid pallets that have been treated with harsh and harmful chemicals. Instead, look for pallets that are stamped with ISPM 15 certified. These are heat-treated (HT) pallets or are fumigated with Methyl Bromide (MB). These are safer for use in your home and around your family.
Why can pallet furniture be bad?
Some shipping pallets harbor e.Coli or Listeria, which are both harmful to humans. Other pallets are prone to mold growth when you leave them outside. Chemically treated pallets can leach the chemicals out into the air, making it possible for you to breathe them in while being near the furniture.
How much weight can a pallet bed hold?
The amount of weight that a pallet bed can hold will depend on the pallets' size and construction. However, remember that pallets are designed to hold thousands of pounds of consumer goods. Standard sized pallets can hold anywhere from 3,500 to 4,700 pounds.