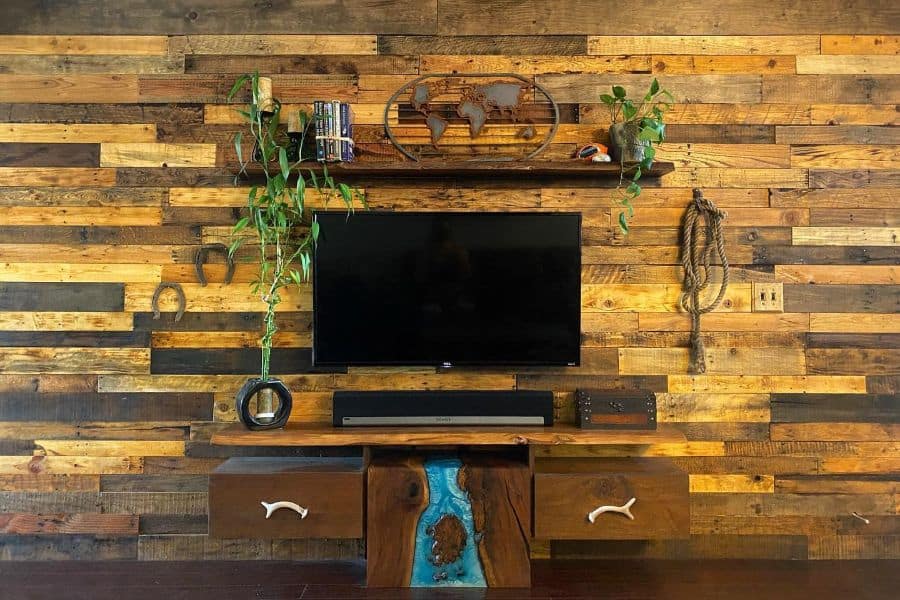 "A room should never allow the eye to settle in one place." – Juan Montoya
An accent wall adds so much charm to your home, and a pallet wall is one of the most popular ways to achieve this. It provides an interesting focal point in any room and melds with many styles of home décor.
Using reclaimed pallet wood for a wall treatment is an inexpensive and easy DIY project that nearly anyone can do. Take a minute to look through our amazing pallet project ideas and get started on your favorite today!
1. Bar Floating Shelves
If you're looking for a creative way to spruce up your home, why not consider a wood pallet wall with bar shelves? This twist on the traditional shelf can bring an unexpected element of style to any space. You can suspend wall shelves for liquor and replace plain walls with interesting textures and colors.
Turn it into an art project by painting your pallet wall in a unique pattern or stenciling special quotes onto the surface. Whatever you decide, it's sure to be the star of any room!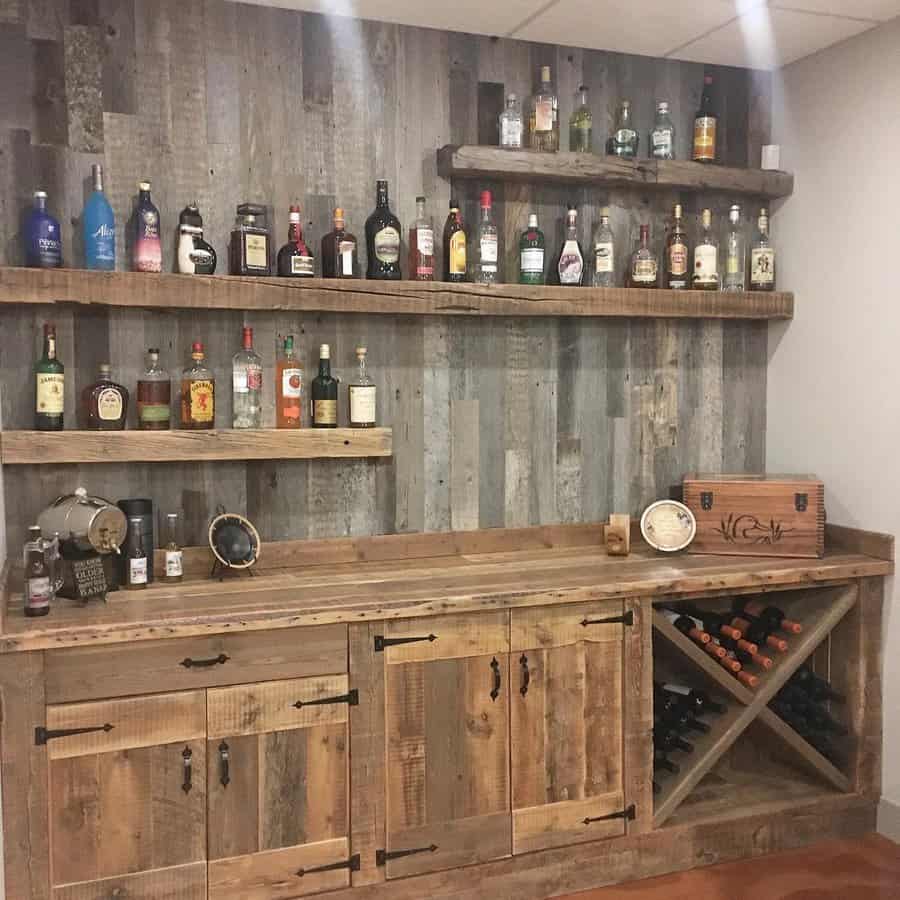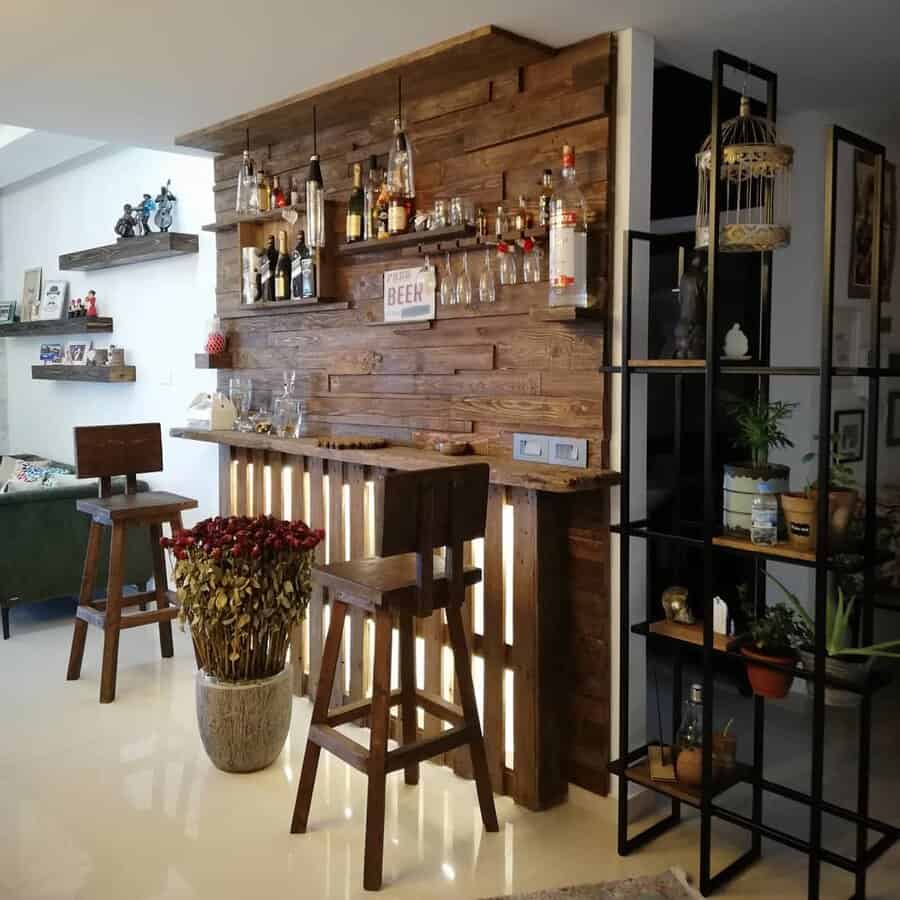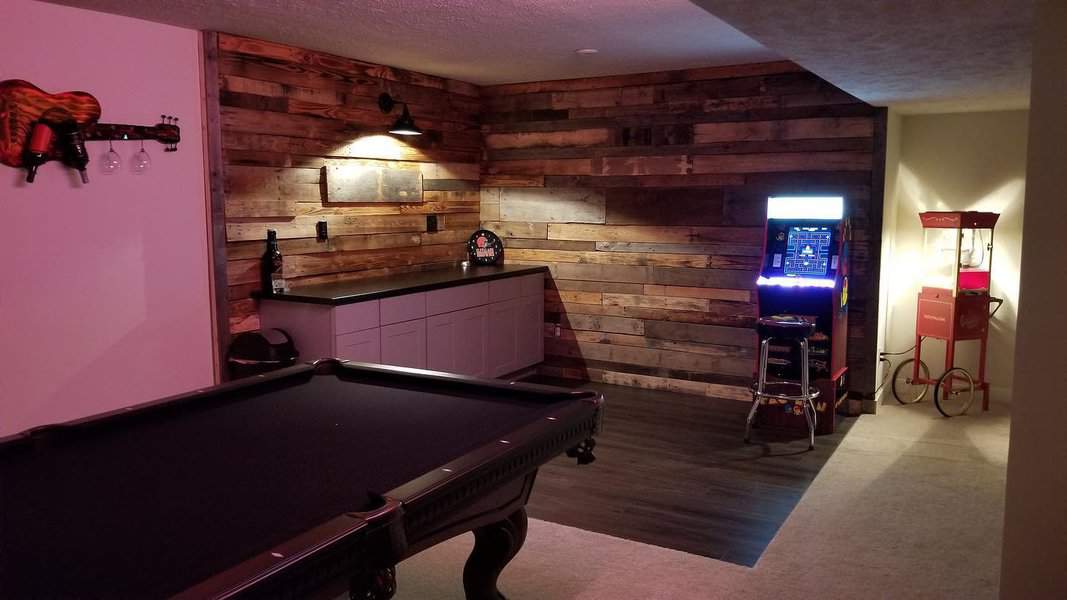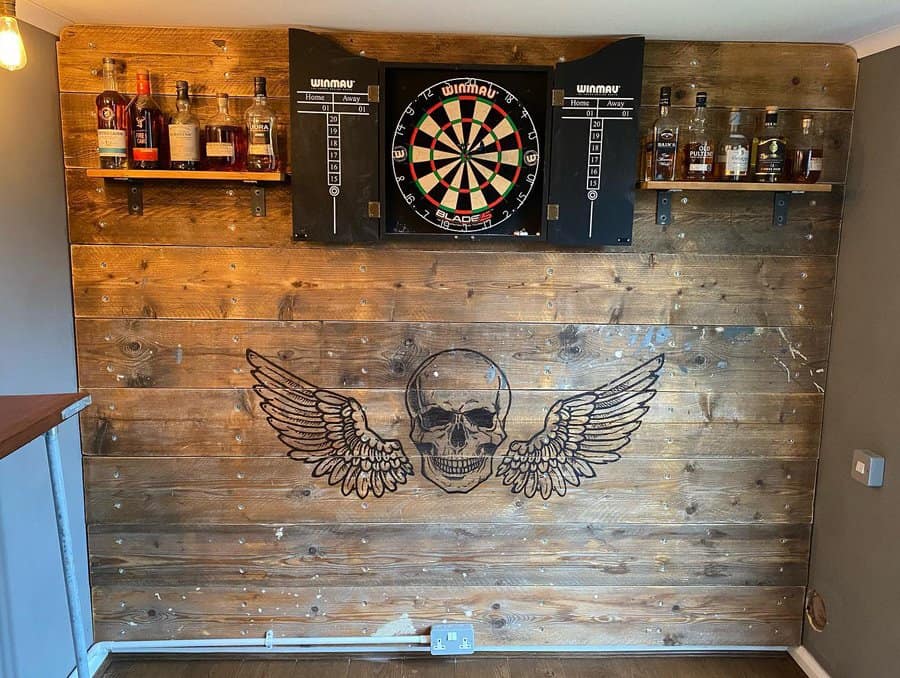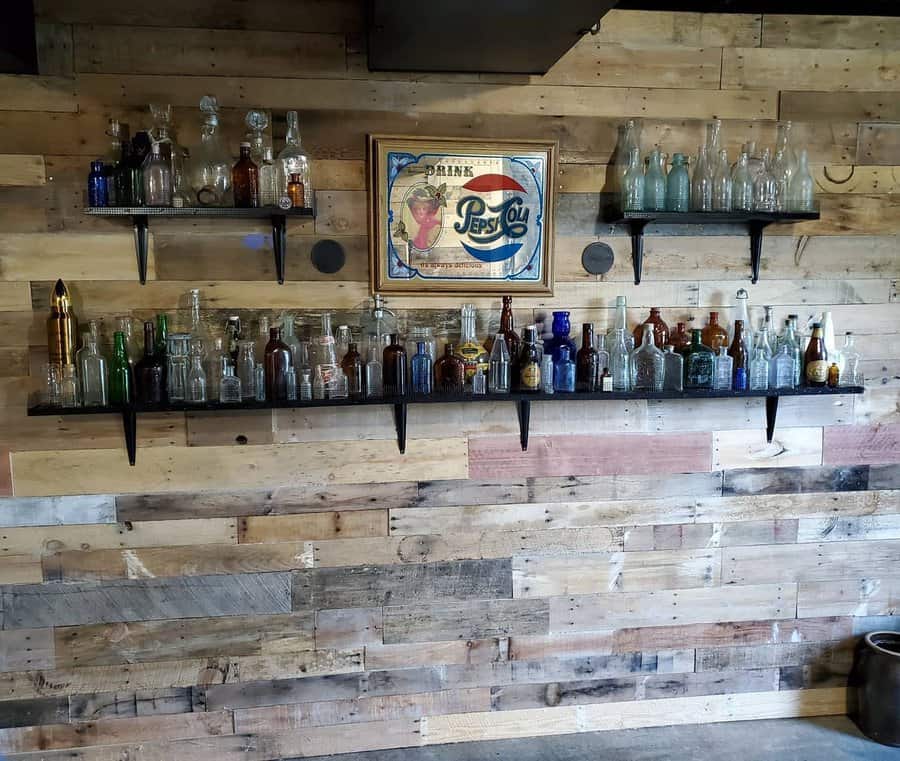 2. Bathroom Vanity
Consider creating a bathroom vanity made of wood pallets! Simply cut them to size and arrange them together, then add some countertop materials like marble or laminate for an attractive look that is bound to turn heads. Exploring different painting or staining options can also help to match the color palette of your bathroom while giving the area a fresh new look.
Finally, complete with a coat of paint or lacquer for extra protection and you'll have a truly rustic, yet modern item that you can proudly show off!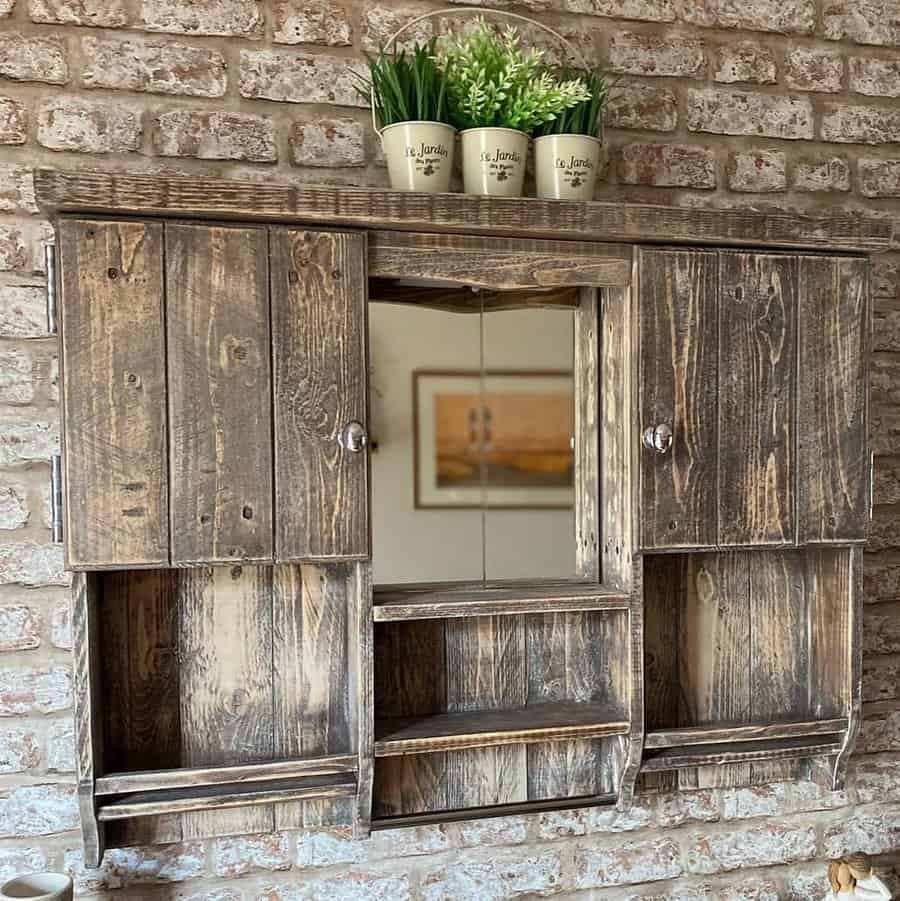 3. Bathroom Accent Wall
Adding a pallet wall accent in your bathroom is a great way to bring personality and style to the space. A wood pallet wall can range from rustic farmhouse vibes to modern industrial, depending on the stain and finish you choose. Give your bathroom a unique touch with an interesting color scheme or subtle stenciling within the slats of the wall.
Whether you're looking for something chic and understated or bold and daring, there is an endless number of options when it comes to bathroom pallet wall ideas!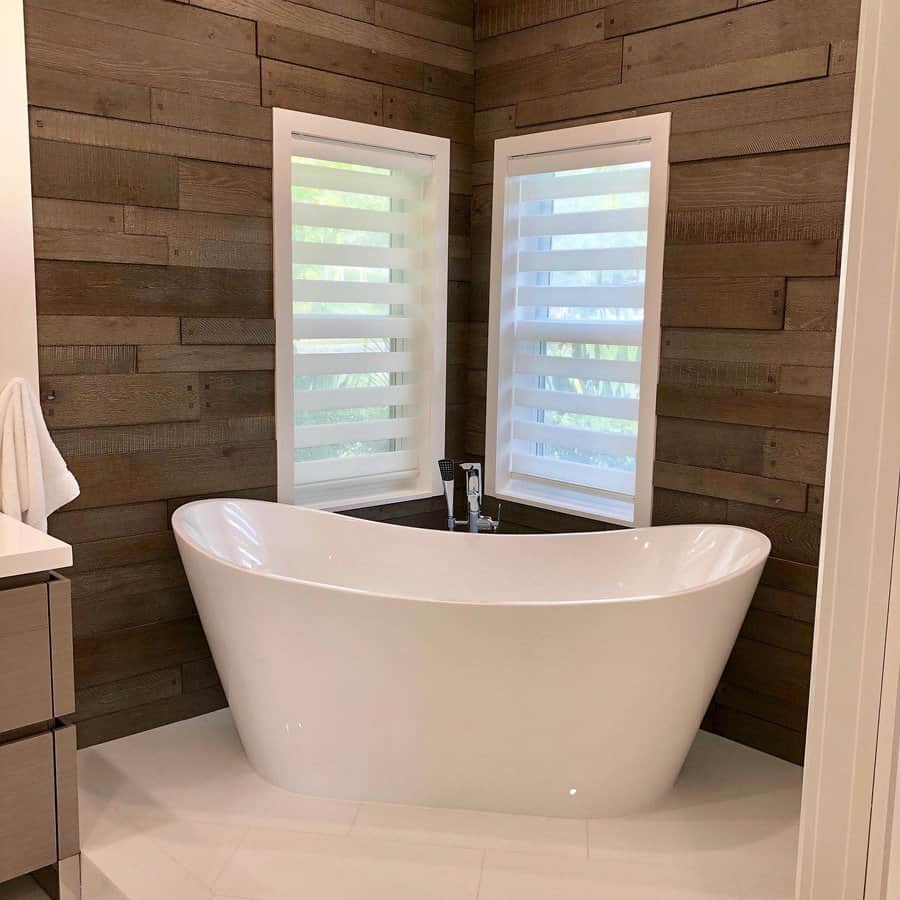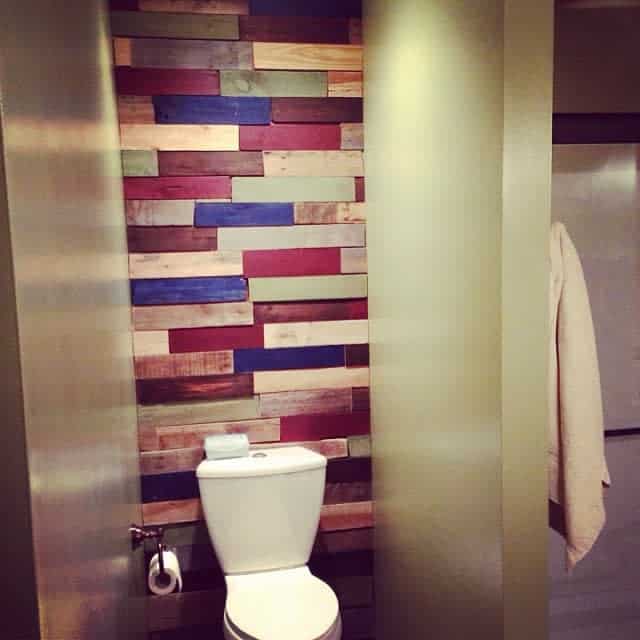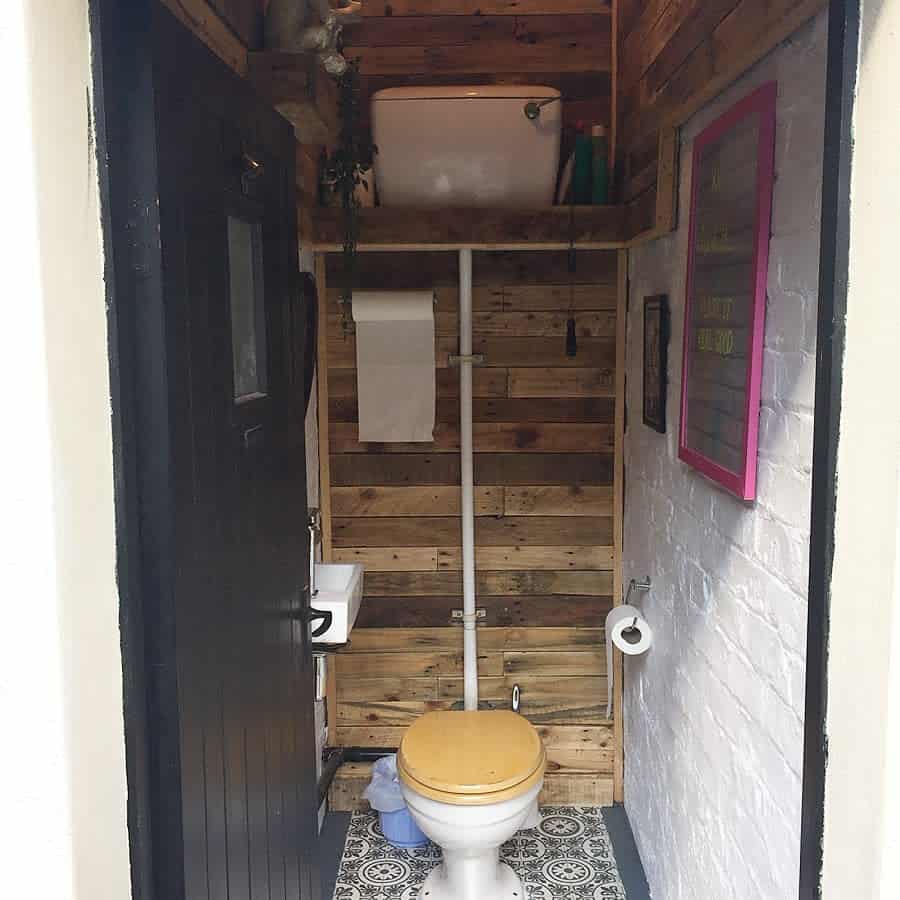 4. Bed Headboard Wall Accent
If you're looking for some creative bedroom pallet wall ideas, why not take inspiration from the headboard trend? Creating a wooden pallet wall in your bedroom can be an easy and beneficial way to create texture, style, and character.
You can use several smaller pallet boards side-by-side or one large board with shelves cut into it for storage – the choice is yours! Keep things simple with stained wood or go bold by adding statement colors and accessories. No matter what approach you decide to take, your bedroom will never be the same again!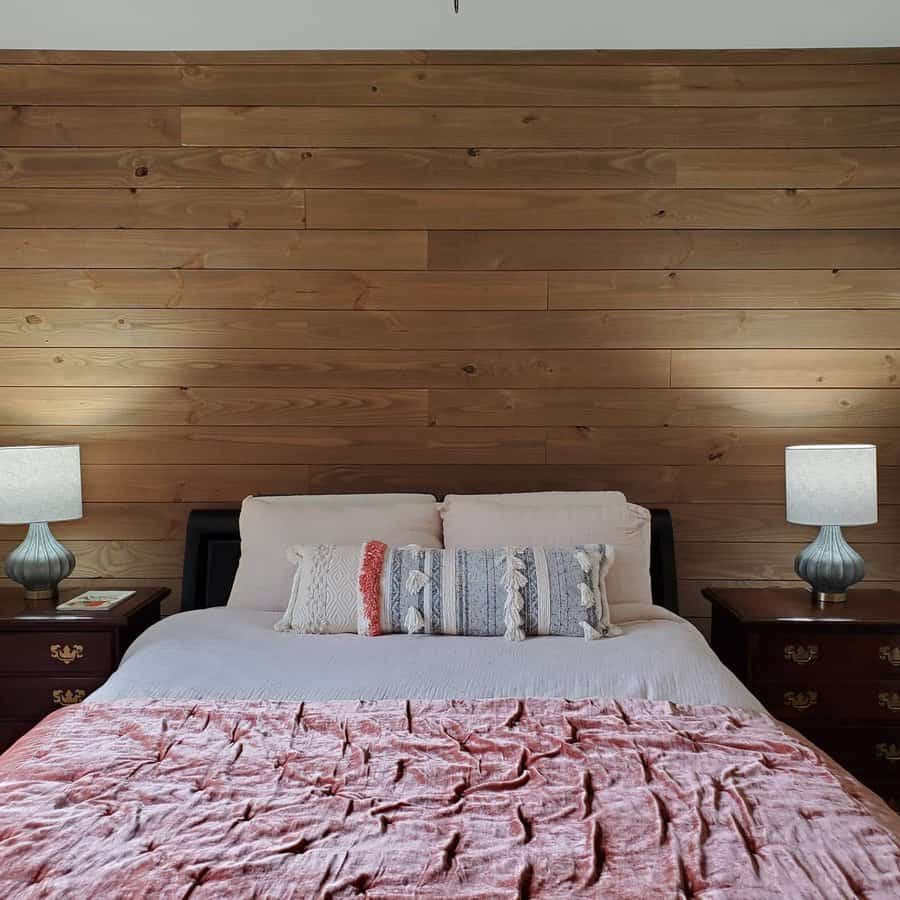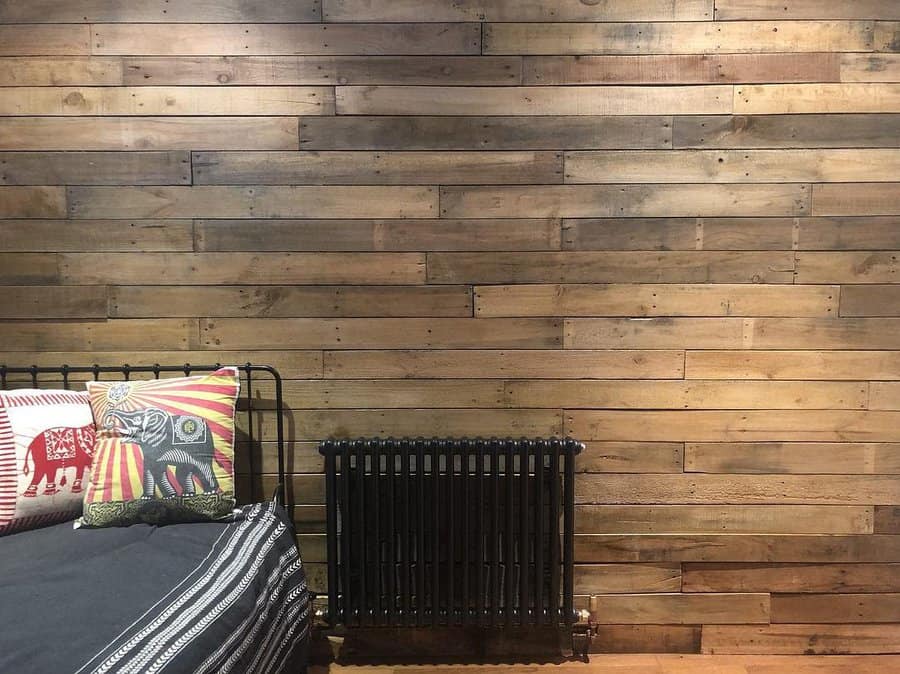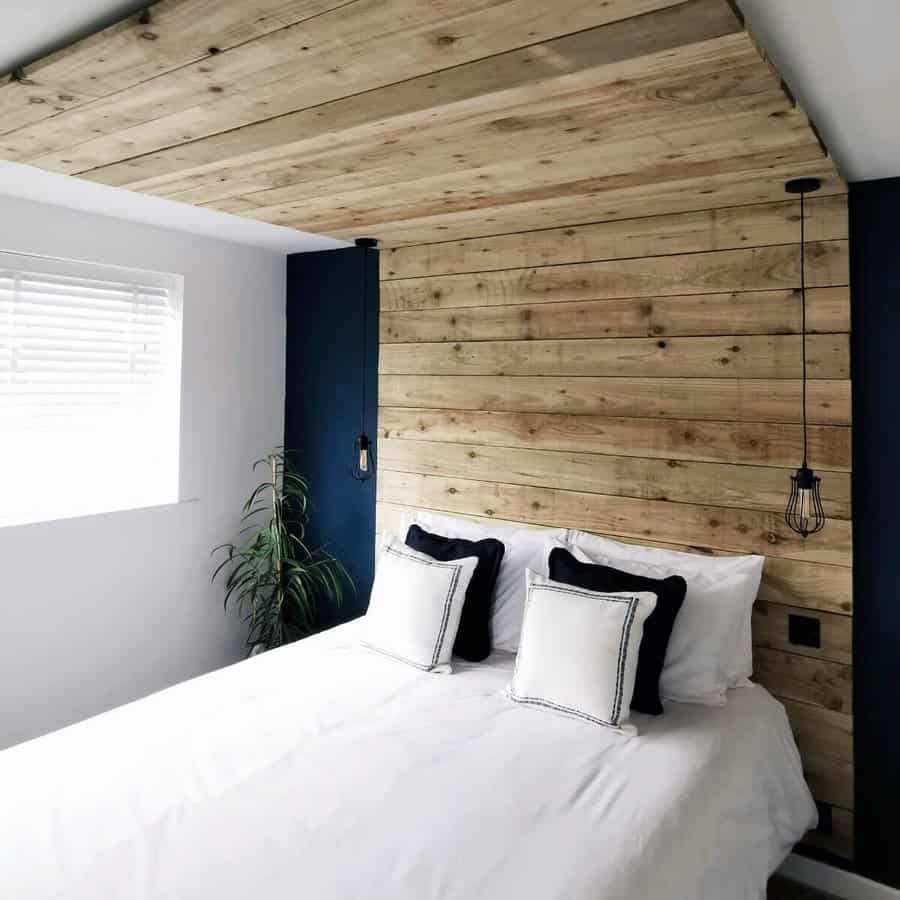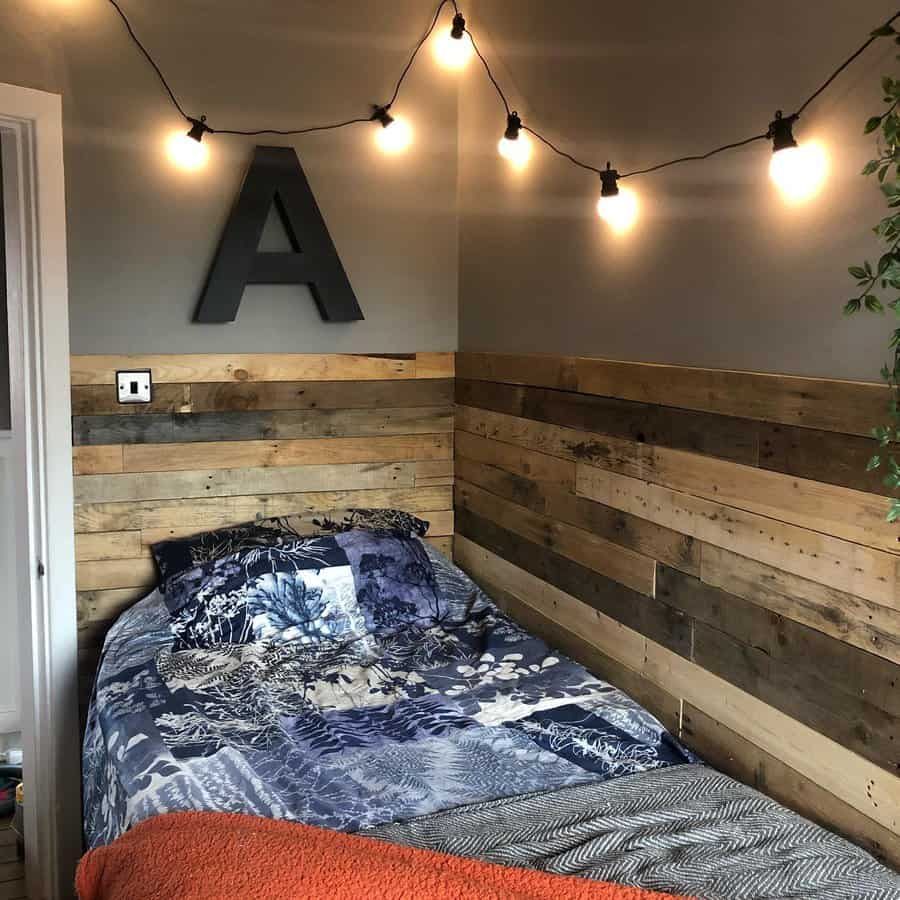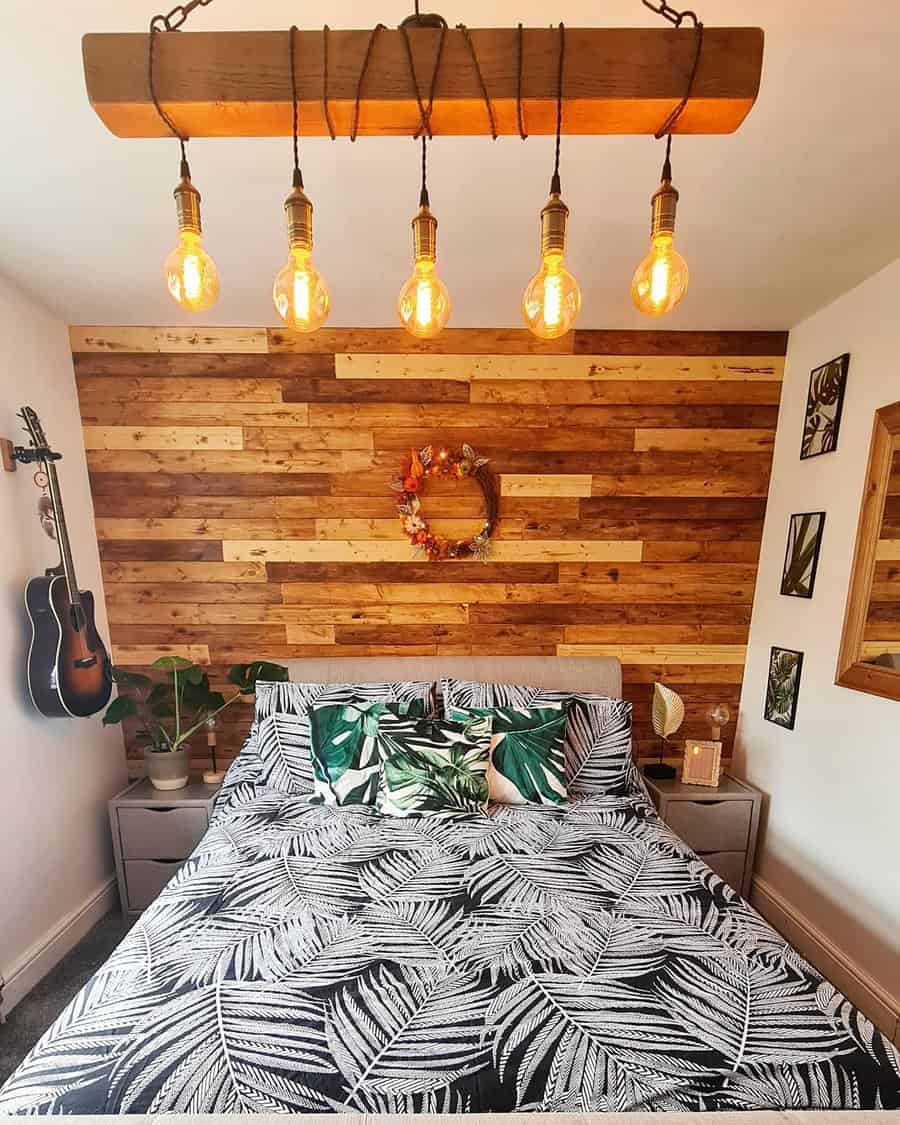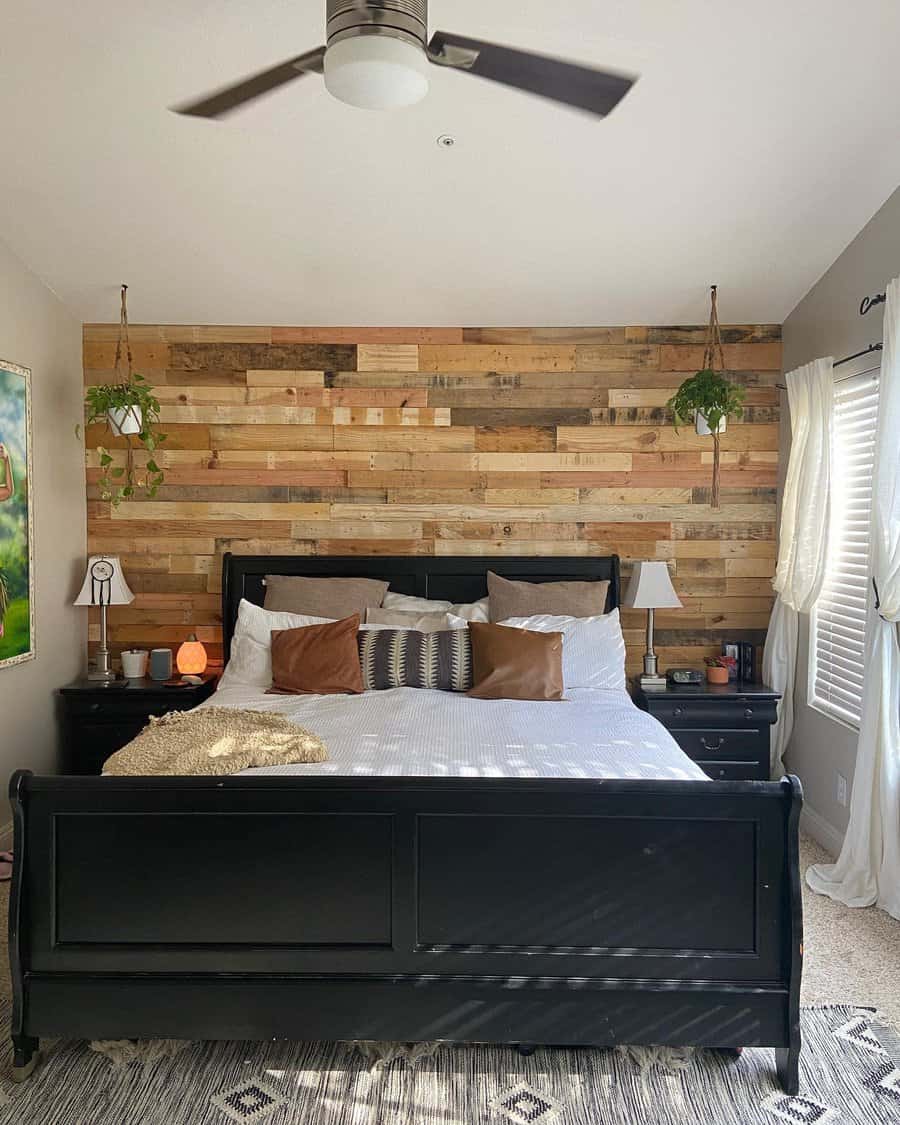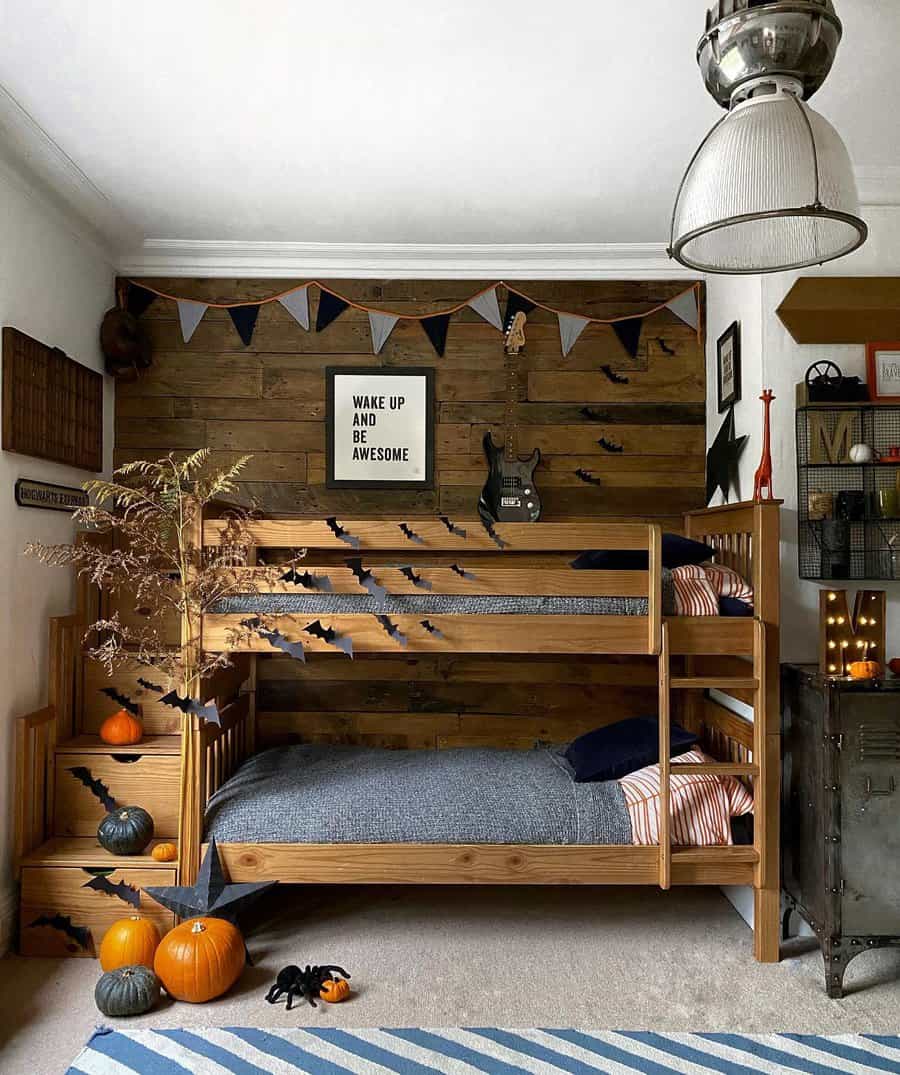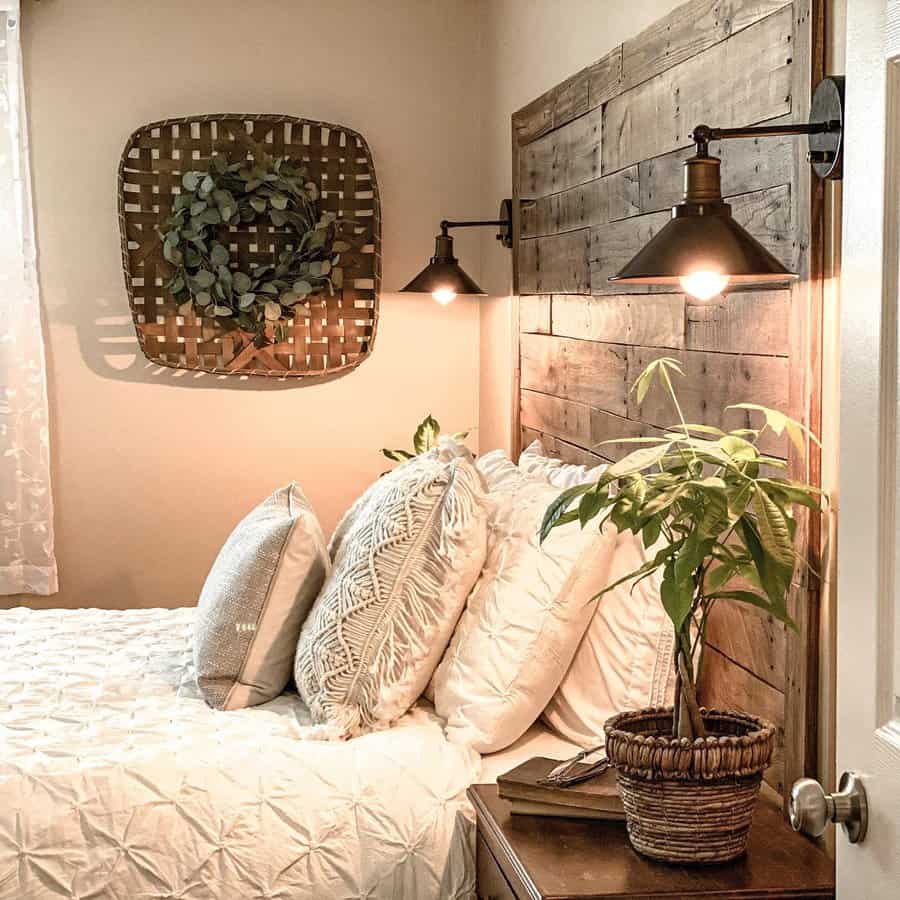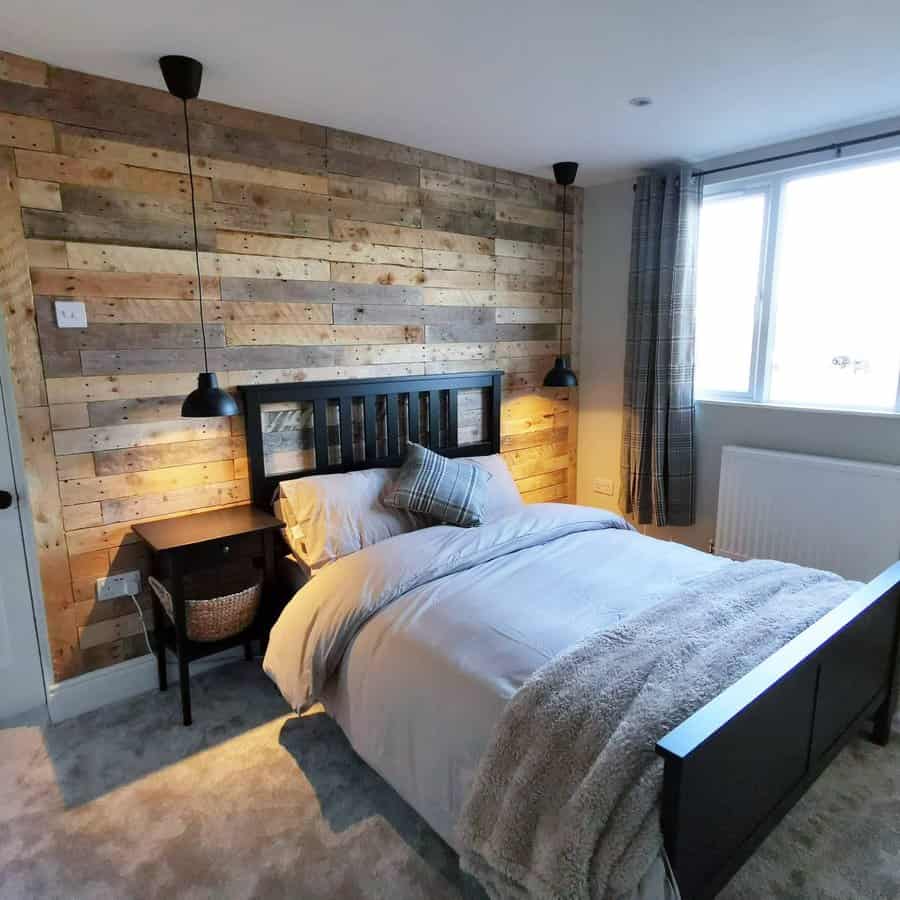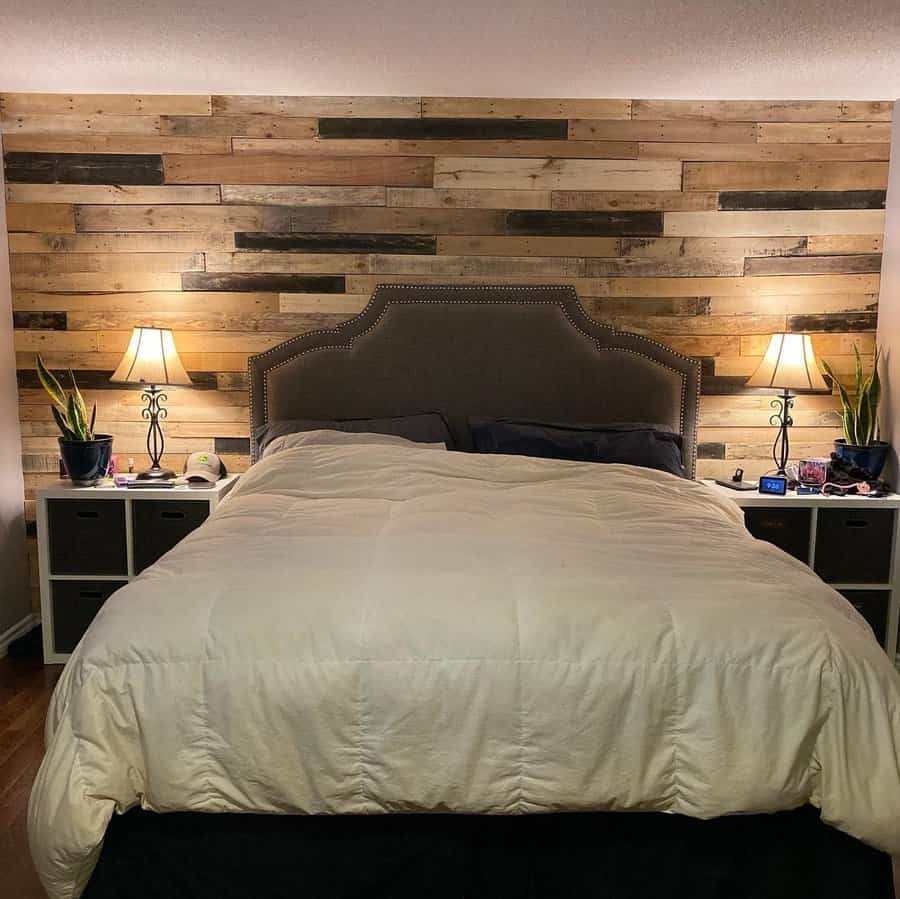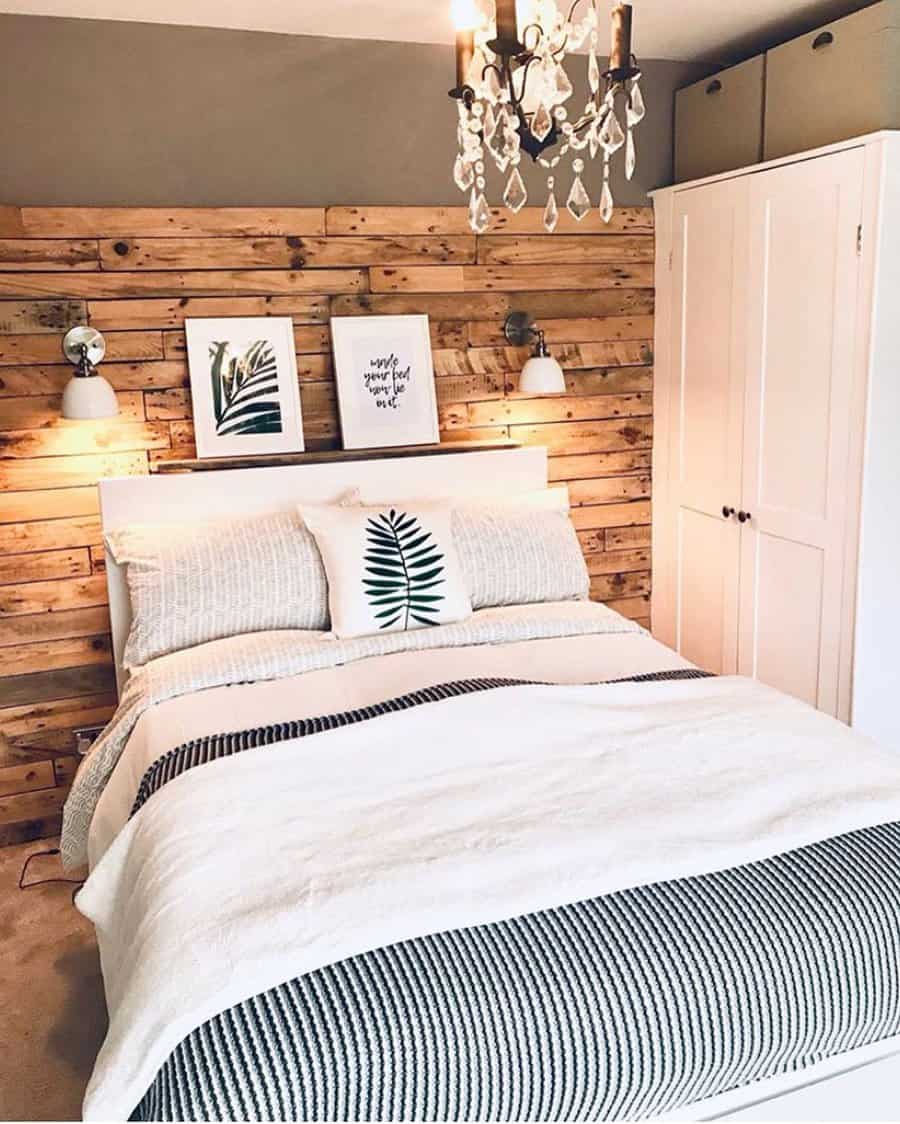 5. Herringbone Bedroom Wall
If you're looking for interesting and creative bathroom pallet wall ideas, a herringbone bedroom wall might be just what you're looking for. Herringbone patterns are great ways to add texture and visuals to the walls of any room, especially bathrooms.
You can create them from reclaimed wood or natural pallets to give your interior a unique appeal. To make an even bigger statement in other areas in the room, try applying this pattern with a variety of colors and natural stains. Not only does it create an interesting style but it also helps keep moisture along the walls for a longer-lasting effect!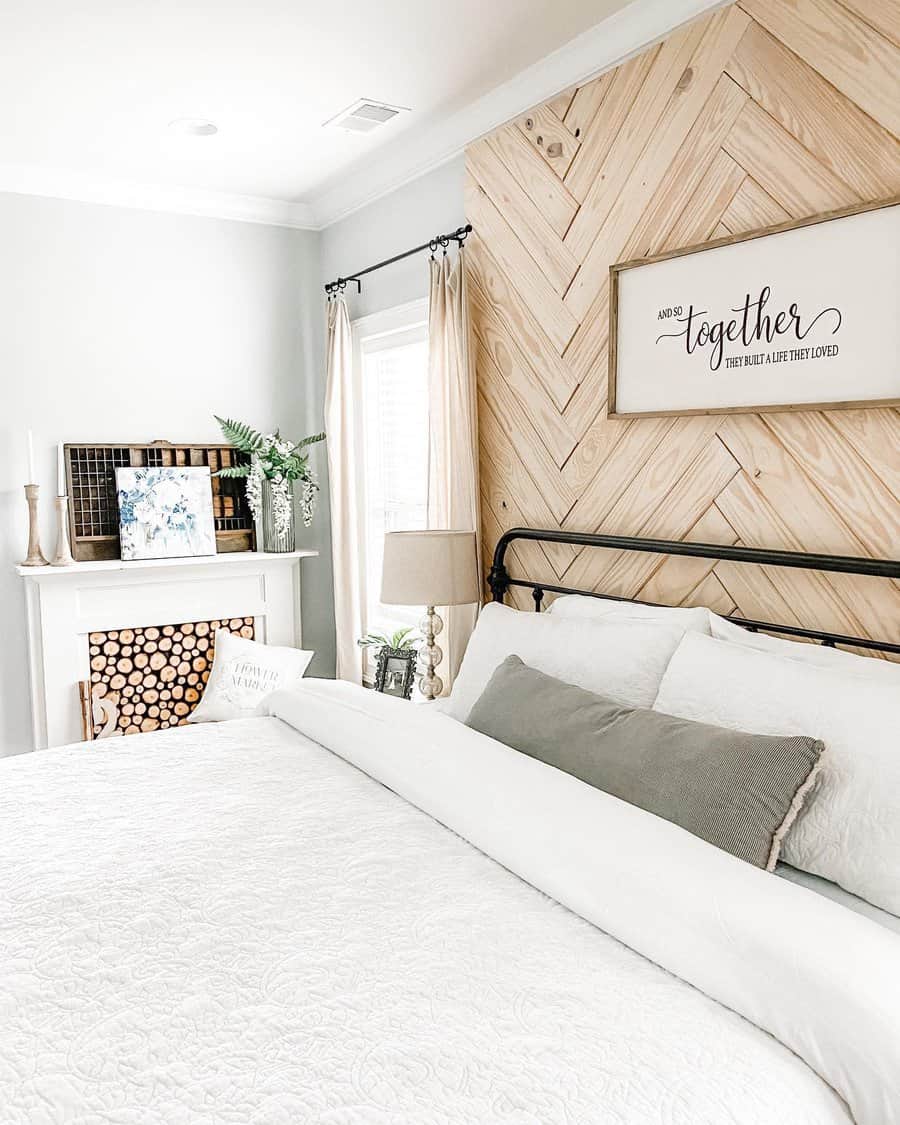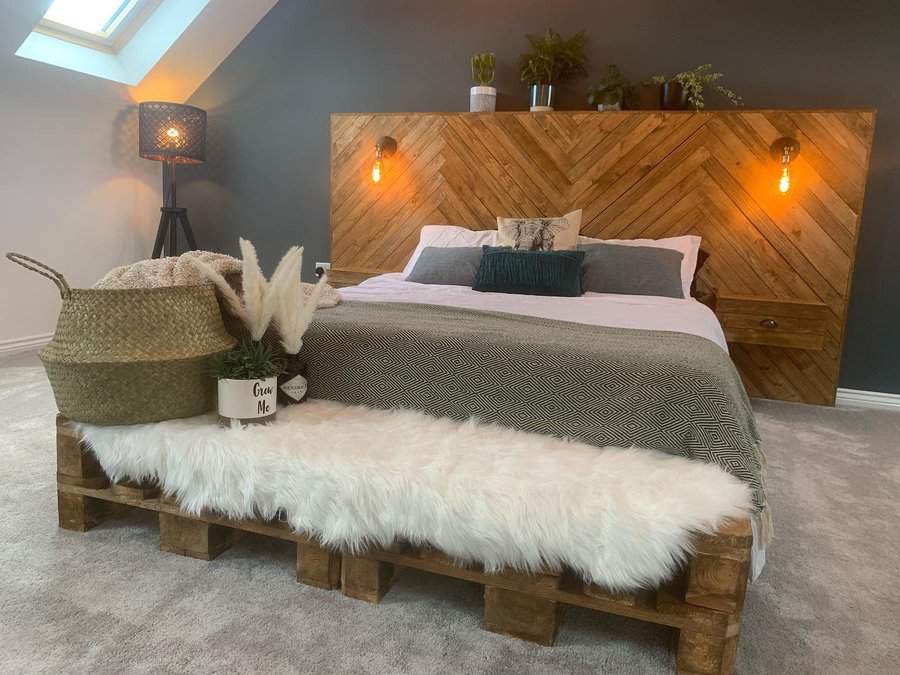 6. White Washed Wood Pallet Wall
A white-washed bedroom wood pallet wall is a great way to add texture, contrast, and naturalistic style to any bedroom without breaking the bank. If you don't have access to real wooden pallets don't worry; there are many options for creating the look of a rustic pallet wall design.
For example, faux wooden planks made from MDF board and painted in driftwood colors can be used for an easy installation, then simply sealed with polyurethane for a long-lasting finish.
Other pallet wall ideas include staining original boards and adding metal accents for contrast in tone or painting in bright colors for a more modern twist. Whatever design you choose, you'll find that it's sure to create visual interest and accentuate your unique style wonderfully.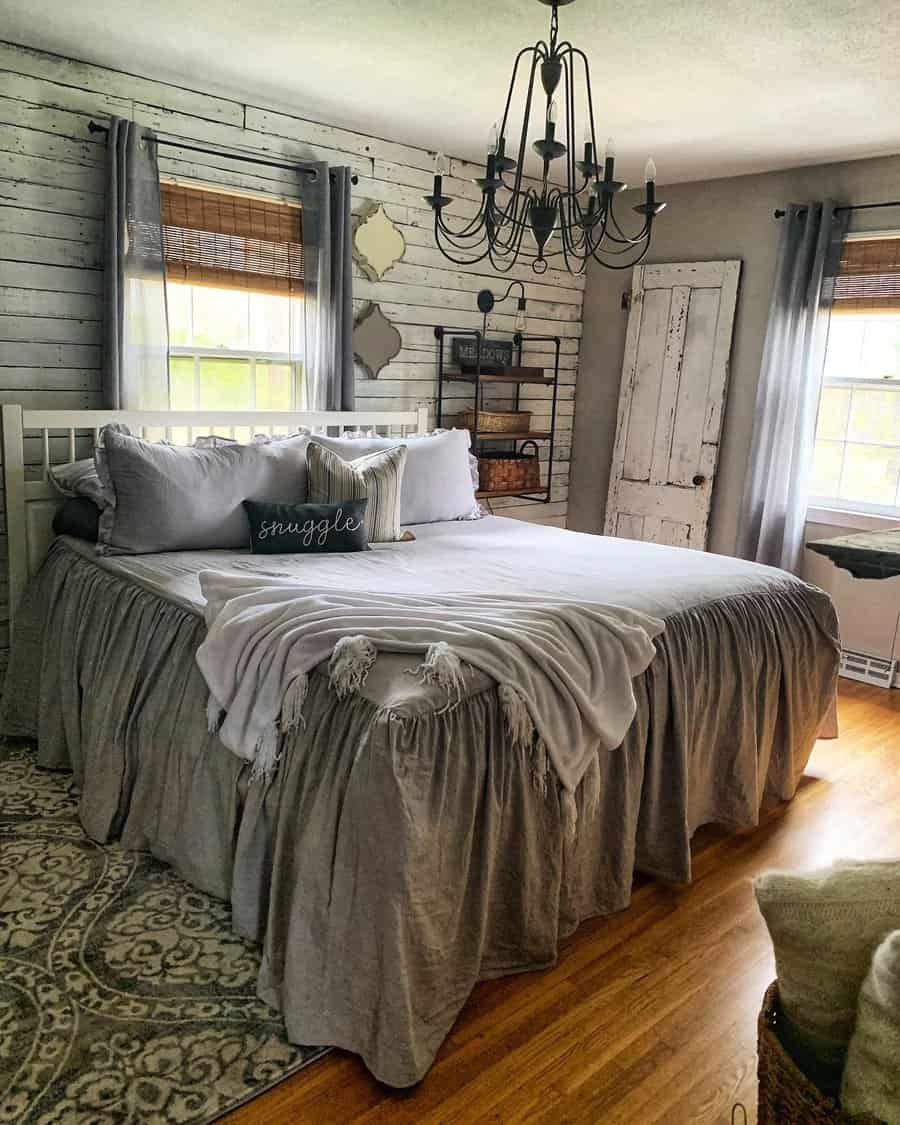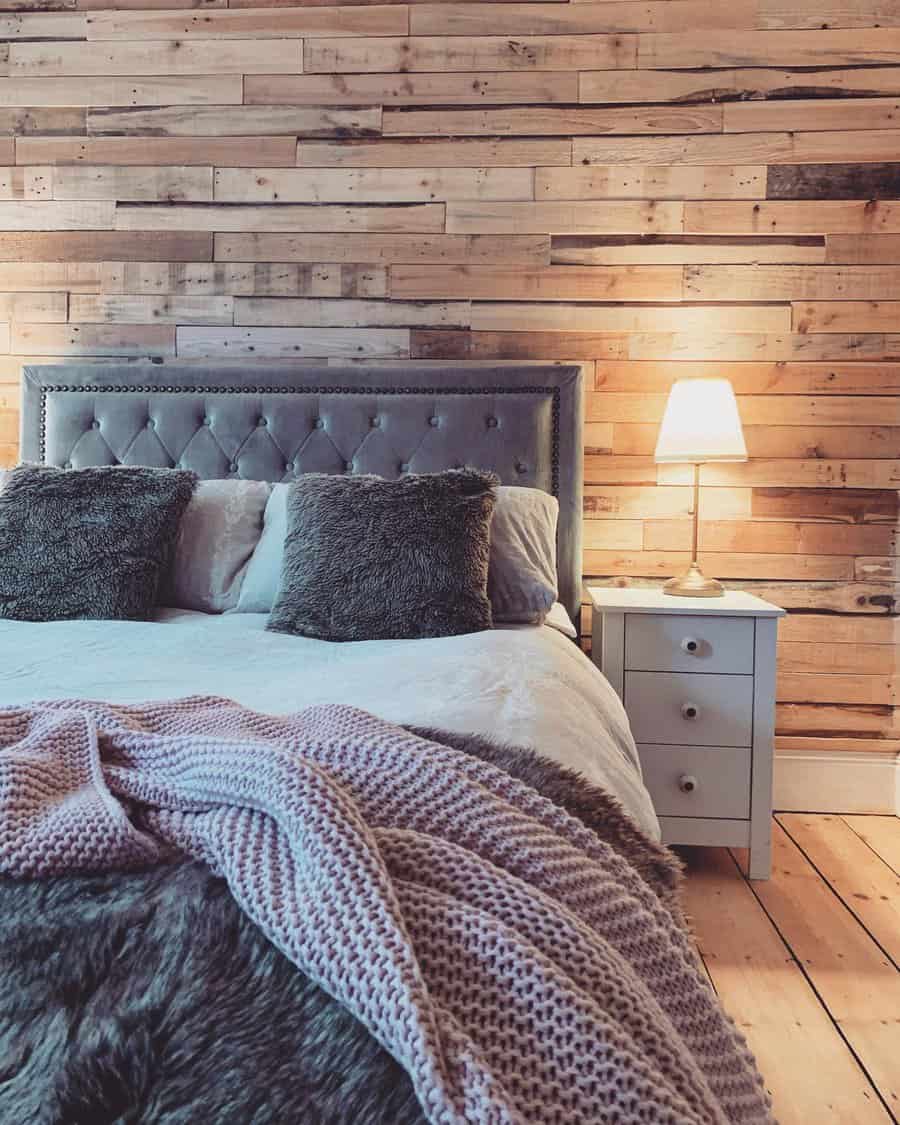 7. Exterior Patio Wall
If you're looking for creative and unique ways to decorate an outdoor area, then a patio pallet wall is the perfect option. This exterior wood pallet wall looks stunning, yet can be made relatively cheaply if you already have some pallets around.
There are several ideas for how to make it look amazing, such as painting light colors to create a sun-bleached look or even staining the wood and adding a glossy finish for more reflective appeal.
To make sure this project lasts, use high-grade screws, weatherproof sealants, and plenty of waterproofing treatments to guard against humidity and rain damage. With the right preparation and materials, your patio pallet wall will certainly be something to admire!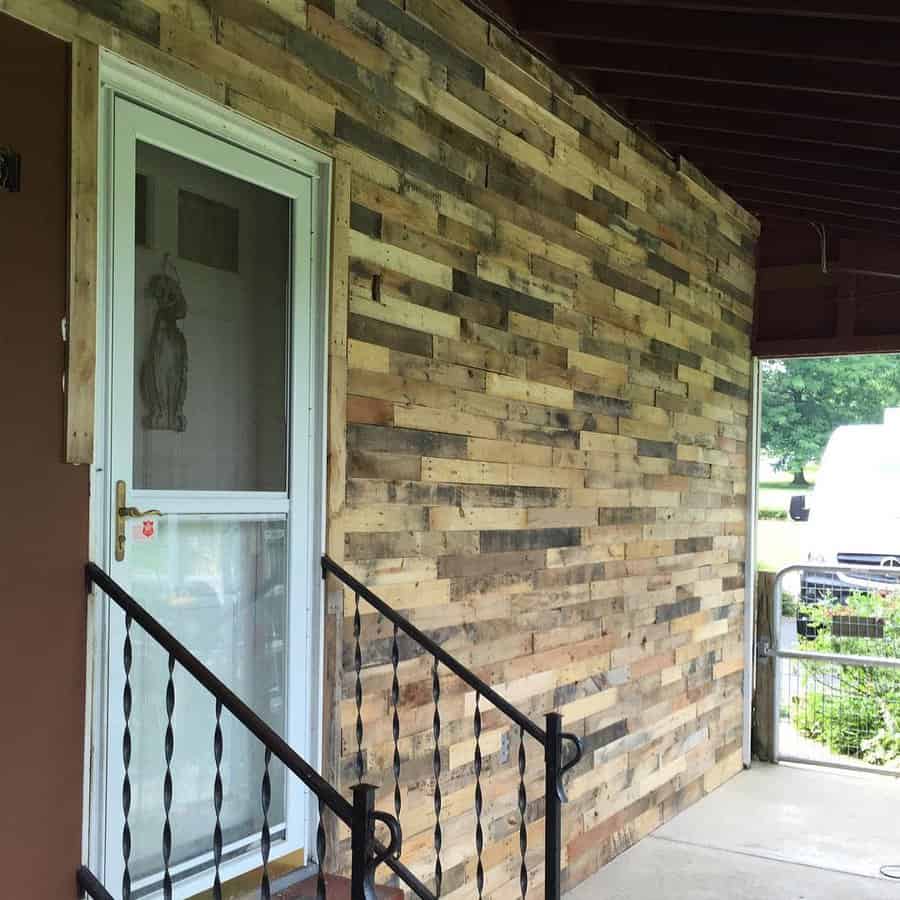 8. Kitchen Backsplash
Adding a wood pallet kitchen backsplash is an easy and stylish way to make your kitchen stand out. Not only does it add an interesting visual element, but it can also be used to express yourself and make a statement about your style. You can choose from a variety of colors, wood types, and stain options to create an amazing accent wall or full-wall mural that perfectly suits the overall look and feel of your kitchen.
Installing a pallet wall in the kitchen is not only practical but also super rewarding; you will be amazed by the unique character it adds to your cooking space. It's a fun project that doesn't require much money or skill – do it now and enjoy the results!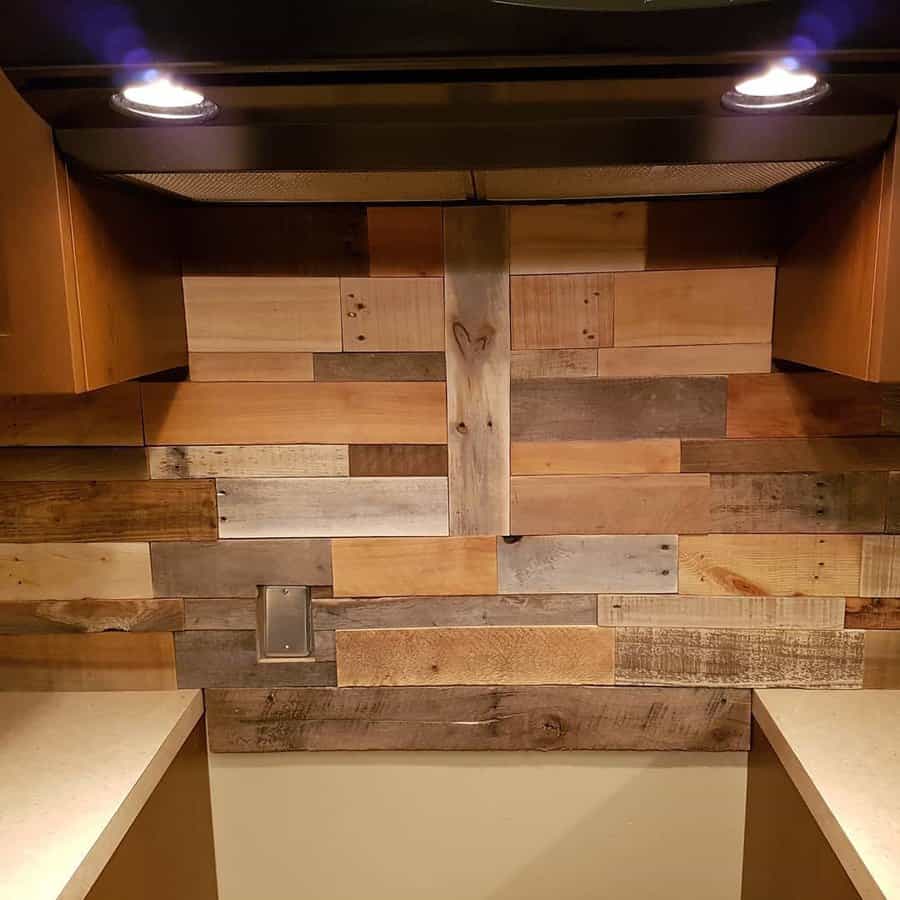 9. Staircase Wall
Adding a staircase wood pallet wall to your living room is a great way to bring an interesting focal point that can turn any ordinary living space into one with personality. This type of wall design has been increasingly popular over the last few years, and it's easy to see why – it can be tailored to suit the homeowner's unique taste, and it adds warmth, texture, and dimension to plain walls.
Installing one is relatively easy too; you just need to obtain a number of equal-sized wood pallets and mount them securely on the wall in whatever pattern you desire! Make sure you finish it off with lighting for an added touch of décor.
A staircase wood pallet wall is a brilliant option for anyone looking for living room ideas that will impress their guests and make their space feel truly unique and inviting.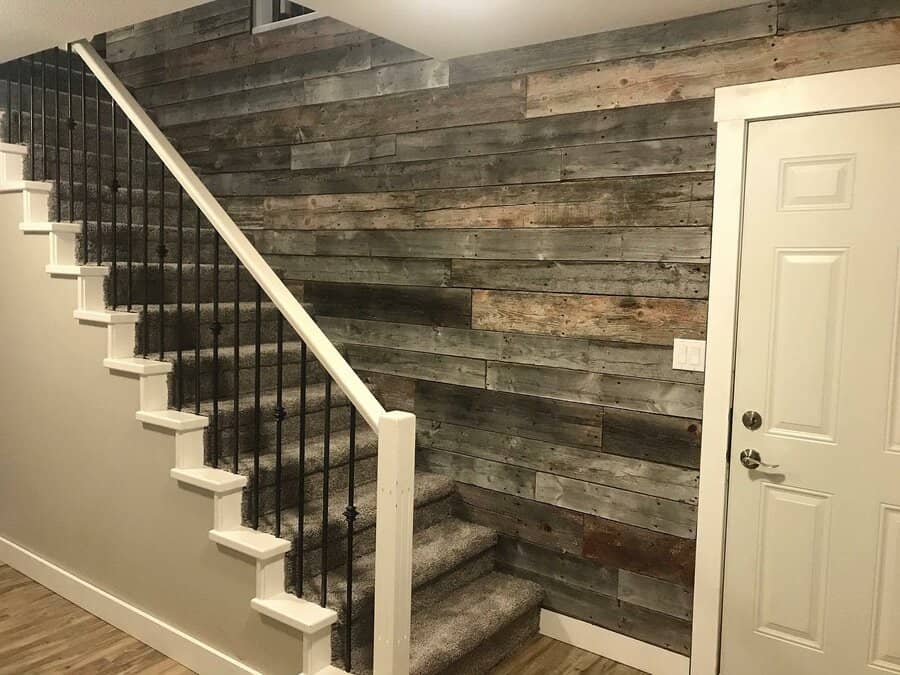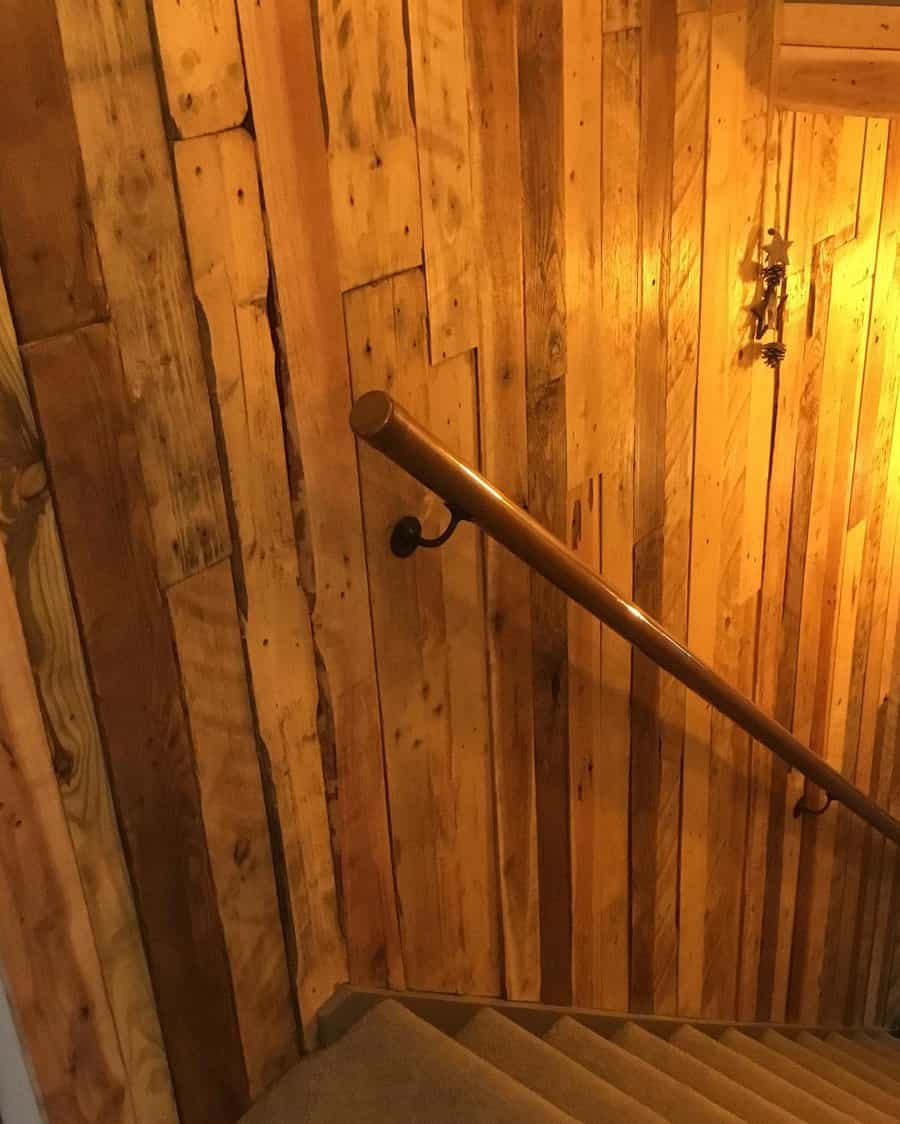 10. Monochromatic Wood Pallet Wall
If you're looking for an exciting and unique way to spice up a room in your home, consider creating a monochromatic wood pallet wall! This trendy design option is created from wooden pallets arranged from dark to light, which adds texture and warmth to any space.
For a truly eye-catching design, experiment with different sizes and shapes of the individual pieces. You can also create interesting patterns and lines that will give your pallet wall extra depth and dimension. Whether you use old or new wood, this creative wall idea is sure to be a conversation starter.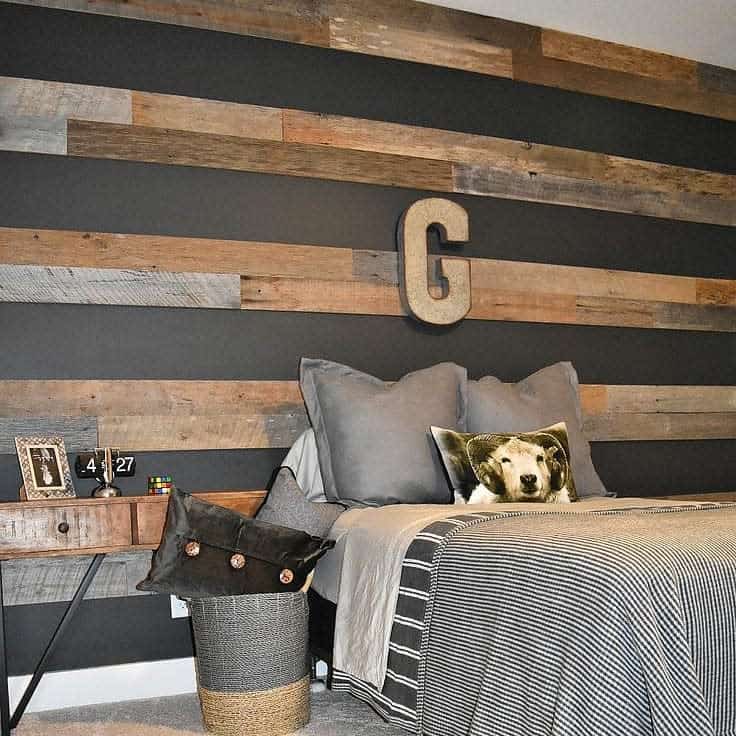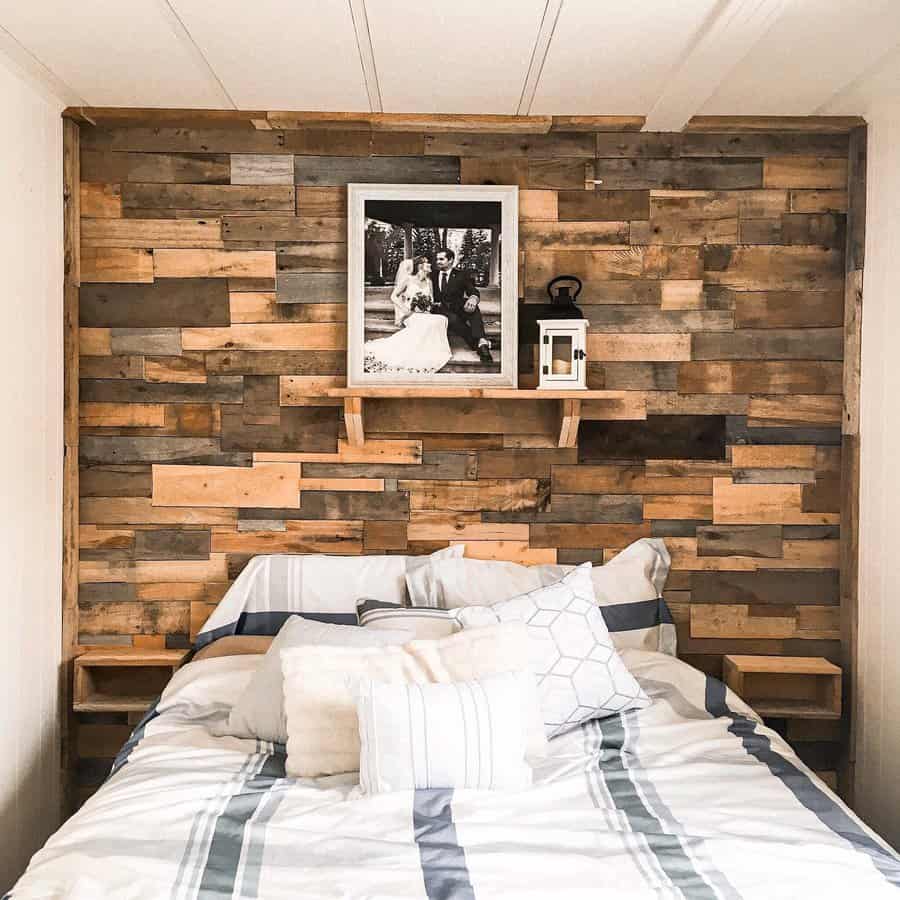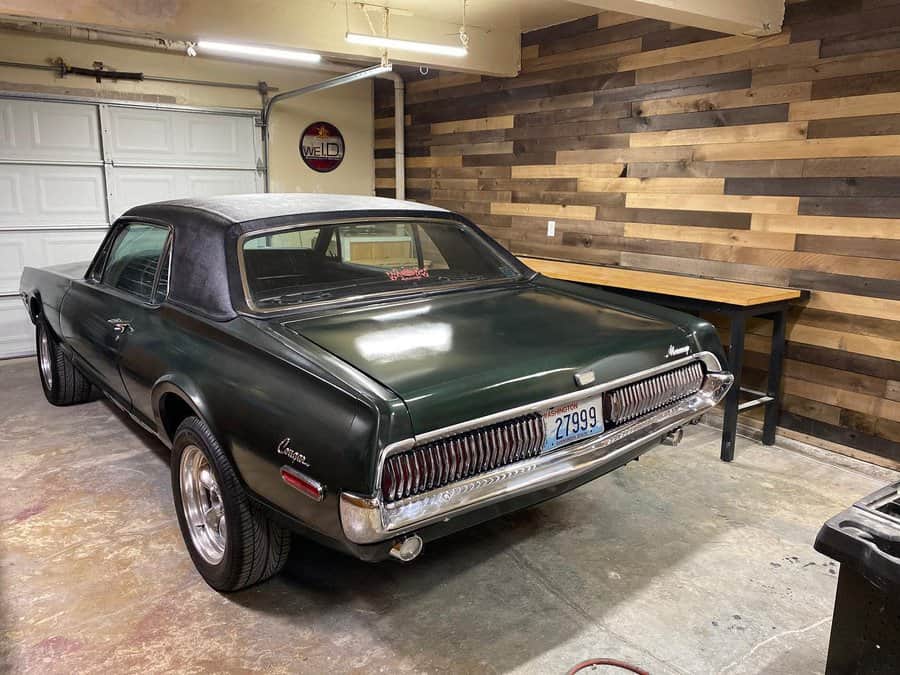 11. Balcony Wall
Adding a few creative touches to balconies and patios can be an easy way to make the most of outdoor living! One idea that is gaining in popularity is adding a pallet wall on your balcony. Not only does this provide extra privacy, but it can also be personalized with decorations like vintage-looking string lights to have a truly unique look.
For instance, by taking an old, discarded pallet and placing it against the balcony wall, you can instantly upgrade the area with a natural rustic feel.
You could also decorate the pallet wall with dreamy string lights for a cozy atmosphere when the sun goes down. Just pin the light strings onto the wooden boards for that boho-chic vibe!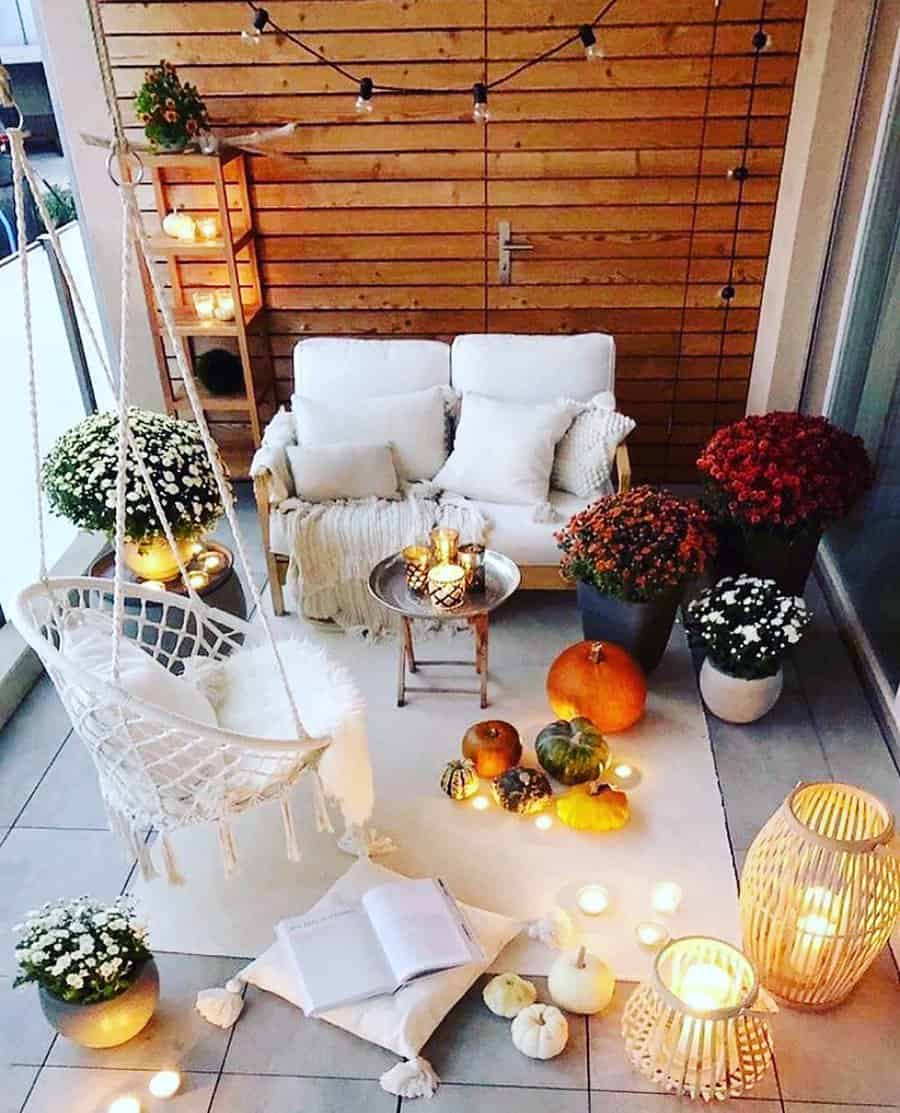 12. Add A Mirror For Contrast
For an eye-catching patio wall idea, consider a wood pallet wall featuring a mirror for contrast. Pallet walls are easy to construct and create an instant texture that adds an inviting rustic charm. Adding a mirror allows light to reflect off the surface for more visual interest and brings a modern element to the design.
When selecting pallets, be sure to use treated wood in order to ensure durability in harsh weather conditions. As long as the structure is secured safely in place, you can enjoy this unique DIY project seemingly worry-free!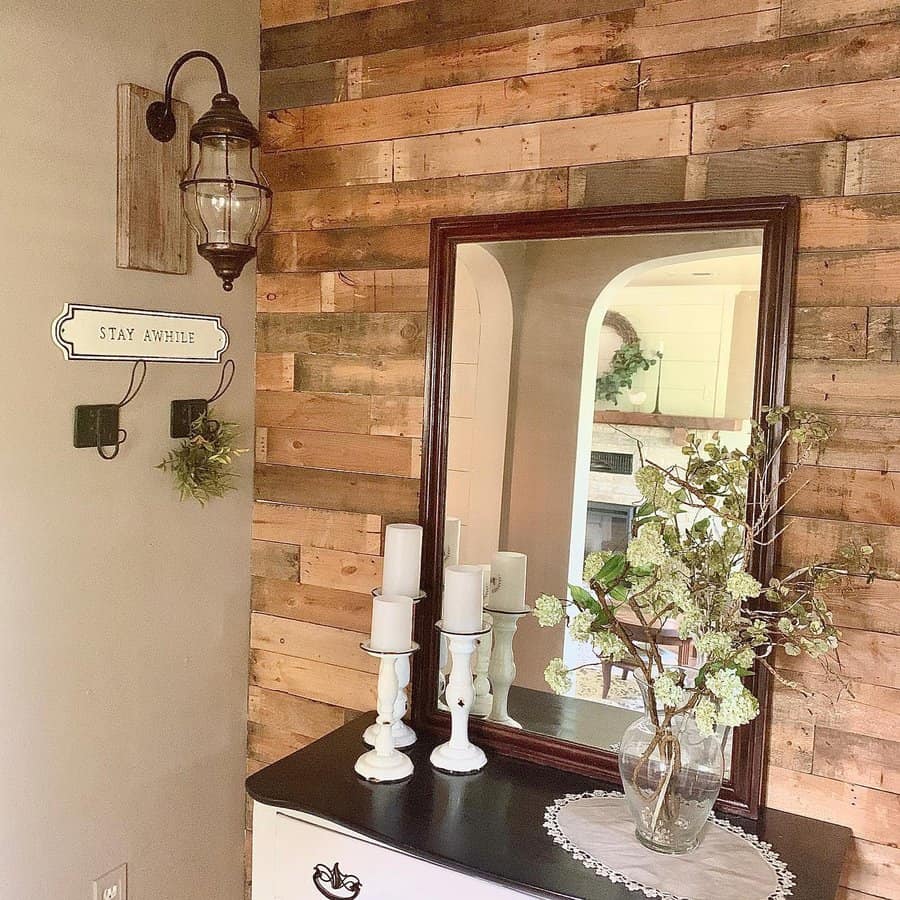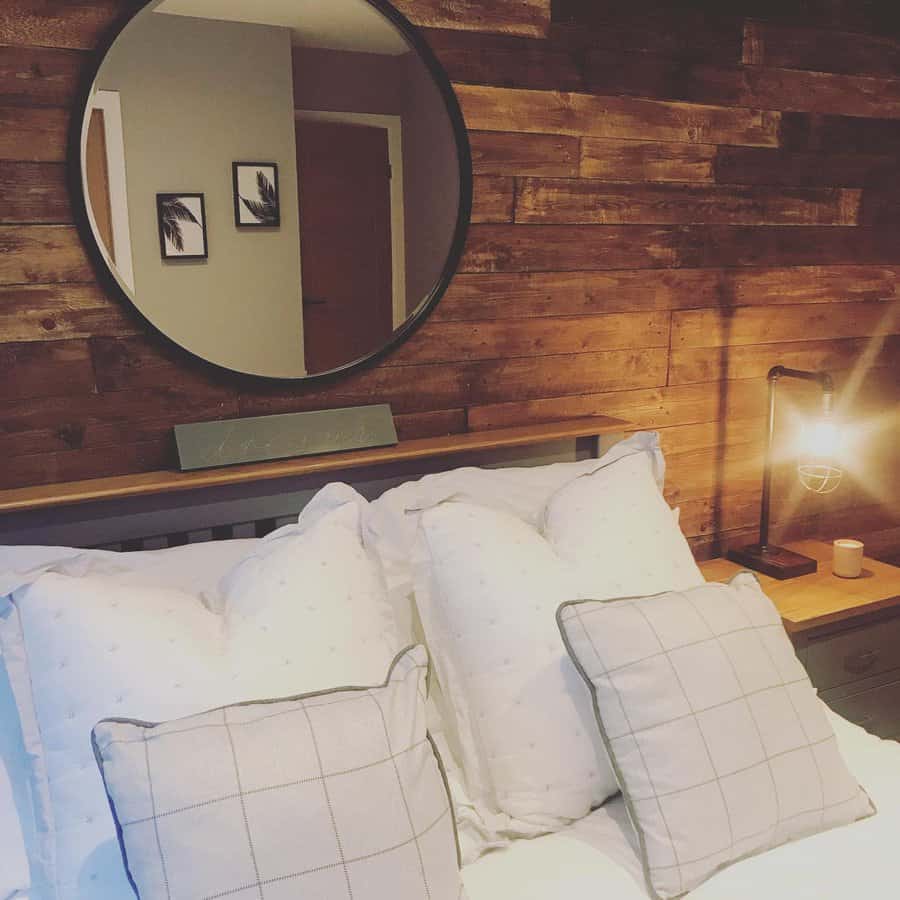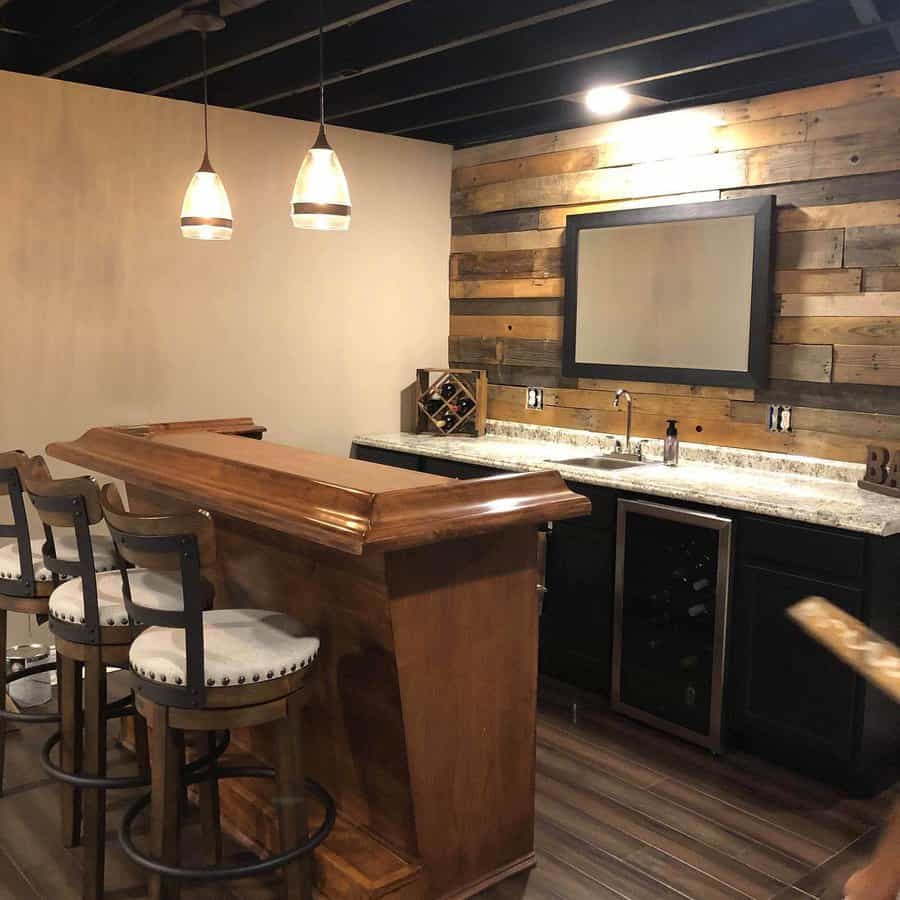 13. Decorate With Wall Art
Wood pallet walls are a unique and creative way to adorn any room in your home with style. While they are simple to construct, the possibilities are endless when it comes to customizing the look. Combining wall art such as photographs, decals or wood burns with the wood pallet wall can add texture and color that will make a lasting impression.
You can explore different stains and finishes for a unified color palette too. With careful tweaking of different elements, you can easily create eye-catching detail, personalize your home and enjoy an all-around stylish solution from this one-of-a-kind pallet wall idea.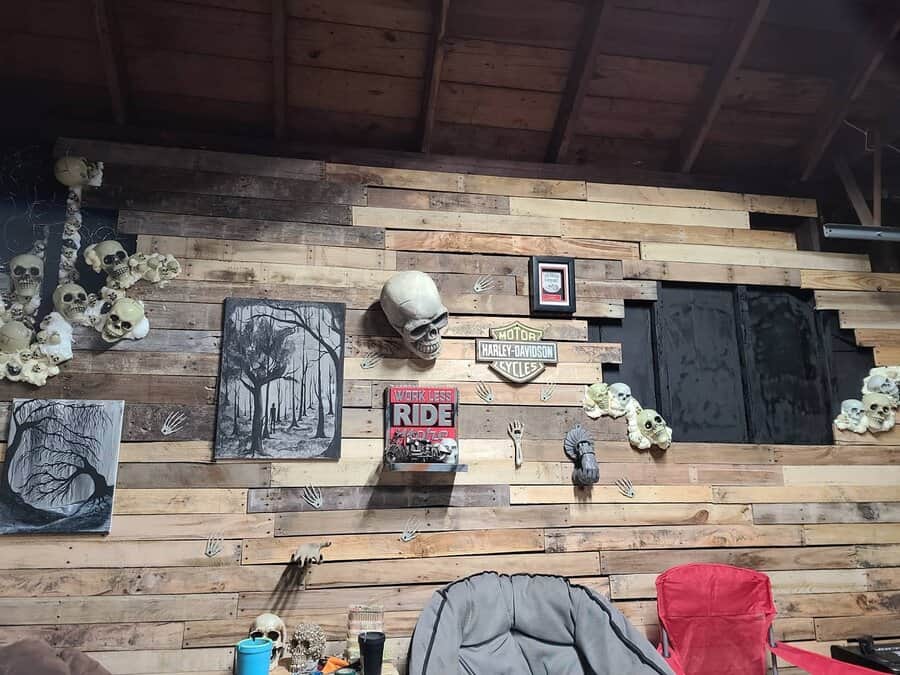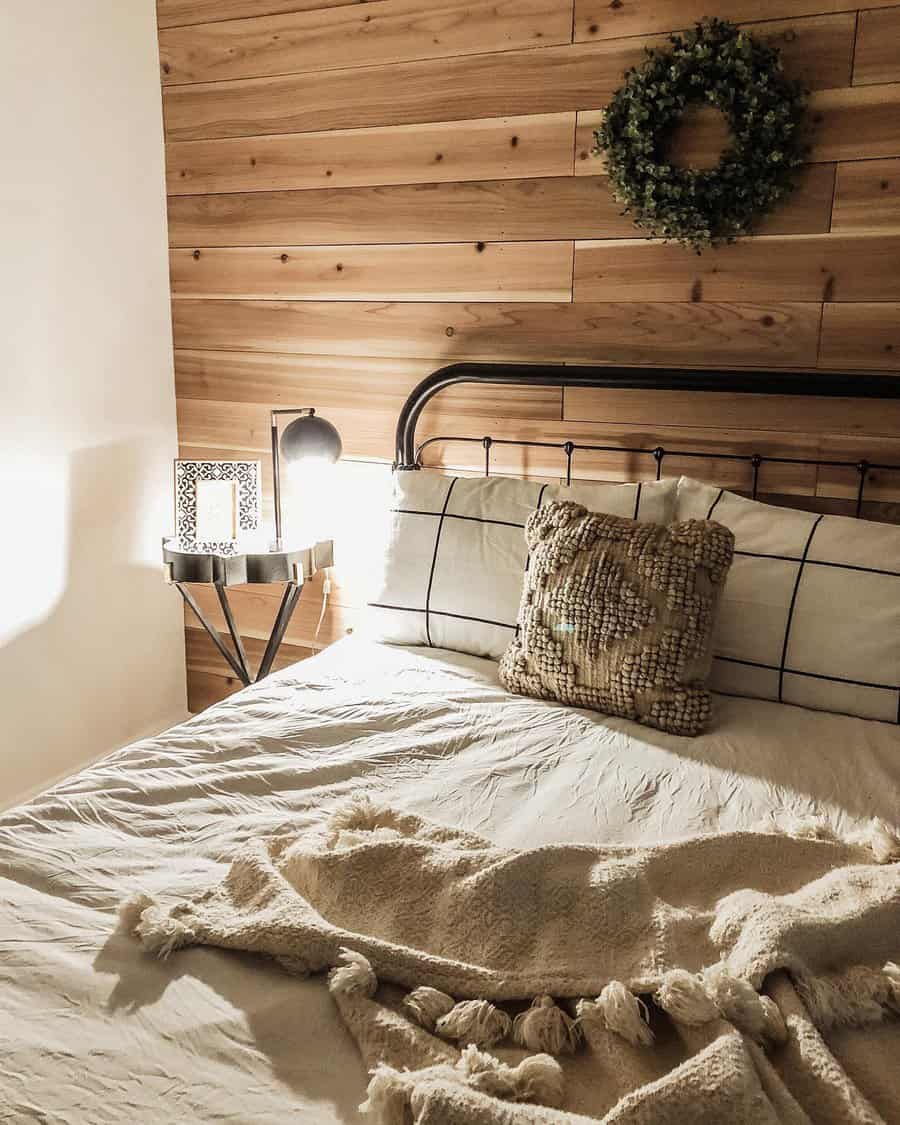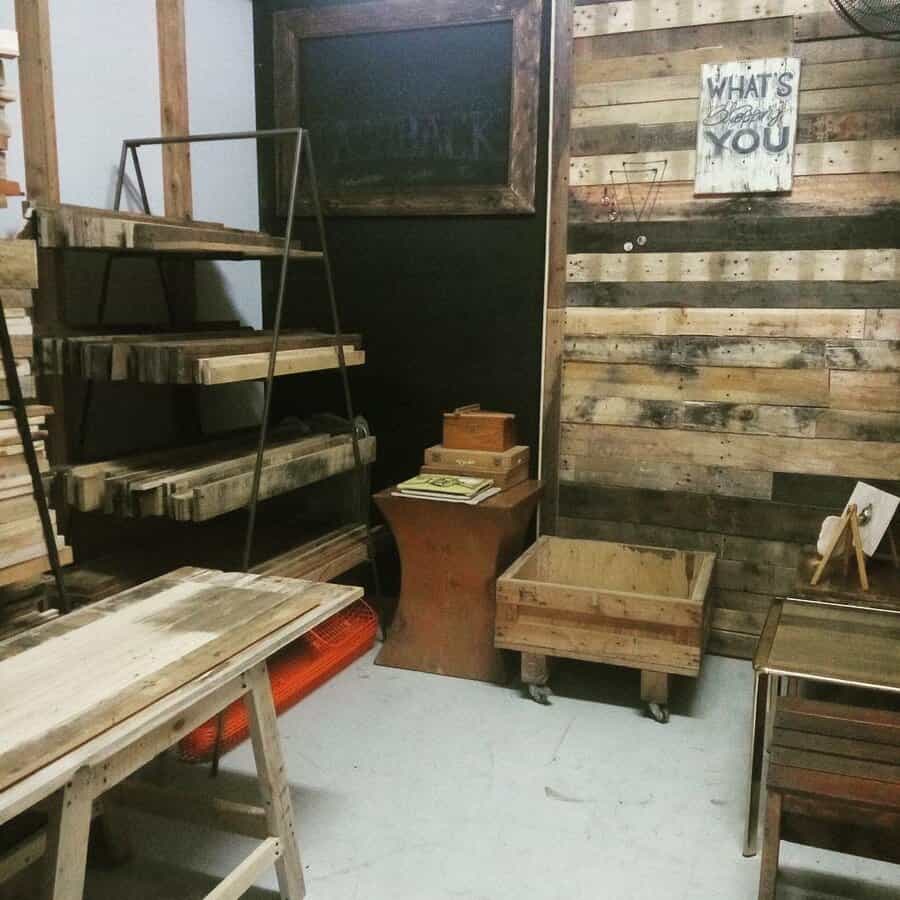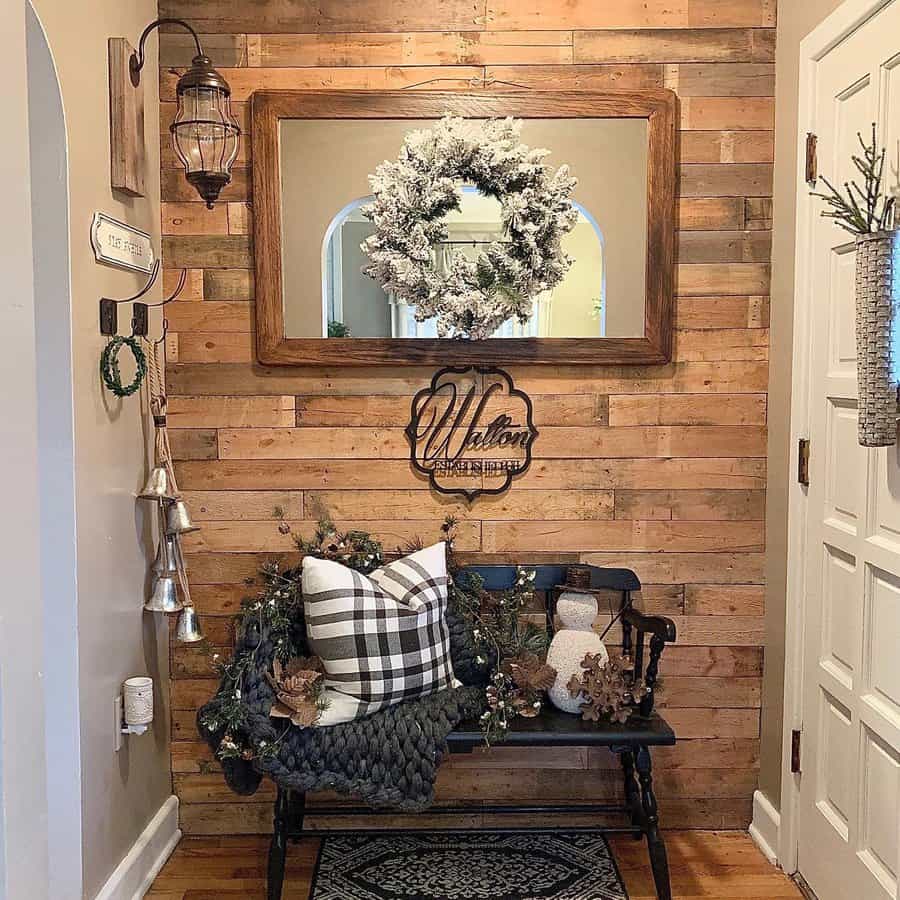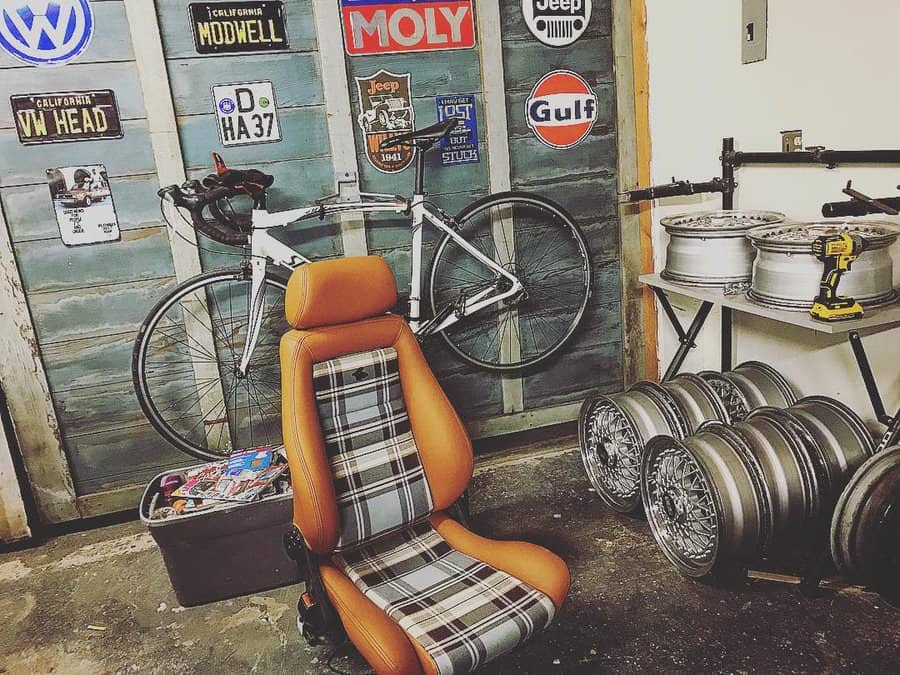 14. Install Wall Mounted Racks
Have you been searching for the perfect pallet wall idea for your home? Try creating a wood pallet wall with wall bike racks in it! Not only is it a great way to have storage for your bicycles, but it also creates an interesting and eye-catching feature in any room.
To create this look, simply apply pre-stained wood pallets to the desired area and install wall-mounted bike racks on top.
The combination of dark stains and metal rods adds both texture and style, making it the ideal element of surprise in your home. Don't wait any longer—start crafting your unique wall feature today!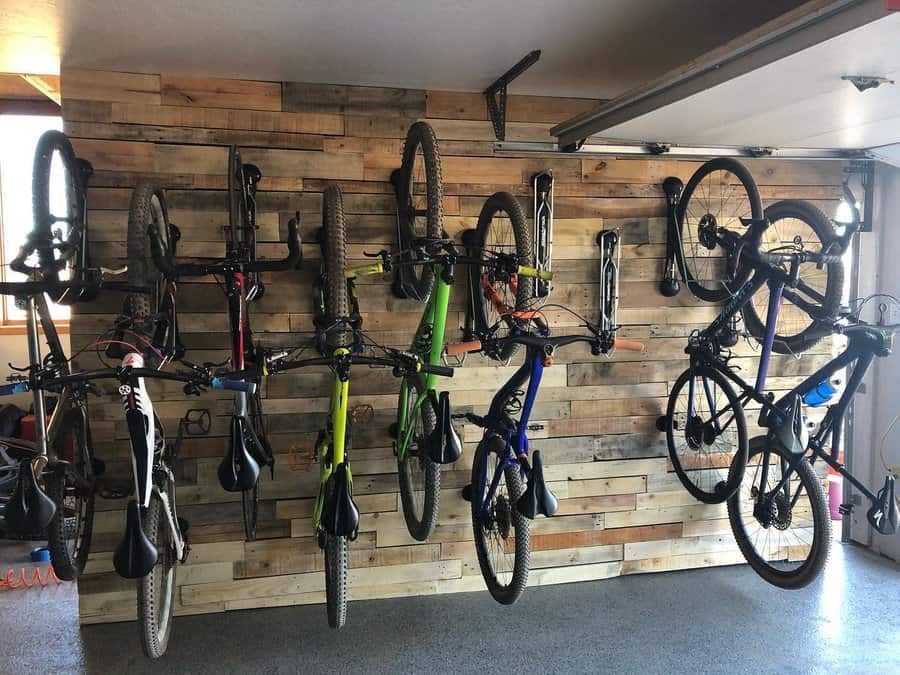 15. Vertical Planter
If you're looking to spruce up your outdoor space, why not try creating a vertical wood pallet planter? It's not only creative and unique, but it can also help turn your garden into something special.
You'll find loads of ideas online too – from colorful pallet walls to indoor greenery – and you can even get creative with the wood itself, adding custom touches like stenciling or painting. A wonderful way to update any outdoor area, a pallet wall is both eye-catching and practical.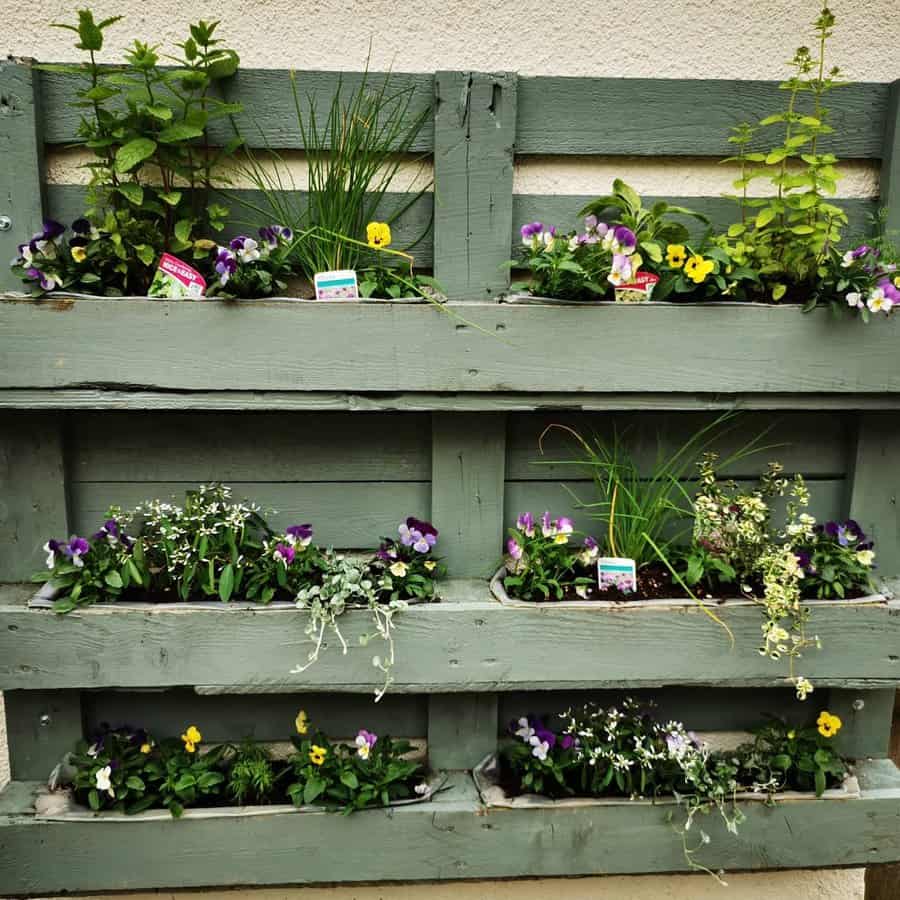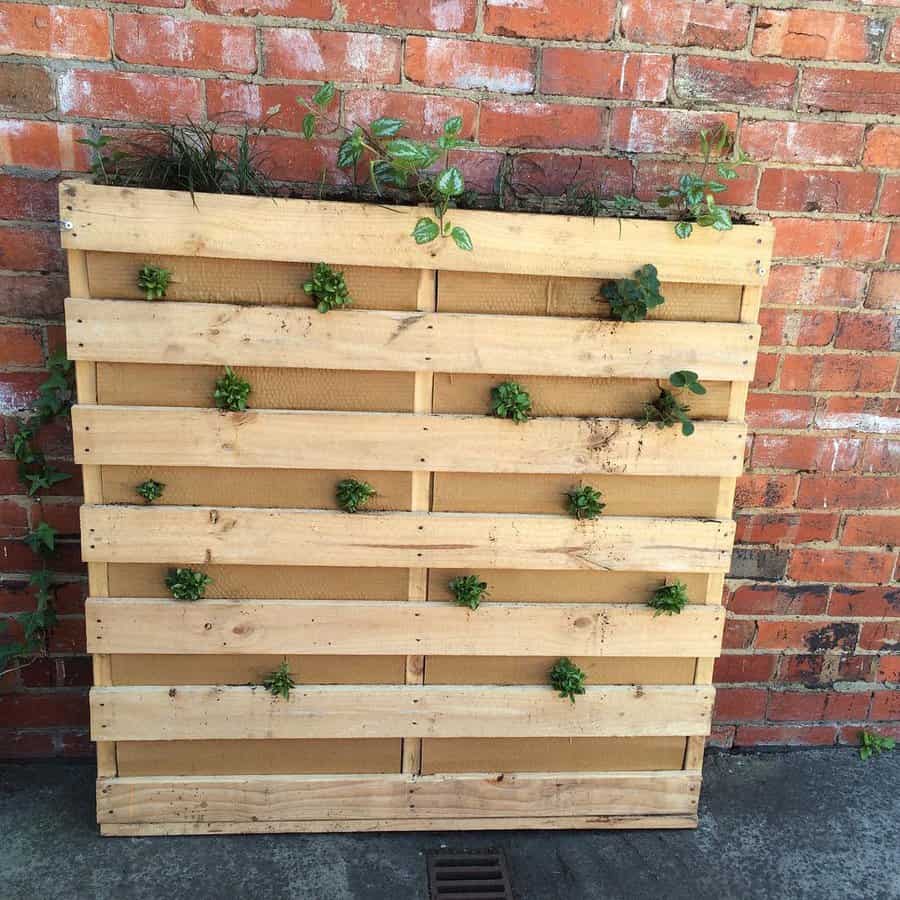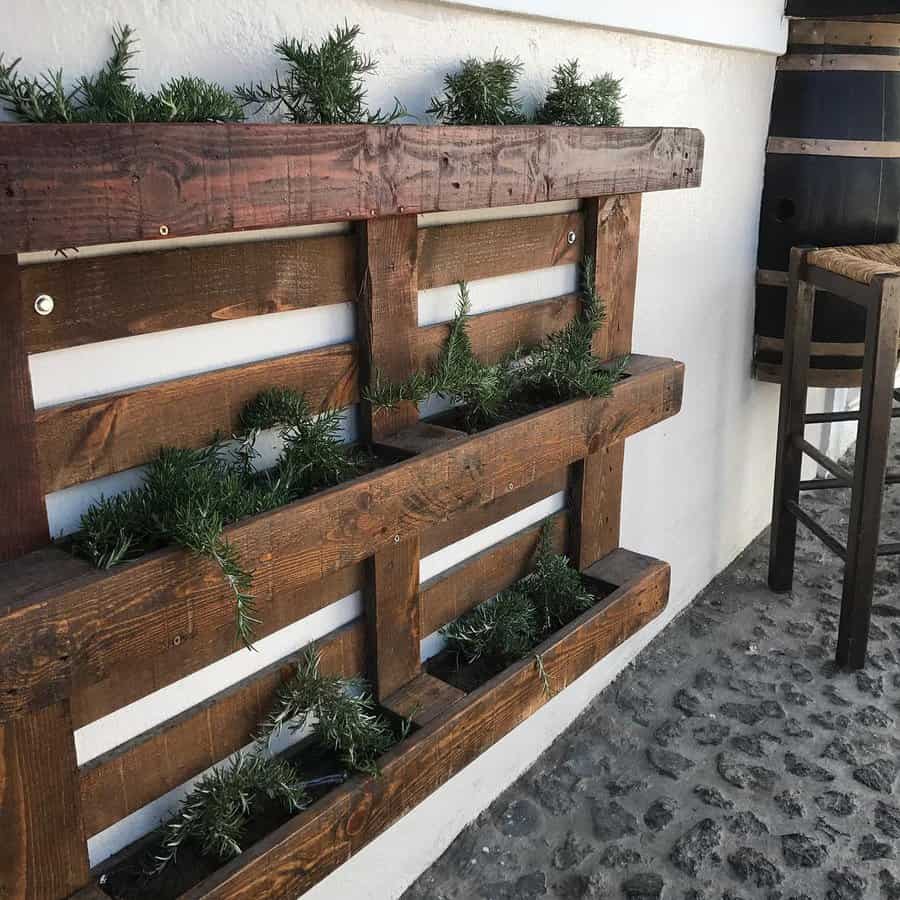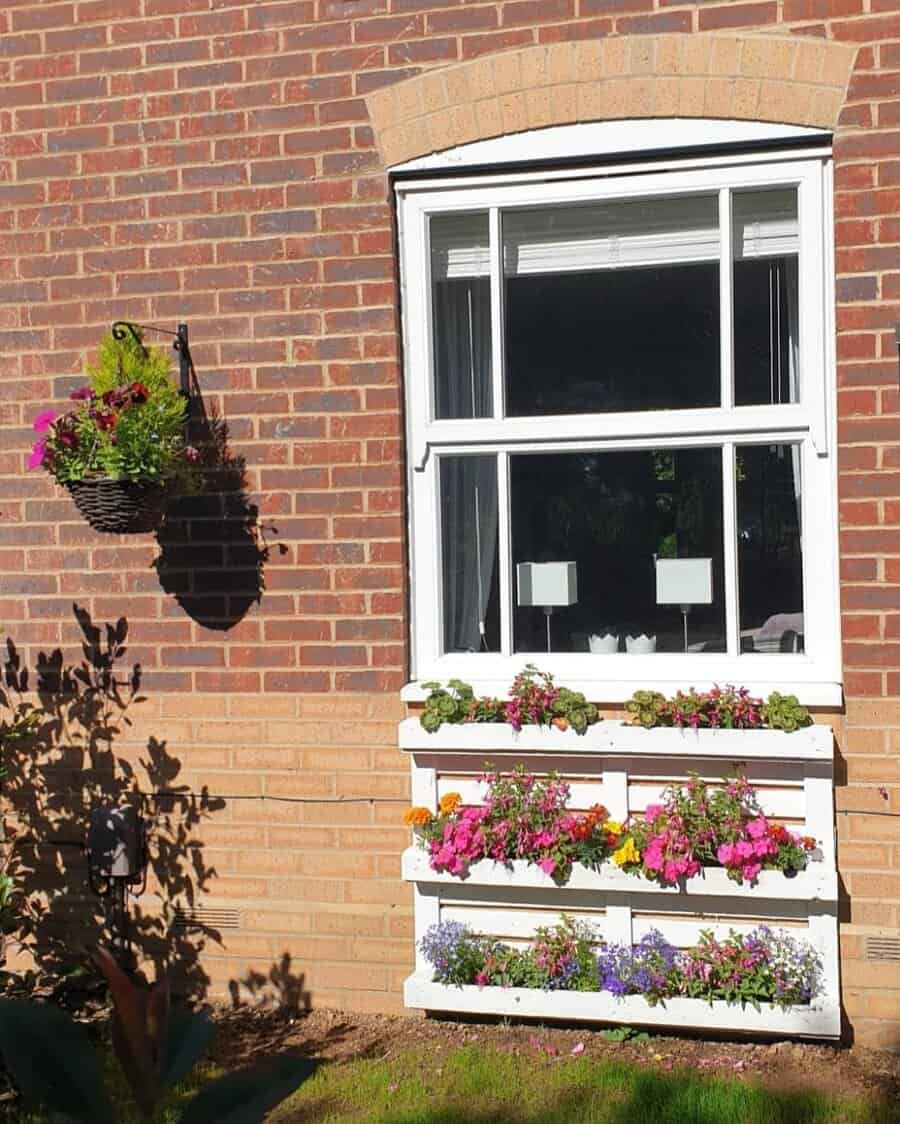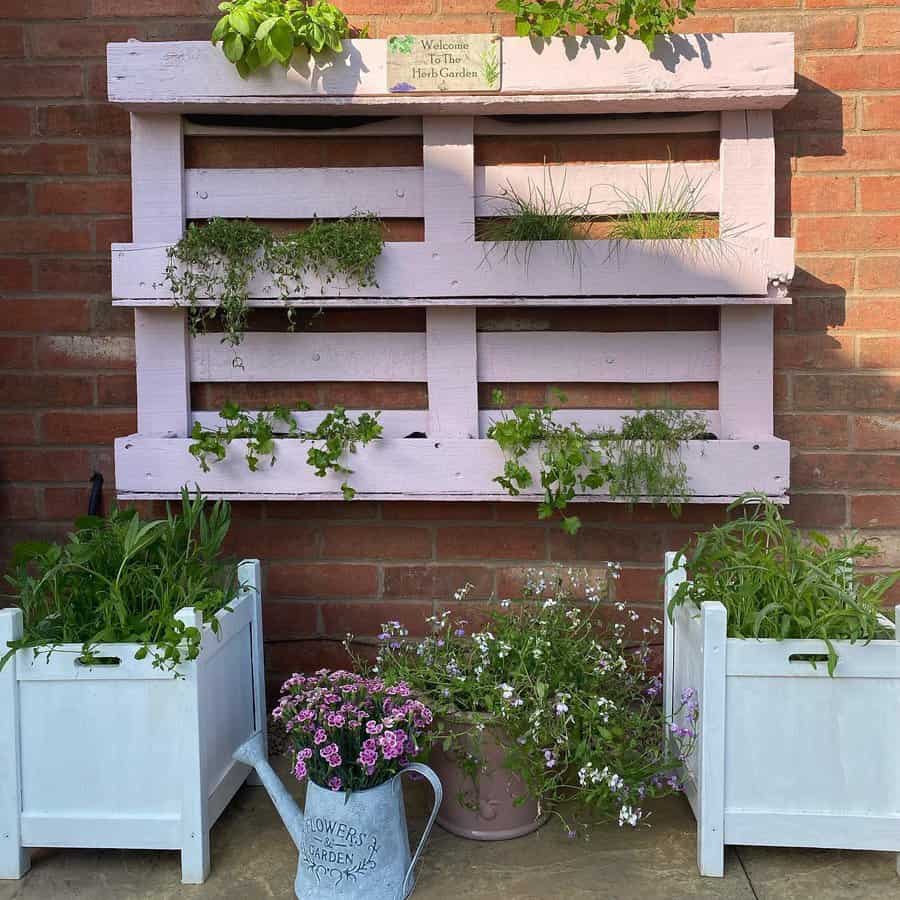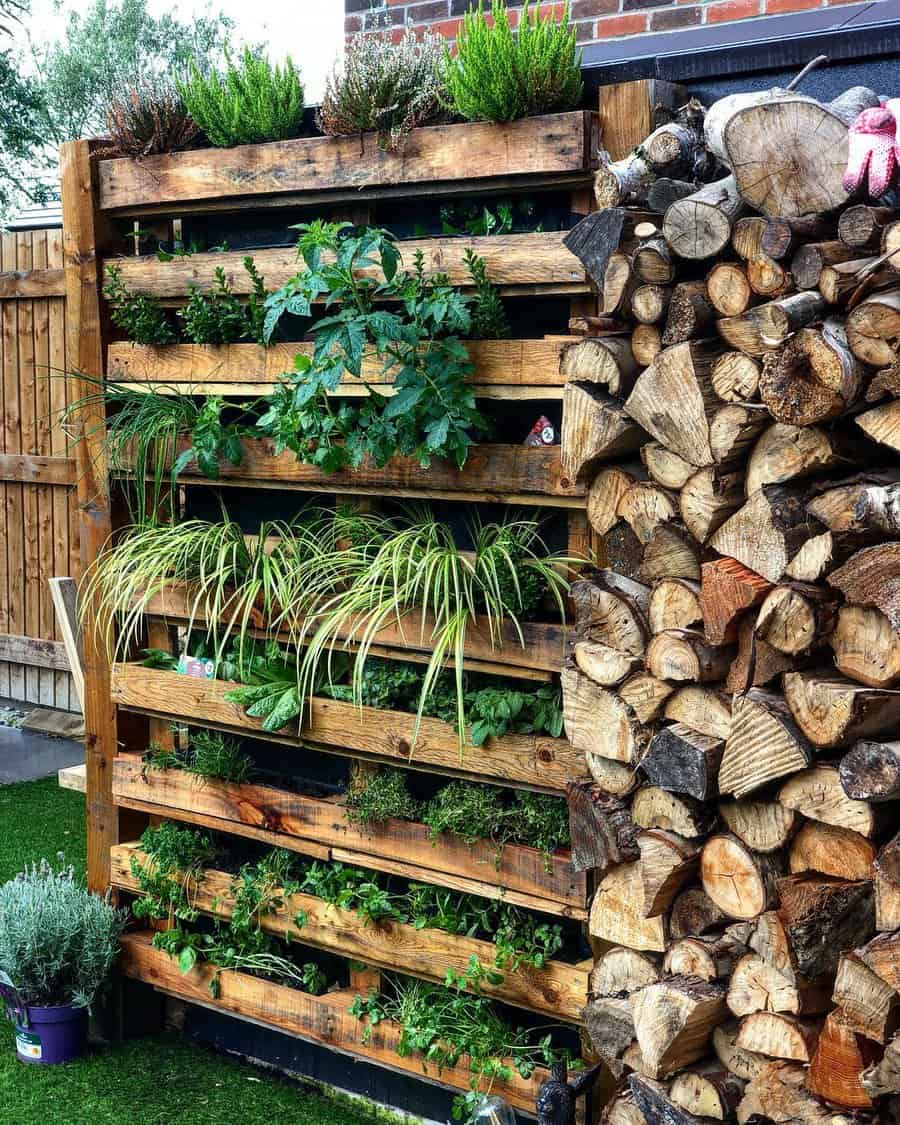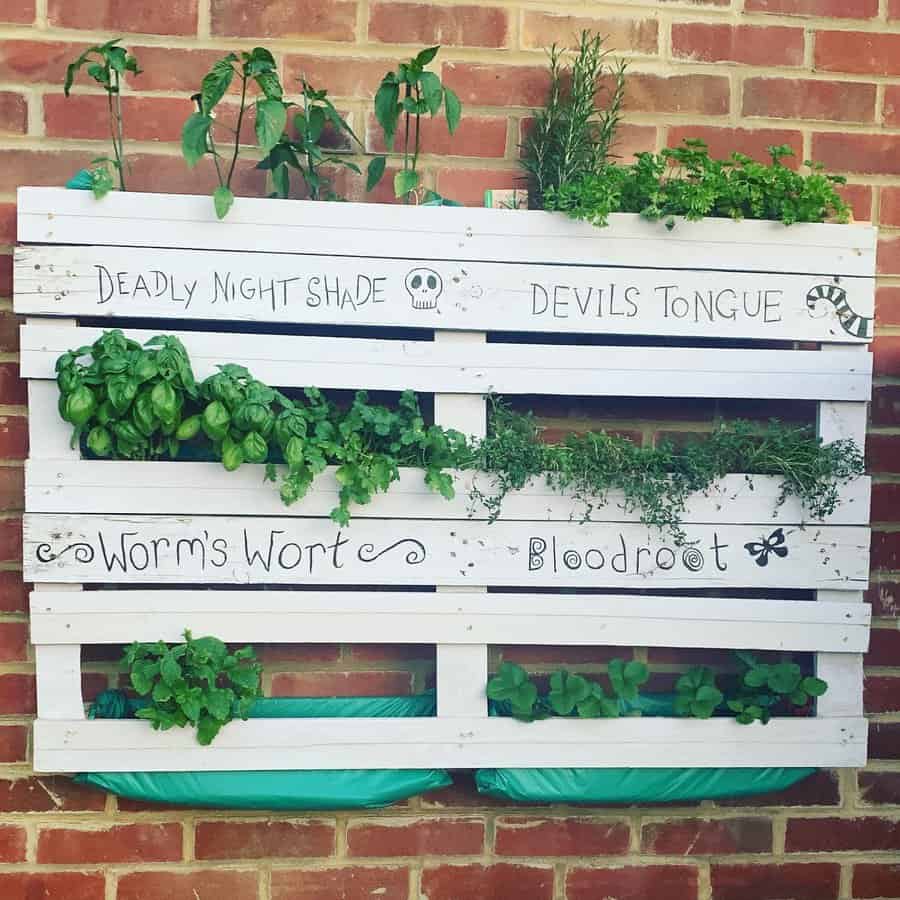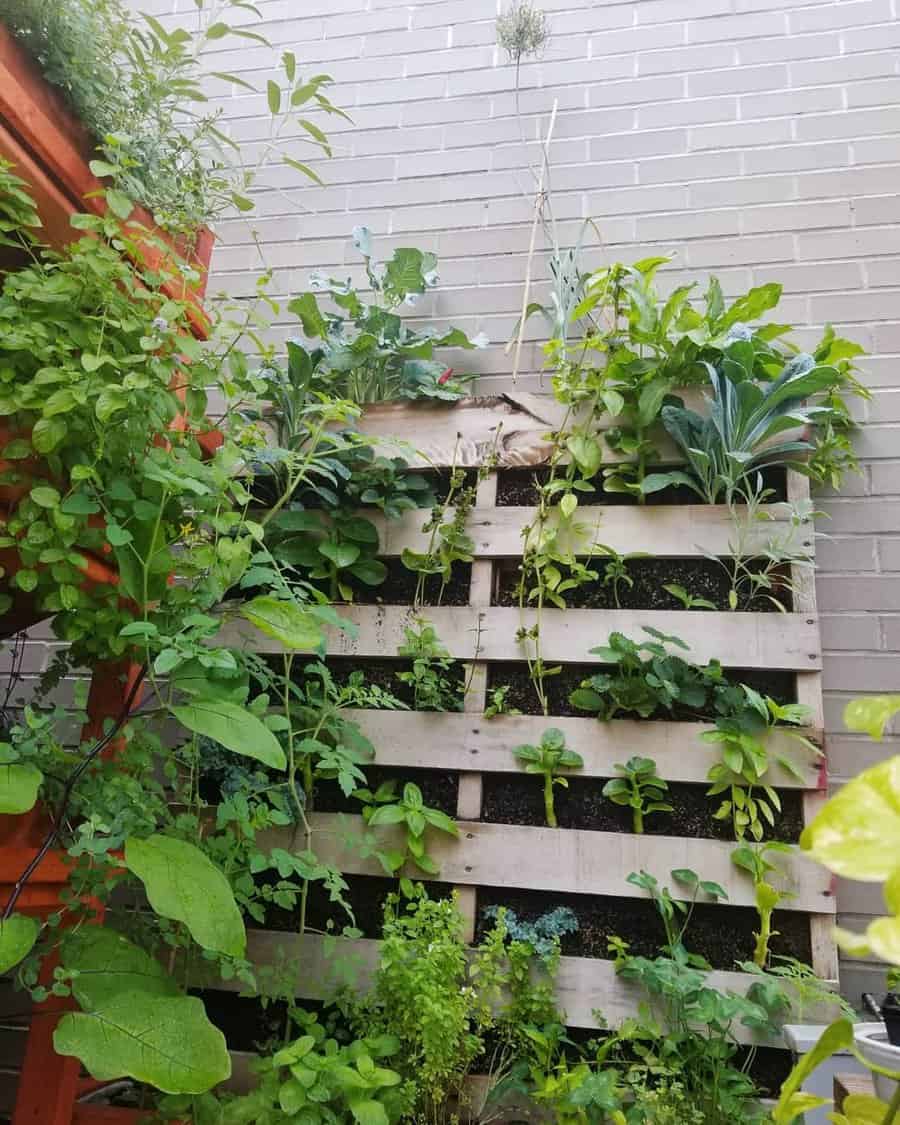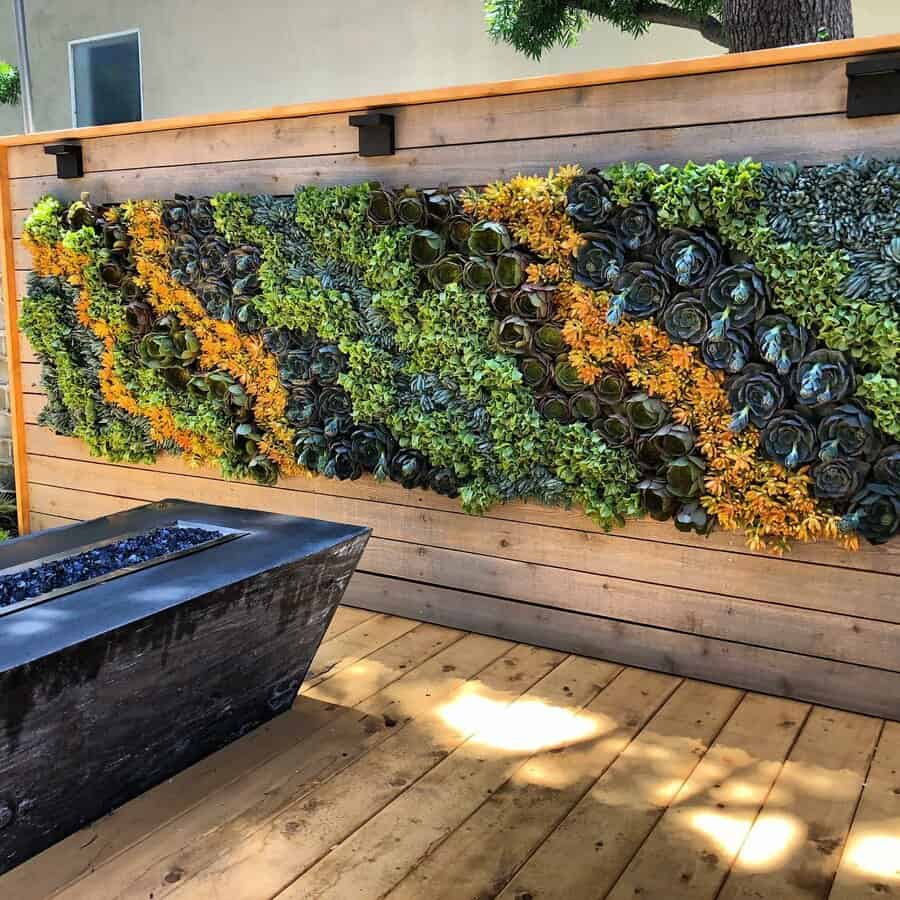 16. Diagonal Wood Panel Wall
If you're looking to bring a bit of natural charm into your home, there's no better way than by constructing a DIY pallet wall. Eclectic and unique, this wall is created with repurposed shipping pallets and looks especially stunning when left with the original weathered look.
For those looking to be adventurous, try out an eye-catching diagonal pattern that features different sizes of wood panels. This contrast will liven up any space with a dynamic flair that stands out from traditional walls.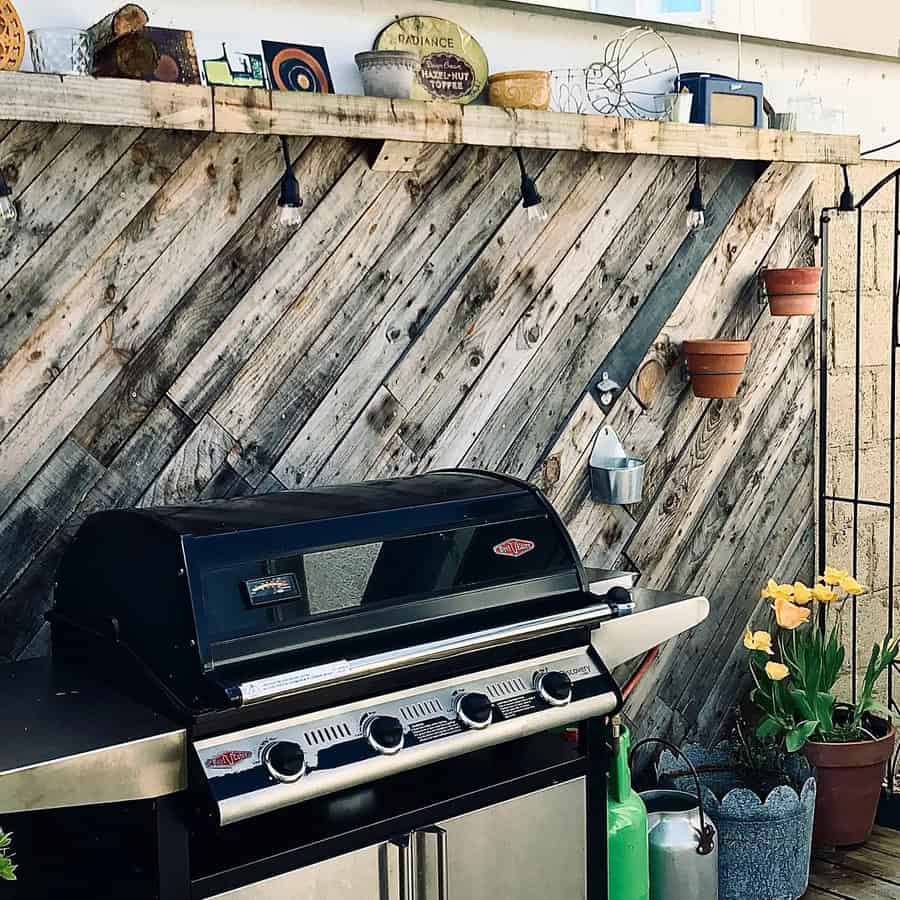 17. Trimmed Attic Wall
Give your attic wall a unique and creative look with a pallet wall! Choose wooden pallets that perfectly match the shape of the roof, making sure it catches the eye but also compliments your home's architecture.
This is a great way to create an aesthetically pleasing focal point in any room! If you don't have an attic wall, use other walls to add some rustic charm to your living space with pallet walls. Paint them, stain them, and use a mix of several shades for a more dynamic look.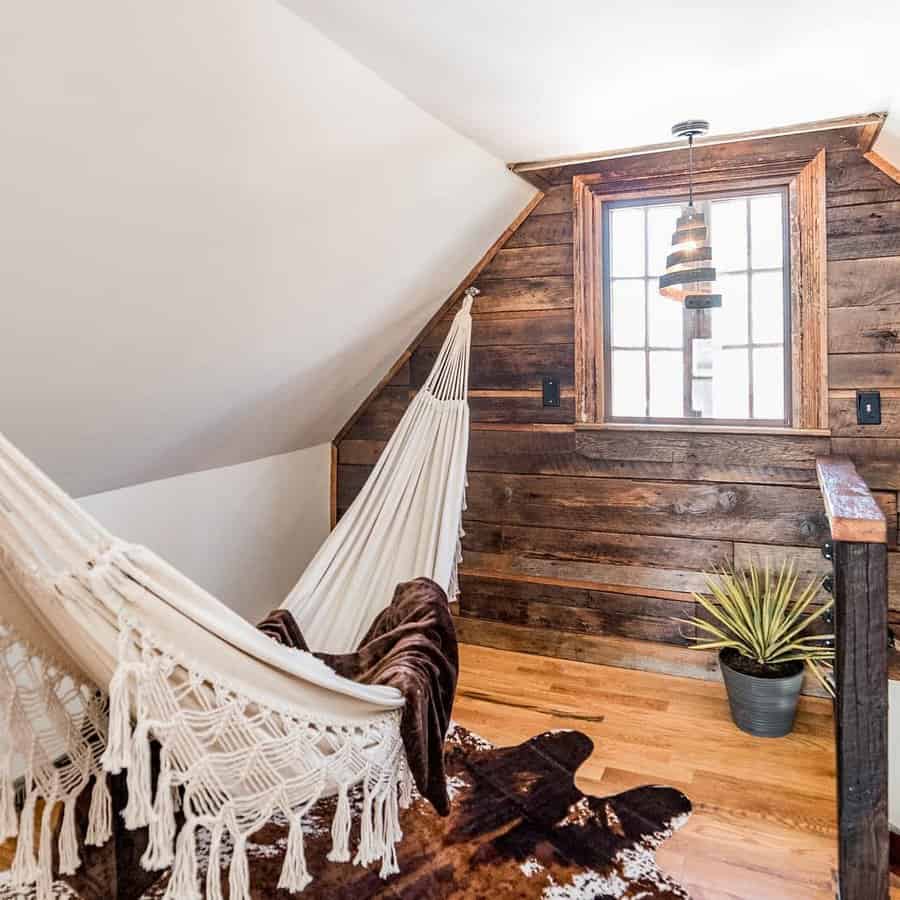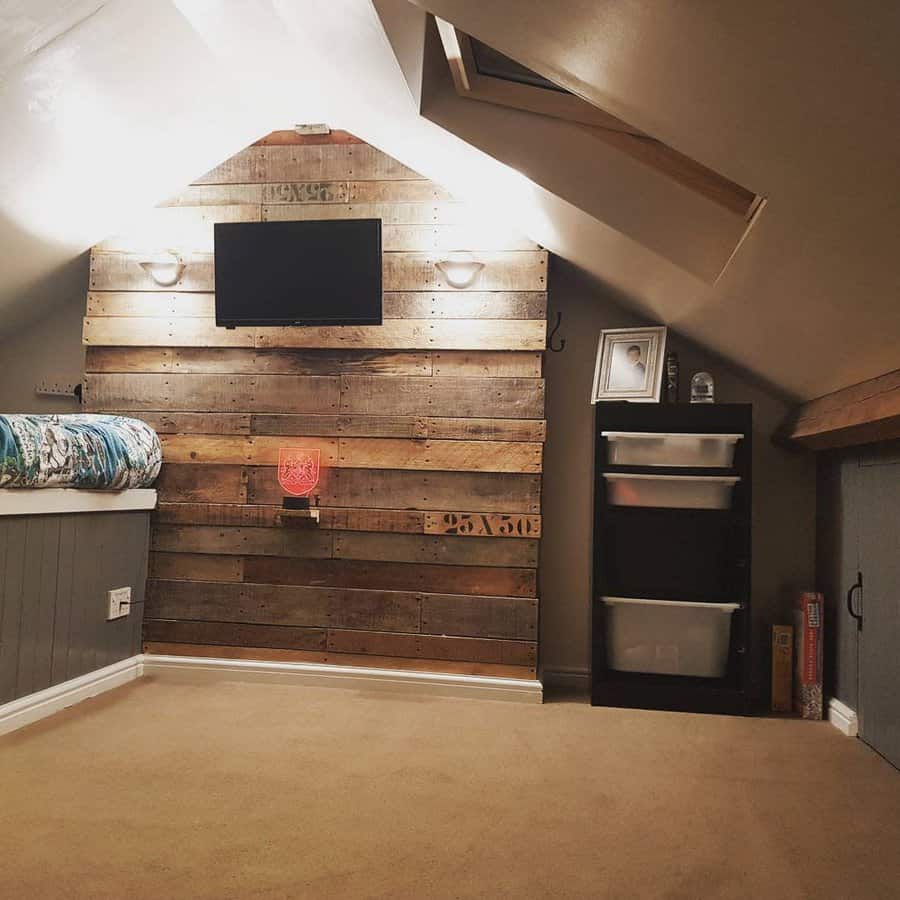 18. Reclaimed Wood Rustic Wall
One of the most creative ways to achieve a rustic but modern aesthetic in your home is through a reclaimed wood pallet wall. This unique DIY project is relatively simple – all you need is some reclaimed wood pallets, a few nails and screws, and some creativity.
Not only will it make any room look more stylish, but the number of possibilities it provides for decorating is also endless. Whether you decide to paint it one color, distress it for a weathered look, or still keep its original wood finish, the wooden slats from the pallet wall offer plenty of accent opportunities to give your room an extra pop.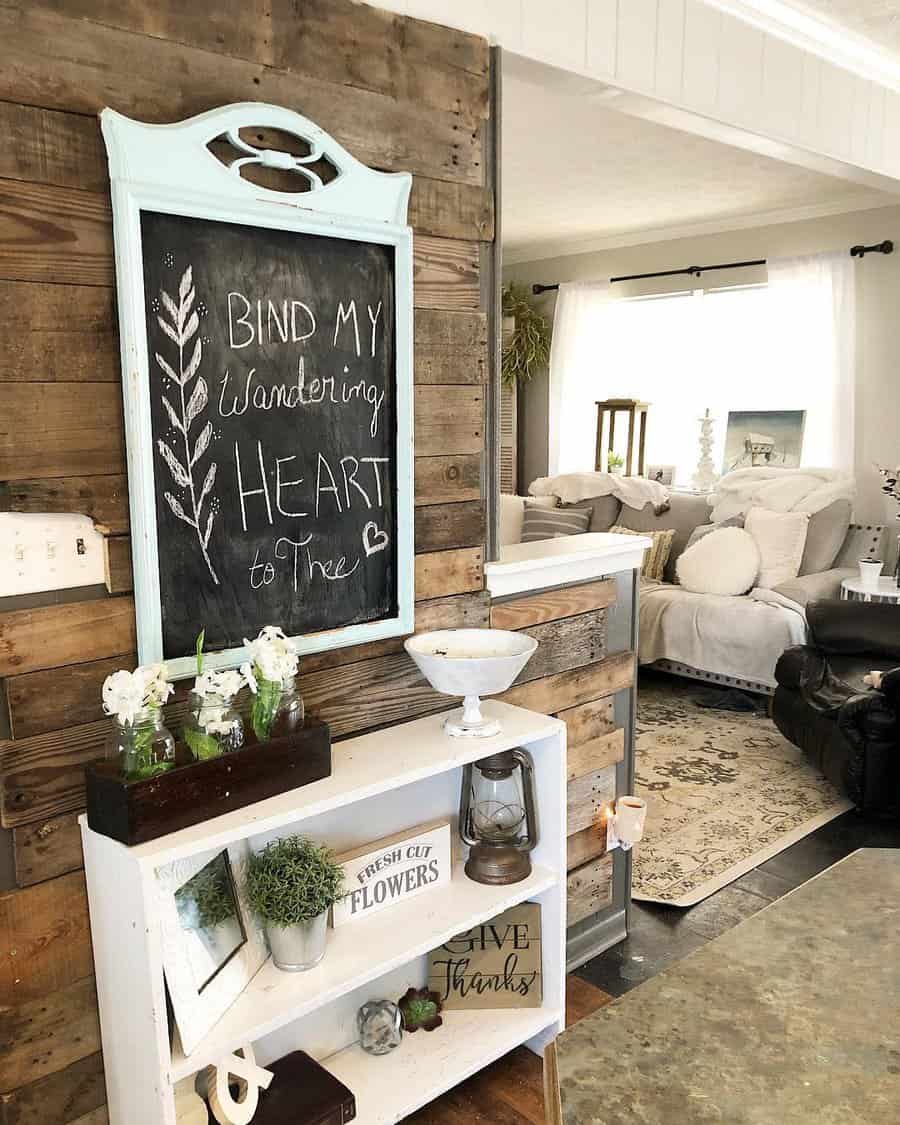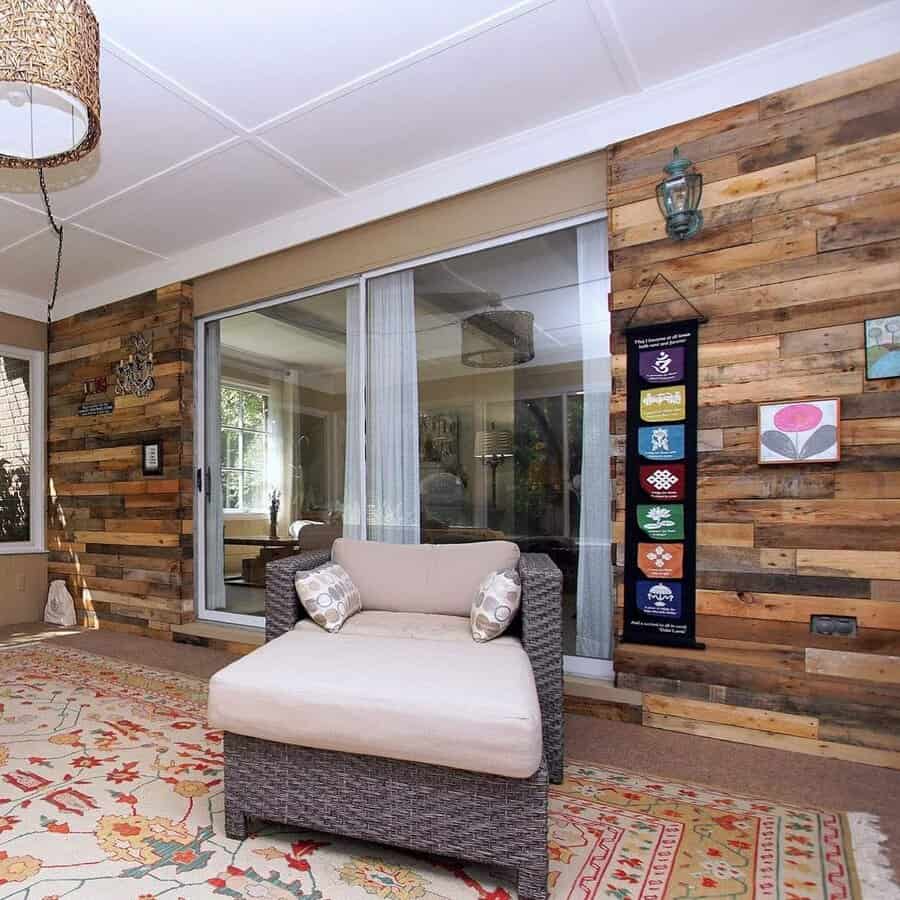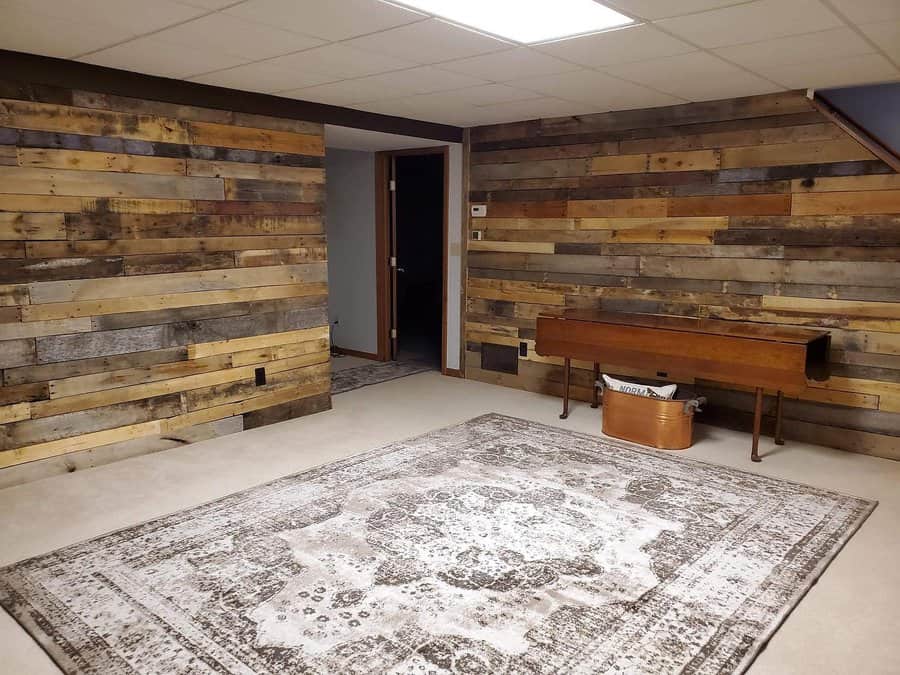 19. Wood Brick Wall
Pallet walls are a popular way to tie together any room, especially those with an industrial or farmhouse feel. But if you're looking for something a bit more unique, then why not try a wood brick wall design? This alternative to the classic pallet wall is made up of unevenly-stacked blocks of wood that give off a tactile and 3D impression, allowing you to inject some playful vibes into any area of your home.
Get creative with different colors and patterns, or simply leave them bare to exude a naturalness that stands out from traditional pallet walls. No matter what your preference may be, utilizing this style of design is certain to bring about fresh and interesting results.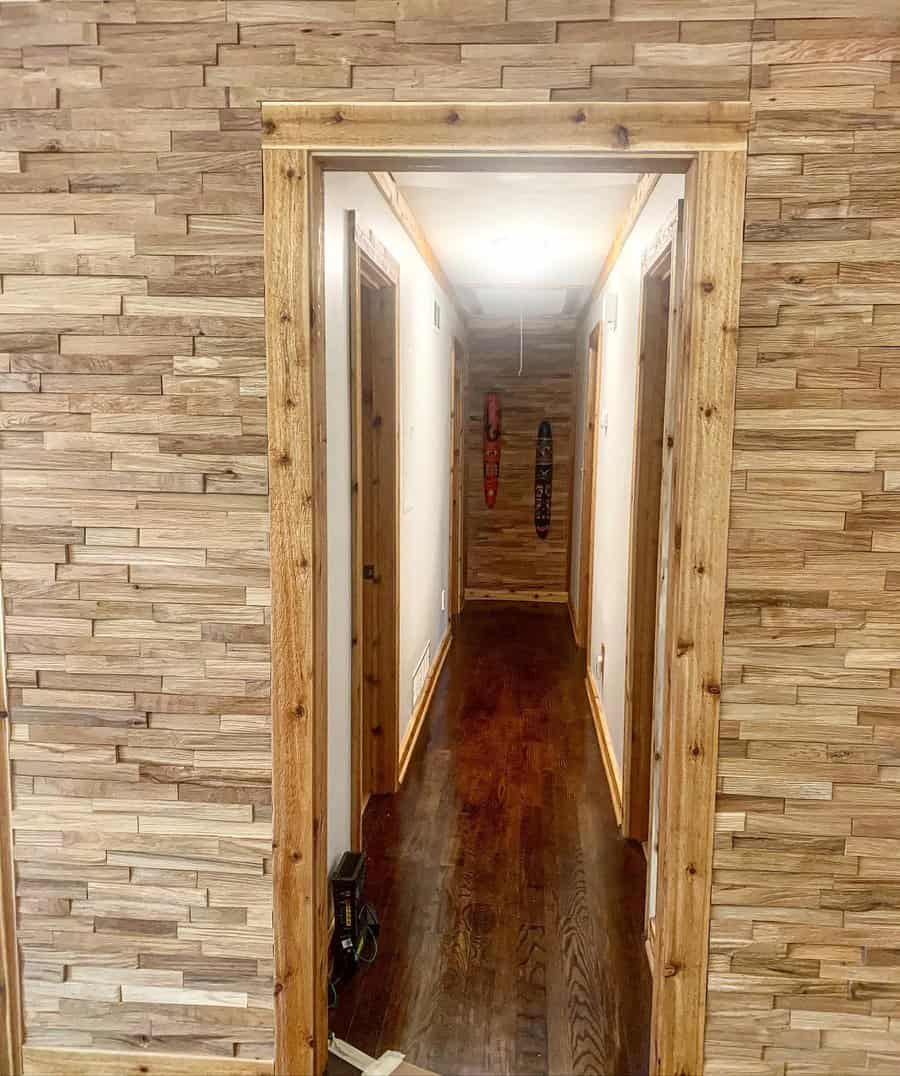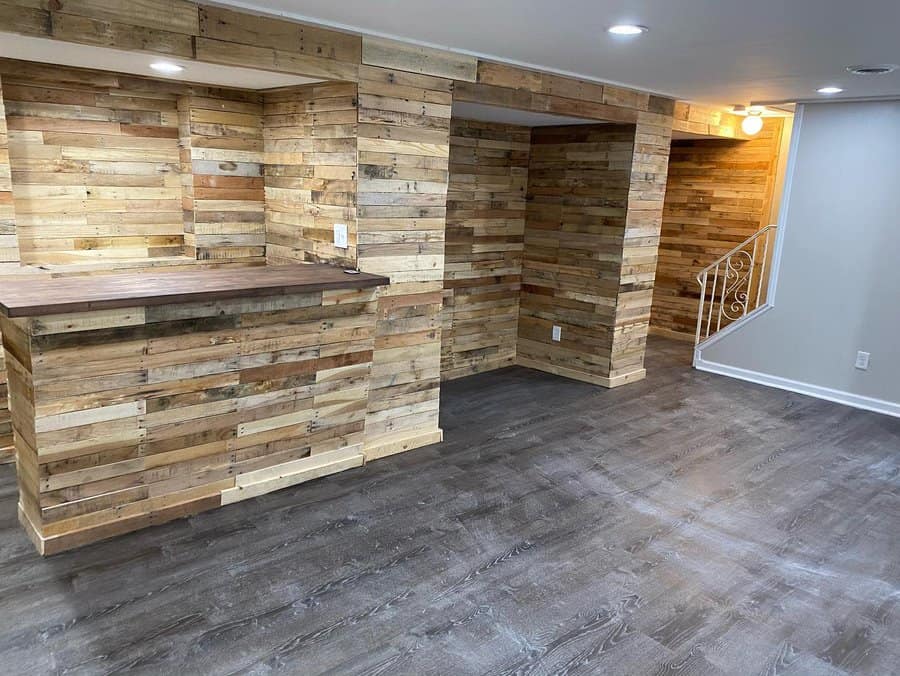 20. Secret Pallet Wall Door
If you're looking for some creative pallet wall ideas, why not experiment with a secret wood pallet door? Just like the name implies, it's a wall of pallets that hides a swinging door. Not only does this add a touch of mystery and intrigue to your home, but it also utilizes the strength of the reclaimed wood to create an extra layer of privacy. Another fun project to consider is creating a camouflage pallet wall.
This look mixes the artistry of upcycling pallets into something beautiful while making sure your space blends in with its natural surroundings. Plus, by using different colors, textures, and sizes in your design, this style promises to bring life to any plain backdrop. So why not let your imagination run wild?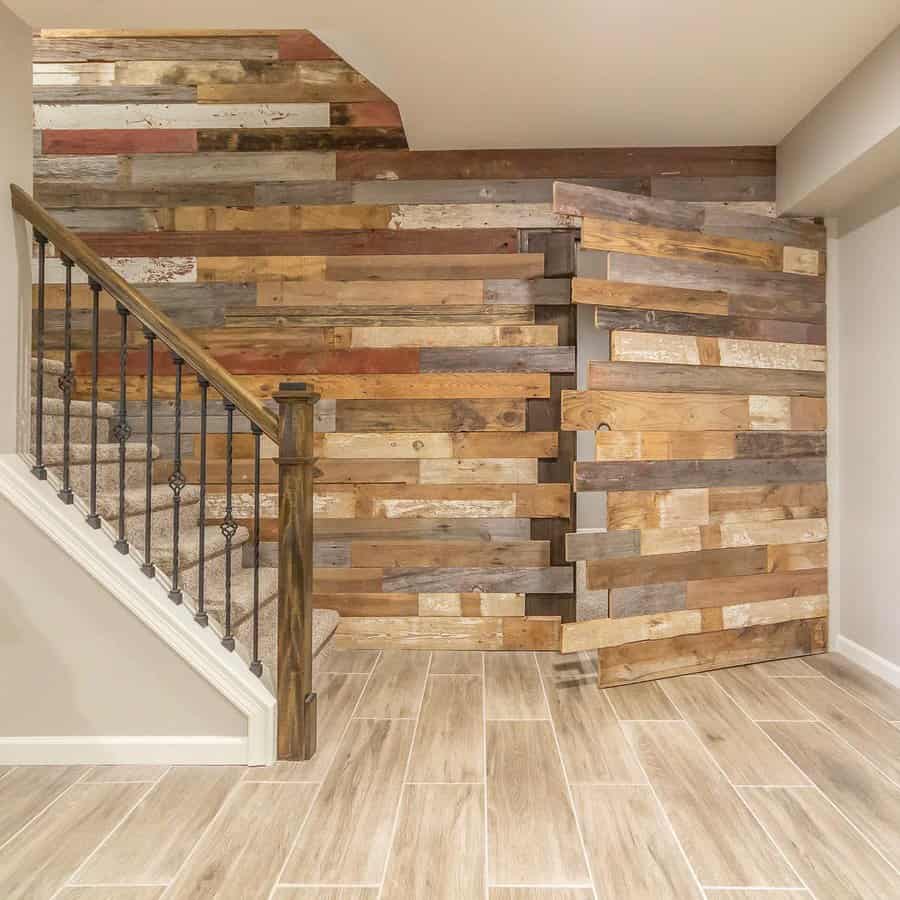 21. Wall Kitchen Island
There's no better way to add unique character to your kitchen design than by using a wood pallet wall. Whether you're looking for an island or just a decorative feature on the wall, these would make stunning additions that can be reused and customized over time! For a kitchen island look, consider building a wall-mounted island from the pallets with shelving underneath for extra storage.
You could also opt for boxes made from wooden slats for a low-key DIY project that could fit any budget. Even if you don't have much space, large planters can also be built out of wood pallets to liven up any corner in your kitchen. Get creative and create something truly original with kitchen pallet walls!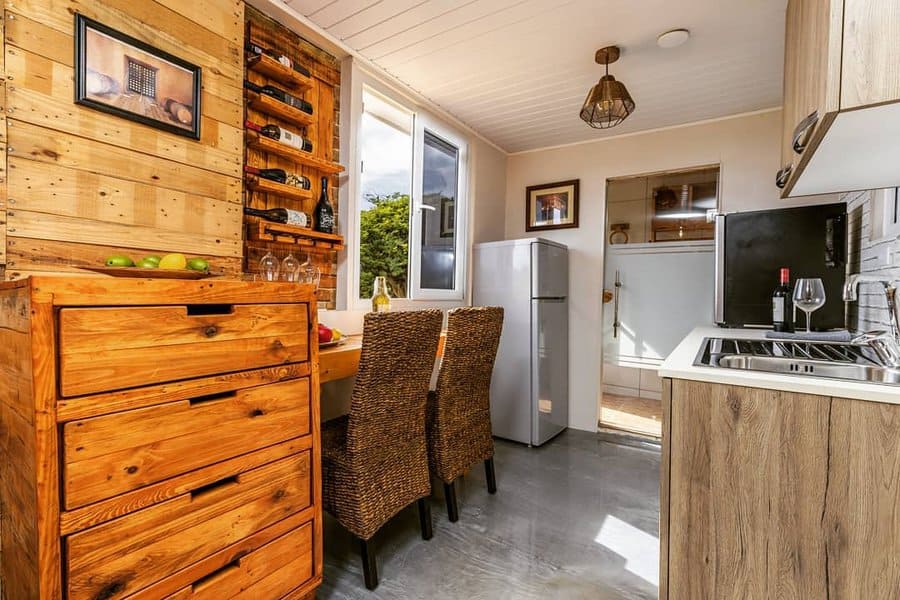 22. Industrial TV Wall
Bringing an industrial look to your home is easy with a wood pallet tv wall. From sleek polished accents to those that are more rustic, a wooden pallet tv wall will be the focal point of any room–hinging on the warmth and comfort of natural materials, boosted by added touches like modern lighting.
Whether you're looking for a subtle hint of industrial charm or going full-on with vibrant colors and bold accents, create a beautiful space with endless possibilities. With careful planning and select materials, your wood pallet tv wall can bring something unique to your living area while adding character and style.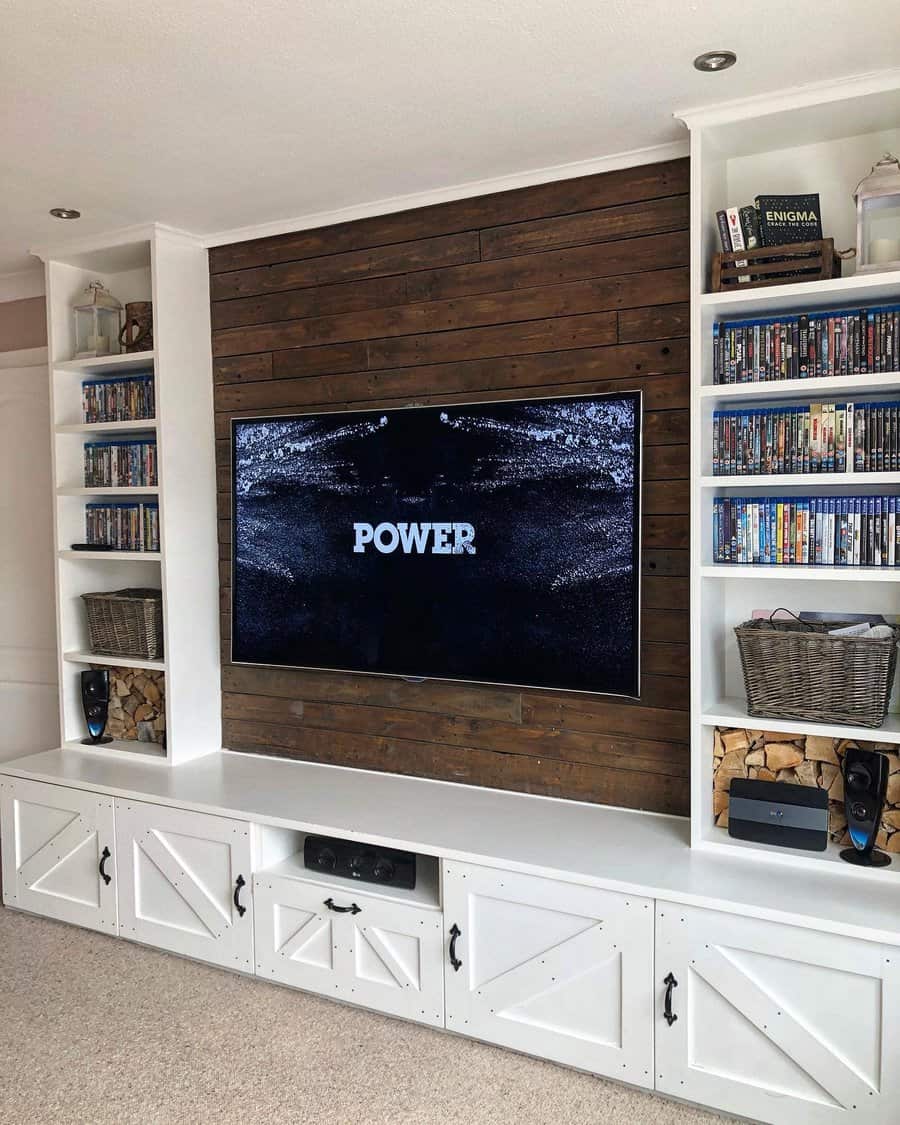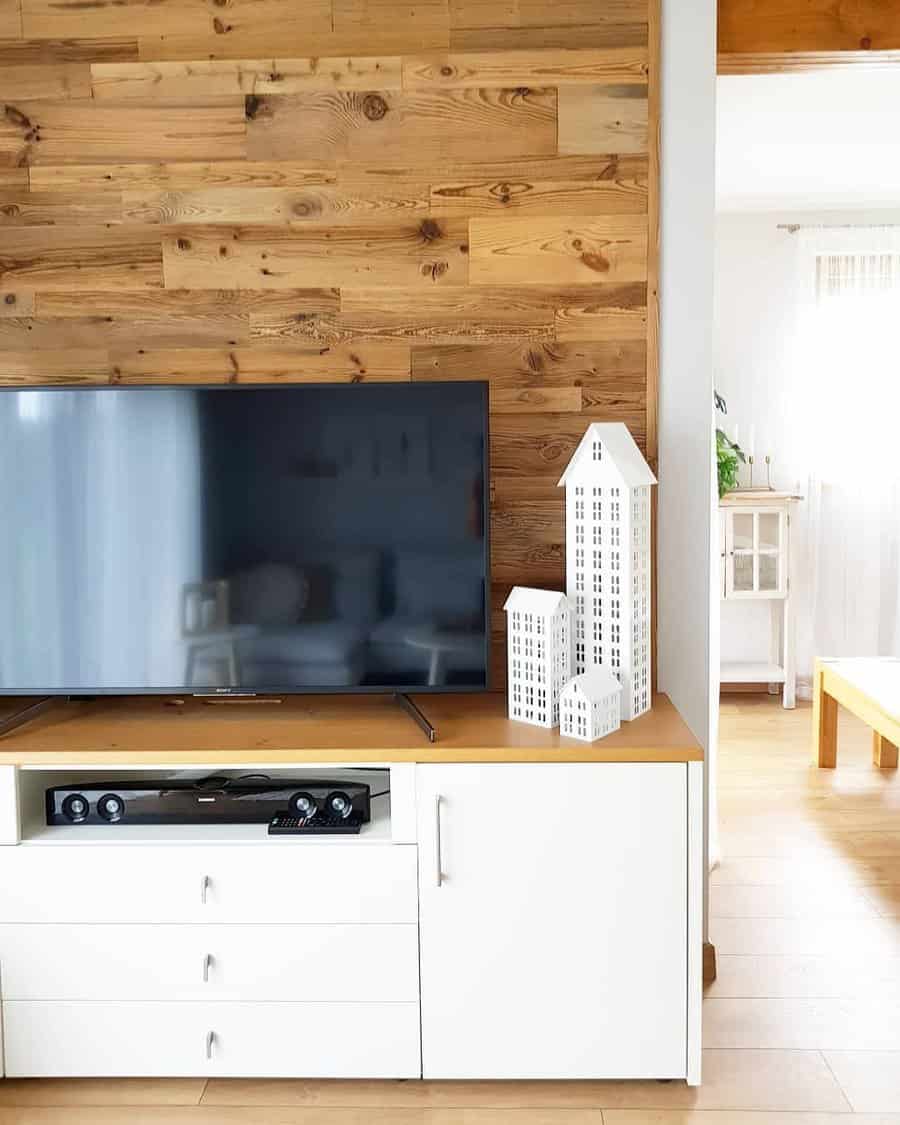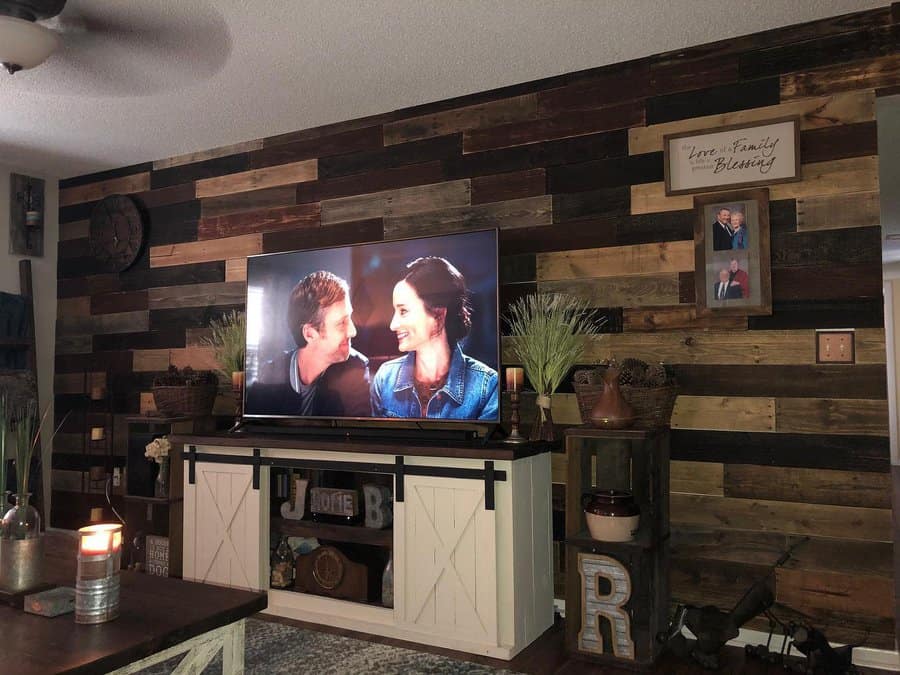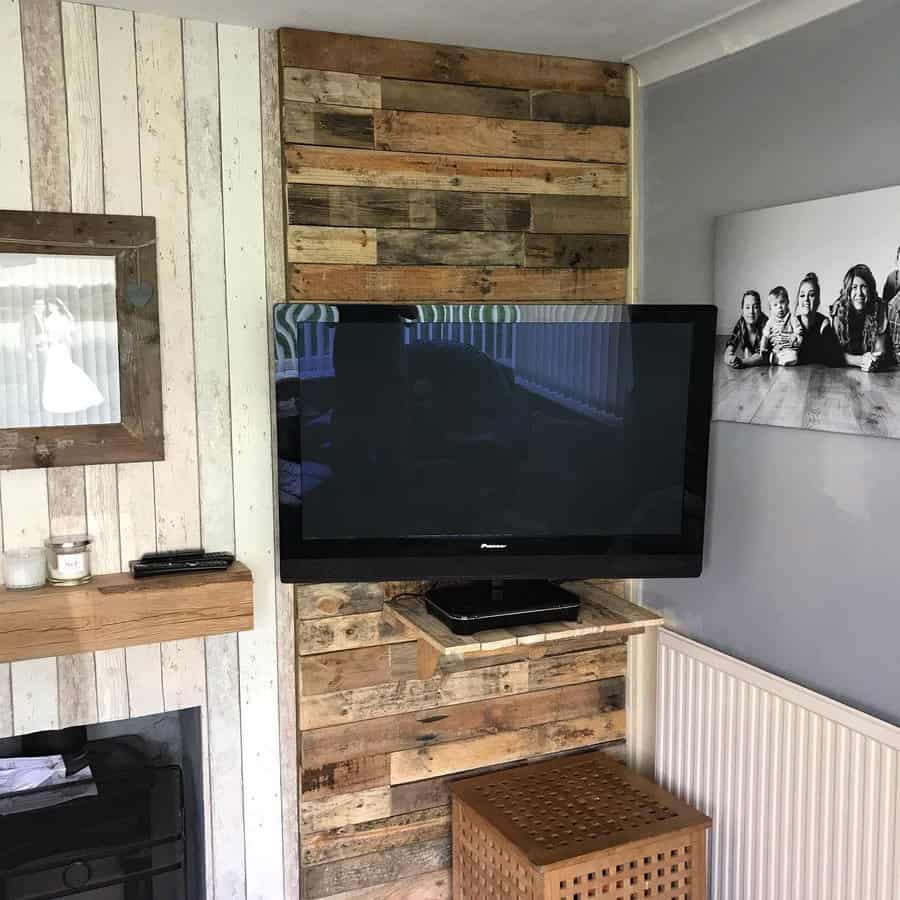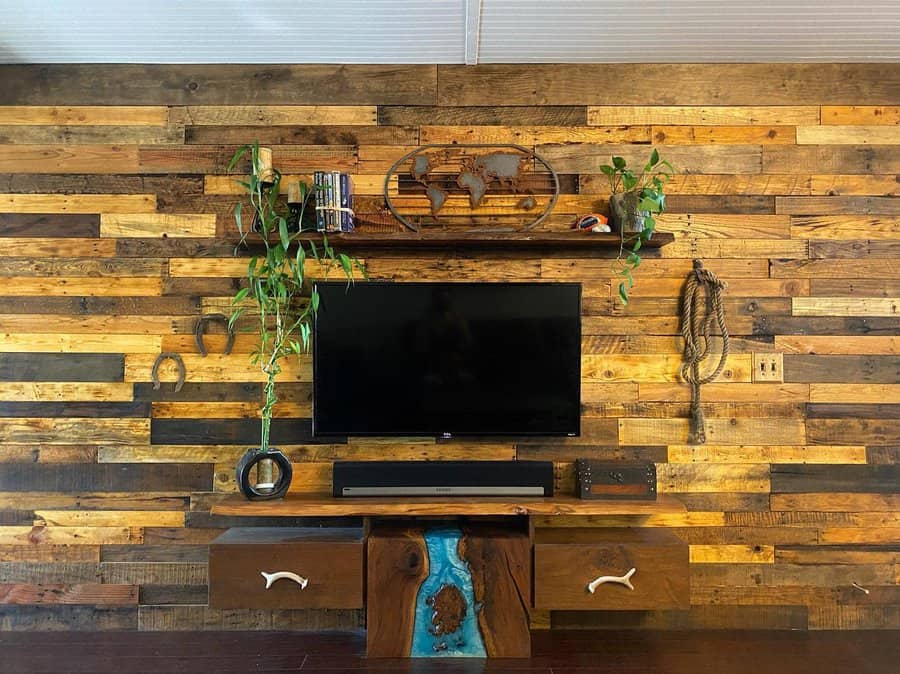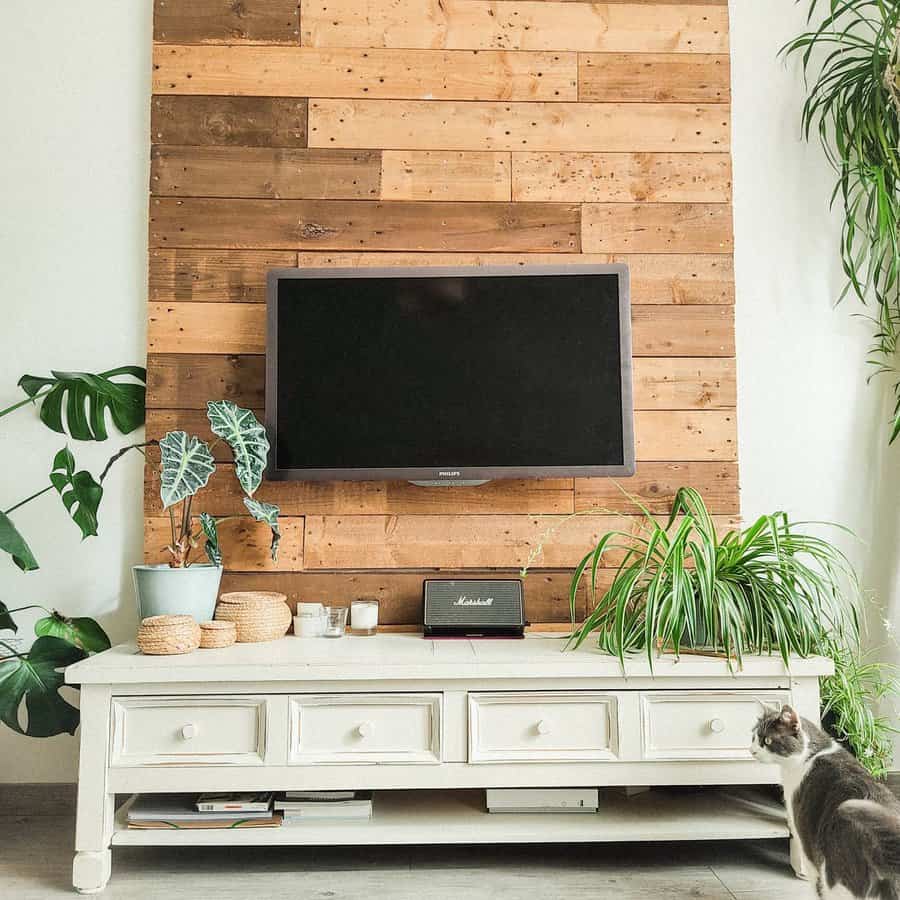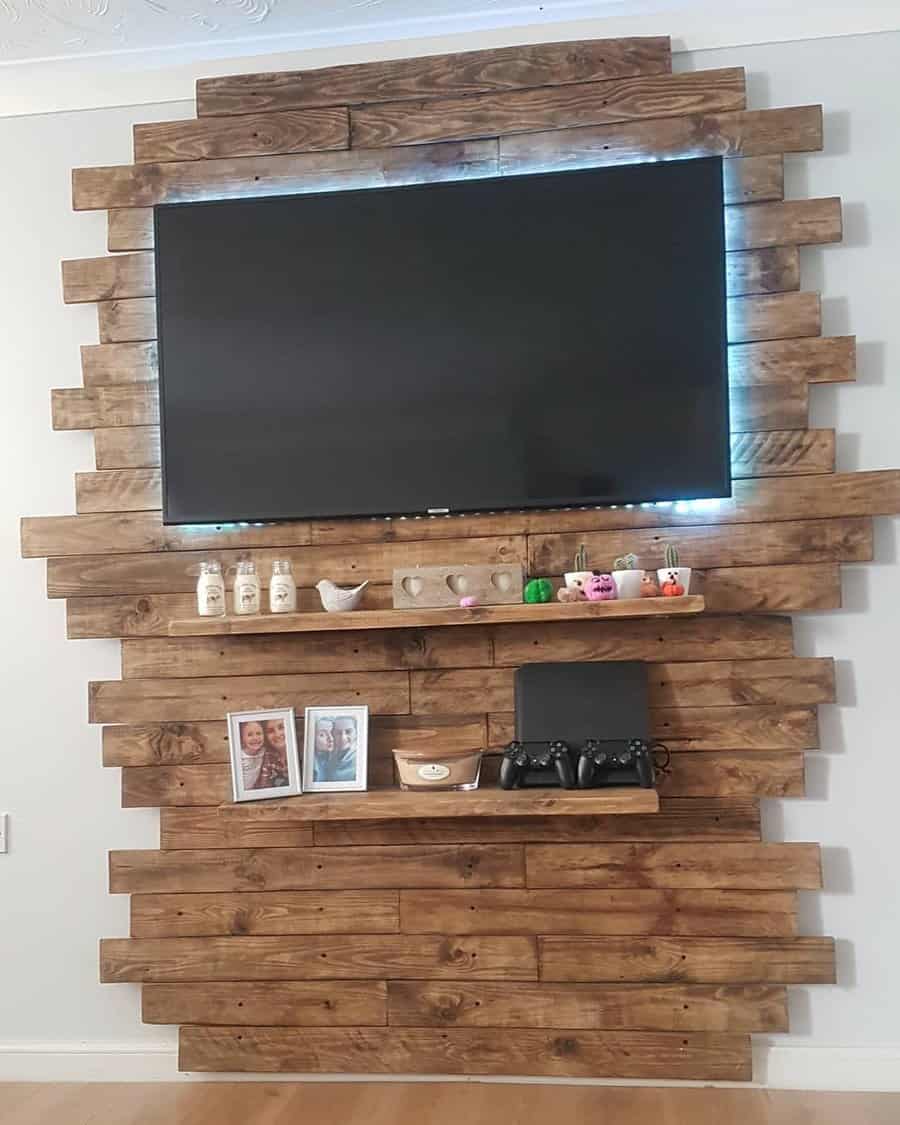 23. Pallet Fireplace Wall
Few things can spark creativity more than a wood pallet fireplace wall. The possibilities for design are nearly endless when it comes to the amazing range of colors and textures this type of accent wall can add to your living space.
Whether you keep it rustic and natural or play around with pastel colors, paint washes, or color blocks—there's always something new that you can add. And don't forget about interesting details like artwork, shelves, and lights to make your wall even more inviting. With a bit of creativity, it won't be long before you create your perfect pallet wall masterpiece!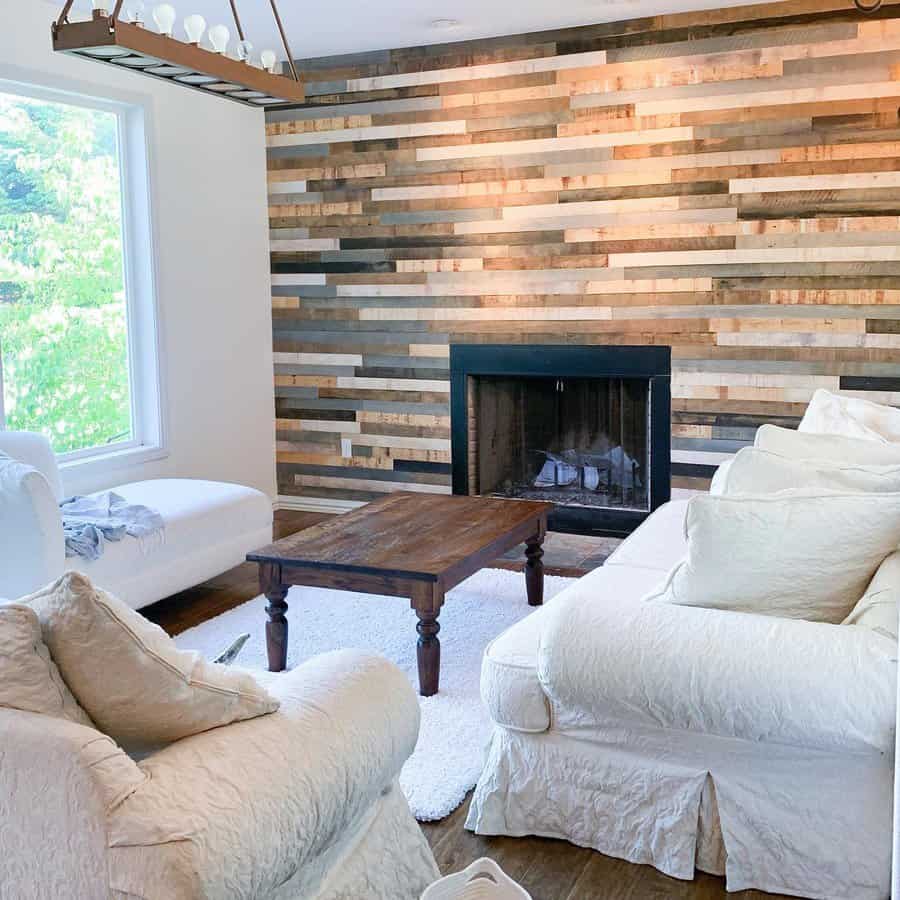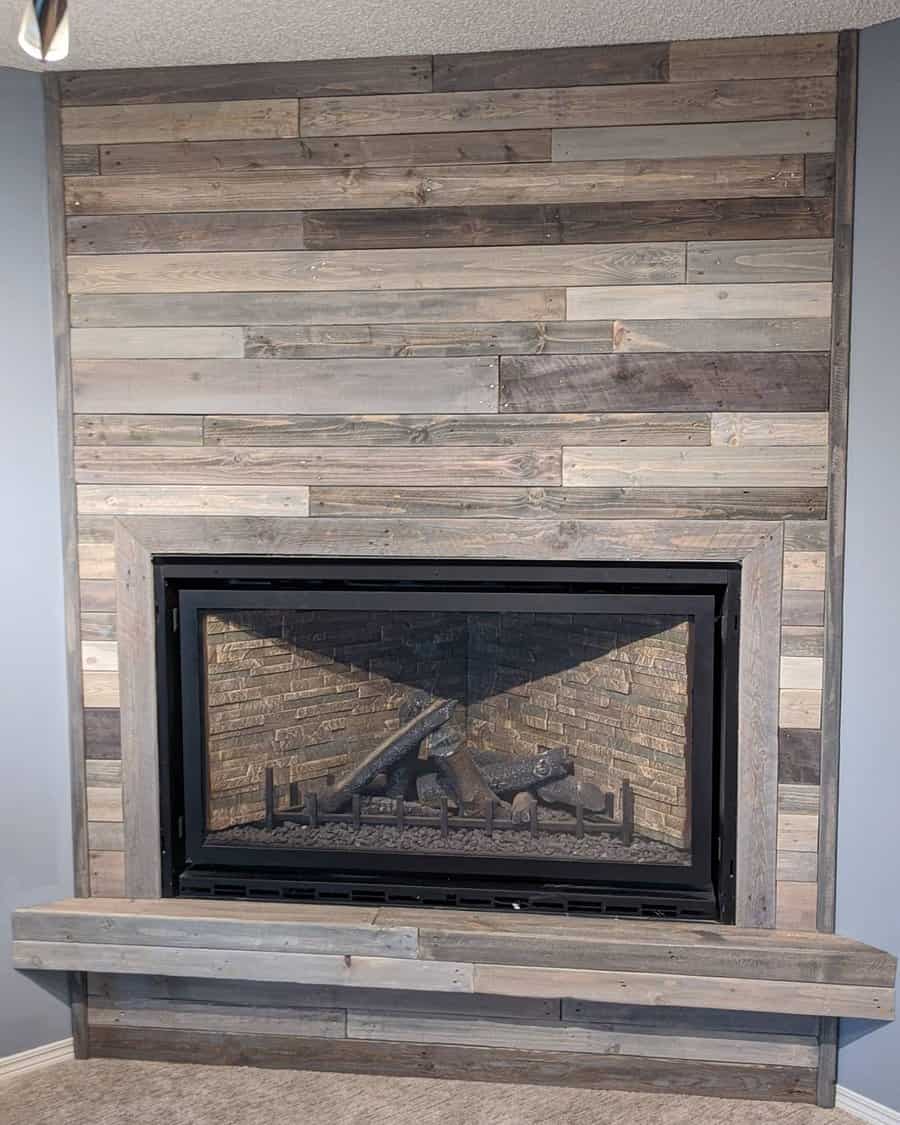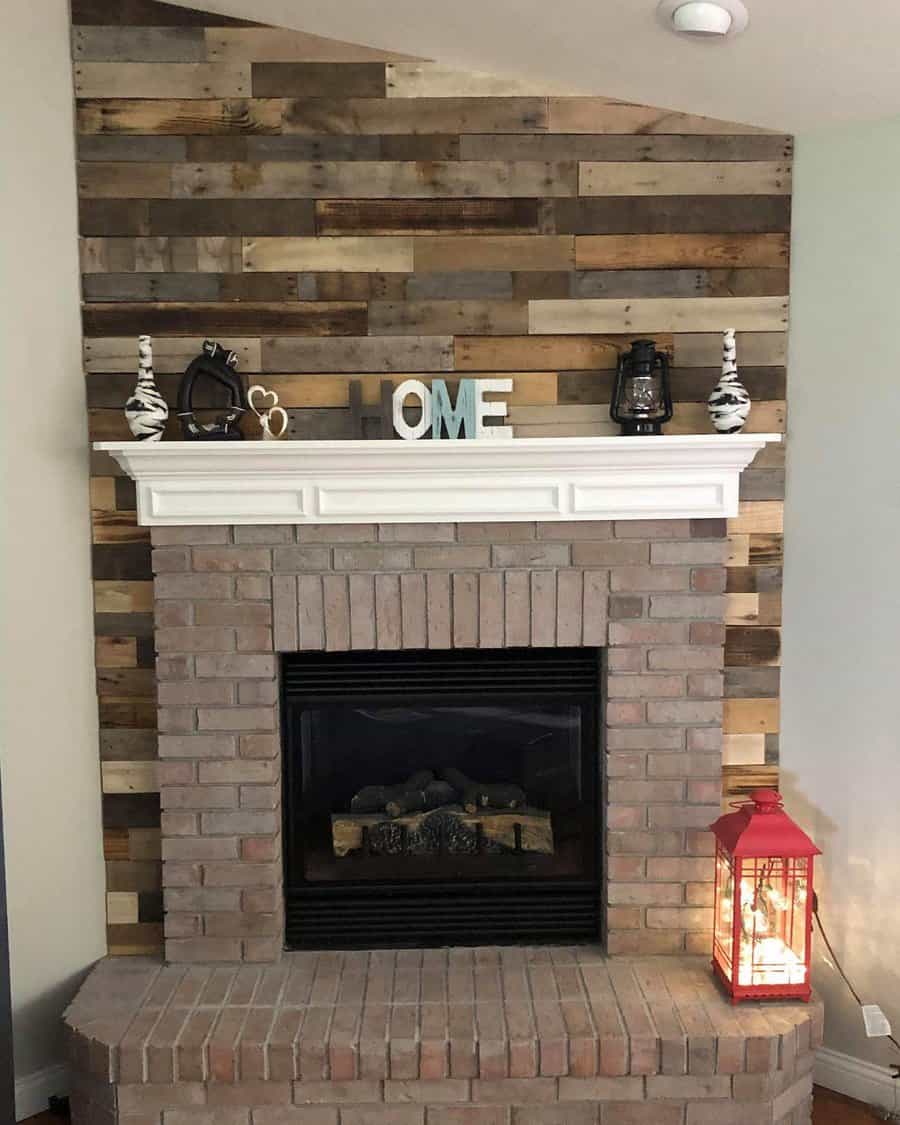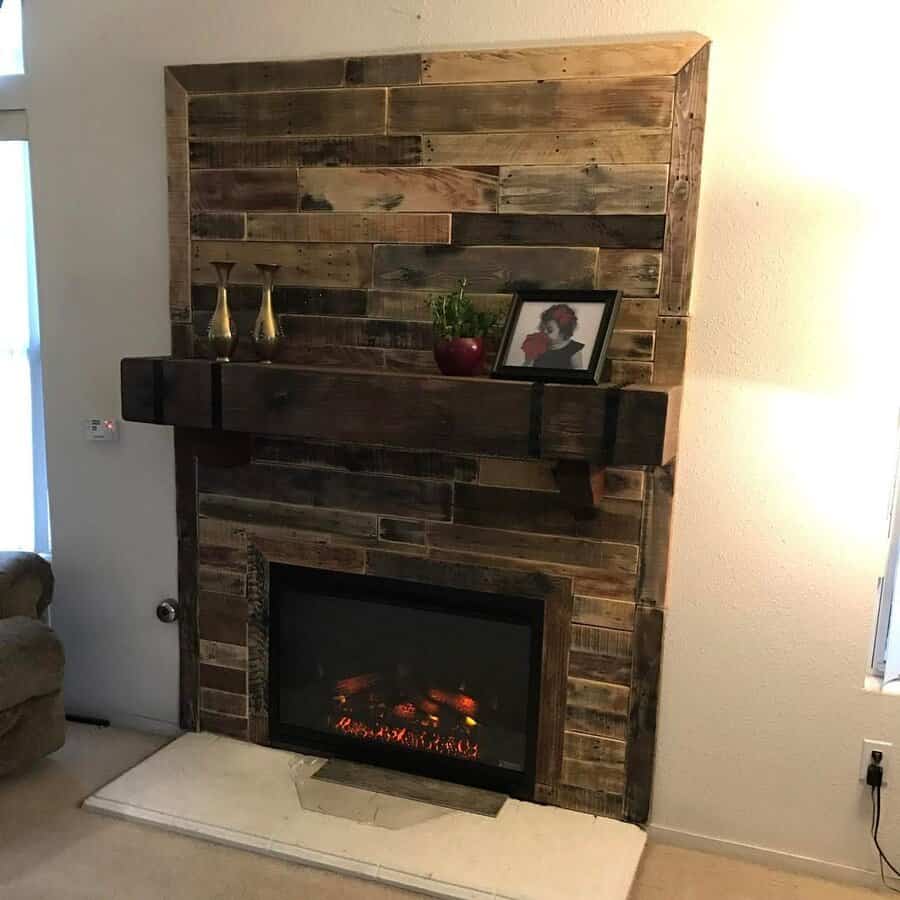 24. Multi-Colored Pallet Wall
If you're looking for an eye-catching centerpiece for your living room, why not consider a multi-colored wood pallet tv wall? With their appealing rustic charm, these accent walls can transform any space into an inviting and stylish entertainment area.
Not only does the colorful arrangement give your television spot a much-needed style lift, but also it's a great way to add character to any room. Plus, building a pallet wall doesn't require advanced carpentry skills—all you need is a few pallets and a few simple tools.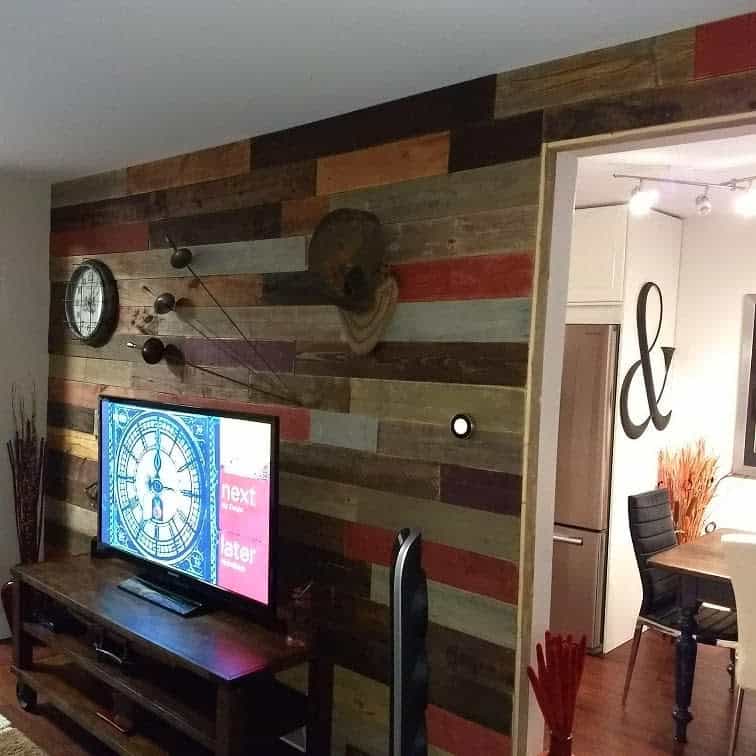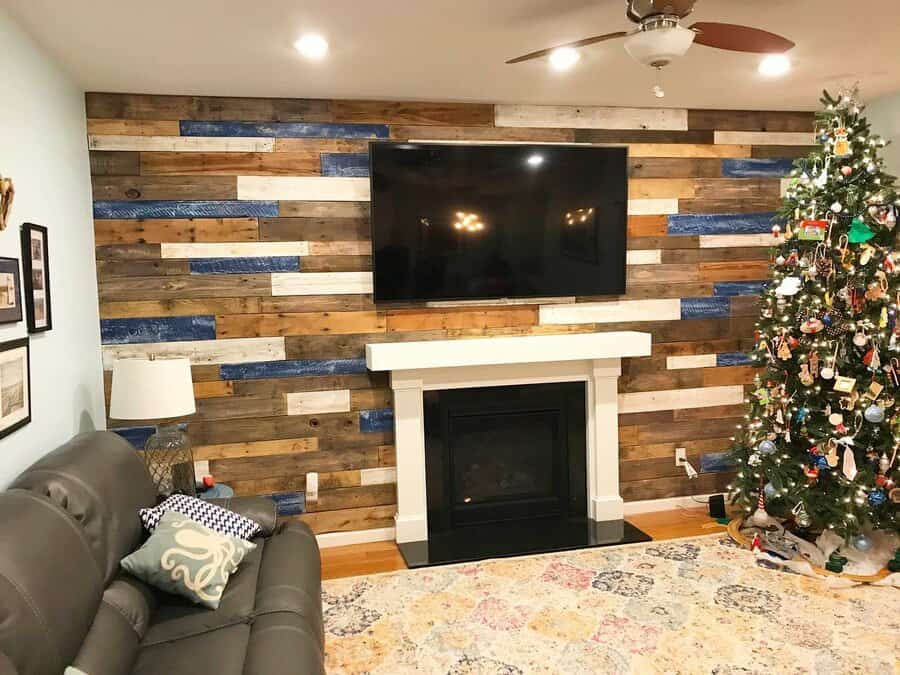 25. Recessed TV Wall
A living room is often the centerpiece of the house, so why not step up your game and create a unique piece of art to be the center of attention? A recessed wood pallet TV wall is one way to do that. With the right materials and some creativity, you can craft a stunning piece of furniture that will express your individual style and provide an endless source of entertainment.
It's a creative way to assemble classic reclaimed wood for maximum impact in any space. Whether you opt for a full wall or smaller shelves and frames, this is one DIY project that guarantees comfort, style, and lasting quality in any home.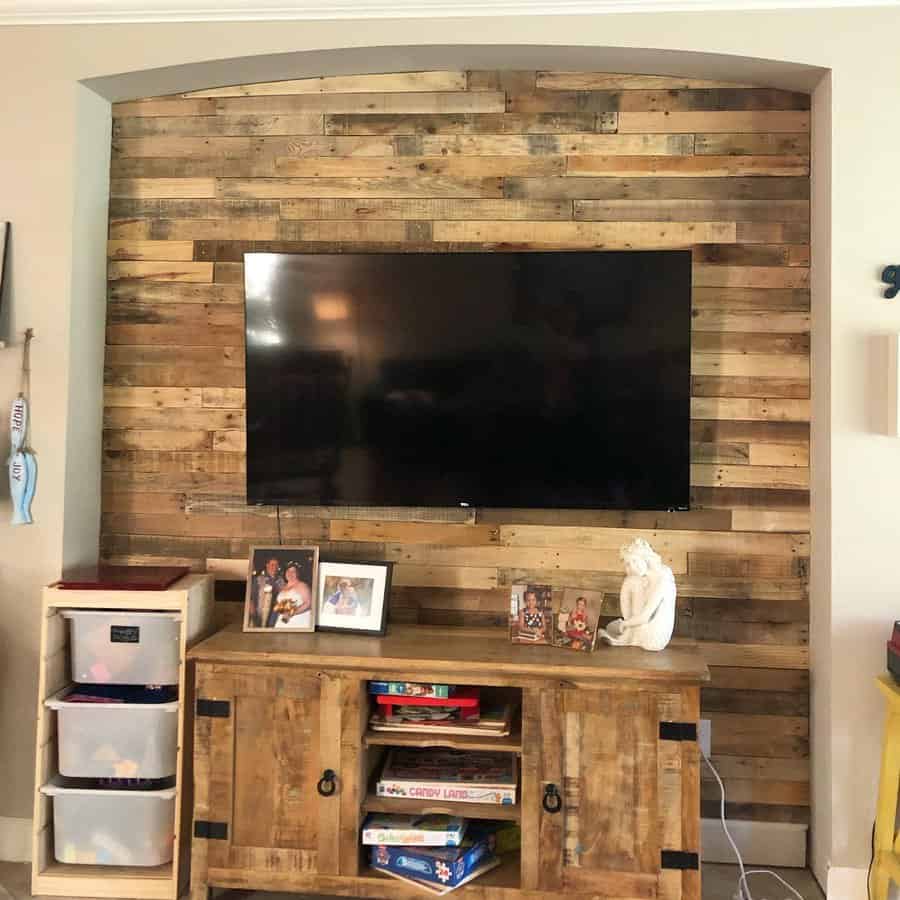 26. Herringbone Patterned TV Wall
If you're looking for a creative way to style the tv wall in your home, try out a herringbone-patterned tv wall. This stunning decor idea is sure to draw the attention of any visitors and adds a beautiful and unique look to your space. Adding a touch of color like with paint or wallpaper will make the wall truly exceptional while alternating sizes of wood blocks can create an eye-catching design.
You can also use different materials such as stone tiles, marble, or even glass for added interest. Get creative and have some fun with this timeless decor trend!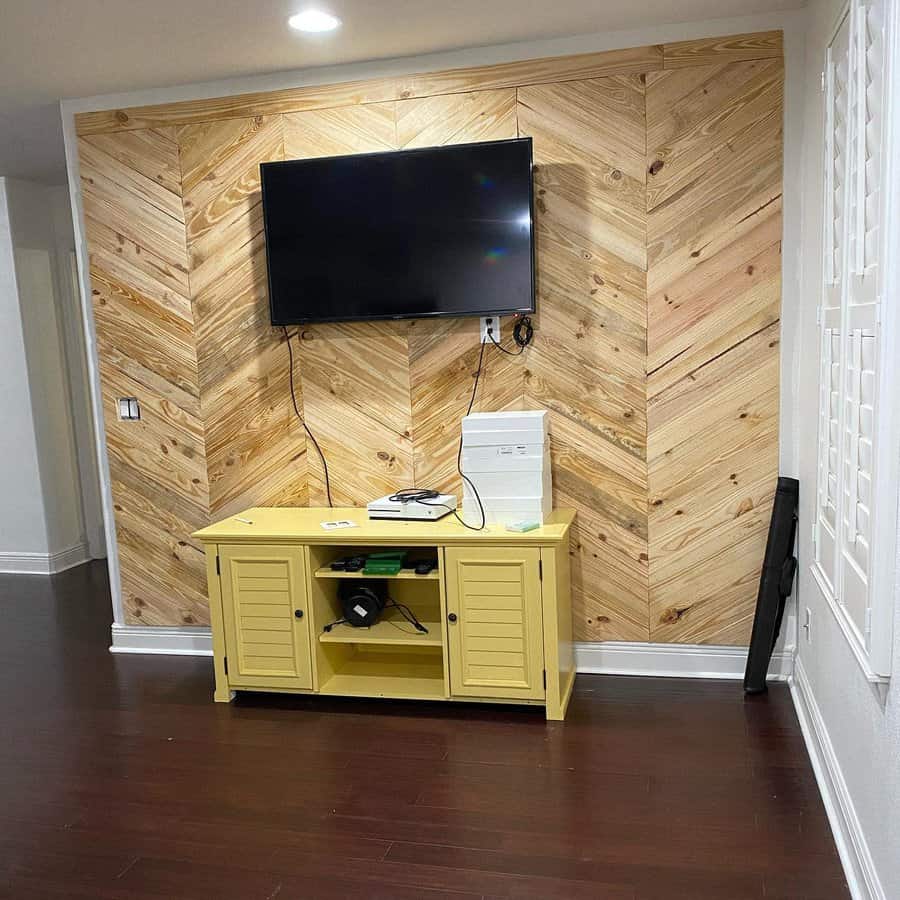 27. Event Backdrop
Event pallet walls are a great way to add some spice to your event! Not only do they look stylish and rustic, but an event pallet wall makes for an exquisite backdrop for photo ops too.
To make it more unique, consider adding extra decorations such as macrame pieces or picks that match your event theme. From weddings to birthday parties and everything in between, a pallet wall is the perfect way to impress your guests while making the most of your decor budget. So whatever special occasion you have coming up, don't forget about a pallet wall!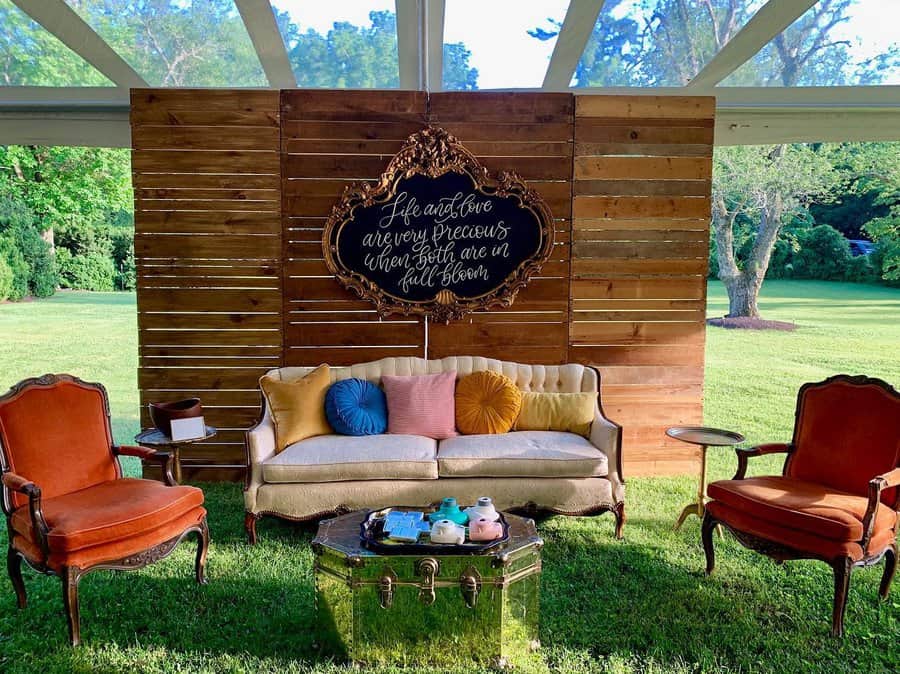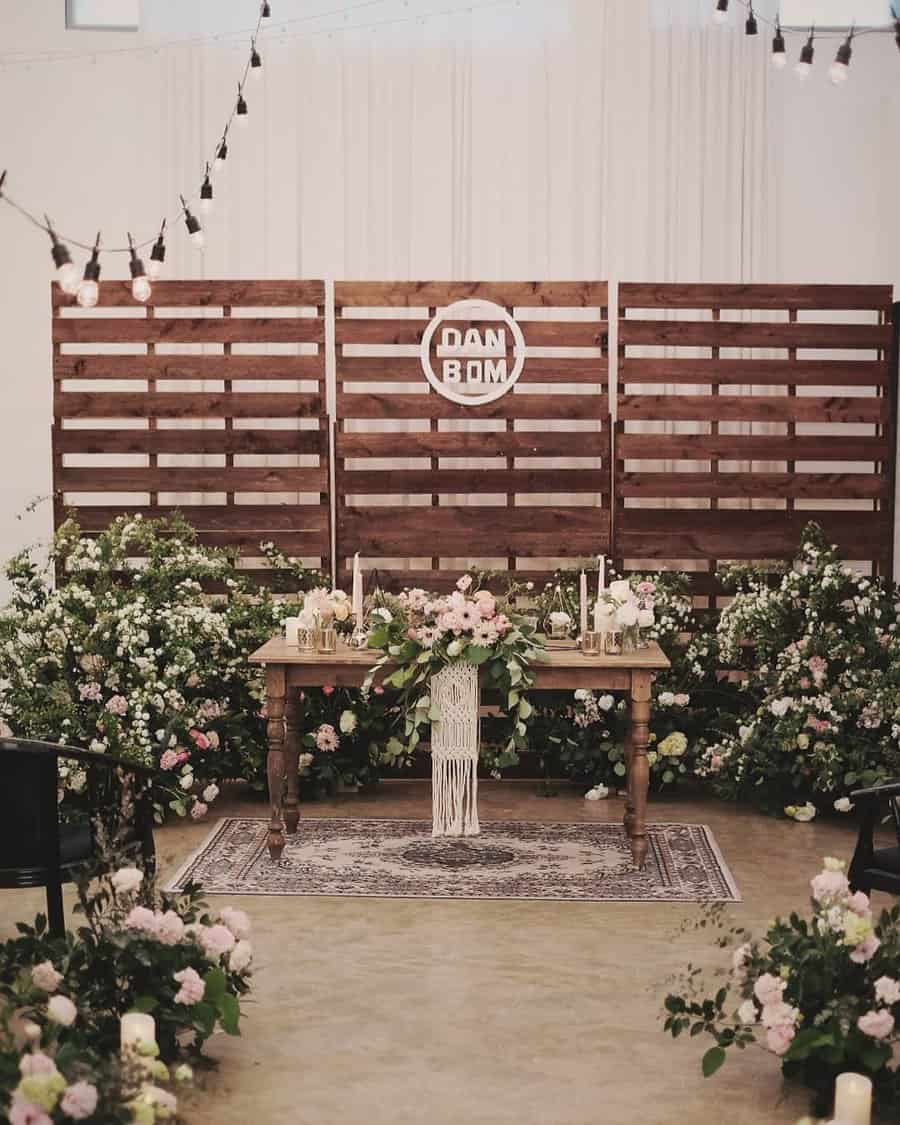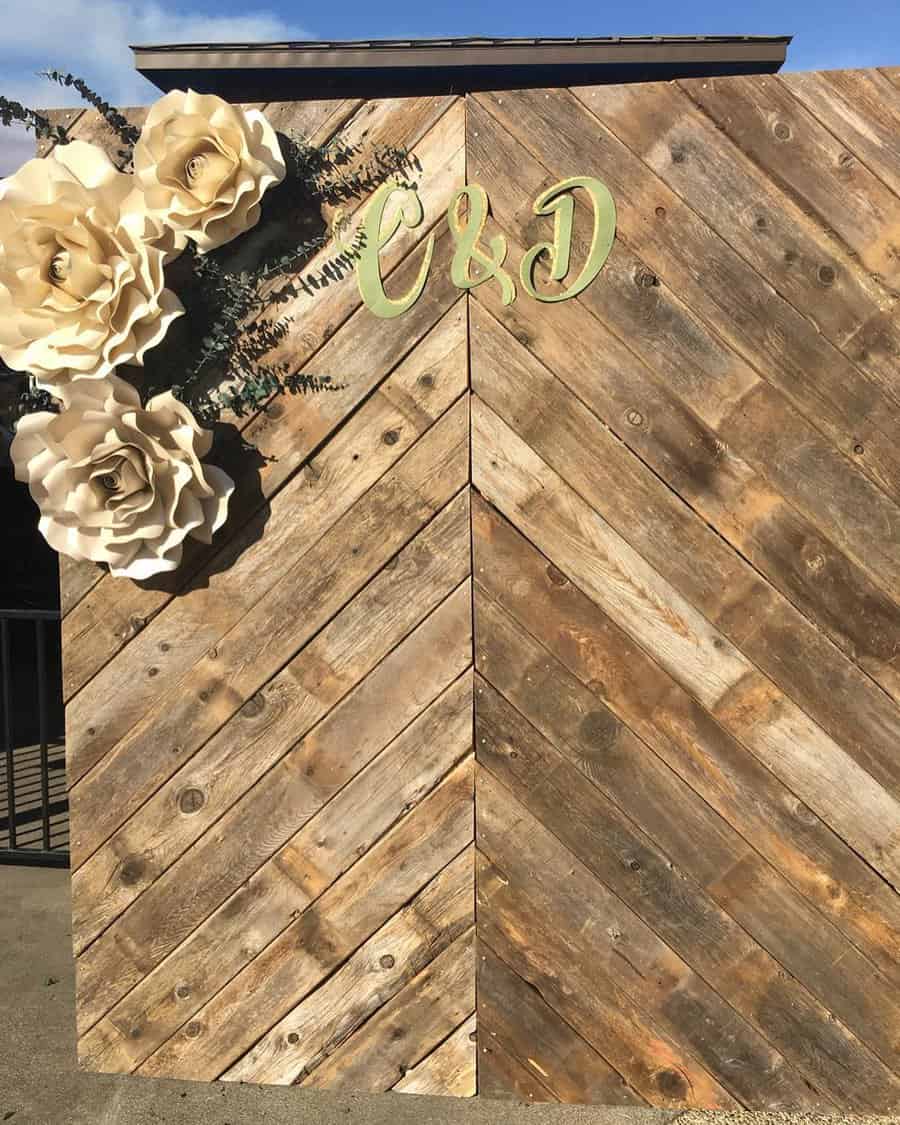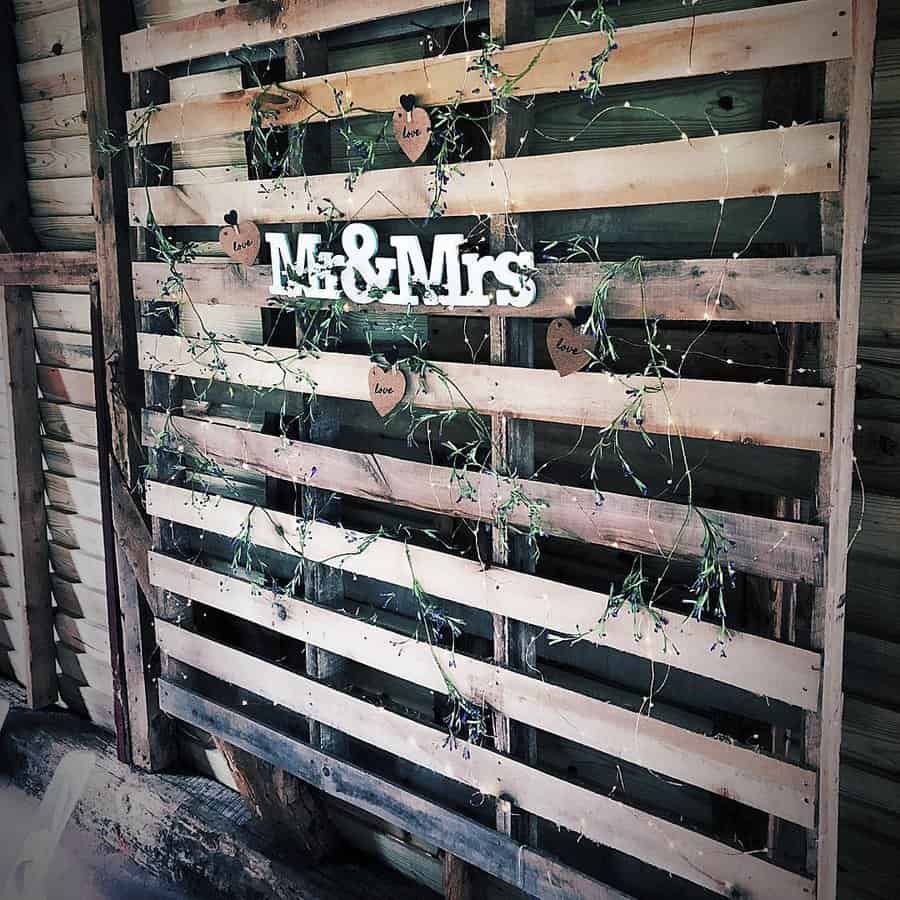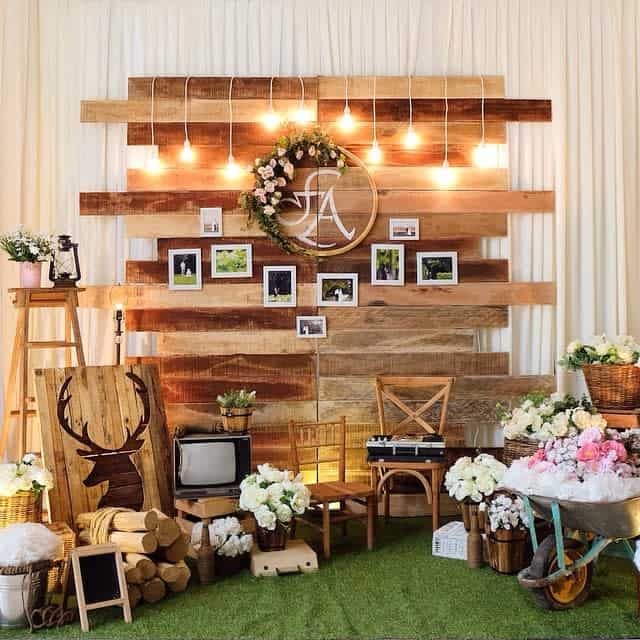 Pallet Wall FAQs
Are pallet walls safe?
As long as you choose a wooden pallet stamped with an HT, it's safe to use the wood inside your home. Wood pallets are treated with chemicals or heat to prevent the spread of pathogens and pests. "HT" stands for "heat treated" and indicates pallet wood that's free from harmful chemicals.
Can I take pallets from behind stores?
Although many retailers have stacks of shipping pallets behind their stores, that doesn't mean they are free for the taking. You could be charged with theft if you just drive up and take them. However, some stores will give pallets away for free if you ask a manager. Be prepared to load them yourself.
What are the best DIY pallet wall tips?
In addition to making sure your repurposed pallets aren't chemically treated, follow these tips for a great-looking DIY pallet project:
Paint the wall behind the pallets a dark color to hide any gaps between boards.
Lightly sand and dust each wooden plank.
Apply liquid nail adhesive to the back of each board.
Use a nail gun for quicker installation.
Keep boards straight with a carpenter's level.
Apply a clear sealant to any pallet wall in a bathroom, kitchen, or other potentially damp space.