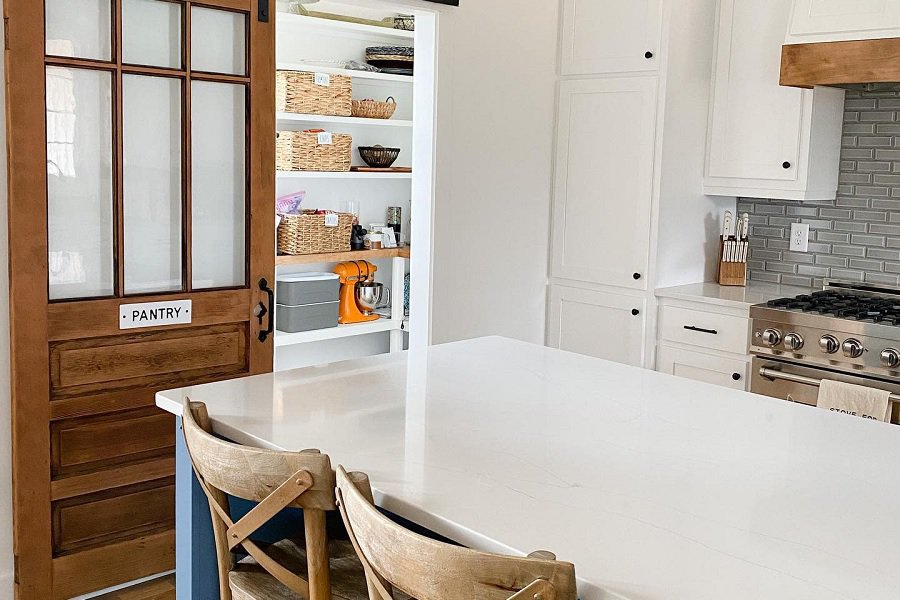 42 Unique Pantry Door Ideas
by — Andra DelMonico

Published on February 1, 2022

Updated on August 23, 2023
You're redoing your kitchen, and you've forgotten one crucial element, the pantry door. It may seem like just another door in your home, but it's so much more than that.
Because its located in the kitchen, this door will get significantly more use than any other door in the house. It's also an opportunity to add a personal touch to your home because it's in a common area of the home.
These pantry door ideas will help you say goodbye to that boring white builder-grade door and upgrade it to something better.
1. Barn Door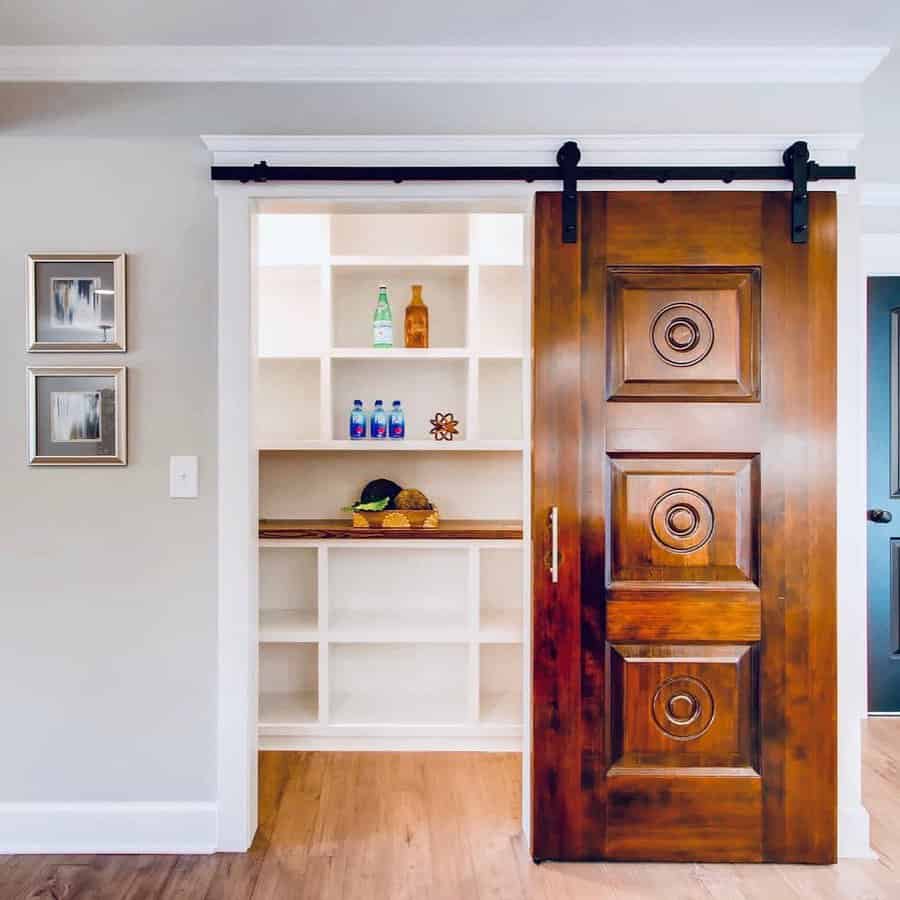 A sliding barn door is a hallmark design element of the farmhouse style. These doors aren't great if you want to create privacy, but they work just fine for a pantry. Barn doors are similar to pocket sliding doors, but they sit on the outside of the wall.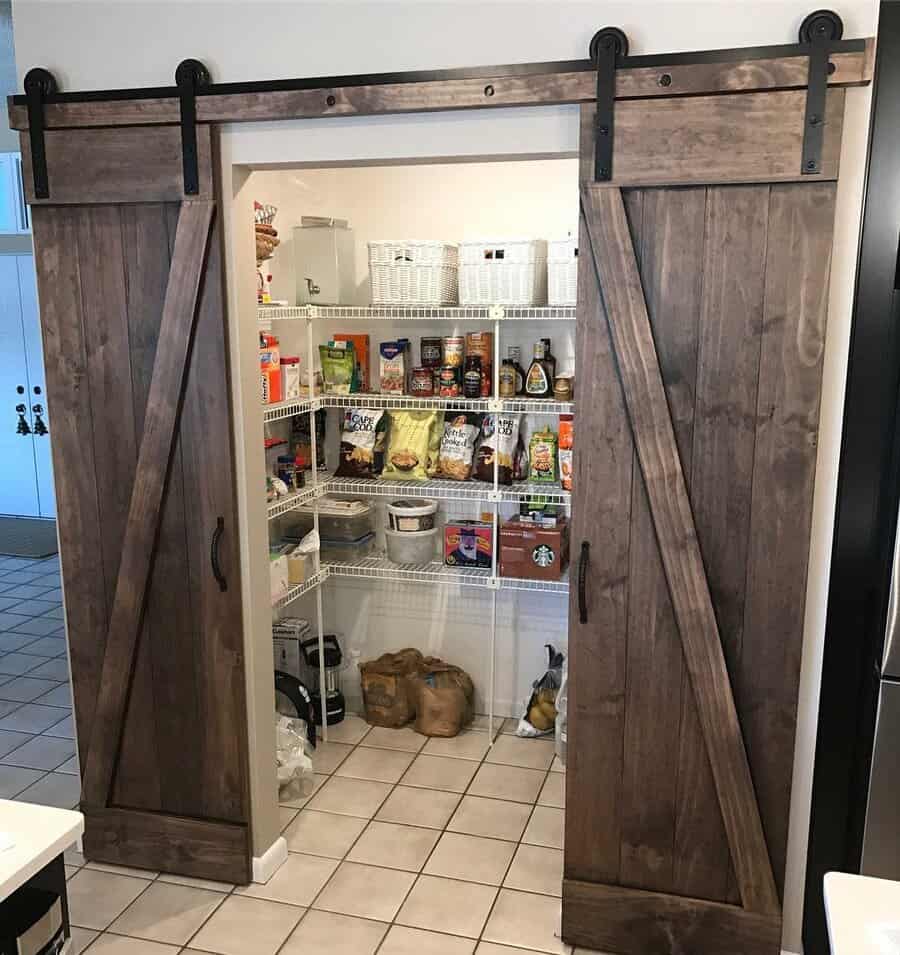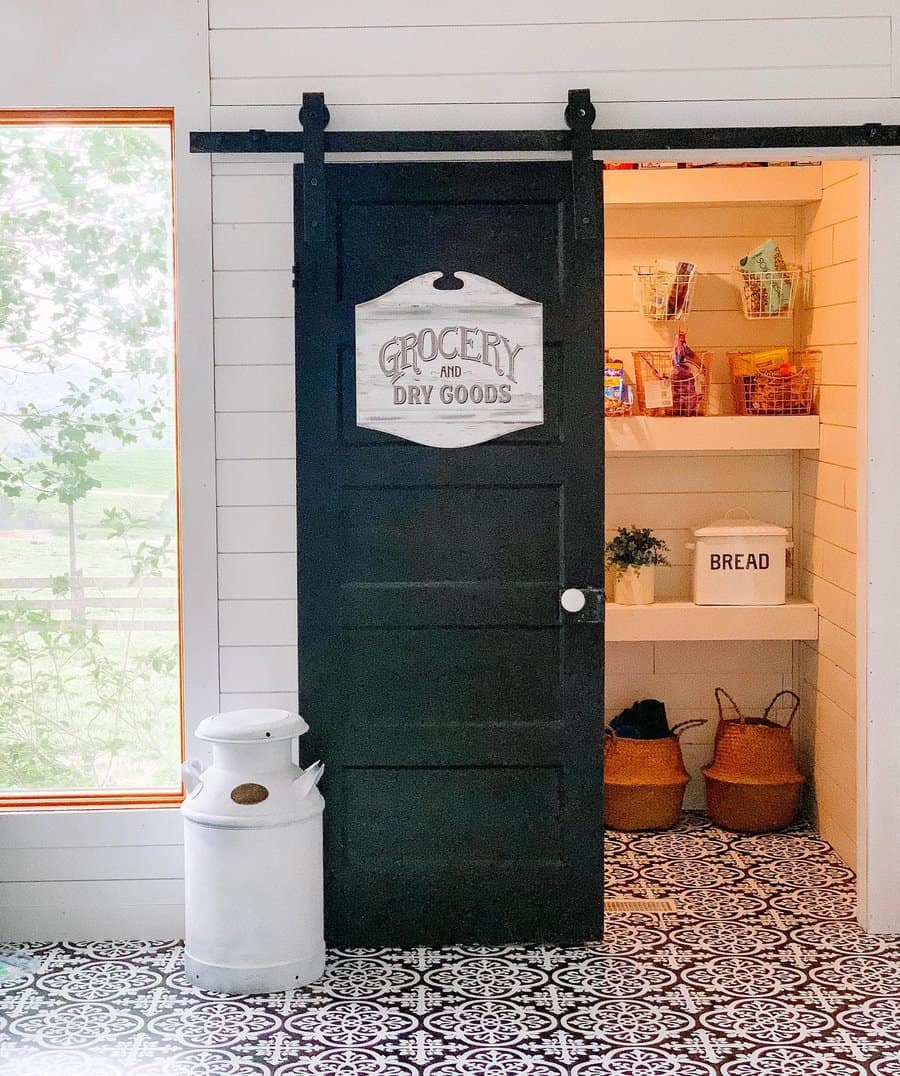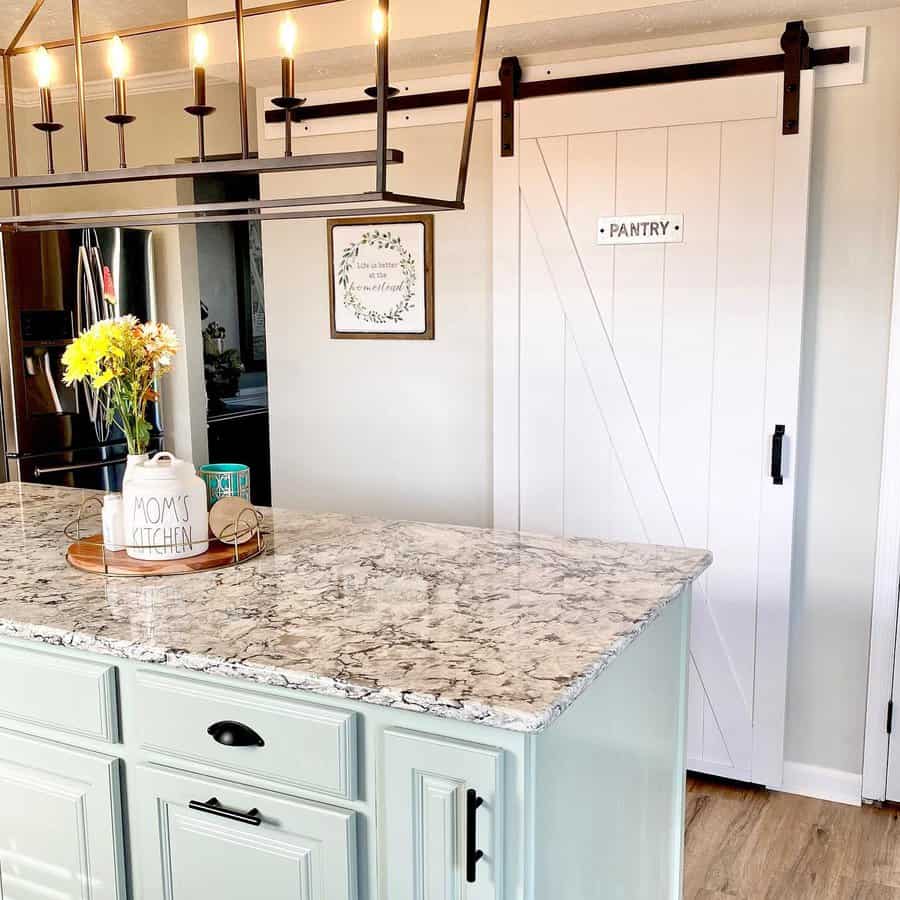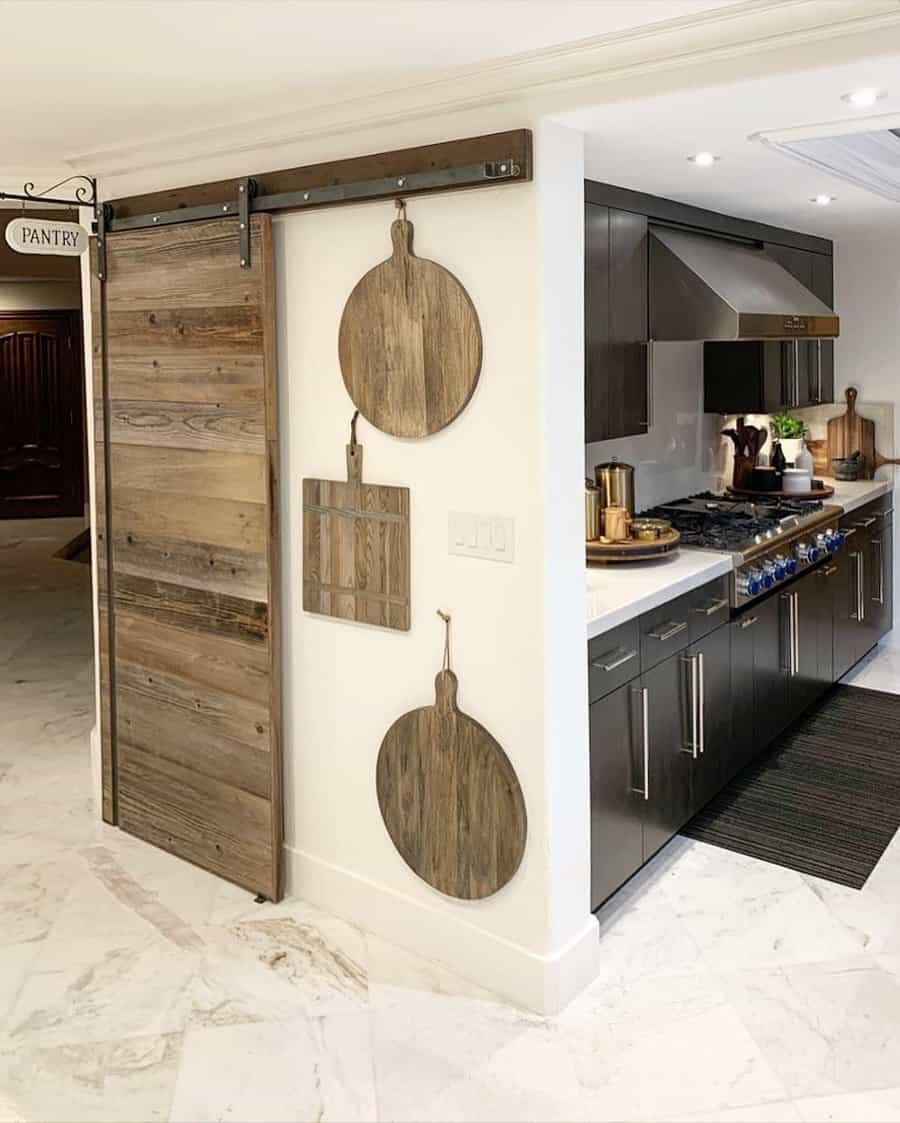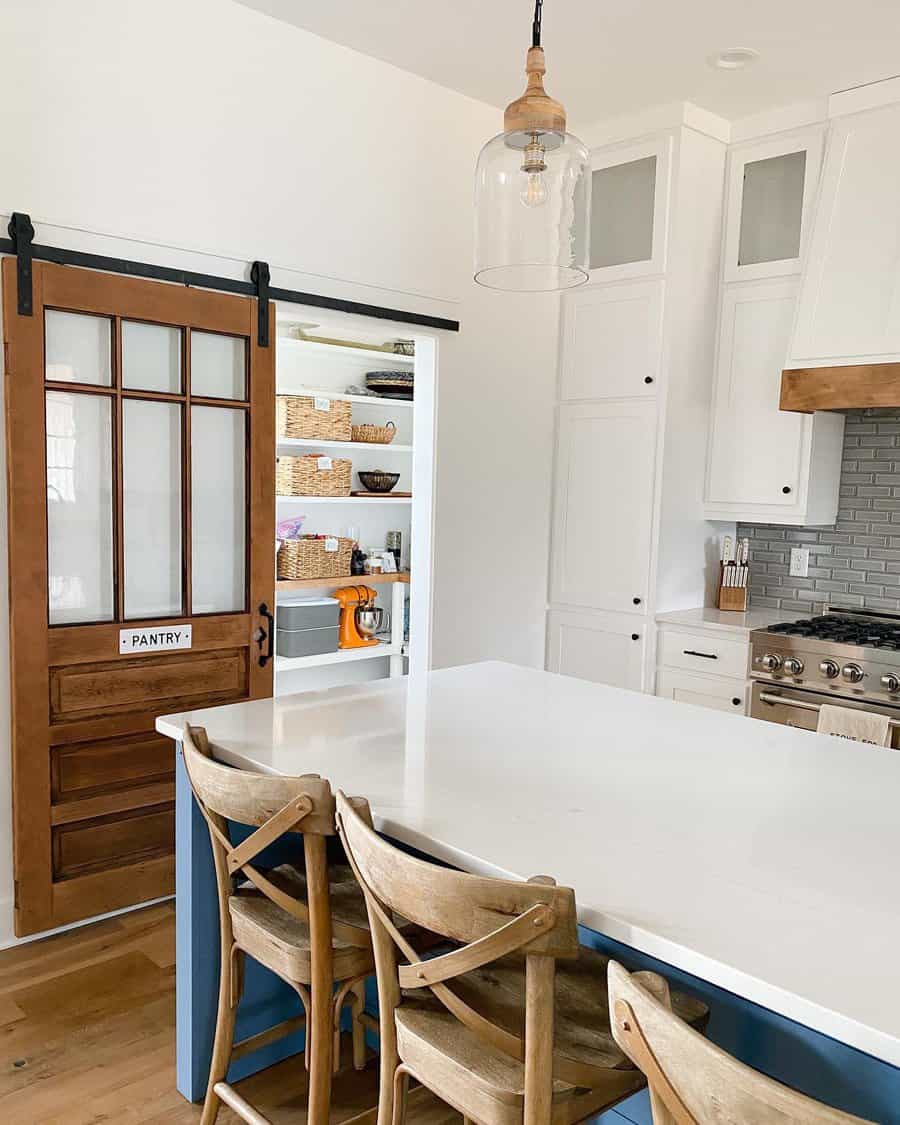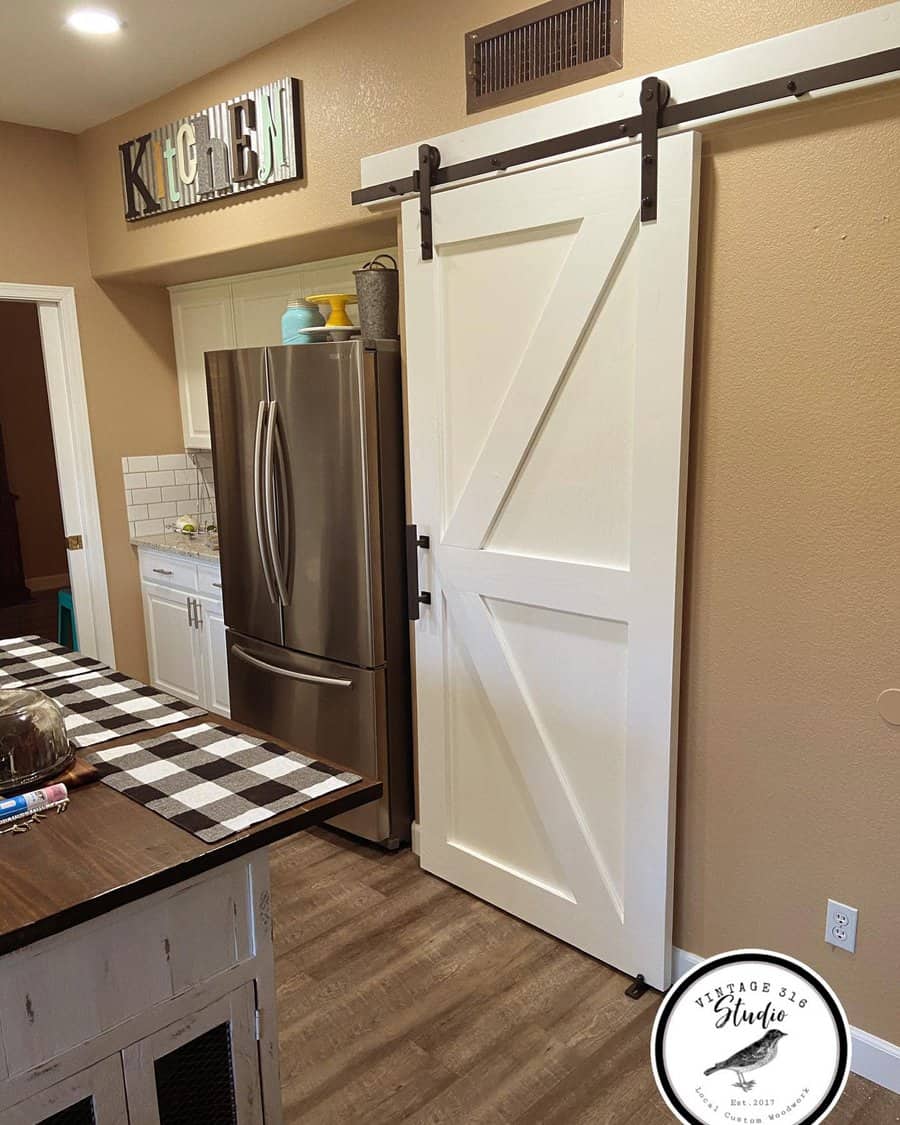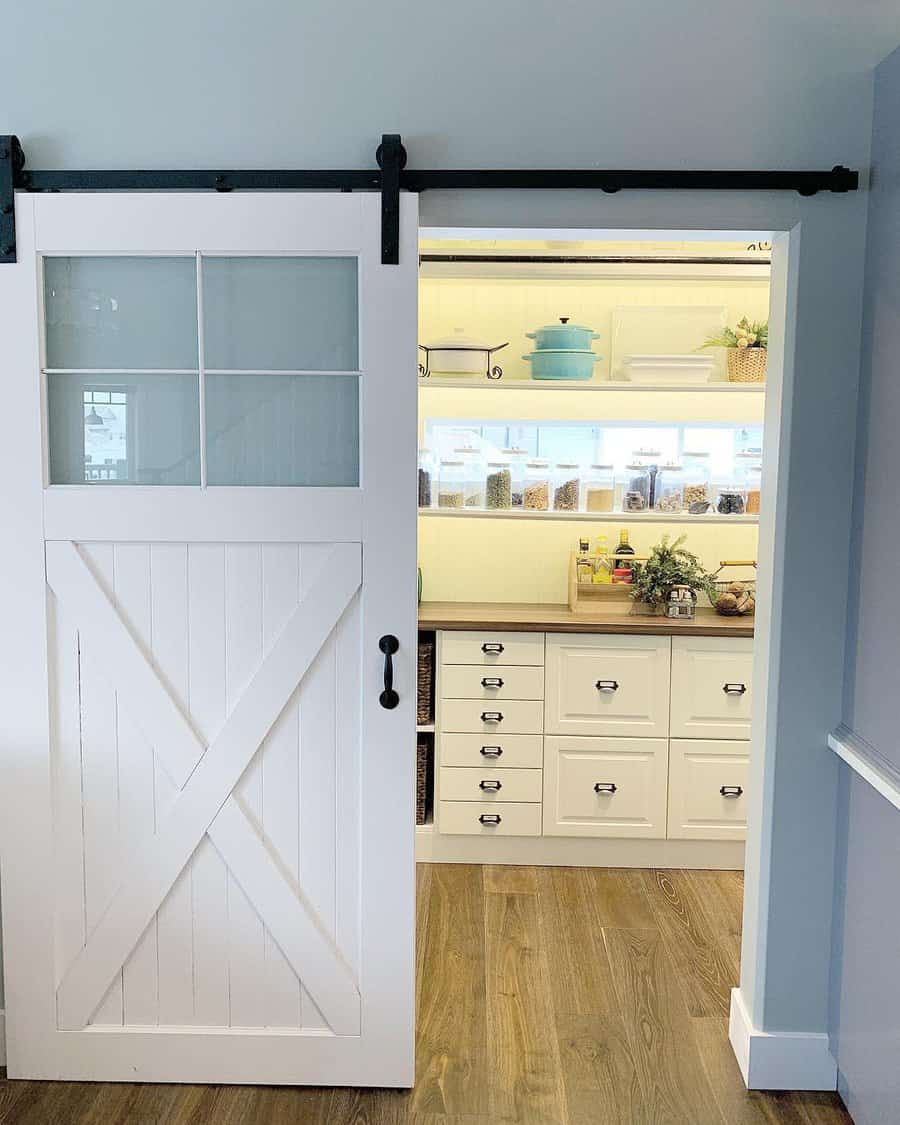 These doors immediately create a rustic and farmhouse feel, making them great if this is the look you are going for. However, they aren't suitable for every home.
You need to have enough empty wall space for the door to slide open and out of the way. If you decide that this door style works for your pantry, you can add a DIY barn door. Purchase a reclaimed or salvaged door and mount the tracks on the wall. Then you can hang the door on the track, and you're ready to go.
2. Blue
Adding color is a big trend in kitchen design. You don't have to stop with your cabinet doors. Blue is a popular color for kitchen cabinets. Both light and dark blue shades are great choices.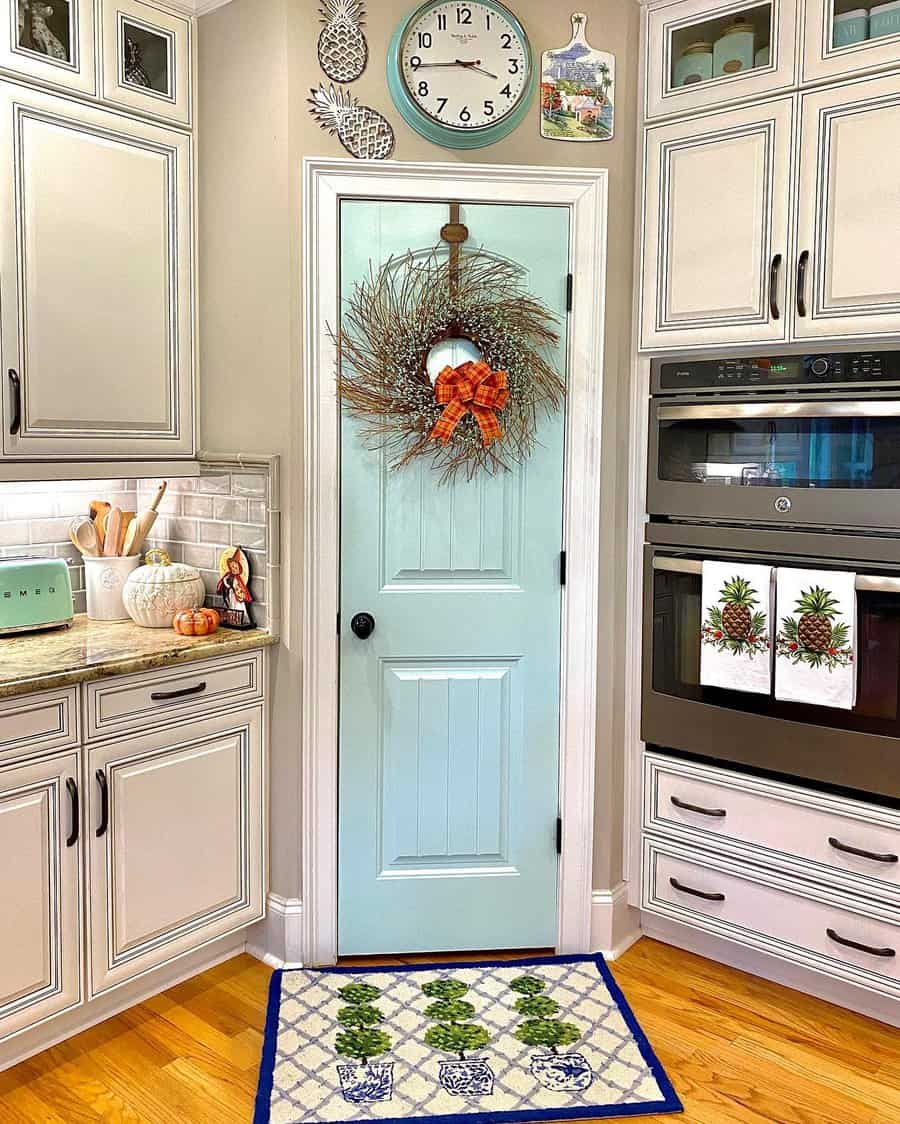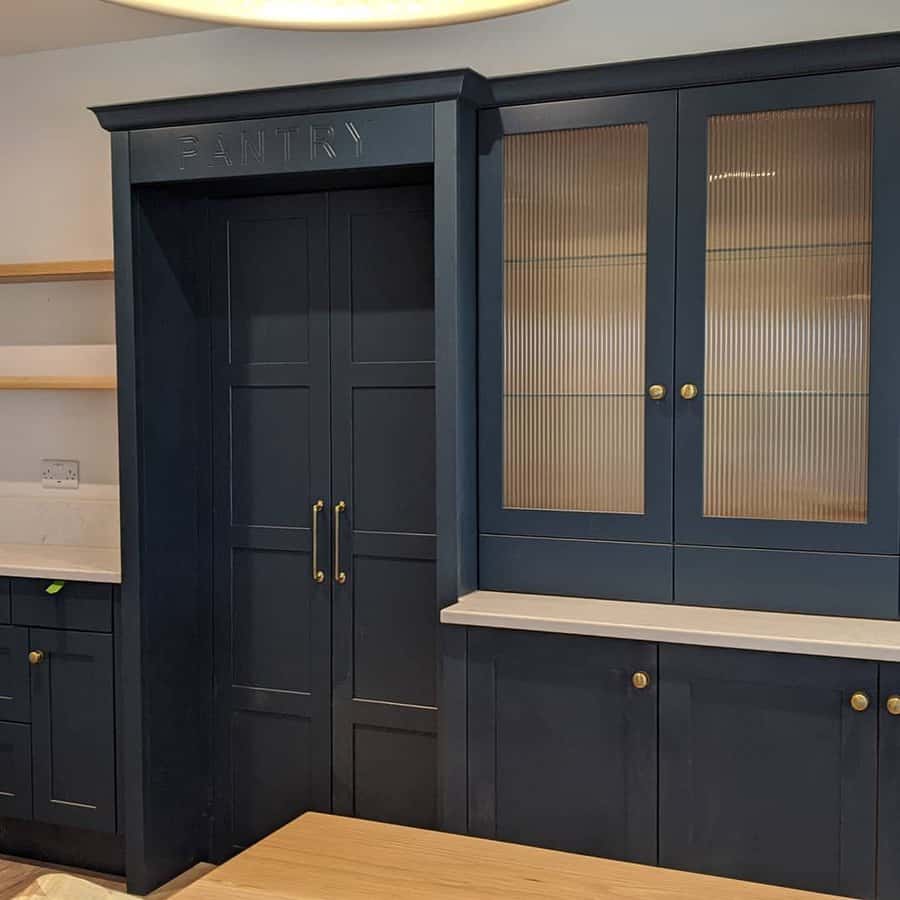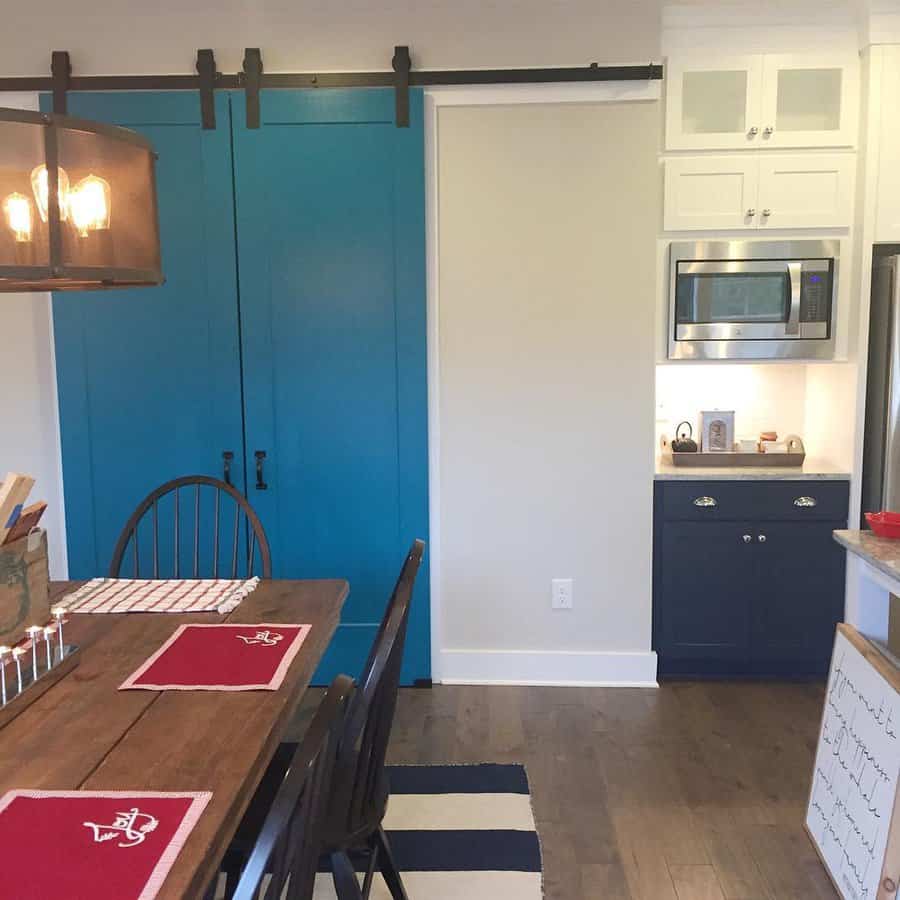 Once you choose this color, it's time to turn towards your pantry door. Paint this door too for an additional accent that will balance the look of your kitchen. Now that you have this base color down, you can add home decor that accents this color. If your current pantry door is a standard wood door, then you can tackle painting the door as a DIY home project.
3. Chalkboard Door
Adding a chalkboard to your laundry room or home office makes sense. However, it can also be a perfect addition to your pantry for kitchen organization.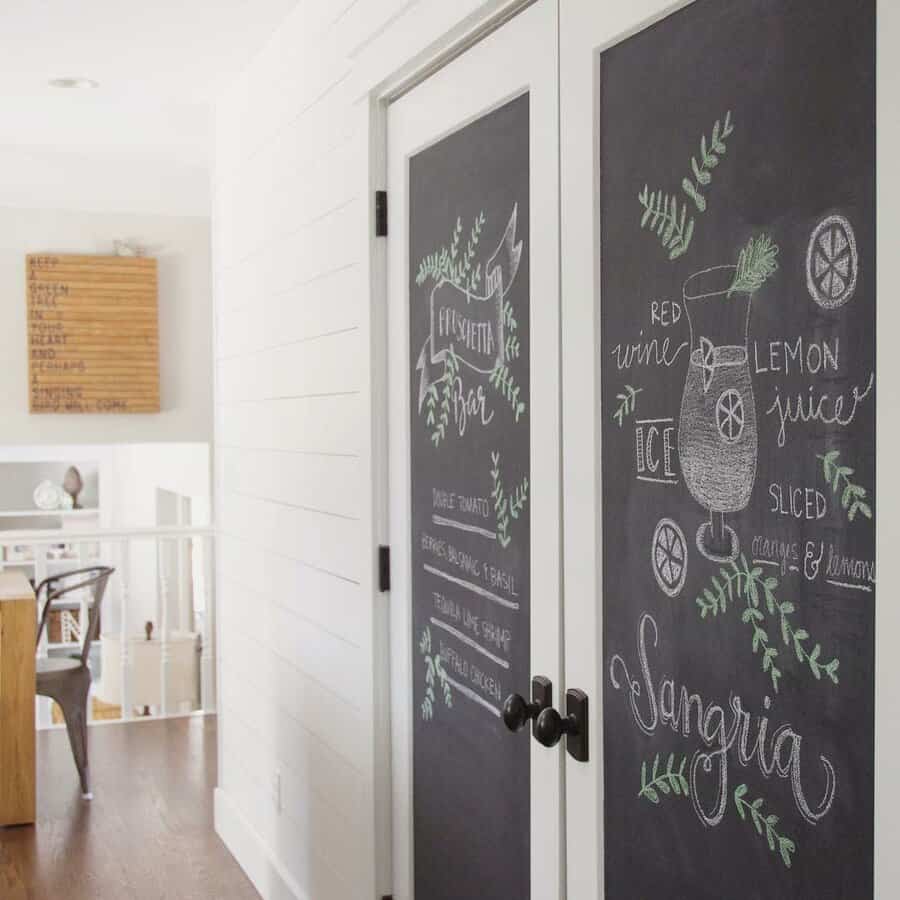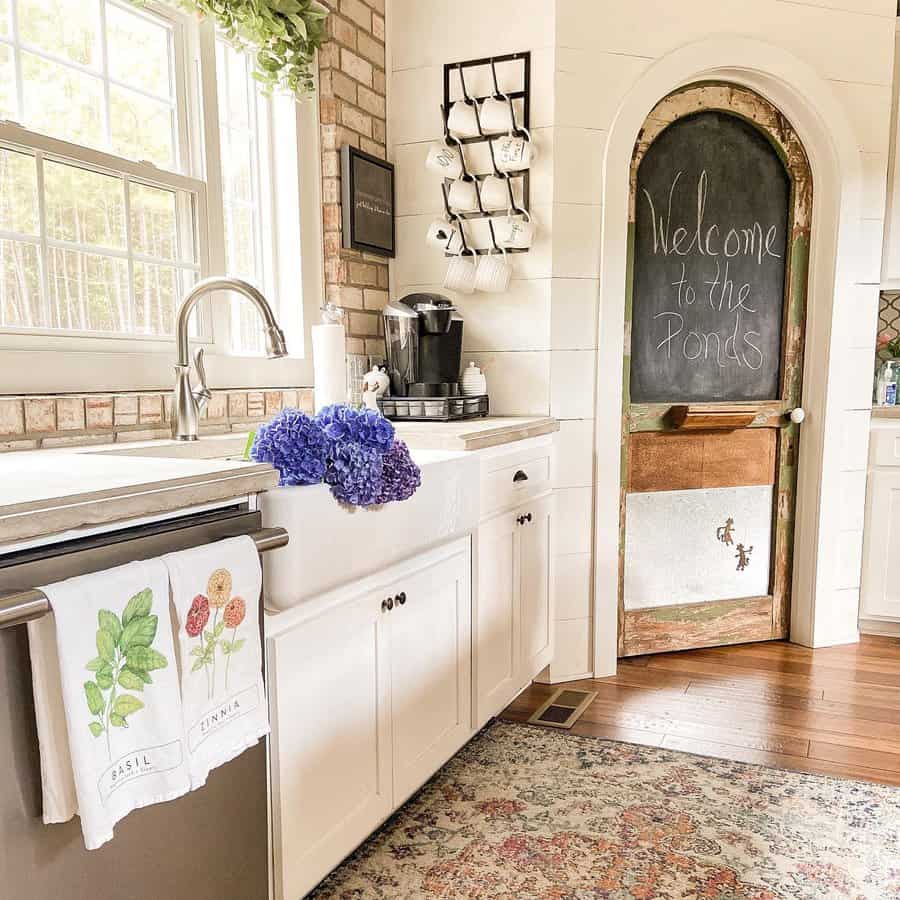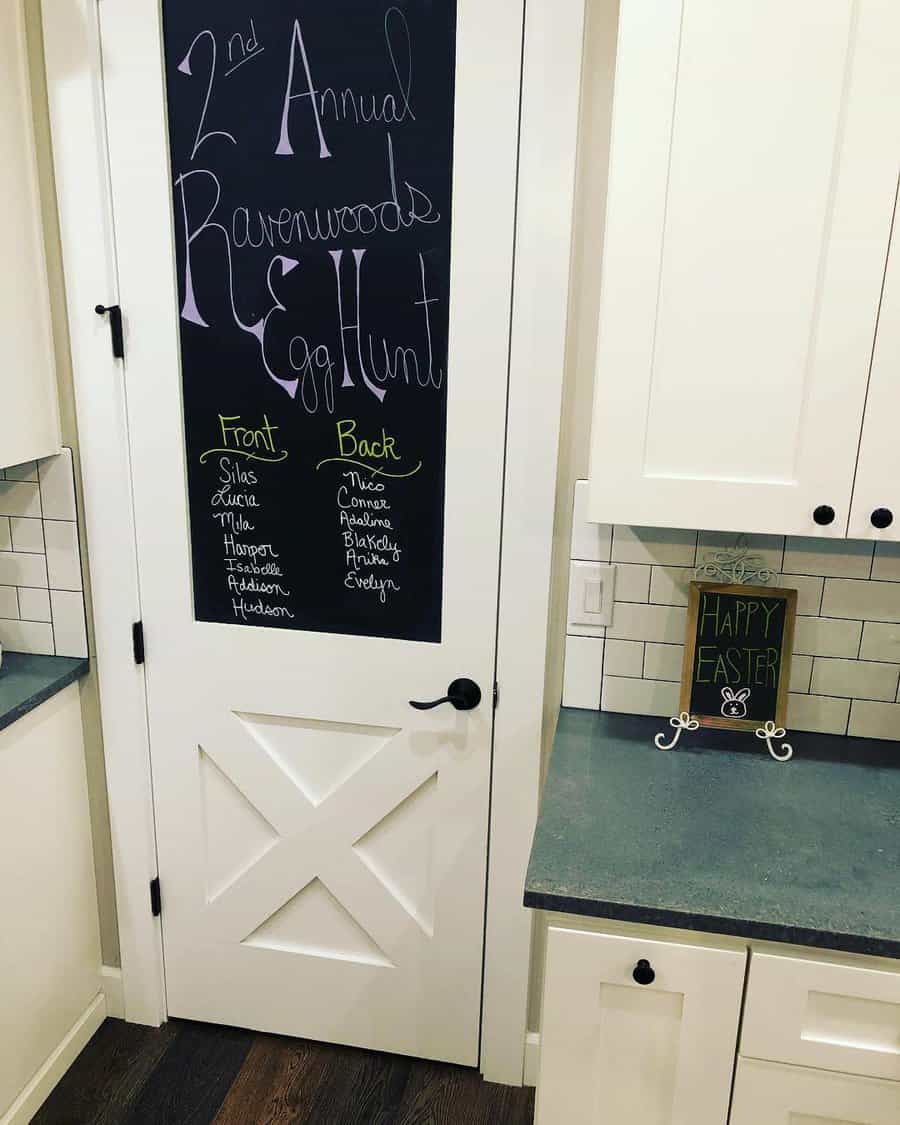 While you could paint your entire pantry door, this is a bit excessive. Instead, tape out a square or rectangle on the door. Then add a picture frame to finish the look.
You should also add a shelf or cup to hold chalk. Use your chalkboard to add notes or make a grocery list. If you don't want this to be visible outside your pantry door, you could put it on the inside. Then you can close the door and hide it when guests come over.
4. Contemporary
For a contemporary kitchen, you have more options. You could have a pocket door that neatly tucks away into the wall. This unique interior door hides away and is ideal for kitchens that don't have a lot of floor space.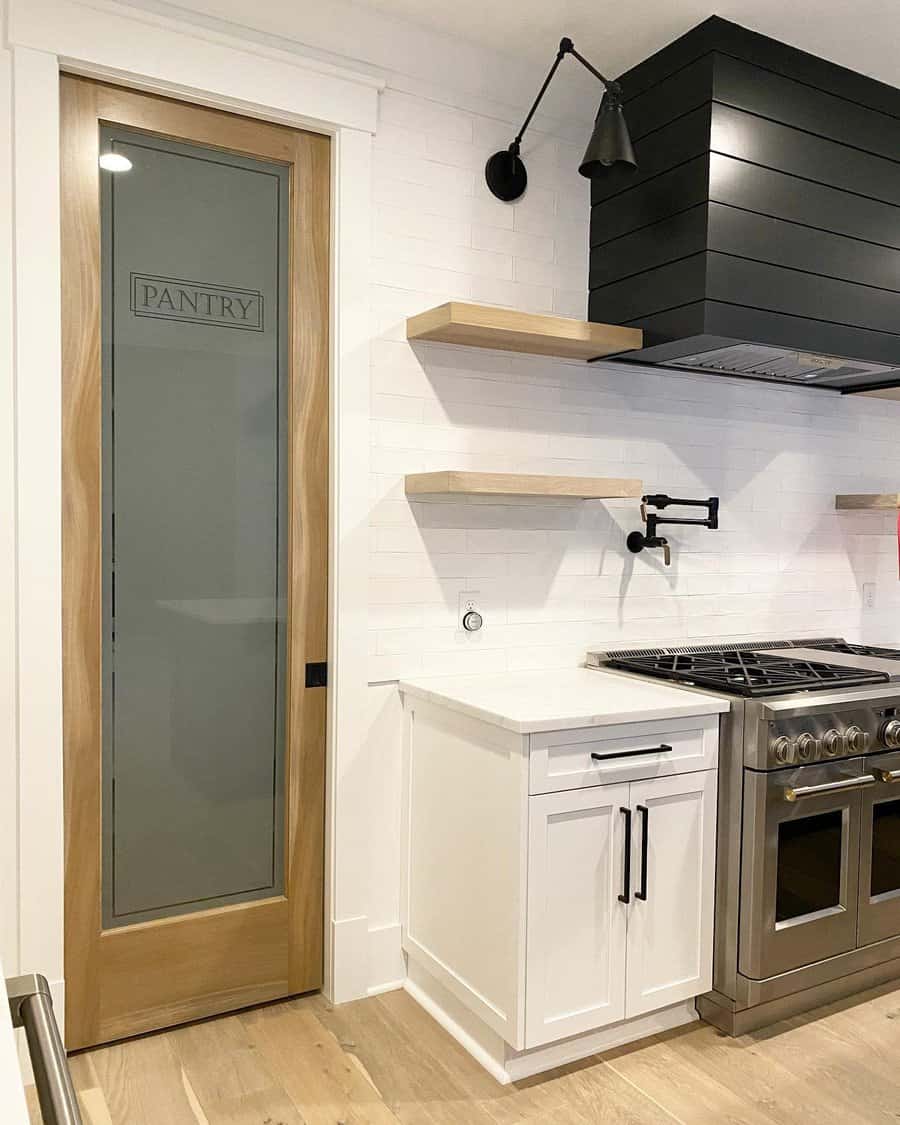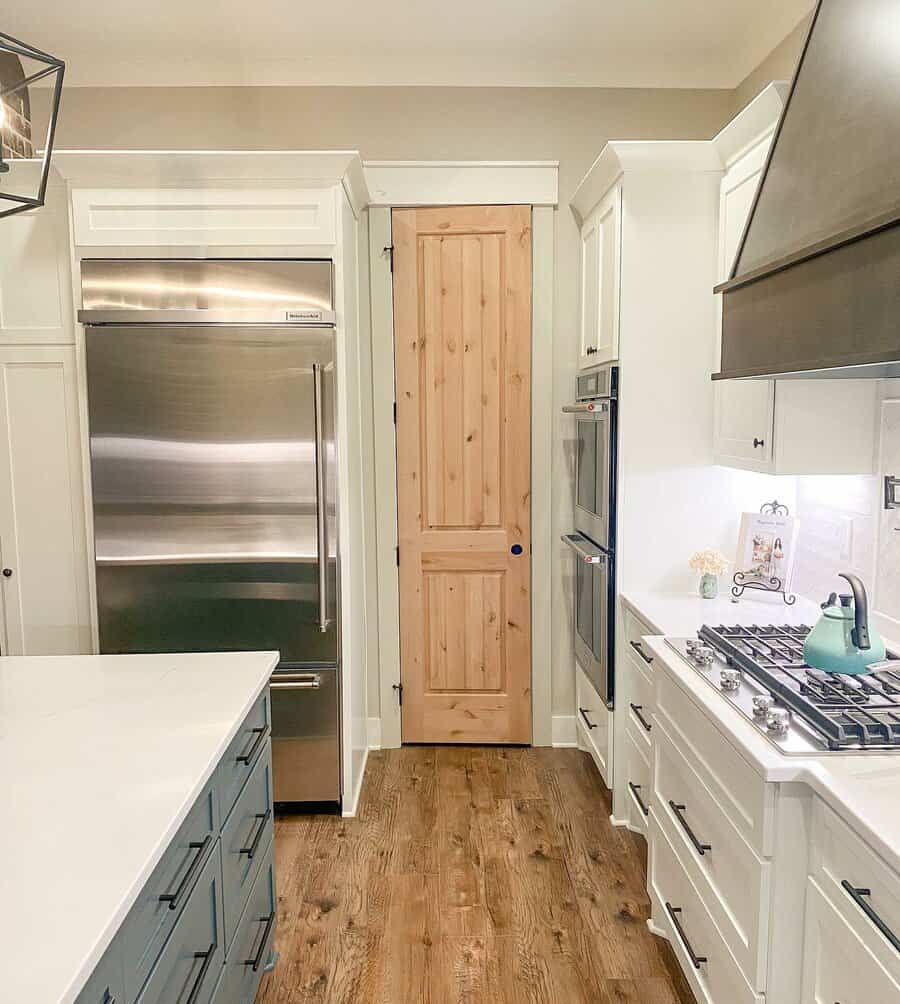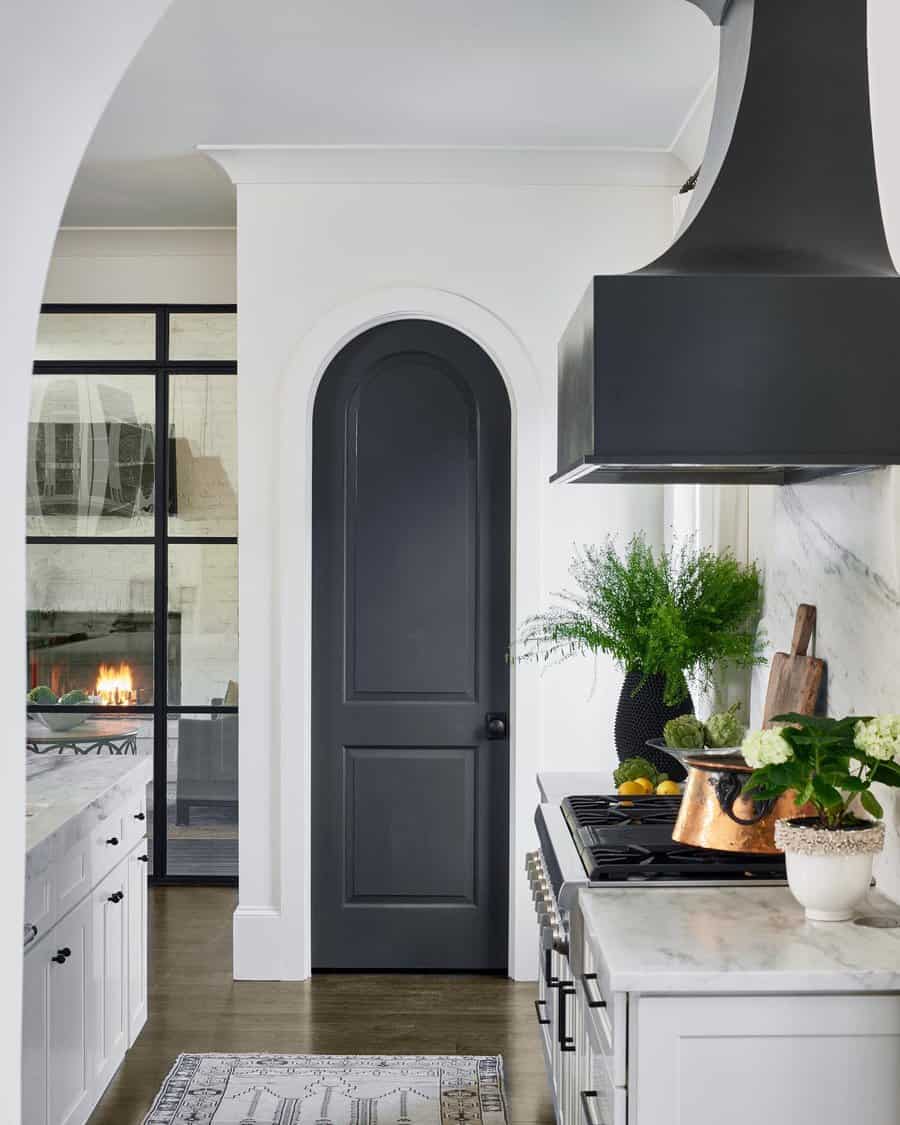 Because sliding doors stay inside or next to the wall, you don't have to make room for it to swing out. This means you can have more storage space inside the pantry because you don't need the room on the outside. Choose a door with a bit of design, such as raised or sunken panels.
5. Double Door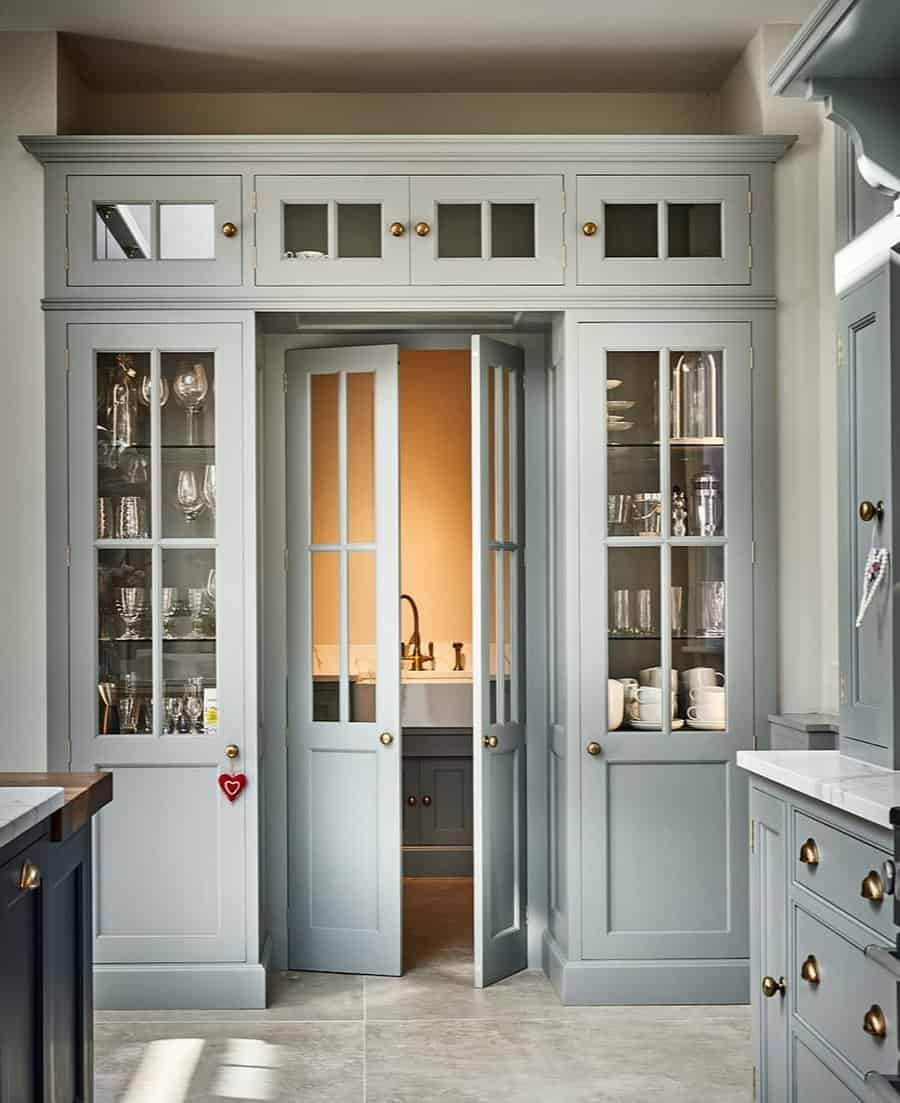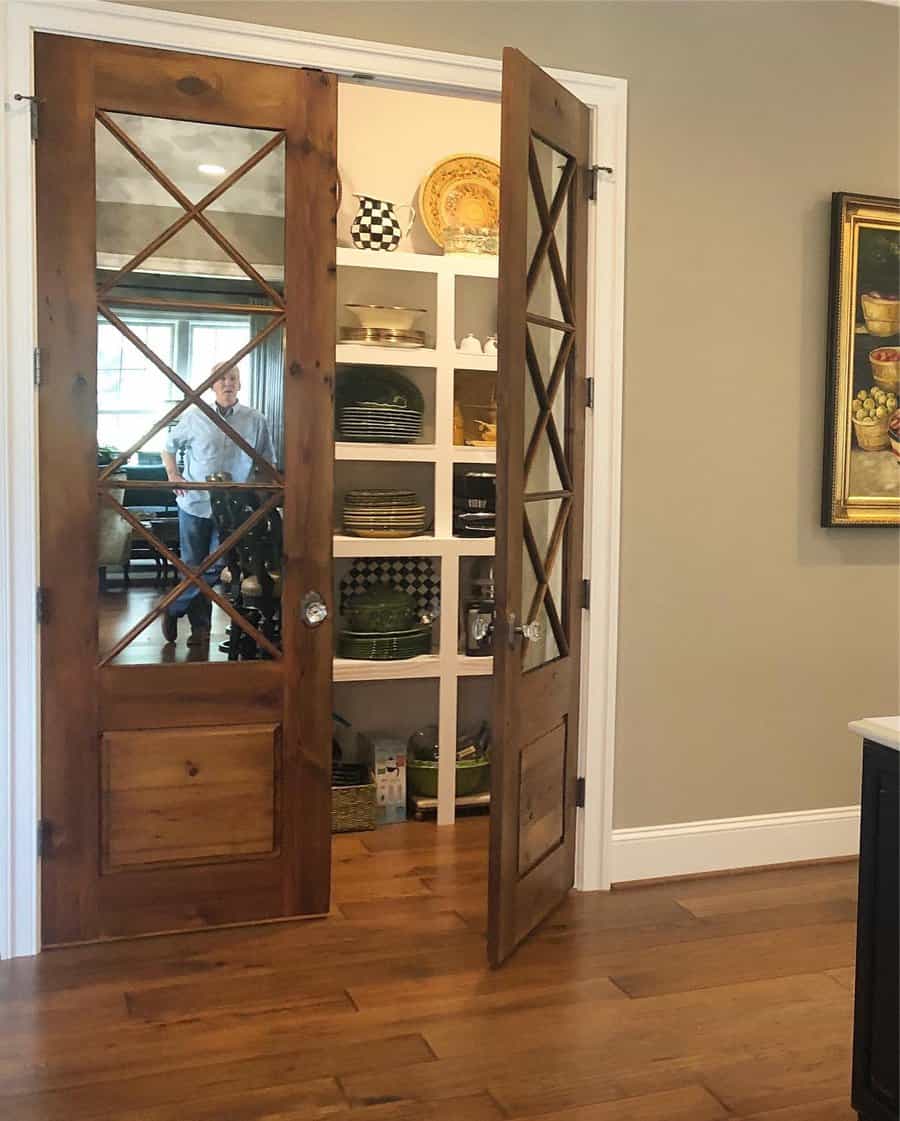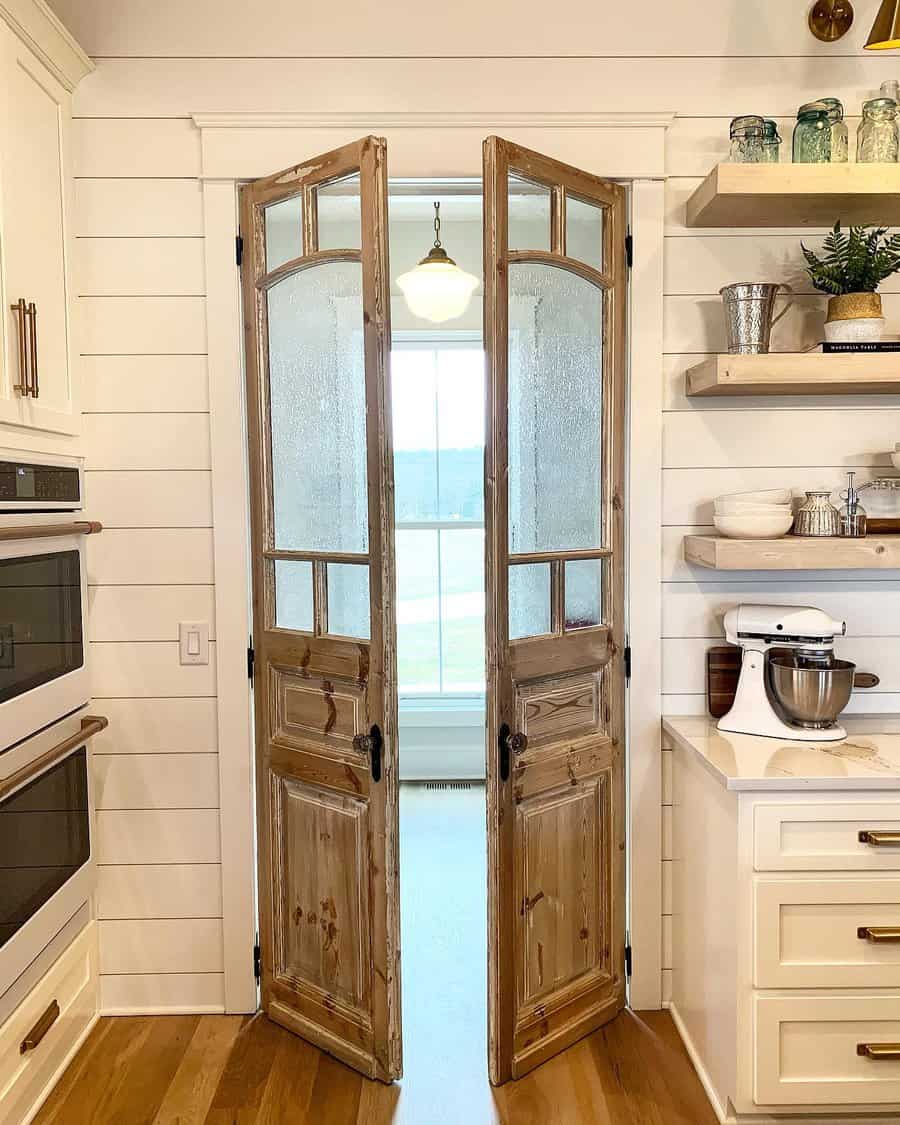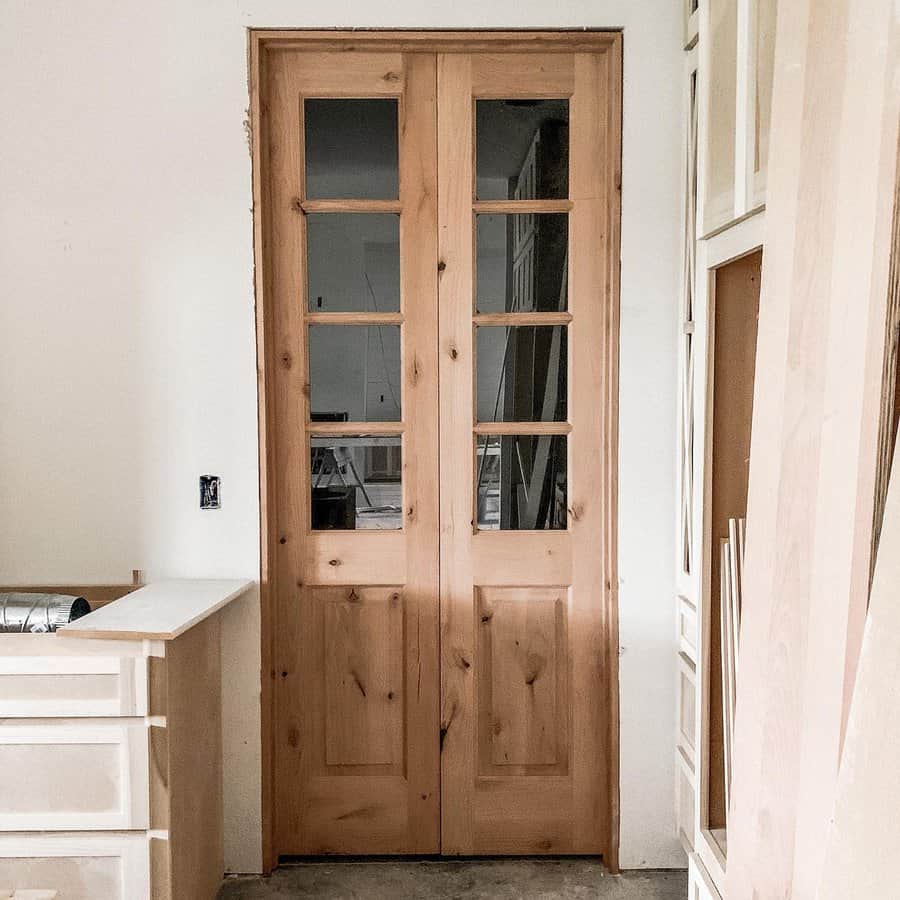 Using French doors for your pantry means you have to have a wide opening. This is much bigger than the standard pantry opening. It also means you need a lot of floor space for both doors to swing open.
An alternative is to have bi-fold doors. These doors slide on a track to open and close. They also fold in half vertically. This means you can have double doors without them taking up too much room.
6. Farmhouse
Instead of having thee over-done sliding barn door, consider another style of farmhouse door. A split door will give you a farmhouse look and be unique.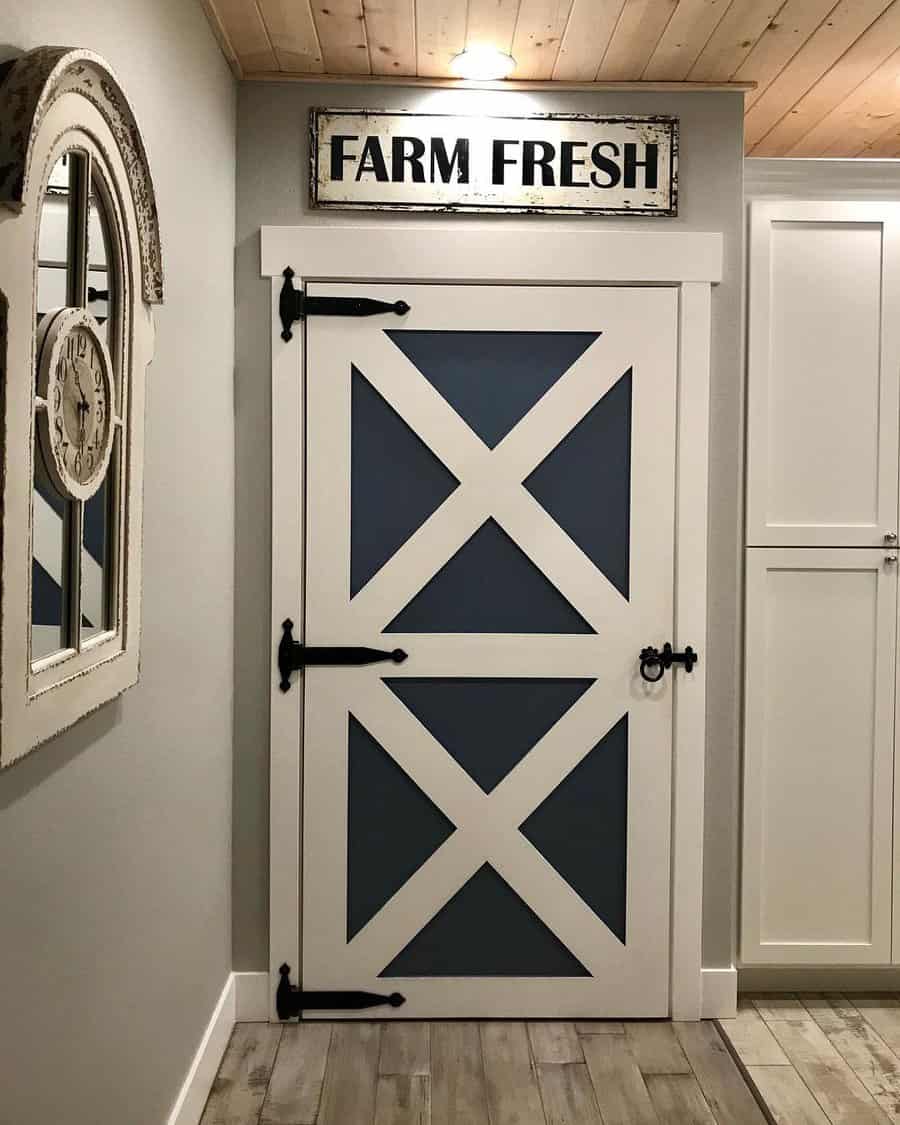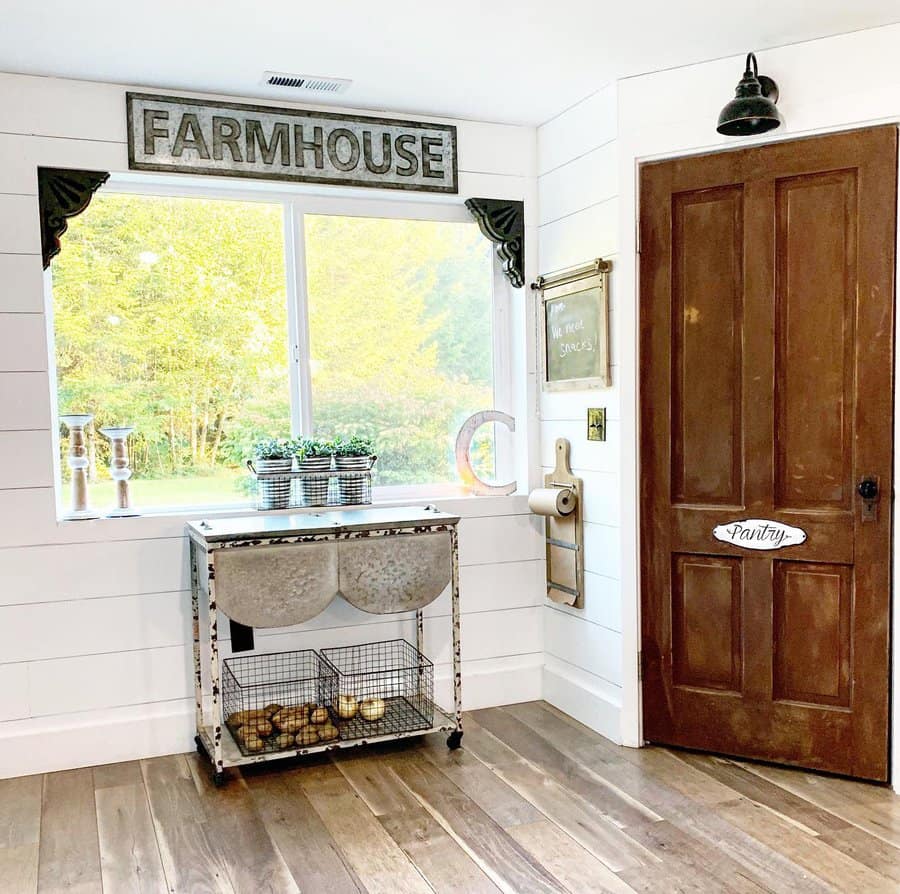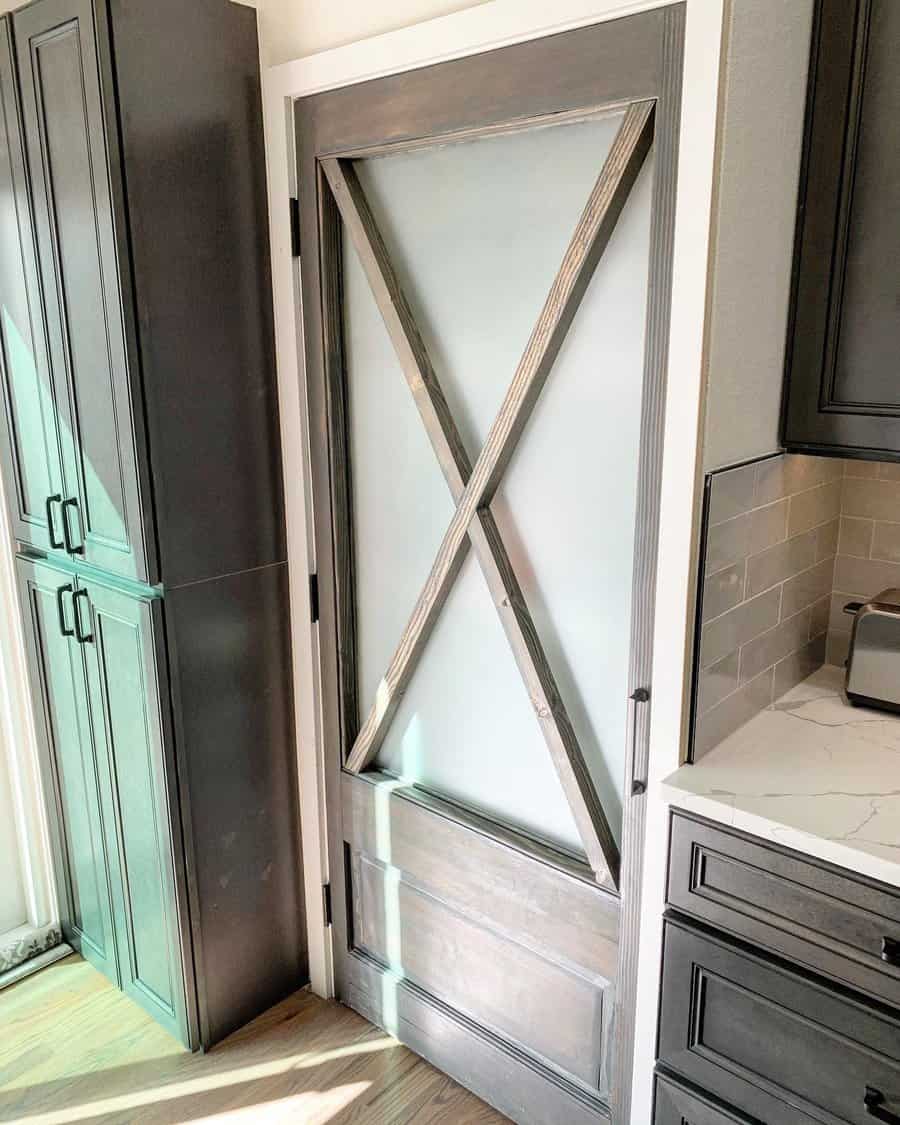 When closed, these doors look like any other typical door. There's a latch that holds the top and bottom half of the doors together on the inside. This allows you to open and close the door like any other in your house.
However, you can undo the latch and move the top and bottom half of the door separately. This lets you open just the top half or the bottom half of the door. With the top open, you can quickly lean over the bottom half and put something on the bottom shelf.
7. Frosted Glass
Replacing your wood door with a frosted glass door upgrades the look of your kitchen. This door style gives your pantry a modern feel without letting people see into your pantry. The benefit of this is that you don't have to have an organized pantry all of the time.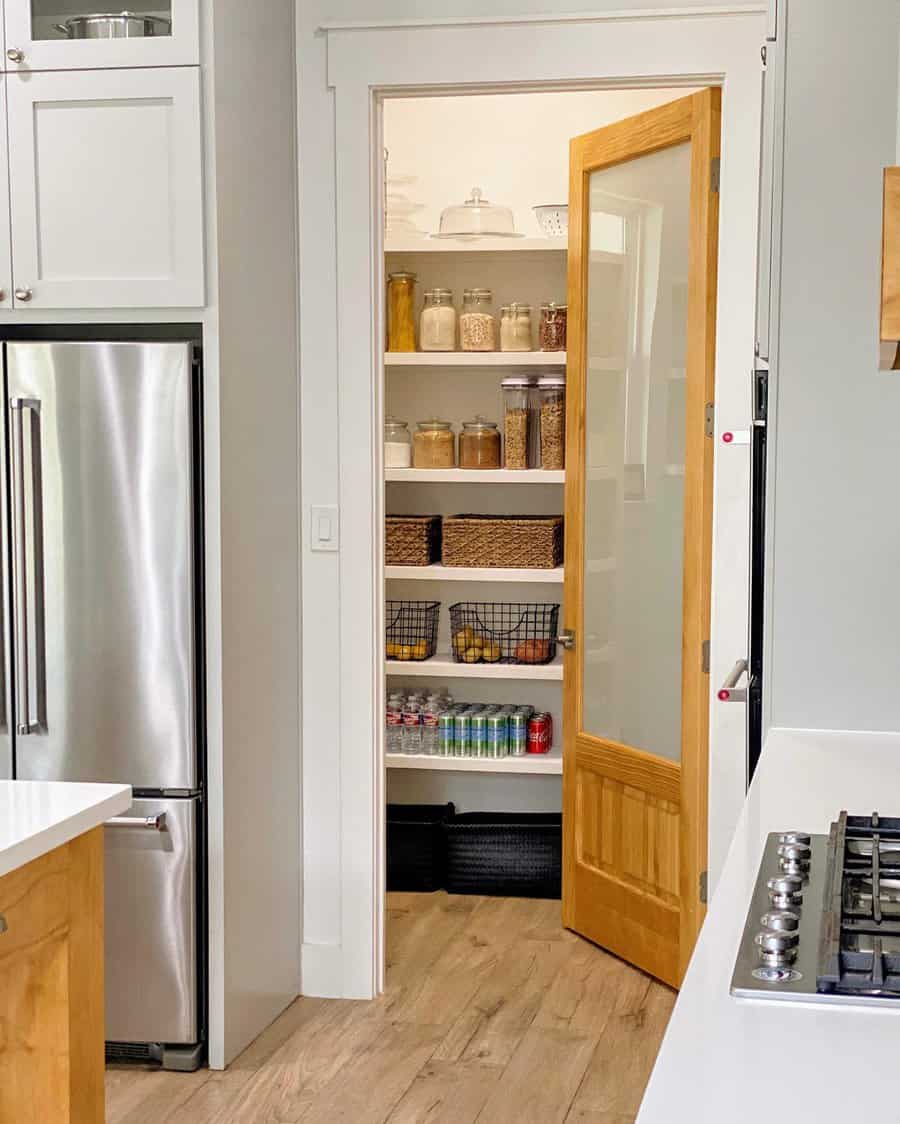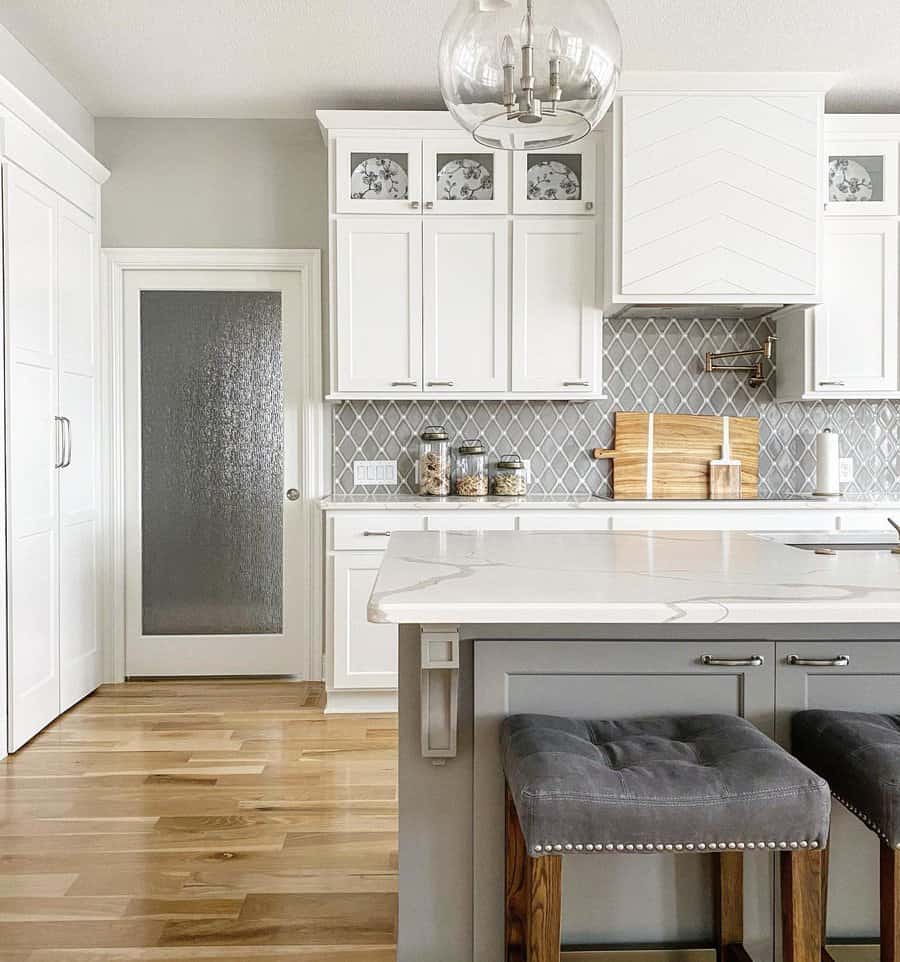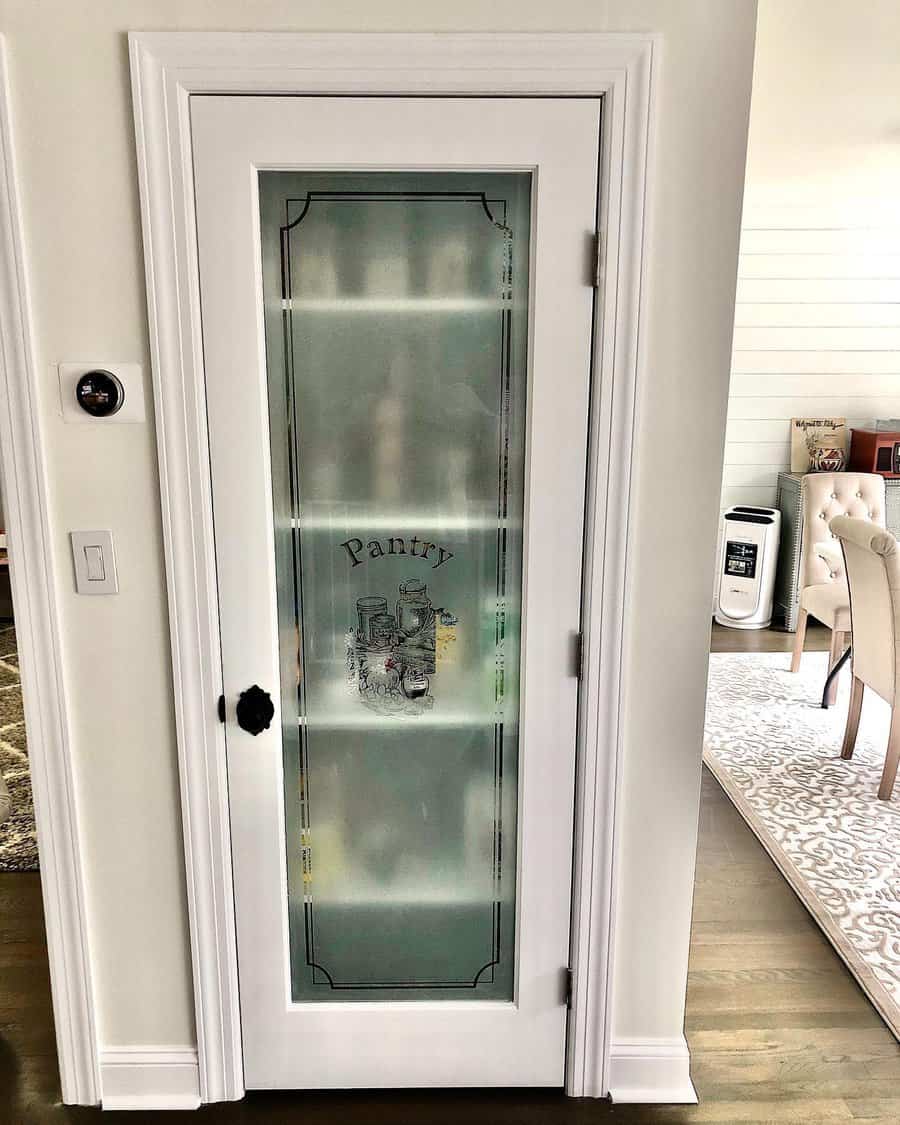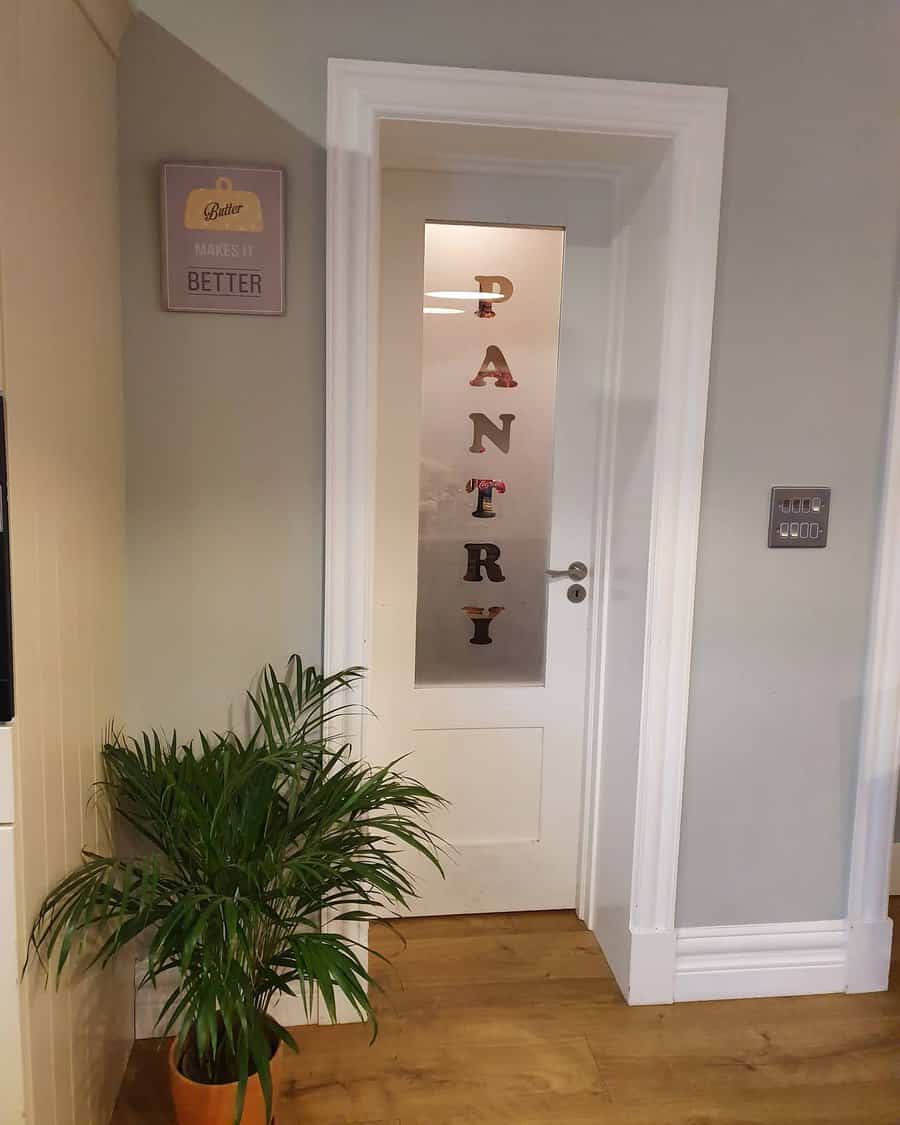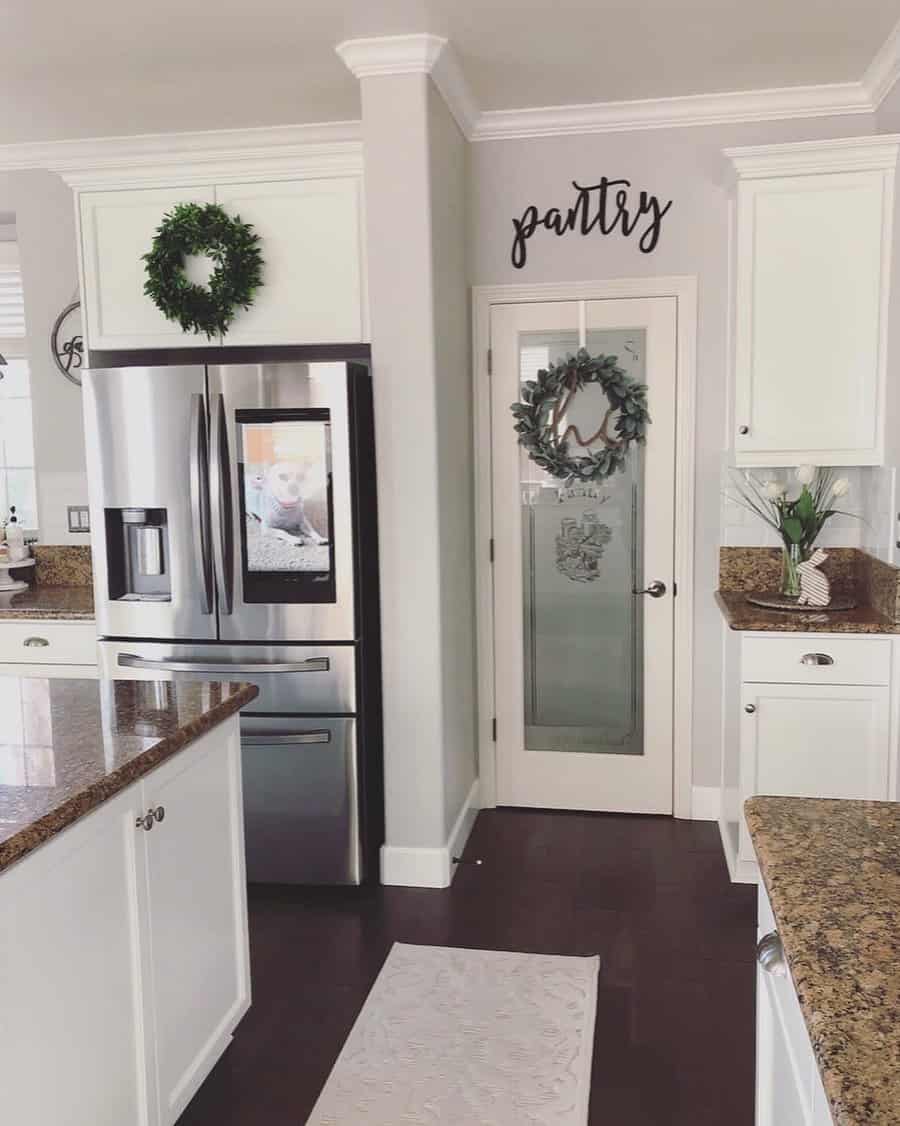 While the entire door could be frosted, you could also choose one with a design, such as a framework, scrollwork, or custom design. Frosted glass has an advantage over transparent because it won't show fingerprints.
8. Modern
Modern interior design is all about clean lines and opening a space up. There's no better way to do this with your pantry door than replacing the solid flat panel door with one that has glass panels. Glass doors put your pantry on full display, kind of like the showpiece in your modern kitchen.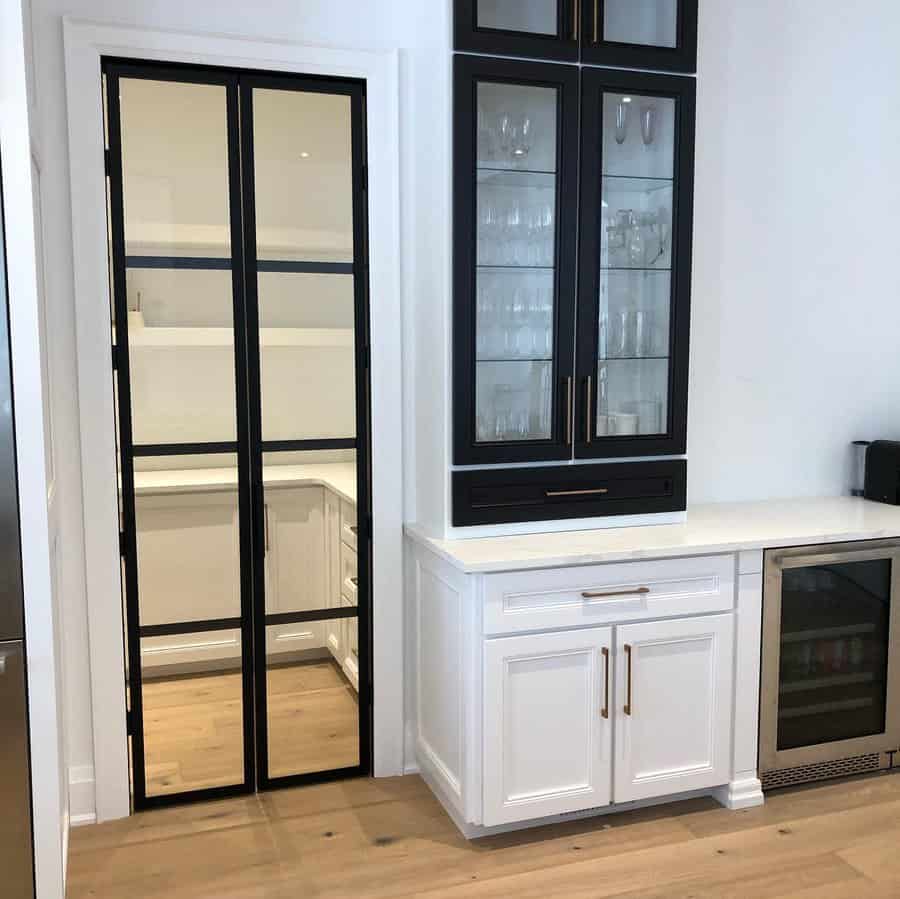 You could keep the design minimal with a frameless setup or give it a bit of structure with a black frame on it. Be aware that a glass door on your pantry may not be a good option if you have little ones living in your home. You will have to accept the smear marks and fingerprints or constantly clean the door.
9. Rustic
You can have a rustic door on your pantry to add to the overall rustic or farmhouse aesthetic in your kitchen. Look at closet door ideas to get inspired for something different.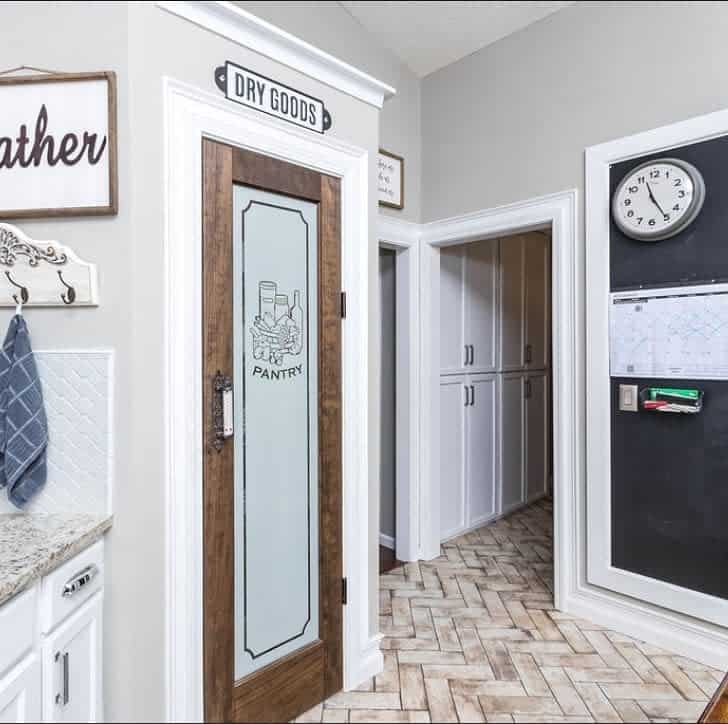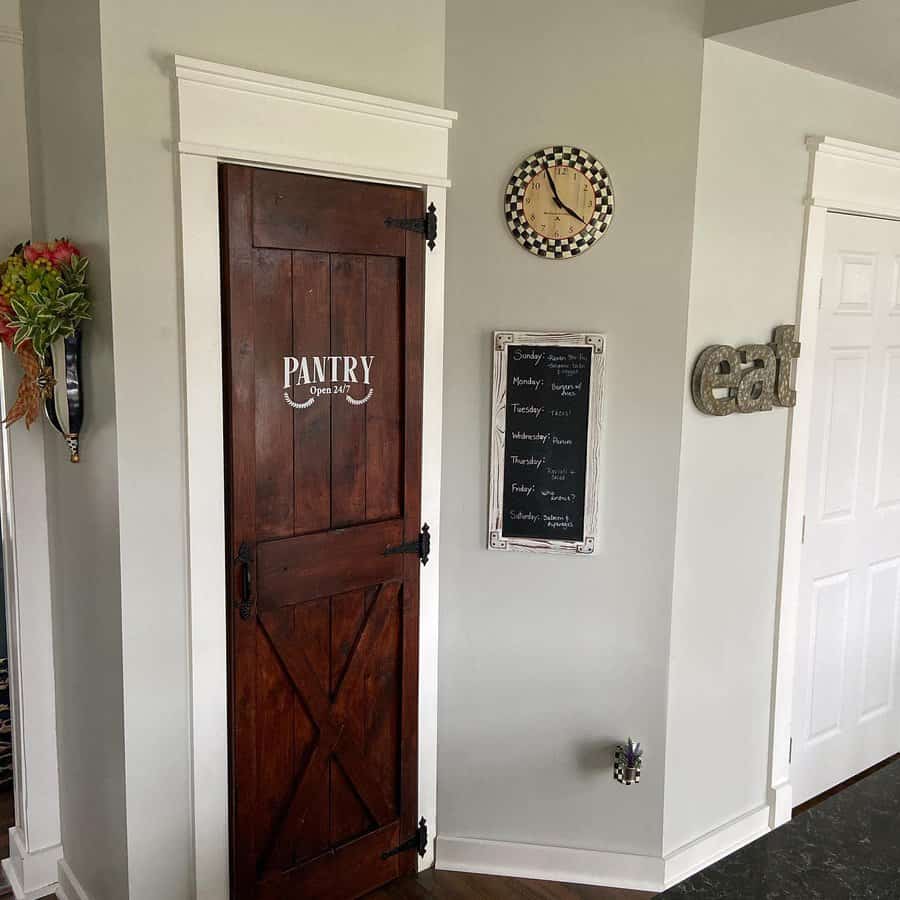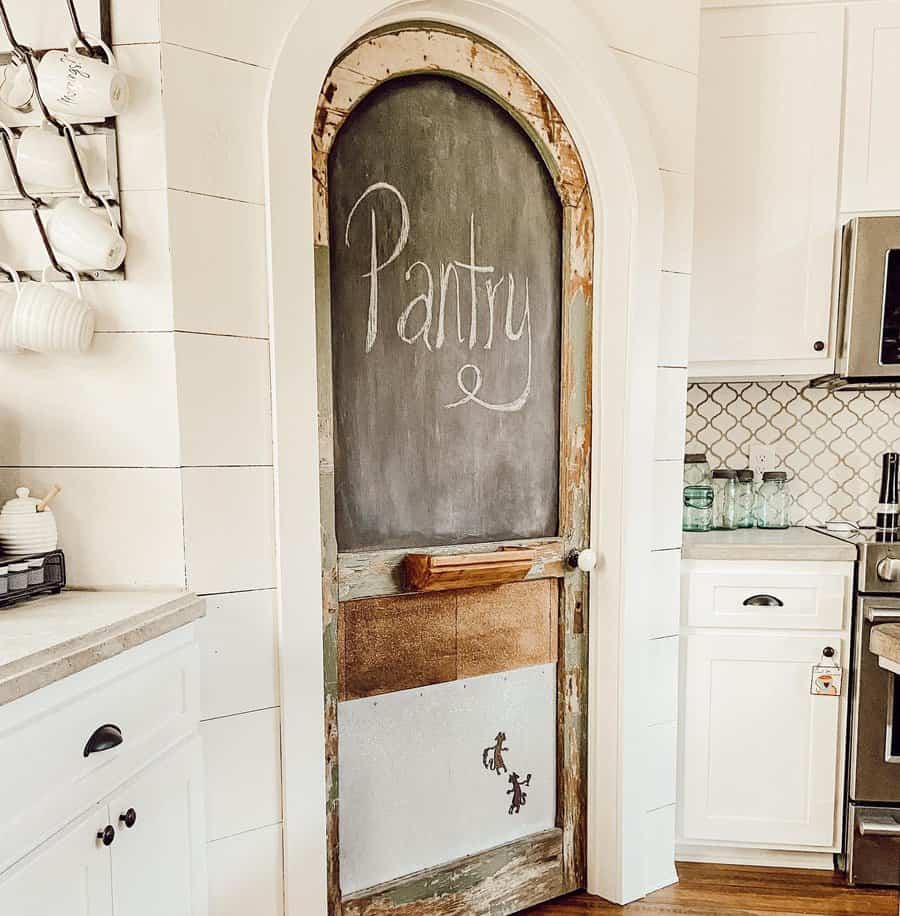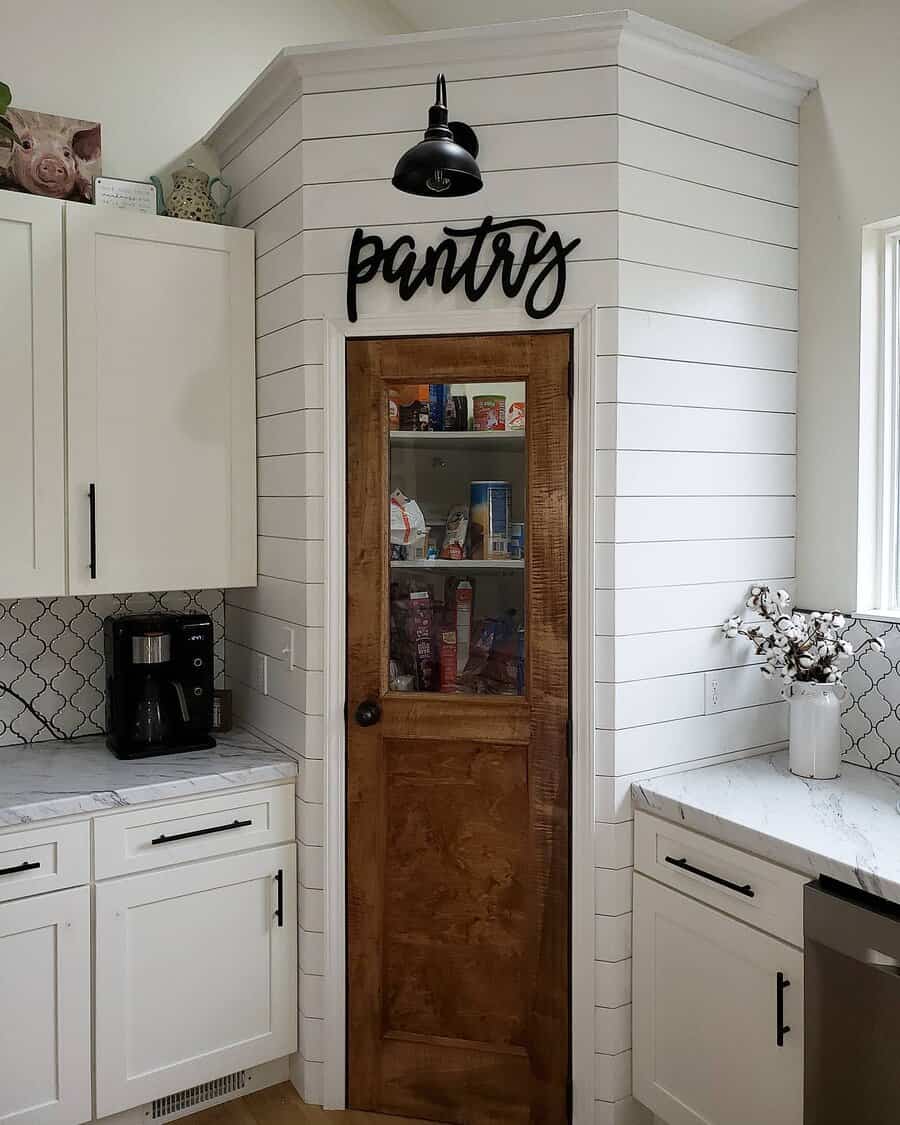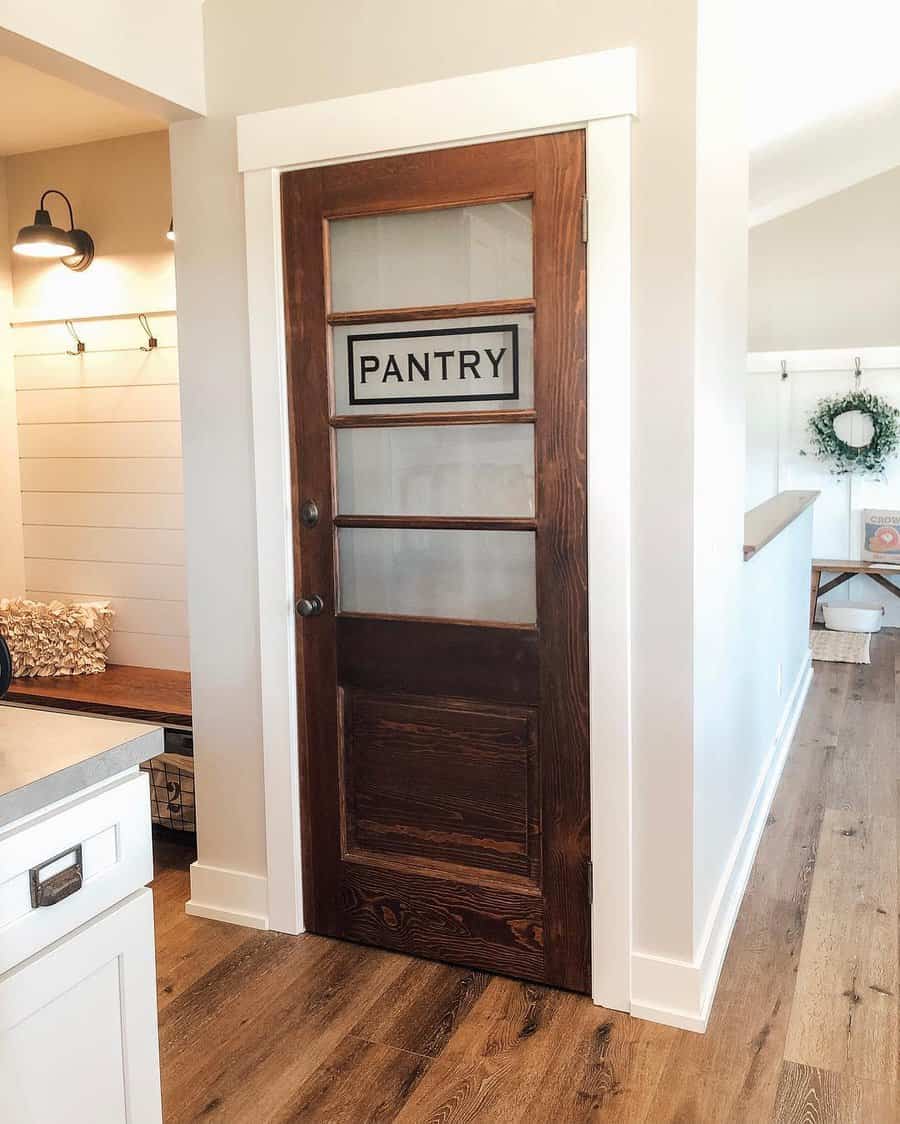 Head to your local antique or salvage shop and look for a reclaimed door. These are wood doors that were taken from other buildings. They have a vintage charm to them and show the wear and tear that happens over the useful life of the door. Embrace these imperfections as they will give your kitchen an authentic feel.
10. Vintage
A vintage door can give your kitchen personality and character. There are doors with unique carvings, inlays, or even a painted design.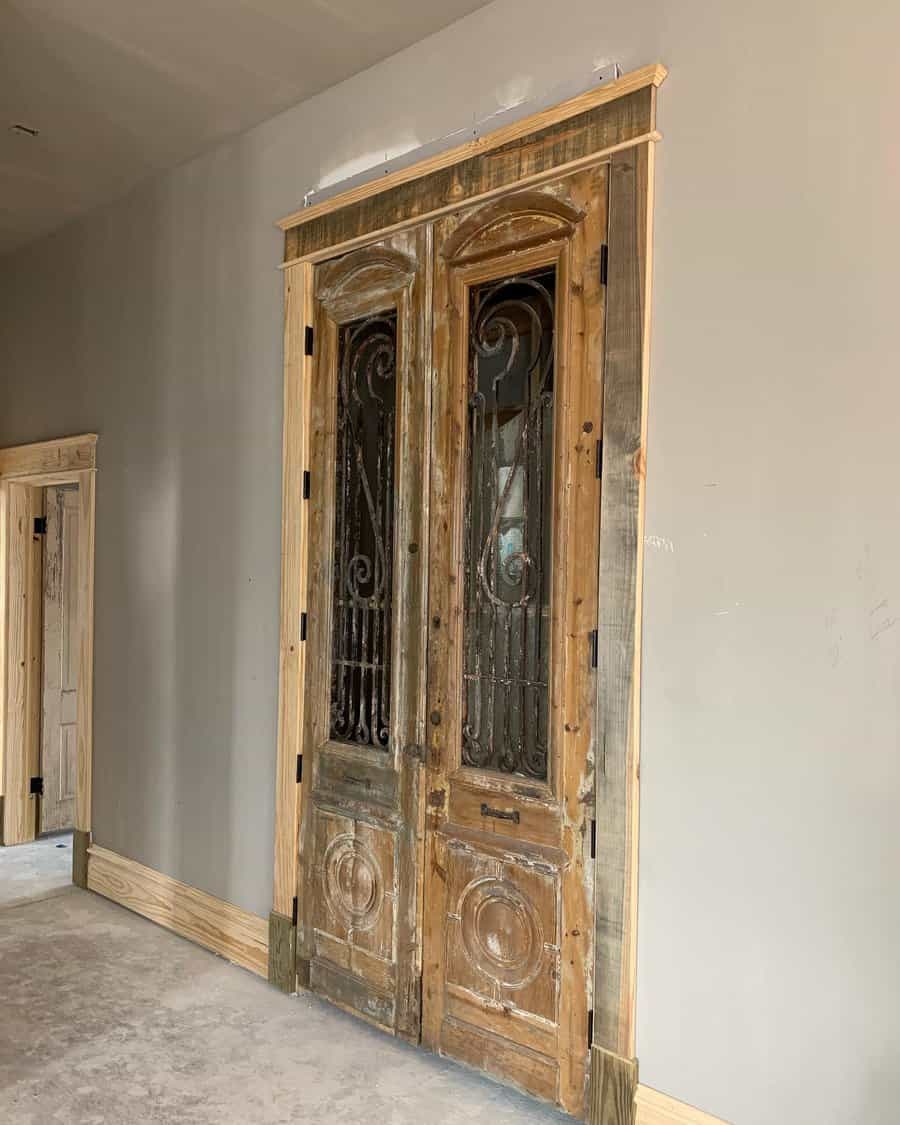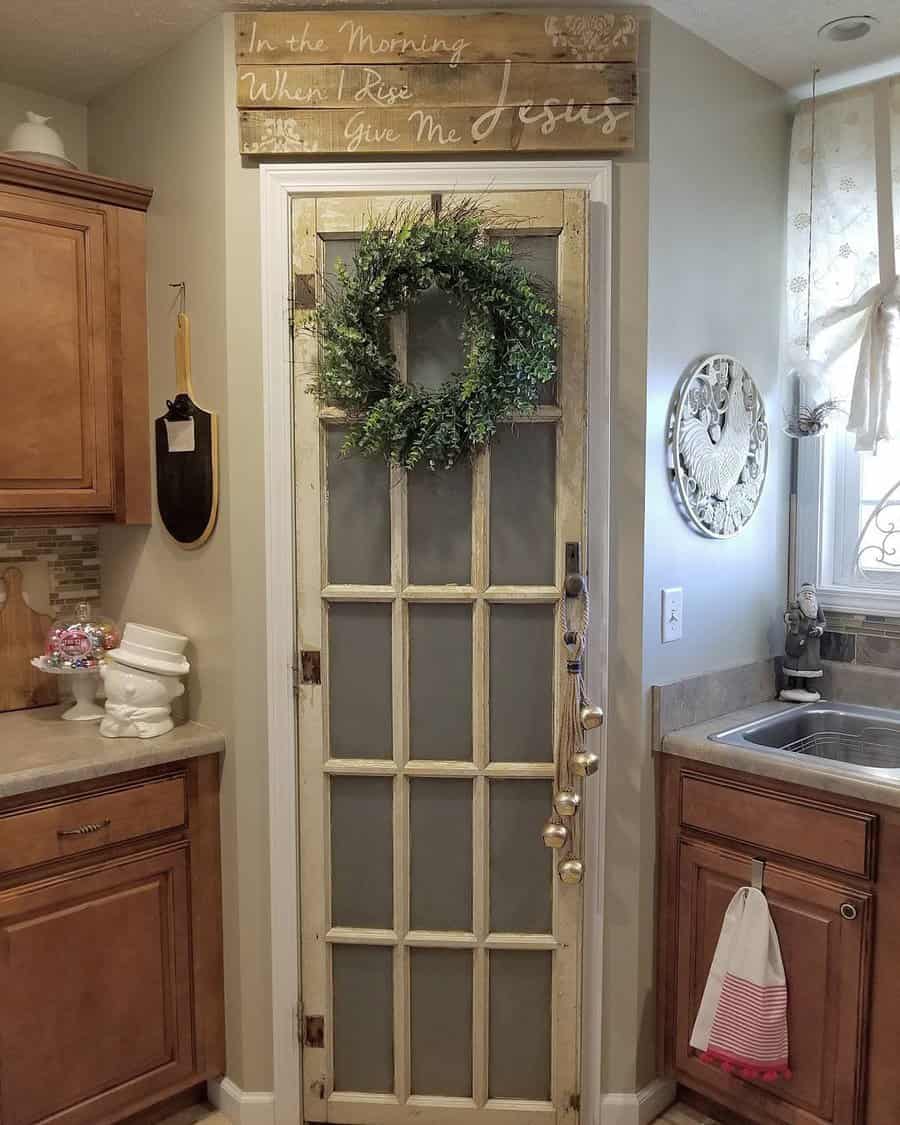 What's nice about vintage doors is that you can find them for any interior design style you want to have. There are stunning art deco doors that have intricate metal geometric shapes.
American craftsman doors have beautiful artistry in their construction. An art nouveau door will have beautiful stained glass set into the wood door. Vintage Chinese doors will have intricate carvings with holes throughout, making them good for a pantry where you need airflow.
11. White
If you have an existing door on your pantry, you may not want to make any changes. You know the door works in your small space, and you don't want to mess with something that already works.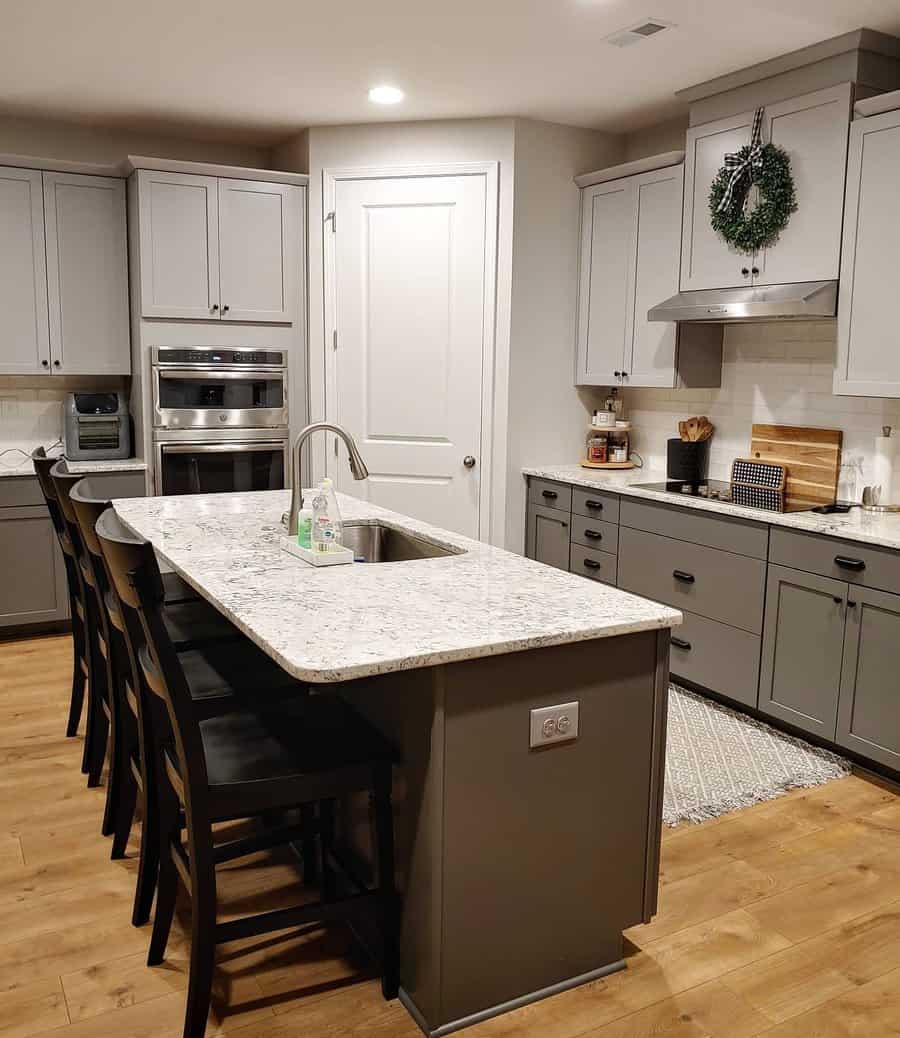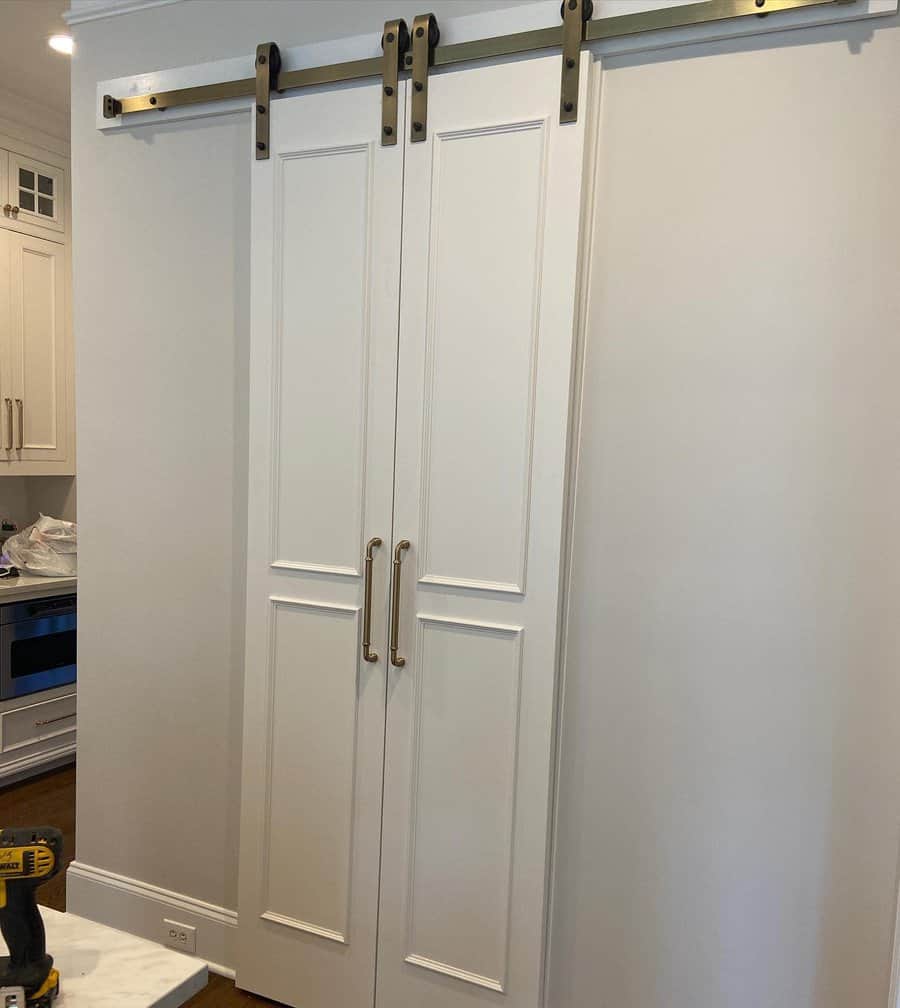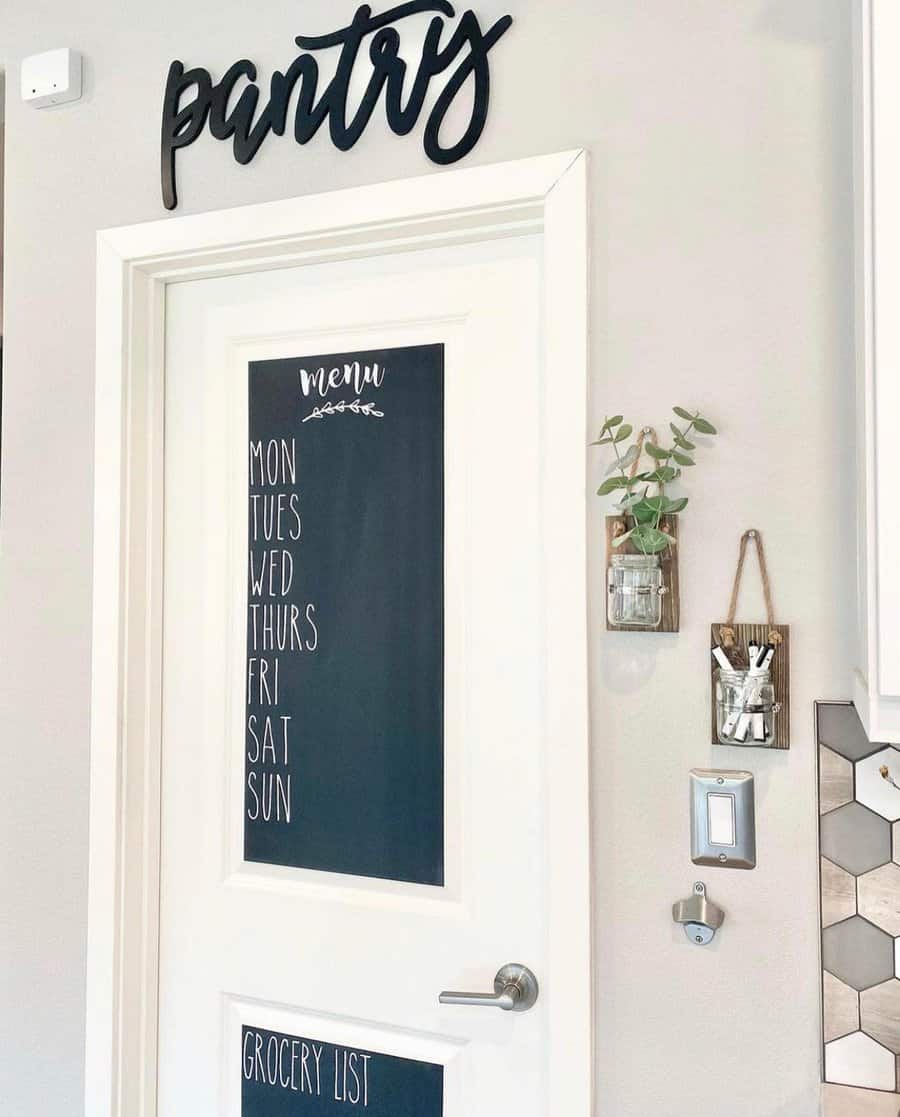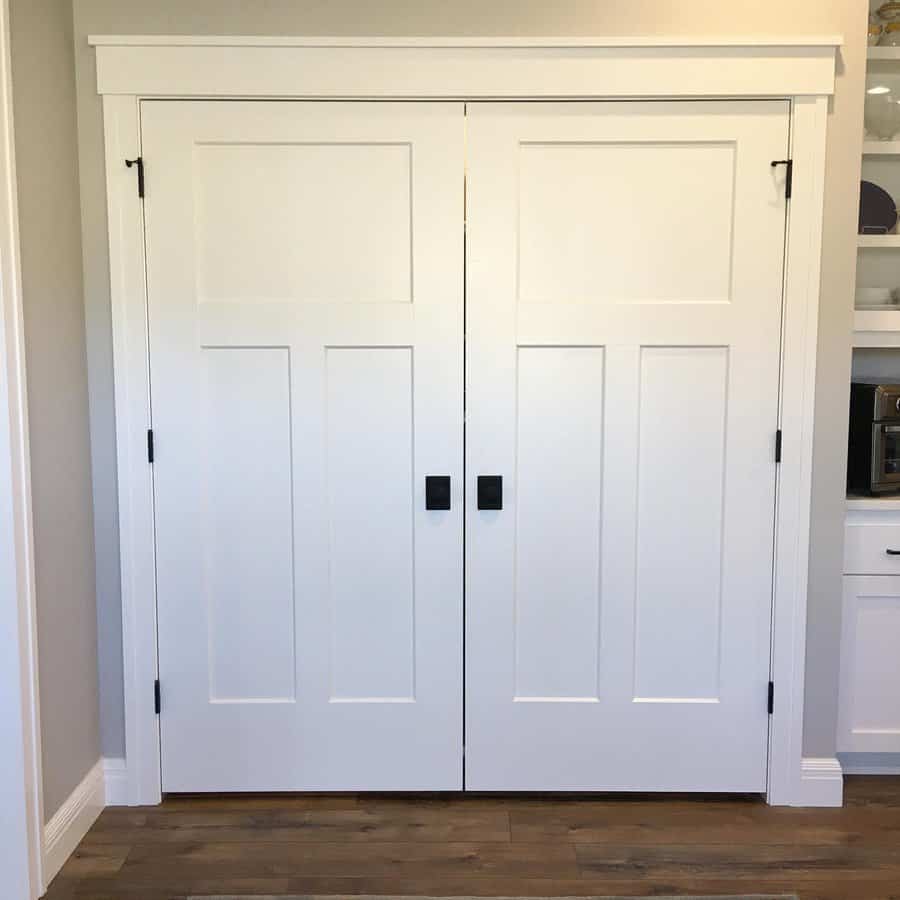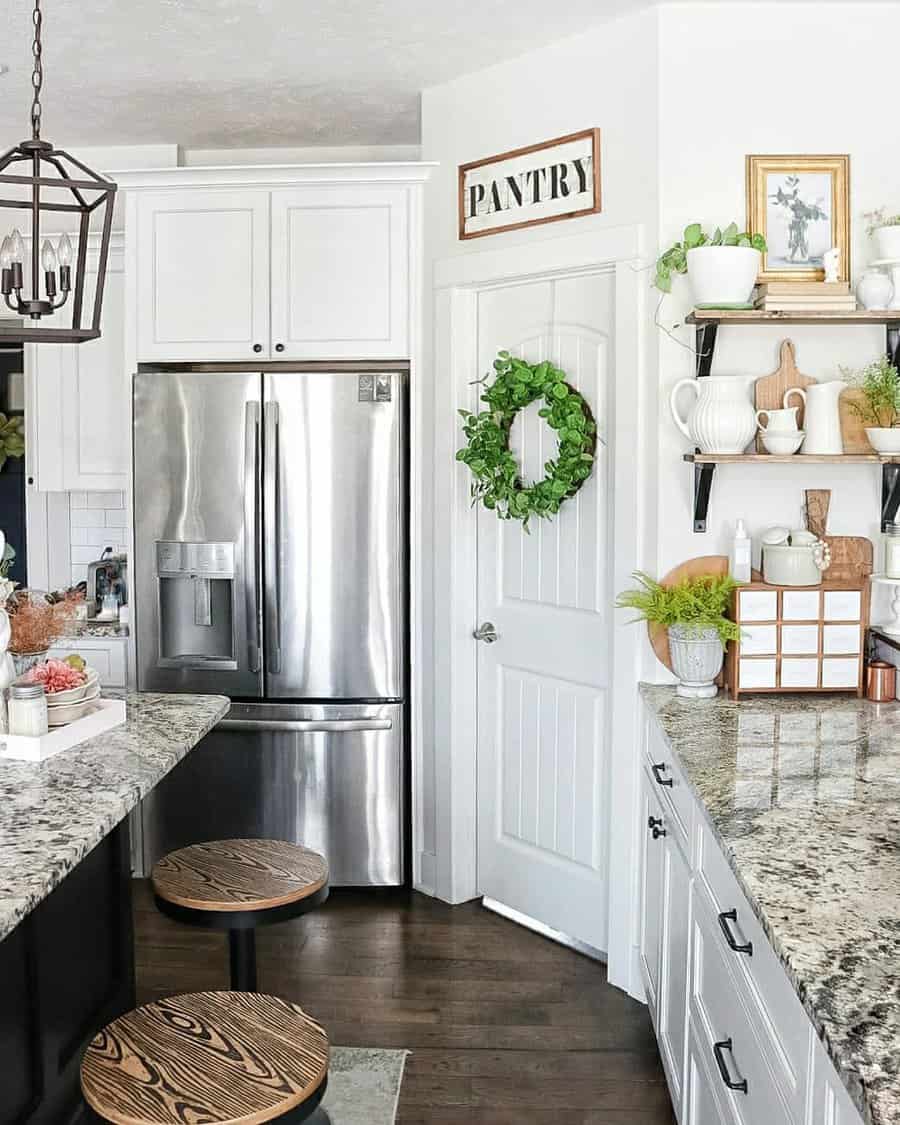 Instead of trying to get overly creative, head to your local Home Depot or other home improvement store and buy some bright white paint. Then paint your kitchen pantry door and give it a fresh and clean feel. This will make your entire kitchen look and feel brighter because the bright white reflects more light and looks cleaner.
Over time, white paint yellows, so even if you think your pantry door is white, if it has been a few years, it probably isn't as white as you think it is.
Pantry Door FAQs
Should a pantry have a door?
Yes, pantries typically have a door on them. While you don't have to have a door on your pantry, having a door gives you several benefits. You can hide a messy pantry. You can use the backside of the door for additional storage. Closing the door helps to control the pantry temperature and humidity level. If you have children or pets, the door can close off the area.
Do you need a window in the pantry?
Most people do not want a window in their pantry. While it could add natural light, it also limits the wall space available for mounting shelves. The window also presents a vulnerable spot that could allow bugs, pests, or rodents to enter your pantry and help themselves to your food.
How do you make a pantry door look good?
Instead of having a bland and boring white door, you can dress it up by painting it a fun color. Adding glass panels to the door can give it a unique look. Buying a salvaged or reclaimed door can give your pantry a rustic or vintage feel.