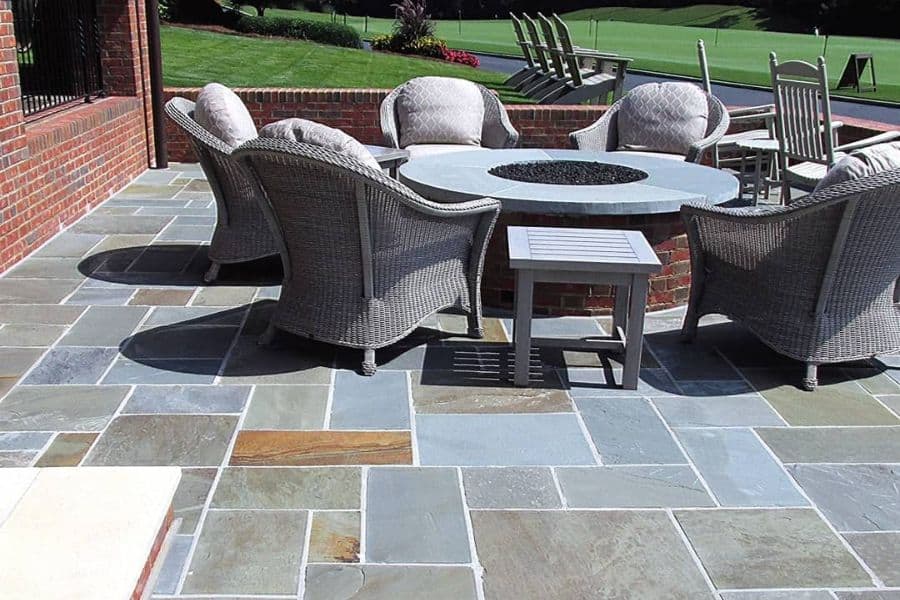 The Top 44 Patio Floor Ideas
"Spending time outdoors makes you feel great." – Elizabeth Hurley
What does your backyard look like? If you have a dull and bland-looking outdoor patio, then you are overdue for a glow-up. The best way to approach it is from the floor up. Once you have your patio flooring handled, you can decide how you want to use the space. Start by comparing different patio design ideas to find the one that will look best on your patio. Perhaps your patio could benefit from tiles, wood flooring, or a fresh coat of paint. Consider the look and feel of your home's exterior architecture and what will complement it best.
Which one of these patio floor ideas will improve the floor of your patio?
1. Bricks
Brick pavers are a perfect patio floor for your outdoor kitchen. A brick or paver patio is durable and easy to clean should you drop food or grease. If you have a traditional home, then a brick patio will add to the look. A natural stone patio will create a more rustic look that's perfect for blending in with the countryside. For a contemporary look, flagstone is a perfect option.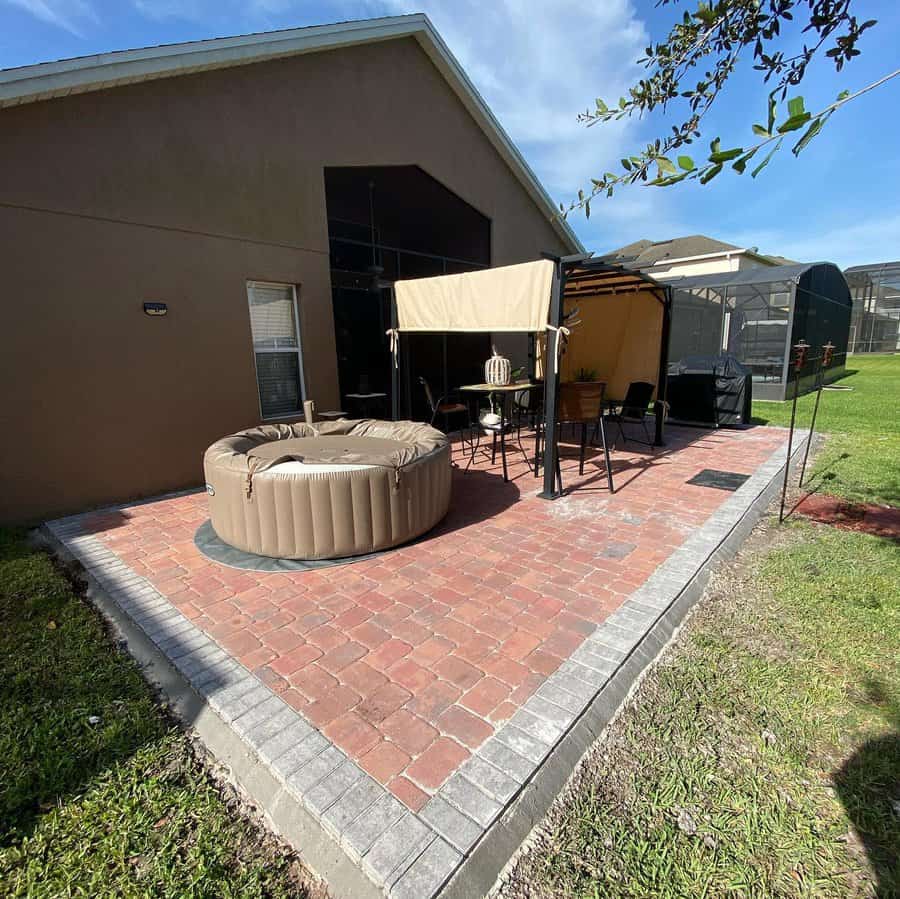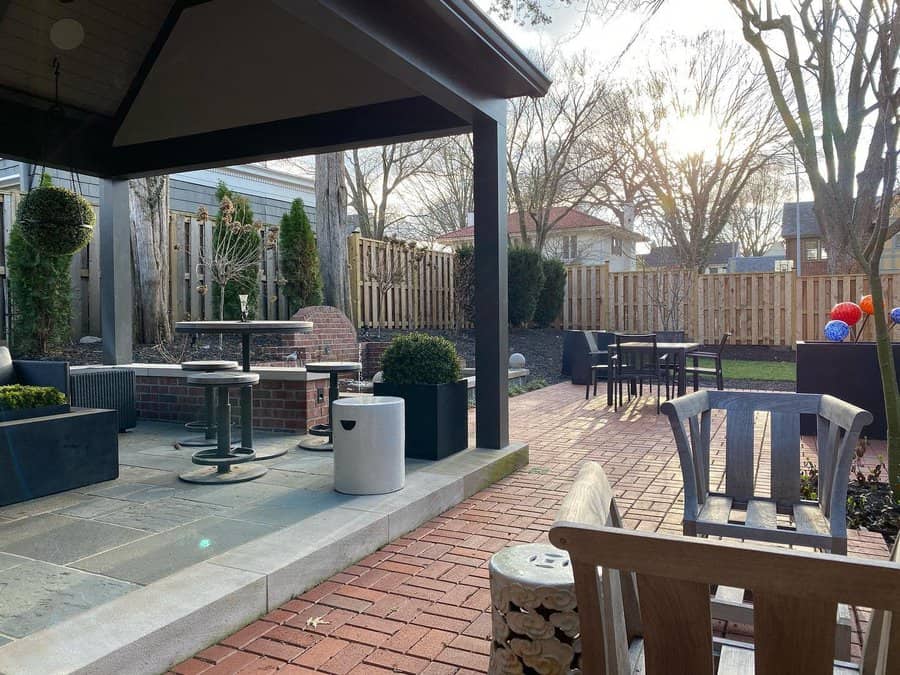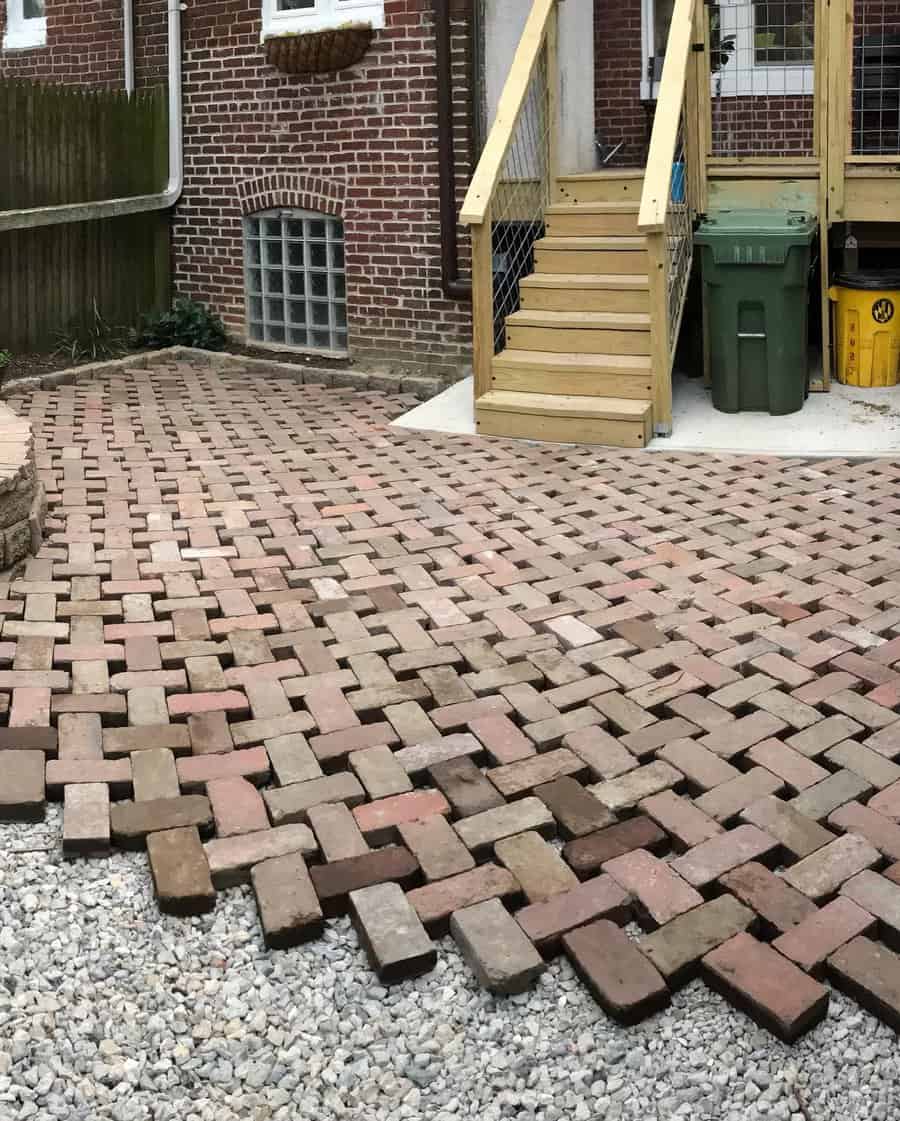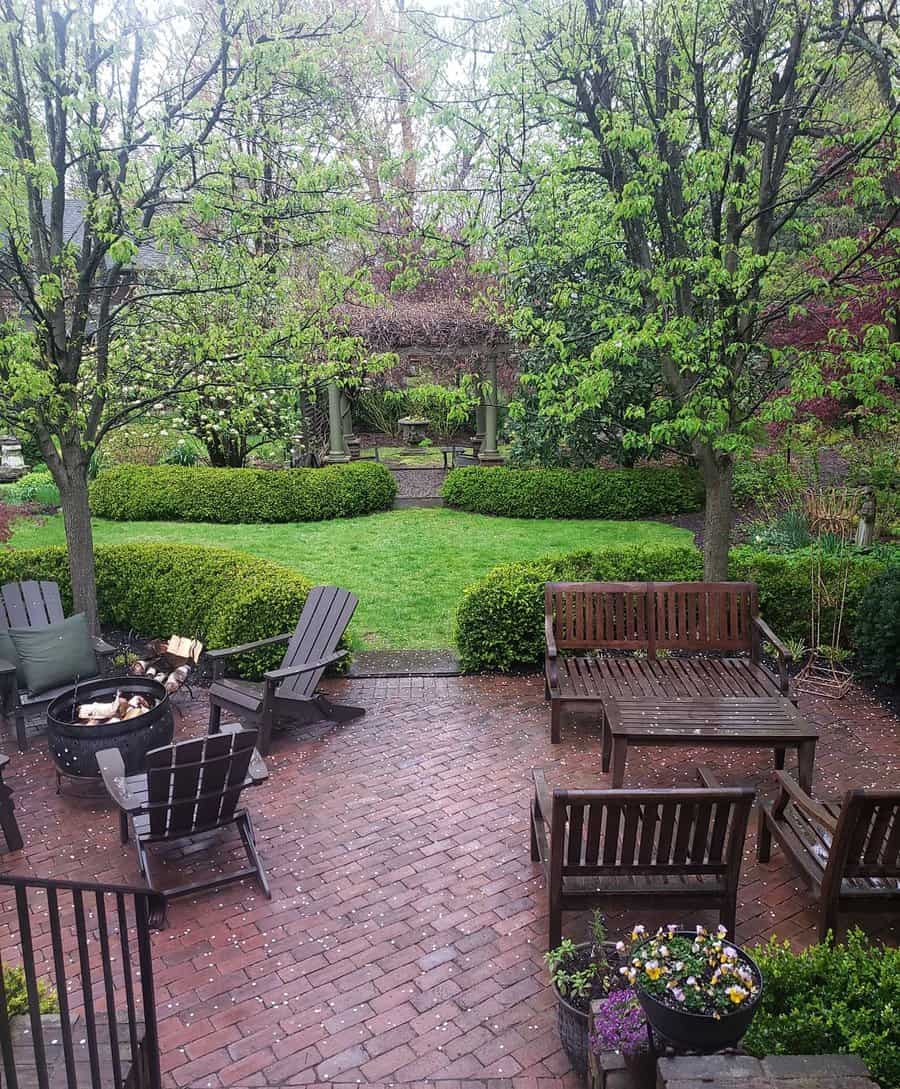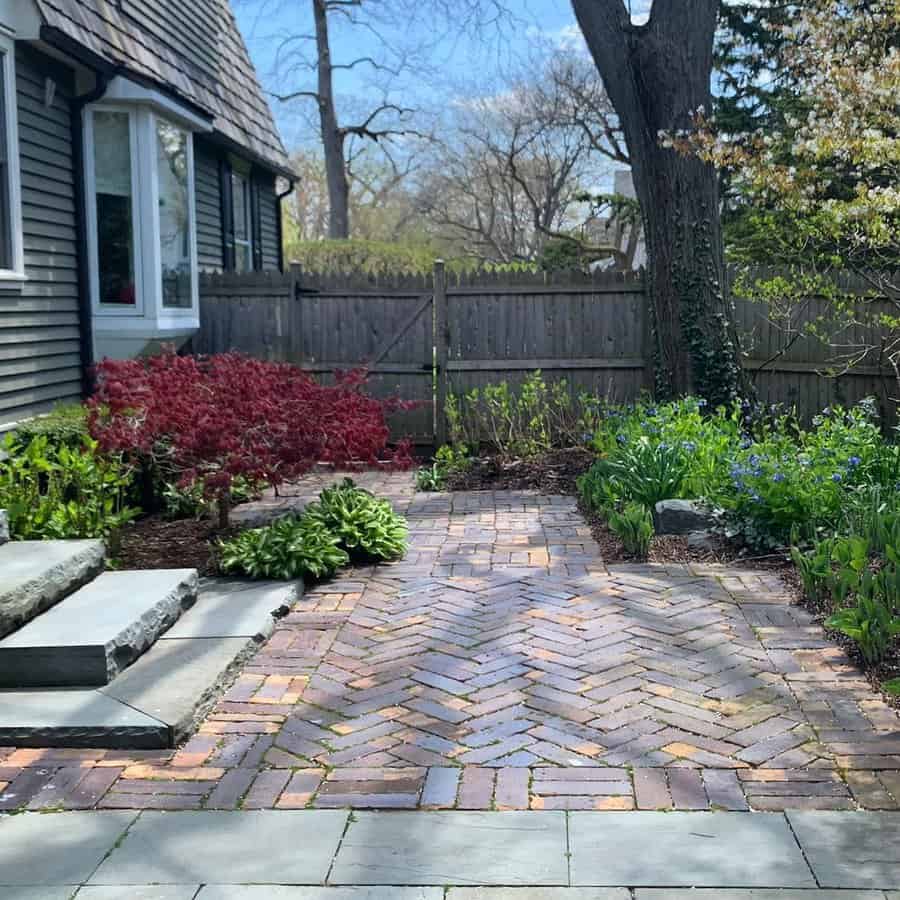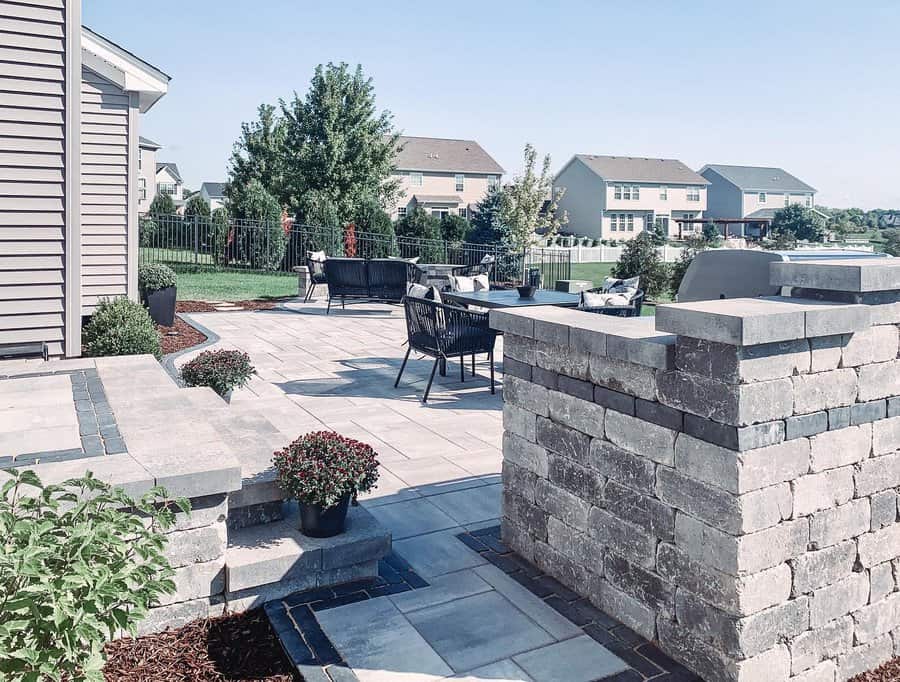 The biggest choice you'll have to make with your brick patio is how you'll lay the bricks. You could lay them in straight lines. This could create an optical illusion in your favor that the patio is wider or longer than it really is. An interlocking design like a herringbone pattern can add visual interest to your patio.
2. Budget
If you have a limited budget, you'll need to get creative with the material you use for your backyard patio. Pea gravel is a perfect option if you don't already have a concrete patio in place. Dig down and pull out the grass and other plants until you get to a solid layer underneath. Level the ground and spread a landscaping fabric out to prevent weeds from popping up. Then spread out the pea gravel until you have several inches of depth. Add a decorative edge to keep the gravel contained.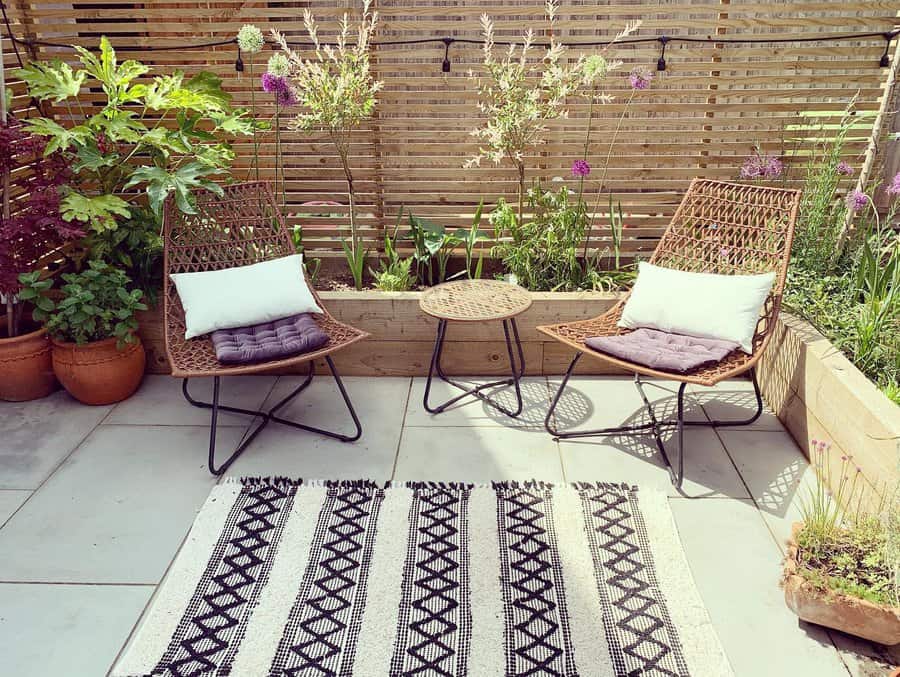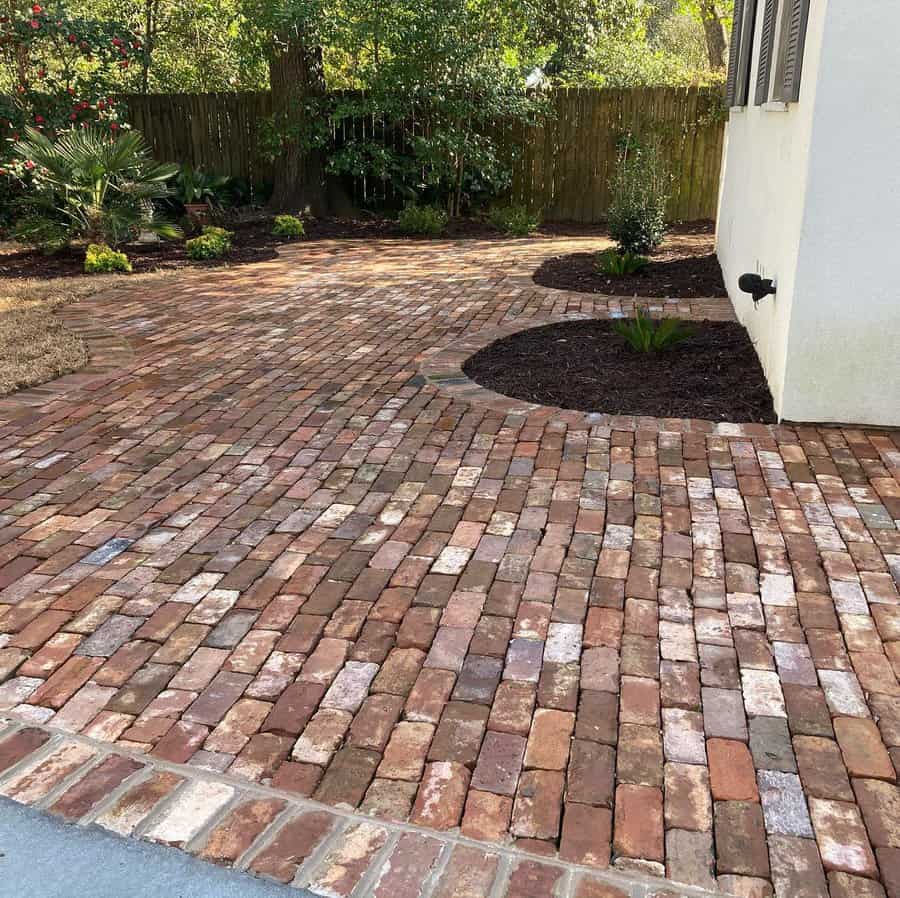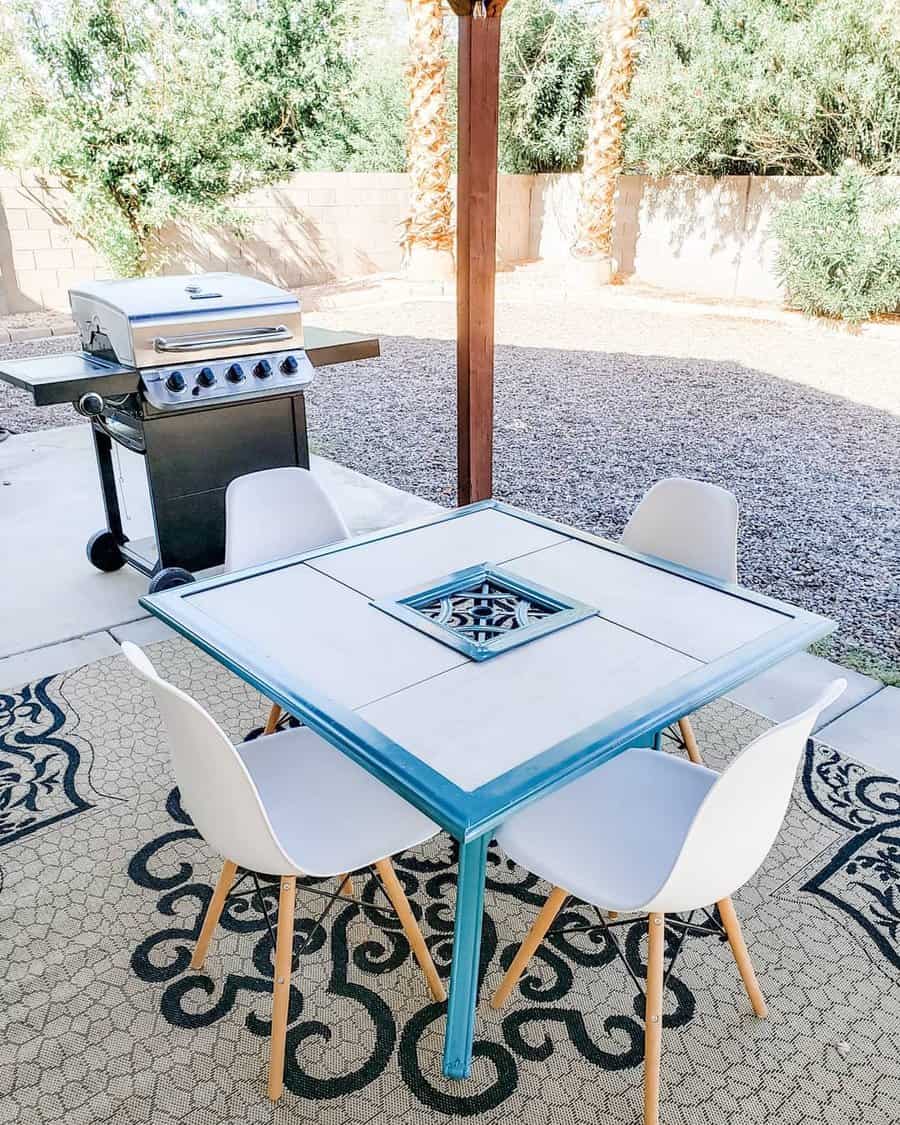 Another budget-friendly patio flooring idea is foam interlocking tiles. They come in a wide range of sizes, shapes, and colors, making them perfect for customizing your patio design. These tiles are perfect for creating a soft, non-slip surface. If you have a pool, this makes for durable and water-resistant decking.
3. Carpet
Cover your patio or porch floor with outdoor carpet and give your patio a living room feel. These modern carpets look beautiful and are durable enough to stay looking beautiful. Skip the carpet tiles and opt for a single large carpet for an elegant look and feel. You also won't have to struggle with carpet tile corners lifting or the adhesive giving way when exposed to moisture, extreme heat, or cold.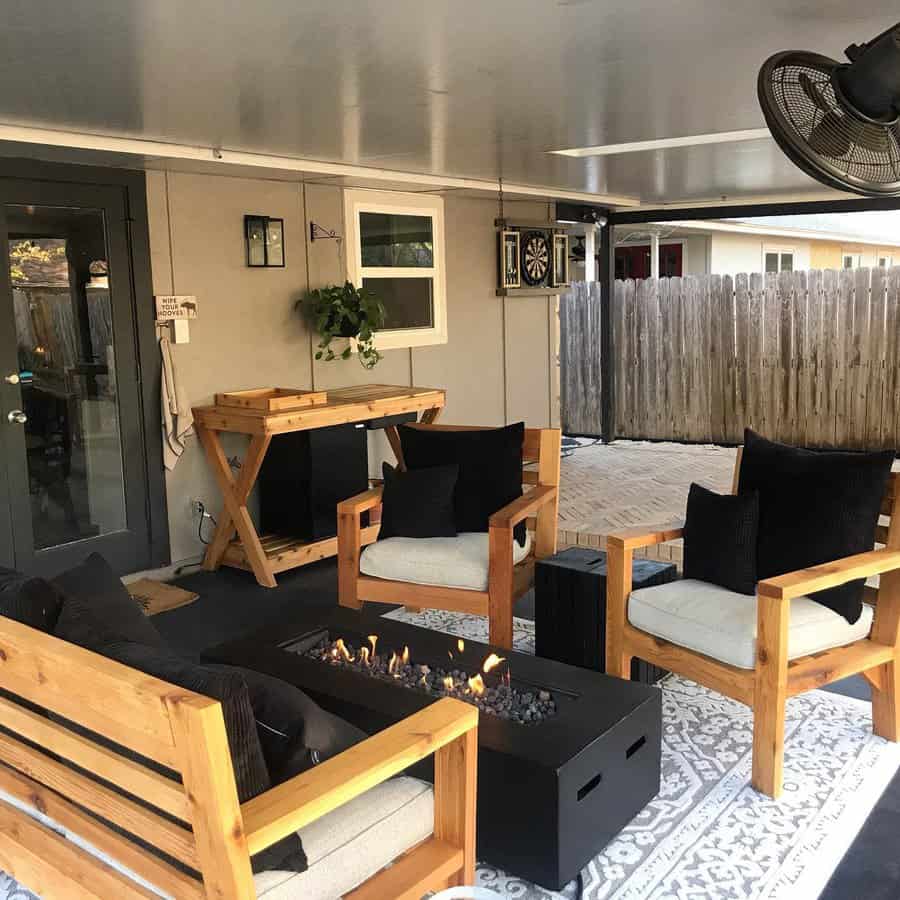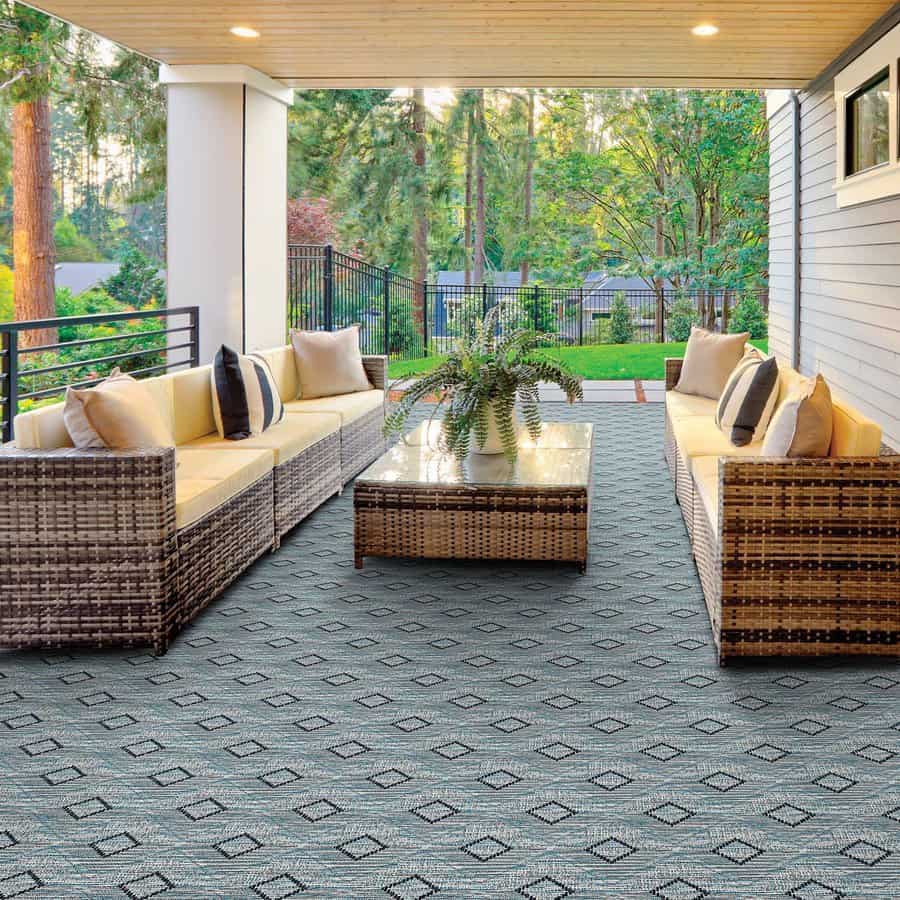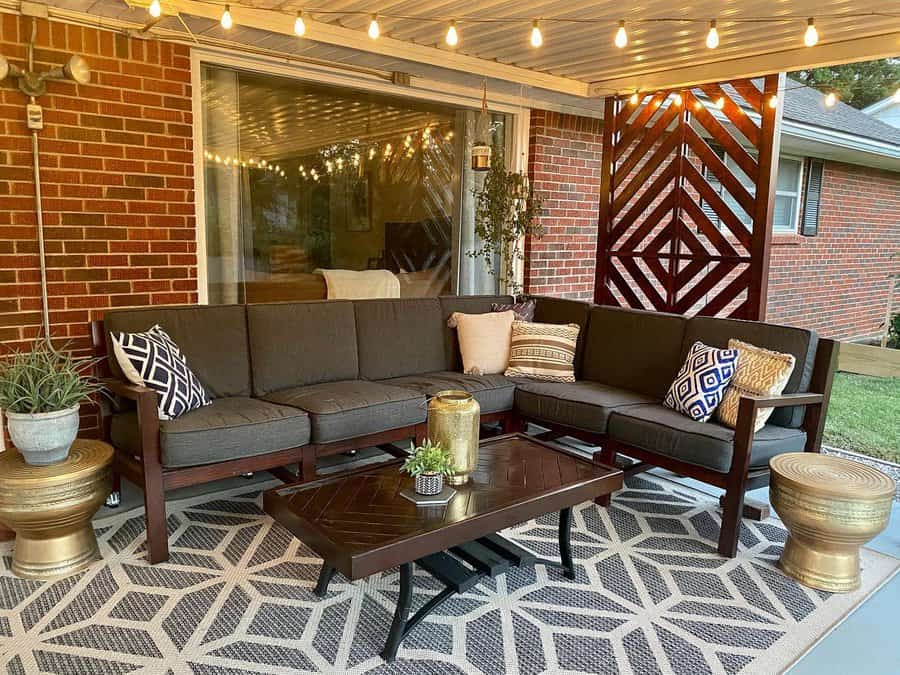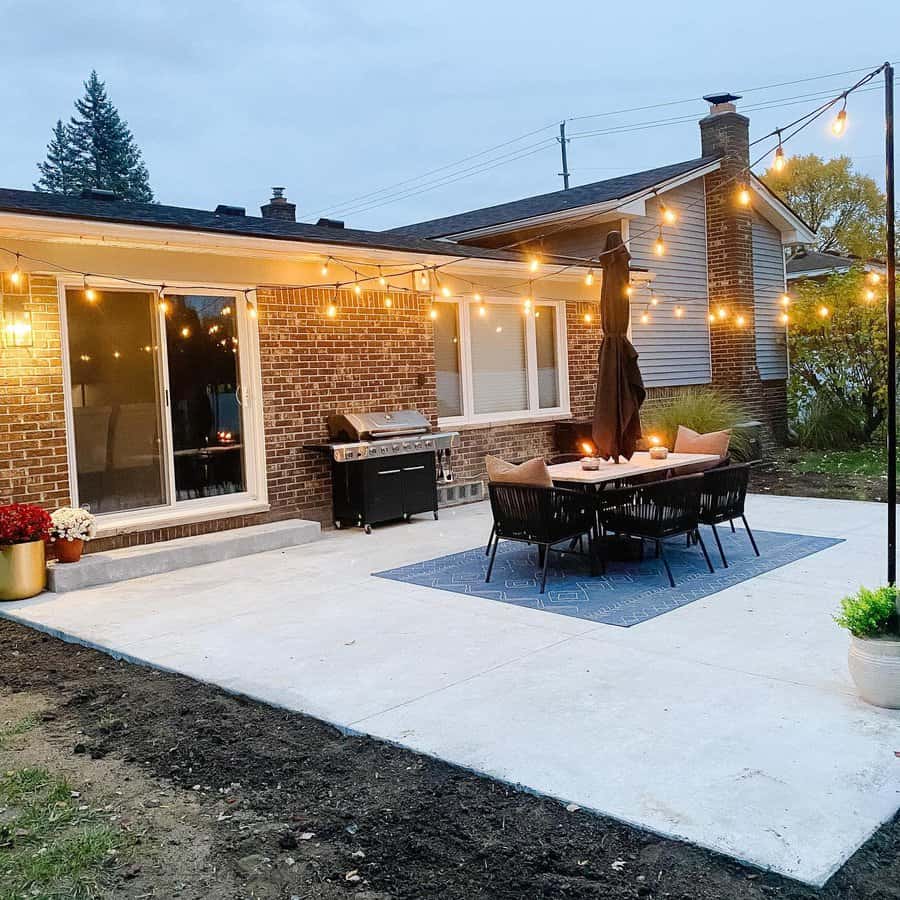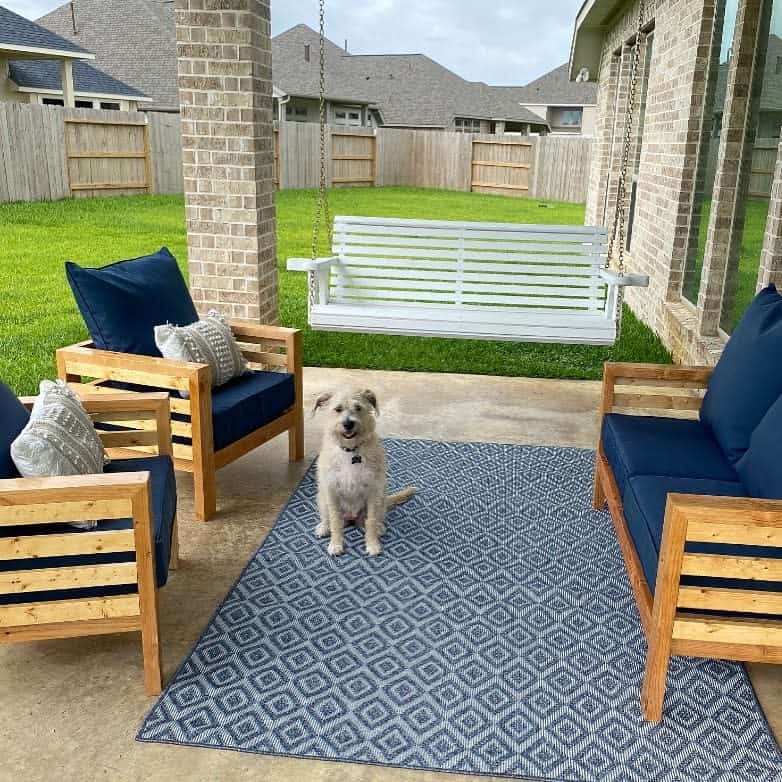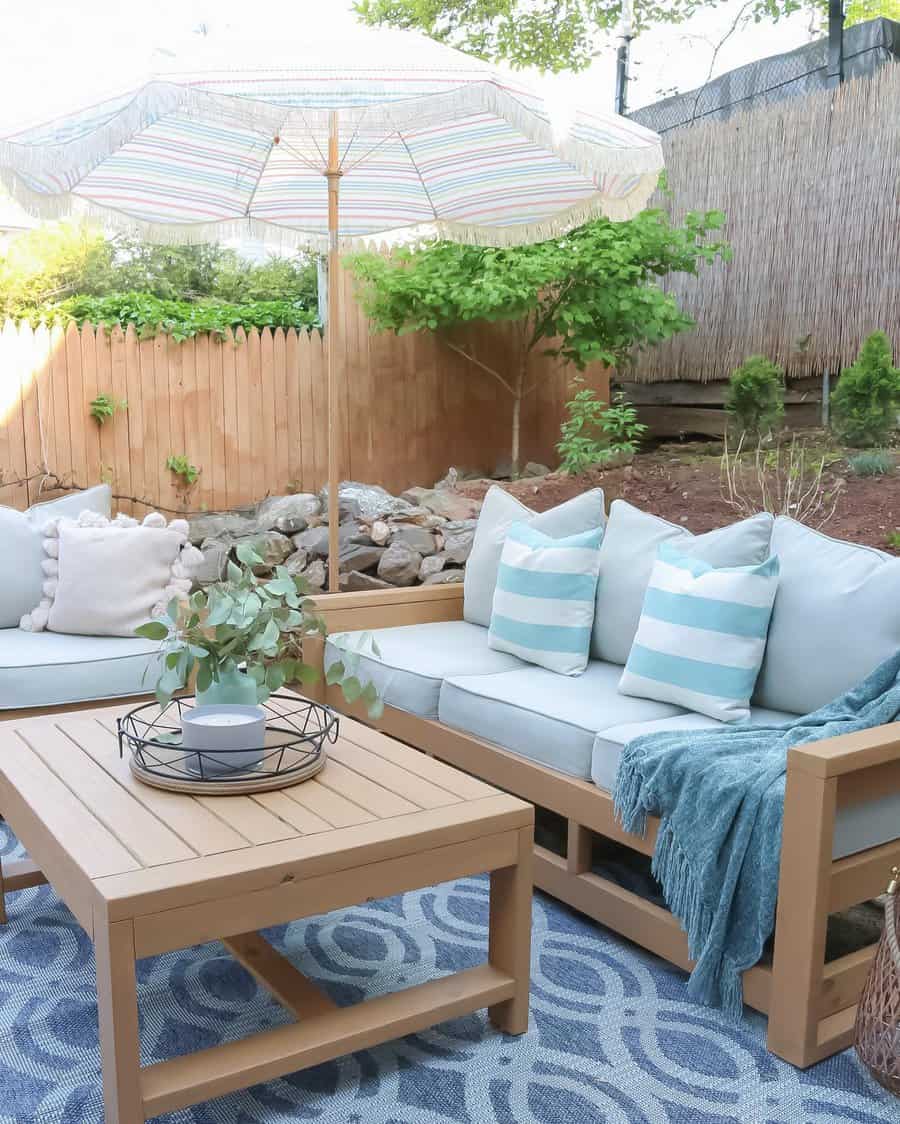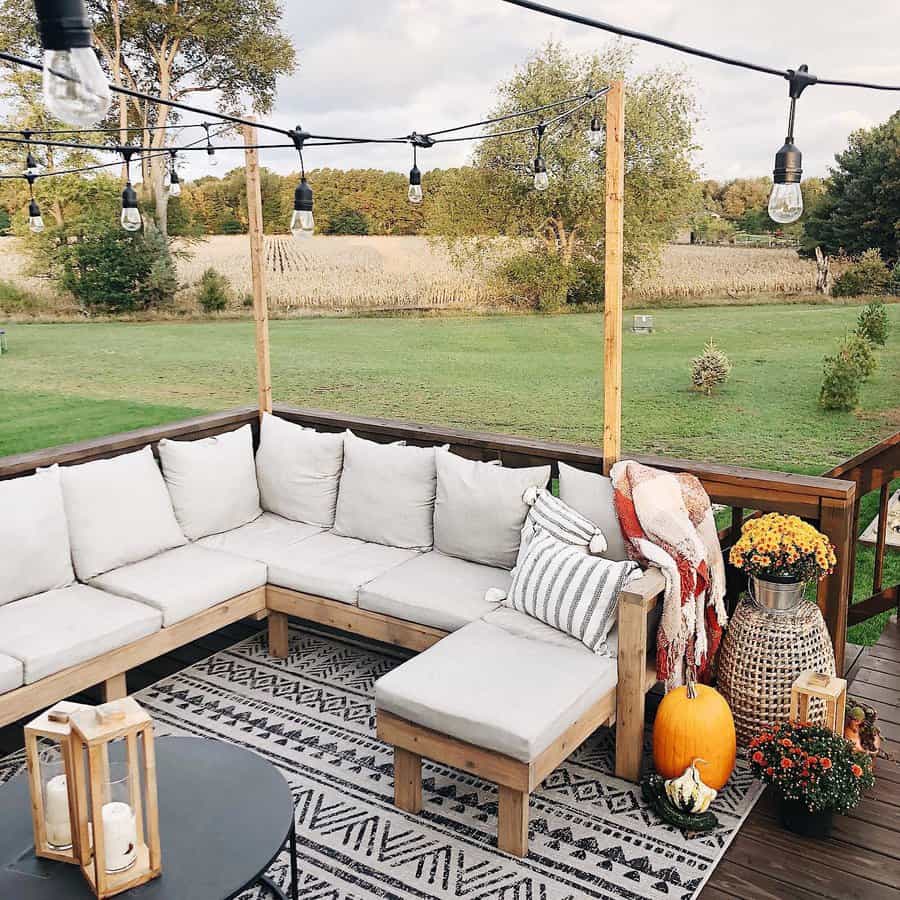 While you could cover your entire patio in carpet, you don't have to. Covering the entire patio will mimic the look of the interior carpet. However, leaving the patio bare around the perimeter will create an area rug feel. This will be easier to keep clean, create more defined space, and be more affordable.
4. Concrete
The majority of patios have a concrete floor. This is because it's easy to extend the home's concrete slab out beyond the house's exterior. It's also easy to add concrete flooring should you not already have a patio built onto your home.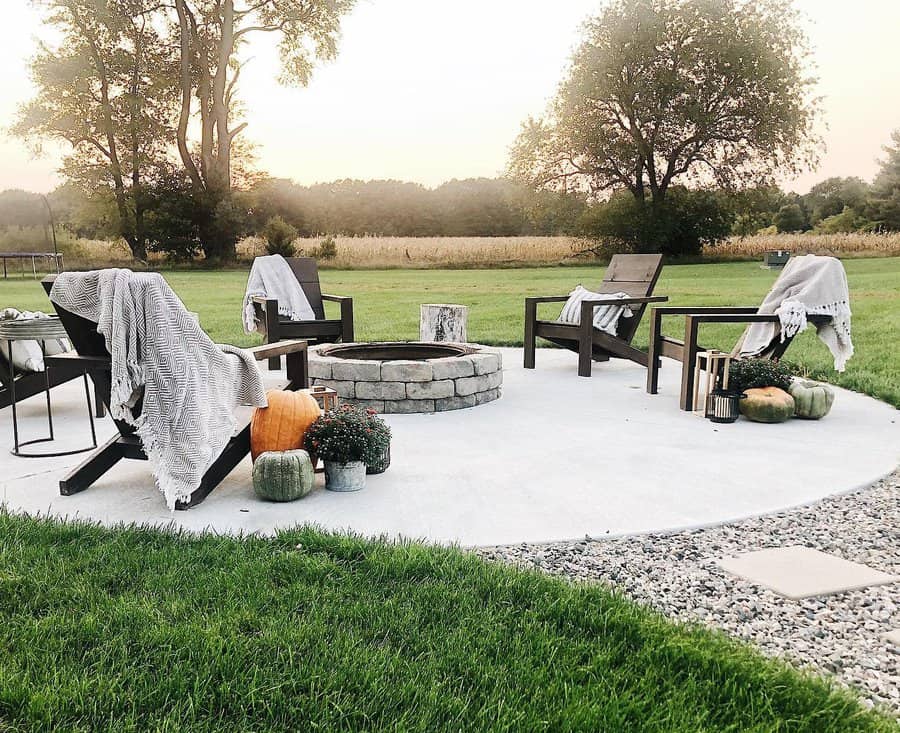 While poured concrete is the most affordable, it isn't your only option. Concrete pavers can give your patio a modern feel. Innovative concrete patio ideas lean towards using large square or rectangle pavers. Space them apart slightly and grow moss or use artificial turf between the pavers. This adds texture and greenery to what would be a plain concrete patio.
5. DIY
You can do the work yourself when it comes to adding a floor treatment to your patio. While you could hire a contractor, it will end up costing you more. There are plenty of DIY patio solutions that are suitable for homeowners to do themselves. You could paint, lay down a large area rug, install interlocking tiles, or even arrange brick pavers.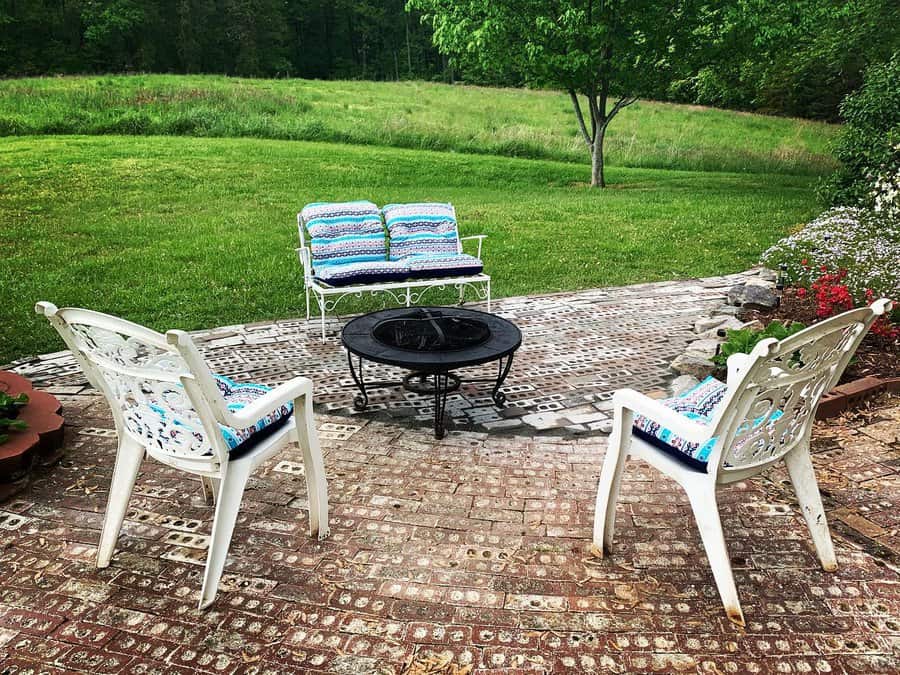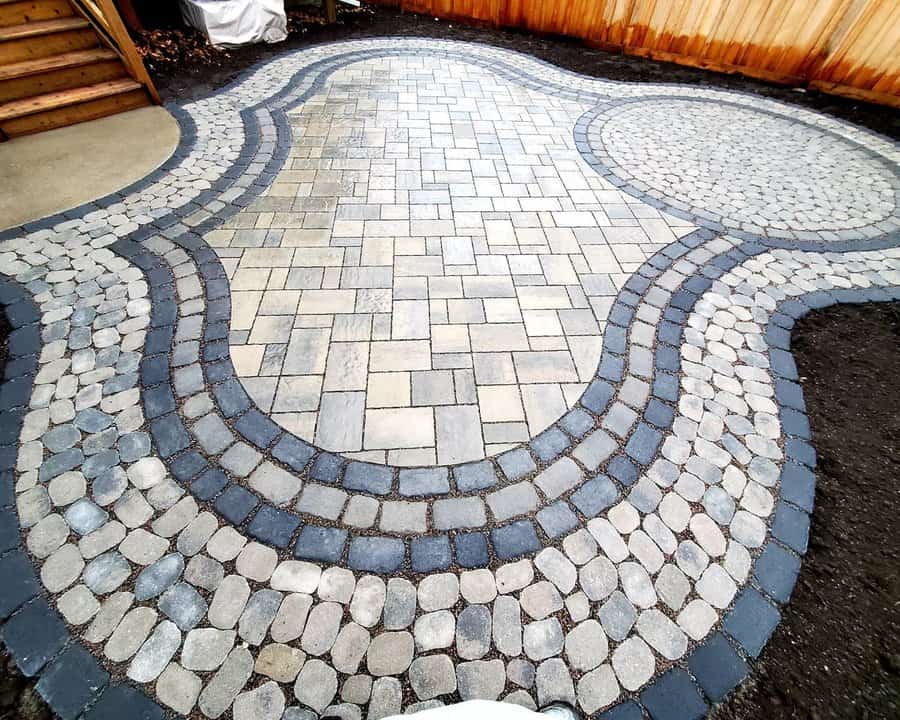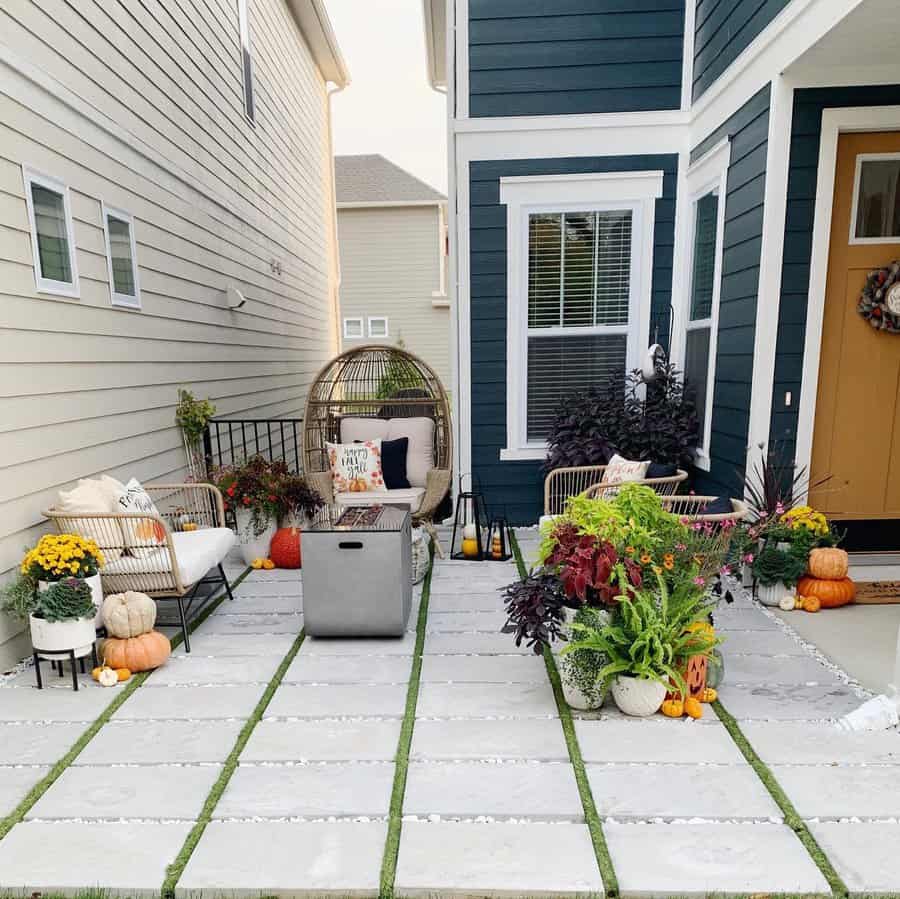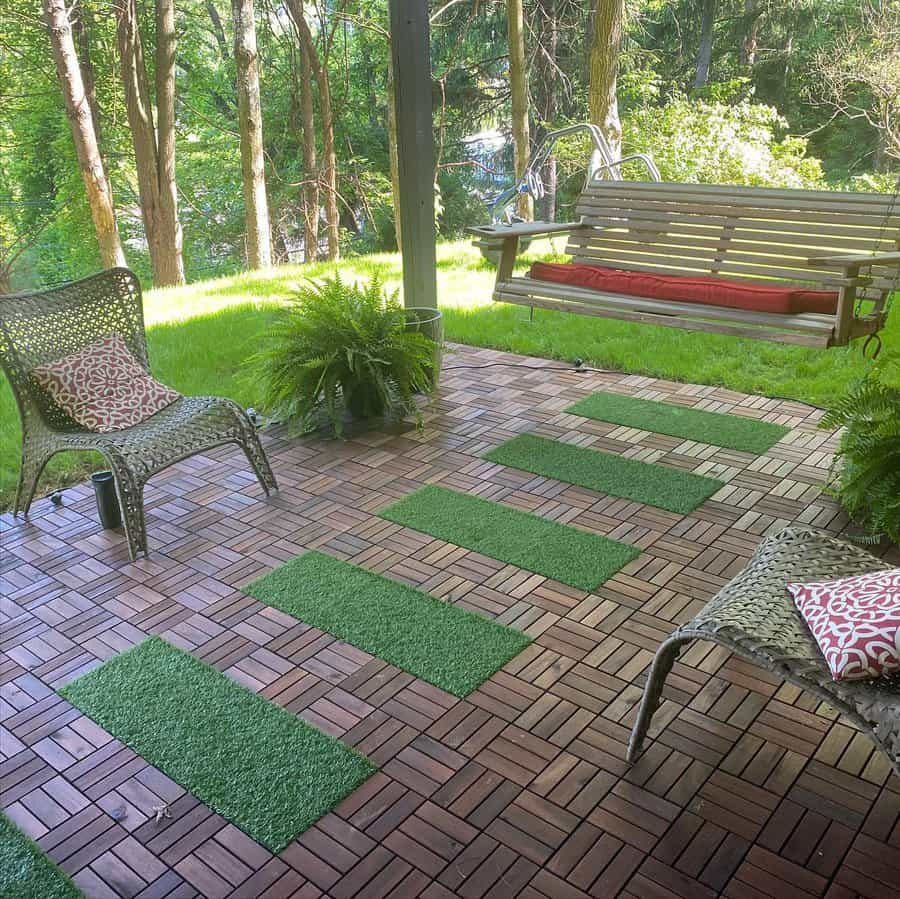 When doing the project yourself, it helps to watch videos online or ask a friend who has the experience to help you. You can learn about tips and tricks that can make the project easier and turn out better. Create a supplies list before you get started to ensure you have everything you need. Walk through the project in your mind to identify any potential complications.
6. Mosaic
Mosaic tile arrangements are colorful, detailed, and simply stunning. Typically, they use small tiles of varying colors that are arranged into a large design. The designs range from simple to incredibly complicated. A well-done mosaic design takes a long time to plan and install. Because of this, they can be expensive.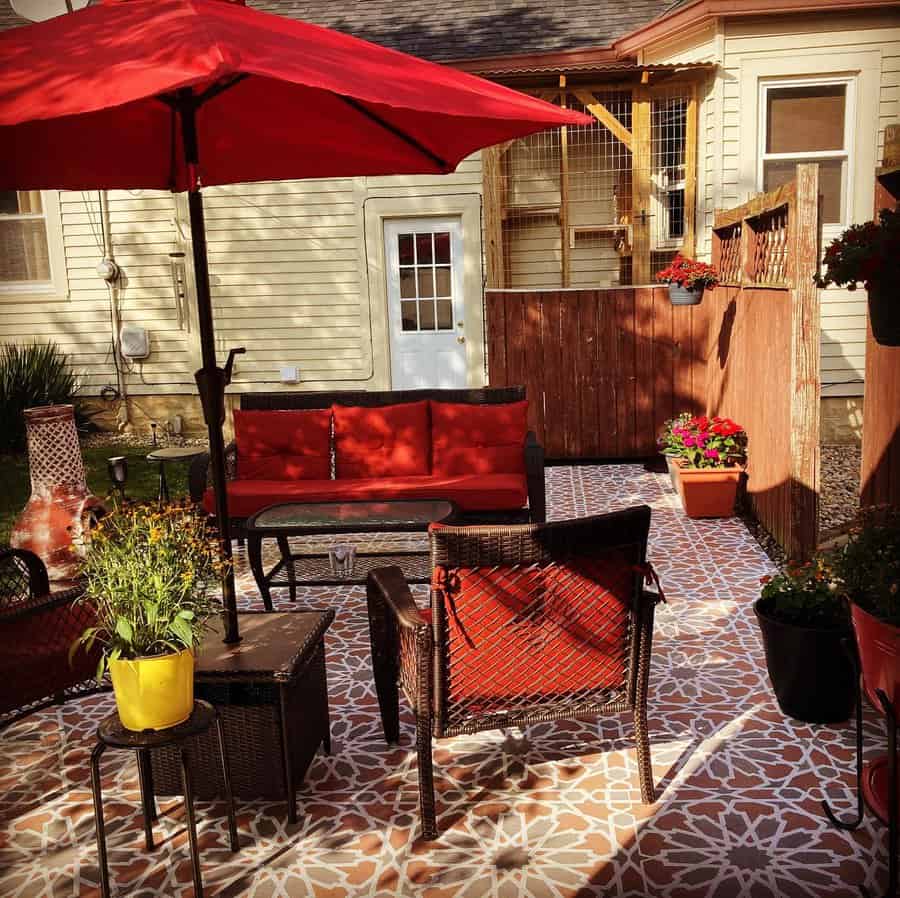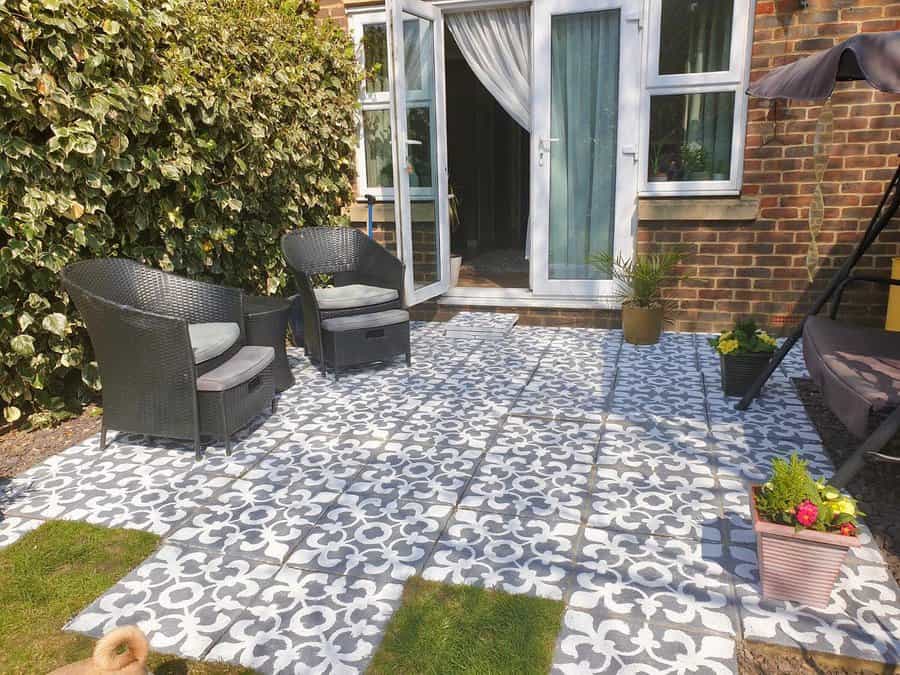 Most homeowners don't try to cover their entire patio with a mosaic. Instead, you can use a mosaic design as an accent or a way of visually defining a portion of the patio. Try adding a mosaic design in the center of your patio or as a border around the perimeter. If you want the entire patio to be a mosaic design, consider using larger stones to scale the size of the design up.
7. Painted
If you're looking for the ultimate in cheap patio design, look no further than paint. You can choose any color you want and have it mixed at your local home improvement store. Be sure to pick an exterior paint and one that's designed to be used on the material your patio is made out of. Apply thin coats and allow to dry between each application.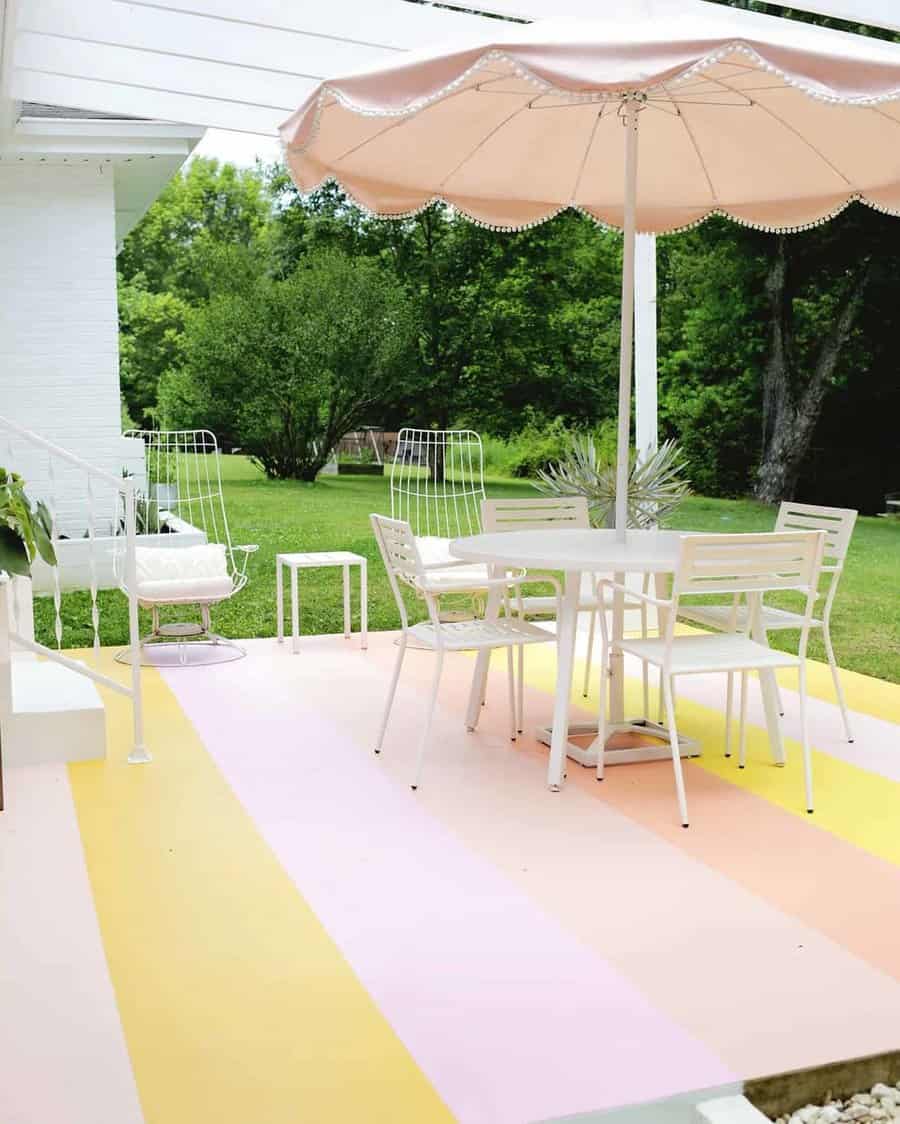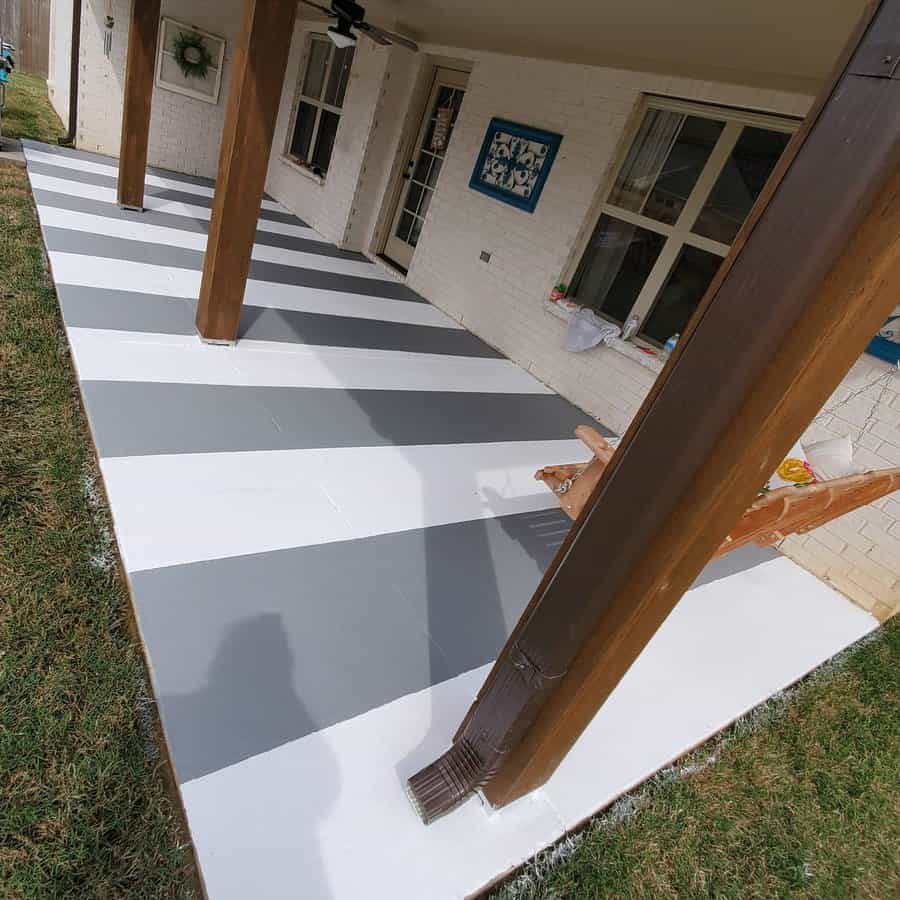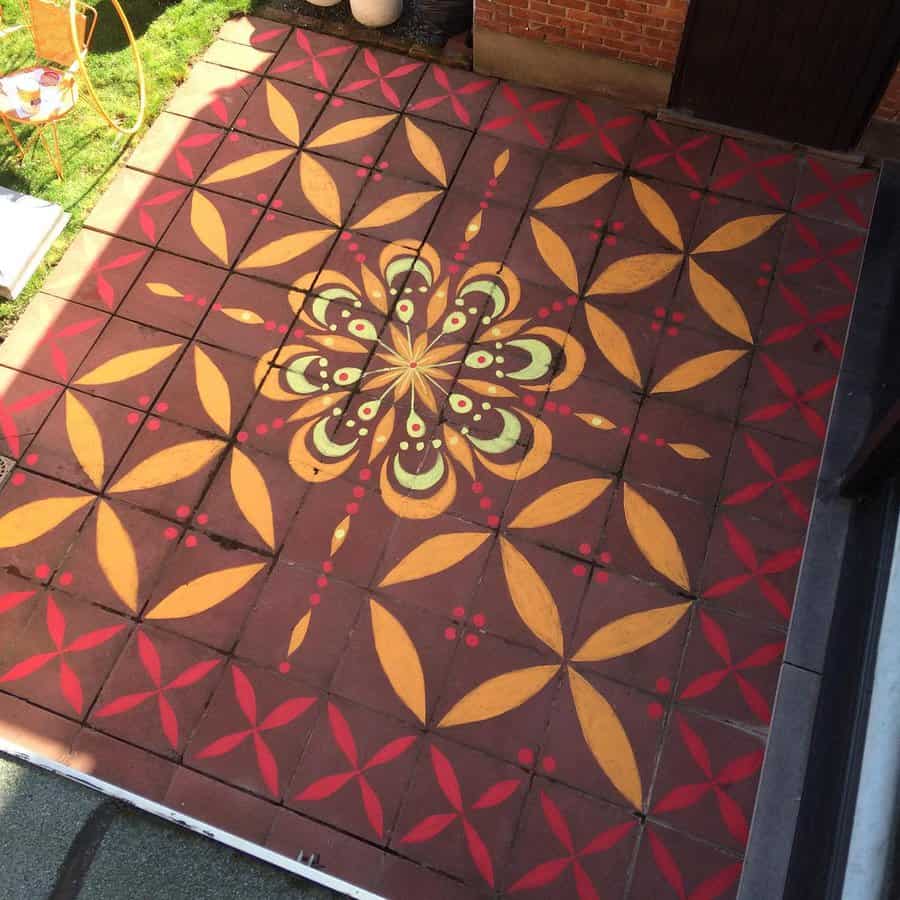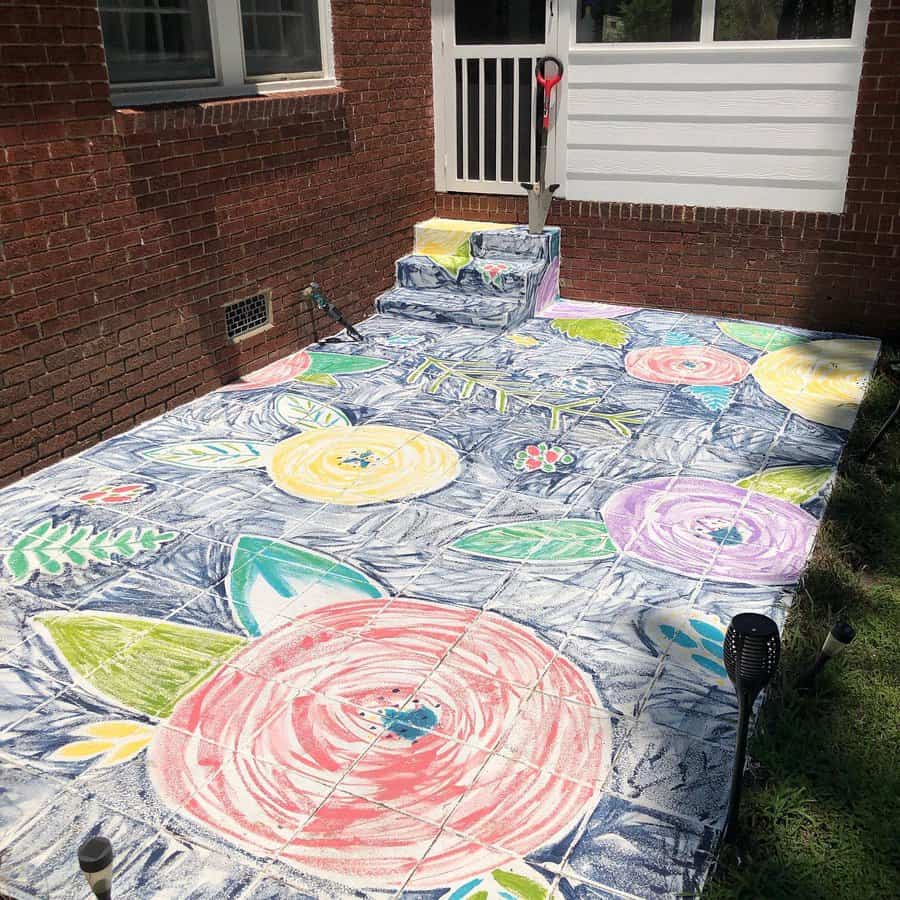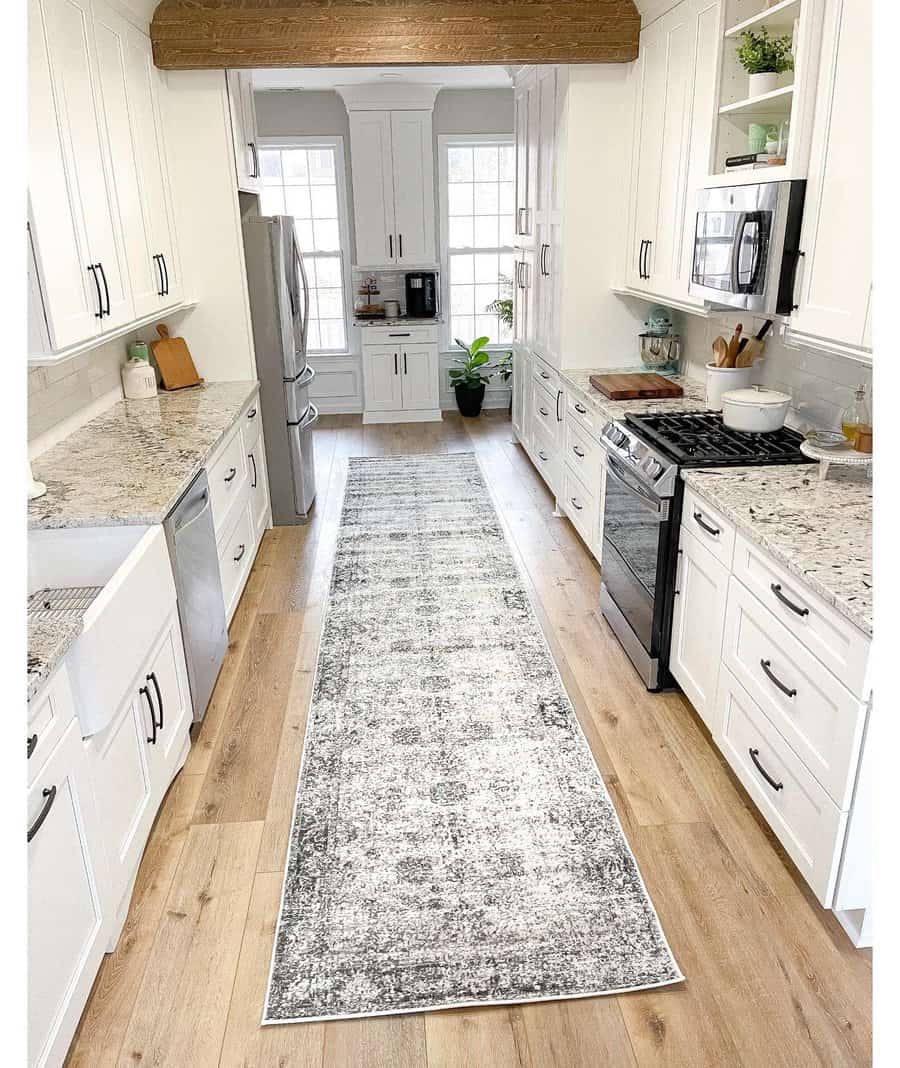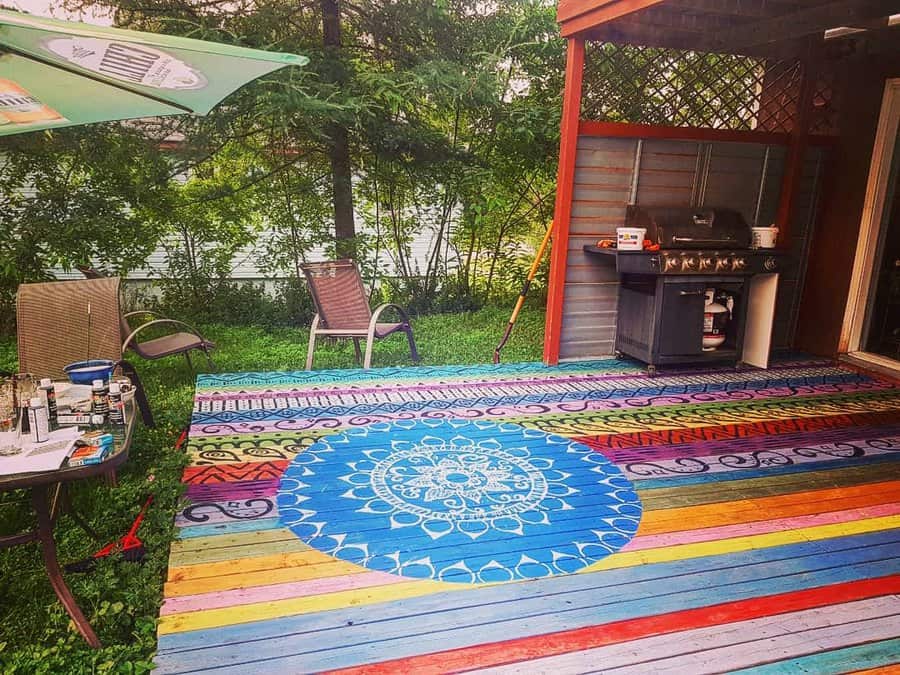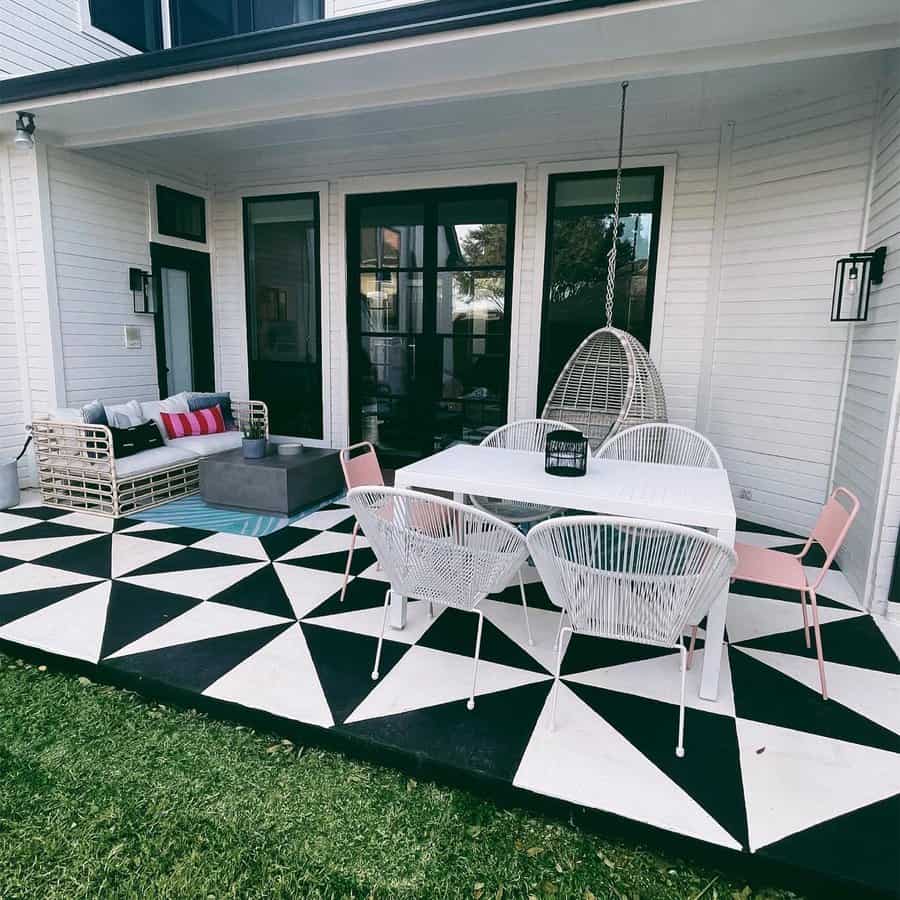 For the best results, clean your patio really well before you start painting. This will help your paint get the best adhesion and have a more polished finished product. If your patio is made of concrete and has a smooth finish, you may need to etch it first. You can do this with a chemical bath that will rough up the surface to help the paint stick better.
8. Raised
If your backyard is lower, then building a raised patio is the way to go. It elevates your patio and creates drainage underneath. Doing this turns an unusable patio into one that you can enjoy throughout the year, no matter the weather.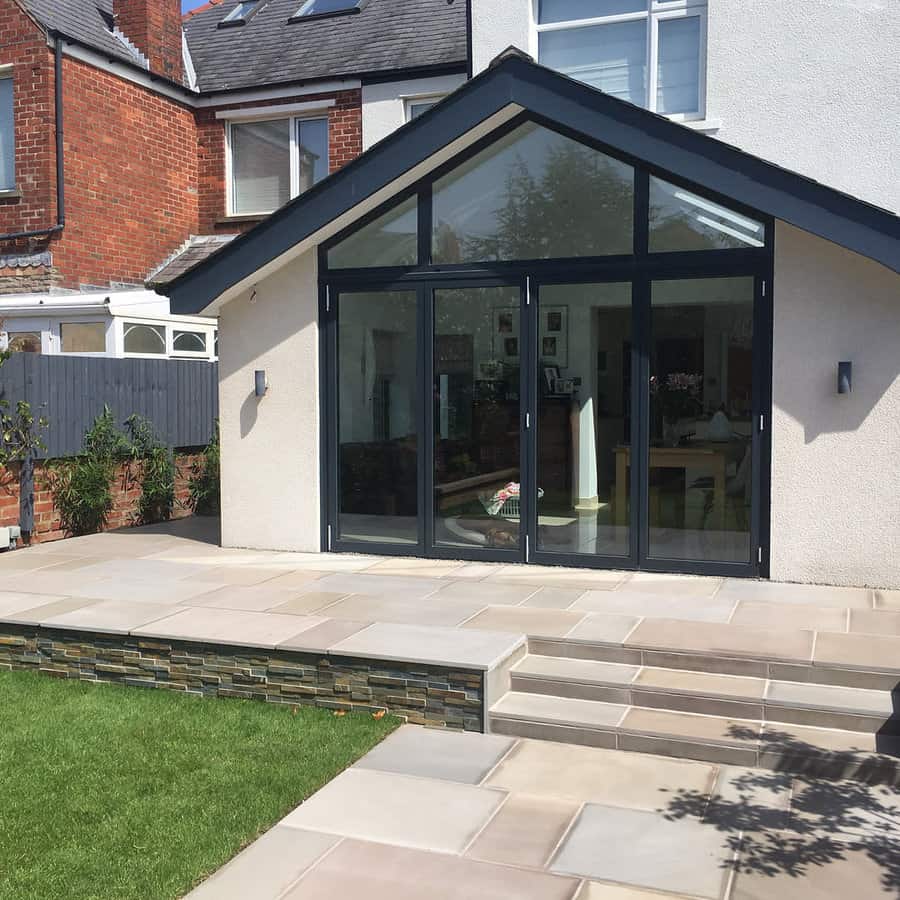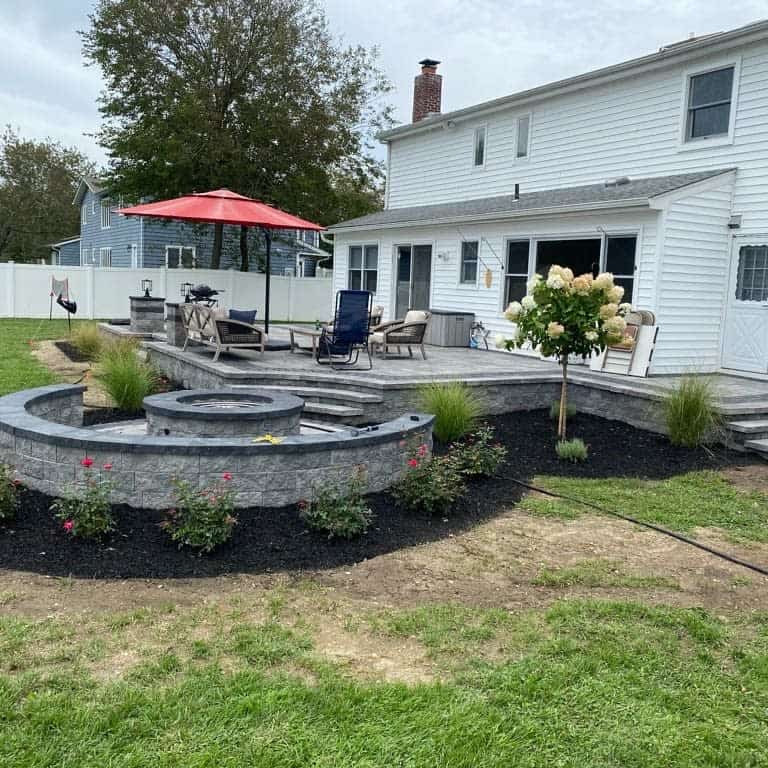 Build steps coming off the patio that takes you to ground level. You can walk down the steps and actress the rest of your backyard. Add lights to make the stairs safe to navigate at night. Flush mount lights are nice because they look modern and are low profile. If you have a railing, then under-mount lights could create a gentle wash of light over the steps below.
9. Small
If you have a small backyard, it can be tedious to bring your lawnmower back there to mow a small patch of grass. It almost feels like it's more work than it's worth. You could cover the entire area with pavers, brick, stone, or wood. But then your backyard lacks greenery, and this can make it feel sterile and increase the temperature. This is an unpleasant combination and will make it less likely that you spend time back there.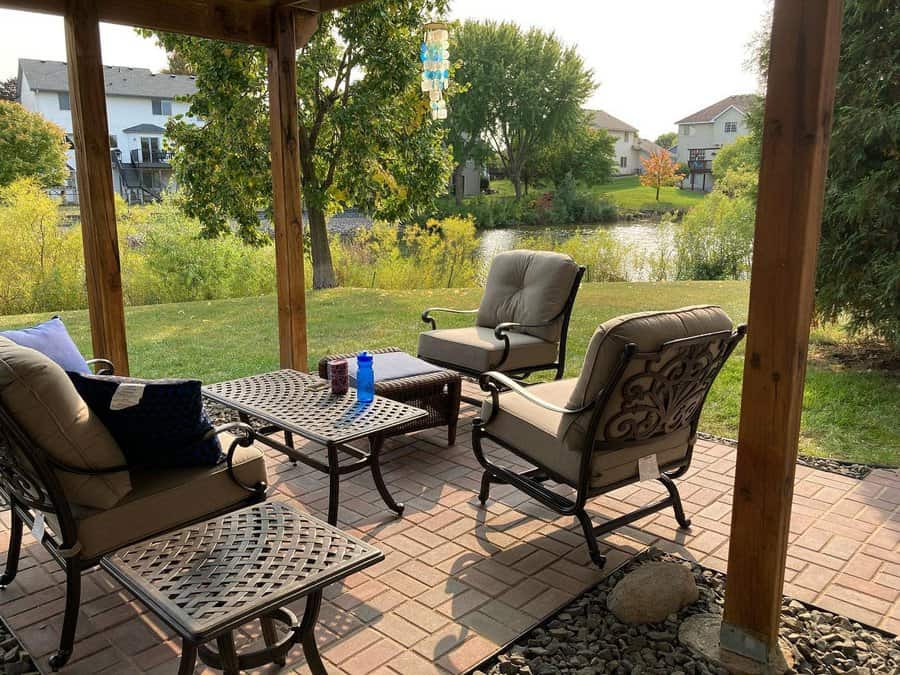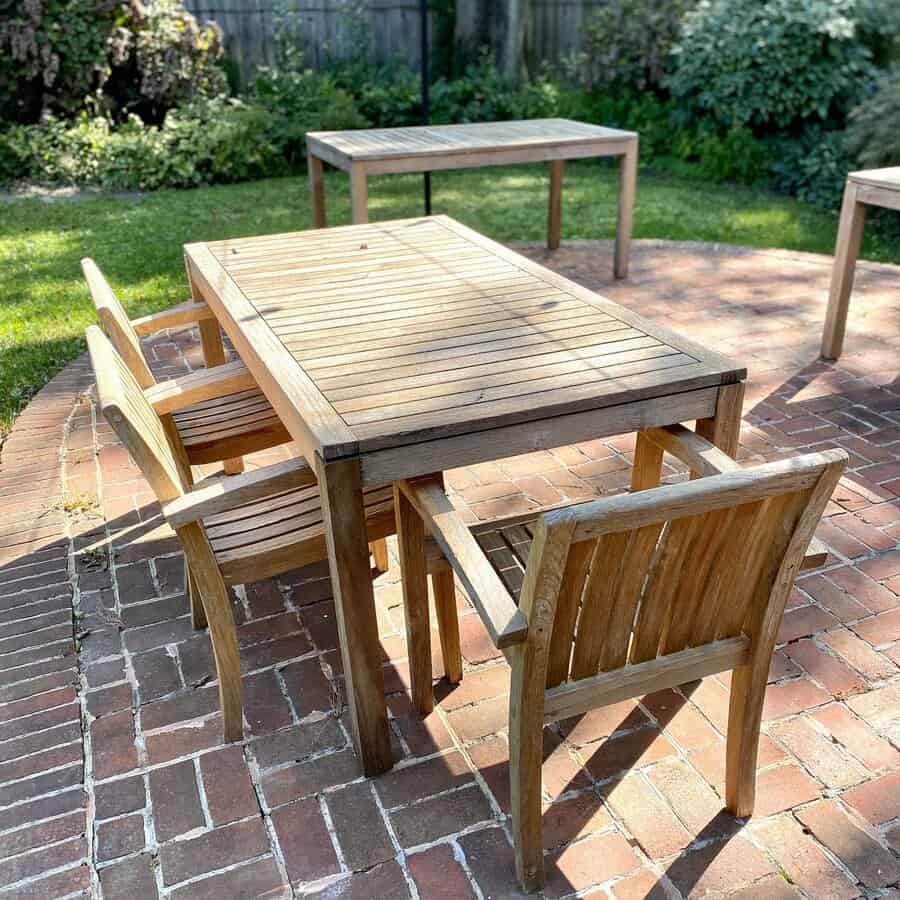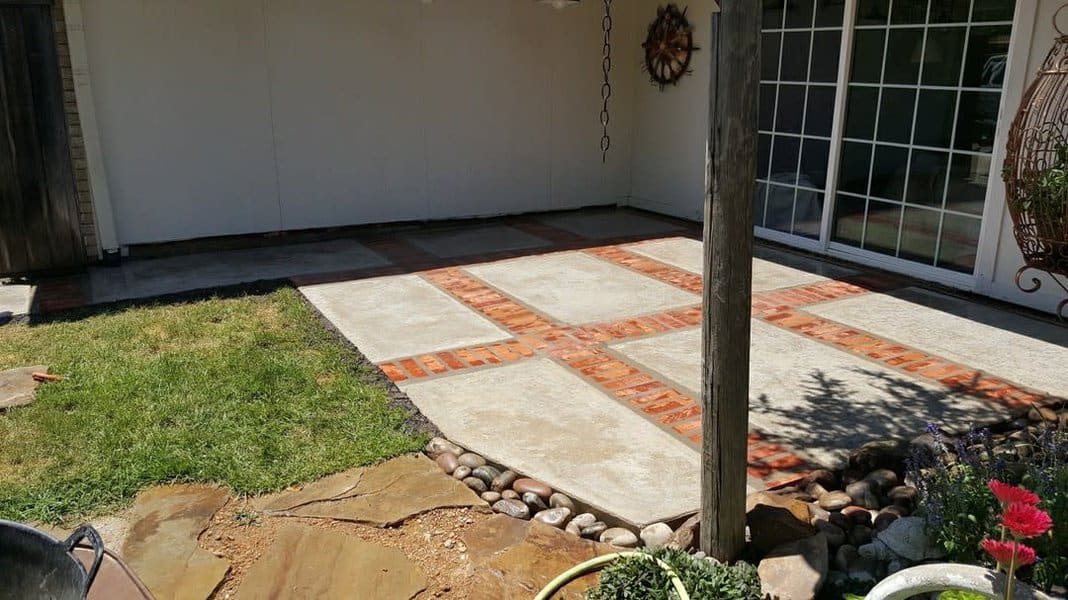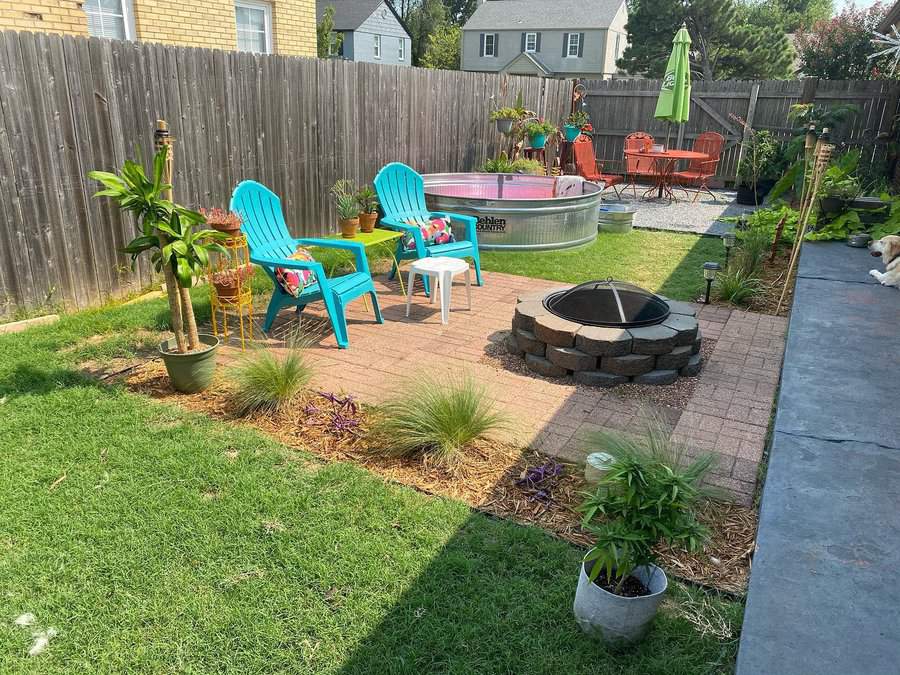 Instead, why not use artificial grass? You can still have your patio area, but cover a section of your small backyard with this artificial turf. The backyard retains some of its natural beauty, it helps to keep the area cooler, and you'll find it comfortable to walk, sit, or lay on. You can buy it in a large roll and spread it out yourself for an affordable DIY project.
10. Tiles
If you already have a poured concrete patio, then consider covering it with outdoor tile. A tile flooring like porcelain tile is colorful and durable, making it a long-lasting option for your backyard space. Choose a patio tile that isn't glazed or polished, as these become very slippery when wet. This creates a dangerous surface to walk on. Consider the size of the tile and the width of the grout, as this can also impact how much non-slip resistance there is.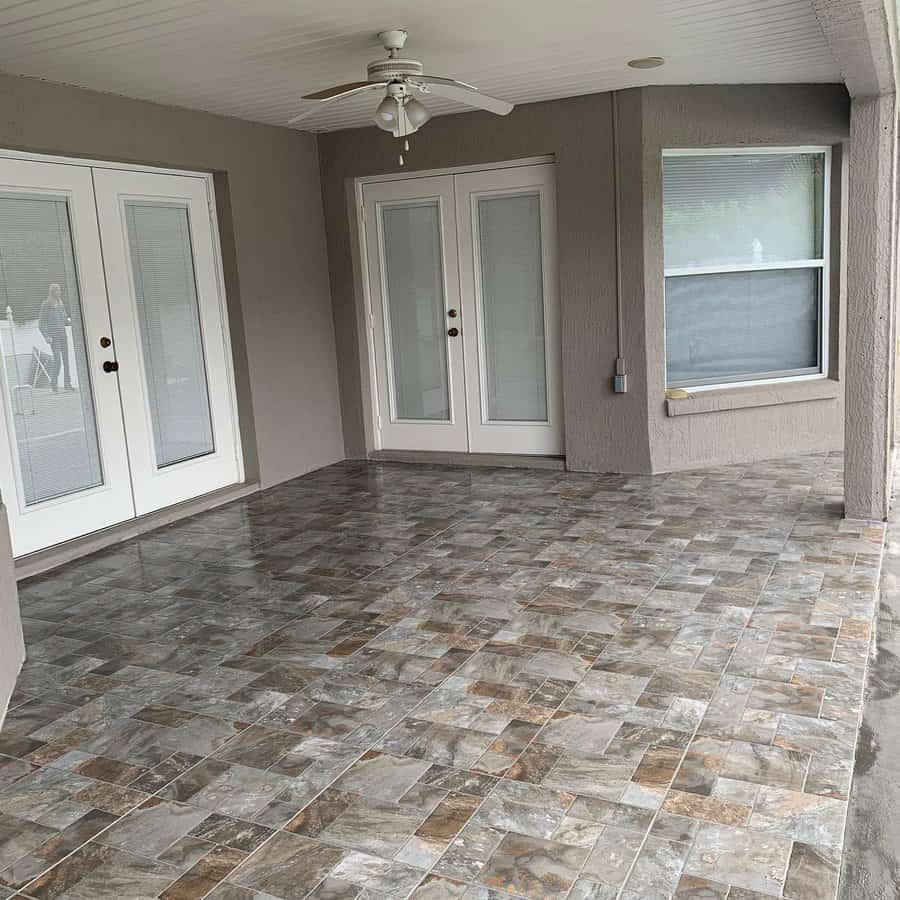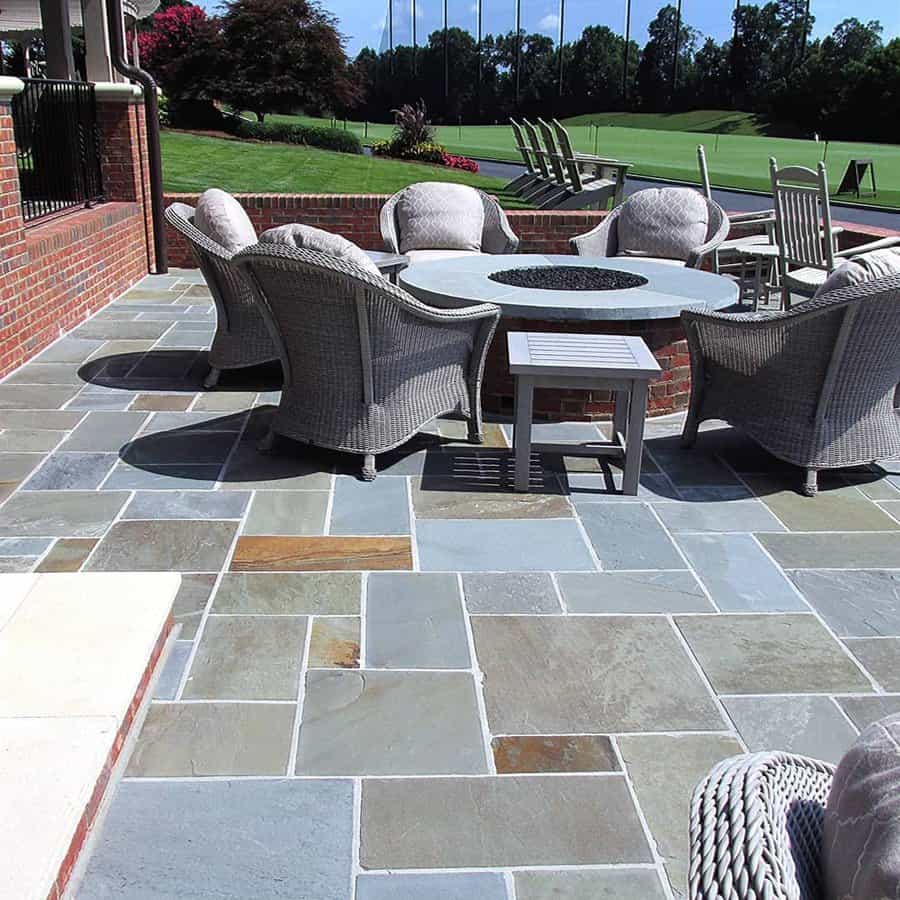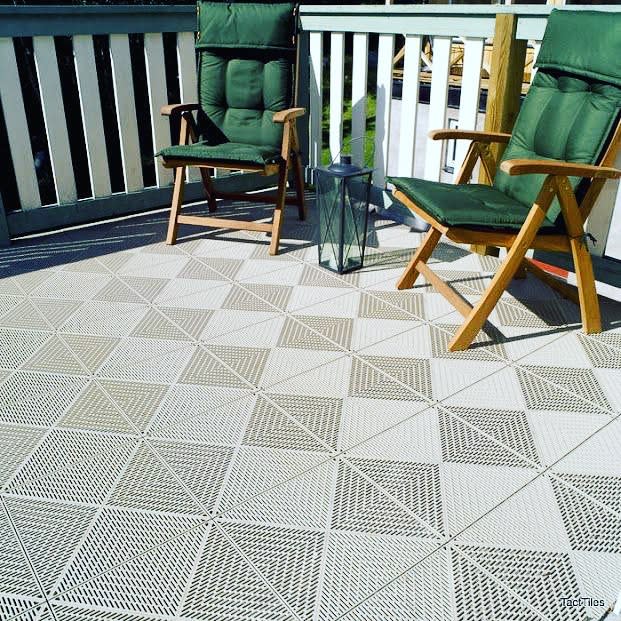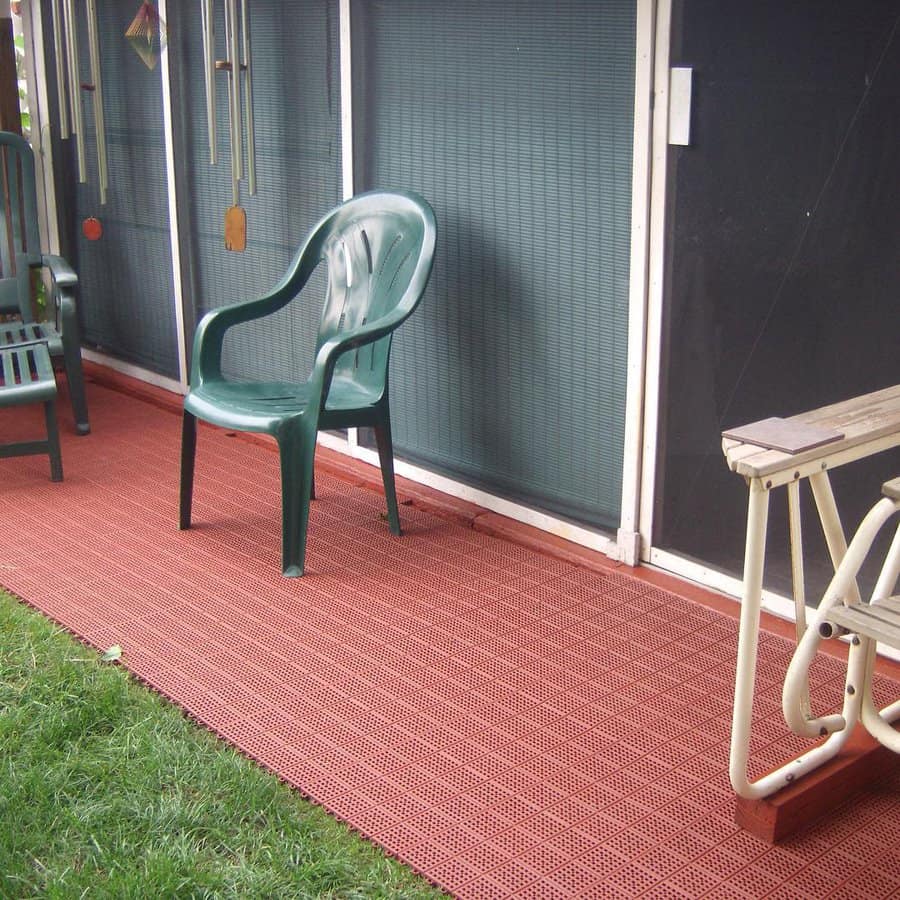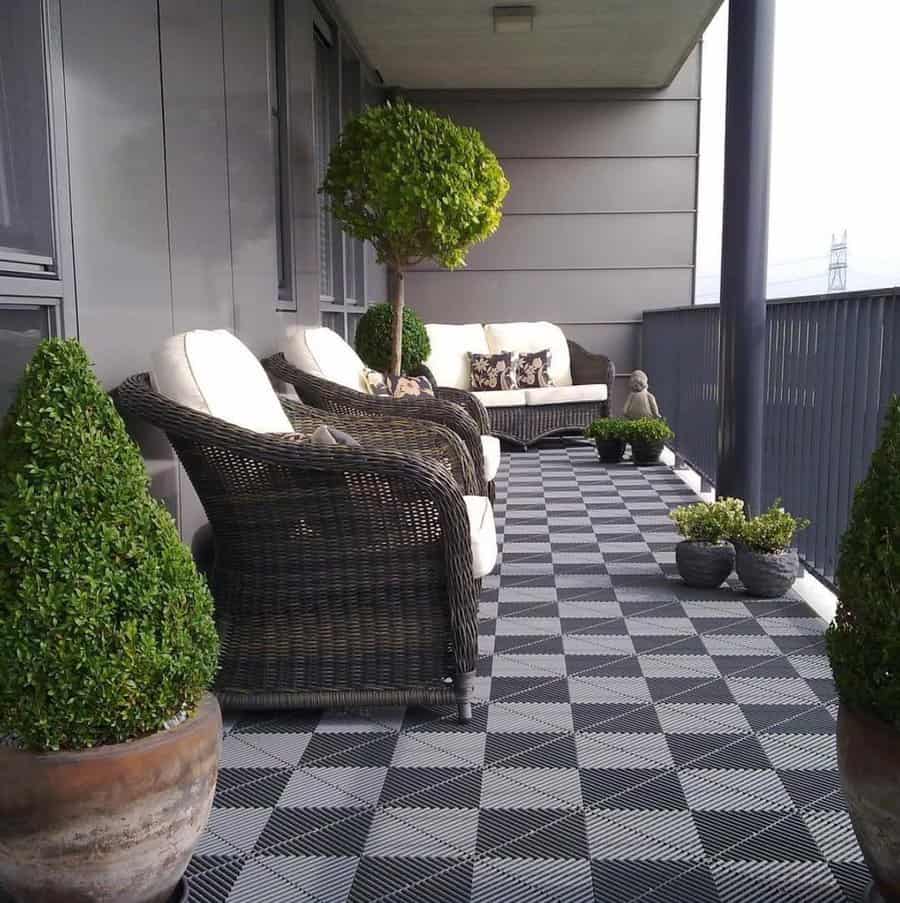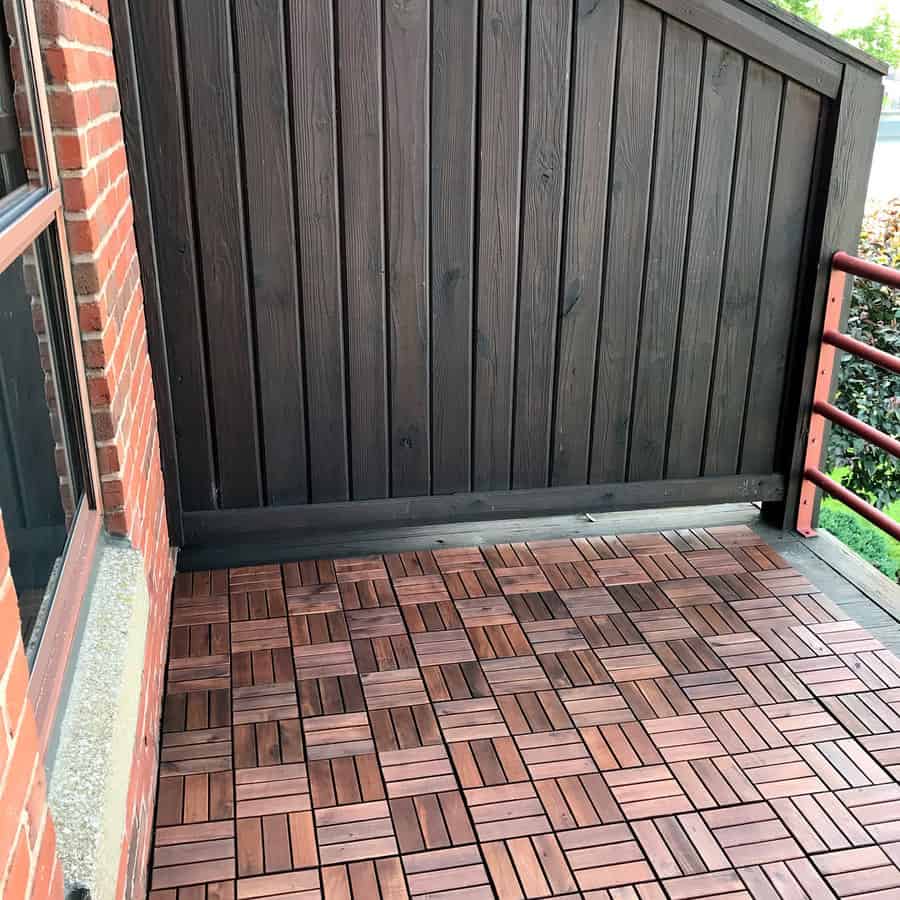 If permanent tiles aren't in your budget, a more affordable solution is to use interlocking deck tiles. They come in a variety of materials, including wood, carpet, plastic composite, and rubber flooring. The tiles you choose need to be meant for outdoor use. These tiles are designed to withstand changing temperatures, UV rays, rain, snow, and ice.
11. Wood
Covering your concrete patio with wood will give it a deck feel. The rich color and natural material will give your backyard living space a warm and welcoming feeling. You could use real wood flooring for a natural look to your decking. However, a modern and low-maintenance alternative is composite decking. It can have the look of a wood floor or be any color you want.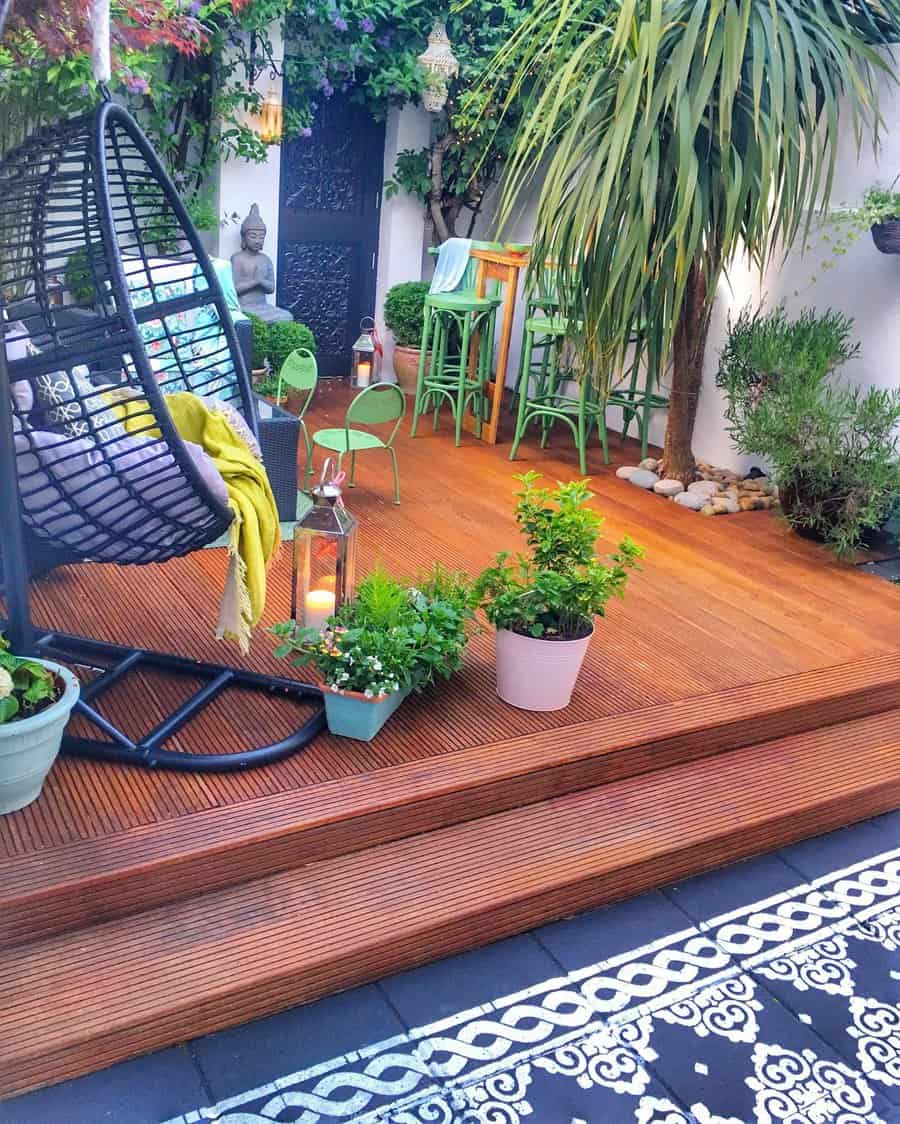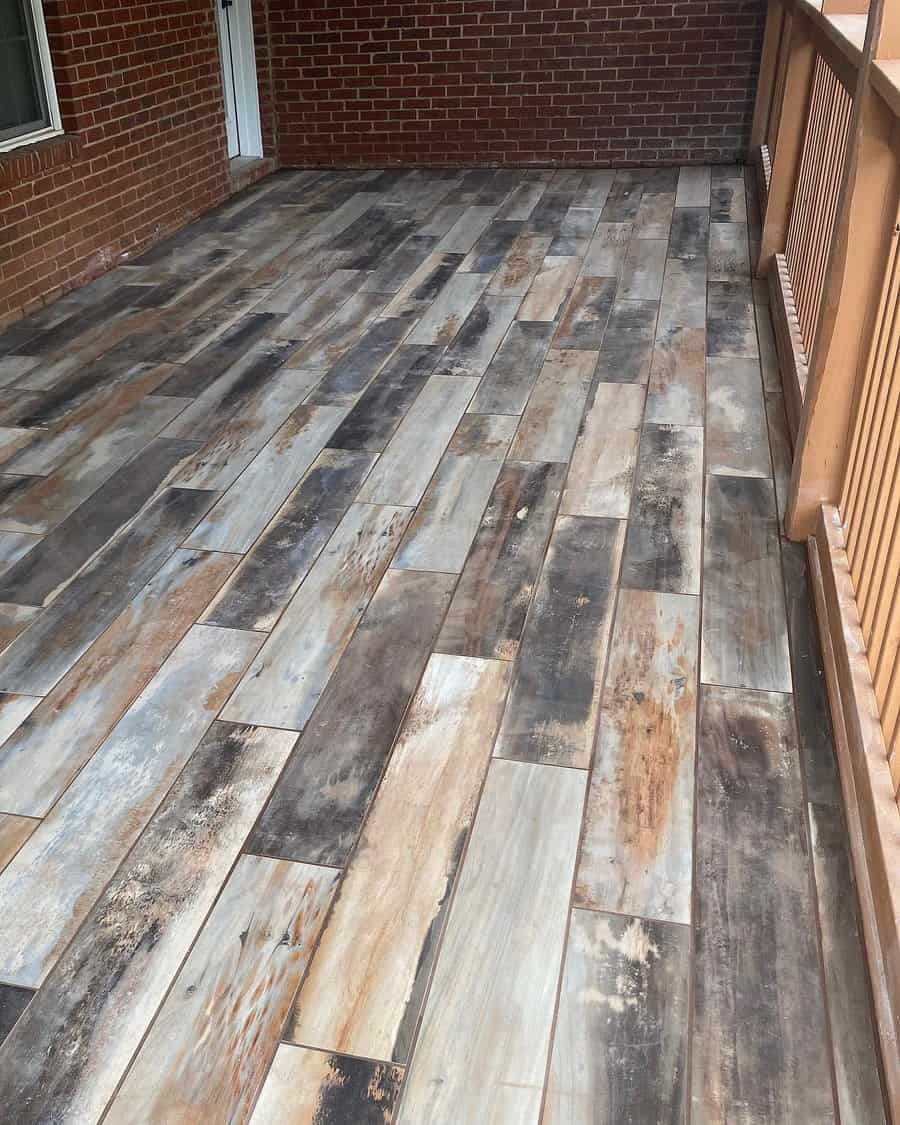 Composite materials are made from recycled plastics, which makes them eco-friendly and durable. However, be careful where and how you use it; some varieties can get incredibly hot when exposed to the sun for extended periods. You could lay down a large outdoor rug to cover the majority of the decking and give your backyard a more living room feel.
Patio Floor FAQs
What is the cheapest material to use for a patio?
The cheapest material you can use for your patio is concrete. It's simple and relatively fast to install. Once cured, it's durable against the harsh weather and whatever activities you plan to do on your patio.
What do you put down on a patio floor?
While many people leave their concrete patio bare, this isn't very welcoming or interesting. You could build a wood platform over the concrete and turn your patio into a deck look. Or you can lay a large area rug or place carpet squares over the concrete for a living room feel. Interlocking tiles can give you a safe, non-slip surface that's perfect for increased safety.
Can I use laminate flooring outside?
It is not smart to use laminate flooring to cover your patio. Laminate is not intended for outdoor use. While some "weather resistant" laminates are on the market, they aren't as durable as other materials and are typically meant for use in outdoor yet protected areas. When exposed to excess moisture, laminate tends to warp and separate.