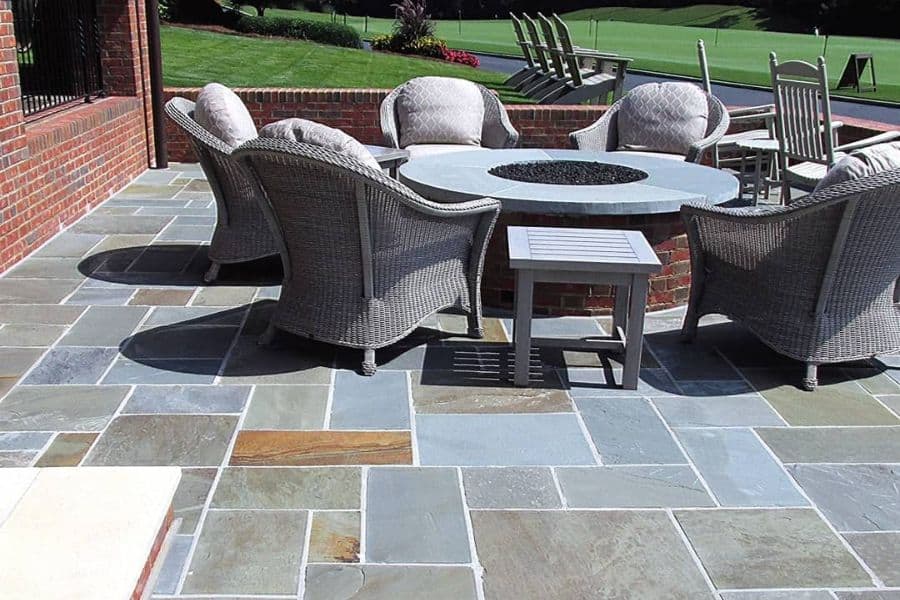 The Top 44 Patio Floor Ideas
"Spending time outdoors makes you feel great." – Elizabeth Hurley
What does your backyard look like? If you have a dull and bland-looking outdoor patio, then you are overdue for a glow-up. The best way to approach it is from the floor up. Once you have your patio flooring handled, you can decide how you want to use the space. Start by comparing different patio design ideas to find the one that will look best on your patio. Perhaps your patio could benefit from tiles, wood flooring, or a fresh coat of paint. Consider the look and feel of your home's exterior architecture and what will complement it best.
Which one of these patio floor ideas will improve the floor of your patio?
1. Brick Patio Flooring
Brick patio flooring is a choice that's hard to beat when it comes to creating a warm and inviting outdoor living space. With its inherent natural beauty, durability, and versatility, brick is a go-to material for those looking to add some character and charm to their backyard.
From traditional herringbone patterns to more modern and creative designs, brick flooring can be laid in a variety of ways to achieve the look you desire. Whether you're entertaining guests or just want a relaxing space to read a book, a brick patio floor can provide a foundation for your outdoor oasis that will last for years to come.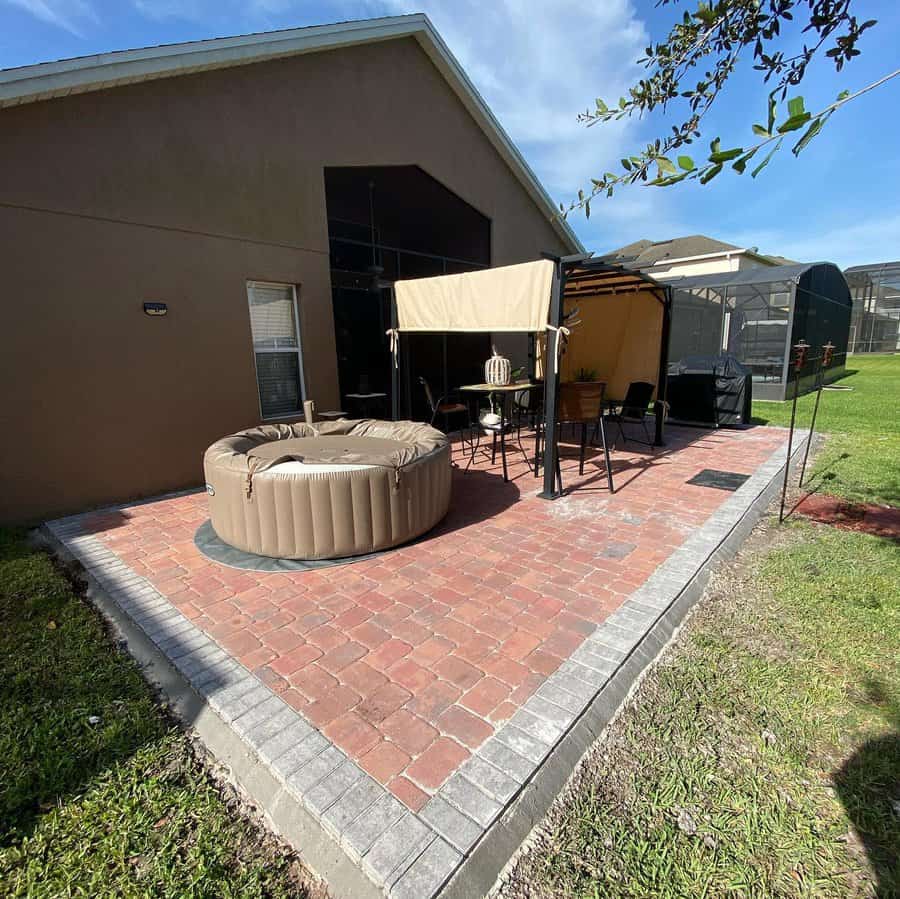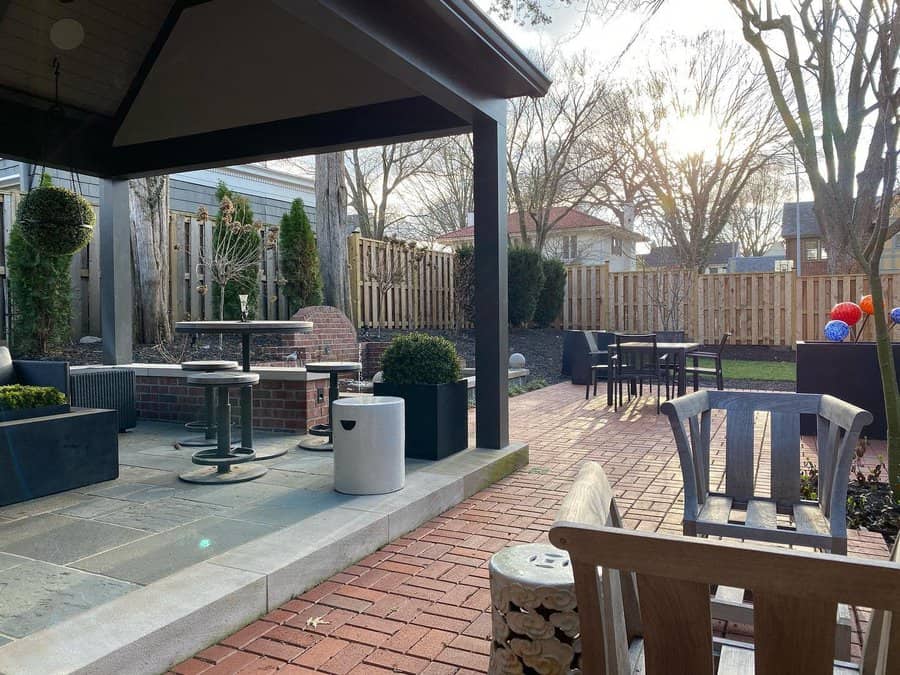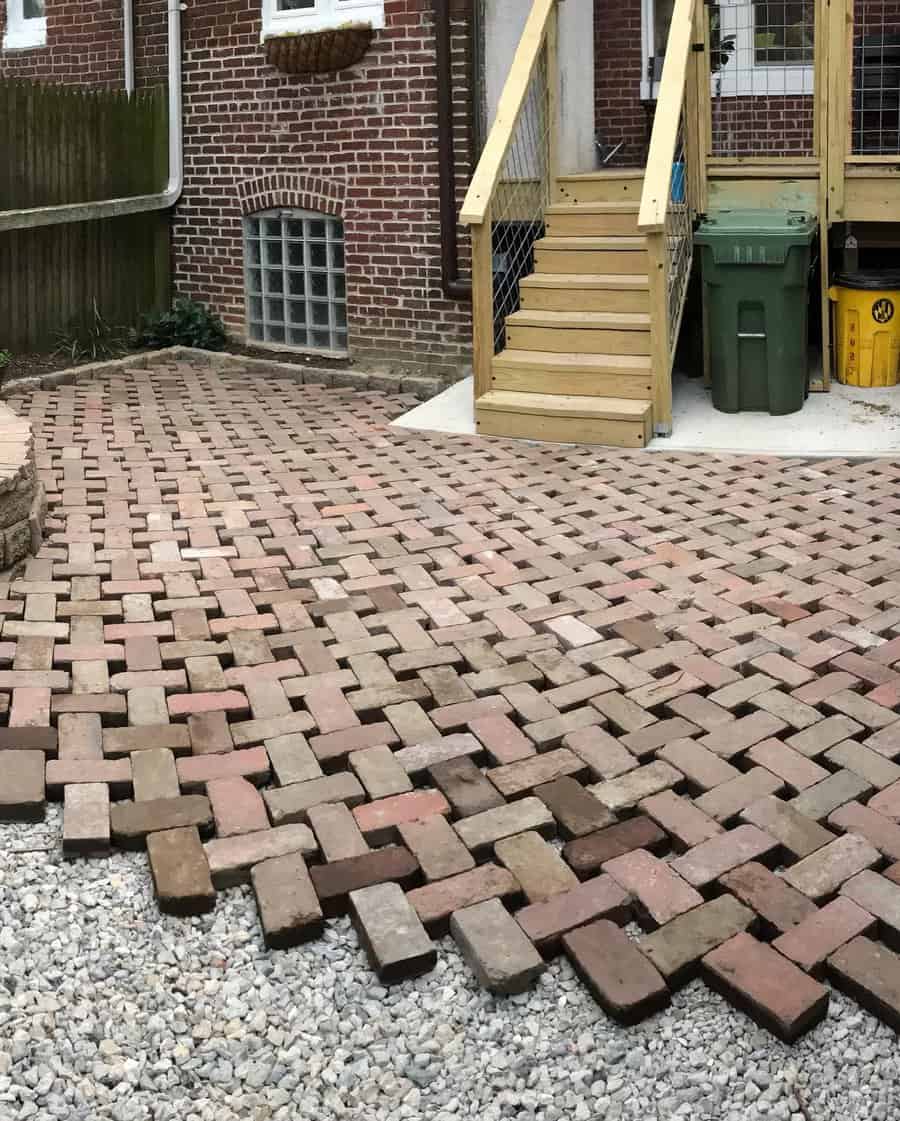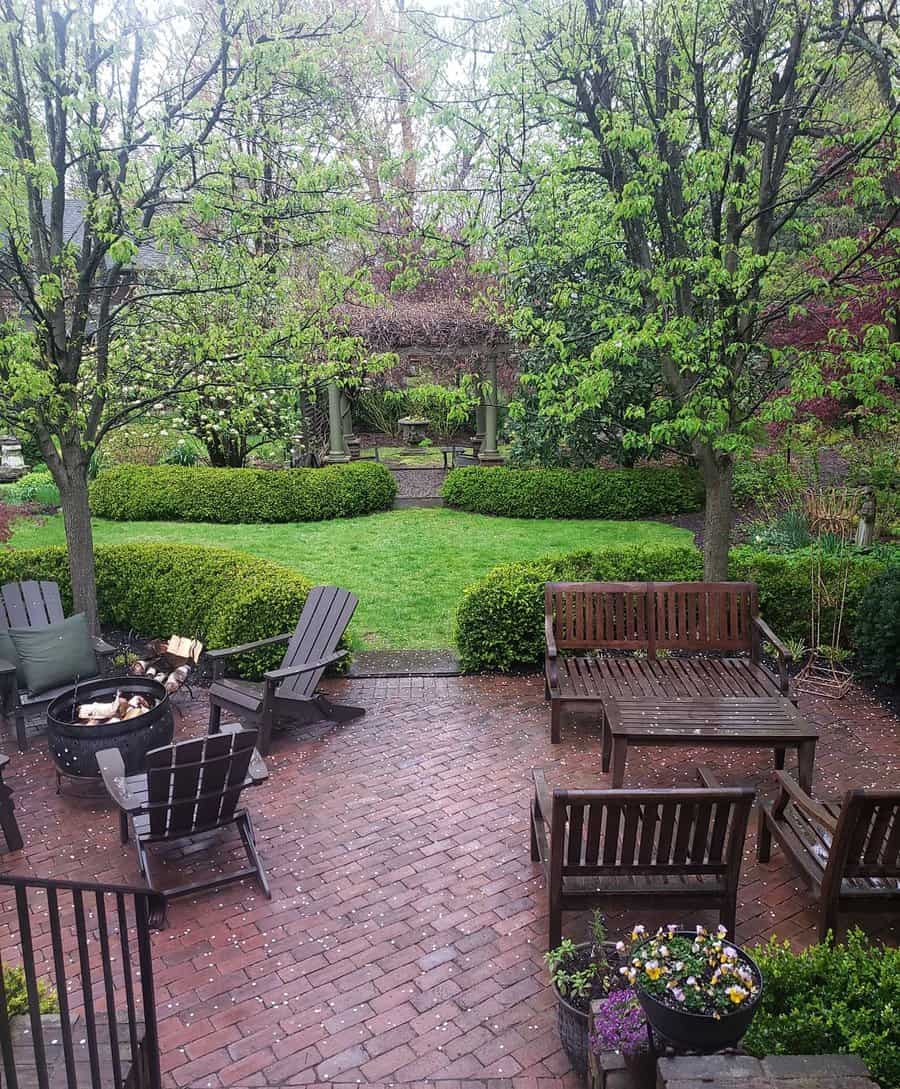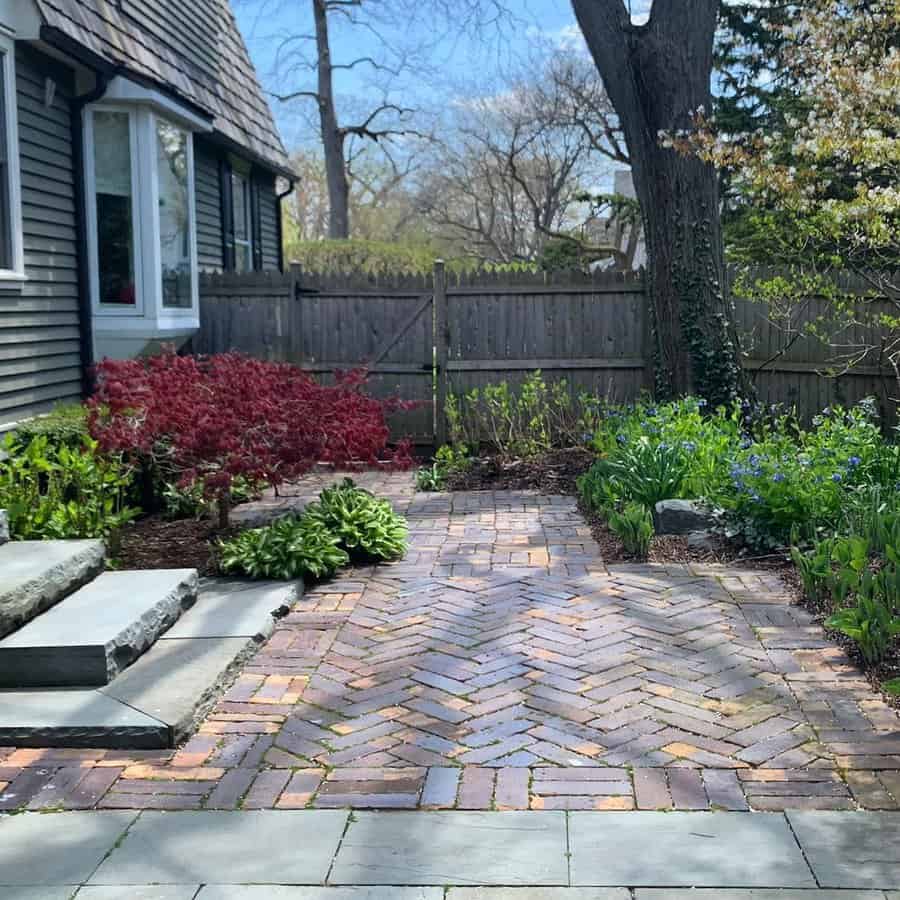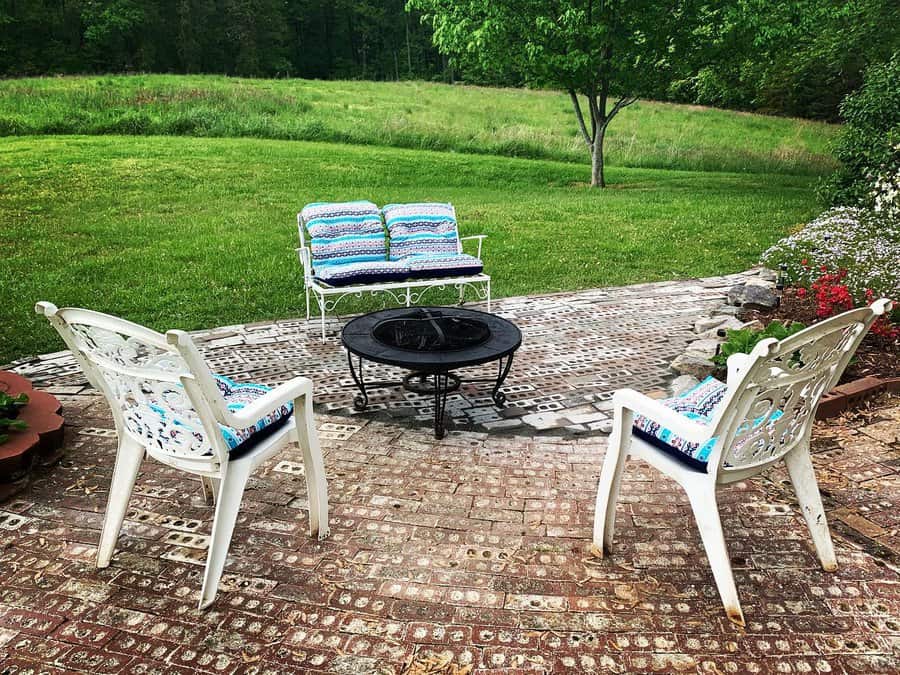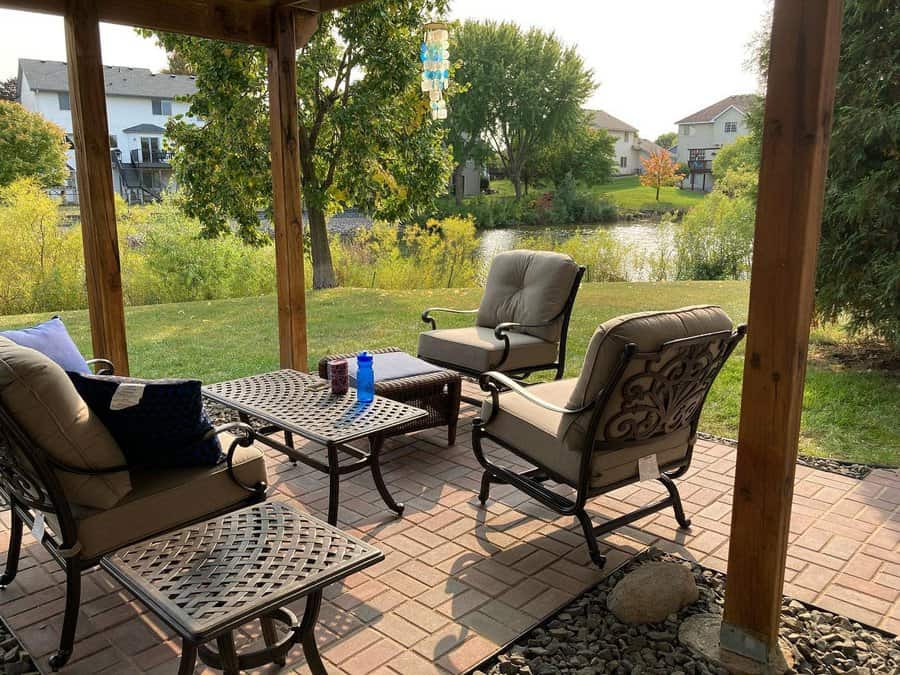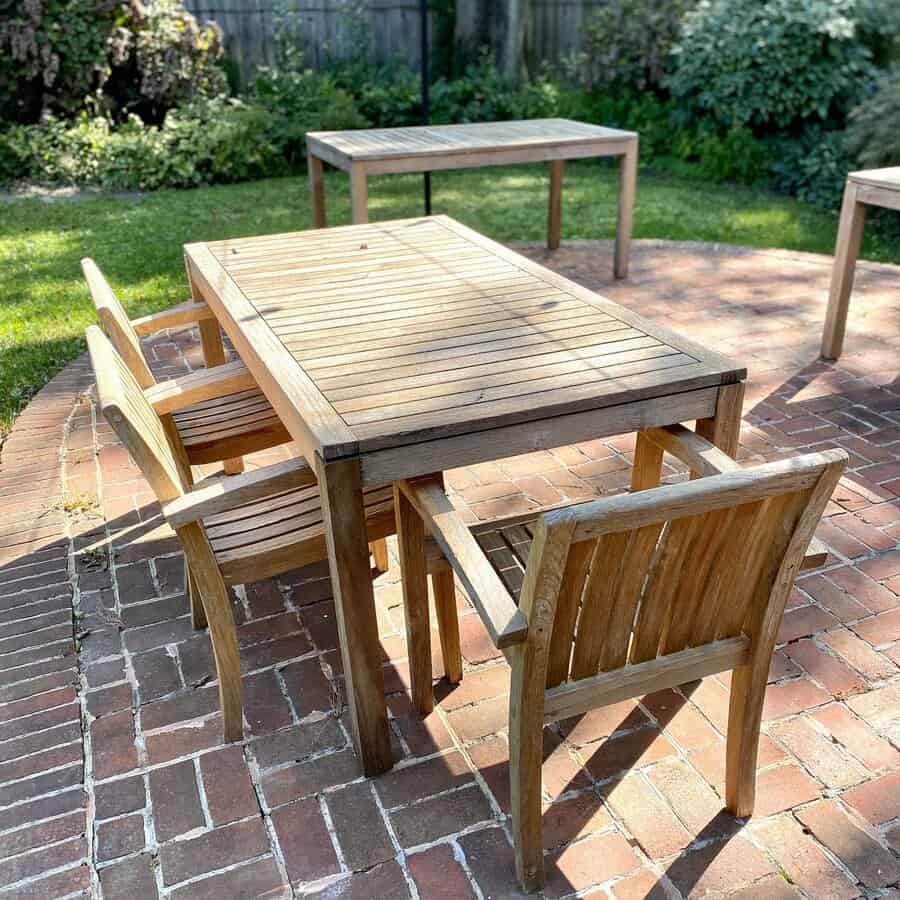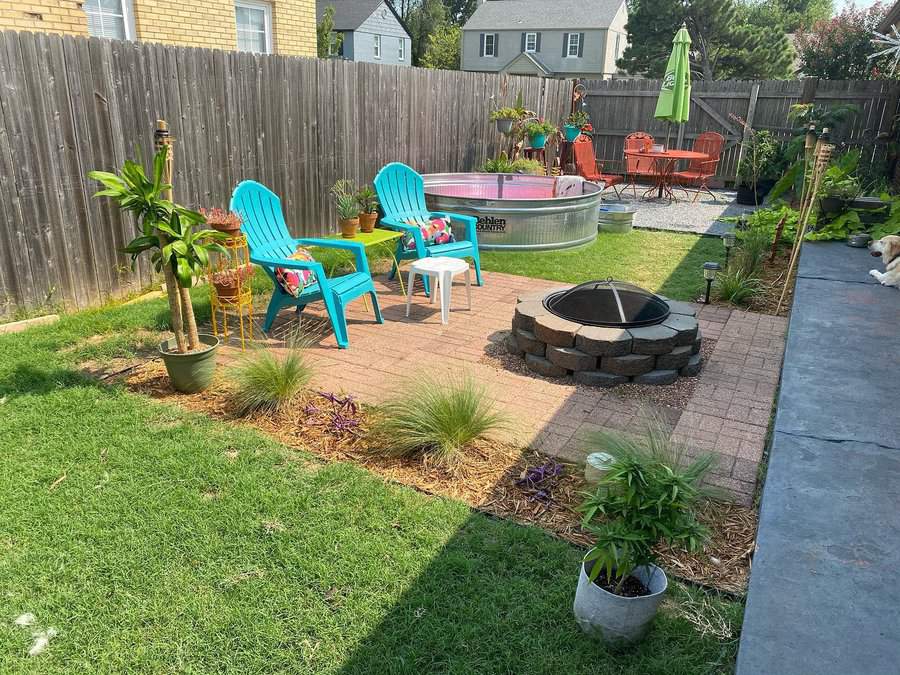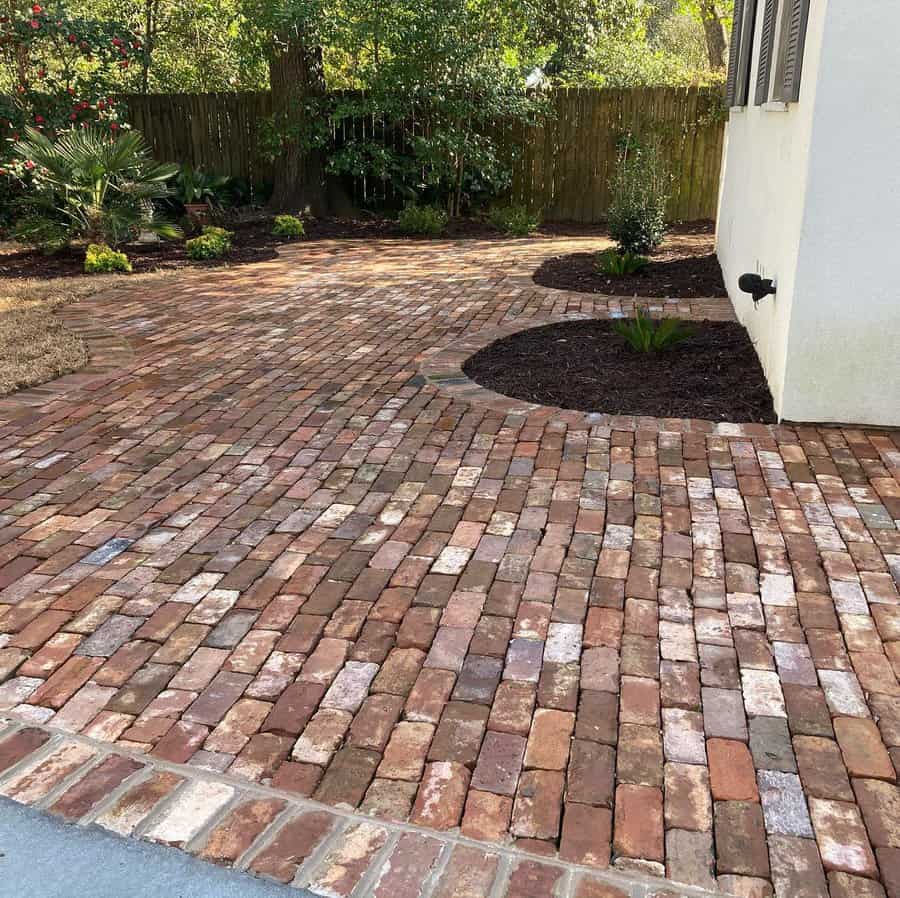 2. Paver Patio Flooring
When it comes to creating a beautiful outdoor space, few things are as important as the flooring you choose. Paver patio flooring is an excellent modern option that not only looks great but is also durable and long-lasting.
Whether you're hosting a summer barbeque or just want a relaxing place to enjoy a book or a glass of wine, a paver patio is the perfect addition to any backyard. Plus, pavers are easy to maintain and can withstand even the toughest weather conditions, so you can enjoy your beautiful new patio for years to come.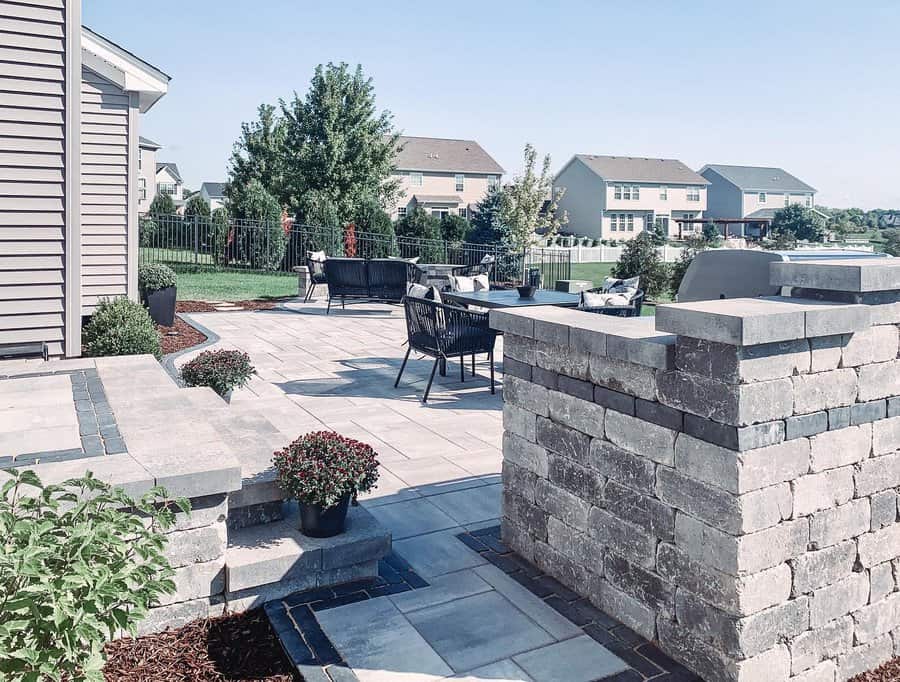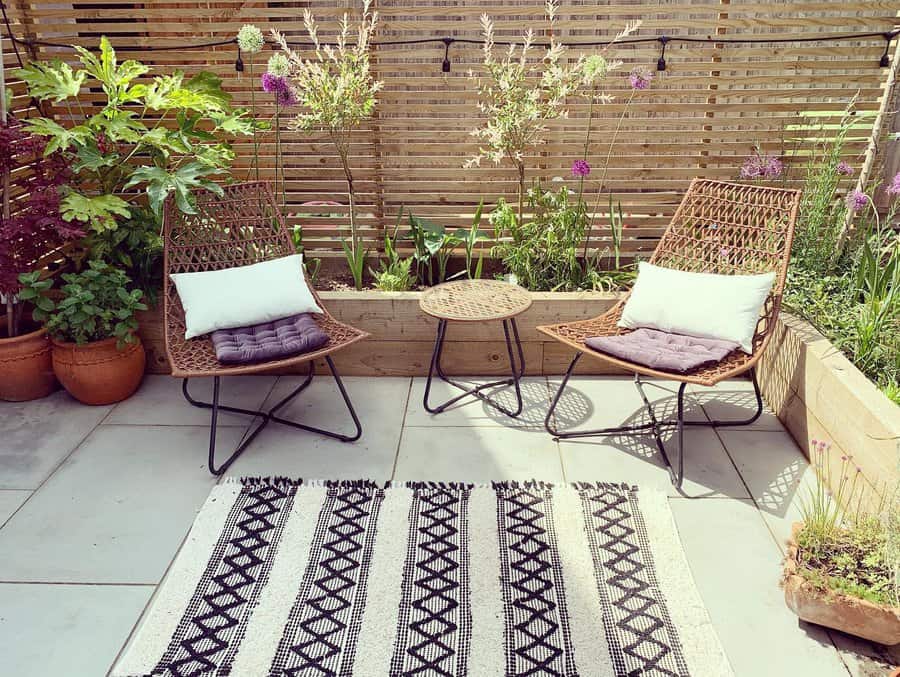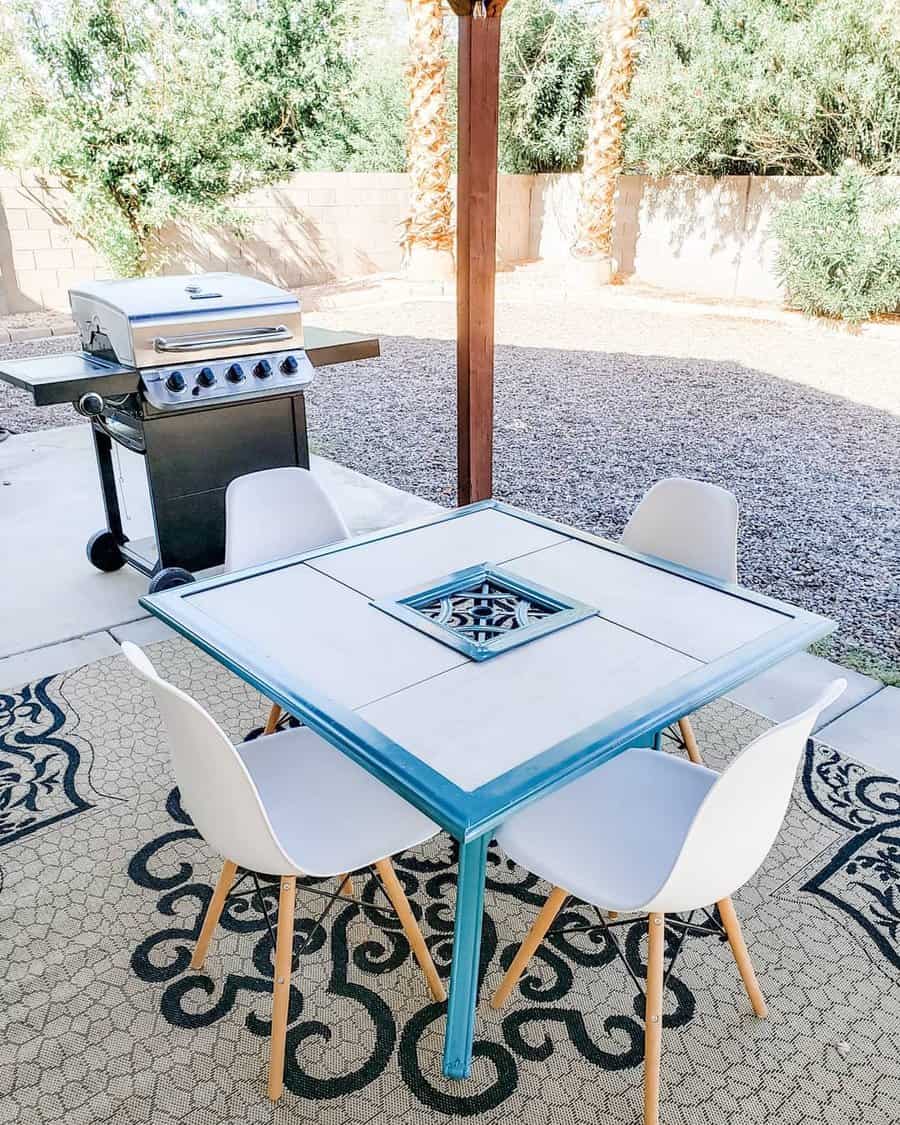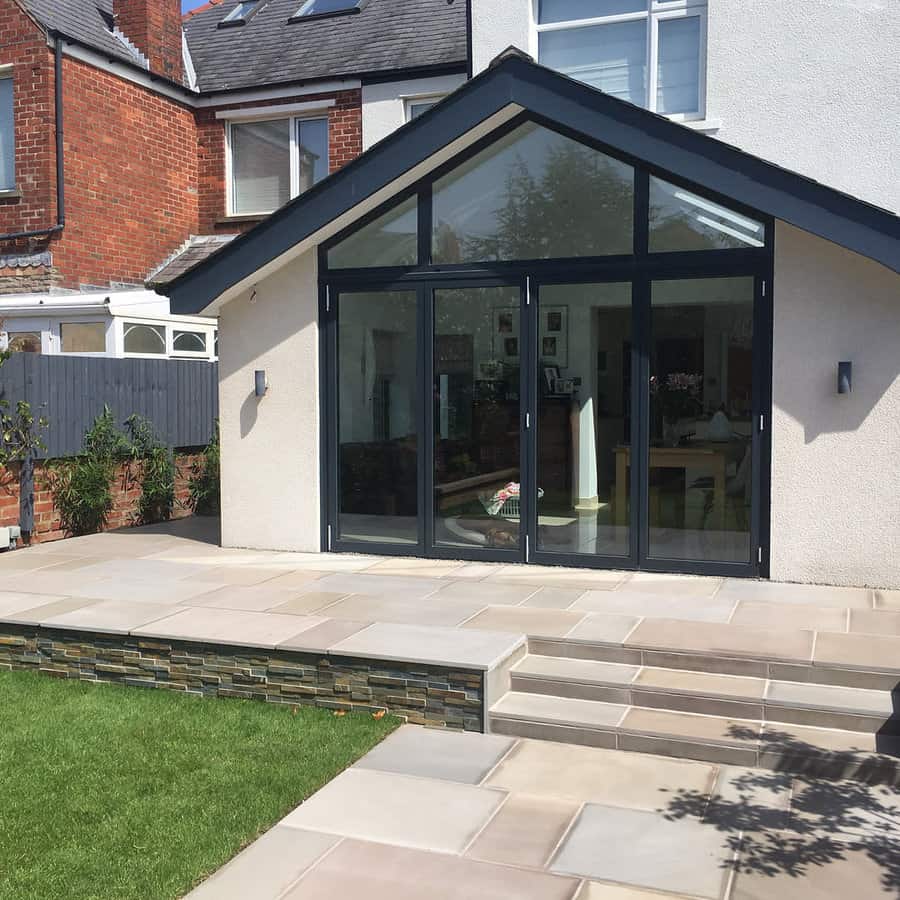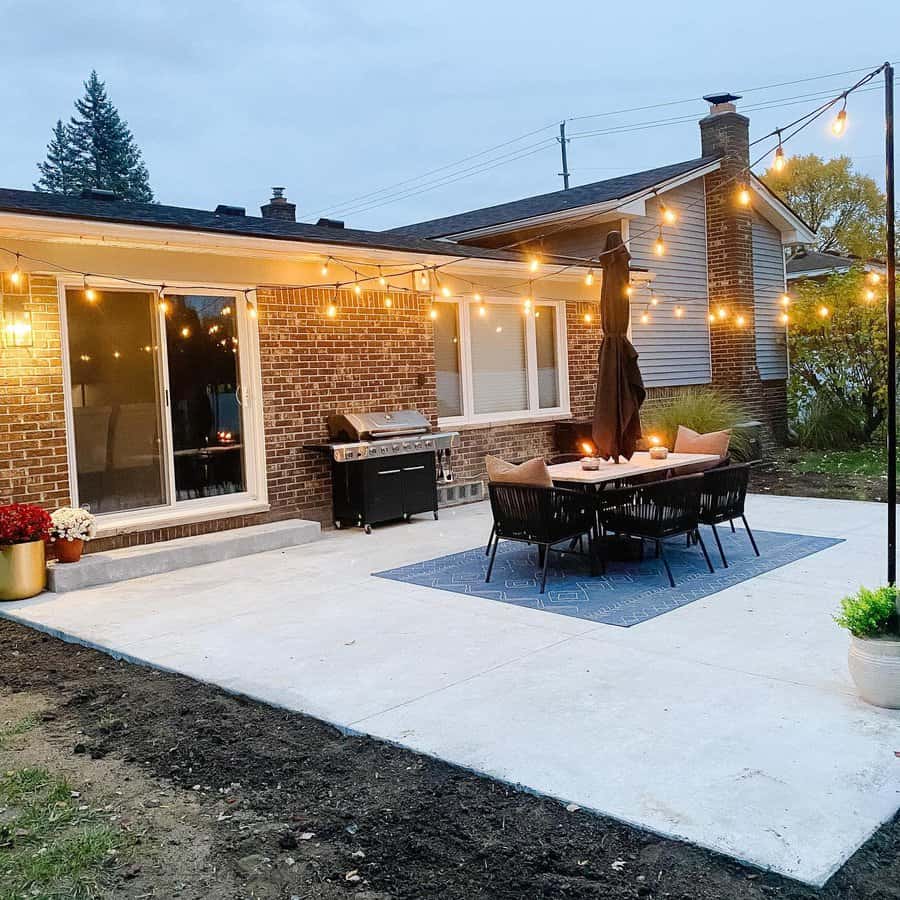 3. Rug-Covered Patio
Imagine stepping onto your rug-covered patio, the soft fibers of the rug sinking beneath your feet. The warm sun beats down on your skin as you overlook the lush greenery that surrounds you. The vibrant colors and intricate patterns of the rug draw your eye and add an unexpected flair to the otherwise natural landscape.
You sink into a comfortable patio chair and let out a deep breath, feeling instantly relaxed in this cozy outdoor oasis. Whether you're enjoying a summer morning coffee or an evening cocktail with friends, this rug-covered patio is the perfect place to kick back and savor the beauty of the great outdoors.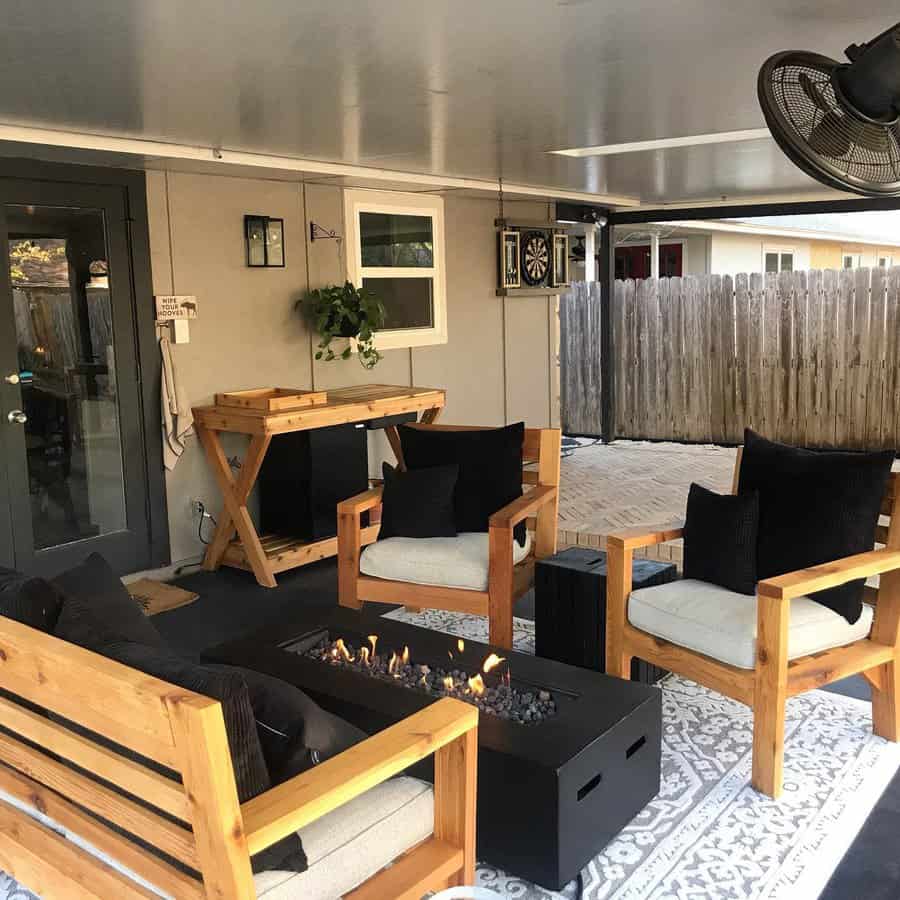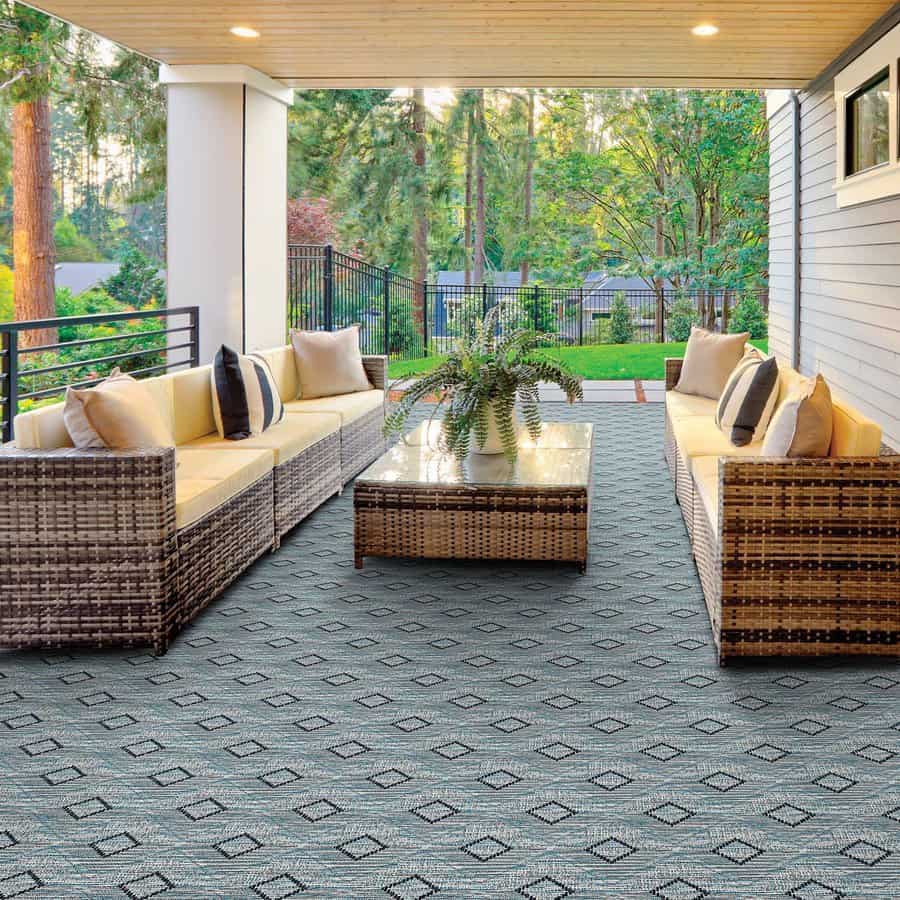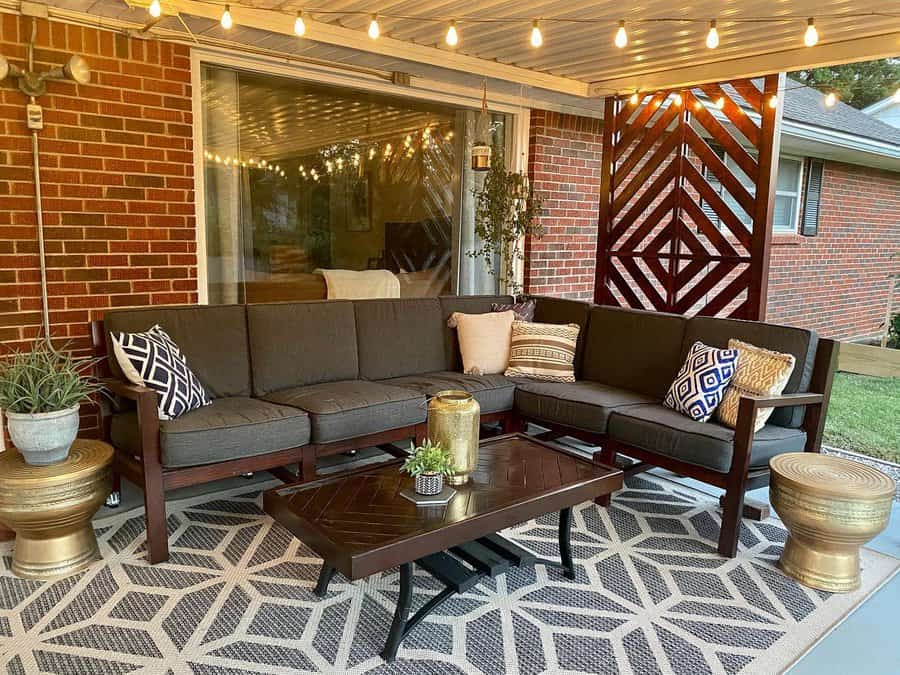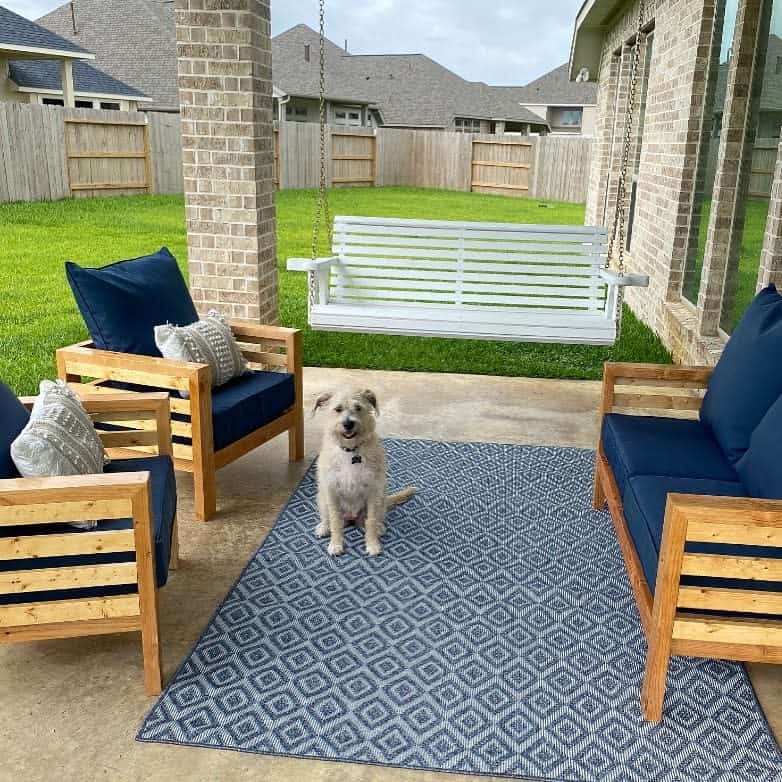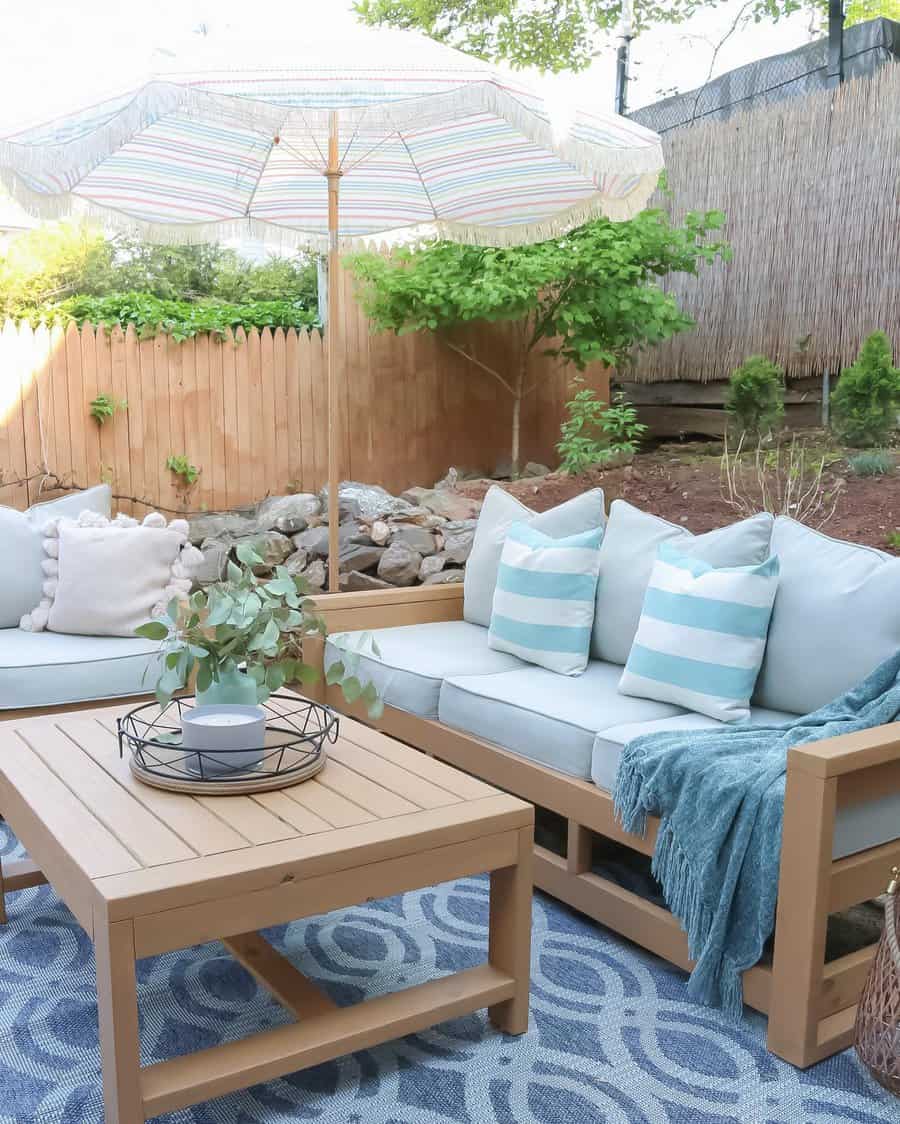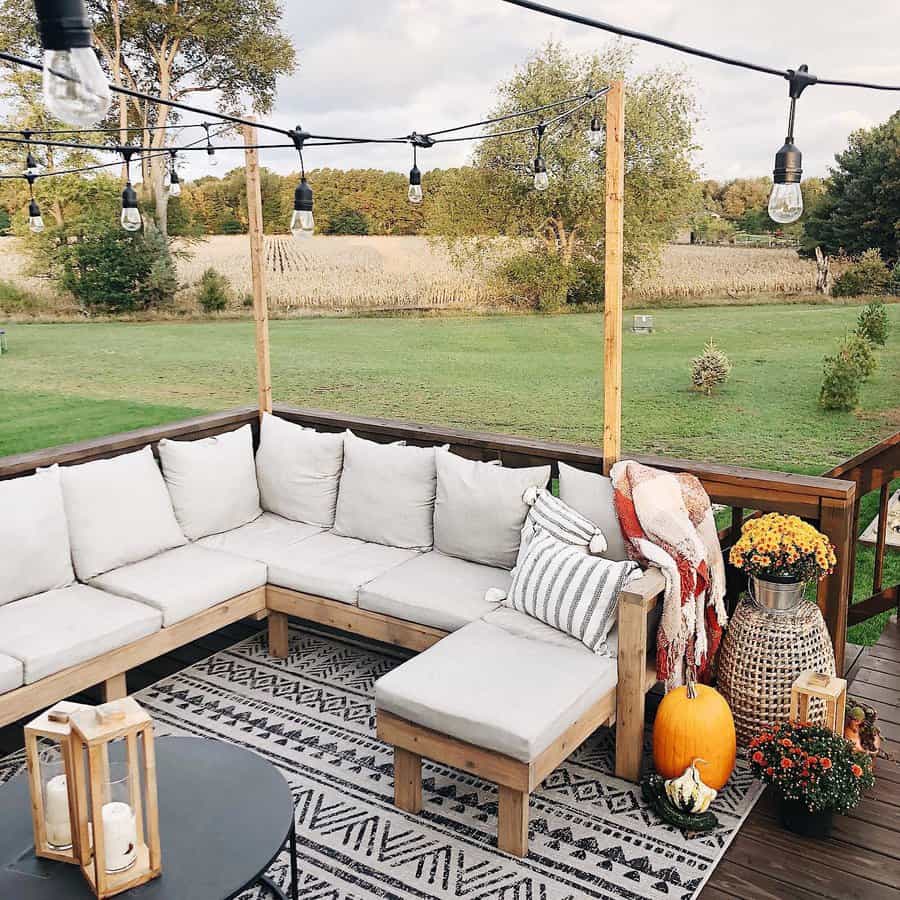 4. Concrete Patio Flooring
Concrete patio flooring is a versatile and durable option for outdoor spaces. With so many different design options, concrete patios can be customized to match any style or aesthetic. From intricately stamped designs to clean and modern finishes, the possibilities are endless.
Additionally, concrete patios are long-lasting and require minimal maintenance, making them a practical and cost-effective choice. Whether you're looking to revamp your backyard or create a new outdoor gathering space, a concrete patio floor is a great option to consider.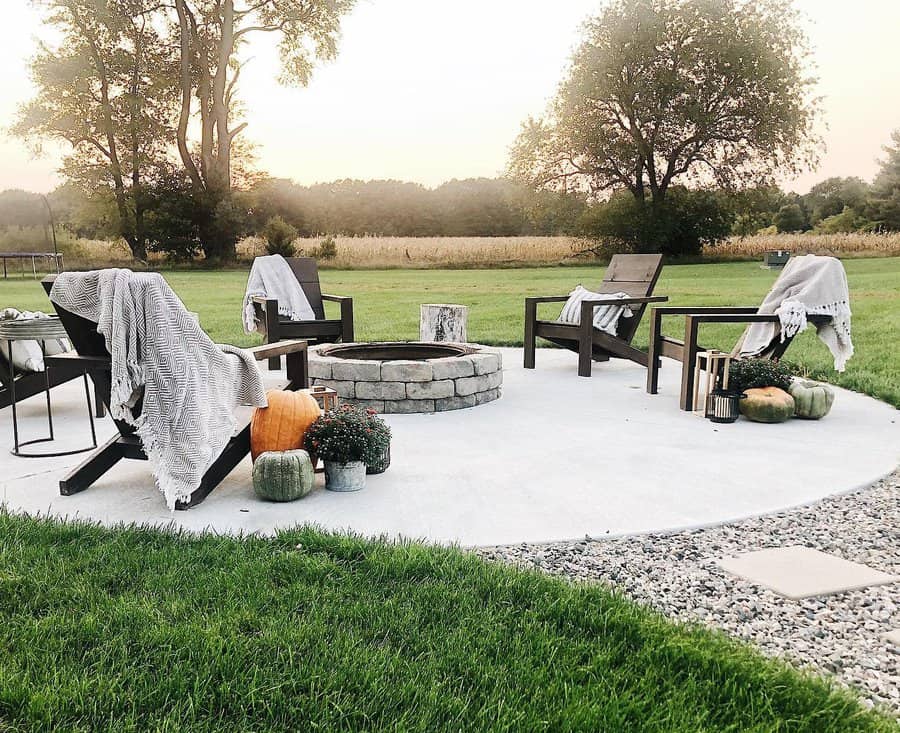 5. Composite Patio Flooring
Unlike traditional wood flooring which is susceptible to weather damage and requires frequent maintenance, composite flooring is made from a combination of bricks, flagstones, and concrete, making it resistant to water and mold. With a variety of patterns and designs available, it's easy to find the perfect match for your outdoor aesthetic.
Plus, composite flooring is easy to install, minimizing the fuss of construction and the time between planning and enjoying your new patio. So sit back, relax, and let your new composite patio flooring do the heavy lifting of creating a beautiful outdoor space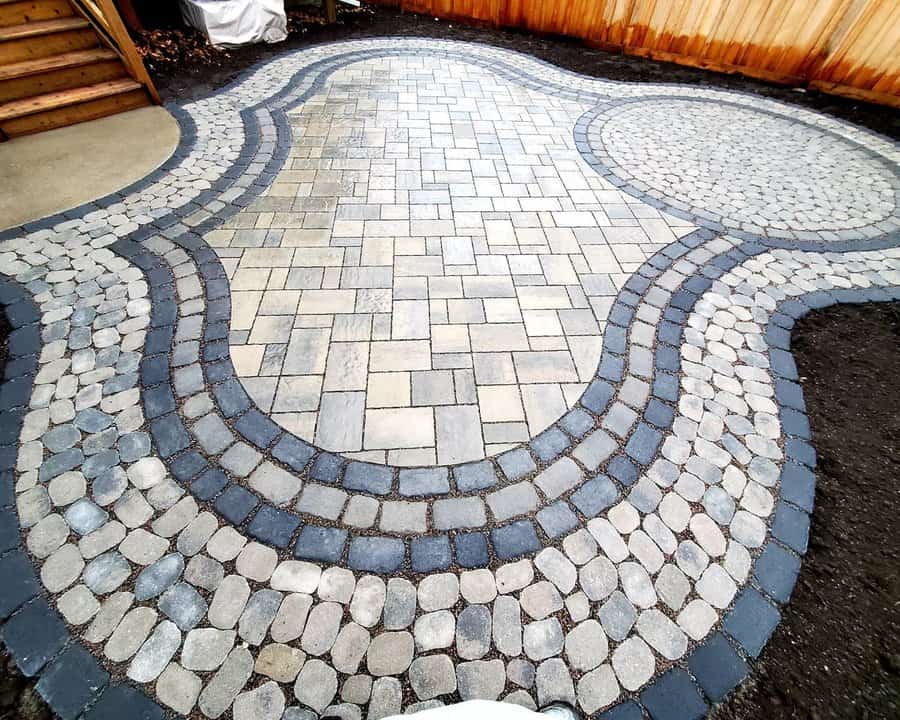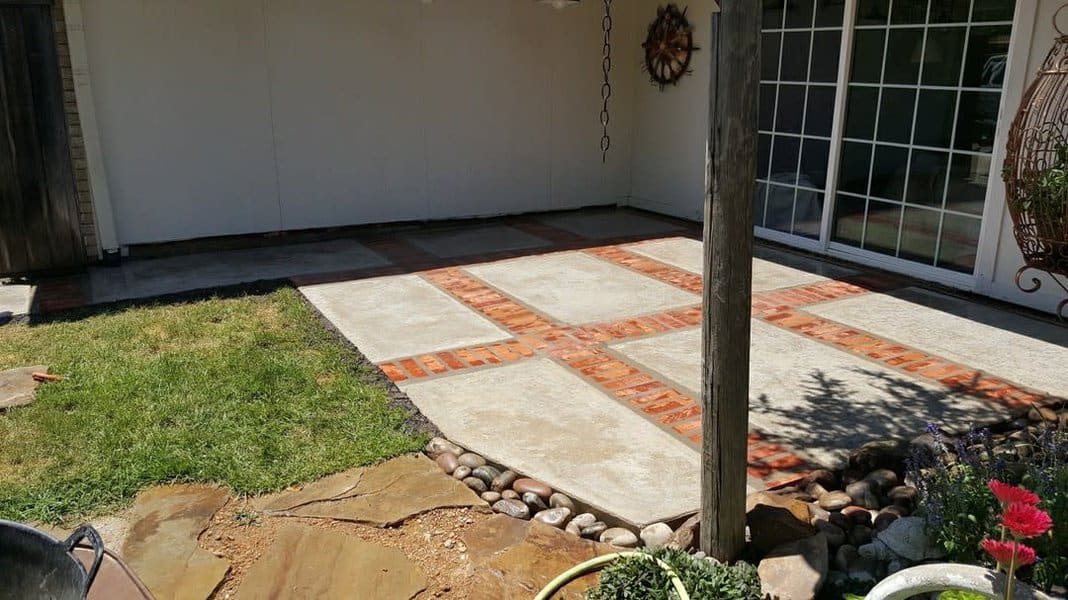 6. Grass Pavers
Grass pavers are an innovative solution to traditional pavement options. Not only do they provide a natural and aesthetically pleasing look, but they also offer several benefits to the patio. The ability to allow rainwater to soak into the ground rather than runoff into storm drains and bodies of water reduces runoff and erosion.
Thanks to their unique design, they can keep the patio walkable and keep the surrounding soil healthy. With many benefits and a beautiful look, it's no wonder why grass pavers are becoming a popular option for stylish yet functional patios.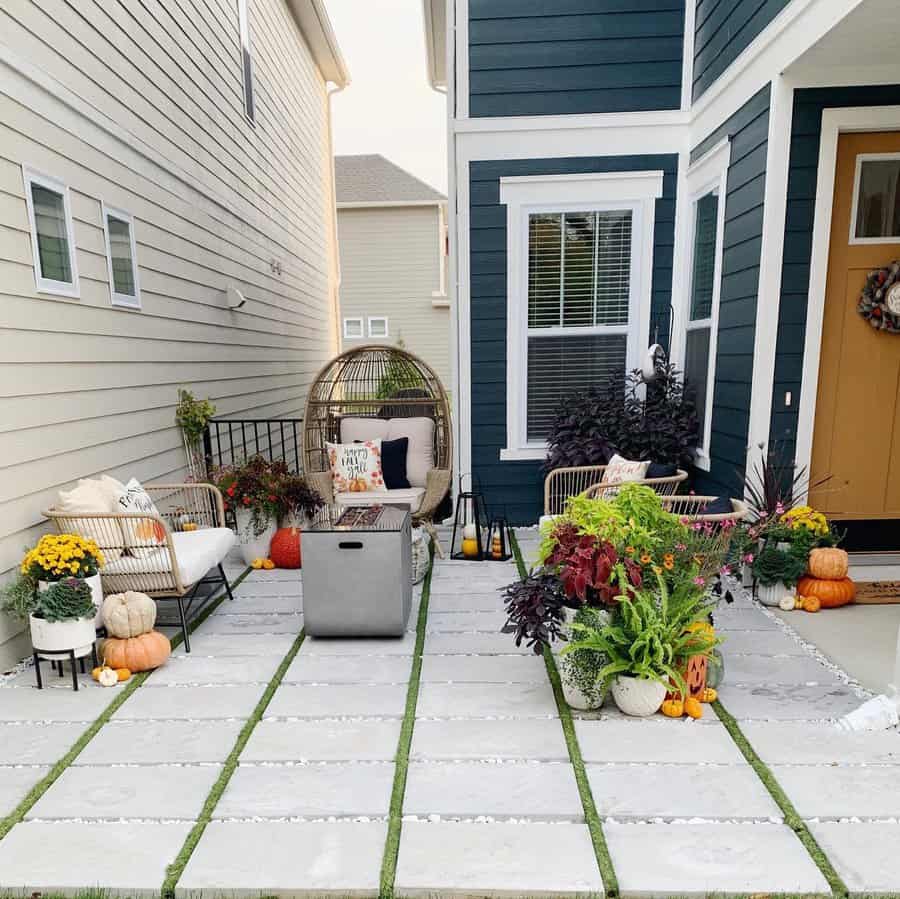 7. Wood Deck Flooring
Imagine stepping out onto your patio and feeling the warmth and natural texture of wooden flooring under your feet. Wood patio flooring brings an earthy, inviting feel to any outdoor living space. Whether you're sipping your morning coffee or hosting a summer barbecue, a wooden patio floor sets the tone for a relaxing and stylish atmosphere.
With various wood species and finishes to choose from, the customization options are endless. Plus, wood is a durable and long-lasting material that can withstand outdoor elements and foot traffic for years to come.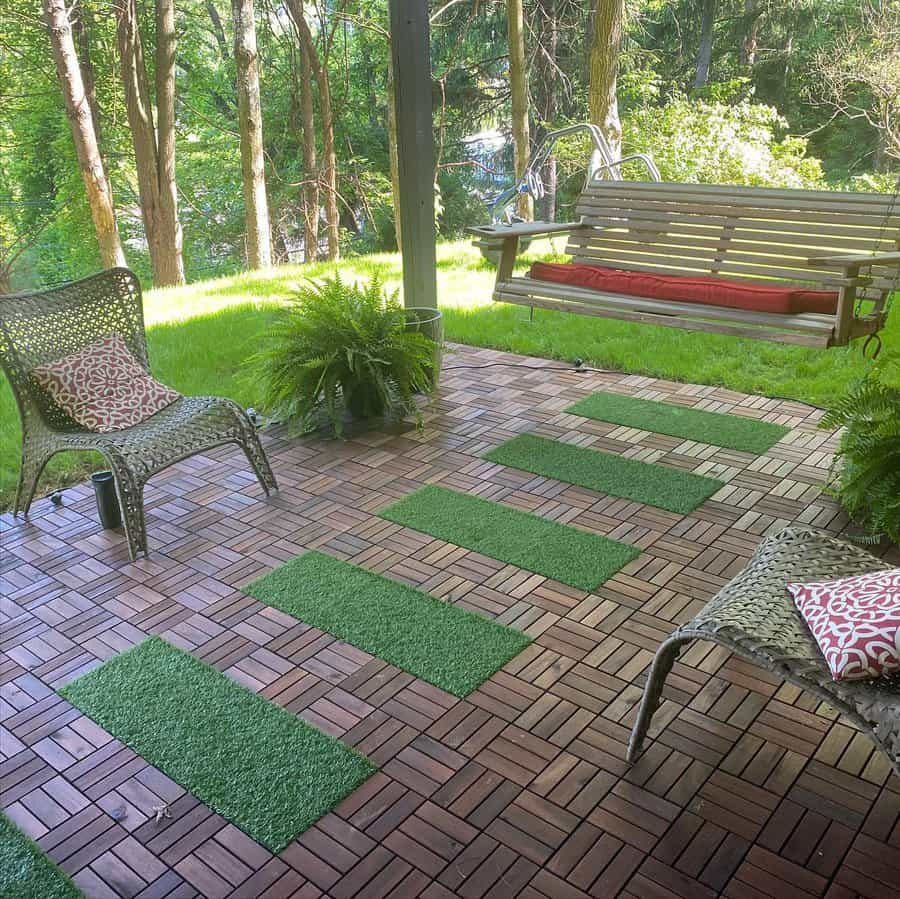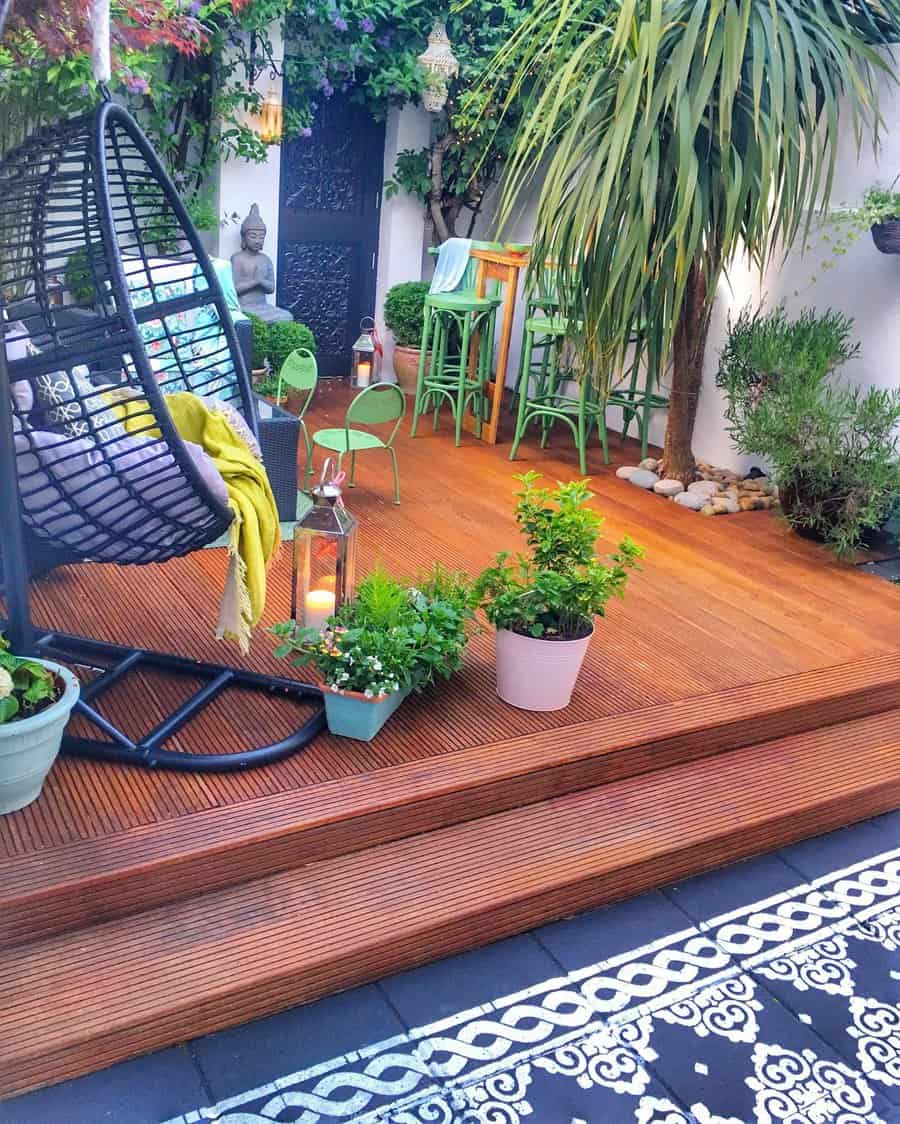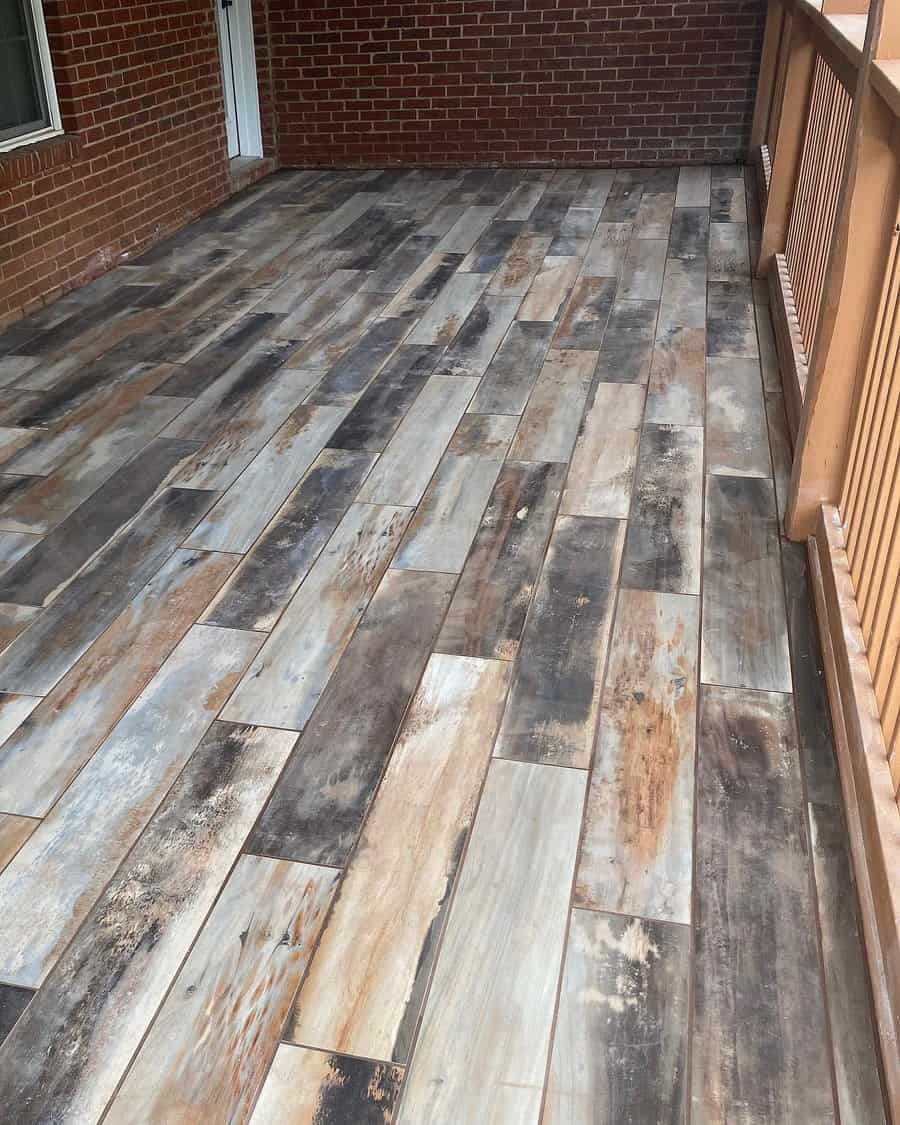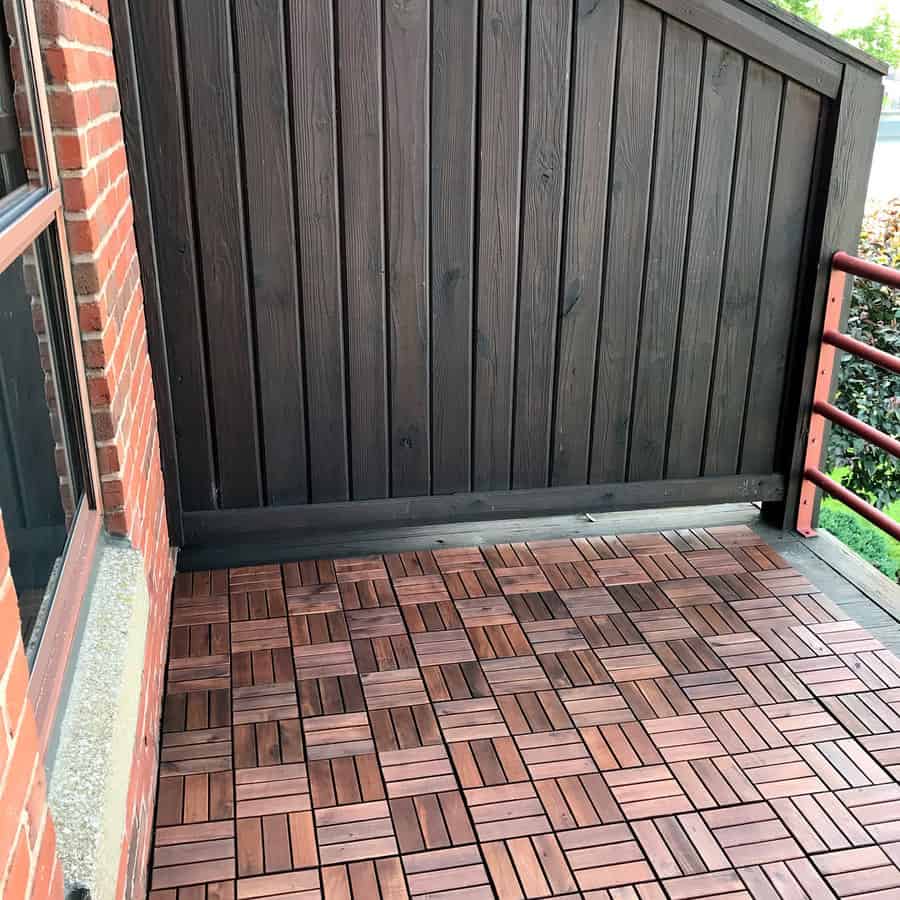 8. Decorative Tile Flooring
When it comes to creating the perfect outdoor living space, attention to detail is crucial. One of the most important elements to consider is decorative patio flooring. While there are a variety of options available, prints can really elevate the style of your space.
Plus, not only do decorative patio floors look stunning, but it also takes a long time before they wear off. So go ahead, and take your outdoor living area to the next level with some stylish and functional flooring.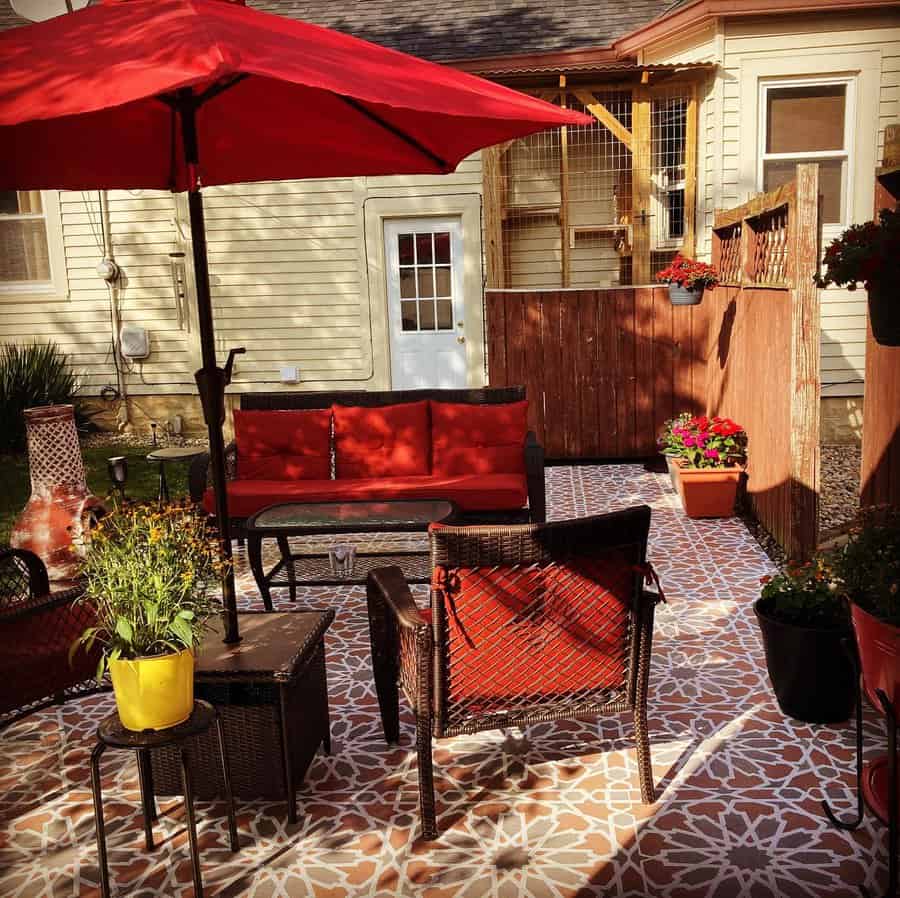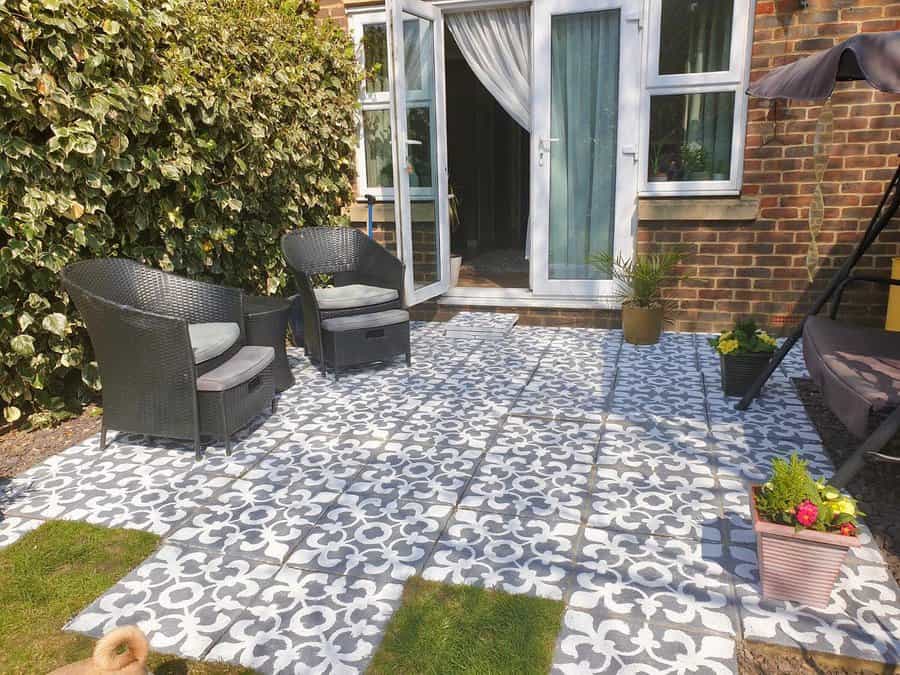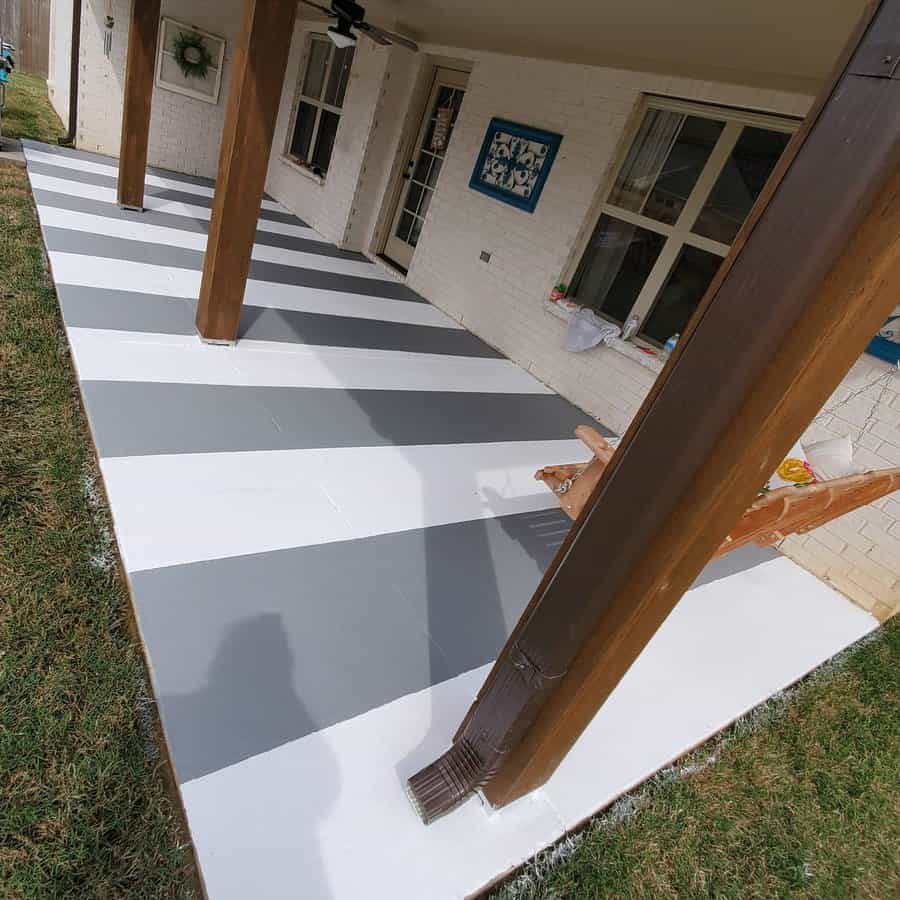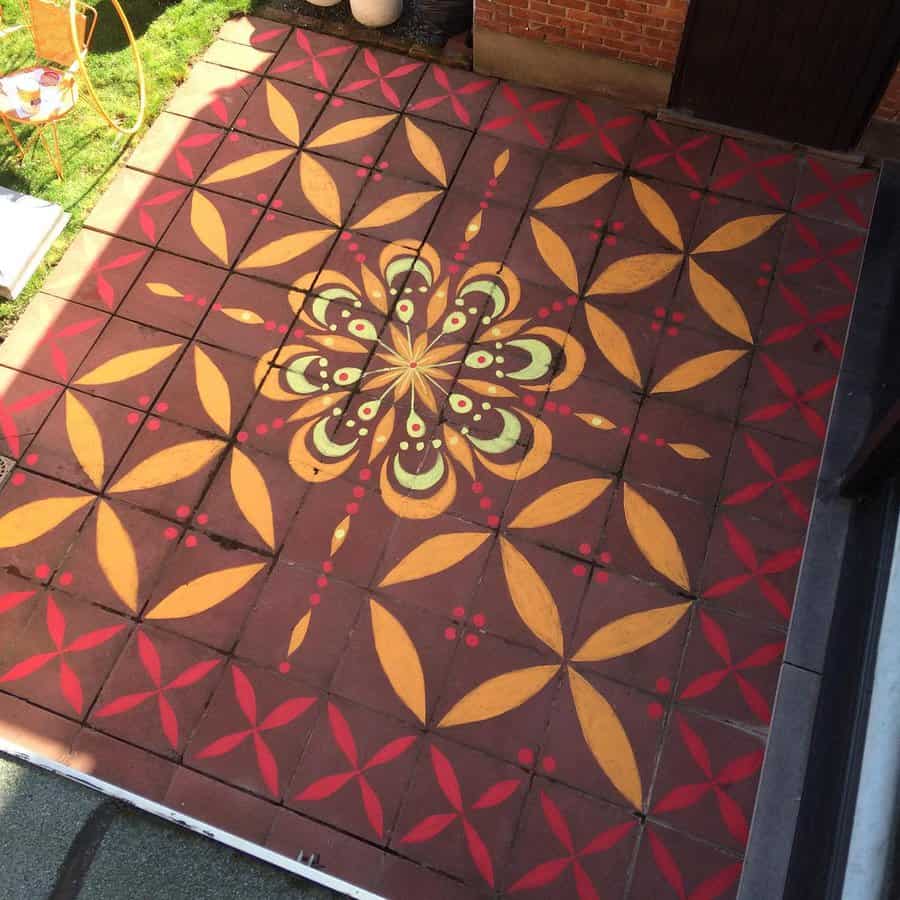 9. Painted Patio Flooring
A plain concrete patio floor can be quite unattractive, but with a little creativity, it can transform into a beautifully painted oasis. By utilizing a variety of paint colors and designing eye-catching patterns, you can give your outdoor area a fresh, updated look.
One popular design trend involves creating a faux tile effect by painting geometric shapes in a mosaic style. Another fun option is to create a "rug" design by outlining the edges of the patio with a contrasting color and filling the center area with a bold, abstract pattern.
With endless possibilities, the thought of a painted patio floor is sure to inspire you to create a unique look that speaks to your personal style!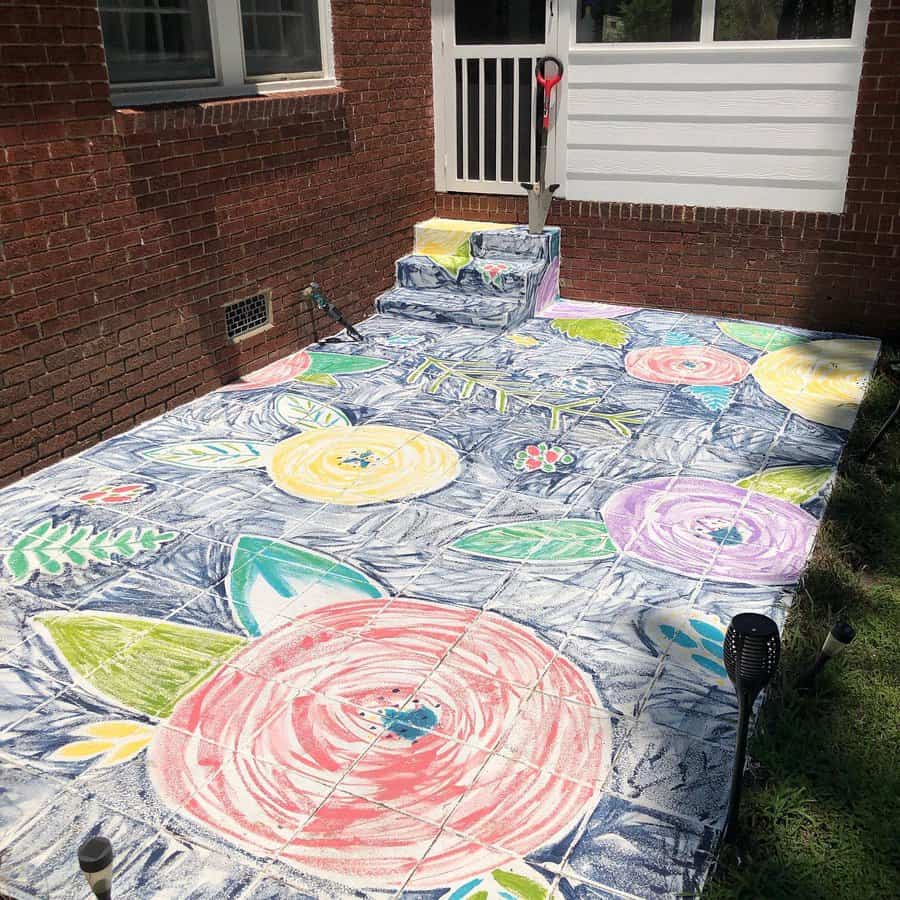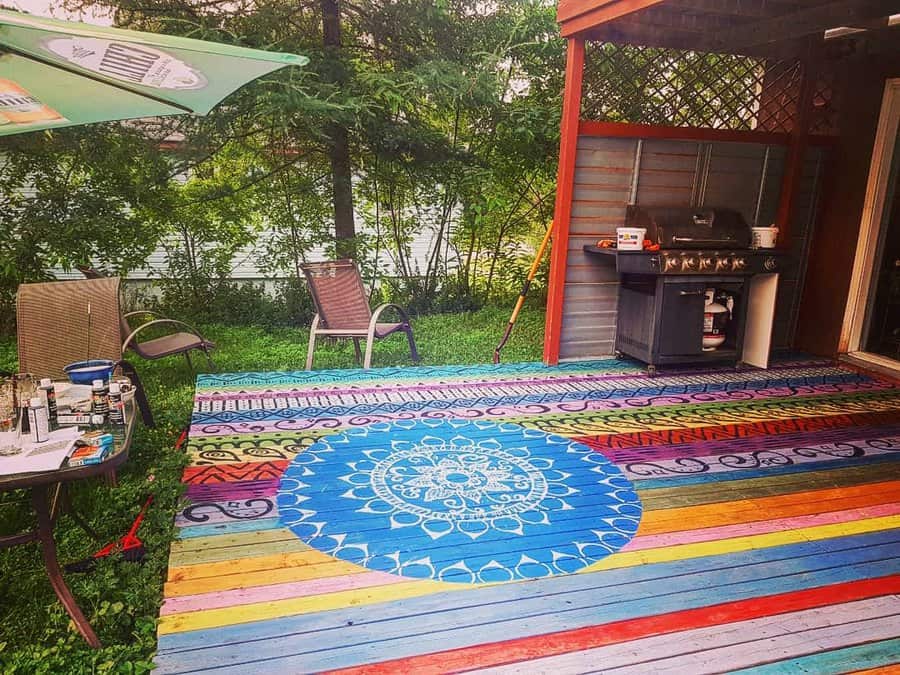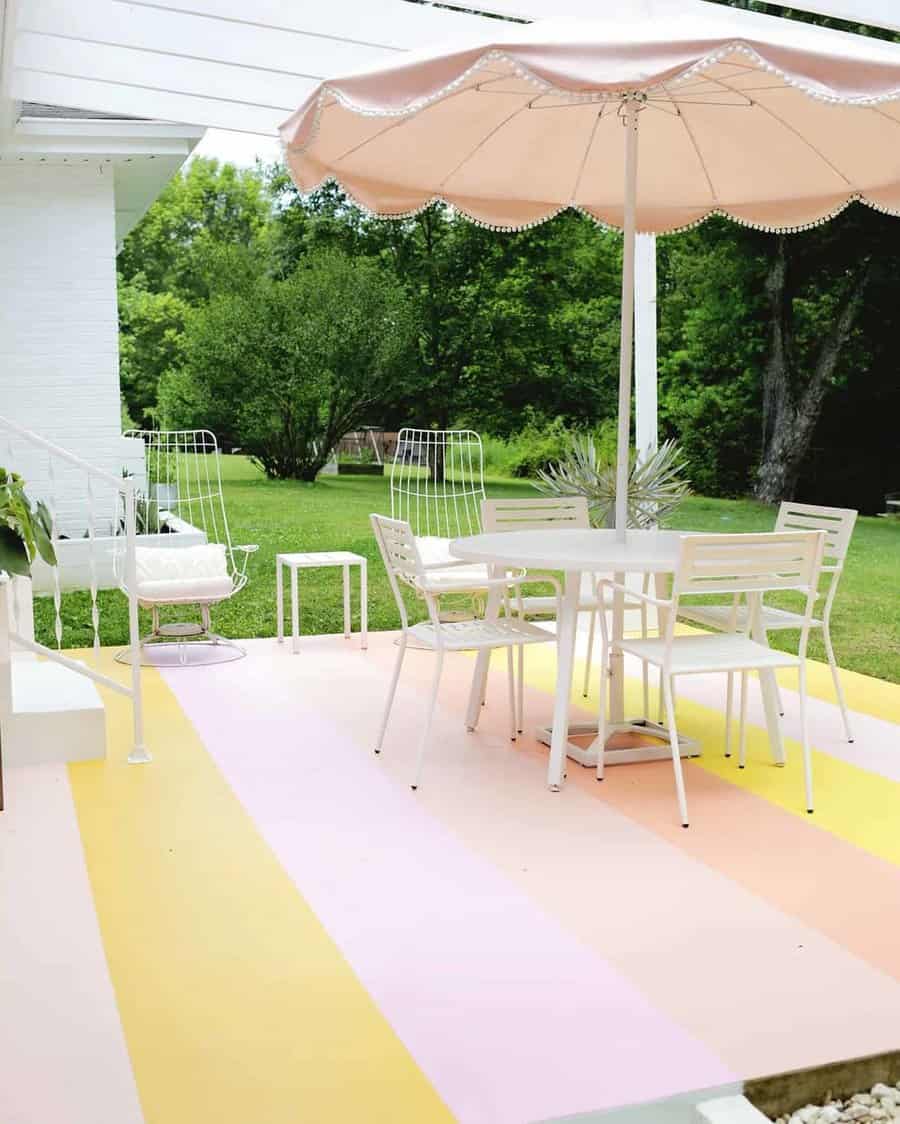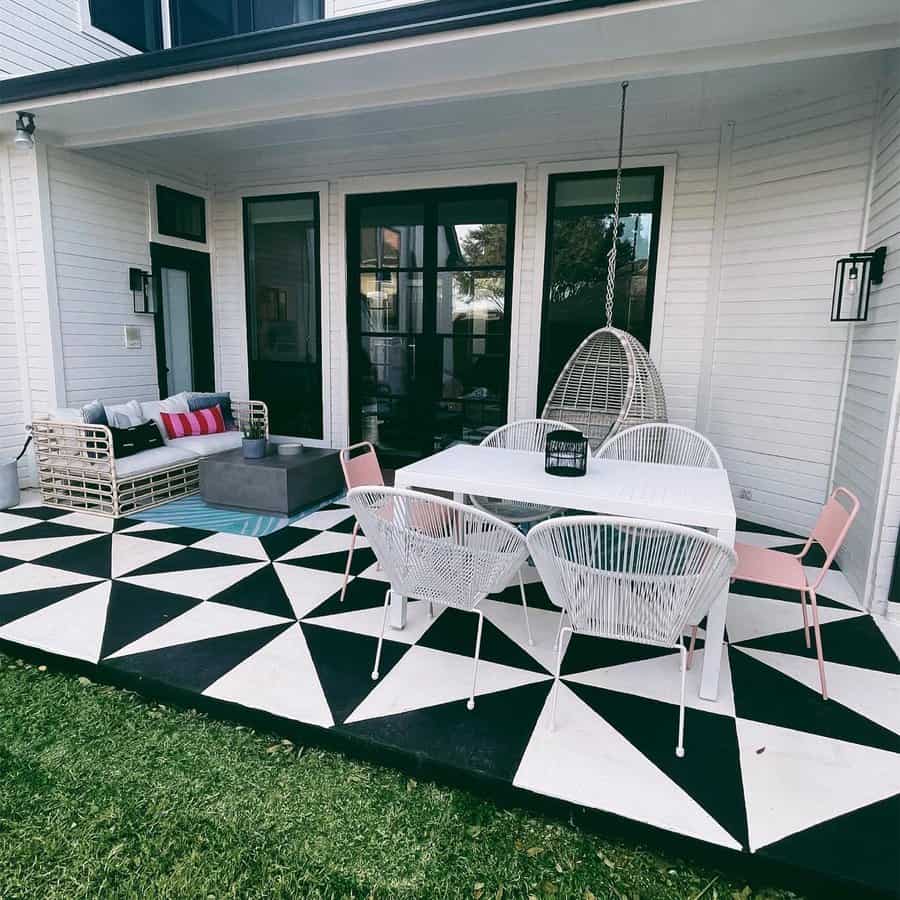 10. Stained Concrete Pavers
Stained concrete pavers are a versatile and eye-catching addition to any outdoor space. With the ability to mimic the look of more expensive materials like natural stone or brick, staining concrete pavers can transform a dull patio or walkway into a stunning design feature.
Not only do they add aesthetic appeal, but they are also durable and low maintenance, making them a practical choice for any homeowner. Whether you prefer a neutral palette or bold pops of color, the possibilities with stained concrete pavers are endless.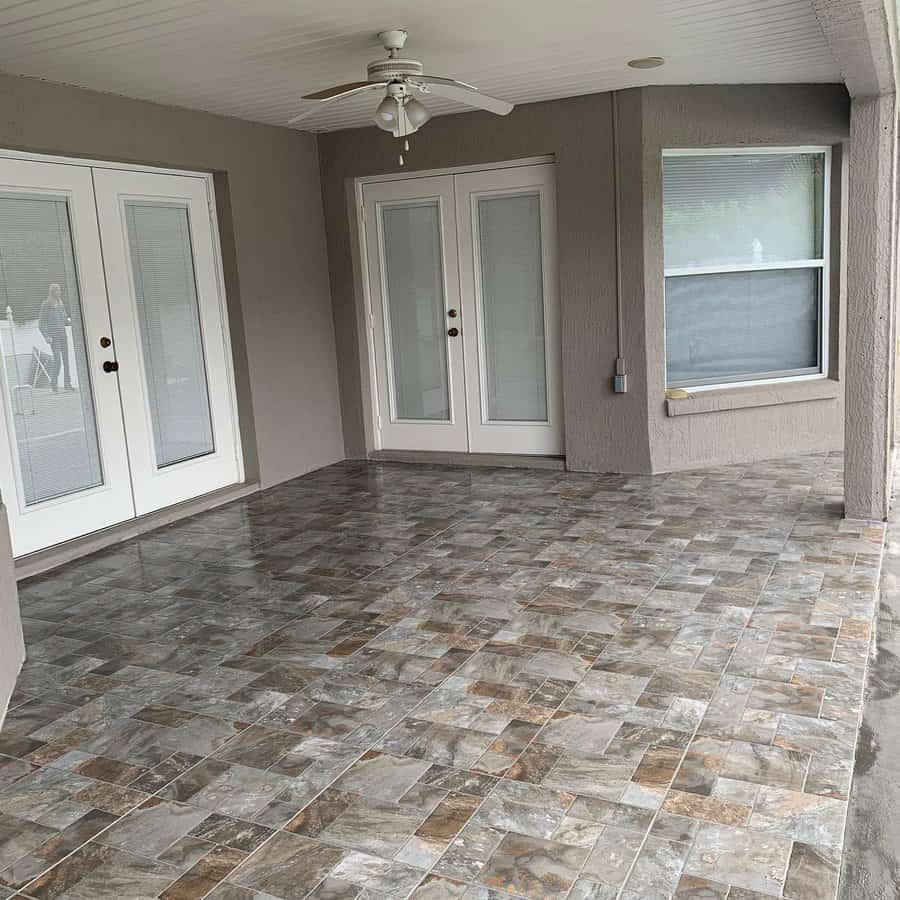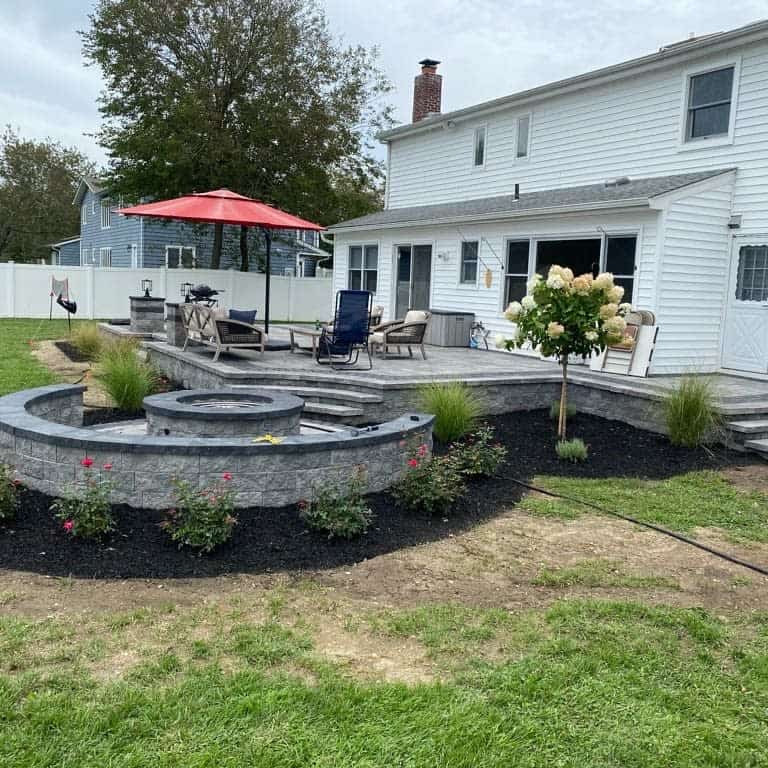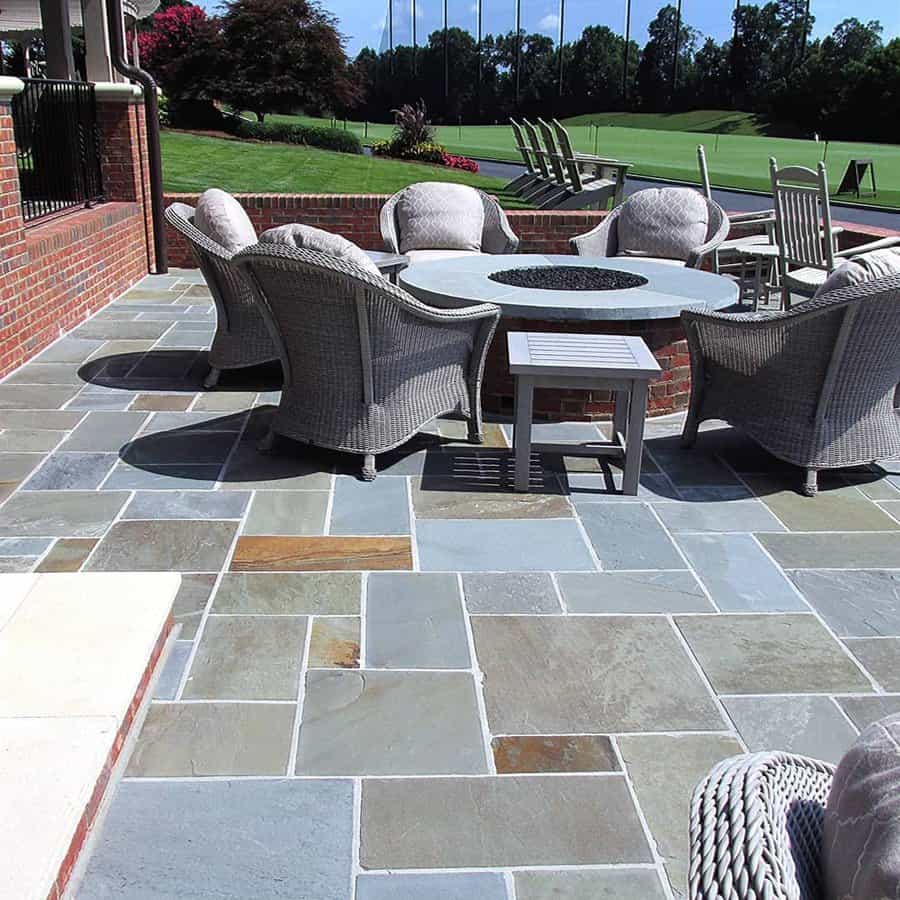 11. Grate Flooring Tiles
When it comes to patio flooring, there are endless options to choose from, but none quite like the beautiful and durable grate flooring tiles. Not only are they aesthetically pleasing, but the grating pattern also allows for proper ventilation and drainage, making them the perfect choice for outdoor patios or areas prone to moisture. Additionally, grate tiles come in a variety of colors, sizes, and shapes, giving you the freedom to customize your patio to your specific taste and needs.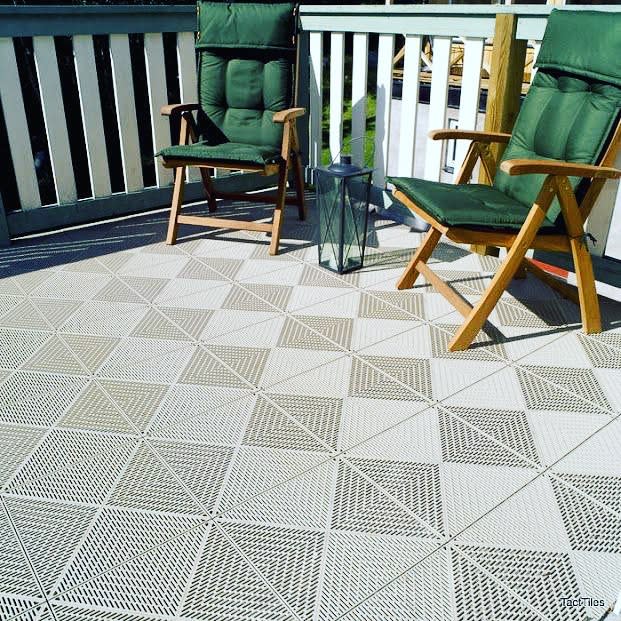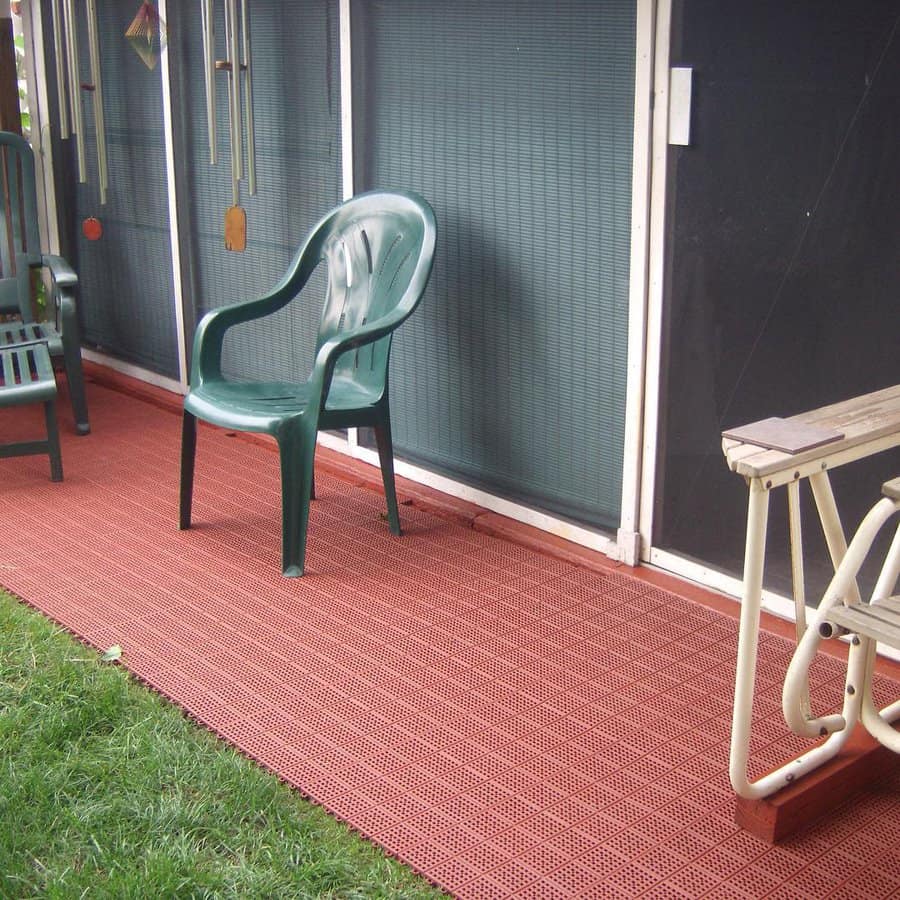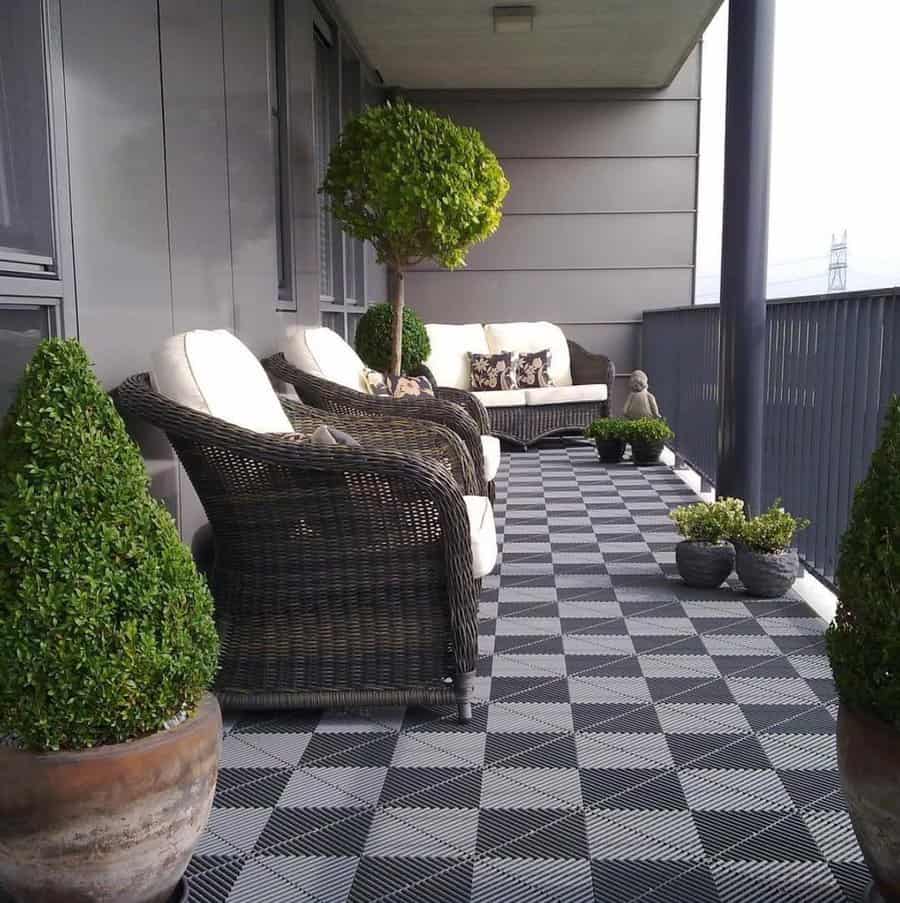 Patio Floor FAQs
What is the cheapest material to use for a patio?
The cheapest material you can use for your patio is concrete. It's simple and relatively fast to install. Once cured, it's durable against the harsh weather and whatever activities you plan to do on your patio.
What do you put down on a patio floor?
While many people leave their concrete patio bare, this isn't very welcoming or interesting. You could build a wood platform over the concrete and turn your patio into a deck look. Or you can lay a large area rug or place carpet squares over the concrete for a living room feel. Interlocking tiles can give you a safe, non-slip surface that's perfect for increased safety.
Can I use laminate flooring outside?
It is not smart to use laminate flooring to cover your patio. Laminate is not intended for outdoor use. While some "weather resistant" laminates are on the market, they aren't as durable as other materials and are typically meant for use in outdoor yet protected areas. When exposed to excess moisture, laminate tends to warp and separate.