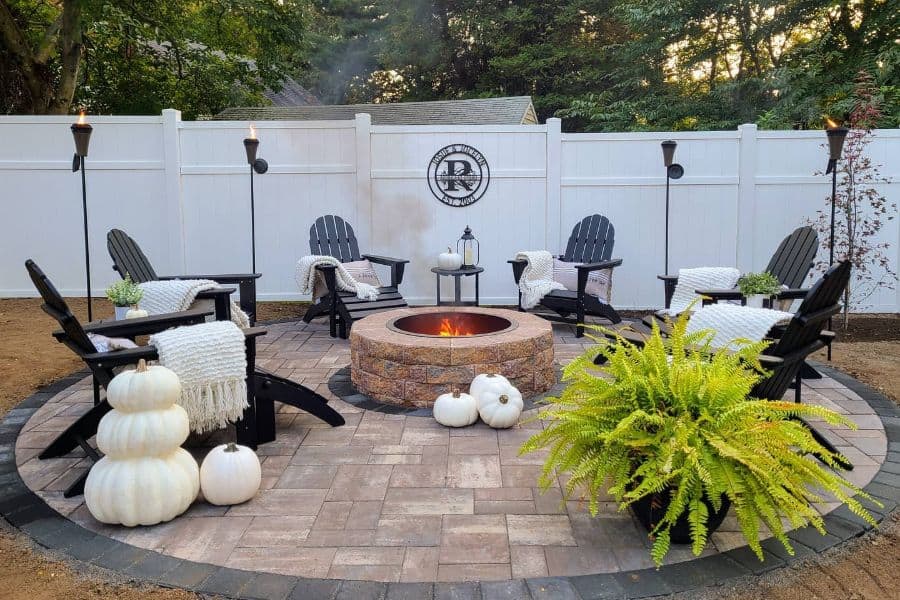 39 Stone Patio Ideas for Your Backyard
Using stone to build the external structural elements around your home elevates the look and increases the value of your home. Having a brick patio encourages you to embrace the outdoor living lifestyle.
If bricks aren't your style, you can modernize the look with paver stones. They come in endless shapes and sizes for complete customization of your new patio.
Check out these stone patio ideas and start planning your brick patio home improvement project.
1. Brick
Brick pavers are the traditional building block. Thousands of red bricks go into building walkways, front entryways, building facades, walls, and patios. A brick patio attached to your house can increase your home's value by adding elegant outdoor living space.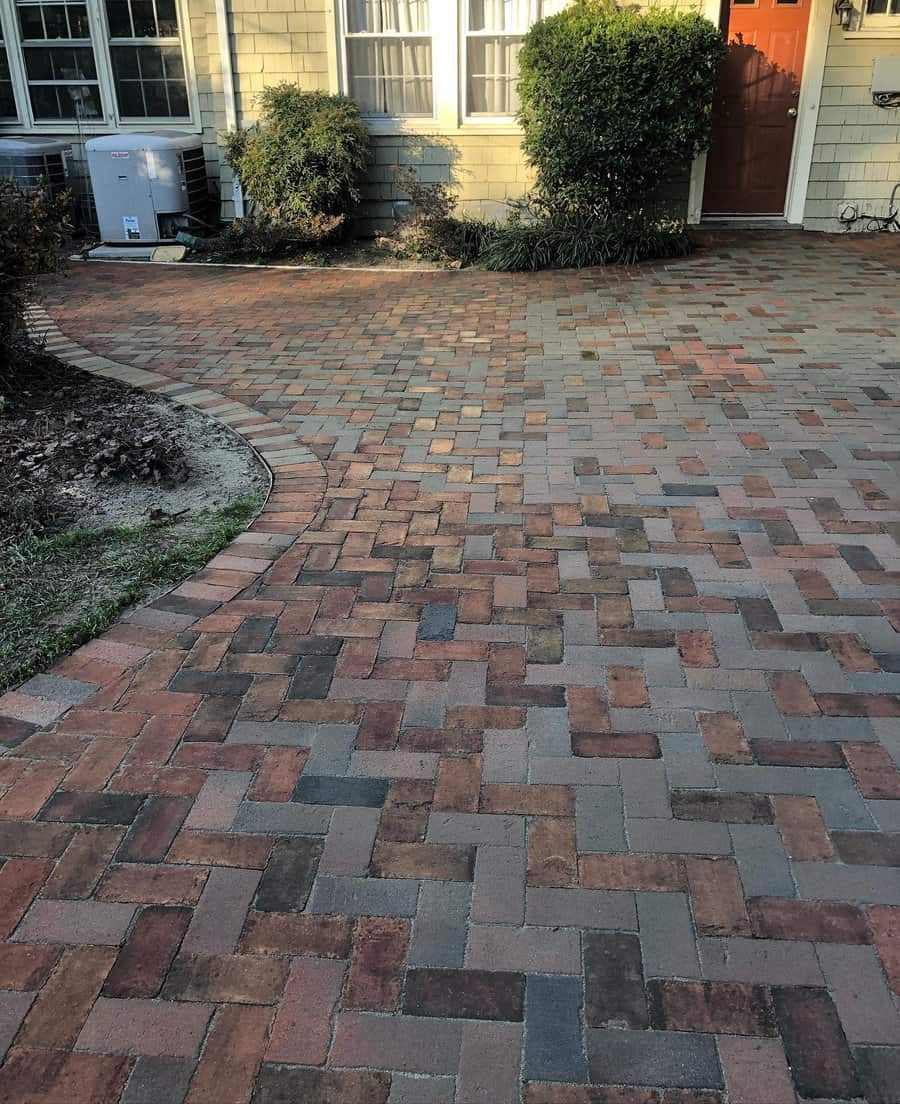 Using reclaimed or salvaged bricks is a great way to make your new brick patio look older than it really is. These are bricks that were previously used in other building projects. When those buildings are no longer needed, the building elements are then salvaged and repurposed for new projects.
Read more: Top 35 Brick Patio Ideas
2. DIY
You don't have to hire a contractor to lay your concrete pavers. This is a home improvement project that you can do yourself. Plan to spend some time on this project because it isn't a fast improvement. Start by clearing out the landscaping where you plan to build your patio. It needs to be level but also able to direct water away from the patio for adequate drainage.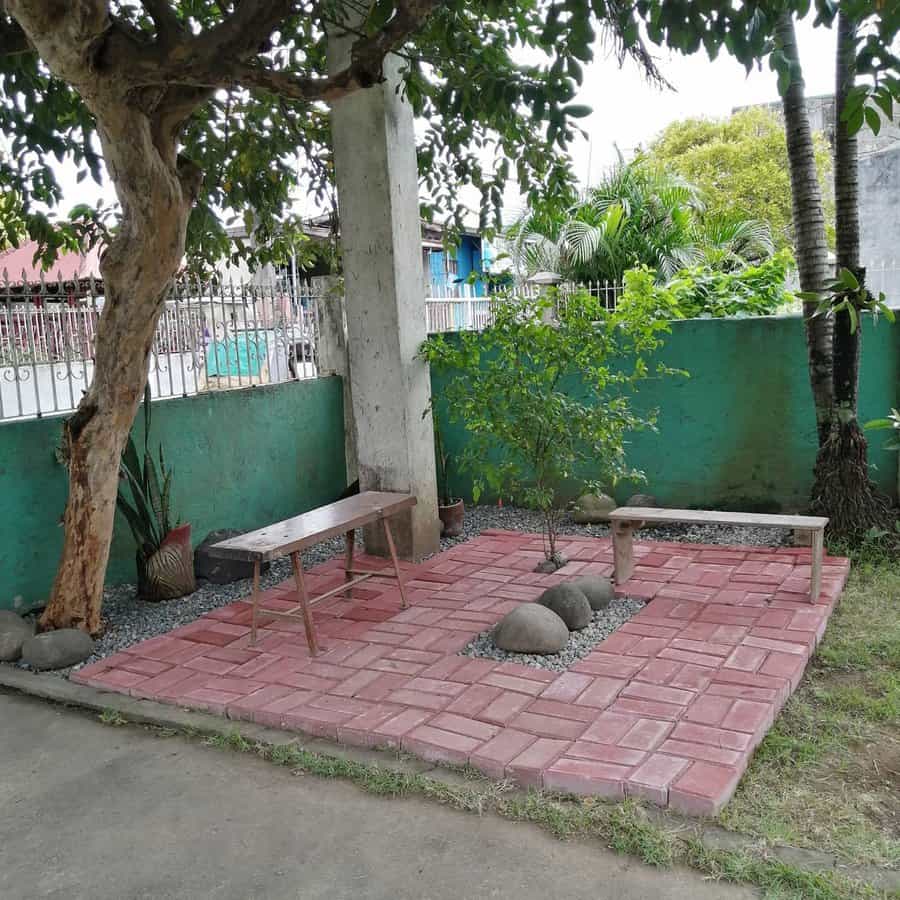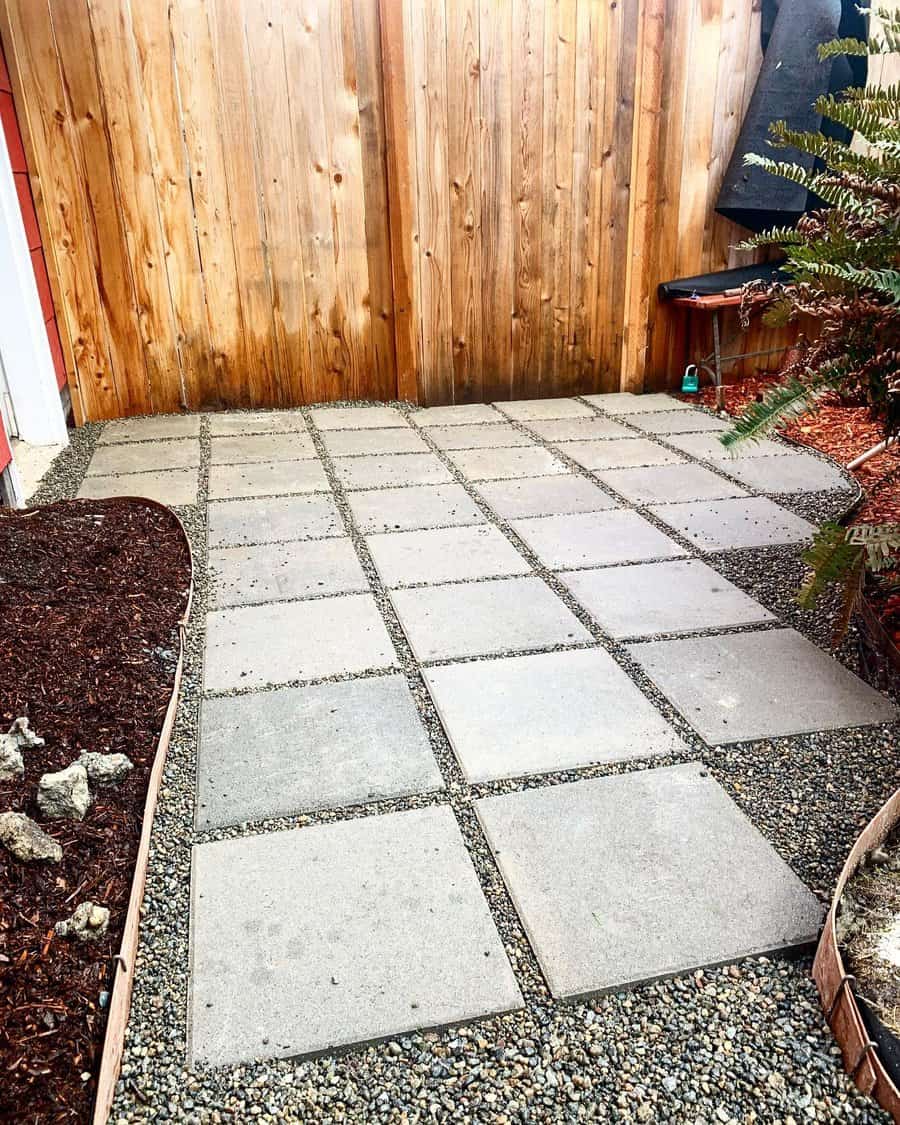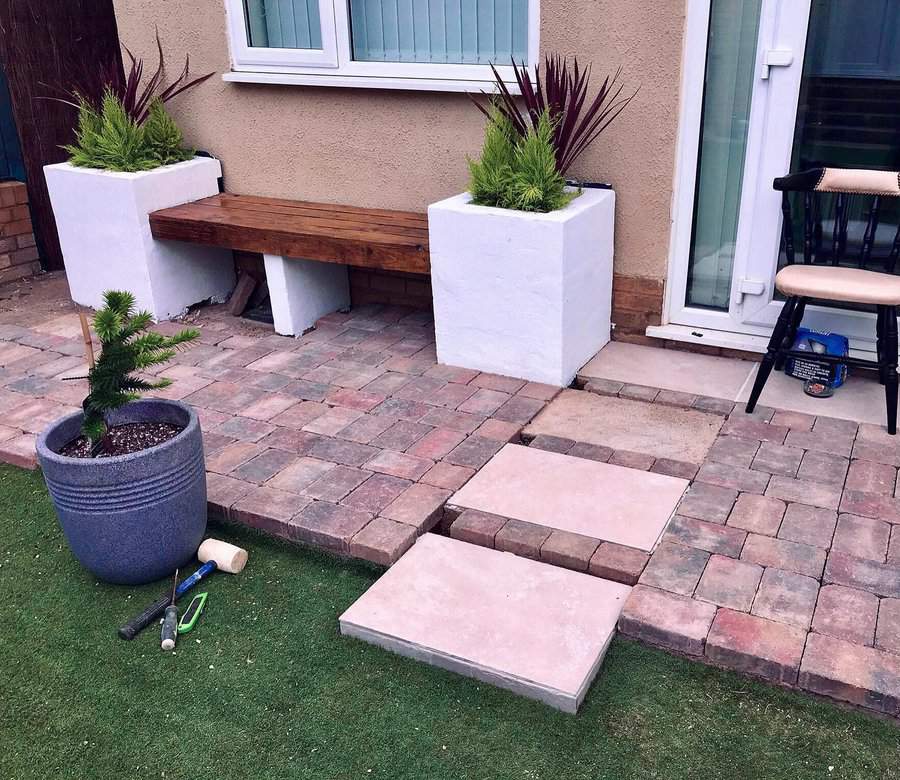 Spread landscaping fabric down to prevent weeds from growing up between your stones. Even out sand and arrange the stones in your desired pattern. Finish by filling in the gaps with more fine grit sand. This secures the stones and keeps them from shifting.
3. Fire Pit
Adding a firepit to your stone patio area gives you a centralized focal point to gather around. If it's round, you can position patio furniture around the fire pit for easy communication among people. Another modern option is to skip the round fire pit on all sides and instead build an outdoor fireplace. You can then arrange living room inspired furniture around the fireplace.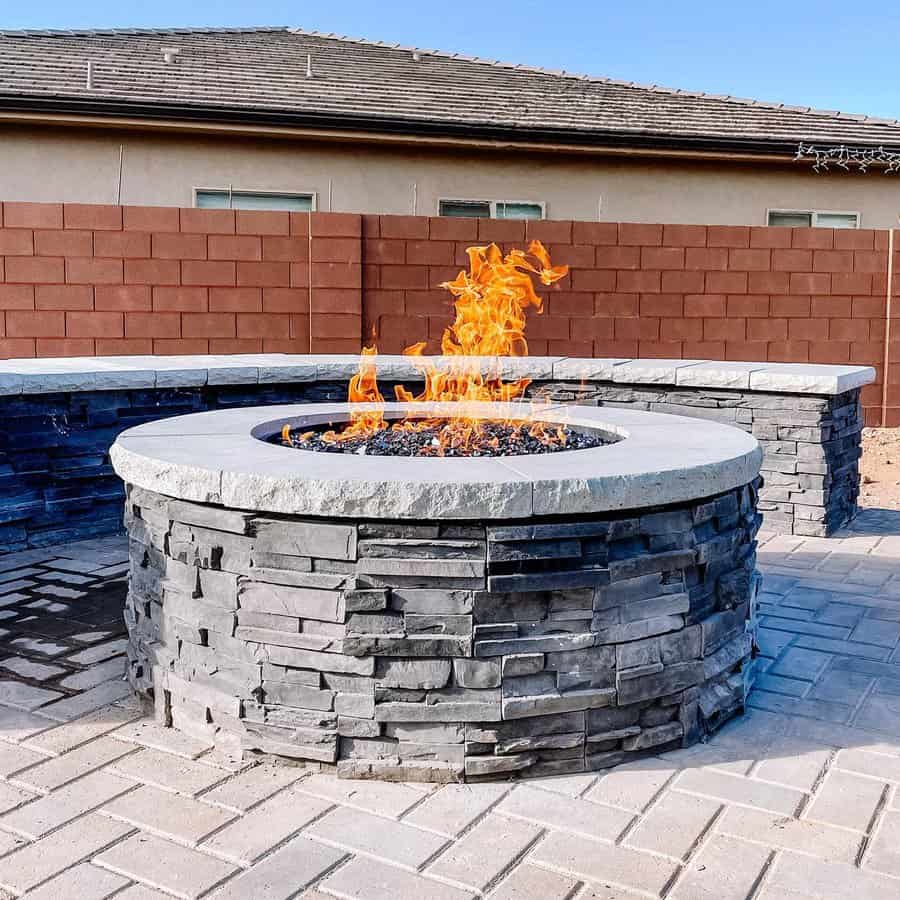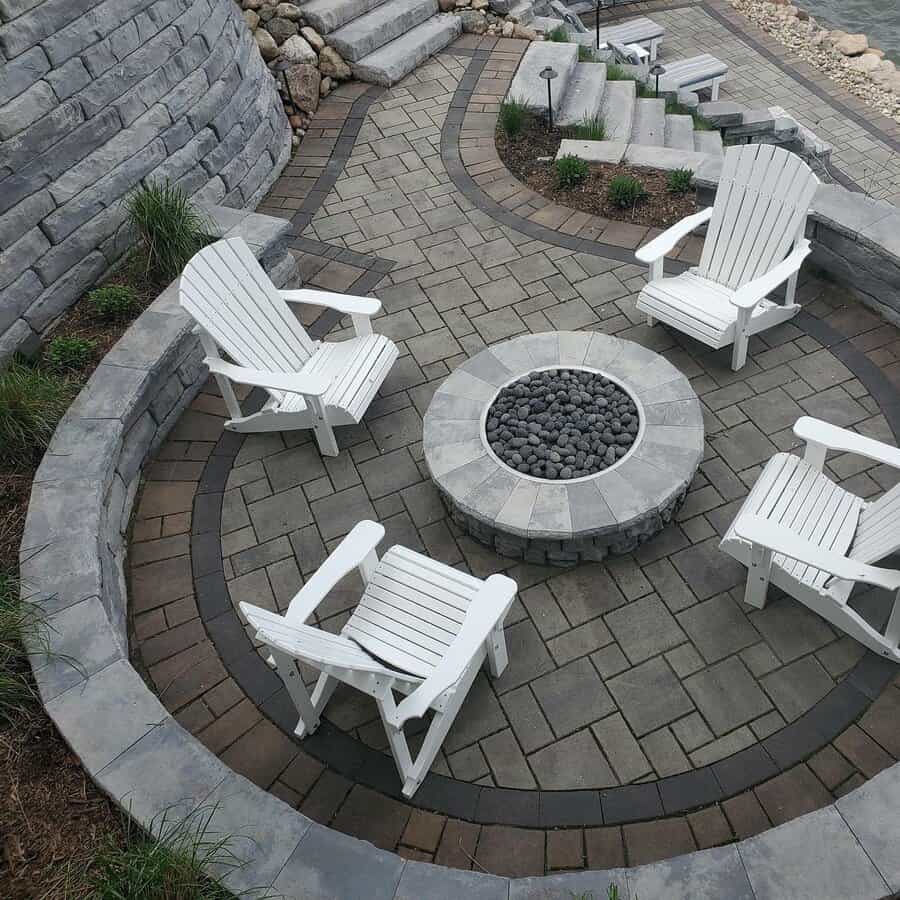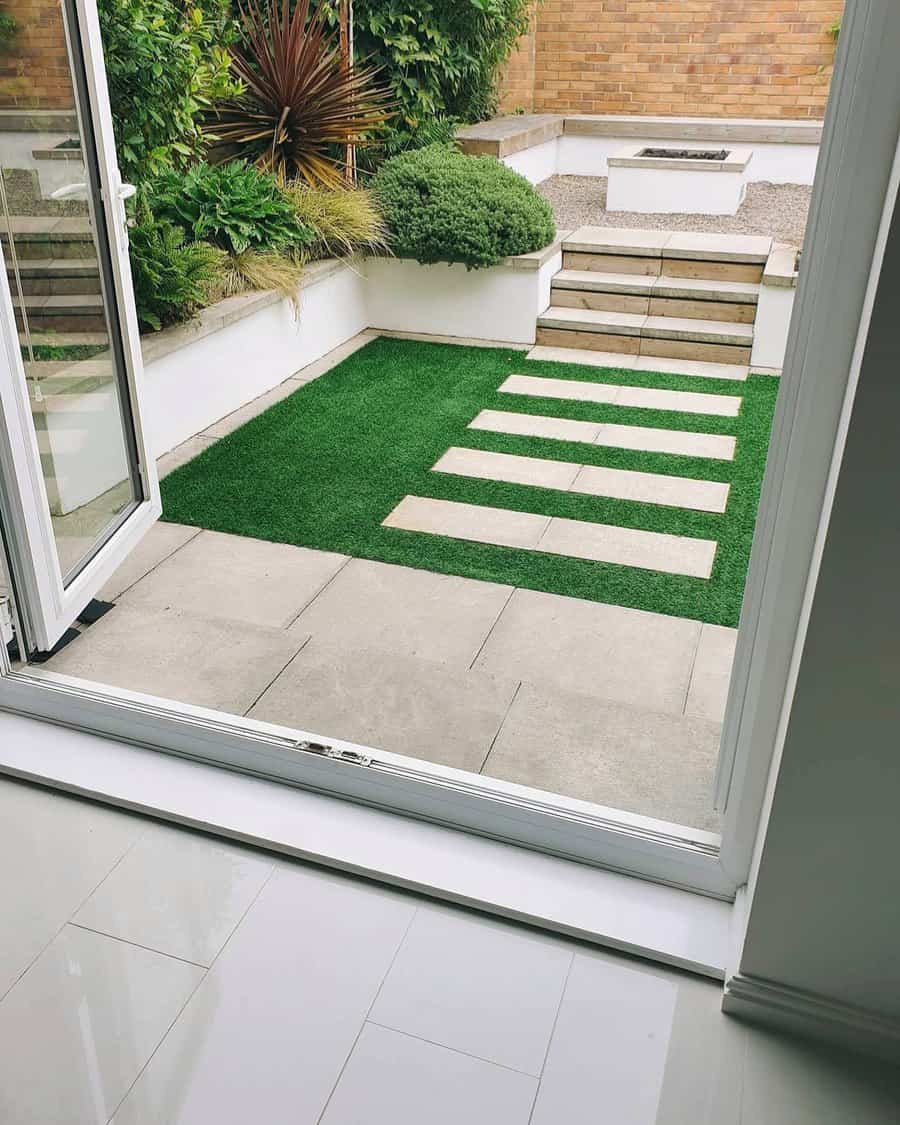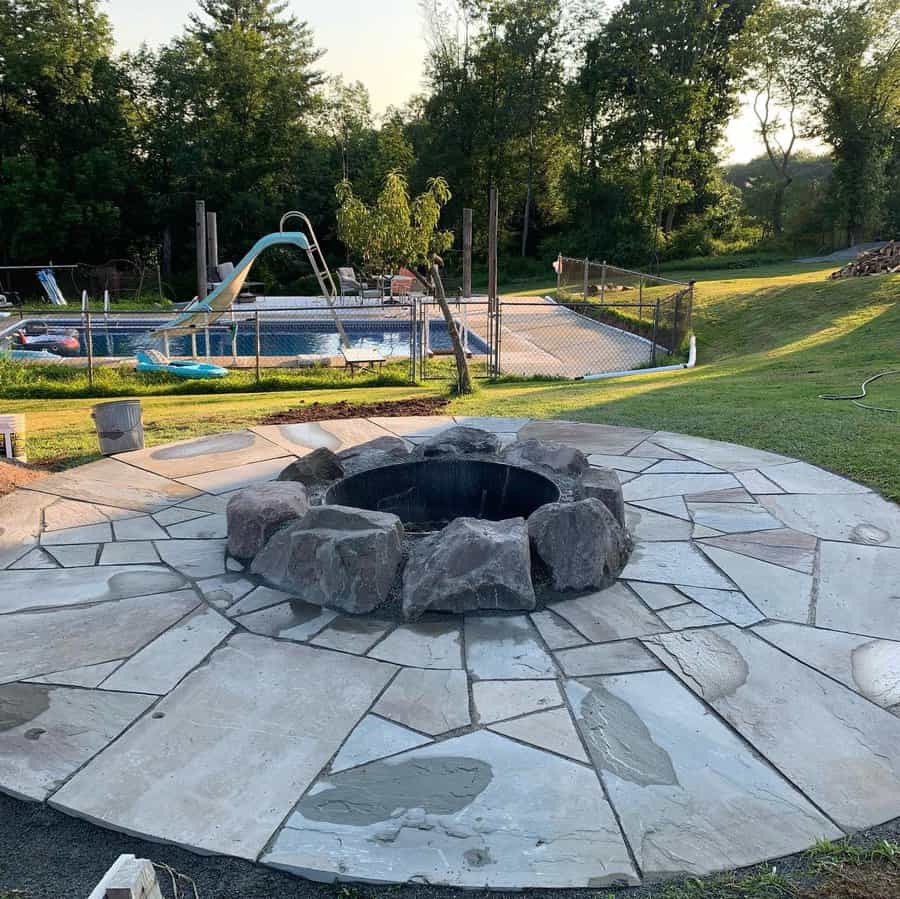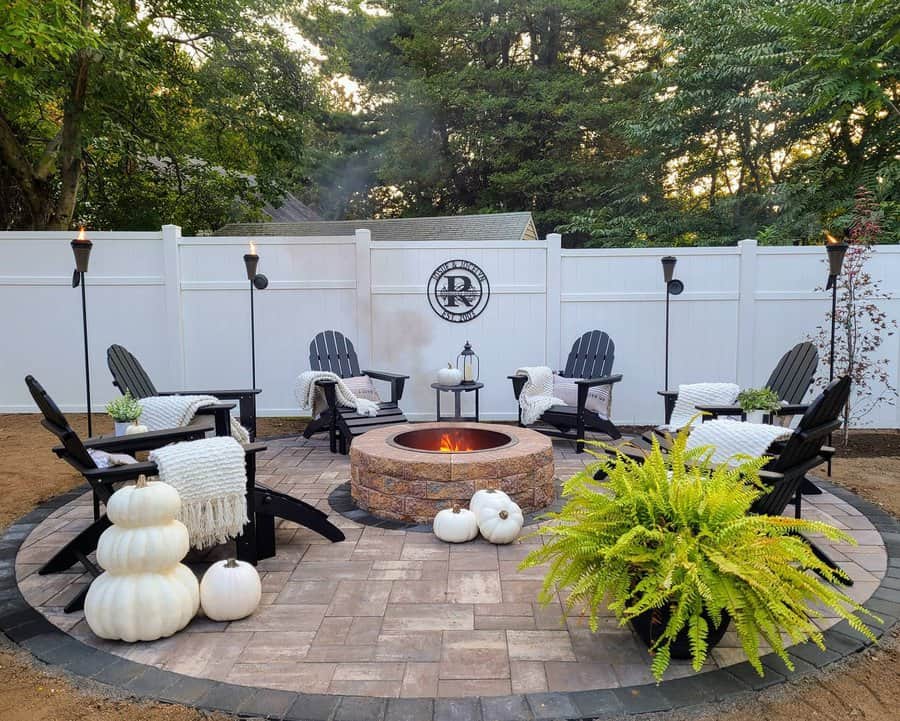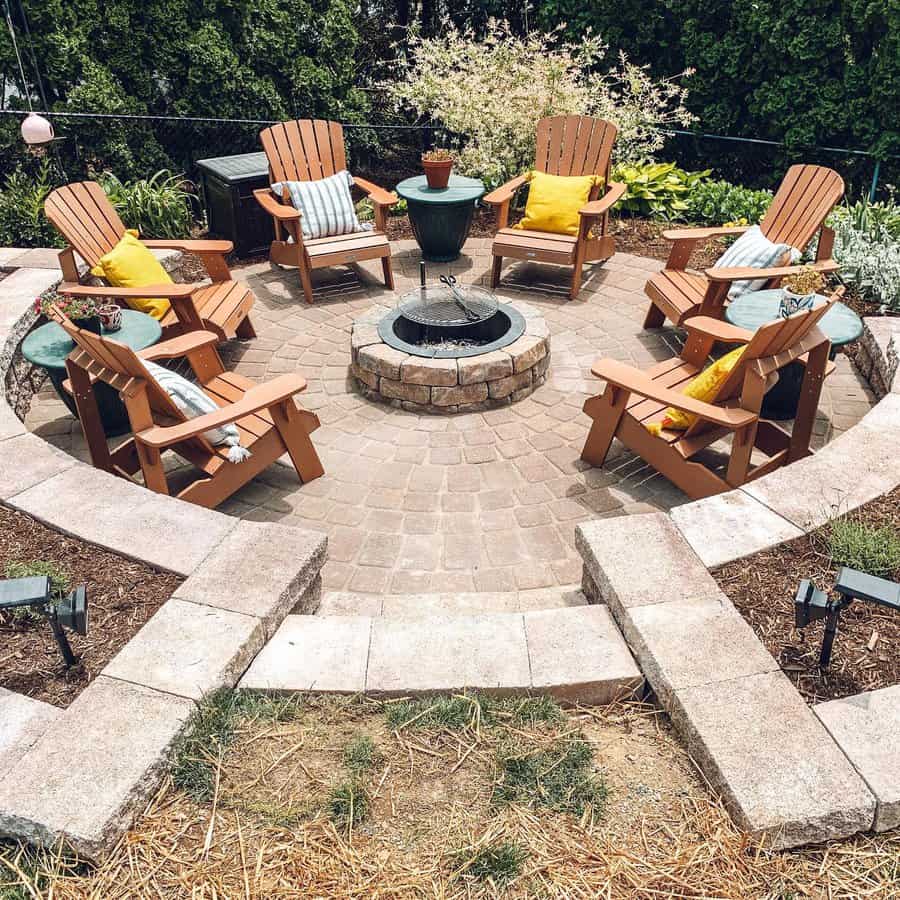 If you have enough room on your outdoor patio, you can add an outdoor kitchen. This lets you do more with your patio than just toast marshmallows and roast weenies. With an outdoor kitchen, you can prepare full meals and entertain all of your friends and family. The durability of the stone makes them a smart choice for the flooring underneath your fire pit or kitchen.
4. Flagstone
Bluestone and flagstone patios are popular stones for building natural stone patios because they are durable like tile but have a more natural look and feel. You can buy flagstone pavers in a cut square shape for a refined look and feel. These are also easier to place because they cleanly fit together like traditional tile.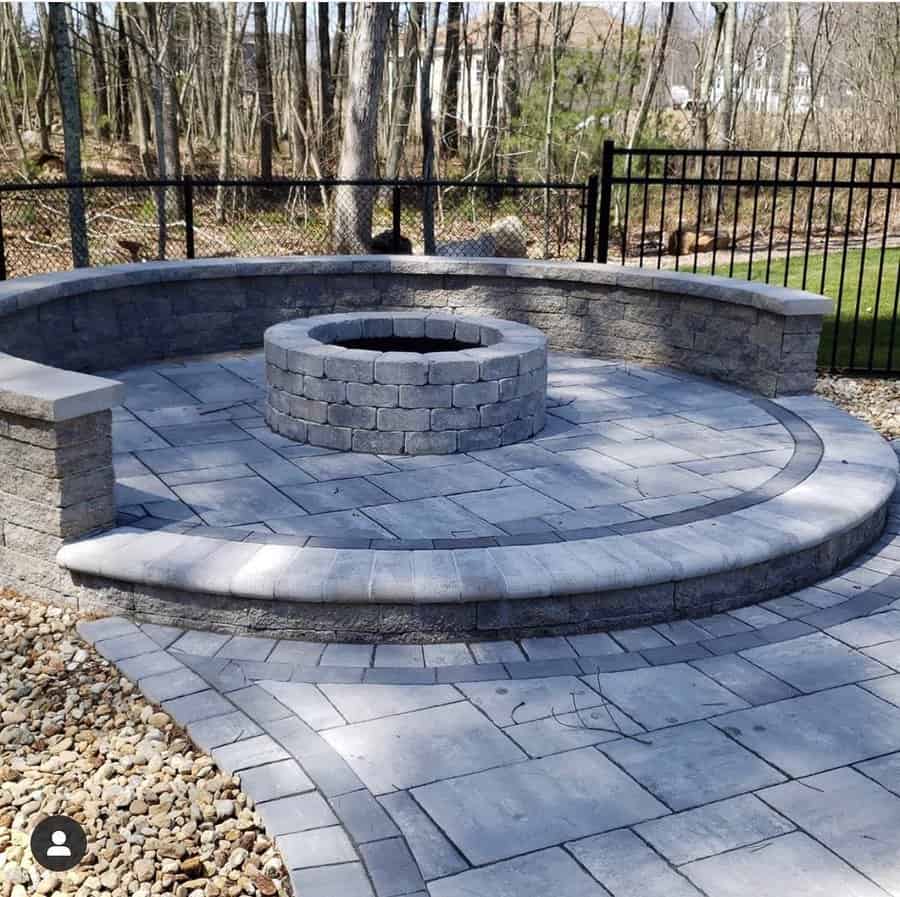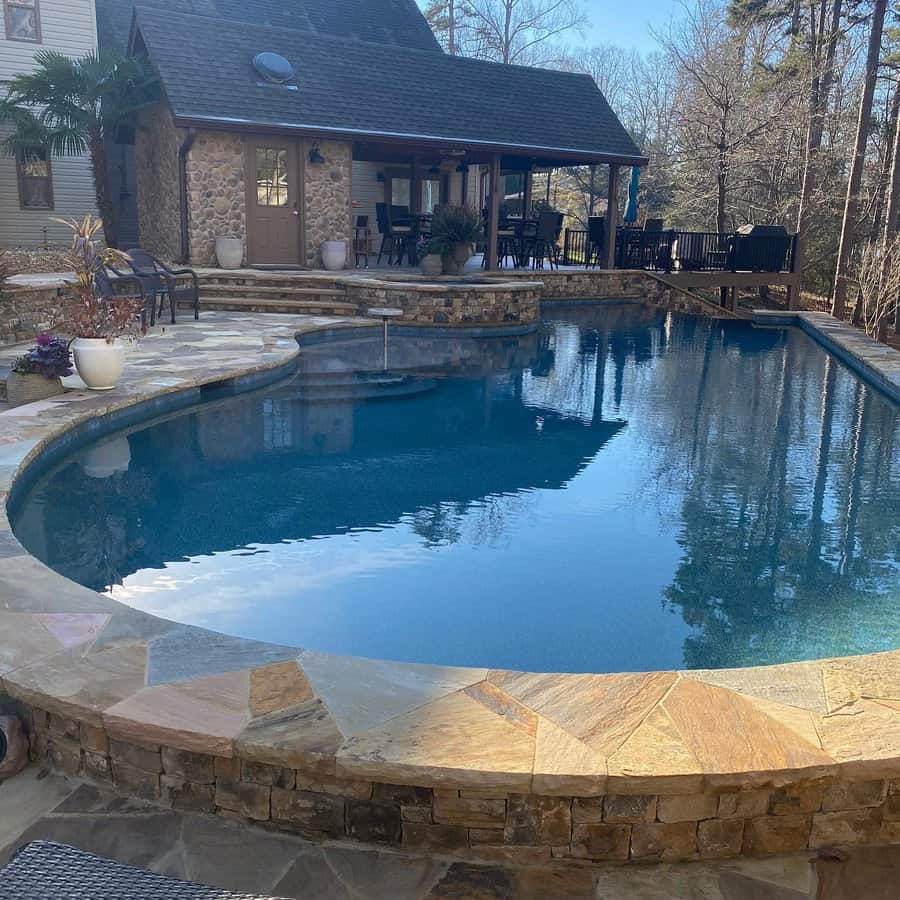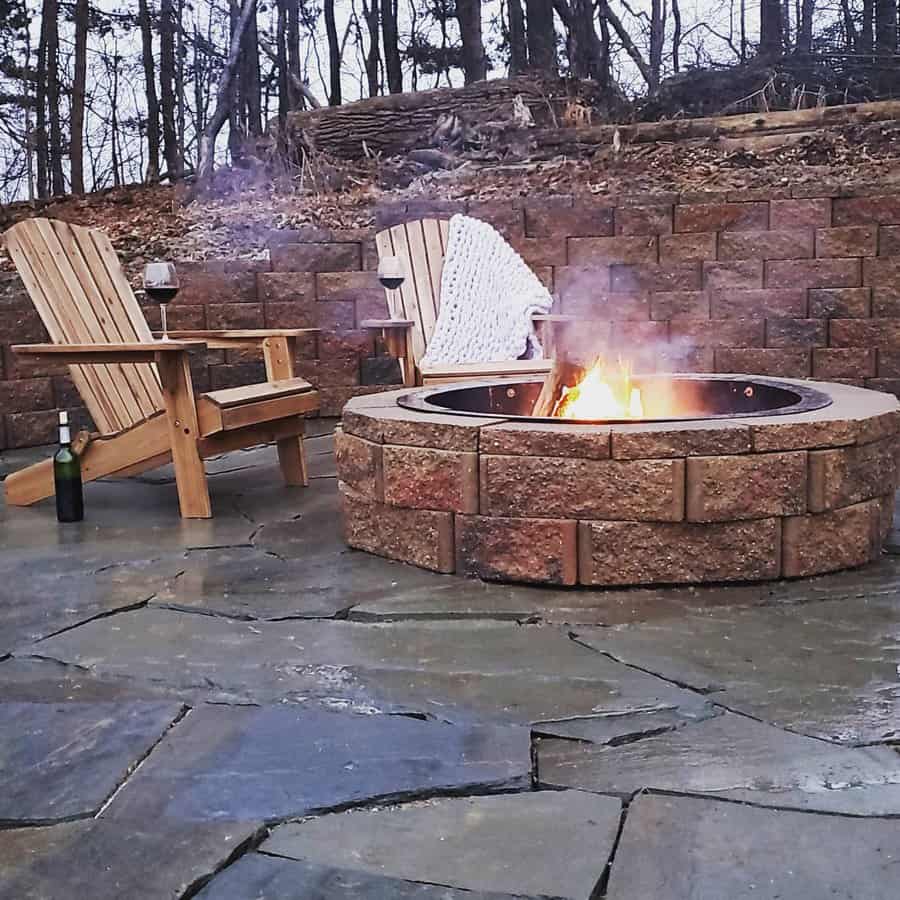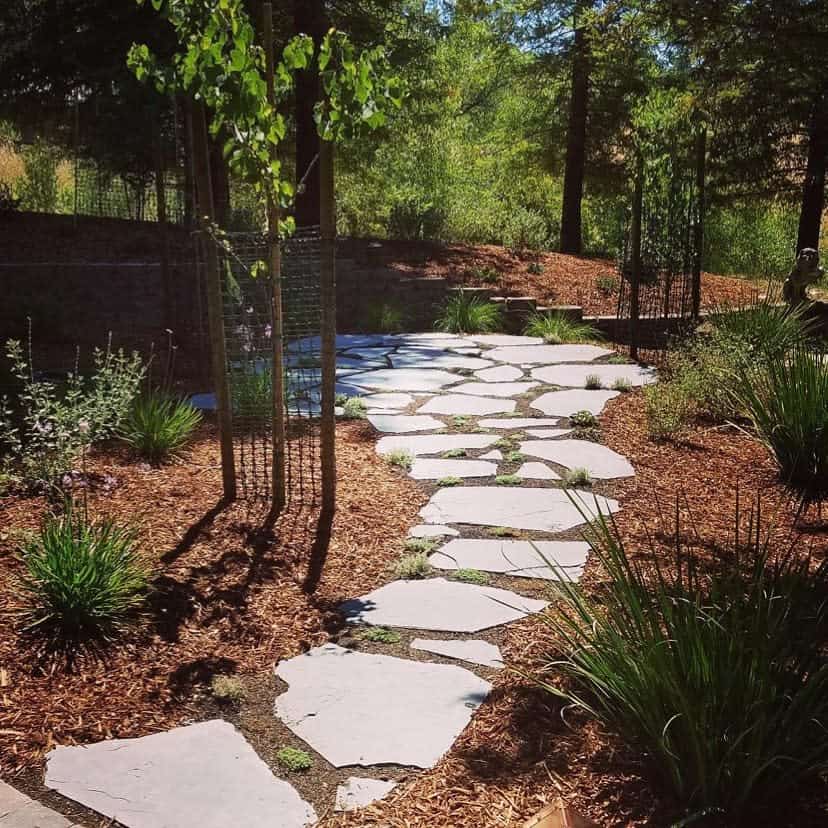 For a rustic look, opt for natural stone pavers. These stones are flat but have irregular shapes around the outside. They are harder to fit together, but when done correctly, they have a rustic appeal.
5. Fountain
Adding a fountain to your backyard gives it a natural soundtrack that is calming and drowns out the outside sounds of the world. Try placing a pond or fountain liner and then using stone pavers to build a fountain around the outside. Using the same patio material for your fountain blends everything together and creates a cohesive design for your backyard.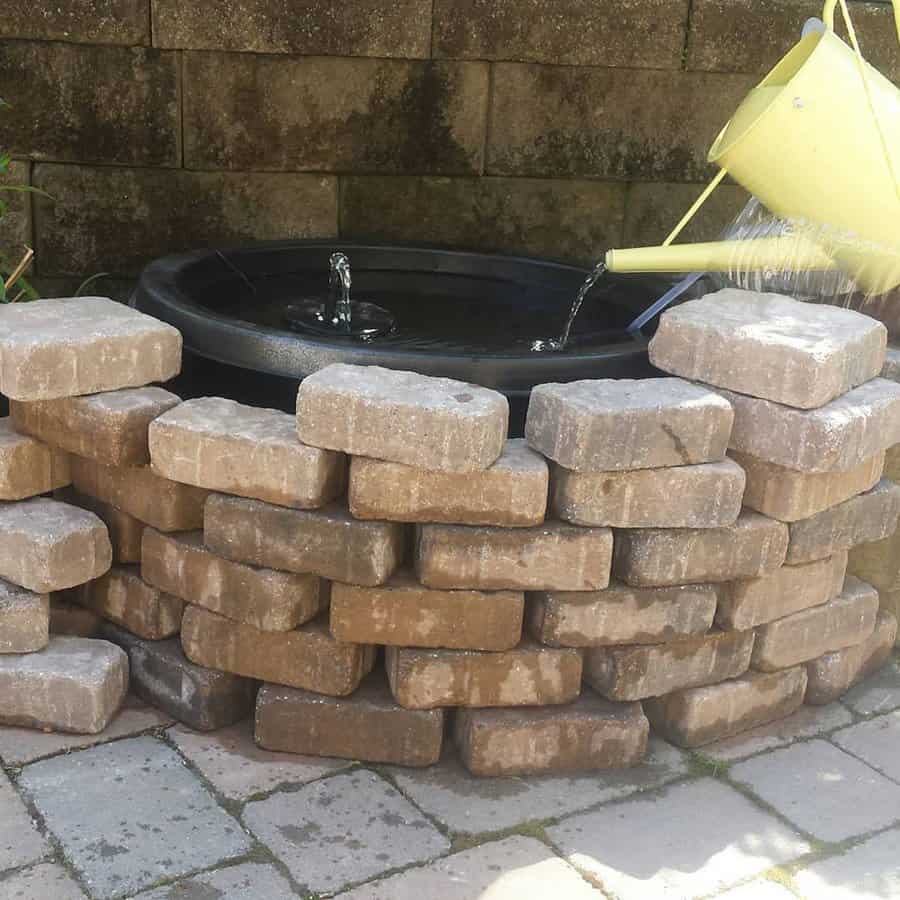 If you have a concrete patio, you can build any type of fountain you want. The easiest option is to place a premade fountain on your concrete patio. Buy one that is scaled to the size and shape of your patio. Don't be afraid to add height by choosing a tall fountain.
6. Gravel
A pea gravel patio adds a natural and rustic element to your backyard. If you have a garden, you can add walkways leading from the patio through the garden. You just need to create the path and spread landscape fabric anywhere you want to add the pea gravel.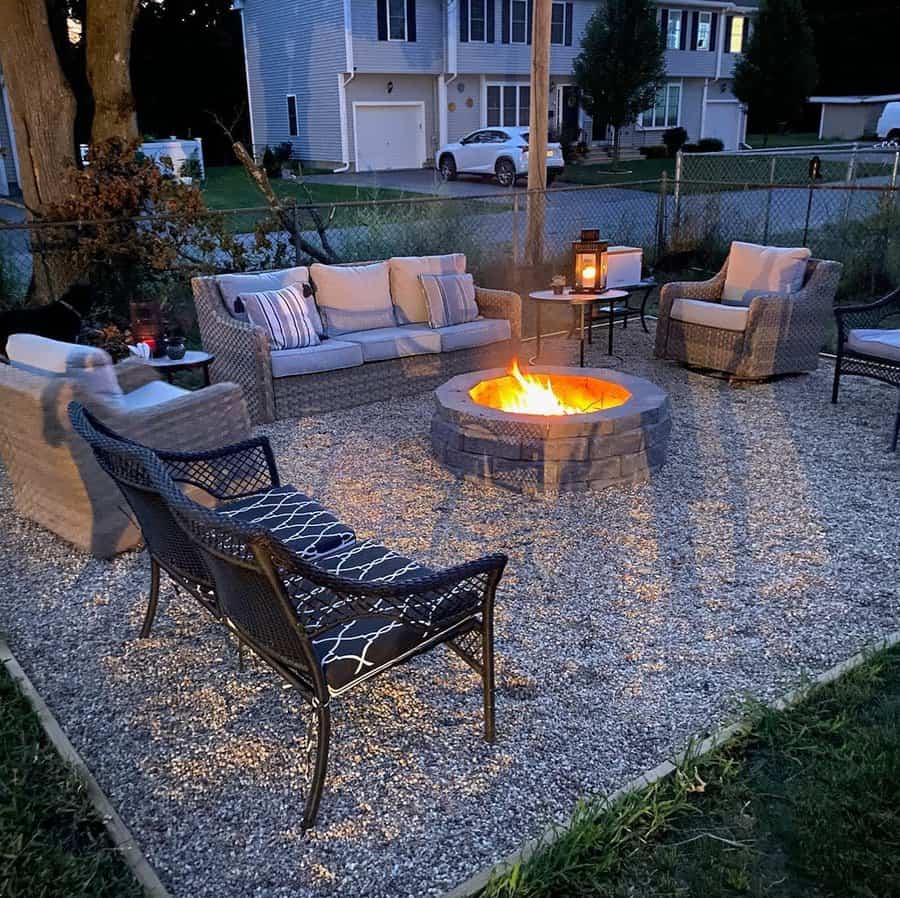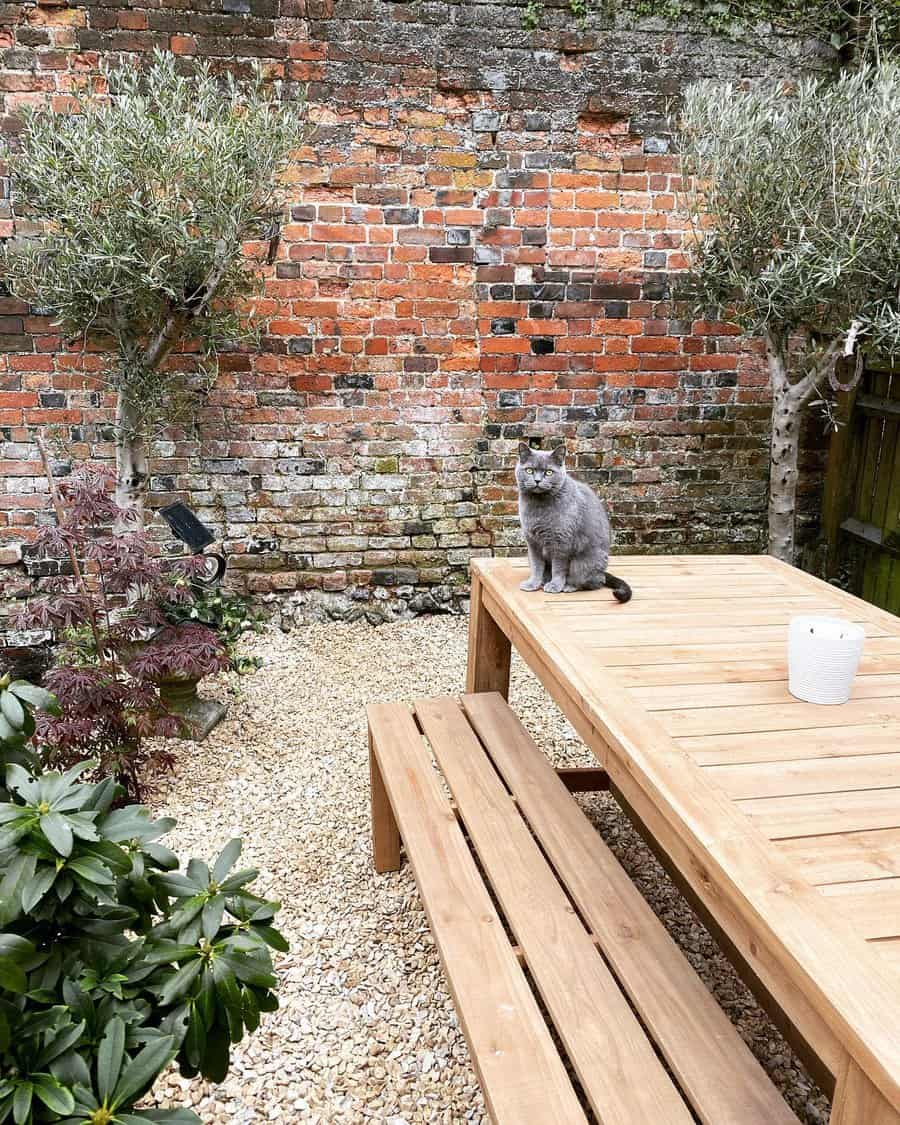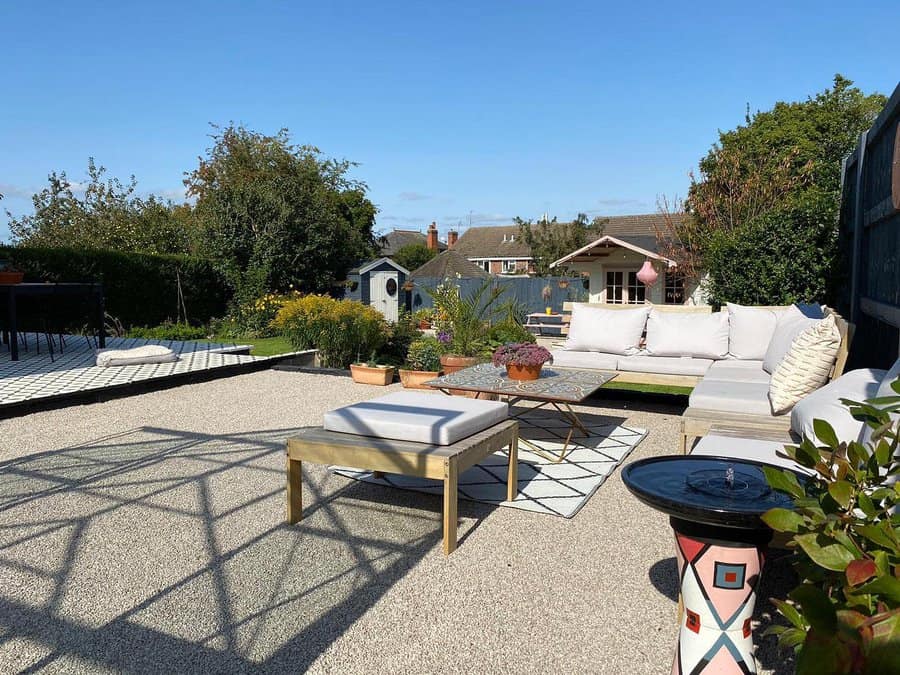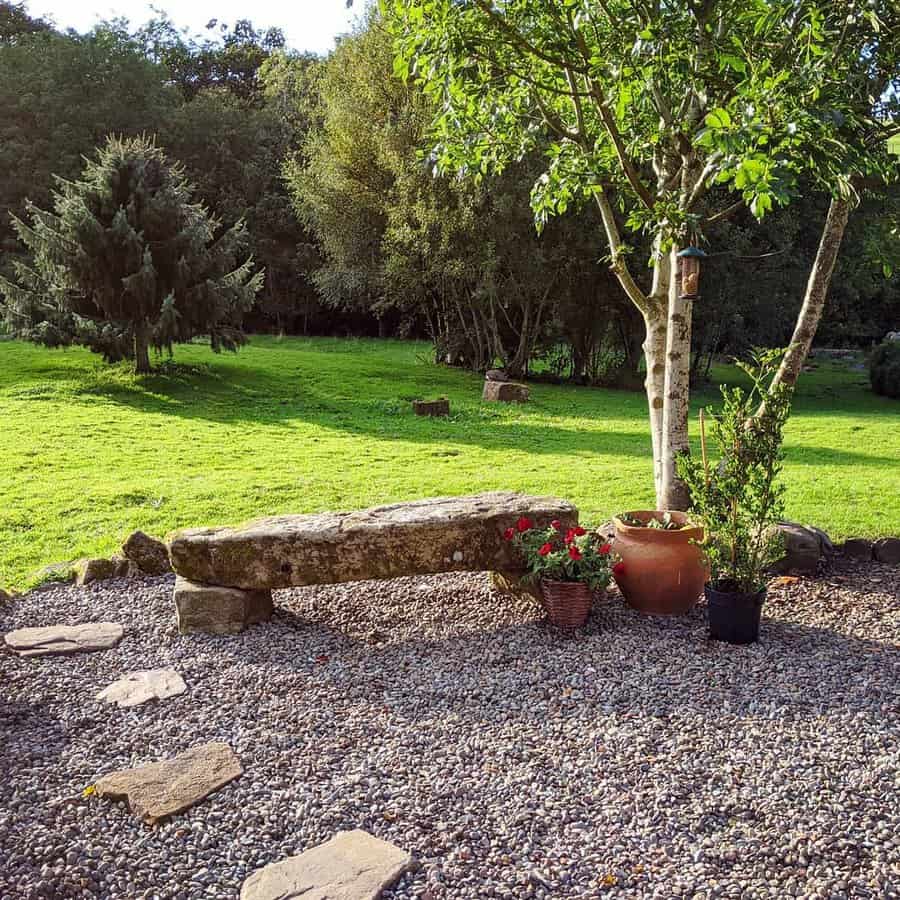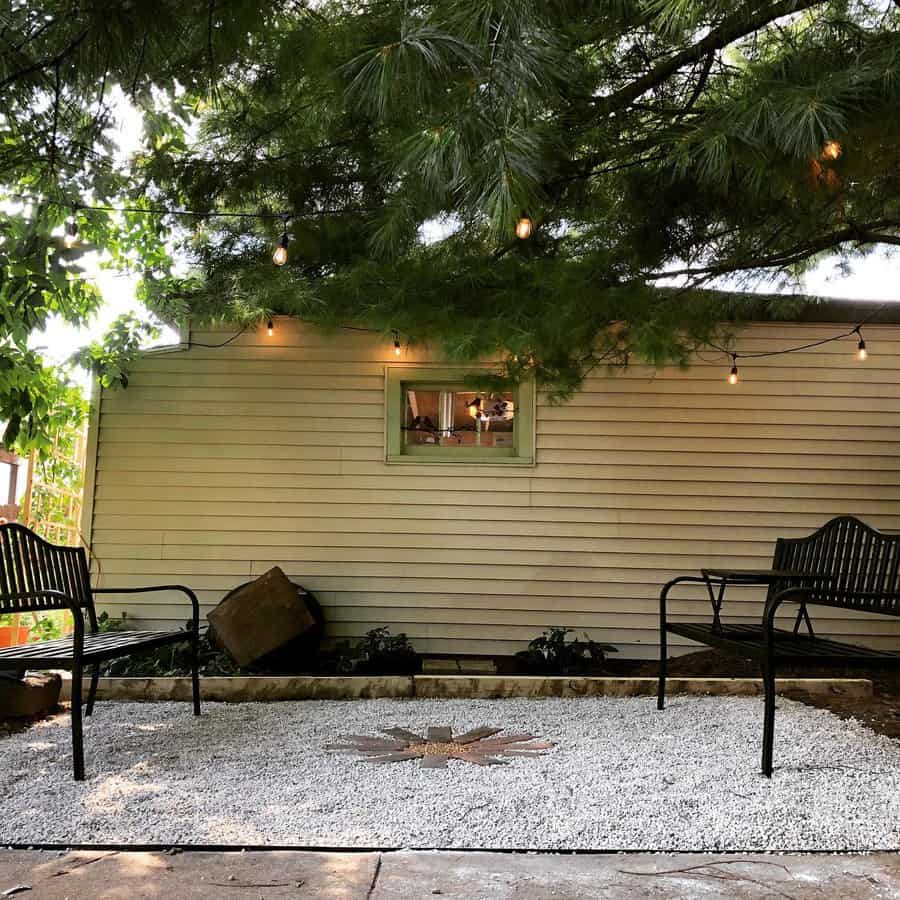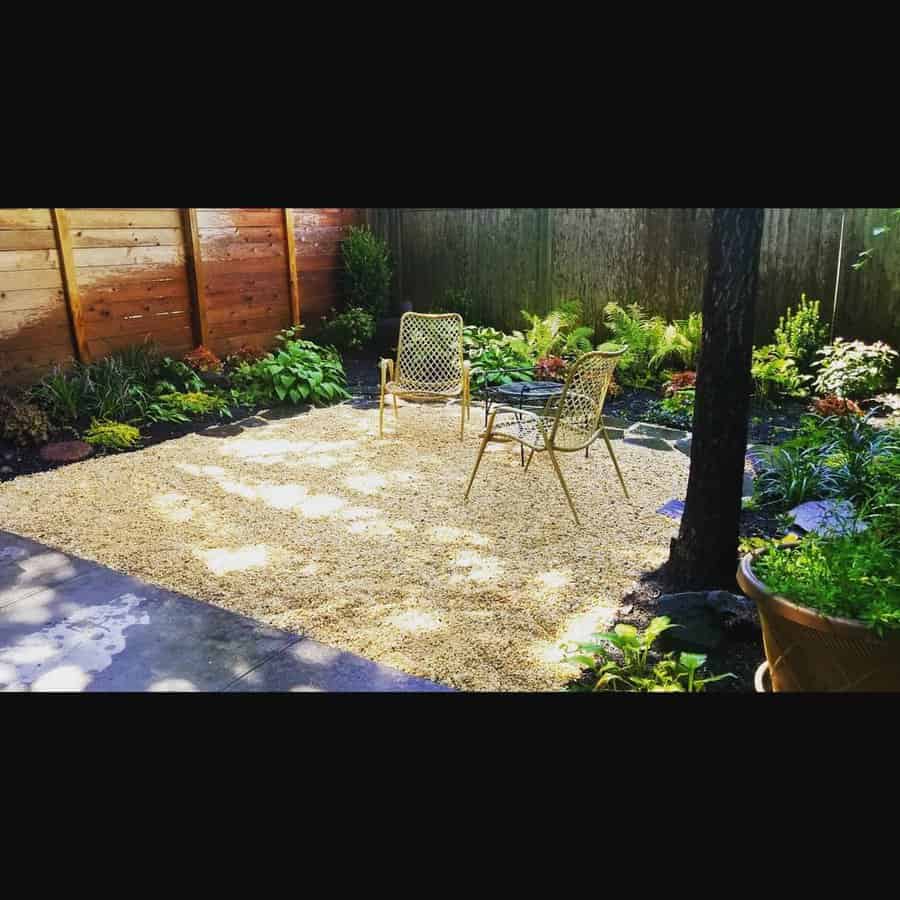 The smaller gravel is nicer than larger stones because they are easier to walk on. Using stones that are too large can shift underfoot, causing you to lose your balance. Another option is crushed shells. This is popular in coastal areas because it's a natural material found locally. They are bright white and have the same coverage ability as pea gravel.
7. Multi Level
Larger property can support multi-level patios. Start with a flat patio space that leads directly off of the house. You shouldn't have to step up or down when walking out your back door. Then add steps that lead up or down from your main patio level to other levels. You may need to build retaining walls to create the necessary support for the varied levels.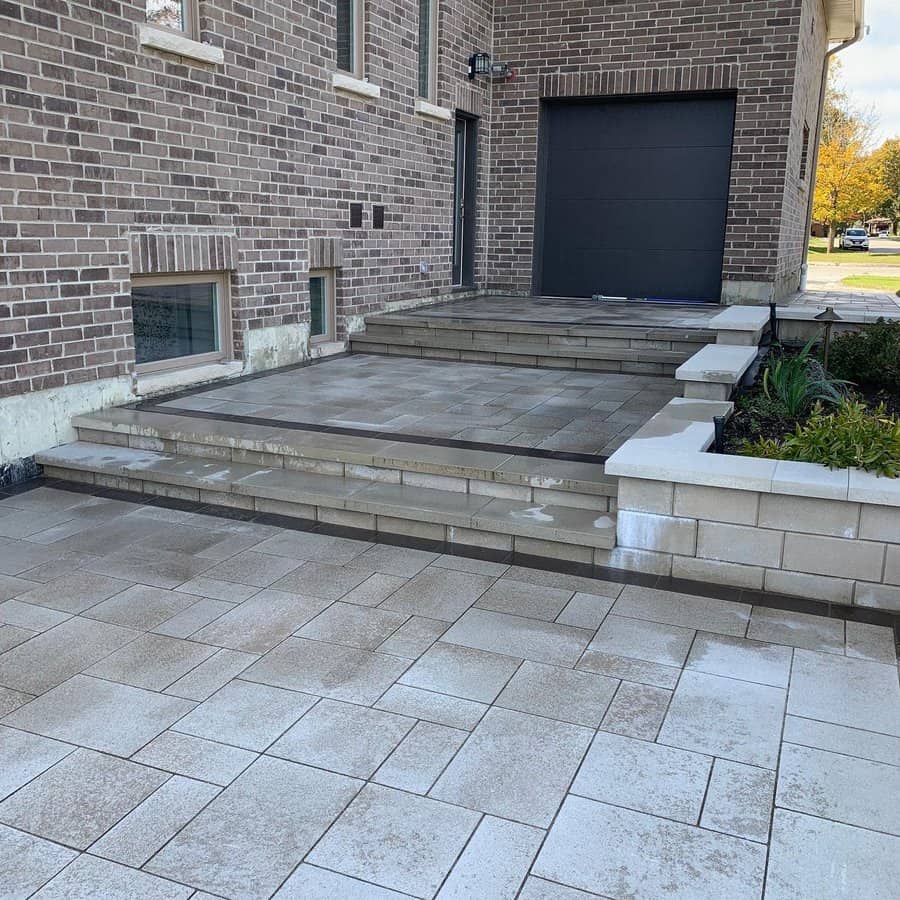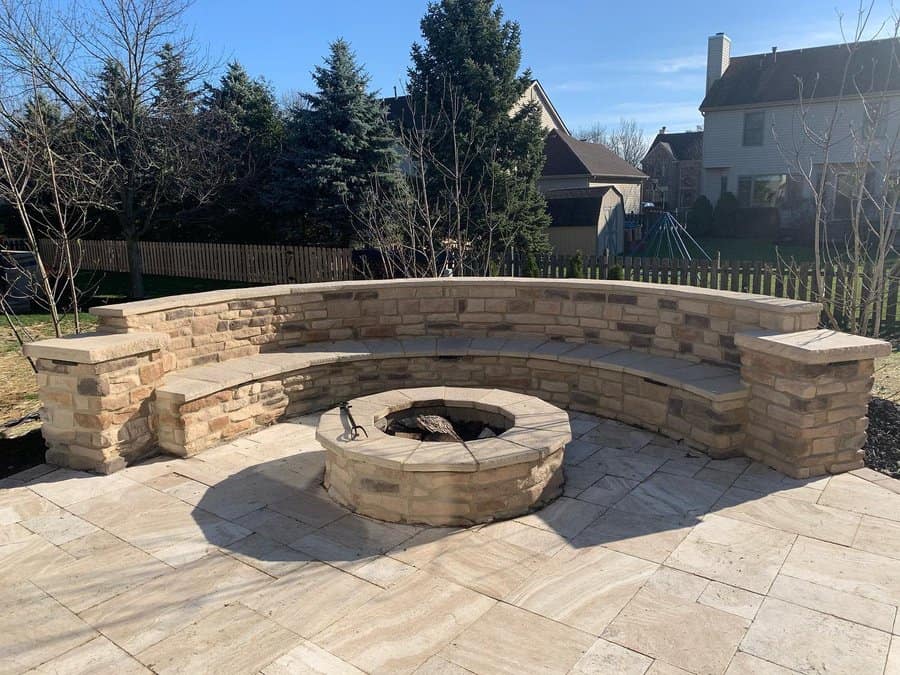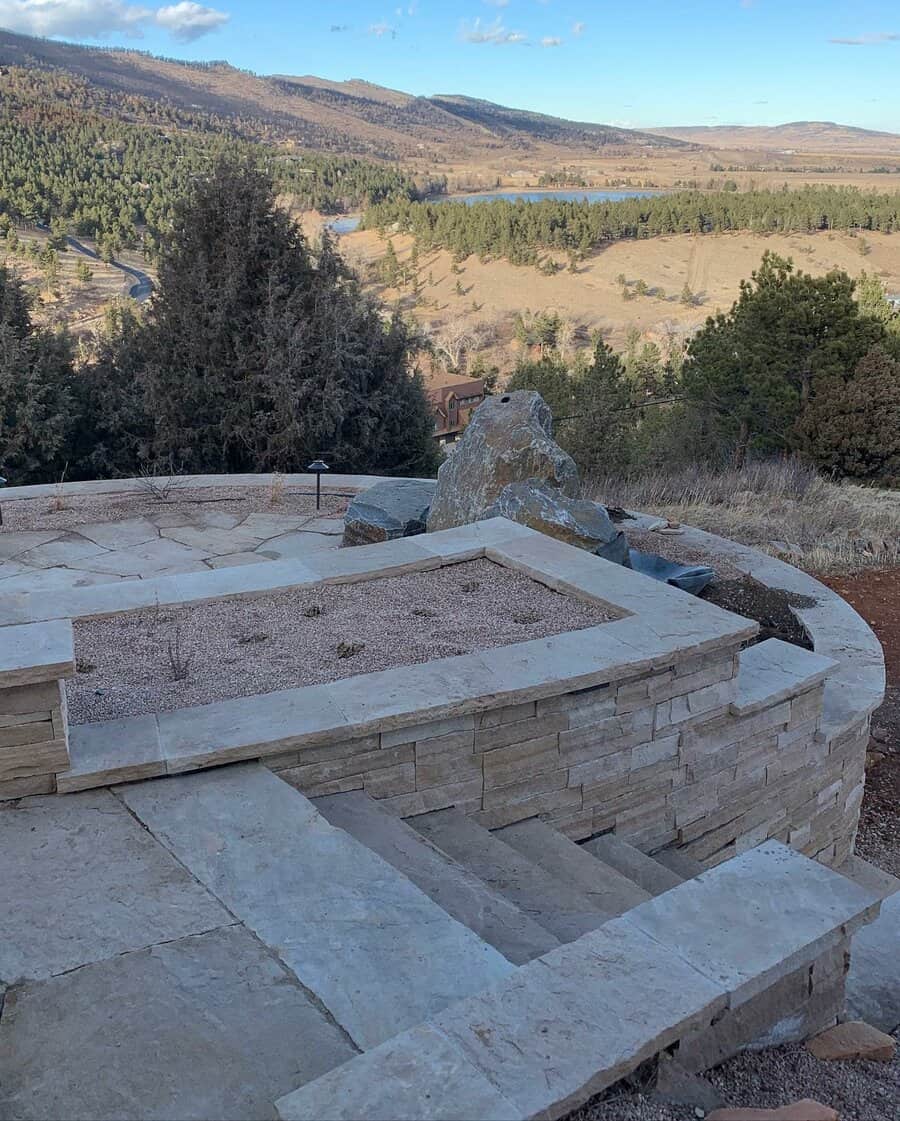 You often see this with wooden deck designs. The multiple levels are perfect for creating different use zones. One area could be for your fire pit or fireplace. Another area could be for your outdoor kitchen. Then a third area could be for your outdoor dining table. With these three zones, you can host a complete event where you prepare food and refreshments, serve, and hang out all while staying outside.
8. Paver
Using patio pavers is a smart choice when you want to create a unique patio design. Simple paving stones come in basic geometric designs like squares, rectangles, and hexagons. But these are not your only options. Some are specially shaped to interlock with the surrounding stones. When placed, the stones create a larger pattern.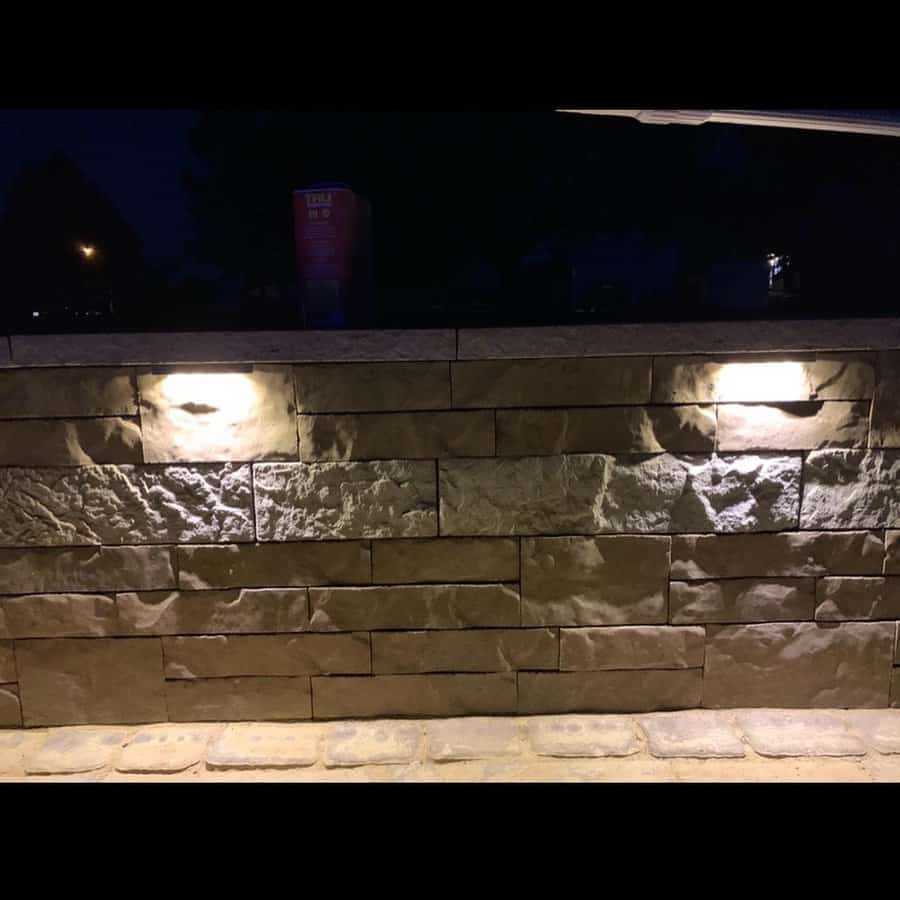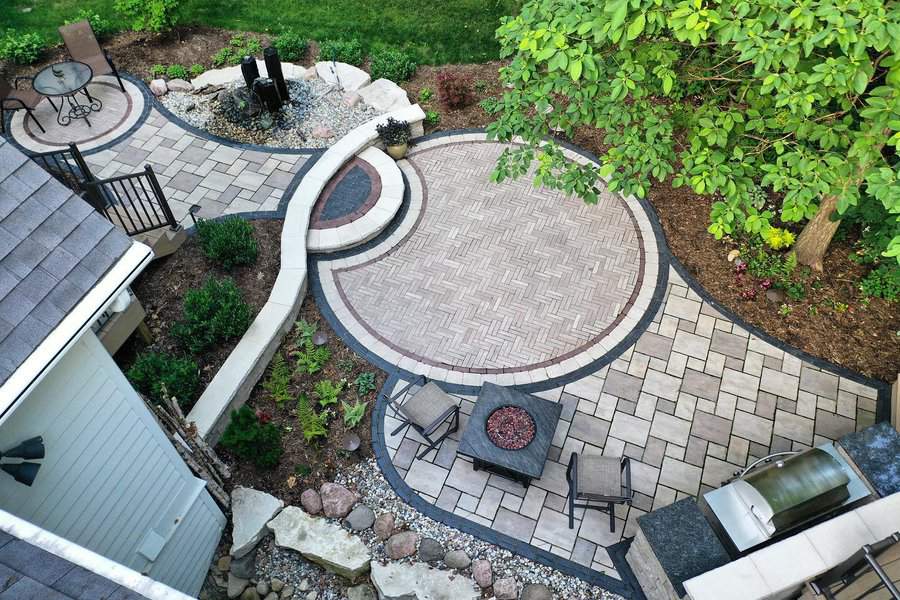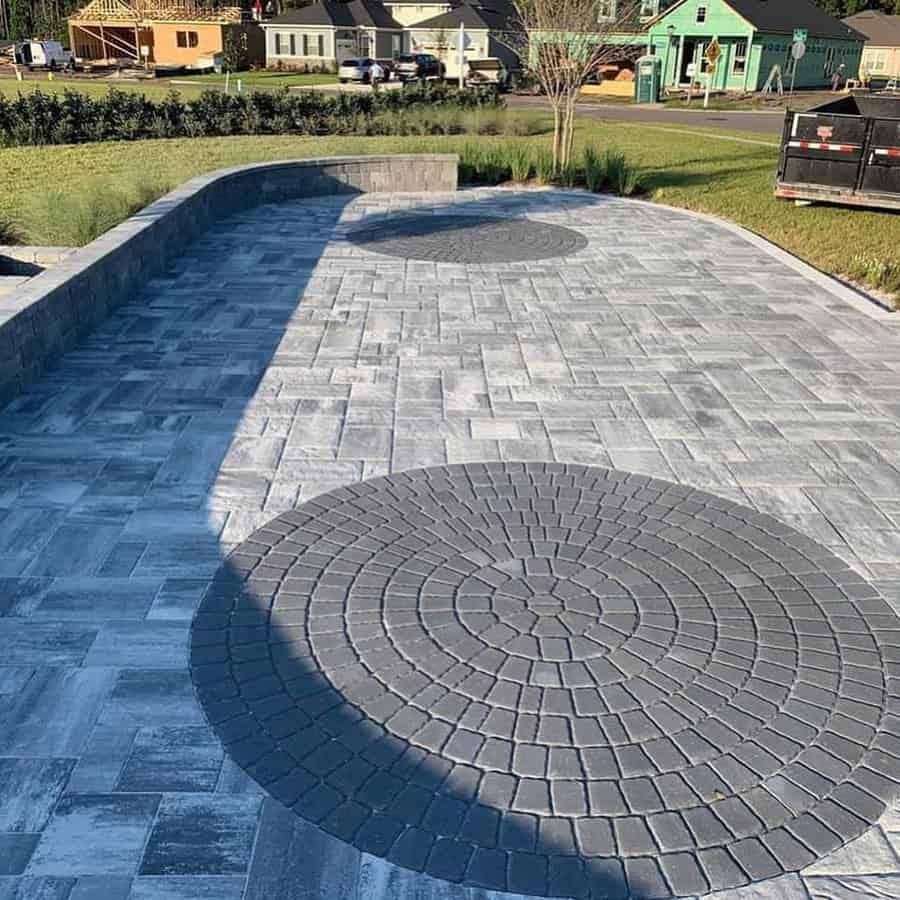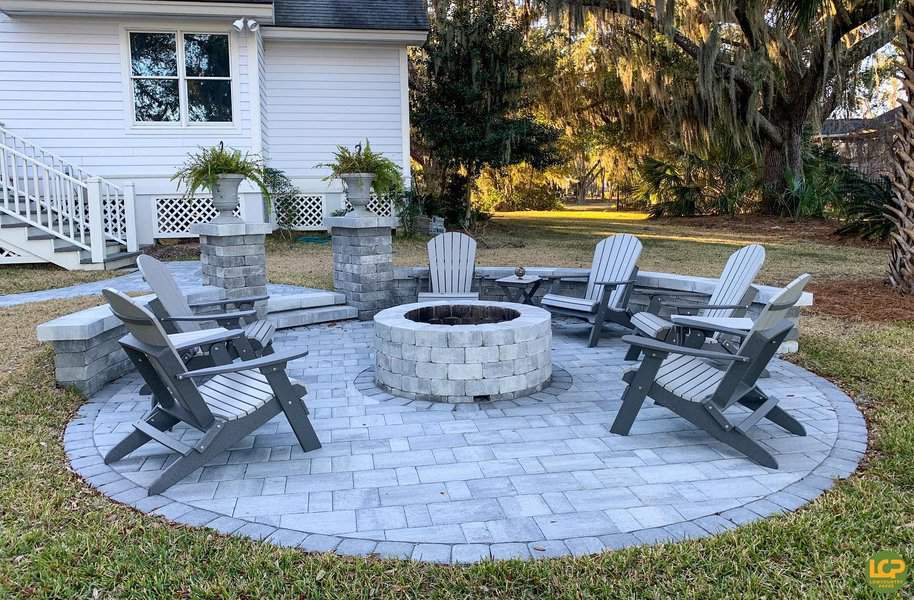 It may not be unique, but you can buy plain rectangular pavers and then create a herringbone pattern. Lay the stones at a 45-degree angle and offset from the stone before it. This adds stability to the patio and creates more visual interest than laying the pavers in straight lines.
9. Pool
Build a patio around your pool and keep your pool cleaner. This patio idea combines paver patio design ideas with pool designs. Doing this ties the design of the pool in with the design of your patio and home. You can extend the patio out further beyond the pool, creating more space for adding lounging chairs.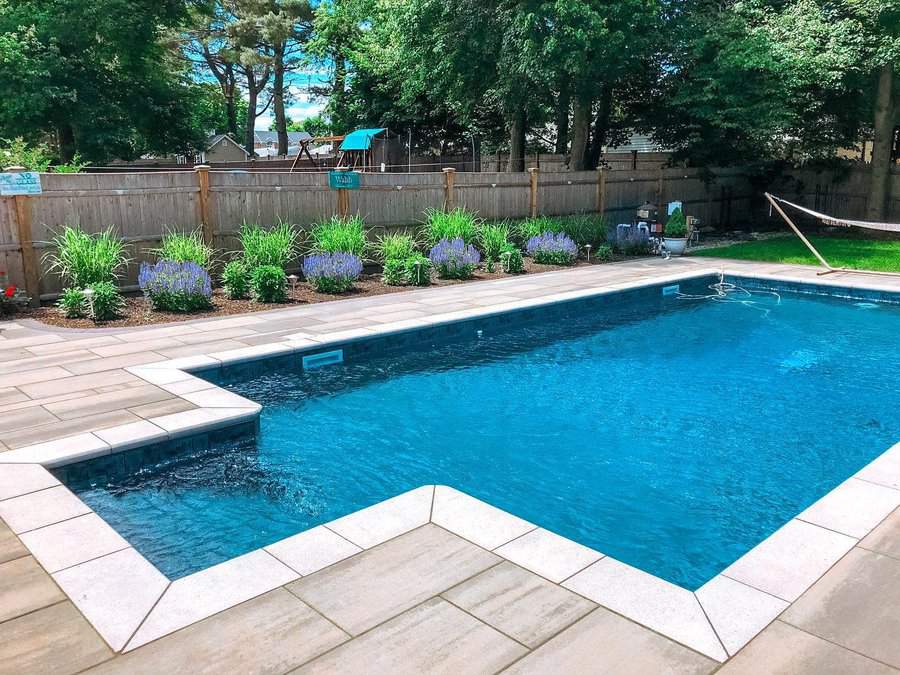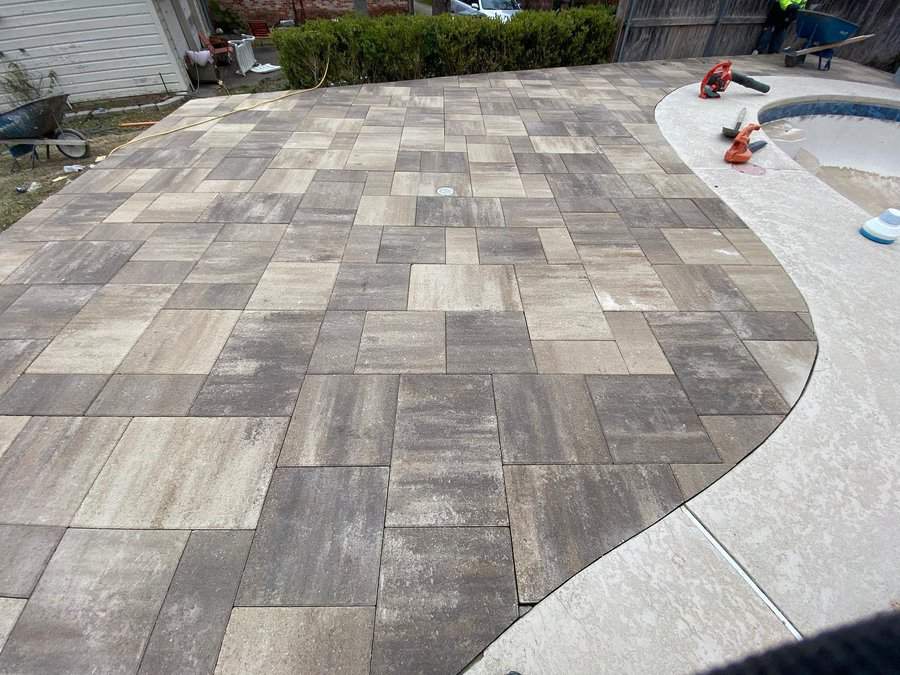 For a clean design, plan to use a larger stone for the edge around your pool. This creates a finished edge and helps to secure the smaller pavers better. If you have oversized stone tiles, then you may not need this decorative edge because the stones are heavy enough to stay in place.
Read more: Top 41 Small Pool Ideas
10. Round
Adding rounded elements to your stone patio design elevates the look of your backyard patio and makes it seem more expensive. Rounded designs are more expensive because they are harder to build than simple straight lines.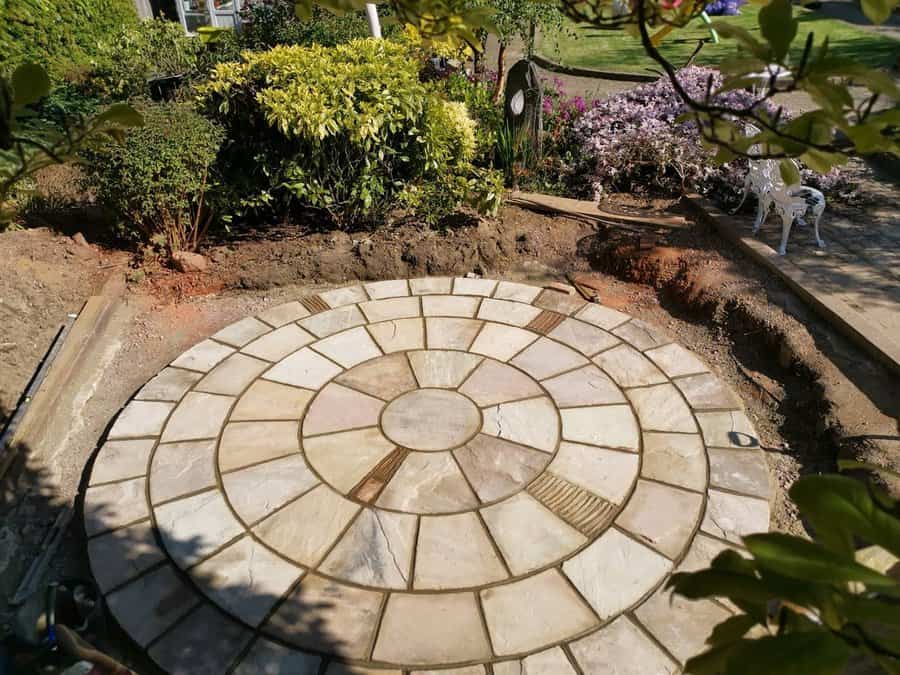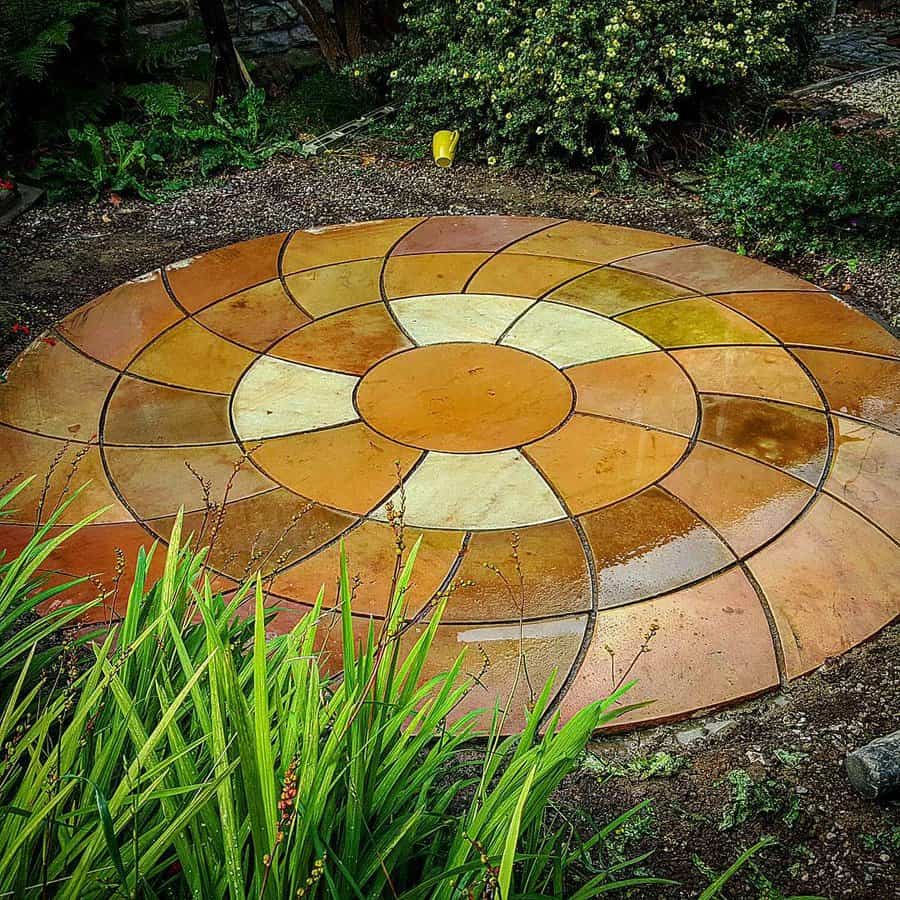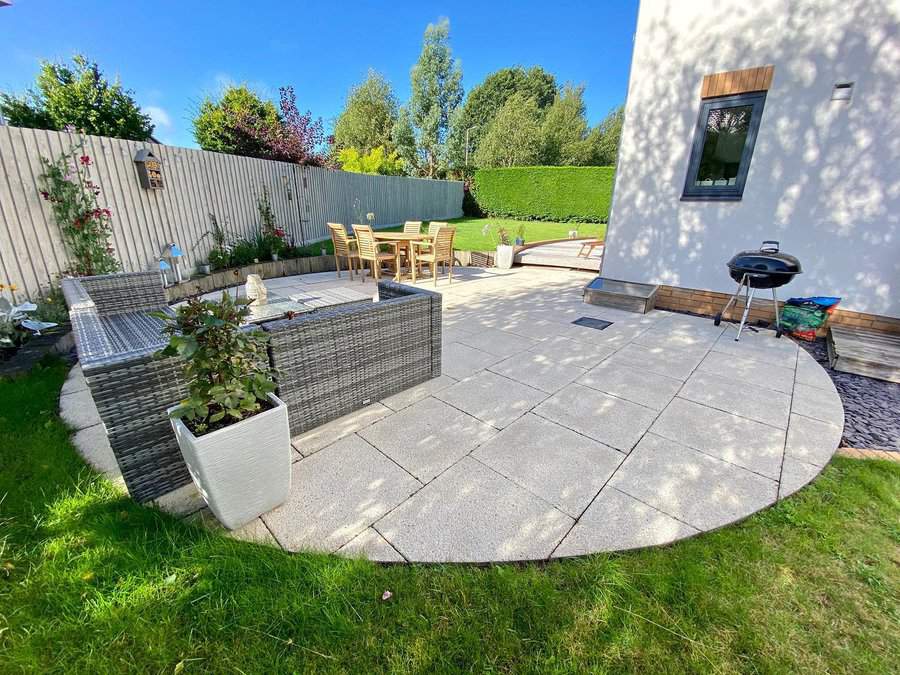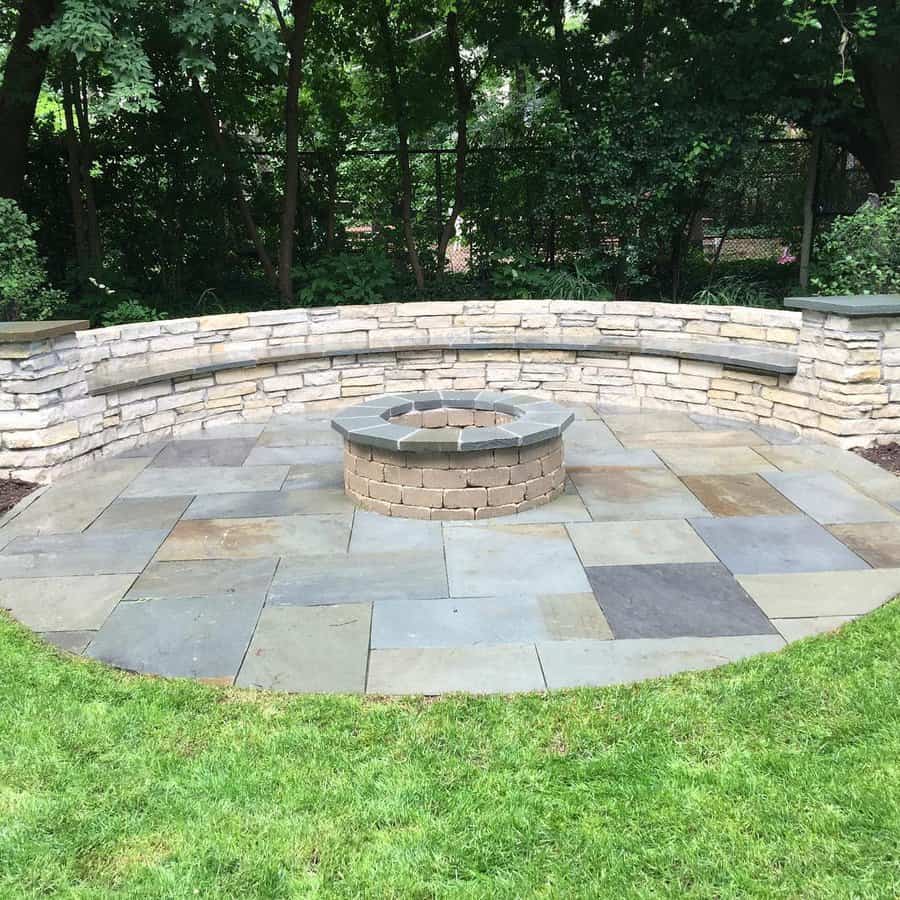 Cobblestones are good for this because they are round in shape. They are easier to form into curved lines and rounded shapes. Try placing them into scalloped shapes. Another option is to use wedge-shaped patio stones. They are perfectly shaped to make curved lines naturally. You can form them into a complete circle or make interlocking arches.
11. Walkway
You need more than just a patio. Adding walkways to your patio makes it easier to navigate around your entire property. You could use the same pavers or stones that you built your patio out of, but this can get expensive and create some complicated drainage issues. Instead, transition to using permeable pavers for the walkway.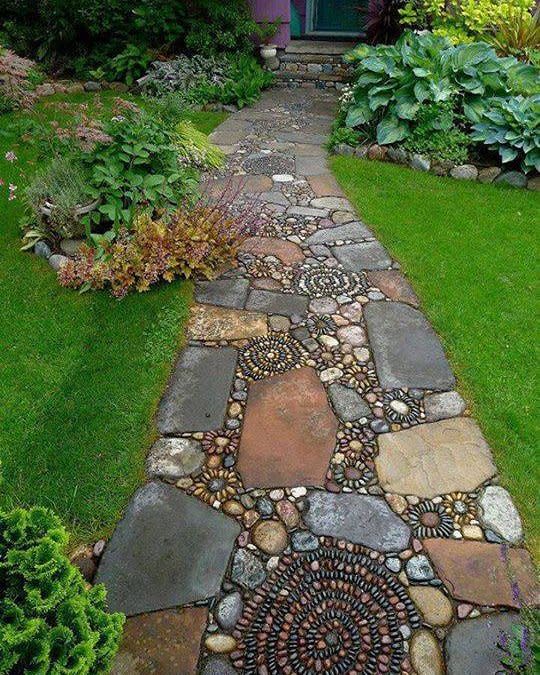 These are pavers that have built-in drainage holes. This lets rainwater, snow, and ice filter through the pavers and into the ground underneath. You'll enjoy better drainage and reduced puddles and pooling.
12. Wall
Don't stop with just the flat patio space. Adding a wall to your patio can define the space and create more privacy. Using the same pavers for the wall as you did the patio blends everything together for a uniform look. Designers consider this to be a clean design. You can see the difference when you compare paver patio ideas.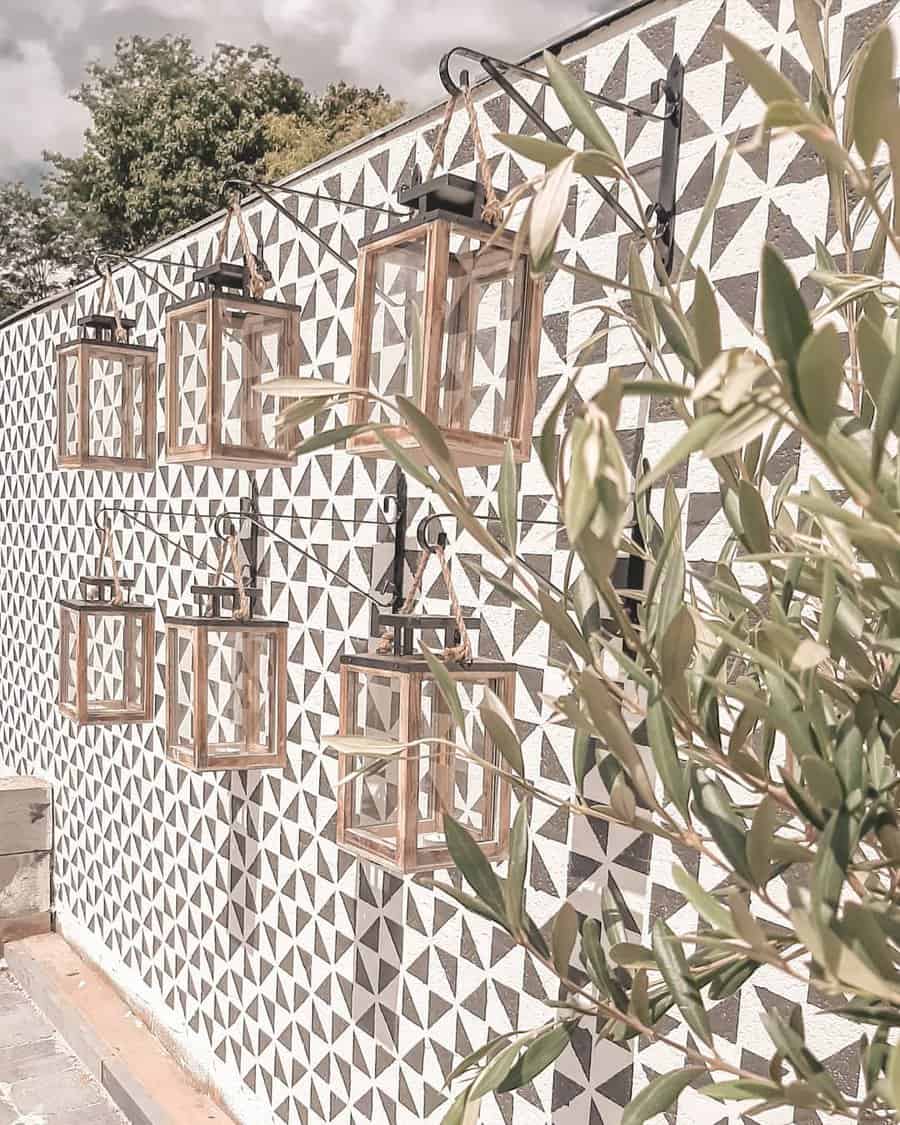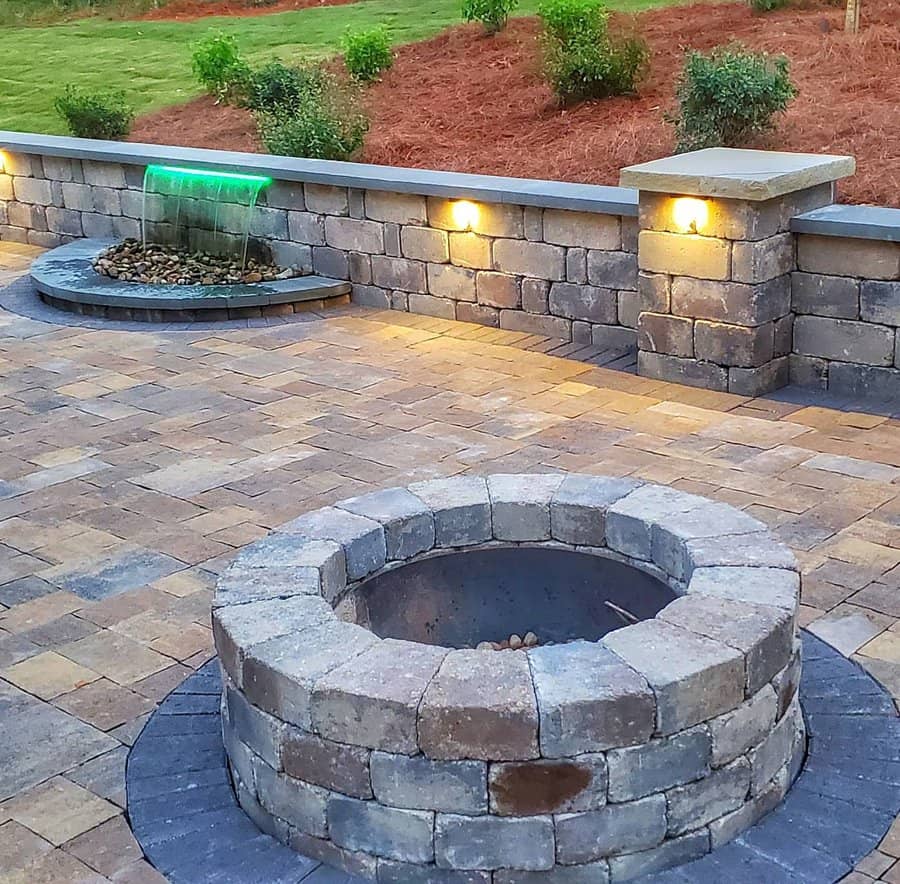 Too much stone can look sterile and bland. So be careful about how much building you do with the same type of stone. For more visual interest, consider changing up the pavers you're using. Add accent pavers with stones that are different complimentary colors or sizes.
Stone Patio FAQs
What do you set patio stones with?
Place the stone pavers on a layer of sand and gravel. The bottom layer should be about four inches deep of gravel for proper drainage. Then there should be a layer of sand that's about 1.5-2 inches deep. The stones settle into this layer, and it helps keep them in place. A very fine grain of sand is then worked into the gaps between the stones once they are all in place.
How big should a stone patio be?
The general rule is to plan on 25 square feet for each person you want to have on your patio. For example, if you hosted a get-together with 15 people, you would want about 375 square feet. So, a 20 x 19 square foot patio would give you a 380 square foot patio.
Can a patio be too big?
Yes, if you don't style it or use the space correctly. Most homeowners struggle to visualize the size of their patio when finished, which leads to them building a patio that is either too small or too large. Patios that are too large lose their intimate feel, and furniture looks like it is awkwardly floating in your backyard. You can fix this by creating small zones with different uses.