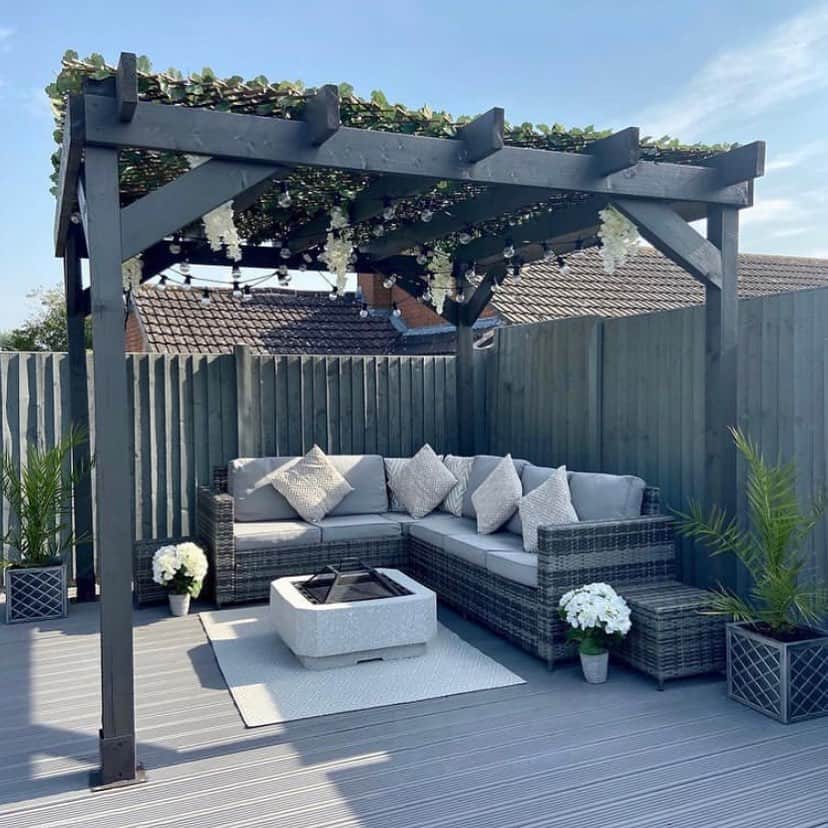 71 Stunning Pergola Ideas for Your Backyard
by — Andra DelMonico

Published on February 24, 2022

Updated on August 23, 2023
You love having an outdoor kitchen or sitting area on your backyard patio or deck. The only problem is the lack of shade. You would enjoy your outdoor living space a lot more if it weren't so darn hot. Adding an outdoor structure like a pergola can provide you with much-needed relief from the sun. You may not realize that pergolas come in a wide range of sizes, shapes, styles, and materials. Choosing the right pergola for your backyard will depend on your budget, space available, and desired style.
These pergola ideas will help you add some much-needed shade to your outdoor area.
1. Build An Attached Pergola
An attached pergola built off the side of your house could be the perfect addition to your backyard. Not only does it offer an extended amount of shade and a canopy effect, but also provides room for vines to grow and aesthetically enhances the appearance as well.
Installing an attached pergola will not only cover your patio area and provide much-needed extendable coverage from the hot summer days but can tie into existing decor easily by attaching string lights or draping fabrics for added texture. Go big and make a statement in your outdoor space with an attached pergola for your backyard!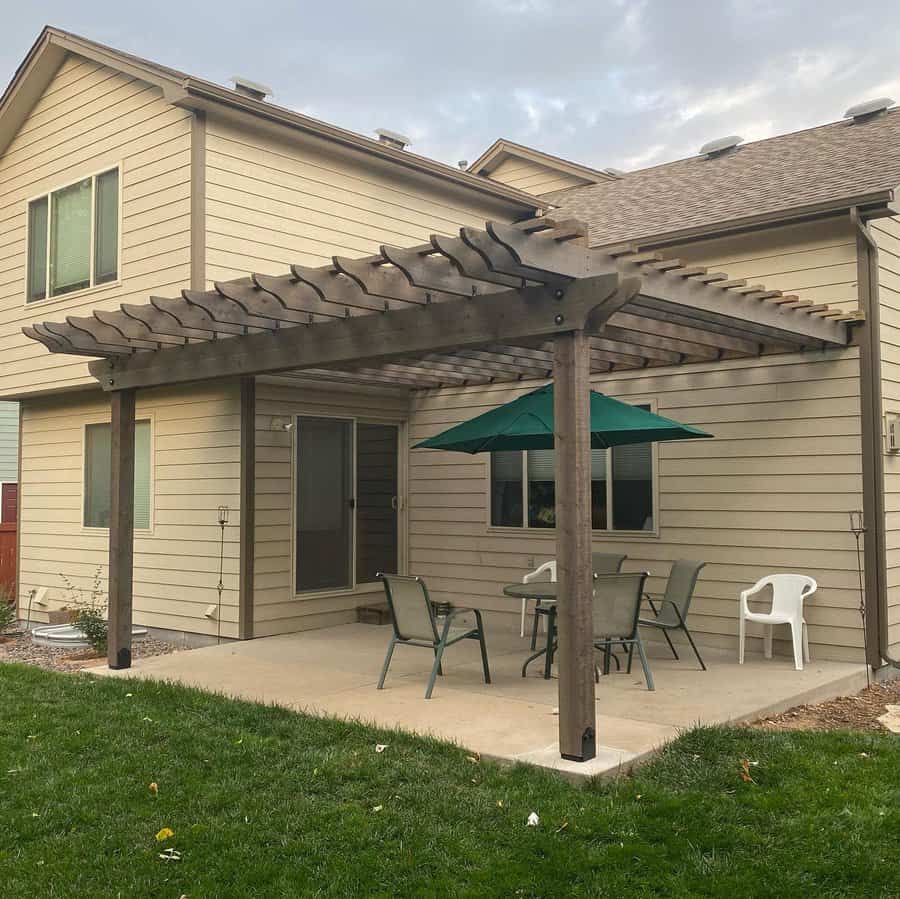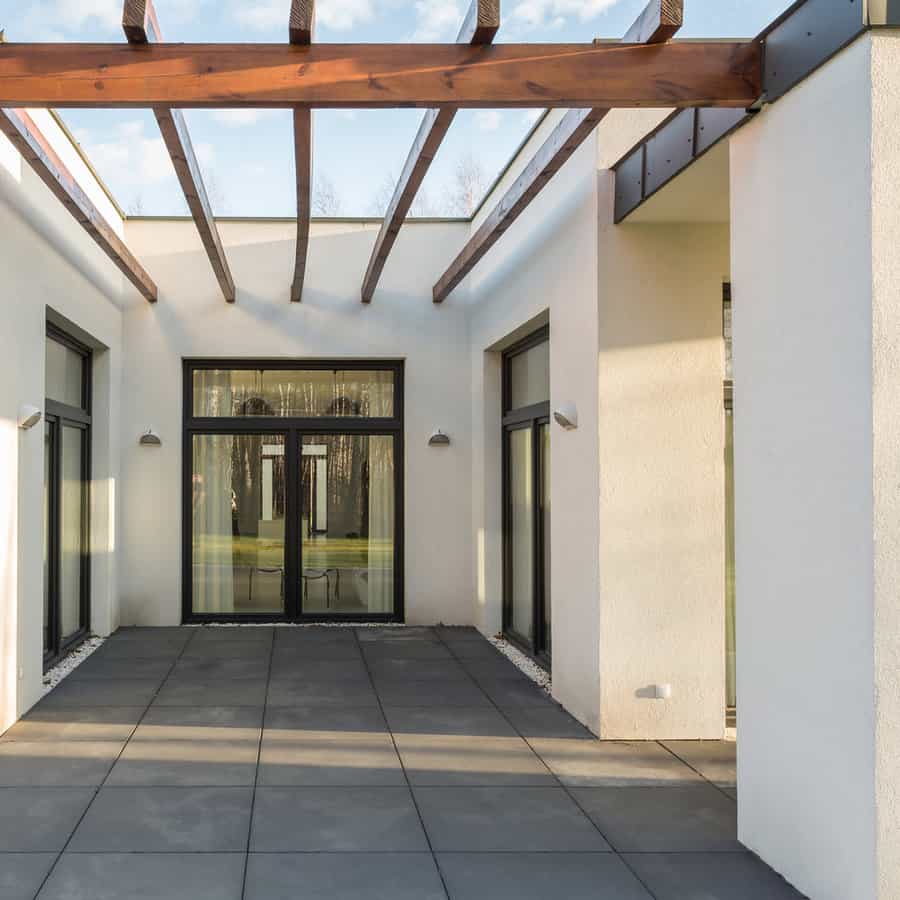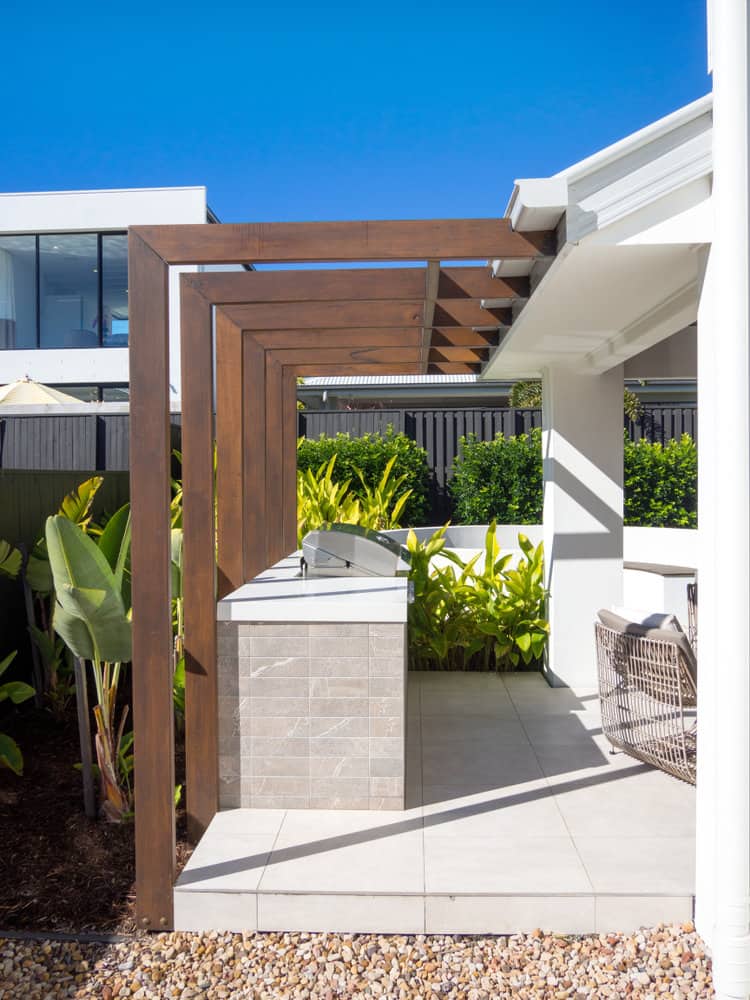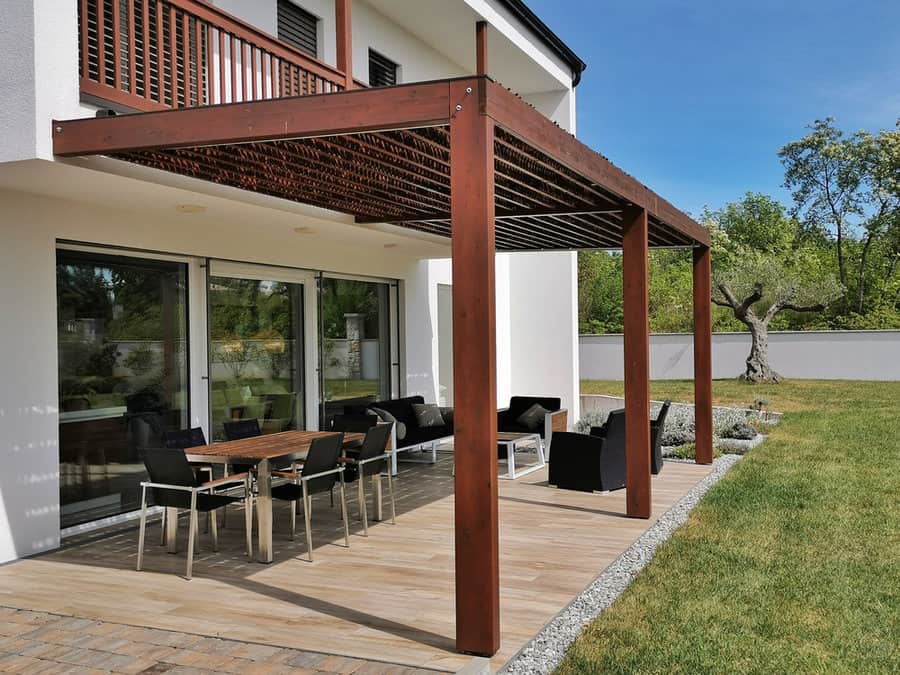 2. Add More Coverage
Installing a pergola in your backyard can give you the perfect spot to relax or entertain guests. But before getting started, it's important to consider what type of pergola would best fit your outdoor space. If you want good airflow but protection from direct sunlight, a pergola with a narrow screen or patio cover is ideal.
Alternatively, if you're looking for a pergola that offers more flexibility, consider getting one with a mechanical roof that can be opened and closed as needed. Whichever pergola type you choose is sure to provide better usability for your outdoor space!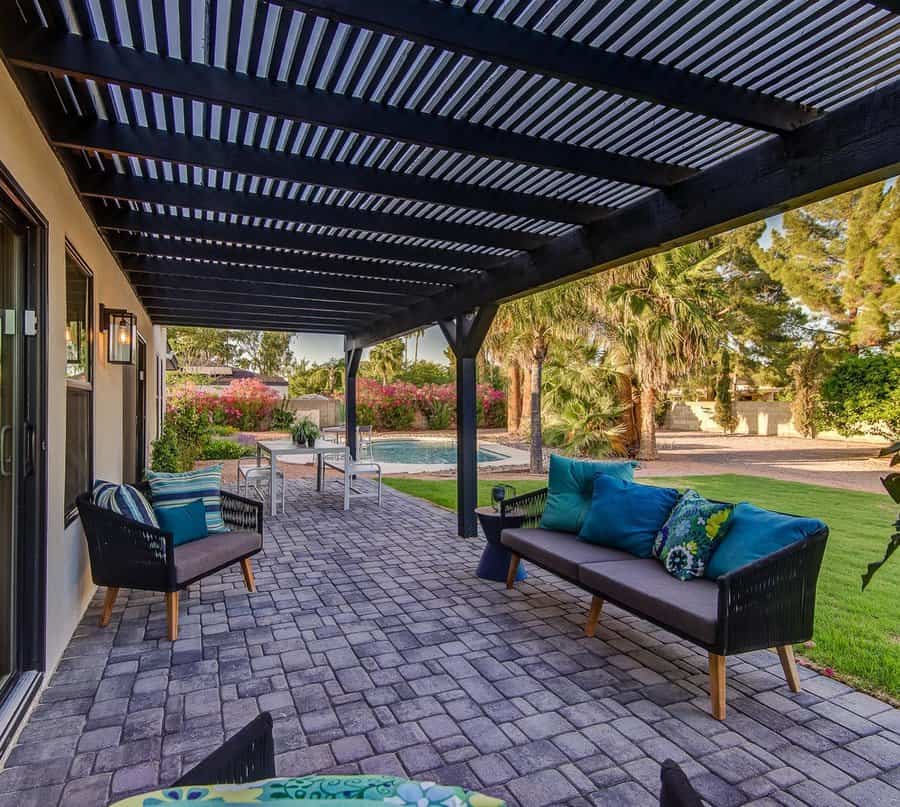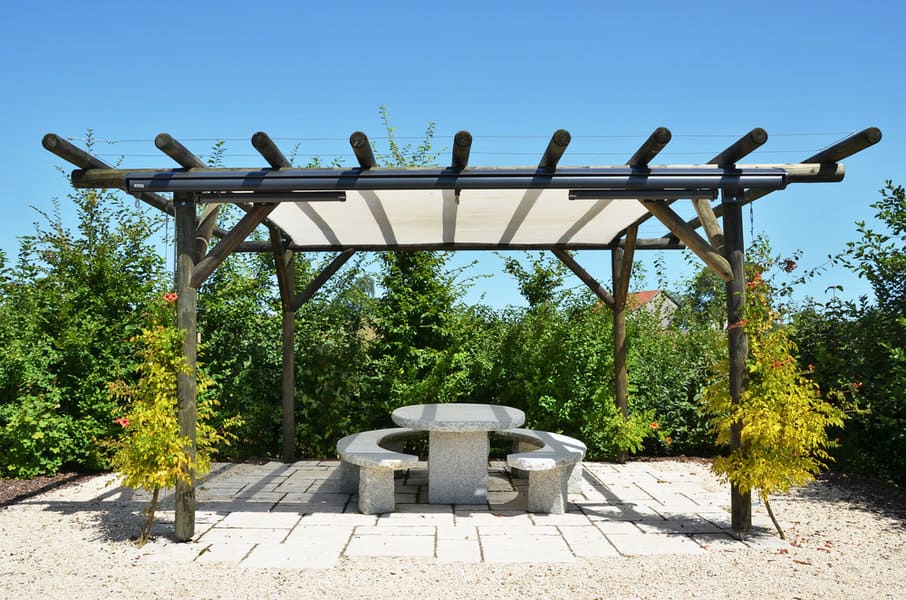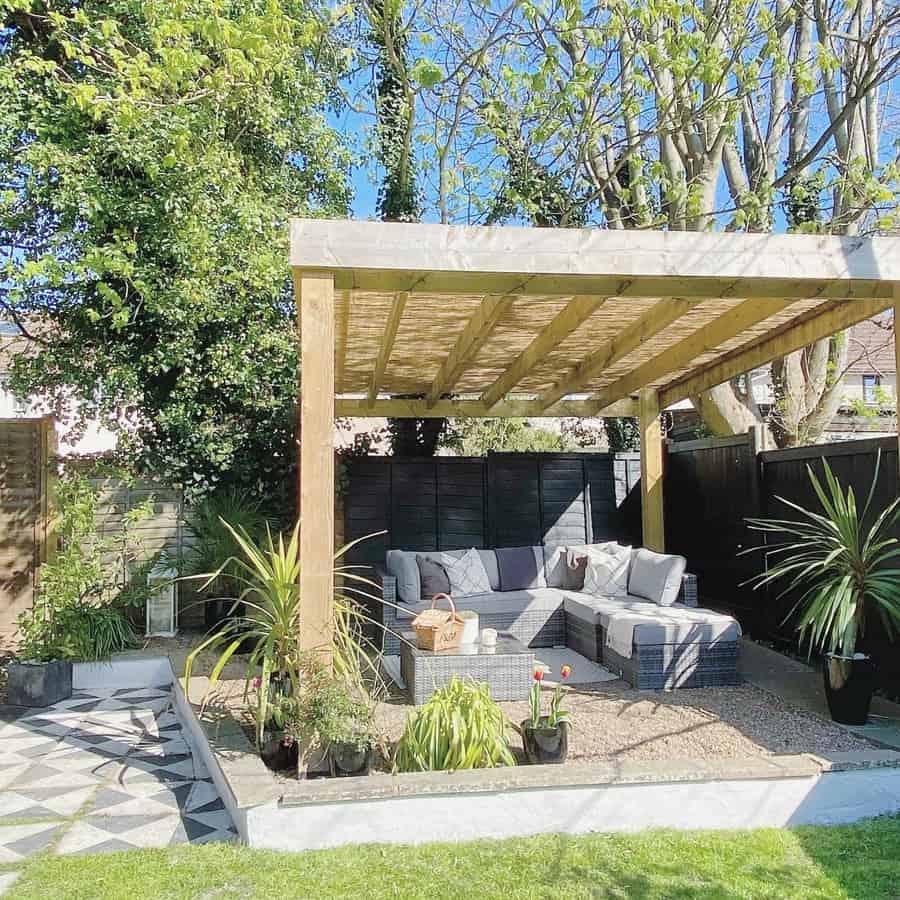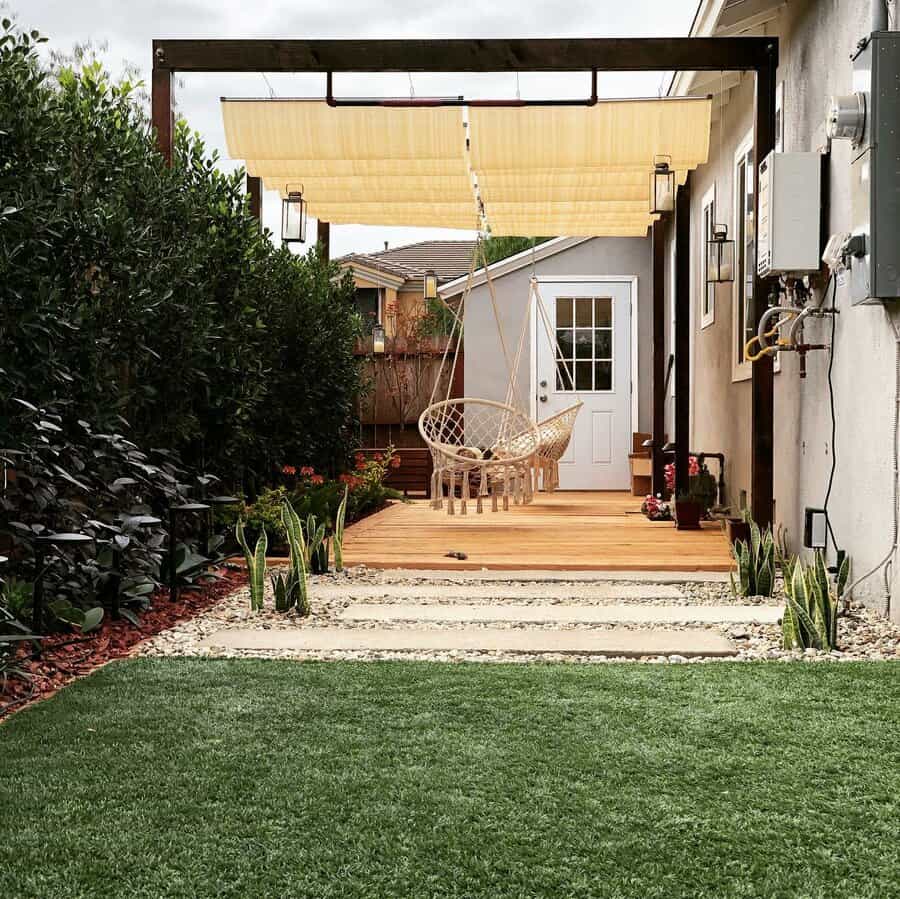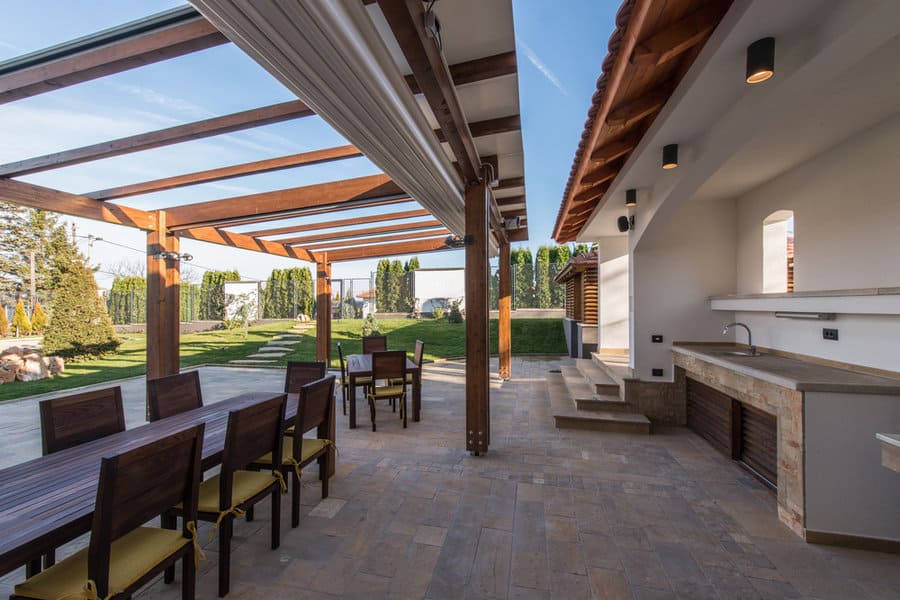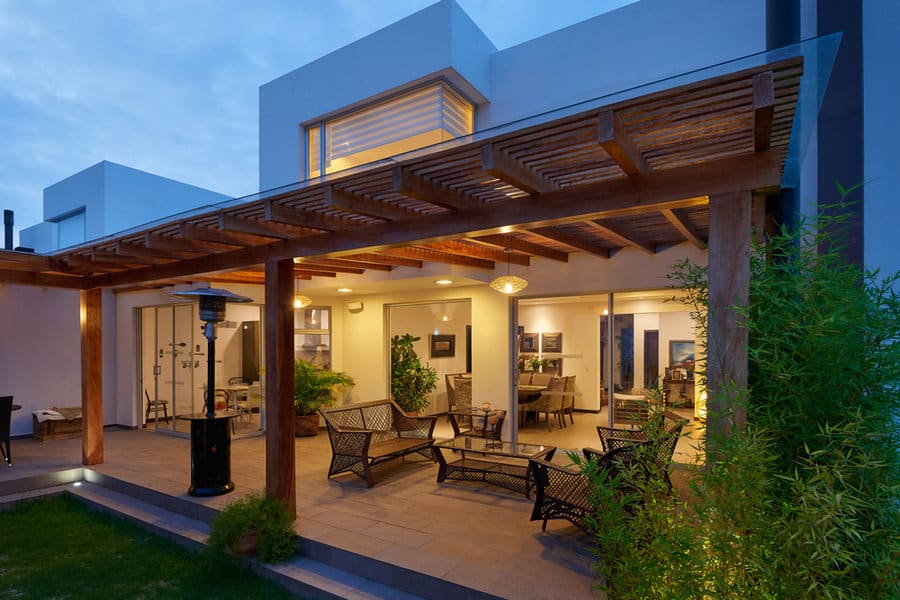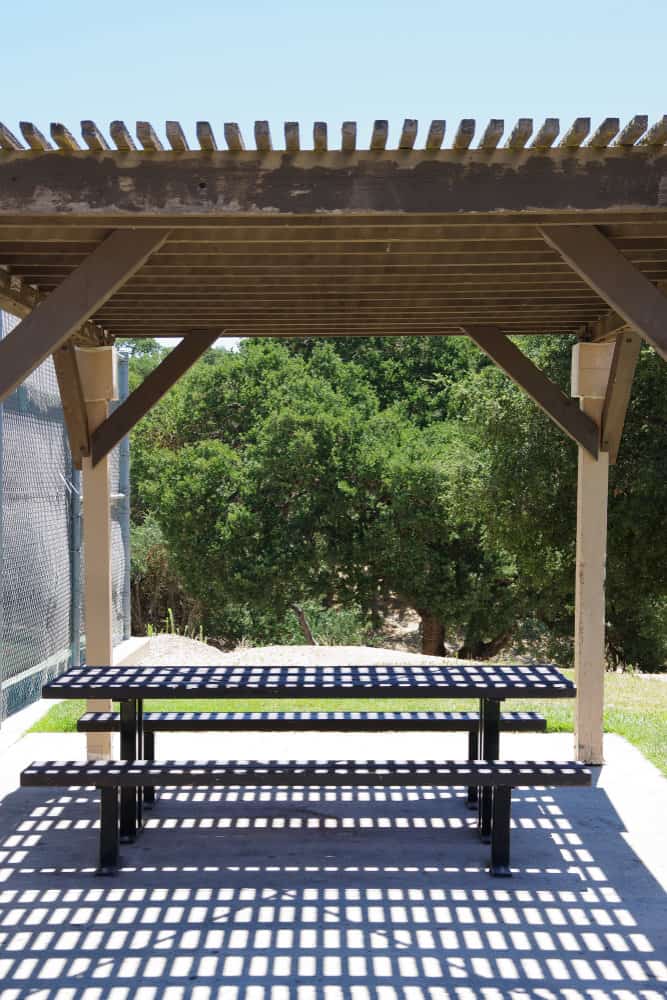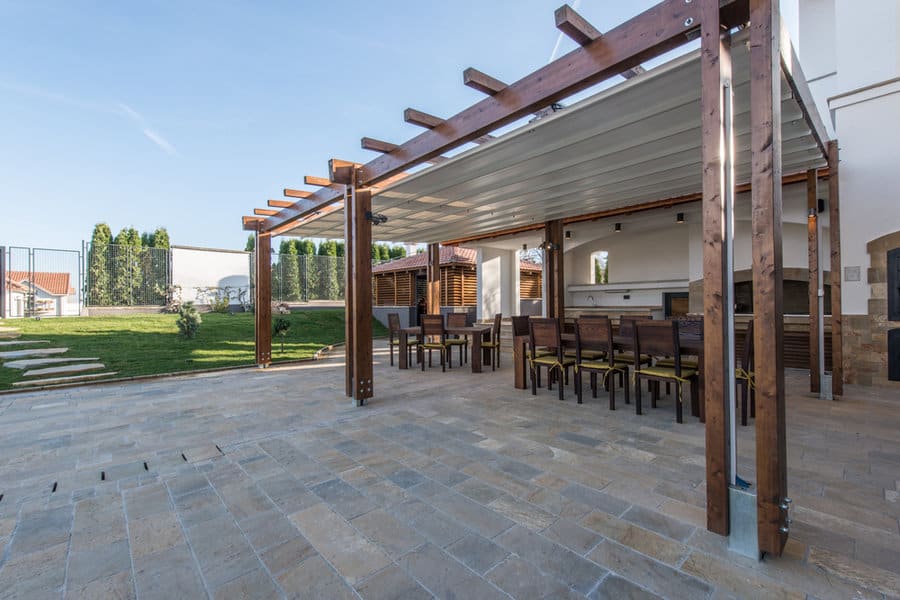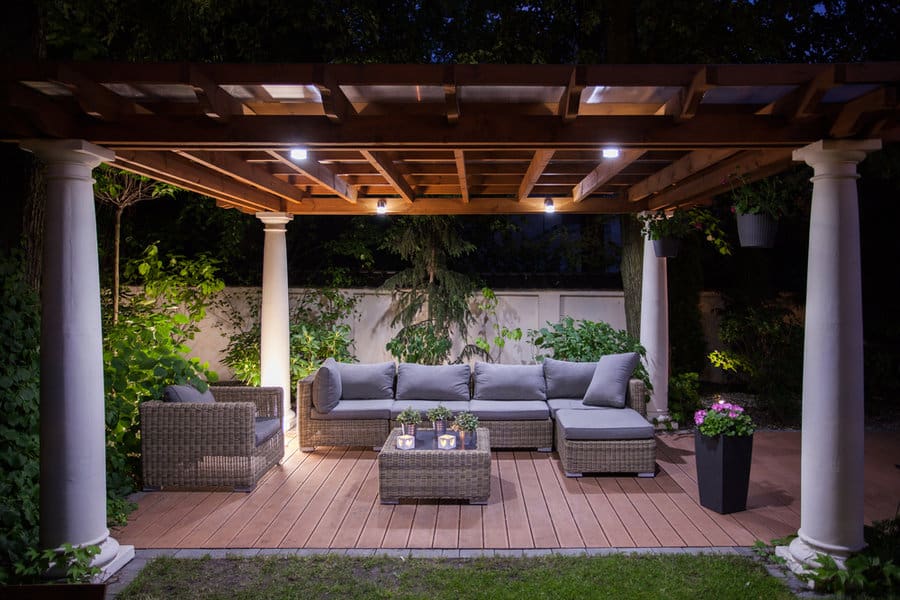 3. Elevate The Deck With A Pergola
Creating a deck patio with a pergola is an excellent way to bring dimension and beauty into your backyard. A pergola adds some drama to the natural landscape that can't be achieved any other way. Not only does it highlight existing elements, but it also brings an engaging element of shadow play through its interlocking slats.
A great thing about pergolas is that they are fun to customize; from lush vines and trailing plants to whimsical decorations, your deck patio with a pergola will look like something out of a dream.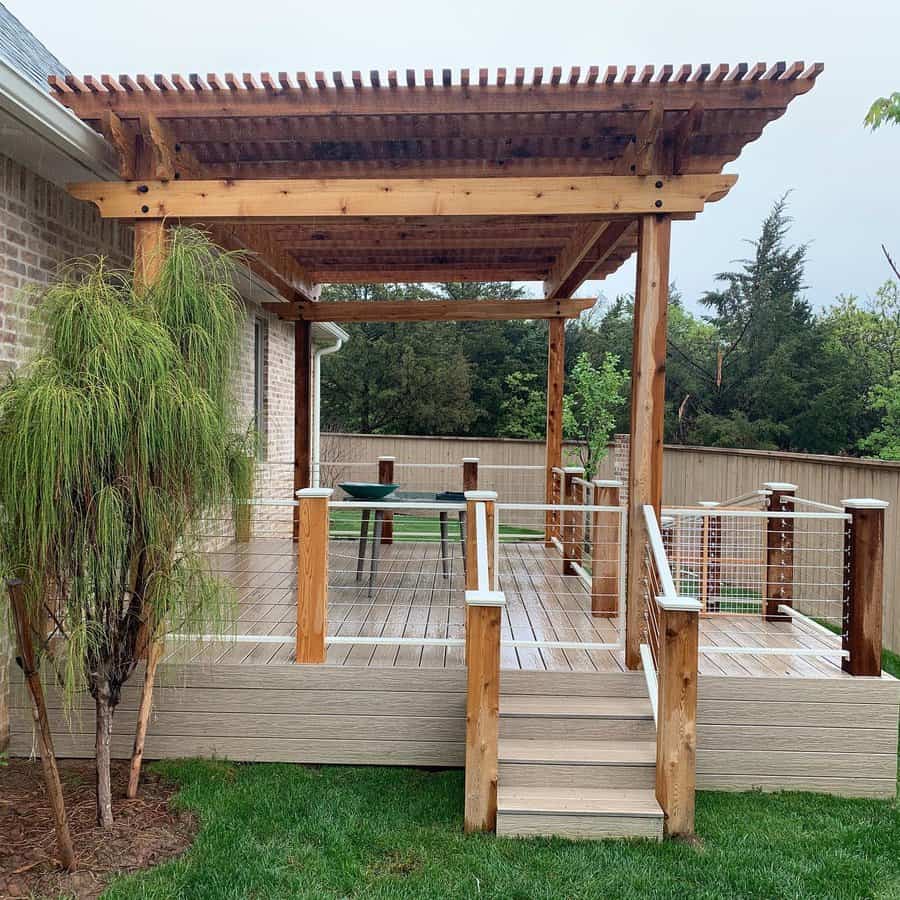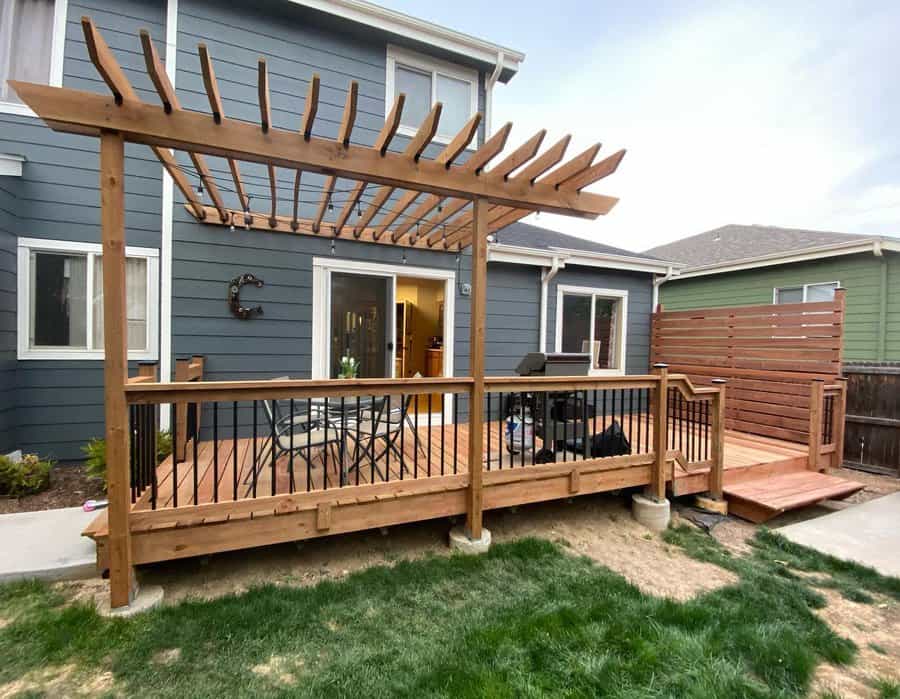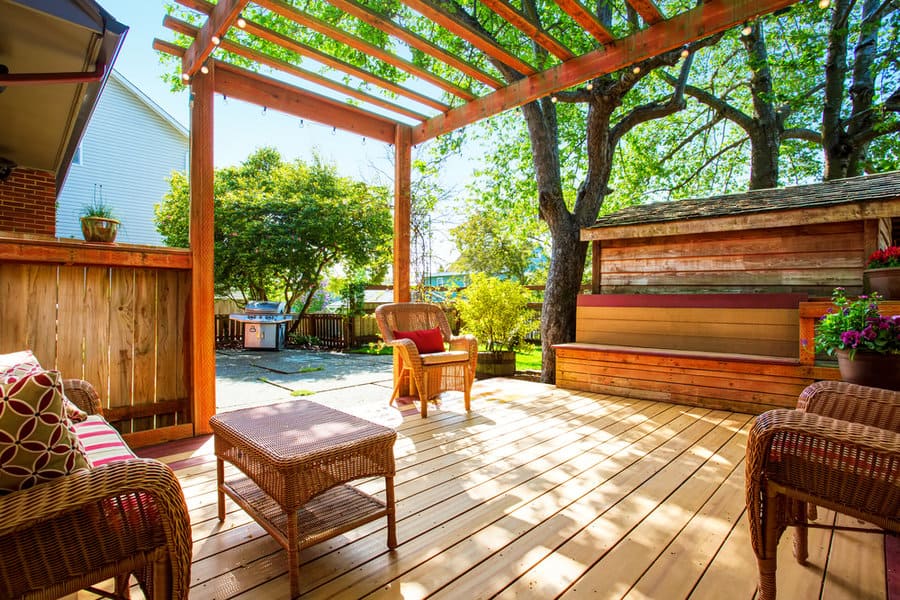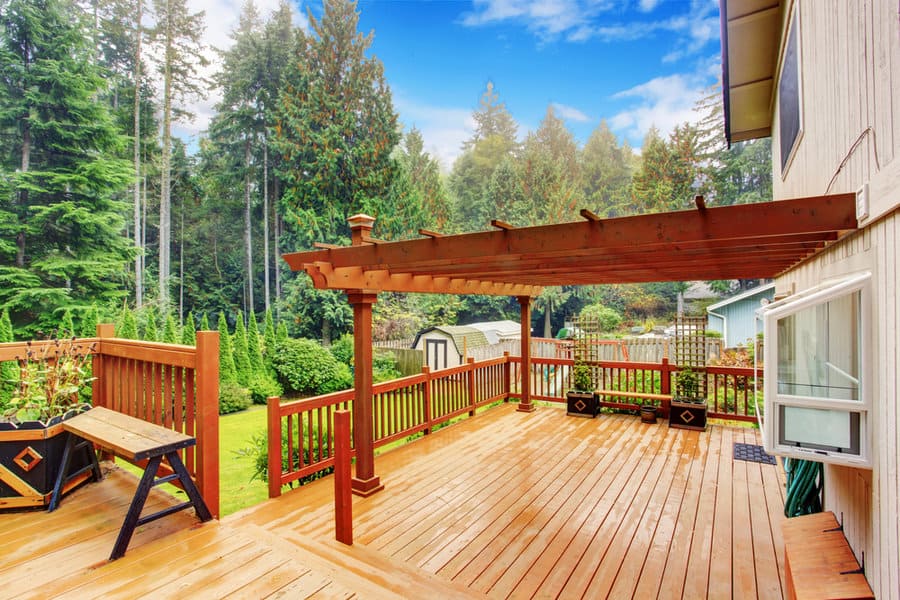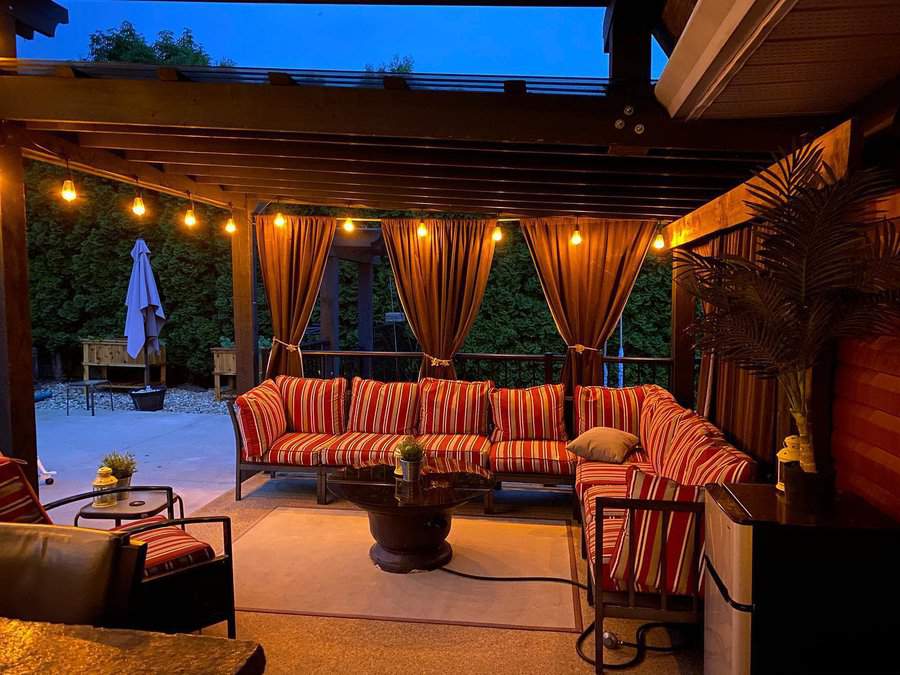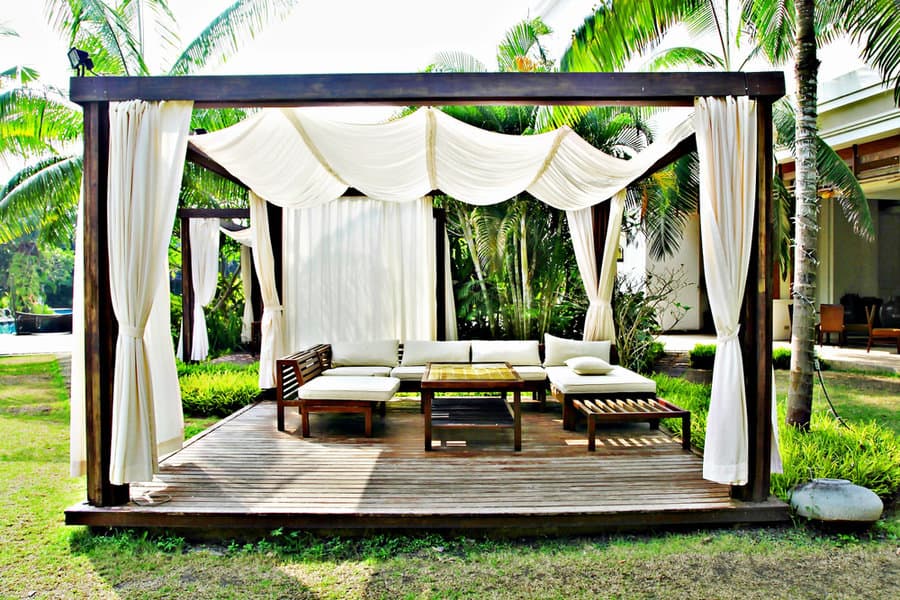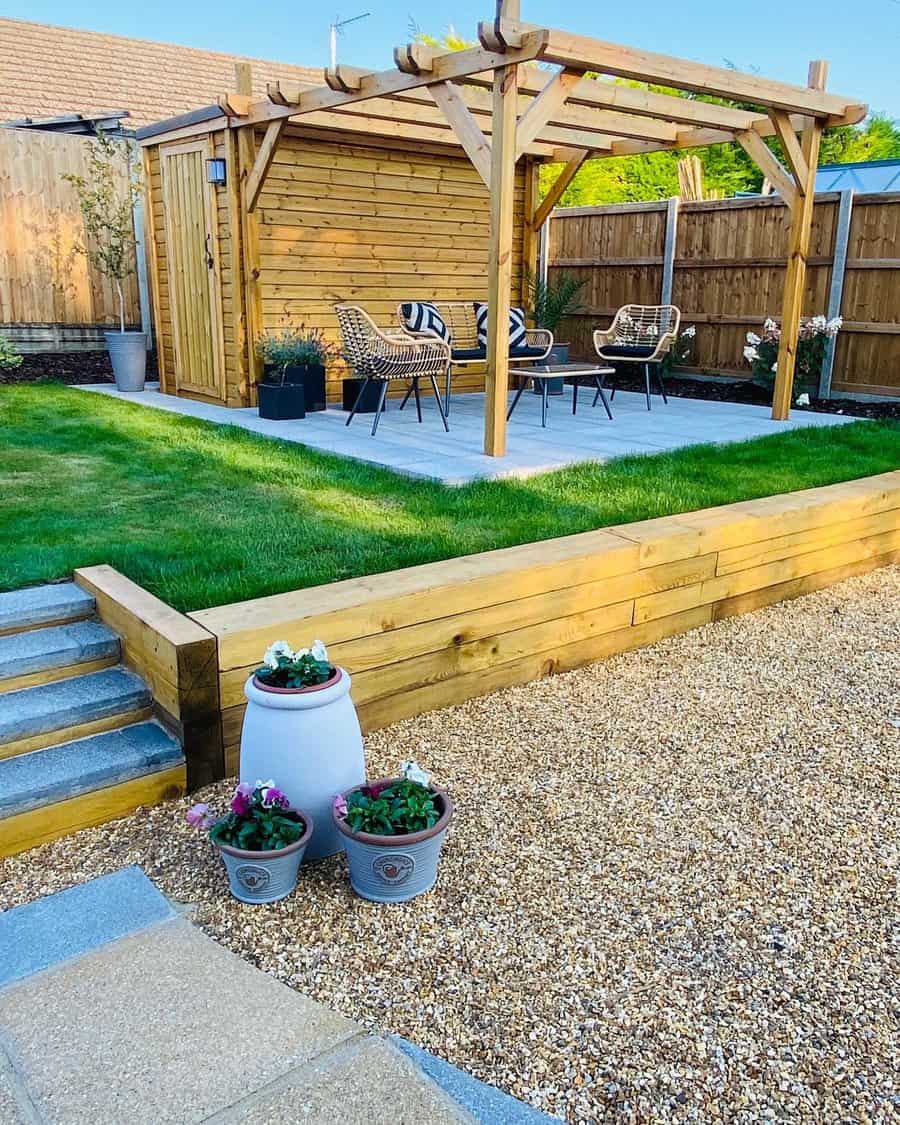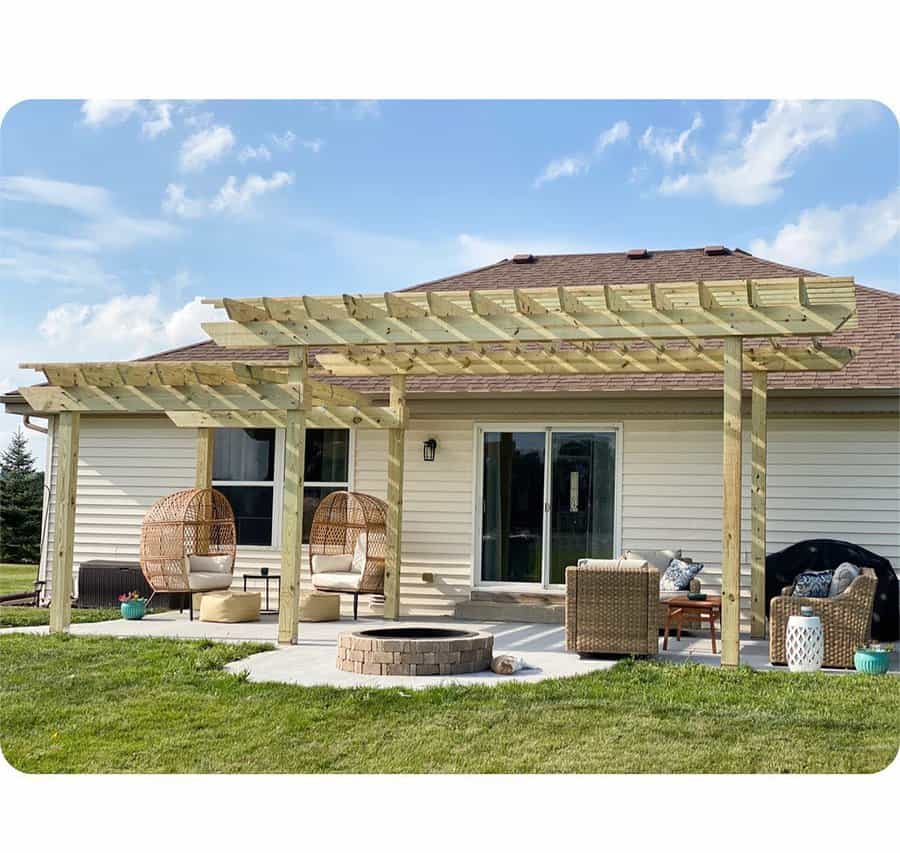 5. Customize Your Pergola
If you're thinking of adding a pergola to your backyard, why not try something unique? Create a pergola with an unconventional shape for an eye-catching addition to your outdoor space. A freeform pergola provides the perfect platform for showcasing your creativity!
You can also opt for a minimalist-style pergola that is simply supported by natural wood arches or fabric shade, circumventing typical traditional pergolas. Whatever look you choose, a pergola will be sure to enhance your outdoor area and provide a cozy spot to relax all year round.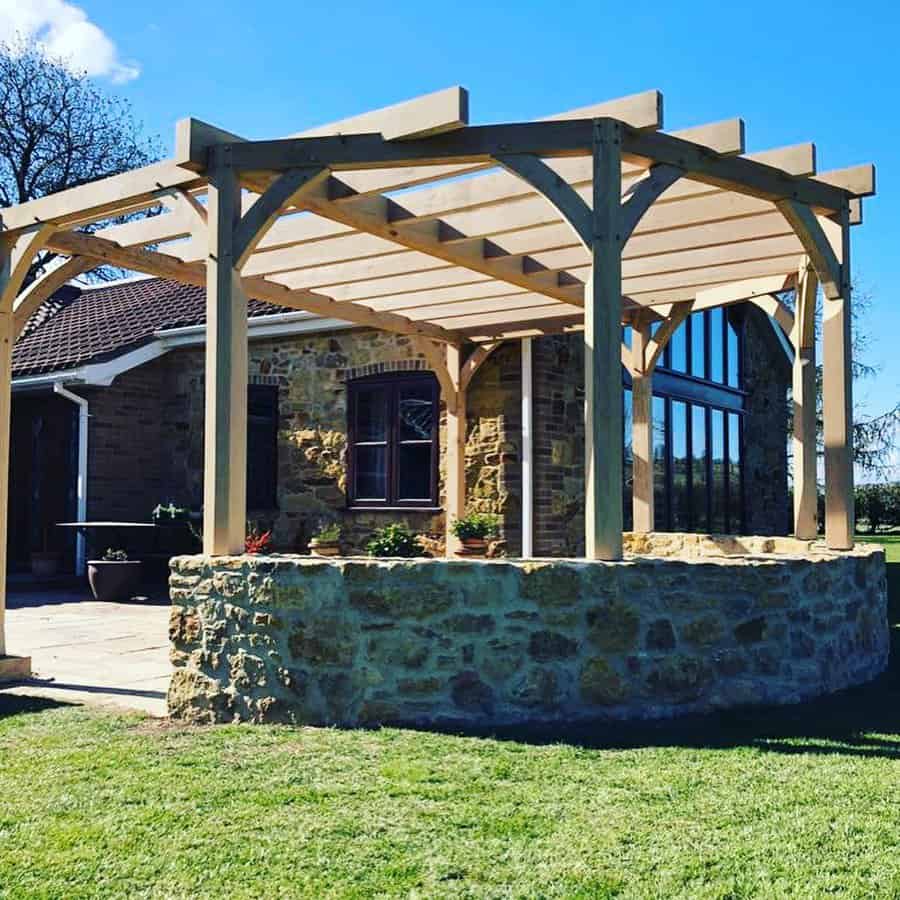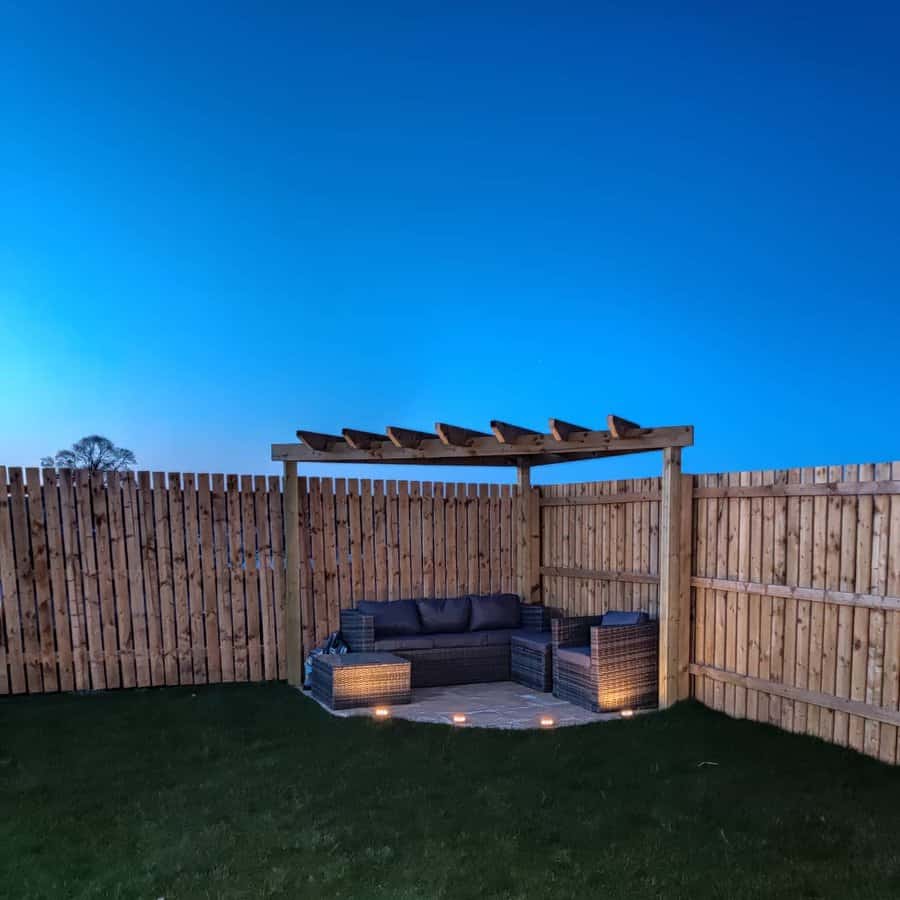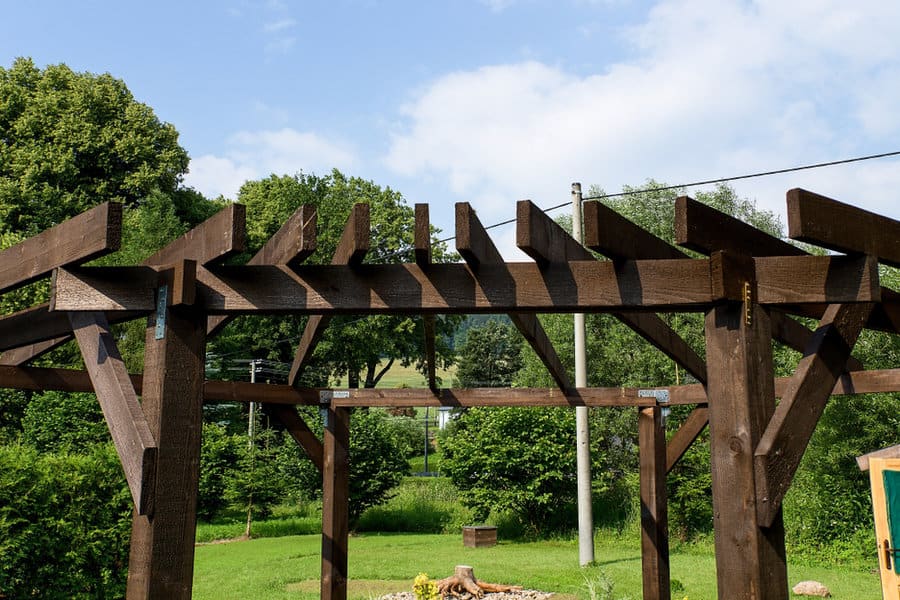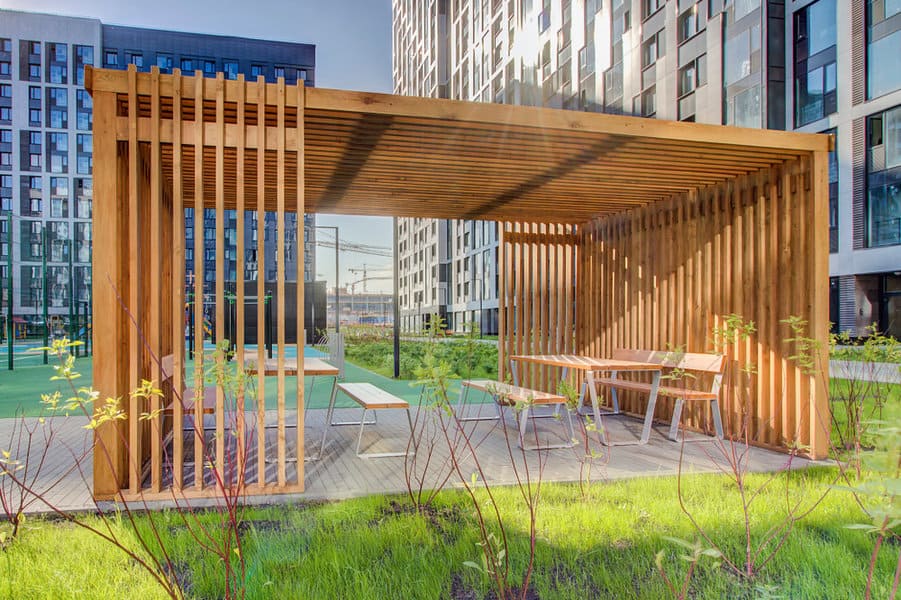 3. DIY A Simple Pergola With Wood Pallet
Adding a simple pergola to the backyard is an easy way to give your outdoor space a whole new look. Consider making a mini pergola out of wood pallets for simple and affordable fun.
If you want warmth and atmosphere, consider adding twinkling string light to dress up the standard pergola. The lights will add charm, making your backyard seem cozy and magical for any occasion or event. With just a few simple touches, you can take your backyard from simple to spectacular!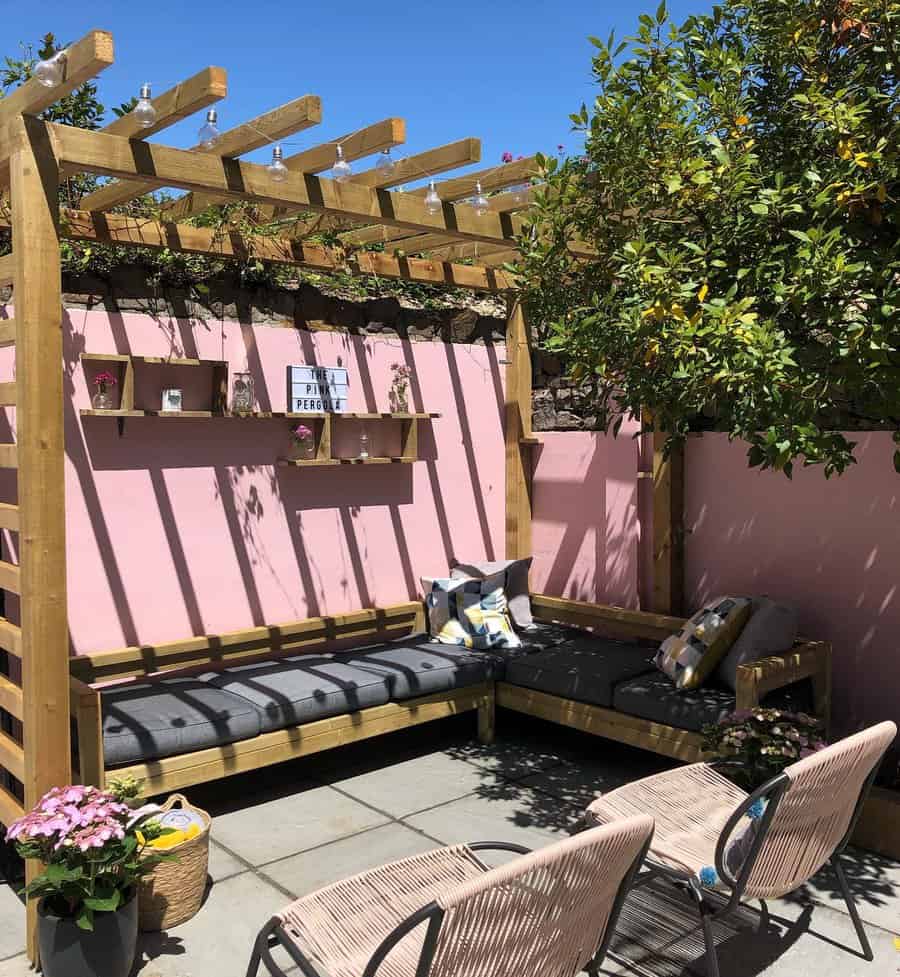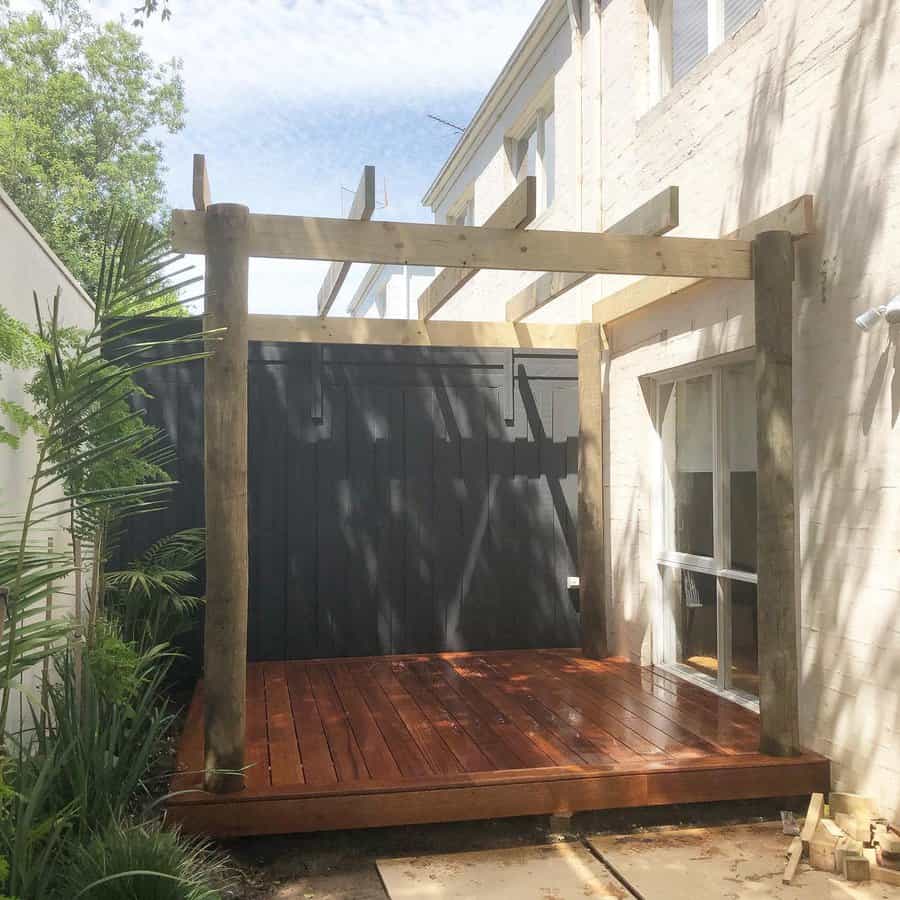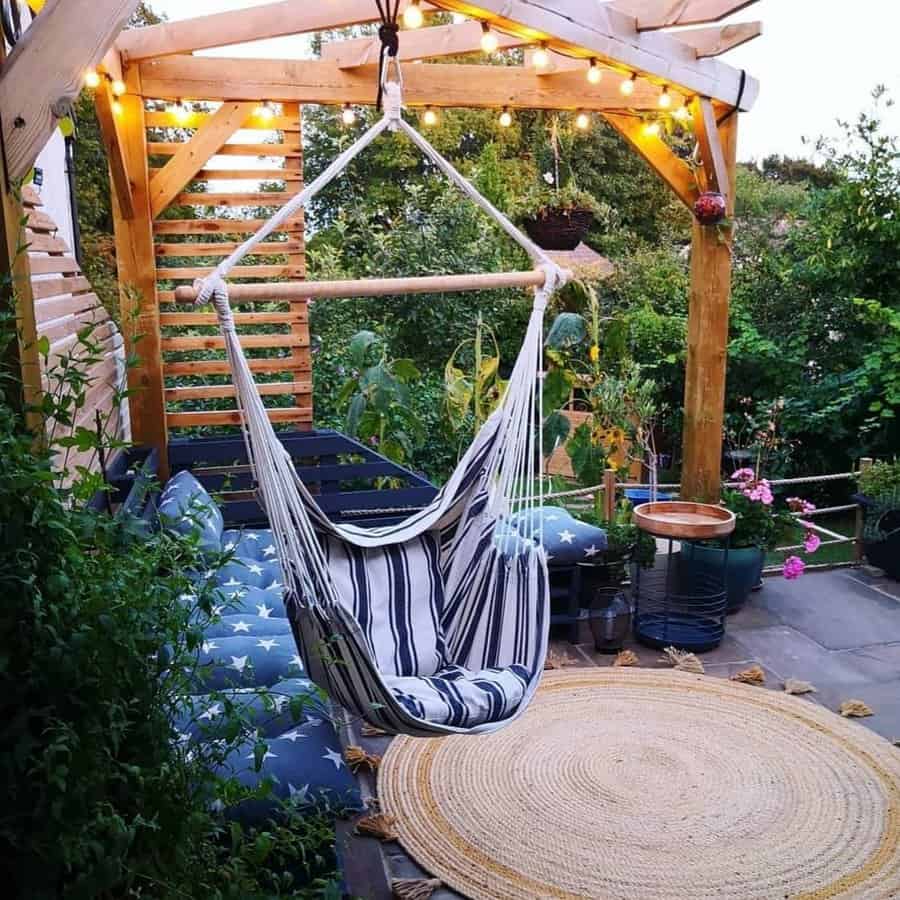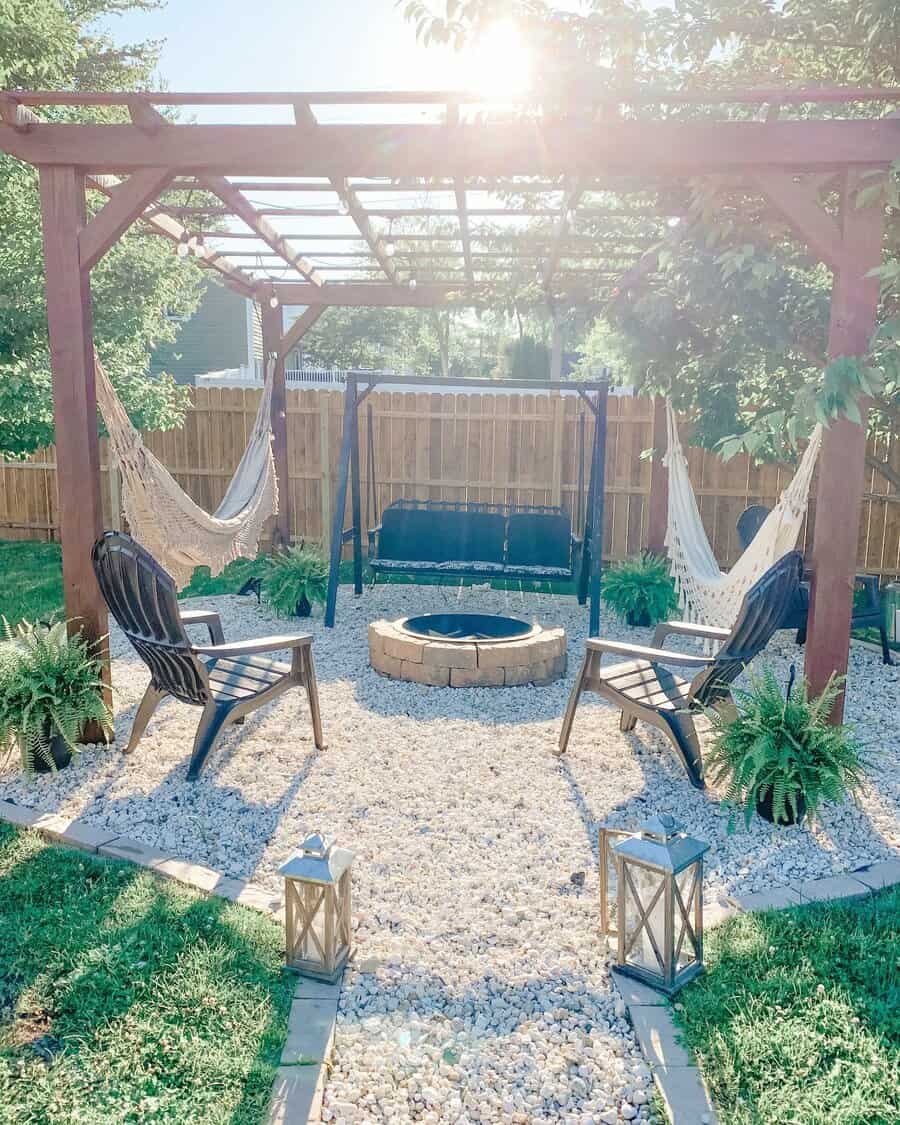 6. Pavilion-Style Pergola For Gardens
When it comes to designing a garden, there's no better addition than a beautiful trellis pergola. Whether you prefer a classic pavilion-style or a more playful freestanding pergola, it will instantly add character and sophistication to your outdoor space.
Not only does it maximize the amount of natural light for your plants, but also acts as an extra living room for summer gatherings – making it an absolute must-have! So why not consider adding a trellis pergola to your backyard? You'll be glad you did!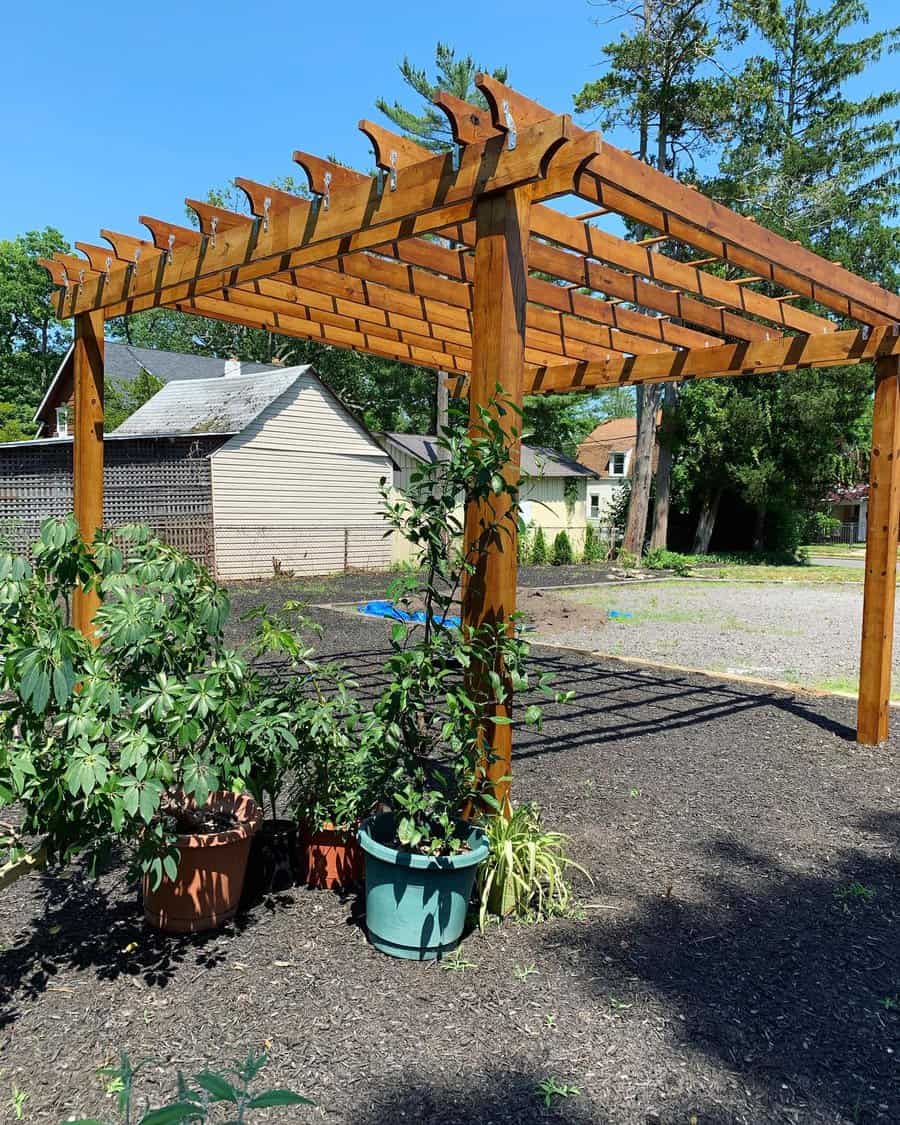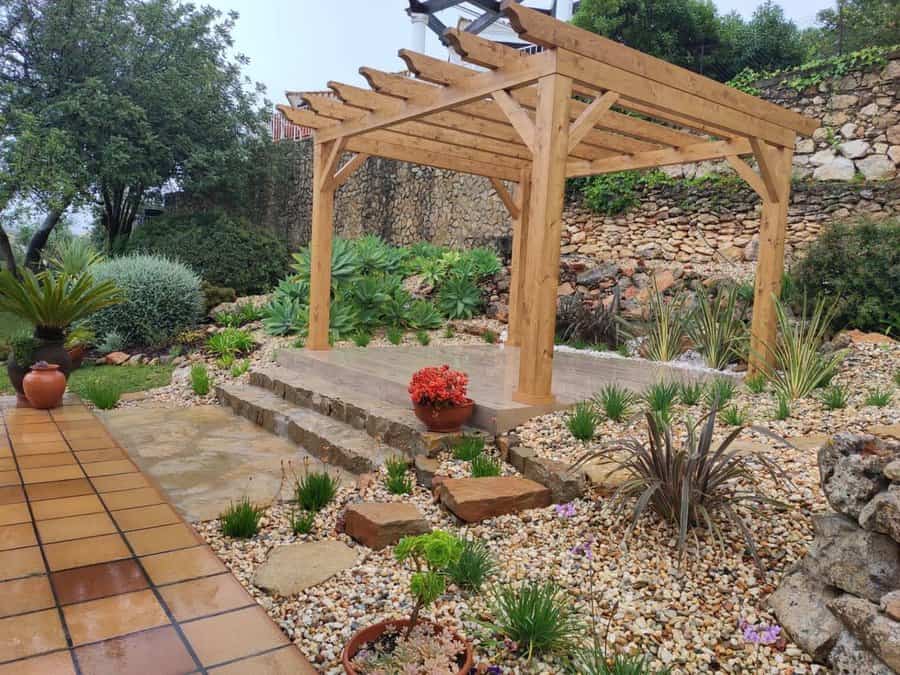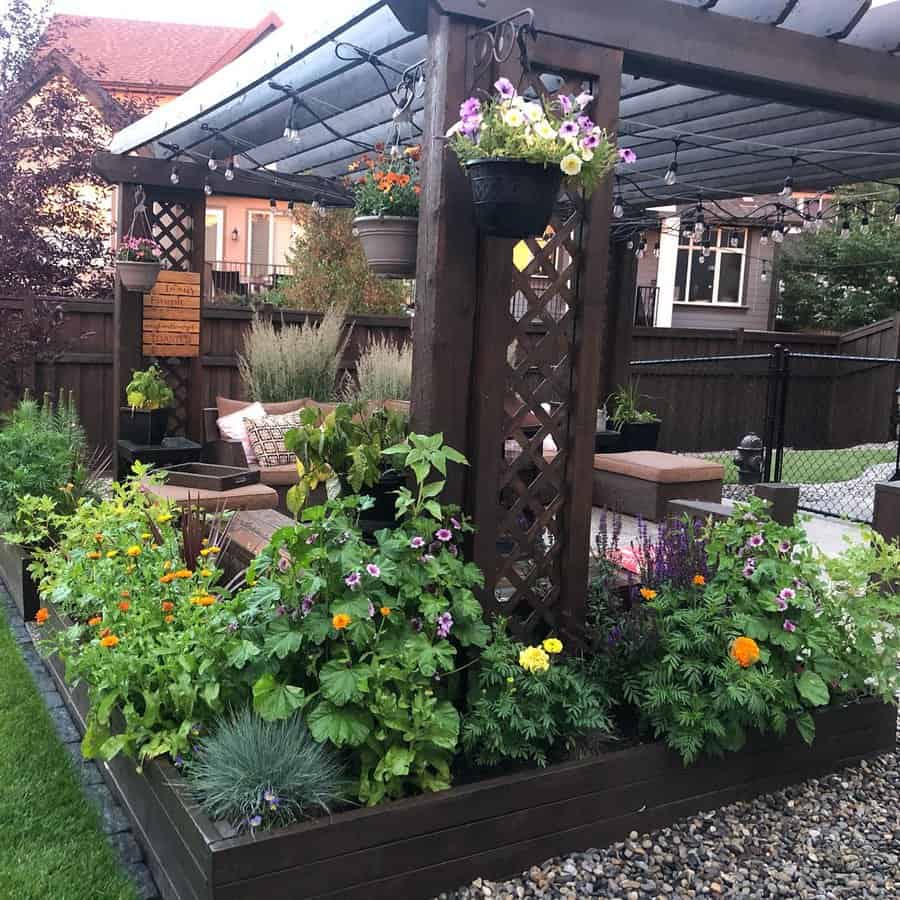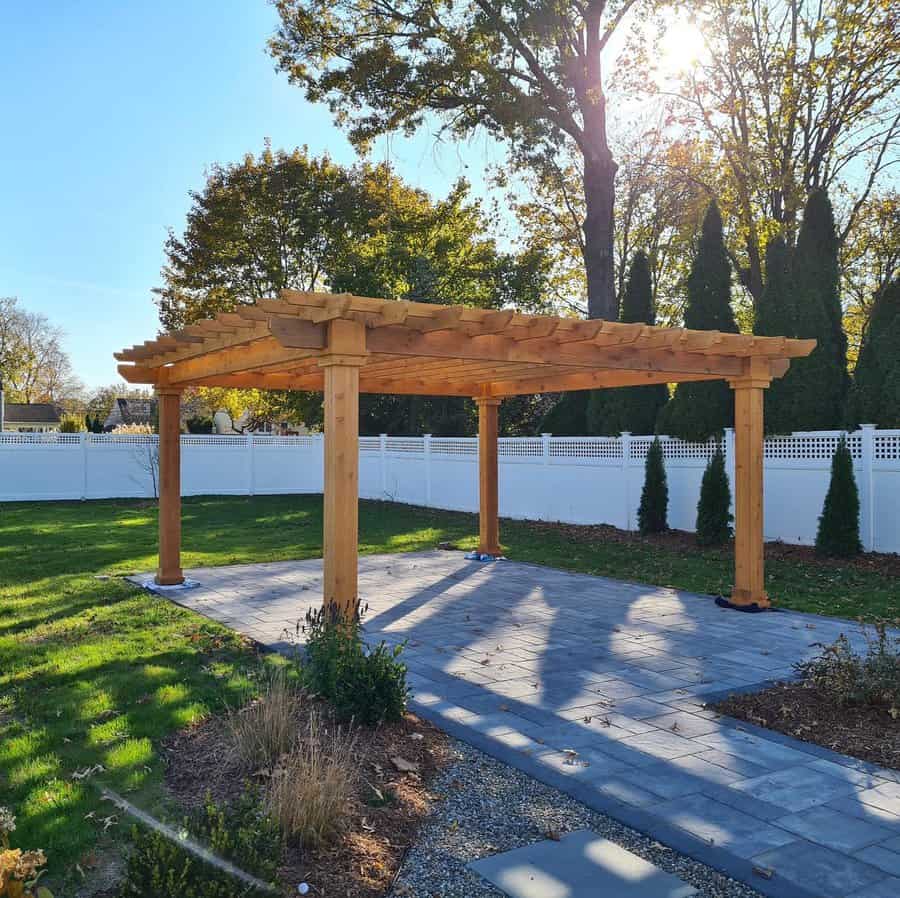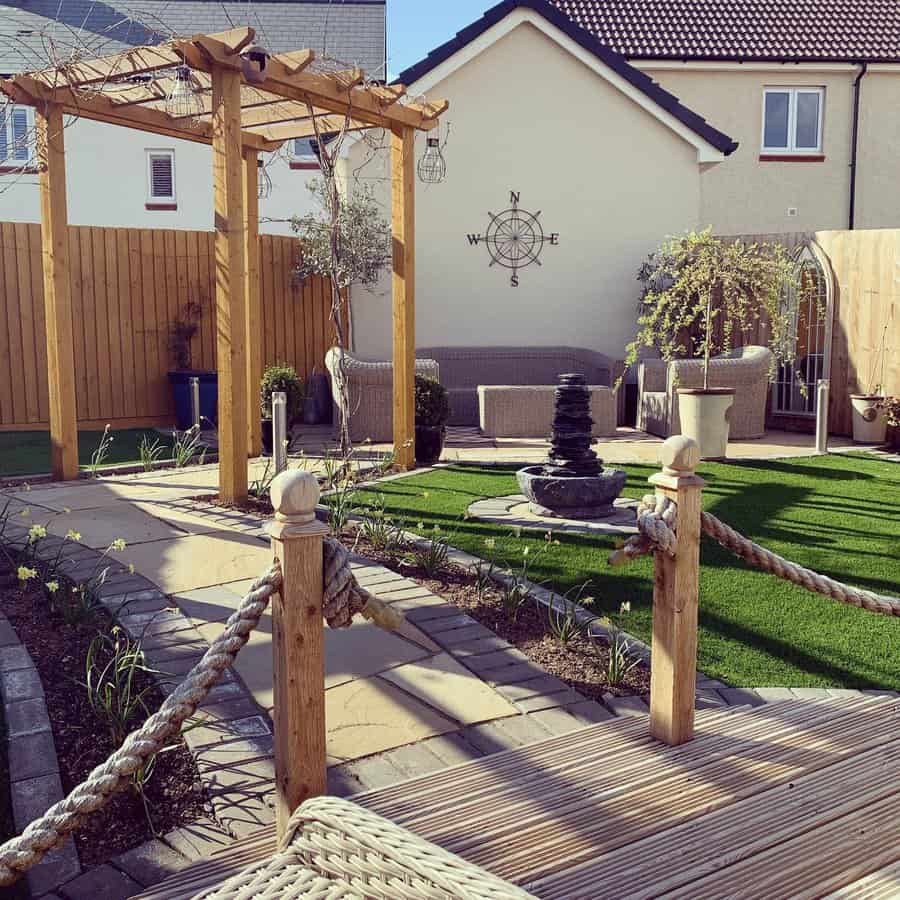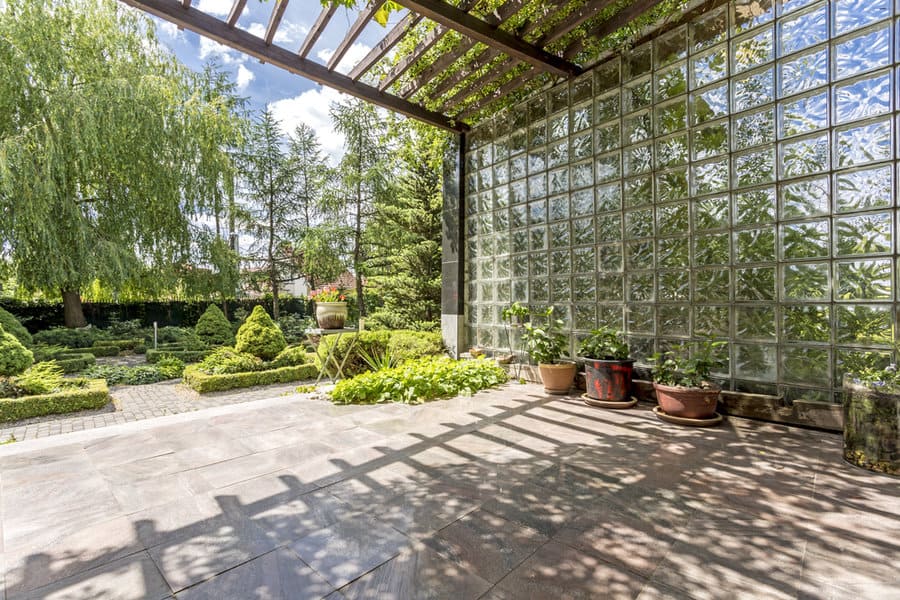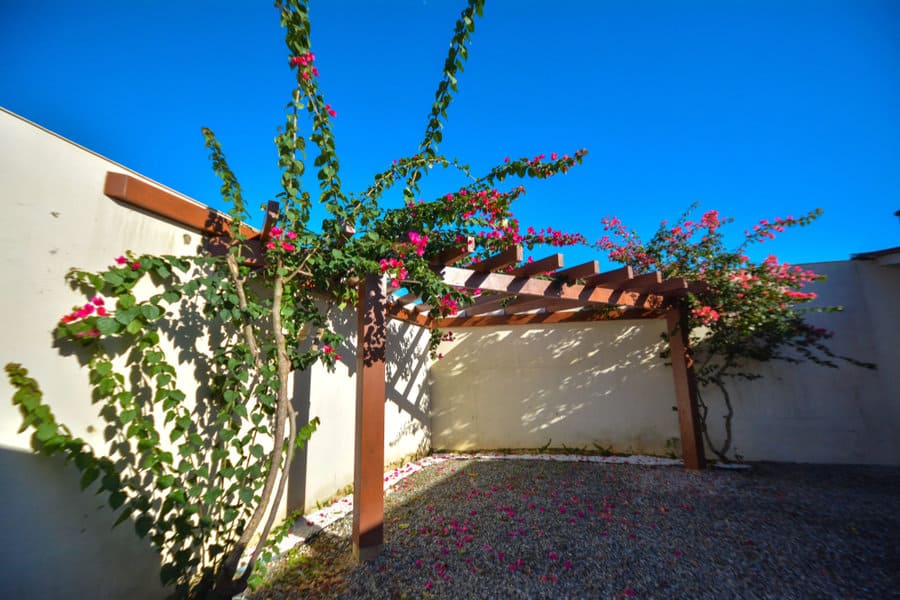 7. Walk Path With Pergola
Making your own winding concrete walk through the backyard with a pergola to add architecture everywhere you go will turn your property into an absolute paradise– it brings a greater sense of privacy, making each area in your yard connected and unique!
Alternately, if you're going for more of a welcoming feel, consider installing wide pavers lined with rows of pergolas to greet visitors at your door. Either way, you can use strings of lights or lush vines to decorate the pathways. With either design option, you'll find everything about your outdoor space more organized and inviting.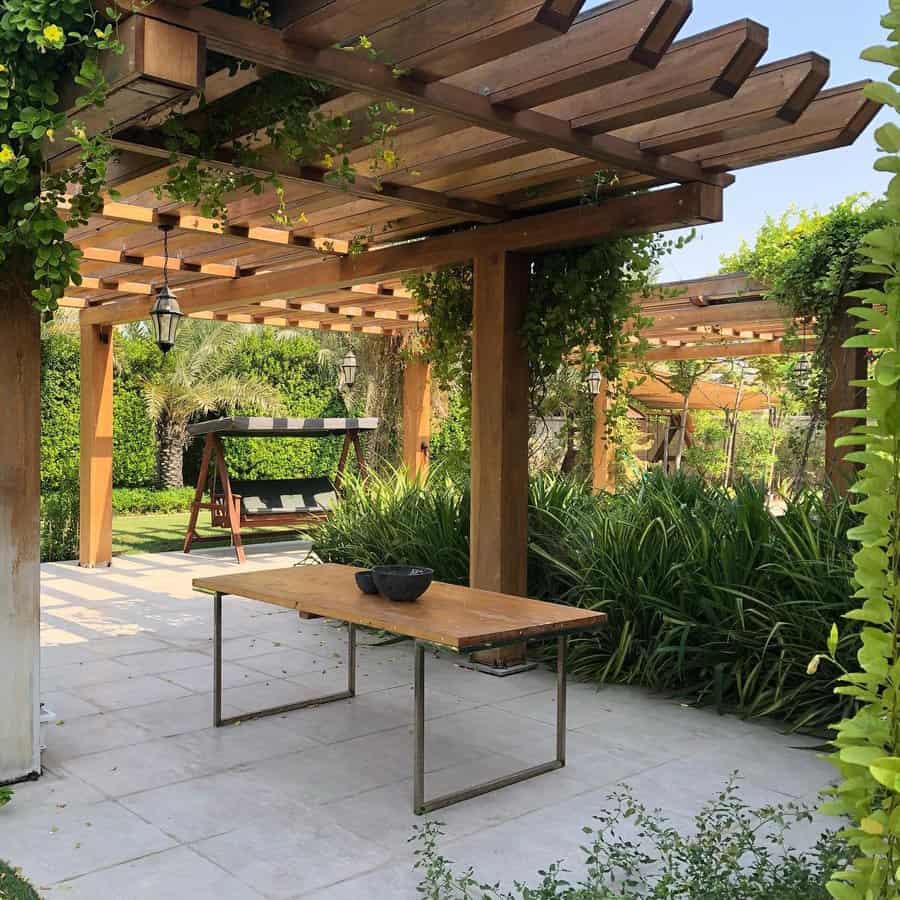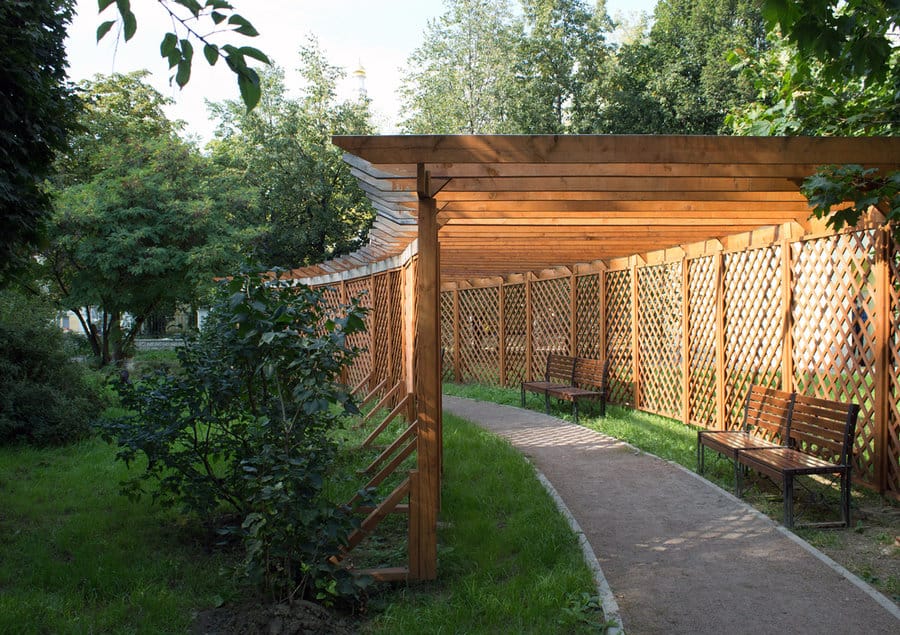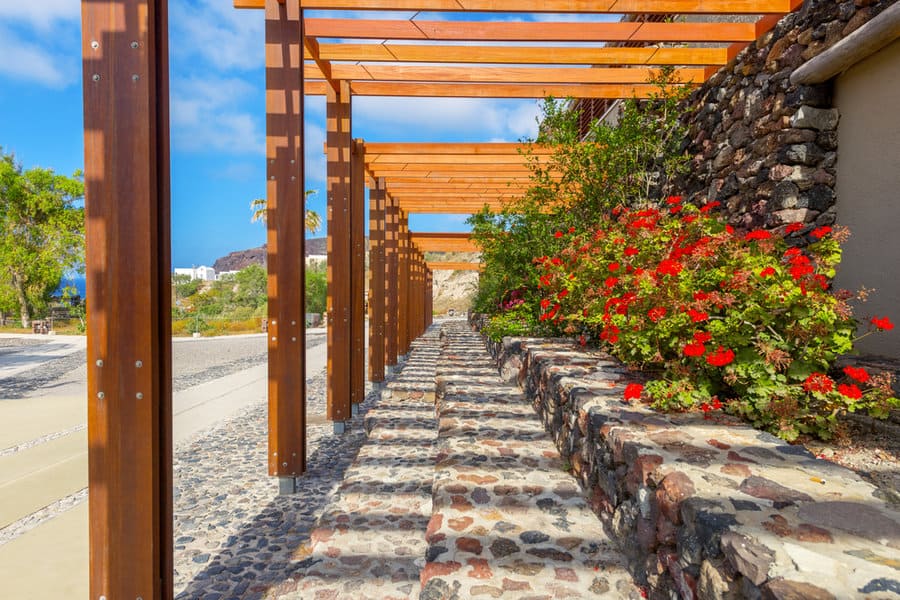 8. Choose Modern Materials
Get creative and modernize your backyard by constructing a modern-industrial pergola. Choose to combine the modern look of wood with the strength of steel construction for real durability, so you can use it season after season.
Instead of traditional shingle roofing, try modern fiberglass roofing materials like polycarbonate to keep out water damage while still getting plenty of sunlight. With the modernized pergola design, you'll be able to enjoy your backyard retreat in style!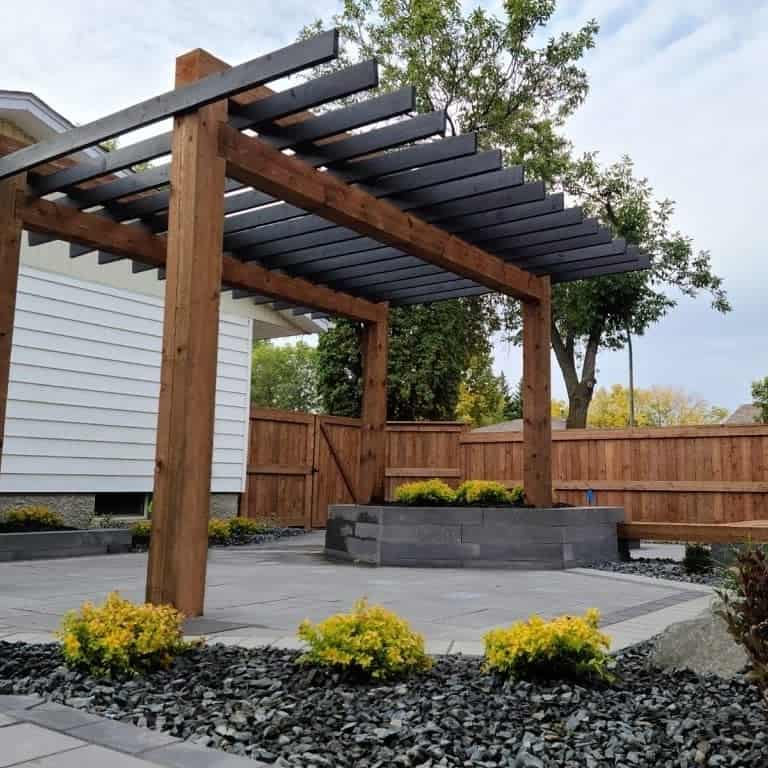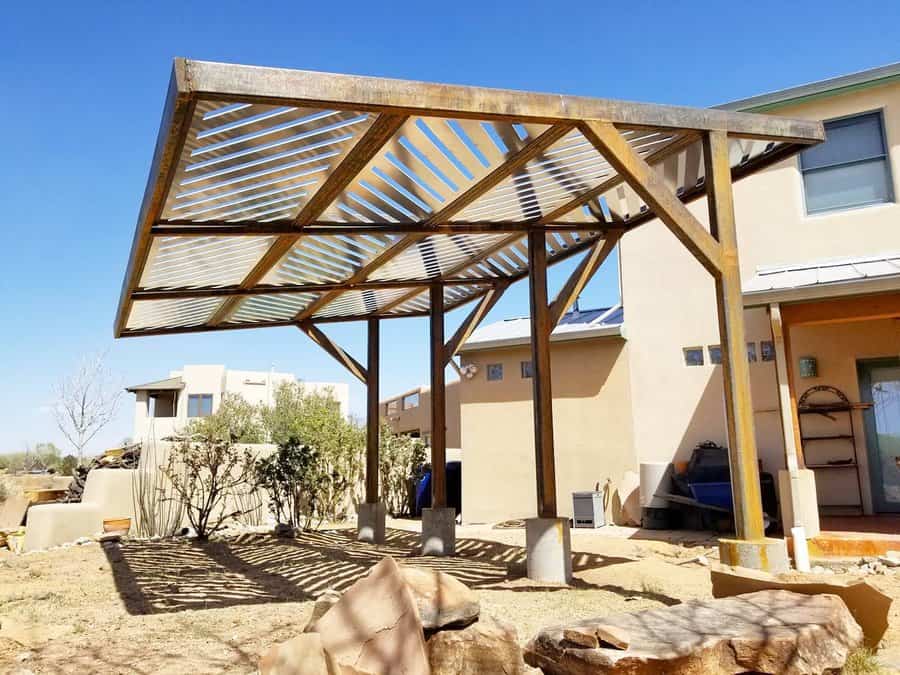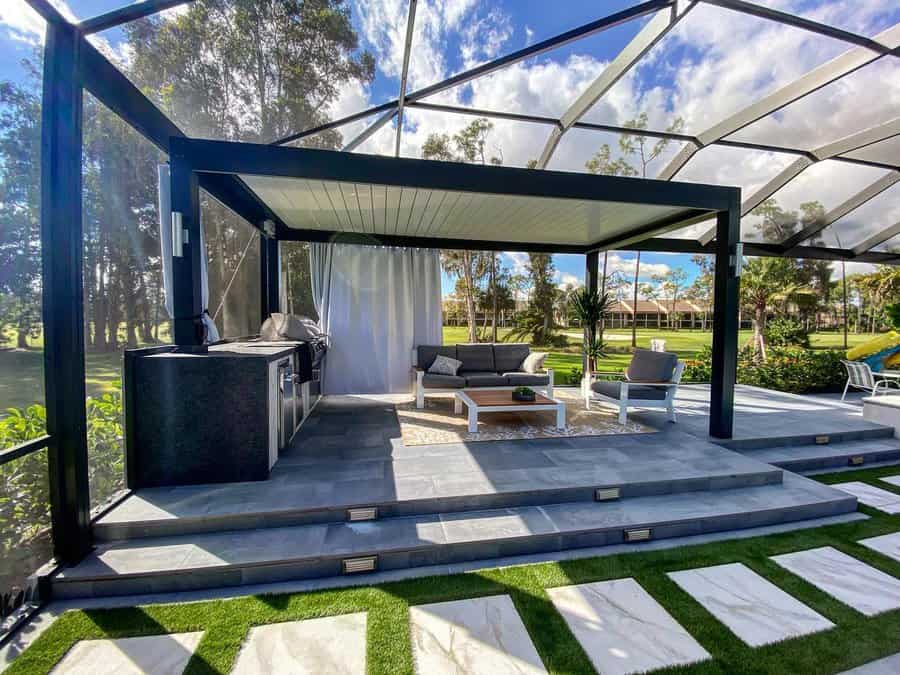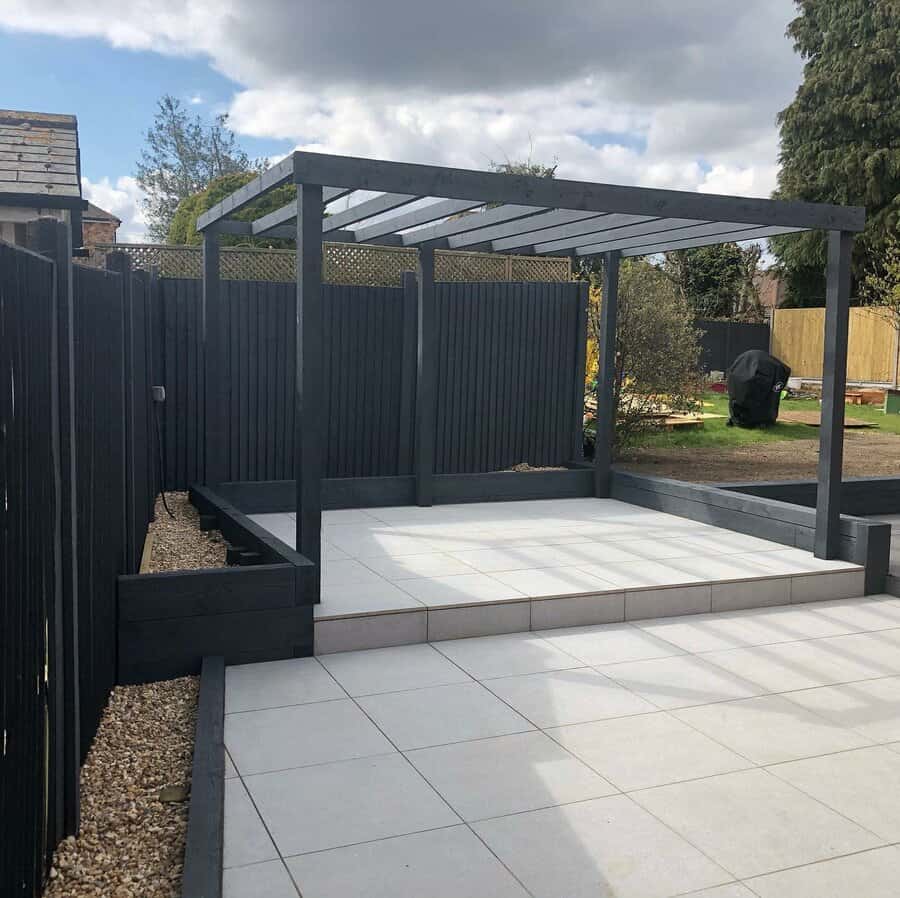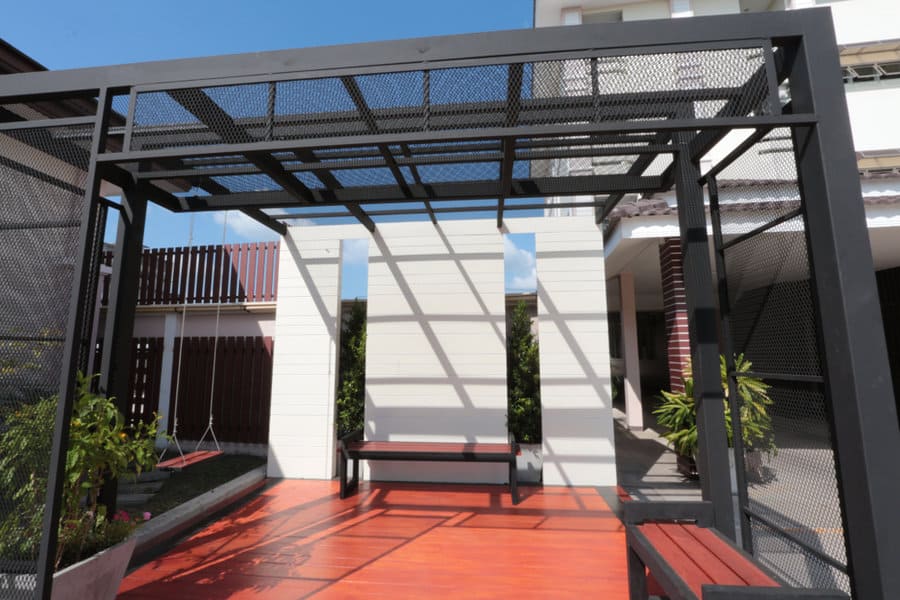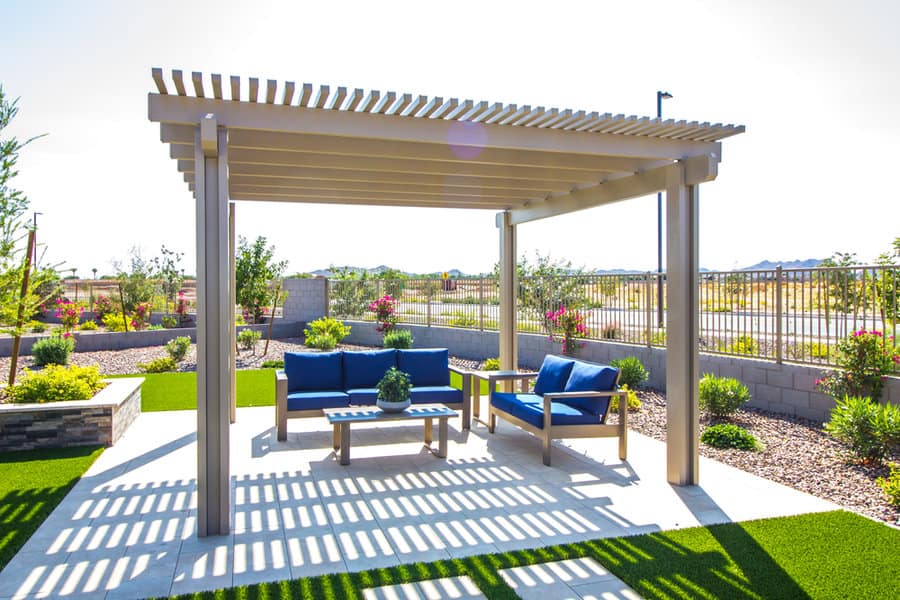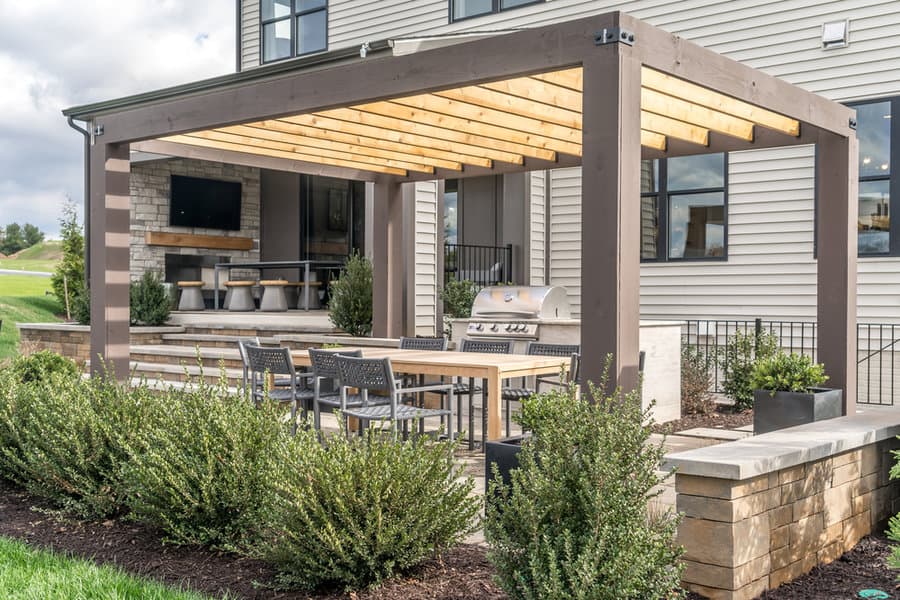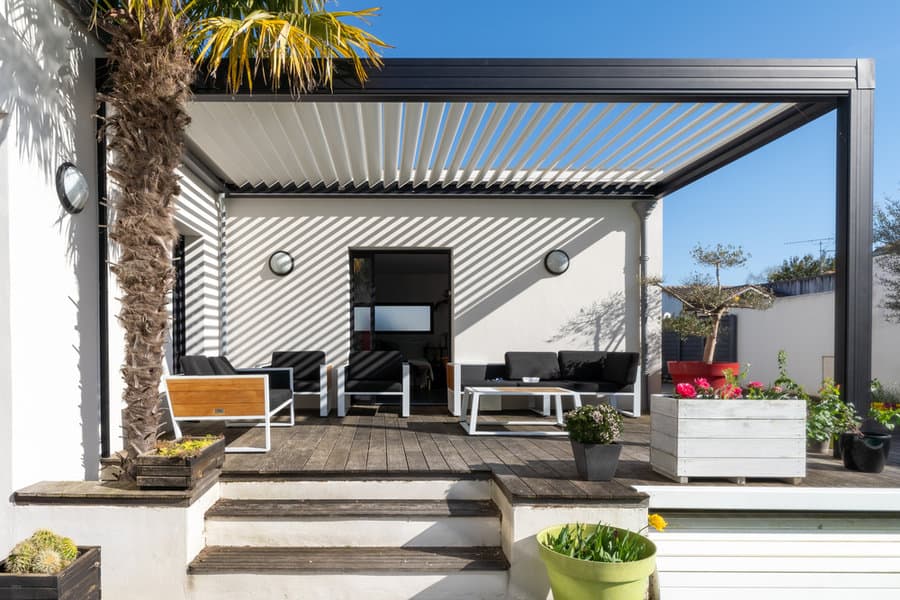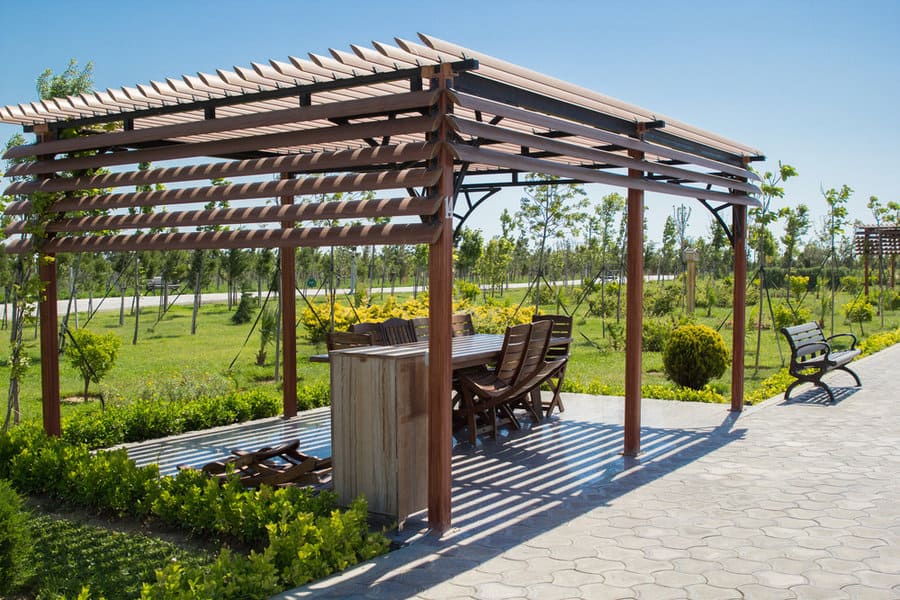 9. Set The Mood With Pergola String Lights
Adding a pergola to your backyard can be an amazing way to improve your outdoor living space. It adds a touch of class and can help define the area for entertainment and relaxation. Consider incorporating string lights or dramatic lighting for some truly magical evenings outdoors.
Sheer curtains are also a great addition on pergolas, creating privacy without sacrificing the amount of light that comes through. Whether you're hosting parties or family get-togethers, pergolas are a beautiful way to easily spruce up your backyard and make it more inviting at night.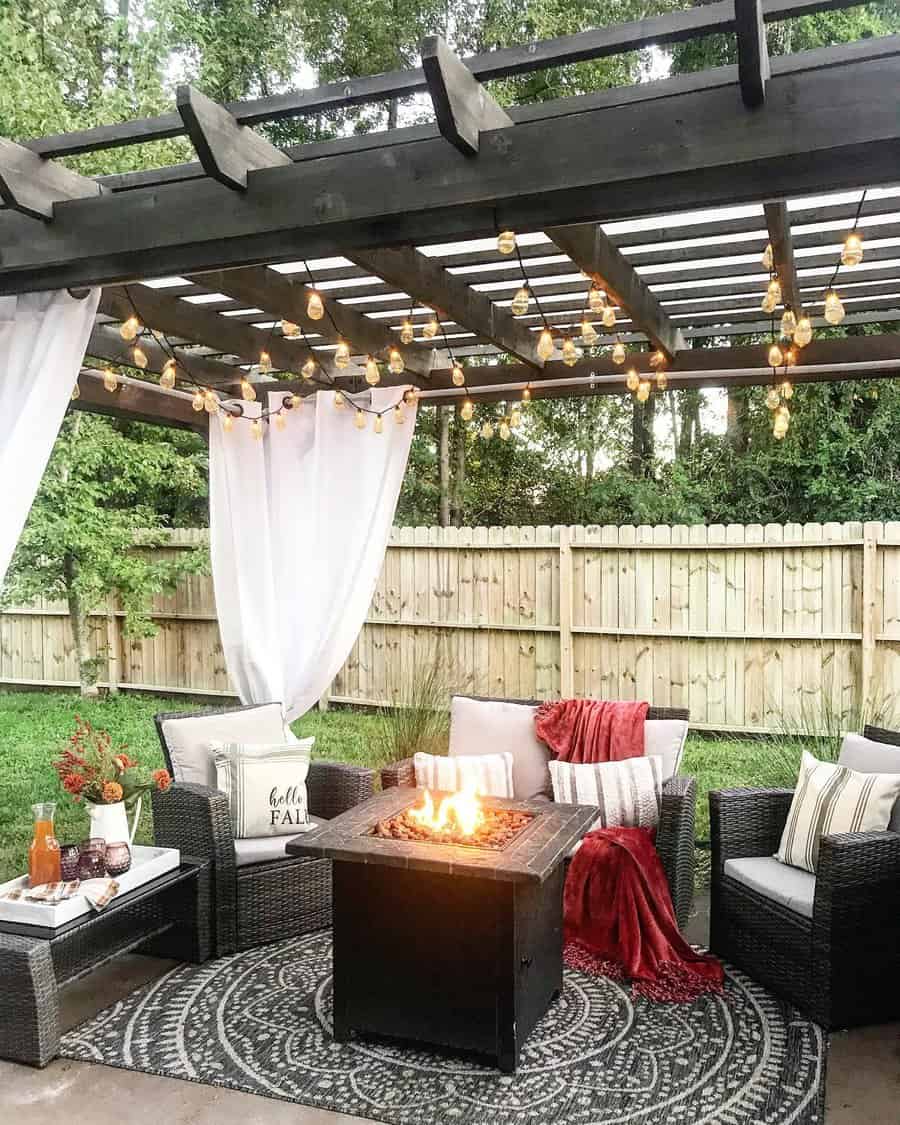 10. Add A Poolside Pergola
Take your backyard to the next level by installing a poolside lounge area and poolside gazebo with pergola shade. Pergolas are great for providing some extra coverage from the hot summer sun, plus their open-air design makes them perfect for relaxing poolside.
With a wide range of options available, you can create the perfect poolside hangout spot. You can even add a few strung-up LED lights or mini bistro sets to give the area an inviting atmosphere and some fabulous ambiance in the evening.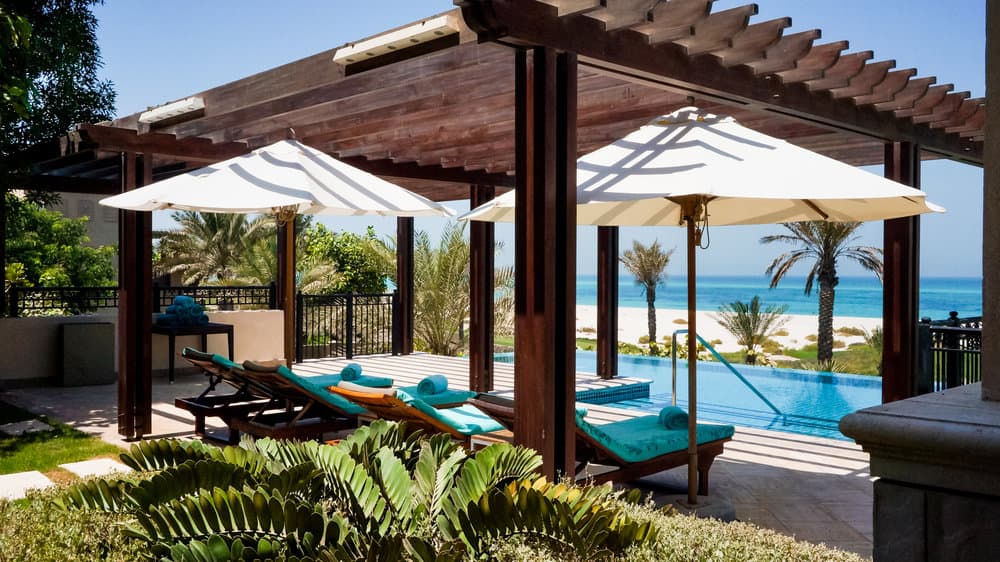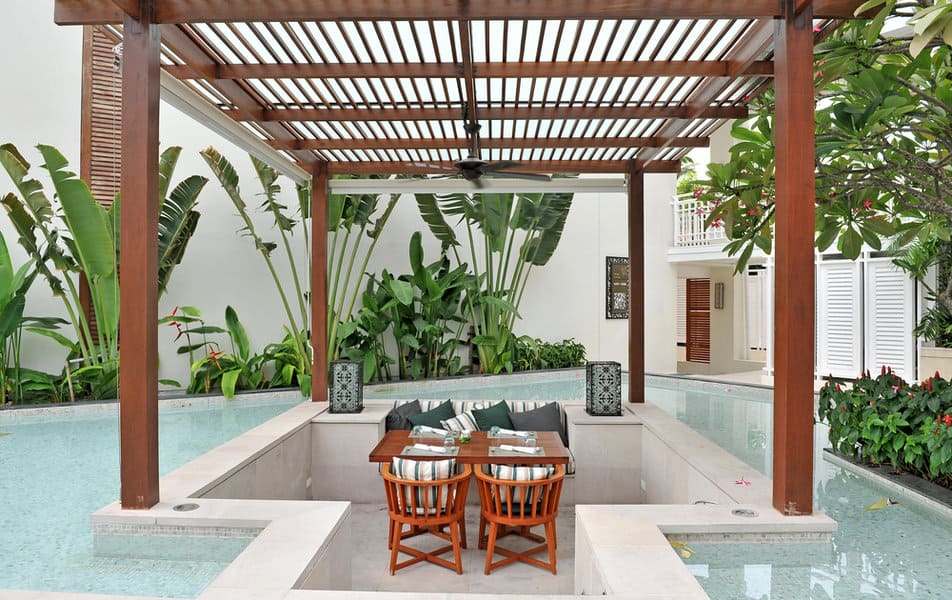 11. Add Privacy To Your Pergola
For a backyard pergola that provides some extra seclusion and protection from the sun, consider adding a privacy screen or fence. A pergola with a privacy screen can be ideal for hosting small gatherings or simply just relaxing in relative isolation.
In addition to providing a shaded area, it also makes your outdoor space look neat and tidy by creating an open structure that shows the landscaping while providing you with some peaceful privacy. Whether you decide to go with a trellis-style pergola or one with adjustable screens, this is sure to be an upgrade that you can enjoy all year round.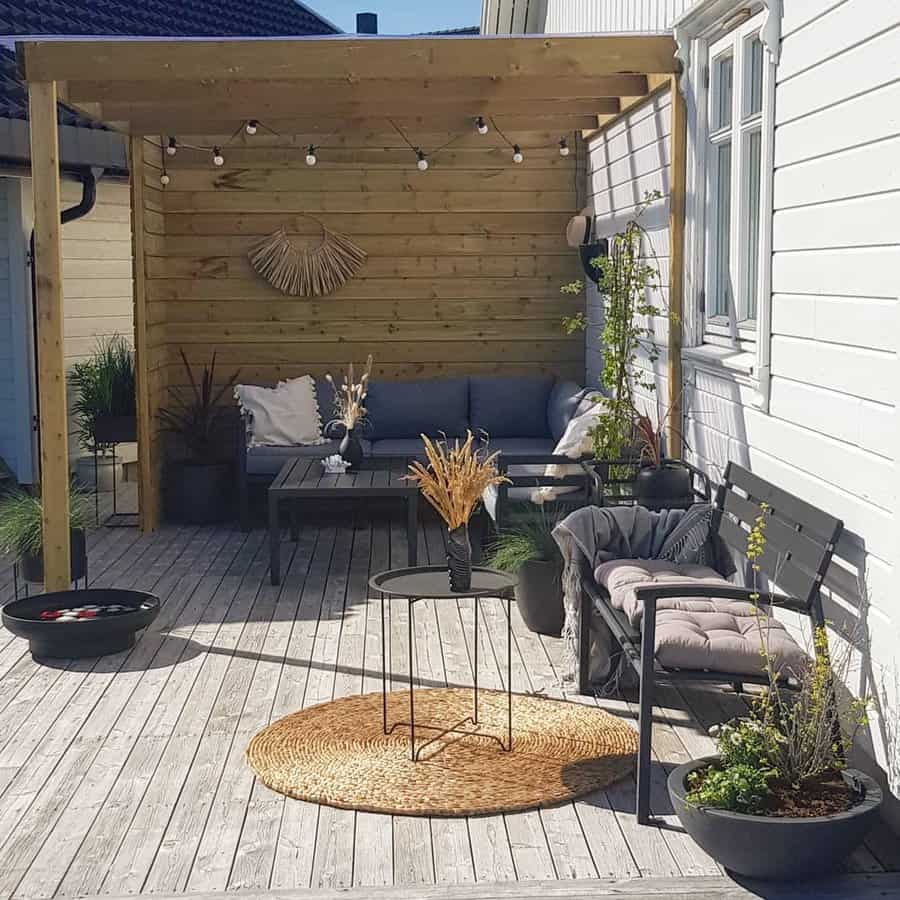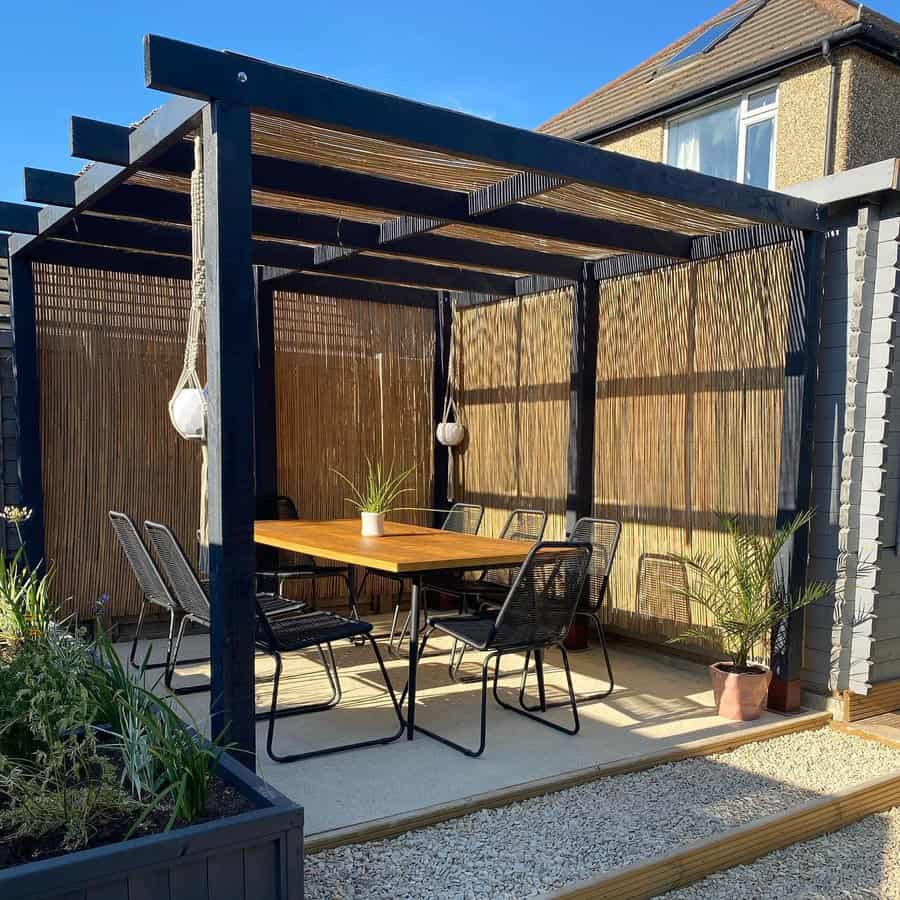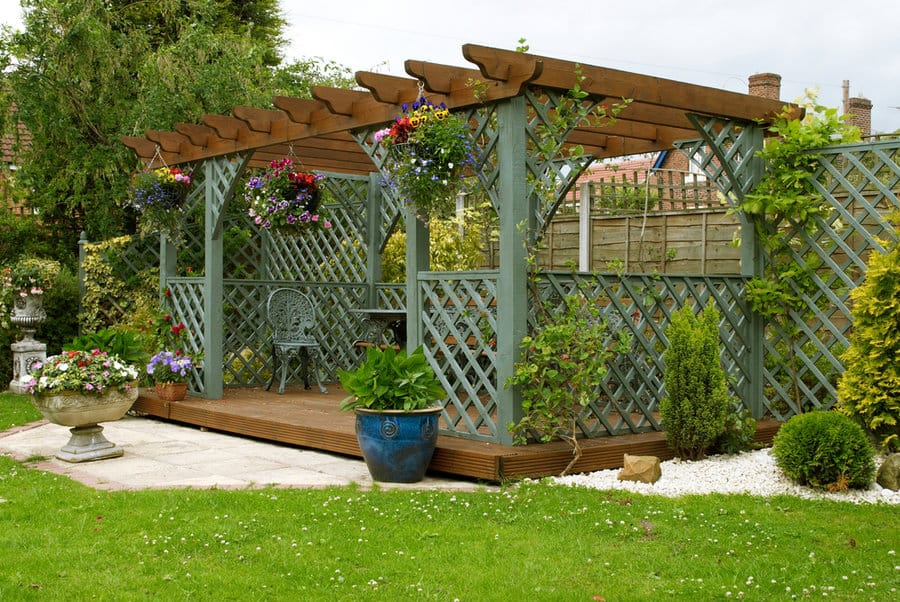 12. Use Distressed Or Reclaimed Wood For A Rustic Vibe
Enhancing a backyard with a pergola is the perfect way to add a touch of character to the area. For an extra special result, consider a pergola made of reclaimed wood which offers a uniquely distinctive and attractive look. T
o create a rustic feel, finish the pergola with distressed wood or white-washed wood to really make it stand out. Whether placed over an outdoor kitchen, perching over patio seating or just acting as an anchor for surrounded greenery, there's no limit to what can be done when designing such an outdoor structure!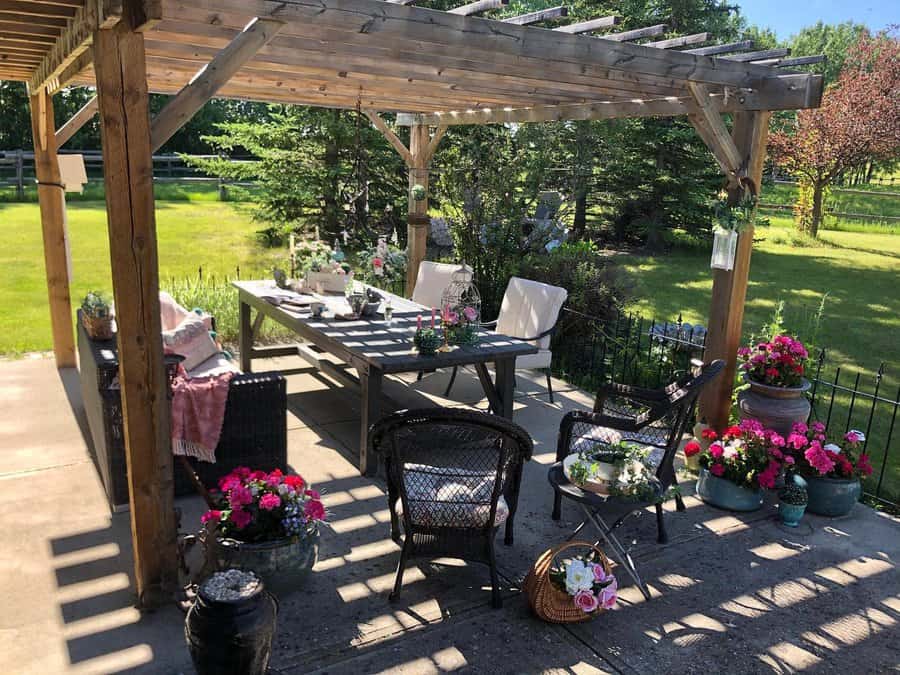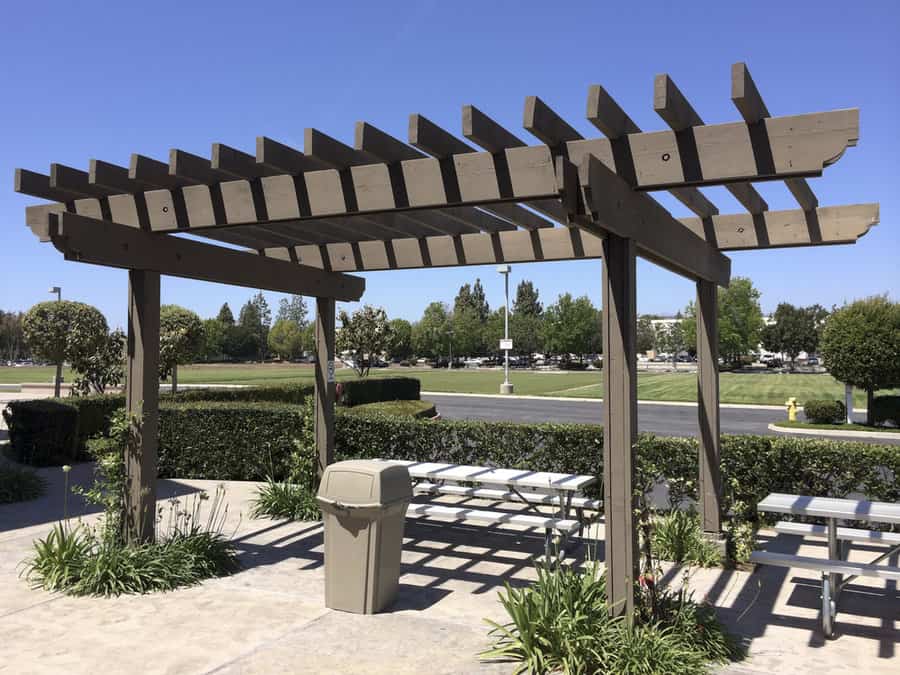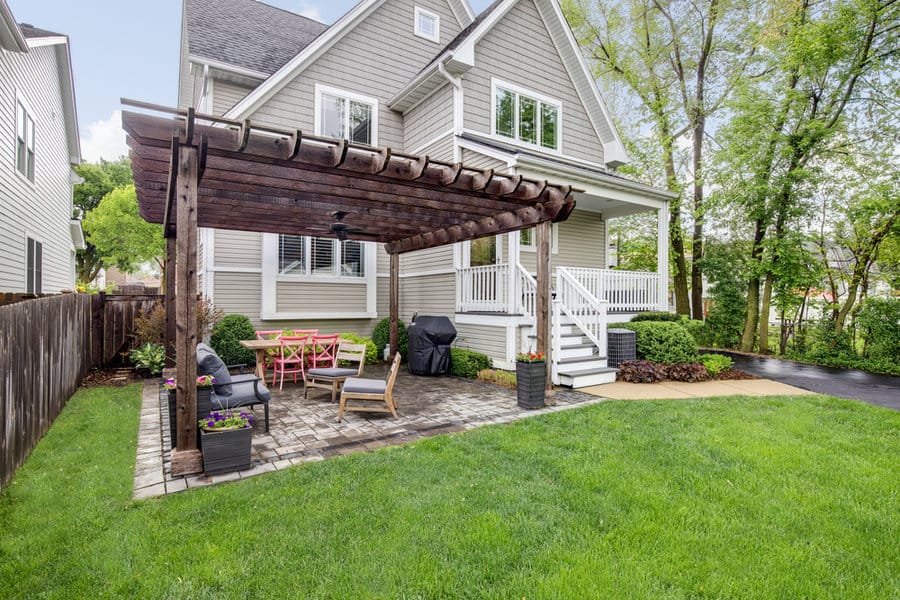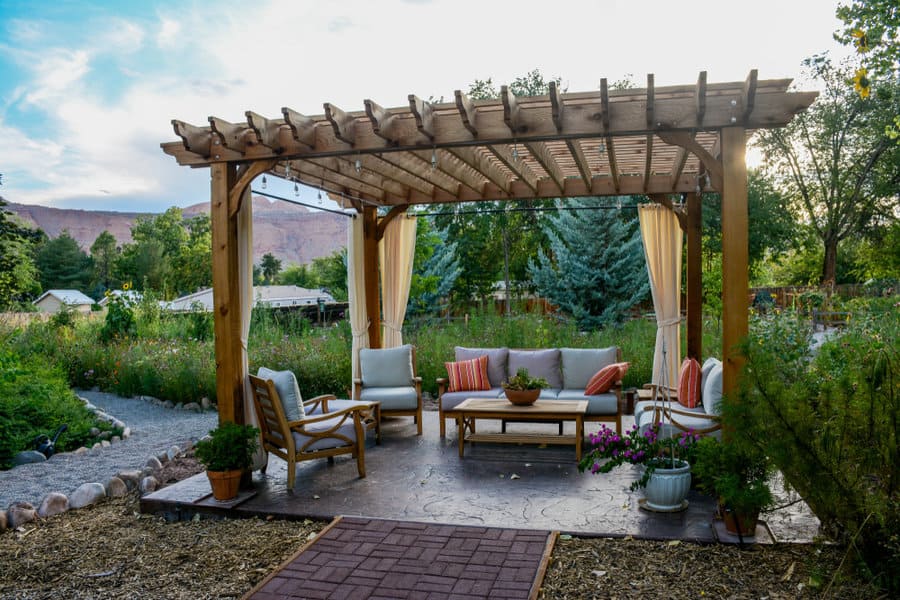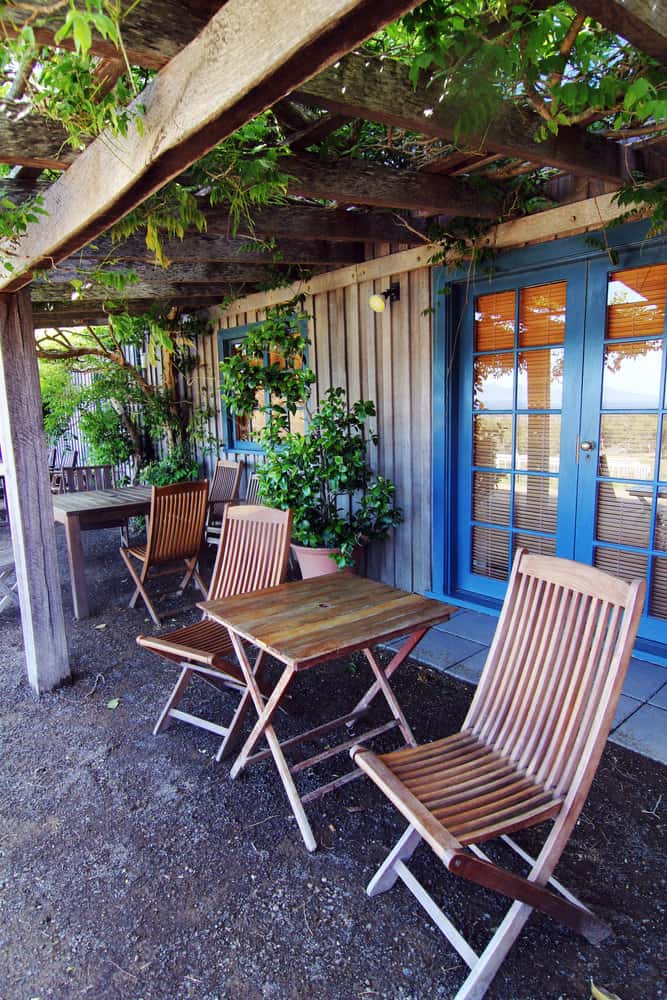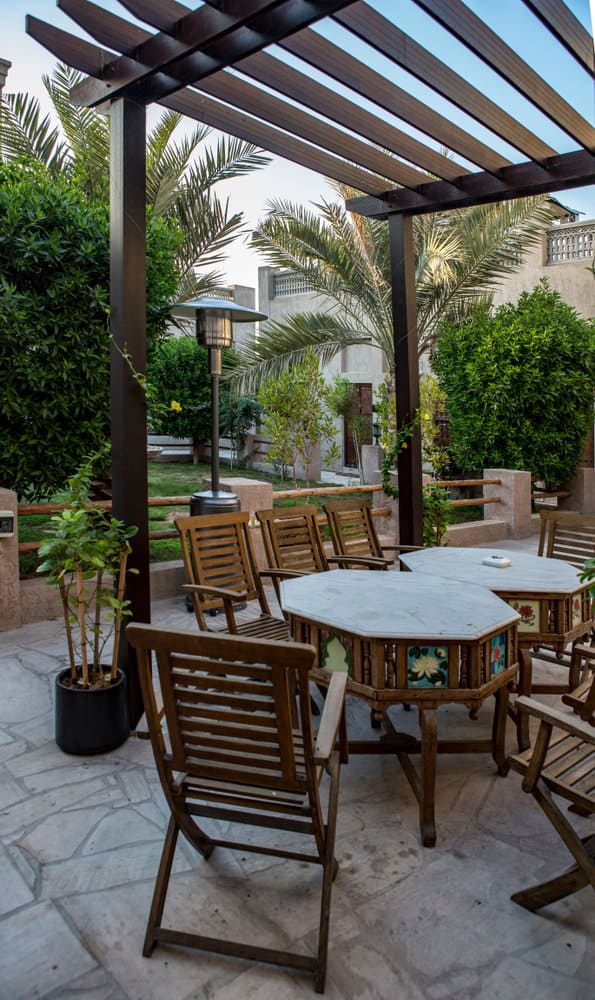 12. Cover A Porch SwingWith A Pergola
A porch swing with a pergola built above it creates an inviting space for lazy afternoons, where you can relax and read your favorite book while looking out at the view of the backyard. To further enhance the entertainment area, consider adding some trailing plants to the pergola beams and create a cozy little nook in the garden.
Not only will this elevate back porch vibes to a whole new level, but you'll also be creating an oasis that's great for hosting friends and family. With a few additional decorative touches like cushions and blankets, your porch swing with pergola area will become more than just a spot to enjoy beautiful nature – it'll be an unforgettable hangout!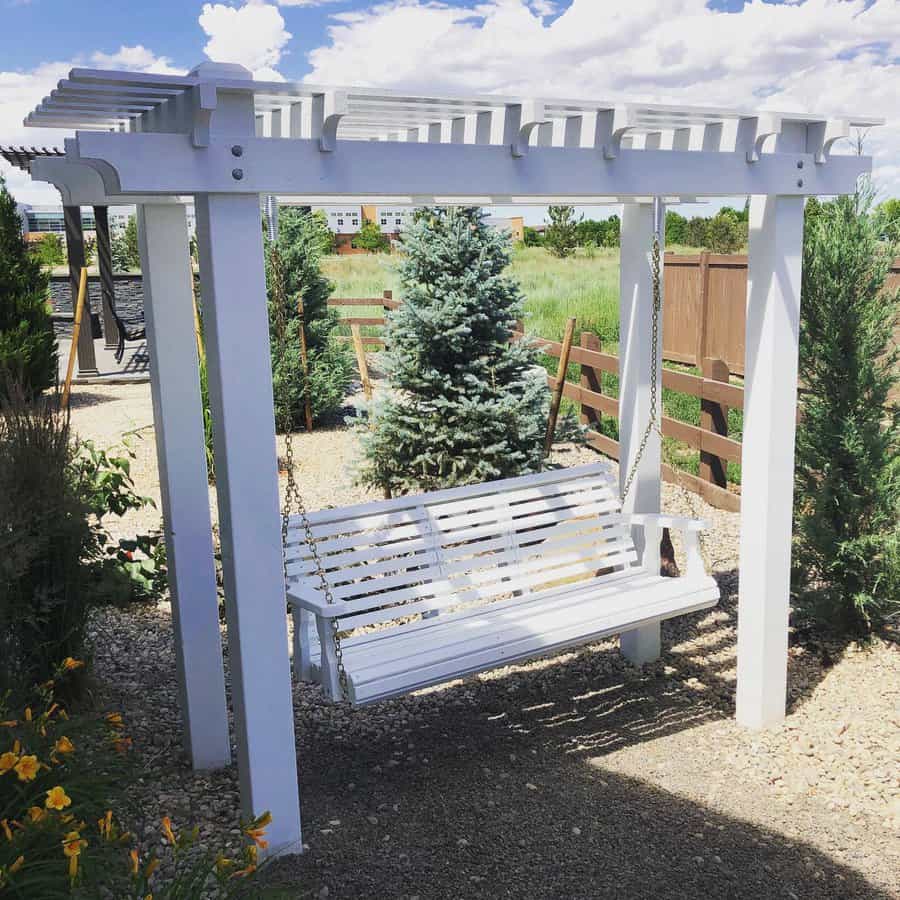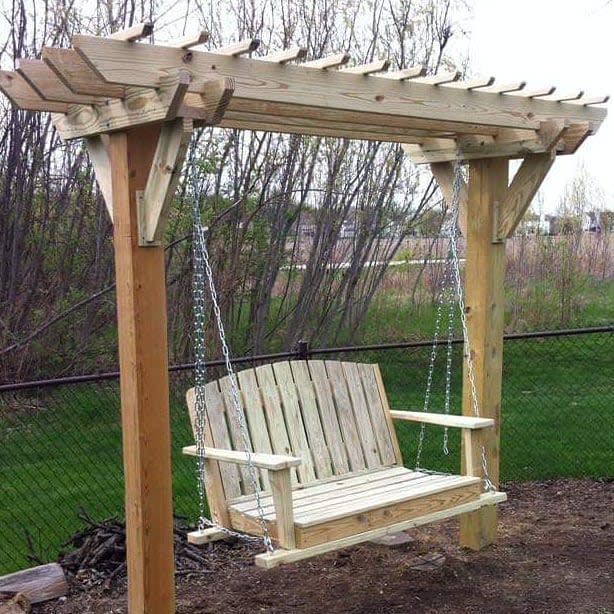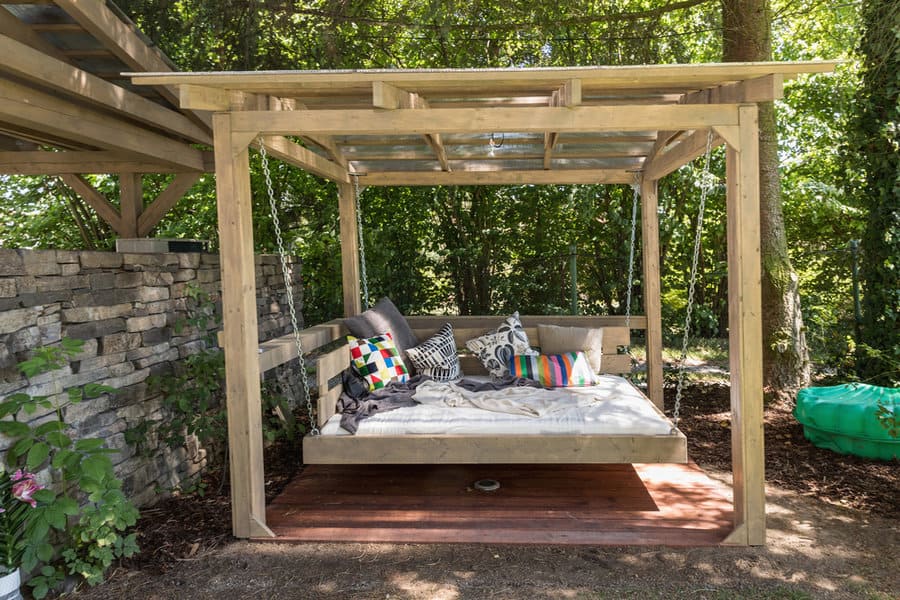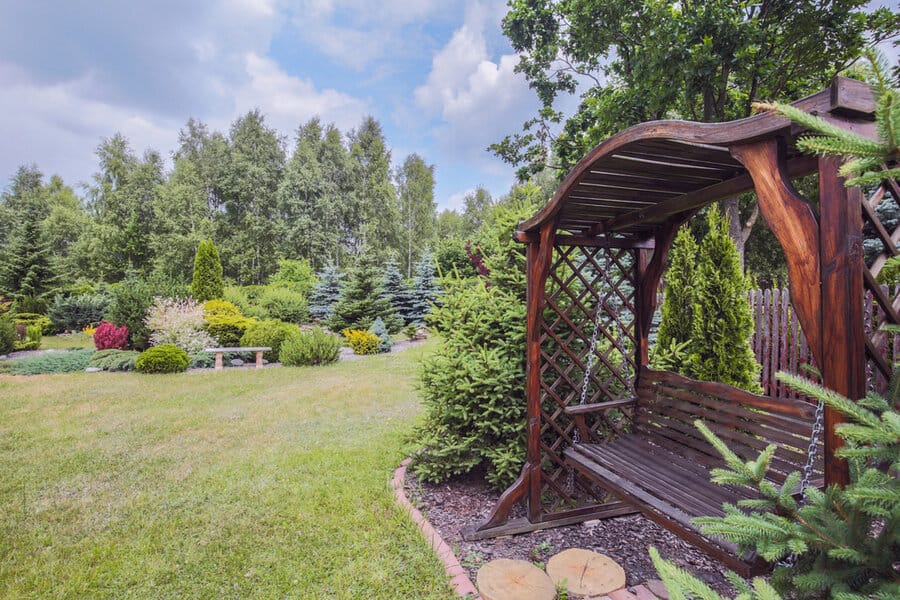 FAQs
Is it cheaper to build a pergola or buy one?
The cheapest option is to build a pergola yourself. However, you'll need the tools and know-how. The next cheapest option is buying a kit and building the pergola yourself. This is slightly easier because all of the materials, hardware, and directions come in the kit. The most expensive option is to hire a contractor to build a custom pergola. 
Do pergolas add value to a home?
Yes, adding a pergola to your home can increase its value. Outdoor living has become more popular with homeowners. Because of this, buyers are looking for houses that already have an outdoor space that's ready to use. Having a pergola and patio or deck increases the desirability of your home. 
What happens if you don't anchor a pergola?
Despite pergolas being large and constructed out of heavy materials, they need to be anchored into the ground. You risk your pergola moving, shifting, sinking, or even flying away if you fail to do this. The wind is surprisingly strong and, if moving fast enough, can pick up a pergola and move it. This is especially true if you have a fabric shade over the top because this acts as a sail.