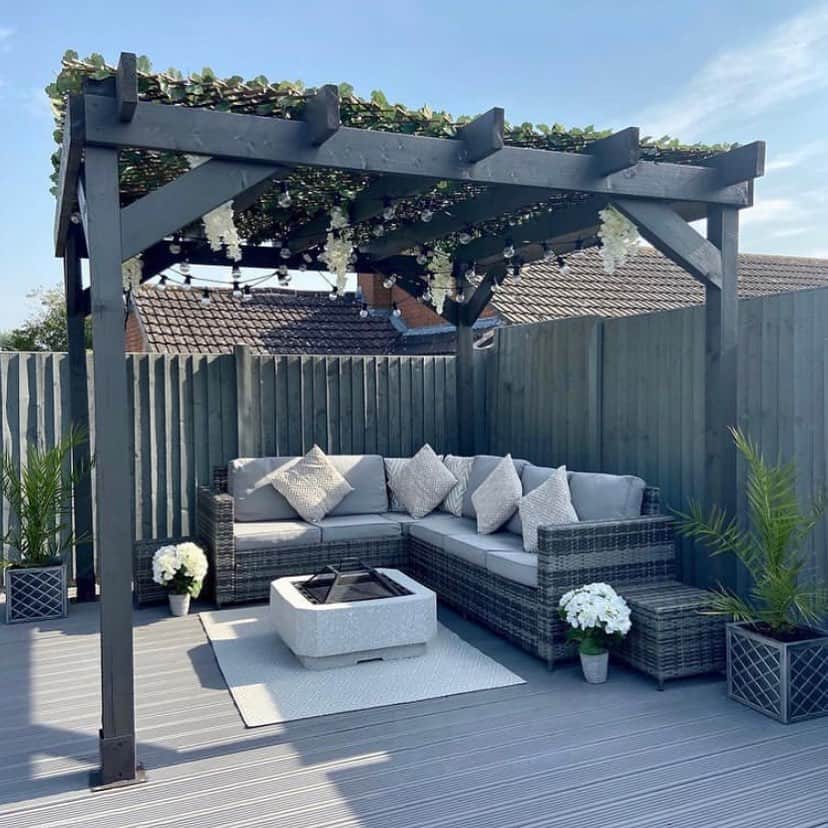 71 Stunning Pergola Ideas for Your Backyard
You love having an outdoor kitchen or sitting area on your backyard patio or deck. The only problem is the lack of shade. You would enjoy your outdoor living space a lot more if it weren't so darn hot. Adding an outdoor structure like a pergola can provide you with much-needed relief from the sun. You may not realize that pergolas come in a wide range of sizes, shapes, styles, and materials. Choosing the right pergola for your backyard will depend on your budget, space available, and desired style.
These pergola ideas will help you add some much-needed shade to your outdoor area.
1. Attached
You don't have to have a freestanding pergola. An attached pergola gets built off of the side of your house. You could have a wooden pergola constructed to extend from the roof of the house outward o cover your patio.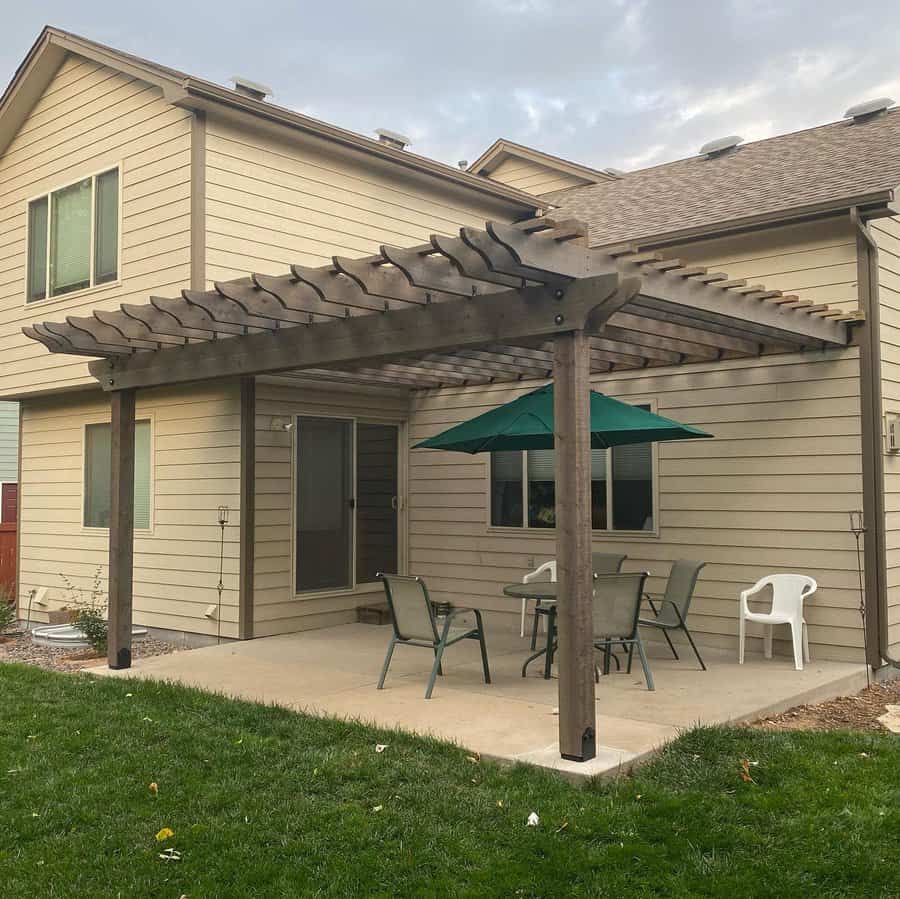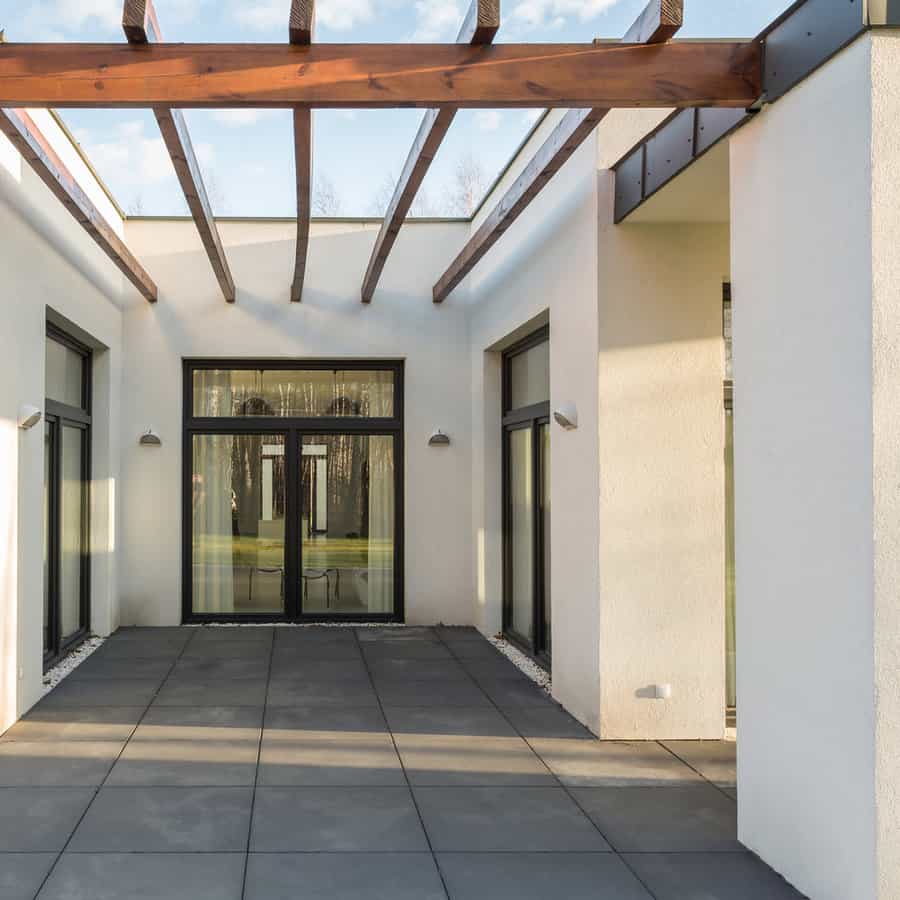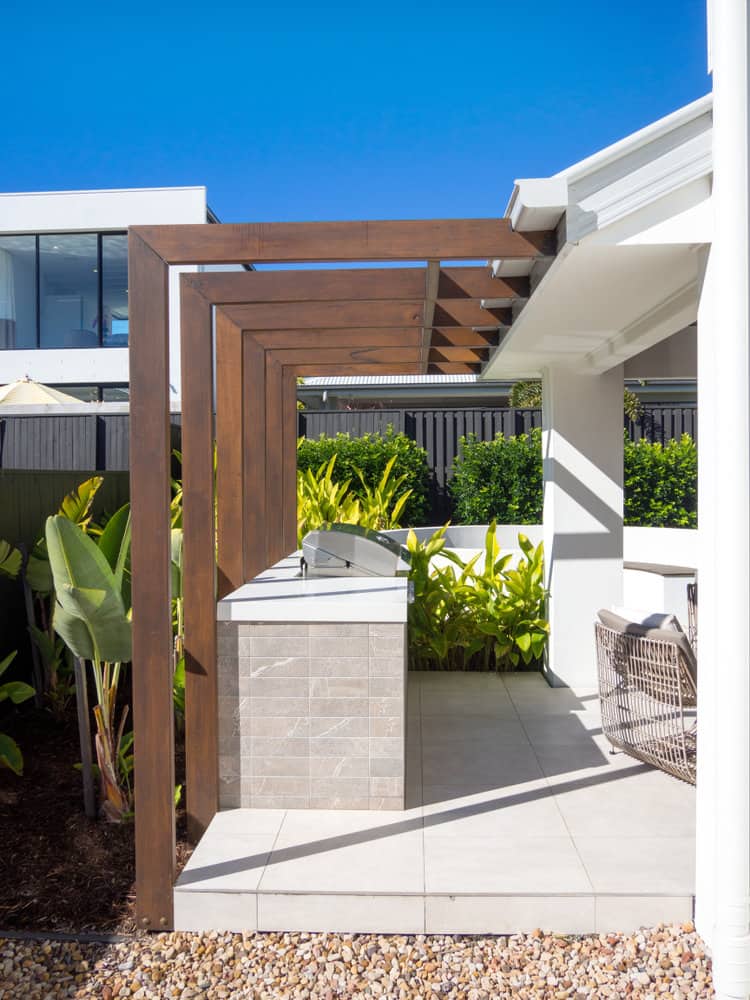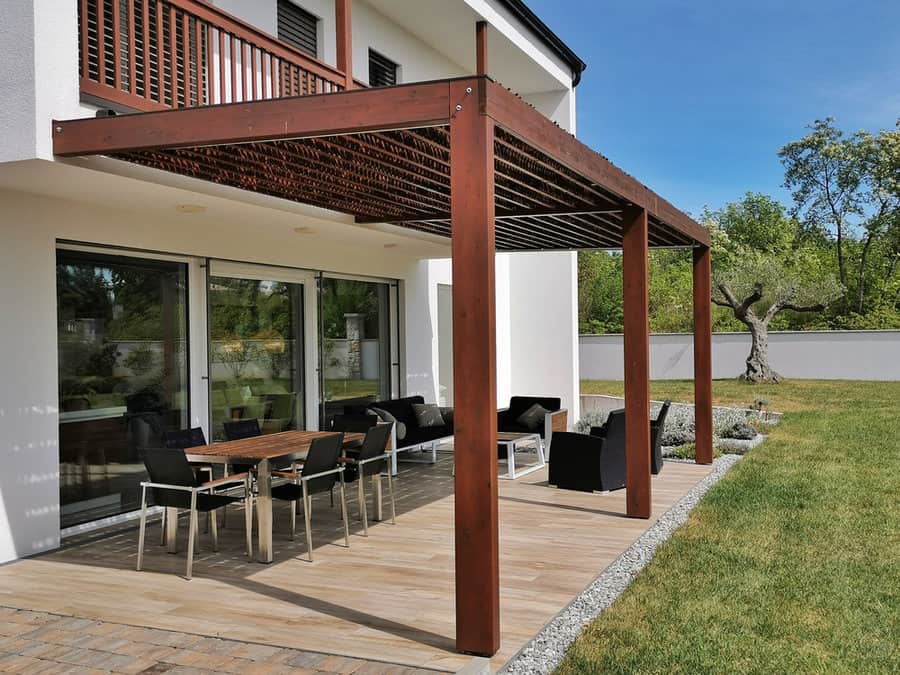 This is a great solution if you want seamless protection from your house to your outdoor living space. This style also works better when you have limited space and need a uniquely shaped pergola. Instead of a square, you could have a long rectangle shape that extends the length of your house.
2. Covered
A traditional patio does not have complete overhead protection. There are long beams that provide some sun blocking, but not completely. It also won't protect you from rain or falling debris. If you want more protection, you need an additional patio cover.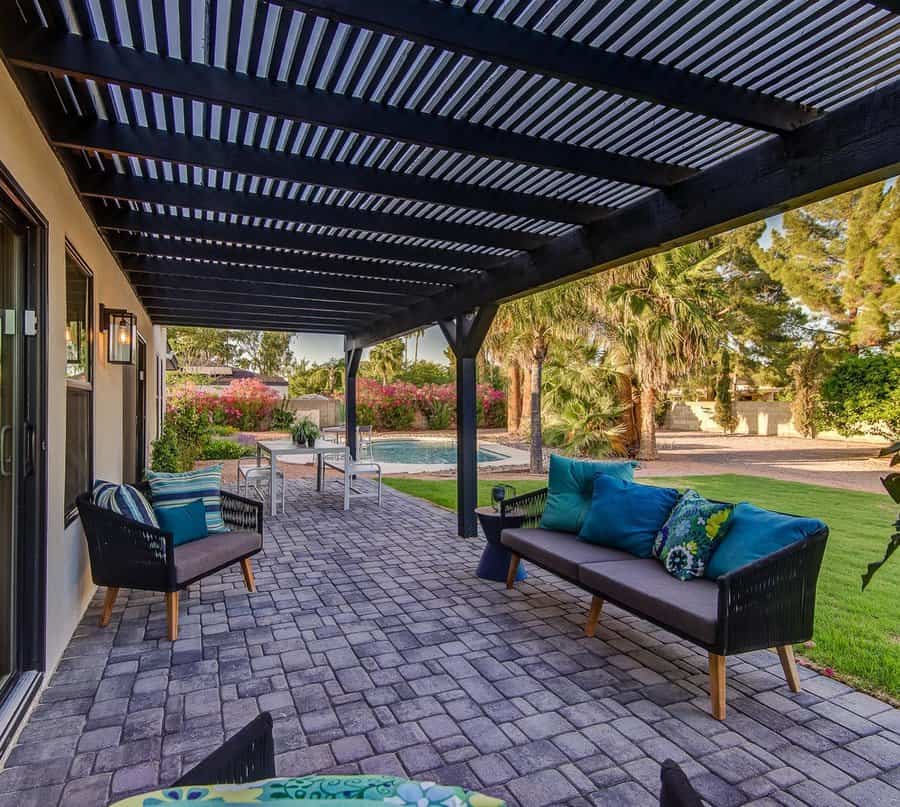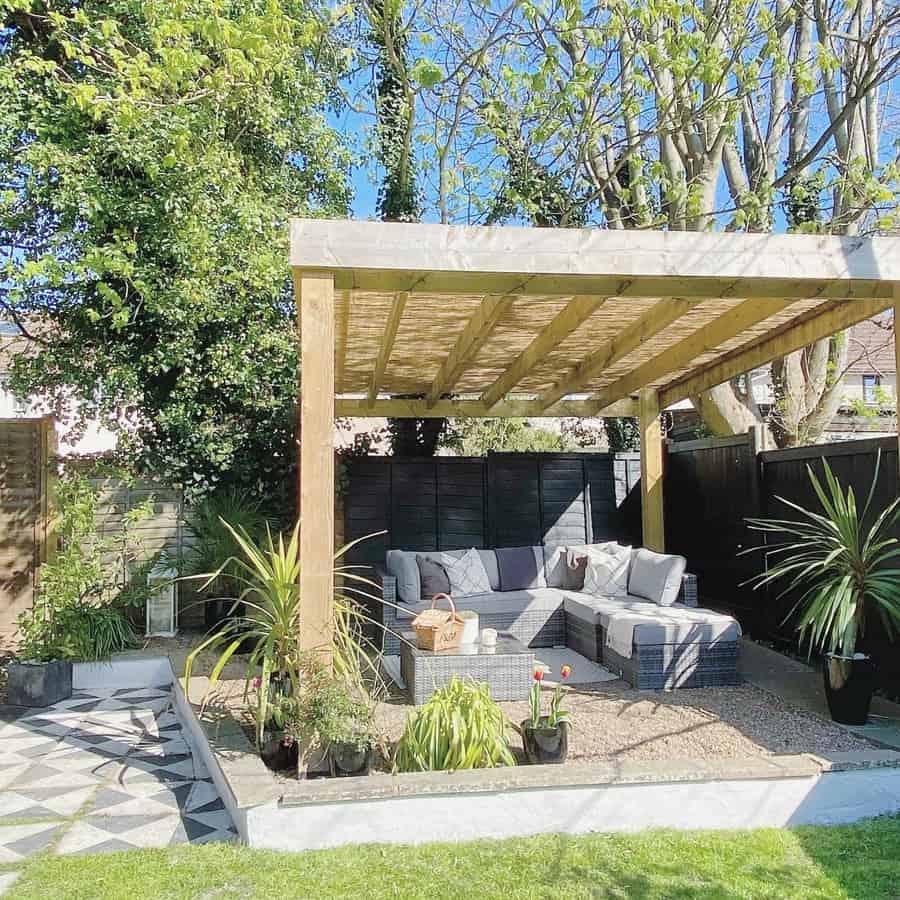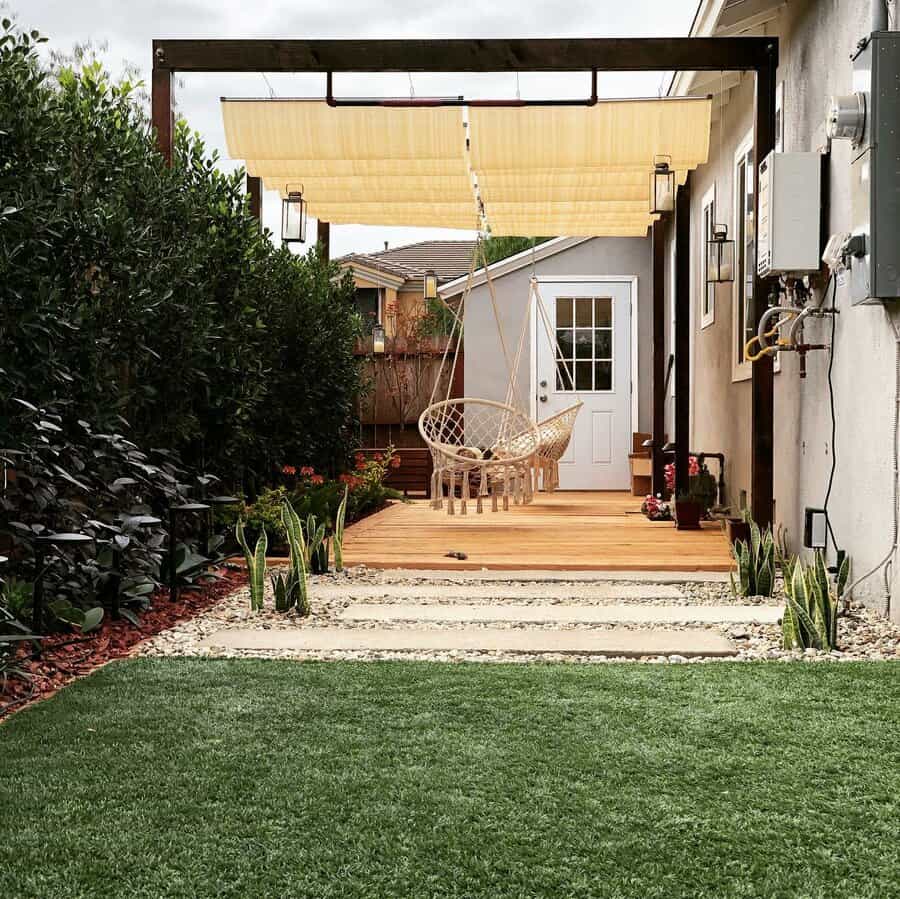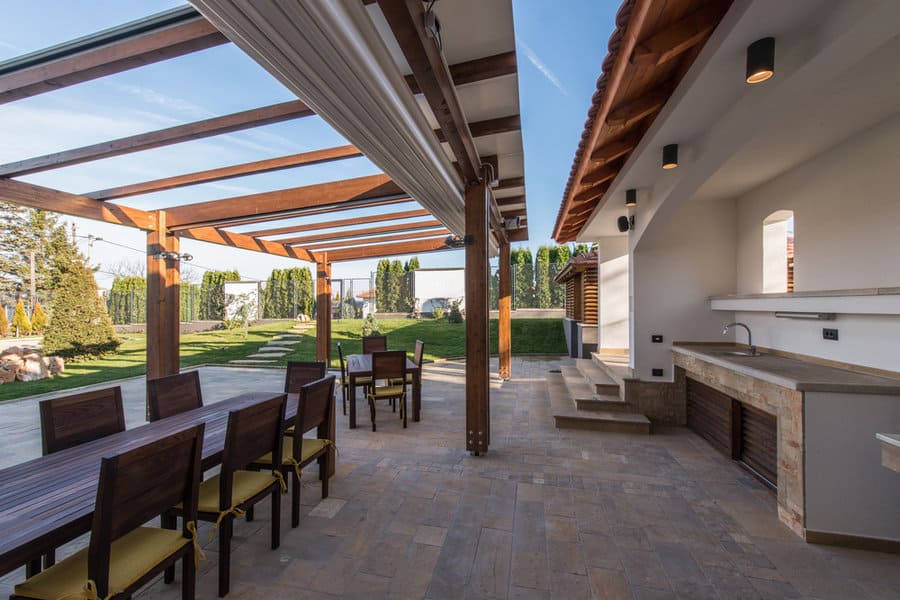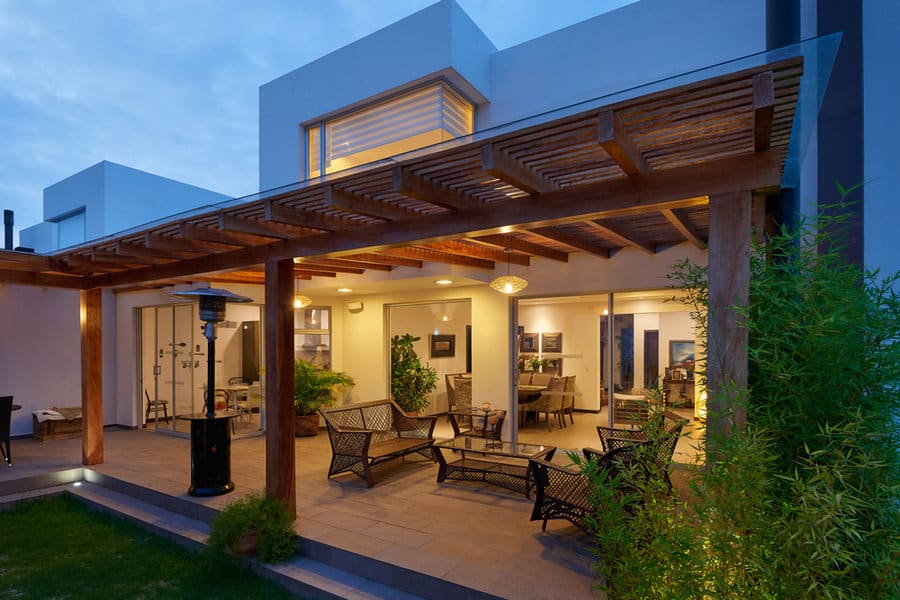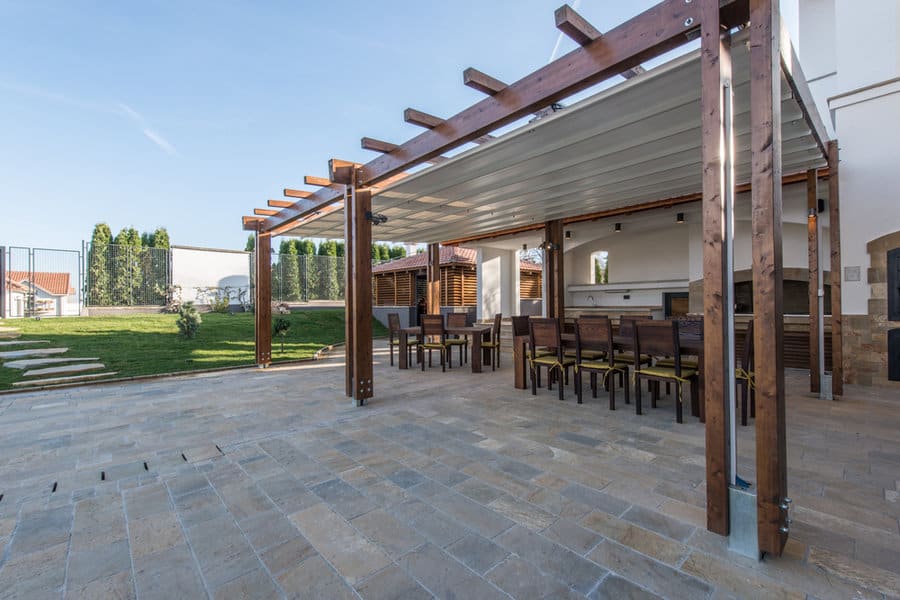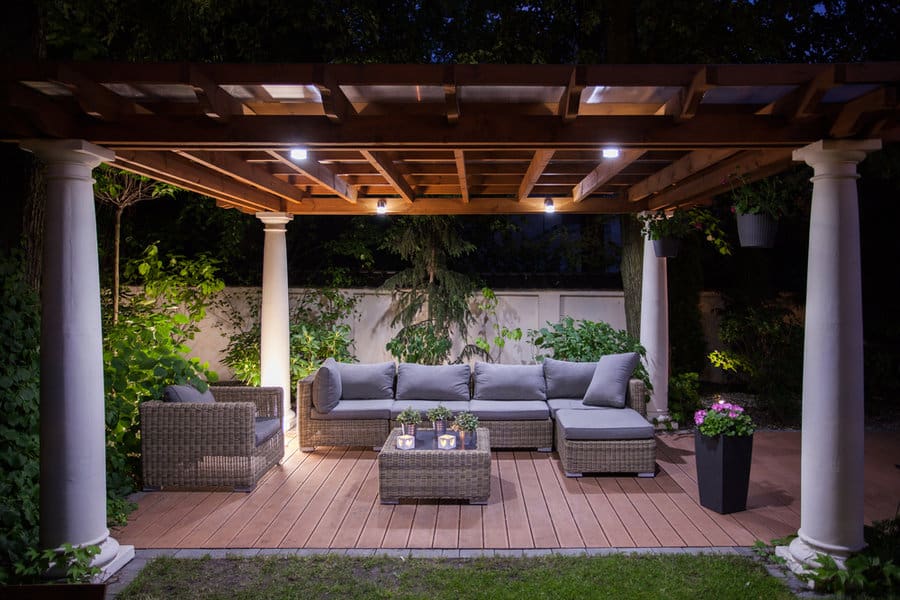 A popular pergola design idea is to use large strips of fabric that get woven through the roof. This blocks more light but won't fully protect you from the sun. Another option is a mechanical roof. The beams are all interconnected so that you can move them either manually or have a motor connected to them. The beams then rotate to partially or fully cover the roof.
3. Deck
If you already have a deck attached to the backside of your house, then adding a pergola to it can make the outdoor space more enjoyable. What's nice about pergolas is that you can buy them in different sizes. So you can add a pergola roof to small spaces.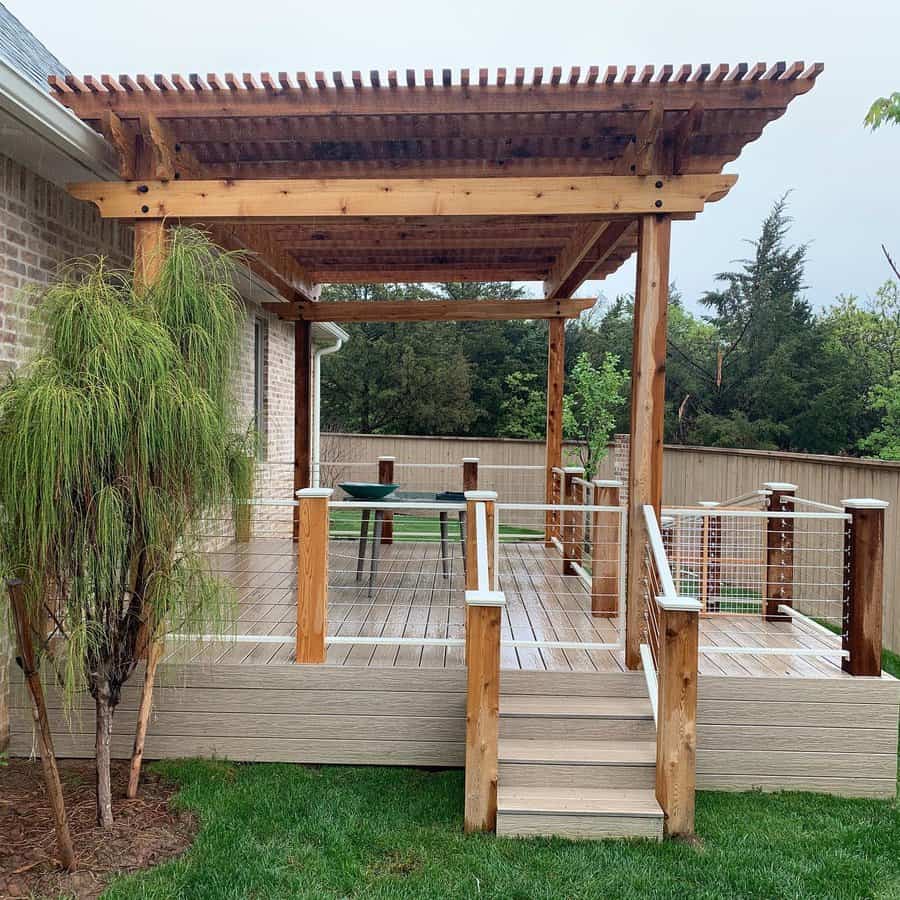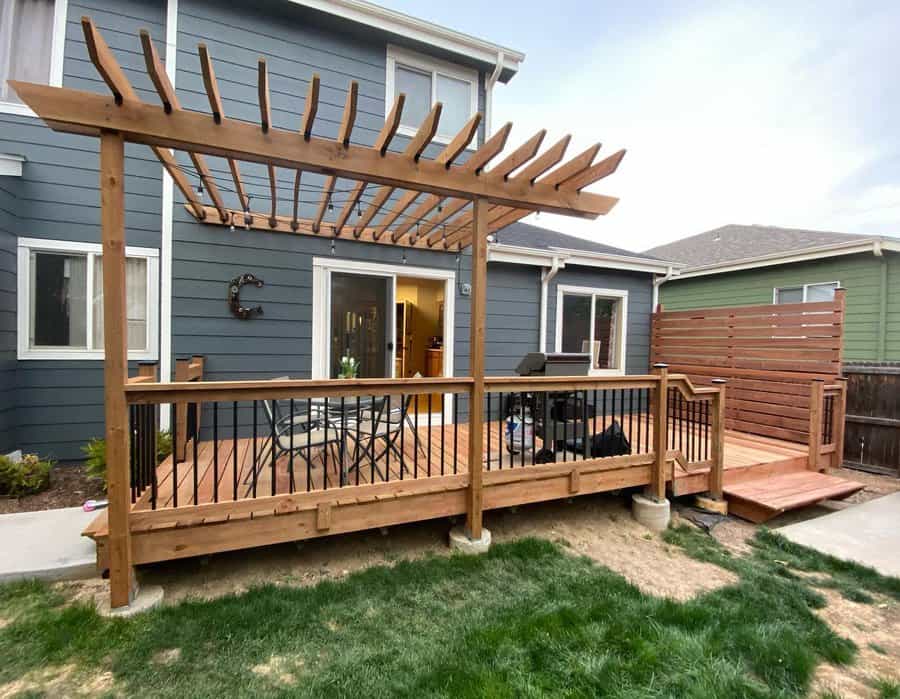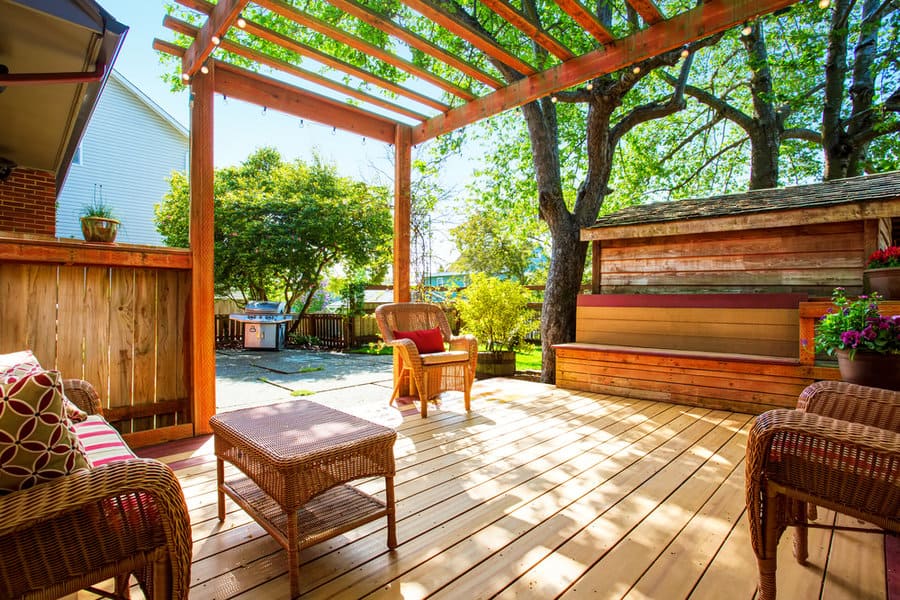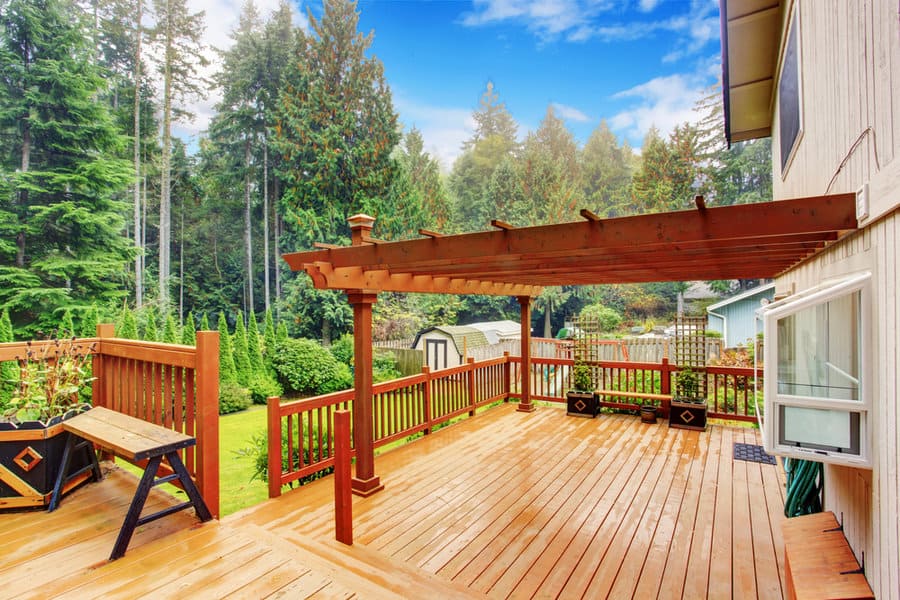 When adding a pergola to your deck, consider building it onto the existing deck. This integrates the design and helps everything to look cohesive. You can upgrade the design by adding lighting. You can have lighting around the lower deck area and then add more string lights overhead.
5. Design
While all pergolas have a basic design of supporting legs and parallel beams overhead, they are a wide variety of pergola styles. When choosing your backyard pergola, consider its style, construction, materials, size, and color. This will ensure you pick the right pergola that complements your home.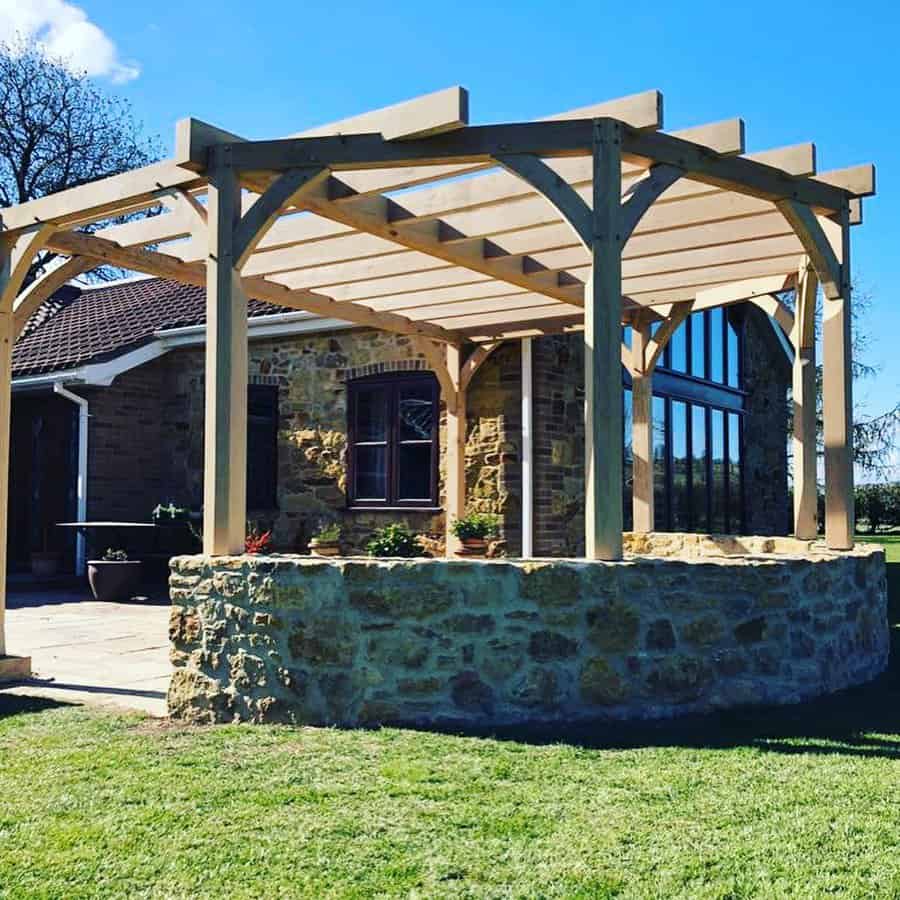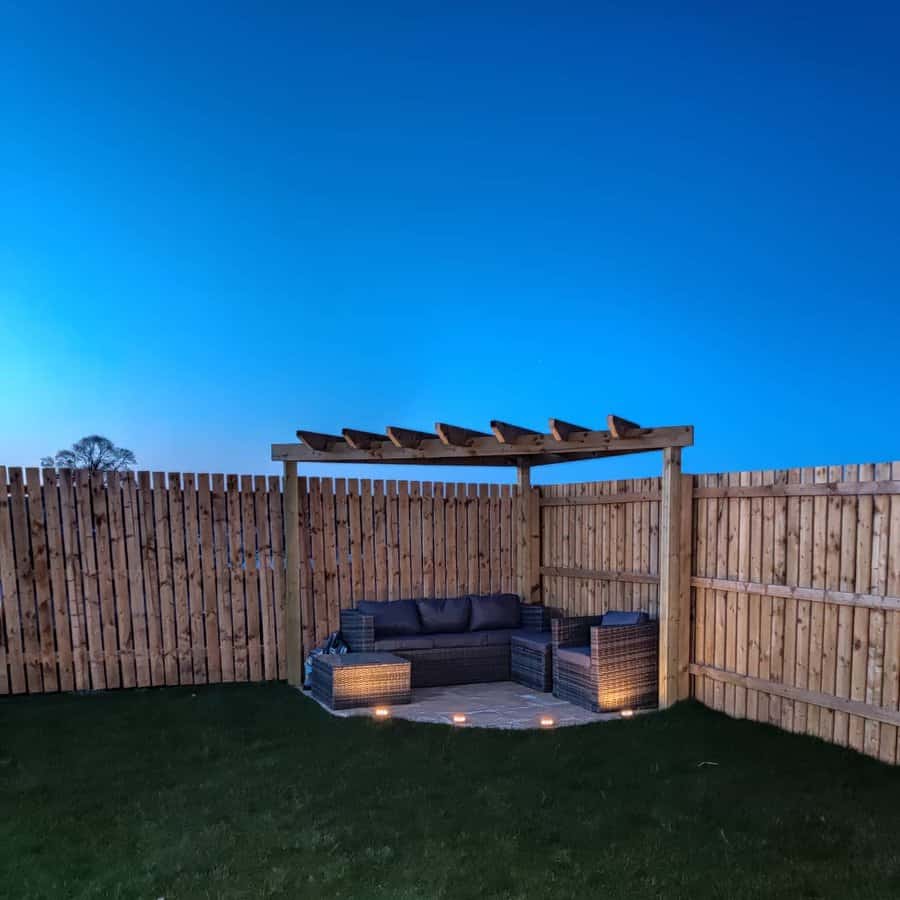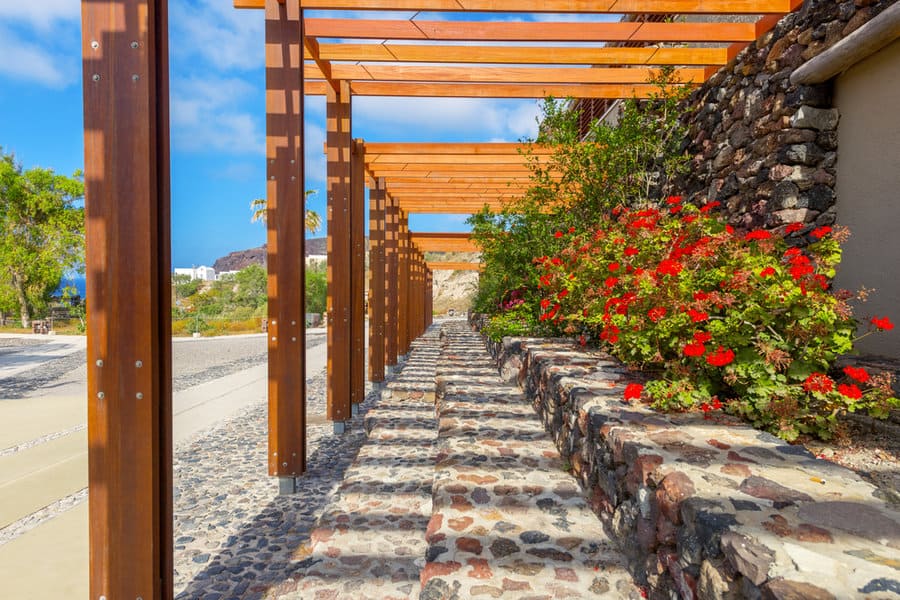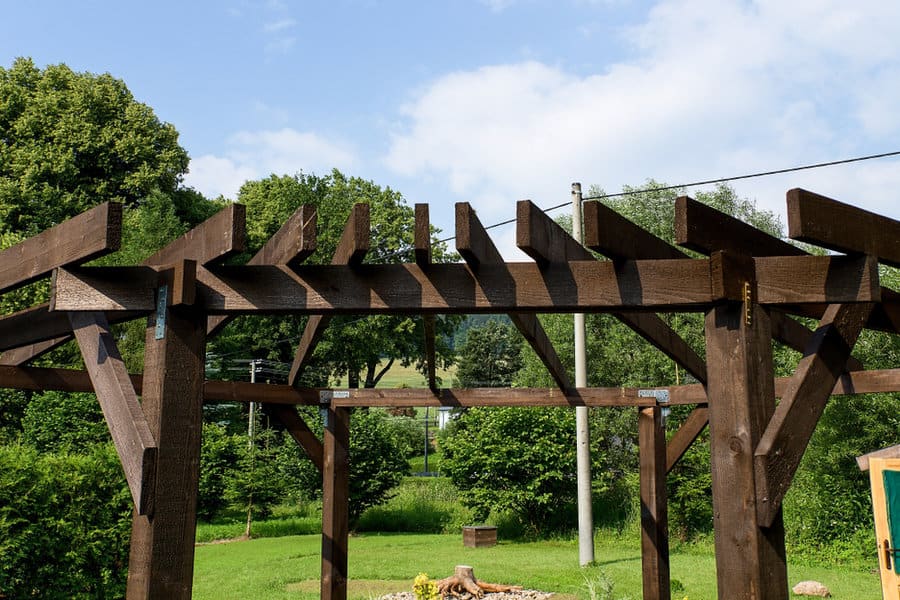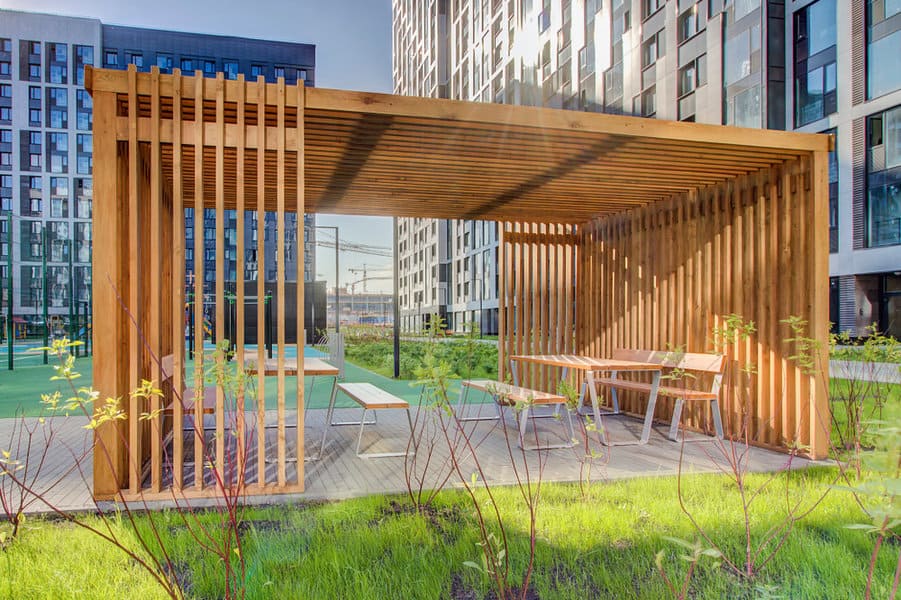 Your pergola should look like an extension of your home as if they were built at the same time. Otherwise, it will look like an awkward add-on. You also need to consider the climate you live in and the direction your backyard faces. This will help you choose the right setup for your backyard to provide the right amount of protection to make your backyard comfortable.
3. DIY
Do not try to DIY your pergola unless you have experience with woodworking and building. Depending on where you live, you may need a permit to build your backyard structure. If you build the right support for your pergola, it could sink into the ground and become crooked or completely fall.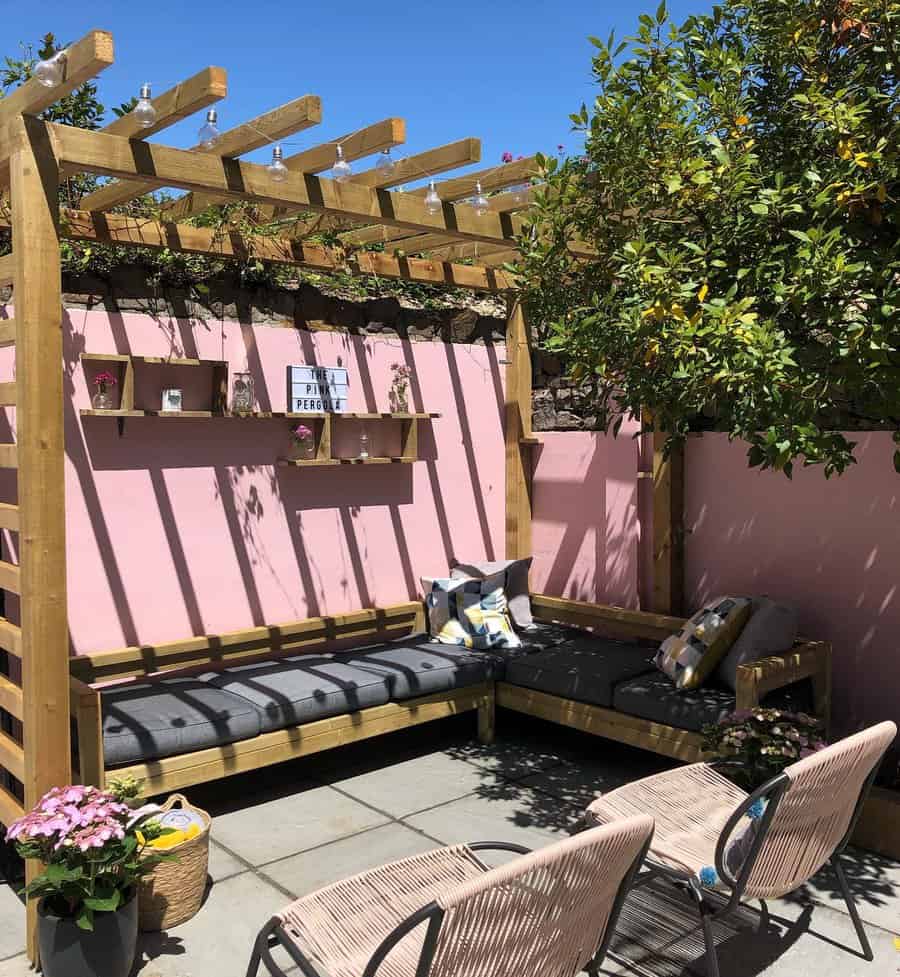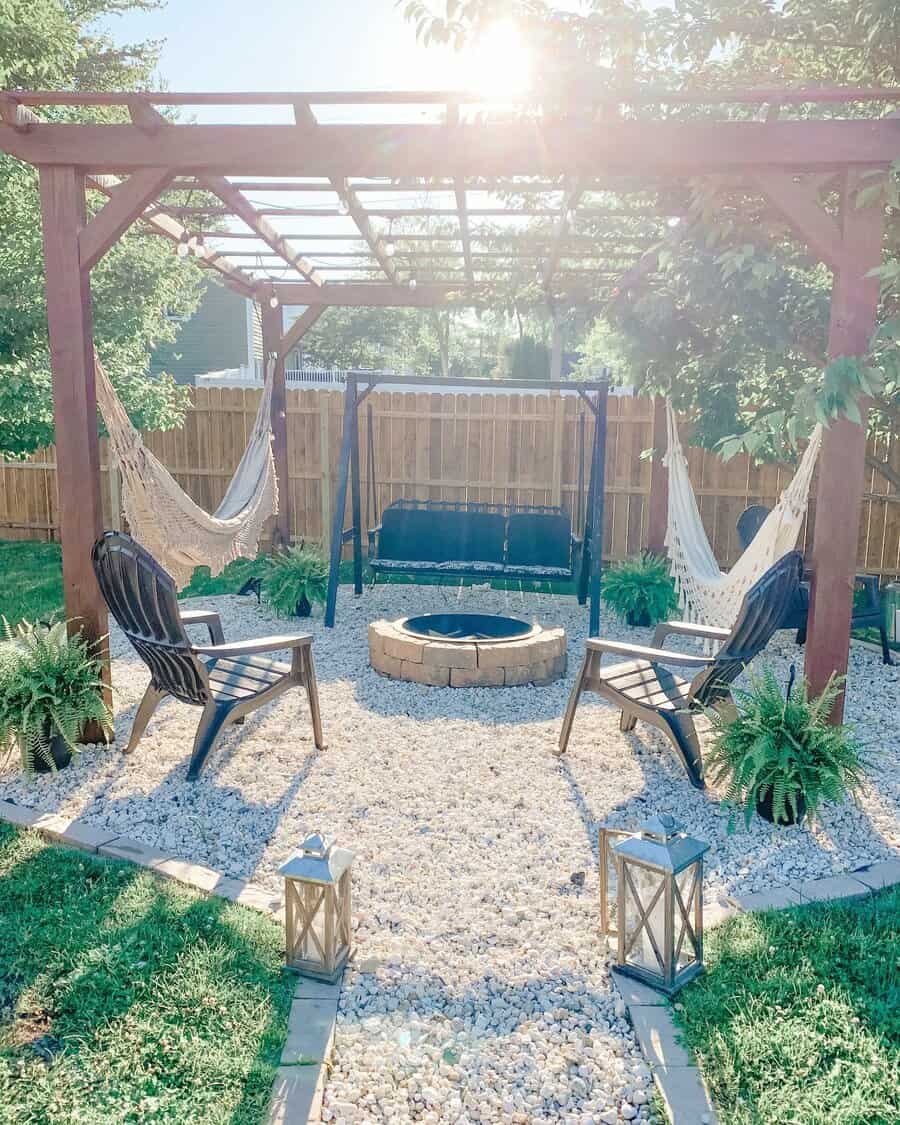 You also need the right support for the top to ensure it stays standing during inclement weather. If you don't have a lot of home improvement experience but still want to build your own pergola, you could buy a kit. They come with everything you need, from precut wood to hardware. Follow the directions and put your pergola together.
6. Garden
Turn your pergola into a living vertical garden. You can encourage a climbing plant to grow up the supports and across the top. Or you could hang potted plants from the pergola to add an accent of color. Put climbing vines in your hanging pots, and you can keep the garden off the ground and only above you.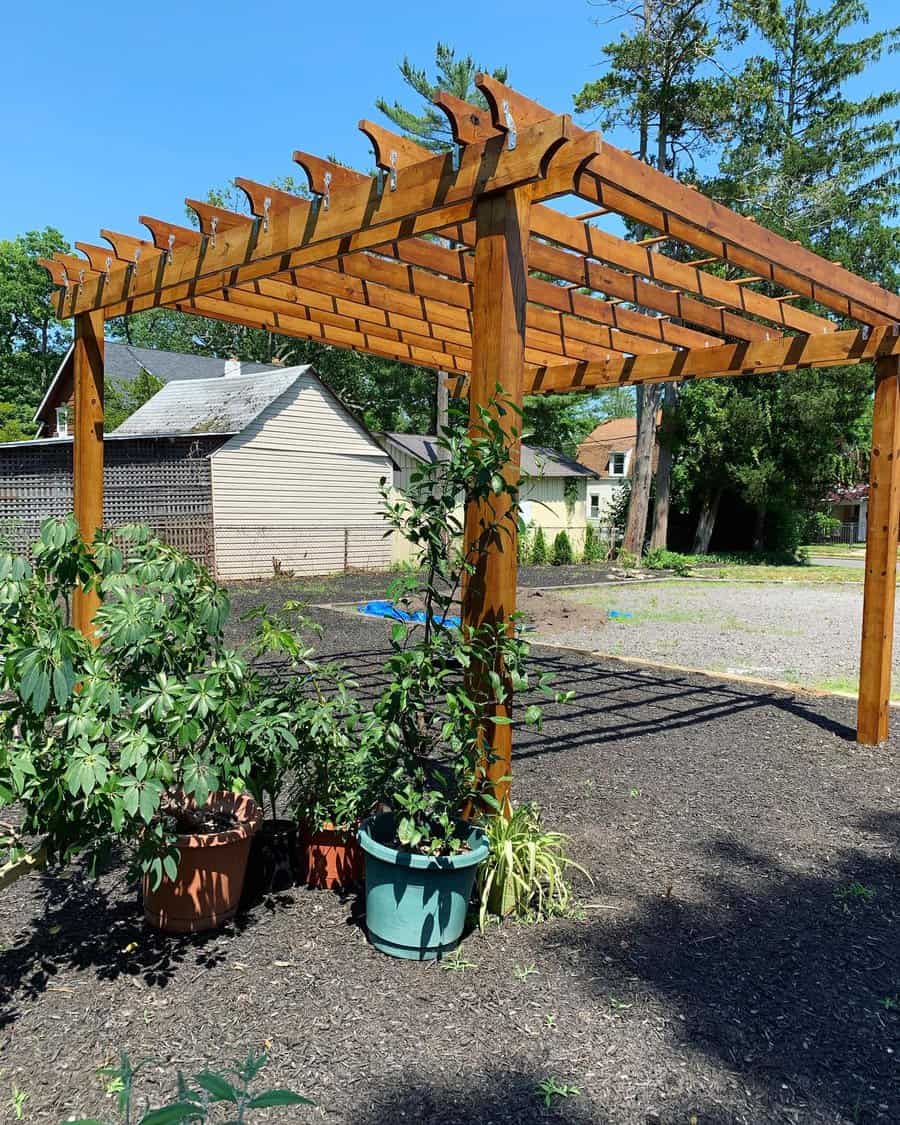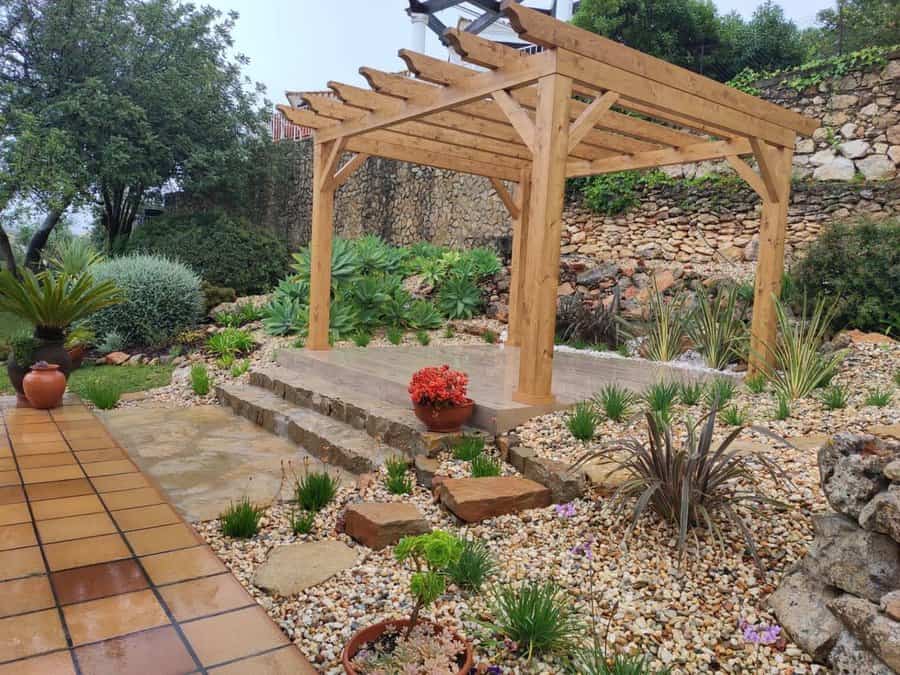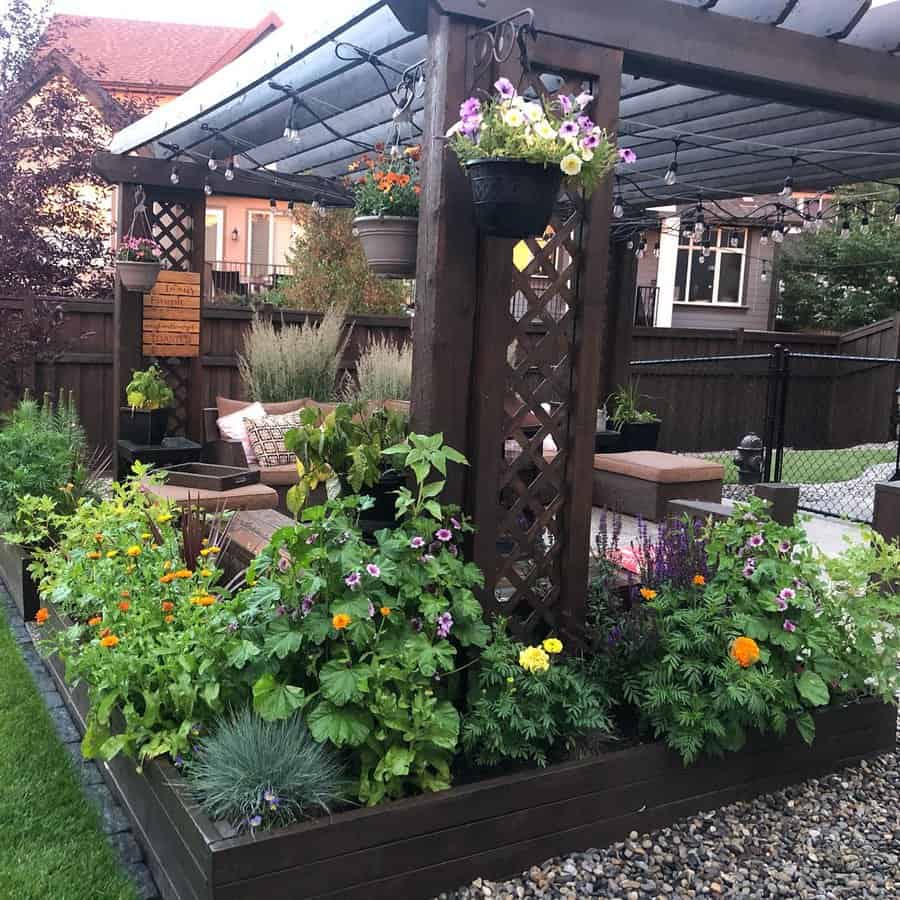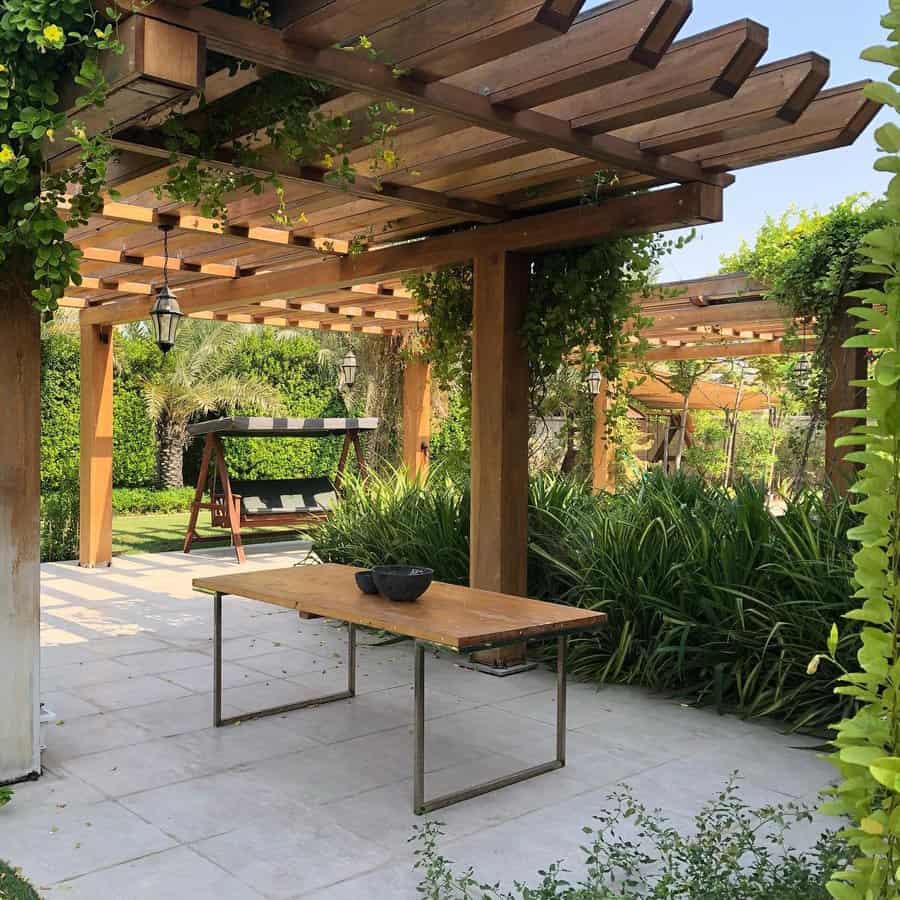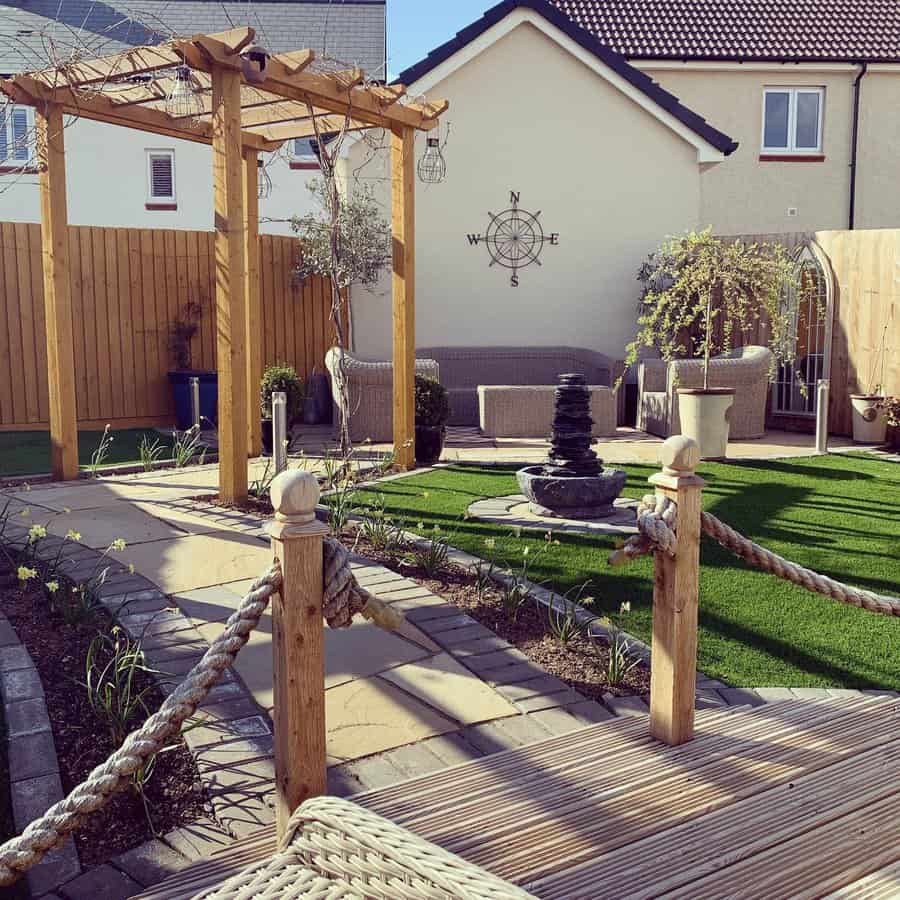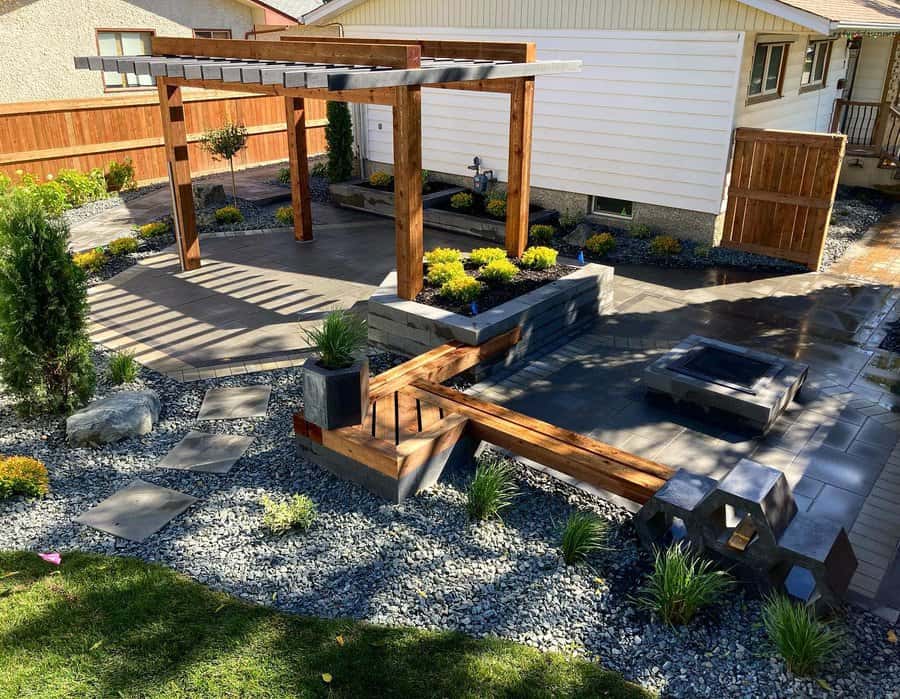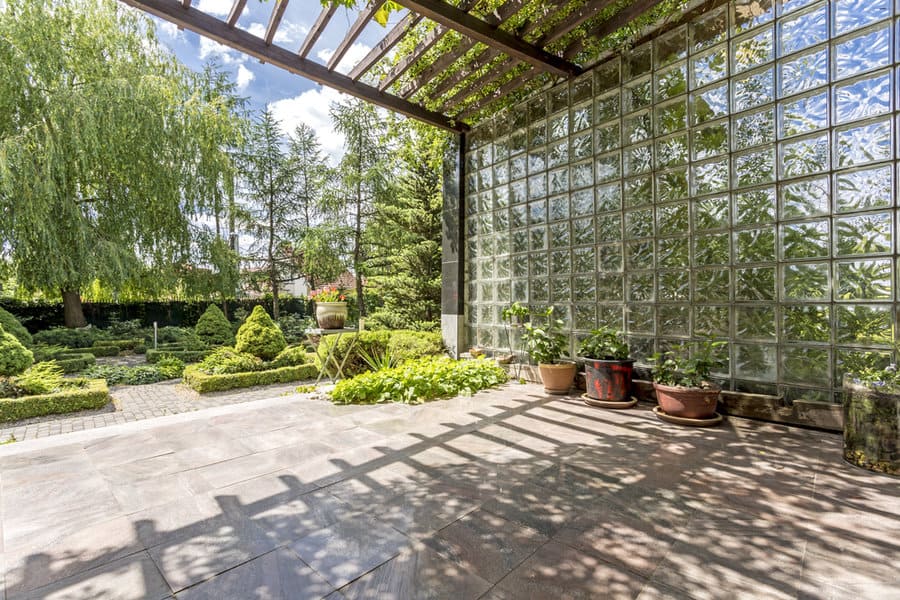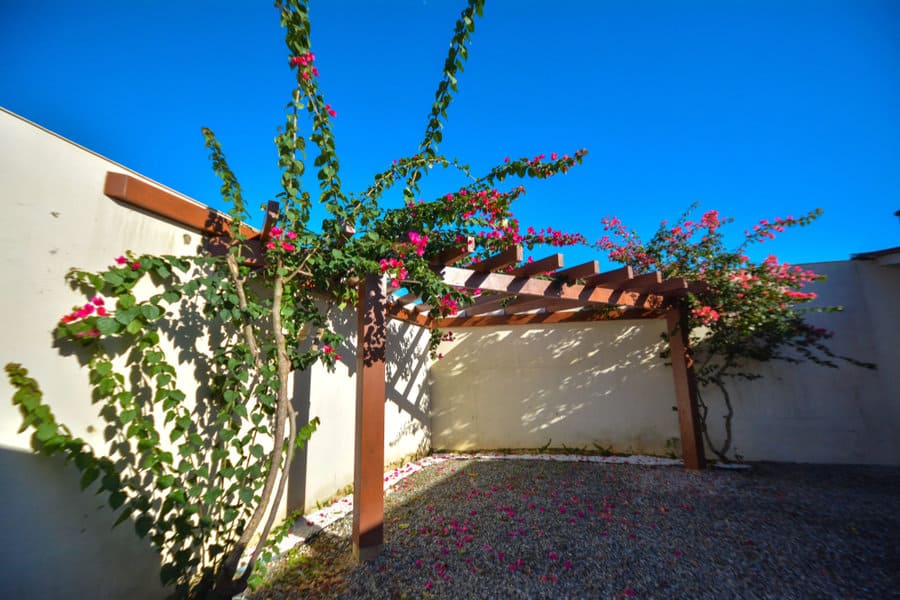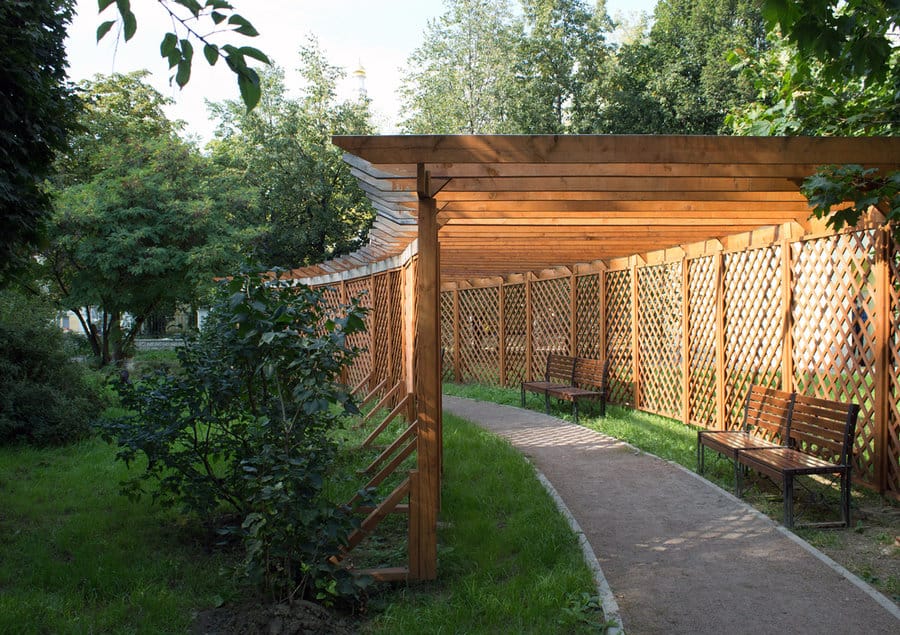 You don't need a trellis when you have a pergola because the frame acts as the support. This is why you commonly see grape and lemon vines growing over a pergola. Flowering vines are also popular because it can create a natural cover full of colorful blooms.
7. Modern
Unlike other pergola design ideas, modern pergola plans feature a simple design with straight lines and crisp 90-degree corners. While they could be made from wood, you will also find fiberglass pergolas.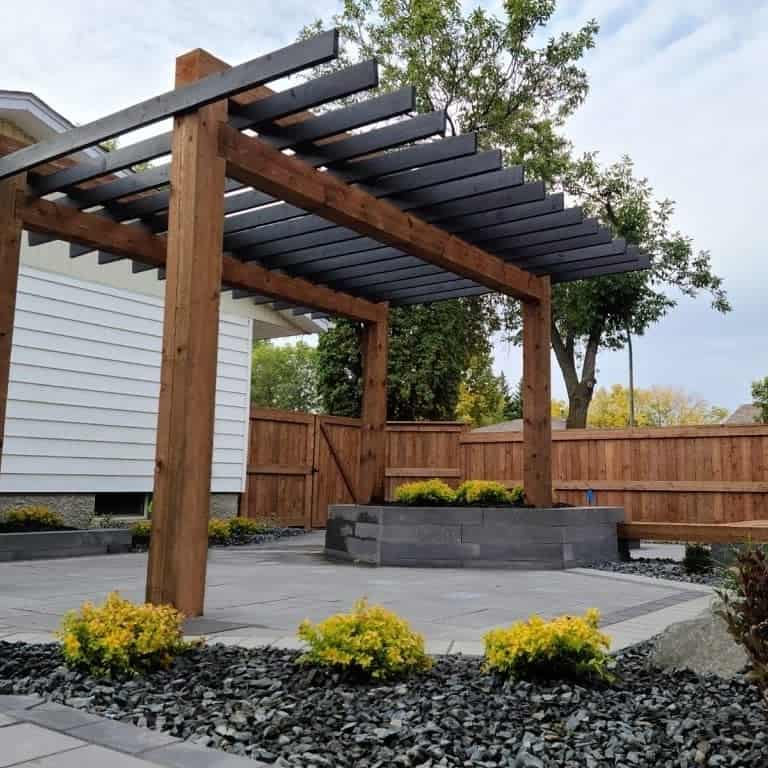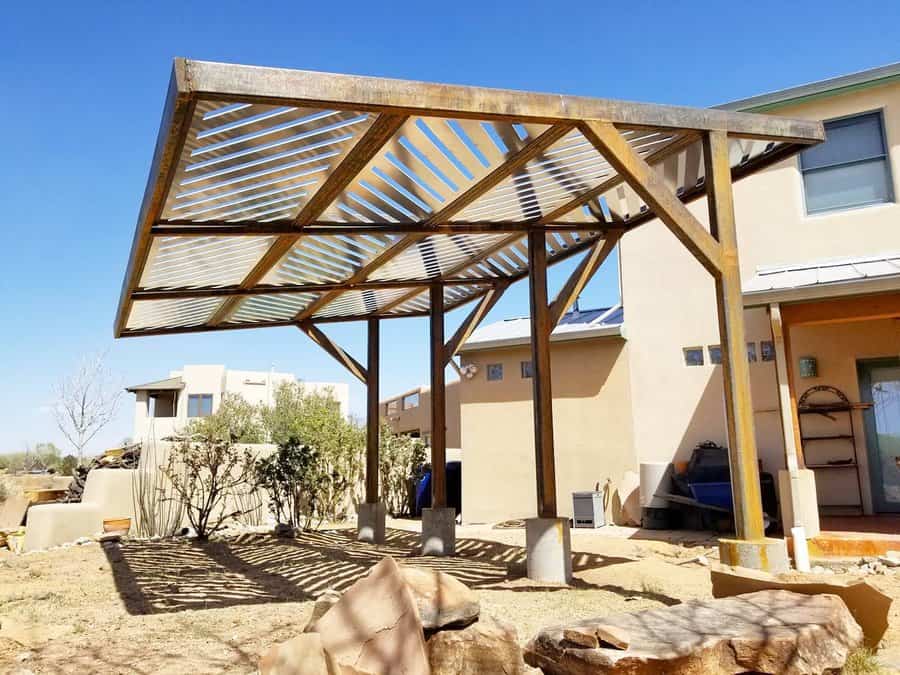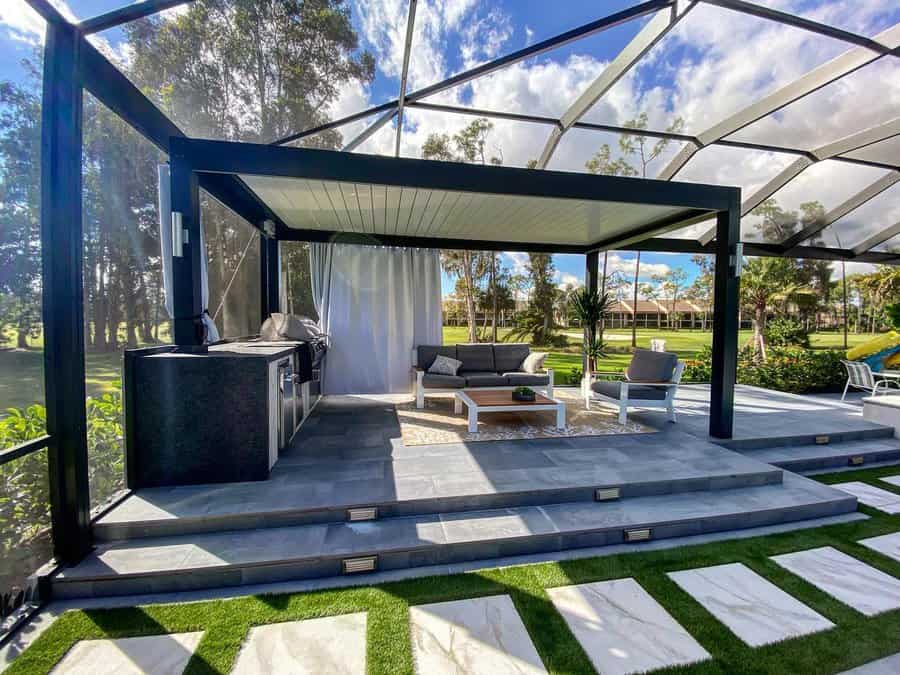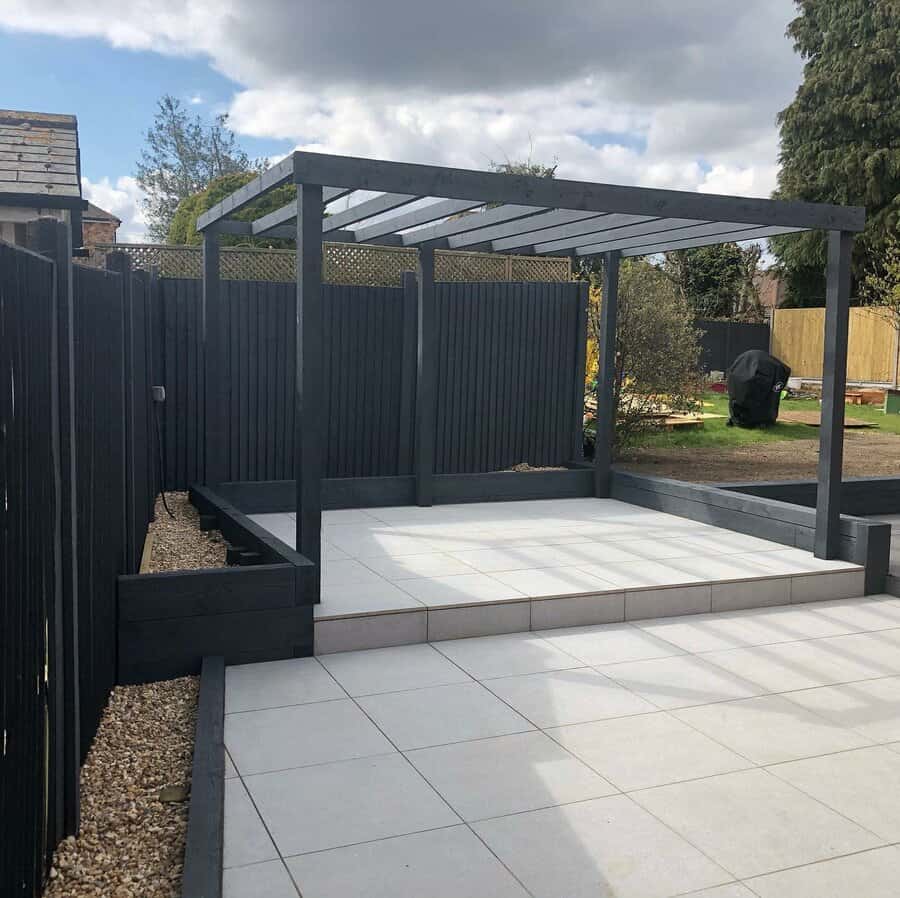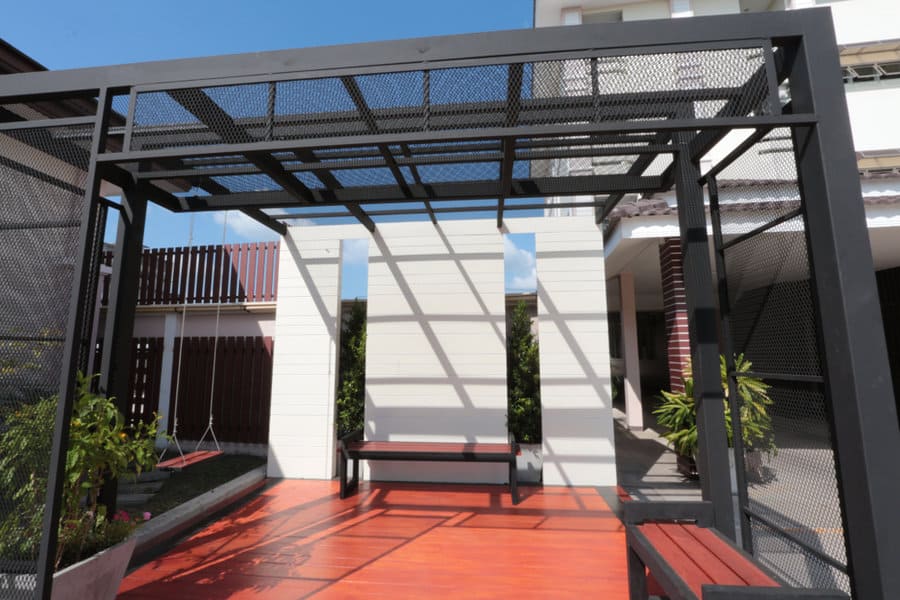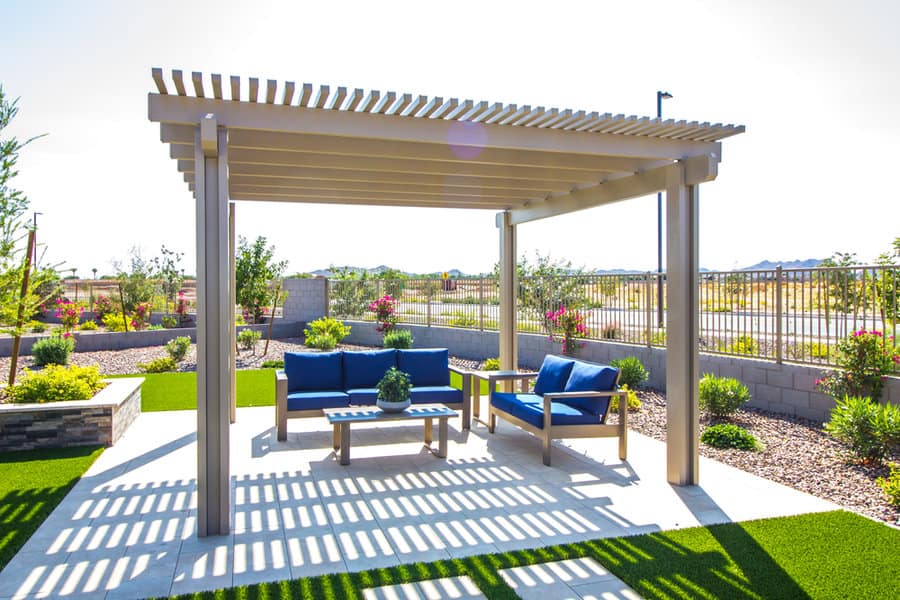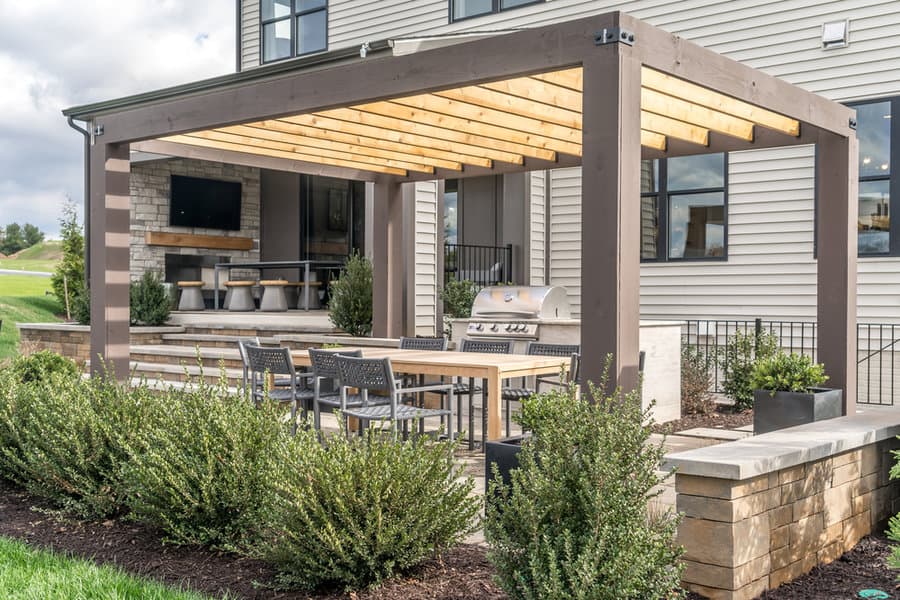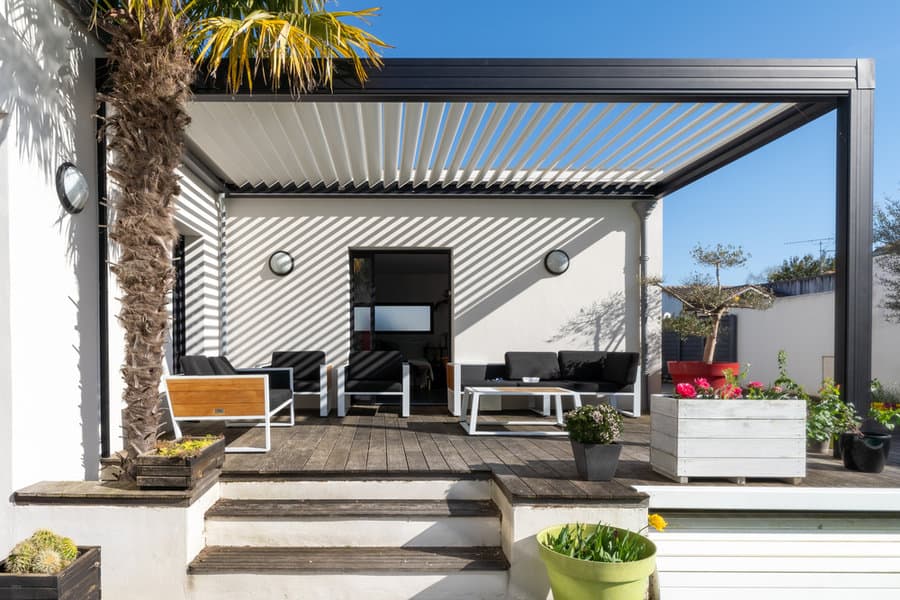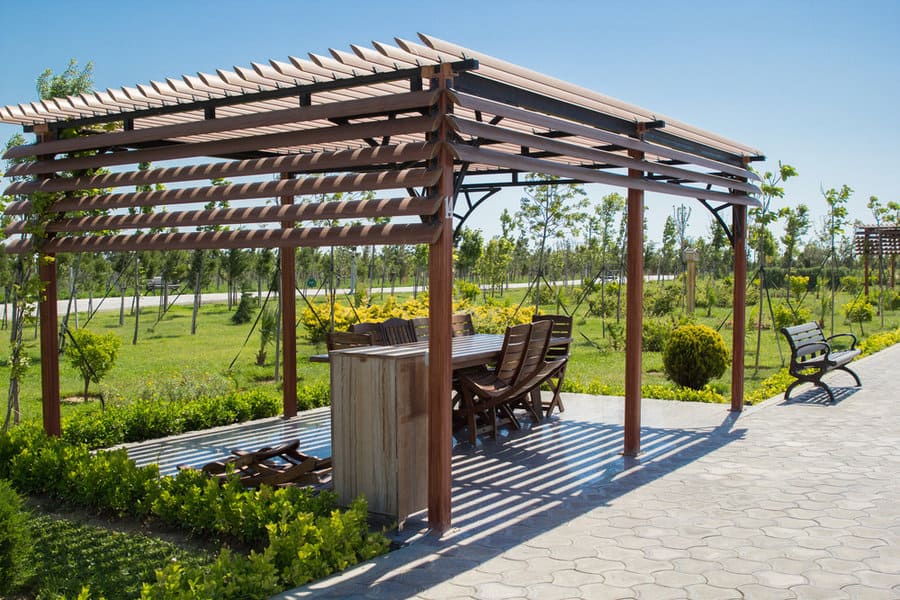 They will come in more colors and have a simple and clean design that looks beautiful on modern homes. They can update an older home and look good with modern patio furniture. Skip the curtains with this pergola style as they look better with a stamped metal screen.
8. Patio
A Mediterranean screen-style pergola is perfect for creating an oasis in your backyard. Unlike other pergola design ideas, these pergolas have a screen built into them. This could be a screen over the top to provide gentle light filtering.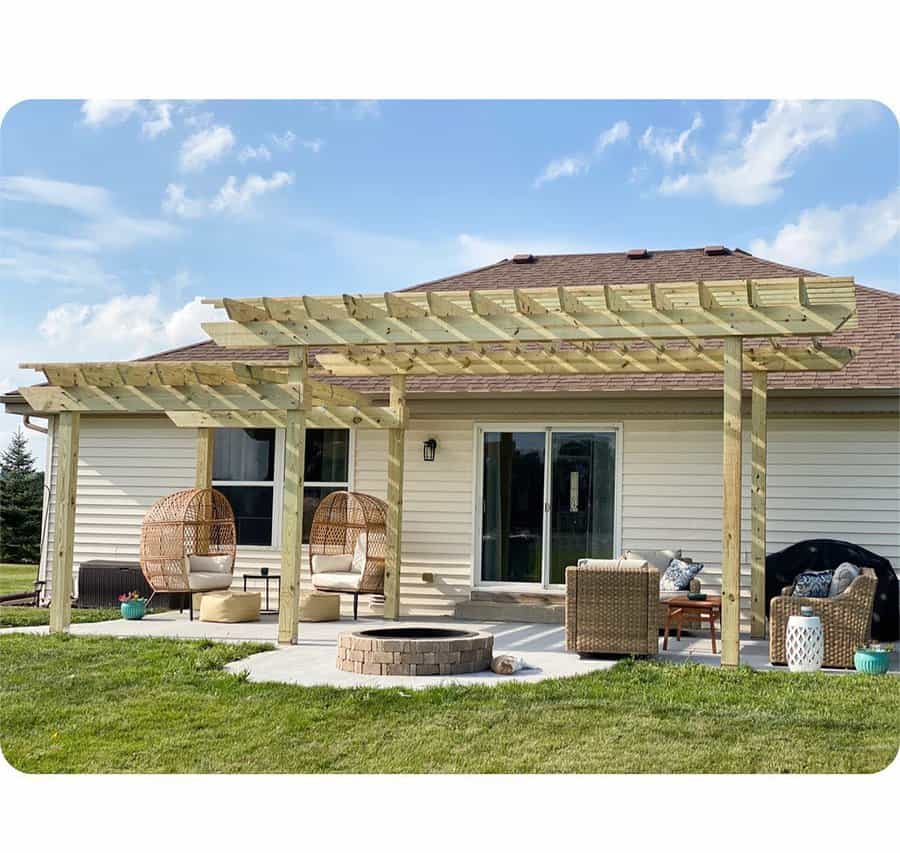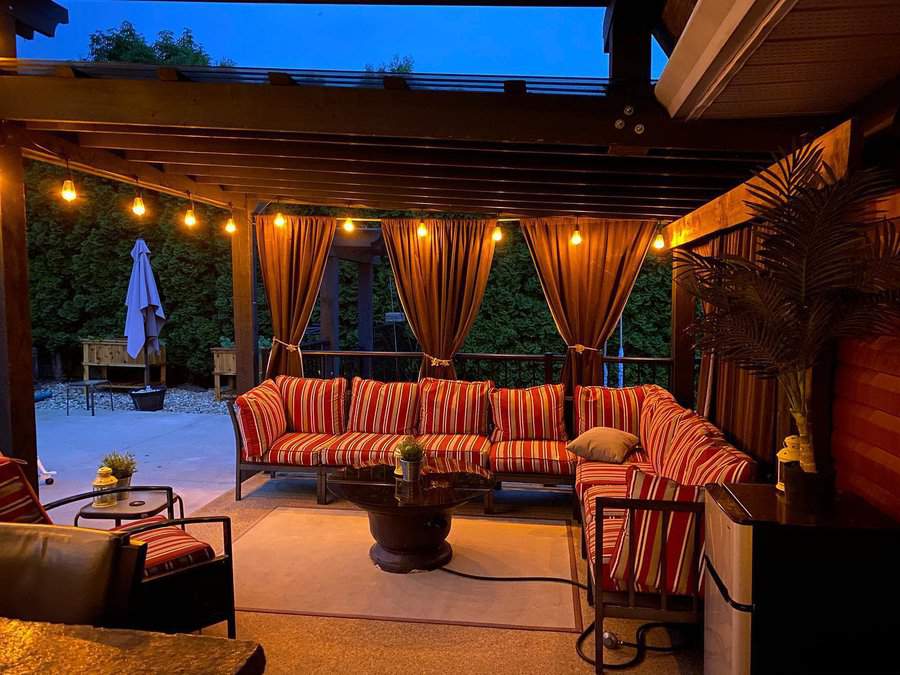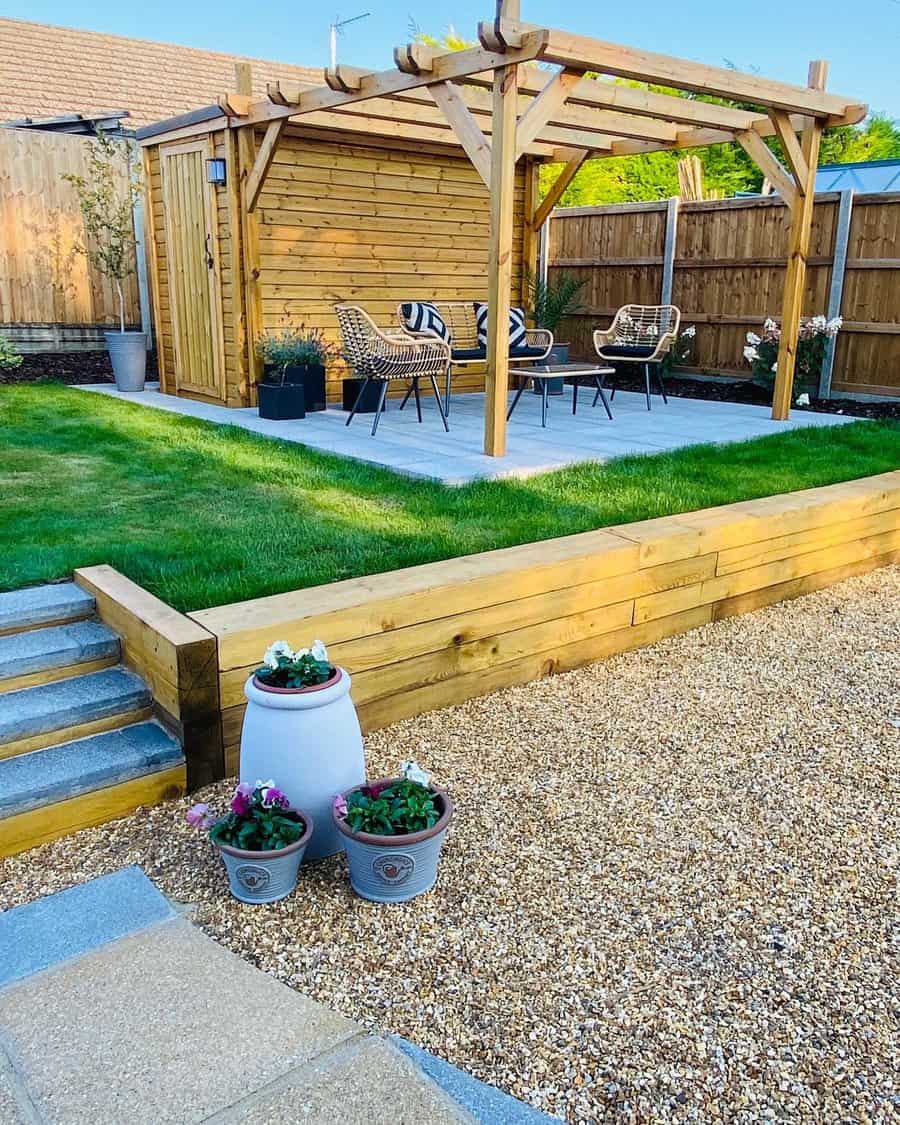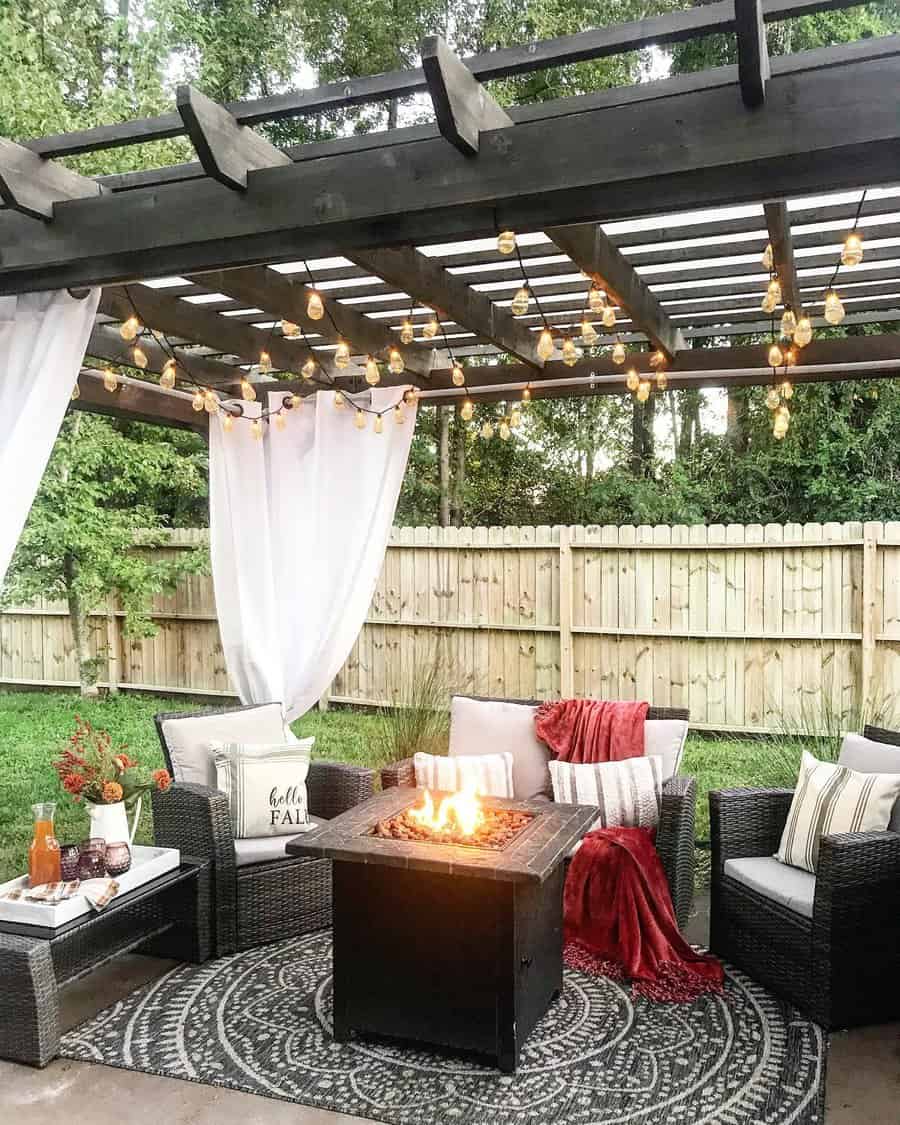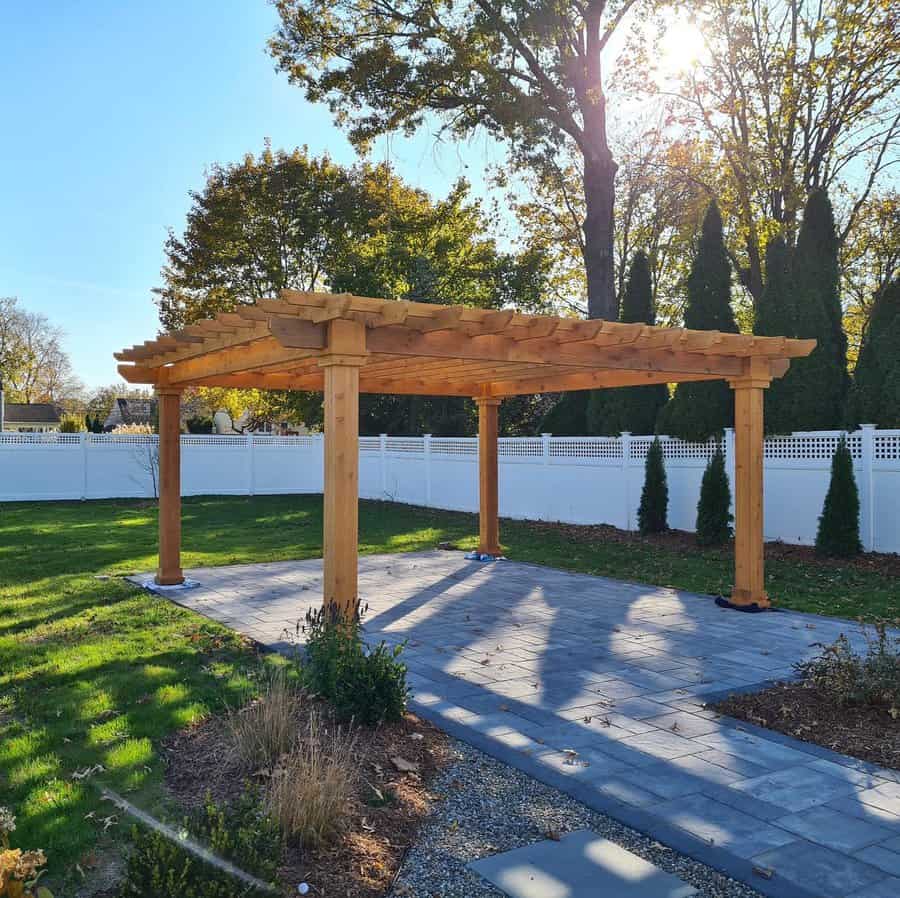 There could also be a screen on one or more of the sides. Look through pergola designs to find one that complements your home's style. It could have large statement columns or screens made of metal. A lattice style of screen is perfect for growing a vine plant to create a living wall.
9. Pool
If you already have a pool in your backyard, adding a pergola is the perfect addition. It will provide you with a much-needed escape from the sun. You can outfit your pergola with home decor-inspired elements. This creates an indoor feel to your outdoor space. Add an outdoor sofa, area rug, and lighting.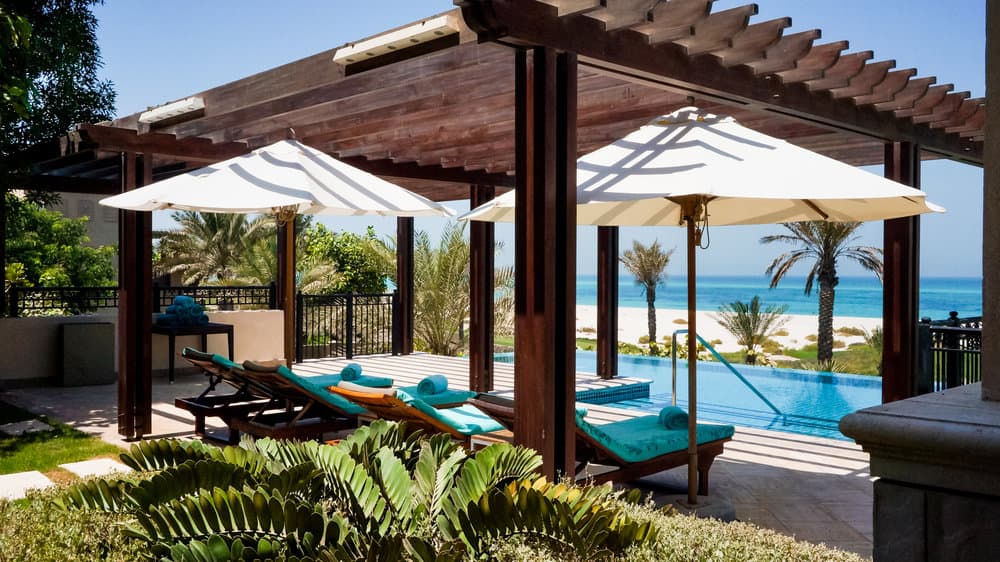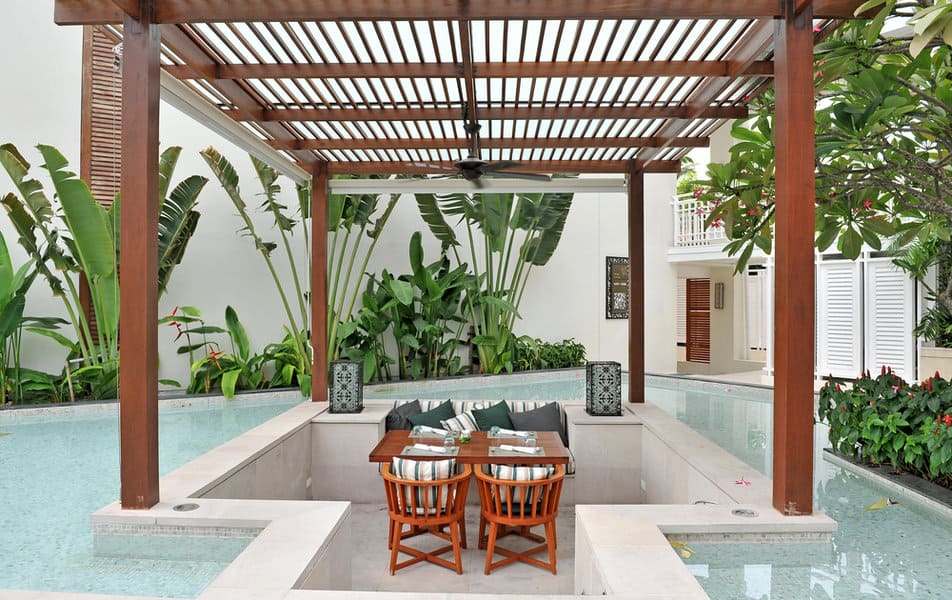 A few throw pillows will create plenty of cushion. A chaise lounge or lounger chair is perfect for relaxing on a hot summer day. Curtains are also nice because they can block the sun as it moves across the sky from morning to evening.
10. Privacy
Once you build your backyard pergola, you'll want to spend more time outside. This can lead to a new problem, a lack of privacy. You don't want your neighbors inviting themselves over every time you try to enjoy some outdoor dining. Instead of just having a pergola frame, you can mount curtains.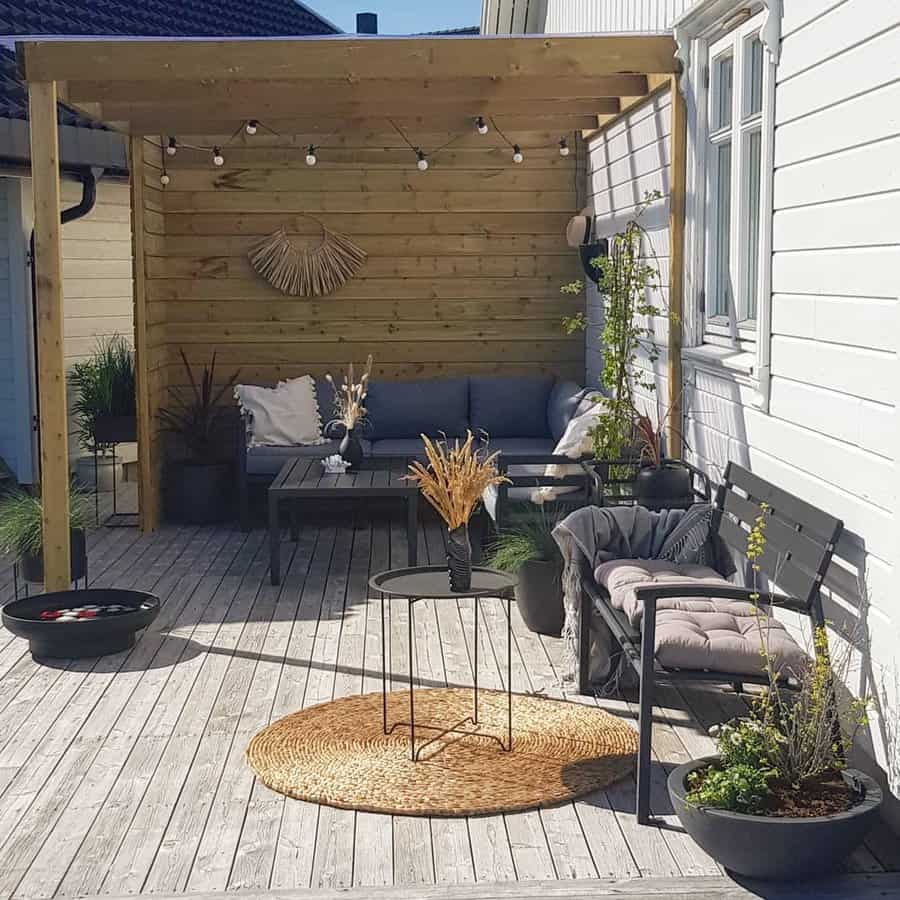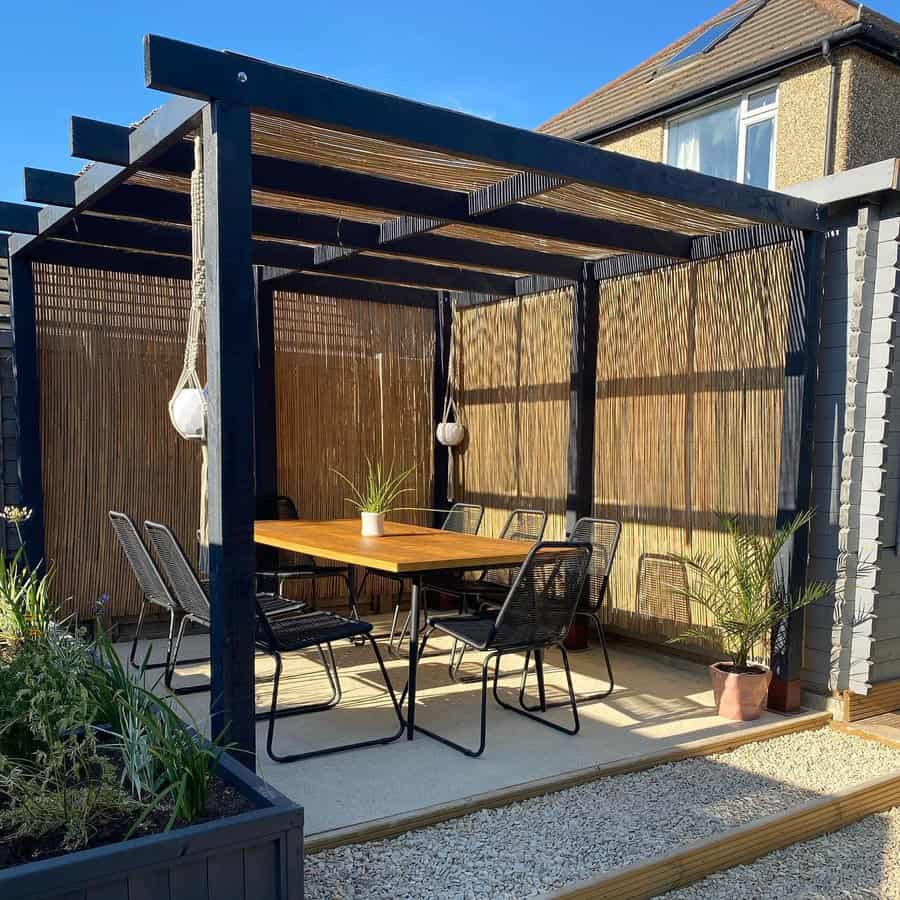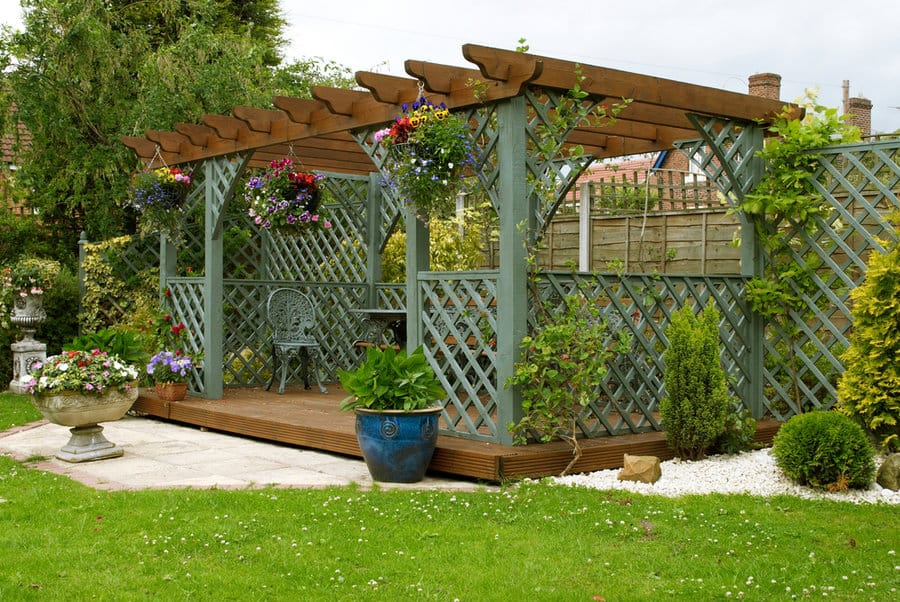 This transforms your structure into a white pergola with billowing white curtains flowing all around. Having multiple curtains allows for plenty of airflow while also creating privacy. If you're looking for more privacy, you could turn your pergola into a more solid structure with screens or even glass doors.
See more backyard privacy ideas here.
11. Rustic
A sleek and modern pergola won't make sense if you have an old house. Your pergola should blend in with the rest of your home's style and architecture. Take a lesson from southern living trends and build a wood pergola.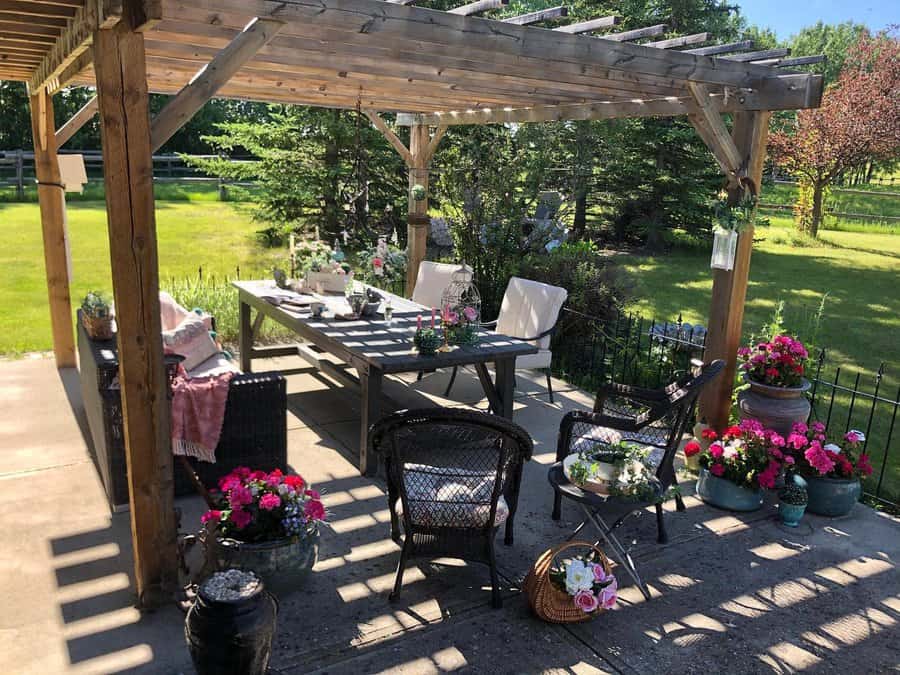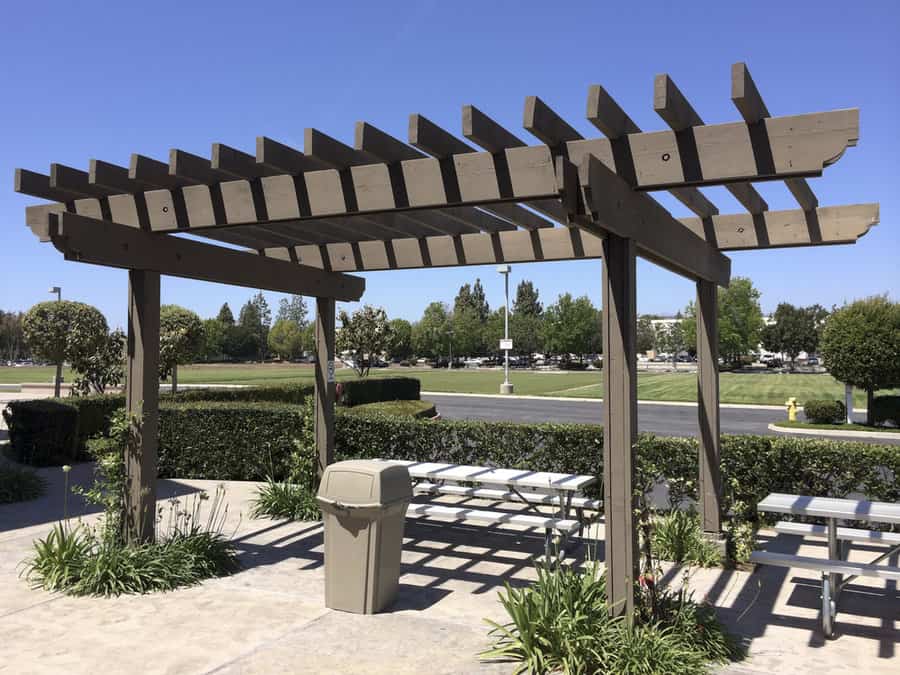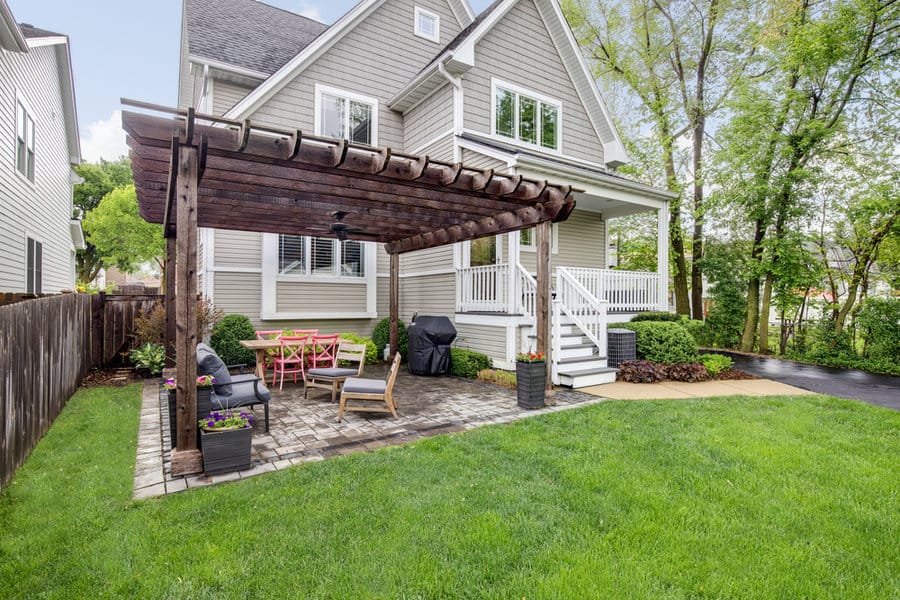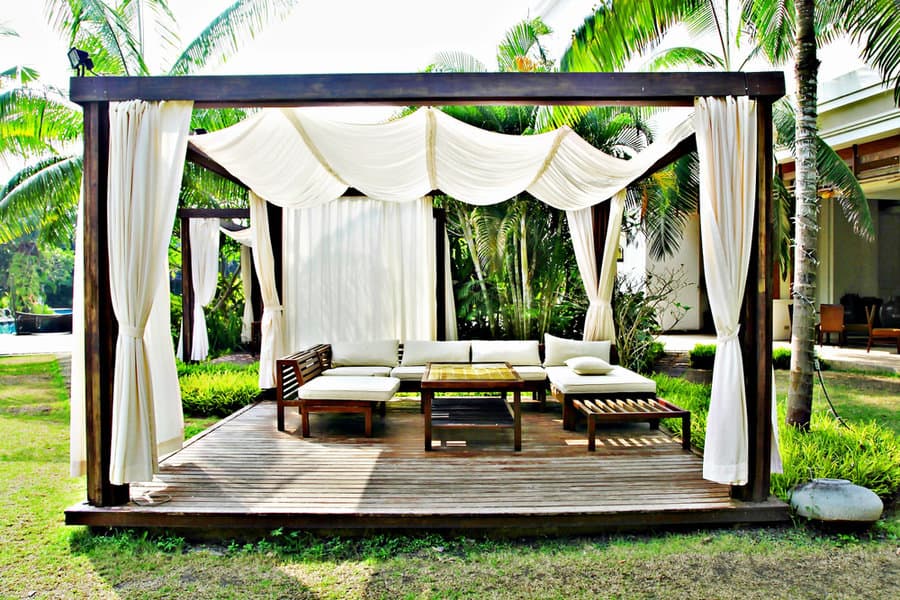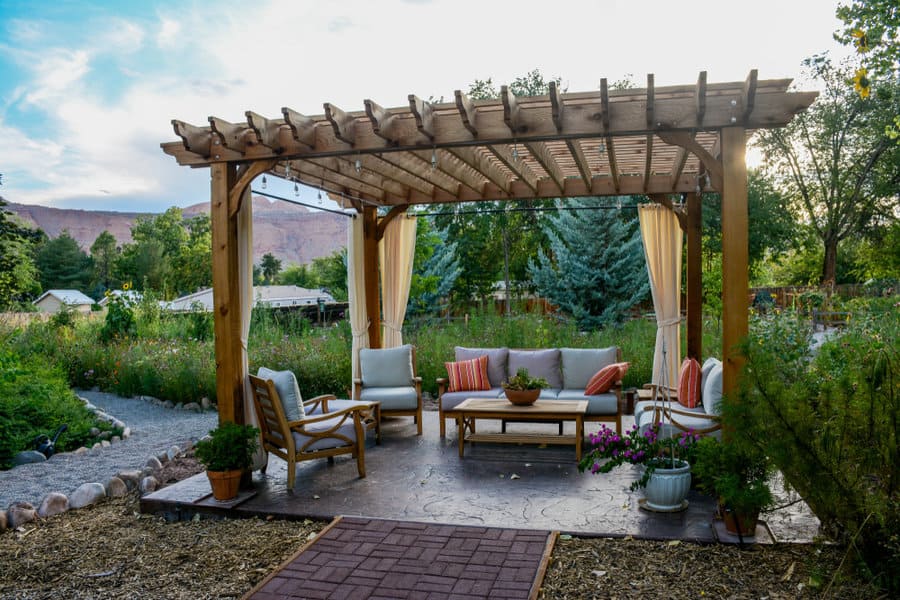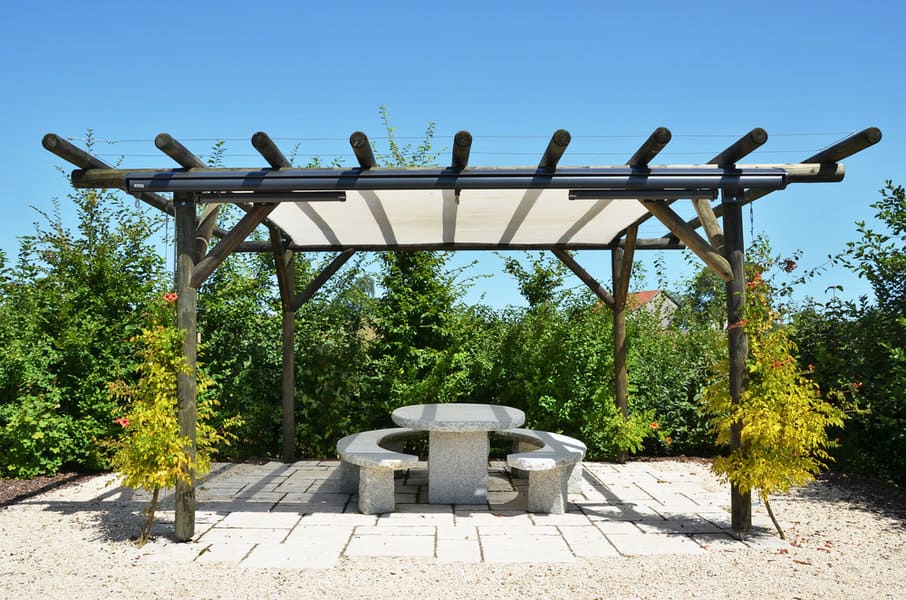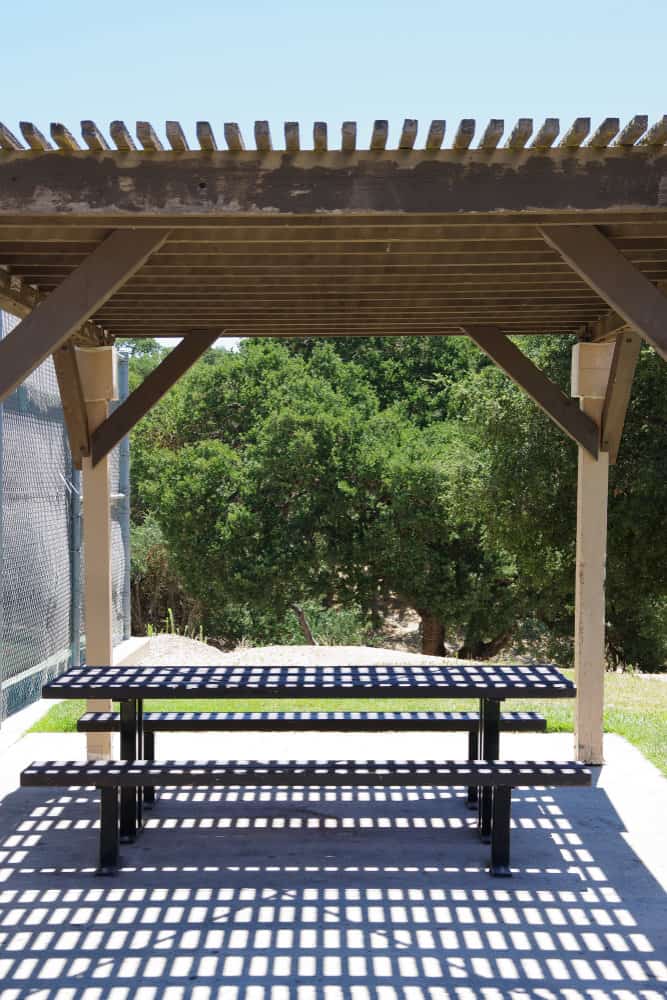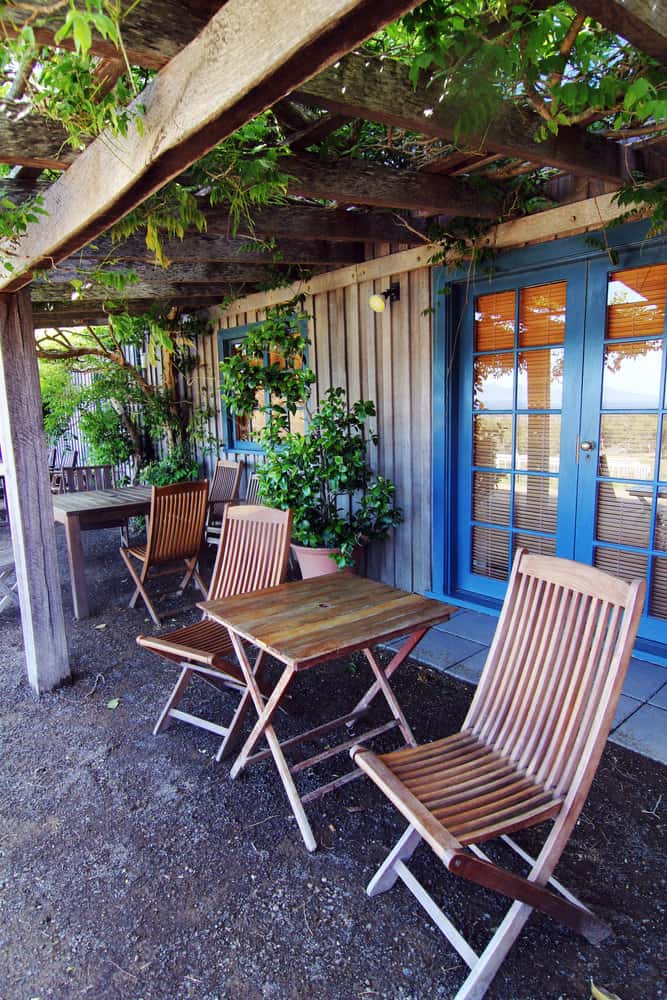 This traditional building material looks good with a wide variety of home designs and can be cut or carved to mimic the details of your home. You could have a rustic pergola that looks hand-built or an ornate pergola with intricate carving details throughout.
12. Small
Pergolas are typically large, permanent structures that cover your entire patio. If you don't have the budget for this type of investment, there are smaller options. The first is to buy a vinyl pergola kit. They come in a range of sizes to fit your backyard space and budget.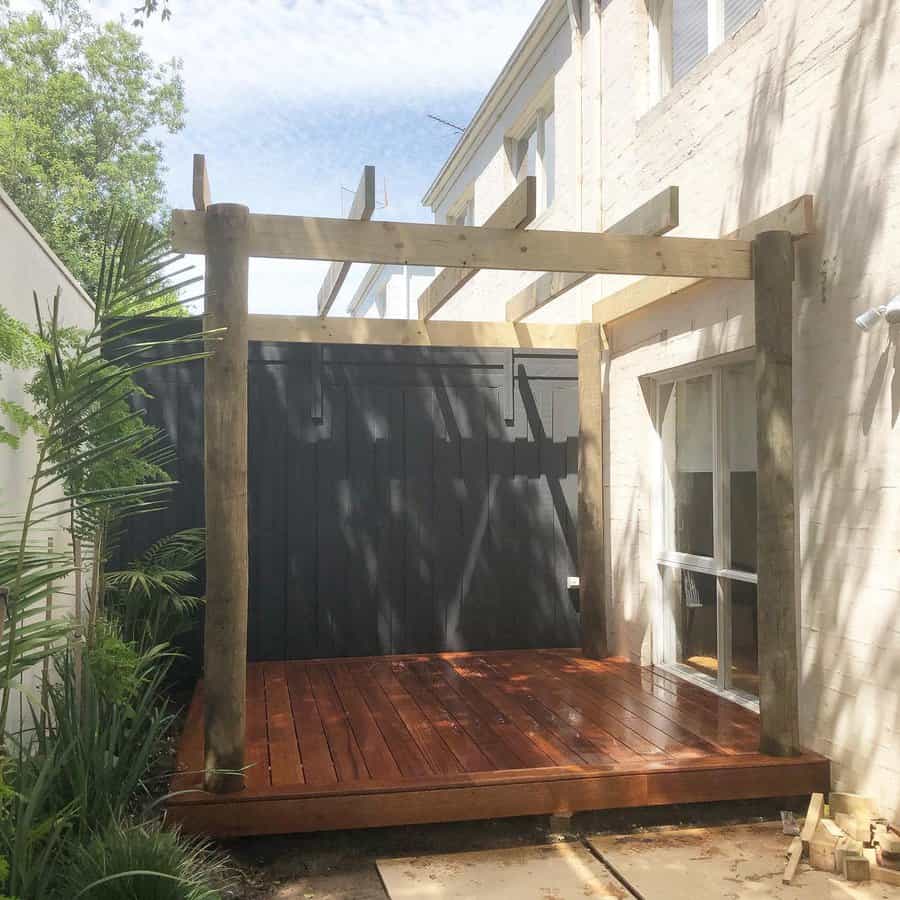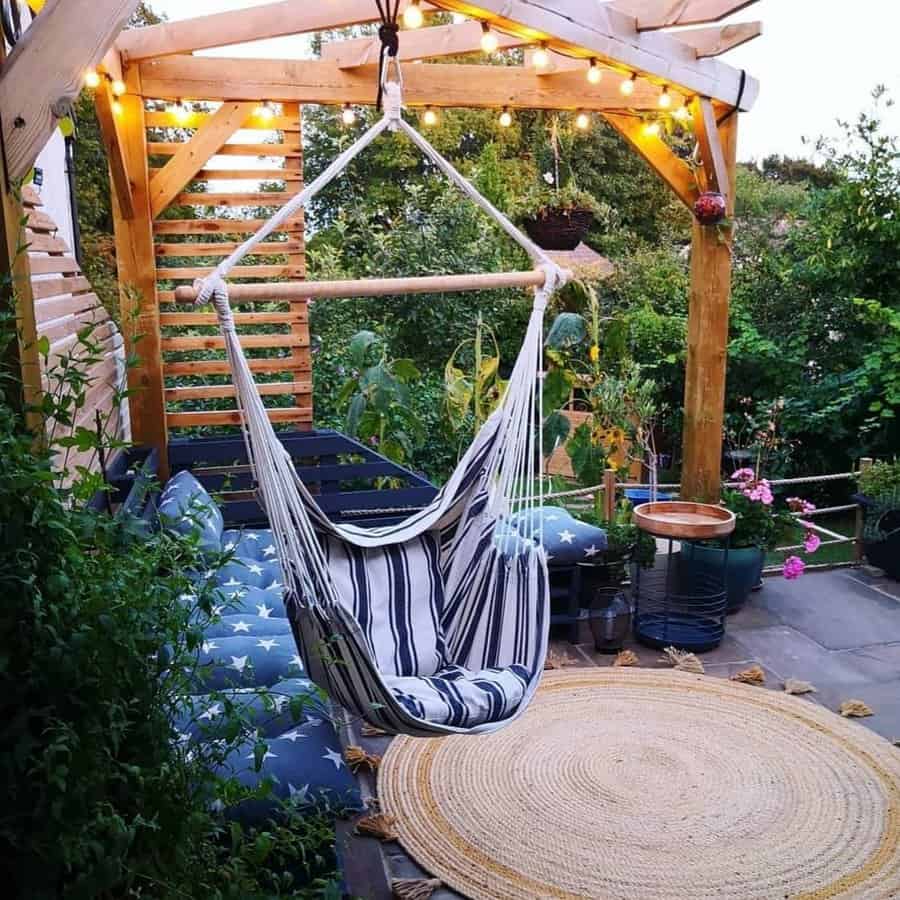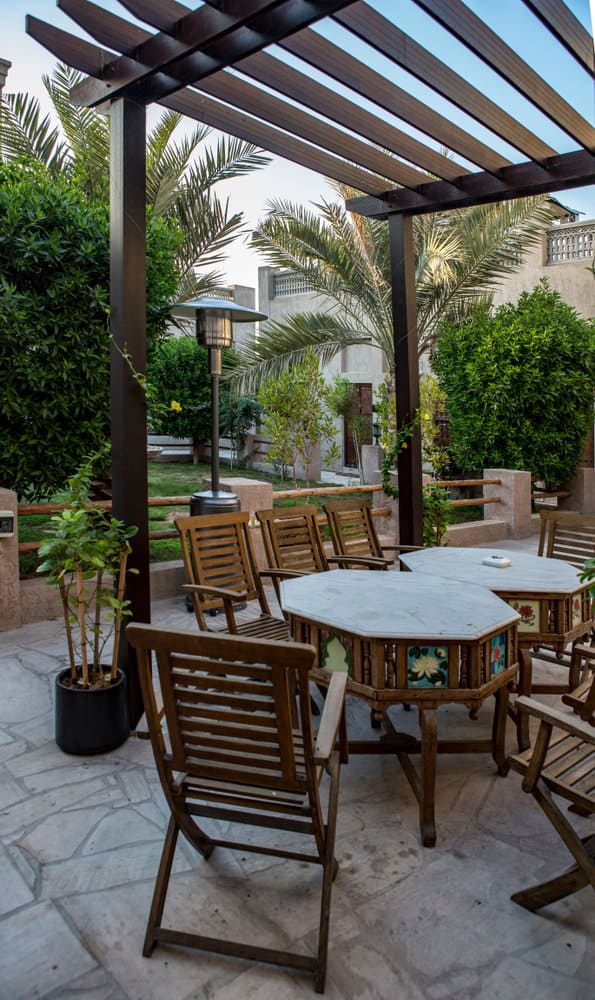 The other option is to put up a canopy; these temporary structures typically have a metal frame and a canvas or other fabric covering. They come in smaller sizes, making them perfect for micro patios. These small patio pergolas limit the number of people you can fit under them, limiting the size of the entertaining you do.
13. Swing
Give yourself a place to sit back and gently sway as you enjoy a cool afternoon refreshment. Instead of having a porch swing, you can hang one from your pergola. If your pergola is large enough, you could hang two that face each other.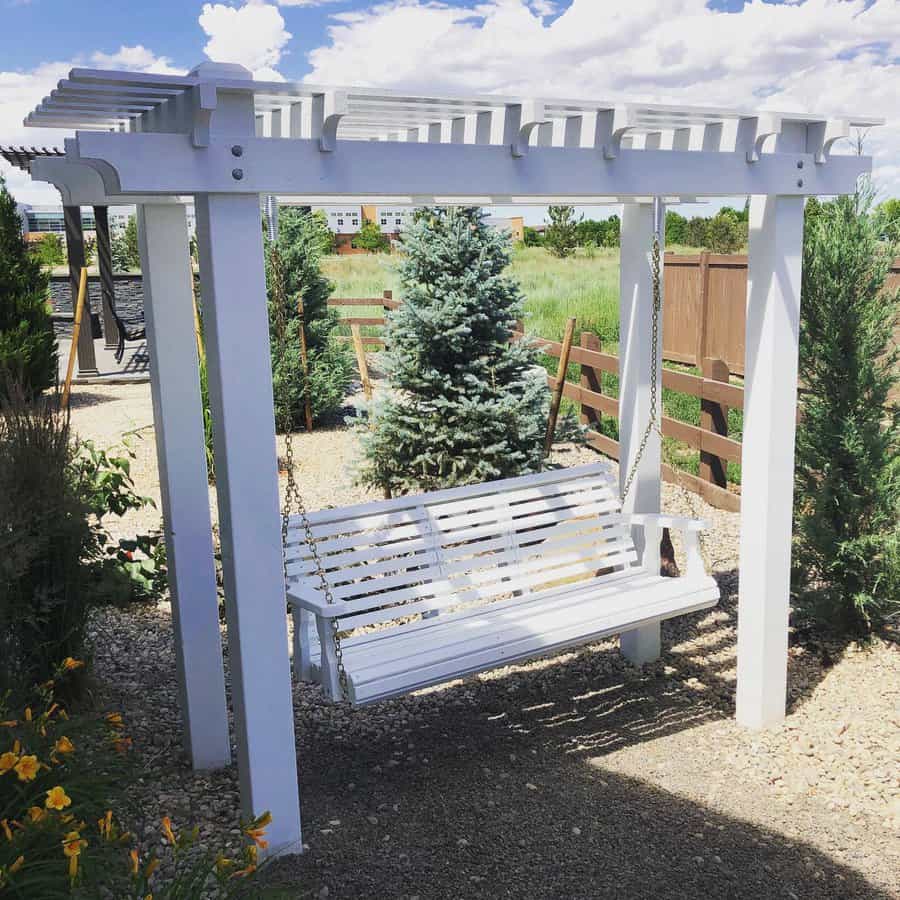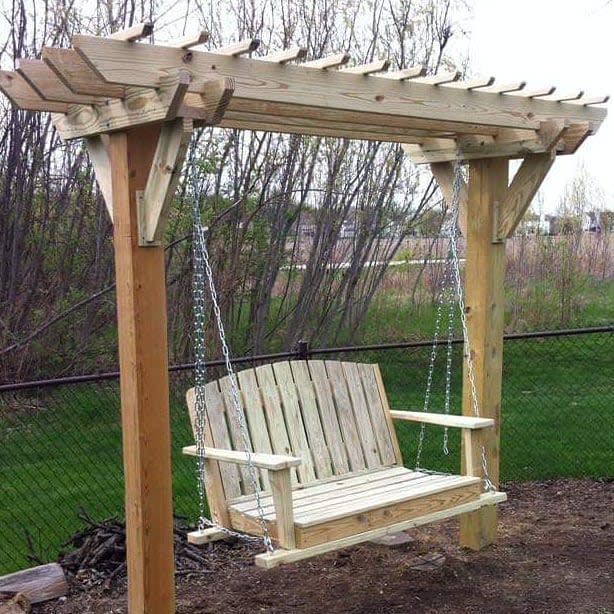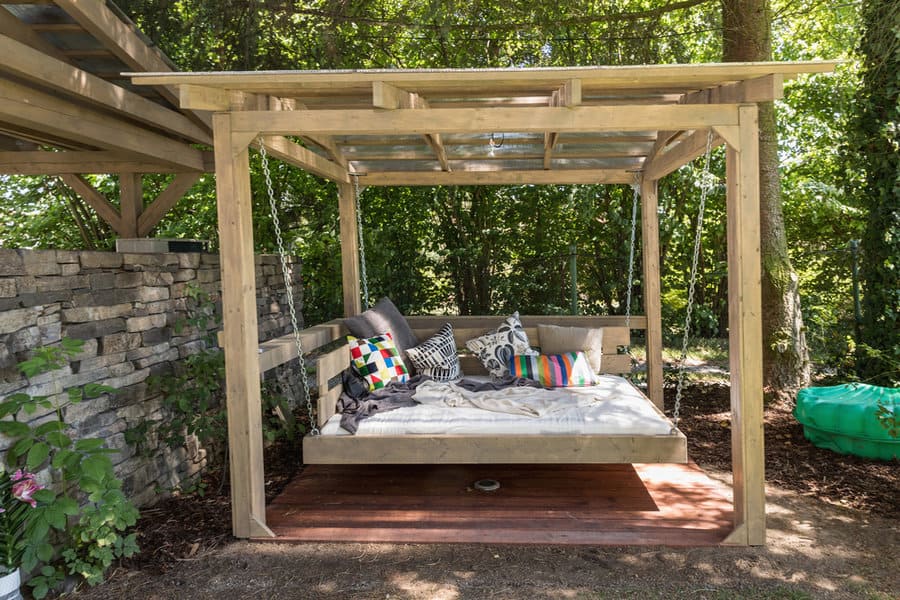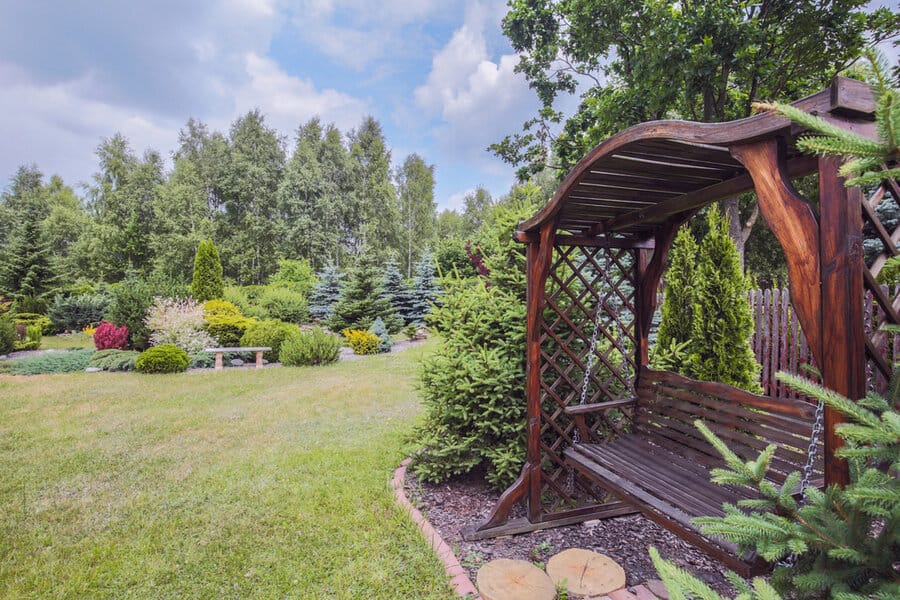 Each swing should be large enough to seat more than one person for them to be functional. If wooden porch swings aren't your style, take a tropical or bohemian approach with a macrame hanging chair or hammocks. They'll cradle your body and are perfect for a more organic feel to your pergola seating.
FAQs
Is it cheaper to build a pergola or buy one?
The cheapest option is to build a pergola yourself. However, you'll need the tools and know-how. The next cheapest option is buying a kit and building the pergola yourself. This is slightly easier because all of the materials, hardware, and directions come in the kit. The most expensive option is to hire a contractor to build a custom pergola. 
Do pergolas add value to a home?
Yes, adding a pergola to your home can increase its value. Outdoor living has become more popular with homeowners. Because of this, buyers are looking for houses that already have an outdoor space that's ready to use. Having a pergola and patio or deck increases the desirability of your home. 
What happens if you don't anchor a pergola?
Despite pergolas being large and constructed out of heavy materials, they need to be anchored into the ground. You risk your pergola moving, shifting, sinking, or even flying away if you fail to do this. The wind is surprisingly strong and, if moving fast enough, can pick up a pergola and move it. This is especially true if you have a fabric shade over the top because this acts as a sail.