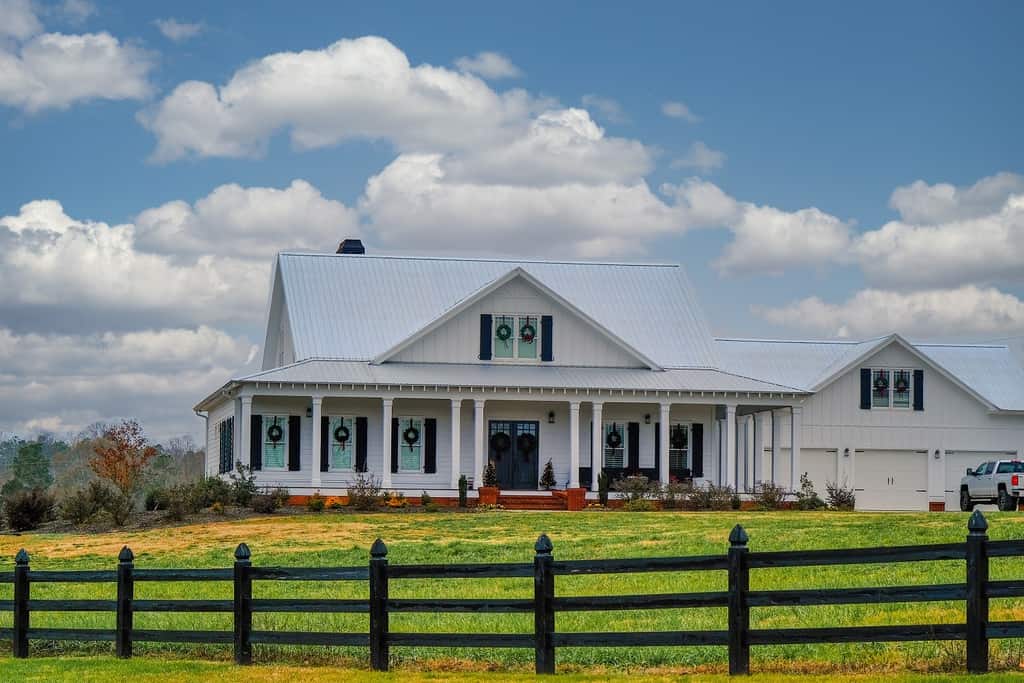 What is a Ranch Style House?
You're browsing through home listings, looking at the overly saturated and highly styled professional photos, and reading the engaging descriptions real estate agents craft to entice you. One common phrase you'll see in these descriptions is "ranch-style". It seems like this phrase makes its way into most property descriptions these days. However, does anyone know what this phrase even means? There is no way all of these suburban homes are actually located on ranches.
So, what is a ranch-style house, and how do you know when you are looking at one?
The Origin of the Ranch House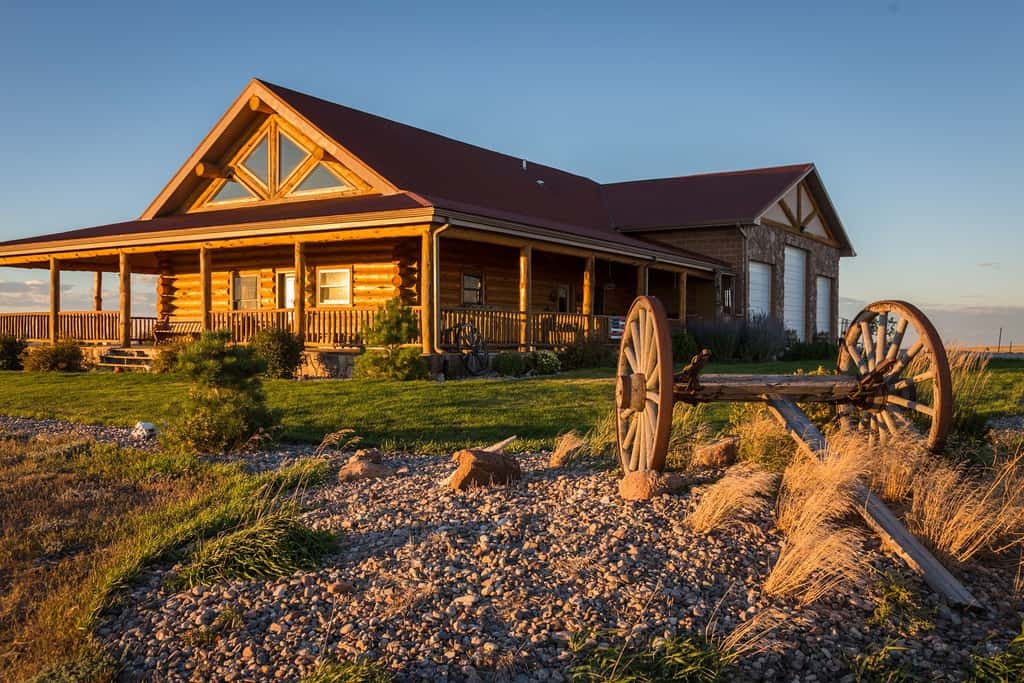 These popular homes date back to the early 20th century. Head out to California, and you will see some of the first ranch-style homes from the 1930s. These homes embraced a more informal and relaxed lifestyle that blends indoor and outdoor spaces for a feeling of openness and space. Architects in California developed this new style of home when inspired by the Spanish colonials that were prevalent in this region. 
By the 1950s, the ranch-style home had taken over America. During this time in American history, suburbs took over, and the ranch house was the chosen style for these new communities. Soldiers coming home from World War II wanted to move out of the overpopulated and busy cities to a more quiet life with their families.
The popularity of the ranch-style home dropped in the 70s and 80s. While they aren't today's most popular home style, they have never really gone away. You will still see new neighborhoods getting built that use classic ranch-style designs.
Characteristics of a Ranch House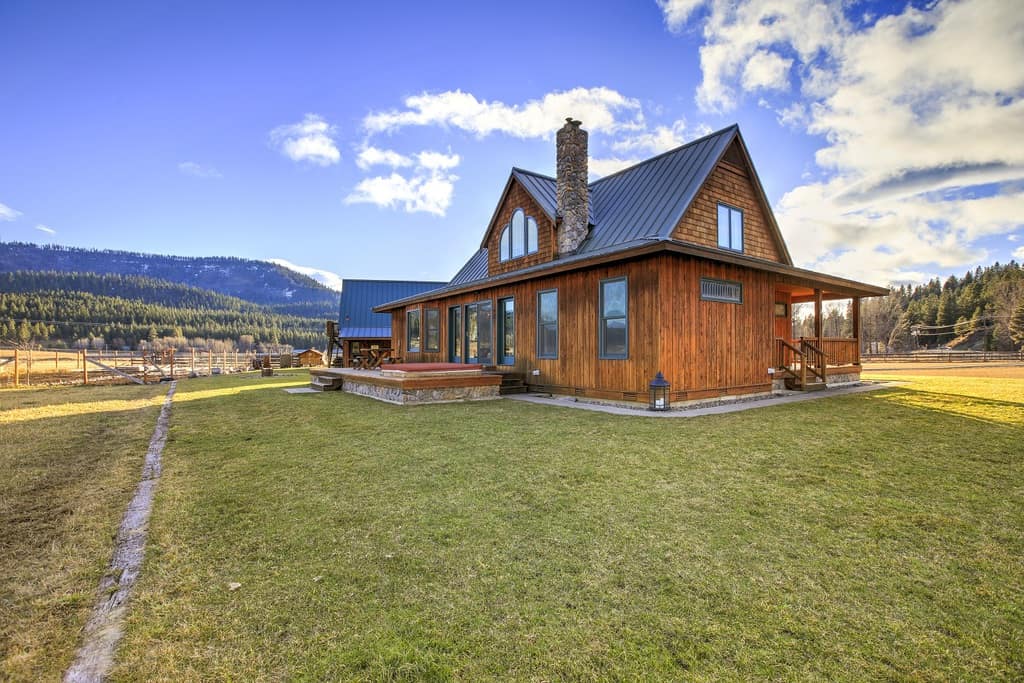 Typically, a ranch house is a single-story home. They have a concrete slab foundation and an open floor plan inside. When you walk up to the front of the home, there are no steps that lead up to the entryway. 
Entry
An elevated entry is a characteristic of a craftsman or bungalow style of home. Ranch houses have a ground-level entry. As you're walking up to the home, you will notice that the roof has a low pitch and overhanging eaves. There are large windows prominently placed on all of the exterior walls to bring in plenty of natural light. You will also typically see a two-car garage located on the front of the house.
Rear Exterior
Head out to the back of the house, and you will find a porch, patio, or deck to help create the open transition from indoor to outdoor. Typically, there are sliding glass doors that you can fully open to create a single large space that flows from in to out.
Floor Plan
Walking through the home, you'll notice that the spaces openly flow from one area to the next. Gone are the confining walls of a craftsman-style home. The living room, kitchen, and dining rooms are the main areas of the home and are situated to be centrally located and easily connected to the outside. There is an asymmetry to the floor plan; an "L" or "U" shape is common.
Advantages and Drawbacks of a Ranch Style Home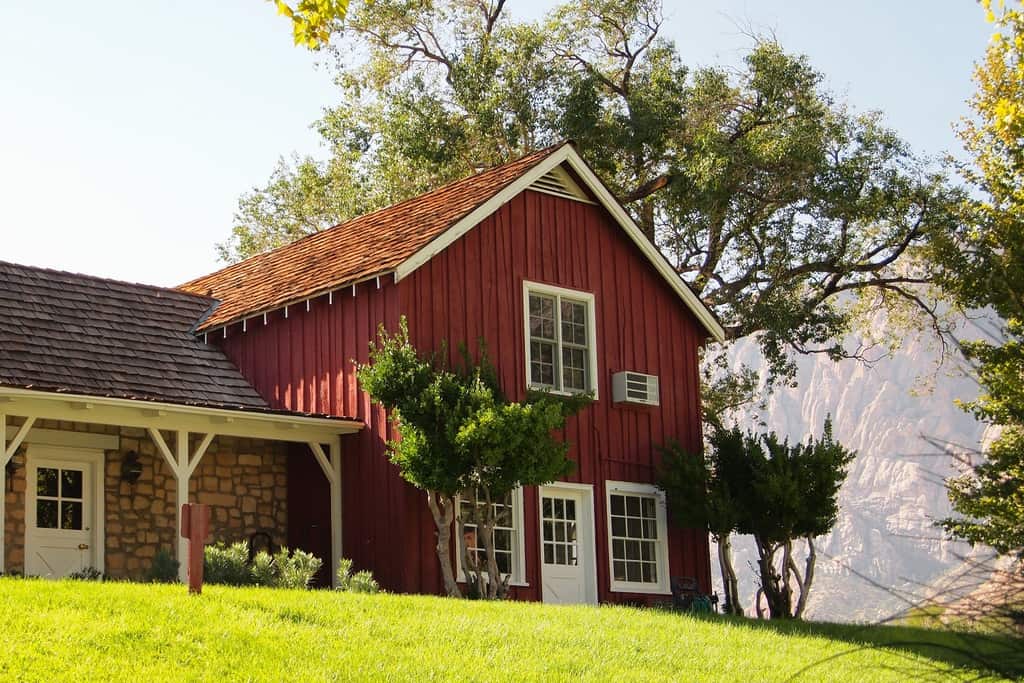 Thanks to the open floor plan, you'll find it relatively easy to make additions to your home. This makes them a great option for homeowners who want their homes to expand and grow with them as their needs change throughout the generations.
These homes are owner-friendly with easy maintenance requirements. Their solid building materials and minimal ornamentation mean that maintenance is low. However, homeowners do need to be careful of water damage due to the low-pitched roof. A poor design can lead to water collection. However, that low-pitched roof also makes it easier to clean, clear out the gutters, and hang holiday lights.
This style of home was designed for the California climate. This makes it ideal for those living in a warmer and balmy climate. So while this home style excels in California, Texas, and Florida, it does not perform well in colder climates like the northeast, Michigan, or Wisconsin.
The sprawling floor plan is also counterproductive for eco-efforts. The sprawling floor plan means a single home takes up a large amount of ground space for a single-family.
Types of Ranch Style Homes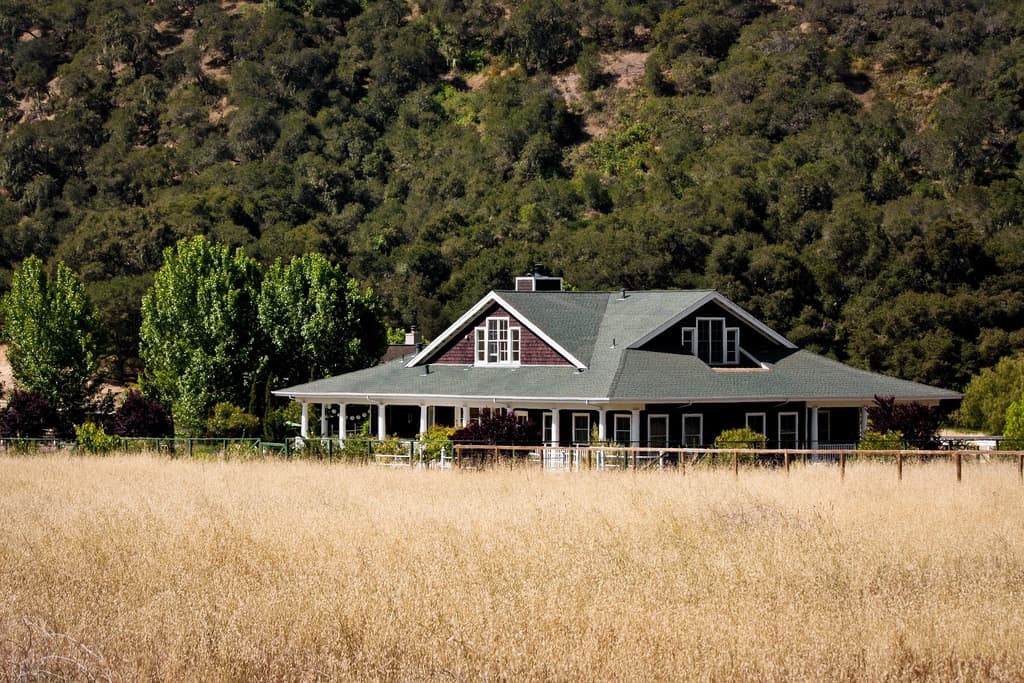 While ranch-style is an over-arching description of these homes, there are actually several categories within this style. So before you decide that ranch homes are boring or not for you, take a look at these different types of ranch-style homes. You may find that there's a particular style that you love while another style does not appeal to you at all.
California Ranch
This is the OG of ranch-style homes. You'll primarily find them in California, and they embrace a blending of indoor and outdoor spaces more than the other styles. While these homes feature the classic ranch home features, they have the greatest amount of personality and variation.
Split-Level Ranch
These homes look like a typical single-level ranch homes from the outside. However, inside they have more to offer. There will be a half staircase inside that leads up to an additional level. Sometimes, this staircase creates a single second story. Sometimes, it creates a three-story home.
The Raised Ranch
Many people tend to get split-level and raised ranch homes confused or think that they are the same thing. A raised ranch has a recognized separate second floor that is completely separate front the first floor. Instead of different levels, there are two stories. This type of ranch home is probably the furthest departure from the original design. However, they stay true to the open-flowing floor plan concept that keeps the home feeling spacious.
Suburban Ranch
This is the most prevalent style of ranch house in America and the type of home you will find in the majority of suburban neighborhoods. You will recognize them for their overly boxy exterior architectural style and generic open floor plan. These homes tend to have a cookie-cutter look with minimal variation from one home to the next.
Storybrook Ranch
Typically, ranch-style homes have a single design with few details and trim. That is not the case with storybook ranch homes. These homes are full of decorative details and charm. When you look at them, they have a personality with plenty of architectural features. You'll commonly see exposed rafters, decorative trim, and uniquely shaped windows.
Modern Ranch
This is the modern take on a traditional California ranch house. Architects utilize more natural building materials like stone and exposed wood. There is a sleek feel to the exterior design and elimination of any remnants of Spanish colonial that originally inspired these homes. You'll find more modern features in these homes that weren't used in the original ranch builds. For example, the kitchen could have an island; the master bedroom could have an en suite bathroom, the toilet in a separate room from the bathroom, a walk-in shower, and a formal dining space. 
Estate Ranch
An estate ranch is like a supersized ranch house. Because the original ranch homes were built decades ago, they were the size of the typical house during that time. As we move through the decades, we see that homes sizes have drastically increased. With this growth in home size, ranch homes have also increased. This is where you'll find estate ranches. They're typically built on a larger piece of property with a sprawling lawn, circular driveway, and oversized patios out back.
Famous Ranch Style Homes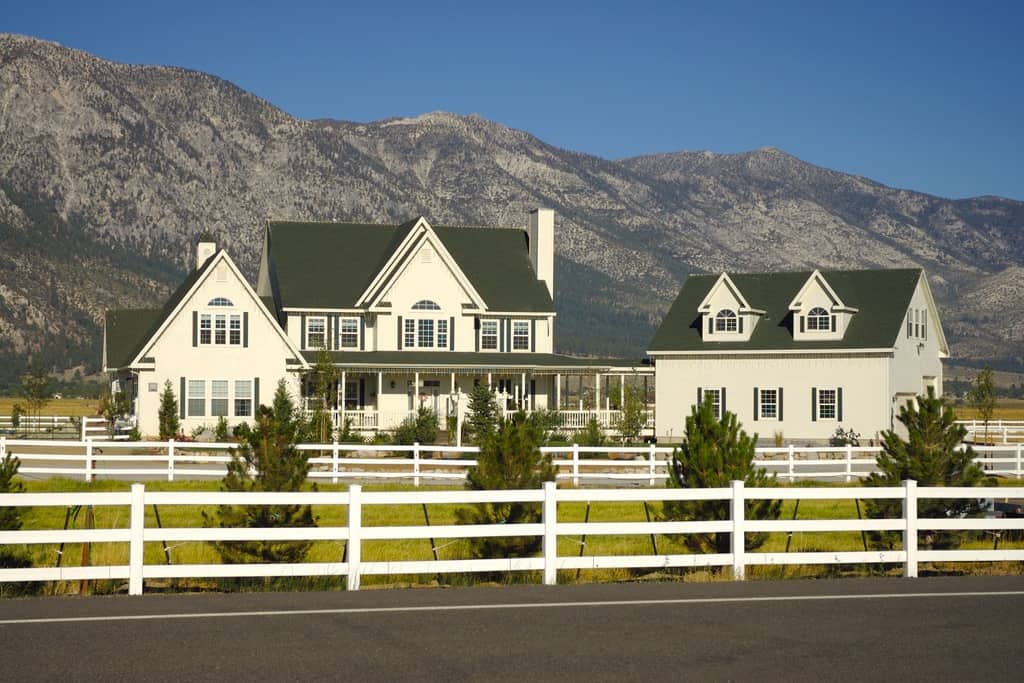 A couple of ranch homes stand out in the architectural community. The houses of Joseph Eichler are some of the most well-known ranch homes in America. His designs tend to have more of a modernist influence. Ronald Reagan also famously owned a ranch home in Santa Barbara, California. It became known as the "Western White House" as it became his residence post public life.