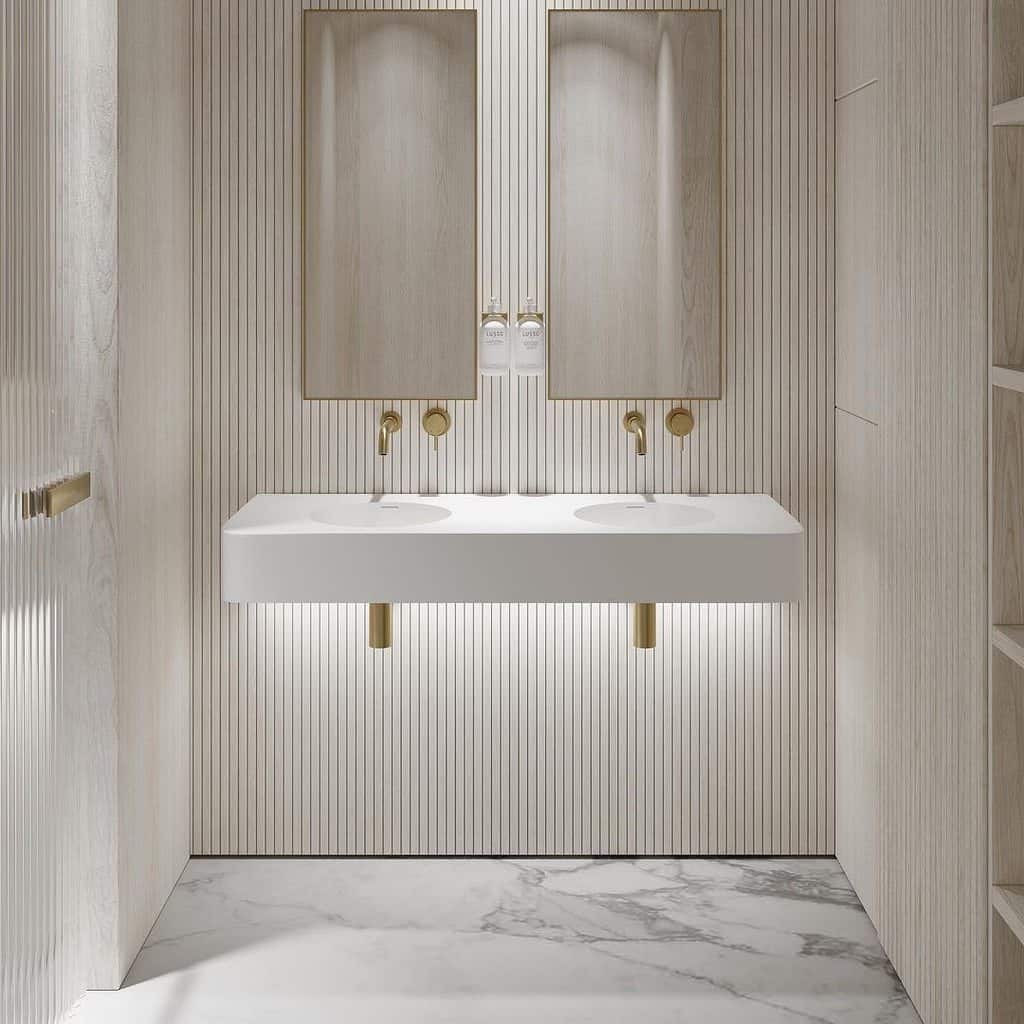 32 Small Bathroom Flooring Ideas
Bathroom flooring is not only important for the aesthetic of the space but also for comfort and safety. Non-slippery, waterproof materials are a perfect choice. When it comes to bathroom flooring, matte materials are a good choice. They are designed to increase the grip of the feet to the ground, thus preventing domestic accidents.
Rubber floors are also a good call, being increasingly used in small bathrooms and other areas of the house. They are warm, waterproof, and easy to clean. The most common, though, are porcelain tiles, hardwood floors, ceramic non-slippery tiles, and decorative stones.
Check out the small bathroom flooring ideas we have selected for you.
1. Grey Floor Tiles
Large tiles are trendy and make a perfect combo with hardwood floors. White vanities with marble countertops complement the décor. In cold weather, the best flooring option is undoubtedly radiant heated floors.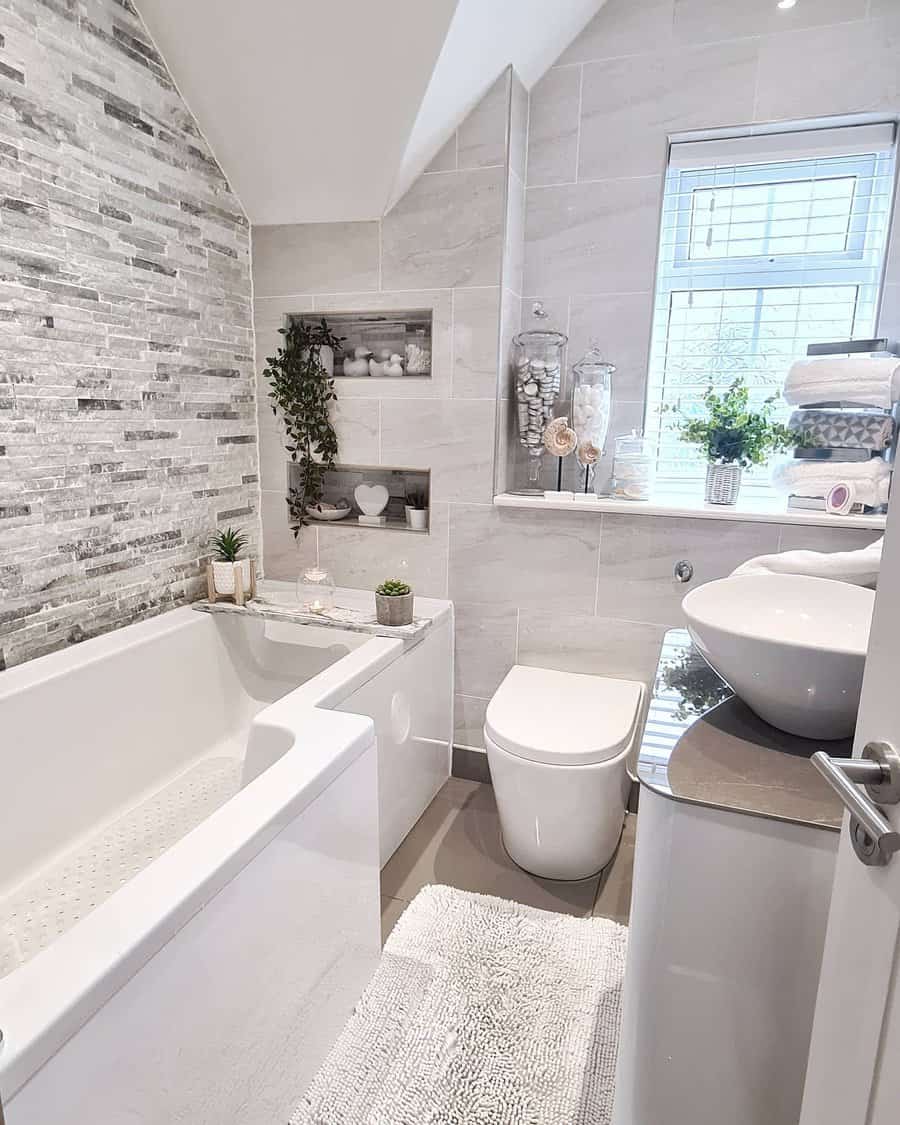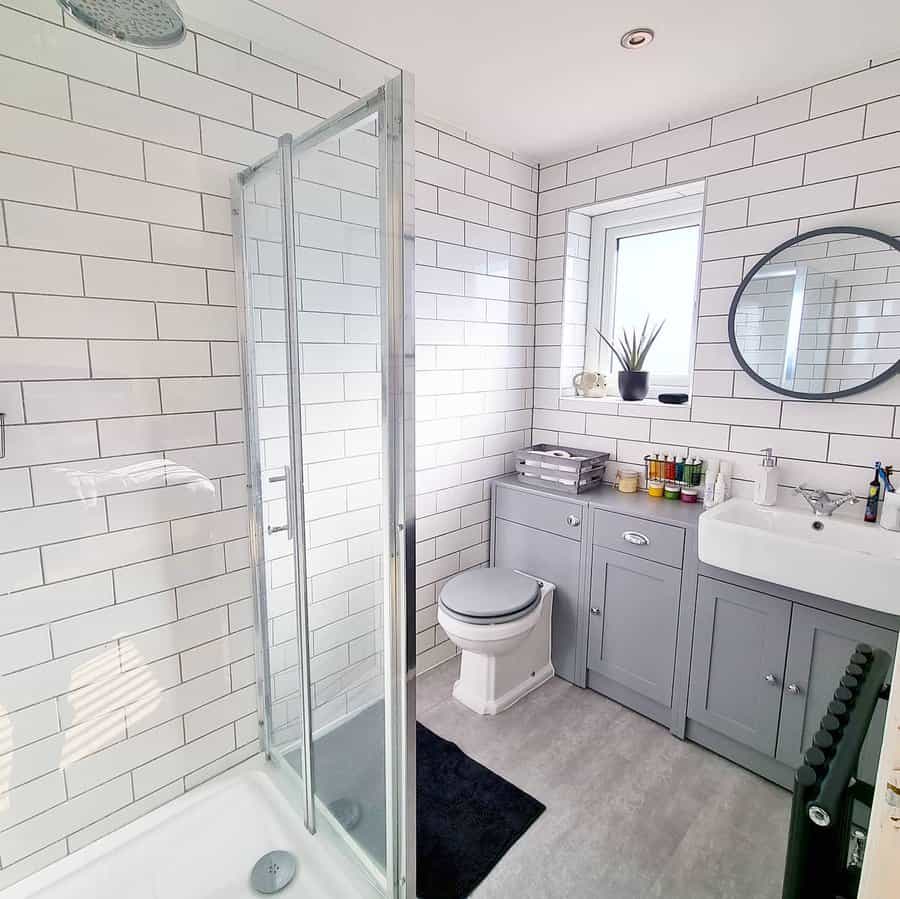 Underfloor radiant heating heats the entire floor, providing uniform heating with no cold drafts.
2. Hexagon Floor Tiles
If you're looking for design ideas for your next bathroom remodel, think of hexagon tiles.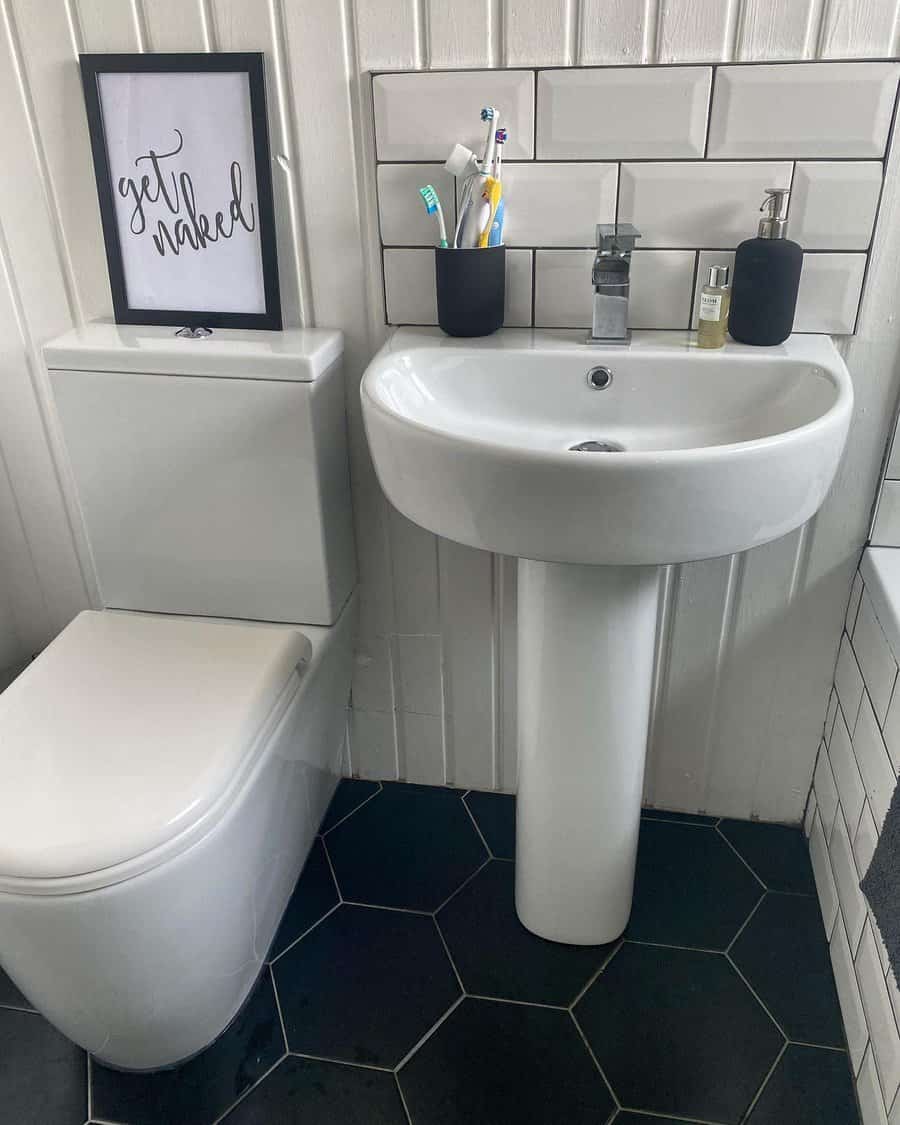 Small hexagon tiles are called honeycomb tiles, and they can form a beautiful mosaic if you choose various colors to compose your flooring design. Rectangular wall tiles are a perfect match for hexagon tiling floors, either in large or small configurations.
3. Marble Bathroom Floor
Carrara marble is a classic. Timeless and elegant, it is a great option for showers and wet areas, and match perfectly with various décor styles. Marble brings style and sophistication to any space and can be applied from floors to walls.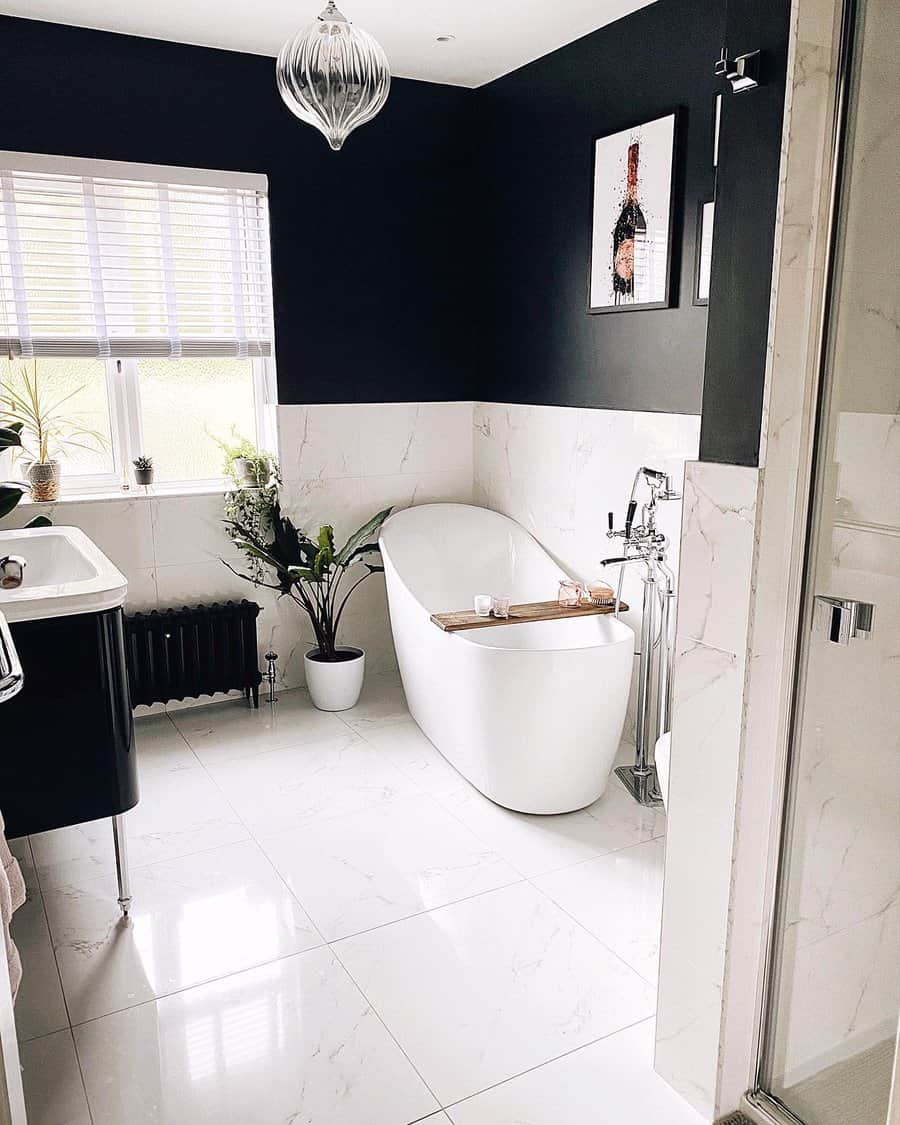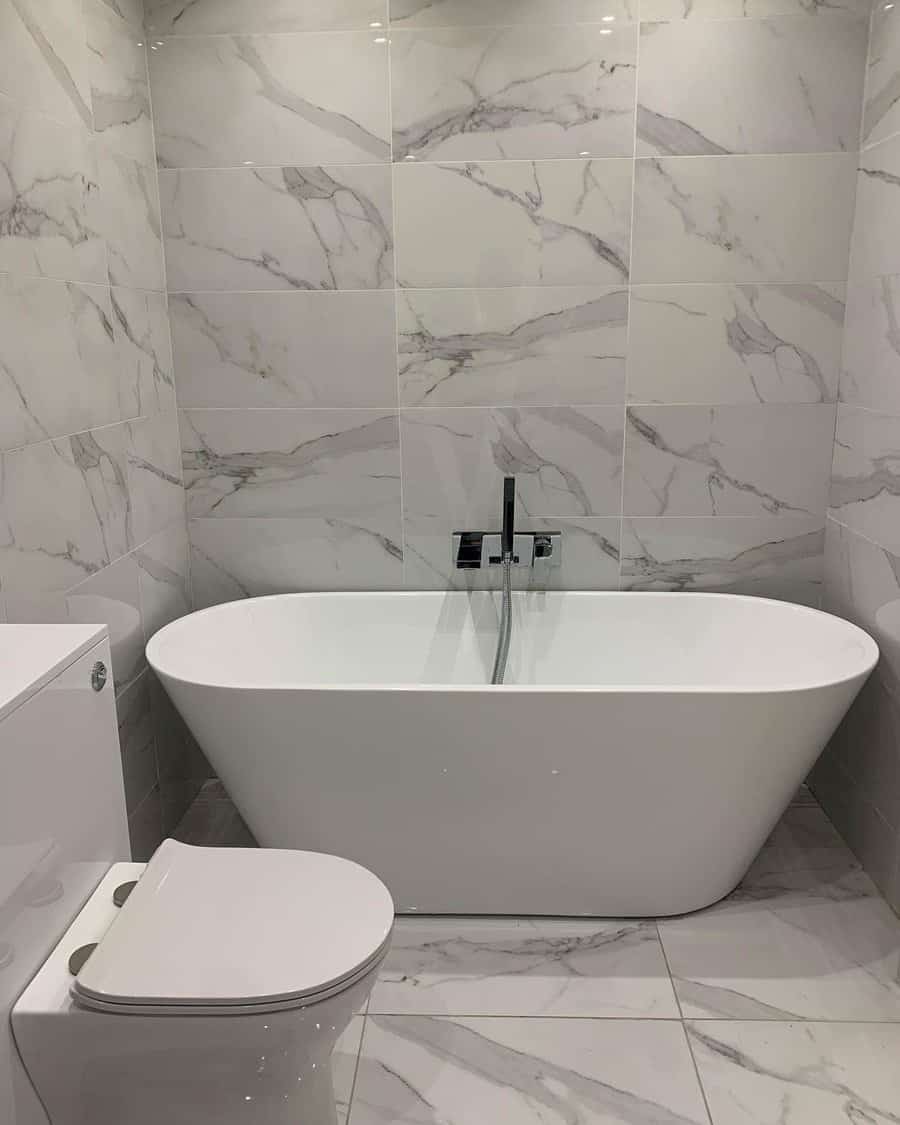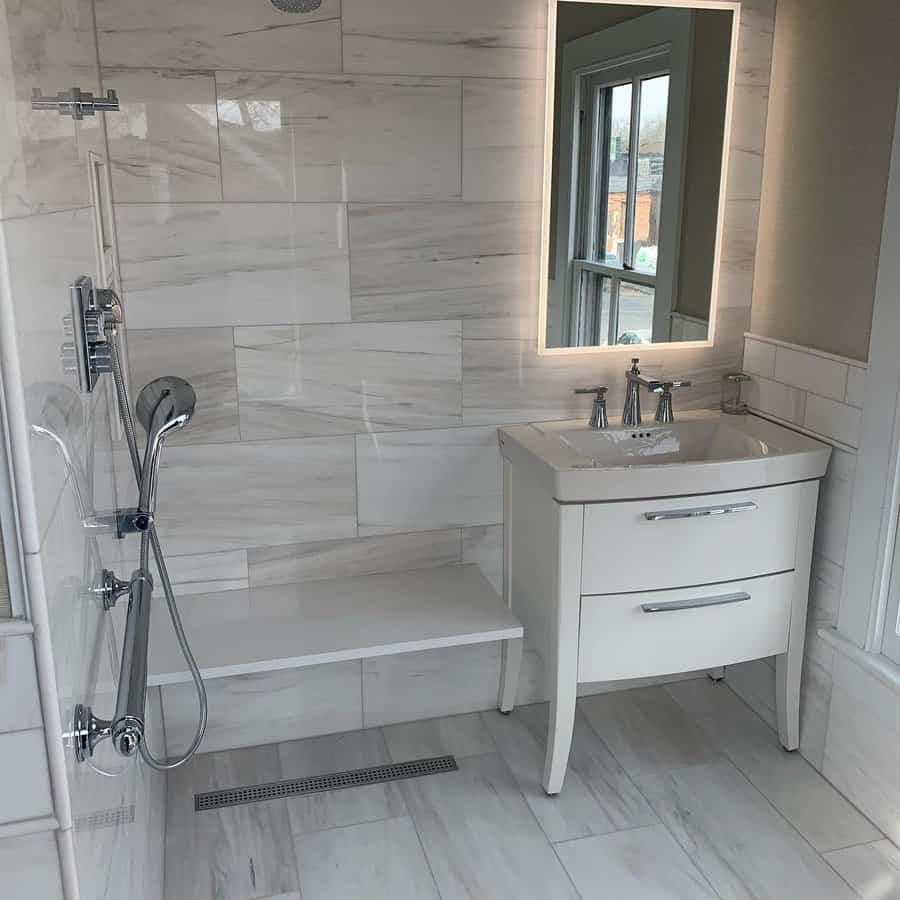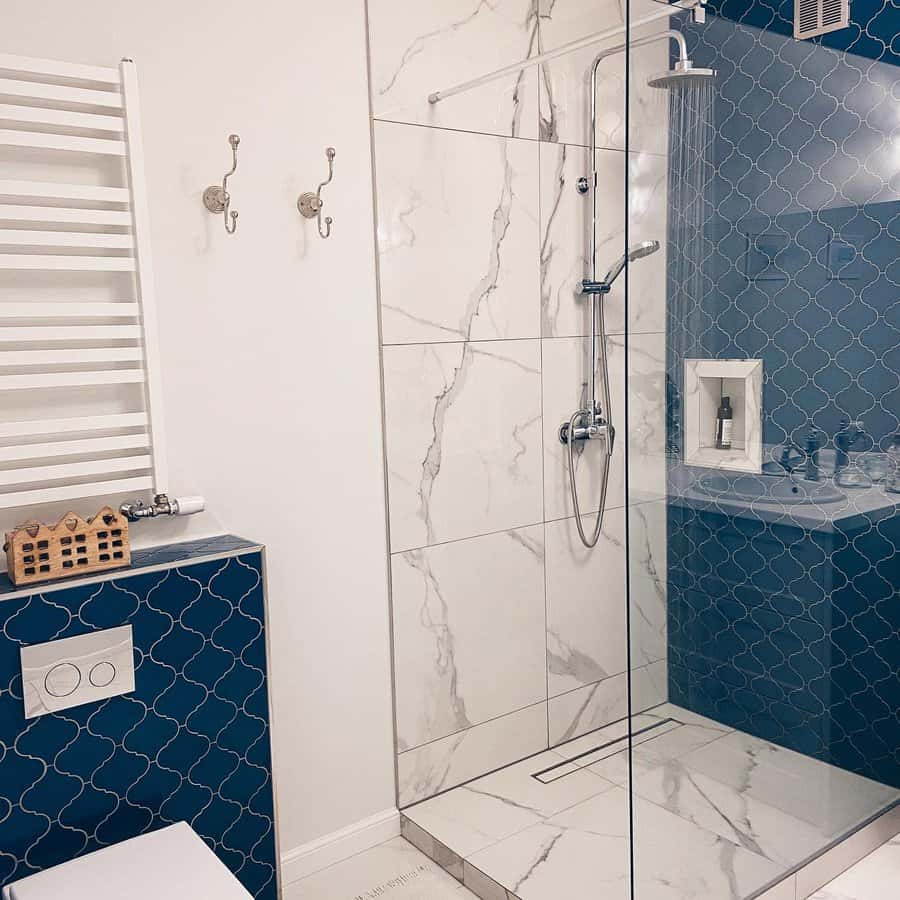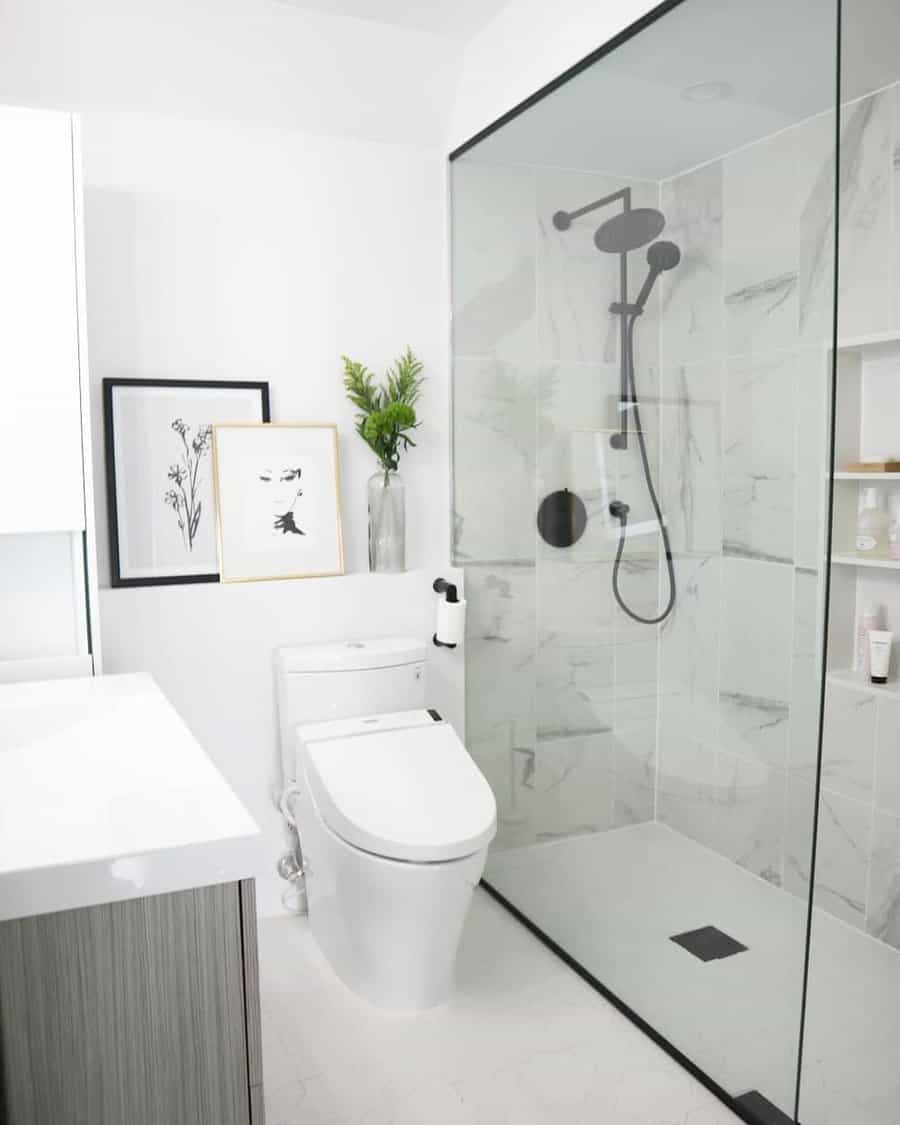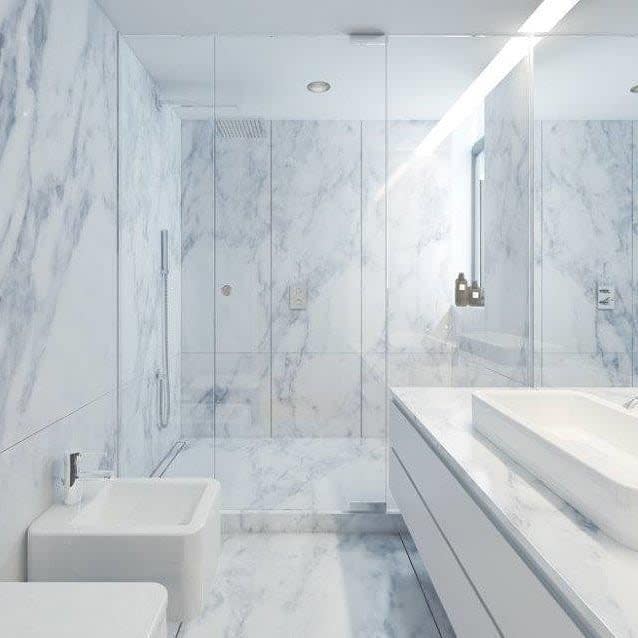 Marble tiles are scratch-resistant and extremely durable. They do not require maintenance other than regular moping. Herringbone, chevron, hexagon, square or rectangular, marble tiles come in several shapes so you can create unique patterns in your bathroom.
4. Mosaic Tiles for Bathroom Floor
The best bathroom design is the one you feel comfortable in and reflects your taste and personality. If you like mosaic floor tiling, there are endless combinations of colors, shapes, sizes, and finishes. They can be made of real pebbles, travertine, or marble if you prefer natural stone tiles. But you also find them in ceramic, glass, metal, and porcelain.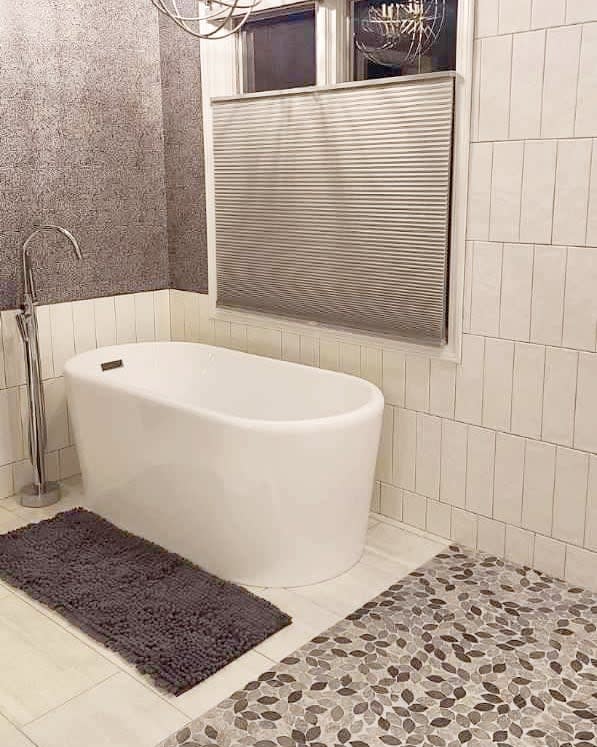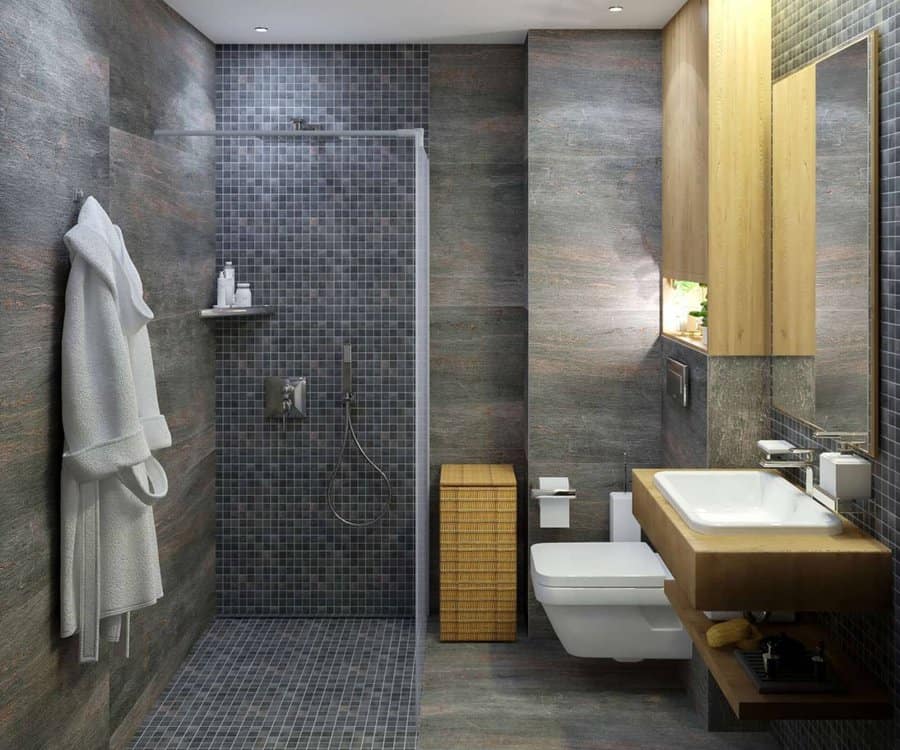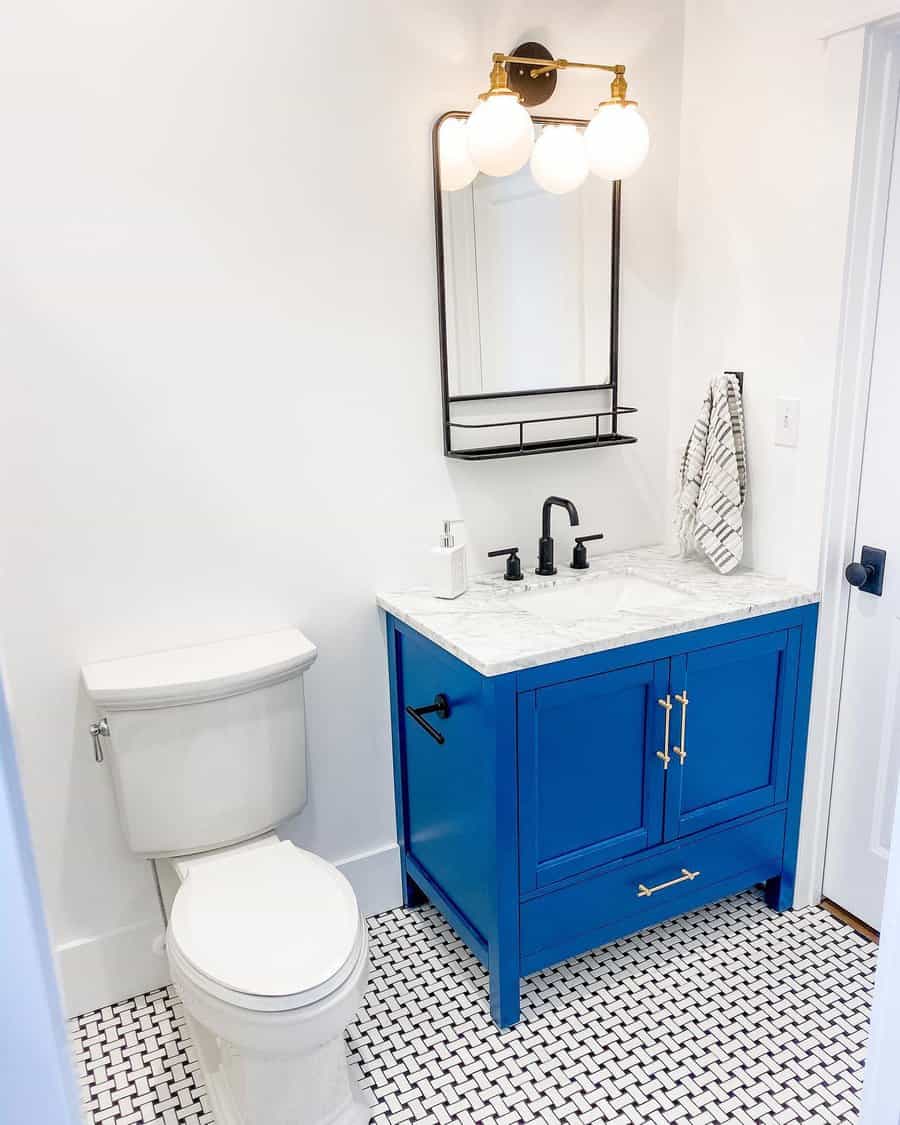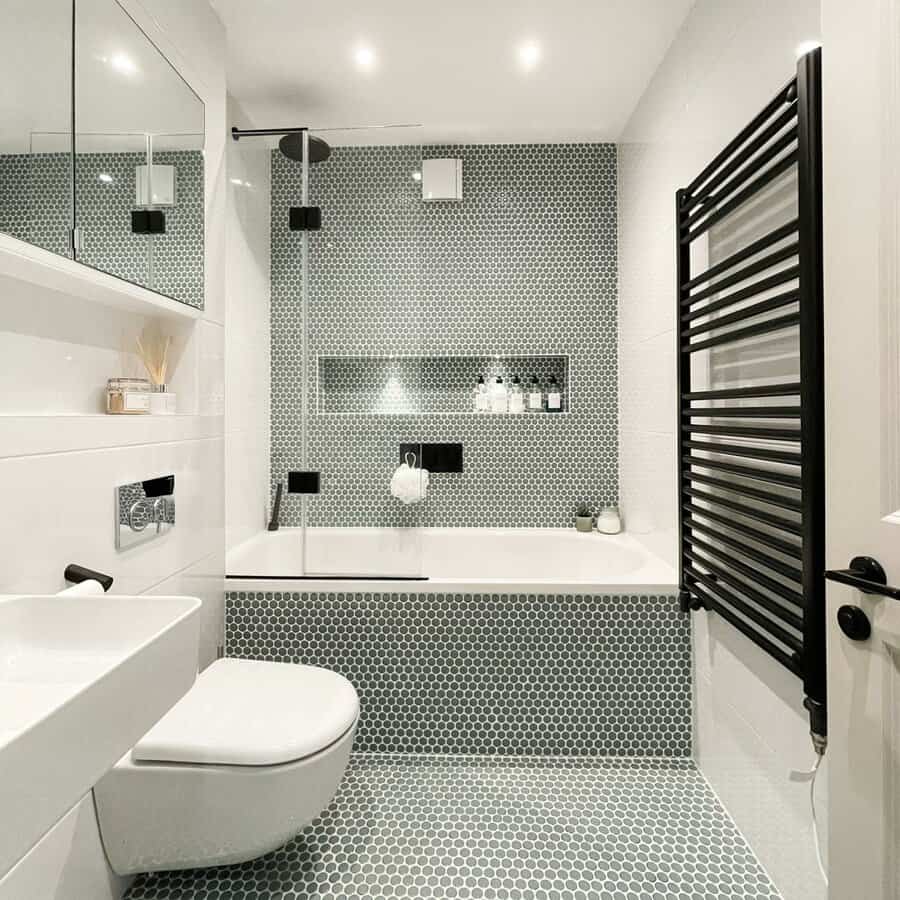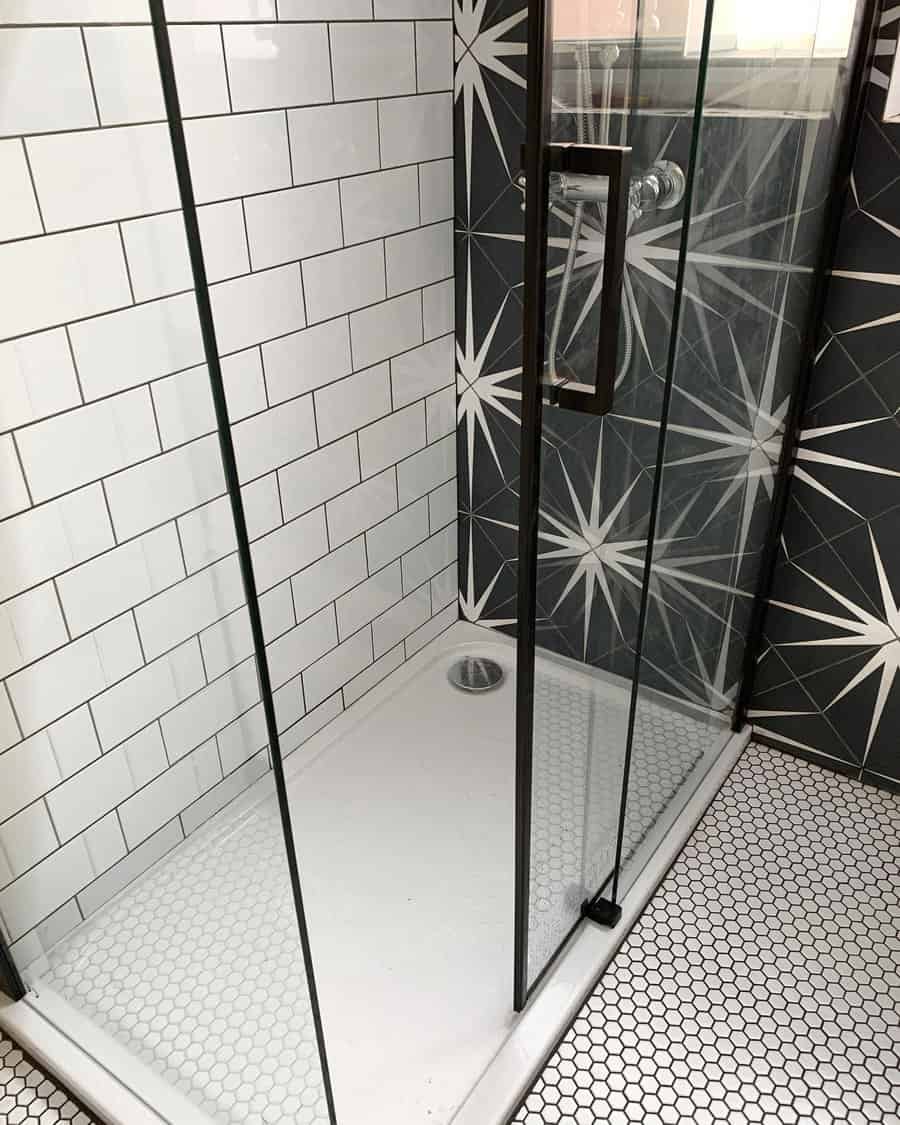 You can mix and match patterns to form your own design. Your exclusive pattern will certainly bring a lot of character to your bathroom, transforming it into a unique space.
5. Patterned Style Bathroom Tiles
If you think wood flooring is boring, then check out these patterned floor examples we have selected for you.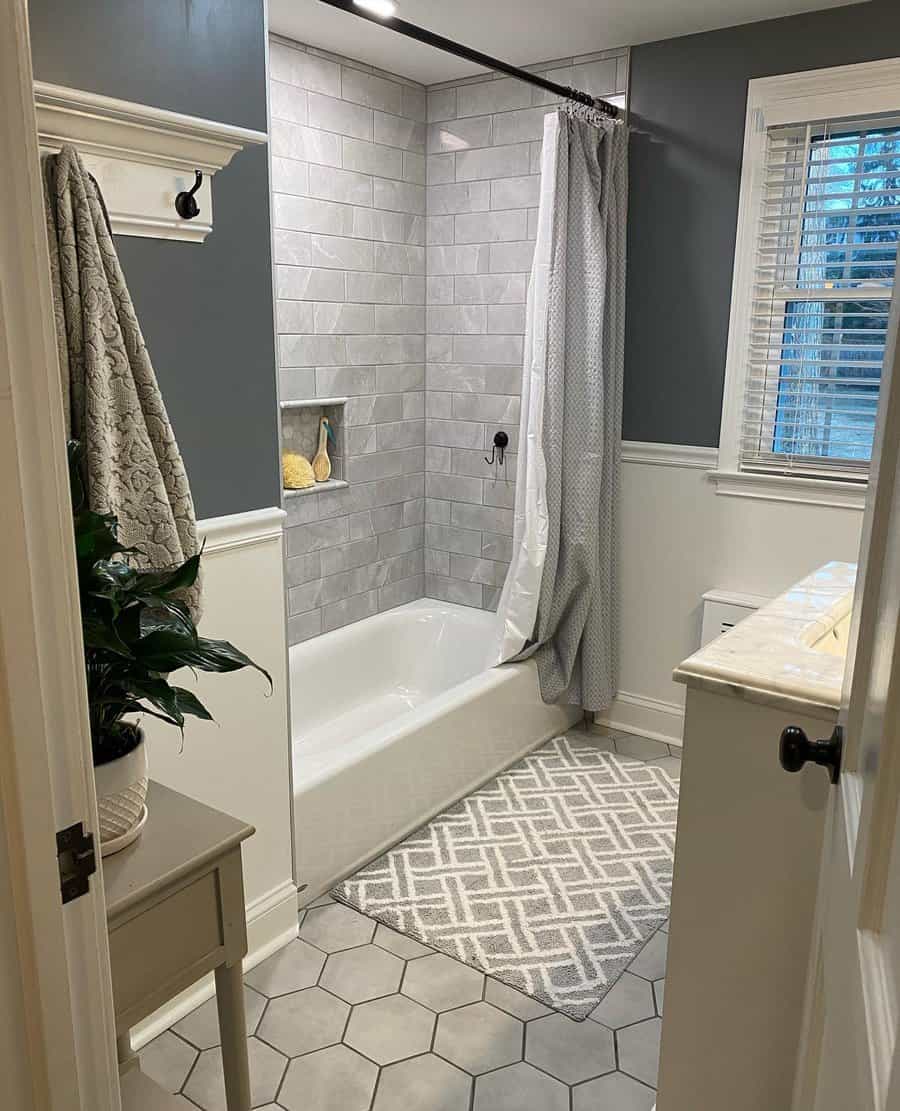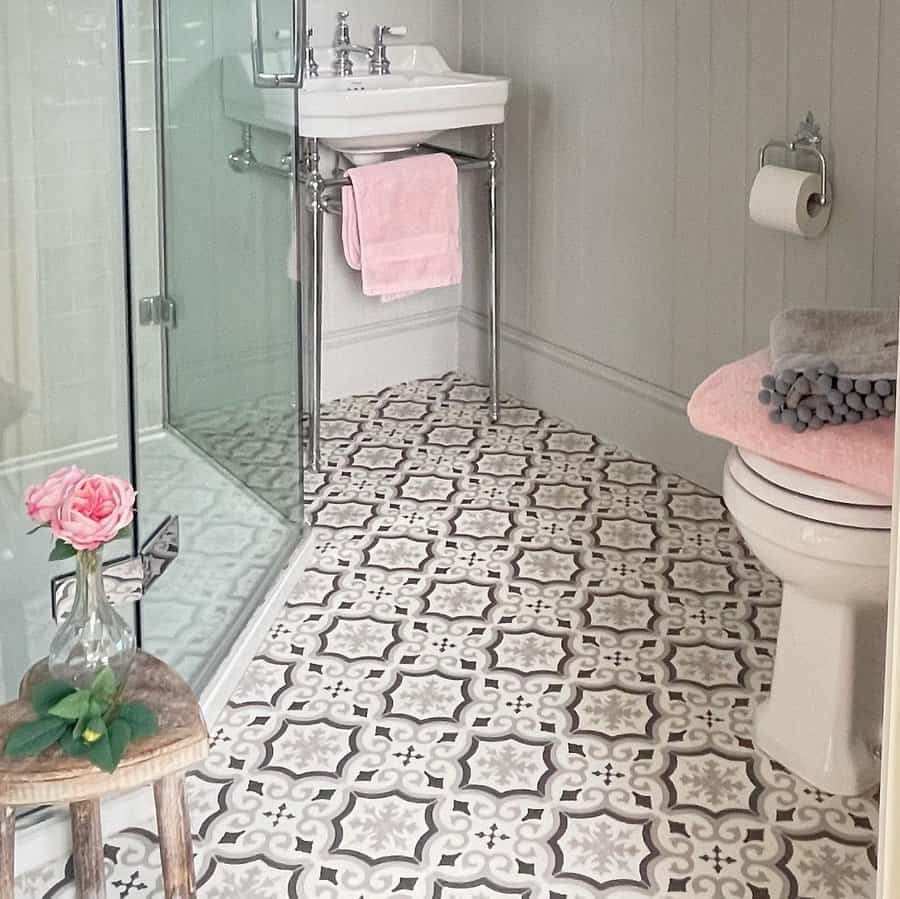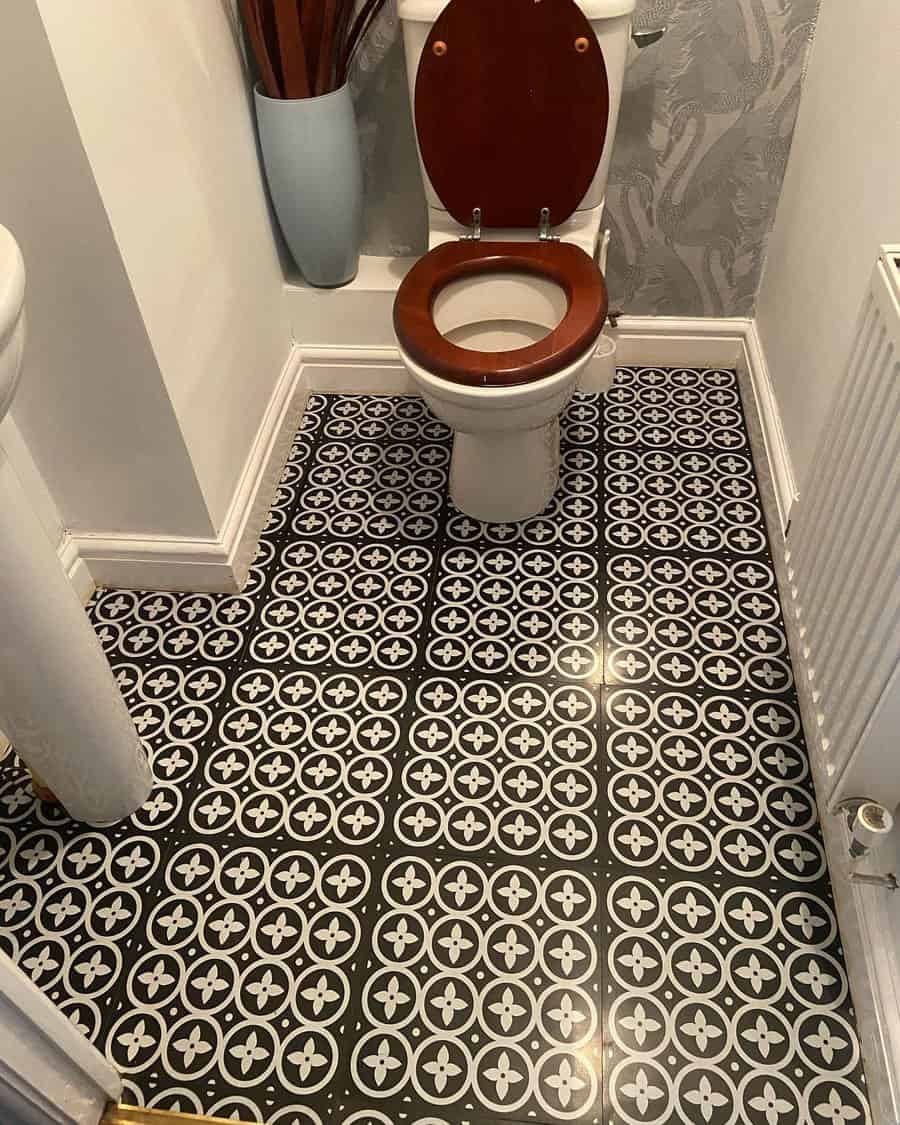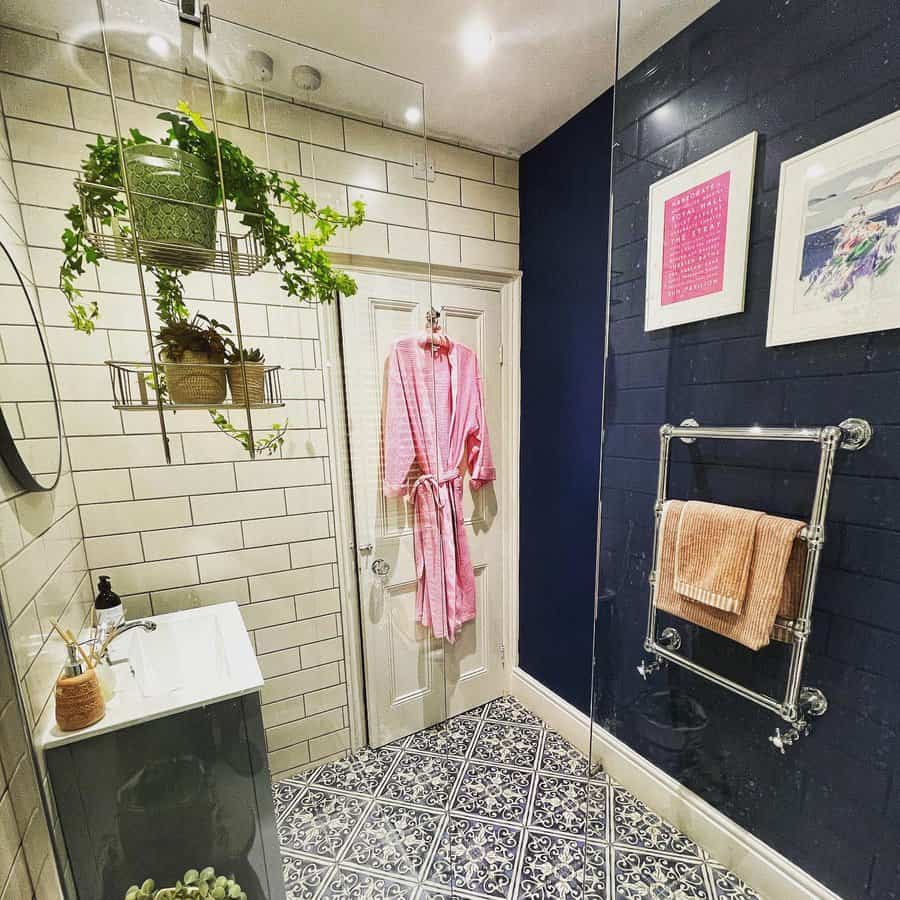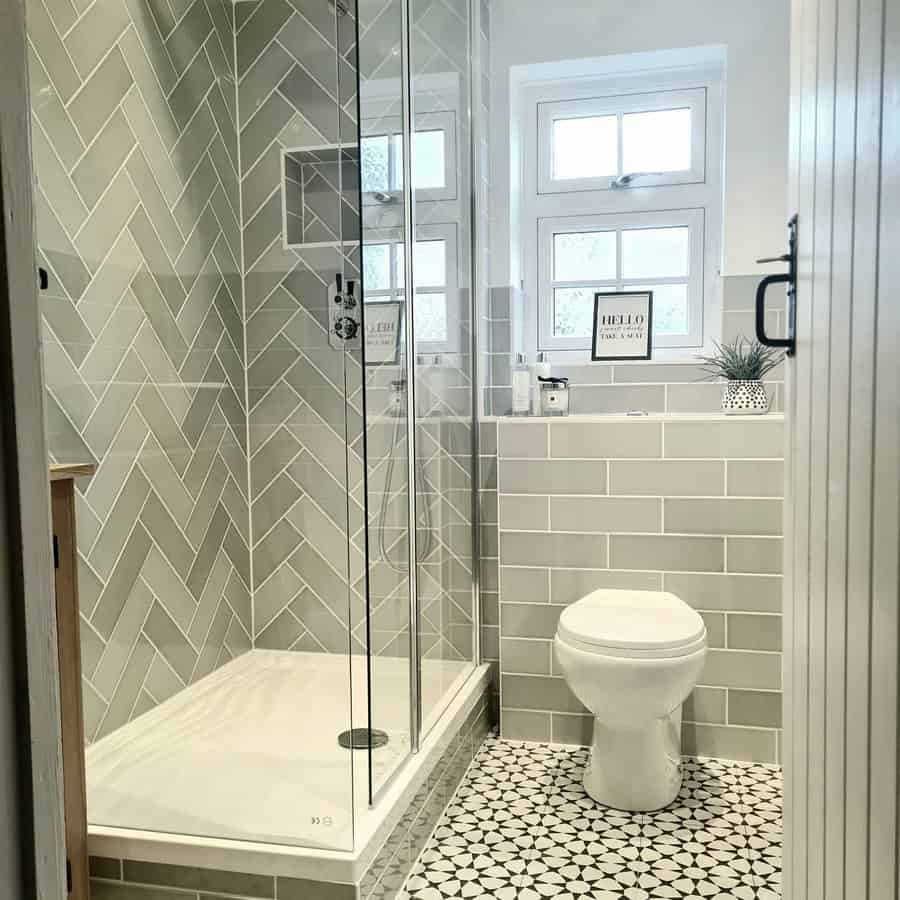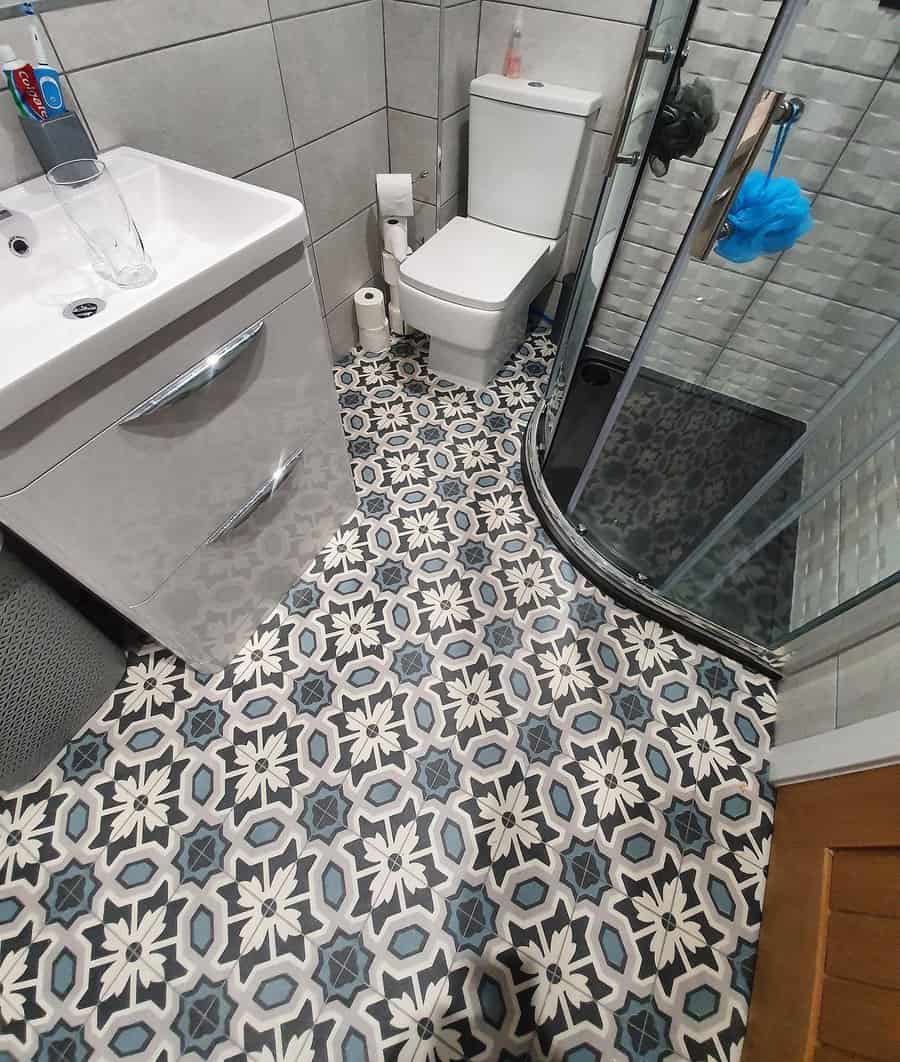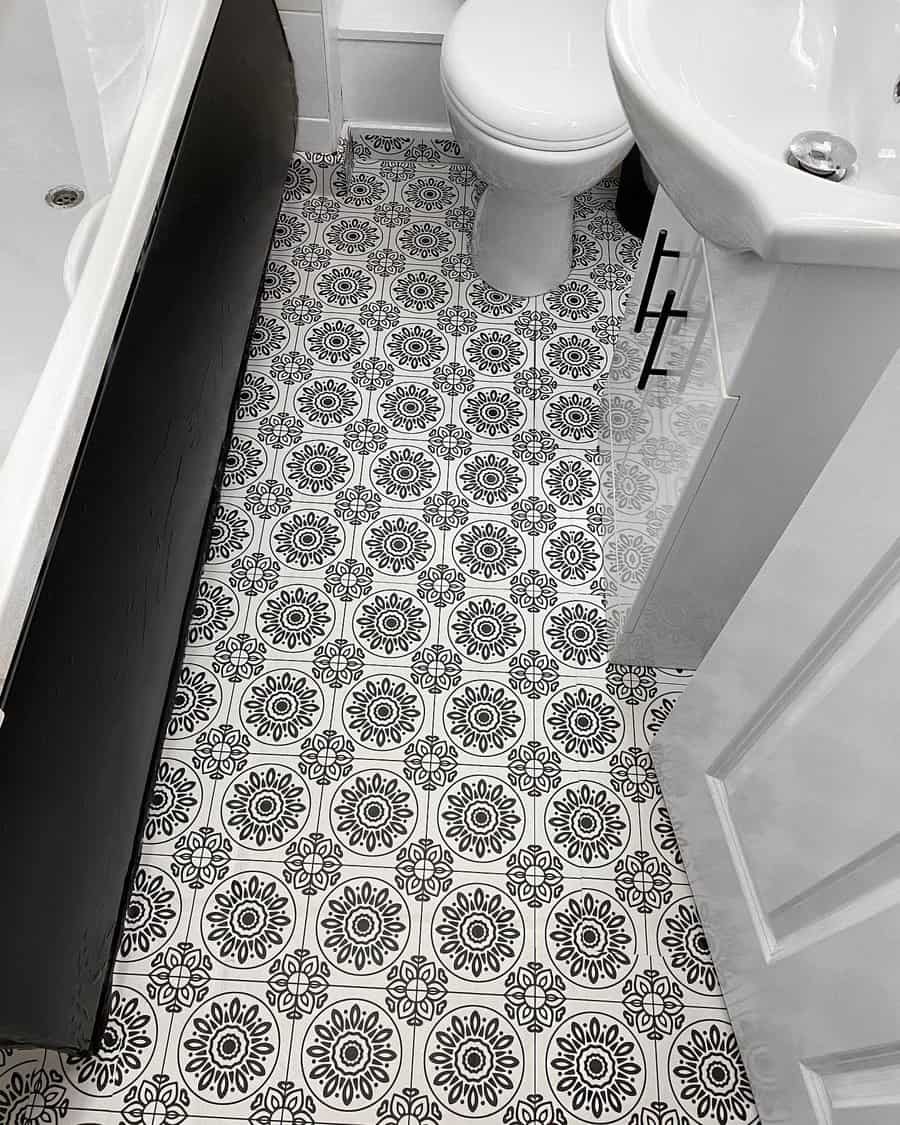 You can create a statement with patterned floor tiles. They bring life to the space, but don't overdo with patterned floors and walls.
6. Rustic
Natural tones for bathroom tile are great for rustic decor. Whether hardwood or laminate flooring, wood and concrete are a perfect combo for rustic spaces.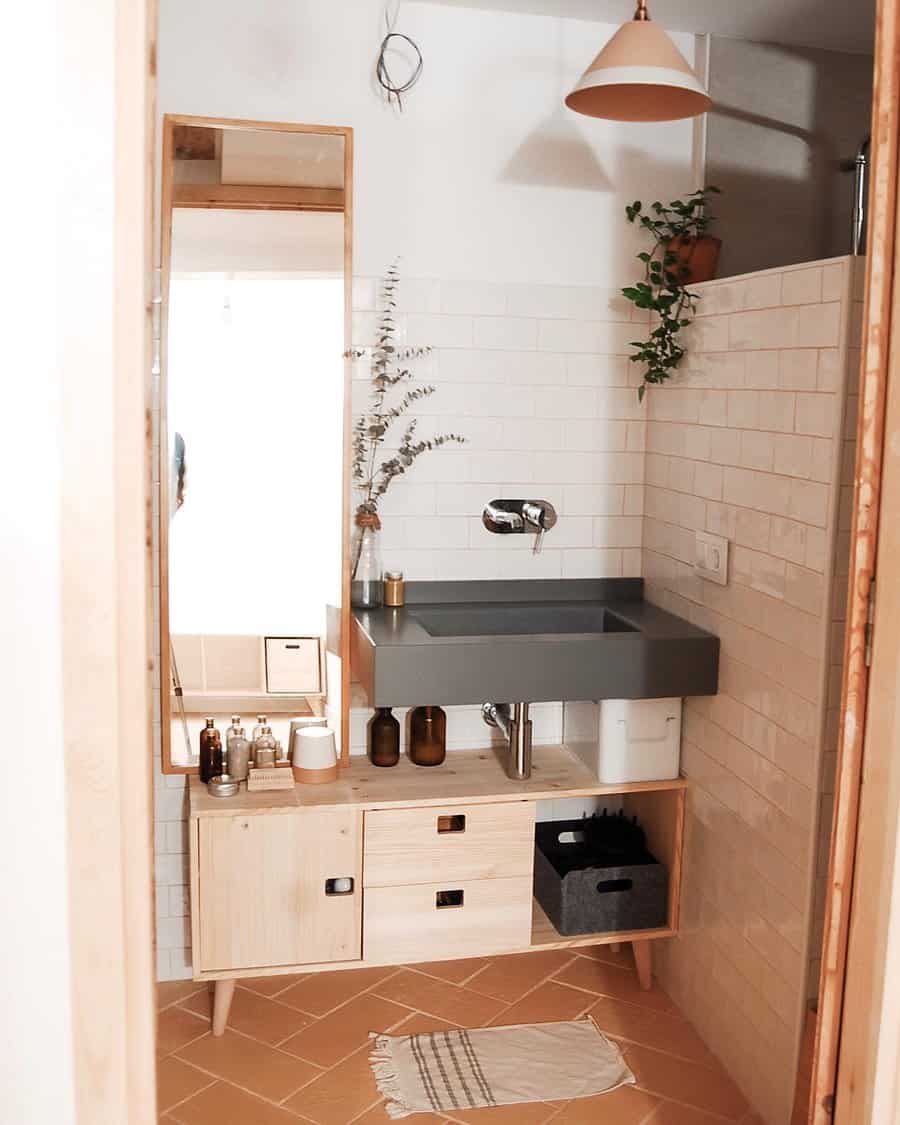 You can match darker floor tiling with white wall tiles, and add some organic décor pieces, like wicker baskets and ceramic pots.
7. Vinyl Floor Tiles
Vinyl flooring is available in tiles and planks and comes in many styles, colors, and sizes. Vinyl planks are a great option for bathroom flooring. They are low-maintenance, durable, water-resistant, and affordable, and some look like real wood.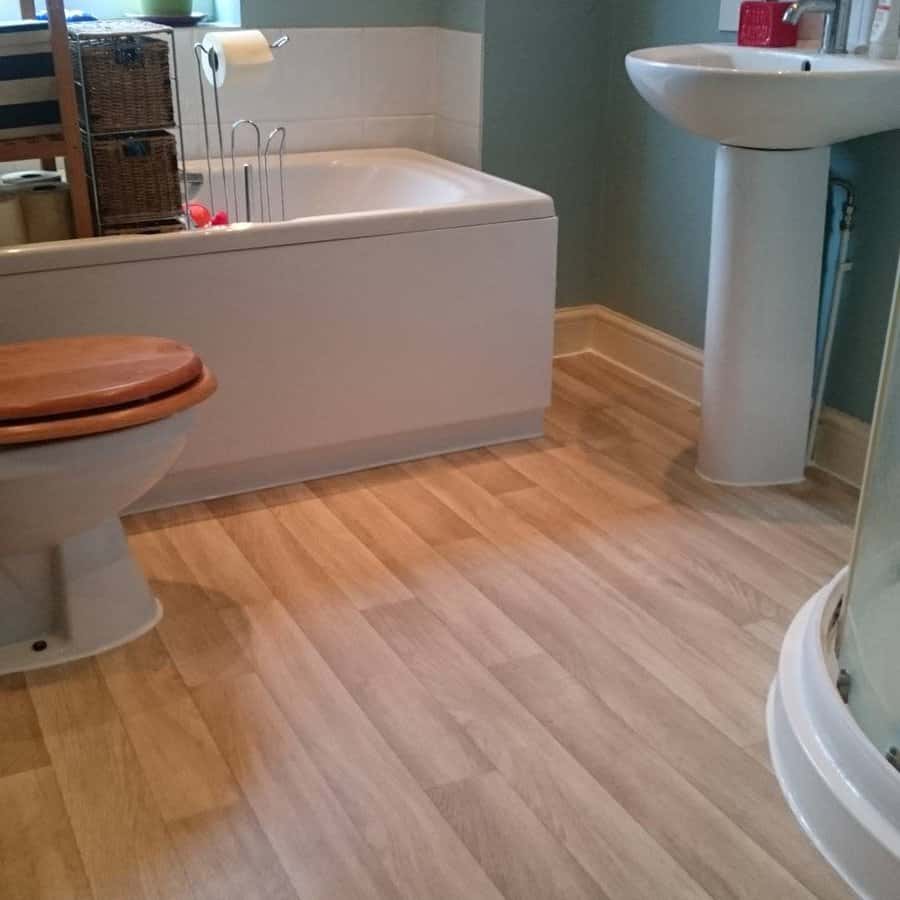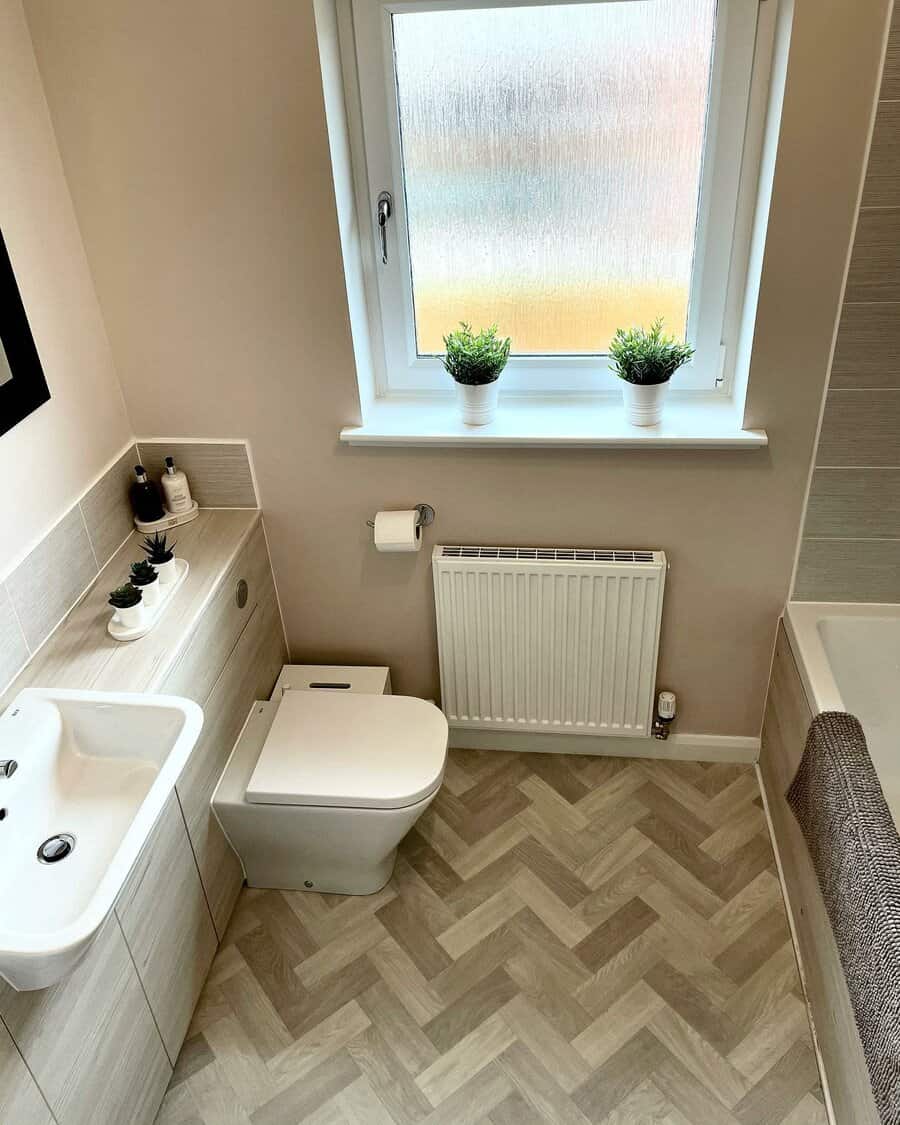 Luxury vinyl tiles are ideal for bathrooms, because of their ability to resist frequent water spills. Cork flooring sheets are another flooring idea for bathrooms. They are resistant to mold and mildew and may be a smart choice for damp bathrooms.
9. Wooden Flooring
Reclaimed wood flooring is another great option, that can be complemented by subway tiles. But wood is not only great for floors and furniture; it is a great option for ceilings, with rustic elements for a stylish bathroom.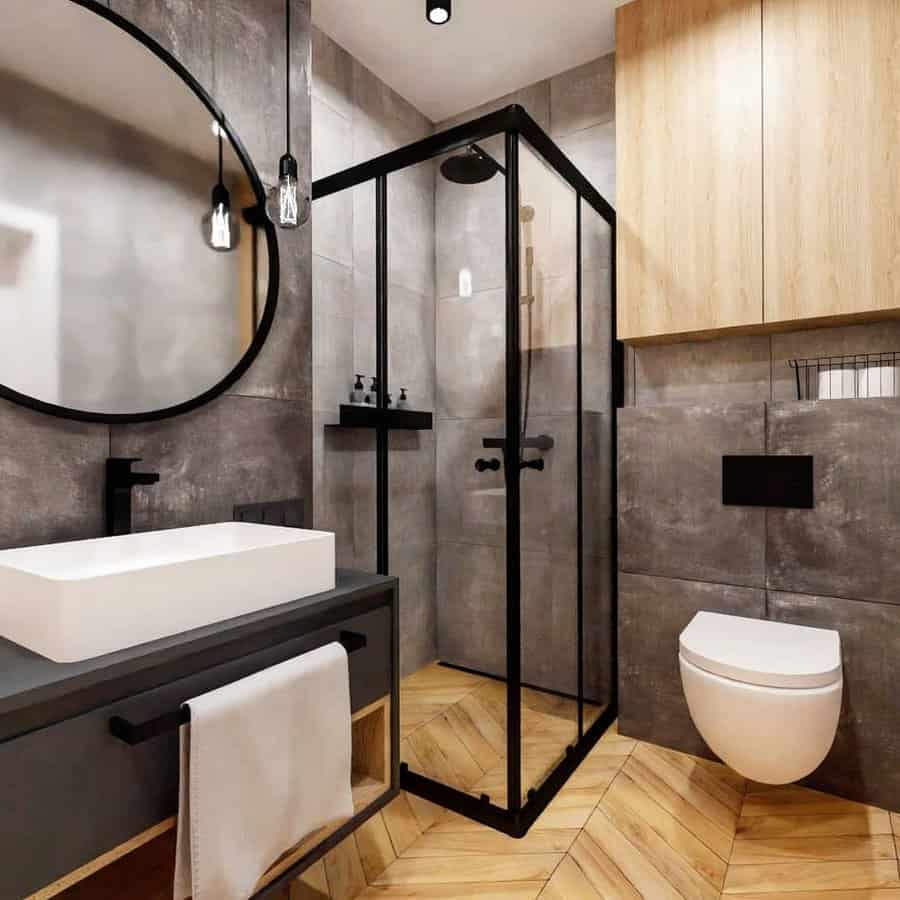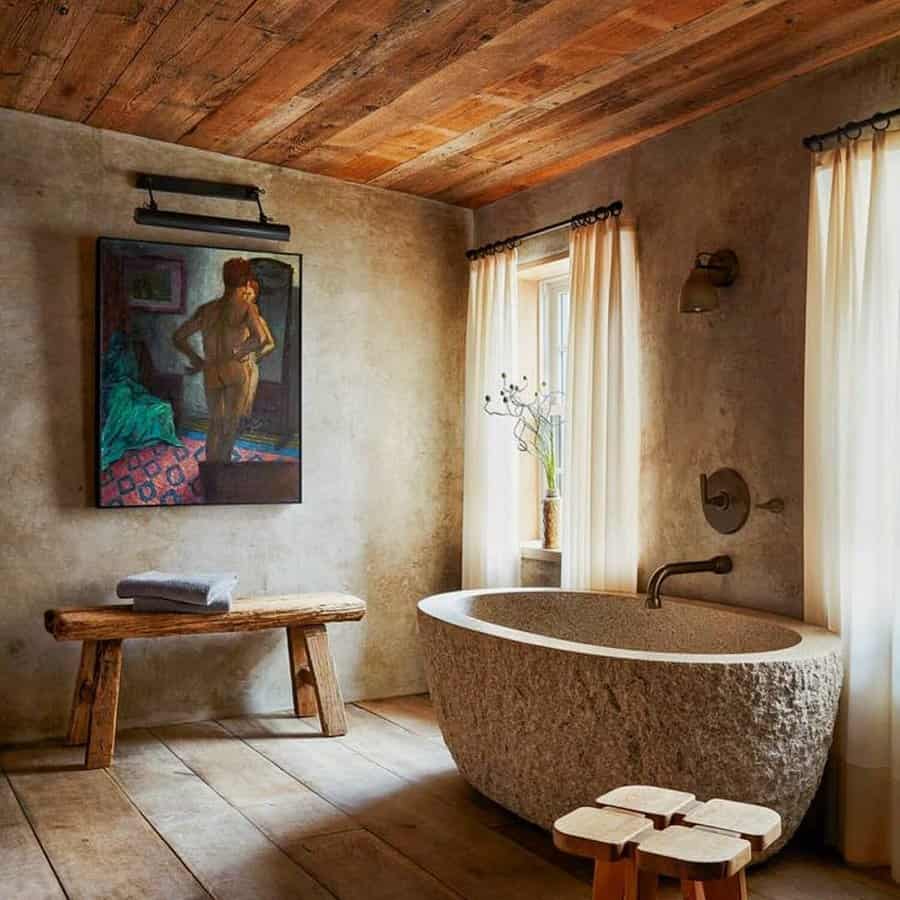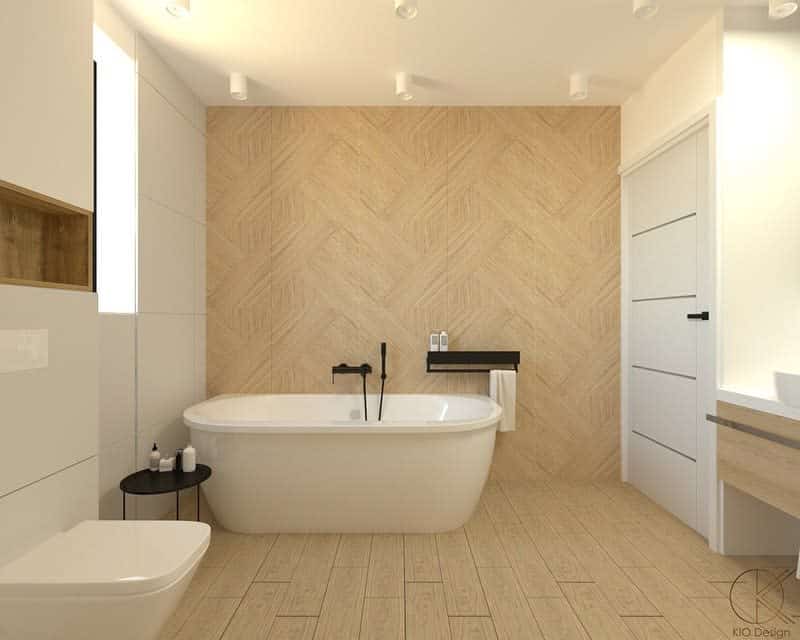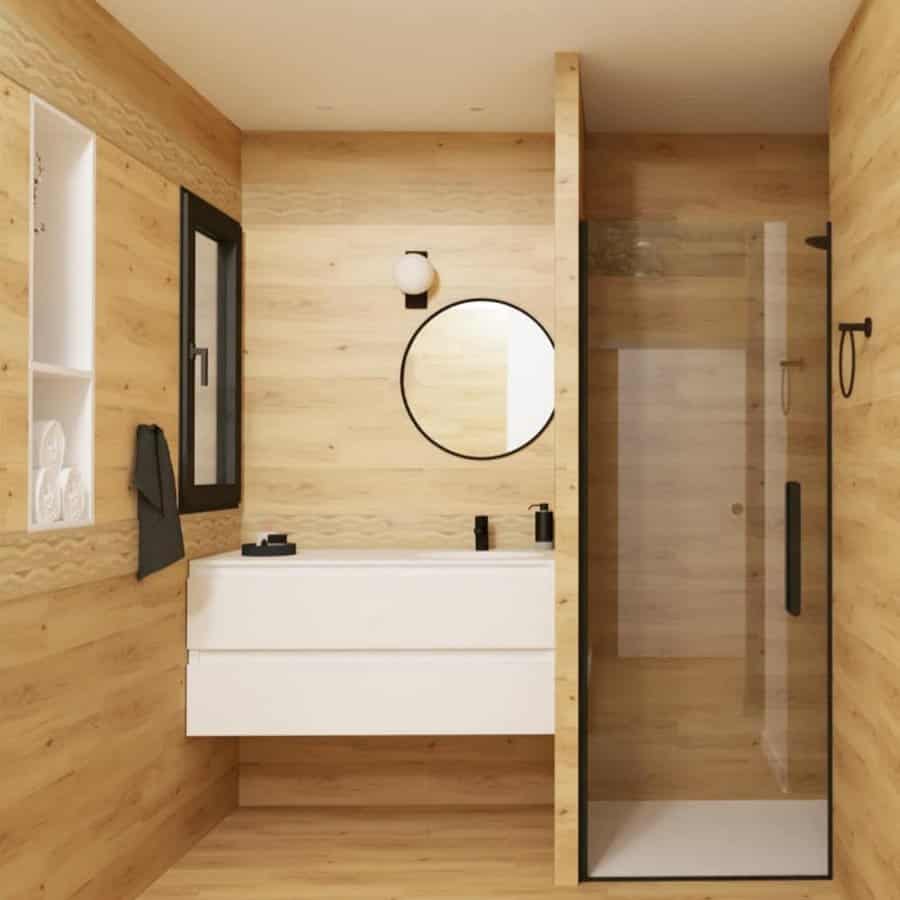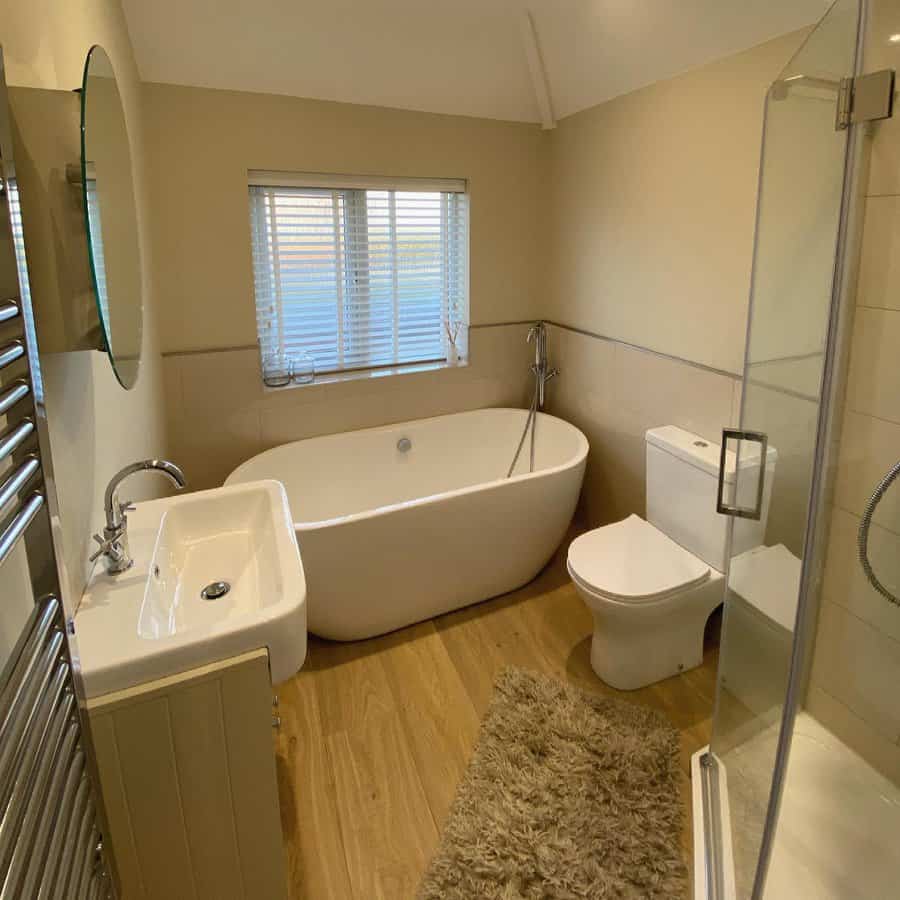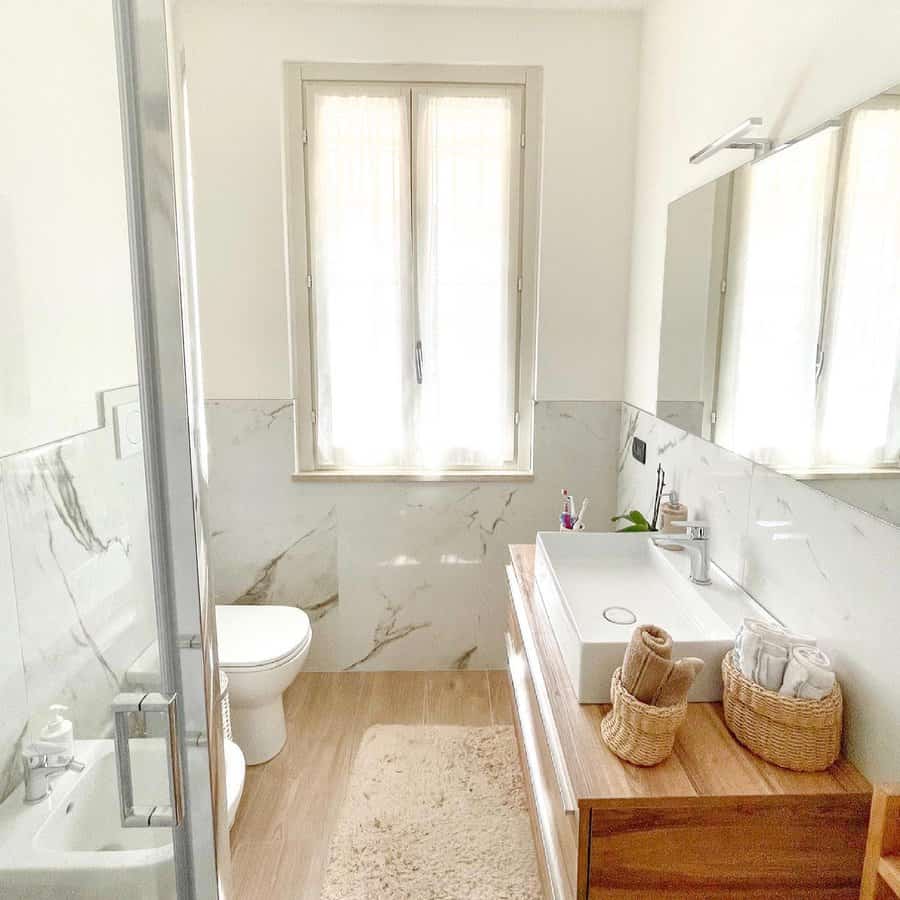 FREQUENTLY ASKED QUESTIONS
What are the pros and cons of radiant heated floors?
Radiant heating is extremely popular, especially for bathrooms. The most common types are electric and hydronic, also called in-floor hot water heating. Both have the same result: they create warmth under the floor and radiate it upwards.
Electric floor heating systems are easy to install and heat up in 30 to 60 minutes, so you can turn them on and off to save on electricity bills. Hydronic or in-floor hot water heating requires a boiler, a pump, and gas lines, so this type of heating is not easy to install but can have a higher cost-benefit in greater square footage, for heating multiple rooms or the entire house. Both electric and hydronic systems provide uniform heat, make no noise and are non-allergic.
Electric floor heating systems require no maintenance and are not as expensive to run as one would think. For a typical bathroom, the cost is less than a dollar a day. The downside of installing a floor heating system is that the floors need to be removed to install the systems, and then replaced. As for the financial aspect, both can be costly to install. As far as operations cost, most electric systems come with a thermostat to save energy.
What's the difference between vinyl and laminate floors? Are they much worse than hardwood floors?
Hardwood floors are known for their durability and beauty. Laminate floors are cheaper and easier to maintain than hardwood. They are resistant to water and are solid. Laminate floors are a great option if you want to mimic real hardwood floors.
Vinyl is also much more affordable than hardwood, and highly water-resistant. It can mimic wood, stone, and other natural materials. Laminate floors are DIY friendly, as most laminate floors are installed as floating floors, and require no glue or tape to install; all you have to do is lay them down on top of your existing floor. 
Vinyl installation varies and includes interlocking, floating, and glue down. It may be a little more difficult to install. Premium vinyl is durable and stable and is much more resistant to moisture than laminate. It is ideal for bathrooms, kitchens, and basements.
What are the pros and cons of glass tiles?
Glass tiles are very durable, even though they are not meant to bear weight, otherwise they will crack. They come in a wide variety of colors, patterns, and sizes, and are considered a luxury material.  They are low maintenance and a great option for bathrooms. The downside is that they can be costly, and the installation may be a difficult process for a DIY project.