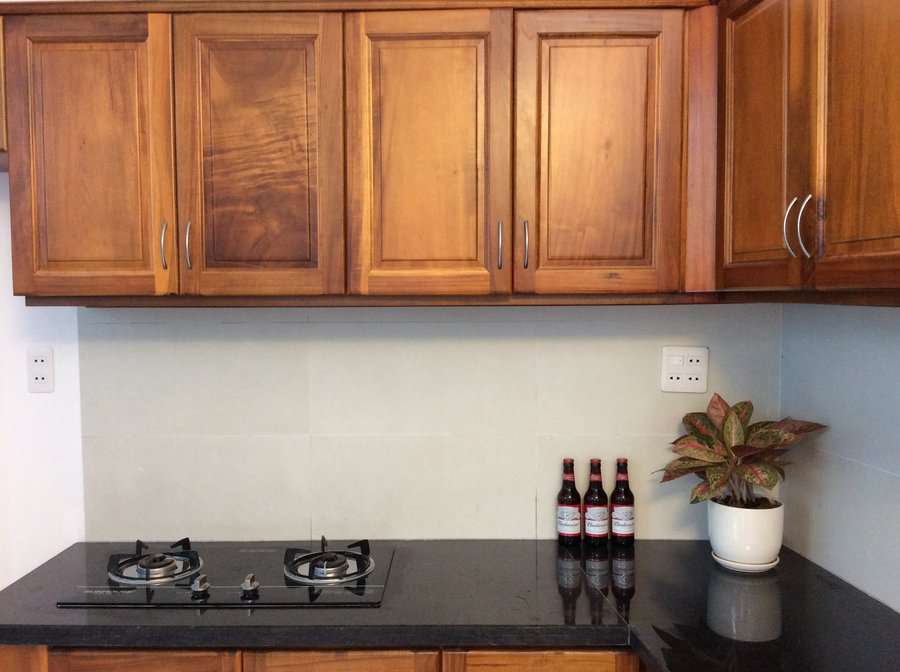 Best Backsplash Color for Honey Oak Cabinets
Oak cabinets have been around almost as long as kitchens. Oak wood comes in over 60 different varieties and its durability makes it an excellent cabinet material. Honey oak cabinets were extremely popular in the 1990s and remain in many kitchens today.
If you're tired of the golden glow of honey oak cabinets, the easiest solution is to paint them. However, you can save a lot of money by working with what you have. Choosing a coordinating color backsplash can really elevate your kitchen. Here are some of our favorite kitchen backsplash ideas for honey oak kitchen cabinets. 
How to Choose a Kitchen Backsplash
Whether you have honey oak kitchen cabinets or not, certain rules apply when shopping for the right color backsplash. First, take into consideration all the colors that are present in your kitchen. This includes wall paint color, floor color, and countertop color. Your appliance color may also factor into the mix.
Ideally, the color backsplash you choose will integrate all the colors in the room. However, this isn't a rule that's set in stone. You may want a backsplash that's just one color, or perhaps a metal tile that provides its own unique home decor touch.
Because honey oak adds such a warm golden-orange color to the kitchen, the best backsplash for honey oak cabinets should complement this hue. You can either choose a tile backsplash color that's a similar warm shade, or choose one that contrasts with the honey oak wood finish.
Choosing a backsplash also involves deciding whether you want tile, wood, brick, or another material. Consider the texture you like to look at, and your personal design style. Do you love sleek, modern finishes or highly textured rustic surfaces?
Finally, because a backsplash is often exposed to moisture and messes, easy cleaning is a must. If you prefer a highly textured backsplash, cover it with clear acrylic panels so it's easier to clean. This will also protect your kitchen walls from grease and water damage over time.
Read also: 68 Kitchen Backsplash Ideas on a Budget
Beige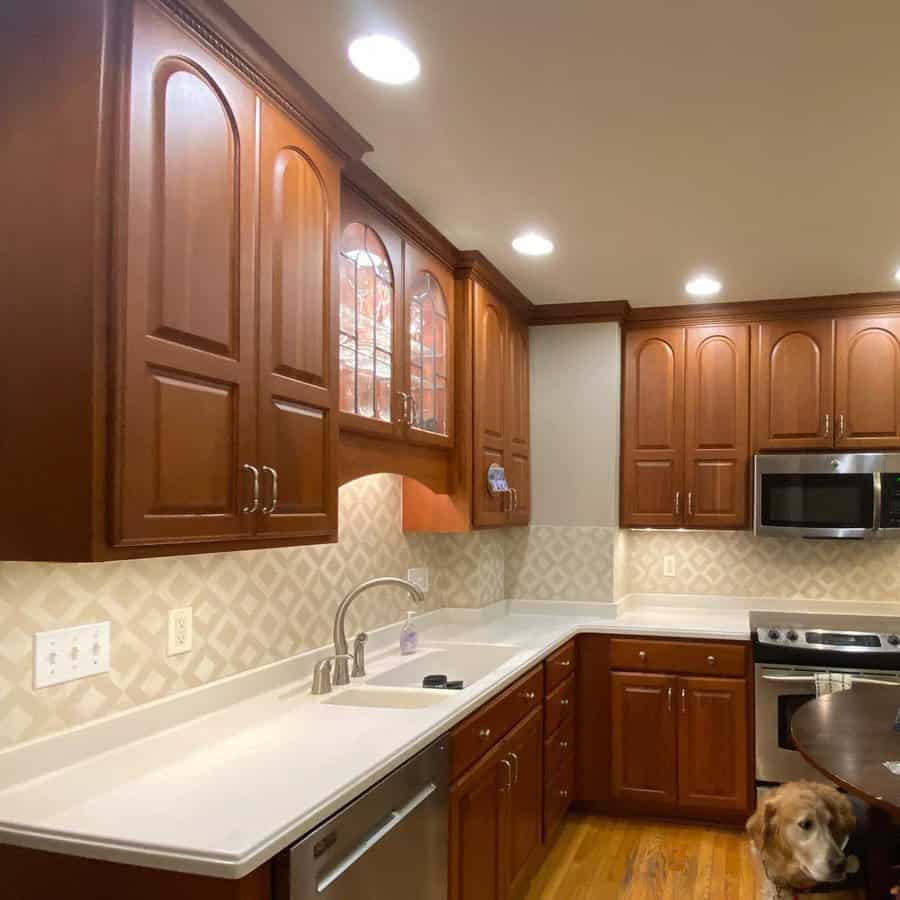 Warm beige is a great color beside honey oak cabinets. It's a classic neutral that allows you to use just about any other accent color in your kitchen—and to change that accent color whenever you feel like it.
Light beige is a good alternative to white, especially if you feel that white is too stark beside your warm oak cabinet finish. Light, creamy shades of beige are excellent with any color of oak trim and cabinets, particularly when the countertops and wall color are also in the beige family.
Greige is a mixture of grey and beige that also looks nice with honey oak cabinets, but as with plain beige, make sure you choose one that has a warm undertone. Cool beige or greige will look bluish next to the warm honey hue on your oak cabinets.
Black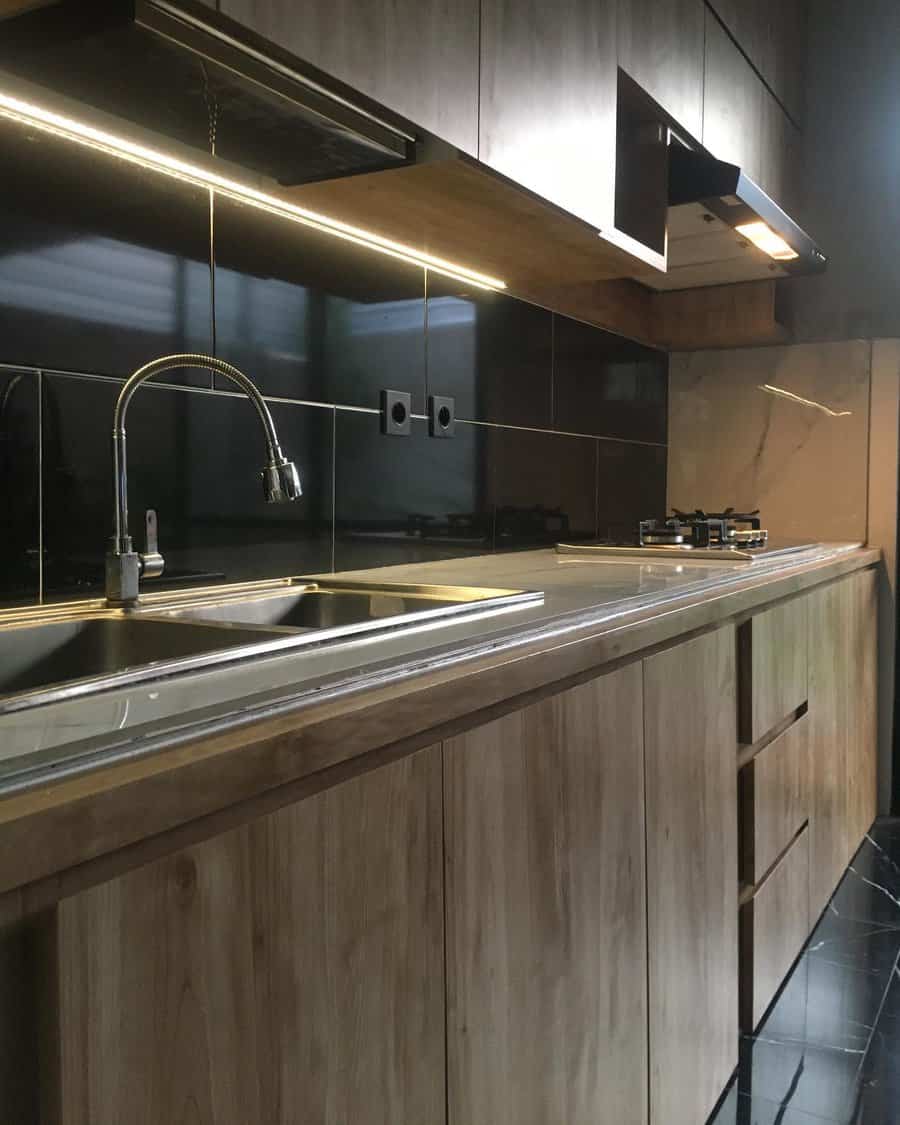 Black can be a fantastic color beside warm color wood surfaces, including maple cabinets, cherry cabinets, and the classic honey oak. Black adds drama and intensity to the kitchen, especially when the room has black appliances and an equally dark countertop.
Your backsplash should balance the dark and light colors in the rest of the room. If your granite or quartz countertops are a medium shade similar to honey oak, a dark backsplash will add a sense of depth.
A black granite countertop with topaz colored flecks would look amazing with honey oak cabinets and a mosaic tile backsplash that includes all those colors. A black geometric tile backsplash, glossy or matte, increases the modern flavor in a contemporary oak wood kitchen. Black subway tile with black grout is also an excellent modern backsplash choice.
Blue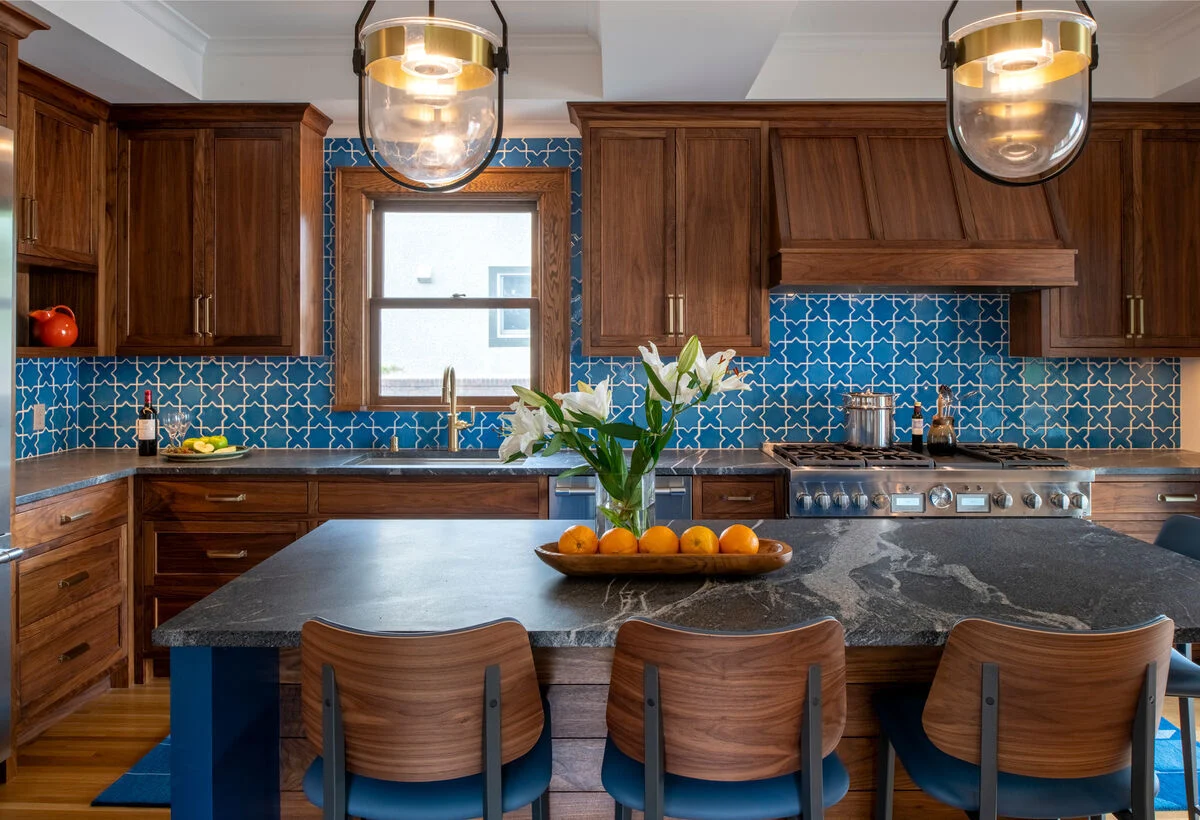 Because blue and orange are on opposite sides of the color wheel, they're called complementary colors. Cheerful and casual, complementary hues make each other pop when they're placed beside each other. Therefore, if you enjoy bright colors and interesting juxtapositions, blue could be the perfect color backsplash for your honey oak cabinets.
Blue and deep honey oak add a Mediterranean vibe to the kitchen, so look for a painted tile backsplash that incorporates these colors. Think colorful mandala patterns, or Spanish or Italian floral designs. For paint and tile choices, pale blue and darker blues work equally well beside a honey oak kitchen cabinet. Navy, cobalt, or a grey-toned sky blue are quite complementary with honey oak wood cabinets.
Bohemian decor is another great casual style where blue and honey oak look great together. Because boho style is based on personal taste instead of following the latest trends, it doesn't matter if your honey oak kitchen is "in style" or not. The room—and its backsplash—will reflect your unique personality.
Green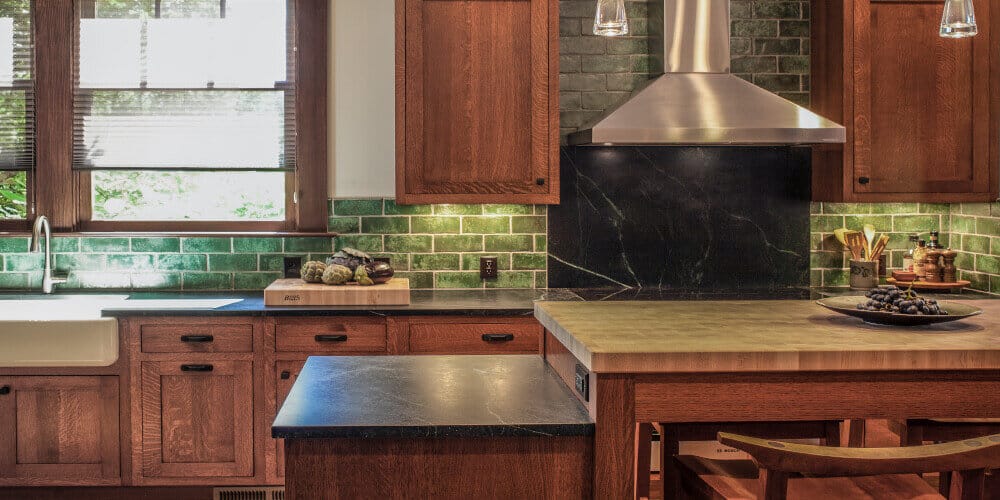 While hunter green might be a little too "90s fabulous" parked beside a honey oak cabinet finish, lighter, earthy shades of green can be a gorgeous choice. Soft bluish-greens or greens with a slight grey tint work best beside warm honey oak wood.
A mosaic backsplash made from tile in beach glass colors would convey this cool, earthy vibe—especially if you cover the walls with coordinating kitchen paint colors. Sage green, moss green, and pale mint green are colors to look for in paint swatches and tile samples.
Army green, with its greyish undertones, is a good choice if you can't decide between a grey or green backsplash. Just remember to add green plants against your new backsplash, to further tie in the color palette.
Grey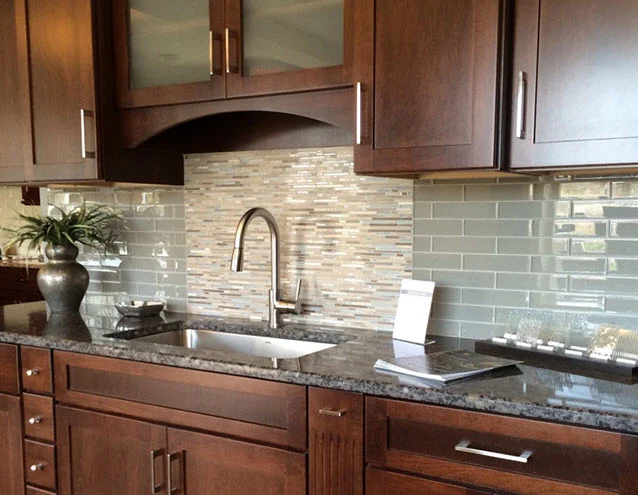 If you have stainless steel appliances, grey is already well-represented in your kitchen color scheme. Therefore, a grey tile backsplash is a logical choice that will tie your oak kitchen cabinets and appliances together. Look for a backsplash material that incorporates grey and touches of warm browns that pull out the color of your oak kitchen cabinets.
Another place to look for the right shade of grey is your granite countertops. Make your backsplash tile choices coordinate with any flecks or veins that flow through the worktop, especially the ones that equal your cabinet color.
Choosing cool or warm grey for your backsplash and wall paint is a personal preference. If you want the kitchen cabinet finish to be part of an overall warm color scheme, go for grey that has a warm undertone. If you feel the kitchen needs a cooler shade to contrast against the sea of warm wood cabinets, go for a cool light charcoal tile and paint color.
White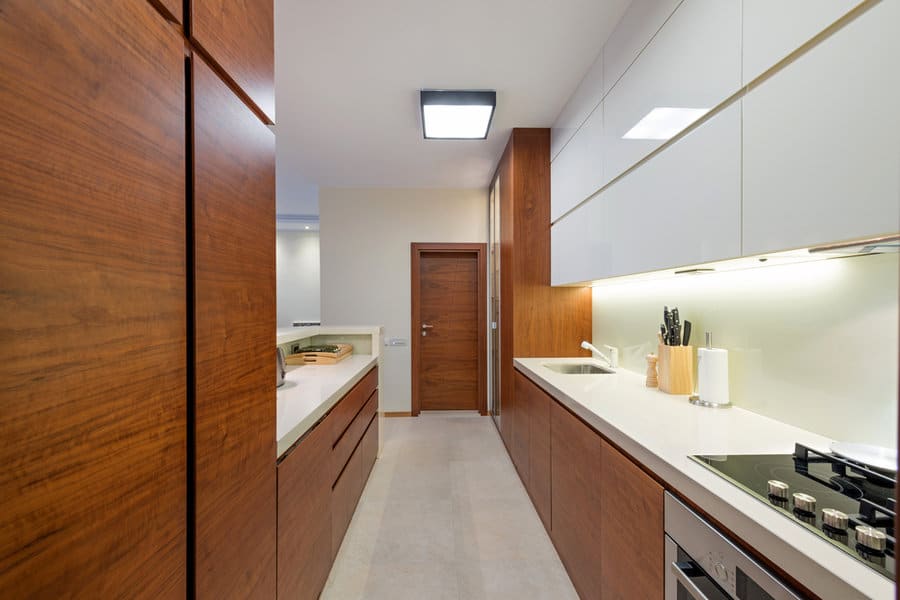 Warm wood cabinet tones and white are a classic kitchen combination. If you already have a white quartz countertop, a white quartz backsplash is a logical accompaniment. White subway tile is a great modern backsplash option, especially against oak shaker cabinets. Dark grout highlights the tile shape and helps bring the cabinet and backsplash together visually.
Because it's already such a large presence in the room, choose your white backsplash tile based on what coordinates with the countertops. White paint and tile come in so many different hues, with warm or cool undertones, and matching them correctly is a must.
A great backsplash has the power to balance your kitchen color scheme, so a white backsplash is a good choice for adding contrast against dark kitchen cabinets and countertops. White is also a must if you have farmhouse or coastal decor.
Mixed Earth Tones
So many natural materials, from stone to clay tiles, include warm accents and undertones that make honey oak cabinets look amazing. Choose a basic mosaic pattern for your under cabinet zone, or hire an artist to create a tiny tile mural in the many earthy colors that complement your wood cabinets.
Faux brick is another great warm color choice beside honey oak cabinetry. Look for warm brick red, or go for a whitewashed multi-color brick backsplash. If you cannot find one that's already whitewashed, it's easy to DIY a whitewash finish with paint. Just be sure to seal any real stone or rough-textured backsplash with a waterproof sealant.
For a real designer touch, paint your kitchen island to match the darkest color in your mixed earth tone backsplash. This solid dark island will contrast against the honey oak cabinet color and help all the room's colors flow together.