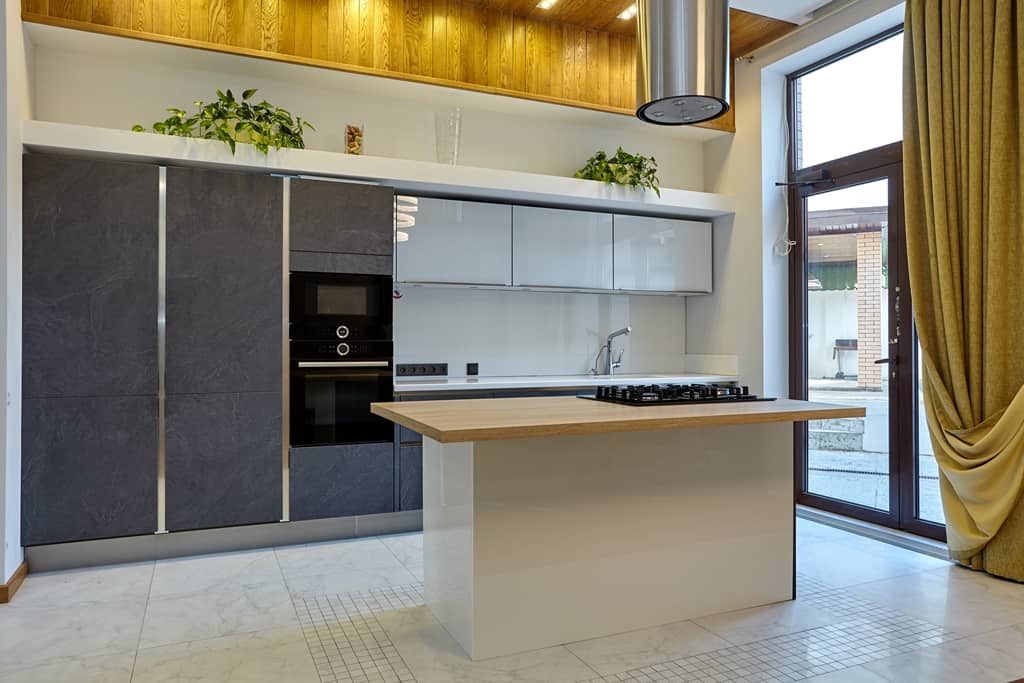 57 White Kitchen Backsplash Ideas
The backsplash is essential in any kitchen. It can protect the walls from grease, are easy to clean, and can be a design piece.
In this post, we will give you some backsplash ideas, for you to make your kitchen unique!
1. Brick
Brick walls are timeless. The subway tiles are a classic and go with absolutely everything!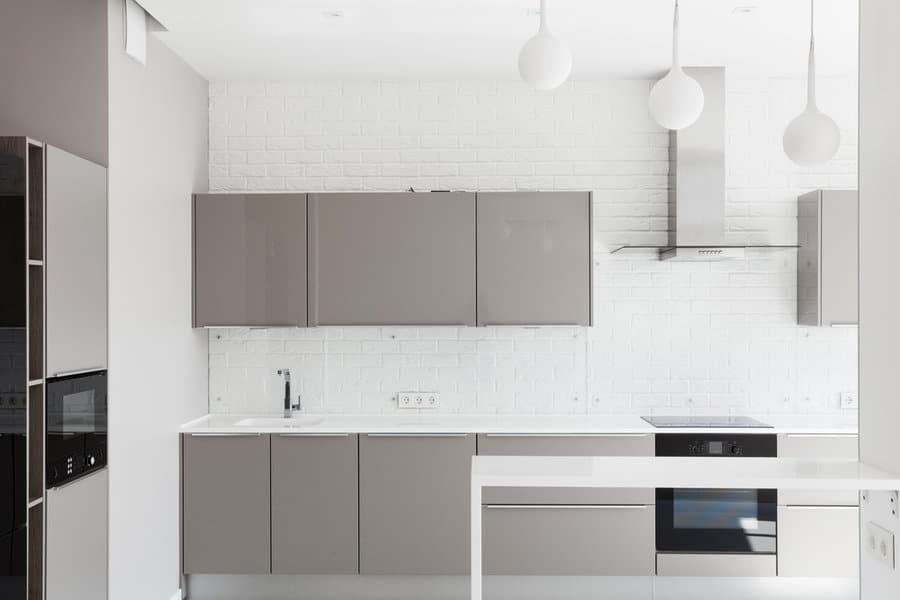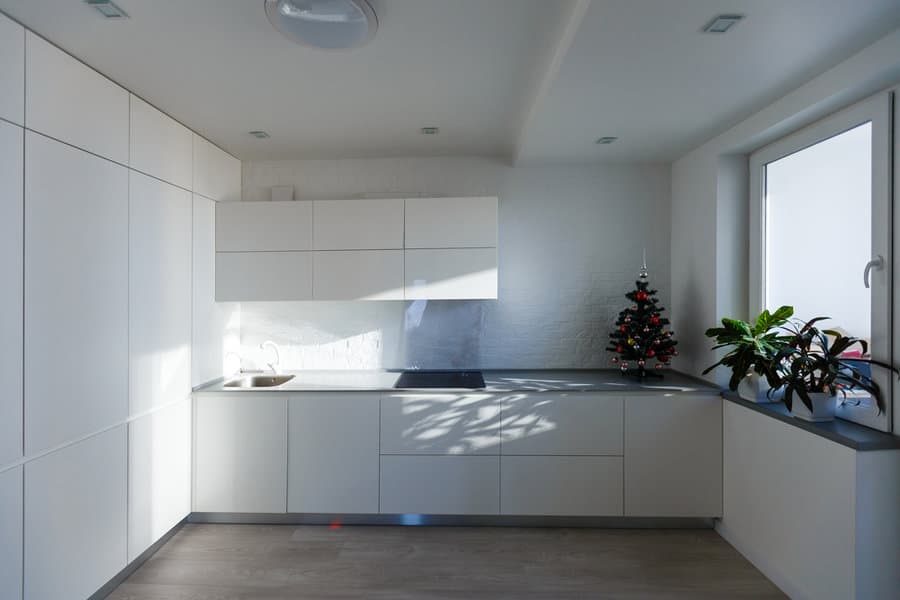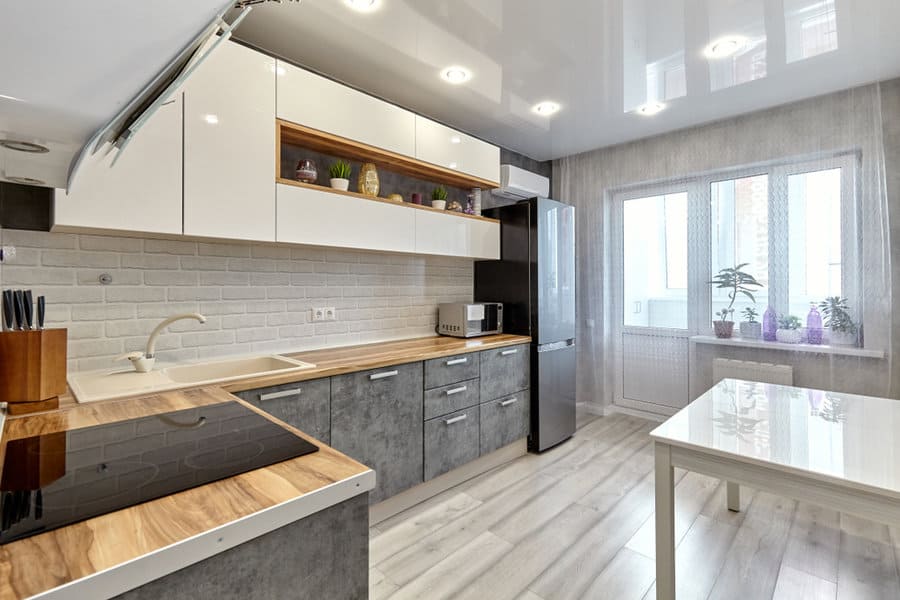 Whether you have a modern style kitchen, with white cabinets and marble countertops, or if you prefer a rustic style with butcher blocks, subway tiles or faux bricks are a great option, and the white color does not interfere with any other patterns you choose for your kitchen.
2. Glass
Glass tile is sophisticated, very elegant, and gives your kitchen an ultra-modern style. You can use led lights in different colors for a futuristic vibe. This type of backsplash is ideal for a clean, minimalist design.
There are other ways to explore glass cladding: you can select an image and have it printed in adhesive wallpaper, and apply it onto white tiles or glass, to make it a feature wall. Such details make your décor exclusive and very sophisticated.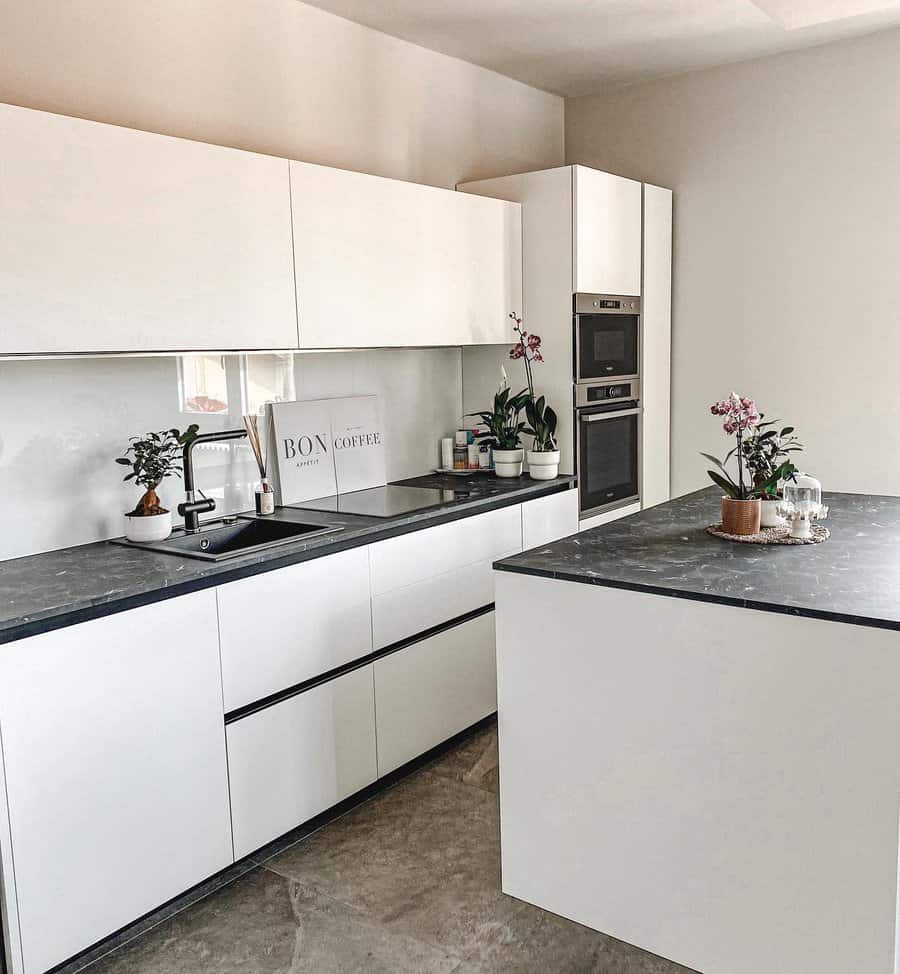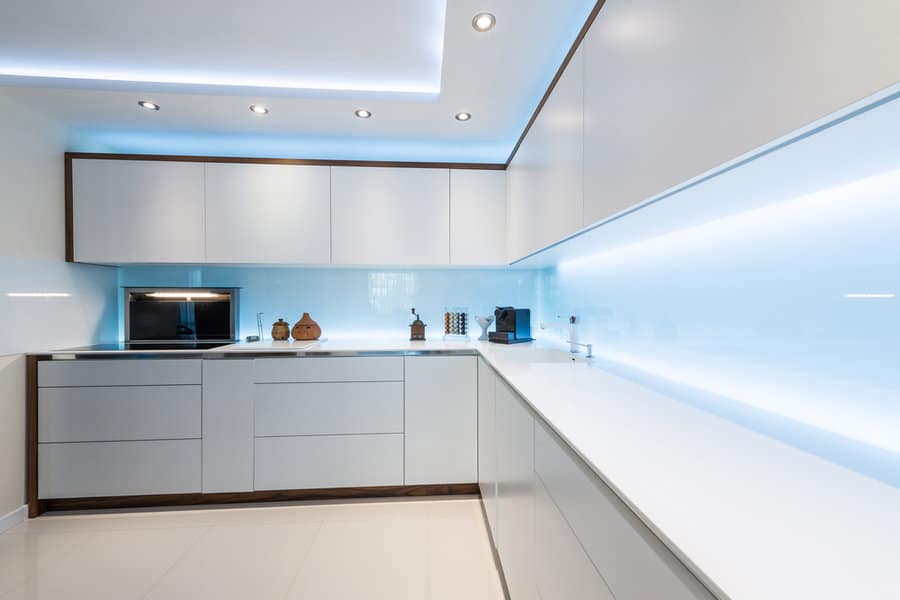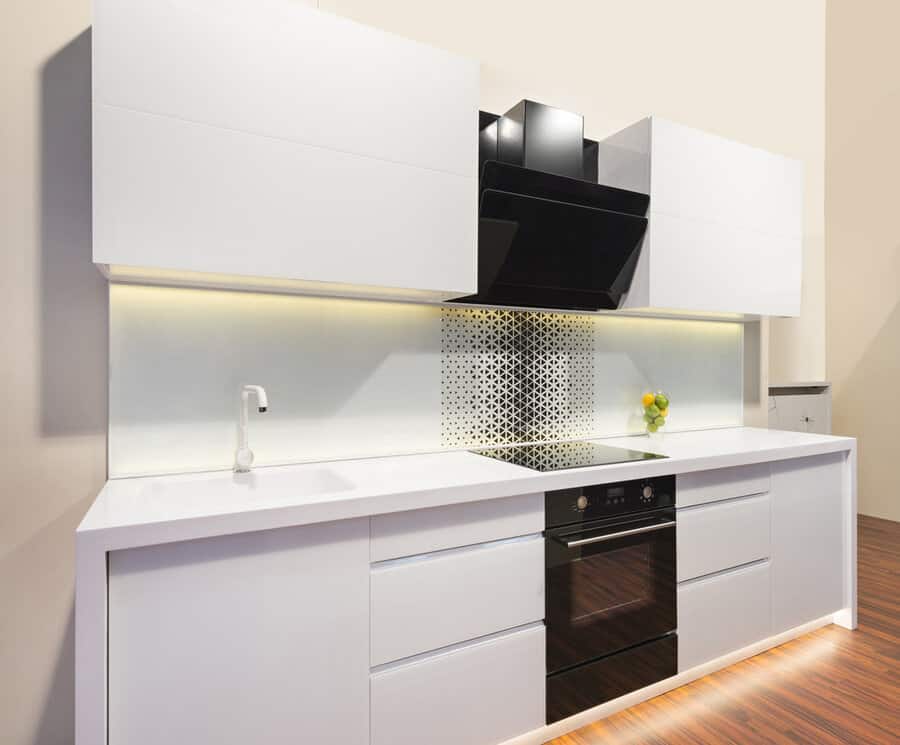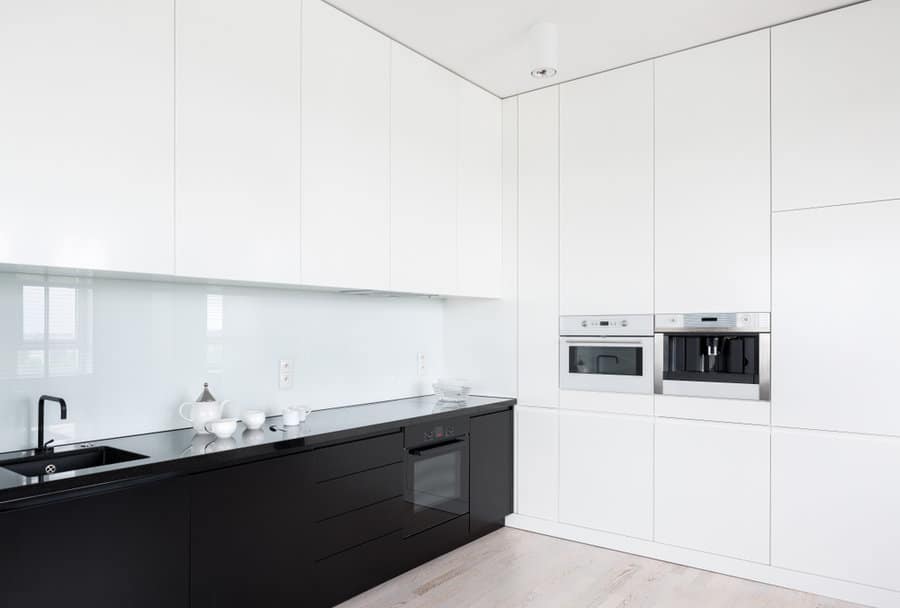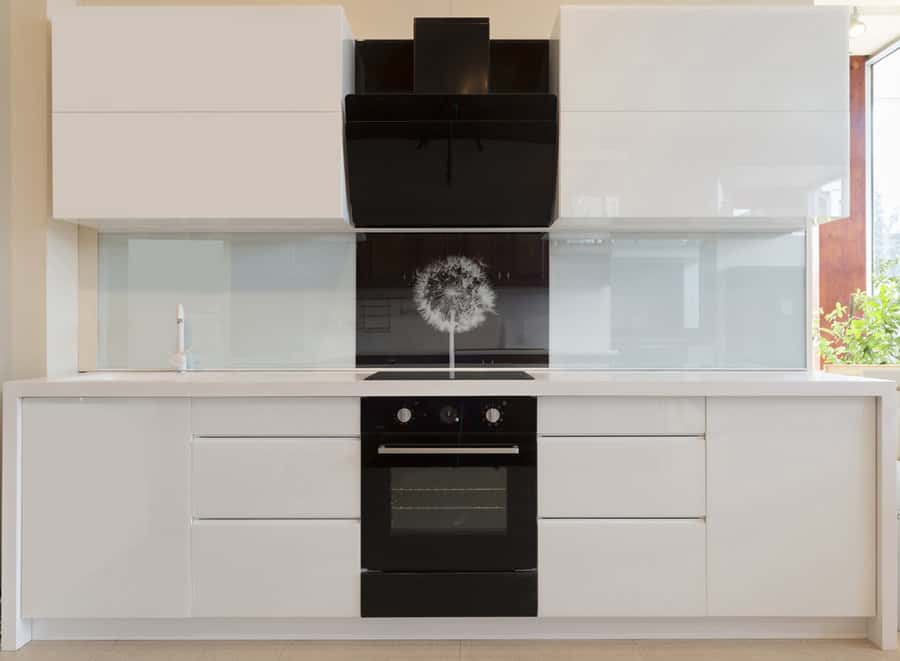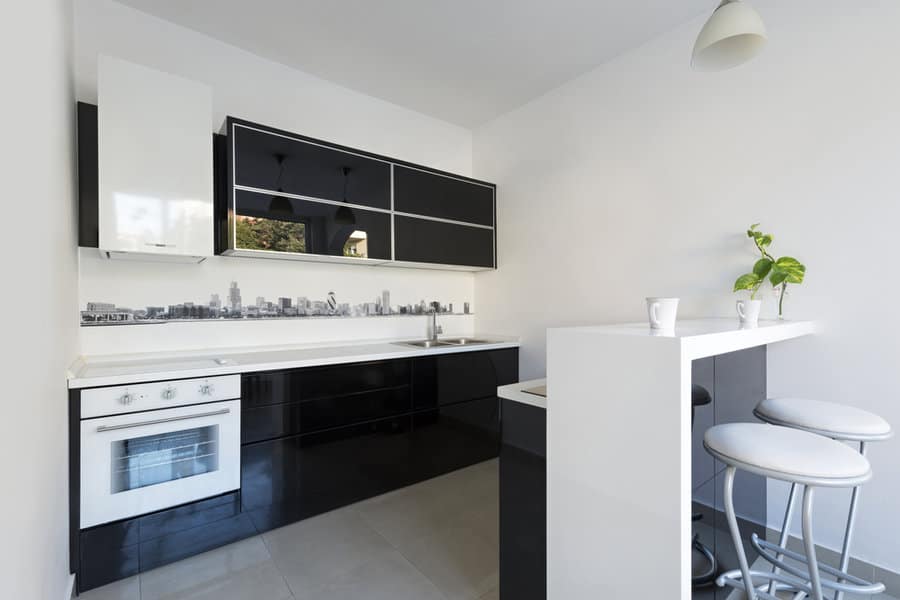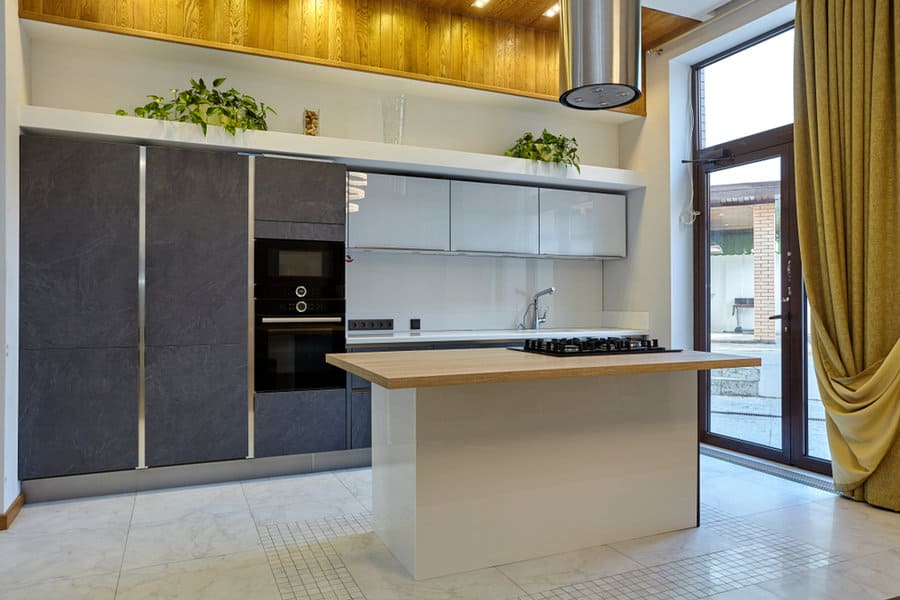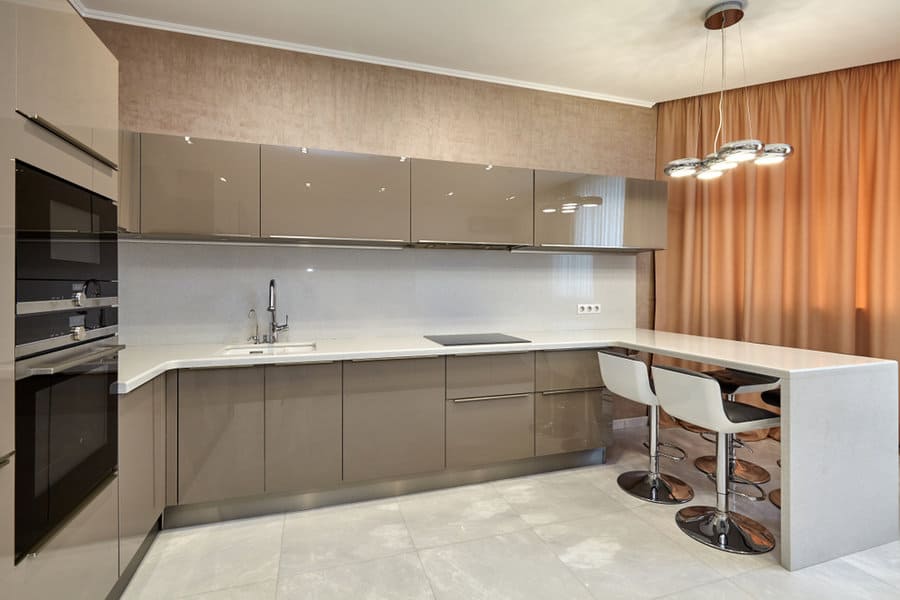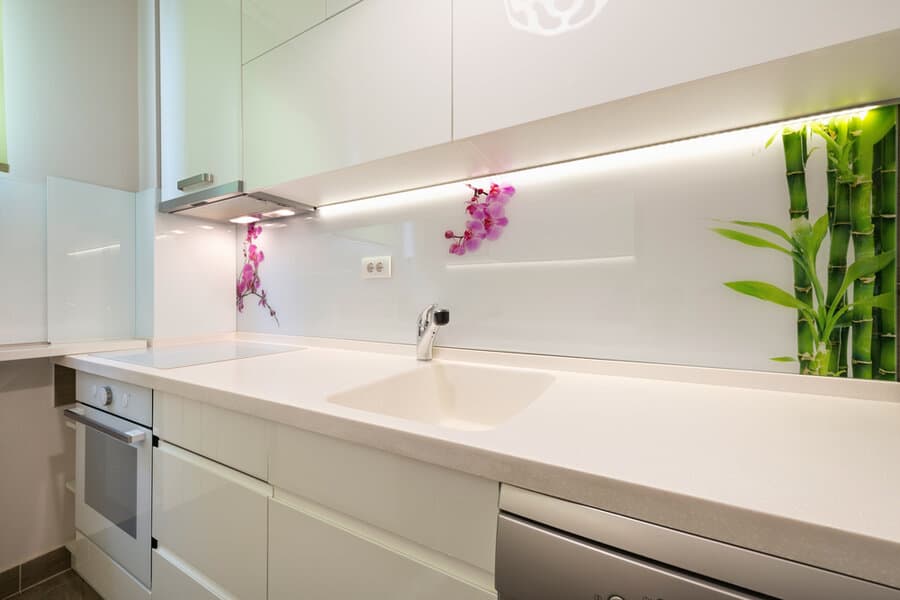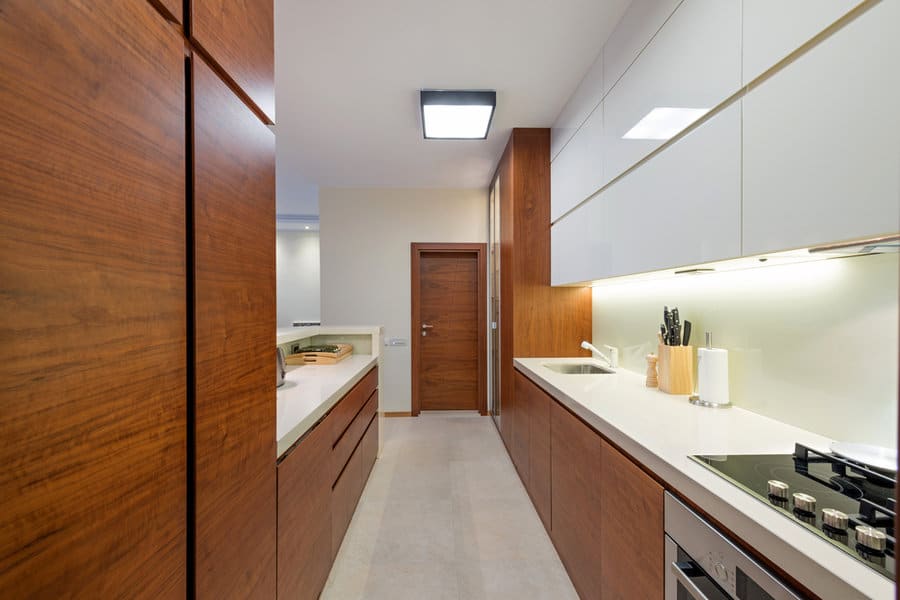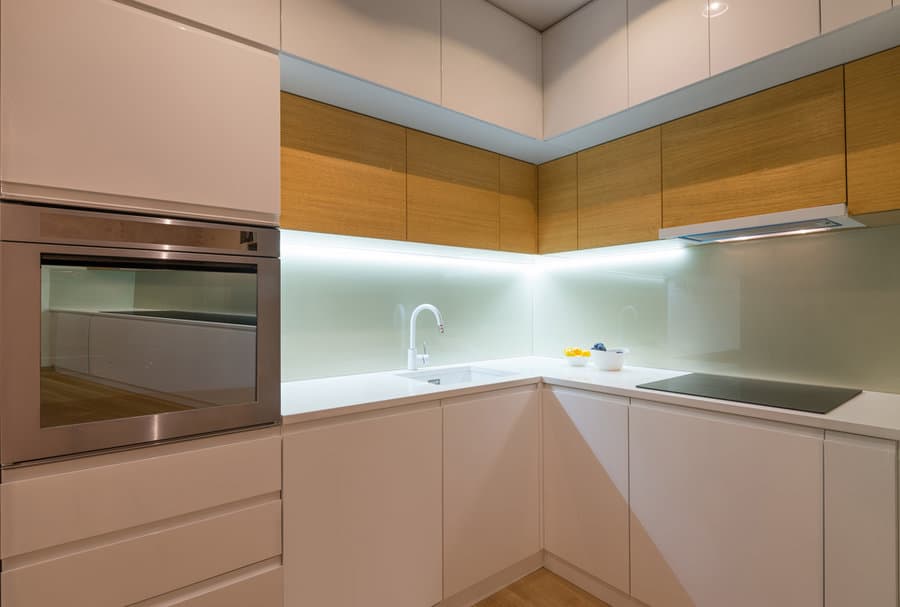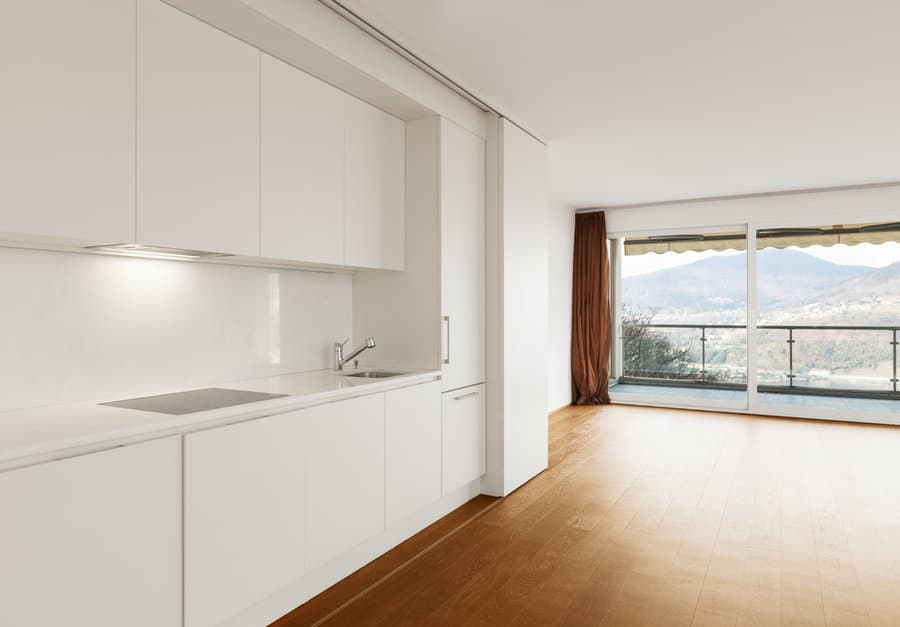 Note that the white backsplash wall goes perfectly with modern, colored cabinets, and matches marble or quartz countertops, without drawing attention to the walls.
All-white kitchens are a great solution if you have a small open floor plan, and don't want to draw too much attention to the kitchen space. You may choose to have accent pieces in the living room instead, keeping the kitchen basic and yet elegant.
3. Herringbone or Chevron Pattern
Herringbone and chevron pattern tiles are very fashionable, for either floor, bathroom, or kitchen tiles. If you're looking for an interesting design, maybe this is the way to go!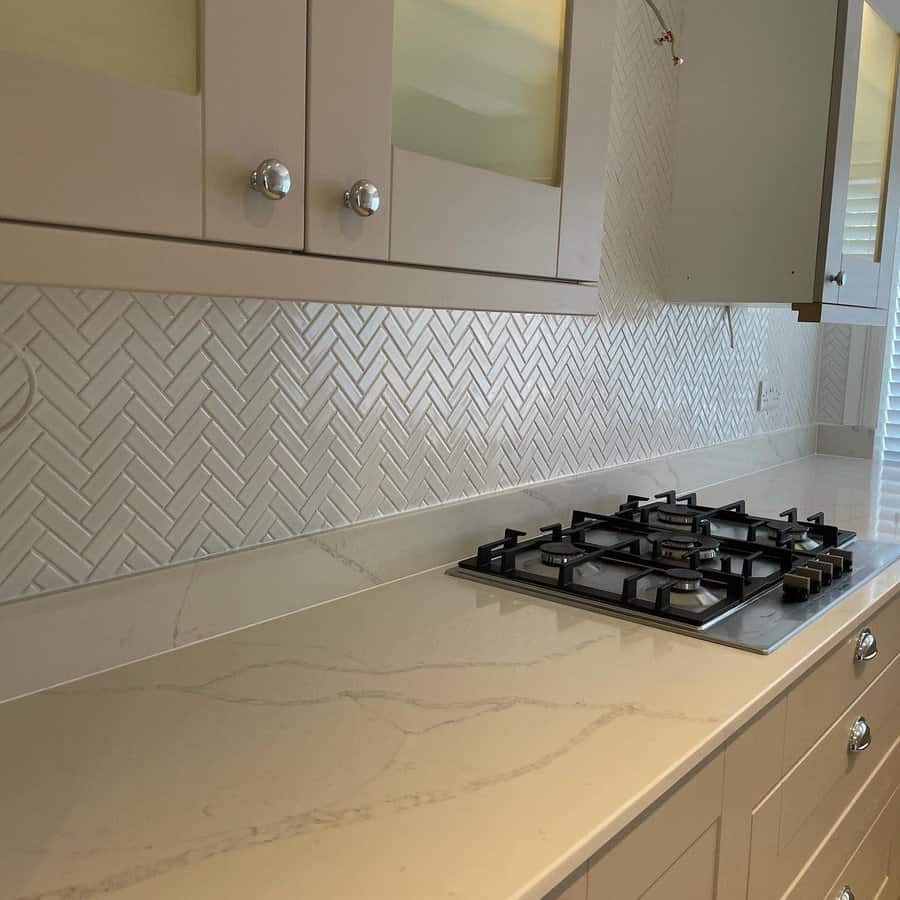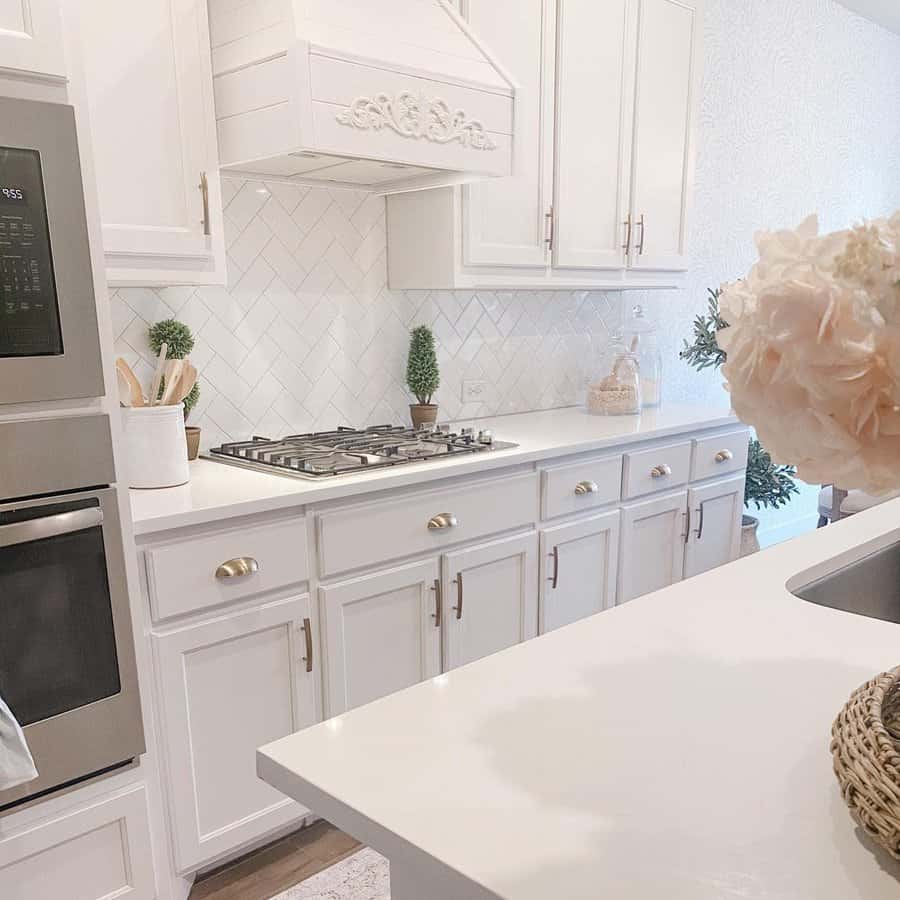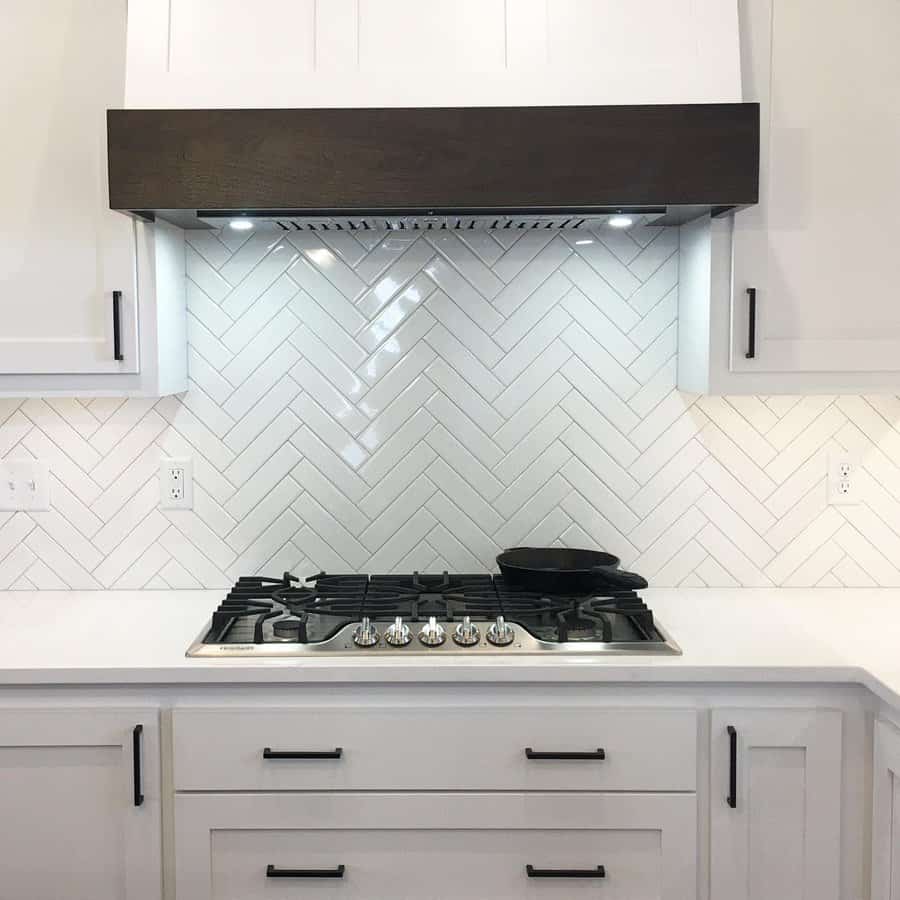 For a highly refined look, think of a marble backsplash!
You can extend your marble countertop to the backsplash in one accent wall, or half wall, to make it a focal point in the design.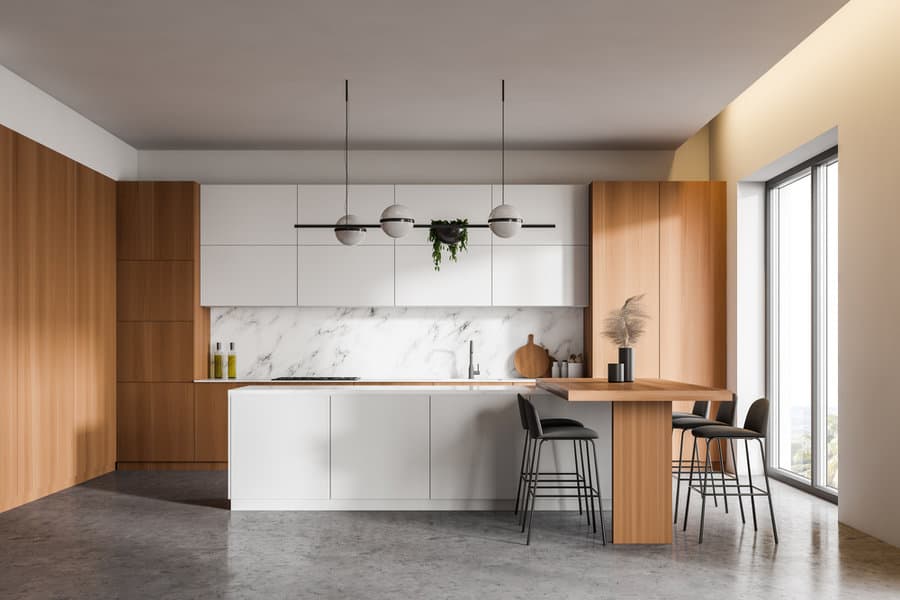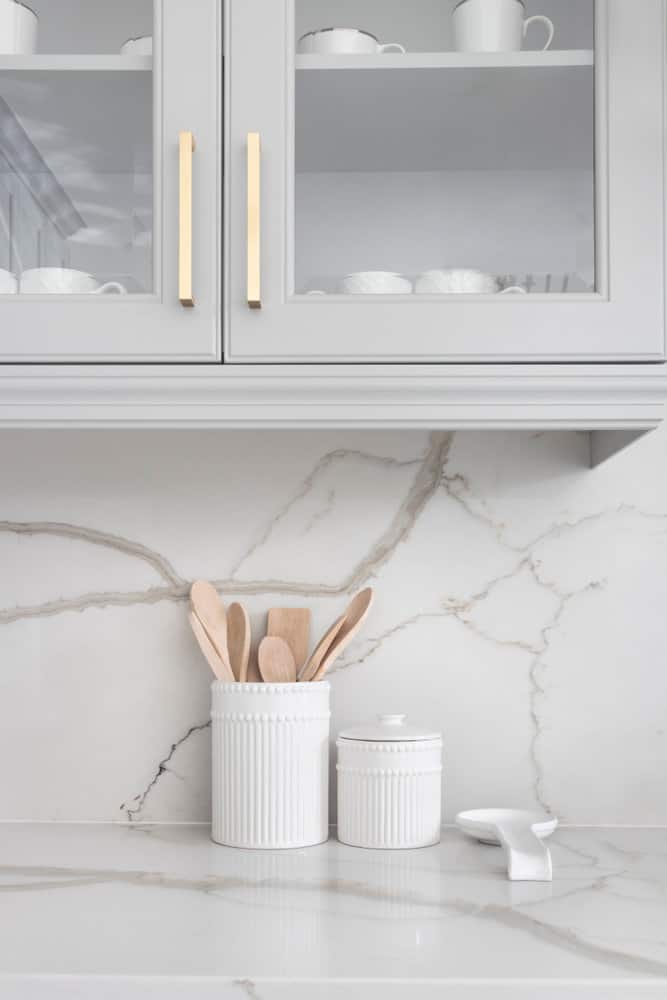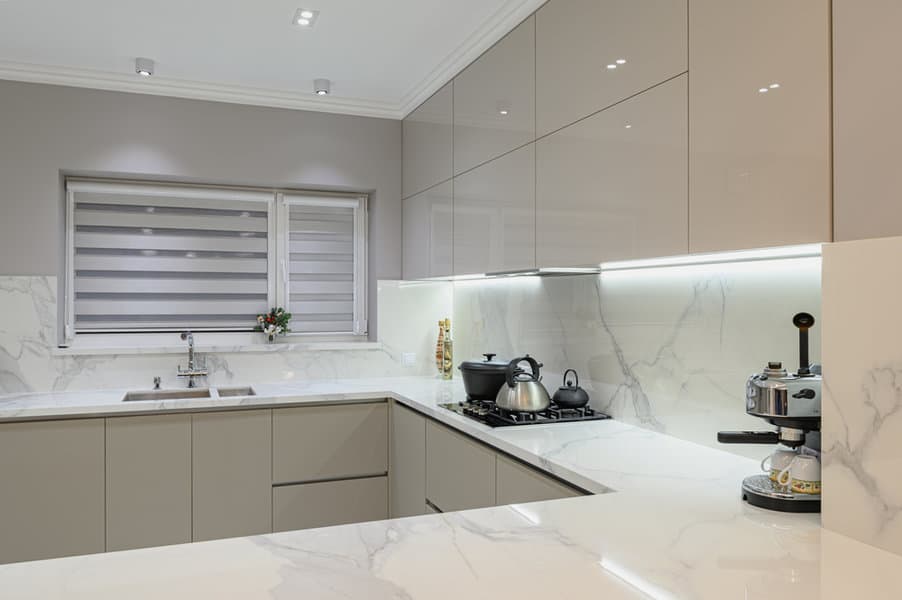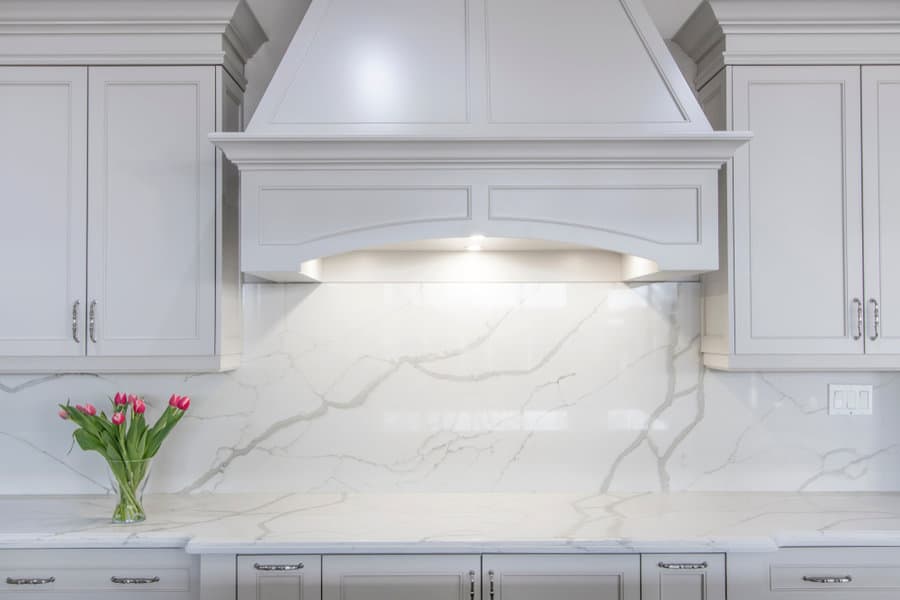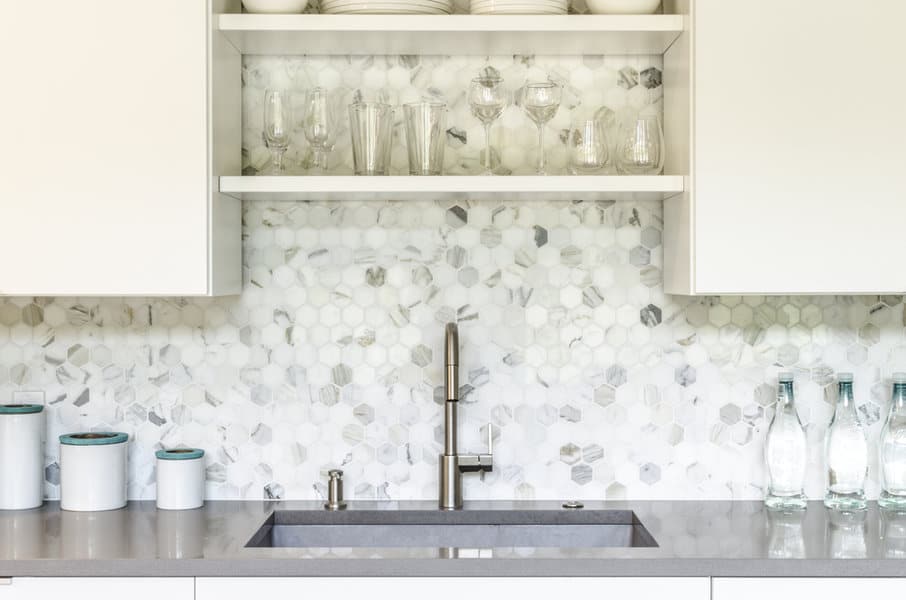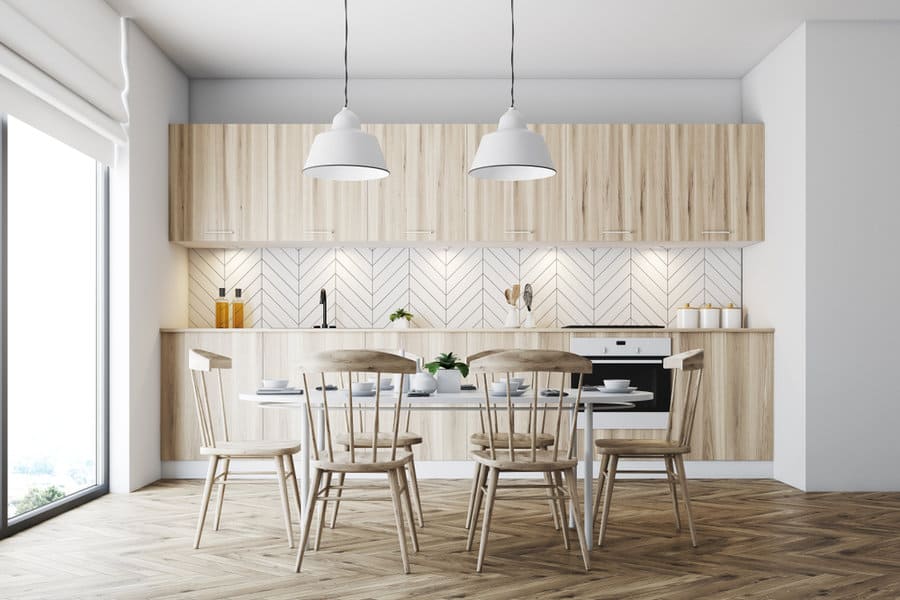 4. Marble
Marble is always an elegant option. It is timeless, and perfect for backsplash, kitchen islands, and countertops. Maintenance is not difficult, as long as you take some precautions: coffee, soda, tea, and wine penetrate the pores of the stone, leaving a stain and often etching the surface. Be extra careful with any food or beverage that contains citrus or citric acid.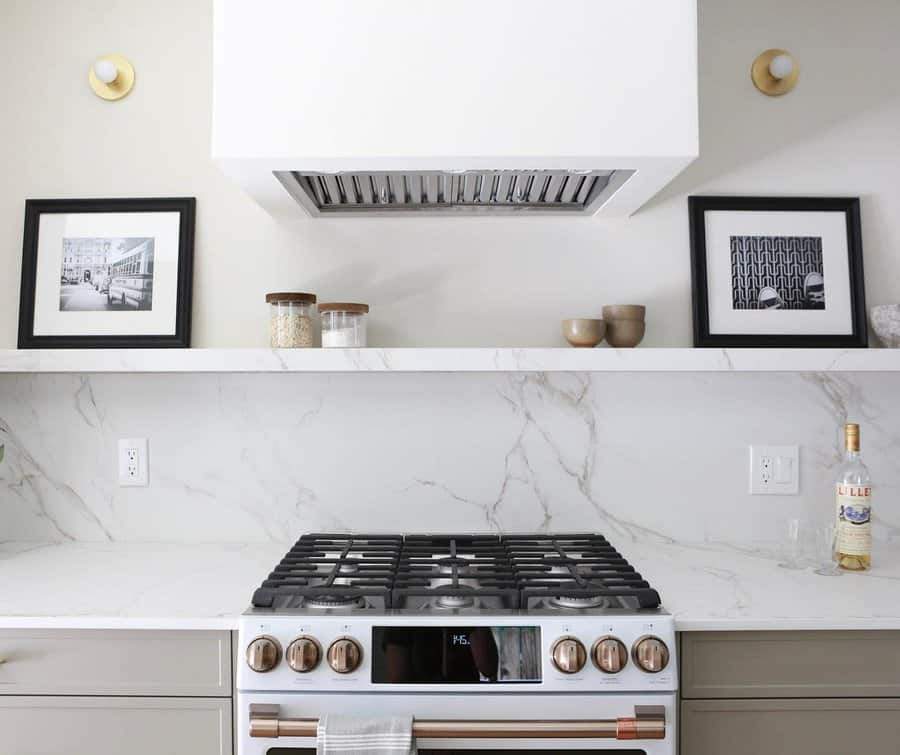 You can keep your marble countertops clean and sparkling by wiping up cooking and spills immediately and applying cleaners made for marble.
Mild dish soap and water in a spray bottle are also a good option to maintain your marble countertop clean and free of stains, but avoid using general household or bathroom cleaners that contain chlorine.
5. Minimalist
White finishes can be explored in different ways for a minimalist, clean style. Plain white finishes don't necessarily mean boring… You can apply black grout to your subway tiles, to give it an interesting look.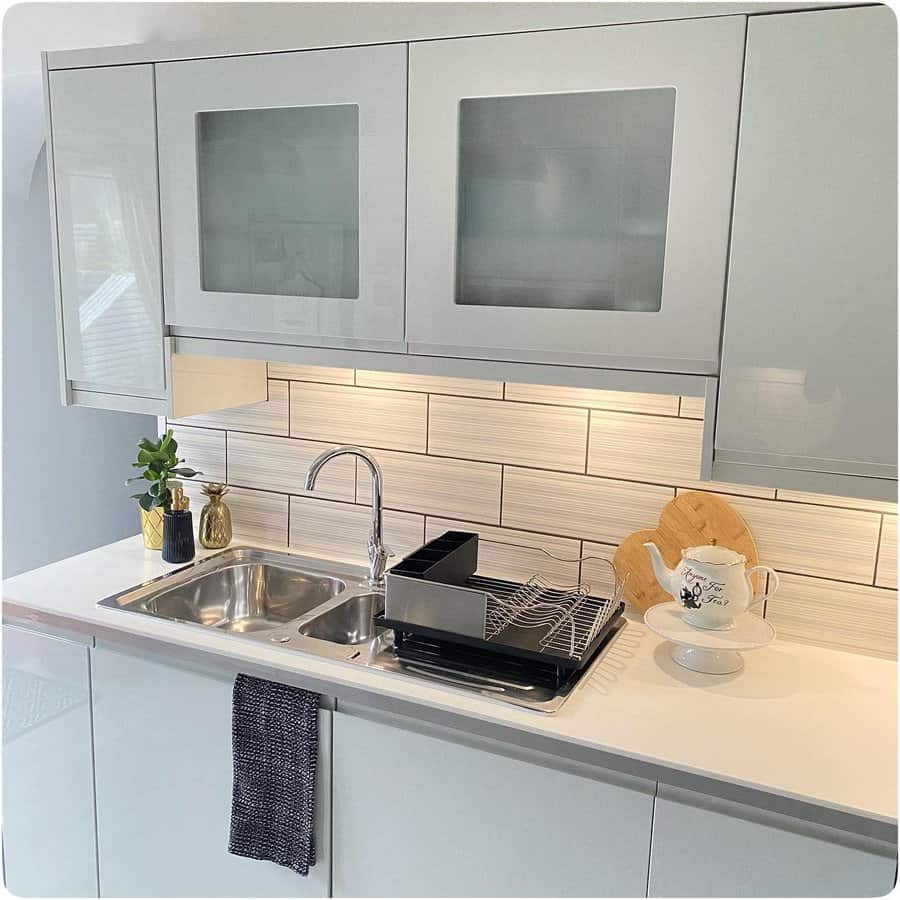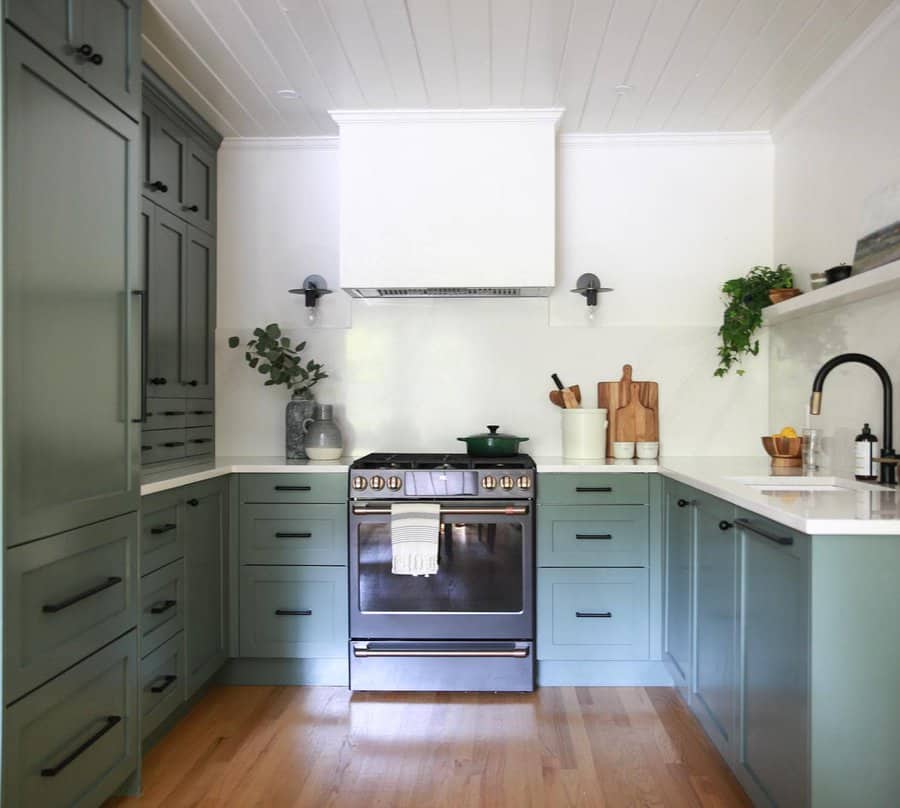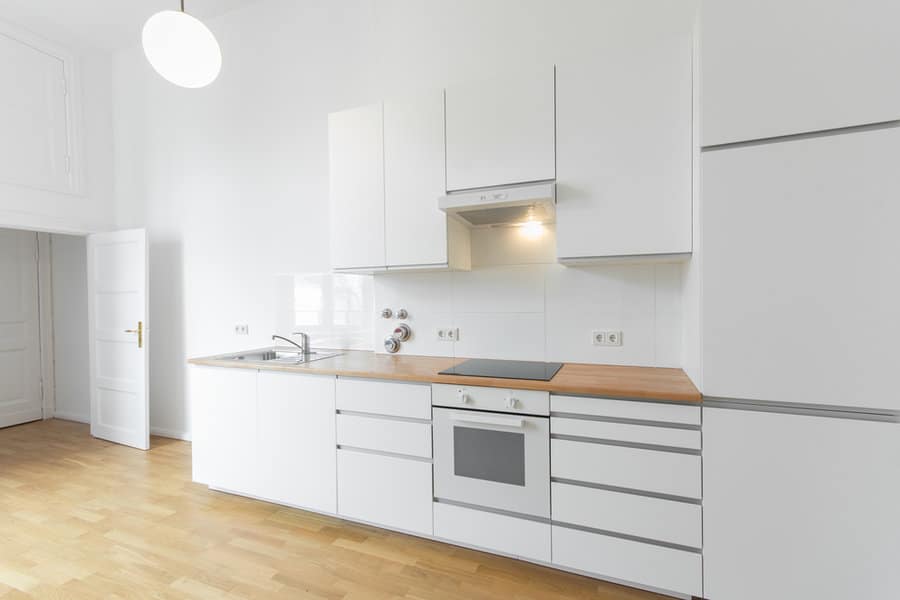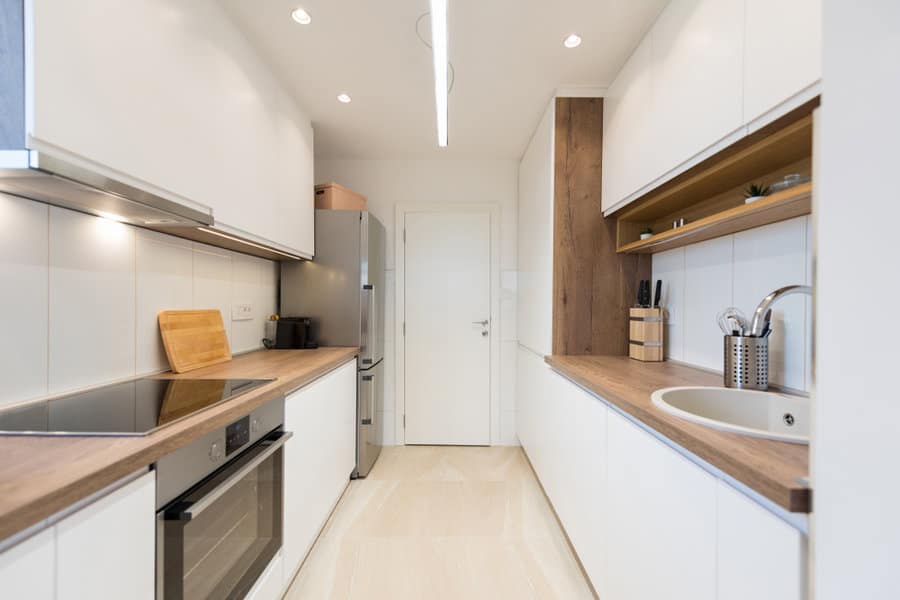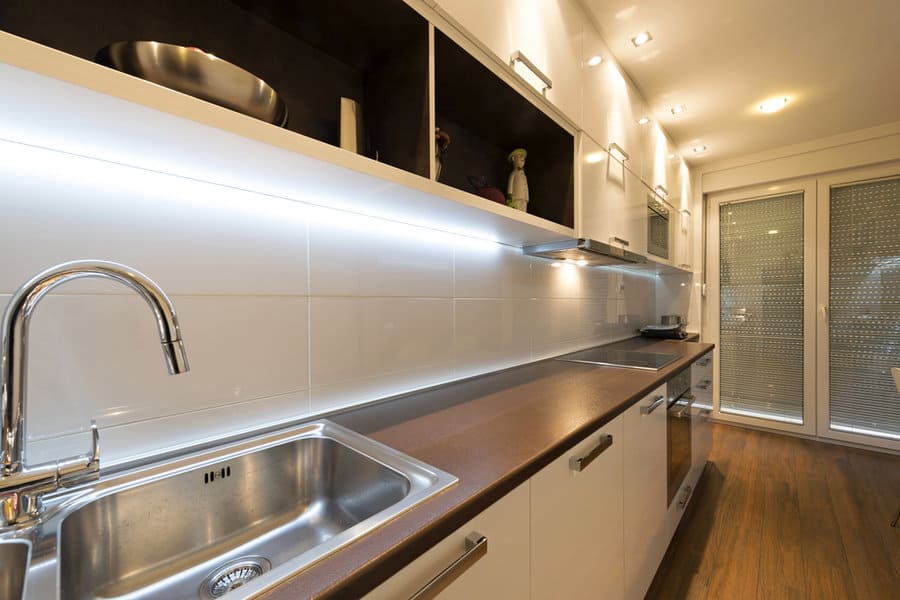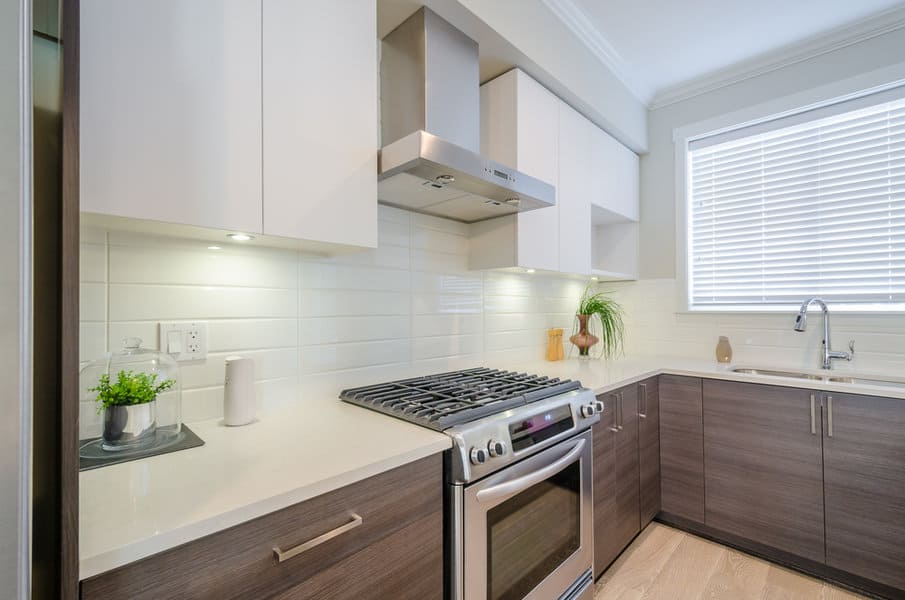 Also consider shaker cabinets for a minimalist look. They are timeless and their simple and functional design never gets old.
6. Mosaic
Mosaic tile can be the accent piece in your dream kitchen. There are countless combinations possible, making this design option extremely versatile.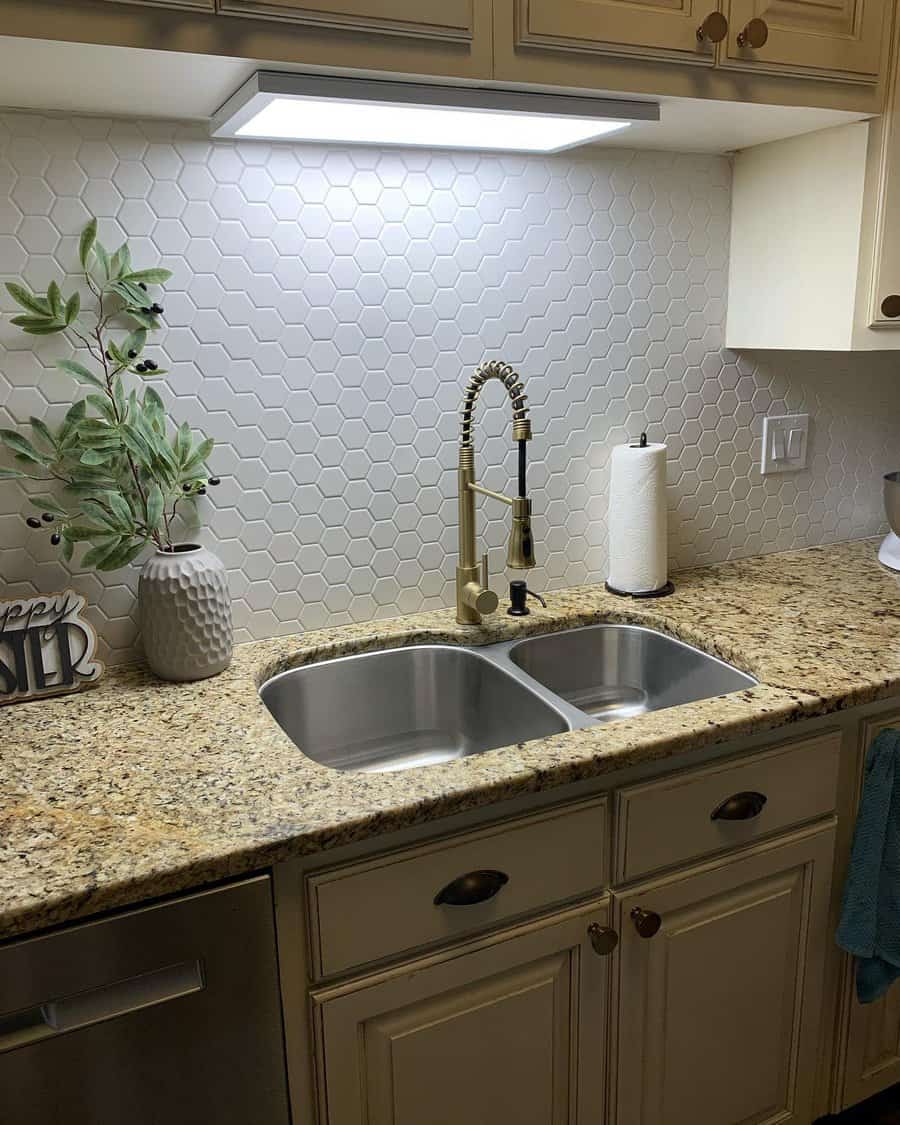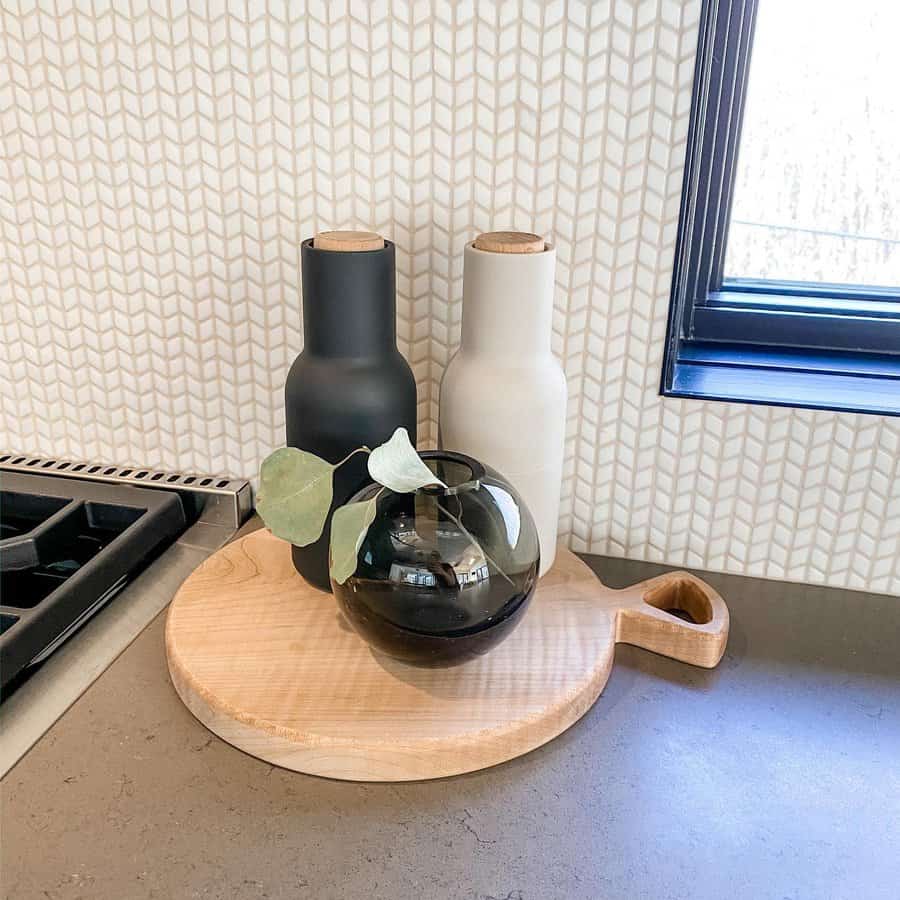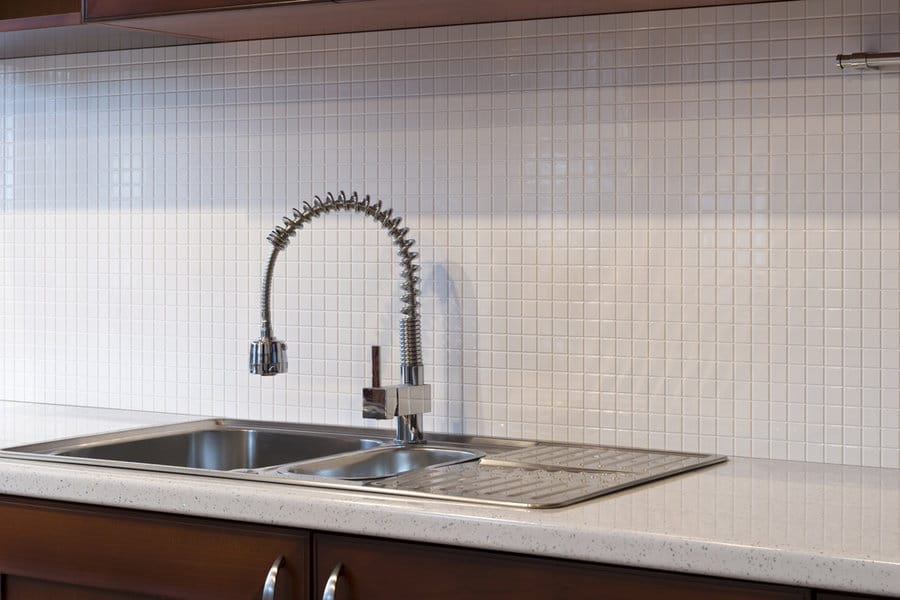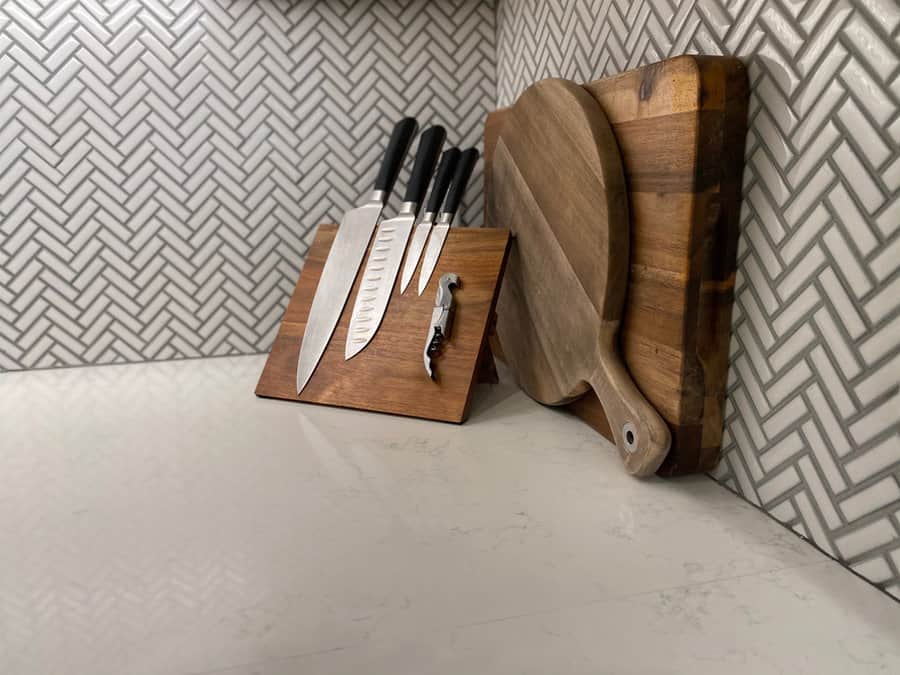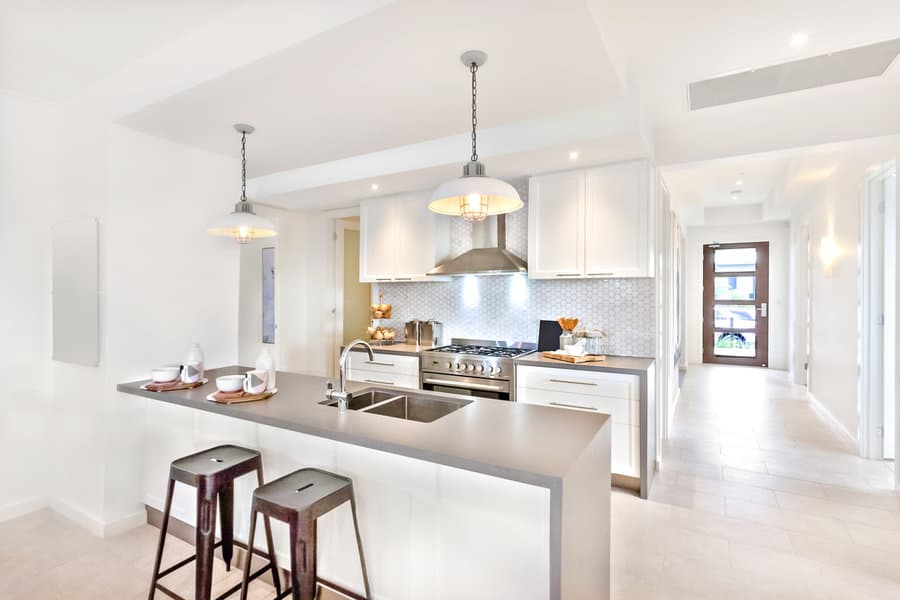 Mosaic tiles can be made from marble, travertine, glass, metal, porcelain, ceramic, and more.
7. Patterns
There are several options for tile patterns. The herringbone pattern is among the most popular ones.
You can create your own design and make it interesting, by combining a few different color tiles and creating your own pattern. Using a contrasting grout is also a good option.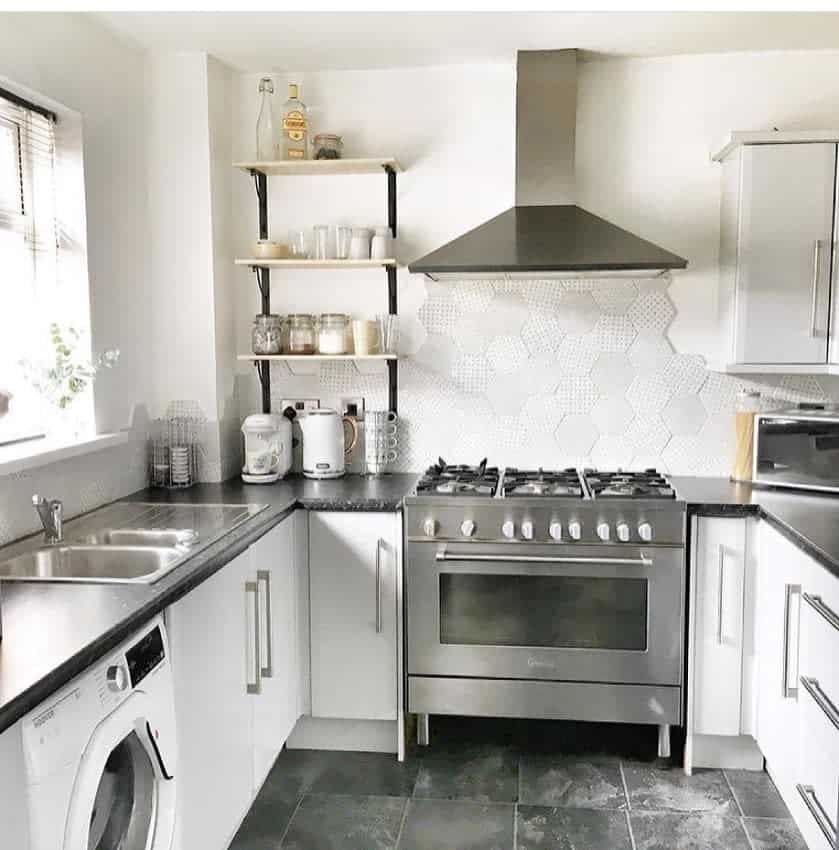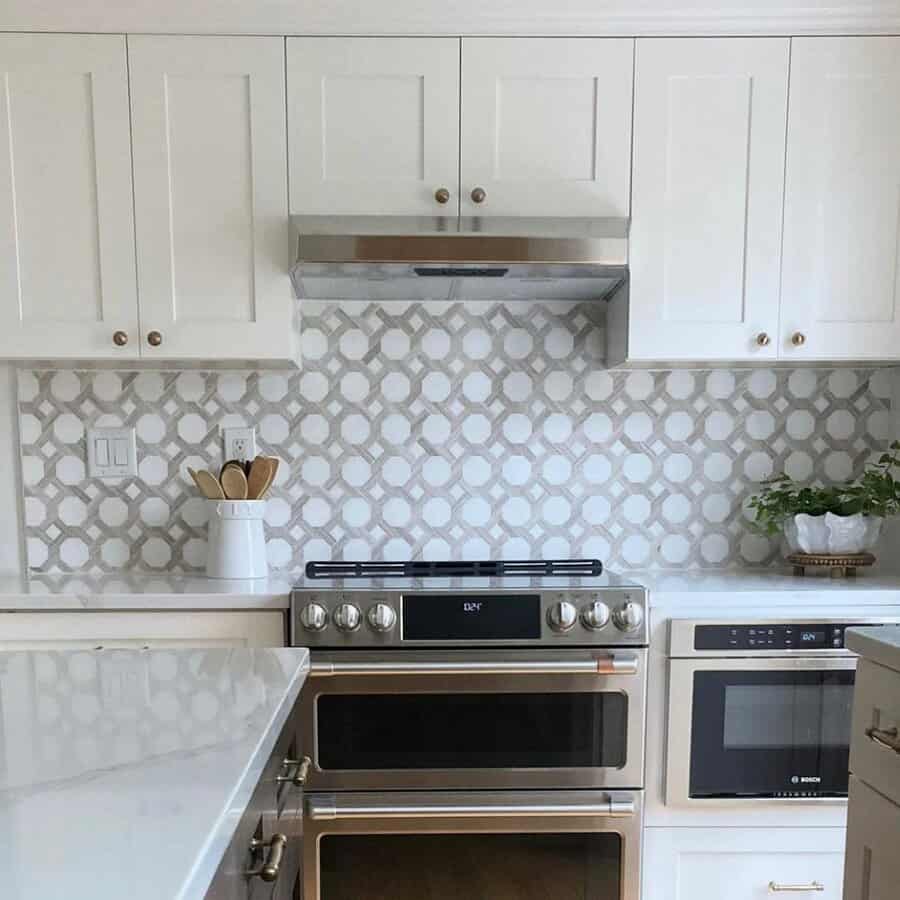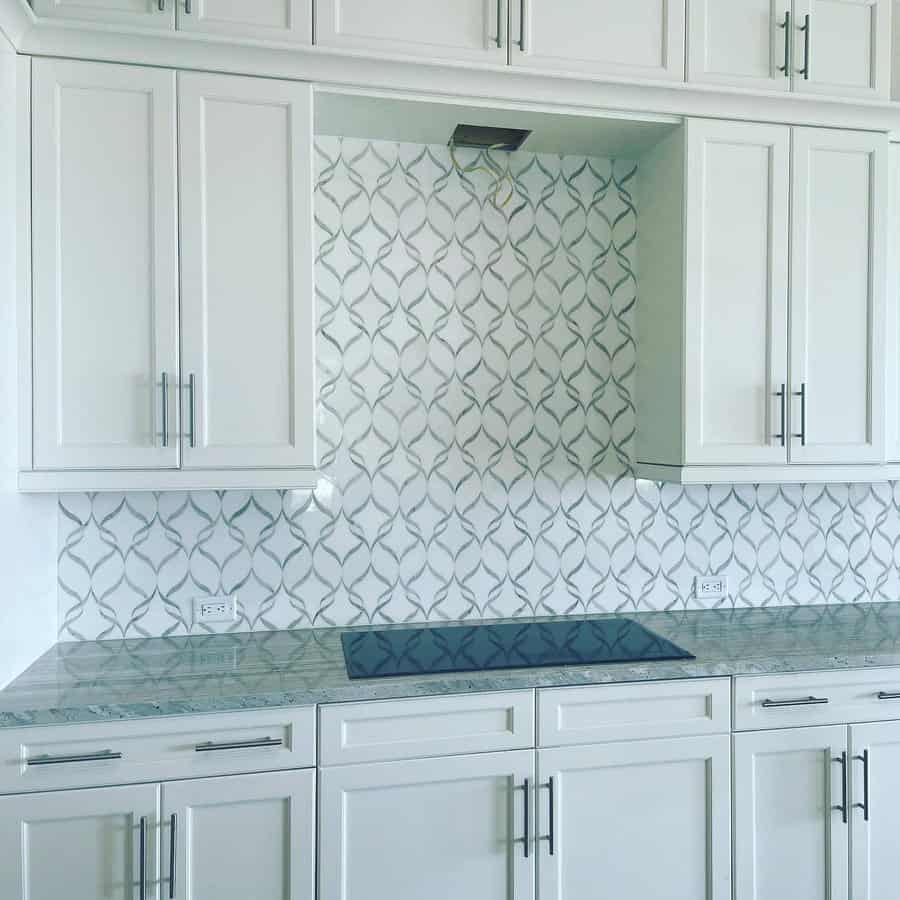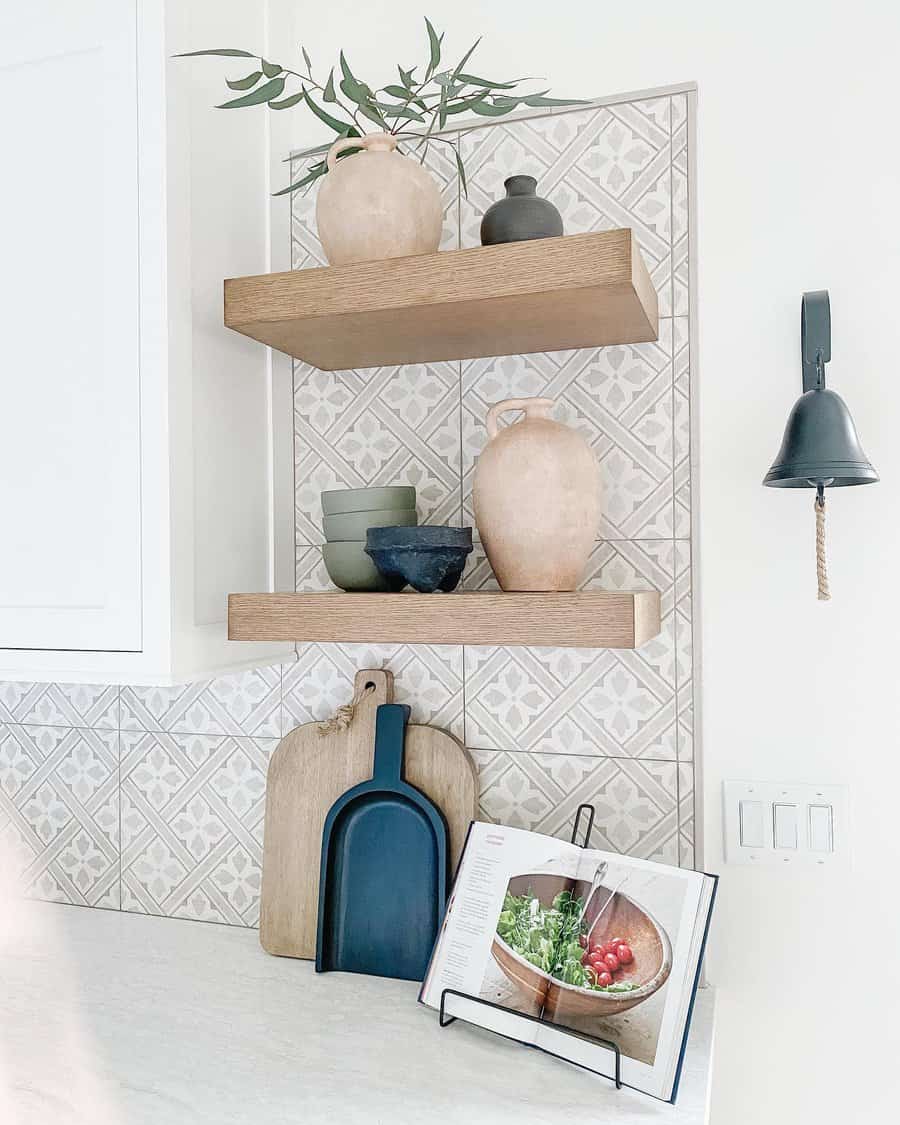 Another possibility is to make an accent wall with a pattern different from the rest of the kitchen tile. Faux brick tiles can be laid horizontally or vertically, and you can mix and match with different color tiles, for a pop of color and an exclusive design.
8. Shapes
Kitchen tiles come in different shapes and patterns and vary from standard geometric shapes like the classic hexagon tiles, to chevron, herringbone, round or diamond-shaped tiles, for a contemporary look.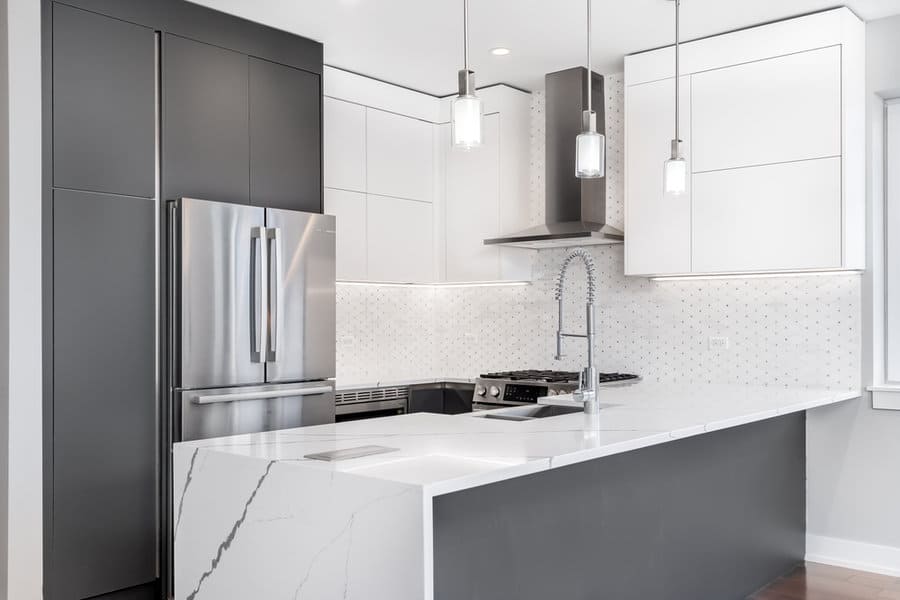 9. Shiplap
Shiplap paneling is very trendy nowadays! It is a versatile, easy-to-install option, which can be painted to match your kitchen design.
Shiplap boards are generally used for barns and sheds but have become a very popular design option, especially considering that it is a very affordable material, less expensive than most backsplash tiles.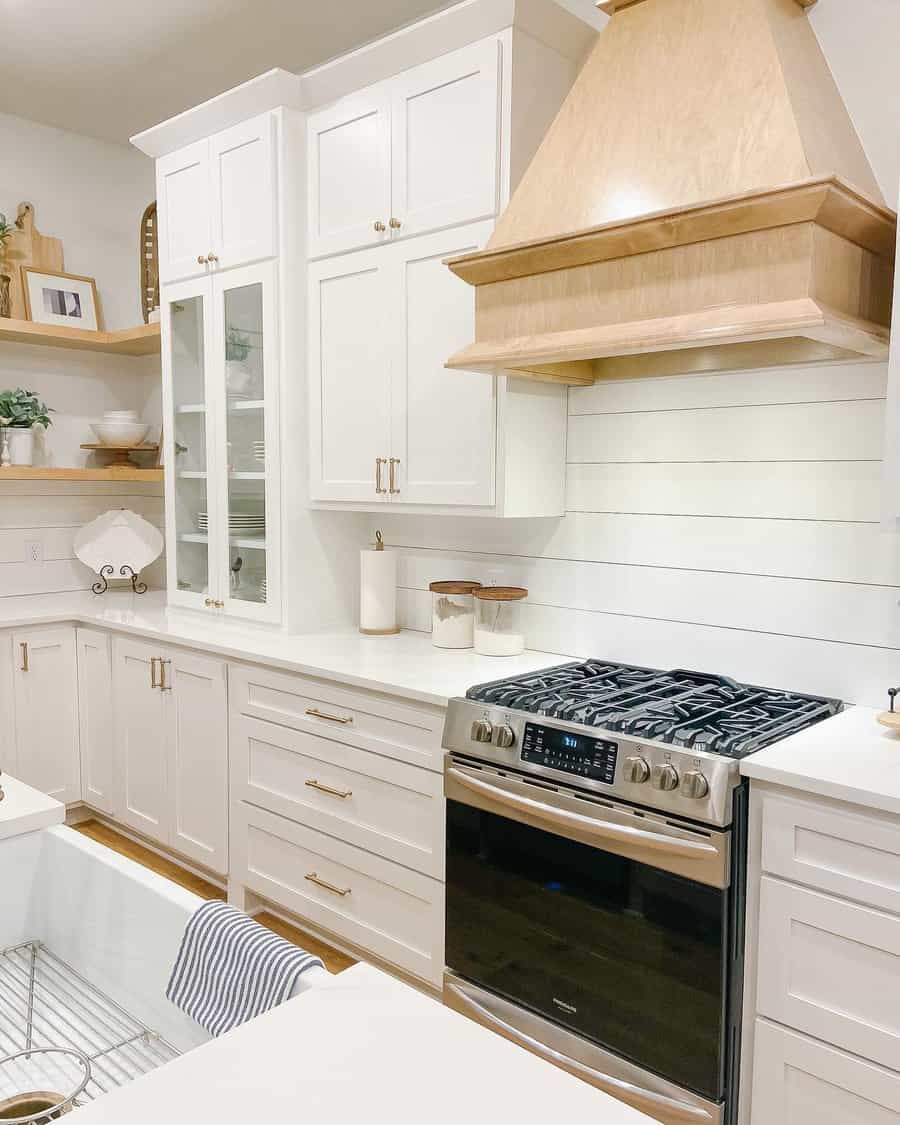 Shiplap backsplash can be applied horizontally, but also vertically, to add interest to the walls and give the kitchen a farmhouse style. Any kitchen remodeling is costly and takes up time, so maybe shiplap is the ideal option for practicality and cost-effectiveness.
10. Square
4×4 square tiles are quite traditional, and you will find them in older houses since they were quite popular in the past!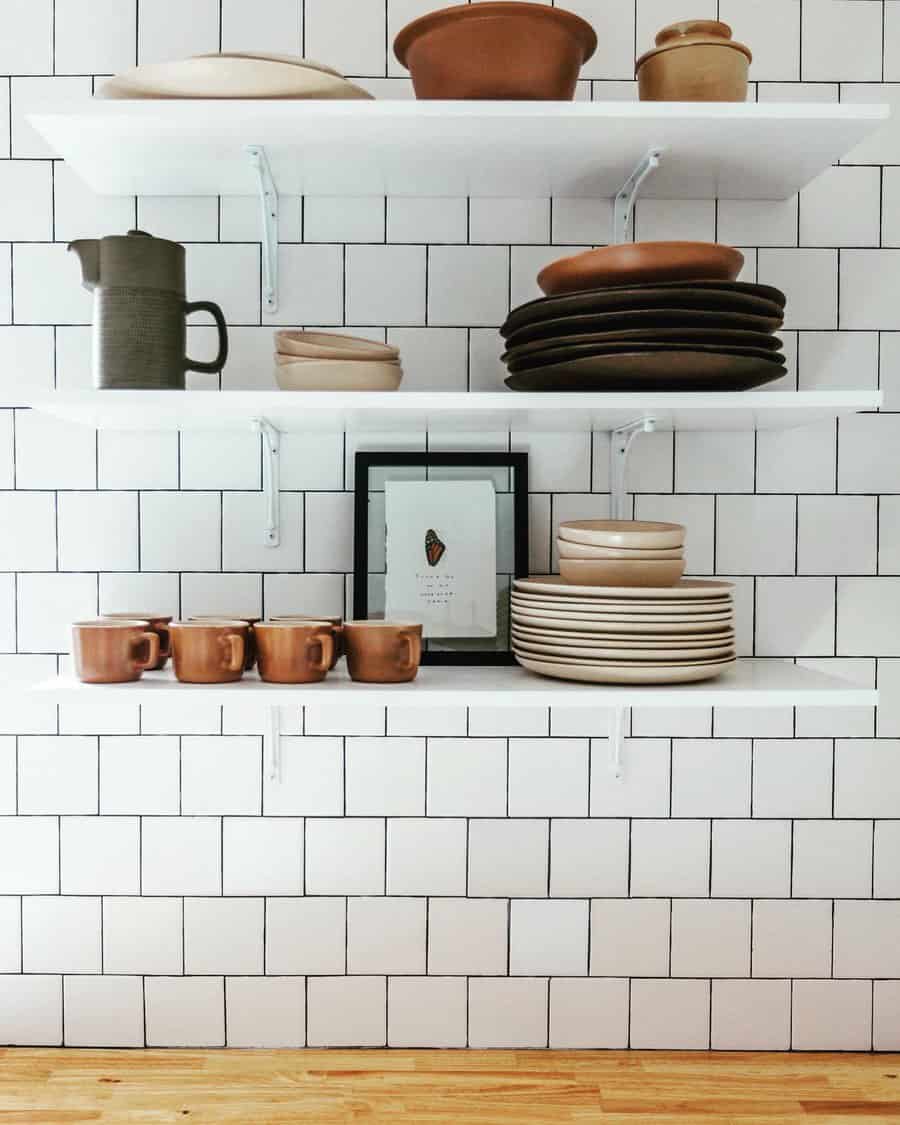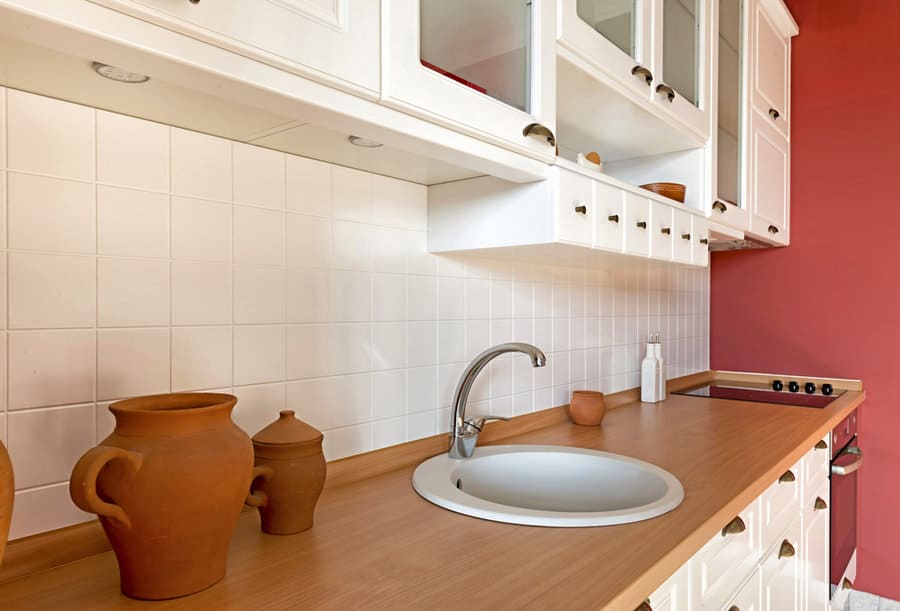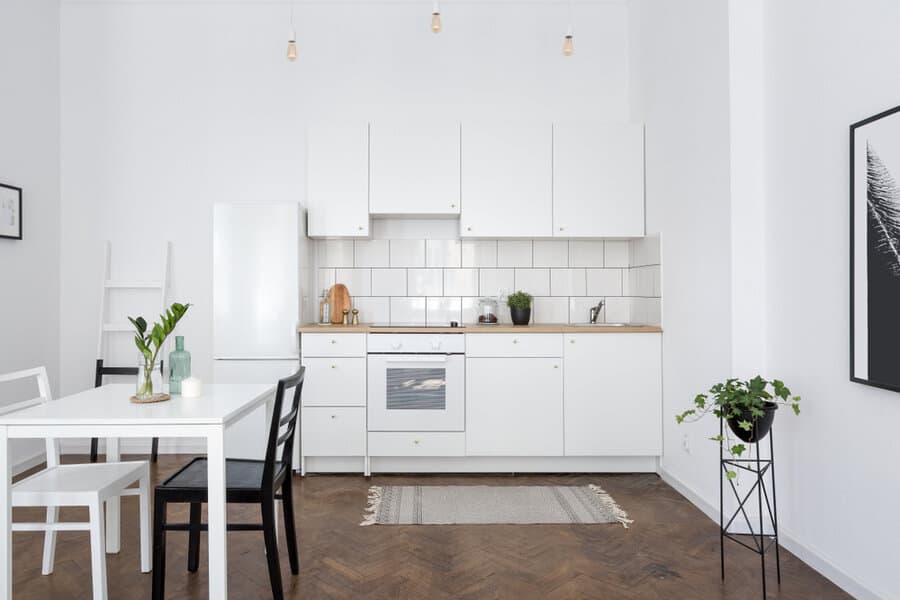 But you can give square tiles a modern and edgy look, by using colored grout.
Another possibility is to apply them in a diagonal pattern. This will make your tiles look bigger, and the room feels larger.
11. Subway
Subway tiles are back in fashion, and no matter your kitchen design, subway tiles are a safe bet. Inspired by the New York subway stations, they have been on the rise since the early 1900s and are still trendy.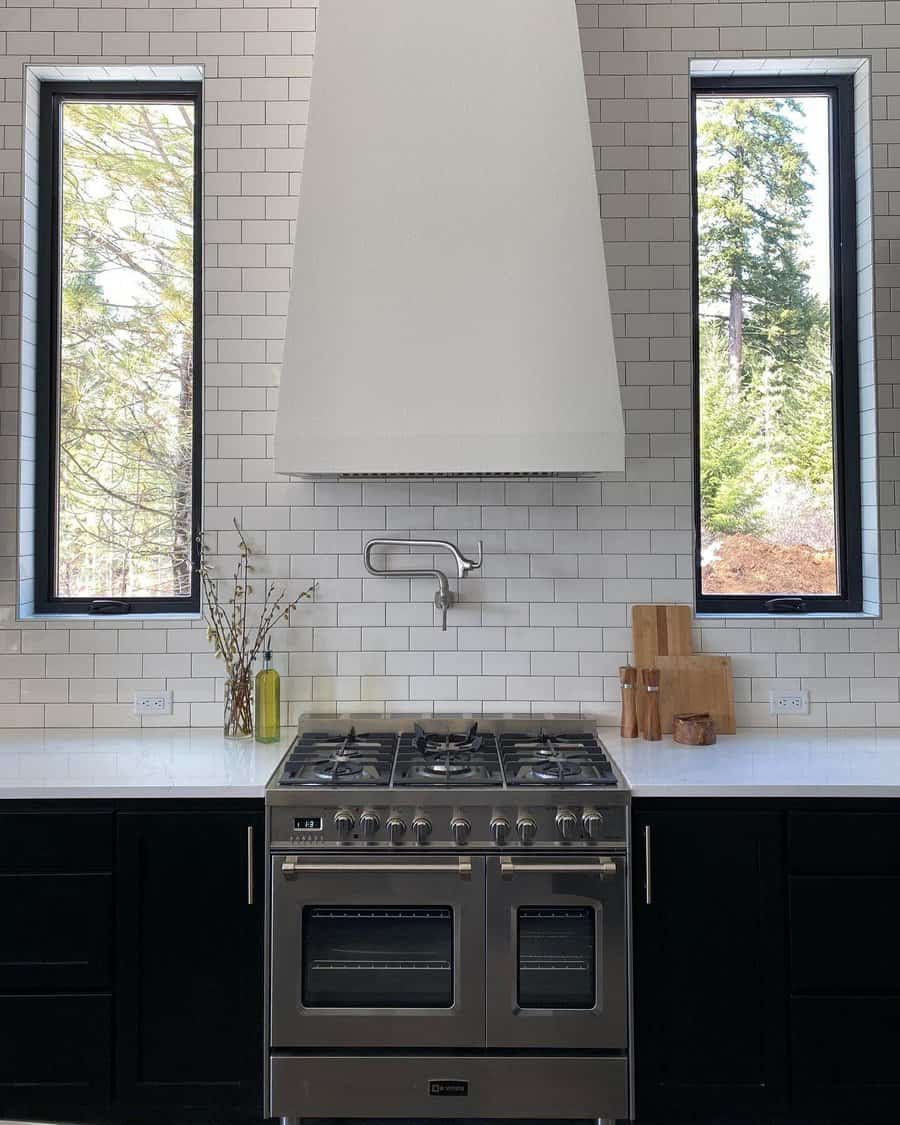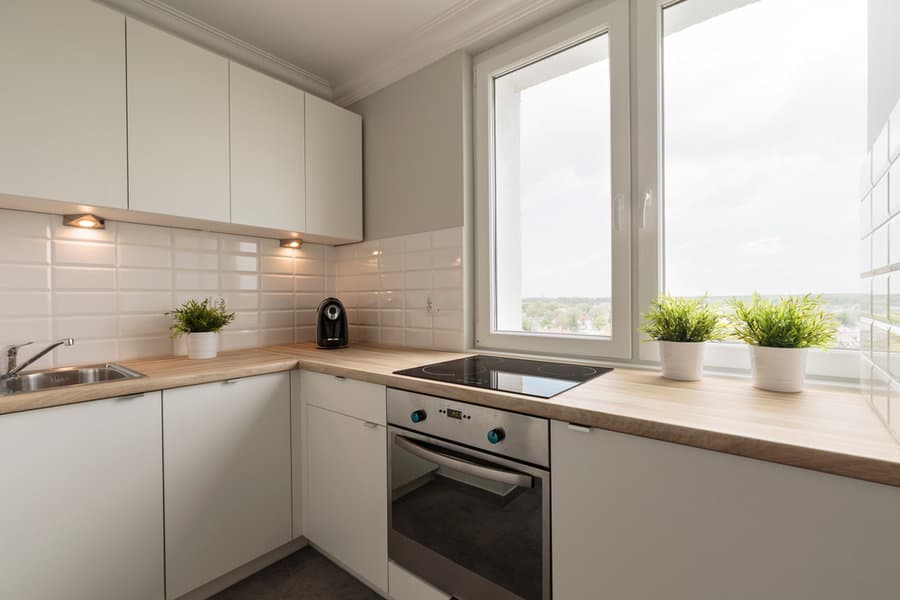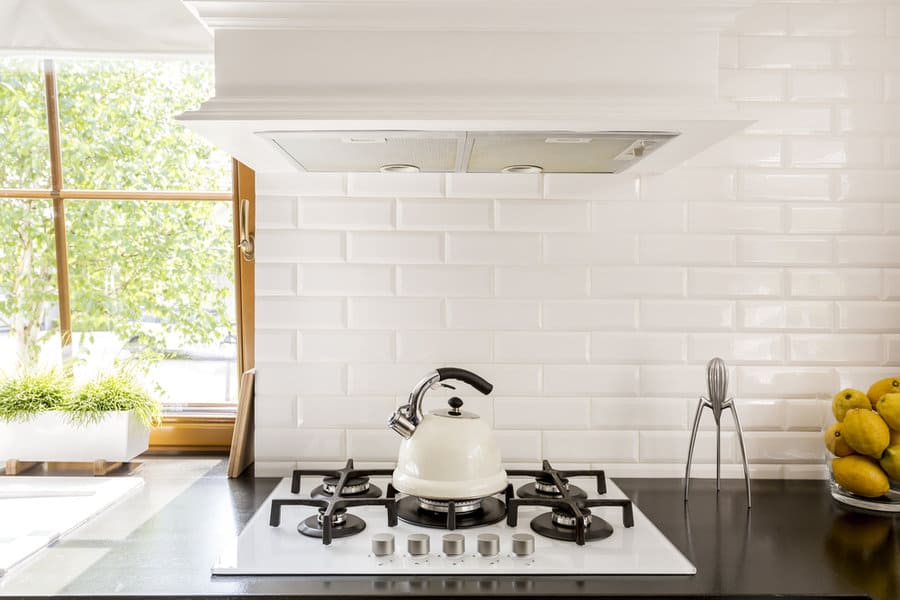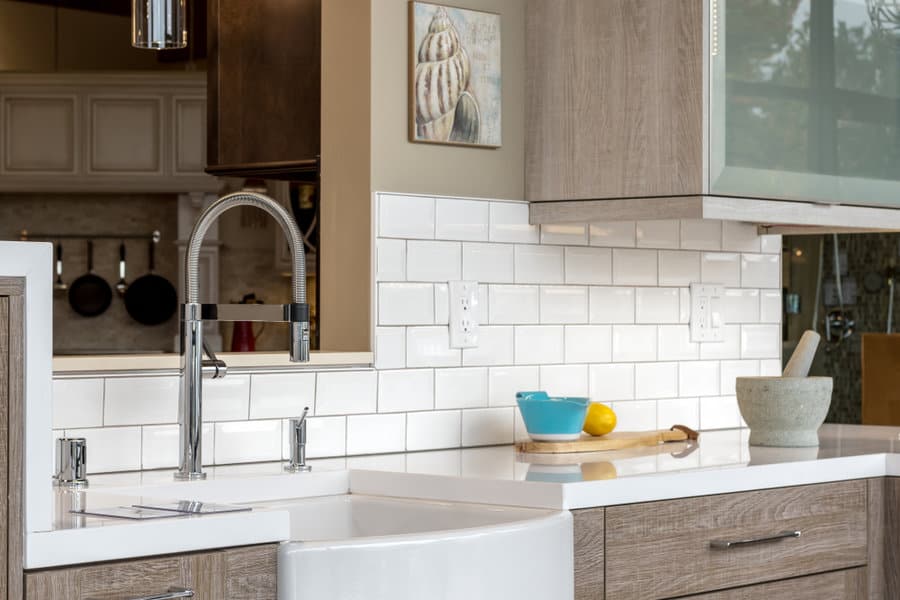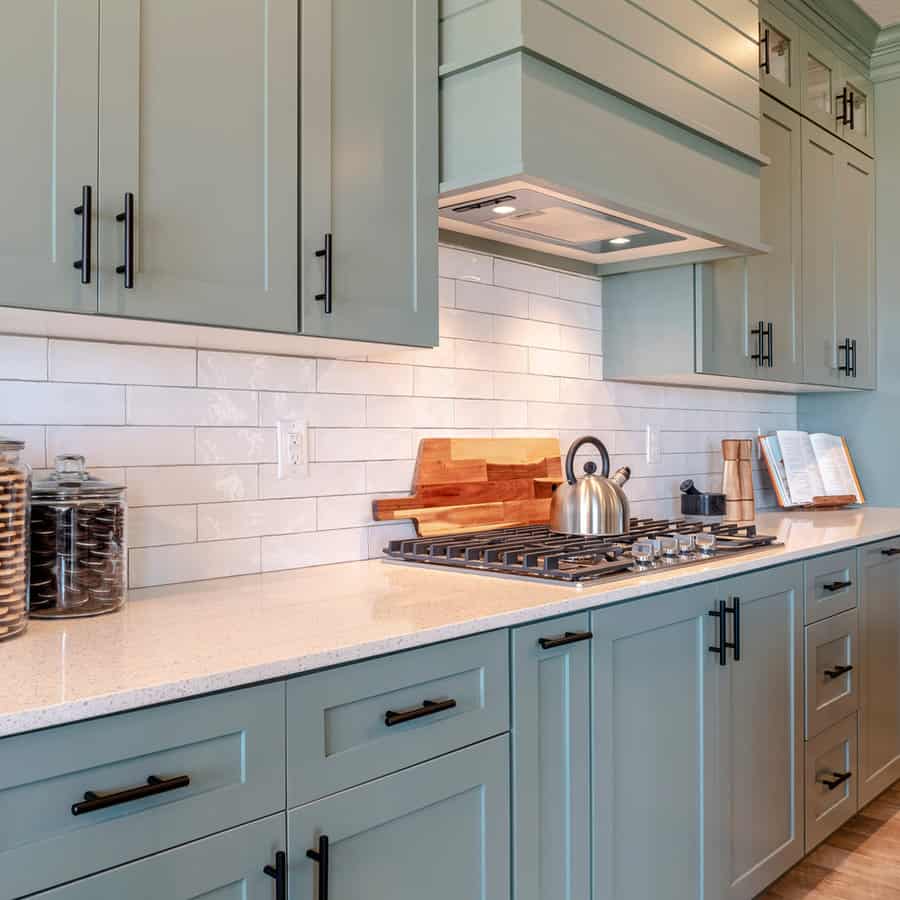 Their simple, rectangular shape offers symmetry and balance, while, at the same time, allows for your creativity to run wild, by adding colored grout and bold colors to your kitchen design.
Subway tiles are normally laid horizontally, but they can be laid out in nontraditional manners, such as the herringbone design pattern, or vertically. Subway tiles are an affordable option, especially compared to other materials on the market, like stones or glass. They come in a great variety of colors and textures, so the options are countless.
12. Textured
A textured wall is a statement piece by itself. Textured tiles add interest to the room, by having a 3D quality. It creates a sense of movement that adds dimension to your kitchen.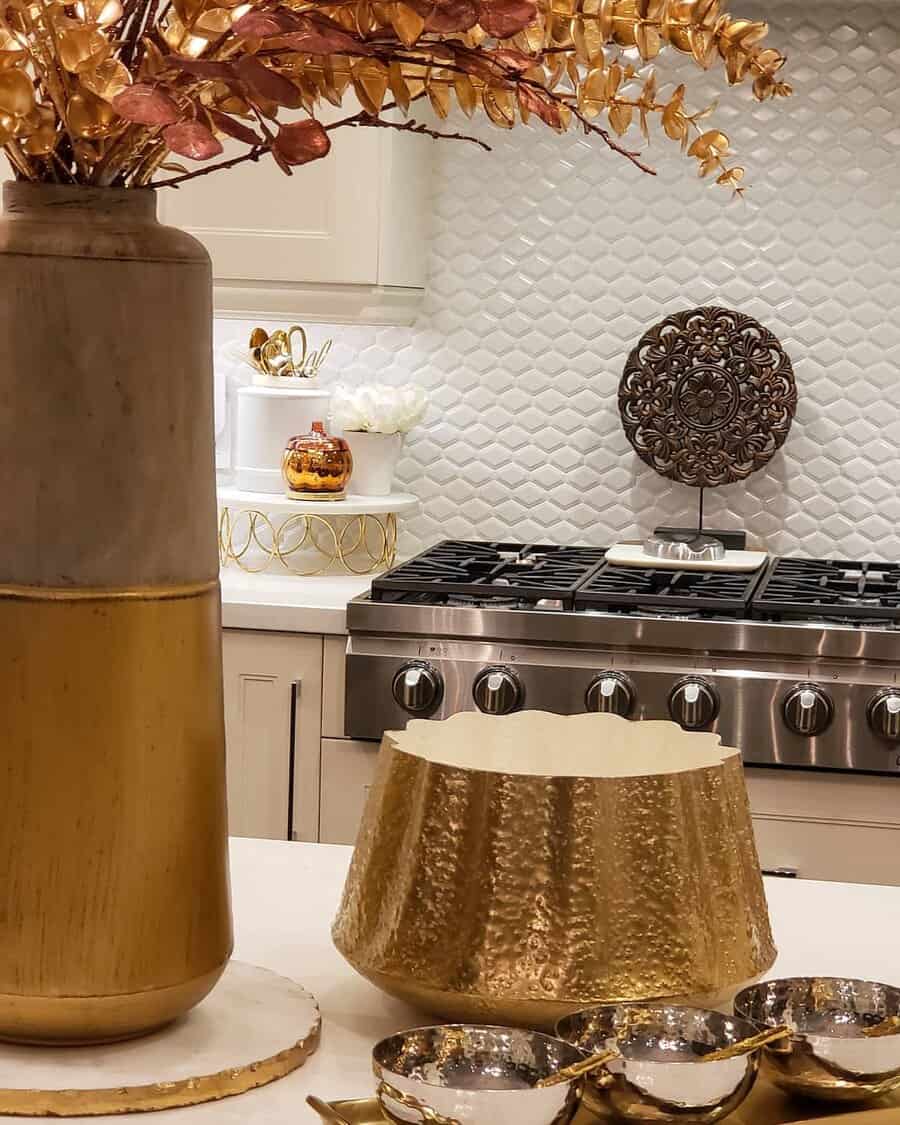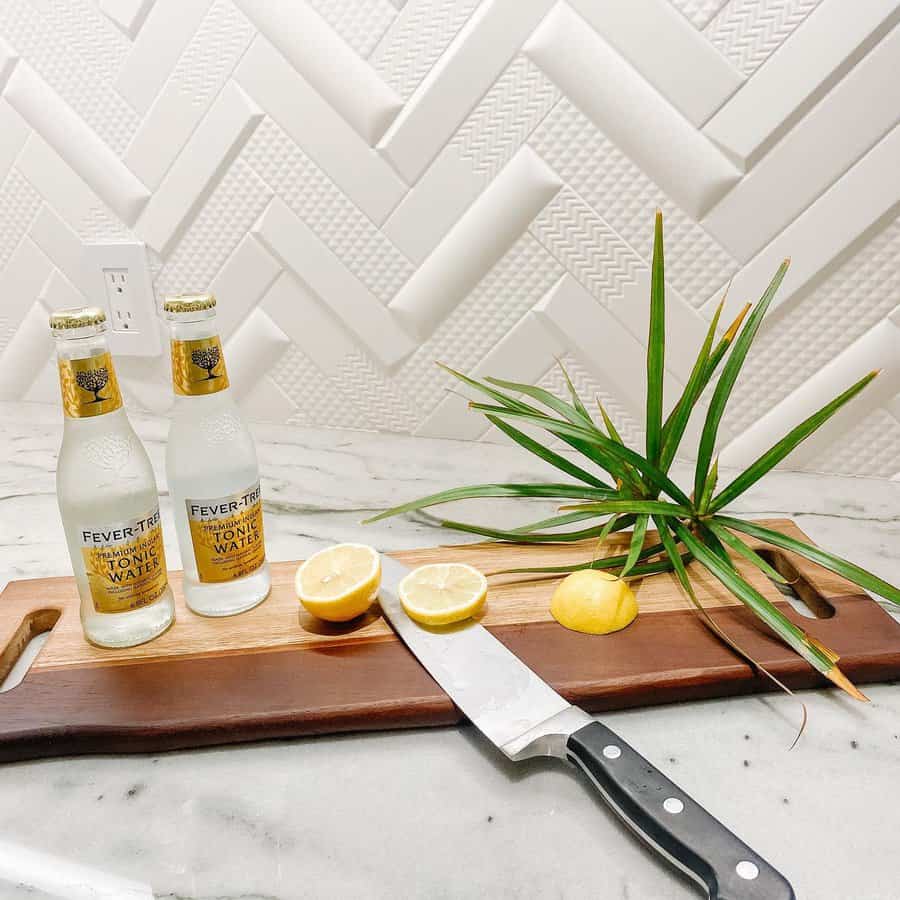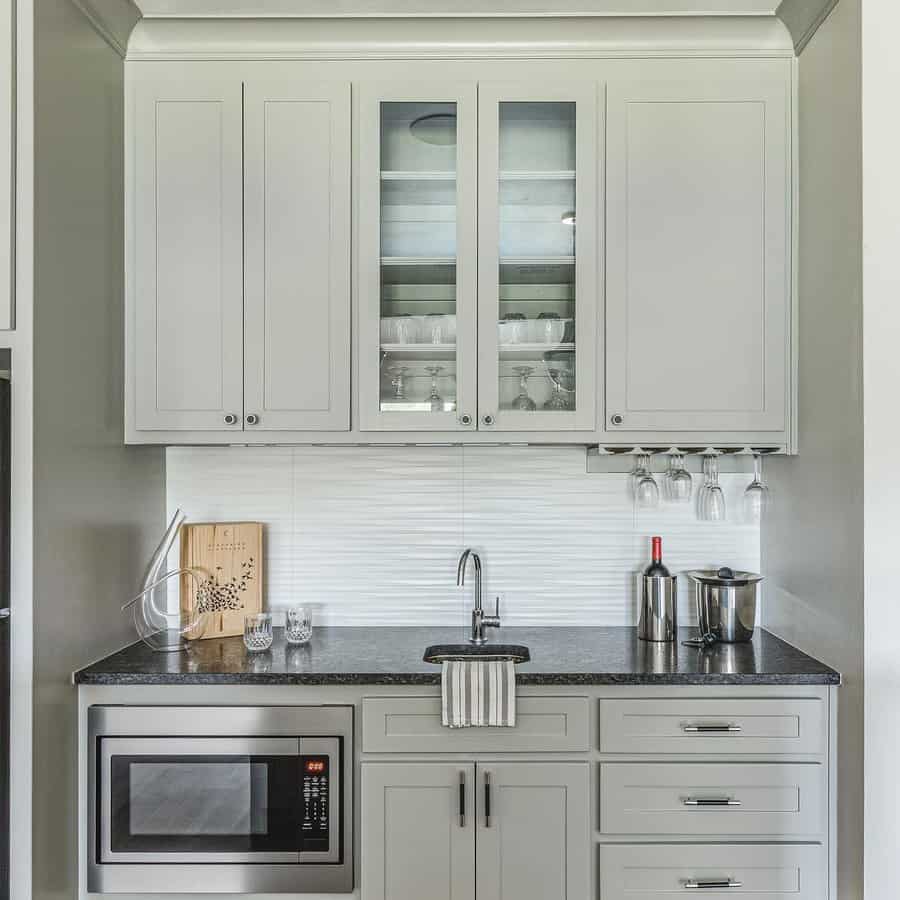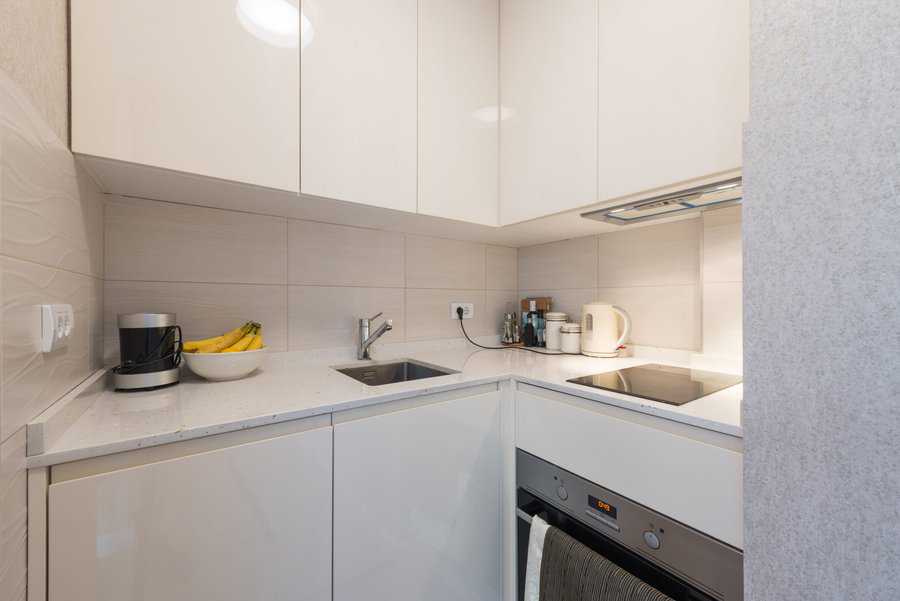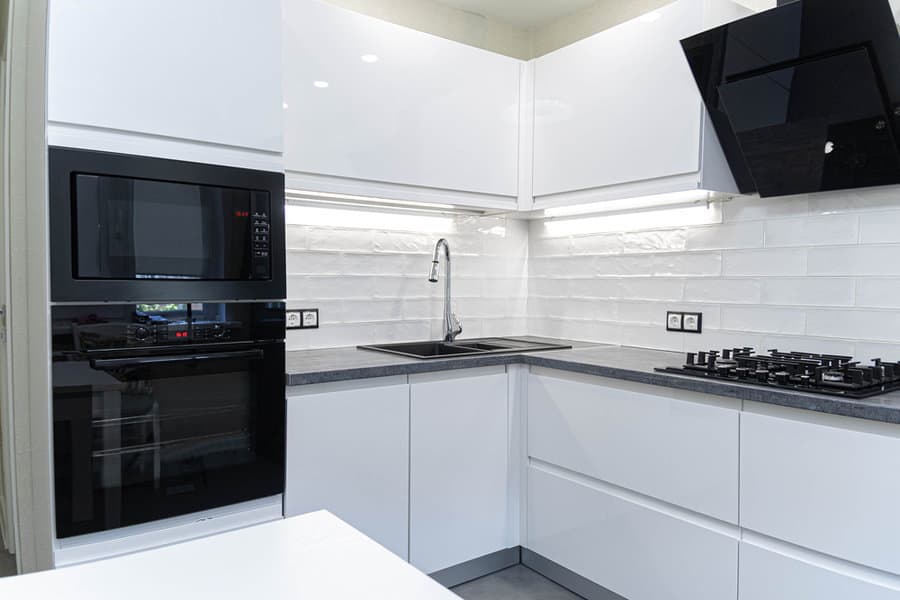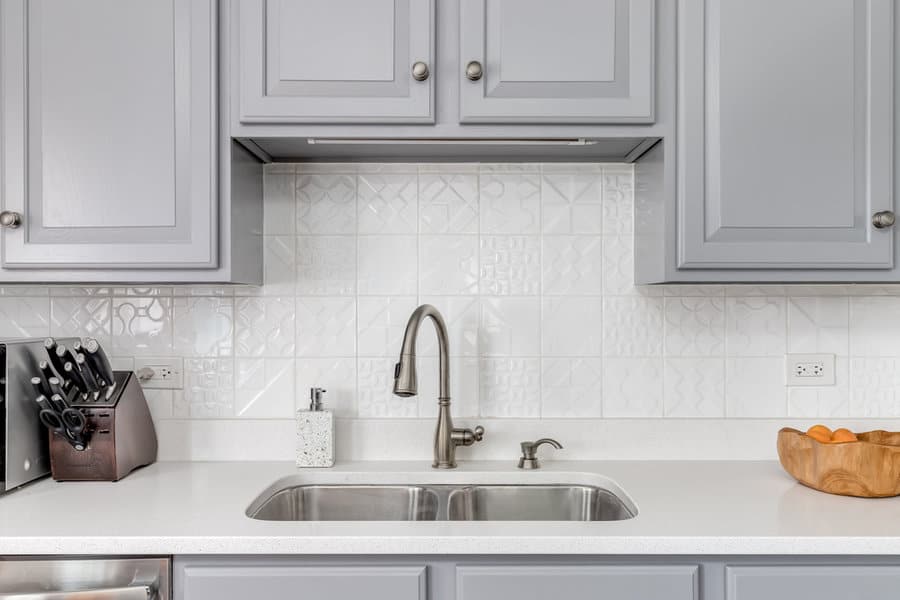 If you are remodeling your kitchen, take the time to choose the perfect textured tile for your design, since they come in a wide variety of materials, colors, shapes, and patterns.
FREQUENTLY ASKED QUESTIONS
What is the price of shiplap tiles?
You can find them at very affordable prices, varying from #3 to #10 per square foot, depending on the material you choose.
Are shiplap tiles easy to maintain?
Like any wooden material, you will need to apply a protective finish coat, in order to prevent food stains and grease and moisture damage. If you take such precautions, it will be very easy to maintain. Another advantage is that it can be repainted whenever necessary.
How to prevent stains in white backsplash?
To protect the backsplash from damage, you can apply a sealant both to the tile and grout. It is water-resistant, and you can reseal it from time to time.
What is the best option for a kitchen backsplash?
Ceramic tile is perhaps the most popular choice for kitchen backsplash. They come in a variety of shapes and colors and can be laid out in different patterns. Porcelain tile is also a good option, because, like ceramic tiles, is nonporous and resists stain.
Another advantage is that they require no special cleansers, any household cleaners will do the job!