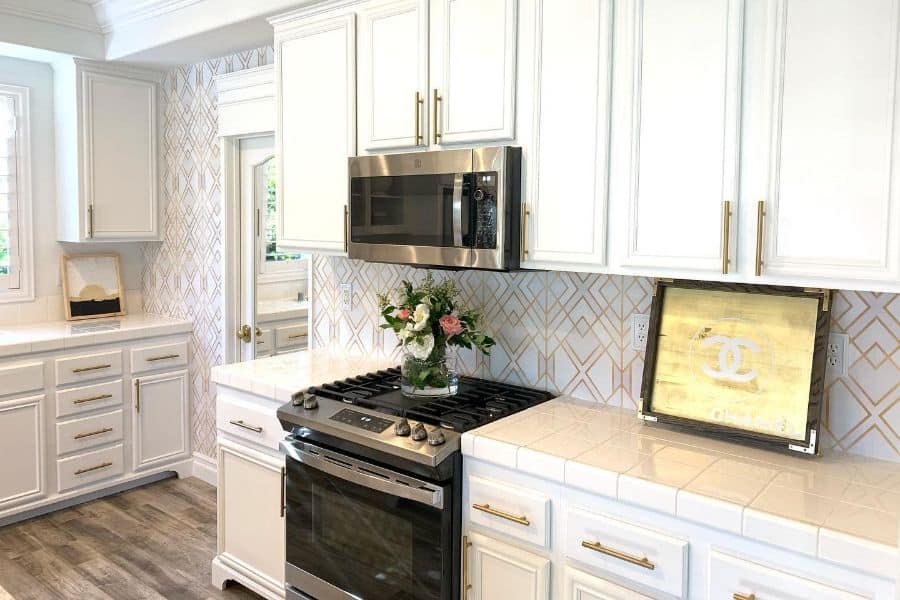 The Top 68 Kitchen Backsplash Ideas on a Budget
"The kitchen is where you put all the ingredients together. No matter what you do in life, you have to have a plan and put it together." – Yo Gotti
A kitchen backsplash may feel like an afterthought, but it's an essential ingredient in creating a well-designed kitchen. Bare walls can be stained magnets in a busy kitchen, but most backsplash materials are easy to clean. They also are a simple way to add a splash of color and style to your kitchen.
Whether you choose concrete, tiles, paint, or wood, it's possible to create a beautiful kitchen backsplash without breaking the bank. Scroll through our best budget-friendly kitchen backsplash ideas and see how much pizazz an affordable backsplash can add to your home.
1. Chalkboard Paint Backsplash
A chalkboard paint backsplash allows you to jot down grocery lists, write recipes, or even showcase your children's artwork. It's a fantastic way to create a child-friendly kitchen where little ones can unleash their creativity while you prepare delicious meals. With a few coats of chalkboard paint applied to your backsplash area, you can effortlessly change the look and feel of your kitchen whenever inspiration strikes.
Let your imagination run wild, adding fun and personality to your culinary haven. Whether you're doodling, writing inspiring quotes, or simply keeping track of your to-do lists, the chalkboard paint backsplash is an affordable and versatile option that brings charm and practicality to your kitchen.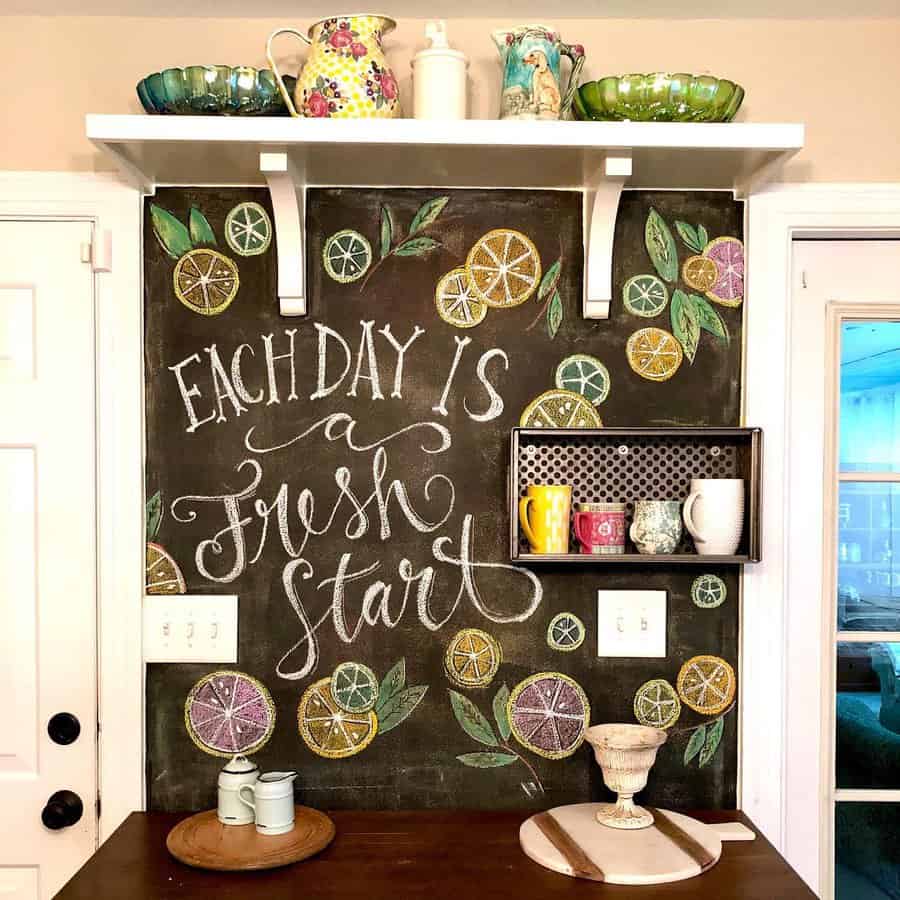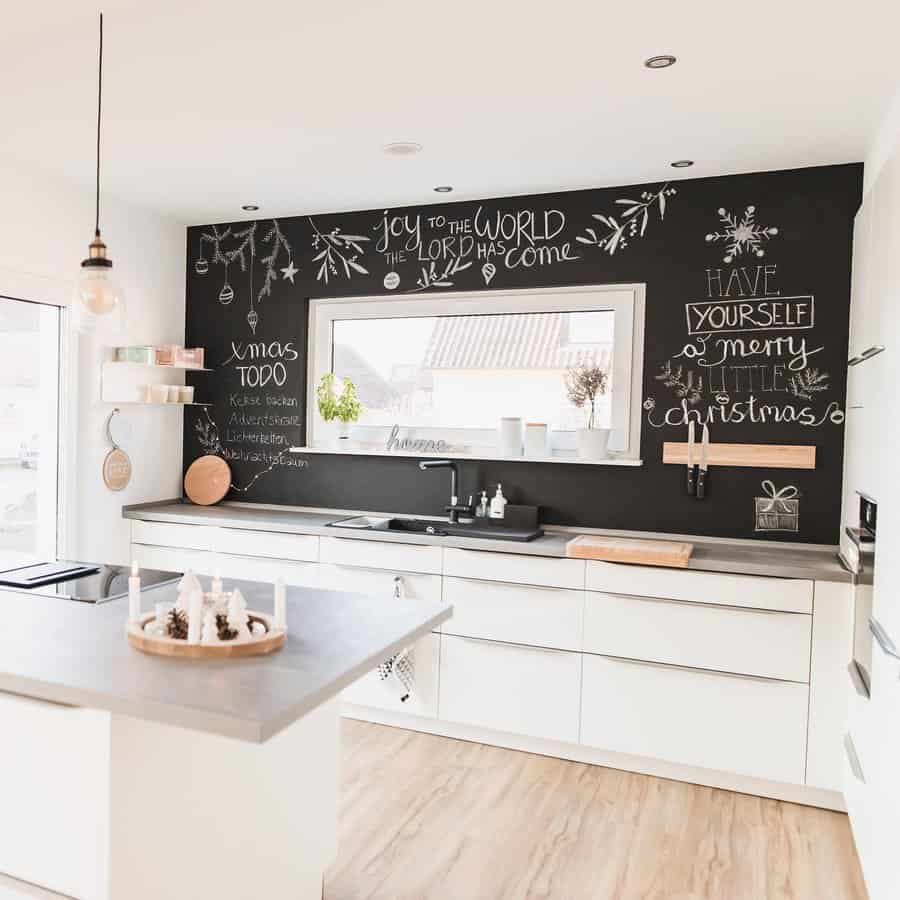 2. Concrete Backsplash
Consider a concrete backsplash for a modern and industrial touch. Polished concrete can lend a sleek and sophisticated look, while limewashed concrete adds a rustic and organic charm. With its versatility and durability, a concrete backsplash not only protects your walls but also creates a visually striking focal point in your kitchen.
Embrace the raw beauty of concrete and let it serve as a backdrop for your culinary creations. You can even customize the color and texture of the concrete to suit your design preferences, making it a truly unique and affordable option.
Whether you're going for an urban loft aesthetic or a farmhouse-inspired vibe, a concrete backsplash is a budget-friendly choice that brings character and style to your kitchen.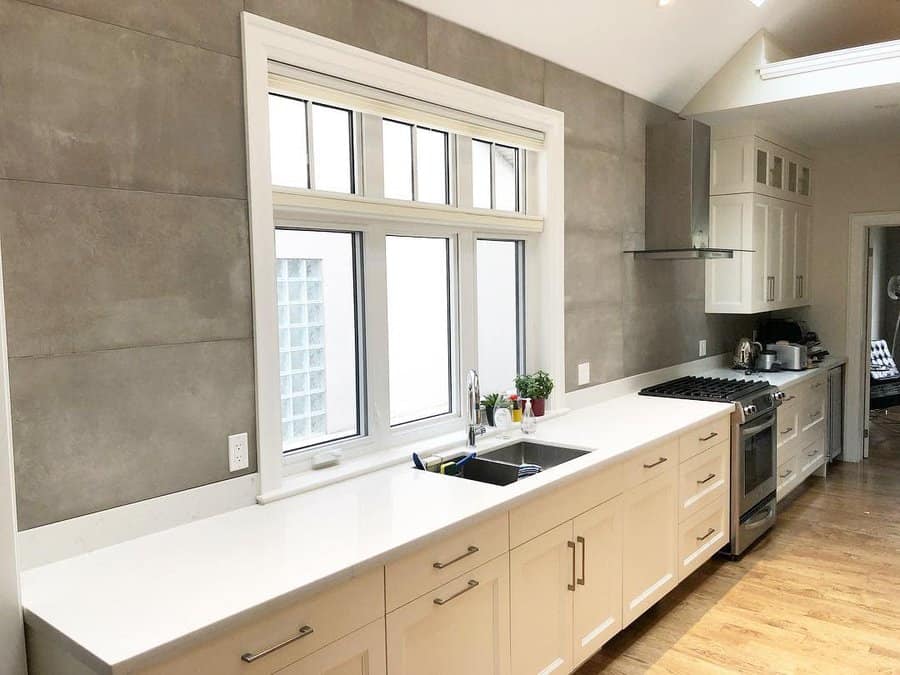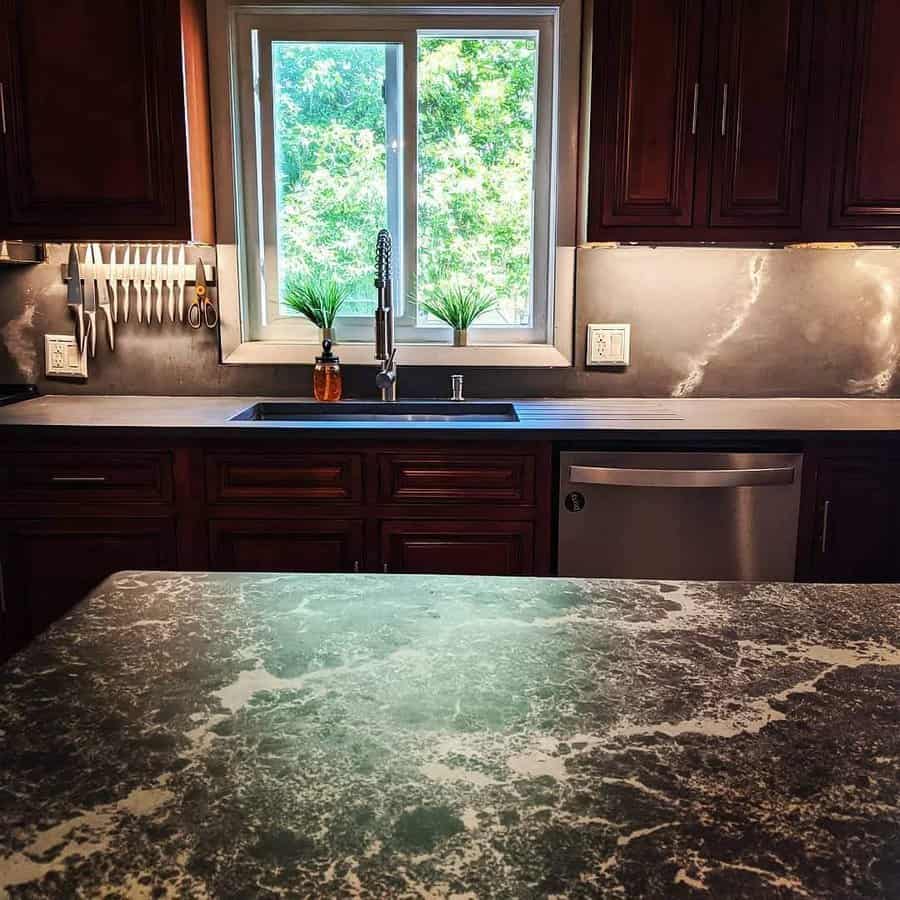 3. Chevron Tile Backsplash
A striking option is a chevron-patterned backsplash that adds visual interest and a touch of modern elegance to your kitchen. This pattern creates a dynamic and eye-catching focal point, effortlessly transforming your kitchen's aesthetic. To achieve this look without spending a fortune, consider using peel-and-stick tiles or adhesive wallpaper in your chosen chevron design.
These affordable options are easy to install and allow for customization in colors and patterns. Another cost-effective alternative is to paint a chevron pattern directly onto your existing backsplash using stencils and painter's tape.
This DIY approach not only saves money but also gives you the freedom to select colors that perfectly complement your kitchen's overall theme.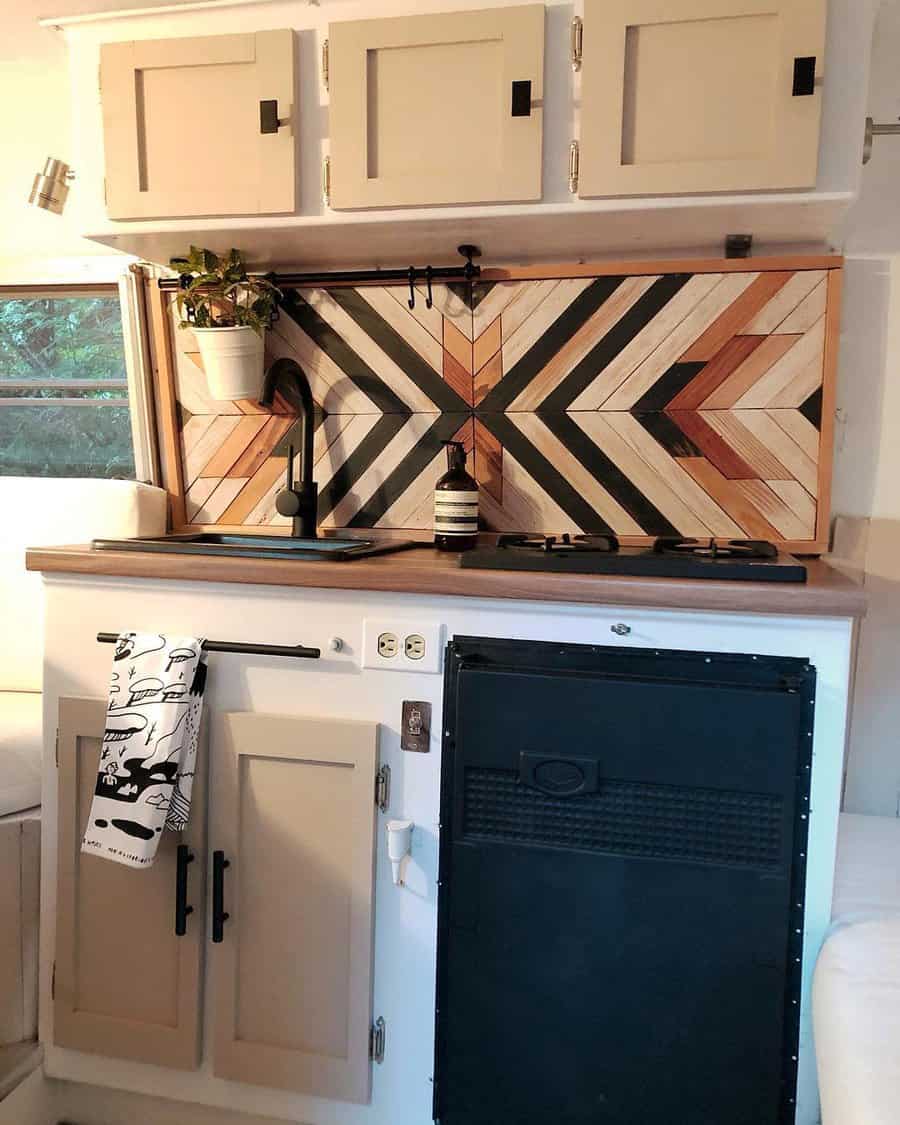 4. Decorative Tile Backsplash
Choose tiles with eye-catching geometric or Spanish patterns to add a touch of flair and personality to your kitchen. Whether you prefer a sleek and modern look or a rustic and eclectic vibe, there are endless tile options available that fit your budget.
The beauty of a decorative tile backsplash is that it not only protects your walls from splashes and stains but also serves as a stunning focal point in your kitchen. Get creative with the layout and design, mixing and matching different tile patterns for a unique and customized look.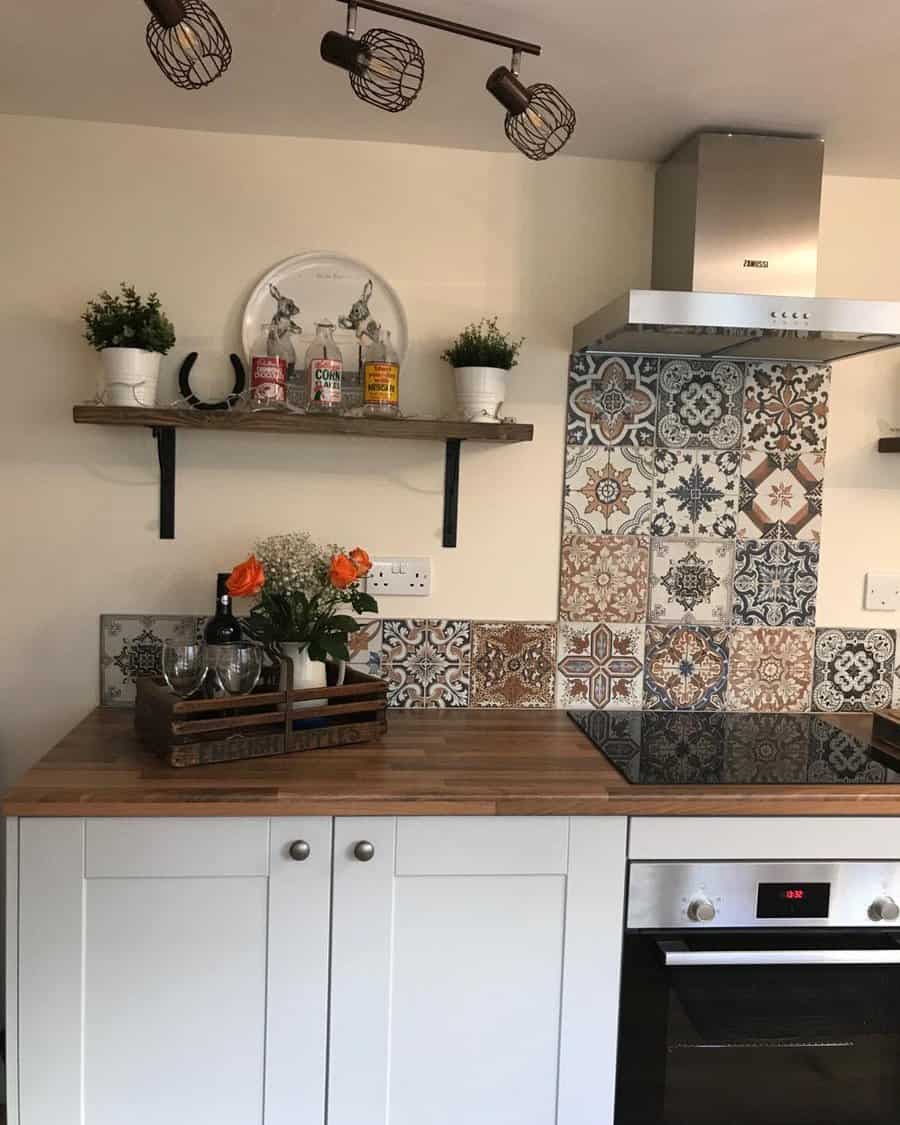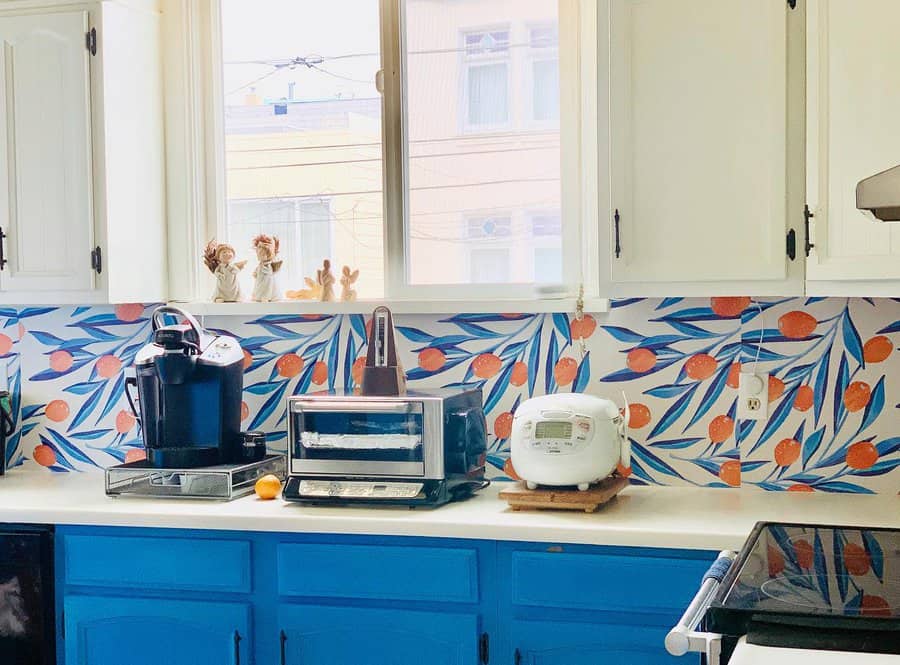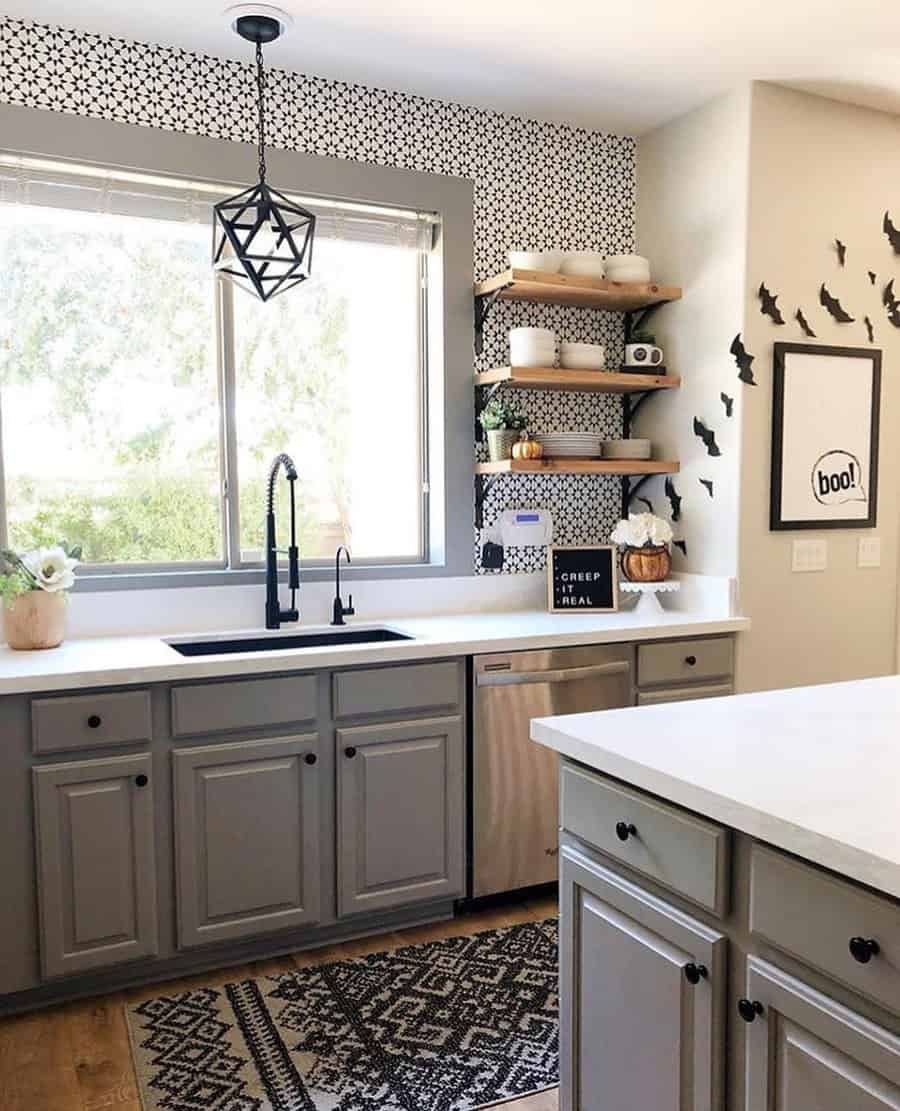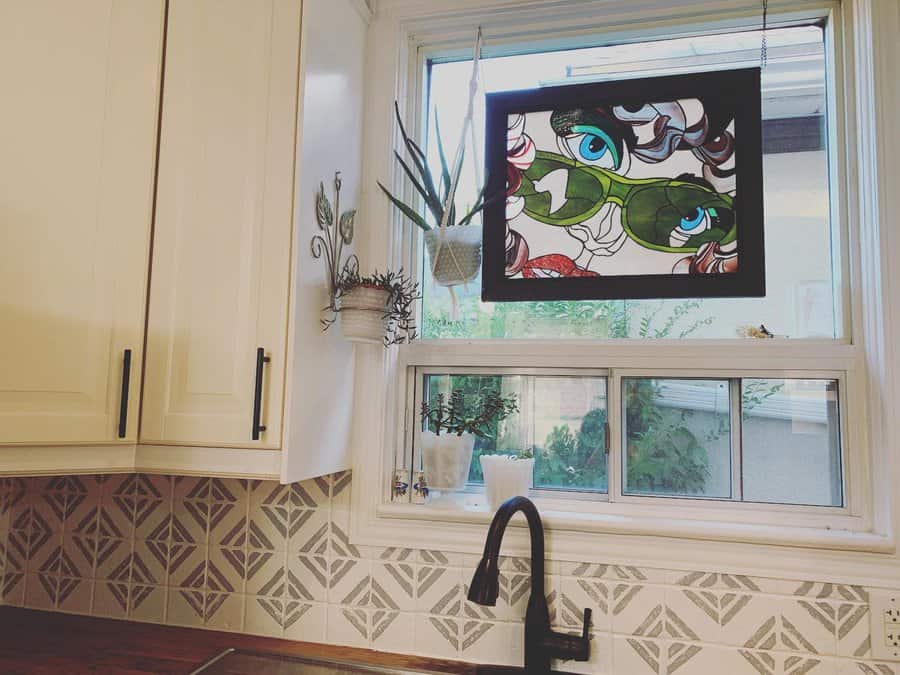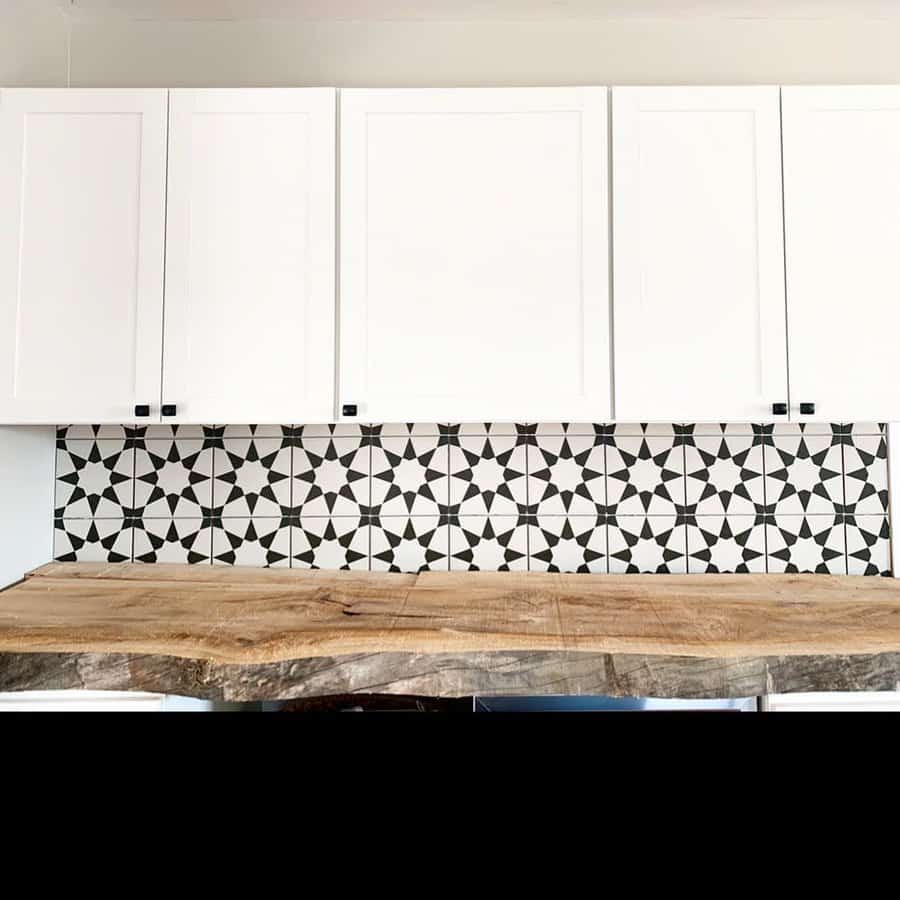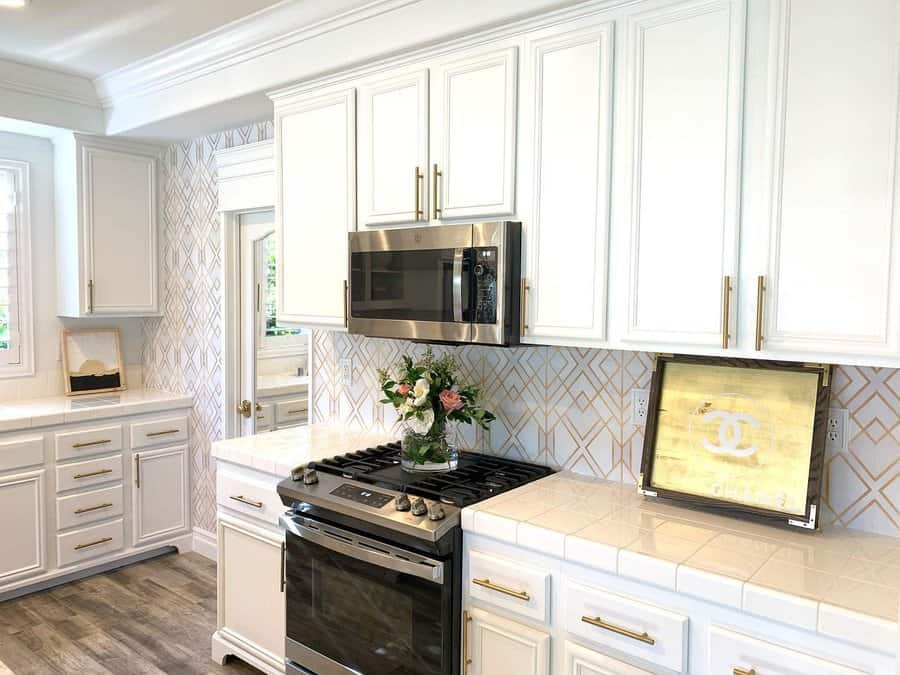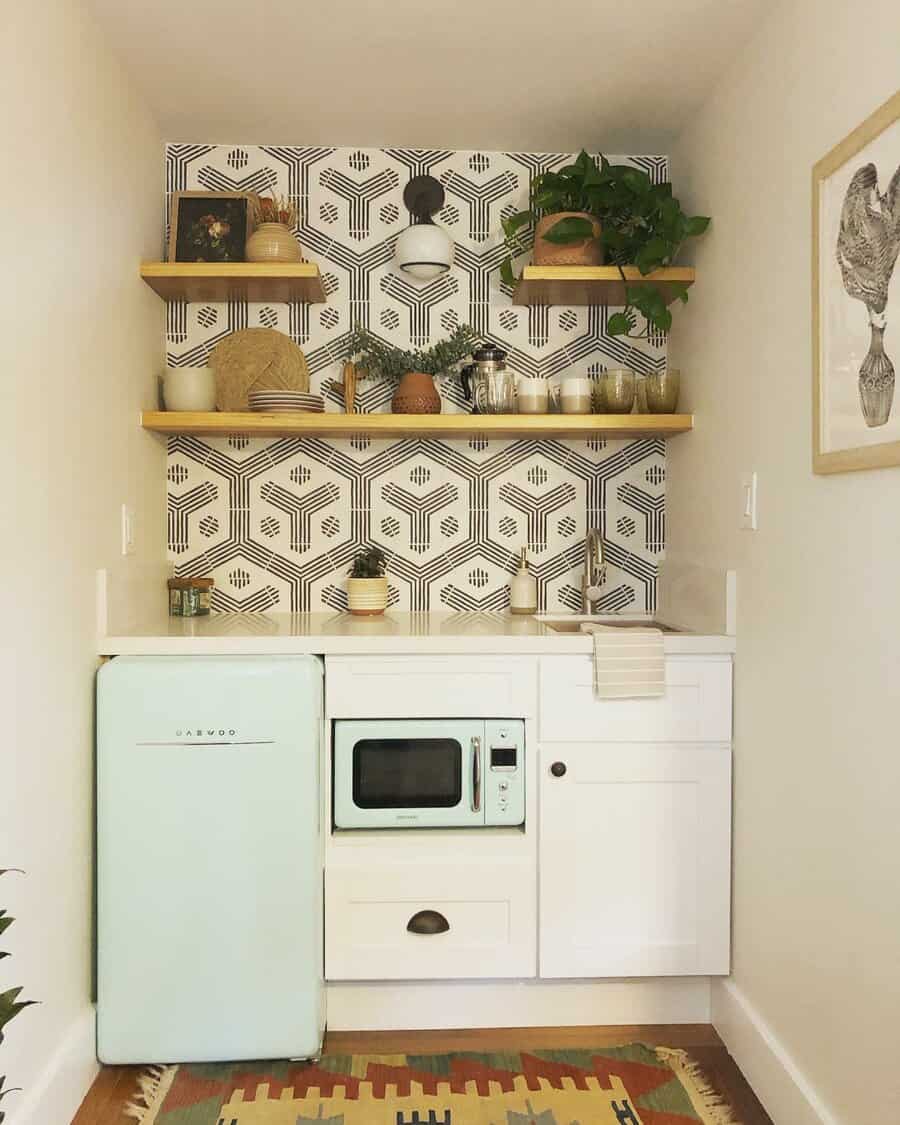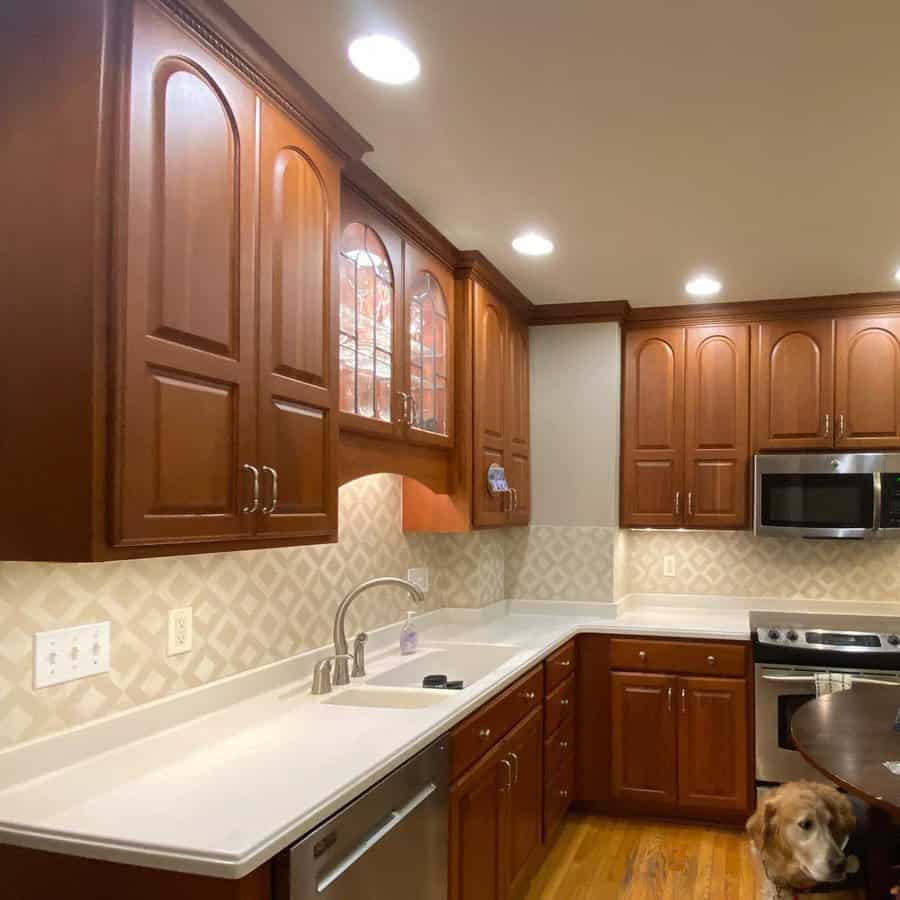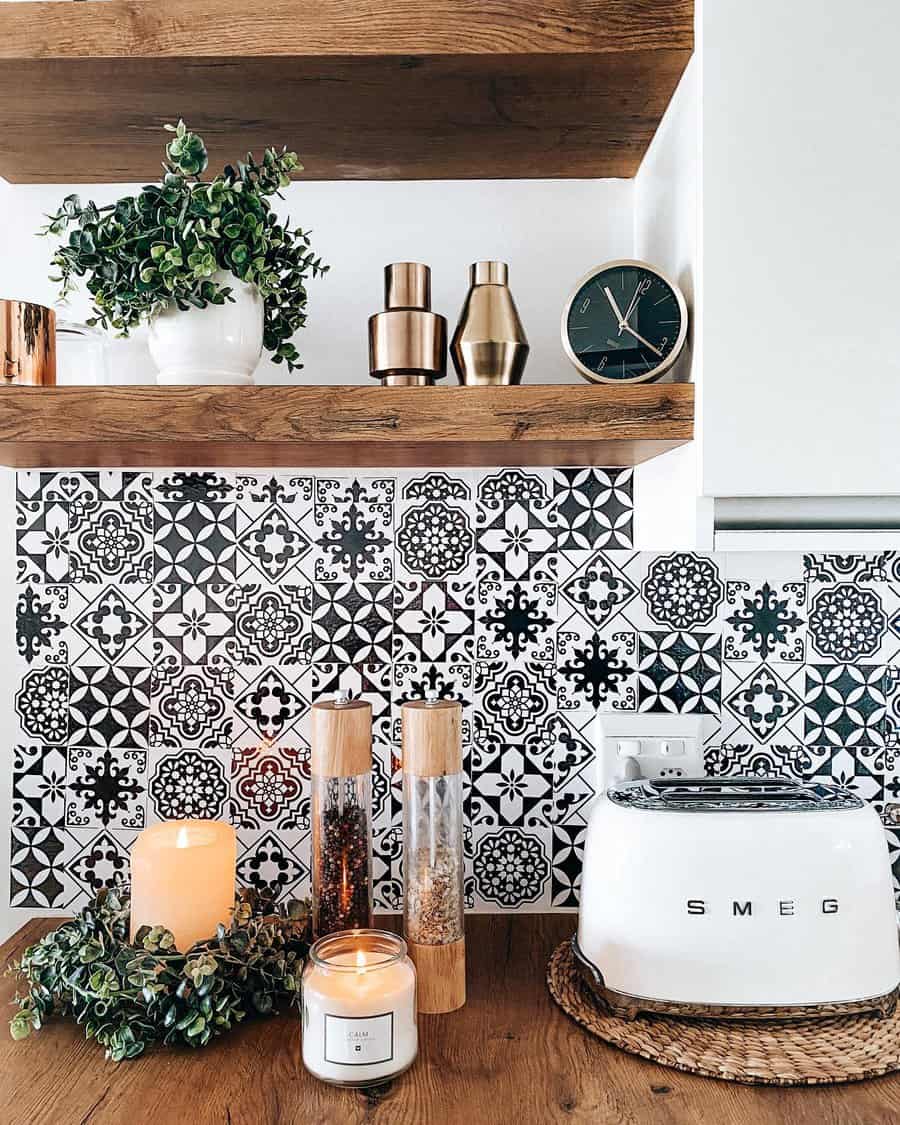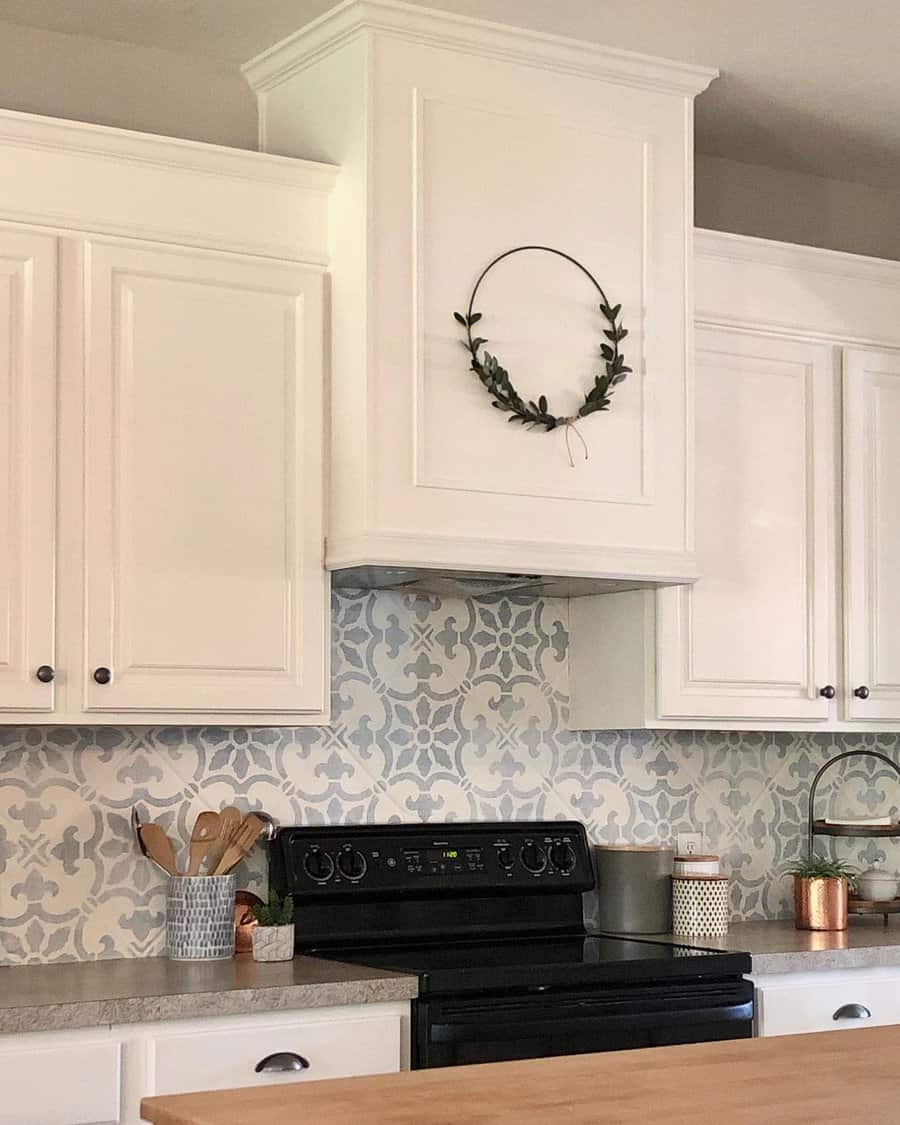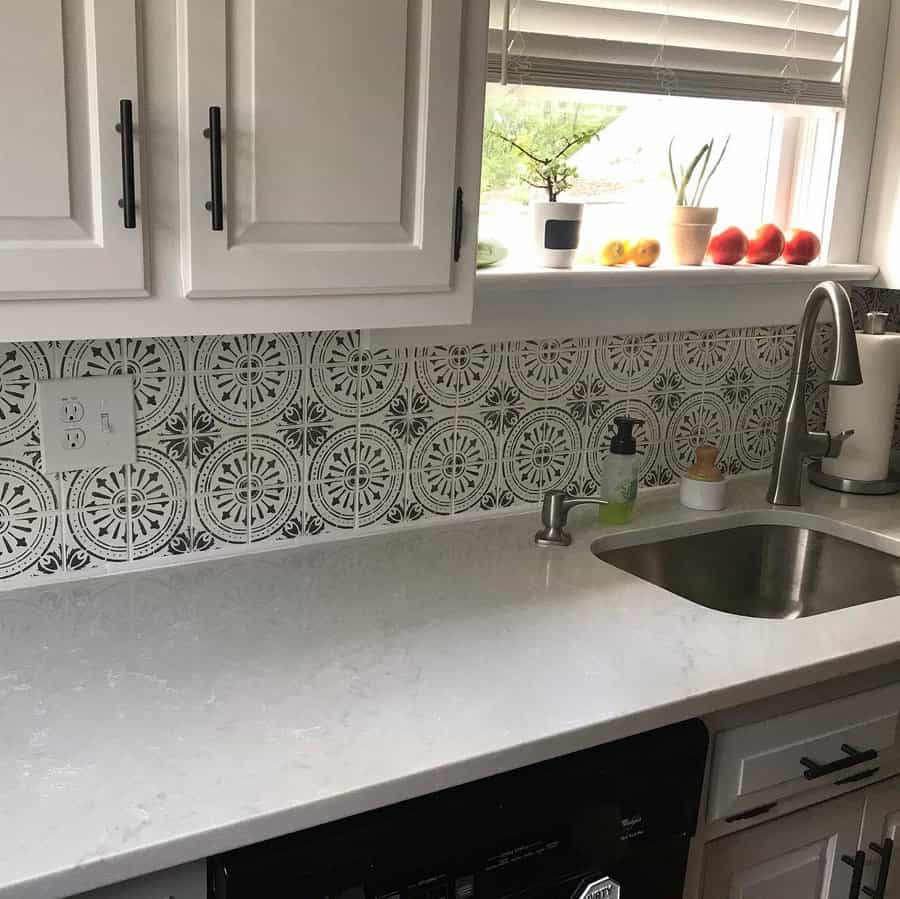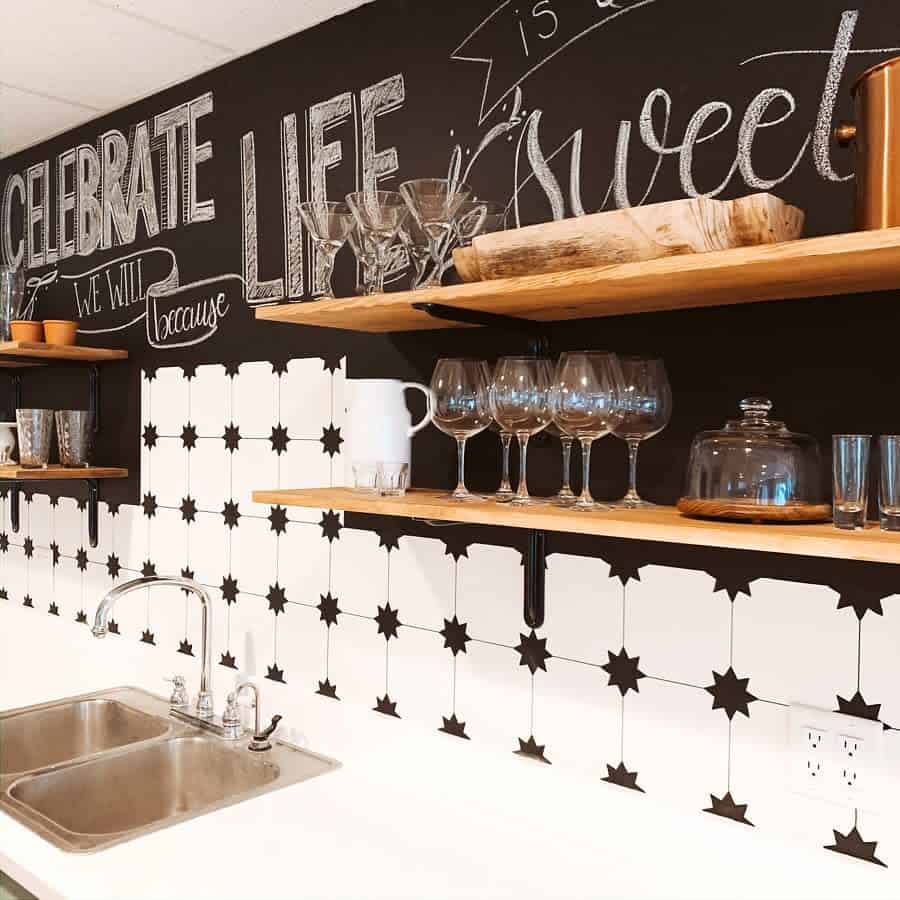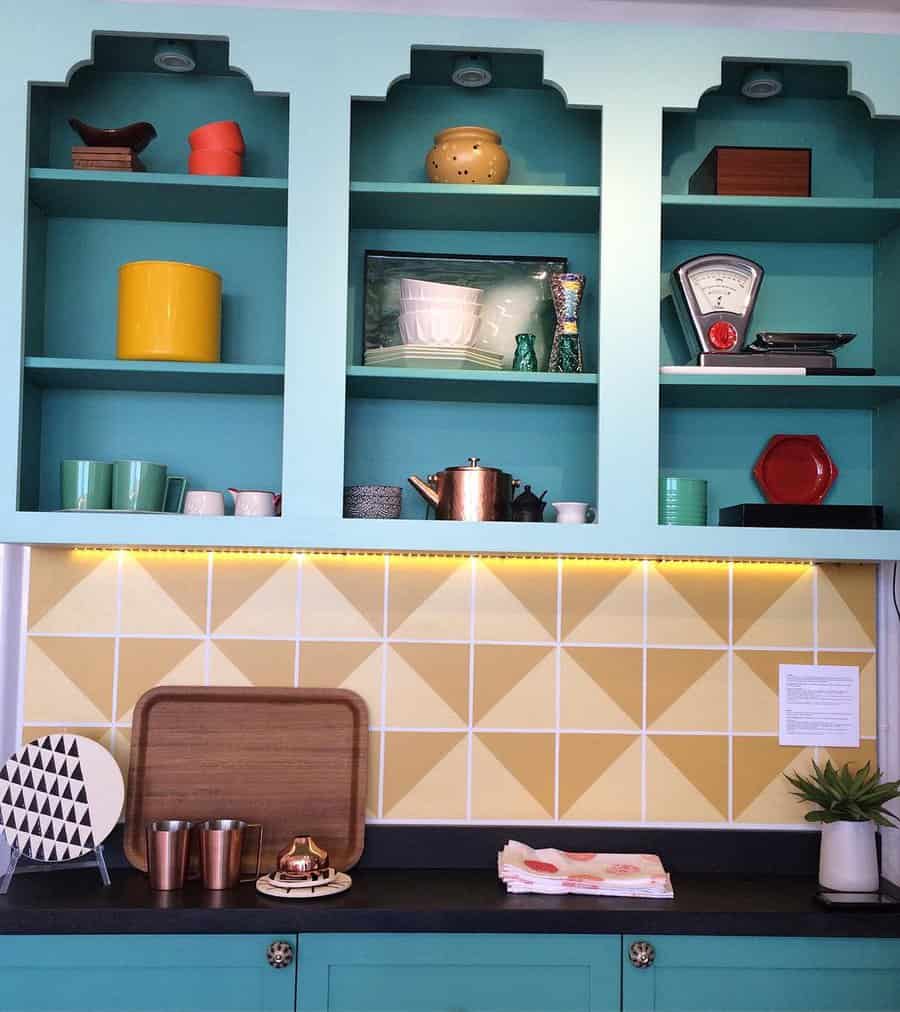 5. 3D Wall Tile Backsplash
Consider opting for a 3D decorative tile backsplash to add a captivating element to your kitchen walls. This unique design not only brings visual interest but also creates fascinating shadow-play as light dances across the textured surface. The 3D effect adds depth and dimension to your kitchen, giving it a modern and stylish vibe without breaking the bank.
Choose from a wide range of patterns, colors, and finishes to suit your personal taste and complement your existing kitchen decor. Whether you prefer geometric shapes, floral motifs, or abstract designs, there's a 3D tile backsplash that can breathe new life into your kitchen space.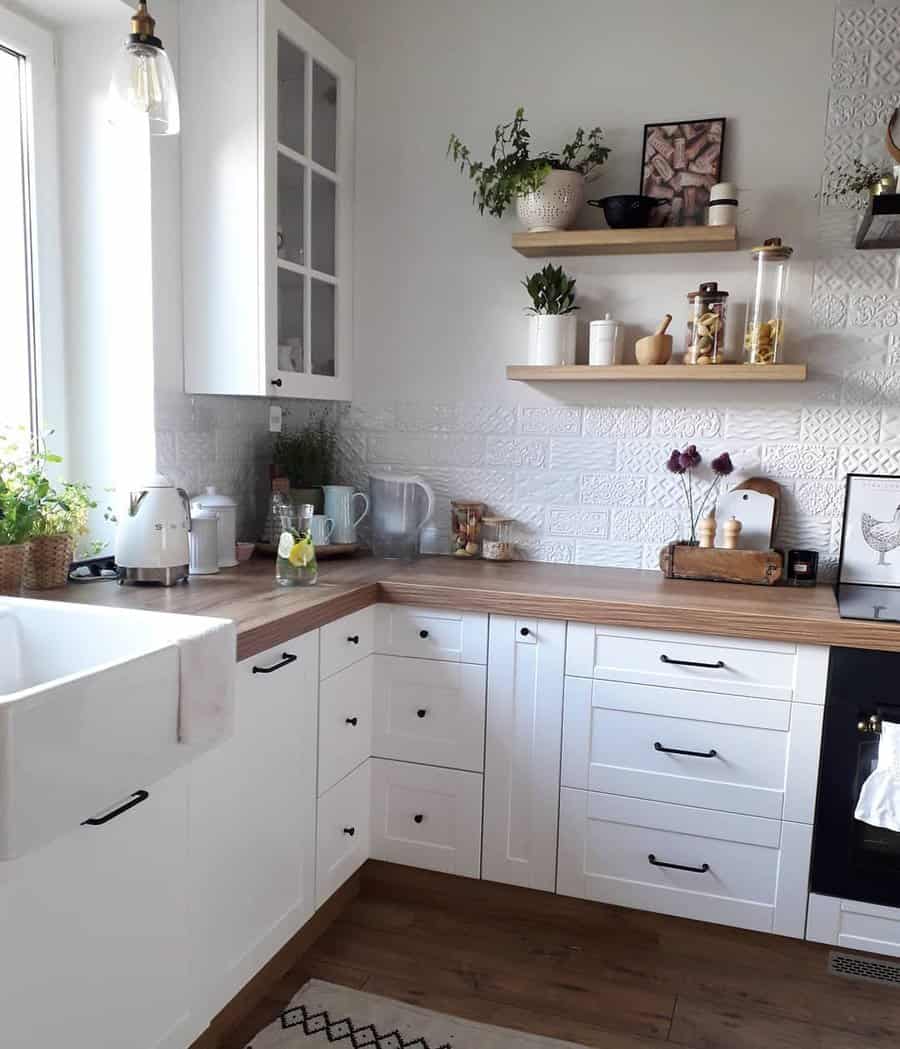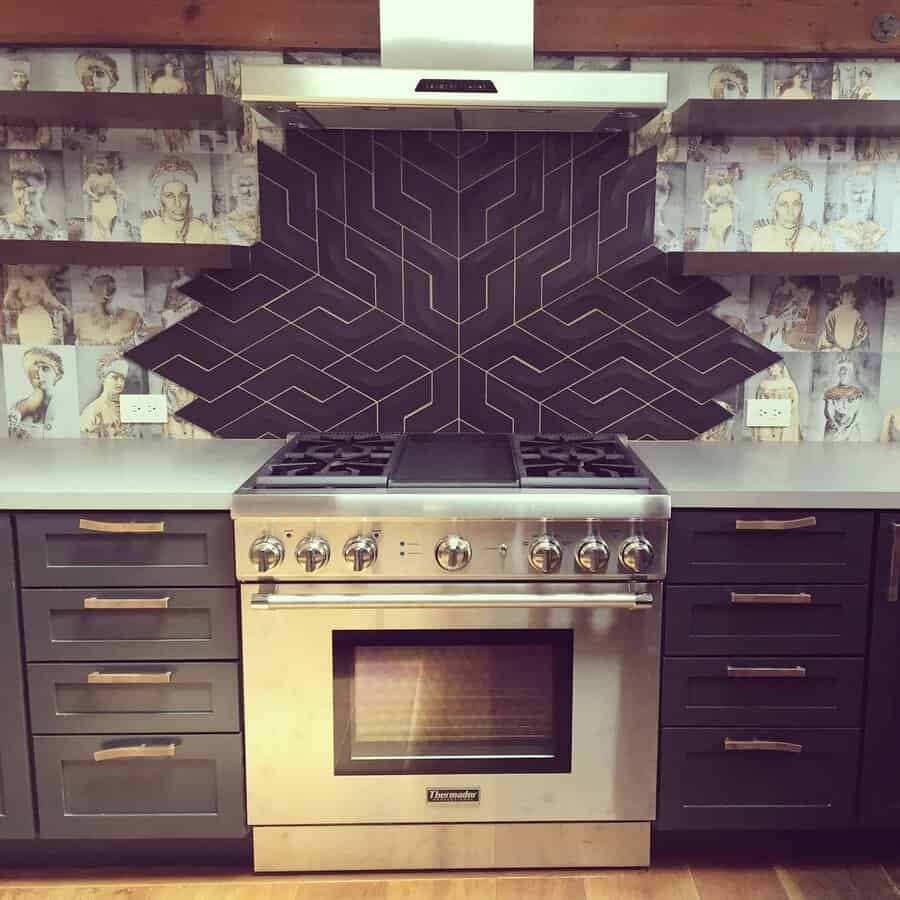 6. White Brick Tile Backsplash
The classic and timeless choice of white brick tiles adds texture and depth to your kitchen while maintaining a clean and fresh aesthetic. The white color brightens up the space, making it feel more open and inviting. Not only is it budget-friendly, but it also effortlessly complements various kitchen styles, from farmhouse to modern.
The white brick tile backsplash serves as a versatile backdrop, allowing you to experiment with different accent colors and decor elements. Whether you prefer a minimalist or eclectic vibe, this affordable option provides a stylish and cost-effective solution to enhance your kitchen's visual appeal.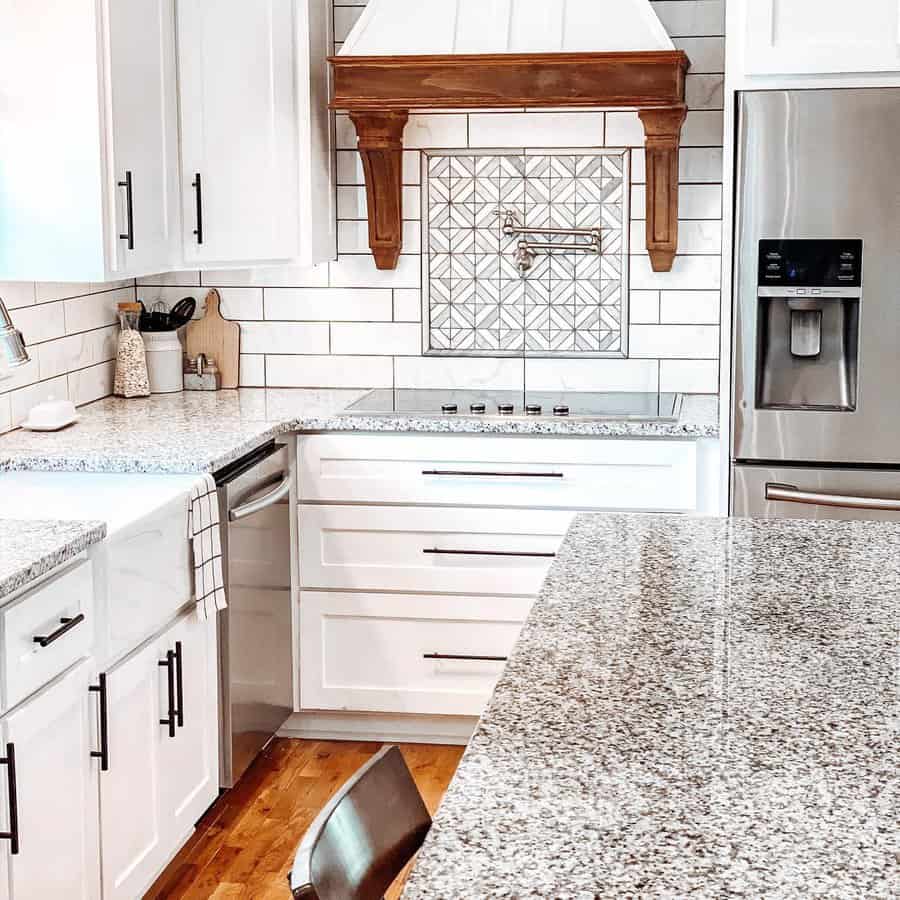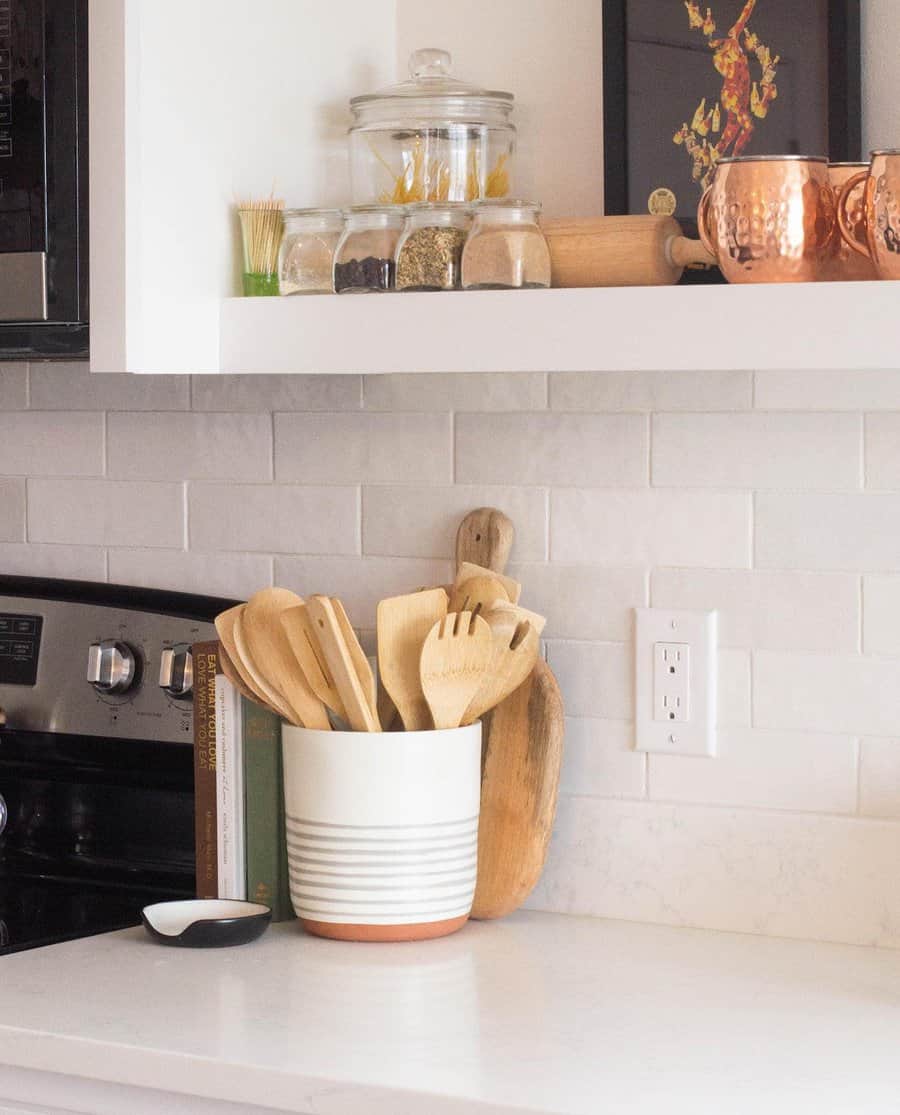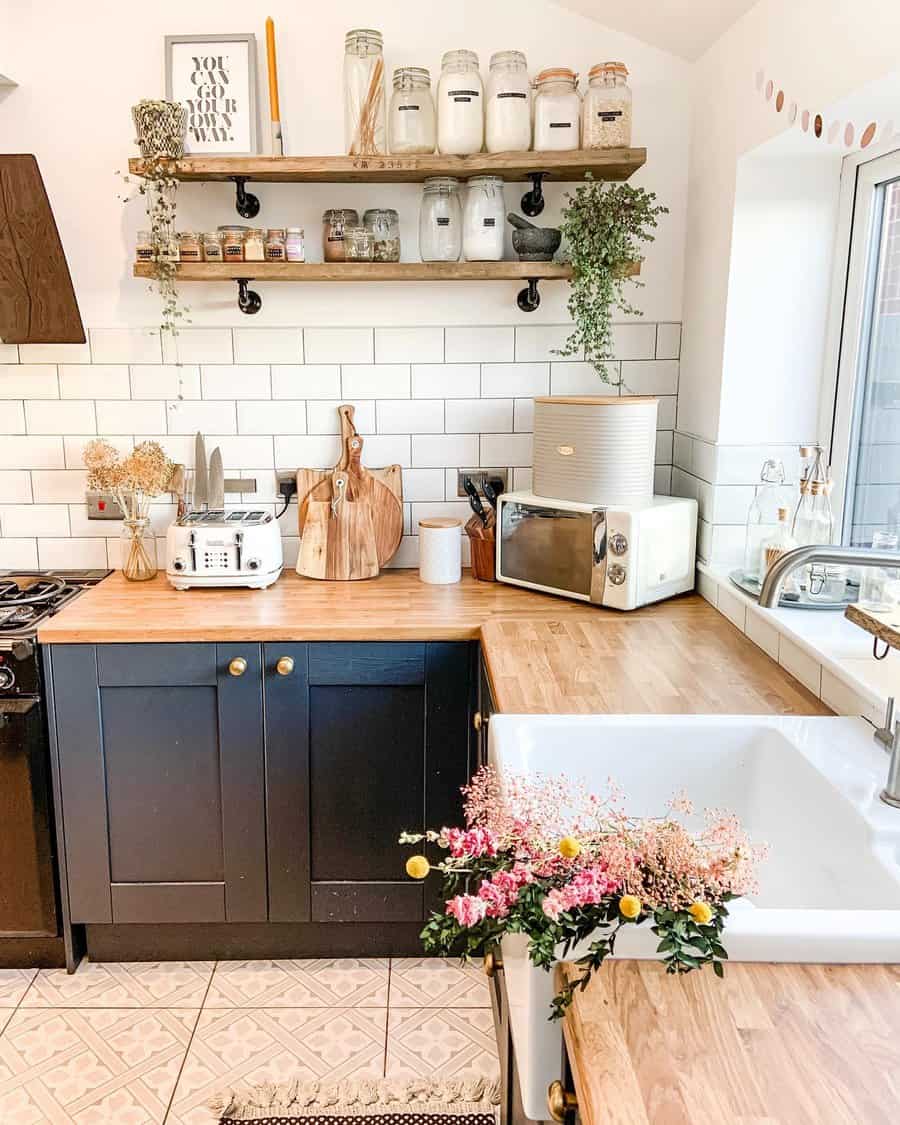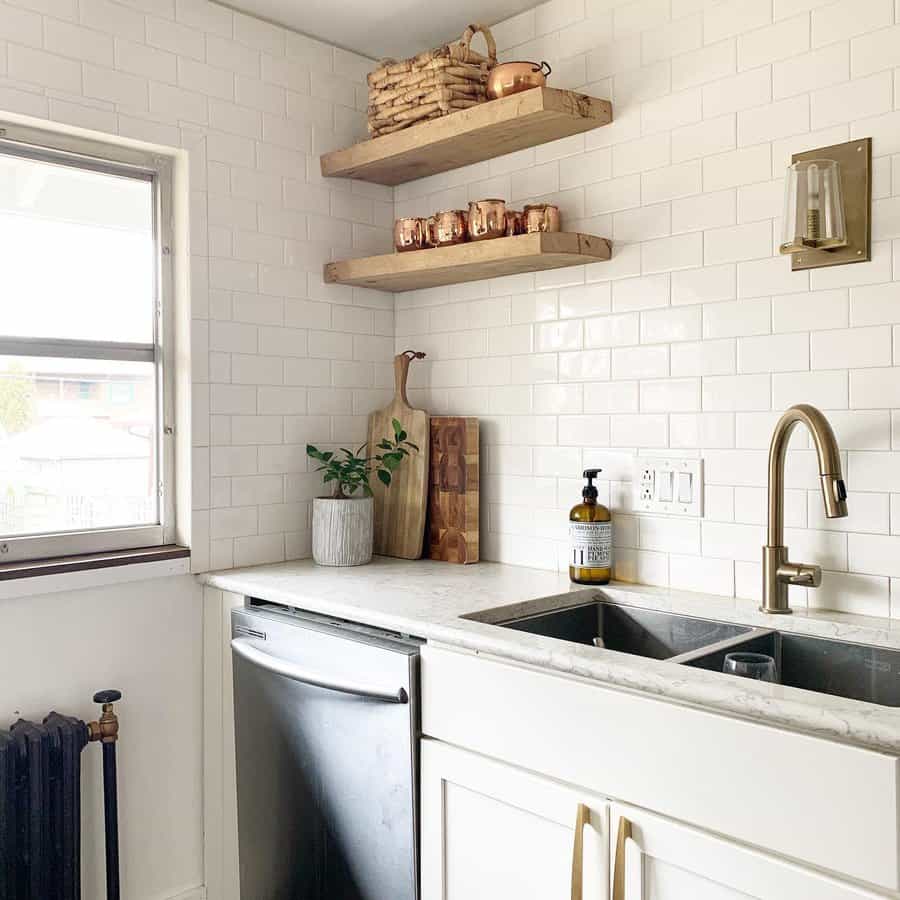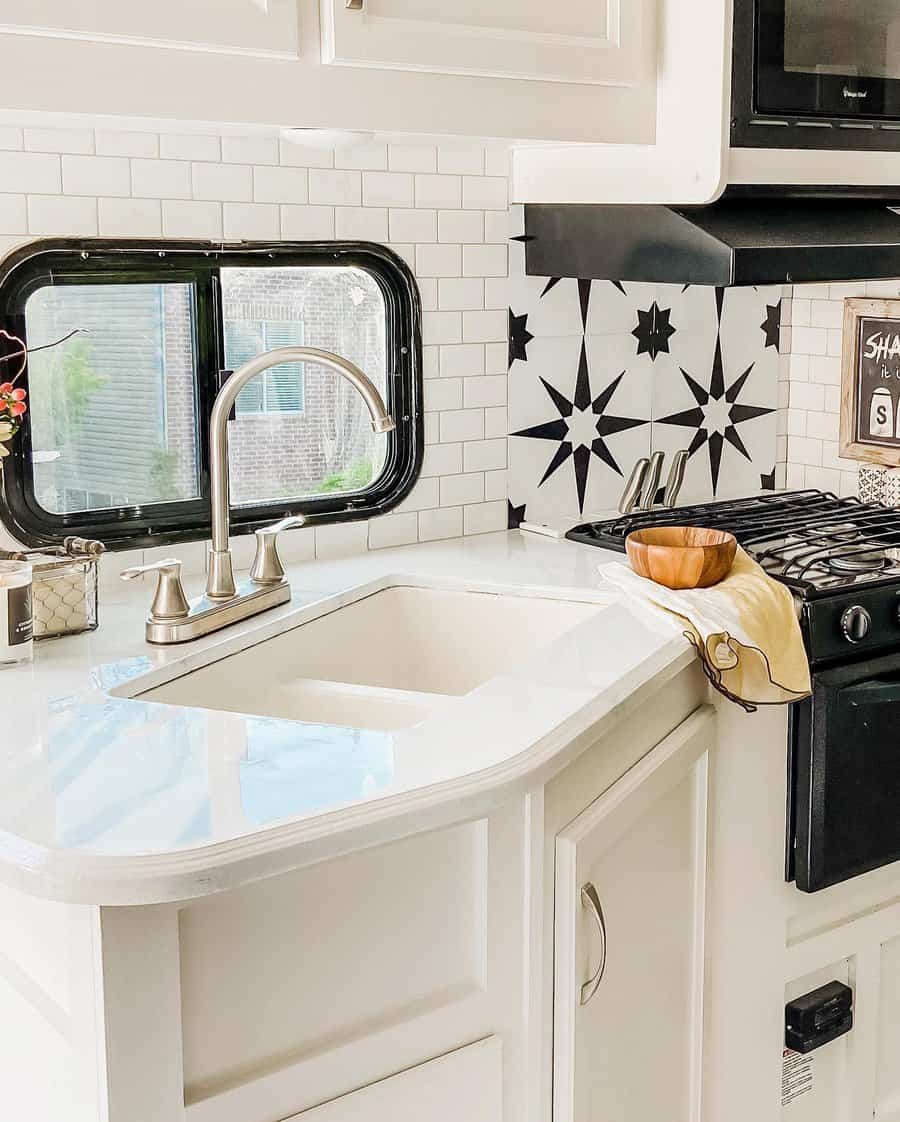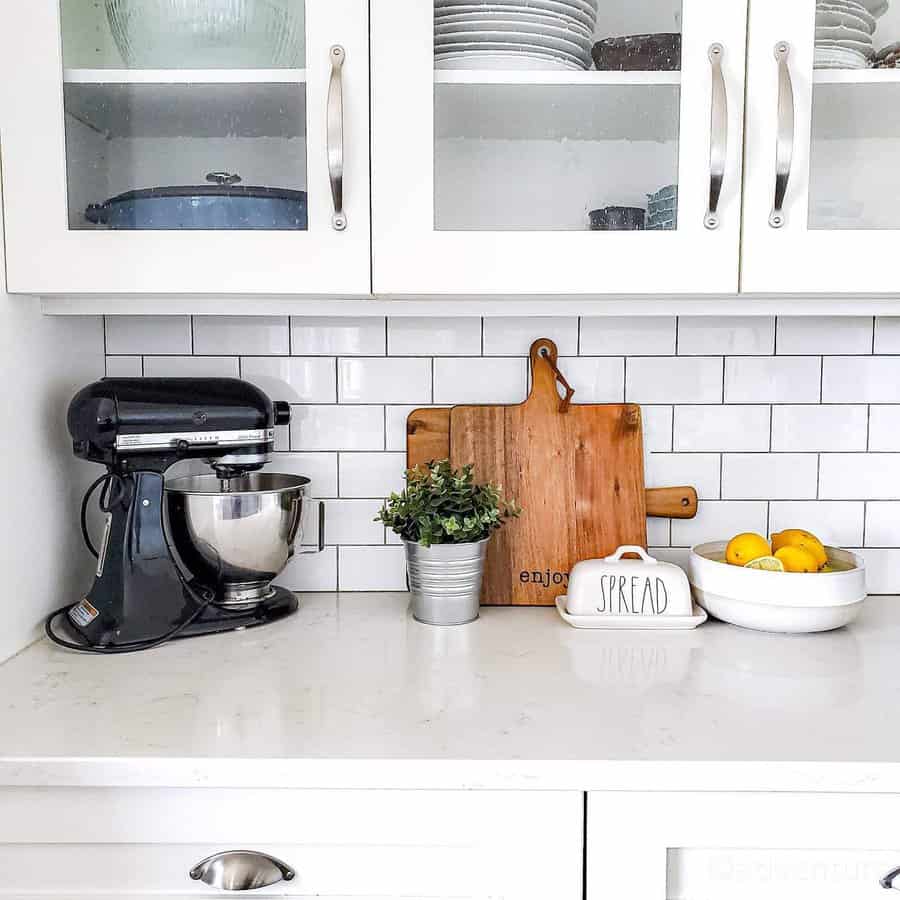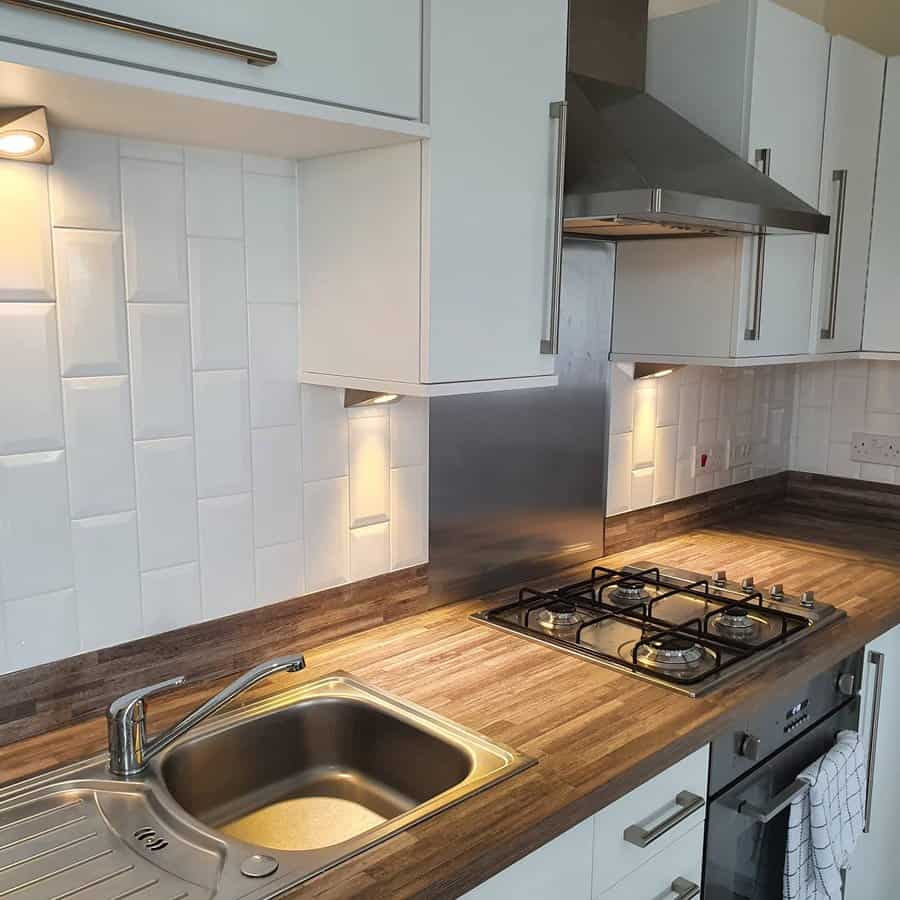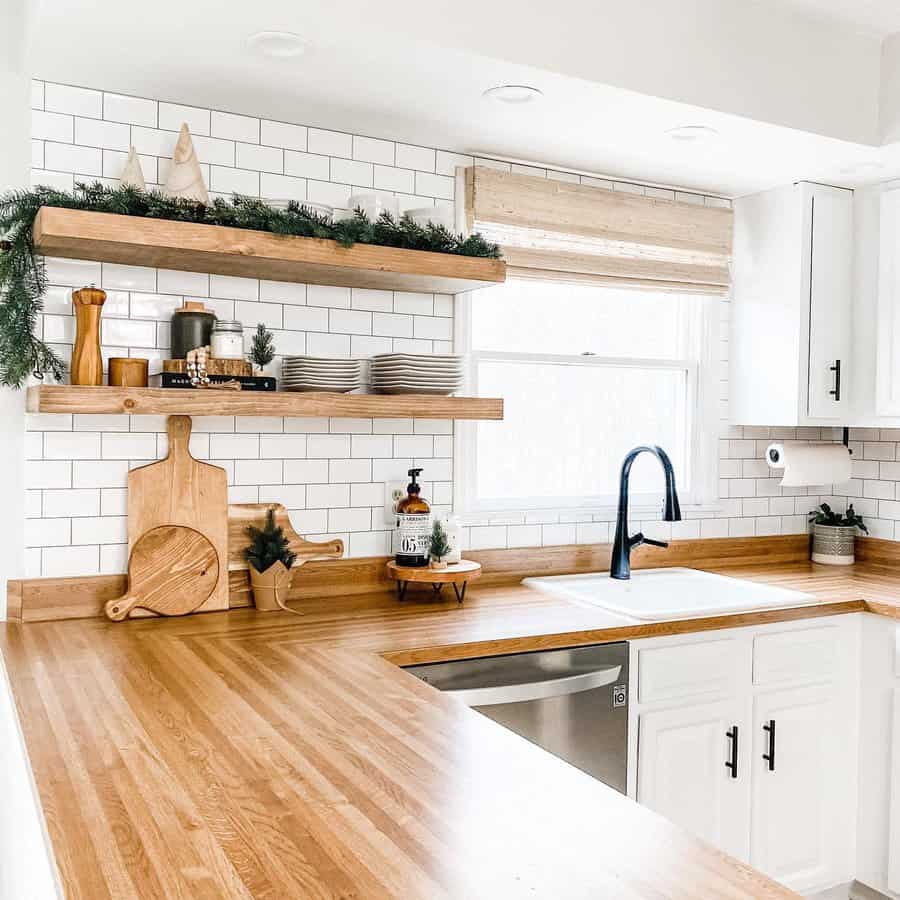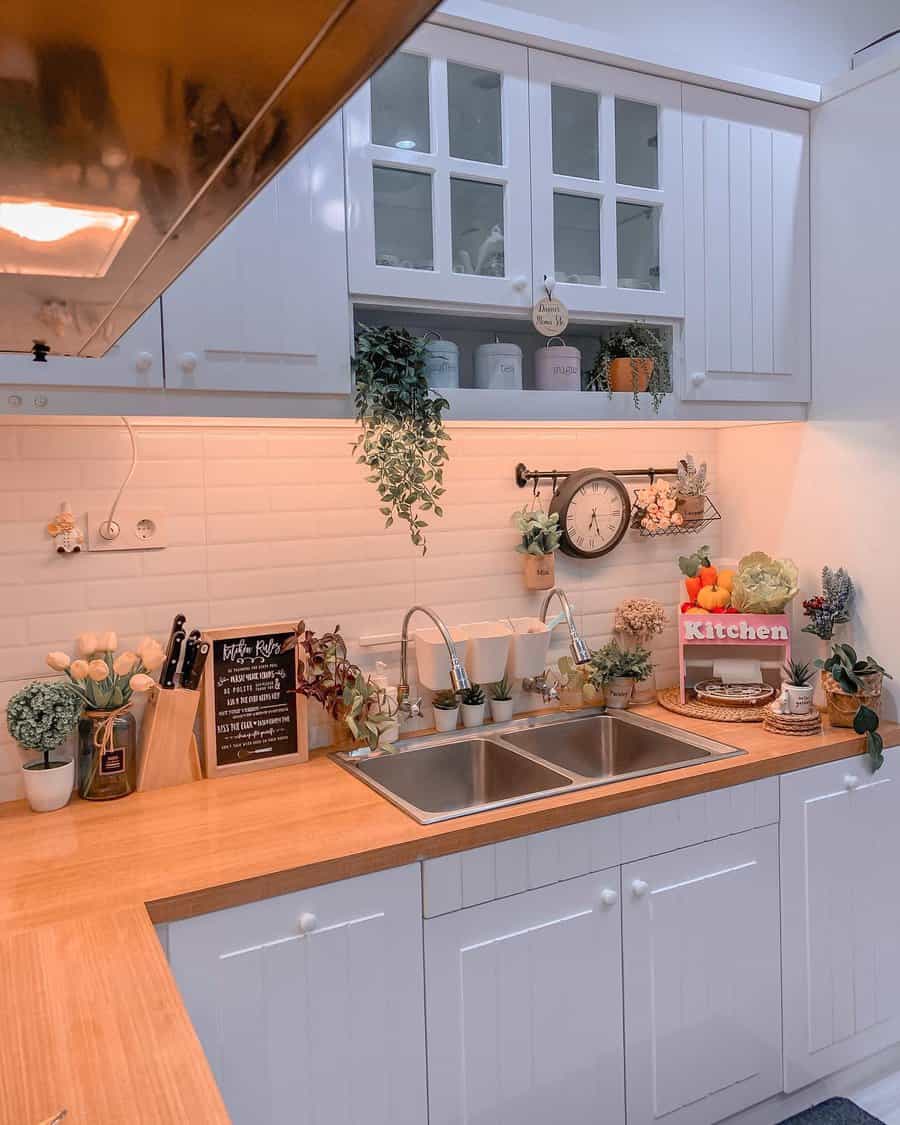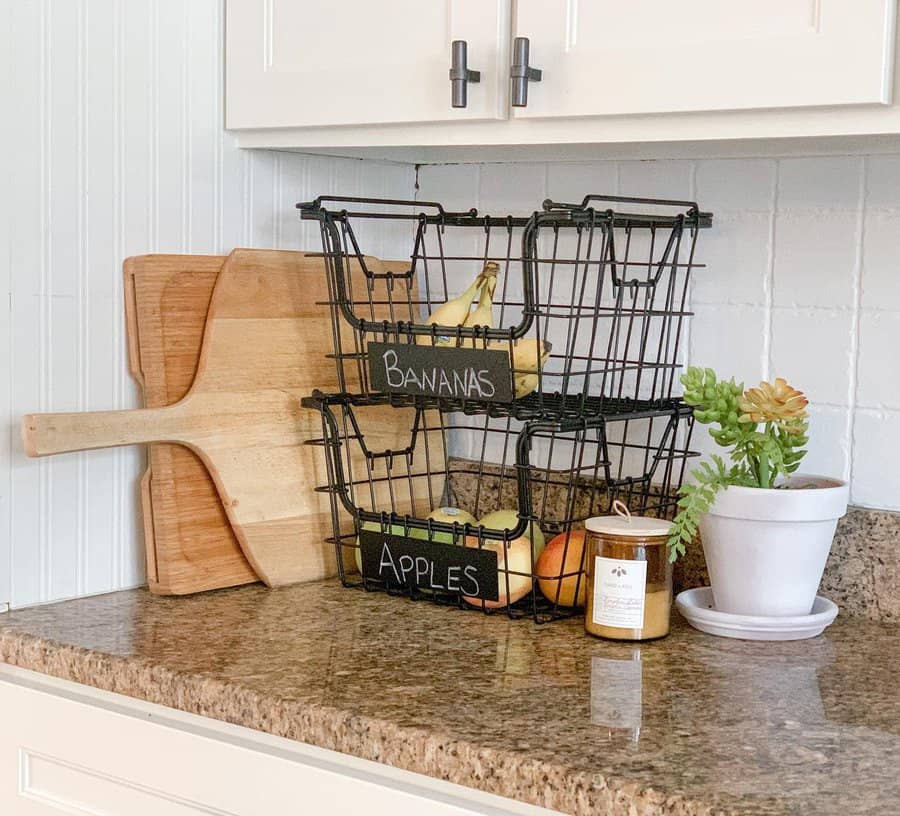 7. Honeycomb Tile Backsplash
Consider the timeless and eye-catching honeycomb tile backsplash, which adds a touch of modern sophistication to any kitchen. The geometric pattern of the honeycomb tiles creates a visually intriguing focal point while bringing a sense of depth and texture to your kitchen walls.
Opt for affordable ceramic or porcelain tiles in a color that complements your kitchen's overall aesthetic. Whether you choose a classic white for a clean and fresh look or a bold color to make a statement, honeycomb tiles are a budget-friendly option that doesn't compromise on style.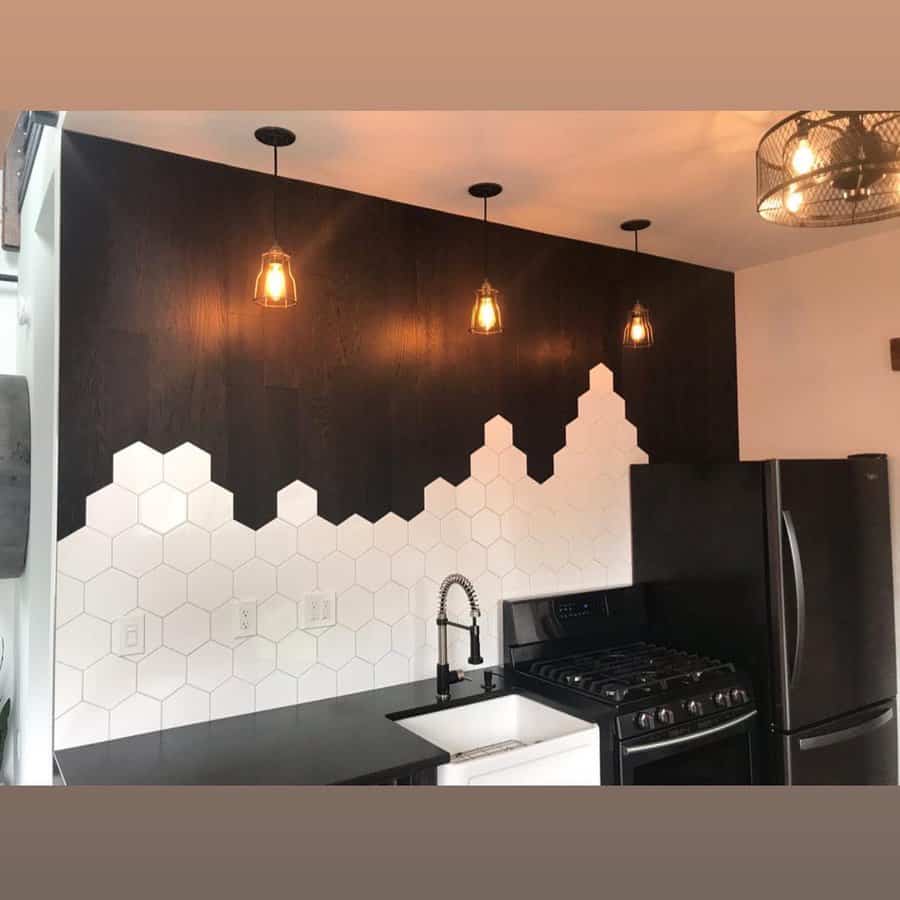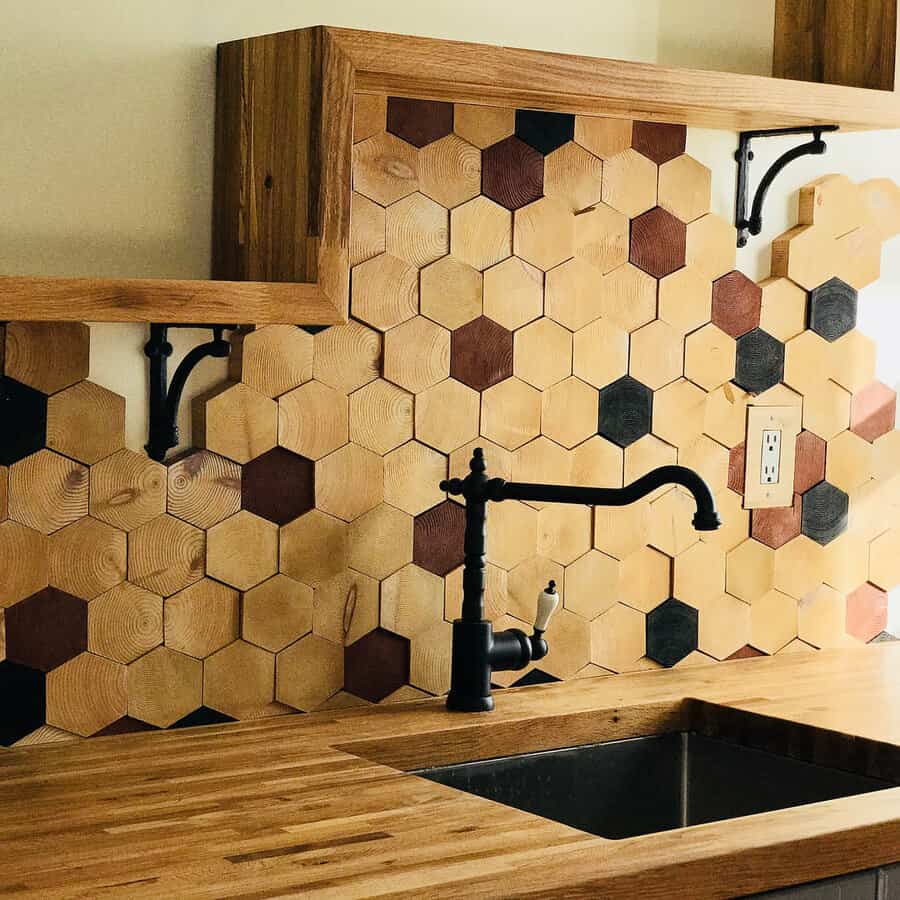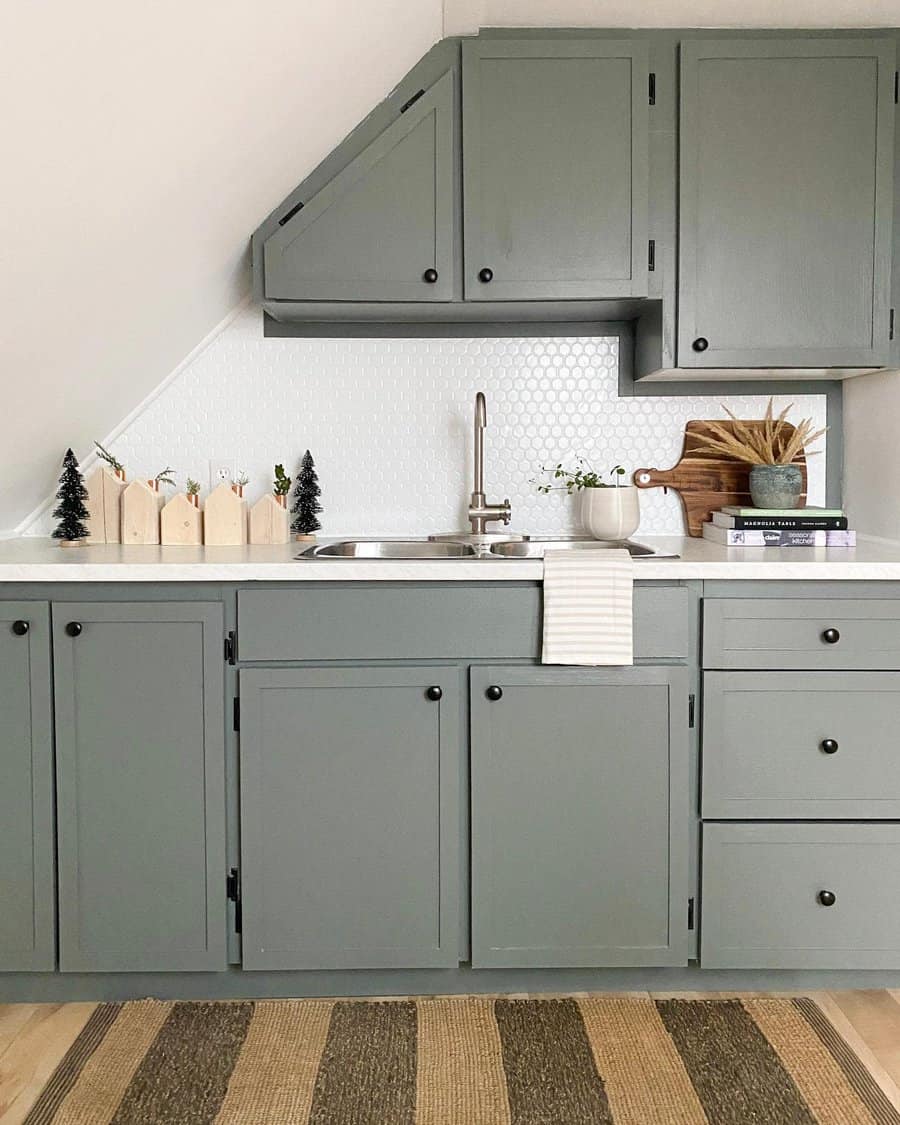 8. Half Backsplash
Rather than covering the entire wall, focus on the area behind the stove or sink, where splashes are most likely to occur. Choose from a wide range of materials to suit your taste and budget, such as peel-and-stick tiles, vinyl decals, or even a fresh coat of paint in a contrasting color. Experiment with different patterns and designs to create a visually captivating focal point in your kitchen.
Another budget-friendly option is to repurpose materials like reclaimed wood, tin ceiling tiles, or even a collection of vintage plates for a charming and eclectic look. With a half backsplash, you can achieve a stylish and personalized kitchen design without breaking the bank.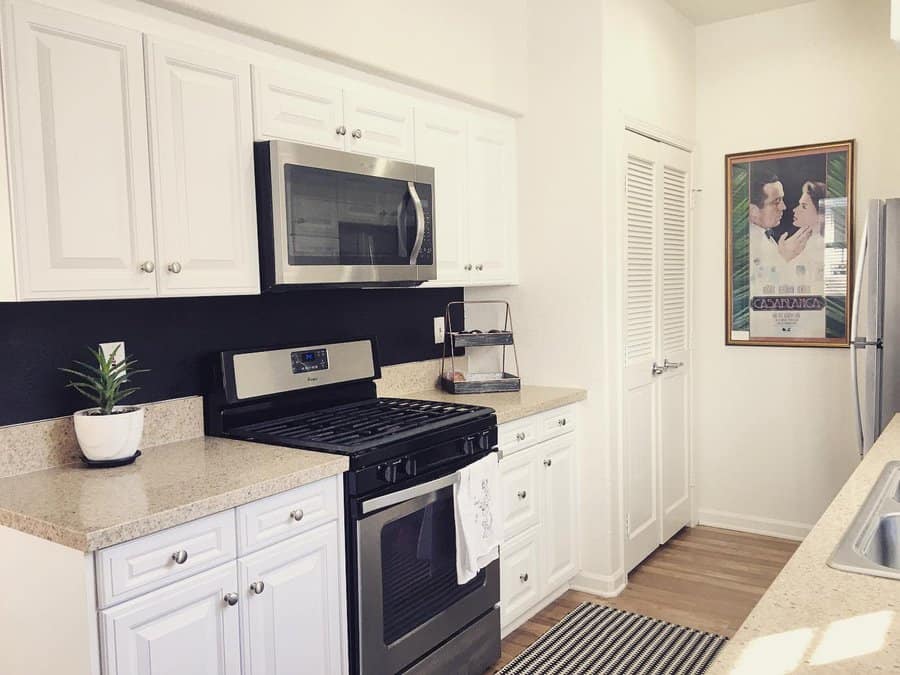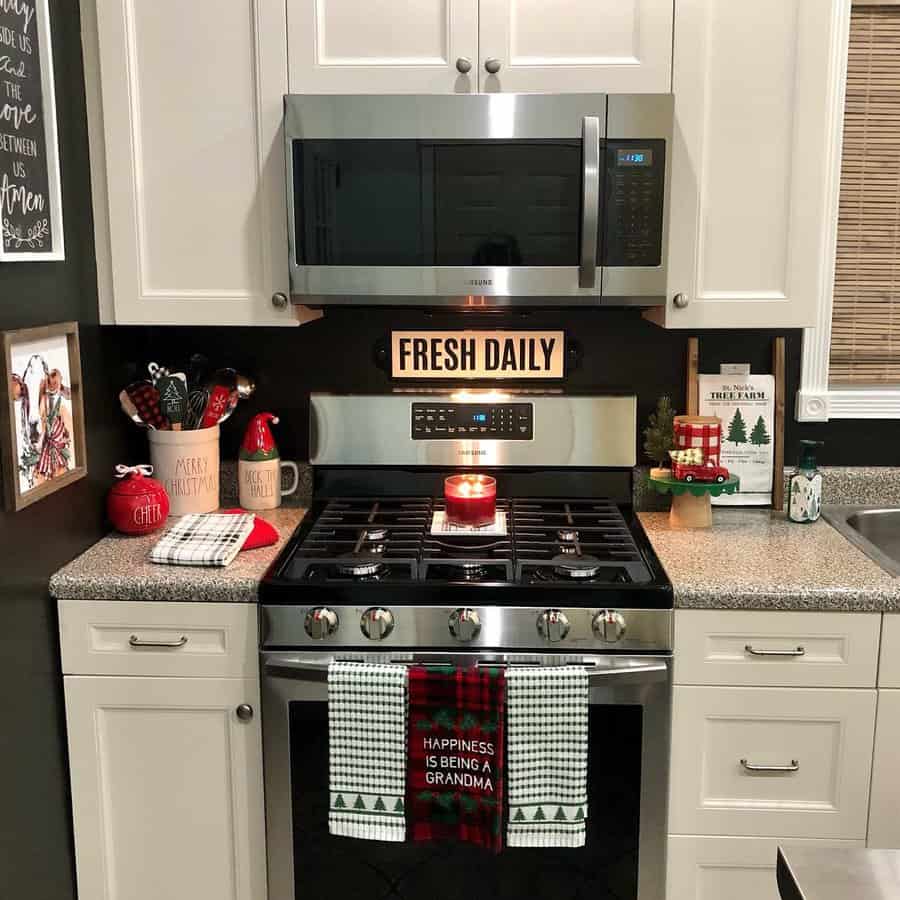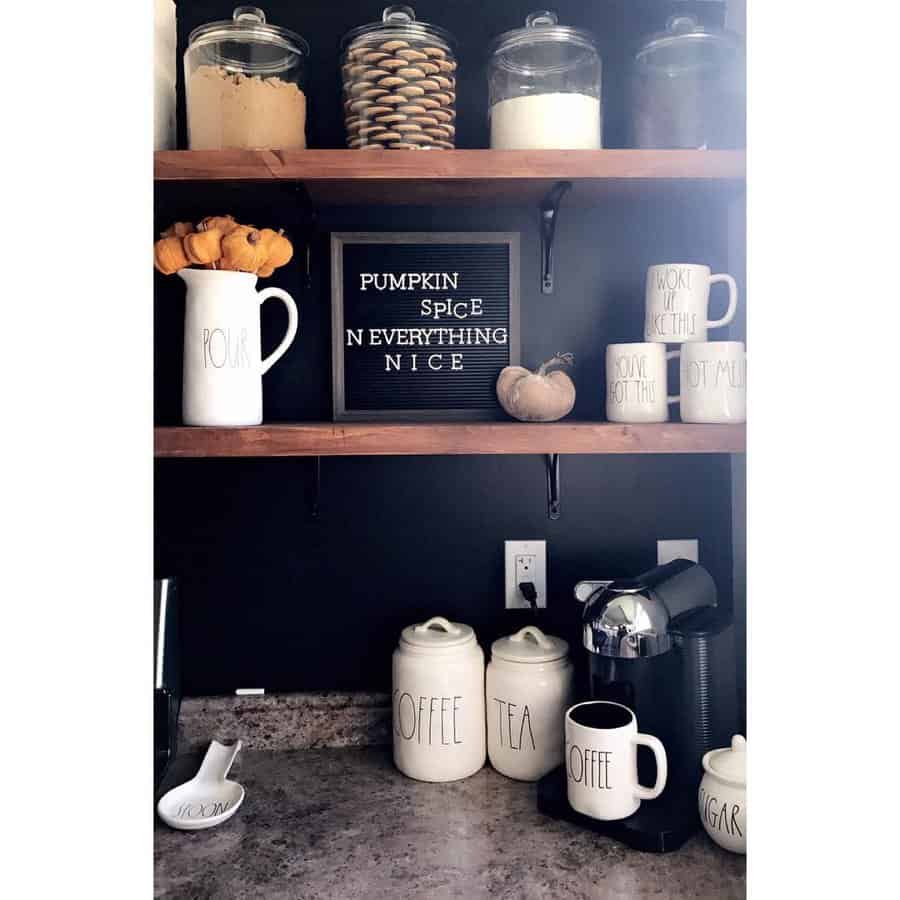 9. Mosaic Tile Backsplash
Mosaic tiles come in a wide variety of colors, shapes, and sizes, allowing you to create a unique and eye-catching design that suits your kitchen style. Whether you prefer a sleek and modern look or a more eclectic and vibrant aesthetic, mosaic tiles offer endless possibilities.
Mix and match different colors or create a pattern to add visual interest and personality to your kitchen. Not only are mosaic tiles affordable, but they are also relatively easy to install, making it a perfect project for a DIY enthusiast.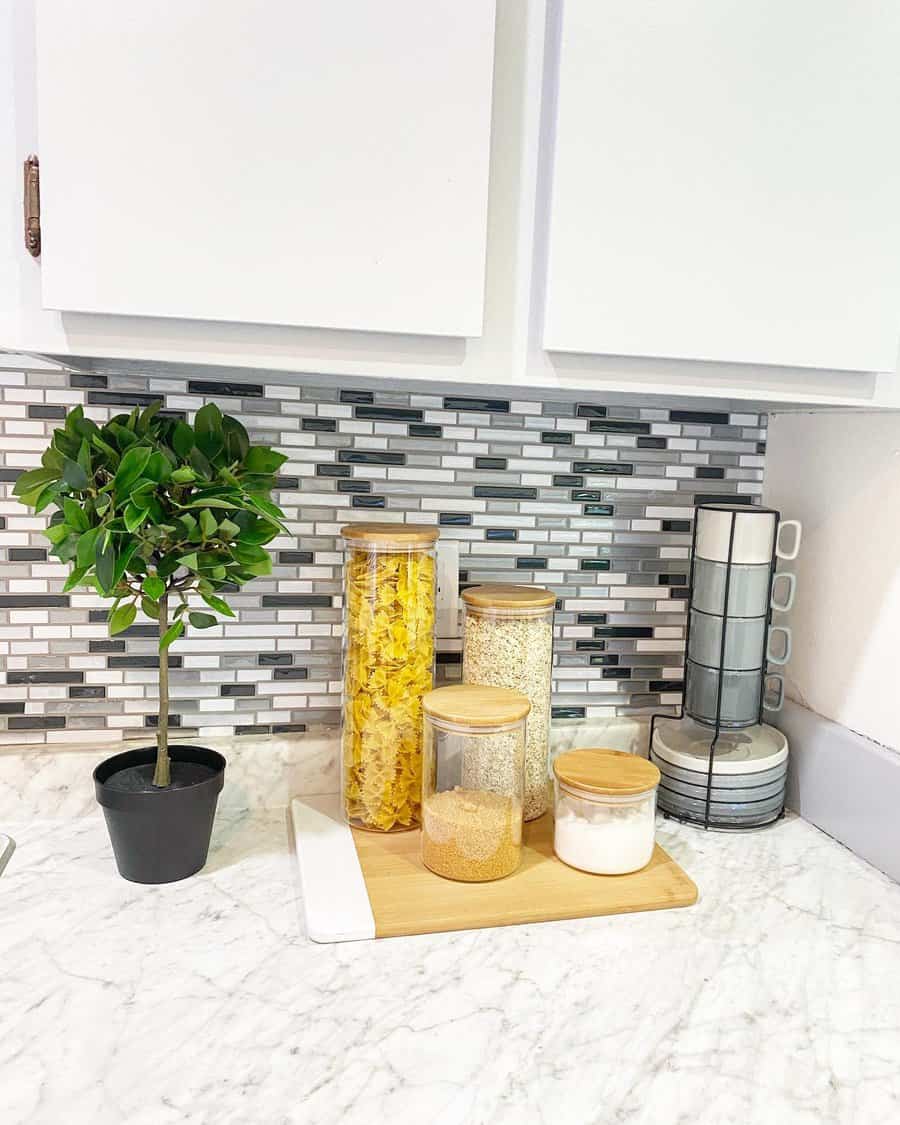 10. Wood Backsplash
Transform your kitchen with budget-friendly and creative backsplash ideas that will make a statement without breaking the bank. Consider a white-washed wood backsplash to infuse warmth and rustic charm into your culinary haven. Reclaimed wood panels are not only an eco-friendly choice but also add character and a touch of natural beauty to your kitchen. A polished wood backsplash is a great idea if you're looking for a more refined and sophisticated look.
Arrange the wood panels in a herringbone or chevron pattern for a unique and eye-catching design. This affordable and stylish option creates a cozy and inviting atmosphere, elevating the overall aesthetic of your kitchen.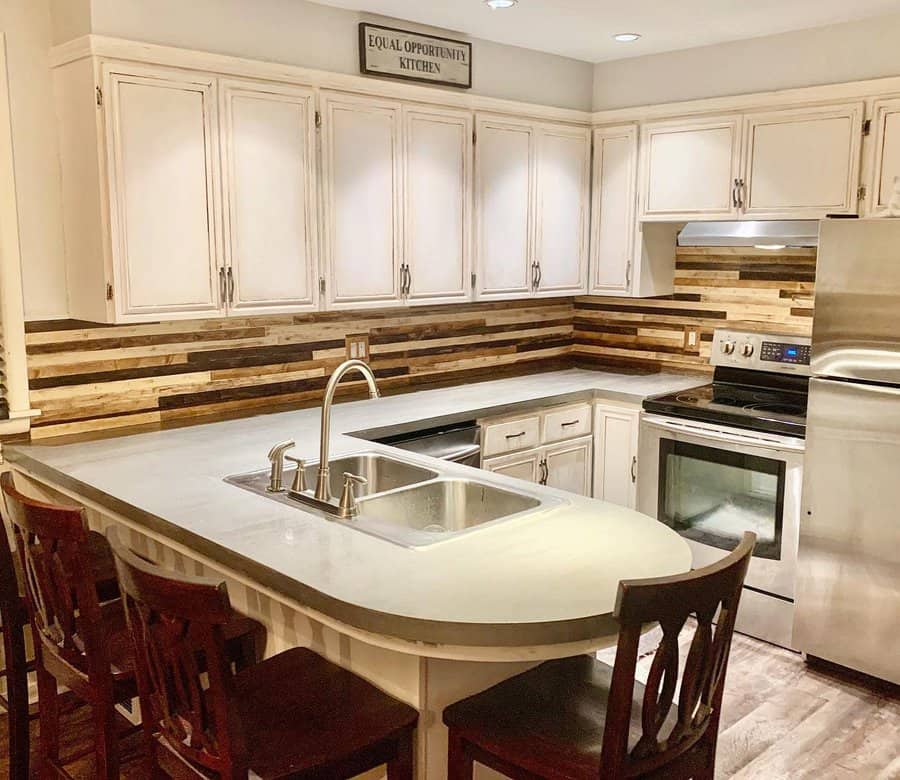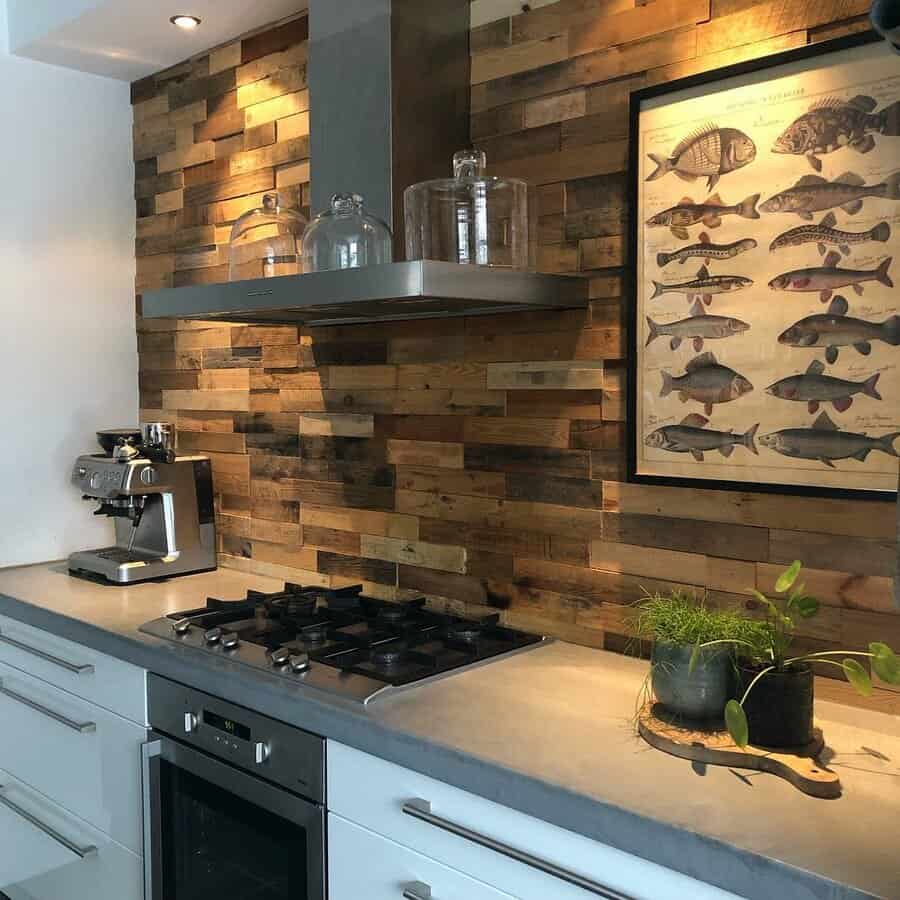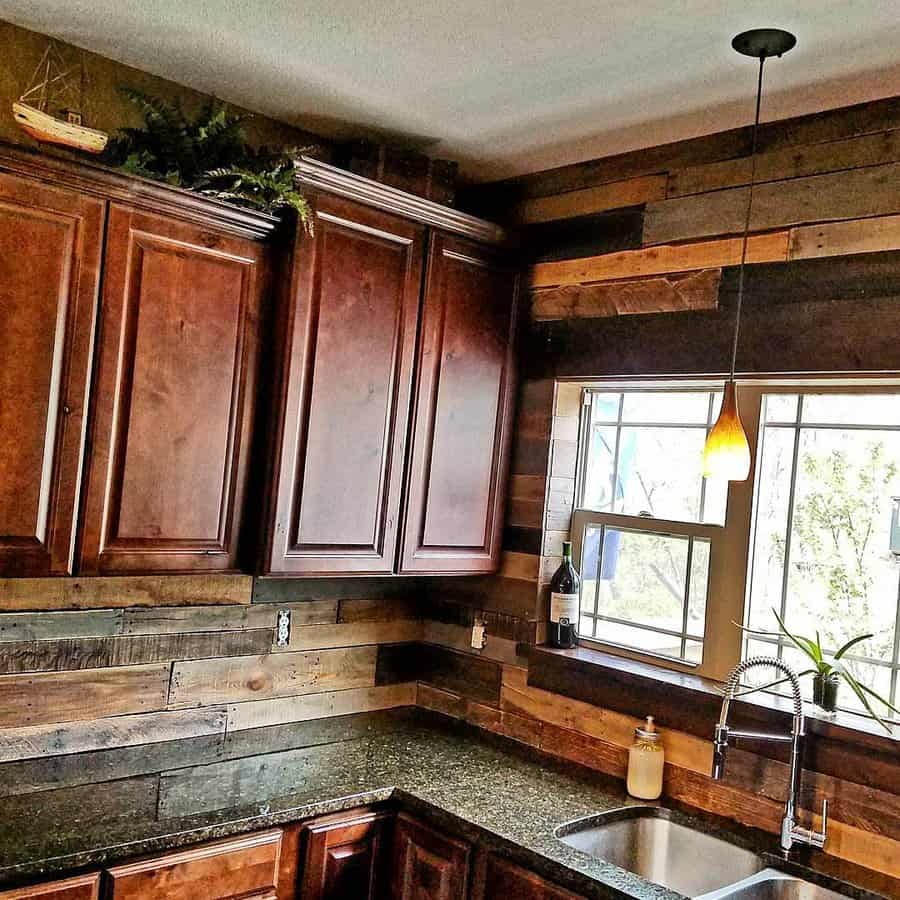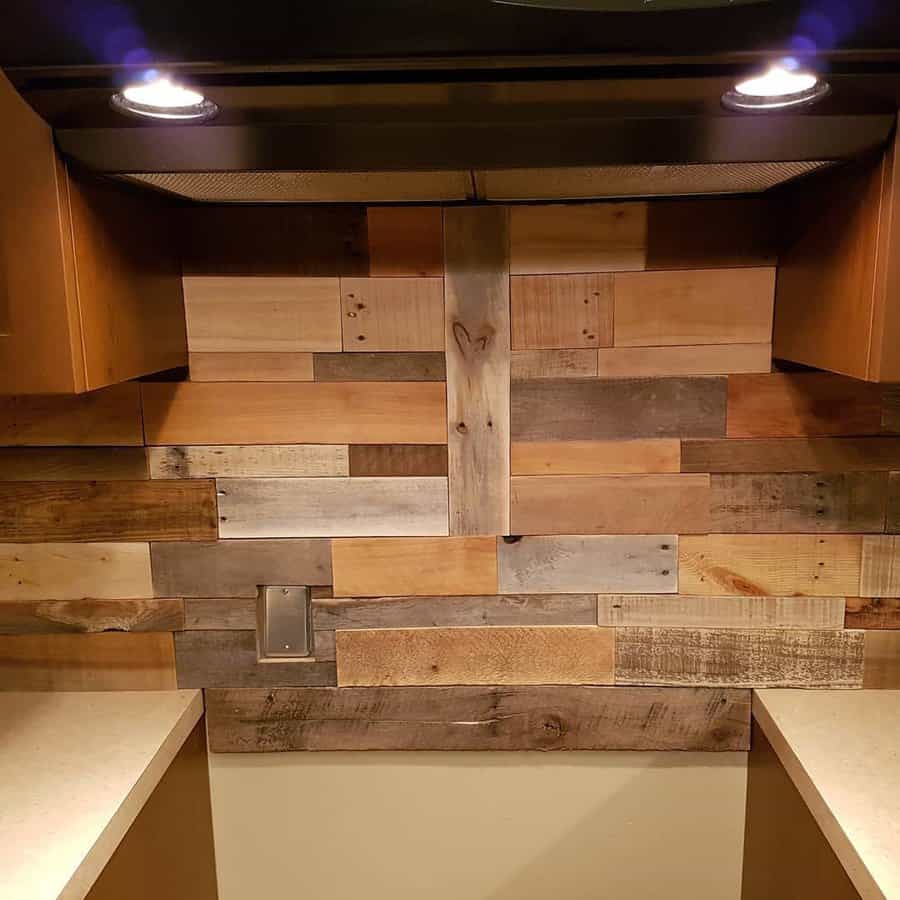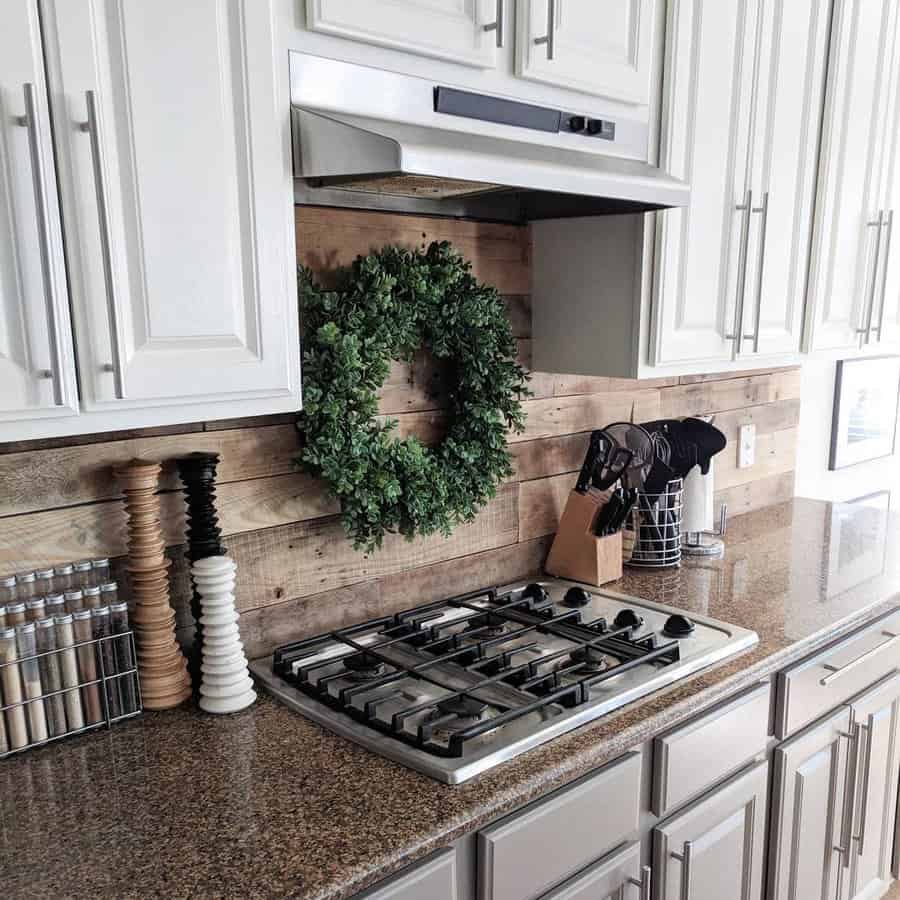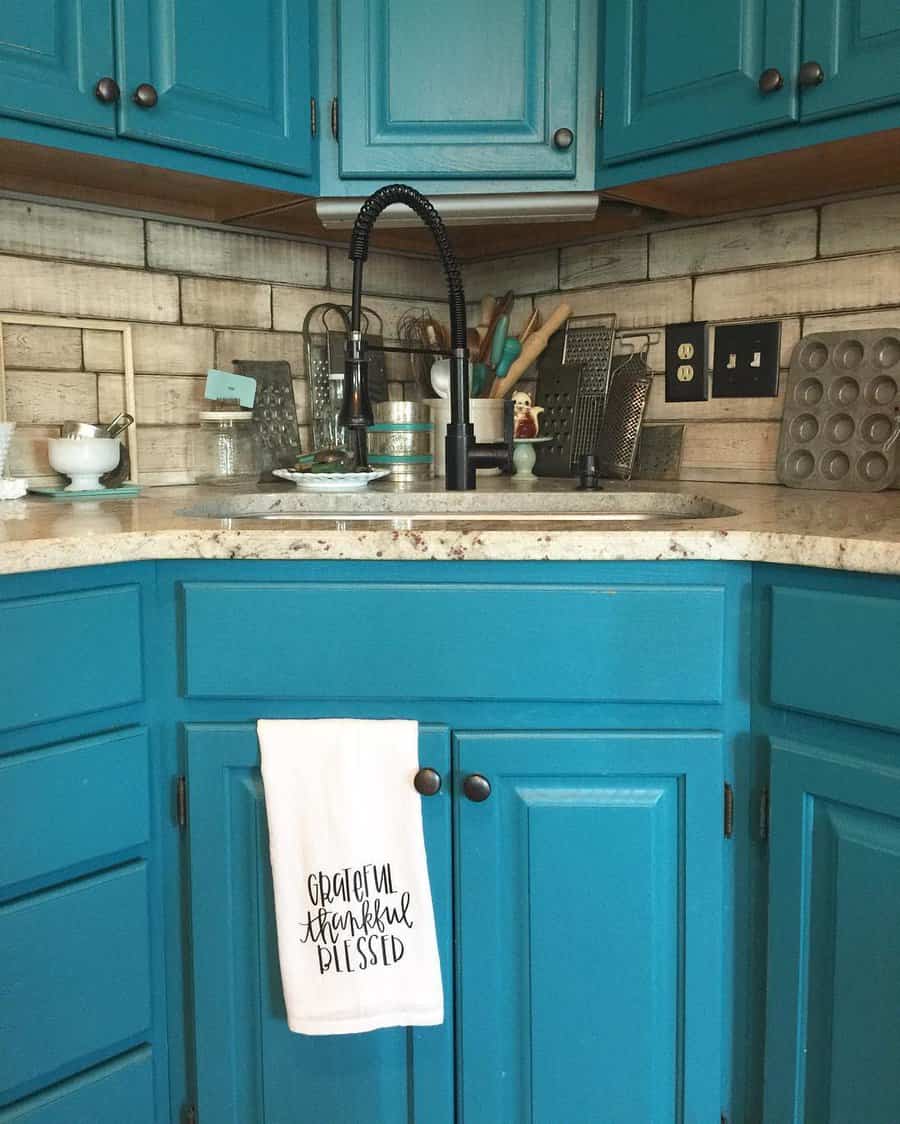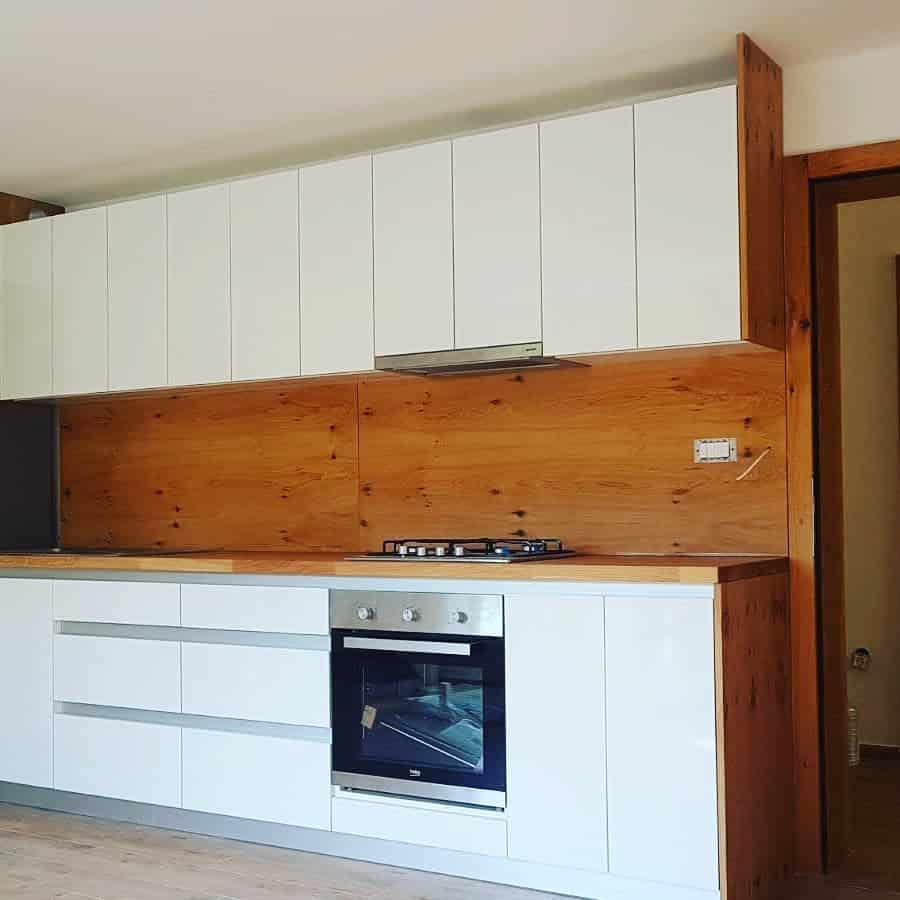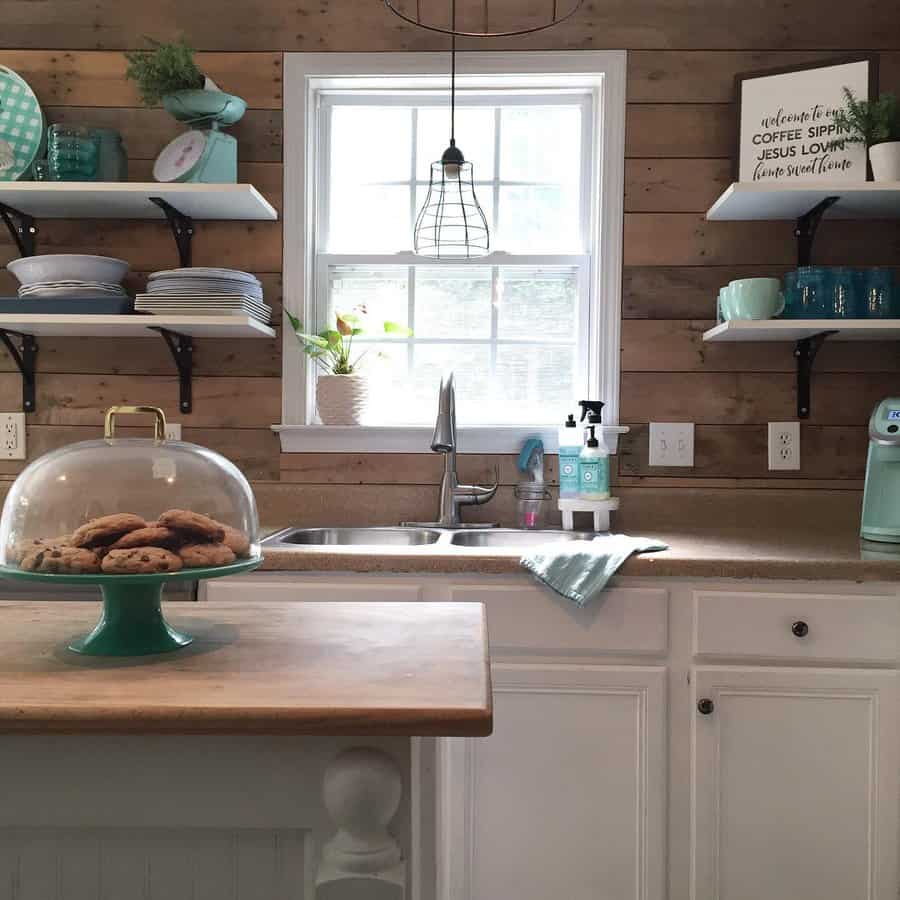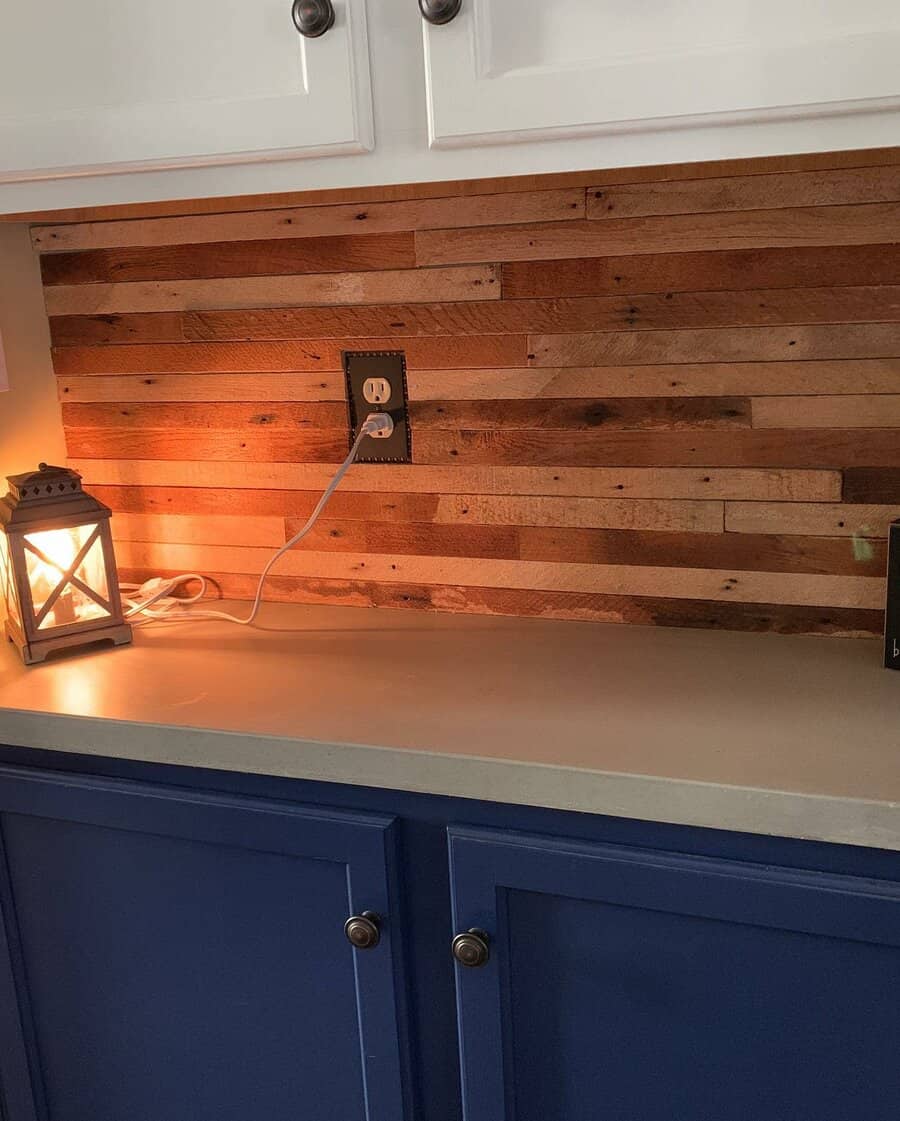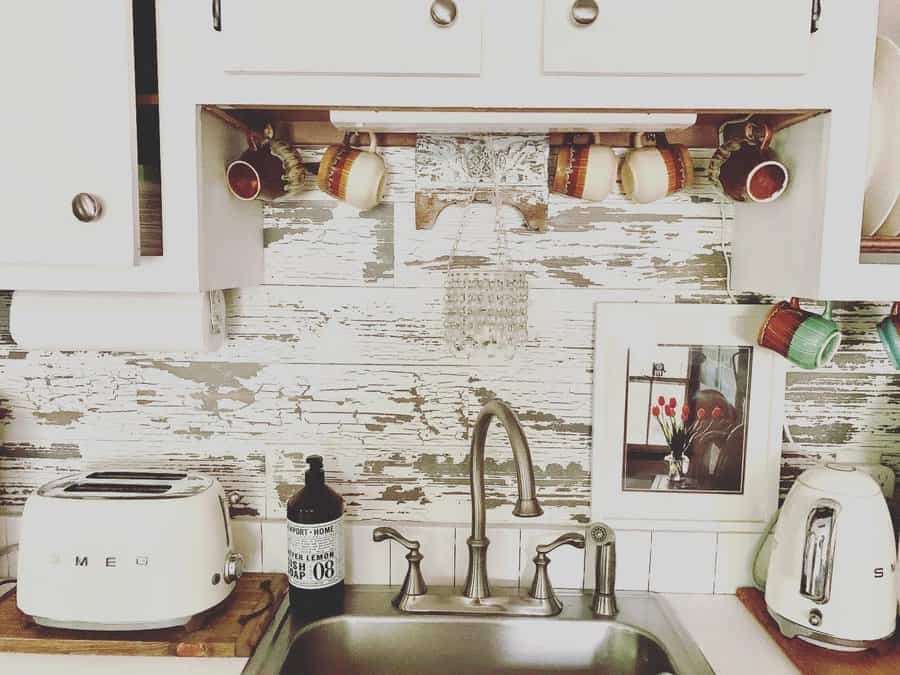 11. Corrugated Metal Backsplash
This unconventional choice adds a touch of rugged charm and texture to your culinary space while keeping costs down. The sleek lines and metallic sheen of corrugated metal create a unique visual appeal, giving your kitchen a modern and edgy vibe.
Whether you choose to leave the metal in its natural state or paint it in a bold color to match your kitchen's theme, this affordable option will surely make a statement. Install the corrugated metal sheets horizontally or vertically, depending on your desired aesthetic. Pair it with minimalist cabinetry and stainless steel appliances for a cohesive and contemporary look.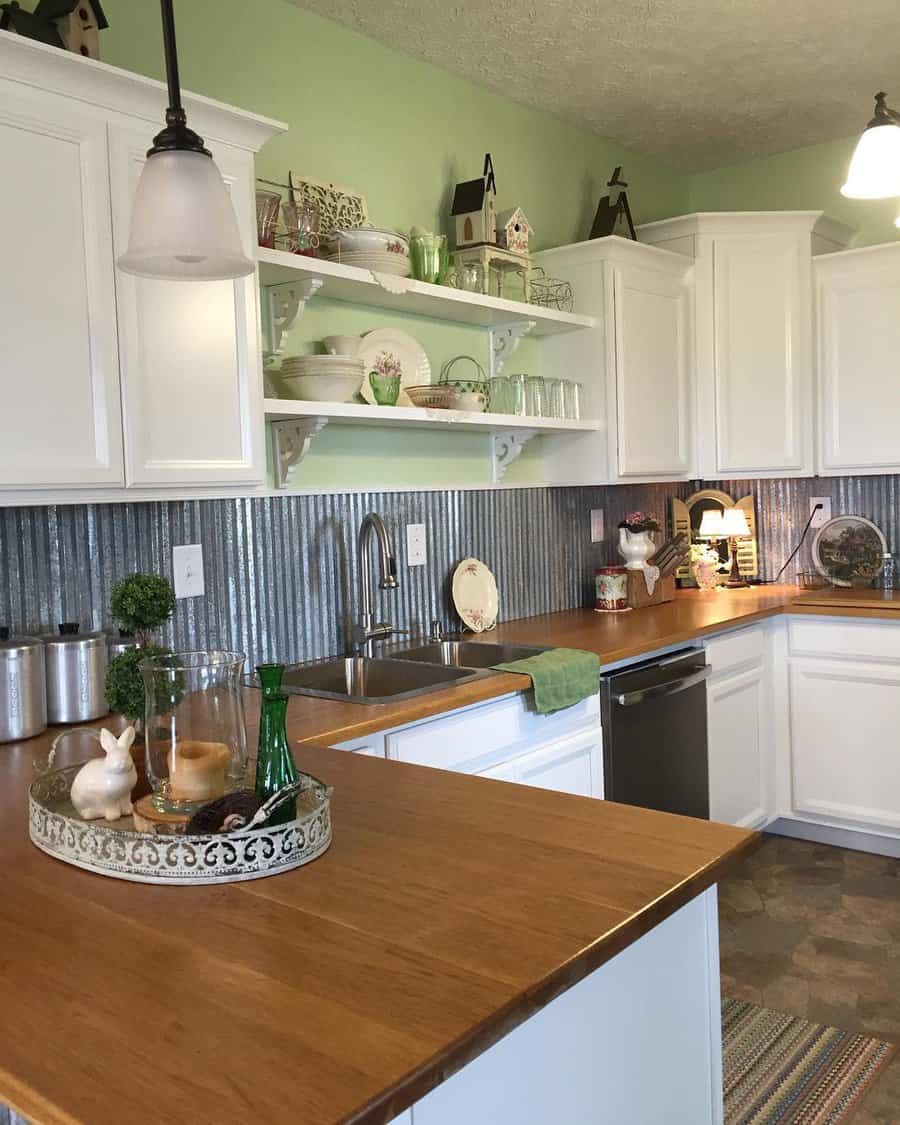 12. Shiplap Wall Backsplash
One fantastic option is a shiplap wall backsplash, adding rustic charm and character to your kitchen. Shiplap, traditionally used as exterior siding, has made its way indoors and become a popular choice for kitchen backsplashes. Its horizontal paneling creates a visually appealing pattern that complements a variety of kitchen styles, from farmhouse to coastal and everything in between.
With its clean lines and natural texture, a shiplap backsplash adds warmth and depth to your space. It's also an excellent opportunity to infuse your personal style by painting the shiplap in a color that complements your kitchen's palette.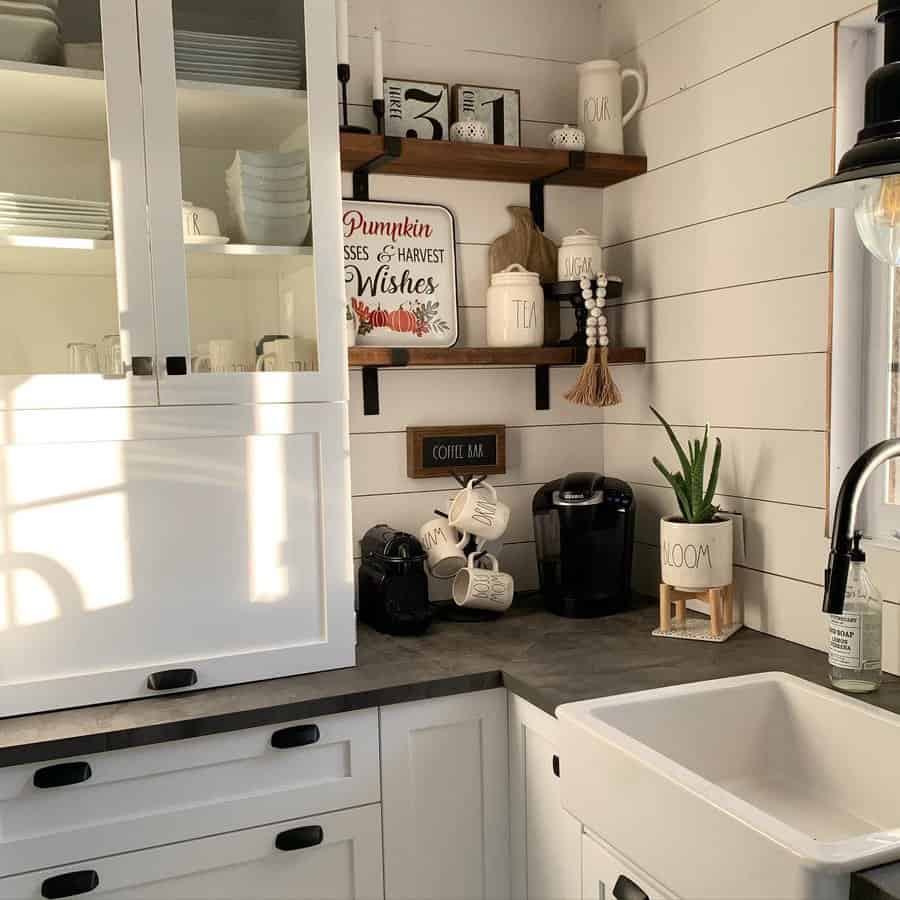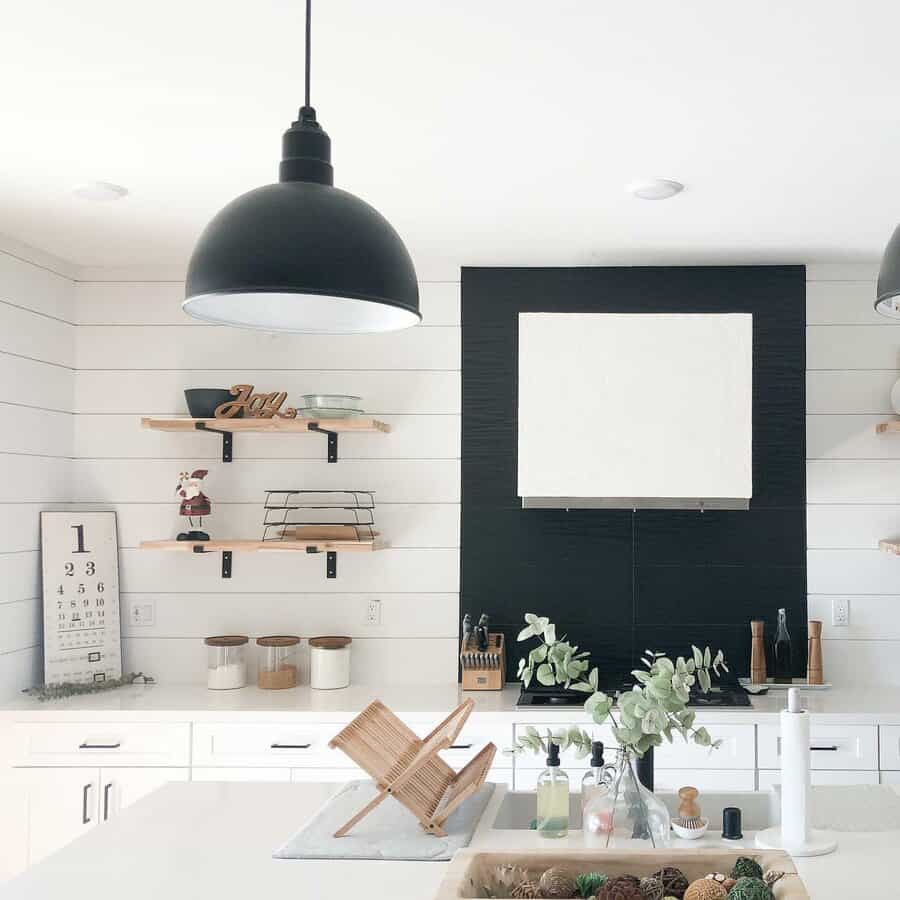 13. White Wood Panel Backsplash
By utilizing inexpensive white wood panels, you can achieve a stunning backsplash that complements various kitchen styles. The natural texture and grain of the wood add character and depth, while the white color brightens up the space and gives it a fresh, clean look.
This potential DIY project allows you to customize the size and arrangement of the panels to suit your kitchen's dimensions and aesthetic preferences. Whether you have a modern farmhouse kitchen or simply want to add a touch of rustic elegance, a white wood panel backsplash is a cost-effective and stylish solution that will make a statement in your culinary haven.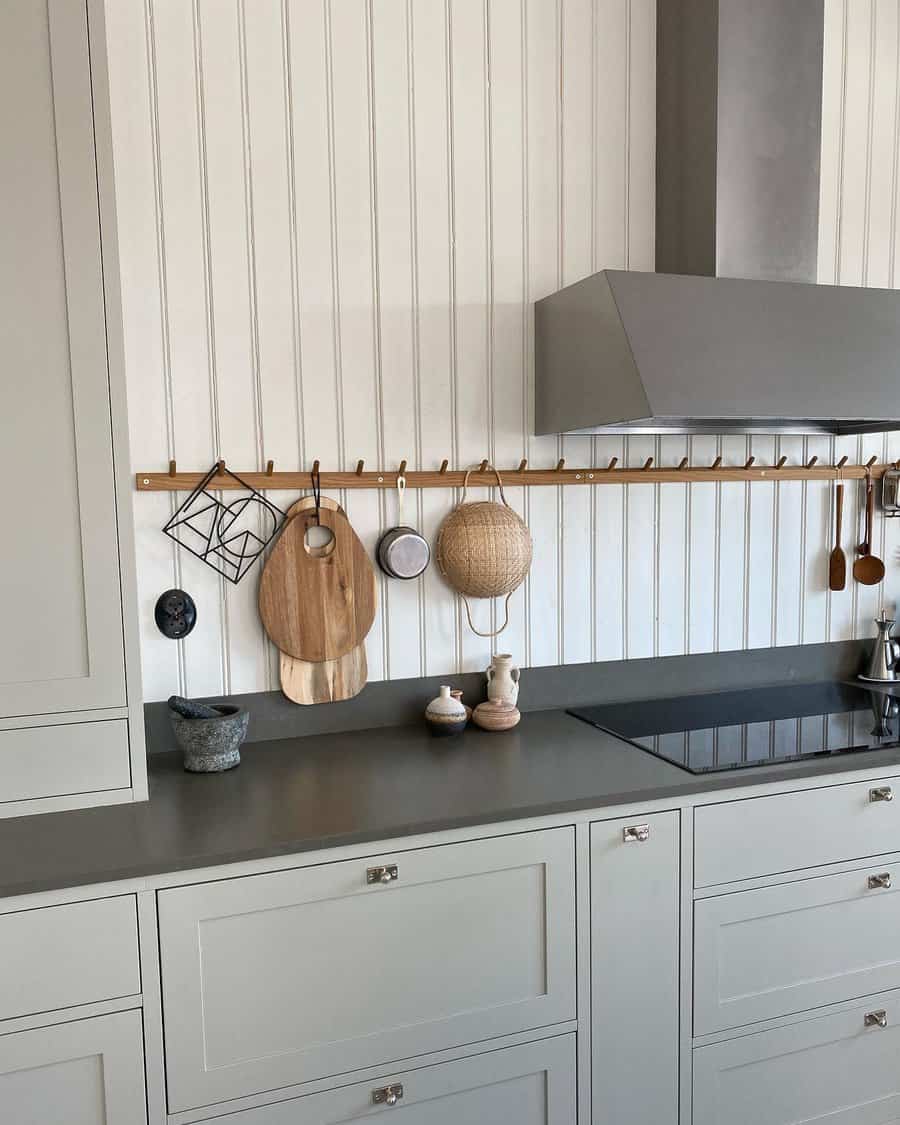 14. Herringbone Patterned Backsplash
One option that adds both style and visual interest is a herringbone patterned backsplash. This timeless design adds a touch of elegance and sophistication to your kitchen while creating a focal point that draws the eye. You can achieve this look with a variety of materials, such as peel-and-stick tiles, reclaimed wood, or even paint.
Consider using subway tiles in a herringbone arrangement for a classic and versatile look. Another budget-friendly option is to repurpose materials like pallet wood or vintage tin ceiling tiles to create a unique and eclectic backsplash.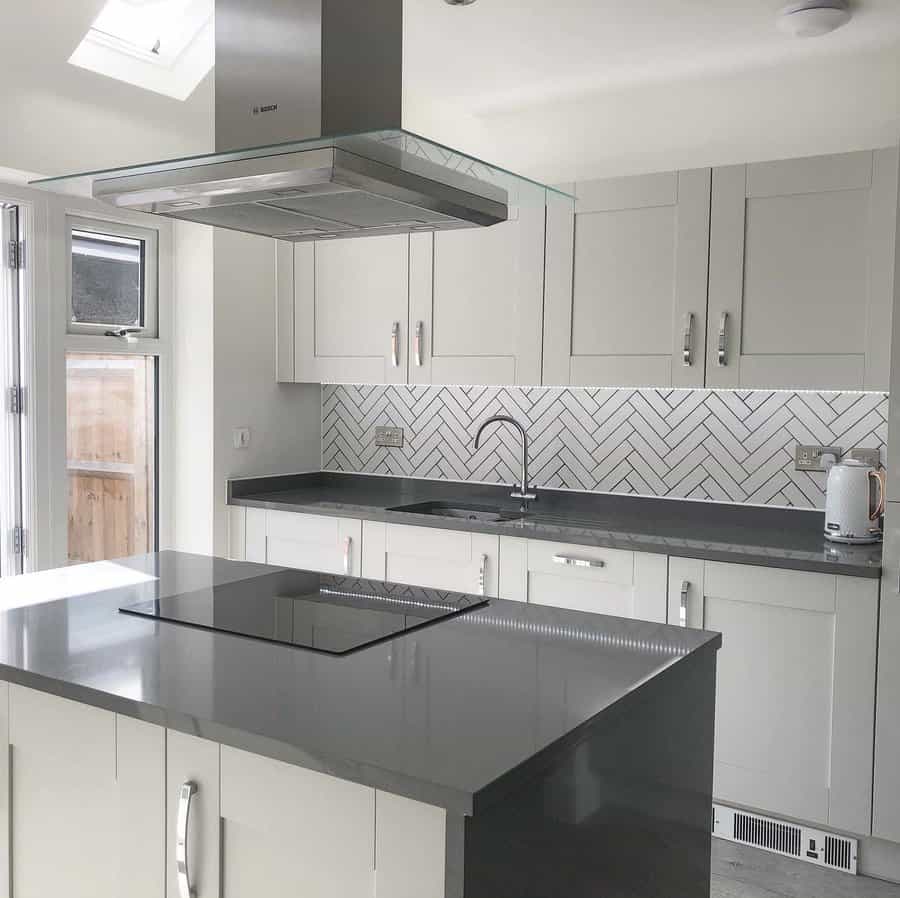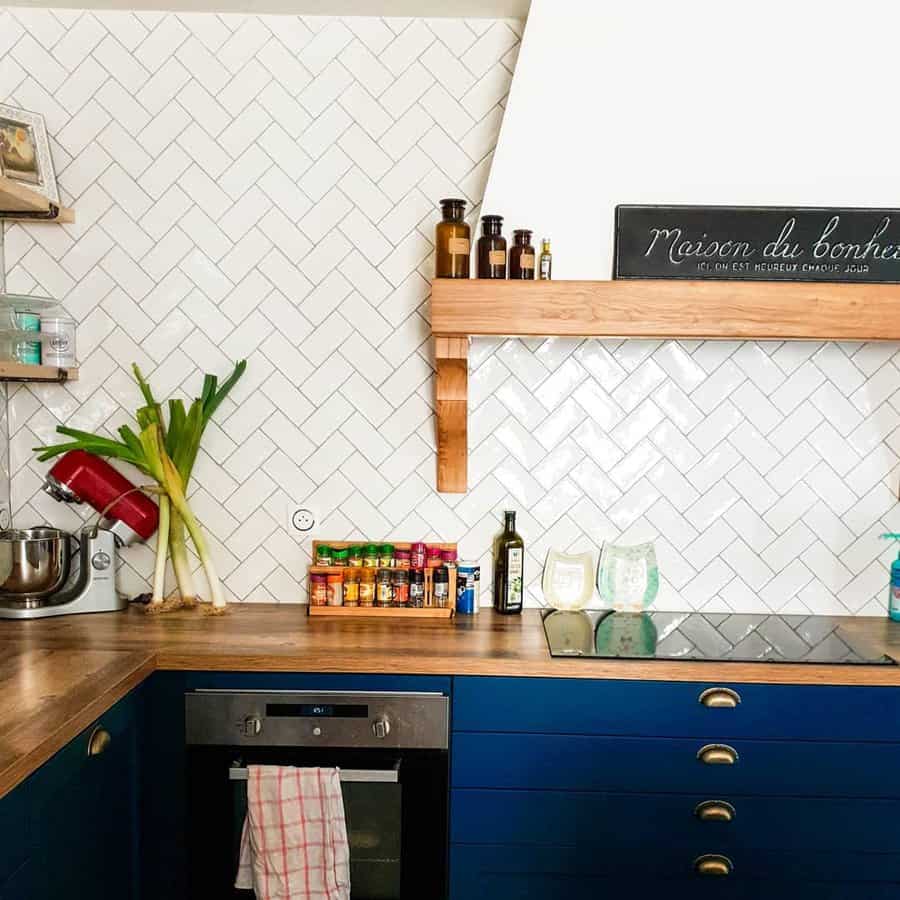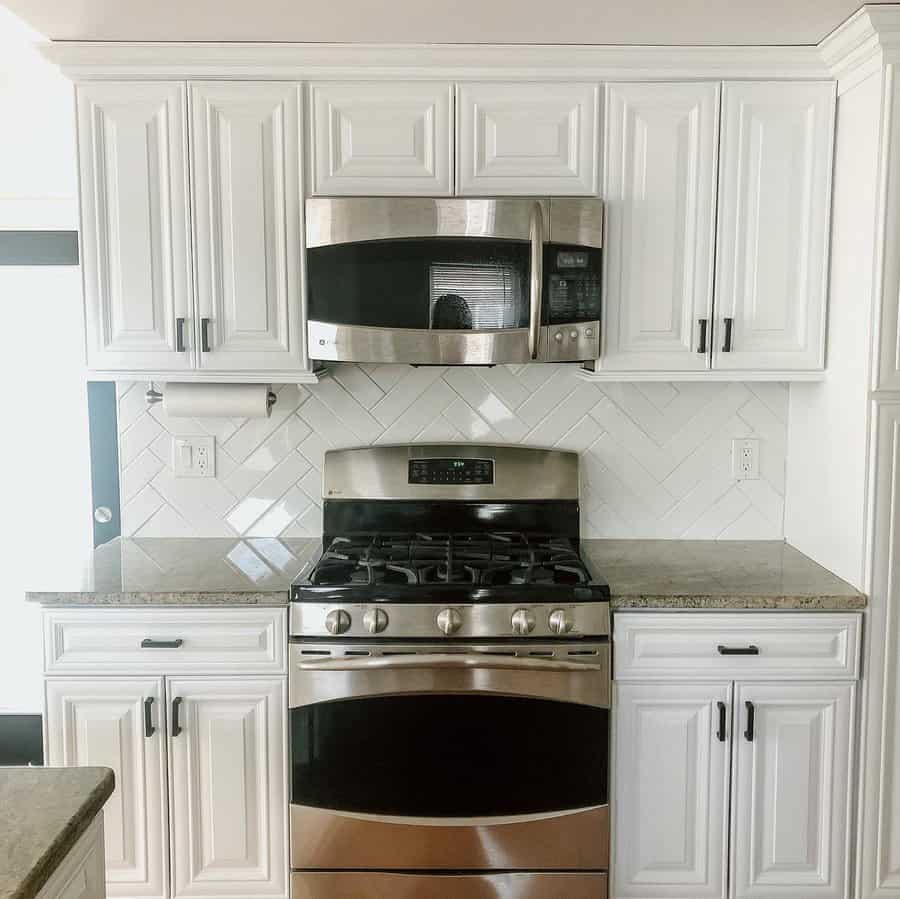 15. Beveled Tiles
Consider using beveled tiles in various colors to add a touch of personality and visual interest to your kitchen space. The beveled edges create a sense of depth and dimension, while the glossy finish adds a touch of sophistication. This option is particularly well-suited for art deco kitchens, where you can embrace the bold and glamorous style.
Mix and match different colors to create a unique and eye-catching pattern that complements your existing kitchen decor or choose one consistent color that complements the colors of your kitchen cabinets. Whether you choose a monochromatic palette or opt for a vibrant and eclectic combination, beveled tiles are an affordable way to transform your kitchen backsplash into a stylish focal point.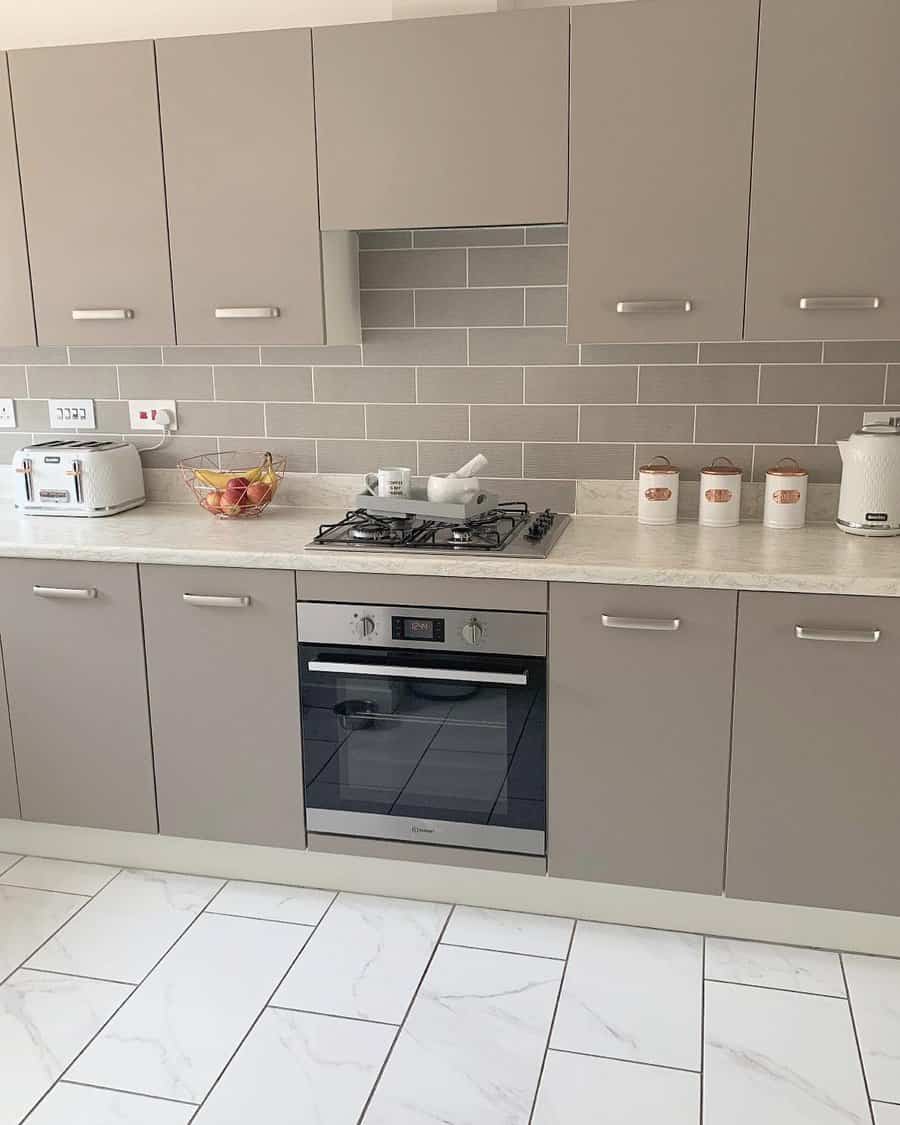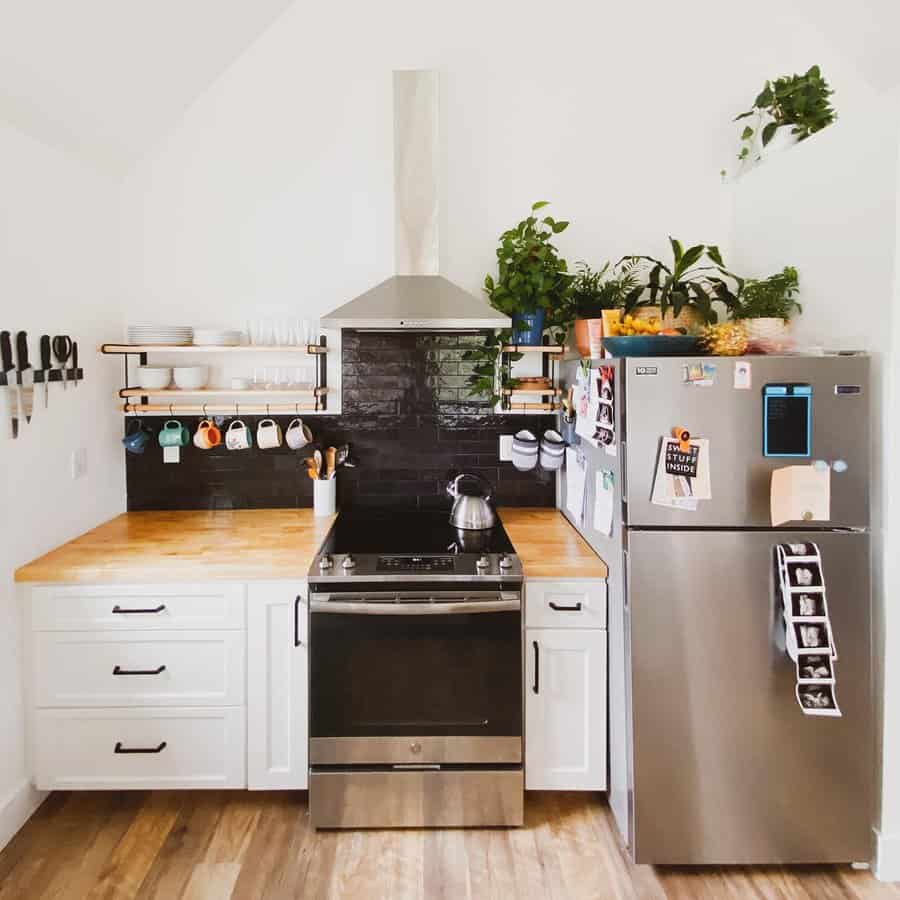 16. Marble Tile Backsplash
Marble tiles are versatile and come in various sizes, allowing you to create different patterns and designs. Whether you opt for a classic herringbone pattern or a sleek subway tile layout, the natural veining of marble adds a timeless charm to your space.
Another advantage of marble tile backsplashes is their durability and easy maintenance, making them an ideal choice for a busy kitchen. With a touch of creativity and some adhesive, you can transform your kitchen with a luxurious marble backsplash that won't break the bank.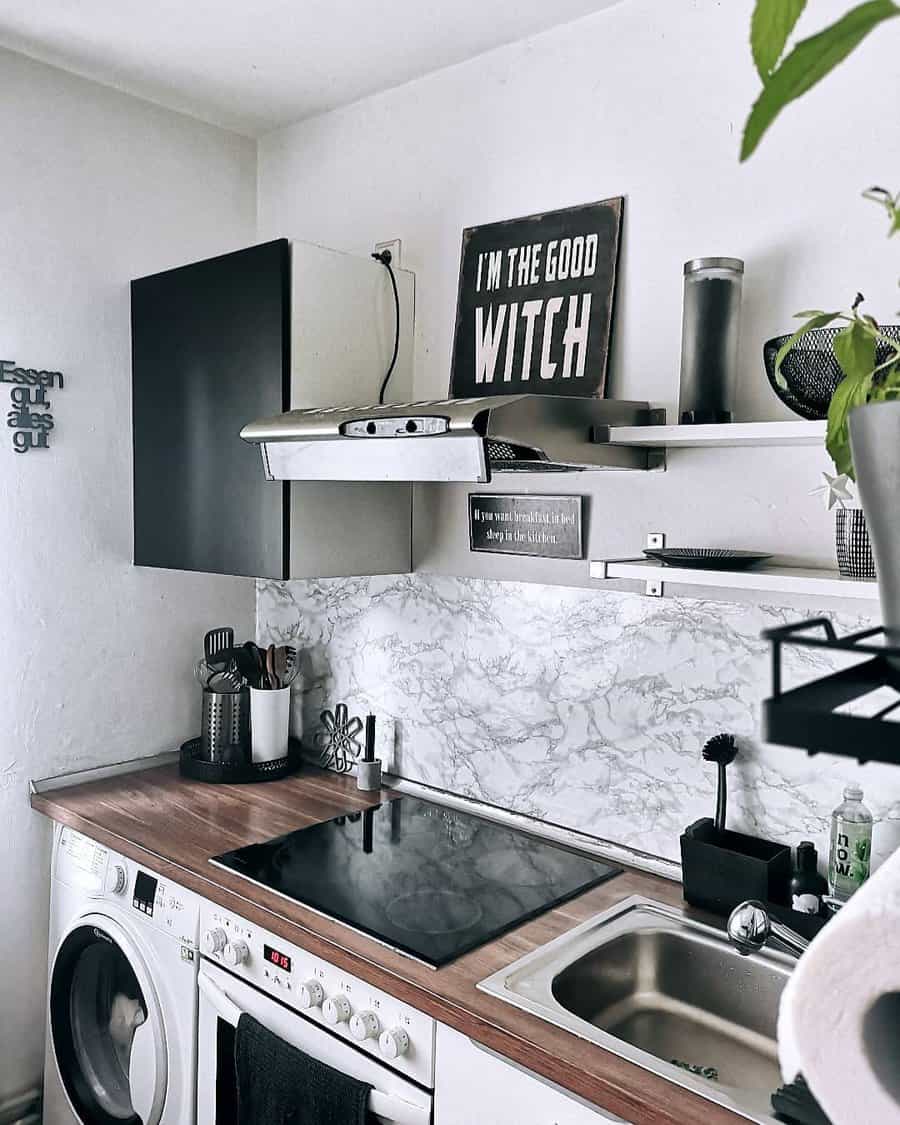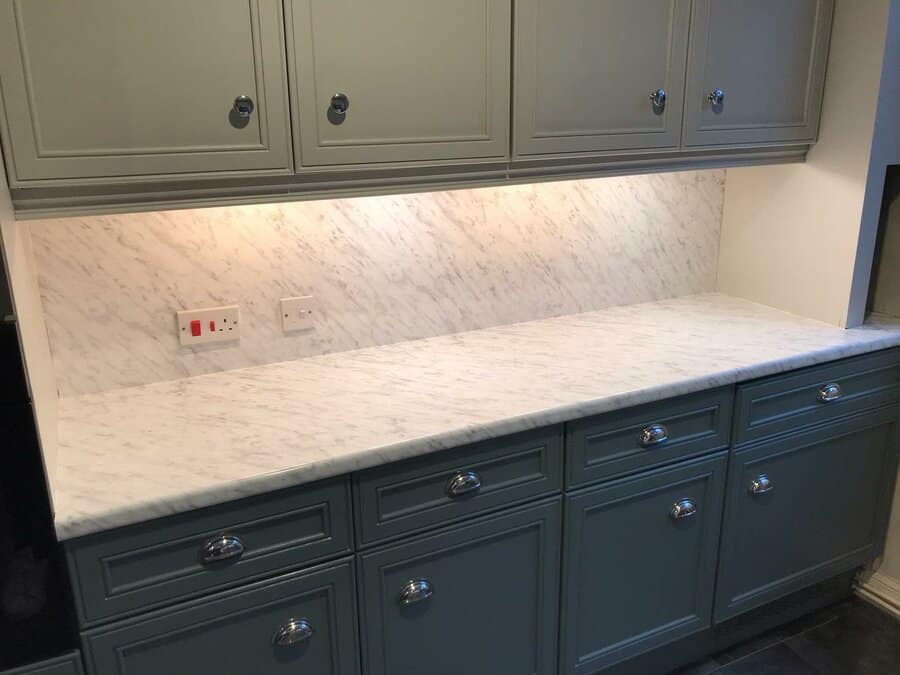 17. Luxury Vinyl Tile Backsplash
Transform your kitchen without breaking the bank with these creative and budget-friendly backsplash ideas. One affordable option that doesn't compromise on style is a luxury vinyl tile backsplash. Choose a luxury vinyl tile with a charming wooden pattern to add warmth and character to your kitchen.
The beauty of this option is that it mimics the look of real wood while being durable, easy to clean, and budget-friendly. Whether you opt for a sleek and modern herringbone pattern or a rustic stacked design, a luxury vinyl tile backsplash brings a touch of elegance to your kitchen without the hefty price tag. It's a cost-effective way to update your space and make a lasting impression.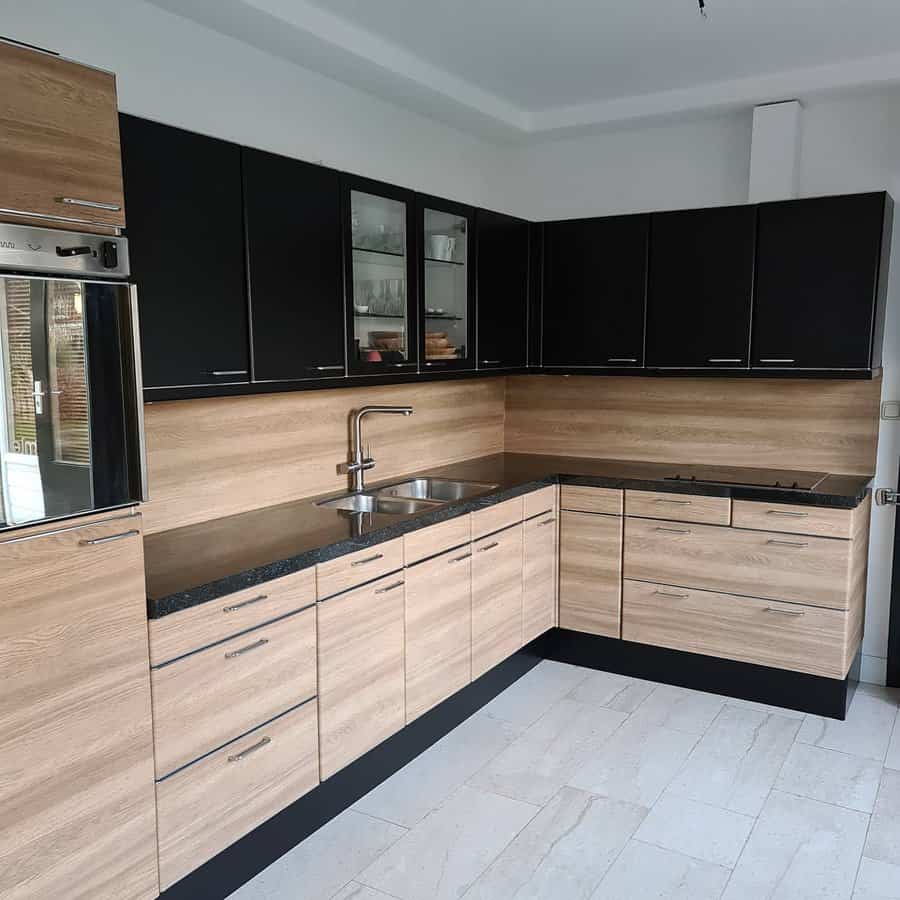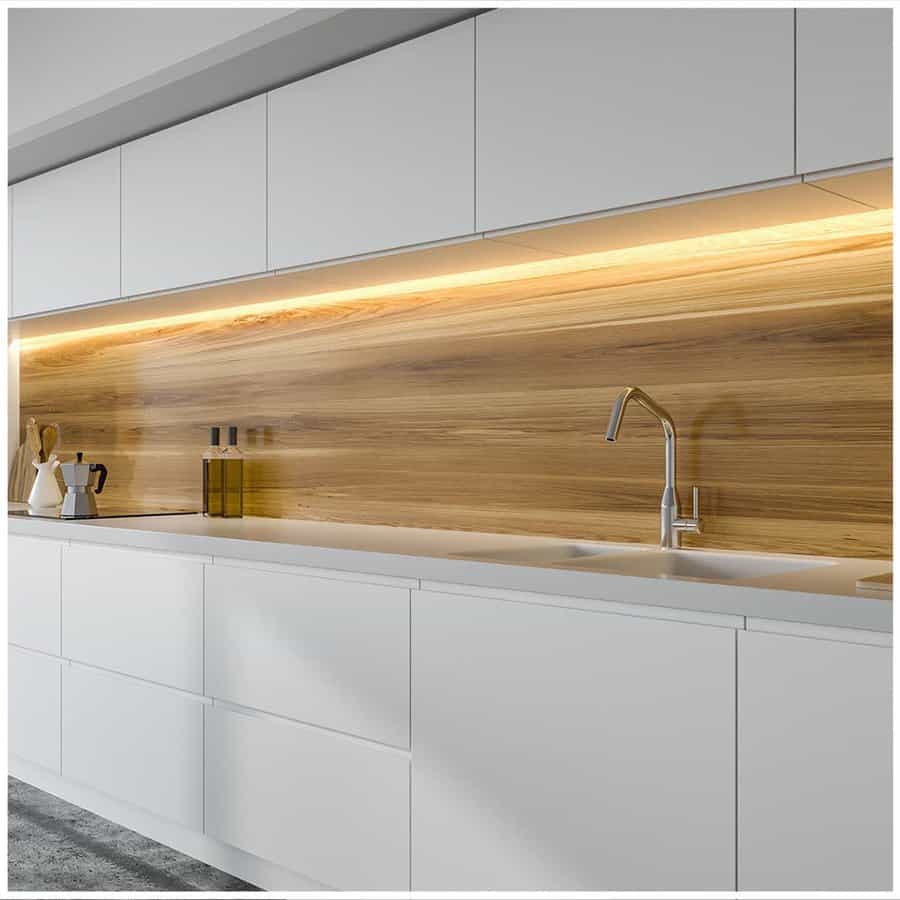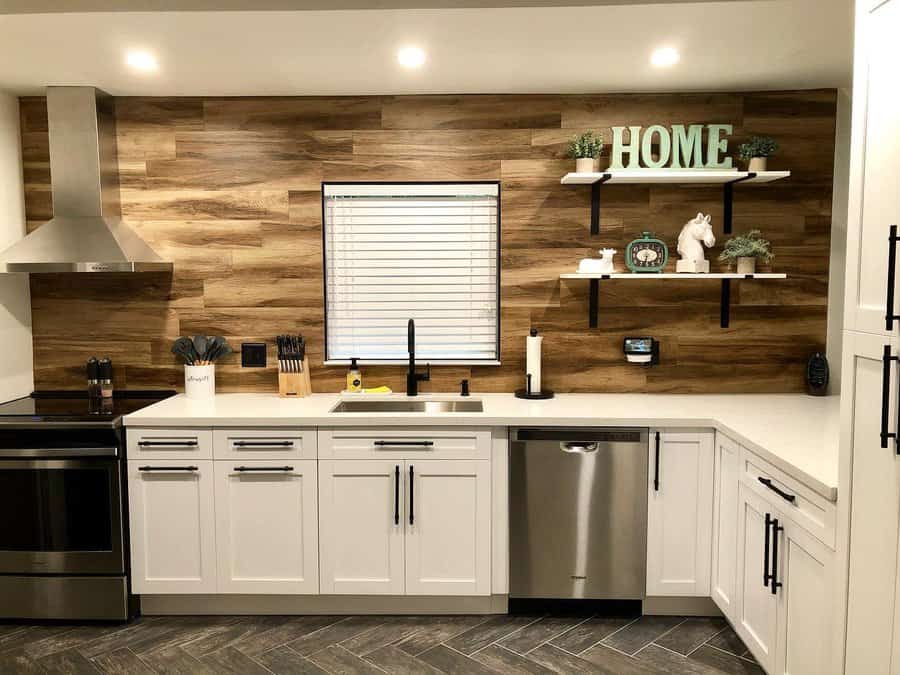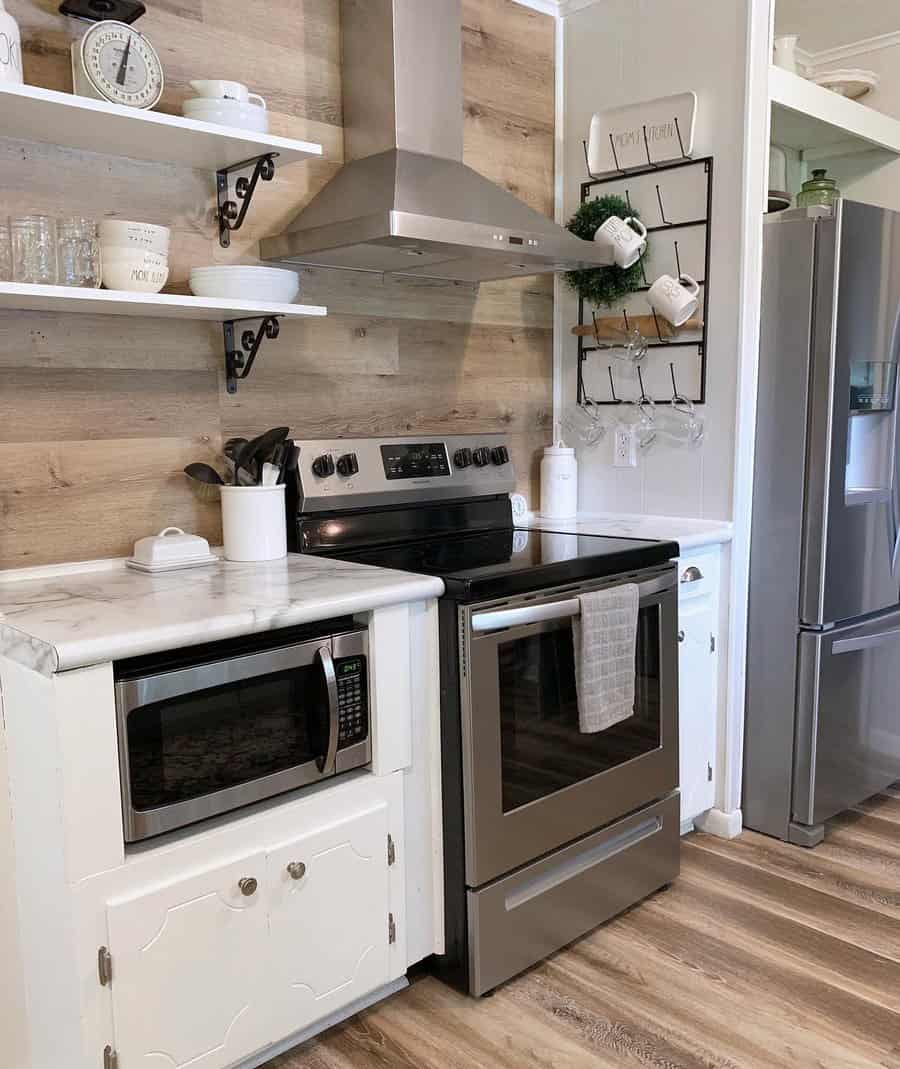 Kitchen Backsplash FAQs
What is the least expensive kitchen backsplash?
Vinyl peel and stick tile is perhaps the most affordable way to easily update a kitchen backsplash. These inexpensive tiles are also one of the easiest DIY backsplash ideas. If you have an existing tile backsplash, look for adhesive tile decals that can add color and texture with little effort. Vinyl film is also available on easy-to-apply rolls.
Does a peel and stick backsplash last?
If you install them on a clean surface, most people find peel and stick tiles durable. However, you do get what you pay for and the thinner, cheaper versions won't last as long—or look as realistic—as thicker vinyl tiles. Stick on tiles made from real glass, stone, or metal resist fading and can be hard to distinguish from a professionally installed backsplash.