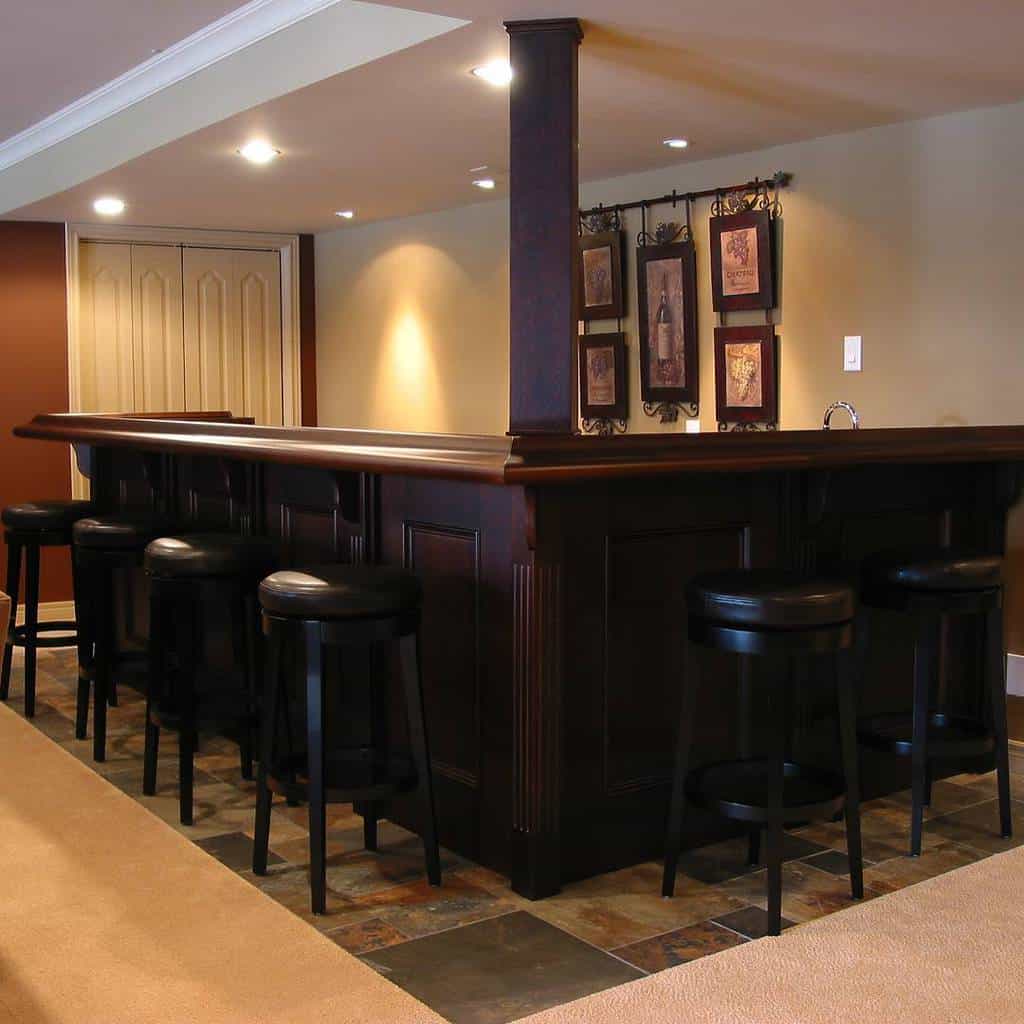 A basement bar can be a great place to entertain guests and family, or simply chill out after a long day of work. You don't need to go through an exhausting remodel process in your entire basement, to have an awesome basement bar.
Whether you have a small space or an unfinished basement, with some bar design tips you will be able to transform the space into your dream man cave, that will soon become your favorite room in the house.
1. Add Pendant Lights
With pendant lights affixed over the bar countertop, the space is illuminated with a unique charm, adding dimension and character to the entire experience. Dimly lit corners and cozy nooks provide for a secluded moment to chat with friends, old or new, over drinks of your preference. Not only do these pendant lights provide dynamic lighting, but they also add dimension and character to the room. Secrets are held here in abundance; wander as you will to uncover them all!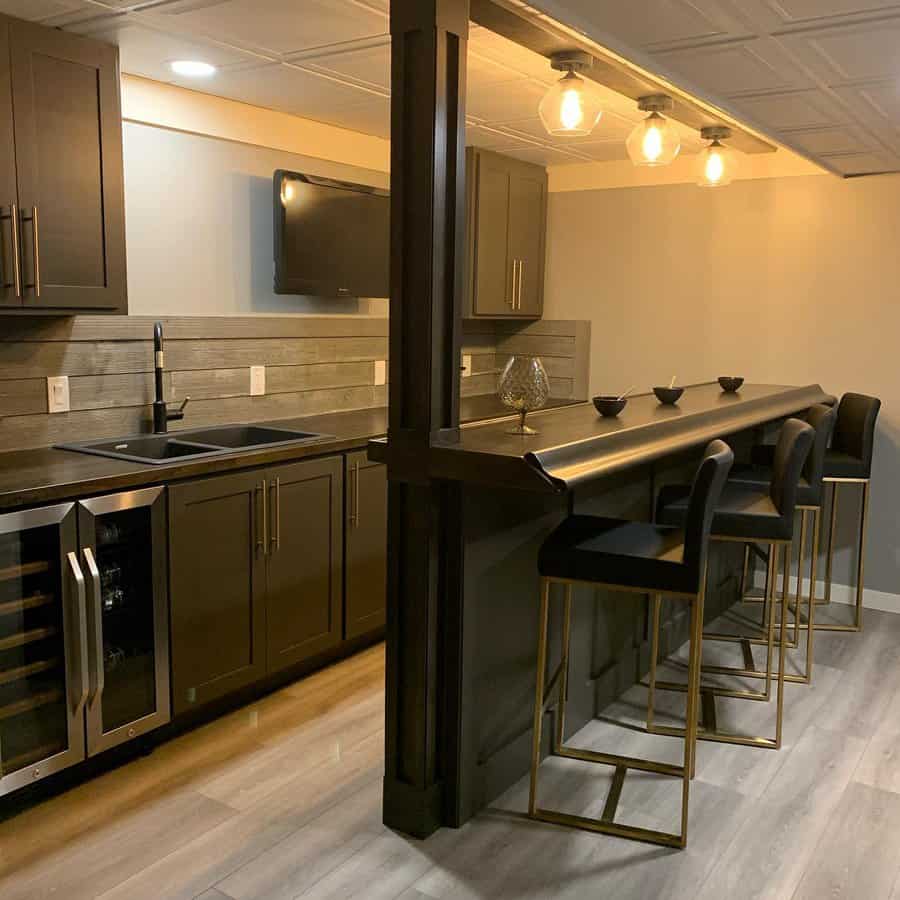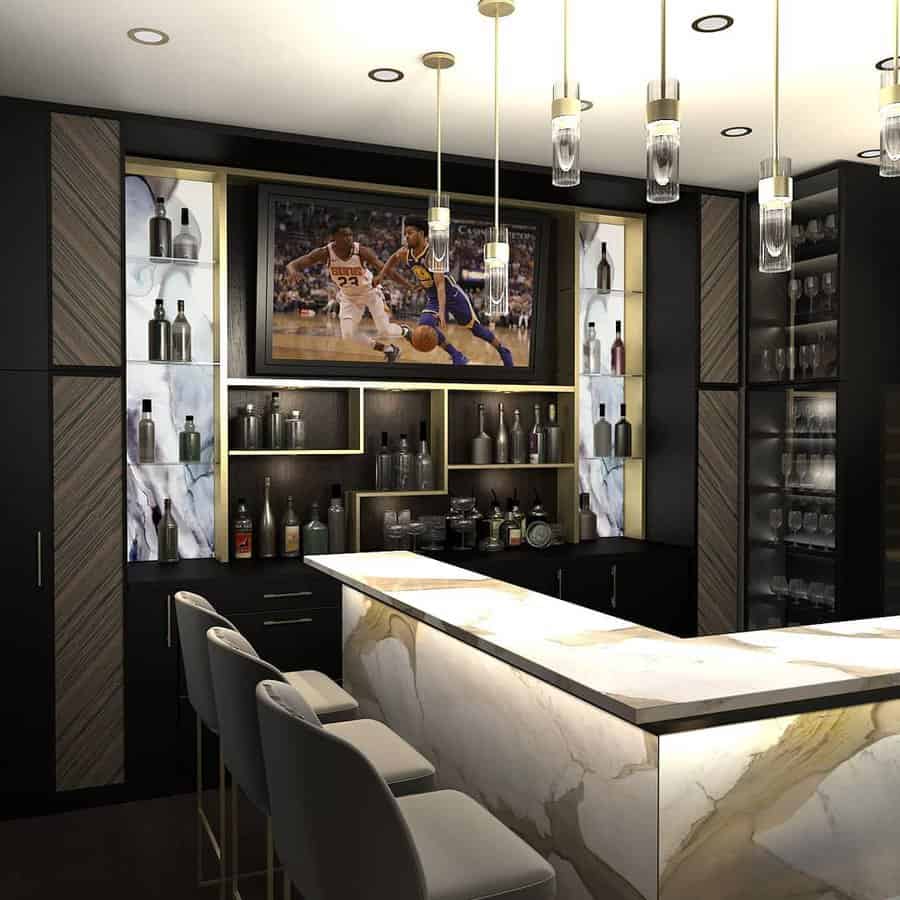 2. Install A Billiard Table
Arrive at the basement bar and feel like you're entering a whole other world! With the billiard table in the middle, there's plenty of room for all your friends to hang out.
Surrounding it are ample seating and warm lighting, creating an inviting atmosphere that can help bring people together. Enjoy the great vibes and the perfect ambiance of your own mini-pub – cheers!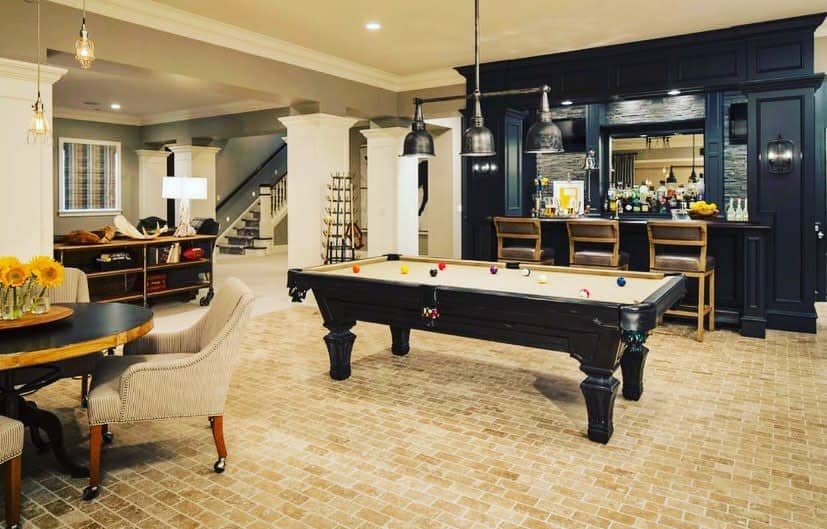 3. Showcase Your Collection
What's a better place to set up a home bar than your basement? Create an affable atmosphere in the comfort of your own home with a collection of your choice mounted on wall shelves.
From whiskey, wine, and liqueurs to beers, start conversations with each bottle offering something special or unique. Whether you have guests over or just time alone, the perfect setup in your basement will keep those conversations interesting.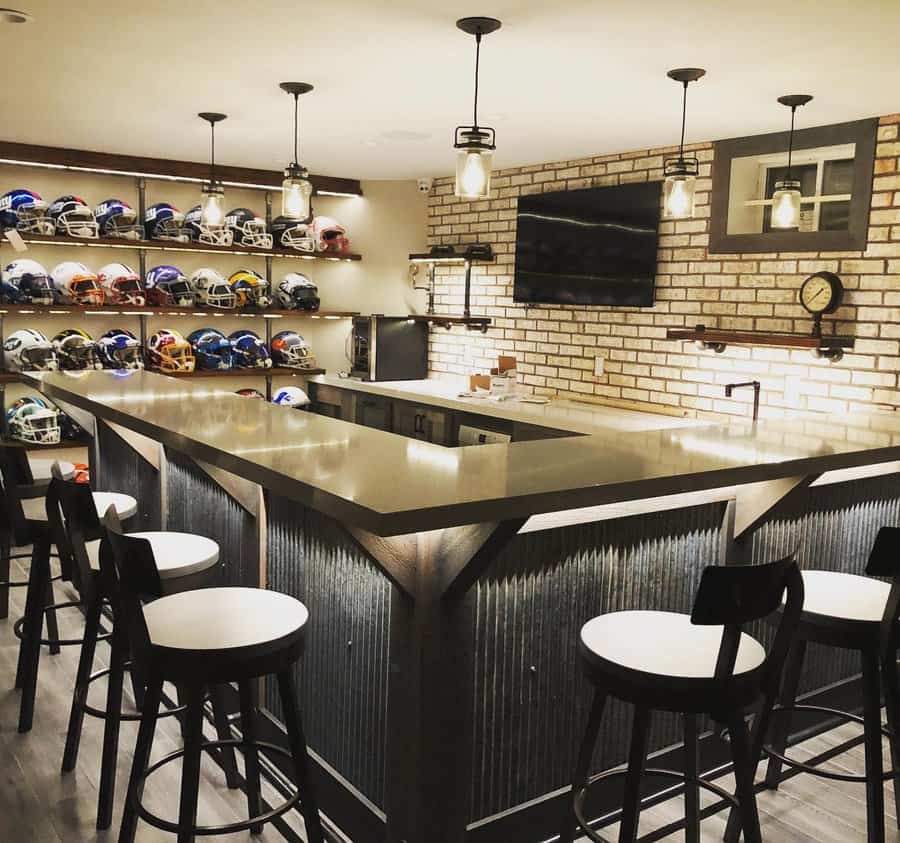 4. Build A Narrow Bar Island To Utilize Seating
Give yourself ample seating behind a narrow bar island countertop and you'll be set for entertaining guests in no time at all.
With the dim overhead lighting, the smell of freshly-prepared snacks and drinks, and smooth jazz playing in the background, it won't be long before your basement bar becomes the favorite evening destination for family and friends.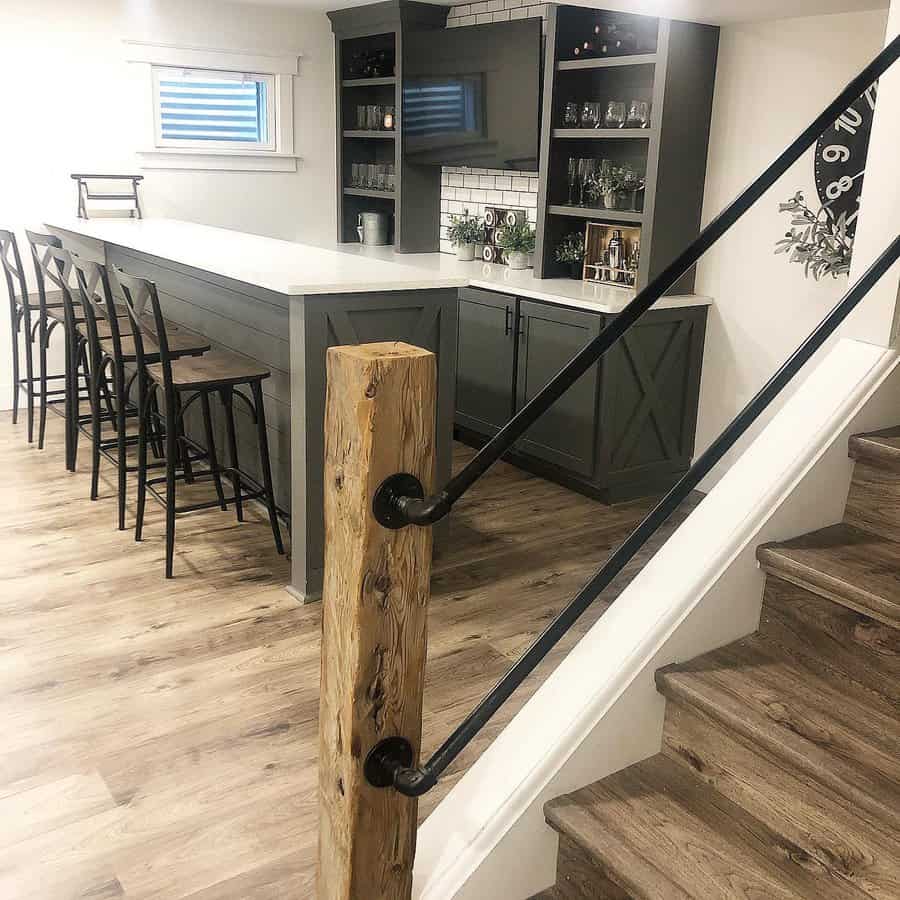 5. Build A Curved Countertop Bar
Gathering with friends and family has never been more enjoyable than at a basement bar! Built from the ground up, this space features curved bar countertops and detailed stonework that ties all the elements together in perfect harmony.
This cozy corner is designed to utilize every corner for seating, providing enough space to let everyone comfortably take part in the fun. Whether it's a beer or a cocktail served up at this bar, each visit is sure to be as memorable as the last.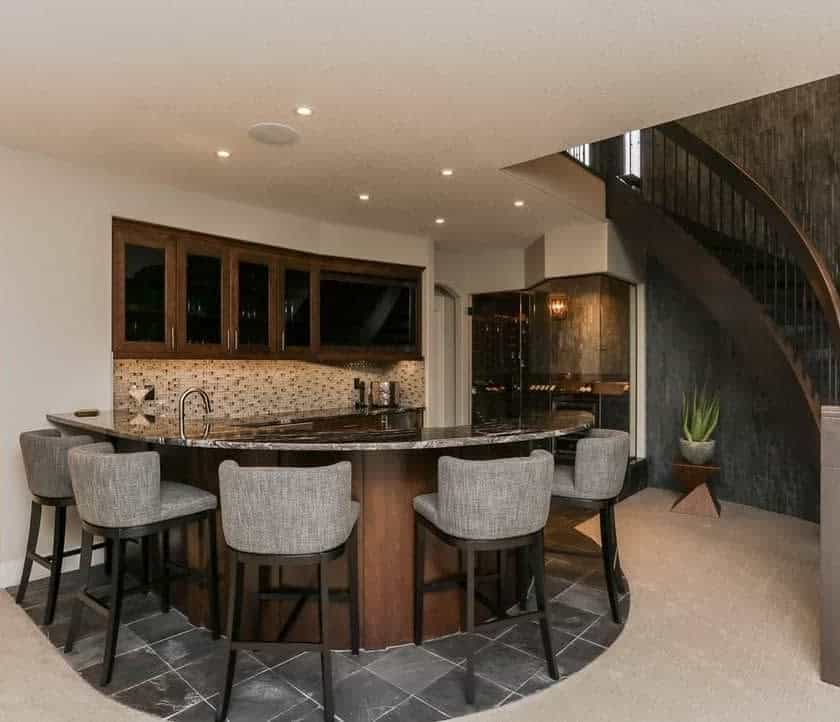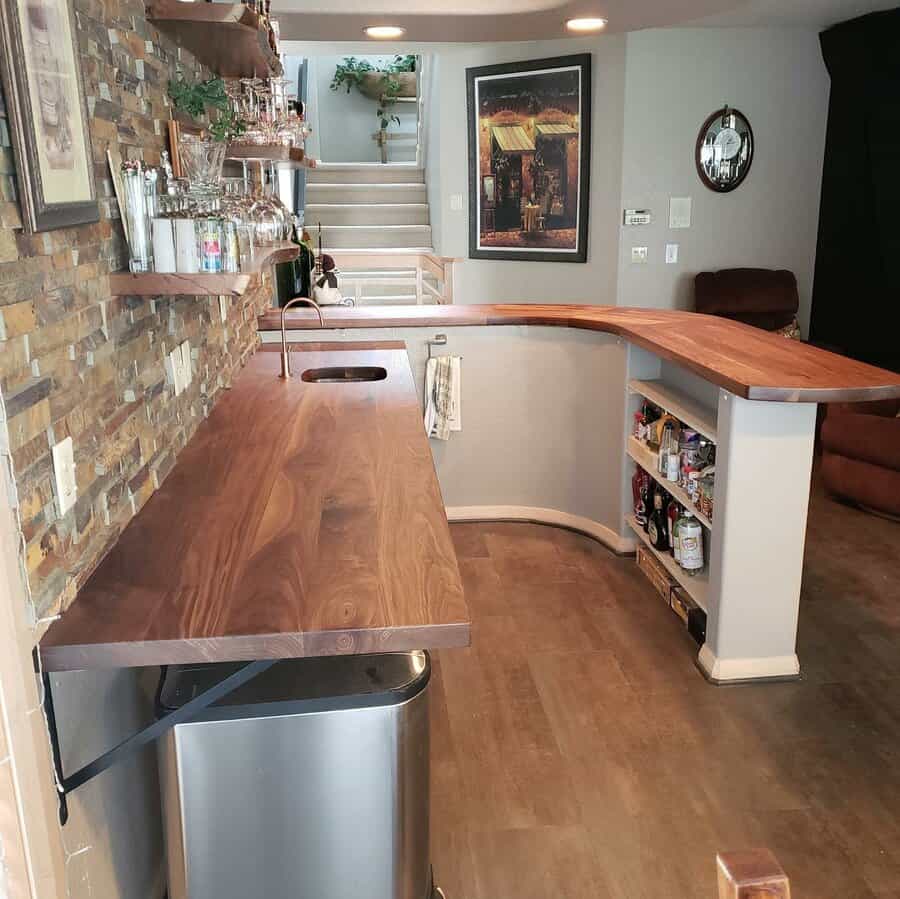 6. DIY Your Bar With Exposed Bricks
Transform your home's basement into a bar made with exposed bricks, the perfect rustic vibe. The bar area is complete with a polished marble countertop, providing an upscale touch among the exposed bricks.
Create a signature look that will make your bar the envy of all who enter! Investing in a bar for your home is more than just another place to serve drinks – it's also a space where you can interact and entertain family and friends.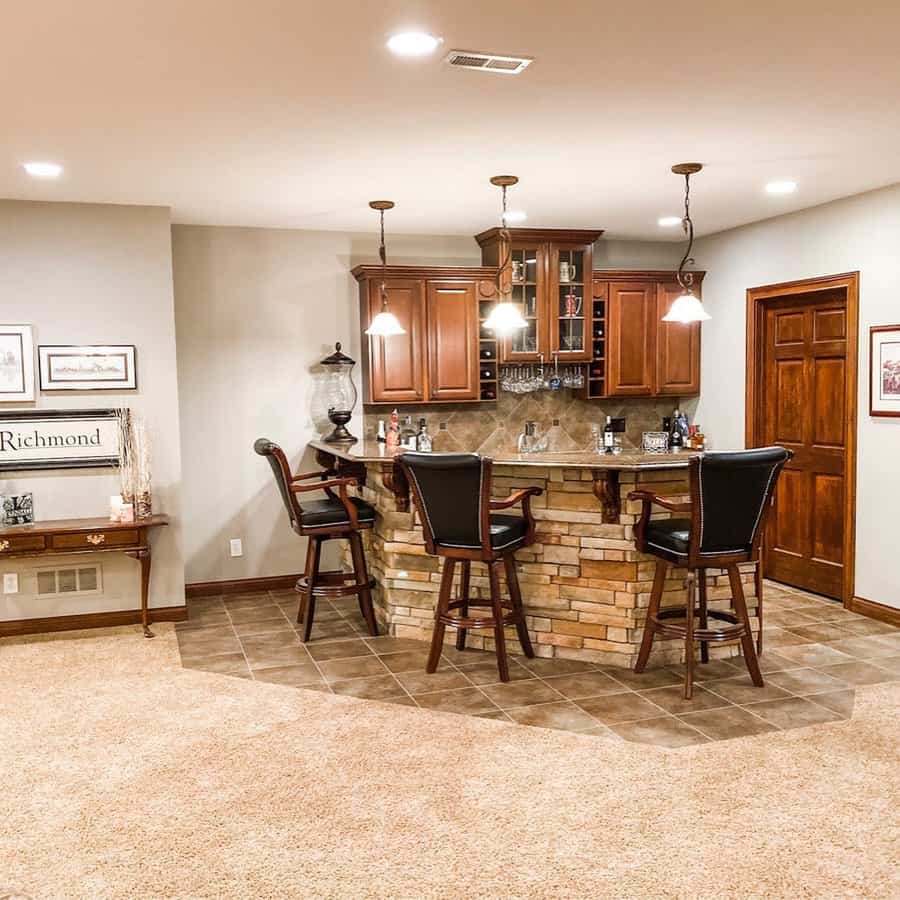 7. Add Decorative Wallpaper
For those looking for that special twist for their entertainment area, look no further than an all-white basement bar. Executed with decorative wallpaper, this eye-catching interior can become a cozy and captivating place to entertain family and friends.
Spend the evening amongst its contemporary white walls, wowing your guests with decorative touches like ornate curtains for an elegant yet comfortable look.
The perfect venue for a few drinks or perhaps an early morning brunch, this decorative keynote of your humble abode will be sure to draw admiration from every corner of your home.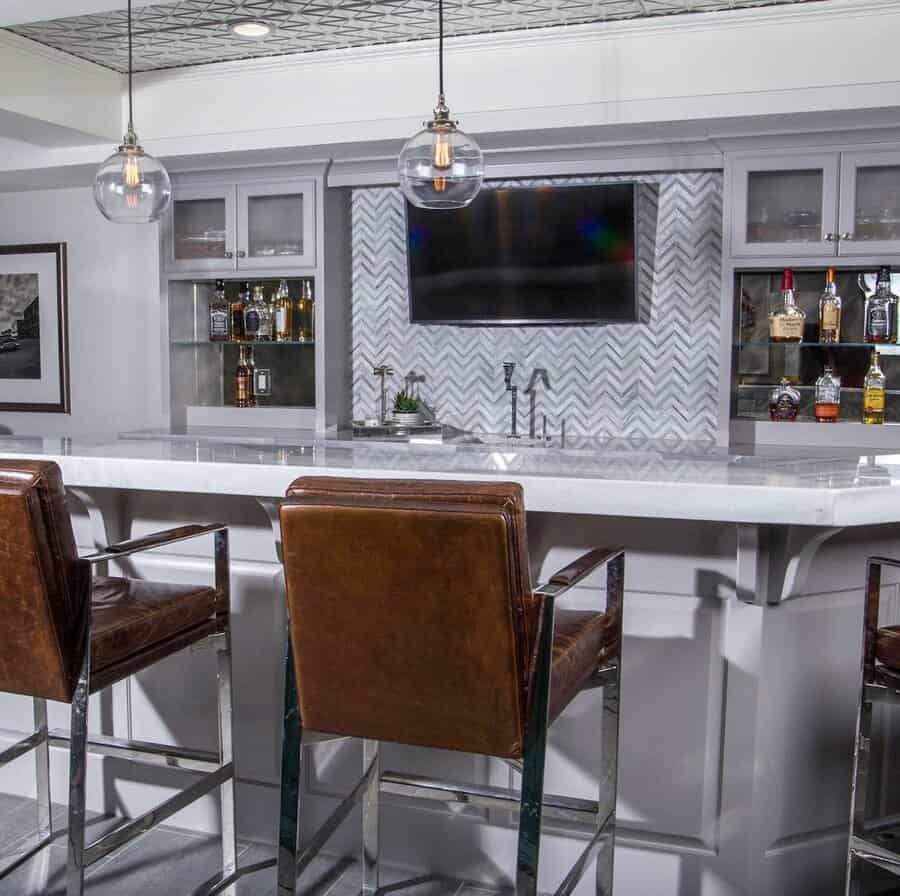 8. Install Colored LED Lights
Transform your basement into an extraordinary bar! Start by building a bar countertop lit up with multicolored LED lights, creating just the right atmosphere. Adding some wall shelves with mirrors will give the bar a touch of sophistication and elegance.
Your bar can be the perfect place to hang out with family and friends, or even throw unique parties. Don't forget to add bar stools so everyone can get comfy while they socialize.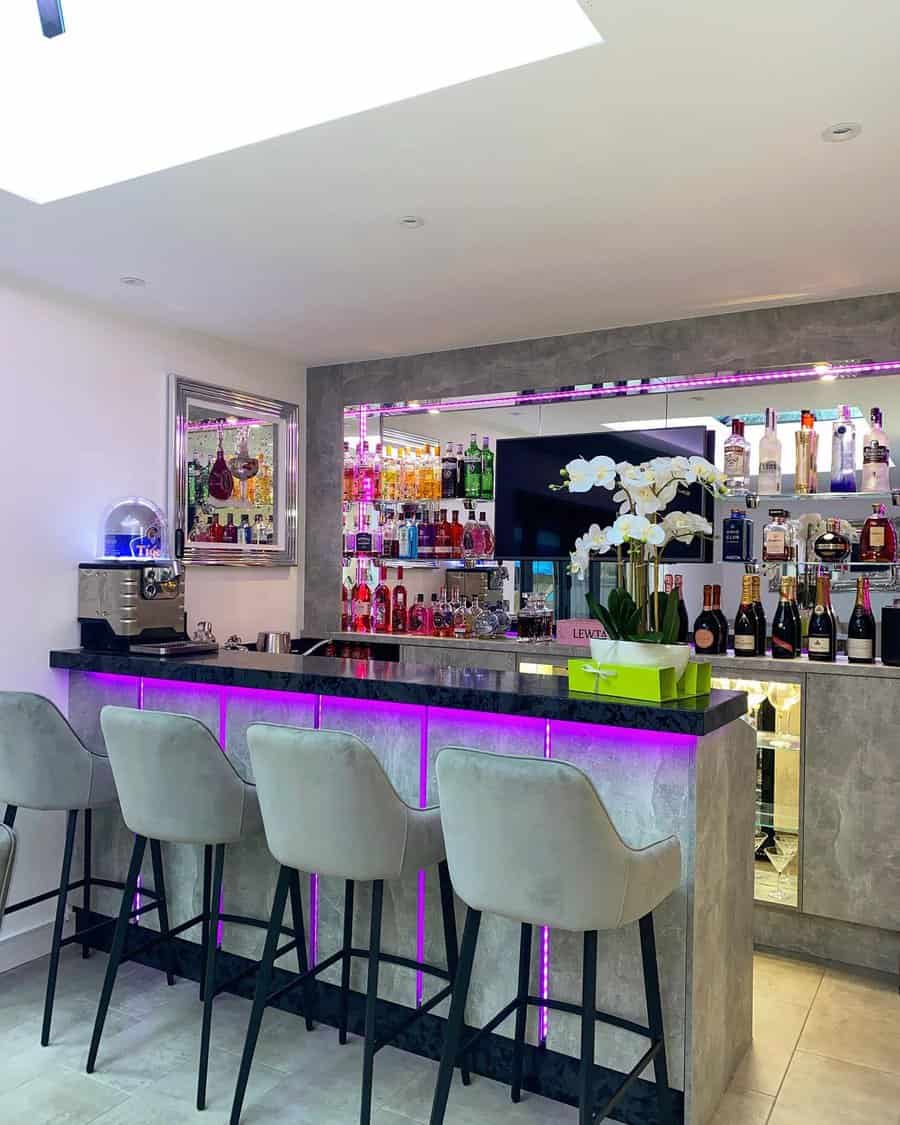 9. Add Gold Fixtures
Transform your basement into a cozy getaway and add a touch of old-world glamour with your own gold-accented bar. Start by painting the walls, countertops, and flooring in soft grey tones while incorporating vibrant and playful accessories to add a pop of color.
Then add a few gold fixtures such as a gold faucet, sink, and basin for an ornate yet lighthearted atmosphere. The ideal basement bar should be both inviting and charming– perfect for hosting an intimate gathering for friends or just unwinding after a long day.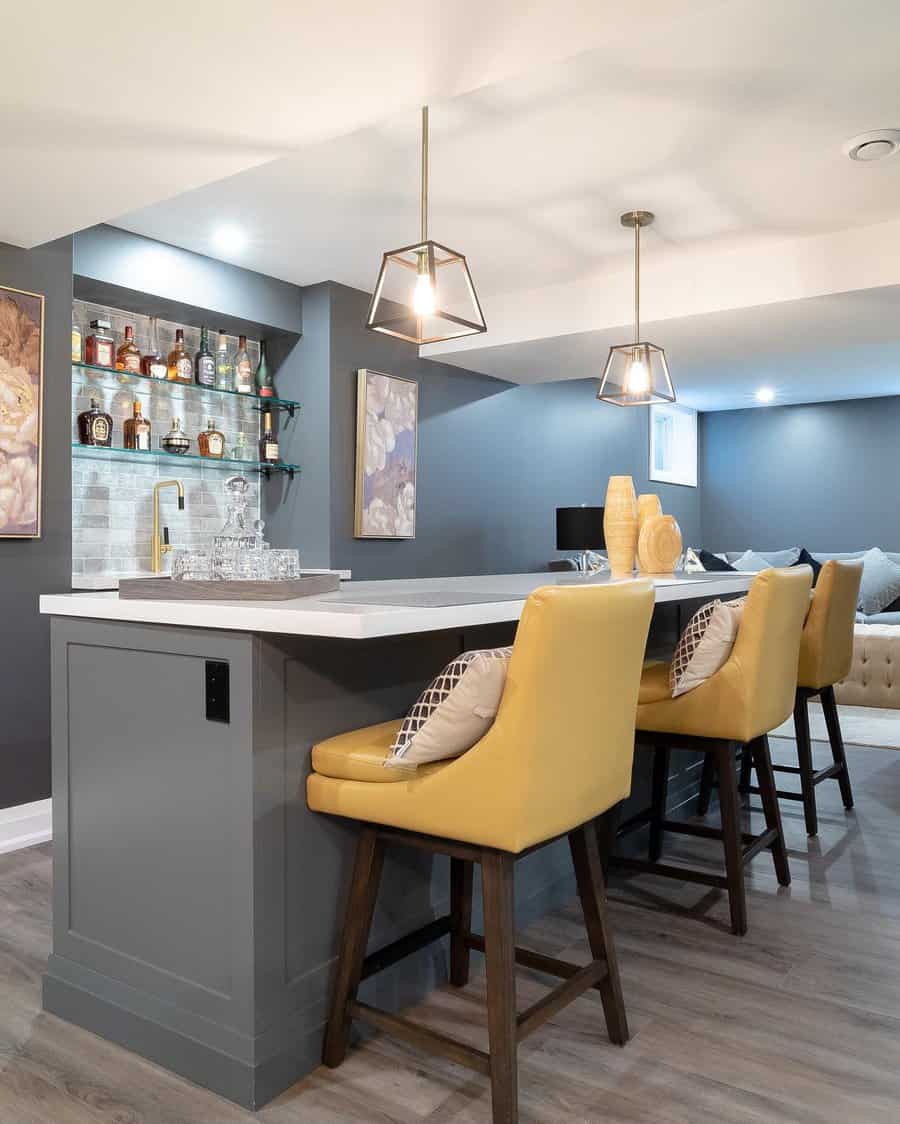 10. Transform Your Kitchen Island To A Bar
Hosting parties at home has just gotten better with transformable kitchen islands. Why not transform your everyday kitchen island into the perfect basement bar and add charm to the room with some cozy pendant lights? Whether entertaining friends or hosting family for dinner, having a fully-functioning basement bar is sure to be an inviting addition to any home.
The intimate setting of a basement bar allows for more conversation and connection that can go much deeper than simply being in the same space.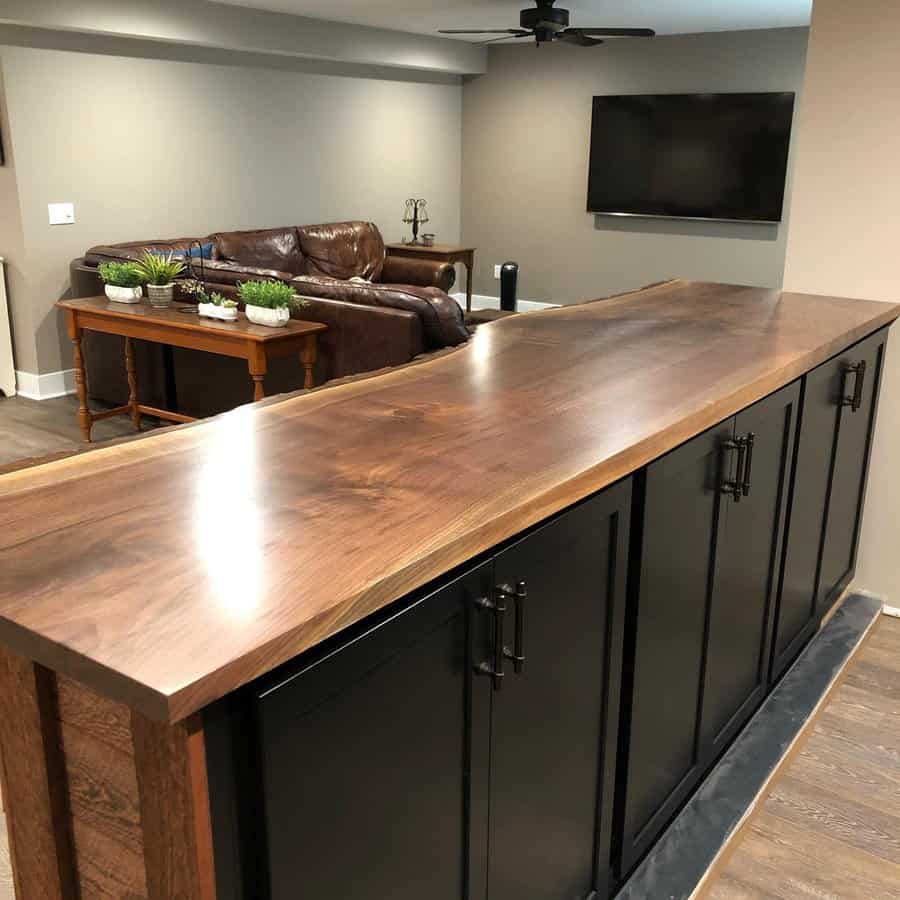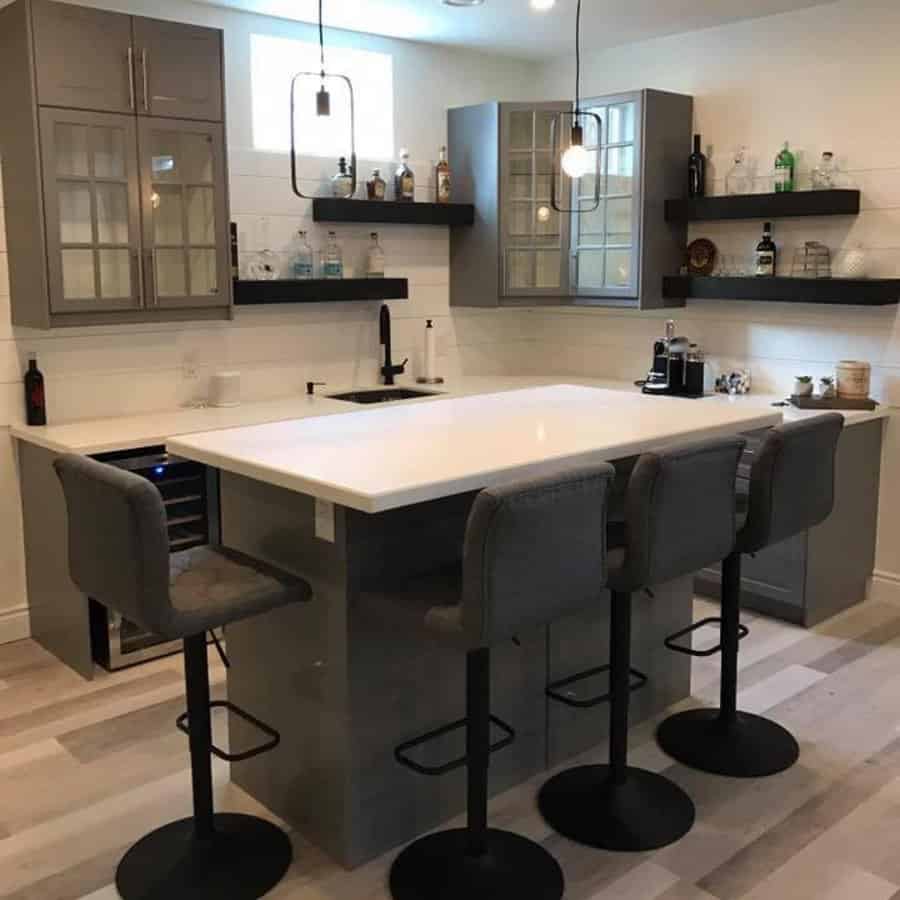 11. Use Aluminum Tin For Cover-up
With the right creative ideas, a look of a professional pub can be achieved with a basement bar. A great do-it-yourself (DIY) project is to utilize aluminum tin for a bar counter cover-up. Layering the tin over the counters will make them look brand new and give off an elegant, yet rustic feel.
When combined with great lighting, taps, knick-knacks, and accessories this basement project will spruce up an otherwise dull area that may have been neglected in the past!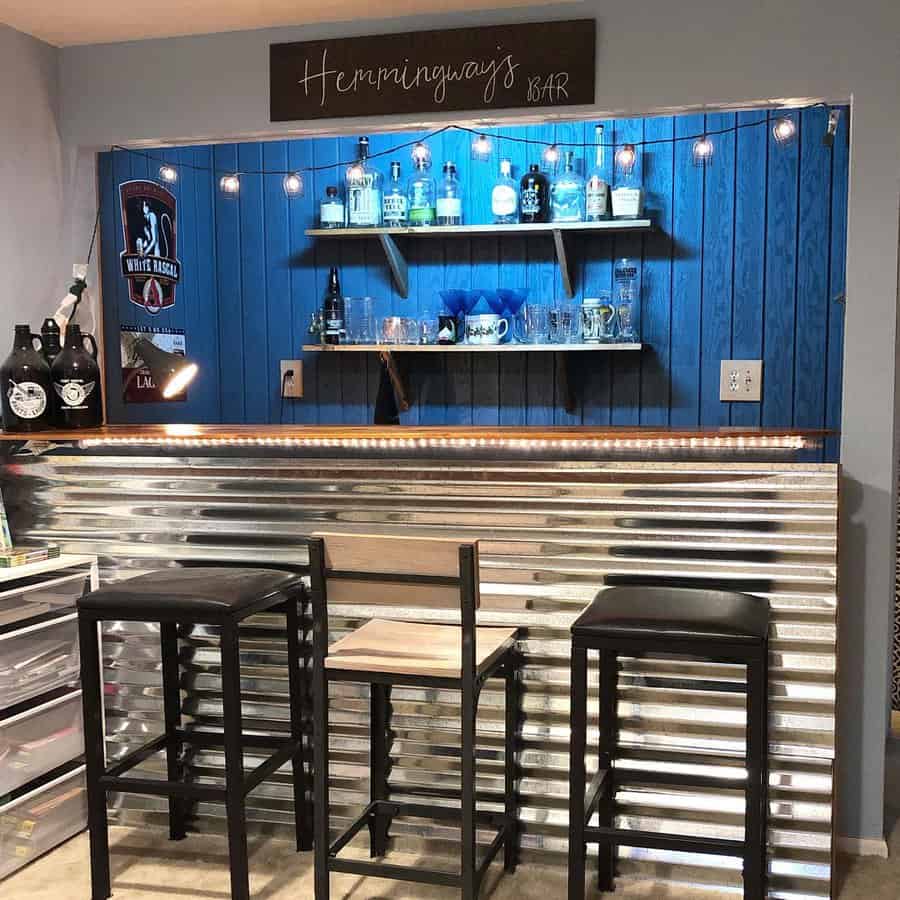 12. Get Creative With 3D Brick Wallpaper
Have you ever wanted your own personal pub? With a few simple changes, you can transform your basement into an inviting bar. Start by adding faux brick wallpaper to add a warm atmosphere and create an industrial look.
Then add some stylish industrial lighting to add flair and bring the place to life. You can add walls of liquor shelves and install beer taps for a truly authentic vibe.
Whether you're having friends over for a night out or just enjoying some quiet time catching up with family, having a basement bar is the perfect way to relax.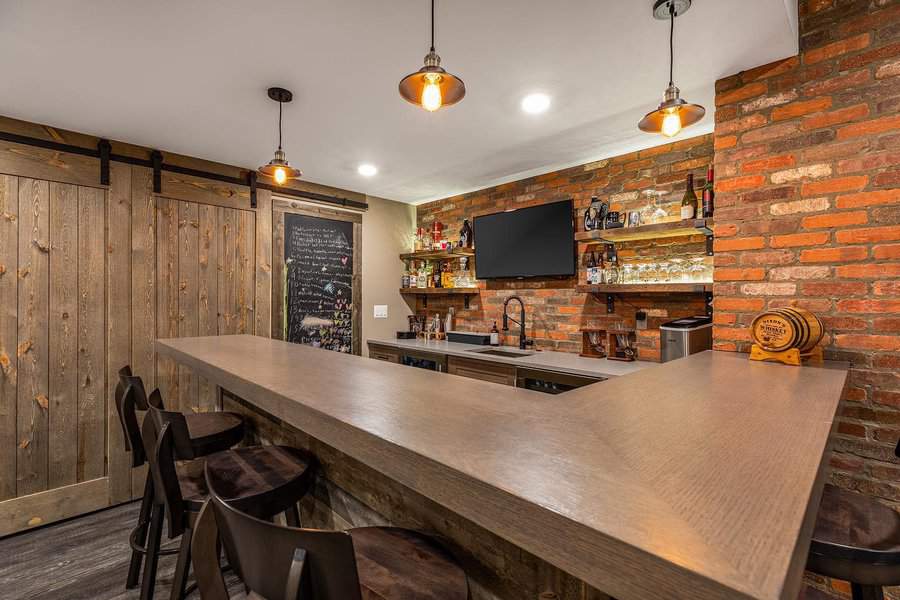 13. Utilize Bar Space For Storage
Transform your basement into a bar that doubles as a storage area— you don't have to utilize all of the space for just one purpose. Build a mini-bar and utilize the surrounding area for your storage needs.
You can use shelves, crates, and even wine holders to store mementos and items you want to be hidden away. Make sure to keep it all organized so you can utilize this space whenever you need it, while also getting to enjoy it when winding down after a long day at work.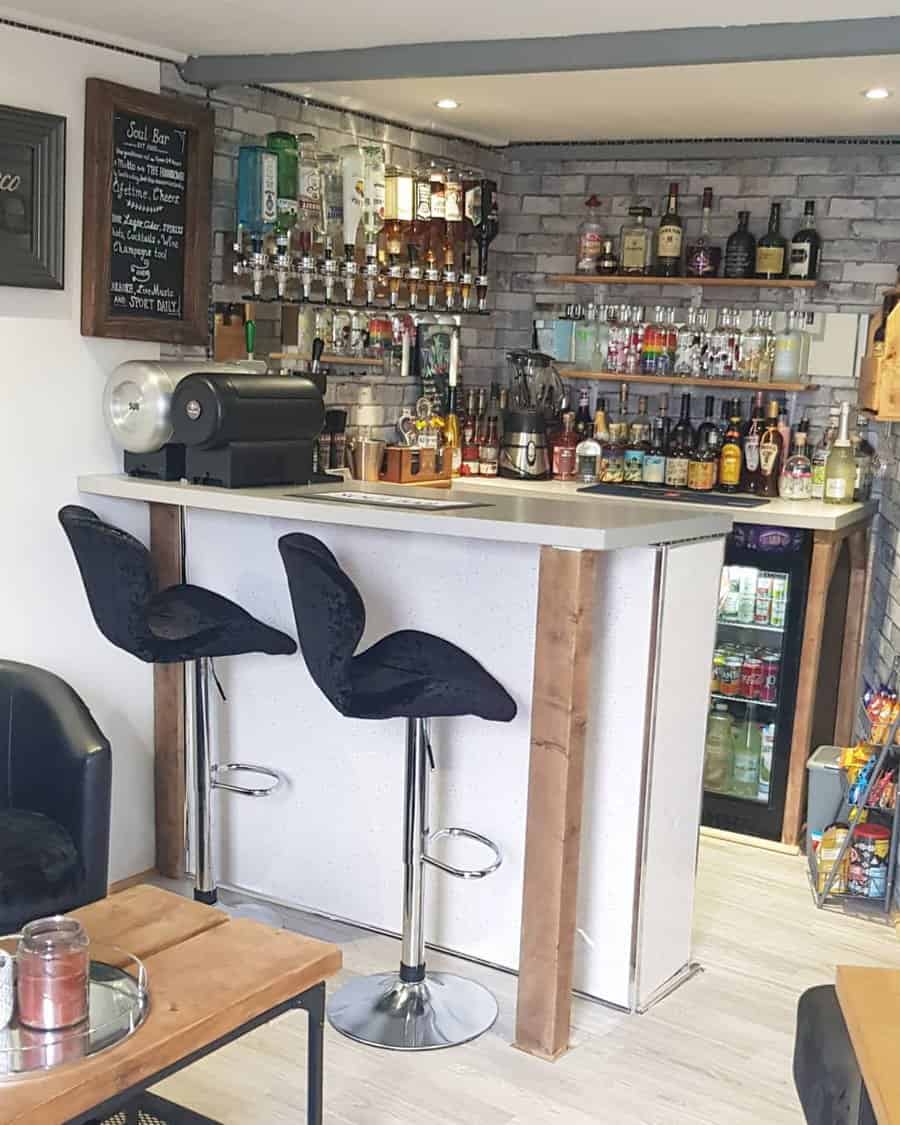 14. Add A Skylight Window
To maximize the effect of the bar, add a skylight or access window to diffuse light from above and make your new creation glow. Your guests won't be able to resist spending their evenings in such an inviting atmosphere!
Not only that, you may find that you and your loved ones become regulars in this haven for relaxation. Get creative and bring style to life in your home.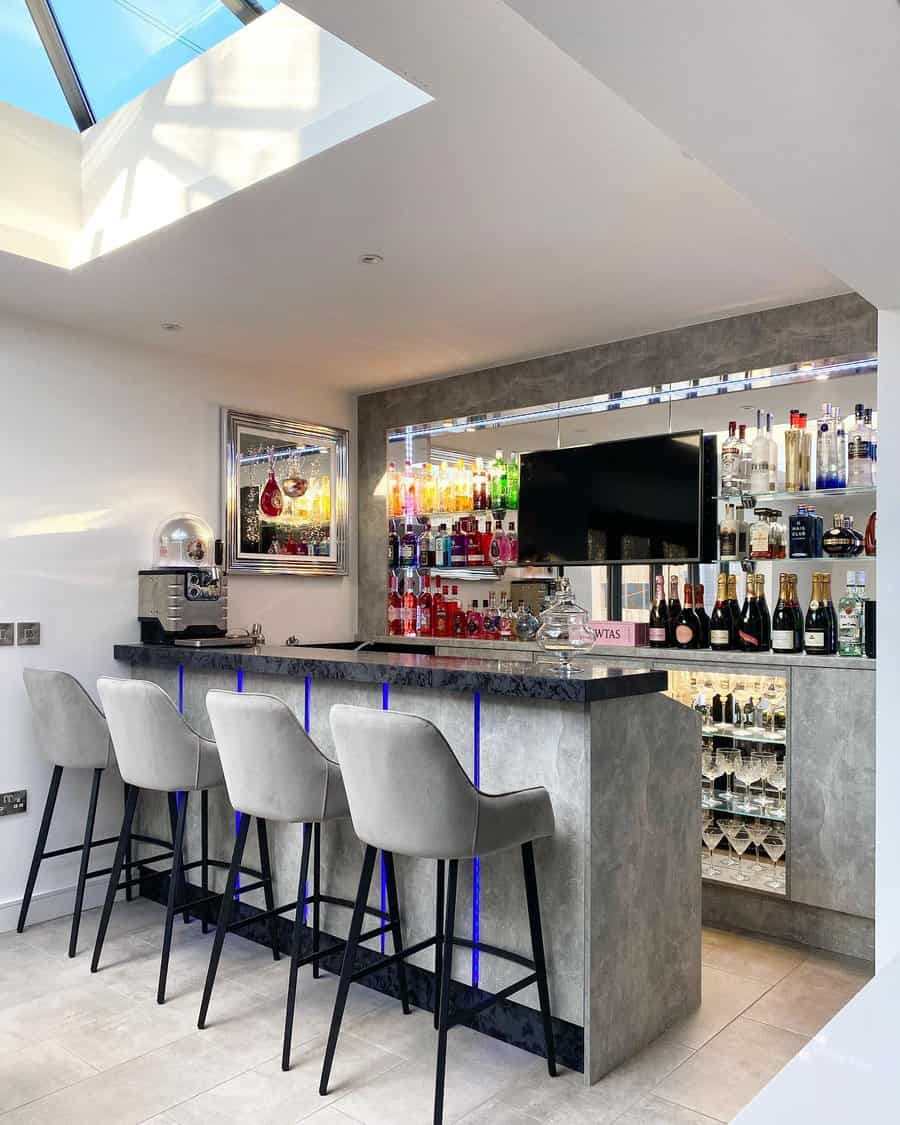 15. Keep It Rustic & Soft
Who said basement bars couldn't be feminine? Lighting is key in any bar, so consider lighting up some rustic wall sconces and rustic-style wooden stools that are perfect for relaxing and enjoying your favorite drinks. Add a touch of femininity as well by having rattan or wooden stools in warm colors like coral or pale pink.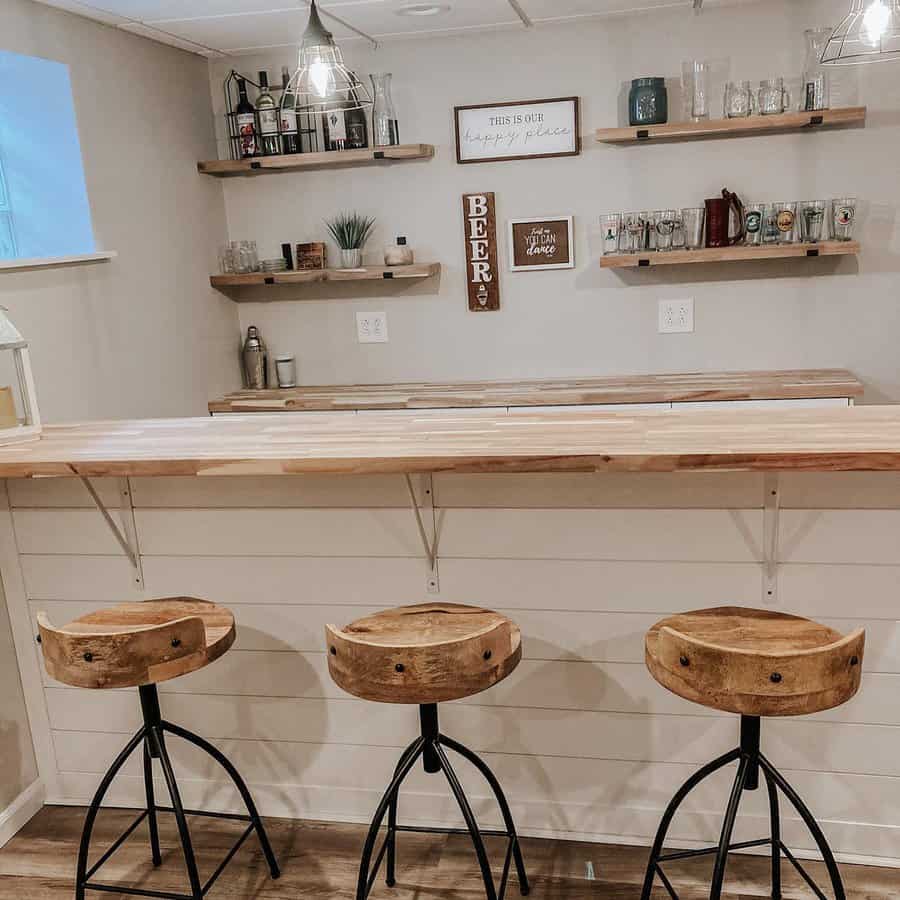 16. Play With Art Deco Elements
A basement bar is a perfect way to add a little art deco decor to your home. The wall art, vibrant colors and eclectic knick-knacks on the shelves will instantly elevate your interior style.
Whether you're entertaining guests or simply looking for quality home comforts, you can't go wrong with a basement bar. With its effortless elegance and fashionable charm, it's sure to make you feel like a million bucks.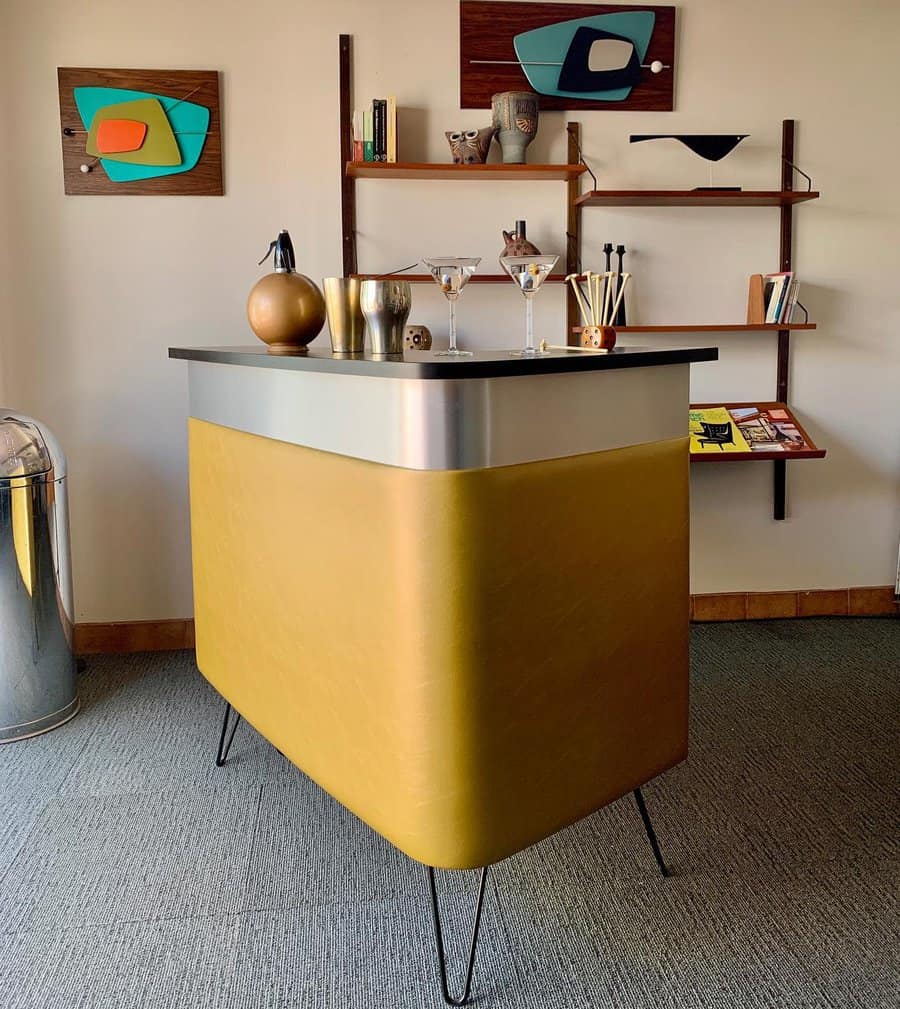 17. Keep The Ambiance Cool
Step into the blue and purple hues of your very own basement bar! Create an atmosphere with subtle ambient lighting, where memories and conversations can flow instinctively. Kick back in a comfortable armchair after a long day, enjoying peaceful rest accompanied by your chosen crowd.
Then switch up the mood to one of everlasting laughter and electric energy with music and friends. No matter which way your night heads, you're sure to get exactly the vibe you need from this relaxing space!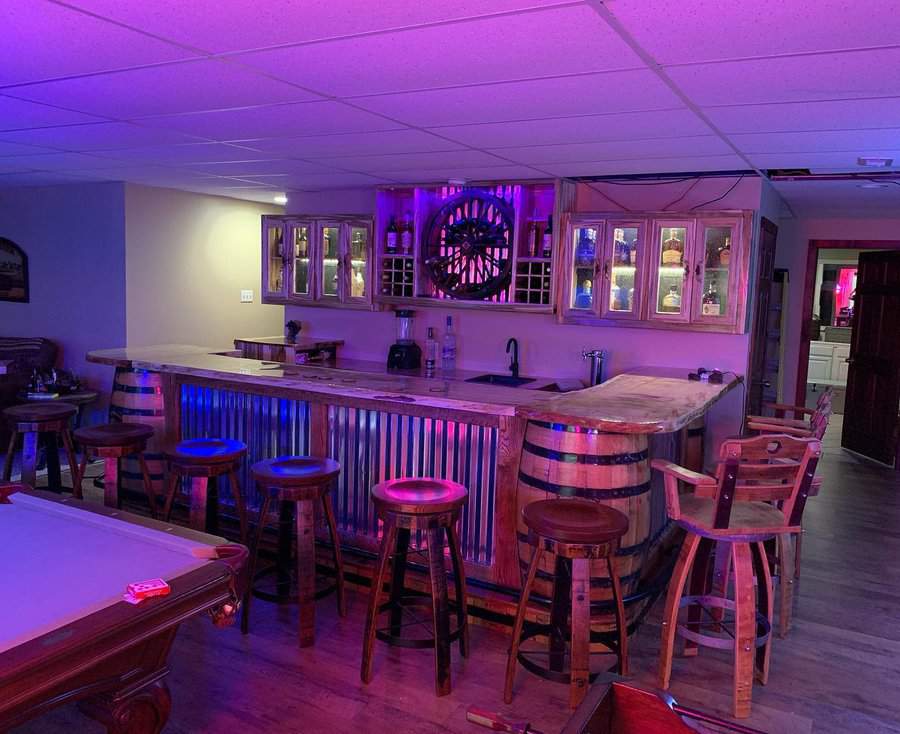 18. Turn It Into A Vintage Pub
Turning your vintage-style basement pub into reality can be easier than you think. Starting off with a vintage bar countertop, you can build the perfect foundation for your nostalgic decor and displays.
From vintage beer signs and classic arcade games to antique maps and vintage tin signs, you can bring the unique ambiance of an Old World tavern right into your own home! With a well-thought-out design, it won't be long before your basement bar becomes the apple of everyone's eye.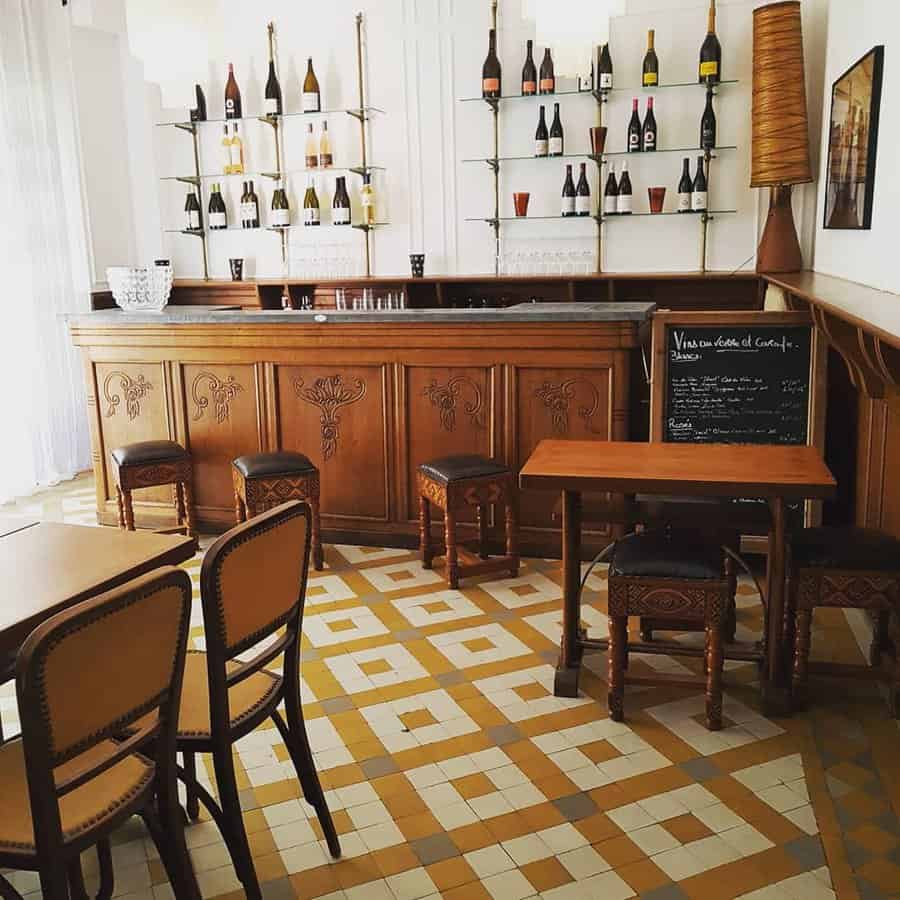 19. Install A Built-In Bar
Gather your family and friends around for some good old fashion fun under the table. With a basement bar, you'll never have to worry about running out of under-the-table liquor and beverage choices. Make it a fun game night with some snacks, drinks, and drinks served up like you were in your own personal hometown pub.
Whether you want to just chill out and watch movies or get a board game going, what better way to share laughs over under-the-table spirits? Enjoy game nights with fresh homemade cocktails and never run of out beverages again!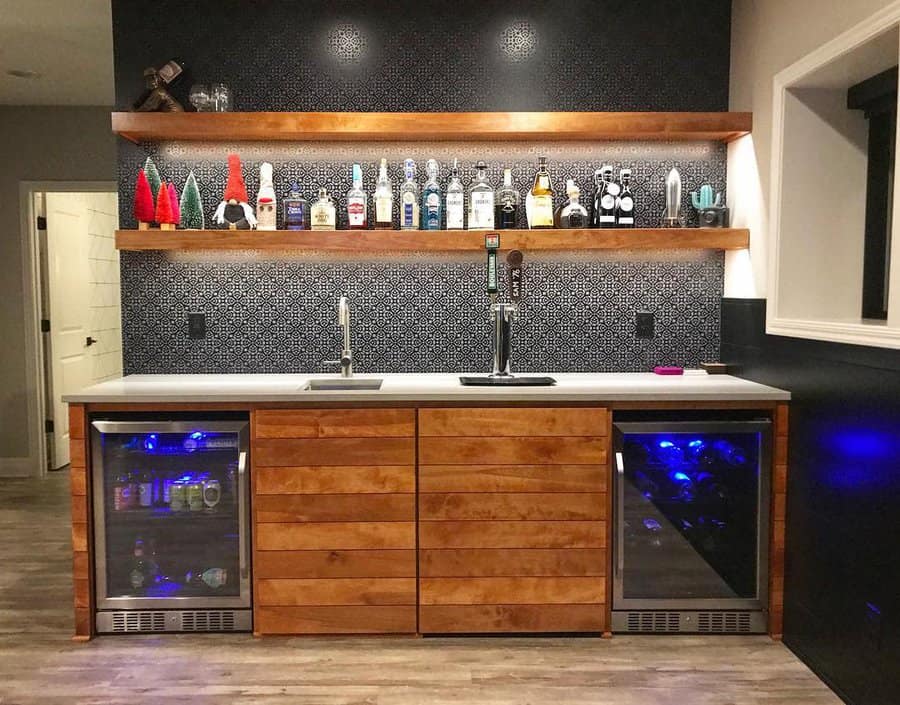 20. Keep It Sleek With Black Fixtures
With black fixtures, a stylish French interior, and a sense of refinement, any basement bar dreams can become reality. You can transform your basement into a cozy haven where you can enjoy great conversations over drinks with friends and family.
From sleek checkered rattan stools gracefully providing an inviting presence to the lighting that radiates an elegant atmosphere as French string music softly plays in the background, creating an unforgettable experience.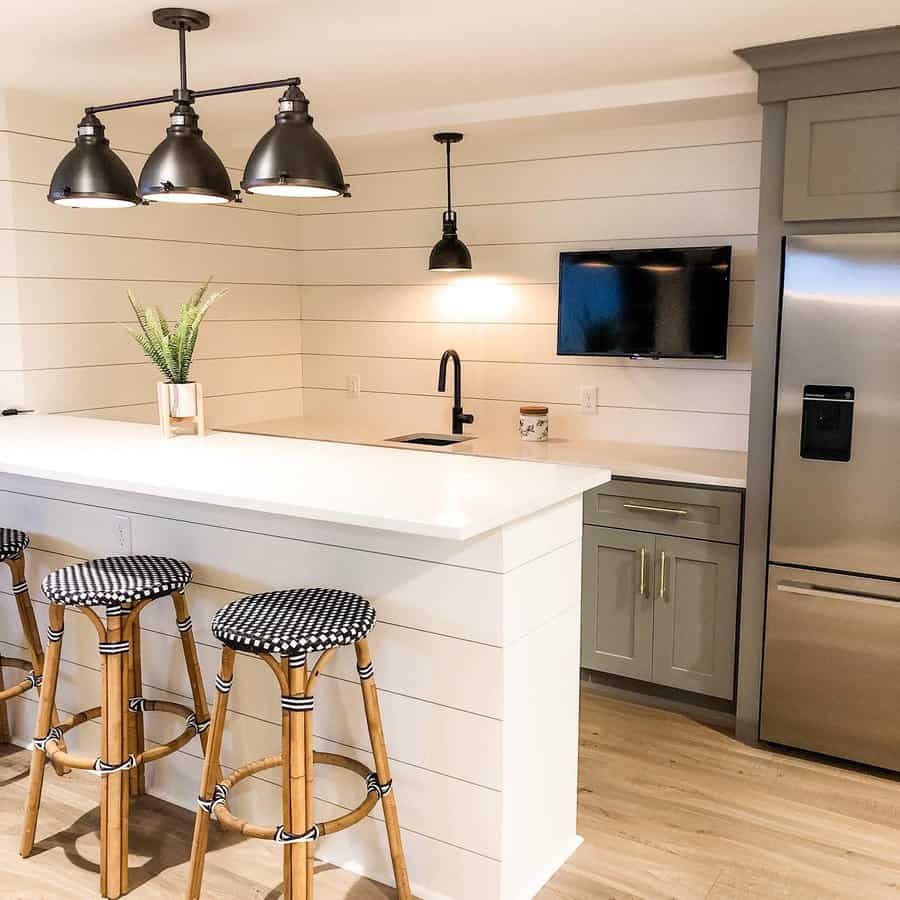 21. Build A Recessed Wall Shelf
With recessed wall shelves, it's easy to set up an area with all the delicious elements you'd expect to find in a professional setting. Hang a mirror or two over the shelving, strategically place some colored and indirect lighting, and start stocking up on your favorite liquors.
You'll never want to leave the new recessed shelf hideaway that contains perfectly chilled bottles adding a touch of class for when you entertain guests. The ambiance created by recessed shelving and special lights will elevate your next nightcap gathering – no matter where it may be held!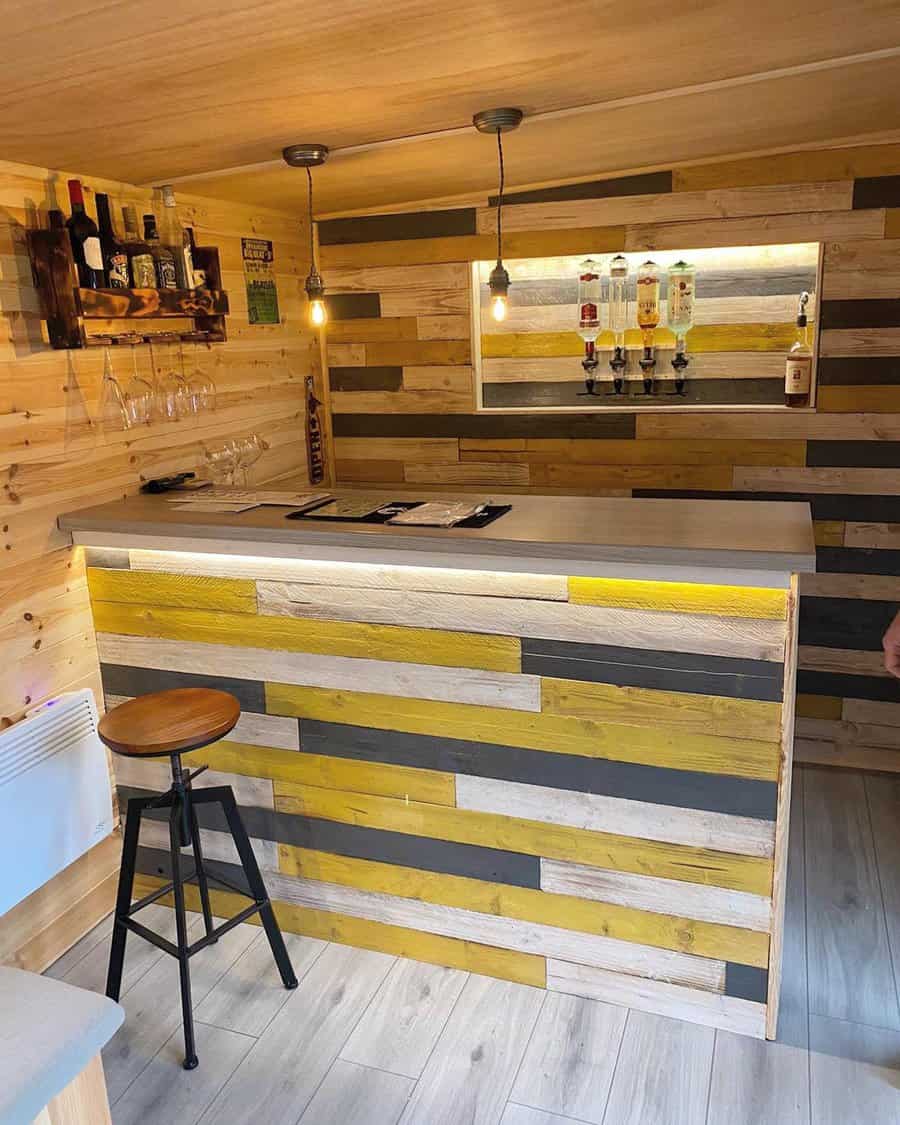 22. Create A Liquor Shelf
Create a basement bar that will make you feel like a top-notch mixologist! Get creative with a liquor shelf that serves as eye-catching wall art and overhead wine glass racks – not only are they functional, but they'll also bring an element of sophistication to the space.
If it helps, add colorful labels or chalkboard ink to further boost your décor. On game days, enjoy some bowls of popcorn or chips for additional fun. Finally, don't forget about playing your favorite tunes to amp up the vibes!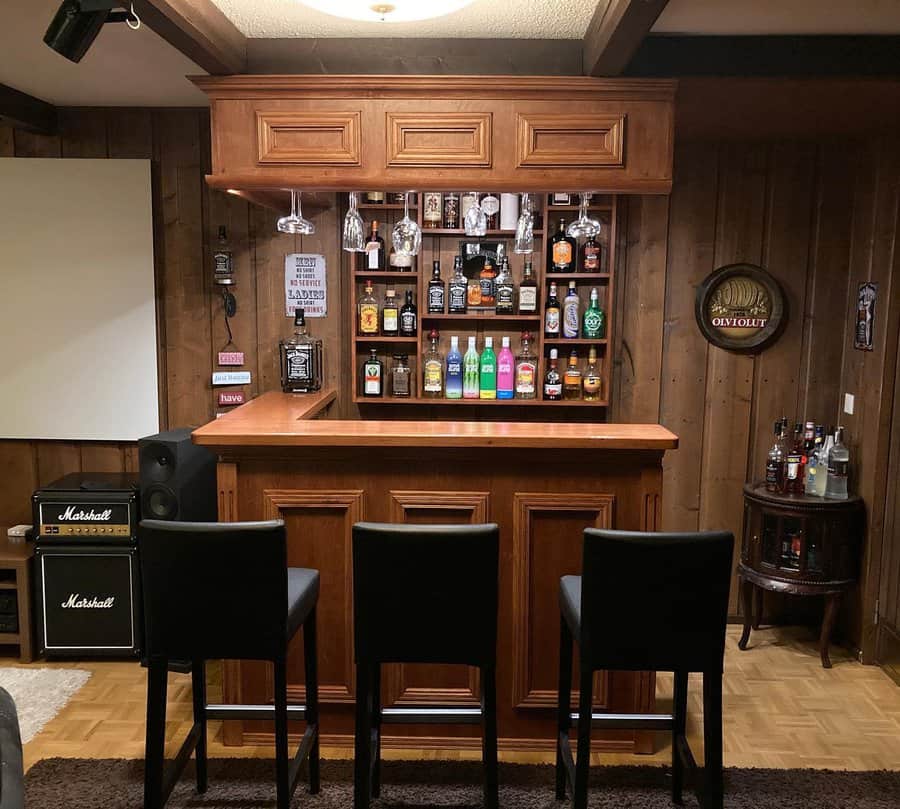 23. Create A Bar Corner With Drawers
When finished basements are transformed into an entertainment paradise, the bar is often the star attraction. From bar corner with drawers for barware to ample bar storage for bar accessories and alcoholic beverages, you can easily create a bar that's full of personality, style, functionality, and fun.
Completely customize your basement bar by incorporating your favorite style elements and kick-back-and-relax touches. That way, you can make sure your basement bar is a place that you truly love to retreat to after a long day or celebrate the weekend with friends.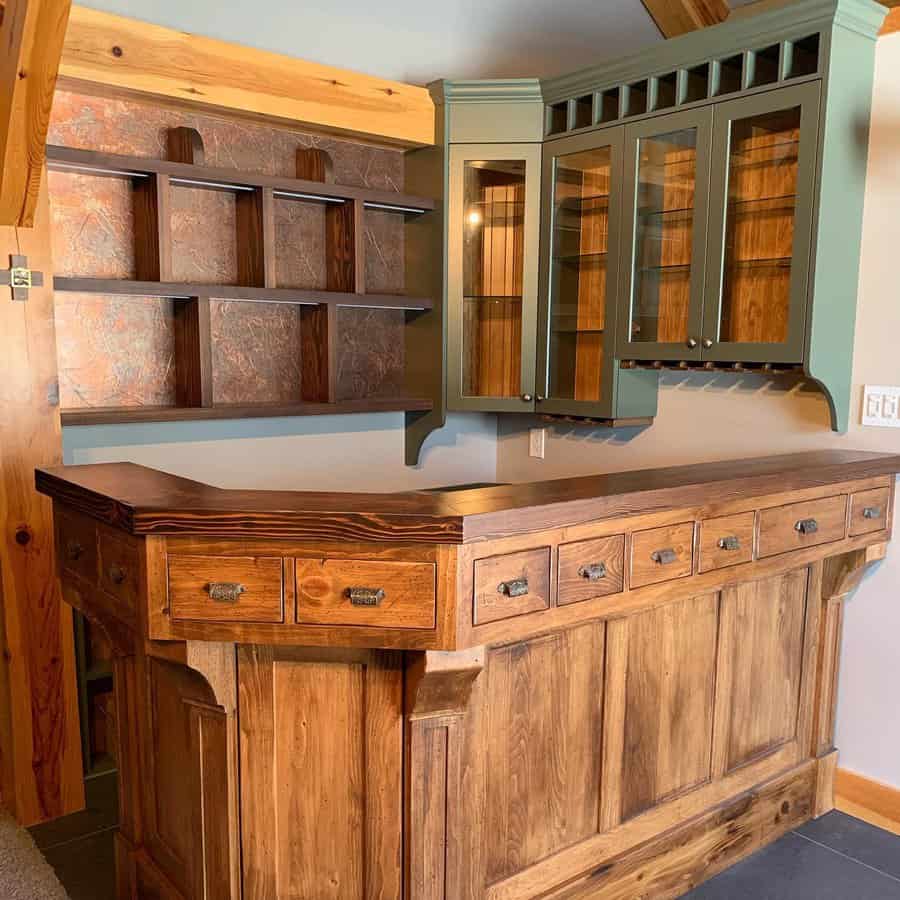 FREQUENTLY ASKED QUESTIONS
What do I need to have in a bar?
A basement bar should be an extension of your kitchen, even if they are on separate floors. For this reason, you must avoid having to go up and down every time you prepare a drink or simple snacks. Plan your storage space well, so that you have everything you need at hand, and store it easily after use.
Here are some essential items for a basement bar:
At least one tray

A cocktail shaker

A dispenser

A mixer

An ice bucket

A bottle opener (or wall bottle opener)

A cutting board

A sugar bowl

A couple of long spoons

A knife set

Coasters

Napkin holders

Glassware (including beer mugs, martini cups, wine glass, juice glass, whisky glass, champagne glass) 

Bowls and plates for snacks

Snack forks

A kitchen trash can
Appliances:
A wine cooler

A beverage refrigerator, a mini-fridge, or a refrigerator

An ice maker

A kegerator and draft beer dispenser

A dishwasher
You can also have a coffee station with an espresso machine.
What kind of drinks should I have in my basement bar?
This varies according to your personal taste, but here's a list of the most common beverages you can have in stock:
Vodka

Whiskey

Tequila

Brandy

Gin

Martini

Red wine

White wine

Beer

Liqueurs

Champagne

Soda

Juice
Don't forget the salt and lemon!
Where should I store my wine?
The ideal space would be a dedicated wine cellar, with controlled temperature (around 55°F) and humidity. Avoid keeping wine anywhere susceptible to frequent temperature changes, and do not store red wine in refrigerators.
There are dual-temperature wine coolers, where you can store white wine and red wine, at different temperatures. After you open a red wine bottle, however, the best place to store it is in the refrigerator, for about 3 to 5 days.