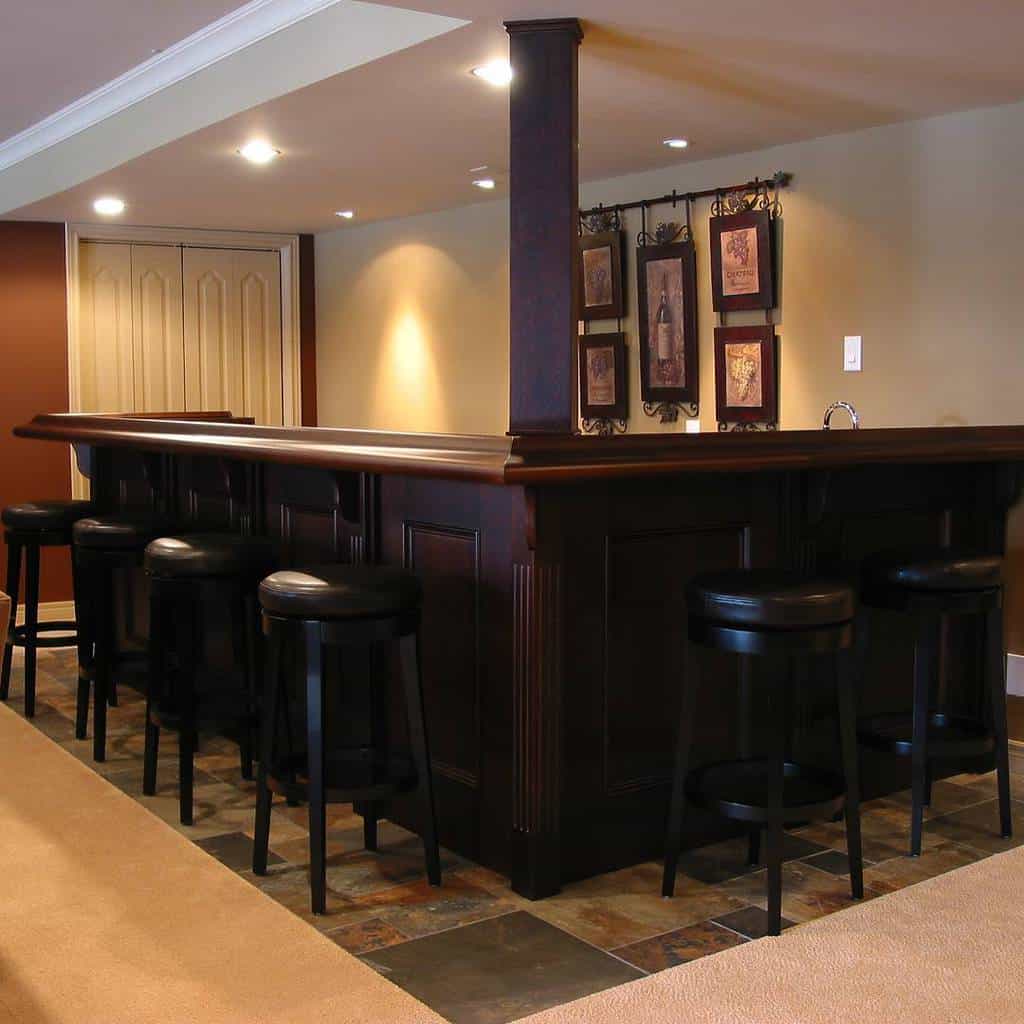 A basement bar can be a great place to entertain guests and family, or simply chill out after a long day of work. You don't need to go through an exhausting remodel process in your entire basement, to have an awesome basement bar.
Whether you have a small space or an unfinished basement, with some bar design tips you will be able to transform the space into your dream man cave, that will soon become your favorite room in the house.
1. Black
Such a sophisticated color for your basement bar. Black furniture looks awesome when contrasting with white finishes and can be complemented by stainless steel countertops or LED lights.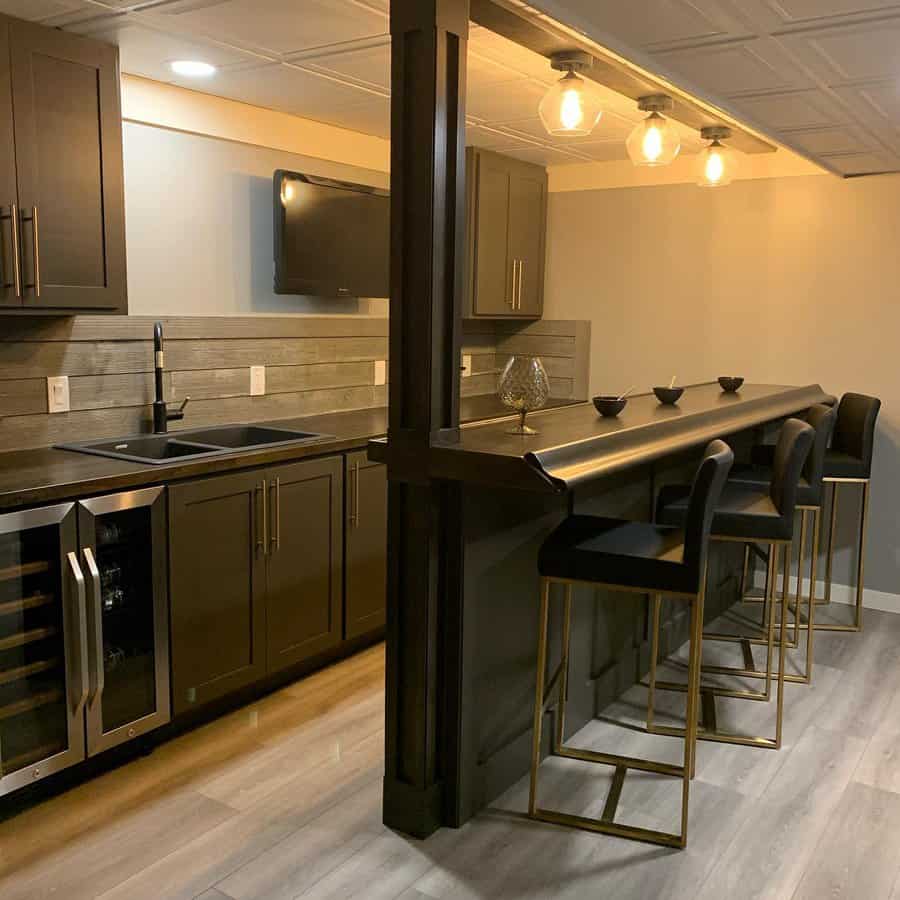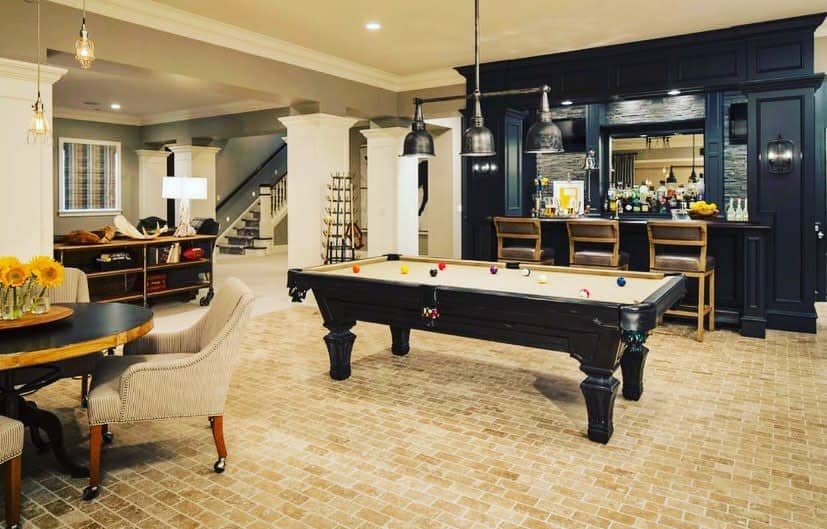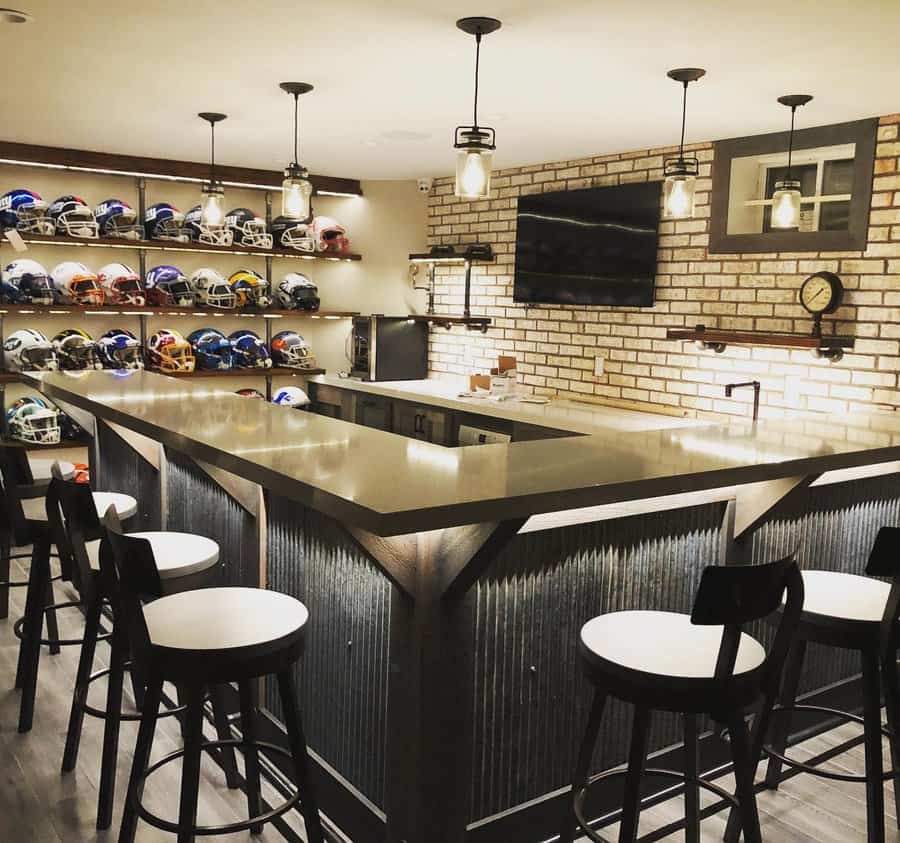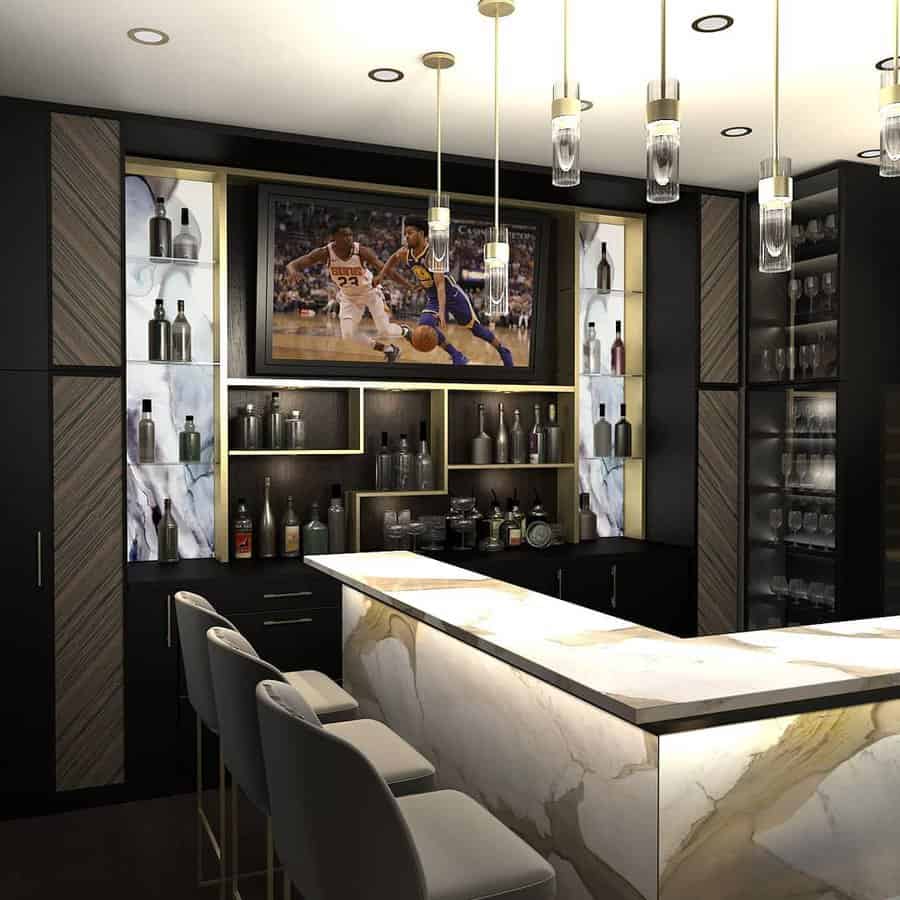 LED lighting can be added to concrete or resin countertops, as well as epoxy, glass, and onyx. Translucid materials look awesome with LED lighting. You can also add LED lights under the countertops, top give some glow to a black island.
2. Contemporary
Once again, the vibrant colors of LED lighting take center stage in contemporary design style. Custom design lighting is another option for a contemporary bar.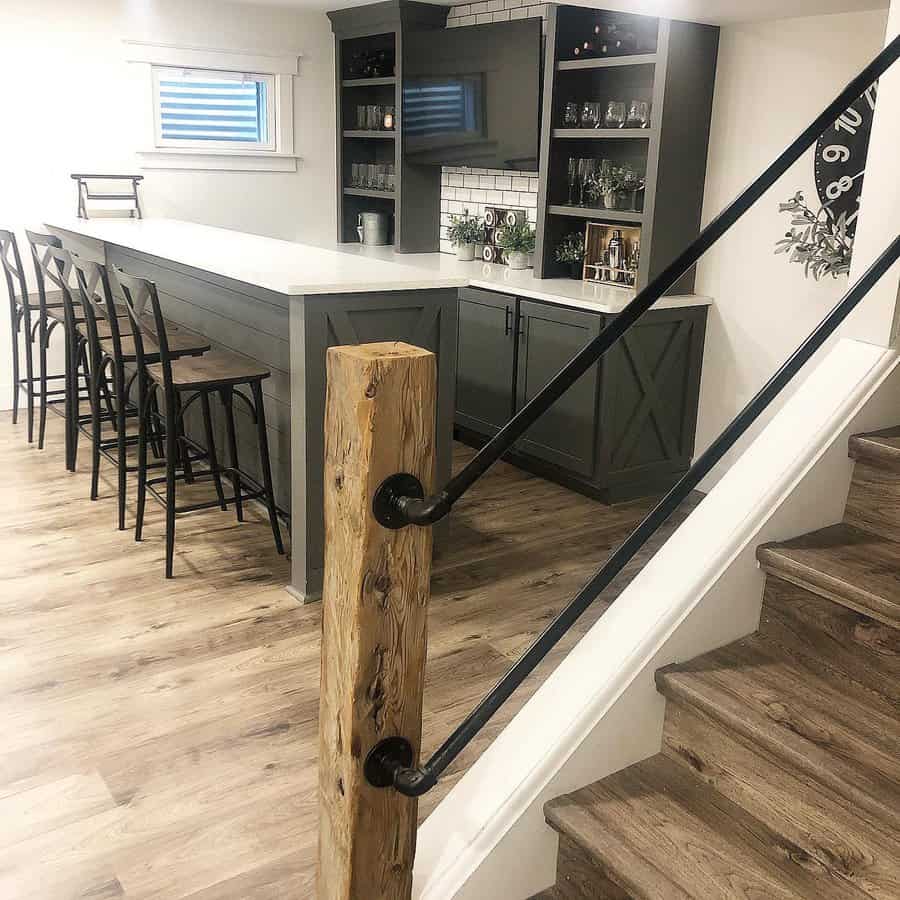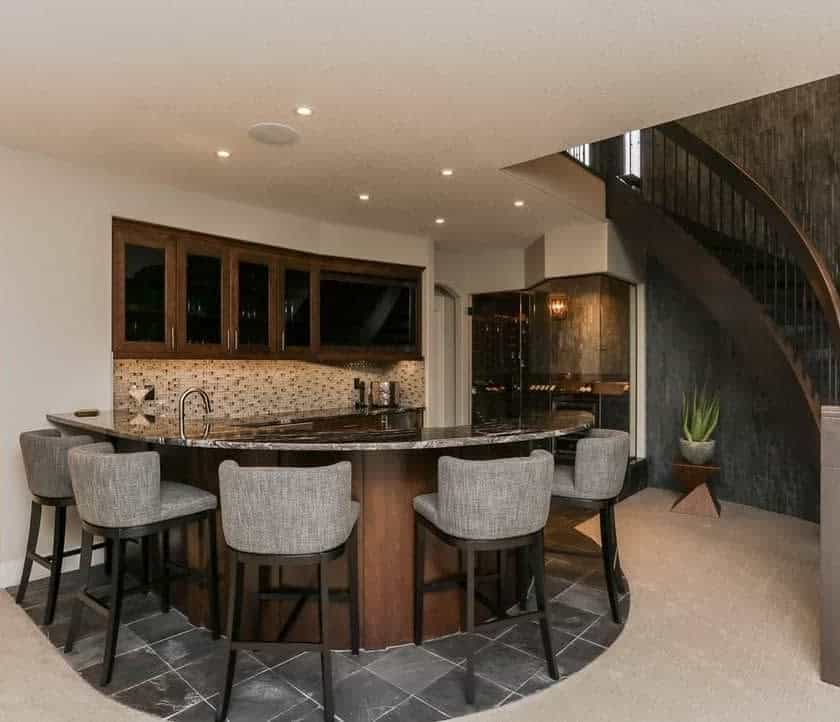 The lighting complements unique designs, such as a mirrored wall with shelves for glasses and beverages. The contemporary style explores different textures and clean lines, on a neutral color palette, highlighting grays and shades of white.
3. Corner
If you don't have a large space in your basement or man cave, a corner wet bar with a peninsula and seating is a great solution.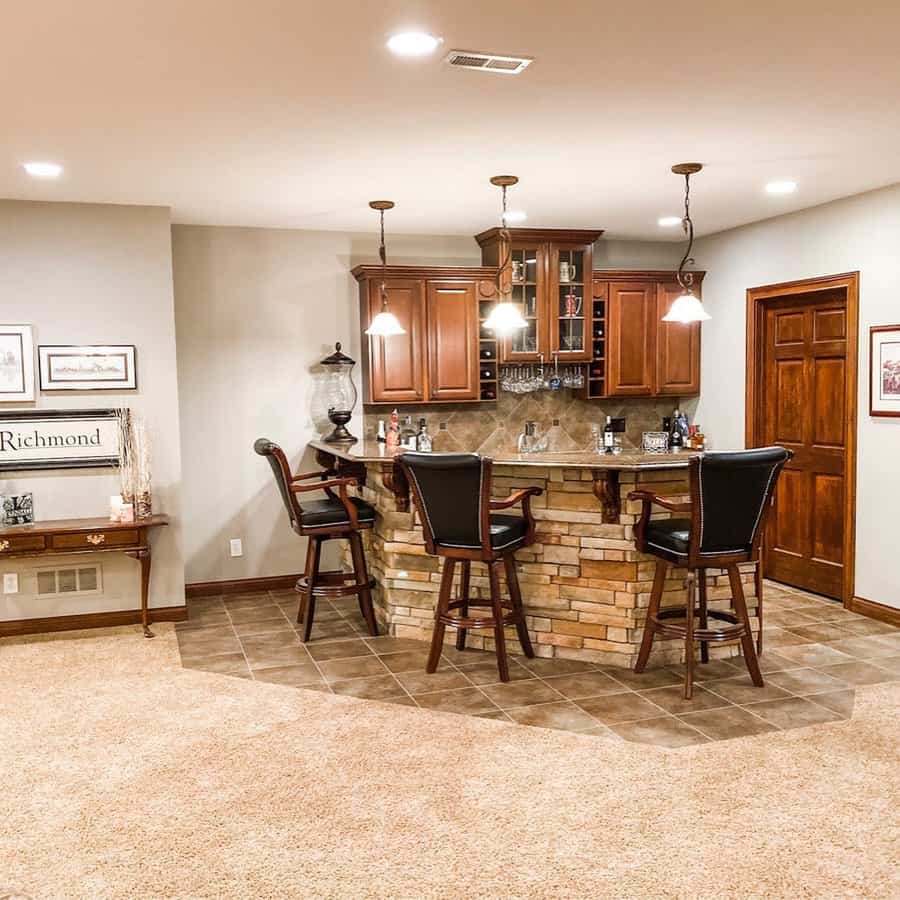 Install some shelving for glasses and drinks and use the space under the countertop for a mini-fridge or a wine fridge. A built-in corner bar unit with a mini-fridge and shelving is the ideal solution for dry bars.
4. Finished
A finished basement bar is much more than bottles and glasses. Light fixtures, wall decoration, pictures, potted plants, décor pieces, are all elements that reveal your personality and a way to include your personal touch.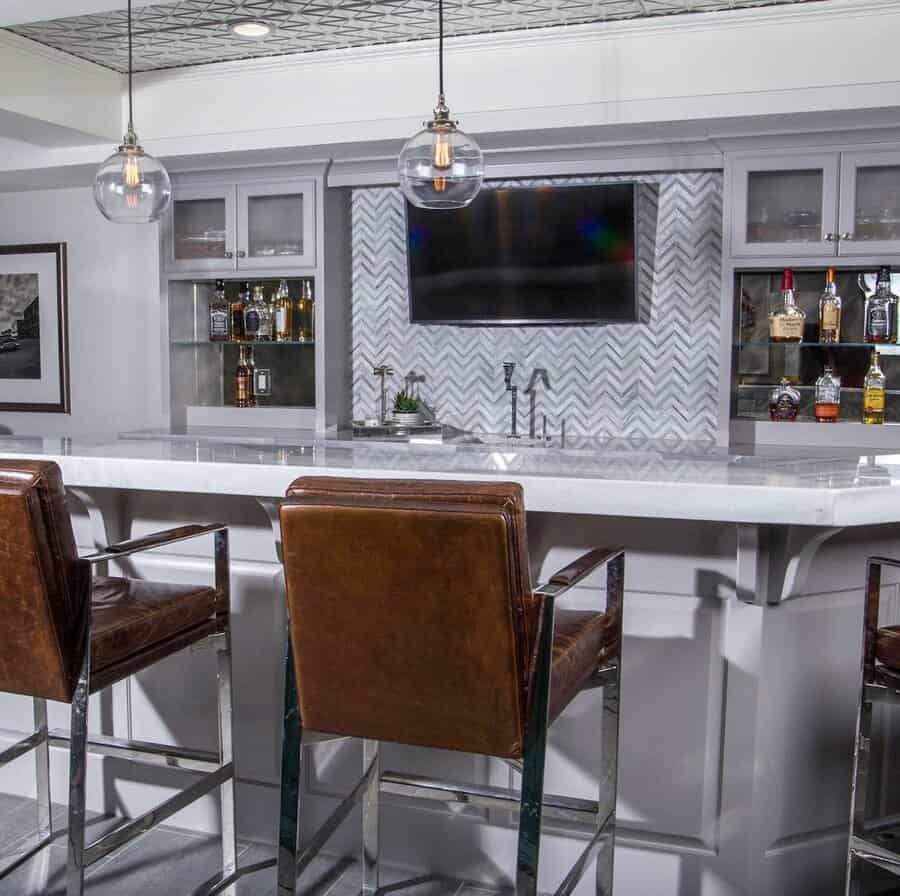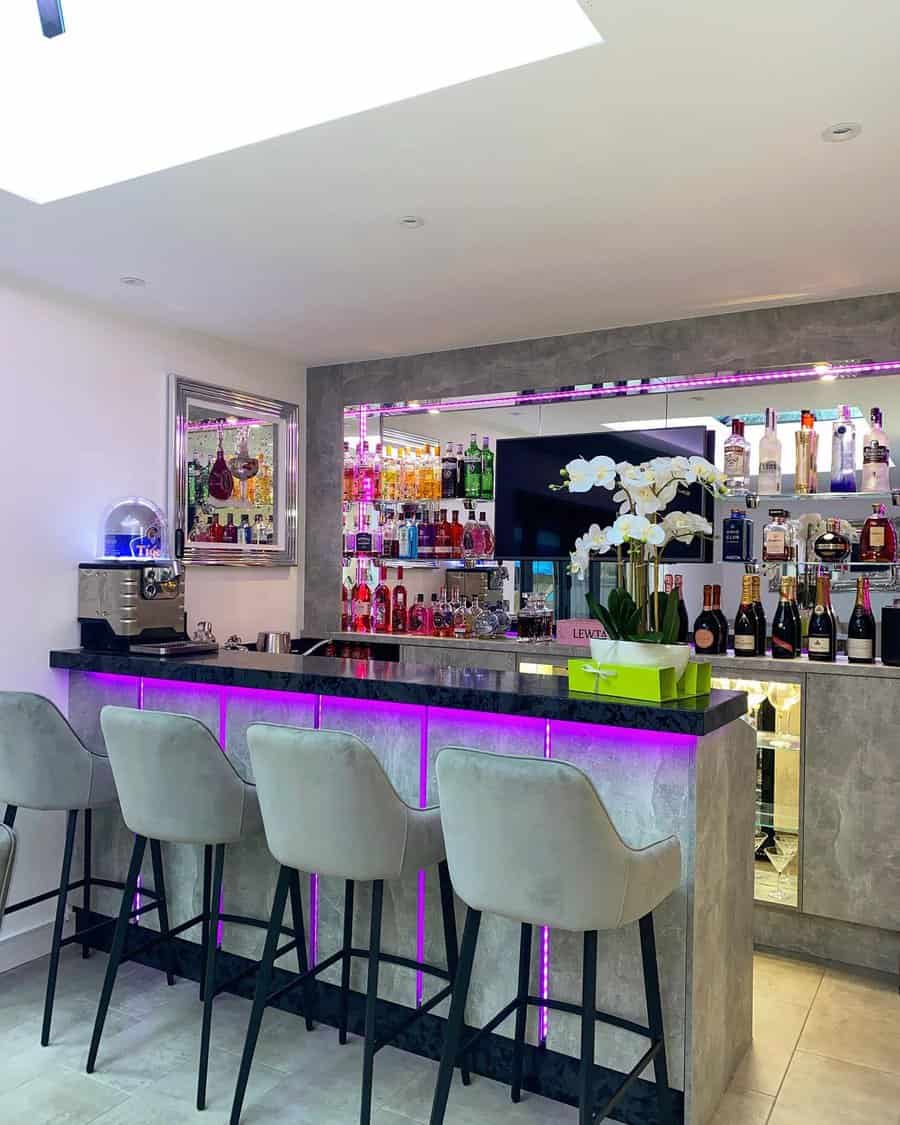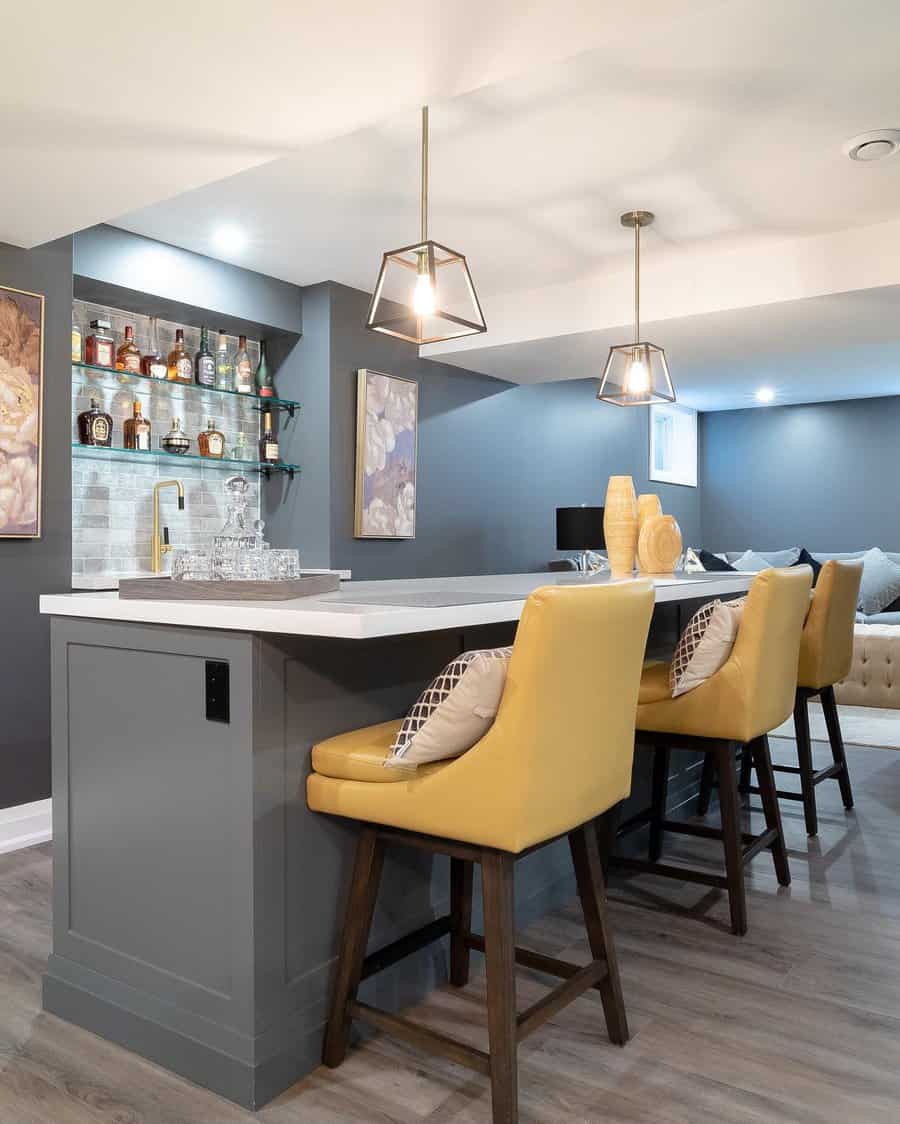 Add a gaming area with a pool table, table soccer or a ping pong table, a table for some board games, a dartboard, or even a basketball hoop, they are all guaranteed fun for everyone.
5. Modern
A basement bar is a place to chill out, entertain friends and have fun!
Other than the furniture, you can add some décor elements that will define the space. A jukebox machine and a BAR sign with exposed mini bulbs give a vintage vibe to a modern space.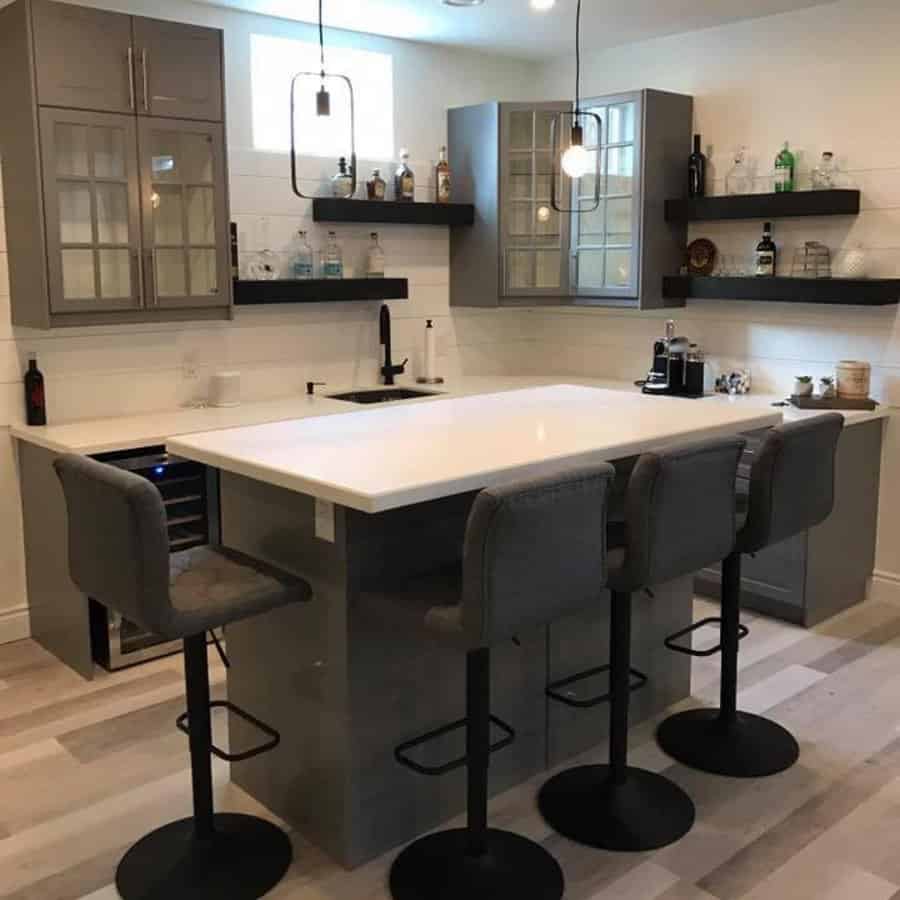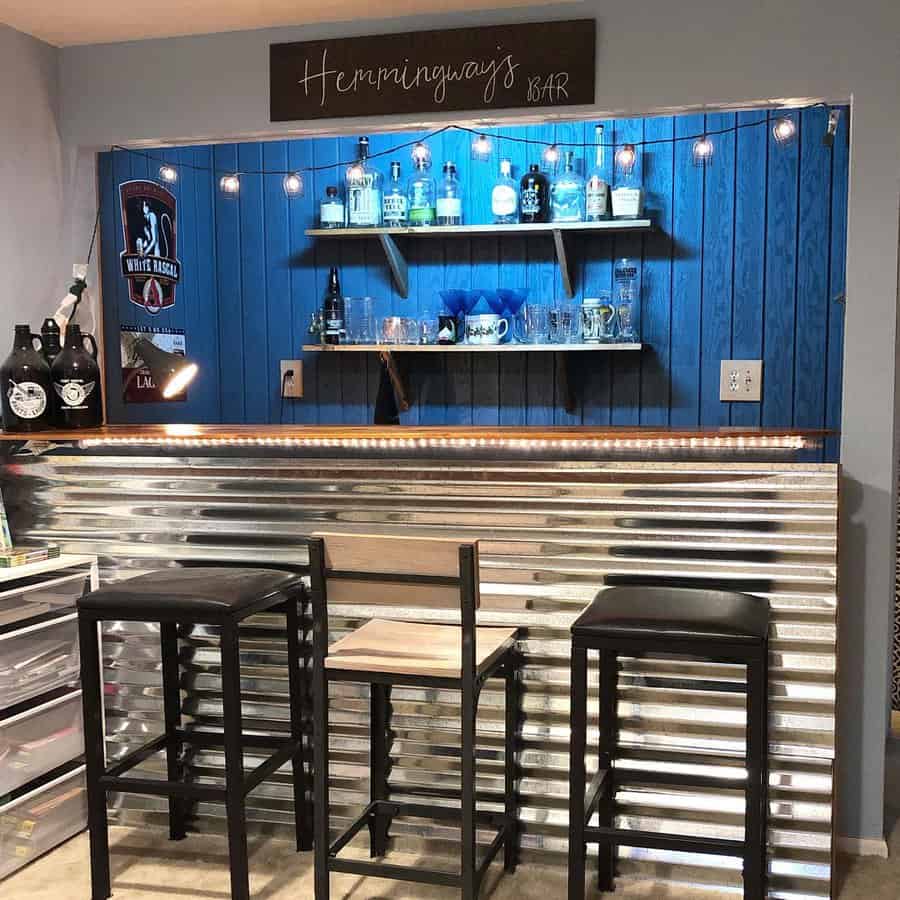 Light-up signs, as well as neon signs, can be ordered online and you can customize them by choosing the lettering style, the color, and the message.
6. Rustic
The rustic style is defined by wooden elements and natural fiber objects. Add iron, concrete and washed metal elements for an industrial vibe.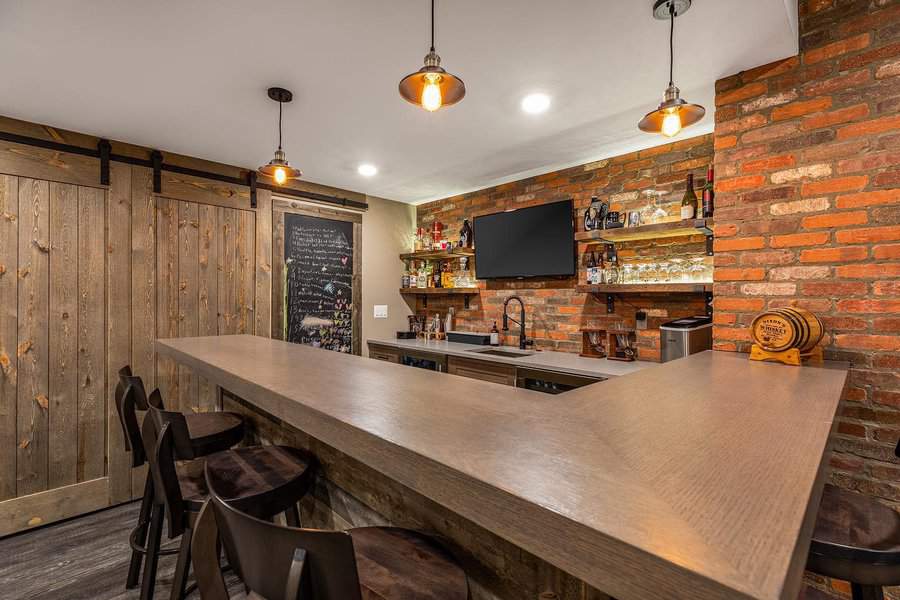 Exposed brick, wood floors, and a lot of woodwork give the rustic decoration a farmhouse feel, along with granite countertops and floating shelves. Cool round bar stools add the final touch to an awesome cave bar.
7. Small
The first thing you have to remember is that your basement bar, as small as it might be, has to be well planned so that you have everything you need at hand, without having to go up and down for beverages, glasses or kitchen utensils.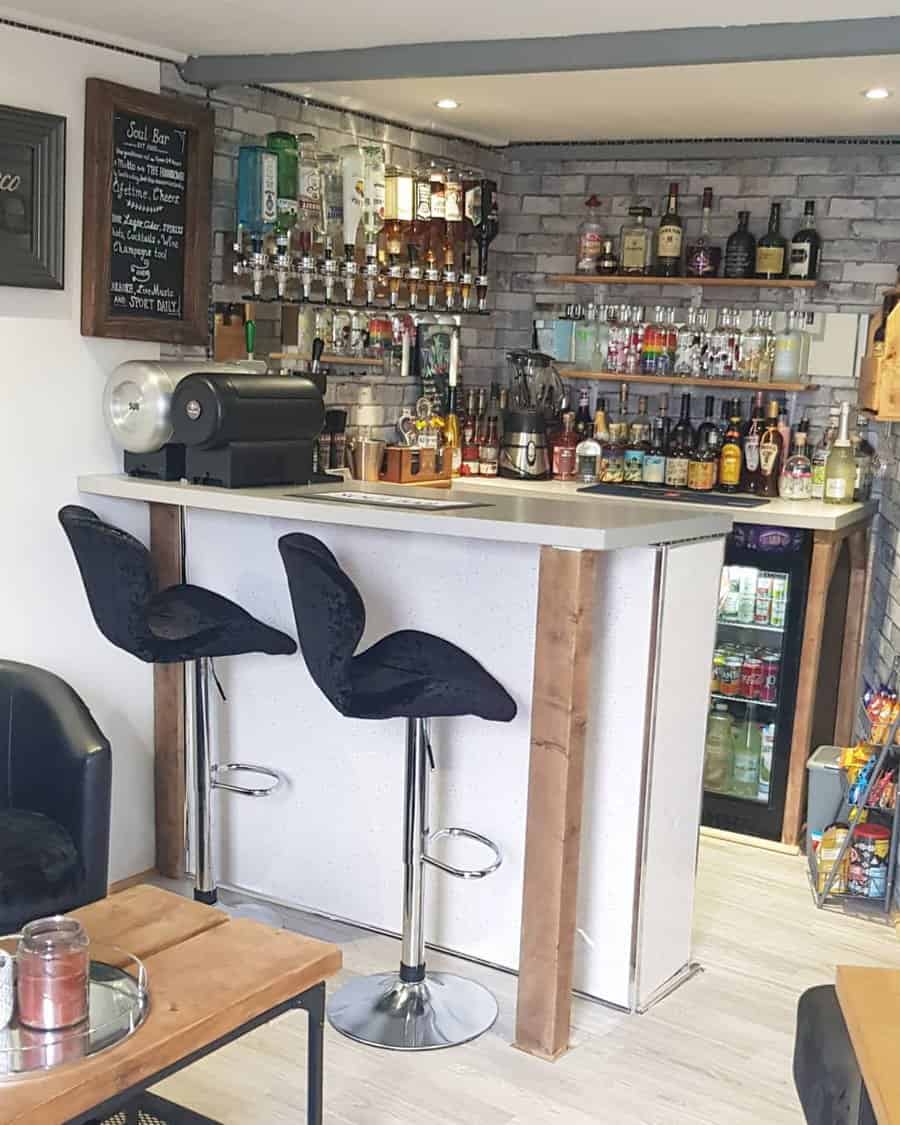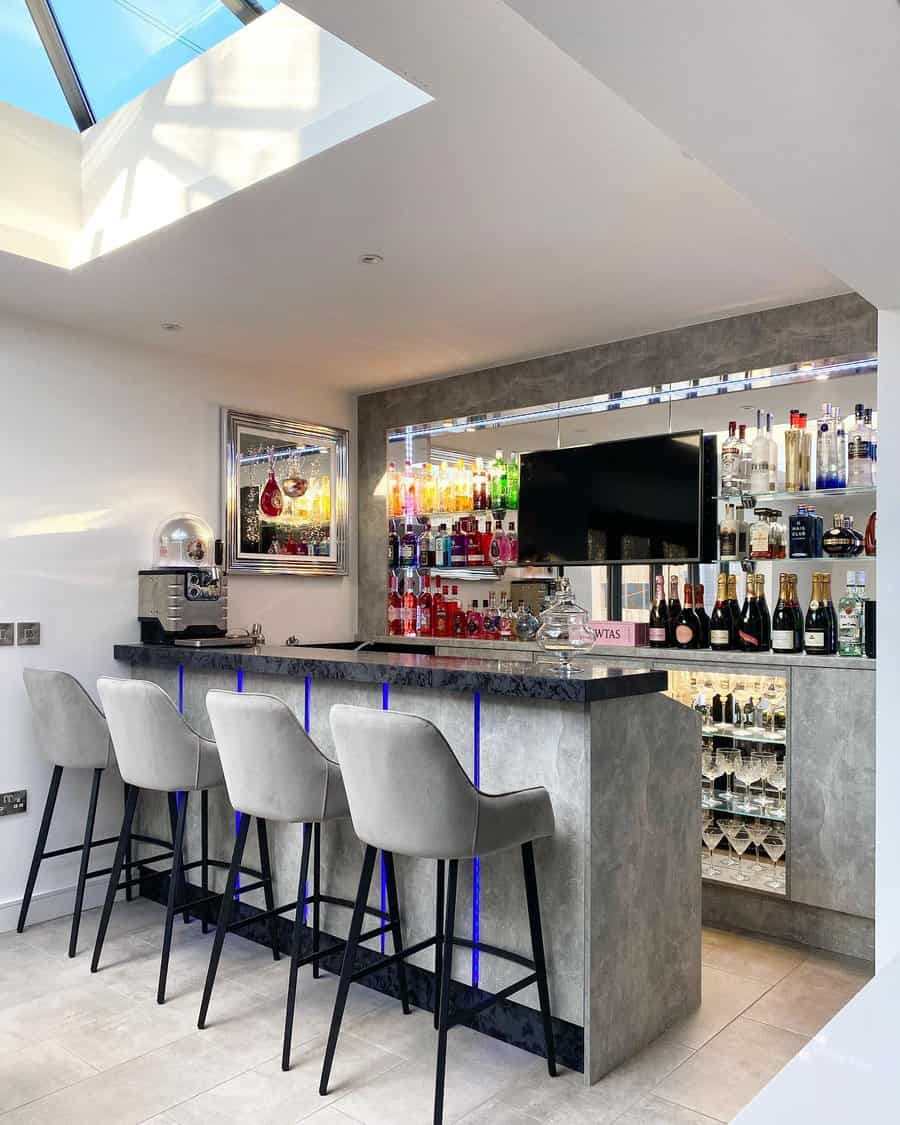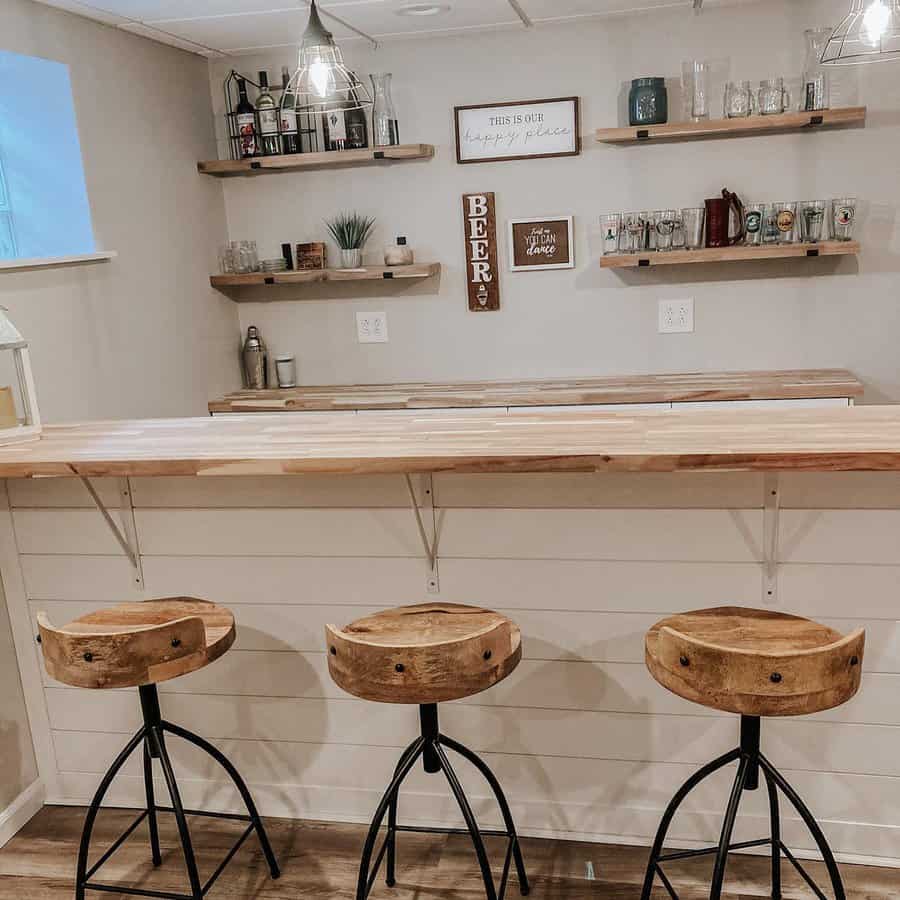 Whether you have a small wet bar, or a dry bar, there are a few accessories that will compensate for the lack of space. A bar cart is one example; it's small and very versatile since you can move it around.
A mini kegerator and draft beer dispenser is another great idea if you don't have room for a built-in mini-fridge. In small basements, do not underestimate the space under the stairs, for a cool basement bar.
8. Western
What is a man cave without a dartboard? The classic wooden dartboard can be upcycled to a dartboard surrounded with wine corks. It not only protects the walls from getting dinged but also adds character to the whole space.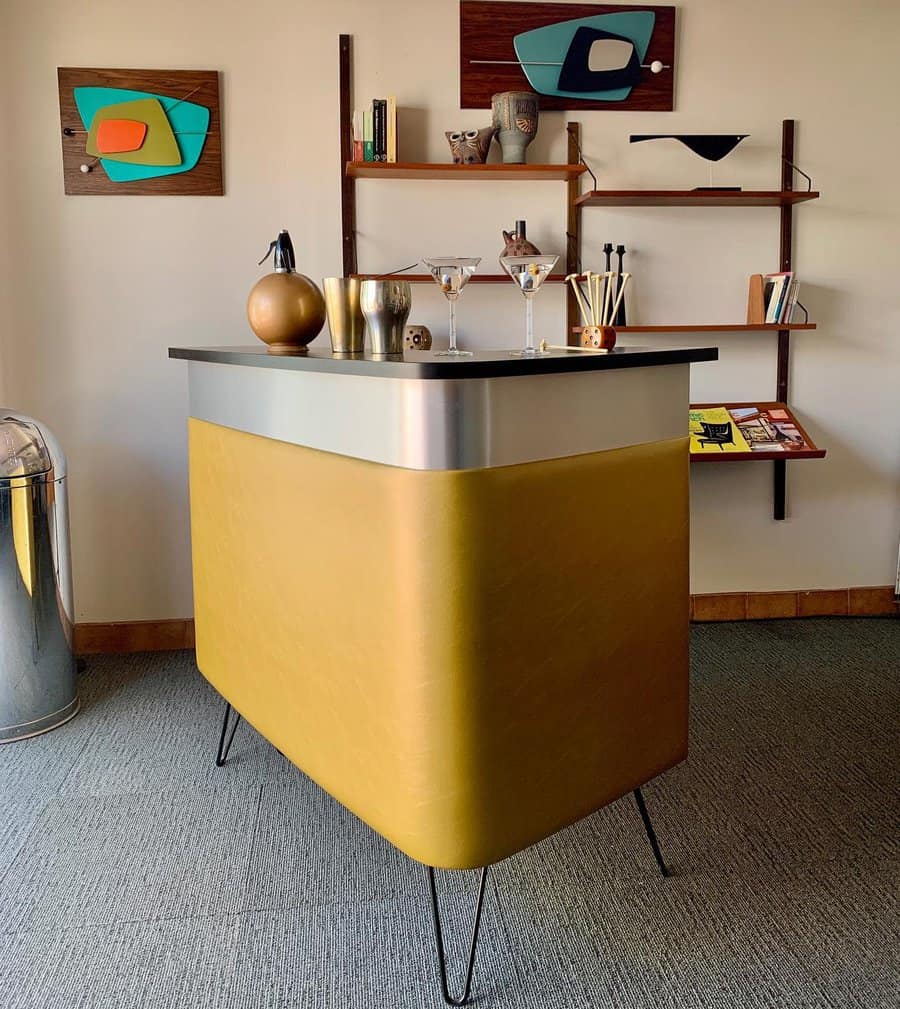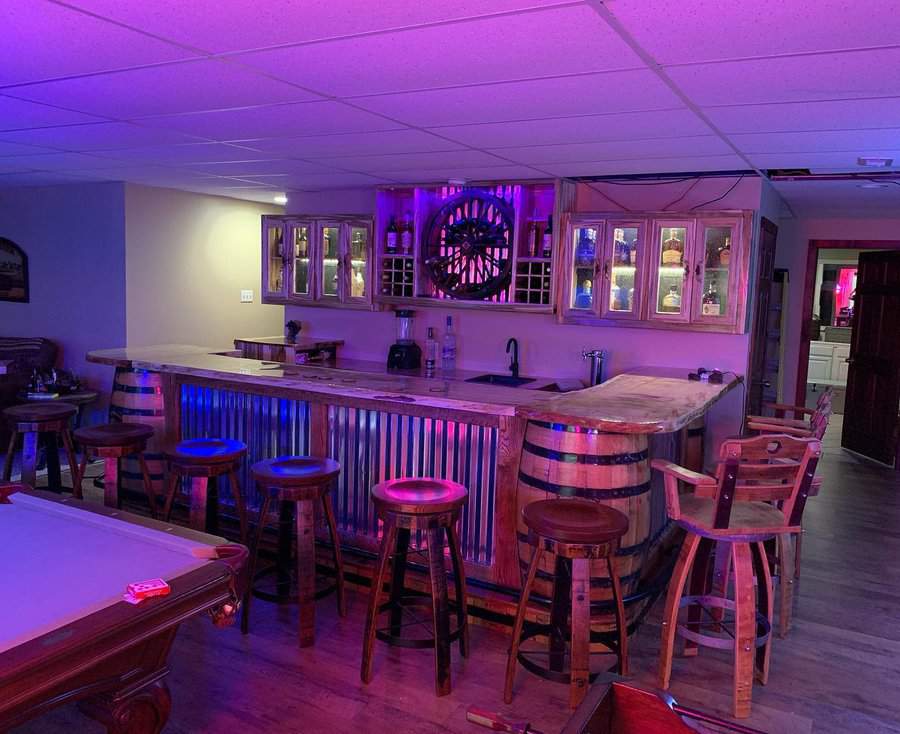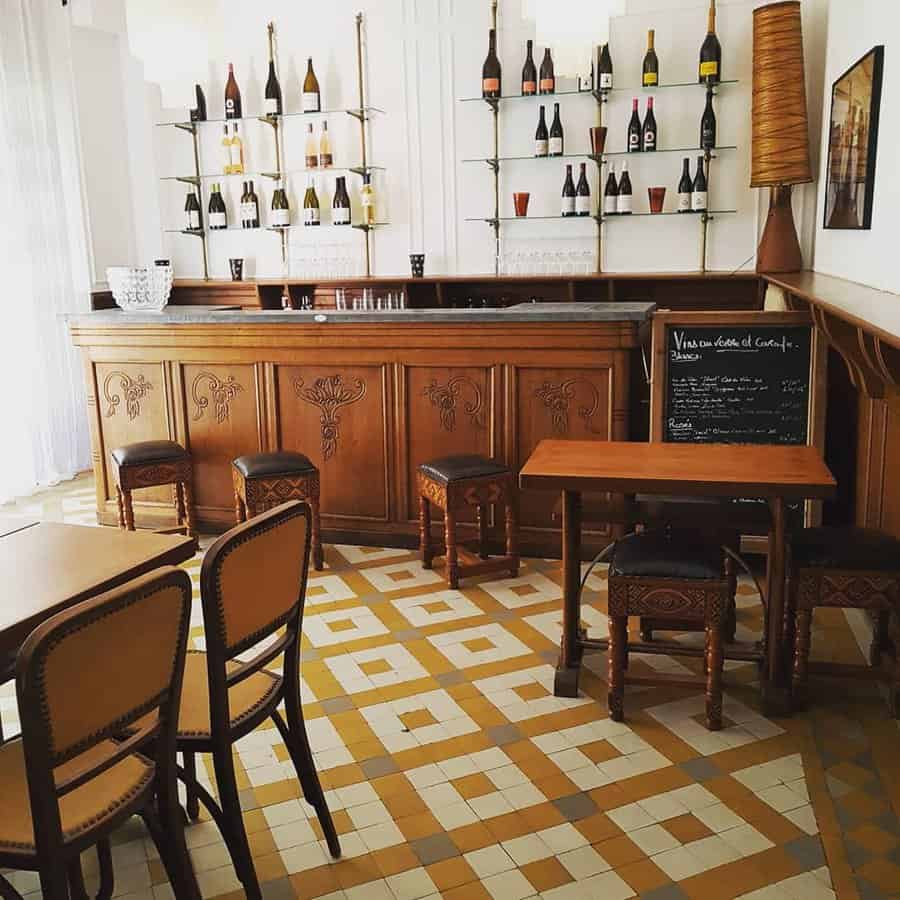 Add some accent pieces such as a wooden barrel, reclaimed wood counters, and round stools for that wild-west touch.
9. Wet Bar
Any convenient nook can be a great place for a wet bar, even if it's a simple set of cabinets with a countertop, that provides storage.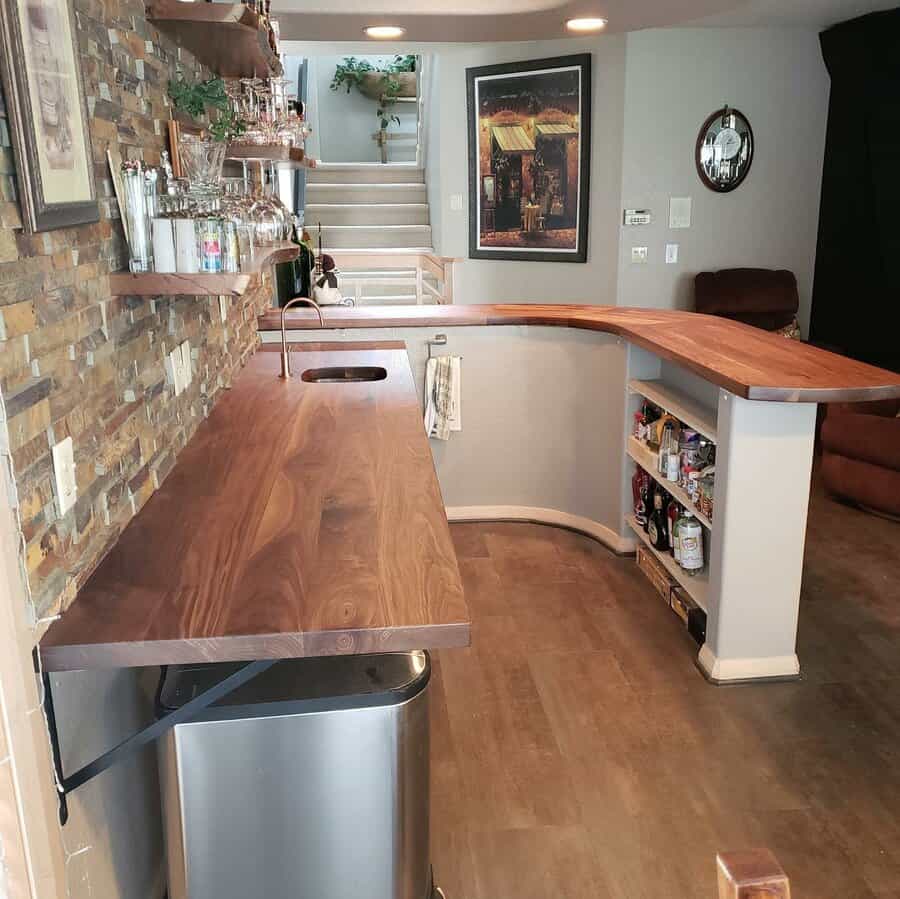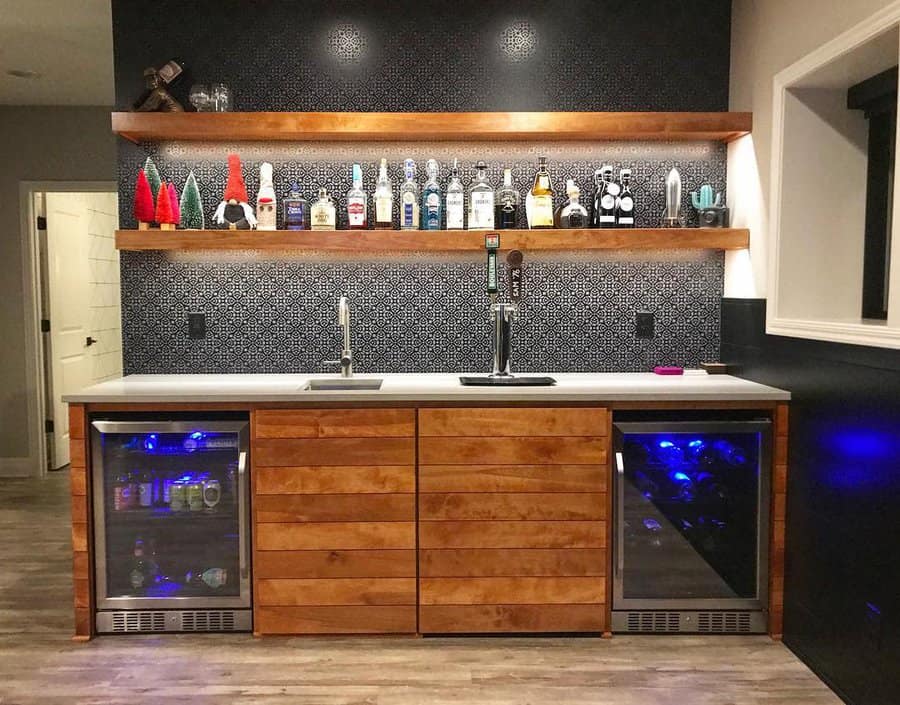 An under-mount fridge complements the space. Dual fridges are also a great option.
10. White
An all-white bar with stainless still appliances and washed iron light fixtures are a great combination, that makes any space elegant. White marble or quartz countertops are easy to accessorize with beautiful trays for drinks, and glass door cabinets to display glassware.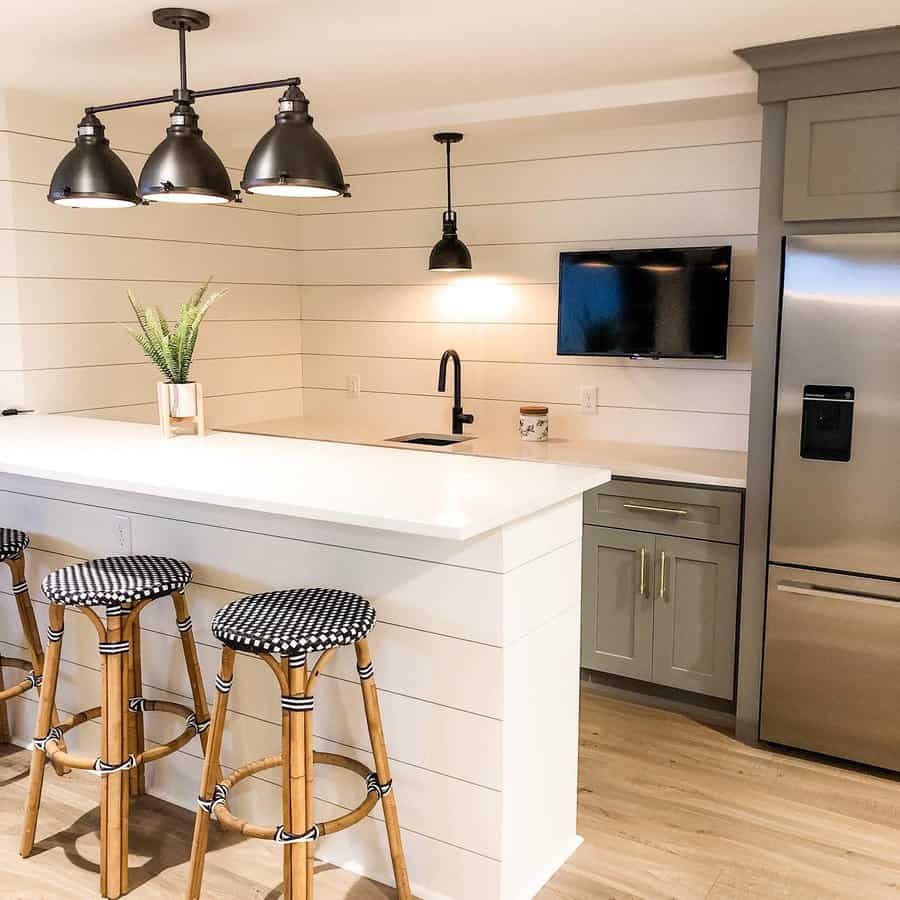 You can have an accent wall in a dark tone, for contrast and balance. Chalk wallpaper applied in one wall, with chalkboard art will give a special touch to the space. You will find a lot of tutorials online, on how to create chalkboard art, so you can vary from time to time.
11. Wood
Reclaimed wood is very trendy, whether you want a farmhouse or a pub feel. You can have wood paneling or stone tiles on the wall, for some texture. Stone tiling goes well with butcher block counters and wood cabinets, or you can opt for a more traditional style, with wood-carved elements.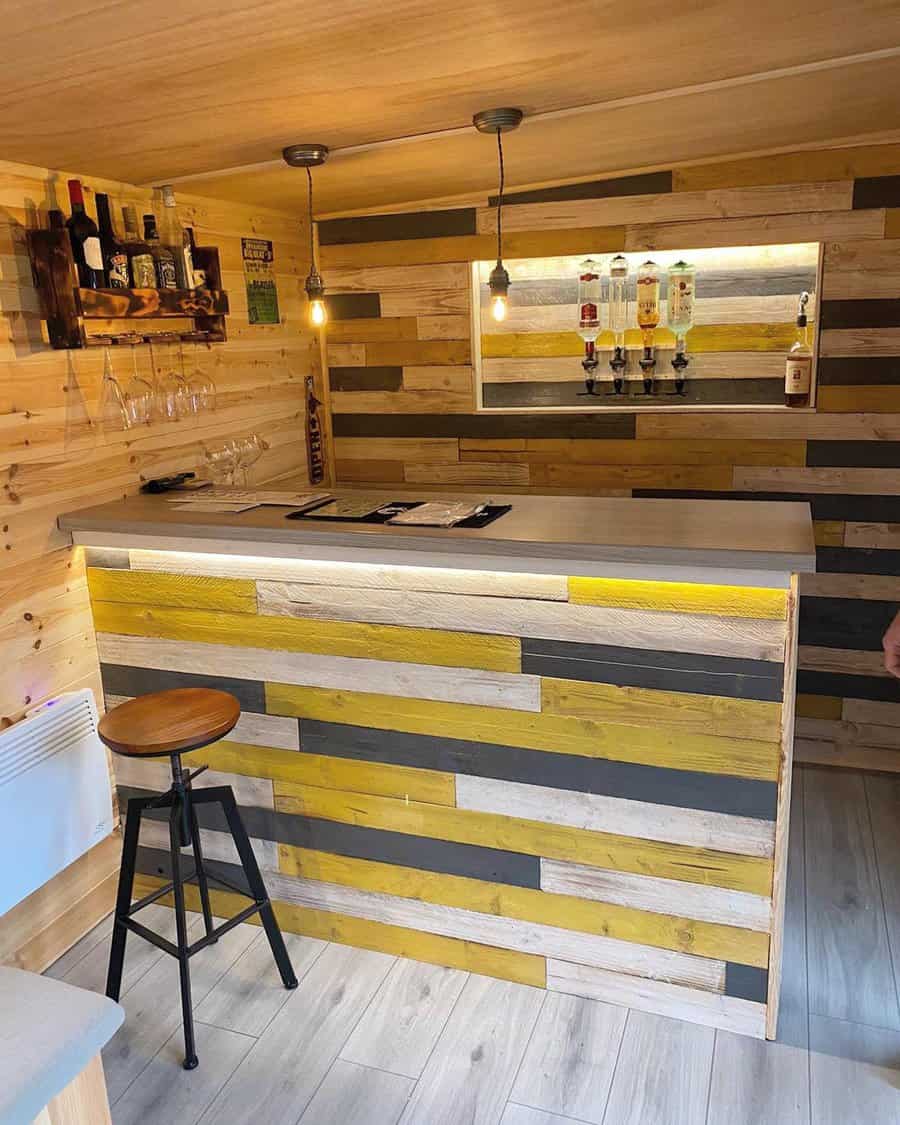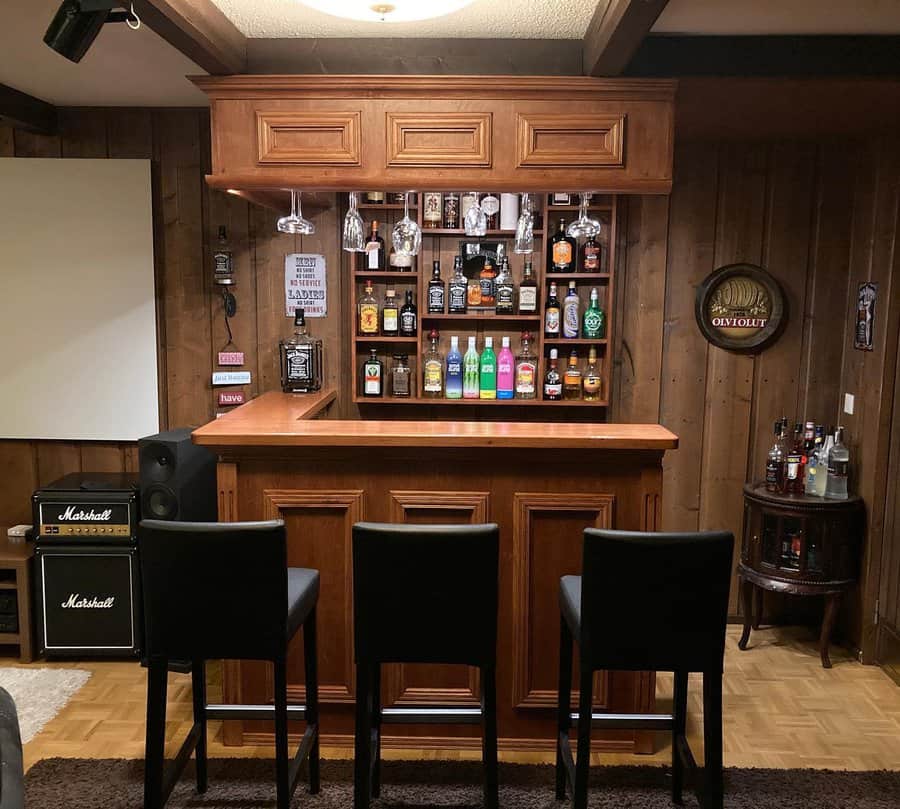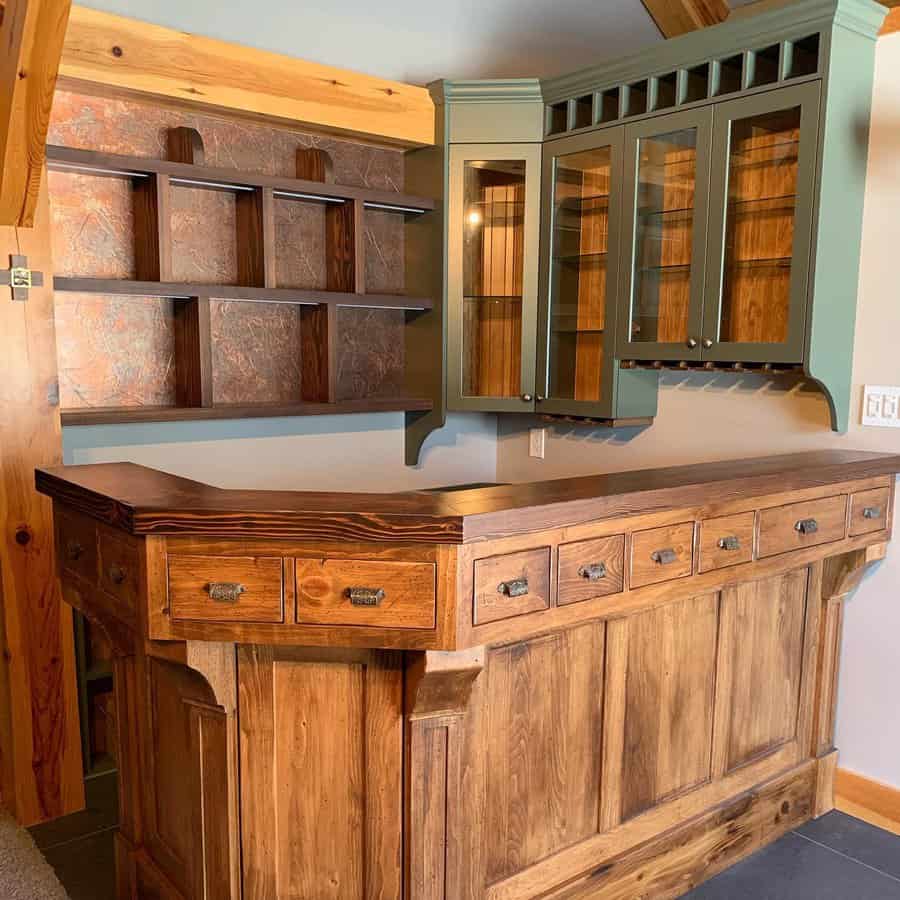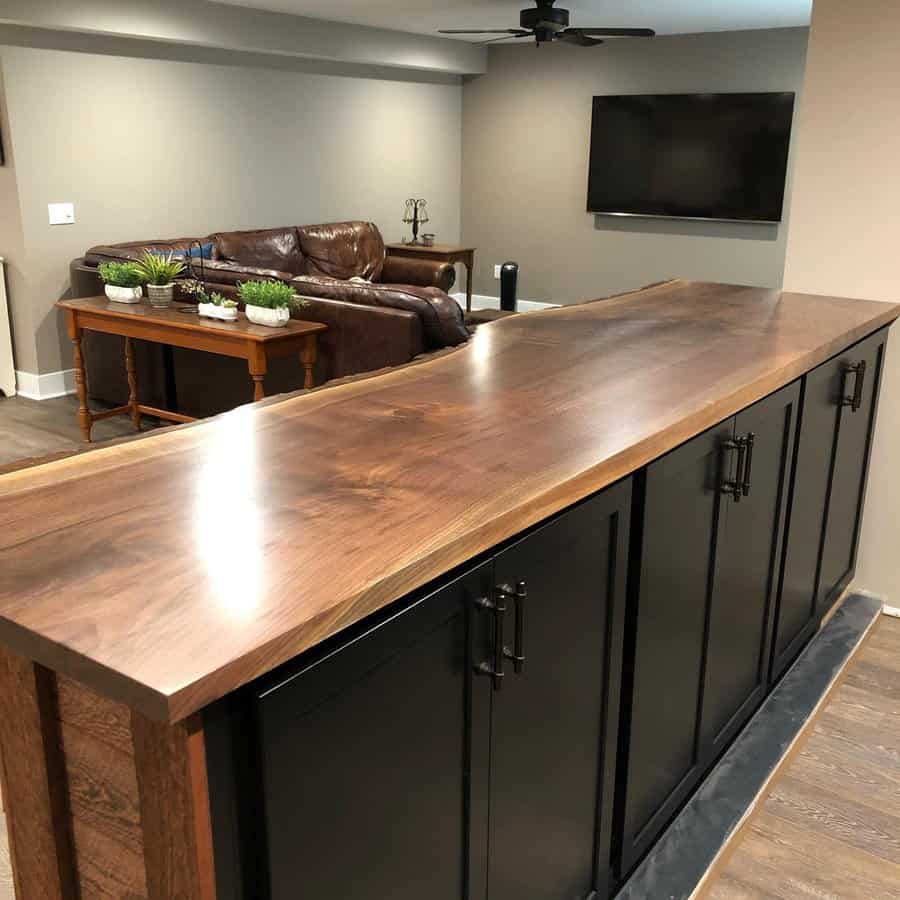 There are several basement bar design options that fit your needs, and your pocket. You will find a lot of DIY tutorials online, and many affordable options on the market.
From the most sophisticated to simple and inexpensive solutions, your bar will look awesome if you add your personal touch and follow simple design rules. We hope this post has inspired you to get started!
FREQUENTLY ASKED QUESTIONS
What do I need to have in a bar?
A basement bar should be an extension of your kitchen, even if they are on separate floors. For this reason, you must avoid having to go up and down every time you prepare a drink or simple snacks. Plan your storage space well, so that you have everything you need at hand, and store it easily after use.
Here are some essential items for a basement bar:
At least one tray

A cocktail shaker

A dispenser

A mixer

An ice bucket

A bottle opener (or wall bottle opener)

A cutting board

A sugar bowl

A couple of long spoons

A knife set

Coasters

Napkin holders

Glassware (including beer mugs, martini cups, wine glass, juice glass, whisky glass, champagne glass) 

Bowls and plates for snacks

Snack forks

A kitchen trash can
Appliances:
A wine cooler

A beverage refrigerator, a mini-fridge, or a refrigerator

An ice maker

A kegerator and draft beer dispenser

A dishwasher
You can also have a coffee station with an espresso machine.
What kind of drinks should I have in my basement bar?
This varies according to your personal taste, but here's a list of the most common beverages you can have in stock:
Vodka

Whiskey

Tequila

Brandy

Gin

Martini

Red wine

White wine

Beer

Liqueurs

Champagne

Soda

Juice
Don't forget the salt and lemon!
Where should I store my wine?
The ideal space would be a dedicated wine cellar, with controlled temperature (around 55°F) and humidity. Avoid keeping wine anywhere susceptible to frequent temperature changes, and do not store red wine in refrigerators.
There are dual-temperature wine coolers, where you can store white wine and red wine, at different temperatures. After you open a red wine bottle, however, the best place to store it is in the refrigerator, for about 3 to 5 days.