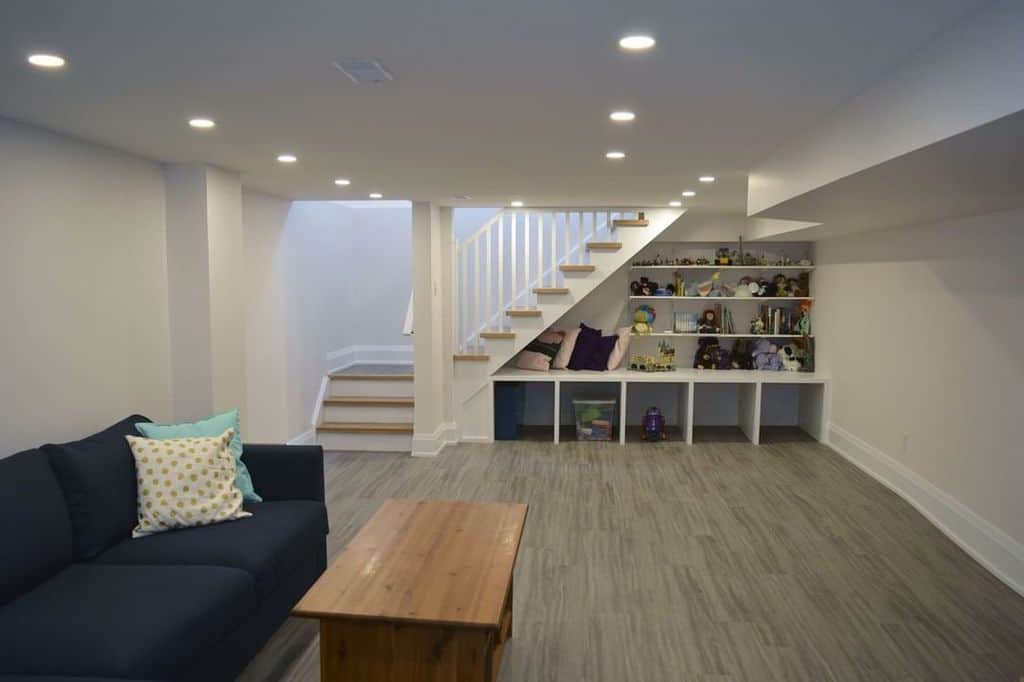 43 Finished Basement Ideas
Don't let your basement become wasted space. With some remodeling, you can turn it into precious square feet of extra space for a guest bedroom, home office, playroom, TV room, mancave, workshop, home gym, media room, laundry area, storage space, even a wine cellar… think of all the possibilities!
In this post, we will give some ideas for basement remodeling, for you to transform your finished basement into the favorite room of the house!
1. Basement Bar
What a great way to entertain guests! You can build a wet bar with an island with seating so that your guests will be comfortable while you prepare their drinks.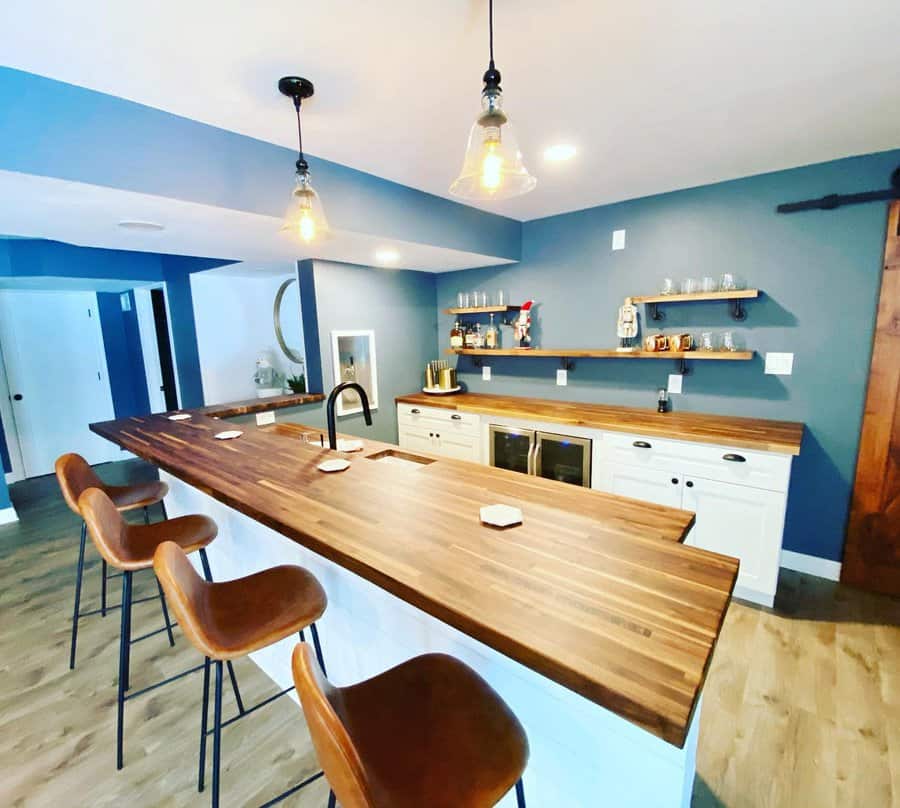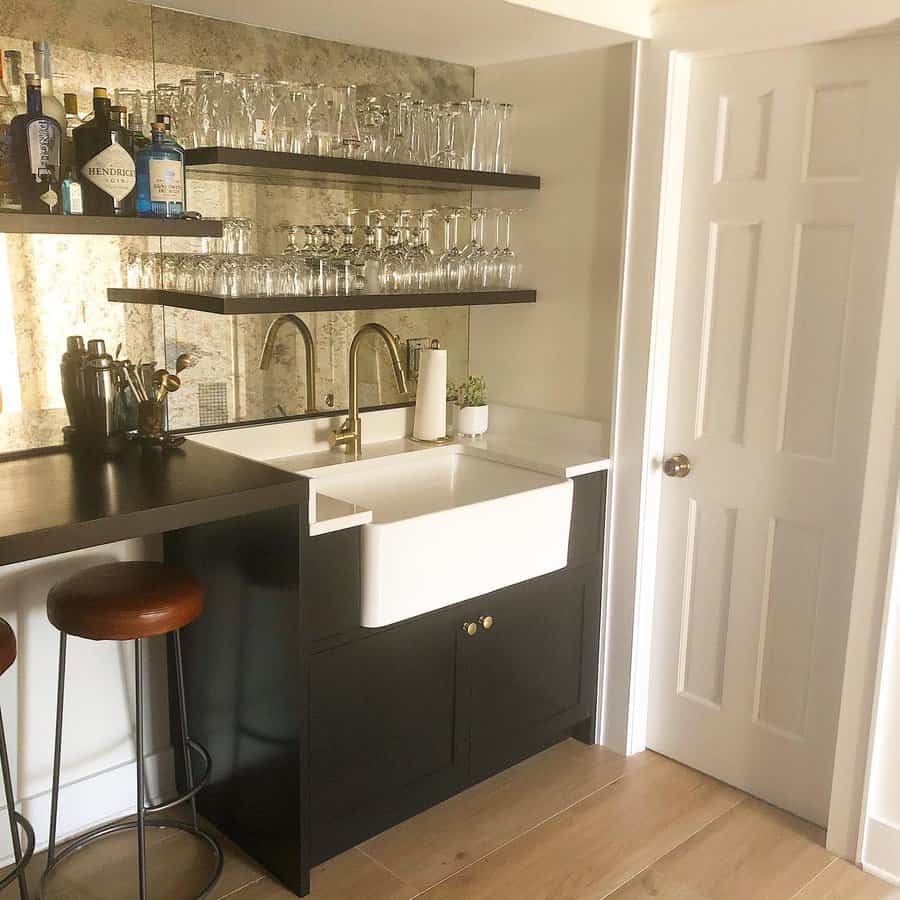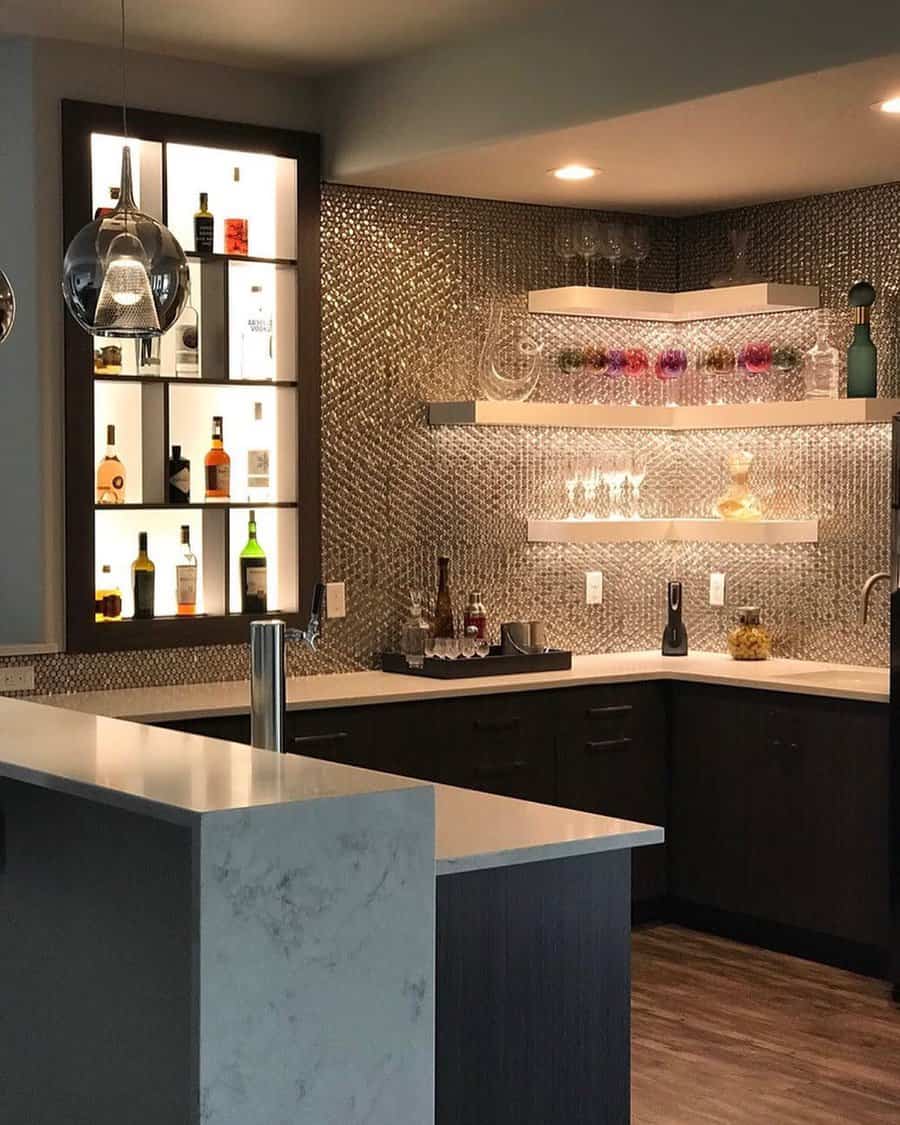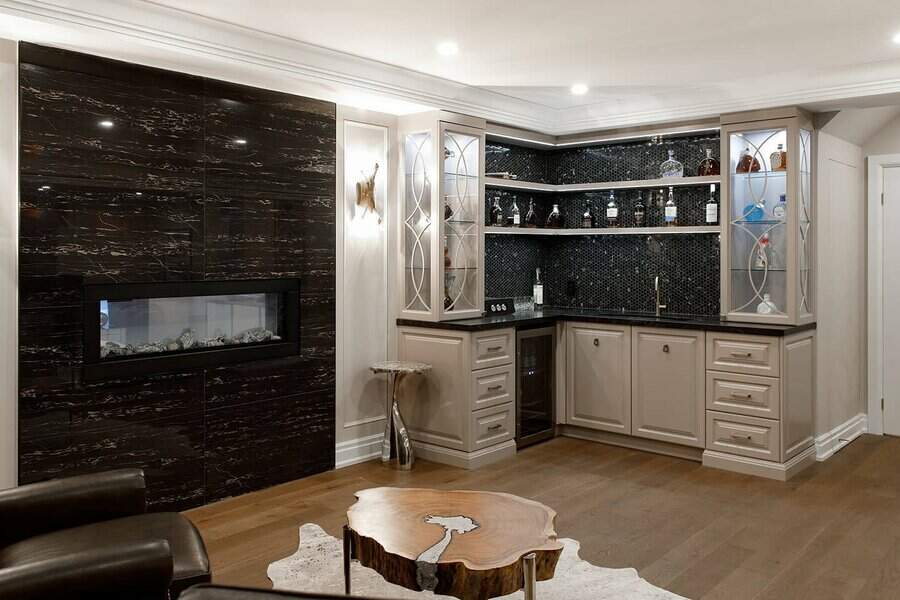 Glass tiling is a great idea for your basement bar. It sparkles with lighting, which makes the room brighter. You can add mirrored shelves with led light in the bar area, this will also bring light to the space.
Think of open shelving to display glasses and beverages; it is practical and functions as a decoration piece.
2. Budget
Another great way to make use of your finished basement is to transform it into your home gym. Add shelves and hooks for your gears and save floor space for the equipment.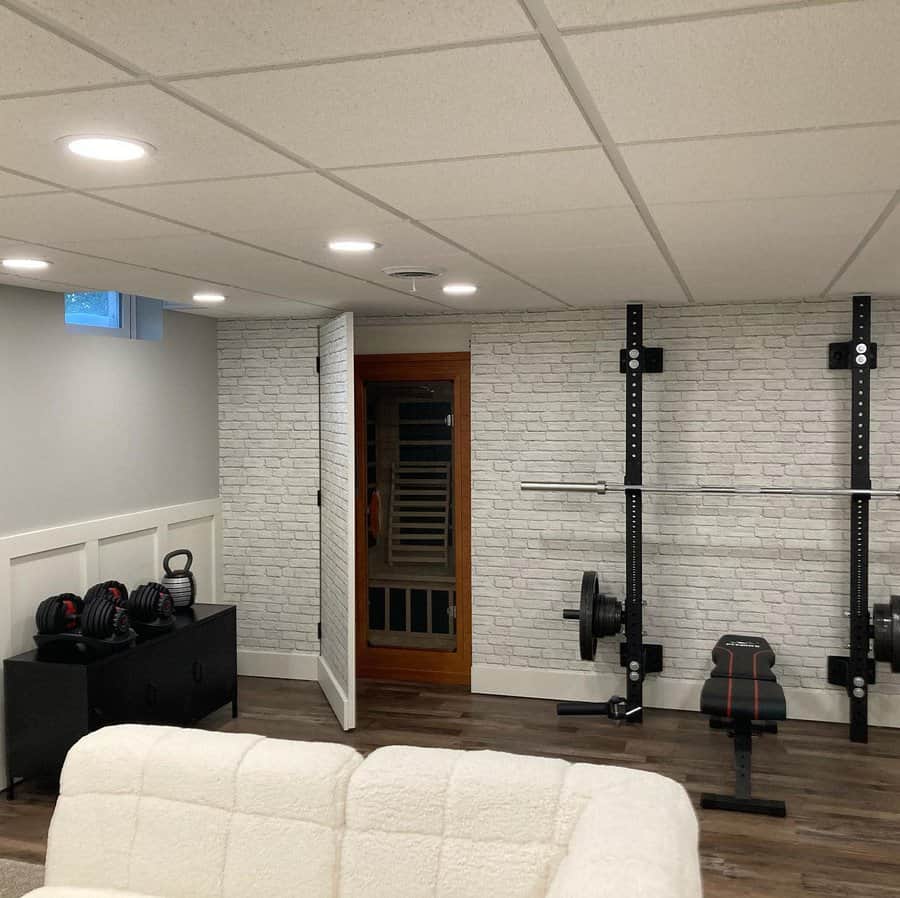 Foam interlocking mats are a great idea for the workout area, instead of rugs. Another practical option for the gym space is to apply vinyl wallpaper. It does not absorb moisture, so it is ideal for basements. This material is waterproof and washable, that is, it can easily be cleaned with a sponge or damp cloth.
3. Contemporary
You can create a great family room in your basement. Install a fireplace for a cozy atmosphere. Add an entertainment center with open shelving, so you can display décor pieces and photo frames.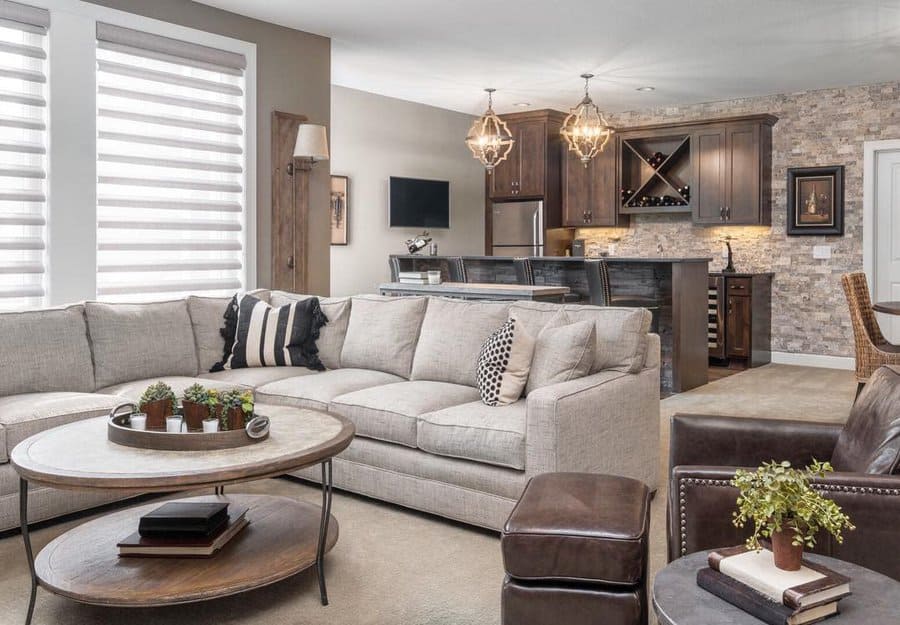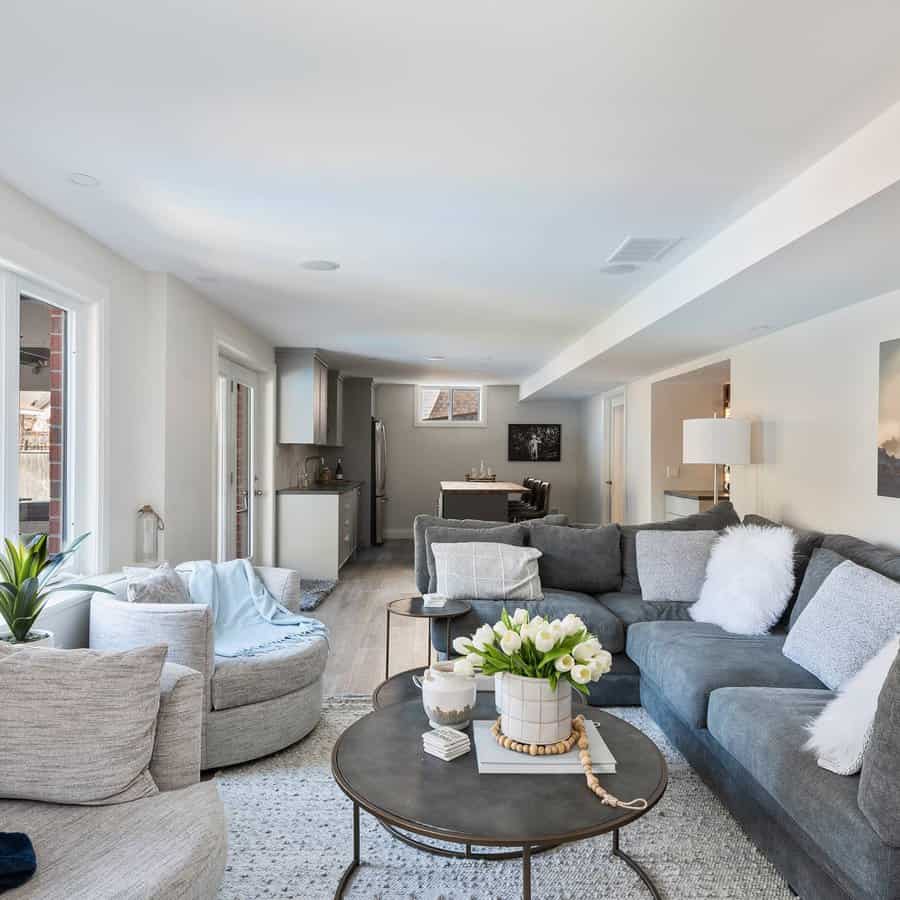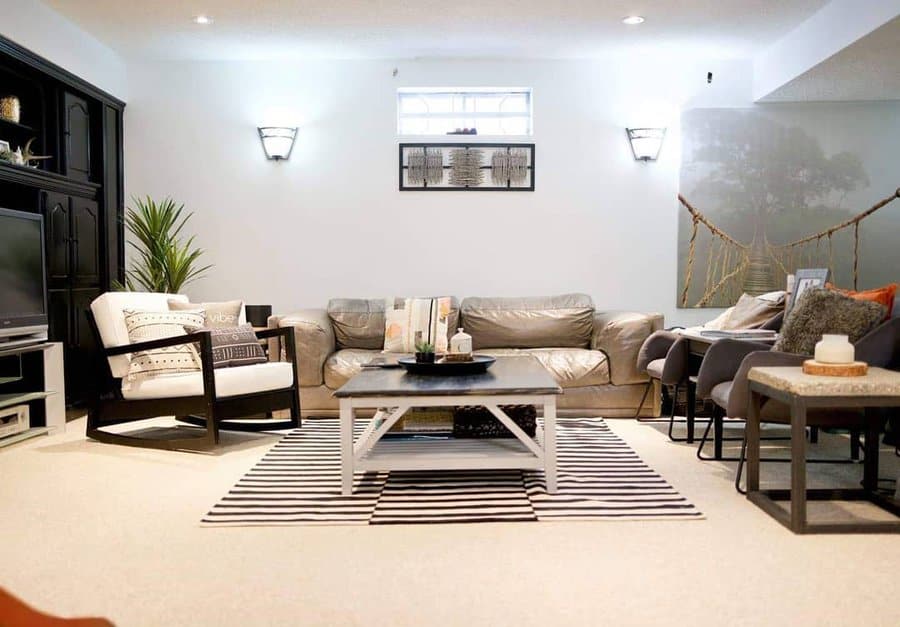 Put your personal touch in creating a gallery wall with your most precious memories. Make the seating area comfortable and inviting, with soft cushions and ottomans, which can be used as coffee tables as well as footrests.
4. Exposed Beam or Open Ceiling
Open ceilings may not seem very appealing for most homeowners. But in many cases, they are the best solution, considering basement ceilings are sometimes too low for drywalls. Most people want to conceal pipes, wires, and ductwork, but one has to keep an open mind when it comes to leaving them exposed because there are some tricks to soften the blow.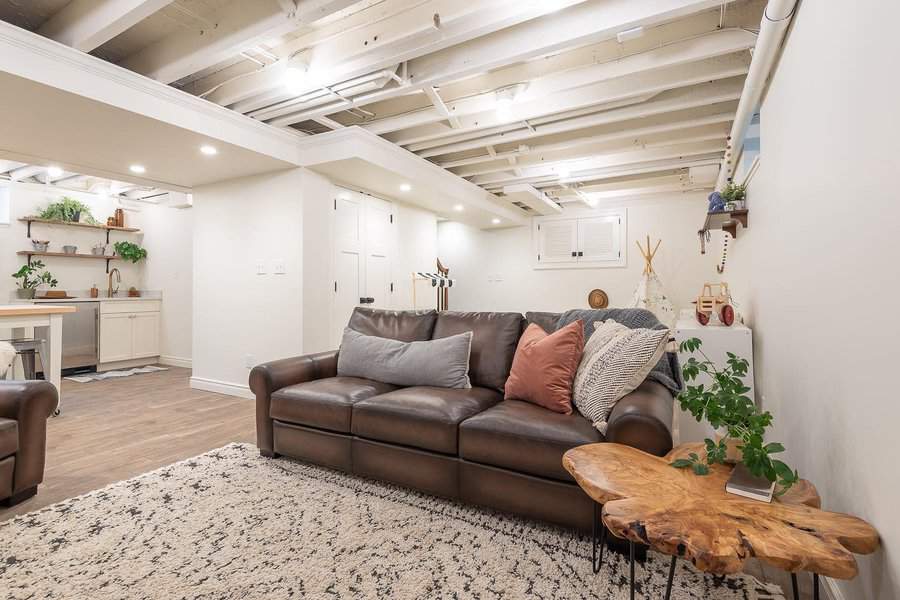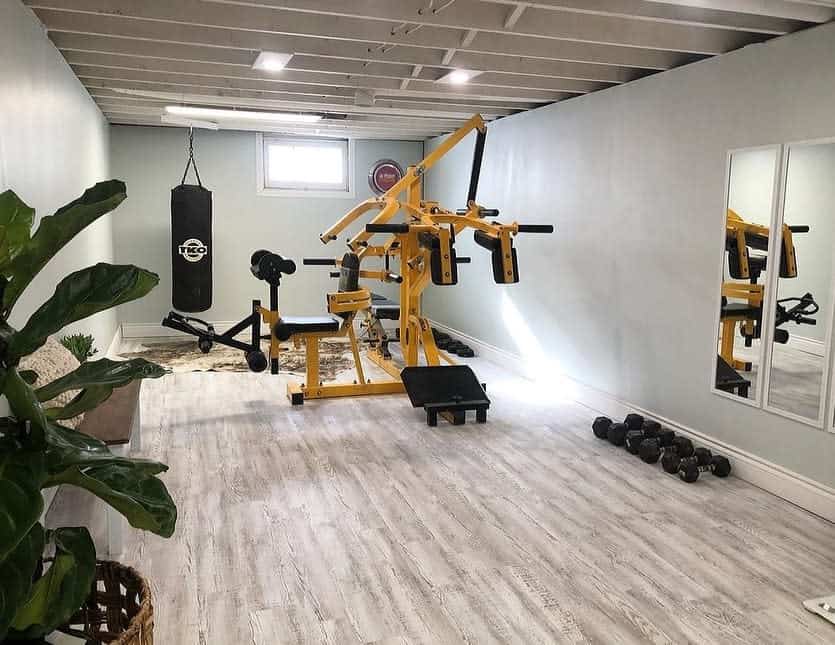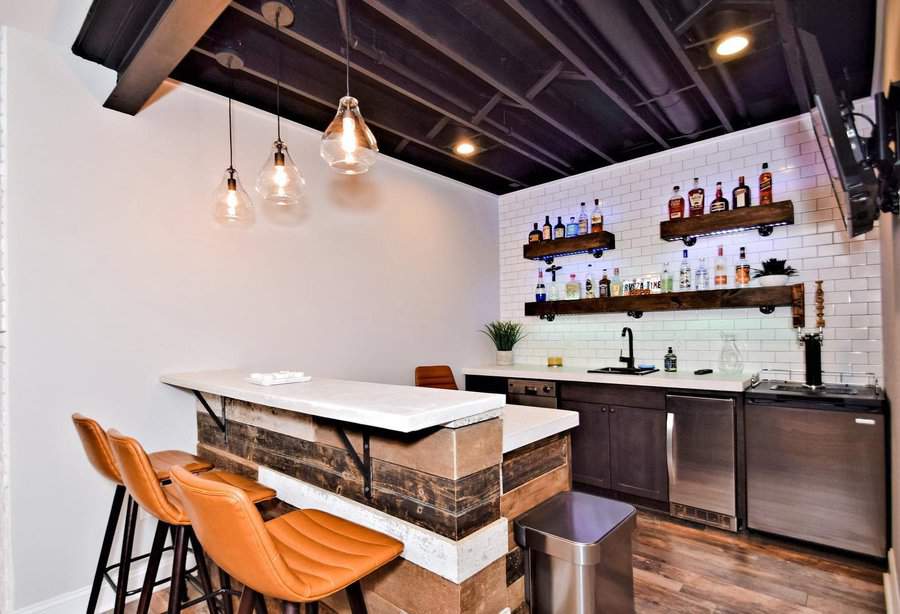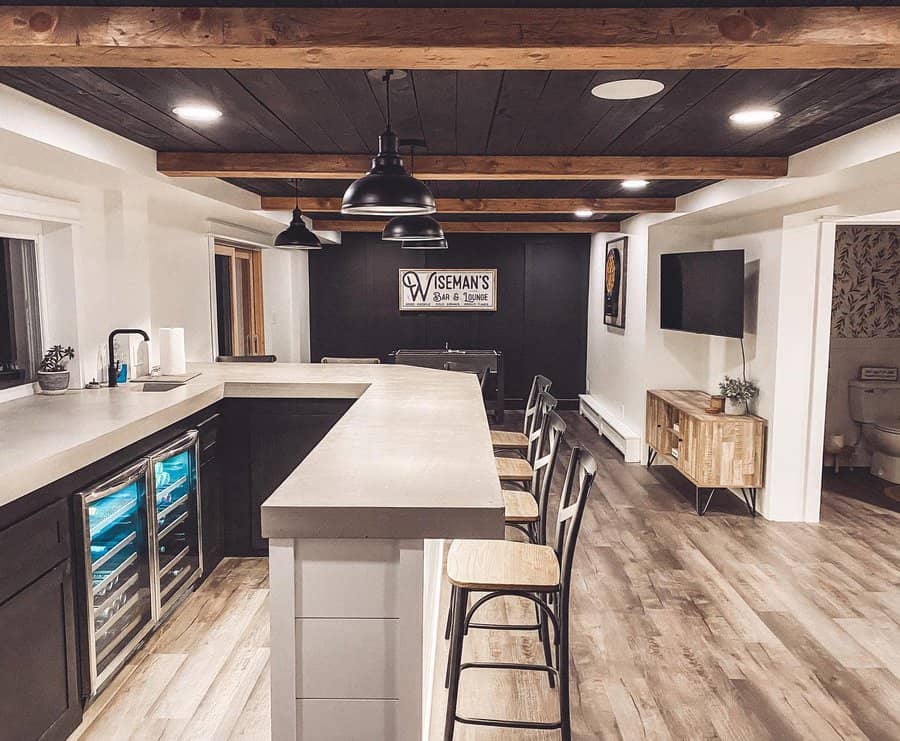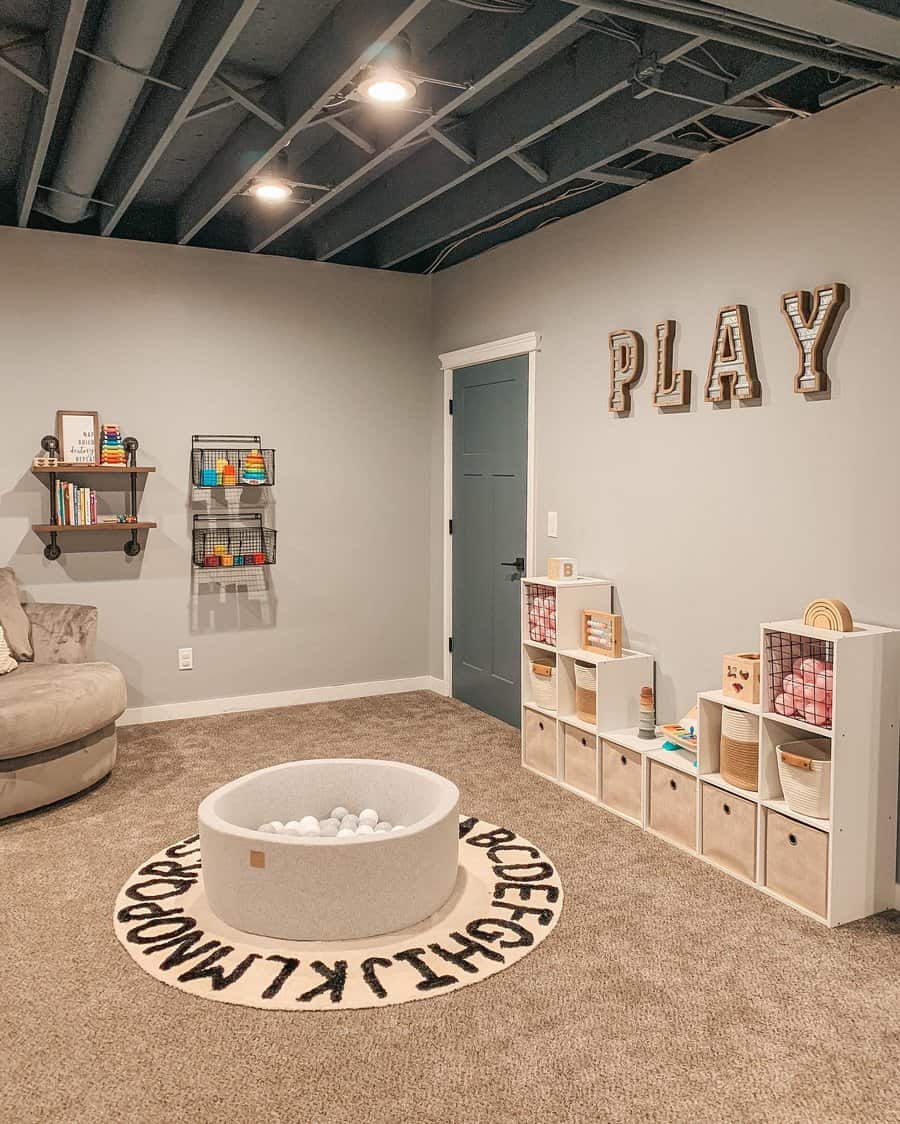 One of them is to paint the ceiling black. The imperfections, ever so often highlighted by the white color, tend to disappear with dark painting.
Another common concern is that the dark color in a low ceiling basement, where windows are often smaller, would make the space feel like a dungeon. And here's where interior design basic rules will help you: pairing dark ceilings with contrasting light walls will avoid that claustrophobic sensation of a dark space. A neutral color palette for furniture, with a pop of color in the décor pieces, will do the rest of the job.
Another option is to install a metal open ceiling, to conceal some of the imperfections of exposed pipes and ductwork and give your space an awesome industrial look. If you want a modern basement, with a farmhouse design style, exposed beams are the way to go. They add warmth and charm to any space.
See more basement ceiling ideas here.
5. Family Room
You can have a cozy basement where your family can gather to watch movies or play games, while your upstairs living space remains tidy. You can divide an open floor plan simply by distributing the furniture to delineate the different spaces.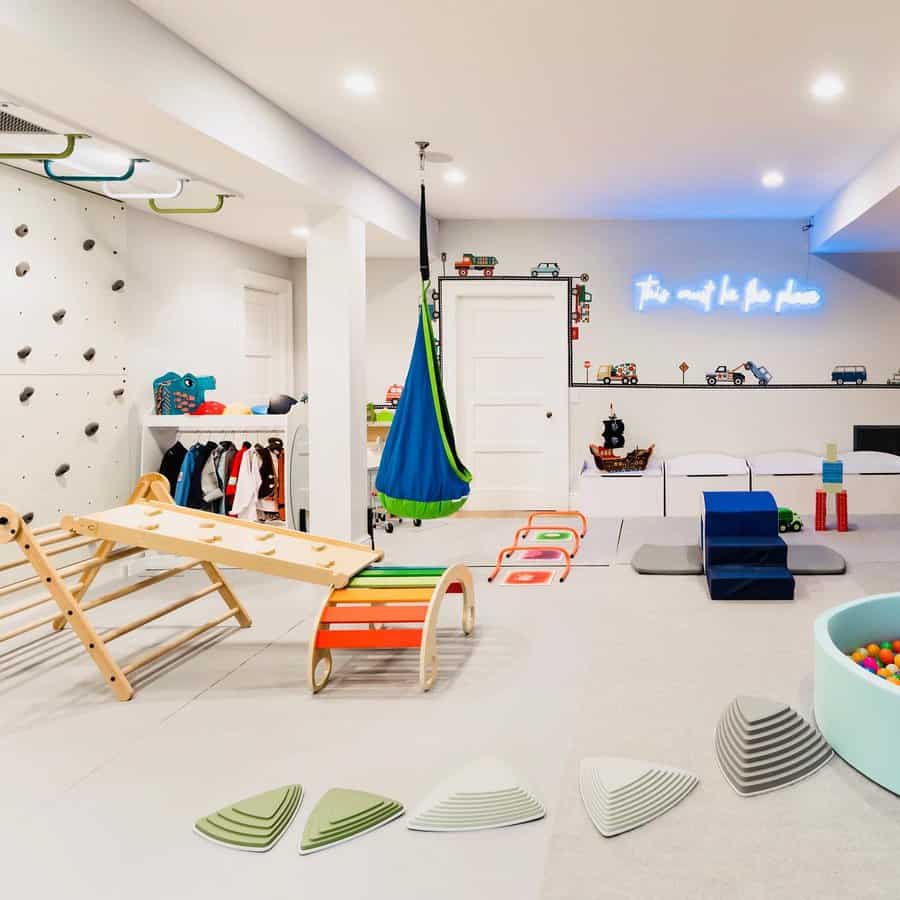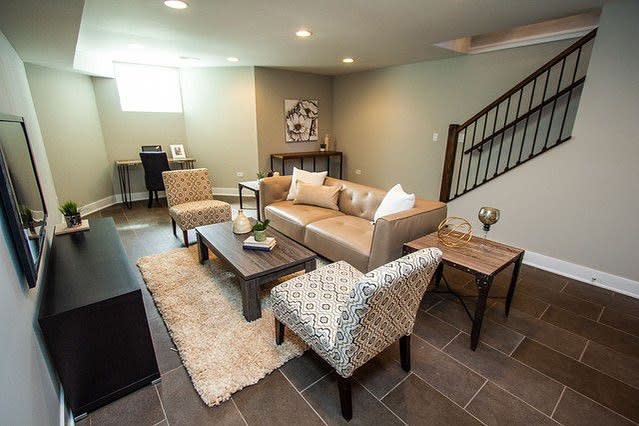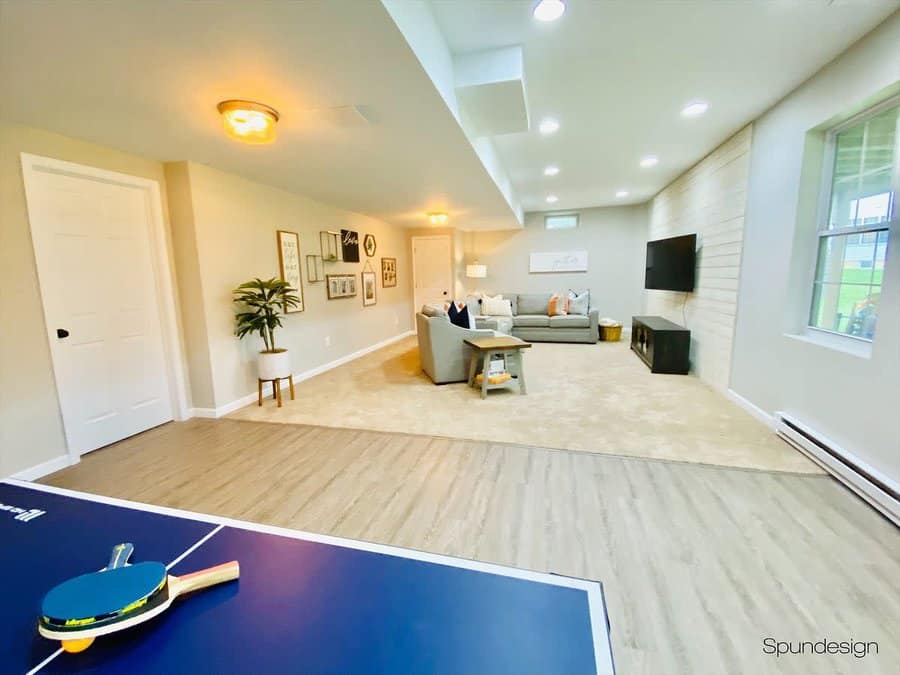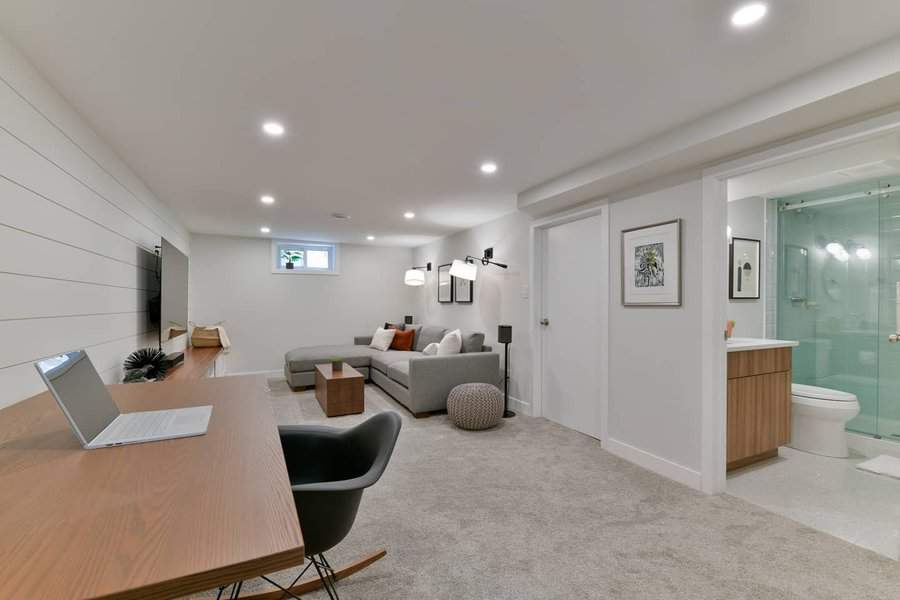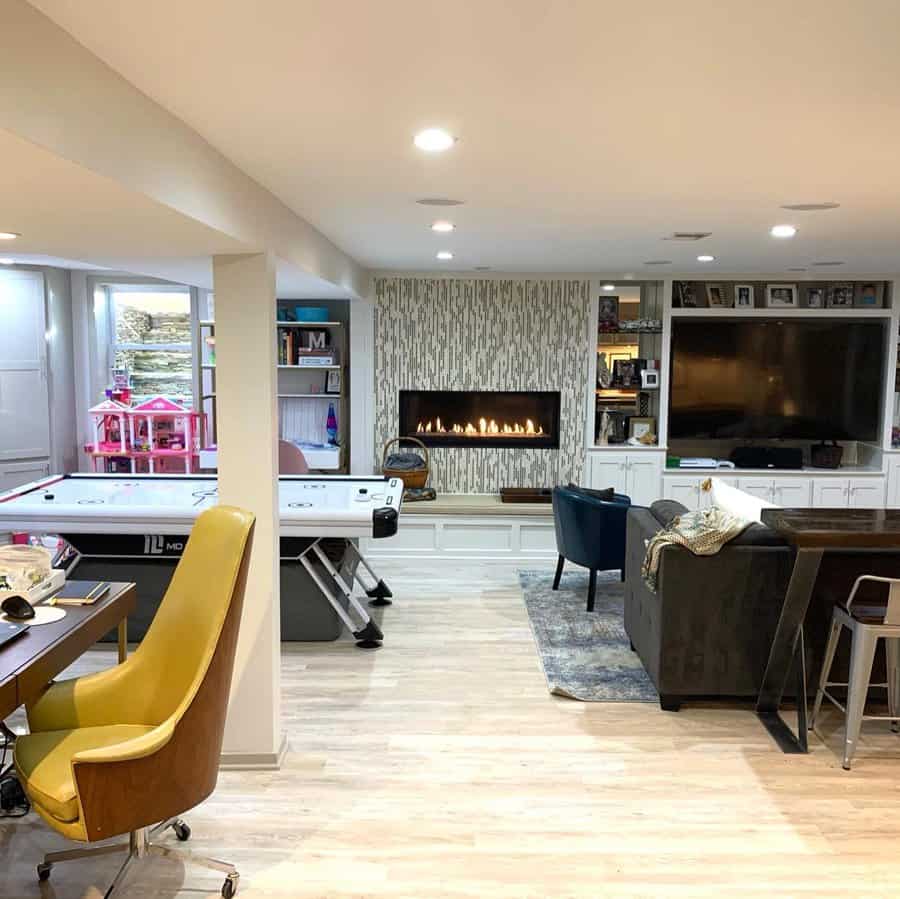 This way, you can create a family/media room, a play area, a home office, and even add a home gym, it's all a matter of planning ahead, and figuring out the right measurements for furniture distribution.
6. Grey
People are normally afraid of dark colors, especially in basements, but the trick here is to have contrasting colors to explore dark and light tones.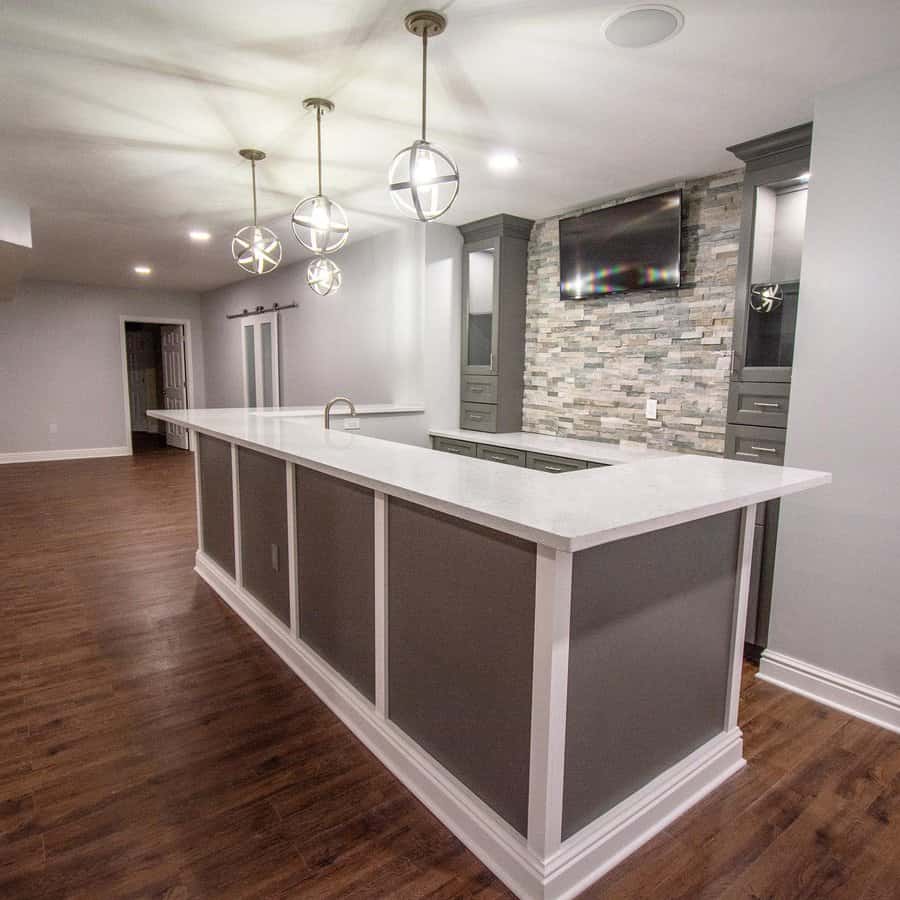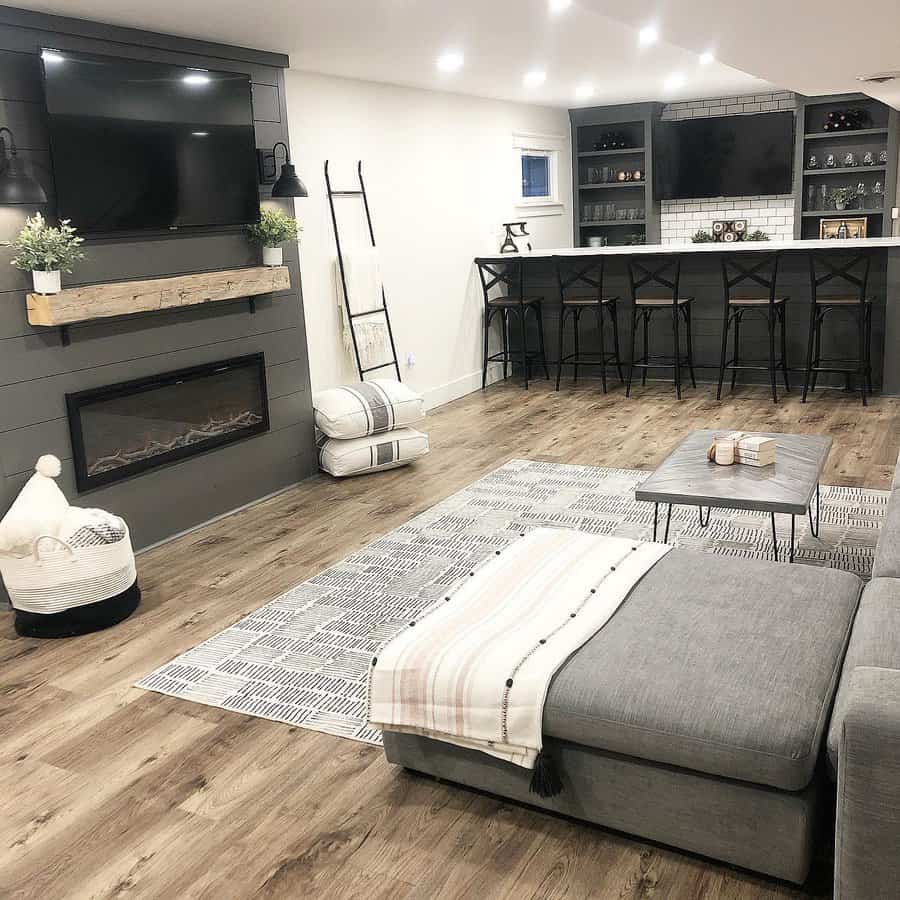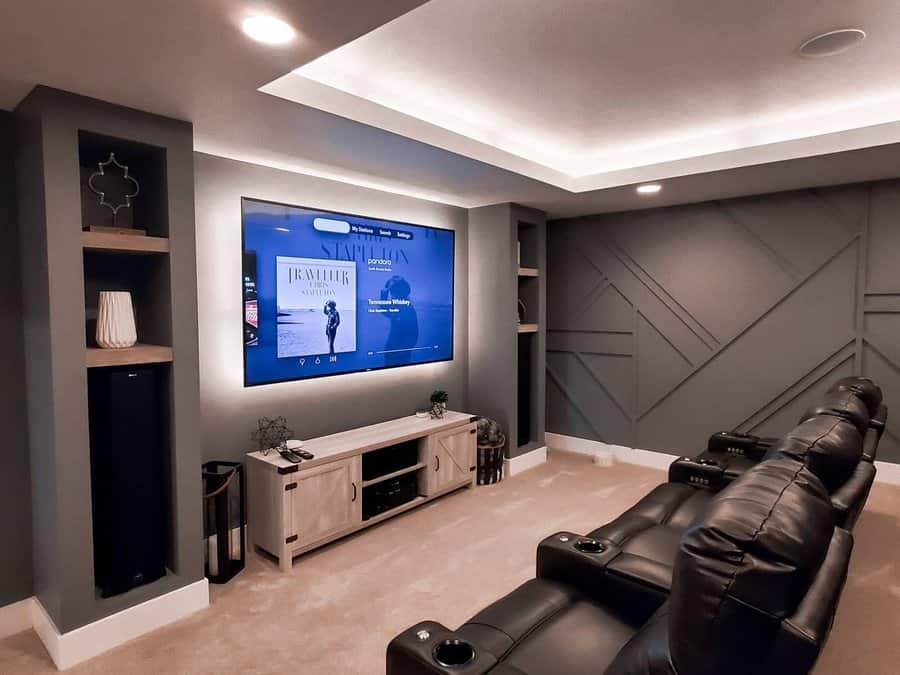 If you choose grey walls, think of a lighter flooring, keep the ceiling white, and do not overwhelm the space with dark furniture, this way you will have the perfect balance between light and dark.
7. Laundry
If you are one of those people who loves to do laundry, you are really a special kind… most of us simply hate it!
Laundry day is even harder in a cold, damp, and dark basement. Who feels like spending time washing and folding, in such an uninviting space?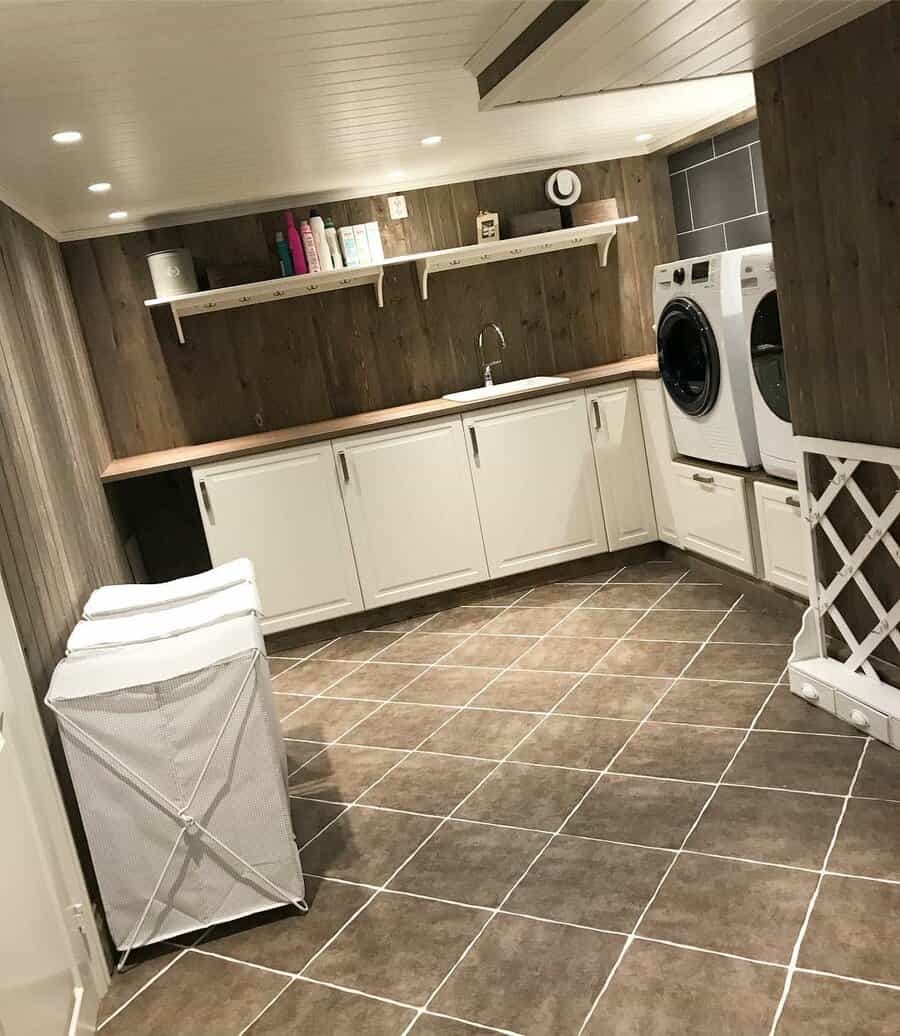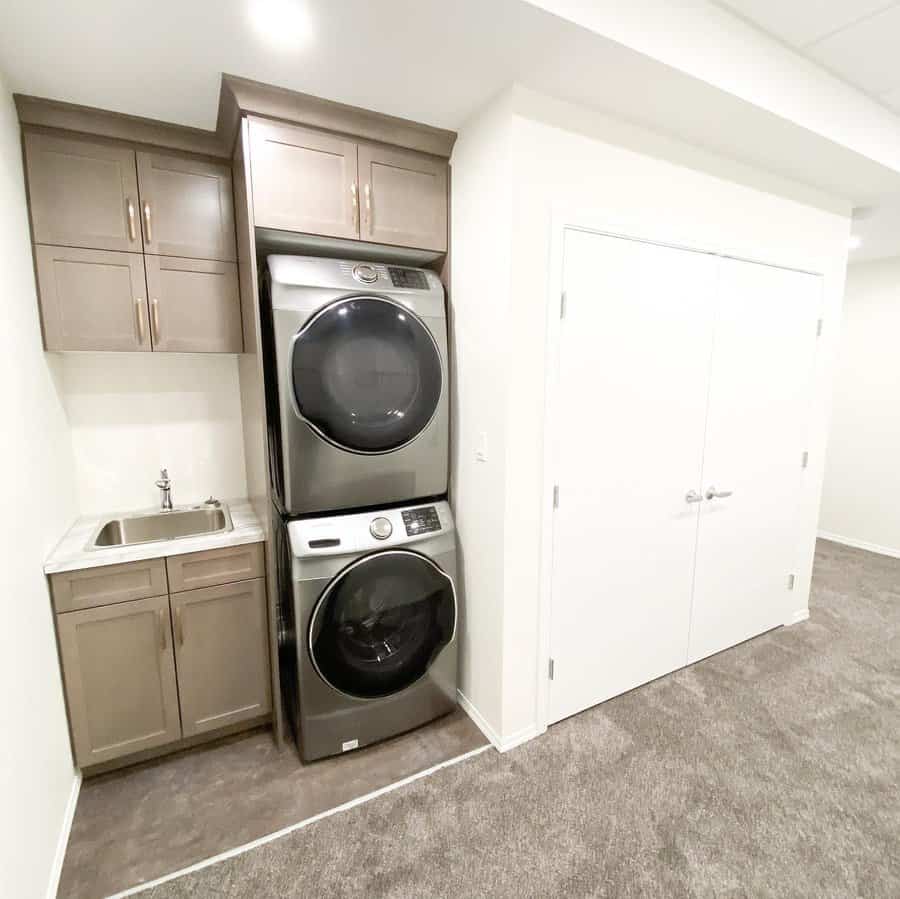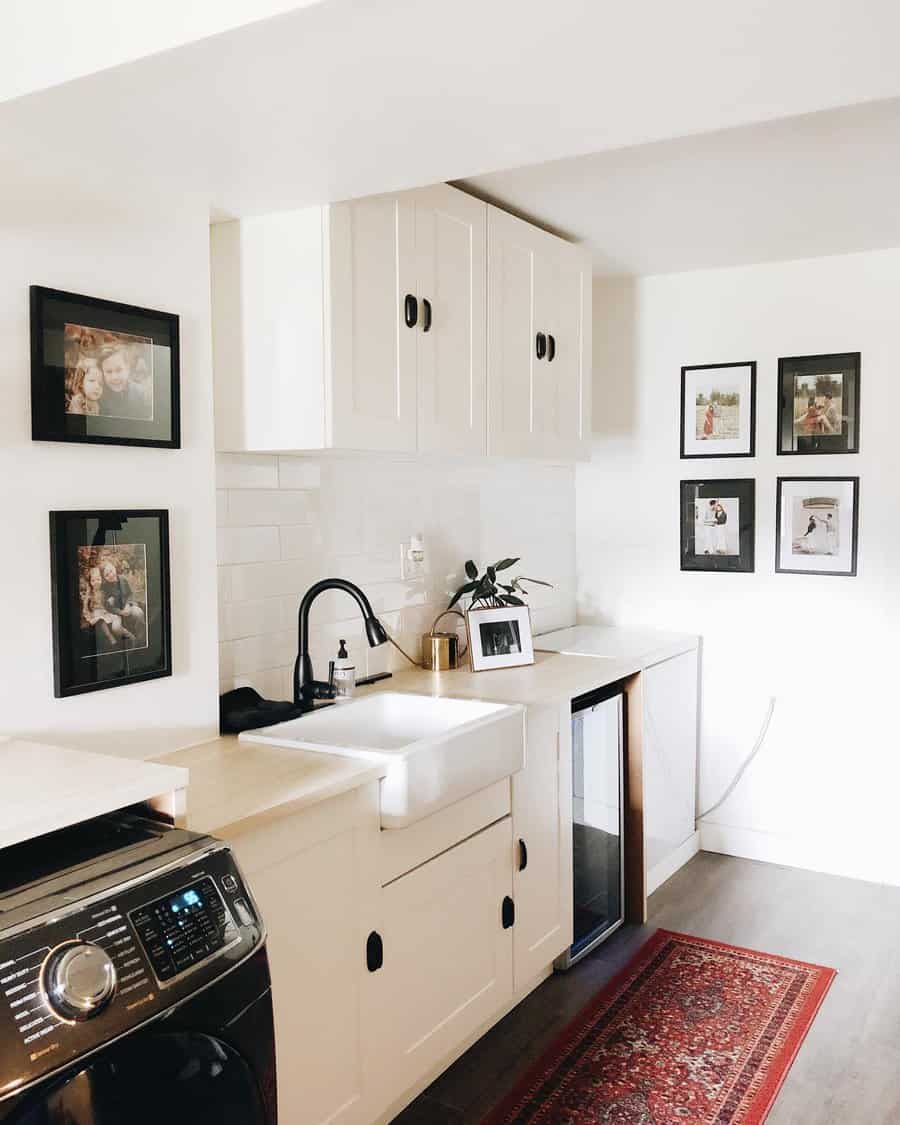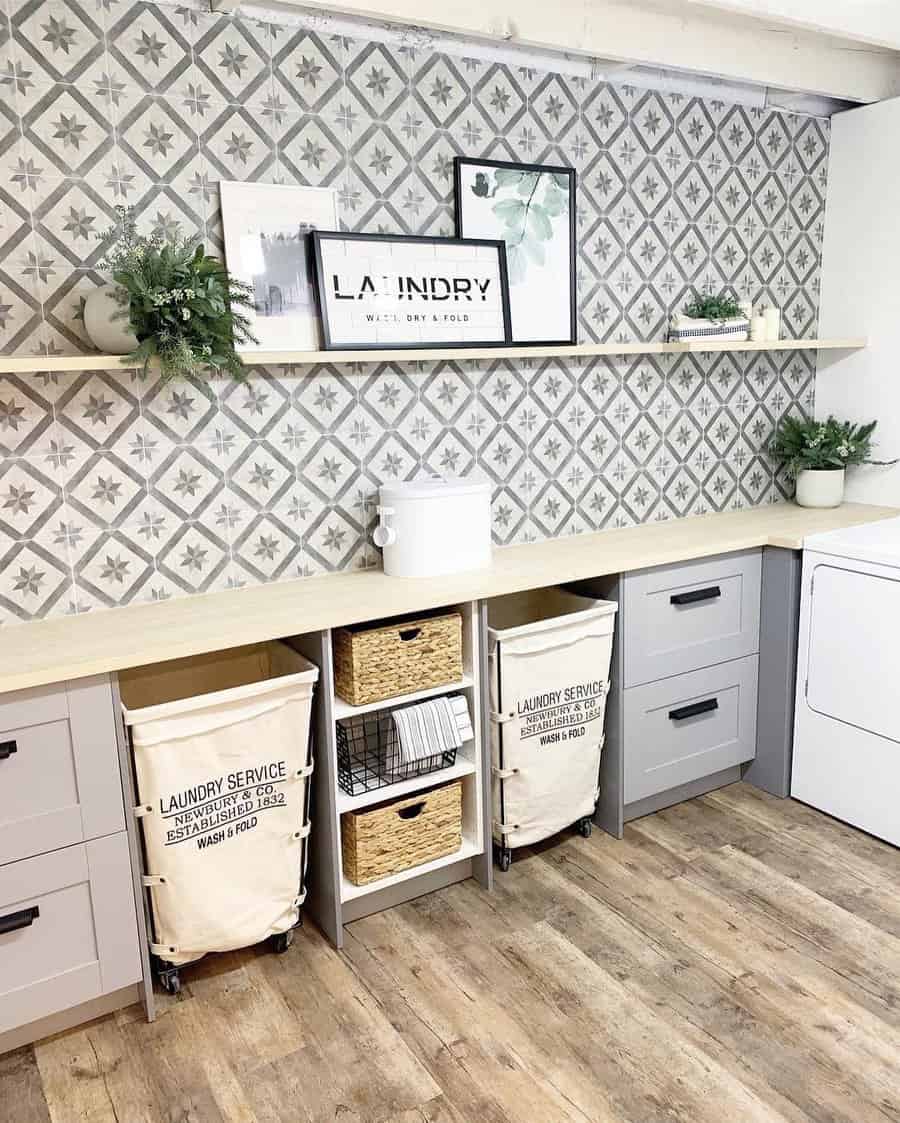 Make the best out of your laundry space, with cabinets, open shelves, folding and ironing space, a sink, and storage for laundry supplies. You can include a dog wash station in your laundry or have the laundry and mudroom areas combined.
See more basement laundry room ideas here.
8. Low Ceiling
Decorating a space with a low ceiling can be tricky. If you have bulky furniture and excessive décor pieces, the room will feel cramped. Choose simple and lightweight furniture, so that the room feels more spacious.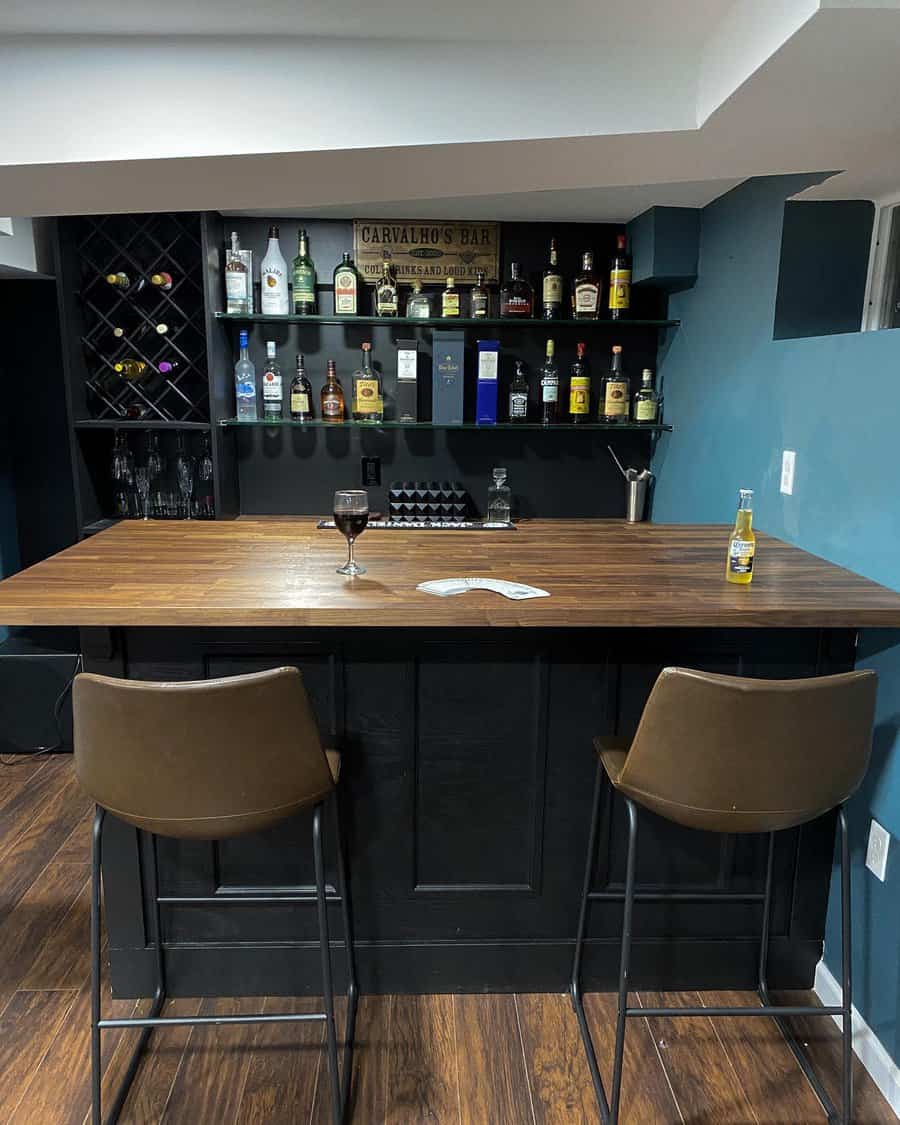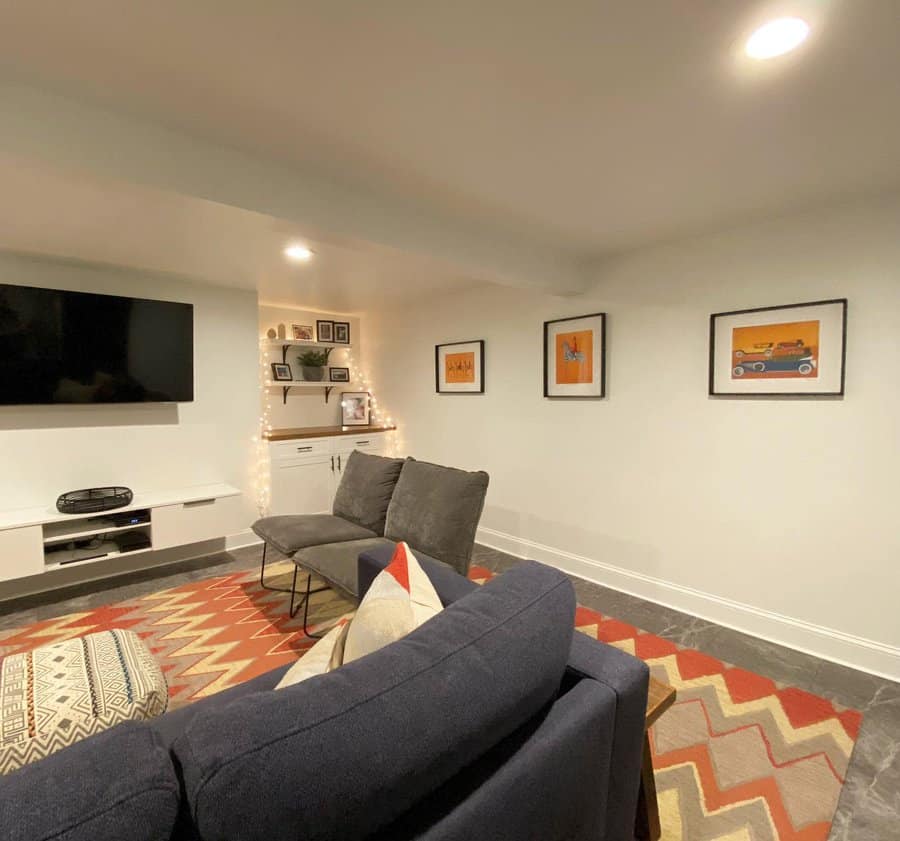 Prefer light colors as opposed to a colorful palette in walls and finishes, with a pop of color here and there. Natural light is important, as well as proper lighting. There are several lighting options for low ceilings, as shown in the video below.
9. Luxury
Why can't you have a luxurious basement? It's all a matter of design and finishes. Luxury should not be limited to one or two rooms in the house. Apply your personal touch to transform an ordinary basement into a work of art.
Let's start with the flooring: installing carpeting over an uninsulated or unheated concrete floor means disaster bound to happen, because of mold and mildew. So, why not leave the concrete floor instead? Don't panic, I'm sure you've heard of decorative concrete.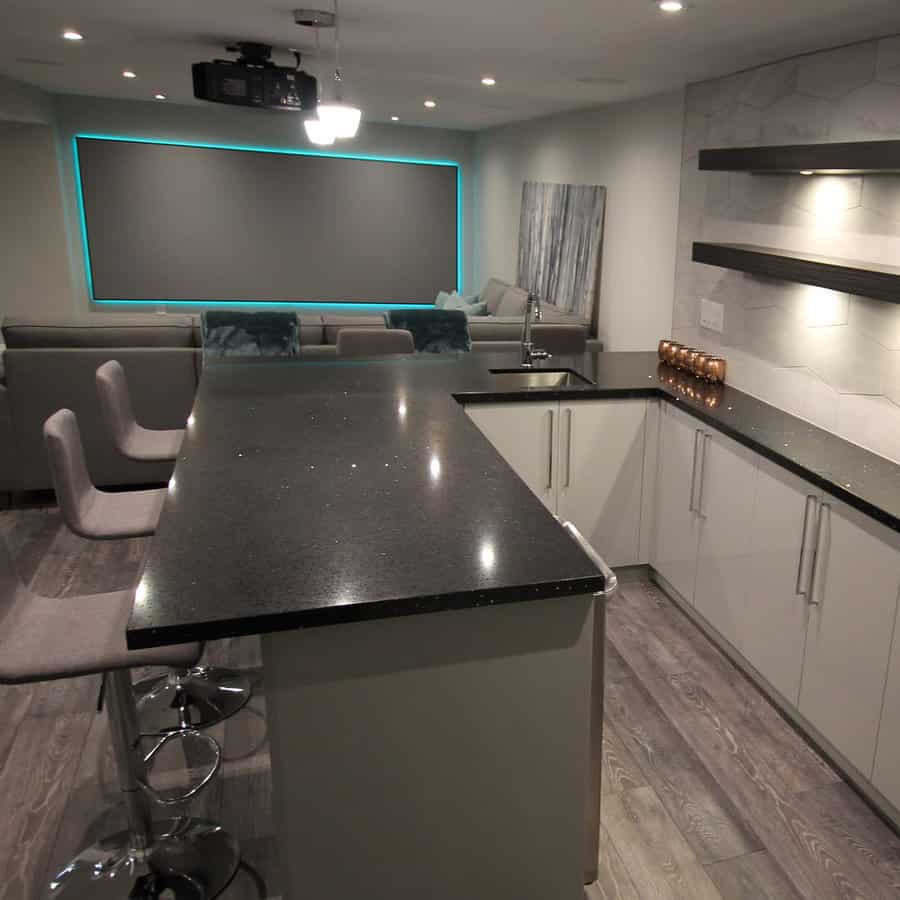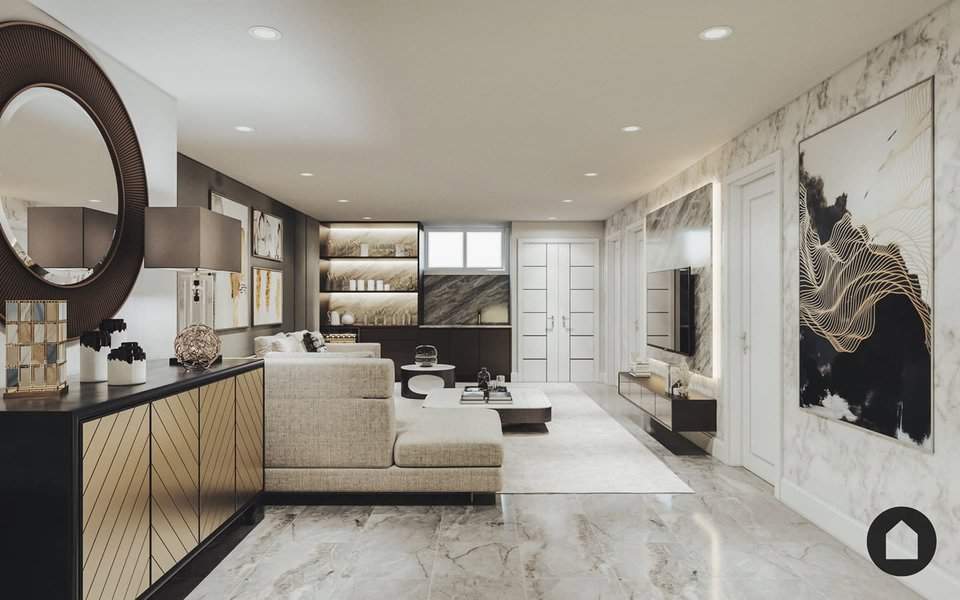 They can be extremely luxurious, and the lack of warmth of concrete floors can be solved with nice rugs, that compliment the décor, and serve as space dividers. Avoid pendant lights because of the low ceilings, characteristic in basements. Think of recessed lights, and floor and table lamps instead.
Explore the walls to display nice paintings and tapestry and find a special place to display family photos and memories that are dear to your heart. With the right lighting and finishes, you can transform any room into a sophisticated space.
10. Man Cave
When it comes to man caves, comfort is paramount. Hang sports gear and sports memorabilia on the walls and install shelves to display your trophies or collectibles. A wet bar is a must-have. It is ideal to have room for an island or a peninsula with seating.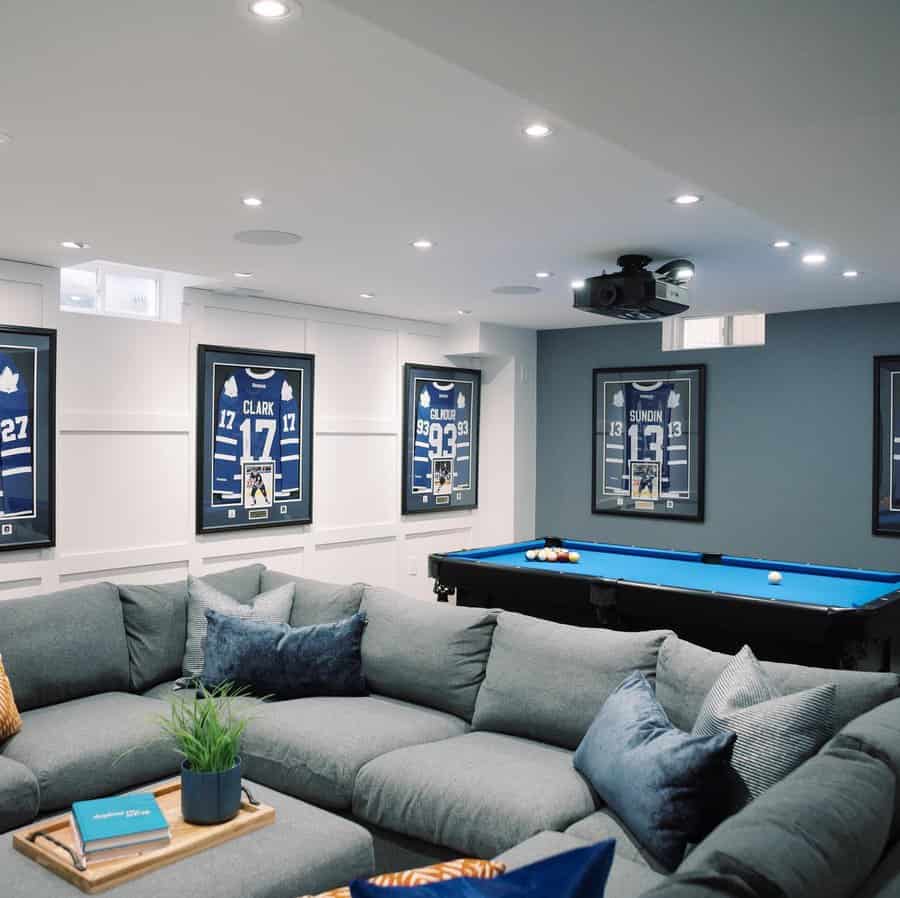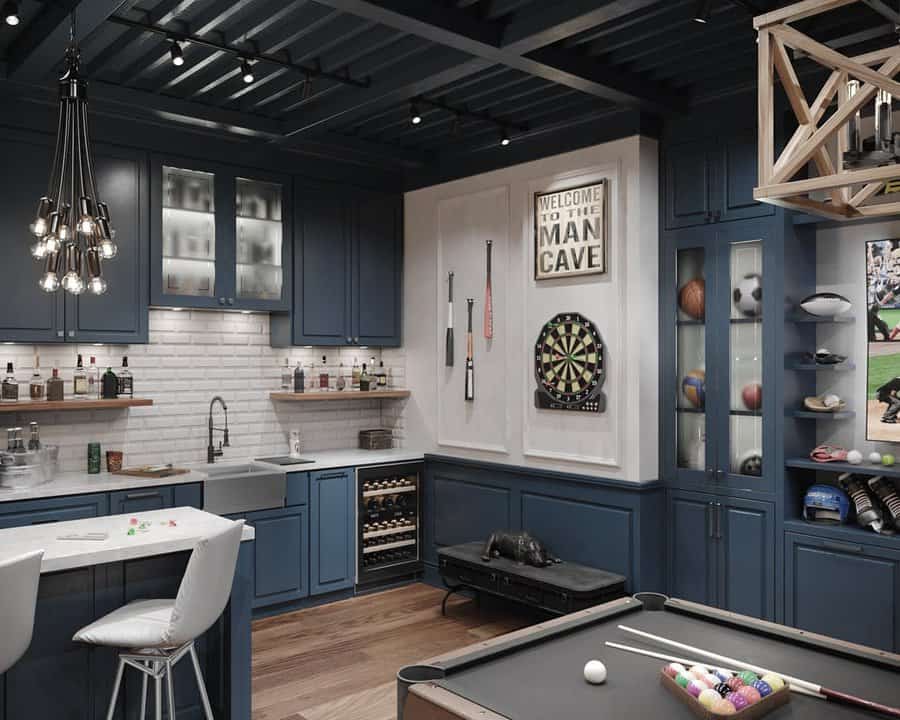 Glass cabinets are a good choice to store glasses and any items you want to find easily. Save some room for game tables or video games. If you don't have enough room for an entertainment center, install a projector on the ceiling and an in-ceiling projection screen.
11. Office
An office space should be pleasant and soothing. After all, that's where you spend many hours of your day. If you are planning on having a home office in your basement, think of natural light and ventilation first. Where there's light and soft breeze, that's the spot for you.
Placing your desk against a wall will give you wall space for shelves – that's a great way to have things at hand and keep them organized.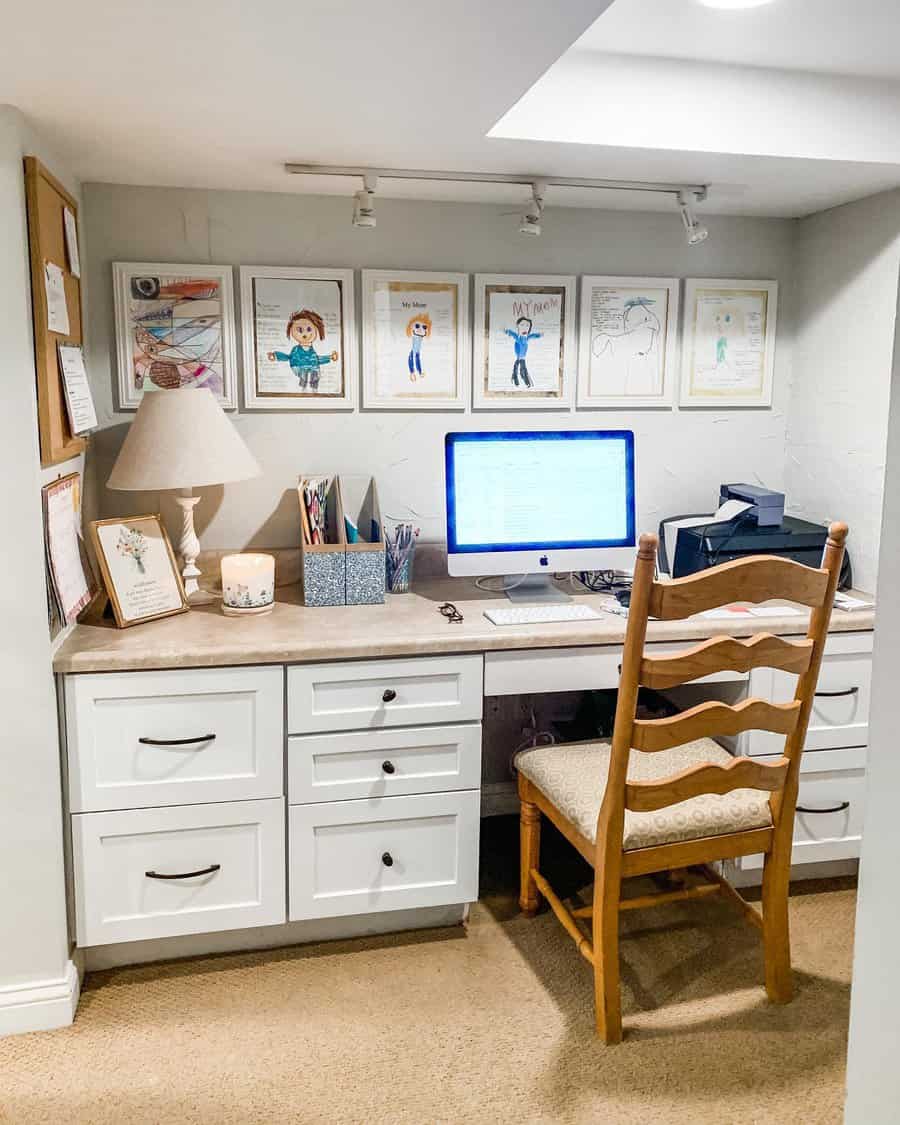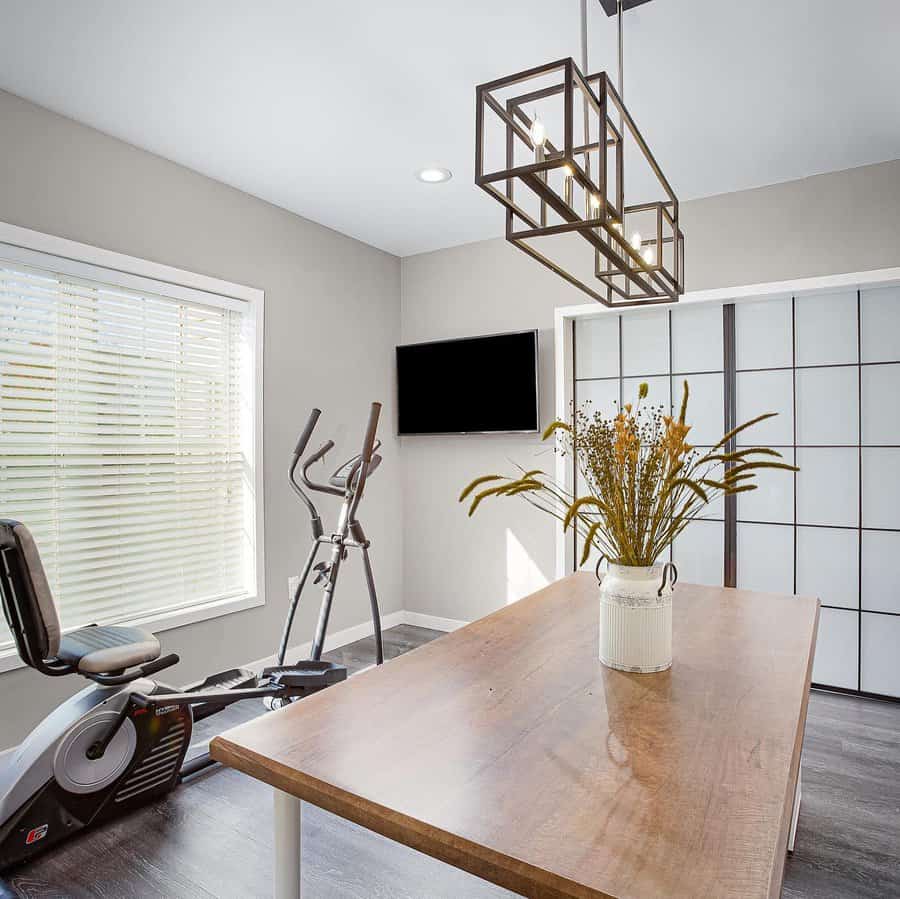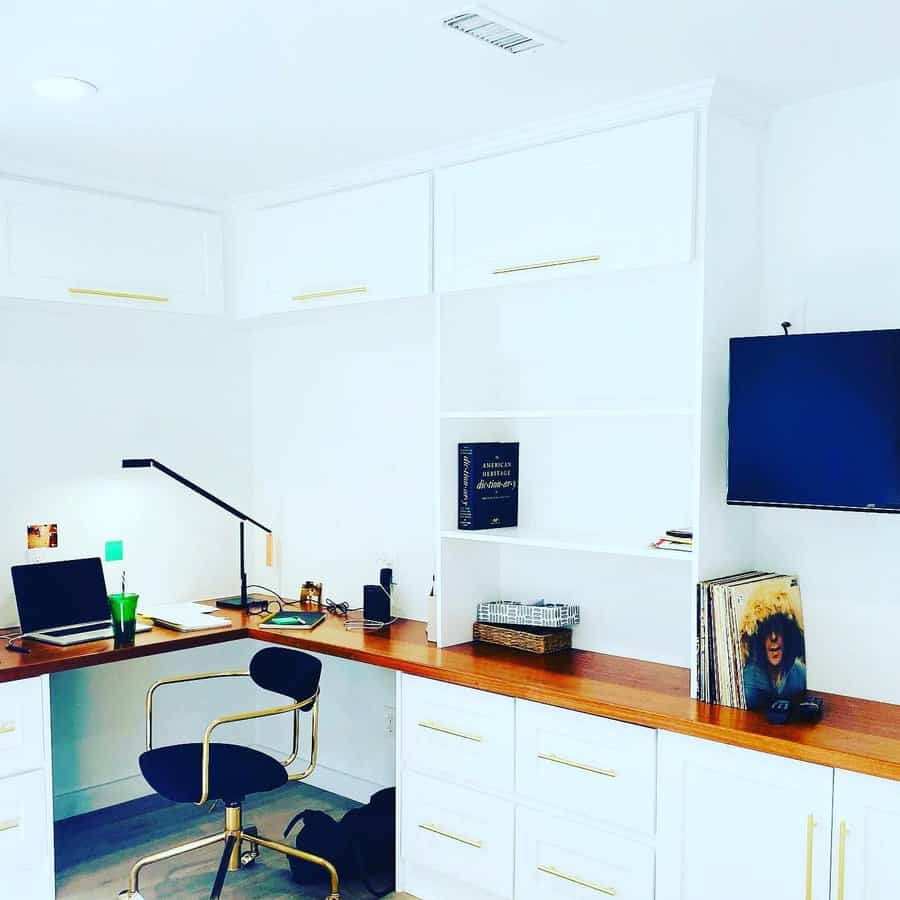 If your basement is a multipurpose room, maybe it is ideal to have a separate corner with some division, so that you can still work while others use the basement space, as well. Make sure you have enough cabinets or storage space to keep office supplies, and especially to maintain a tidy space where all your important documents are not piled up on a desk, waiting to disappear…
12. Rustic
This style is perfect for informal spaces, as basements are supposed to be. Make it a comfy, inviting room for family and friends to gather with no formalities.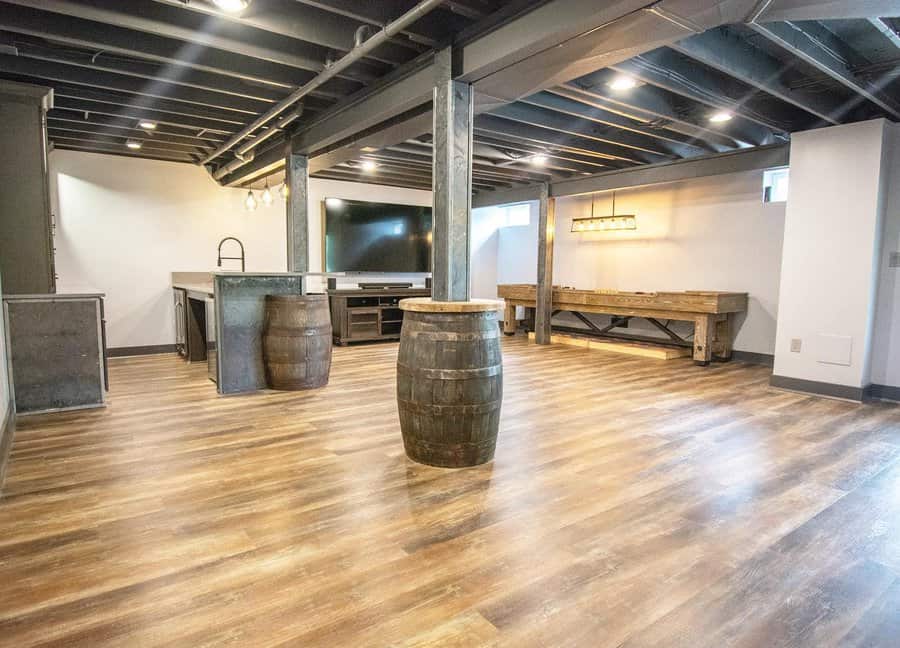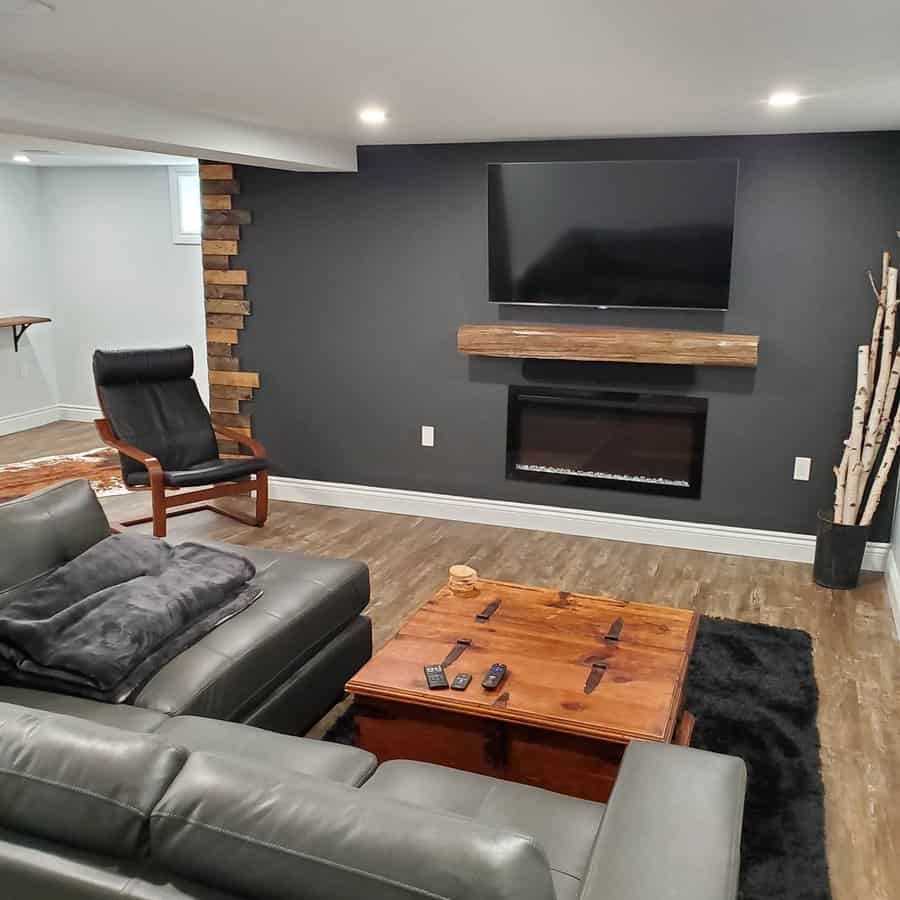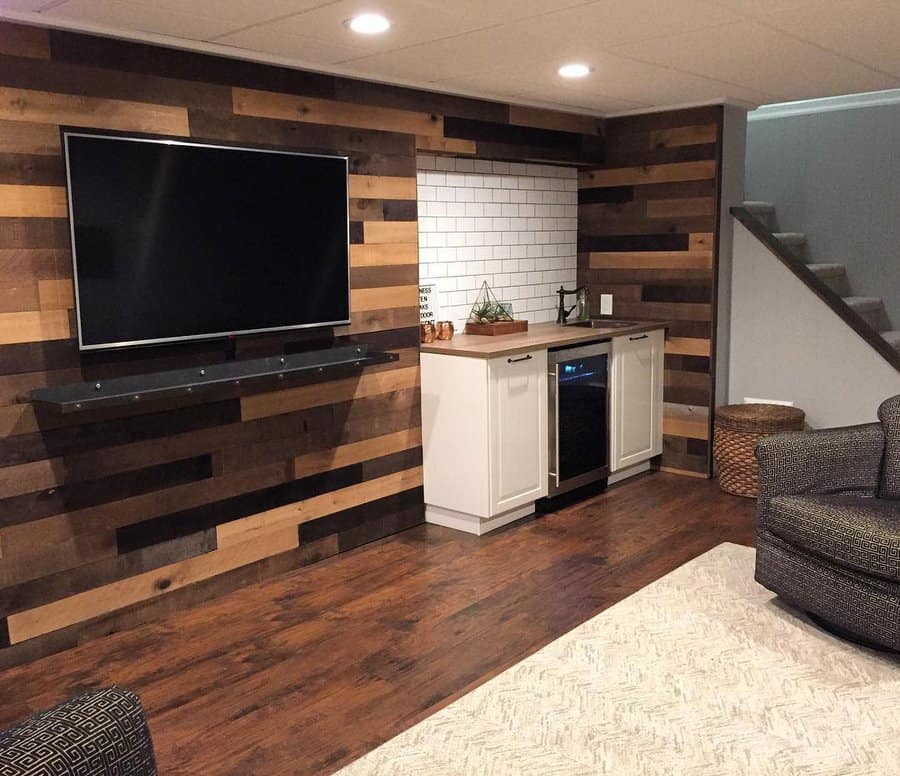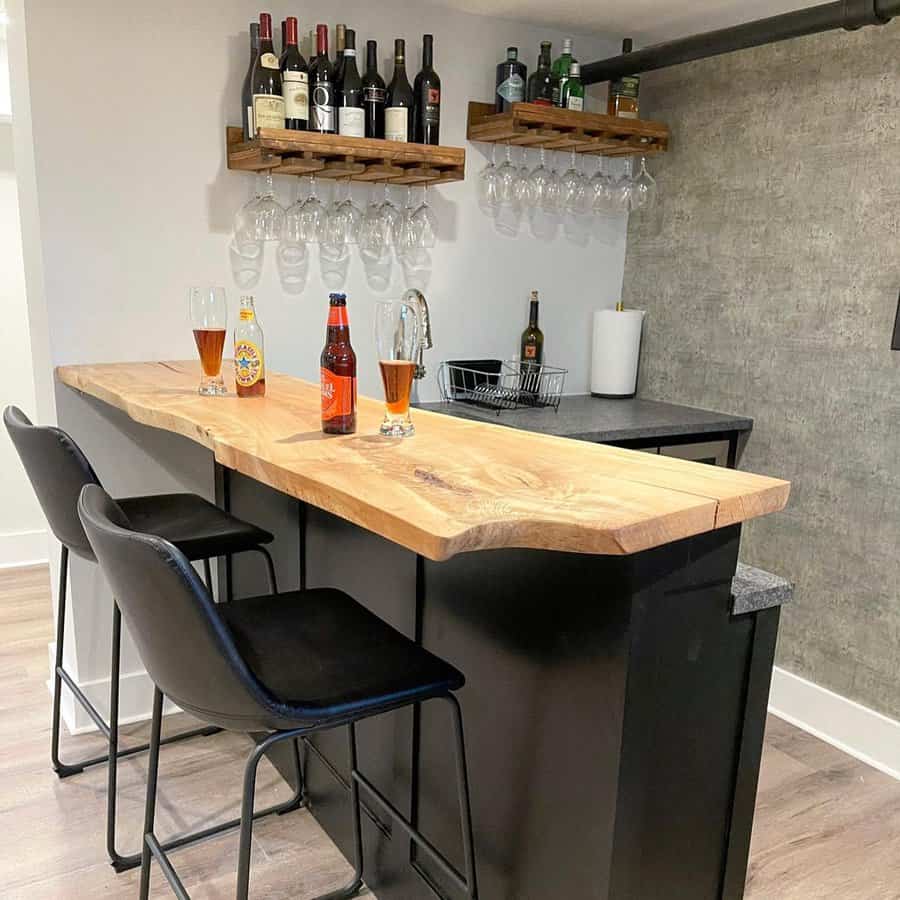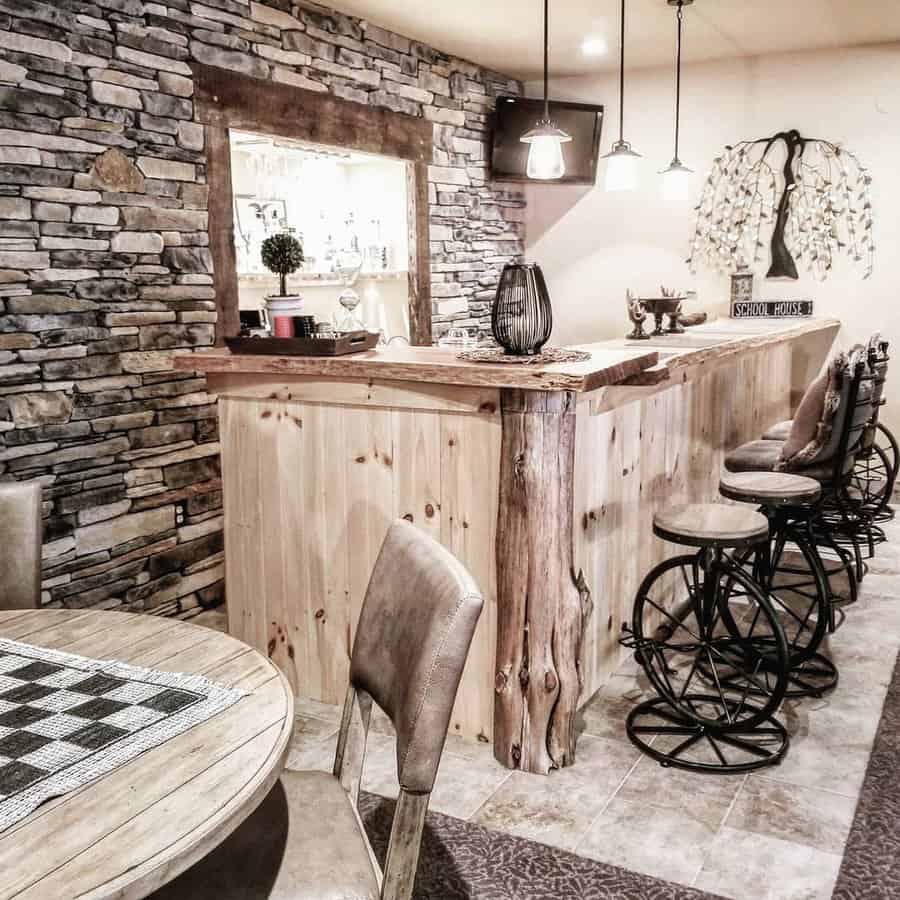 The furniture should be durable, like leather for instance. An affordable option instead of real leather is synthetic leather. It's stain-resistant and does not retain moisture, opposed to genuine leather. It's very easy to maintain (wipe it with a cloth damp in hot water). Good quality synthetic leather takes no more than a dry cloth to remove ink, liquid, and food stains.
Reclaimed wood elements give that special touch to the space: furniture, mantel, or walls. You can transform a simple wall into an accent wall simply by installing wood tiles on one corner, as shown in the picture.
13. Small
Don't let a small space fool you. You can do wonders do with the right design and a bit of imagination!
Let me give you an example:

In a small space, like shown below, you can have a TV stand with open shelving, for the kids to store their toys. Or you can choose an entertainment center to make the most use of the wall space. Place a mat in front of the TV, and the kids will have floor space to play.
Then place a sofa and a bar table right behind it. Both bar table and sofa should have the same length. Place some stools, and there you have it: your little media room with a designated space for meals, snacks, homework, or crafts.

And last but not least, the icing on the cake: a pool table behind the stools. And you have a game room!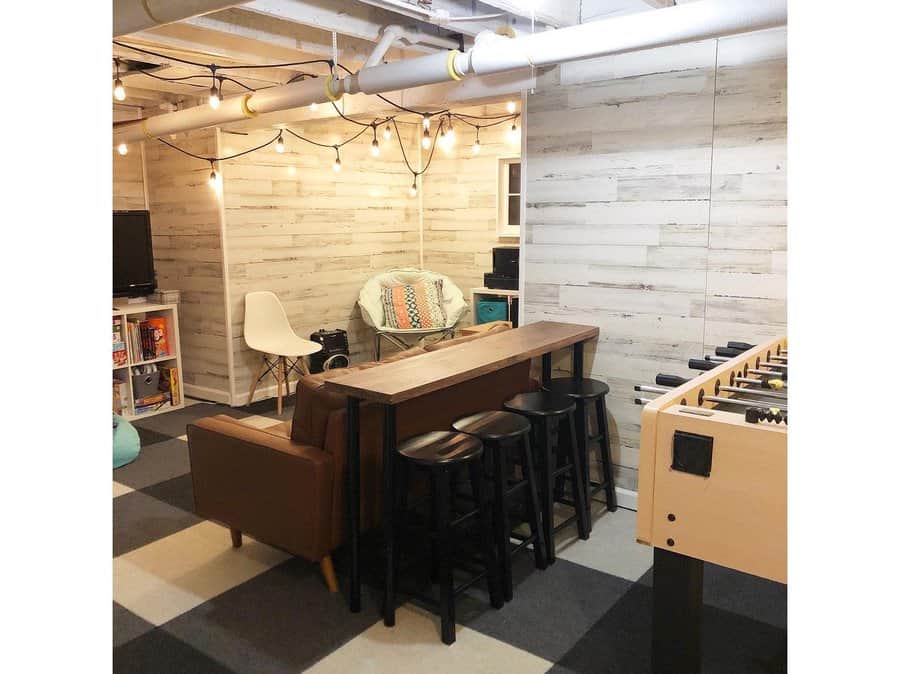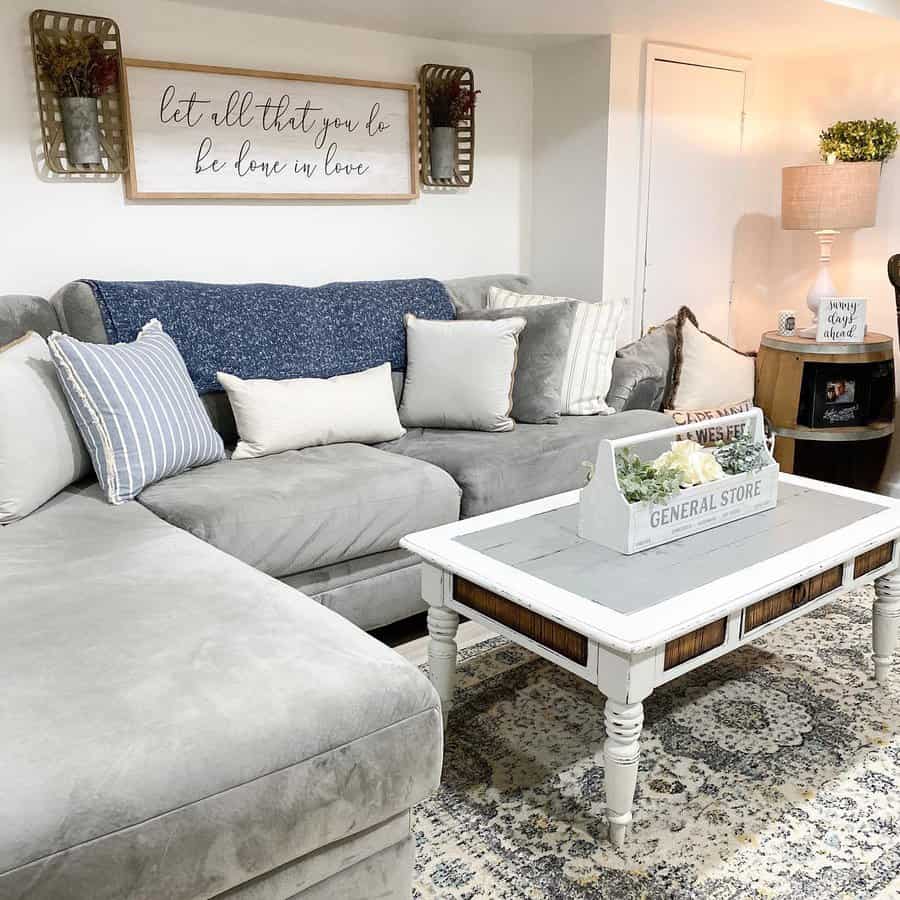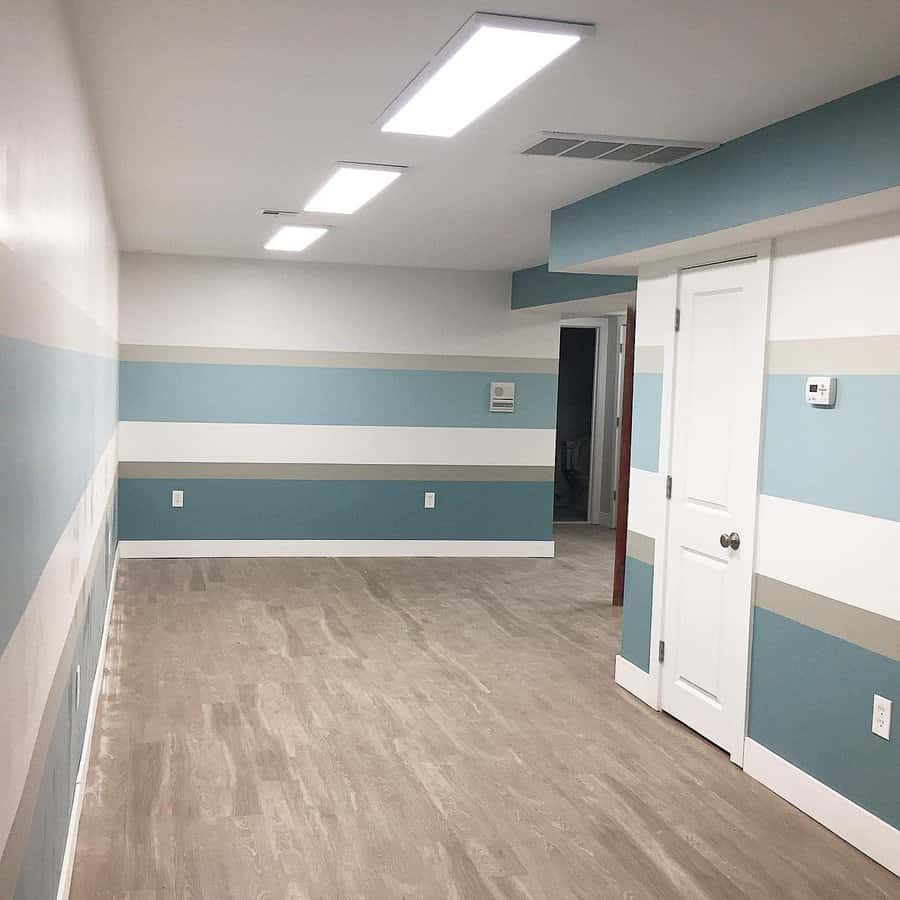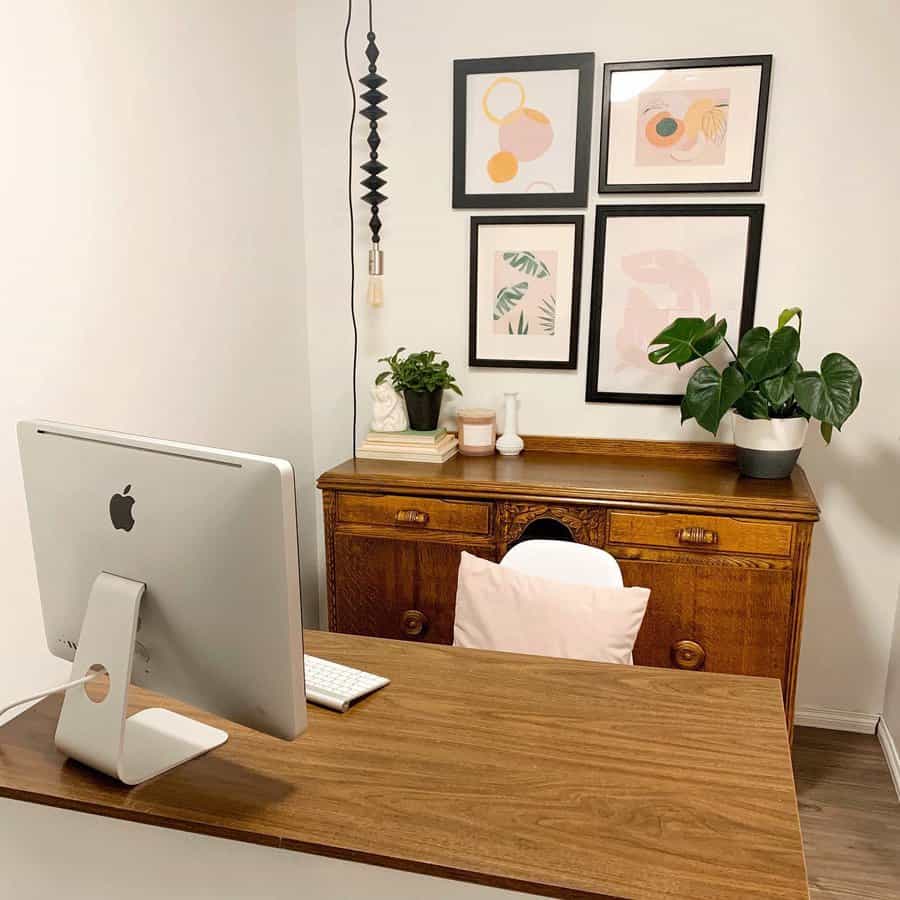 Turn your small basement into a multipurpose room. With the correct furniture disposition, you can make the most use of even small spaces.
Before you buy any furniture, take the measurements of the space and the furniture you plan to use. Draw a floor plan so you can have a visual idea of how the room will turn out, and if there will be enough space for people to comfortably move around without feeling cramped.
Now, with all these cool tips in mind, are you ready to start your basement remodeling?