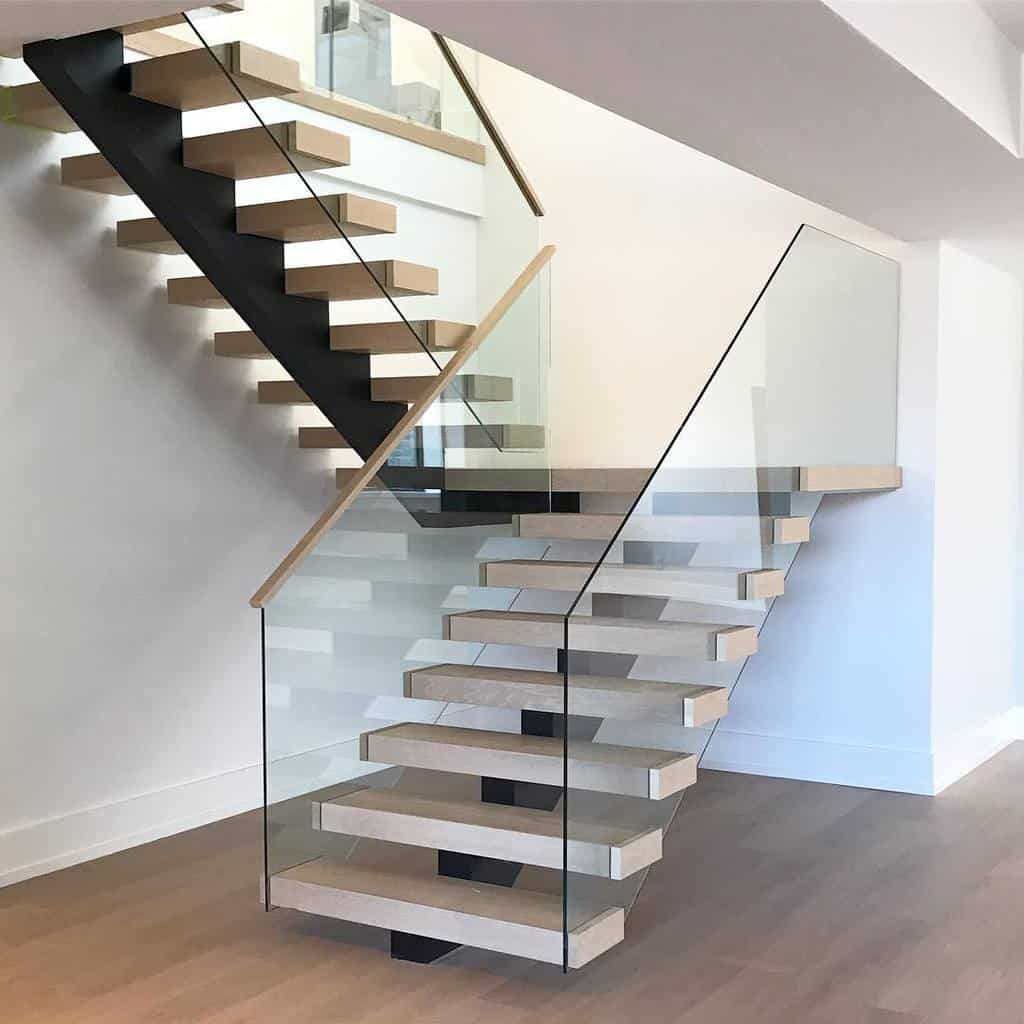 38 Basement Stairway Ideas
The stairs leading down to your basement are what set the stage for this space below your home. If you've done the work to have a finished basement, don't forget about the basement stairs. You need a staircase design that complements your basement home office or laundry room. That way, the stairs set the stage for the beautiful basement waiting at the bottom of them.
Check out these basement stair ideas and turn your stairs into something worthy of the rest of your home.
1. Add A Spandrel Room
Have you ever thought about the effective use of space in your basement area? If so, then considering a spandrel room connected to your basement stairs can be the perfect solution.
This type of unique design adds not only modern style to your home but also offers extra storage for items such as outdoor furnishings or even holiday decorations.
You can also transform it into a stockroom or create the pet room of your dream! Overall, having a spandrel room with basement stairs is an effective way to get more out of your available space.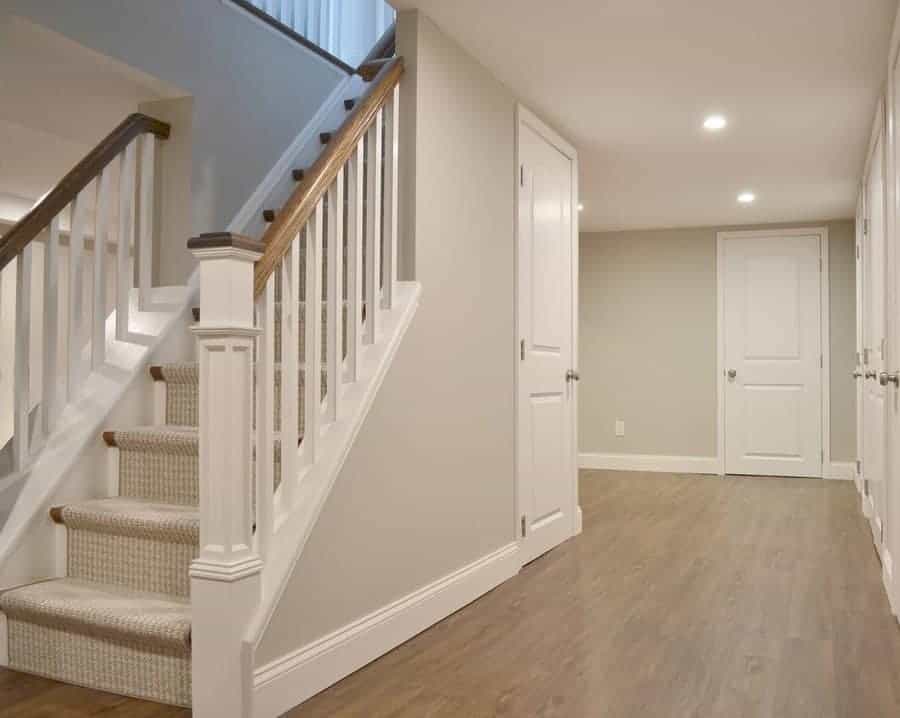 2. Opt For A Floor To Ceiling Banister
Descending the stairs to the basement with a secured floor-to-ceiling banister provides an extra element of convenience and safety. From toddlers learning to explore, children playing hide and seek, and adults going about their home business, everyone in your family can climb the stairs with peace of mind due to its kid-friendly design.
Plus you'll be able to admire that ornate banister every time you make your way up or down! With this addition to your home stairs, it doesn't matter which set of feet are using them – they'll always be secure and safe.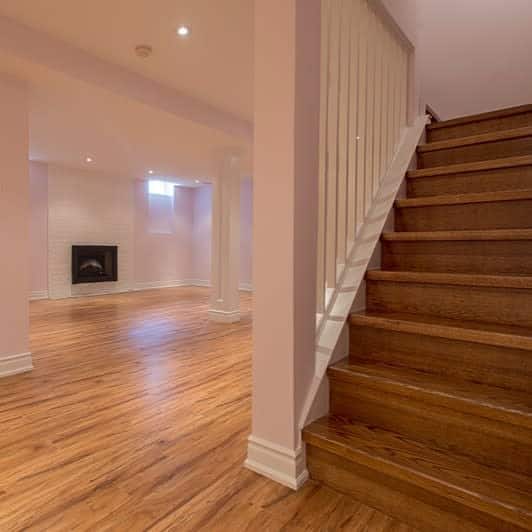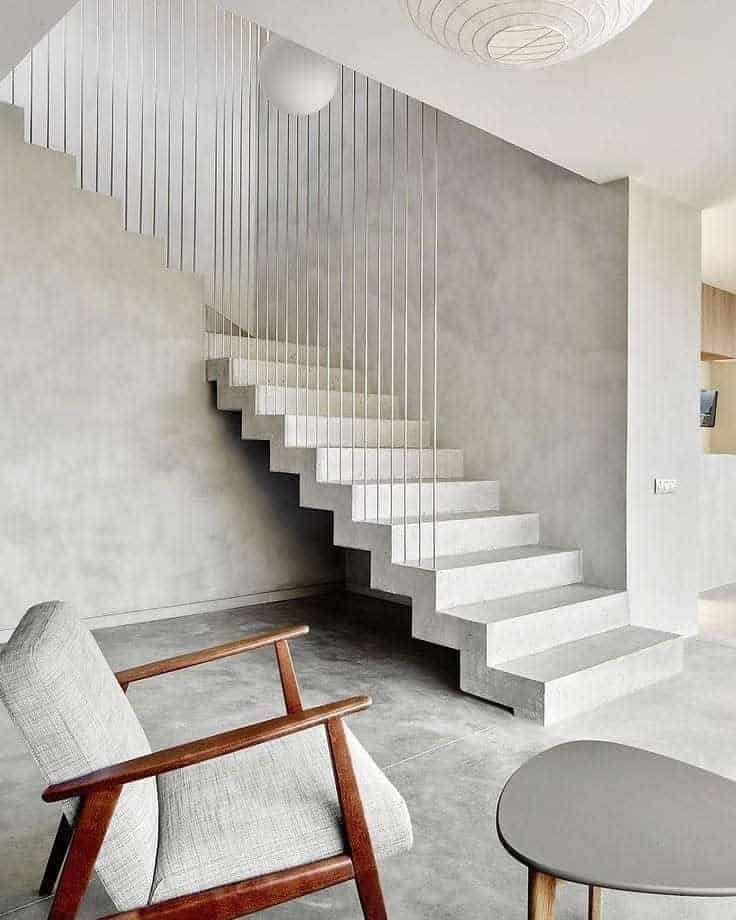 3. Add A Staircase Runner
Transform your dull, utilitarian basement stairs into something truly special by adding a carpet runner. Not only is it functional – reducing wear and making the stairs safer – it's also a fantastic way to add an accent of charm to the room. It's sure to become a conversation piece as visitors admire its eye-catching pattern.
Whether you choose something traditional or more modern, carpet runners can really change the look and feel of basement stairs from drab to fab!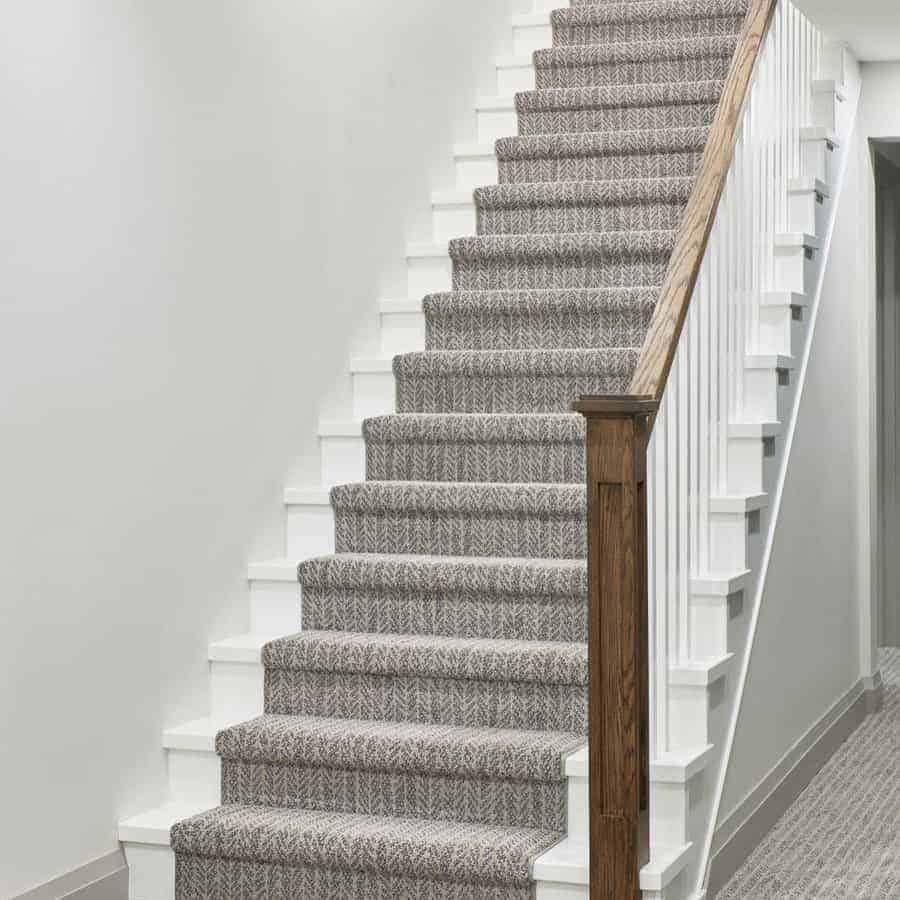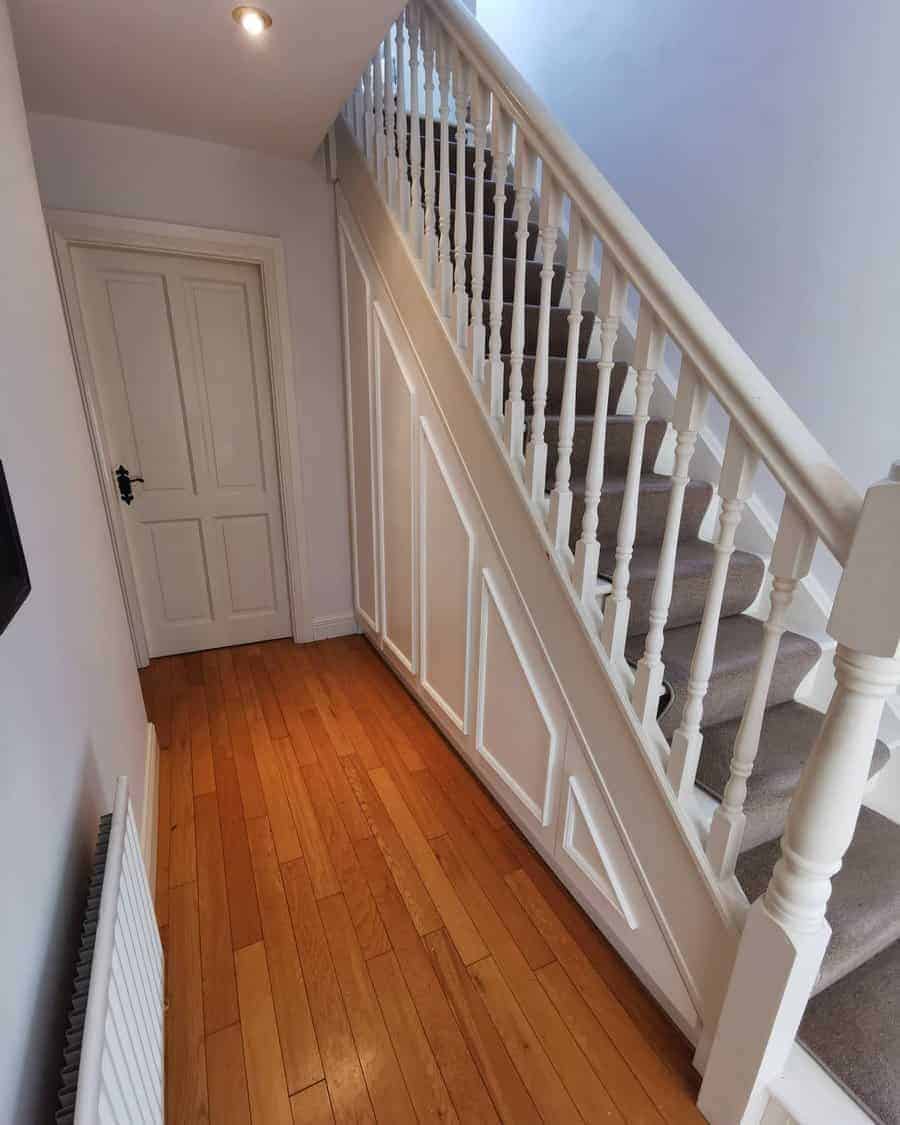 4. Install Wood Bullnose Stairs
The addition of bullnose steps to your basement stairs creates a sense of stability and balance.
Intricate details such as curved edges, along the end of the stair, adding an accent to the otherwise rigid lines of a staircase create a level of sophistication ensuring it stands out amongst its more traditional counterparts. Bullnose steps offer pure elegance that is sure to enhance any home.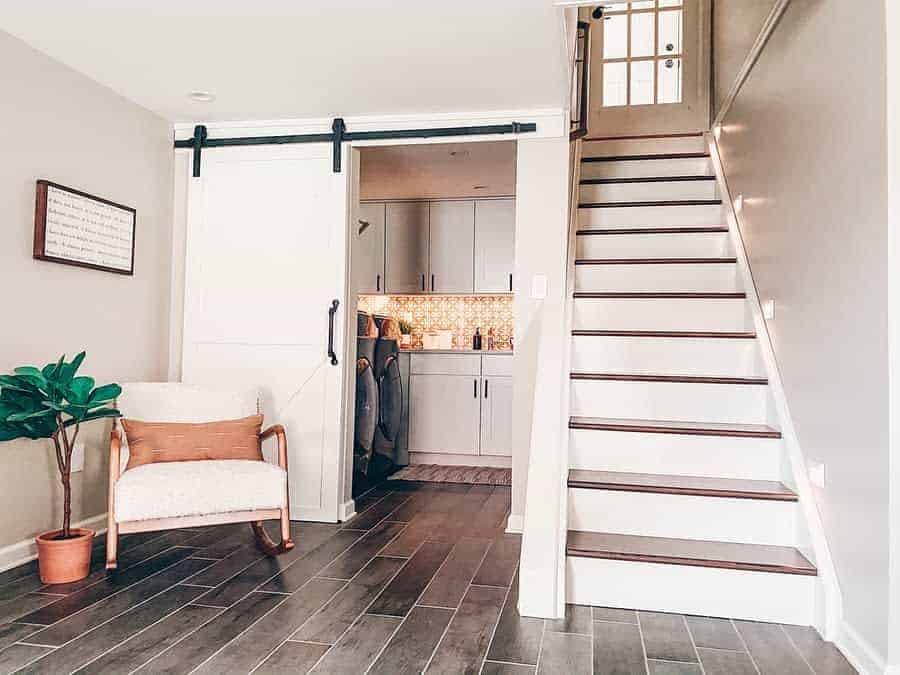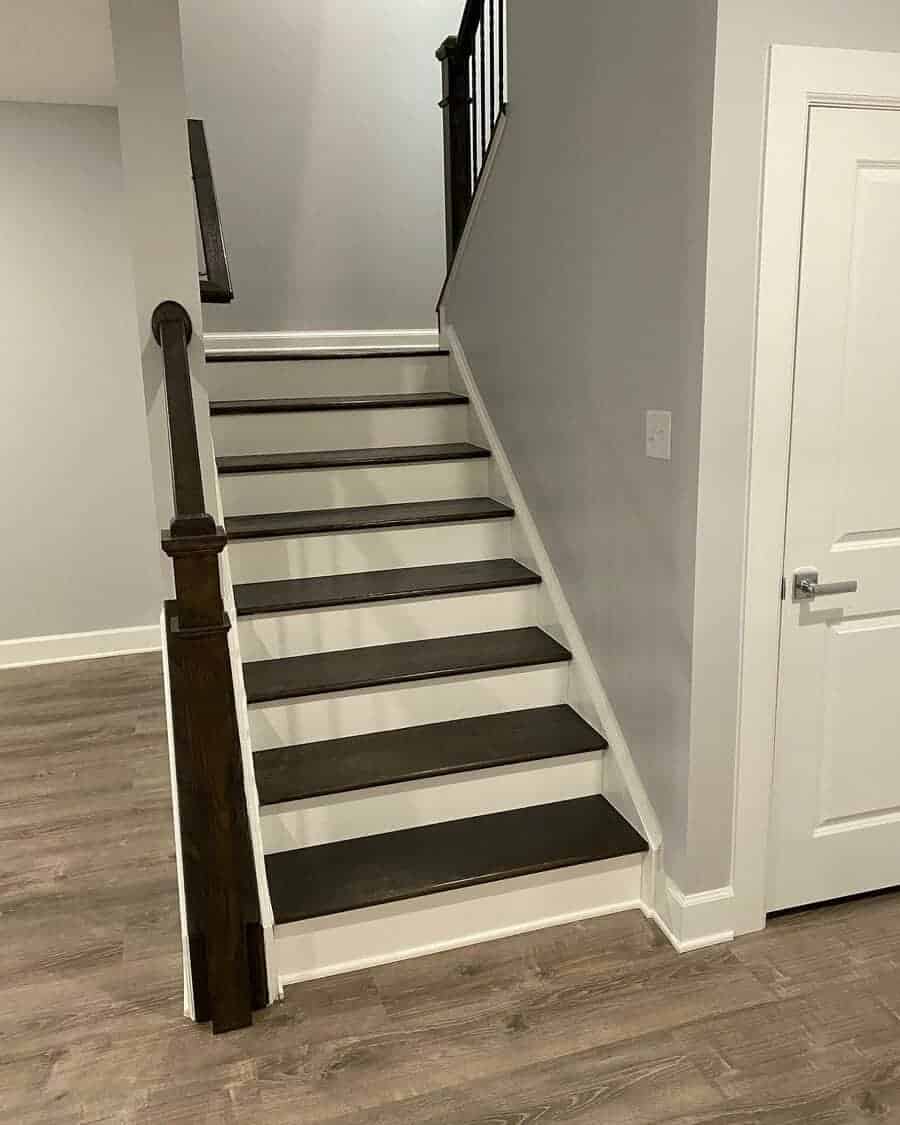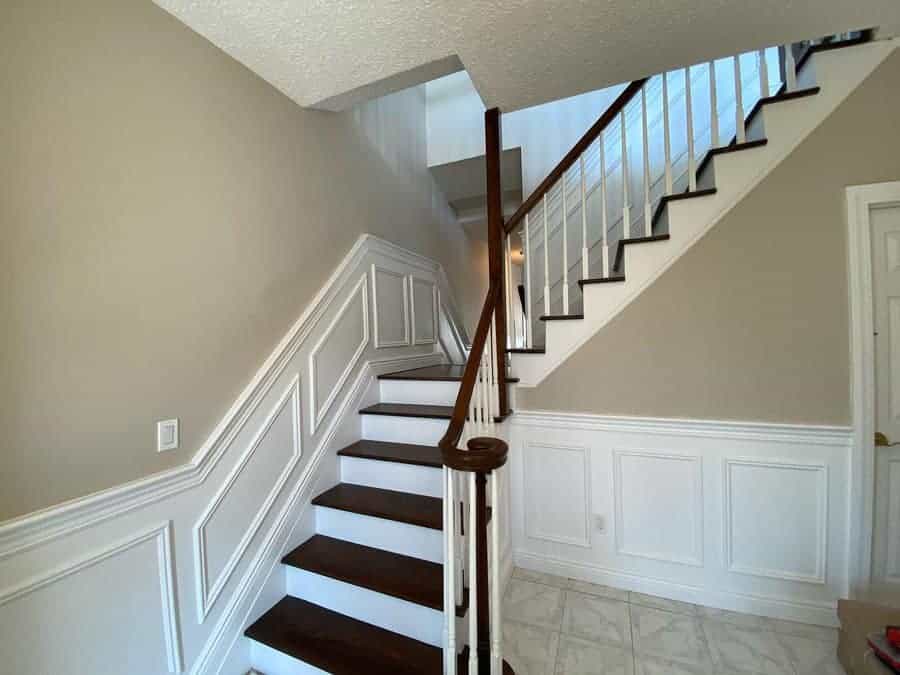 5. Build Floating Stairs For A Contemporary Look
Installing floating stairs in a contemporary interior gives an otherwise simple space a classy and elegant appeal. The wide-open, light feel of the staircase fills an area with a sense of refinement while the modern design effortlessly elevates whatever space is found below, particularly if the staircase is styled to match the surrounding decor. Not only are floating stairs aesthetically pleasing, but they also increase safety by eliminating trip points that may pose a risk to those frequenting them.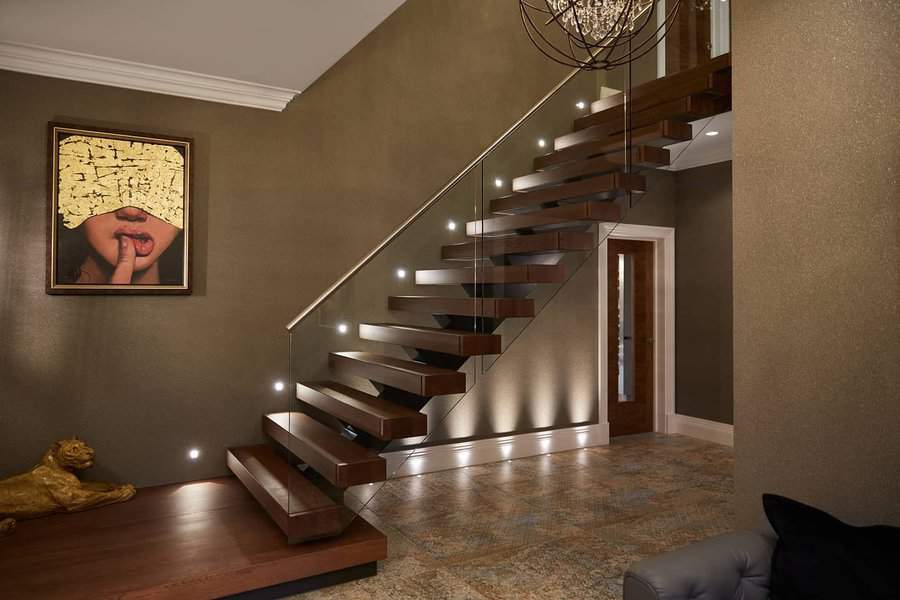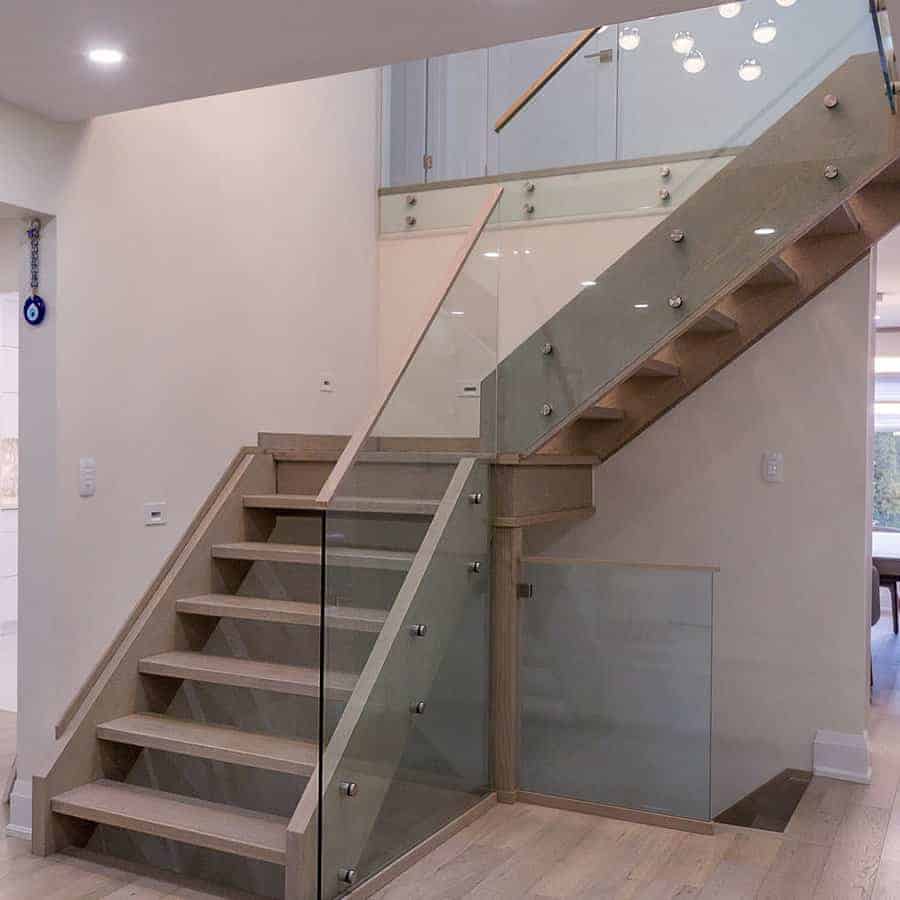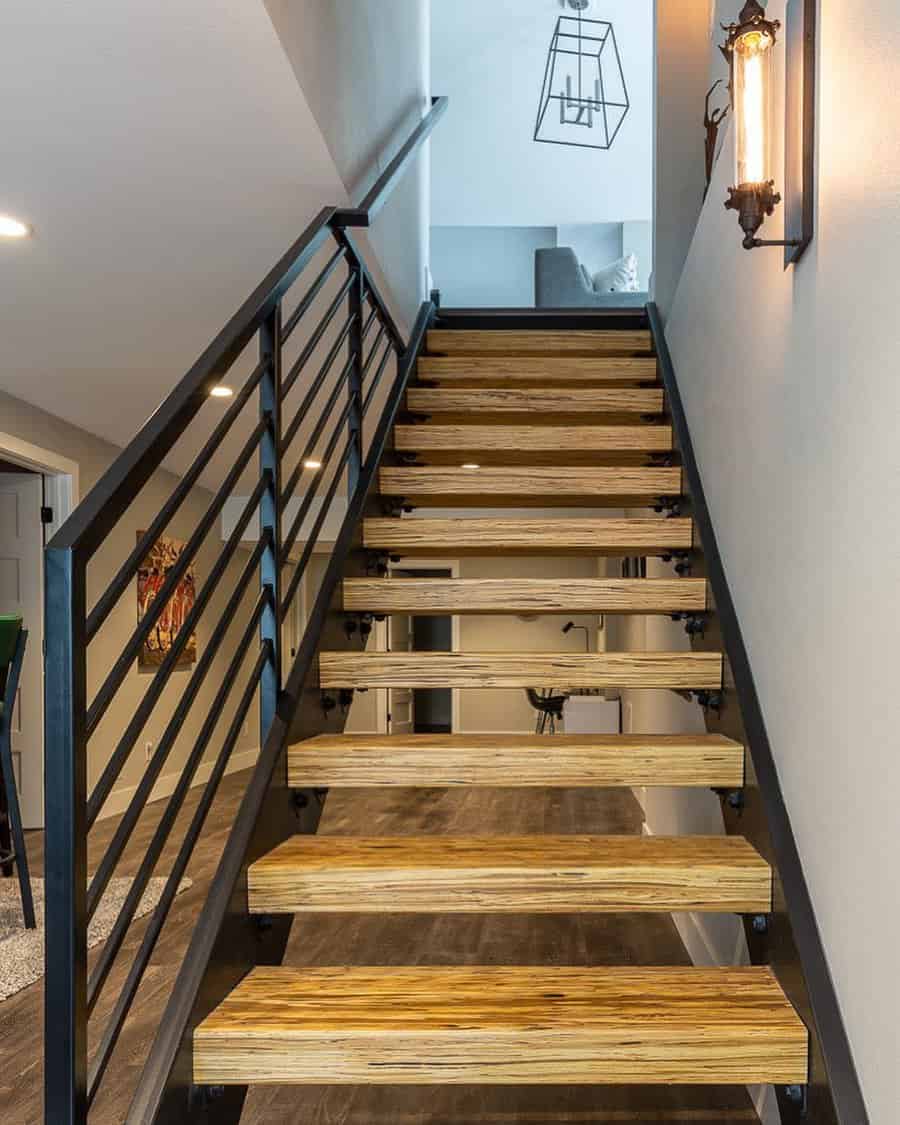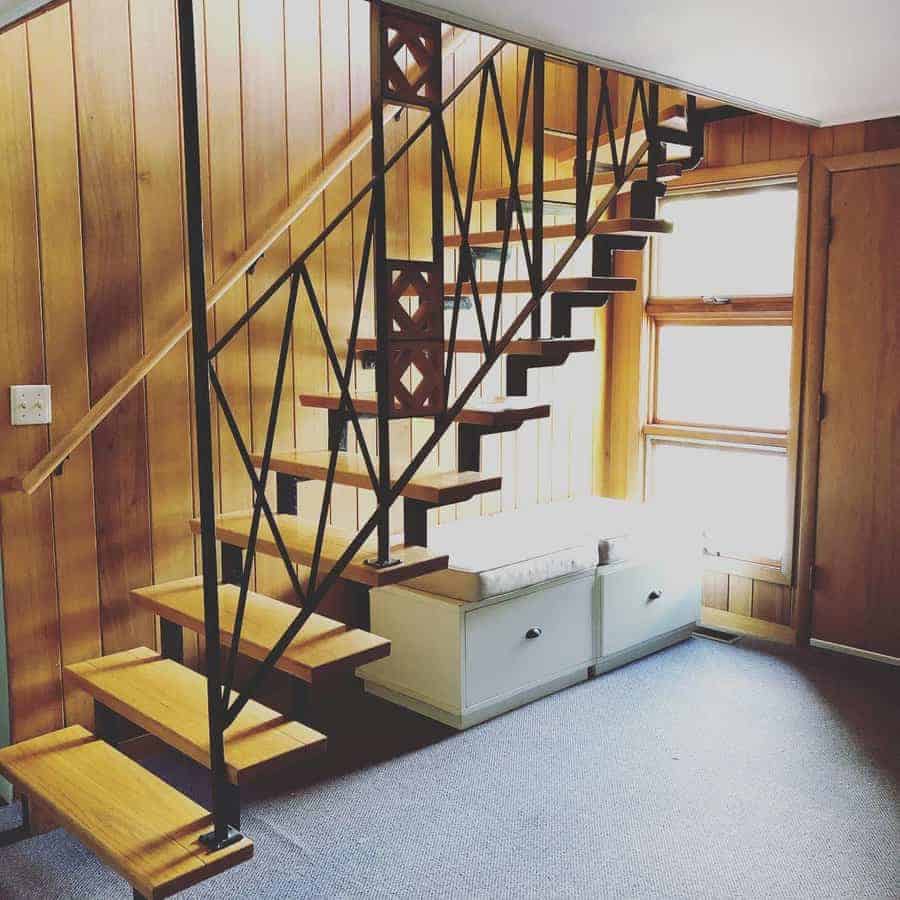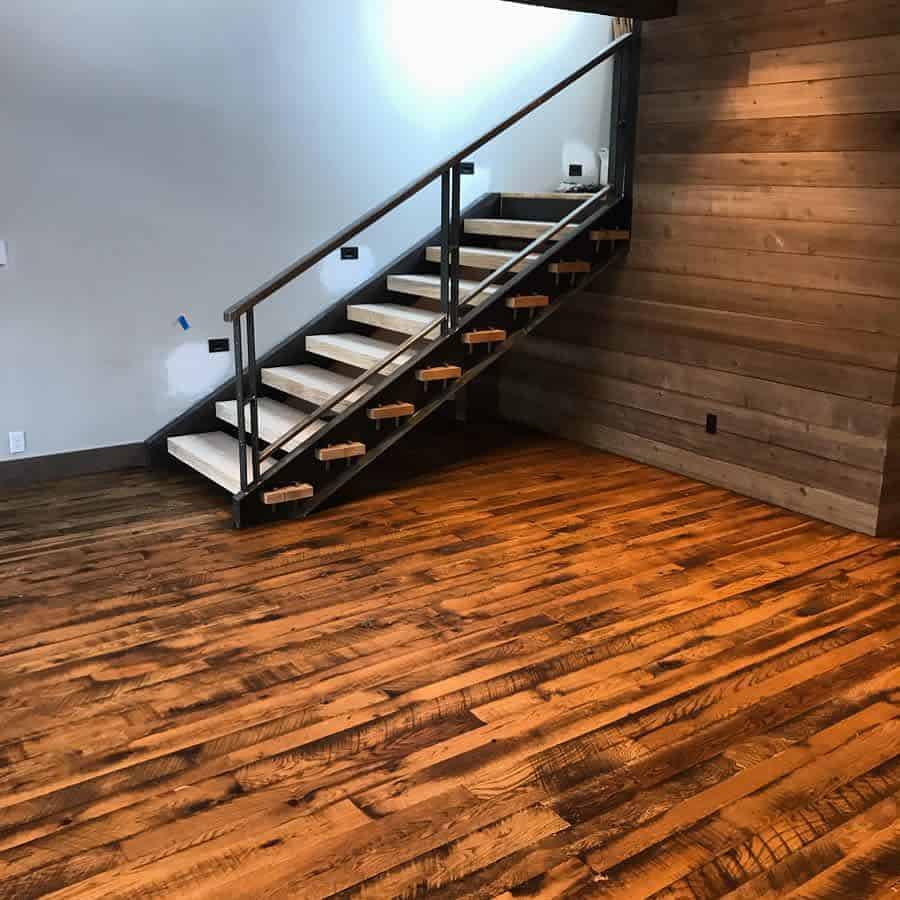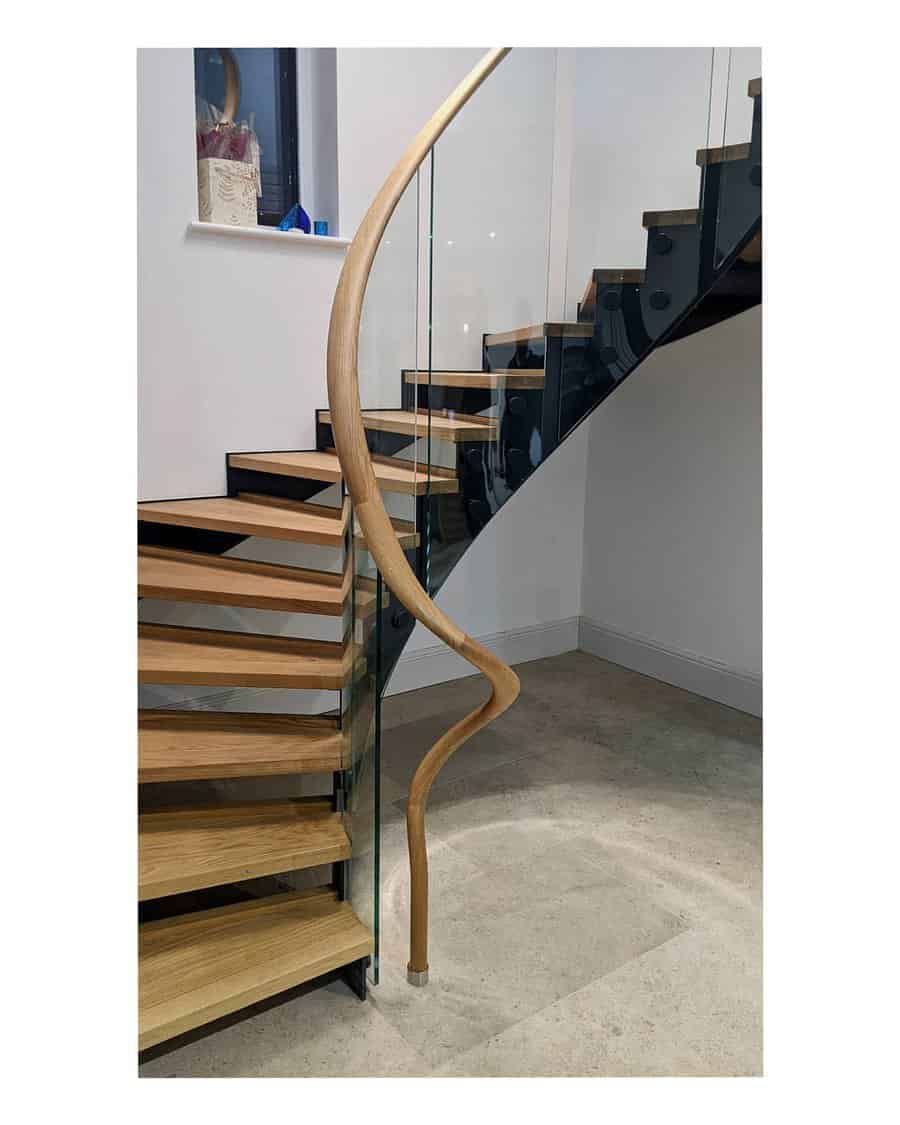 Transforming a contemporary interior into something even more fashionable, the perfect touch of elegance is a sleek set of basement stairs with floating stairs. Adding a contemporary flair to any room is no small task, but with the dangling handrails and floating staircases of these amazing creations, you'll be sure to give your guests an unforgettable experience that will last for years to come!
6. Add Wallpaper
When it comes to spicing up the basement stairs, creative twists on traditional wallpaper are the way to go. Instead of a generic design, why not add unique quotes or decorative prints? Not only will the staircase become more interesting, but it will also be certain to make an impression on anyone who catches a glimpse!
Whether you keep it simple and classic or decide to go all out with a bold pattern, you're sure to find something that suits your style and gives your basement stairs the creative boost they deserve.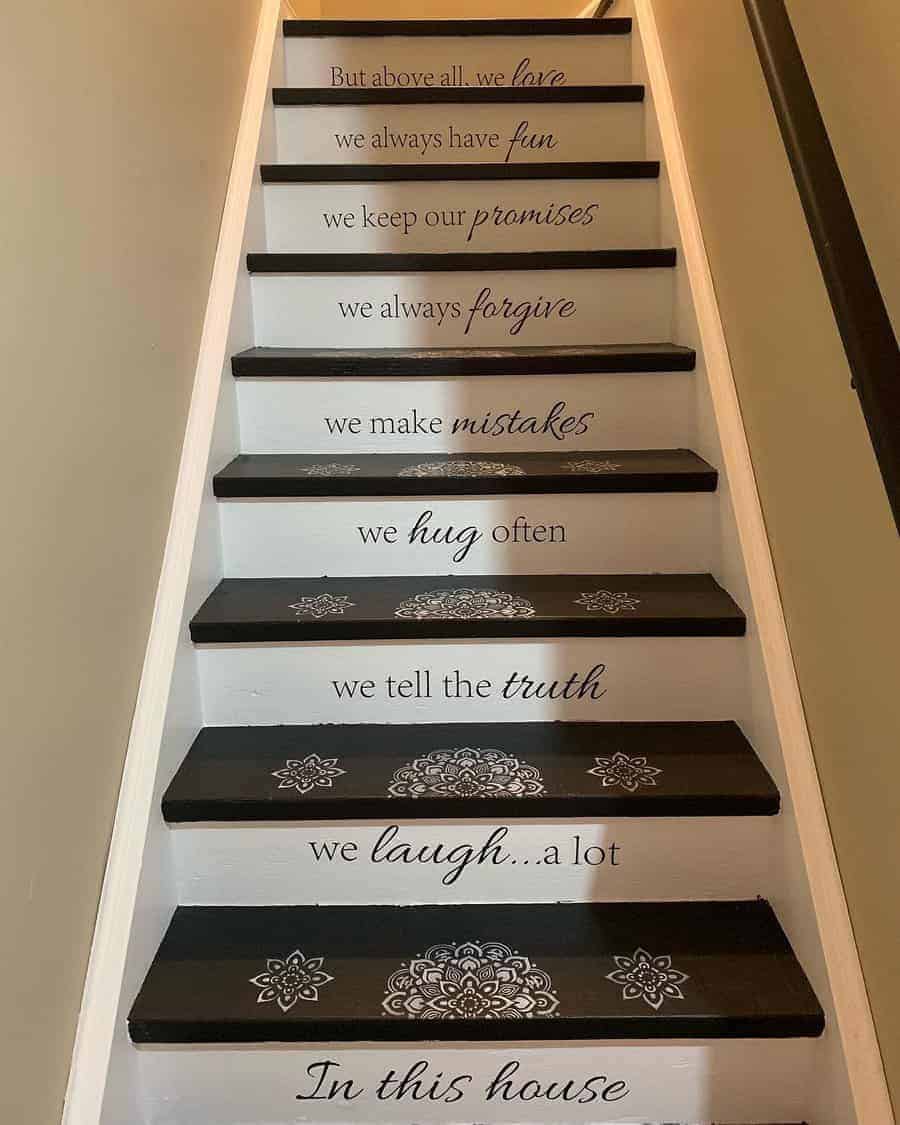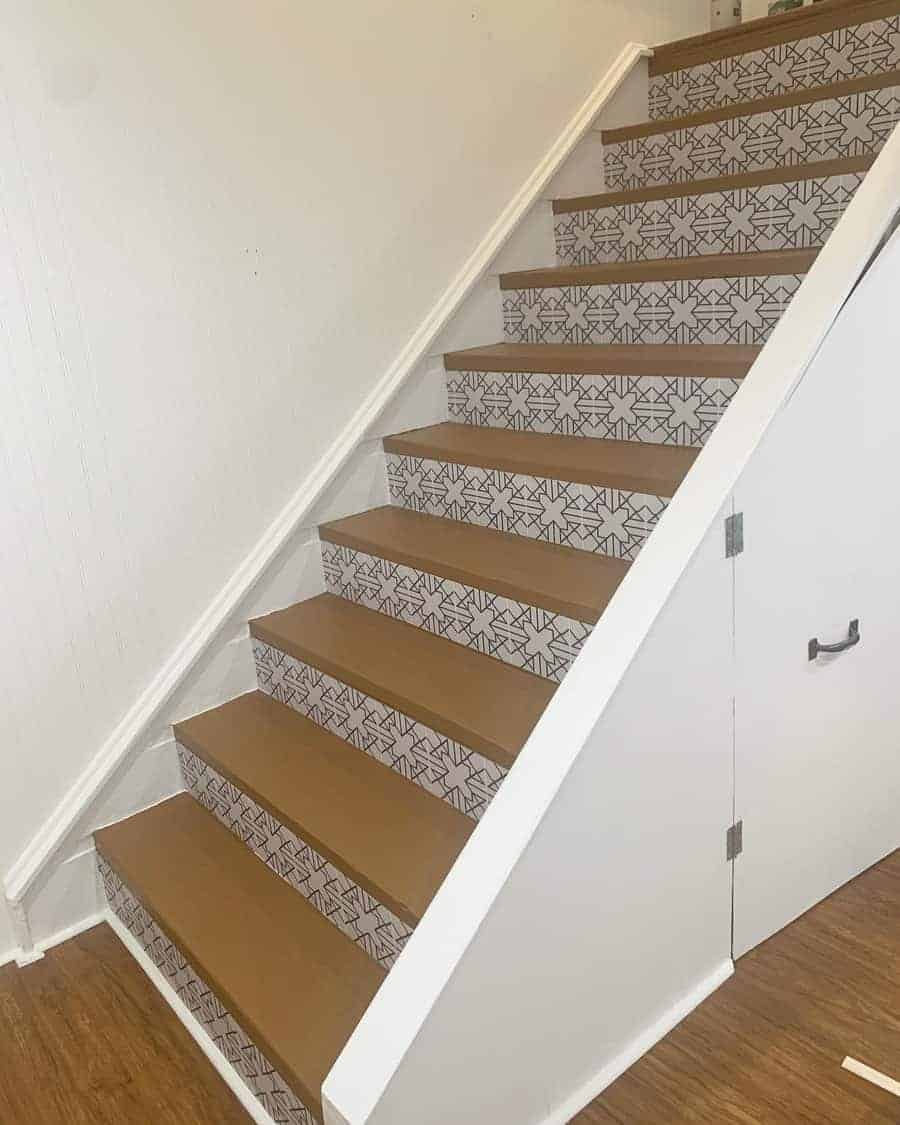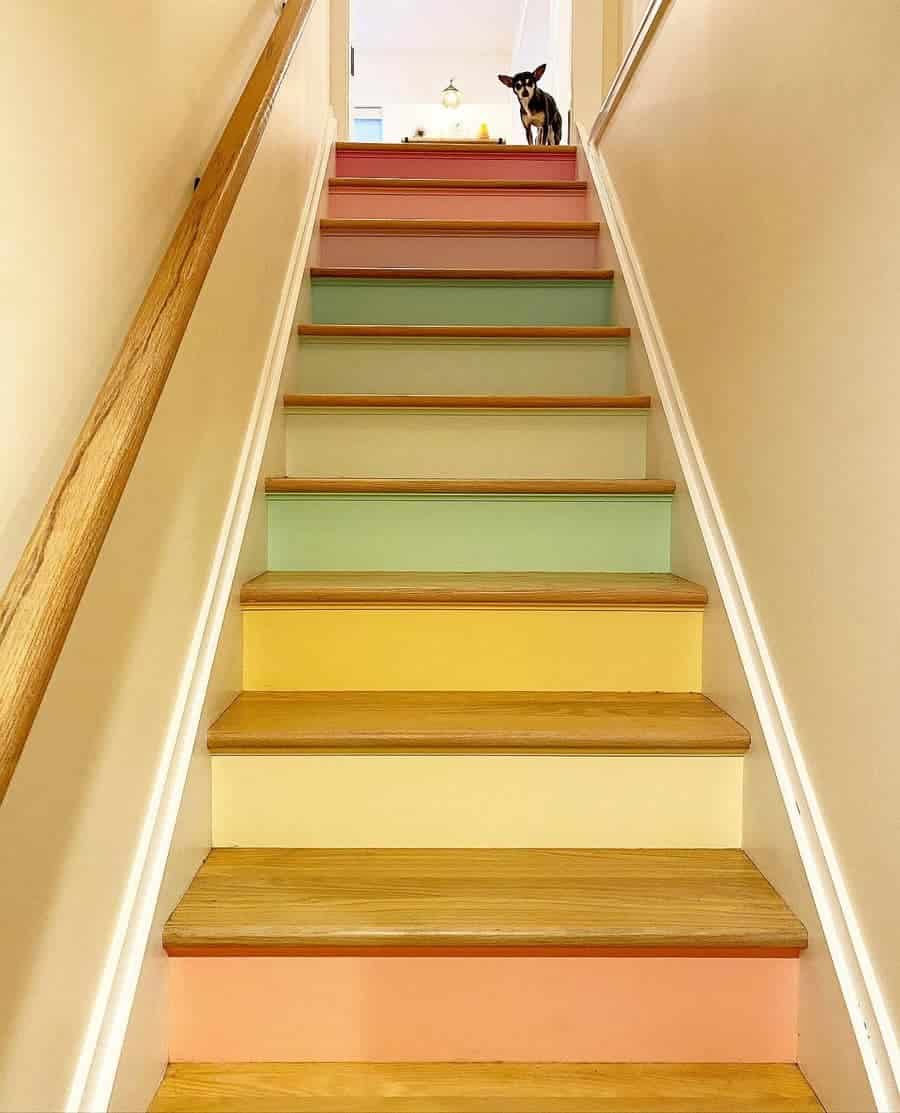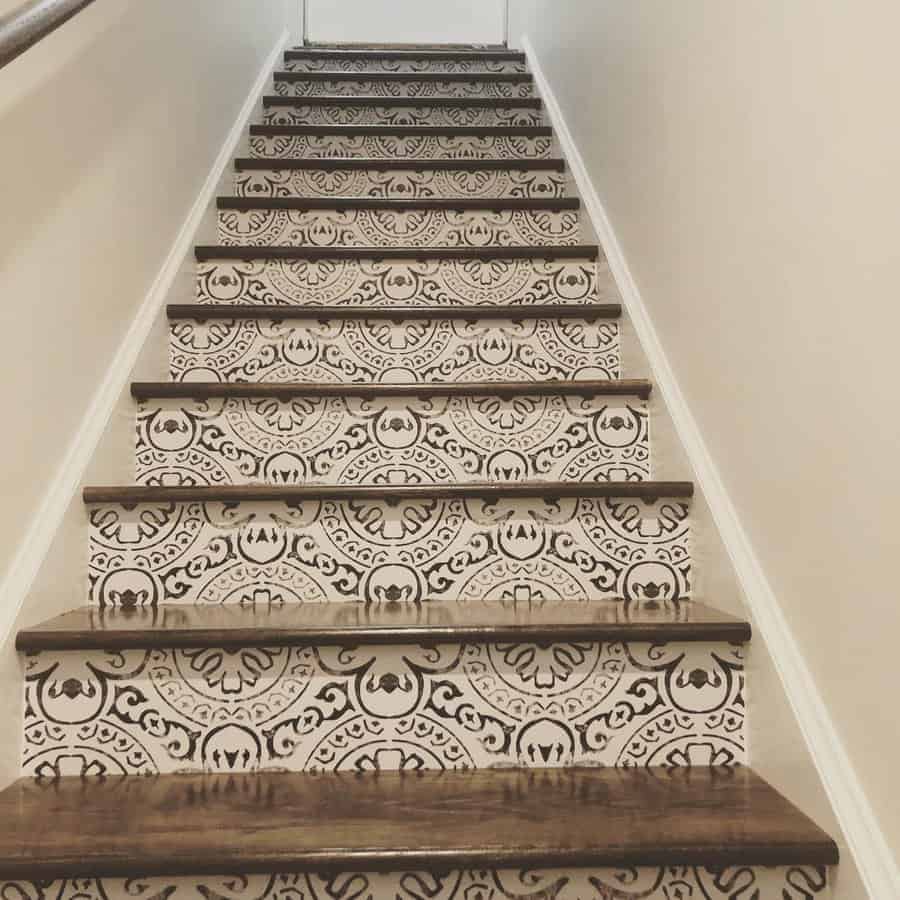 7. Install Carpeted Steps
Nothing creates a cozy and inviting atmosphere in your basement quite like carpeted stairs. Not only do they provide a luxurious look, but they also offer safety while going up and down the steps, which is especially important if you have little kids in your home. Carpeted steps add cushion to each step, providing a softness that minimizes the chances of a slip or fall.
The beauty of having carpet on the stairs is that it can be matched to other furniture in the basement for an ultra-stylish yet cozy look. With carpeted steps, you'll have peace of mind knowing everyone is safe as they traverse up and down the stairs.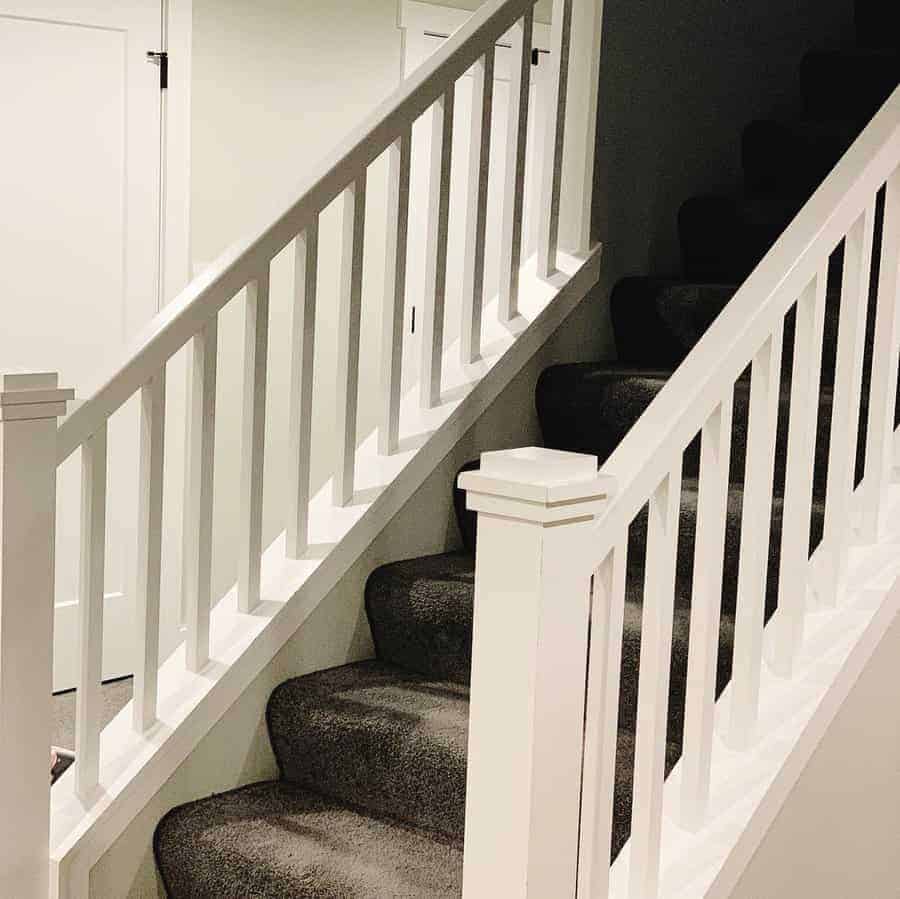 8. Add Wall Art
The staircase to your basement can be much more than just a way to get from A to B. Try accessorizing it with rattan wall art, a macrame wall hanging, or decorative frames – turning this otherwise mundane space into an eye-catching work of art.
The rattan wall art will add texture while the macrame wall hanging brings in color, and the frames with their little half-forgotten memories add a personal touch of nostalgia.
No matter which pieces you choose, these thoughtful touches will definitely make your basement stairs something to talk about.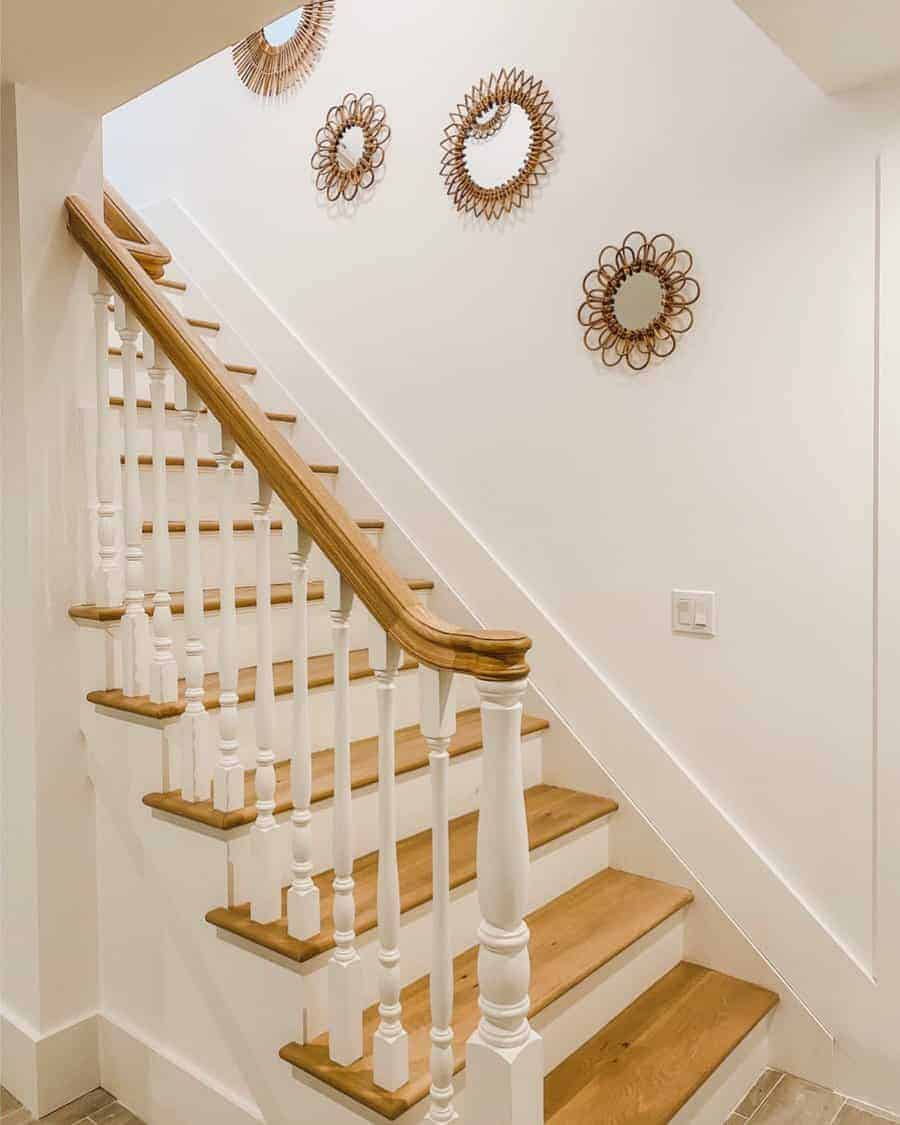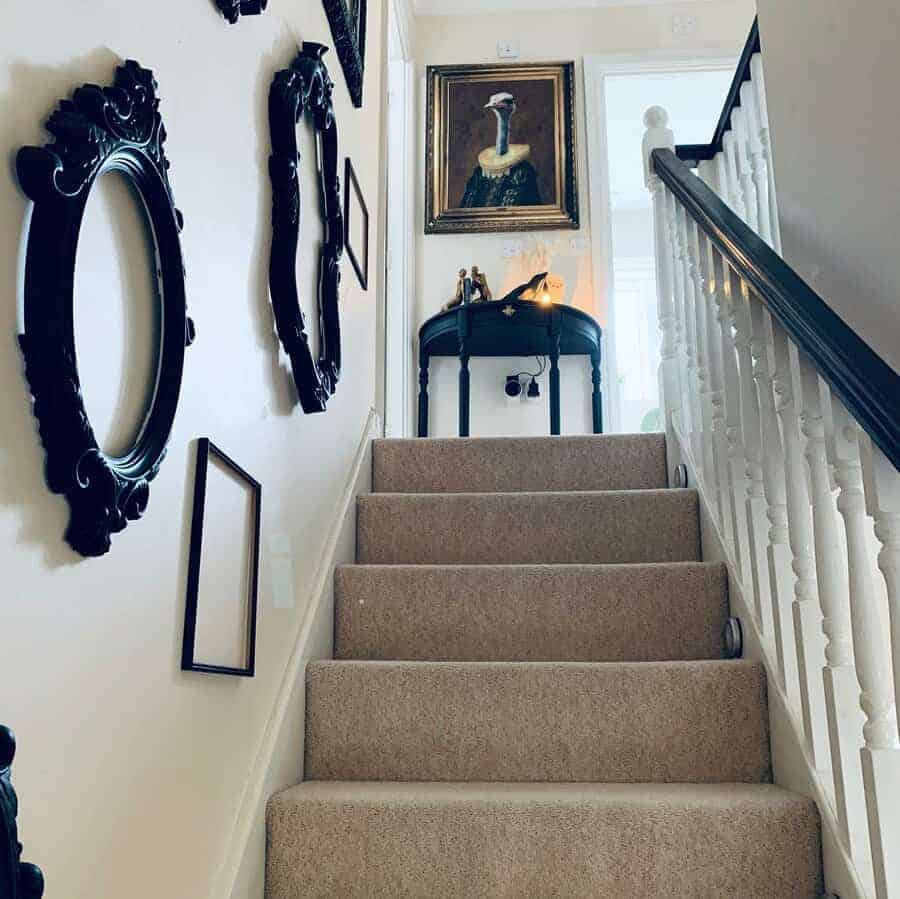 9. Pick All-Wood Material
The rustic, classic look of all-wood basement stairs is an ideal feature for any home. As you take each step, feeling the warmth of the wood against your feet, it's easy to want to linger in the inviting atmosphere for a while.
Whether you are looking for something cozy and rustic, or something that exudes timeless elegance, all-wood basement stairs make it possible. And best of all, they offer a one-of-a-kind style that effortlessly blends into any existing décor, making them a perfect choice for elevating your home's design.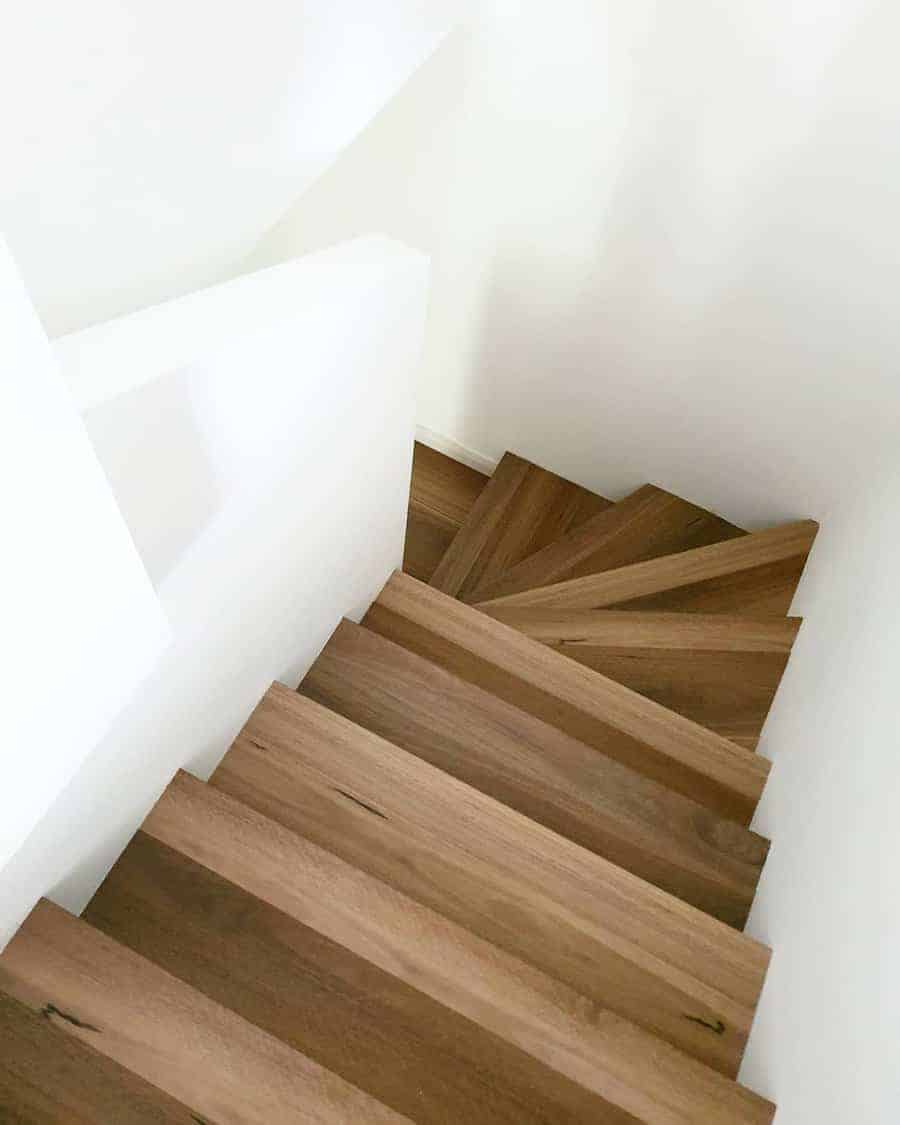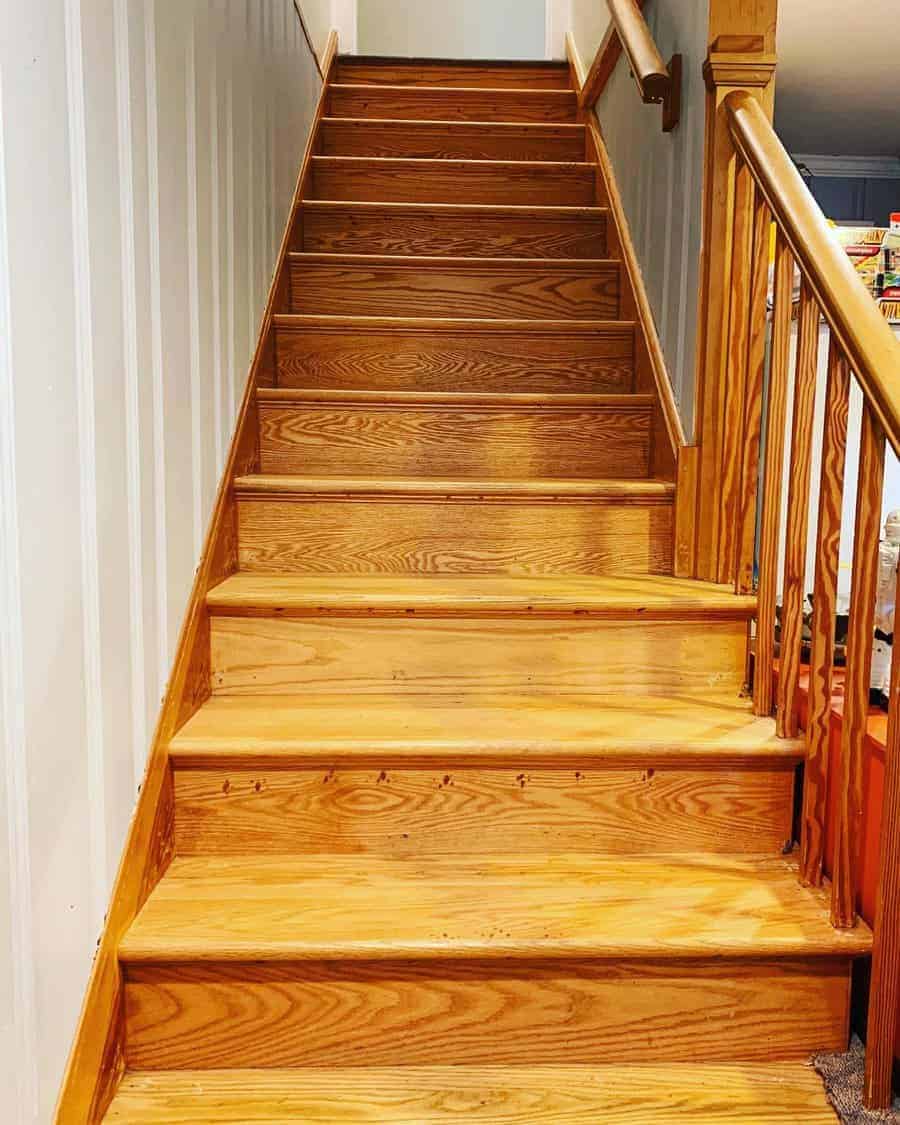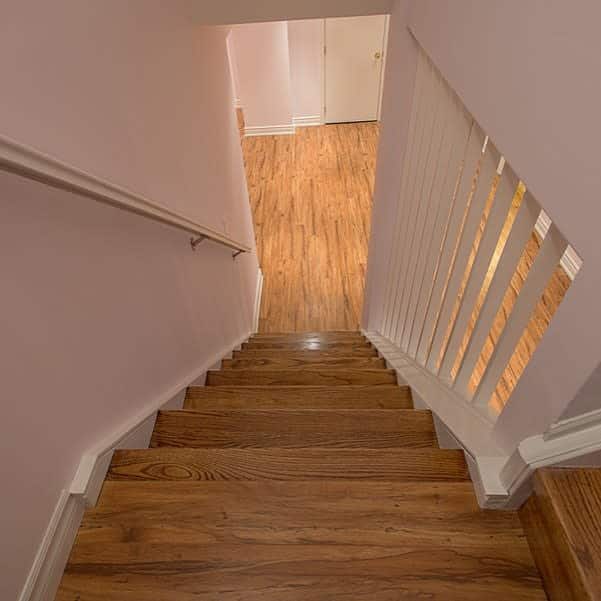 10. Pair Maple Wood With Black Steps
Maplewood and black stairs create a great match, imparting elegance and sleekness to any home. The mix of warm-hued, natural wood, and inky black creates a dramatic statement: one for those who want to make an impression.
Together, Maplewood and black stairs look striking, yet timeless, bringing together the best of both materials without compromising subtlety or sophistication.
It's no wonder this pairing has become a classic combination for any stylish home decorator.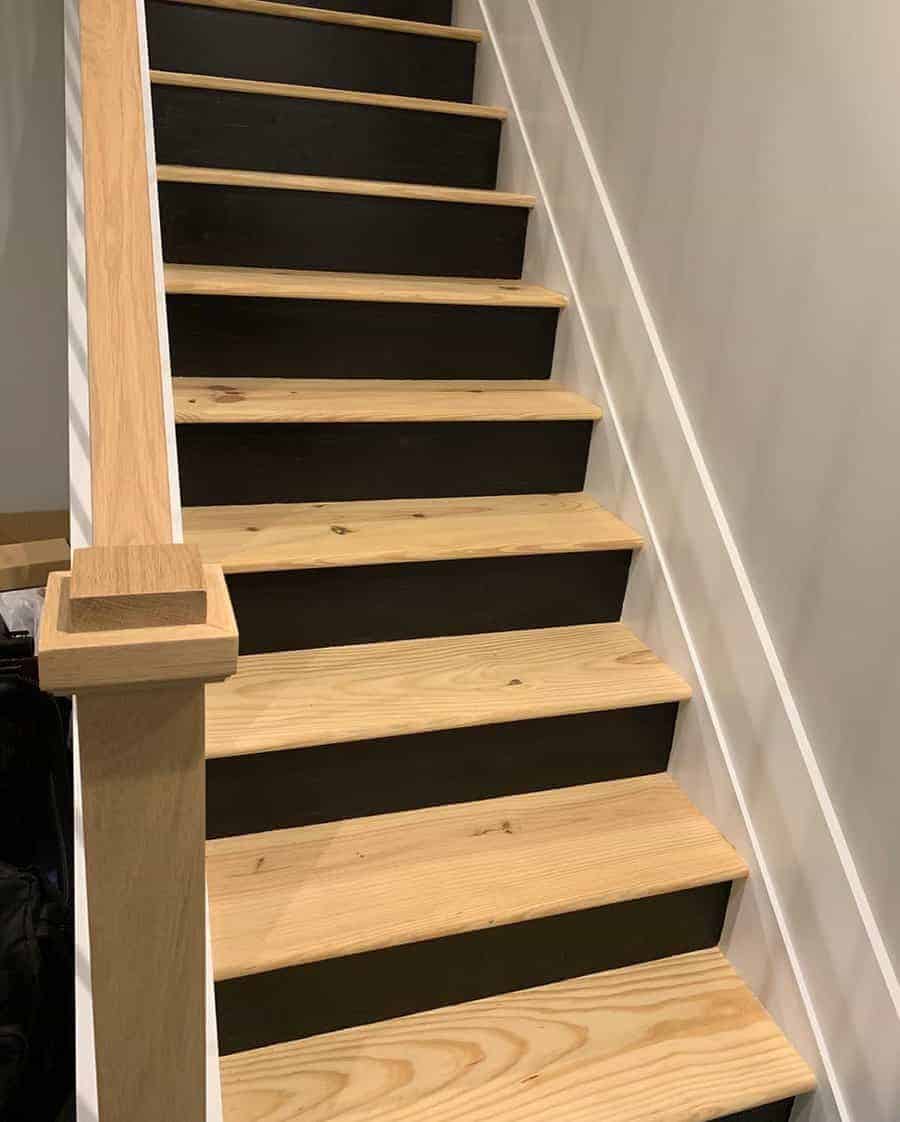 11. Install A Composite Handrail
When looking to jazz up your basement staircase, metal and wood handrails are the perfect solution. Composite basement banisters are made to combine metal and natural wood materials into one system – giving an attractive look that could outshine any other area in the home.
Unlike many metal-only railings, composite combines traditional beauty with contemporary style to create a secure and stunning handrail that anyone can enjoy. With its warmth, texture, strength, and modern feel – you simply cannot go wrong with a composite basement banister.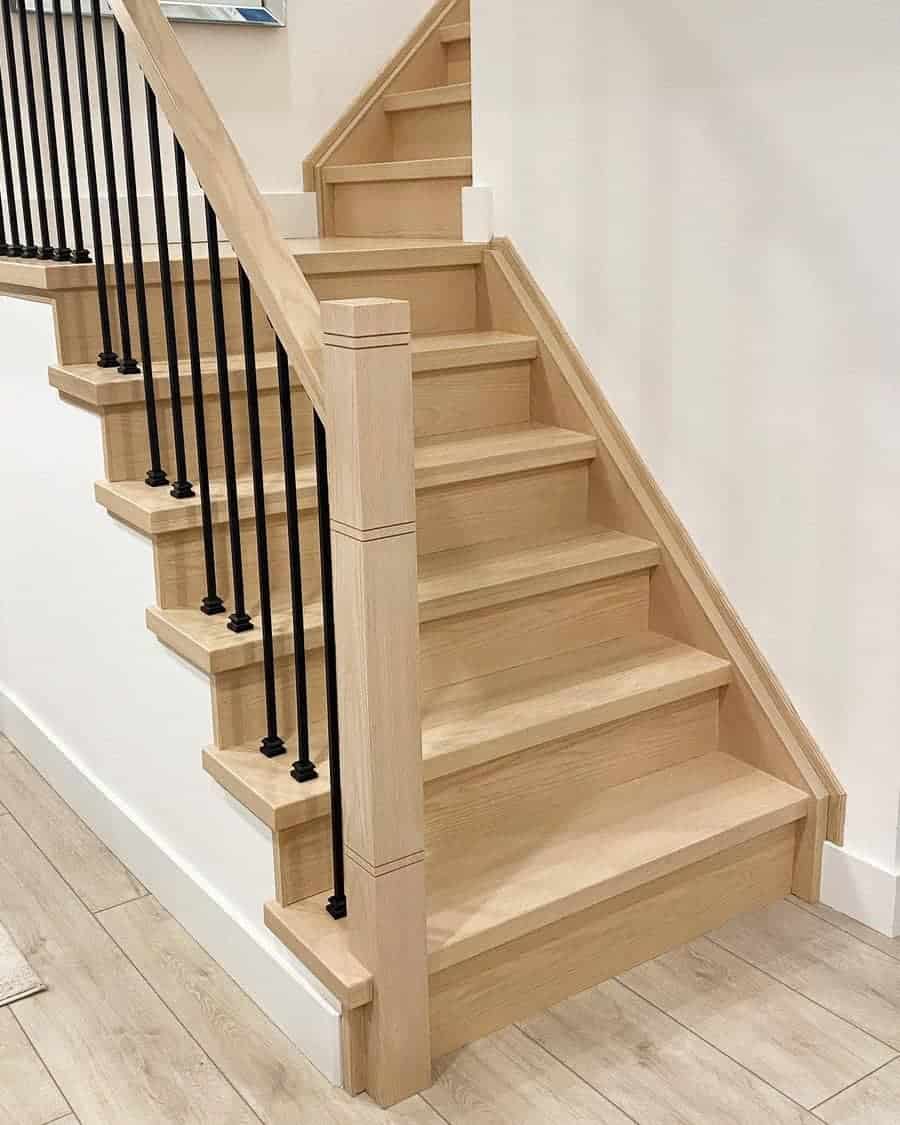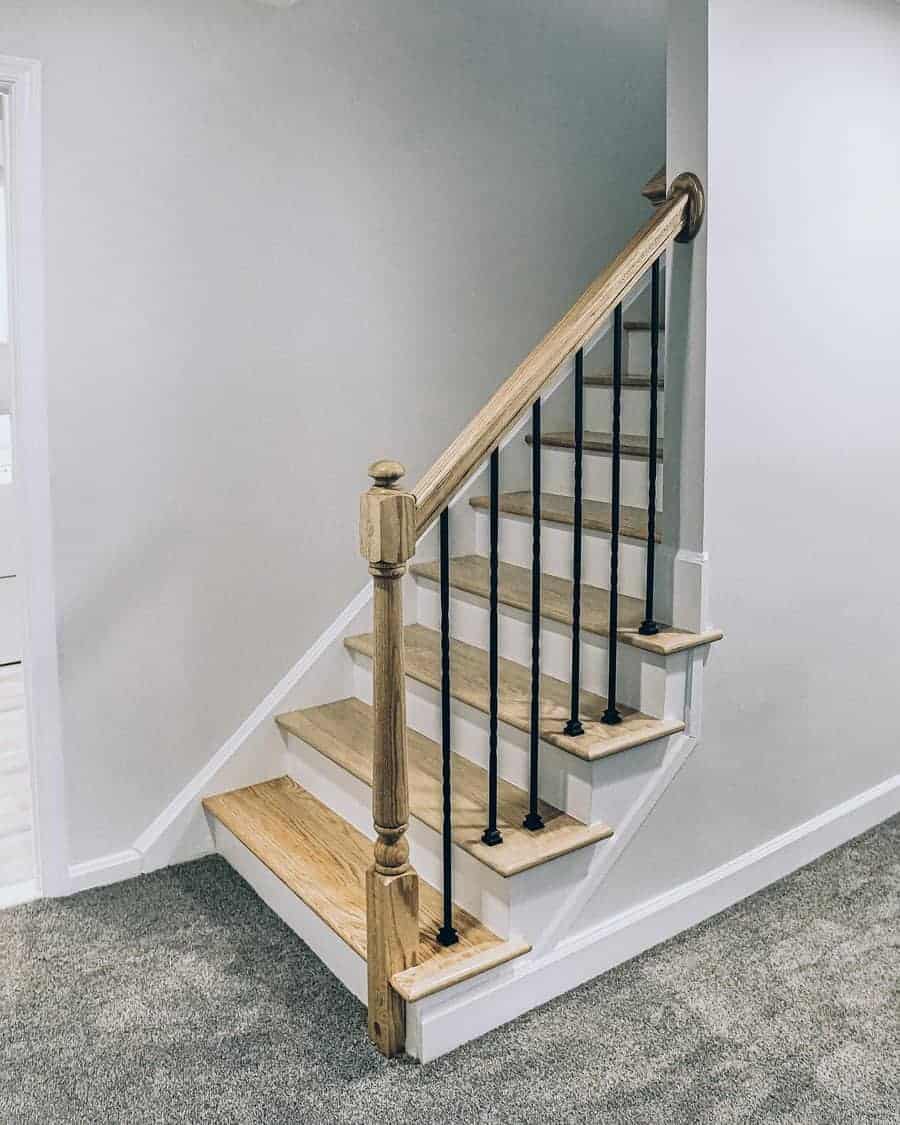 12. DIY Your Own Creative Handrail
Have you always wanted to craft your own banister as a way of giving your basement that extra 'oomph'? It's easy and creative to craft your own pattern for a homemade banister.
Using commonly accessible materials like craft wire, wooden dowels, or even recycled metal if you're crafty enough – you can create an original work of art with just some basic tools and knowledge in design integration.
You could also consider designing something special such as one-off discs featuring special typography or discovered ornate shapes from other sources such as photographs or treasured family articles. There are so many options when hand-crafting a custom finishing feature for your space!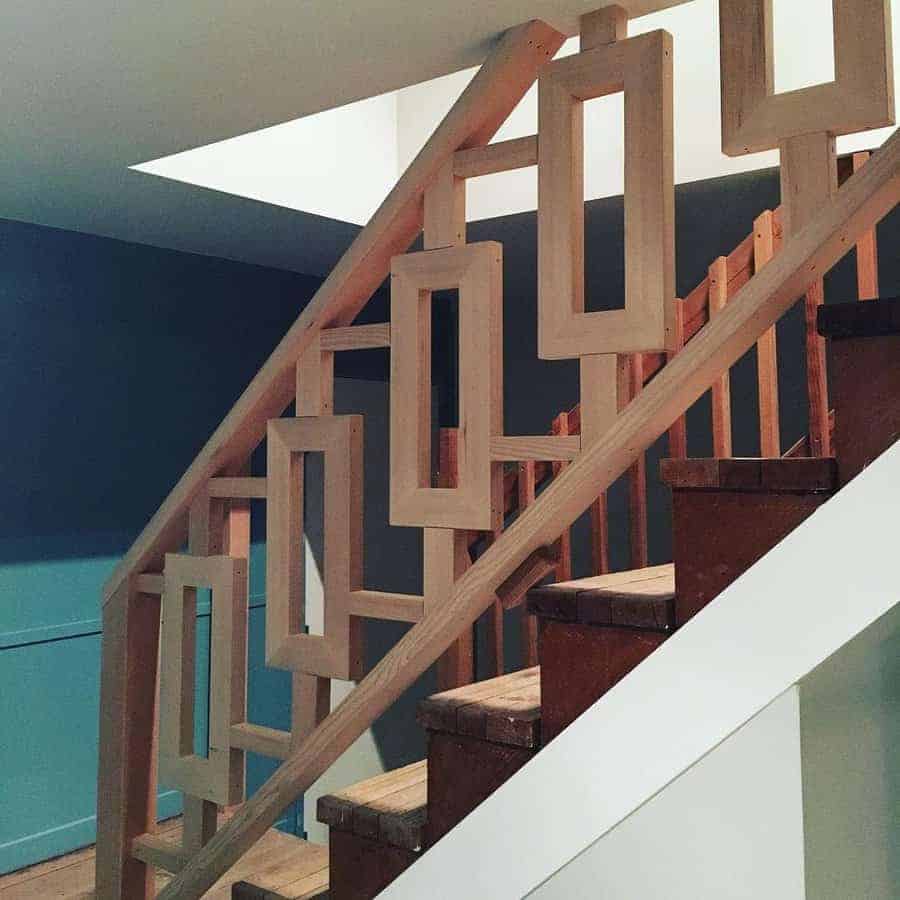 13. Go Against The Usual With A Horizontal Handrail Screen
Adding a horizontal handrail screen to basement stairs can provide an unconventional, but safe style solution. Don't be afraid to think outside of the box when it comes to basement stairs – you can create a unique style while still being satisfied with its functionality and safety.
With a horizontal handrail screen, one's creative thoughts can come alive as they make their stairs aesthetically pleasing and still adhere to safety guidelines.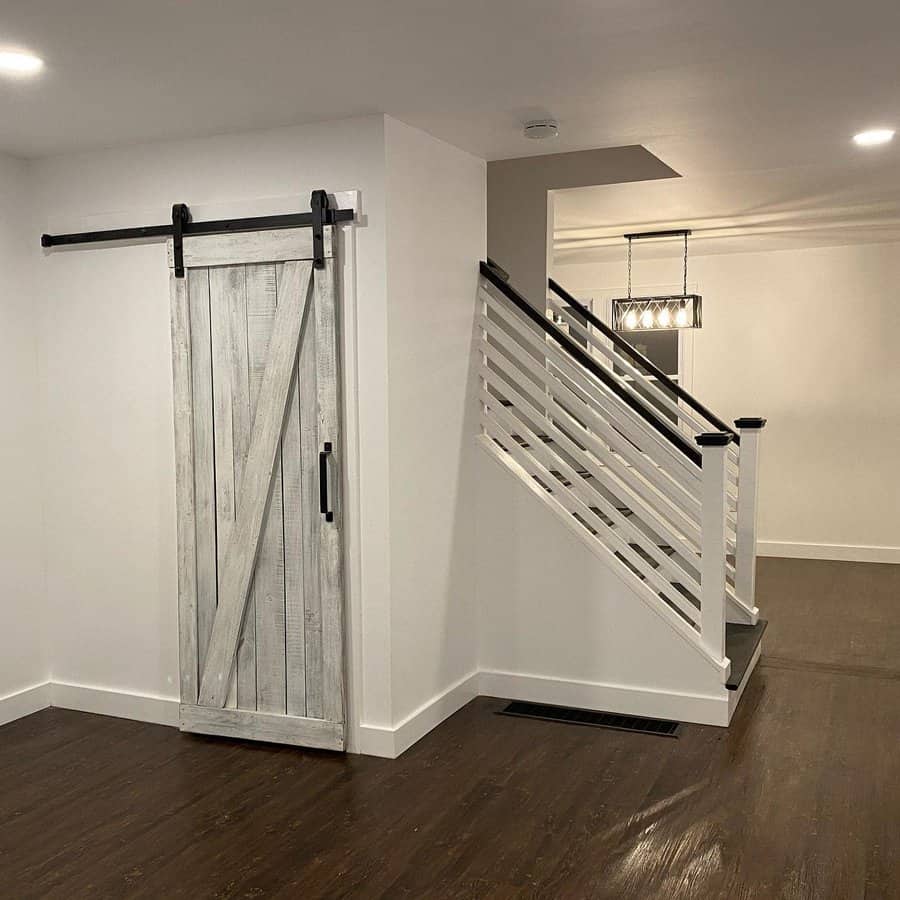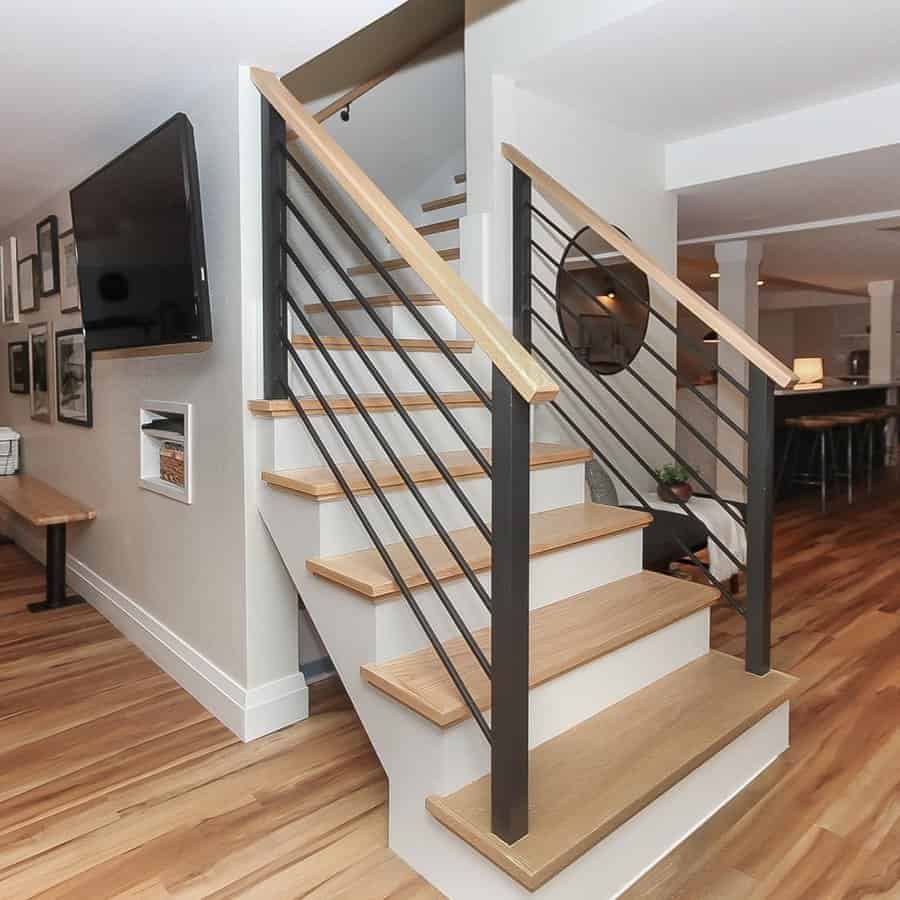 14. Pair Wood With White
White and wood basement stairs add chic style to your living space. Not only do they make a chic statement, but they also help create an illusion of a bigger room.
The color contrast between the white walls and the wood stairs is easy on the eyes, creating a beautiful harmony you can appreciate every day. Why not break away from ordinary basement designs and make white and wood stairs the centerpiece of your new chic and chic look?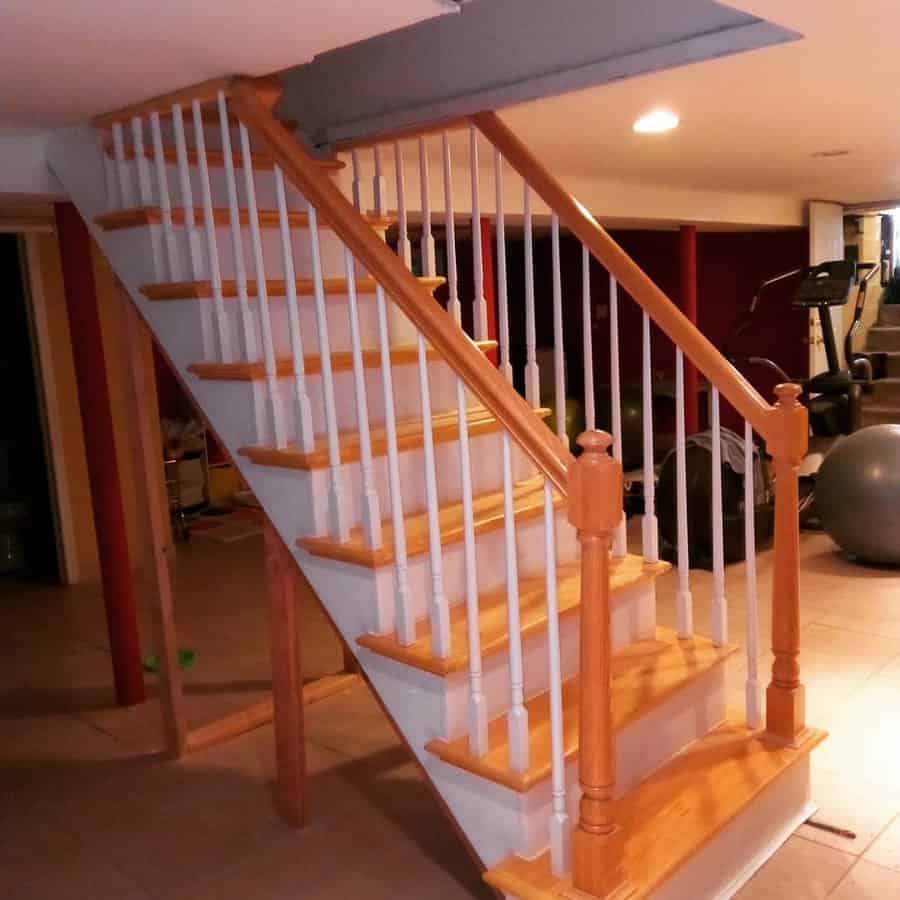 15. Install Tempered Glass Handrailing
Transform basement stairs into a modern, yet timeless work of art. It's an invisible look that won't detract from the basement's décor and it helps promote safety without compromising on style.
The glass comes in multiple shapes and sizes that make it easy to fit any basement staircase configuration, so you can create the perfect atmosphere and make sure your stairs are safe all at once.
Plus, you'll never have to compromise between beauty and functionality again.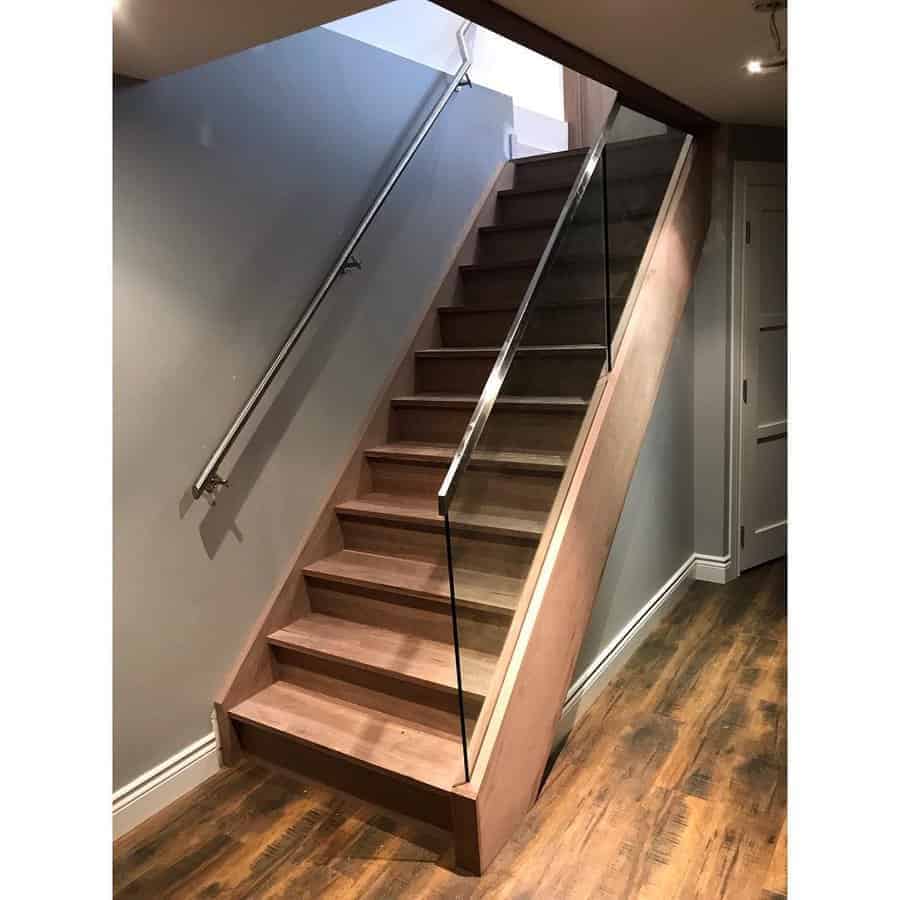 16. Add Cabinets Under The Stairs
The basement stairs can now be an integral part of your space, with under-the-stairs storage. Whether you choose to install a shoe cabinet, or stock cabinet, or simply take advantage of the nooks and crannies in the staircase, this is a great way to utilize the area that is typically wasted.
Maximize the efficient use of space by utilizing this dead zone for all your storage needs – out of sight but easily accessible!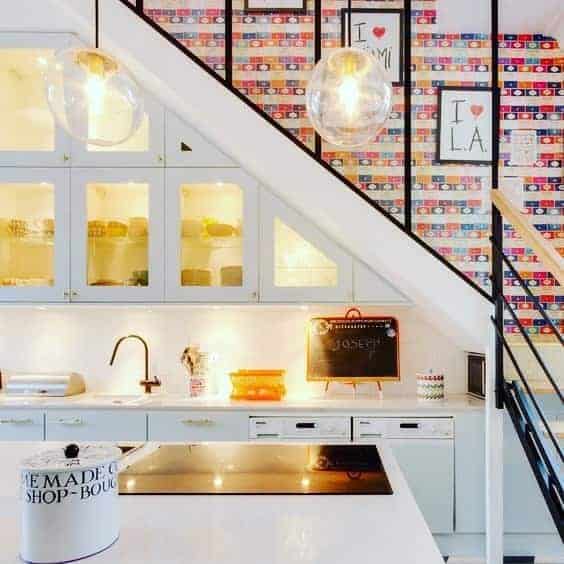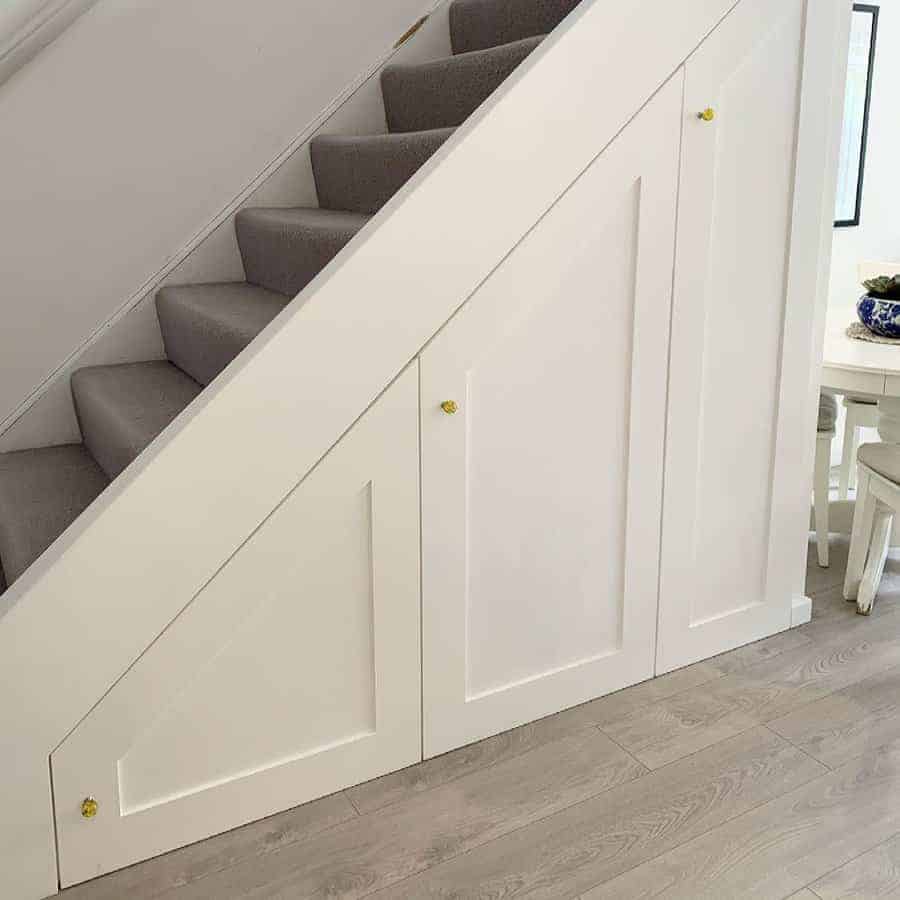 17. Carve Creative Stencils To The Handrail
Using the right tools and a creative eye, you can transform a simply crafted wooden handrail into something truly unique.
Stencils give the railings a personalized look – choose simple shapes like stars or circles, or go more elaborate with intricate designs. For a bit of rustic charm, why not try carving into the wood with stenciled shapes like stylized leaves or whimsical animals? The creative possibilities are truly endless!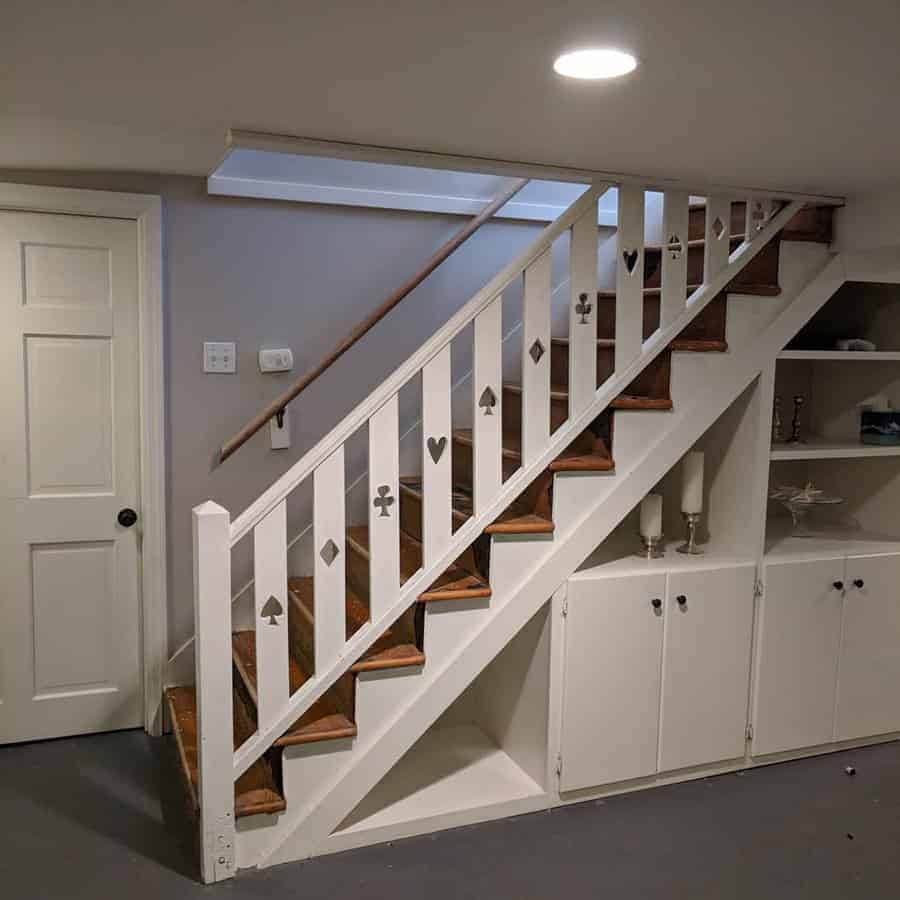 18. Create A Wine Rack
For creative basement dwellers looking for a novel way to store their vintages, under-the-stairs wine storage is an ideal solution. Nestled in the shadows and out of direct sunlight, it offers an effective environment to ensure bottles are kept at the right temperature and humidity.
Whether constructing an intricate mahogany cellar or just looking for a creative way to maximize space, creative basement wine storage can both be creative and stylish.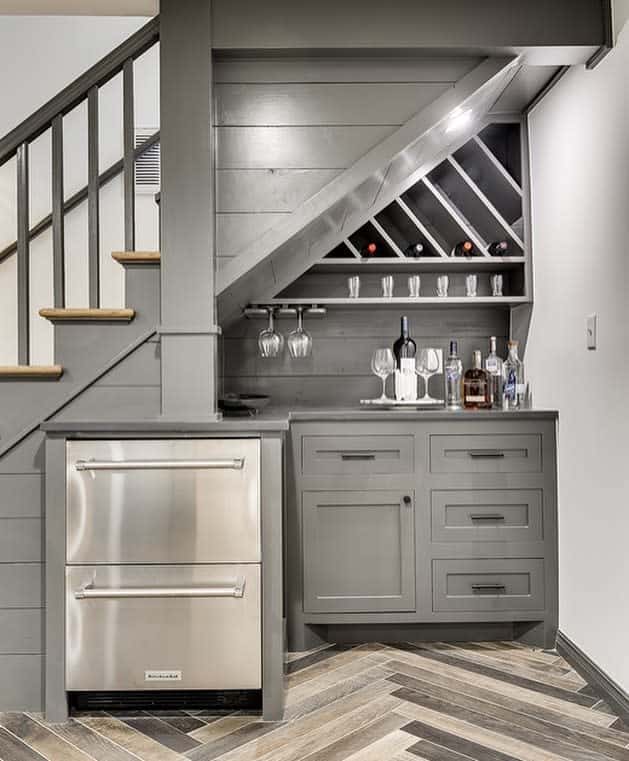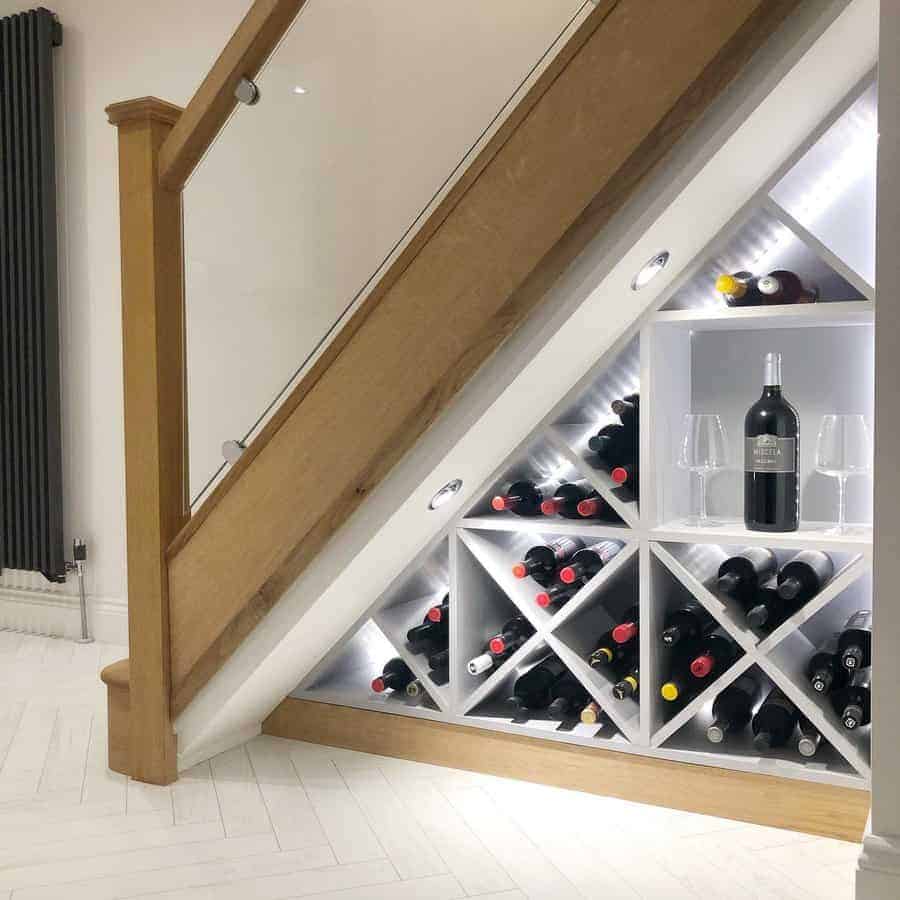 19. Add Framed Photos
Traversing down the basement stairs gives you a unique experience as if you were descending into a museum. The walls on either side of the stairs look like an exhibit of family history––framed photos tell the story of countless memories and love.
The snapshots depict moments of joy, success, sorrow, and every emotion in between, creating an atmosphere that is sure to leave one in a good mood upon exiting.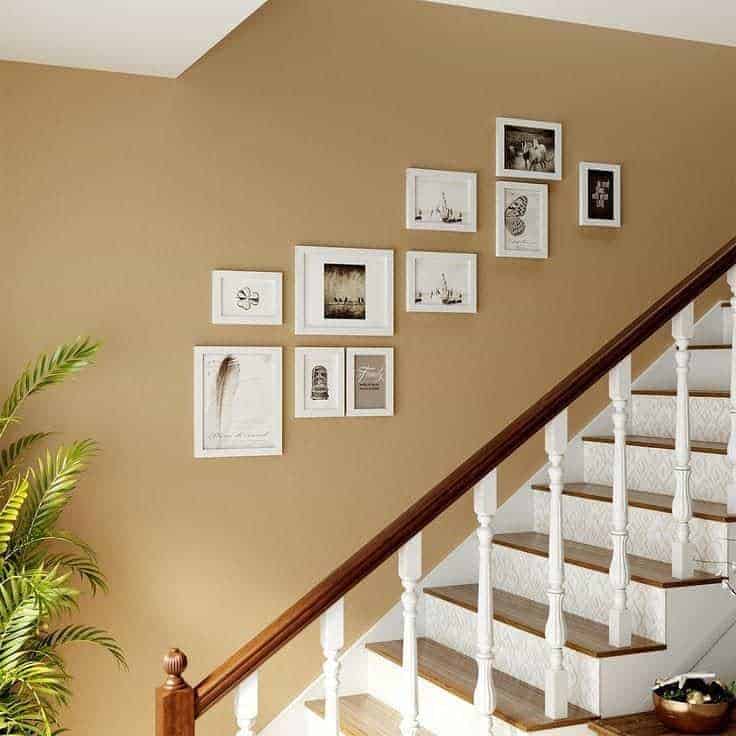 FAQs
How do I make basement stairs more inviting?
If your steps are open, closing them in with risers can make them feel more stable and easier to walk up. Adding a handrail to hold onto also makes them feel more inviting. Adding color contrast to the steps can make it easier to walk up and down them, making them safer. Installing lighting is also important for making the space feel more inviting.
How do you fix a steep basement staircase?
If your basement stairs are too steep, then you can fix them by lengthening them. This means reducing the angle of the stairs so that it's a gentler slope downward. If you don't have the floor space for this, then your other option is to turn them into a spiral staircase. They tend to be steeper than straight stairs but are easier to use with the railing and take up less room on the basement floor.
How do I light my basement stairs?
You could install lights in the basement walls to illuminate the steps. Put the lights in the ceiling above you for a broader ambient light. For hidden lighting, install them on the underside of the railing. A modern option is to install LED strip lighting on the top of the stair riser on the underside of the tread on the bullnose. This illuminates each step.