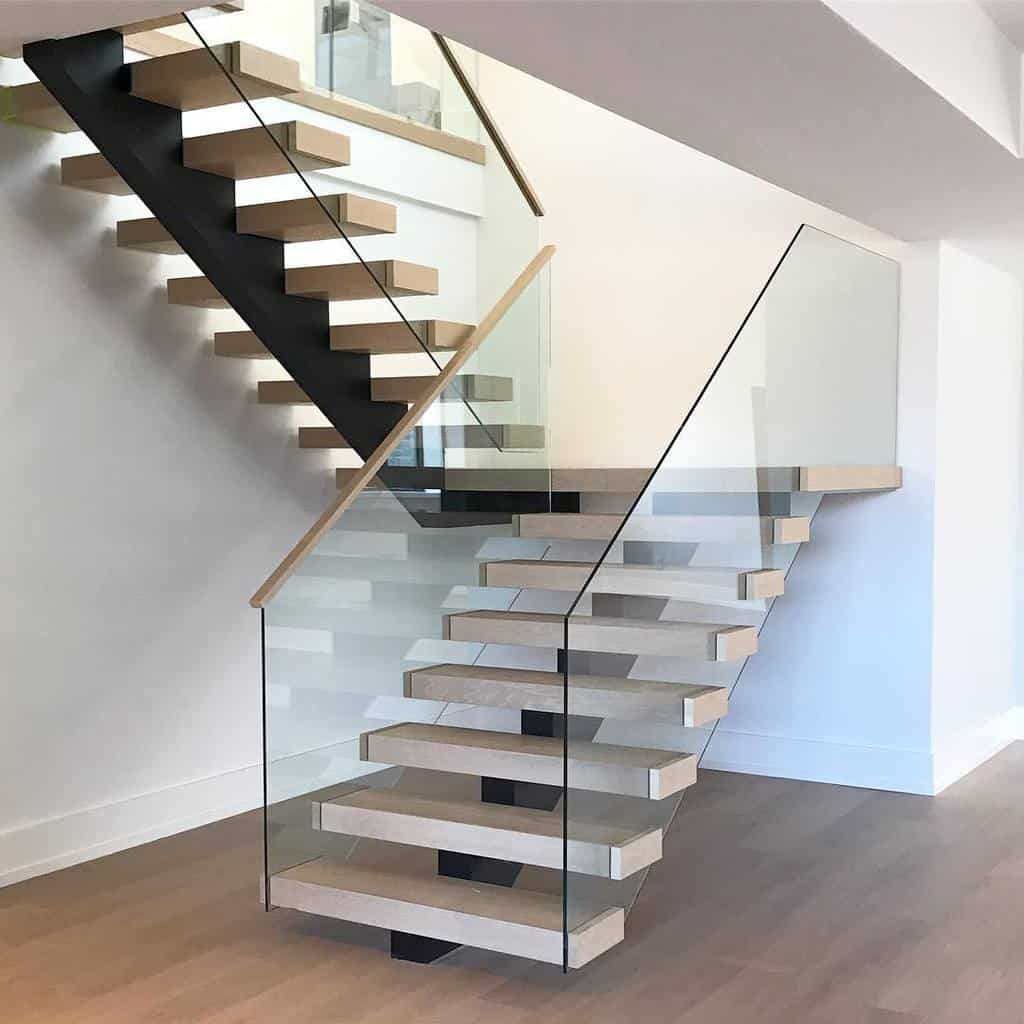 38 Basement Stairway Ideas
The stairs leading down to your basement are what set the stage for this space below your home. If you've done the work to have a finished basement, don't forget about the basement stairs. You need a staircase design that complements your basement home office or laundry room. That way, the stairs set the stage for the beautiful basement waiting at the bottom of them.
Check out these basement stair ideas and turn your stairs into something worthy of the rest of your home.
1. Interior
Having stairs inside your home that lead down to your basement is convenient and a must if you plan to have a finished basement. You don't want to have to leave your house, walk around the outside and down some stairs, and then go back inside. To help your basement stairway feel more like a part of your home, you need to finish the existing stairs.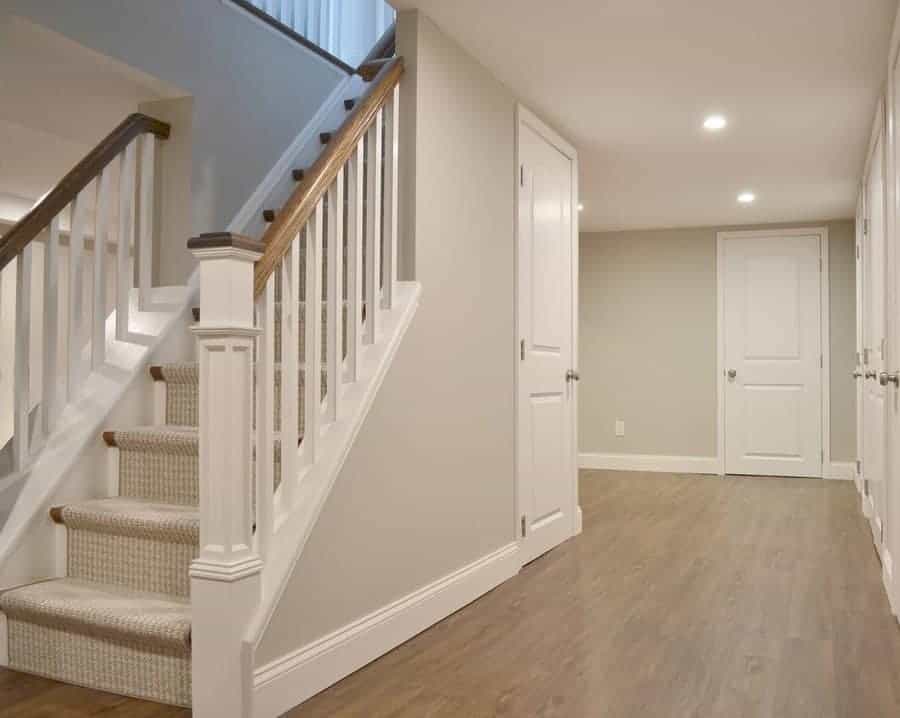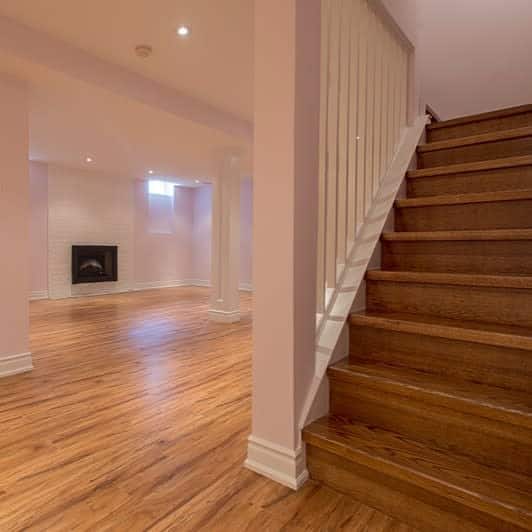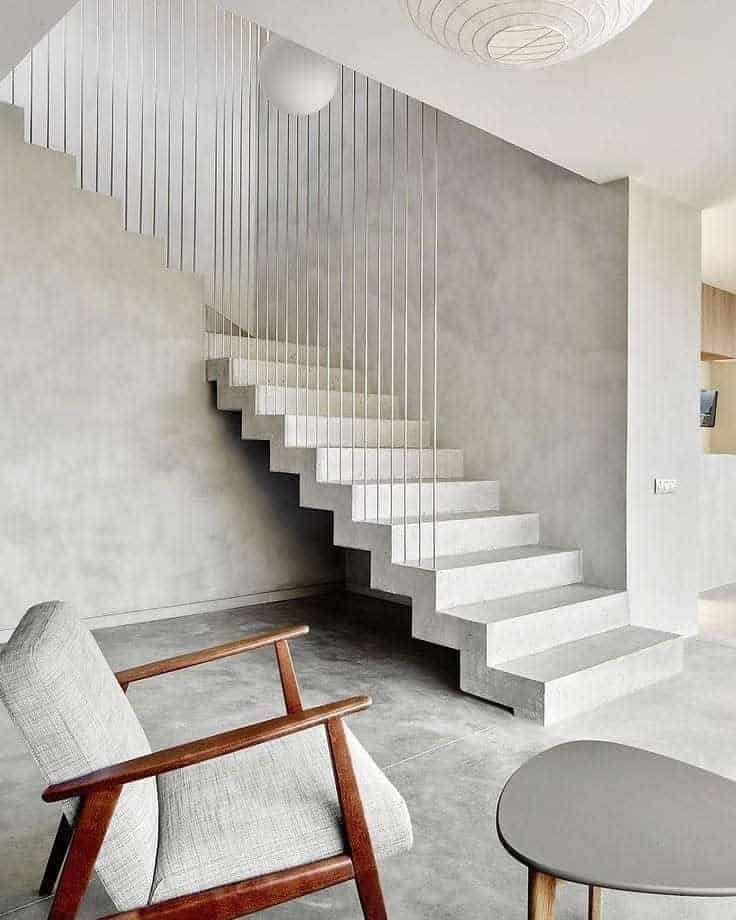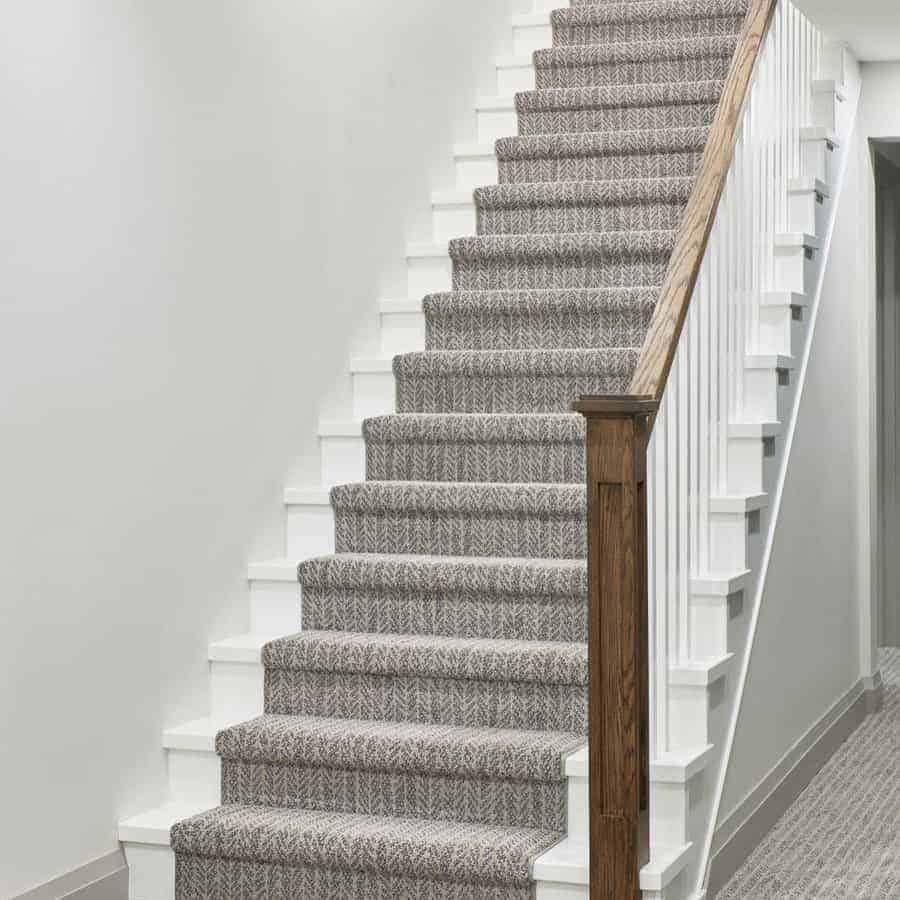 A quick and simple method is to lay a stair runner down. This is a long rug that essentially turns your stairs into carpeted stairs. These runners are typically found on the main staircase in your home, so they mimic the look of your other interior stairs. You'll need to install stair rods on each stair tread to hold the rug tightly in place.
2. Narrow
Often, the basement stairs are an afterthought or replaced by the homeowner at some point during the home's history. This can leave you with stairs that aren't up to building regulation. The common problem is that the stairs are too narrow.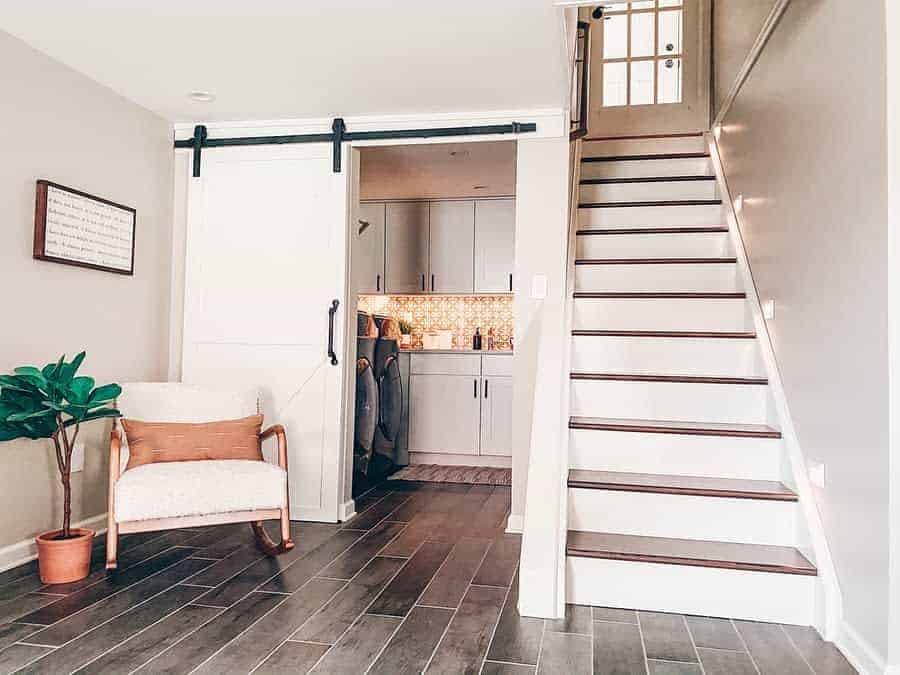 This could be because the entire staircase is too narrow. It could also mean that each stair tread is too narrow, leaving not enough room for your entire foot. If your stairs are too narrow, your first step is to replace them with wide enough stairs to meet the building code.
3. Open
Open stairs have gaps between each of the treads. They could be floating stairs that are mounted into the basement wall. Or they could be wood stairs that are mounted on a stair stringer. There is no riser, so this space is open. You'll commonly see stairs like this when they are installed purely for function.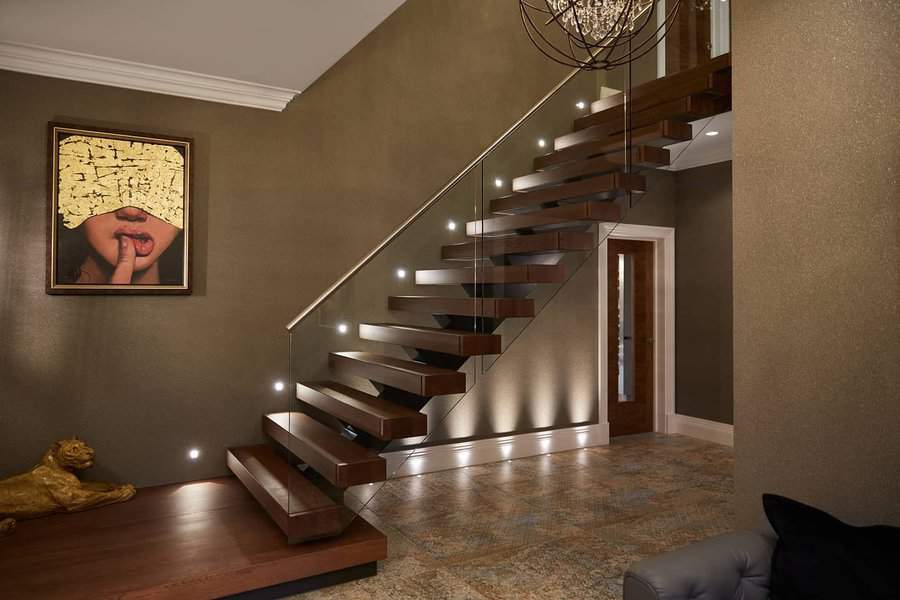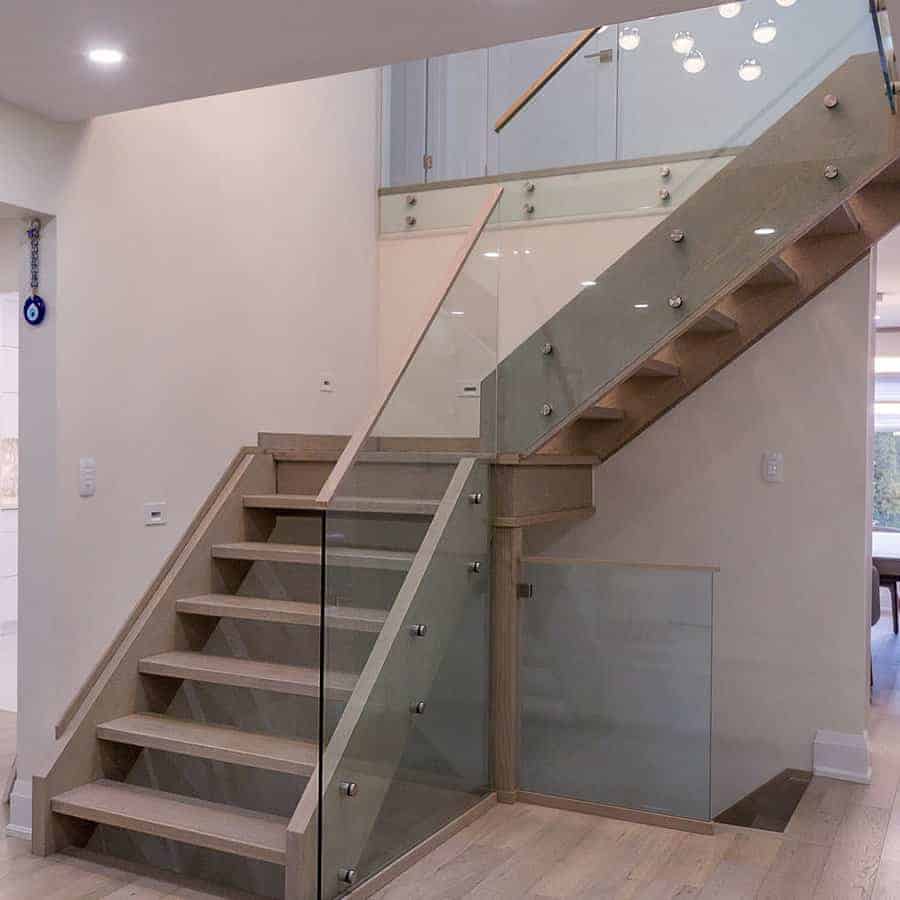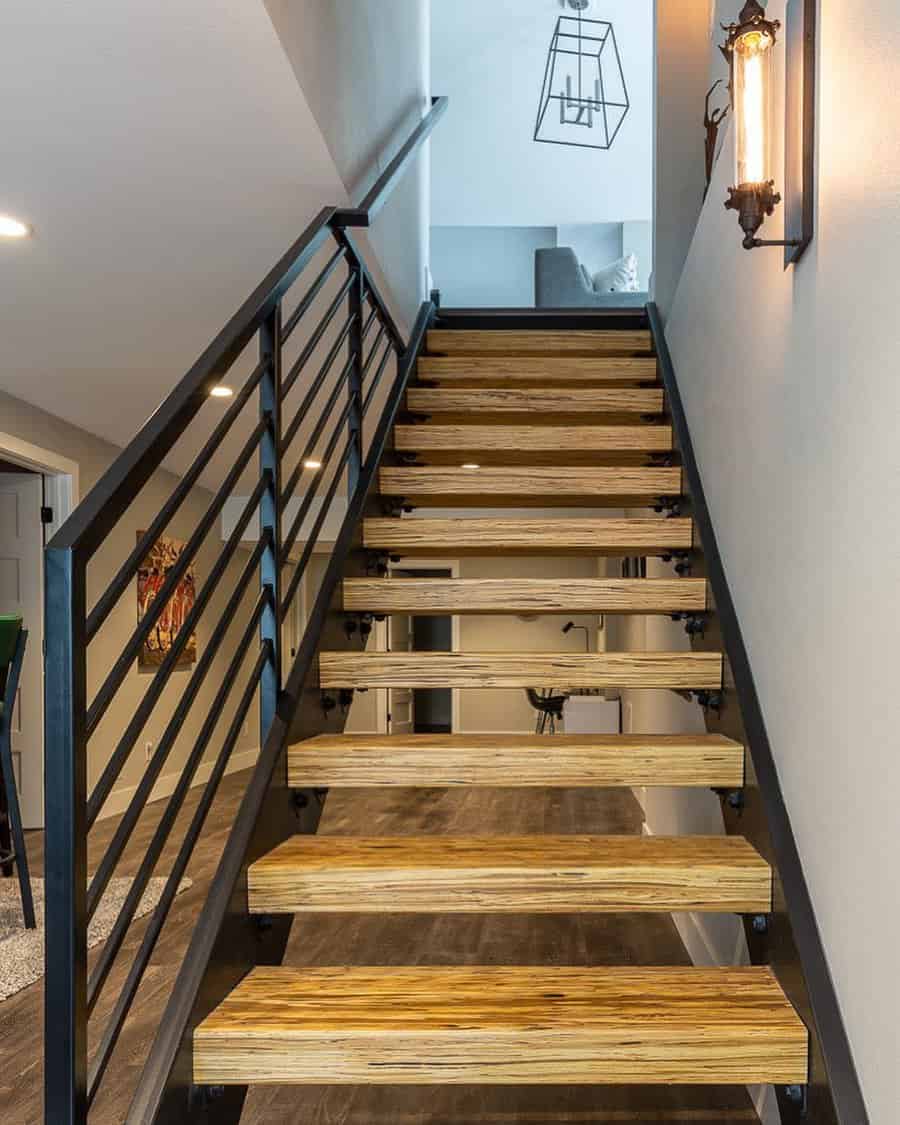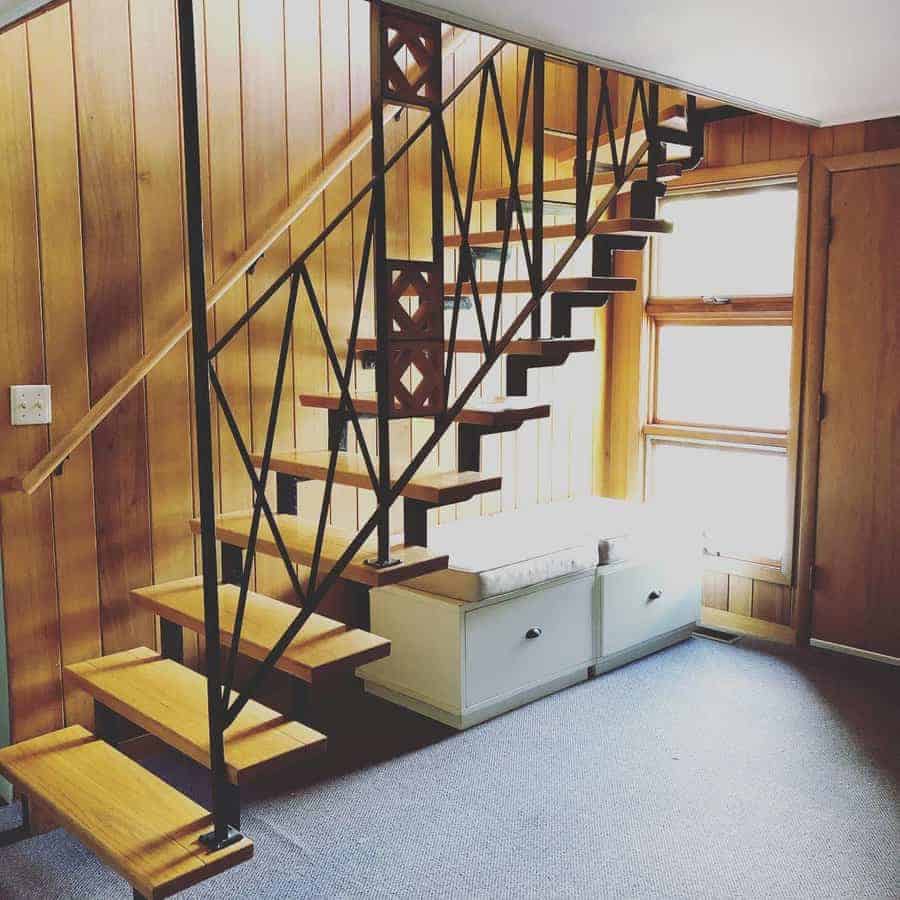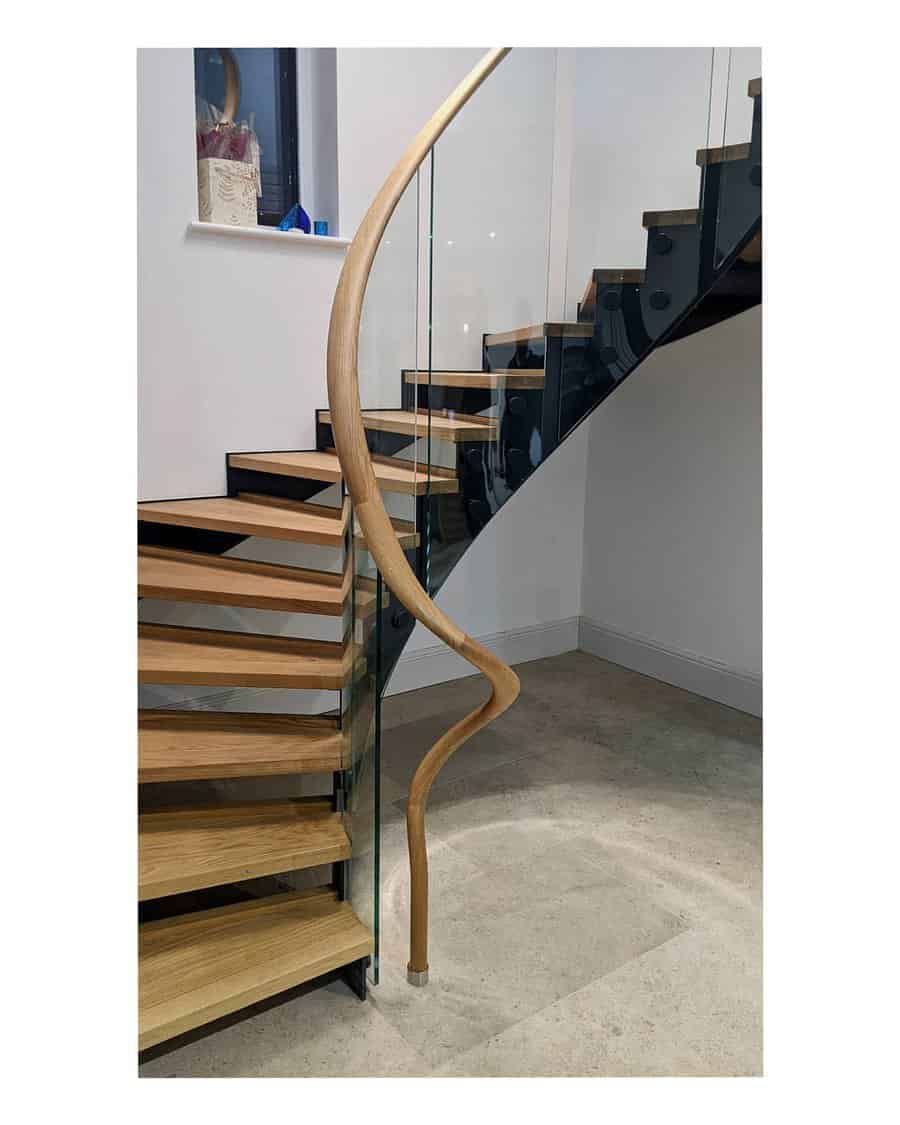 The open space reduces the number of materials required to build the stairs, making them more affordable. However, the gap does make the stairs more dangerous, as your foot could slide through. Consider adding a riser piece and refinishing the treads to have a finished set of oak stairs.
4. Painted
Concrete stairs are ugly. They are a dull gray color and have a cold and damp feel. It makes the descent to your basement unpleasant. One of the simplest staircase ideas is to paint them. A durable concrete floor paint will seal the concrete and brighten them up.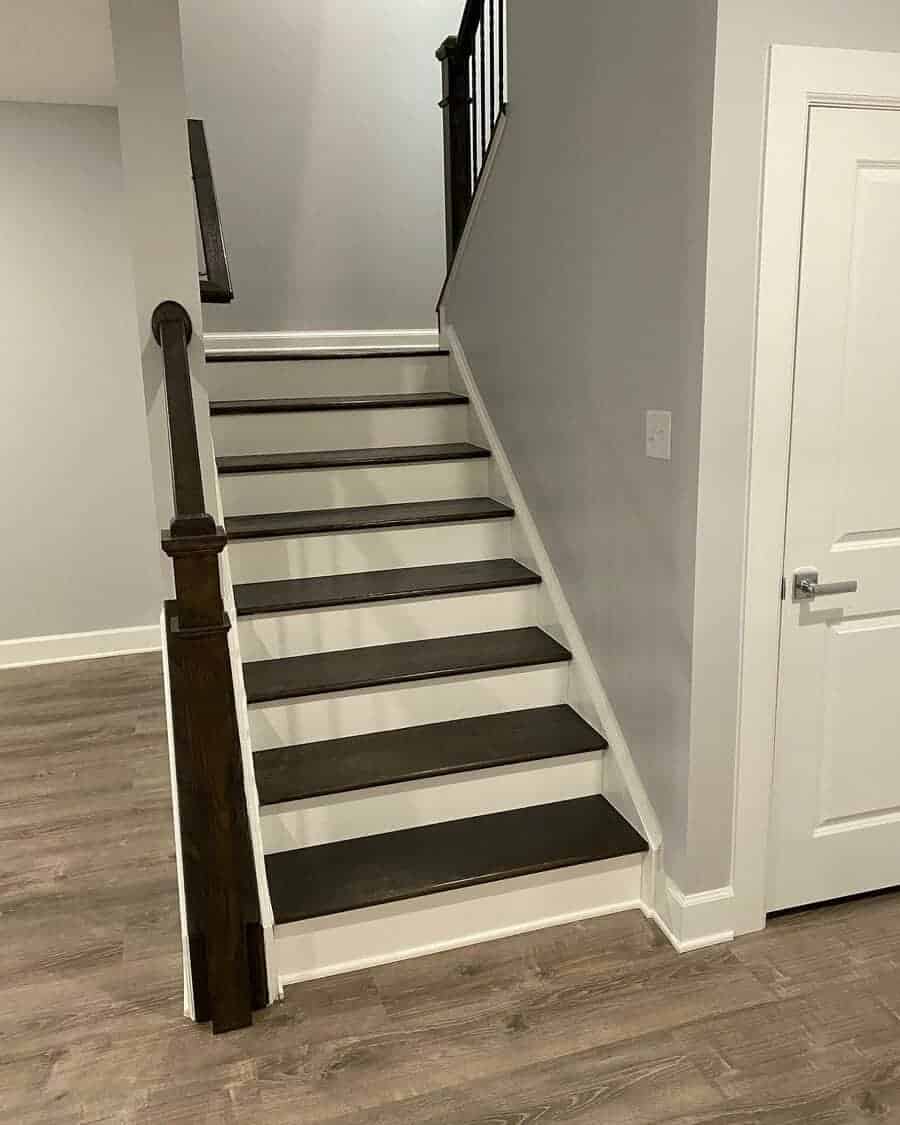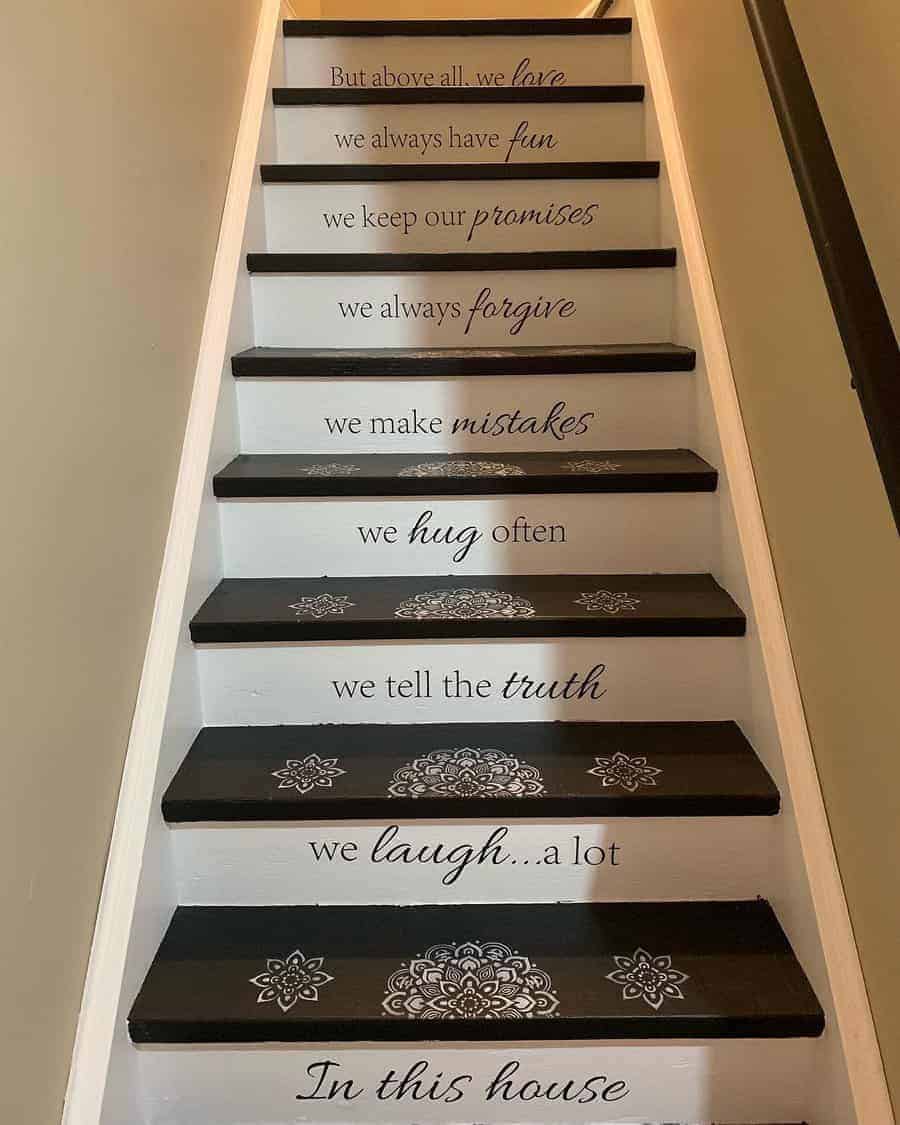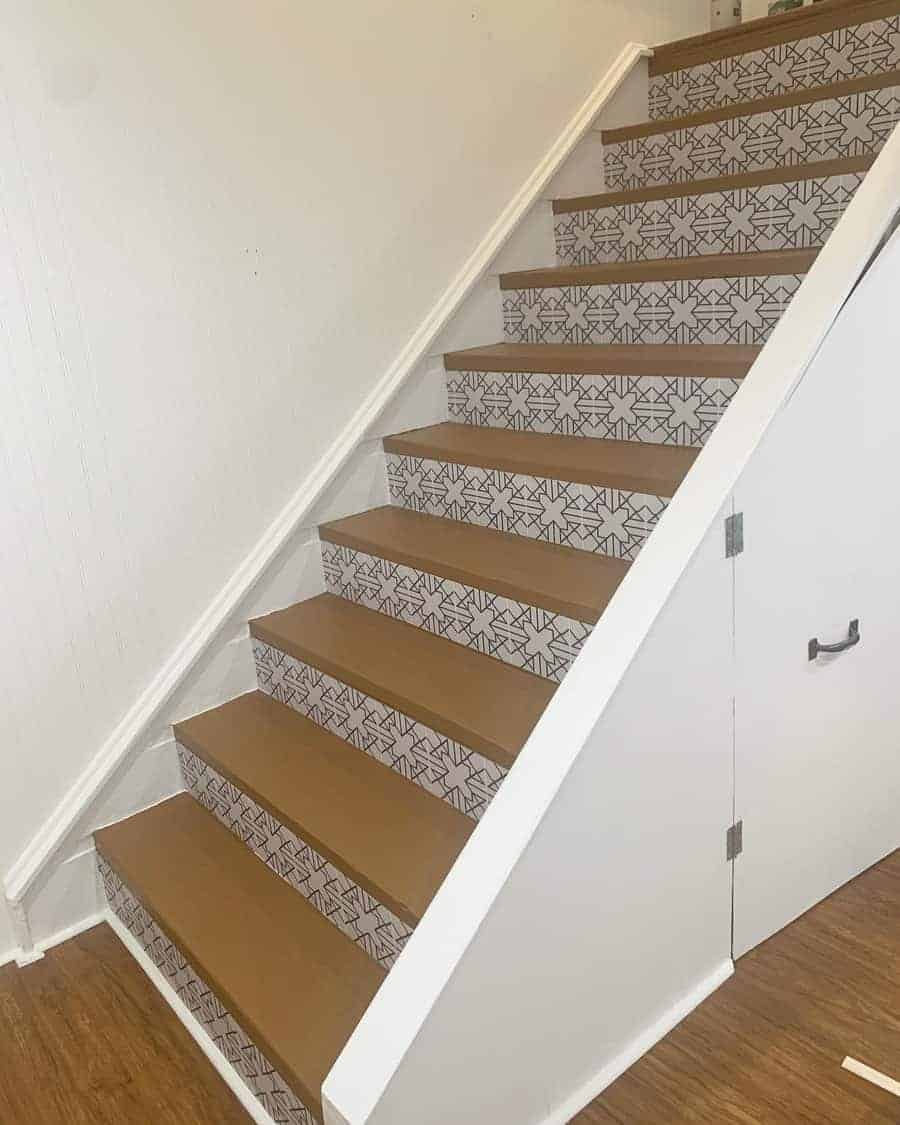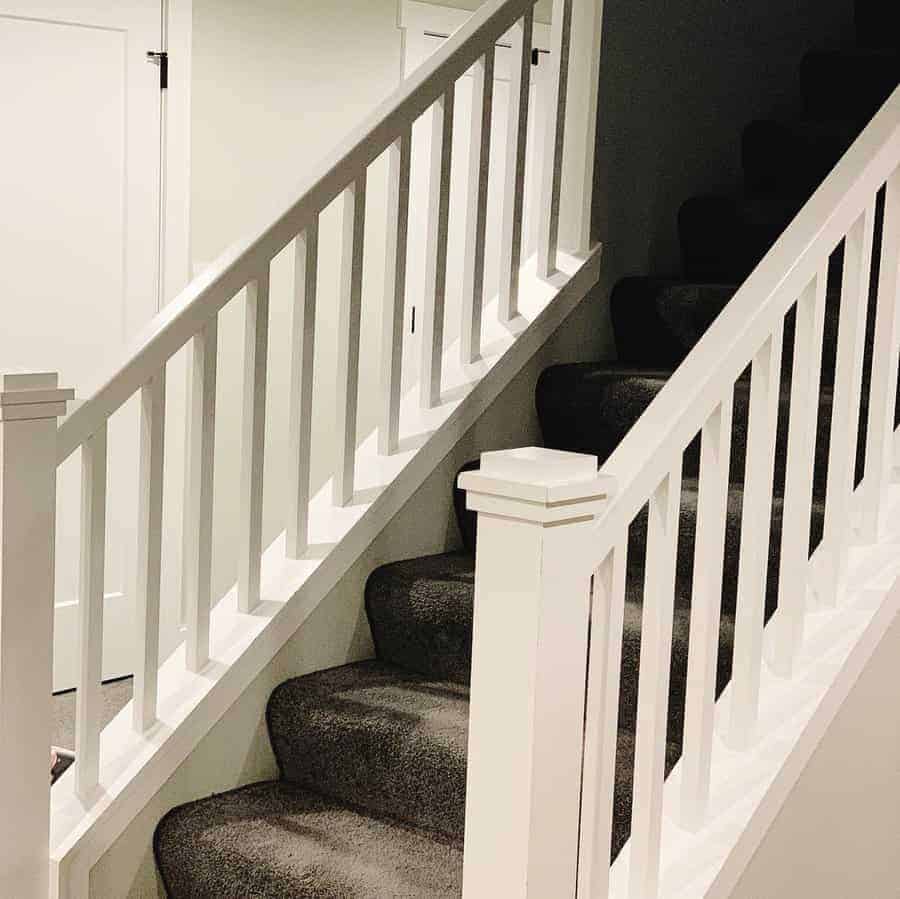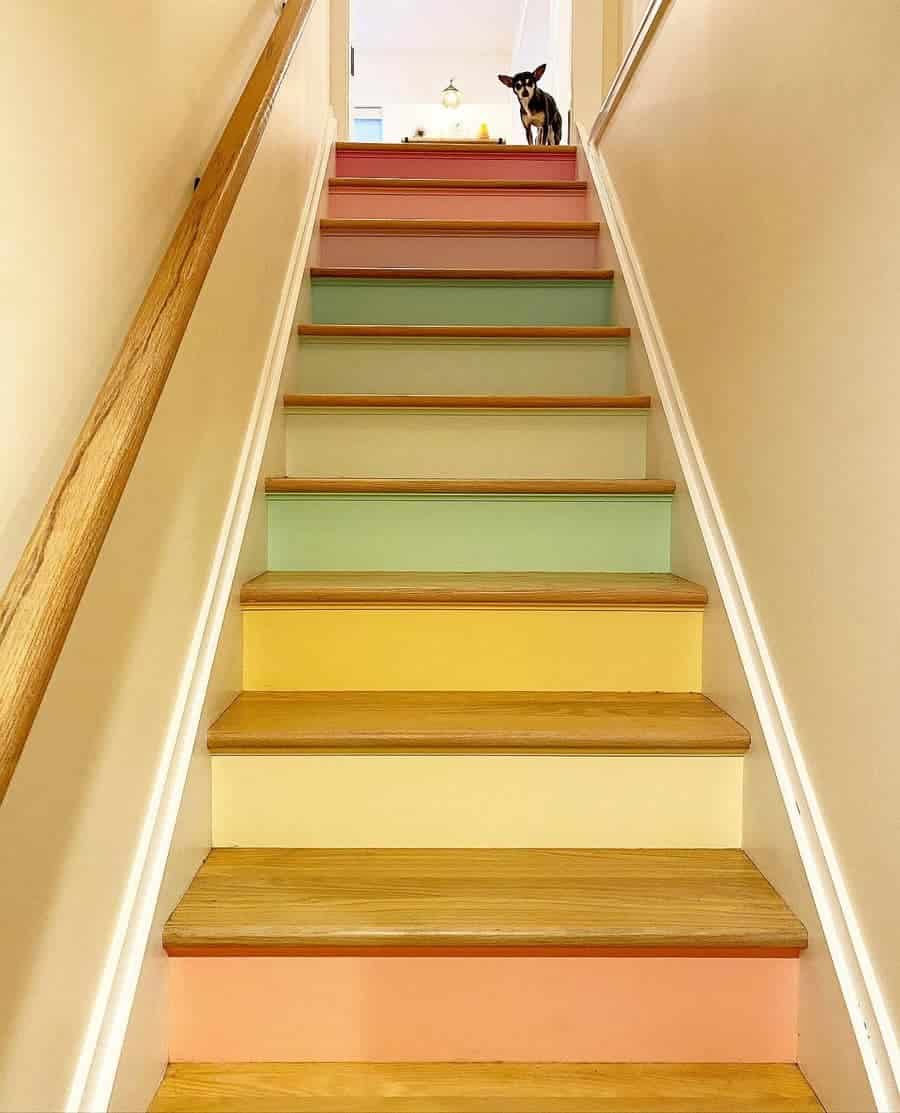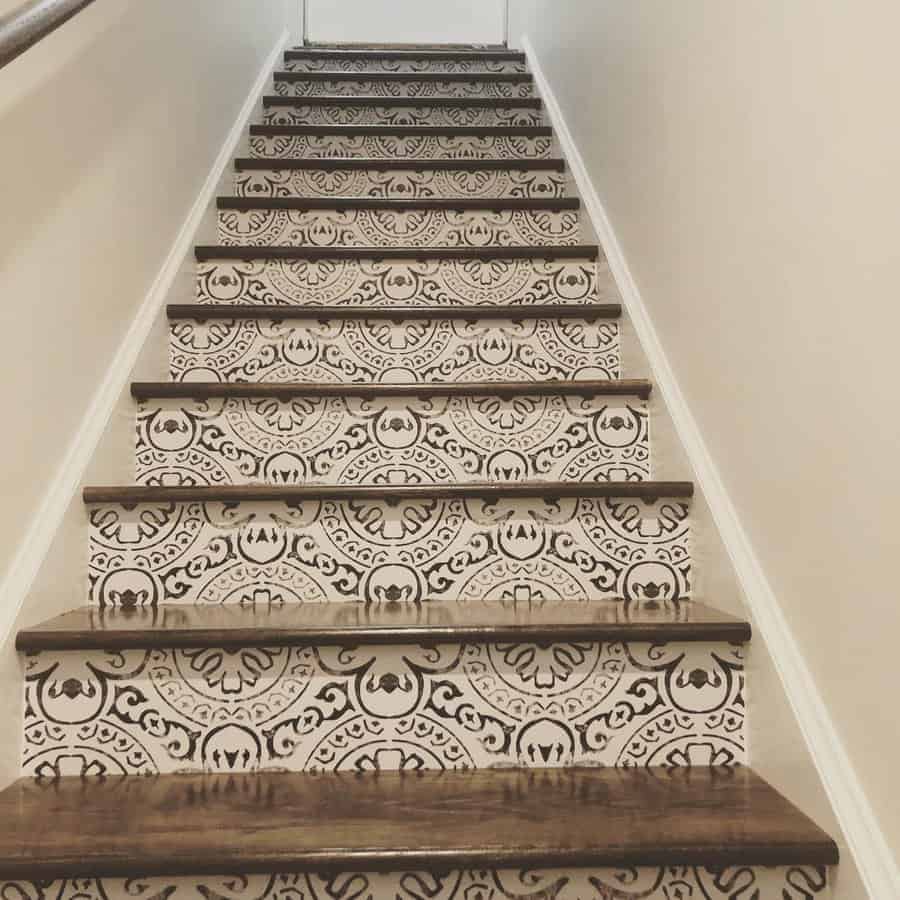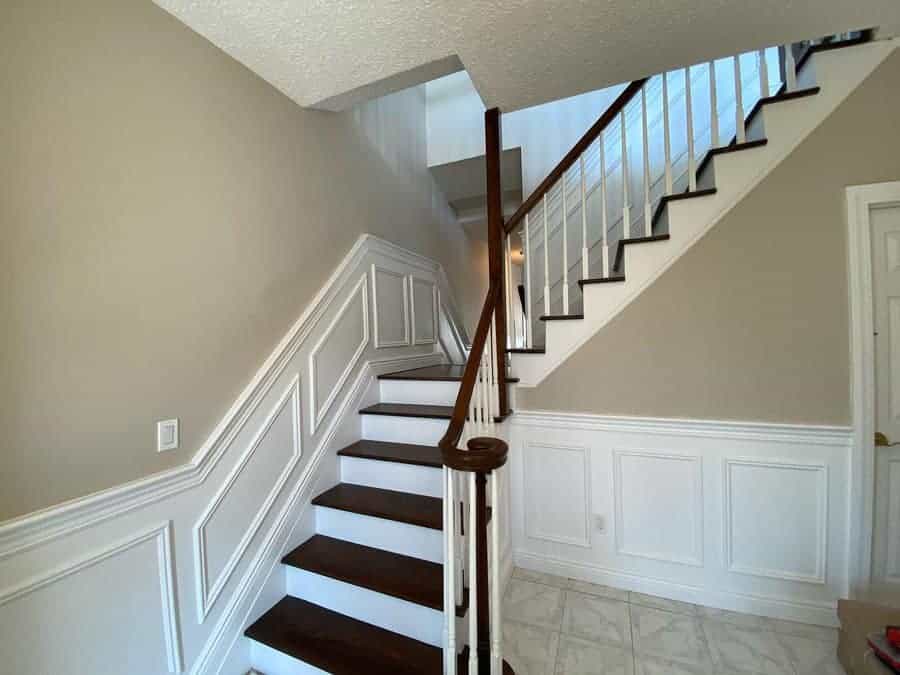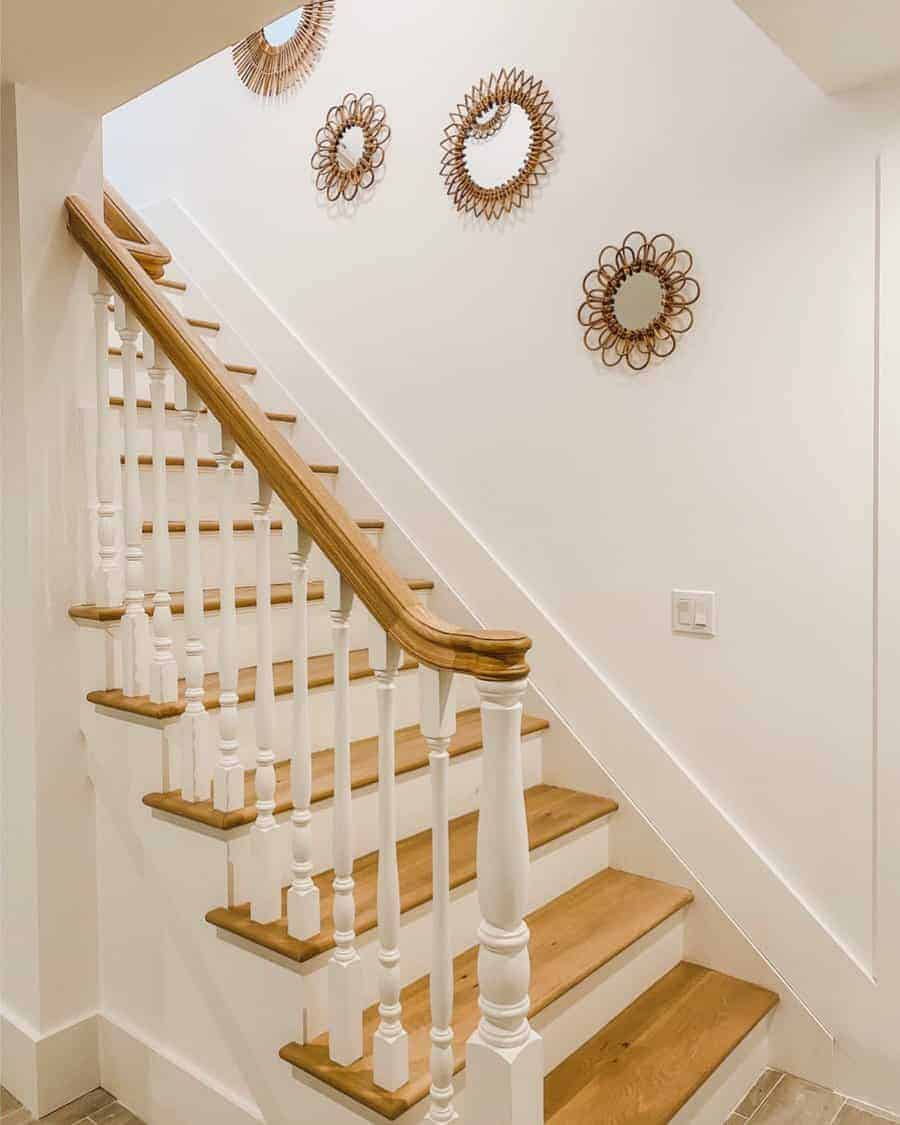 This can make them more welcoming by cutting them damp feeling and increasing the feeling of lightness. You can also paint wooden stairs. Use a paint that's safe for wood. For more of a design, paint the riser one color and the tread another. Or add a decorative pattern to the riser using multiple colors.
5. Rustic
If you have created a farmhouse or rustic design in the rest of your basement, then why not continue this look with the staircase? That way, you have a cohesive design throughout the entire basement. Instead of using all wood, which can look too country or cottage, try using a combination of wood and wrought iron balusters.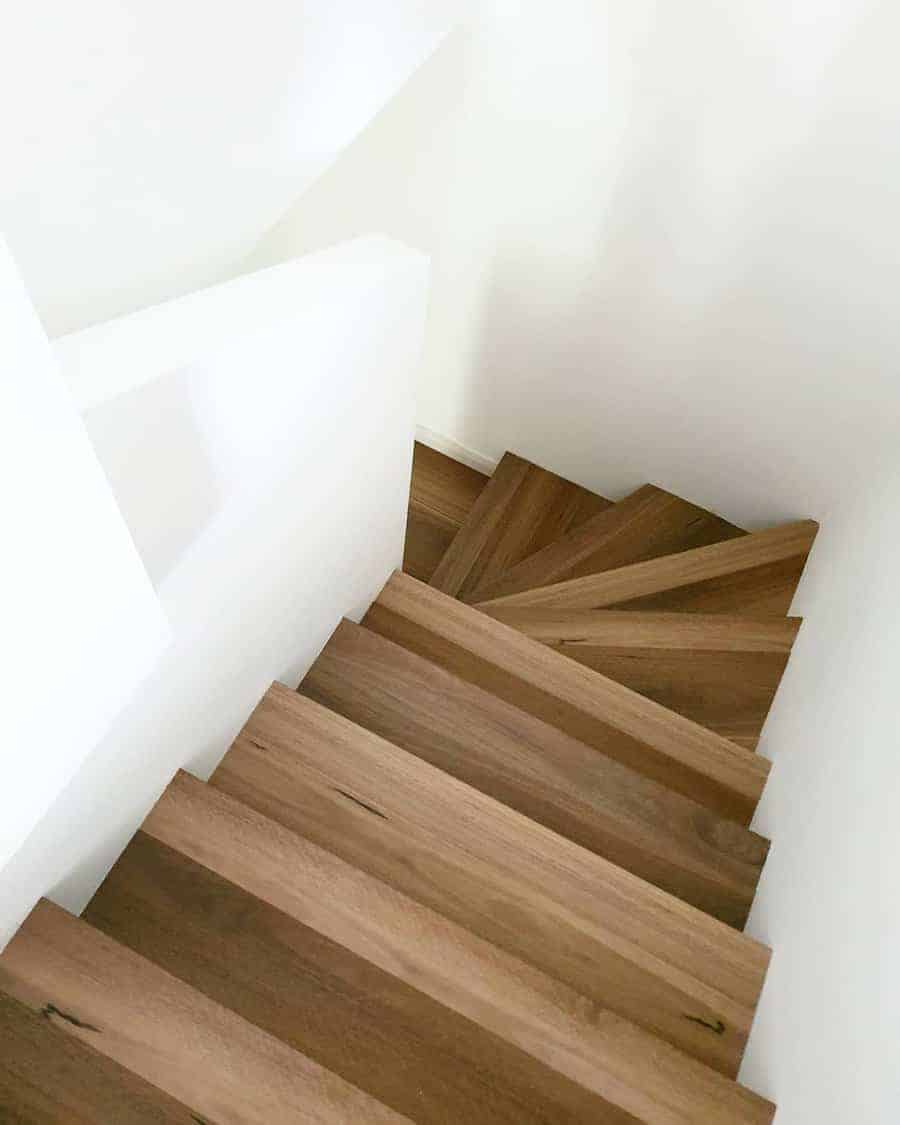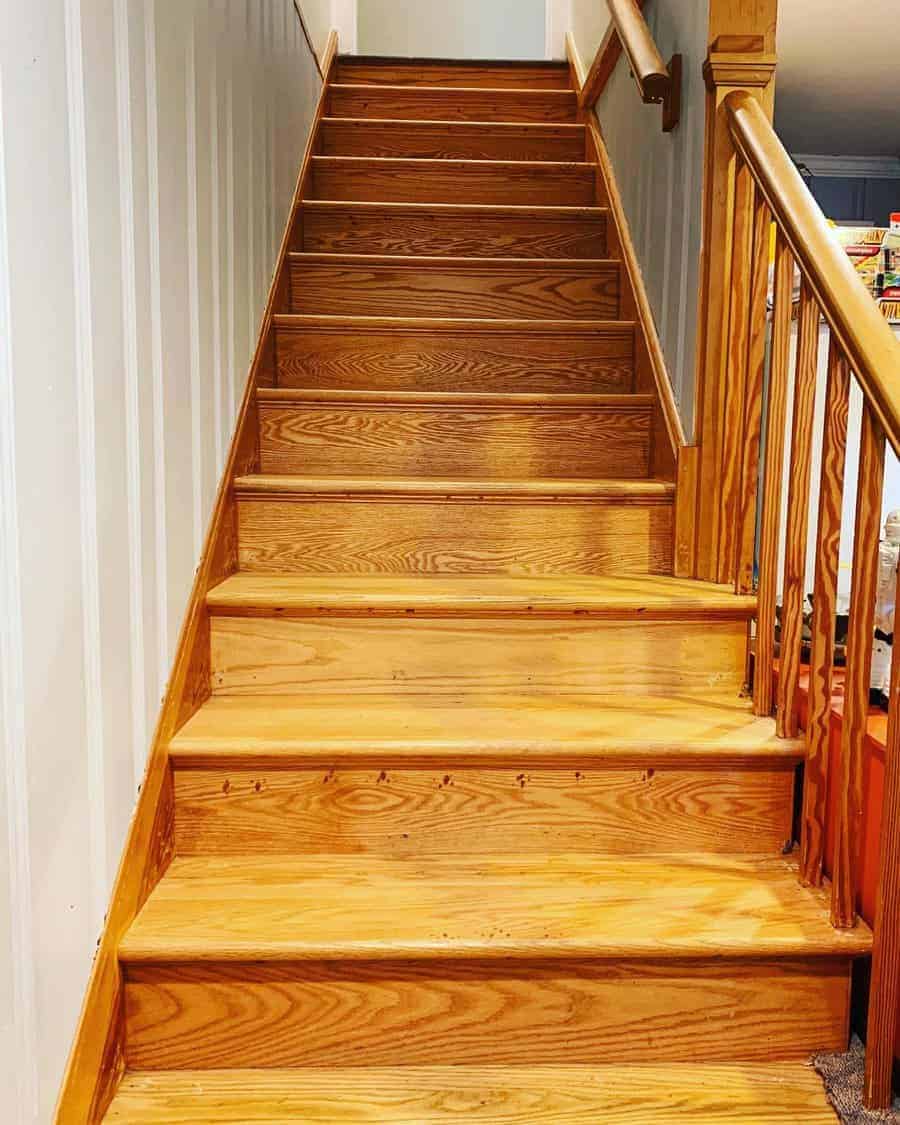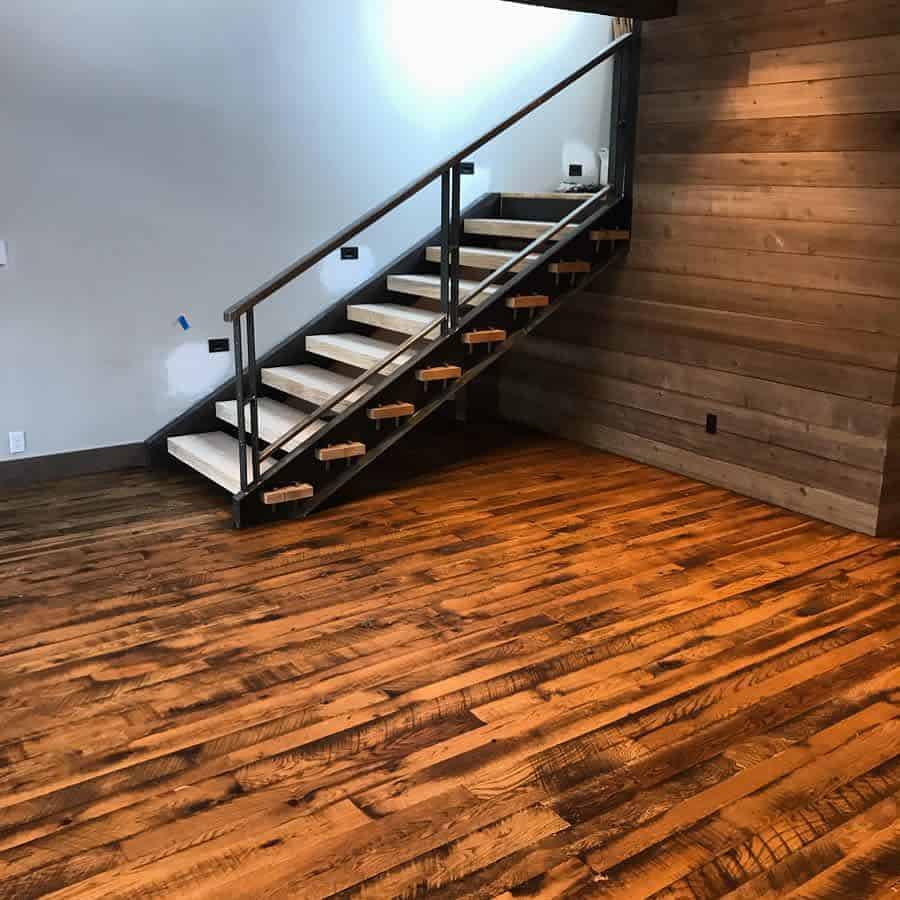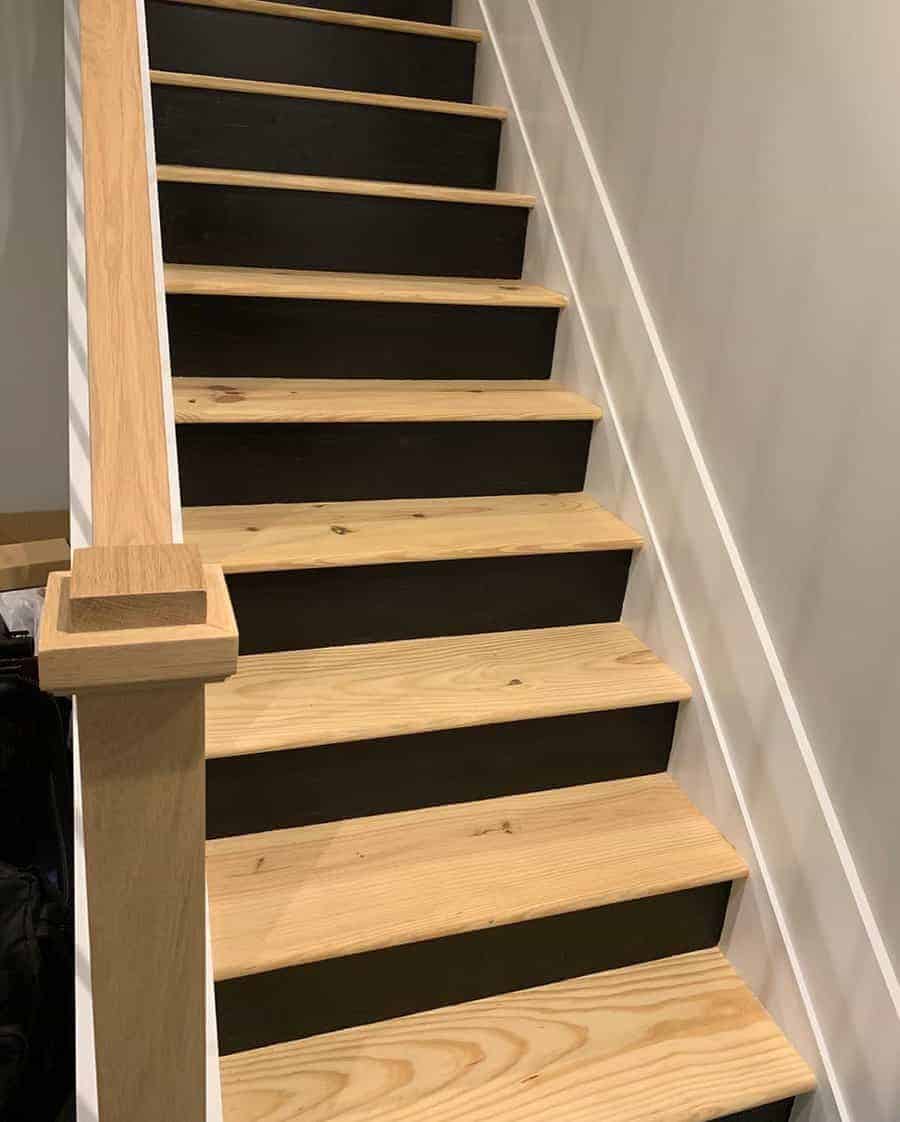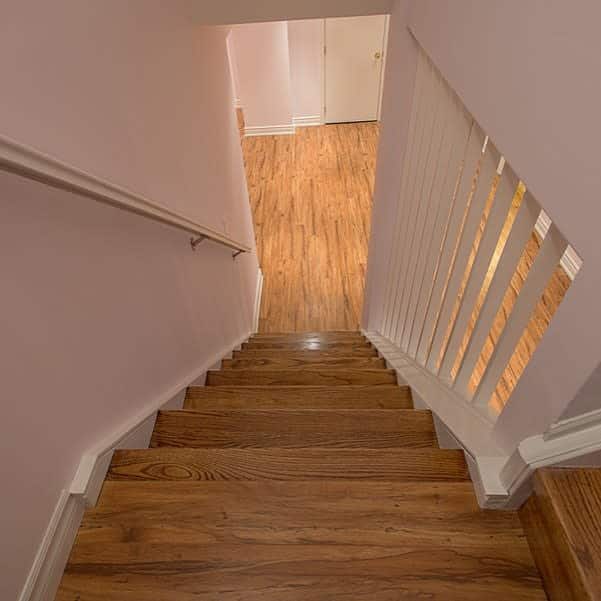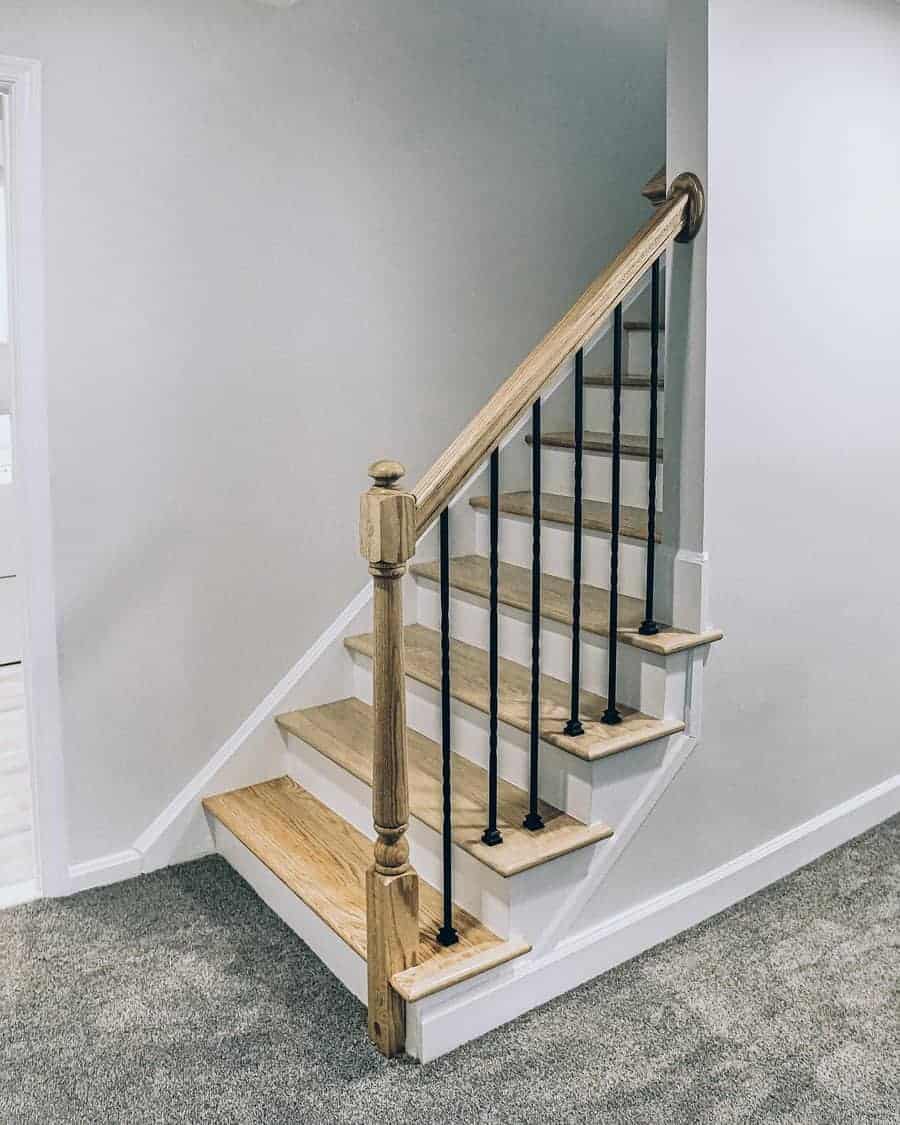 You can find vintage, antique, or salvaged iron staircase parts to give your new setup authenticity. This is a smart design approach because iron is incredibly durable and can last for decades longer than other building materials.
6. Stair Rail
A traditional stair rail is a long piece of wood that sits on top of the posts and balusters. You could keep your basement staircase design simple by doing this with your stairs. However, you could get creative with your staircase.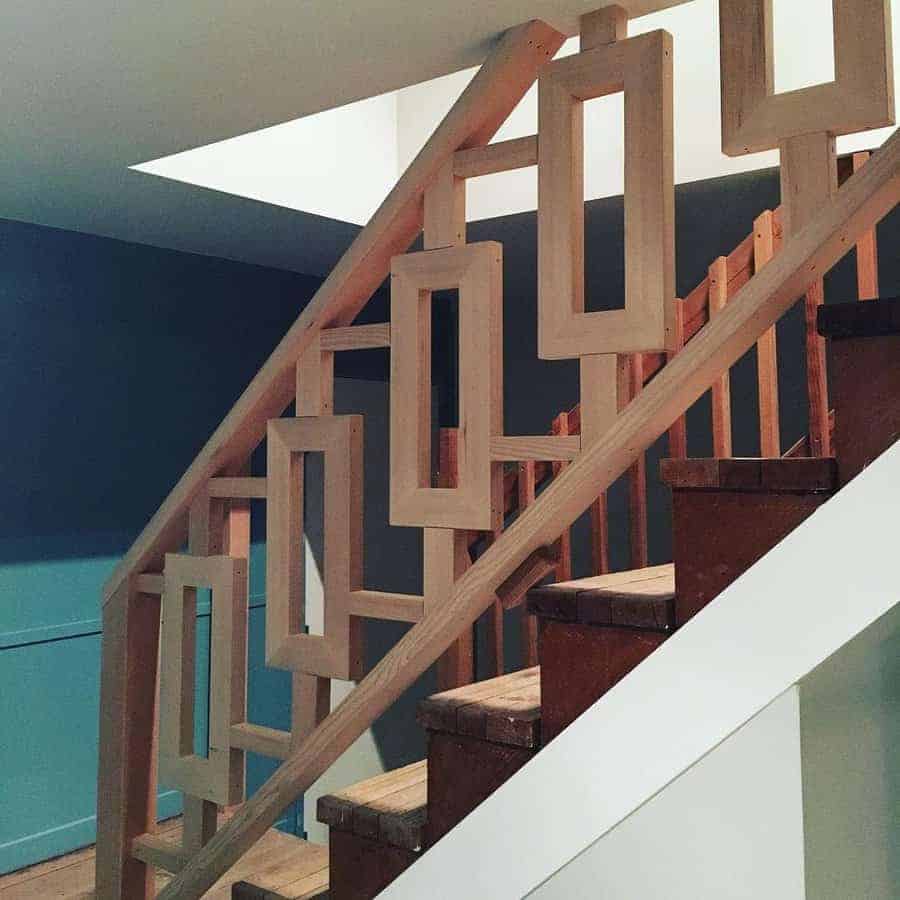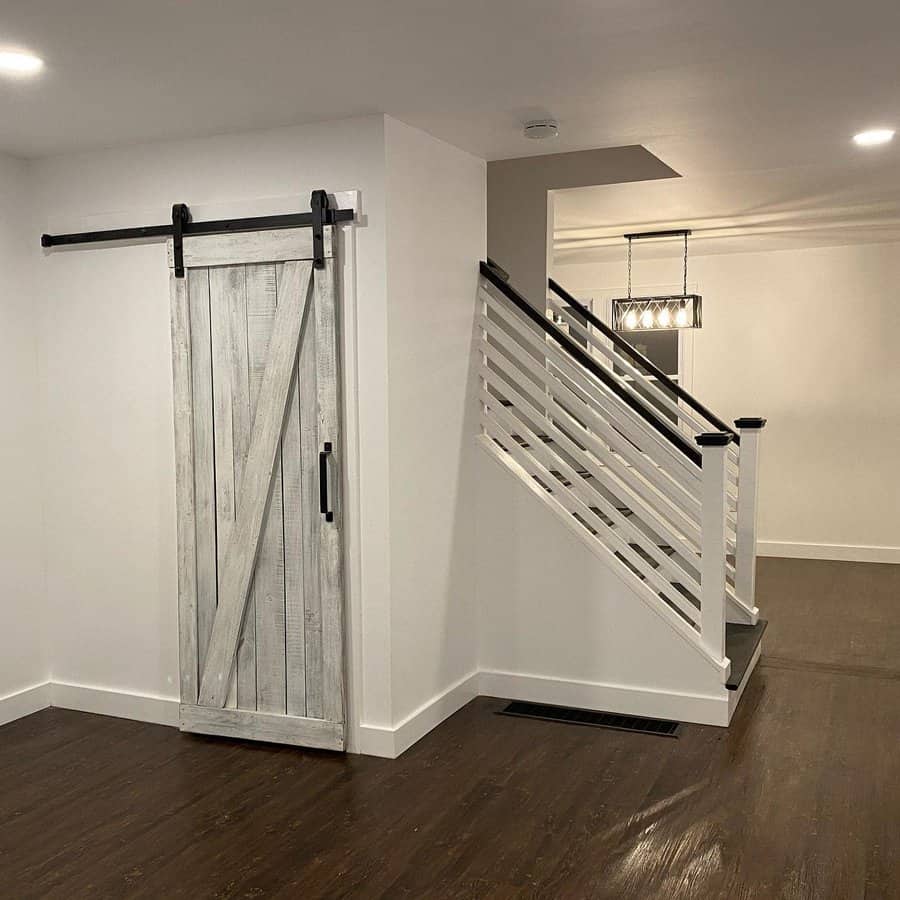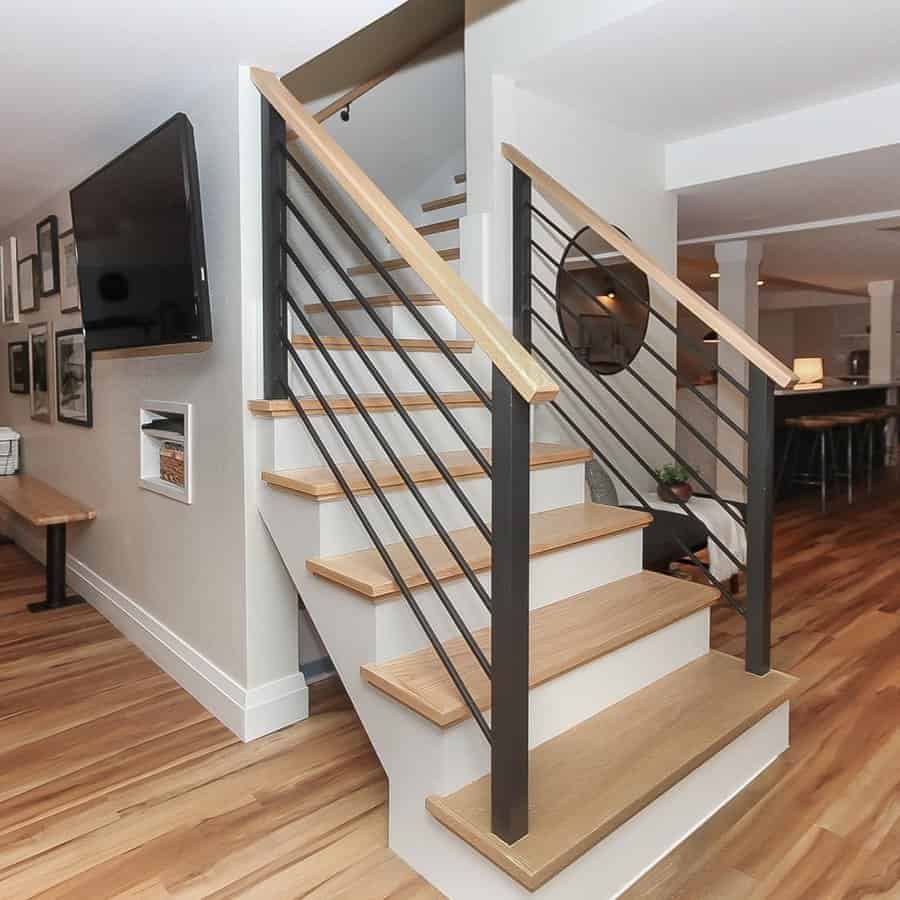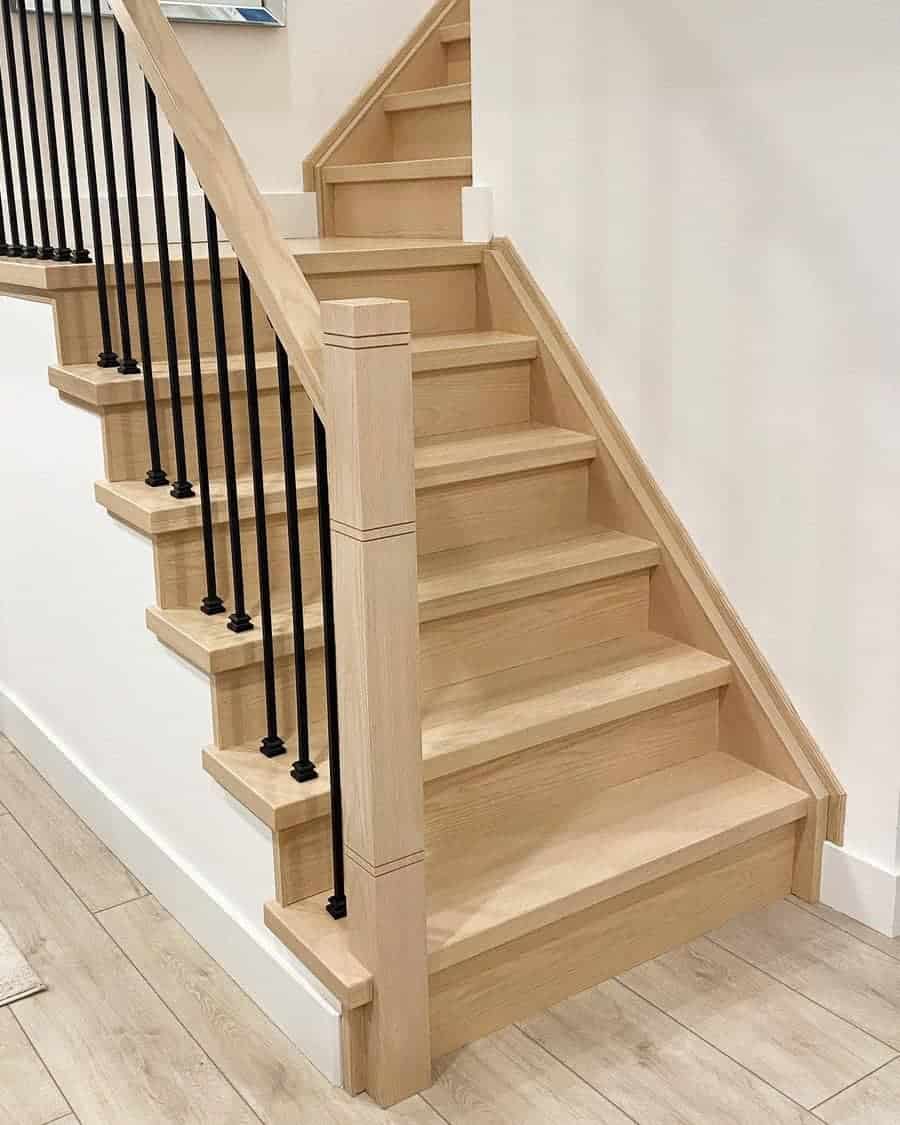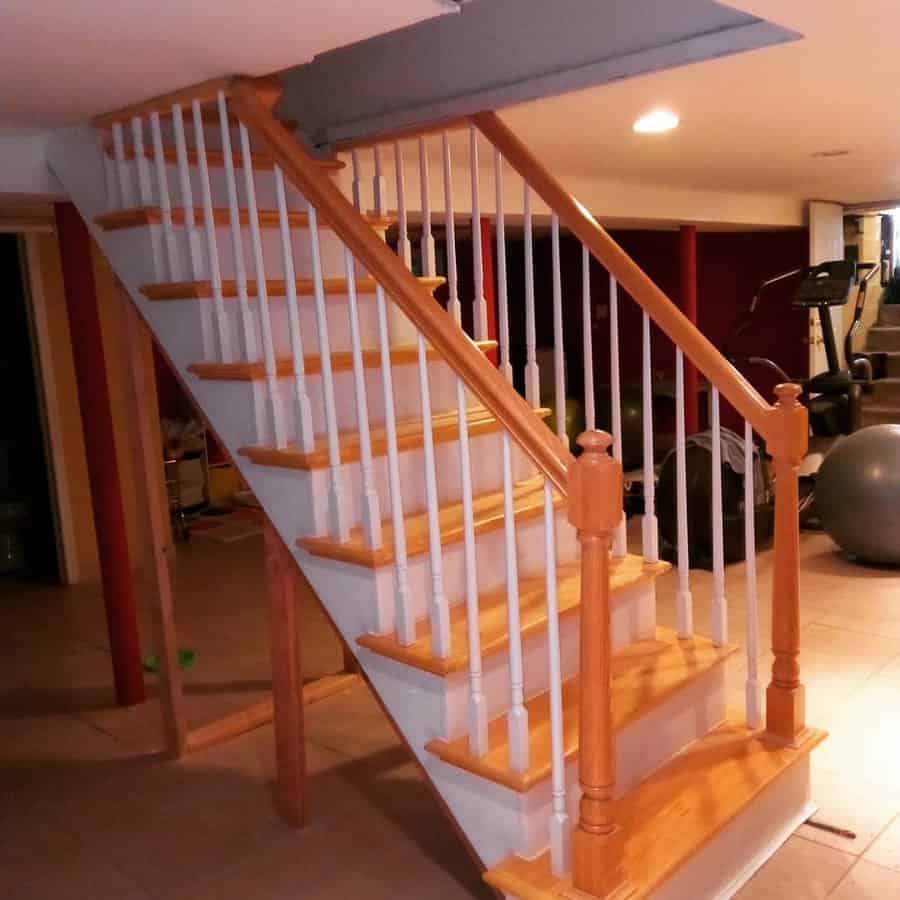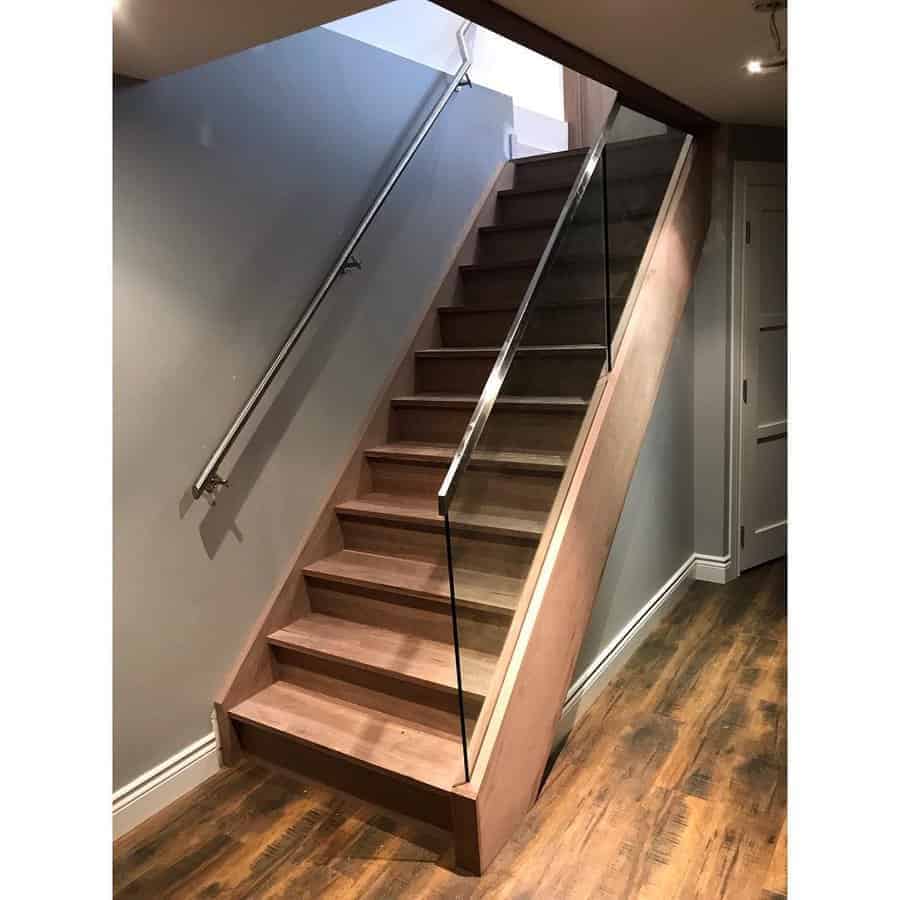 Instead, add a metal rail that creates a frame where cables get strung between the posts below. Or you could have large glass panels that give your staircase a modern look. For a rustic rail, you could use branches that are cleaned until smooth, polished, and woven together.
7. Understairs
As with all staircases, there is an awkward space under the stairs. It's where you go to access all of the stair parts from the backside. However, you can do so much more with this space. Look at stairs ideas to get inspiration for your space.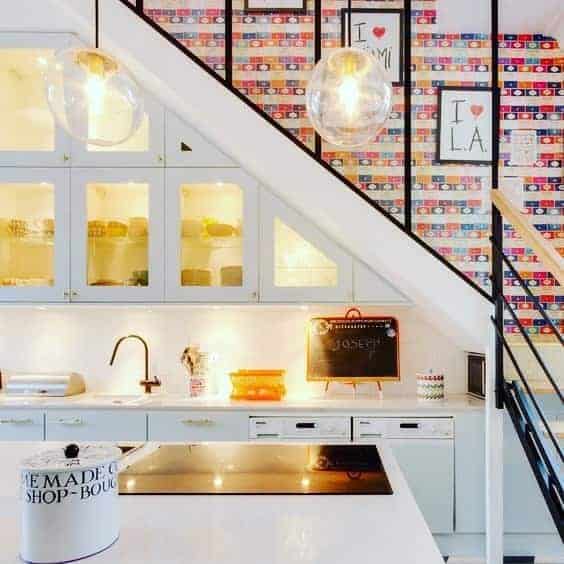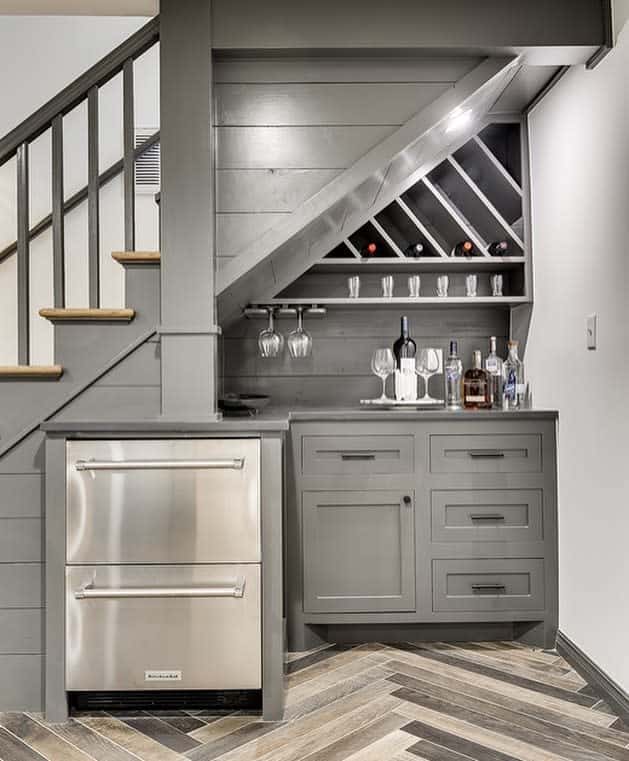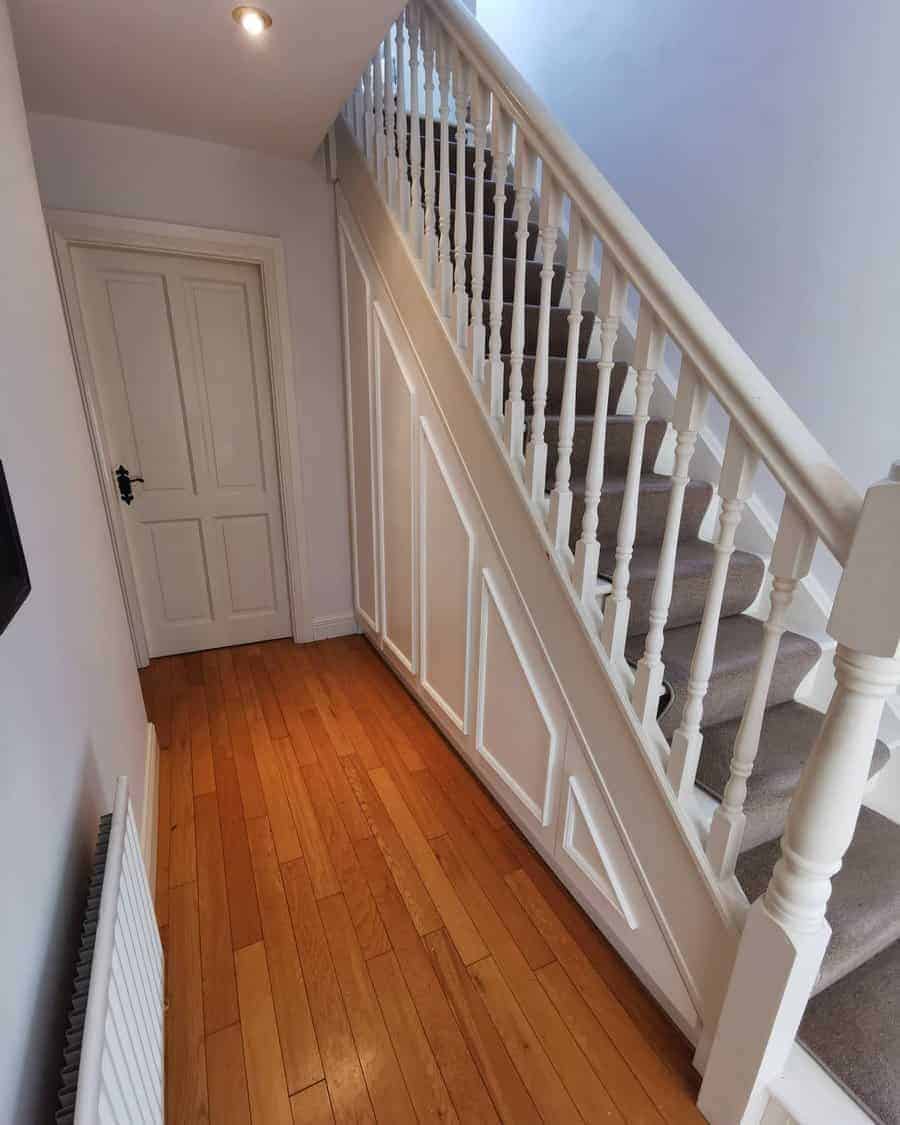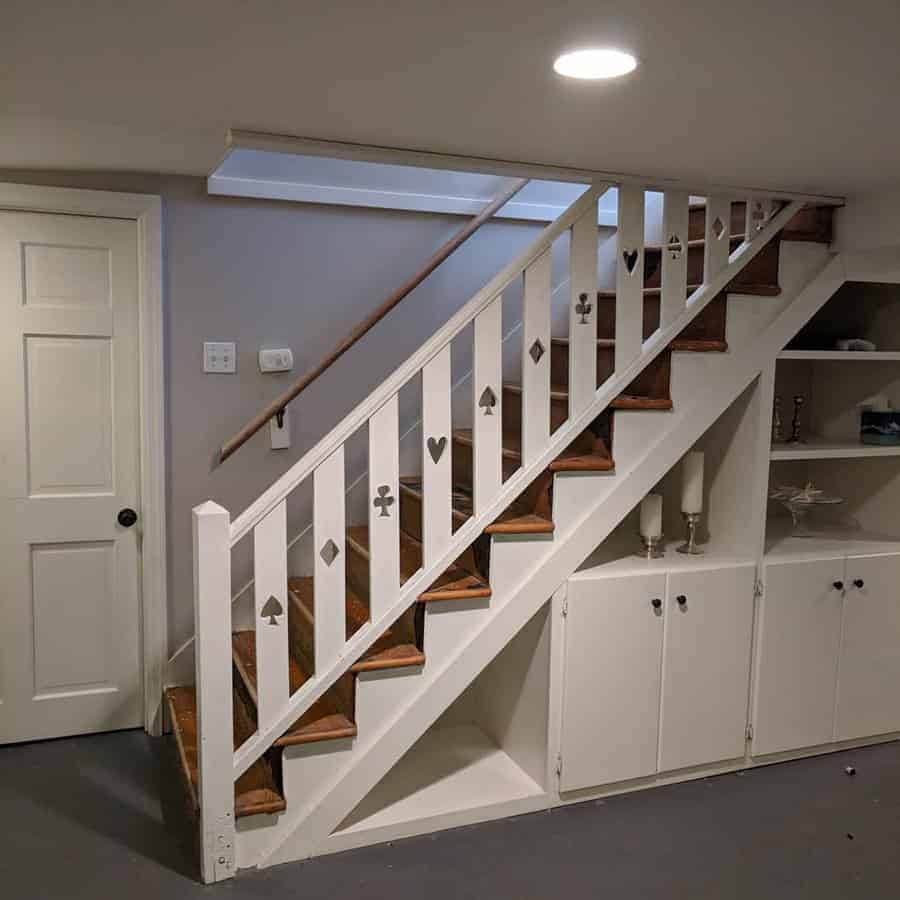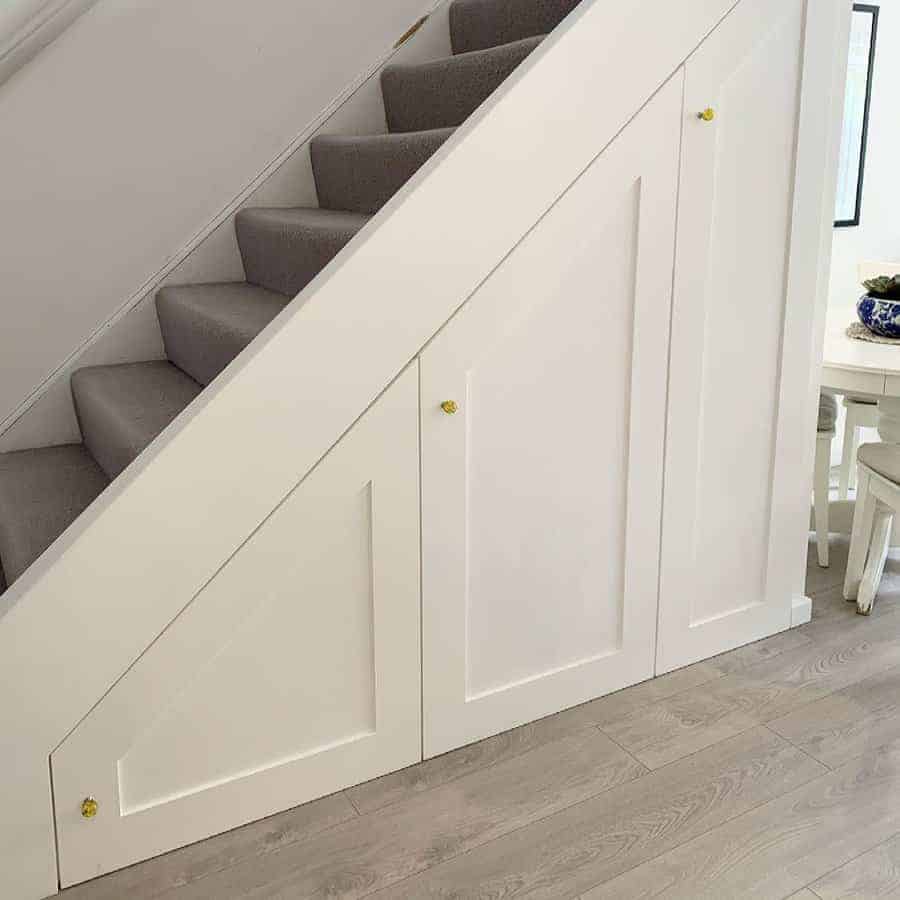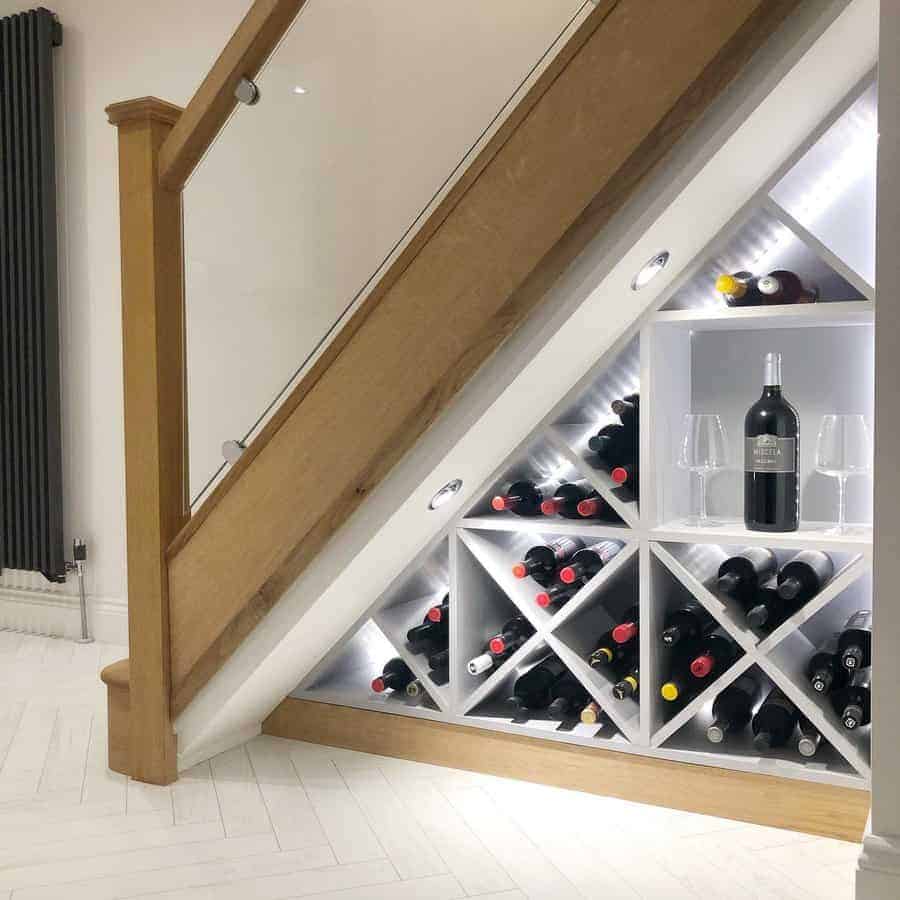 You could turn it into a pet den for your four-legged family member. You could build a workspace into it for a desk or add a chair and turn it into a reading nook. Create more storage by adding a built-in shelving unit or by adding drawers.
8. Wall
Placing your staircase against the wall reduces the amount of space that it requires. It's tucked neatly away so that the rest of the room is open. This also makes it easy to install a railing on the wall, making it safer to move up and down the stairs.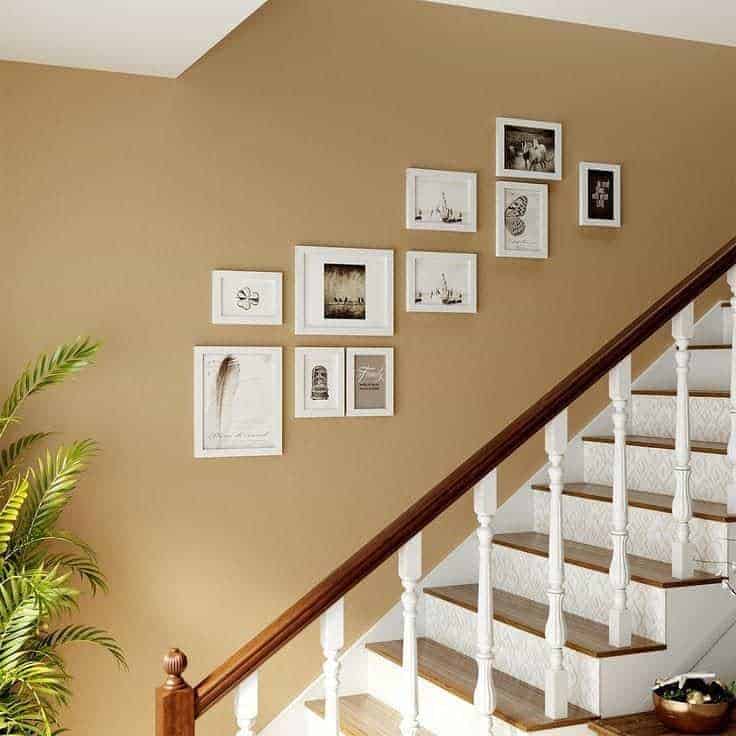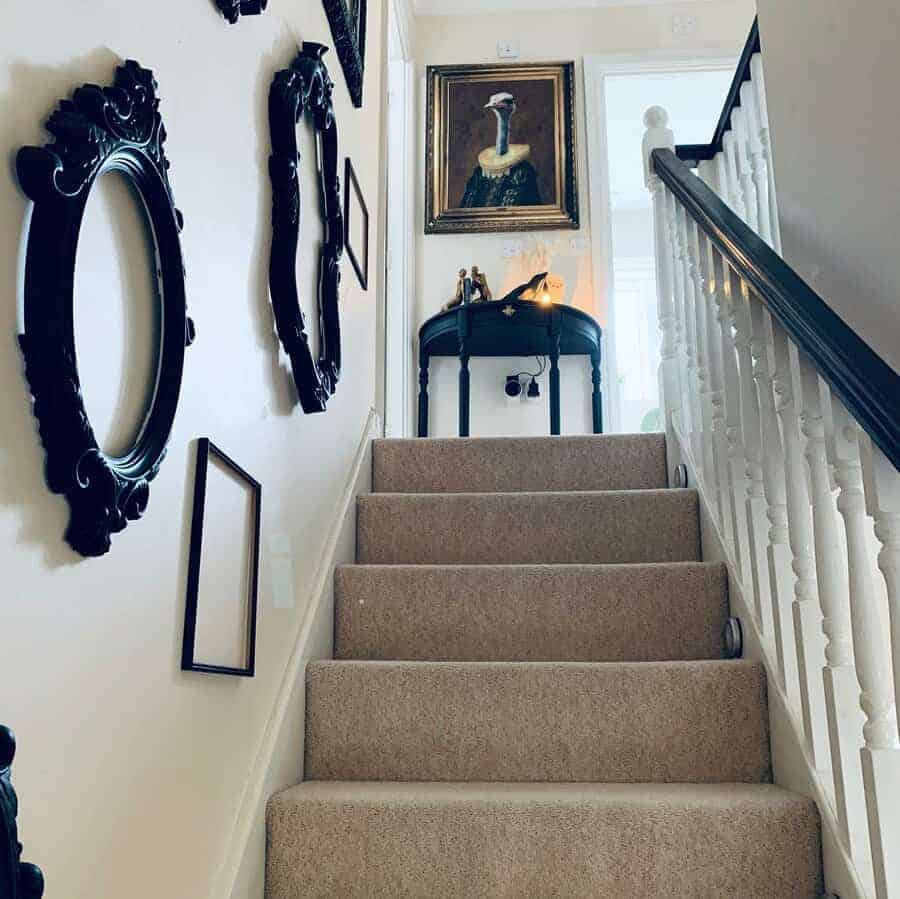 You can also decorate the wall, creating an accent in the basement. You could cover it in wood planks for a rustic touch. Or add decorative wallpaper for an elegant design. Painting it a bright color can set the tone of your basement early on.
FAQs
How do I make basement stairs more inviting?
If your steps are open, closing them in with risers can make them feel more stable and easier to walk up. Adding a handrail to hold onto also makes them feel more inviting. Adding color contrast to the steps can make it easier to walk up and down them, making them safer. Installing lighting is also important for making the space feel more inviting.
How do you fix a steep basement staircase?
If your basement stairs are too steep, then you can fix them by lengthening them. This means reducing the angle of the stairs so that it's a gentler slope downward. If you don't have the floor space for this, then your other option is to turn them into a spiral staircase. They tend to be steeper than straight stairs but are easier to use with the railing and take up less room on the basement floor.
How do I light my basement stairs?
You could install lights in the basement walls to illuminate the steps. Put the lights in the ceiling above you for a broader ambient light. For hidden lighting, install them on the underside of the railing. A modern option is to install LED strip lighting on the top of the stair riser on the underside of the tread on the bullnose. This illuminates each step.