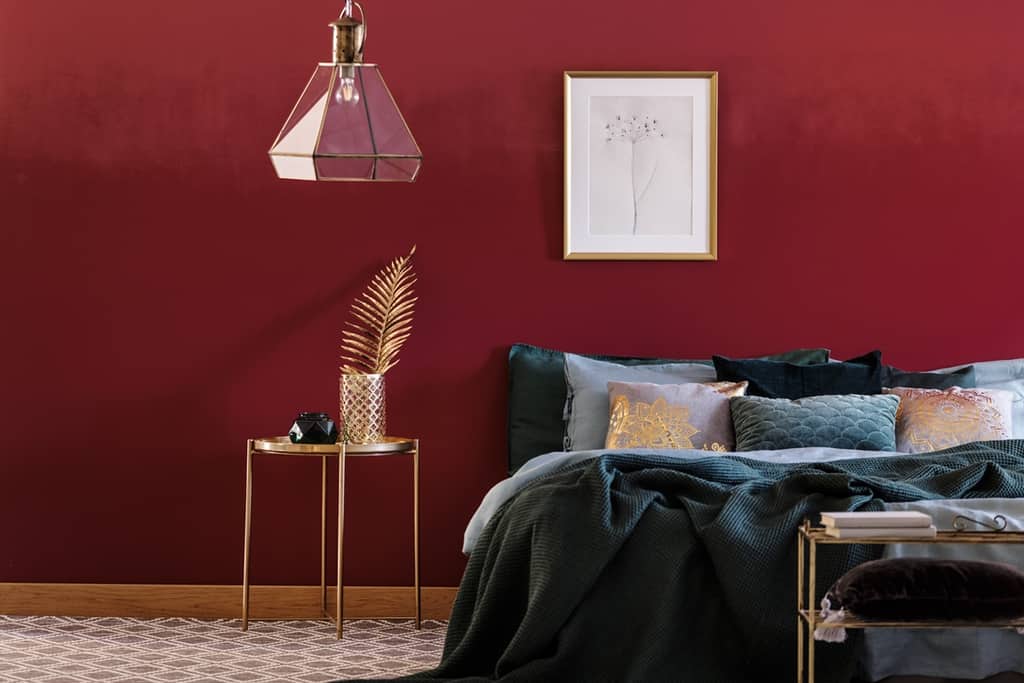 Best Bedroom Colors for Couples
Picking a color for your bedroom is challenging enough when it's just you. It gets even more complicated when two of you have to agree on a color. The perfect bedroom color for couples will be a color that creates the right kind of atmosphere and energy. This could be one that encourages serenity and comfort, or it could be one that is cheery and energizing.
These are the best bedroom colors for couples looking to update their bedrooms.
Choosing the Best Color For Your Bedroom
Picking a color for your bedroom is a personal choice. While each of these colors has feelings and emotions associated with them, they affect everyone differently. Your age, gender, personal experiences, and culture influence how you perceive and react to a particular color. Use this as a general guideline for each color while also keeping in mind how you feel about its color and its effect on your mental state, mood, and energy level.
Blue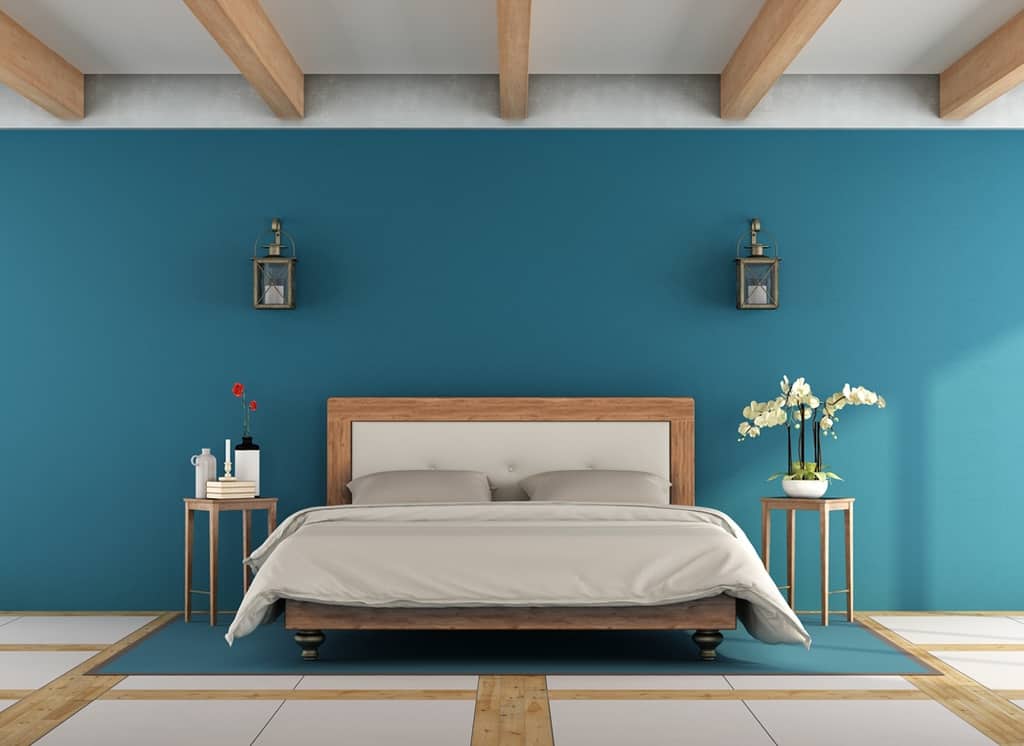 Choosing a blue shade will inspire feelings of tranquility and calmness. It's been shown that looking at the color blue reduces blood pressure and heart rate. There are sensors in the human eye that make us more sensitive to blue colors. Not only will your blue bedroom look beautiful, but it will actively help you achieve a better night's sleep. From the lightest shades that mirror the sky to the deepest ocean blues, you can't go wrong when choosing a blue shade. Pale shades will help your bedroom to feel less serious. Darker shades like indigo and navy will have a sophisticated feel. Modern designs have also embraced blues with a gray undertone. They have a muted look that makes them more flexible when decorating the rest of your room.
Blue Bedroom Color Palettes
Dark blue shades look beautiful when balanced with shades of white and cream. You can also soften dark shades with light gray shades. To brighten up the room, you could add accents of yellow or orange. Using shades of greens and teal mimics the colors of the ocean.
Green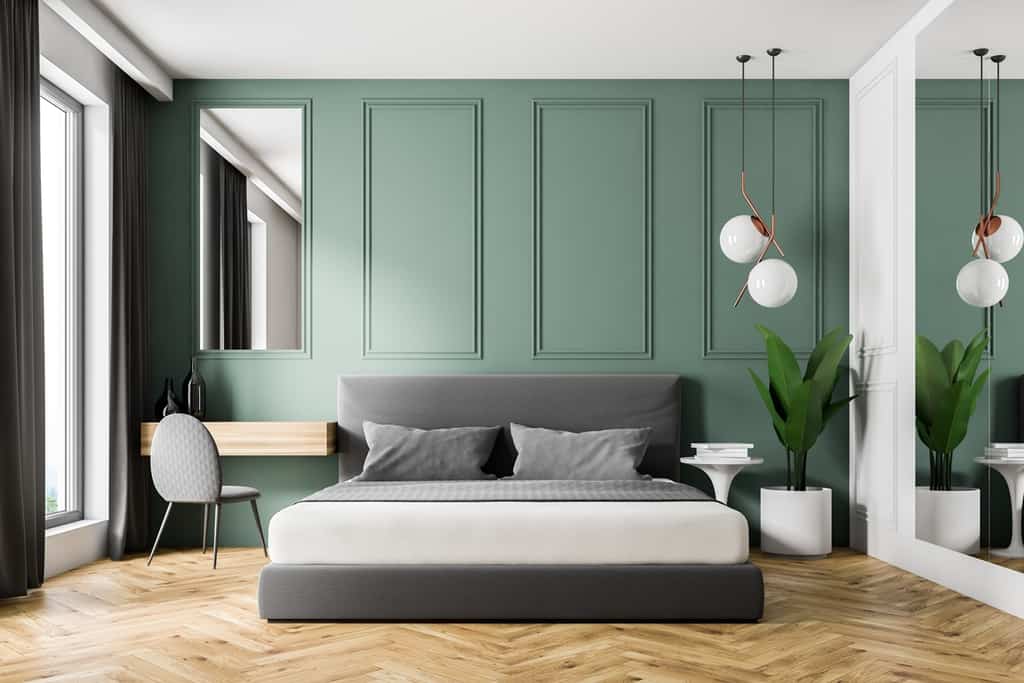 The second most popular color for bedrooms is green. It's another color that works in a wide range of shades. Green is the color of nature, inspiring feelings of vitality, life, and serenity. It can also bring feelings of prosperity and good luck in some cultures. Try using sage, olive, or even forest green for an earthy feel. For a refreshing feel, mint is light and bright. Saturated colors that make a bold statement are jade, teal, and emerald. These colors are richly pigmented, helping you to surround yourself with green. Darker shades of green can add a feeling of sophisticated luxury to your bedroom.
Green Bedroom Color Palettes
Embrace the colors of nature by using multiple shades of green. Keep the green colors you choose in the same color family for a coordinated look. Then keep it light and fresh with a light neutral like beige or cream. For a moody and darker color palette, accent your green with a rich brown or dark green that looks almost black.
Silver Gray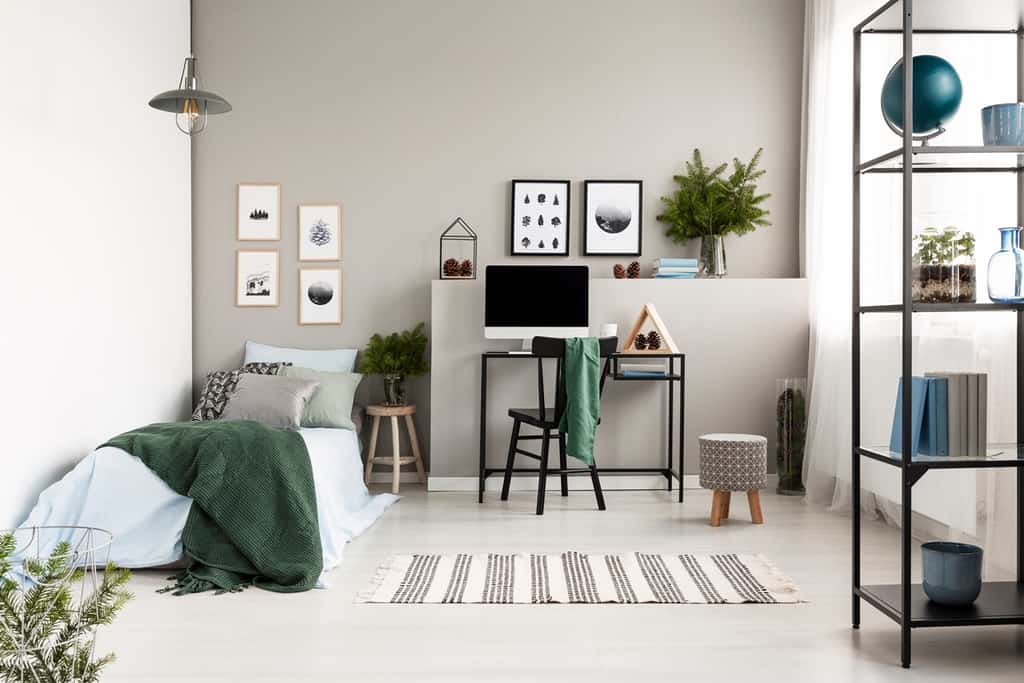 A modern trend that is becoming more popular among couples is embracing metallics as a color. Silver gray is popular because it mimics the color of the moonlight. Your brain associates it with night, which is when you sleep. So by association, using silver-gray in your bedroom will help you fall asleep faster thanks to its sleep-inducing and soothing qualities. To give this color a try in your bedroom, try metallic wallpaper and silver metal finishes. Silver gray colored paint will end up looking like light gray, which is not the same and won't have the same effect. A silver gray metallic will create a glamorous look in your bedroom while light grey won't.
Silver Gray Bedroom Color Palettes
Embrace the silver look by keeping your color palette light. Your gray colors need to have enough variation to create depth and visual interest, though. Once you have your primary set of grays, add highlights of dark gray that look almost black. This breaks up the gray and prevents your room design from becoming flat.
Dark Gray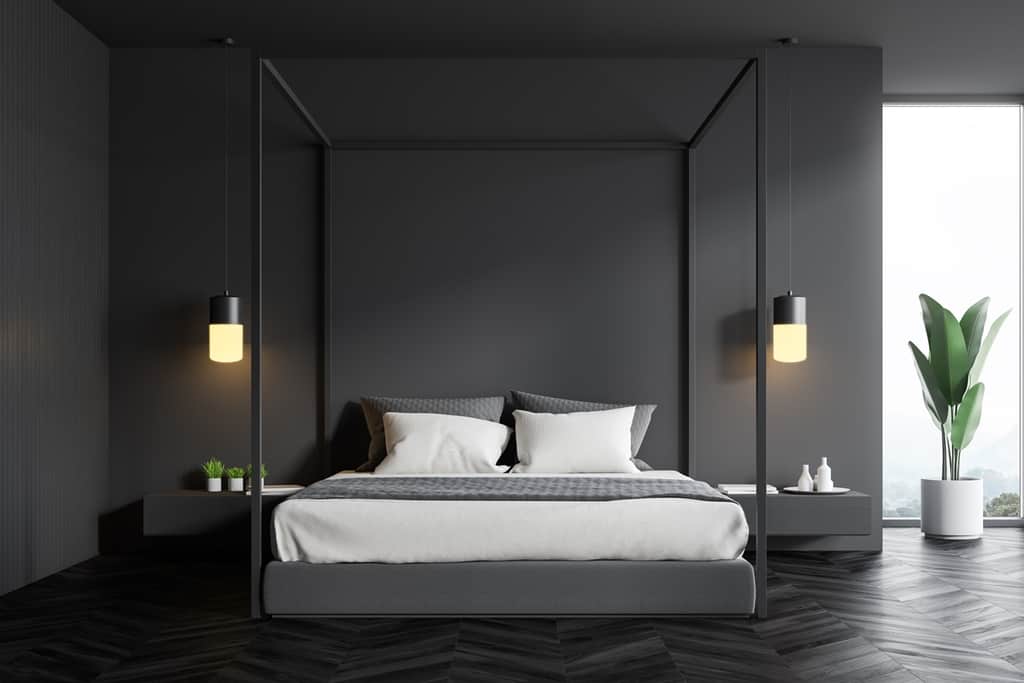 If silver-gray doesn't sound appealing, consider a gray at the opposite end of the spectrum. A dark gray like charcoal or gunmetal will have a grounding effect that will help you to feel stabilized and secure. Darker grays have a sophisticated look that is often associated with modern luxury. There is also a softness to the dark gray that helps it to feel more comfortable and less harsh than inky black.
If you decide to use gray, stick with either the lightest pale shades that are close to white or the saturated deep greys. The mid-tone shades are best left to the other rooms in your home. When used in the bedroom, they tend to feel depressing, isolating, and dreary.
Dark Gray Bedroom Color Palettes
Embrace the moodiness of dark grey by choosing other colors that have dark grey undertones. Think gray-blue or gray-green. You'll also want to add highlights of a light shade of gray to create depth. If you want to add touches of color to your gray room, try pale pink, mauve, turquoise, or mustard yellow. 
White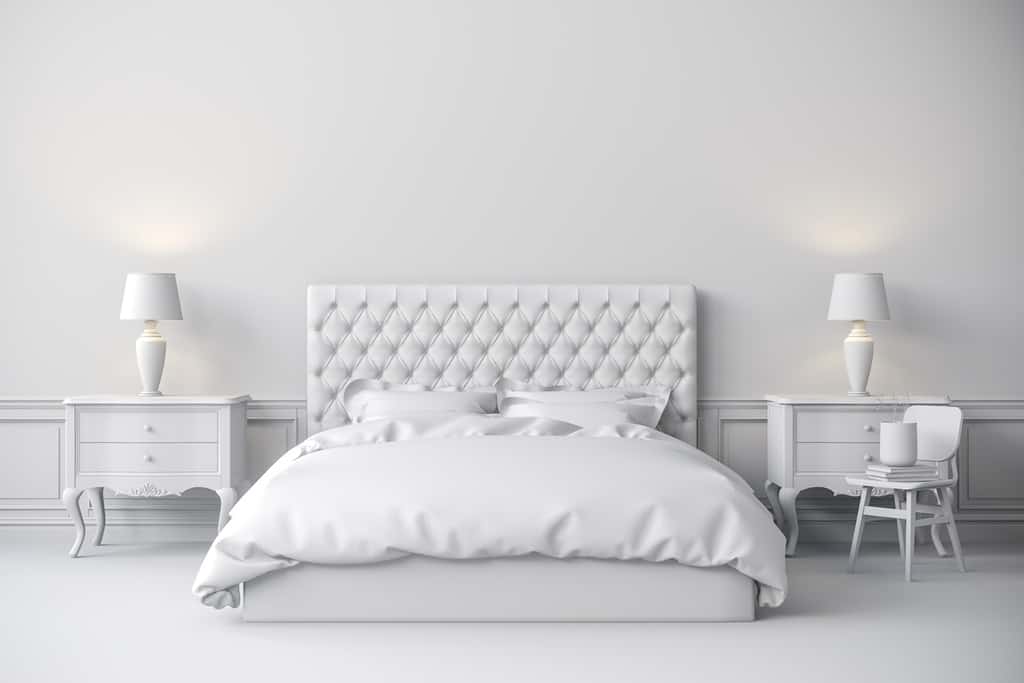 If you can't agree on a color, opt for no color with an all-white color scheme. White is clean, bright, and crisp. It's also the color of healing and serenity, which can make your bedroom the perfect place to clear your mind and mentally overcome whatever challenges you're facing in life. Not all whites are the same, though. Decide if you want a warm or cool white. Warm white colors like cream add warmth thanks to their yellow, pink, or orange undertones. Cool whites might feel sleek with blue or purple undertones.
White Bedroom Color Palettes
Add visual interest to your bedroom by choosing a white with a color undertone. Pure white is harsh and hard to match. White with a color undertone is easier to pair with textiles and furniture that will have its own undertones. 
Black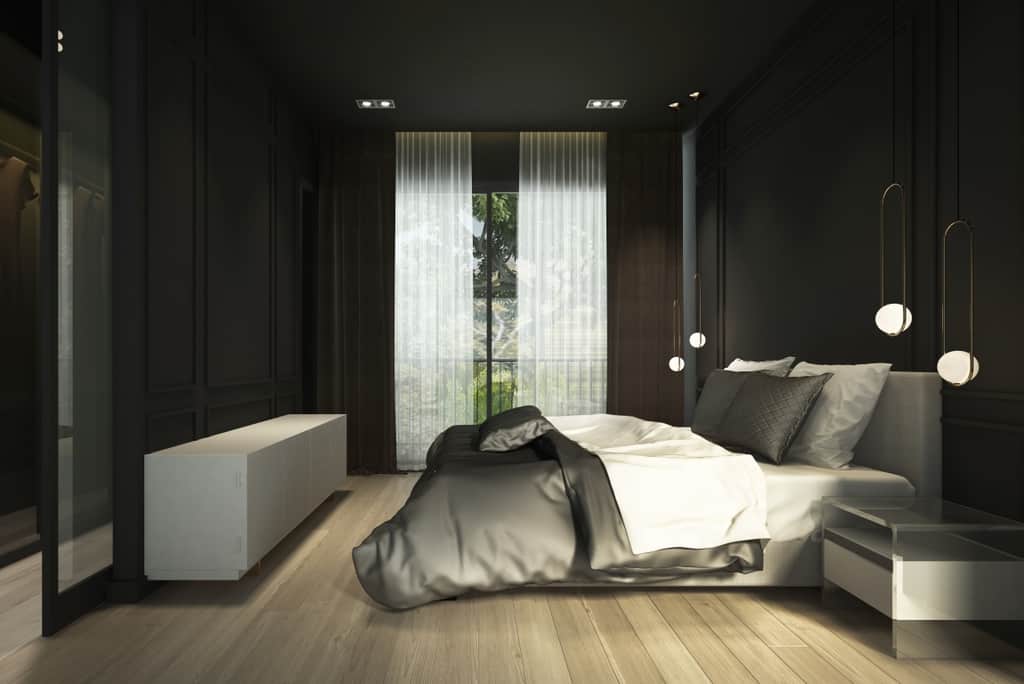 There was a time when people would never consider painting their bedroom walls black. It's a moody and dramatic color that makes a strong statement. However, modern design trends embrace the color black by using it as an accent color. Black can help create the ultimate dark space for drifting off into sleep. It can also help your bedroom feel cozy and intimate by bringing the space in. A black bedroom can look sophisticated and strong with a sense of formality and elegance. It takes someone with a strong sense of individuality and authority to embrace the color black in the bedroom. 
Black Bedroom Color Palettes
For a neutral bedroom, use only black, gray, and white in your bedroom. Keep the color palette dark and add metallic accents for a glam look. You could also add a touch of color with highlights of your favorite color. Black is technically the void of color so that it can work with any color.
Red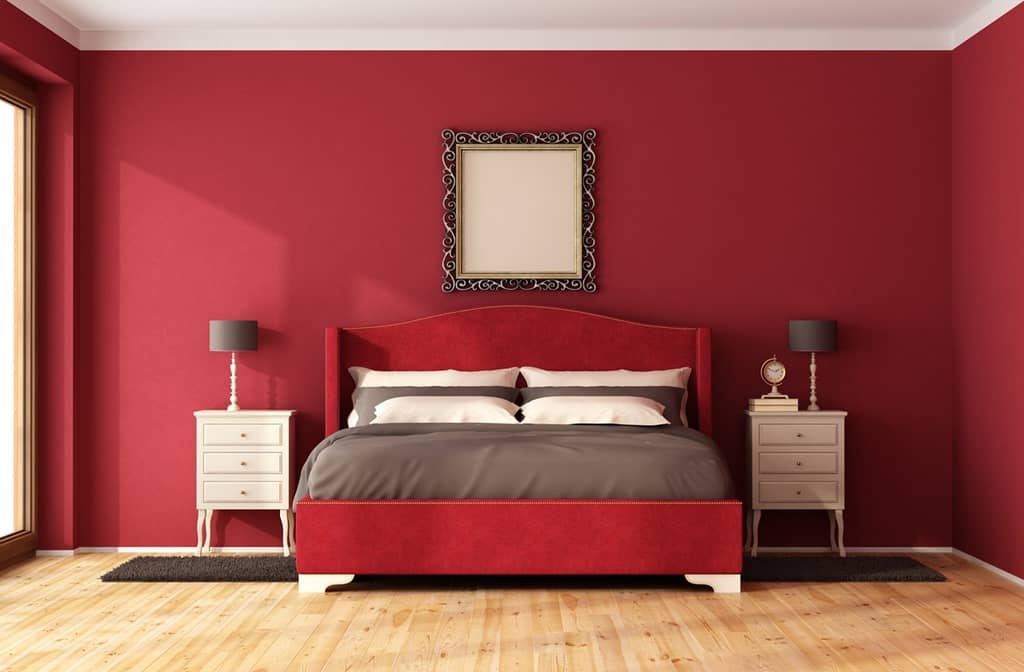 You'll commonly hear that red is a terrible color choice for the bedroom. However, this isn't necessarily true. In Chinese culture, red is the color of good luck and happiness. Who wouldn't want to inspire these feelings in their life? In Indian culture, red is the color of marriage. In Western cultures, red is the color of love, romance, and passion. It can be a bold and empowering color, helping you to feel more confident when you are getting ready to face the day. Choose a wine-inspired color to feature red without it becoming overwhelming or too intense. Do not use a primary shade of red as you would see on a fire engine. Additionally, avoid bright reds that you would see in a restaurant.
Red Bedroom Color Palettes
Because red is such a strong color, keep the rest of your color palette simple with white, cream, light gray, charcoal gray, or black.
Purple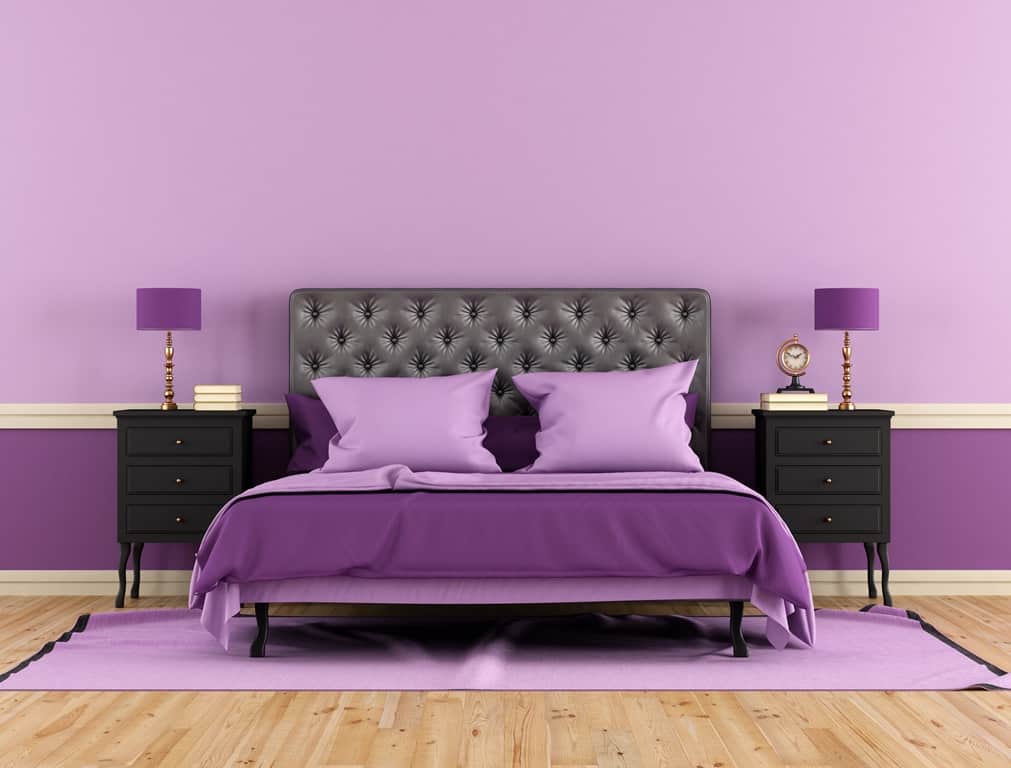 Not all purples work well in the bedroom. Because it is a hit-or-miss color, you need to be careful about the purple you choose. Highly saturated purples in plum or grape may be associated with luxury and royalty, but they are also associated with people getting the worst night's sleep. These colors are mentally over-stimulating and will make it impossible to relax. It also inspires feelings of creativity, which can lead to overly active and vivid dreams. If you like the color purple and want to use it in your bedroom, try a light shade like delight lavender. Then your brain will associate it with the smell of lavender, which is a relaxing scent. For a darker shade, try blackberry wine. This shade has black undertones and will be less intense than a color like plum.
Purple Bedroom Color Palettes
Light purples look beautiful with other light shades of purple or grey with purple undertones. You can add highlights with white or grey shades that have pink undertones. Deep wine purple shades look beautiful with teal, turquoise, and yellow. Embrace the saturation and vibrancy of the purple by choosing other richly-hued colors.
Earthy Neutrals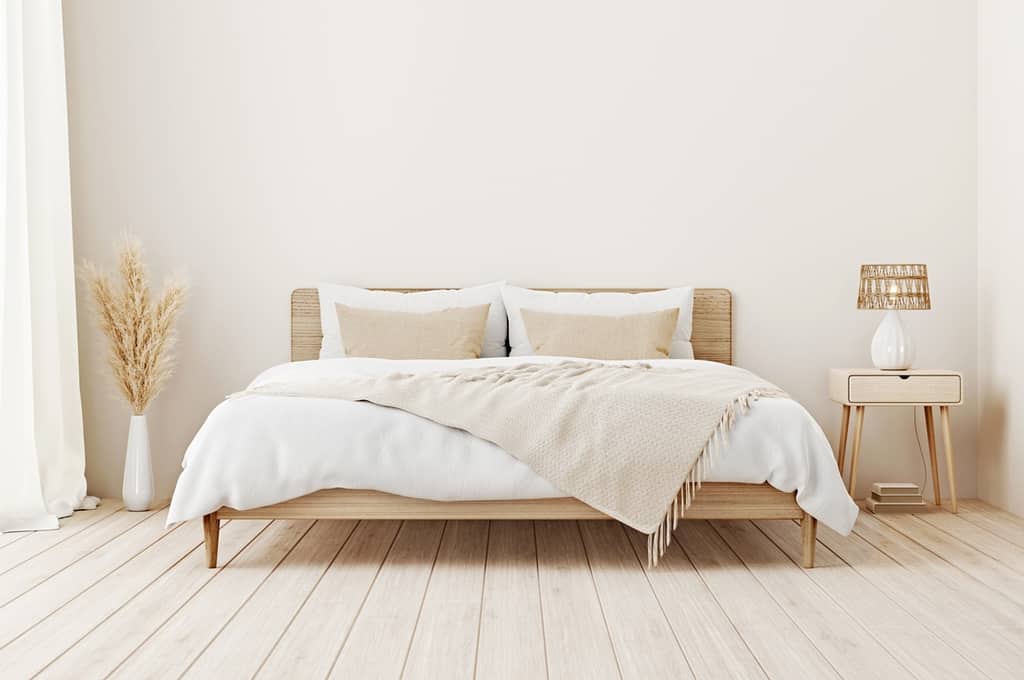 Create warmth and comfort in your bedroom by using earthy neutrals. They appeal to both men and women while also working with a variety of interior design styles. Instead of choosing just one, they work best when you use a combination of colors. Try using colors like sage, terra cotta, clay, and moss. Neutrals have a soothing and calming effect. Nneutrals inspired by nature also have a calming and recharging effect, similar to going on a walk through the forest. An easy approach to this color palette is to pick colors that are found in nature in your region. This brings the colors of nature right outside your home into the bedroom. This helps prevent your bedroom from feeling out of place. For example, if you live in the northeast, using colors from the American Southwest won't look cohesive.
Earthy Neutrals Bedroom Color Palettes
Focus on choosing colors that are naturally found in nature. Terra cotta, rust, deep blue, leaf green, dirt brown, and sandy tan are all good examples of earthy neutrals. The goal is to create a warm and welcoming bedroom that feels cozy and comfortable.
Yellow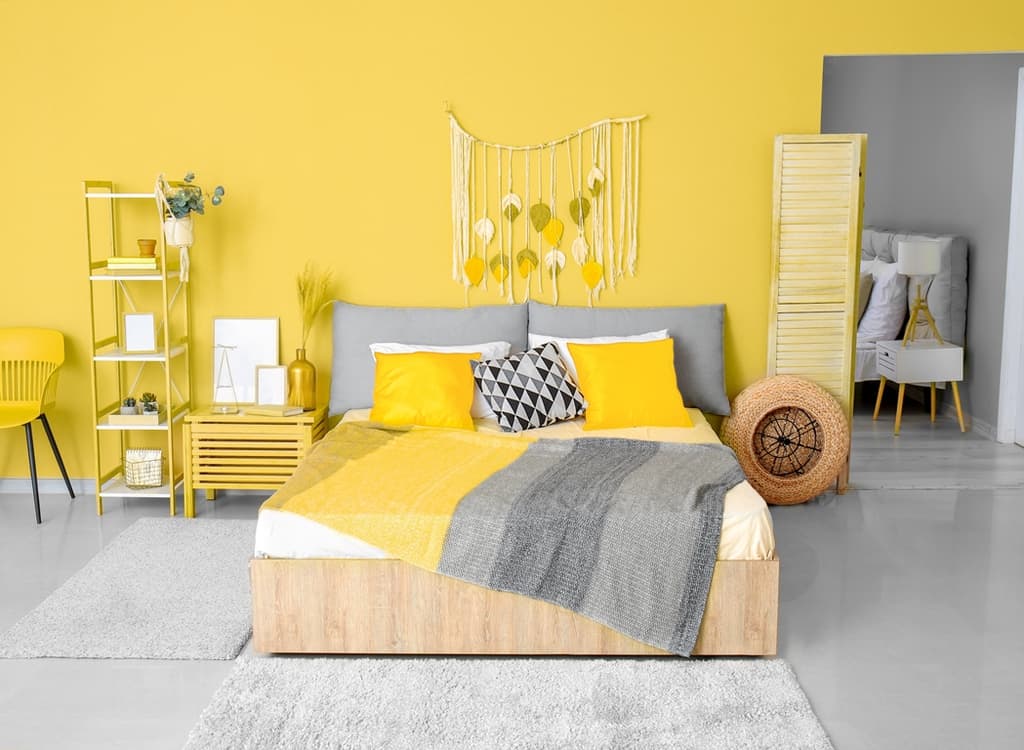 Paint your bedroom walls with a soft and pale butter yellow or saturated and bold goldenrod. These colors will stimulate your nervous system and calm your nerves. This helps you to feel less stressed or anxious. Yellow is also considered a warm color, helping to bring comfort into the space. It's also a bright color, inspiring feelings of positivity and energy. A word of caution, don't use a primary shade of yellow. This will be too intense and bright, making it difficult to fall asleep at night. 
Yellow Bedroom Color Palettes
Blue is one of the most versatile color palettes that work with a wide range of colors. From grey to green and blue, they all can look beautiful with yellow. Dark shades of these colors will balance a bright yellow and keep it from becoming too bright and overwhelming. Light yellow shades can add a nice touch to a light neutral color palette.
Orange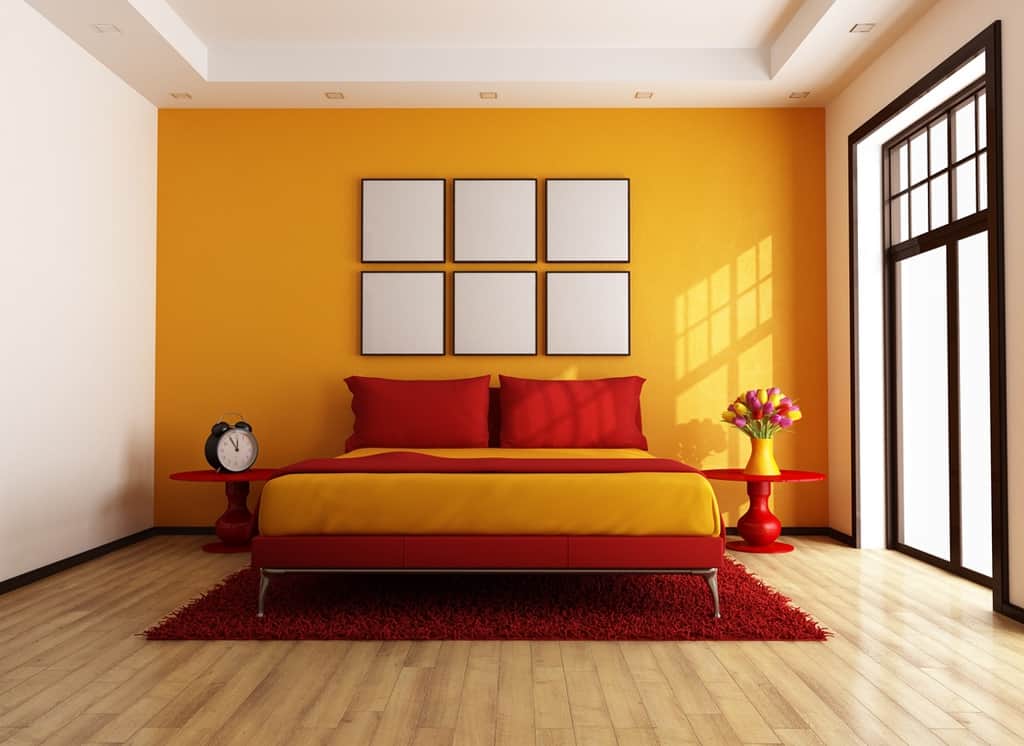 Despite orange being a less popular color for bedroom colors, it's one worth considering. From coral to melon and citrus, these colors bring energy and warmth into your bedroom. This can help you wake up in the morning and feel ready to face the day. Notice that these shades of orange are closer to the colors of the sunset and not the color of the fruit. If you're nervous about orange paint becoming too overwhelming, consider pairing it with a creamy white. This off-white accent mirrors the warmth of the orange while also softening it. Another option is to pair it with earthy tones to inspire the calming feeling of nature.
Orange Bedroom Color Palettes
The color palette you use with your orange shade will depend on the orange you're using. Light and bright oranges look best with yellow, white, blue, and peach. Darker orange shades can give your room an American Southwest feel with bold patterns, turquoise, and teal.