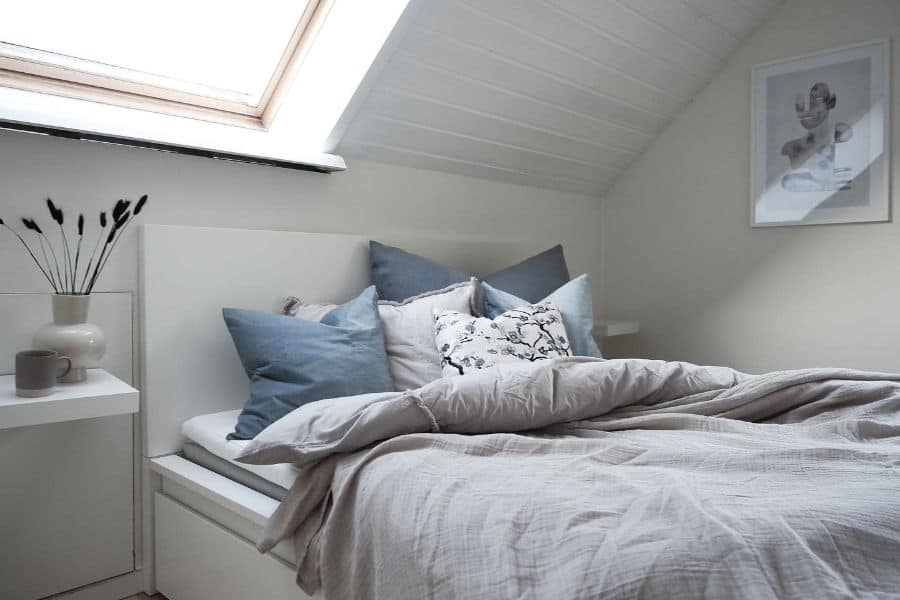 The Top 63 Grey Bedroom Ideas
"Life isn't black or white, it's all sorts of shades of grey." – Nicky Morgan
Grey bedroom ideas are popular because this neutral color has a broad appeal. It gives the master bedroom a sophisticated and fresh feel without being as harsh as a white or black bedroom. There is a range of shades from an almost black charcoal grey to a barely-there pale grey. You can also easily pair it with other colors for a multi-dimensional color scheme.
Check out these fresh grey bedroom ideas and give your bedroom a much-needed update.
1. Grey Accent Wall
Elevate your bedroom's style and create a serene retreat with the use of a grey accent wall. Grey is a versatile and sophisticated color that can set the tone for a calming and chic space. Consider painting one wall in a soft shade of grey, or opt for a textured wallpaper for added depth and interest.
A plain grey accent wall provides a clean and minimalist backdrop, allowing other elements in the room to shine. It serves as a soothing canvas, allowing you to play with different color schemes and textures in your bedding, furniture, and accessories. On the other hand, a decorative grey accent wall can add a touch of drama and visual intrigue to your bedroom.
Explore options like geometric patterns, faux finishes, or even a gallery wall of framed art in various shades of grey. This creates a focal point that draws the eye and adds a personal touch to your space.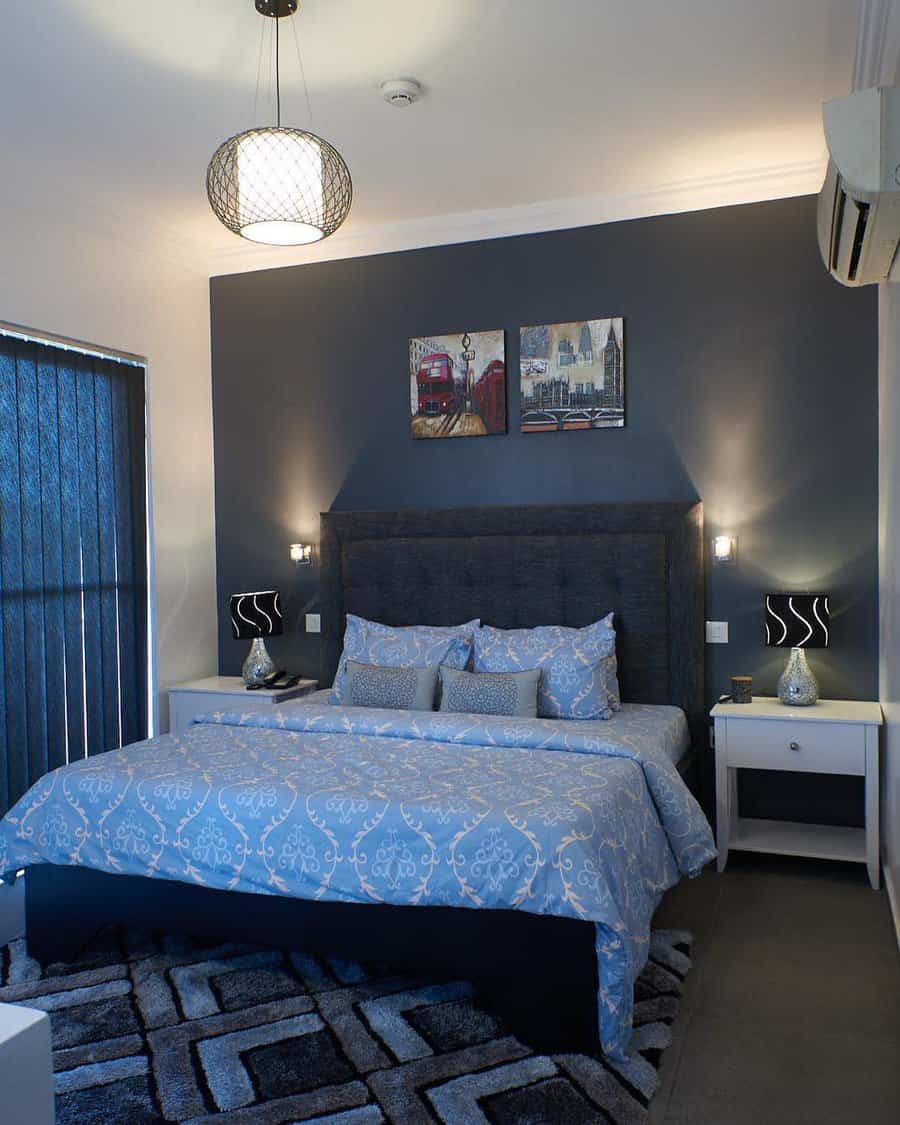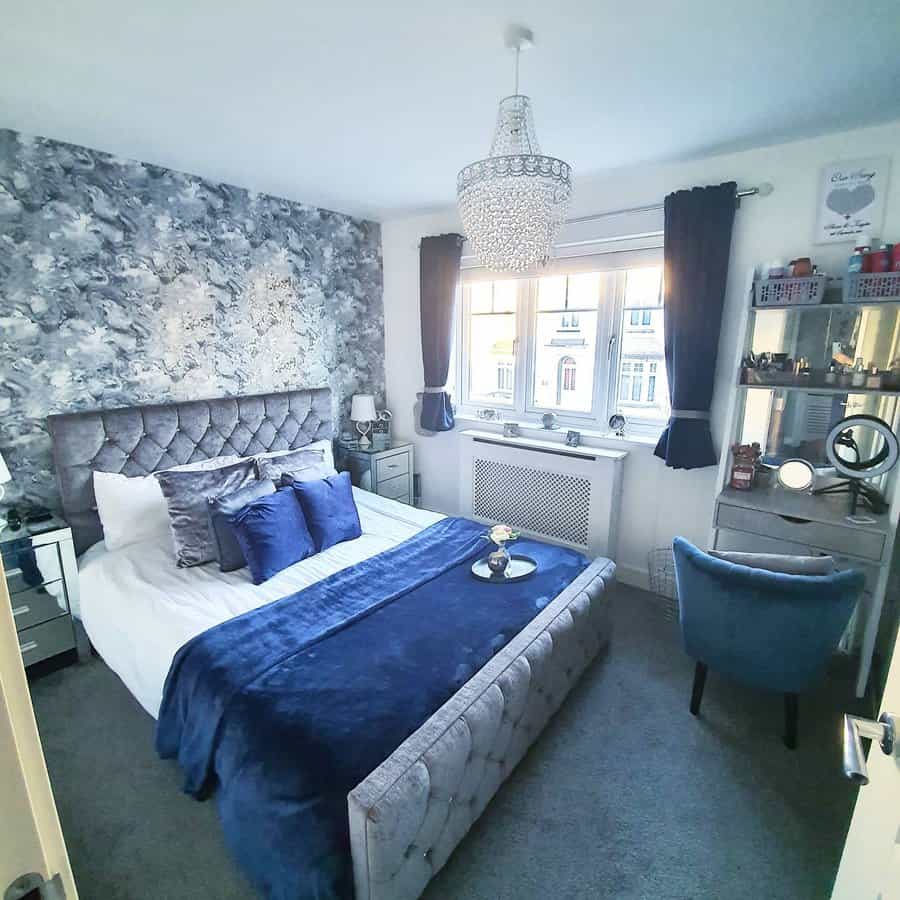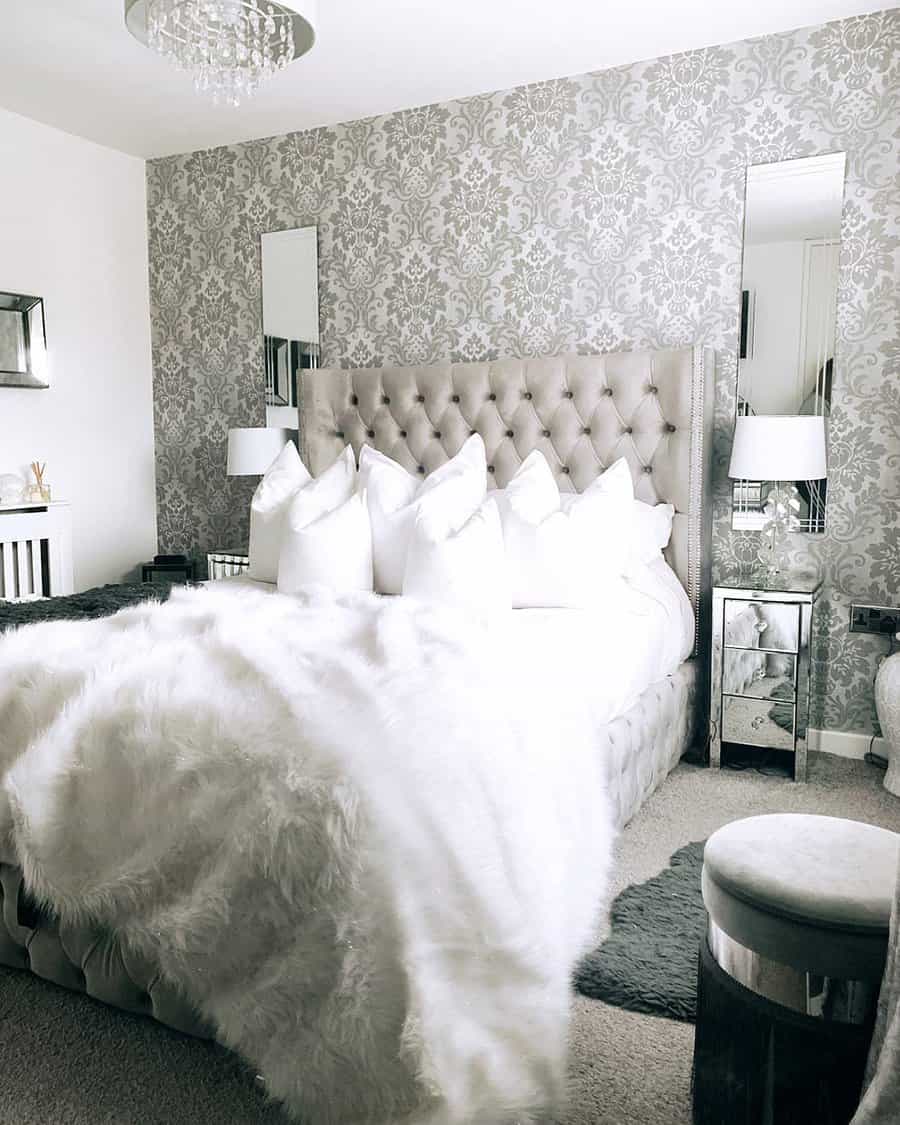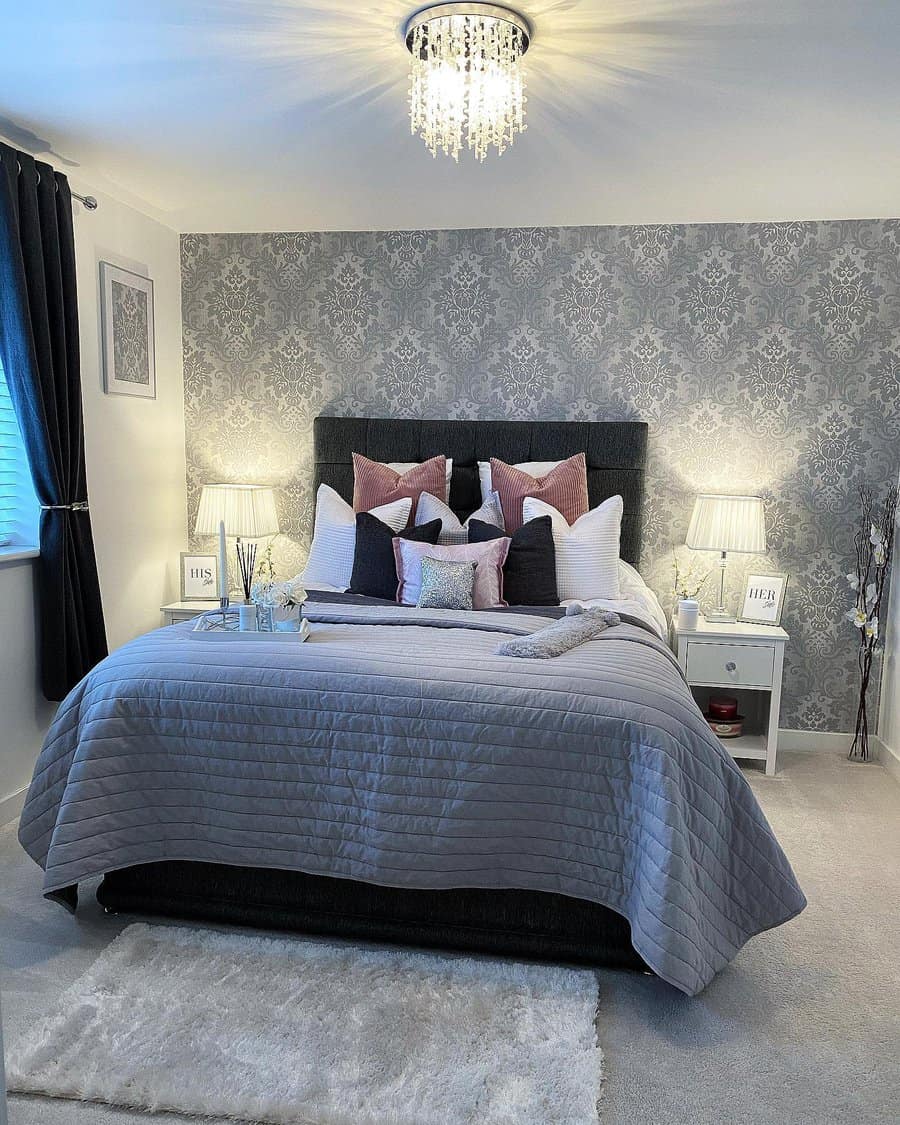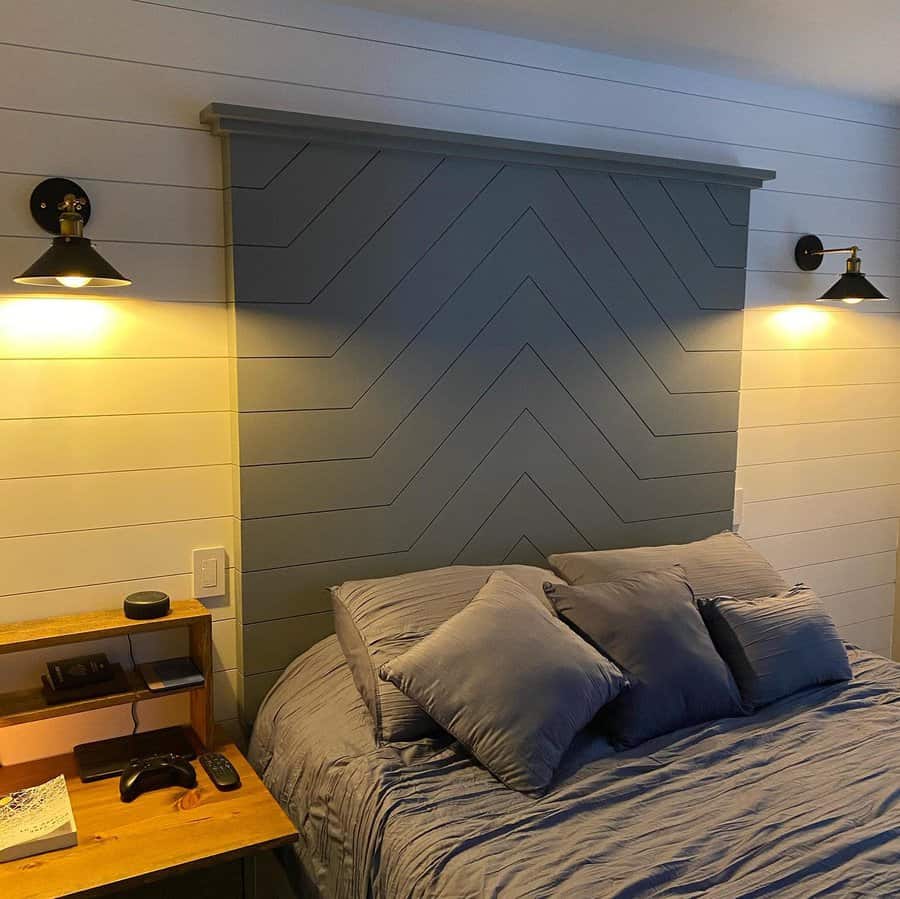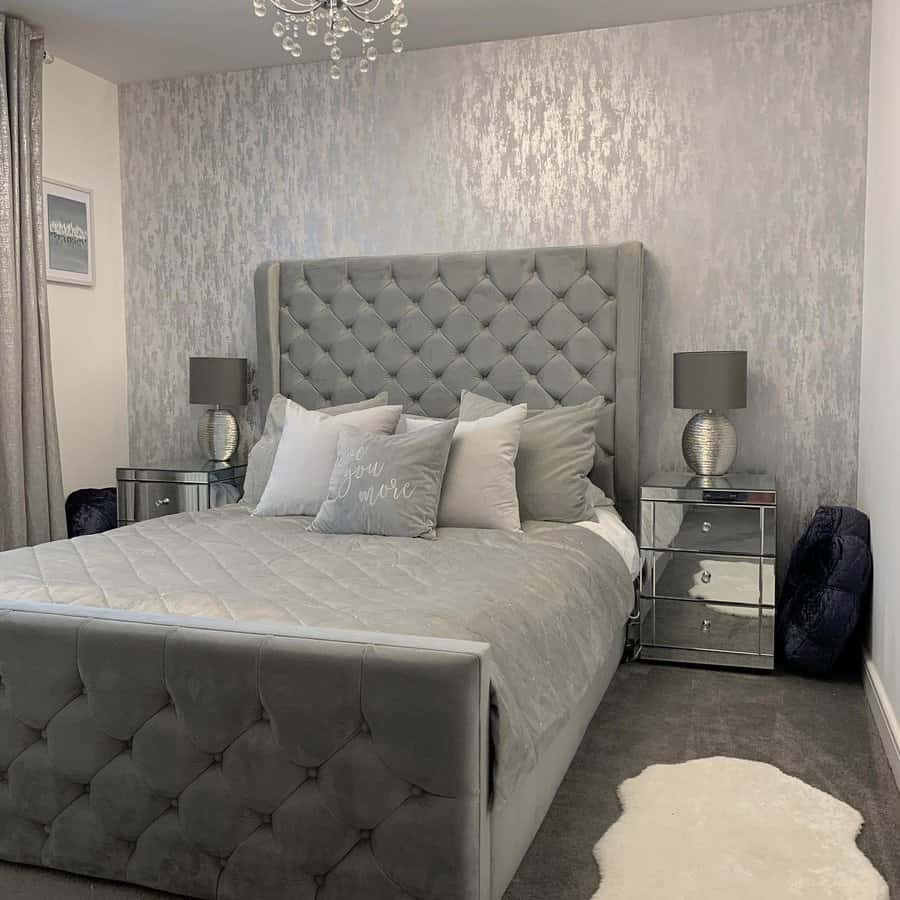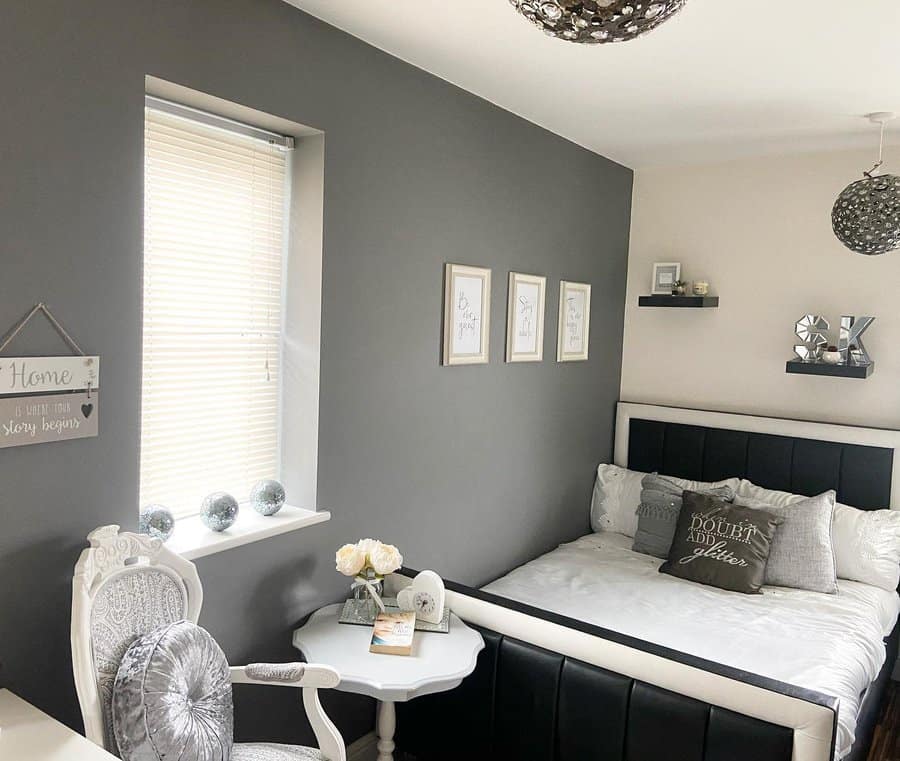 2. Grey Wall-To-Wall Carpeting
Grey is a versatile and elegant color that effortlessly blends with various design styles, making it an ideal choice for your bedroom flooring. The plush and cozy texture of the carpeting will invite you to sink your feet into its softness every morning, providing a comforting start to your day.
The neutral grey hue acts as a soothing backdrop, allowing you to play with different accent colors and decor elements. Pair it with crisp white bedding for a clean and minimalist look, or add pops of color with vibrant throw pillows and artwork. The grey carpeting sets a calming tone in the room, promoting relaxation and tranquility for a restful night's sleep.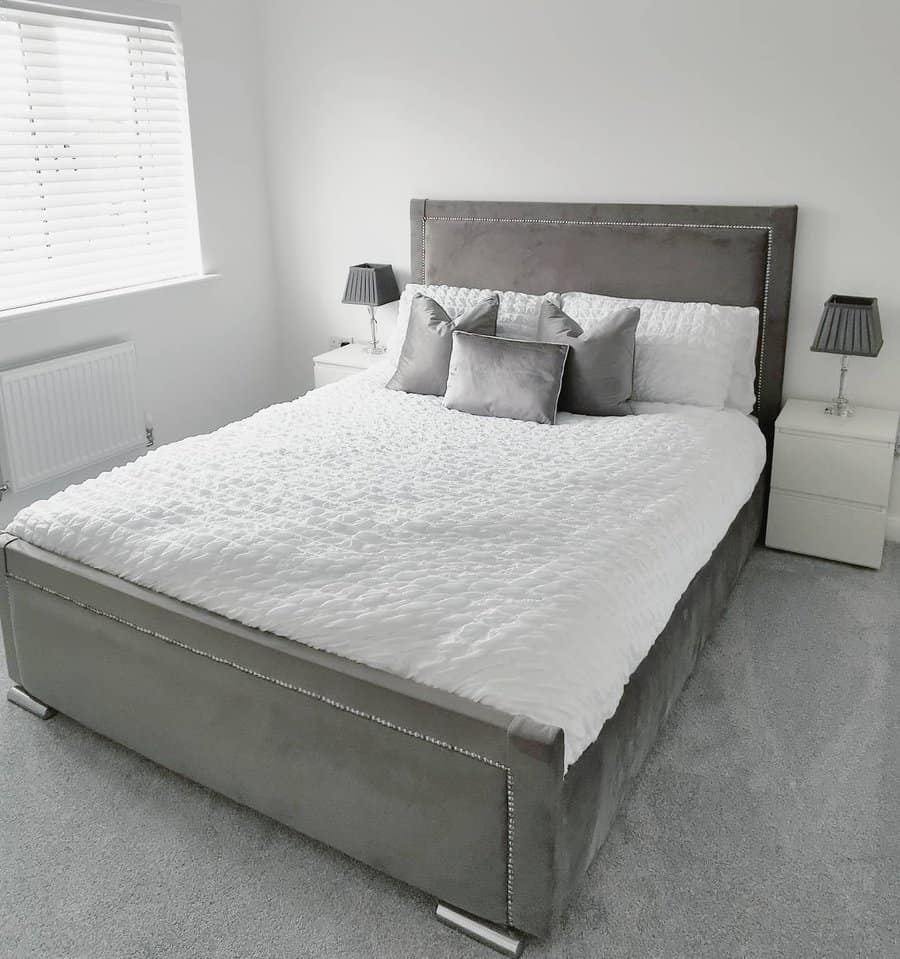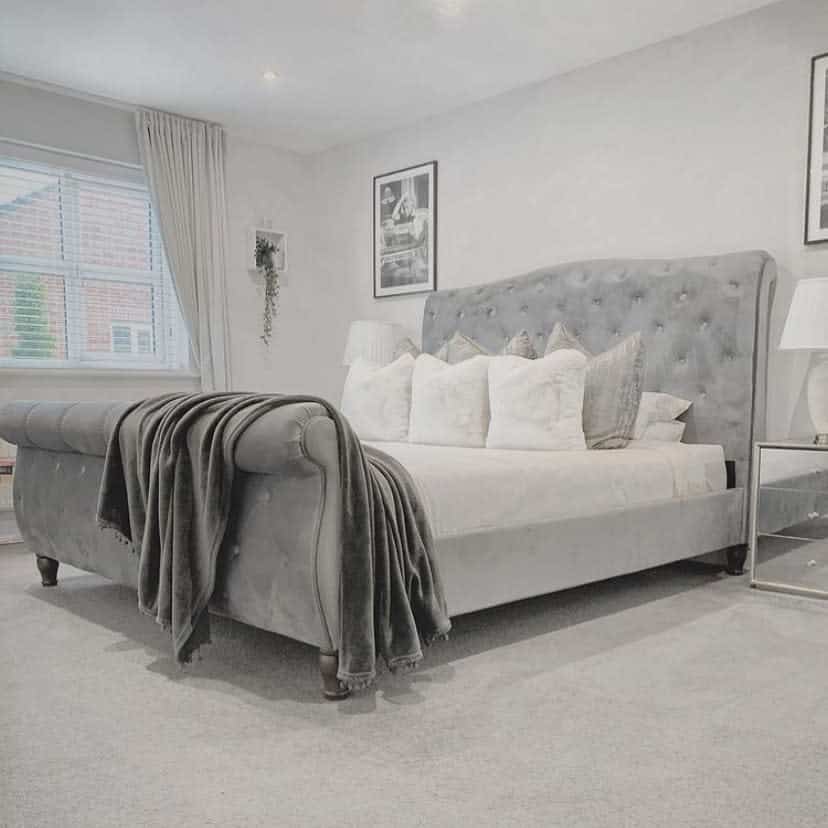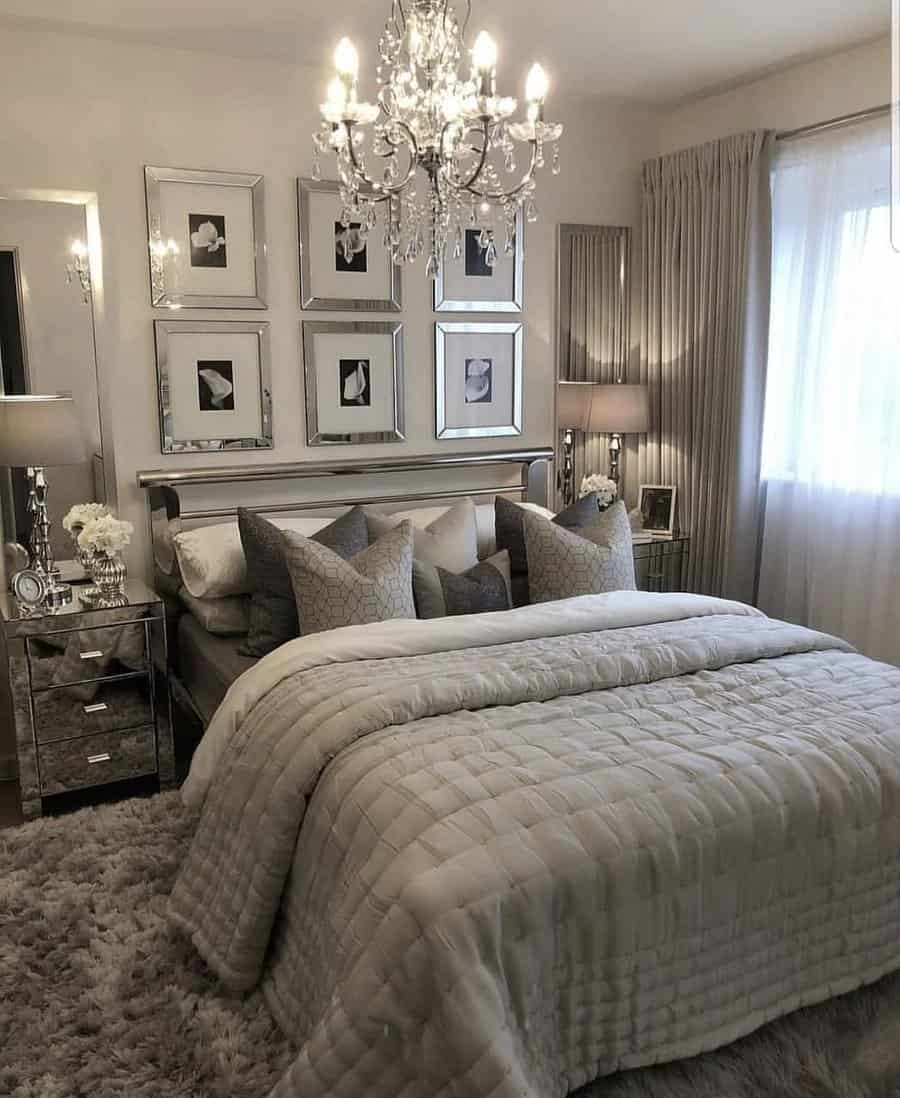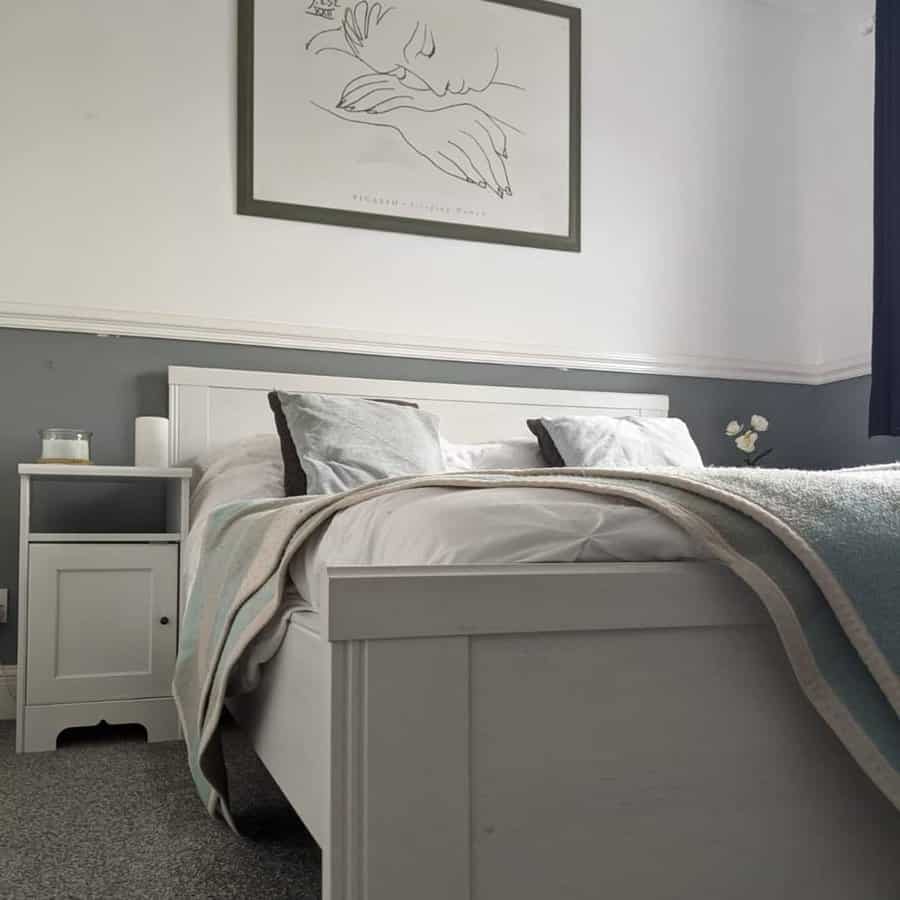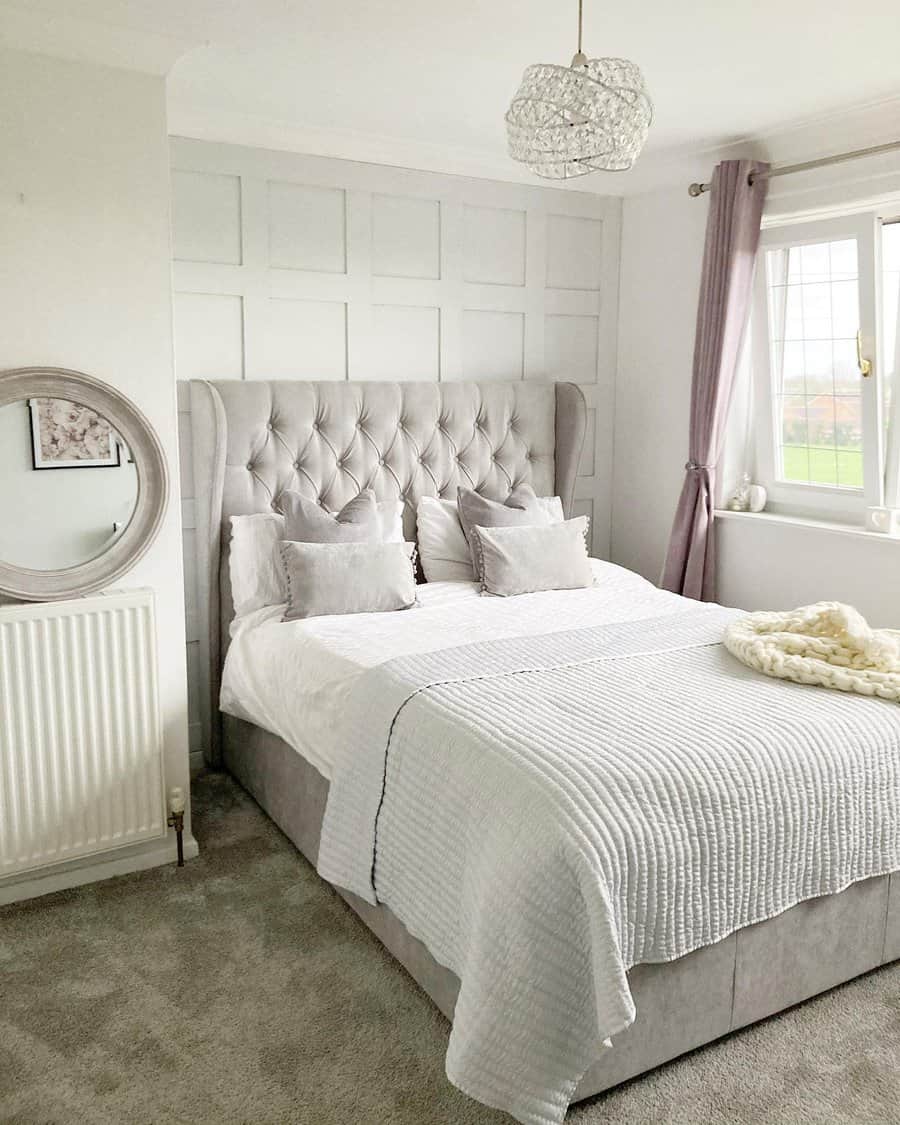 3. Matching Grey Bed & Vanity
Opt for a matching grey bed and vanity to establish a cohesive look that exudes effortless style. A grey bed can serve as the focal point, providing a neutral canvas for you to layer on luxurious bedding and plush pillows in complementary shades. Pair the bed with a sleek and stylish grey vanity, complete with a mirror and ample storage space for your beauty essentials.
This combination not only creates a harmonious aesthetic but also offers a functional and glamorous setup for your daily self-care rituals. Enhance the overall ambiance by incorporating accent pieces in coordinating tones, such as silver or metallic accents, to add a touch of glamour and sophistication.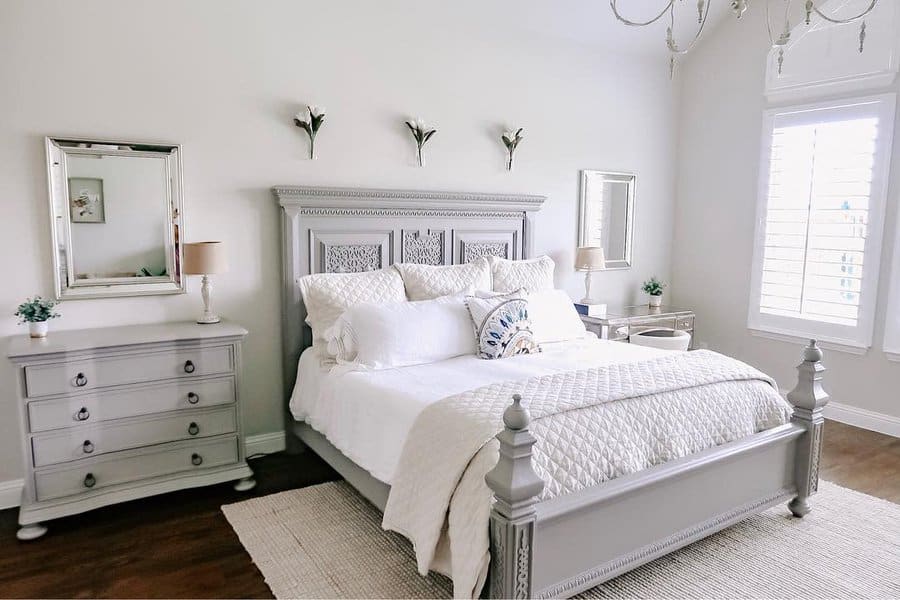 4. Grey Headboard
Grey is a versatile and sophisticated color choice that brings a sense of calm and tranquility to any space. Whether you opt for a plush upholstered headboard or a sleek and modern design, a grey headboard effortlessly becomes the focal point of your bedroom.
Pair it with crisp white bedding for a classic and clean look, or add pops of color with vibrant accent pillows and throws to create a more dynamic atmosphere. The beauty of a grey headboard lies in its ability to adapt to various design styles, from contemporary to traditional.
It provides a neutral backdrop that allows you to play with different textures, patterns, and accessories, making it easy to refresh your bedroom's aesthetic whenever inspiration strikes.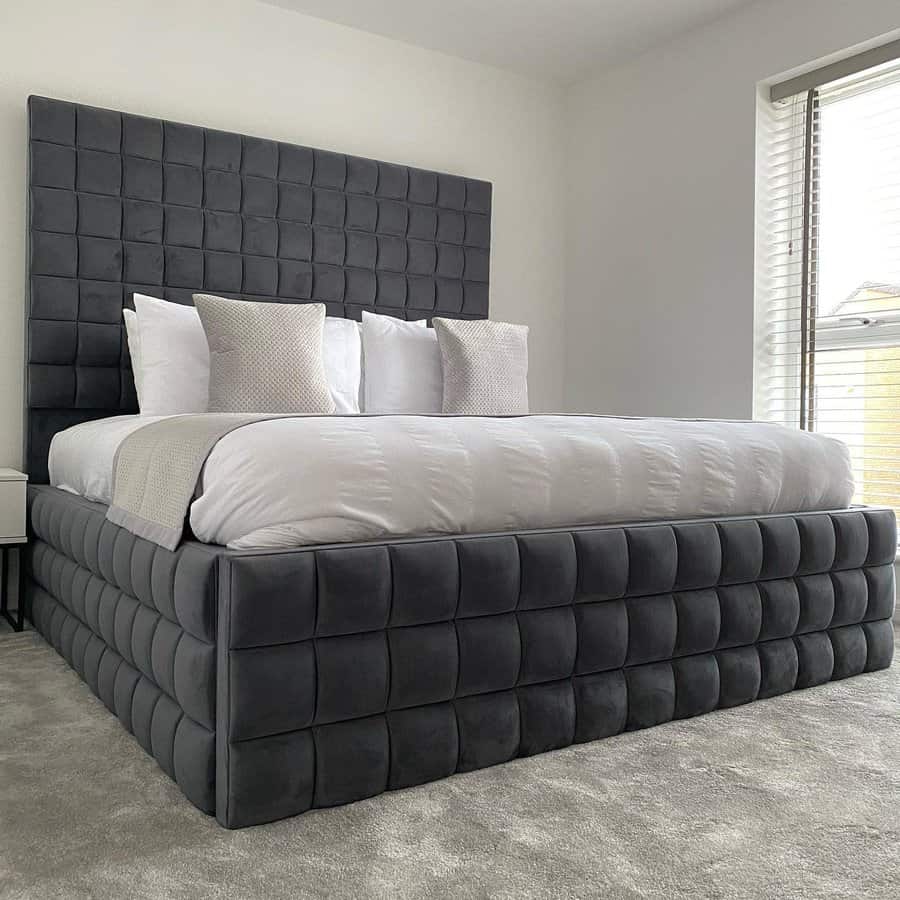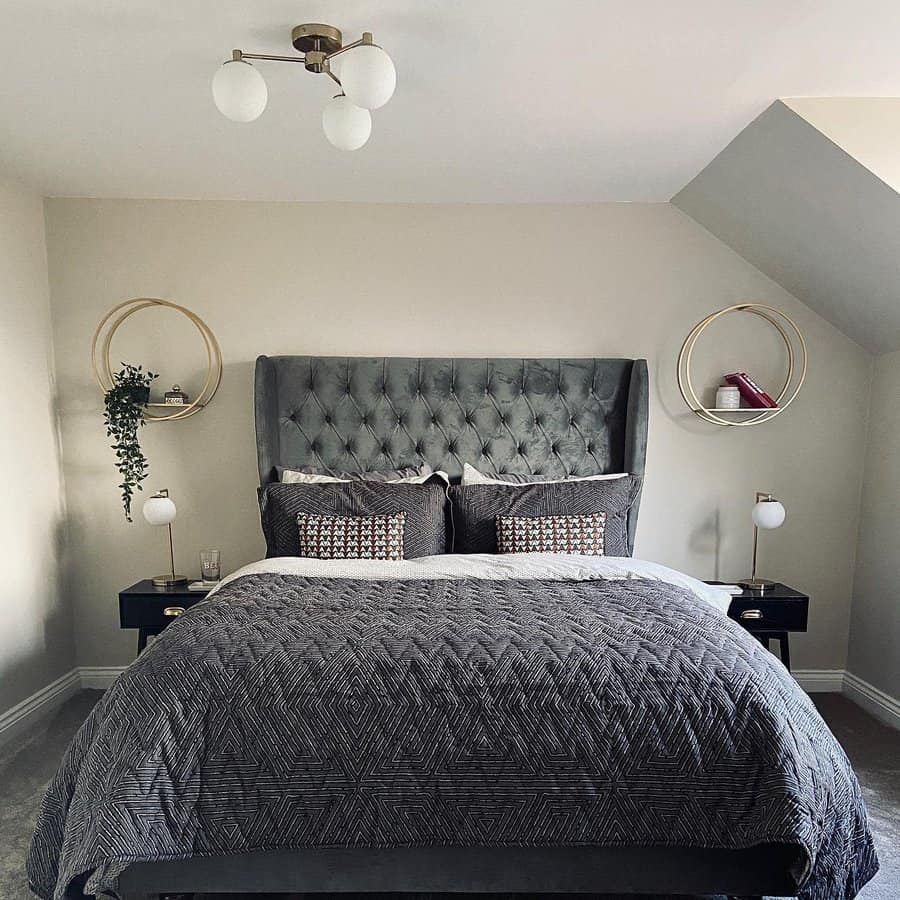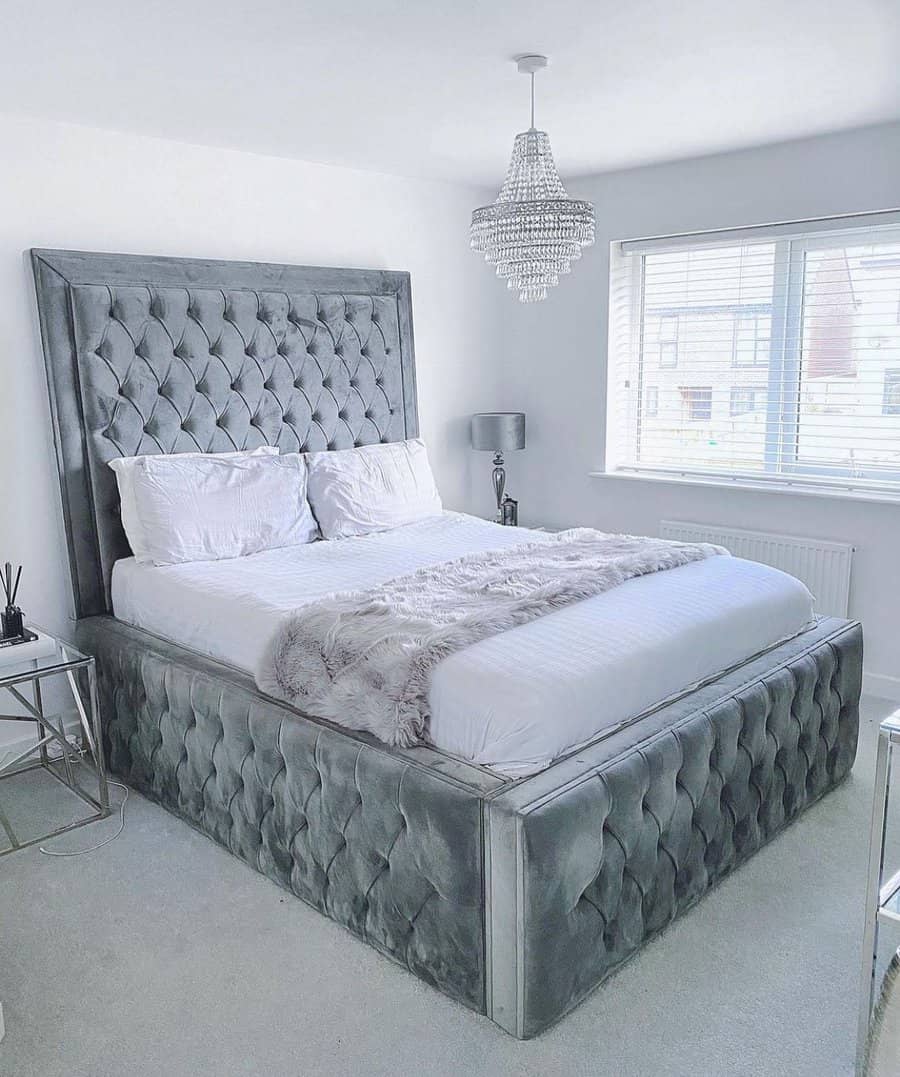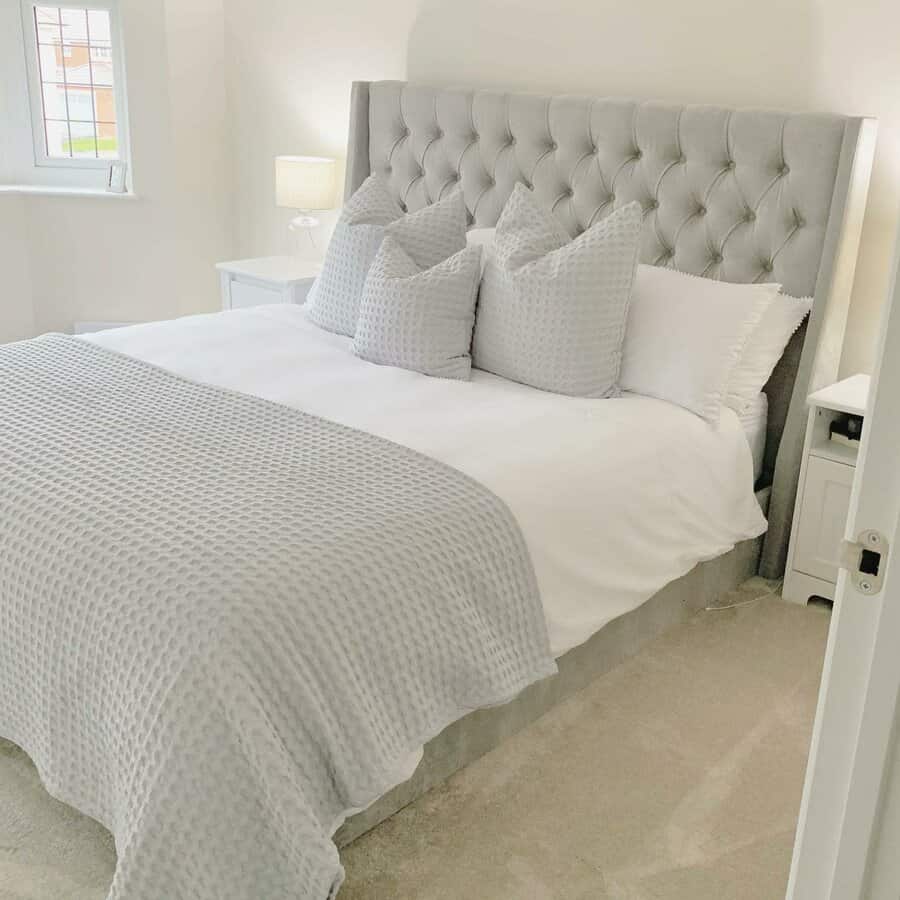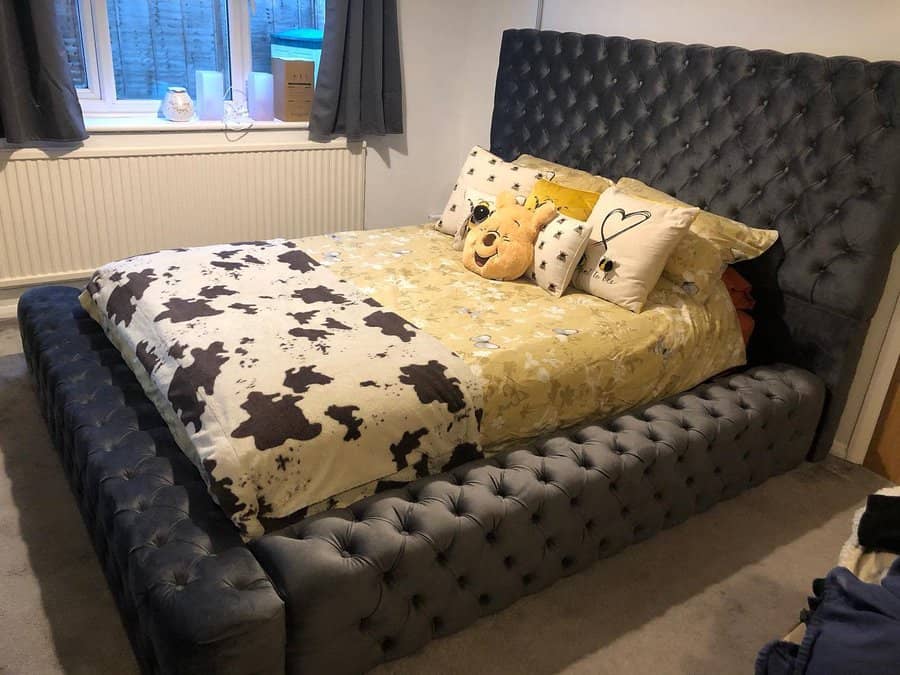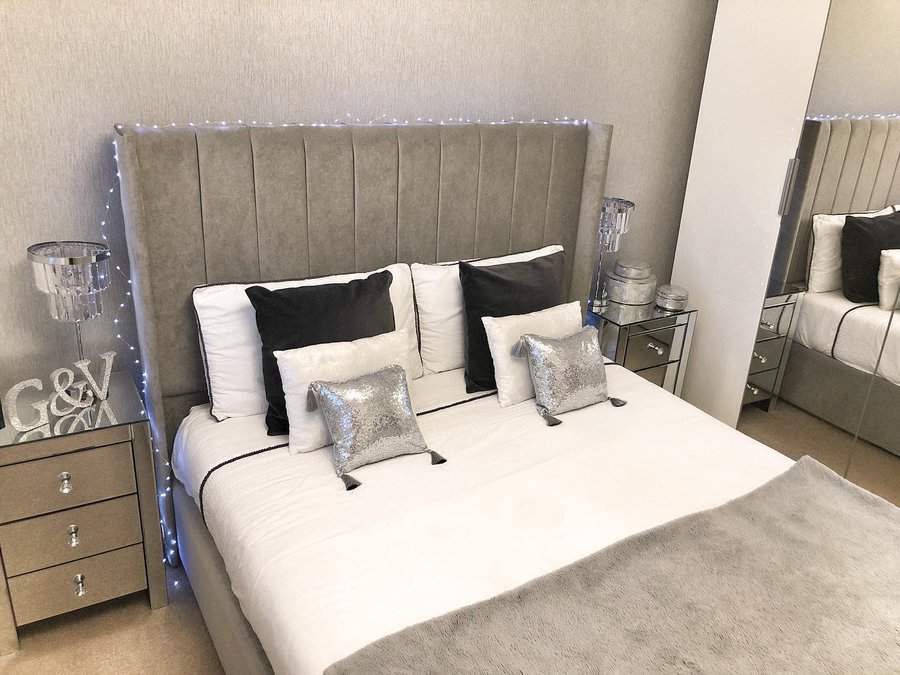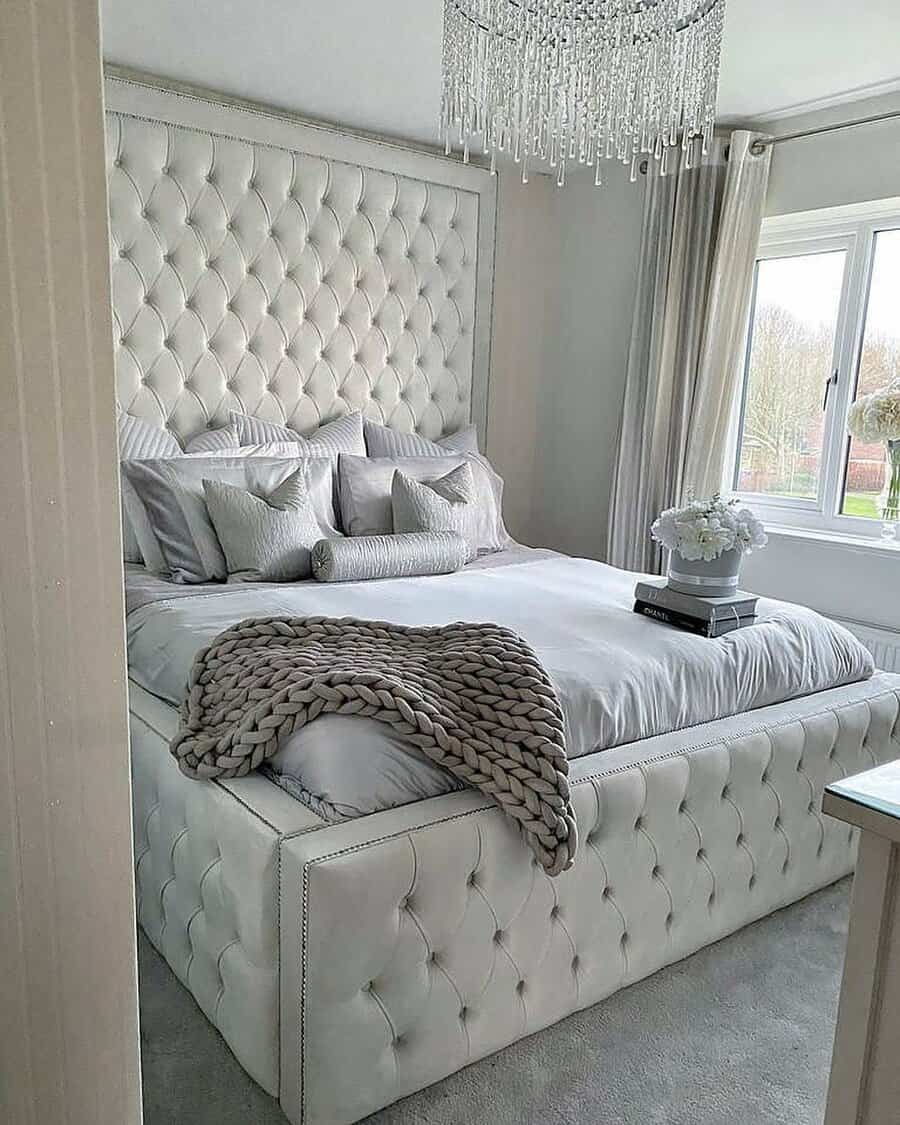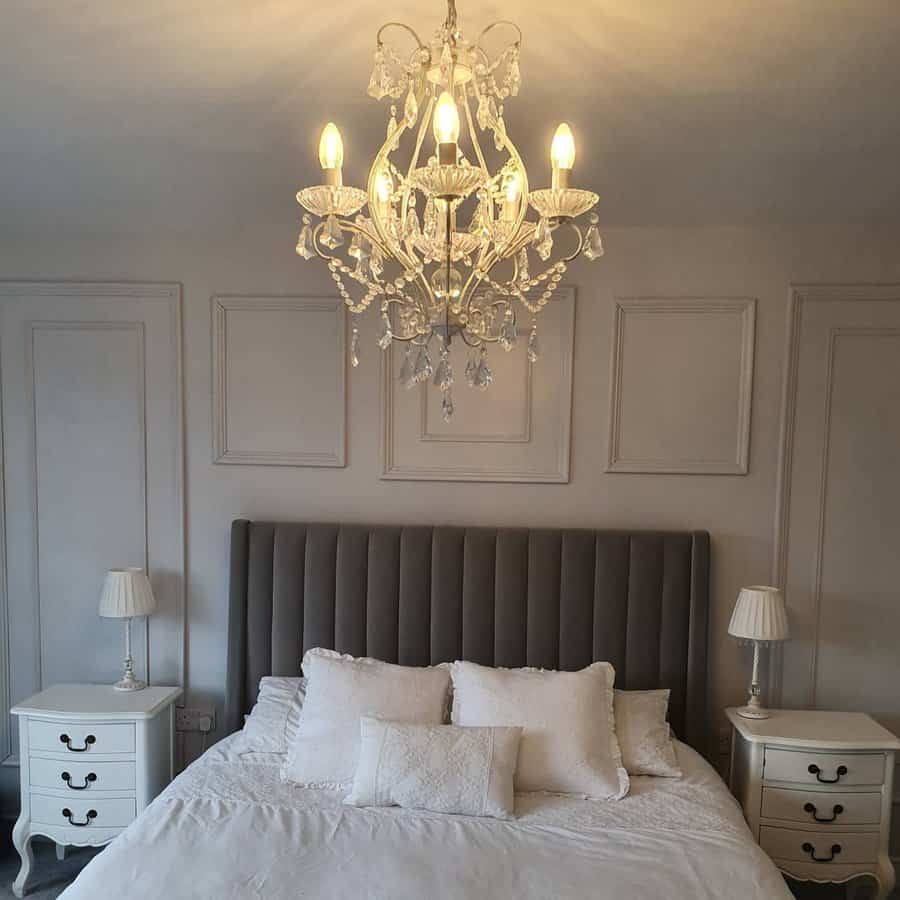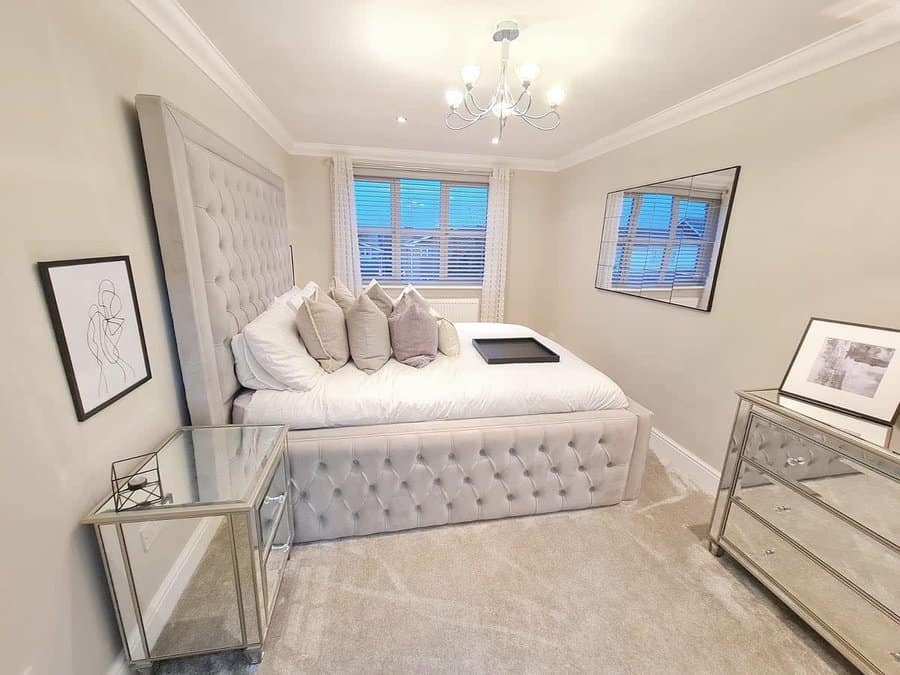 5. Light Wood Accent
Grey, with its calming and versatile nature, sets the perfect tone for a peaceful atmosphere. Start by painting the walls in a soft shade of grey, creating a soothing backdrop for your space. To add warmth and depth, introduce light wood accents throughout the room. Choose a bedframe, nightstand, or dresser in a light wood finish, providing a touch of natural beauty and texture.
Complement the wood elements with soft furnishings in shades of grey, such as plush bedding, cozy rugs, and textured curtains. For a pop of contrast, incorporate accent pillows or throws in complementary hues like blush pink or navy blue.
To enhance the overall ambiance, consider incorporating natural light through sheer curtains or large windows. Complete the look with minimalist decor and lighting fixtures that align with the sleek and chic aesthetic.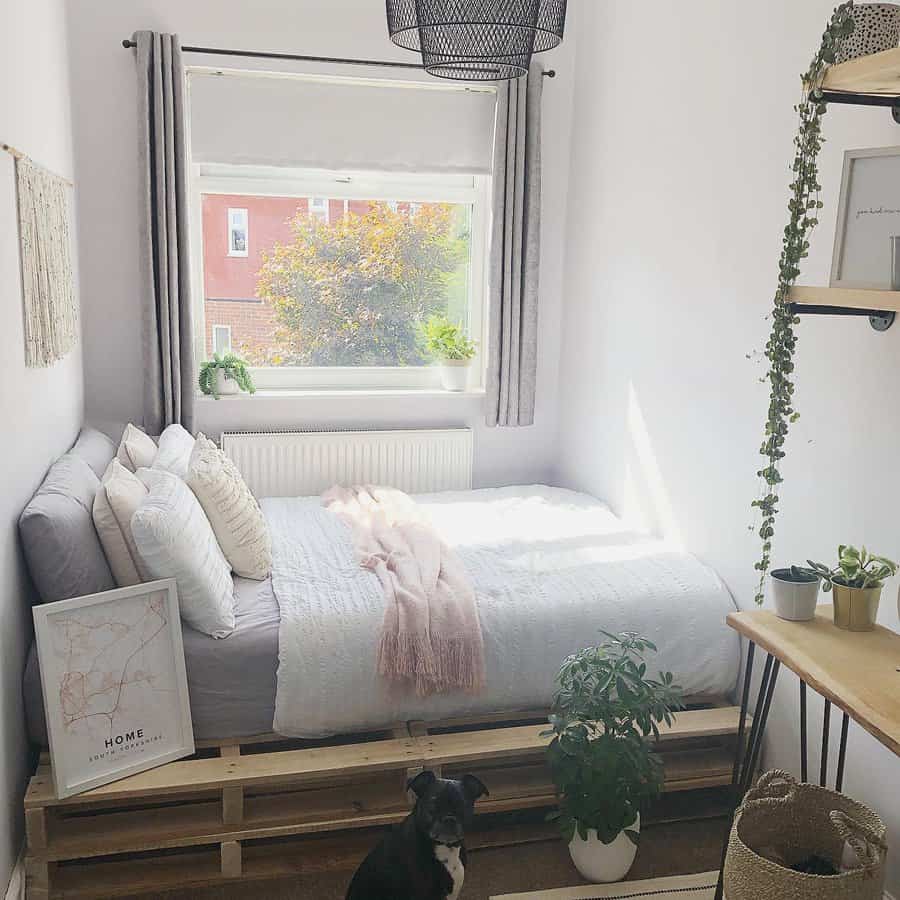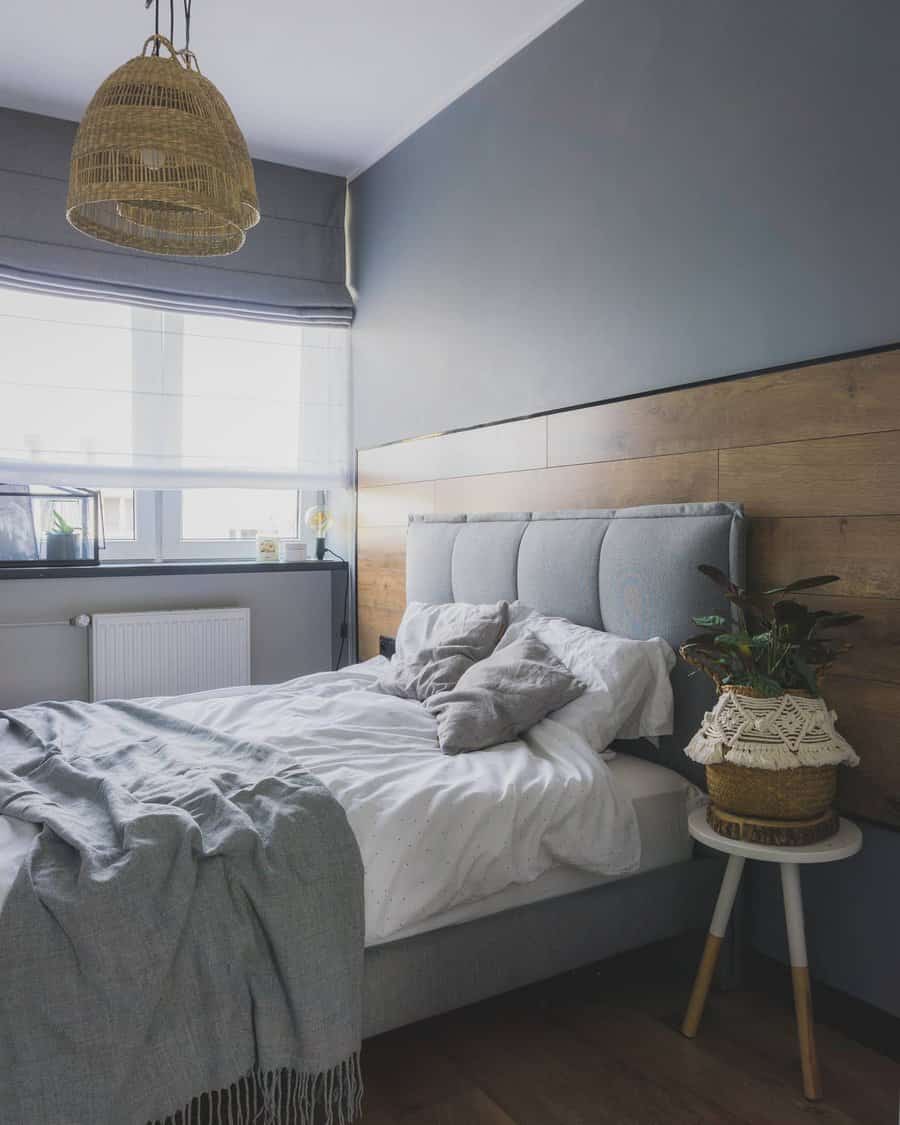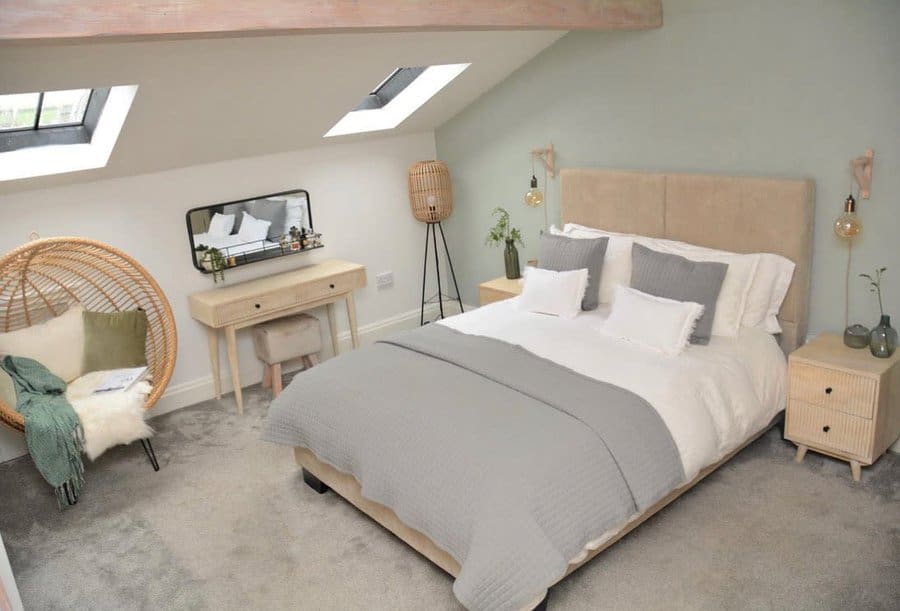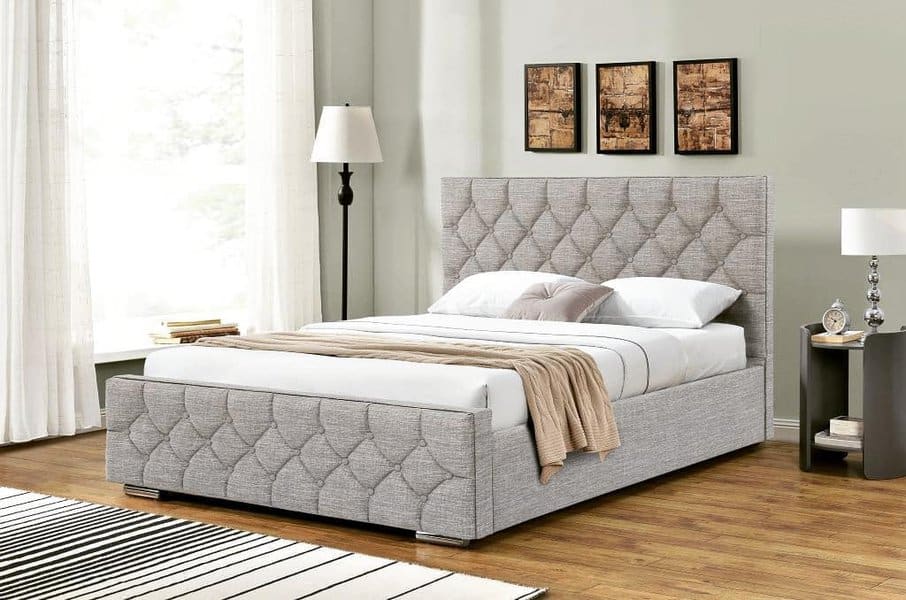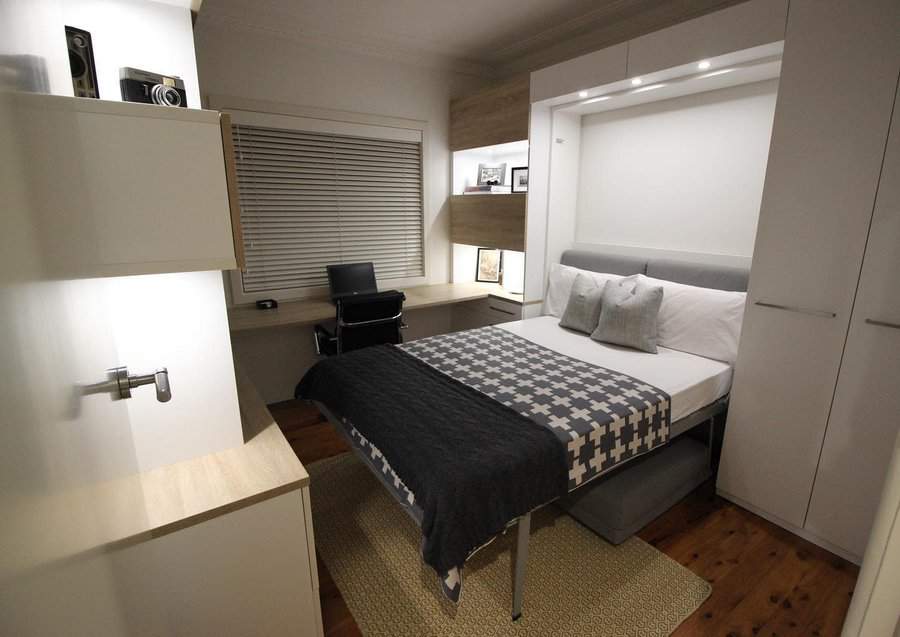 6. Grey Decorative Pillows
Incorporate grey decorative throw pillows into your bedding ensemble to add a touch of elegance and texture. Choose a variety of shapes, sizes, and patterns to create visual interest and depth. From plush velvet to delicate embroidery, the options are endless.
Play with different shades of grey, mixing light and dark tones, to create a harmonious and balanced look. Pair the throw pillows with a coordinating grey duvet cover or quilt to create a cohesive and soothing color palette. The softness of the pillows against your bed will invite you to sink into a realm of comfort and relaxation.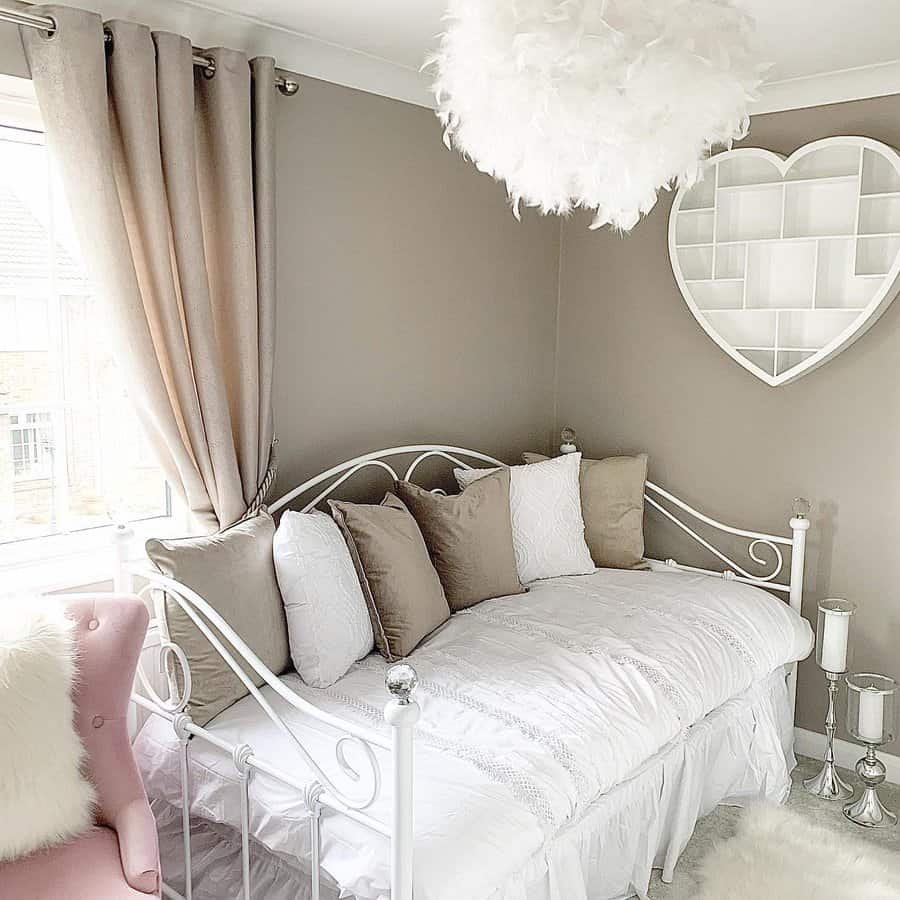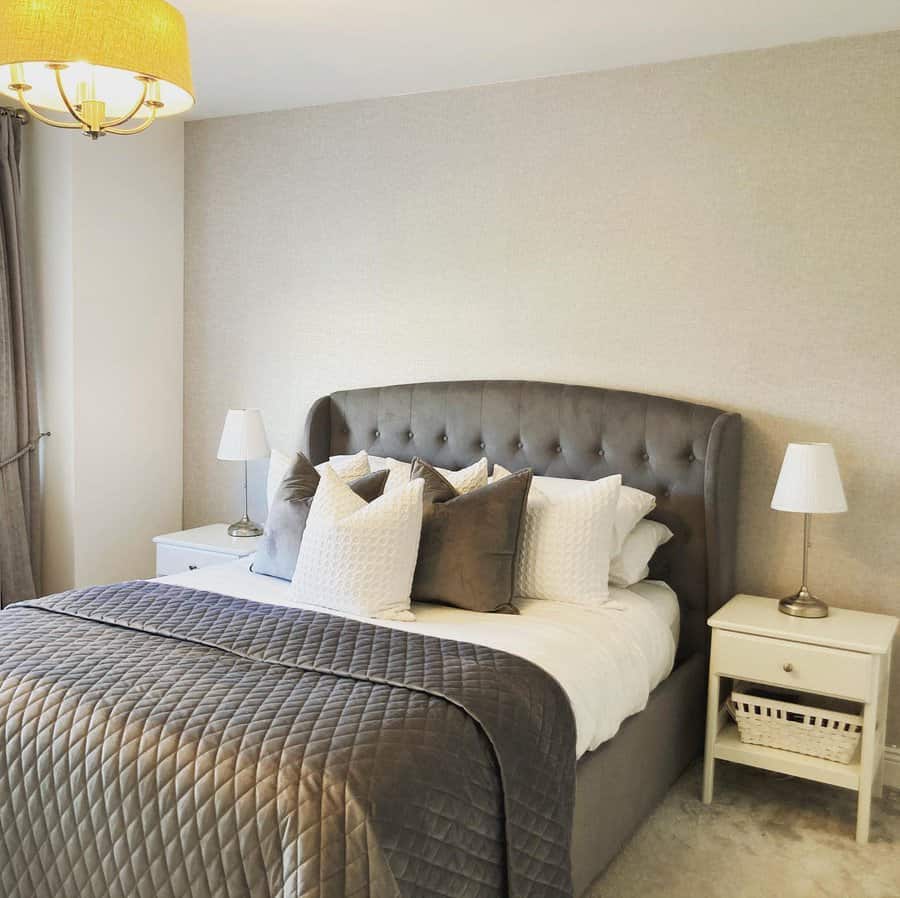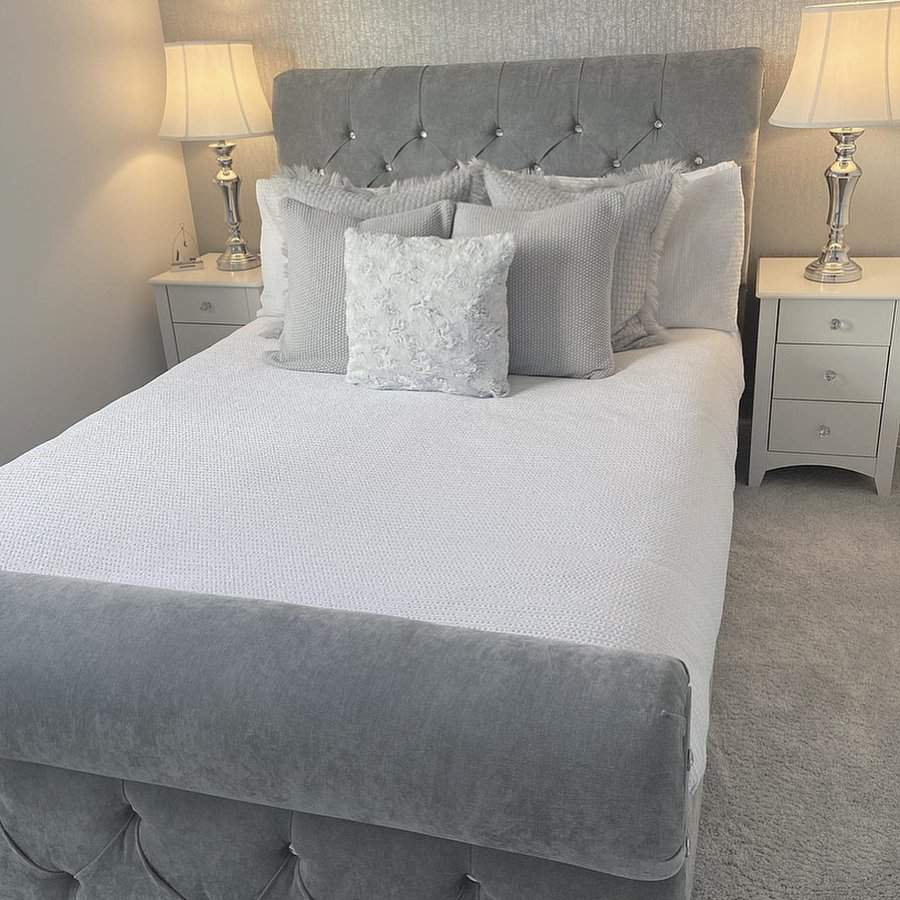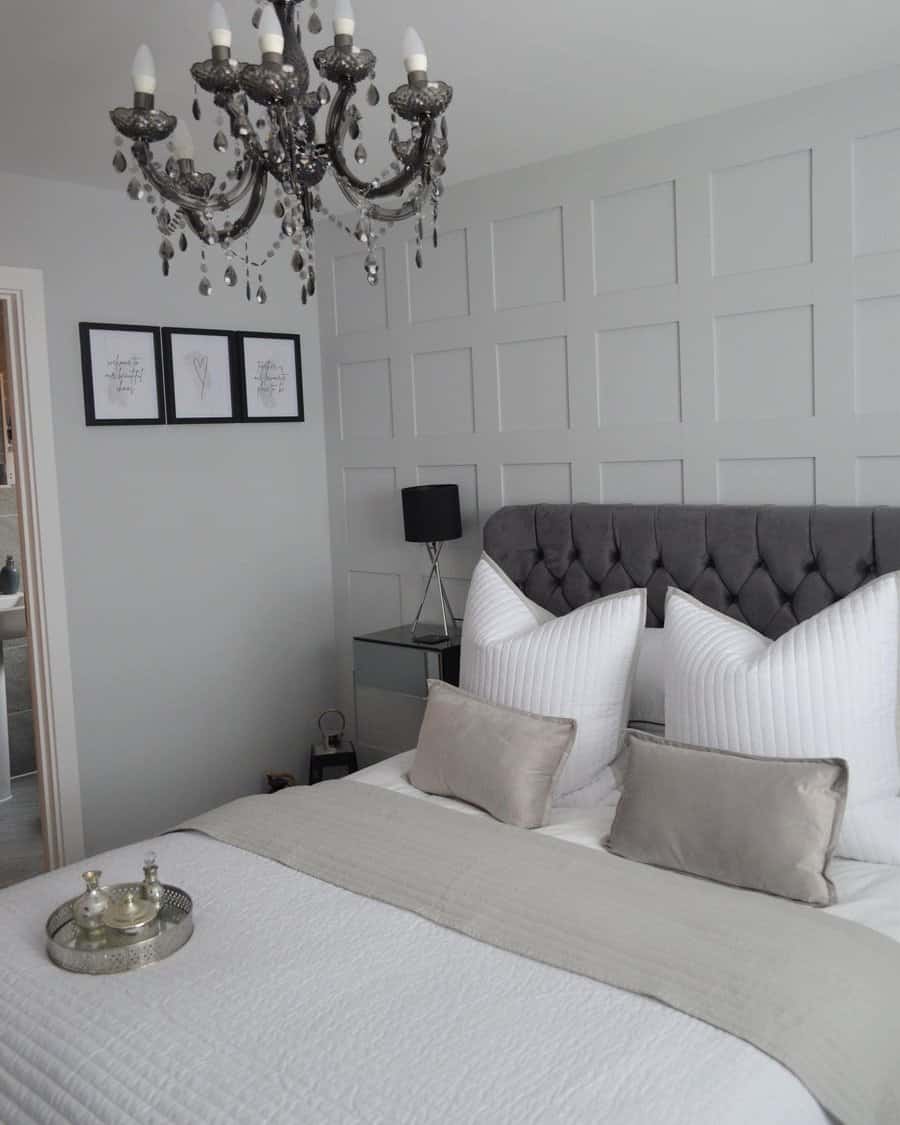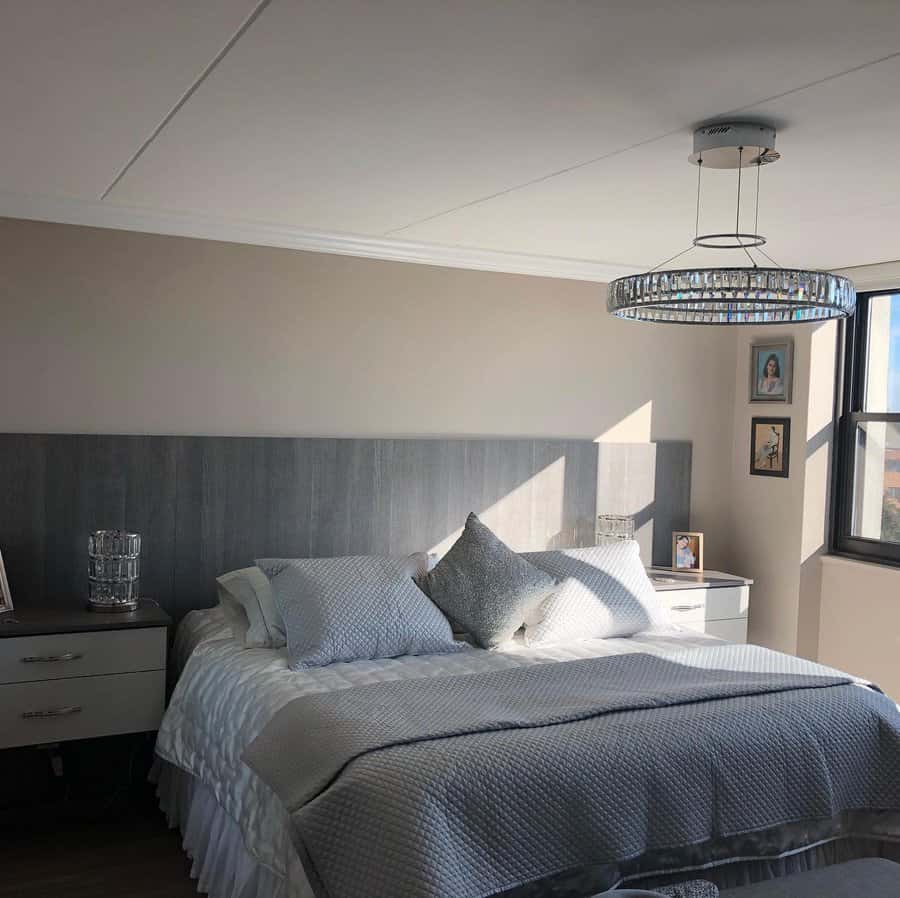 7. Grey Bedroom Bench
This versatile piece of furniture not only adds a touch of luxury but also serves as a functional addition to your space. Choose a grey bench in a plush fabric or sleek leather upholstery to complement the overall aesthetic of your bedroom.
Place it at the foot of your bed to create a focal point and provide a convenient spot to sit while putting on shoes or getting ready in the morning. The neutral tone of the grey bench effortlessly blends with various color schemes, allowing you to experiment with different accent hues and textures in your bedding and decor.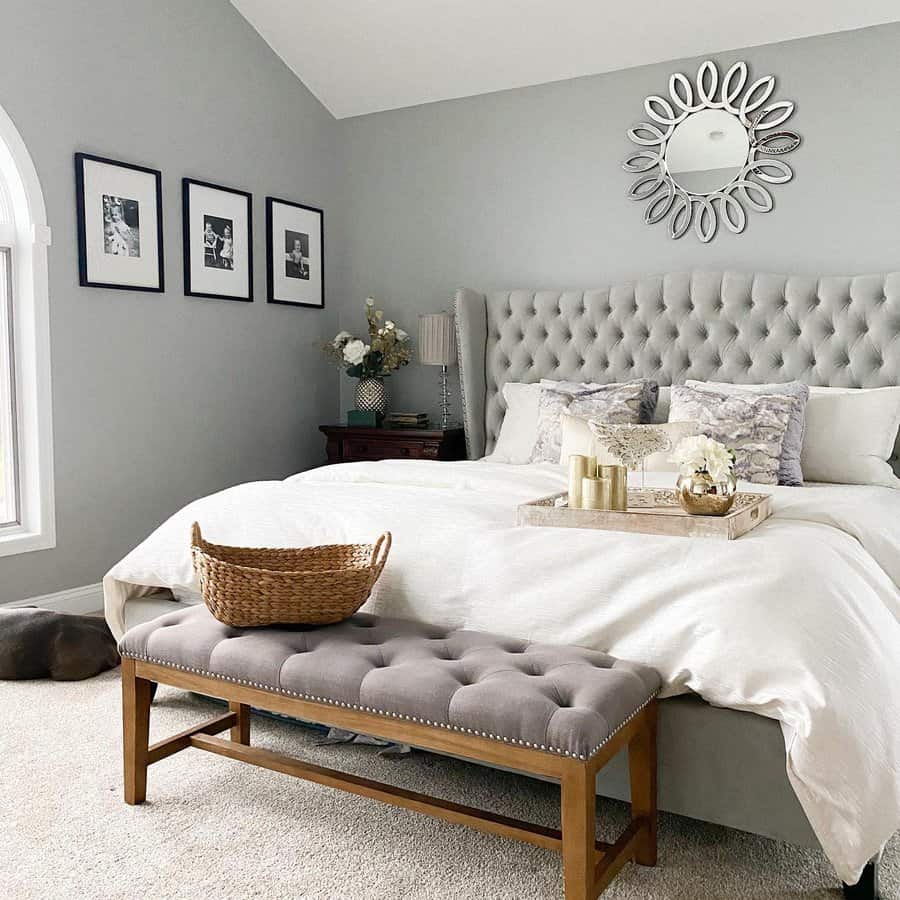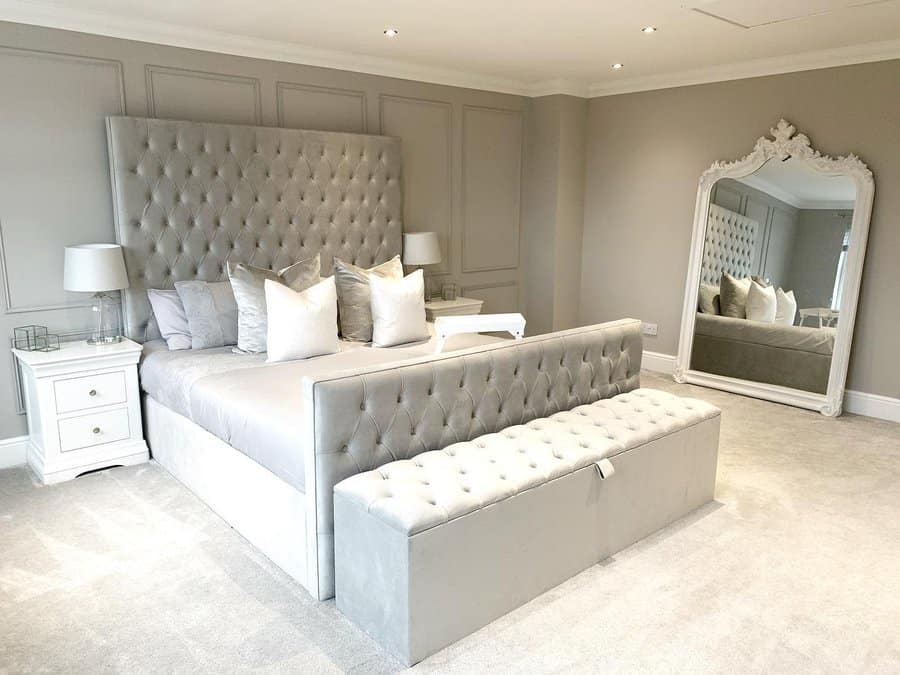 8. Cozy Grey Bedding
Create a tranquil and sophisticated retreat with grey bedroom ideas that exude both comfort and style. Start by selecting cozy grey bedding that invites relaxation and adds an elegant touch to the space. Opt for plush duvet covers, soft throws, and an array of decorative pillows in various shades of grey to add depth and texture.
Consider incorporating different materials such as velvet, linen, or faux fur to enhance the cozy factor. To prevent the room from feeling too monotonous, add subtle pops of color through accent pillows or vibrant pieces of artwork. Complement the grey bedding with furniture and accessories in complementary hues such as white, silver, or pastel tones to create a harmonious and soothing atmosphere.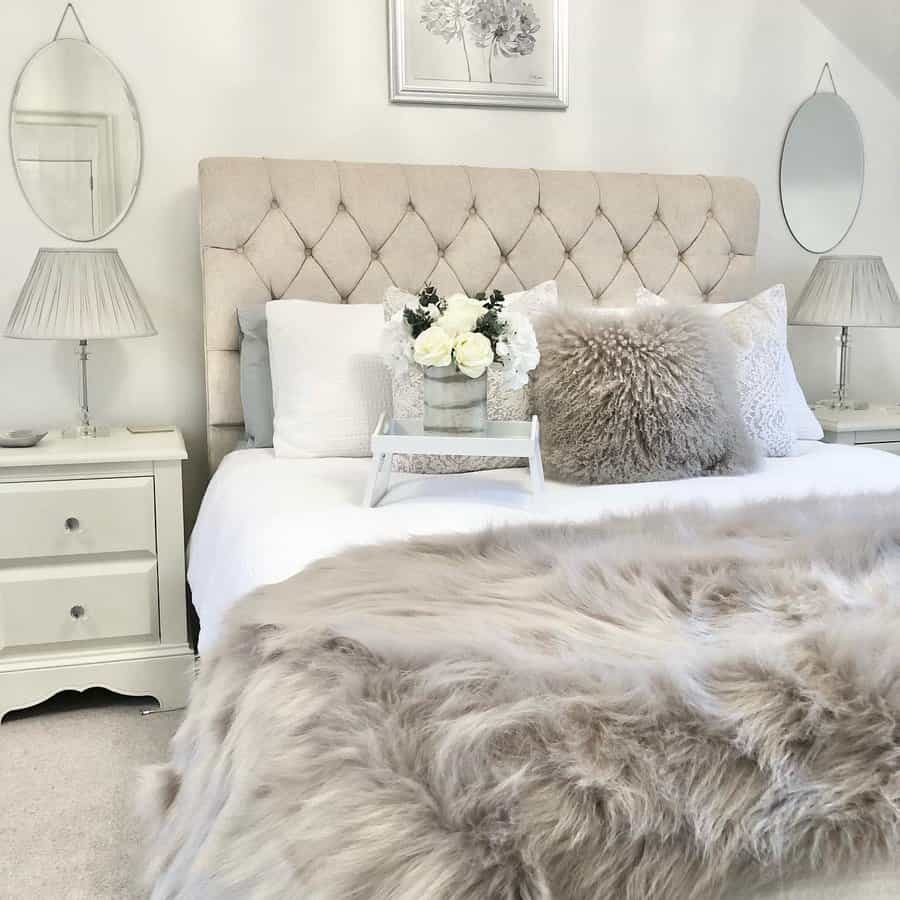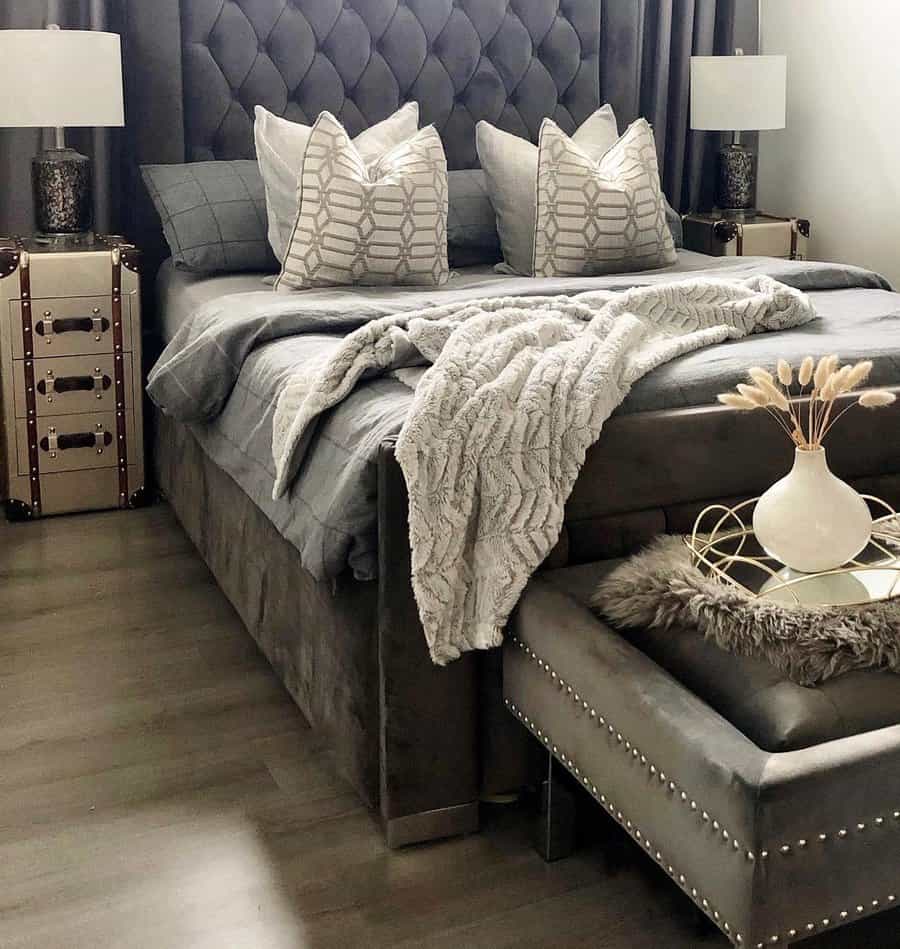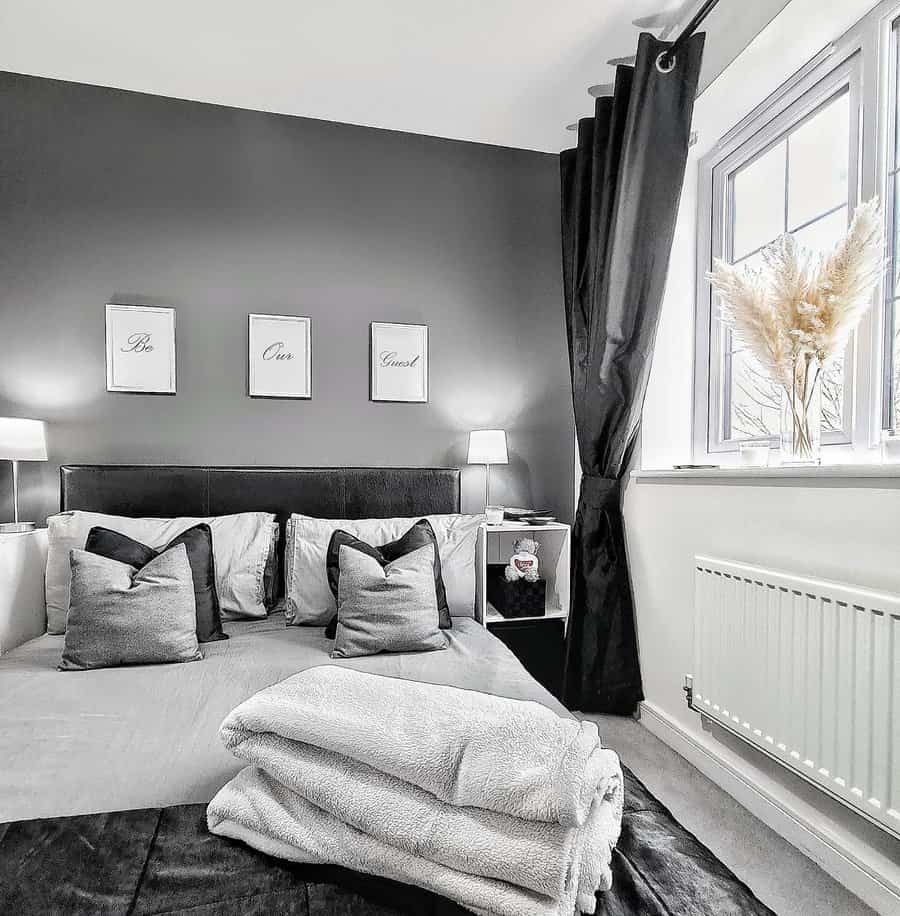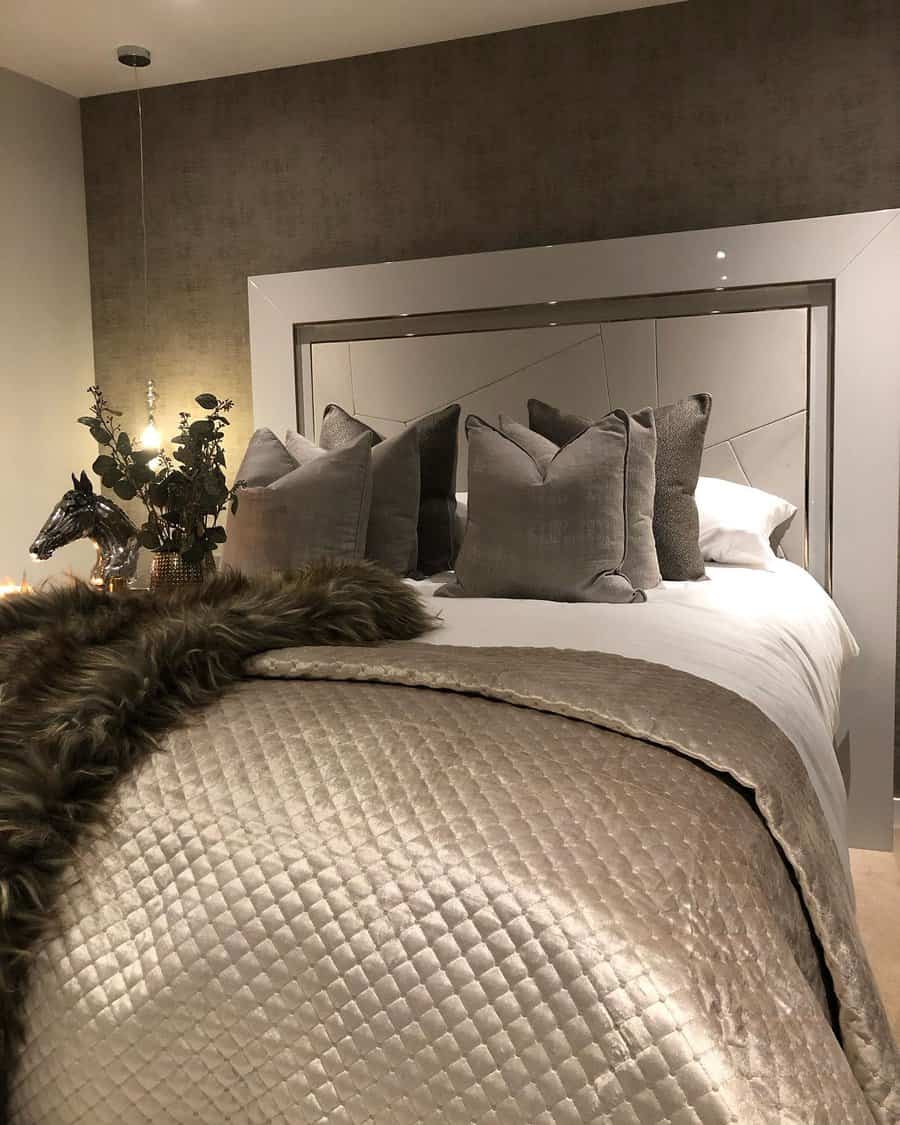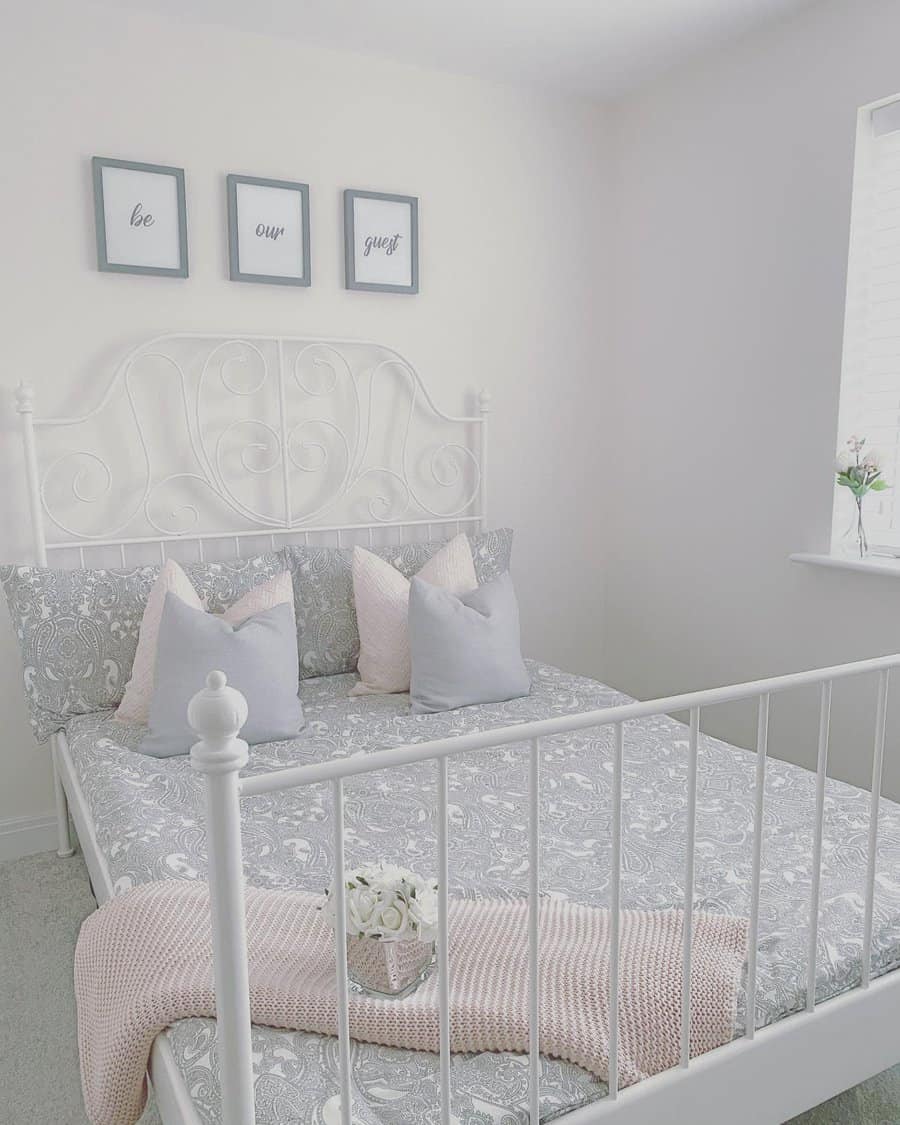 9. Monochrome Wall Art
Grey is a versatile color that can evoke a sense of calm and elegance when used in the right way. Start by painting the walls in a soft shade of grey that complements the overall aesthetic of your bedroom. Then, incorporate monochromatic wall art that complements the color scheme, such as black and white photographs, abstract prints, or minimalist line art.
This combination creates a harmonious and visually appealing focal point, adding depth and personality to your bedroom. To enhance the cozy ambiance, layer different shades of grey through bedding, pillows, and throw blankets, ensuring a comfortable and inviting space. Introduce metallic accents like silver or brushed nickel through lamps, mirrors, or decorative accessories to add a touch of glamour and sophistication.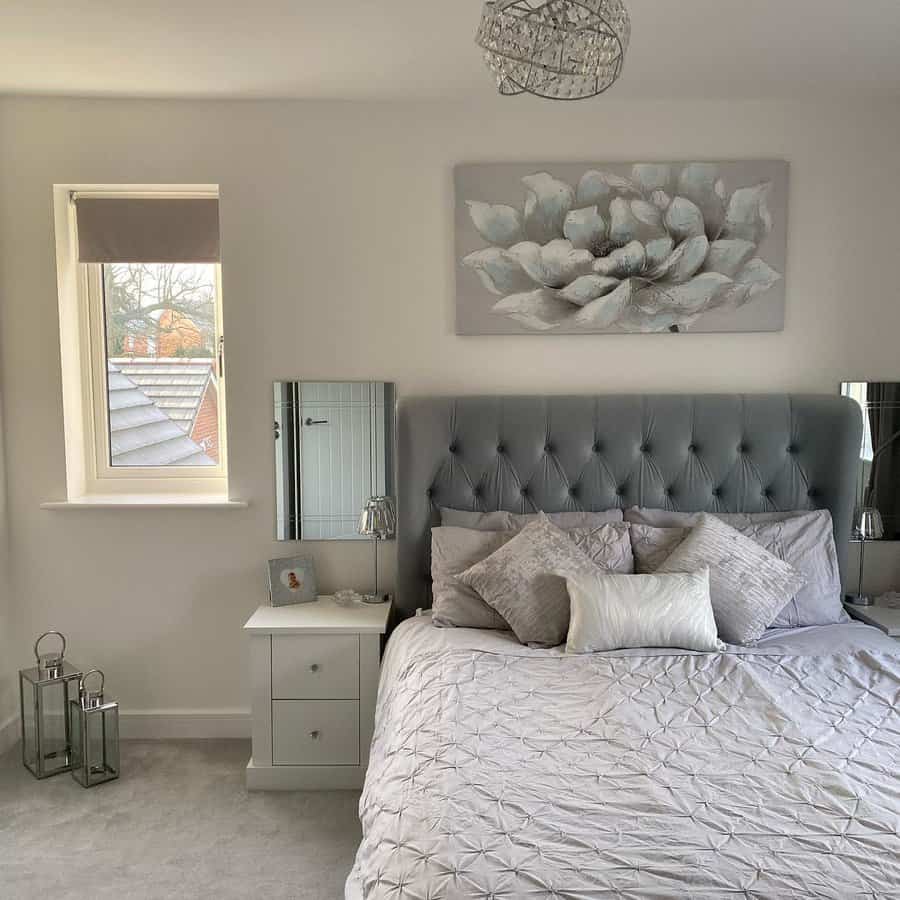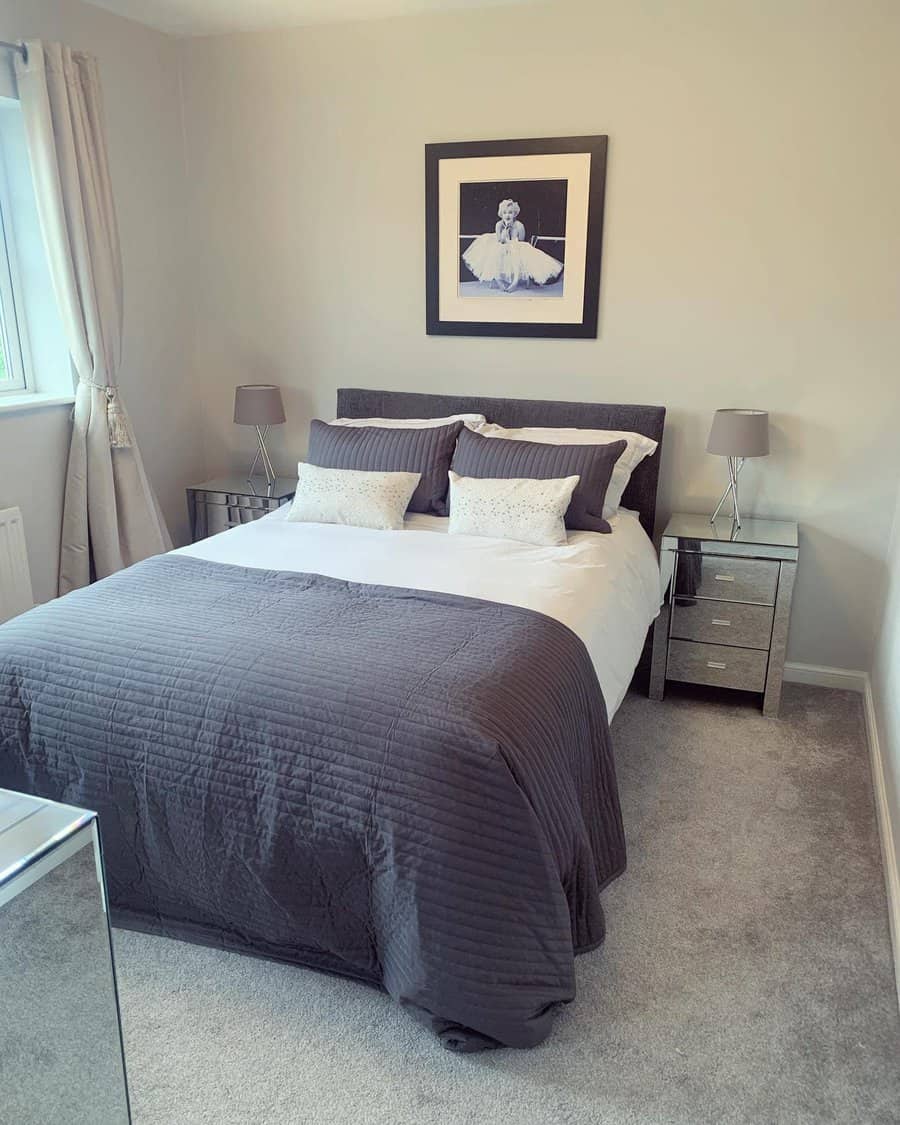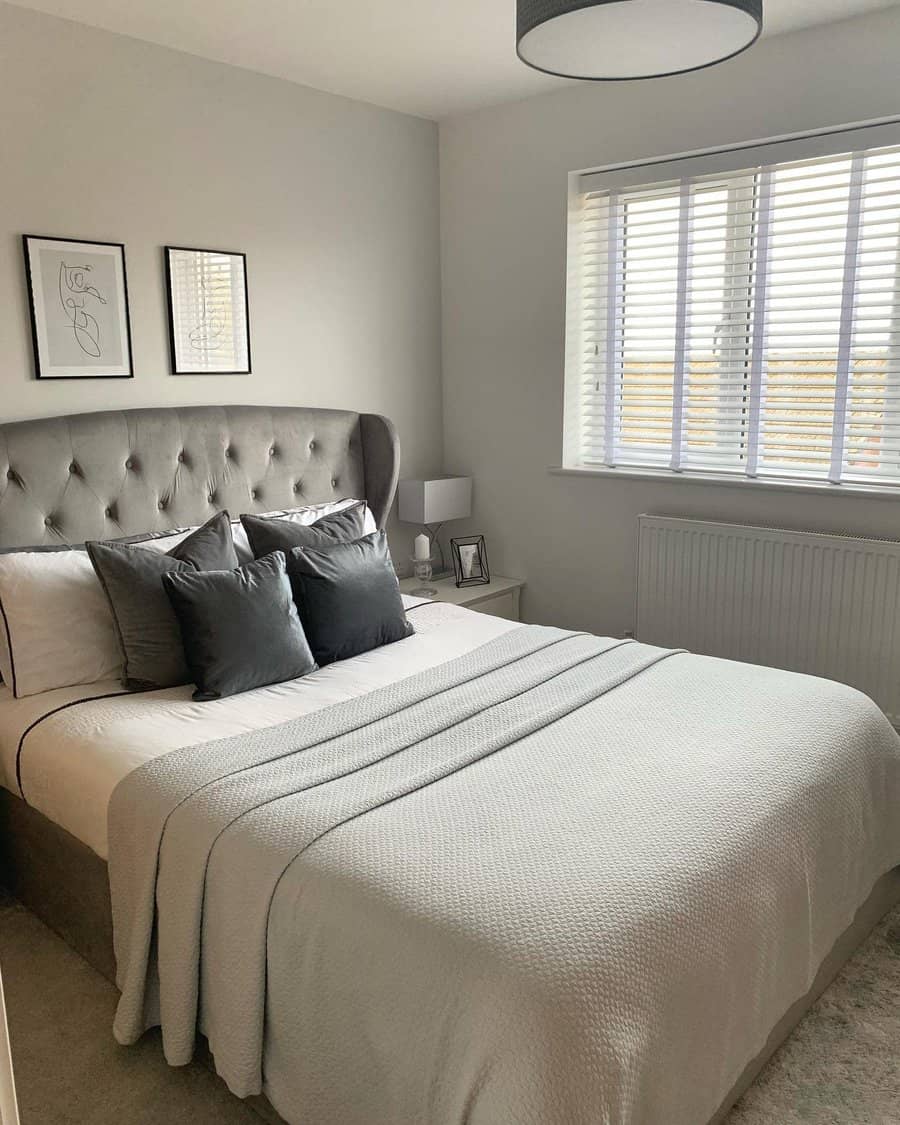 10. Grey & Gold Bedroom
Create a stunning and sophisticated retreat with grey bedroom ideas that incorporate luxurious gold details. Begin by painting the walls a soothing shade of grey, setting the foundation for an elegant ambiance. Enhance the space with a gorgeous gold pendant light, casting a warm and inviting glow. Choose bedding in a combination of beige and gold, featuring soft textures and subtle patterns to add depth and visual interest.
Complete the look with a plush beige carpet that exudes comfort and adds a touch of warmth to the room. To further elevate the design, incorporate gold accents through decorative elements such as picture frames, candle holders, or a sleek nightstand. The combination of grey and gold creates a harmonious and sophisticated atmosphere, making your bedroom a haven of style and tranquility.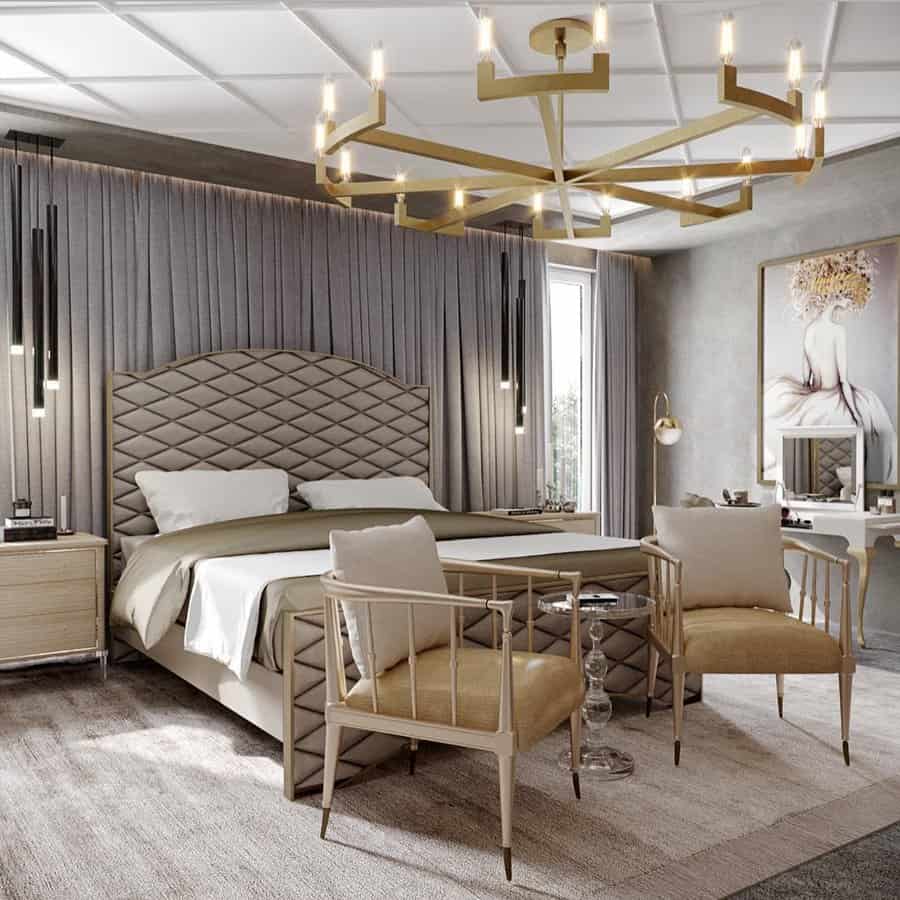 11. Grey & Silver Bedroom
To add a touch of glamour, incorporate silver elements throughout the room. Place a sleek silver lamp on your bedside table, casting a soft glow for cozy reading sessions. Hang a dazzling crystal chandelier from the ceiling, adding a luxurious focal point and enhancing the overall ambiance.
Opt for a silver-framed mirror, reflecting light and creating an illusion of space while adding a touch of glamour. The combination of grey and silver creates a chic and timeless aesthetic, exuding tranquility and elegance. To complete the look, incorporate silver accessories such as picture frames, decorative trays, and accent pillows to add subtle touches of shine.
With this captivating grey bedroom design, you'll create a haven of tranquility and style, where you can unwind and recharge in absolute luxury.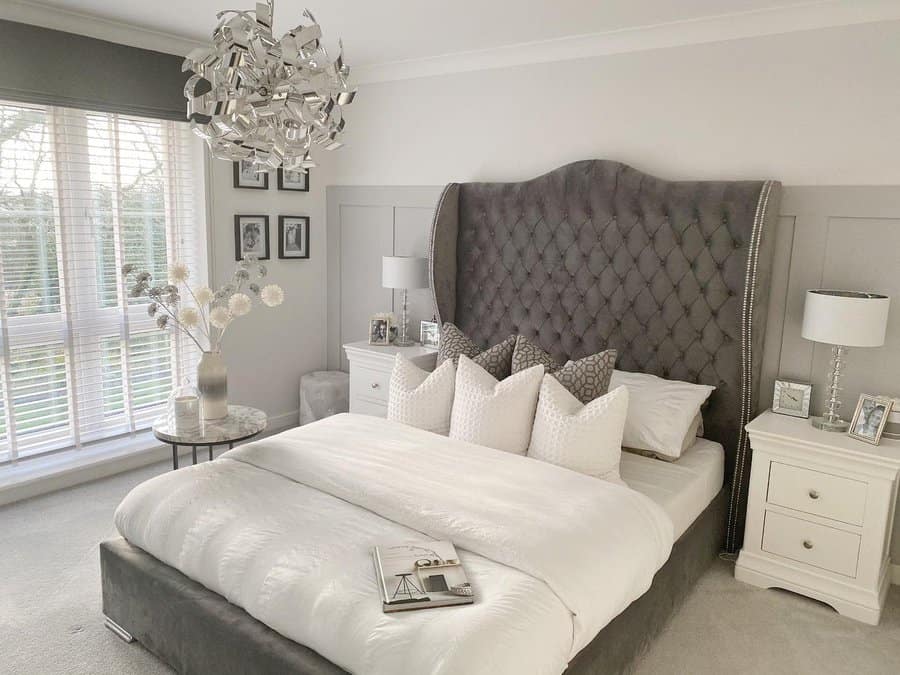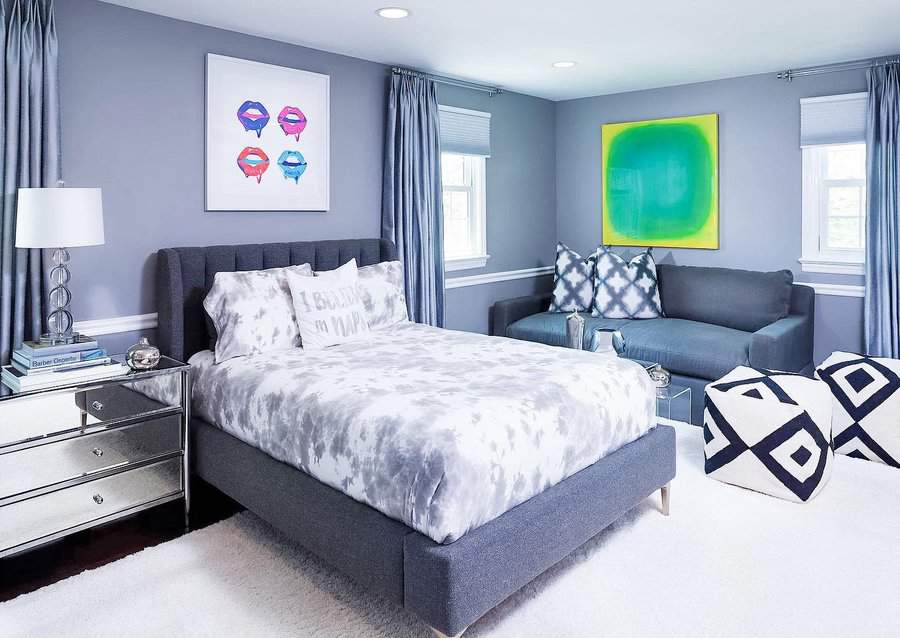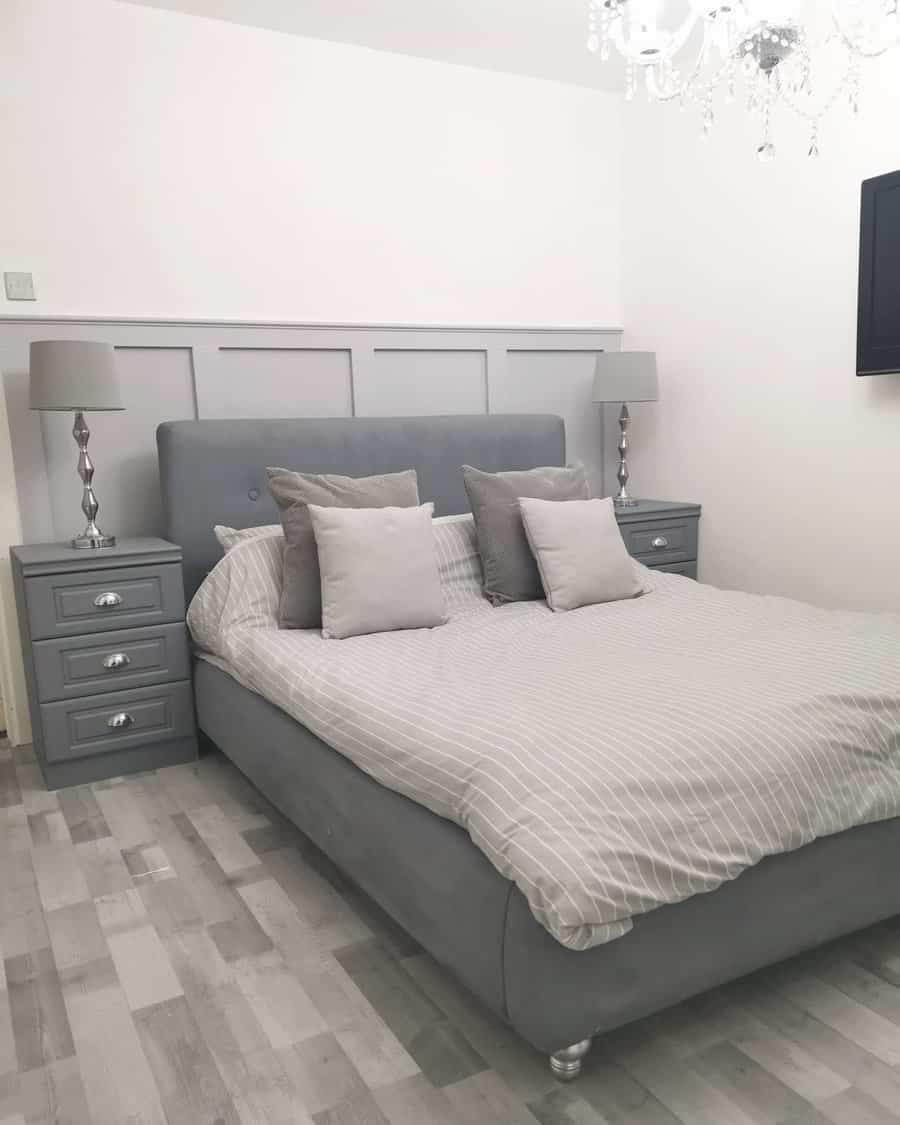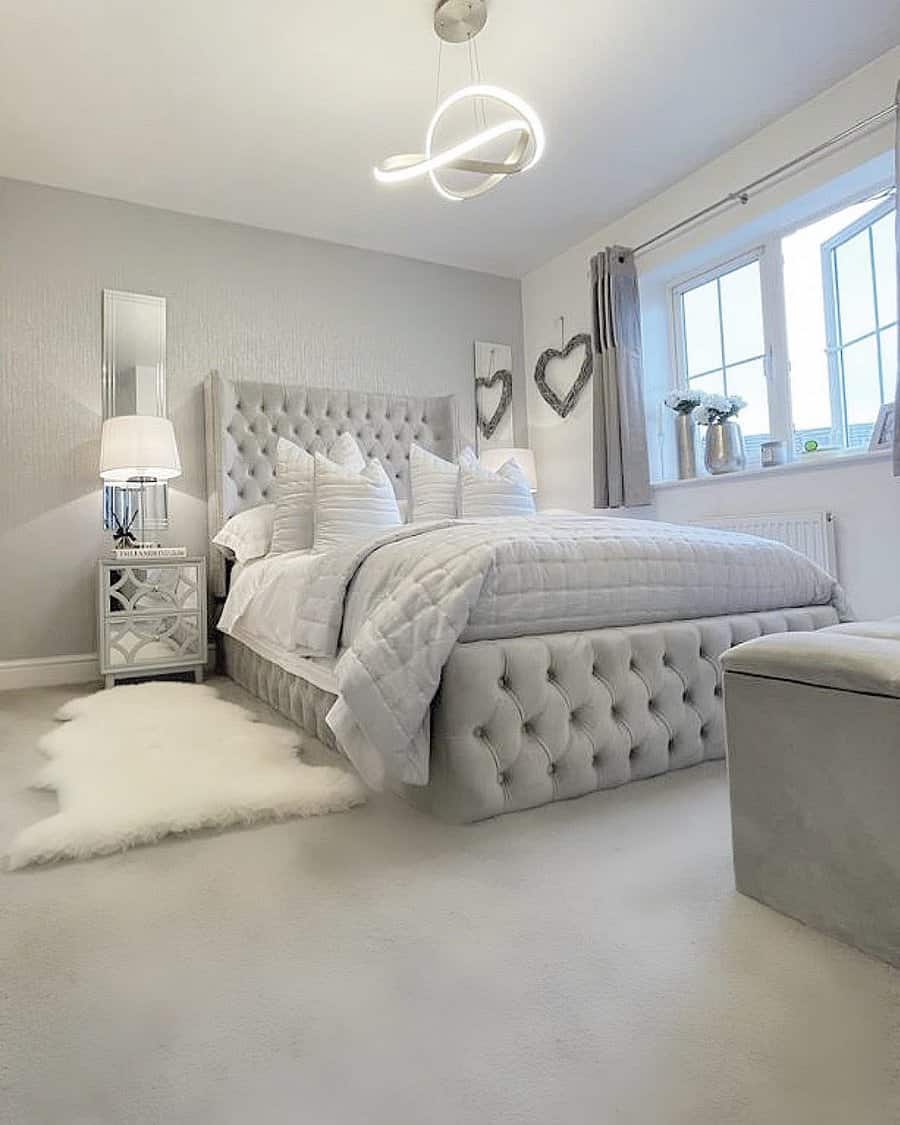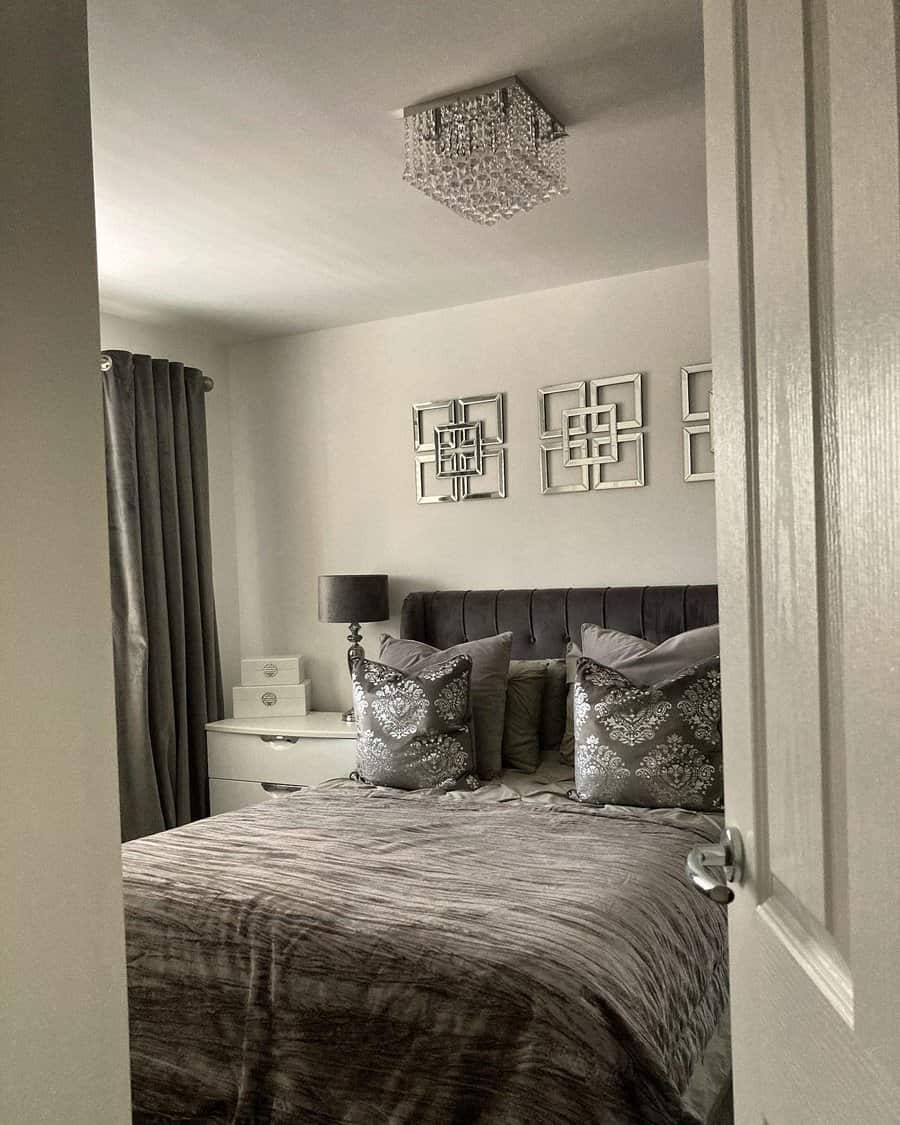 12. Warm Lighting
Infuse warmth into the room by incorporating soft, ambient lighting through the use of bedside lamps, string lights, or even a statement chandelier. These lighting elements will cast a warm glow, enhancing the cozy atmosphere of the space. To create visual interest and contrast, layer different shades of grey throughout the room.
Opt for a darker shade for the accent wall or headboard, while lighter greys can be used for bedding, curtains, and furniture upholstery. Introduce textural elements like plush rugs, velvet pillows, or a faux fur throw to add depth and coziness. To prevent the room from feeling too monochromatic, incorporate pops of color through artwork, decorative accessories, or a vibrant accent chair.
With the right combination of warm lighting, contrasting tones, and thoughtful details, your grey bedroom will become a chic and tranquil haven that you'll love retreating to at the end of each day.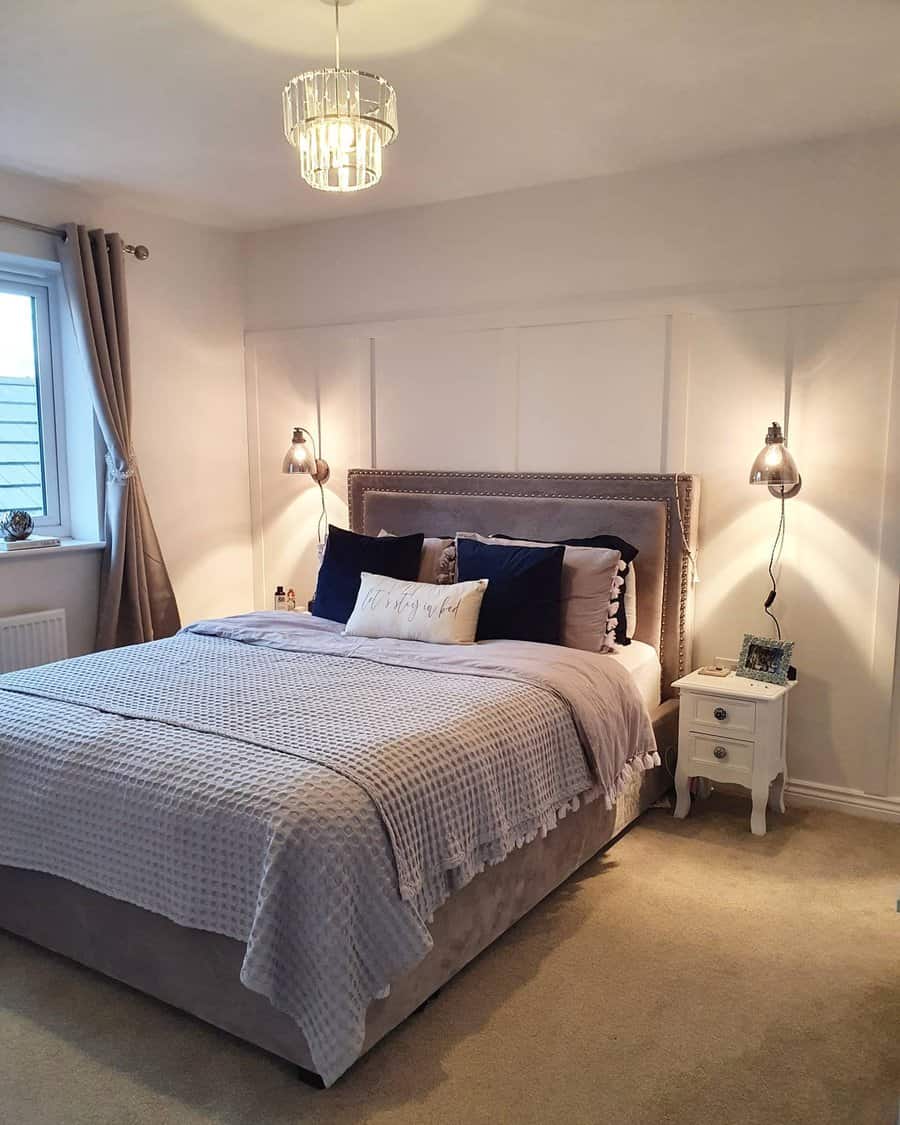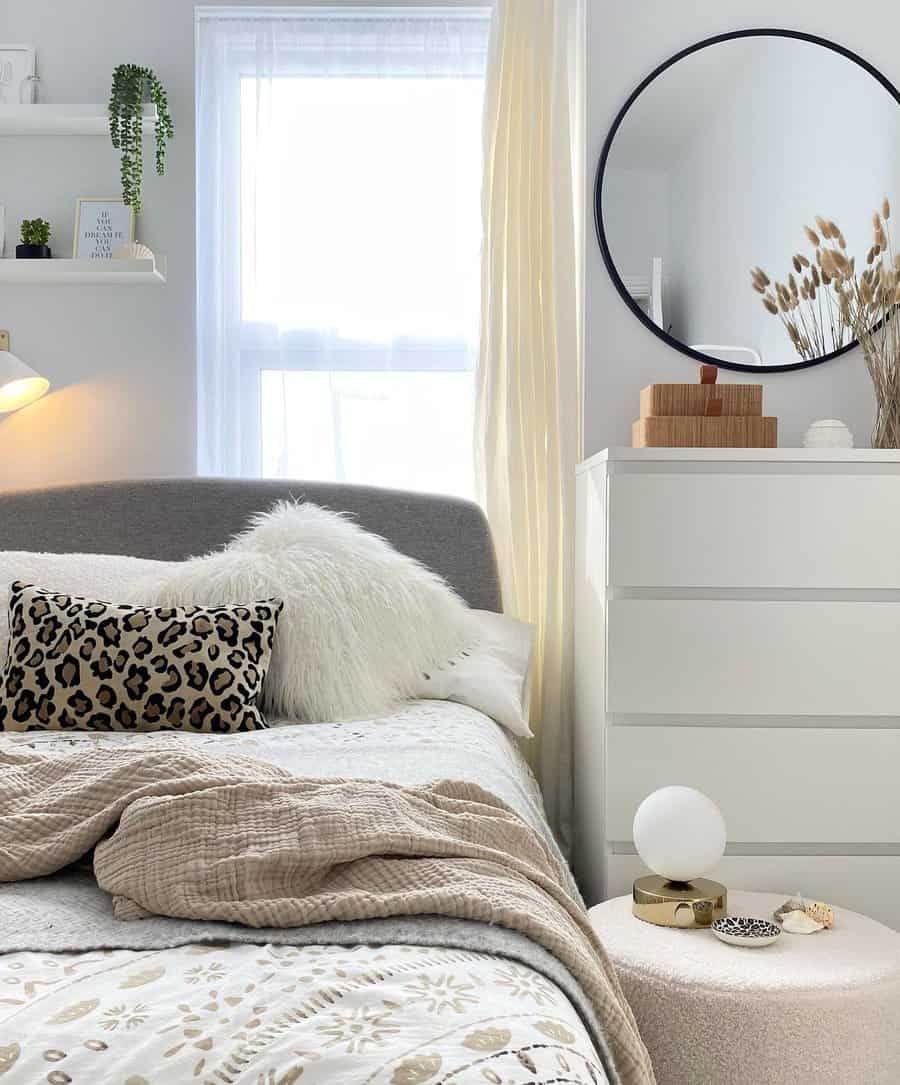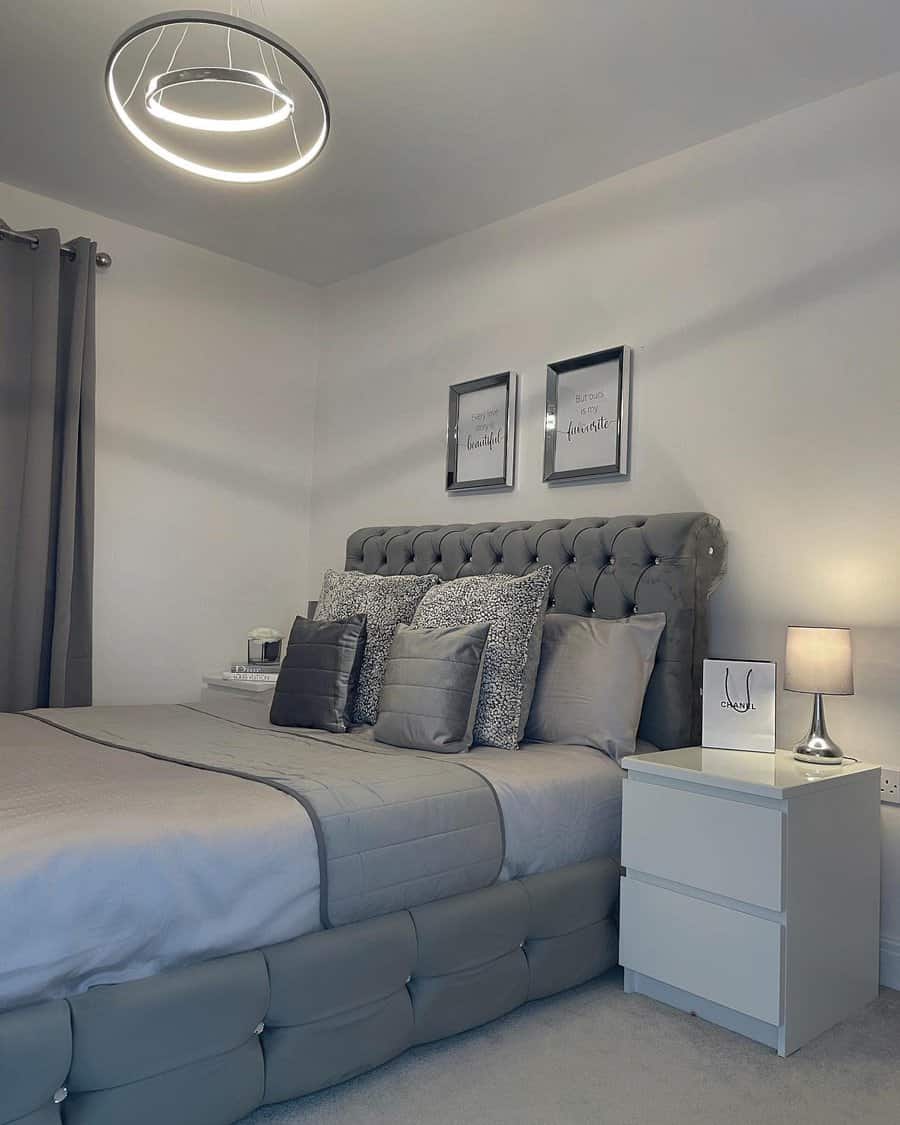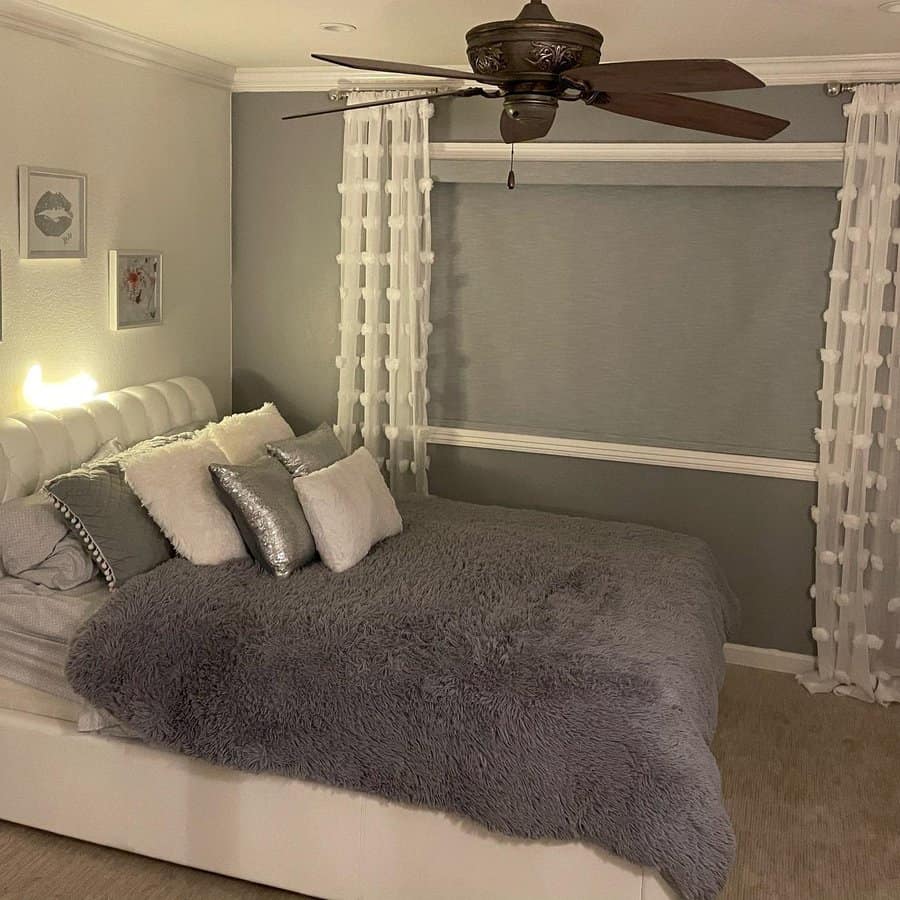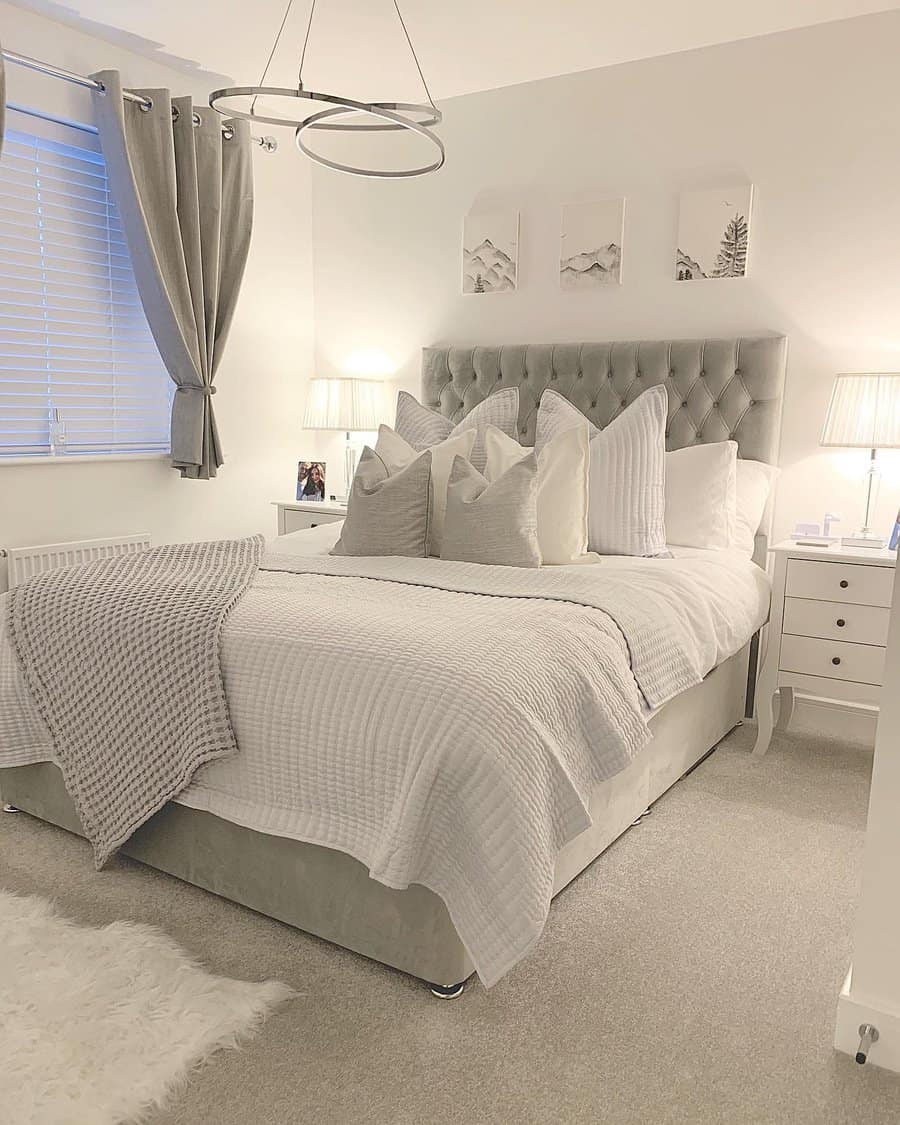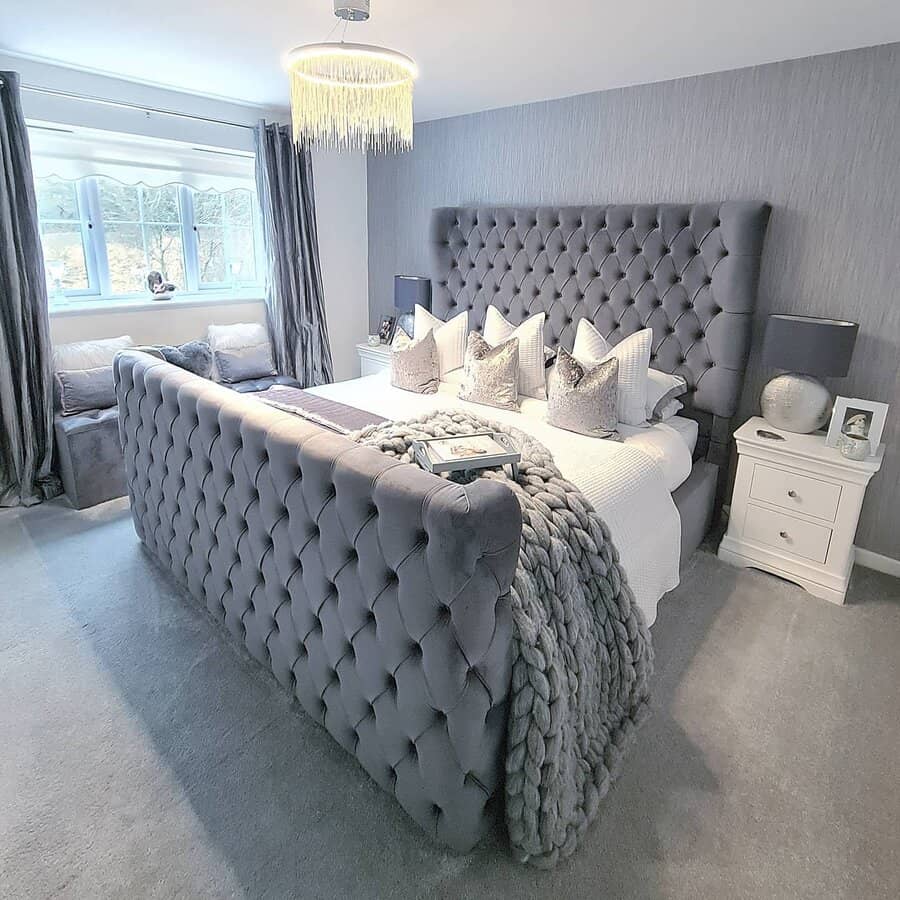 13. Grey Wall Trimming
To elevate the visual appeal of your bedroom, consider adding a statement wall with wall trimming. Whether it's a geometric pattern, vertical lines, or intricate designs, the wall trimming adds texture and visual interest, becoming the focal point of the room.
Pair the grey walls and accent wall with crisp white or soft pastel bedding to create a harmonious and inviting ambiance. Enhance the overall aesthetic by incorporating metallic accents, such as silver lamps, mirrored furniture, or chrome hardware, for a touch of modern glamour.
Complete the look with plush rugs, cozy throws, and luxurious pillows in complementary shades of grey, adding layers of comfort and style to your sanctuary.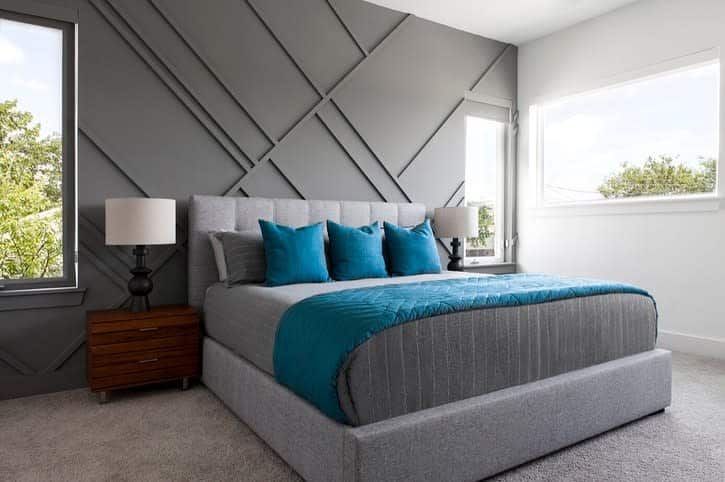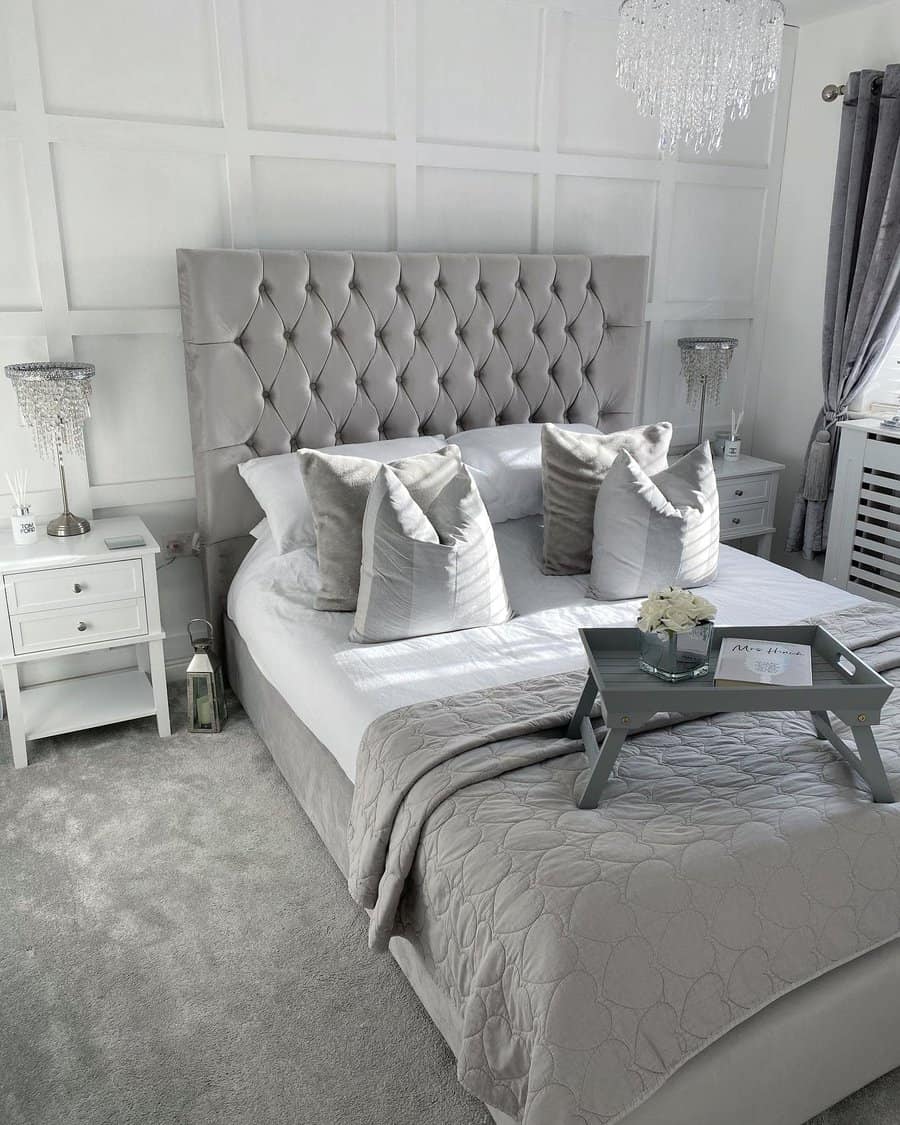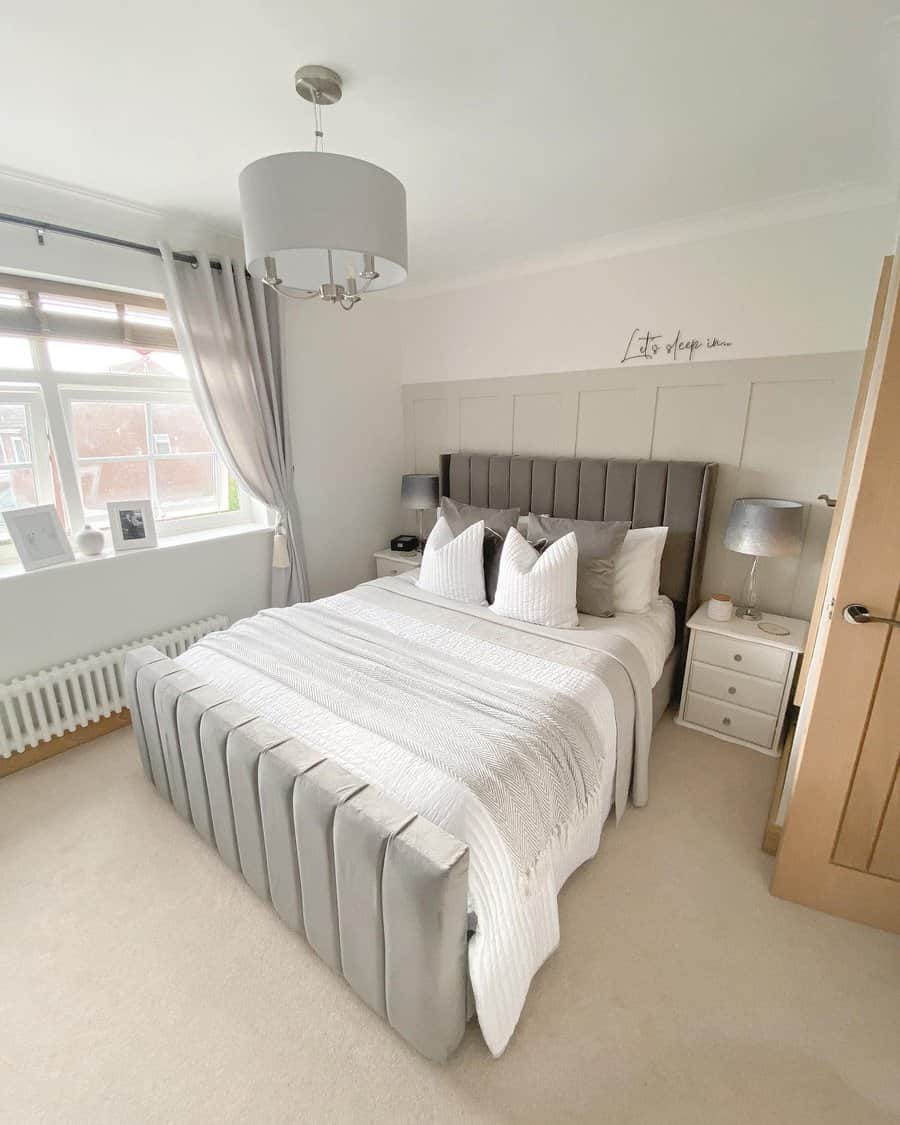 14. Grey Bedroom With Plants
To add a touch of life and contrast to the cool tones, bring in an array of greenery. Plants not only infuse the space with freshness but also create a connection to nature, promoting a sense of tranquility. Consider placing potted plants on bedside tables, floating shelves, or even hanging them from the ceiling to maximize space.
Choose plants with different textures and sizes to add visual interest and create a lush atmosphere. From cascading vines to leafy palms, there is a wide variety of plant options to suit your personal style.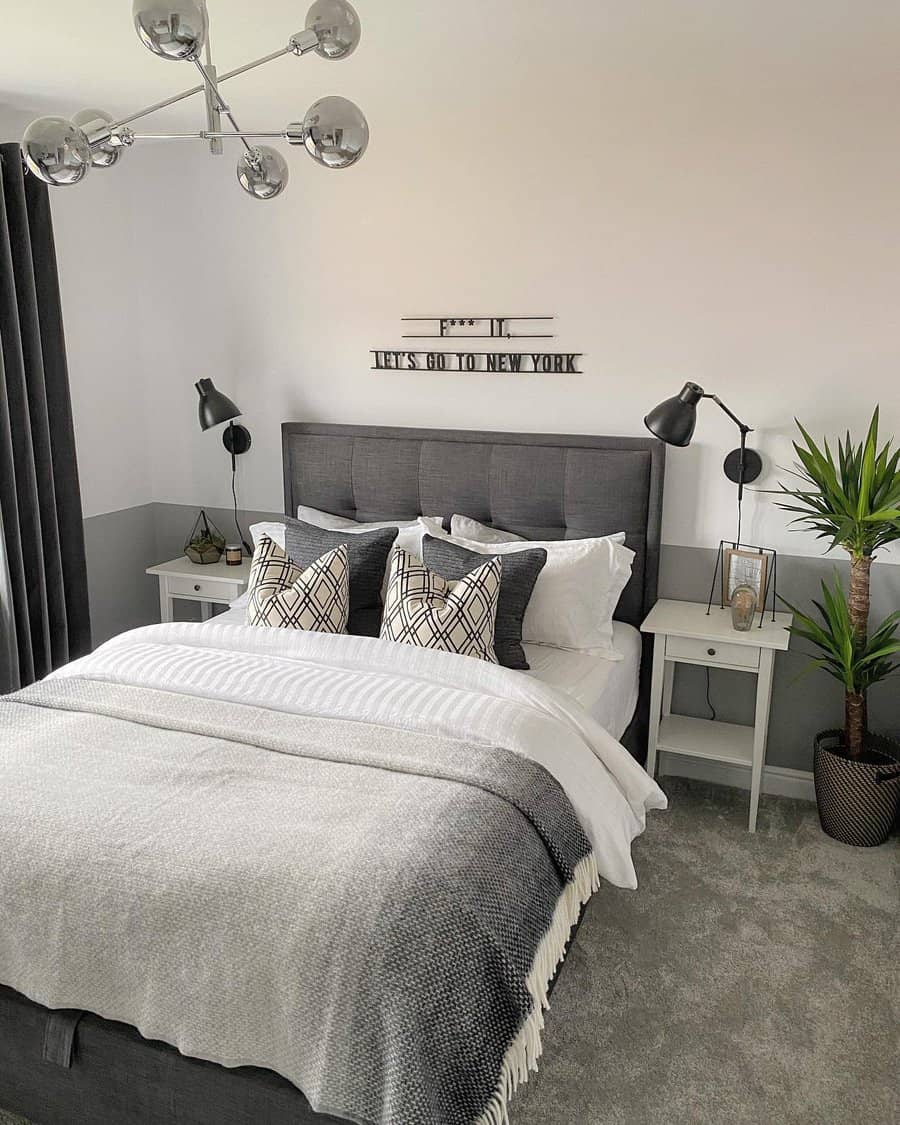 15. Blue & Grey Bedding
Opt for a luxurious duvet cover or quilt in shades of blue and grey, featuring a captivating pattern or subtle texture. Layer it with coordinating pillows and throws in various shades of blue to add depth and visual interest.
To create a harmonious balance, consider incorporating different textures such as velvet, linen, or faux fur. Enhance the overall ambiance with soft lightings, such as bedside lamps or string lights, to create a cozy and intimate atmosphere. The combination of grey and blue in your bedding will bring a sense of tranquility and sophistication to your bedroom, making it the perfect retreat for rest and relaxation.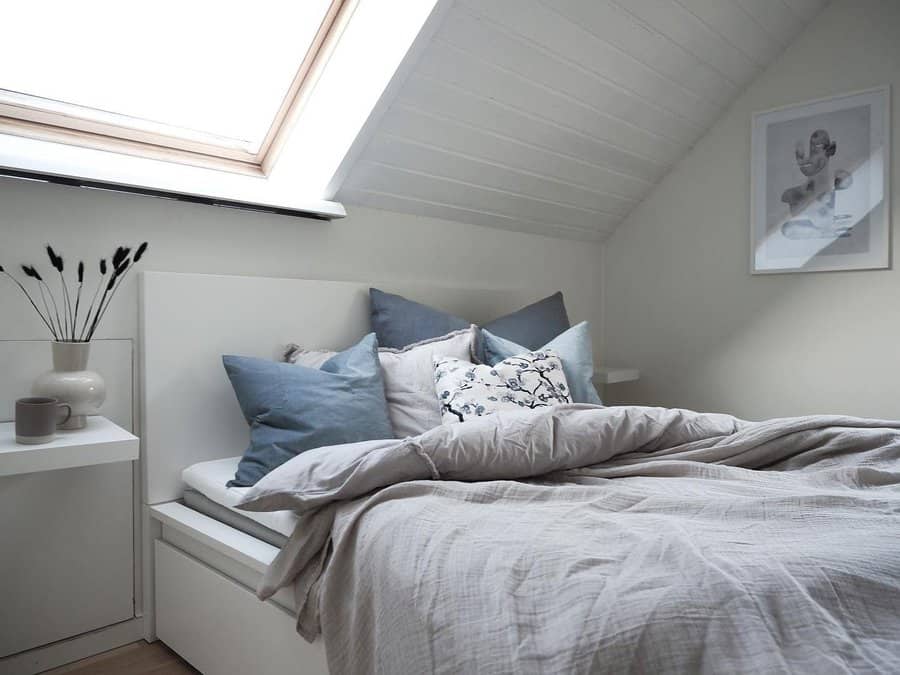 16. Limewash Walls
Grey limewash walls offer a contemporary twist, mimicking the texture and charm of actual concrete while providing a softer and more versatile alternative. Pair these walls with sleek and minimalistic furniture to maintain the modern aesthetic. Incorporate accents in contrasting colors, such as crisp whites or bold pops of color, to create a visually striking effect against the muted grey backdrop.
Layer plush textiles, like cozy throws and fluffy pillows, to add warmth and comfort to your grey oasis. Don't shy away from incorporating different textures and materials, such as natural wood or metallic accents, to enhance the overall design.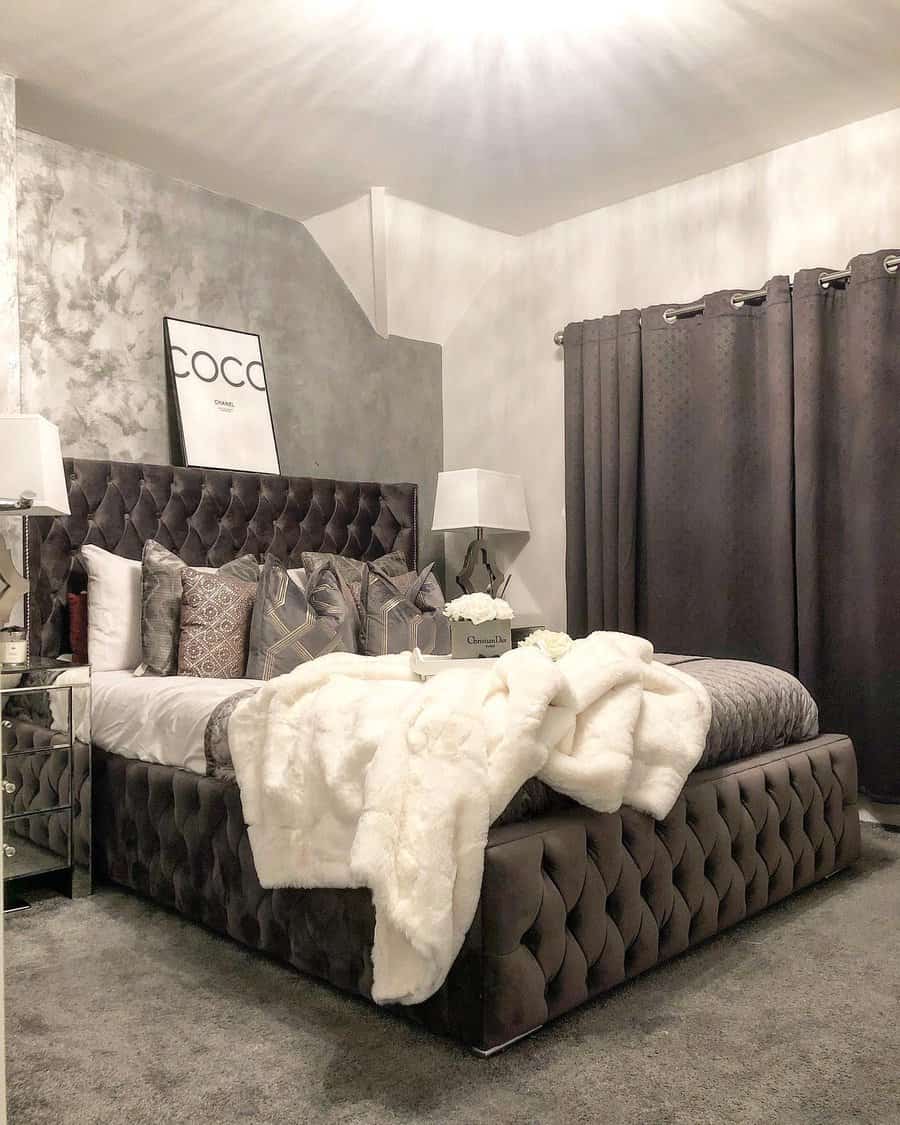 17. Grey Bedroom With LED Lighting
Create a captivating and serene atmosphere in your bedroom with the timeless elegance of grey hues, accentuated by the enchanting glow of LED lighting. Embrace the versatility of grey as a neutral backdrop, allowing you to experiment with various textures and patterns.
From soft dove grey to deep charcoal, the shades of grey provide a soothing and sophisticated ambiance. Incorporate LED lighting into your bedroom design to add a touch of modernity and create a mesmerizing atmosphere. Consider installing LED strip lights along the edges of your headboard or behind floating shelves to add a soft and ethereal glow.
You can also opt for LED pendant lights or table lamps with adjustable color temperatures to create the desired mood. Combine the soothing power of grey with the allure of LED lighting, and you'll have a bedroom that exudes tranquility, style and a hint of contemporary flair.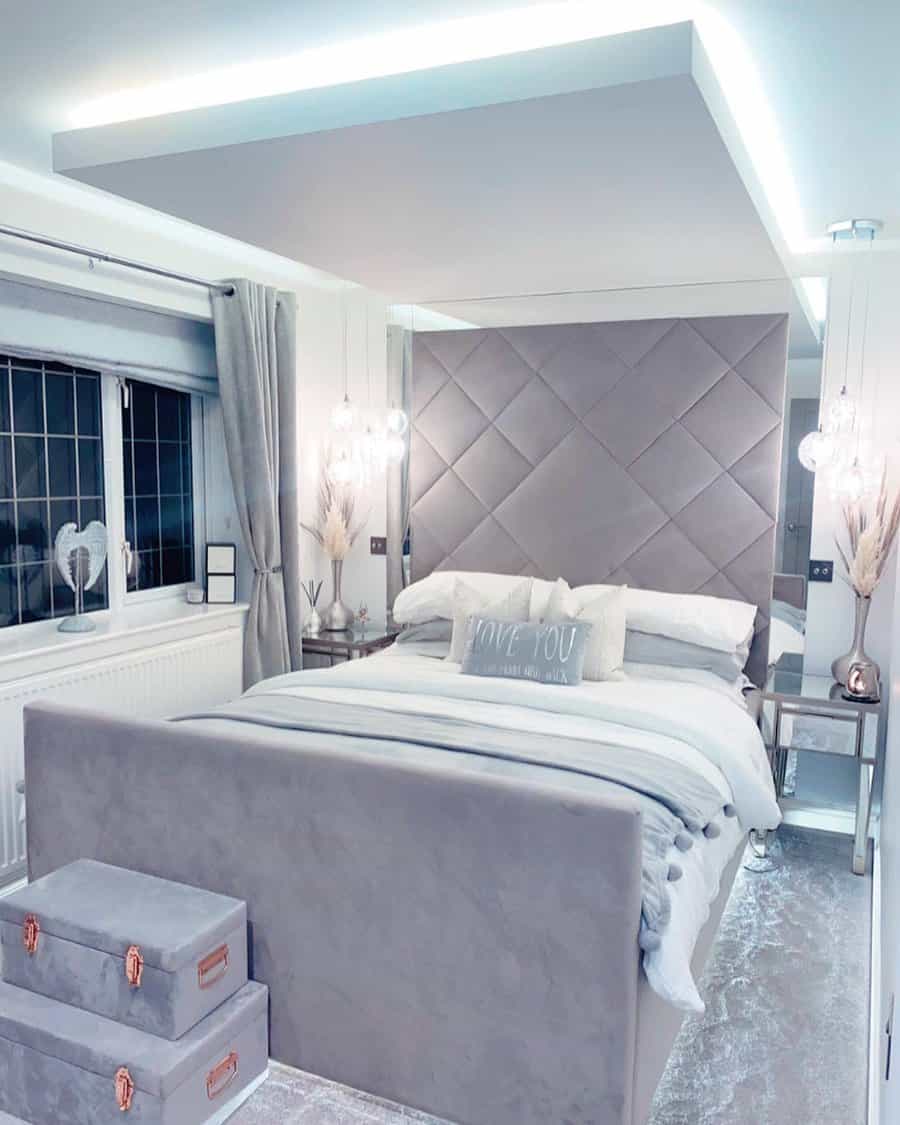 18. Grey Bedroom With Brick Accent
Grey is a versatile hue that exudes elegance and tranquility, making it an excellent choice for a soothing and stylish bedroom. Set the stage by painting the walls in a soft shade of grey, creating a calming backdrop that complements various decor styles.
To add a touch of visual interest and texture, incorporate a brick accent wall. The raw and rugged nature of the bricks juxtaposed against the refined grey palette creates a captivating focal point that effortlessly elevates the room's design.
Complete the look with furnishings and accessories that complement the grey theme, such as plush bedding, a cozy area rug, and metallic accents for a touch of glamour. Don't be afraid to experiment with different shades of grey and layer different textures to create depth and dimension.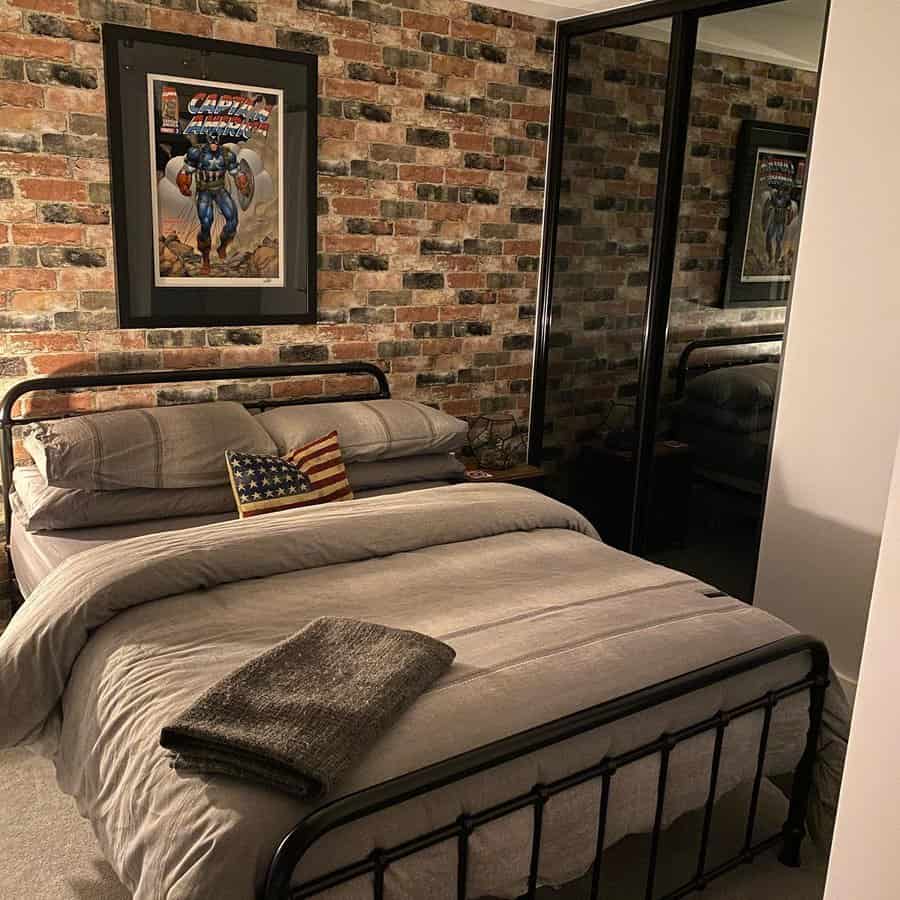 Grey Bedroom FAQs
What colors go with a grey bedroom?
The color that goes best with your grey will depend on the undertones of the grey. Warm greys look better with creamy white, pink, or yellow. This brings out the warm undertones of the grey. A cool shade of grey will look better with green, purple, or blue. Some shades of grey have brown undertones and are called greige, making them perfect for other shades of beige and tan.
How do I make my grey bedroom cozy?
The key to making any room feel cozy is to add layers. This adds a plush and sink-into feeling to the room that makes it feel cozy. You can do this by having two or three layers of curtains on the windows. Arrange multiple throw pillows and blankets on the bed. Add curtains to a four-poster bed. Spread a rug on the floor.
What color furniture goes best with grey walls?
To prevent the room from falling flat, choose a color other than grey for your furniture. White is a beautiful contrast that also keeps the room feeling light. Mint green, soft pink, and pale blue are also good options. Gold can add a touch of luxury and warmth to the grey. A dark peacock green or teal can complement the grey.