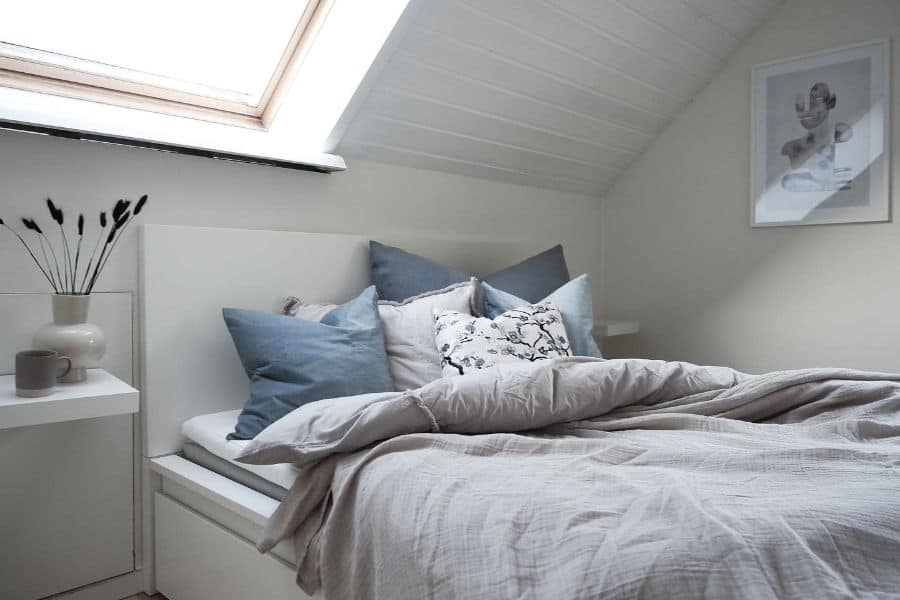 The Top 63 Grey Bedroom Ideas
"Life isn't black or white, it's all sorts of shades of grey." – Nicky Morgan
Grey bedroom ideas are popular because this neutral color has a broad appeal. It gives the master bedroom a sophisticated and fresh feel without being as harsh as a white or black bedroom. There is a range of shades from an almost black charcoal grey to a barely-there pale grey. You can also easily pair it with other colors for a multi-dimensional color scheme.
Check out these fresh grey bedroom ideas and give your bedroom a much-needed update.
1. Decor
Grey bedroom decor can be a bit much in your already grey bedroom design. The decor won't stand out against the grey bedroom wall. You have two options. The first is to use varying shades of grey. This gives you an all-grey look while also creating depth and contrast.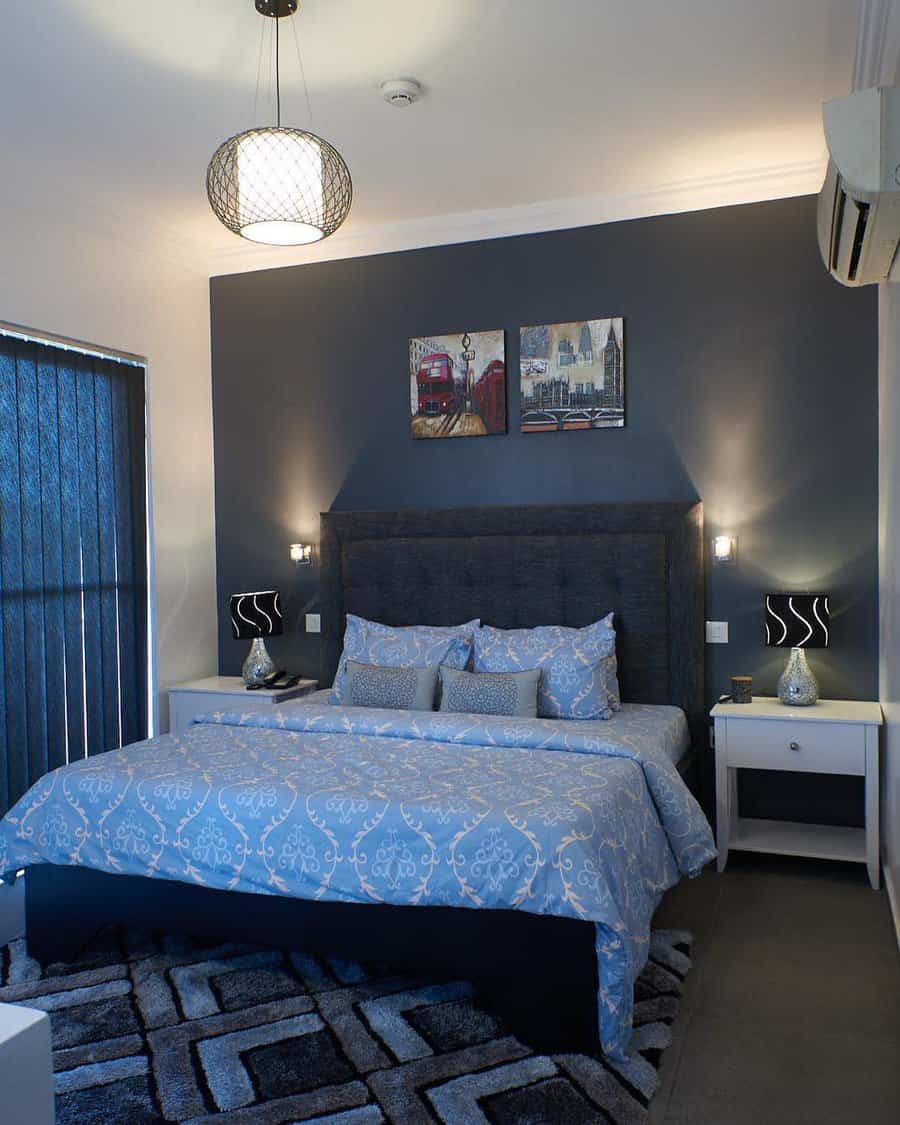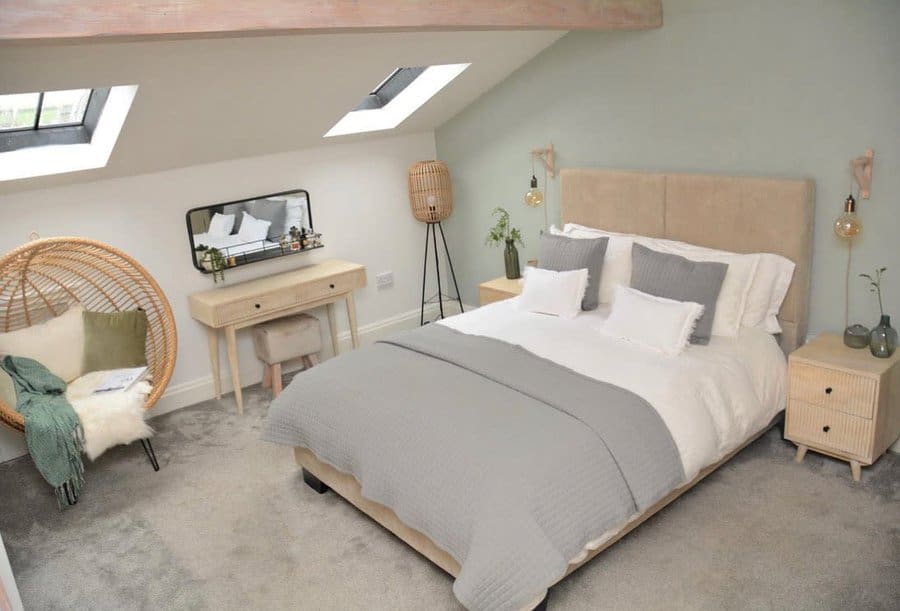 Your other option is to choose another color that pairs well with grey. Blue, pink, green, yellow, black, and white all look beautiful with the modern neutral color. Think about the mood you want to create in your bedroom and colors that appeal to you. For example, blue and green can add a calming effect, while yellow can feel cheery, and pink could give it a romantic touch.
2. Furniture
Choosing a grey color for your bedding and furnishings is a smart choice. There are plenty of options in various shades, making it easy to find the perfect pieces for your bedroom. Both hard and soft furnishings come in grey. You could have a light grey wood dresser and bookshelf. Or a matching grey small desk and chair.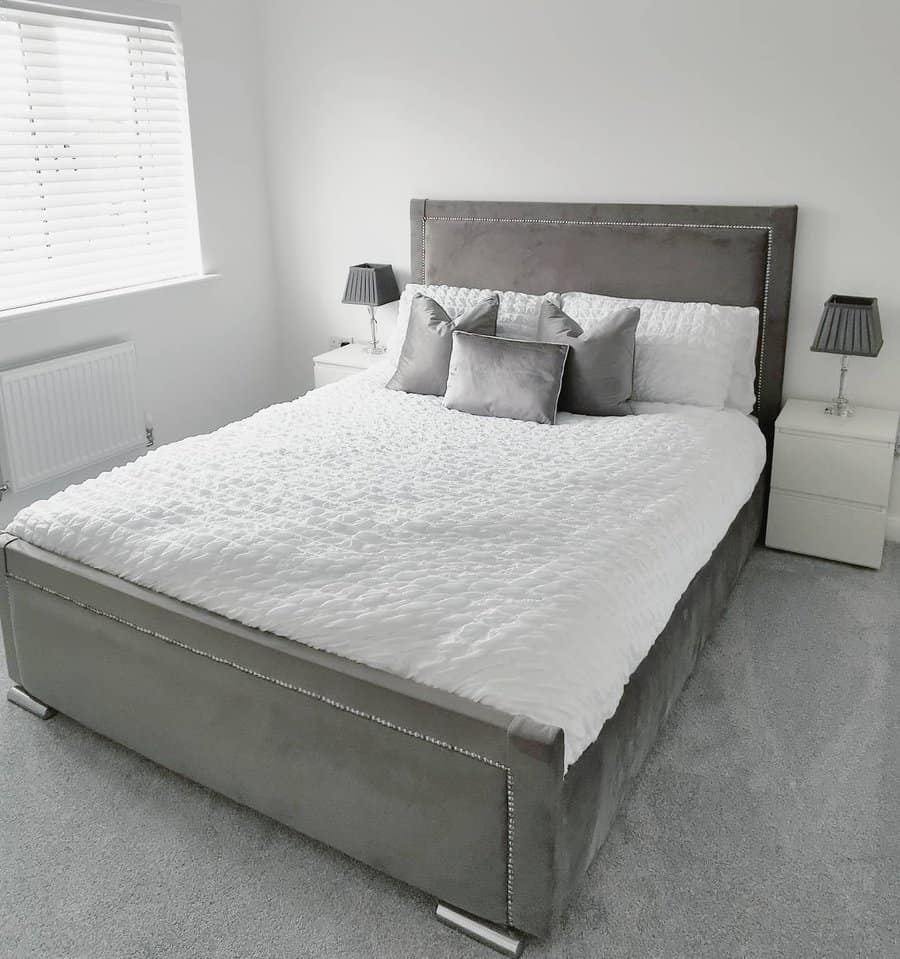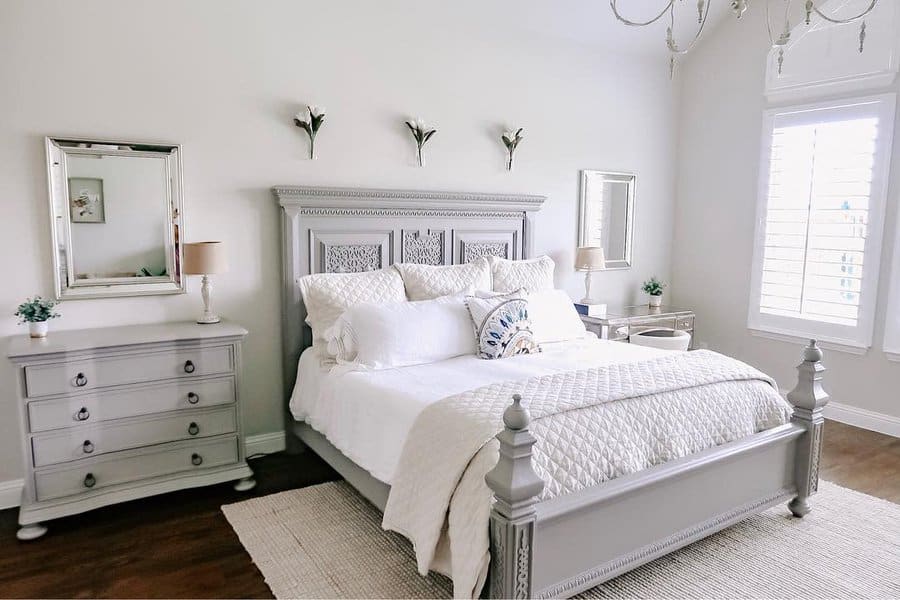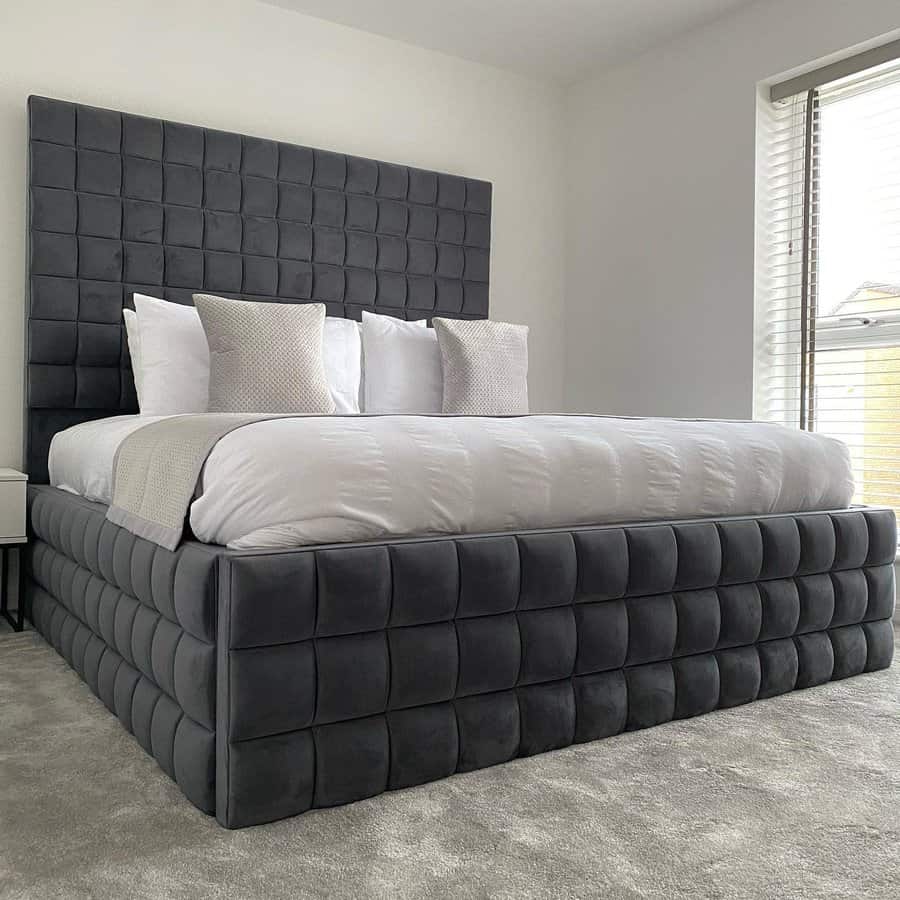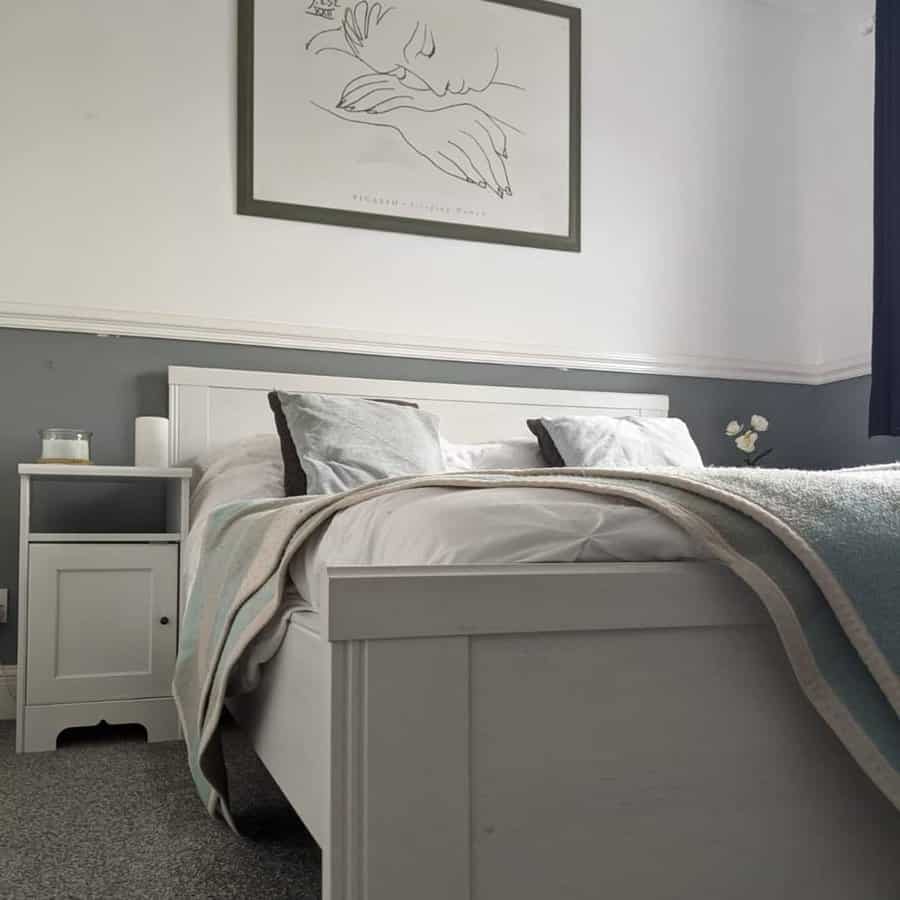 A comfy armchair in grey gives you the perfect place to get dressed in the morning or relax before bed with a book at night. Hang dark charcoal grey drapes on the window to block the light for better sleep and balance the amount of light grey already in the room. Match this darker shade to the comforter on the bed and the rug on the floor. Now you've tied the room together with color.
See more bedroom furniture ideas here.
3. Guest
Adding a light grey bed to the guest bedroom is a nice way of creating a neutral and inviting space for your guests. The grey tone is soft and neutral. You can then go bold with your decor that's hung on the grey wall. It could have a bohemian feel with pieces of art that you've collected from your travels. This is an easy way to add punches of color and bring life to the room without the color feeling overwhelming.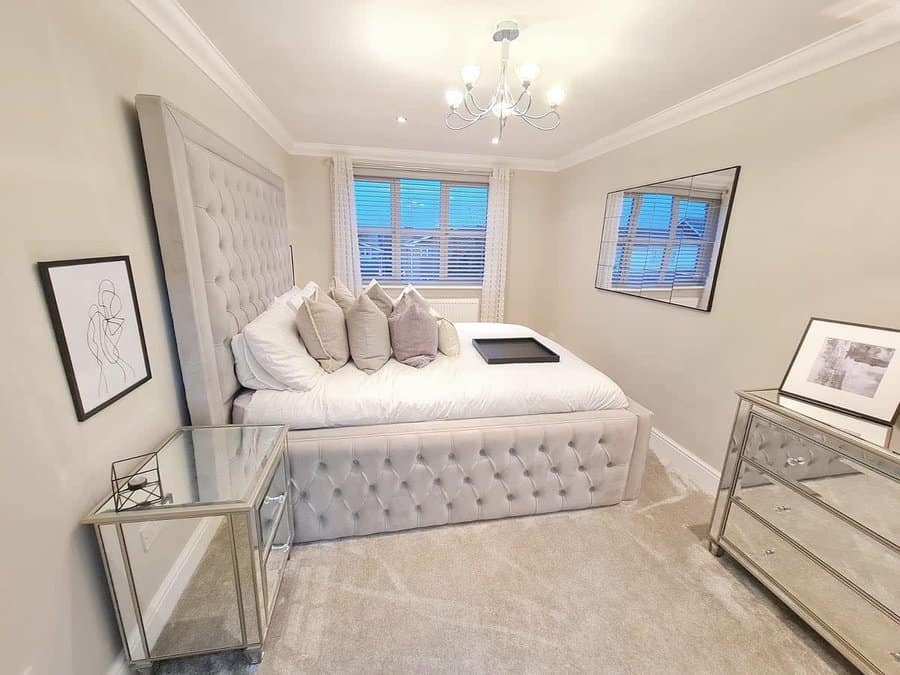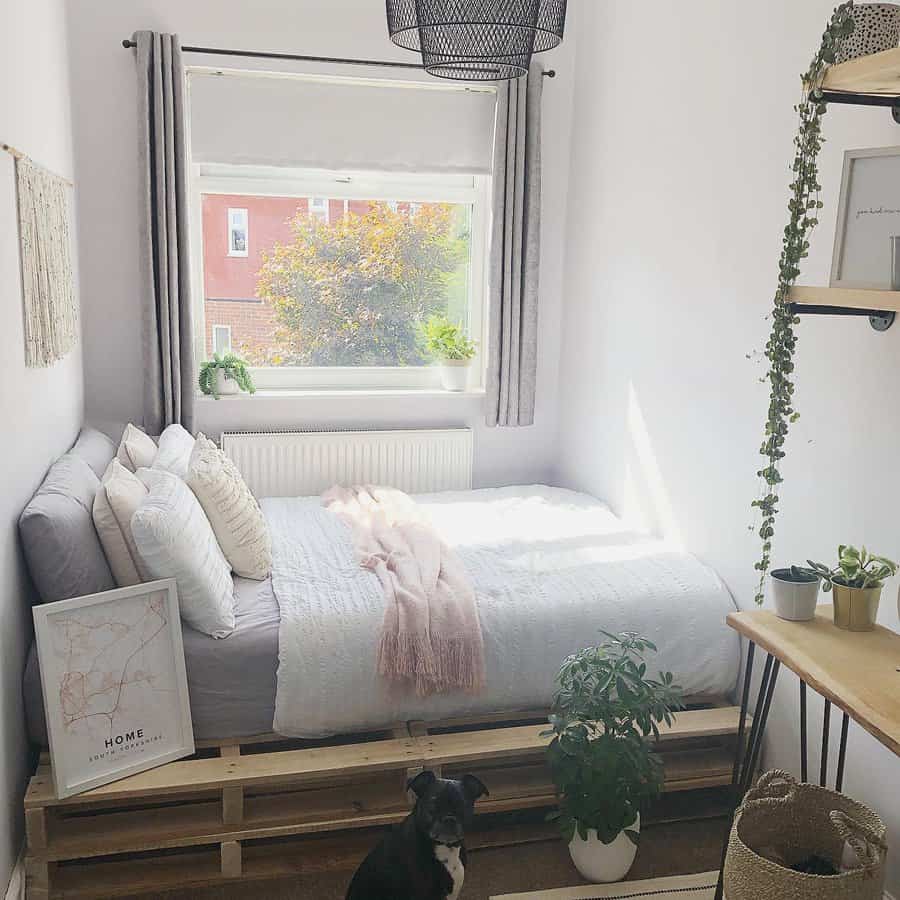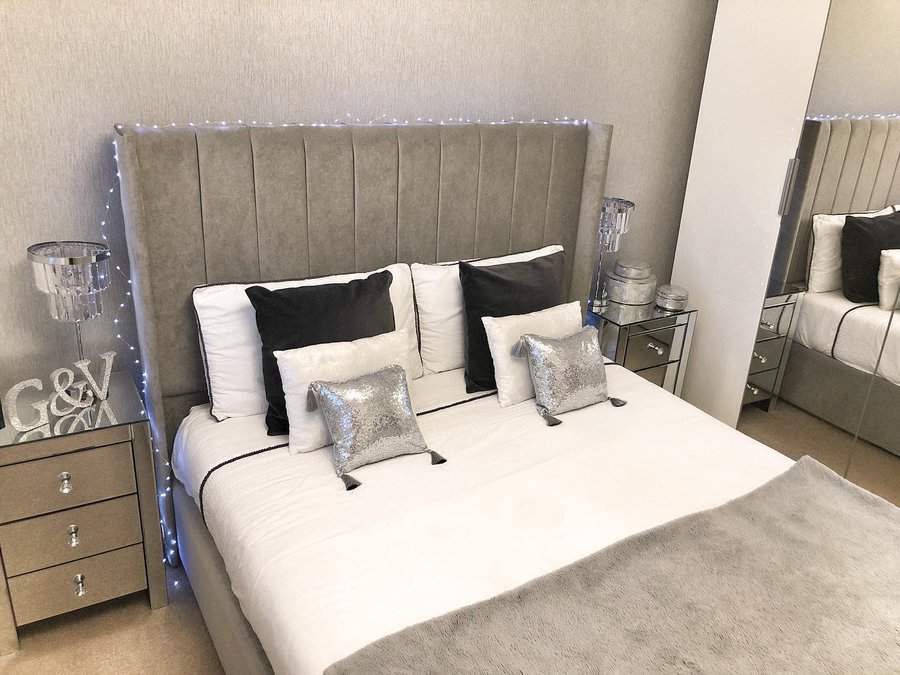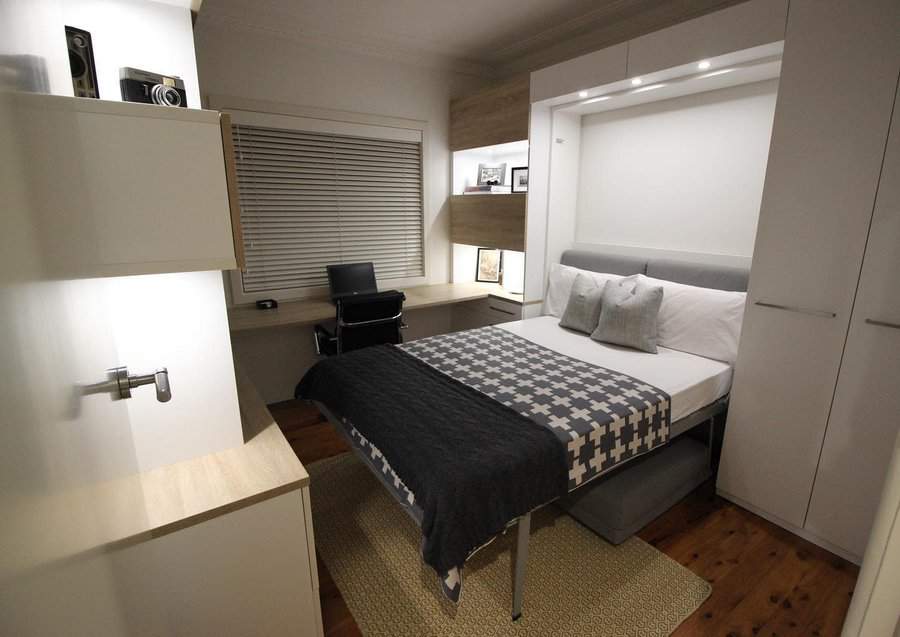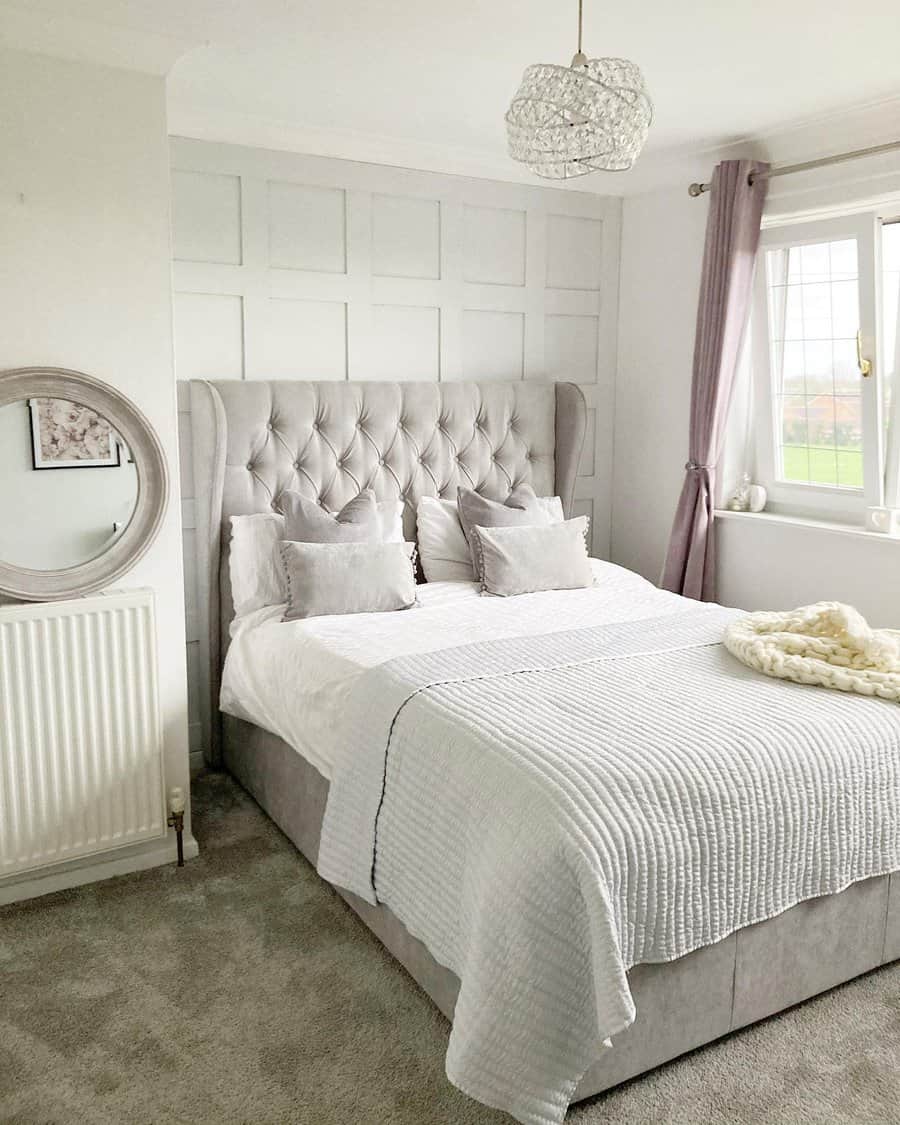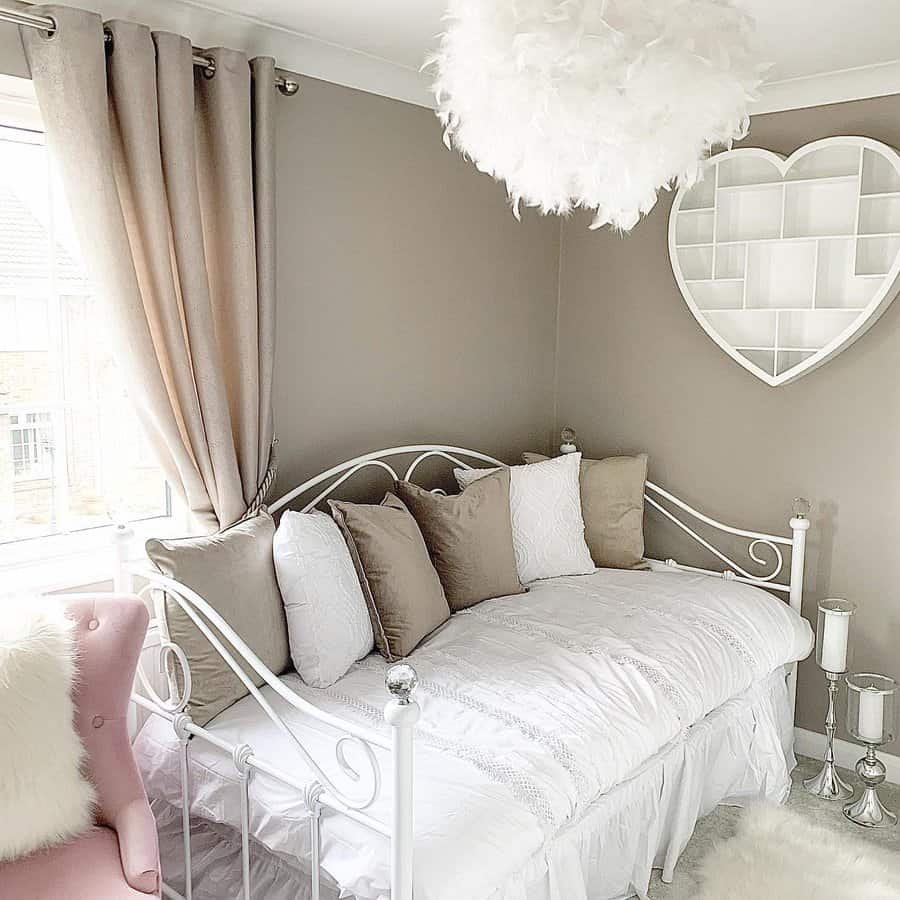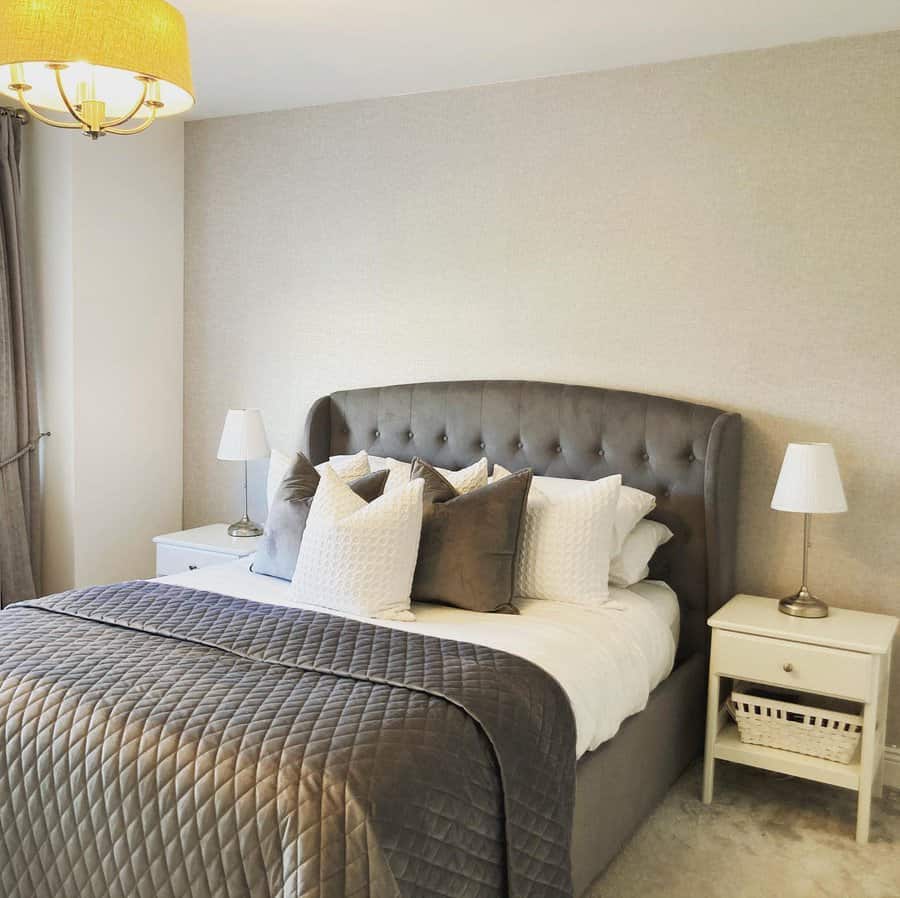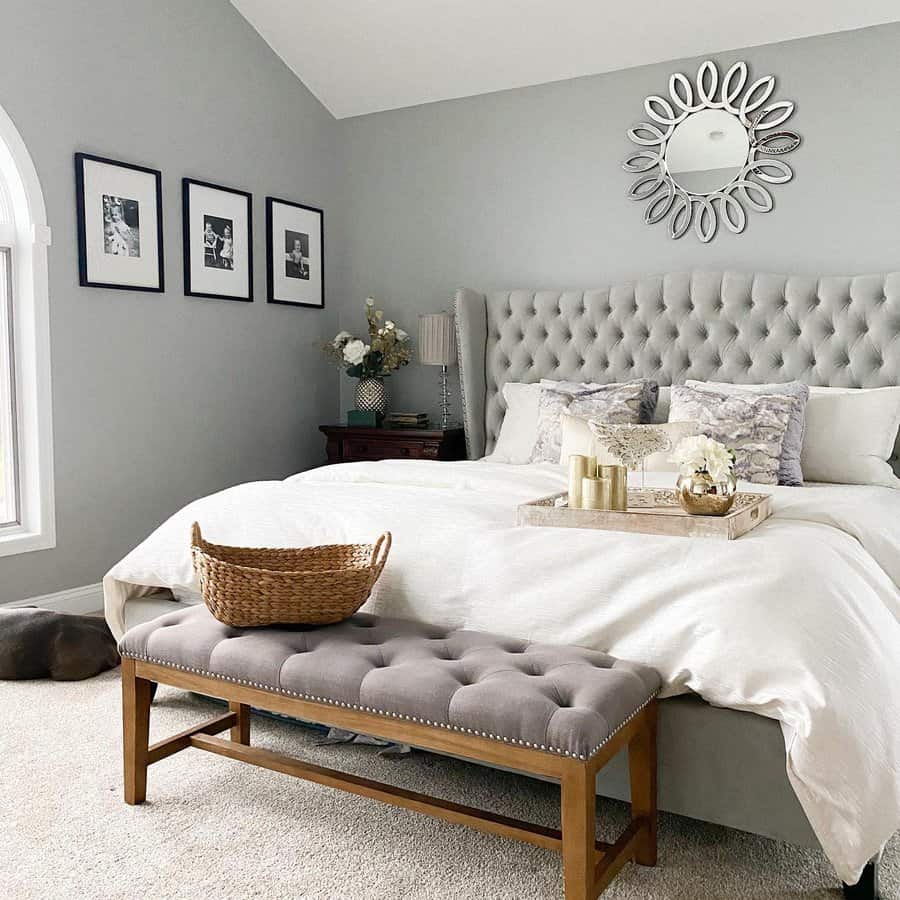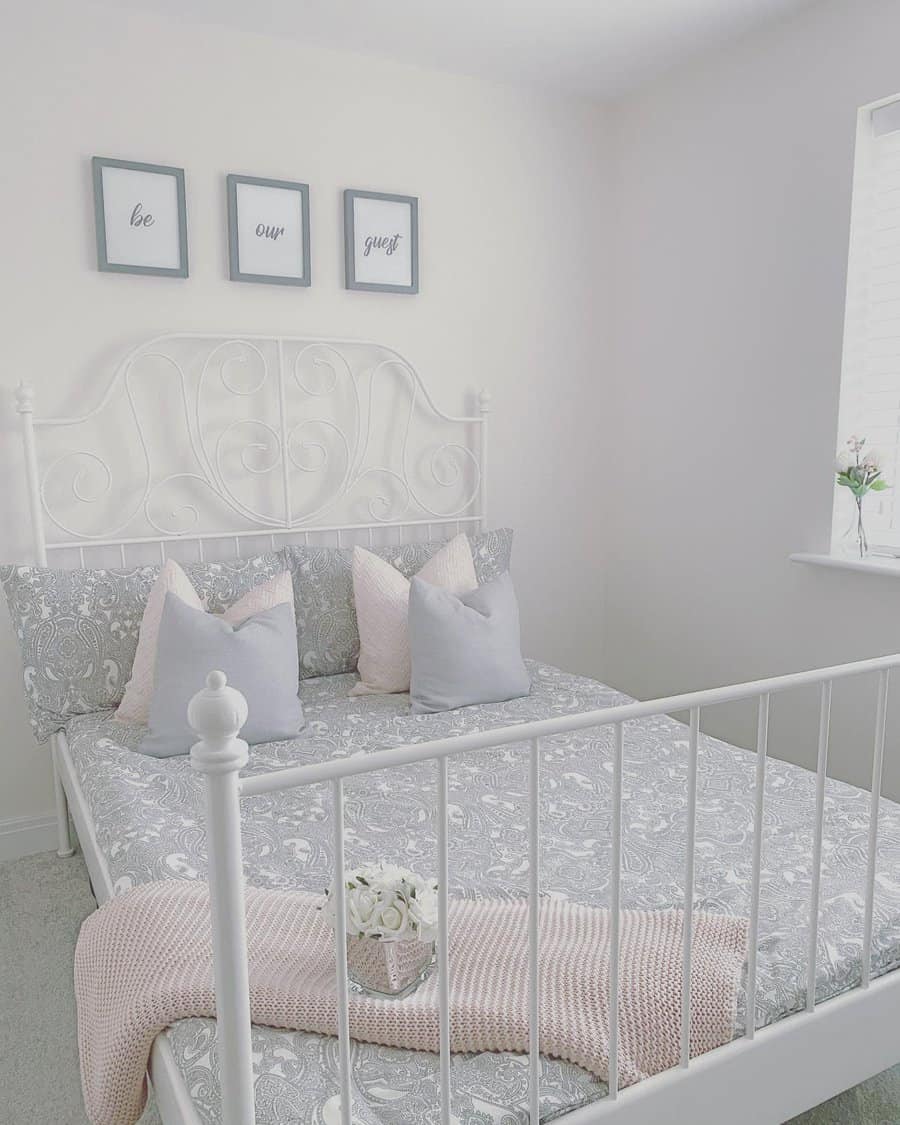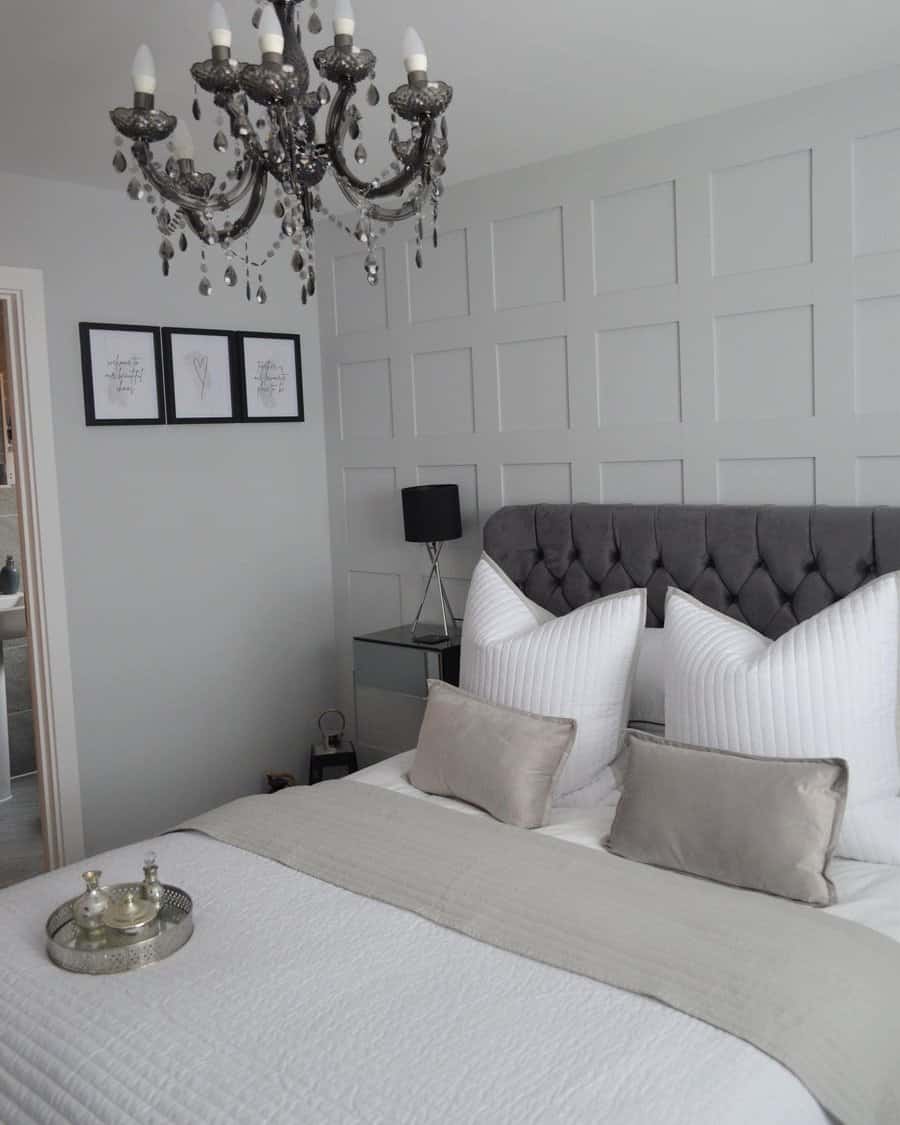 Instead of hanging decor on the walls, turn the wall into the decor. Add large-scale decals in the form of flowers. There are high-quality decals that look like realistic paintings on your walls. You could hang seasonal decor in the room to help your guests get in the mood for the season. Change out the decor each quarter to have a rotating theme.
4. Headboard
You don't have to commit to an all-grey bedroom to have the shade in your bedroom. Sure, you could do the obvious of having a grey accent wall or grey floor. But you can do something that's much faster and more affordable. Change the linens and comforter on your bed for grey bedding or headboard.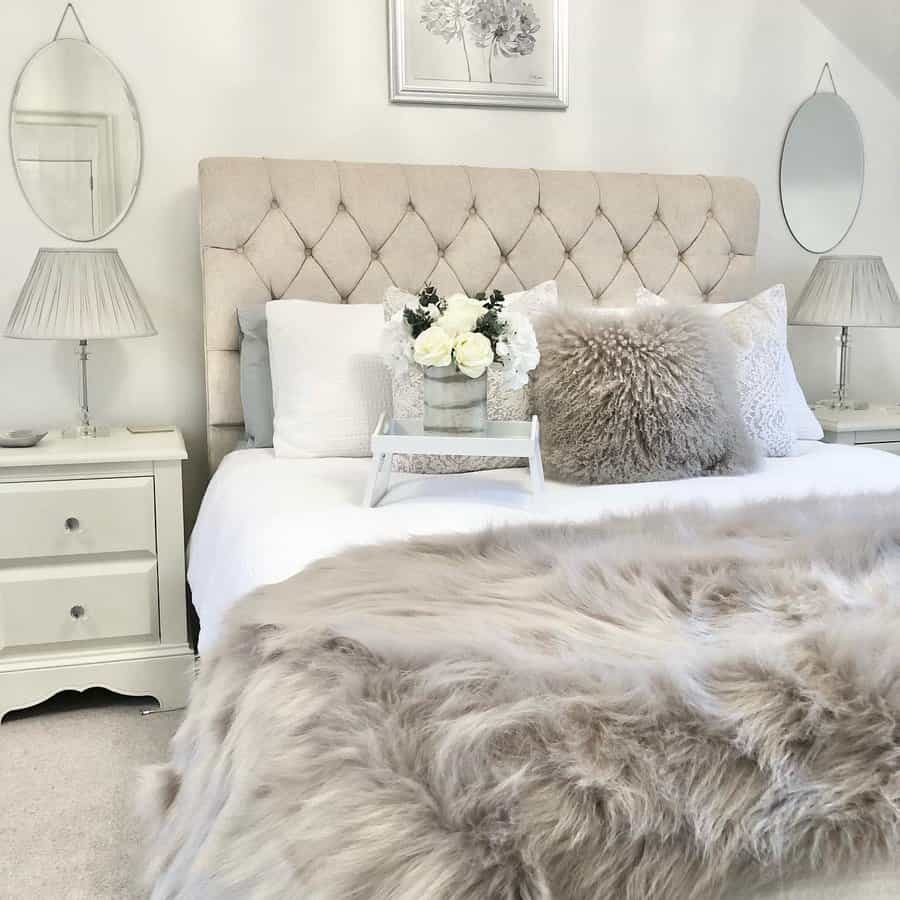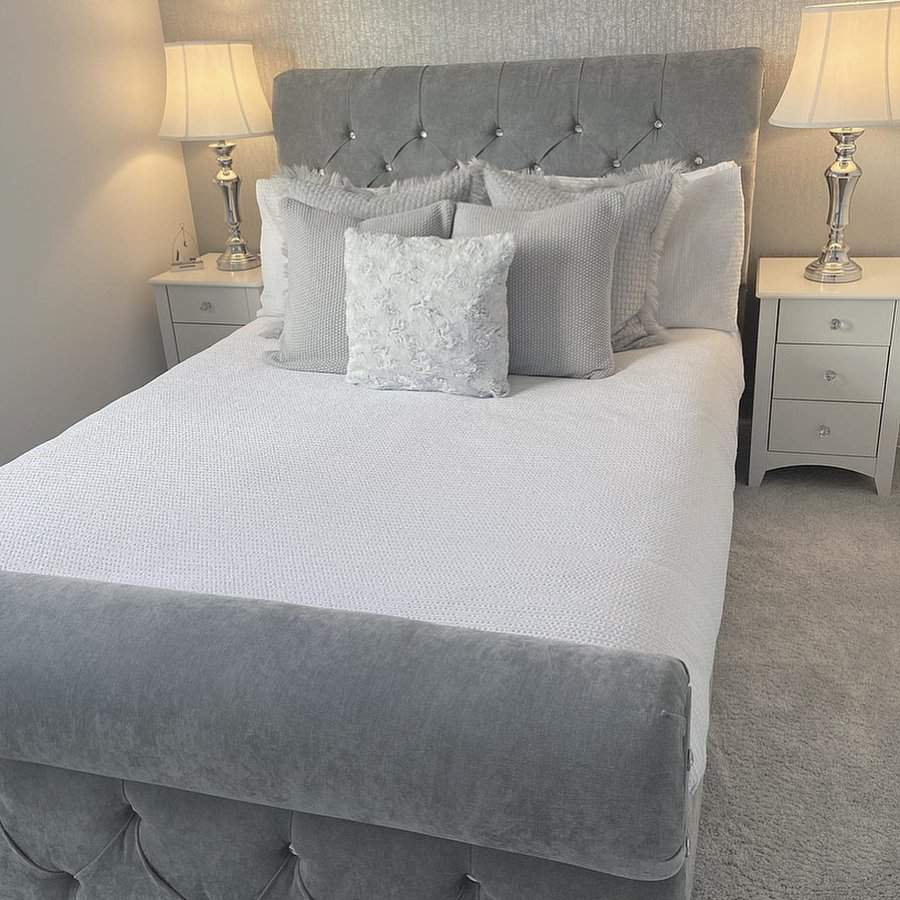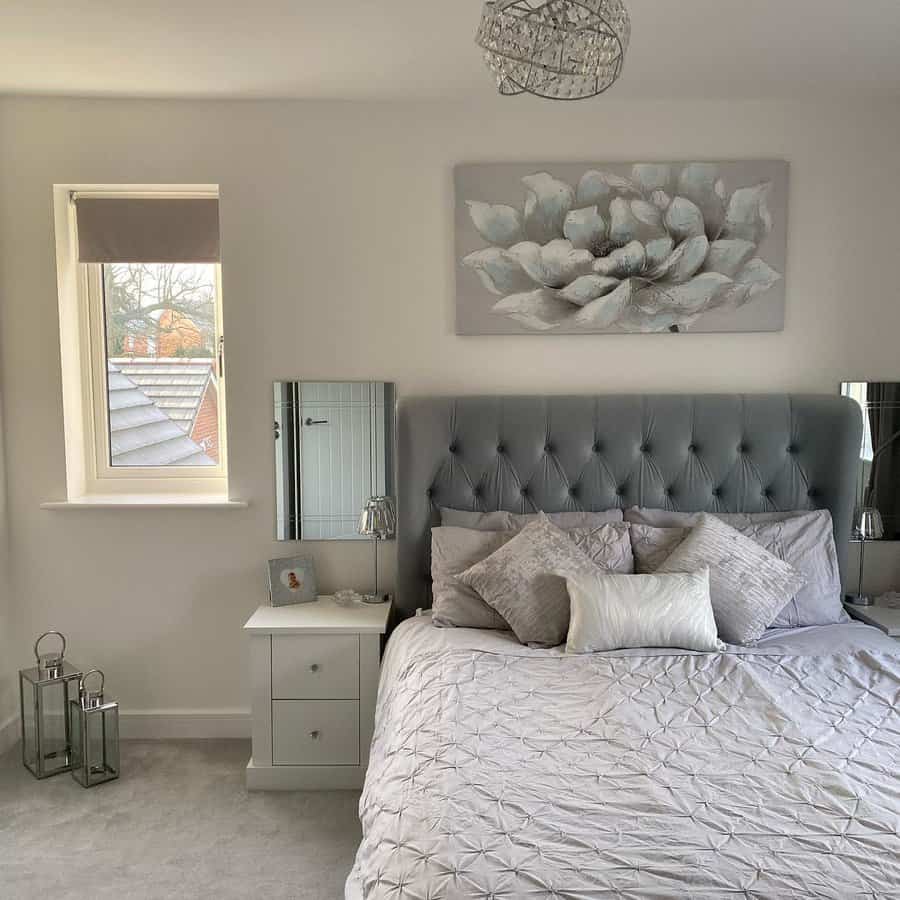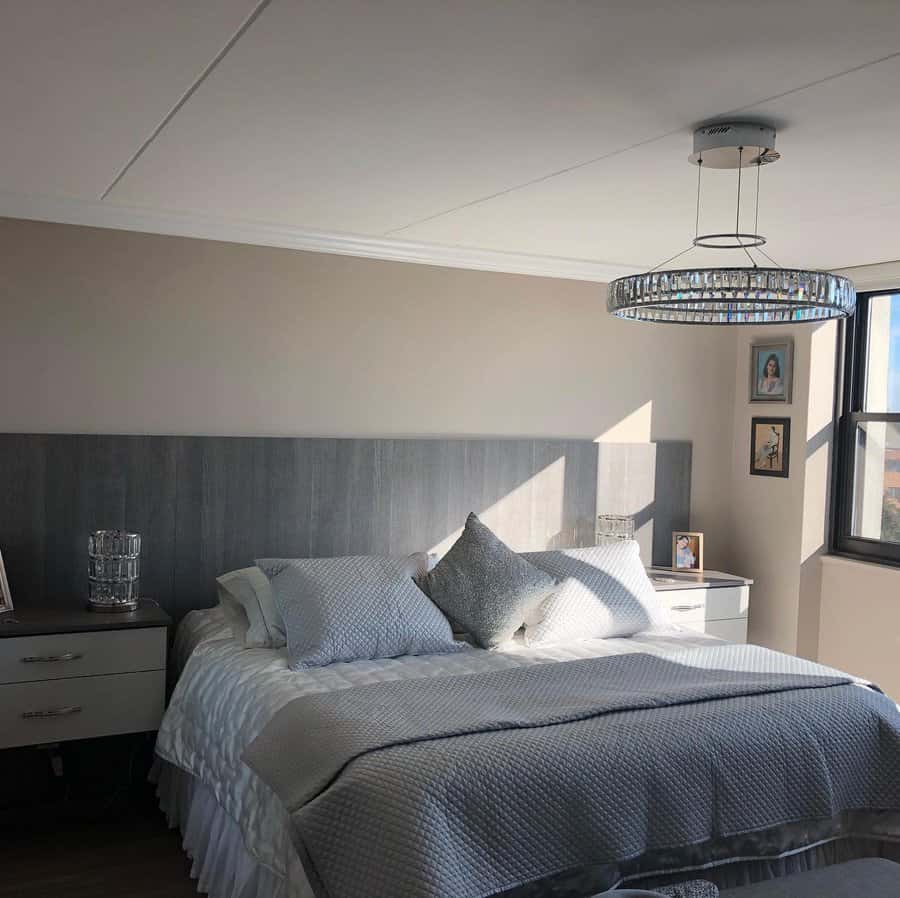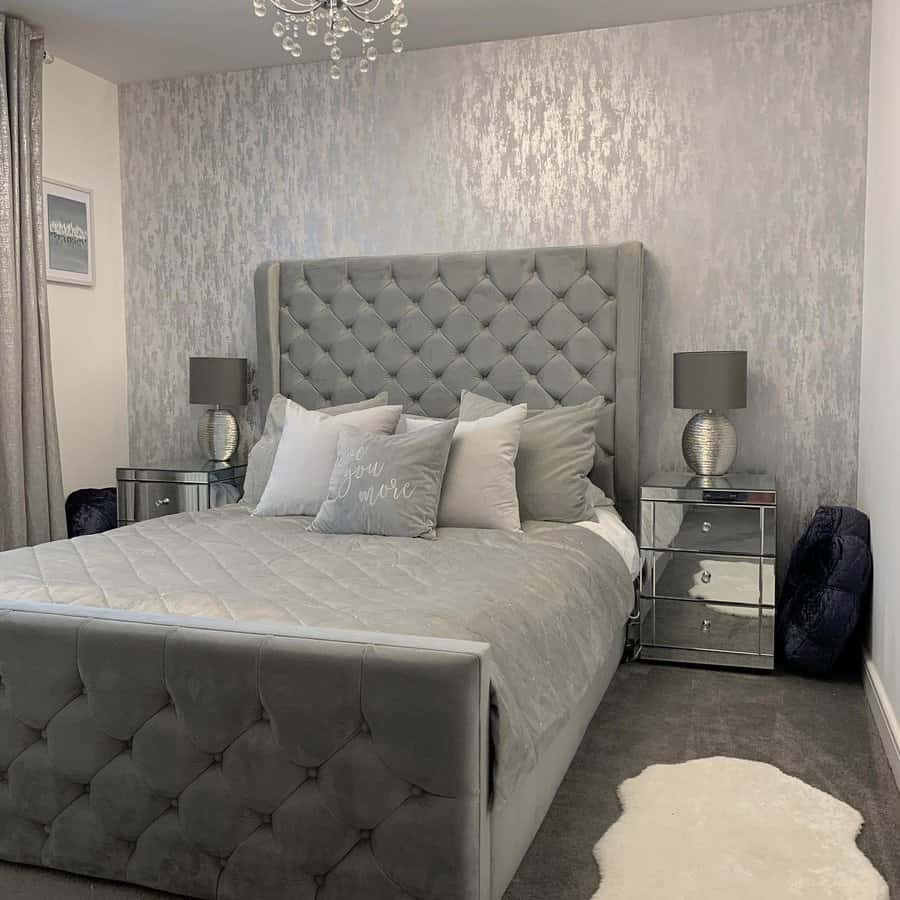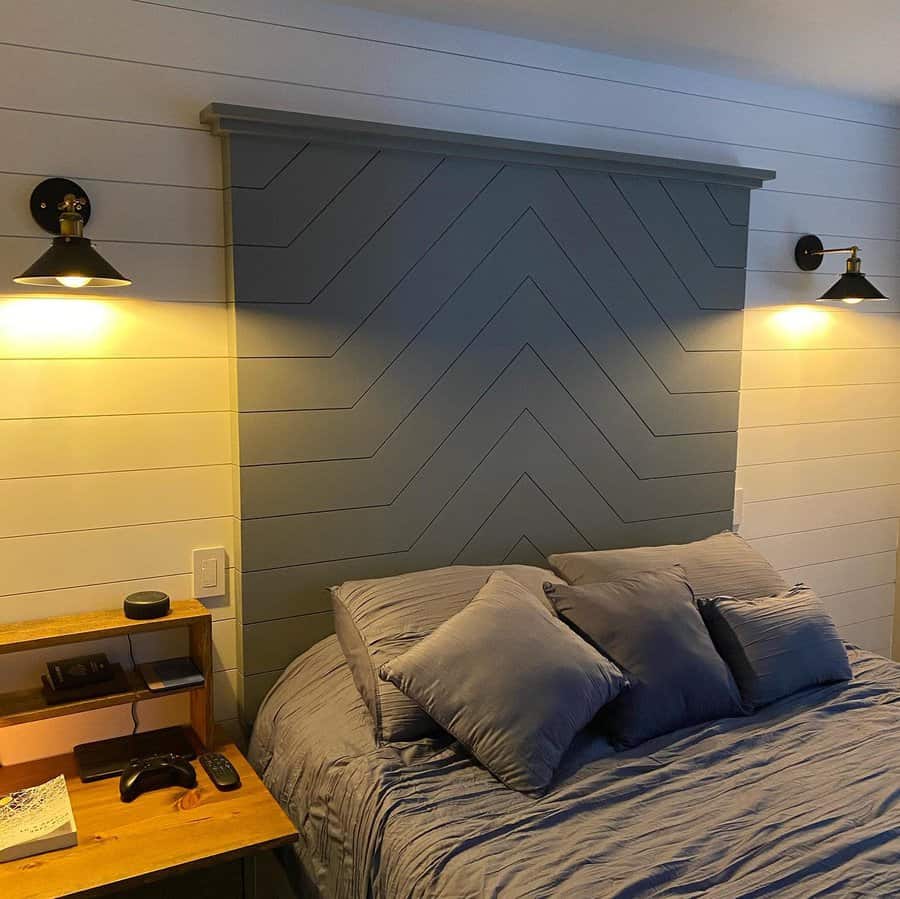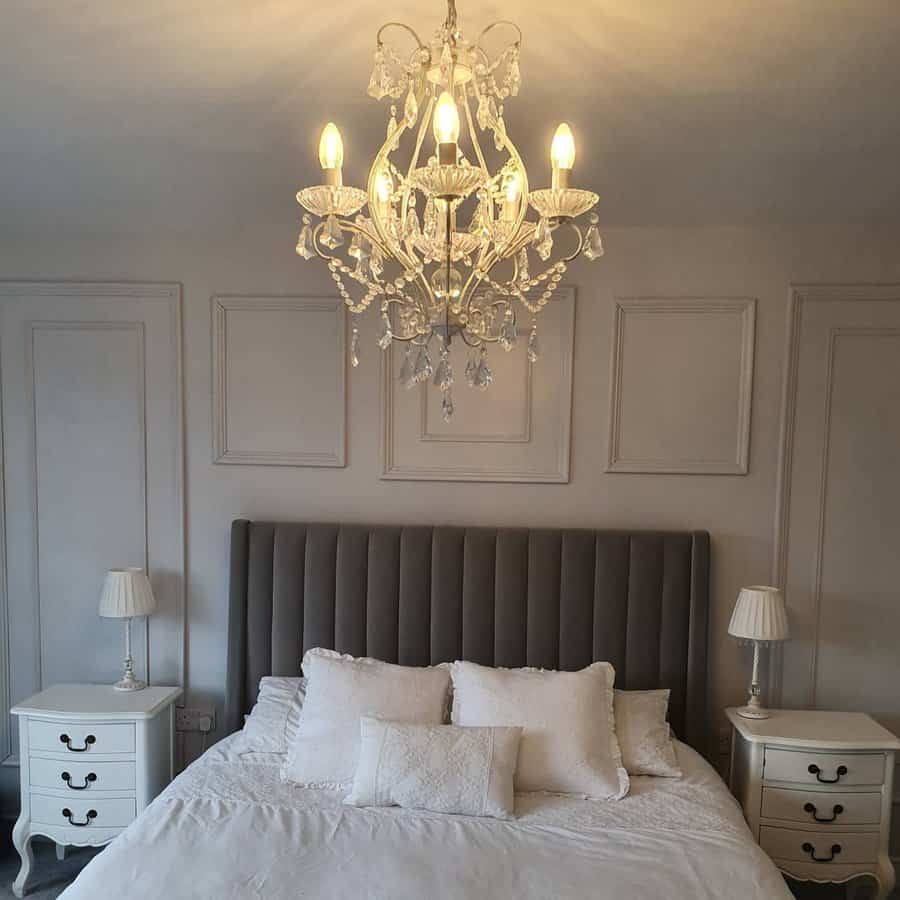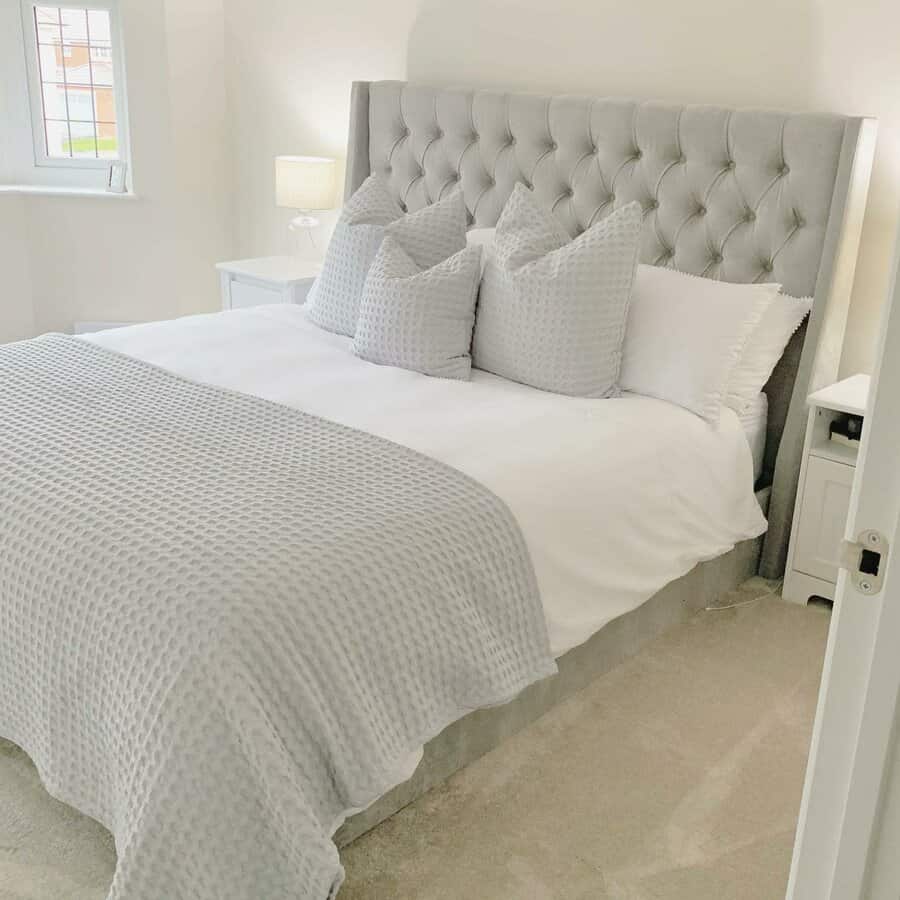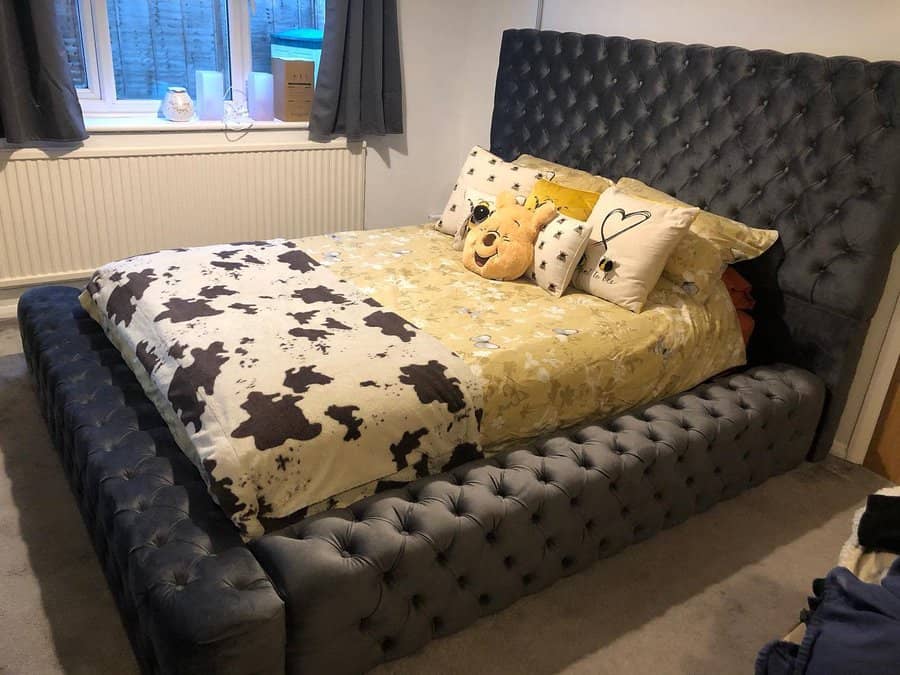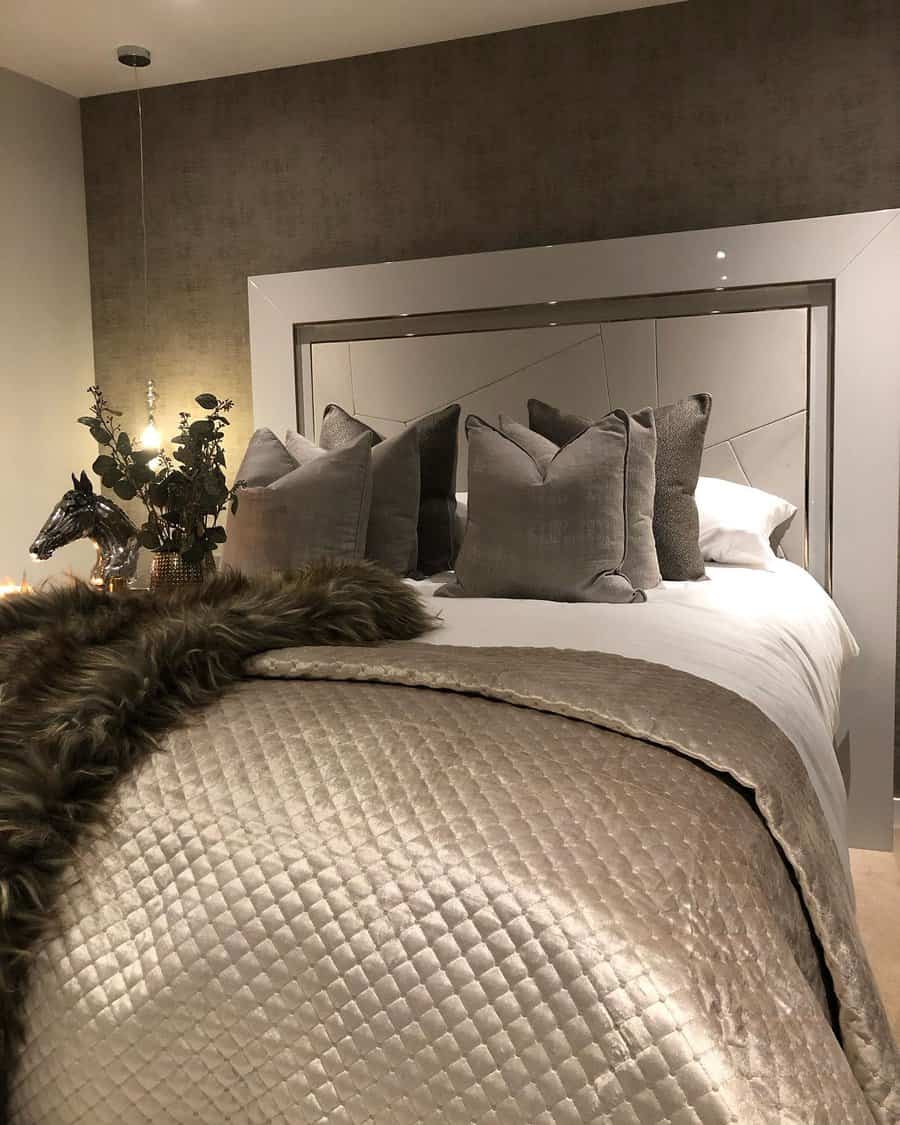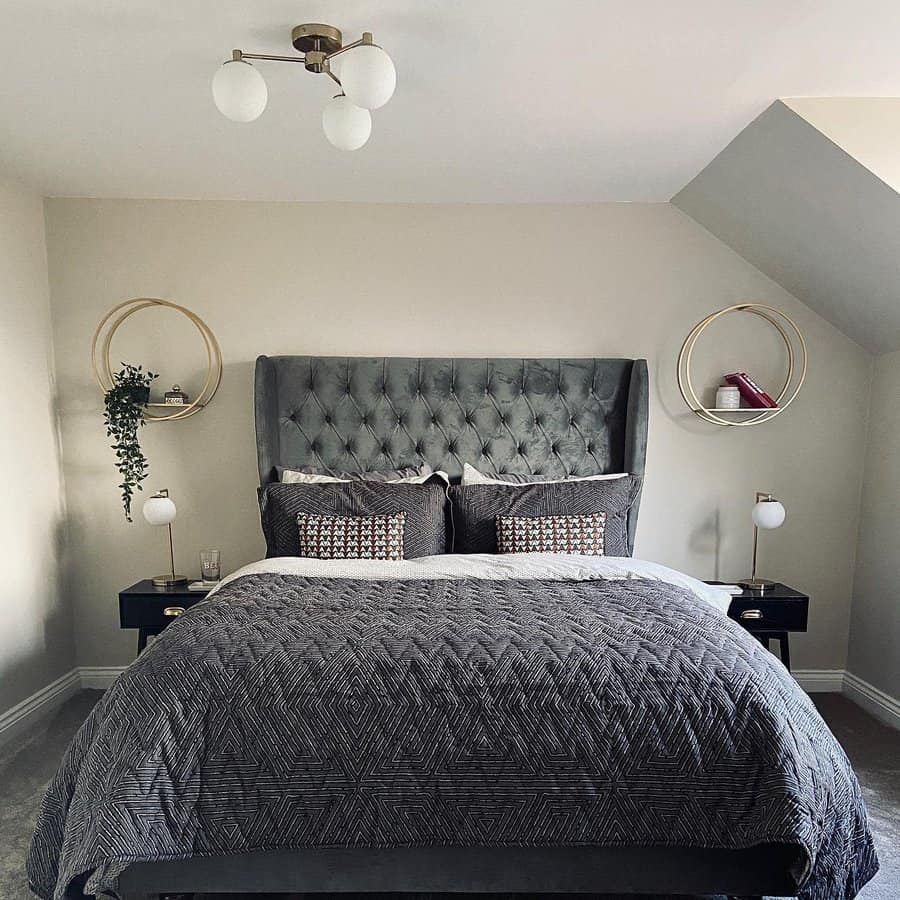 If you already have an upholstered headboard, then you can buy grey fabric and cover it. Choose a fabric that matches the rest of your bedroom's decor. Linen or burlap looks good in a rustic or farmhouse-inspired bedroom. Cotton or linen look right at home in a coastal bedroom. This is your chance to add texture, so look for a material with an obvious weave or texture to it.
See more headboard ideas here.
5. Luxury
All too often, grey is associated with simple and farmhouse decor. However, it can also be sleek, sophisticated, and luxurious. Pair your grey with a blush pink or dusty pink to add a softness to your bedroom. Add these colors with the use of elevated materials. Instead of just a pink armchair, choose one that's upholstered in luxurious velvet or silk. Elevate the look of your dresser by placing a thin slab of pink quartz or marble on top of it.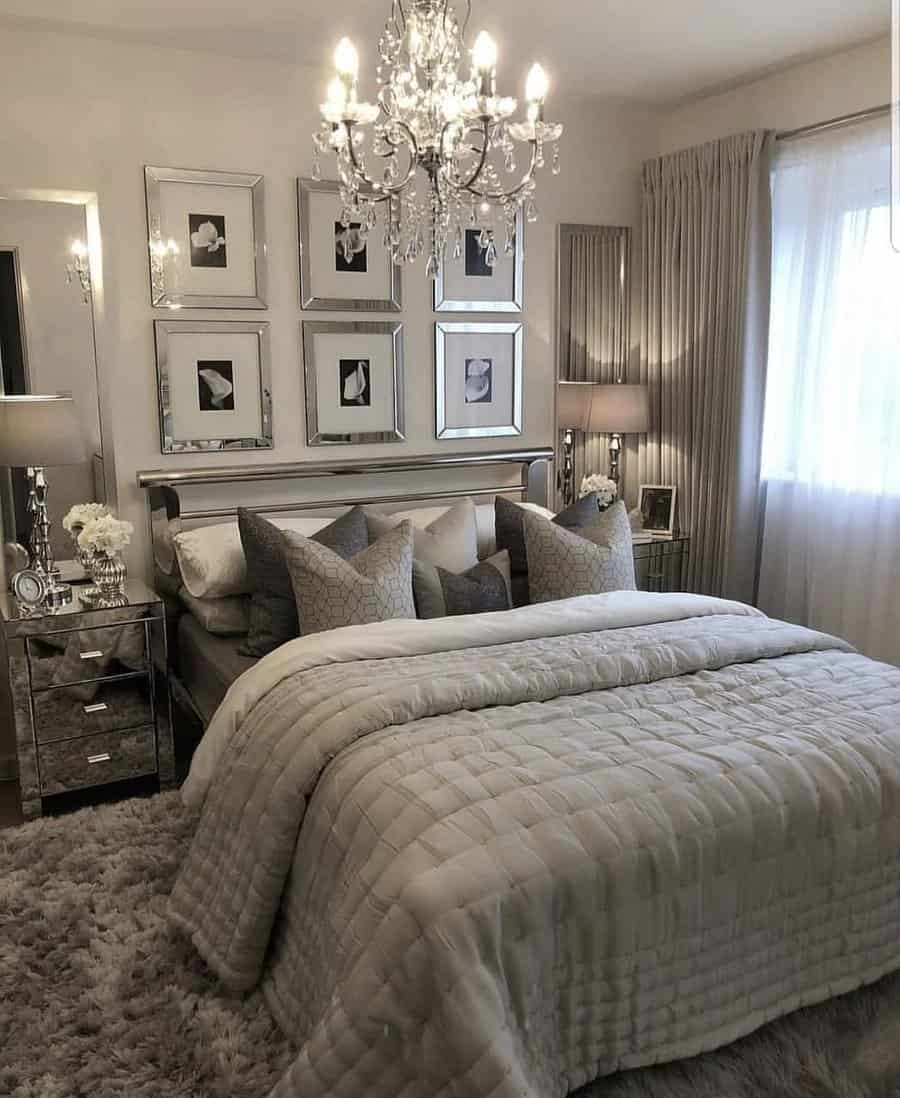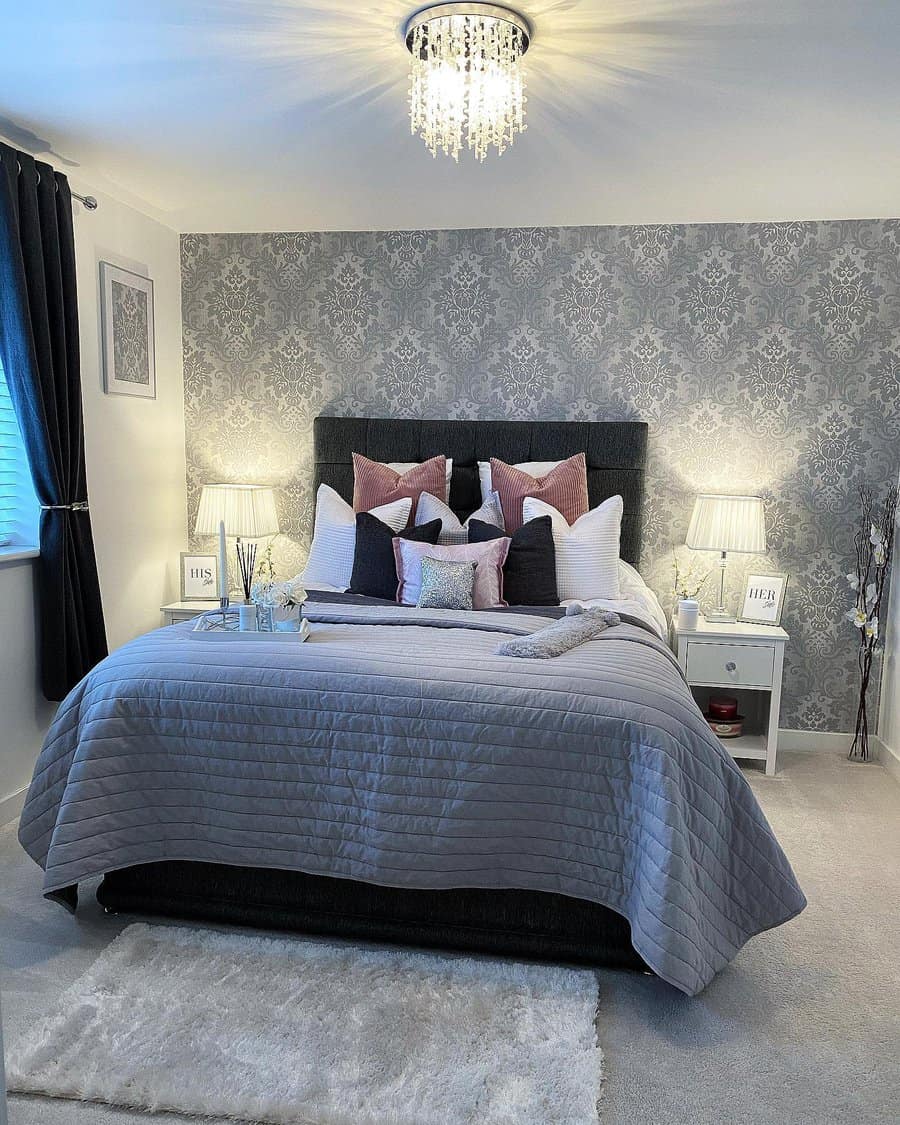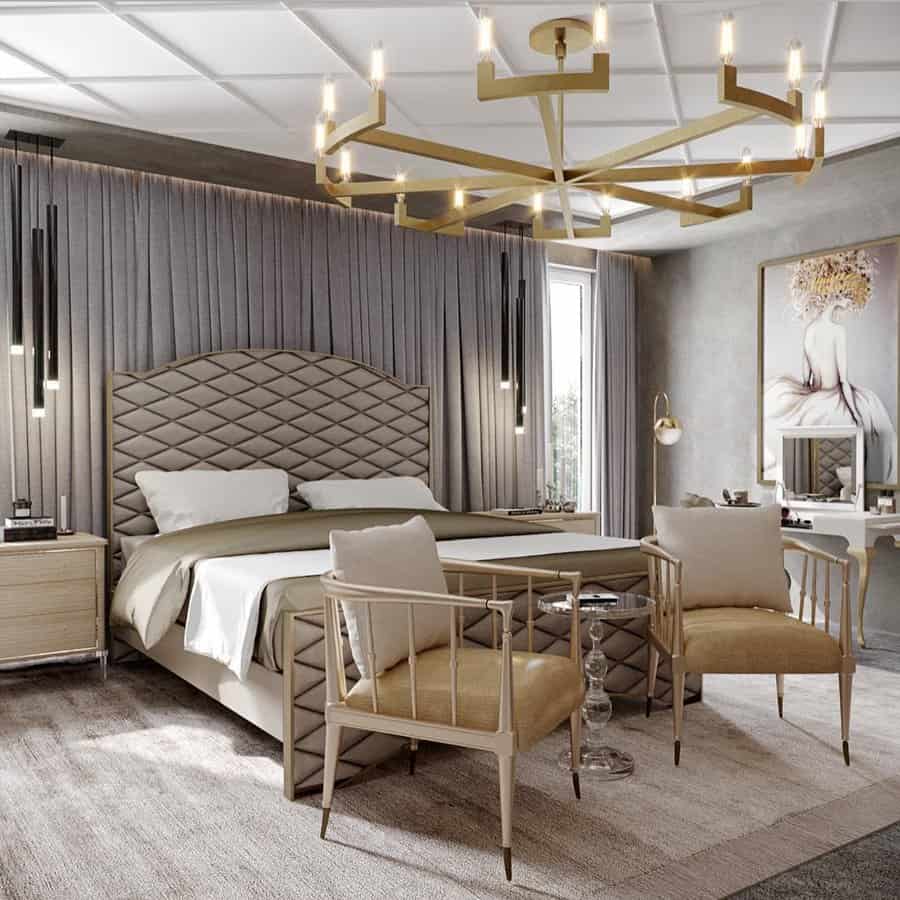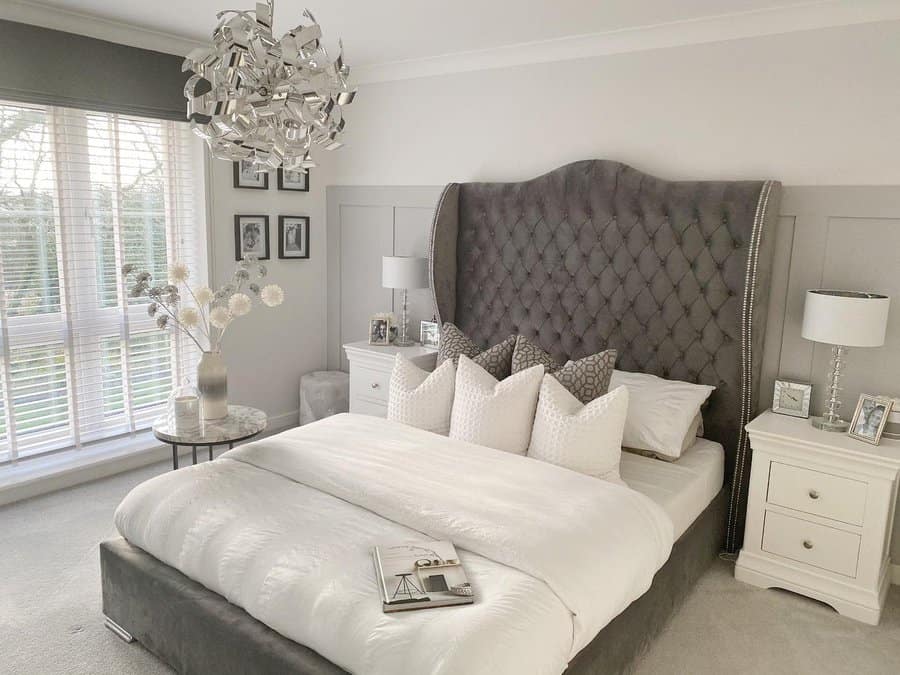 Instead of just adding the color grey, look at some silver bedroom ideas. It has the same effect as grey but looks more luxurious. Change your lighting fixtures to have a polished silver or brushed nickel finish. These both have the look of grey while also looking elegant.
6. Modern
Use a darker shade of grey for your modern bedroom color scheme. Charcoal grey is a good option for this. Pair your grey with light-colored wood, white, and accents of silver or nickel fixtures. This creates a balance of light and dark and gives your bedroom a modern feel.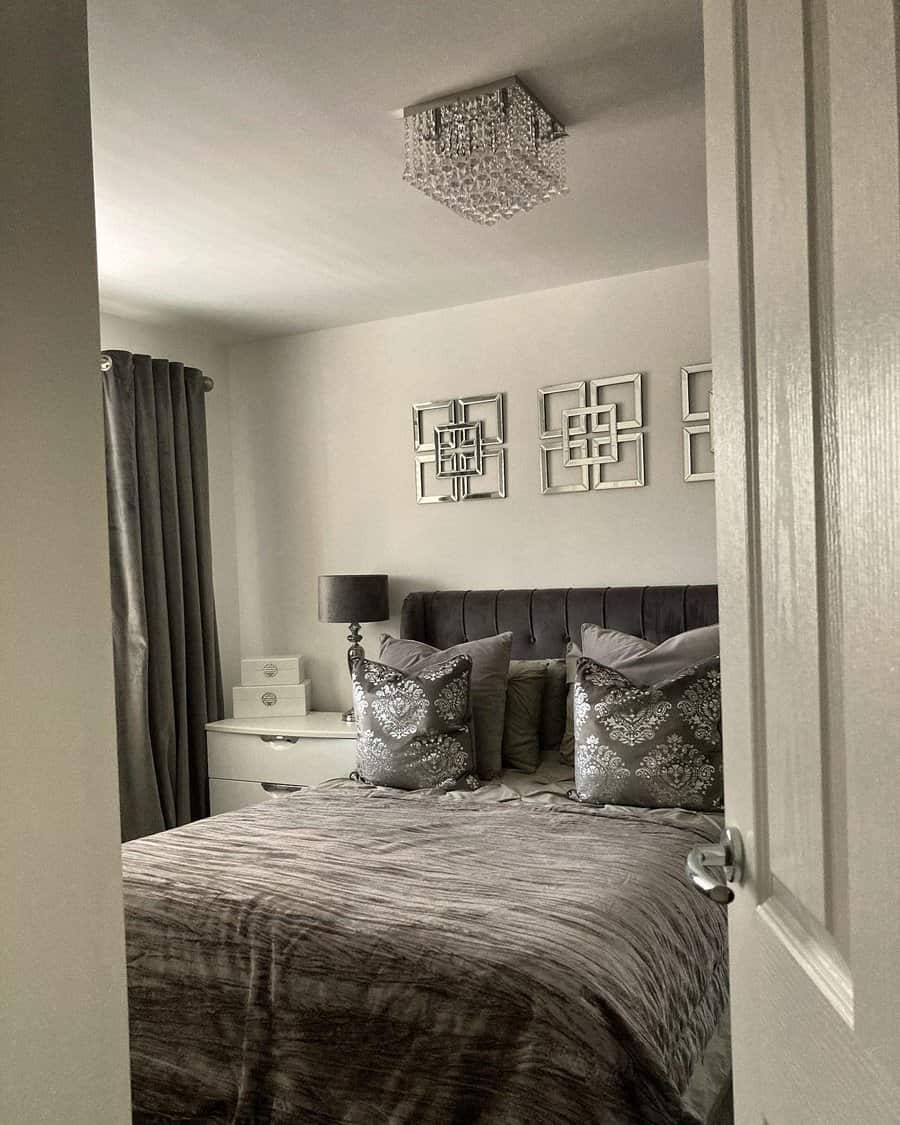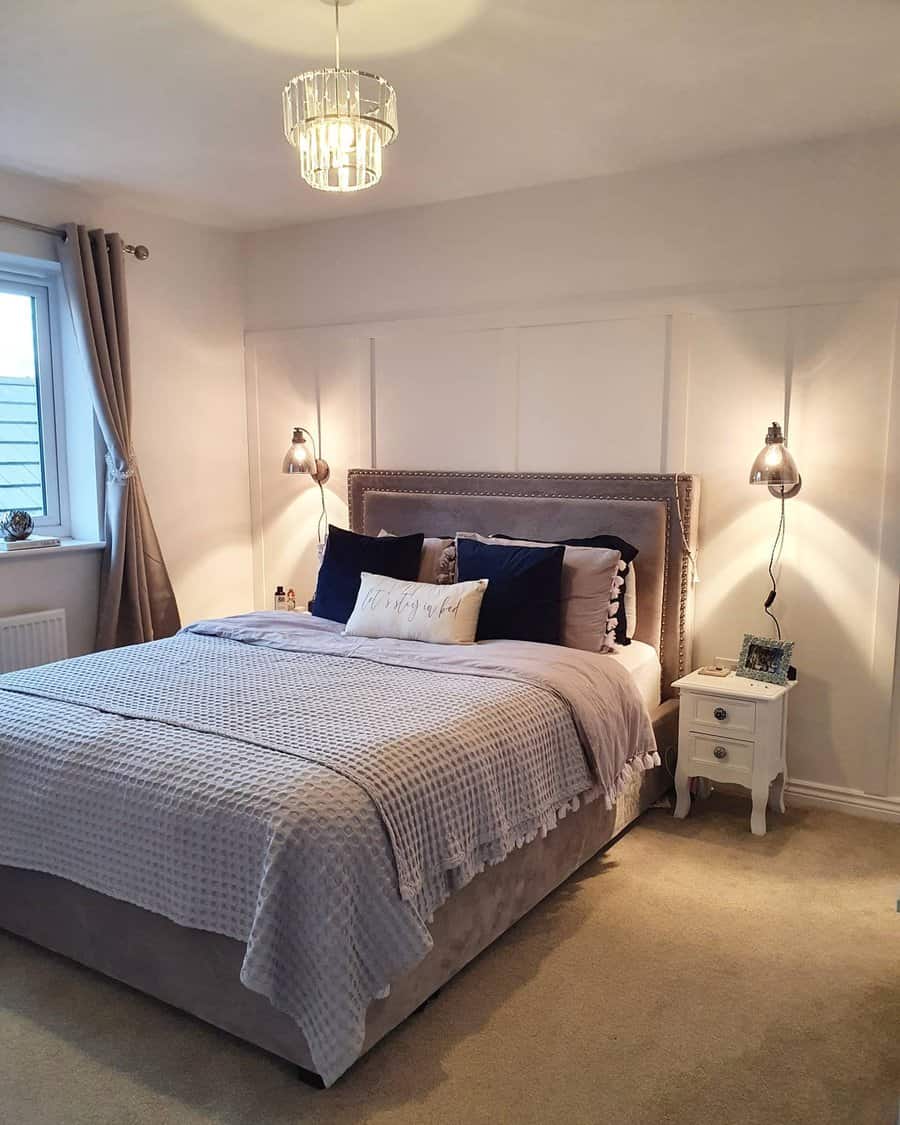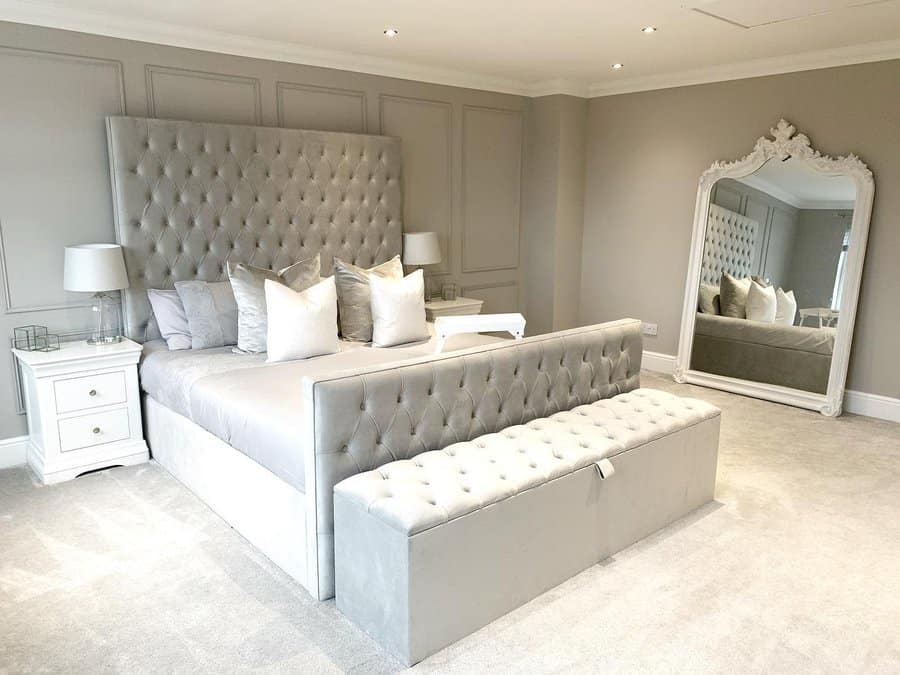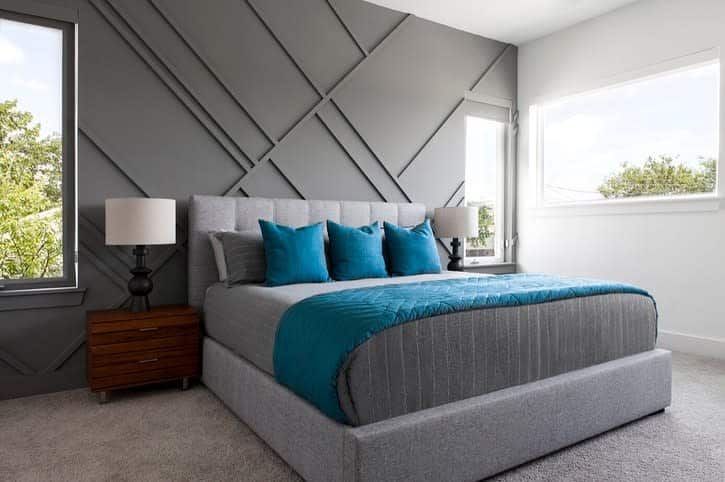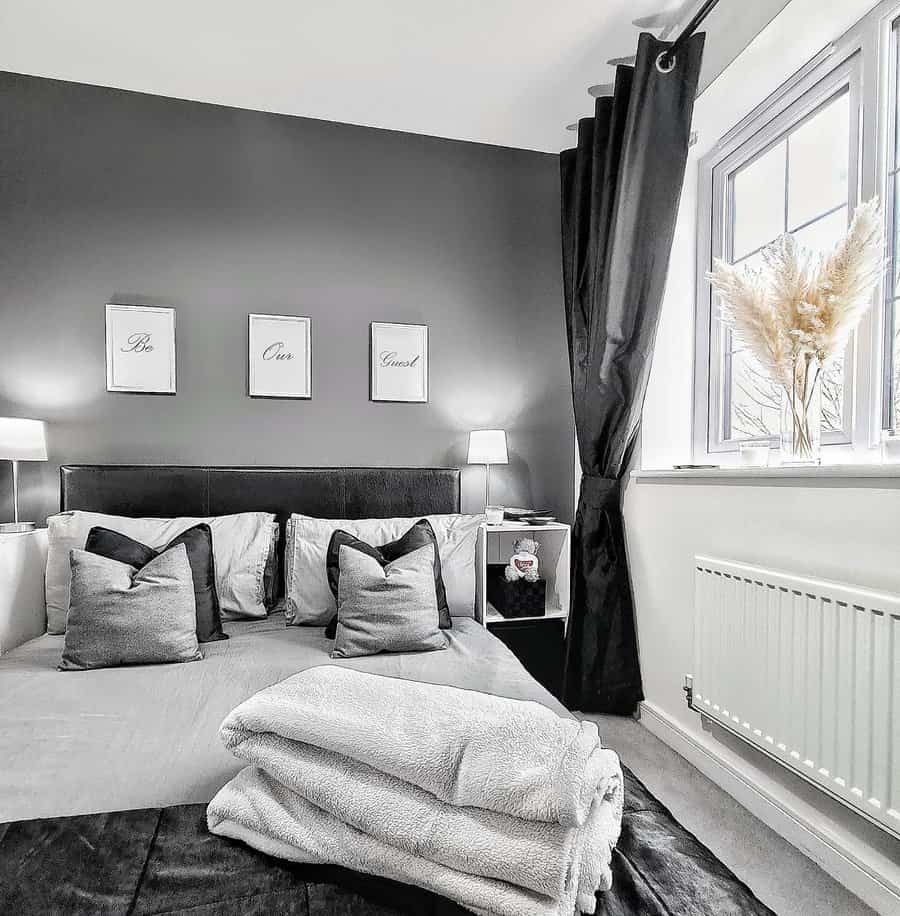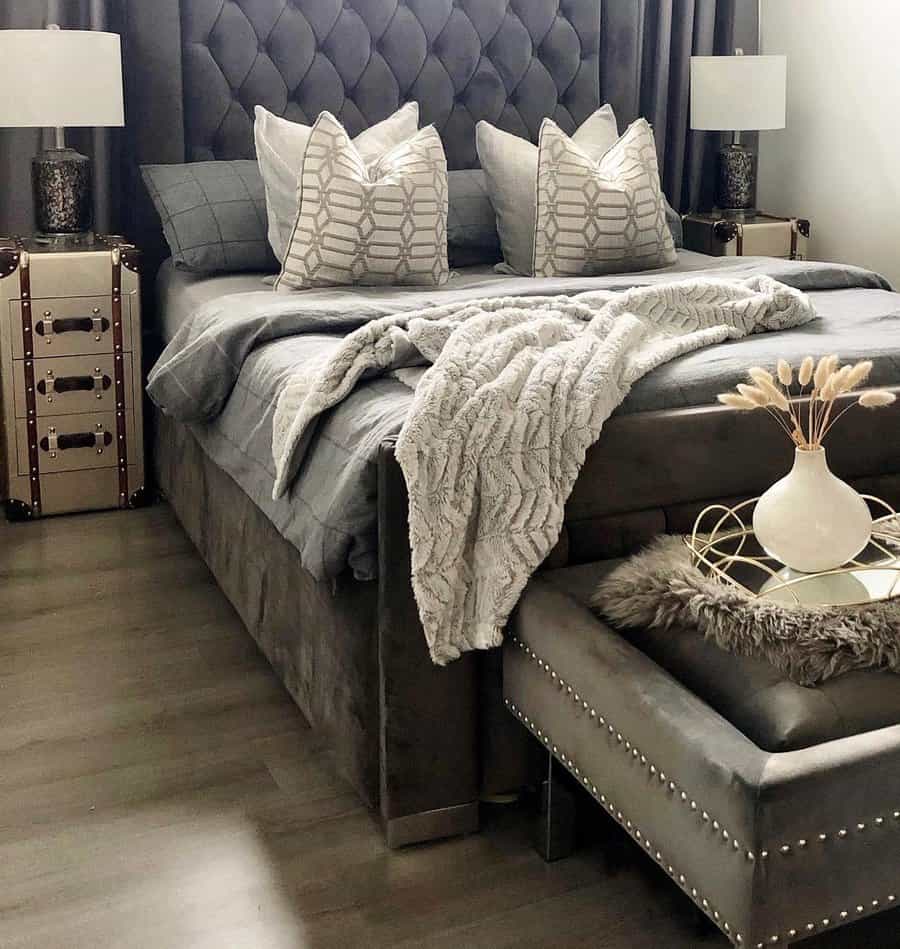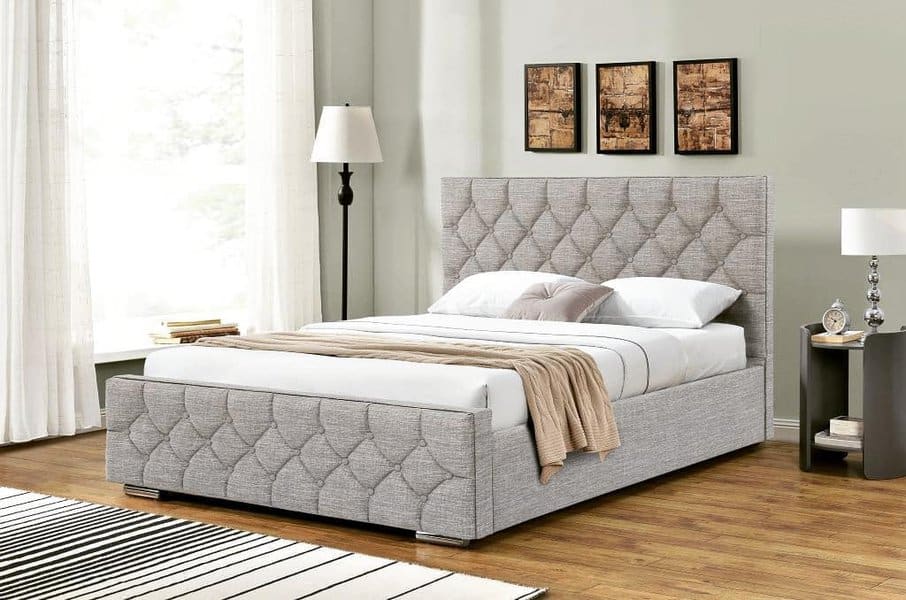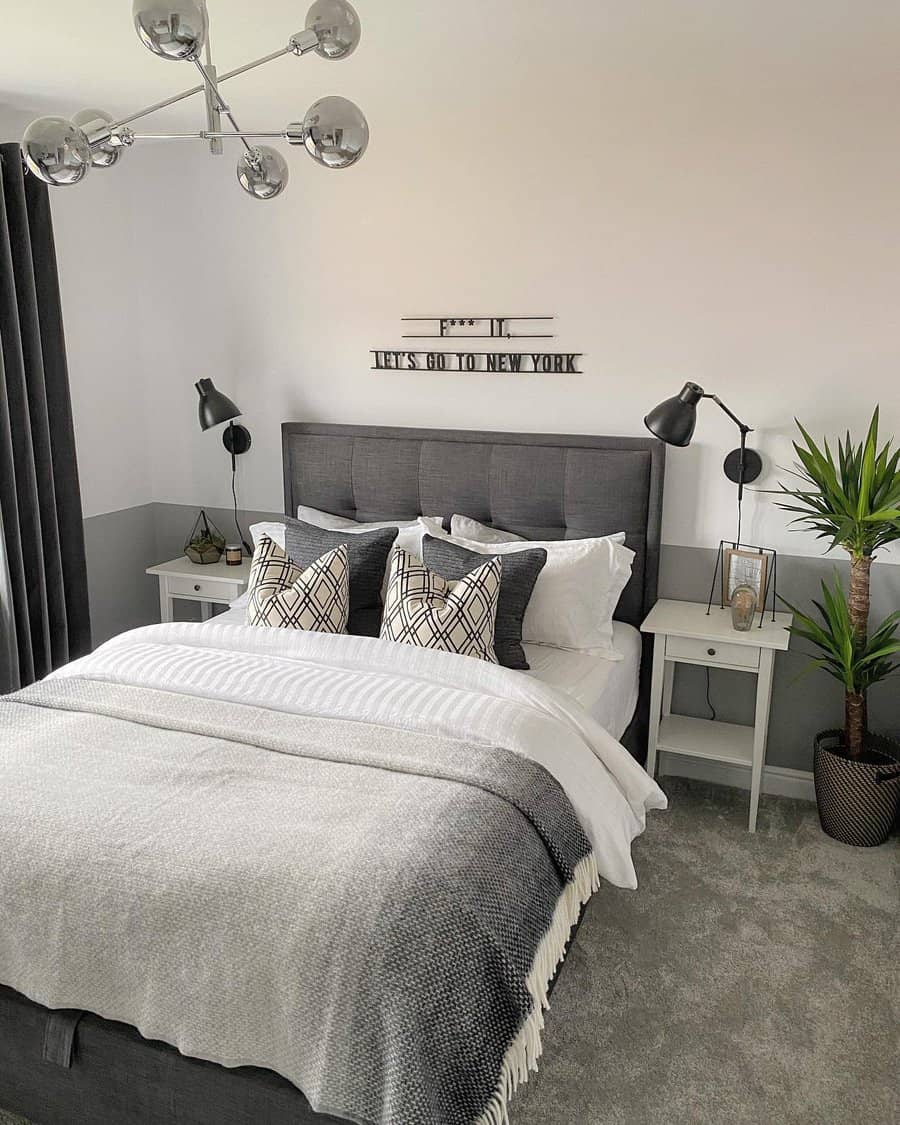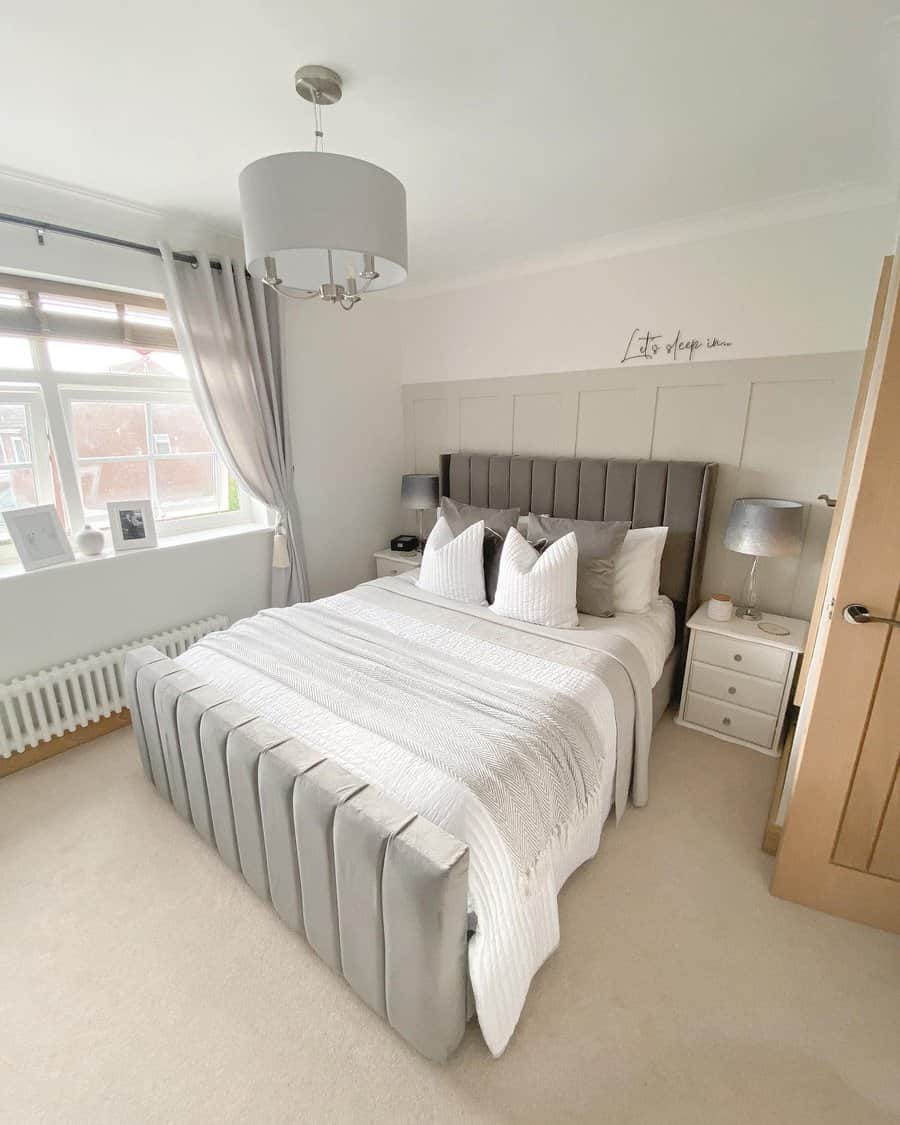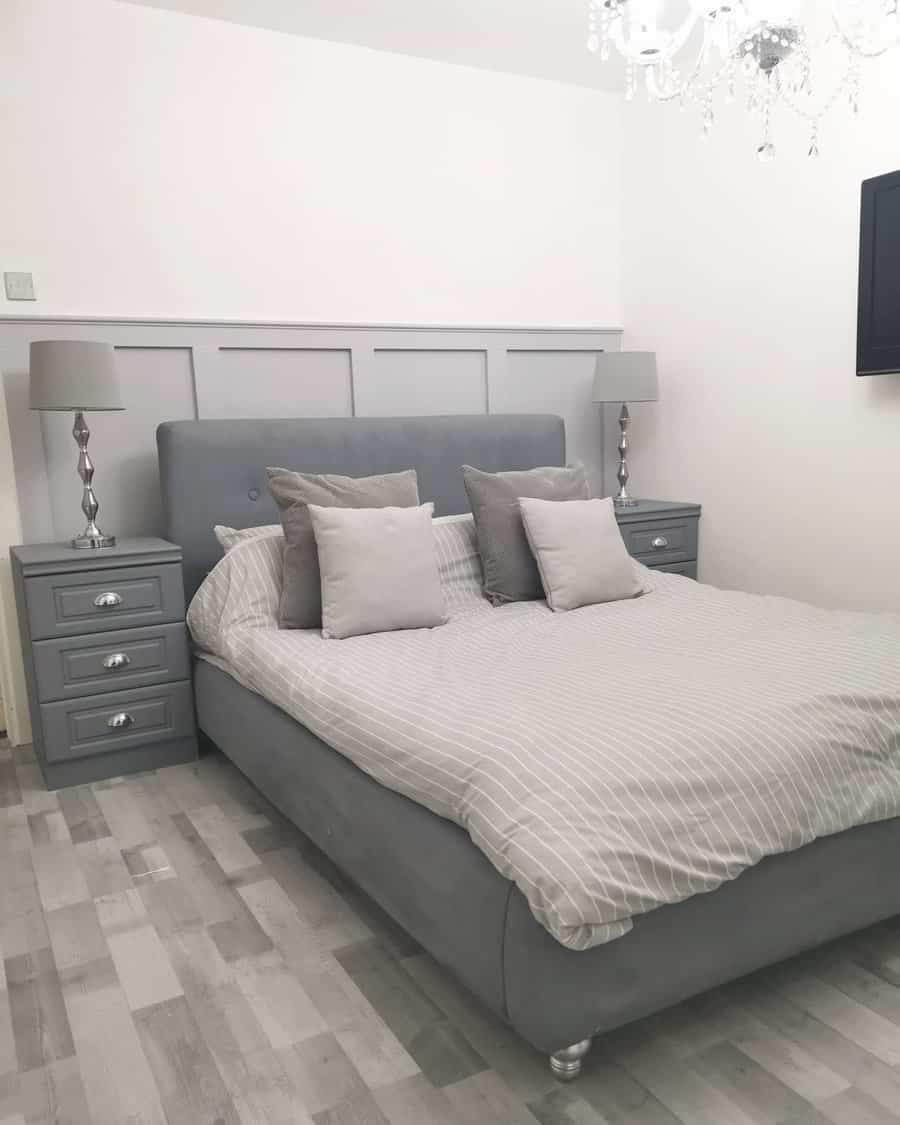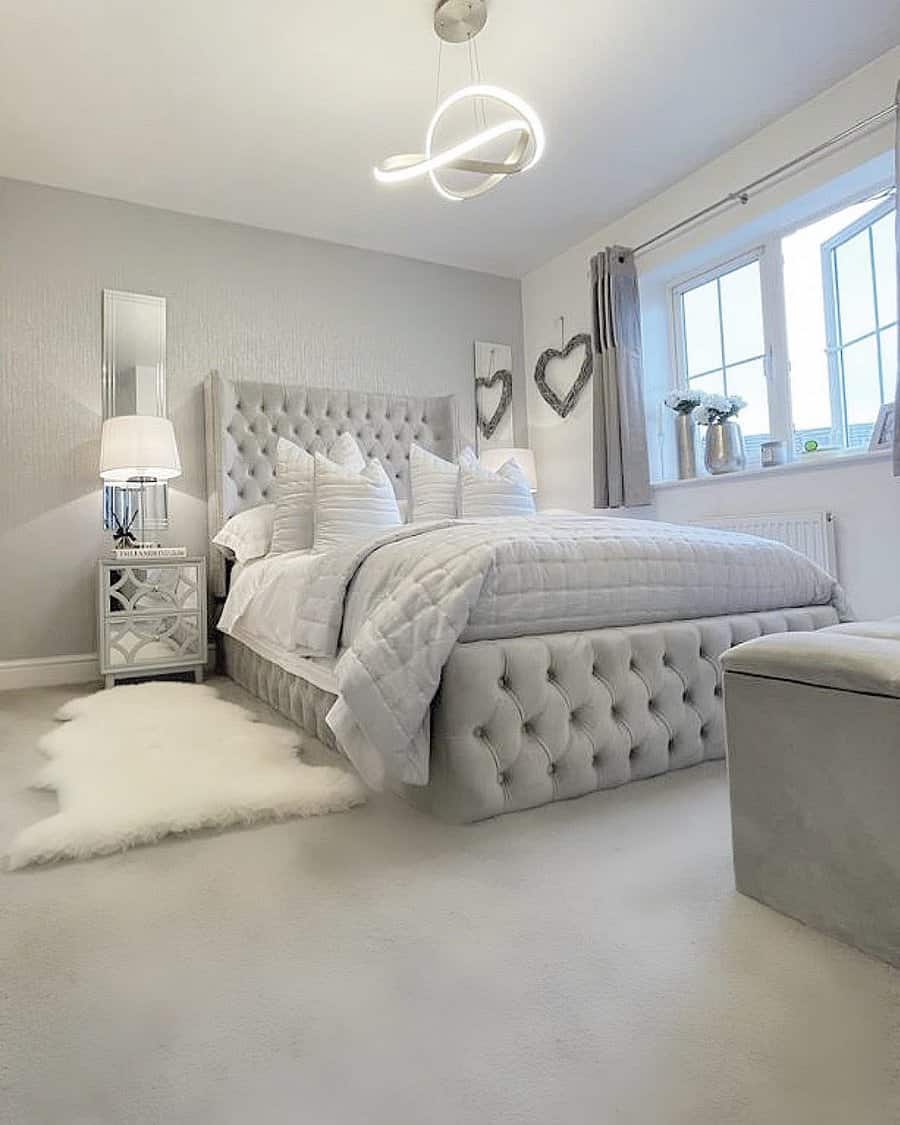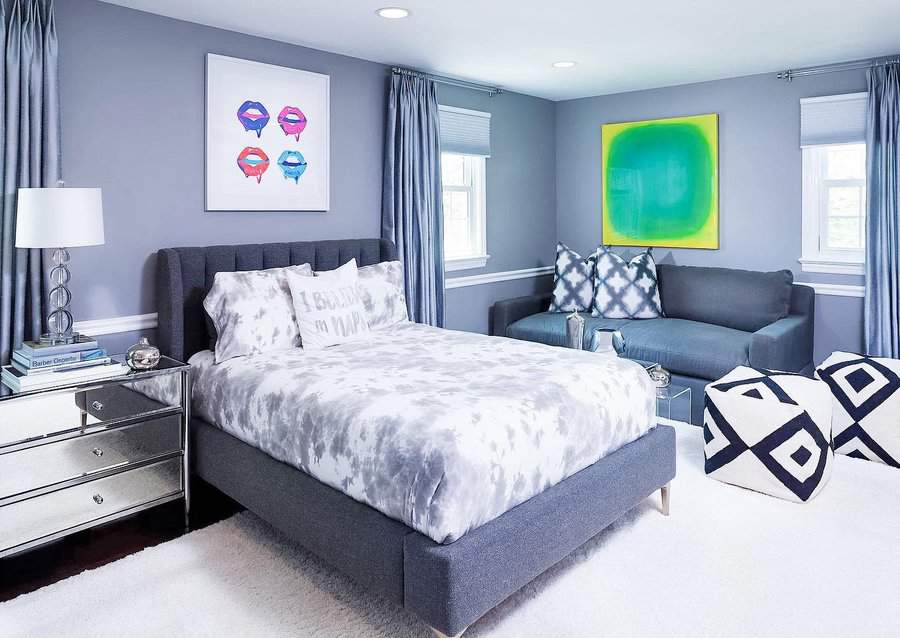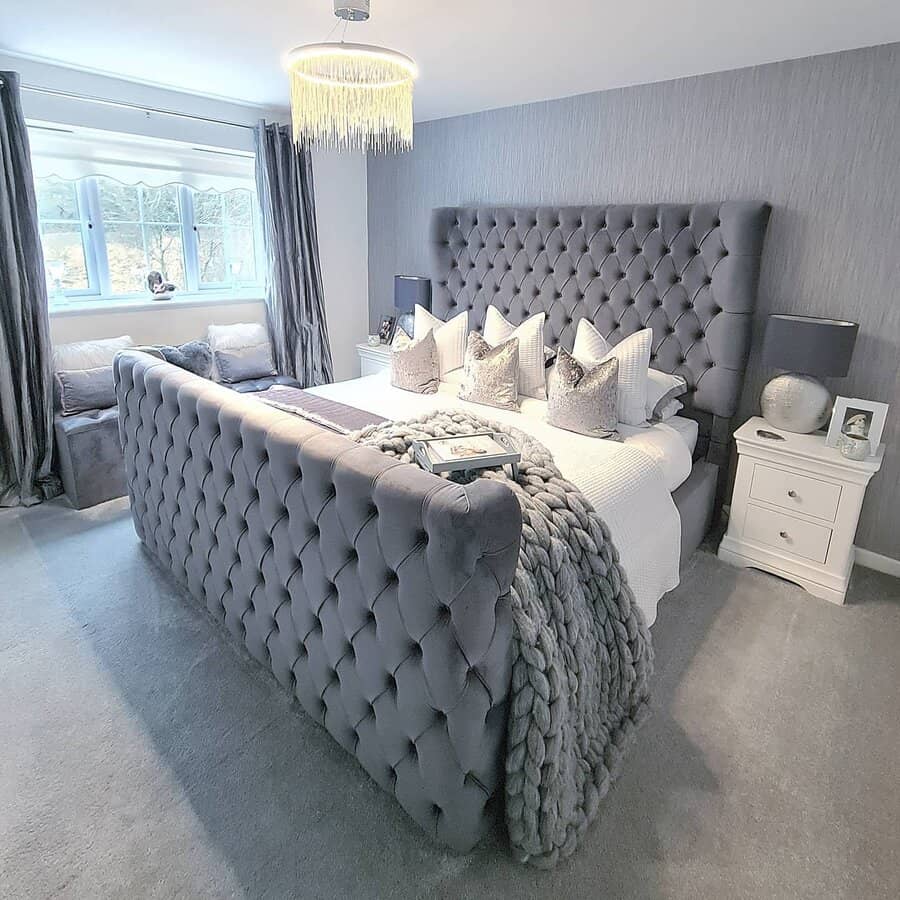 Dark grey is good for creating voids. Try painting your walls dark gray to help them visually sink back, making the room feel larger. For a bold design, continue the dark grey up and paint the ceiling too. This blends the walls and ceiling together and makes the room feel taller. Another option is to keep the wall and ceiling a light color and dark grey on the floor. This brings the weight and heaviness of the room down, helping the upper area of the room to feel larger.
7. Neutral
Grey is popular because it is considered a modern neutral color. While it comes in different shades, pale grey is the most versatile color for your wall color. It feels fresh and light while helping the space to feel open and welcoming. Start creating your light grey bedroom by painting the walls. Then add an area rug. Make sure it's sized correctly for your bedroom.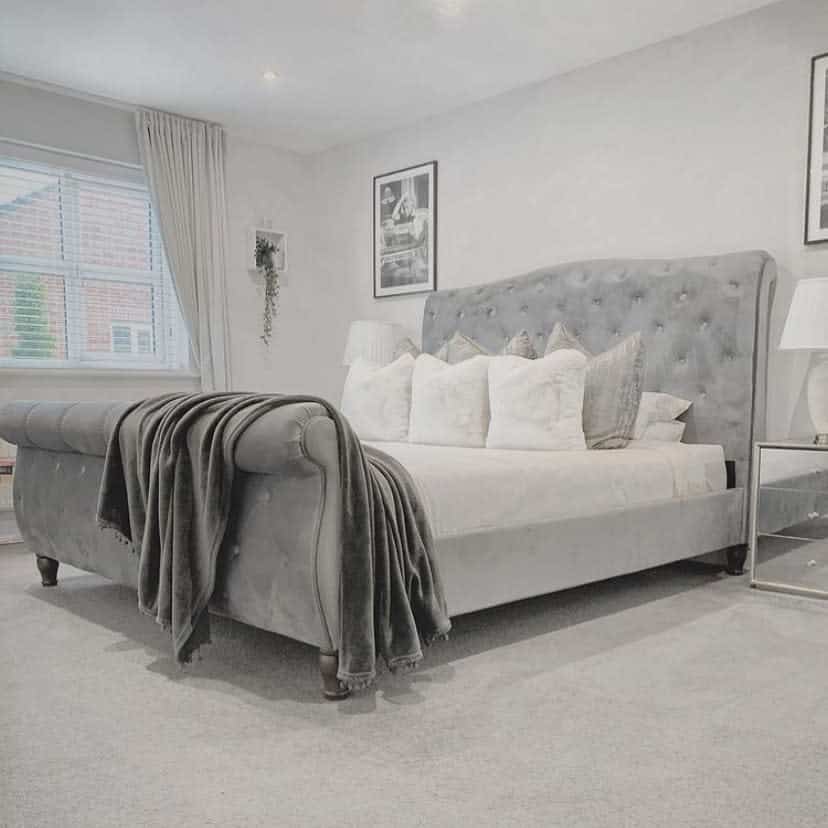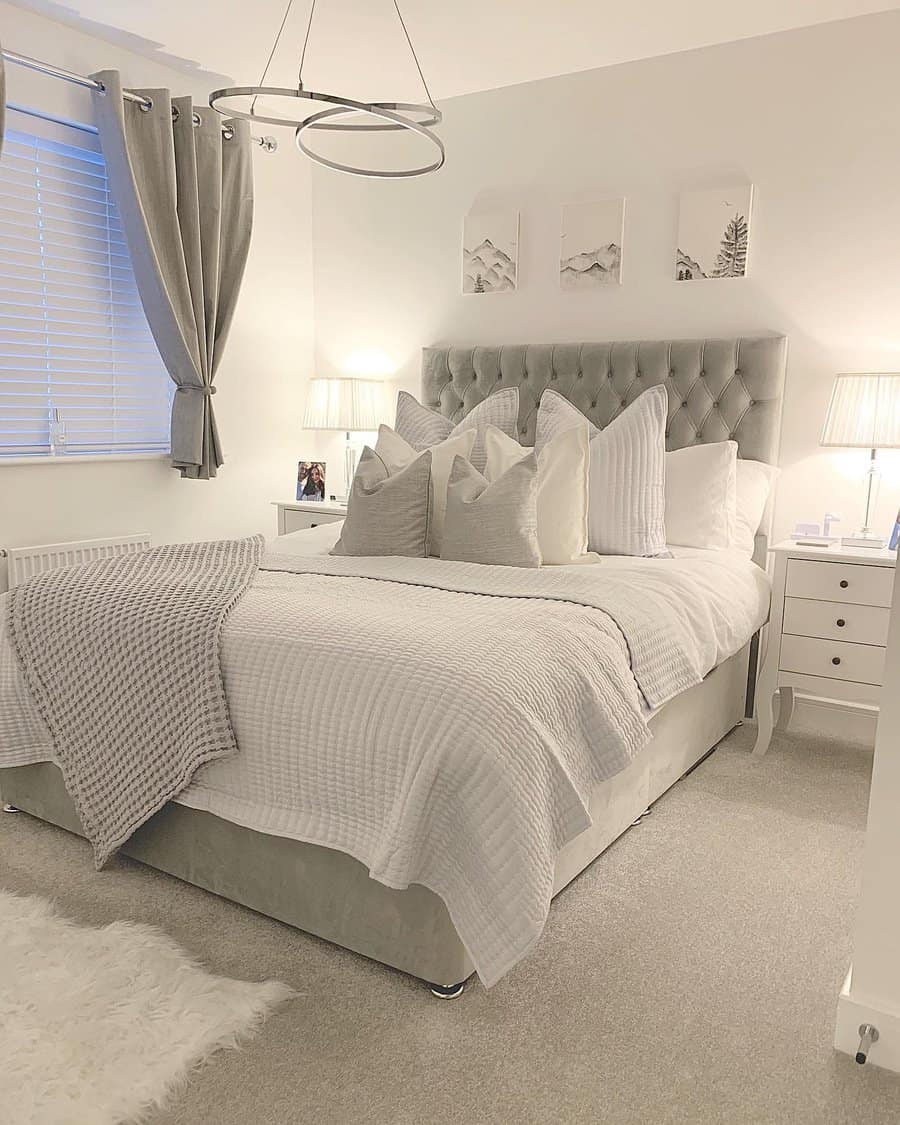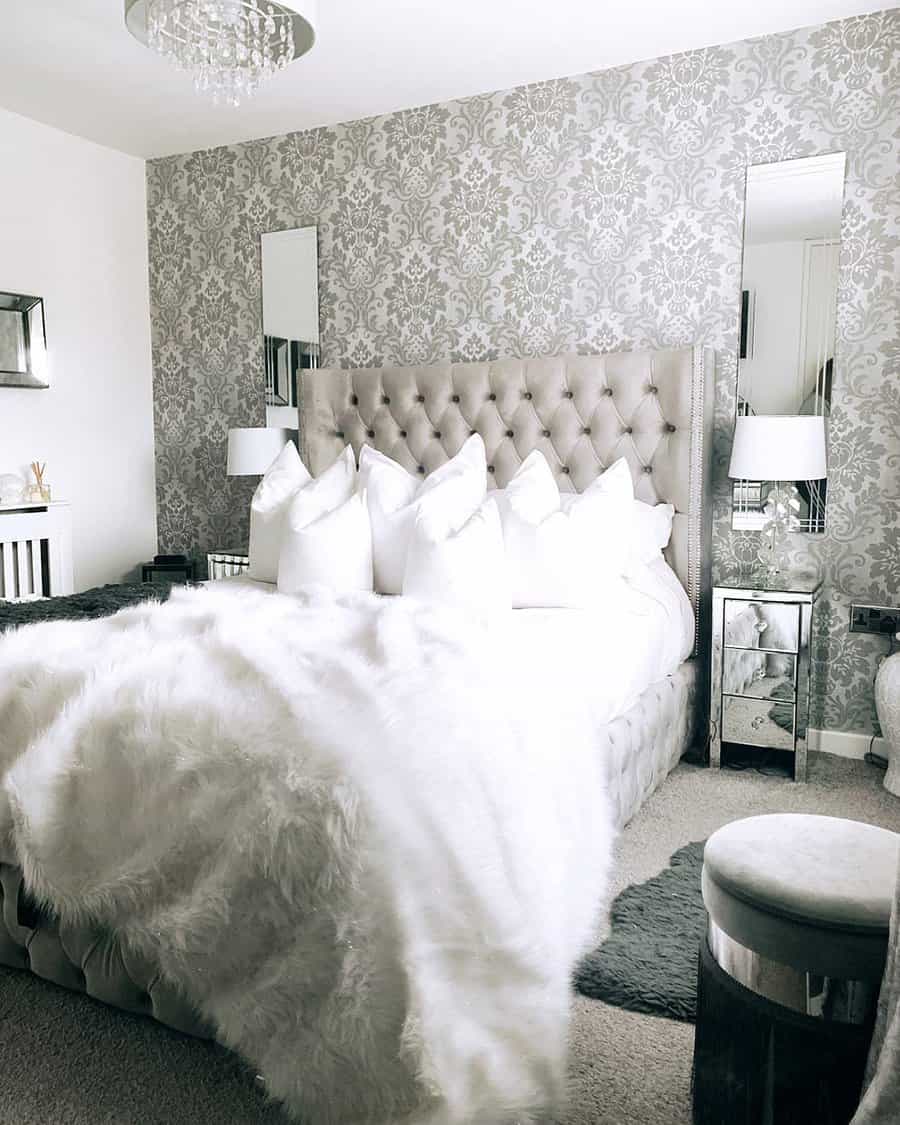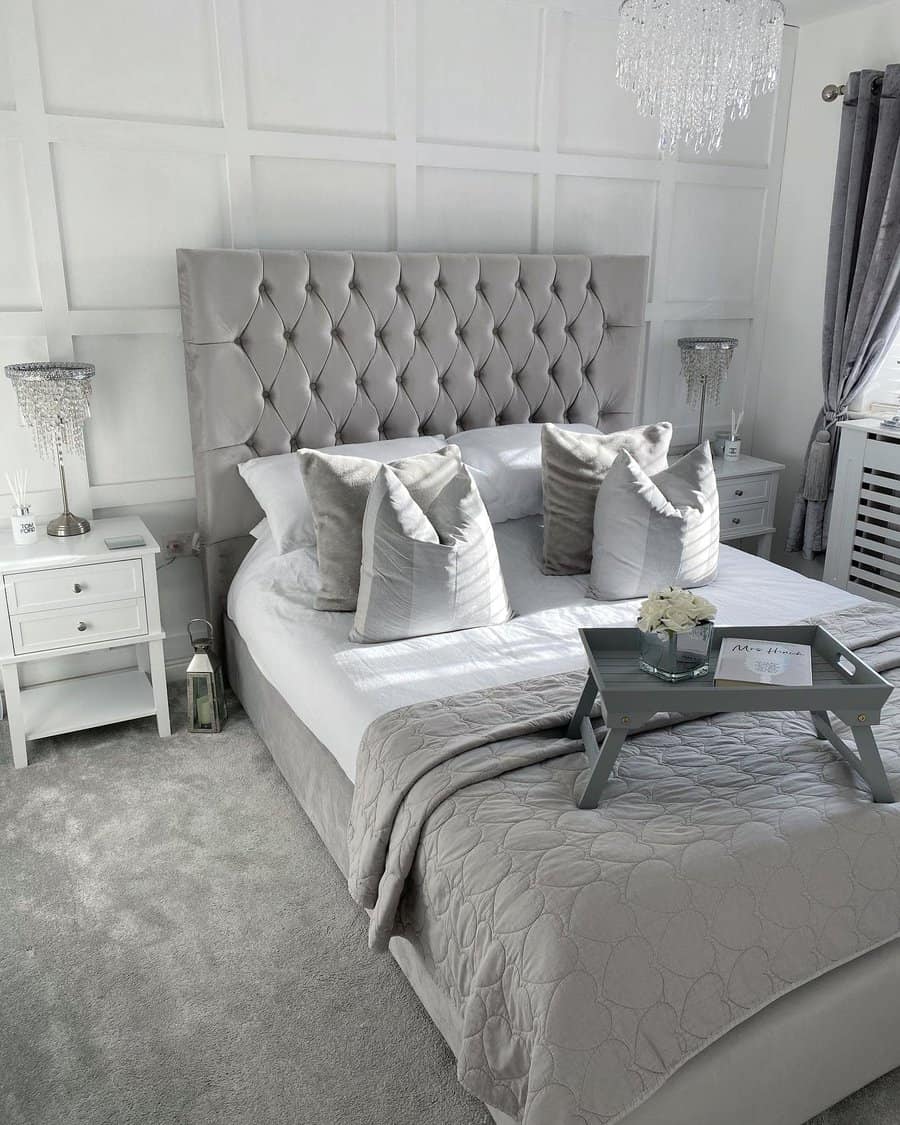 Add plenty of textures to your neutral bedroom to keep it from feeling one-dimensional and flat. Do this by adding a woven or sculpted rug to the floor. Add linen or raw silk curtains to the windows. Finally, lay a woven or faux fur blanket on your bed.
8. Small
It can be tempting to have white walls in a small bedroom to help the space feel brighter and bigger. But this isn't your only option. Light grey bedroom designs will have the same effect but be softer. White can look harsh and stark, making it uncomfortable to be in. The light grey removes this edge and makes the space feel more welcoming.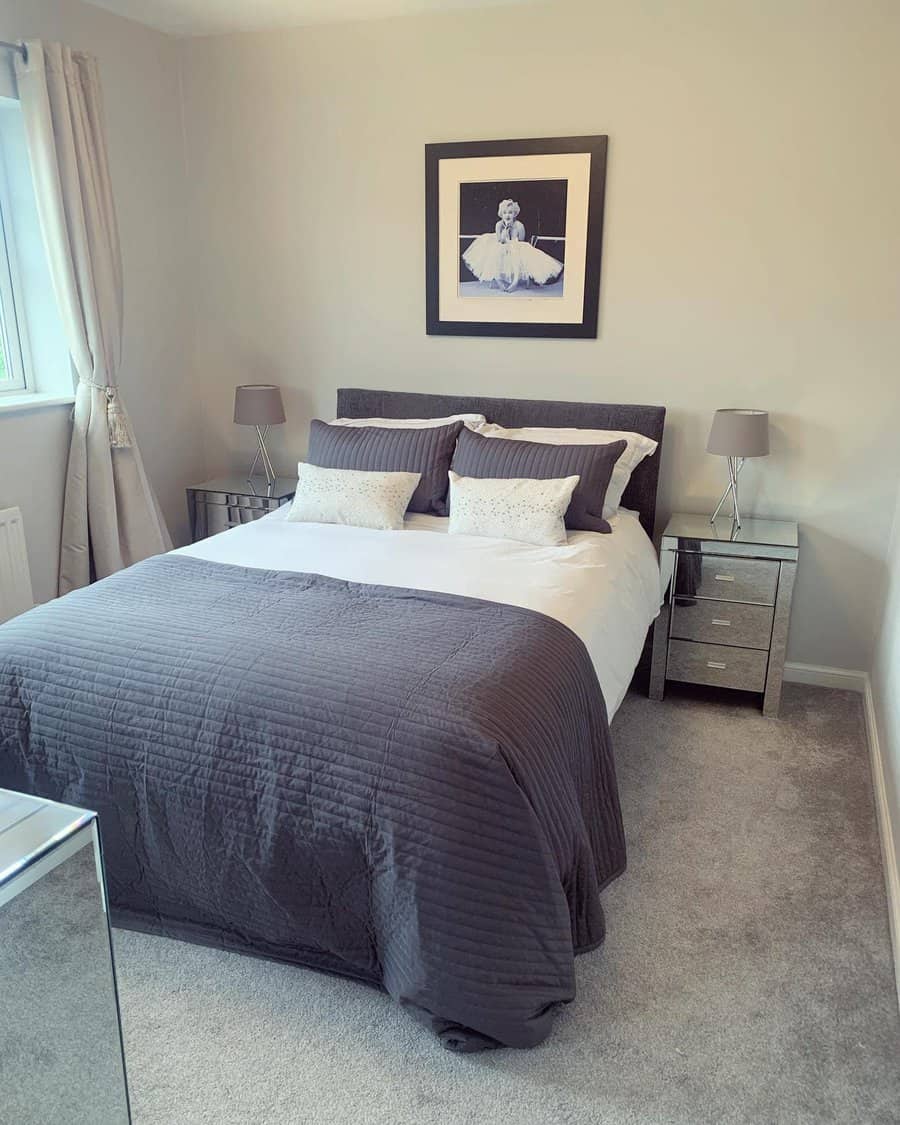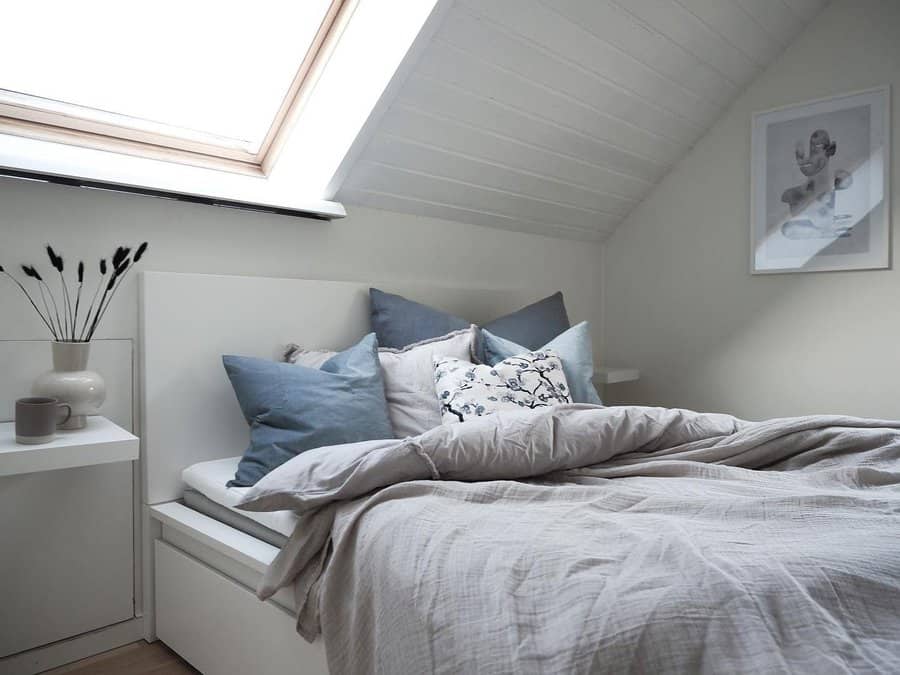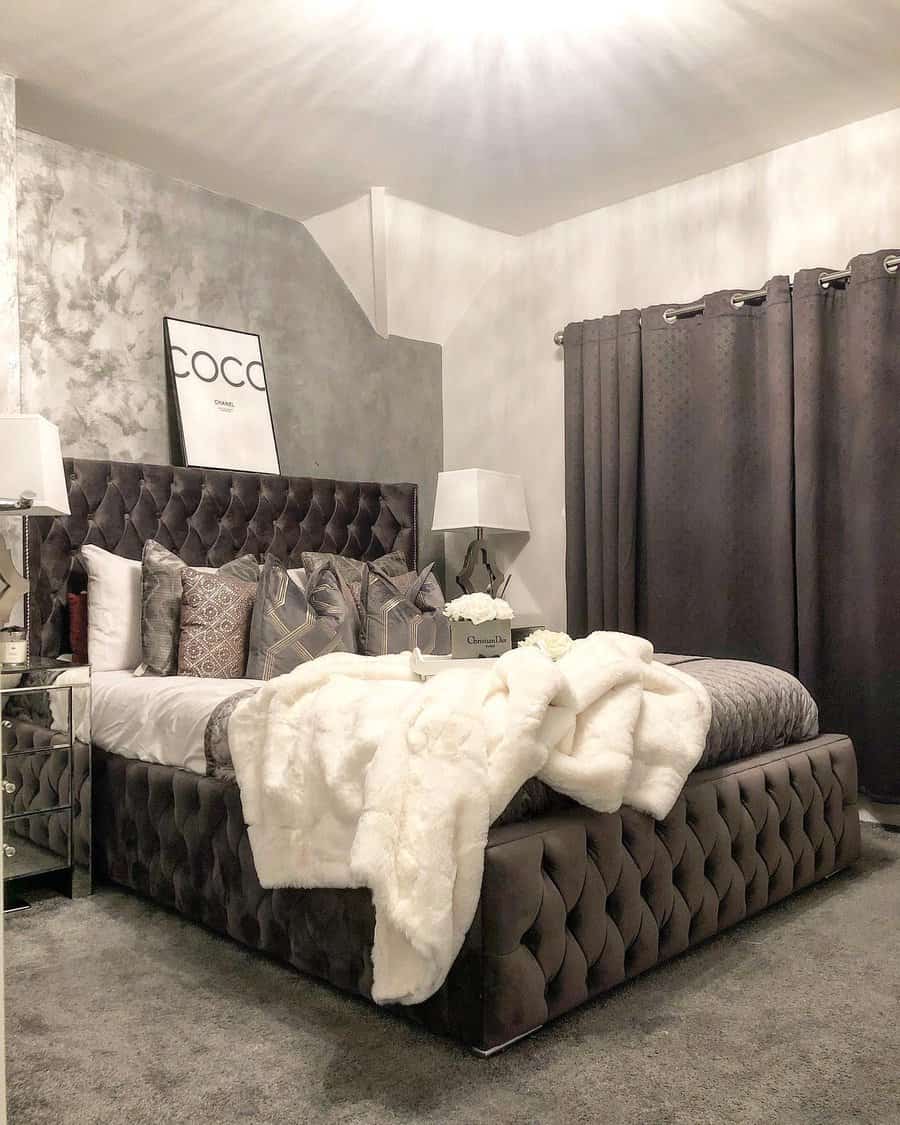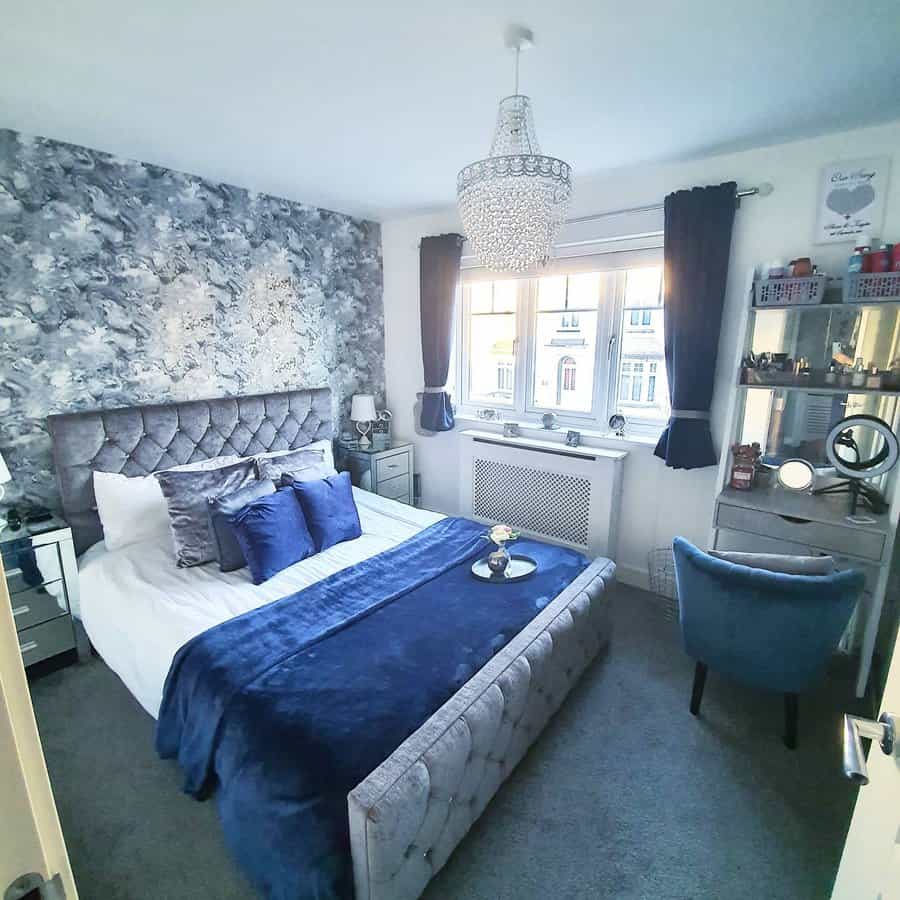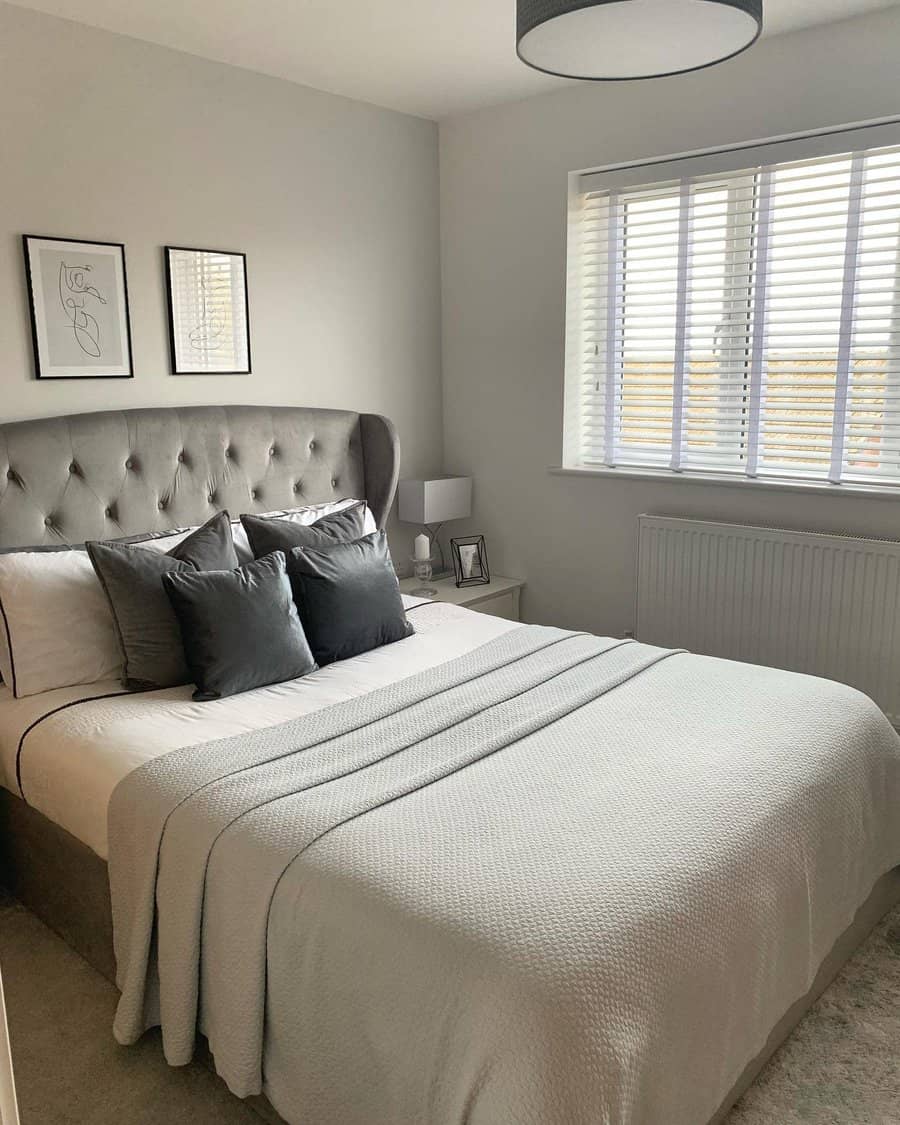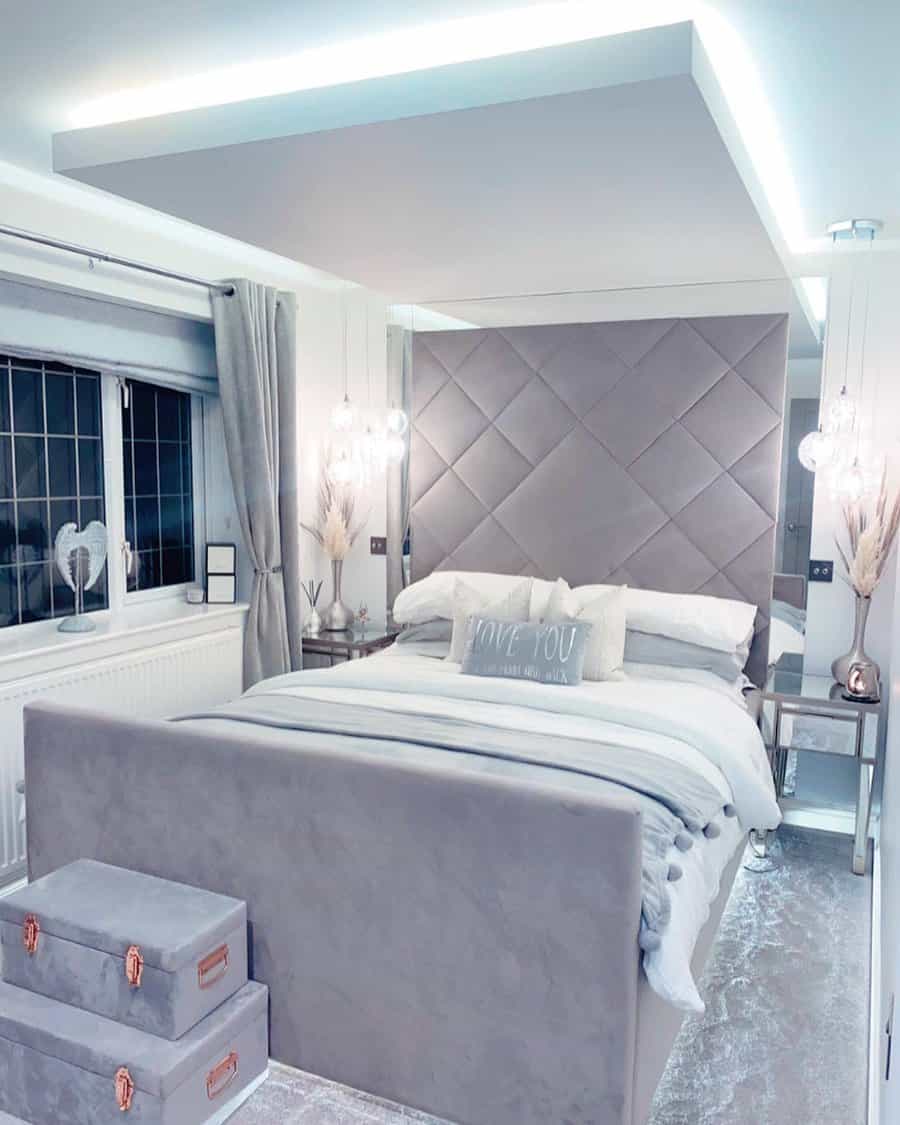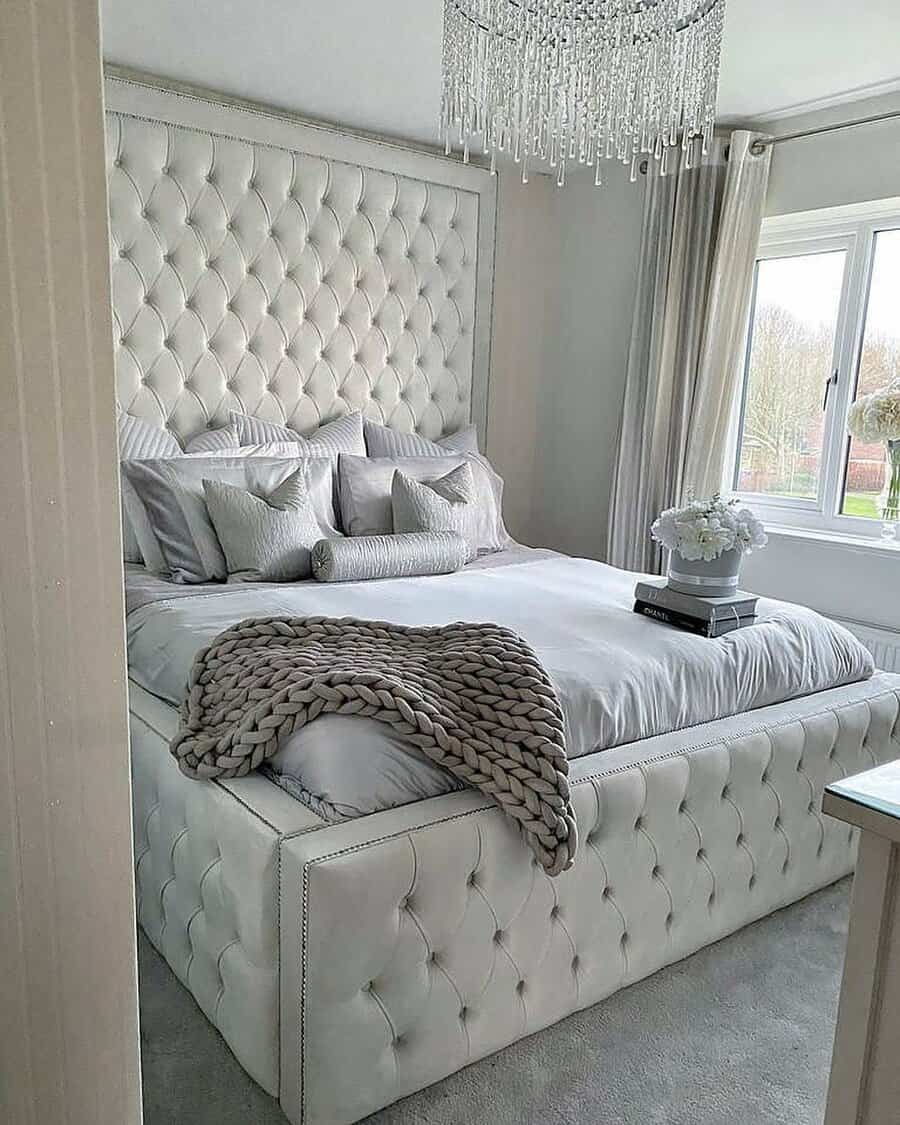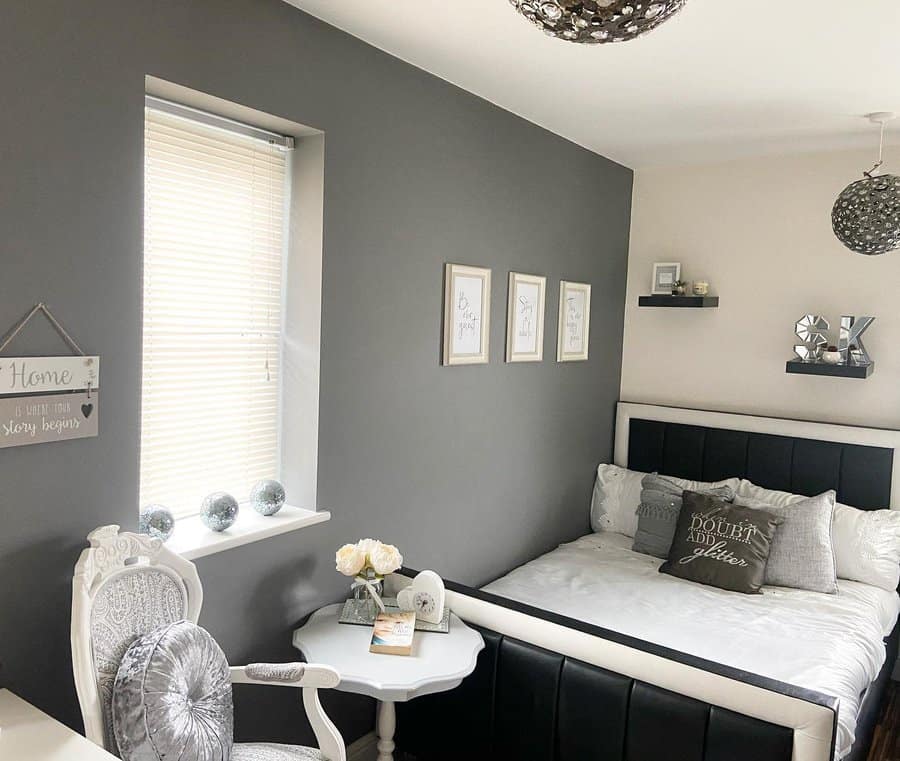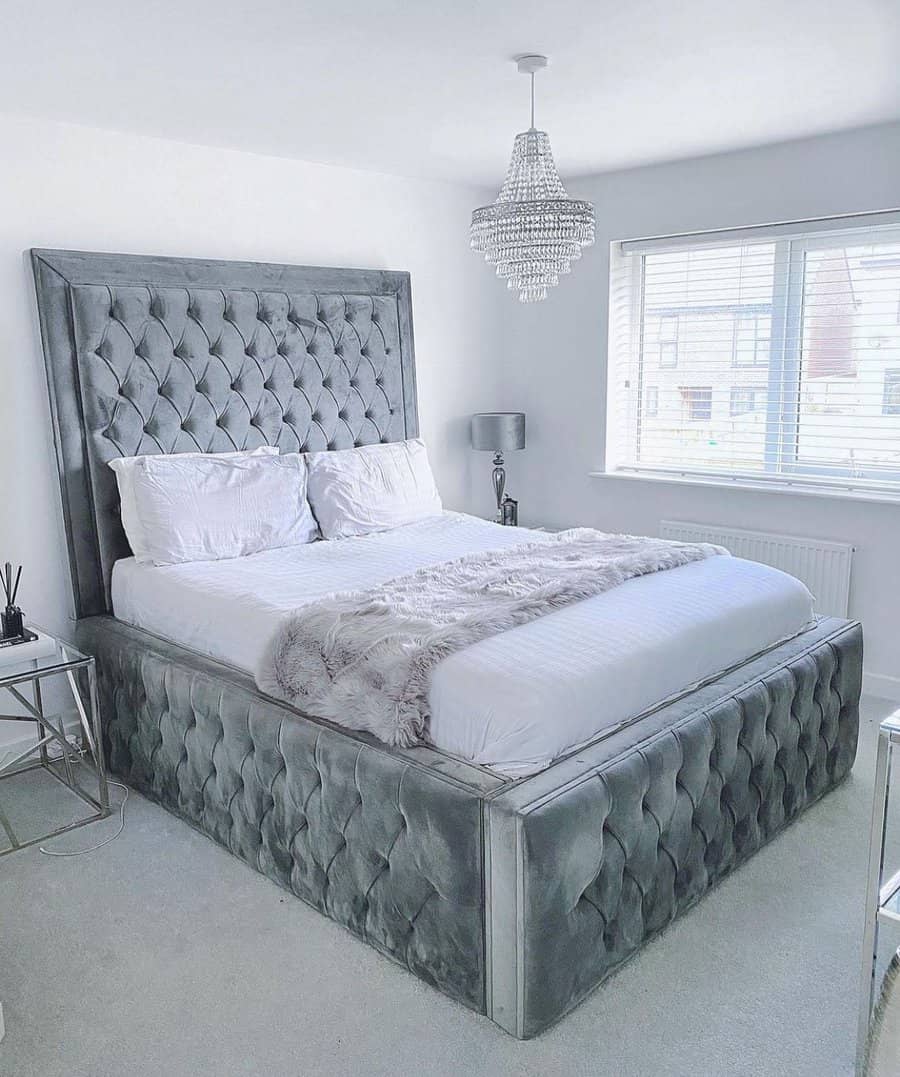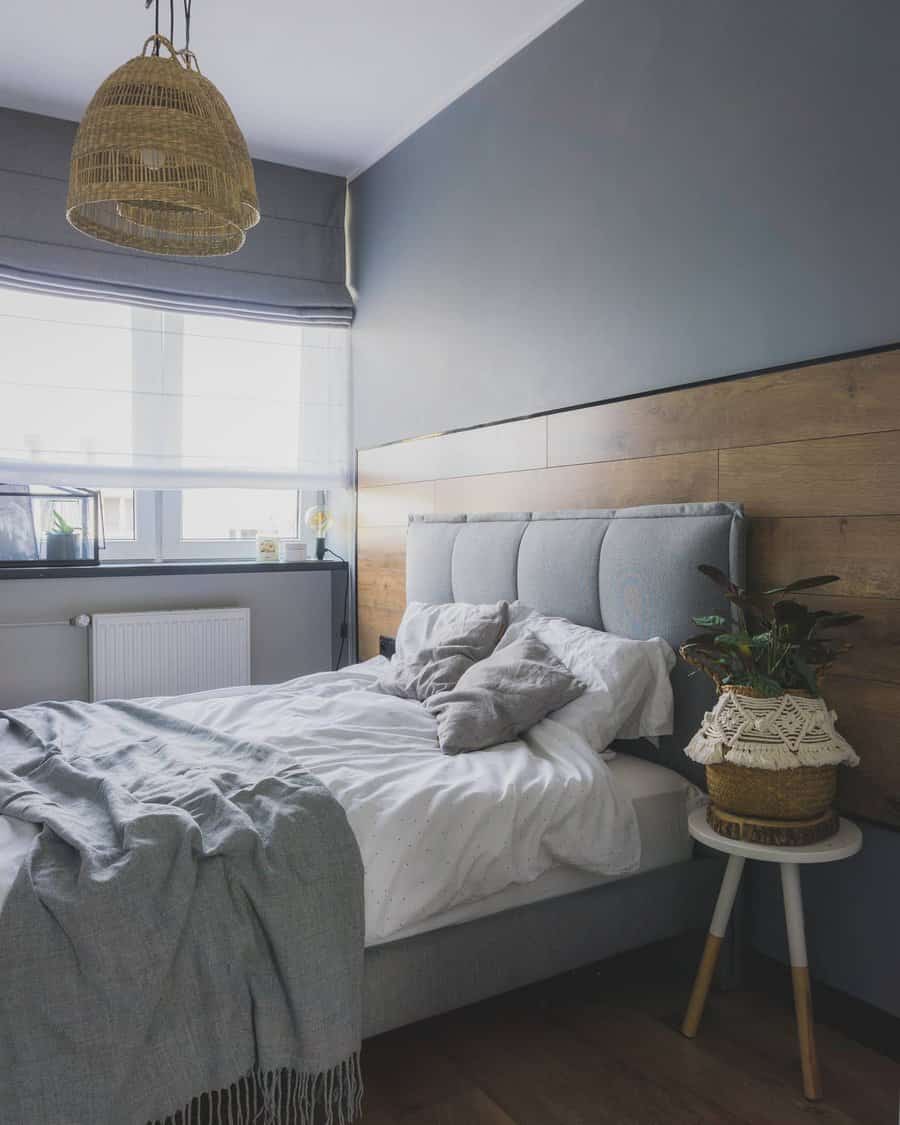 Another option is to create a feature wall with grey. Leave all of the walls white and choose a darker shade of grey for the wall behind your headboard. Instead of simply painting the wall, look for wallpaper with an appealing design where the main color is grey. Or choose a textured wallpaper that looks like natural stone for an earthy feel.
9. Teenager
Your teenager may want a more grown-up-looking room that is still fun. Using grey as the base color is a nice neutral for adding other colors. Choose a warm grey that looks more like a greige. You can then pair it with lighter shades and bright colors. This could be purple, green, blue, or red.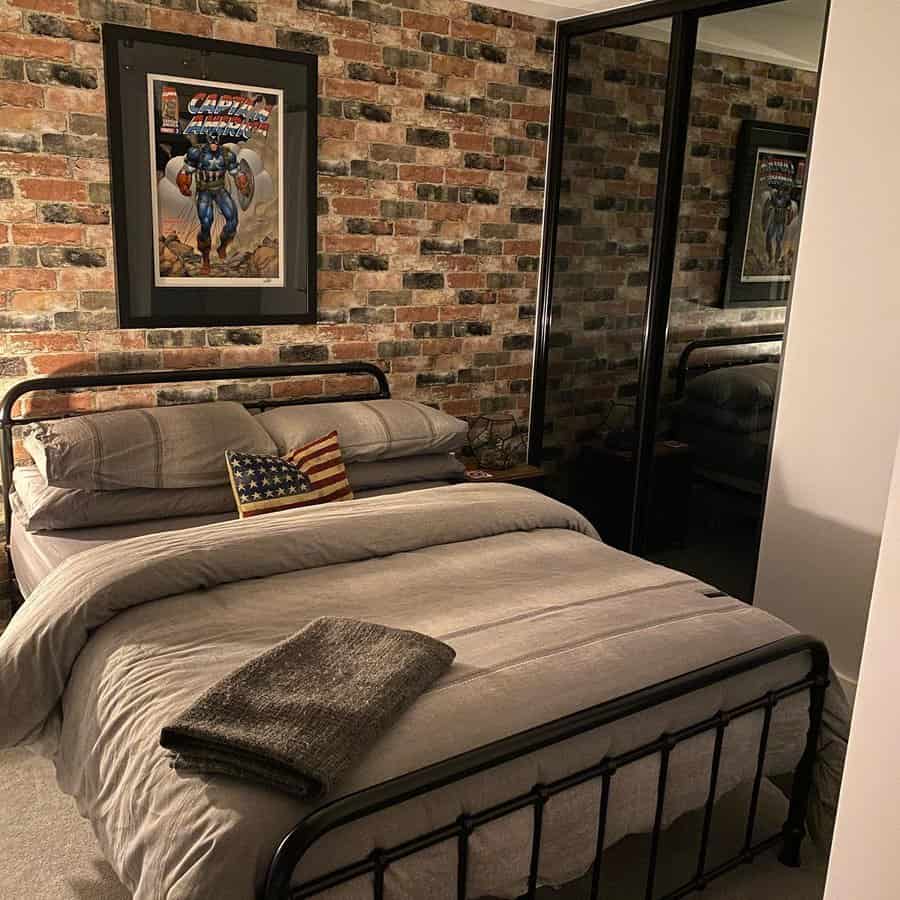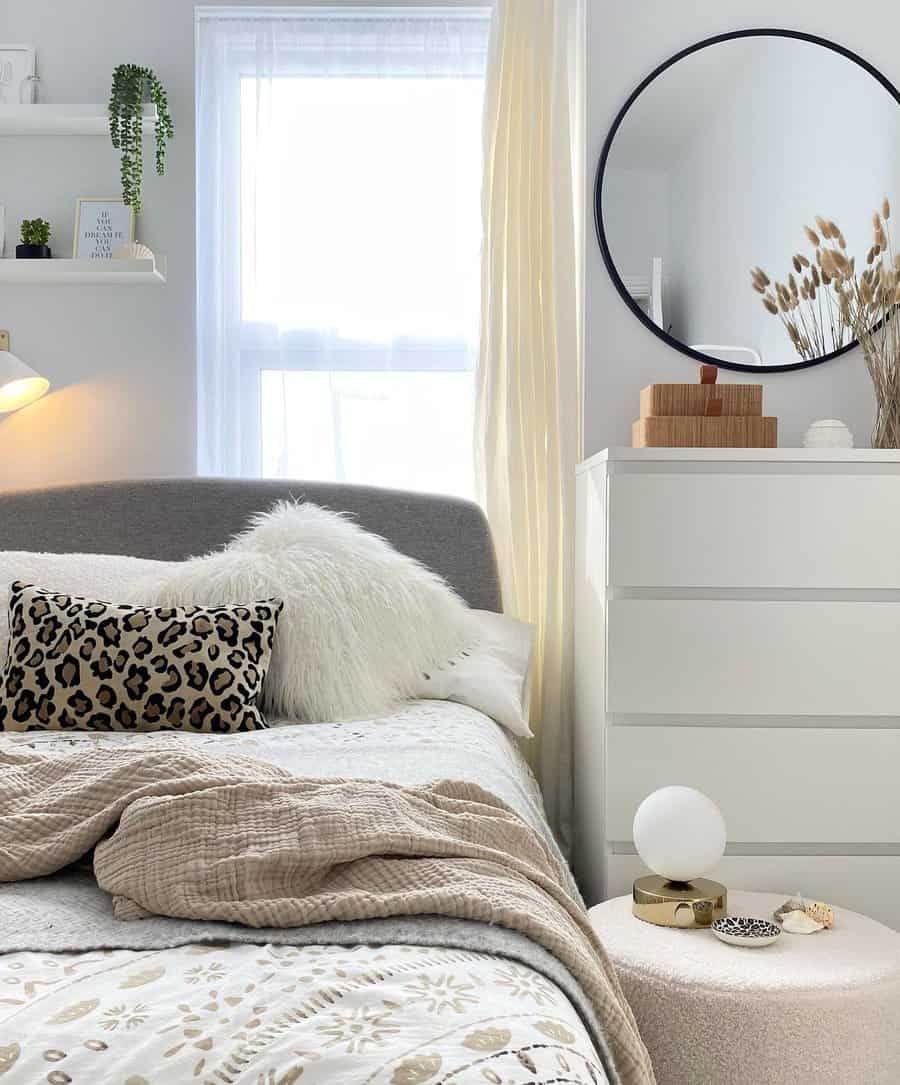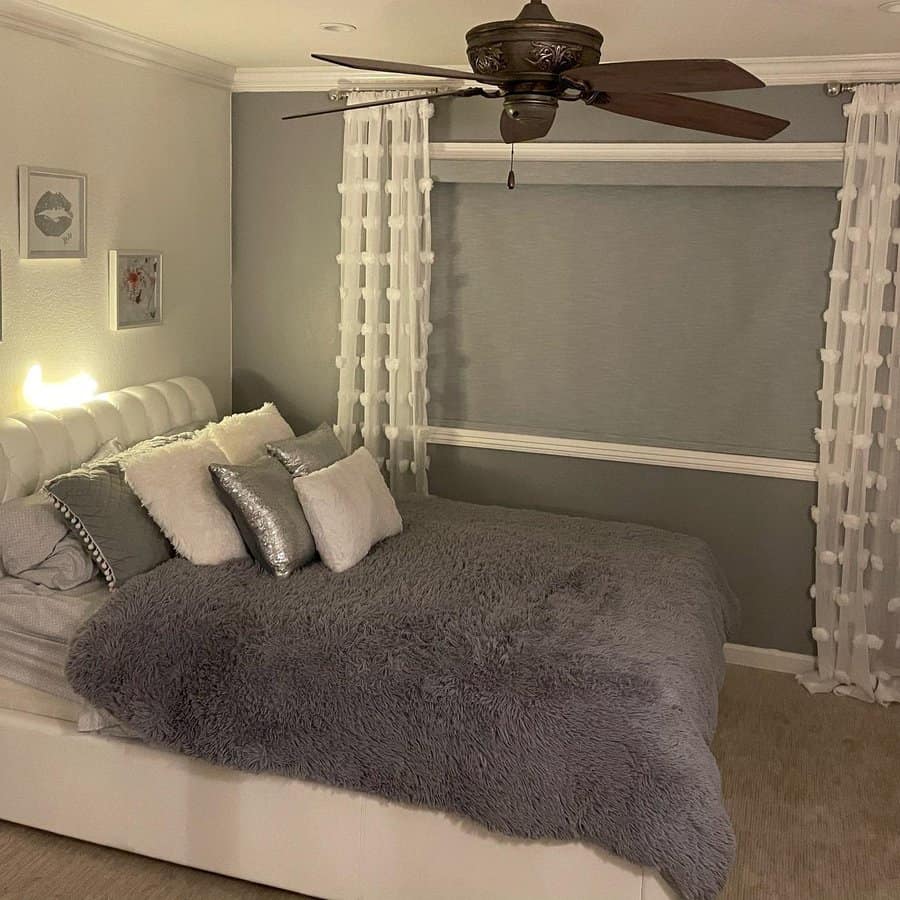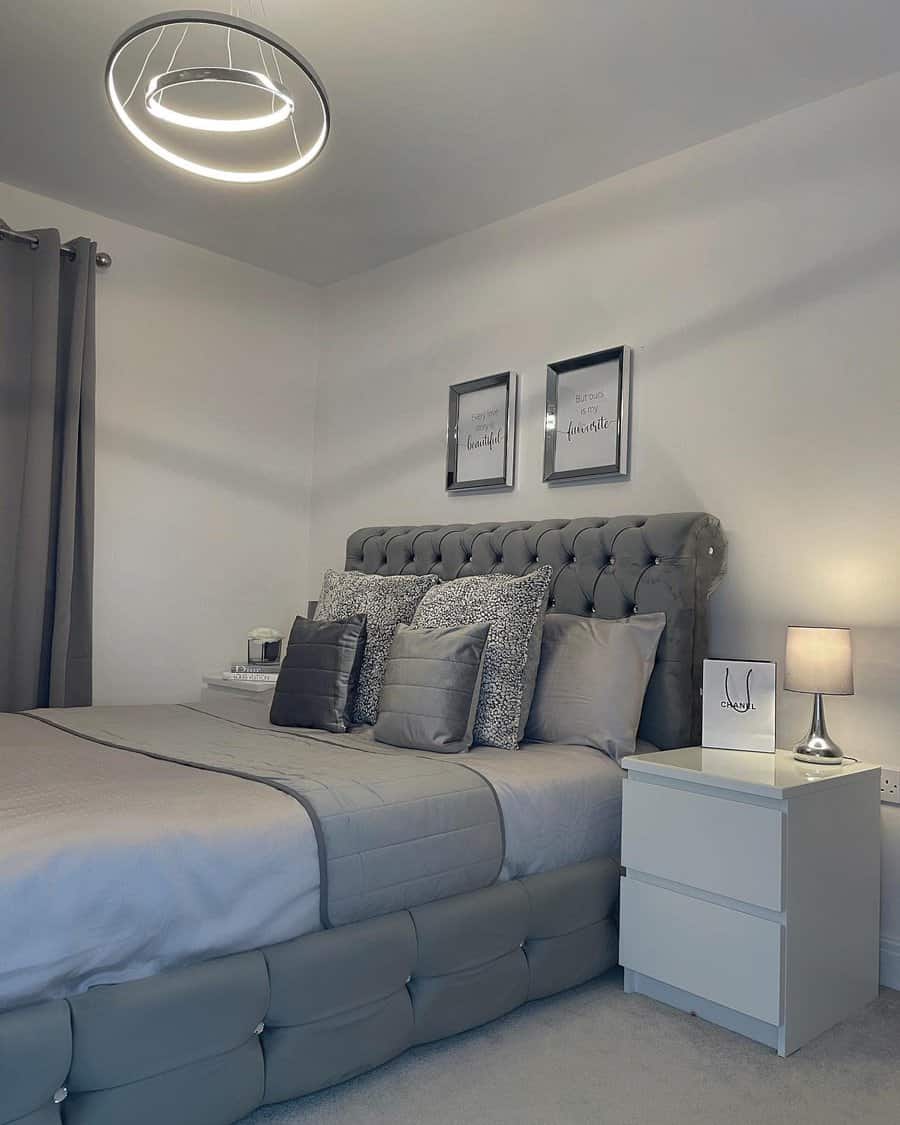 Keep the grey fun by adding texture and pattern to your teenagers' room. Create an accent wall by adding wallpaper with a large-scale graphic design or cool scenery. Spread a bold comforter on the bed and add a colorful rug on the floor.
Grey Bedroom FAQs
What colors go with a grey bedroom?
The color that goes best with your grey will depend on the undertones of the grey. Warm greys look better with creamy white, pink, or yellow. This brings out the warm undertones of the grey. A cool shade of grey will look better with green, purple, or blue. Some shades of grey have brown undertones and are called greige, making them perfect for other shades of beige and tan.
How do I make my grey bedroom cozy?
The key to making any room feel cozy is to add layers. This adds a plush and sink-into feeling to the room that makes it feel cozy. You can do this by having two or three layers of curtains on the windows. Arrange multiple throw pillows and blankets on the bed. Add curtains to a four-poster bed. Spread a rug on the floor.
What color furniture goes best with grey walls?
To prevent the room from falling flat, choose a color other than grey for your furniture. White is a beautiful contrast that also keeps the room feeling light. Mint green, soft pink, and pale blue are also good options. Gold can add a touch of luxury and warmth to the grey. A dark peacock green or teal can complement the grey.