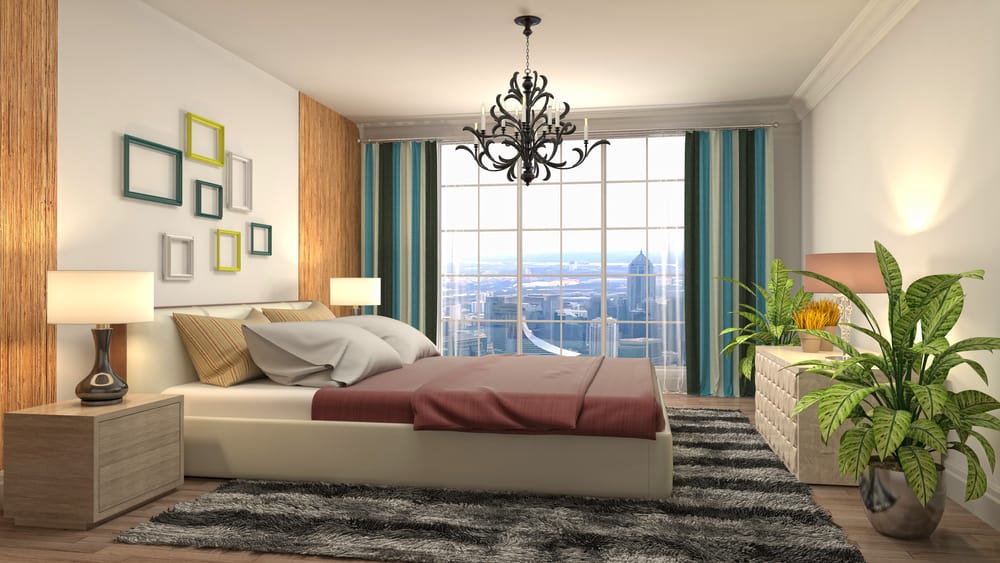 90 Bedroom Curtain Ideas
by — Andra DelMonico

Published on May 18, 2022

Updated on September 29, 2023
Adding curtains to your bedroom gives style and functionality to your window. They are the finishing touch to your room, like icing on a cake. They frame the window, adding texture, color, and pattern. In addition, adding curtains to your windows is a perfect opportunity for creating layers, which makes your bedroom feel comforting and cozy.
Check out these design ideas to figure out which bedroom curtain ideas will work the best for your bedroom.
1. Elegant Retractable Roman Shades
Enhance your bedroom's personality with elegant retractable Roman shades. These versatile window treatments allow you to showcase your surroundings during the day while offering privacy and light control at night. Experiment with a range of colors, from soothing blues and pinks to bold yellows or reds, to match your room's ambiance.
To achieve this look, measure your windows accurately and choose high-quality Roman shades that complement your decor. For added style, pair them with matching or contrasting curtains to create a unique, personalized atmosphere that tells your design story.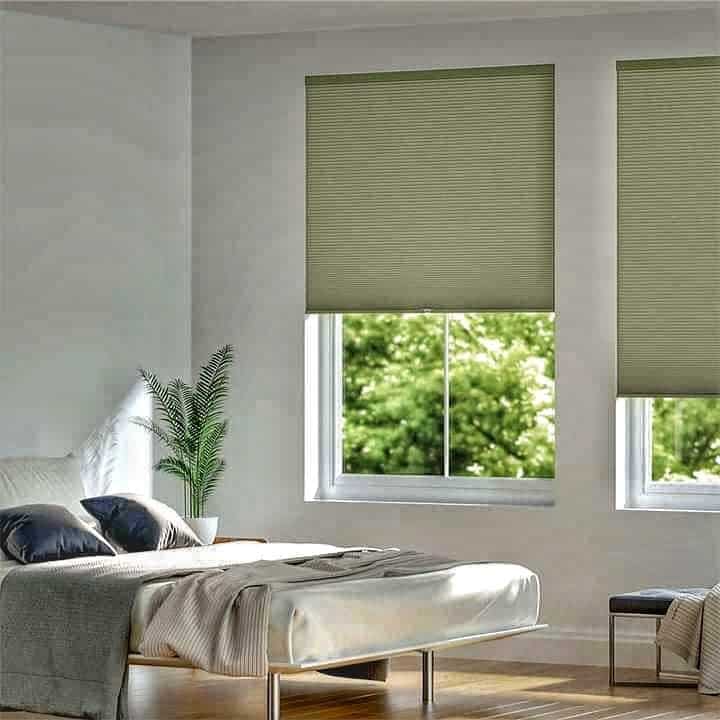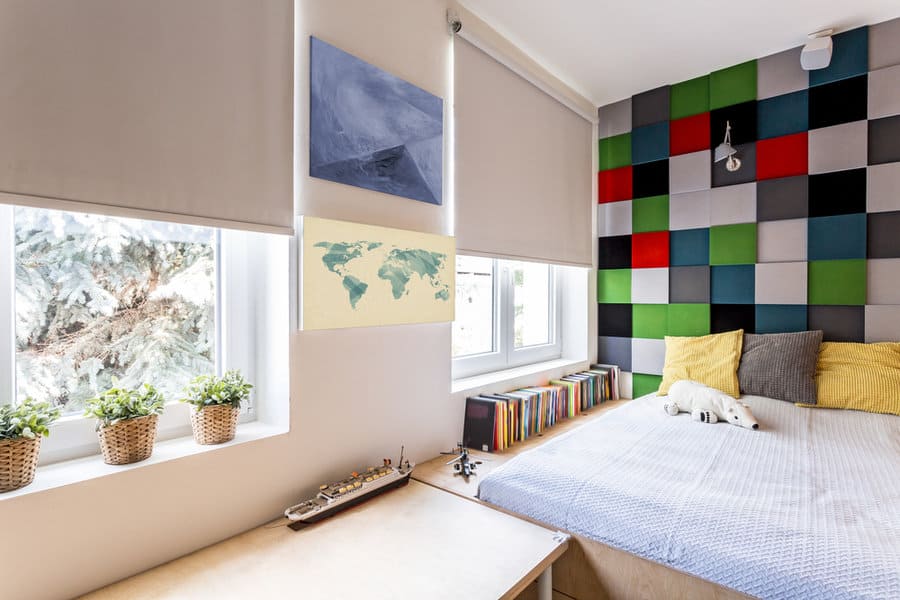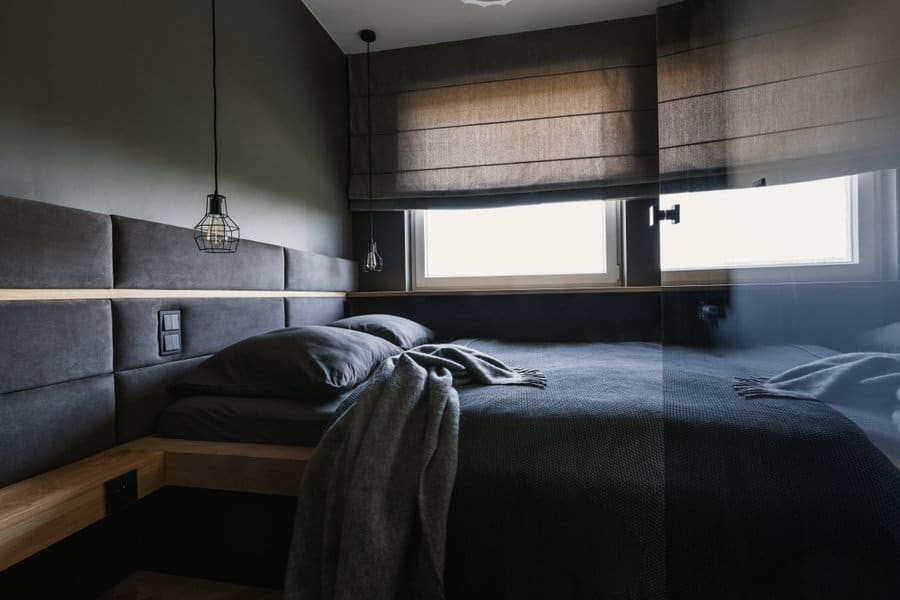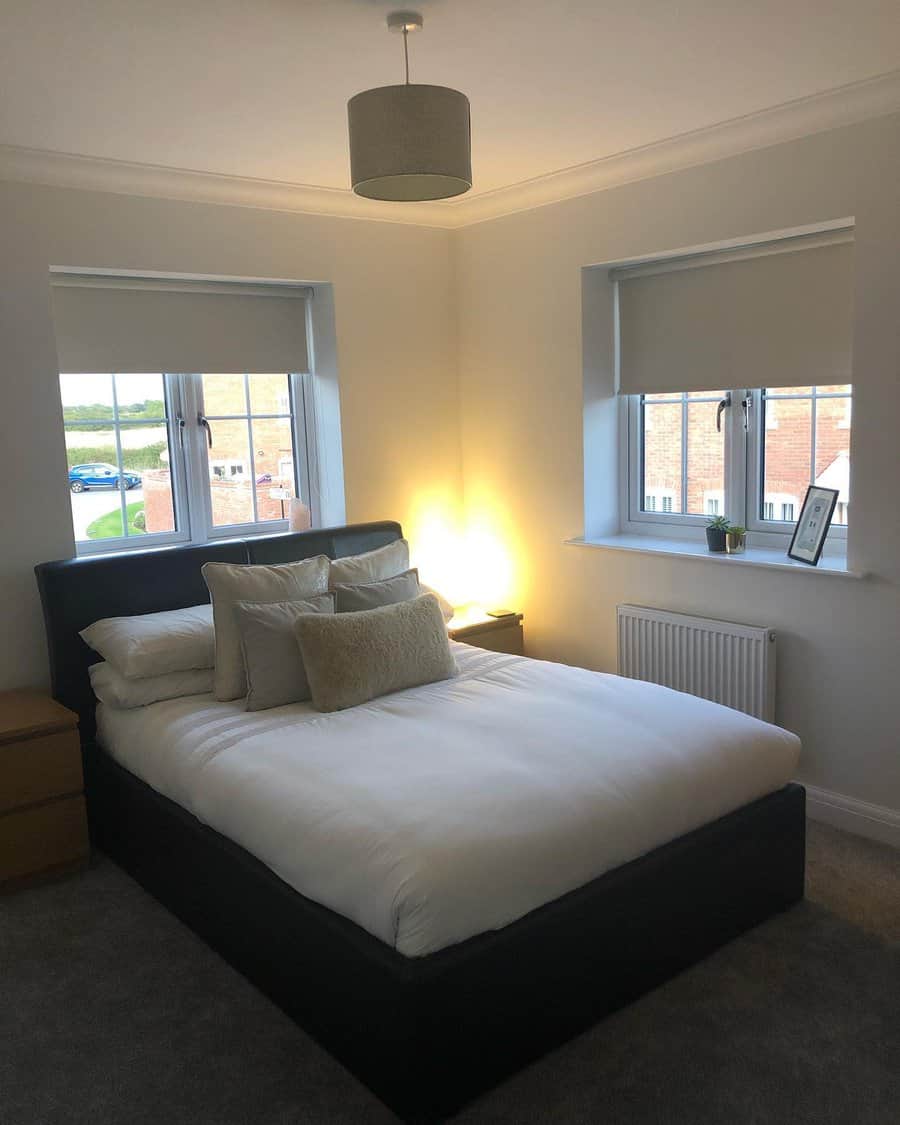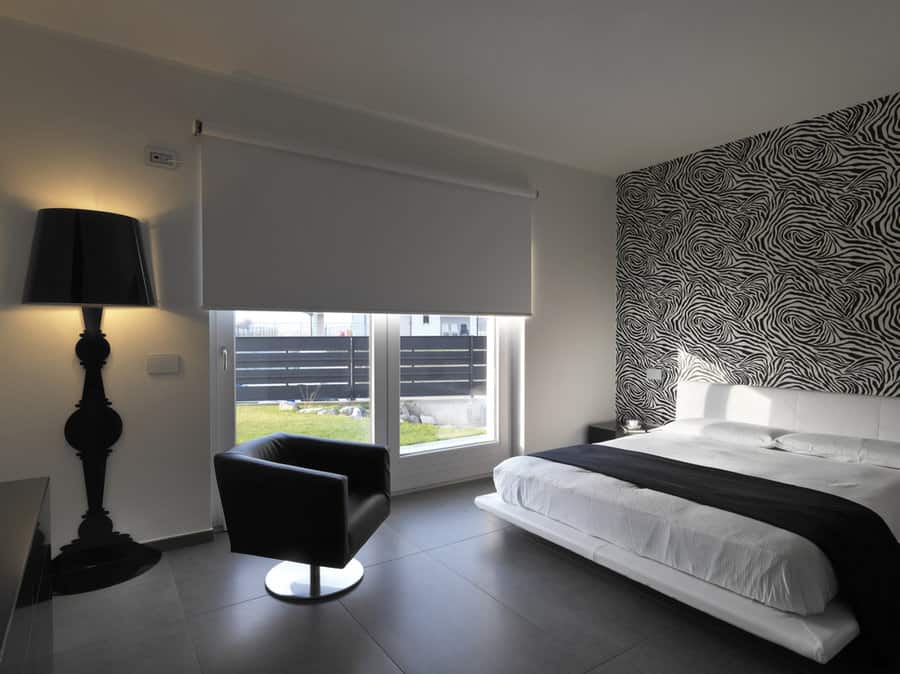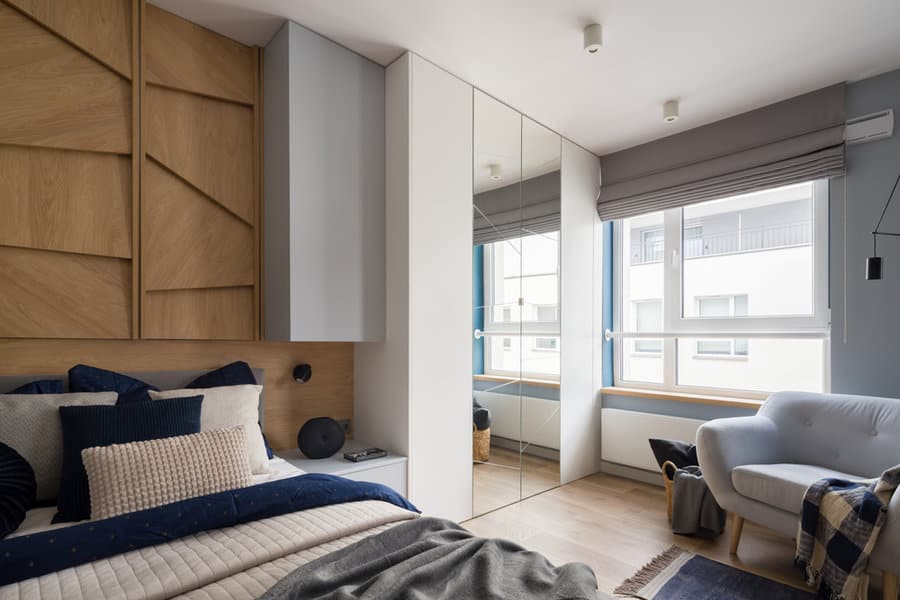 2. Stylish Cornice Curtain Design
Achieve a stylish bedroom look with a cornice curtain design. Cornices add a touch of elegance and practicality to your space. These decorative wooden moldings can be customized with fabric or wood coverings to match your room's theme.
To incorporate this design, measure your window dimensions accurately and choose a fabric that complements your bedroom's style. Cornice curtains are excellent for controlling light levels, ensuring a comfortable sleeping environment. Experiment with different fabric depths and textures to achieve the desired ambiance, ultimately making your bedroom more inviting and cohesive.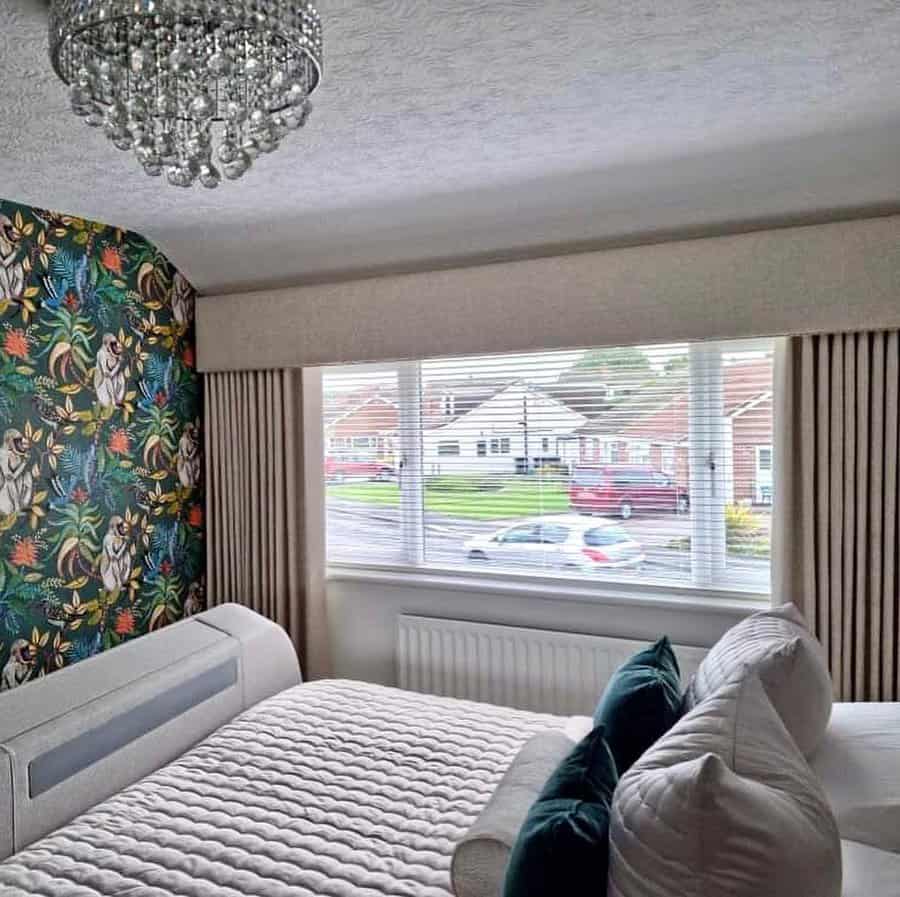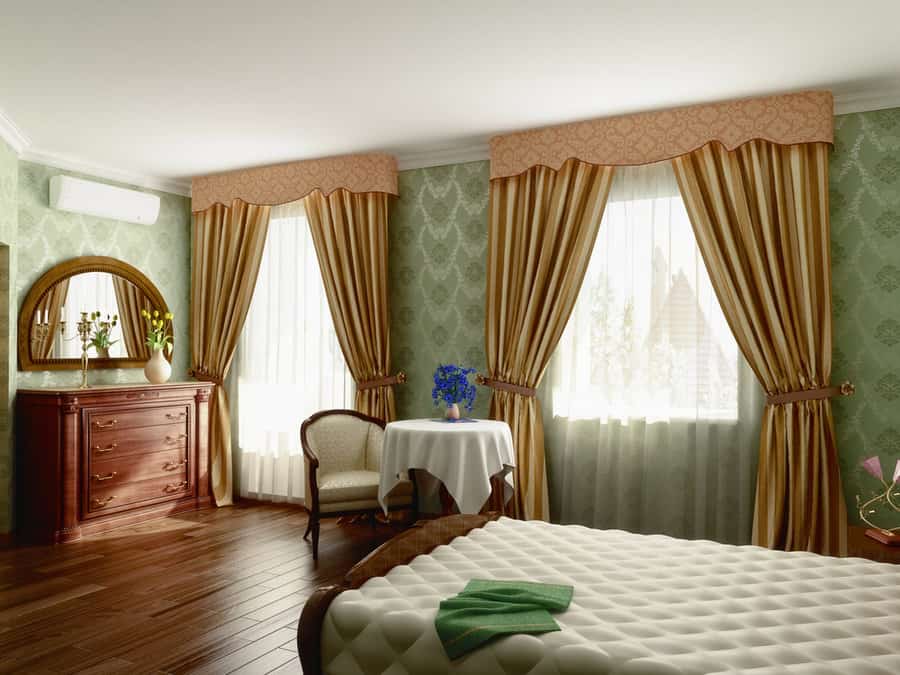 3. Versatile Window Blinds Ideas
Elevate your bedroom's style with versatile window blind ideas. These adjustable blinds offer a unique layered window treatment look and customizable light control.
For an adventurous touch, experiment with textured fabrics in vibrant colors on one side, seamlessly transitioning into natural shades on the other. Alternatively, play with tones by swapping solid colors for eye-catching patterned curtains. To achieve this look, measure your window accurately and choose blinds that complement your room's decor. These creative combinations will infuse character into your bedroom, creating a captivating living space.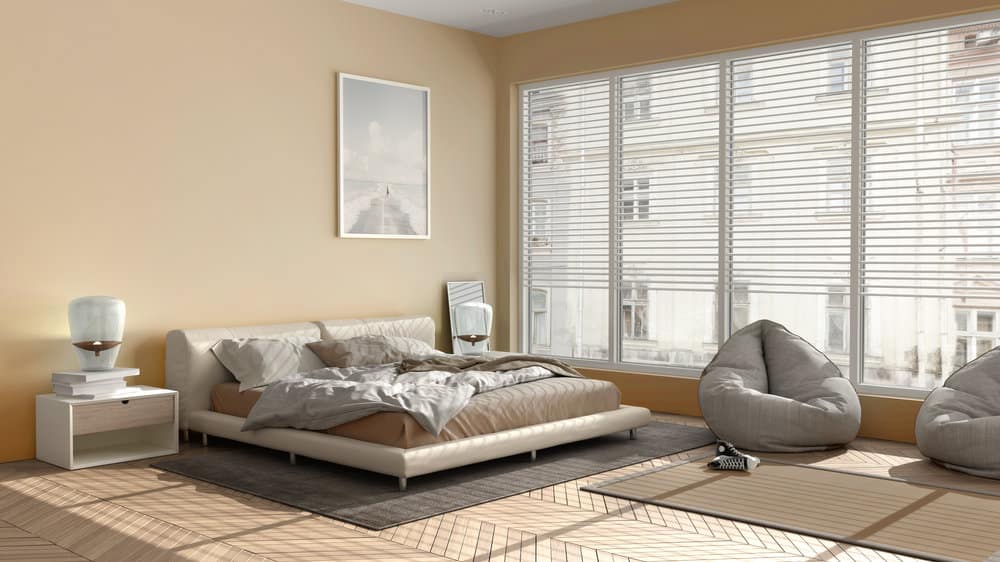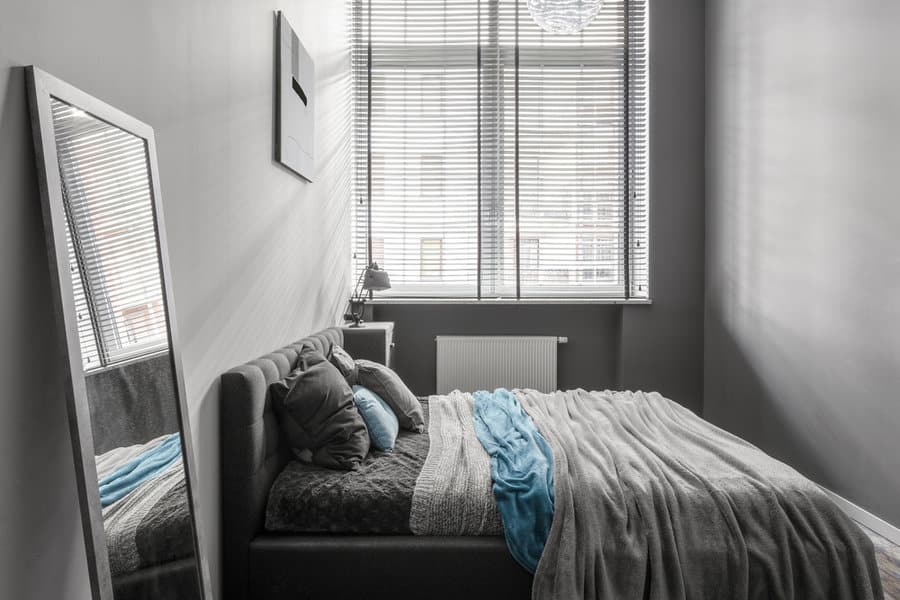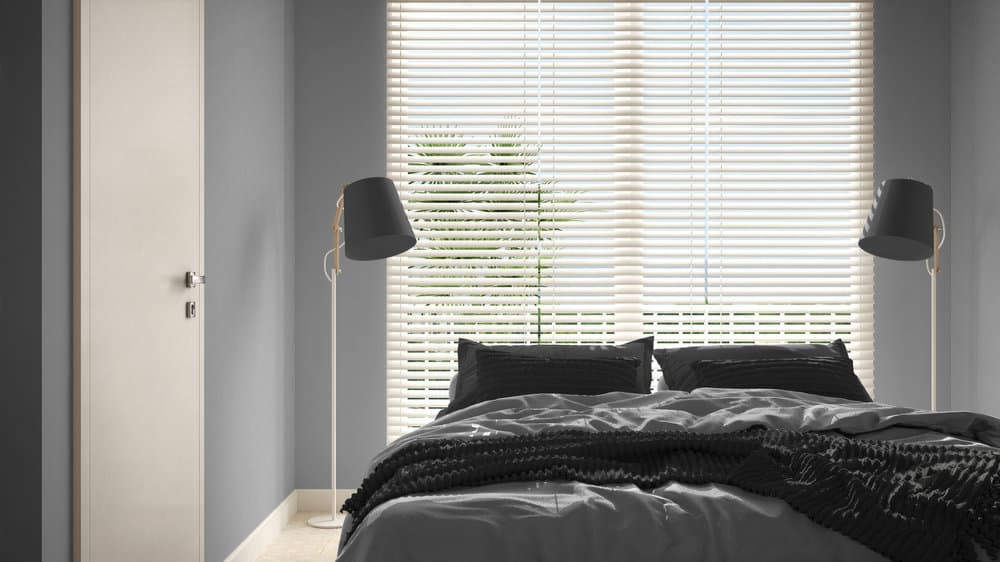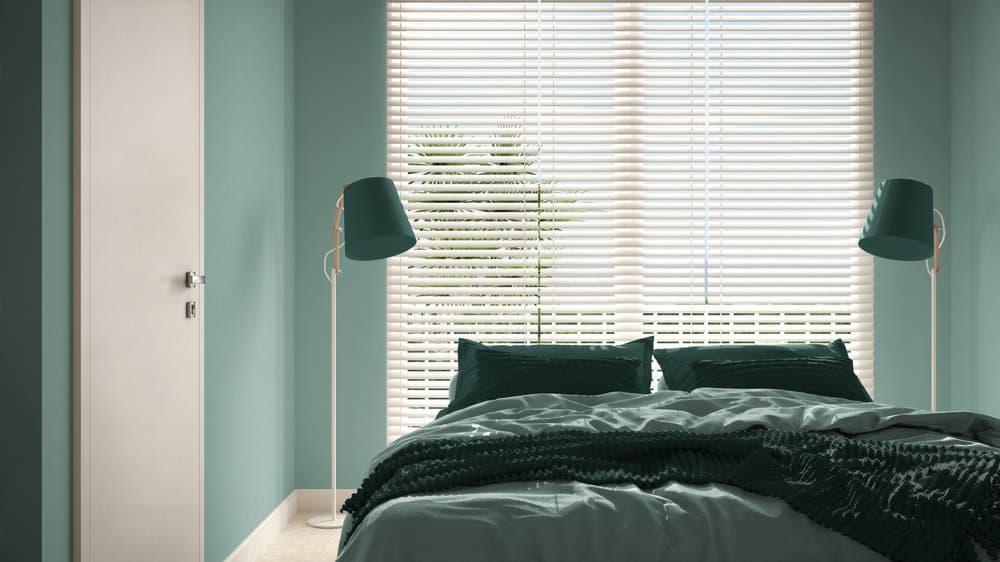 4. Classic Rod Curtains
Revitalize your bedroom's aesthetic with classic rod curtains. This cost-effective option not only enhances privacy and adds a touch of color or pattern but also looks fantastic with an exposed rod.
Whether you opt for sheer curtains to create an airy atmosphere or go for dramatic blackout curtains for enhanced darkness, rod curtains offer versatility. To achieve this style, select curtain fabrics that resonate with your room's decor and measure your windows accurately. What's more, if you ever crave a change, updating your curtains is a breeze, making it a hassle-free design choice.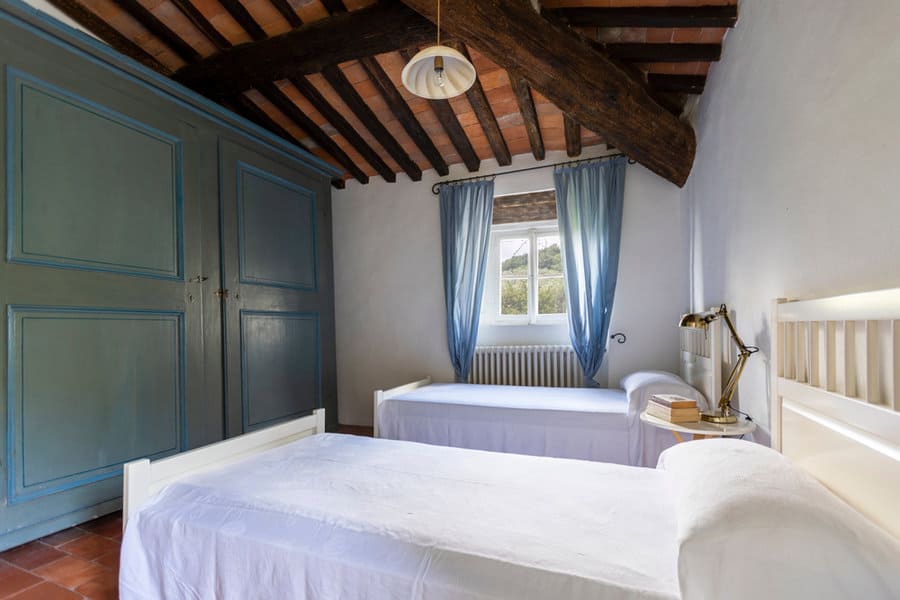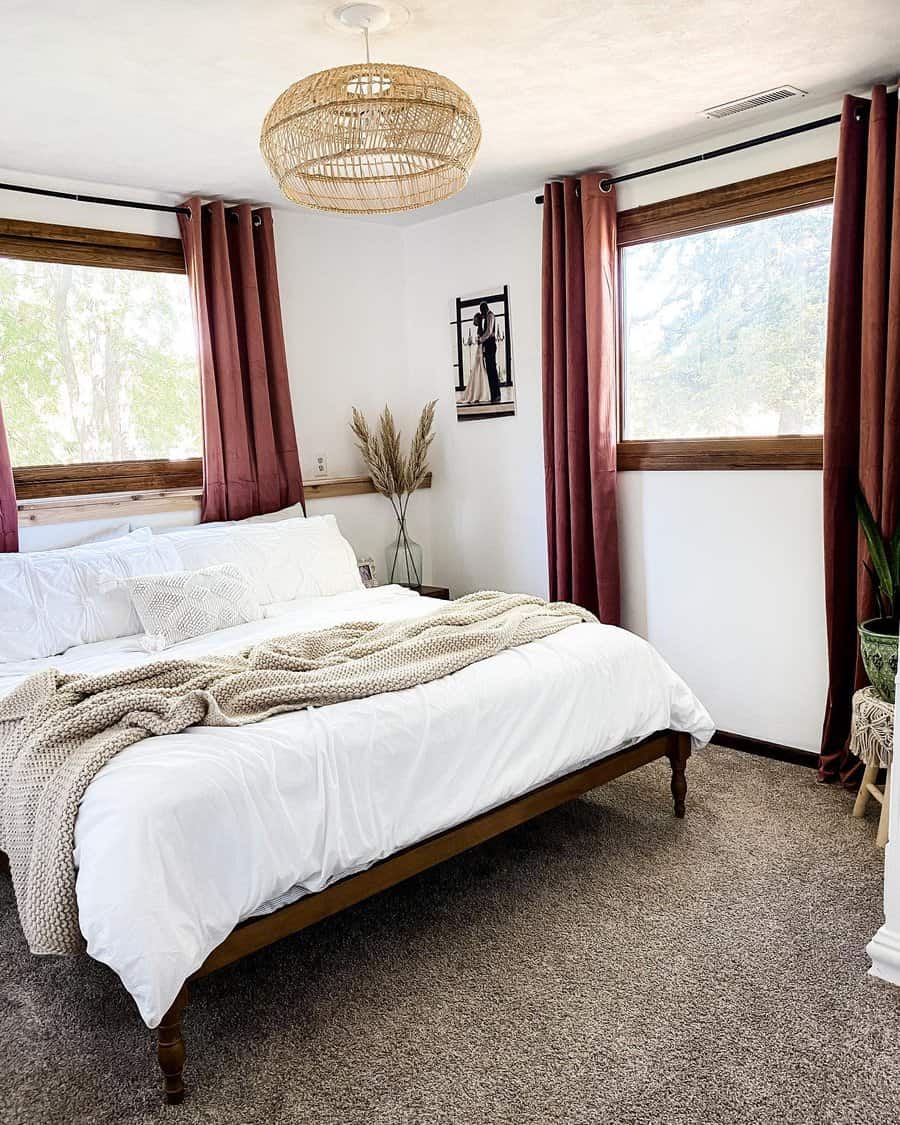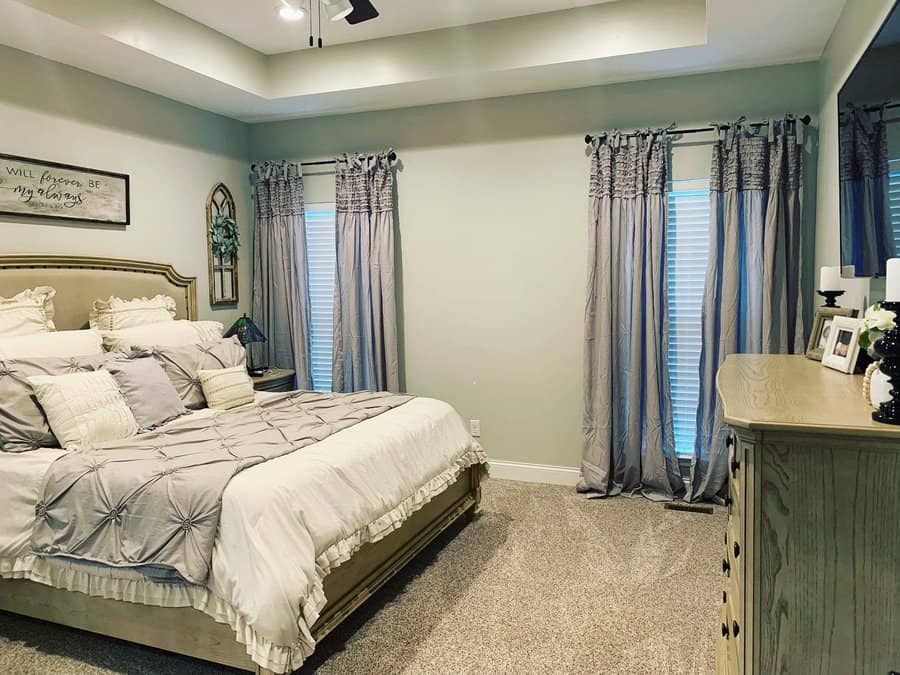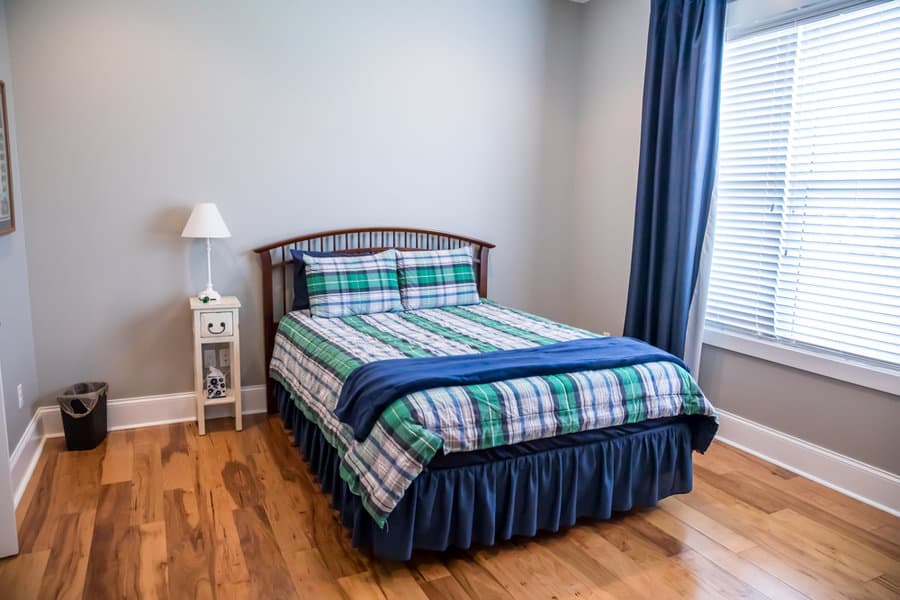 5. Layered Curtain and Sheer Look
Add depth and style to your bedroom with a layered curtain and sheer look. Combine sheer and opaque fabrics to create texture, allowing natural light while maintaining privacy and a soft ambiance.
For a bold twist, opt for unexpected patterned curtain fabrics like vibrant velvet. To achieve this, ensure your fabric choices align with your desired color palette and room aesthetics. These layered curtain ideas can infuse personality and vibrancy into your sleeping space, making it uniquely yours.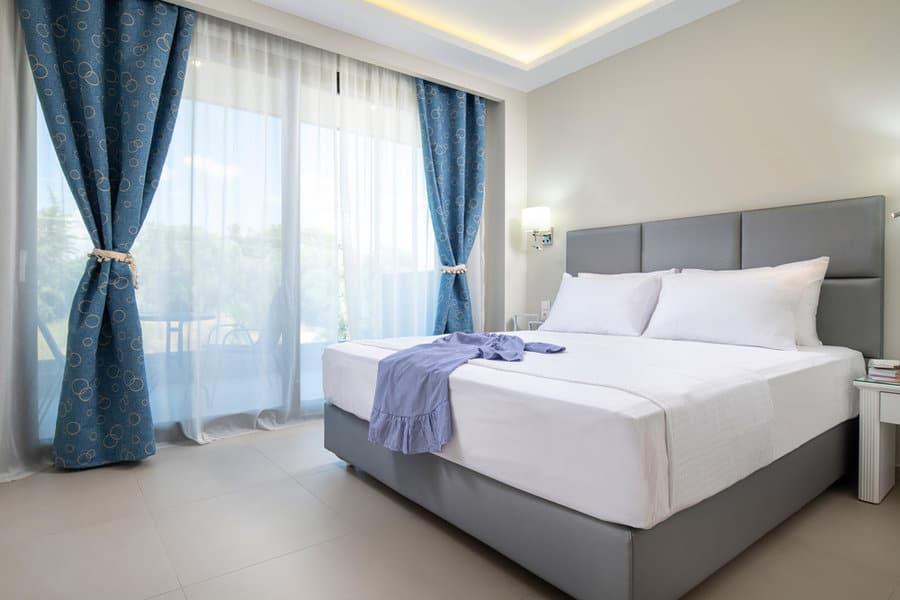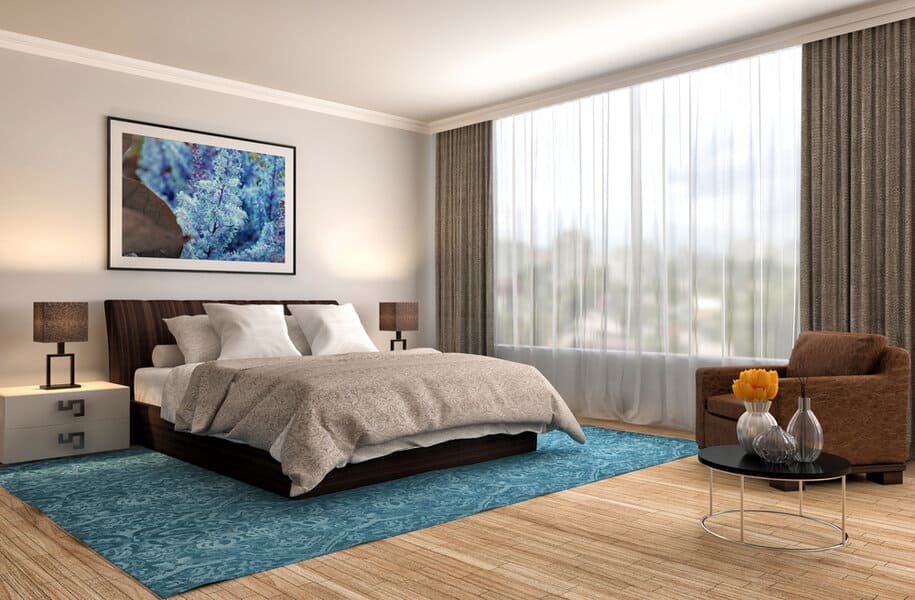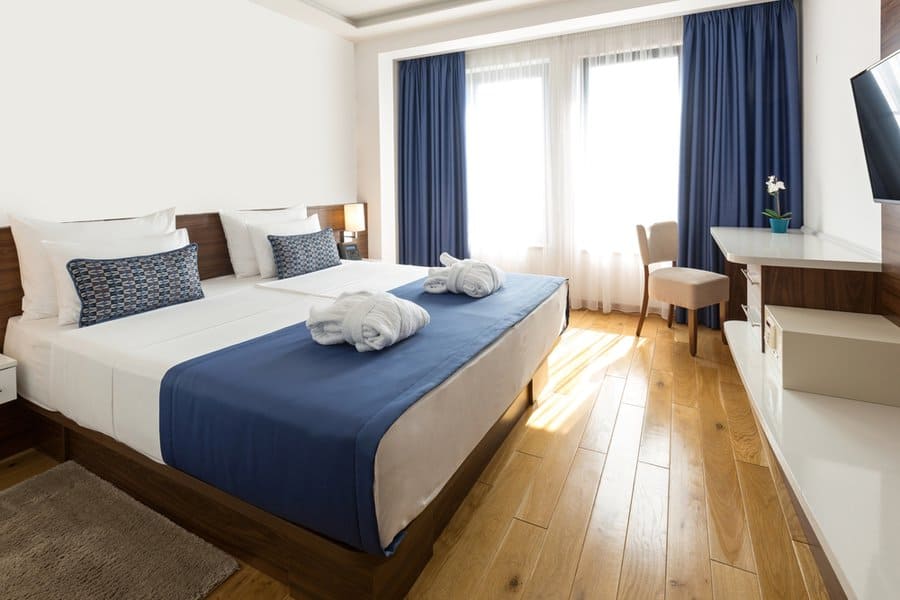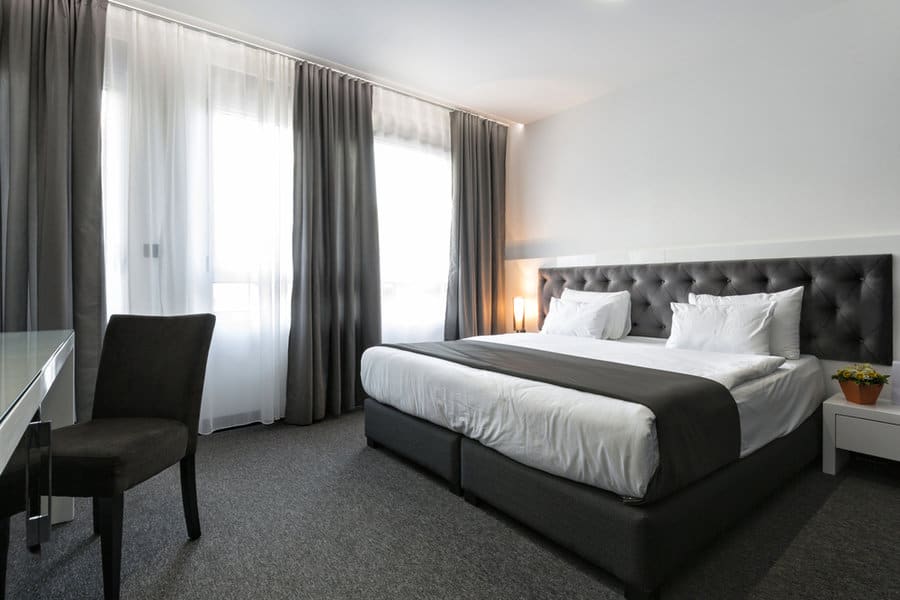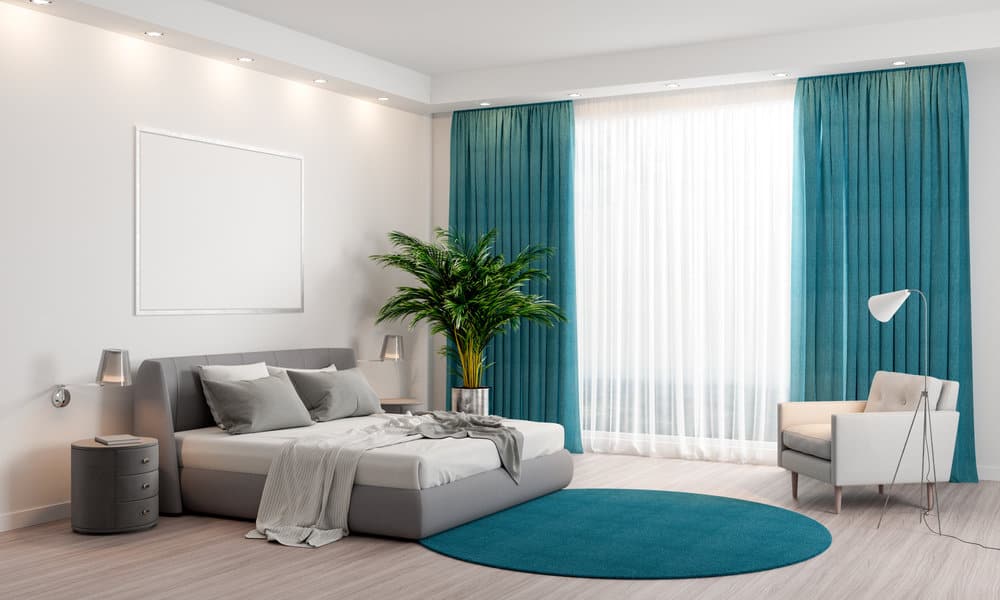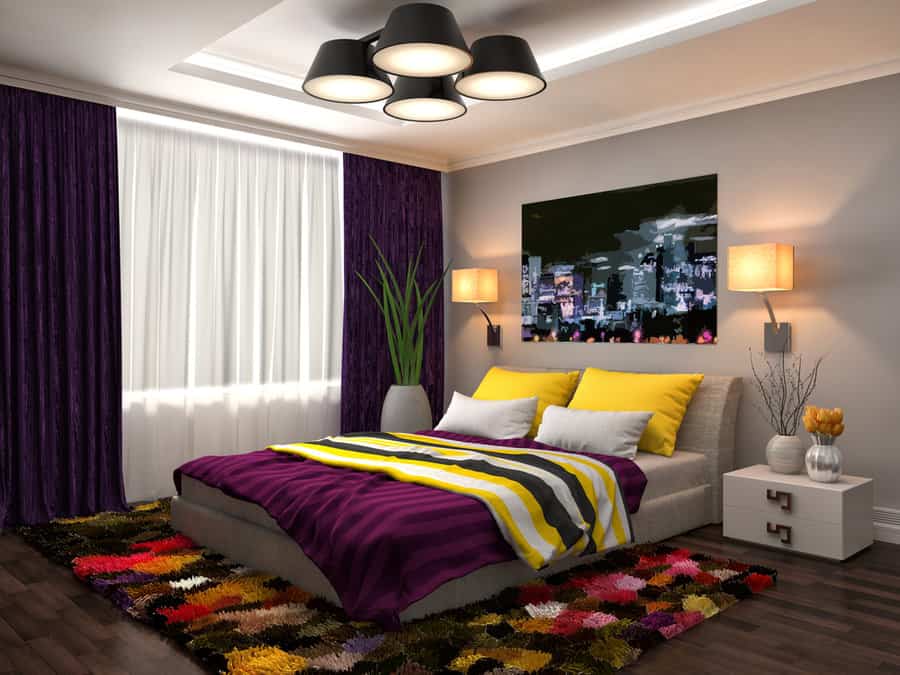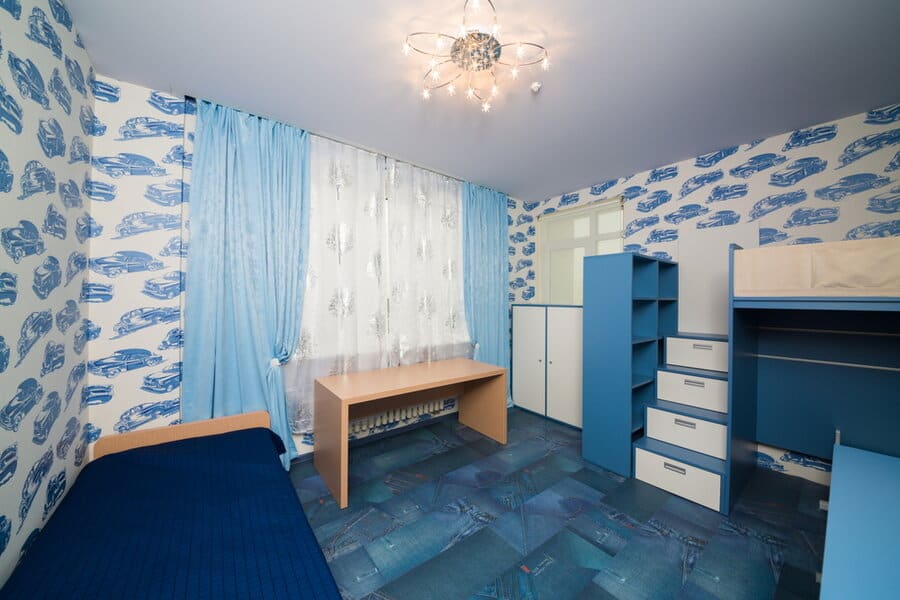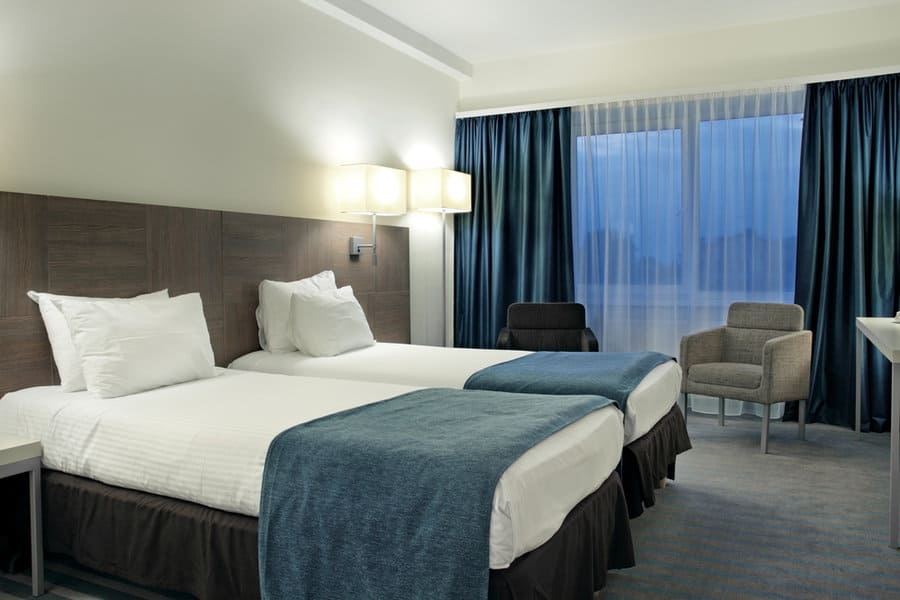 6. Bohemian Floor-Length Curtains
Enhance your bedroom's allure with bohemian floor-length curtains. These curtains add sophistication and the illusion of spaciousness to your room.
Floor-length curtains can make your bedroom feel more inviting and expansive. While they may require a bit more investment due to their length and extra material, the final result is undeniably worth it. To achieve this look, measure your windows accurately, and choose curtains that complement your room's decor and color scheme. The added height and elegance will transform your space into a cozy oasis.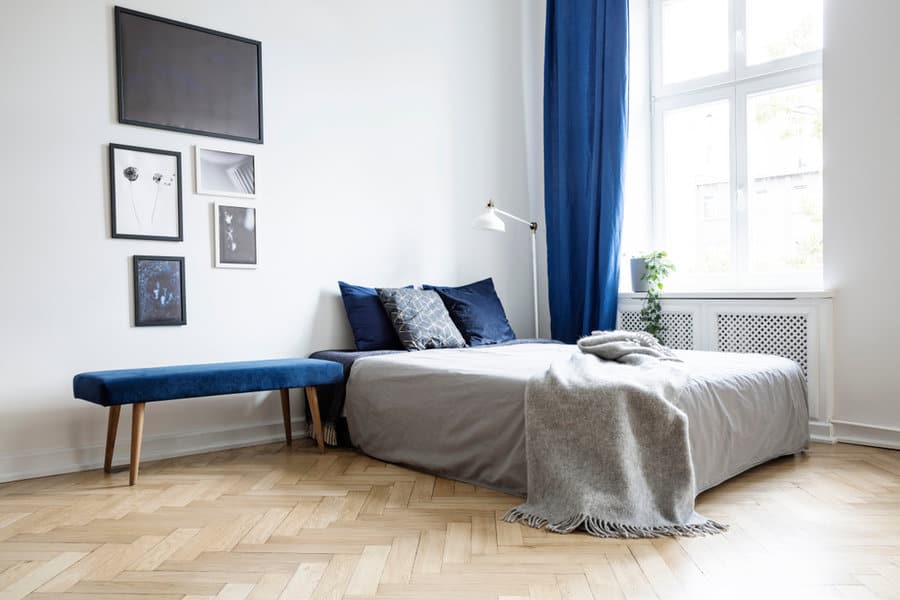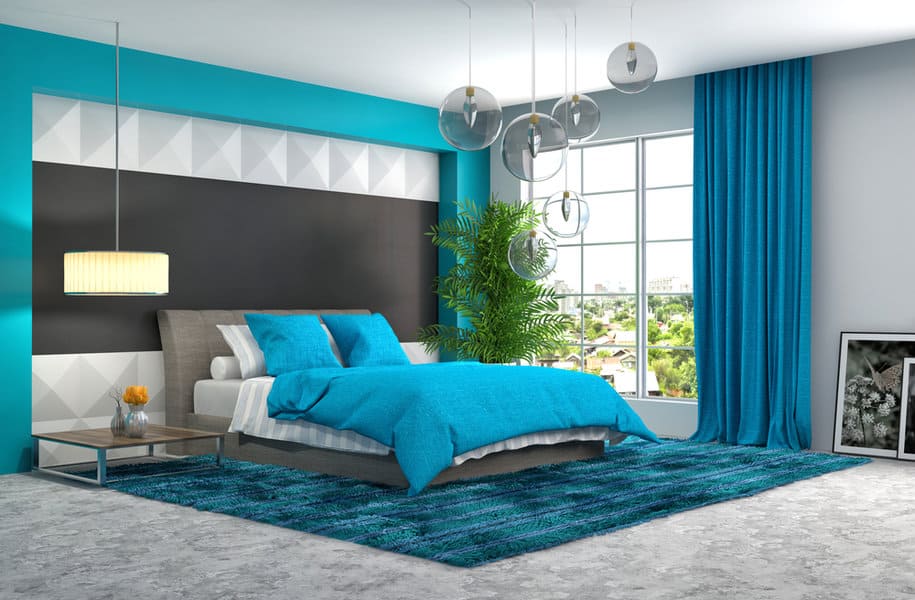 7. Timeless Swag Curtain Styles
Elevate your bedroom's aesthetic with timeless swag curtain styles. Swag curtains add a stylish, decorative touch, blending modern edge with traditional interiors.
To achieve this look, consider layering curtains with complementary colors or textures. This creates balance, softens incoming light, and ensures privacy. Your bedroom windows will exude personality when adorned with curtains that are both aesthetically pleasing and functional. Measure your windows accurately and choose curtains that match your room's color palette and design theme to achieve the desired effect.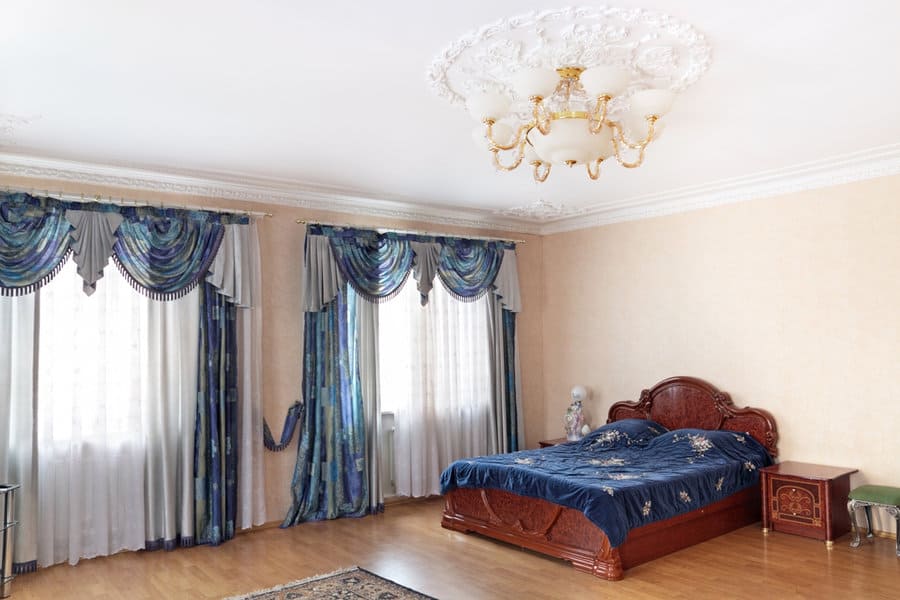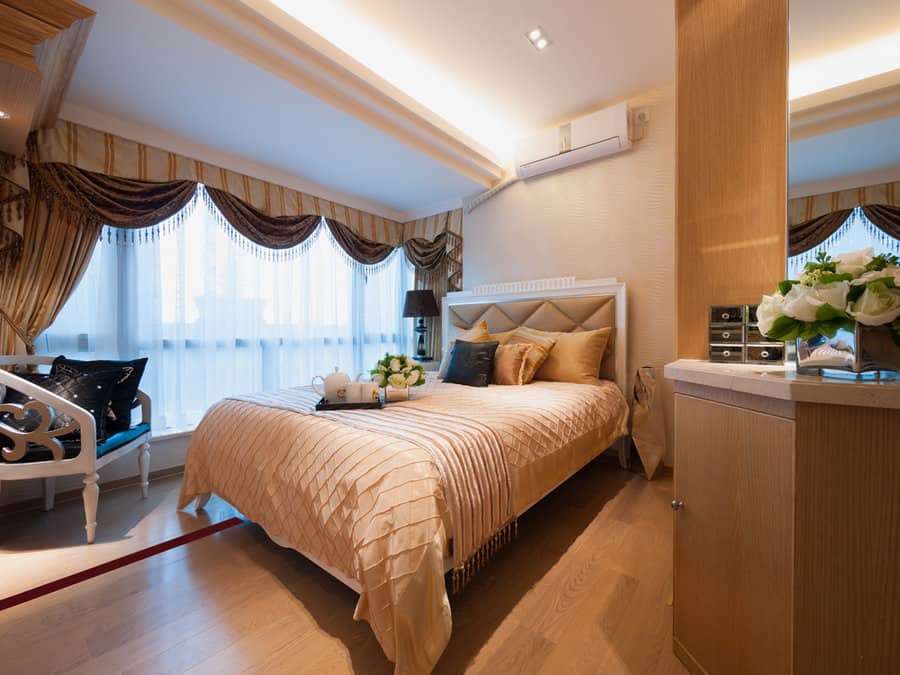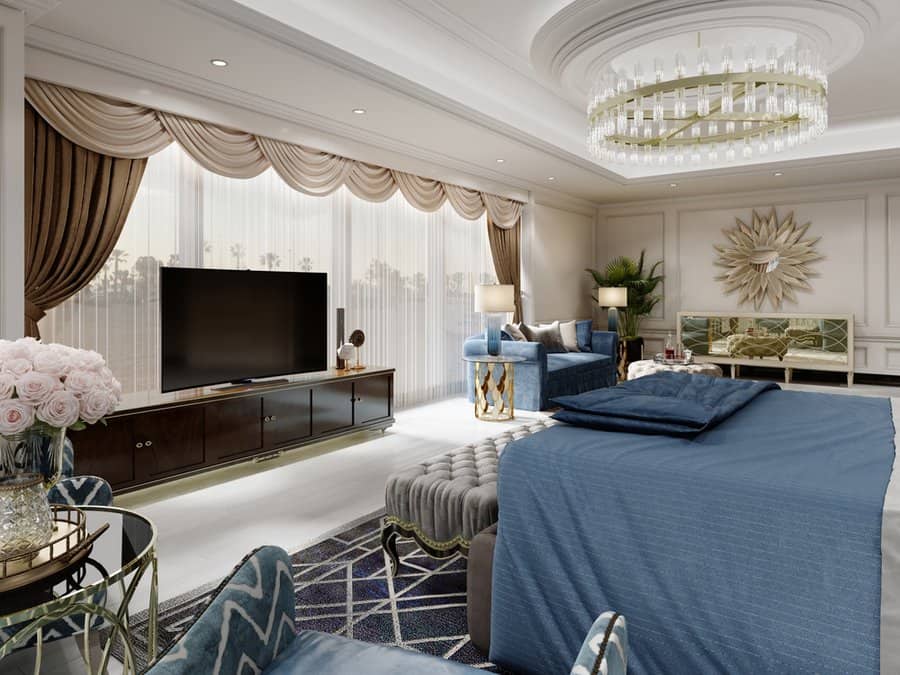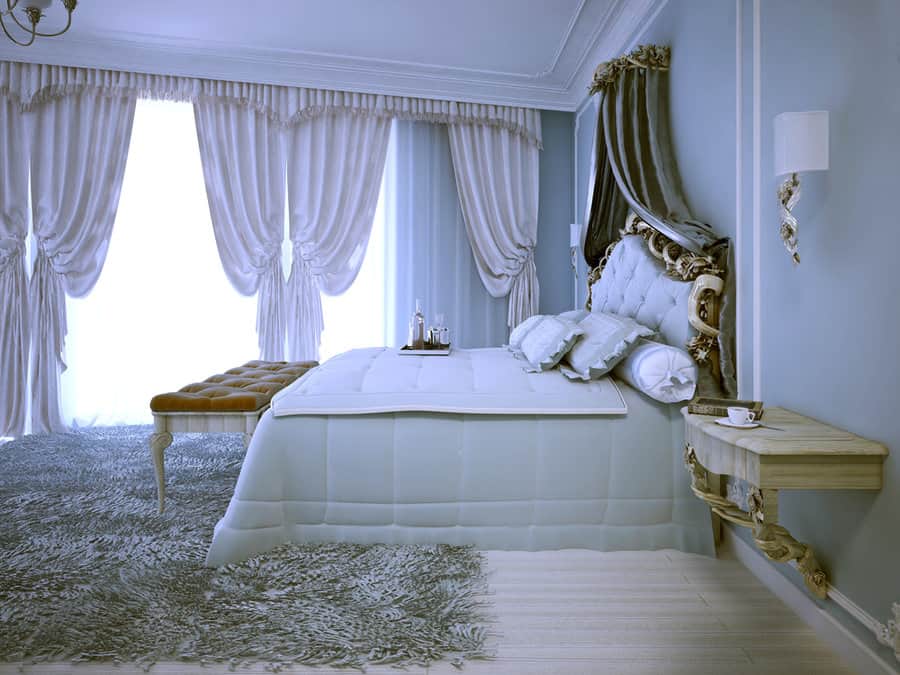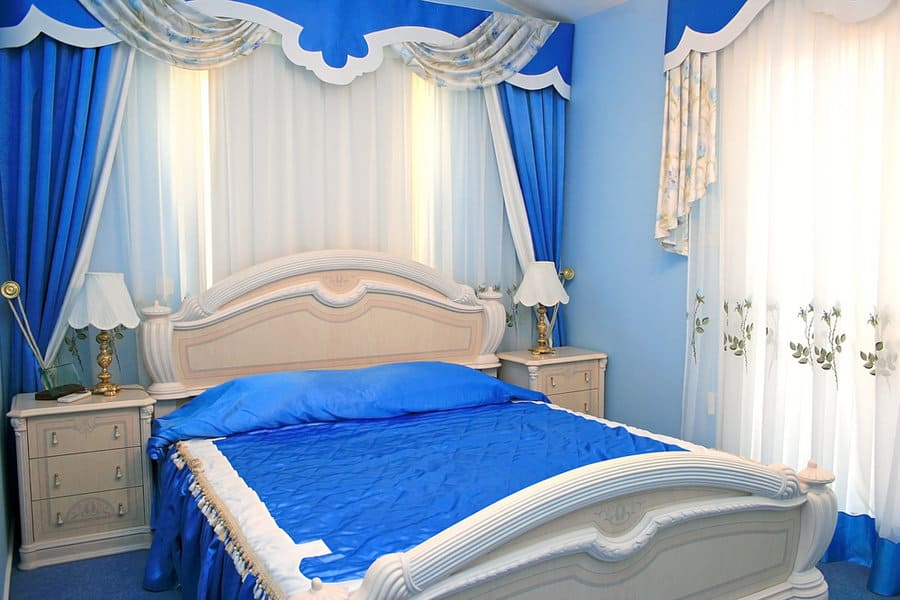 8. Sleek Monochromatic Curtain Choices
Achieve modern elegance with sleek monochromatic curtain choices. Embrace the trend of monochromatic shades from black to dark grey to create a versatile and sophisticated palette for your bedroom.
Monochromatic curtains seamlessly complement various decor styles, serving as a stunning backdrop to showcase artwork and furniture. Explore a range of textures, from light muslin to sumptuous velvet, to add a personalized touch to your space. When selecting these curtains, consider your room's existing color scheme and design elements to ensure a cohesive and refined look.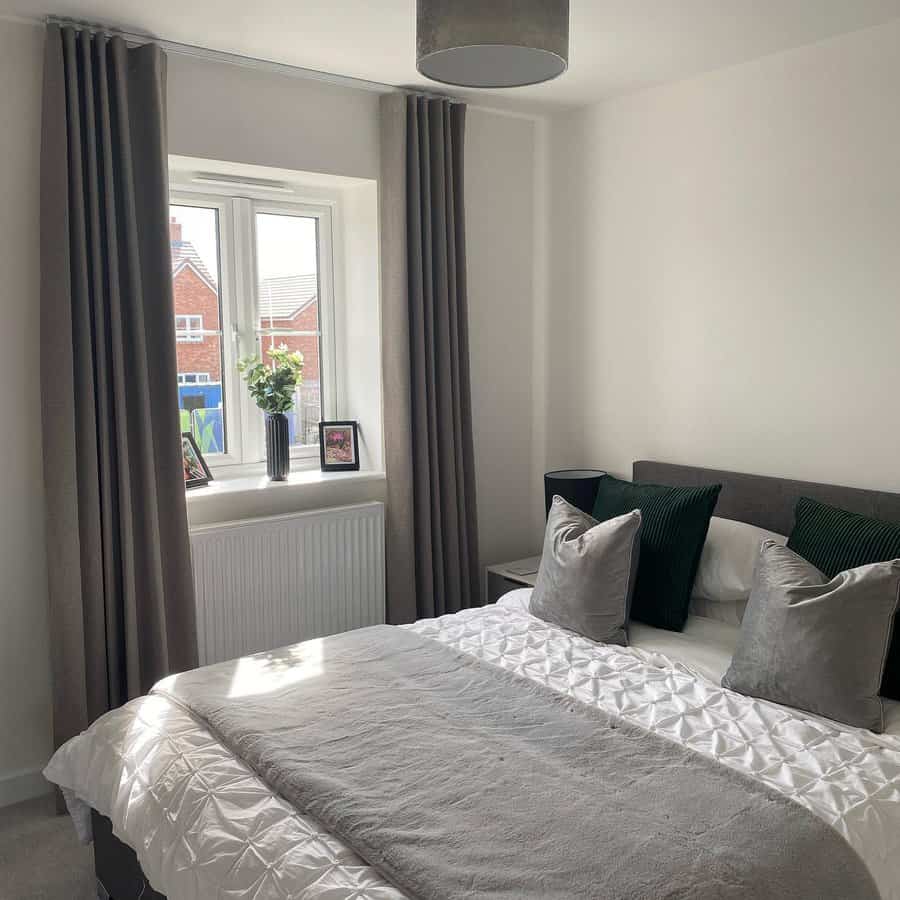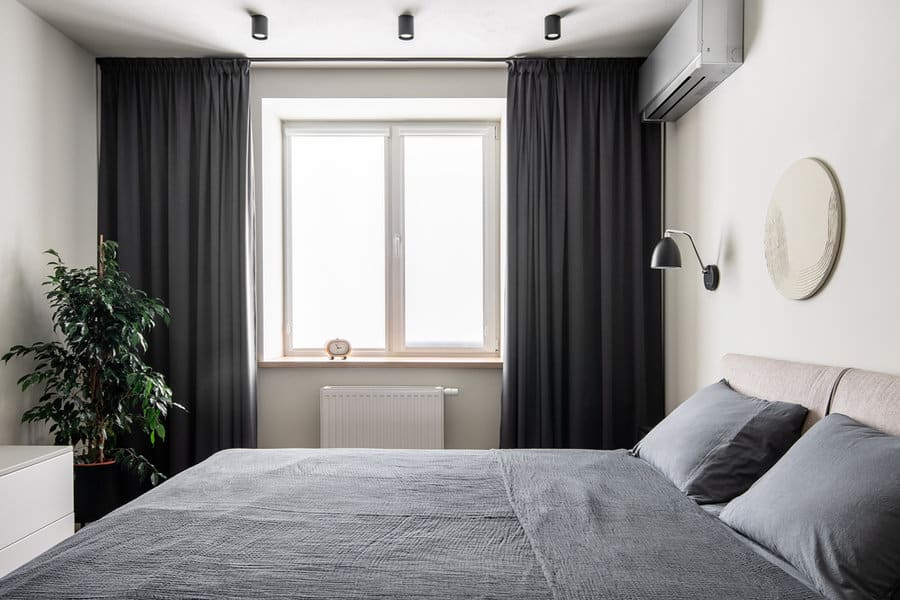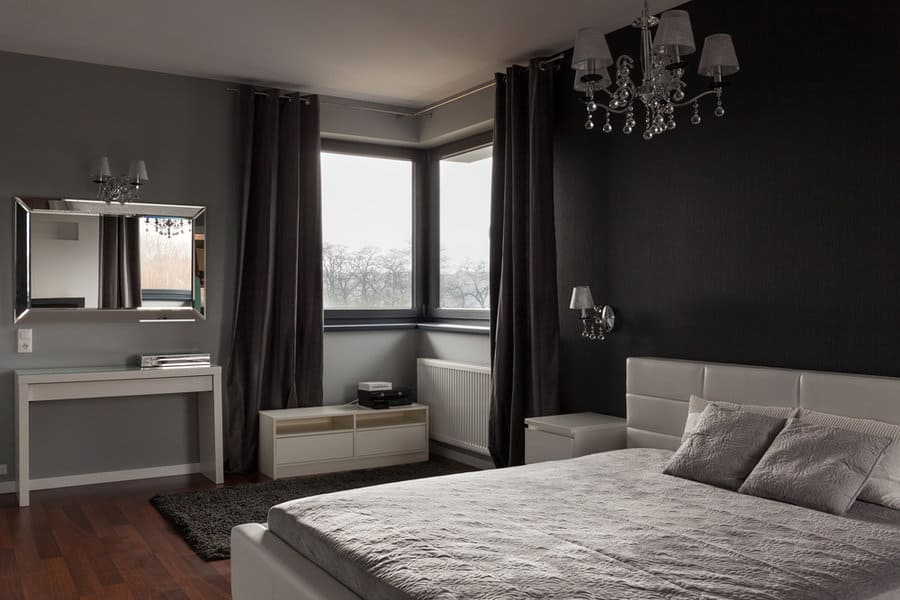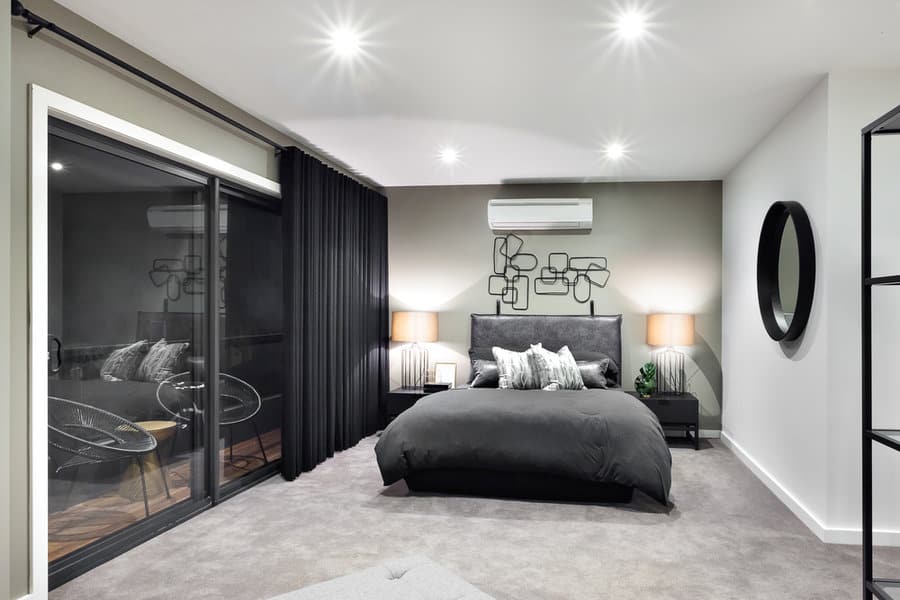 9. Artful Framing with Curtains
Introduce creativity to your bedroom with artful framing using curtains. This unique approach involves overlapping two complementary fabrics or patterns around the window, creating a frame-like structure.
To achieve this look, consider layering fabrics of different lengths for a dramatic effect or using sheer fabric to infuse soft texture and allow natural light. Embrace double layers of fabric or mix multiple designs around the window to complement various furniture styles. This framing curtain concept offers an eye-catching way to incorporate color and texture into your bedroom, seamlessly harmonizing with nearly any design scheme. Ensure that your fabric choices align with your room's color palette and overall decor for the best results.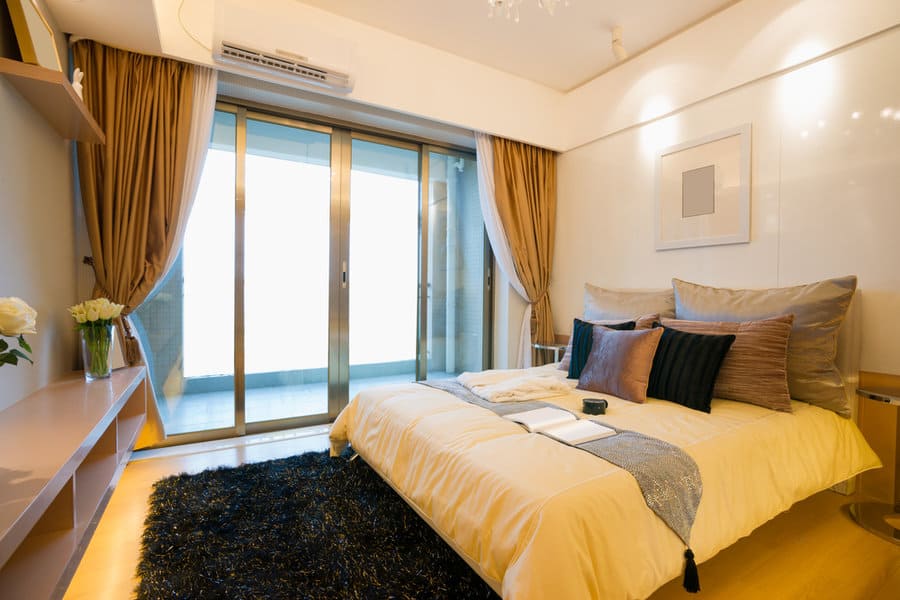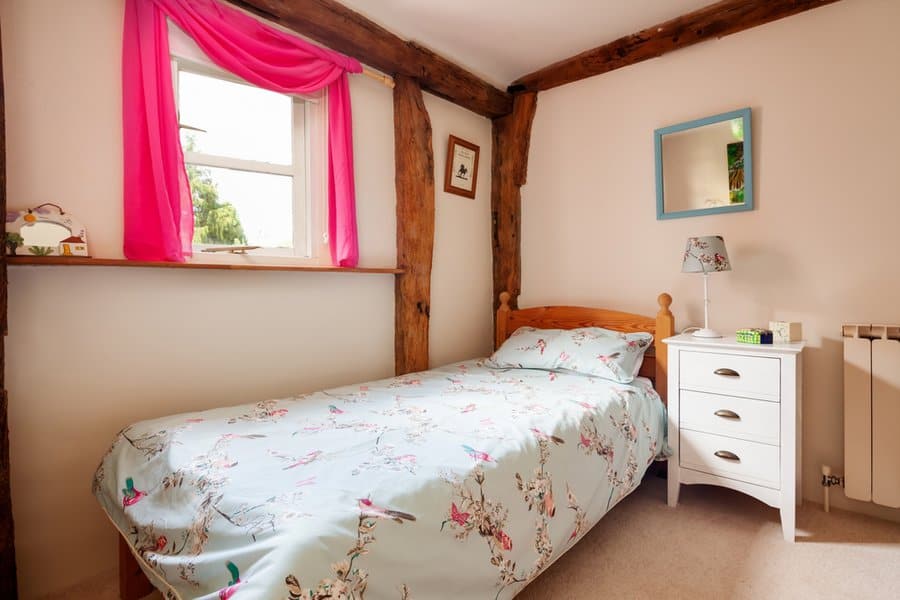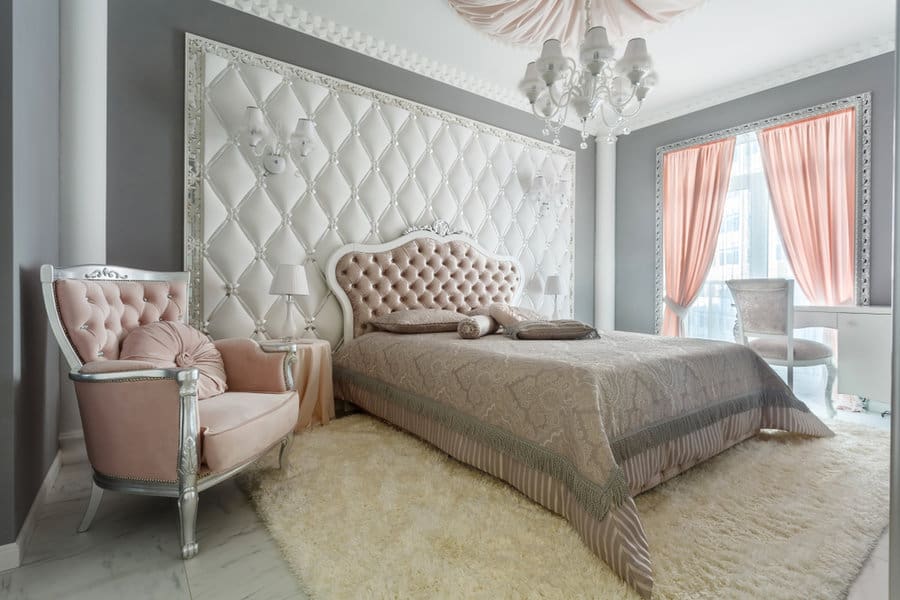 10. Playful Printed Curtain Designs
Infuse charm into your bedroom with playful printed curtain designs. Explore a world of creative possibilities to enhance your decor.
For a touch of floral elegance, consider pastels and deep hues that bring warmth and coziness to your space. If you prefer classic style, opt for crisp gingham or checkered patterns that stand the test of time. Printed curtains offer a versatile way to introduce color and personality into your bedroom, ensuring your window treatments are anything but boring. To achieve the desired effect, select prints that harmonize with your room's overall color scheme and design theme.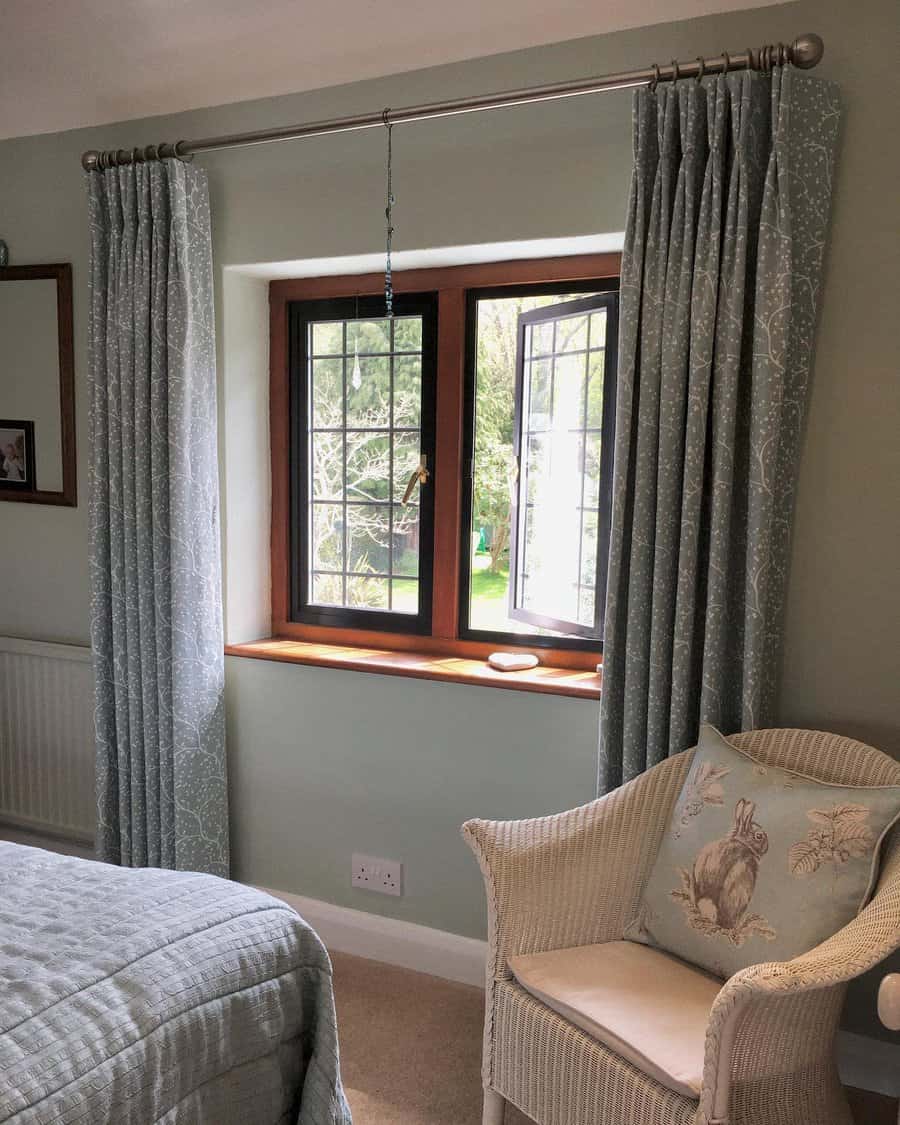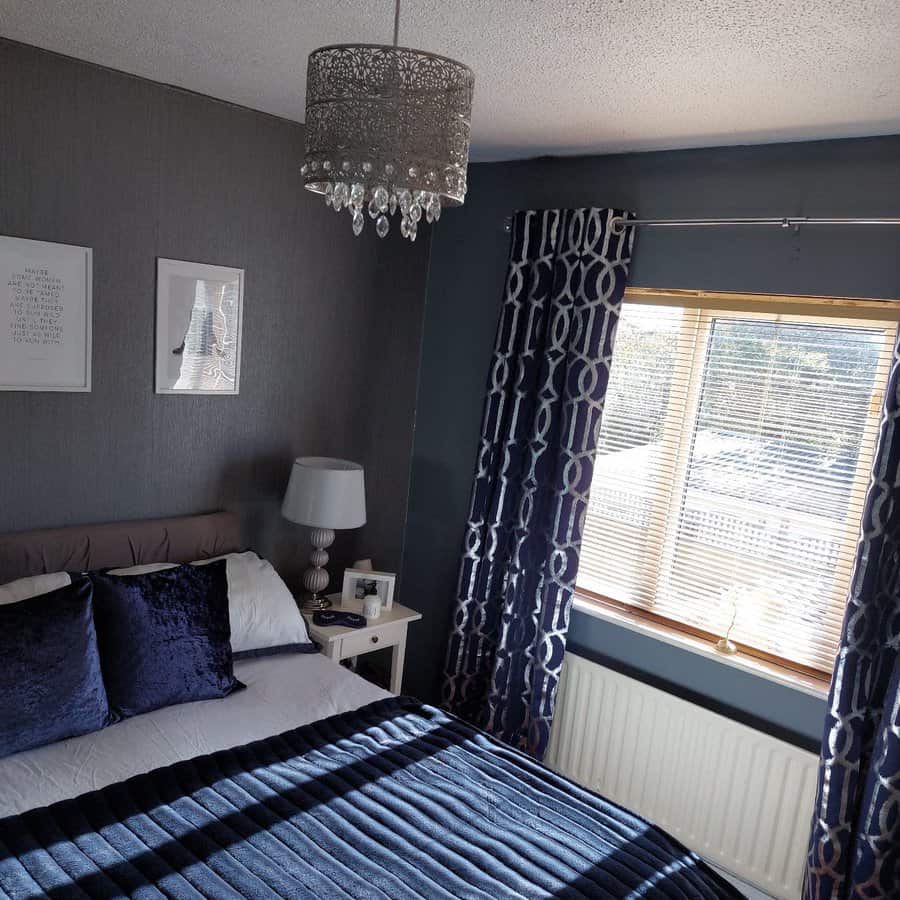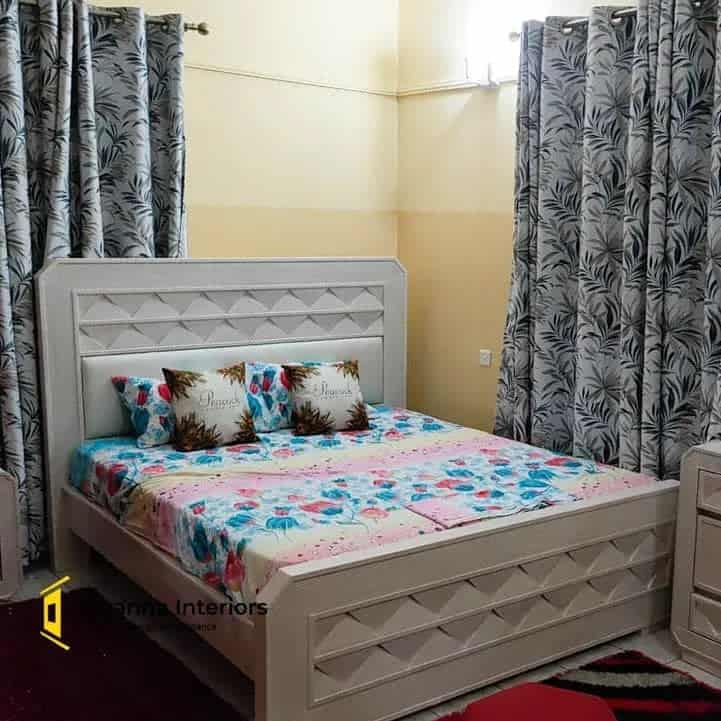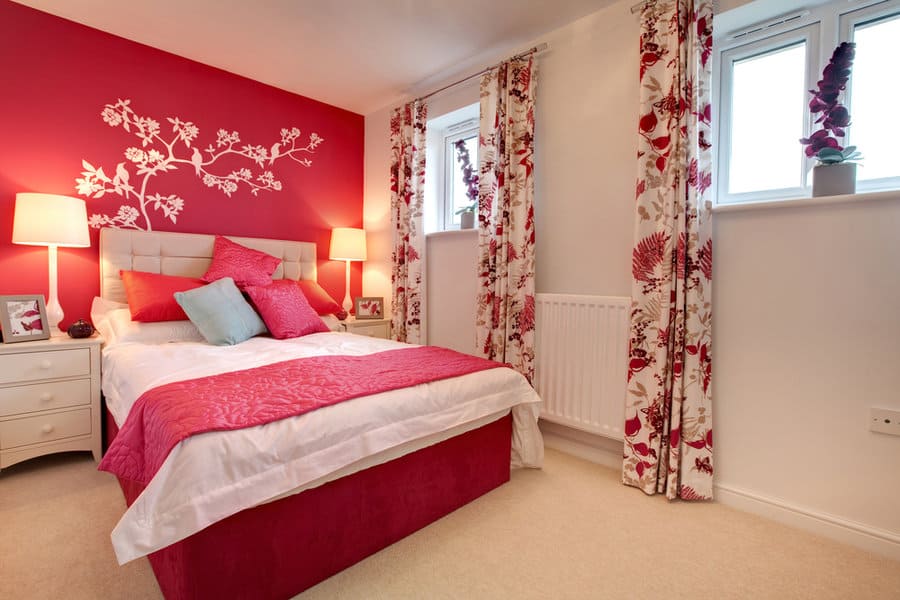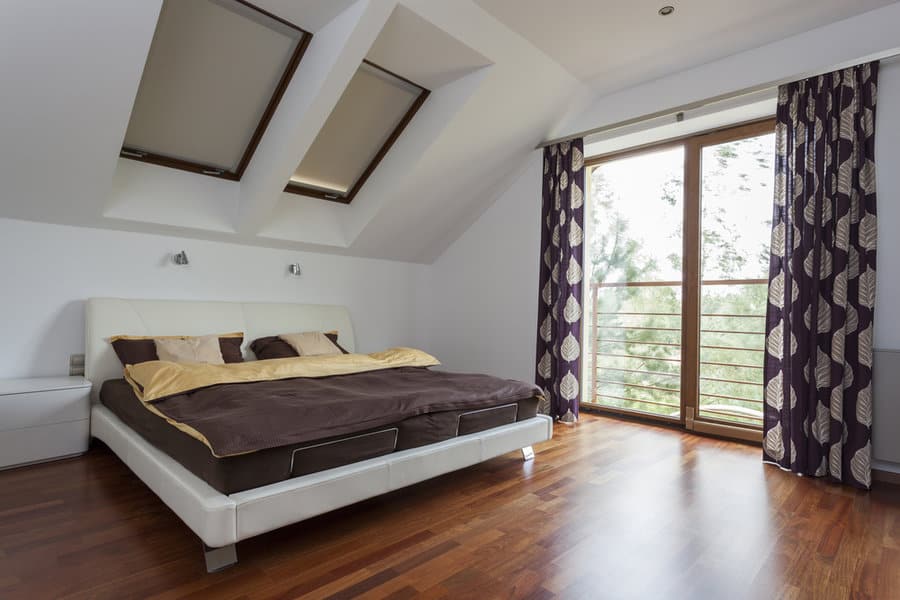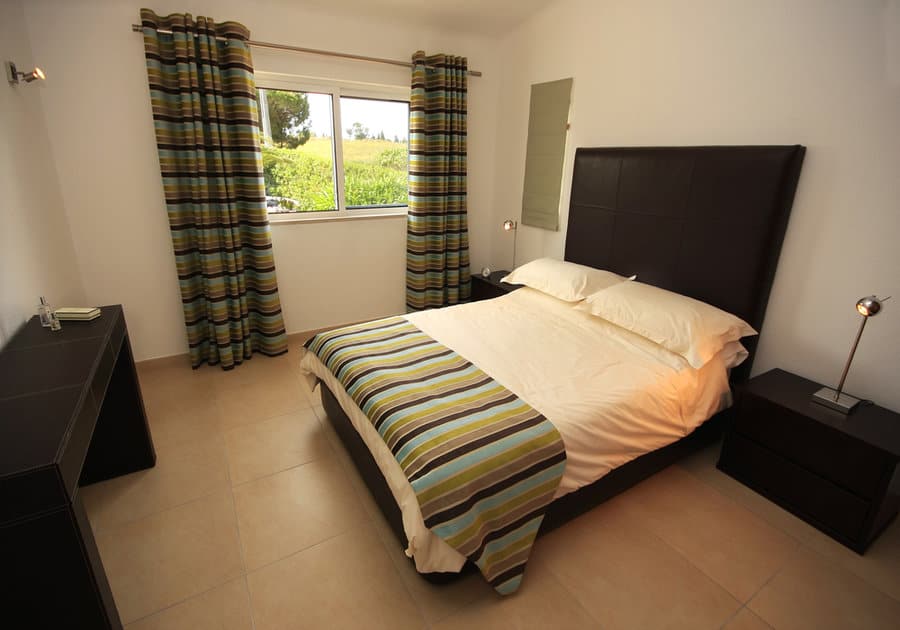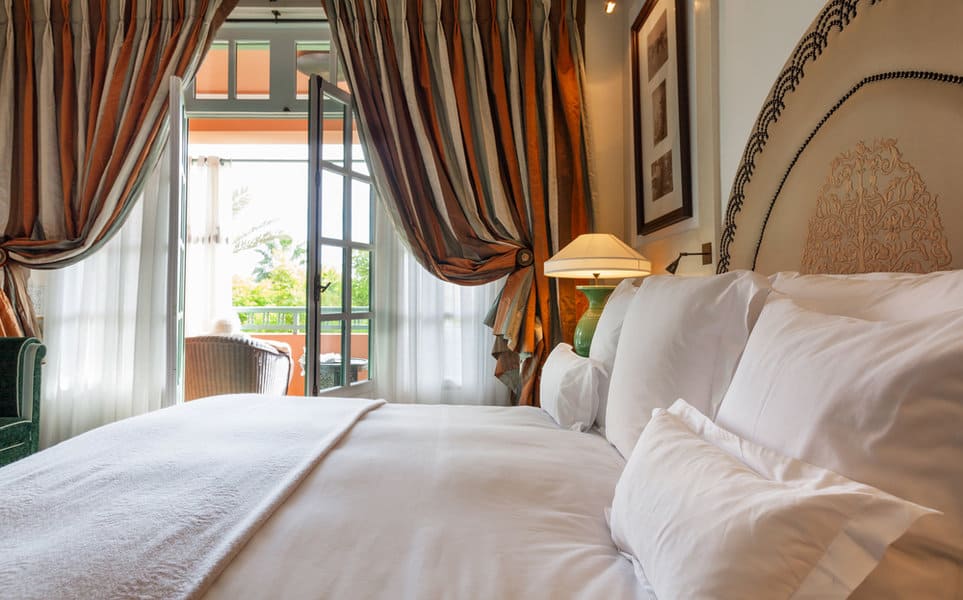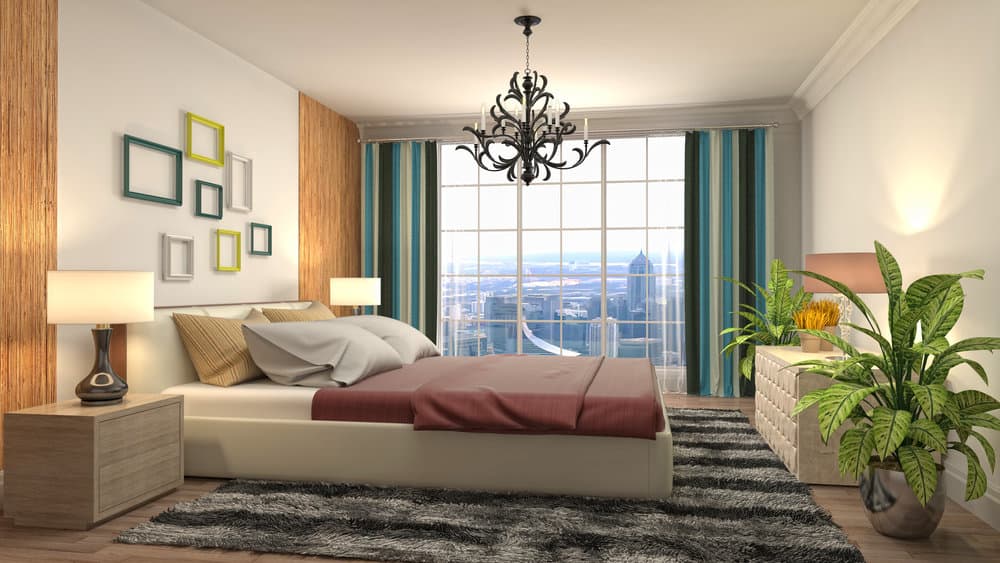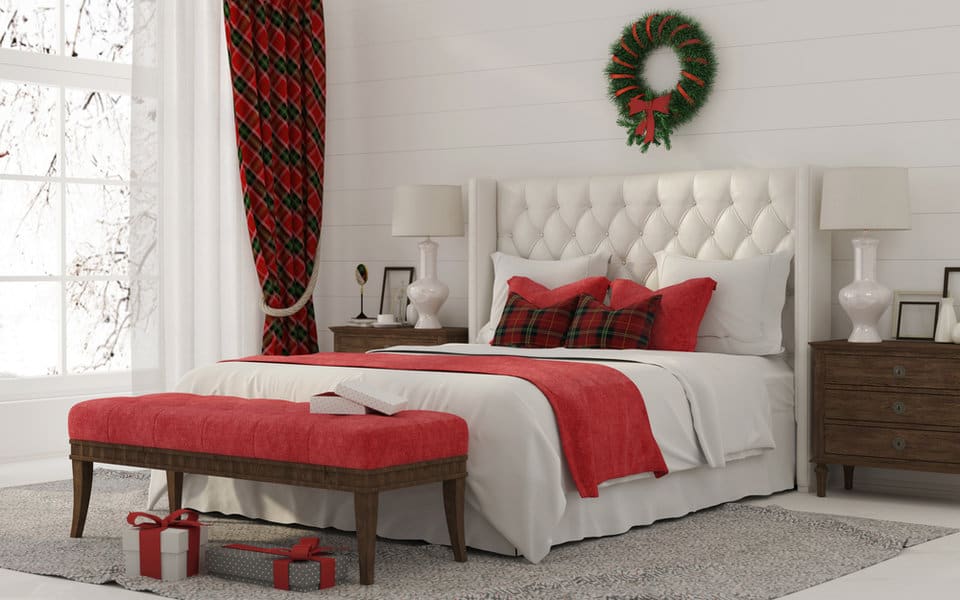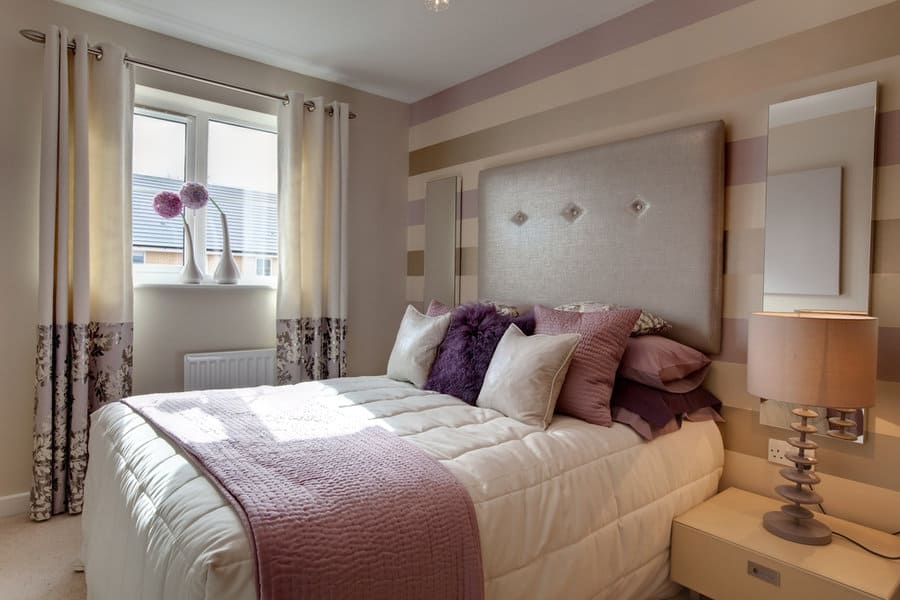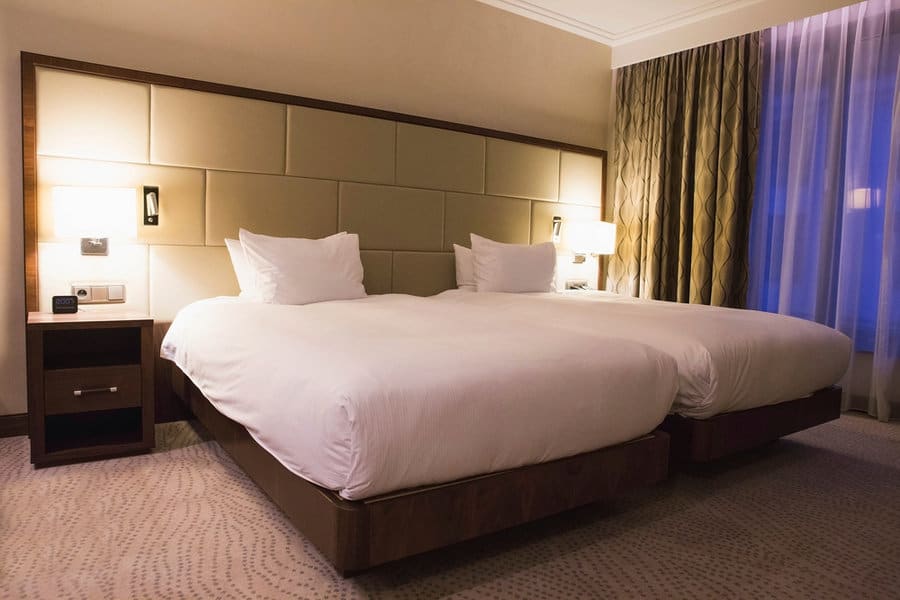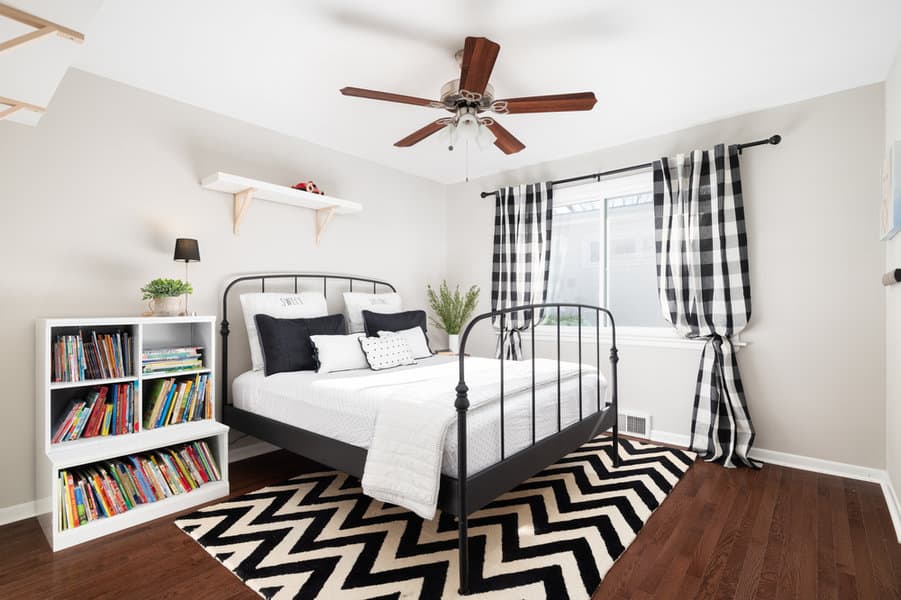 11. Serene Earthy Green Window Treatments
Transform your bedroom with serene earthy green window treatments. Incorporating green curtains can effortlessly infuse your space with an inviting, fresh, and airy ambiance.
The bold and organic color not only captivates the eye but also harmonizes with popular interior design trends. To achieve this look, select green curtains that complement your room's color palette and design theme. Whether you prefer a subtle shade or a vibrant hue, green curtains offer an easy yet impactful way to refresh your bedroom's style. Start with a curtain that matches your personal style and watch how it elevates the entire room.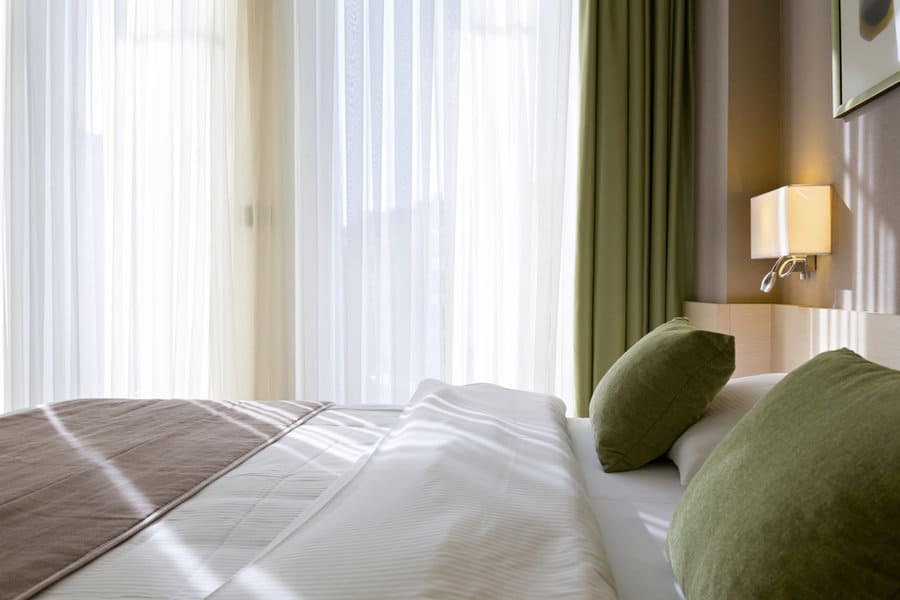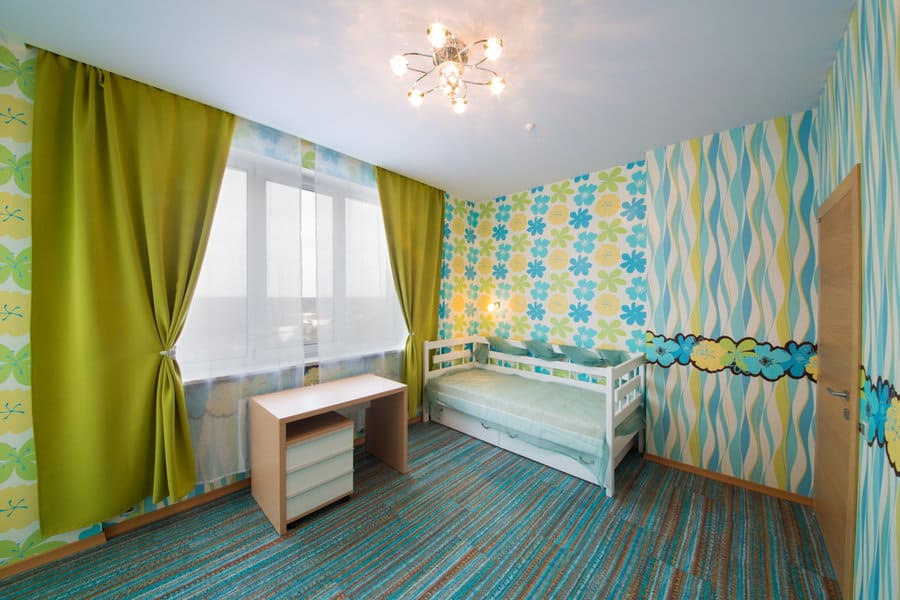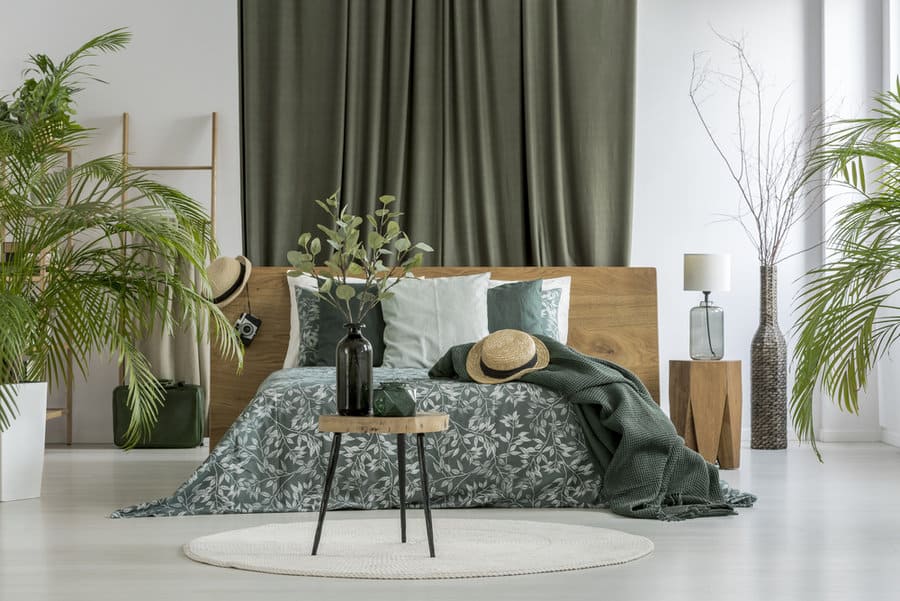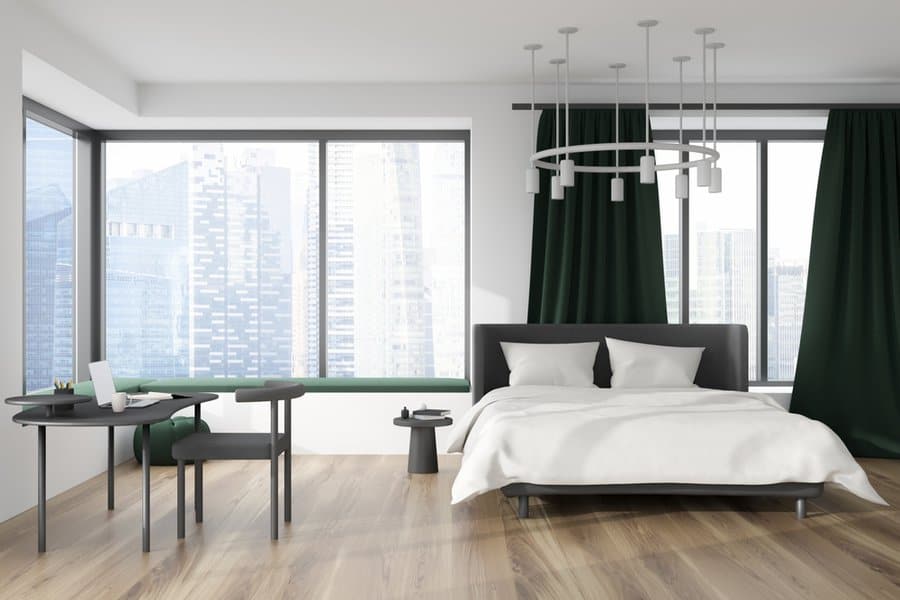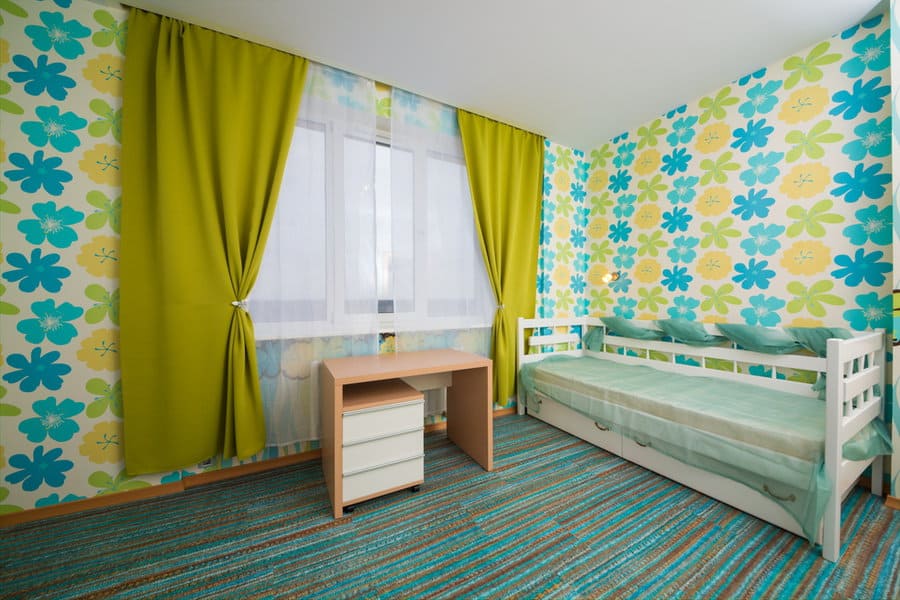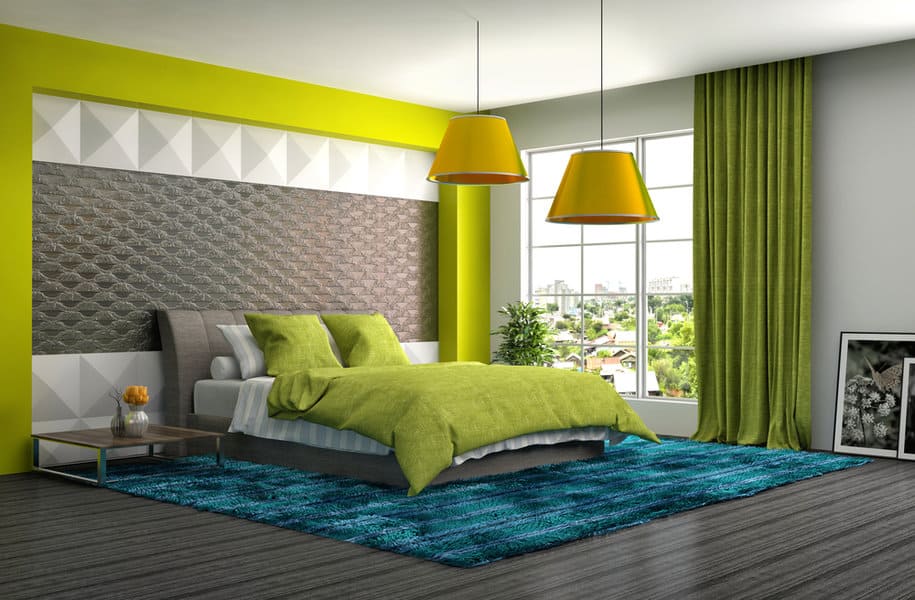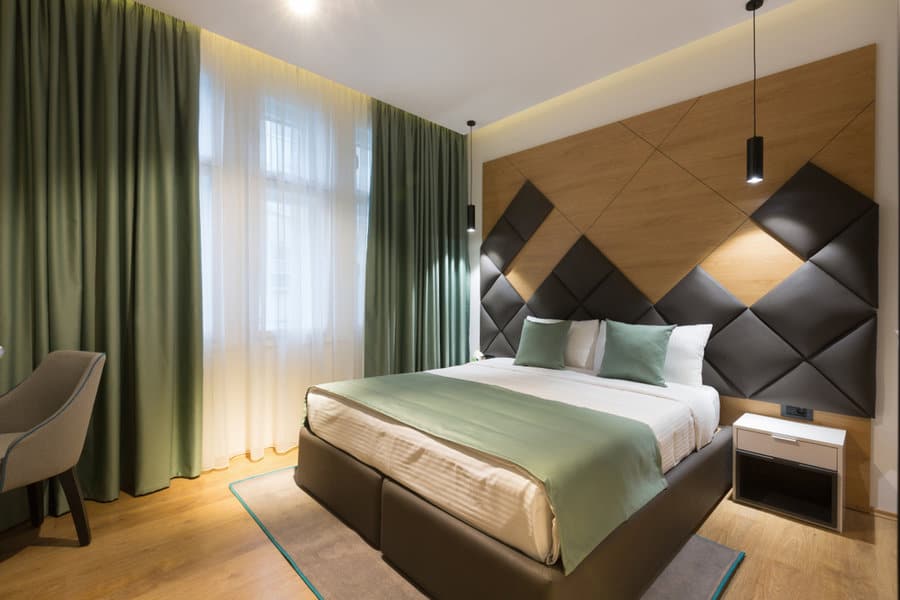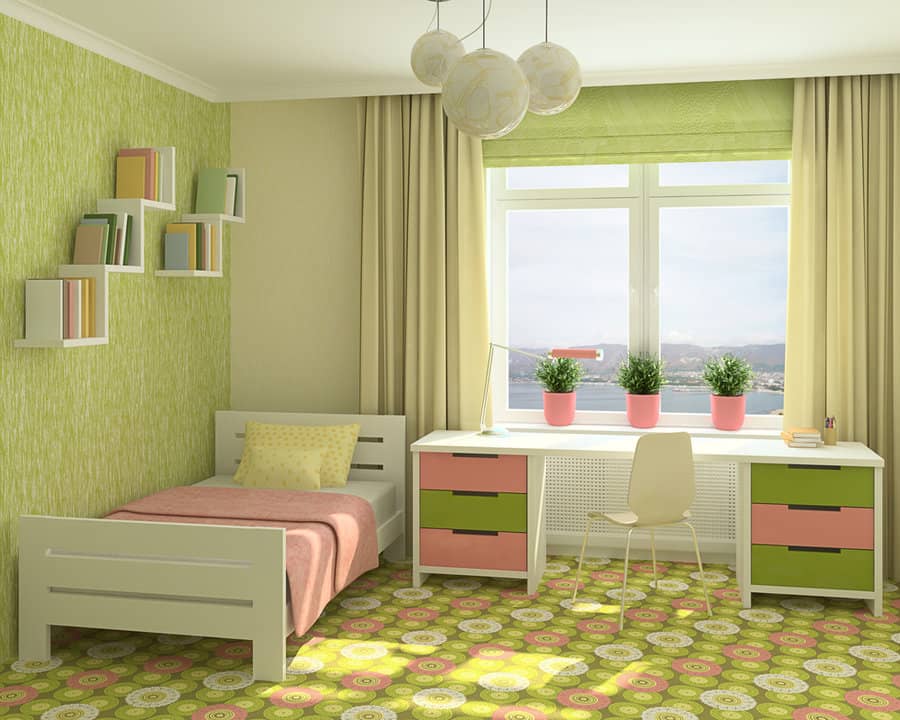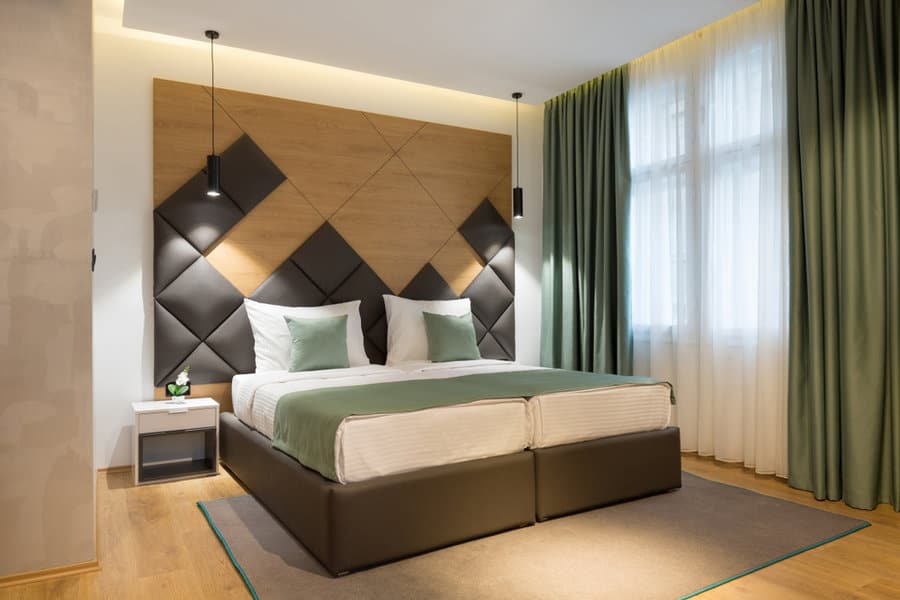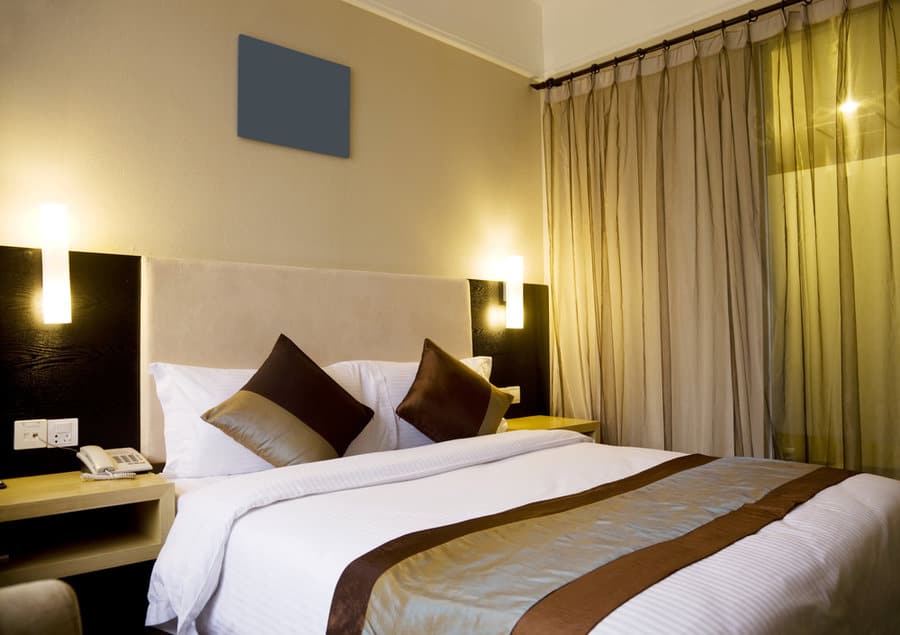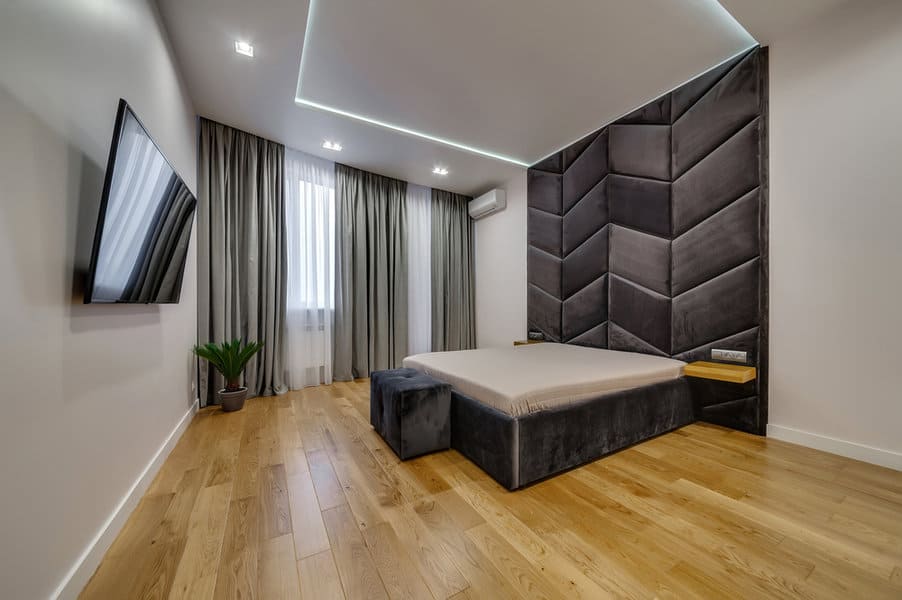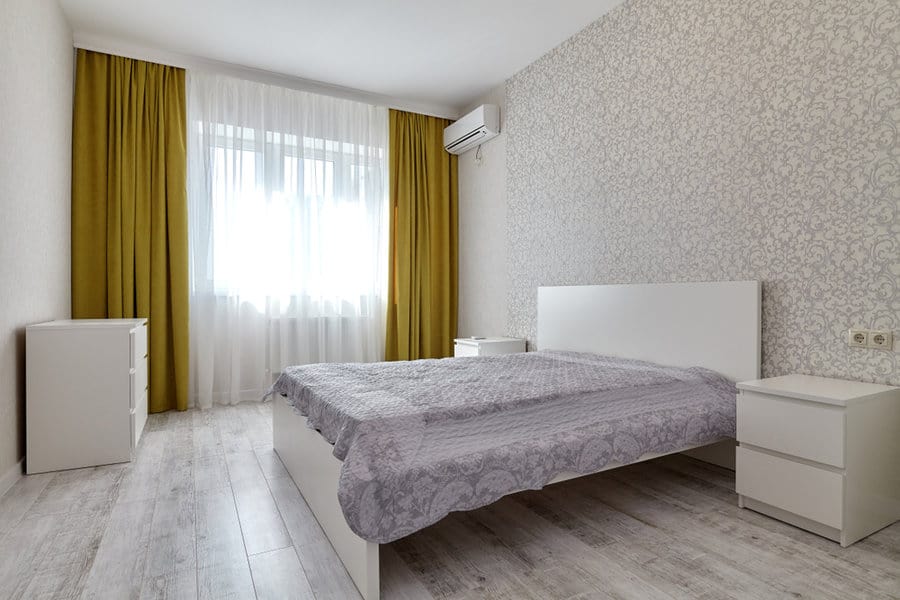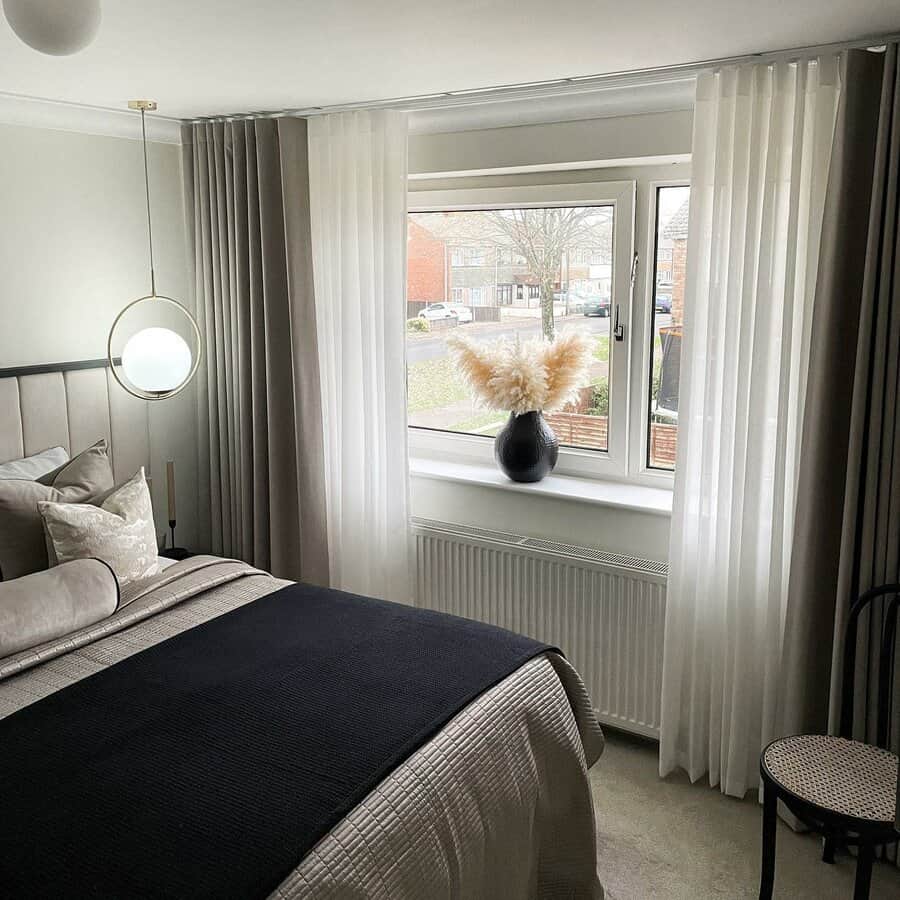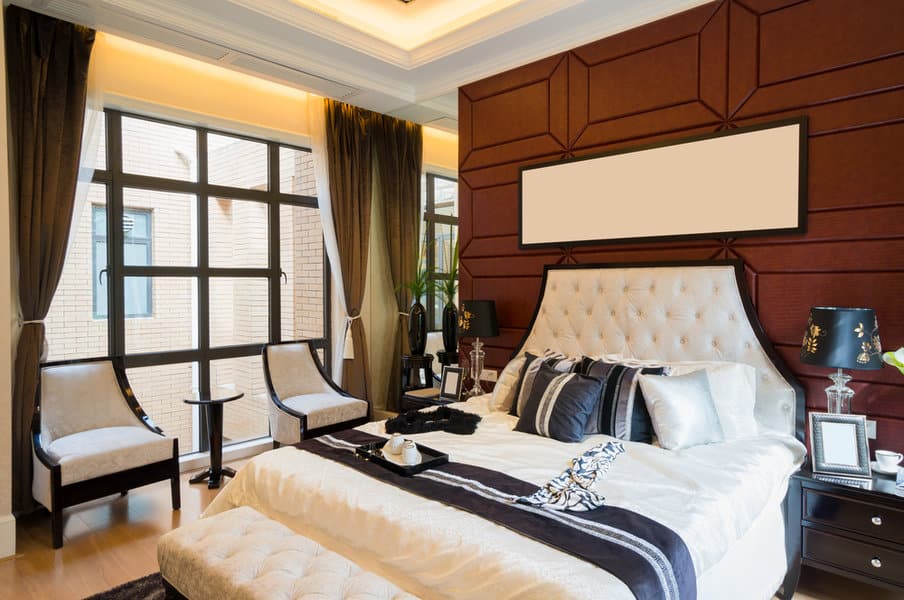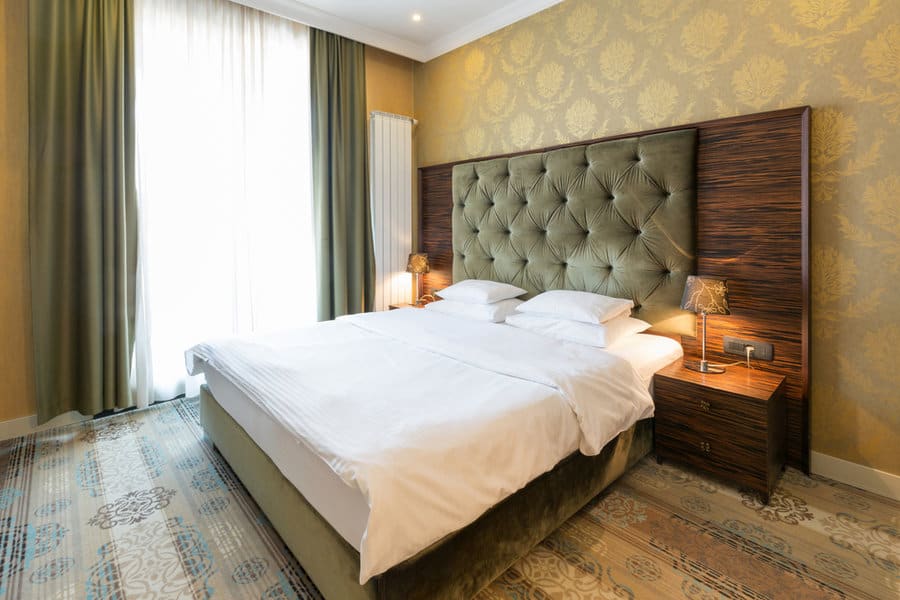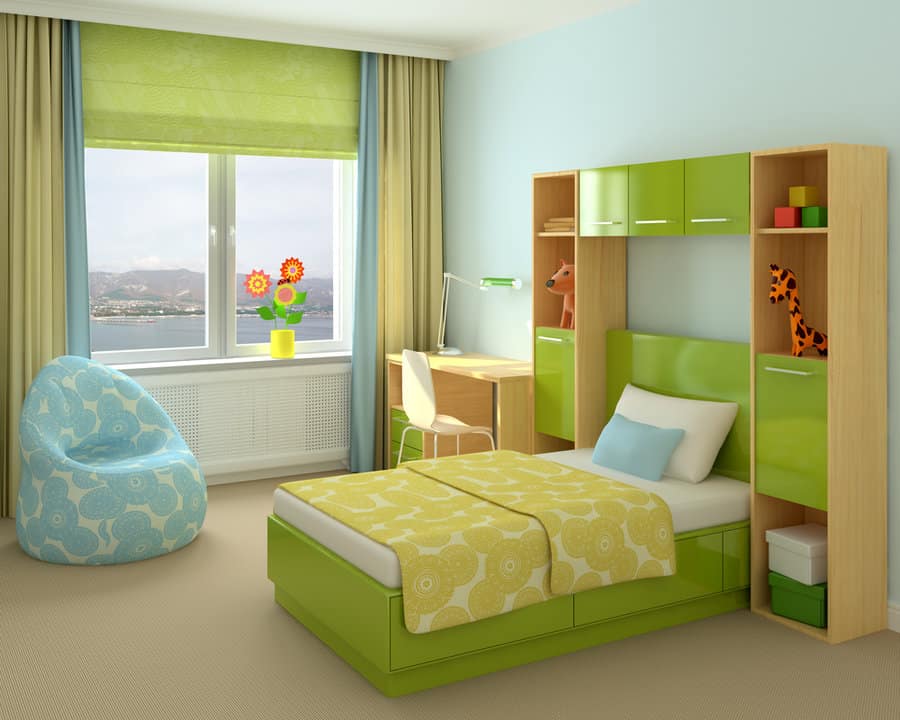 12. Neutral-Colored Elegance
Explore timeless sophistication with neutral-colored curtains, the perfect bridge between contemporary and traditional design. Opt for a neutral hue that harmonizes seamlessly with your room's decor to maintain balance and prevent overwhelming your space.
These versatile curtains serve as an excellent starting point for discovering what complements your bedroom best. Utilize them as a foundation for introducing bold accent pieces or appreciate the serene ambiance achieved through the elegance of neutrals. When selecting neutral-colored curtains, ensure they align with your room's color palette and design theme to achieve a harmonious and refined atmosphere.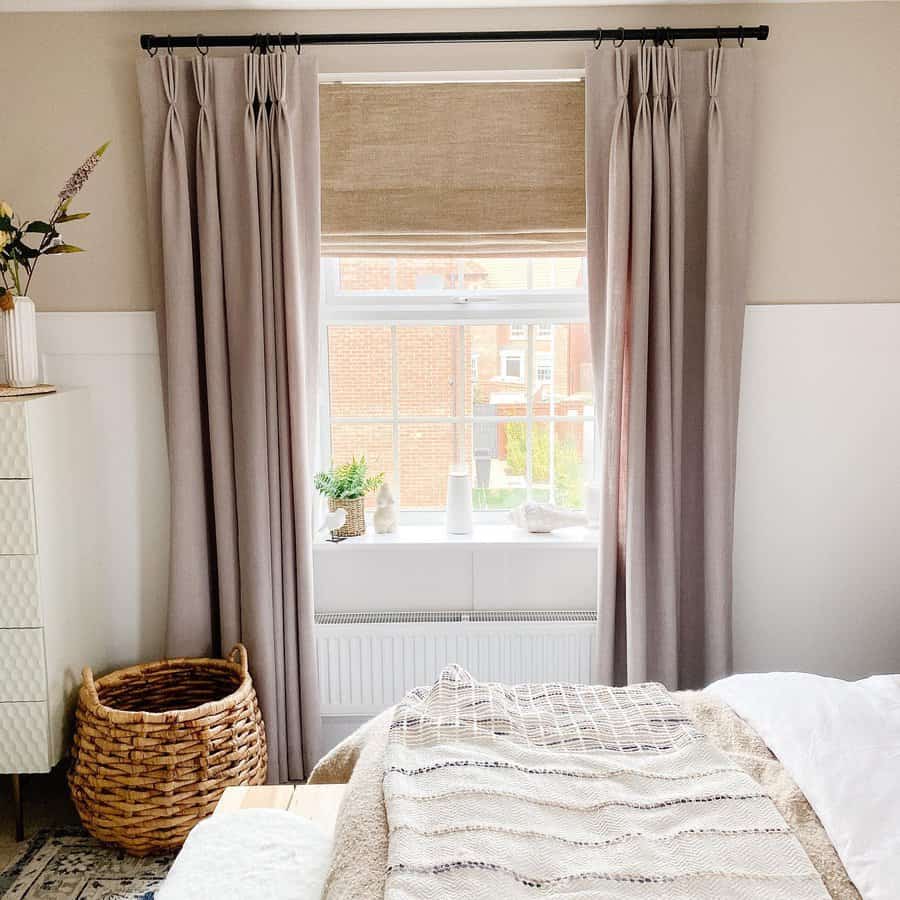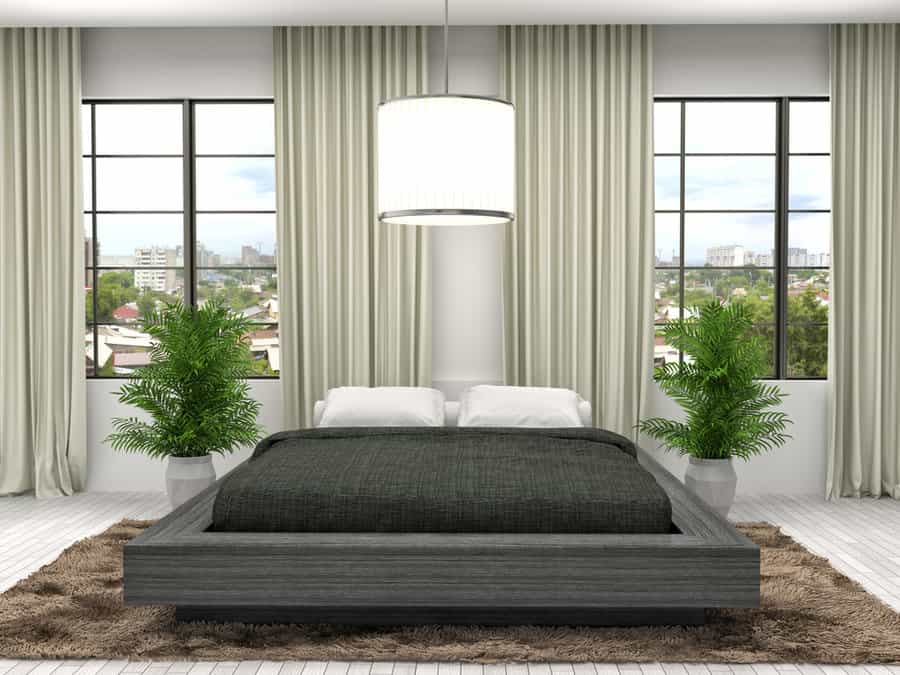 13. Warm-Colored Curtain Accents
Create a warm and inviting bedroom with unique curtain ideas featuring warm-colored accents. Infuse tasteful yellow tones alongside soft gold and beige shades for an inviting and welcoming atmosphere.
Experiment with layers by combining different colors or create contrast by selecting lighter shades at the top and darker ones at the bottom. This creative approach allows you to achieve a chic yet cozy ambiance in your bedroom using just one element: curtains. When choosing warm-colored curtain accents, ensure they complement your room's overall color scheme and design theme for a harmonious and stylish result.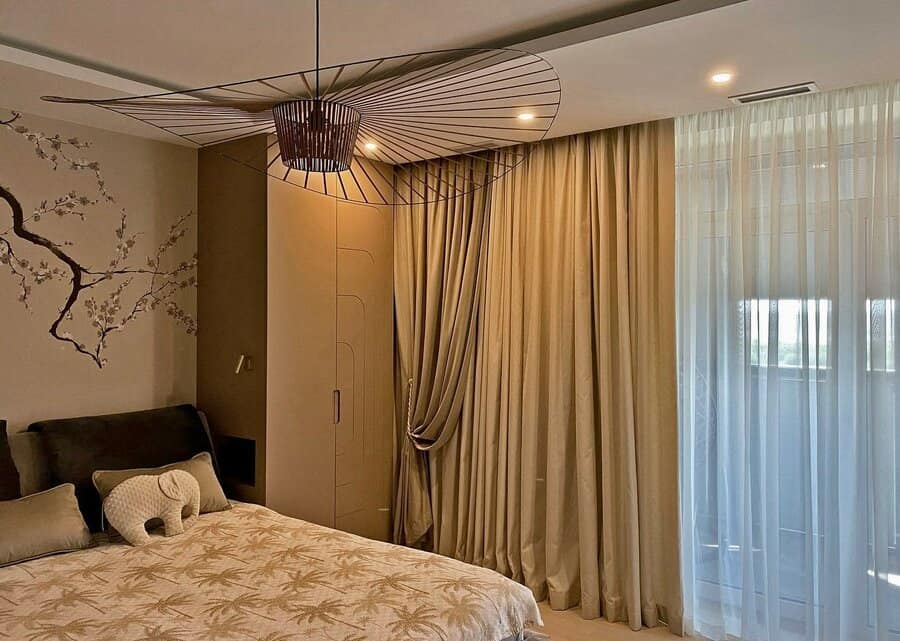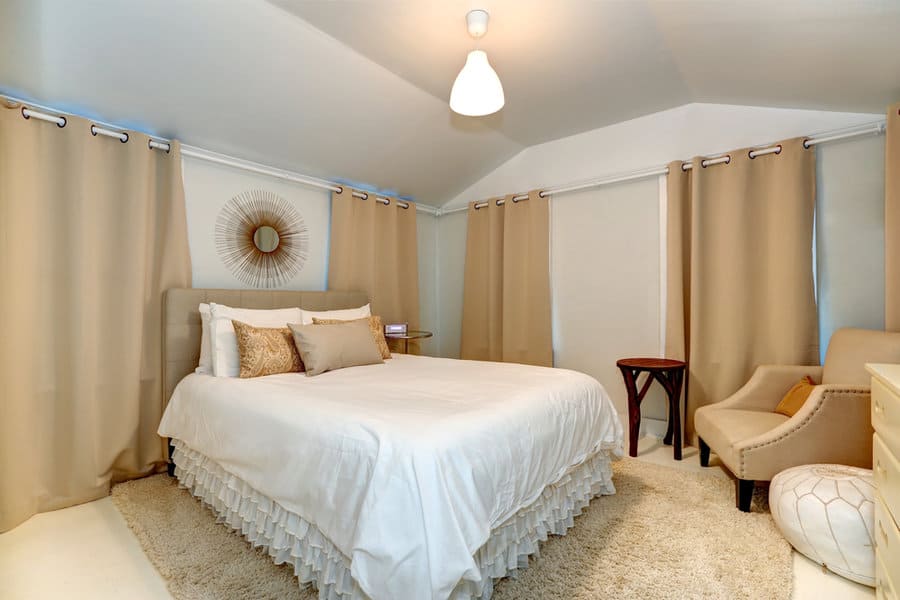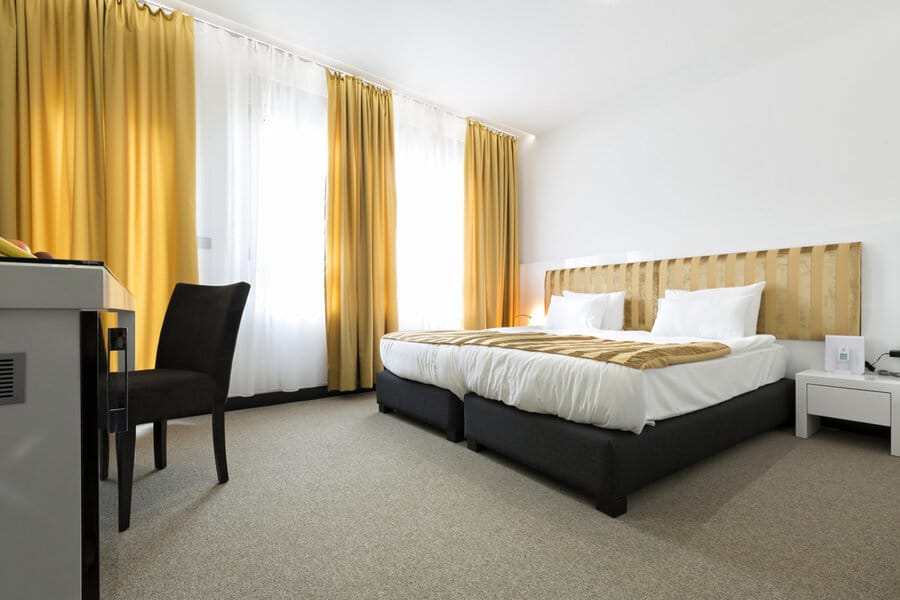 14. Crisp and Clean Bright White
Achieve a crisp and clean look with bright white curtains, a versatile choice for bedroom decor. White curtains serve as a simple yet stunning backdrop, allowing you to express your creativity and style effortlessly.
To add character to your white curtains, consider hanging colorful bead patterns in front of them or experiment with an ombre technique featuring multiple hues of the same color. This combination not only makes a statement but also provides light control, keeping the sun out while inviting natural light during the day. When selecting white curtains, ensure they align with your room's color palette and design theme for a harmonious and stylish effect.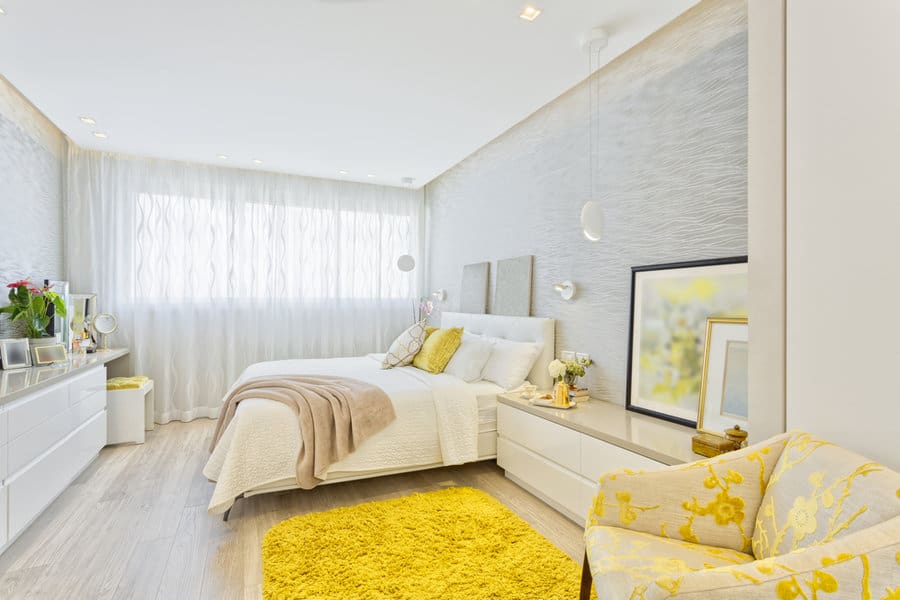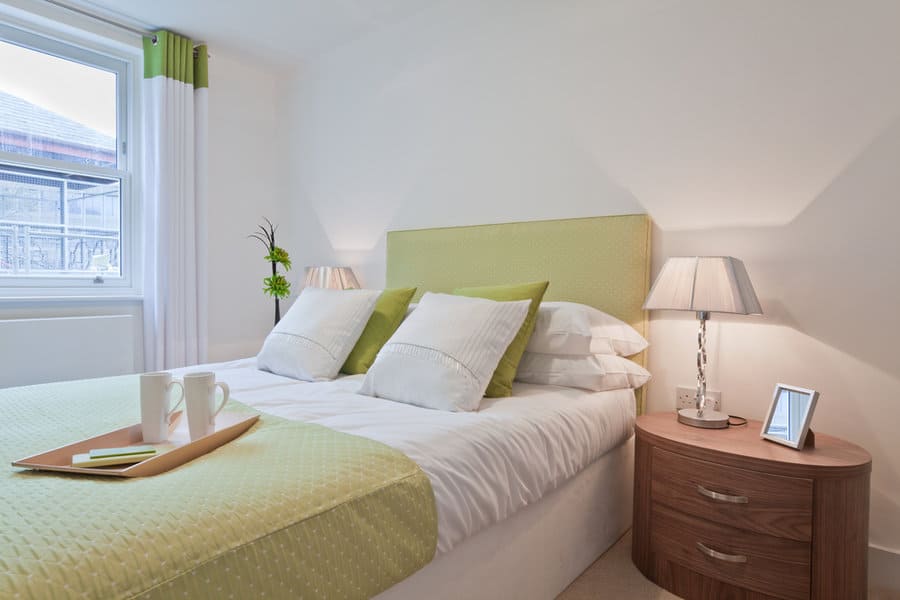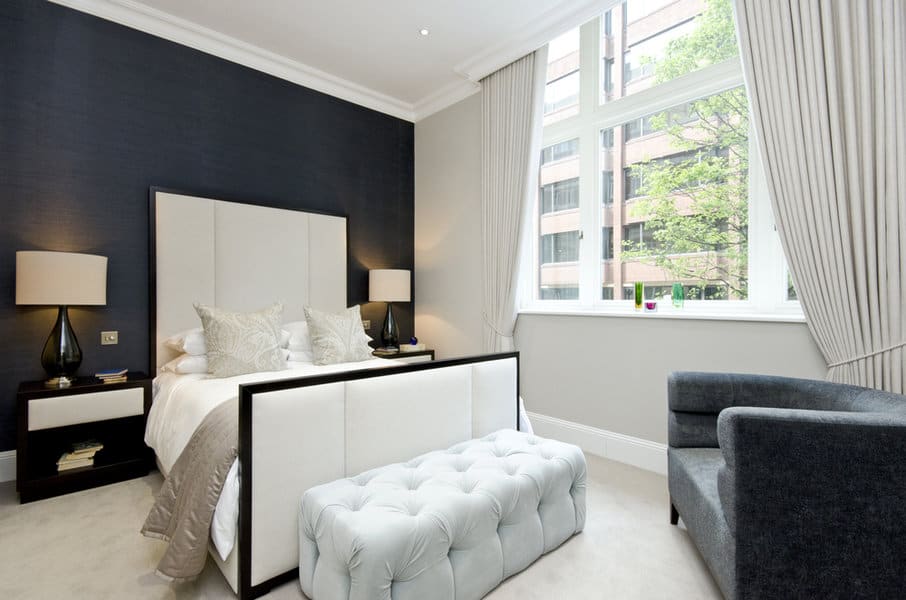 15. Sophisticated Silver Curtains
Elevate your bedroom's aesthetic with sophisticated silver curtains. These curtains strike a balance between elegance and modernity, making them a perfect fit for contemporary interiors.
Hang one or two silver curtains above each window to infuse a touch of sophistication and control the incoming light. For added impact, consider longer curtains that extend from ceiling to floor, creating a striking focal point in your bedroom. With a bit of creativity, bedroom curtains can be leveraged to craft a luxurious atmosphere and elevate your home's overall decor. Ensure that the length and style of the curtains complement your room's design for the best results.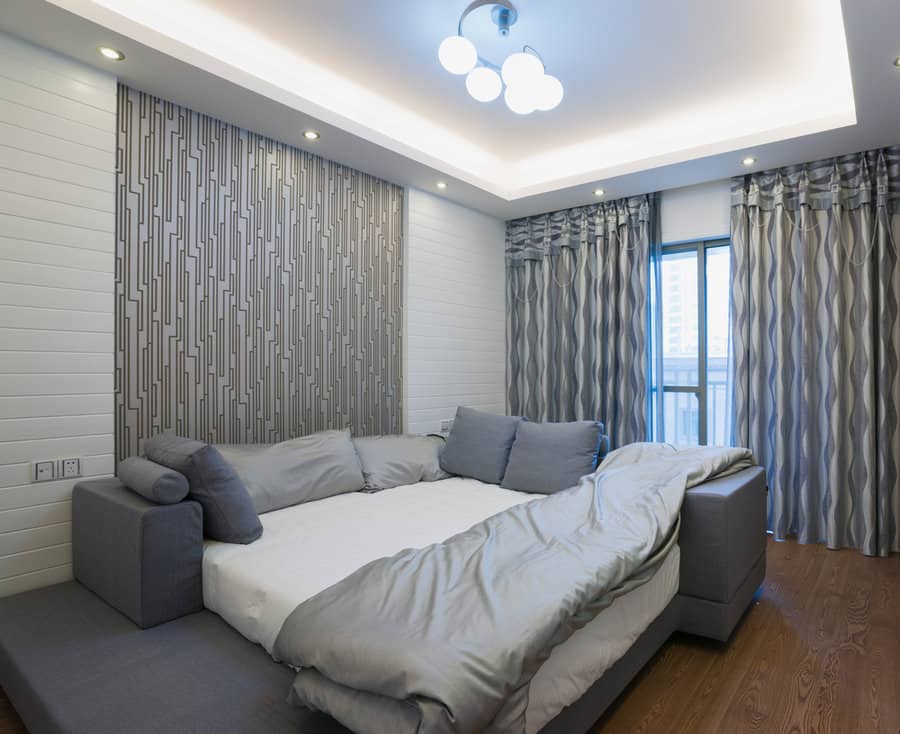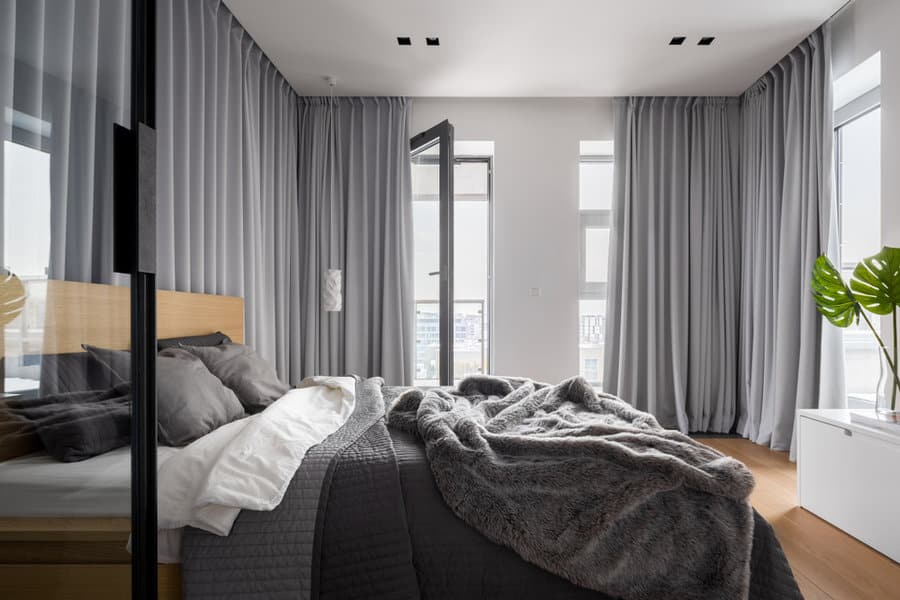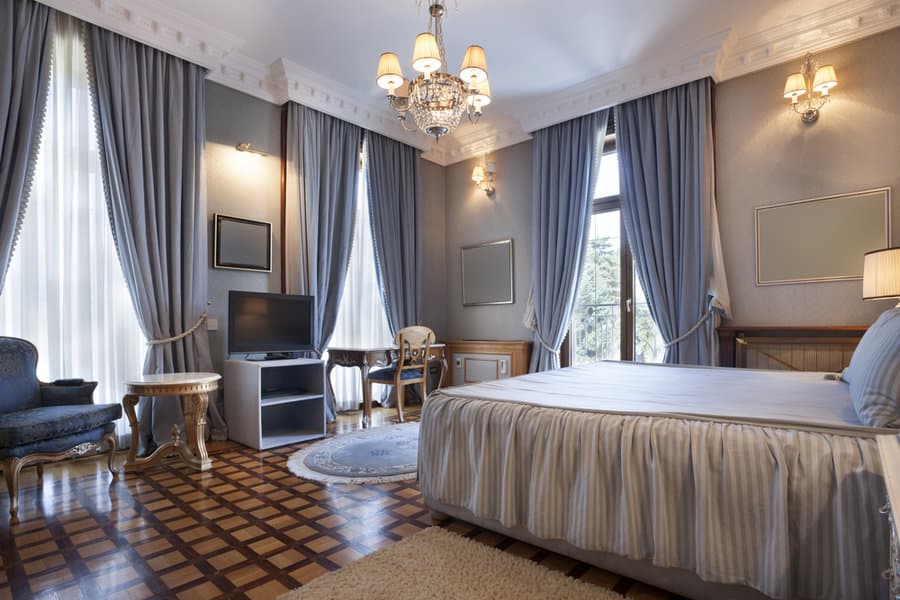 16. Charming Apron Curtain Decor
Add a touch of charm to your bedroom with apron curtain decor, a creative and unexpected curtain idea. Apron curtains bring a soft and delicate essence to your space while offering enhanced privacy.
These curtains are available in various materials and colors, giving you ample options to achieve your desired look. Apron curtains also hang below your window, introducing an additional layer of texture that elevates the entire room. Enhance the aesthetic with beautiful drapery ties that match the curtain piece, ensuring a cohesive and elegant design. To get the best result, choose apron curtains that harmonize with your room's color palette and overall decor.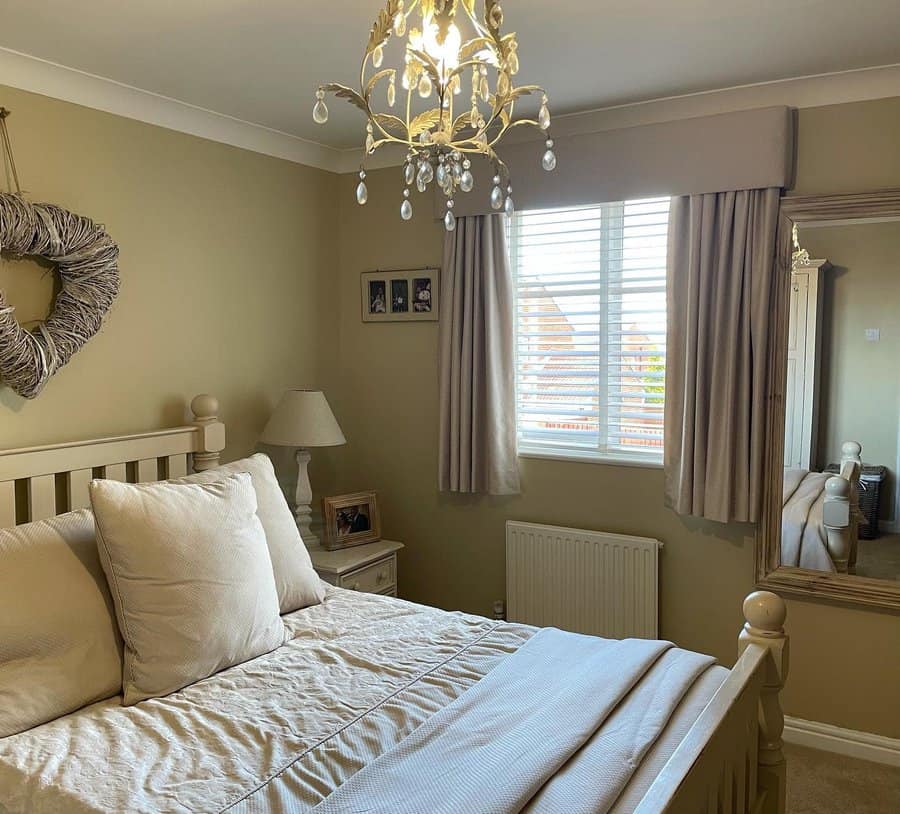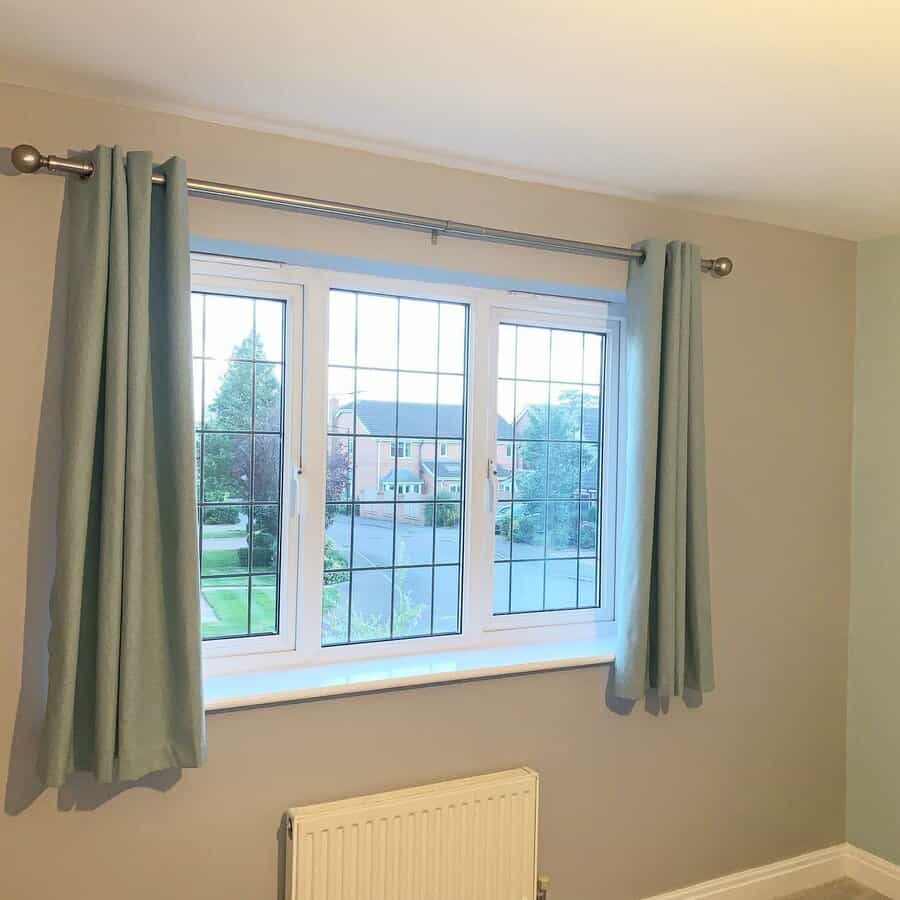 17. Natural Linen Curtain Aesthetics
Enhance your bedroom's ambiance with the aesthetics of natural linen curtains. Whether you're aiming for a modern minimalistic look or embracing rustic style, linen curtains effortlessly create a cozy and inviting atmosphere.
Explore a range of options, from classic white linen panels to unconventional shades like baby blue and blush, to match any desired look. Texture plays a vital role, so consider shabby-chic ruffled panels or embroidered accents for a timeless touch.
When hanging these curtains, opt for simple gold rods for an ethereal feel or traditional wooden poles for a grounded vibe. Whichever design direction you choose, natural linen curtains will elevate your bedroom's ambiance to the next level. Ensure that your curtain choices align with your room's color palette and overall decor for the best result.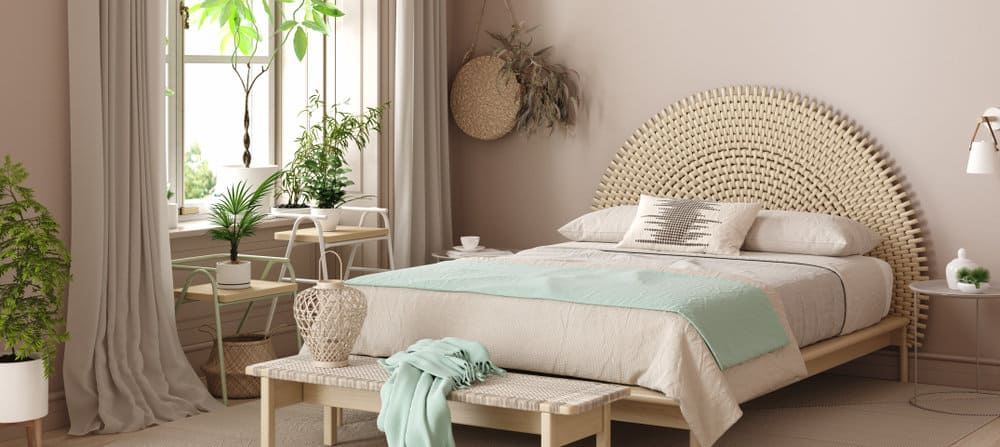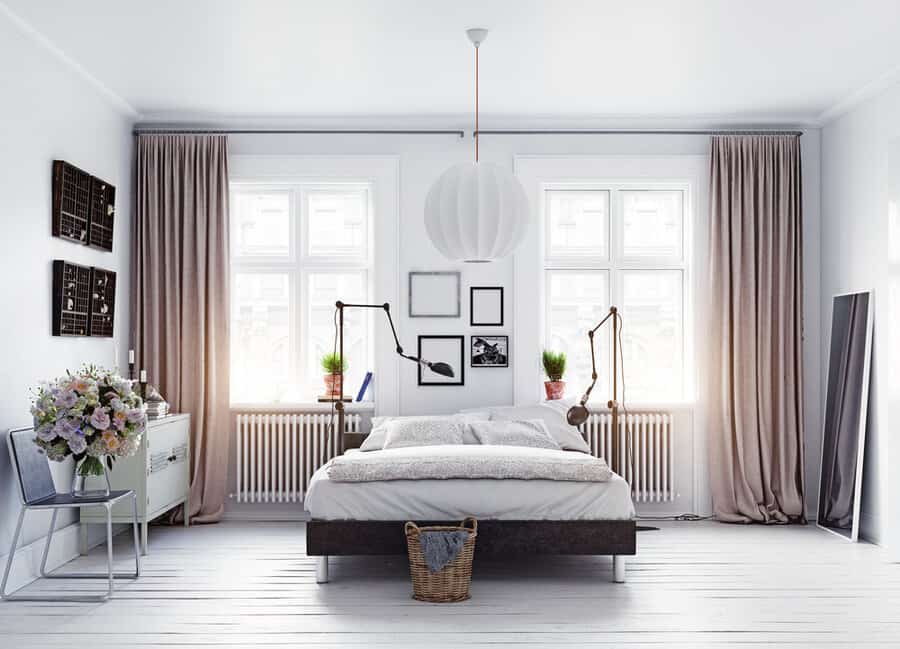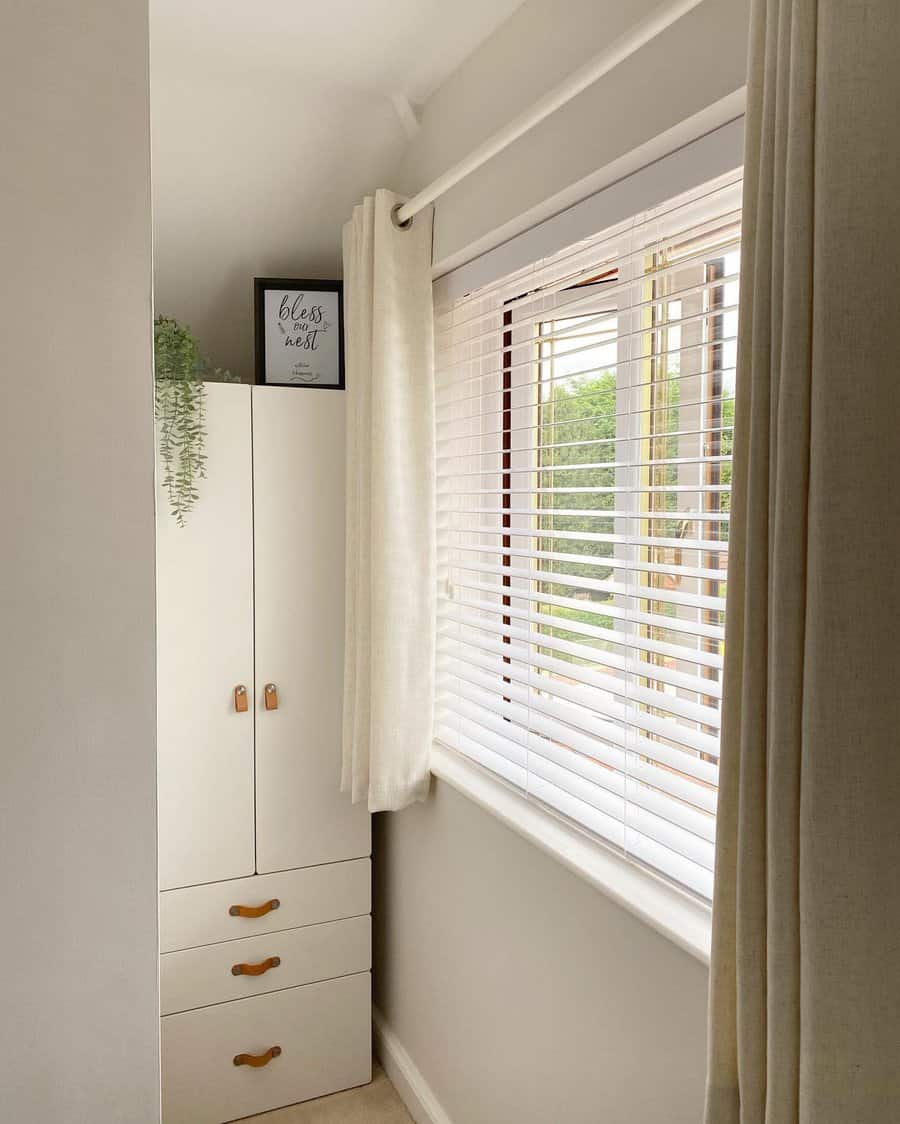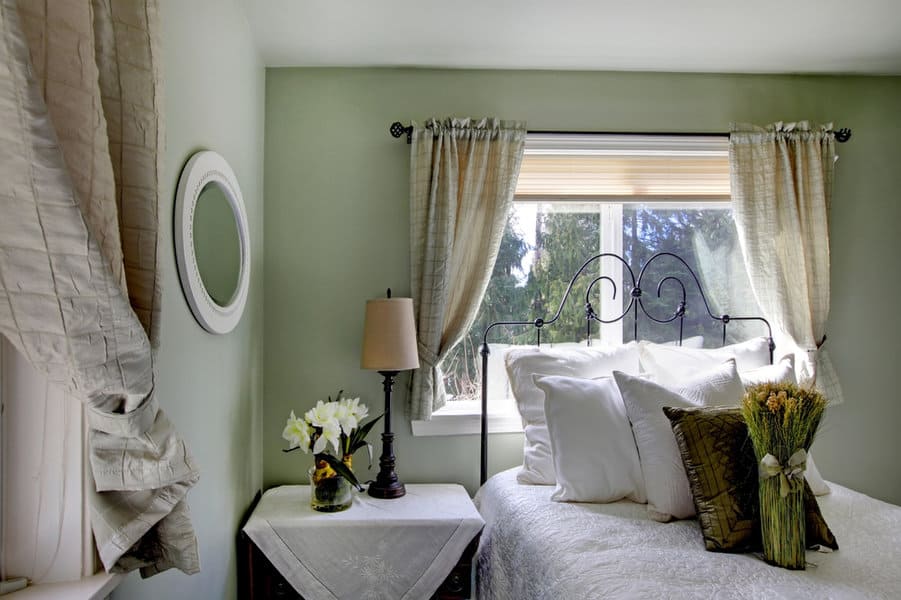 18. Airy Sheer Curtain Inspiration
Infuse sophistication into your bedroom with airy sheer curtains, a simple and creative way to introduce elegance while maintaining diffused natural light.
Select lightweight sheer curtains in natural hues with delicate detailing to add texture without overwhelming the room. For an adventurous touch, incorporate thin fabric panels featuring subtle patterns that provide decoration without overpowering the space. Embrace a mix-and-match approach with various sheer fabrics to create an eclectic look that adds a captivating element to your bedroom decor. When choosing sheer curtains, ensure they align with your room's color palette and design theme for a harmonious and stylish result.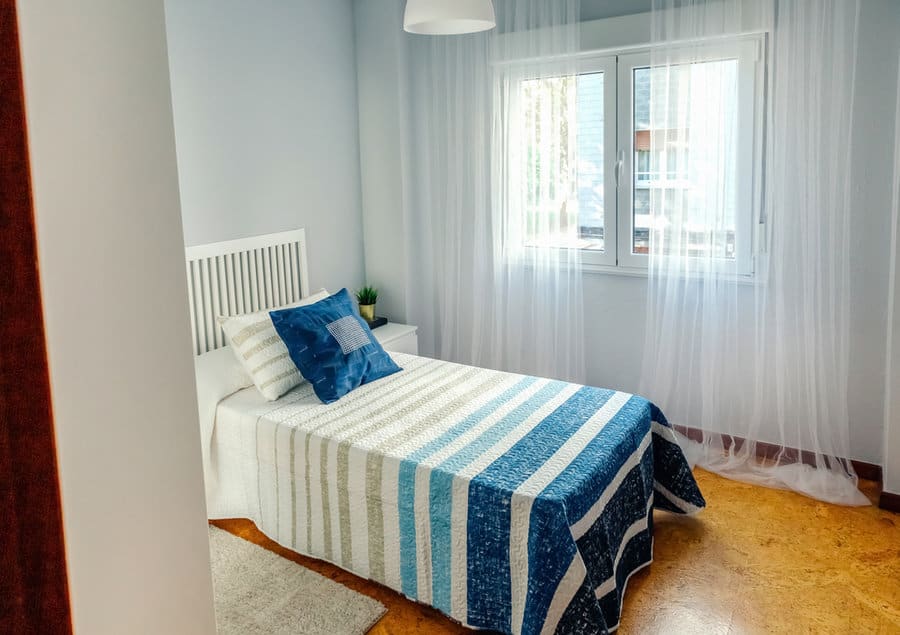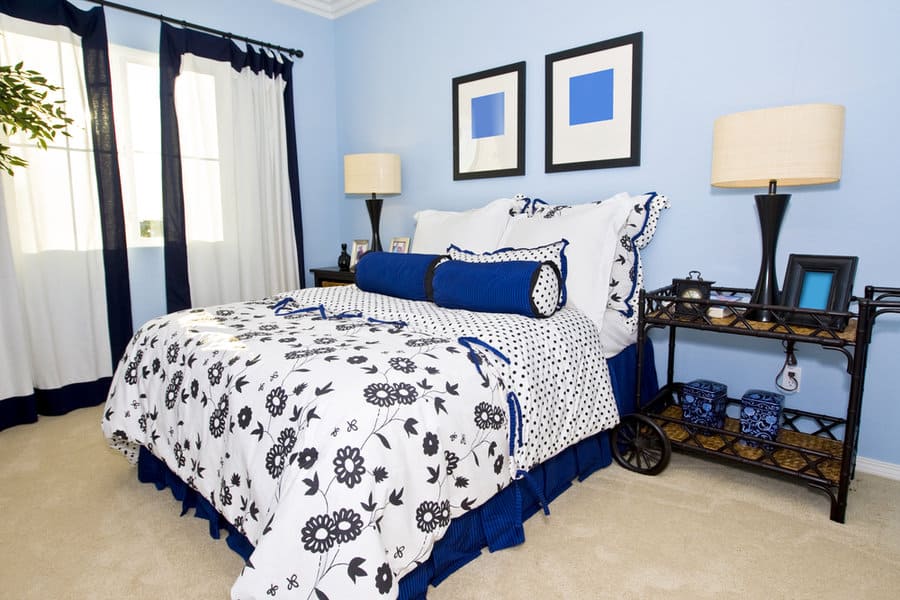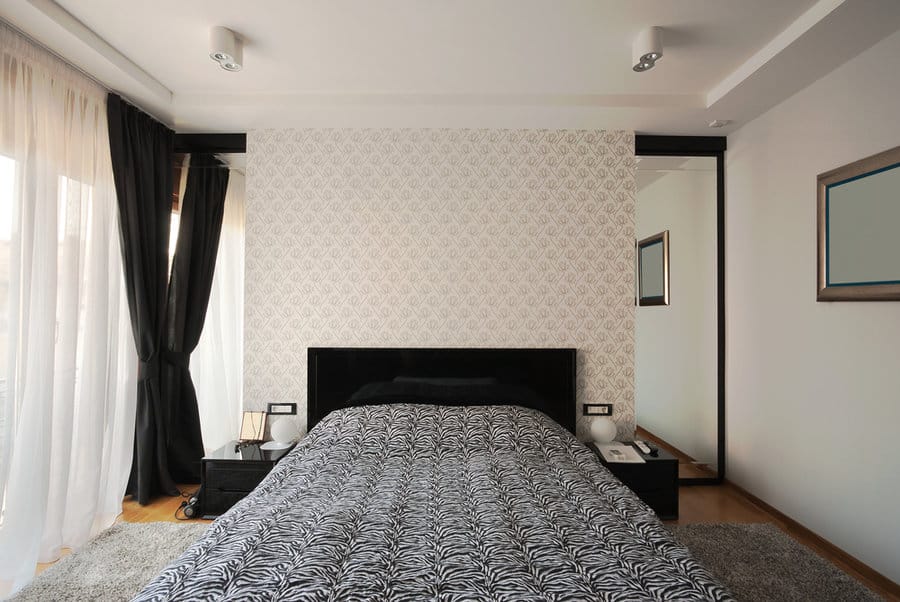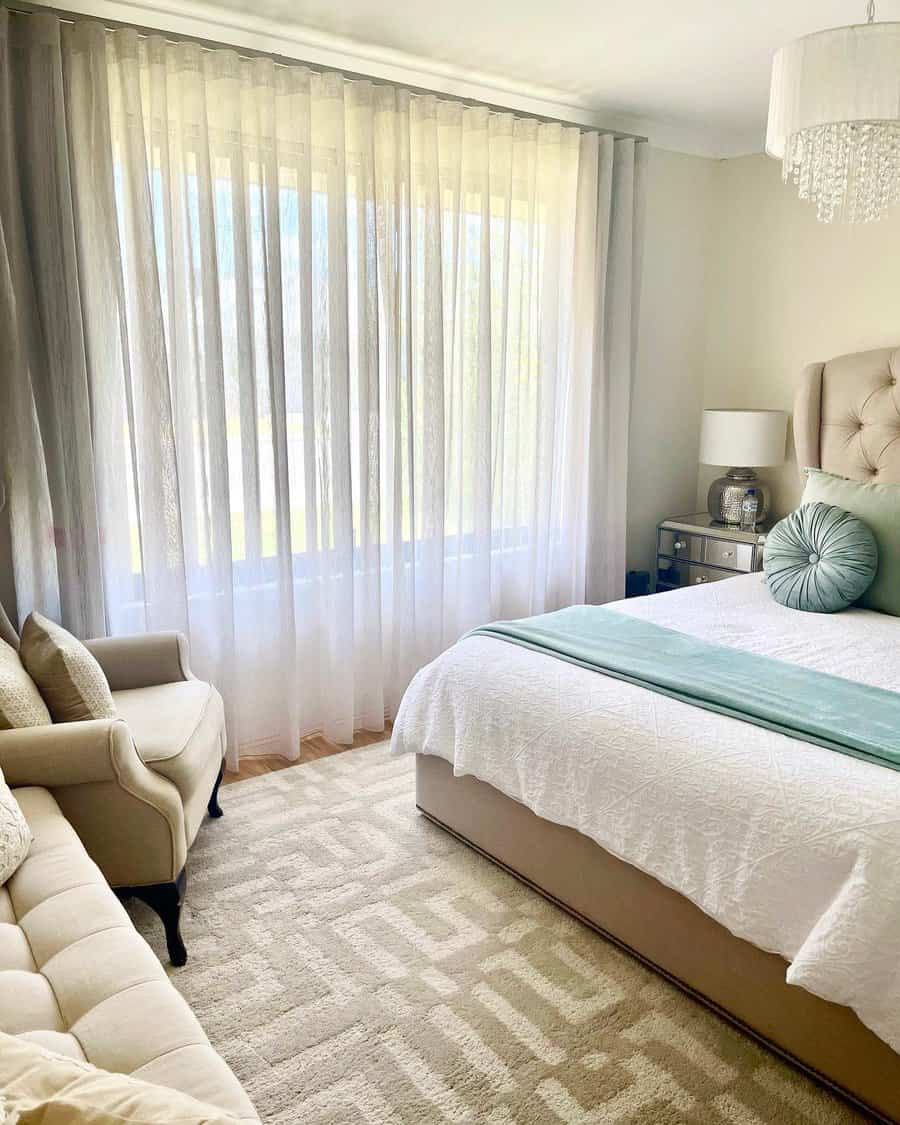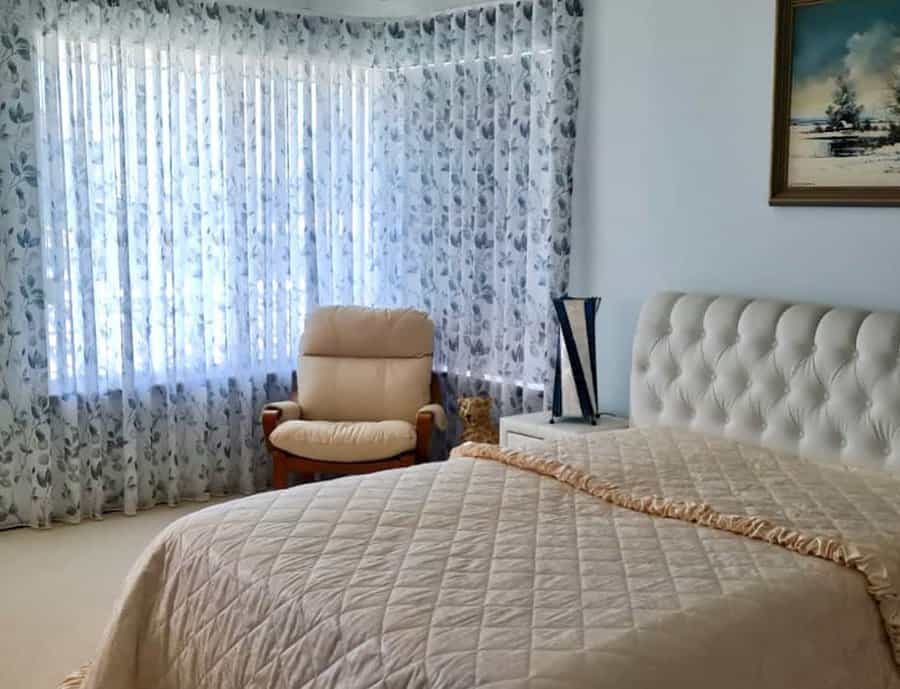 FAQs
Can I use window curtains on a canopy bed?
Yes, you can. You need to make sure they fit the rod at the top of the canopy. They also need to be long enough to extend well past the top of the bed. That way, they don't get pulled onto the bed or tied up in the linens on the bed. You should be able to freely open and close them.
Are curtains supposed to touch the floor?
Curtains aren't required to hit the floor. However, many people choose to have their curtains extended to the floor because it creates a positive optical illusion. The longer curtains make the walls seem taller, and thusly, the room feels bigger. Your curtains can be any length you want, as long as it hances the look of your home.
What can I have instead of curtains?
If you aren't interested in adding curtains to your windows, there are plenty of other window covering alternatives. You could use roman shades, shutters, cafe curtains, matchstick blinds, or window film. Think about the level of privacy, amount of light-blocking, budget, and overall desired look when choosing your window coverings.