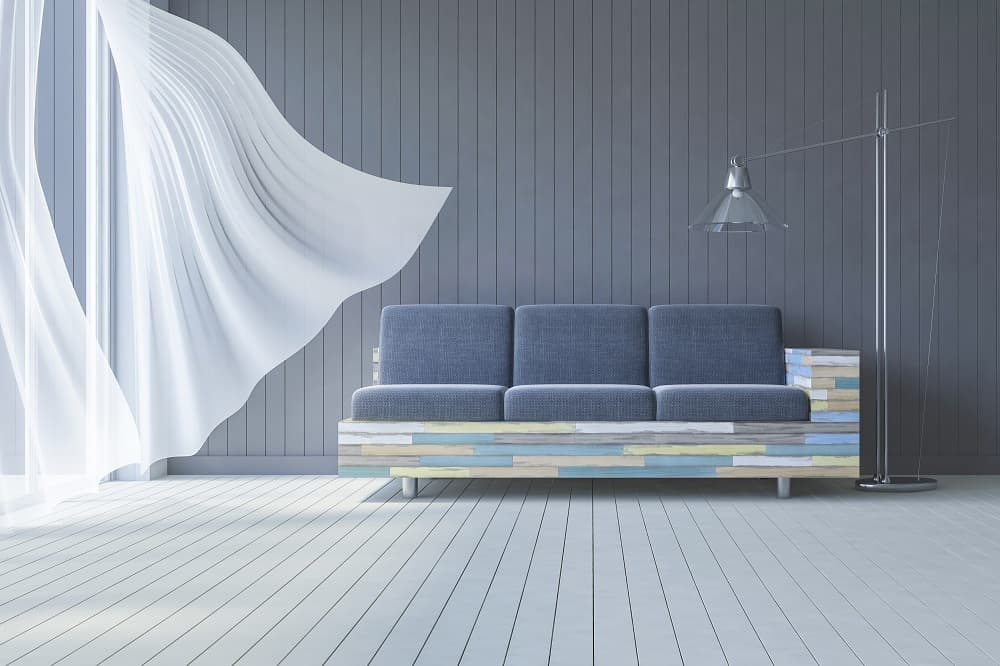 What Color Curtains go With Grey Walls?
Grey might just be the ultimate neutral color. Dark enough for drama, but light enough to convey spaciousness, grey walls are the perfect background for just about any colour curtains.
Grey is a suitable color in everything from a modern condo to a sprawling farmhouse. It might be easier to ask what colors don't go with grey than to ask, "What color curtains go with grey walls?" Here are a few of our favorite pairings of grey walls and colored curtains.
Read also: Should Curtains Touch the Floor?
Grey on Grey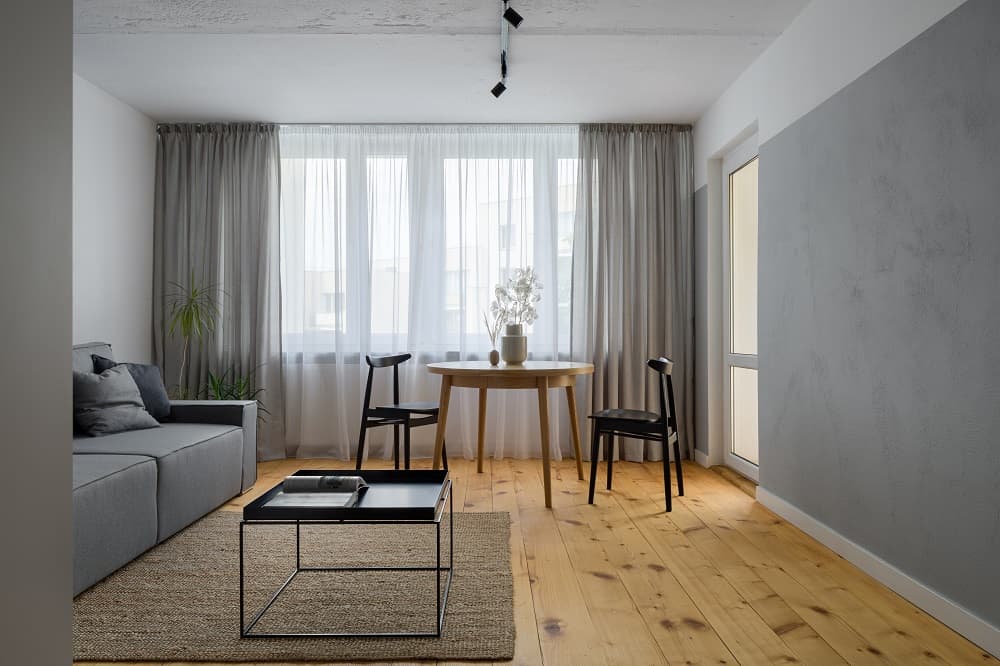 There are far more than 50 shades of grey when it comes to paint color choices. Grey is like its own rainbow, with warm brownish grey at one end and cool bluish grey at the other.
Grey also shows up in a wide value spectrum. There are pale shades just a notch above white, and deep charcoals just a few steps below black. So choosing grey curtains is a great option, especially if you're into chic monochromatic decor.
Choosing a textured or patterned grey fabric is a good way to add sophisticated detail to the room. Look for a floral grey monochromatic window treatment, or a classic pattern like stripes or plaid. Silvery grey sheer curtains are a great choice to hang behind heavier curtain panels.
You can break up the grey a bit by including some white walls in the room. For example, install wainscoting up to chair rail height and paint that part of the room white.
Black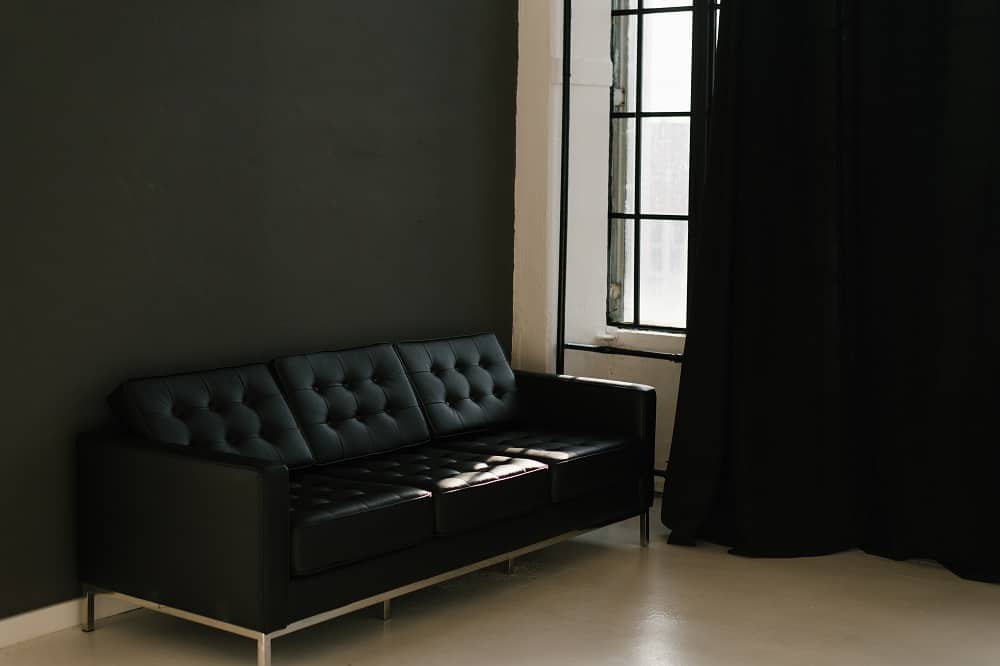 Black curtains are a classic choice when it comes to room decor. Not only is black a sophisticated hue that goes with anything, it is a popular color for blackout curtains and other thermal curtain options. Having black thermal curtains can help you save money on your air conditioning bill in the summertime.
Matching curtains to furniture is a good idea for maintaining a balanced color scheme. Pair black curtains with a black leather sofa and a rug that incorporates all the grey and black hues in the room. If black colored curtains feel too harsh for your decor, go with dark charcoal grey curtains for a similar but less drastic vibe.
White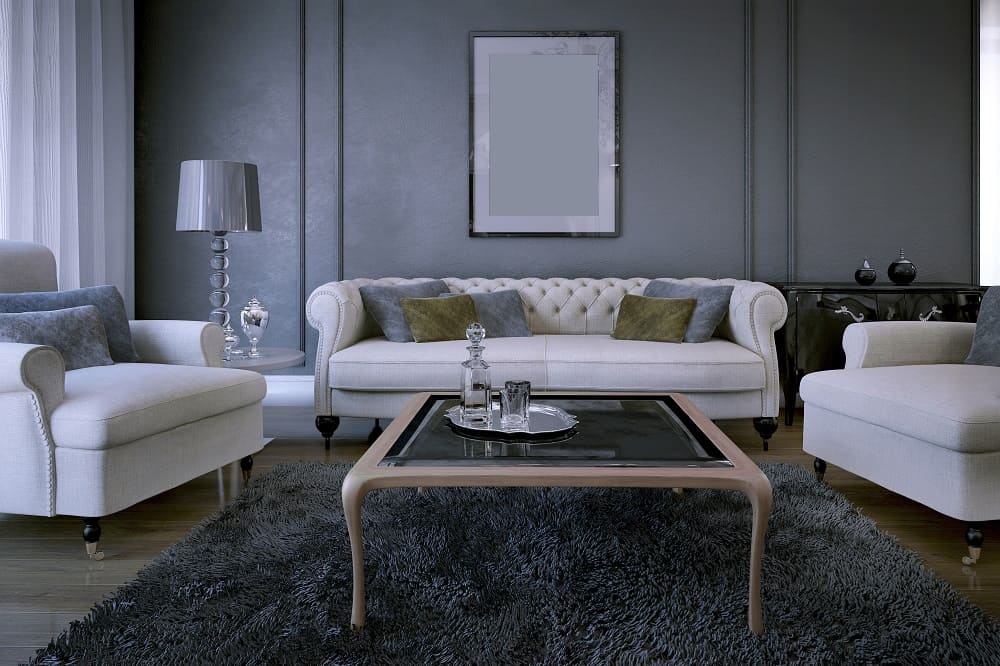 White curtains always carry a fresh, clean vibe. Hanging white curtains on a grey wall is a classic combination favored by many an interior designer. This particular combination allows the furniture to be the focal point in the room.
With grey walls and white curtains, you have the freedom to choose a couch and accessories in any color you wish. White textured curtains add subtle detail to the room without taking anything away from your other design elements.
Warm grey color paint looks better with a warmer shade of white. Pair it with a soft ivory curtain color instead of a bright white curtain.
Blue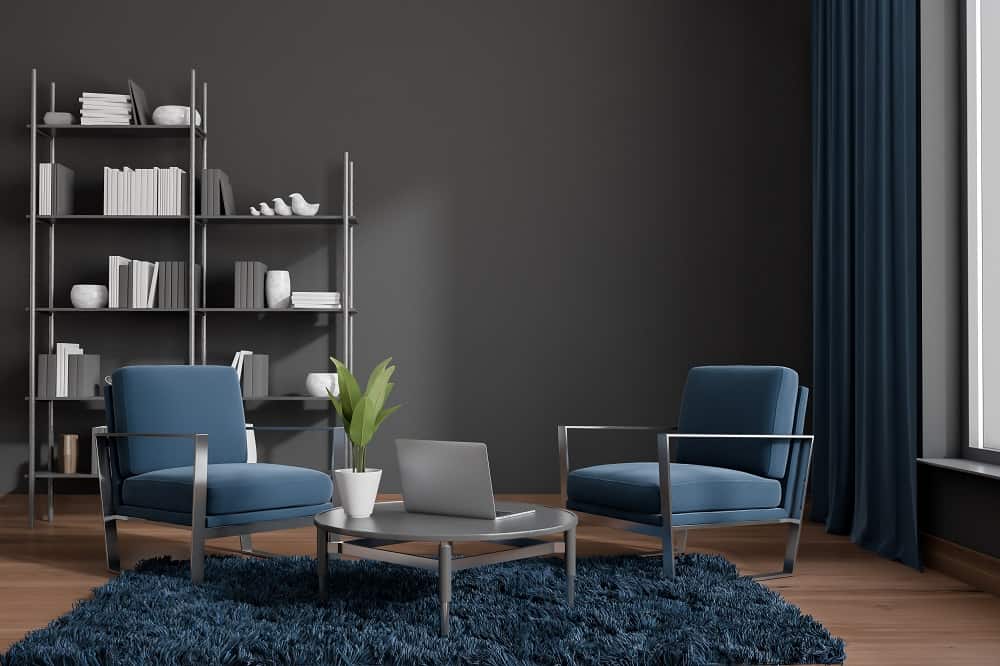 Blue colored curtains are a peaceful, impactful choice in just about any room with grey walls. Blue and grey are a classic color duo, whether you have blue curtain panels on grey walls, or blue walls behind grey curtains.
Navy or light blue curtain panels stand out against grey walls, especially when the room includes other blue accents. Teal curtains also look great against a medium grey wall, as its warm bluish-green looks extra brilliant against a solid neutral.
Light grey walls and pale blue curtains give the room the cooling ambience of a cloudy day. Brushed nickel curtain rods look amazing with this color combo.
Pink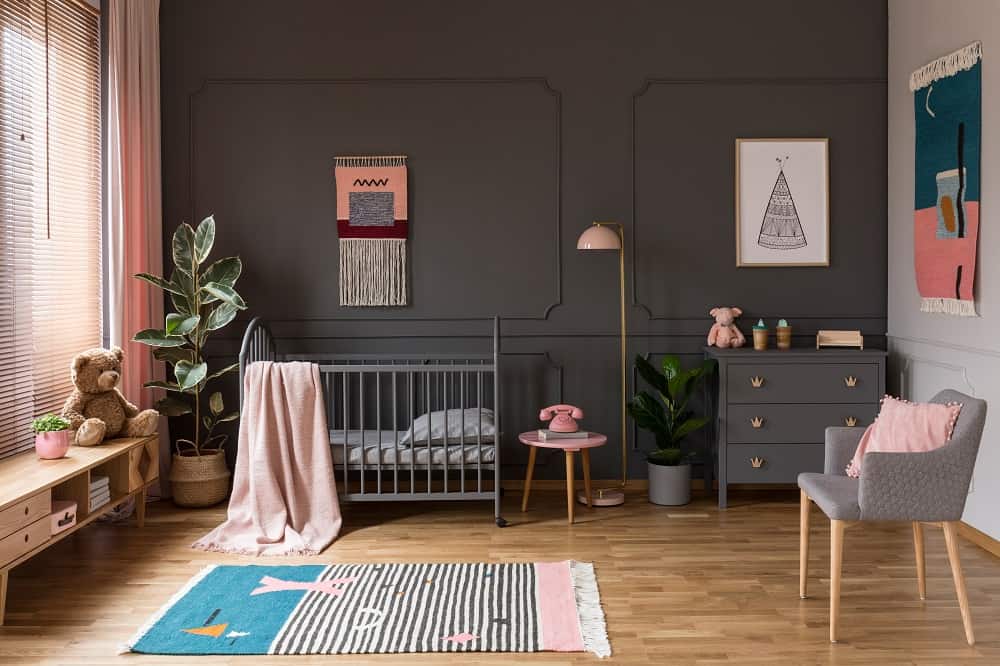 Choose pink curtain fabric to add a soft warmth to a room with grey walls. Grey wall paint looks amazing with all shades of pink, especially blush pink or dusty rose. Hang sheer white curtains behind your pink drapes to soften daylight filtering through the window. This will look especially nice if your room has white furniture.
Light grey wall paint and pale pink decor has long been a favorite in a baby nursery or little girl's room. However, this color scheme is also soothing in any room and can be quite sophisticated. Pink is one of the colors that will go equally well with warm or cool grey wall paint.
Green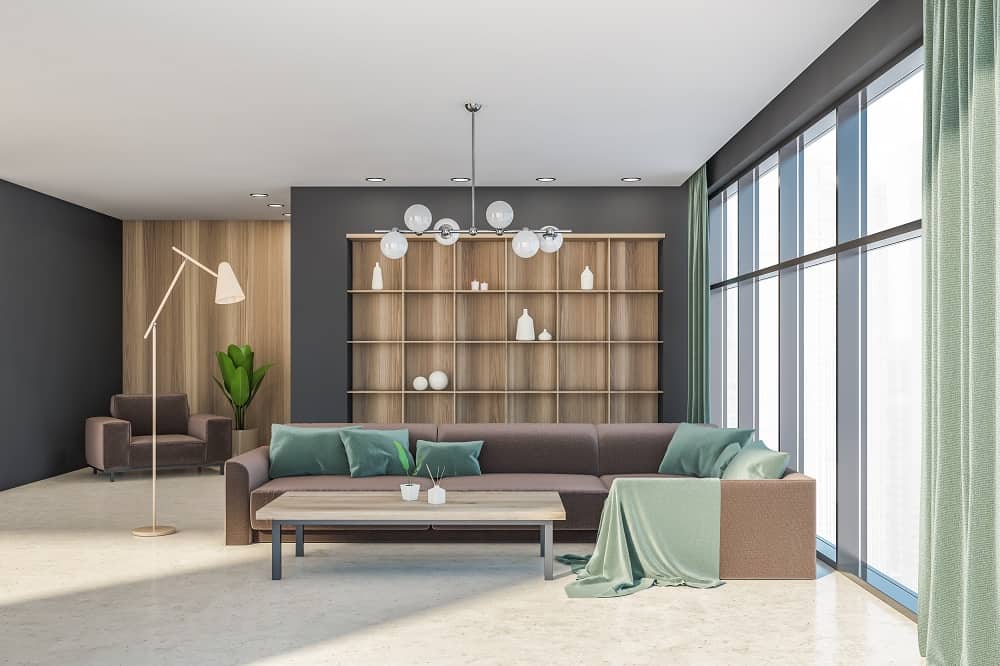 You can probably get away with any green color curtain against your grey wall, but earthy shades of green look particularly good next to grey. Olive green curtain panels merge well with a grey based wall color and adding brown and other warm neutrals completes the look.
Emerald, jade, and other brighter green curtain choices can also work well with grey, provided that the color is included in the room's accessories, rugs, and wall decor.
Beige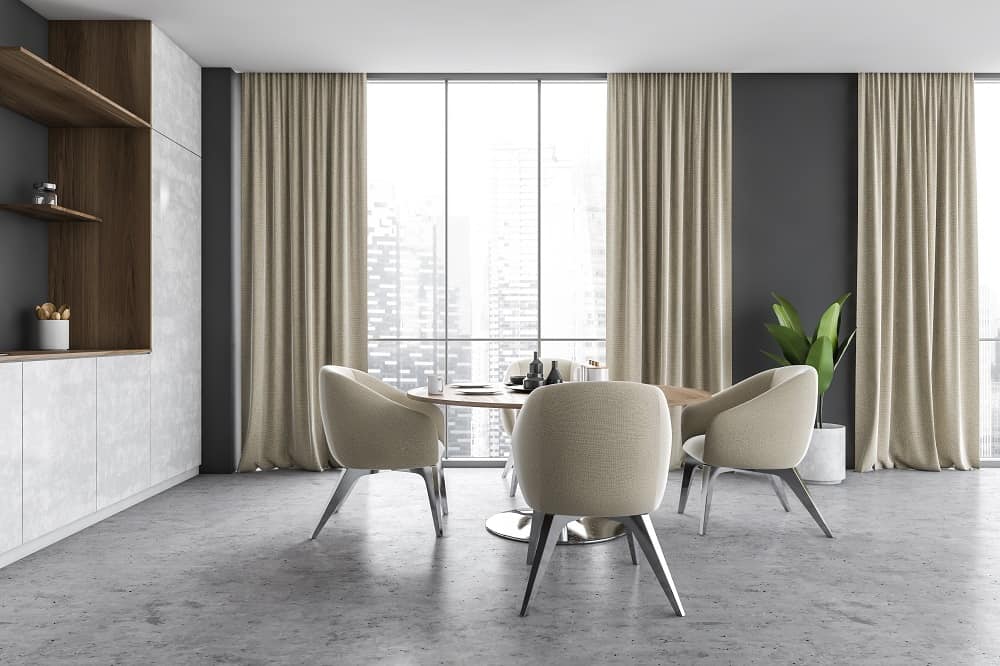 Like grey, beige has its own color spectrum. From pale oatmeal to deep tan, it's one of the best curtain colors if you want a room that's neutral but warm. Greige is a new color that combines the best of beige and grey and is a good companion to both.
Warm grey walls and beige curtains are a great background color scheme if you have a lot of brown furniture in the room. Warm grey walls and beige curtains go great with a brown leather sofa and natural wood finishes on tables and bookshelves.
Bright Colored Curtains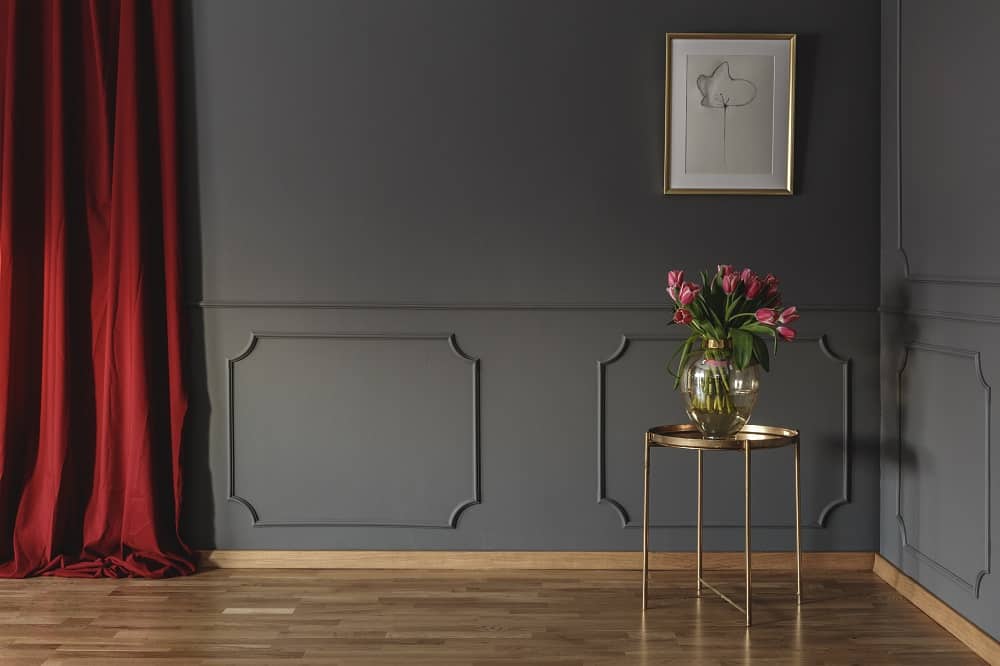 Most bright color options look great beside neutral grey walls, so don't be afraid of this curtain and wall pairing. Purple, orange, hot pink, or red curtains add a cheerful, whimsical vibe to a room. Putting these brilliant hues next to calm grey makes them pop even more.
Yellow is another bright color that looks amazing with grey. While a soft, buttery yellow is a classic color to use with grey, brighter hues can work as well. Mustard yellow curtains or deep golden drapes stand out nicely against charcoal and other darker shades of grey.
Bright floral patterns, colorful plaids, and batik prints are also great in a grey room—especially if they include a bit of grey that goes with the wall color. Just be sure to use the printed fabric's main color other places in the room, such as on throw pillows, rugs, and wall art.
Grey Wall Curtain Color FAQs
How do I add color to a grey bedroom?
Many people find themselves facing a sea of grey when moving into a new home or apartment today. It's become the most popular neutral, with many rooms having four grey walls and grey flooring to boot.
While grey is a great neutral, too much of it can be as depressing as a rainy day. It's easy to add color to your grey bedroom. Simply decide what your favorite colors are and feel free to use them abundantly. Nearly any color or pattern you choose will look great against your grey foundation. 
Is charcoal grey warm or cool?
Like most other shades of grey, charcoal wall paint is available with warm or cool undertones. Warm grey paint has yellow, red, or beige undertones. Cool grey has a blue or purplish tone. Some shades of charcoal grey are pure black softened with white and are a true neutral.