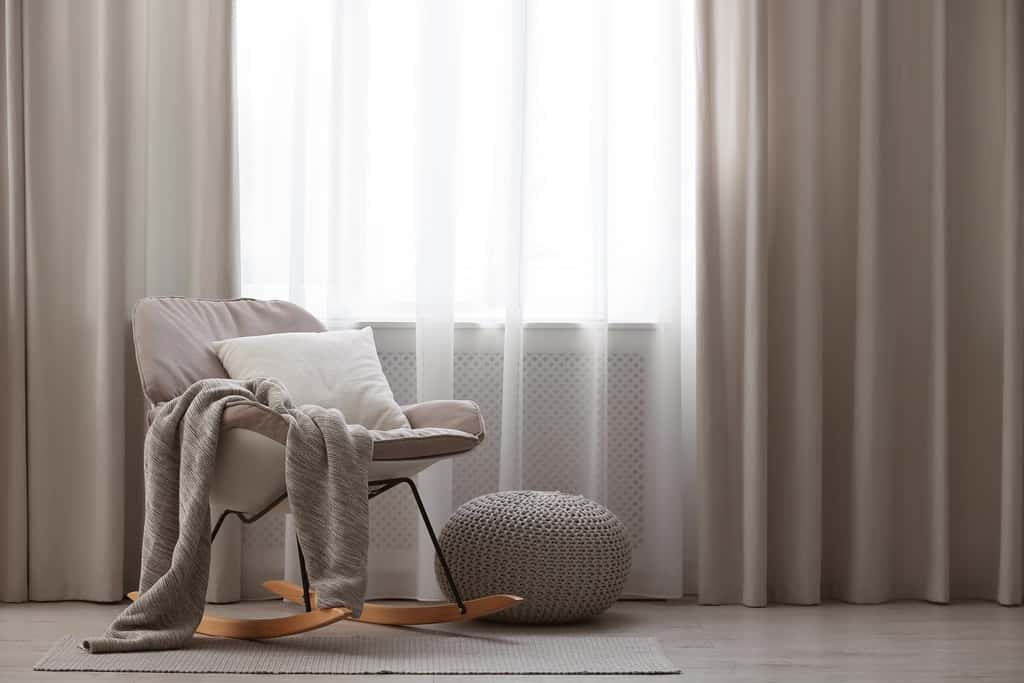 Should Curtains Touch the Floor?
You've designed the perfect room, and now it's time for the finishing touches. You know you want a stylish window treatment and have narrowed down your curtain fabric choices.
But one question remains: should curtains touch the floor? Unfortunately, there's no one easy answer. Even interior design experts are split on the right length for a curtain panel to extend from the rod. Keep reading to find out why, and get help on deciding the right curtain length for your room.
Different Curtain Lengths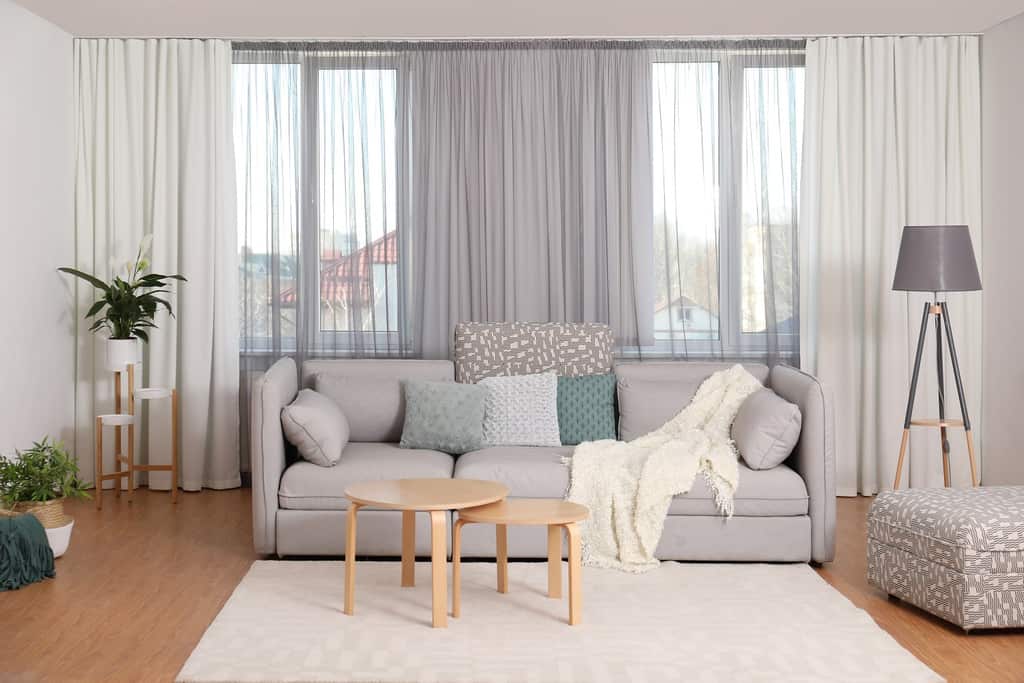 The main reason there's no one set answer for, "Should curtains touch the floor?" is that there are many length options for ready made curtains. Each curtain length is appropriate with different types of home decor. The most common curtain length options are:
45 inches

54 inches

63 inches

84 inches

90 inches

96 inches

108 inches

120 inches
Some curtain brands offer other length curtain options, and you can always hire someone to custom sew your window treatments. If you have a room with a short window or a room with a higher ceiling, you will obviously need different curtain lengths in each room.
Standard Curtain Style and Length Options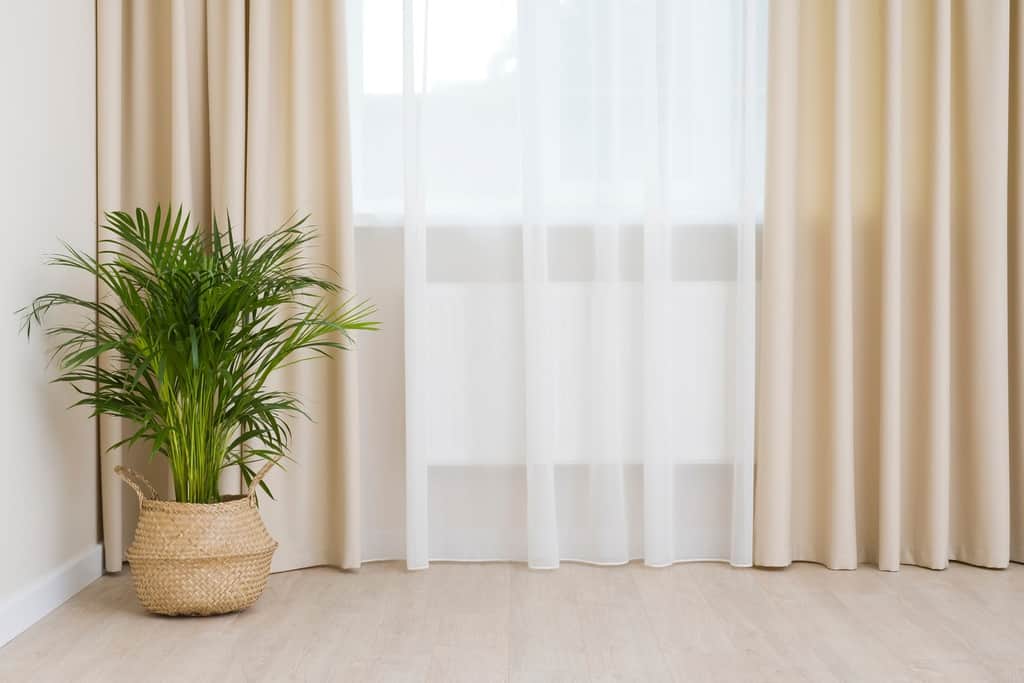 Most standard curtains come in the styles below. They're listed in order from shorter curtain styles to longer floor length curtains.
Café Curtains
Café curtains are half-length curtains that cover the bottom half of a window. Traditionally found in kitchens and bathrooms, café curtains provide partial privacy and light blocking. They're often paired with a valance hung on a separate rod above the window frame.
Café curtains allow sunlight to shine through the space between the curtain panels and the valance. Although it's not common for this curtain length to reach the floor, it is possible to buy longer curtains and hang them a foot or so below the top of the window, if desired.
Sill Length Curtains
Sill length curtains end about ½ an inch above the window sill. Like café curtains, they add a casual and charming vibe to whatever room they're in. Many designers feel that sill length window curtains are a good place to show off a strong patterned fabric or bright color curtains that might overpower the room if they were longer.
Short curtains that fall just above the window sill are most commonly found in kitchens and bathrooms. They're also a good choice in some bedrooms, breakfast nooks, or anywhere that floor length curtains would block a countertop, heating vent, or piece of furniture.
Apron Short Curtains
A window apron is a piece of decorative trim located just under the window stool or window sill. An apron accents the look of a window, much like how crown moulding accents the ceiling.
An apron length curtain extends from the rod to one inch below the apron window trim. Not as popular as they used to be, this curtain length is still a practical choice when you don't want to block a window seat, radiator, or other room feature. They're a good curtain length if you need shorter curtains but feel that sill length curtains are a bit too short.
Floor Length Curtains
Floor length curtains are a favorite curtain length for many interior designers. They are also called hover length curtains because of how they just barely hover above the floor.
Curtain drop is the term used to describe the exact length of a curtain. With hover or floor length curtains, the curtain drop should be ½ inch above the floor surface. If your drapery rod uses curtain rings, measure from the bottom of the curtain rings to the floor, then subtract half an inch.
When you hang curtains at floor length, you make the most of your beautiful drapery fabric but retain the convenience of a shorter curtain drop. Because the fabric doesn't puddle up on the floor or touch it in any way, you don't have to worry about collecting dust every time you open or close the drape panels.
Breaking Long Curtains
When you hang curtains at breaking length, they will be long curtains that measure ½ to 1 inch longer than the length between the rod and the floor. This style projects a tailored elegance with just the slightest fold or break where the drapery material makes contact with the floor.
A breaking curtain has a more casual feel than trouser or puddle curtains, but they're more sophisticated than curtains that don't touch the floor. Ideal fabric choices for breaking length curtains are cotton or linen.
Trouser Length Curtains
Like a great pair of trousers, this curtain length creates a fold at just the right spot. Trouser length curtains extend about 2 inches longer than the length between the rod and the floor. This makes a fashionable crease that's a little bolder than breaking length, but lacks the full drama of puddle curtains.
Trouser length curtains are good for heavier, thicker fabrics, including blackout curtain cloth. The extra length helps ensure that your room will be fully dark when you need it. That makes it an ideal bedroom curtain length. Pair your heavy trouser curtains with an inner sheer curtain set so you can still enjoy a bit of light filtering when you open your drapes.
Puddle Curtain Length
A curtain puddle is exactly what it sounds like: a puddle or pile of drapery fabric that rests on the floor beneath each curtain panel. It may not initially seem logical to hang long curtains that are so much taller than the room itself, but puddling curtains creates a luxurious look.
Use puddle curtain length in rooms where an extra dose of drama is desired, such as in a formal living room or dining room. Sheer curtain material is good for puddling, as are thinner cotton or cotton blend fabrics. Stiff or heavy long curtains will not fall into a luxurious puddle and will instead give the impression that you mistakenly ordered the wrong size panels.
When Long Floor Curtain Lengths are a Problem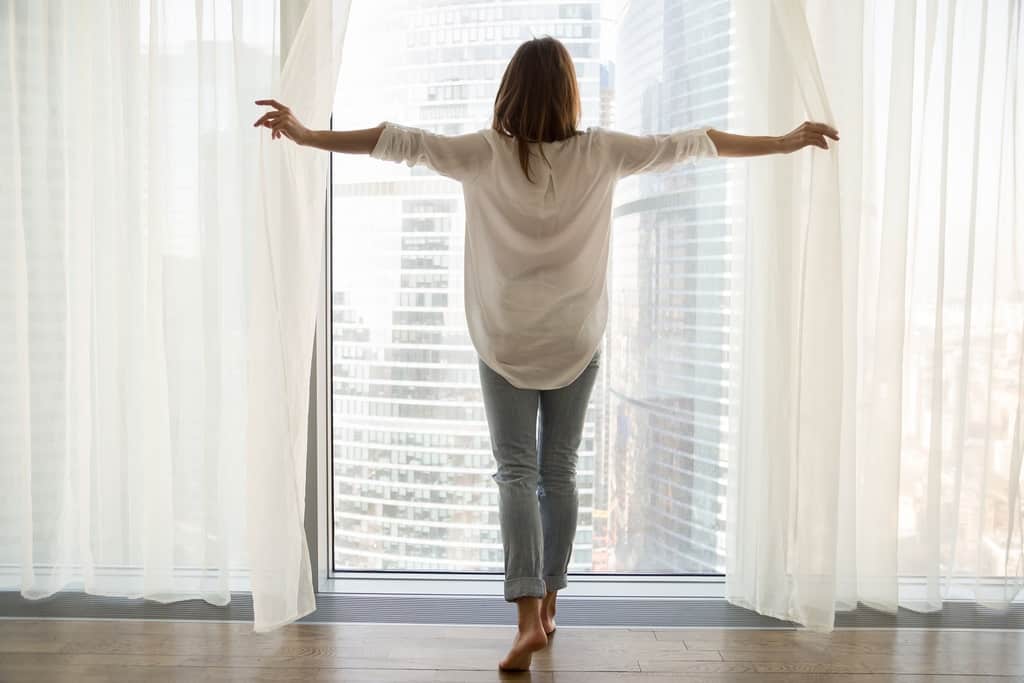 Excessive floor curtain lengths can sometimes pose a problem. With a high ceiling curtains can be longer than in standard ceiling height rooms, but that doesn't always mean that long curtains are the best choice.
If you have pets, puddled curtain panels can quickly attract pet hair from the floor. If you have cats, they will likely be drawn to hide behind or nap on top of the puddled fabric. Long curtains always pose a higher cat-climbing risk than short curtains, but puddled curtains give kitty a head start.
If you have small children, the extra material can also gather crumbs and dirt. Since drapery fabric often needs dry cleaning, trying to have puddled—or even breaking—curtains in the wrong environment can be a frustratingly expensive design choice.
The Final Answer
Clearly, the answer to, "Should curtains touch the floor?" is a matter of personal preference. Curtains provide much more than style; they also maintain your privacy and even help your thermostat to not work overtime heating and cooling your home.
Sometimes a shorter curtain is the perfect choice, but a longer curtain will always look more refined than shorter versions. Floor length curtains are a perfectly acceptable long curtain length for those whose lifestyle makes curtain puddles impractical.
Additional Curtain Length Tips
If you hang curtains at puddle or trouser length and decide you don't like them, you may still be able to use them without paying for expensive alterations. Try moving the curtain rod and brackets higher, just a few inches below the ceiling. Hanging curtain panels higher also makes the room feel taller and bigger.
Ideally, you should choose a curtain rod that allows you to hang curtains wider than the window itself. Position the rod so that no part of the window is hidden when the curtains are open. Not only will this let in the maximum amount of light, it will make your windows seem bigger than they actually are.
If you're choosing to puddle curtains made of a heavy fabric, make sure your curtain rod, brackets, and rings are sturdy enough to support their weight. Save delicate curtain rods for shorter and lighter window treatments.
If you're trying to decide on the right length for patio curtains or other outdoor drapes, allow 2 or 3 inches of clearance above the ground. That will keep your outdoor curtain hems from getting dirty or soaking up water puddles after a storm.
Finally, order fabric swatches before committing to a specific curtain style or color. You may very well find that the material that was so pretty online doesn't work at all with your walls, flooring, or furniture. The amount of natural light in your home can also make fabric look quite different than it appeared in a showroom or catalog.