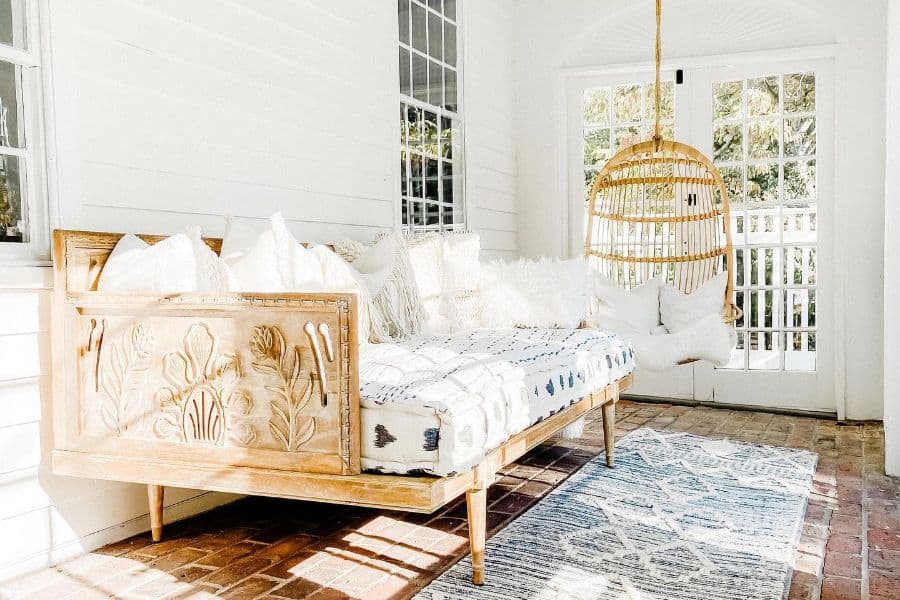 The Top 73 Daybed Ideas
by — Kendrick Hulse

Published on June 7, 2021

Updated on October 25, 2023
Do you feel like your home never has enough space to meet your needs? Nearly everyone knows the importance of having adequate storage to free up extra space. But you shouldn't overlook the versatility of multi-purpose furniture either.
A daybed is the ideal blending of a casual sofa and a guest bed.
It can be an easy way to supplement the existing seating in a spare room or common area. And you'll always have an extra bed ready to accommodate guests (or two, if you invest in a trundle frame!).
Check out the daybed ideas below to learn how to bring this classic piece of furniture into the modern design era.
1. Inviting Window Nook Daybed Ideas
A daybed near a window offers a serene spot to relish natural light and enjoy captivating views, making it an ideal lounging area. For a classic look, choose a daybed with neutral upholstery and a sleek design. If you aim to make a bold statement, vibrant patterns or textured fabrics can be your go-to. Accentuate the setting with a warm throw and a side table for your favorite reads or beverages.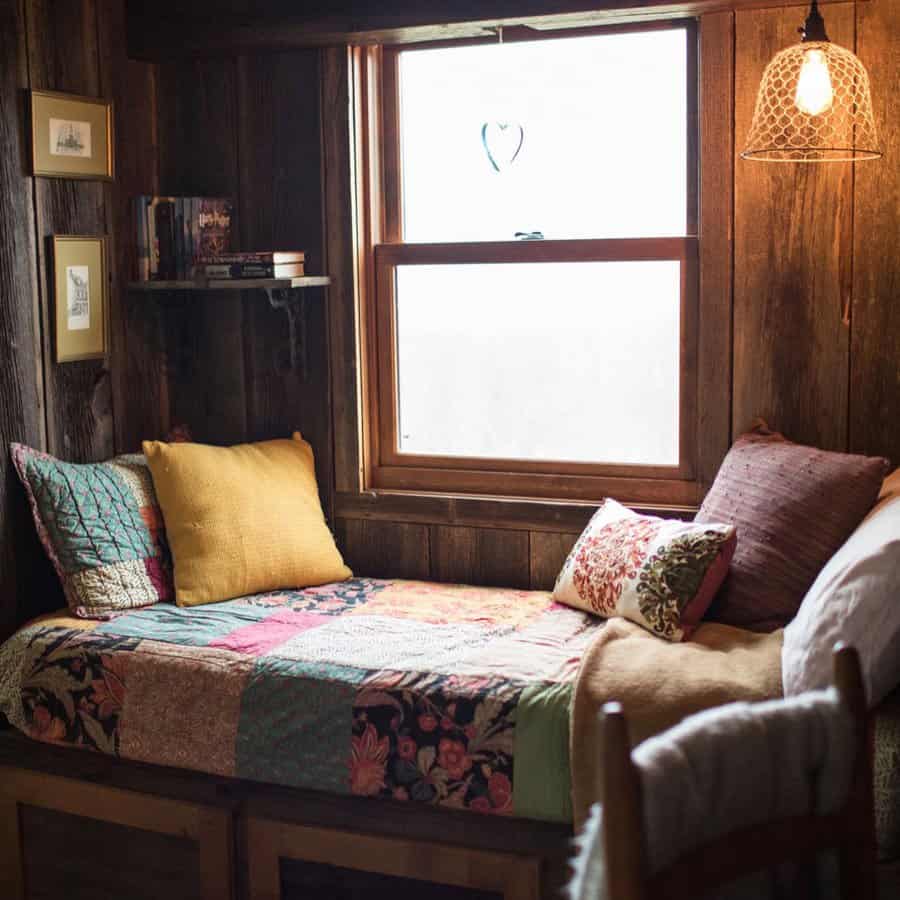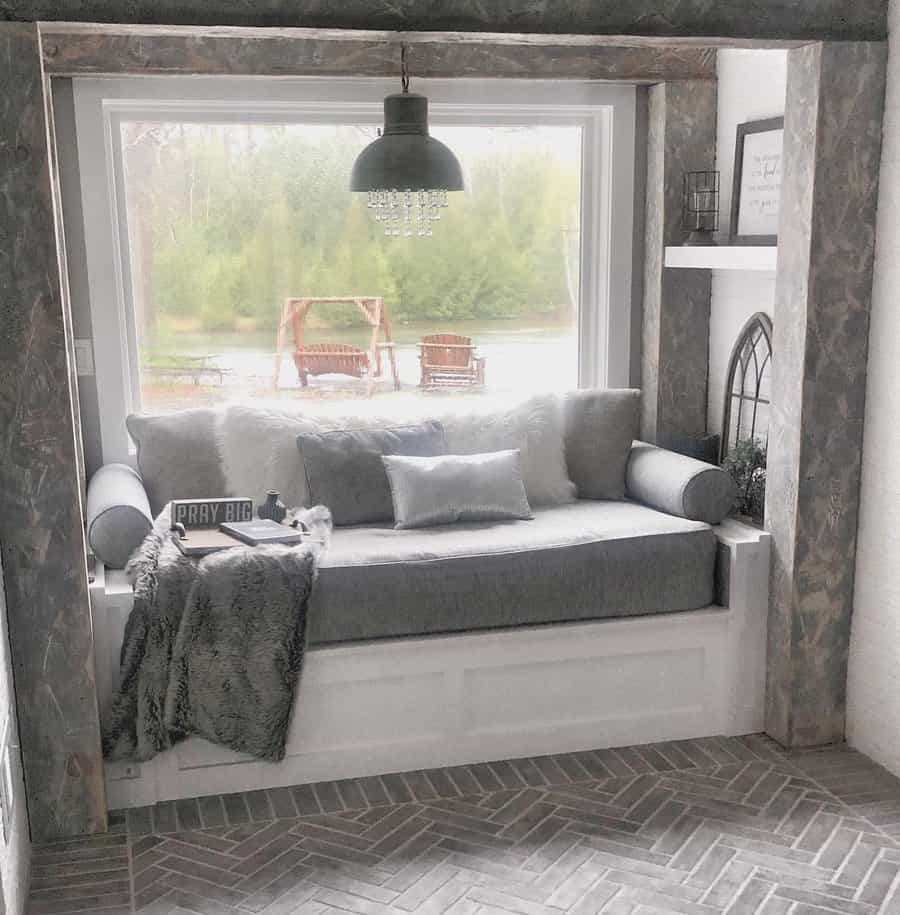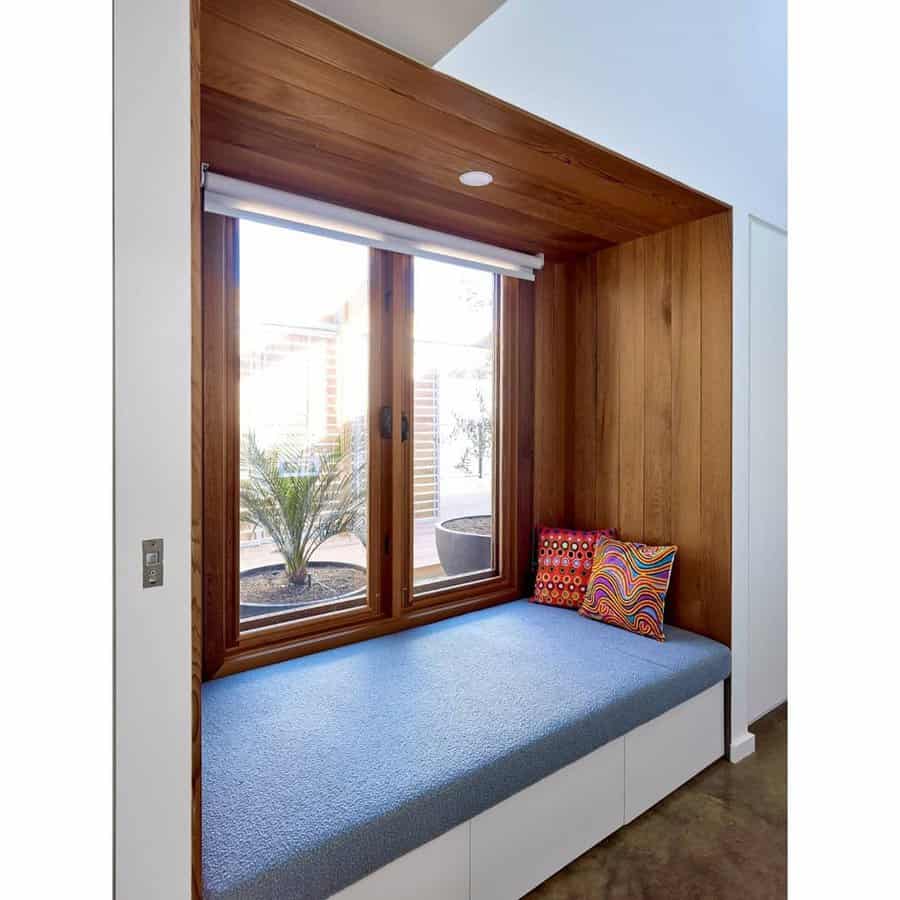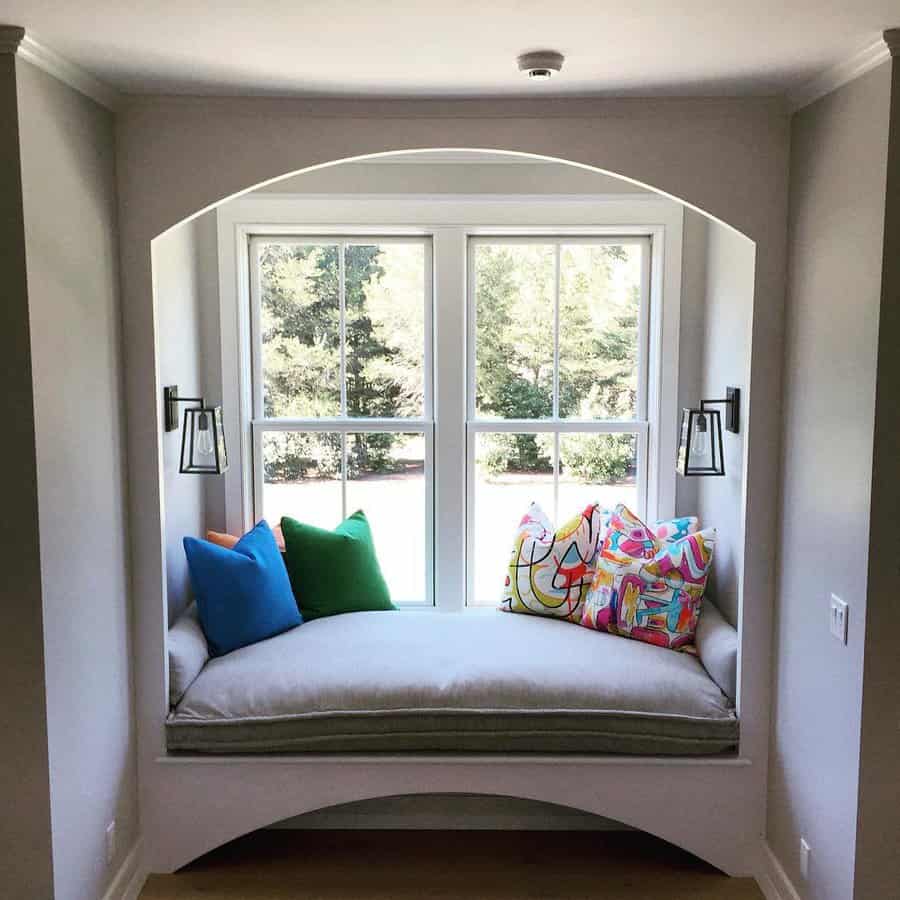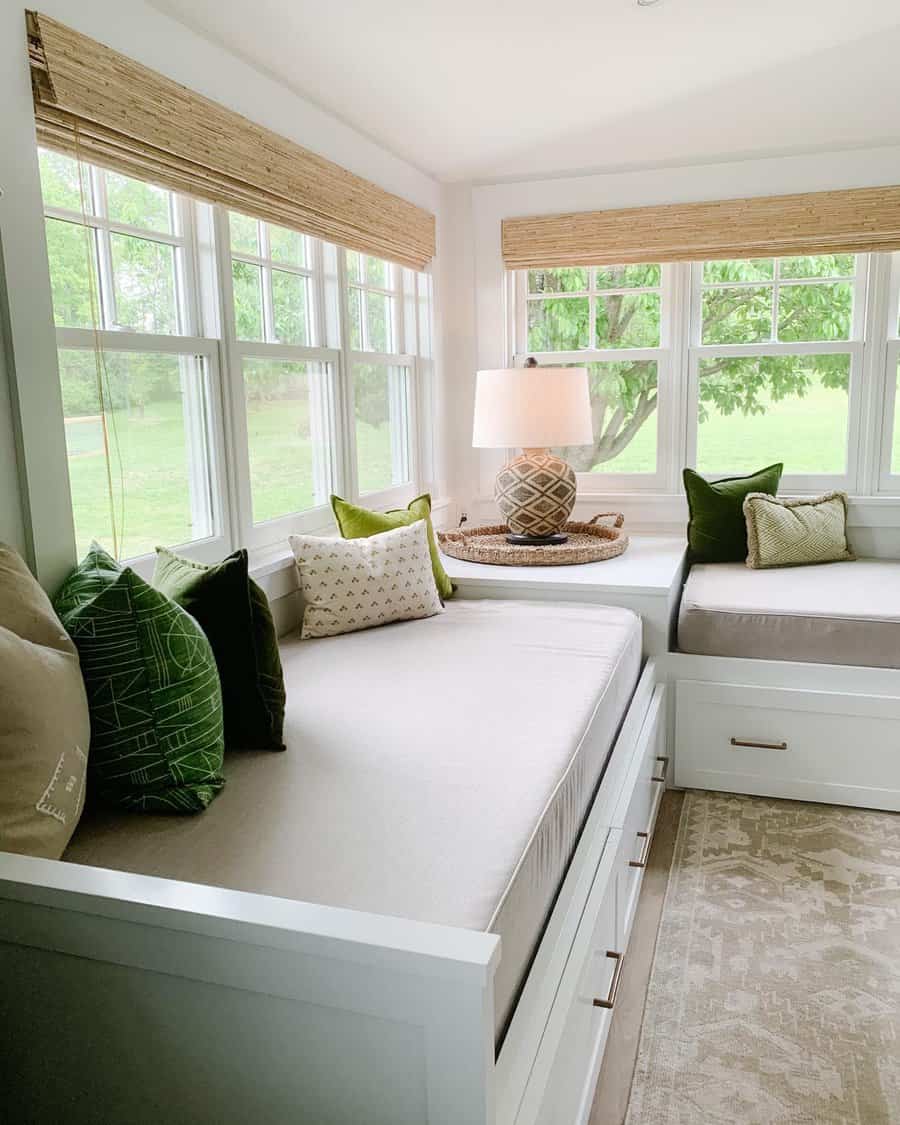 2. Creative Under-Stairs Daybed Designs
Maximizing under-stairs space with a daybed can transform an often overlooked area into a cozy retreat. Opt for a streamlined daybed, and enhance coziness with plush cushions and soft throws. Built-in storage or shelves beneath the daybed can neatly store belongings, ensuring dual functionality. Accentuate with decorative pillows that echo your home's decor for a harmonized look.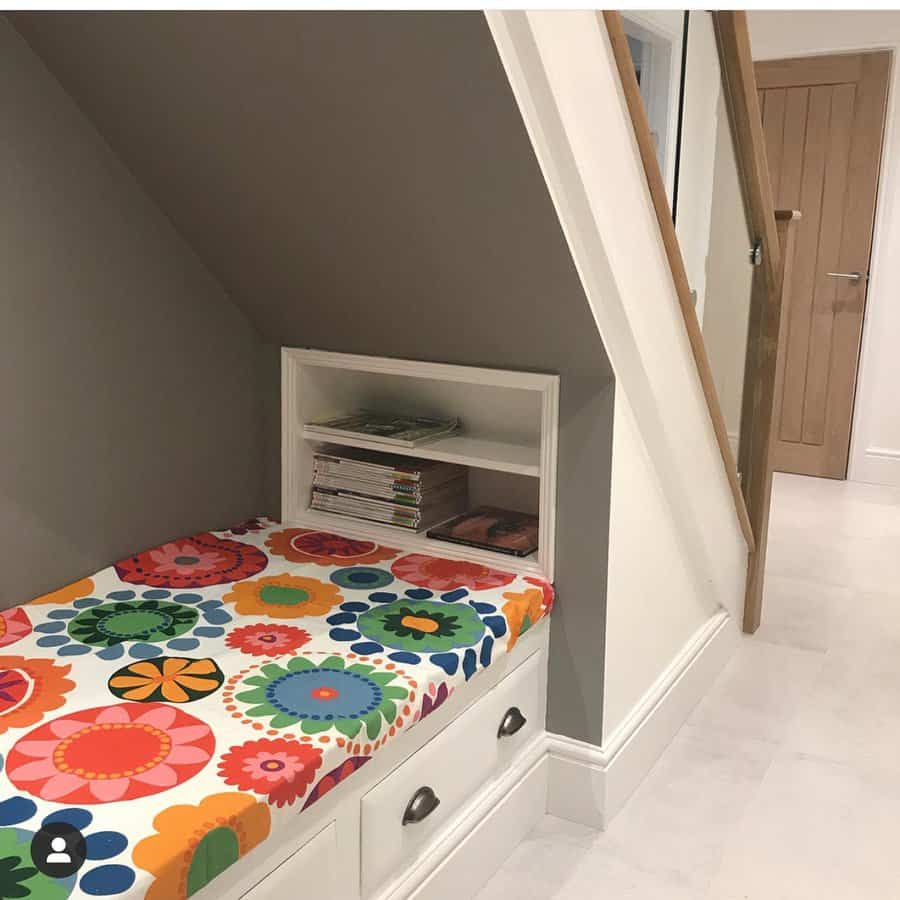 3. Elegant Outdoor Daybed Inspirations
Outdoor daybeds can elevate patios or gardens into tranquil retreats. To amplify elegance, drape your daybed with flowing curtains, which add privacy and aesthetic appeal. Positioning it under a pergola or sail roof creates a shaded, intimate setting. Surrounding your daybed with verdant plants and soft lighting further enhances its inviting ambiance.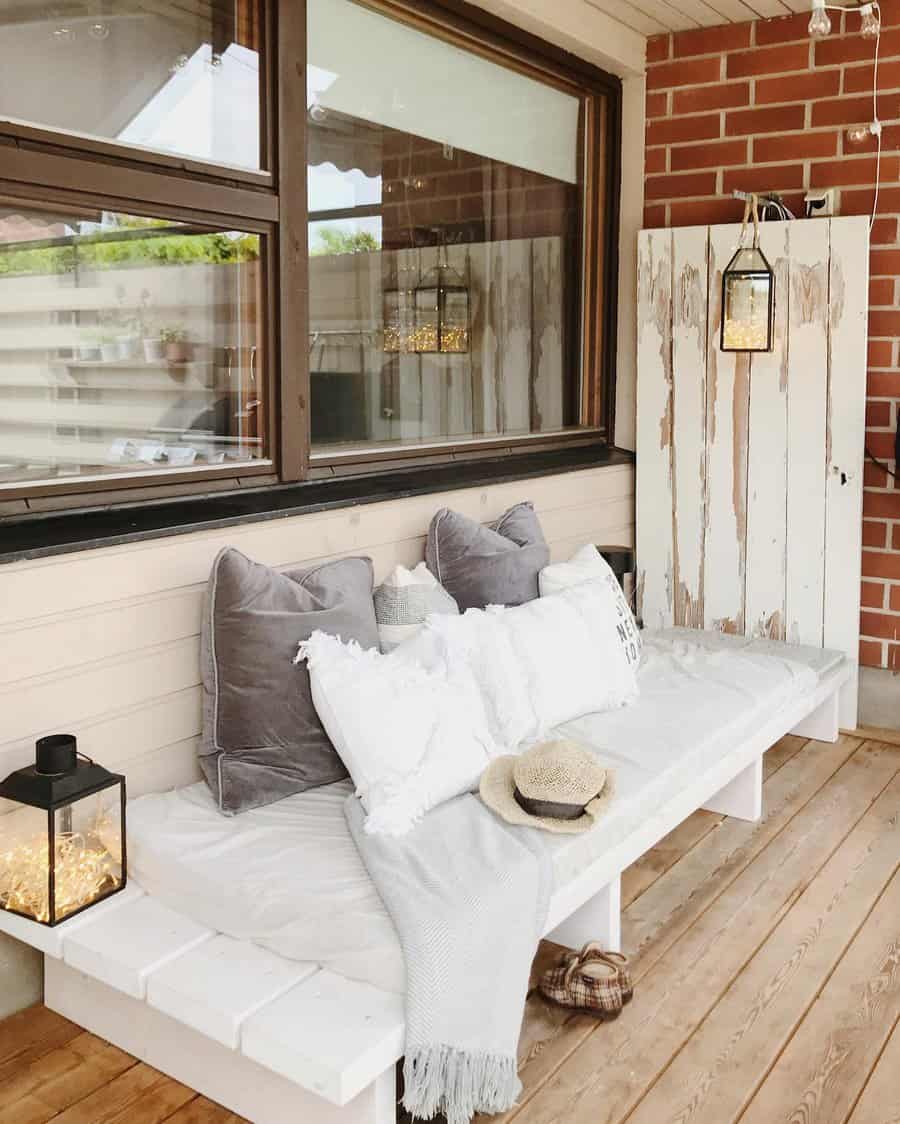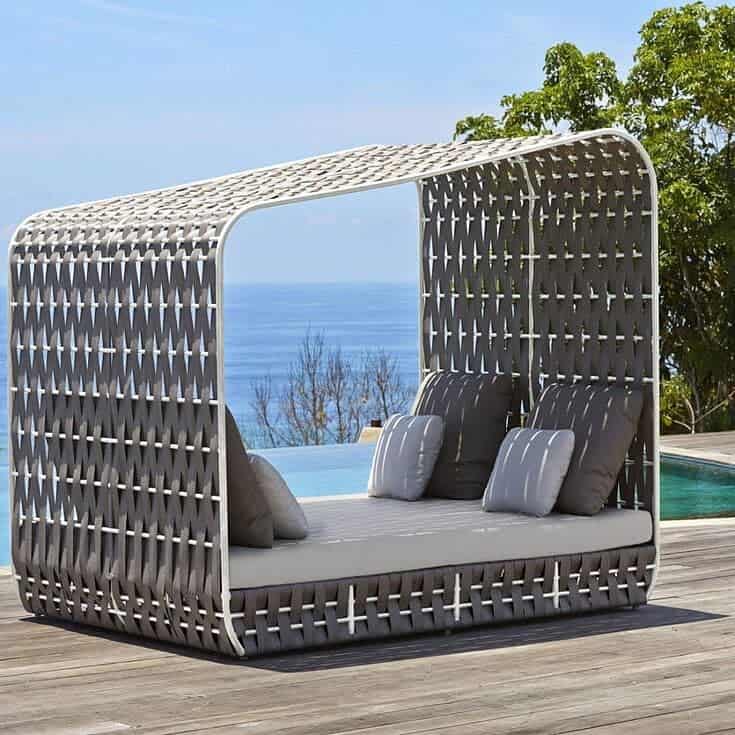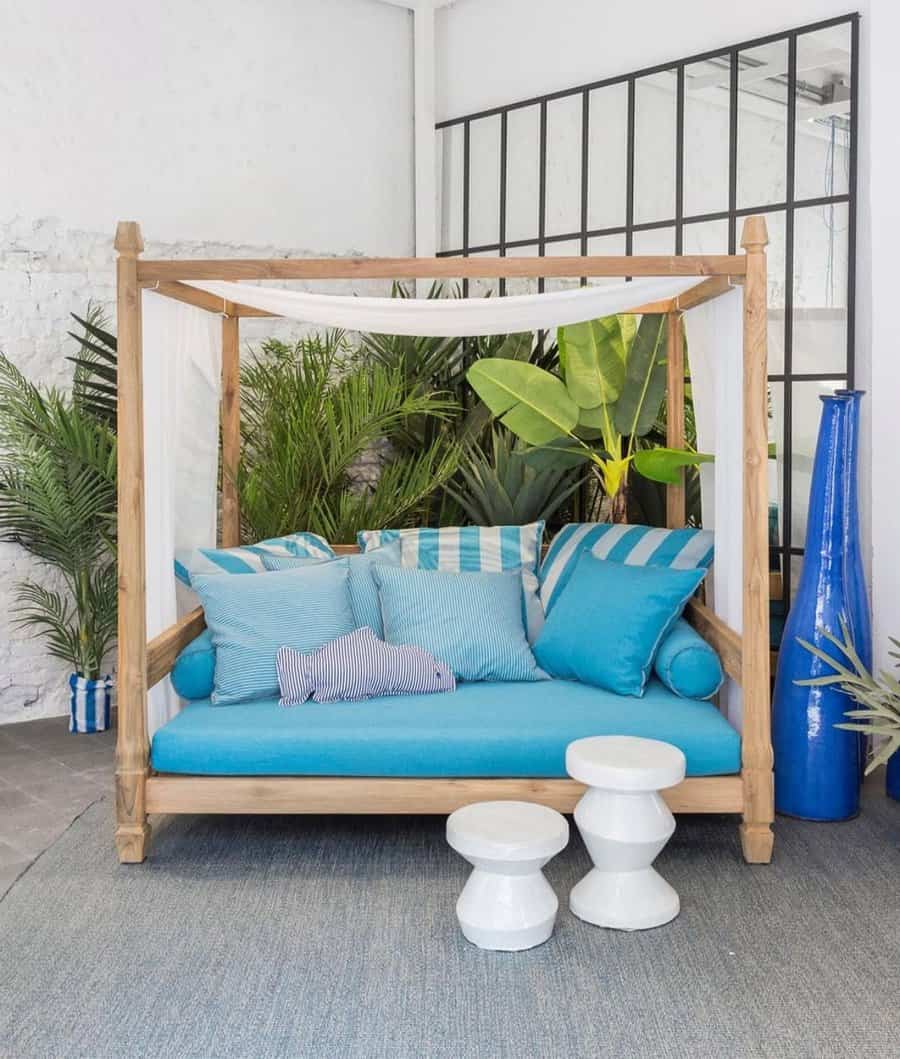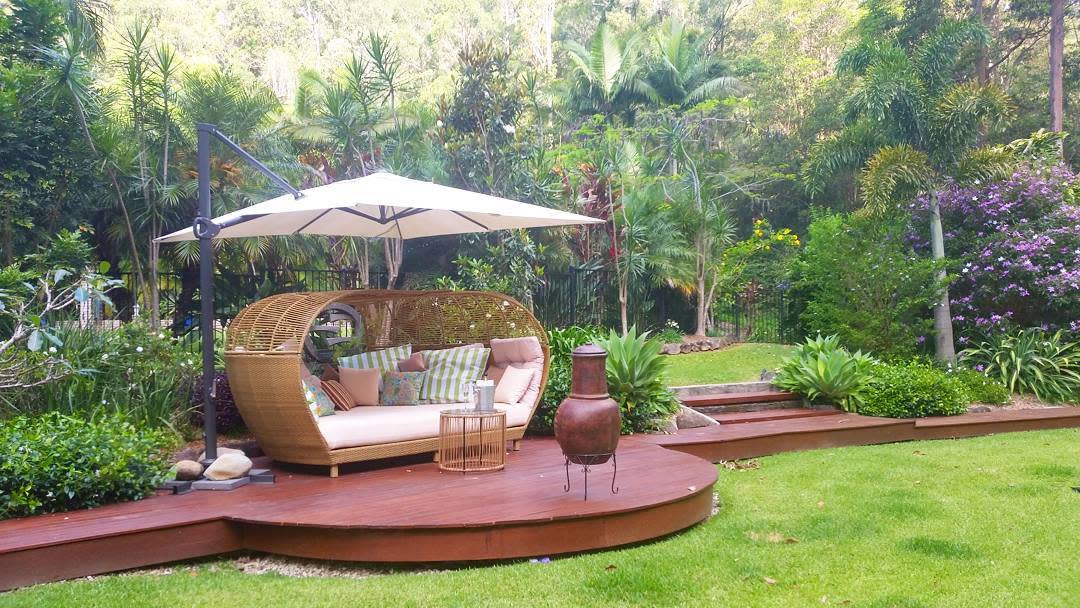 4. Upcycled Wood Pallet Futon
An upcycled wood pallet daybed adds rustic charm and versatility to any space. For a sturdy base, repurpose well-sanded wooden pallets, securing them with screws. Place a complementary futon mattress atop, ensuring comfort meets style. Accentuate with plush pillows, blending bohemian prints, earthy tones, and cozy knits for a relaxed, inviting ambiance.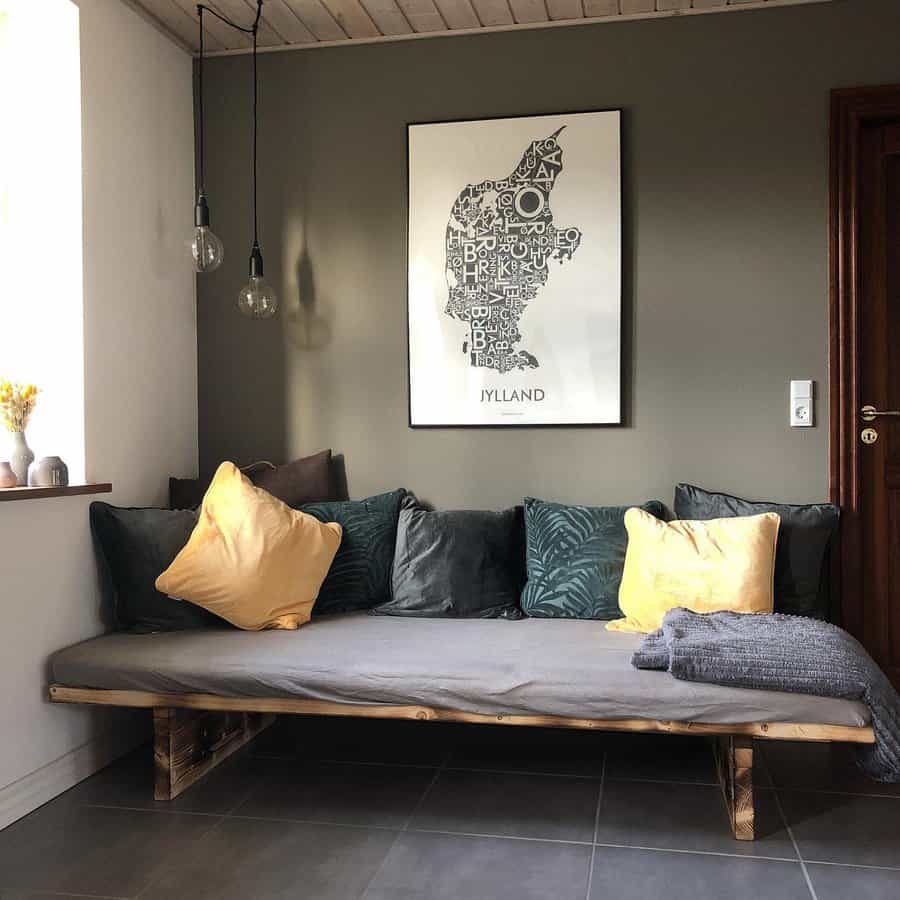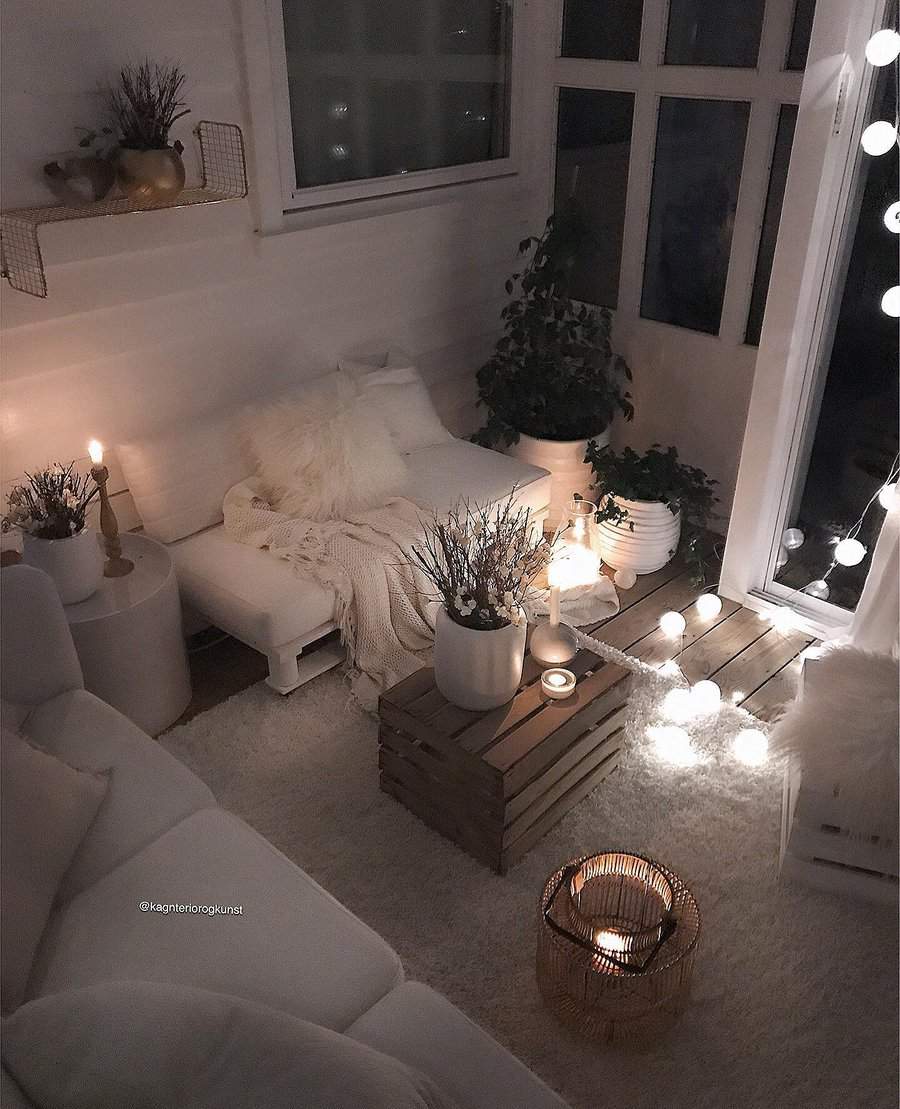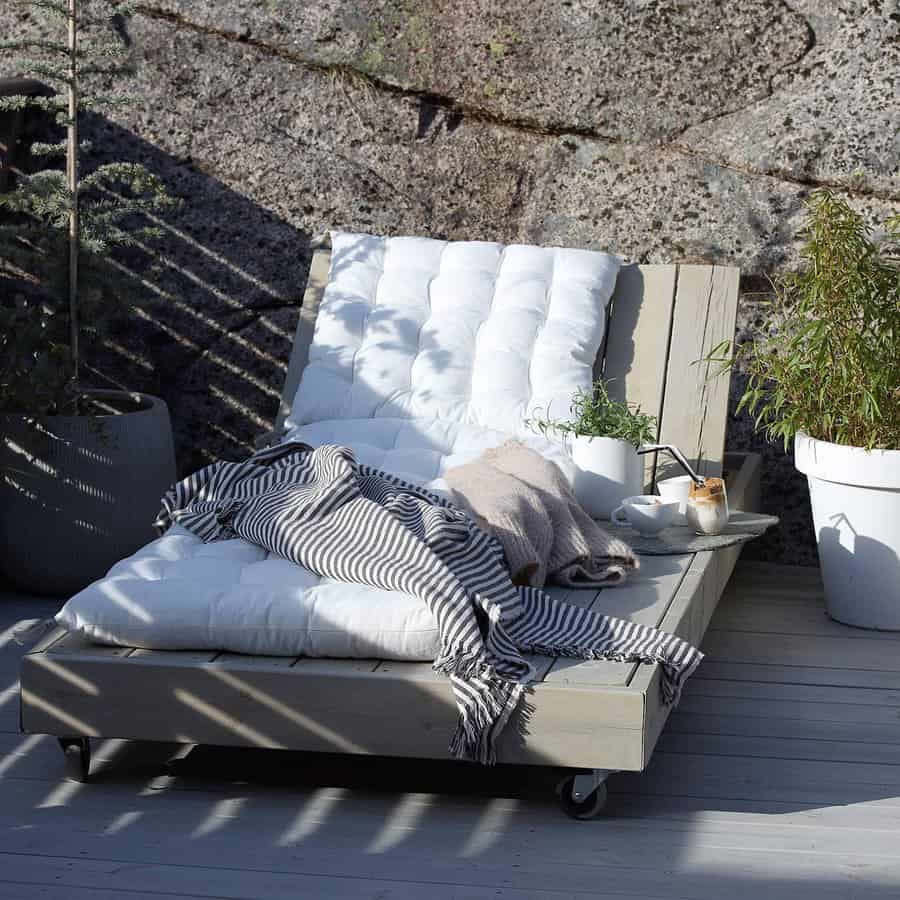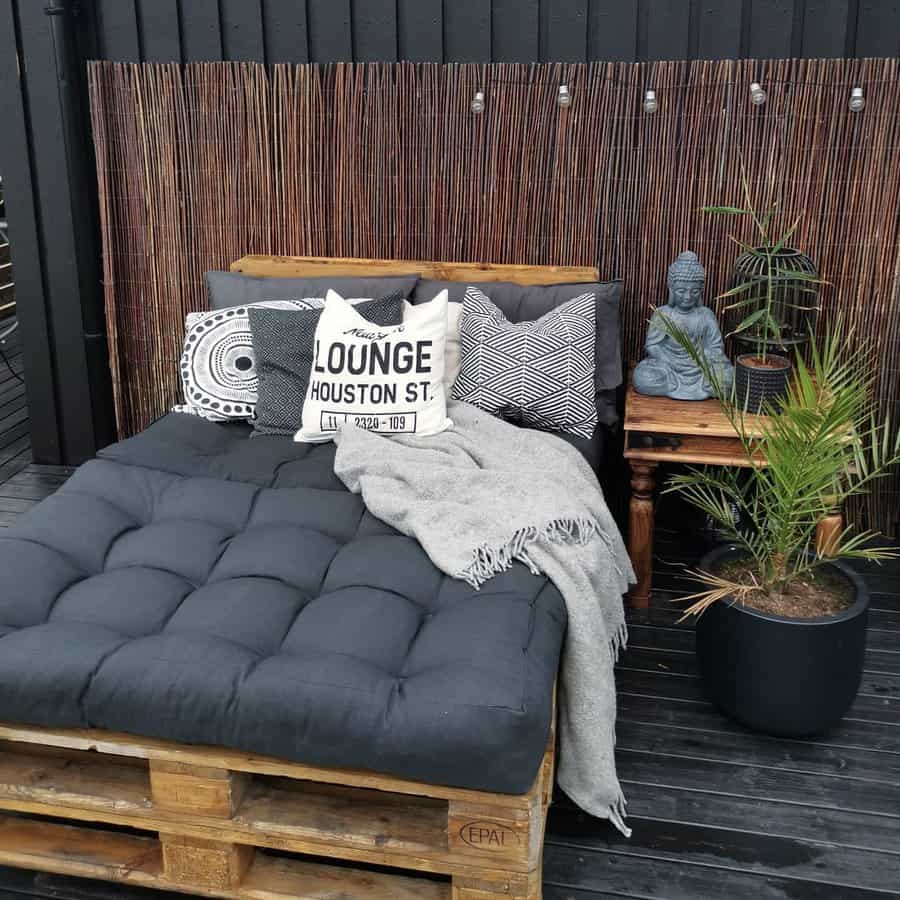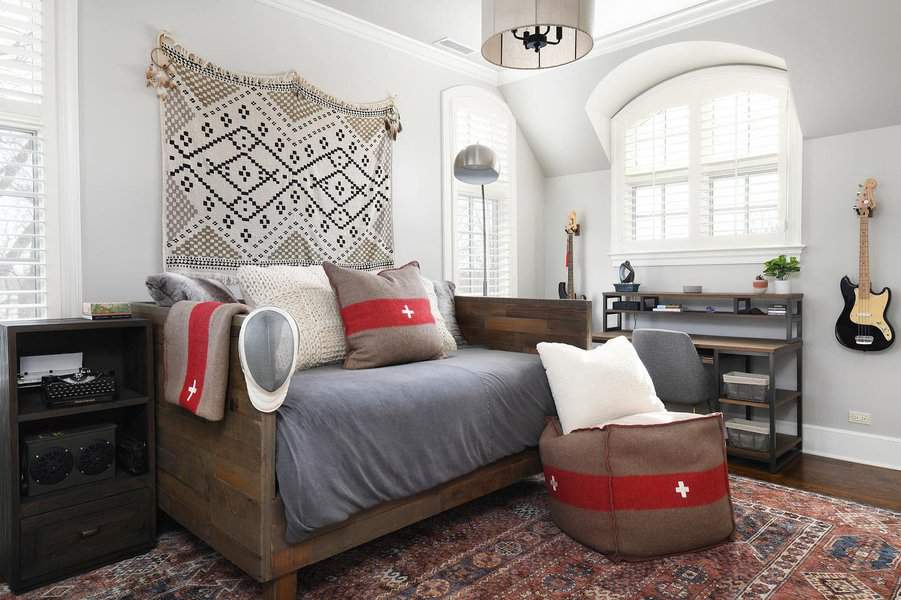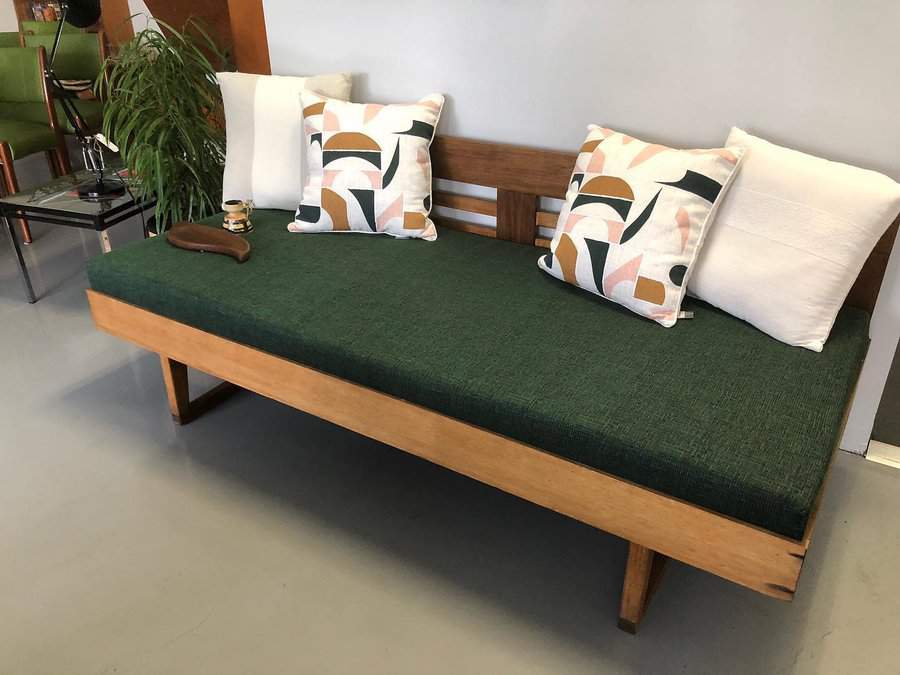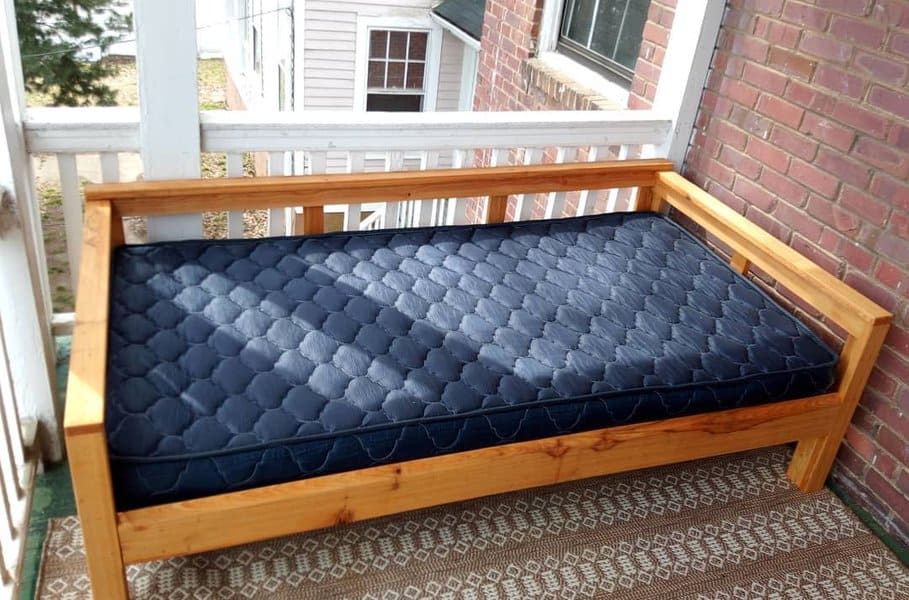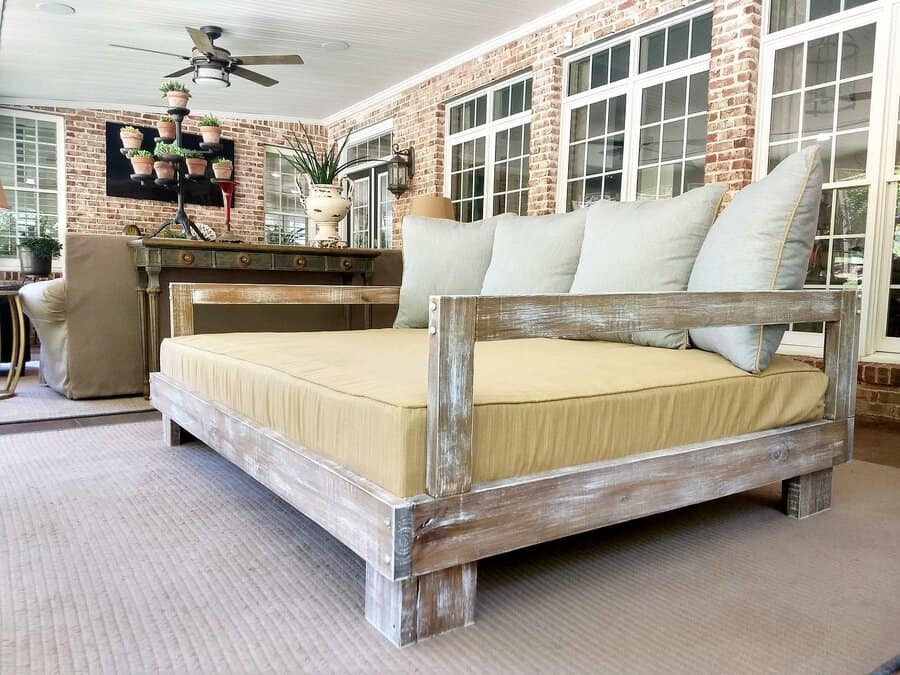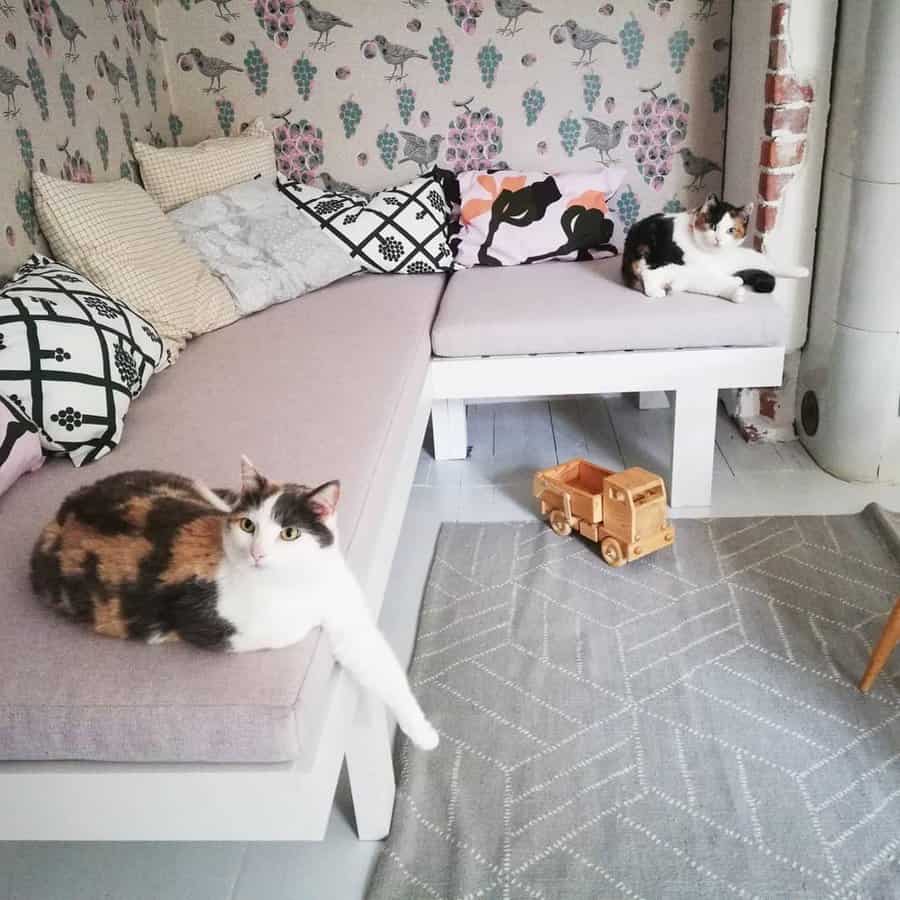 5. Chic Upholstered Headboard Daybed
Add a touch of luxury to your space with a daybed featuring a chic upholstered headboard. Select a fabric that complements your decor, from rich velvet to textured boucle or even a glamorous metallic finish. Whether you prefer ornate detailing or a sleek, modern look, this piece can adapt to your aesthetic. Enhance the comfort with plush throw pillows, layered blankets, and a cozy faux fur throw, creating a stylish and indulgent retreat.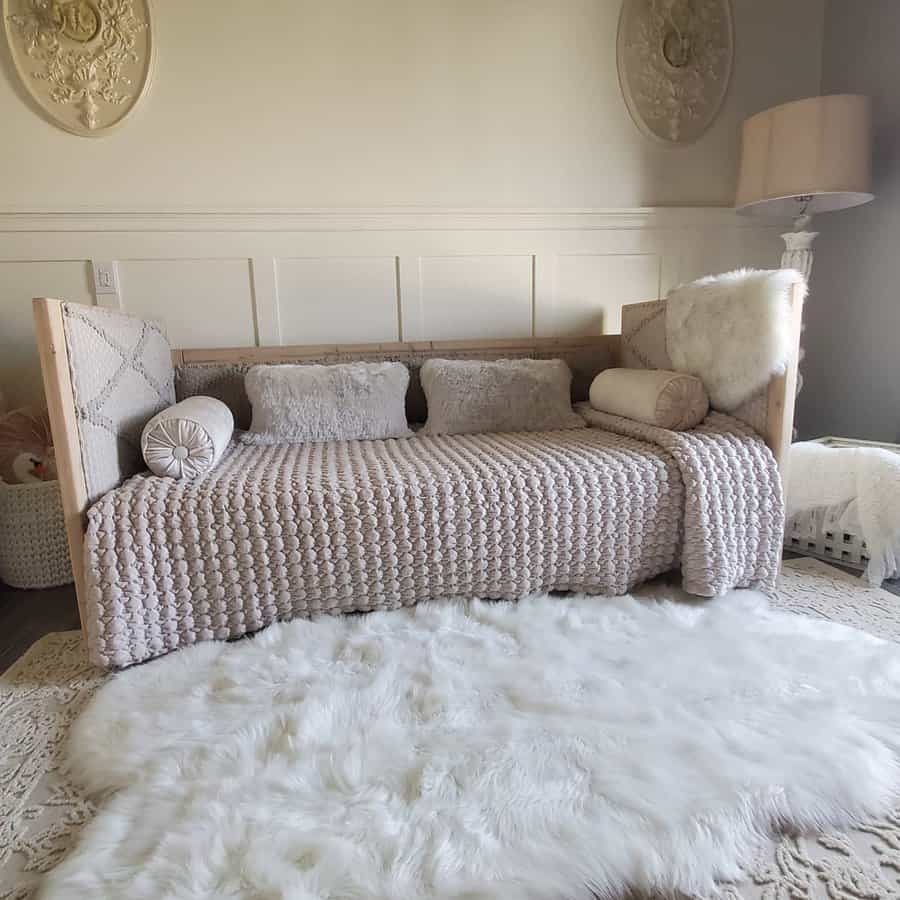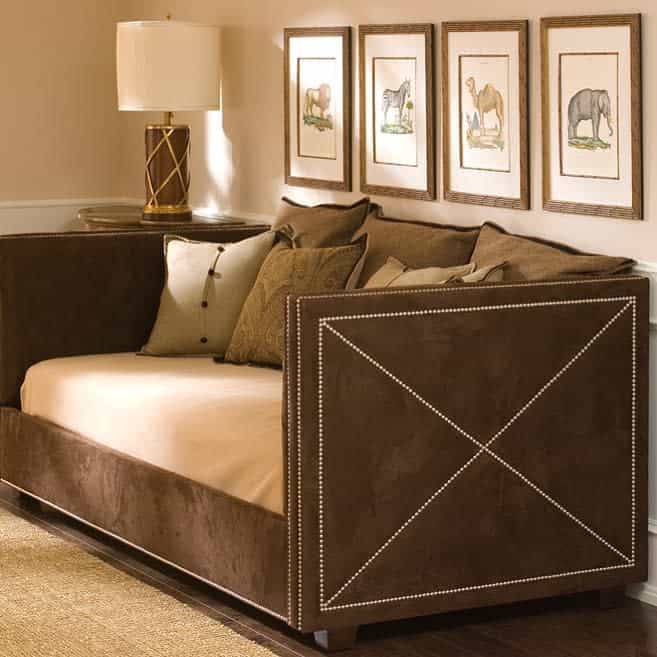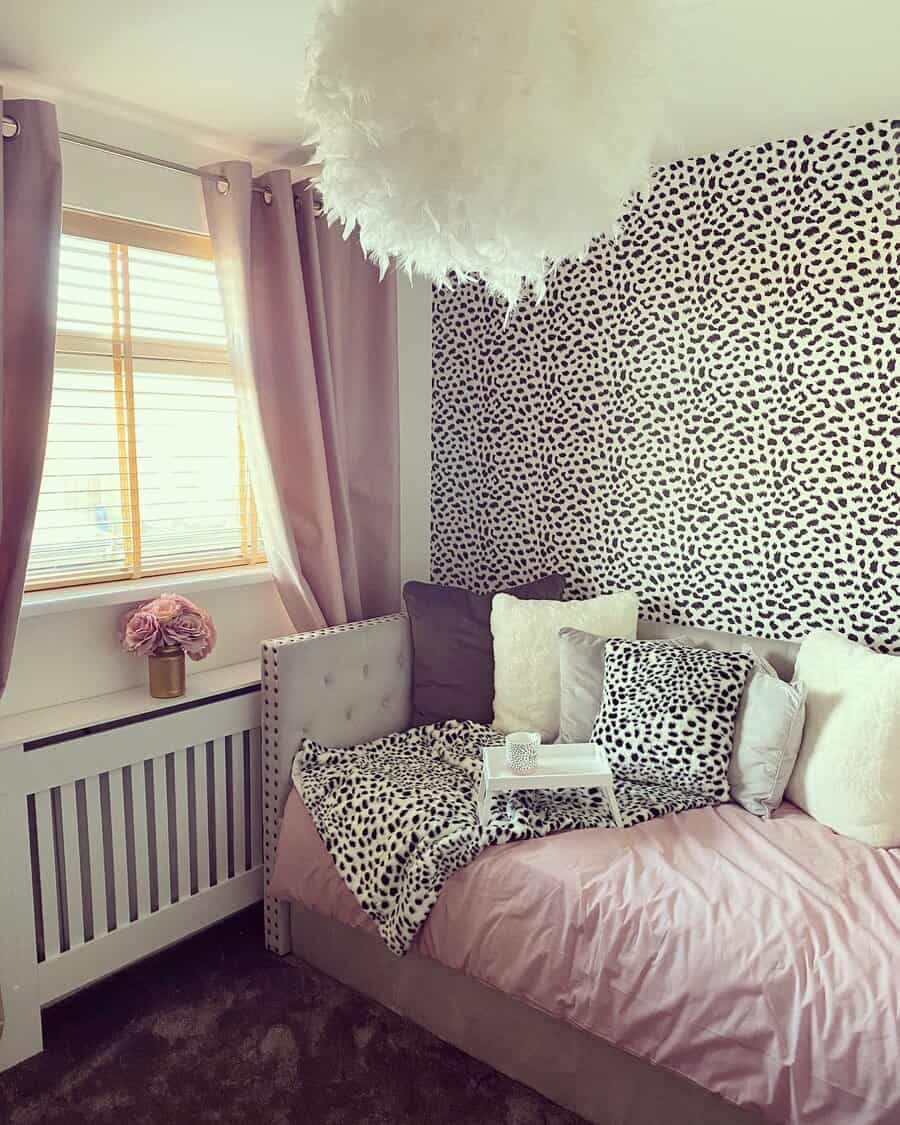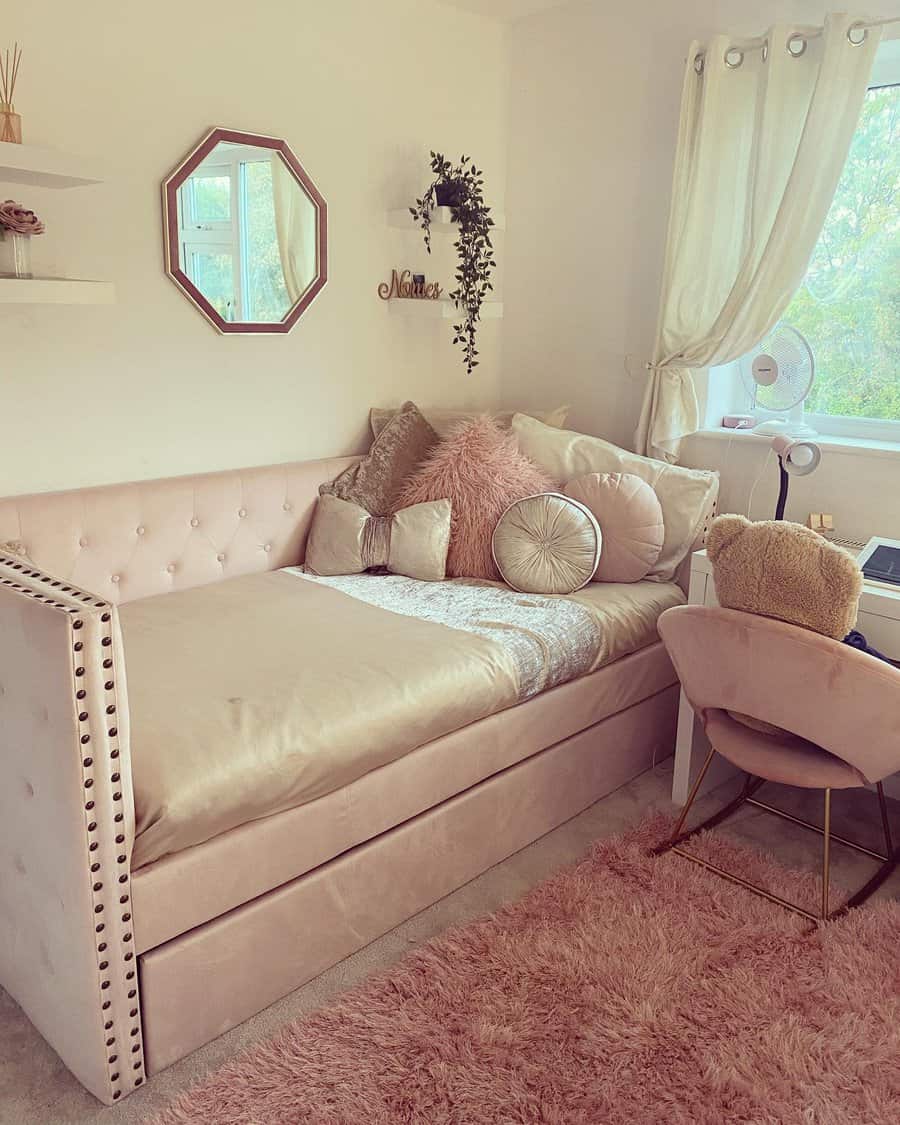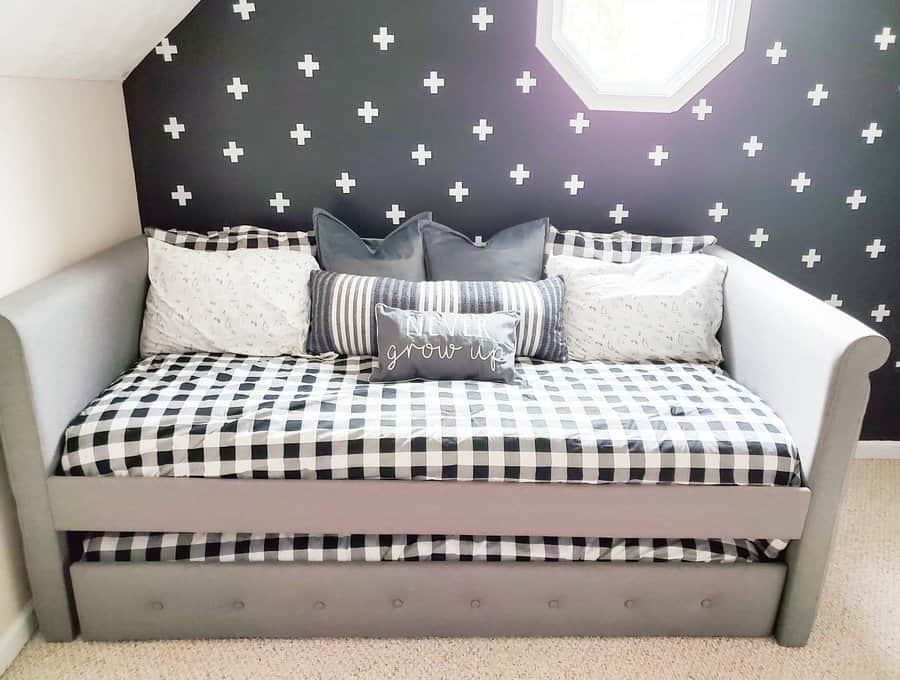 6. Classic Metal Daybed Styles
Embrace durability and style with a classic metal daybed, adorned with elegant curves and intricate patterns that bring sophistication to your space. Versatile in placement, it offers a comfortable seating area by day and transforms into a cozy bed at night, perfect for guests or quiet moments. Enhance its comfort with plush cushions and decorative pillows, allowing this timeless piece to complement a range of interior styles from vintage to contemporary.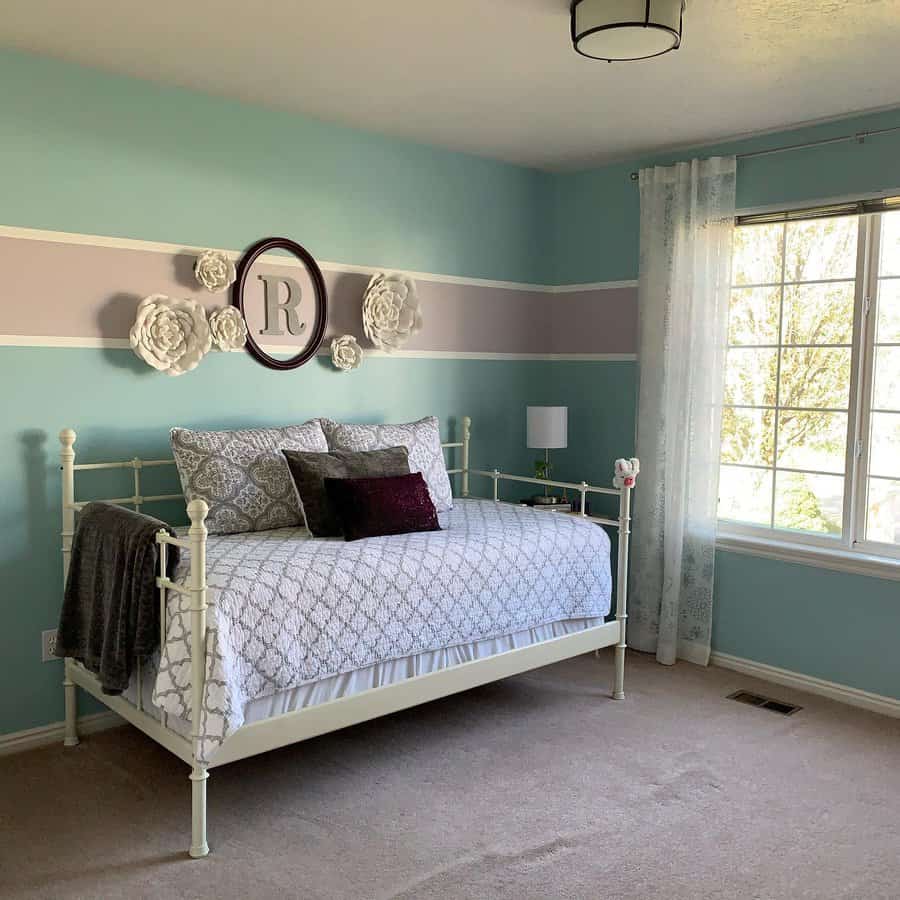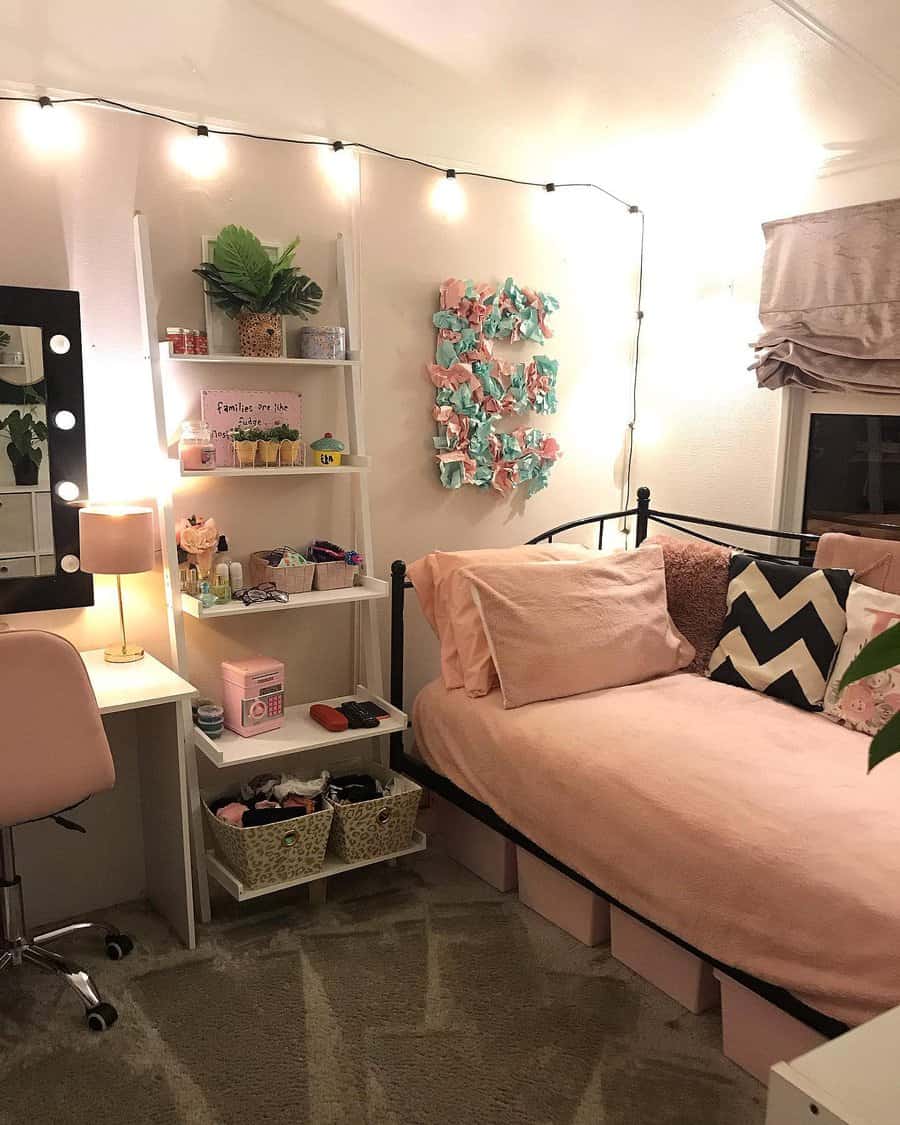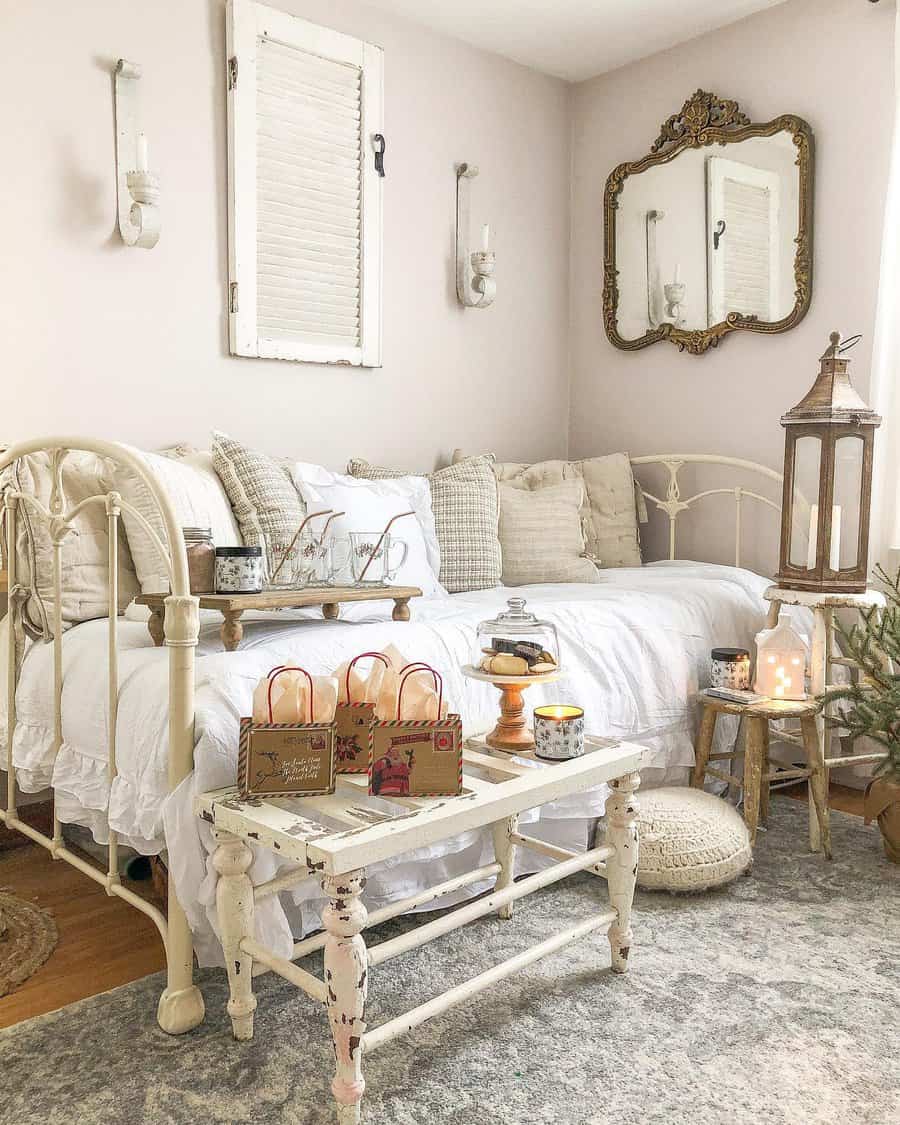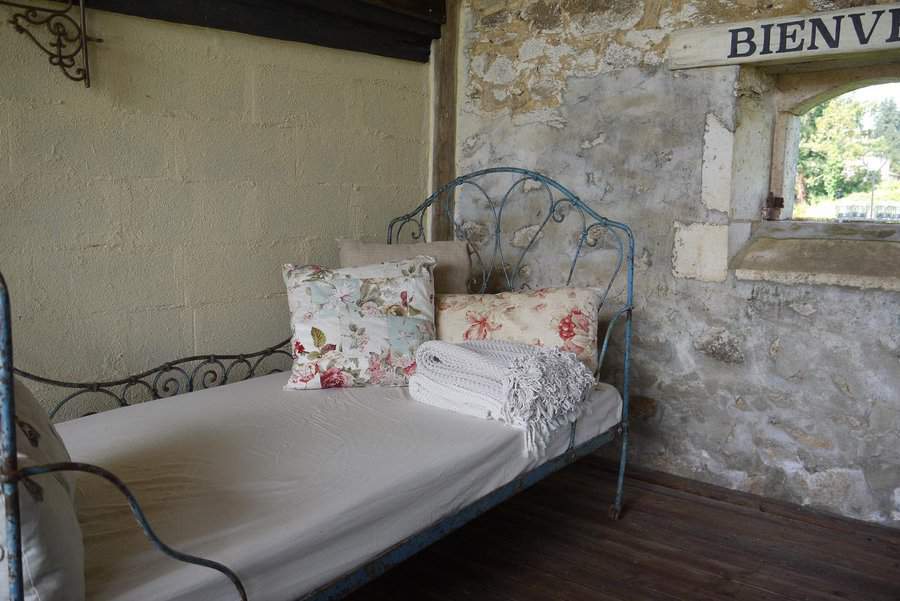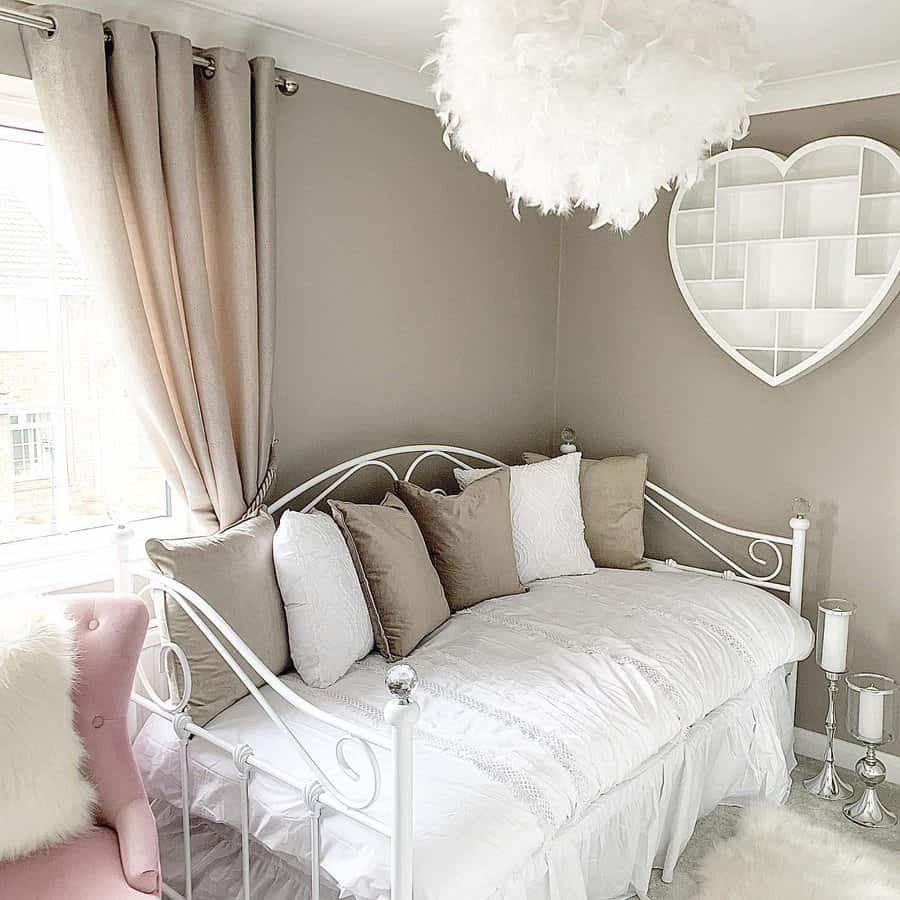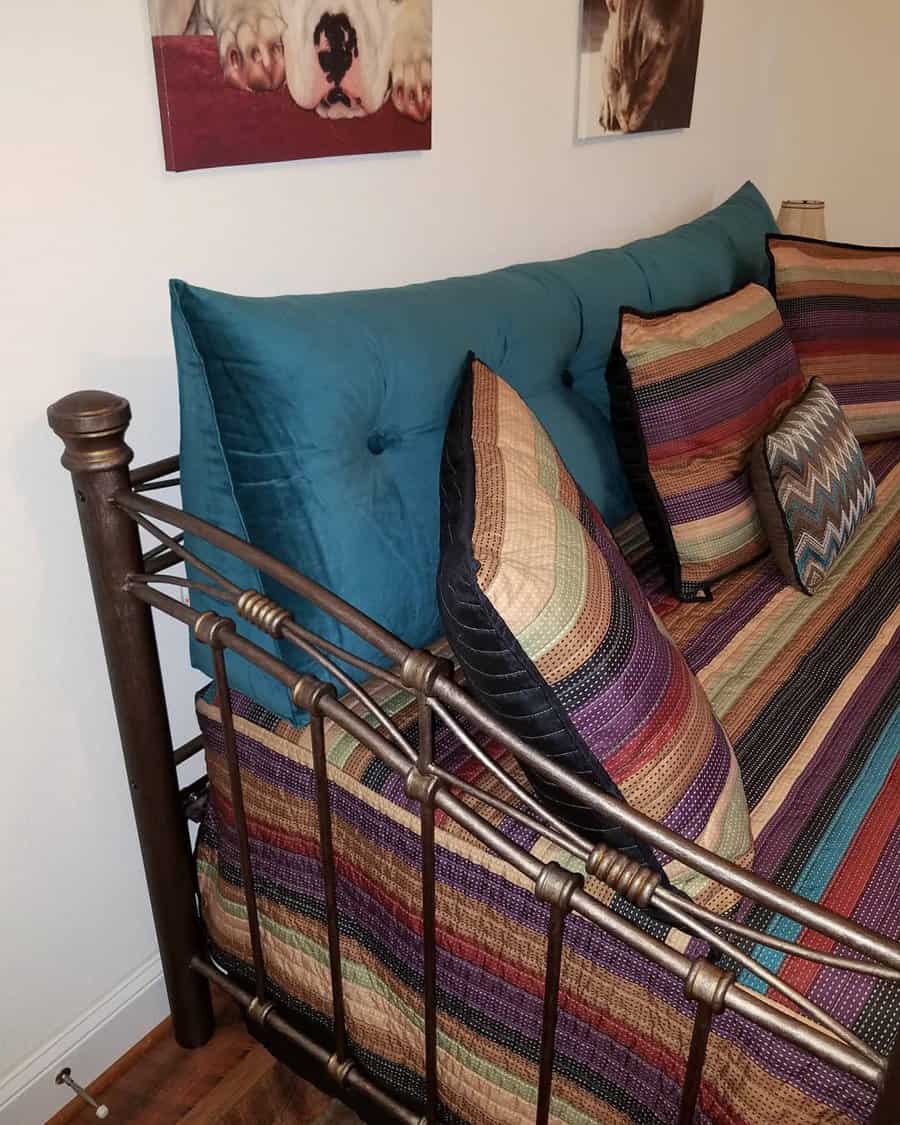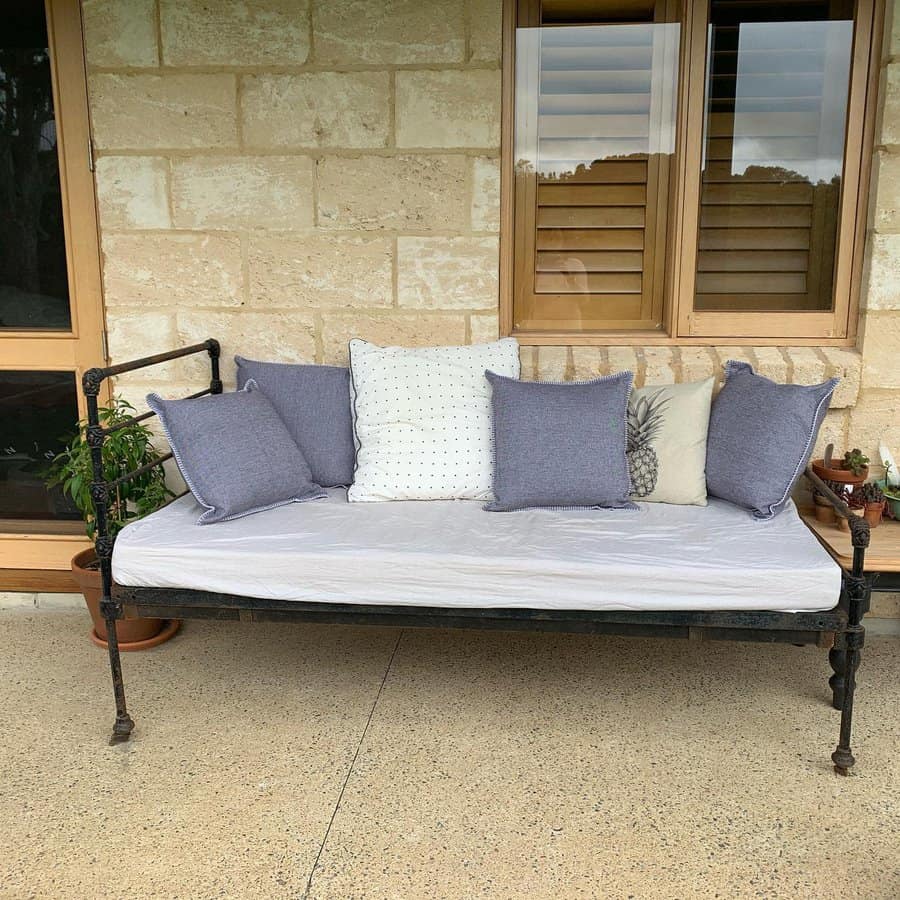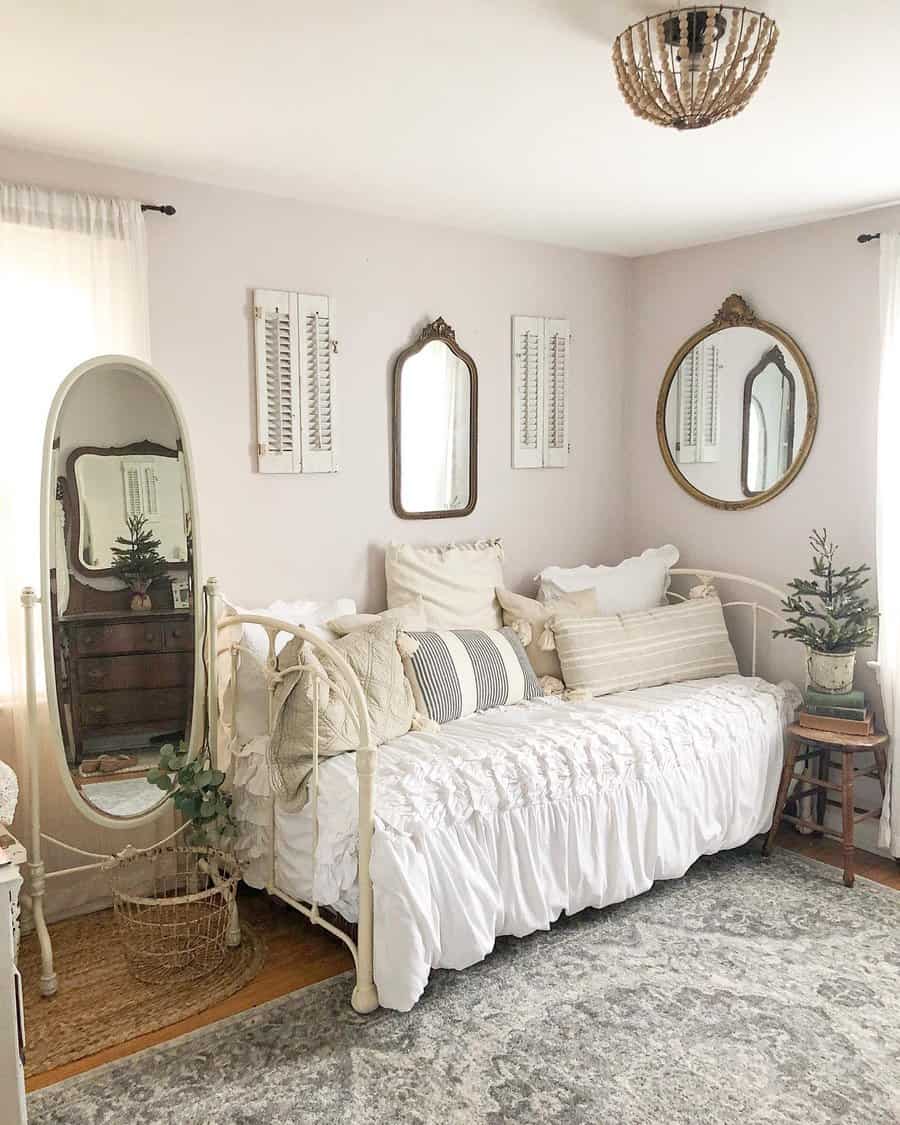 7. Sleek Minimalist Daybed Options
A minimalist daybed offers a tranquil retreat, combining sleek lines and a subtle design to create a harmonious space. Its low-profile and unobtrusive style make it perfect for various settings, from living rooms to bedrooms or intimate reading nooks. Opt for a daybed with a wooden frame in natural tones like oak or walnut, paired with a plush mattress. The neutral color scheme and clean silhouette enhance visual space, ideal for smaller rooms or minimalist aesthetics.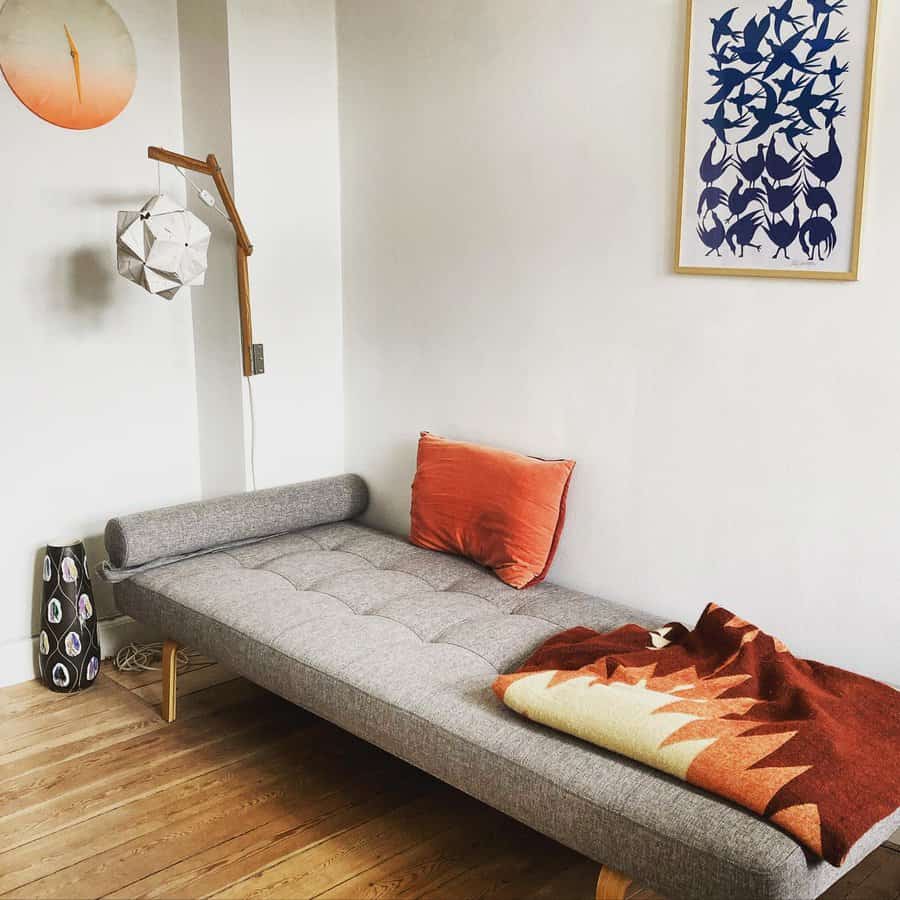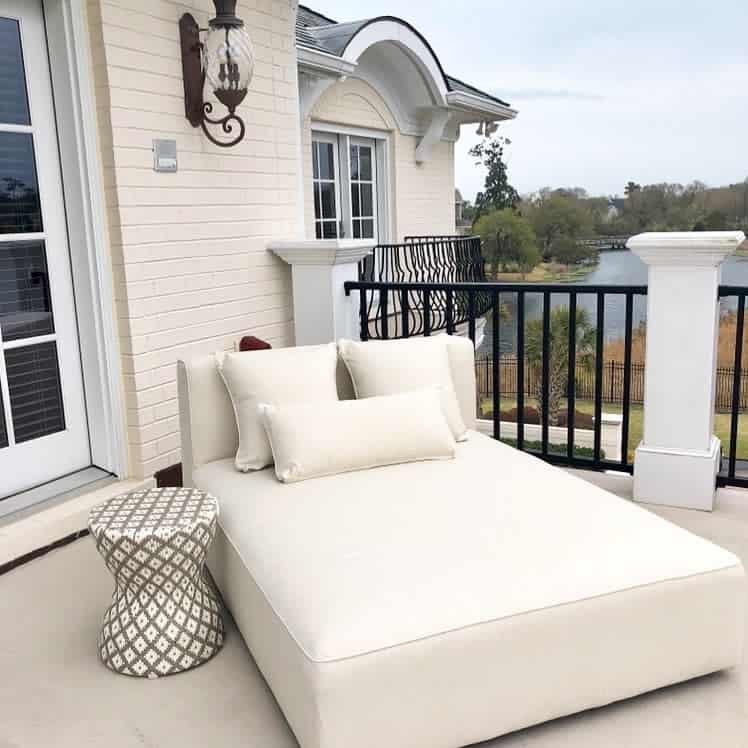 8. Cozy Daybed with Plush Pillows
Elevate your daybed's comfort and aesthetics by adorning it with a mix of decorative throw pillows. Dive into a palette of varying colors, textures, and patterns that resonate with your decor. Layer pillows of assorted sizes and fabrics for depth, and introduce statement or whimsical designs to inject personality. Whether you lean toward minimalism or abundant plushness, the goal is a harmonious and inviting daybed display.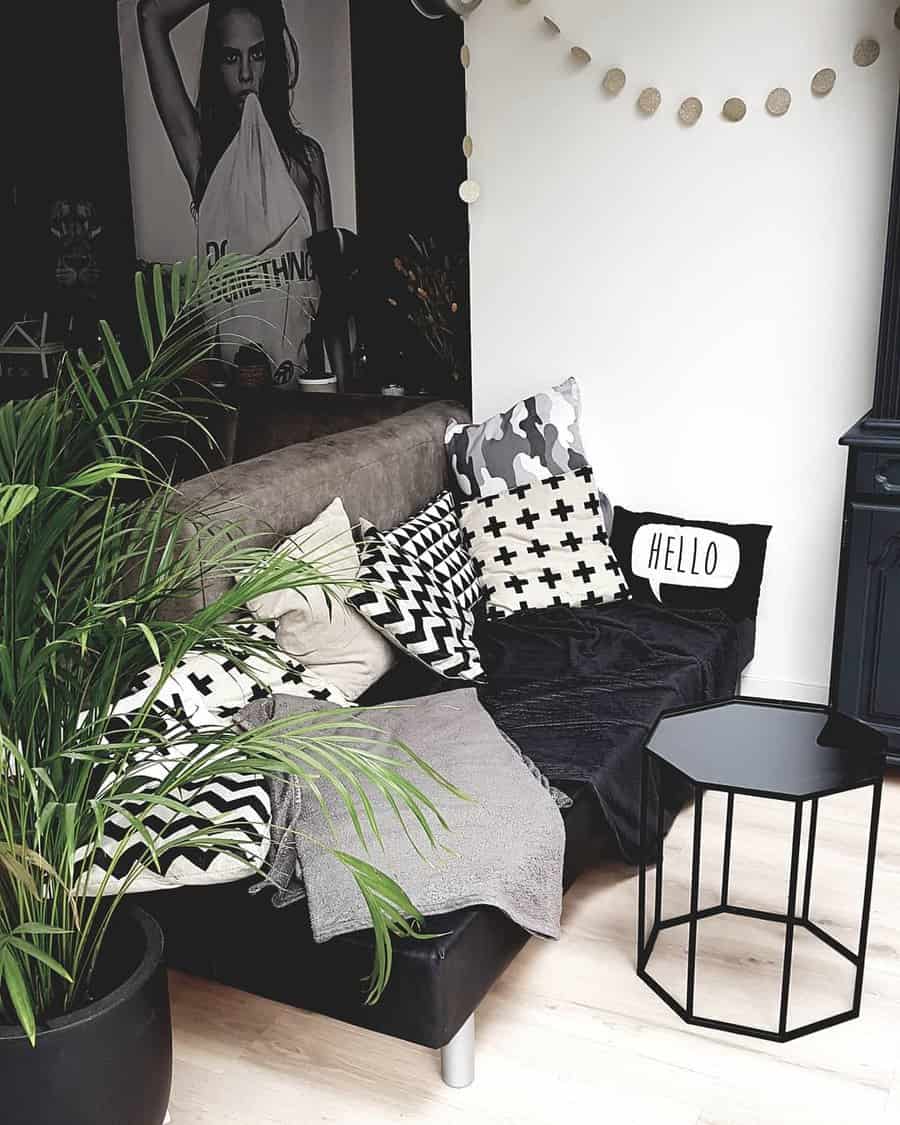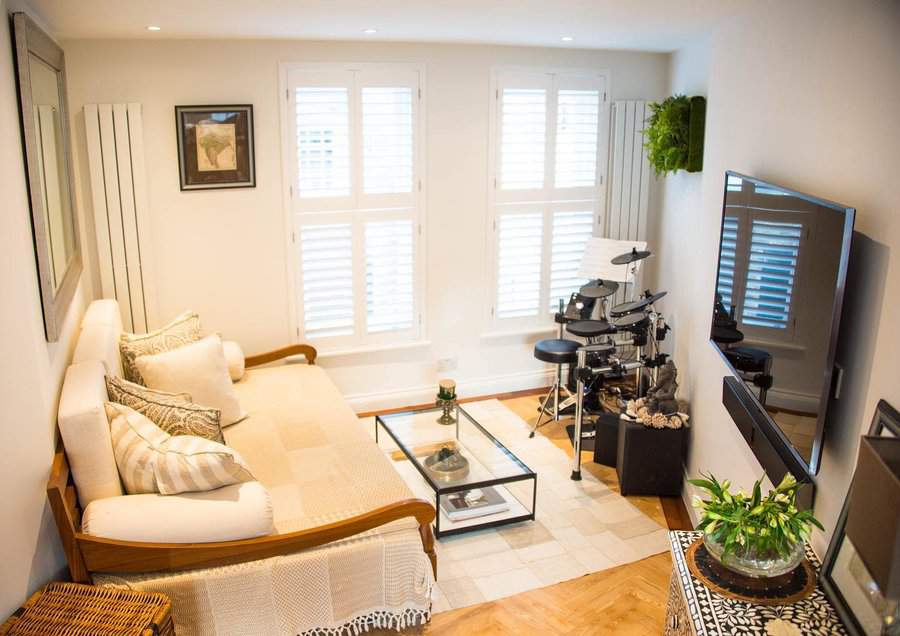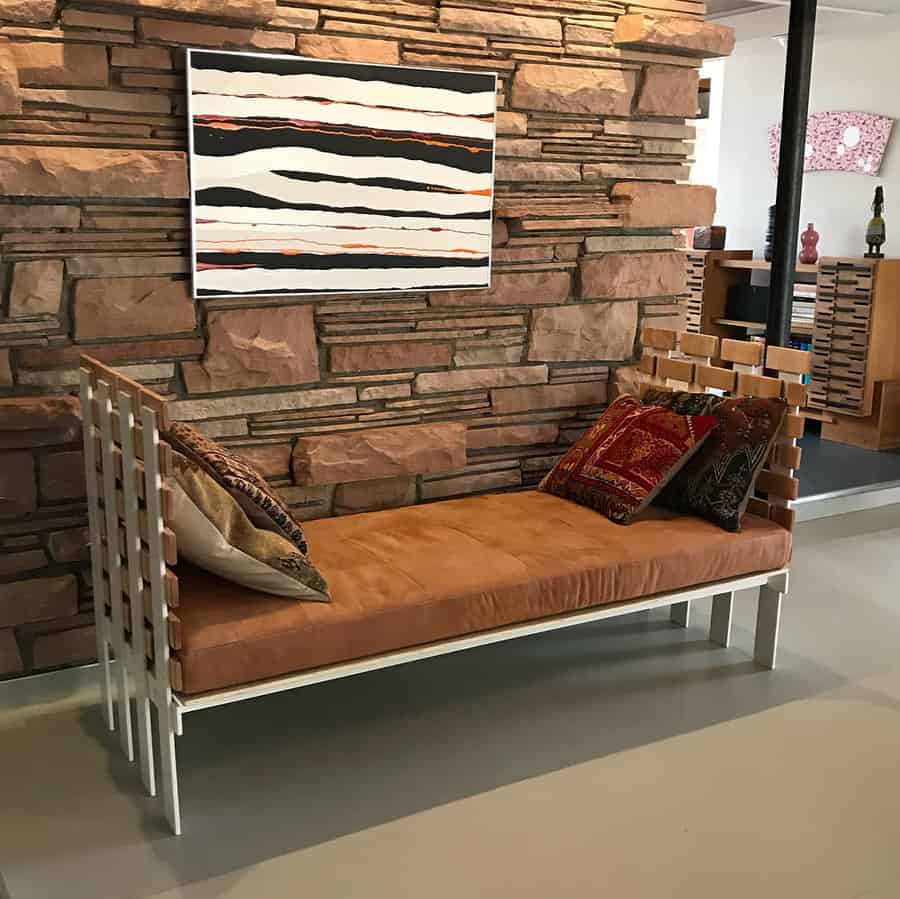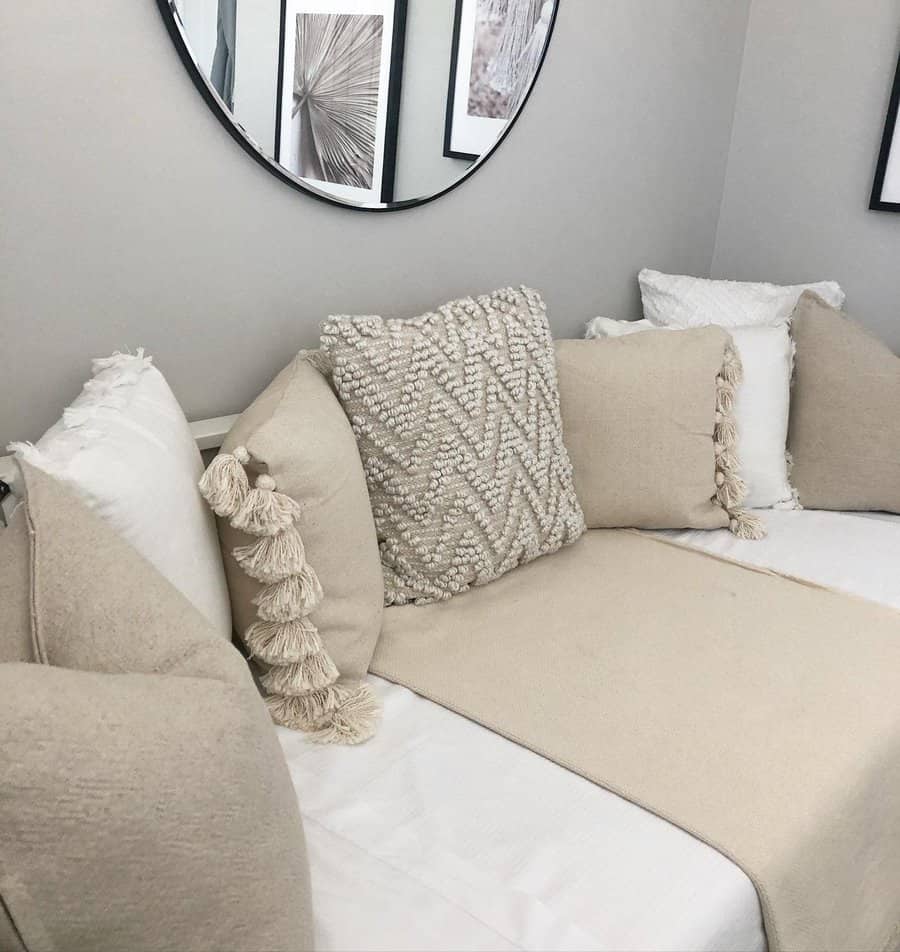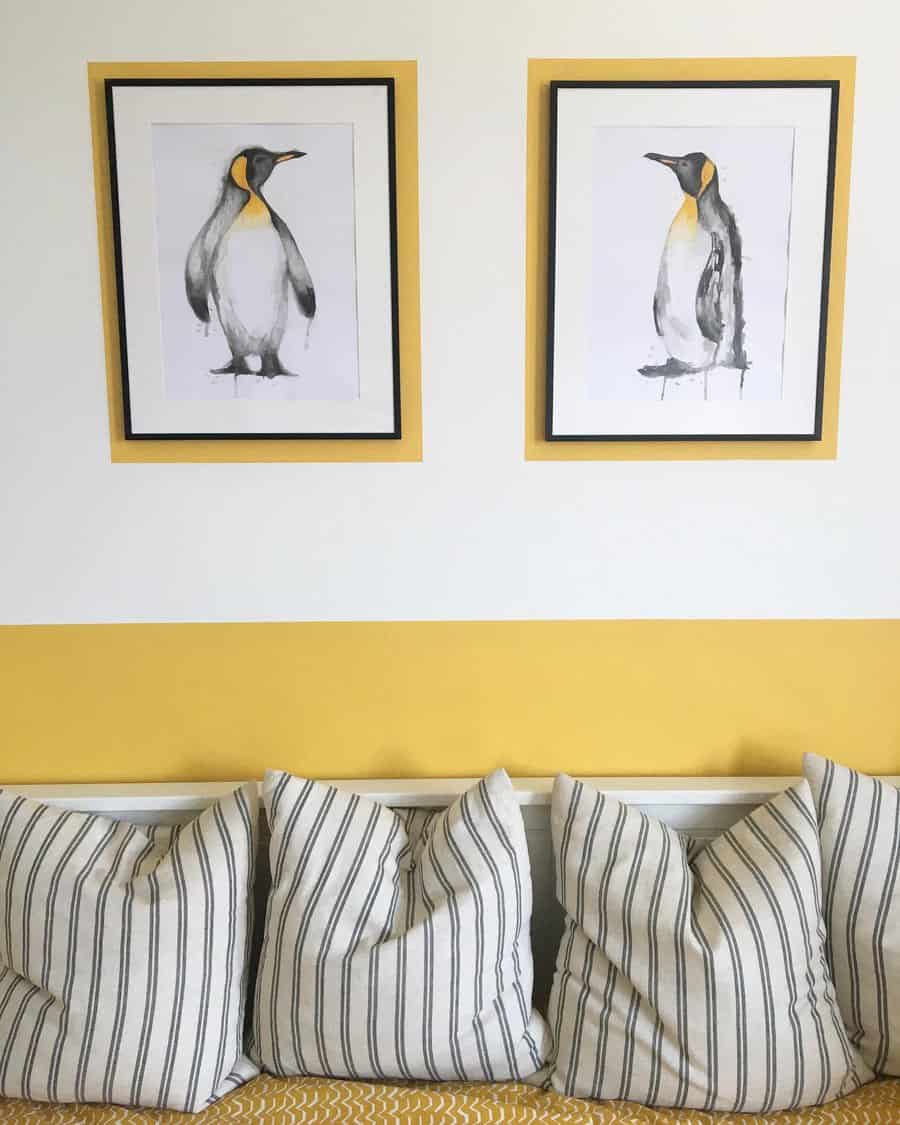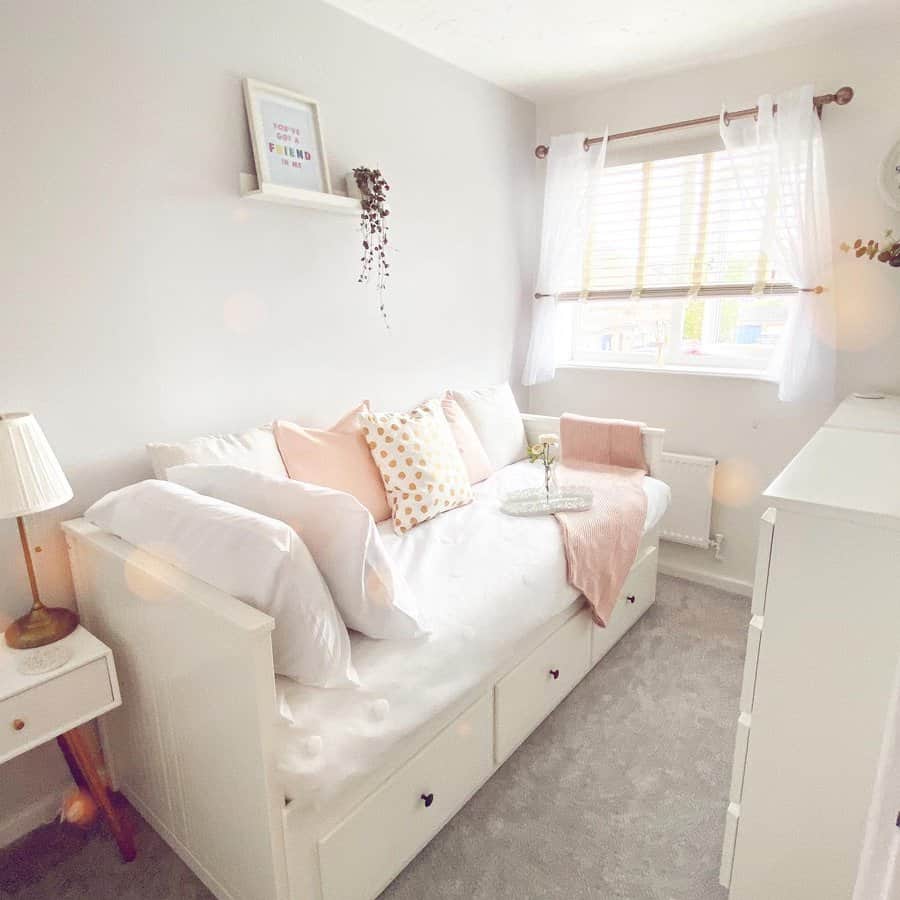 9. Space-Saving Folding Daybed Choices
A folding daybed marries practicality with chic elegance, proving an asset to both indoor and outdoor spaces. By day, enjoy its plush cushions and inviting upholstery for lounging or napping. Come evening, easily convert it into a comfortable couch perfect for entertaining or casual gatherings. This fusion of functionality and style ensures the folding daybed stands out as a versatile and stylish addition to your living space.
10. Versatile L-Shaped Daybed Ideas
An L-shaped daybed maximizes space while providing a cozy corner for relaxation. Nestle into its plush cushions and enjoy sunlight with a book or coffee in hand. It's an ideal spot for hosting gatherings or seeking solitude, adapting to various occasions. Its versatile design complements diverse aesthetics, making it a chic and practical choice for any space.
11. Daybed Designs with Handy Storage
Revamp your front porch with a multifunctional daybed, offering both a snug spot to unwind and innovative storage solutions. Choose a design with built-in drawers underneath, blending practicality and style seamlessly. This intelligent feature lets you stow away outdoor essentials, from cushions and throws to games and gardening tools, maintaining a tidy, welcoming ambiance. Select a daybed with a modern aesthetic, adorned with cushions and pillows in either vivid patterns or subtle hues to suit your taste.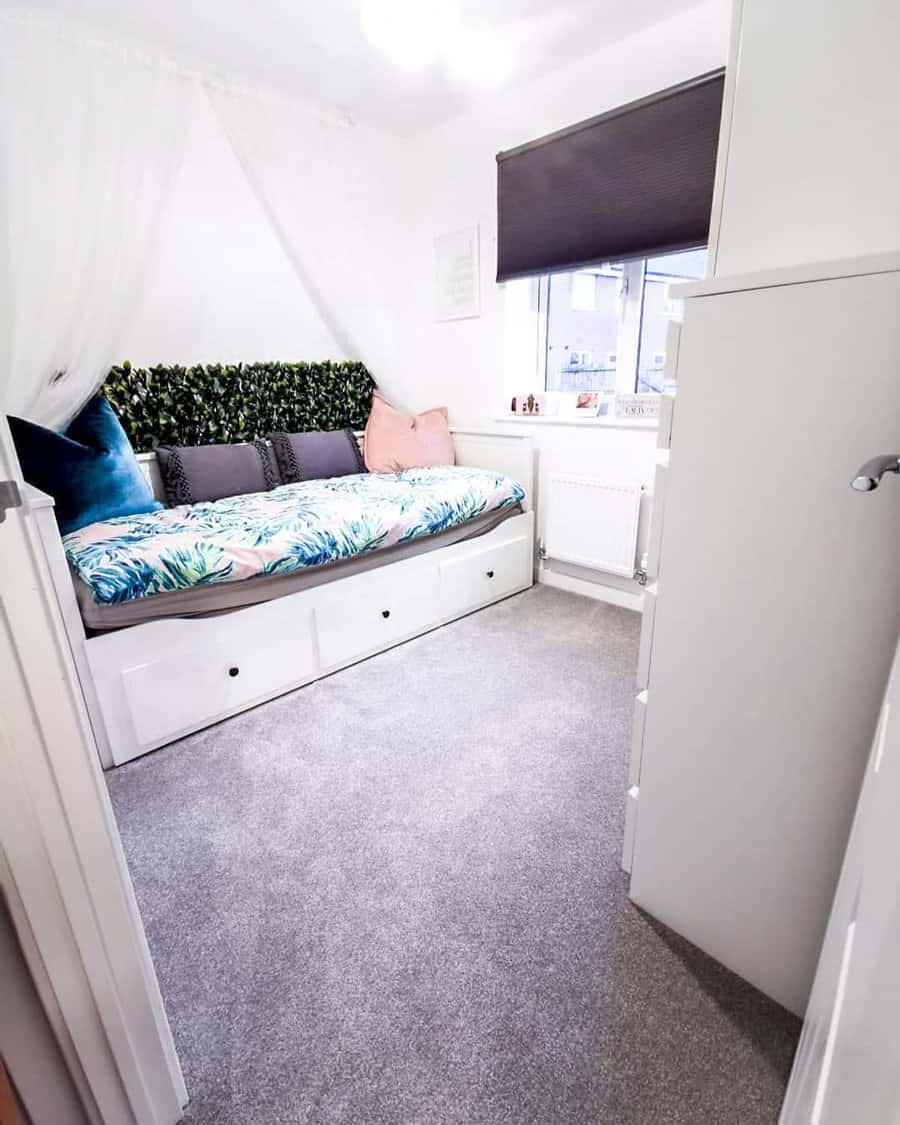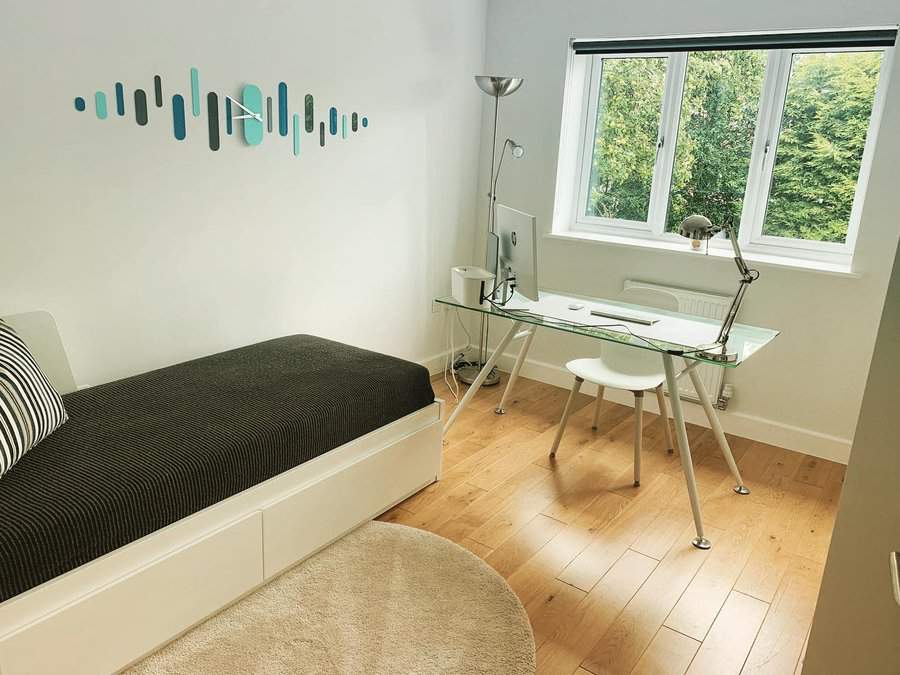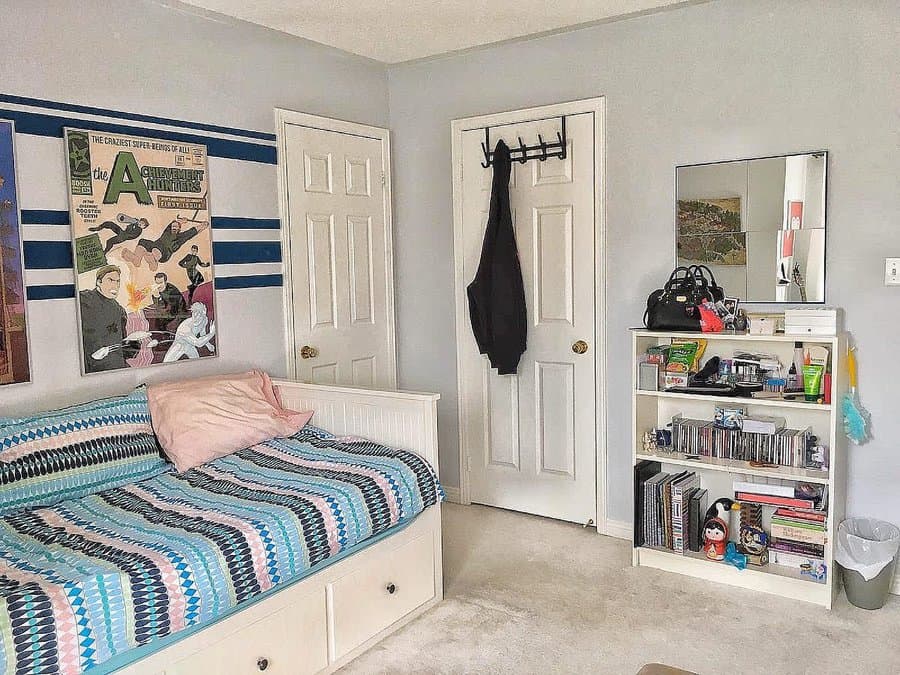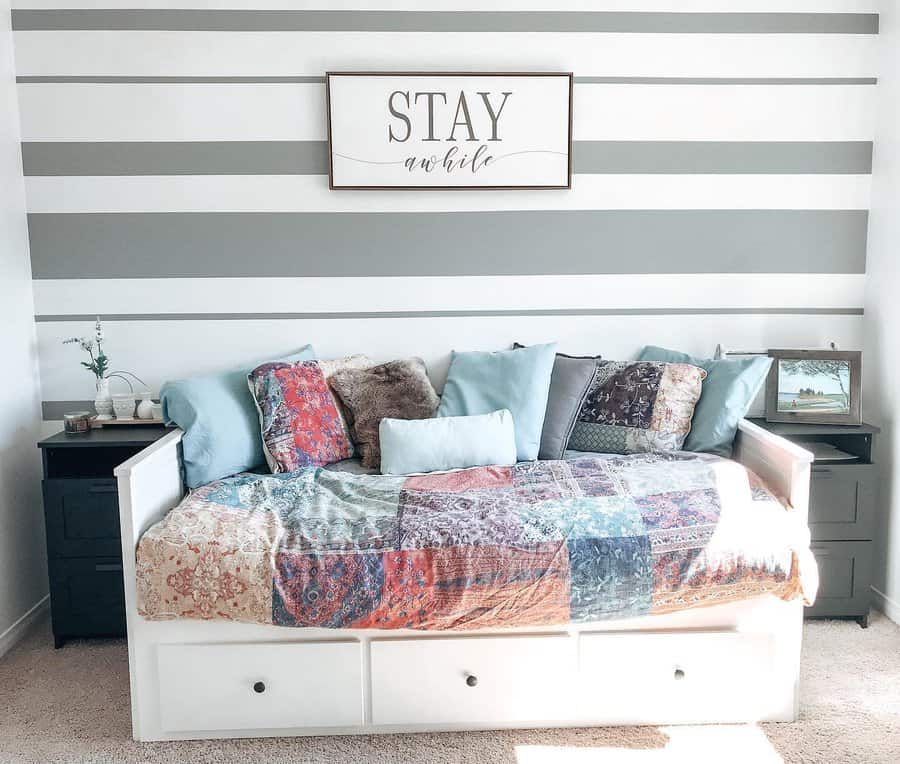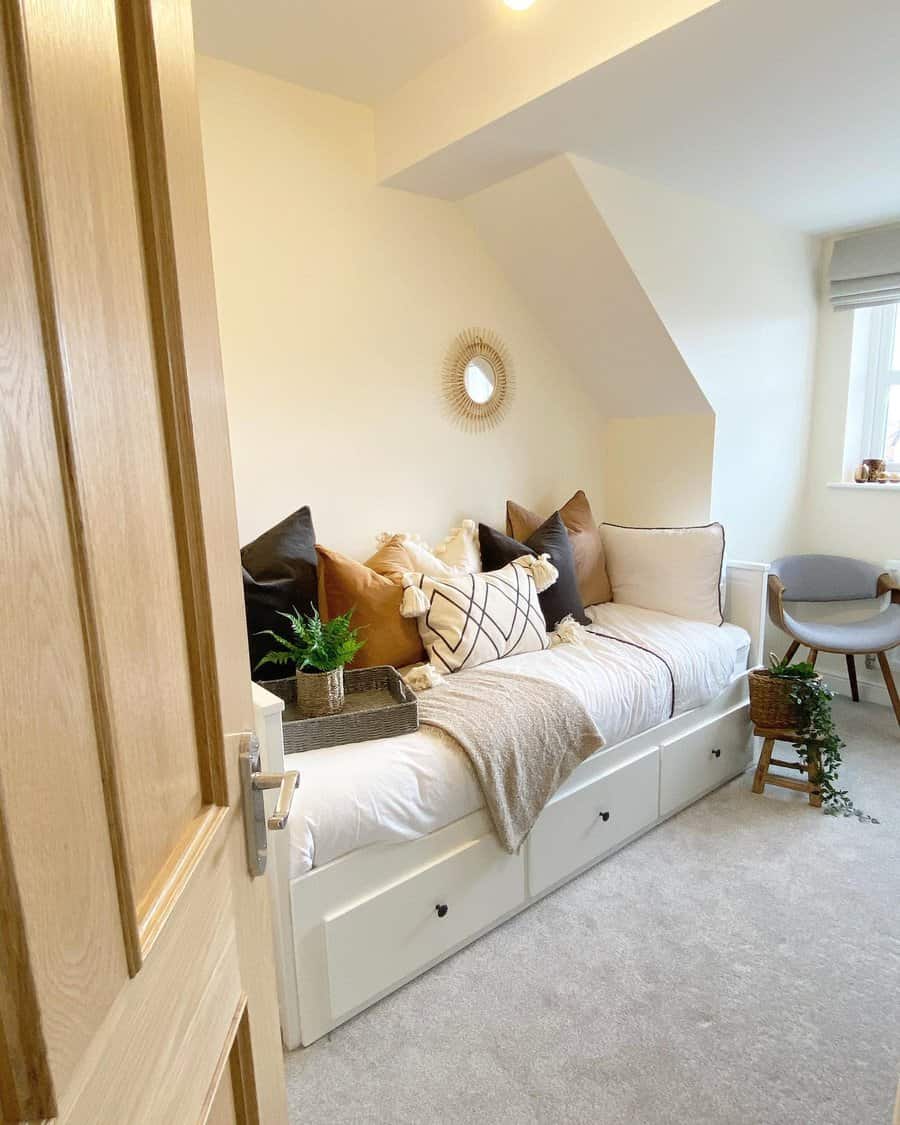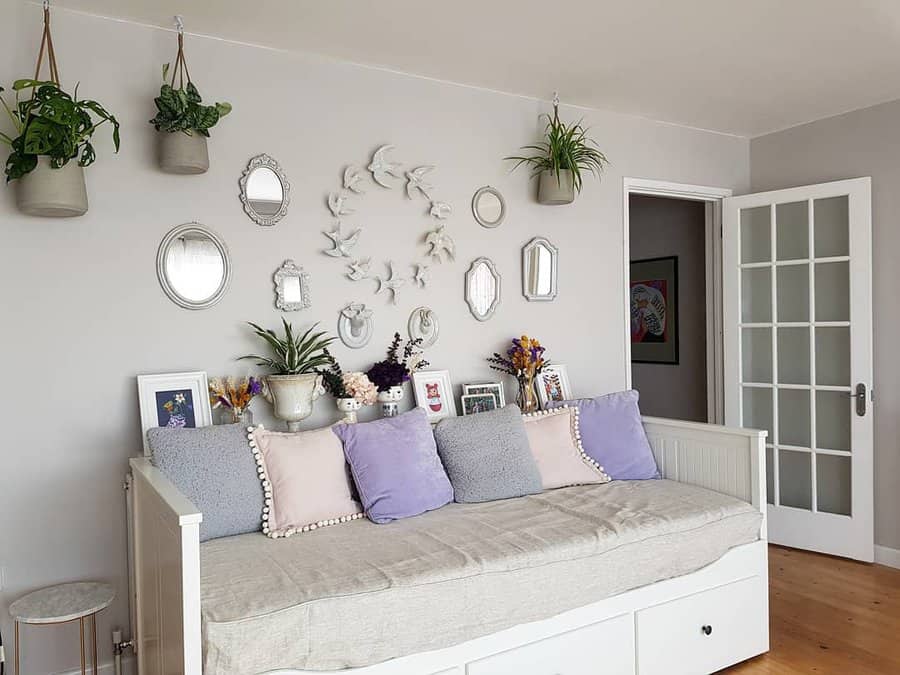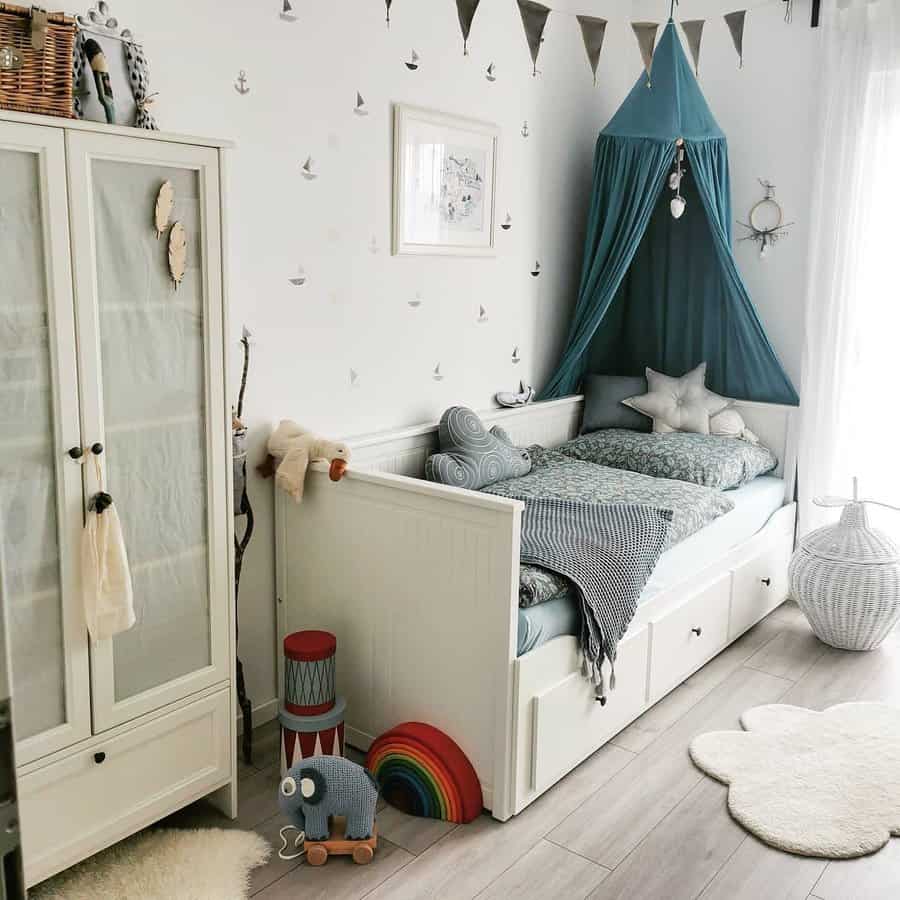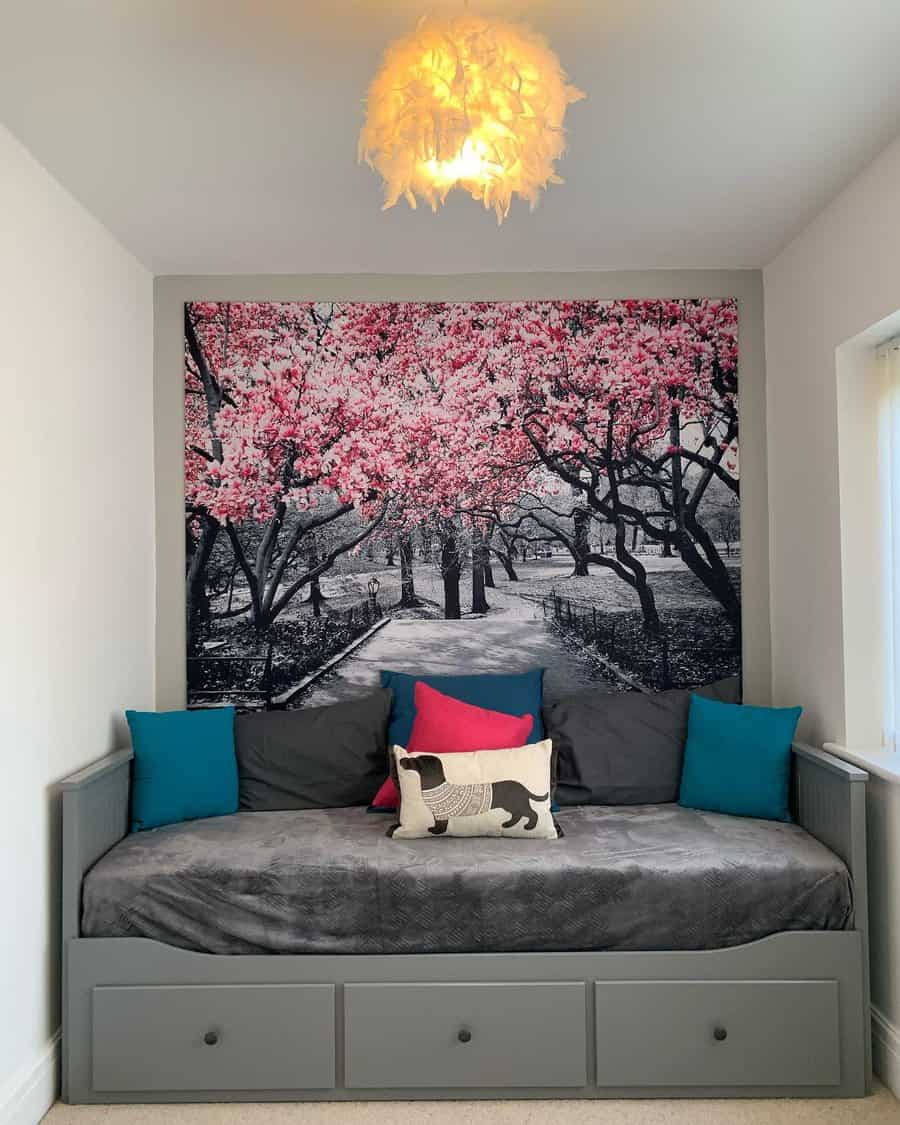 12. Bohemian Rattan Daybed Inspirations
Transform your front porch into a tranquil oasis with a stylish rattan daybed, exuding bohemian flair and comfort. The rattan material introduces a rustic, earthy element, embracing nature's beauty in your outdoor space. Amplify the boho vibe with a plethora of plush throw pillows, featuring vibrant patterns, intricate designs, and a playful mix of textures and hues. This setup ensures a warm, inviting atmosphere, making your porch the perfect spot to unwind.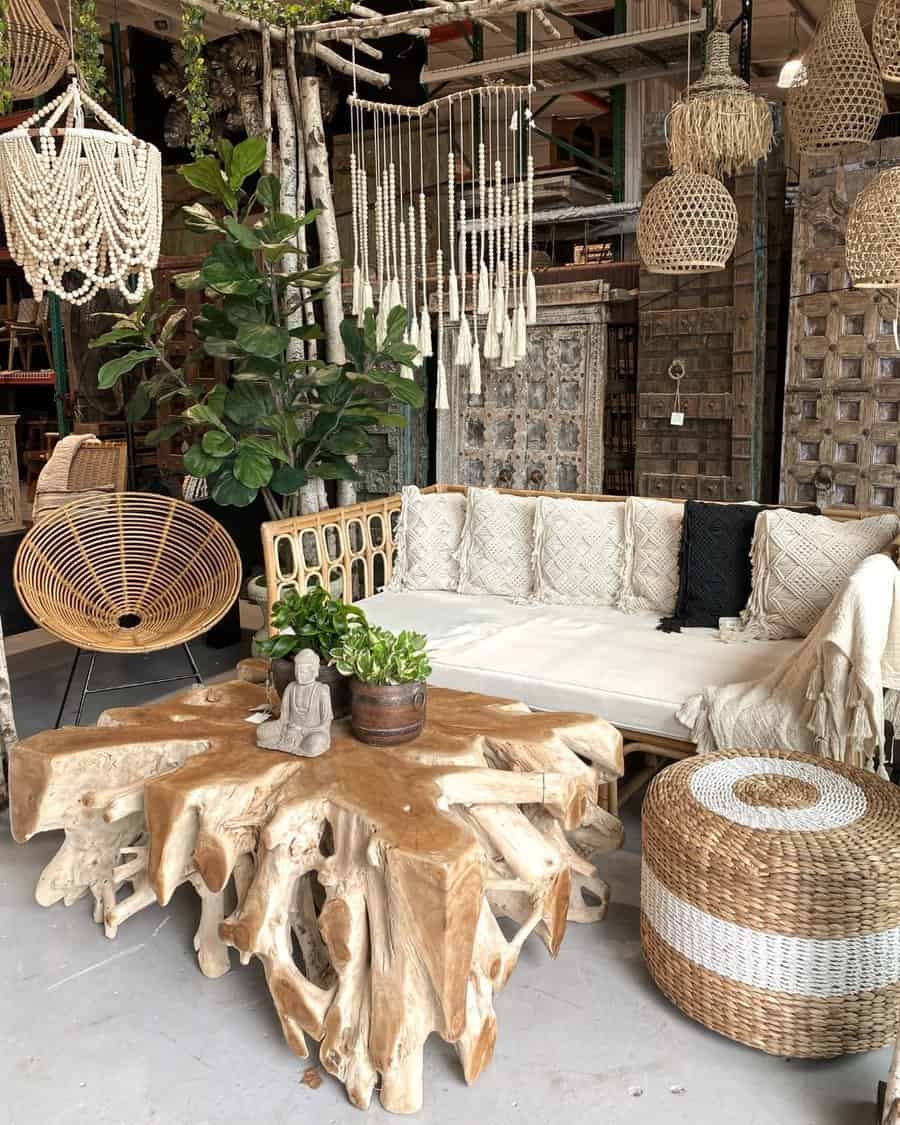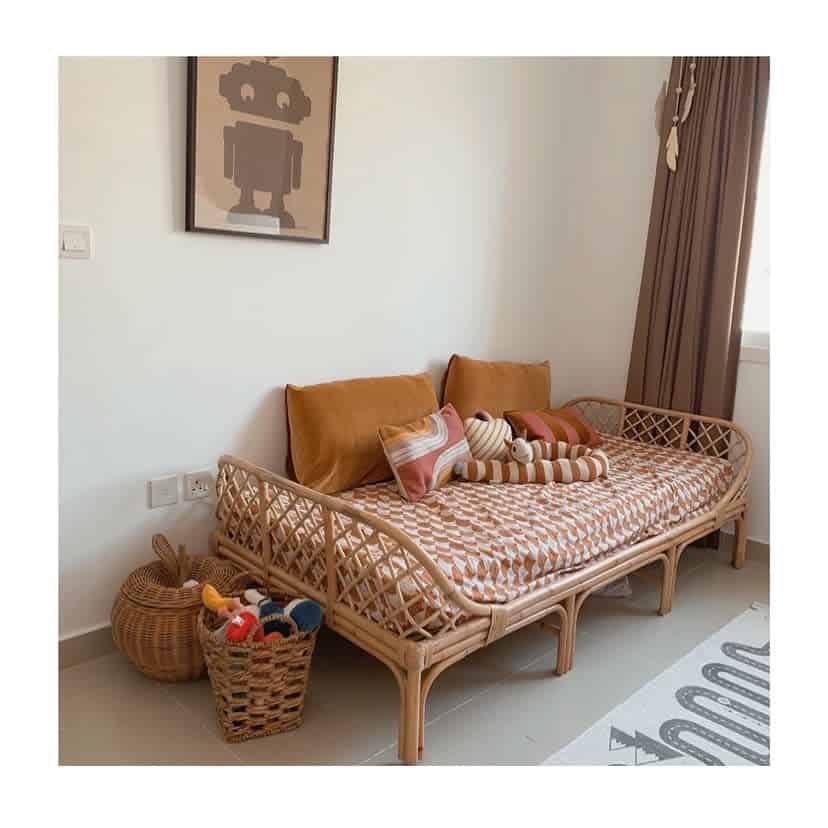 13. Convenient Daybed with Pull-Out Bed
A daybed with a pull-out bed offers unmatched versatility, serving as a snug lounging spot by day and a comfortable extra bed for guests at night. Opt for durable, weather-resistant materials like rattan or wicker to enhance your outdoor area's appeal. Dress it up with vibrant cushions and throws to create a cozy, inviting space. This piece of furniture is perfect for relaxing solo, socializing, or accommodating visitors, effortlessly adapting to your needs.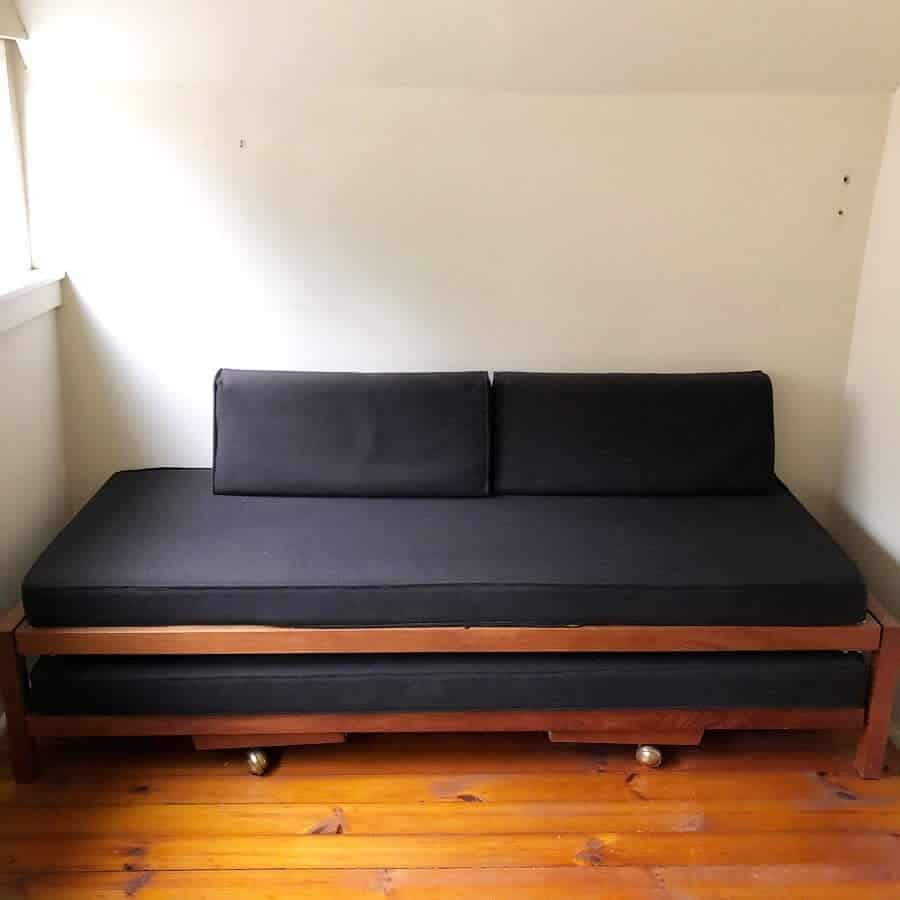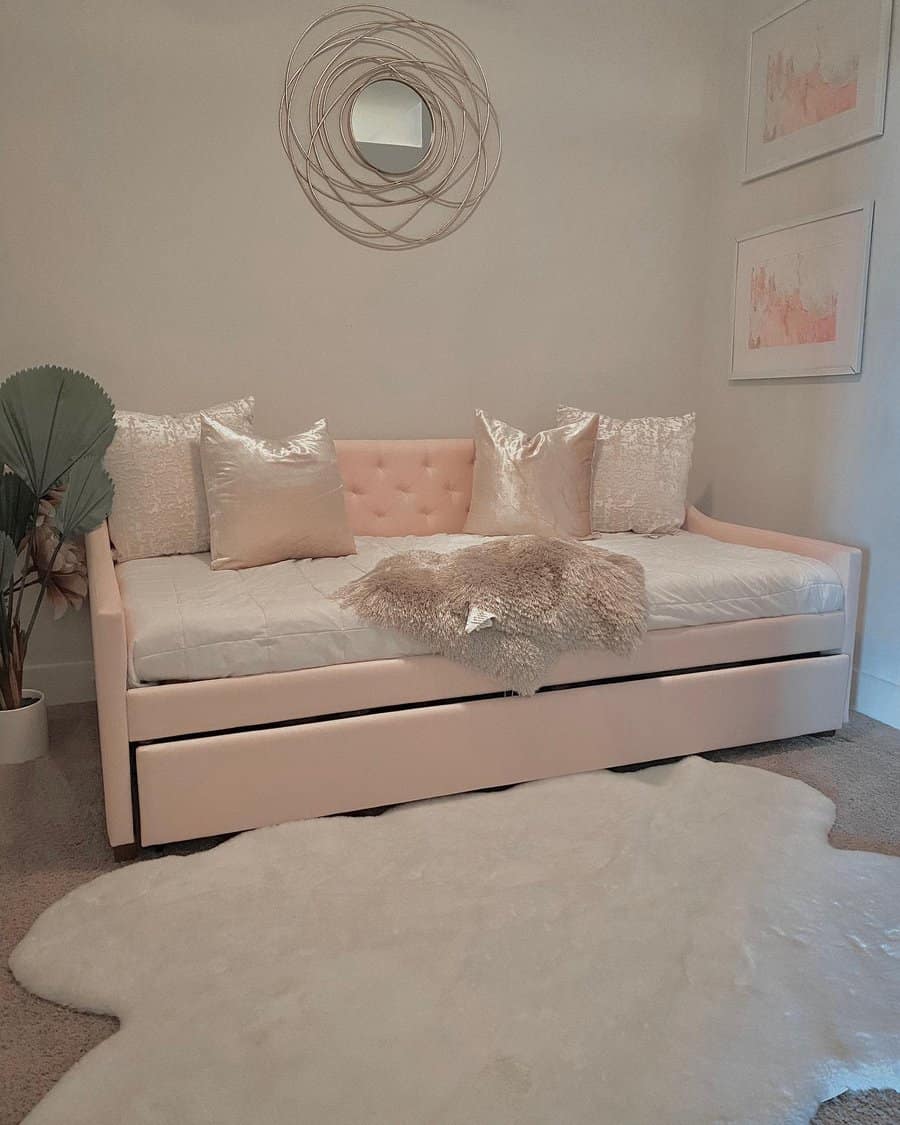 14. Unique Porch Swing Daybed Designs
Elevate your outdoor space with a visually captivating porch swing daybed suspended by rope or macrame. This enchanting piece becomes the focal point, blending comfort and charm into one inviting oasis. Picture yourself gently swaying, basking in the soothing breeze as you relax and soak up your surroundings.
Use it for leisurely afternoons spent reading, sipping drinks, or simply daydreaming. Enhance comfort with plush cushions and throw pillows, and add a bohemian touch with decorative tassels or beads on the ropes or macrame. Whether for intimate moments or entertaining, choose a daybed size that suits your space and needs.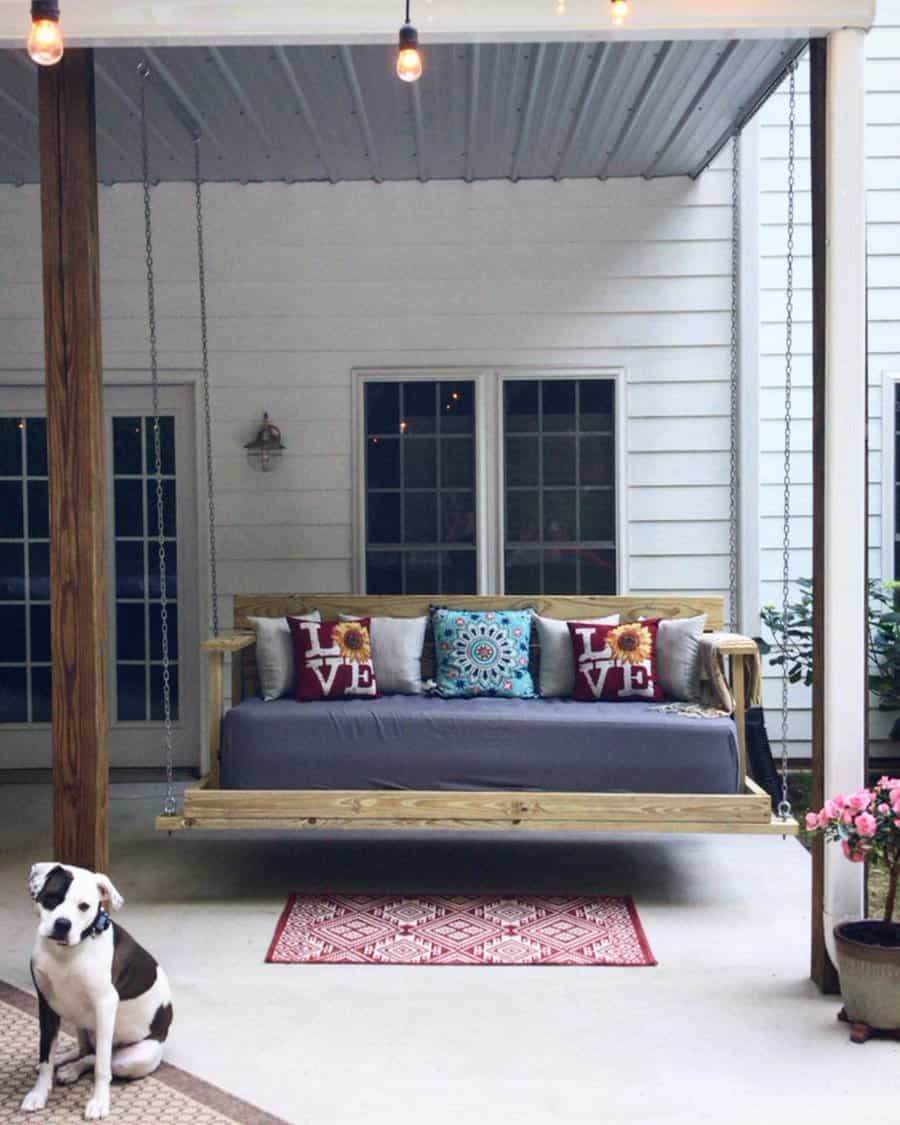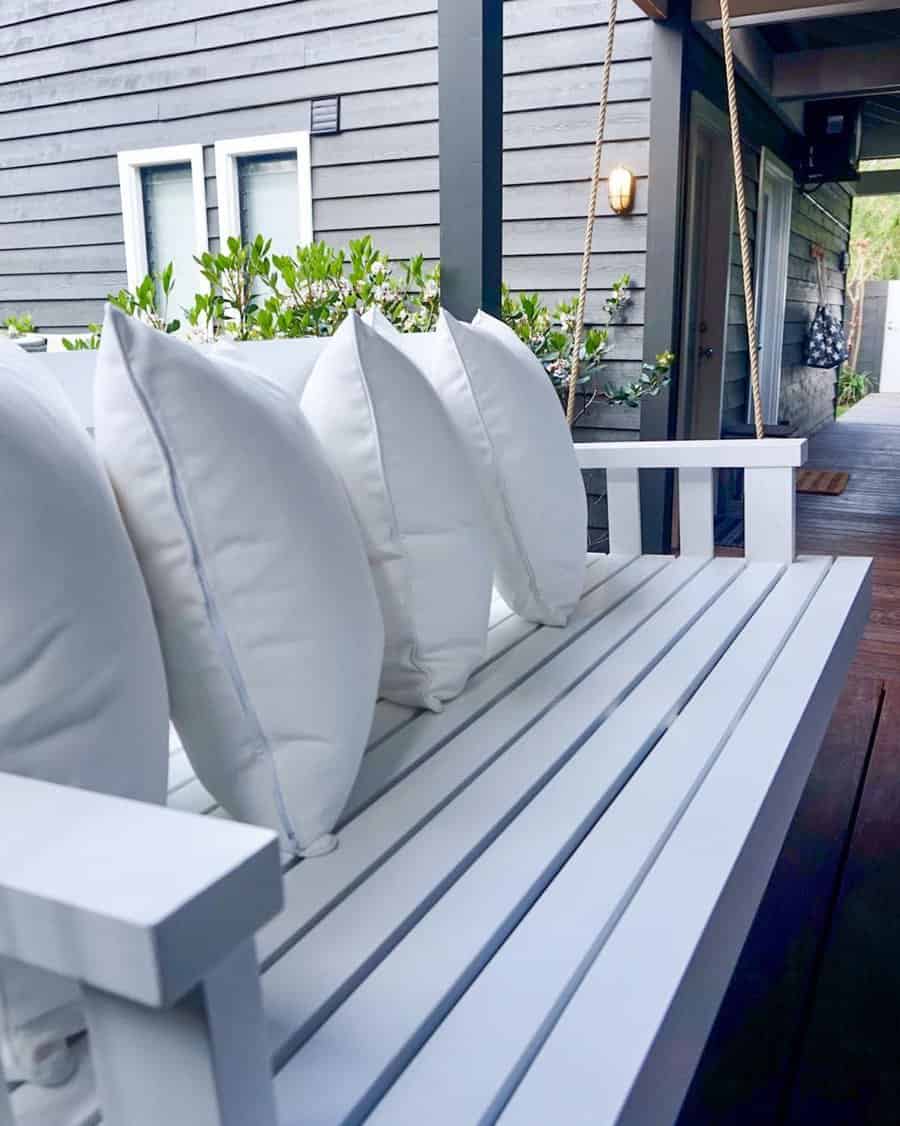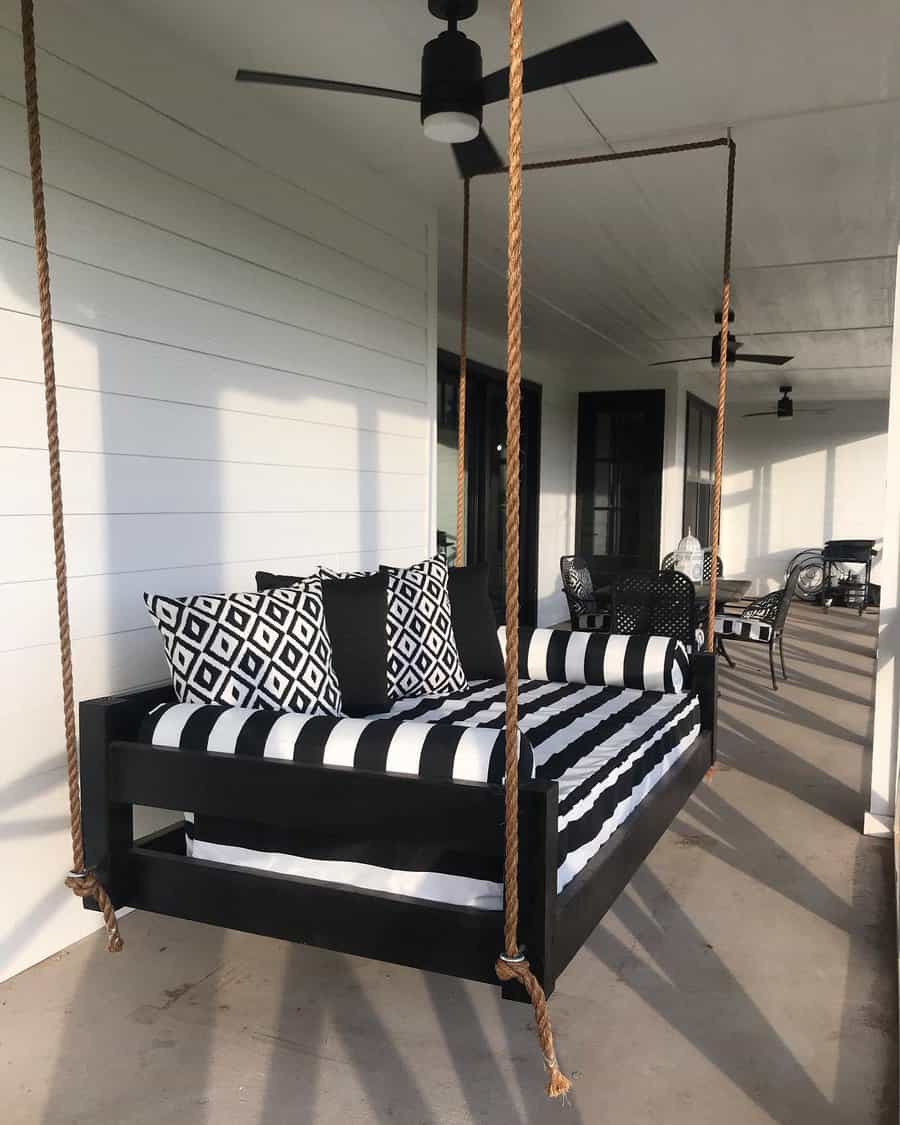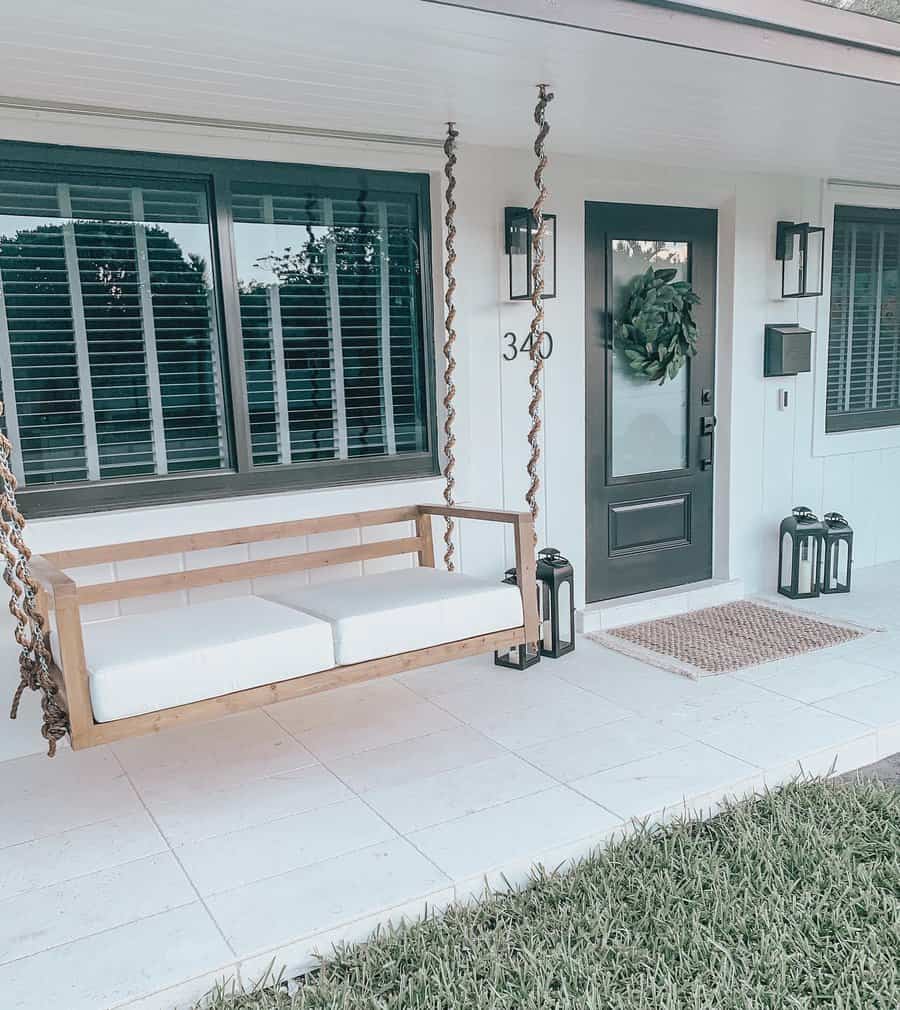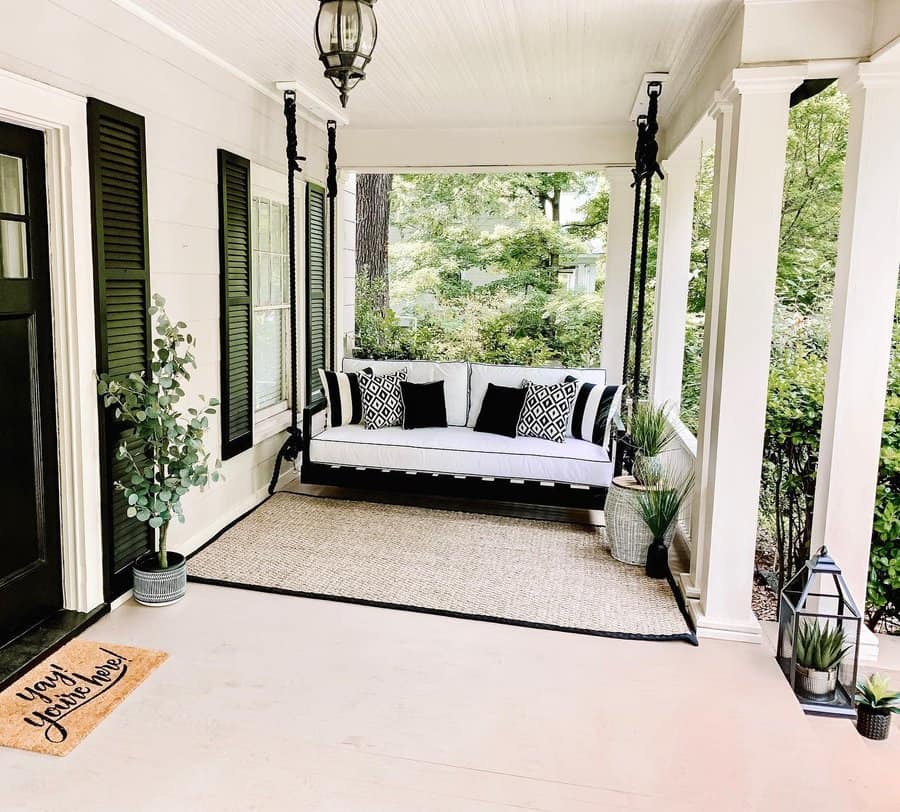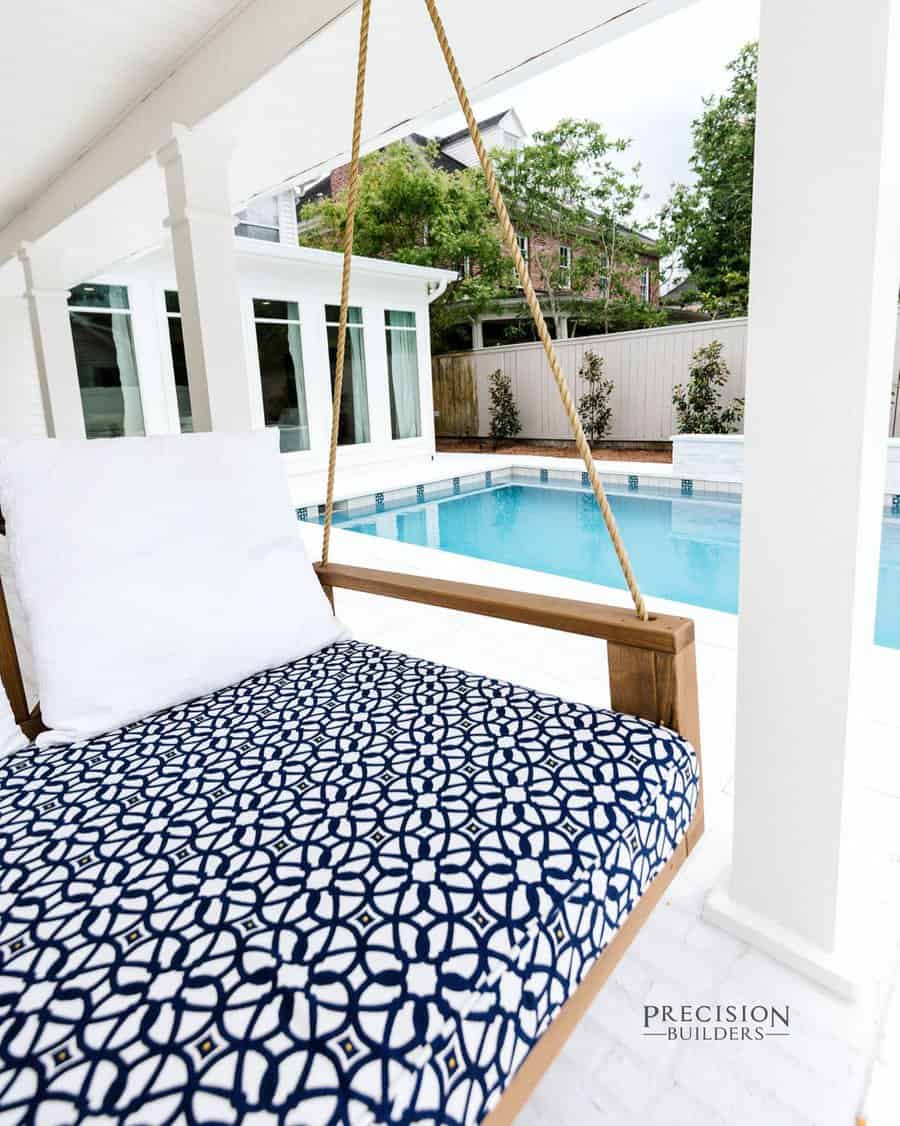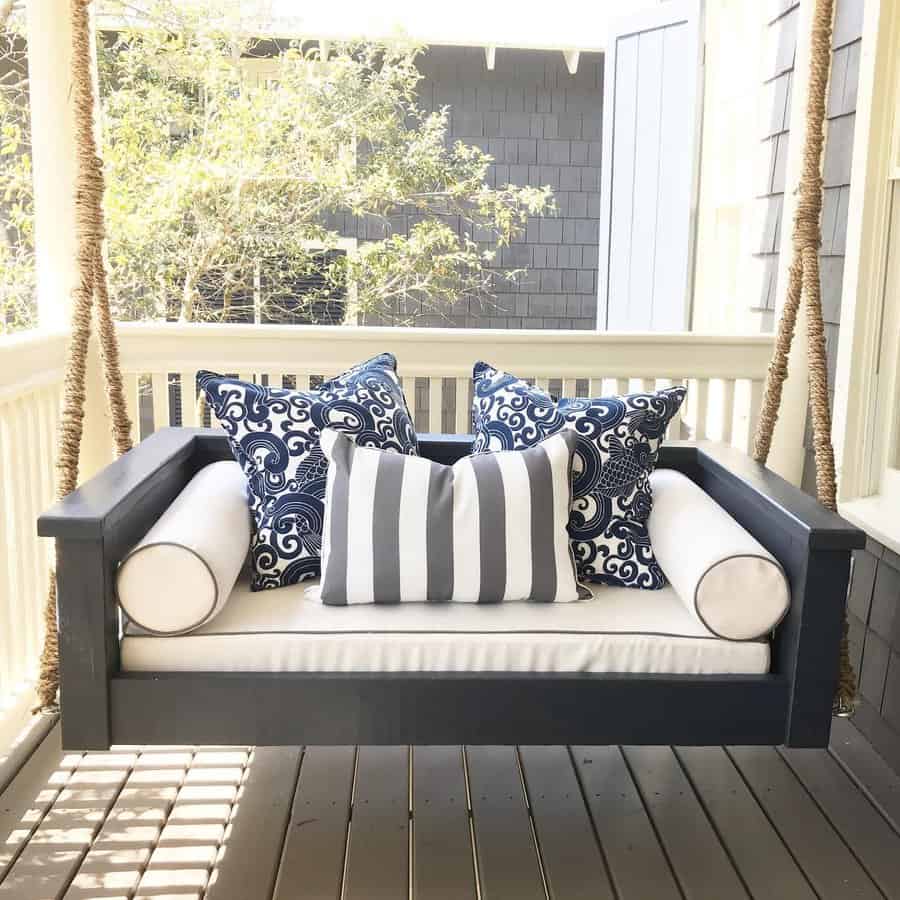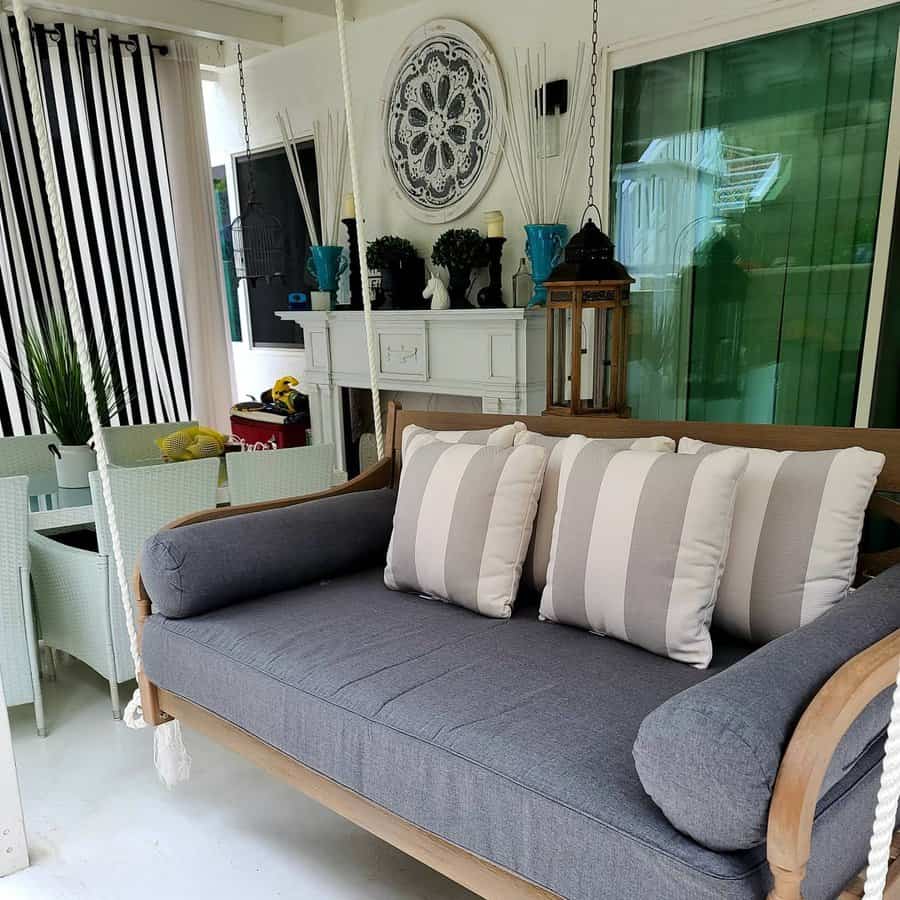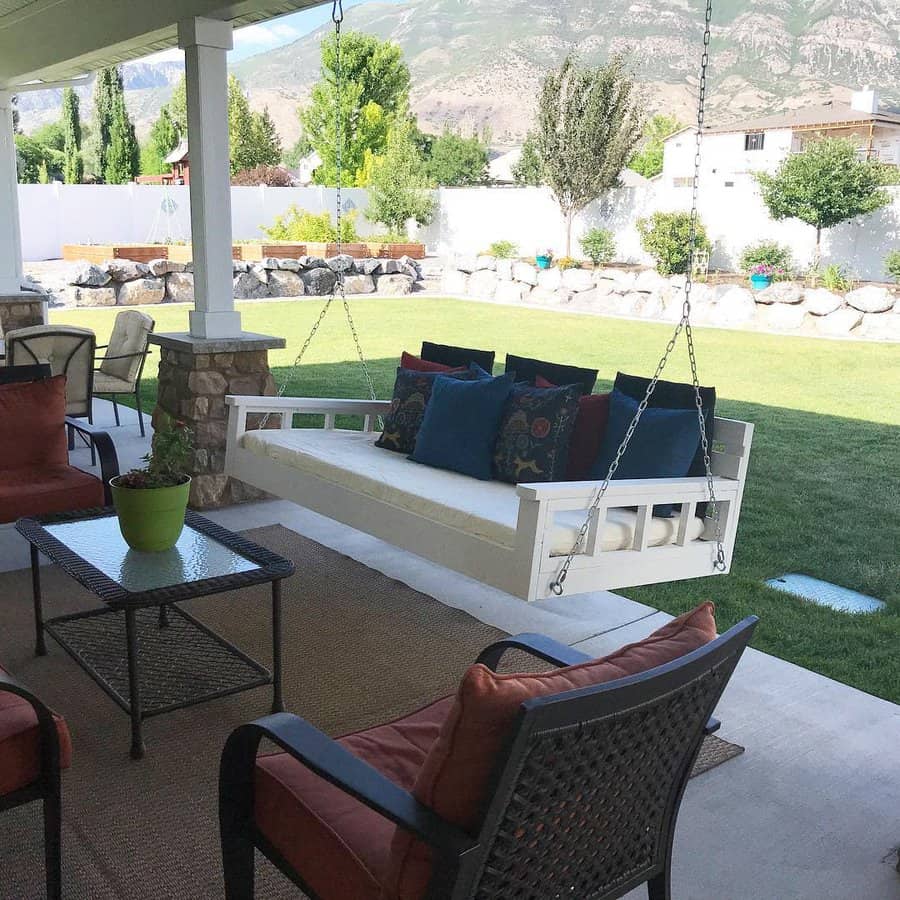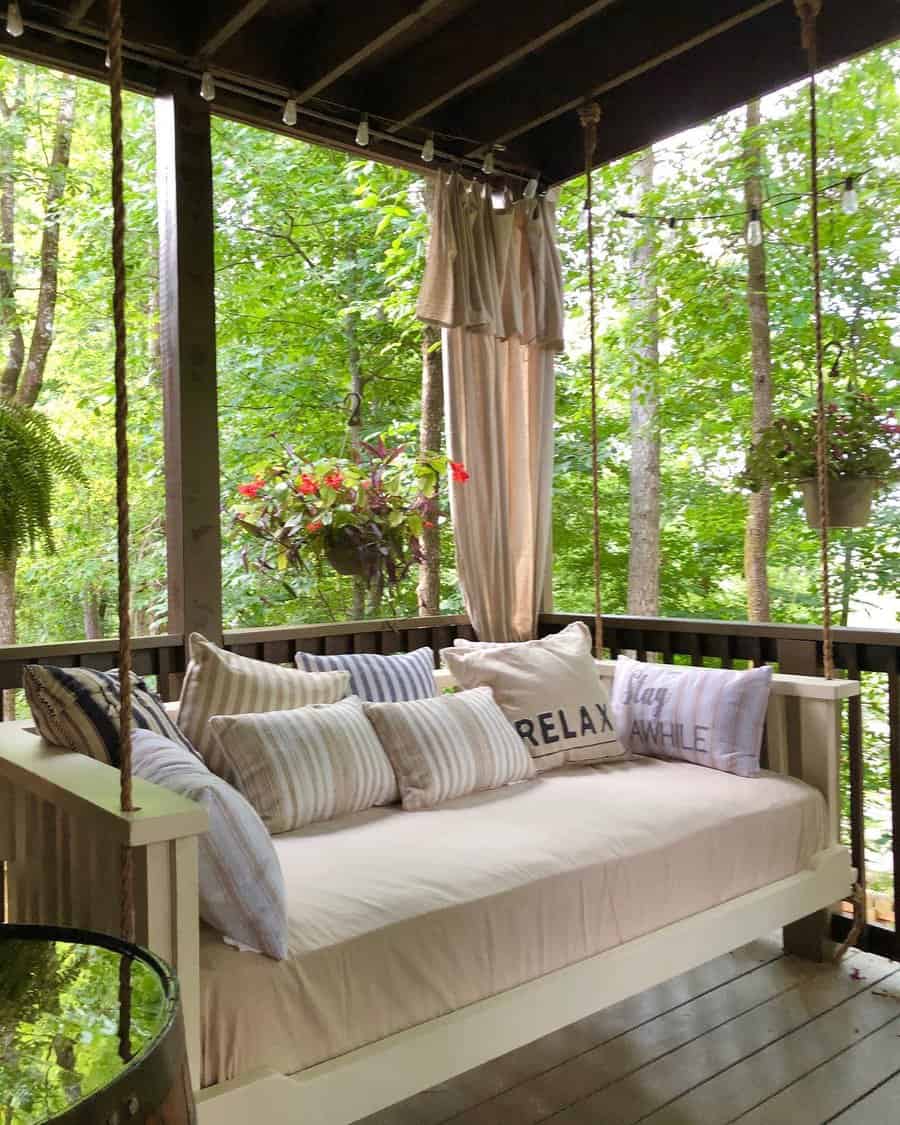 15. Intricate Traditional Carved Sofabed
Enhance your front porch with a carved daybed featuring exquisite details and trimmings. This classic piece combines elegance and comfort, making it perfect for leisurely afternoons. The traditional carvings serve as a captivating focal point, encapsulating timeless beauty.
Dress it up with sumptuous cushions and throws in rich fabrics to create an inviting oasis for reading or soaking in the sun.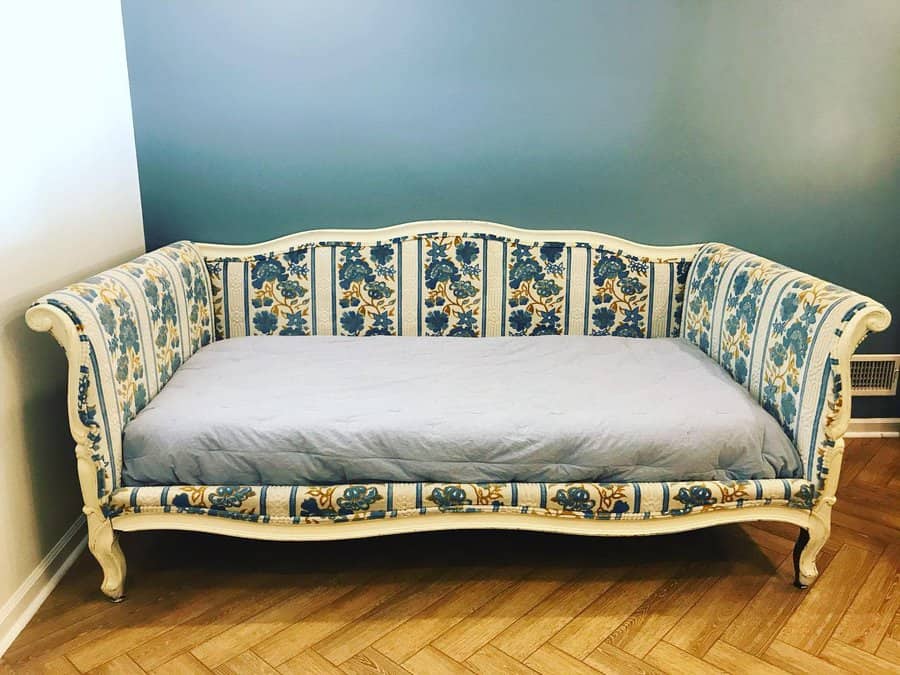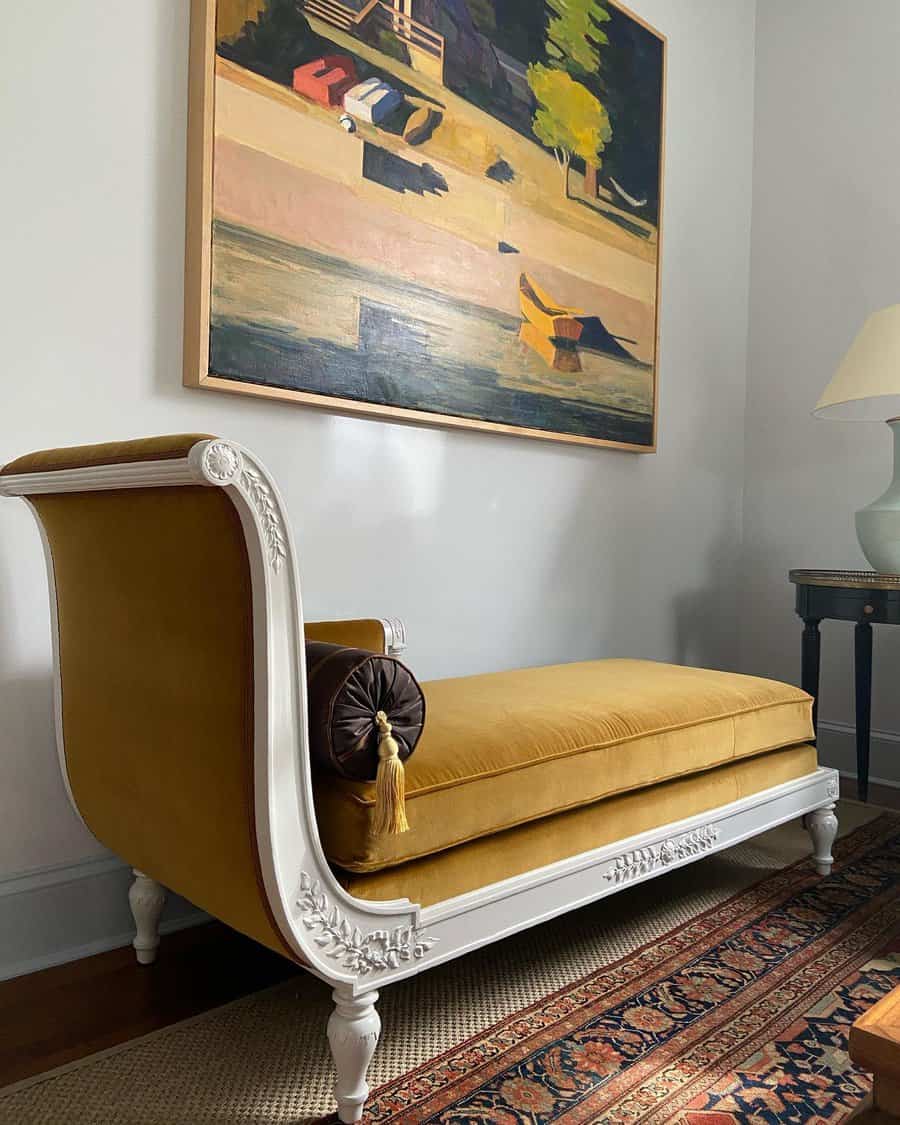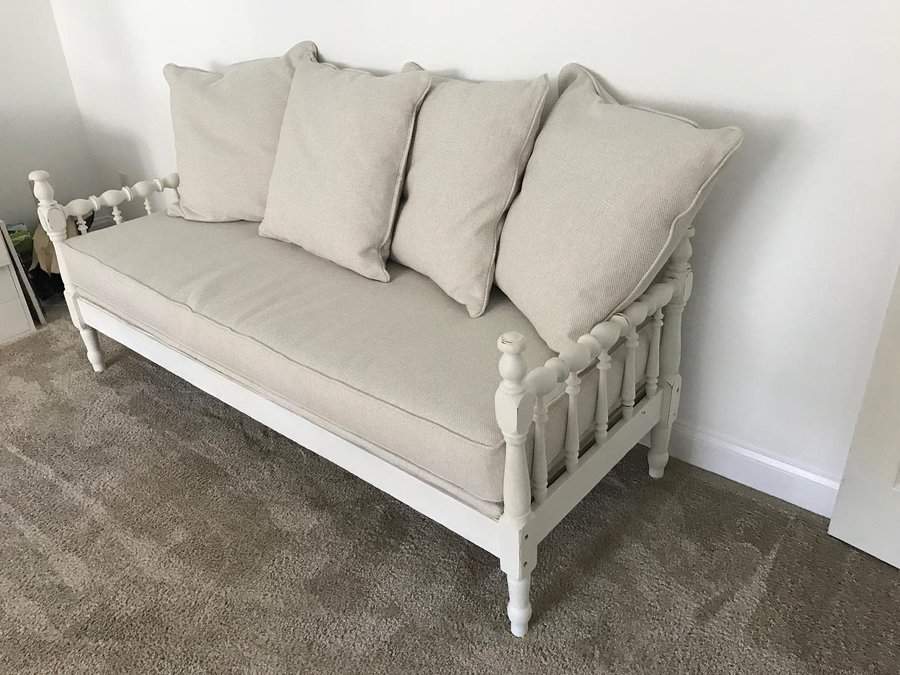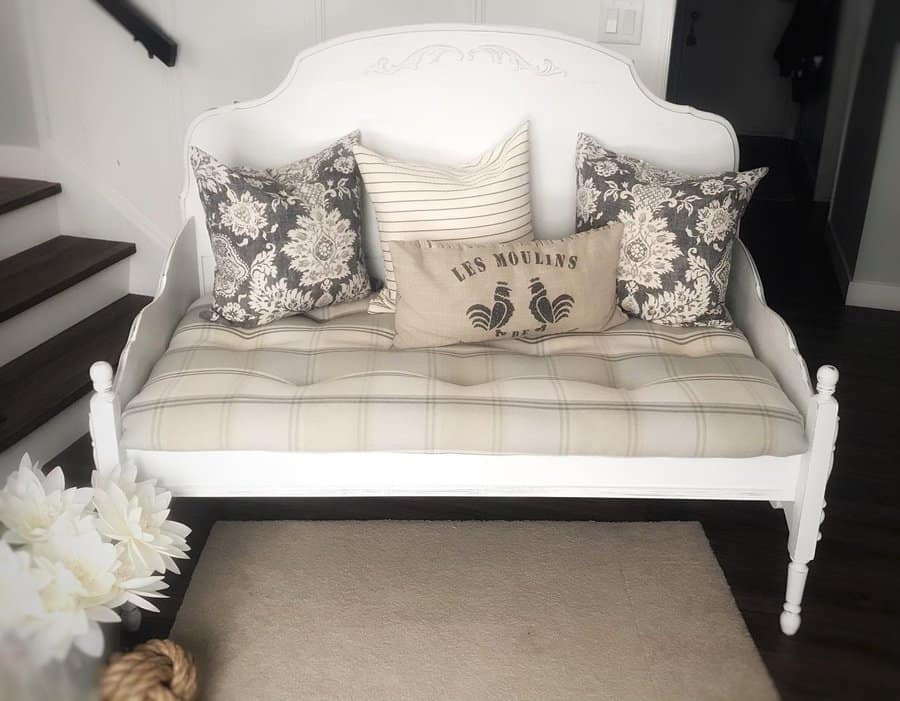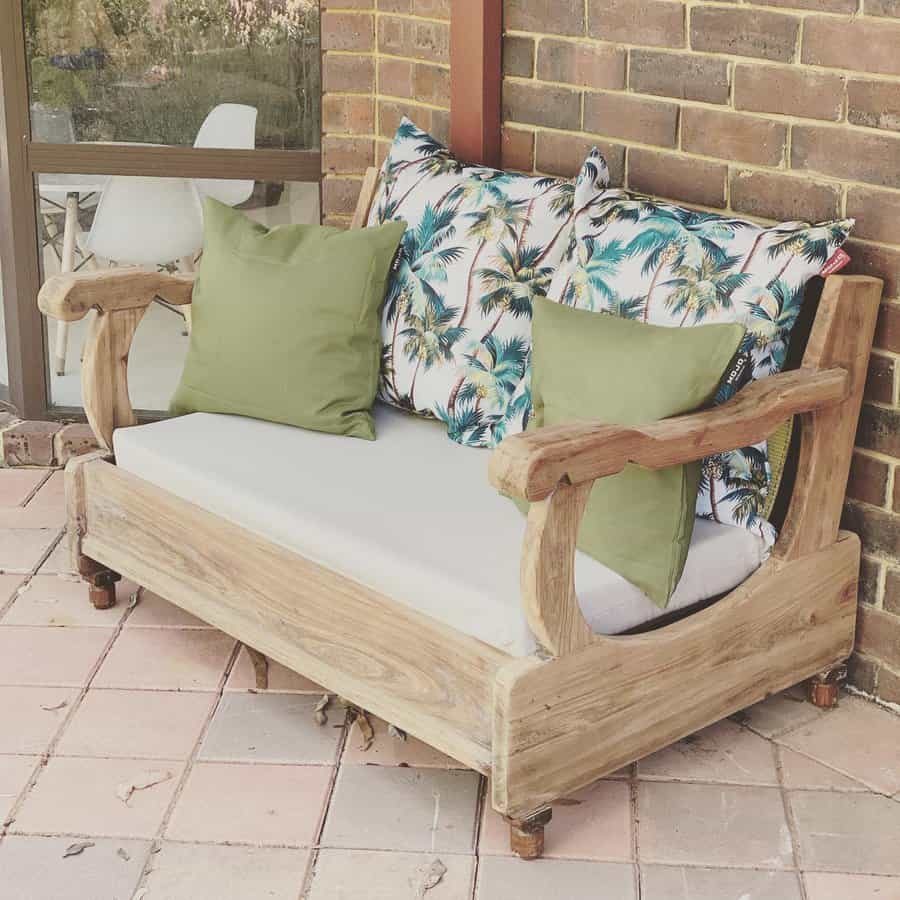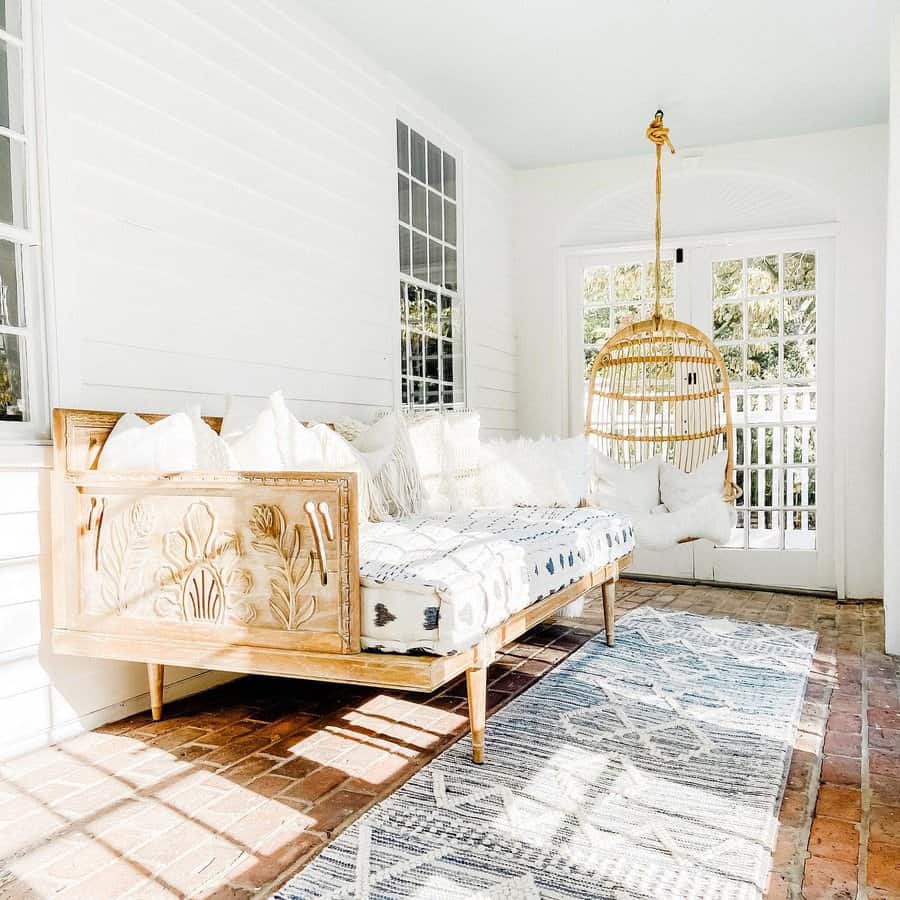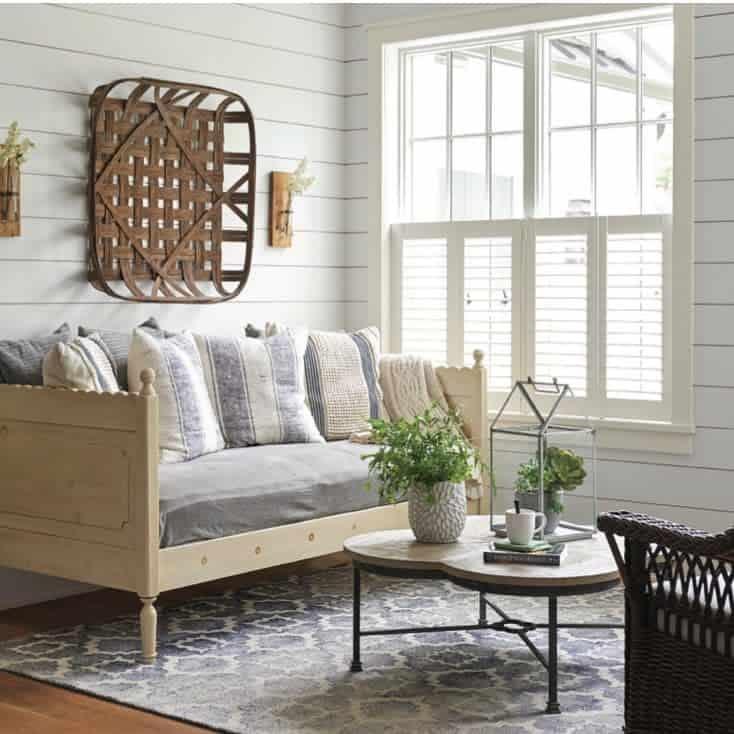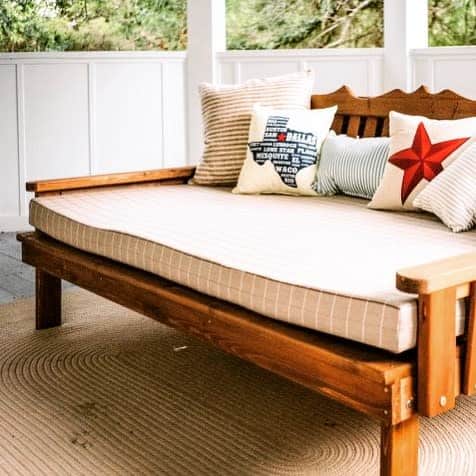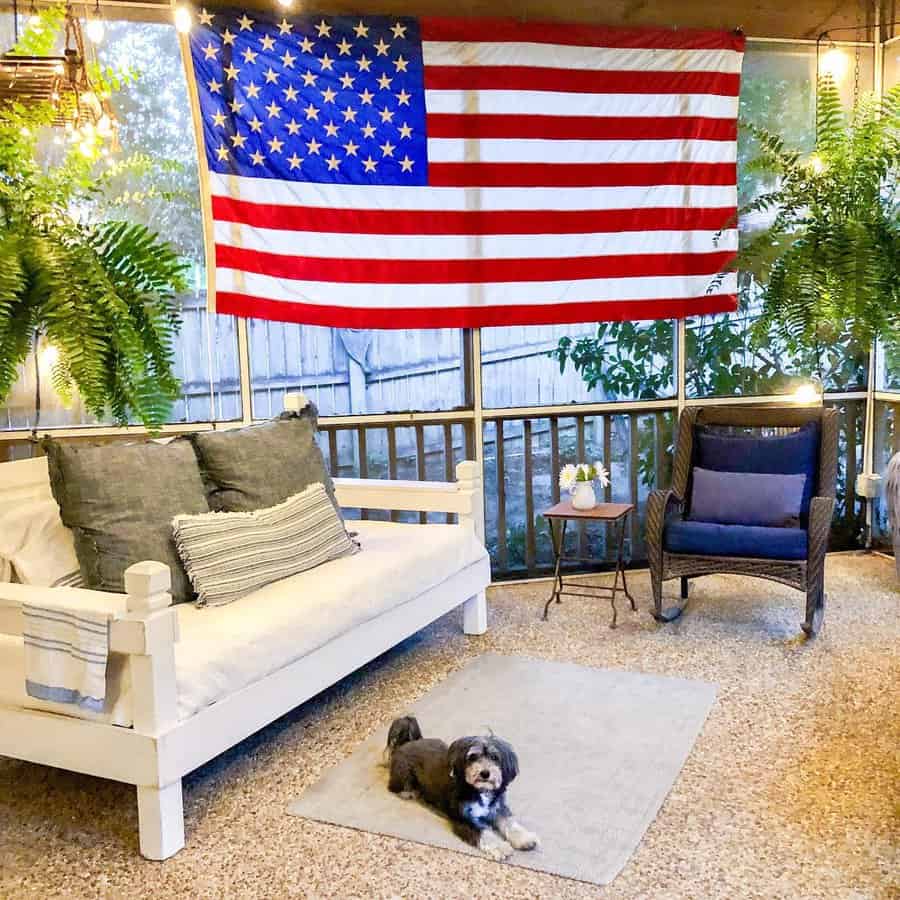 Daybed FAQs
What size is the average daybed?
Daybeds generally use the same size system as standard bed frames — i.e., twin, double, queen, king, etc.
Most daybeds are the same size as a single or twin bed. However, you can also find frames that are the same size as a double bed or even larger.
Can you use any mattress on a daybed?
Unless otherwise stated by the daybed's manufacturer, you can use the same style of mattress as you would a regular bed frame. The only thing that matters is that the mattress is the correct size for your specific daybed.
What is the difference between a daybed and a futon?
In terms of functionality, daybeds and futons are very similar. The biggest difference between the two is that a futon converts from a sofa into a full-size bed.
While a daybed is more convenient because it doesn't need to be pulled out at night, a futon offers more sleeping space in a compact package. But futons feature much thinner (and often less comfortable) mattress pads than daybeds or traditional sofa beds.