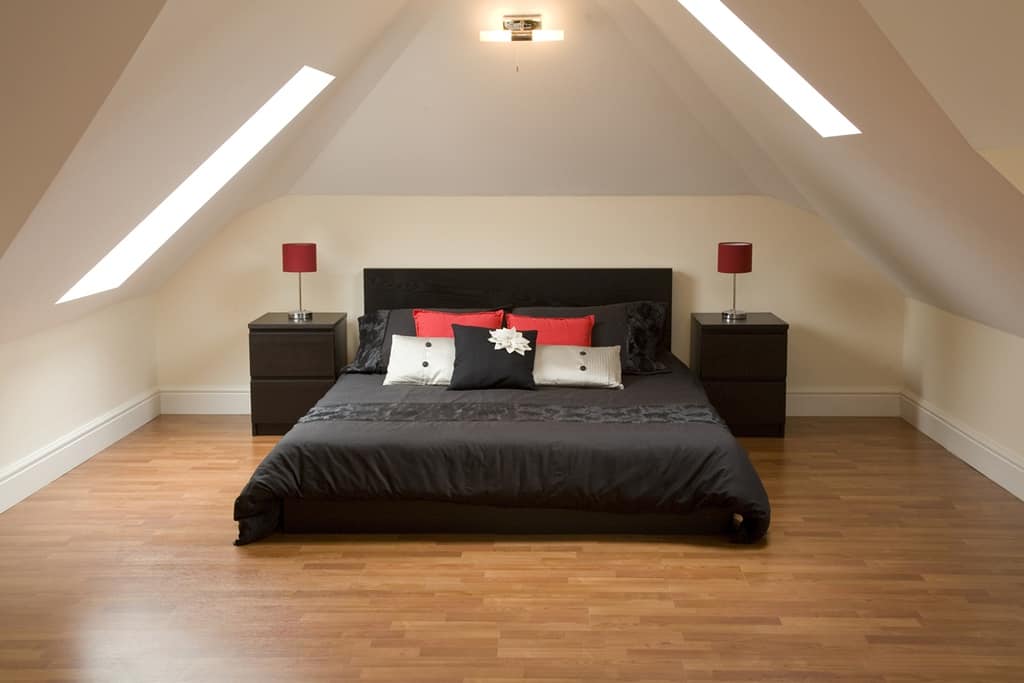 How to Decorate a Bedroom With Slanted Walls
by — Liz Bittar

Published on March 17, 2022

Updated on March 18, 2022
If you are searching for a house and see an ad that says "bedroom with vaulted cozy ceilings" this generally means that the room can be quite cramped and difficult to decorate!
Slanted walls are a challenge for interior design. But spaces with vaulted ceilings can turn out to be the most charming places in a home, it all depends on good planning.
In old and traditional homes, you will find rooms with this incredible charm and potential, waiting to be filled with creative design solutions. In this post, we will bring you some of these solutions:
1. LOWER FURNITURE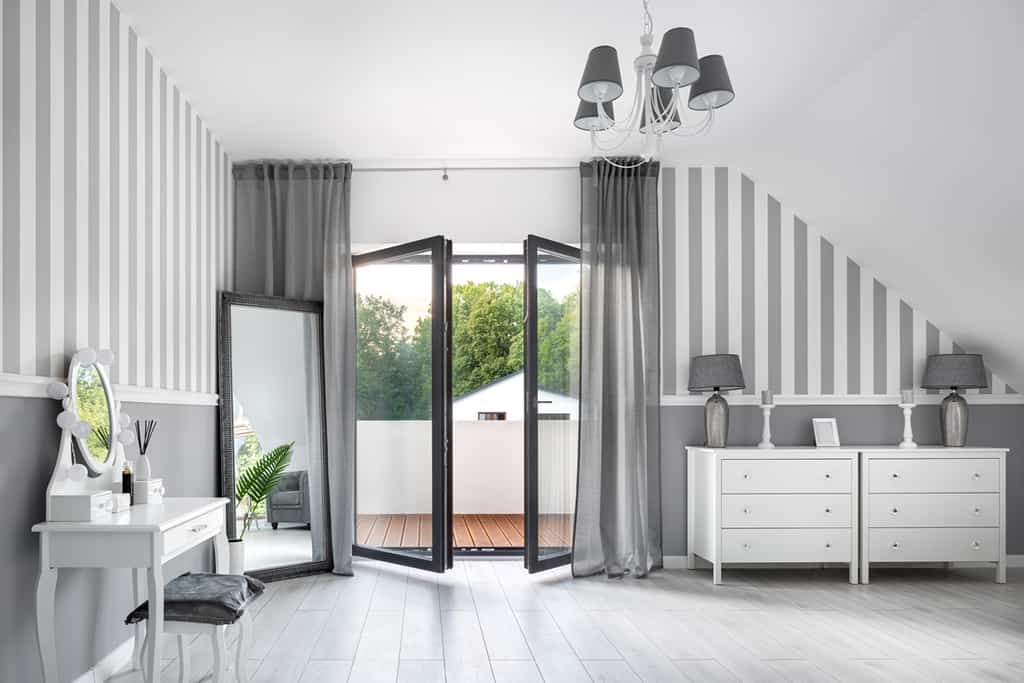 You have to avoid the sensation of being swallowed by the slanted walls closing up above you in a bedroom, and there is only one way to do it: right color paint and low furniture. This is the perfect combo for a slanted walls bedroom.
You cannot place tall cabinets or bulky furniture in slanted wall spaces. They will make the room feel oppressive and crowded. You want harmony and a sense of amplitude, so go for lower furniture.
Have custom cabinetry made, if you can afford it. Otherwise, there are several options in the market for sleek, straight furniture that will fit perfectly in a space like this.
2. A-FRAME BEDROOM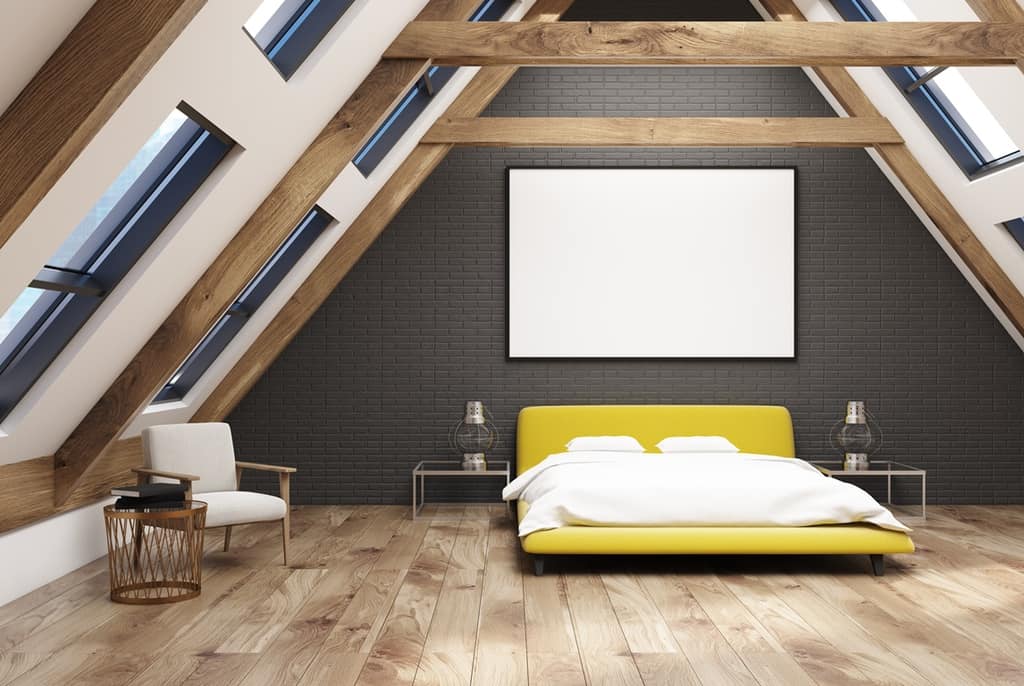 The classic décor for this type of ceiling is to place the bed in the middle of the vaulted walls so that the whole room will look more spacious. But there are some creative ways to place beds perpendicular to the walls. This may be an option for the kids' room.
Choosing the right colors for the space is key, so you don't feel closed in by the slanted roofline. Go for light tones everywhere. Light walls, floors, and wood, so that the space does not feel overwhelmed by the heavy tones and furniture. Bedding and décor pieces should follow the same light pattern, to make the space feel larger and brighter.
3. COLOR IS WHAT WILL DEFINE THE SPACE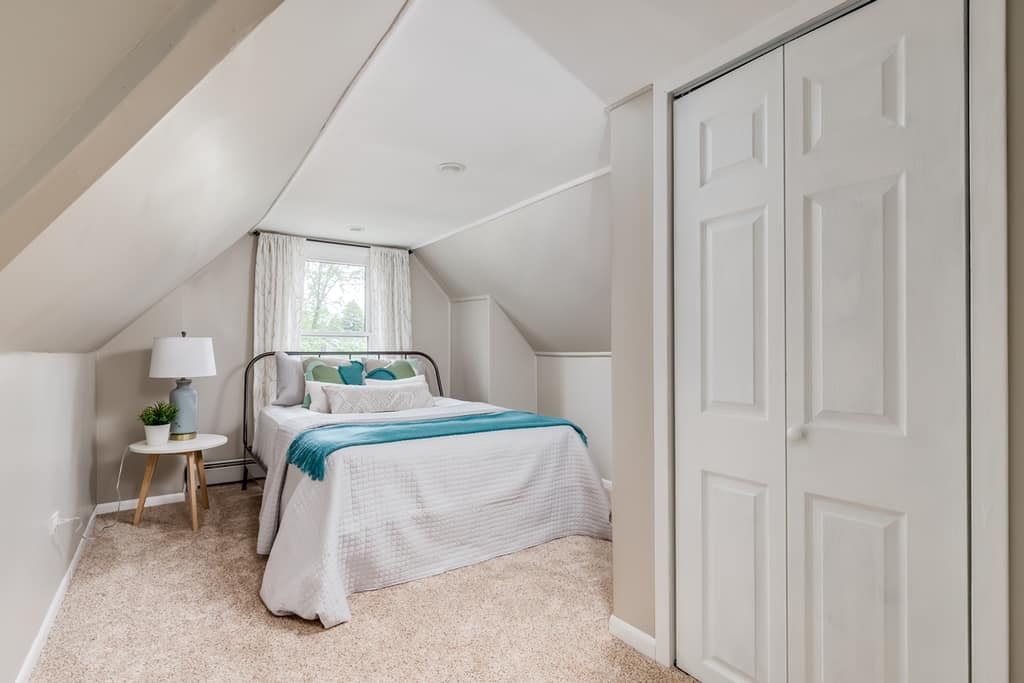 Choose the right colors for the walls. Some people do not care for white walls – some even call it a "psychiatric ward" style… but in a slanted-wall bedroom, the light colors will work in your favor. You can be a little (just a little) bold and use a slightly darker tone on the straight part of the wall, but paint the slanted part white.
This will make the room visually larger, without adding a claustrophobic feel that dark colors would certainly bring. On the contrary, it will create an interesting and eye-catching detail, especially if the walls are not too steep. You can also choose to cover the straight part of the walls with light wooden panels or beadboard.
Wallpapers with bold patterns are the least suitable option for this type of room. Dark colors on slanted walls make the room feel like a dungeon and do not contribute to setting the mood you want in a bedroom, which is a relaxing, comforting space.
Should you like to add some texture to the ceiling, you can install a mural with light colors, such as stars or clouds over a light blue sky. This will bring an interesting and peaceful touch to the space over your bed.
4. LIGHT FURNITURE IS A MUST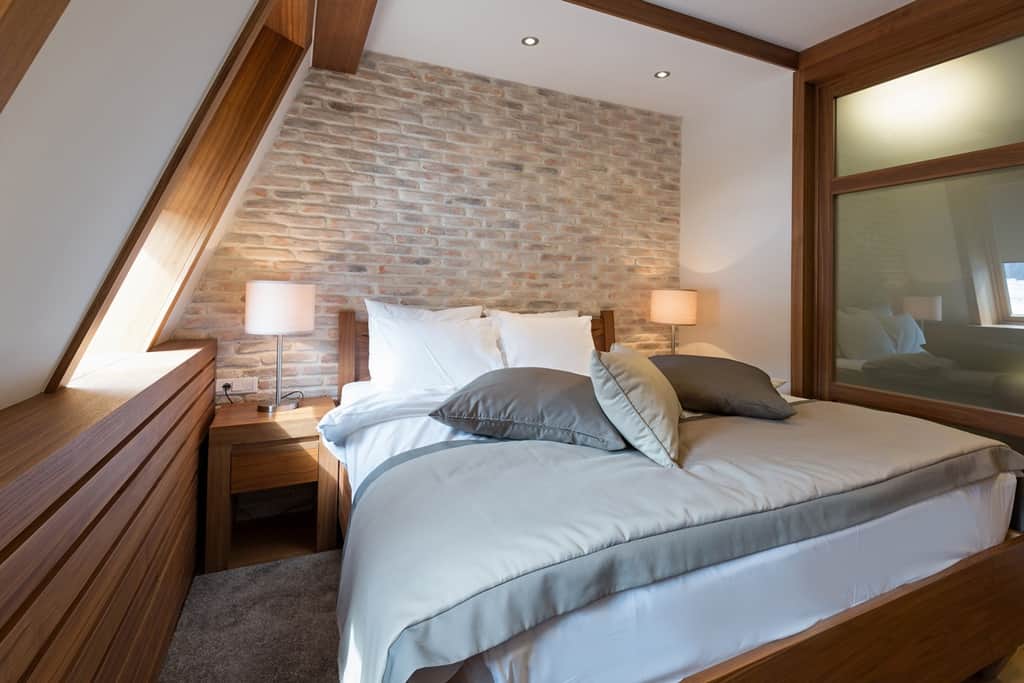 The easiest way to make a slanted wall bedroom feel bigger is with light furniture. Choose off-whites, beiges, and soft yellows for bedding and furnishes, along with white furniture or light wood furniture. If the space has dark floors, decorate it with a light rug.
5. WALLPAPER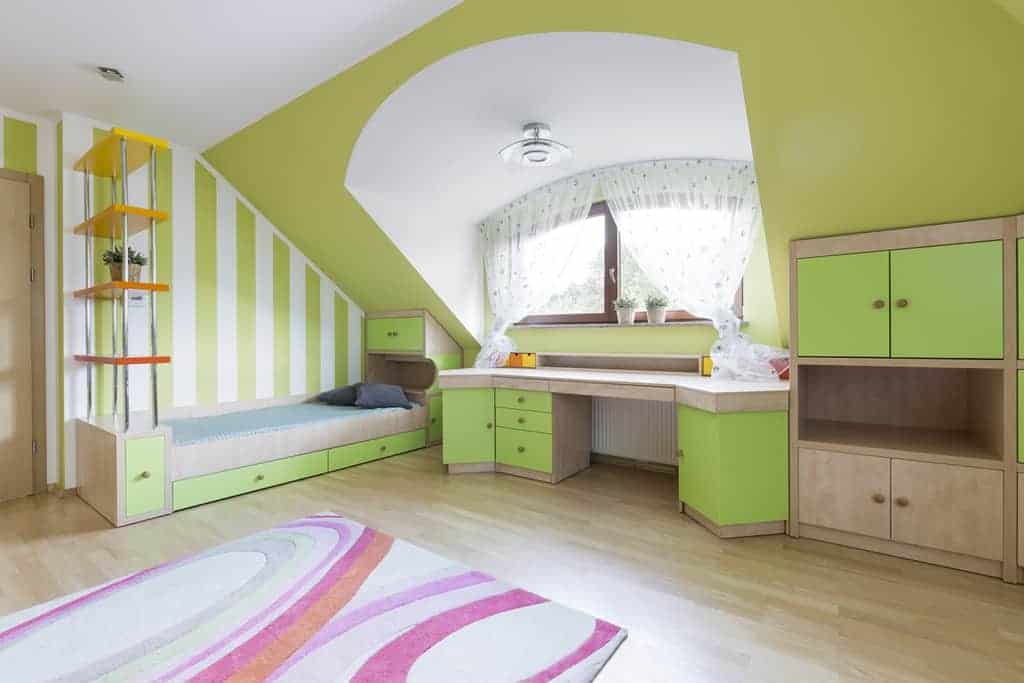 Wallpapers are risky, but worth it, depending on your décor style. For a kid's room, vibrant wallpaper with a fun design like clouds or robots may be an option. You can leave the colors to the wallpaper and keep white or light furniture in the rest of the room. Create a more classic and subtle look by using striped wallpaper in shades similar to the rest of the walls.
6. VINYL STICKERS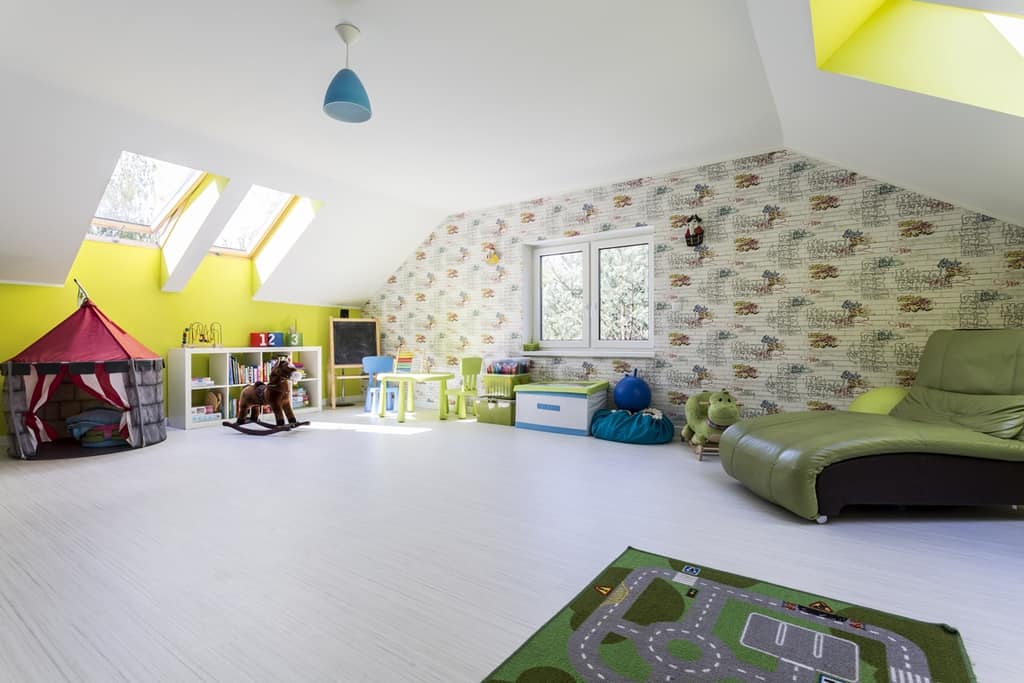 You can add your personal touch to the walls with vinyl stickers if you do not want to commit to painting and wallpapers. This works very well for teenagers' and kids' bedrooms. They can apply their own style to the décor, and it is not a huge compromise, since these stickers are not permanent. 
Just wipe the wall with a damp cloth, let it dry, remove the adhesive film and press it against the wall. If you get air bubbles, smooth it out with a thin, flat object like a credit card.
7. GLAMOUR AND DRAMA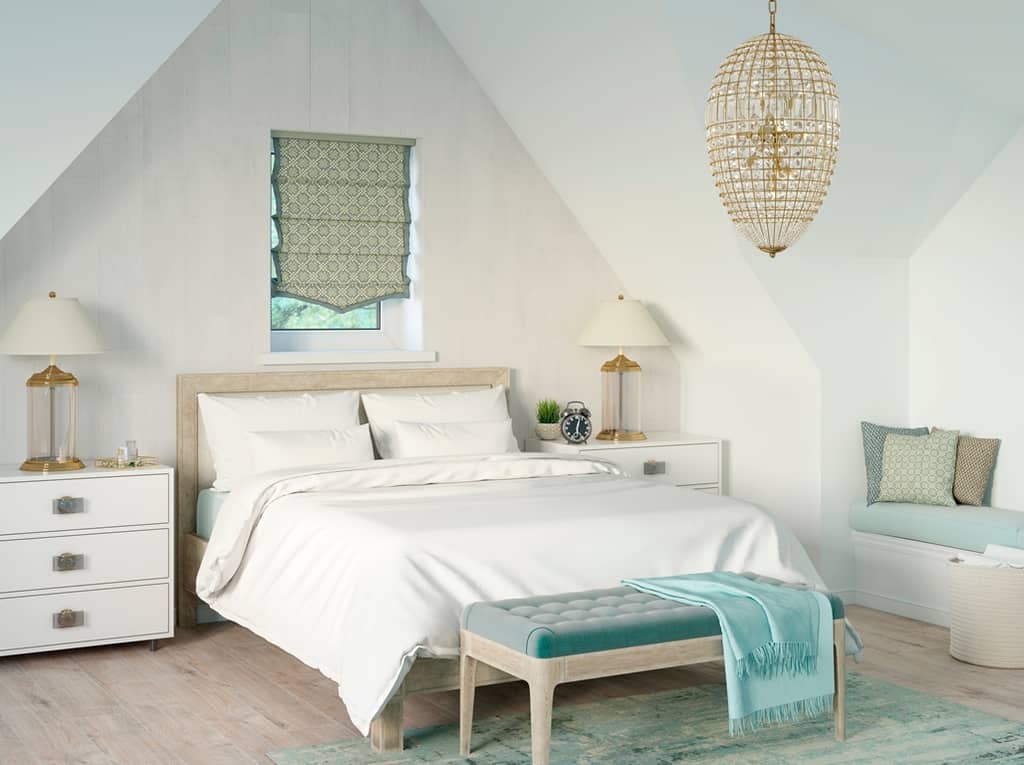 If your style is classic, install a dramatic chandelier in the center of the room. This will catch the eye of anyone who enters the space and will be the feature piece of the décor. Just think about the proportions as it will stand in the middle of slanted walls.
8. LOW SHELVING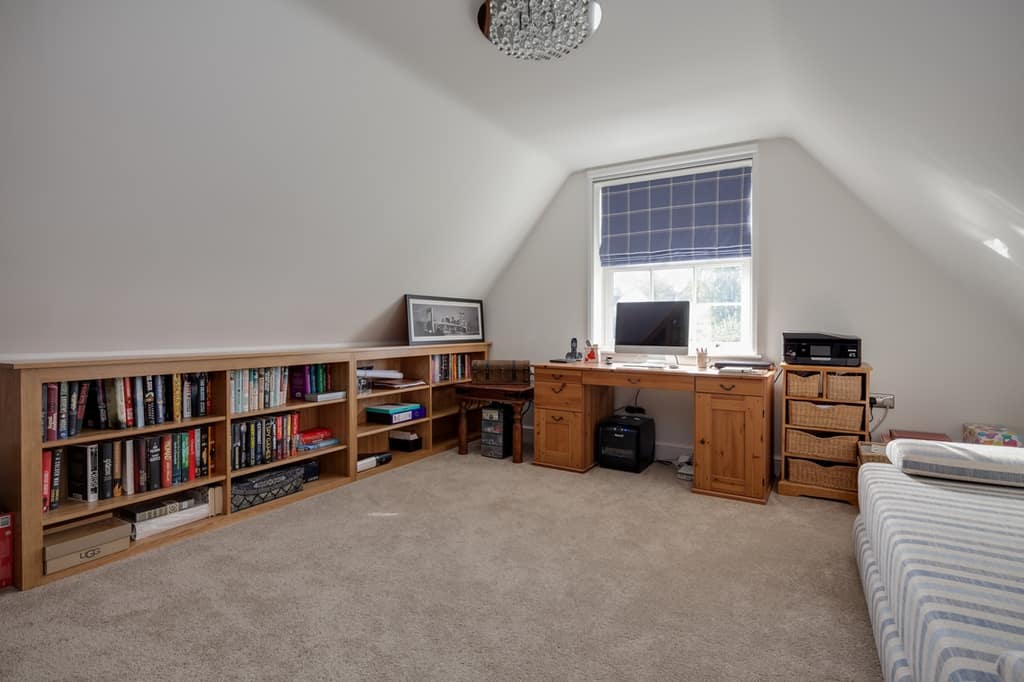 Installing shelving can be tricky in a slanted wall bedroom. They can make the space feel cramped if the square footage is not too big. So, it's all a matter of how high your straight walls go. Opt for floating shelves if the straight walls are high enough or go for low bookshelves instead.
9. LESS IS MORE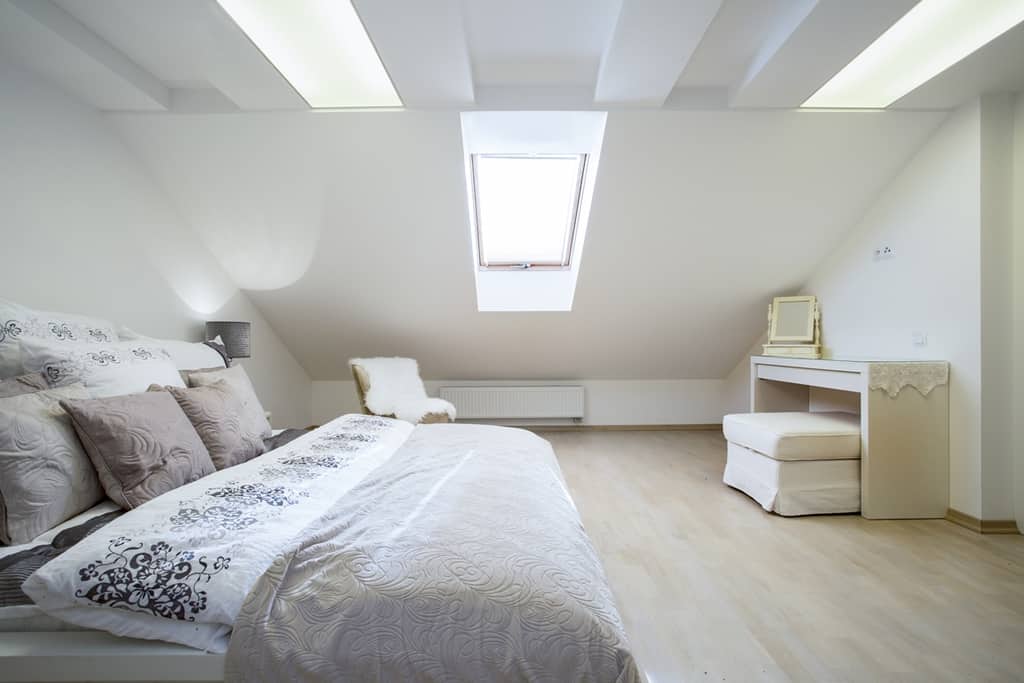 The minimalist style may be the perfect style for a slanted walls bedroom. The less furniture you have, the less cramped the space looks. Opt for functional, sleek lines furniture. Choose an ottoman or a chaise longue, instead of bulky armchairs.
Avoid tall headboards and use light colors for the bedding and pillows. Tall armoires are incredibly charming but may not be a perfect fit for this kind of space.
10. YOUR ROOM, YOUR SANCTUARY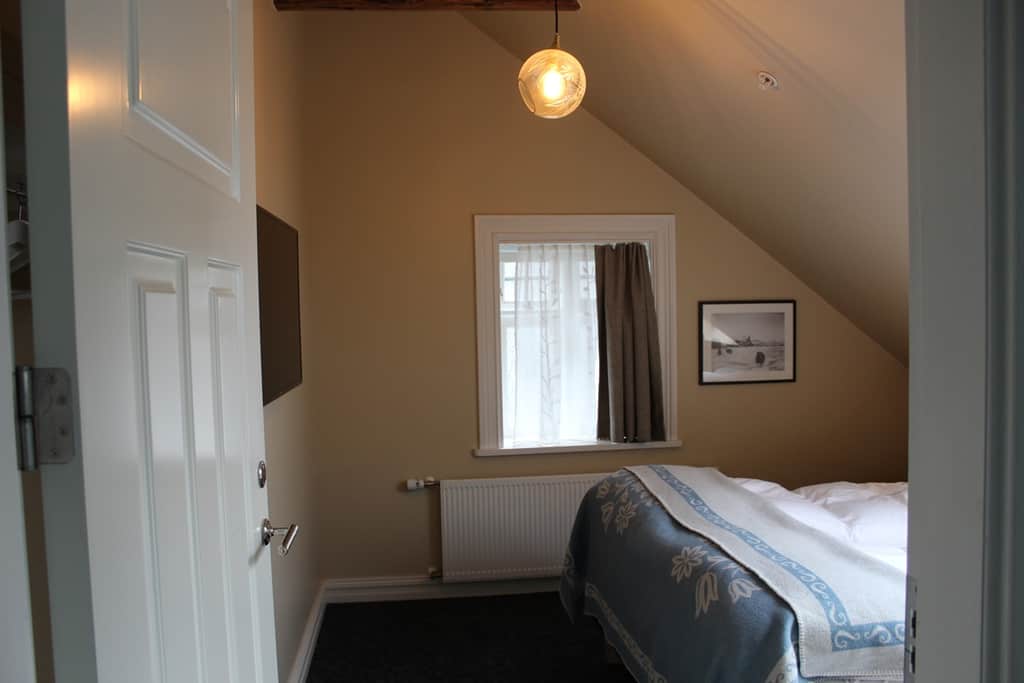 No matter the size or the challenges the space presents, your room must carry your signature and reflect who you are. Use these tips to choose décor options that speak to your heart, but avoid common mistakes like overwhelming the space with excessive décor and bold colors. Bring your personal touch with artwork here and there and those very special framed memories one can't live without.
Soften the space with some flowers, even a small vase makes a difference. And make it a comfy, soothing place you are happy to go back to at the end of every day.