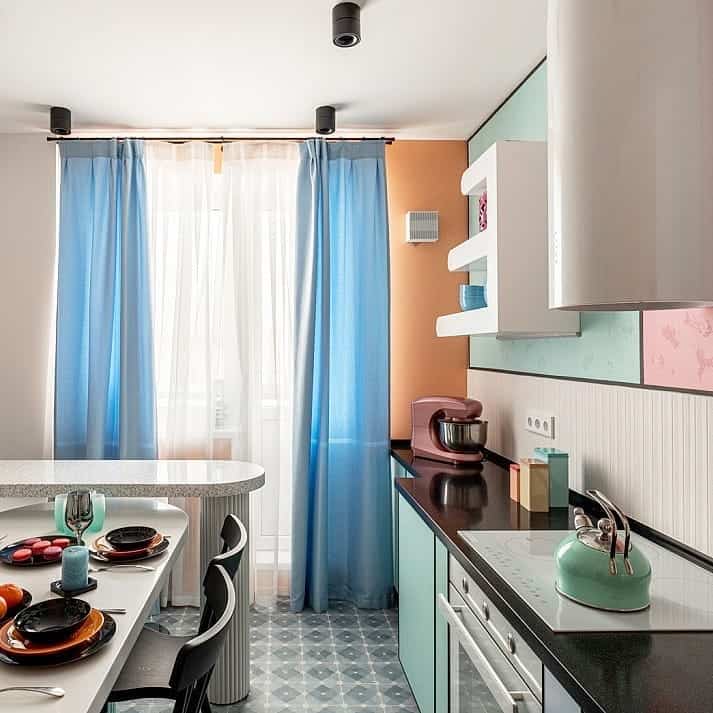 In this age of modern simplicity, you may wonder if kitchen curtains belong in the past. The truth is that kitchen window treatment options are more amazing than ever!
Like the sprinkles on a cupcake, kitchen curtains can be just the finishing touch that your kitchen needs. Take a few minutes to check out our top kitchen curtain ideas and be amazed at all the great ways you can embellish your kitchen windows.
1. Burlap
Burlap—also called hessian—is a loosely woven type of fabric made from jute, hemp, flax, or another natural fiber. It's commonly used to make sacks and mats, but its casual, earthy color and texture has made it a popular fabric for curtains and roller shades.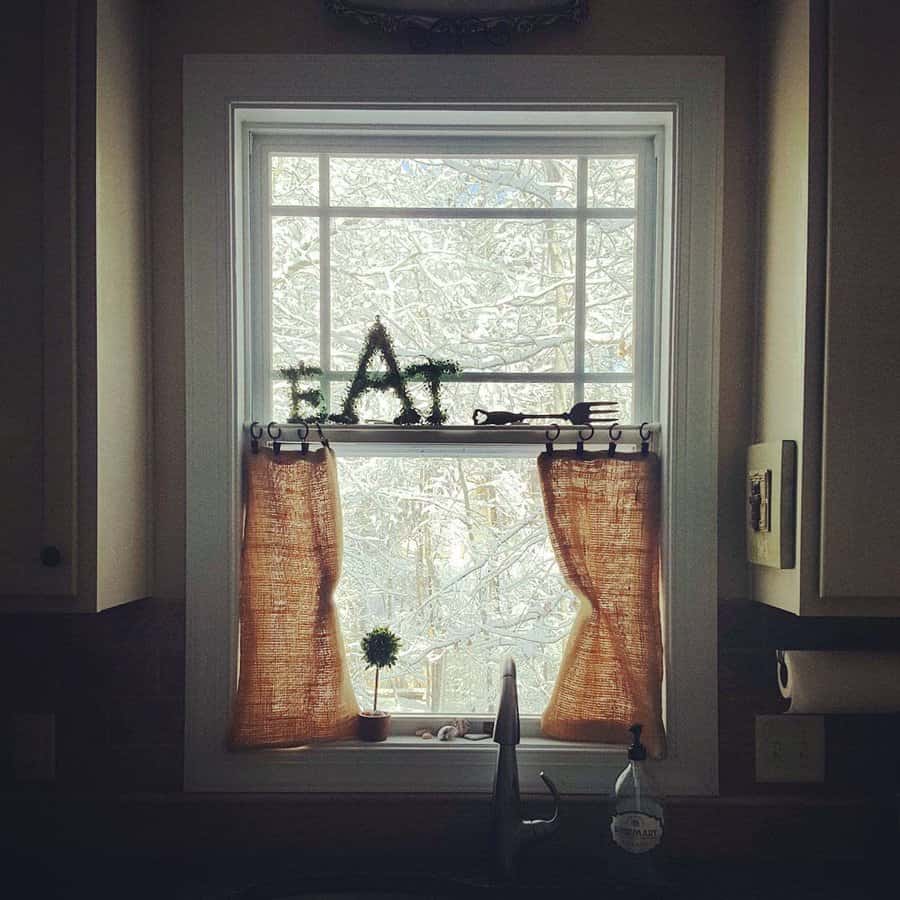 For a farmhouse kitchen, look for burlap printed with vintage grain sack images or phrases. Striped burlap fabric can add a punch of color in the kitchen. Burlap also looks great paired with lace, gingham, plaid, or floral fabrics.
2. Cafe
Café curtains are ideal when you need privacy but also want a good amount of natural light to flow freely through your kitchen. These half-sized curtain panels are often paired with a coordinating valance curtain, but that's not required. You can drape a coordinating piece of fabric at the top of the window instead.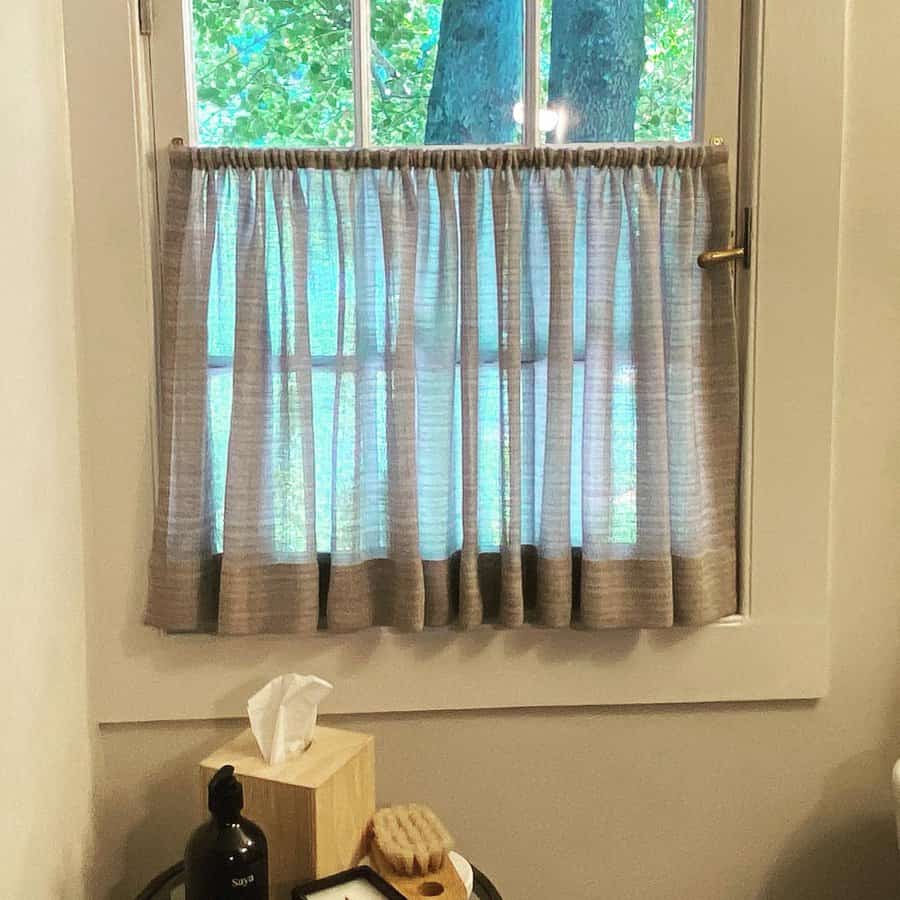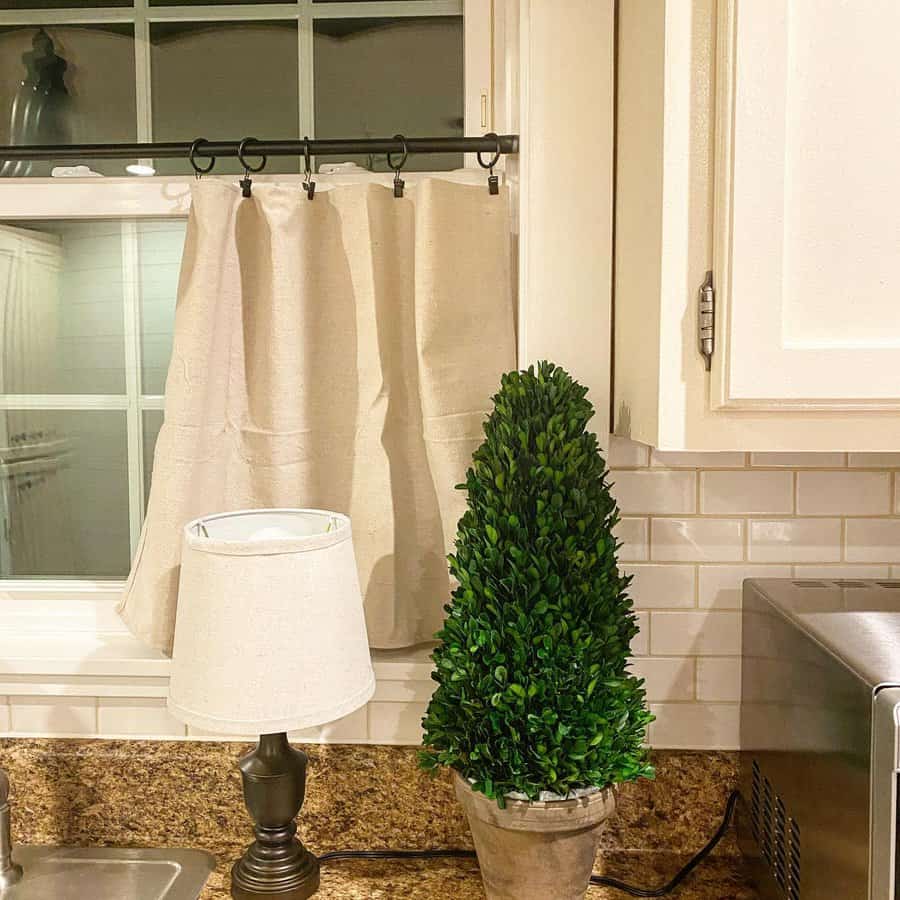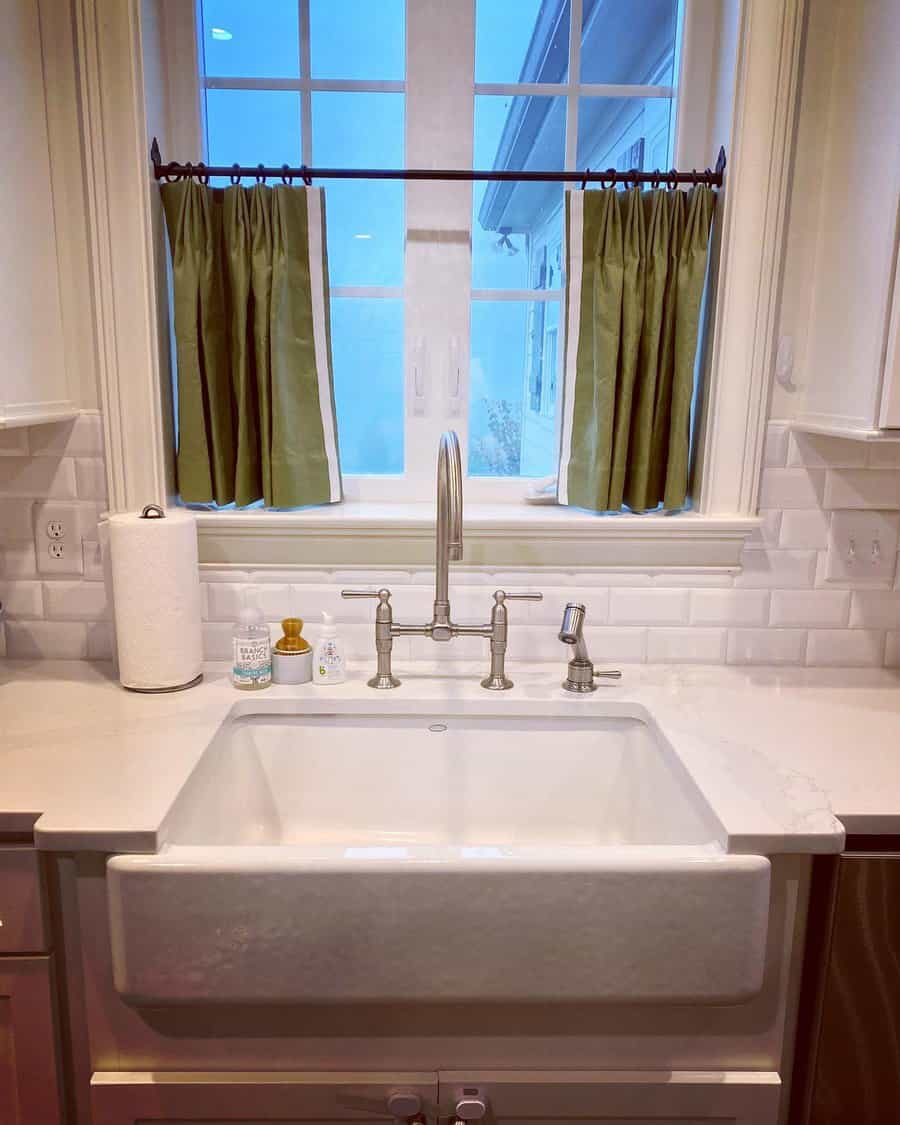 Make simple, inexpensive café curtains with thin placemats or napkins and clip-on curtain rings. Install a basic tension curtain rod and enjoy your stylish DIY window treatment.
3. Elegant
The word "elegant" means tastefully fine or luxurious, of a high grade or quality. Therefore, elegant kitchen curtain ideas include high-end fabrics, finely detailed curtain rods, and dignified embellishments. Examples include cut crystal curtain rod finials or a gilded fringe at the bottom of linen roman shades.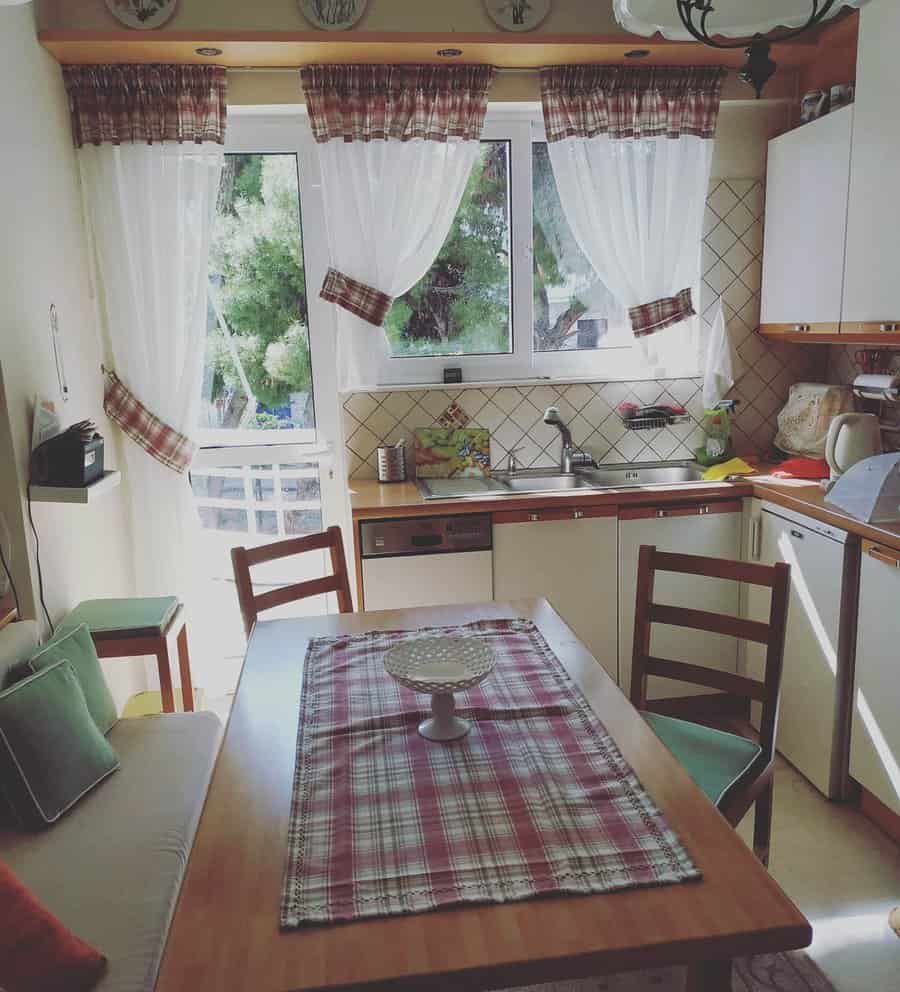 Solid dark color fabrics work well if you have elegant kitchen window curtains in mind. Plain grey or black linen panels convey a simple elegance. A jewel-toned velvet valance may be the perfect touch in a traditional kitchen design.
4. Floral
Floral print fabrics are a classic material used in making kitchen curtains. From abstract, tropical floral prints to tiny, Victorian roses, there's a floral print that will work with most kitchen styles.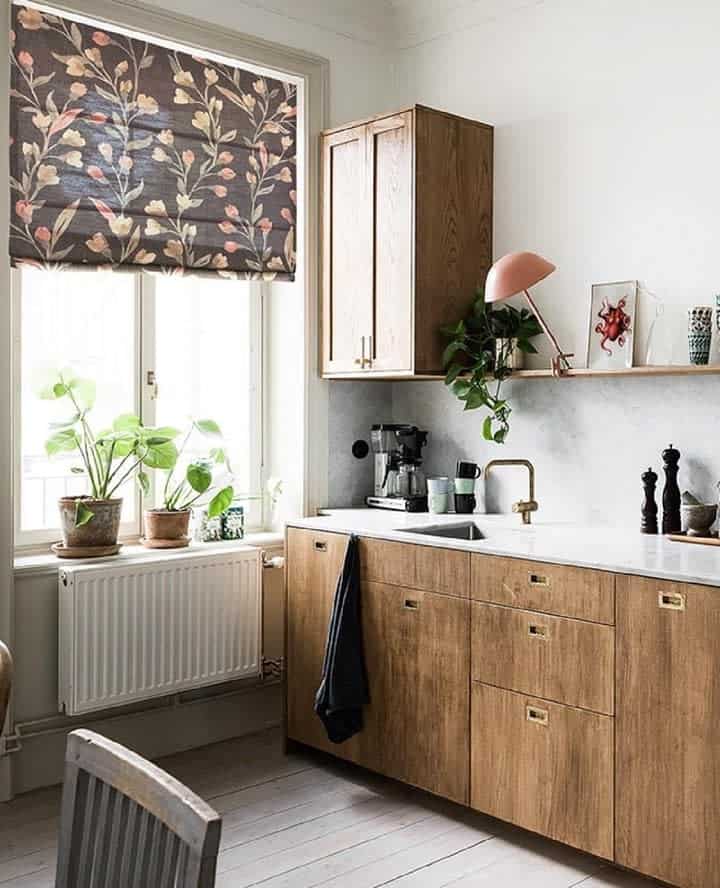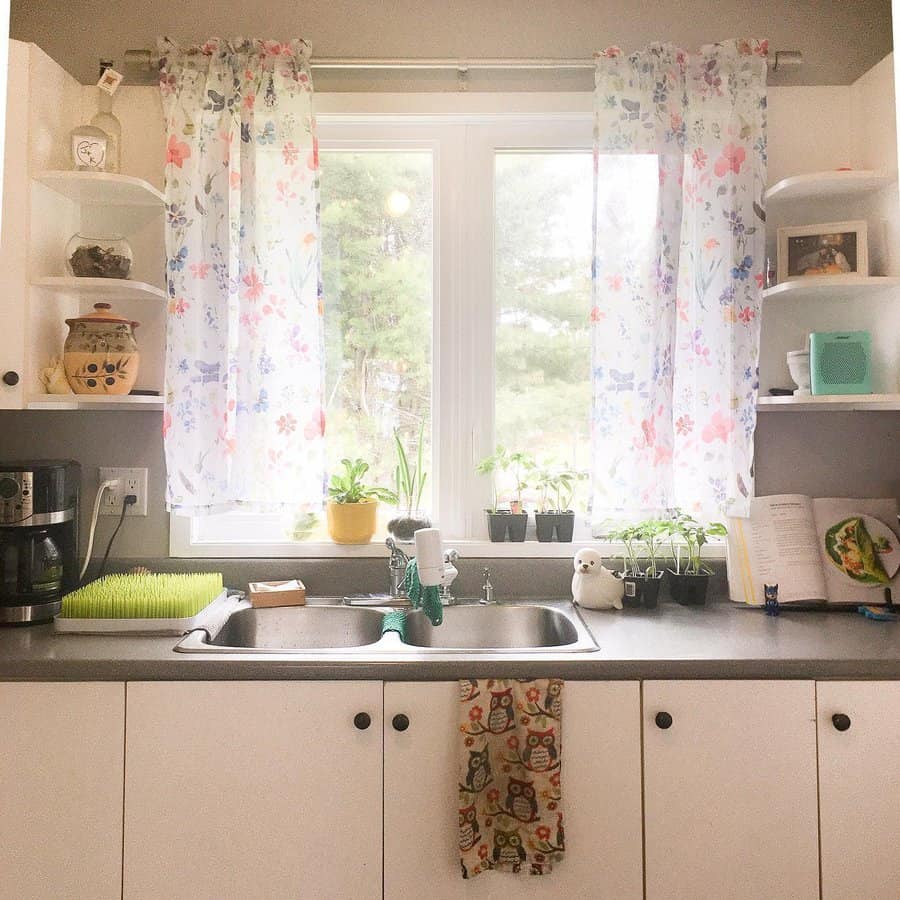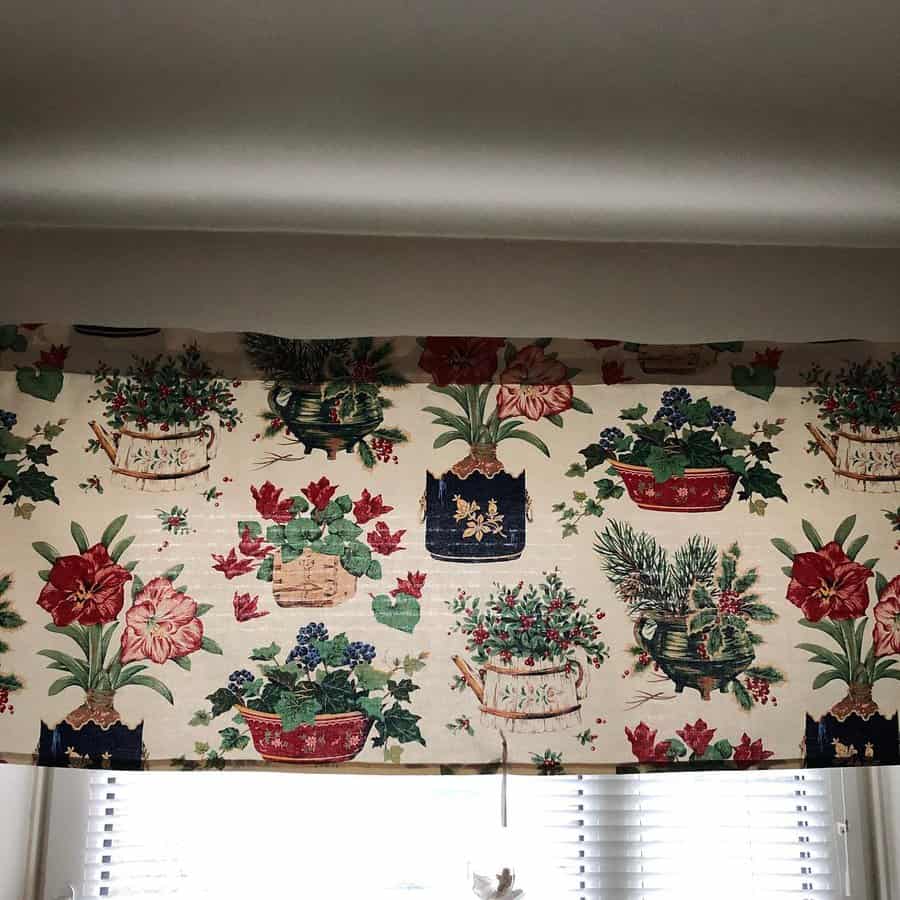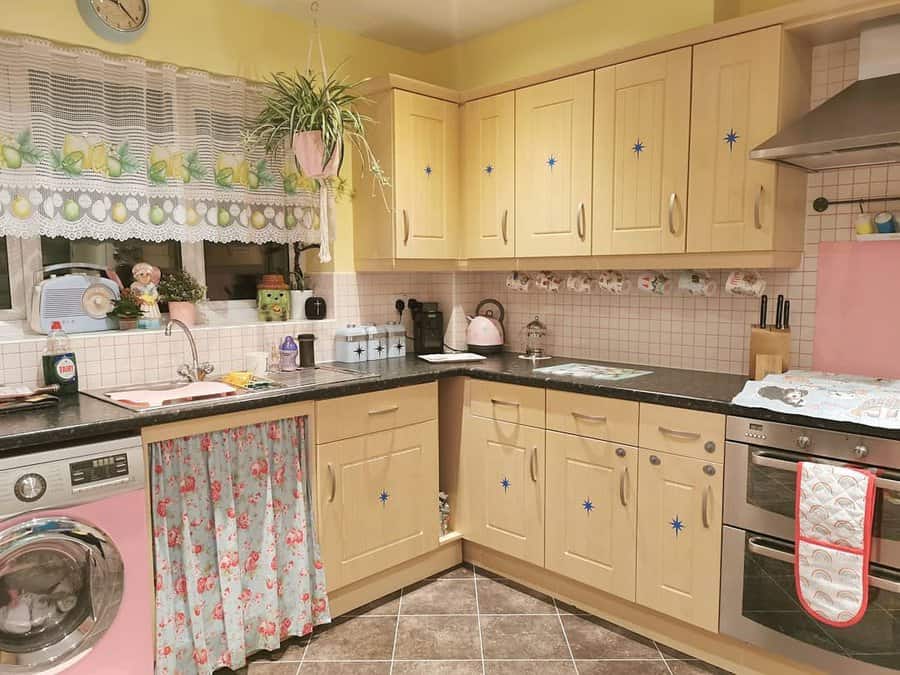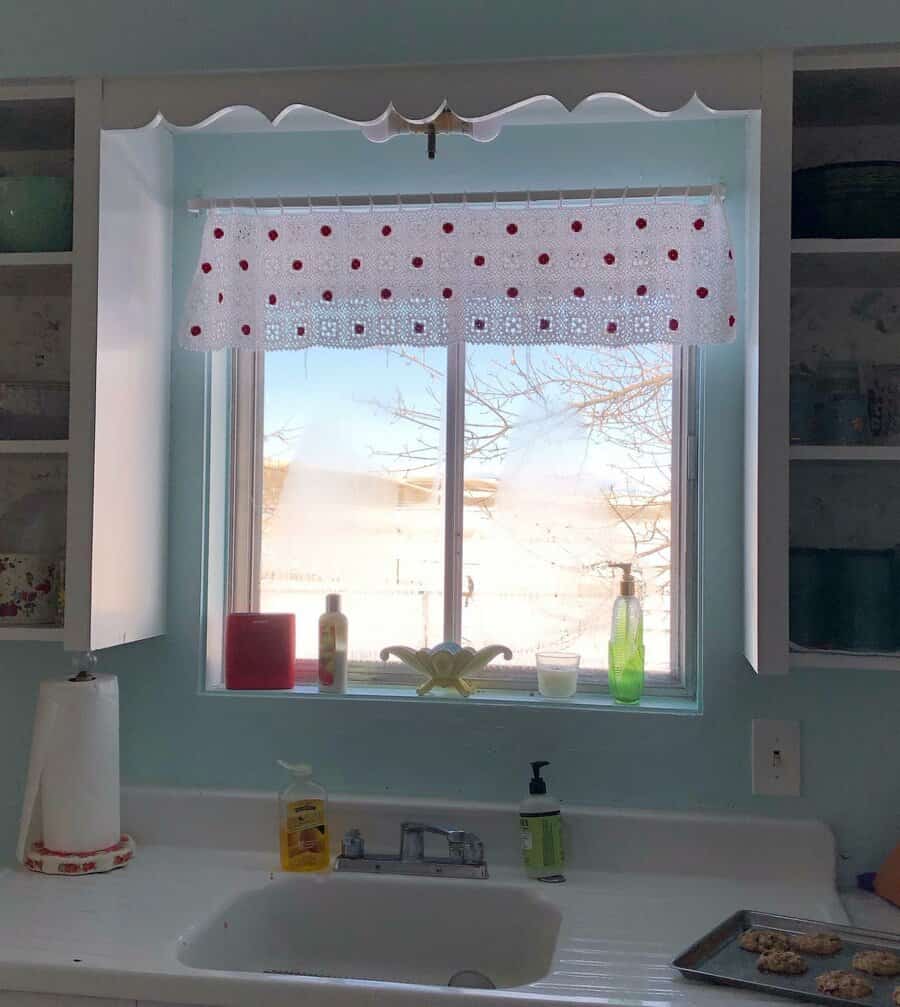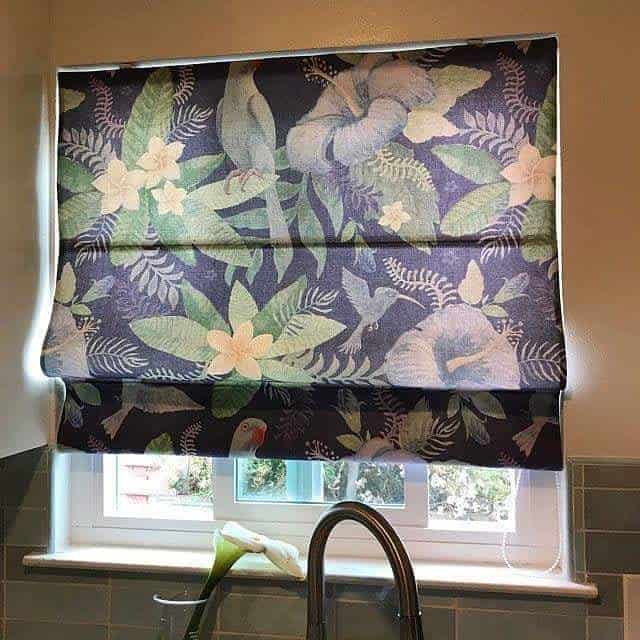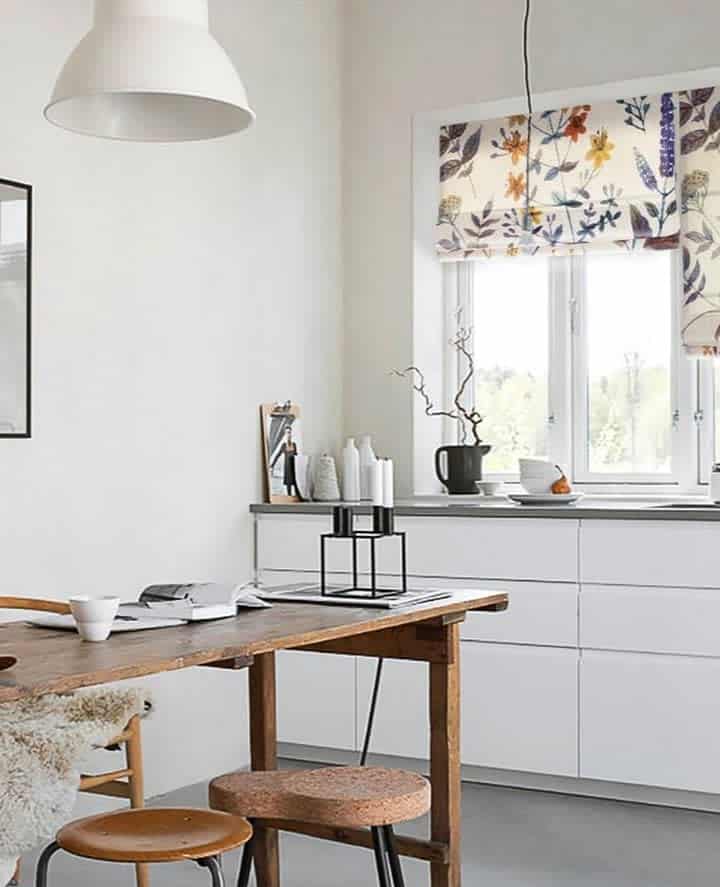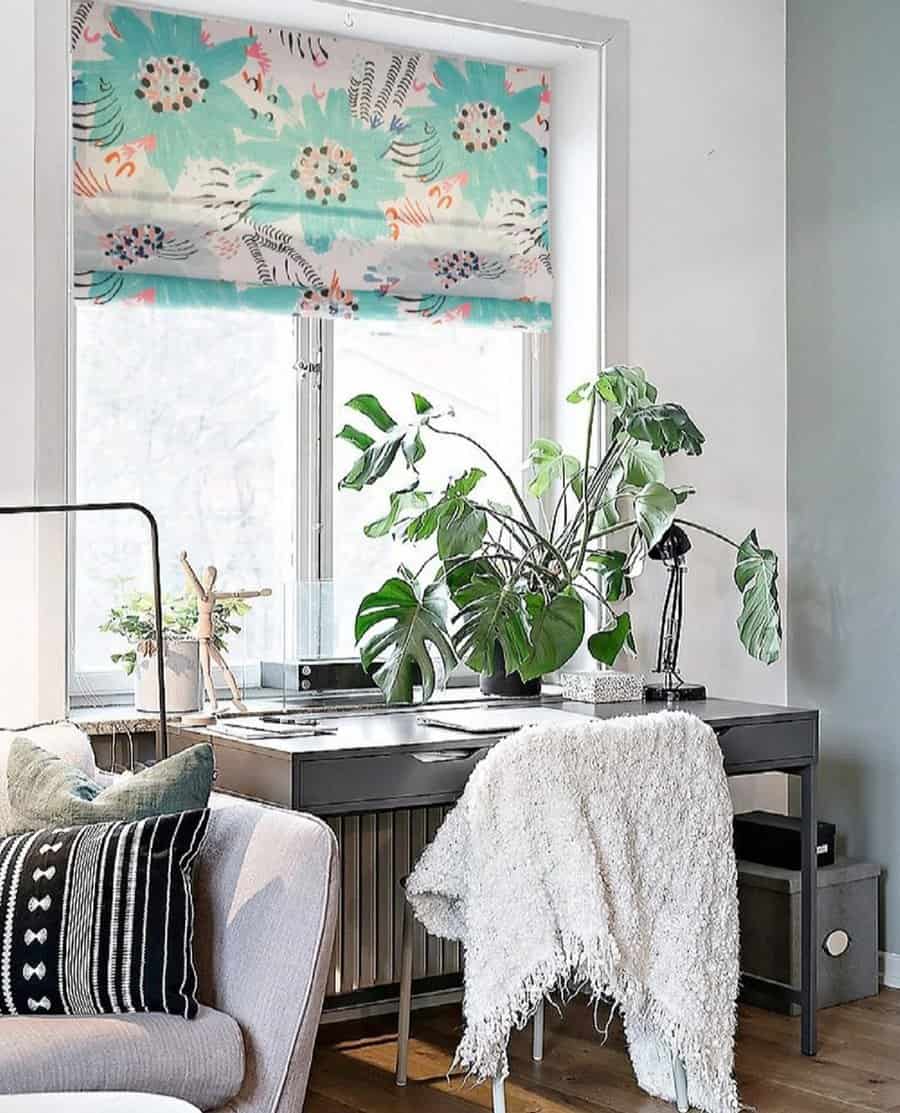 Mixing floral curtains with striped or checked trim makes a charming kitchen window treatment for country or shabby chic decor. Faint leafy or floral prints on sheer curtain panels are a gorgeous second layer beneath solid color kitchen curtains.
5. Half Curtain
Half curtains are thought to date back to the 19th century, when they first appeared in cafes and coffee shops in Vienna, Austria. These unique window treatments offered such a pleasing combination of natural light and privacy that they soon became popular in home kitchens and bathrooms.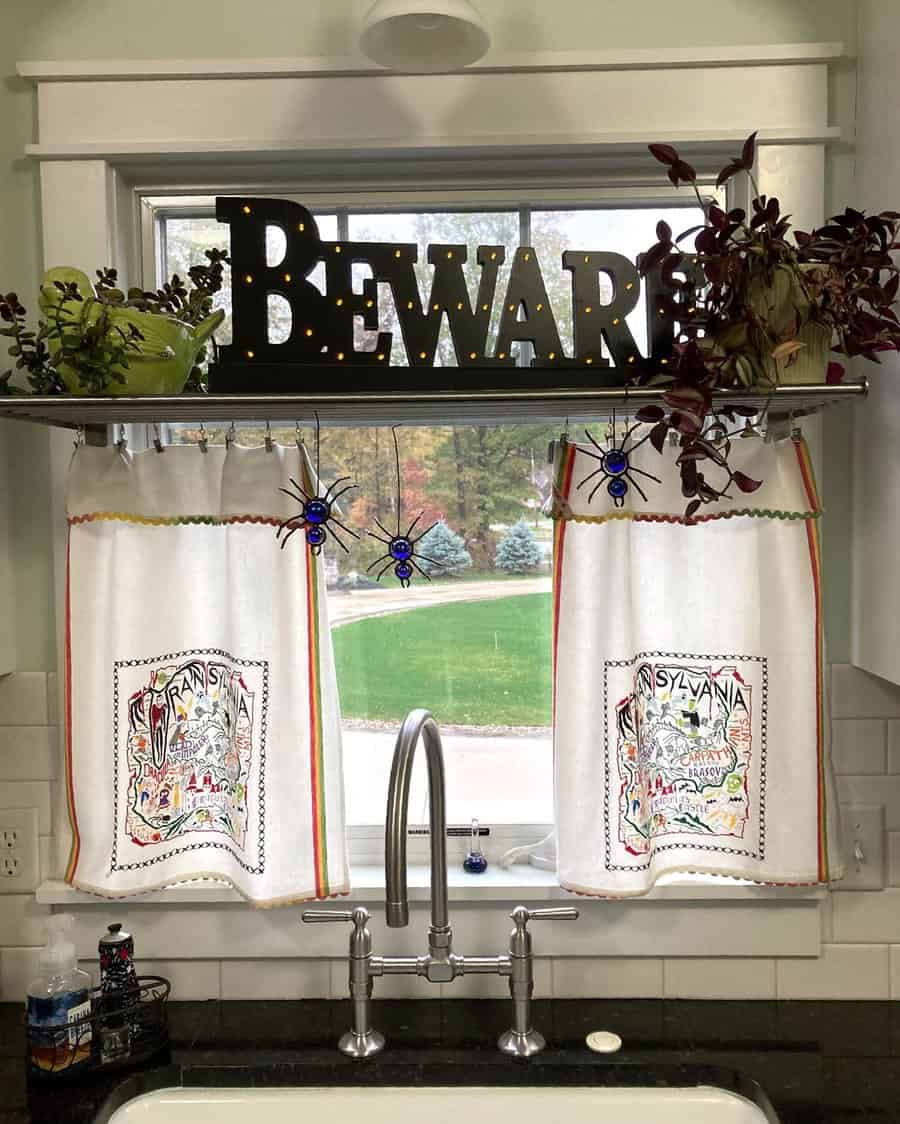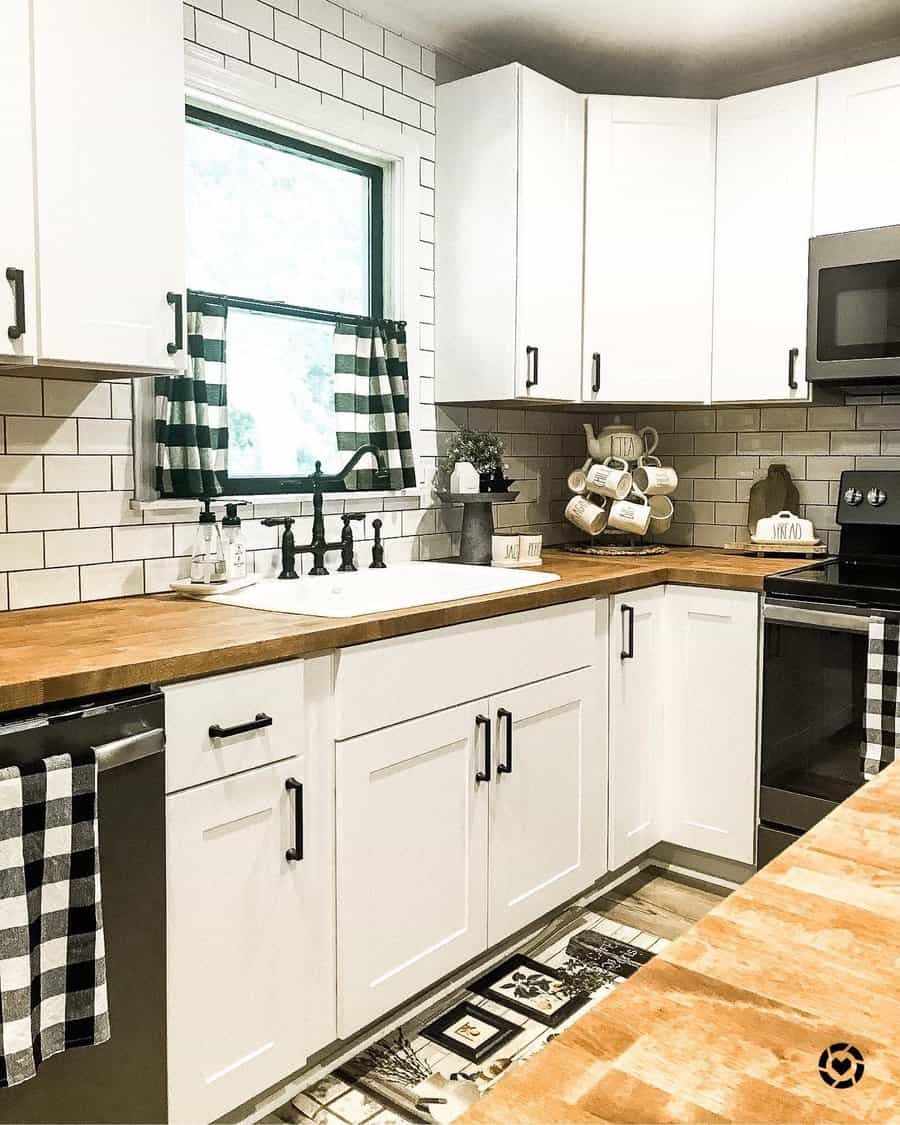 Even though kitchen window covering styles have changed through the years, the half curtain or café curtain remains popular. They convey a comfortable, informal vibe, especially when they're a bright color accent in an otherwise neutral modern kitchen.
6. Long Curtains
As kitchens have become larger, their window sizes have grown, too. It's not uncommon to have one or more kitchen windows that need full length curtain panels. Long window treatments also work well in kitchens with patio doors.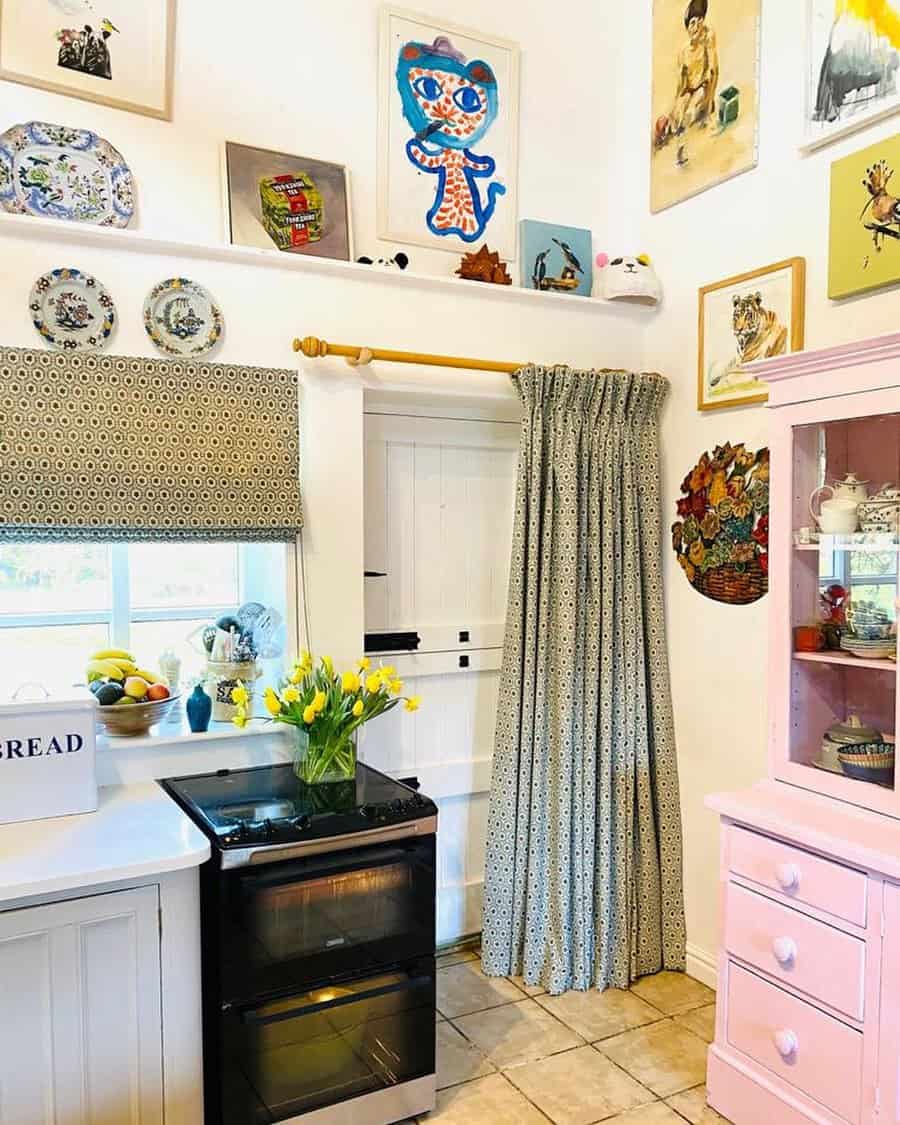 If you have an open floor plan, it's helpful to have your home decor coordinate in these connected living areas. Try to match your long window curtain style with the drapes in your dining room or living room. Hang roman shades on shorter kitchen windows, or buy a coordinating café curtain design.
7. Macrame
Macrame is enjoying a resurgence of popularity not seen since the 1970s. This ancient Arabic art of knot-tying makes fantastic window treatments for bohemian or eclectic style kitchens. Textile advancements have resulted in softer, easier-to-work-with cotton blend cords, making it easier than ever to find gorgeously crafted macrame kitchen curtains.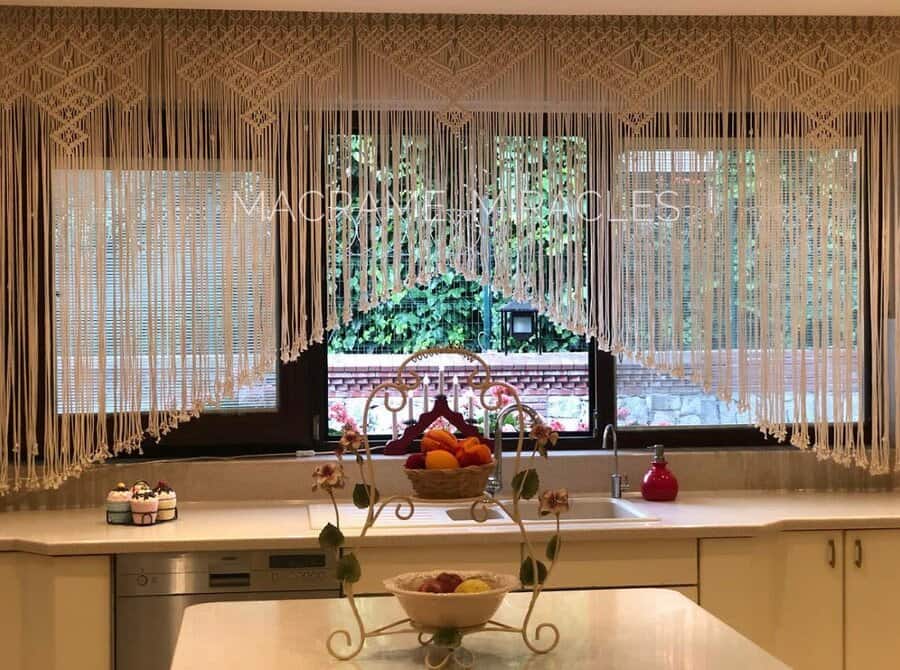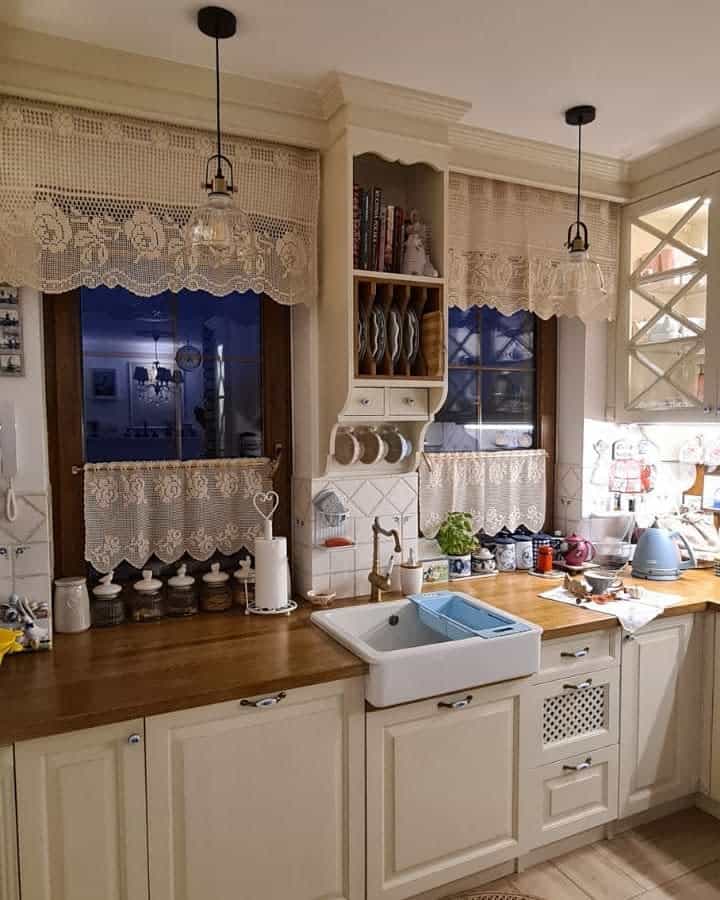 While macrame is a uniquely beautiful kitchen curtain idea, it won't provide much privacy. If you need more window coverage, layer the macrame kitchen curtain panel over roman shades, bamboo shades, or solid curtain panels.
8. Mini Blinds
Mini blinds are one of the more affordable kitchen window treatments. Chances are, if you live in an apartment or rental home, all of your windows are outfitted with mini blinds.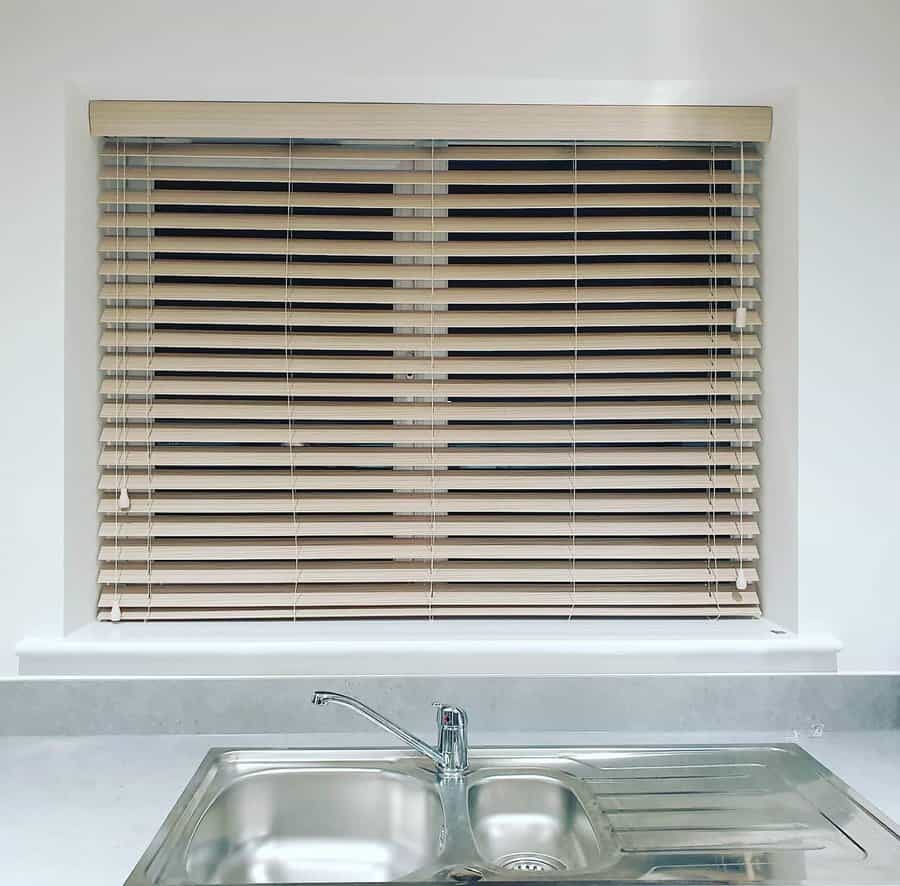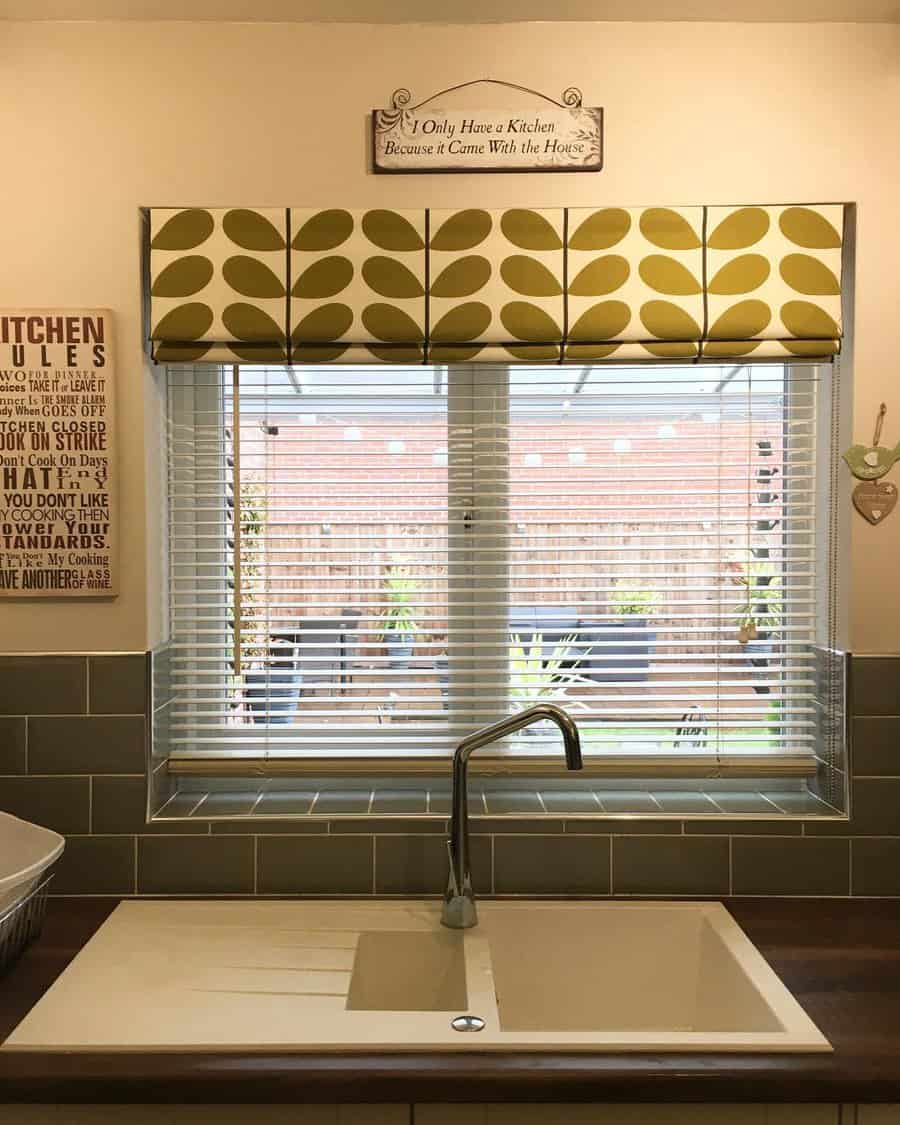 Although they're great for controlling the amount of light and privacy in your kitchen space, they can look quite boring. Valance curtains can help soften the appearance of plain miniblinds, or you can hang tier curtains on each side of the window frame to add color and texture to your kitchen decor.
9. Roller Blinds
Roller blinds made from open-weave or translucent fabric do a great job of blocking outside views—without darkening the kitchen. If you need more privacy at night, choose a roller shade made from heavier or lined fabric.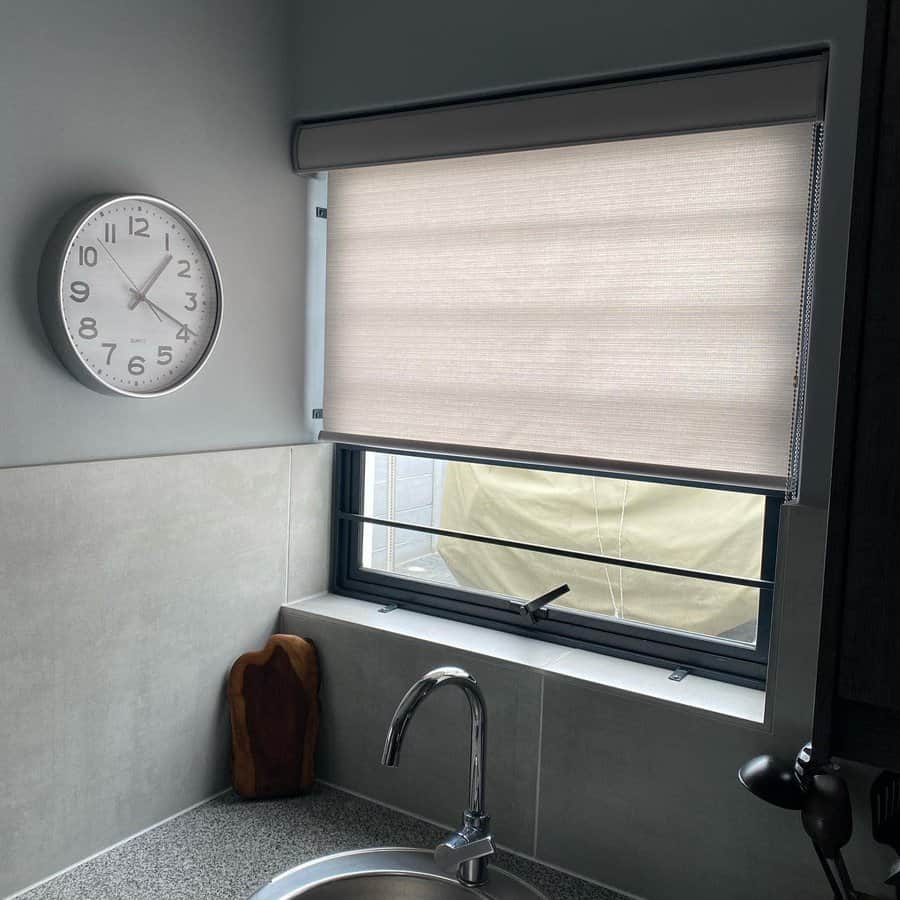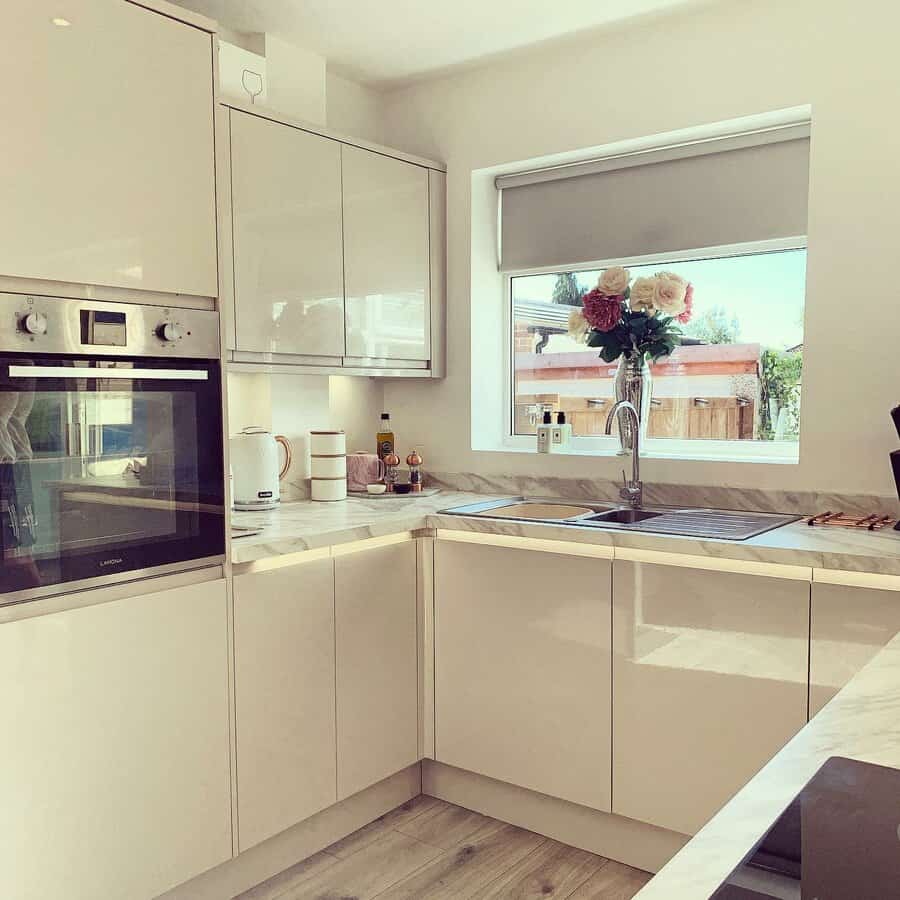 Matchstick roller blinds allow light to filter in even when they're pulled all the way down. Their relaxed texture and natural finish look equally nice in a traditional or modern kitchen.
10. Roman Blinds
Roman blinds are an excellent option in a streamlined, modern kitchen. These basic kitchen curtain alternatives consist of a fabric panel that can be raised or lowered by a cord and curtain ring system sewn onto the back.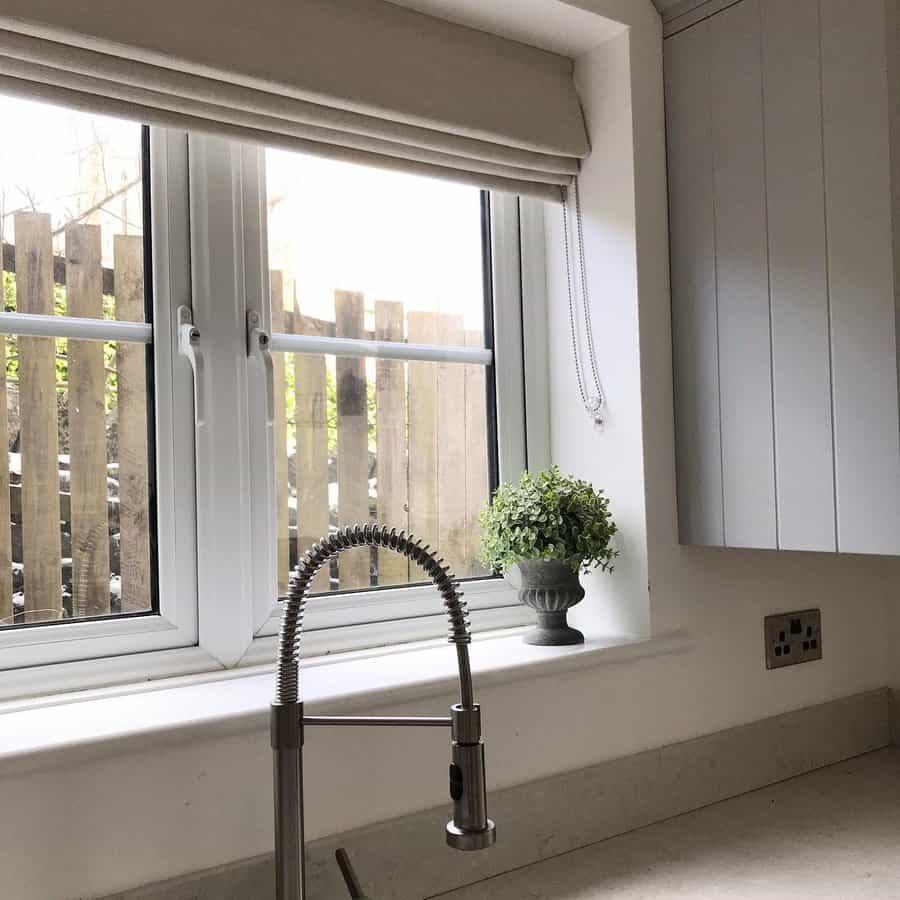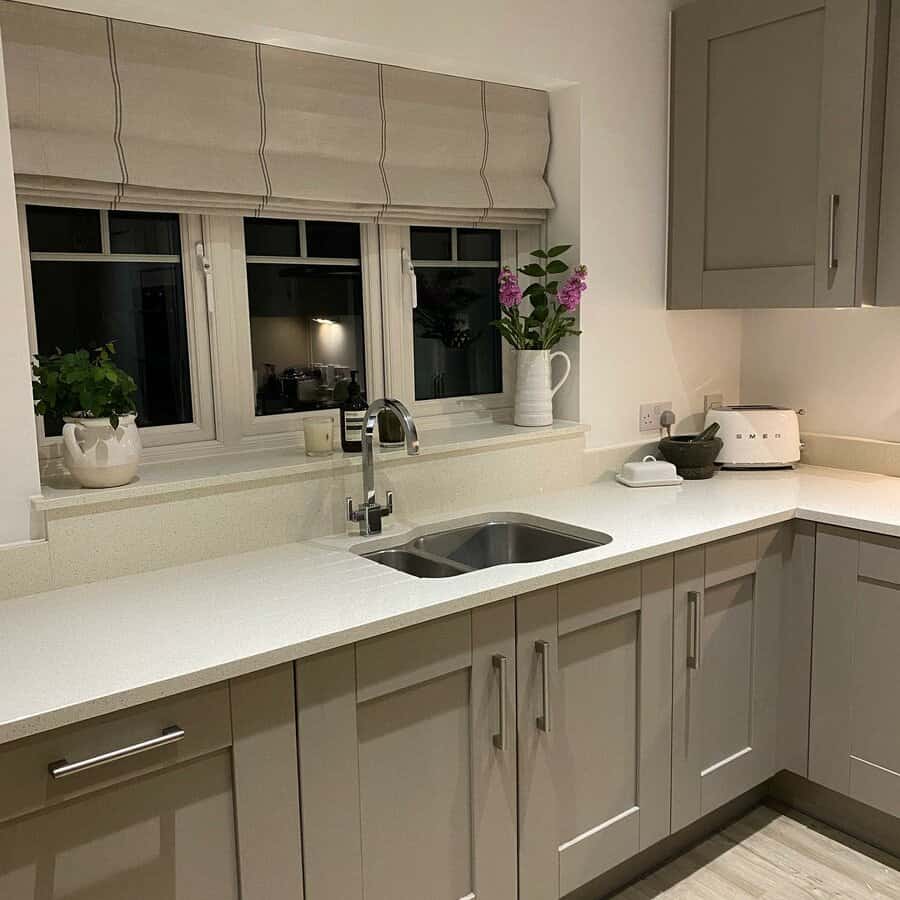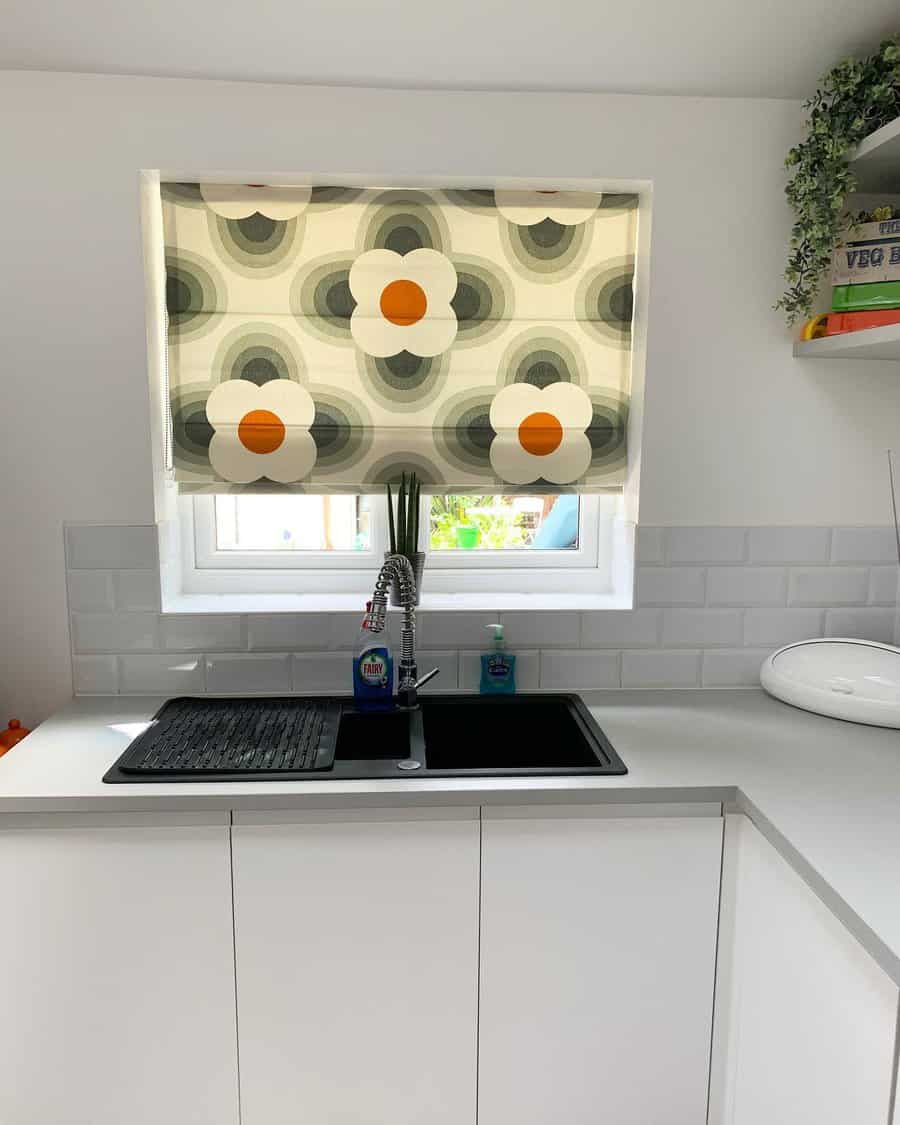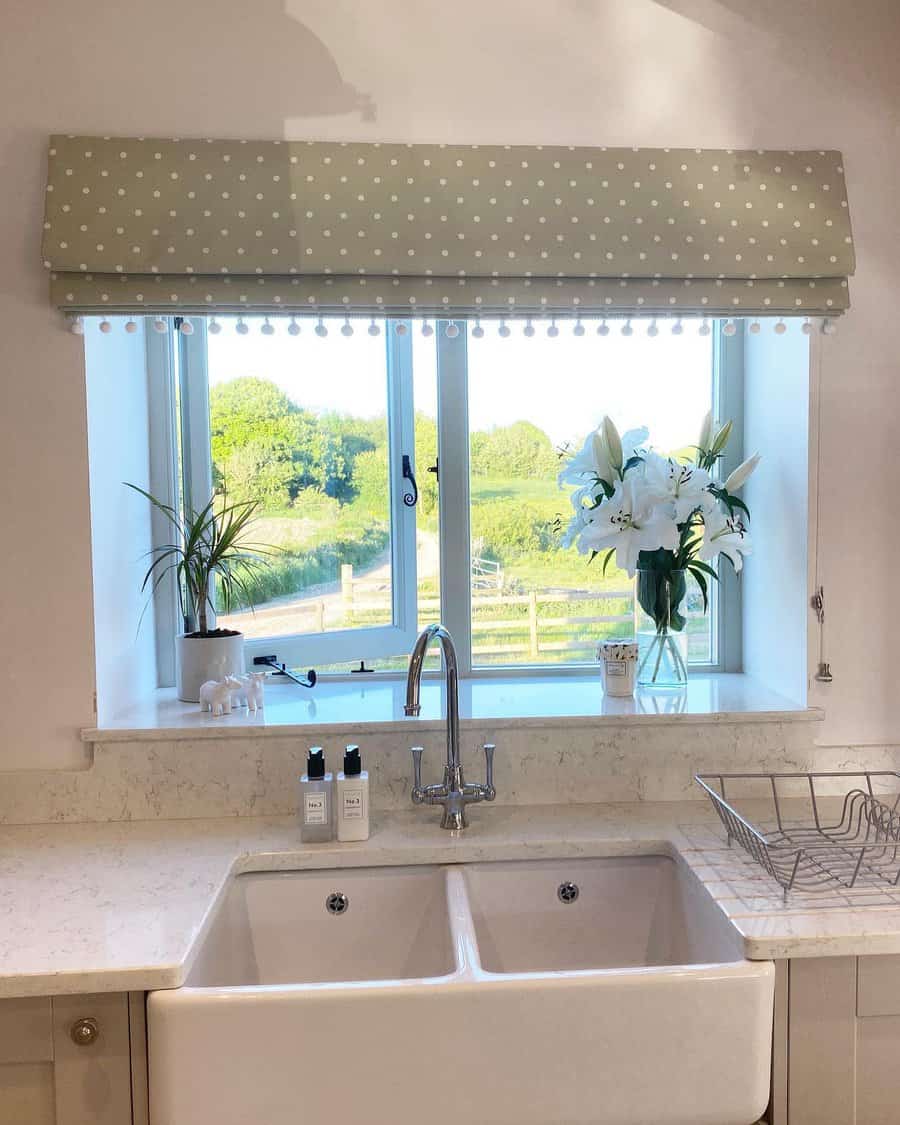 While a roller shade lies flat at any height, a roman shade stacks evenly in horizontal folds when it's raised. A roman shade is an energy efficient window treatment option, especially when it's made from the material used for blackout curtains or thermal curtains.
11. Shabby Chic
A shabby chic kitchen needs kitchen curtains to complete the look. Shabby chic interior design includes furniture, wall decor, and fabrics that have a comfortably worn, vintage vibe. Anything faded or distressed is at home in this decorating style.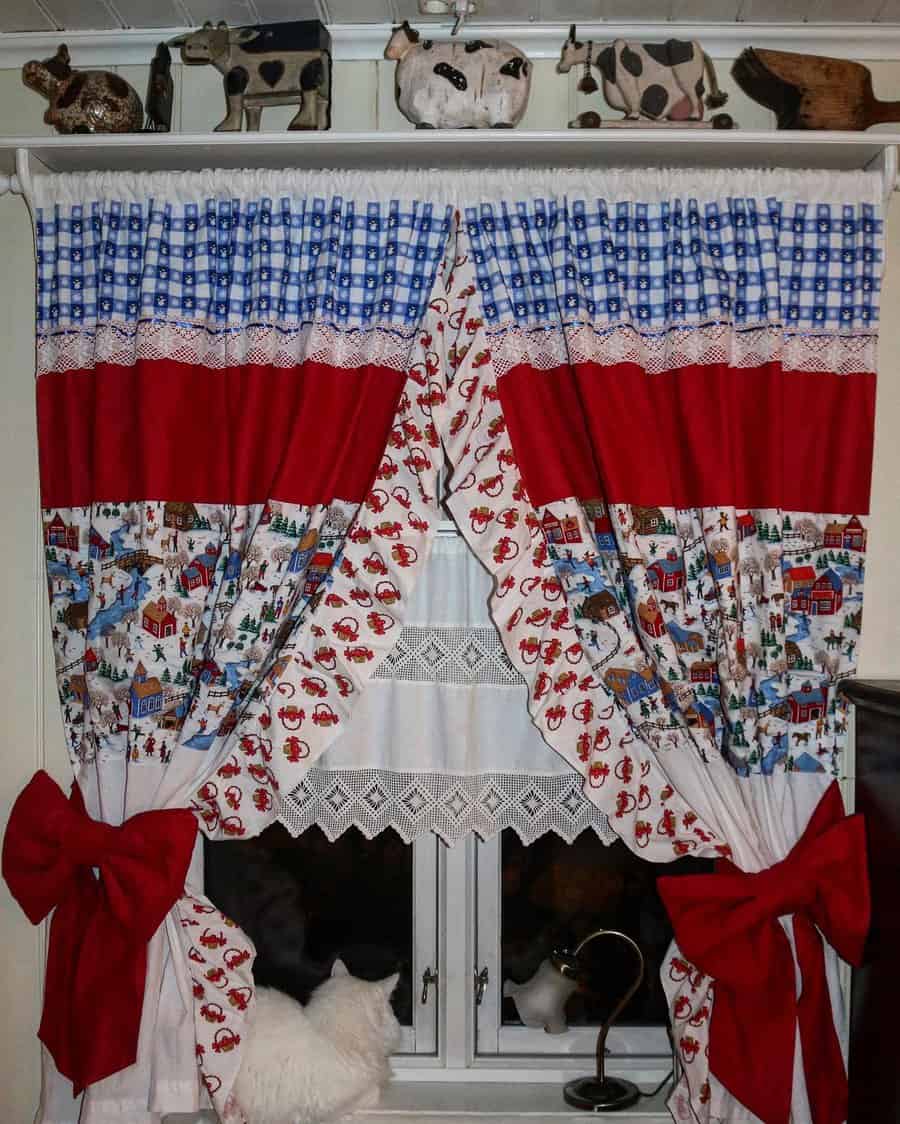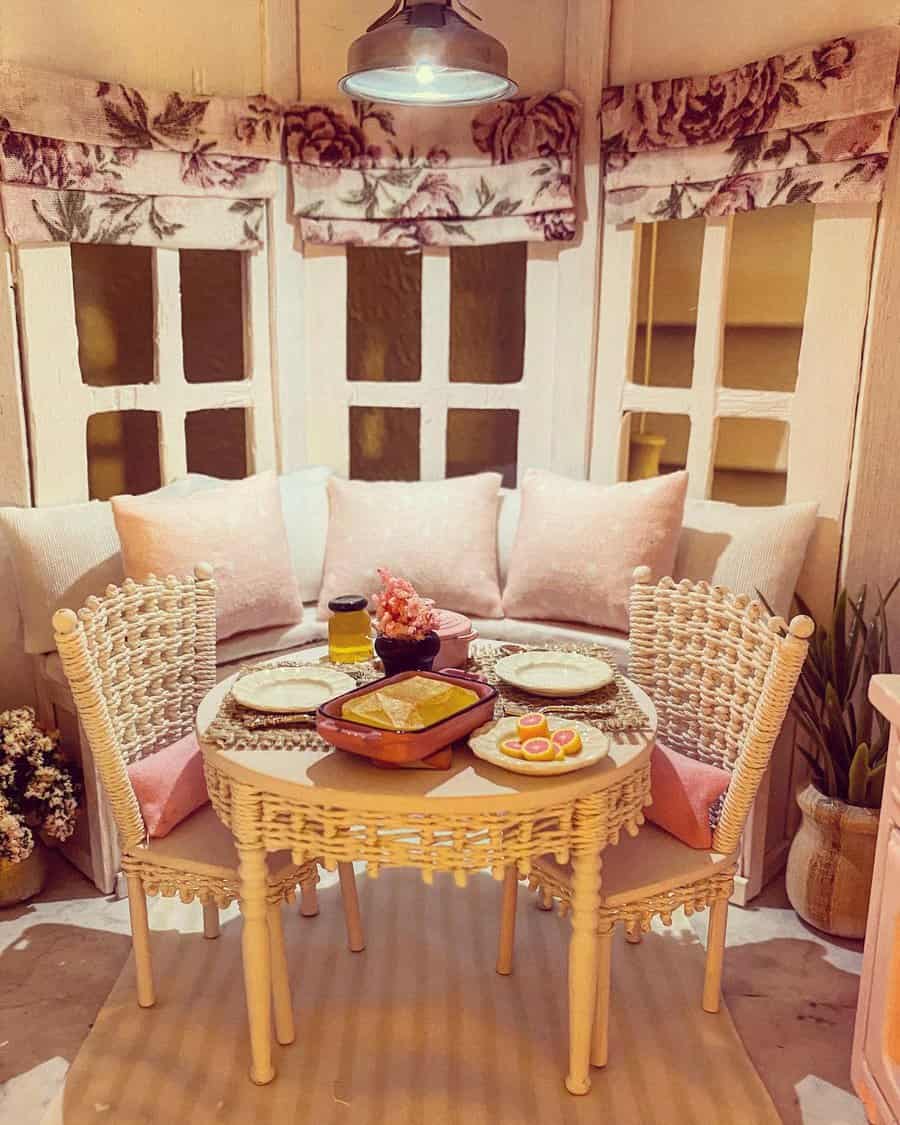 Because shabby chic has a strong feminine aesthetic, sheer fabric is great for kitchen curtains. Lace and eyelet sheer curtains are beautiful in this style of kitchen, either alone or layered with a vintage floral or stripe patterned curtain.
12. Sink Curtain Ideas
The most common place for a kitchen window is over the sink. That's why your kitchen curtain choice is so important: you'll spend a lot of time looking at them while you're washing dishes, cooking, and cleaning.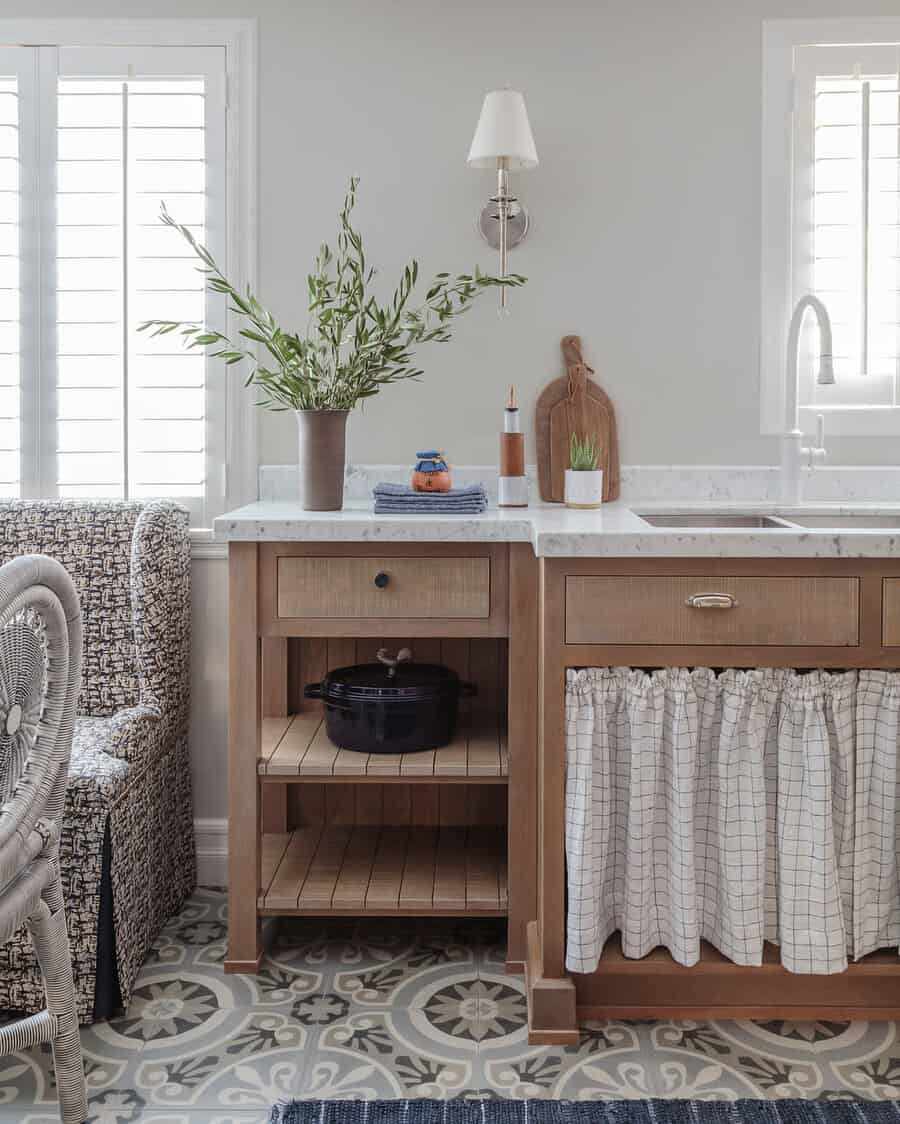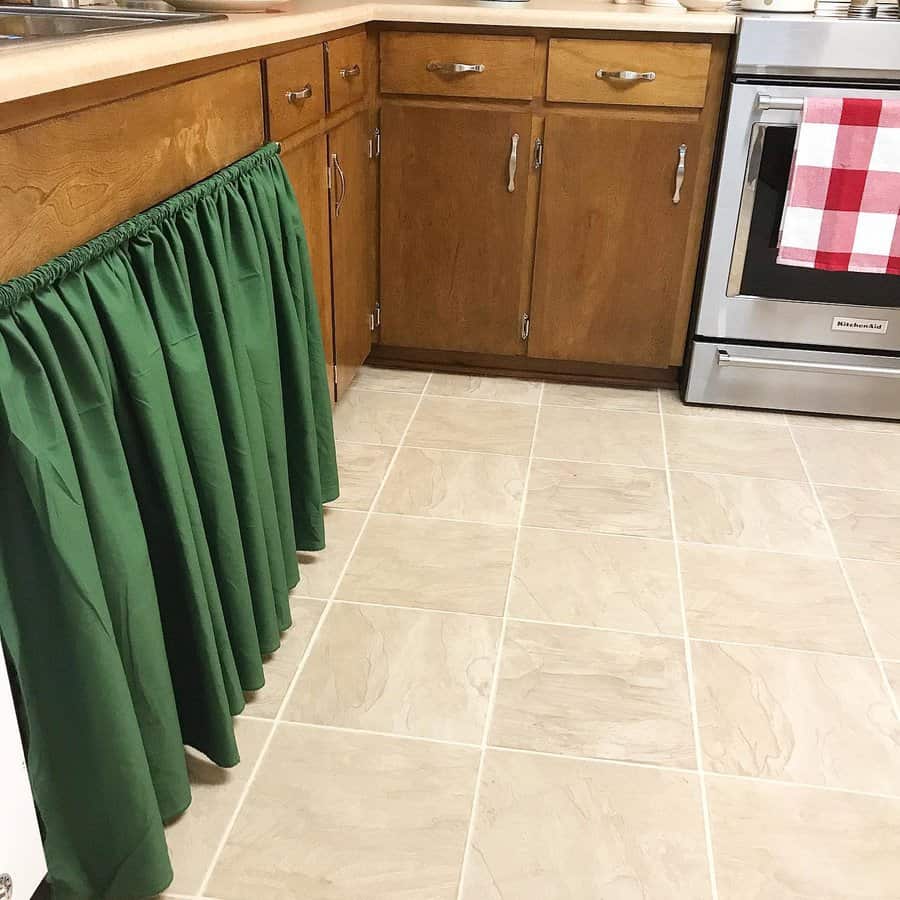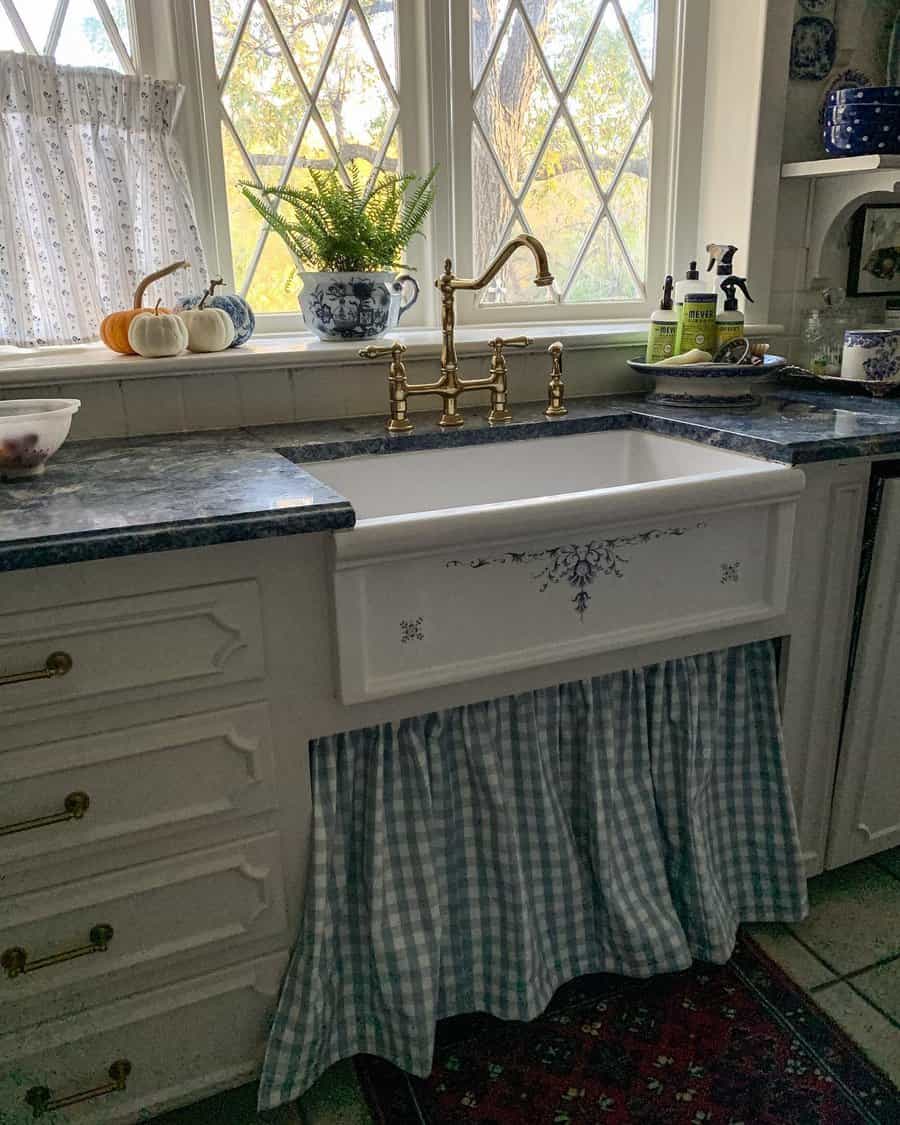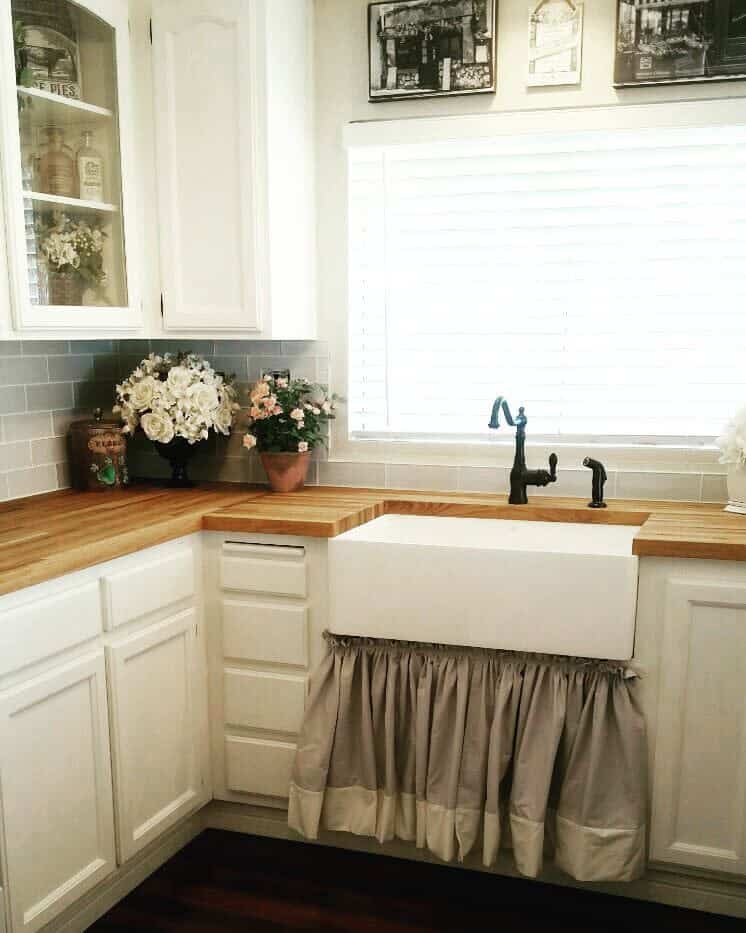 Because of the risk of splashes and stains, it's best to use a durable kitchen curtain fabric over the sink. A paper folding blind won't hold up to repeated water splashes, and white kitchen curtains will turn dingy much faster than a colorful print.
13. Tie Up Curtains
A tie up kitchen curtain is similar to a roman shade, but instead of a sewn-on ring system, there are long ribbons or fabric strips to adjust the curtain's height. You can either roll up the excess fabric or neatly fold it accordion-style before tying it off.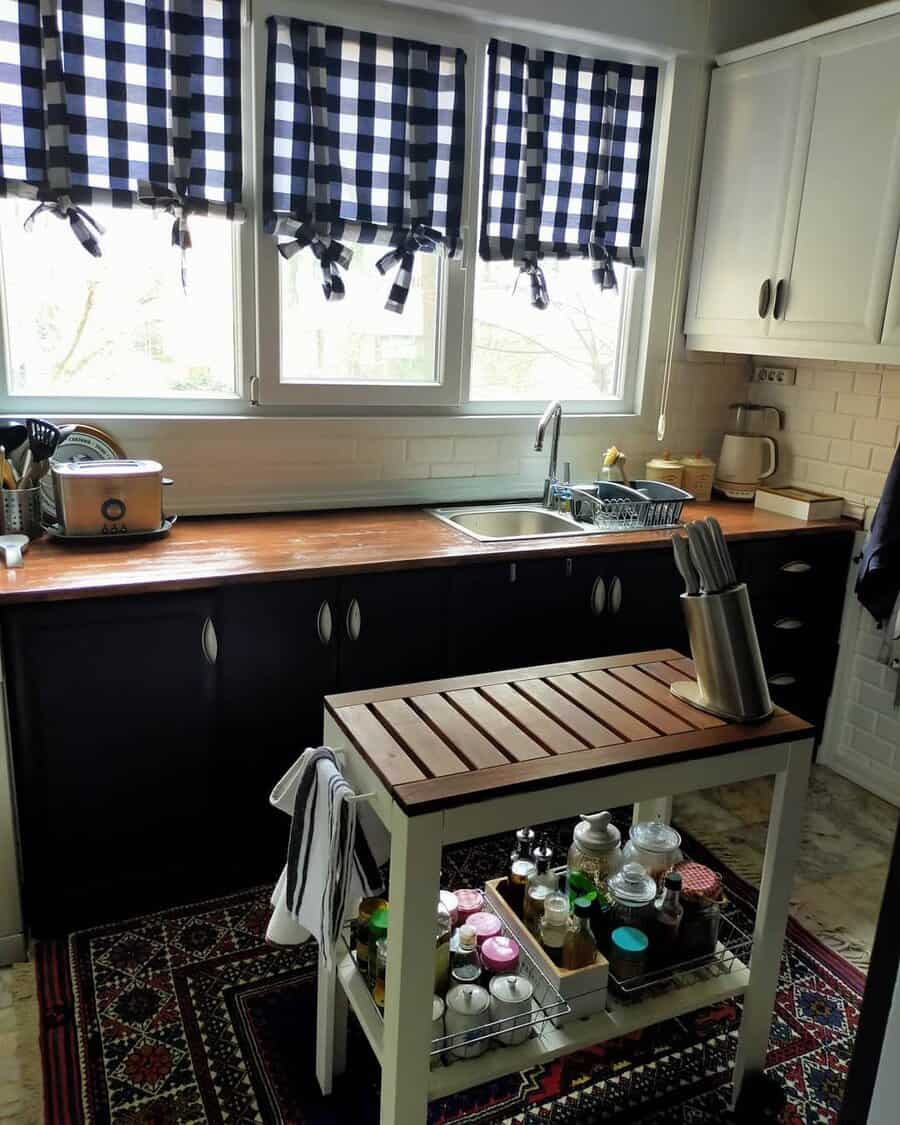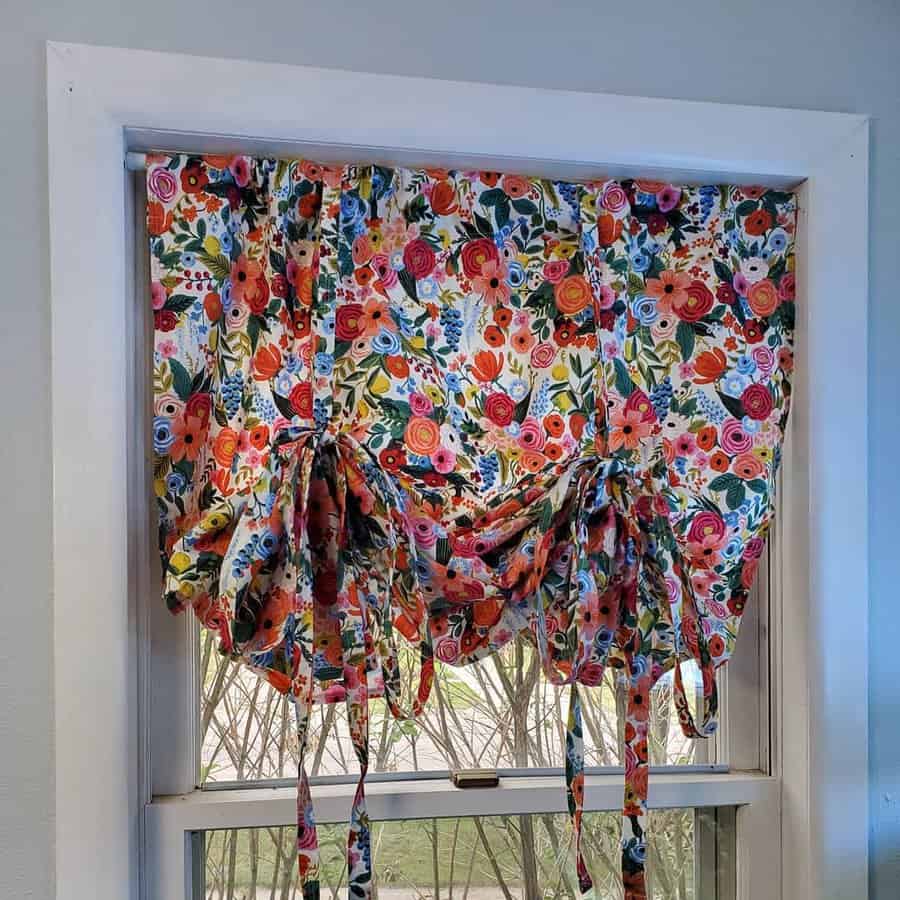 Tie up kitchen curtain styles look particularly nice when each side is a different coordinating fabric. Perhaps have a printed fabric on one side and a solid color on the other.
Kitchen Curtain FAQs
What can I put up instead of kitchen curtains?
If ordinary kitchen curtain ideas are too traditional for your taste, you have other options for light control and privacy. Roman blinds and frosted window film are two sleek, simple window treatment options. 
Shutters are a unique kitchen window treatment that work well in country or cottage style homes. Shutters are a particularly attractive kitchen curtain alternative on a bay window.
Should you put curtains over blinds?
Some people feel that window treatments should consist of only one element. However, layering kitchen curtains over blinds adds depth and beauty to your kitchen windows. Since each type of window treatment serves a different purpose, it's completely fine to hang them together.