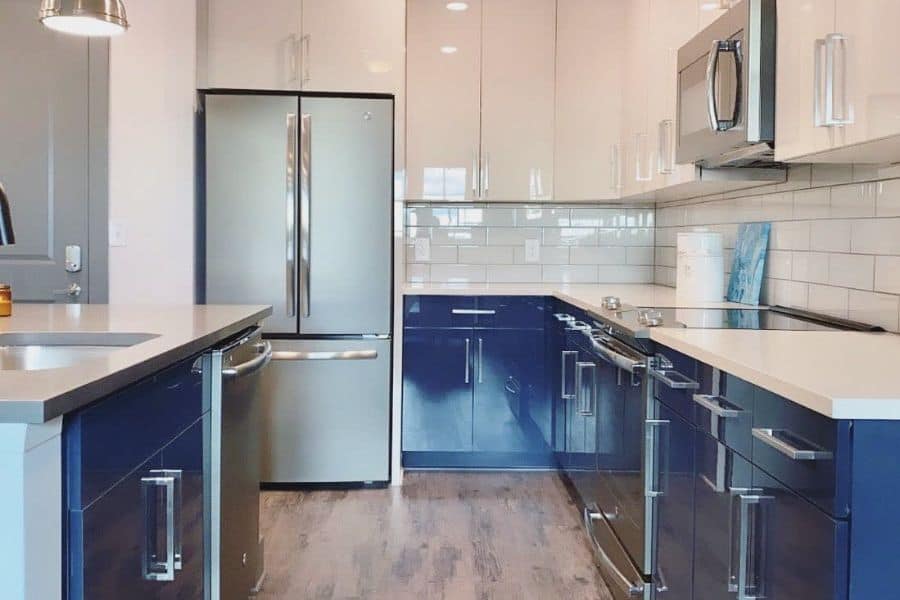 The Top 53 Apartment Kitchen Ideas
Owning a home with a small kitchen is one thing. You can still paint the walls or replace the cabinets to suit your own tastes. But what about renting an apartment with limited kitchen space?
Very few people picture an apartment as their dream home. Tenants are often unable to make changes to their living spaces without their landlords' permission. In a space like the kitchen, these restrictions don't just affect how your apartment looks. They can also impact its functionality.
Keep reading for apartment kitchen ideas that will have your small kitchen looking and feeling like a dream. (Even if rent continues to be due each month!)
1. Appliances
Tenants very rarely get a say in the kitchen appliances within their homes. So how do you build a kitchen design around items you didn't (and maybe, if given the chance, would never) pick out?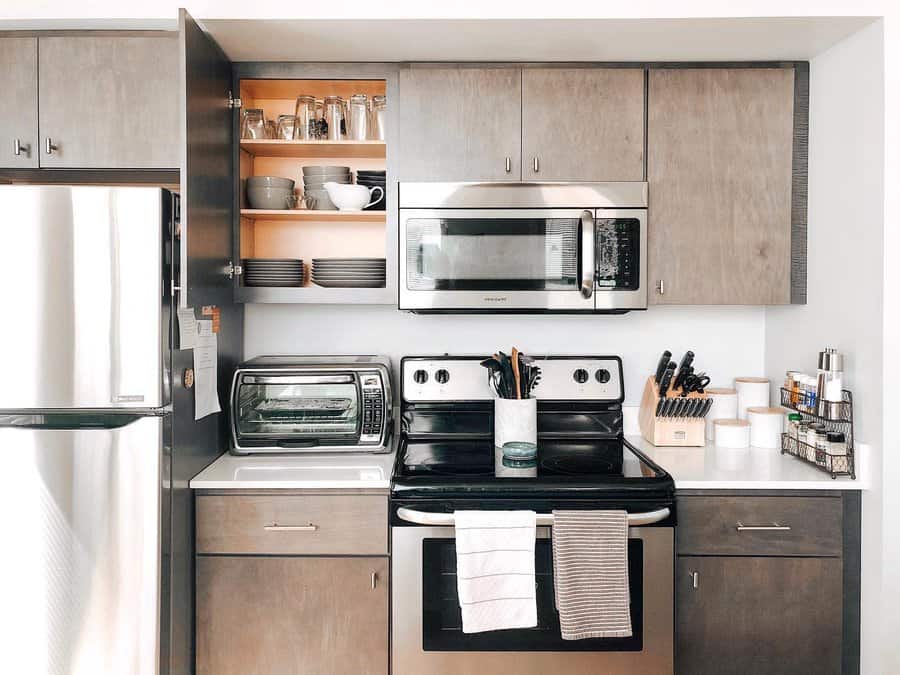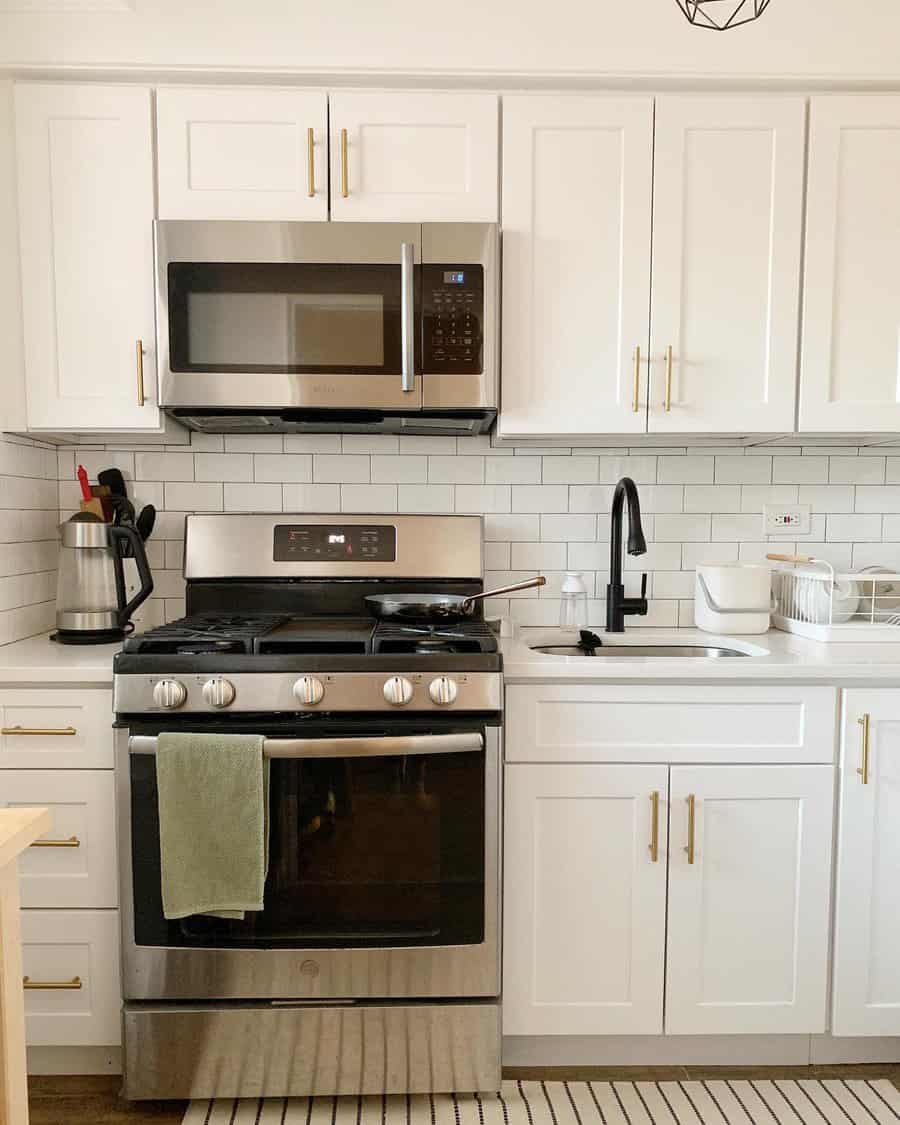 The best thing to do is accept what you cannot change about your rental. Instead, coordinate your own belongings to match the existing kitchen appliances. This is especially important when it comes to personal appliances, such as kettles, toasters, and microwaves.
Keep your kitchen appliances clean and clutter-free. You can dress up a refrigerator or stovetop that's seen better days with a set of magnets or tea towels.
2. Basement
Basement apartments get a bad rap. While this reputation is sometimes justified, nothing is stopping you from designing a basement apartment kitchen fit for a magazine centerfold.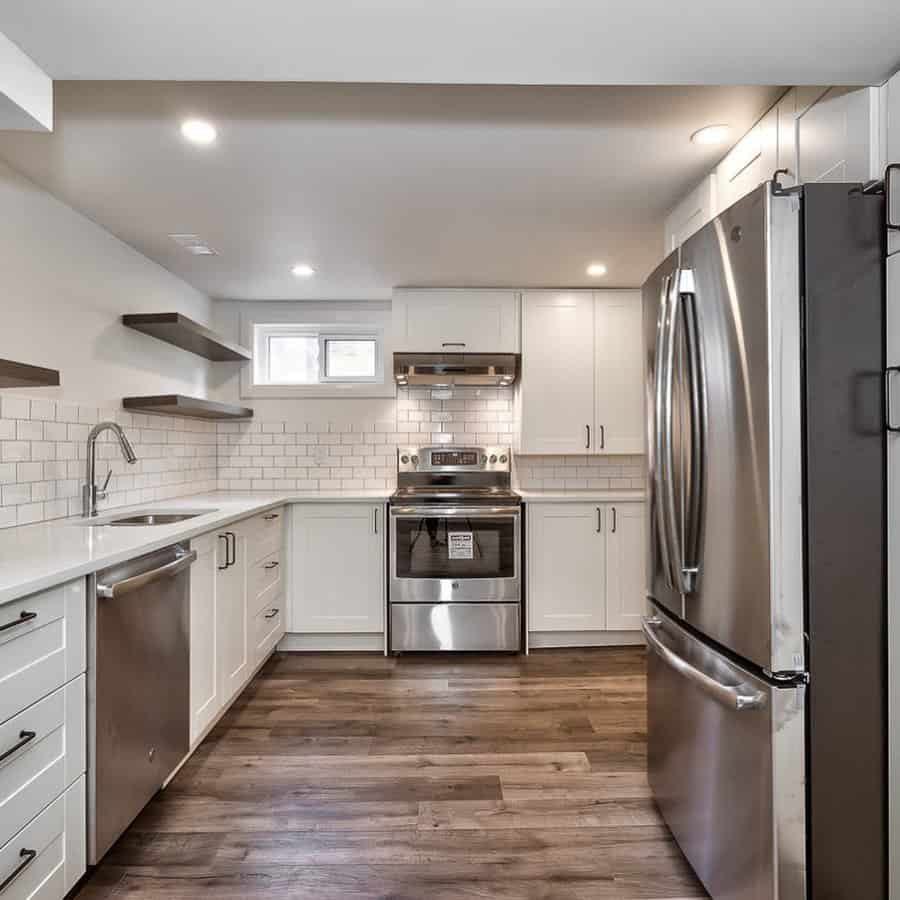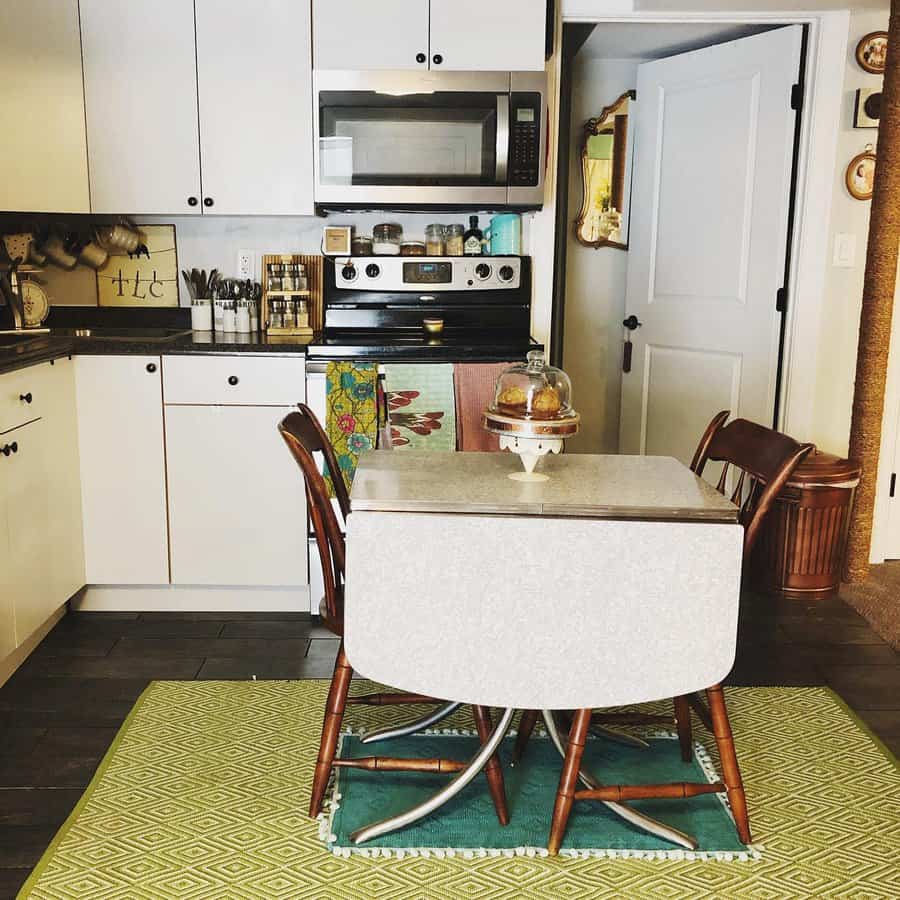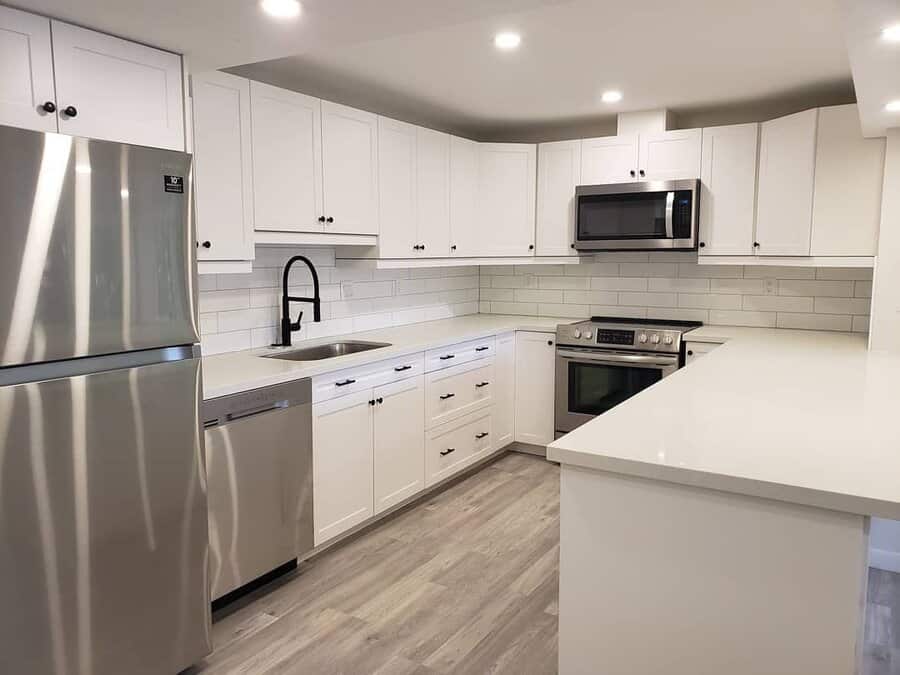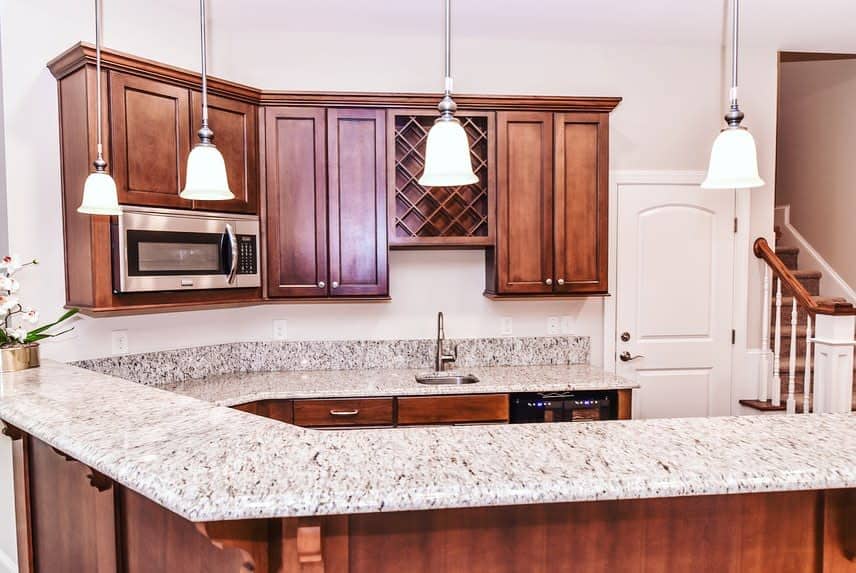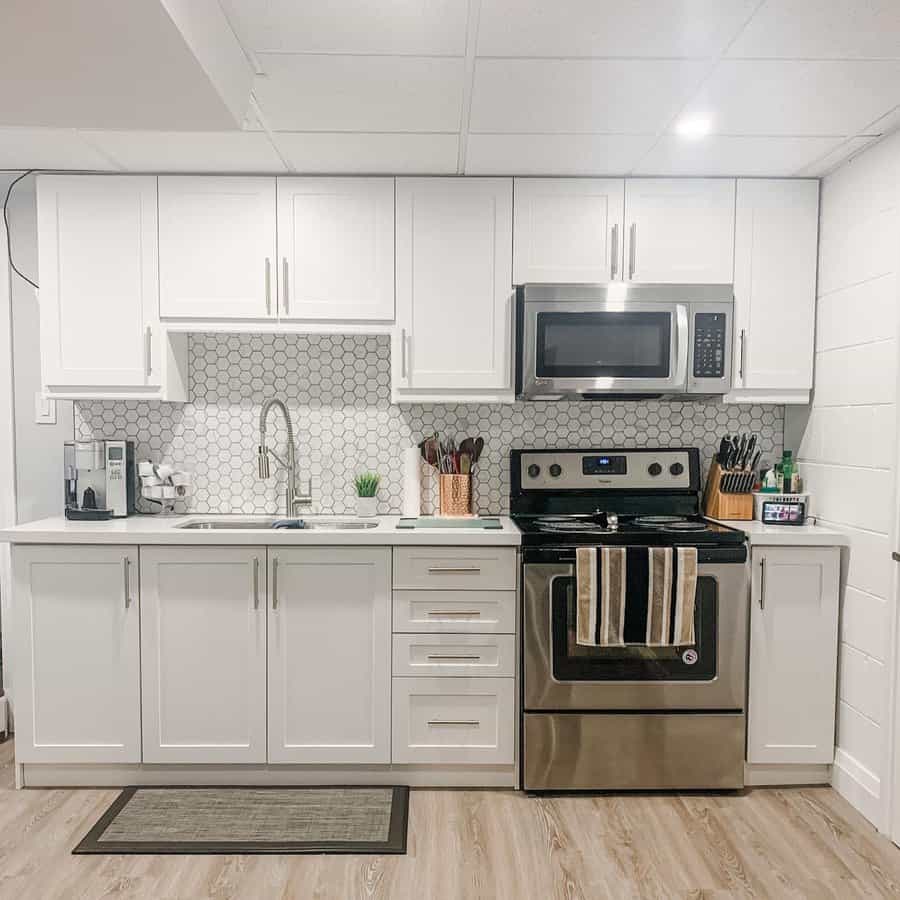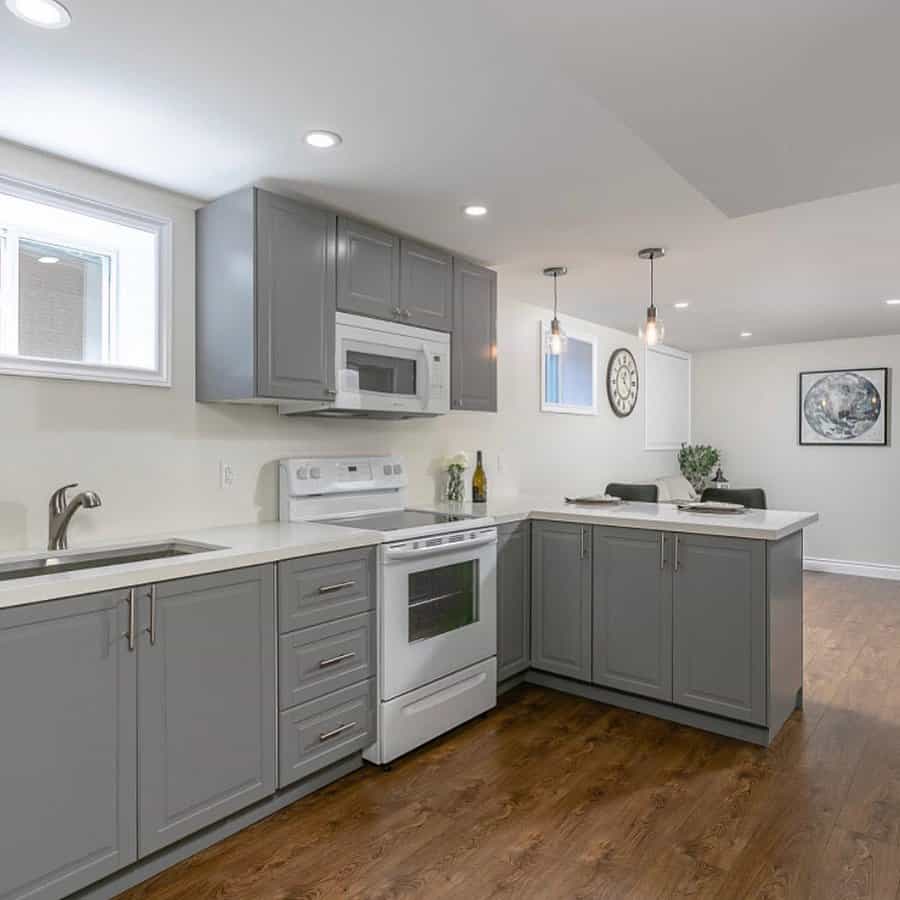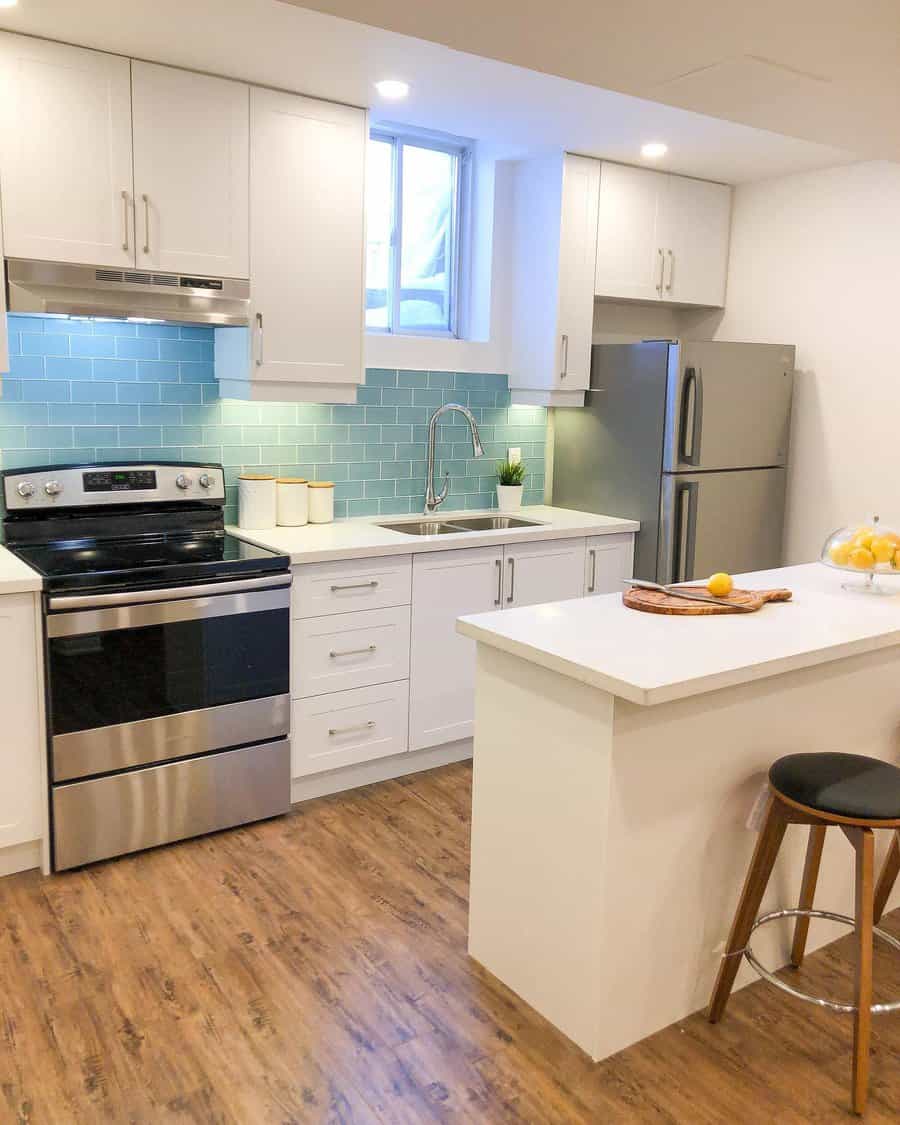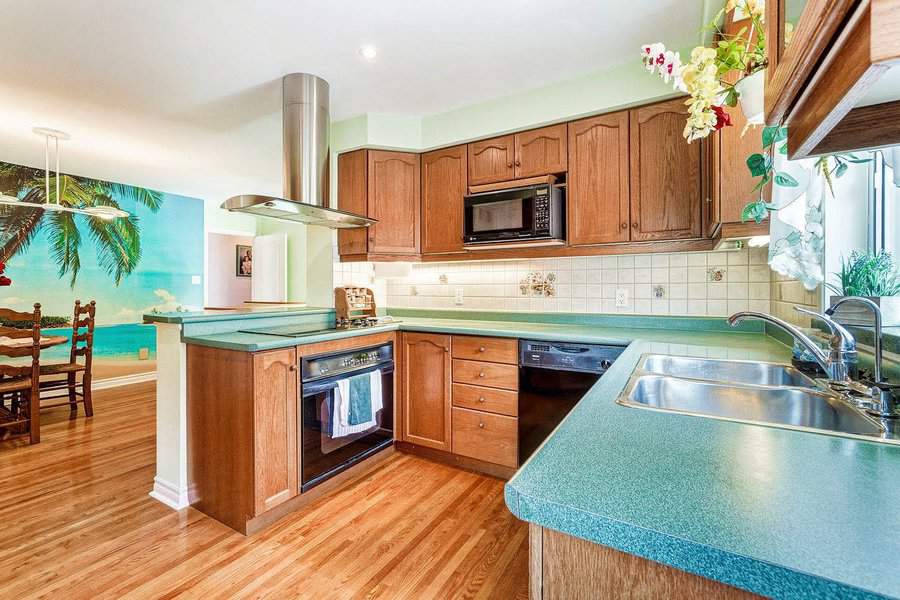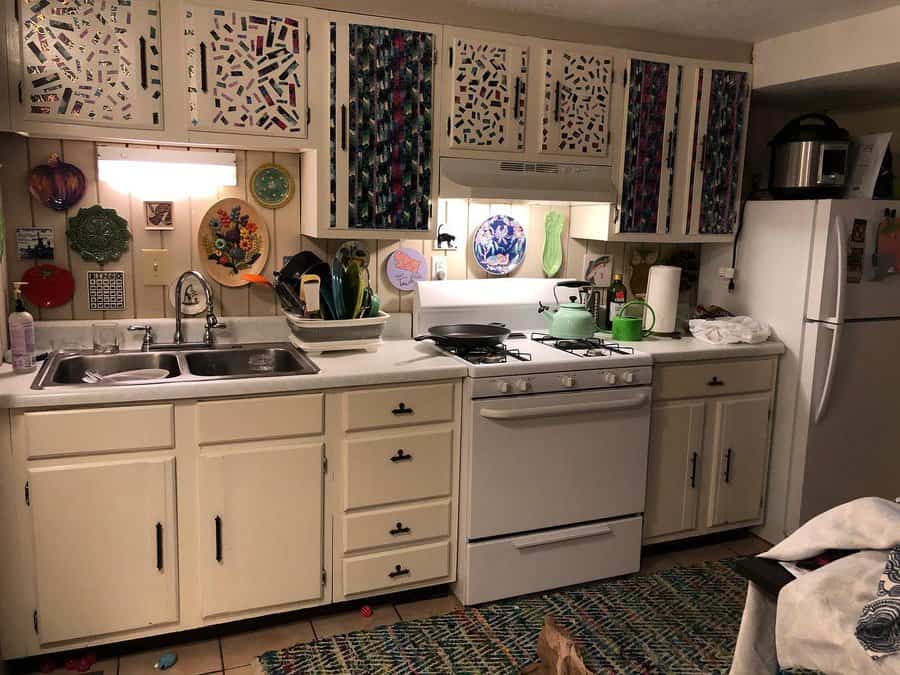 The greatest obstacle in transforming a basement apartment into a bright, inviting space is the amount of natural light. Light-colored walls and cabinetry will ensure your small kitchen looks as large as possible.
Some basement apartments feature small windows. Others have no windows at all. Avoid blocking any natural light with heavy window treatments. Also, swap out yellow-tinted light bulbs for more natural-looking ones.
3. Cabinet
Installing new kitchen cabinets isn't an option for most renters. That doesn't mean you can't make some temporary updates to align the space with your personal decor style.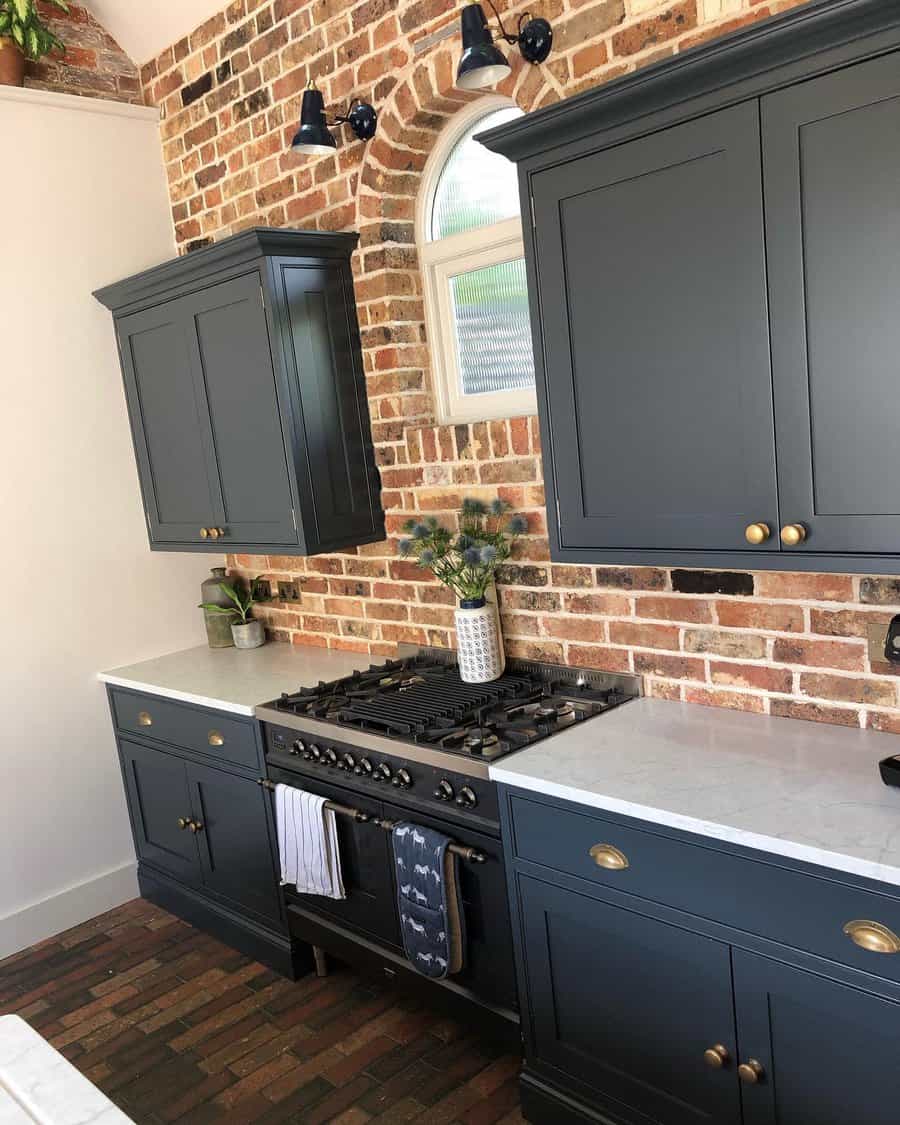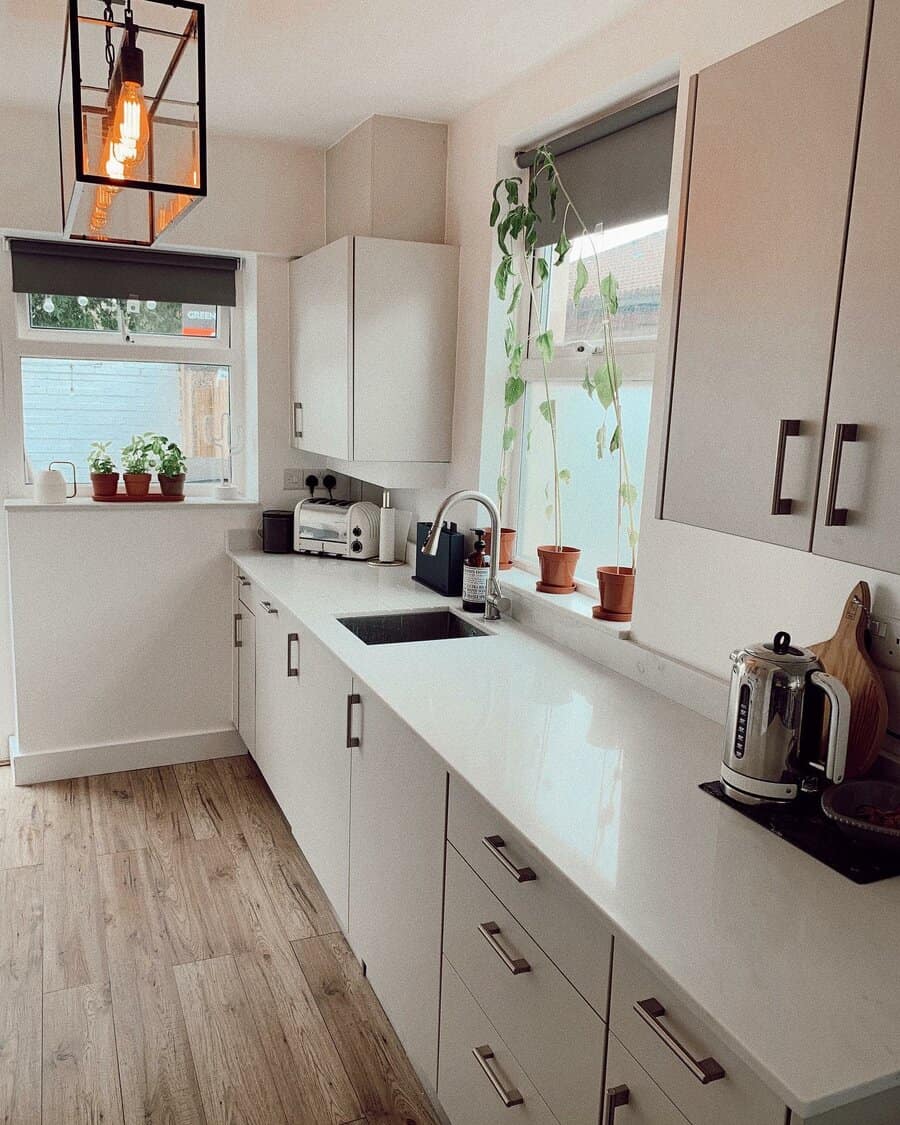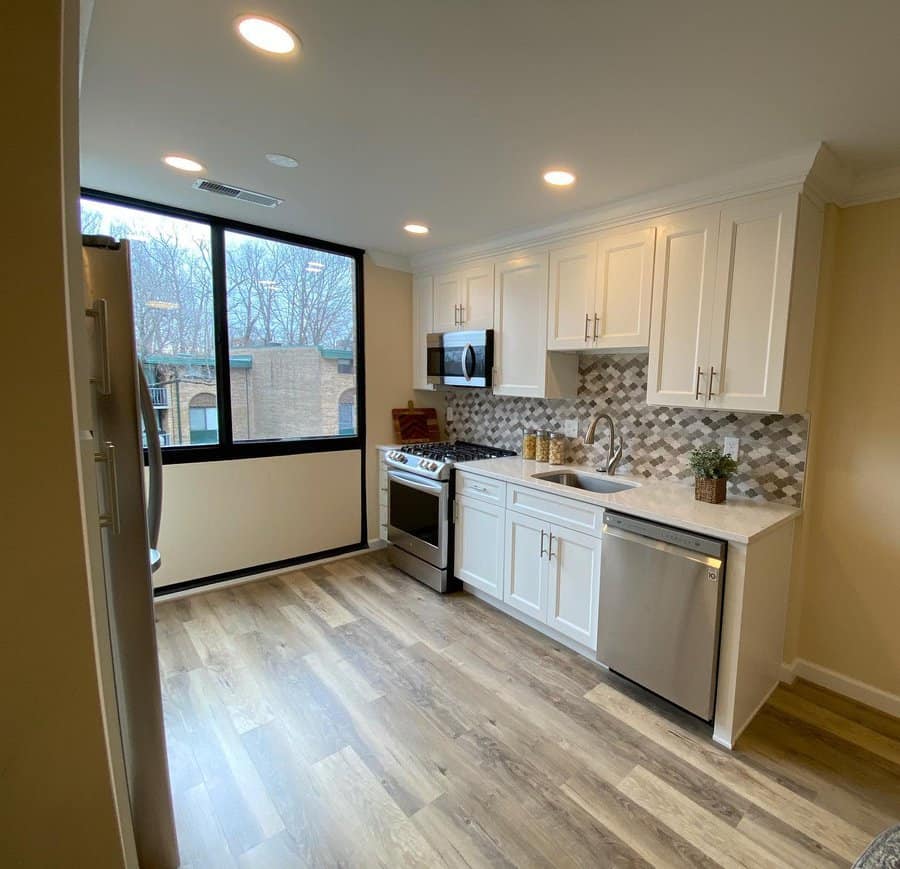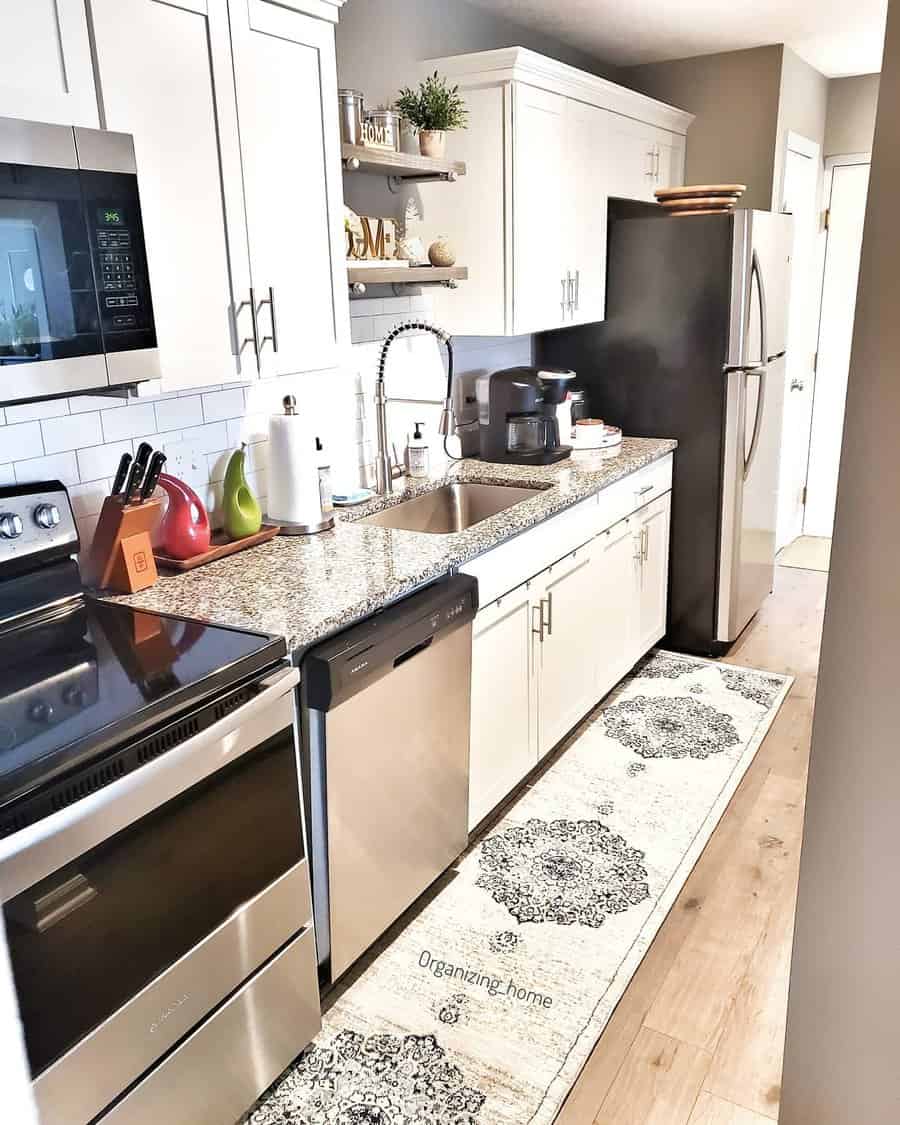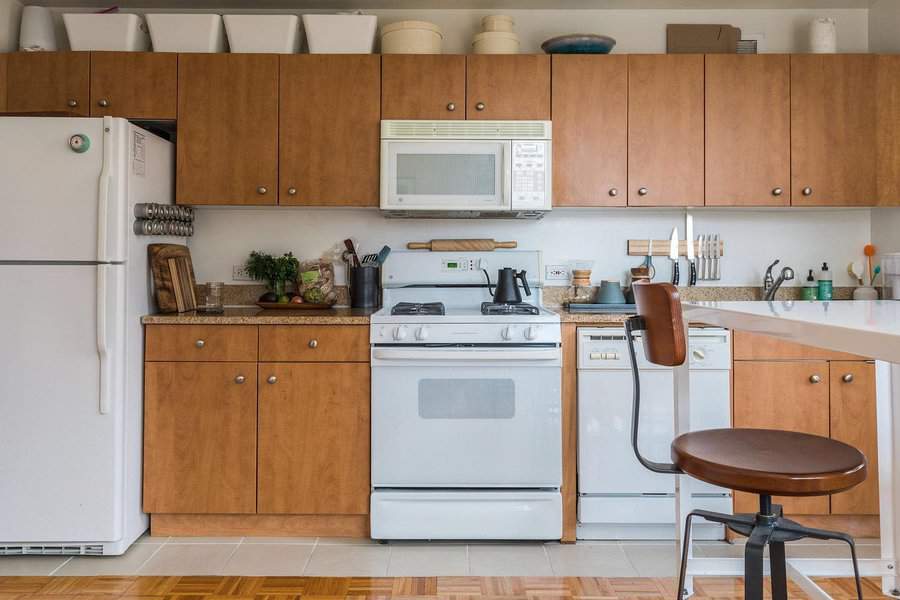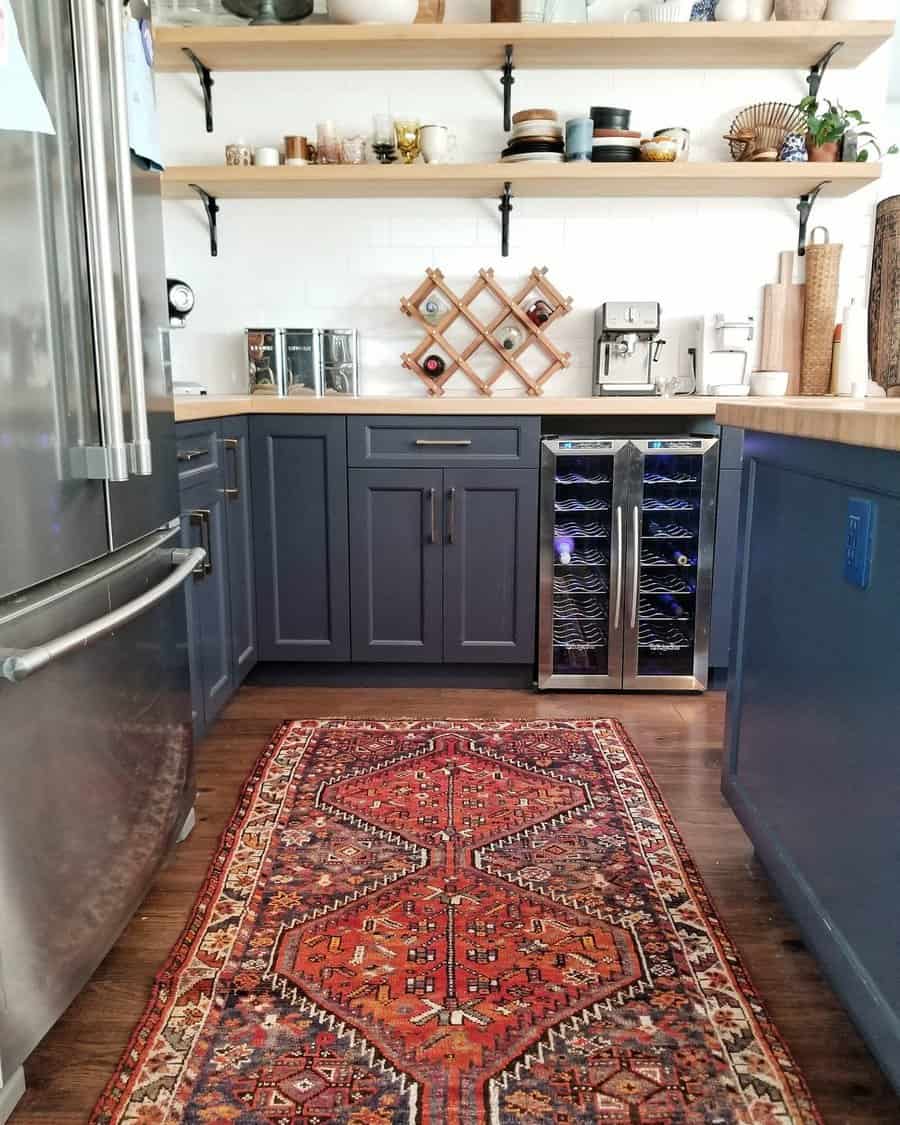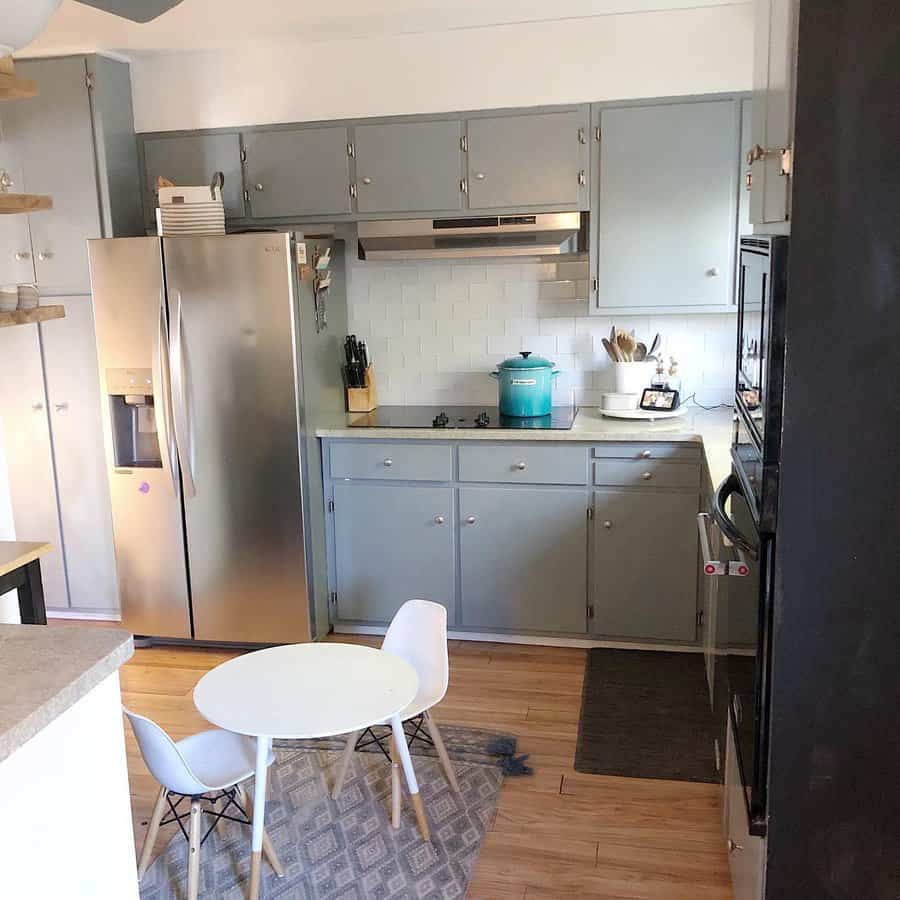 Cabinet hardware is very easy to swap out without damaging the cabinet door itself. Just be sure to store the original hardware in a safe place. You'll need to swap it back in once it's time to move out!
Sometimes, the look of your apartment cabinets isn't the issue. If your small kitchen lacks adequate storage space, you can supplement the cabinetry with matching open shelving. Take advantage of the space above your cabinets to store bulky cookware.
4. Compact
The open-concept trend has created an unfair bias against compact living spaces.
A kitchenette isn't the ideal setup for a self-proclaimed home chef or entertainer. Yet there's no reason this type of space can't meet the needs of the average tenant.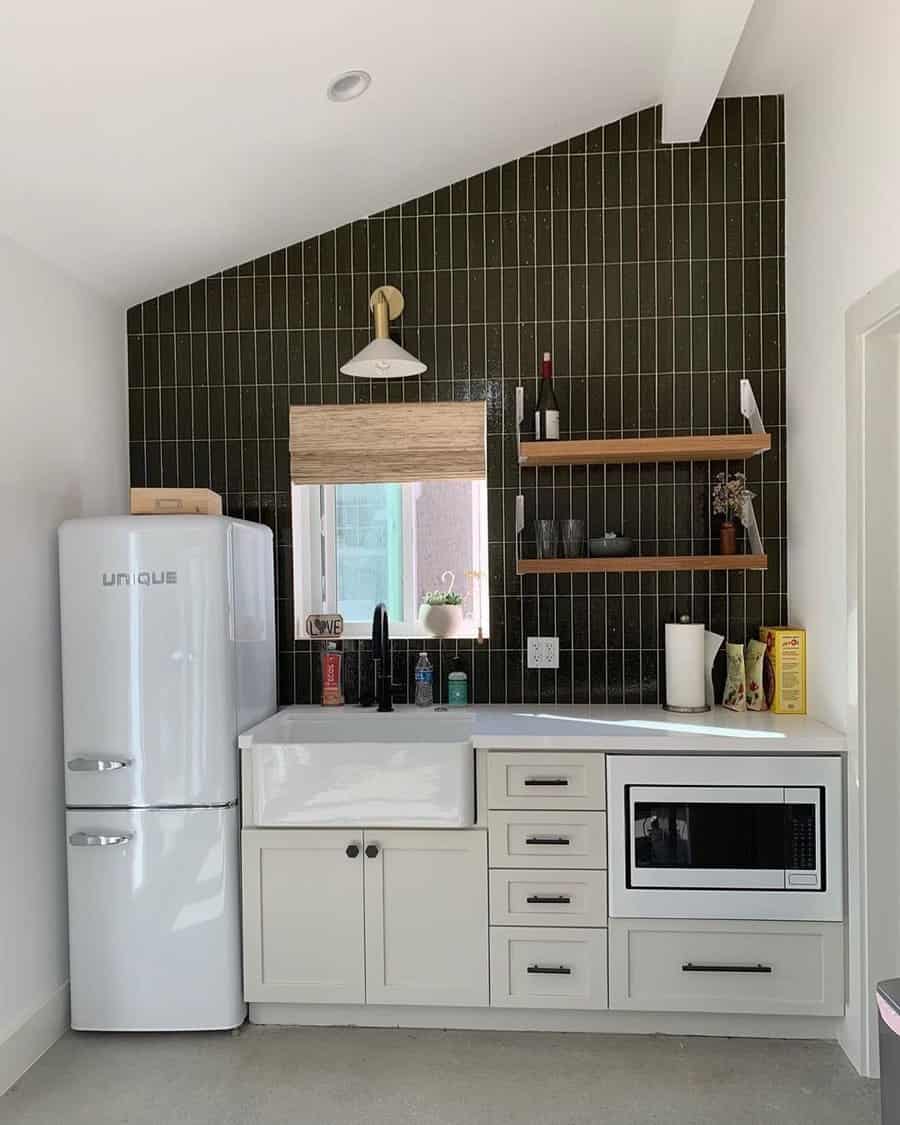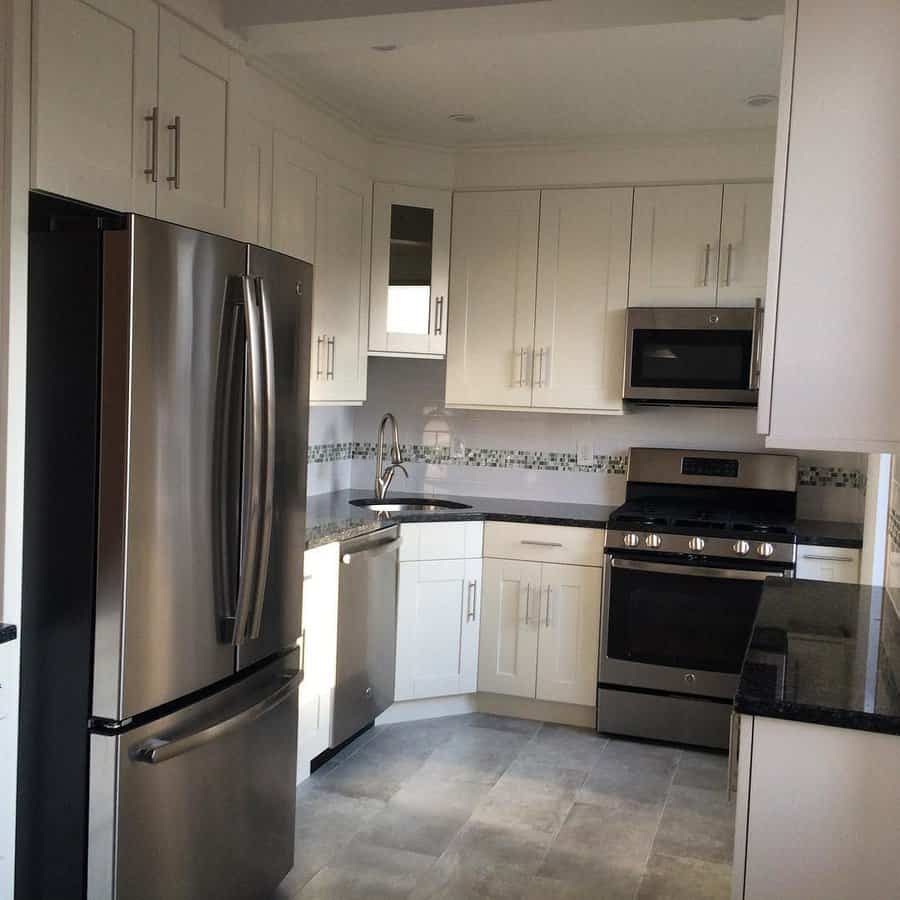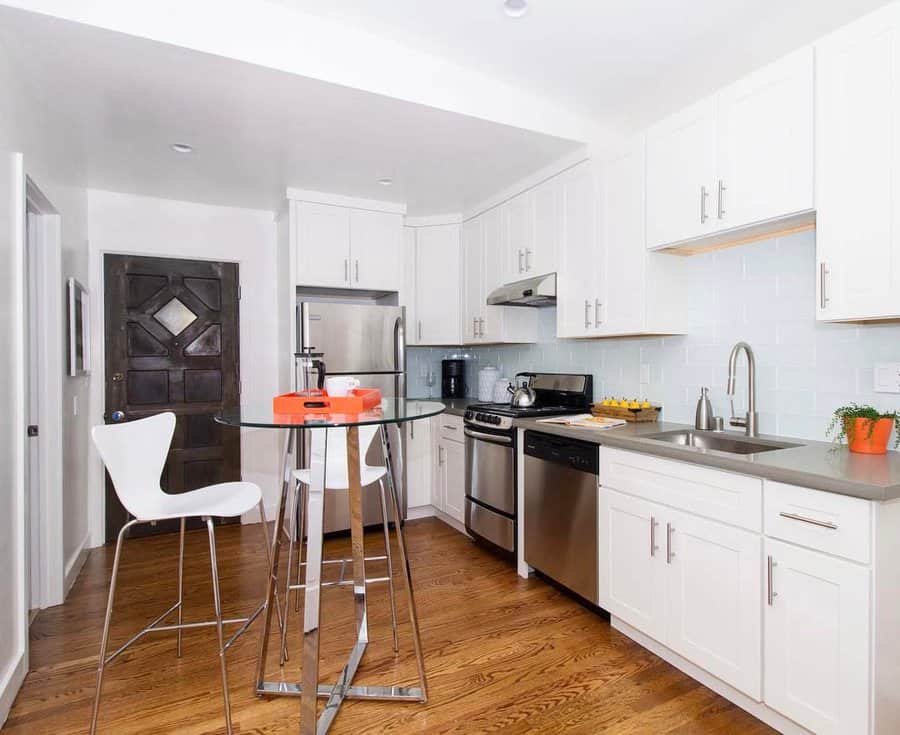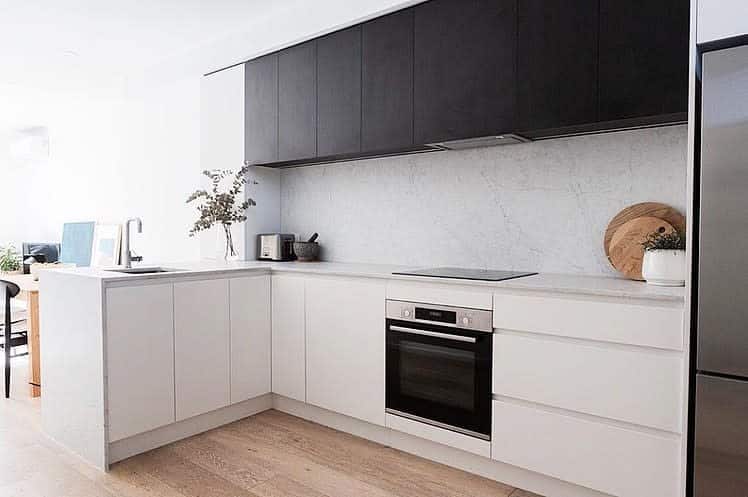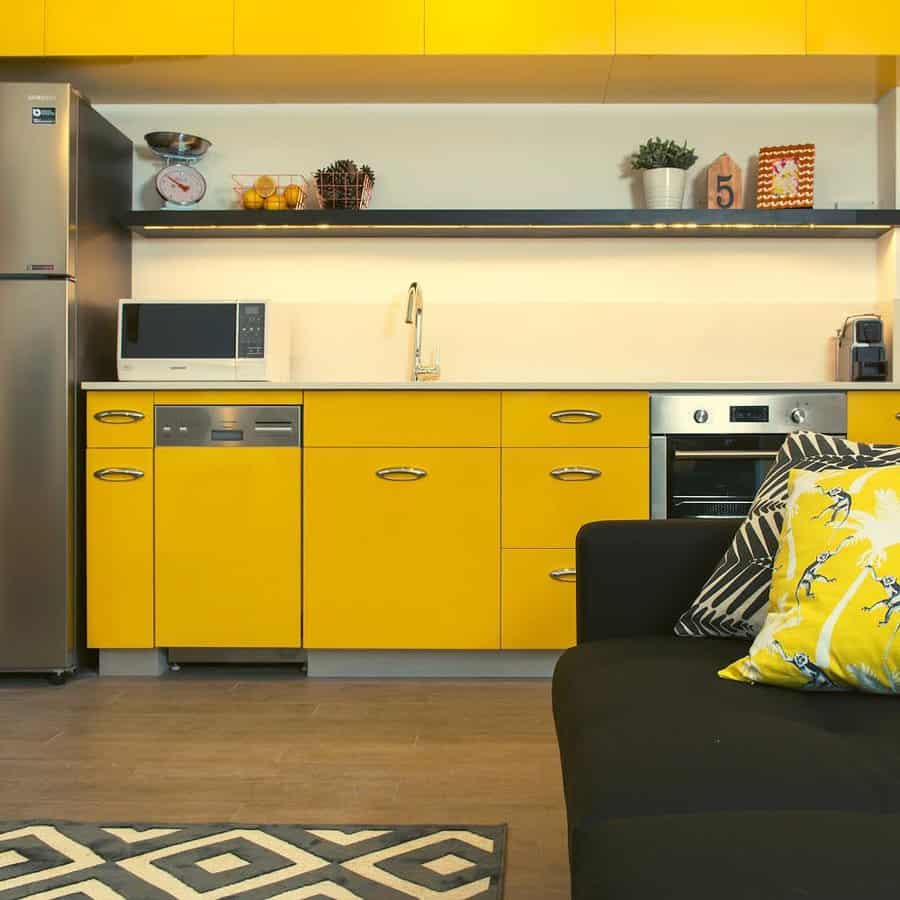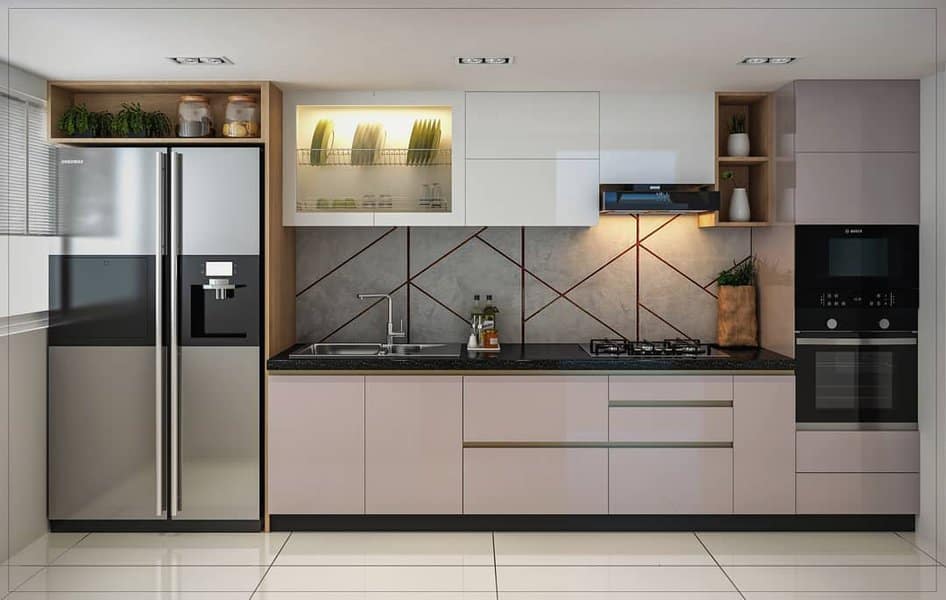 Keep decor to a minimum — only display your very favorite items. Not only will excess decor take up valuable space but it will also make your small kitchen look crowded and overwhelmed.
Use a single color throughout as much of your kitchen design as possible to create the illusion of more open space. A simple rolling cart or small kitchen island can be used to supplement your kitchen counter space and provide extra storage.
5. Corner
Apartment builders want to get as much square footage out of their floor plans as possible. That can lead to some awkwardly shaped rental spaces.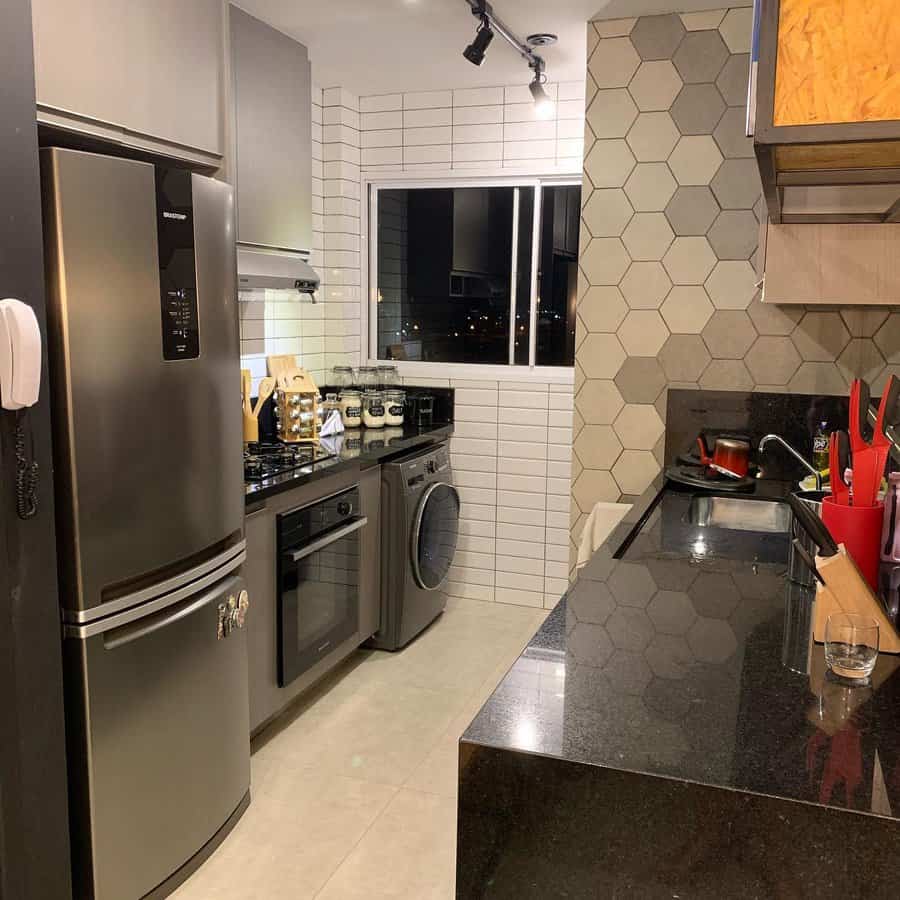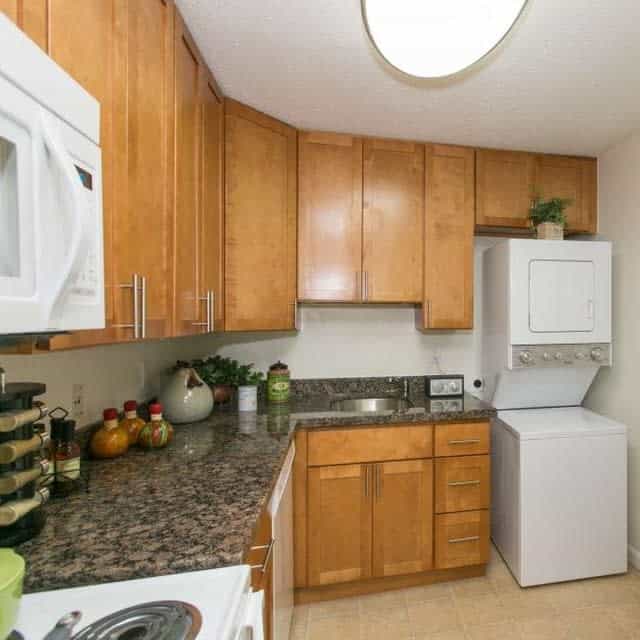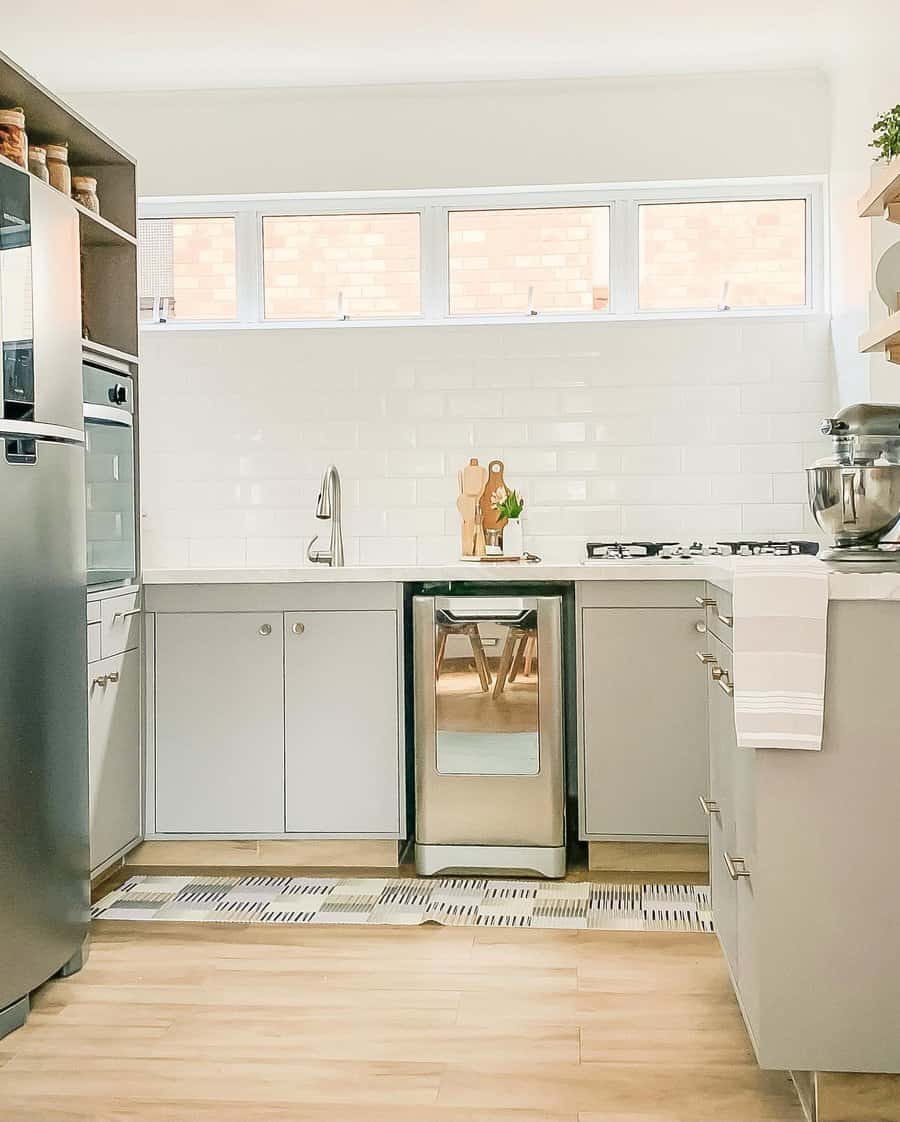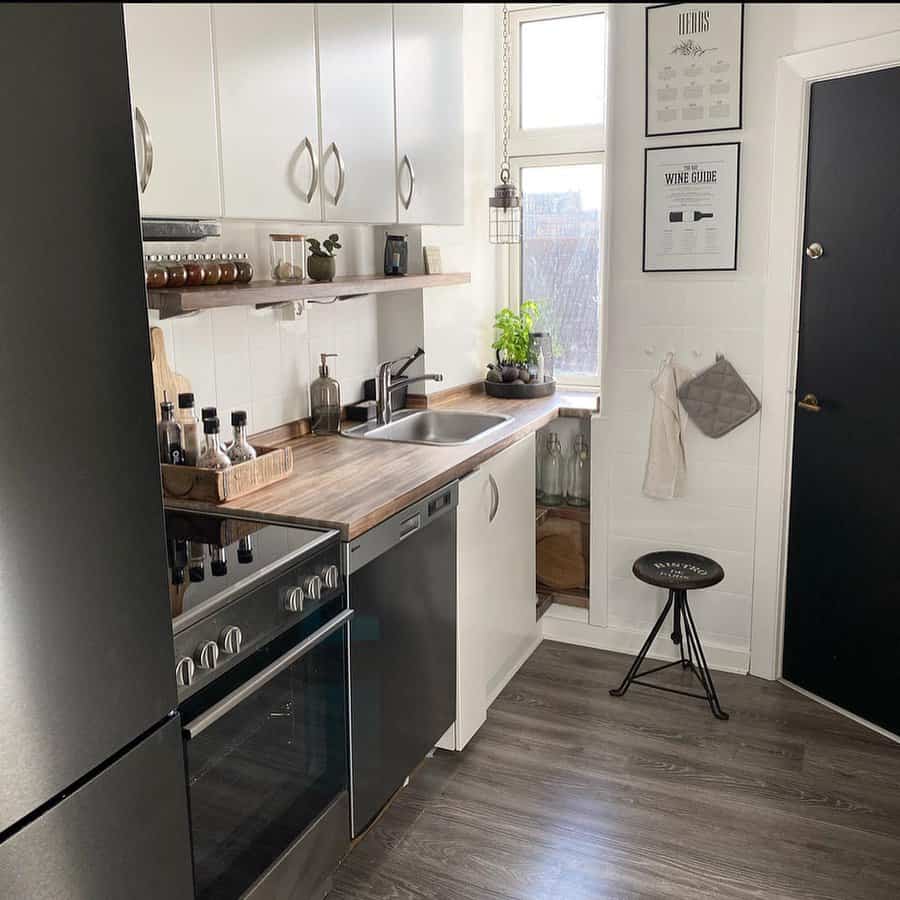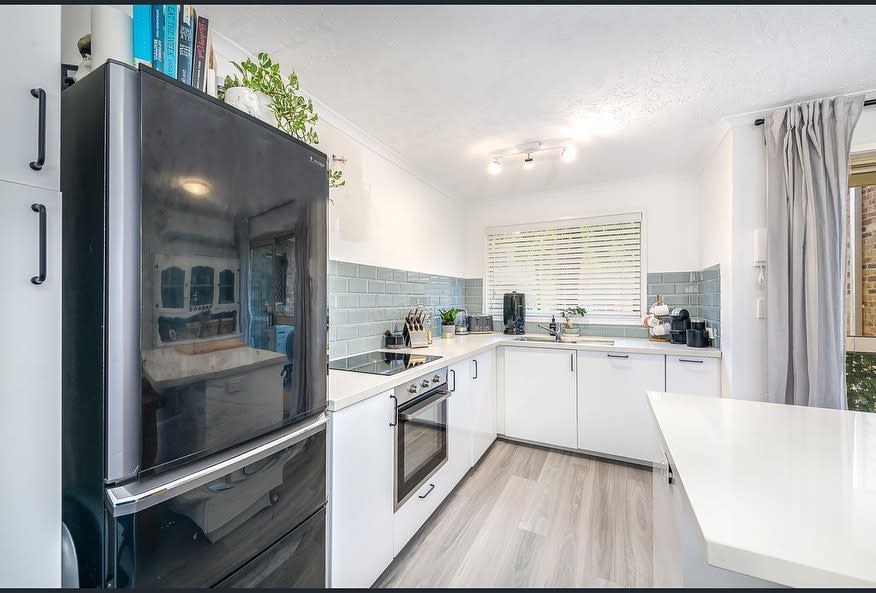 Arranging cabinetry and appliances in a corner kitchen can be tricky. Be aware of how your small kitchen layout will impact cabinet doors and drawers. It may take a little creativity to get the most out of your space — never underestimate the power of a floating shelf or lazy susan!
Add artwork or pantry storage to the back kitchen wall rather than leaving it bare. A mirror will make the space feel more spacious (if the wall doesn't already feature an exterior window).
6. Design
Some landlords are more forgiving than others. But, as a general rule, undergoing even small kitchen renovation projects is a no-no for renters.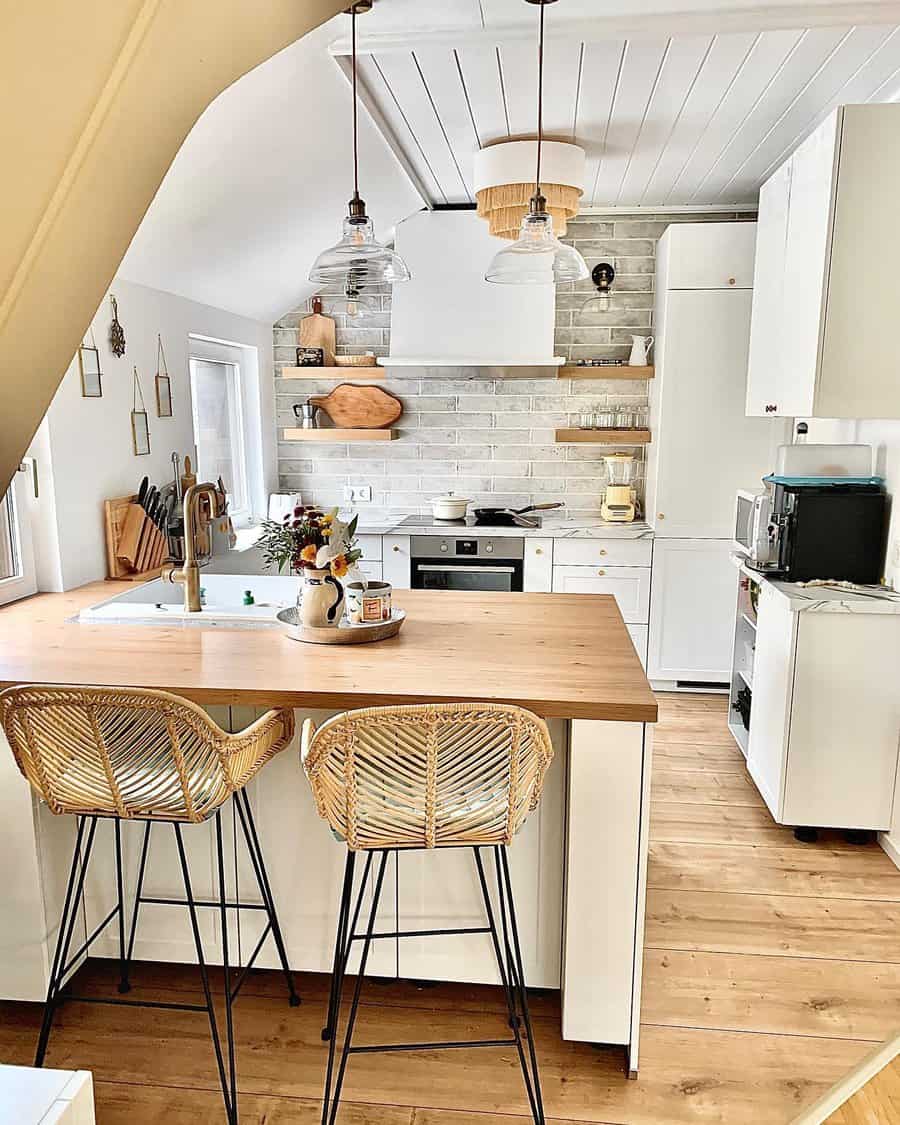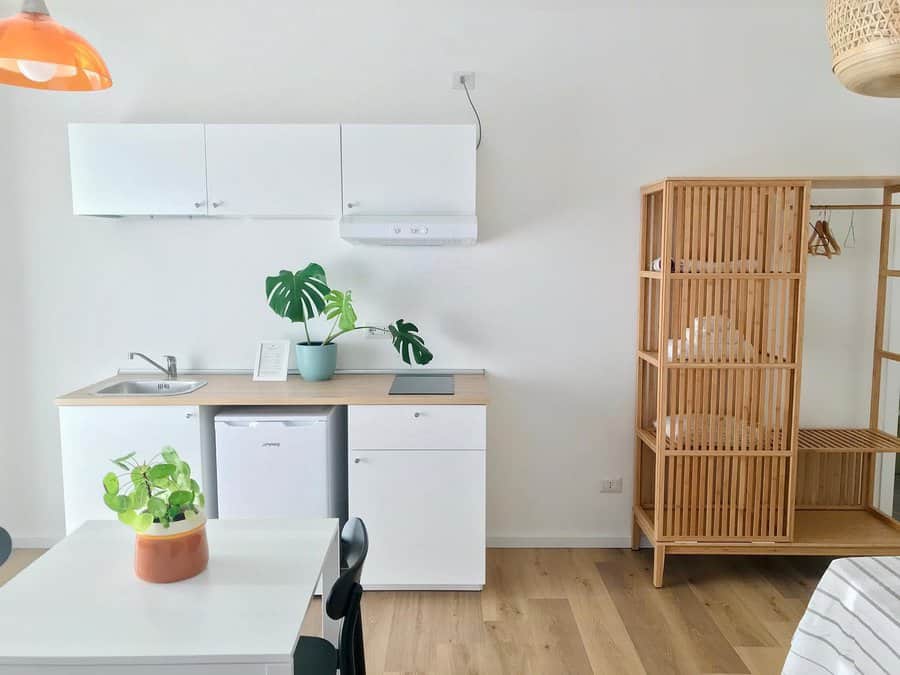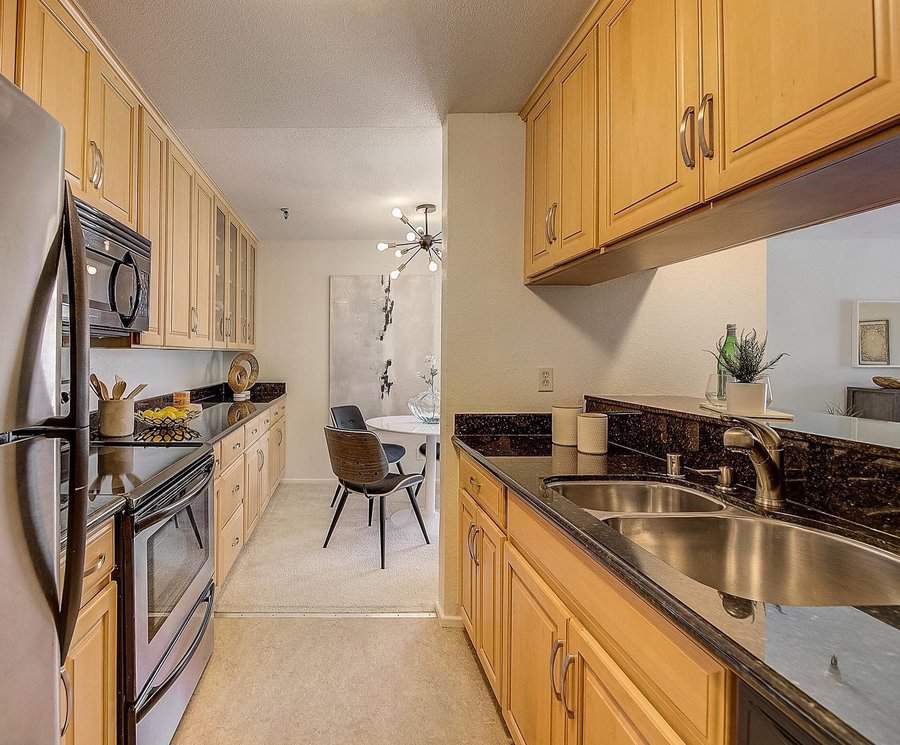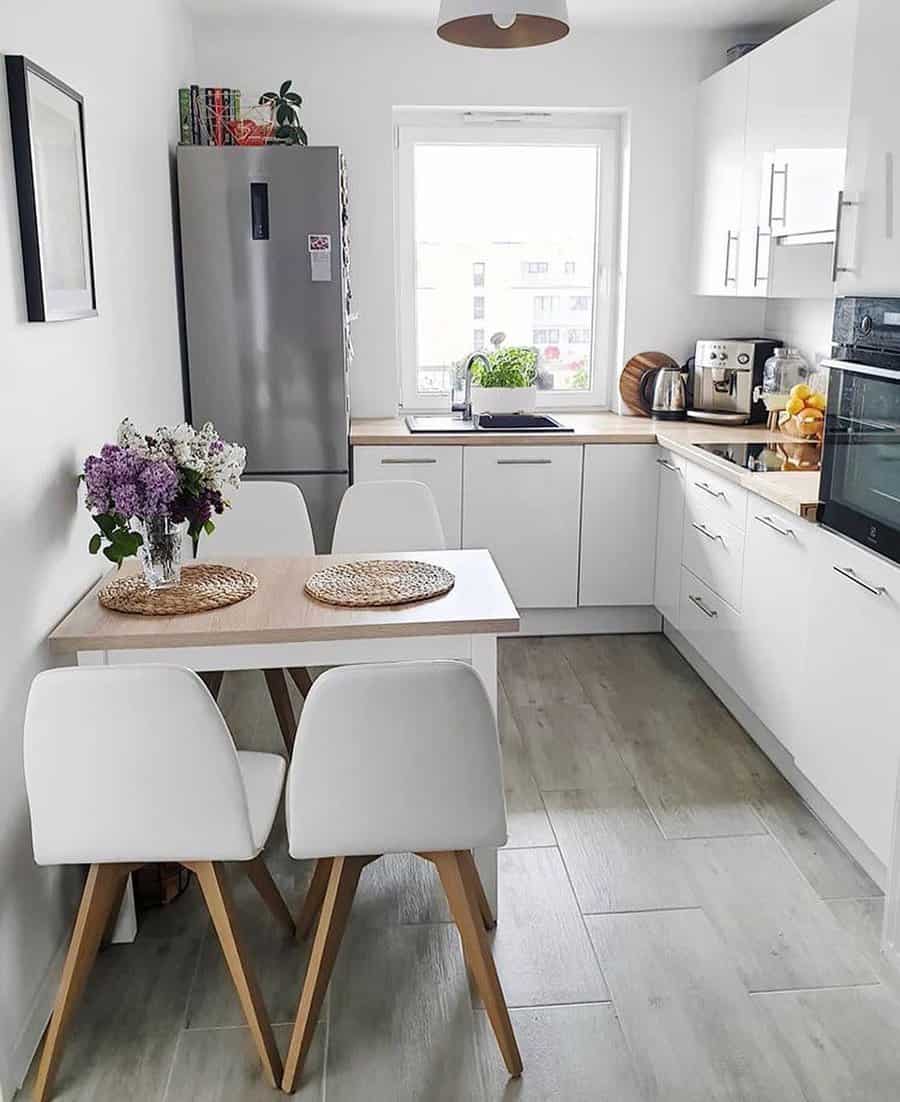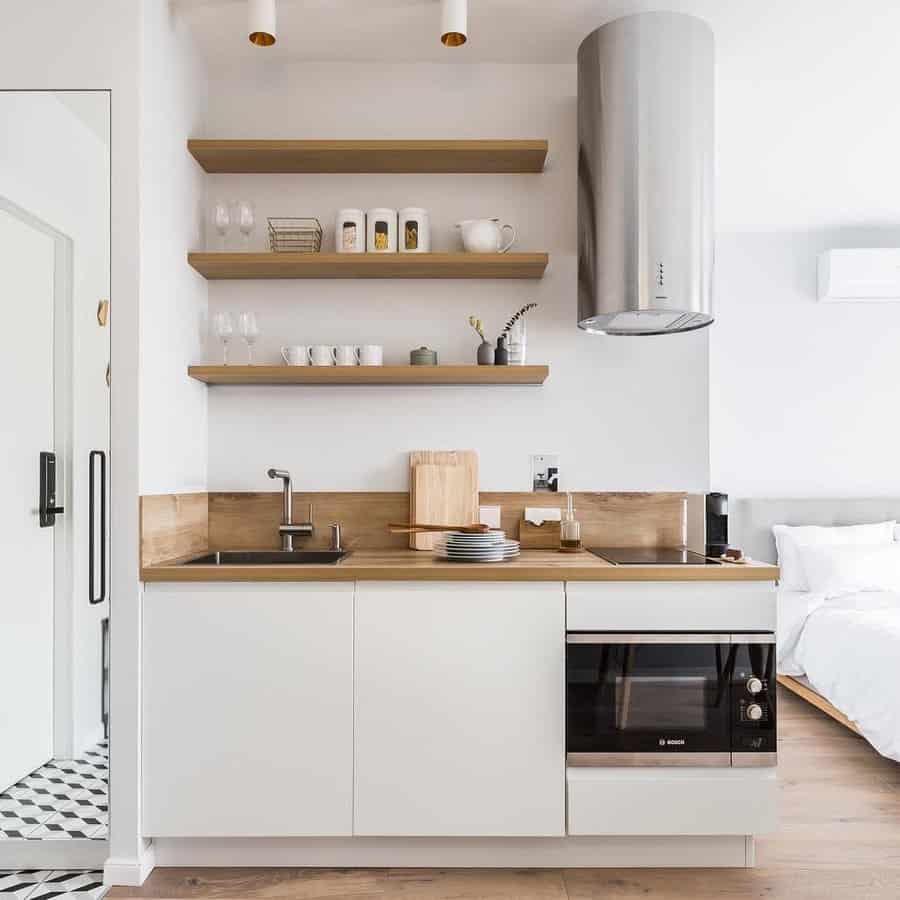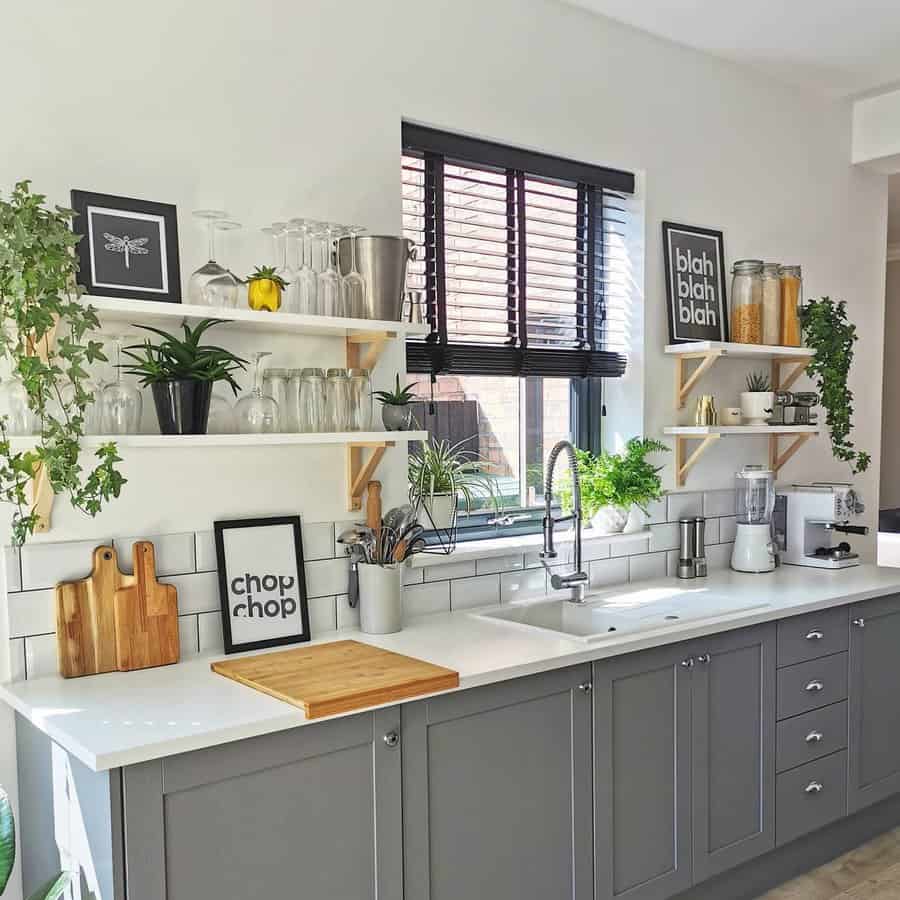 You could spend time dreaming up kitchen ideas that require a sledgehammer and power tools. Or you could take a look around your kitchen space for ways to update the design on the surface.
Hanging open shelves along your kitchen walls offers plenty of space to display decor. When it comes time to move out, just take down the shelves and repair the anchor holes with drywall.
Peel-and-stick backsplash tiles are an equally simple update that can be removed at the end of your lease!
7. Galley
Galley kitchens rarely get to spend time in the home design spotlight. Despite their reputation for being awkward and closed-off from the rest of the house, galley kitchens are actually one of the most practical kitchen layouts around.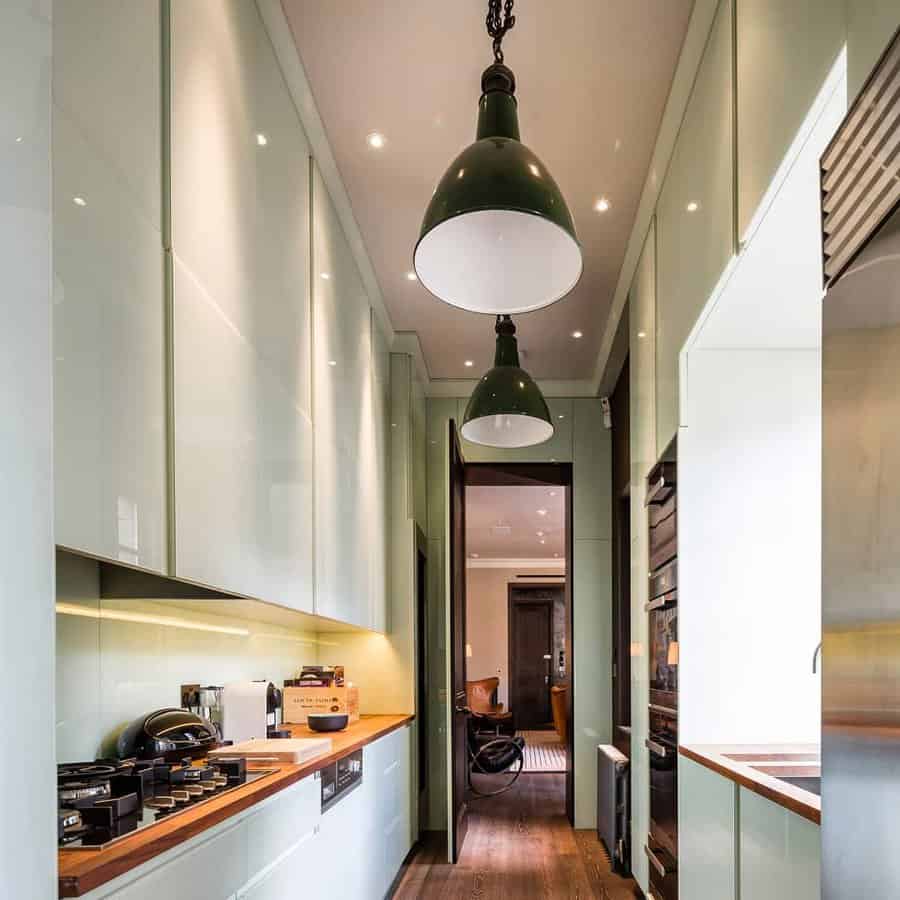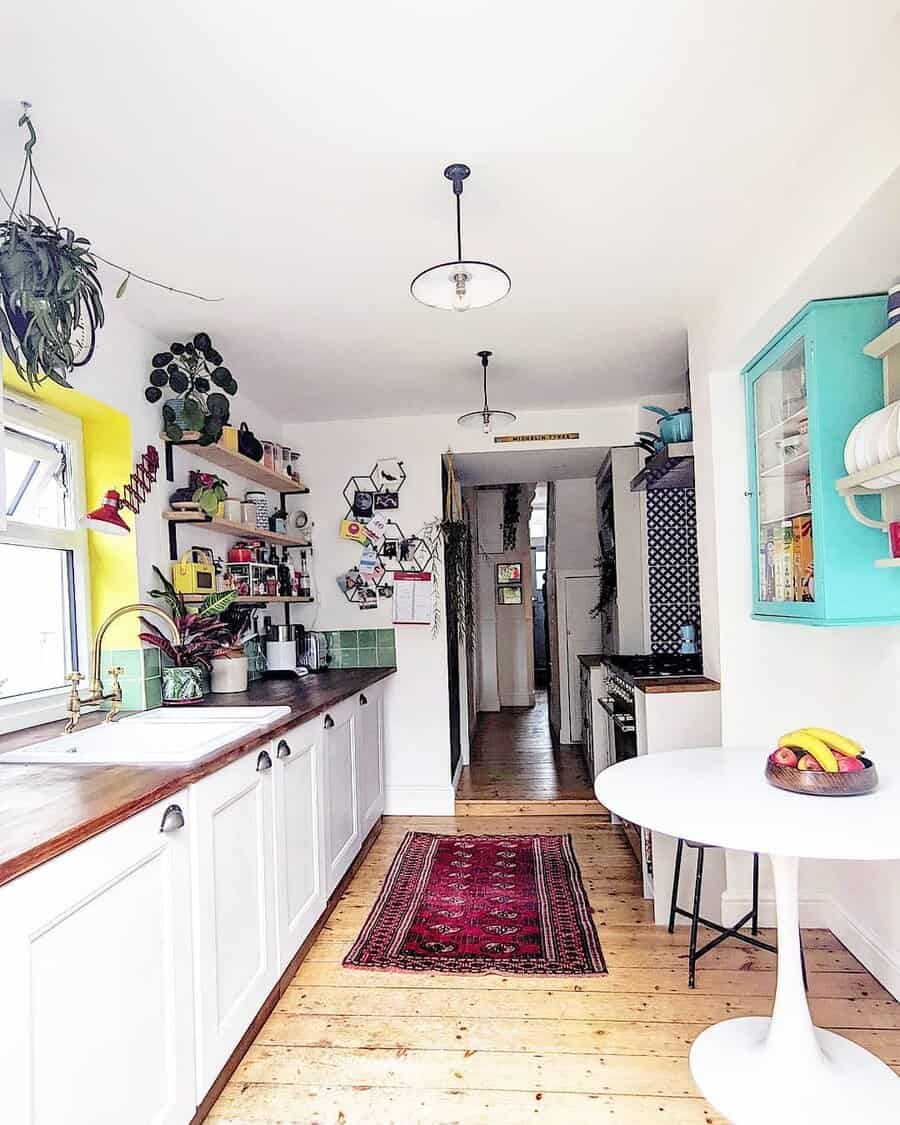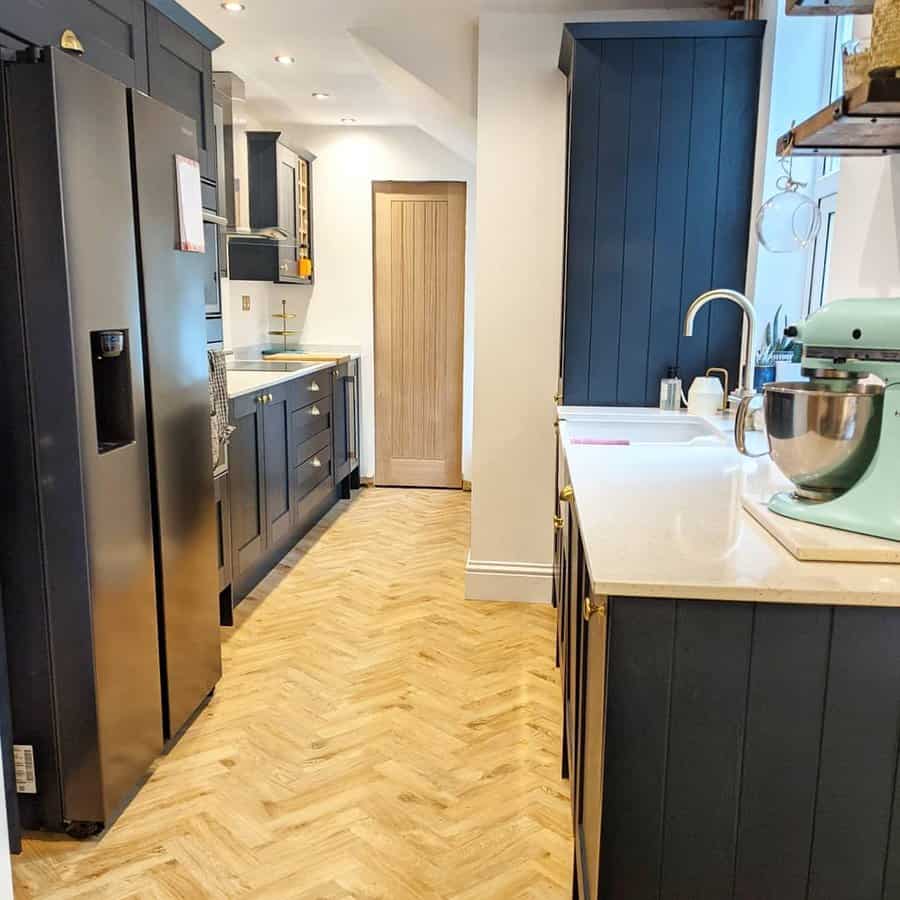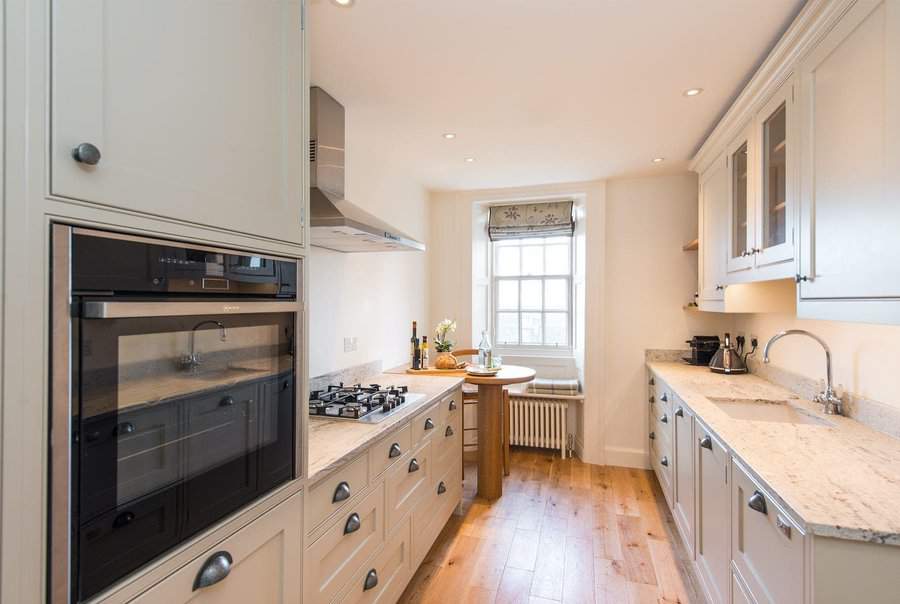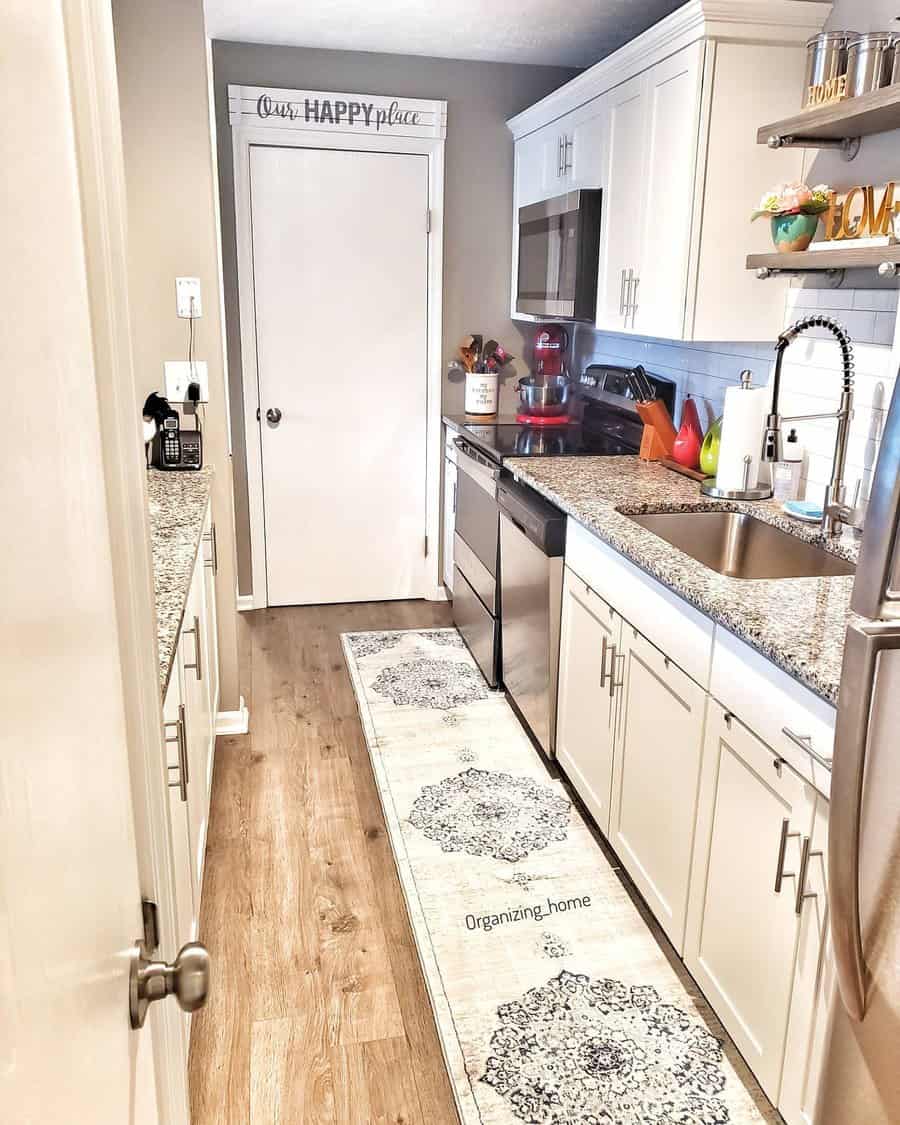 First things first, you need to come to terms with the fact that your small apartment kitchen is not going to look the same as an open-concept one. You need to embrace the good qualities of your galley kitchen rather than fighting against them.
Choose decor that emphasizes length. A long rug is perfect for running through the middle of your kitchen design. Ensure your galley kitchen "ends" with visual intrigue — e.g., your favorite wall decor or statement mirror.
See more small galley kitchen ideas here.
8. Island
Kitchen islands have become a mainstay of contemporary homes. Even in small kitchen design, islands are frequently used to boost counter space and make the room more versatile.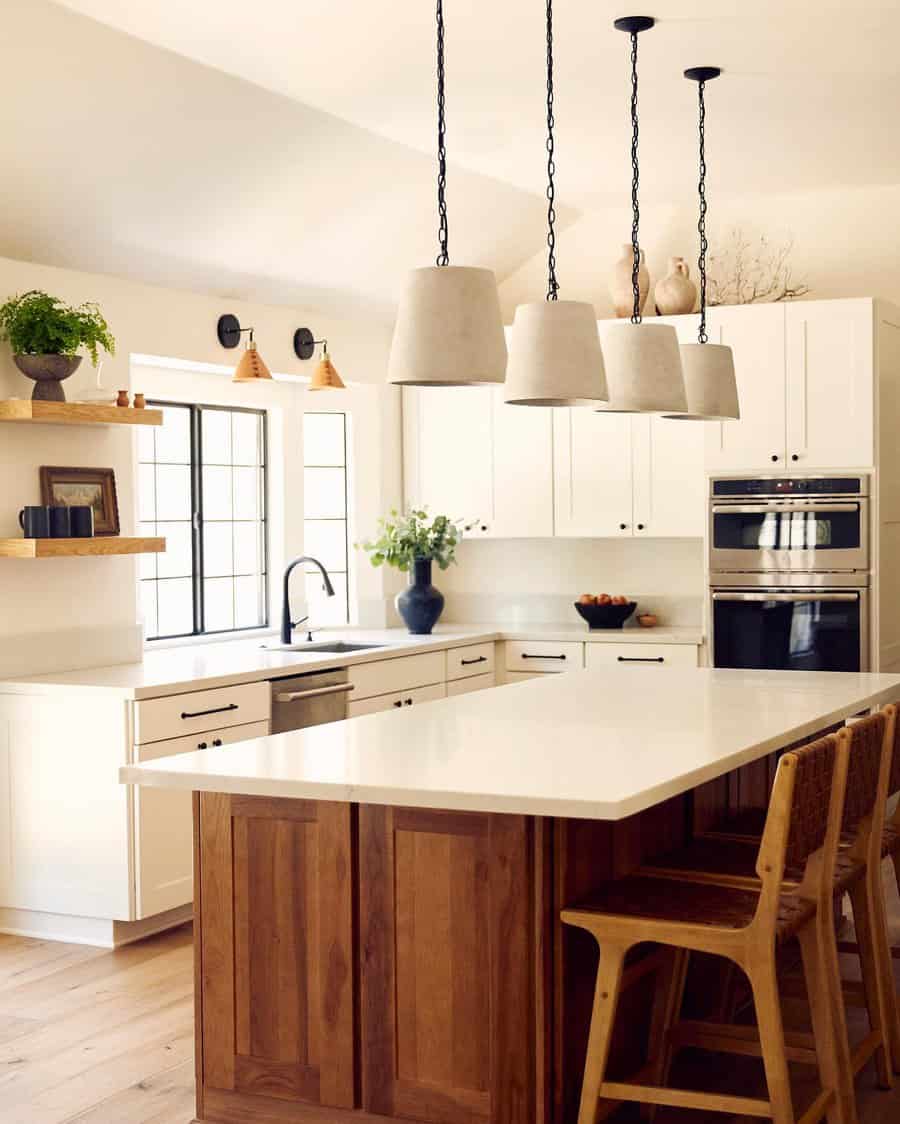 The setup of your kitchen island will dictate much of its function. If your island is equipped with a sink, then it will likely serve as a workspace more than anything. But your apartment's kitchen island may act exclusively as a breakfast bar or extra cabinet space.
Think of your kitchen island like a dining table. While you don't want to overwhelm the surface with decor, adding a simple centerpiece will make the space feel well-cared for.
See more kitchen island ideas here.
9. Modern
After falling off for several years, modern design has seen a resurgence with everyday renters and homeowners. If you're lucky, you may even find a small apartment outfitted with modern-inspired elements at the ready.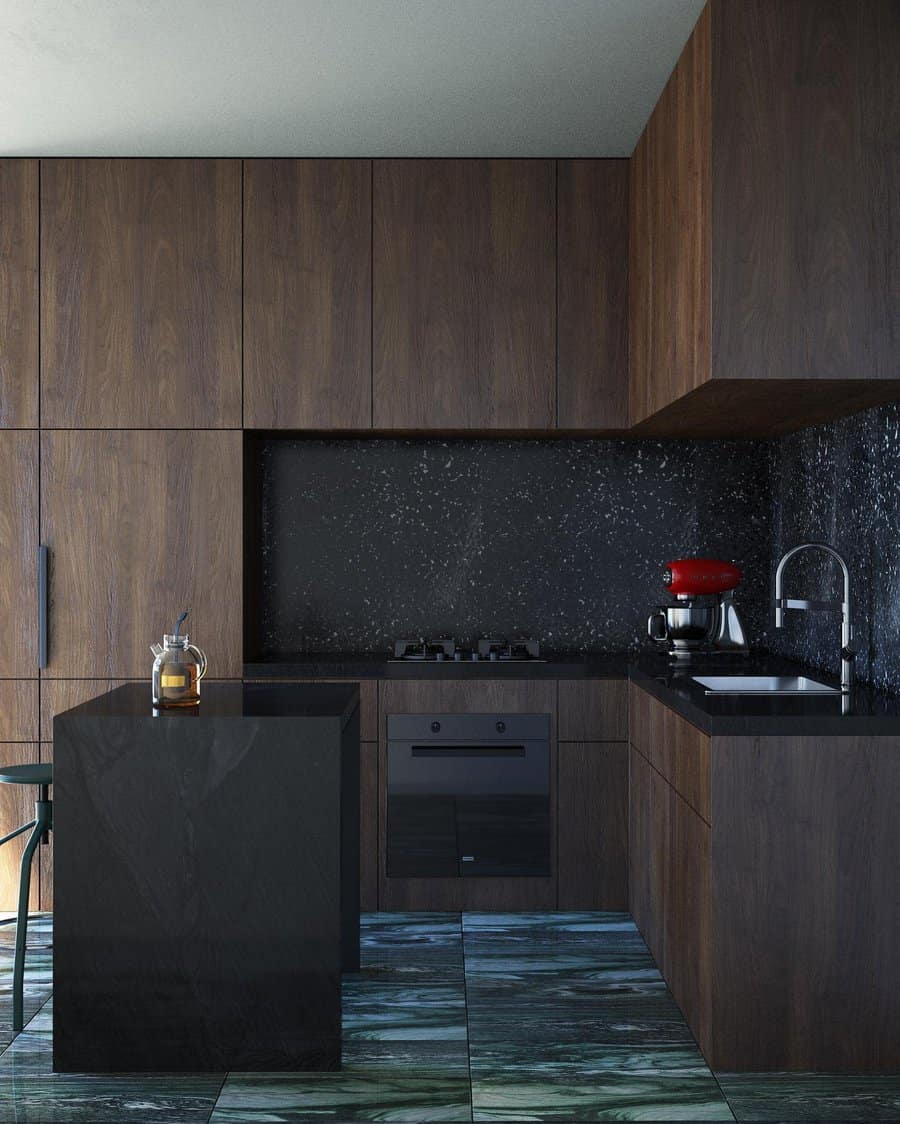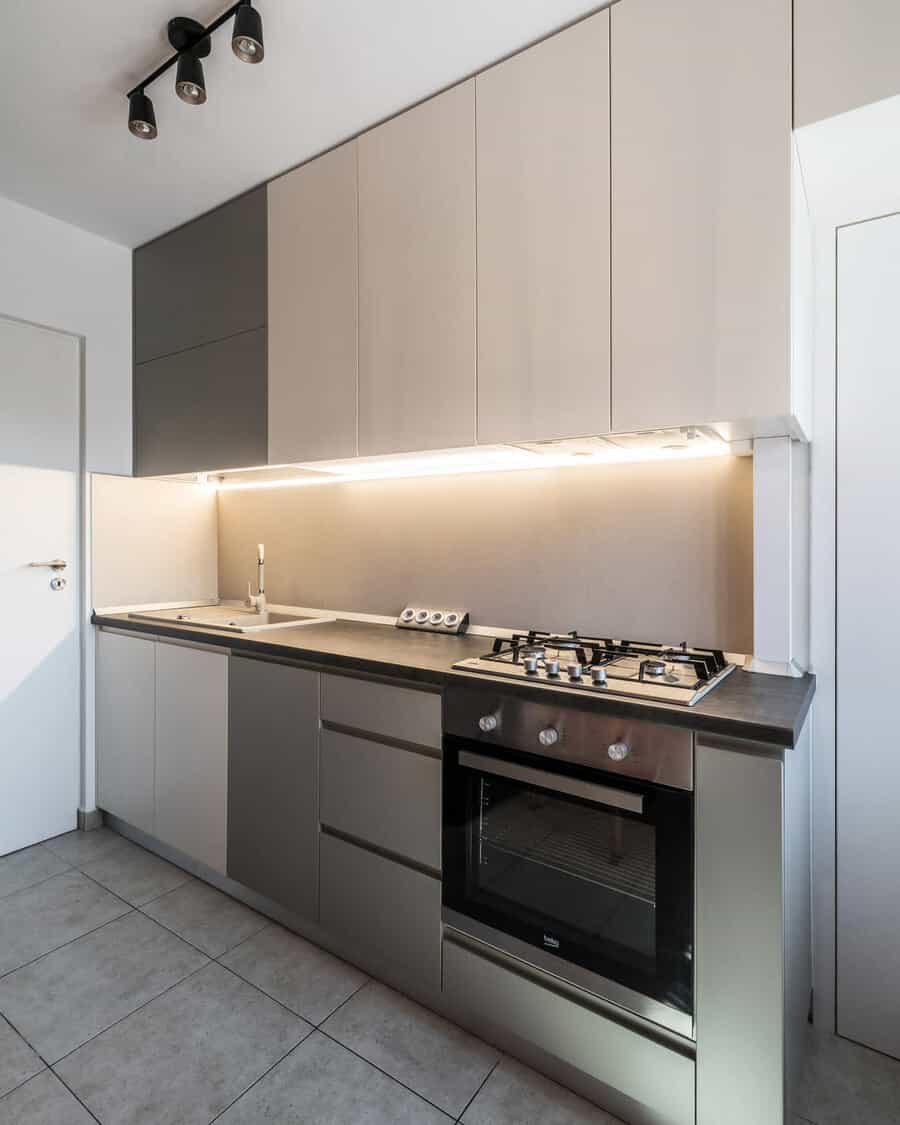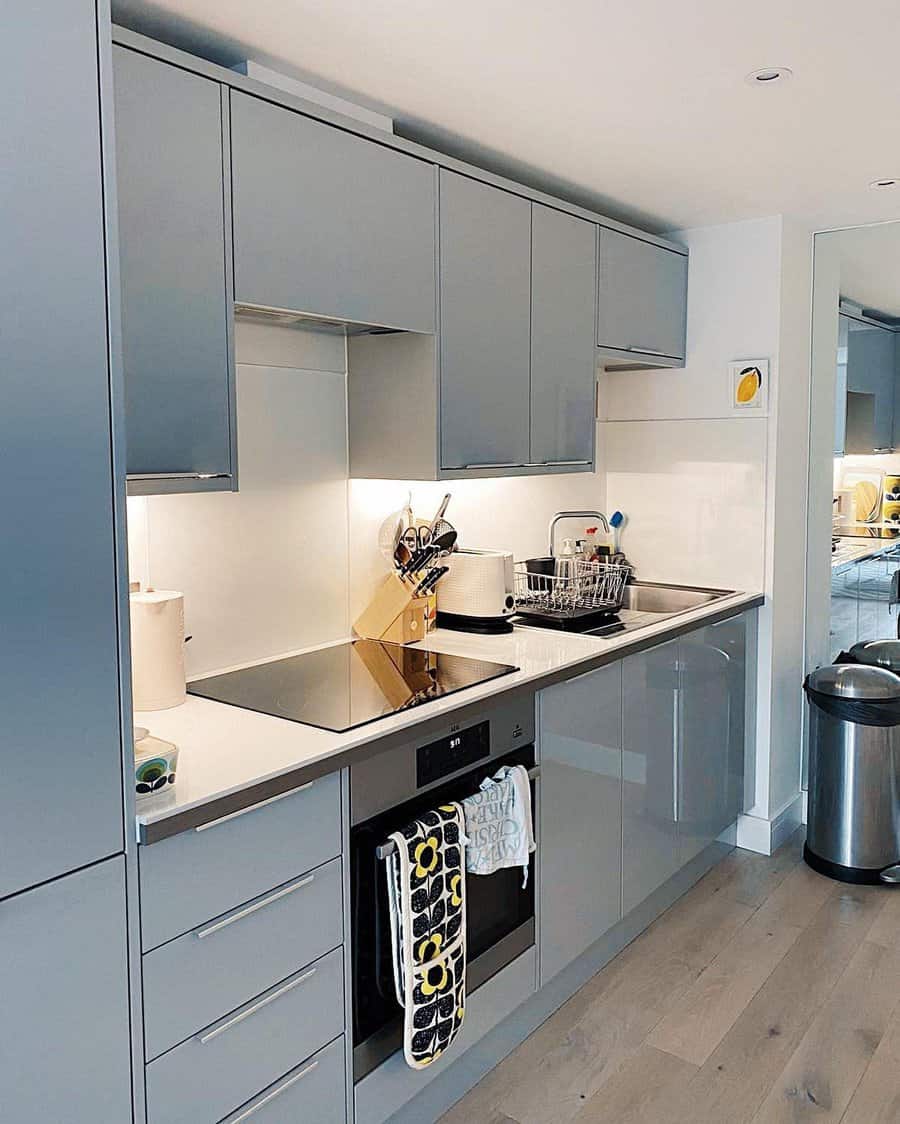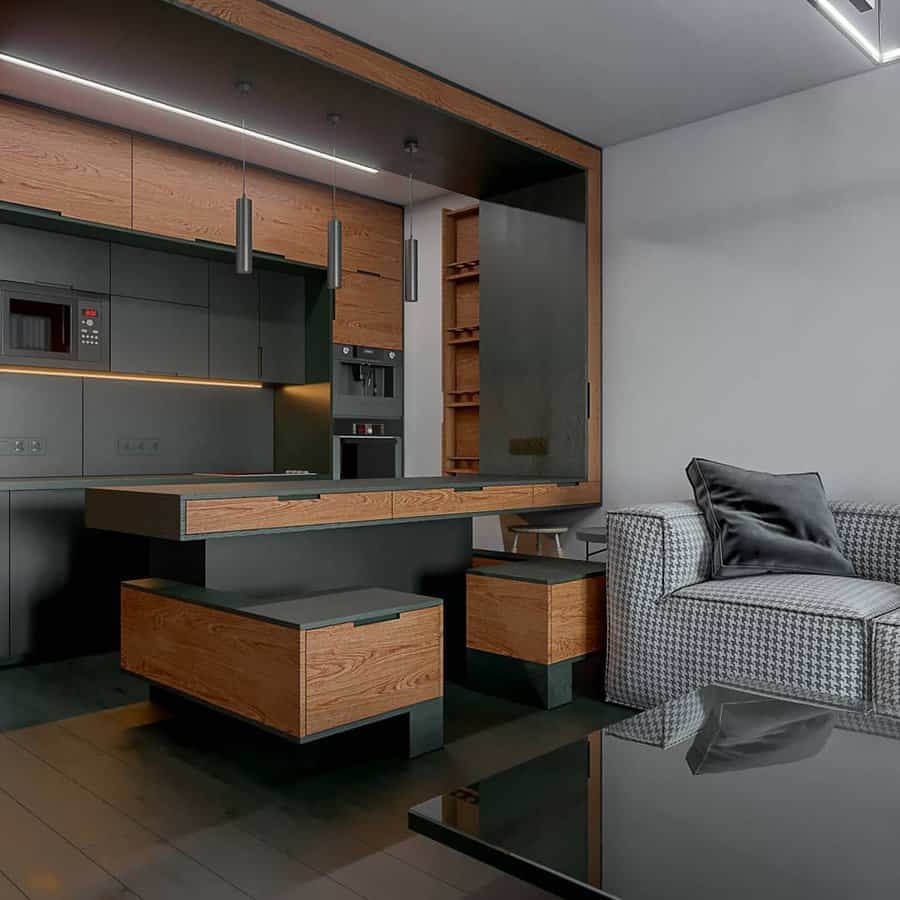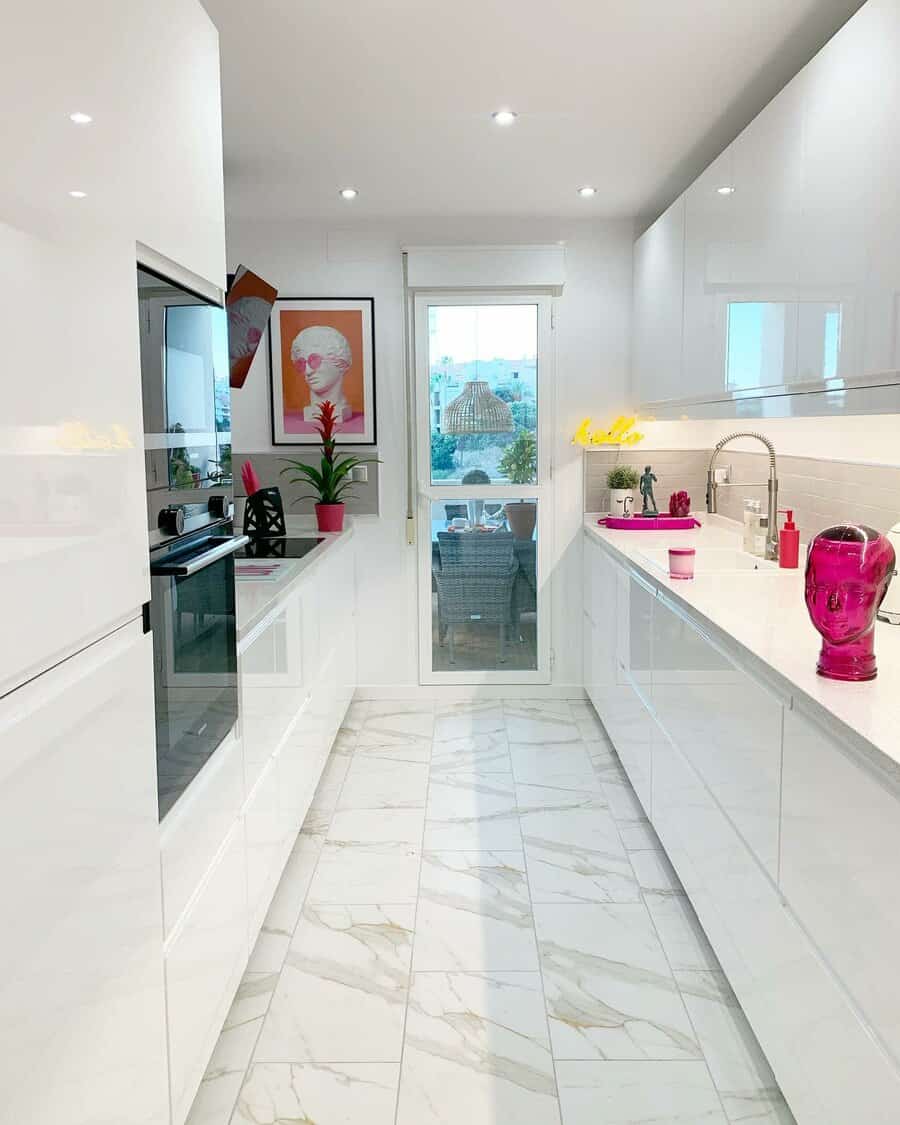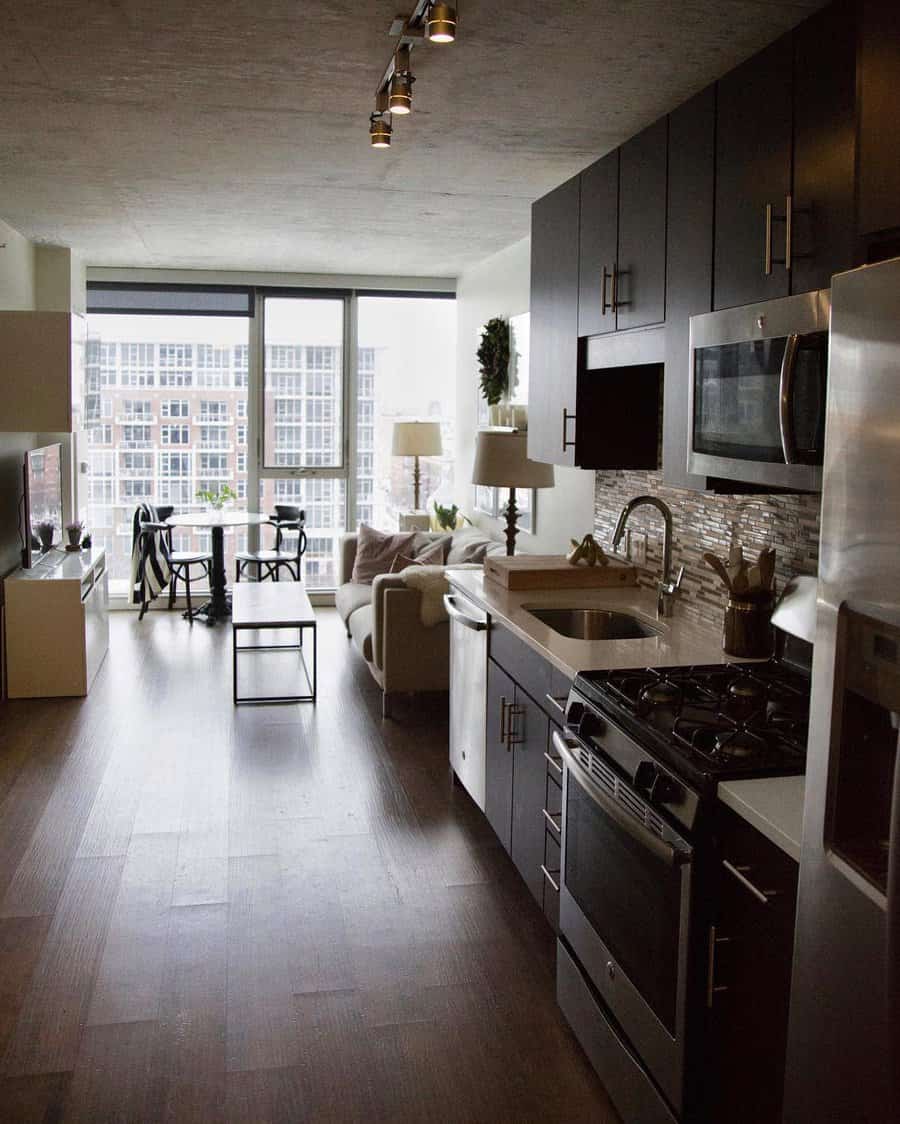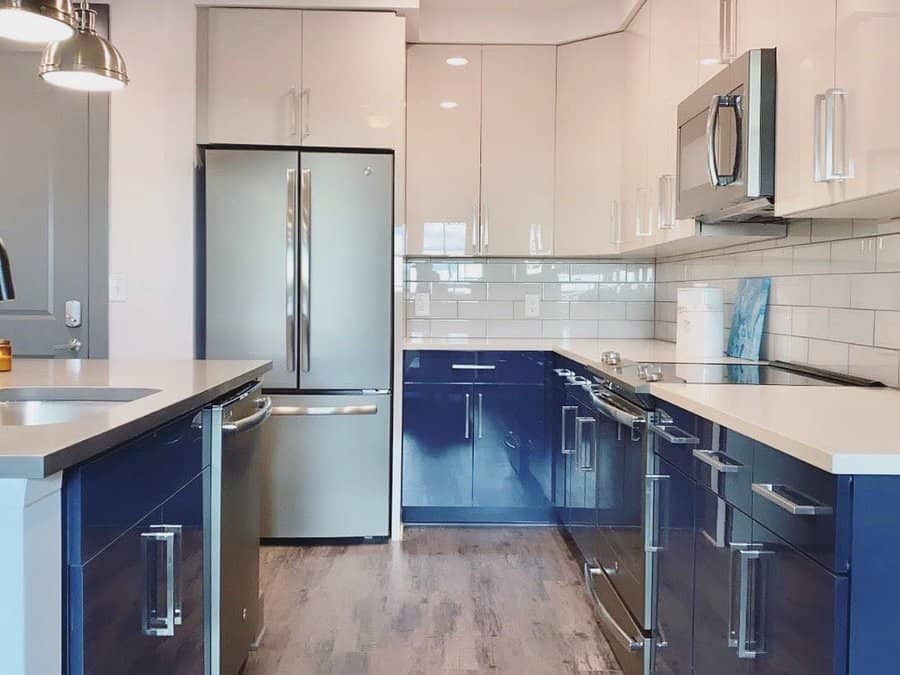 Modern kitchen ideas typically feature sleek cabinets and minimalist details. This aesthetic is especially desirable in a small kitchen, where such details can make the space feel larger than it is.
To give your apartment kitchen a more modern look, swap out ornate cabinet hardware or sink fixtures for streamlined versions. Install LED light strips under your cabinets or shelves. You can even cover your kitchen's existing backsplash with something more avant-garde.
See more modern kitchen ideas here.
10. Scandinavian
Scandinavian decor offers the edge of modern design combined with an extremely warm and comfortable atmosphere. This style is perfect for creating a kitchen that looks great while still feeling authentic.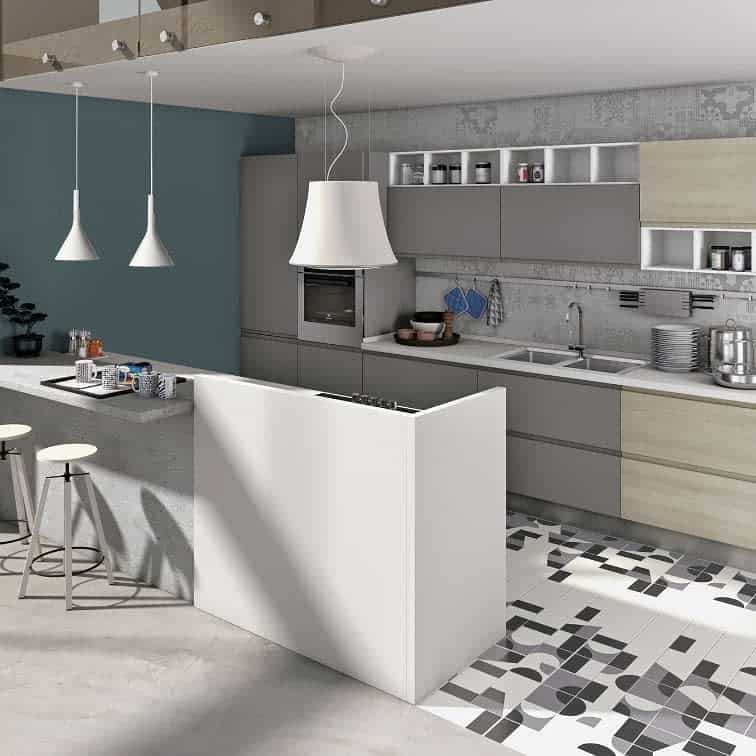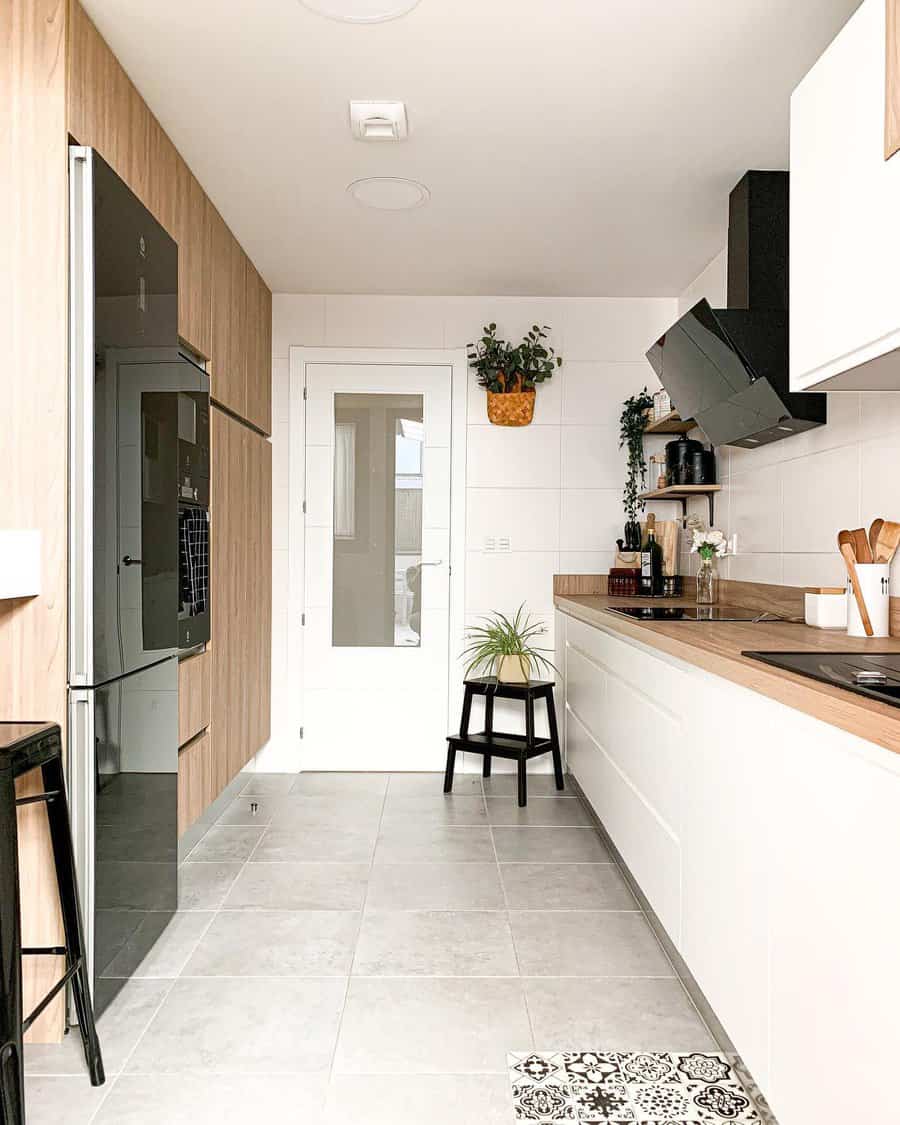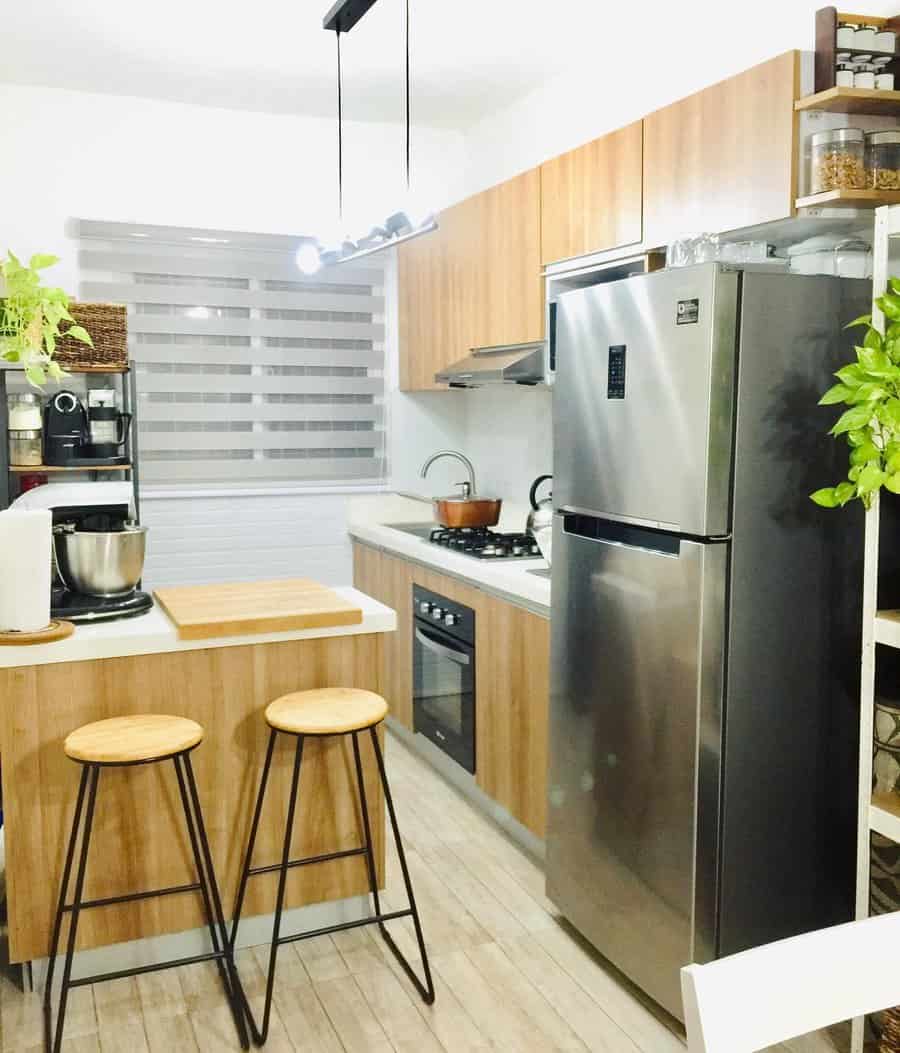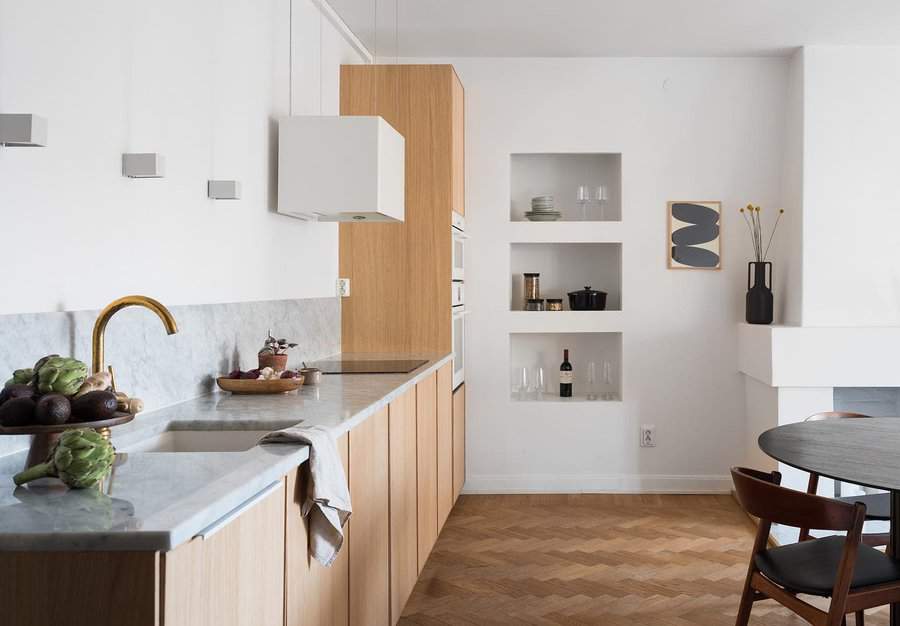 Neutral colors, especially light ones, make up most of the Scandinavian color palette. This is great news for renters, as white cabinets are extremely common in contemporary apartments!
The warmth of Scandinavian decor largely comes from the use of organic elements like wood, stone, and metal. Incorporate potted plants throughout your apartment kitchen for a full dose of Mother Nature.
Apartment Kitchen FAQs
Can you paint an apartment kitchen?
Whether or not you can update your small apartment kitchen with a fresh coat of paint is up to your landlord. Many leases allow for temporary changes like new wall paint. Others strictly prohibit them. Even if your lease permits painting, there may be restrictions on which colors you can use.
Always double-check with your landlord before making changes to your living space or you could end up paying dearly for them at moveout!
How do you update an apartment kitchen countertop?
Even the nicest apartments are sometimes saddled with the most out-of-date countertops imaginable. You can learn to live with your unattractive counter space. Or you could temporarily cover it with something like contact paper.
Many renters use waterproof contact paper to hide their apartment kitchen counters and make them match the rest of their decor. This material is quite durable but you will still need to be careful around high-traffic areas like the kitchen sink. You can even use contact paper to cover up ugly backsplash tiles.