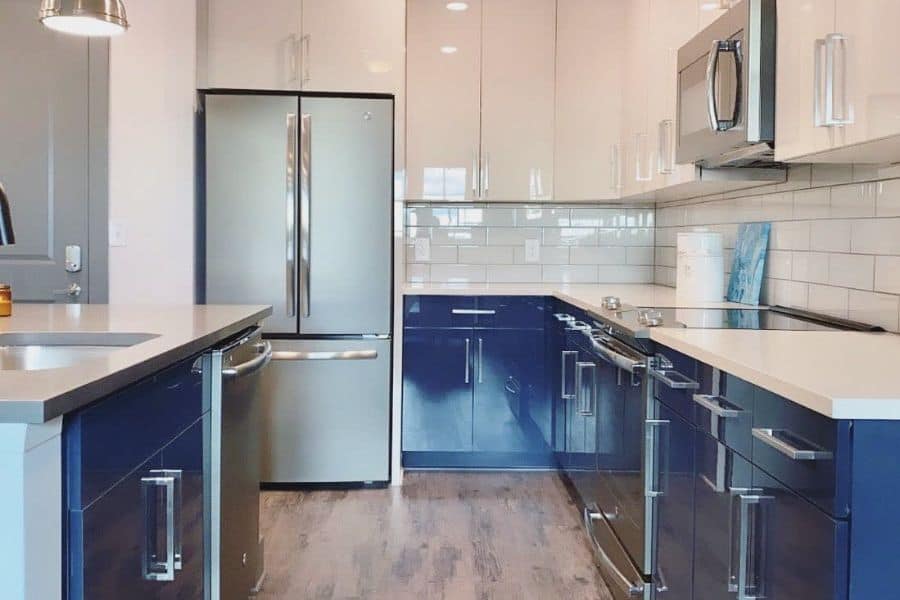 The Top 53 Apartment Kitchen Ideas
by — Kendrick Hulse

Published on July 5, 2021

Updated on October 15, 2023
Owning a home with a small kitchen is one thing. You can still paint the walls or replace the cabinets to suit your own tastes. But what about renting an apartment with limited kitchen space?
Very few people picture an apartment as their dream home. Tenants are often unable to make changes to their living spaces without their landlords' permission. In a space like a kitchen, these restrictions don't just affect how your apartment looks. They can also impact its functionality.
Keep reading for apartment kitchen ideas that will have your small kitchen looking and feeling like a dream. (Even if rent continues to be due each month!)
1. Elevate Your Microwave
Elevating your microwave by mounting it above the countertop or stove is essential for optimizing small apartment kitchens. This approach not only gives your kitchen a sleek, contemporary appeal but also preserves counter space for culinary tasks and entertainment. To complement this design, choose between under-cabinet and over-range mounts, ensuring the choice fits seamlessly with your kitchen's overall aesthetics.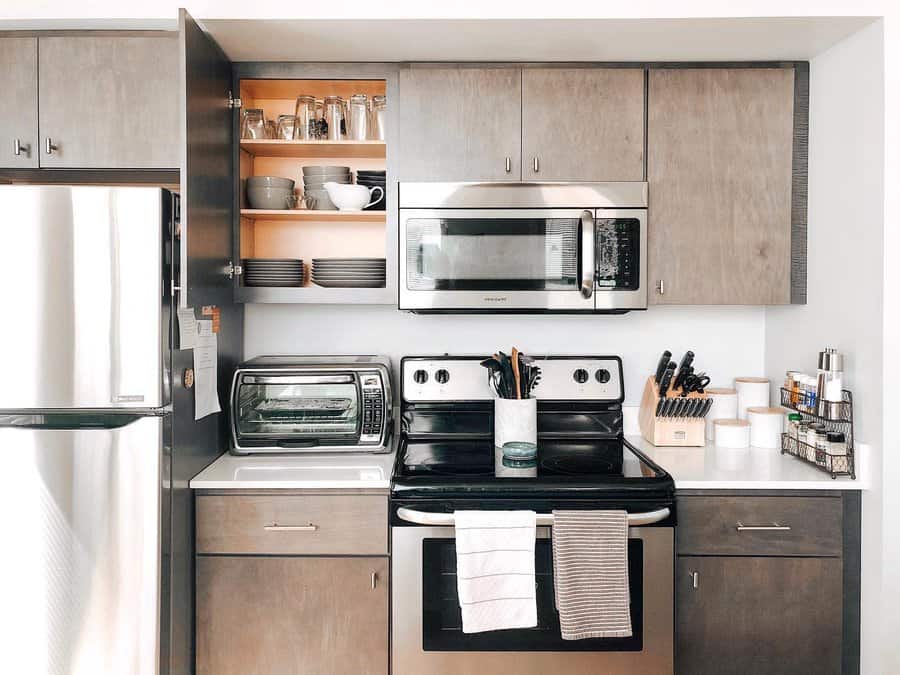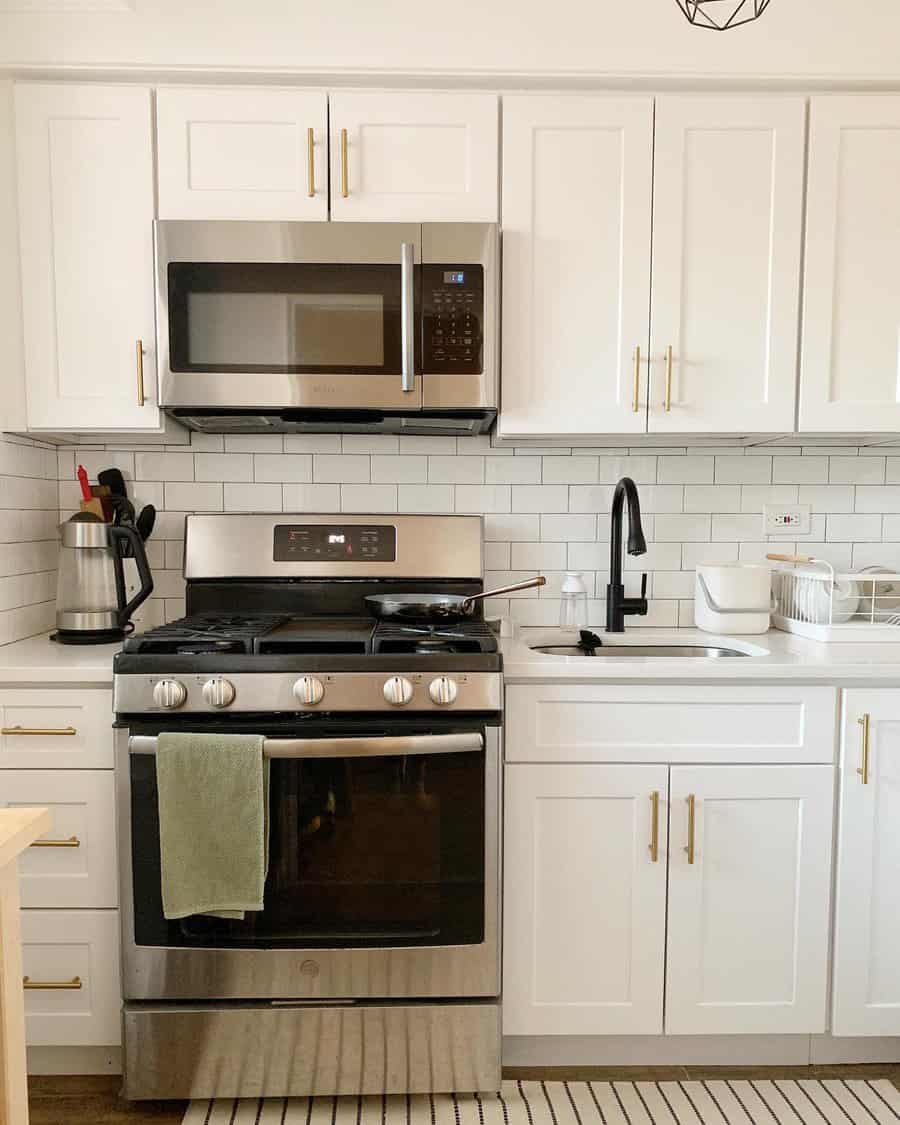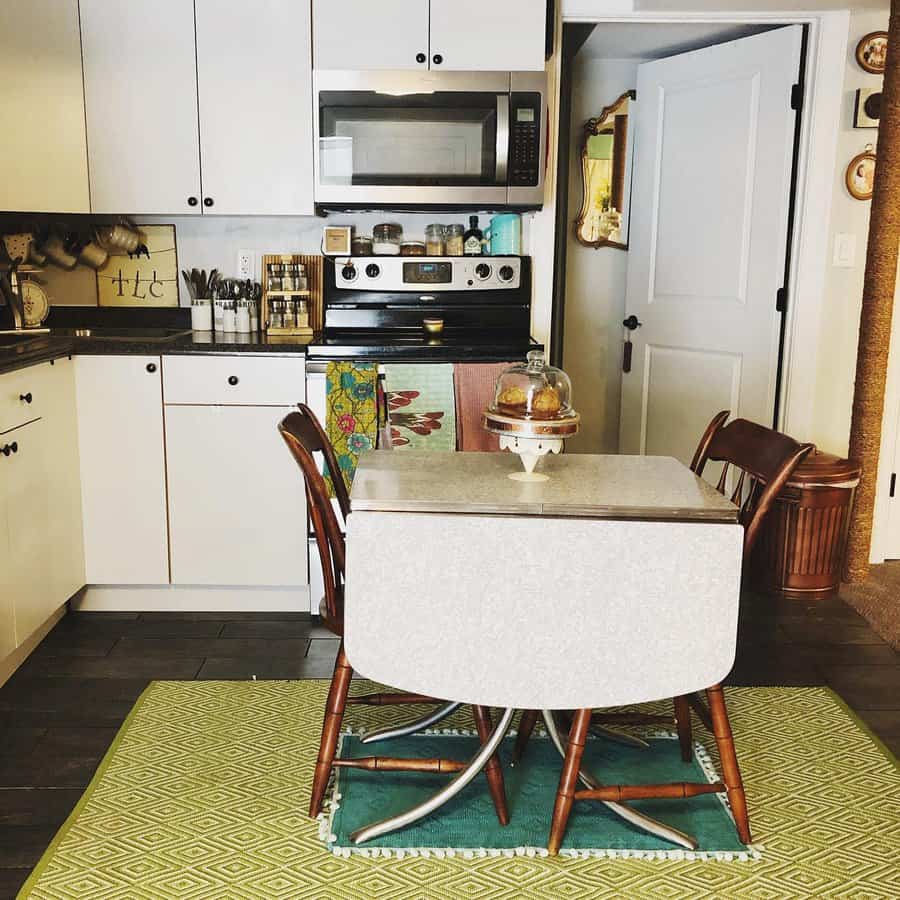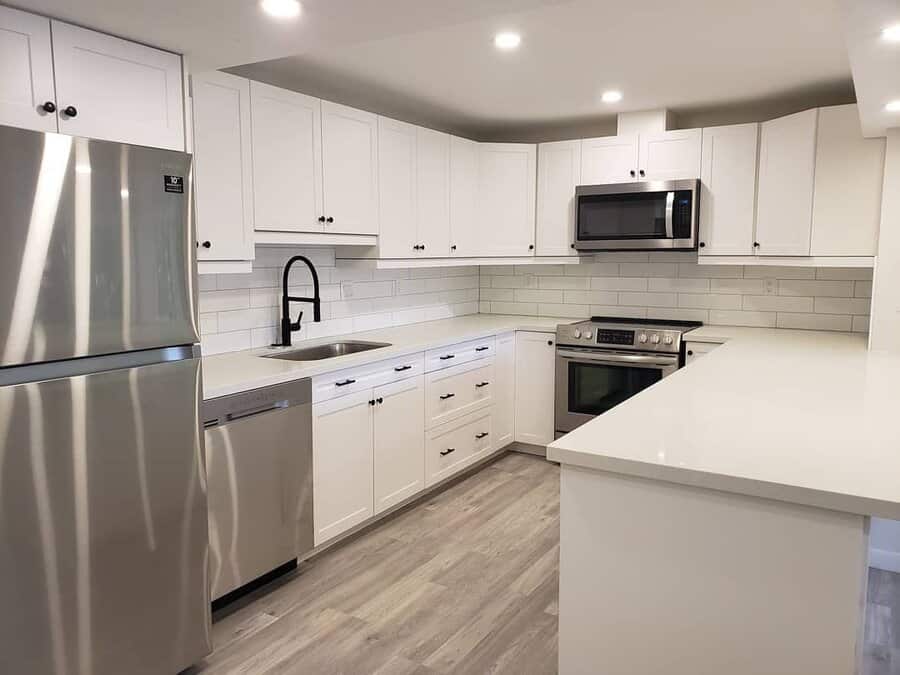 2. Embrace Floating Shelves
Floating shelves infuse both utility and contemporary elegance into apartment kitchens. Besides offering additional storage, they allow for a personalized touch by showcasing cherished kitchenware or decor. When incorporating them, ensure they resonate with your kitchen's color palette. For those seeking an affordable kitchen facelift, floating shelves are both a stylish and pragmatic choice.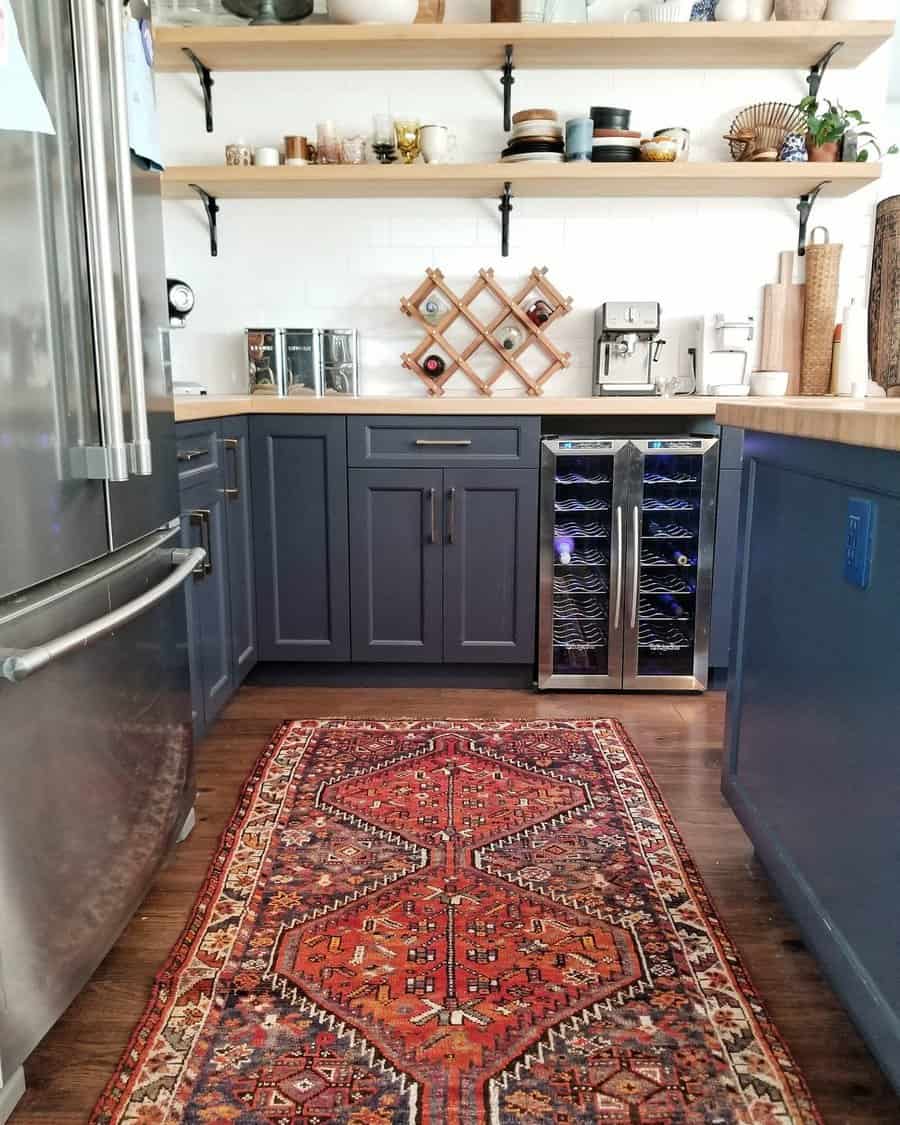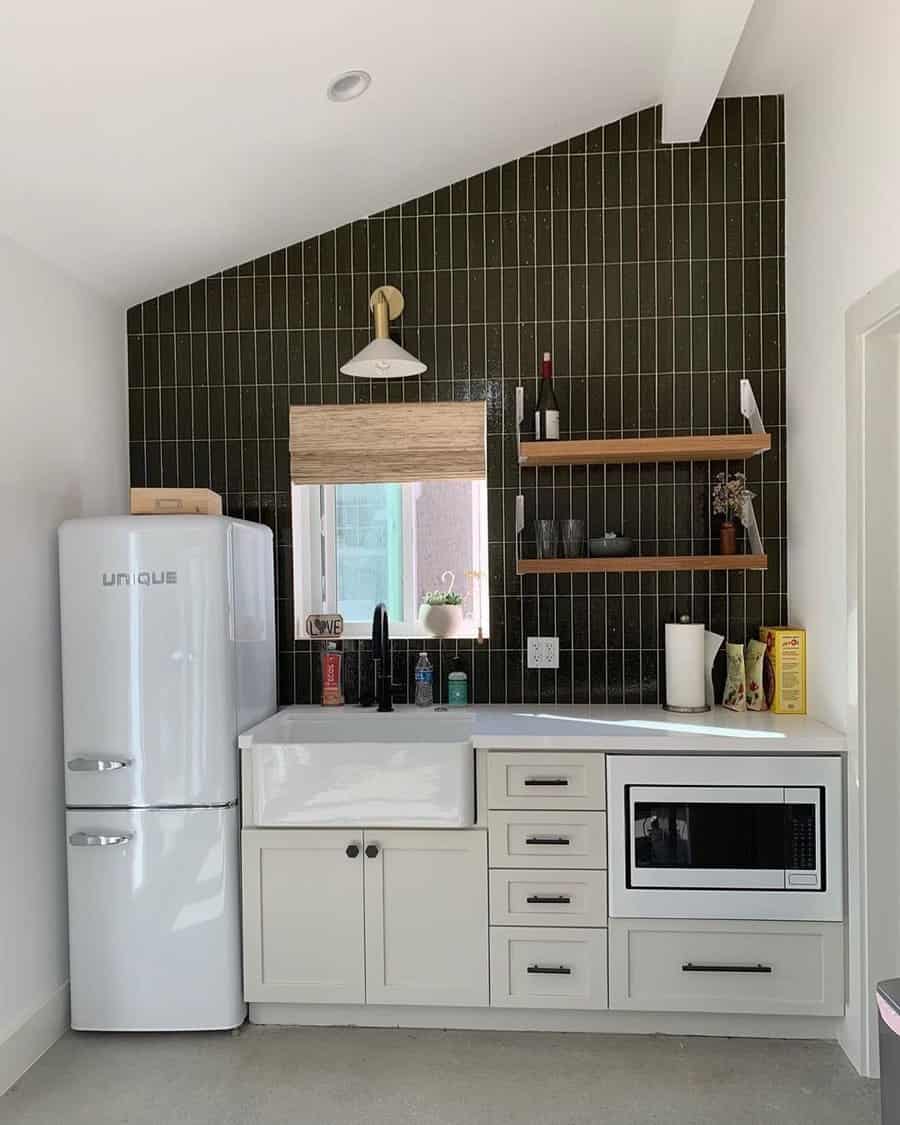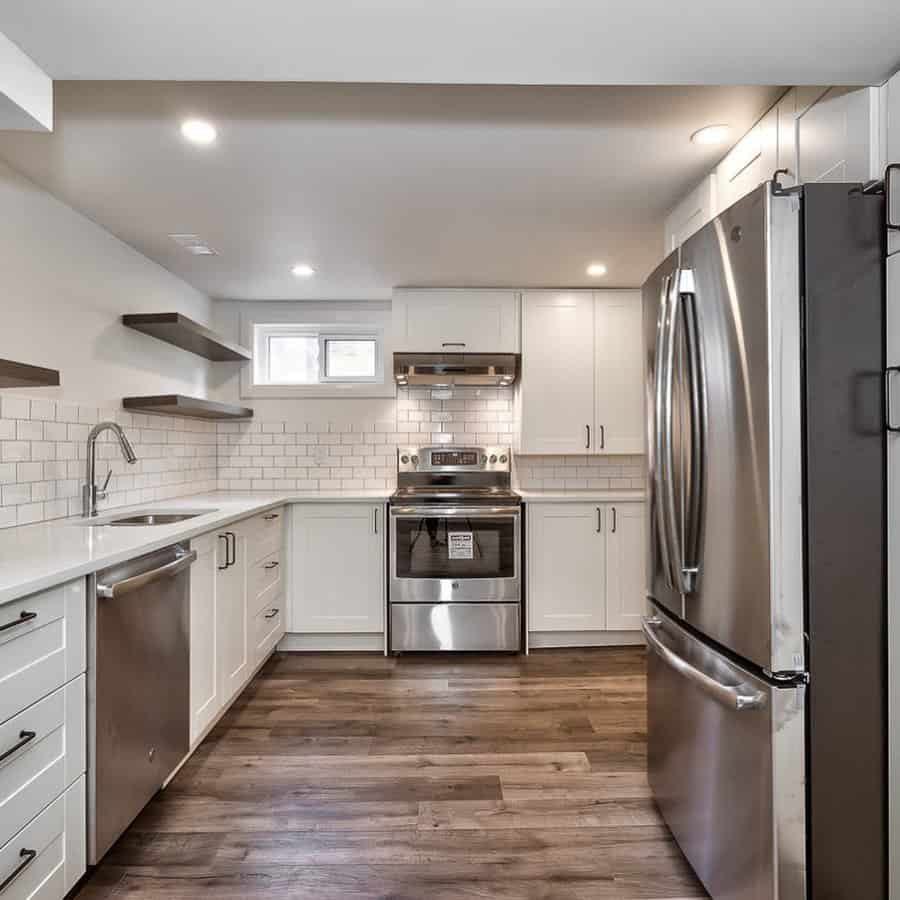 3. Illuminate with Pendant Lights
Pendant lights are a game-changer for apartment kitchens, merging functionality with aesthetic allure. They not only brighten up your cooking space but also act as focal points, enhancing the room's ambiance. When selecting pendant lights, consider their design in relation to your kitchen's theme. From minimalist to ornate, there's a pendant light to mirror your unique style, elevating the overall look of your kitchen.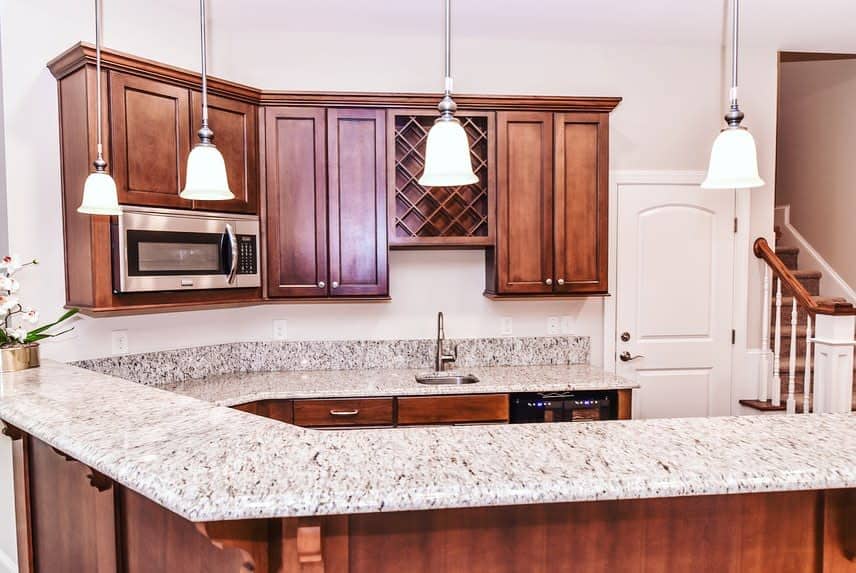 4. Choose Beveled Tile Backsplash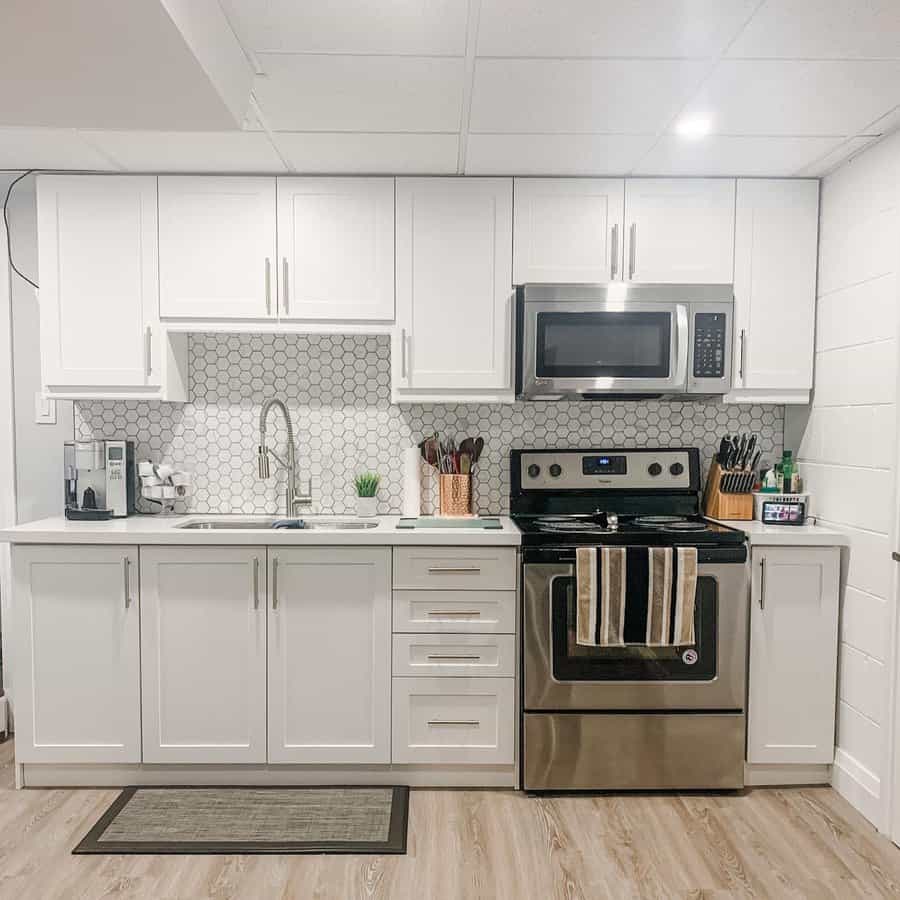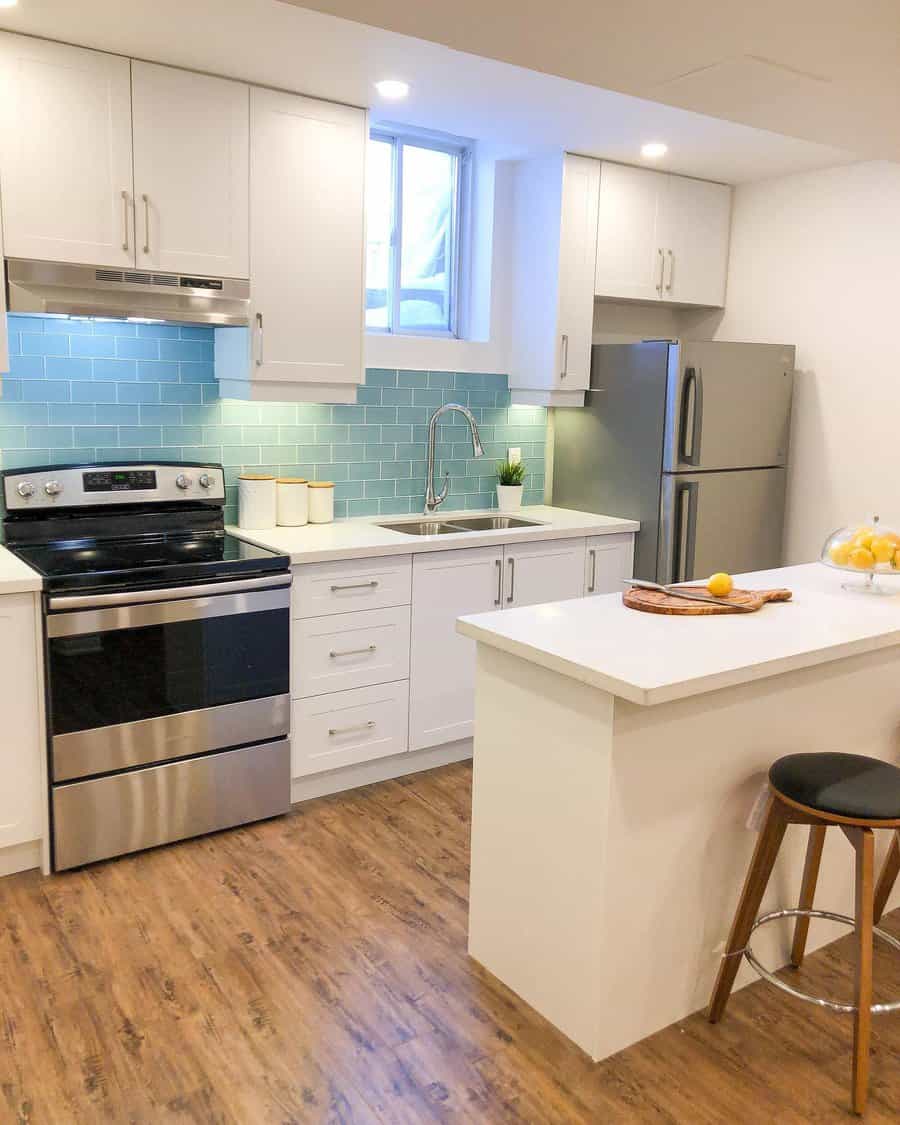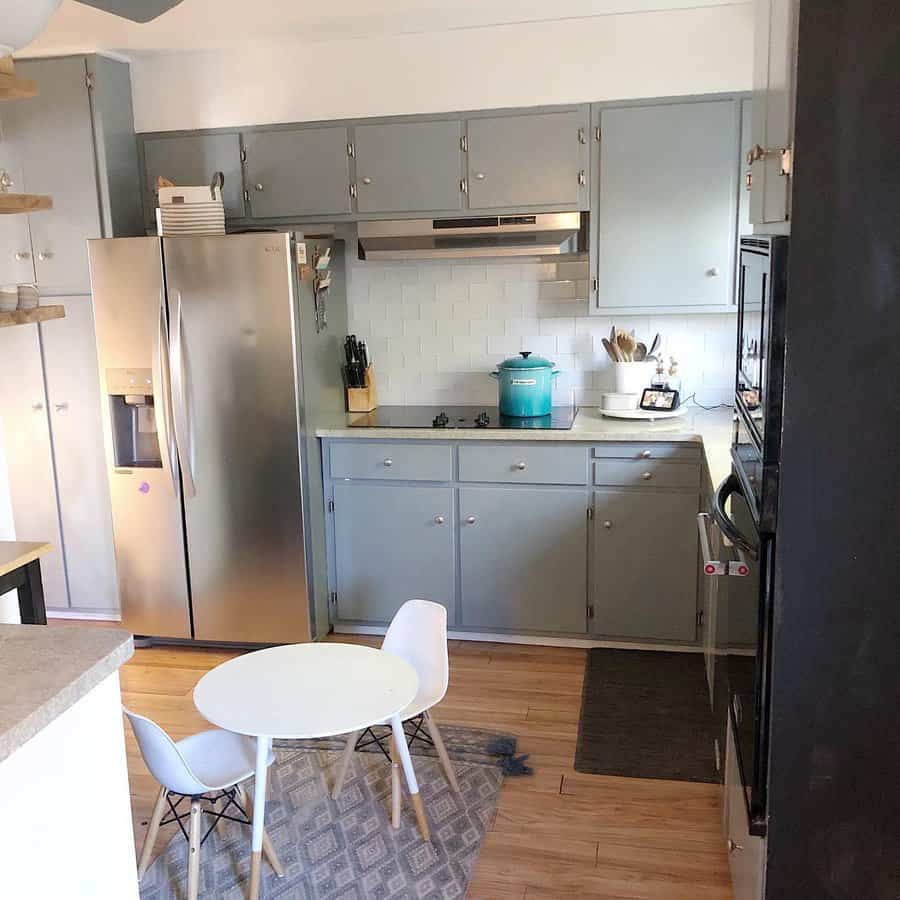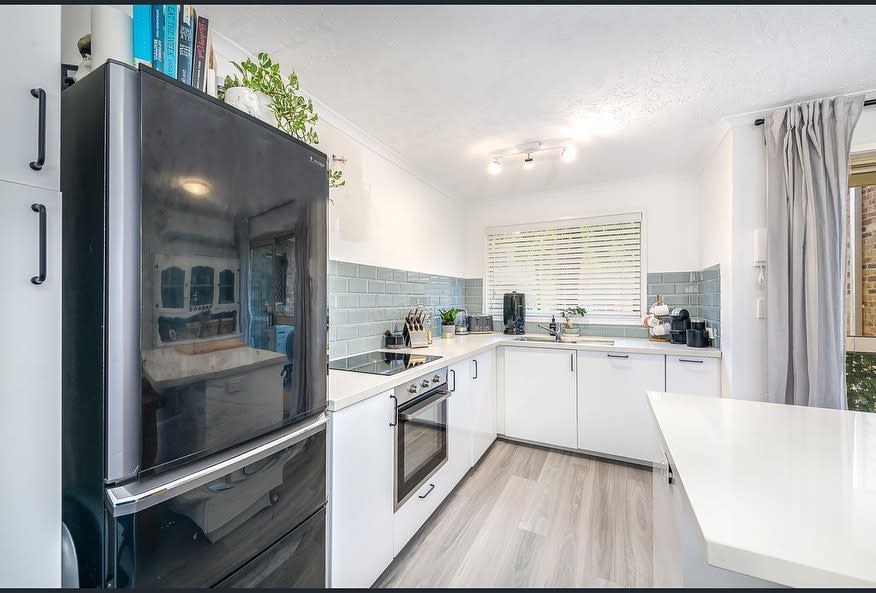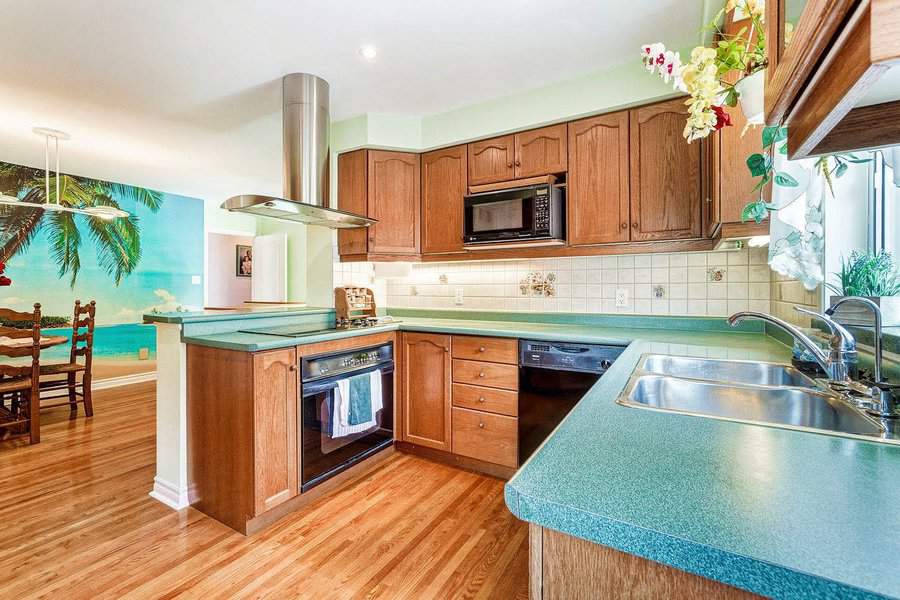 5. Adopt a Monochromatic Scheme
Monochromatic kitchens exude timeless elegance, especially appealing to minimalist enthusiasts. This palette, dominated by whites, blacks, and greys, sets a classic stage. Enhance the look with white cabinetry paired against dark appliances and accents. Introduce texture through matte or glossy subway tiles for a stylish yet functional backsplash. To punctuate this design, stainless steel appliances and chic pendant lights can be integrated, ensuring your kitchen remains both contemporary and welcoming.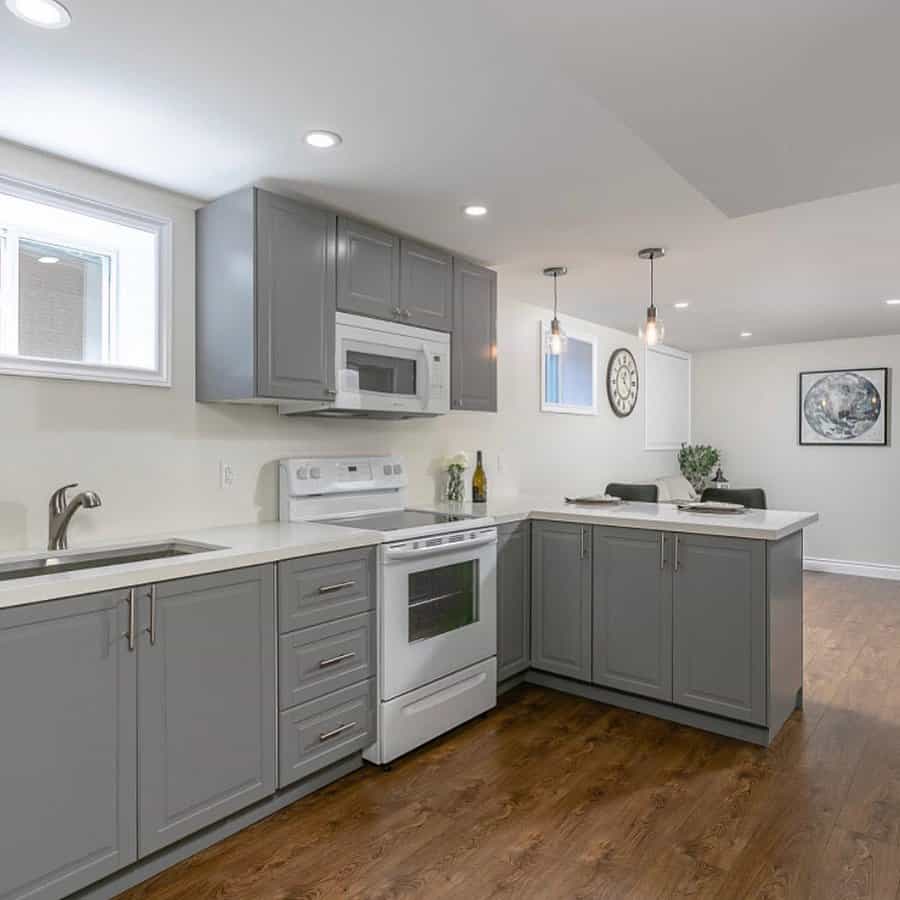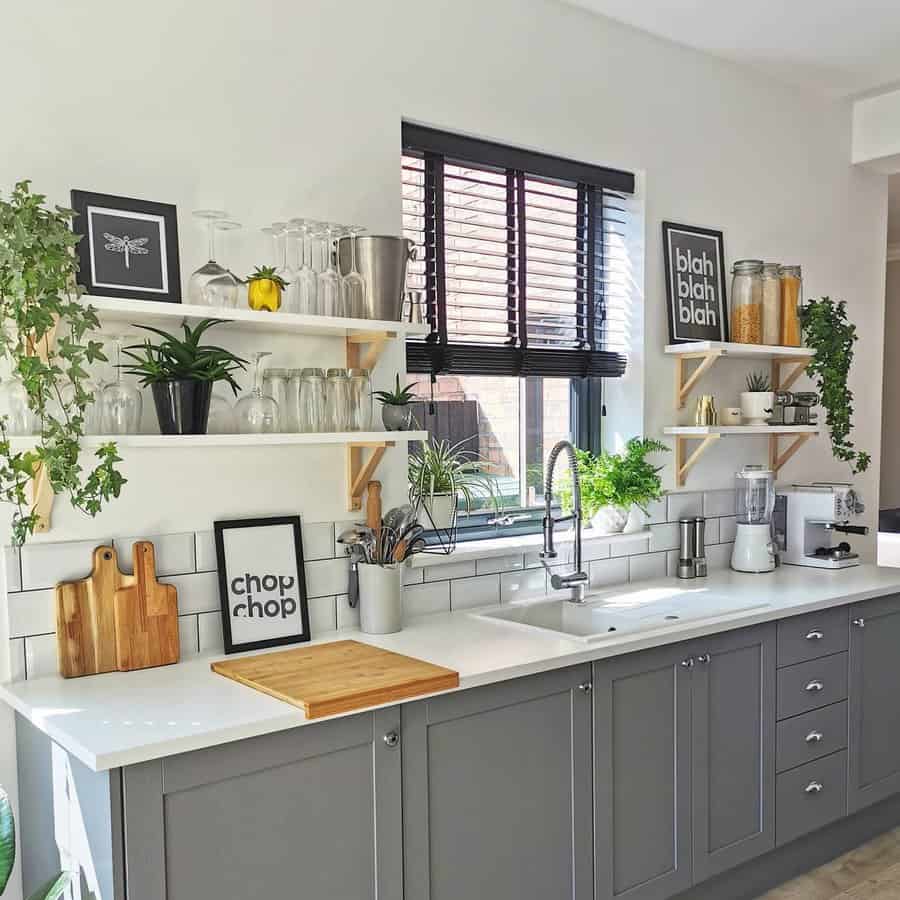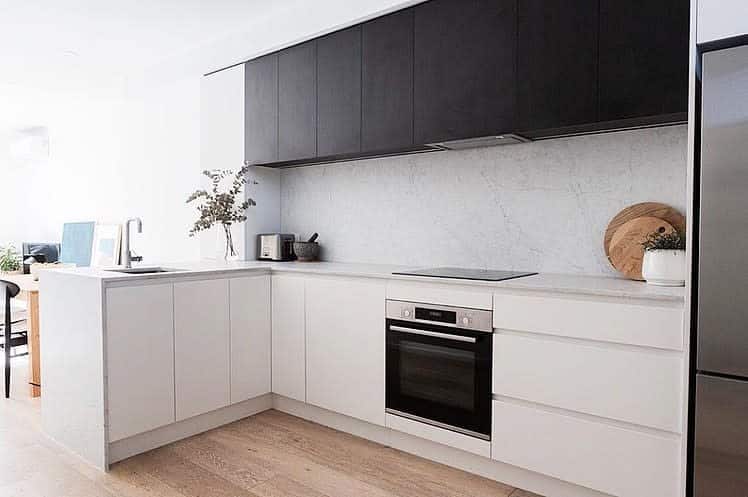 6. Combine Backsplash and Wall Art
A thoughtfully chosen backsplash can instantly breathe life into apartment kitchens, while the addition of wall art further accentuates its charm. Subway brick tiles, known for their texture and enduring appeal, are an excellent backsplash choice. Complementing them with a curated selection of vintage posters or framed prints not only adds visual intrigue but also imparts a homely feel, ensuring your kitchen resonates with both style and warmth.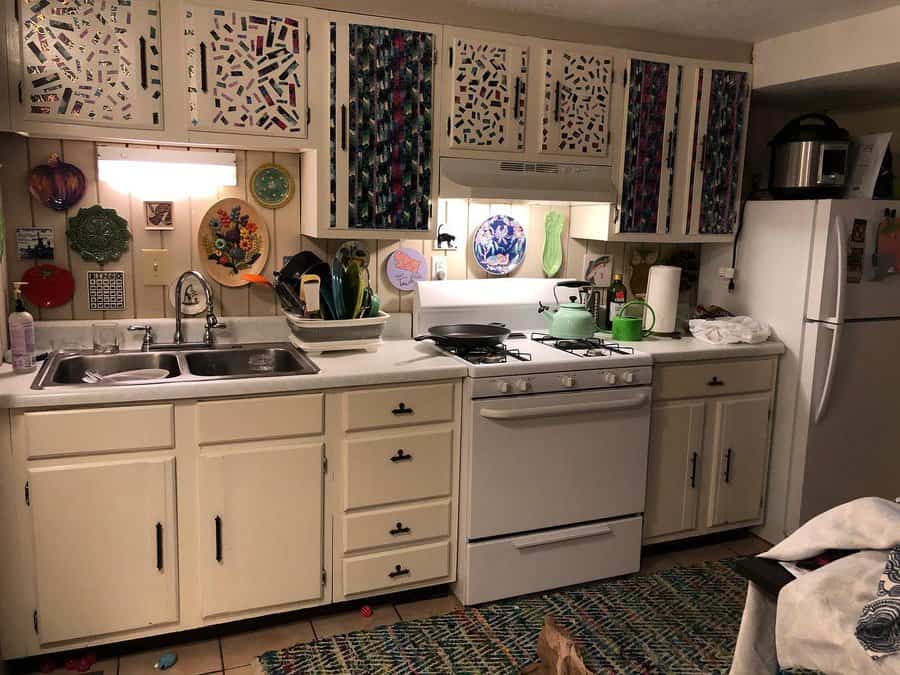 7. Feature an Industrial Brick Wall
An apartment kitchen with an industrial brick wall accent is the perfect way to add character and warmth to a modern kitchen. The rough texture and natural color of the bricks provide a striking contrast against the clean lines and sleek finishes of modern appliances and cabinetry. The addition of an industrial brick wall accent can also give a small space the illusion of depth and height, making the kitchen feel more spacious and airy.
The use of brick in interior design is a timeless trend that has been embraced by both contemporary and traditional styles. With the right lighting and accessories, an apartment kitchen with an industrial brick wall accent can achieve a cozy, rustic, or even urban look.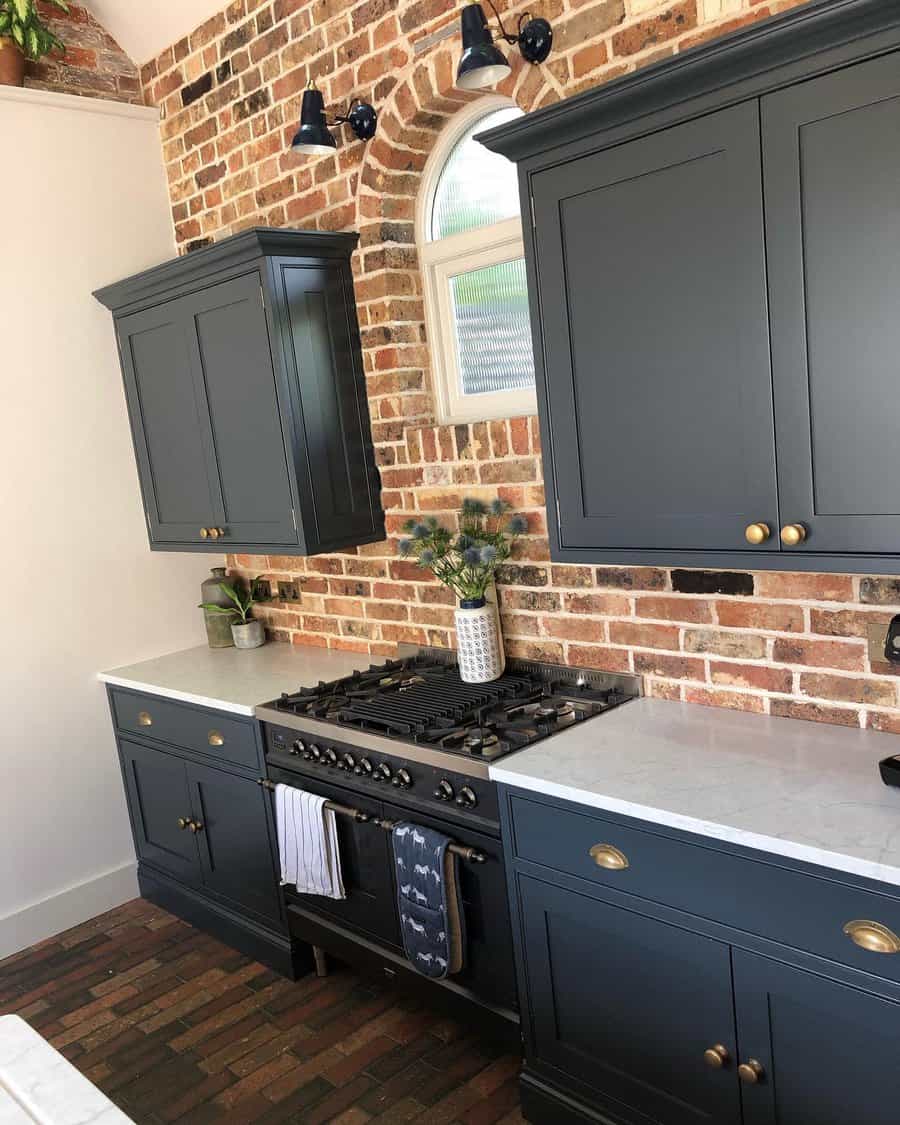 8. Opt for a Bright White Design
Bright white kitchens radiate a pristine elegance while amplifying the perception of space. Their expansive, luminous aura allows for strategic bursts of color through accessories like dishware, textiles, or art. This palette not only complements diverse decor styles but also seamlessly aligns with various appliances and cabinets. Essentially, a white kitchen is a versatile canvas, accentuating every culinary endeavor with style and sophistication.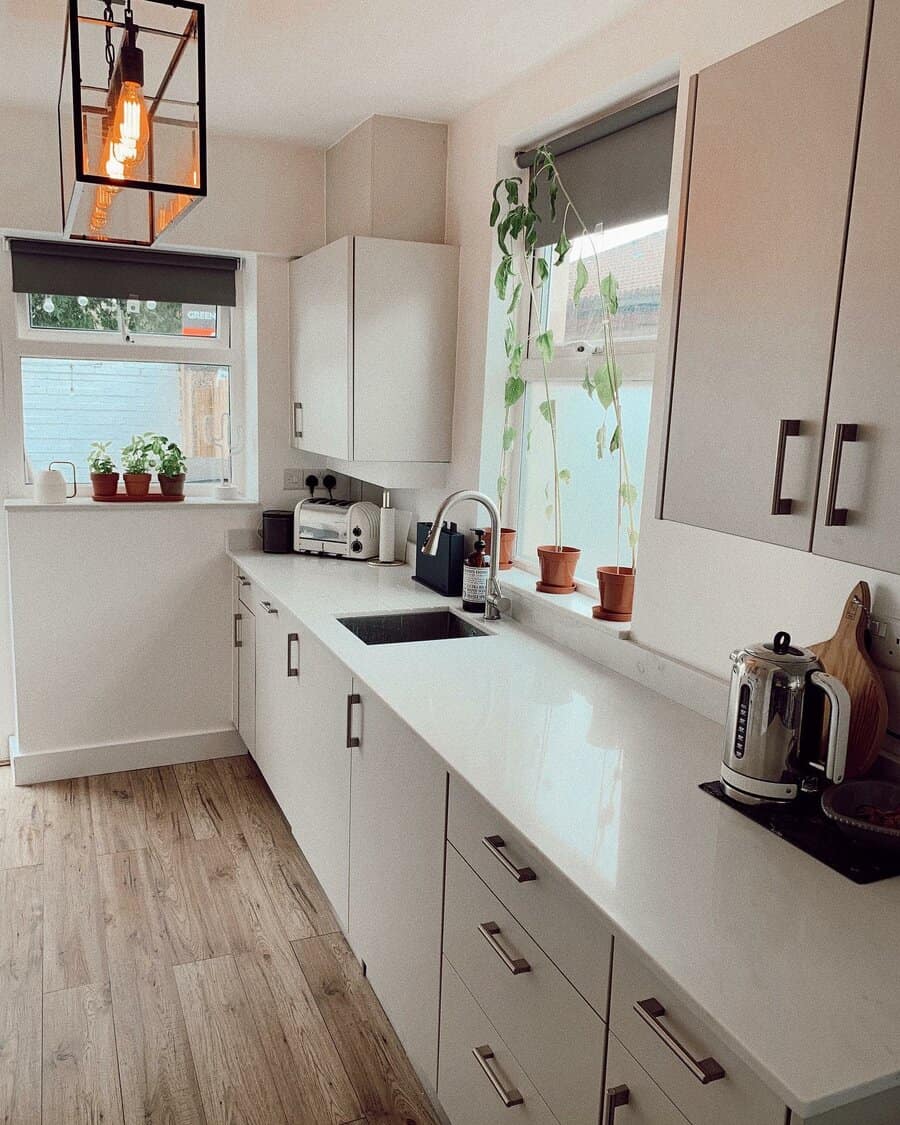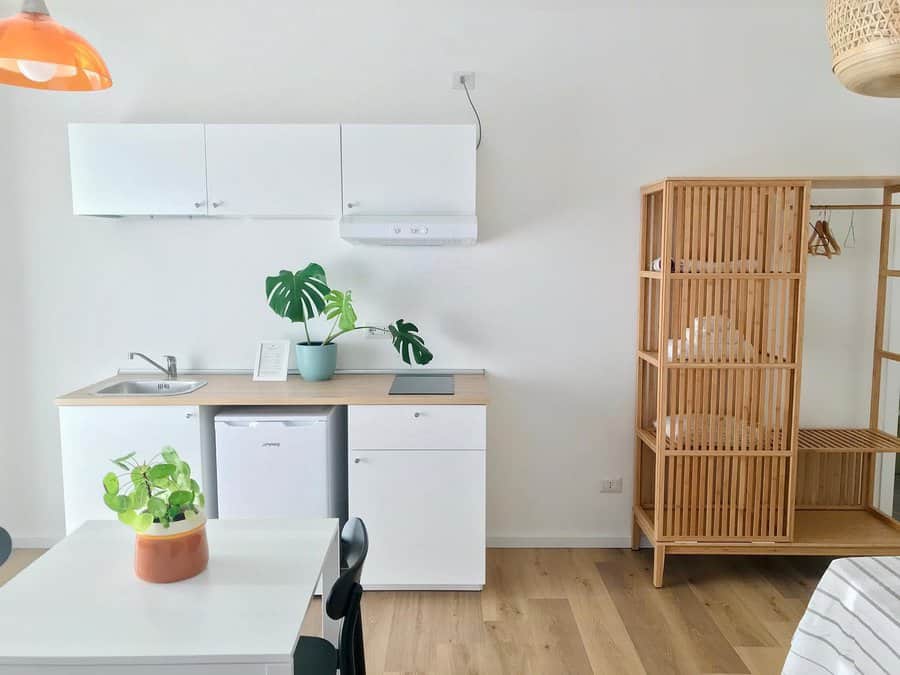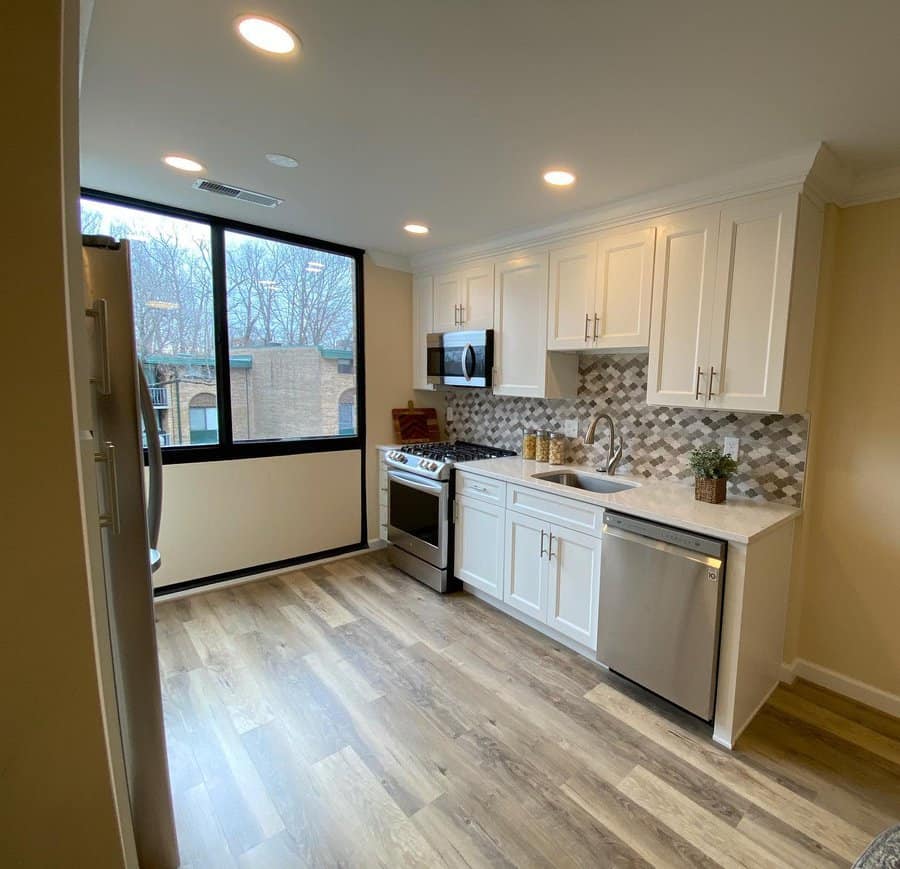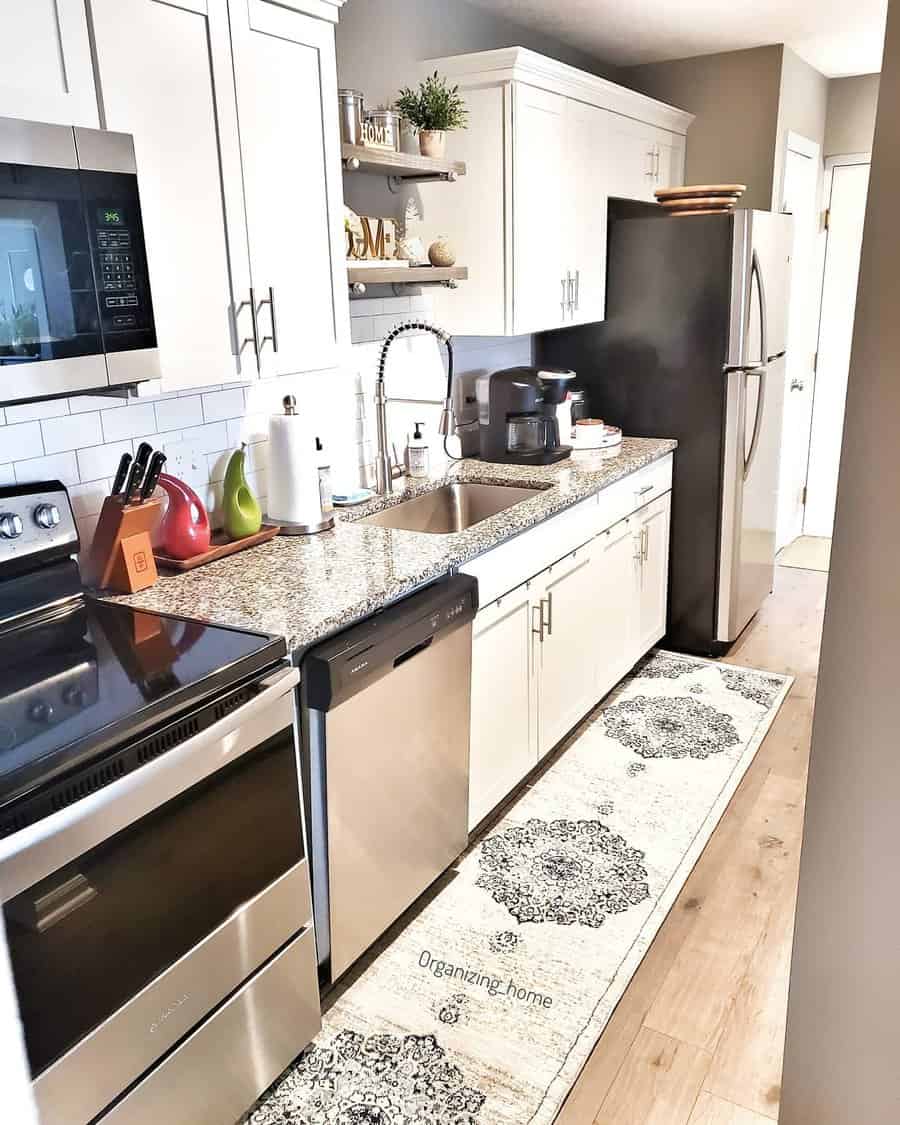 9. Maximize with Soffit Storage
In the quest for extra storage in petite apartment kitchens, soffit storage emerges as an ingenious solution, capitalizing on the often-neglected area above cabinets. It's an ideal spot for stashing seasonal wares or less-used appliances. Beyond mere storage, it's also an excellent platform to exhibit decorative items or plants, ensuring your kitchen retains both function and flair. Properly designed, soffit storage can effortlessly integrate into your kitchen, amplifying both utility and elegance.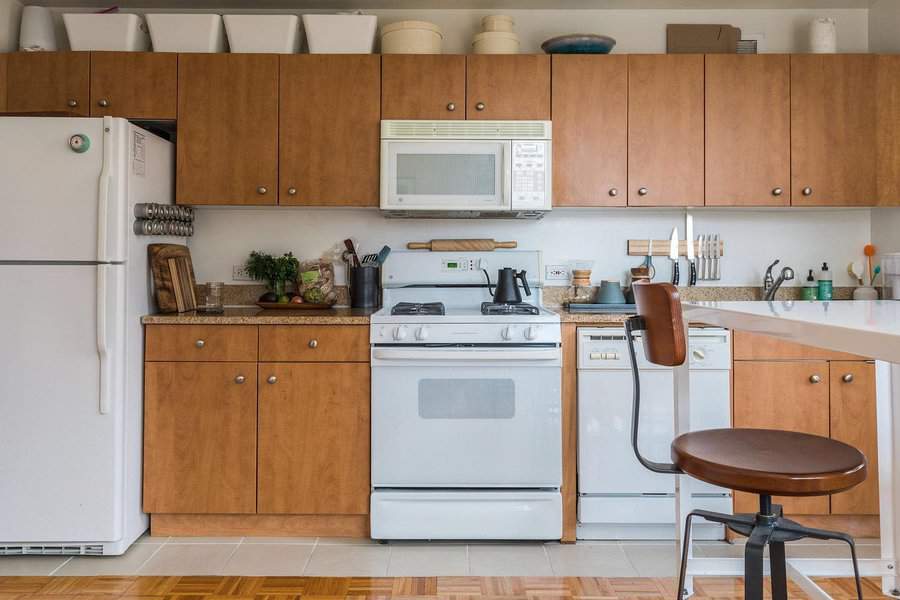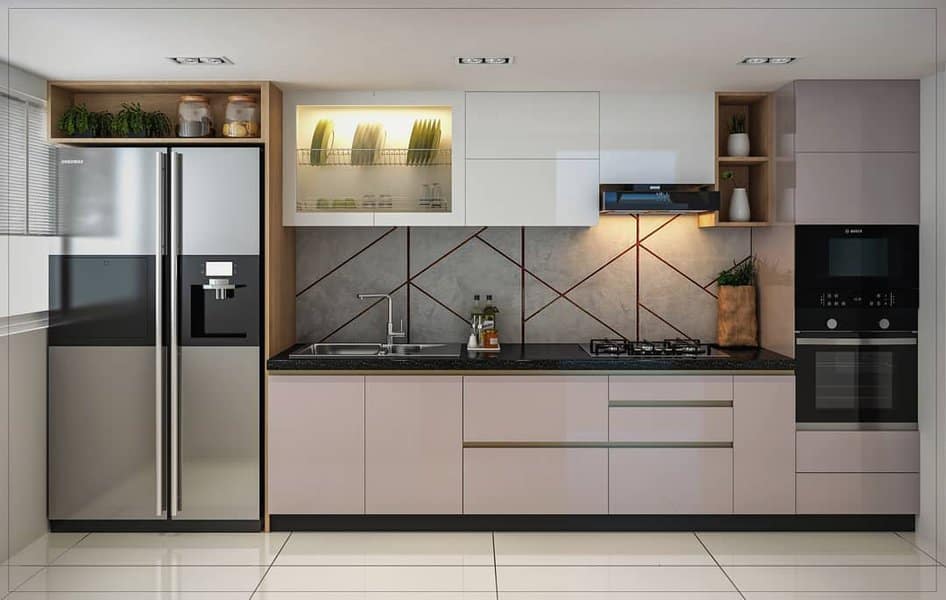 10. Highlight with Mosaic Tile Accents
Mosaic tile accents effortlessly weave charm and sophistication into apartment kitchens. Their intricate designs and color variety render them a captivating centerpiece, harmonizing with the kitchen's overall theme. The tile's petite dimensions offer extensive design adaptability, letting you tailor a backdrop that mirrors your personal flair. Opting for either a vibrant motif or a muted arrangement, mosaic tiles can transform your kitchen into a bespoke culinary haven without straining your wallet.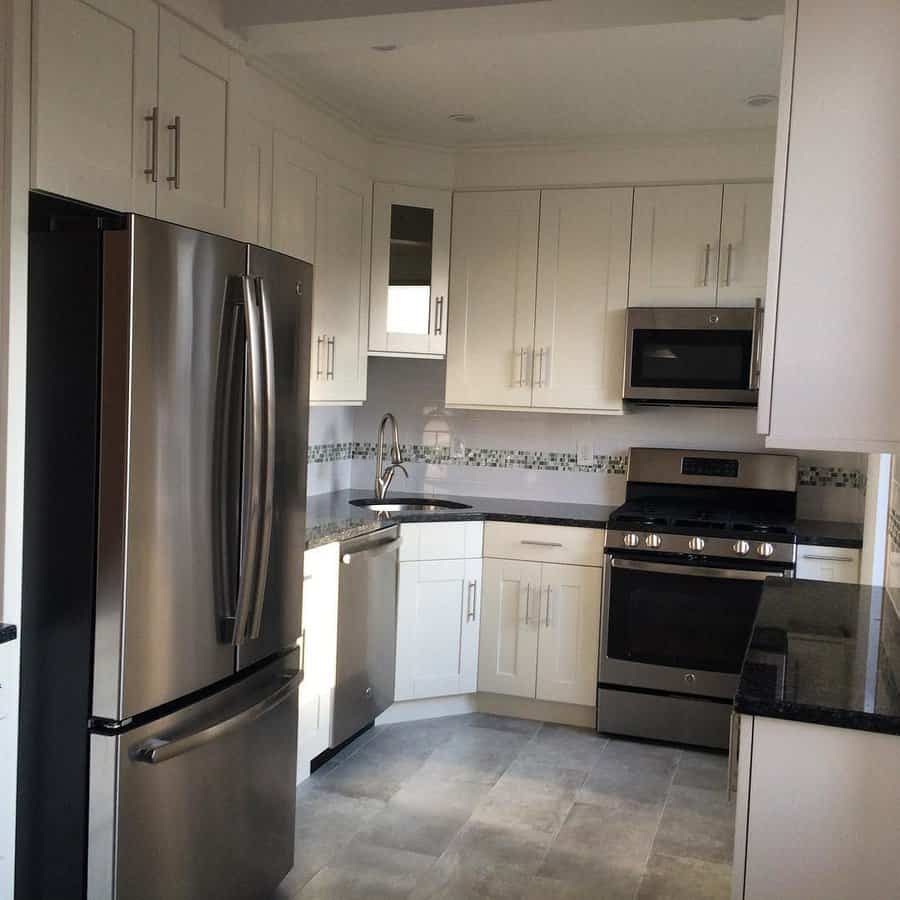 11. Dine at a Cocktail Table & Stools
For confined apartment kitchens, a cocktail table coupled with stools can be a transformative addition, doubling as a chic dining spot and a handy workspace. This duo can also morph into a mini kitchen island, granting extra countertop utility and storage. Whether you lean towards a contemporary design for a touch of refinement or a rustic ambiance for warmth, the right cocktail table and stools can amplify your kitchen's aesthetic appeal, functionality, and sense of space.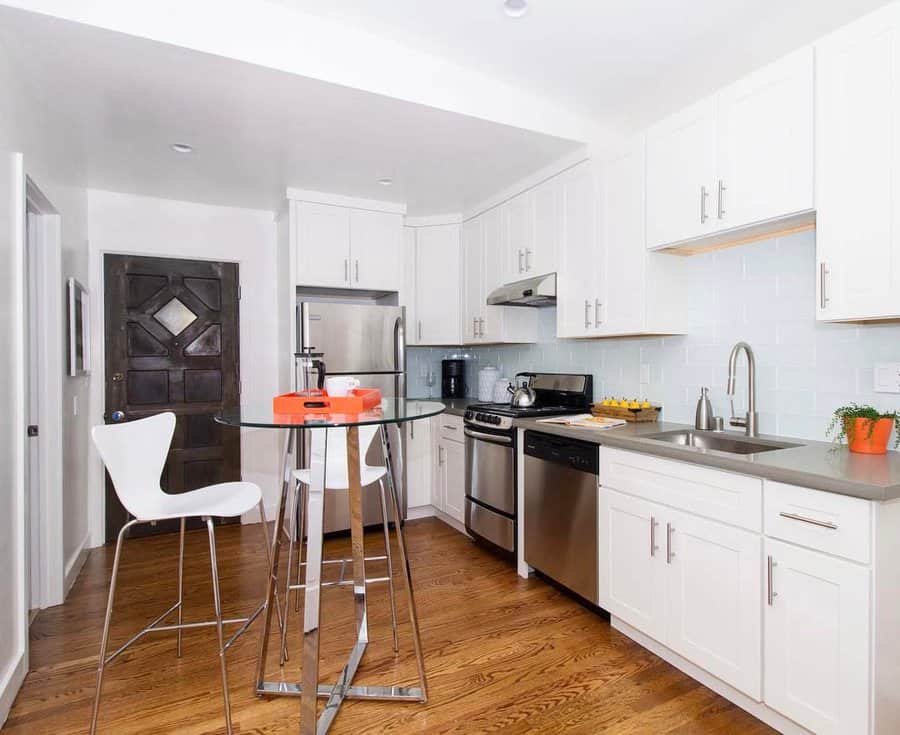 12. Introduce a Bold Color Splash
A vibrant color infusion can dramatically reshape an apartment kitchen, mirroring your unique personality. Cheerful yellow cabinets radiate warmth, turning the kitchen into an inviting hub, while audacious electric blue cabinets assertively elevate the room's dynamism. Both shades present transformative potential, ensuring your kitchen is not only functional but also an emblem of your style. Embracing audacious colors can craft an unparalleled signature look, making your kitchen distinctly yours.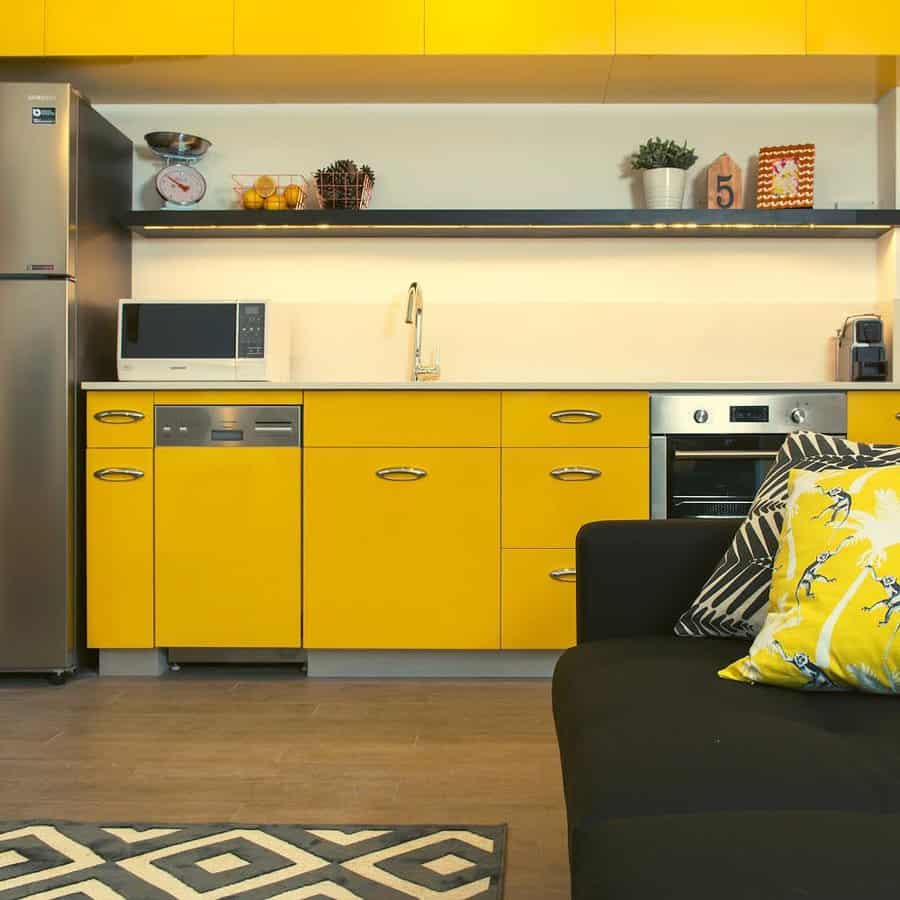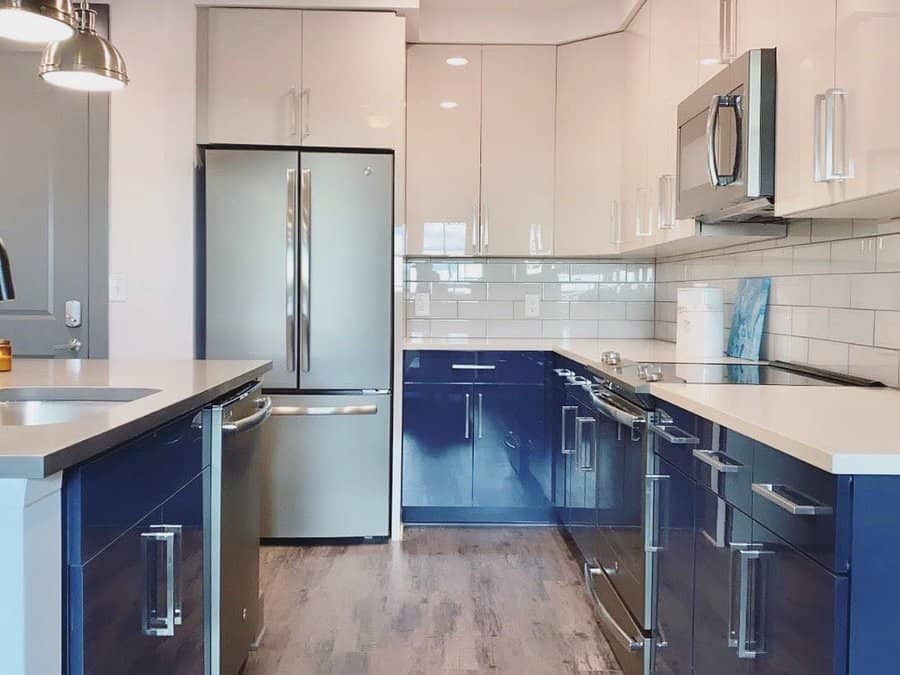 13. Convert Kitchen Space for Laundry
In compact apartment settings, optimizing every square inch becomes pivotal. Merging kitchen duties with laundry functionalities is an ingenious solution, saving both space and effort. Careful layout considerations allow a washing machine to coexist in the kitchen unobtrusively. Depending on your spatial allowances, a compact unit or even stackable options can be considered. Such a merger, when executed thoughtfully, ensures you won't compromise on either style or functionality.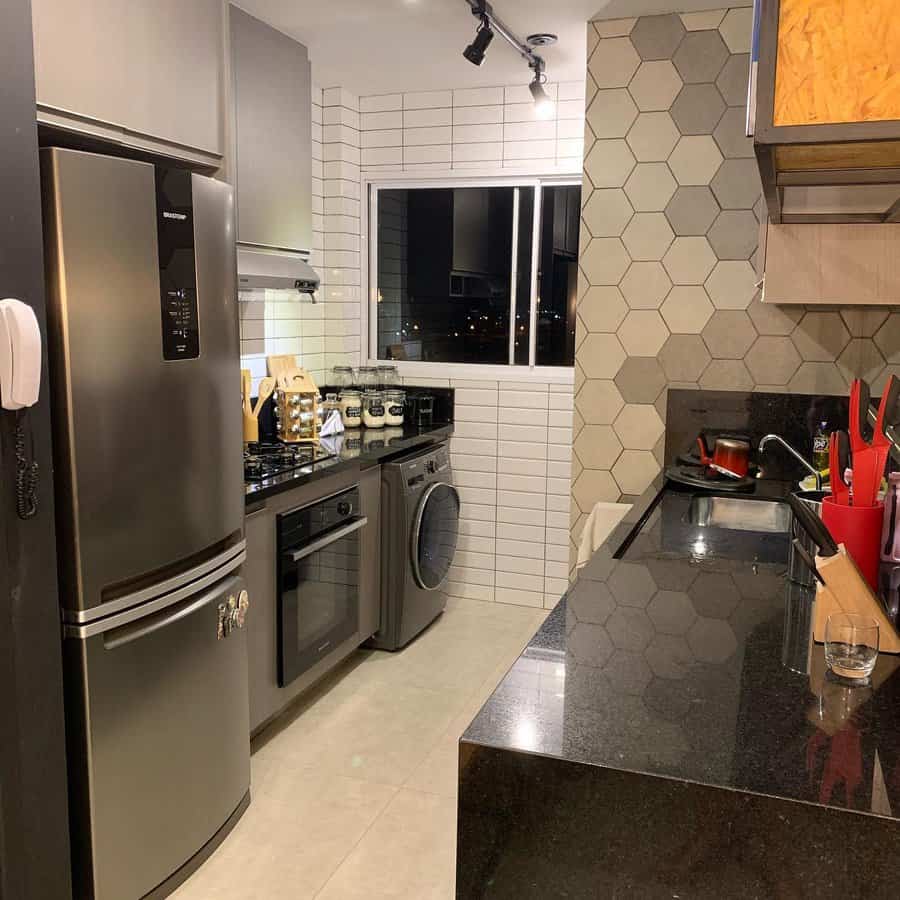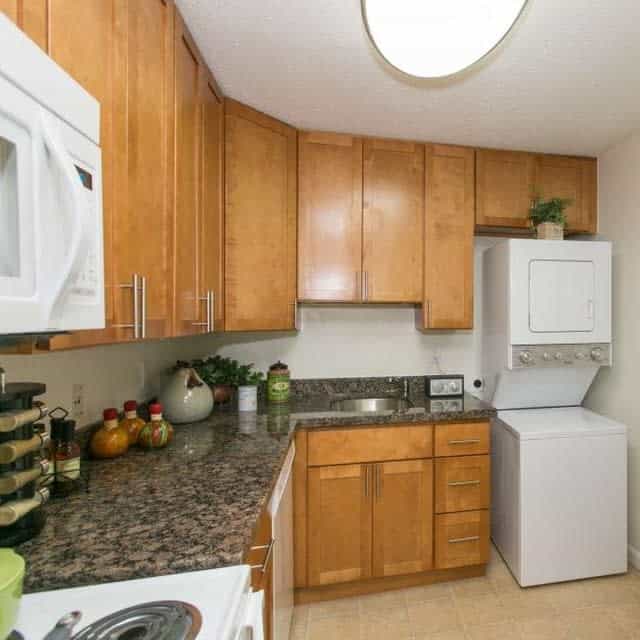 14. Let Light in with a Letterbox Window
Incorporating a letterbox window into your apartment kitchen introduces a contemporary feel while enhancing natural illumination. Available in a range of sizes, from slender strips to more prominent showcases, they effortlessly merge aesthetics with functionality. Besides bathing your kitchen in sunlight, these windows uphold your privacy—essential for many apartment residents. Be it a horizontal or vertical orientation, a letterbox window stands as a modern, eye-catching design choice that can elevate any kitchen space.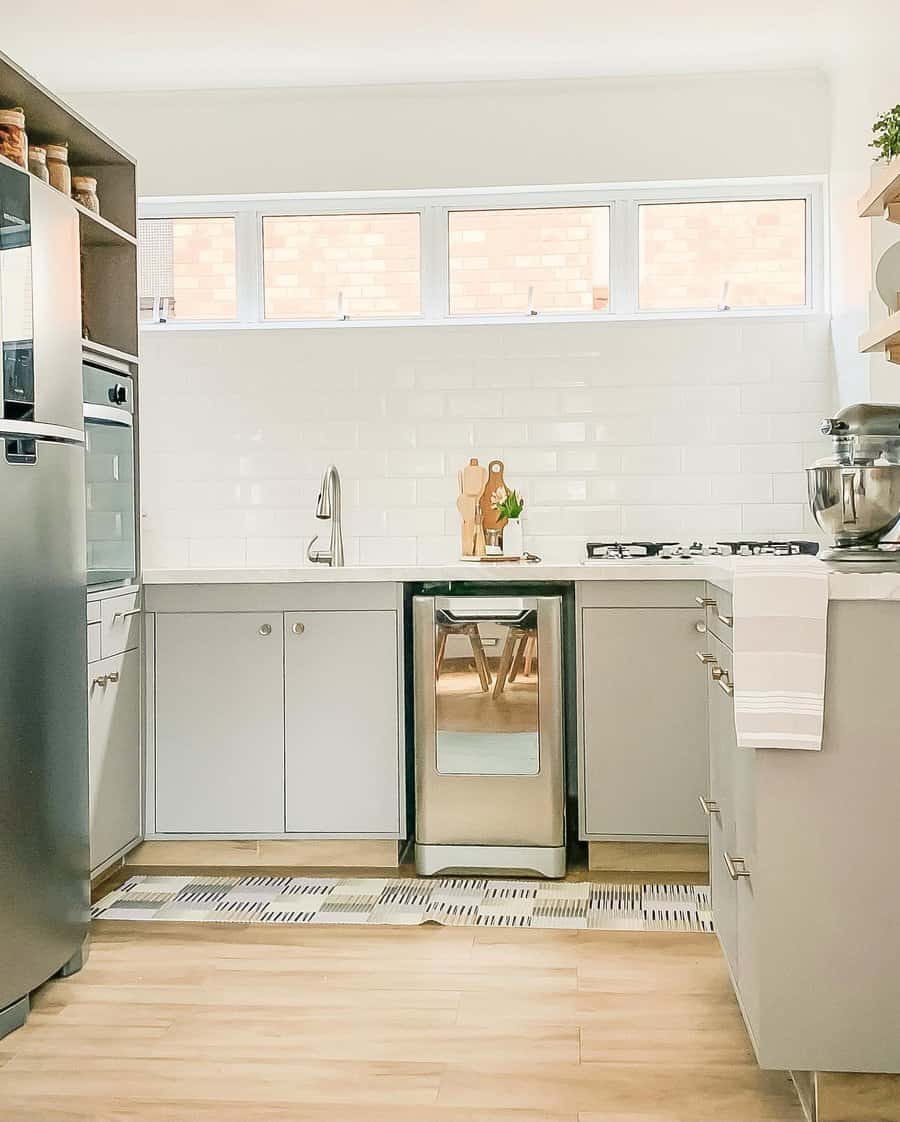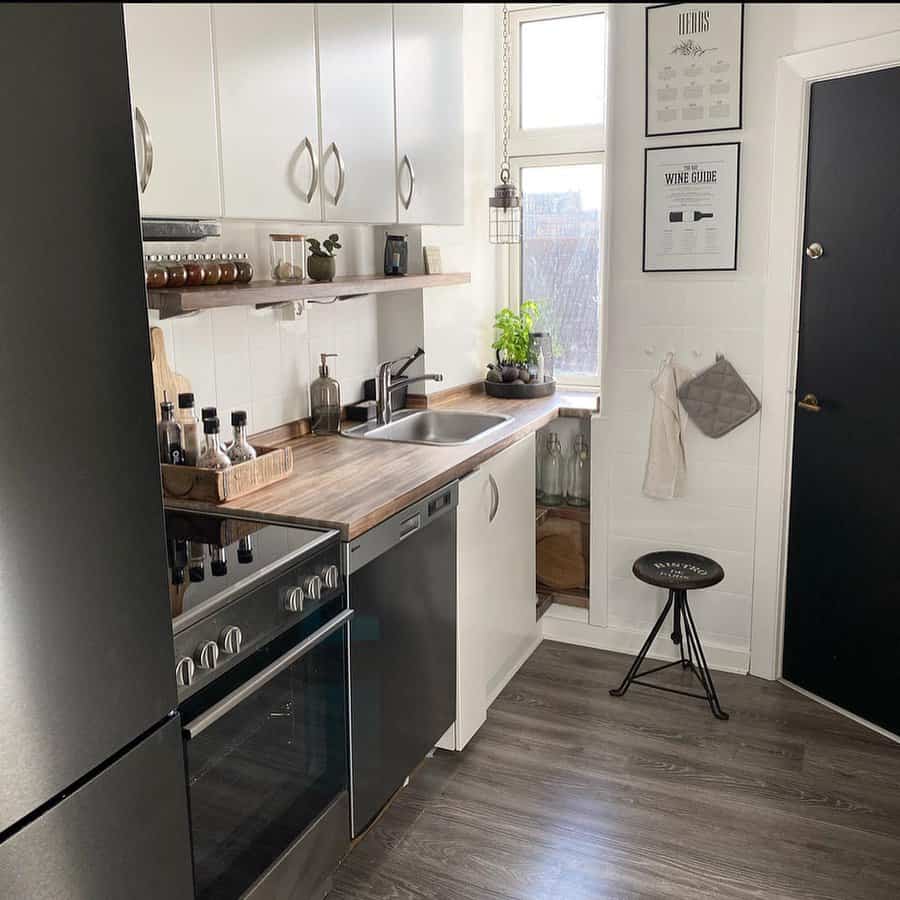 15. Design a U-Shaped Counter
The U-shaped kitchen counter shines in its ability to maximize functionality in compact apartments. This layout offers extensive countertop real estate for culinary tasks and doubles as storage or seating space, resembling a built-in kitchen island. Particularly beneficial for studios and tiny homes, its design champions fluid movement by forming a clear work triangle. By integrating a U-shaped counter, your kitchen can effortlessly merge high functionality with sophisticated aesthetics in constrained spaces.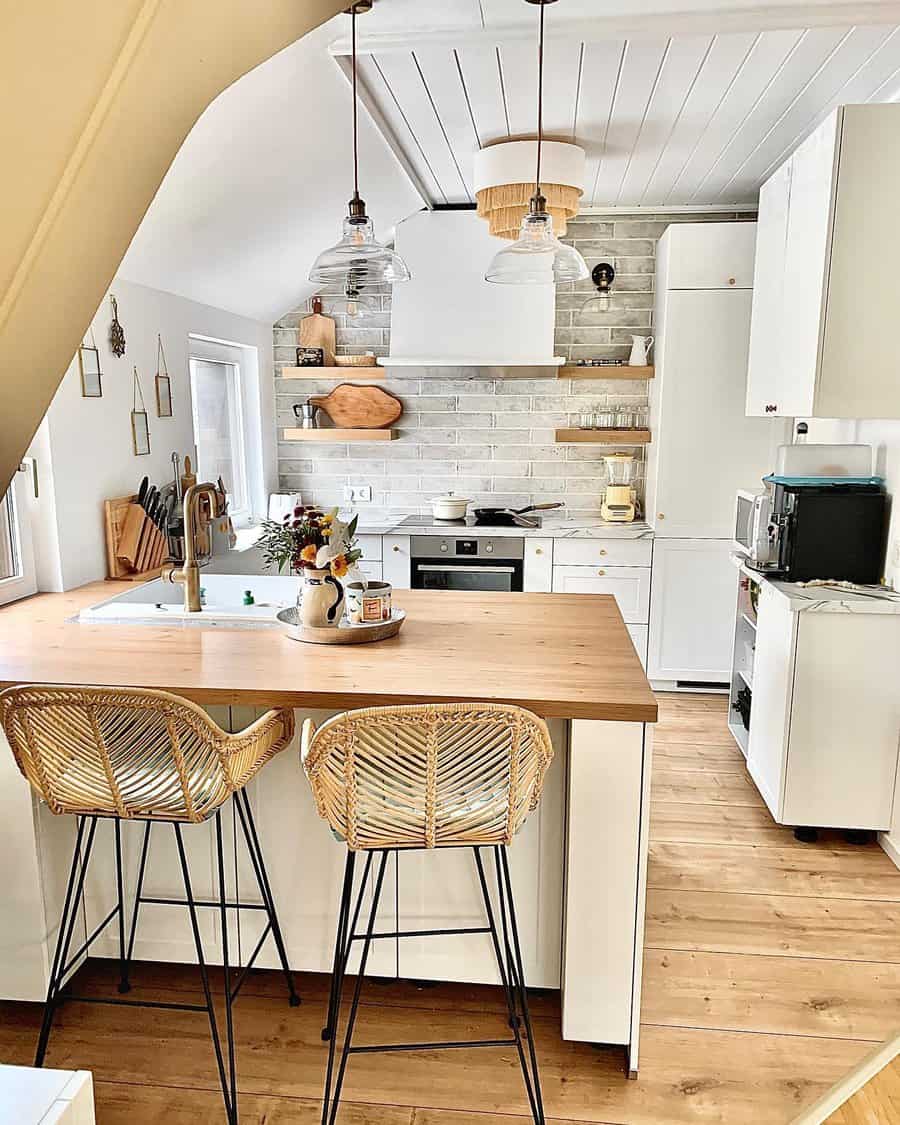 16. Optimize with a Galley Layout
Galley kitchens, characterized by their elongated, parallel designs, are adept at harnessing the potential of slender apartment spaces. Beyond mere functionality, a well-thought-out galley kitchen can exude contemporary elegance. To truly shine, it's imperative to employ innovative storage options and exploit every inch of countertop. Through a strategic blend of cabinets, modern appliances, and chic finishes, galley designs can seamlessly transform into stylish culinary havens. If you aim for a blend of efficiency and modern aesthetics, the galley kitchen is your go-to layout.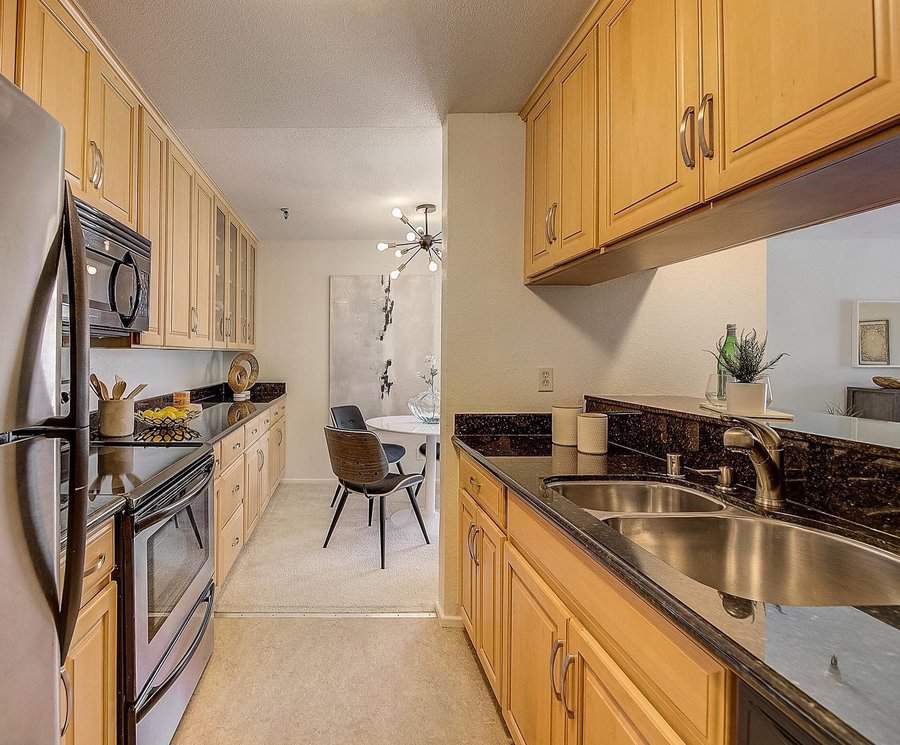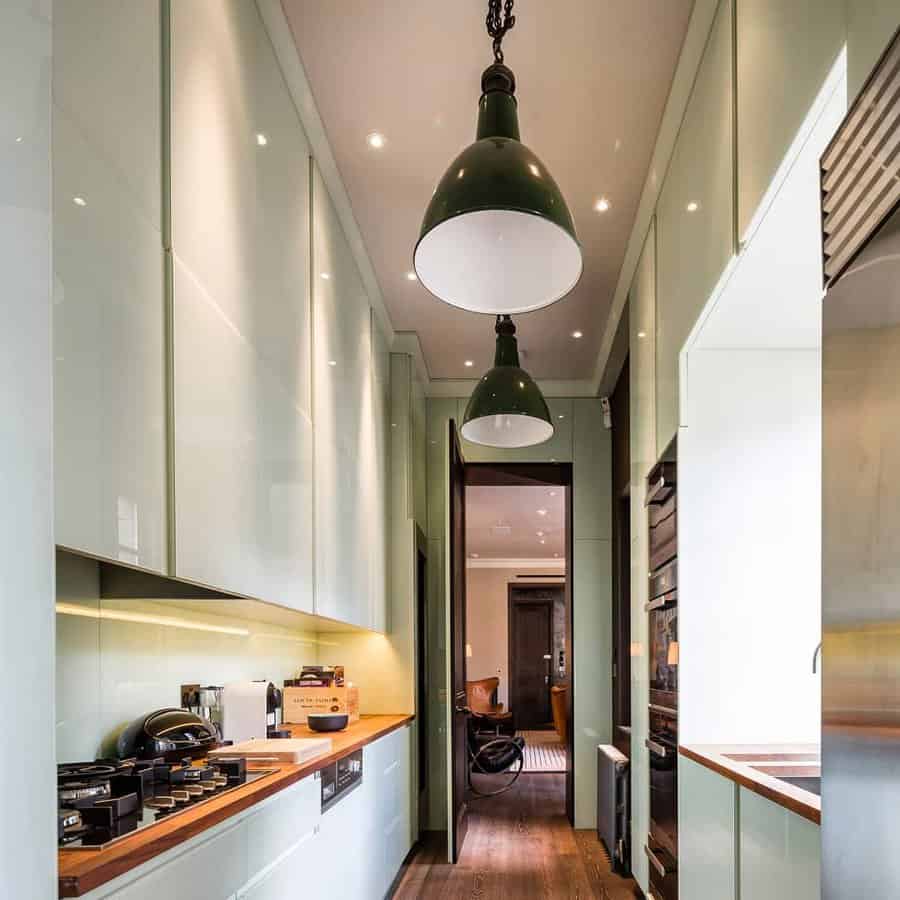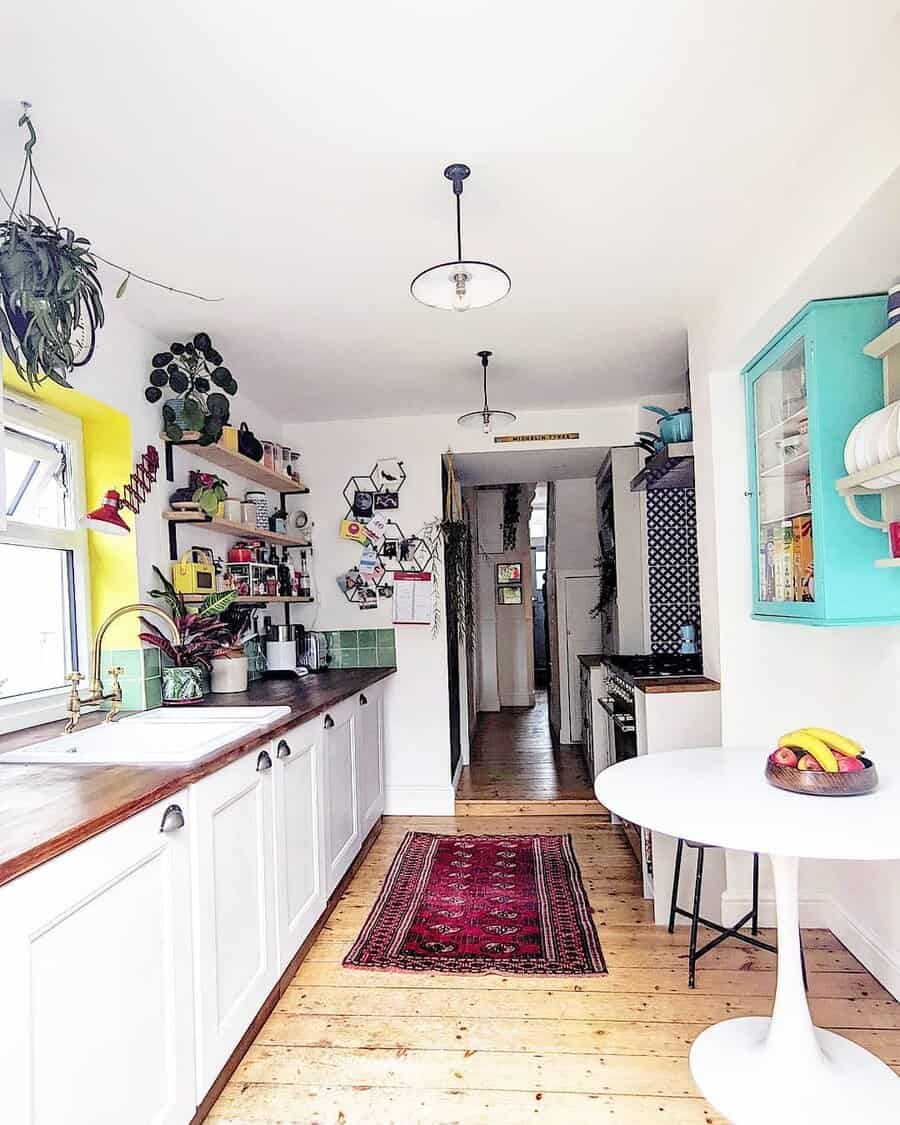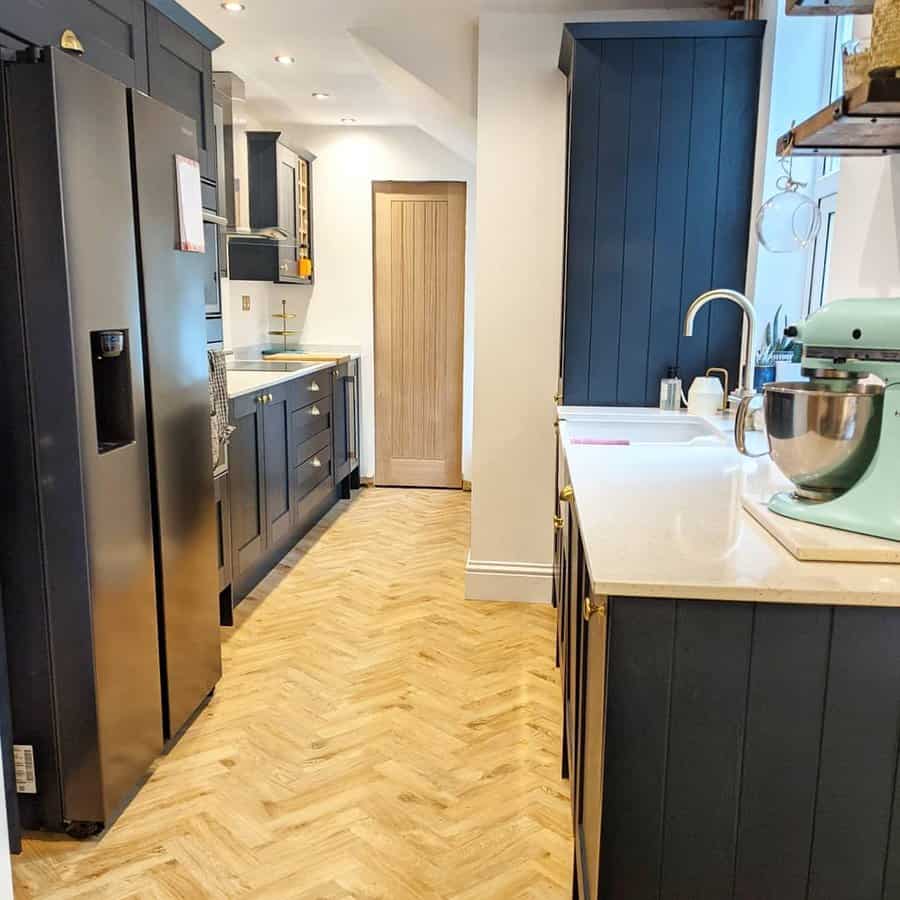 17. Mix White & Wood Elements
Fusing white and wood elements cultivates a kitchen ambience that effortlessly bridges contemporary flair with rustic charm. To bring this aesthetic to life in an apartment setting, blend wooden fixtures, like cabinets or floating shelves, with pristine white countertops and backsplashes. The wood's organic grain introduces a tactile depth against the room's minimalist backdrop. Introducing greenery or vibrant kitchen accessories can enhance this neutral foundation. Especially apt for smaller spaces, this combination brightens the environment, creating a spacious illusion. A marriage of white and wood ensures a kitchen that remains perpetually on-trend, irrespective of changing design currents.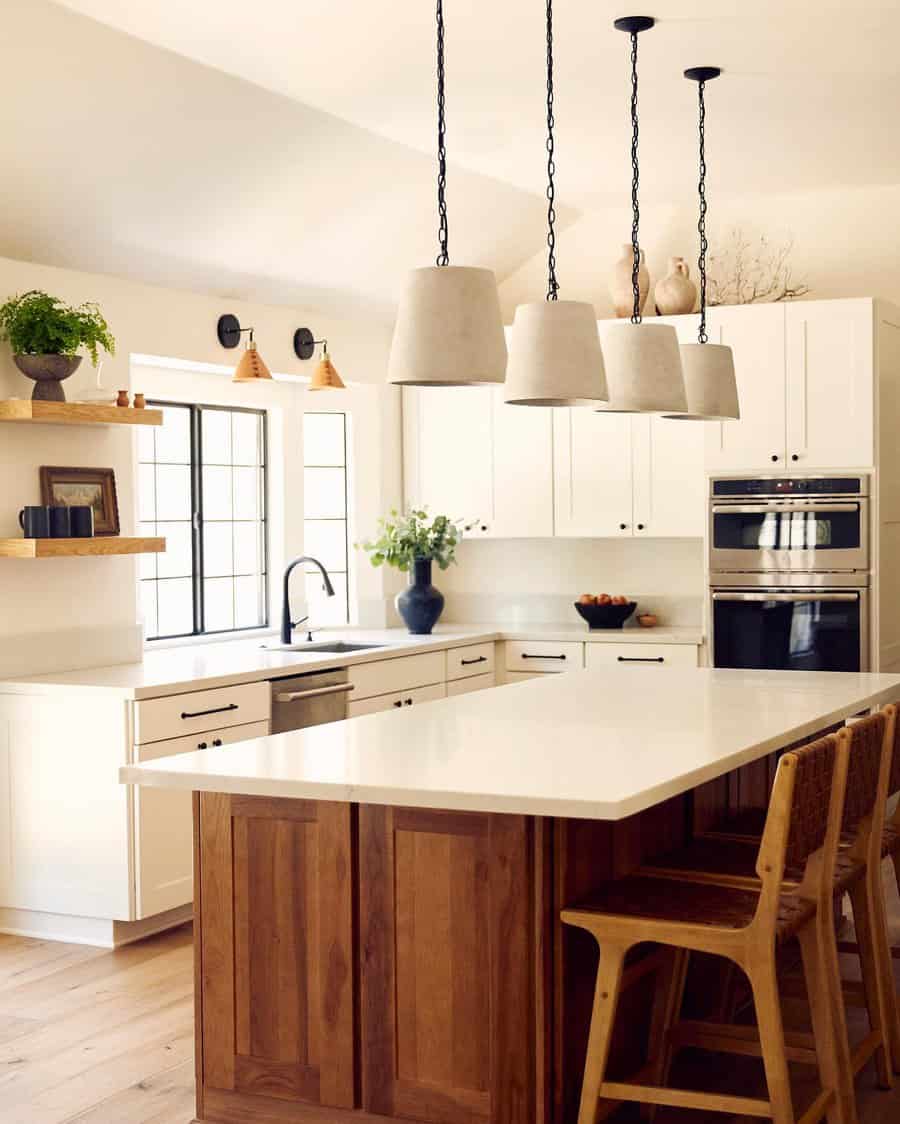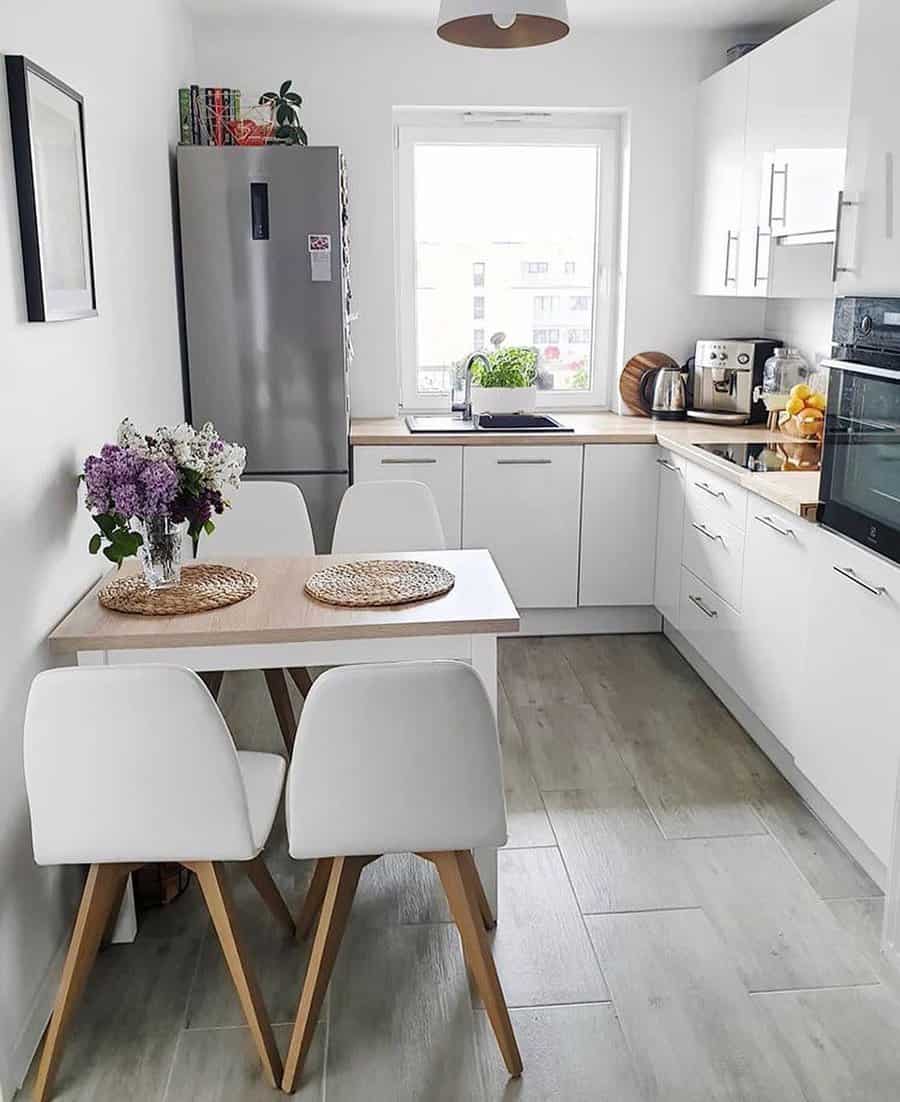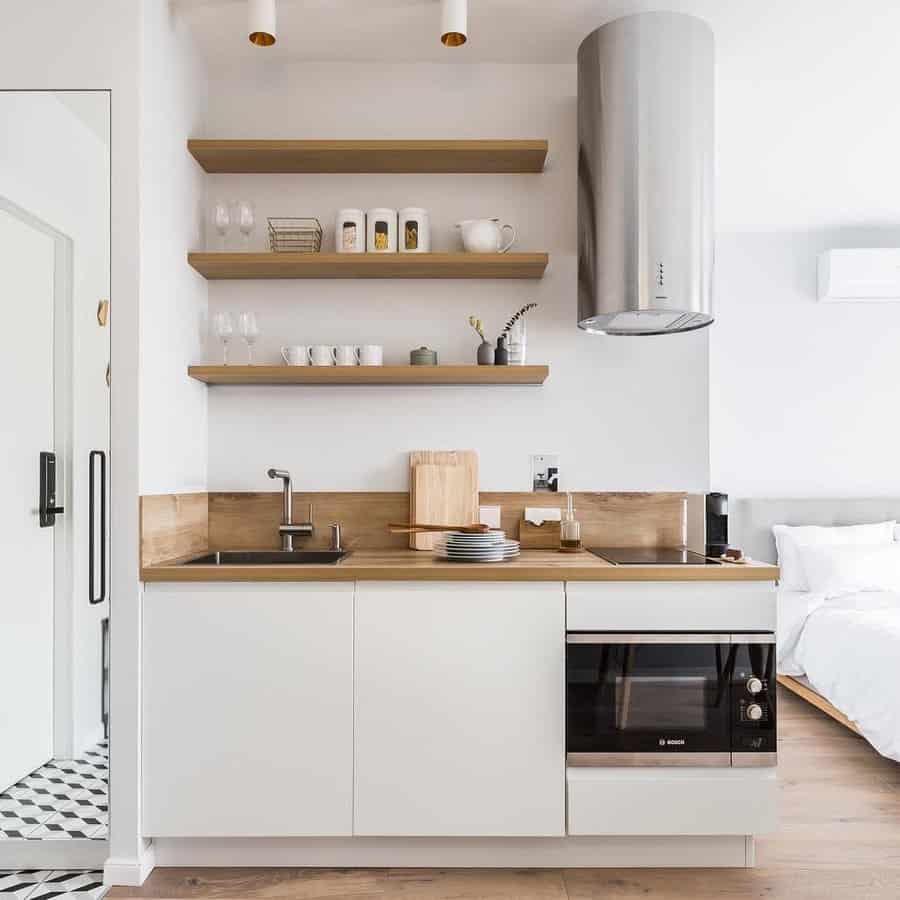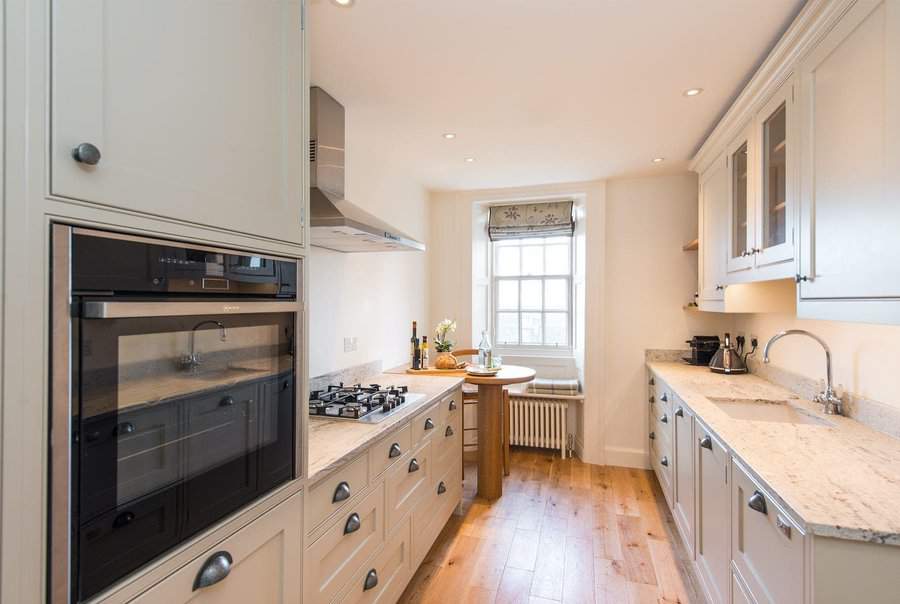 18. Ground with an Area Rug
Introducing an area rug into your apartment kitchen seamlessly combines both function and fashion. While it delineates and anchors the cooking space, it simultaneously introduces a warmth and texture often unexpected in kitchen environments. Based on your style preferences, you can go for a rug that either harmonizes with your current design or boldly contrasts it. Moreover, the practical advantages of area rugs shouldn't be overlooked – they serve as protective shields against inadvertent spills and potential floor blemishes. So, as you navigate rug choices from contemporary geometrics to classic florals, remember you're investing in a piece that not only beautifies but also ensures longevity for your kitchen floor.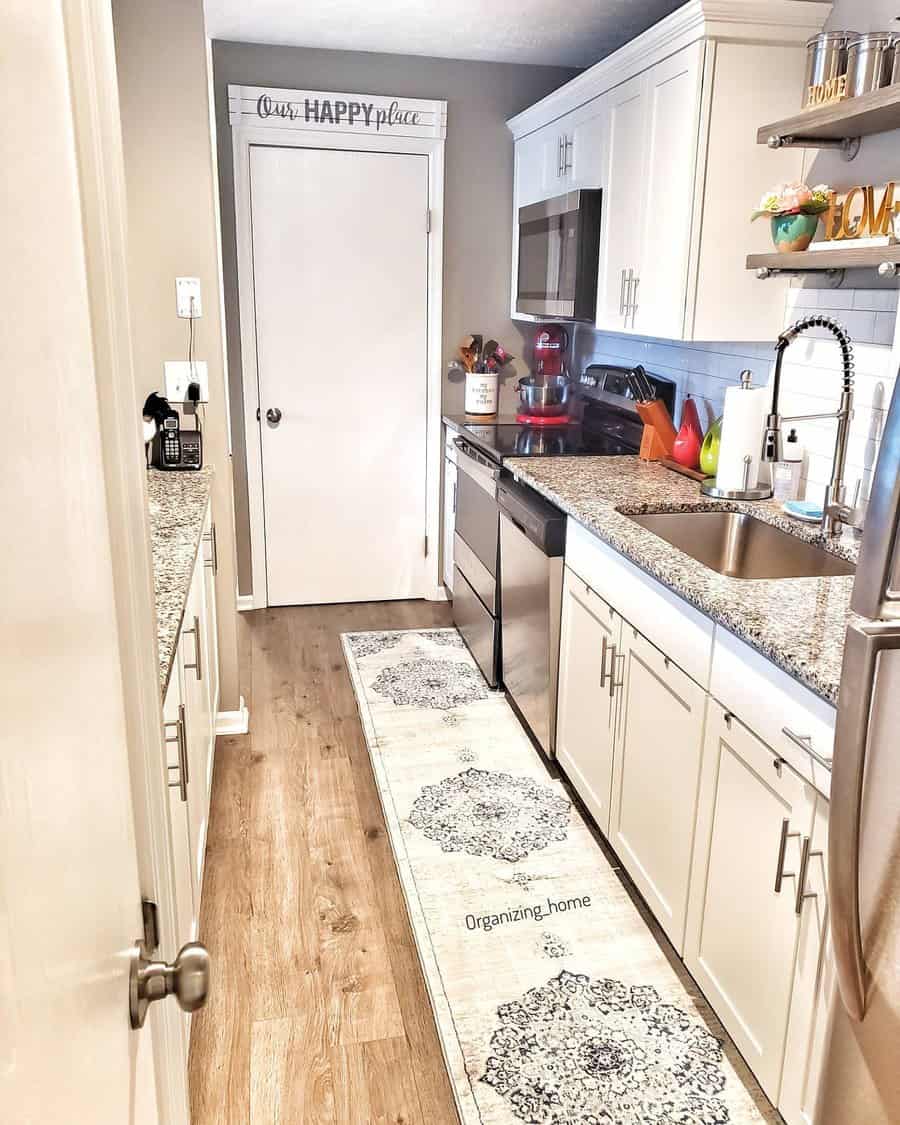 19. Pick Seamless No-Handle Cabinets
No-handle cabinets offer a contemporary and uncluttered option for apartment kitchens, embracing minimalist aesthetics for an organized and visually expansive space. The absence of handles allows for a sleek and uninterrupted design, creating an illusion of spaciousness. This approach provides ample room for personalization without overwhelming the kitchen, making it an ideal choice for those seeking a modern and clean design.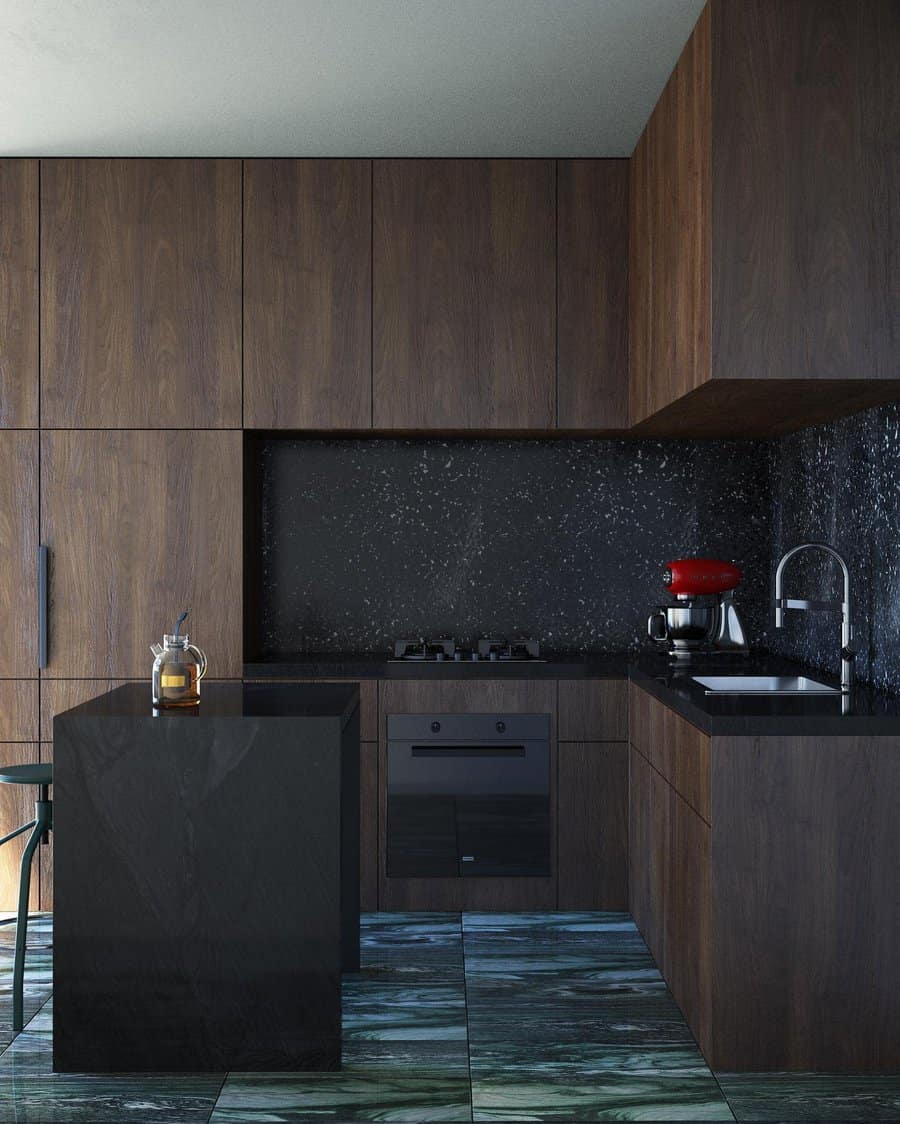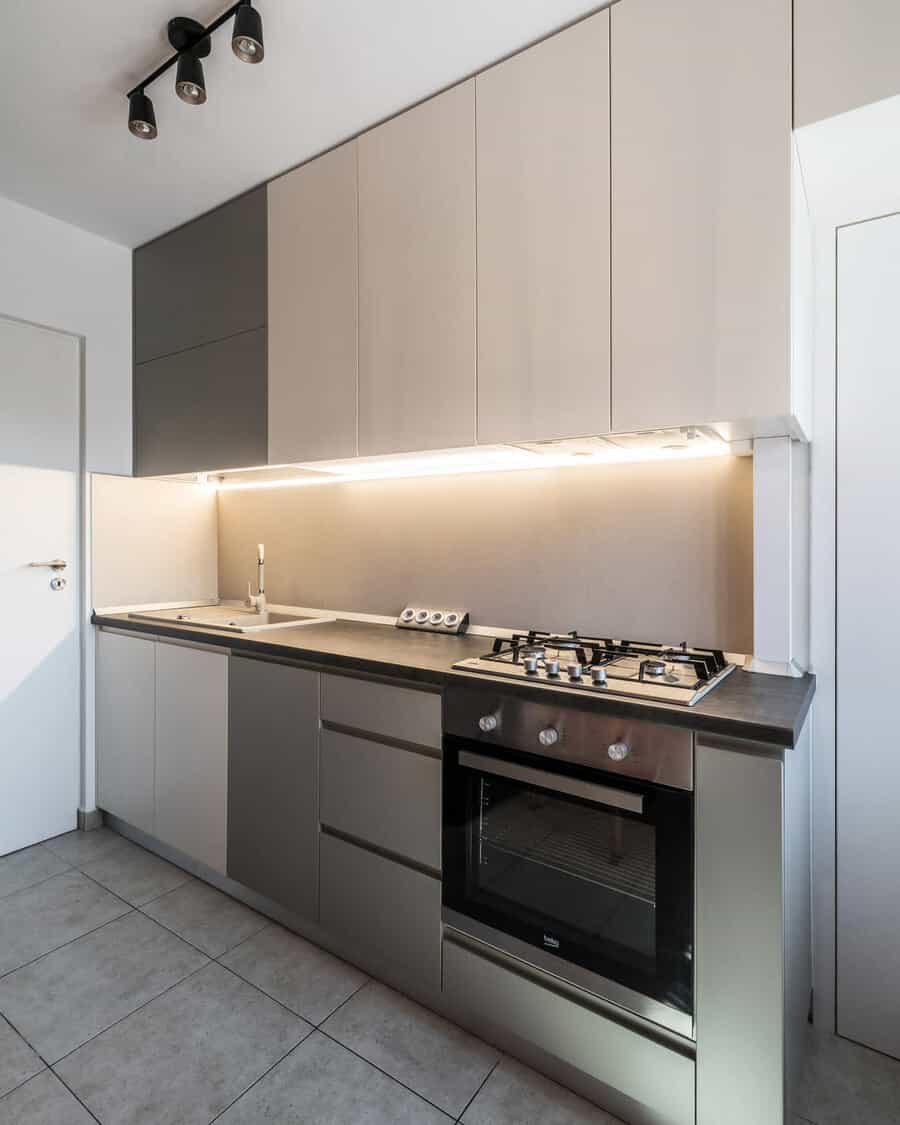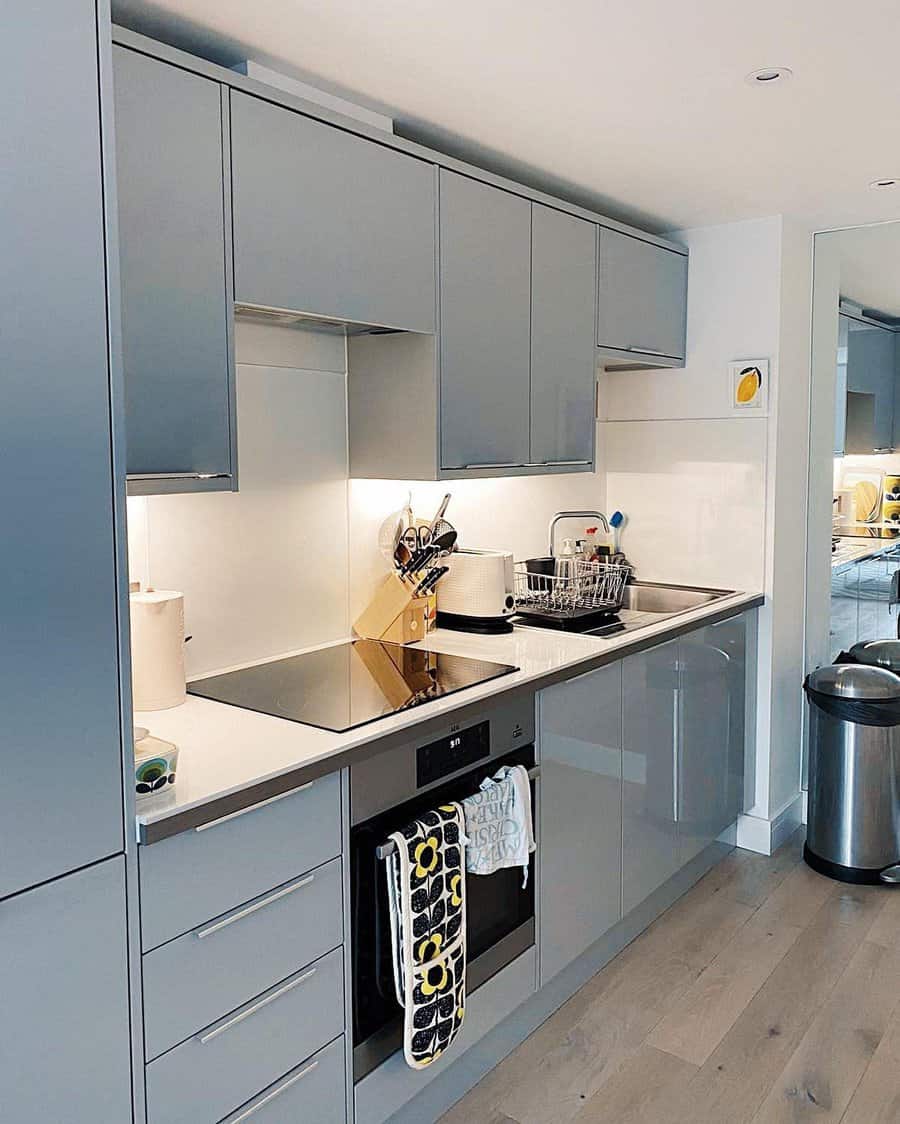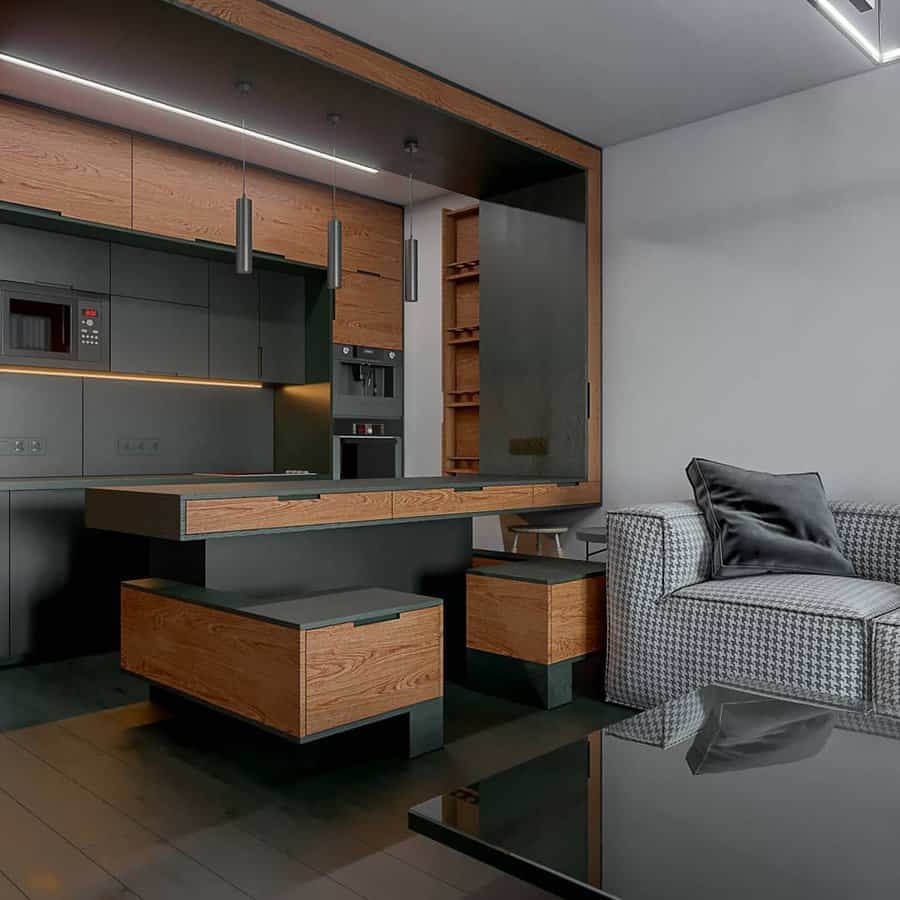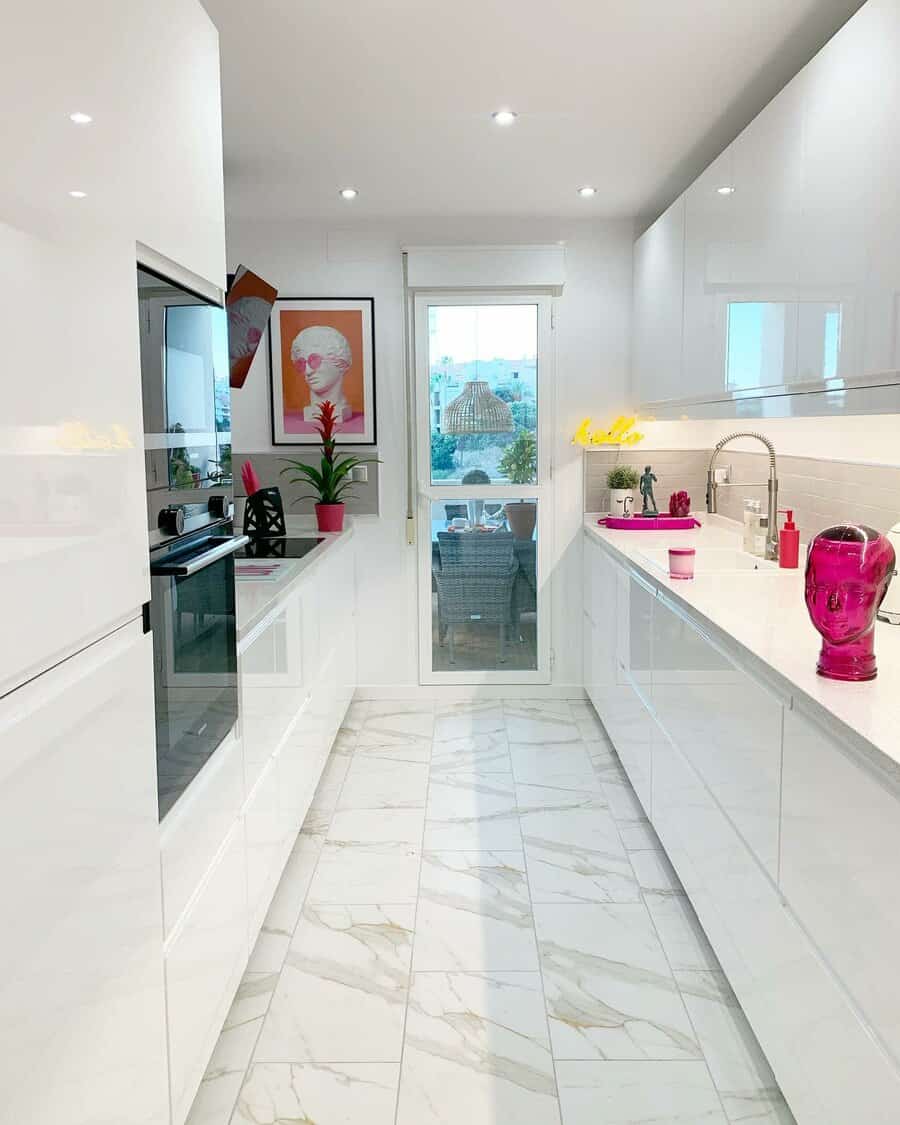 20. Embrace an Open Kitchen Concept
Opting for an open-plan apartment kitchen is a smart choice for space optimization. This contemporary layout not only imparts a sense of roominess, ideal for compact apartments but also offers convenience, ensuring easy access to all appliances. Additionally, it fosters a harmonious connection between the kitchen, living, and dining areas, creating a unified living space. With the flexibility to customize cabinets, countertops, and flooring, you can infuse your unique style into the design. An open kitchen concept redefines your apartment, blending functionality and style seamlessly for an inviting living experience.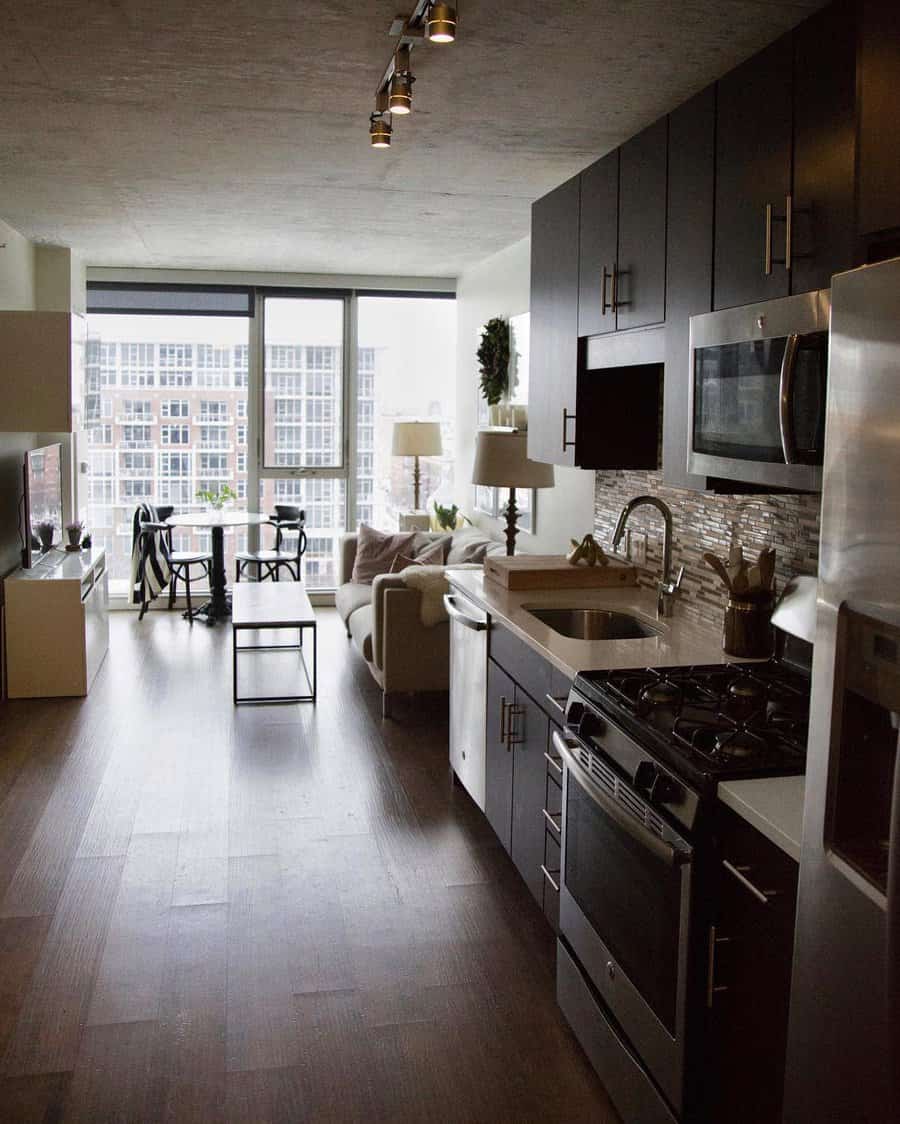 21. Use Islands to Define Spaces
In small apartments, establishing a distinction between the kitchen and living areas can be a design challenge. However, introducing a bar counter proves to be a stylish and practical solution. This addition not only provides extra seating for dining and entertaining but also visually separates the spaces while maintaining an open concept ambiance.
A contemporary and sleek bar counter can infuse sophistication, while a rustic or vintage-inspired design contributes to a cozy and inviting atmosphere. With well-chosen bar stools and thoughtful accessories, an apartment kitchen with a bar counter can transform into a cherished corner for morning coffee or evening cocktails, striking the perfect balance between style and functionality.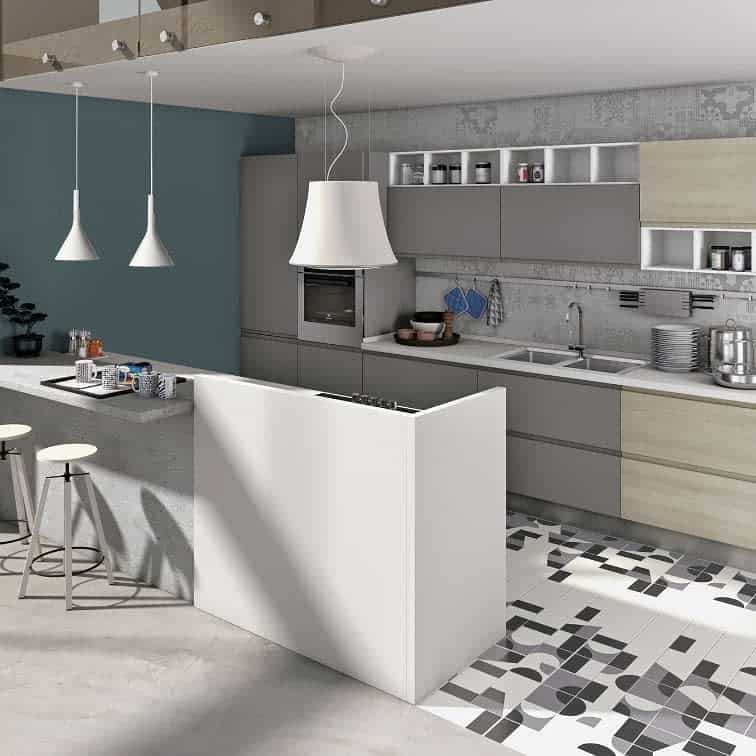 22. Enliven with Greenery
Transforming a lackluster apartment kitchen into a vibrant oasis is as simple as adding some greenery. Plants not only enhance air quality and reduce stress but also infuse your space with a refreshing touch of nature. Consider placing small herb pots on the windowsill, hanging trailing plants from the ceiling, or even creating a captivating living wall with an assortment of plants. These easy steps can help you craft a beautiful and soothing kitchen that truly feels like home.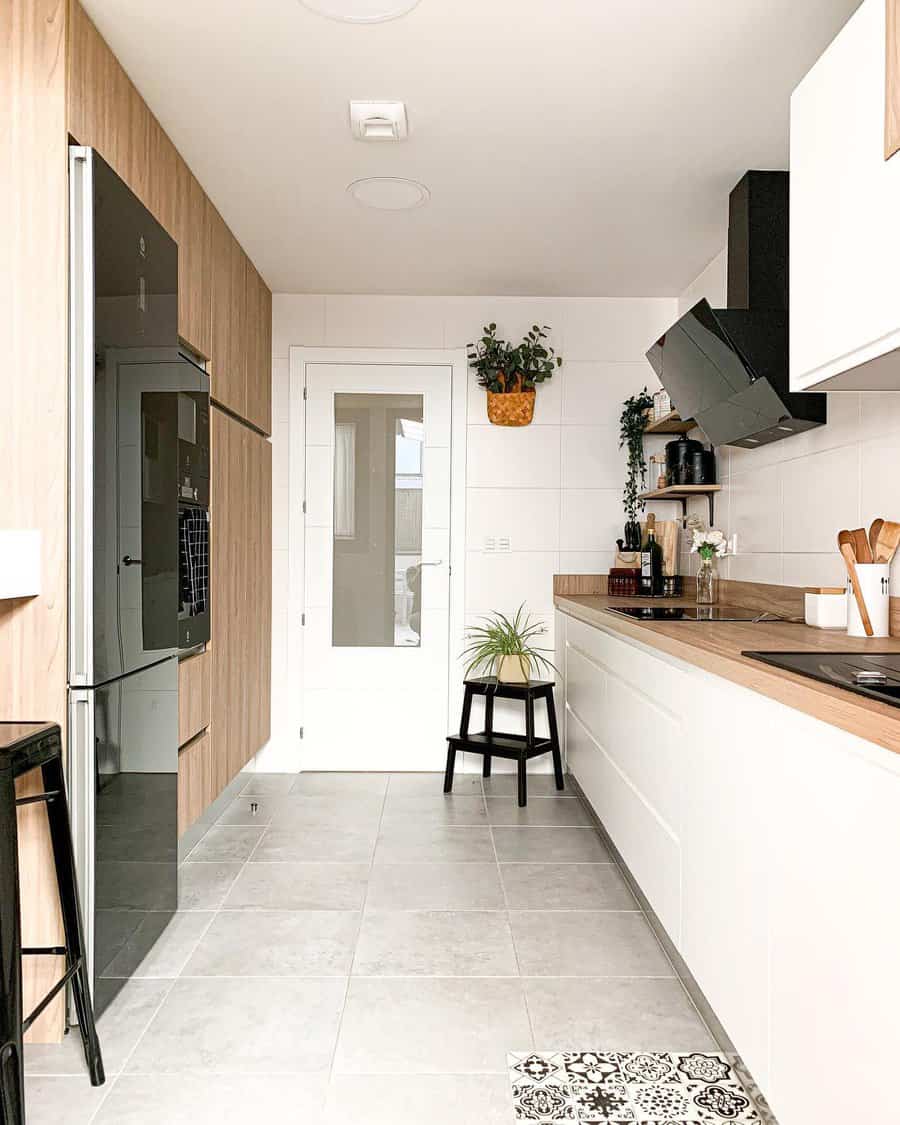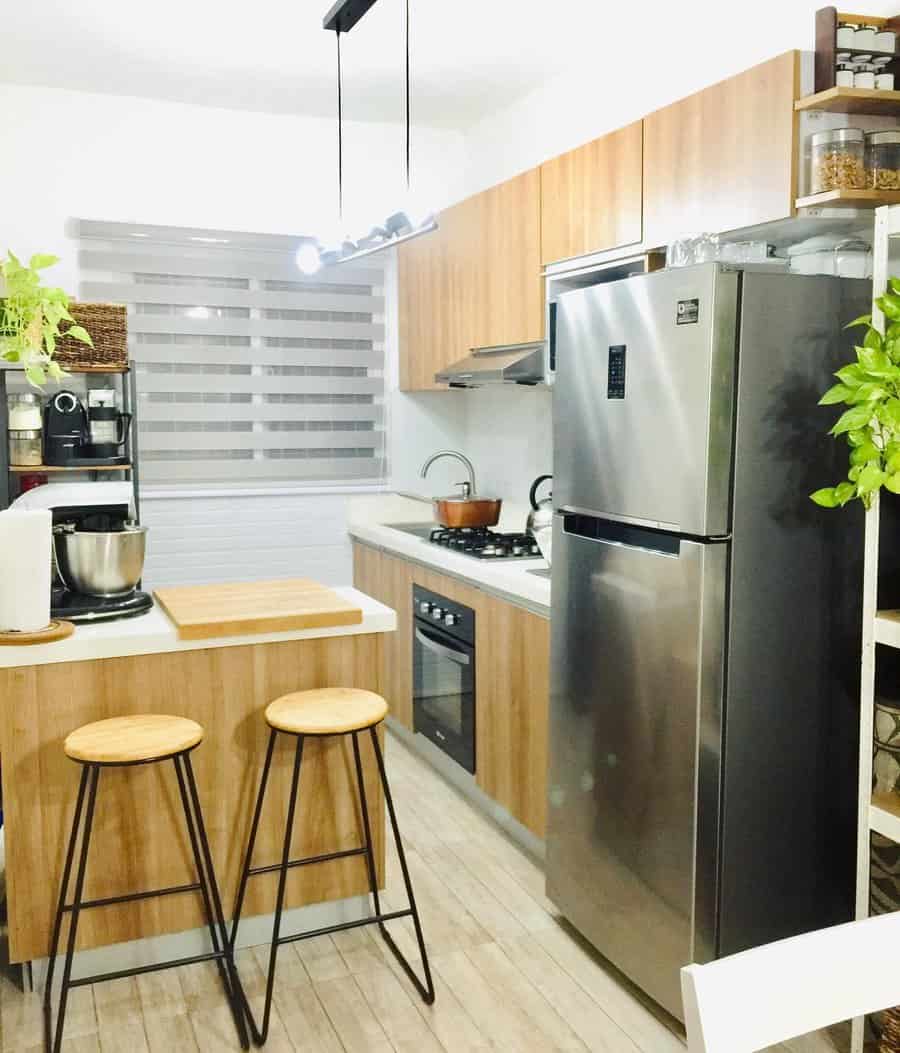 23. Craft Recessed Storage Shelves
When space optimization is paramount in your apartment kitchen, consider the addition of recessed shelves. These discreet storage solutions effortlessly accommodate dishes, glassware, and kitchen essentials without encroaching on valuable counter or cabinet real estate. Beyond the functionality, recessed shelves introduce a contemporary and stylish facet to your kitchen design.
With a plethora of materials and finishes at your disposal, you have the creative freedom to customize the shelves to align seamlessly with your decor. Bid farewell to cluttered countertops and embrace the transformation of your kitchen into a more organized, functional, and visually appealing space with the addition of recessed shelves.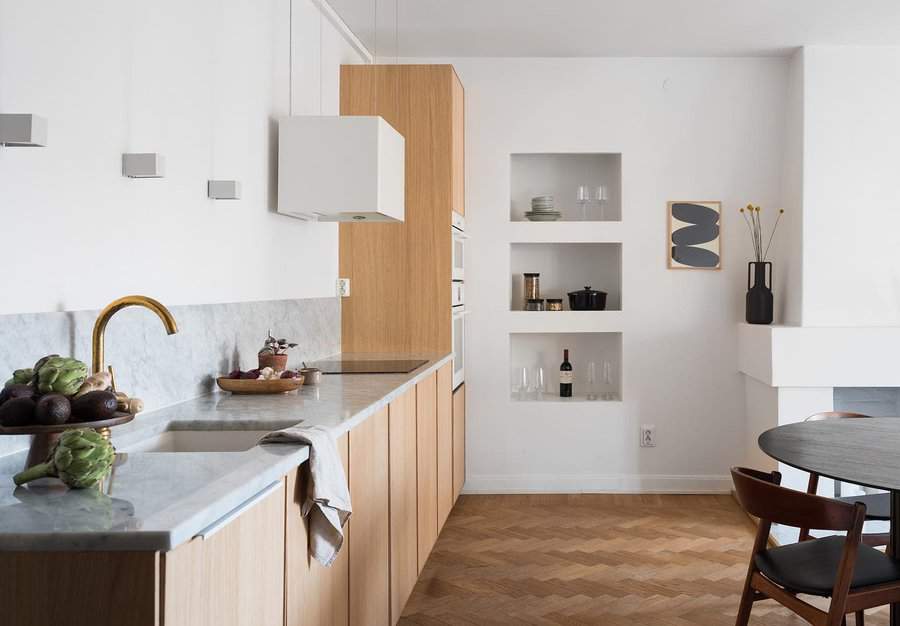 Apartment Kitchen FAQs
Can you paint an apartment kitchen?
Whether or not you can update your small apartment kitchen with a fresh coat of paint is up to your landlord. Many leases allow for temporary changes like new wall paint. Others strictly prohibit them. Even if your lease permits painting, there may be restrictions on which colors you can use.
Always double-check with your landlord before making changes to your living space or you could end up paying dearly for them at moveout!
How do you update an apartment kitchen countertop?
Even the nicest apartments are sometimes saddled with the most out-of-date countertops imaginable. You can learn to live with your unattractive counter space. Or you could temporarily cover it with something like contact paper.
Many renters use waterproof contact paper to hide their apartment kitchen counters and make them match the rest of their decor. This material is quite durable but you will still need to be careful around high-traffic areas like the kitchen sink. You can even use contact paper to cover up ugly backsplash tiles.