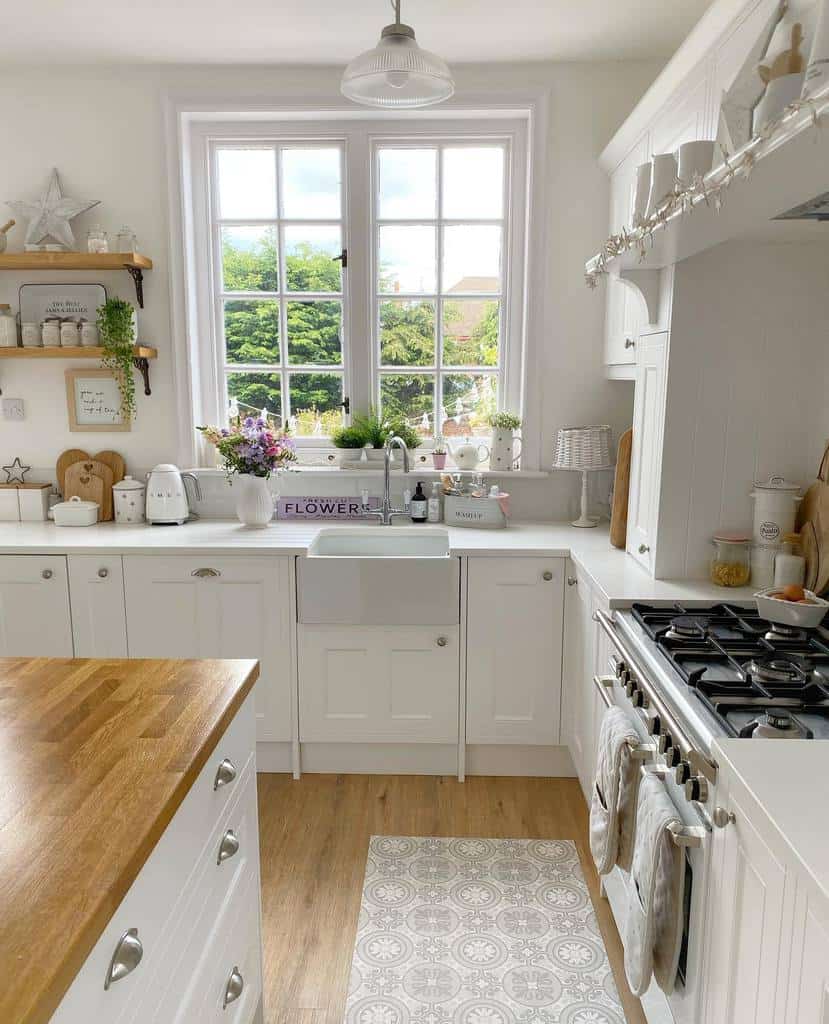 43 Farmhouse Kitchen Ideas
by — Andra DelMonico

Published on February 24, 2022

Updated on October 8, 2023
Just because you don't live on a farm doesn't mean you can't have a farmhouse kitchen. This quaint style gives your kitchen a comfortable feel that's warm and welcoming. With the kitchen being the heart of the home, this is the perfect aesthetic for your family home. You don't have to go all out. With the right pieces, you can create a farmhouse feel that's also authentic to your house's architecture.
These farmhouse kitchen ideas will help you turn your plain suburban kitchen into one that's simple yet comfortable.
1. Creative Wordplay in Farmhouse Decor
Enhance your farmhouse kitchen's charm with creative wordplay in decor. Consider adding wall art featuring family, love, or home-themed quotes to foster a cozy atmosphere and spark meaningful conversations. Additionally, vintage signage and food-related art can infuse a playful vibe, creating a perfect match for your farmhouse kitchen's aesthetics. Choose words wisely to make your kitchen uniquely special and inviting.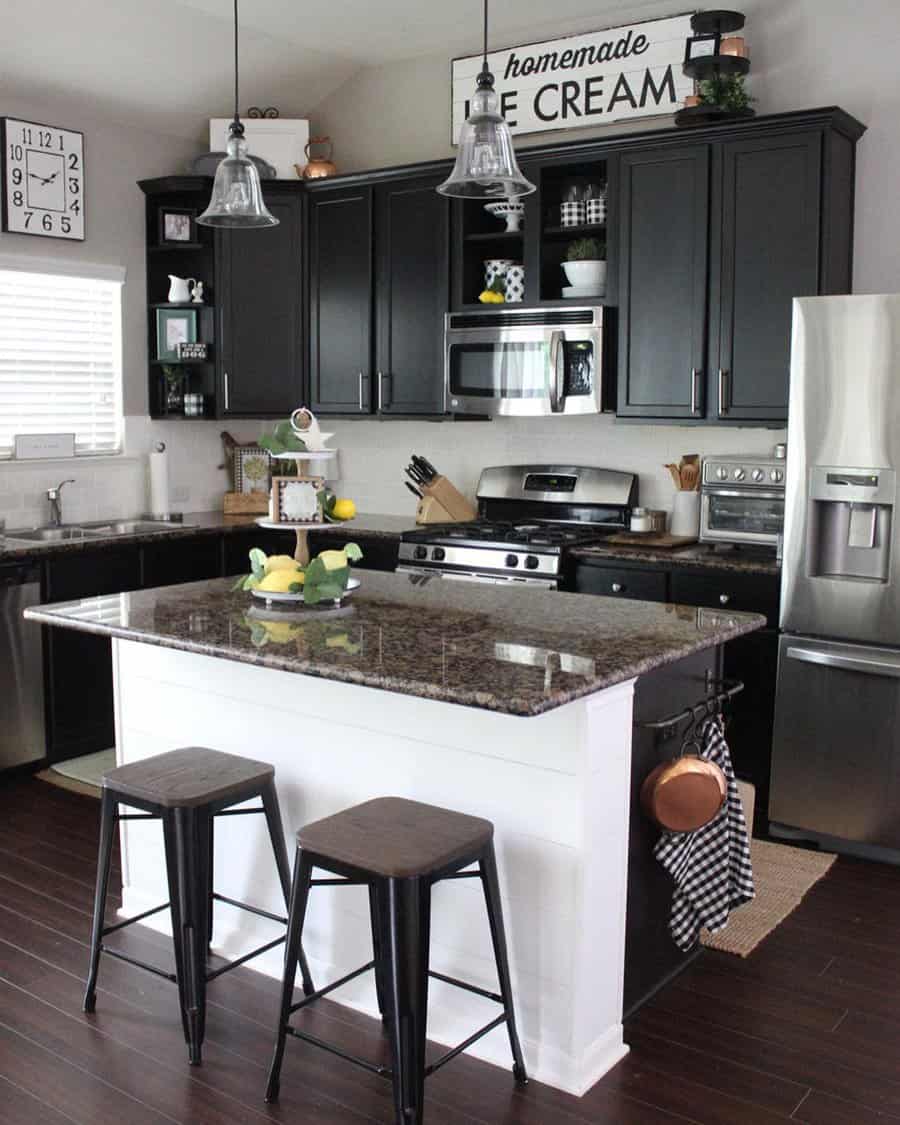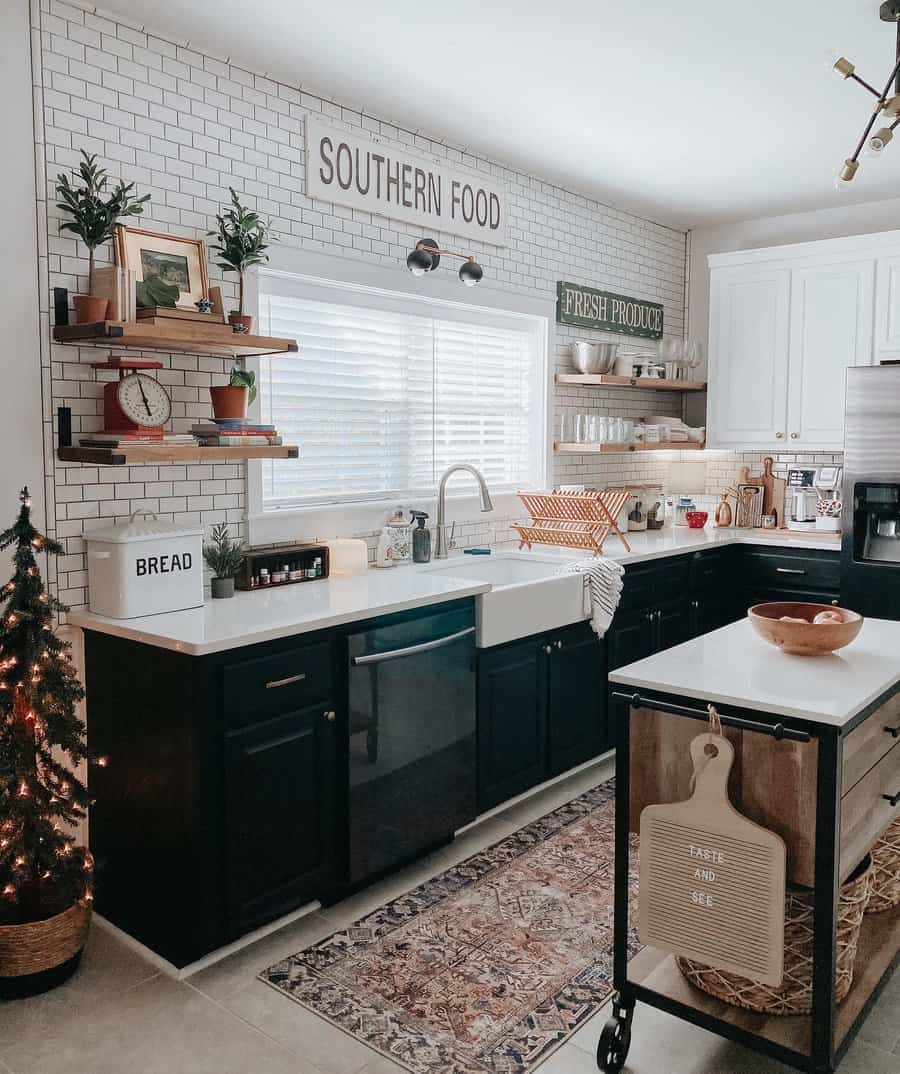 2. Illuminate with Charming String Lights
String lights can transform your farmhouse kitchen into a welcoming haven. Hanging them above counters, along with weathered furniture and an open layout, infuses a timeless charm that combines vintage and modern aesthetics seamlessly.
For both practicality and style, consider incorporating string lights to elevate your kitchen's rustic farmhouse appeal. Their warm and inviting glow adds a homely ambiance, making your kitchen a cozy retreat throughout the day.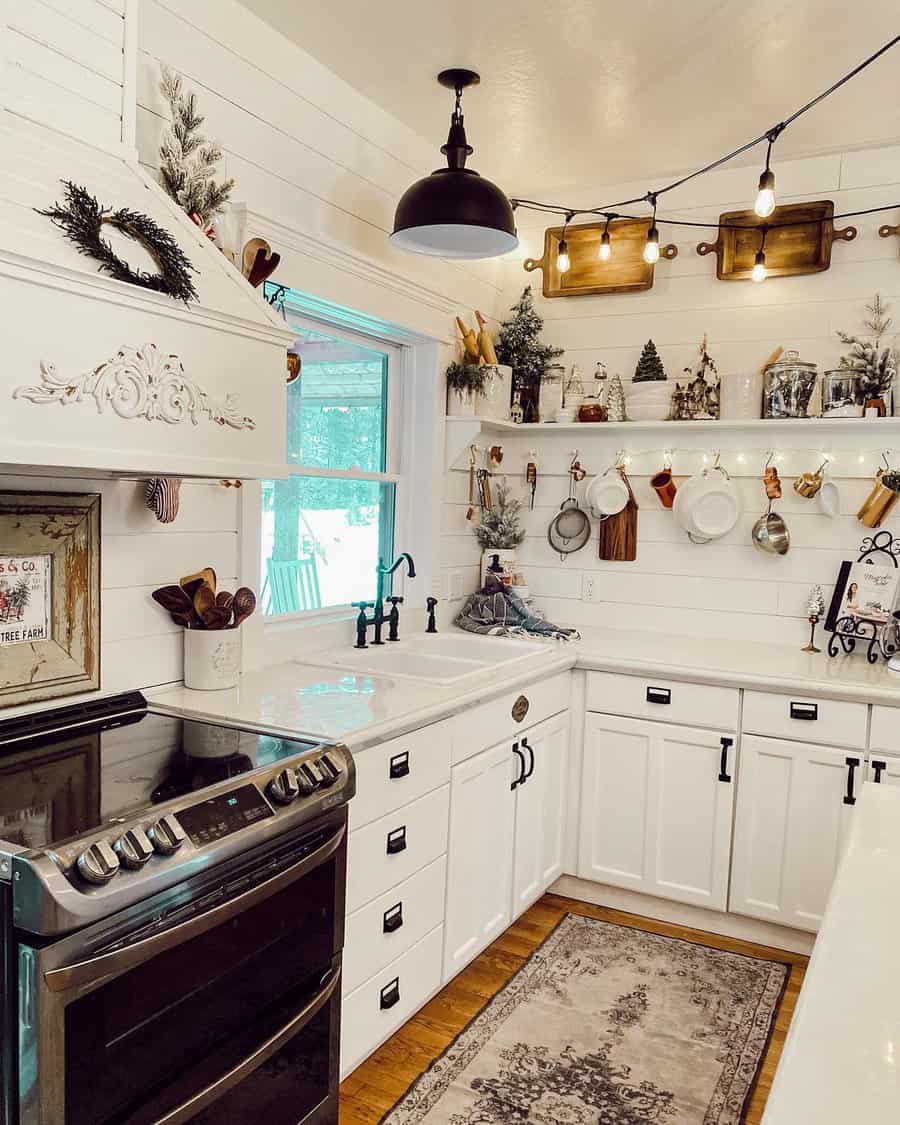 3. Distressed Accents for Vintage Charm
For a farmhouse kitchen filled with warmth and character, consider incorporating distressed accents. Opt for weathered furniture that exudes vintage appeal, infusing your space with a timeless charm.
Repurposed wood can play a central role, from countertops to cabinets, maintaining the rustic look throughout. To complete the atmosphere, choose inviting colors like warm creams, cool whites, and natural browns, making your farmhouse kitchen a truly irresistible and cozy retreat.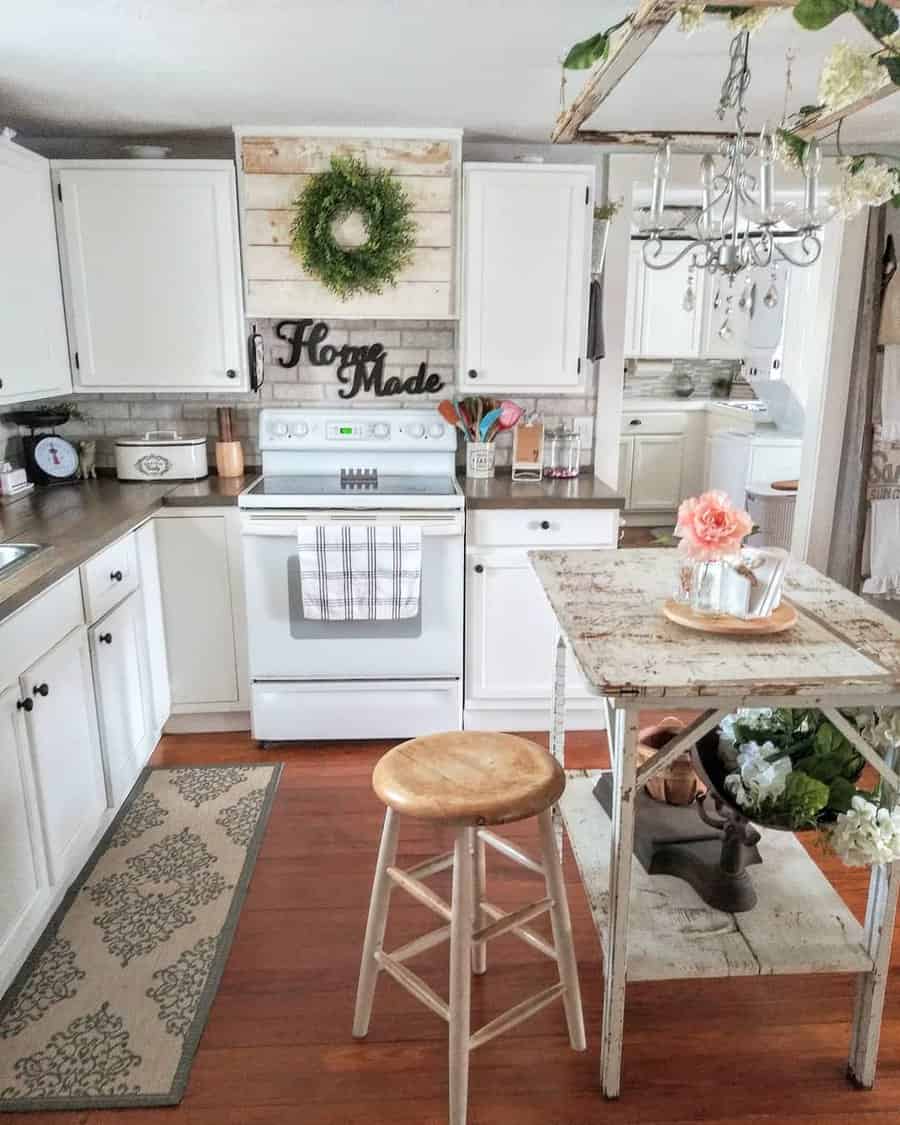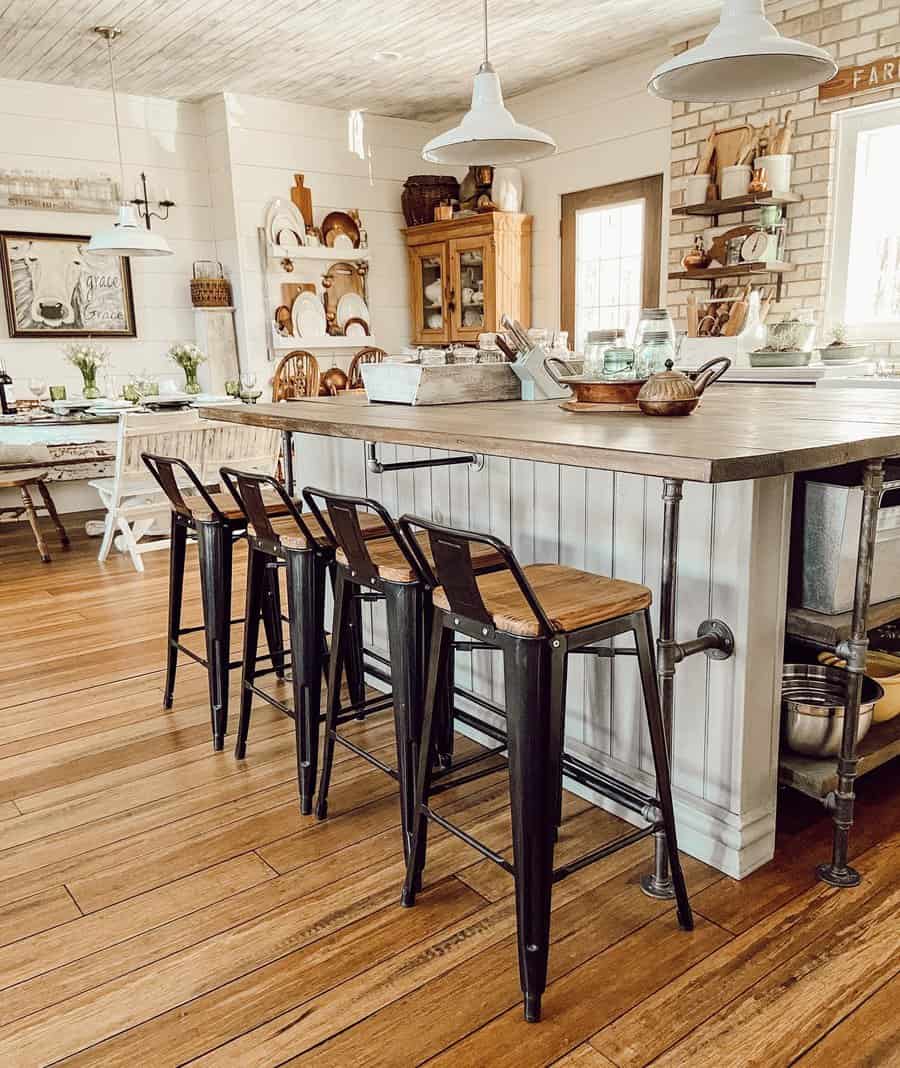 4. Window Dressing for Farmhouse Elegance
To infuse your farmhouse kitchen with charm and warmth, consider dressing up your kitchen window with valance curtains or hanging plants. These window treatments add style and personality, enhancing the ambiance regardless of your kitchen's size.
Placing them above your gathering table or cooking area creates an inviting atmosphere, perfect for entertaining. Choose from simple solids, classic stripes, or elegant florals in various sizes and shapes to complete the farmhouse look in your home, effortlessly blending function with style.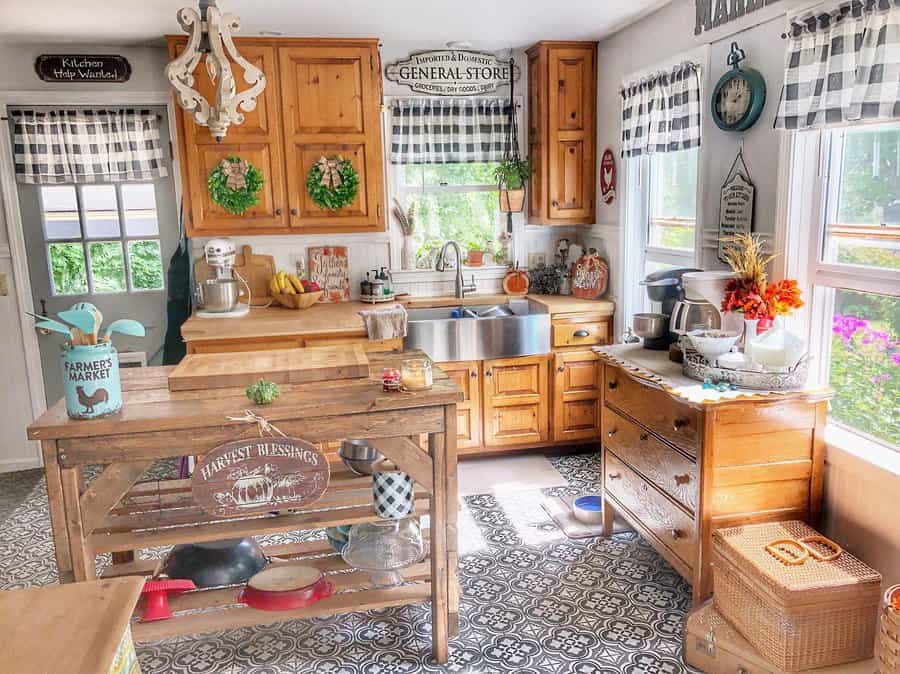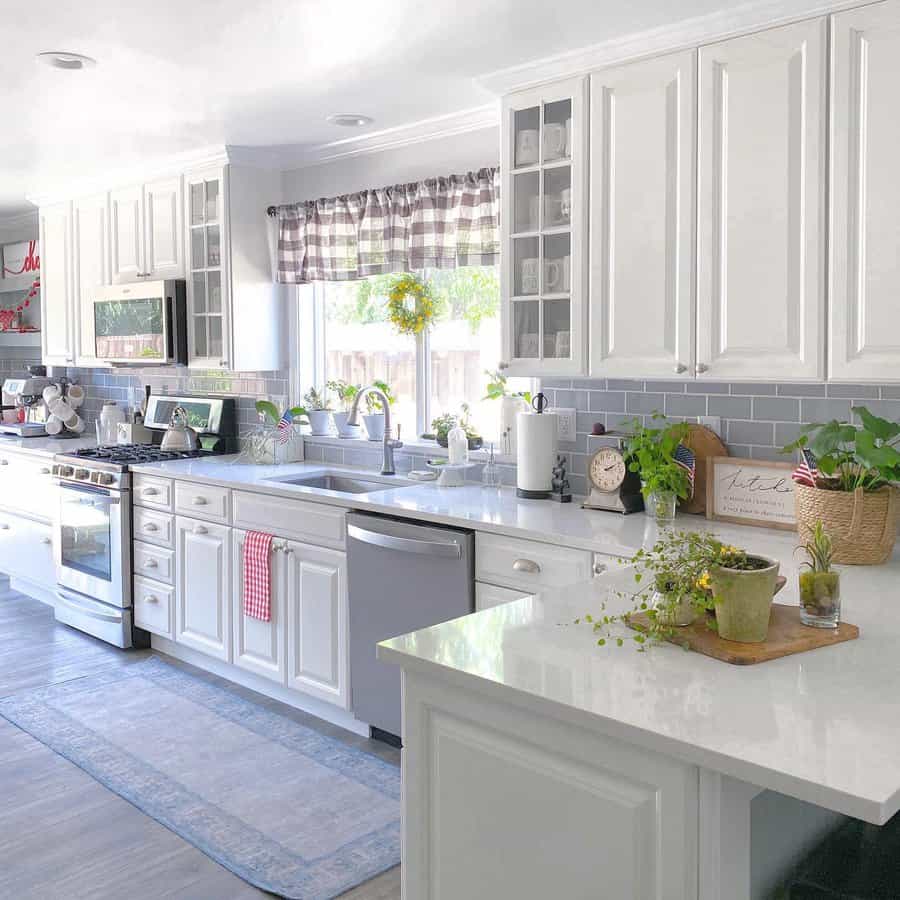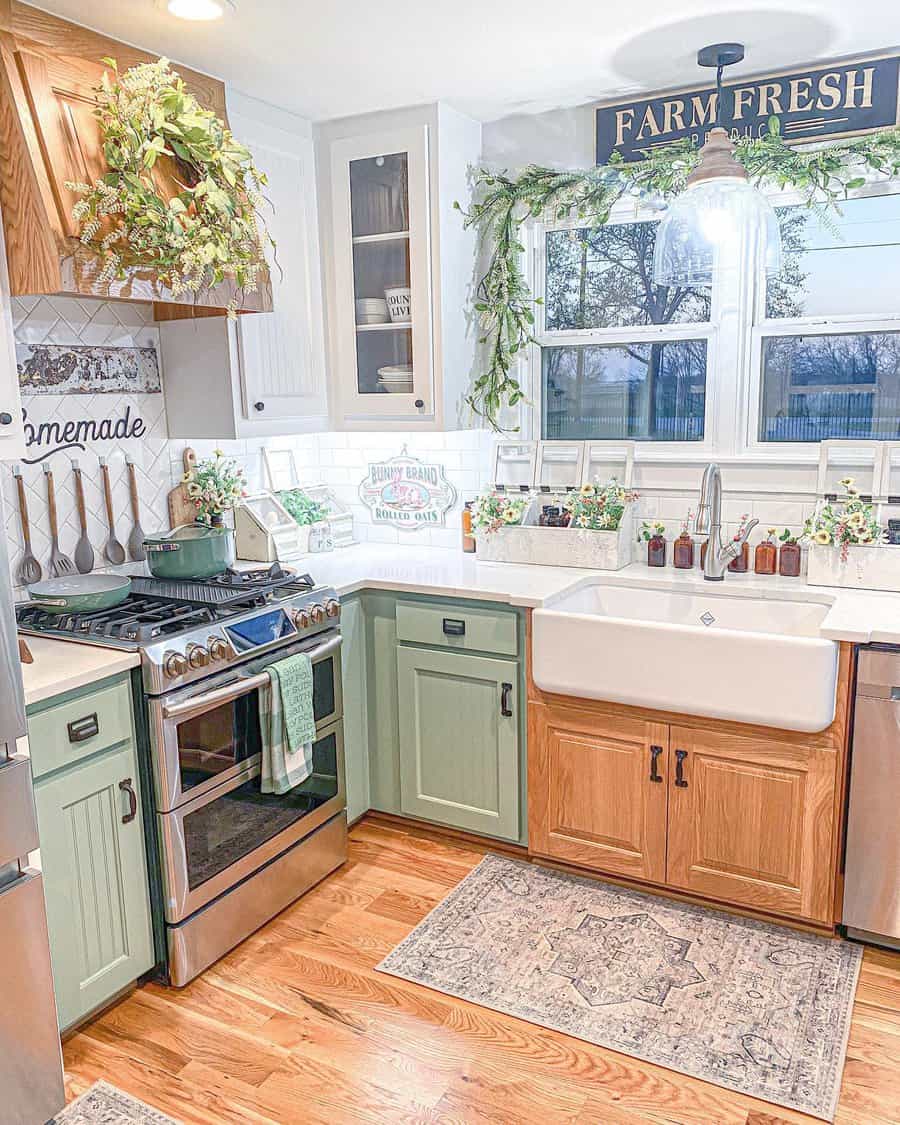 5. Embrace Soft Earth Tones Gracefully
Infuse your farmhouse kitchen with the charm of days gone by by embracing soft earthy tones. Paint your walls with these soothing hues and add a touch of pastel sage green for a refreshing twist.
Maximize natural light with well-placed windows that provide beautiful views year-round. To complete the look, pair soft earth tones with wooden cabinetry, white marble countertops, and subtle tiling, creating a delightful French countryside ambiance in your own home.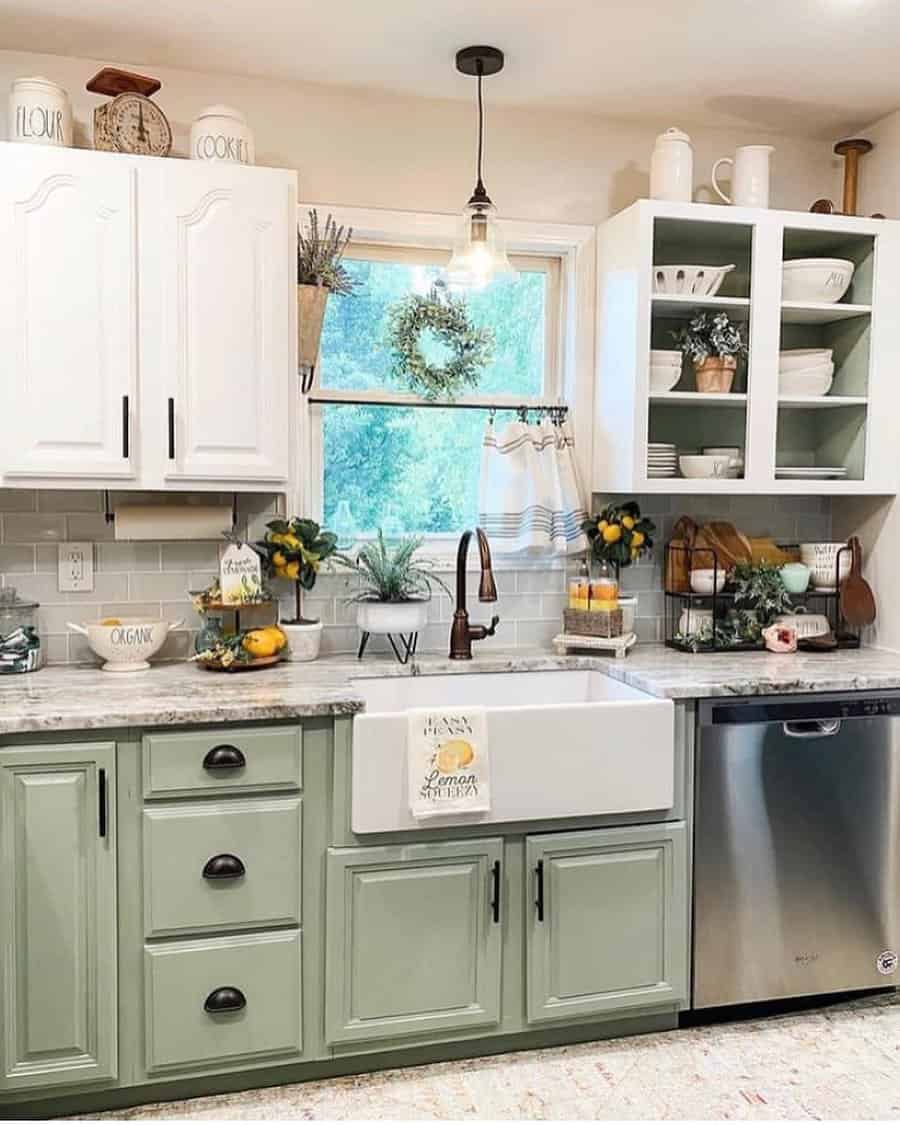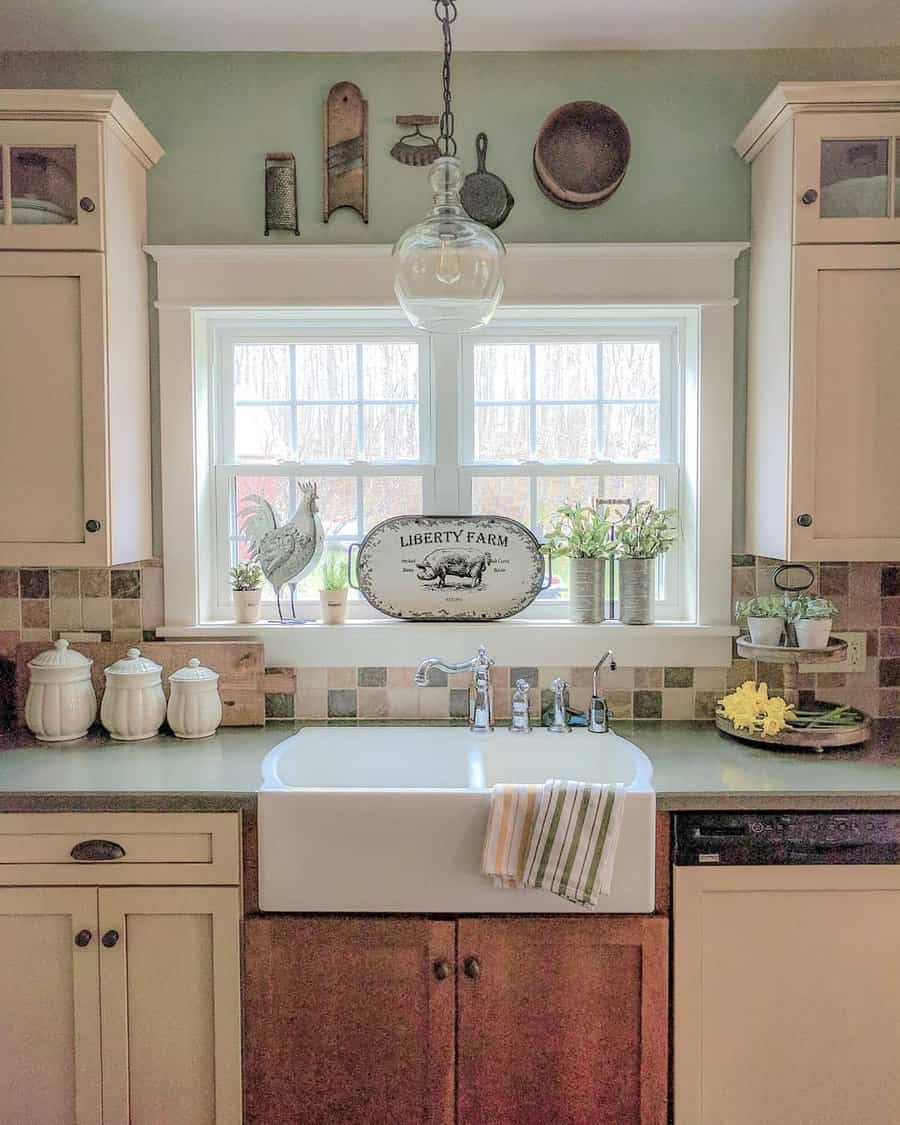 6. Timeless Allure: White and Wood
White and wood are the classic elements that define a tranquil farmhouse kitchen. Consider white marble countertops for an ideal cooking surface and white cabinets for an organized look.
Infuse warmth with wooden accents like bar stools or chairs and extend your workspace with a wooden kitchen island. To enhance the charm, consider rustic finishes like exposed brick, which can transform your farmhouse kitchen into an inviting space for both cooking and entertaining.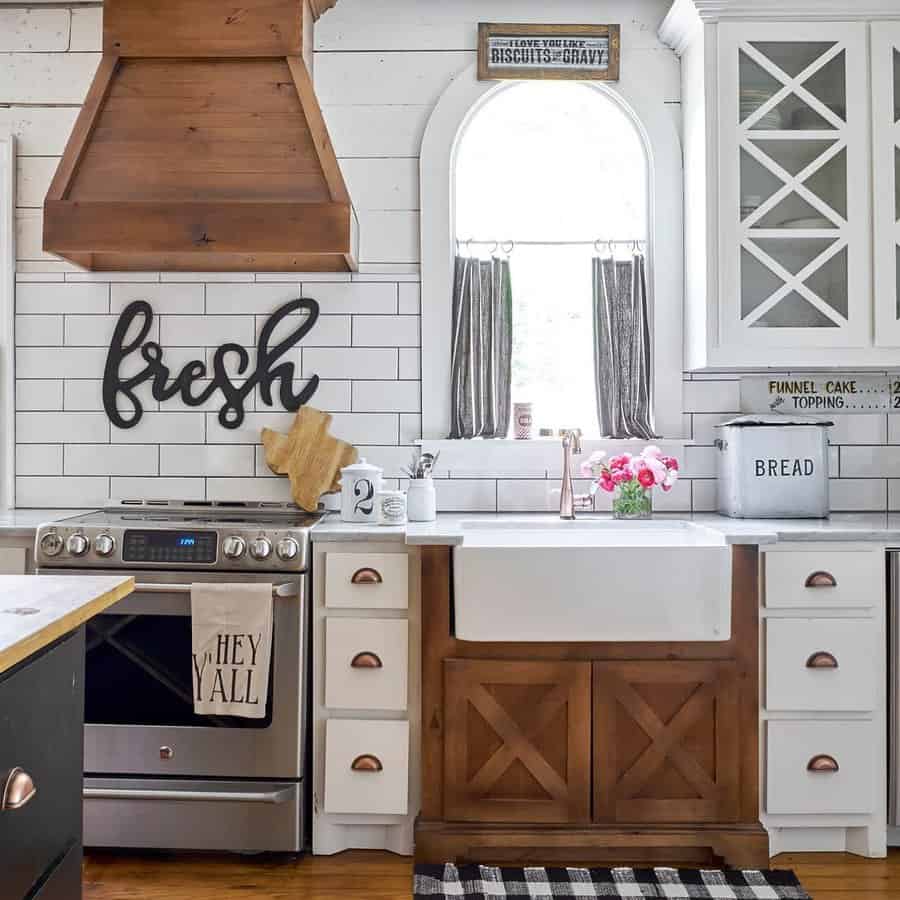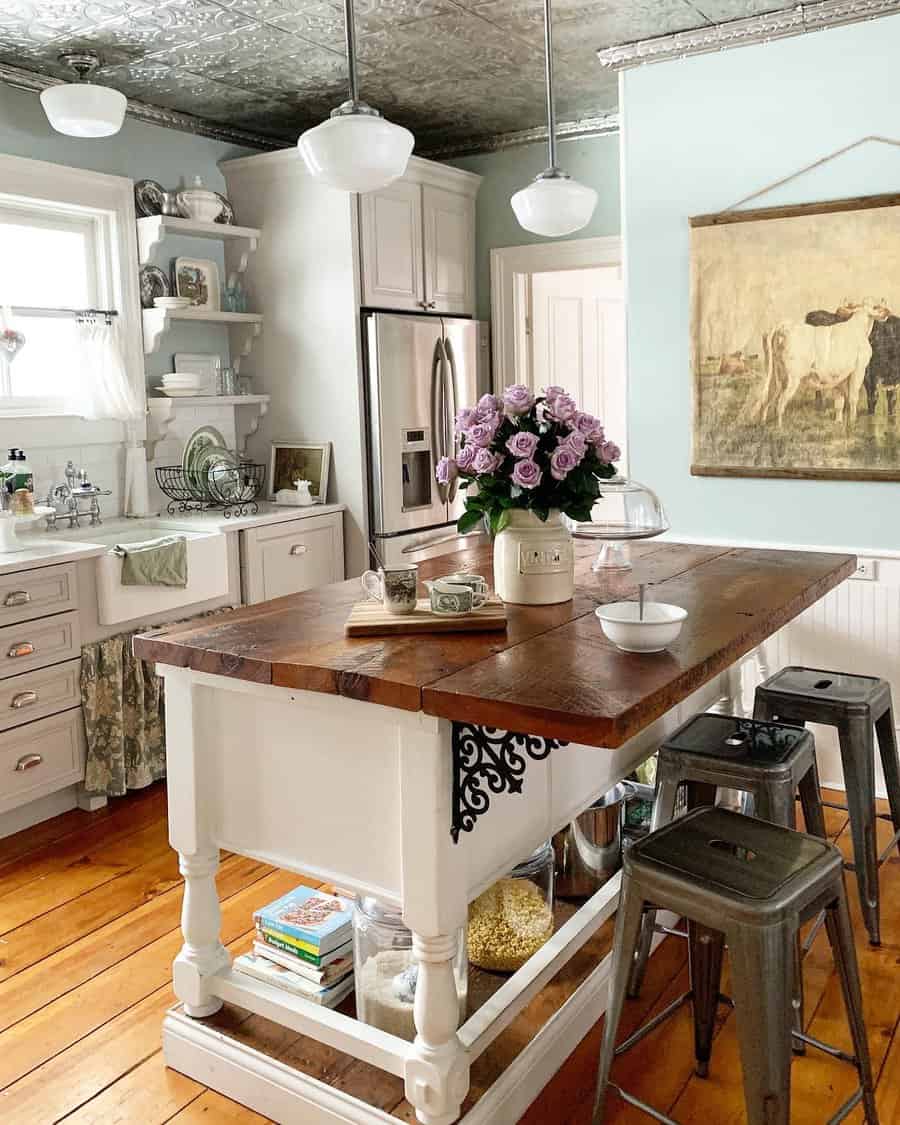 7. Stamped Tiles: Rustic Chic Choice
Add a touch of rustic charm to your farmhouse kitchen with stamped tiles. Consider flooring that evokes the ambiance of rustic cabins and walls adorned with marble subway tiles for a bold statement. The beauty of this timeless style lies in its fusion of traditional elements, creating a fresh and unique look. To achieve this design, complement it with vintage-inspired furnishings and natural wood accents for a truly inviting farmhouse kitchen.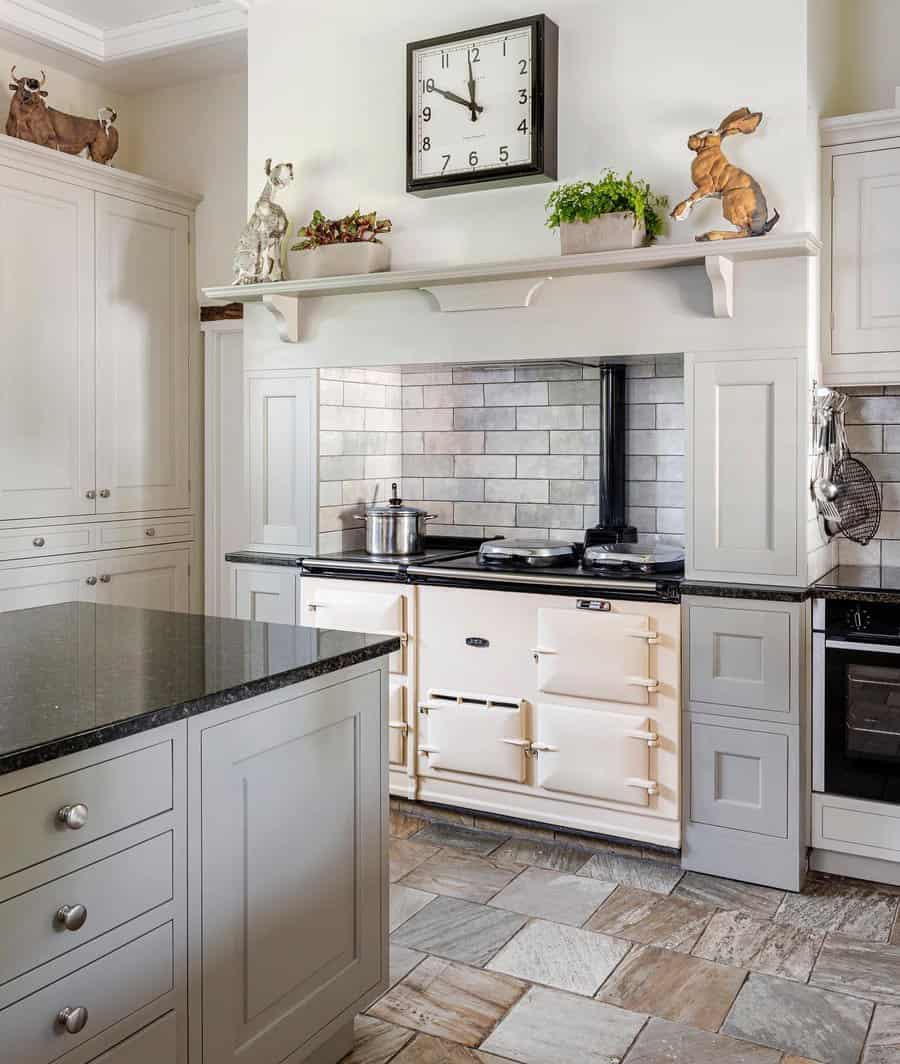 8. Chic Dinnerware Storage Solutions
Enhance your farmhouse kitchen's appeal by investing in stylish dinnerware storage solutions. Consider adding a dinnerware shelf, mug rack, and glass cabinets to display unique dinner plates and create a sophisticated yet homey dining experience. Whether hosting an intimate dinner or entertaining friends and family, these storage options can make each meal feel special.
Fill your mug rack with mugs in your favorite colors, organize your silverware on the dinnerware shelf, and showcase fancy dinner plates in the glass cabinet when guests come over to create an inviting and delightful dining atmosphere.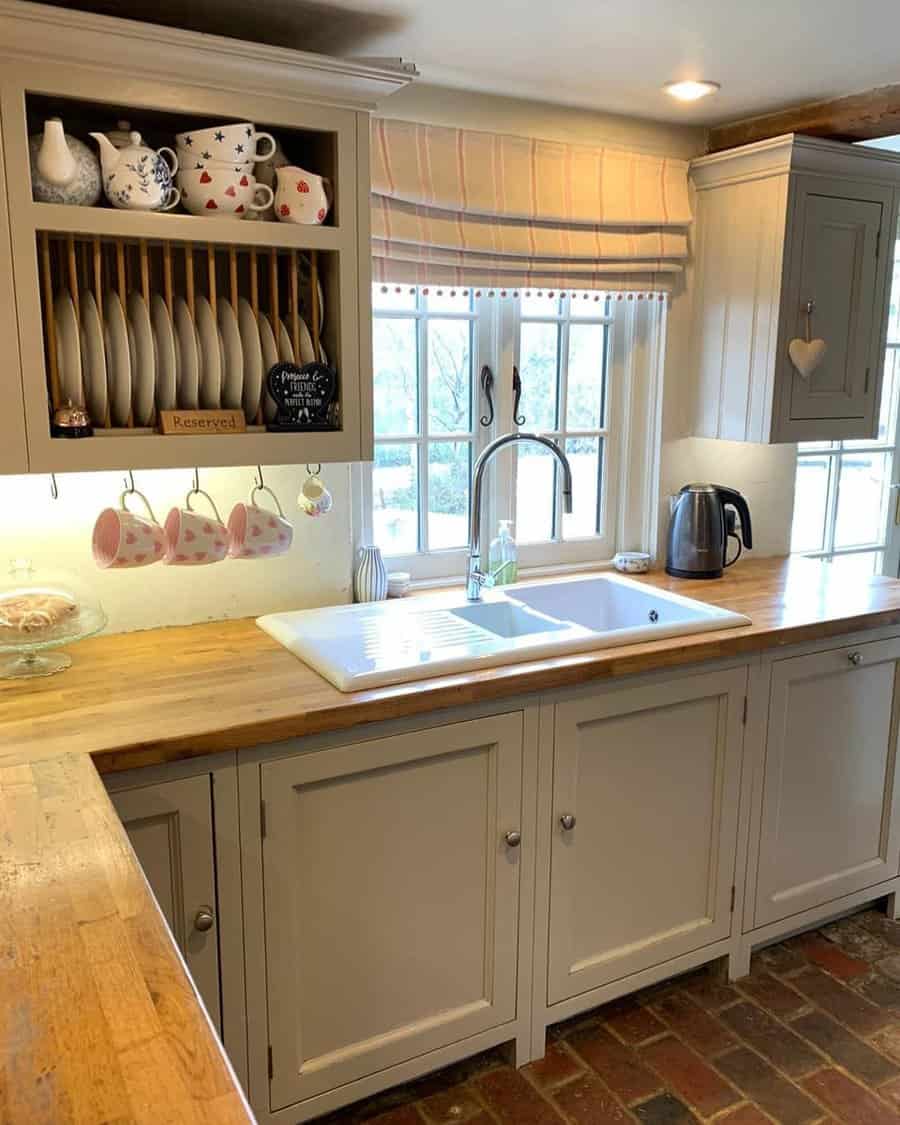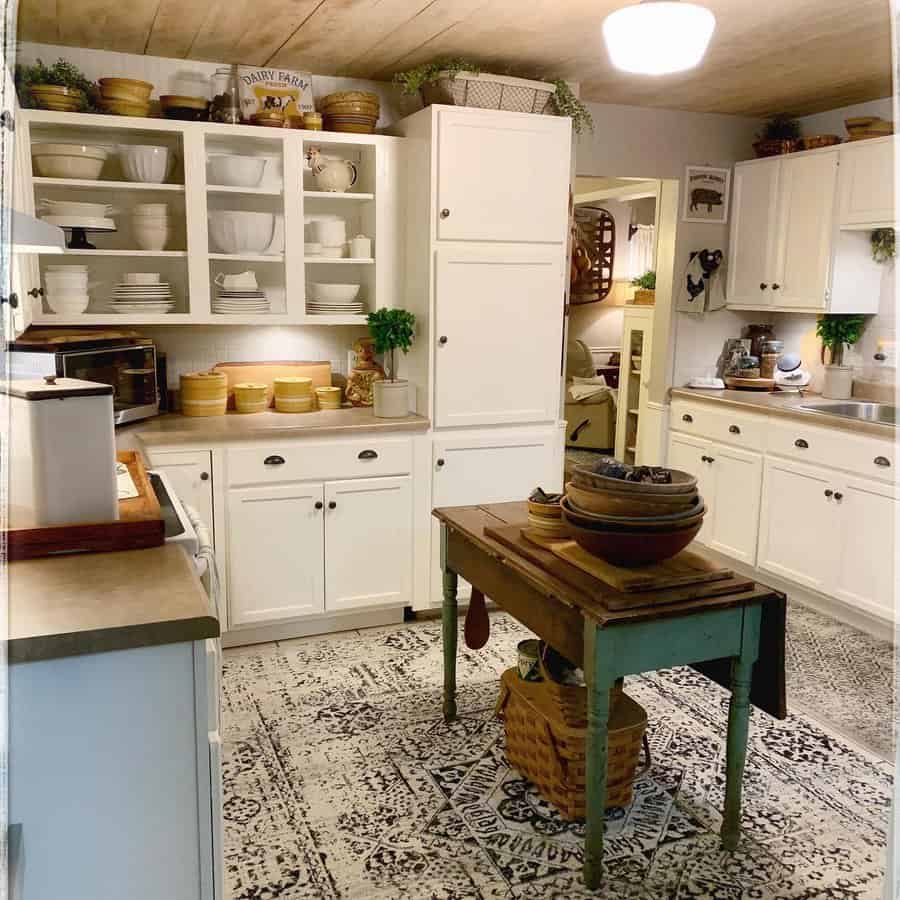 9. Floating Shelves: Open Elegance
Enhance the charm of your farmhouse kitchen with floating wall shelves. These stylish additions offer both aesthetics and functionality. Use them to display rustic decor, store essential items, or exhibit your favorite dinnerware for a touch of country living.
Floating shelves not only elevate the overall look but also provide convenient storage for daily essentials. To achieve this design, select reclaimed wood or distressed finishes to complement your farmhouse theme, and ensure proper spacing to maintain a balanced and appealing arrangement.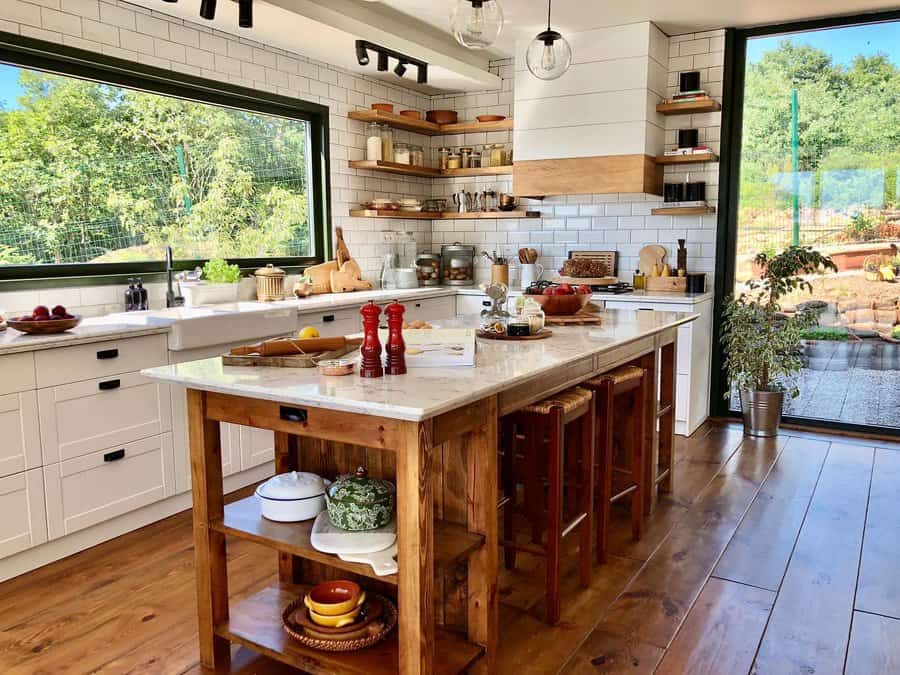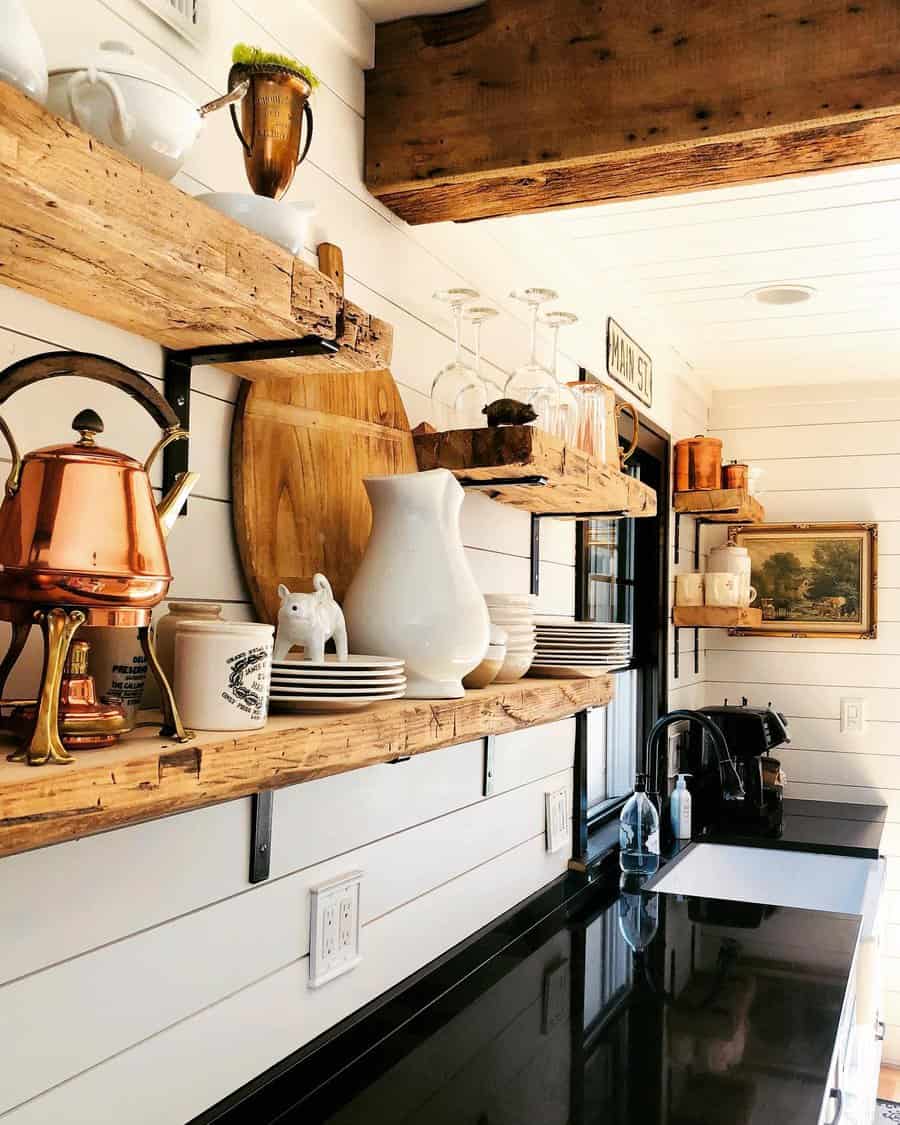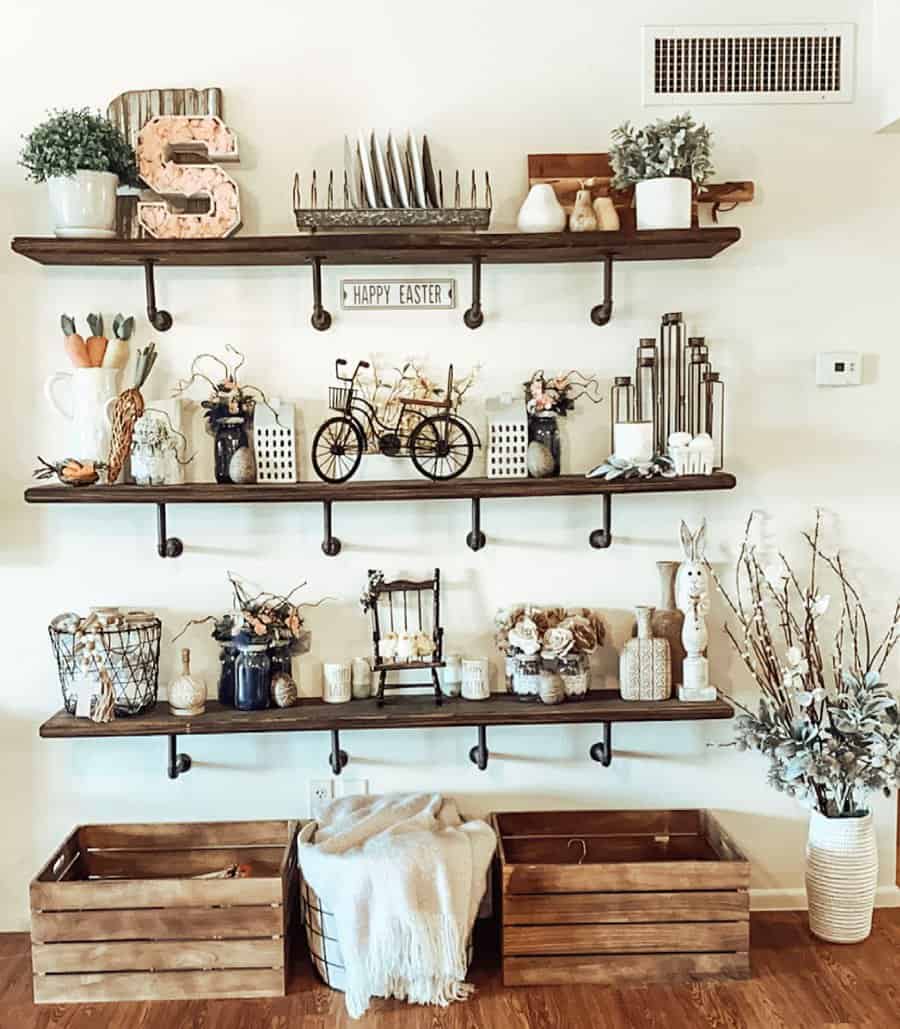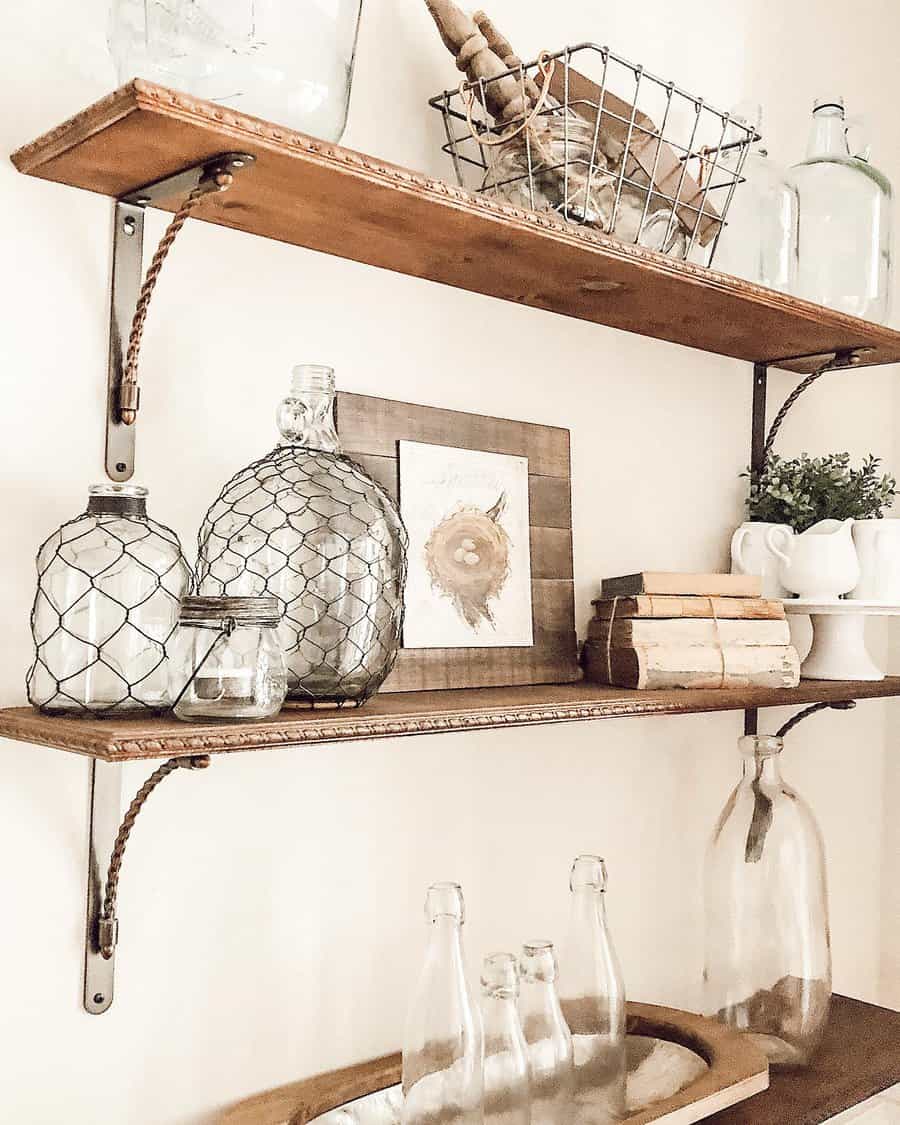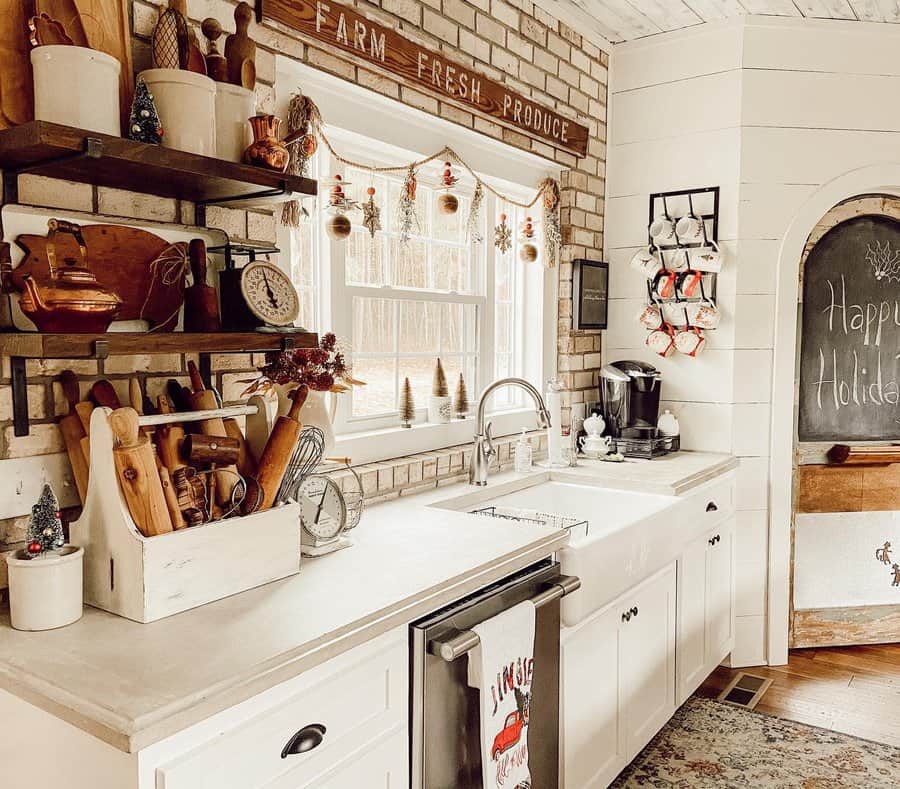 10. Warmth Underfoot: Rug Runners
Incorporate a rug runner into your farmhouse kitchen to infuse warmth and personality. These rugs offer a cozy and inviting vibe while protecting your hardwood floors from wear and tear. Opt for a distressed-looking rug runner to strike a unique balance between rustic and modern design elements. To complement this addition, pair it with wooden furniture and natural textures, creating a harmonious farmhouse ambiance in your kitchen.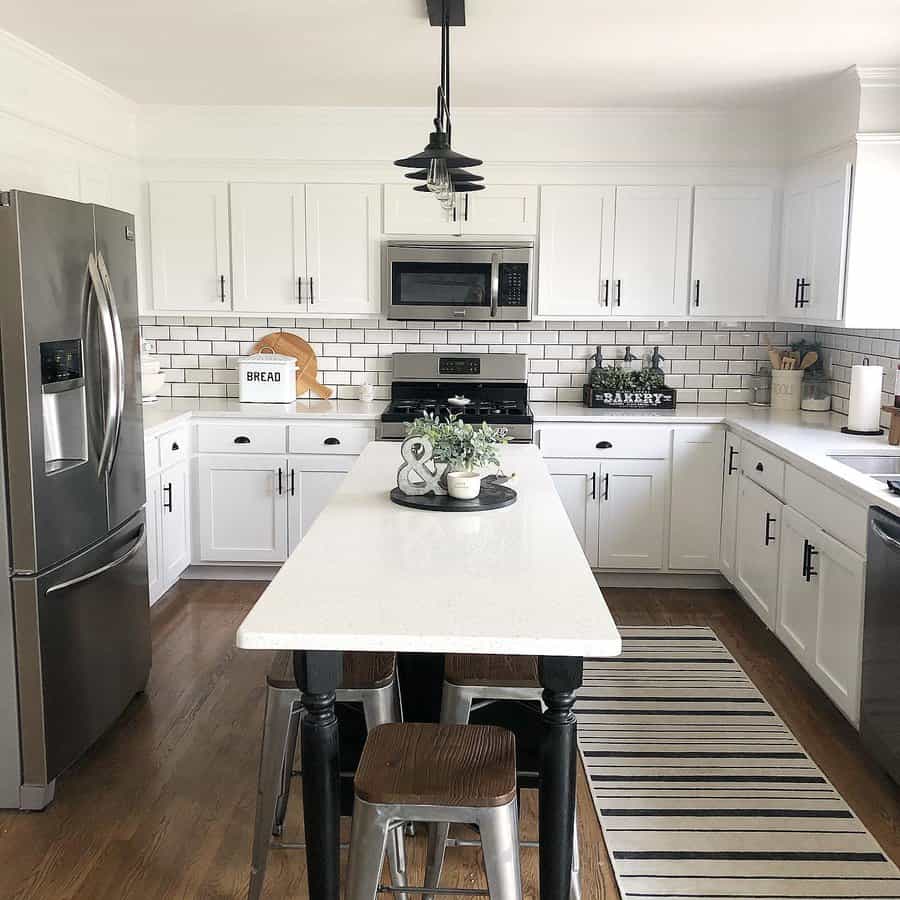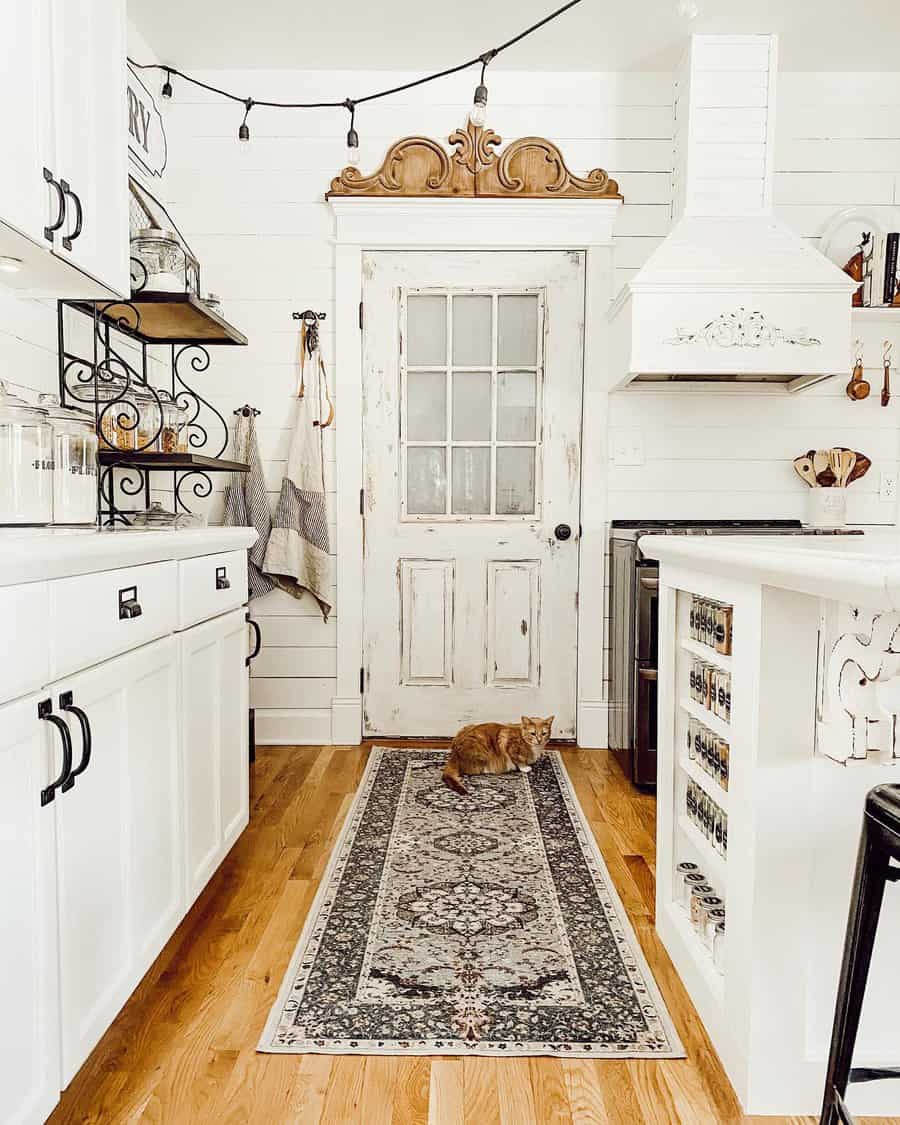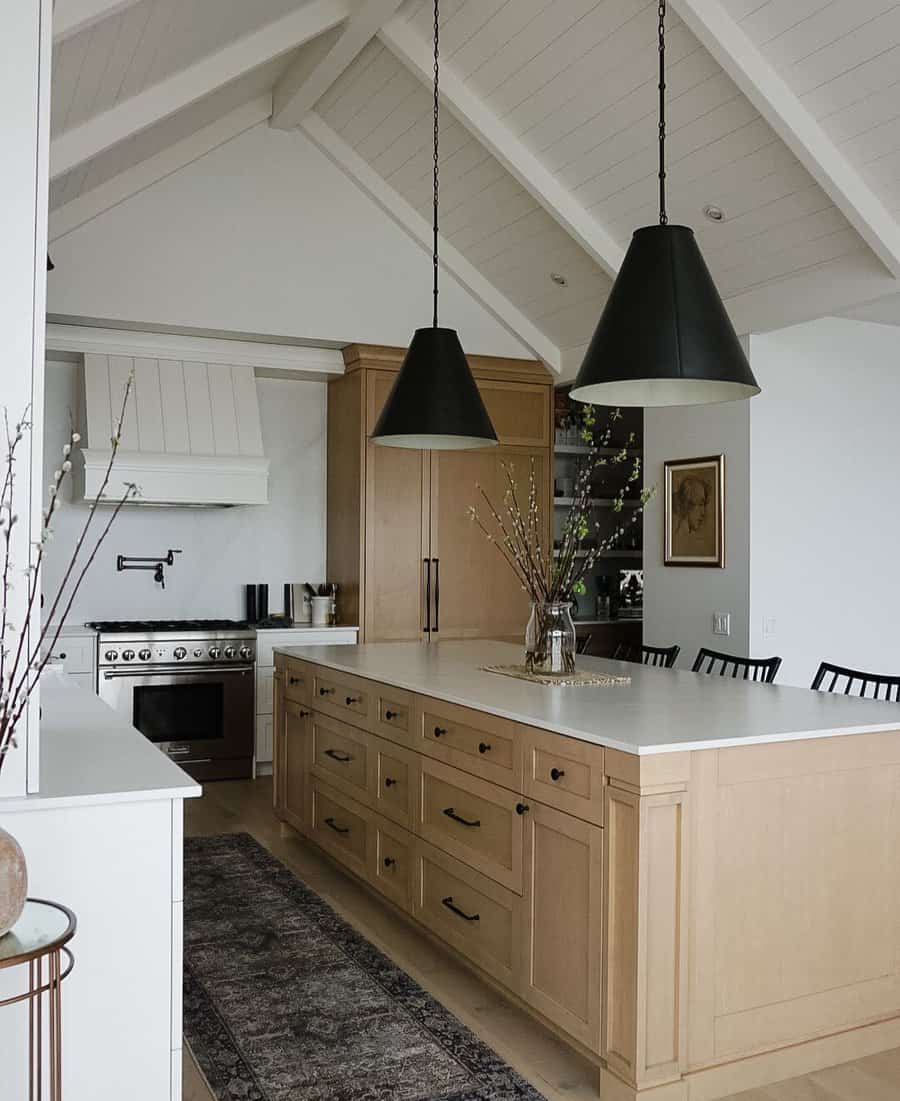 11. Diverse Island Seating Styles
Create a welcoming and diverse seating area in your farmhouse kitchen by incorporating a mix of rattan-style counters and wooden stools. This combination offers both sophistication and rustic charm, providing the ideal space for gatherings with family and friends.
To achieve this look, consider coordinating the seating with other design elements such as wooden cabinetry and natural textures for a seamlessly comfortable and homey atmosphere in your kitchen.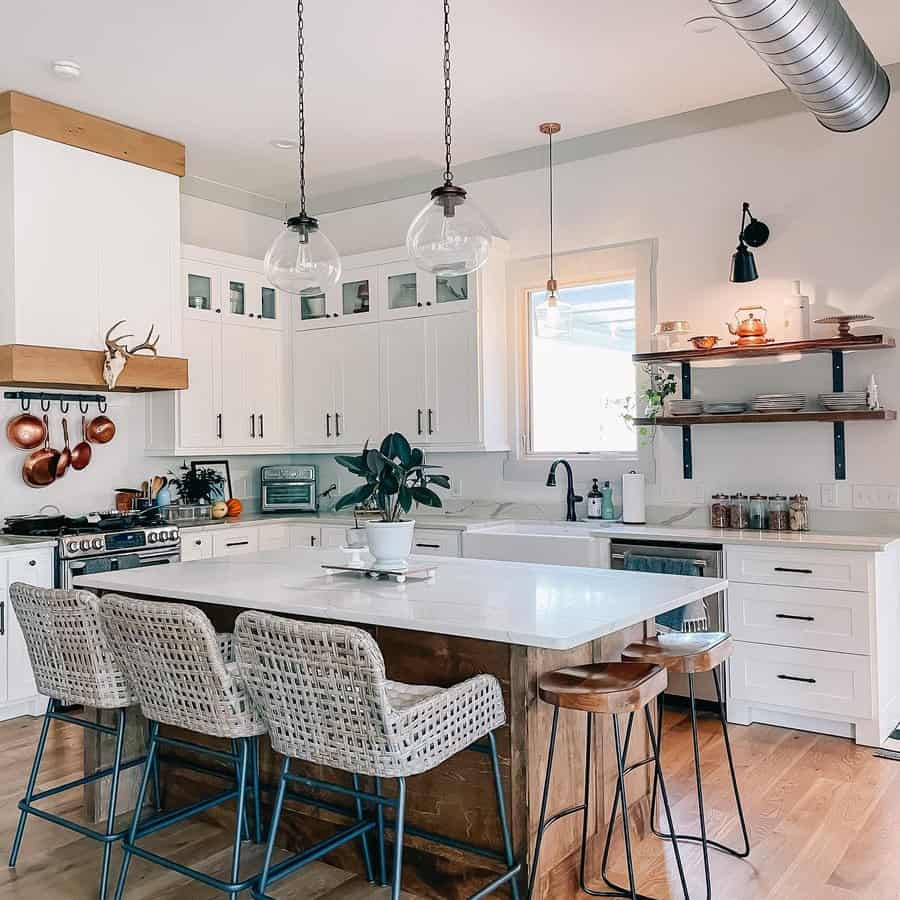 12. Polished Concrete Countertops Shine
Introduce an industrial-chic edge to your farmhouse kitchen by incorporating polished concrete countertops and modern design elements. This blend seamlessly combines rustic charm with urban sophistication.
Embrace the natural variations of polished concrete to create a unique and personalized kitchen. Consider using polished concrete for countertops, shelving units, or even a cozy breakfast nook to make a bold statement. To complement this look, balance it with warm wood accents and vintage-inspired decor for a harmonious farmhouse ambiance with a contemporary twist.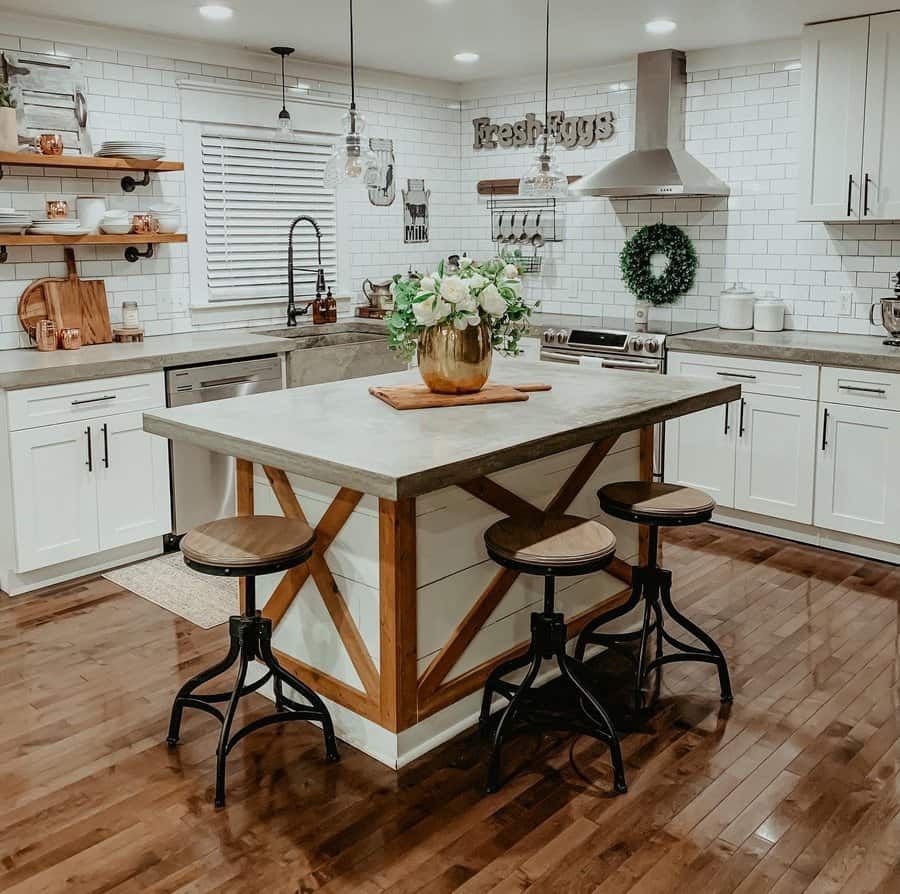 13. Sleek Sophistication: Black Fixtures
Incorporate black fixtures into your farmhouse kitchen for a blend of charm and contemporary sophistication. A black faucet and pendant lights above the island create a sleek and stylish atmosphere.
This design balances modernity and rusticity, making it perfect for a unique cooking and entertaining space. To complement the look, pair black fixtures with white or natural wood elements for a classic yet contemporary farmhouse aesthetic that stands out.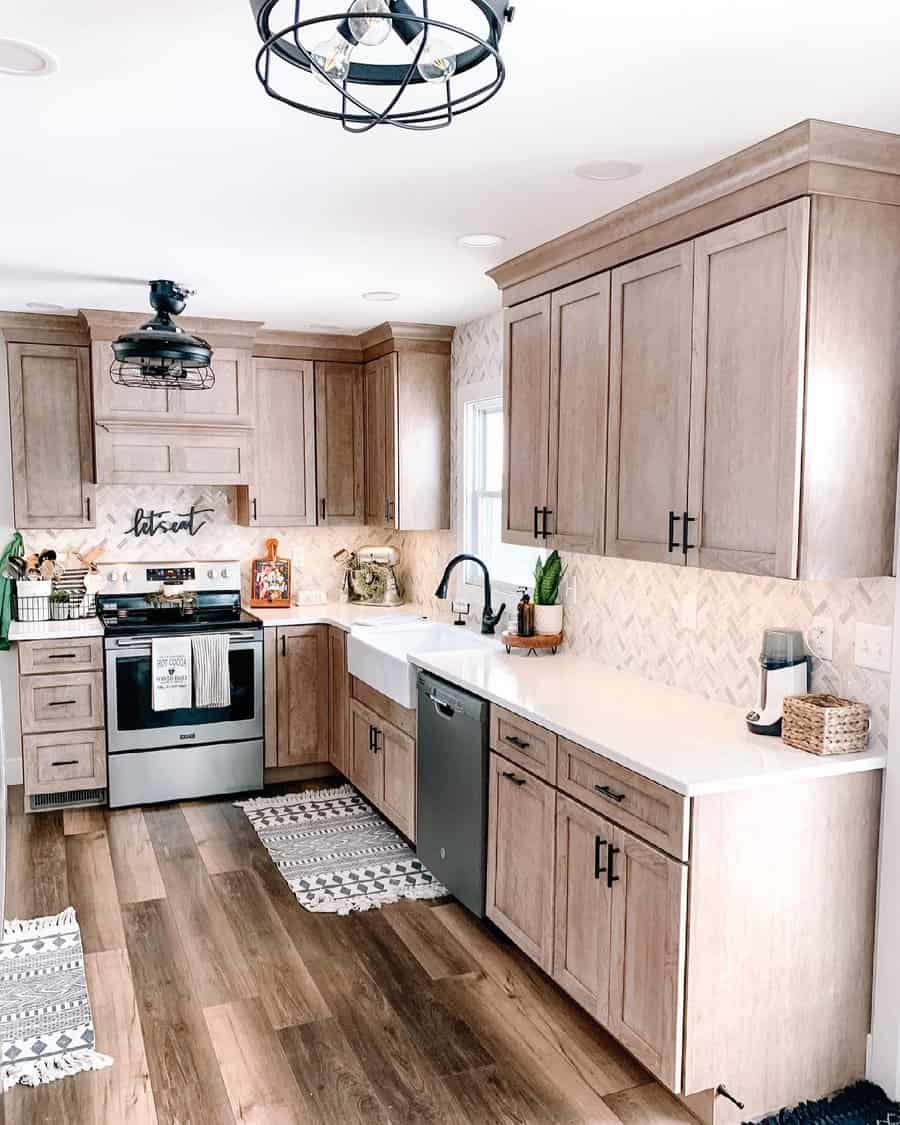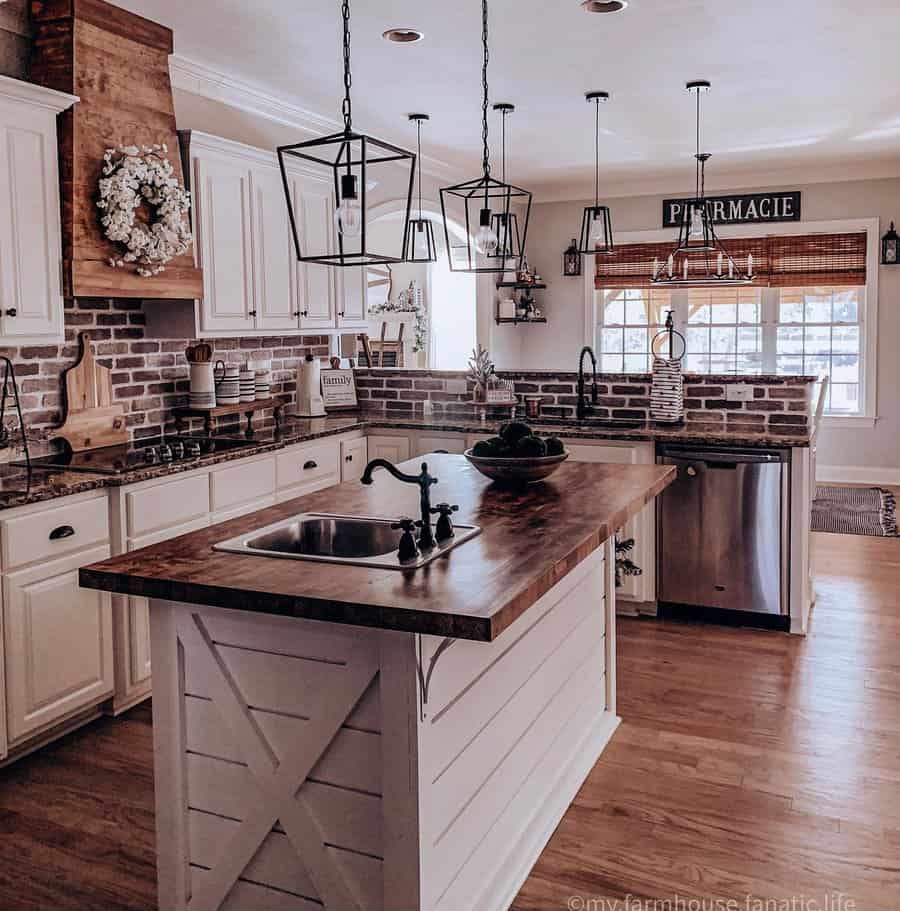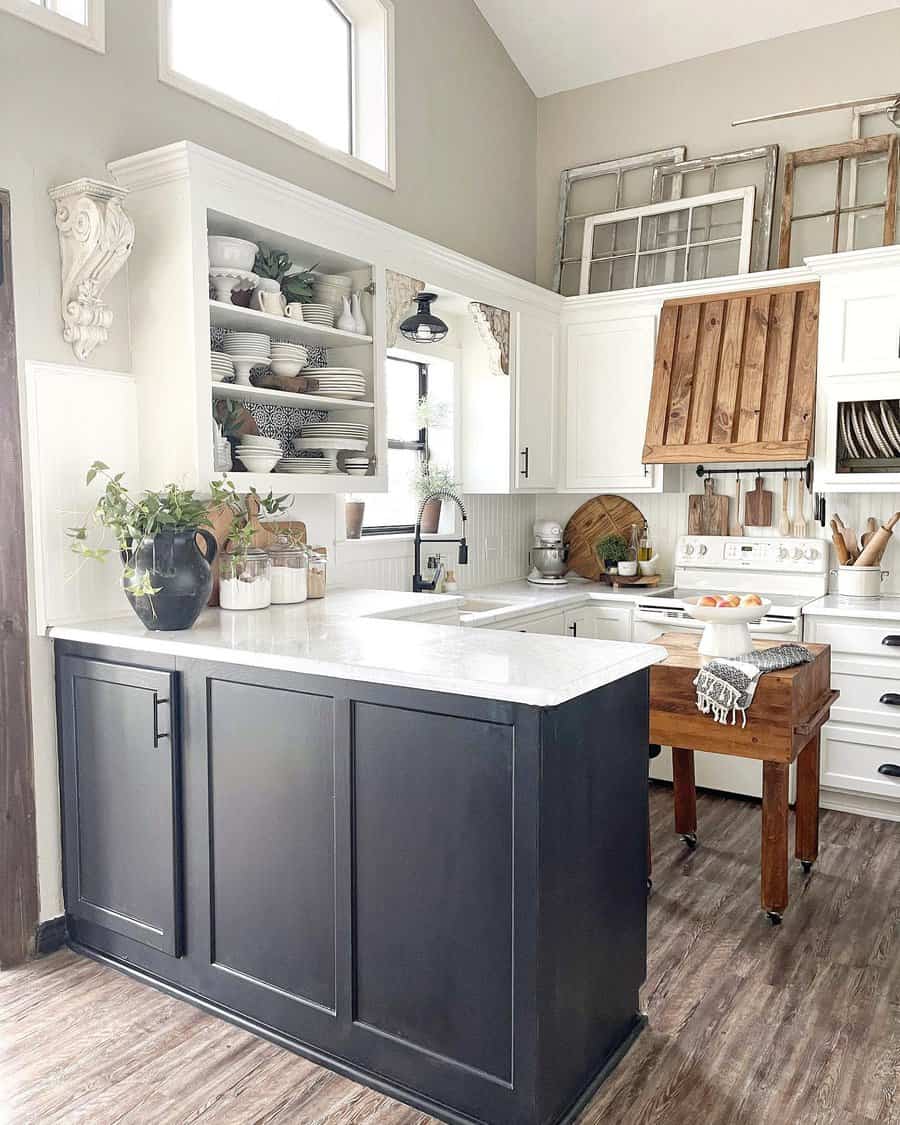 14. Beveled Tiles Create Unique Accents
Enhance your farmhouse kitchen's charm and uniqueness by incorporating beveled tiles. Choose classic white beveled tiles for a traditional touch or opt for bold-colored bevels to make a style statement.
The beveled edges of these tiles reflect natural light, making your kitchen feel more spacious and inviting. To complete this look, consider pairing beveled tiles with natural wood accents and vintage-inspired decor to create a cohesive farmhouse aesthetic that exudes character and dimension.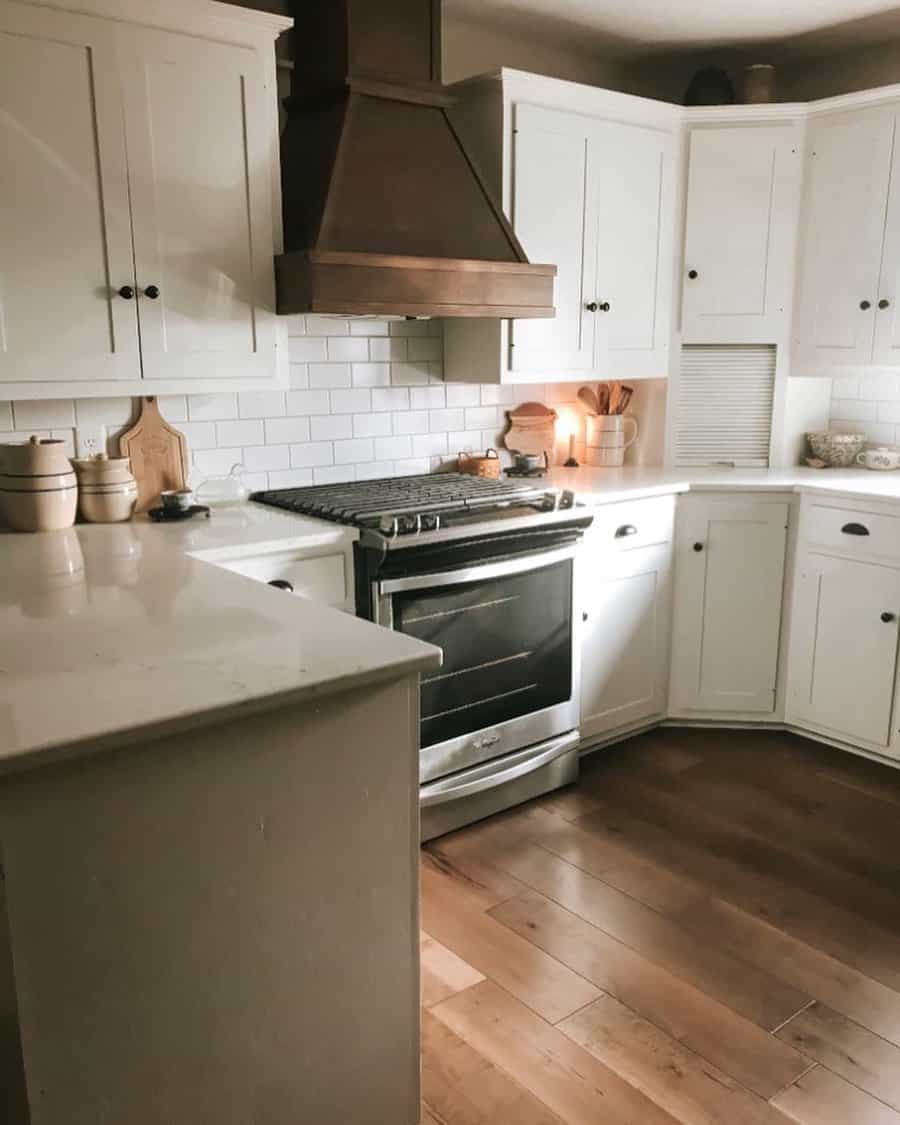 15. Dramatic Flair with Dark-Stained Wood
Achieve a captivating blend of rustic charm and modern sophistication by incorporating dark-stained wood elements in your farmhouse kitchen. With hickory wood cabinets, butcher block islands, and the occasional farmhouse sink, this design creates a piece of country living within your home.
Balance the dark accents with light countertops, backsplashes, and dishes to harness natural light and foster a warm and inviting atmosphere. To enhance this style, consider adding vintage-inspired decor and wrought-iron fixtures for a cohesive farmhouse look with a dramatic flair.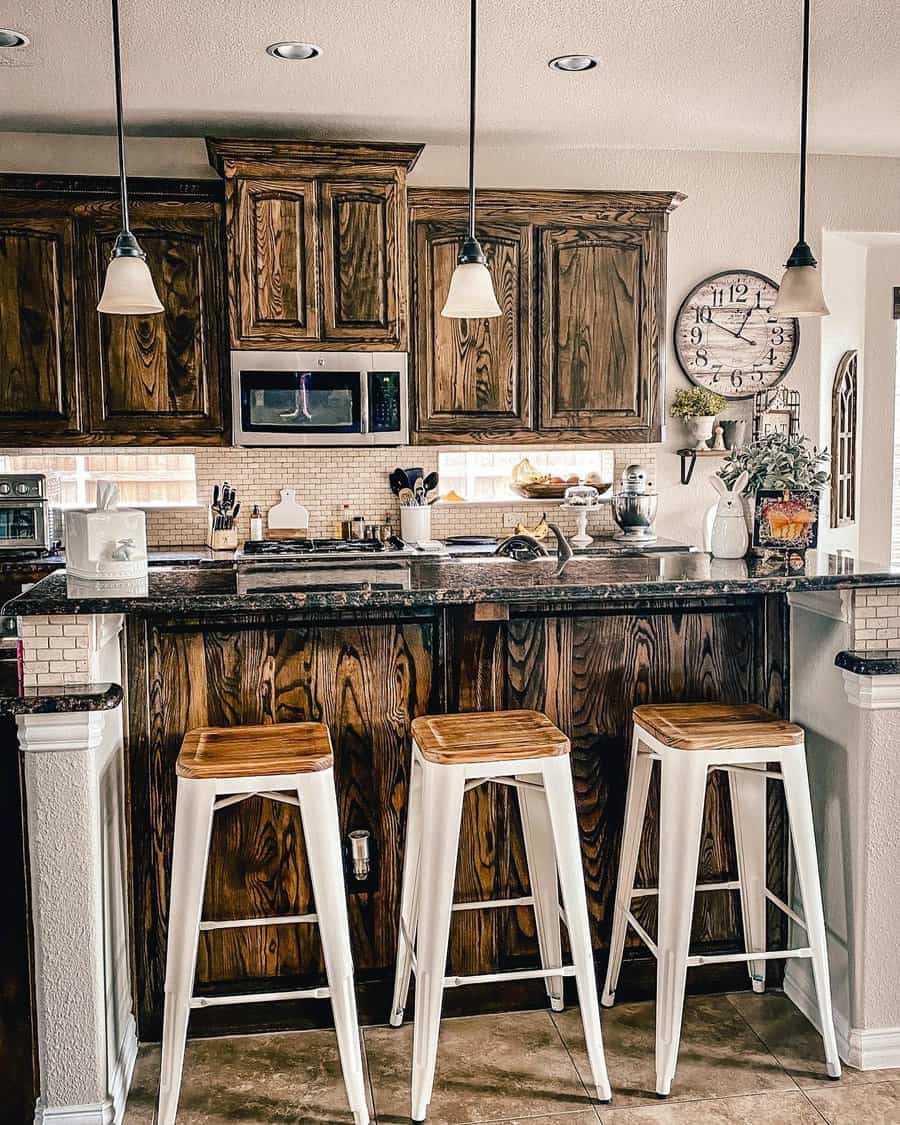 16. Ceiling Beams for Rustic Charm
Step into a farmhouse kitchen adorned with ceiling beams, and you'll immerse yourself in a sensory delight. Natural light dances on the pale timbers, casting a warm ambiance that complements well-aged furniture and handcrafted décor.
The presence of ceiling beams not only infuses rustic charm but also elevates visual appeal, making it an ideal canvas for your culinary creativity. To achieve this look, consider integrating wooden ceiling beams, and pair them with distressed furnishings and carefully curated handmade items for an inviting farmhouse feel.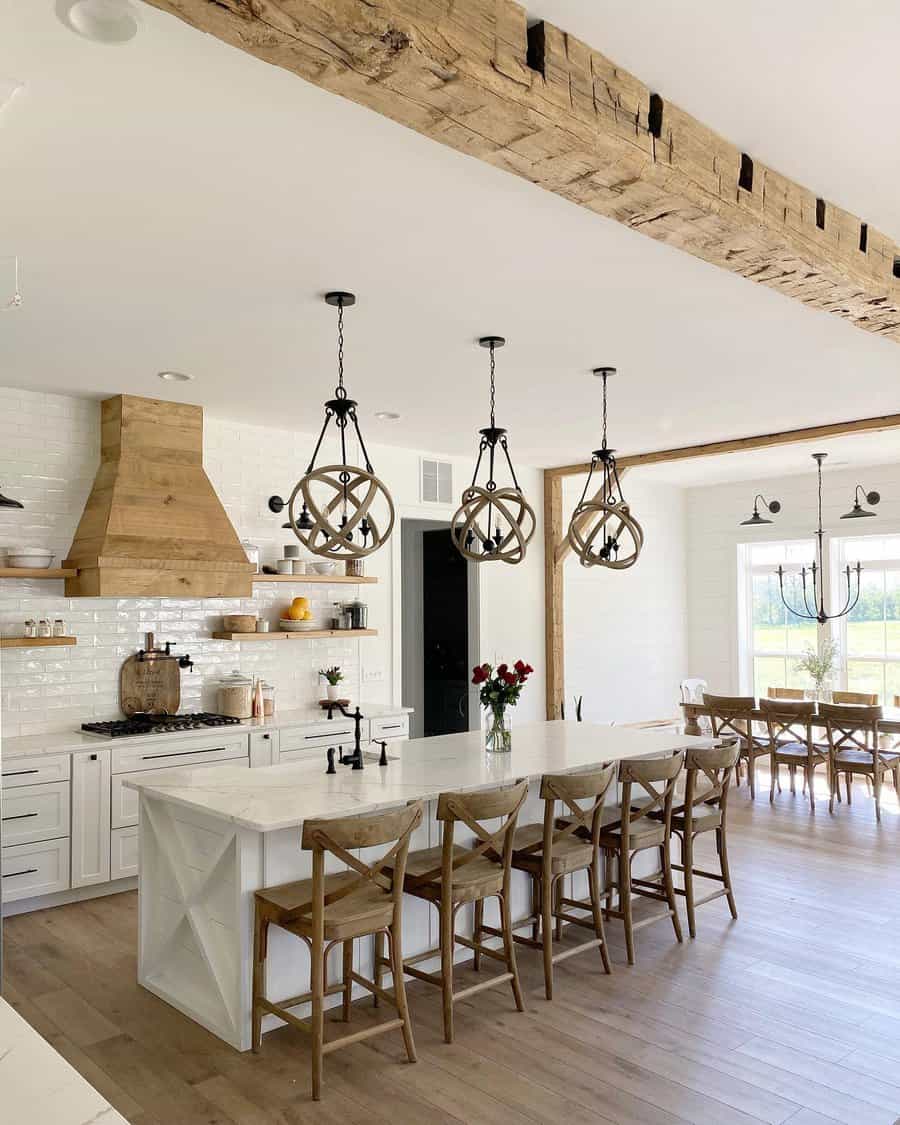 17. Pendant Lights Illuminate Gracefully
Experience the warmth of a well-lit farmhouse kitchen, where pendant lights above the island and generous sink-side windows bathe every corner in natural radiance. On even the cloudiest days, these pendant lights create an inviting atmosphere for your morning breakfast rituals and baking endeavors.
Positioned above the kitchen island, these lights cast a soft, golden glow, elevating the room's welcoming aura. They also establish a captivating centerpiece, drawing the eye and making it an ideal spot for family and friends to gather around, envisioning pancakes sizzling on the stovetop and the aroma of cinnamon and almond filling the air. To recreate this inviting ambiance, consider incorporating pendant lights above your kitchen island and maximizing natural light with well-placed windows.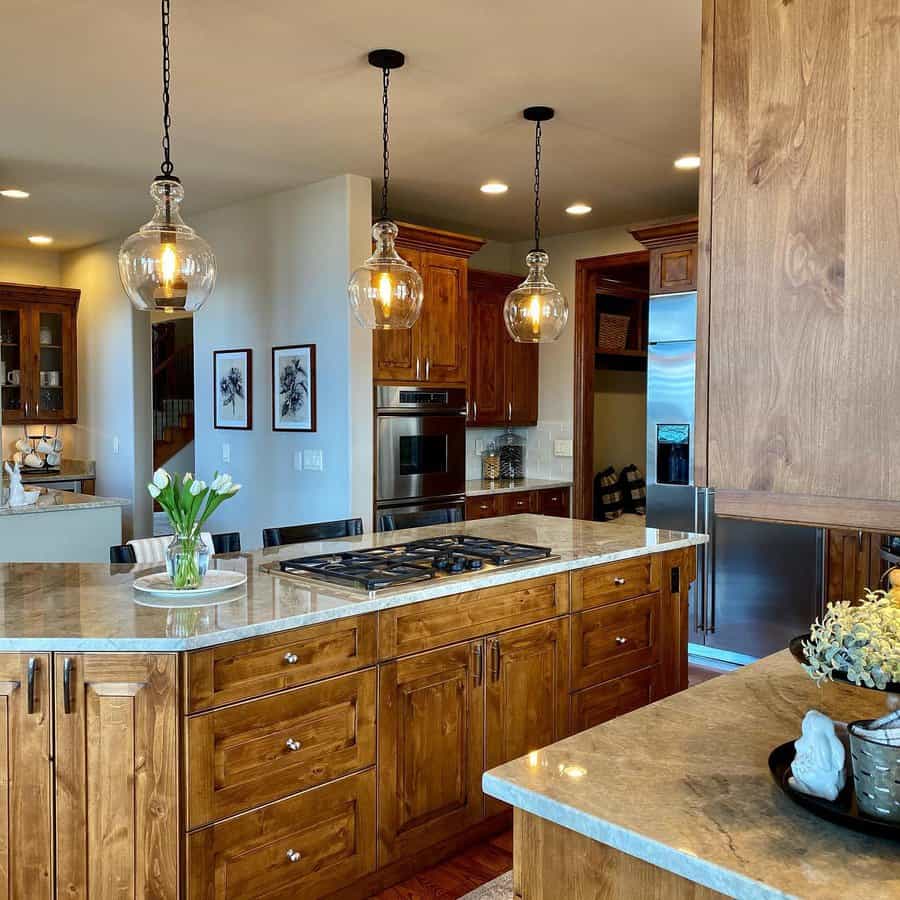 18. Books as Farmhouse Room Decor
Make your kitchen island the heart of your farmhouse kitchen by incorporating a bookshelf. This clever addition not only provides convenient access to your favorite cookbooks but also infuses character into your cooking space. For a cohesive look, consider organizing your cookbooks by color or theme.
This design choice blends functionality with aesthetics, allowing you to showcase your culinary passion without compromising storage for essential kitchen tools and ingredients. To recreate this charming setup, opt for a kitchen island with a built-in bookshelf or add one to your existing island.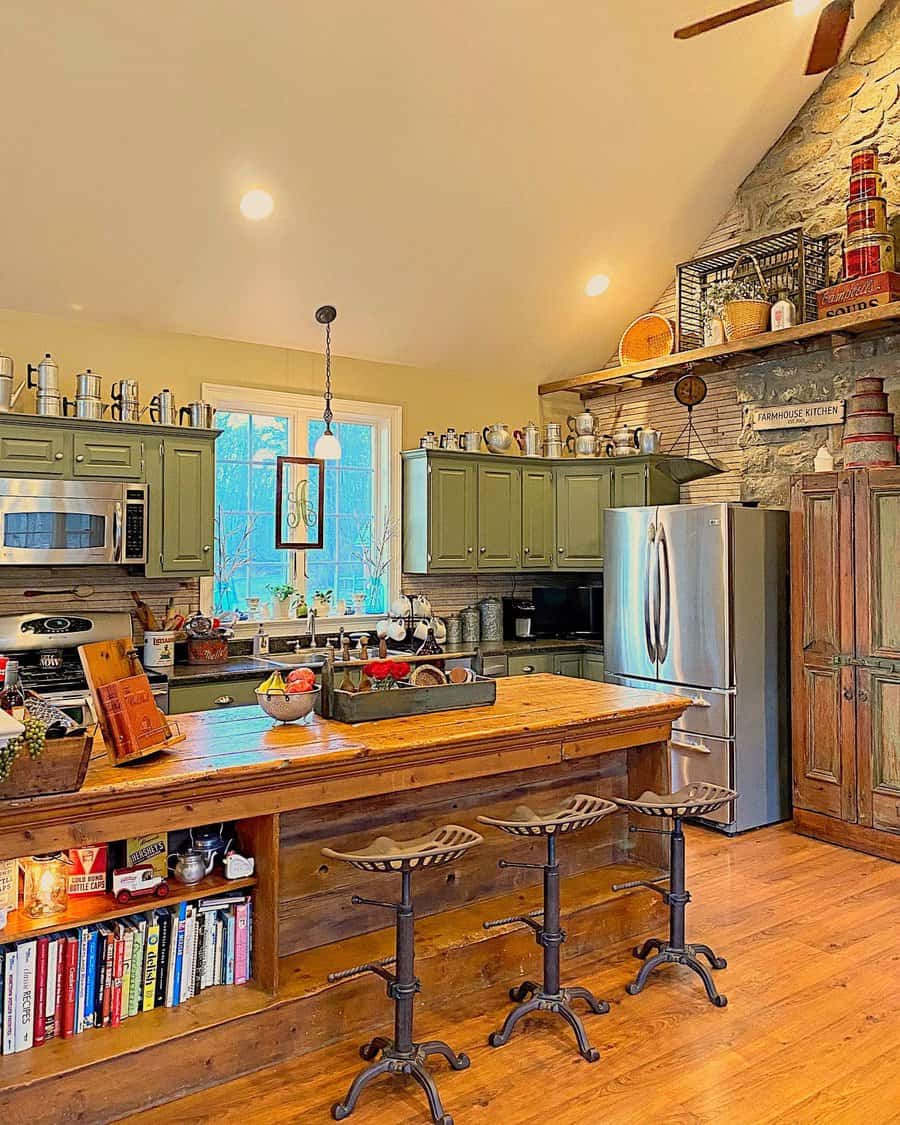 19. Nature's Touch: More Natural Elements
Creating the ideal farmhouse kitchen requires careful consideration, and one effective way to achieve it is by incorporating natural elements such as fresh plants and flowers. These elements can infuse your kitchen with a rustic, homey ambiance that exudes warmth and charm. The beauty of using natural elements is their adaptability; you can easily update them with each changing season, ensuring a consistently fresh and inspiring kitchen atmosphere.
To achieve this look, consider placing potted herbs on your windowsill, adorning your dining table with seasonal floral arrangements, or hanging eucalyptus branches to complement the farmhouse aesthetic. These additions harmonize beautifully with other farmhouse design elements, contributing to the overall cozy and inviting vibe of your kitchen.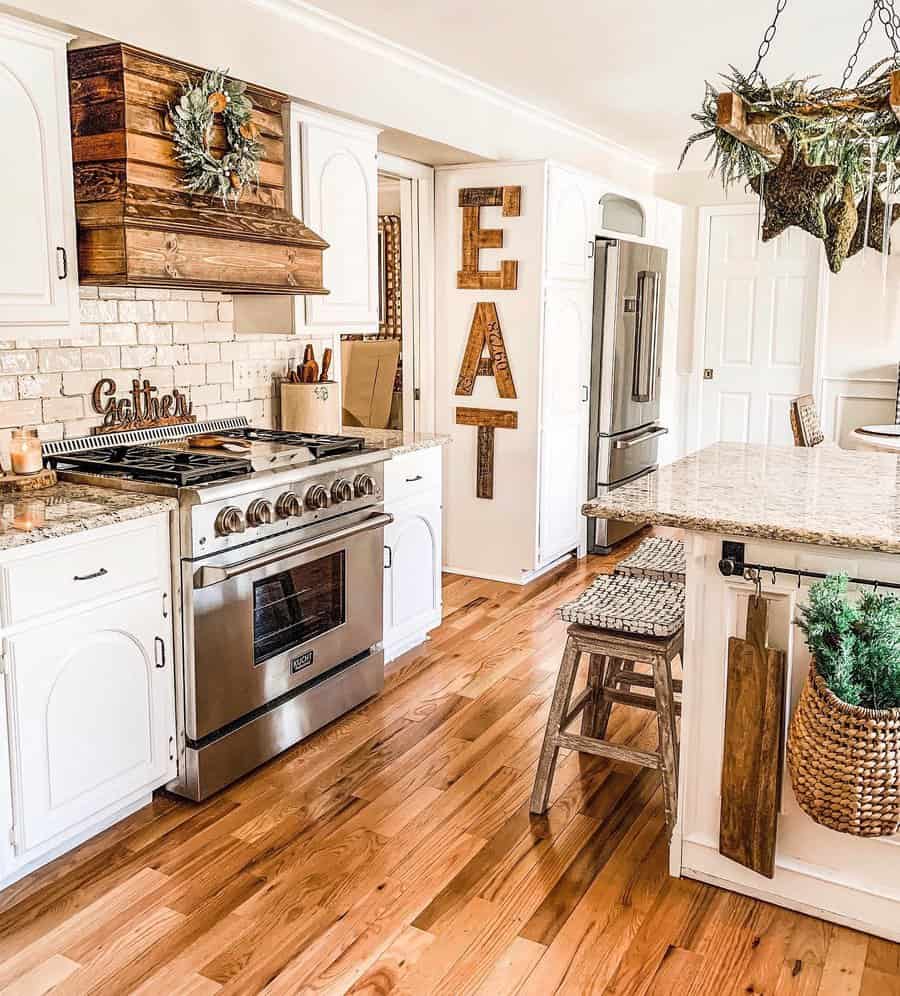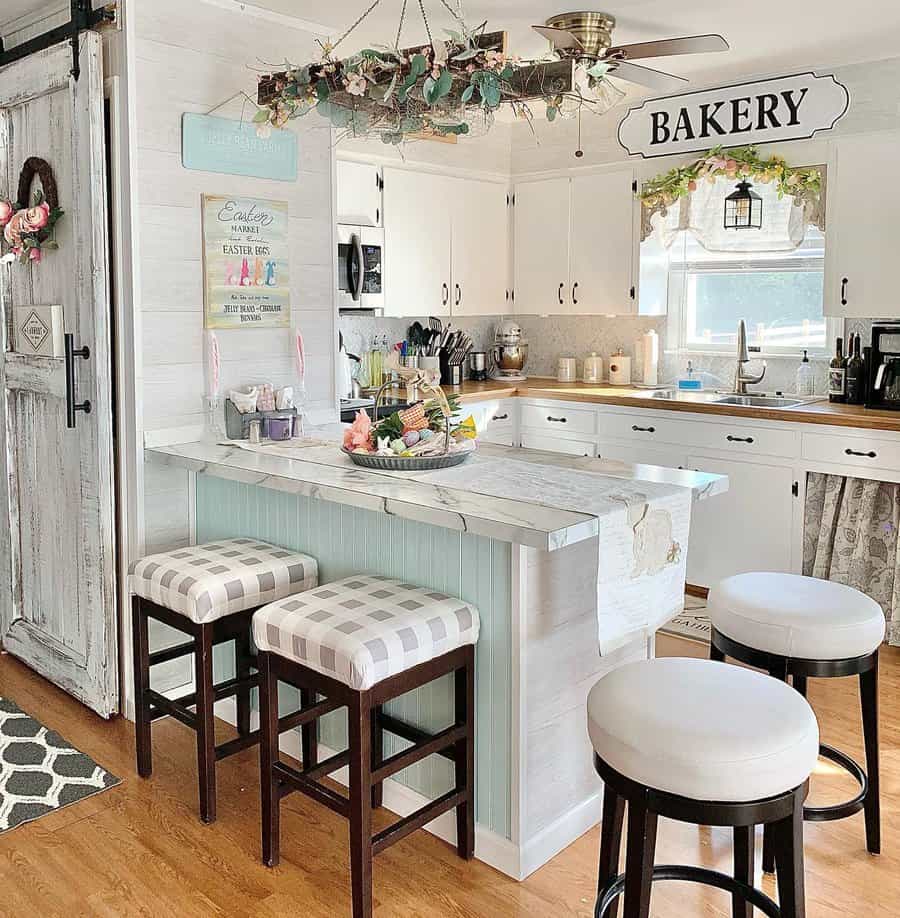 20. Shiplap Walls Define Farmhouse Charm
White shiplap walls can define the quintessential farmhouse charm in your kitchen. These walls create a versatile canvas for your culinary haven. To enhance this aesthetic, pair them with light wood elements like floors, countertops, and furniture.
Whether you're gathering around a custom-made wood table or preparing dishes in white-painted cabinets, your farmhouse kitchen will become a warm and welcoming space that draws loved ones together. To achieve this look, consider installing shiplap walls and coordinating the color scheme with complementary wooden accents, creating a harmonious farmhouse atmosphere.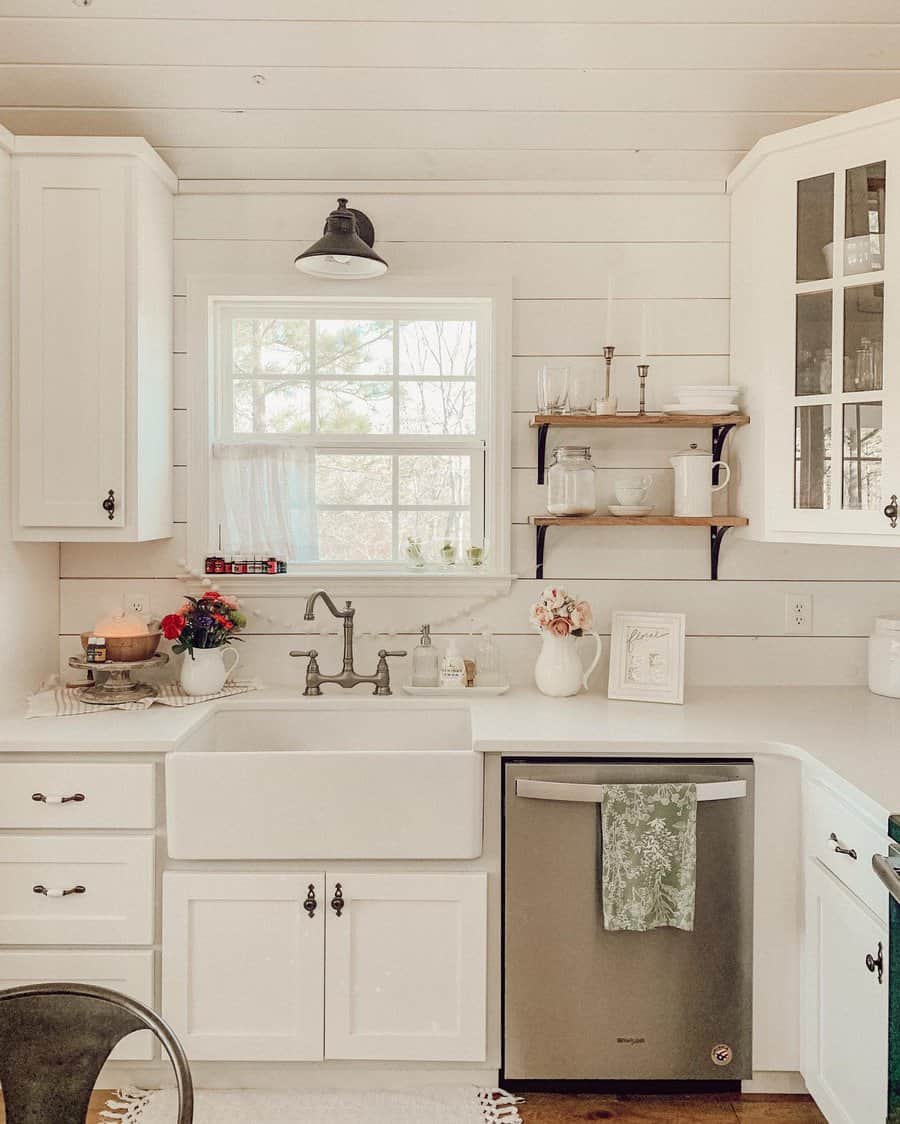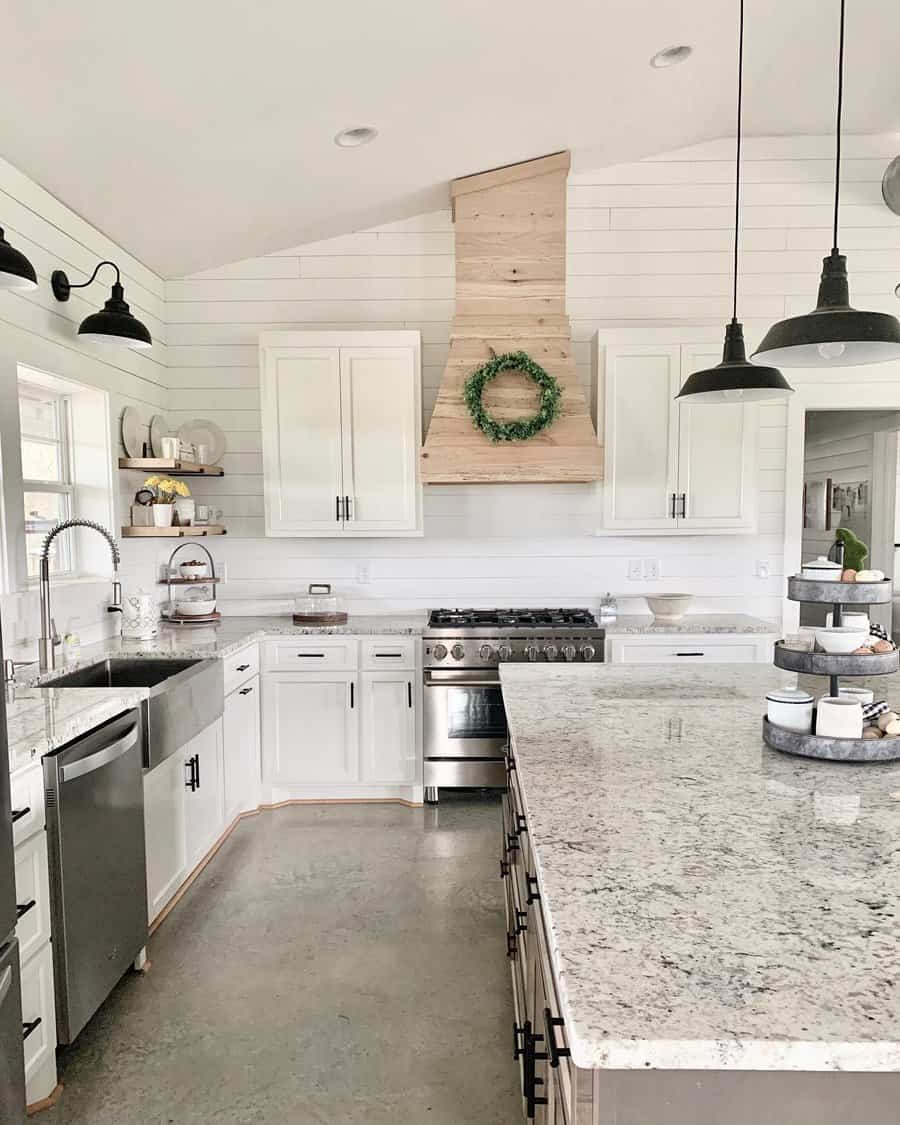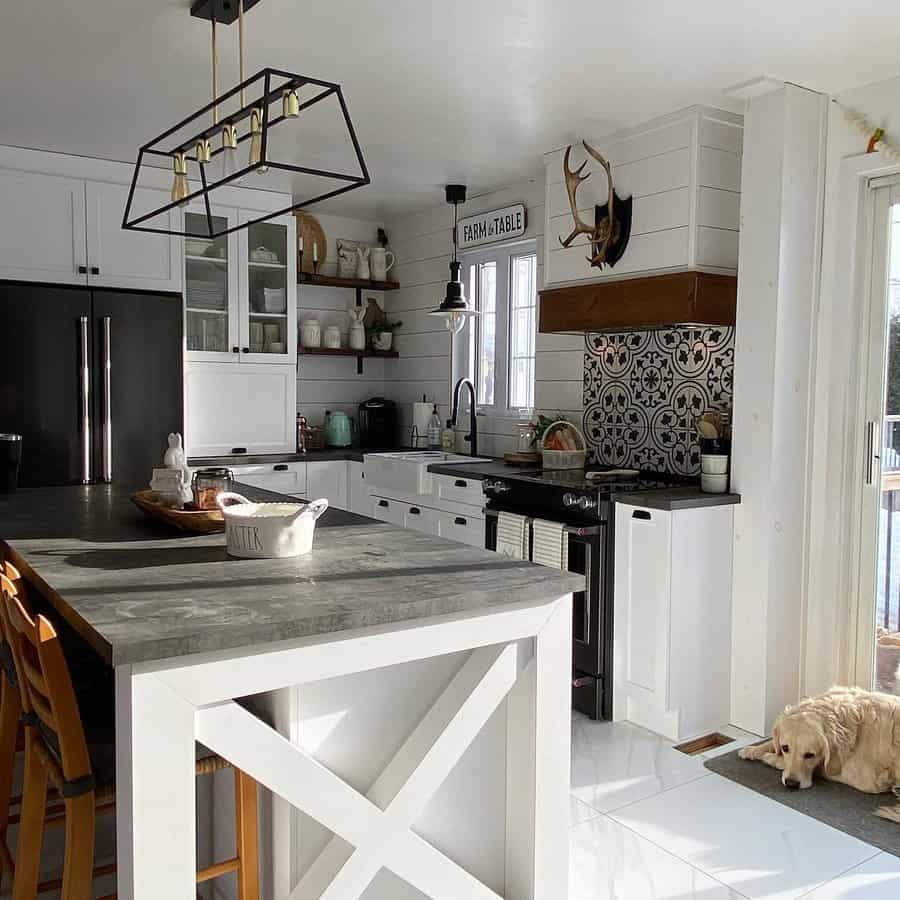 21. Rustic Appeal: Red Brick Flooring
Red brick flooring is a key element in infusing rustic charm into your farmhouse kitchen. Its classic and timeless appearance sets the stage for a warm and inviting culinary space. Beyond aesthetics, red brick flooring also contributes to temperature regulation and simplifies clean-up.
Whether you host large family gatherings or intimate dinners with friends, red brick flooring complements your farmhouse style while creating an ambiance that enhances the atmosphere of any gathering. To achieve this look, consider installing red brick flooring and pairing it with wooden accents, creating a cohesive farmhouse design that combines both beauty and practicality.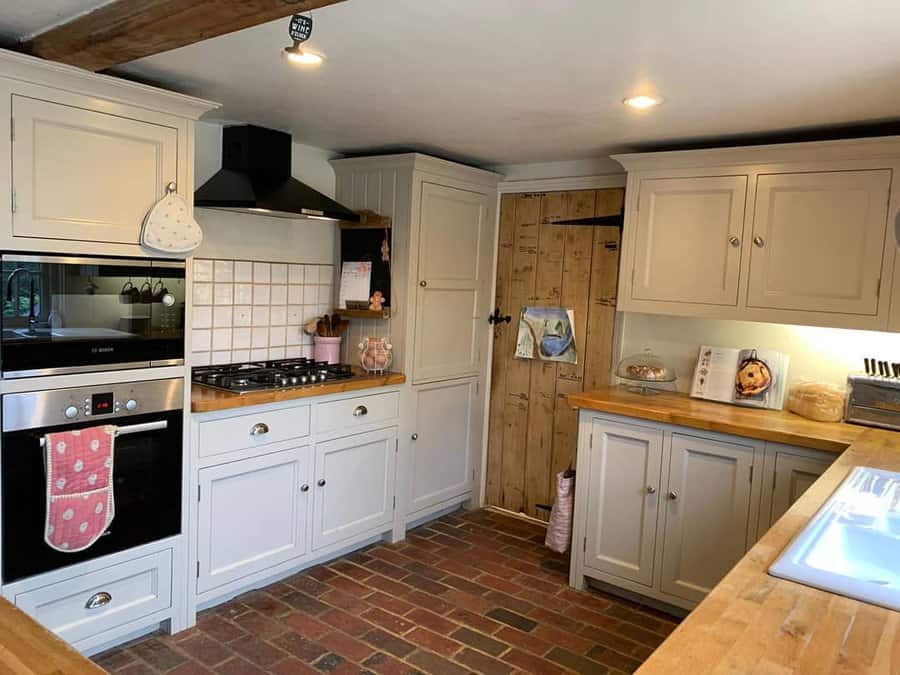 22. Classic Choice: The Belfast Sink
Incorporating a Belfast sink into your farmhouse kitchen is a classic choice that enhances both efficiency and charm. This type of sink not only adds an old-world style to your home but also proves highly practical, especially for busy family kitchens.
With its deep bowl and ample surface area, the Belfast sink offers plenty of room for washing large pots and dishes, making it a perfect fit for the demands of home-cooked meals. To achieve this design, consider installing a Belfast sink and pairing it with complementary fixtures and cabinetry that accentuate its timeless appeal while ensuring a seamless integration into your farmhouse kitchen.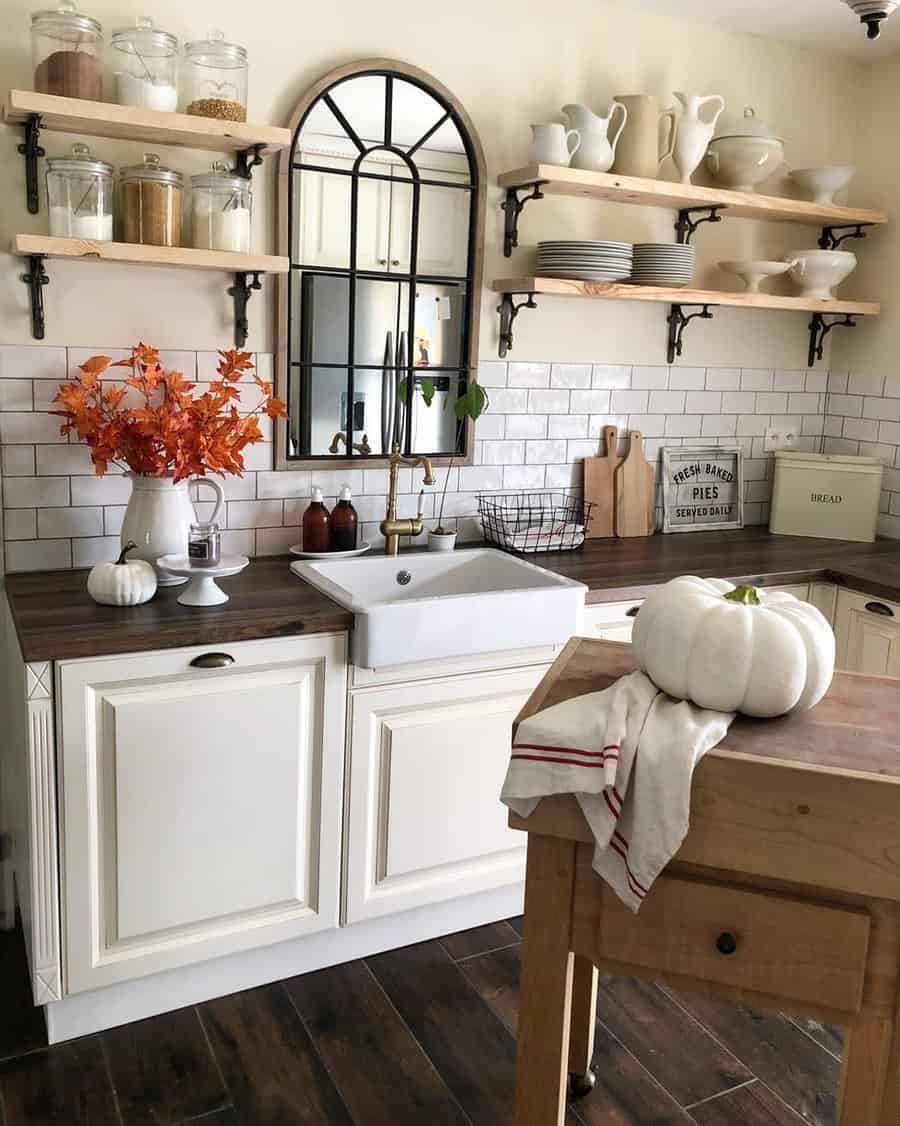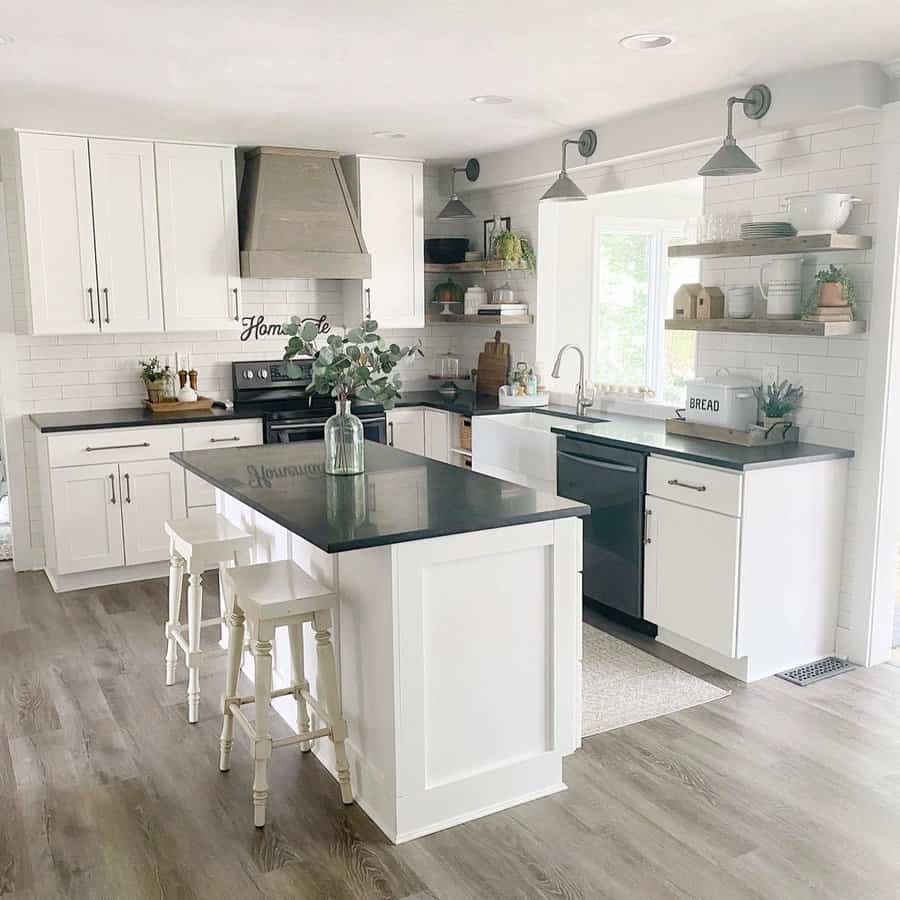 23. Seasonal Updates for Fresh Farmhouse
Adding seasonal decor to your farmhouse kitchen is a delightful way to infuse the outdoors into your home. Farmhouse kitchens, with their rustic charm and welcoming ambiance, provide the perfect backdrop for seasonal accents. In the autumn, adorn your countertops with small gourds or pumpkins, hang dried corn husks, and incorporate natural elements like grasses and twigs for a cozy feel.
During the winter, brighten up your kitchen with festive garlands of evergreens, berry clusters, and candles placed on windowsills alongside fresh flowers. Don't limit yourself to just the seasons; year-round touches like quilts draped over chairs can evoke a sense of togetherness around your farmhouse table. To achieve this design, seamlessly integrate seasonal decor elements into your kitchen, making sure they complement your existing farmhouse style.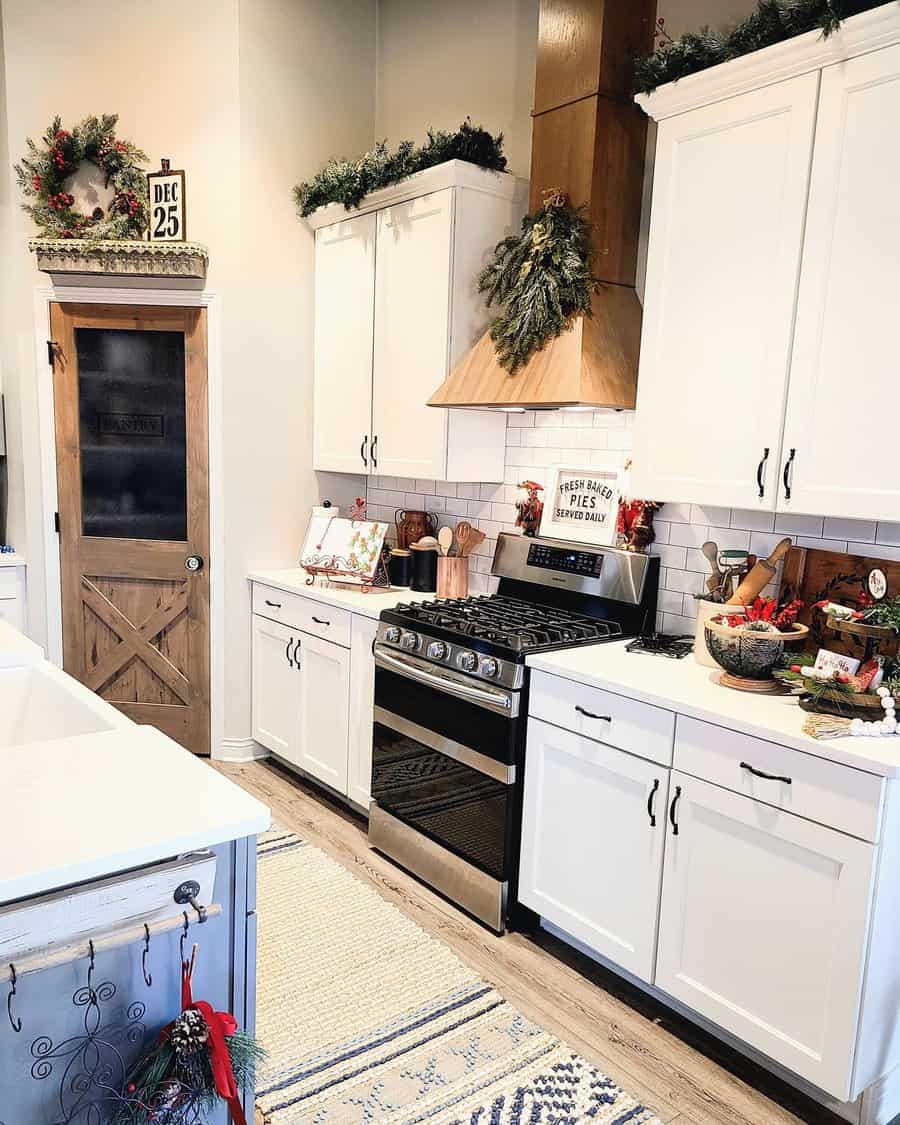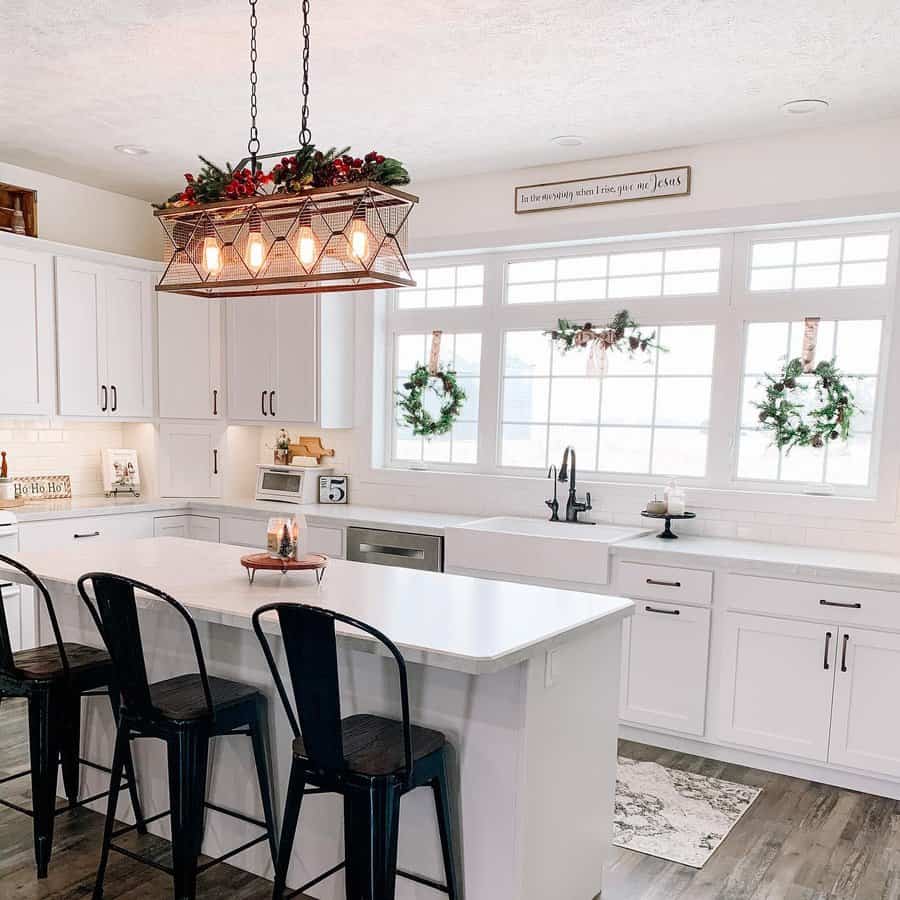 FAQs
What's the difference between rustic and farmhouse?
Sometimes, farmhouse style is a little rustic, but not always. Rustic design is not always farmhouse. You'll find the same elements in both, such as wood. The difference between the two is that the farmhouse style tends to be brighter and more refined. For example, it isn't uncommon to find copper cookware, silver utensils, or porcelain tableware.
What is a French country kitchen?
A French country kitchen has farmhouse elements that are blended with more elegant elements. It isn't uncommon to see a rustic wood table placed near a wall where a gilded gold framed mirror hangs. Or there could be a reclaimed brick floor that's paired with an ornate crystal chandelier.
What is modern farmhouse style?
A modern farmhouse kitchen is one that has a relaxed and comfortable design. You'll see smooth, clean lines from modern design that are paired with natural materials like wood and granite. You'll see a farmhouse-inspired design that has a sophisticated upgrade.