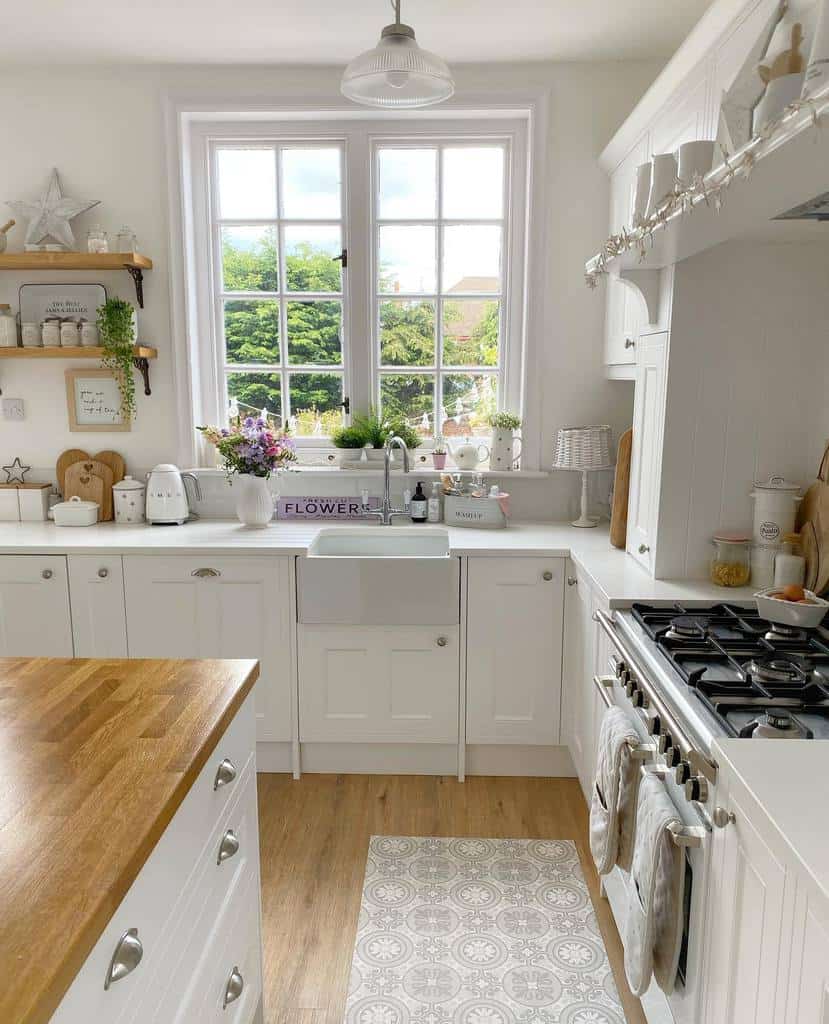 43 Farmhouse Kitchen Ideas
Just because you don't live on a farm doesn't mean you can't have a farmhouse kitchen. This quaint style gives your kitchen a comfortable feel that's warm and welcoming. With the kitchen being the heart of the home, this is the perfect aesthetic for your family home. You don't have to go all out. With the right pieces, you can create a farmhouse feel that's also authentic to your house's architecture.
These farmhouse kitchen ideas will help you turn your plain suburban kitchen into one that's simple yet comfortable.
1. Play With Words
The farmhouse kitchen offers a unique blend of style and warmth. Adding wordy wall art amplifies the cozy atmosphere; quotes about families, love, and home can be catching phrases for reflection or conversation starters.
For a playful atmosphere, food-related wall art is ever popular: vintage signage of favorite snacks or sayings is a perfect complement to any farmhouse kitchen.
No matter what decorations you choose, adding wordy and food-related wall art can make your farmhouse kitchen truly special.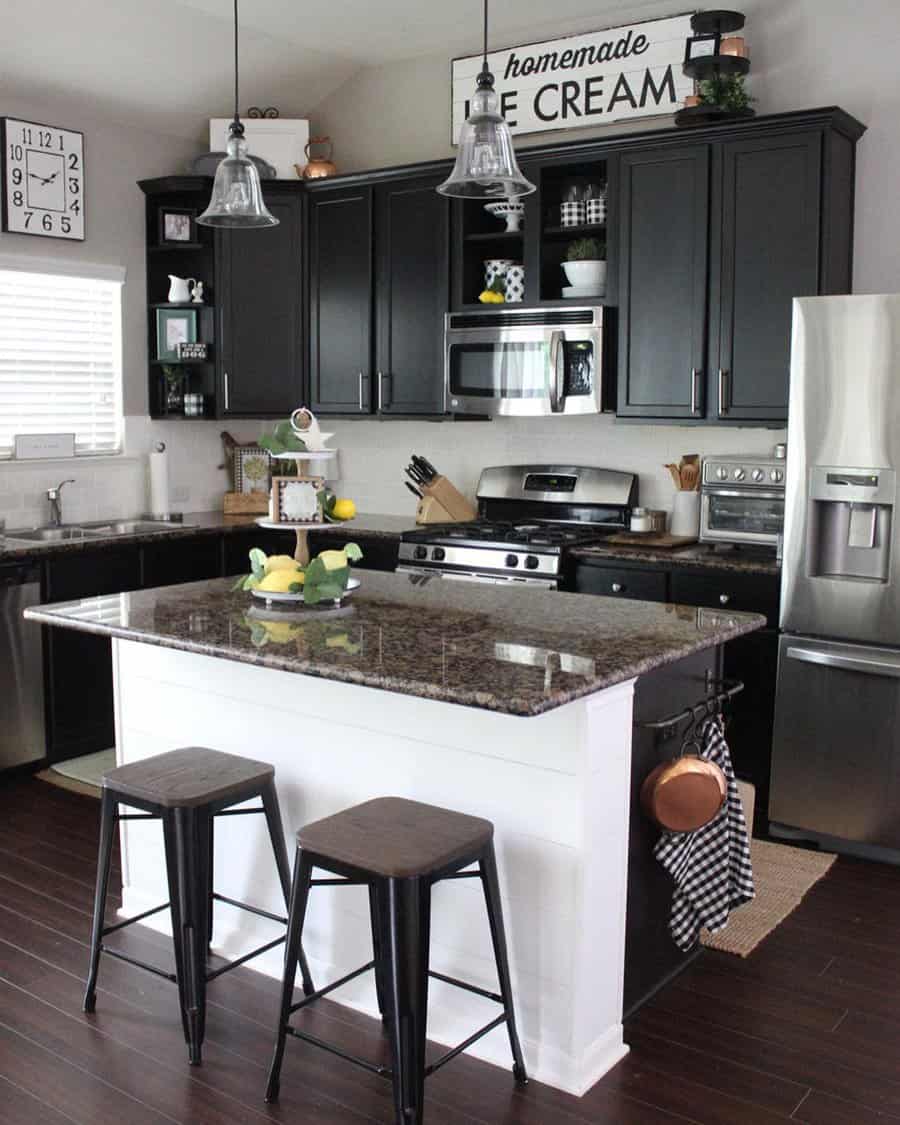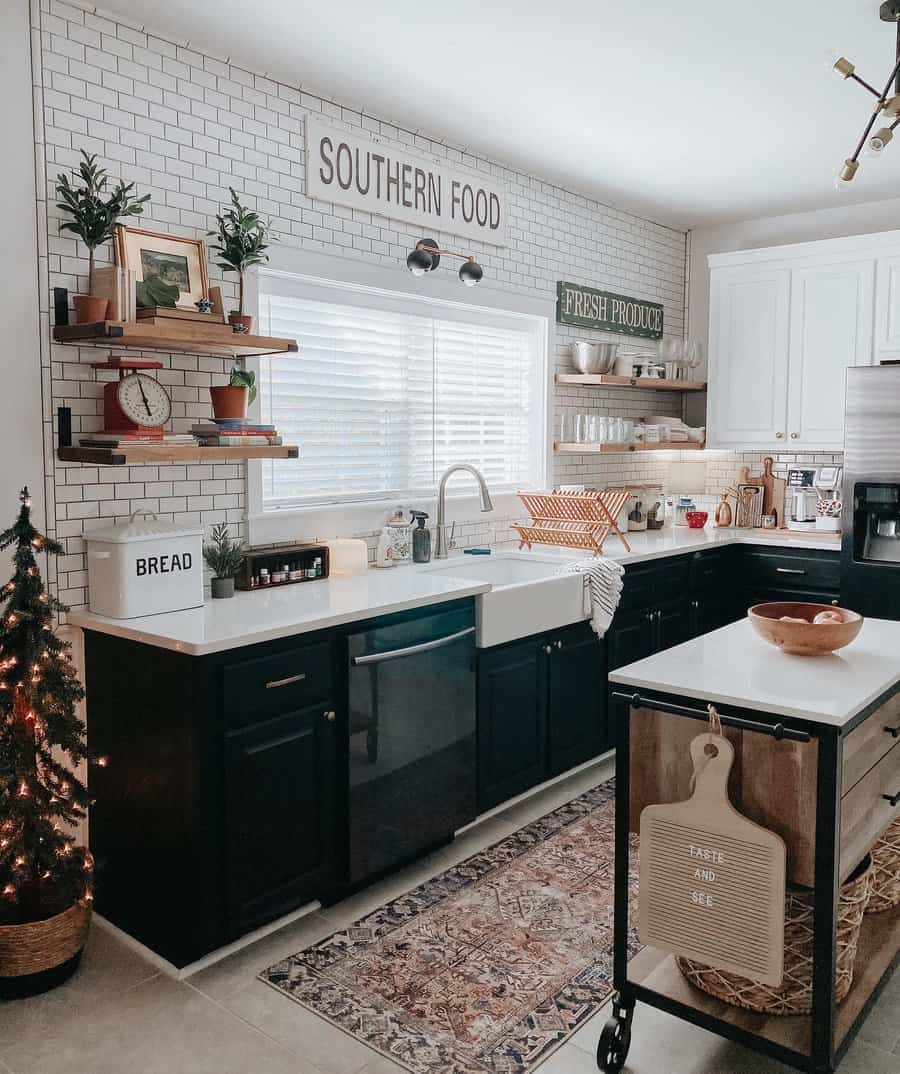 2. Hang String Lights
A farmhouse kitchen is a timeless and creative way to add character to any home. With string lights hung above counters, weathered furniture, and an open layout that often emphasizes natural light, there's something uniquely inviting about this style of kitchen. An old-timey feel meets modern convenience and coziness in each element.
Whether it's for added storage or purely decorative purposes, string lights are the perfect way to enhance the rustic farmhouse charm of any kitchen. The string lights provide a warm and inviting ambiance that creates a homely atmosphere no matter what time of day it is.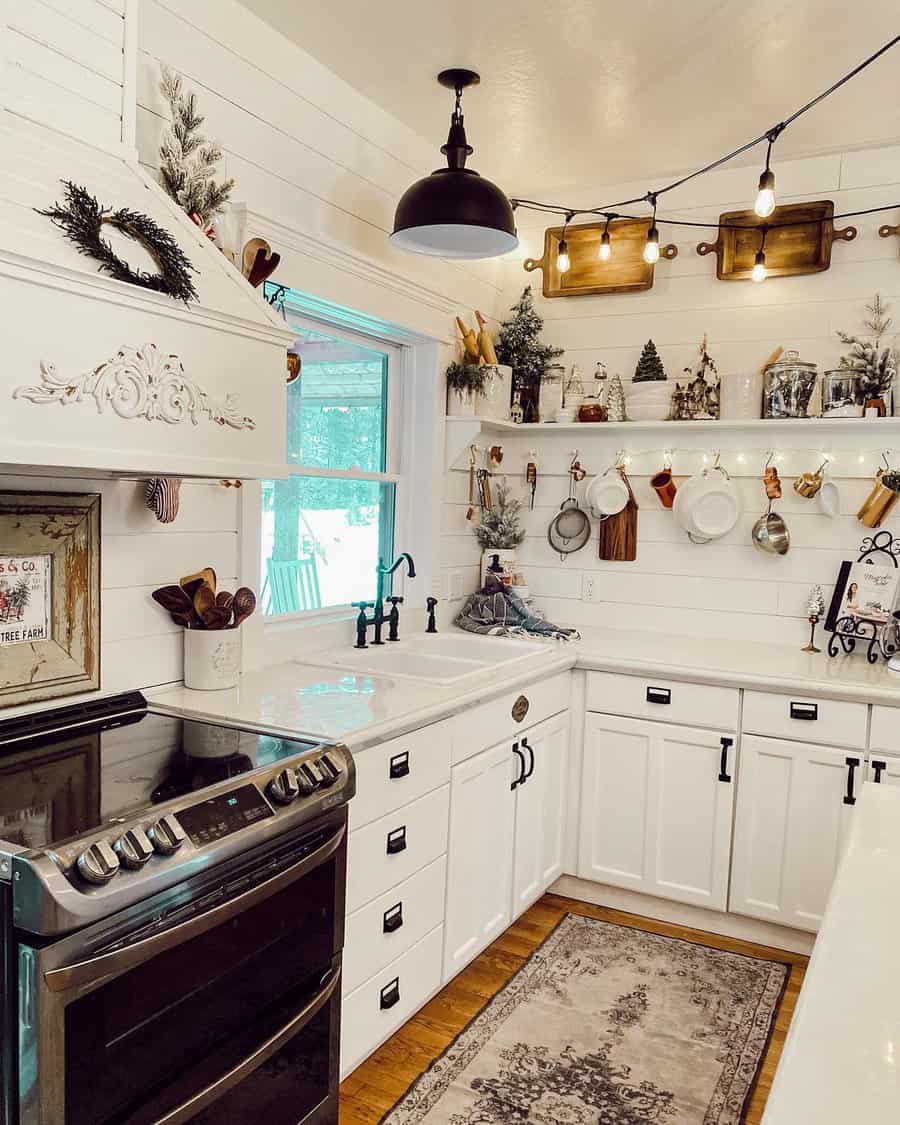 3. Add Distressed Accents
The farmhouse kitchen is a timeless look that fills the room with warmth and charm. From distressed furniture to wooden floors made of repurposed wood, this style really has it all! By using distressed furniture, you can create a vintage feel by giving an aged appeal.
Reclaimed wood can be used for everything from countertops and cabinets to doorways, continuing the character of distressed furniture in every part of your space.
Inviting colors like warm creams, cool whites, and natural browns all come together to complete the atmosphere – making this style almost irresistible.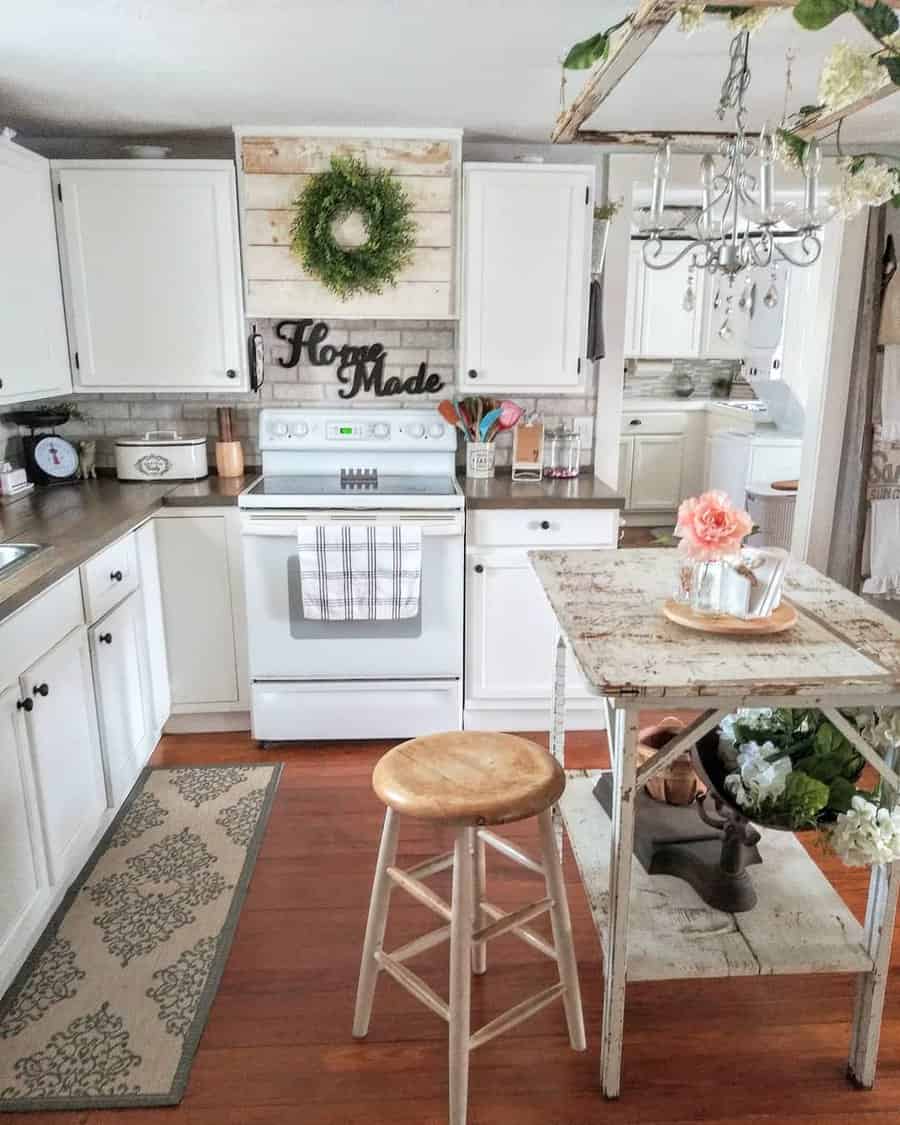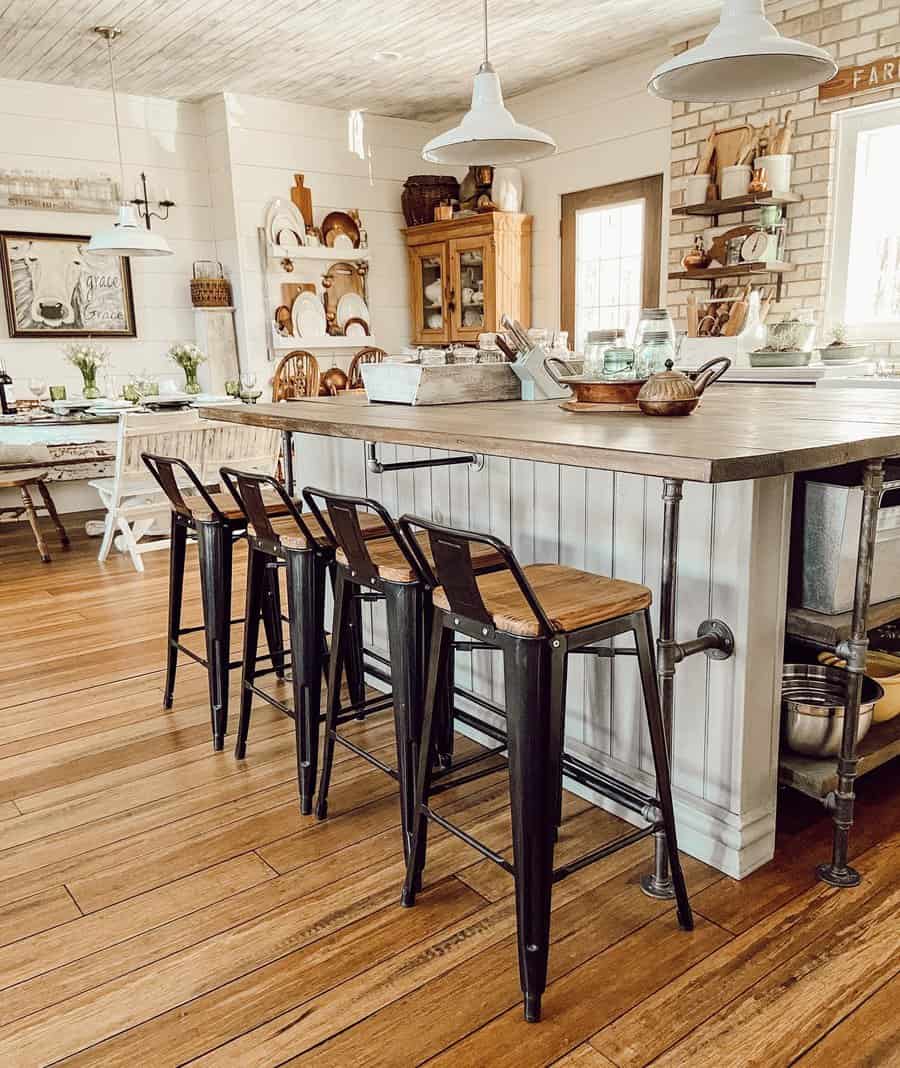 4. Dress Up Your Kitchen Window
Invite farmhouse charm and coziness into your home with dress up your kitchen window with a variety of valance curtains or hanging plants. These kitchen window dressings provide an abundance of style and personality to any space, no matter how large or small.
Adding these beautiful pieces of fabric to the windows above your gathering table or cooking station will create an inviting atmosphere that's perfect for entertaining.
Whether choosing simple solids, classic stripes, or elegant florals, dress up your kitchen window with valance curtains in a variety of sizes and shapes to complete the farmhouse look in your home.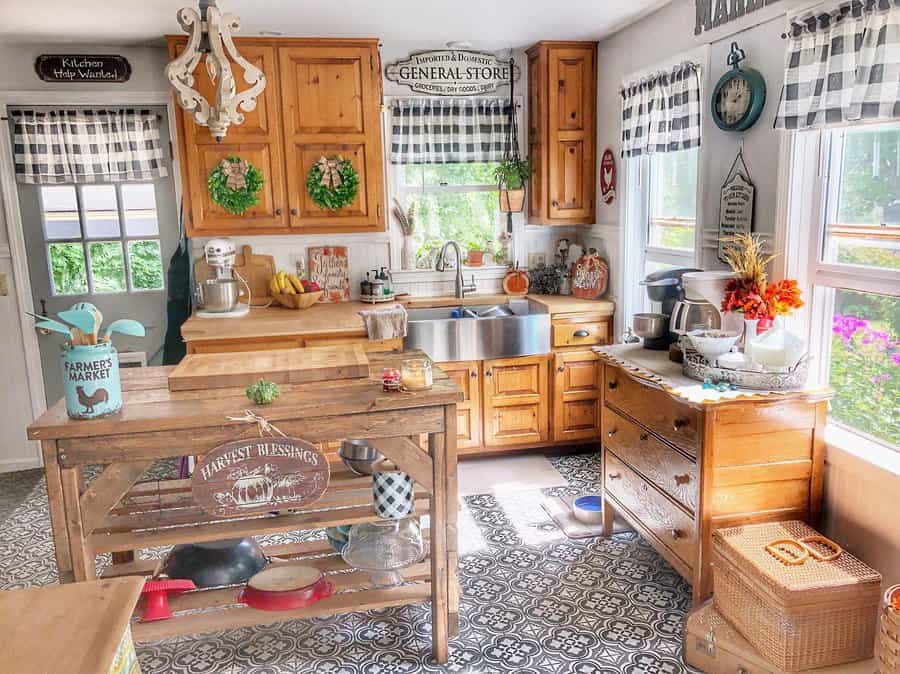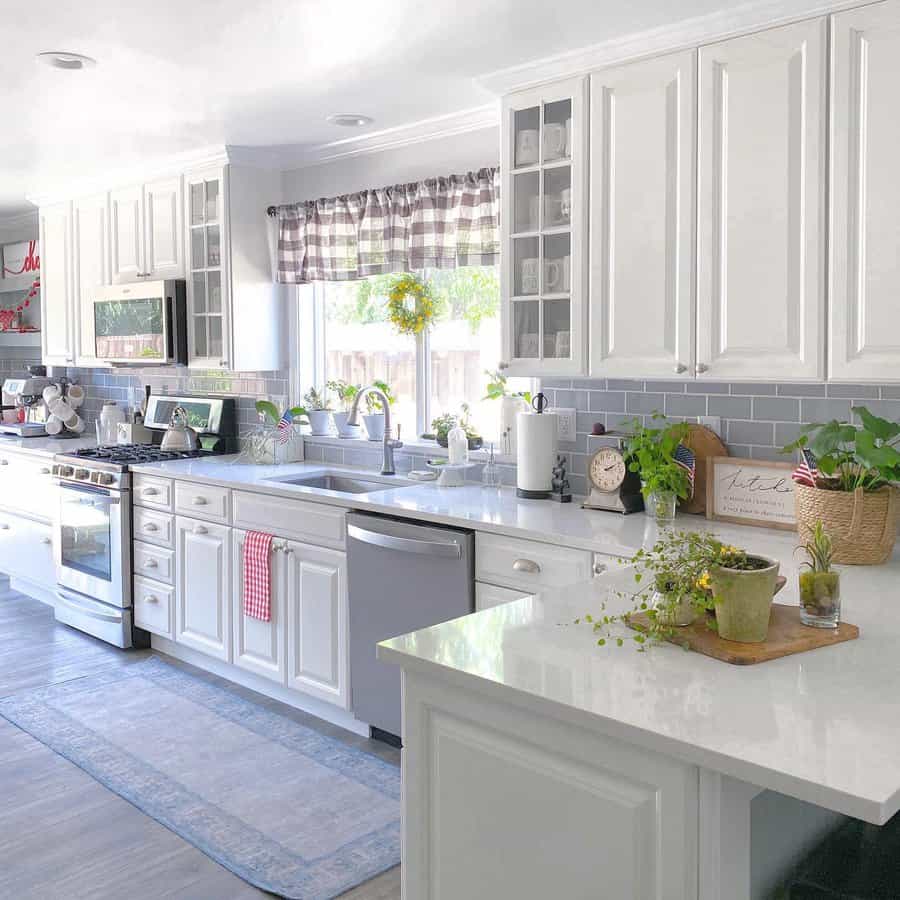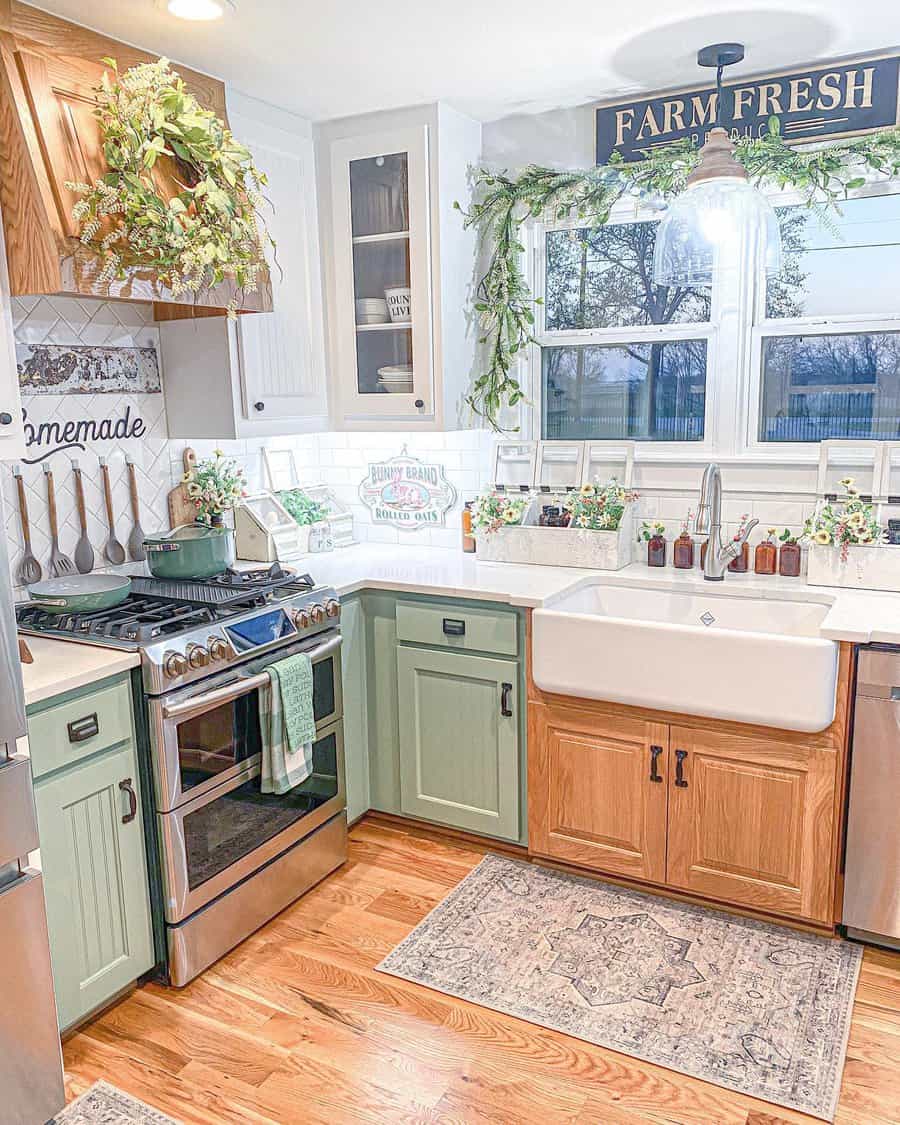 5. Opt For Soft Earthy Tones
A farmhouse kitchen is reminiscent of days gone by, evoking soft hues and lush tones. The walls evoke soft earthy colors, with a healthy splash of pastel sage green here and there to bring the room to life.
Windowpanes looking out onto the scenery beyond allow for beautiful natural sunlight to be drenched across the room, reminding you that no matter the season, there is beauty everywhere.
Complemented by soft wooden cabinetry, a white marble countertop, and subtle tiling, a farmhouse kitchen provides a French countryside feel within your own home.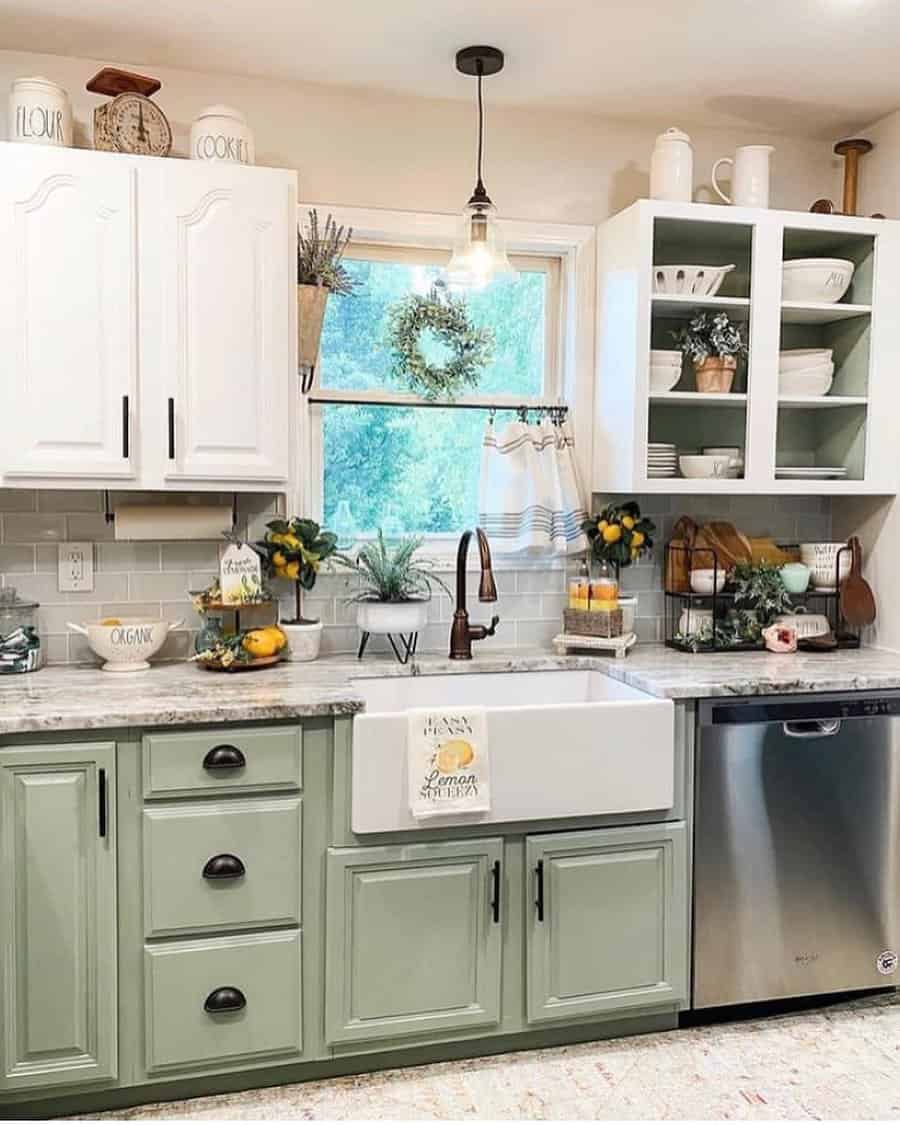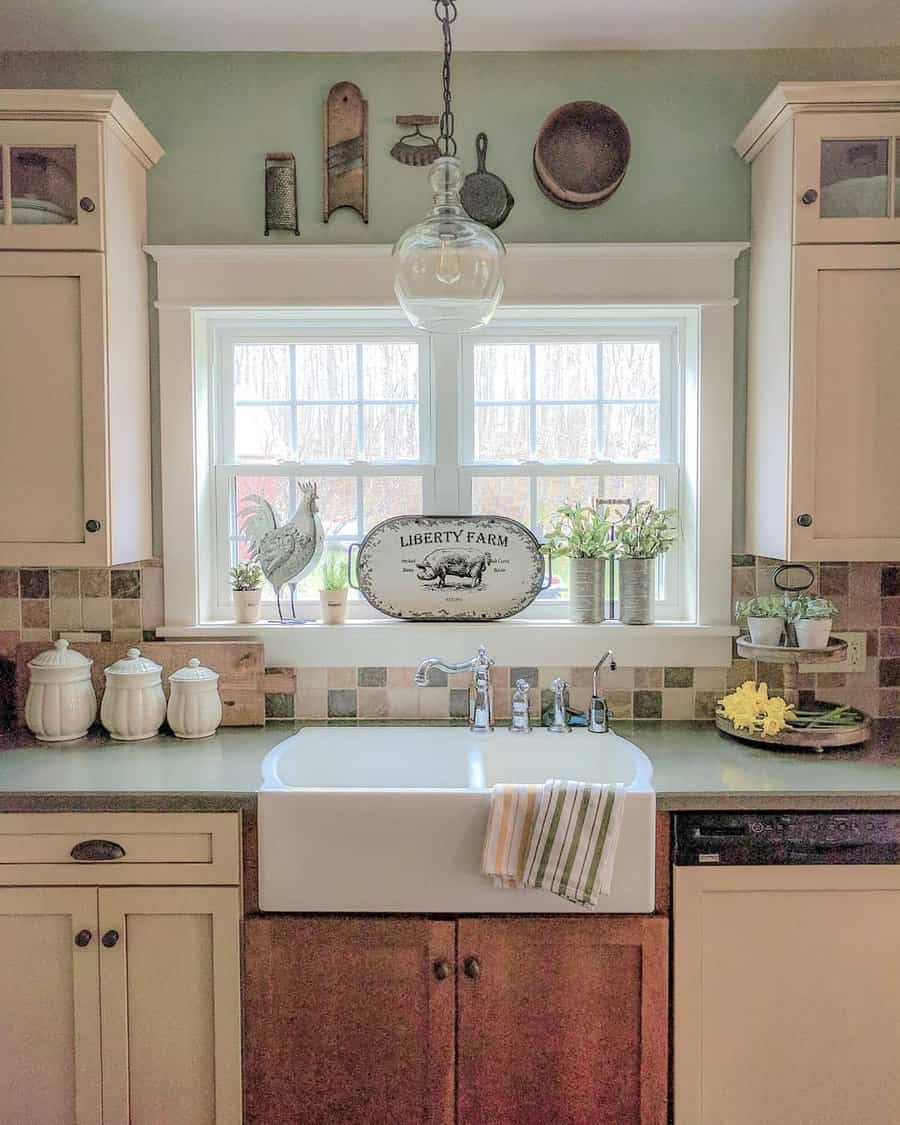 6. Stick To White & Wood
When you step into a farmhouse kitchen, the white and wood furnishings make it feel like a soothing oasis amid the hustle of everyday life.
White marble countertops offer an ideal workspace for creating delicious meals, while white cabinets make it easy to keep everything tidy and organized. Wooden accents such as bar stools or chairs bring in cozy touches, while a wooden kitchen island provides additional surface space for prepping meals or gathering with family.
Rustic finishes such as exposed brick add charming details to any farmhouse kitchen, making it an inviting place to cook and entertain.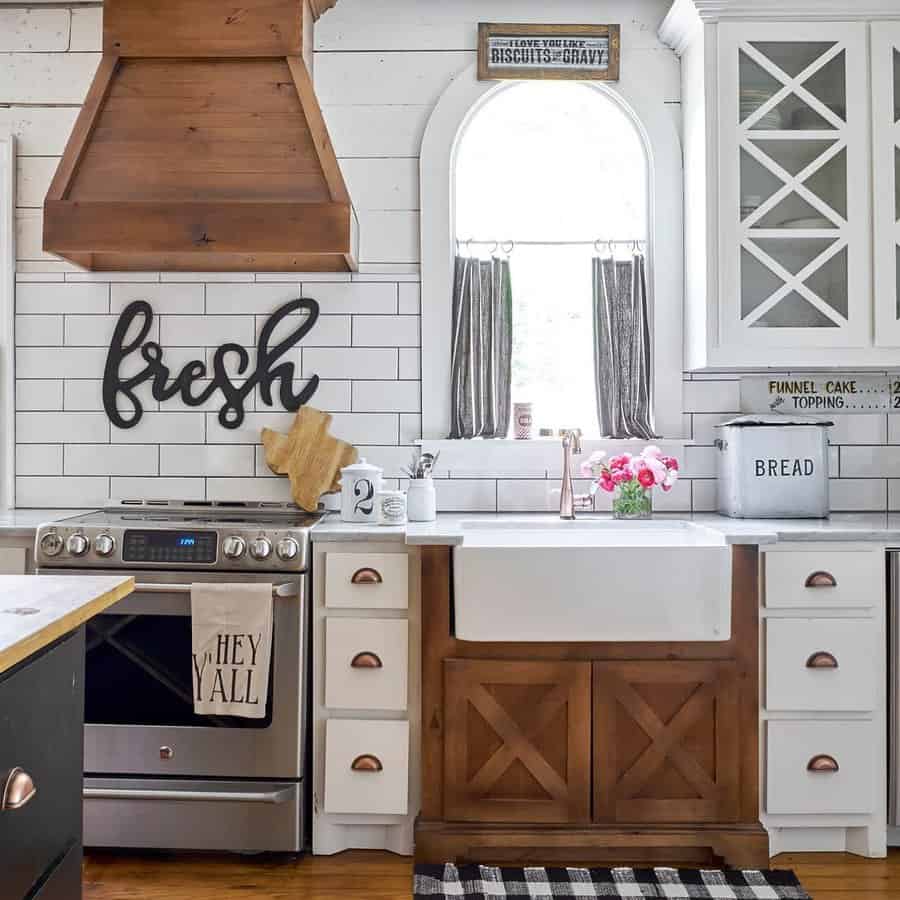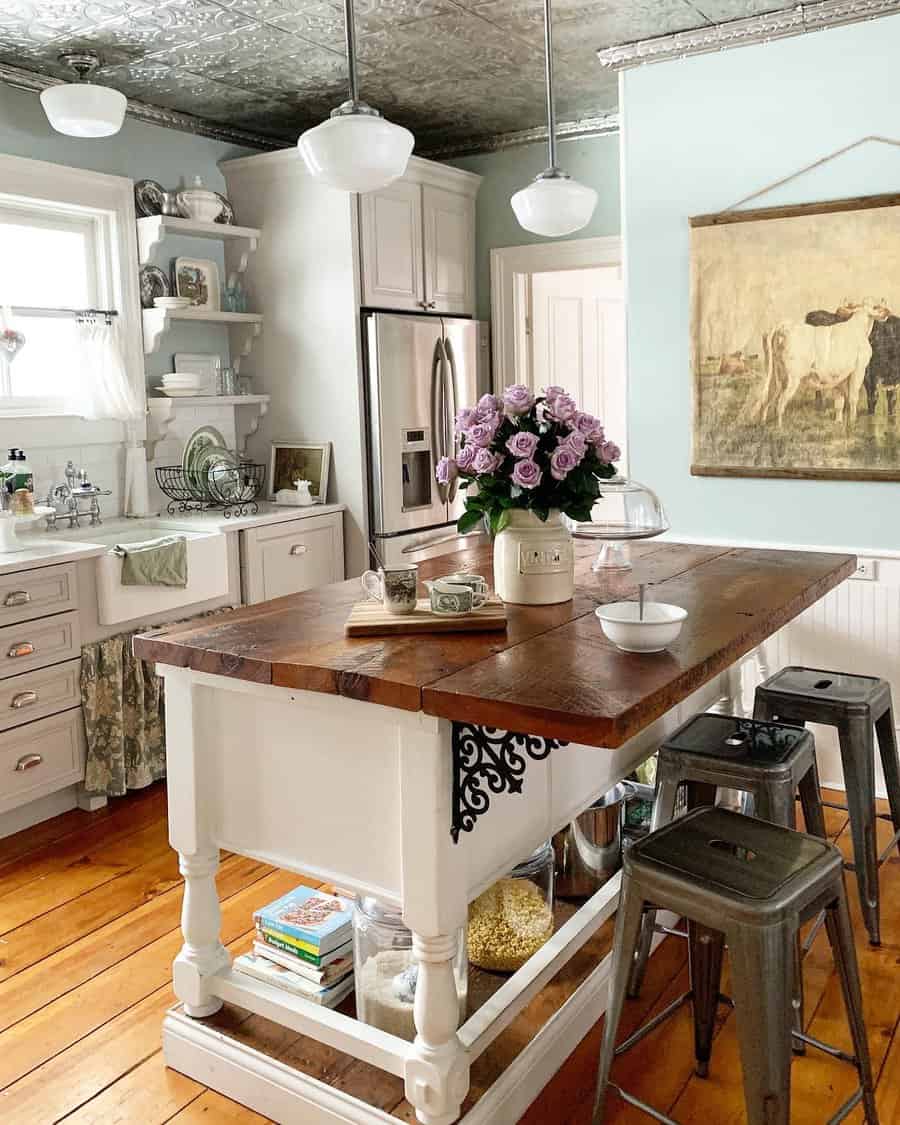 7. Opt For Stamped Tiles
The allure of a farmhouse kitchen can be found in its classic charm, but modern touches make the room unique. Picture flooring with stamped tiles reminiscent of flooring often found in rustic cabins, and walls with marble subway tiles make a bold statement.
The beauty of this timeless style lies in its combination of traditional elements that come together to create something entirely new.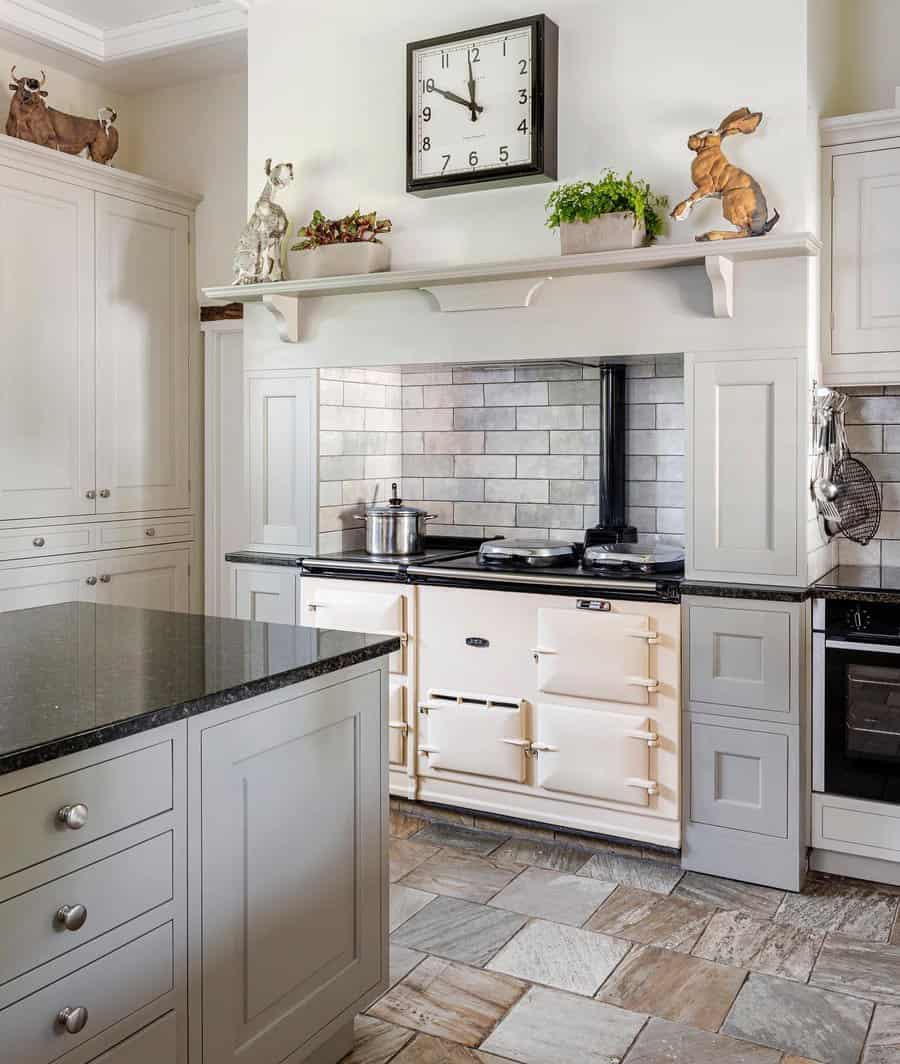 8. Make Dinnerware Storage Stylish
Create a warm and inviting atmosphere for dinner with a farmhouse kitchen featuring stylish dinnerware cabinets! With a dinnerware shelf, a mug rack, and glass cabinets so you can add some unique dinner plates to your dinner décor, this is the perfect way to show off your sophisticated-yet-homey dining.
Whether you're hosting dinner for just two or for friends and family, the farmhouse kitchen's dinnerware cabinet will help each meal feel special.
So fill that mug rack with mugs in your favorite colors, set that dinnerware shelf with silverware, and be sure to pull out those fancy dinner plates from the glass cabinet when guests come over—they'll love it!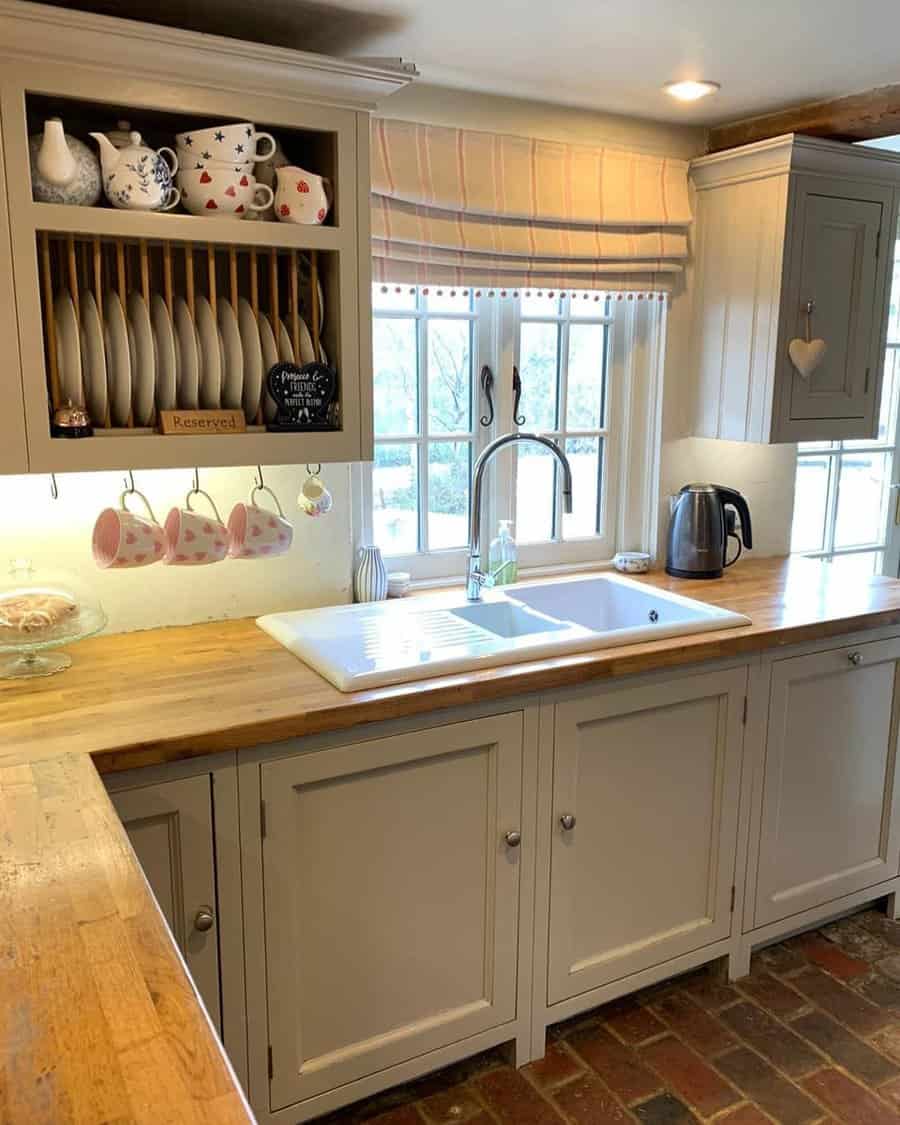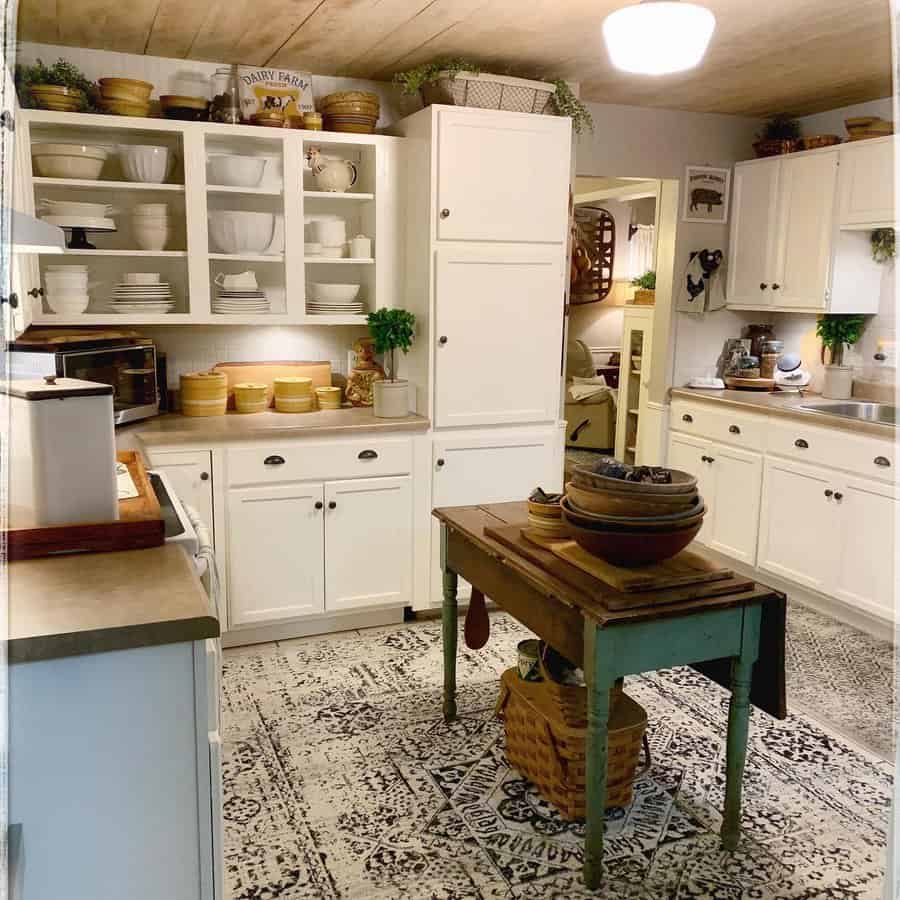 9. Install Floating Shelves
Installing floating wall shelves in your farmhouse kitchen is a great way to add some depth and charm. Whether you're using them to store condiments, put up your favorite dinnerware, or showcase decor that reminds you of country life, these floating shelves will bring a unique perspective to your cooking space.
Not only are they aesthetically pleasing, but floating wall shelves give an extra convenient place to keep essentials within easy reach.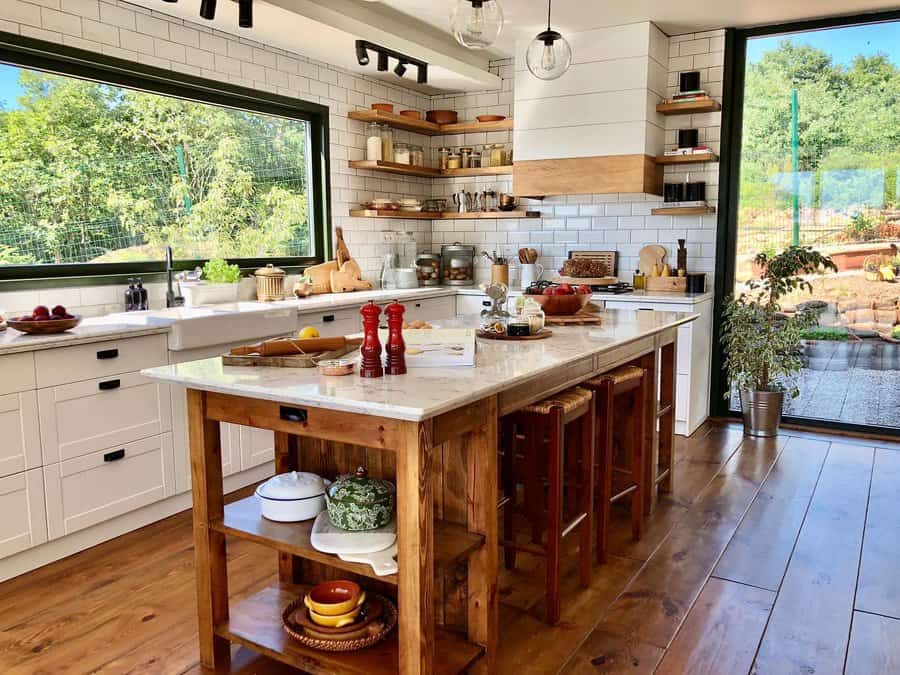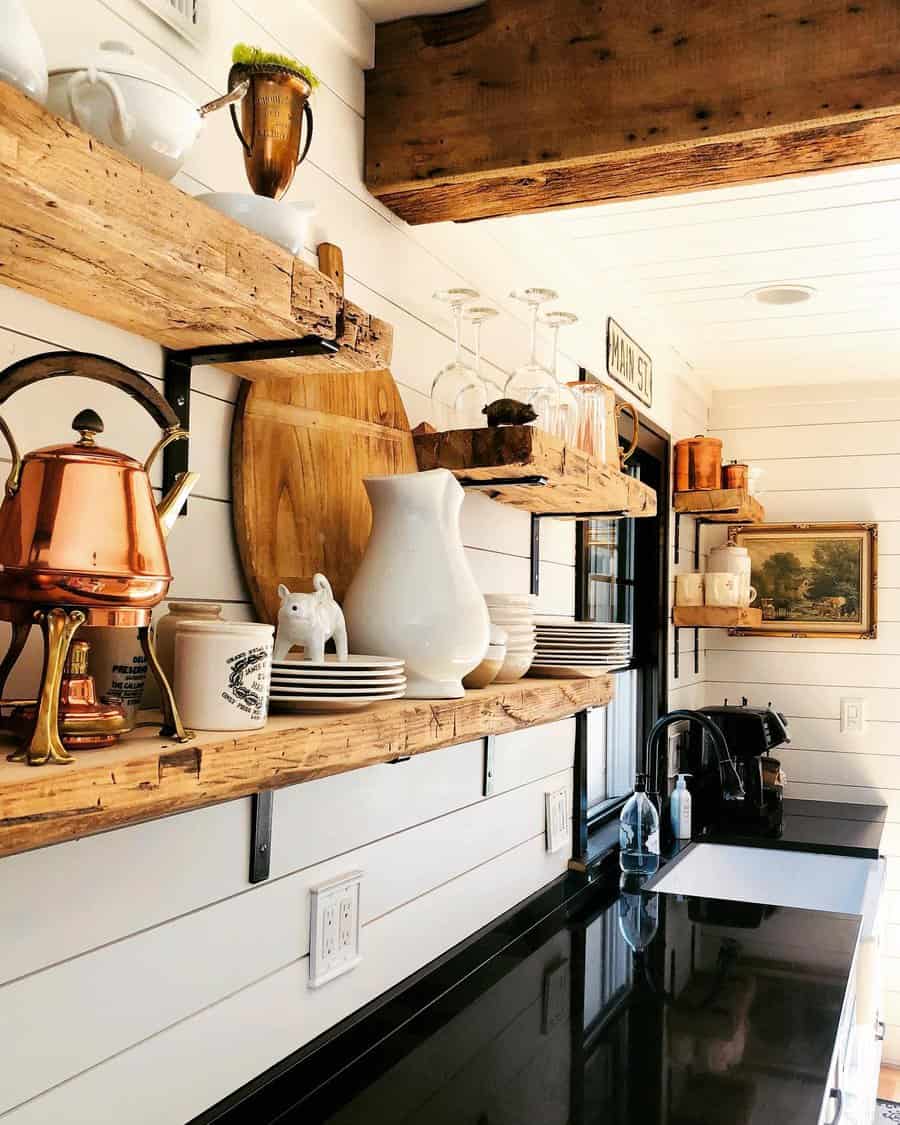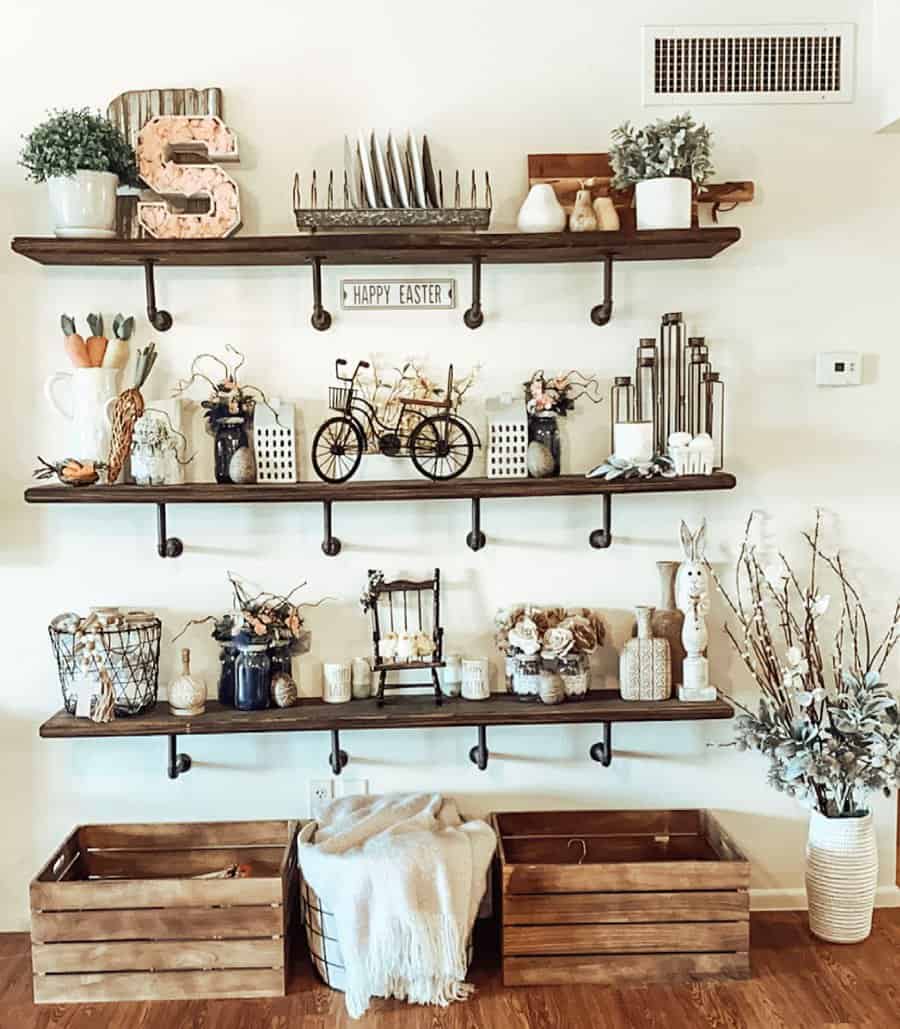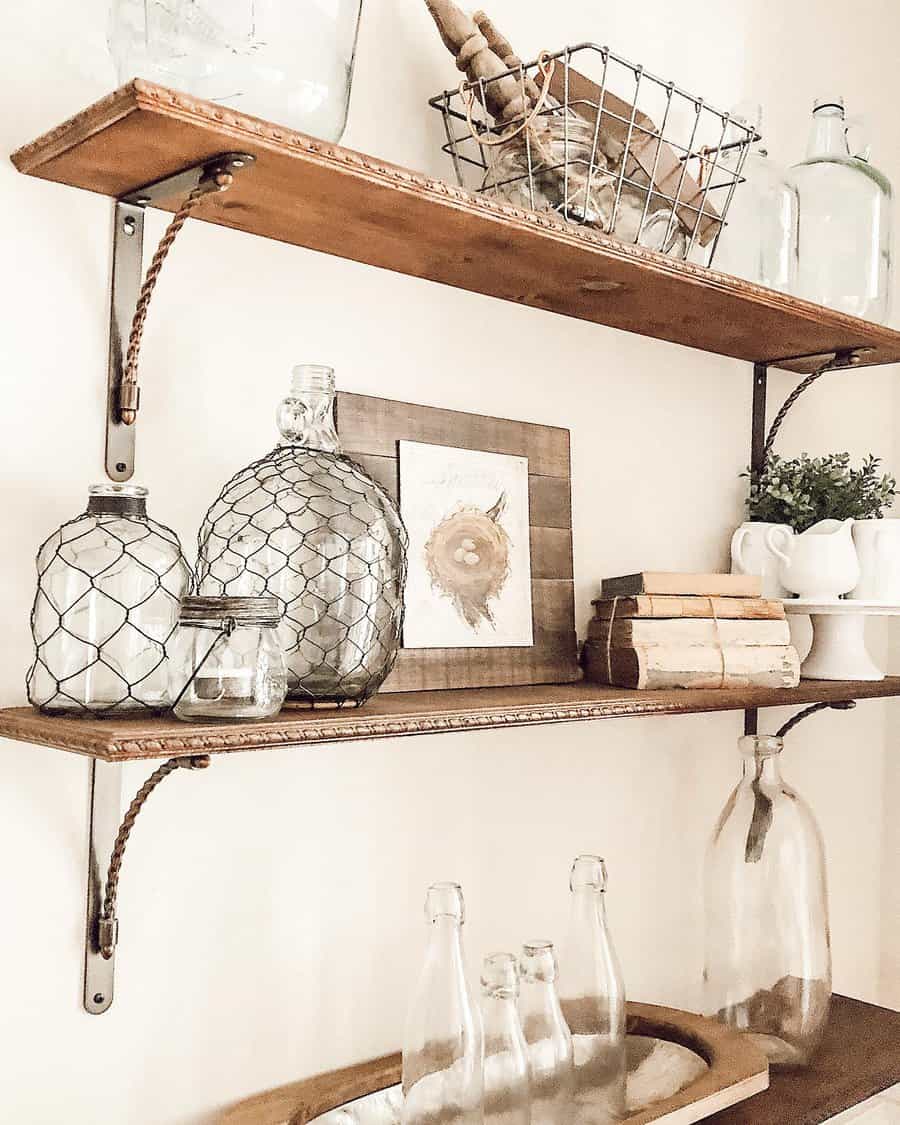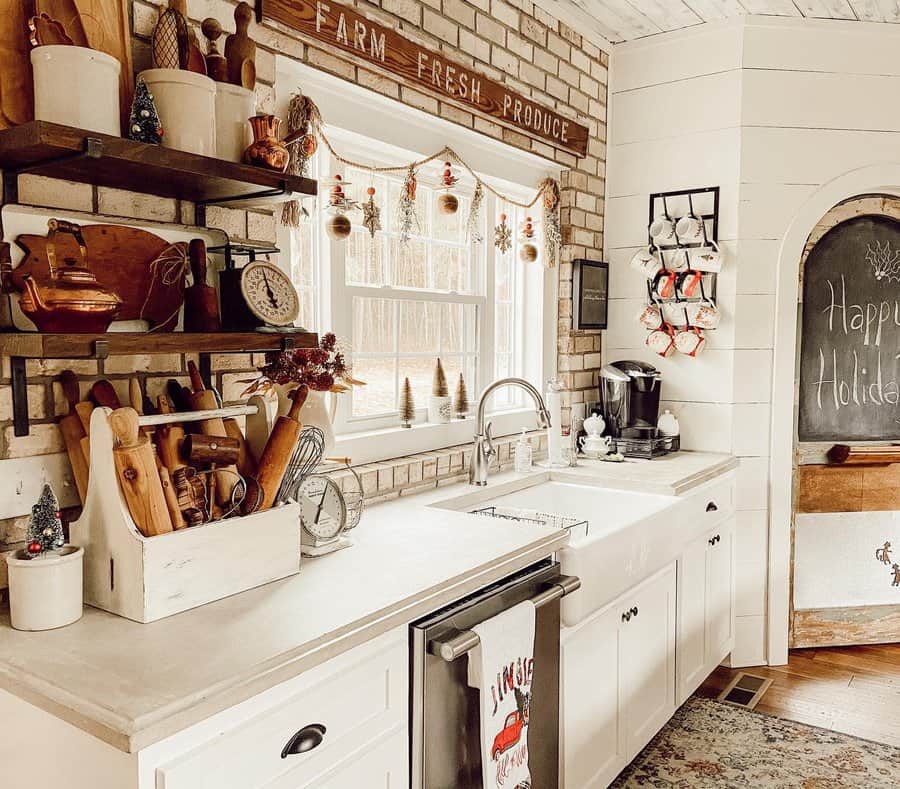 10. Throw A Rug Runner
A rug runner is a perfect way to bring some warmth and personality into a farmhouse kitchen. With its distressed but cozy vibe, this rug runner can immediately add an inviting feel to the space. It's not just about creating a captivating atmosphere; rug runners are also great for protecting hardwood floors from wear and tear over time.
If you're looking for a rug runner that adds style, comfort, and preservation to your farmhouse kitchen, consider one with a distressed look that creates a unique balance between rustic and modern design elements.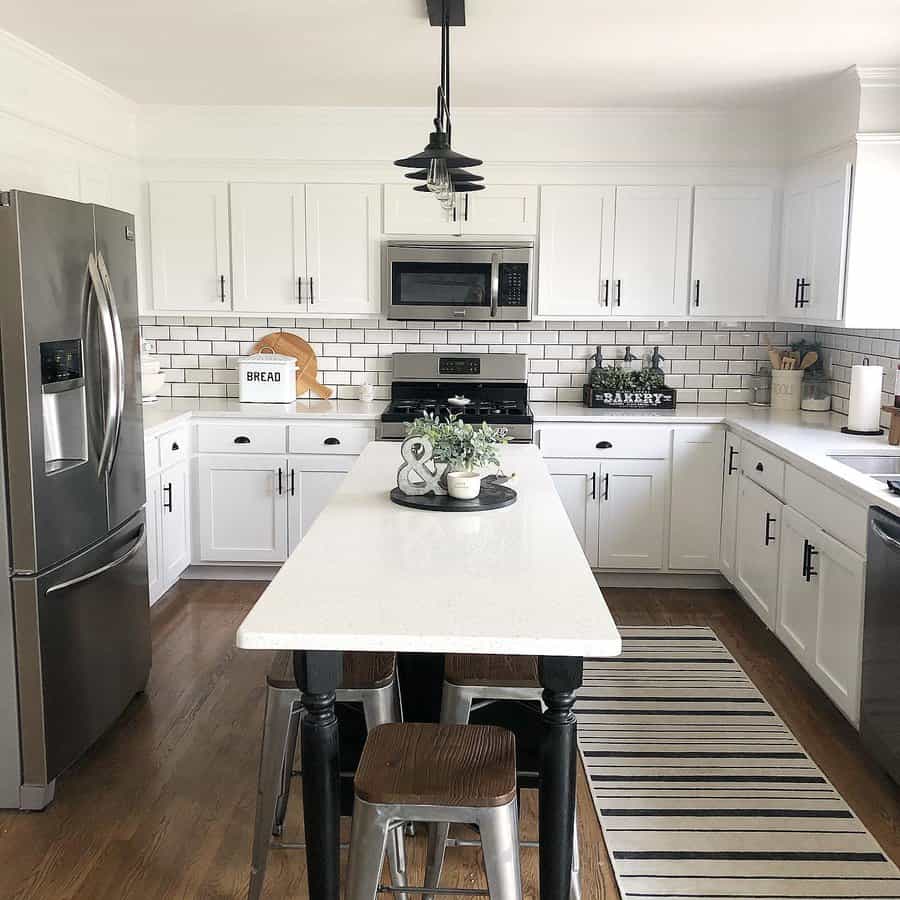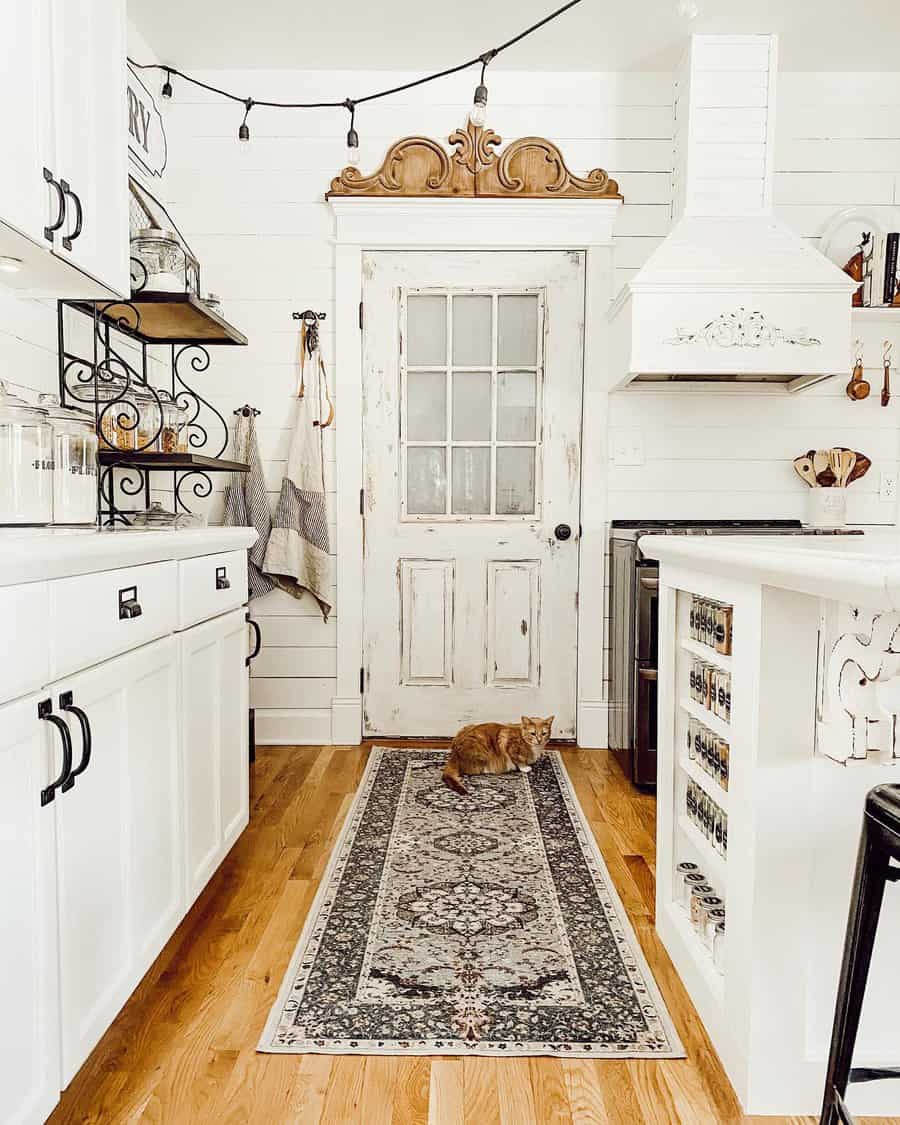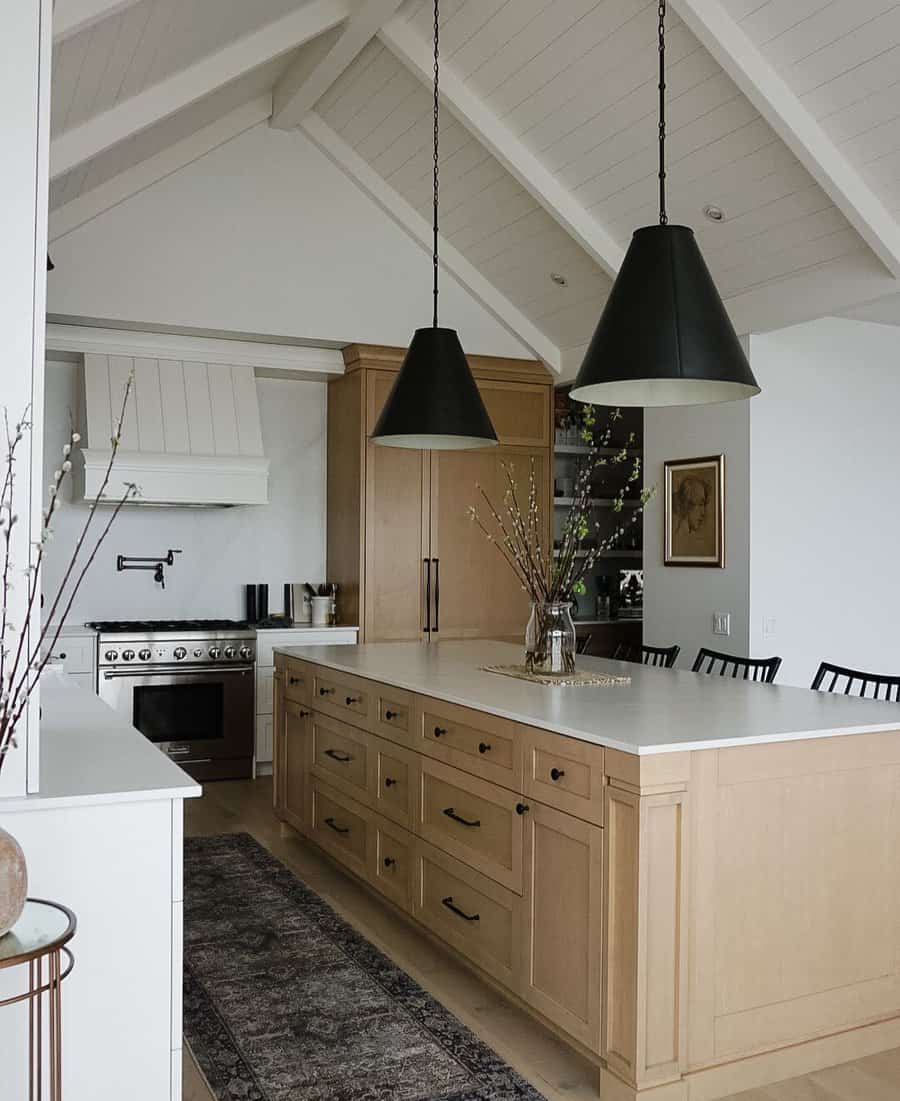 11. Diversify Your Island Seating
With a rattan-style counter and wooden stools, what could be better than having a farmhouse kitchen with diversified seating? It's the perfect polished space to gather around with family and friends. The rattan stools lend an air of sophistication to this charming kitchen, while the wooden stools provide a more rustic feel.
However you style it, you are bound to enjoy spending time in this comfortably modern yet homey spot!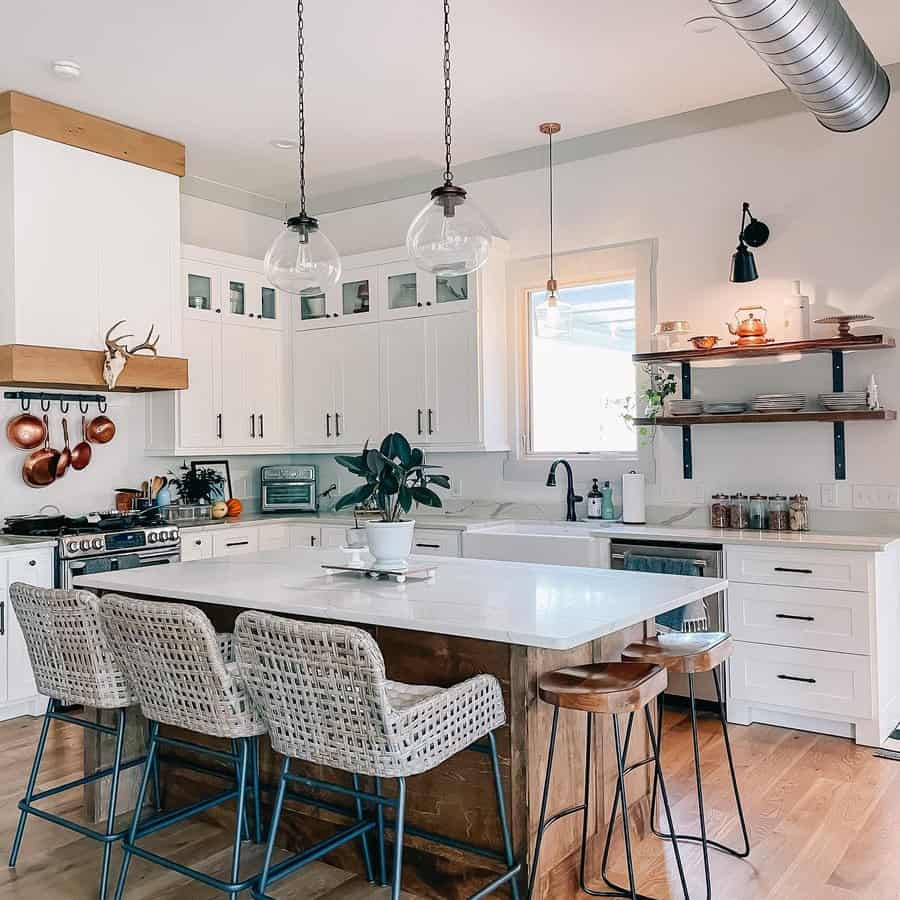 12. Go For Polished Concrete Countertops
Bring an industrial-chic look to your kitchen with polished concrete countertops and other modern elements. A farmhouse kitchen with concrete features is the perfect marriage of pleasant country charm and stylish urban appeal.
Taking advantage of the natural variations of polished concrete, you can truly make your kitchen one of a kind! Make a statement by using polished concrete to create bold countertops, striking shelving units, or even a cozy breakfast nook.
Let your design creativity run wild with polished concrete elements in the center of your home.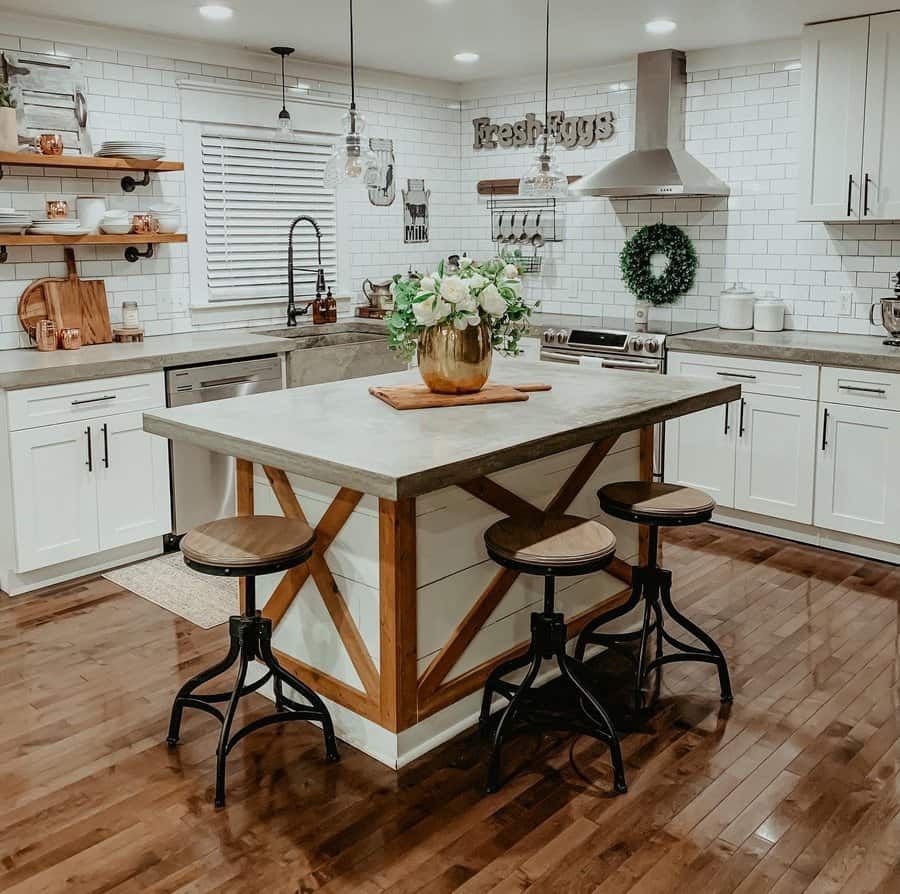 13. Install Black Fixtures
Stepping into a farmhouse kitchen with black fixtures is both charming and contemporary. The black faucet gives off a sleek and sophisticated vibe, as do the black pendant lights that hang above the island.
With its mix of modernity and rusticity, this kitchen is ideal for those seeking a unique space for cooking and entertaining. It's the perfect combination of classic style and contemporary elegance.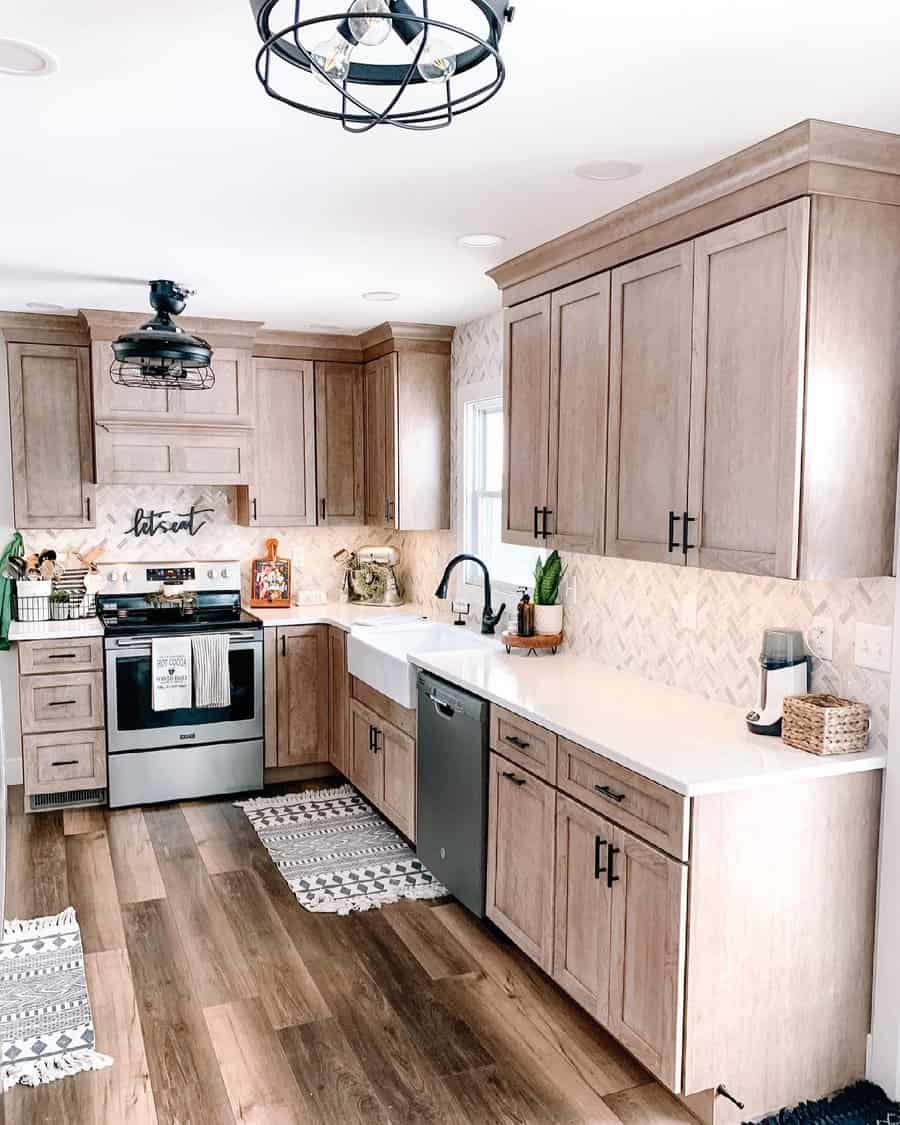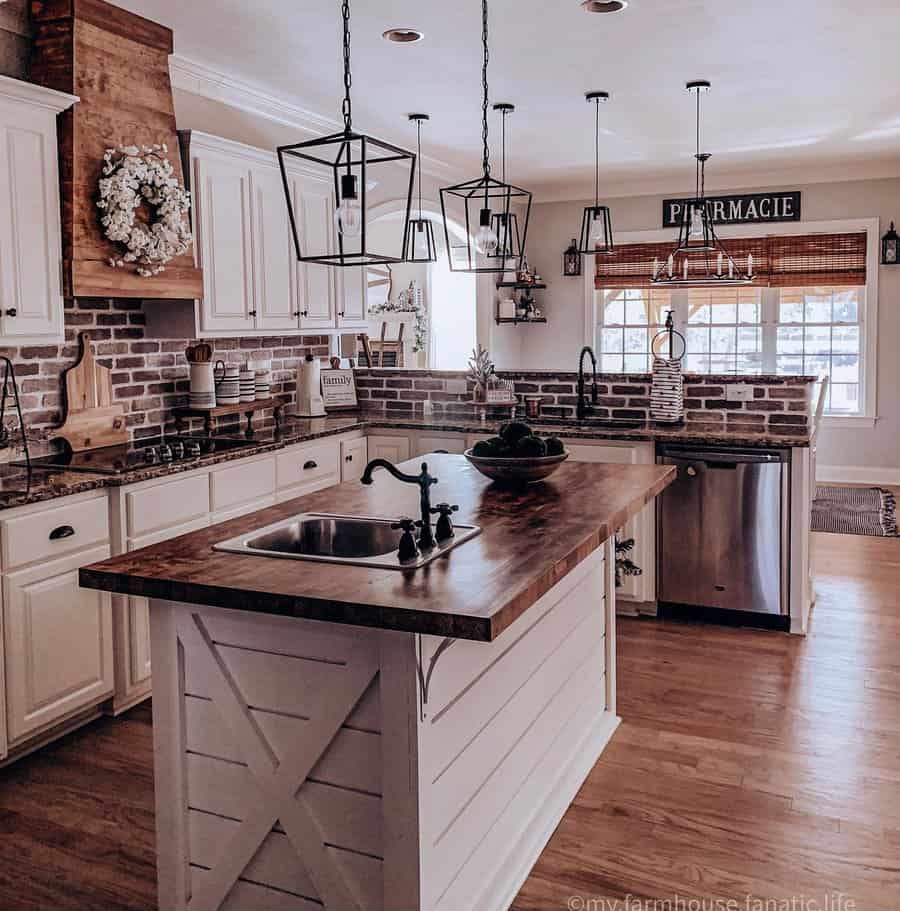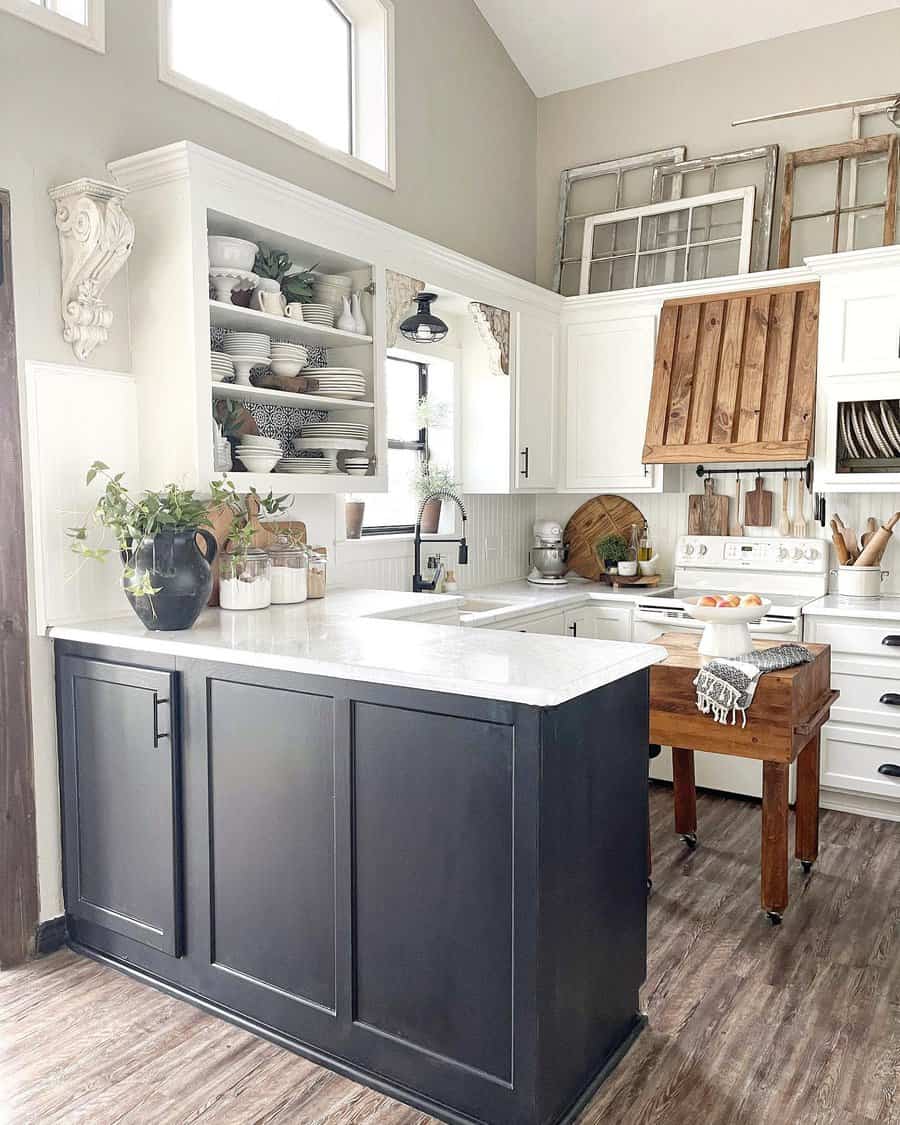 14. Install Beveled Tiles For Accent
The beveled tiles in a farmhouse kitchen make it stand out from any other room in the house. Whether choosing classic white beveled tiles to add a traditional touch or opting for bold-colored bevels to make a style statement, those bevels will be the centerpiece.
Given the newness of the beveled tile with its unique edge instead of flat surfaces, natural light will bounce off of the bevel edge and lighten up your room, making it feel even more spacious.
It's time to upgrade your farmhouse kitchen with beveled tiles to add dimension and character!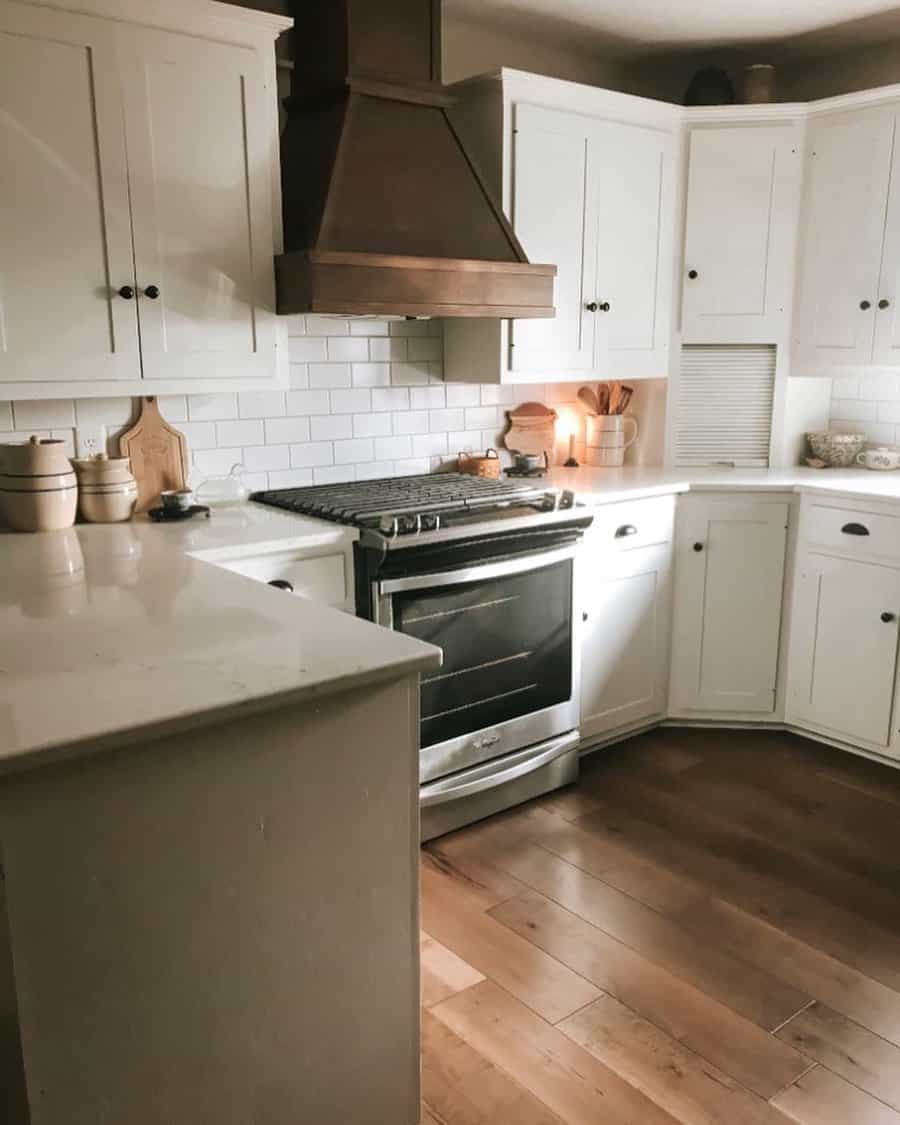 15. Go For Dark-stained Wood For A Dramatic Look
A dark-stained farmhouse kitchen is the perfect blend of rustic charm and modern sophistication. Outfitted with hickory wood cabinets, butcher block islands and the occasional farmhouse sink, a dark-stained kitchen will have you feeling like you've stepped into a piece of country living right in your own home.
This timeless look is not only functional but offers a unique aesthetic— its dark accents are offset by light countertops, backsplashes, and dishes that catch the sun streaming through the windows, creating an atmosphere that's both warm and inviting.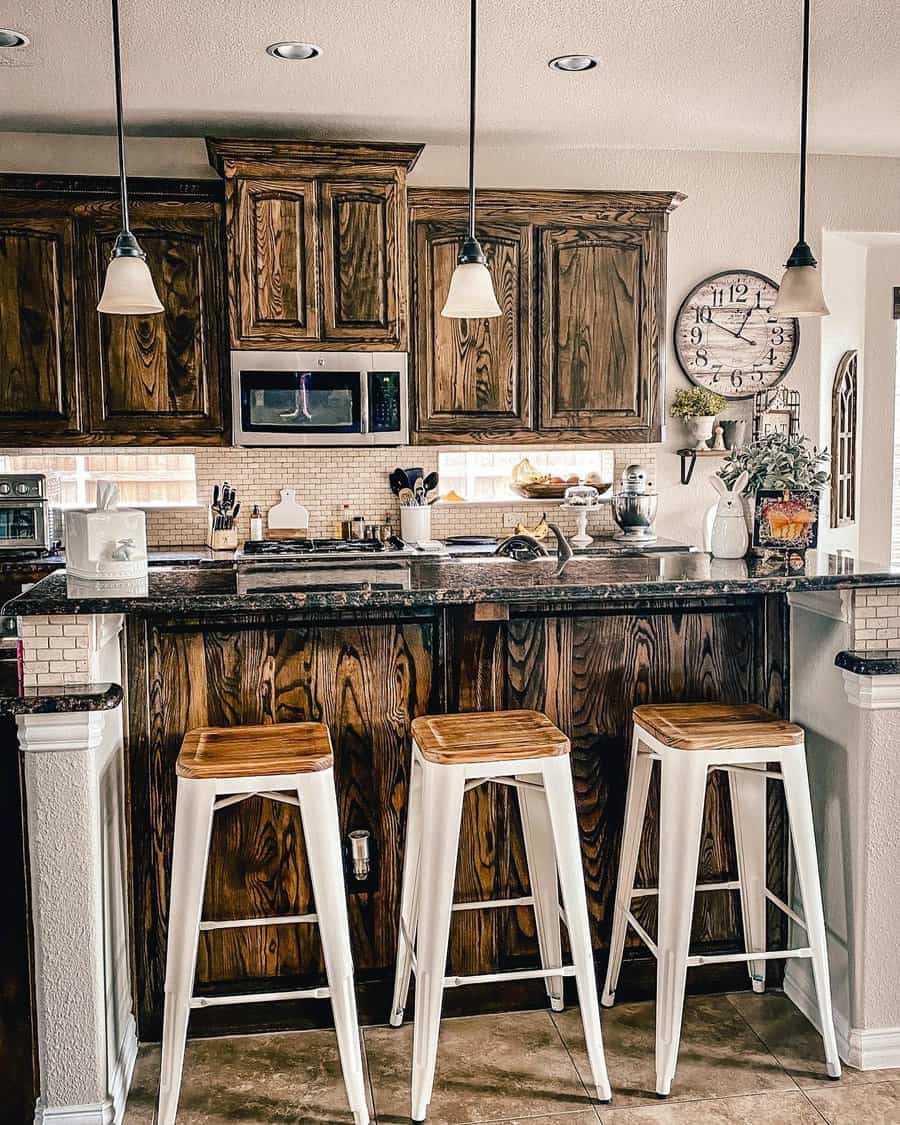 16. Install Ceiling Beams
Entering a farmhouse kitchen with ceiling beams is as much of an experience for the eyes as it is for the taste buds. Light from the large windows bounces off the pale timbers, creating a cozy atmosphere enhanced by pieces of distressed furniture and handmade decor that have been carefully blended together over decades.
With ceiling beams adding a rustic charm to the room and providing visual interest, your culinary creations will feel right at home in this warm, inviting setting.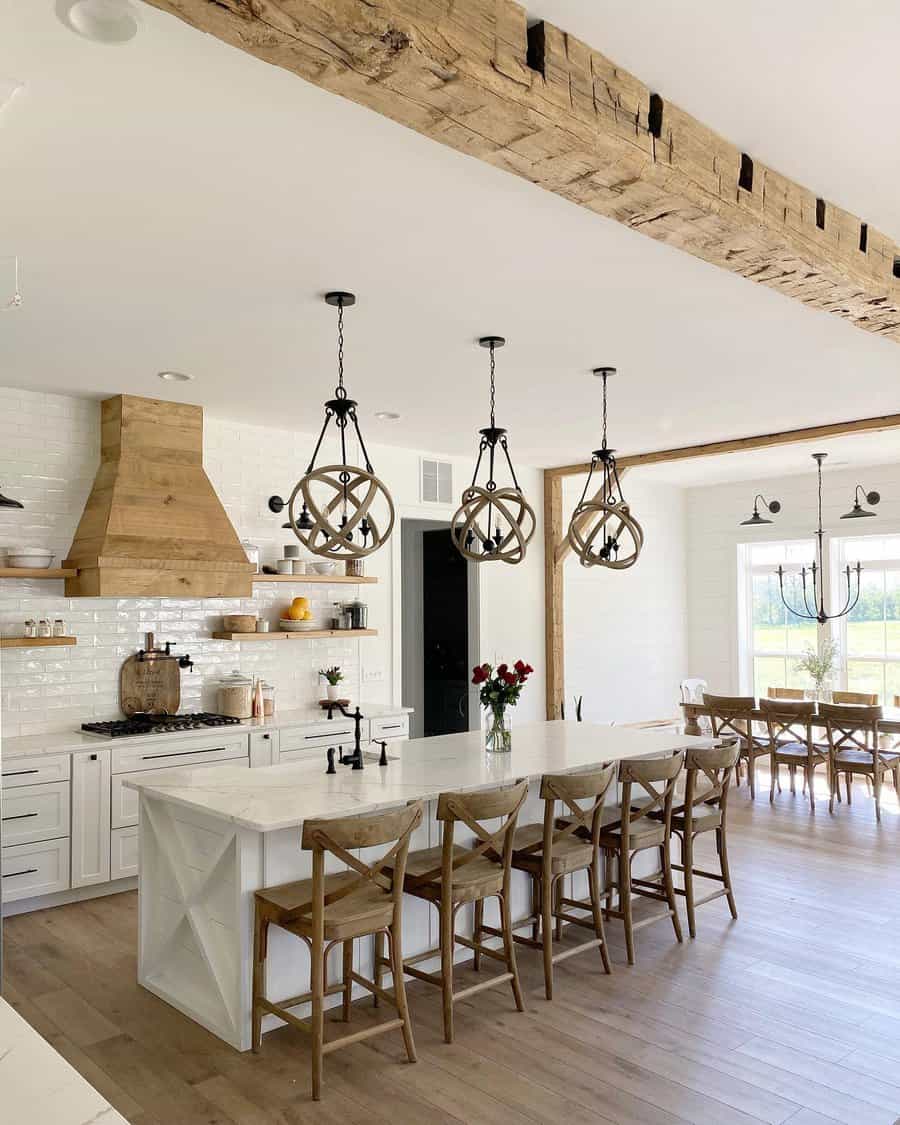 17. Add Pendant Lights
With pendant lights above the kitchen island and tall windows by the sink, illumination pours from every corner. Even on cloudy days, the pendant lights provide an inviting ambiance for making breakfast and baking treats.
The pendant lights above the kitchen island radiate a soft, golden glow and a welcoming atmosphere. The pendant lights frame out the area making it the focal point in the room and creating an eye-catching centerpiece.
Imagine walking in to see pancakes sizzling on the stovetop, sending scents of cinnamon and almond throughout the room – a perfect setting to gather with family and friends!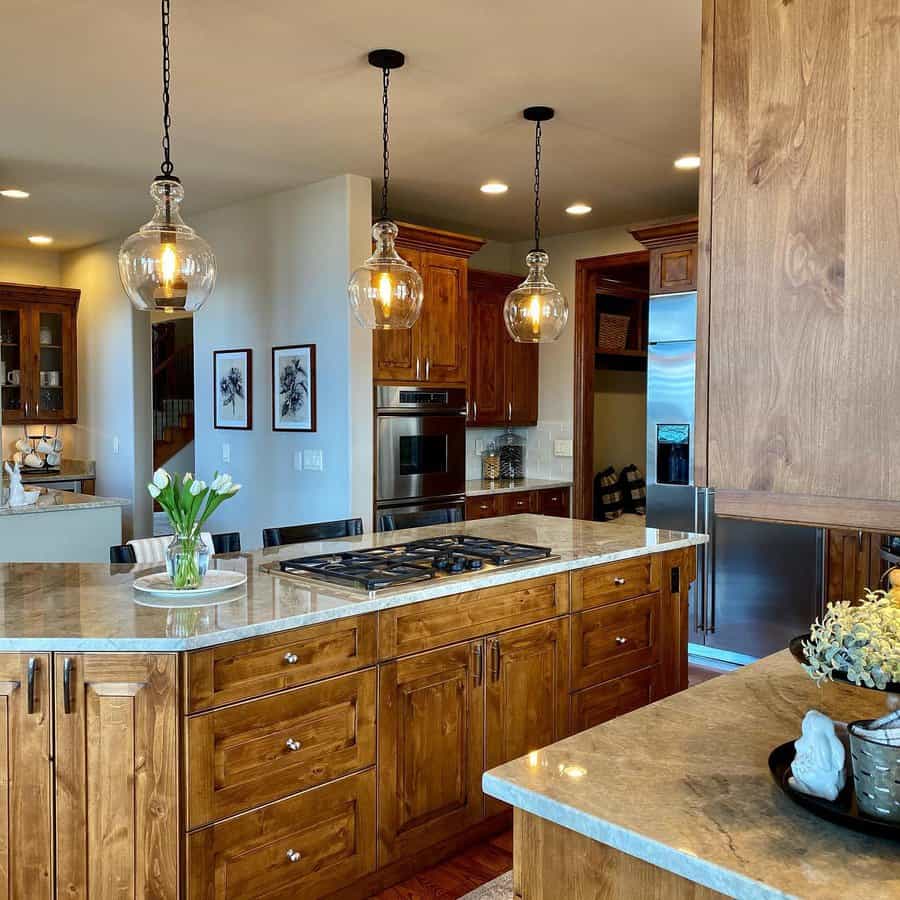 18. Make Room For Books
The kitchen island is the centerpiece of any farmhouse kitchen and the perfect spot to display your favorite cookbooks! With a kitchen island with a bookshelf, you can easily peruse all your go-to recipes while preparing a meal. This feature is great for those who love to cook and want easy access to the expertise of their favorite authors.
Best of all, this kitchen design offers both function and form; the bookshelf instantly livens up your kitchen space without sacrificing storage for kitchen gadgets or culinary ingredients!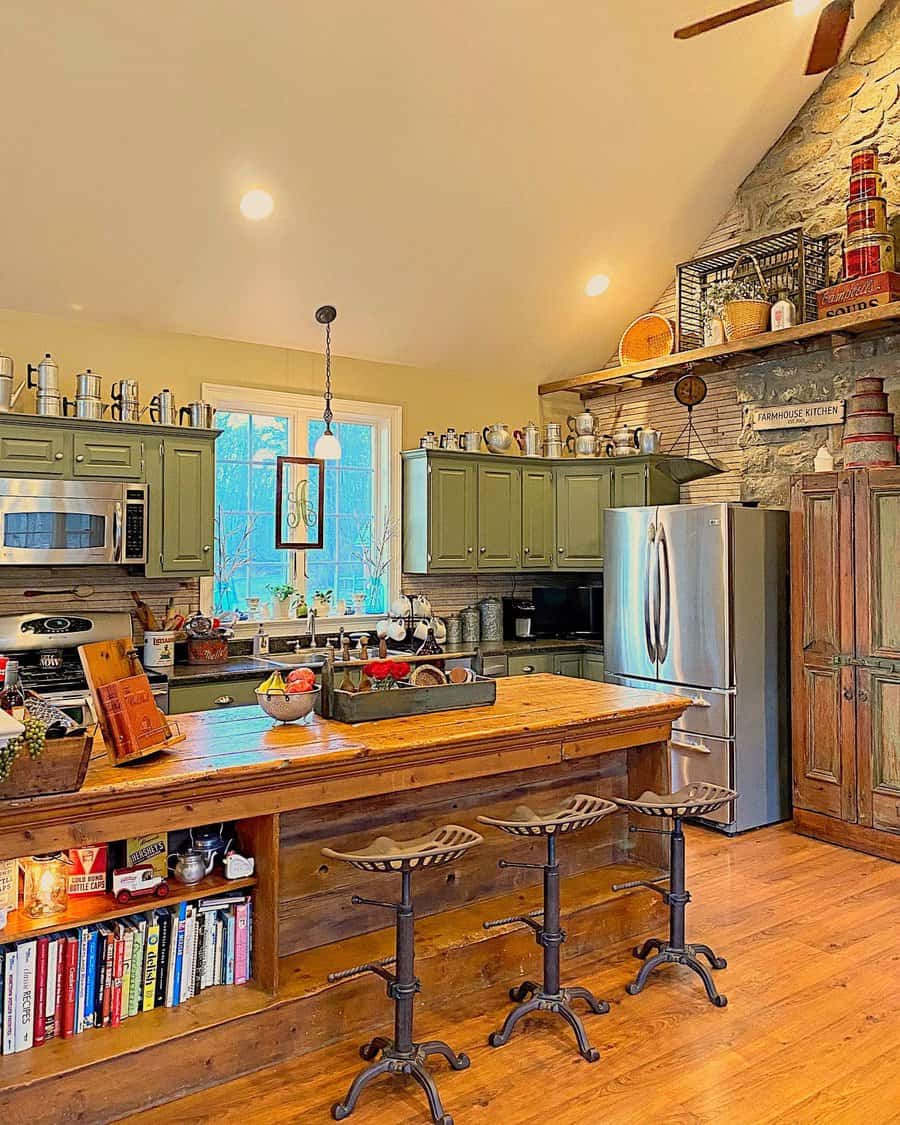 19. Add More Natural Elements
Crafting the perfect farmhouse kitchen is no easy feat – but with the right amount of fresh plants and dried or fresh flowers, it can be achieved!
With its natural elements creating a rustic atmosphere and a homey feel, this type of kitchen can bring warmth and charm to any space. The best part about natural elements for a farmhouse kitchen? They are easy to switch up season after season, so you are always cooking in a fresh environment.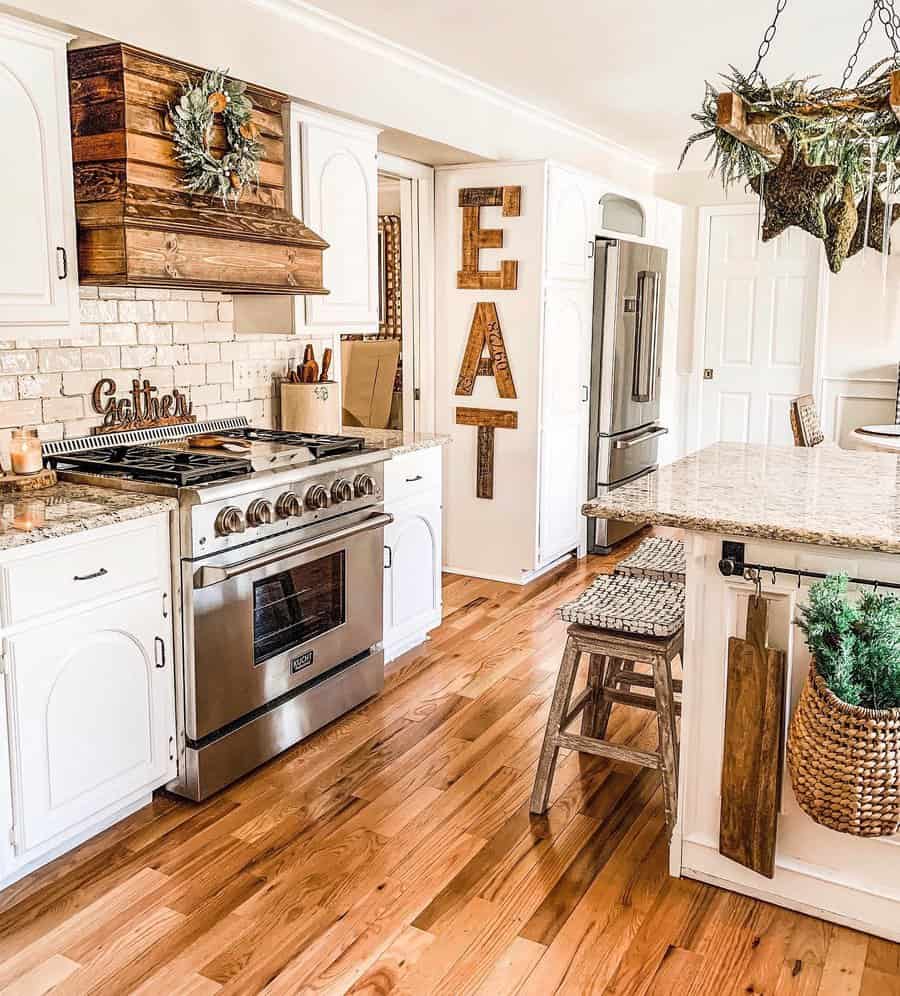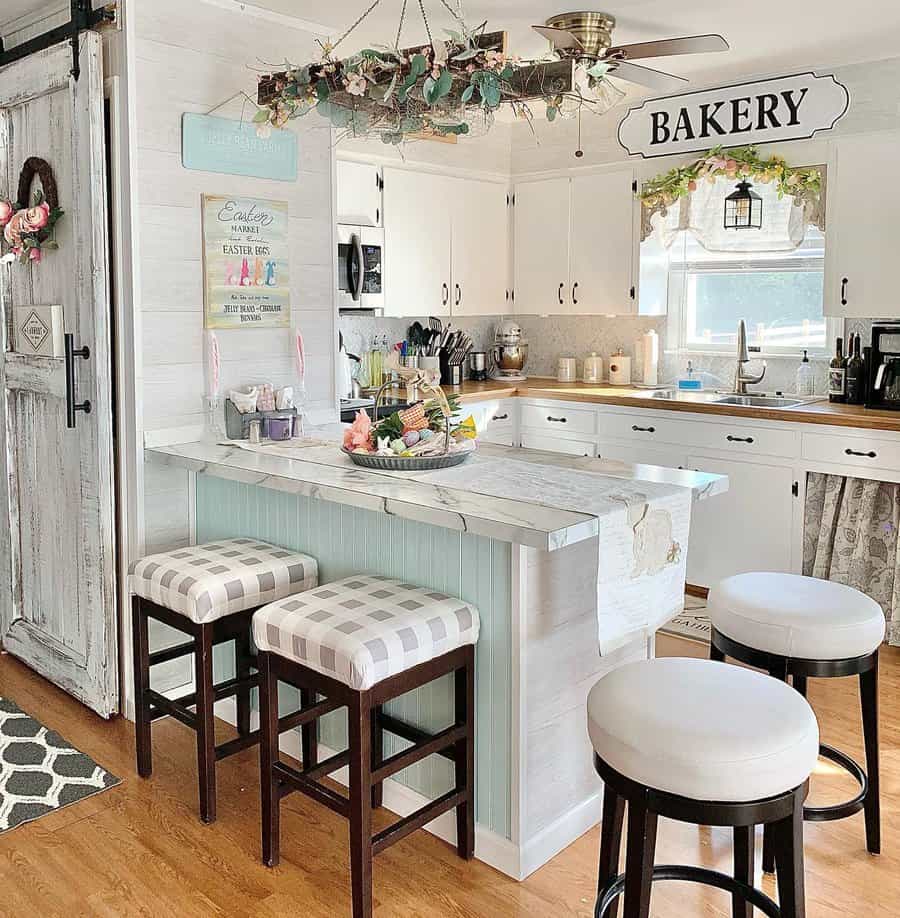 20. Build Your Kitchen With Shiplap Walls
A farmhouse kitchen with white shiplap walls will be the backdrop for creating many delicious family meals. The white expanse that the shiplap provides is perfect for accenting with light wood elements such as floors, countertops, and furniture.
From gathering around the custom-made wood table to mixing up dishes in the white-painted cabinets, your farmhouse kitchen will serve as a welcoming spot that brings all of your loved ones together.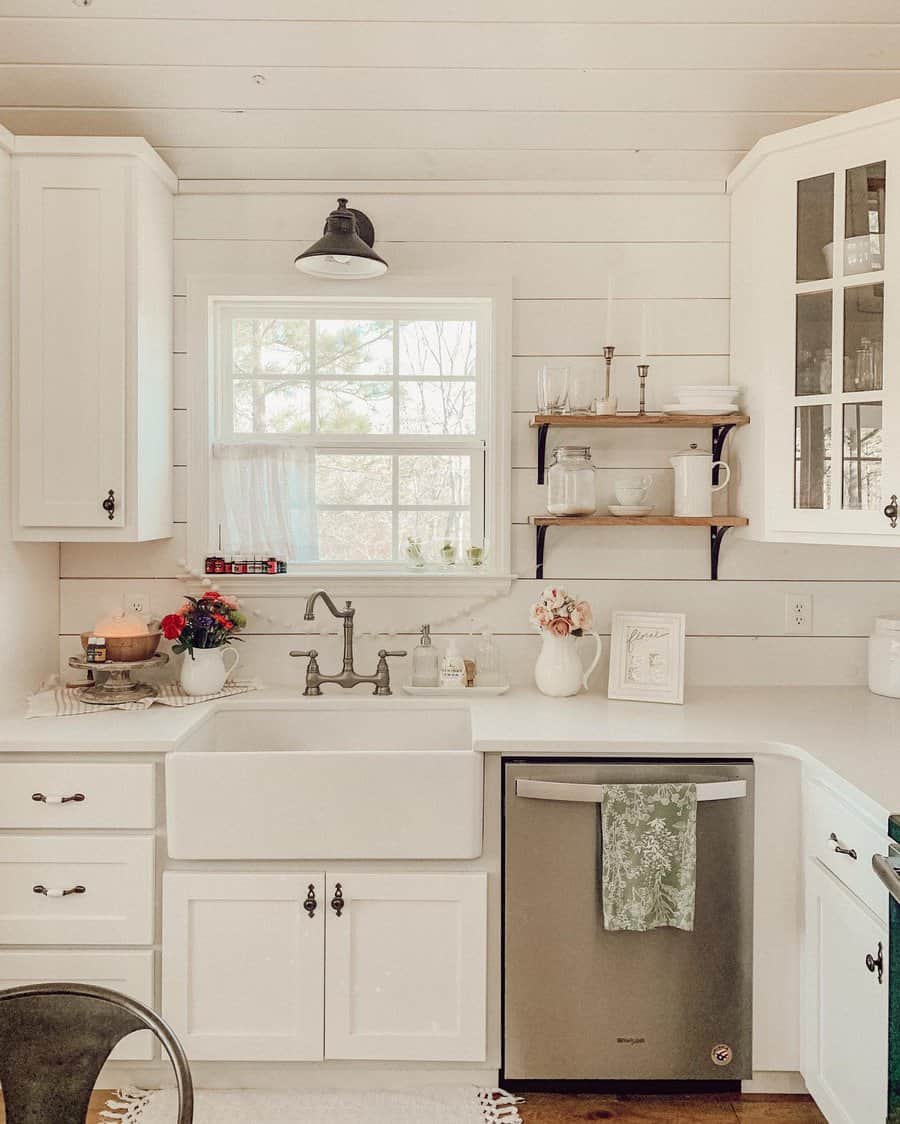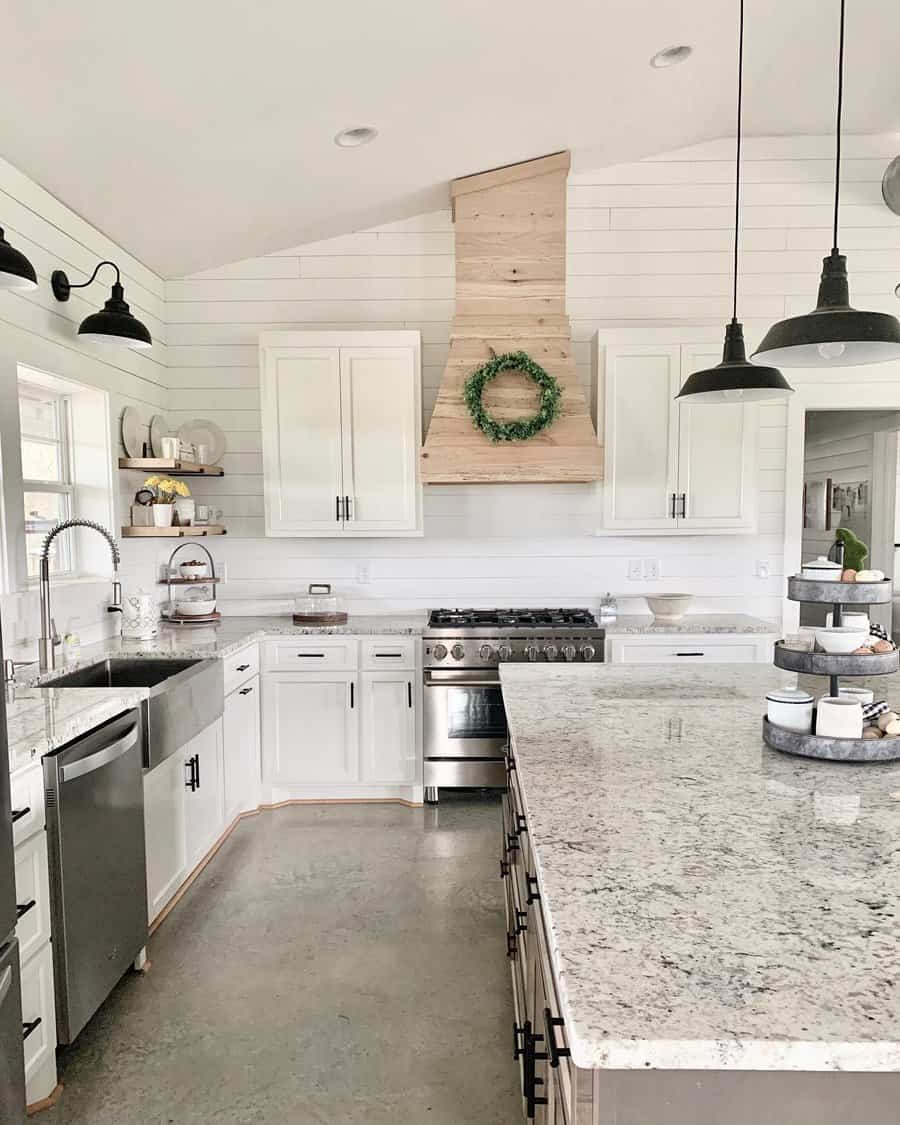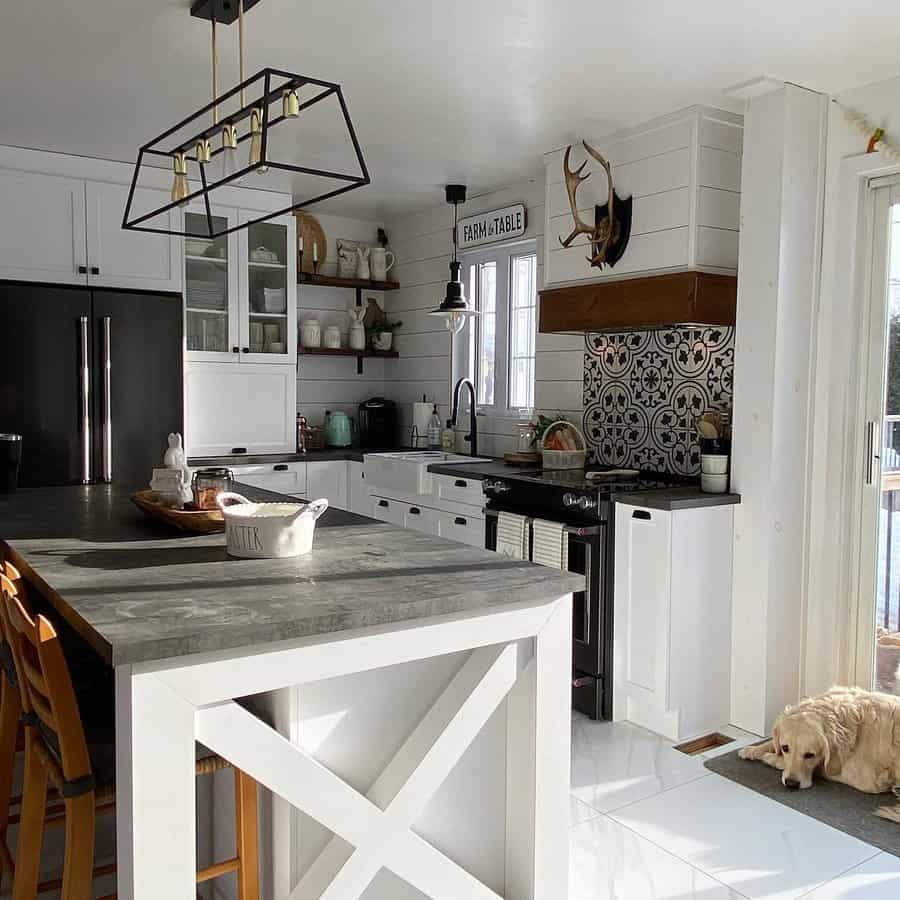 21. Install Red Brick Flooring For A Rustic Look
Step into the rustic charm of a farmhouse kitchen and instantly feel the energy that red brick flooring can bring! Its classic, timeless look is just the beginning – red brick is perfect for those who enjoy entertaining in their kitchen.
Not only does it add to your farmhouse style, but red brick flooring helps keep the temperature regulated and makes clean-up easy too. Whether you host large family meals or cozy dinners with close friends, red brick flooring will lend your kitchen an inviting ambiance that will make any gathering special.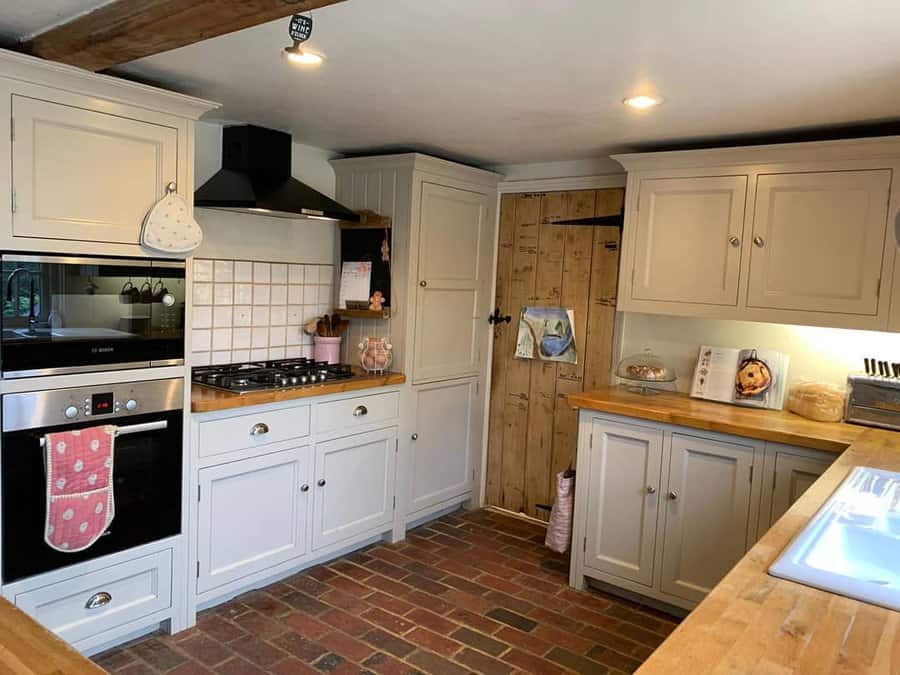 22. Go For A Belfast Sink
When it comes to kitchens, a farmhouse kitchen with a Belfast sink is the way to go for people who love the feeling of home-cooked meals. Not only does the Belfast sink bring an old-world style charm to the house, but it is also incredibly efficient for busy family kitchens.
With its deep bowl and large surface area, this type of sink can provide a great deal of space to wash those larger pots and dishes that accompany a hearty meal – something that other types of sinks would struggle with.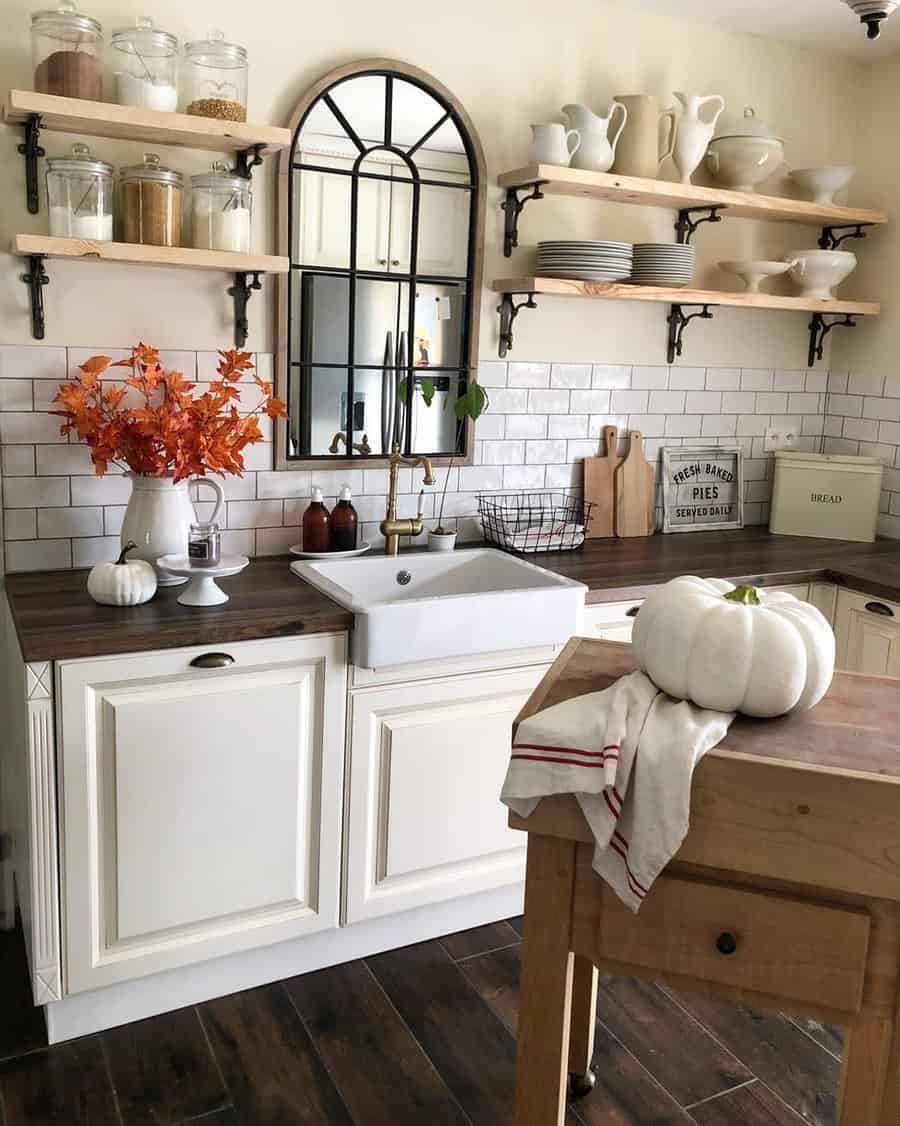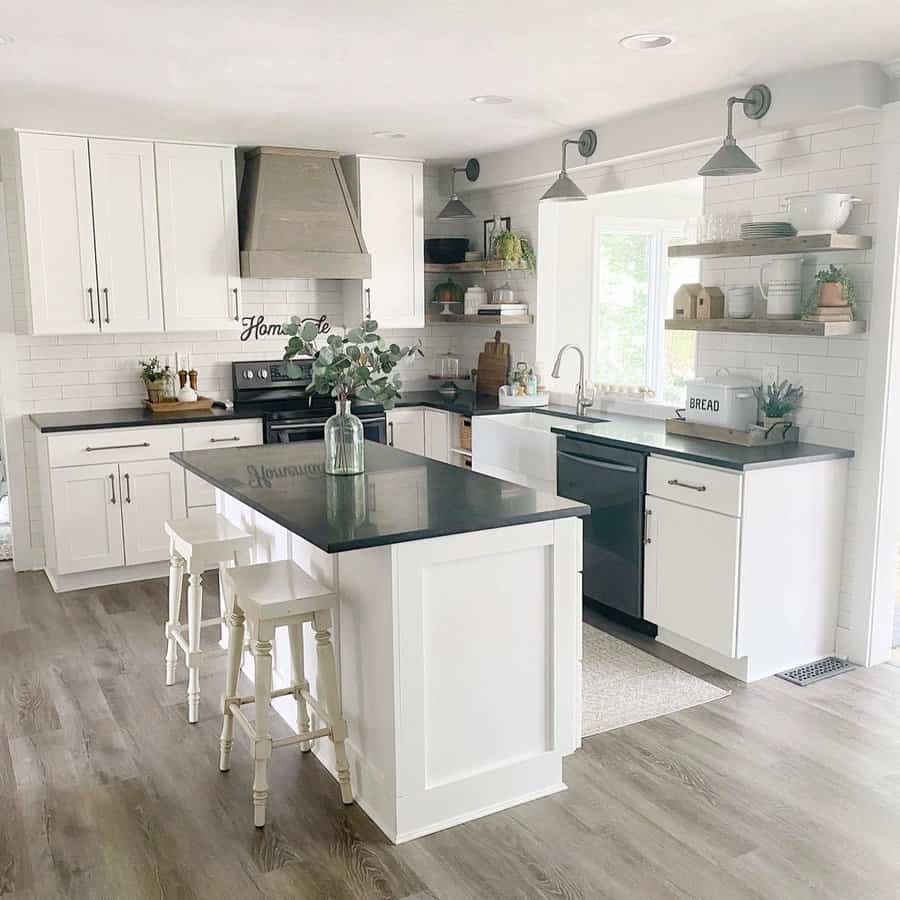 23. Update Seasonal Decor
Decorating a farmhouse kitchen with seasonal decor is a simple and enjoyable way to bring a bit of the outside in. Often filled with rustic charm and homey details, farmhouse kitchens make any seasonal centerpiece pop.
For seasonal autumn touches, display small gourds or pumpkins on the countertops, hang up layers of dried corn husks, or use natural grasses, twigs, and feather-light wreaths as part of your decor.
Winter months can be brightened up with festive garlands of evergreens, berry clusters, and candles nestled onto window sills filled with fresh flowers. Beyond seasonal decorations, there are year-round touches like quilts draped over chairs that capture the spirit of family and friends gathering around your warm country kitchen table.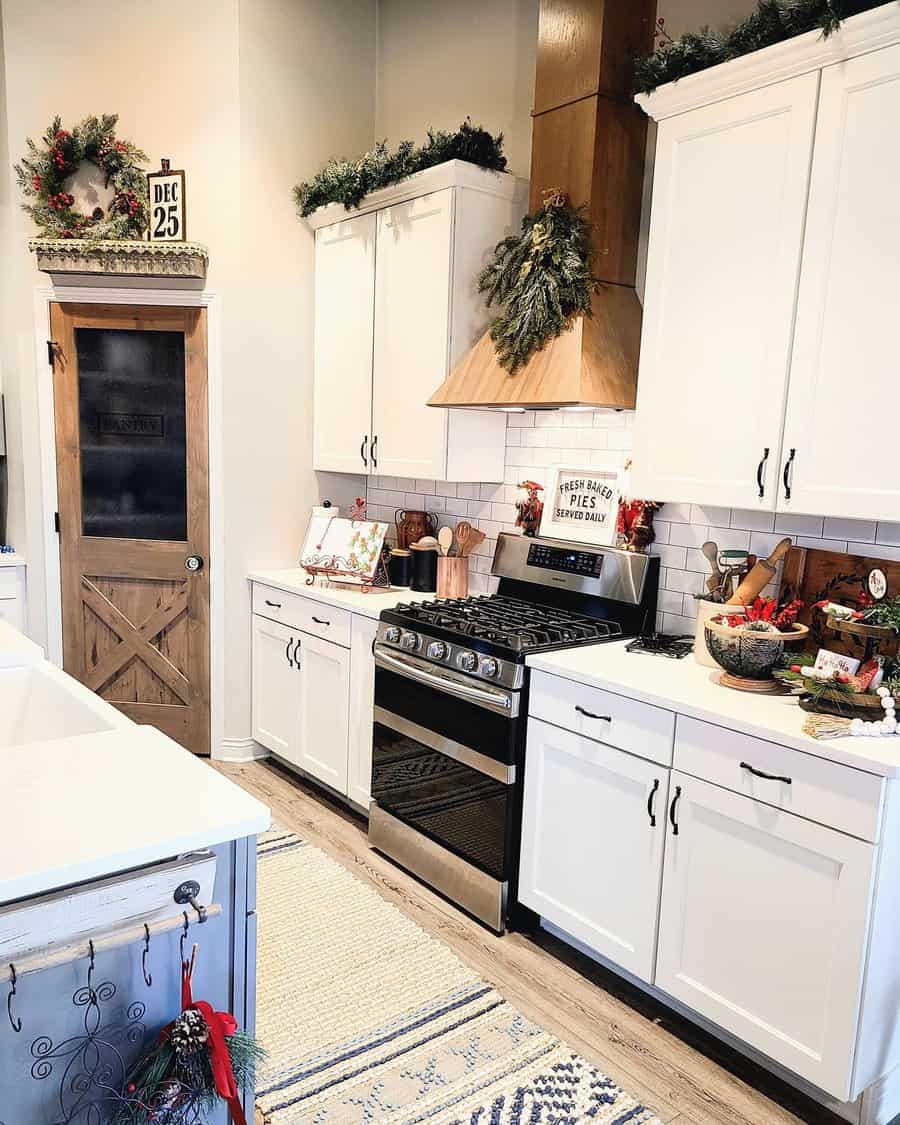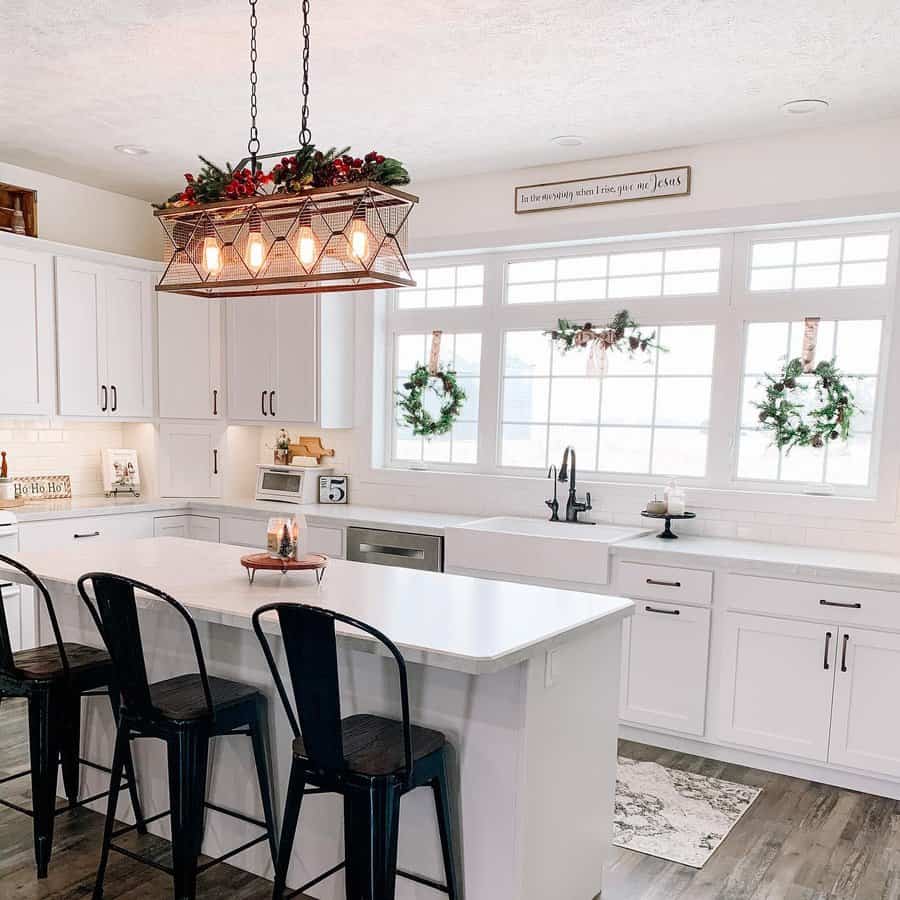 FAQs
What's the difference between rustic and farmhouse?
Sometimes, farmhouse style is a little rustic, but not always. Rustic design is not always farmhouse. You'll find the same elements in both, such as wood. The difference between the two is that the farmhouse style tends to be brighter and more refined. For example, it isn't uncommon to find copper cookware, silver utensils, or porcelain tableware.
What is a French country kitchen?
A French country kitchen has farmhouse elements that are blended with more elegant elements. It isn't uncommon to see a rustic wood table placed near a wall where a gilded gold framed mirror hangs. Or there could be a reclaimed brick floor that's paired with an ornate crystal chandelier.
What is modern farmhouse style?
A modern farmhouse kitchen is one that has a relaxed and comfortable design. You'll see smooth, clean lines from modern design that are paired with natural materials like wood and granite. You'll see a farmhouse-inspired design that has a sophisticated upgrade.