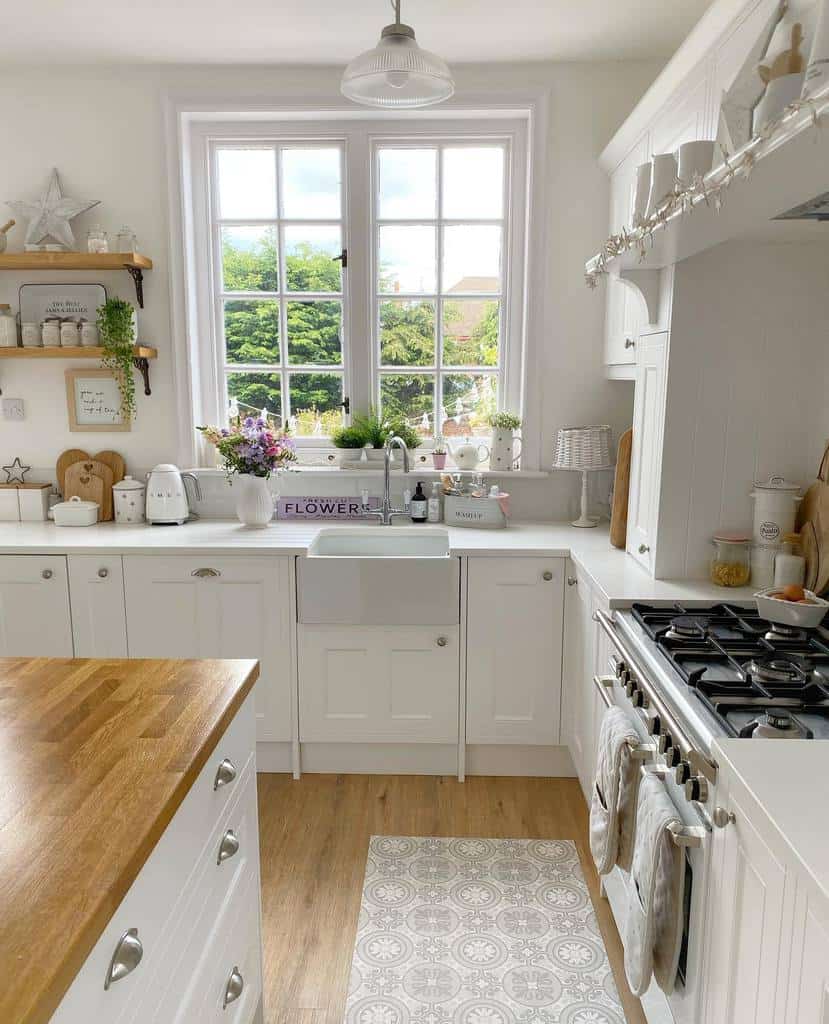 43 Farmhouse Kitchen Ideas
Just because you don't live on a farm doesn't mean you can't have a farmhouse kitchen. This quaint style gives your kitchen a comfortable feel that's warm and welcoming. With the kitchen being the heart of the home, this is the perfect aesthetic for your family home. You don't have to go all out. With the right pieces, you can create a farmhouse feel that's also authentic to your house's architecture.
These farmhouse kitchen ideas will help you turn your plain suburban kitchen into one that's simple yet comfortable.
1. Black and White
Give your farmhouse-style kitchen a sleek and sophisticated feel by giving it a black and white color scheme. Keeping your home decor in this neutral and simplified color scheme creates a modern farmhouse design.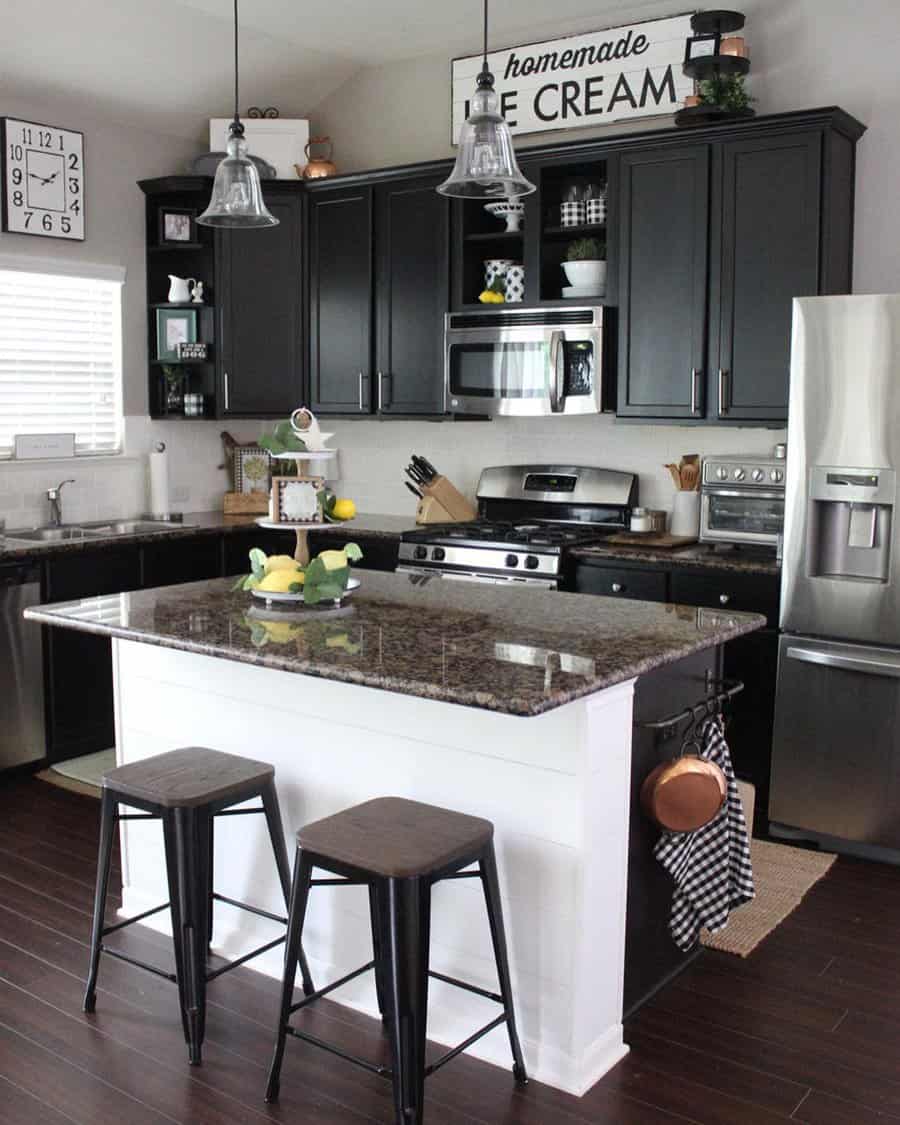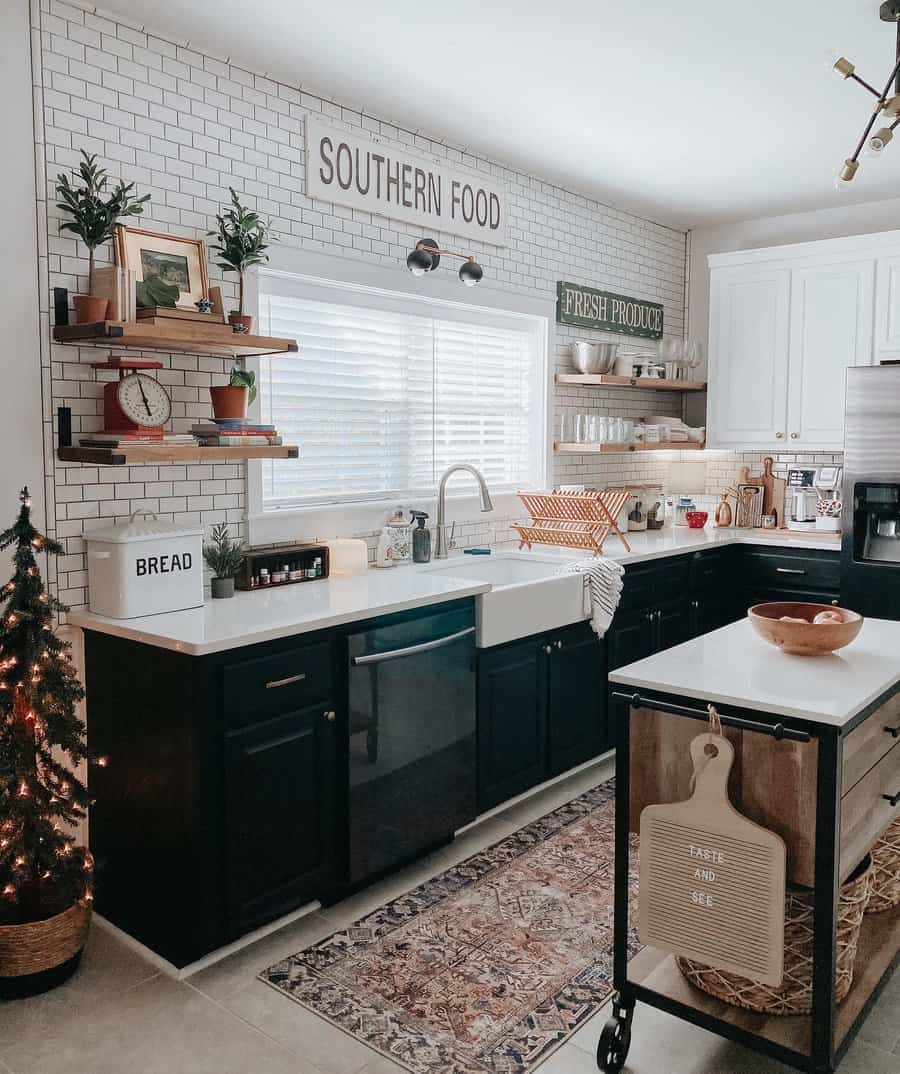 Blend the black and white elements throughout the kitchen to create depth and visually break up the space. You could have white wall cabinets and a black kitchen island. Modern farmhouse kitchen decor is minimal and simple. The idea is to make a statement with a single piece. The kitchen itself could be the decor with a unique stone used for the countertop.
2. Chic
Chic farmhouse is not really farmhouse design. It's contemporary design with some elements borrowed from the farmhouse aesthetic. You will see marble countertops featuring bold graining with rustic spice racks. Or there will be open shelves instead of cabinets.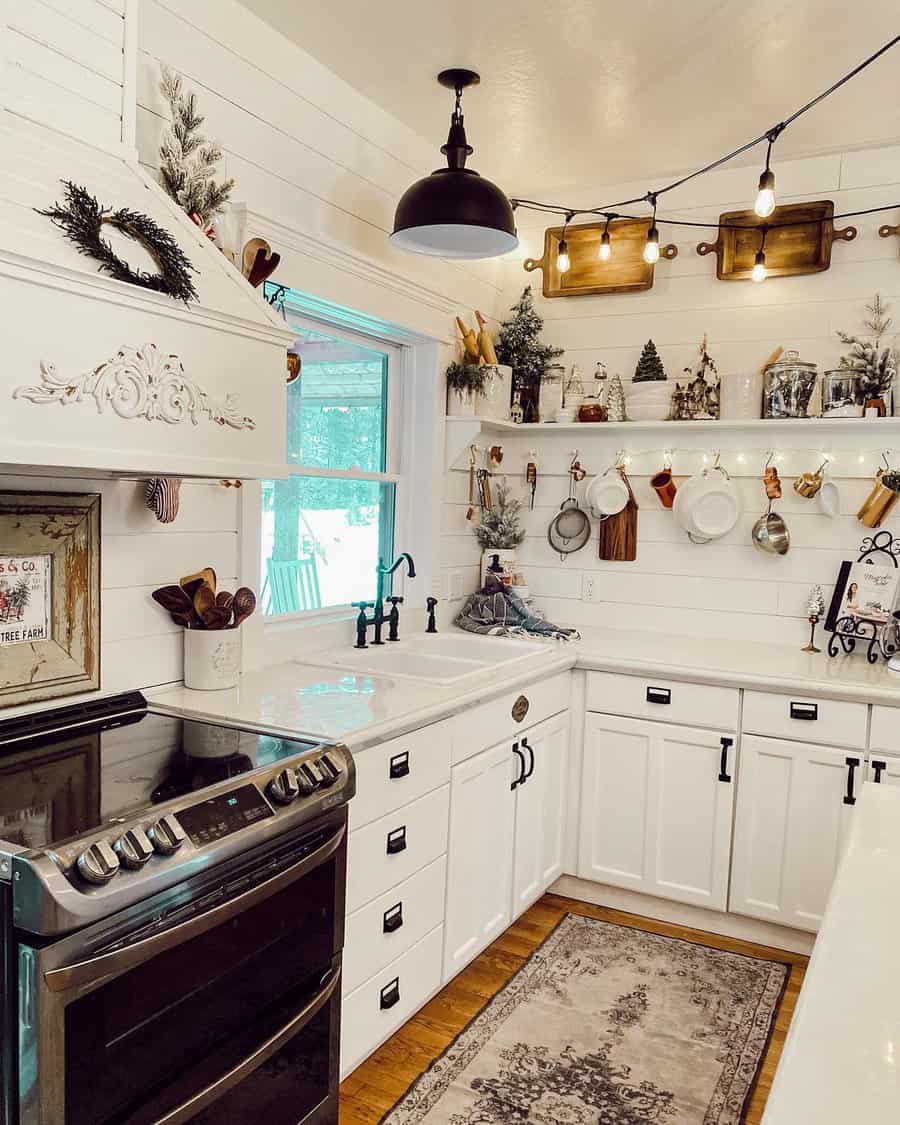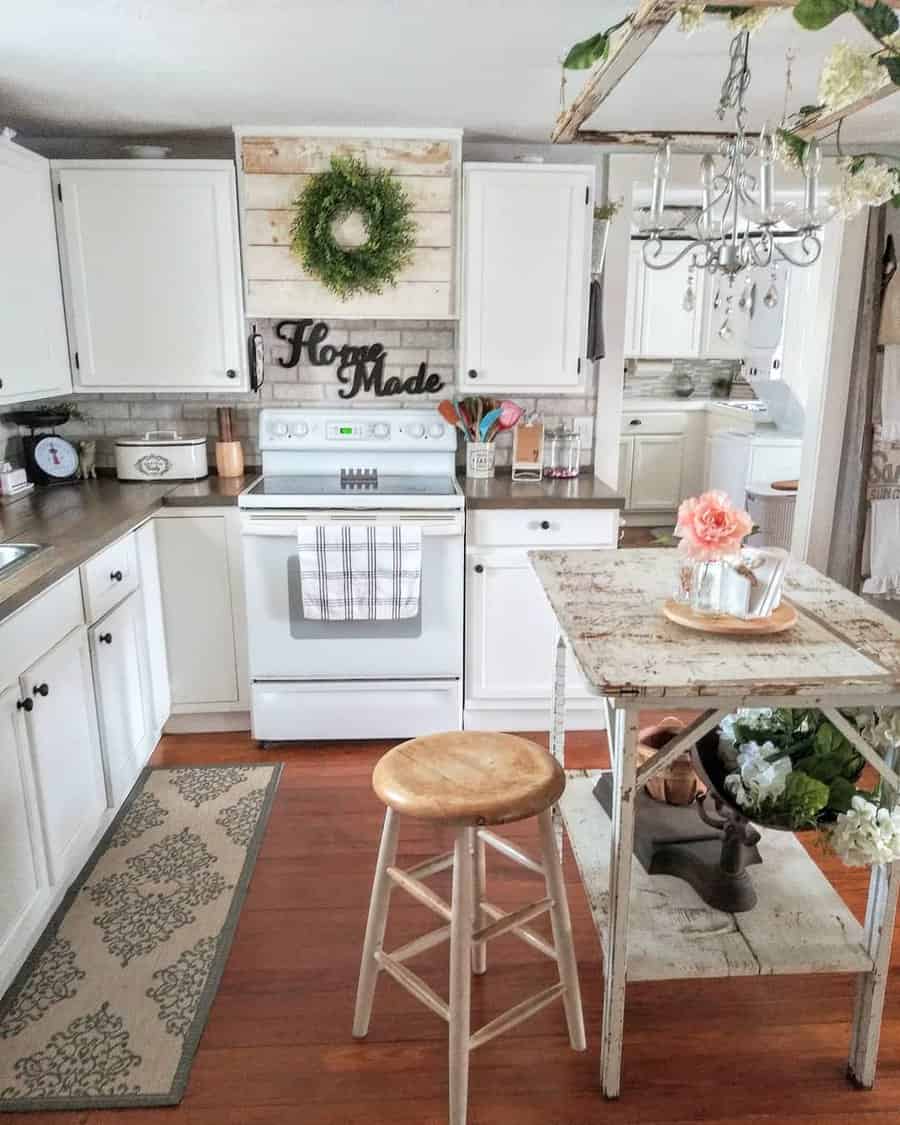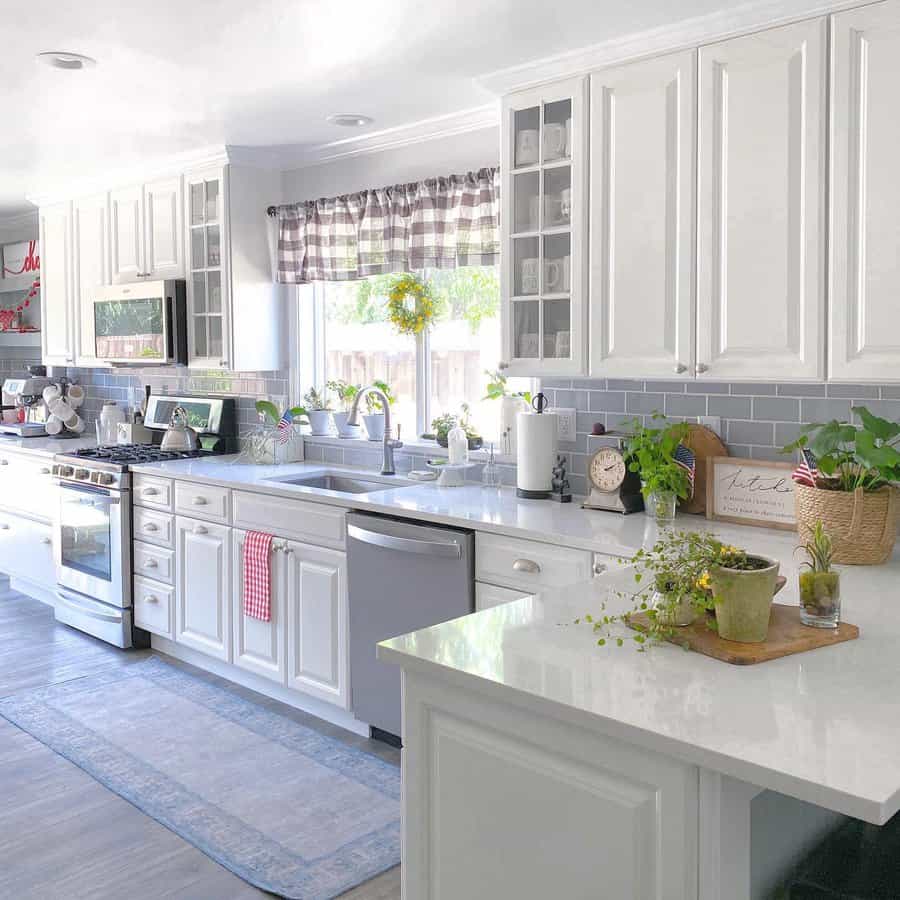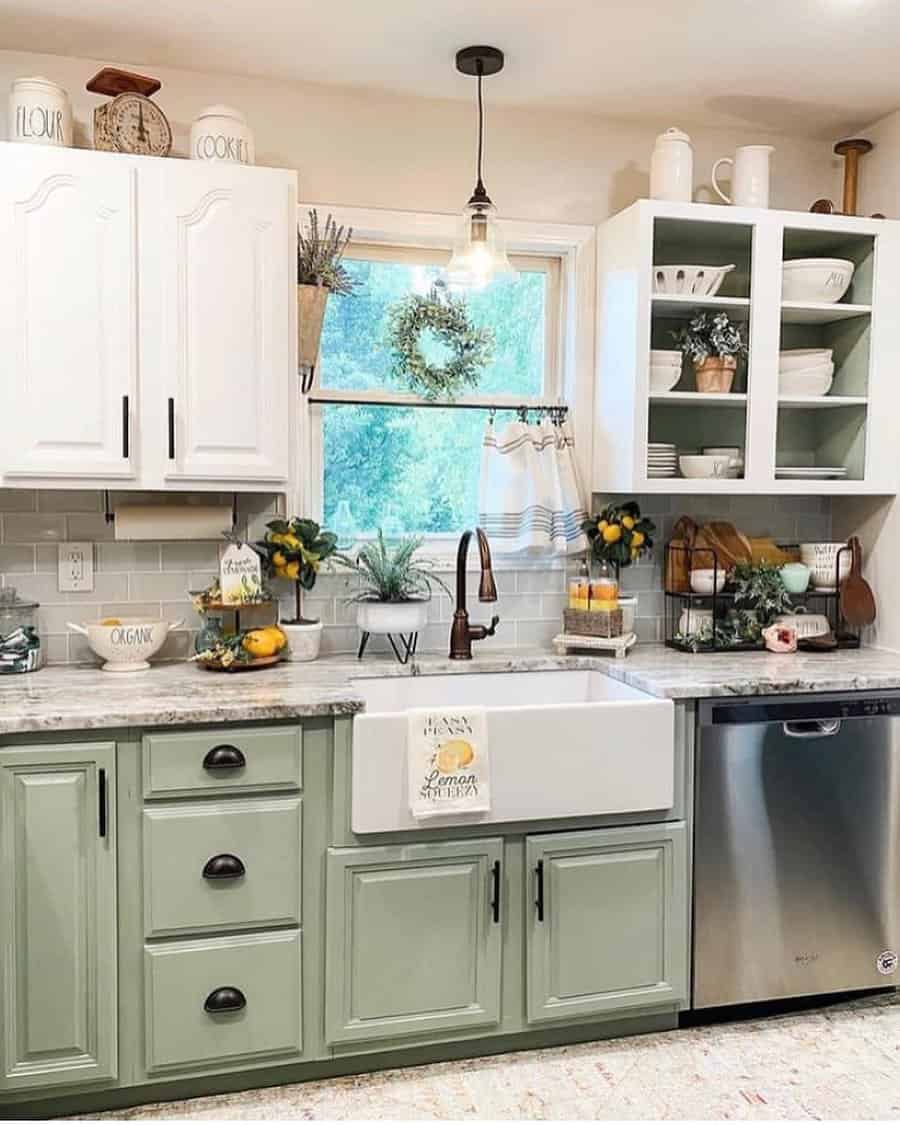 However, instead of traditional farmhouse flatware and decor, there will be perfectly matching modern food containers and minimalist tableware. Don't be afraid to add a few elegant accents, such as a chandelier hanging from your vaulted ceiling or gold fixtures and hardware. This gives your kitchen a touch of glamour.
3. Country
If the ranch and cowboy image appeals to you, then give your modern farmhouse style a touch of country. Try ones made from metal horse and cattle buckets instead of the boxed pendant lamps found in modern kitchens.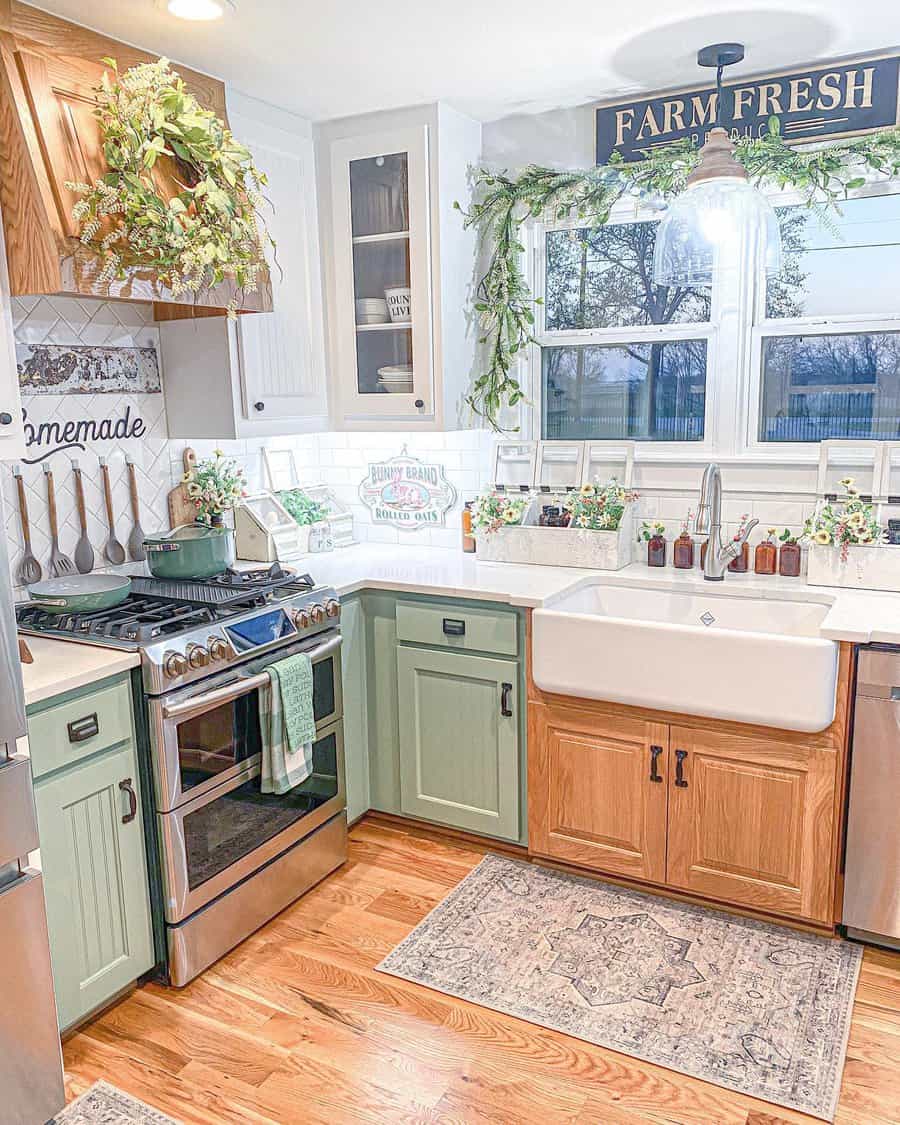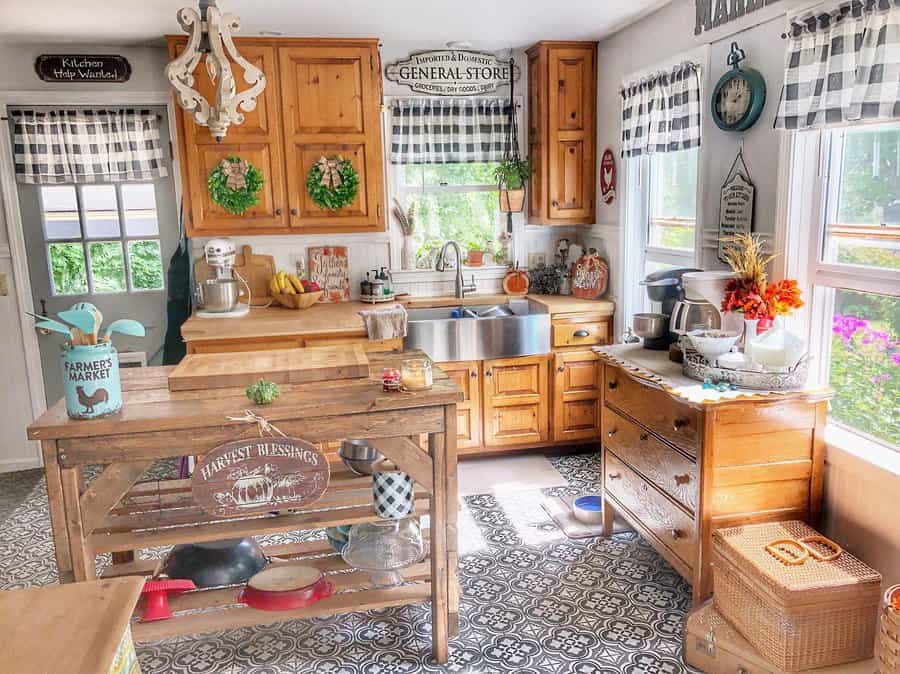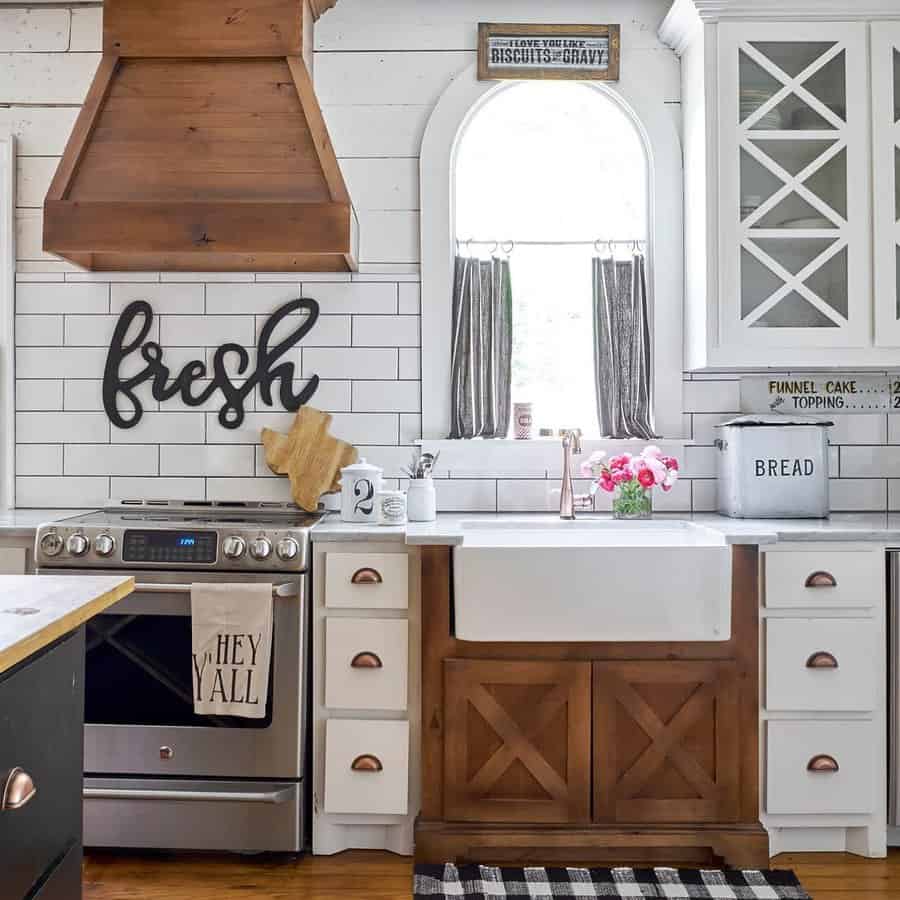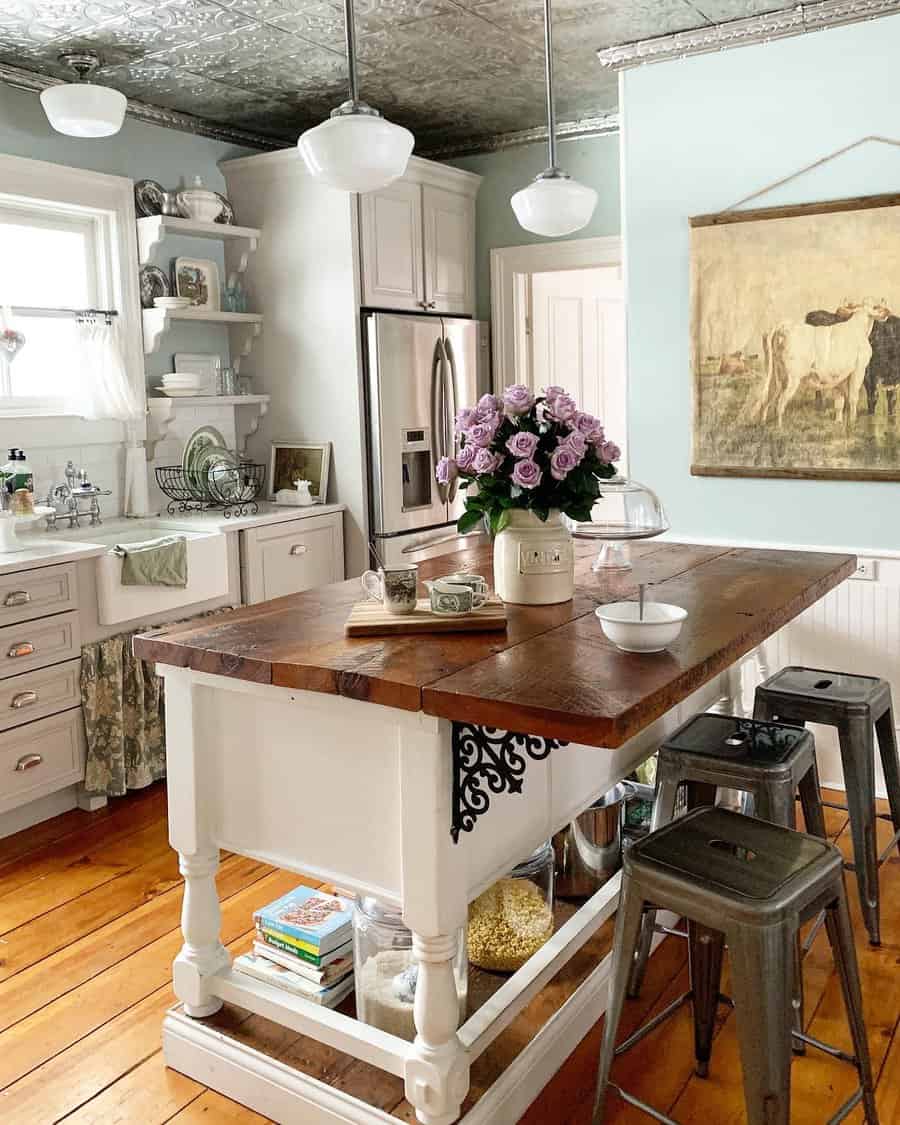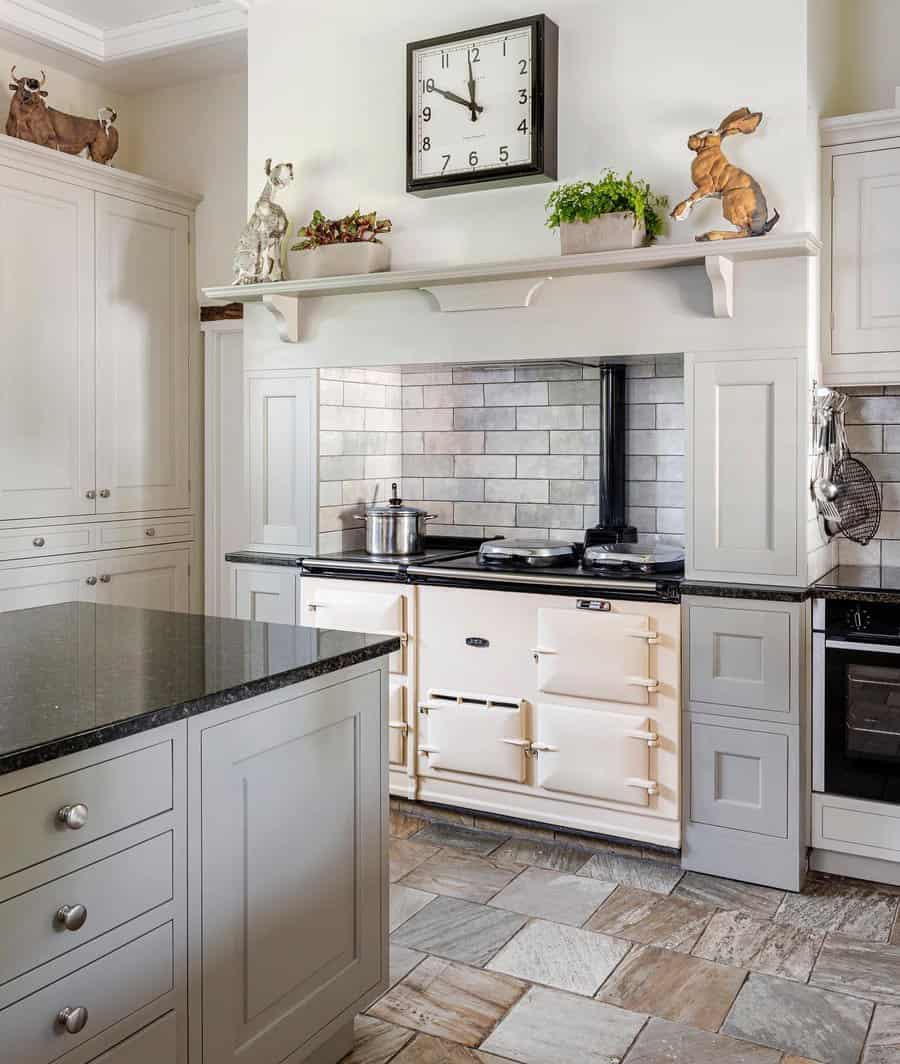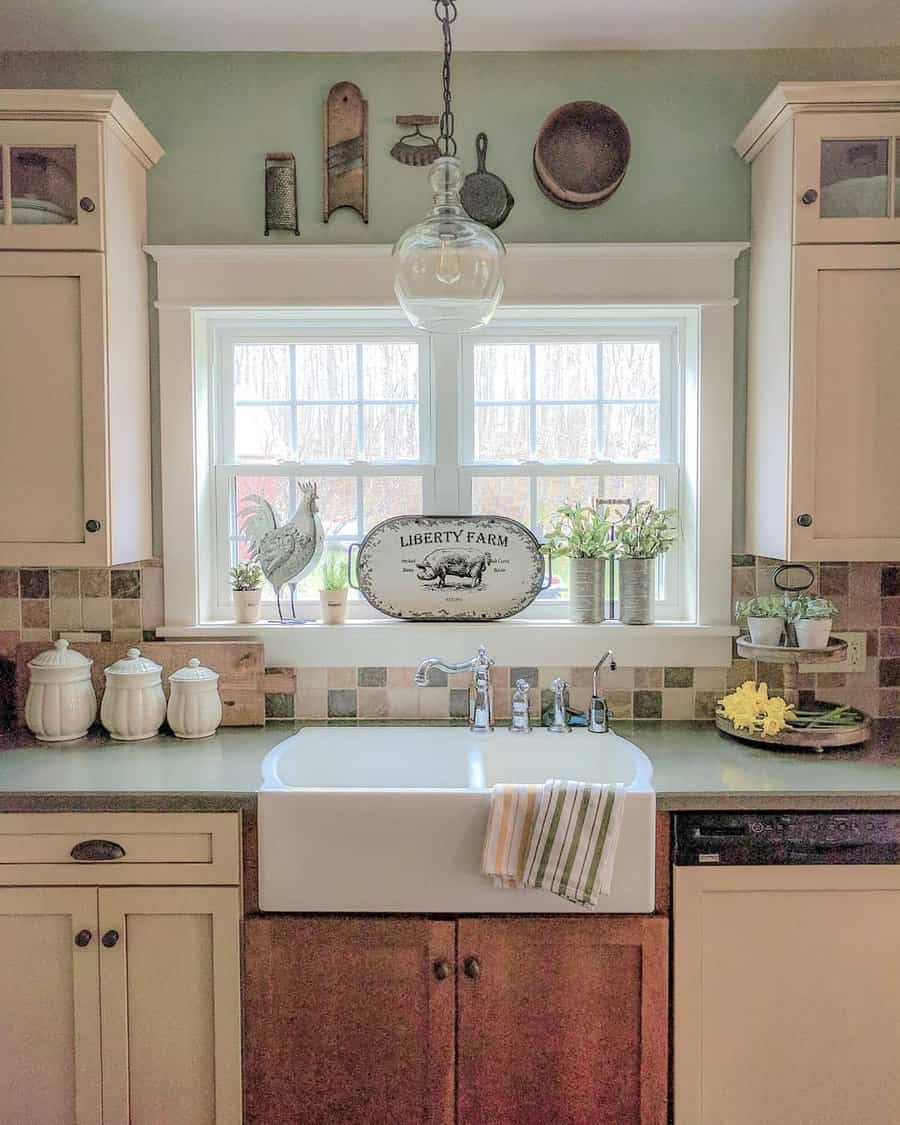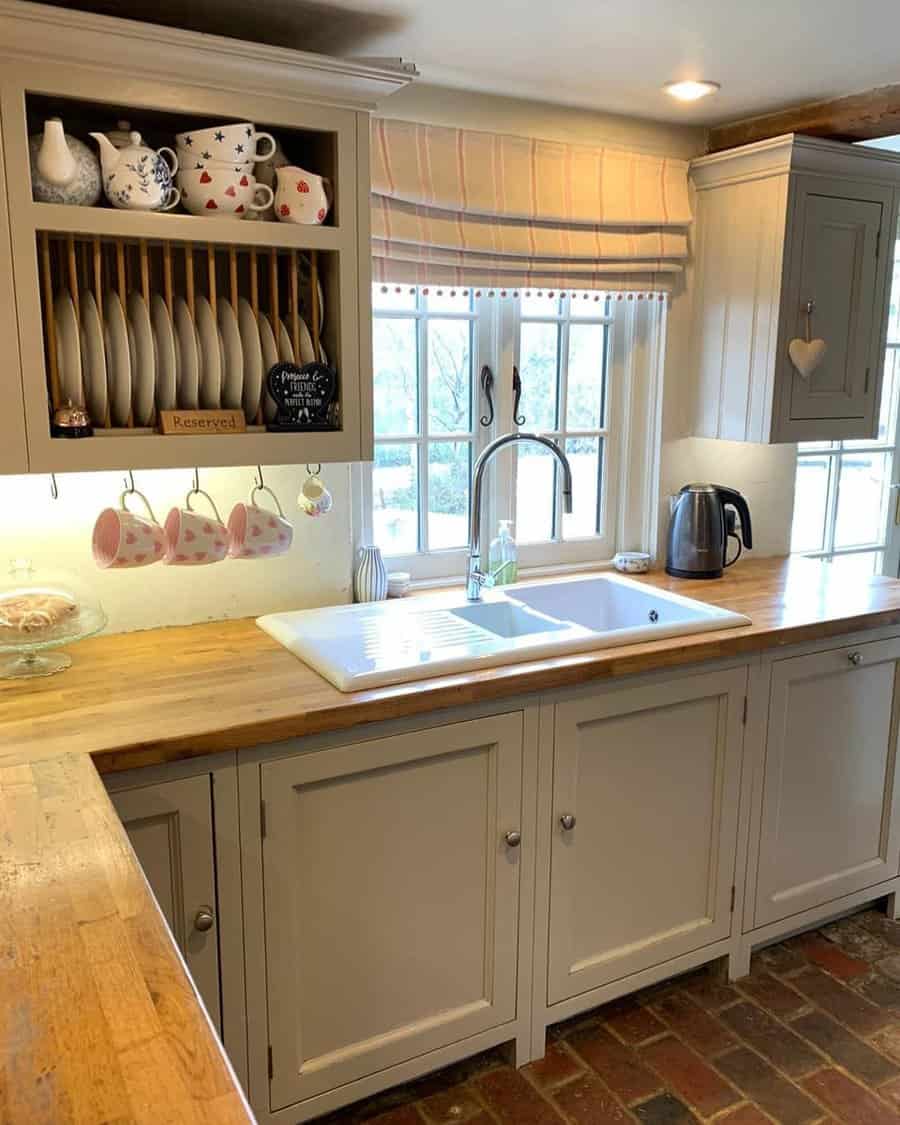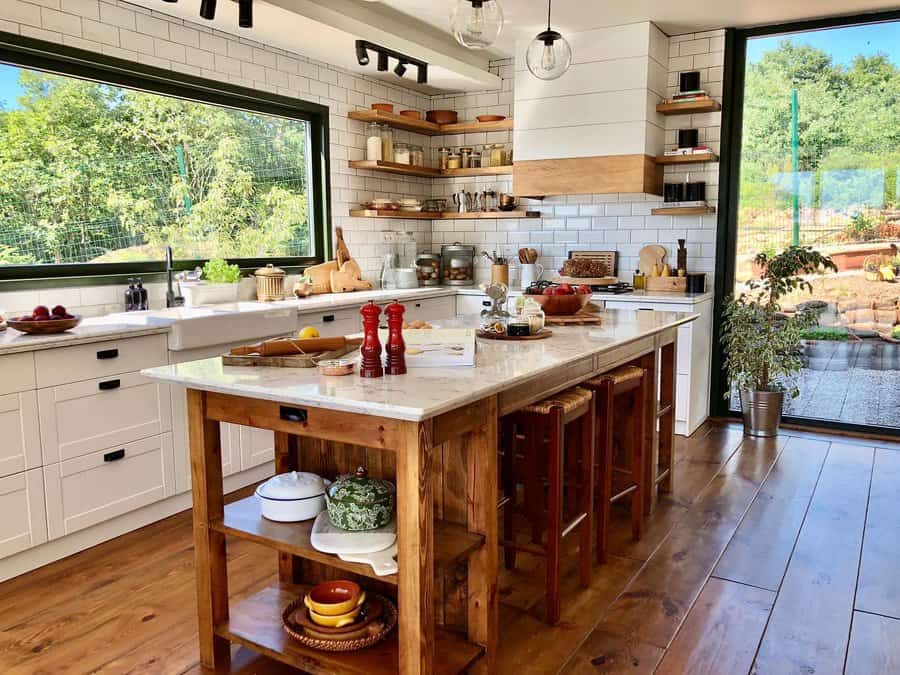 You could embrace the American southwest with a handmade terracotta tile in your country kitchen. This gives your kitchen an earthy feel while bringing in rich natural color. Country kitchens also make greater use of wood, so consider having a wood floor, walls, and ceiling. You could also embrace your wooden cabinets by finishing them to bring out the wood grain.
4. Decor
Farmhouse decor is about using what you have available. Perhaps this is an old produce stand sign or basket. It could be your collection of cutting boards lined up on your granite countertops. Or you could have a rack with your collection of vintage plates.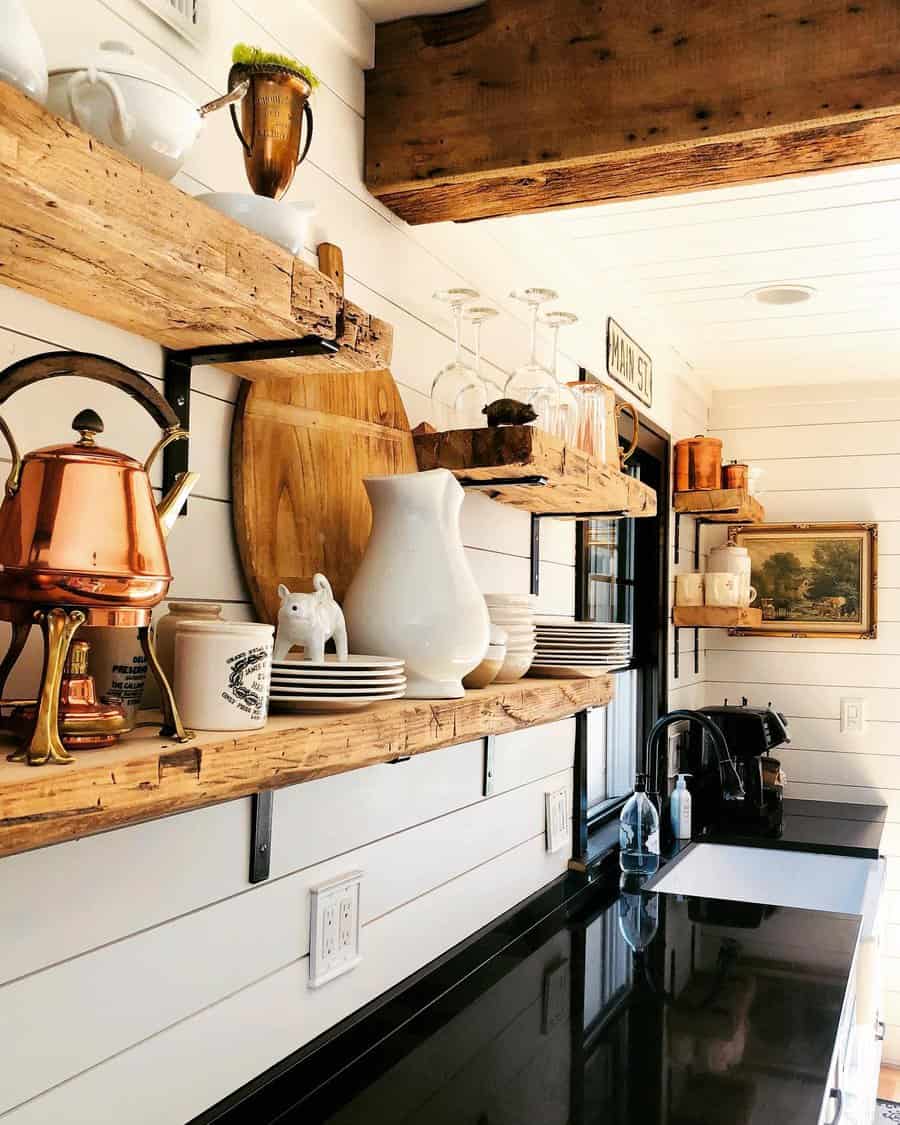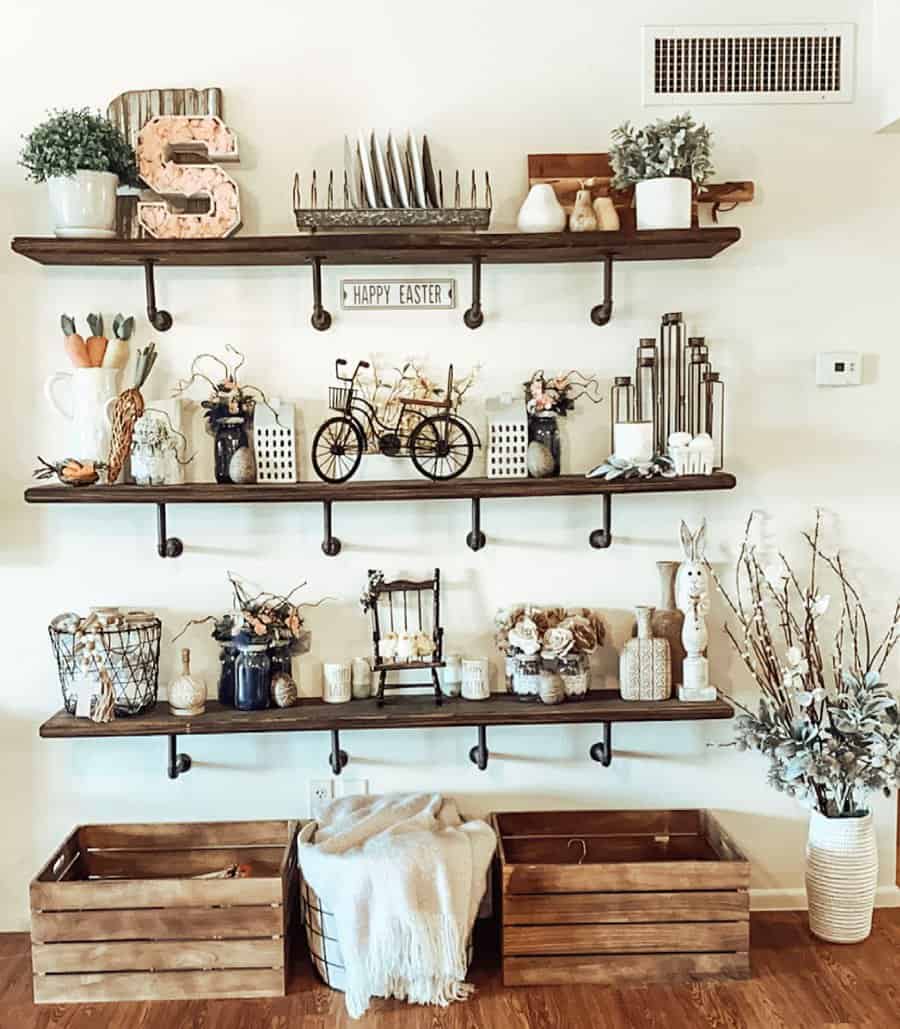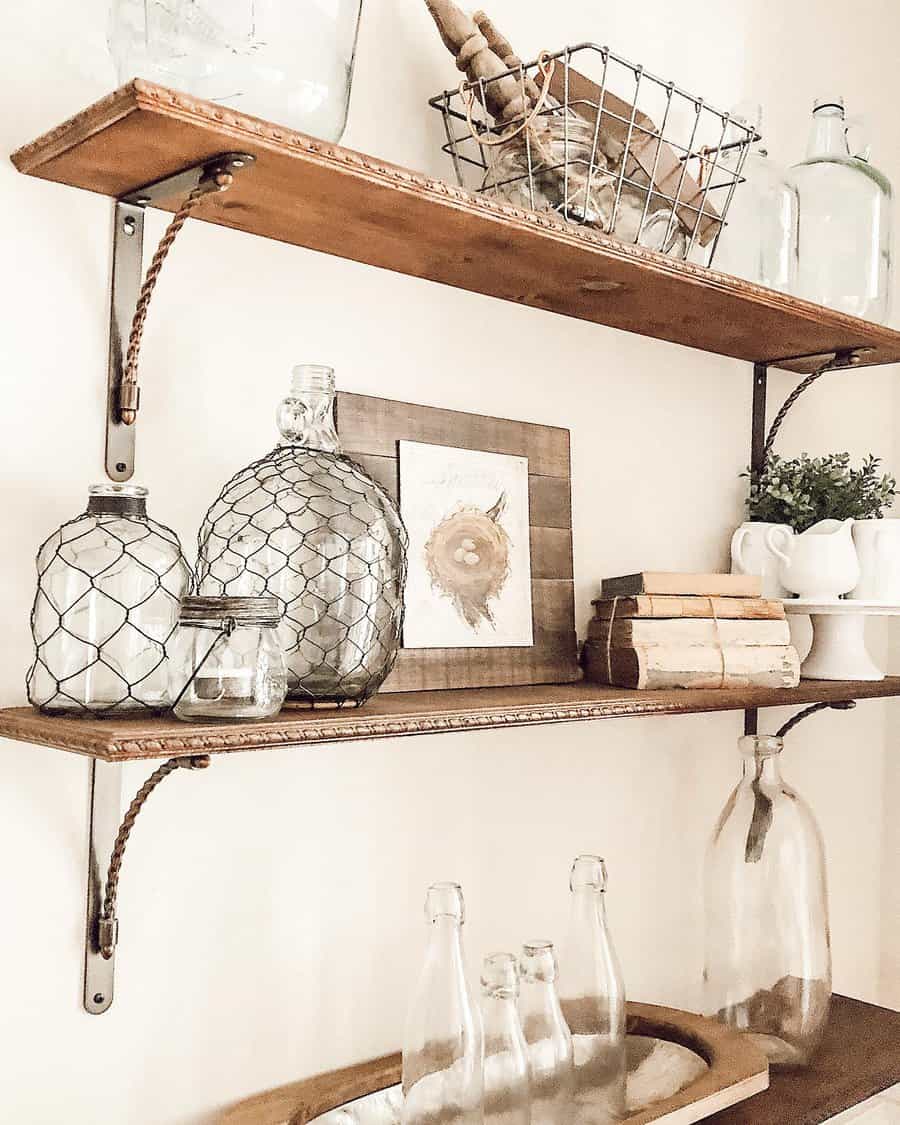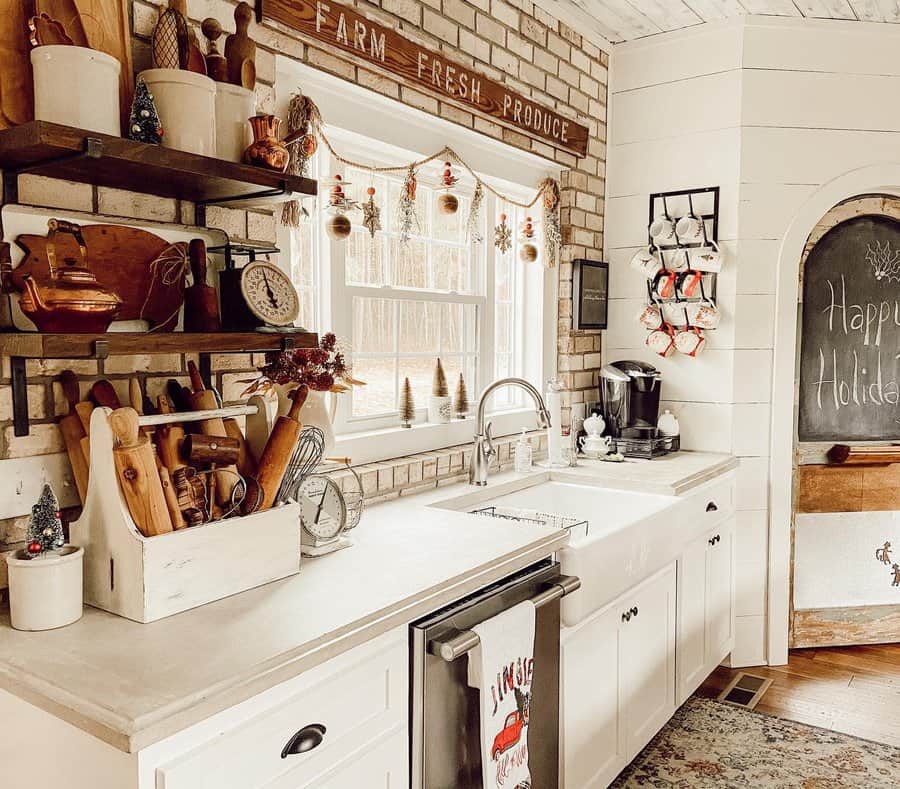 Use actual antique farmhouse equipment and kitchen tools if you want a vintage feel. You could have framed art depicting your ideal farmhouse sign for a modern twist. When choosing your decor, make sure it stays within your chosen color palette to keep your kitchen from looking cluttered.
5. Industrial
An industrial farmhouse kitchen will have a grittiness to it. These two styles can be difficult since industrial design is typically associated with urban areas, and farmhouse is more rural. However, you can blend them together if you're careful.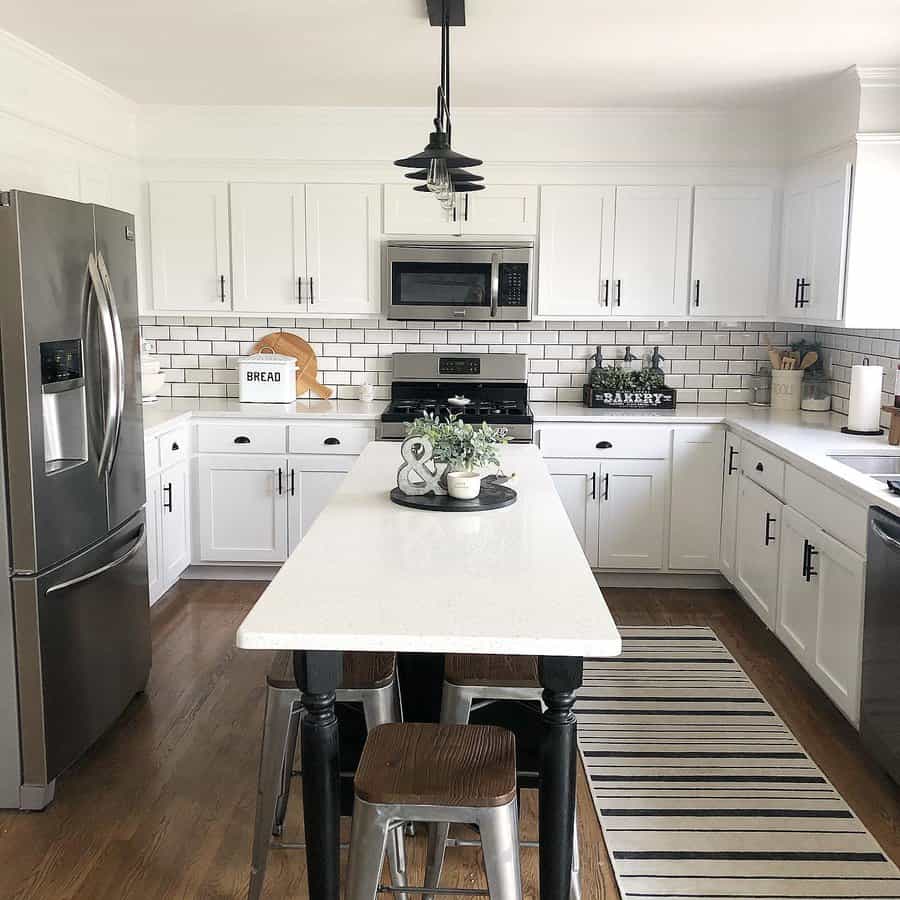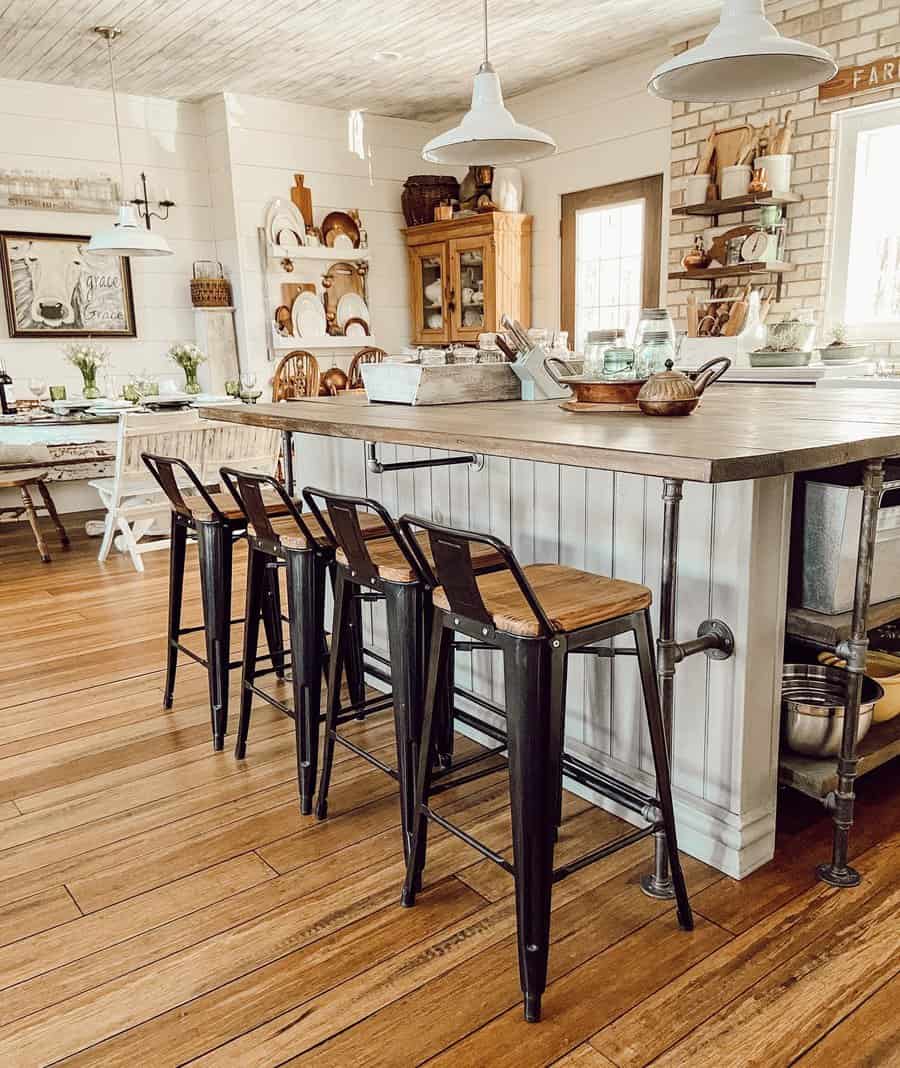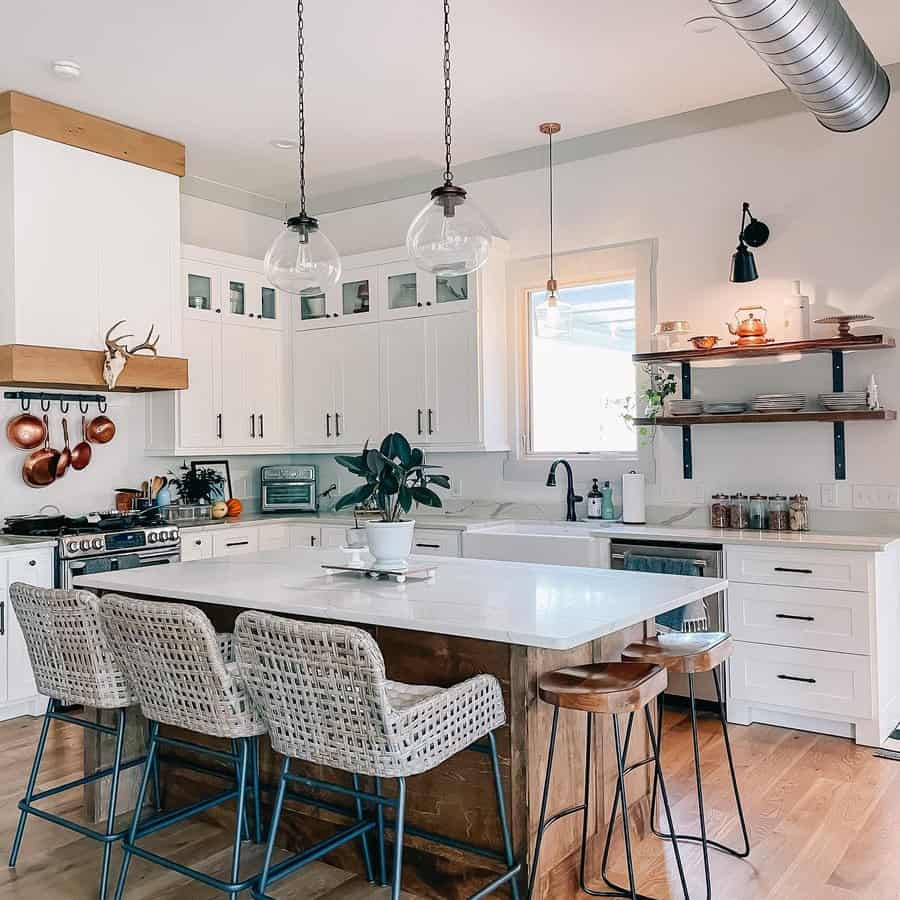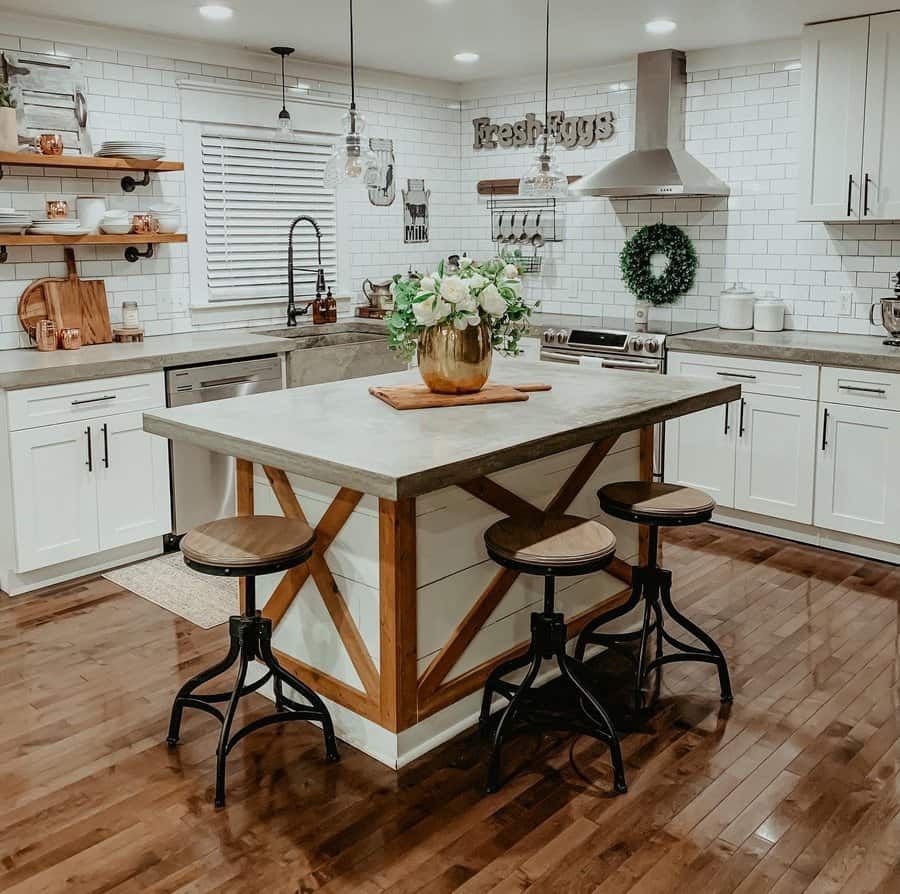 Reclaimed wood is a good place to start because it's found in both styles. Add hardwood flooring, beams, or furniture. Stainless steel is also a good material to use. Use it as your countertop to mimic a commercial kitchen. Add other metal elements to replicate a farmhouse, such as a trough sink.
6. Neutral
A neutral farmhouse kitchen embraces a soft color palette. They have broad appeal but can look a bit bland. The floating shelves will blend into the wall behind them. If you have farmhouse cabinets, they are a white or soft cream color.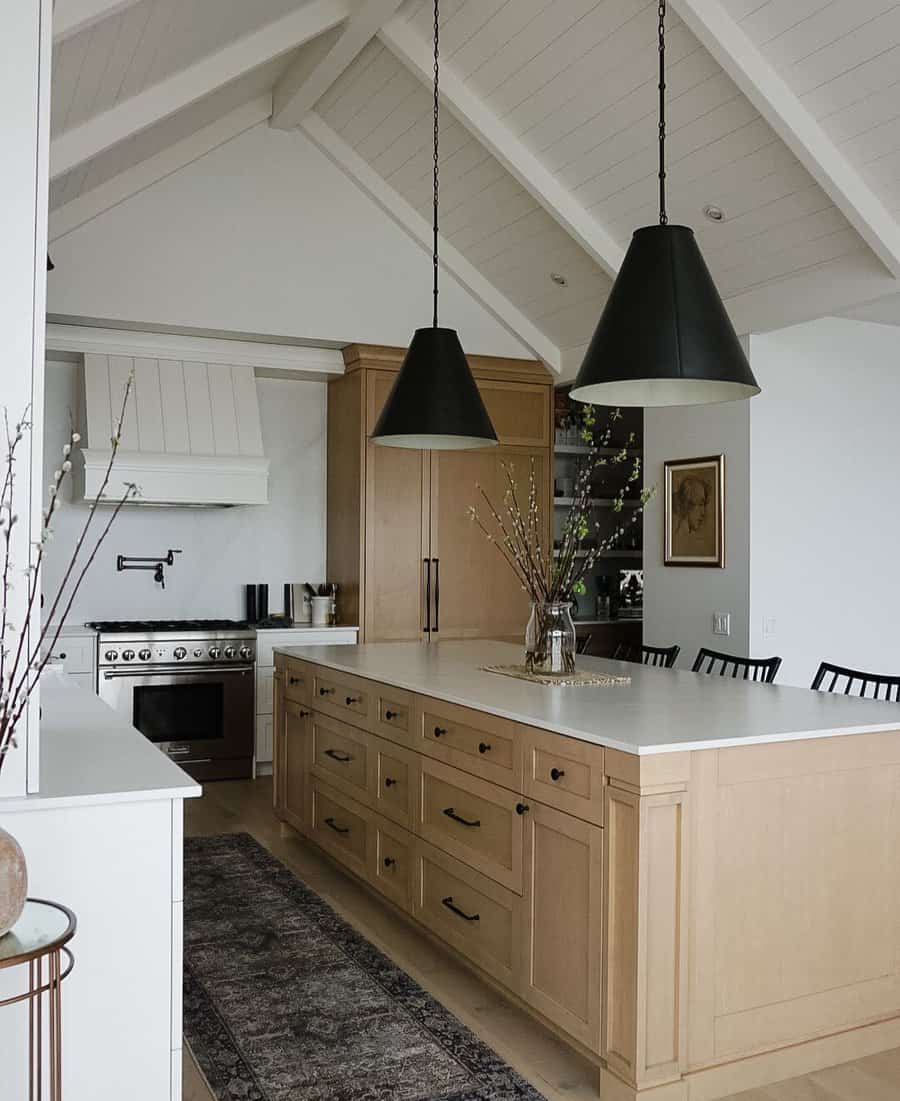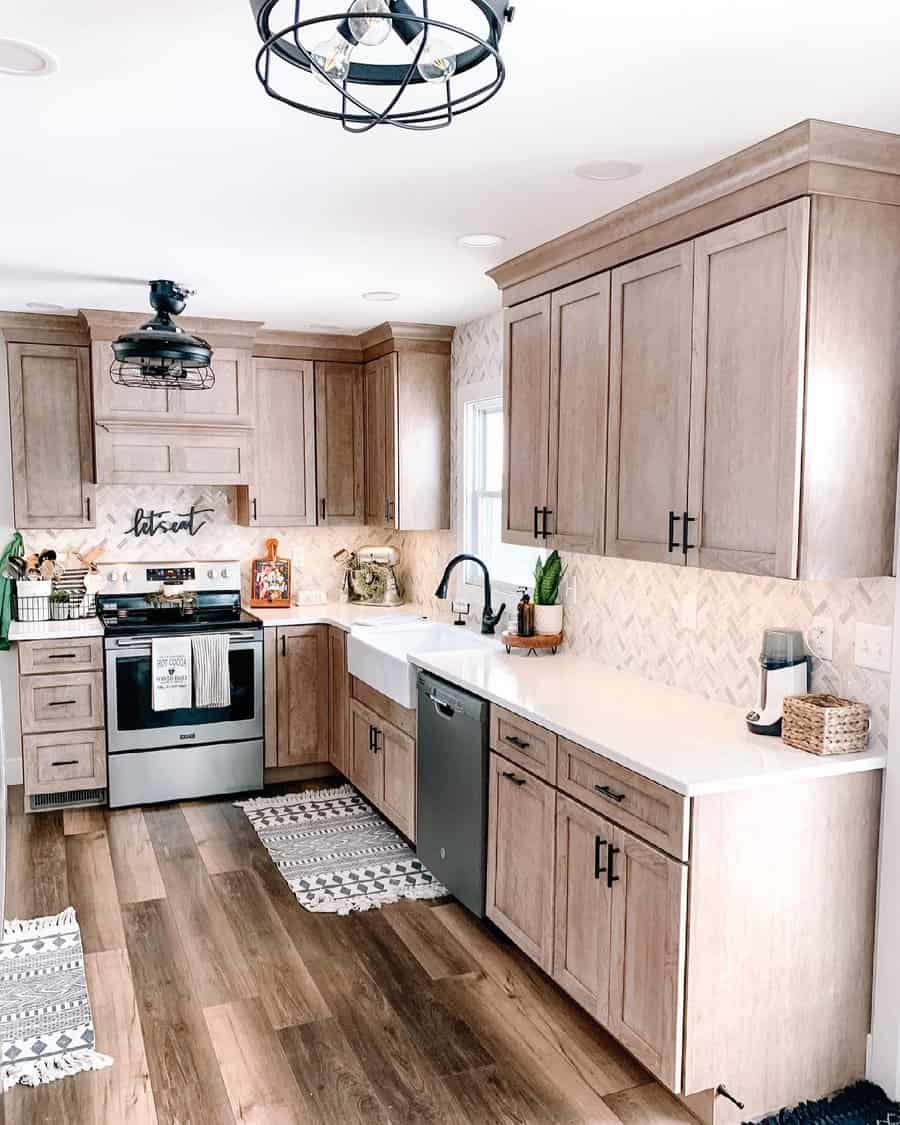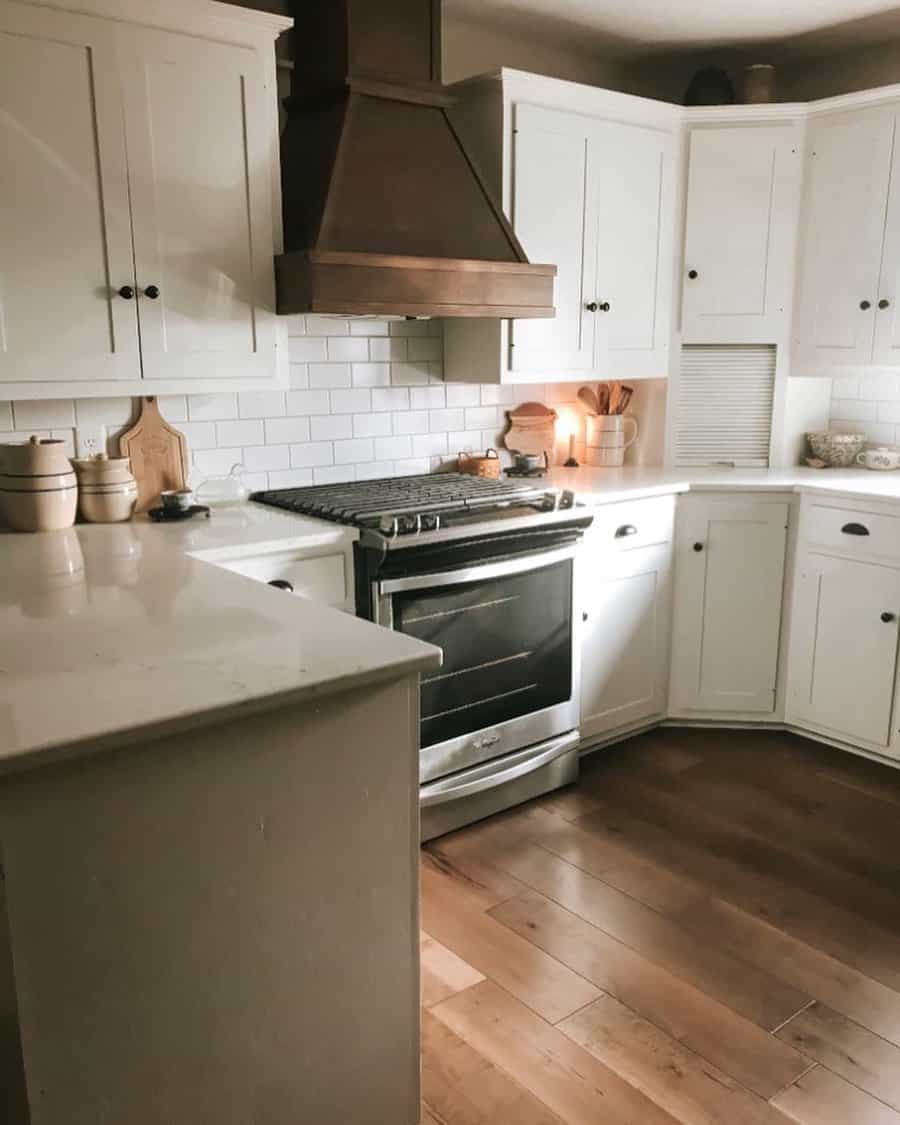 To keep your kitchen from looking flat, paint the farmhouse kitchen cabinets a lighter color than the wall they are hanging on. Even a slight variation in the shade can create depth and define the space. It's also smart to accent your kitchen with a dark color, such as oiled bronze or black hardware.
7. Rustic
Rustic and farmhouse are not the same thing. They often get used interchangeably, but this is incorrect. Both styles may have exposed wooden beams. However, a rustic farmhouse kitchen will have worn and hand-hewn with rough chips and chisel marks.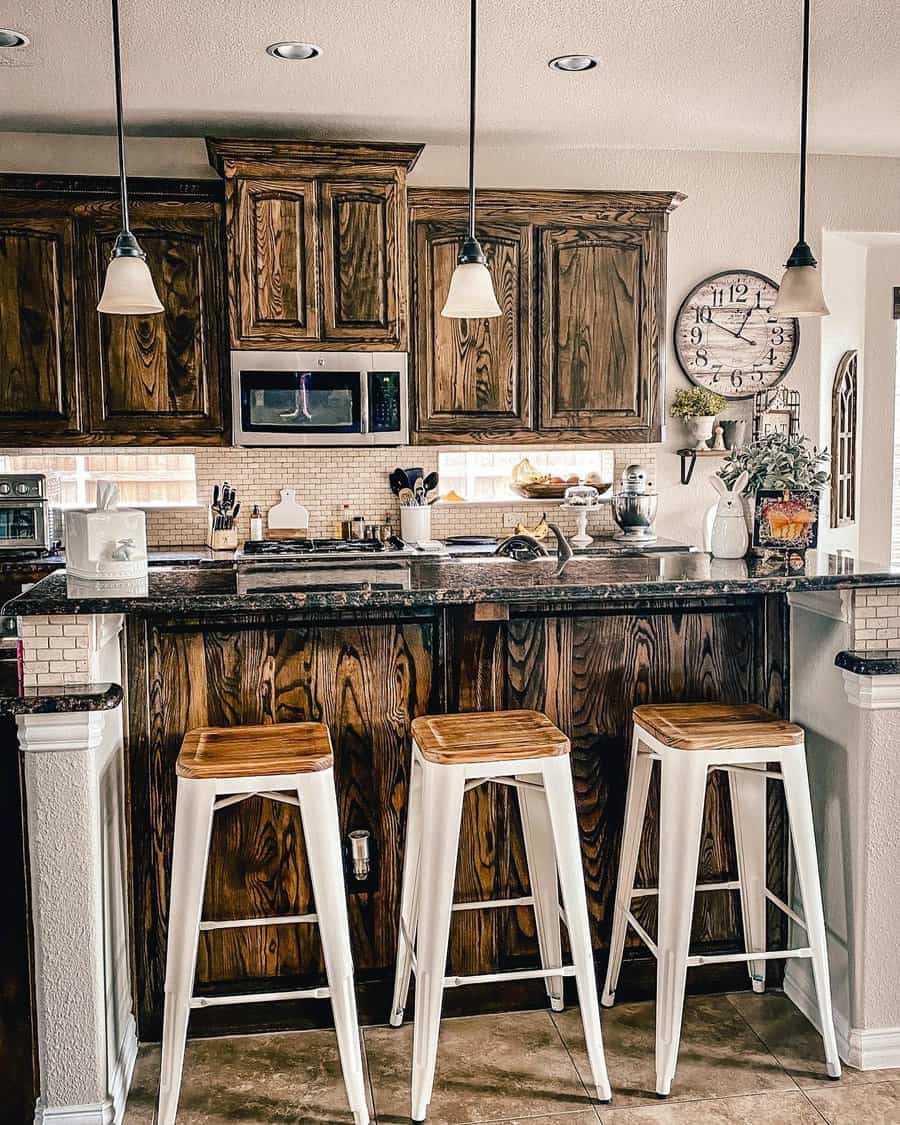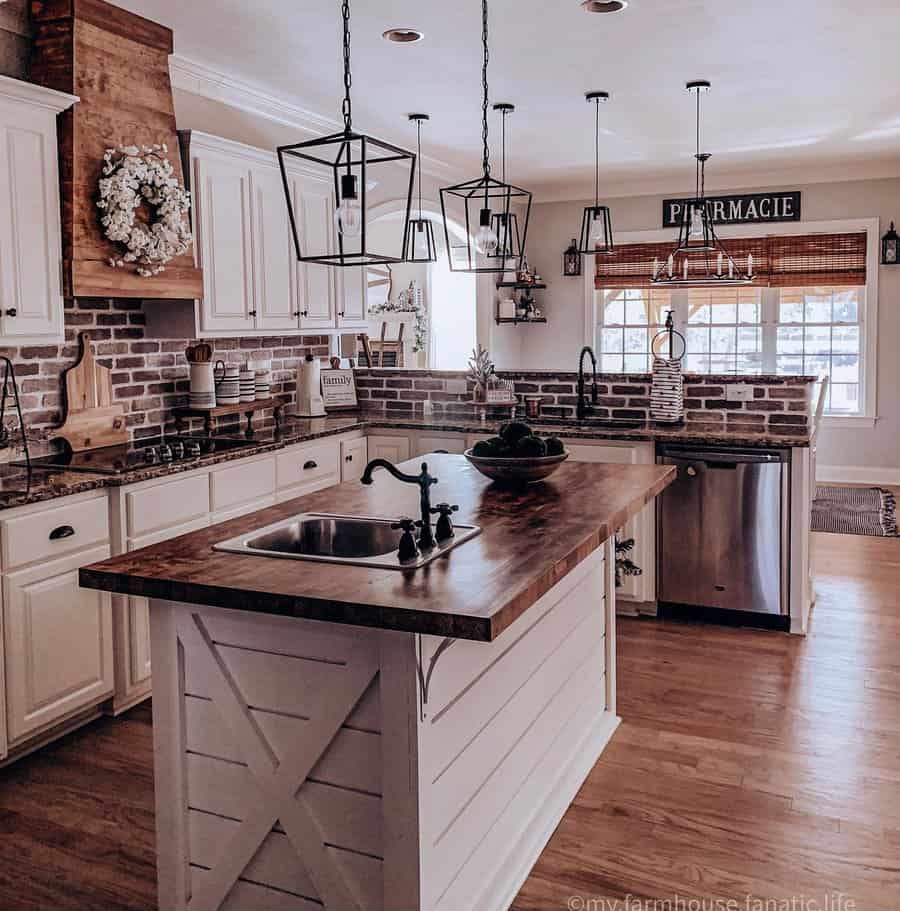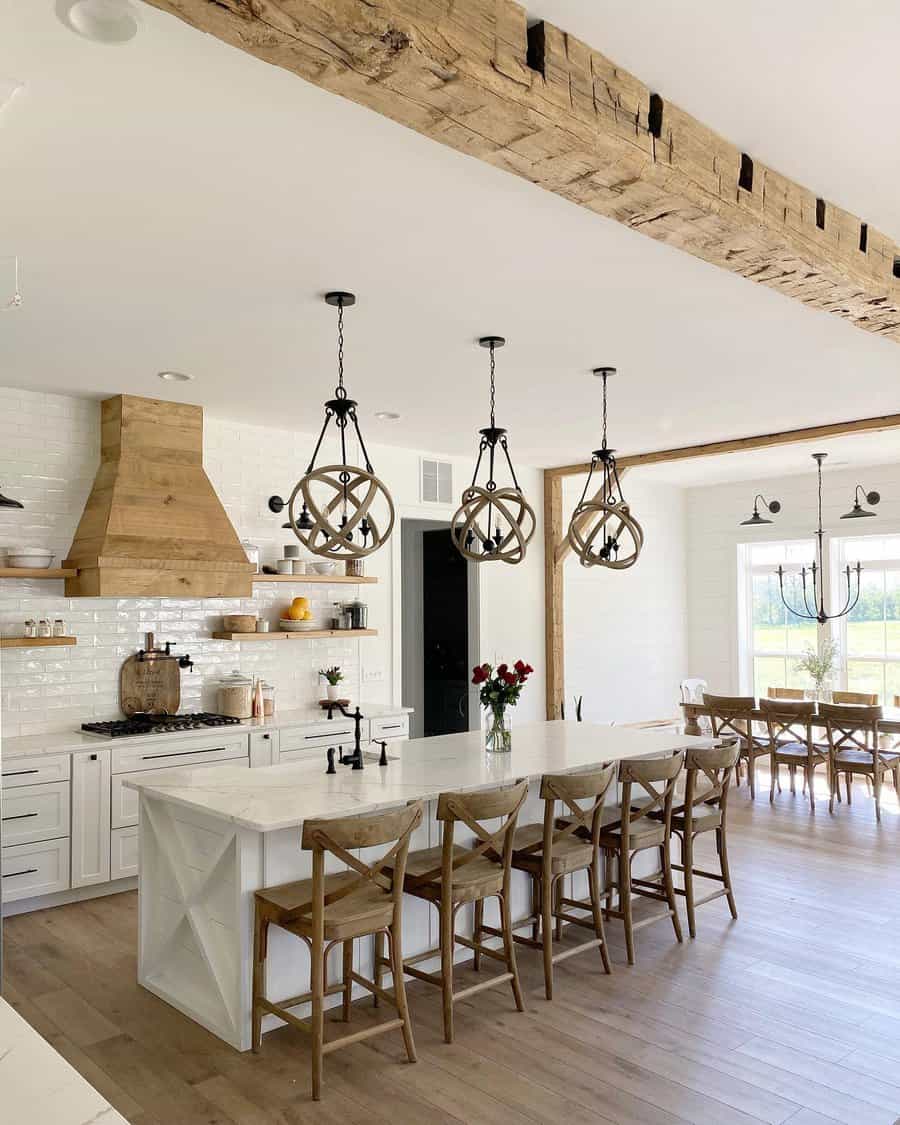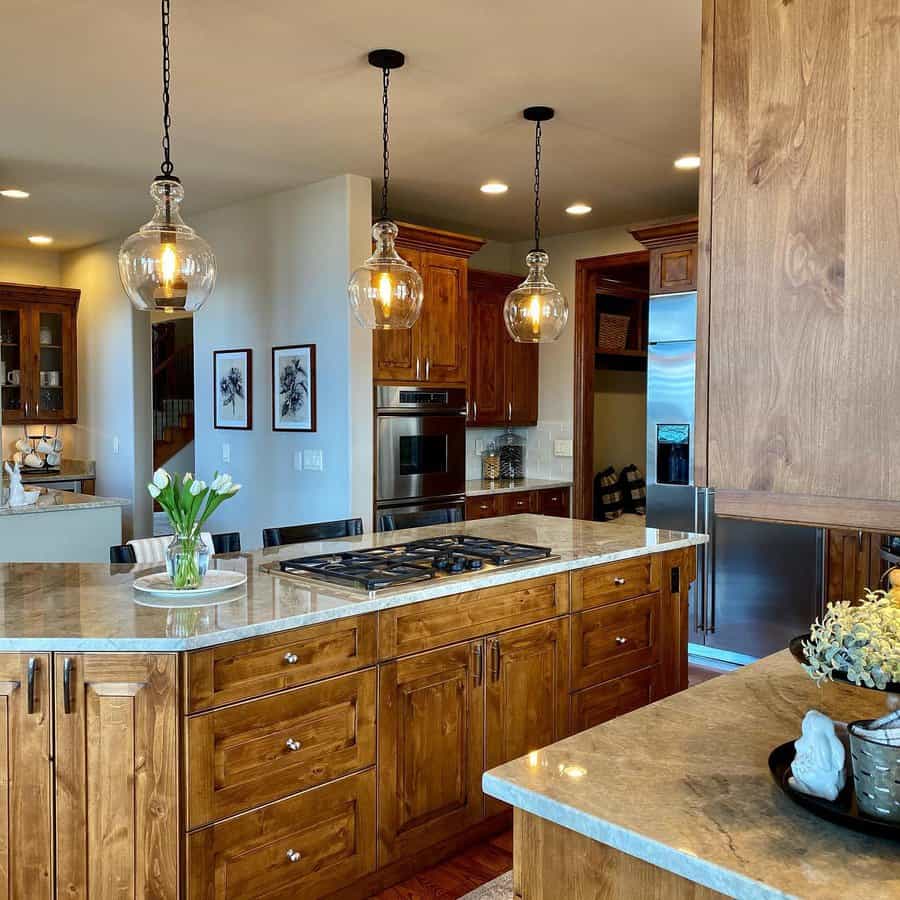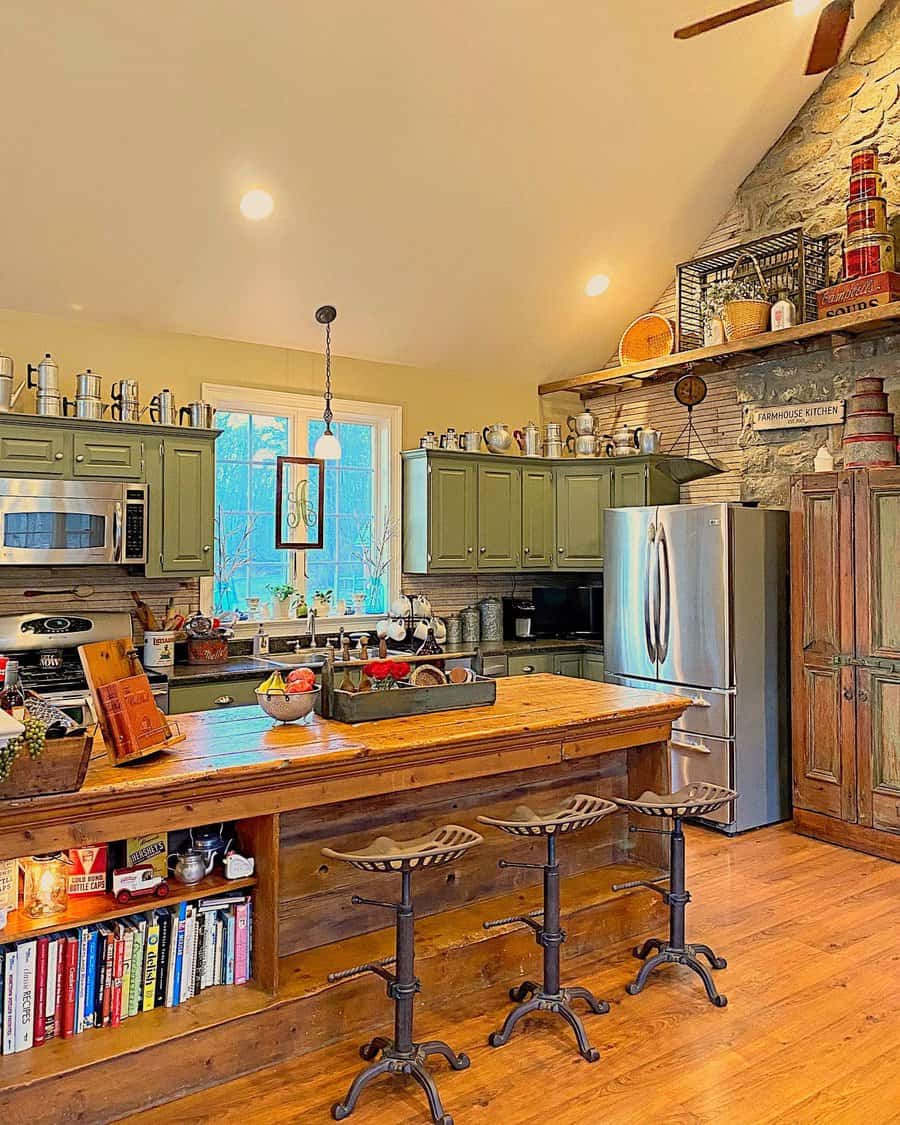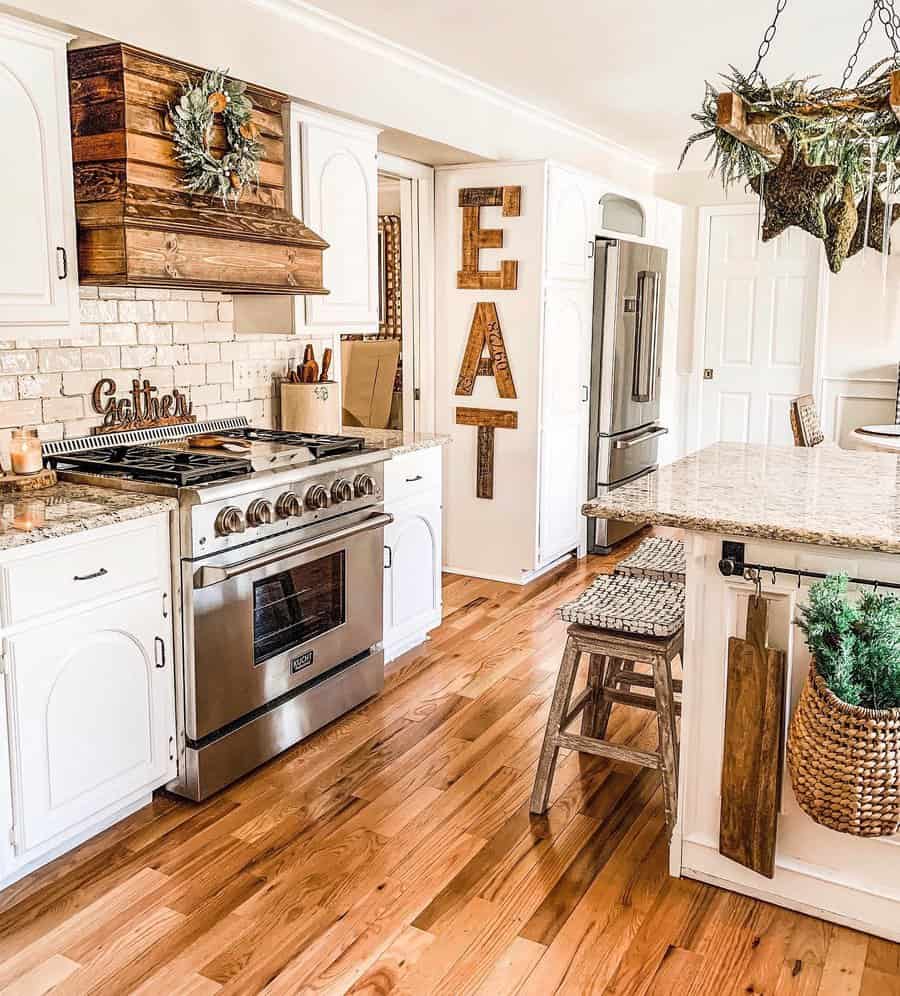 Farmhouse beams are cleaner and have a more refined finish. You can also highlight the difference with your farmhouse kitchen decor. Add rustic pieces to your fixer-upper that are handmade, rusted, and slightly imperfect. Farmhouse decor could be vintage porcelain vases or hand embroidered textiles.
See more rustic kitchen ideas here.
8. Shiplap
Shaker cabinets, farmhouse sinks, wood beams, and shiplap walls are staples in farmhouse-style kitchens. Try adding these elements to your kitchen but giving them a modern twist. This keeps your kitchen looking fresh. Because these elements are so commonly used, they tend to look tired and bland if you don't add a personal touch.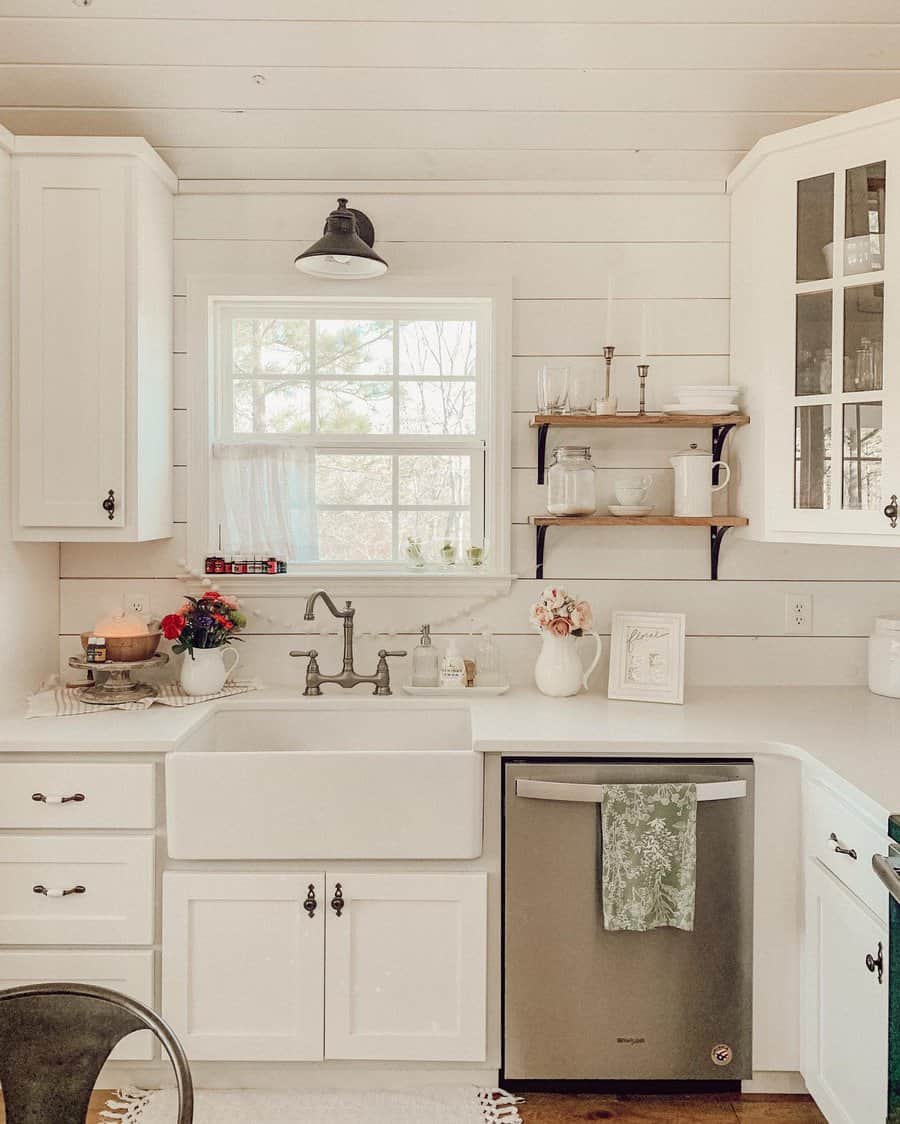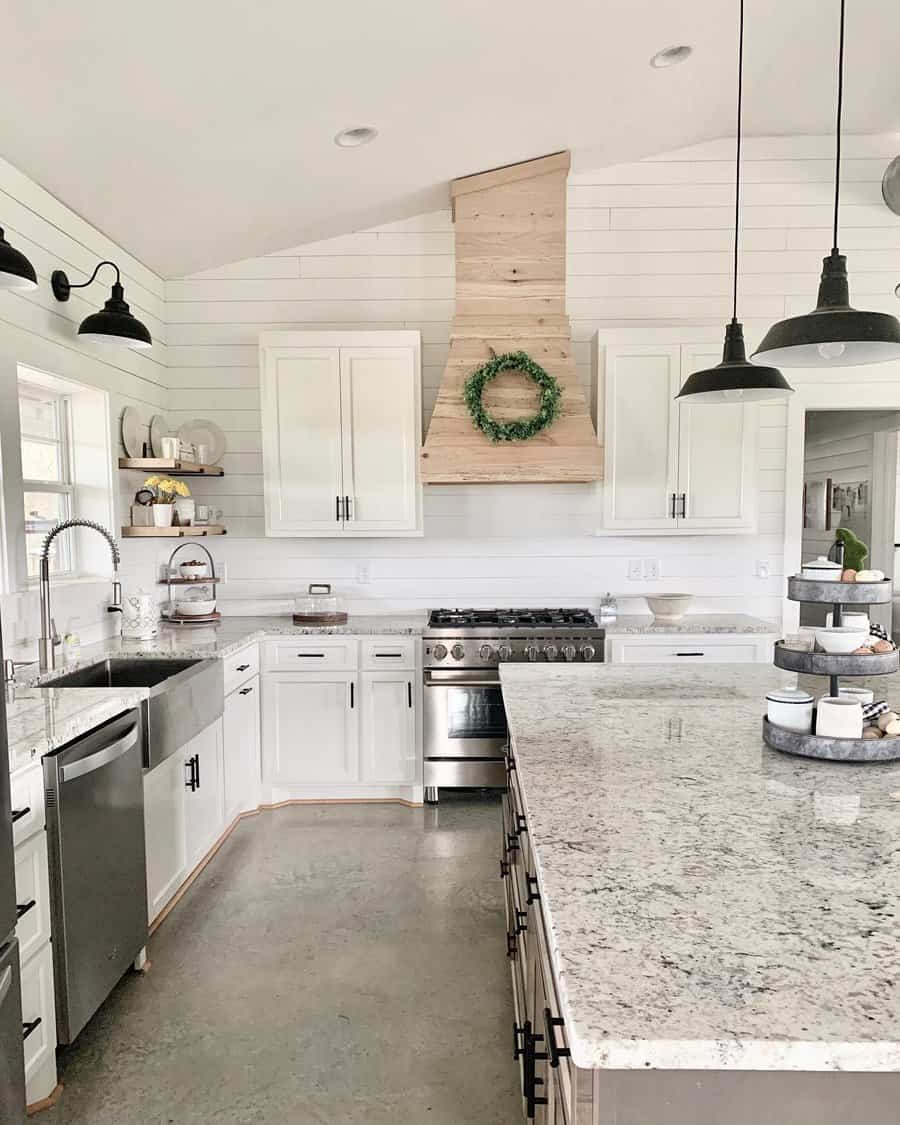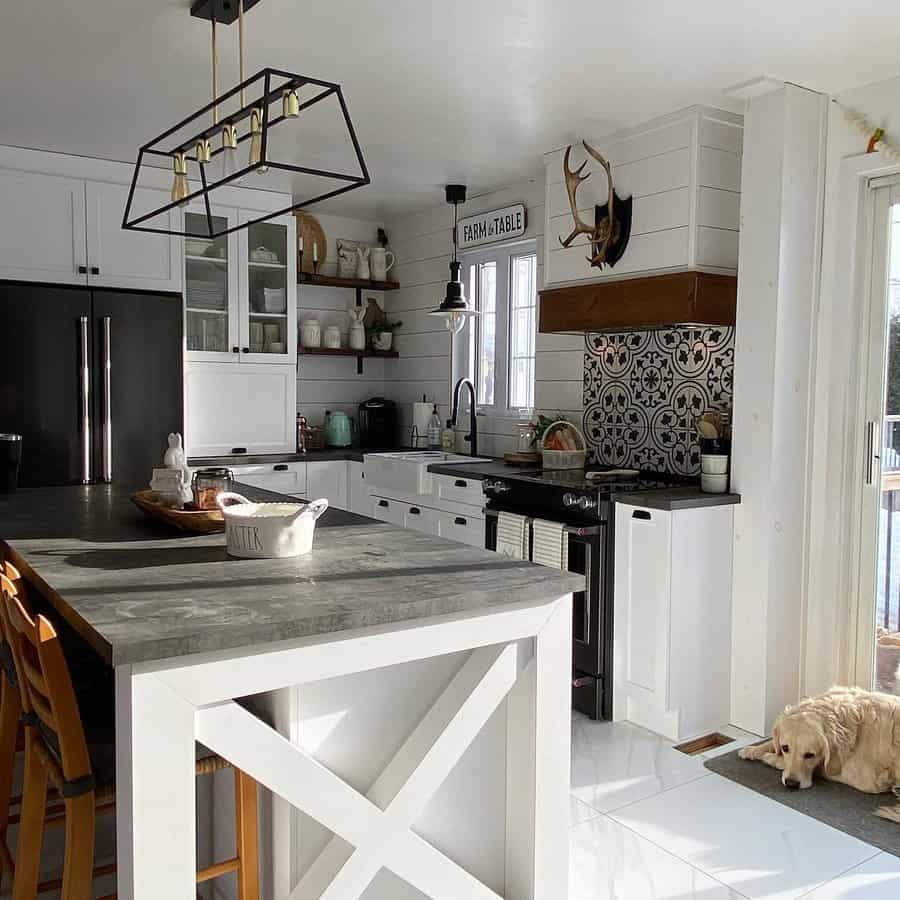 Instead of whitewashed shiplap or a white apron sink, you could use another style of wood paneling and a stainless steel or colored sink. The elements are there but with a fresh take. Instead of making a plain horizontal pattern with your shiplap wall, arrange the planks in a different pattern, such as zig-zag, herringbone, or diagonal.
9. Small
You can easily add a farmhouse kitchen design to a small kitchen. Embrace open shelving to open the space up. Look for countertop design ideas to make the most of your work spaced. Try hanging storage solutions from the ceiling.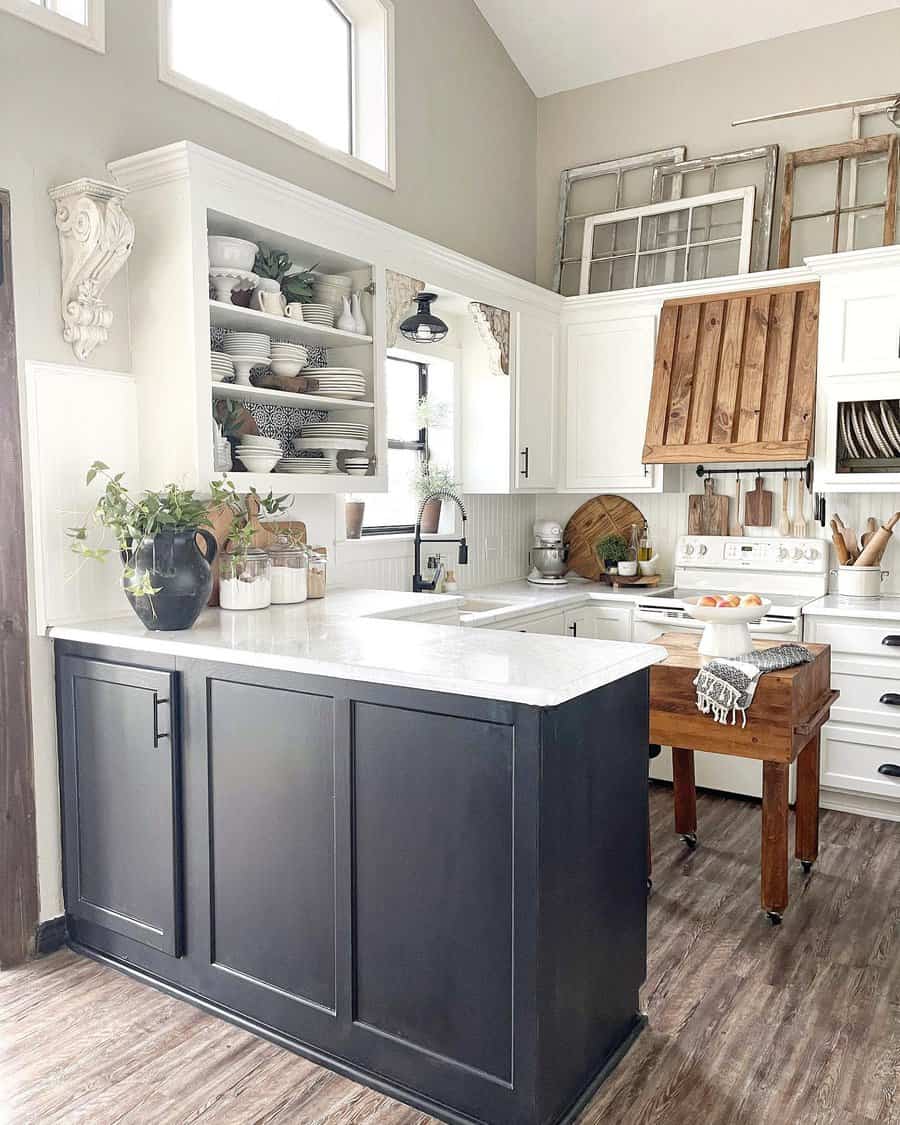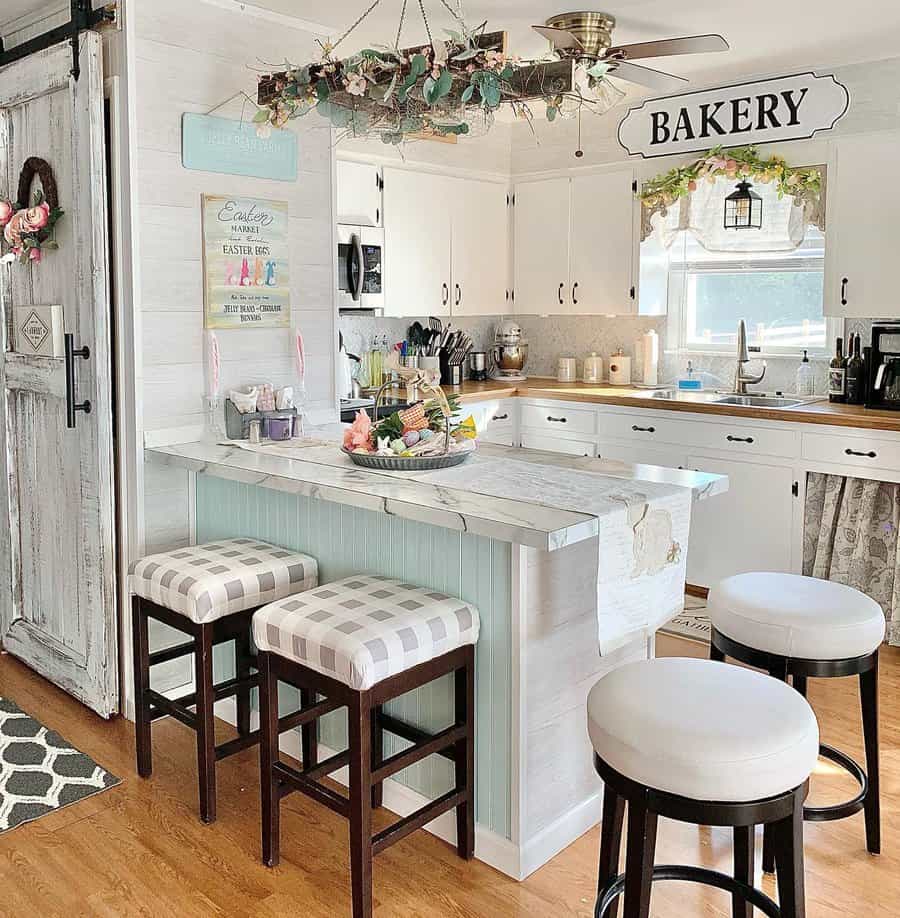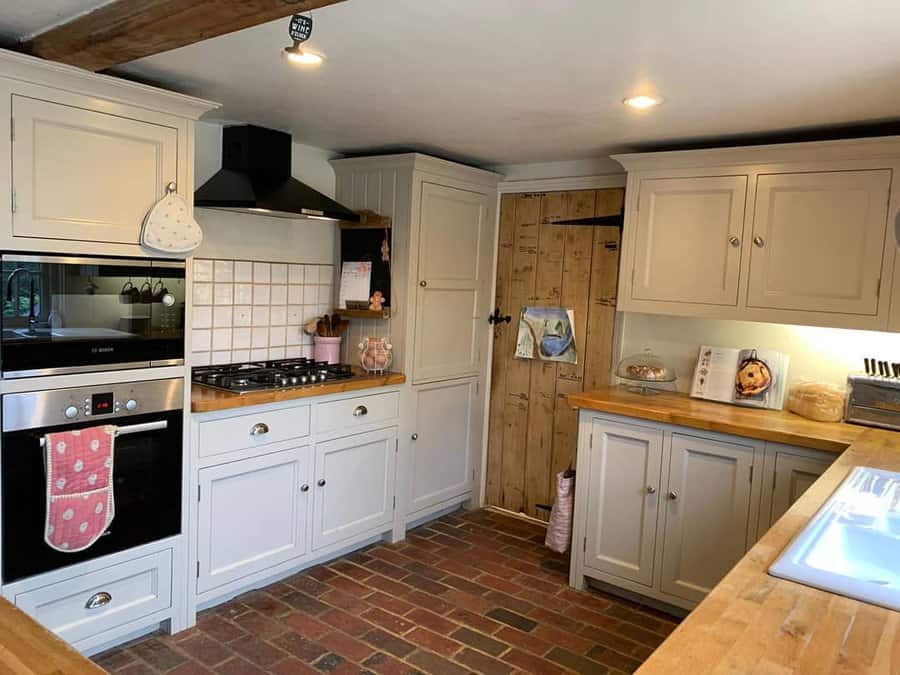 A macrame produce holder with several baskets is a nice touch. A mesh wire hanging basket rack is also a common farmhouse accent piece. If you have an island or peninsula-style counter, you have prime overhead space above to hang a pots and pans rack here.
10. Vintage
True farmhouse design has an authentic vintage feel. When you live on a farm, every resource is precious. Everything serves dual purposes and has several useful lives. Embrace this idea in your kitchen to give it a vintage feel.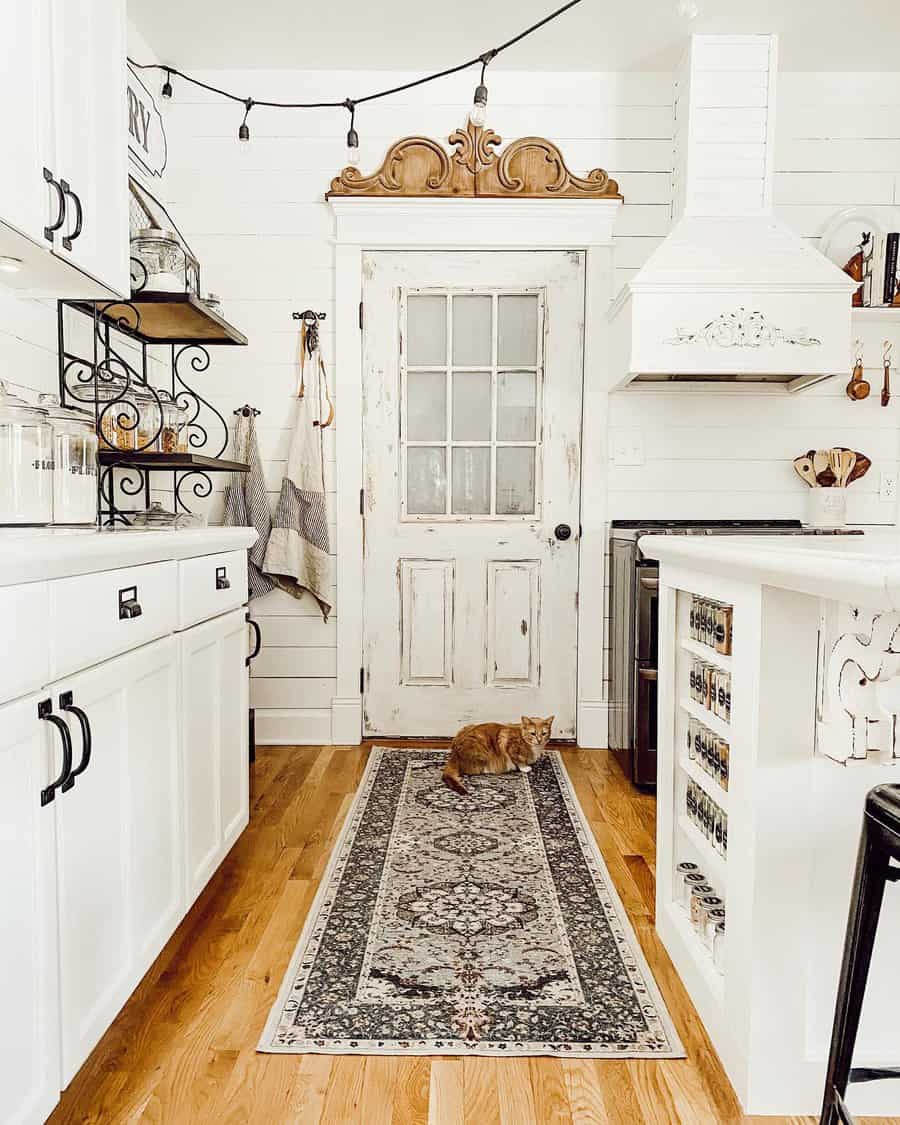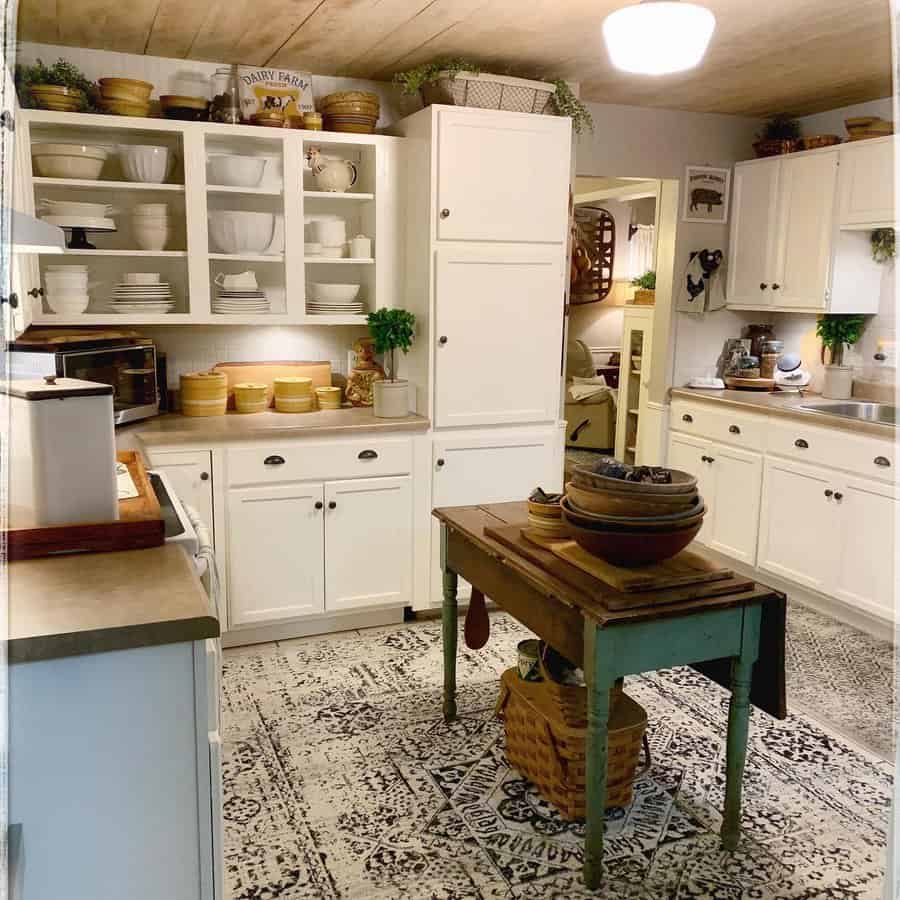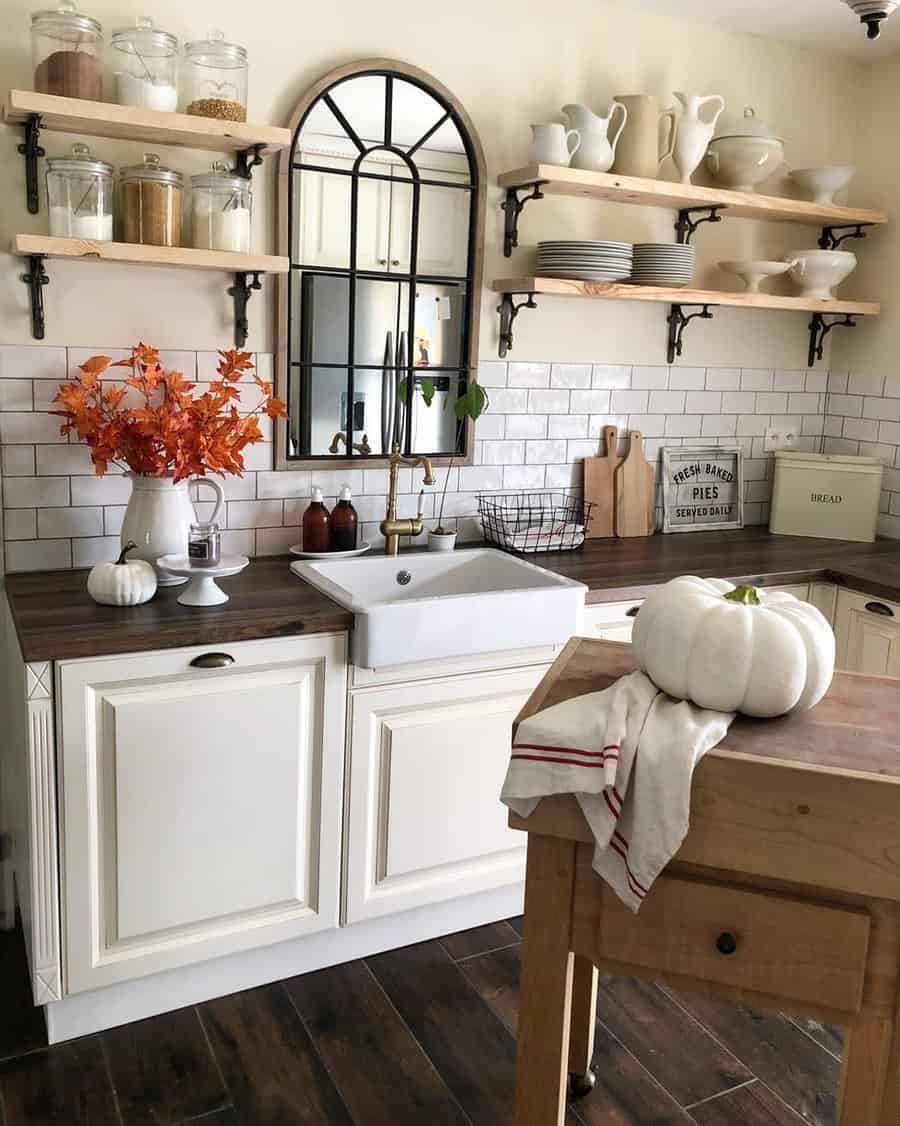 Use antique pitchers and serving bowls as vases for flower arrangements. Or grow herbs in vintage flatware. Repurpose old sheets into a tablecloth or window curtains. Hang your kitchen tools, pots, or cutting boards on the wall as decor. Head to your local antique or vintage shop for authentic pieces. They will have a different look from modern pieces that have a faux-aged finish.
11. White
White kitchens will never go out of style. White farmhouse kitchens look clean and fresh. White is easy to keep looking nice and helps your kitchen feel large and welcoming. However, there's more to this interior design style than just having white cabinets.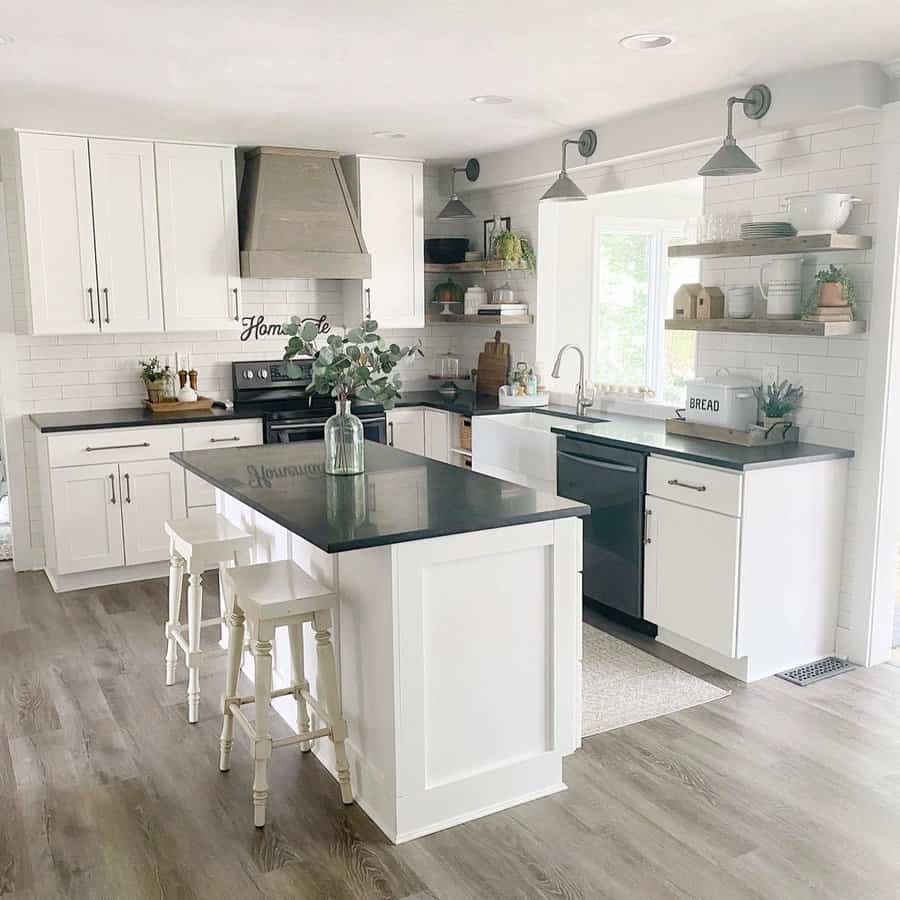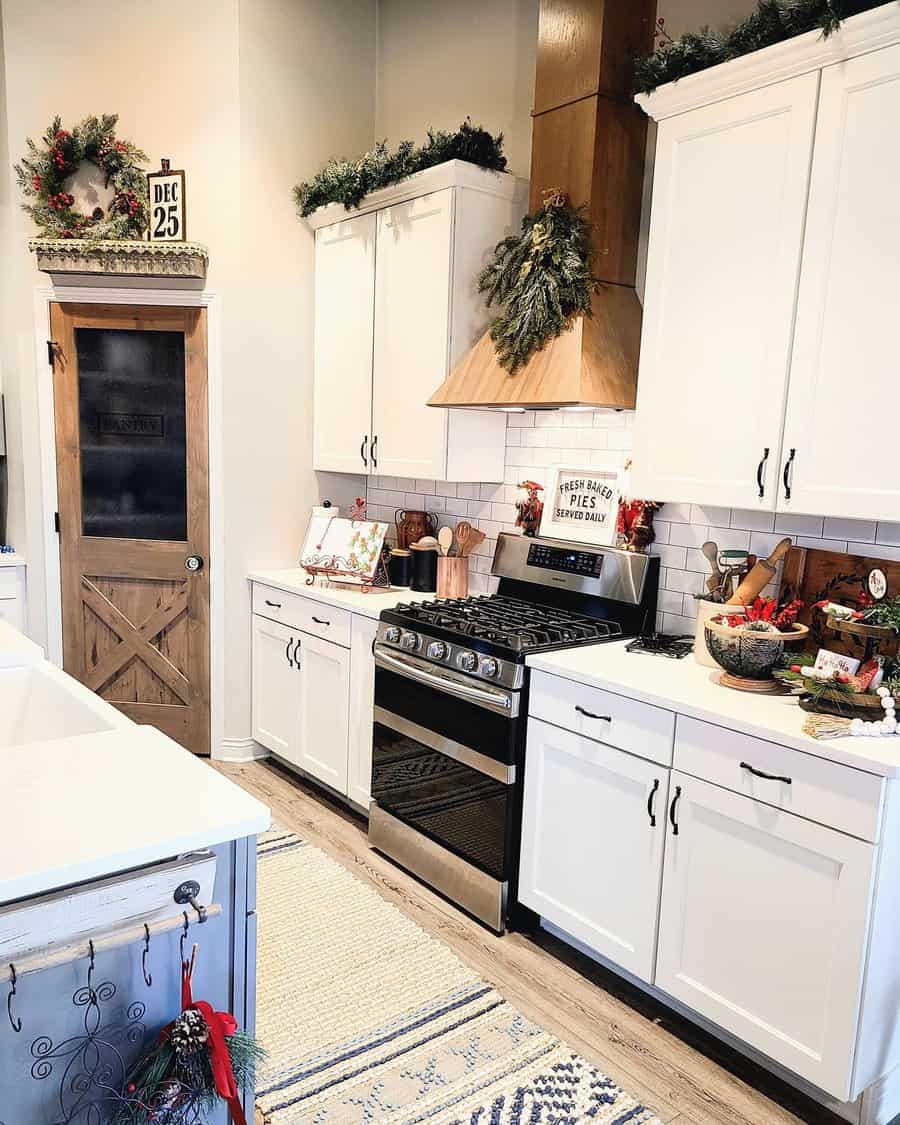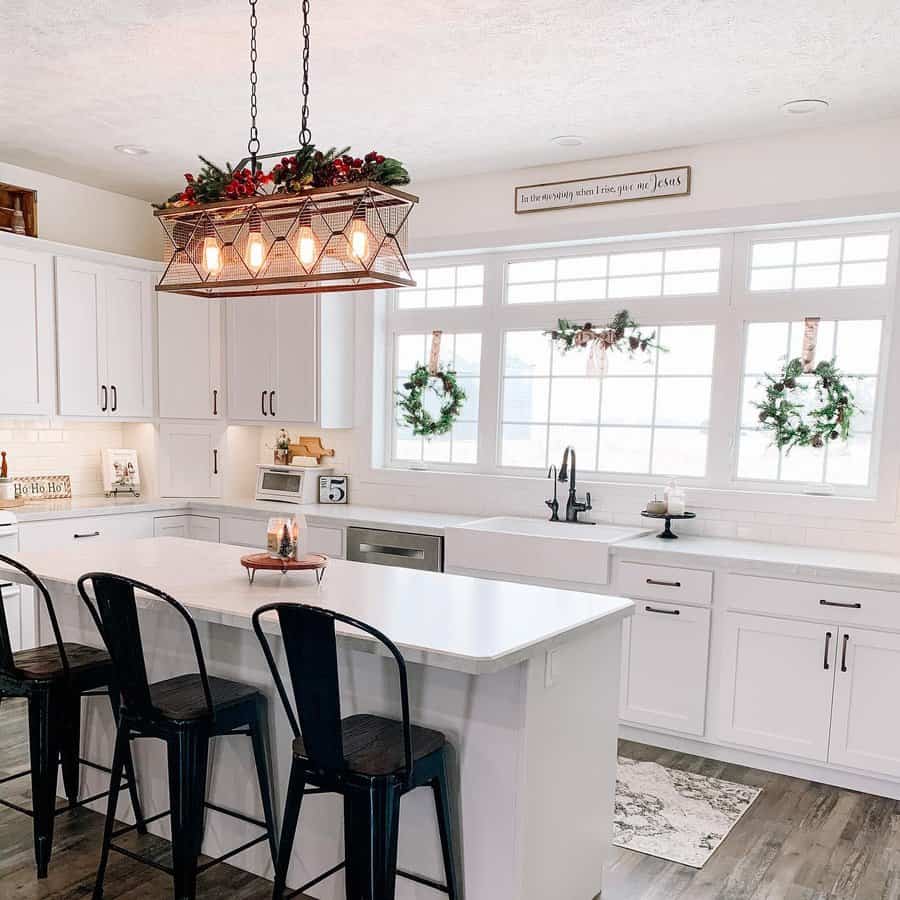 There are a million shades of white, and choosing the right one can make or break your farmhouse design. Choose a shade that's on the warm side. Look for one that has yellow, pink, or peach undertones. This doesn't mean the white is tinted. It should still look white. Trying holding the white paint chip up to other colors to determine its undertone.
See more white kitchen ideas here.
FAQs
What's the difference between rustic and farmhouse?
Sometimes, farmhouse style is a little rustic, but not always. Rustic design is not always farmhouse. You'll find the same elements in both, such as wood. The difference between the two is that the farmhouse style tends to be brighter and more refined. For example, it isn't uncommon to find copper cookware, silver utensils, or porcelain tableware.
What is a French country kitchen?
A French country kitchen has farmhouse elements that are blended with more elegant elements. It isn't uncommon to see a rustic wood table placed near a wall where a gilded gold framed mirror hangs. Or there could be a reclaimed brick floor that's paired with an ornate crystal chandelier.
What is modern farmhouse style?
A modern farmhouse kitchen is one that has a relaxed and comfortable design. You'll see smooth, clean lines from modern design that are paired with natural materials like wood and granite. You'll see a farmhouse-inspired design that has a sophisticated upgrade.