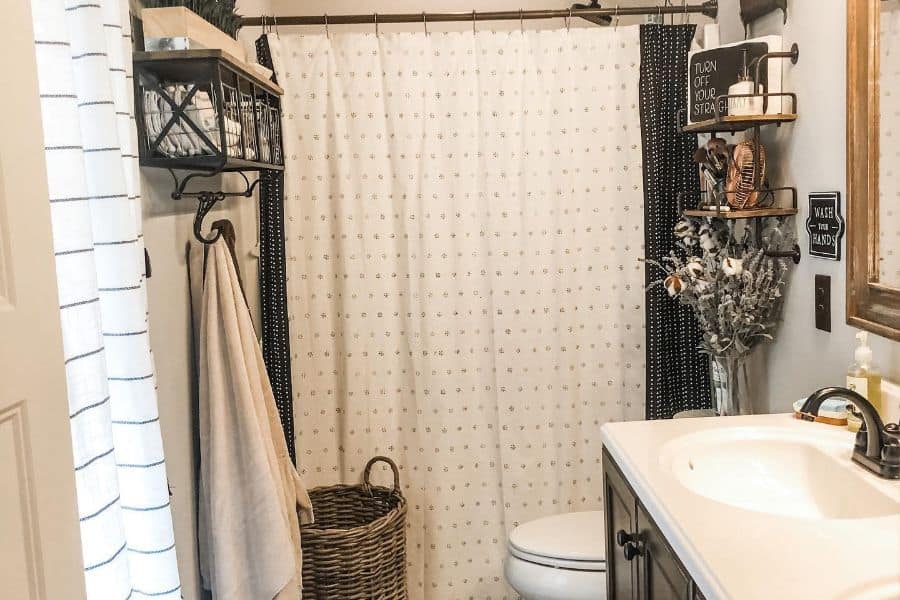 The Top 57 Shower Curtain Ideas
by — Andra DelMonico

Published on March 16, 2021

Updated on October 18, 2023
You'd love to have a sleek frameless glass door on your shower.
Unfortunately, it'd require you to do a complete bathroom remodel. This leaves you looking for a shower curtain alternative.
While you could pick out the cheapest clear plastic curtain that you can find, this is boring.
What you need is a curtain that will add to the bathroom decor and style of your bathroom. It should be made of a material that feels nice and has a design that complements the rest of the decor.
These shower curtain ideas will help you find the perfect curtain for your shower so that you can have a beautiful bathroom.
1. Embrace Luxury with Baroque Shower Curtains
Baroque shower curtains bring an air of sophistication to traditional bathrooms with their intricate Victorian-inspired designs. To accentuate their elegance, consider coupling with ornate hardware or classic fixtures. For a contemporary twist, mix with modern accessories, ensuring a balance between old-world charm and current trends. This curtain effortlessly elevates the bathroom's ambiance, making it a statement piece.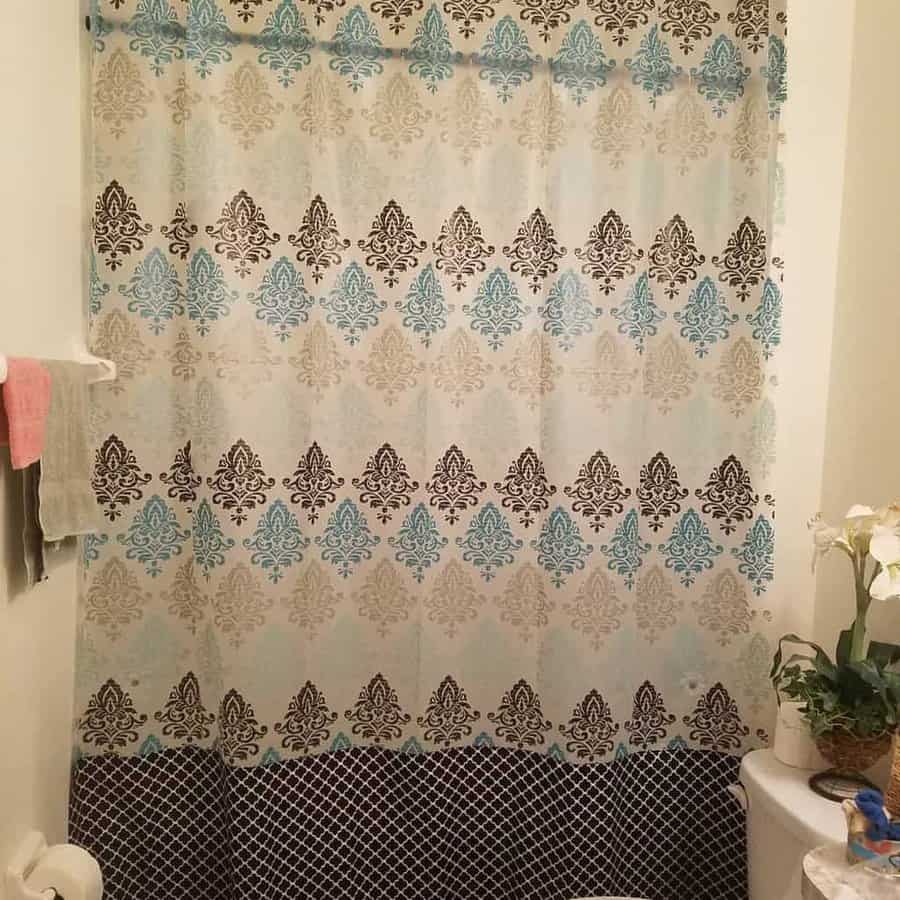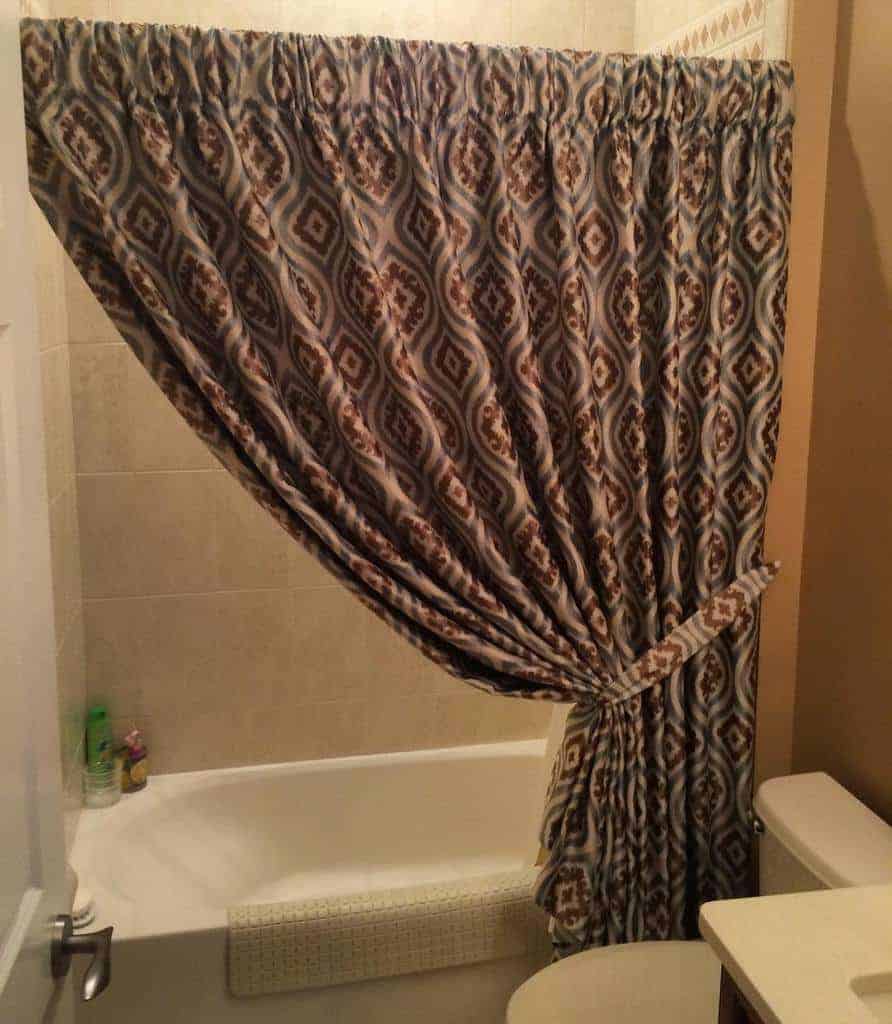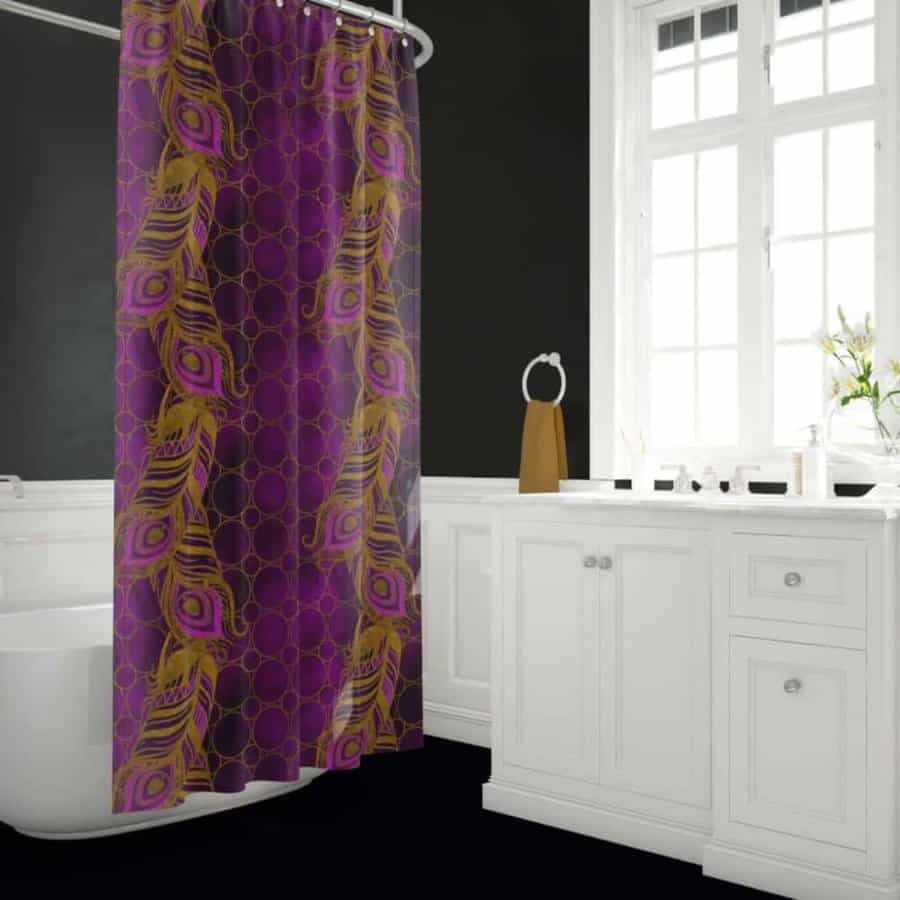 2. Dive into Graphic Floral Designs
Graphic floral shower curtains effortlessly introduce nature and femininity into your bathroom. For art enthusiasts, an abstract Henry Matisse-inspired design offers a contemporary art touch. Ensure a cohesive look by selecting colors that harmonize with your existing palette, transforming your space from ordinary to extraordinary.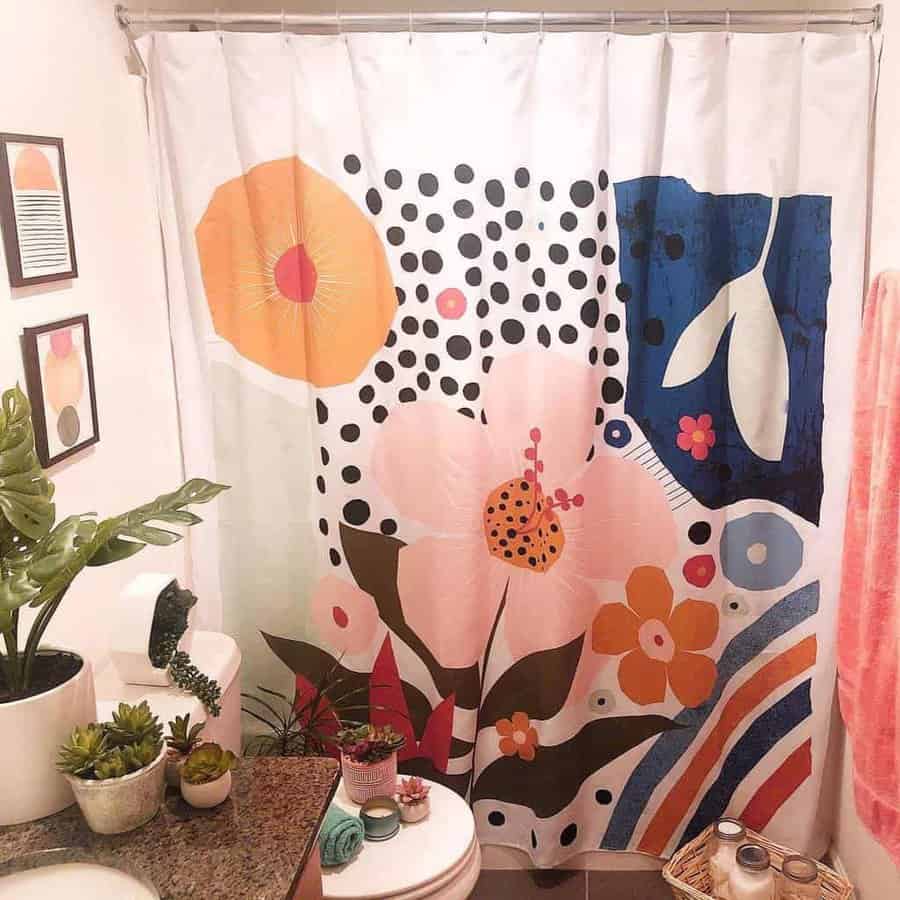 3. Surround Yourself with Nature Themes
Nature-themed shower curtains immerse you in tranquil scenes, be it mountain vistas or beachside tranquility. Their authentic colors and designs offer a calming backdrop for daily routines. From sweeping landscapes to intricate florals, such curtains rejuvenate spaces with freshness. Incorporating this theme effortlessly bridges the gap between the indoors and the vast, inspiring outdoors.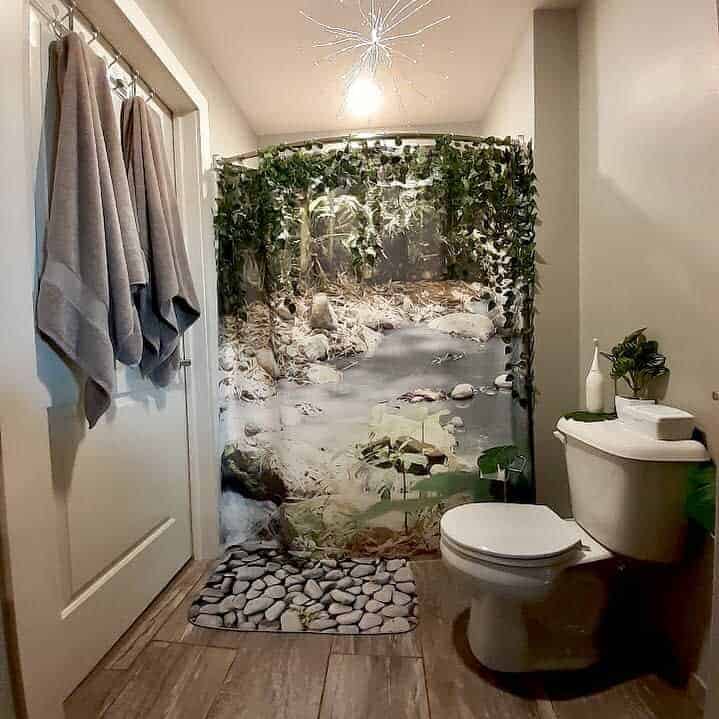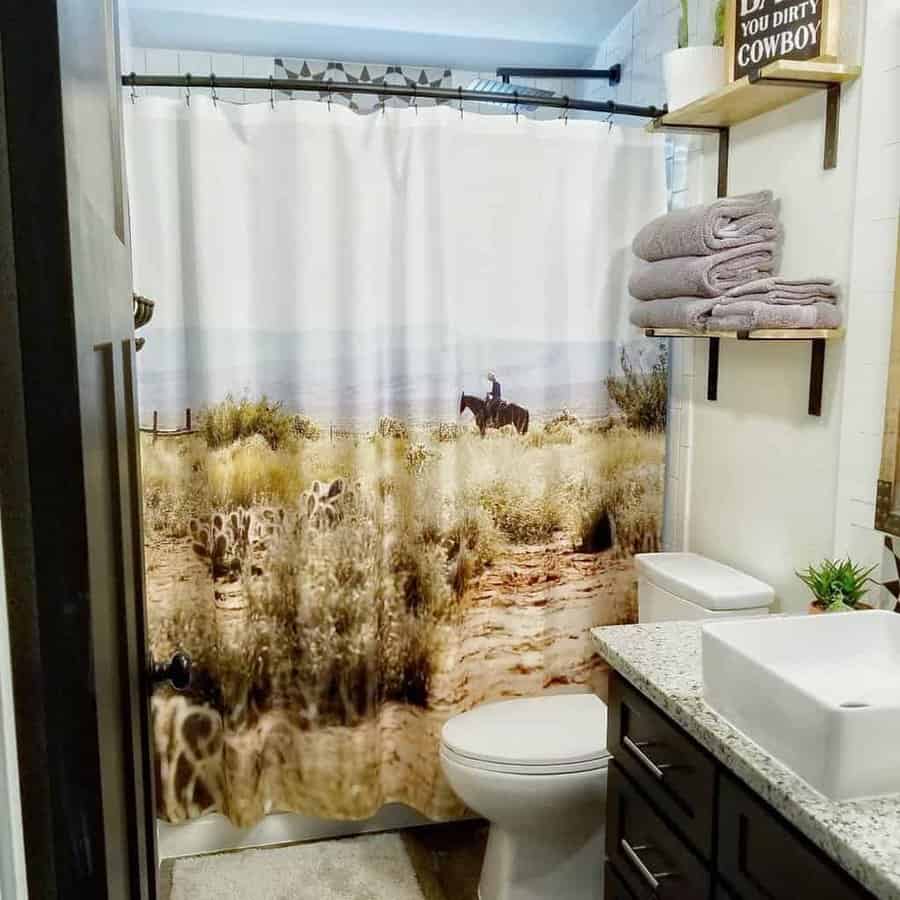 4. Channel Boho Vibes in Your Shower
When it comes to adding some personality to a bathroom, a bohemian shower curtain is a perfect choice. With its unique psychedelic prints and colorful designs, a bohemian shower curtain can make a statement and bring a retro feel to any space.
Whether you're going for a more subdued or bold look, there's a bohemian shower curtain out there to suit your style. And the best part is that they are usually made of durable materials, so they can withstand daily wear and tear. If you're looking to add some flair to your bathroom, consider a bohemian shower curtain and let the colors and prints transport you to a different era.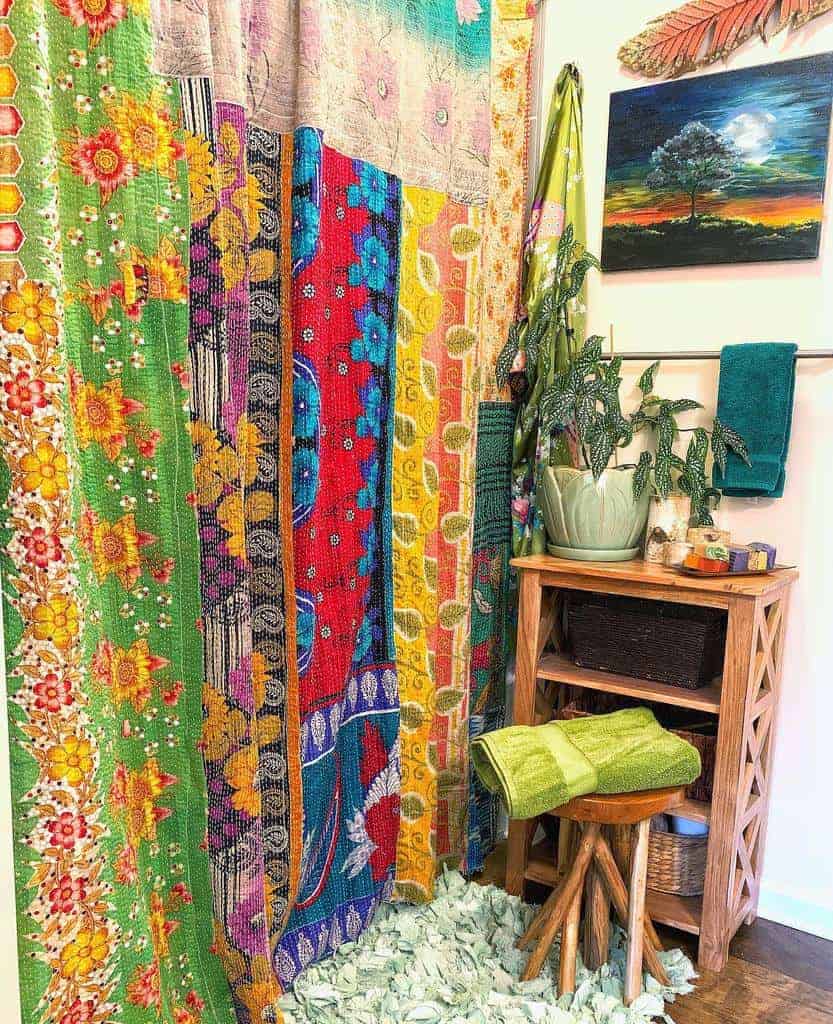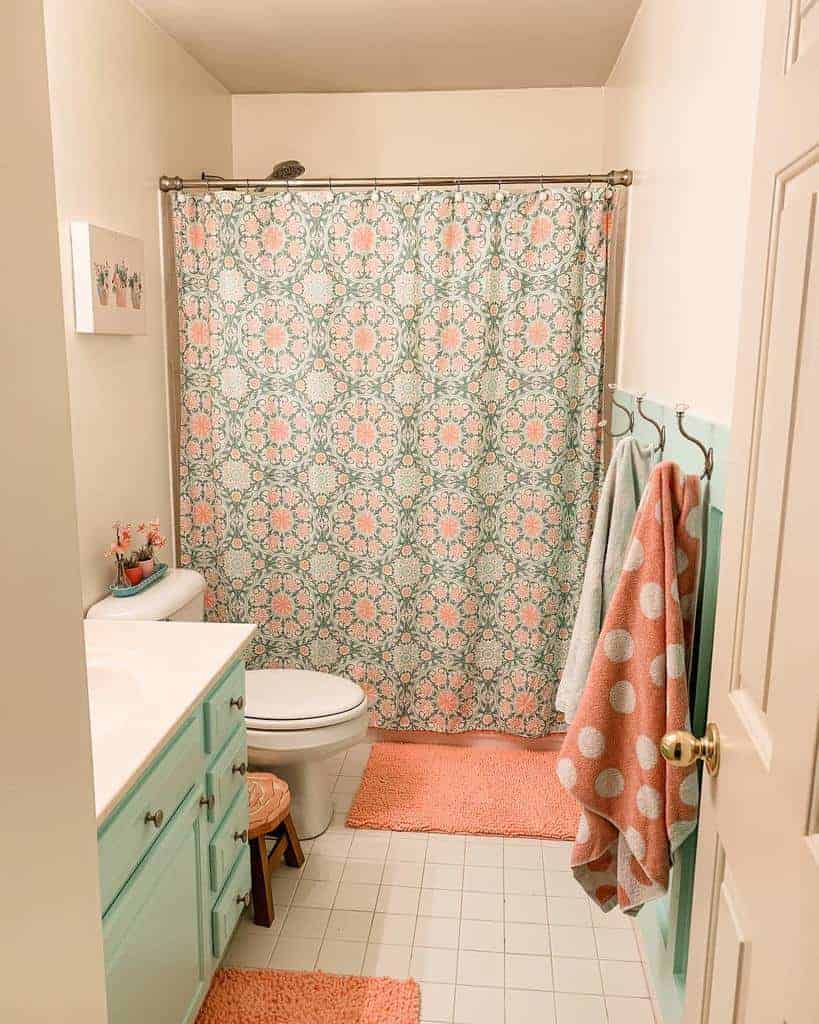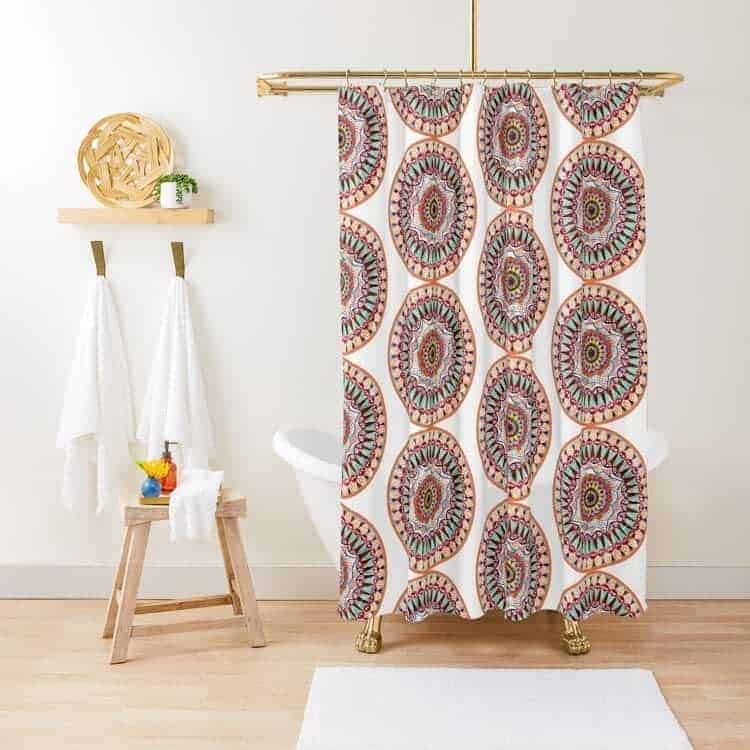 5. Illuminate with Lava Lamp Designs
Lava lamp shower curtains infuse bathrooms with a playful, retro vibe, making mornings brighter. Beyond being a visual delight, they serve the practical aspects of privacy and water containment. For those eager to punctuate neutral spaces with color or amplify a retro theme, these curtains are ideal. Elevate your bathroom from mundane to memorable with this spirited choice.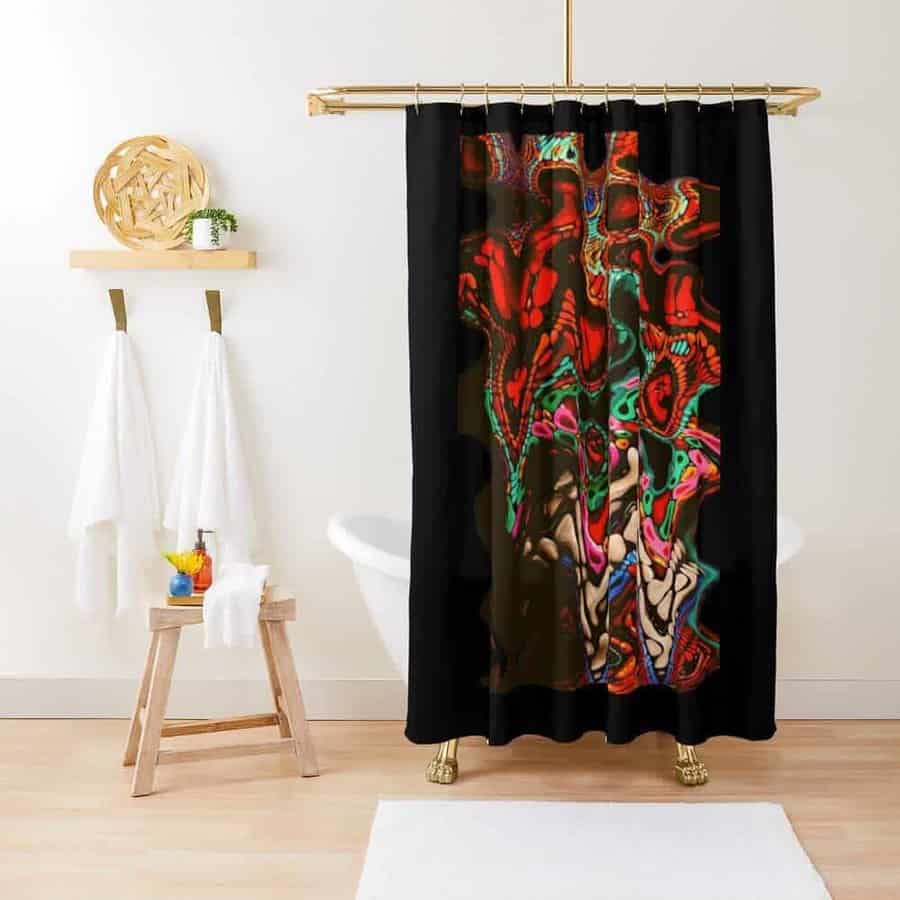 6. Experience Winter's Magic with Snowflakes
As winter approaches, what better way to add some charm to your bathroom than with a snowflake-printed shower curtain? Not only will it bring a touch of the season inside, but it will also create a cozy and inviting atmosphere in your bathroom. Choose a curtain with a subtle snowflake pattern in shades of white, silver, and blue to complement the cool tones of your bathroom decor.
Or, if you're feeling bold, opt for a curtain with large and whimsical snowflakes for a playful touch. A snowflake-printed shower curtain is the perfect way to bring some seasonal cheer to your daily routine and make your bathroom feel like a winter wonderland.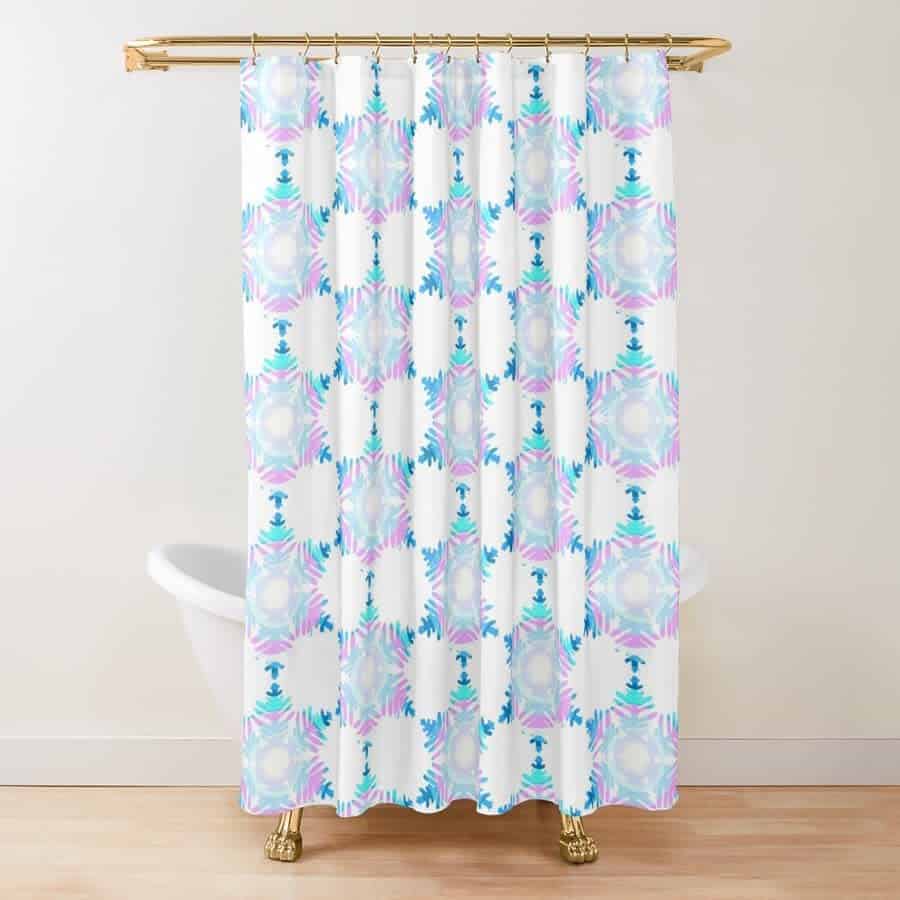 7. Sail Away with Nautical Designs
Nautical-themed shower curtains immerse you in coastal vibes, even if you're miles from the shore. Classic seashell prints on blues or whites evoke seaside memories. To enrich the theme, integrate coordinating towels and perhaps striped or anchor-patterned accessories. This maritime touch ensures every shower feels like a brief beach getaway.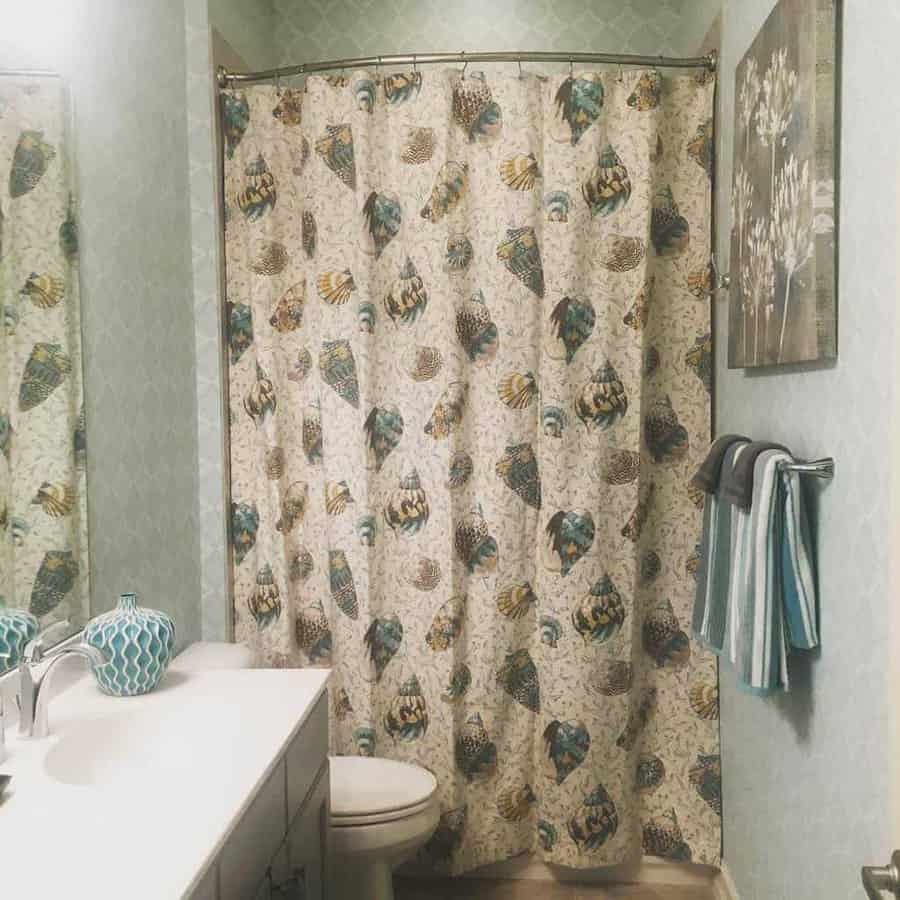 8. Simplicity Shines in Monochromatic Curtains
Monochromatic shower curtains, especially in timeless black and white, elevate bathroom aesthetics with minimal effort. Opt for bold graphic designs or intricate patterns based on your taste. Enhance the theme by coordinating with similar-toned towels or mats. Such curtains seamlessly blend with various styles, ensuring a refined statement with every glance.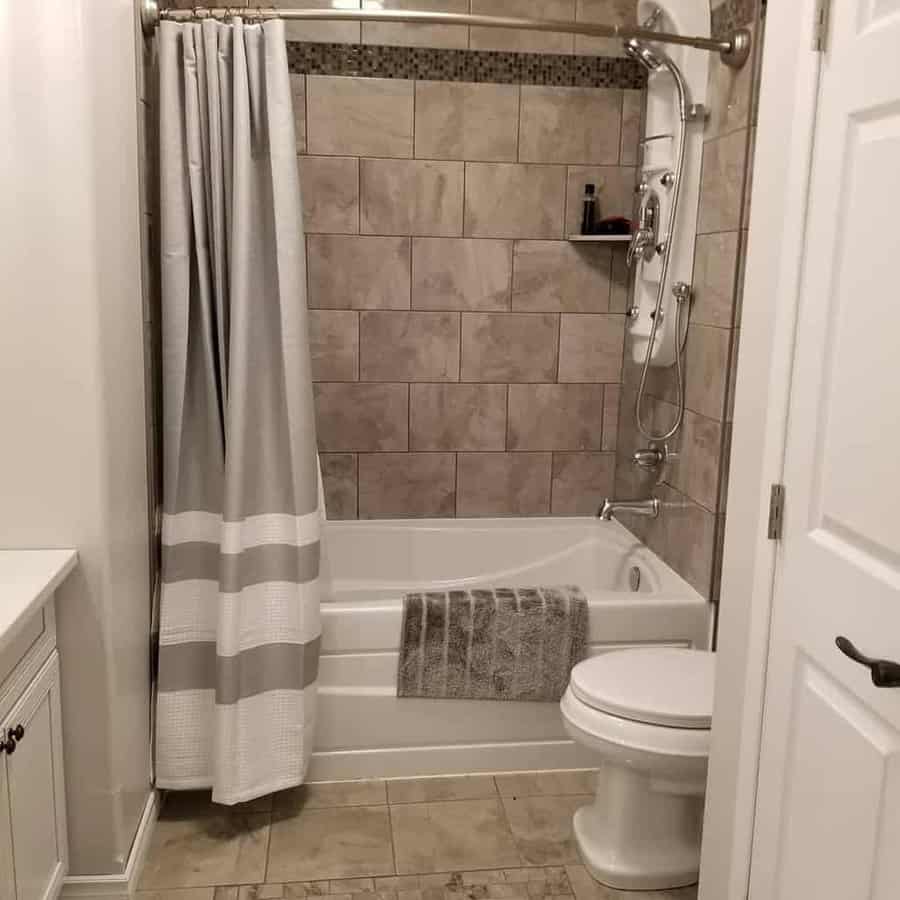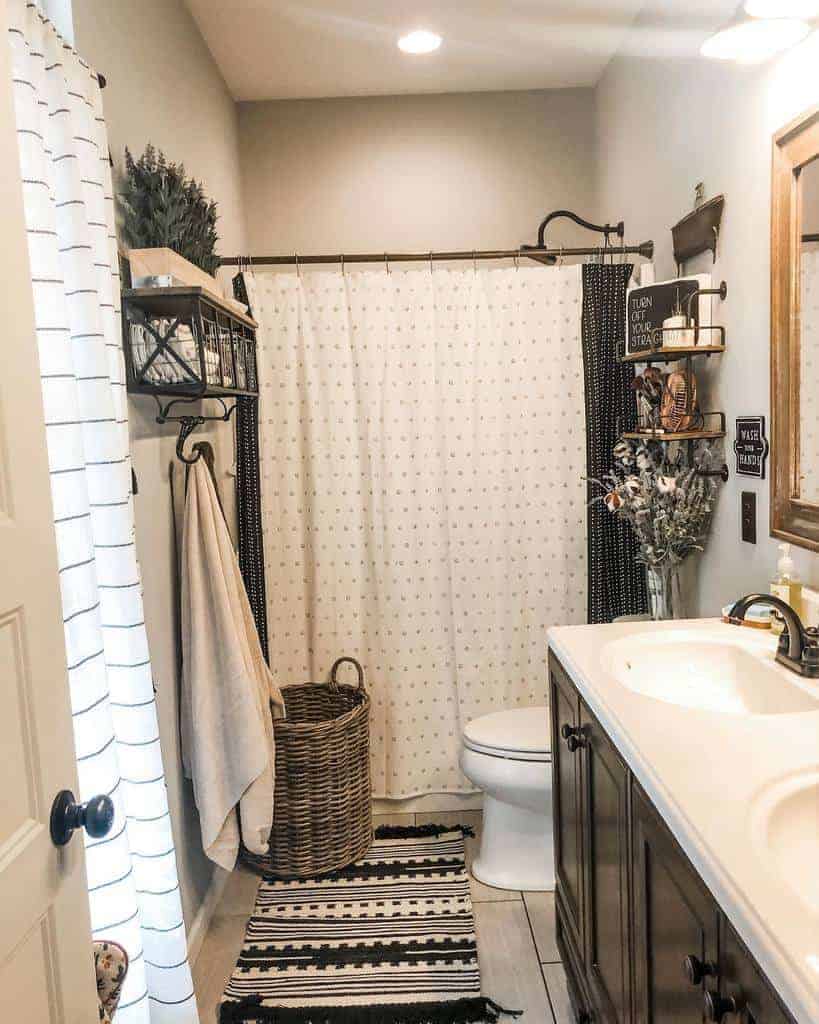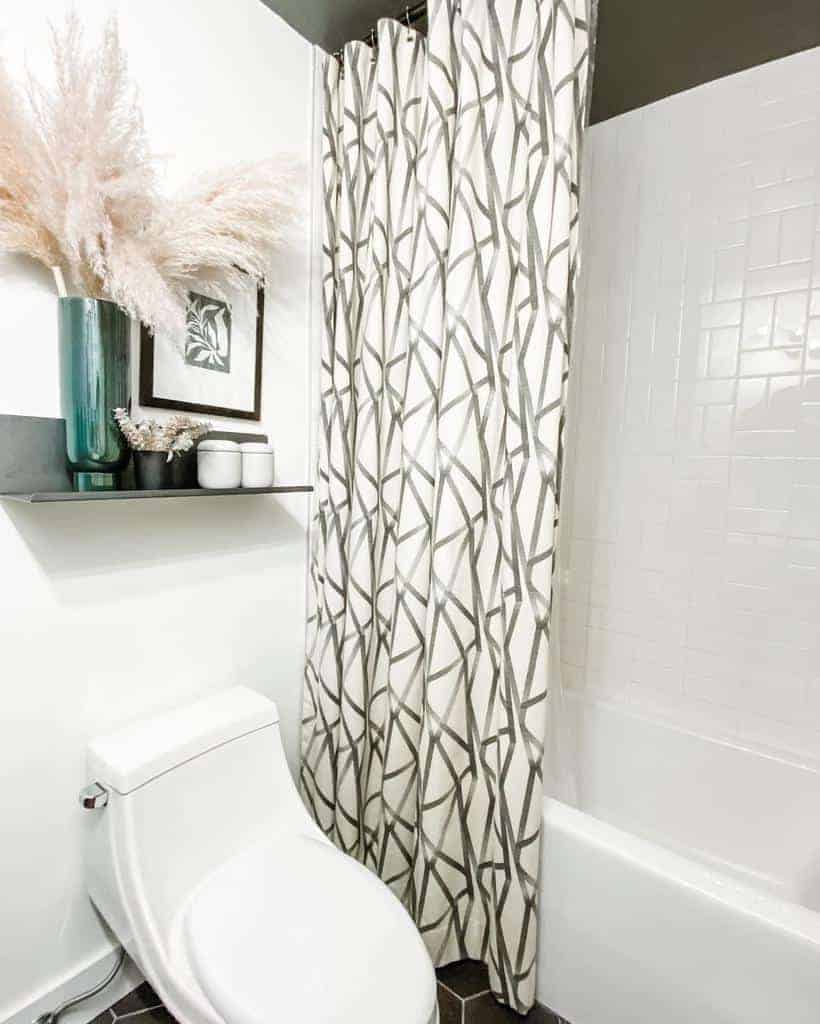 9. Add Texture with Terrazzo Patterns
Terrazzo-patterned shower curtains instantly enliven bathrooms with their vibrant and diverse specks. Acting as a lively backdrop, they introduce texture and a playful touch. To accentuate its eclectic nature, blend with varied hues or maintain a monochromatic theme. Regardless of your bathroom's current style, terrazzo curtains offer a budget-friendly refresh, guaranteeing a contemporary and lively touch.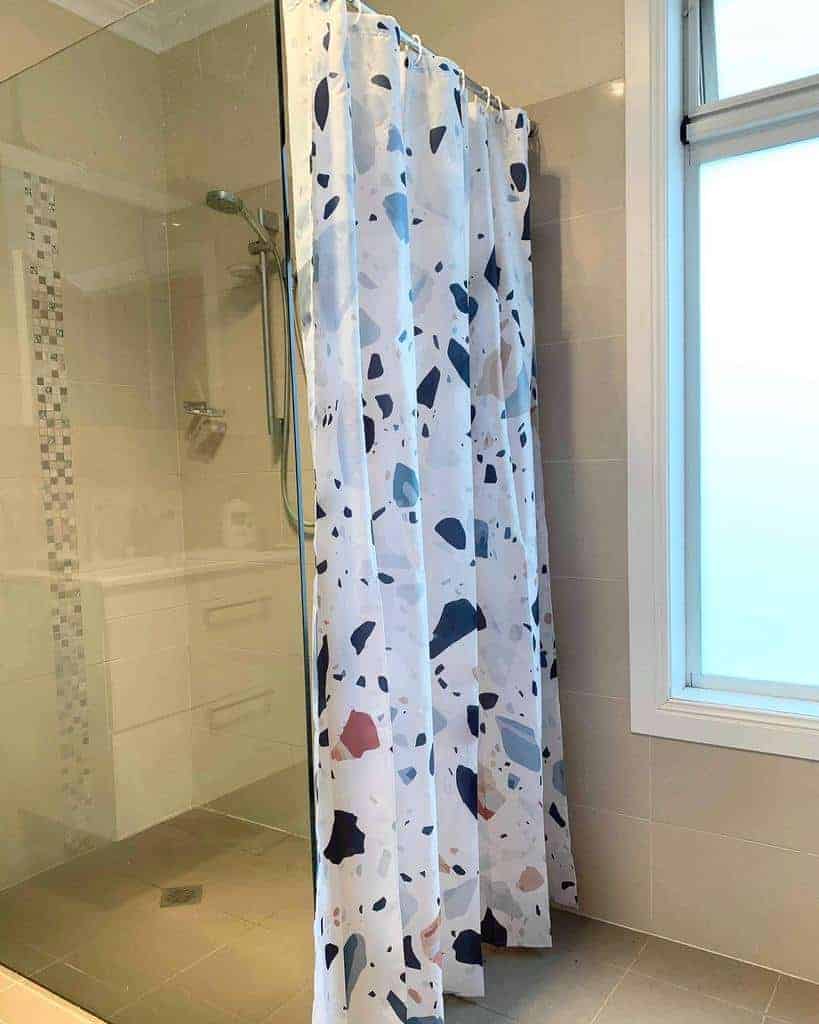 10. Gradient Beauty of Ombre Curtains
Ombre shower curtains, with their seamless color transitions, offer an elegant and trendy touch to bathrooms. Ranging from calming hues like blues and greens to vivacious pinks and oranges, there's an ombre to match every mood and preference. To optimize the look, consider complementary bathroom accessories. This affordable decor choice provides a stylish yet uncomplicated update.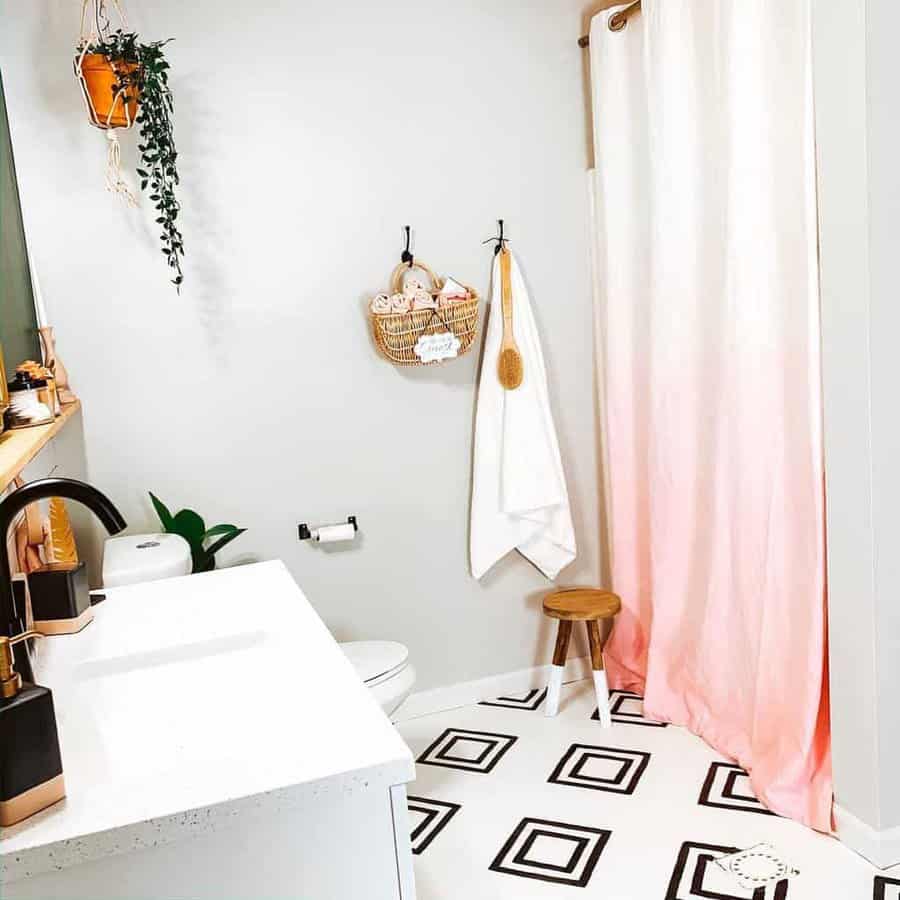 11. Add Elegance with Ruffled Details
Ruffled shower curtains exude French farmhouse charm, introducing softness and romance to bathrooms. Their versatility allows them to align with diverse designs, from traditional to shabby-chic. The textured frills not only add visual depth but also invite personalization. Experiment with hues and patterns to find a ruffled curtain that beautifully encapsulates your style.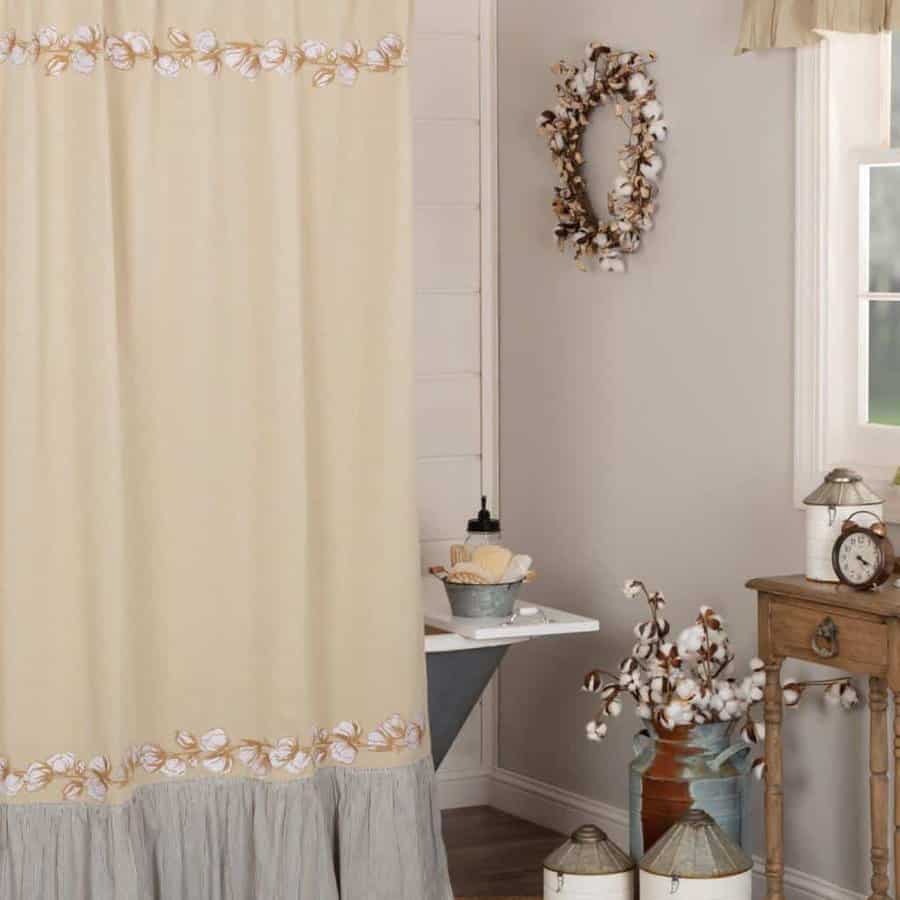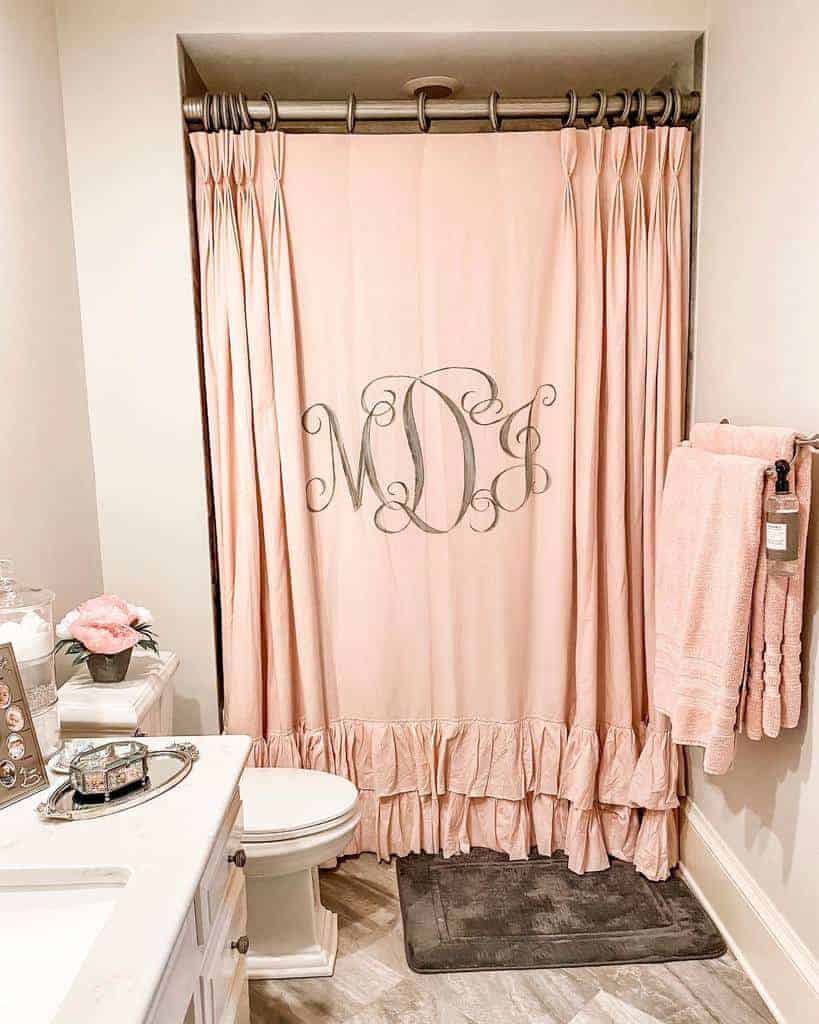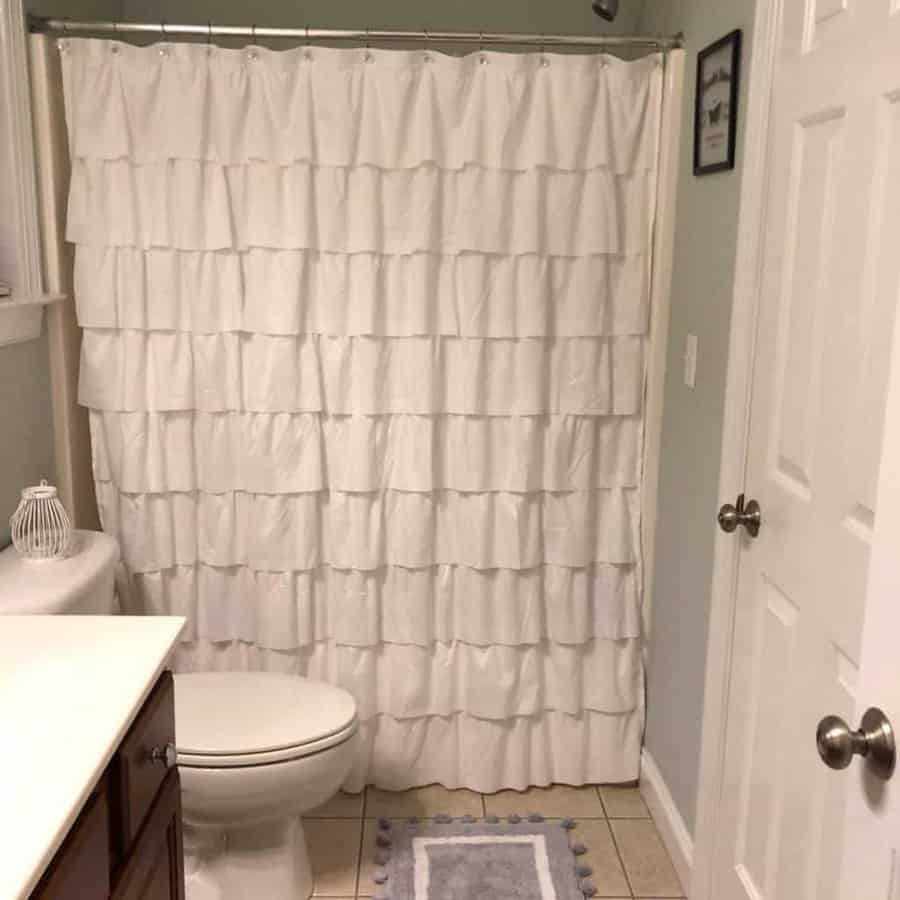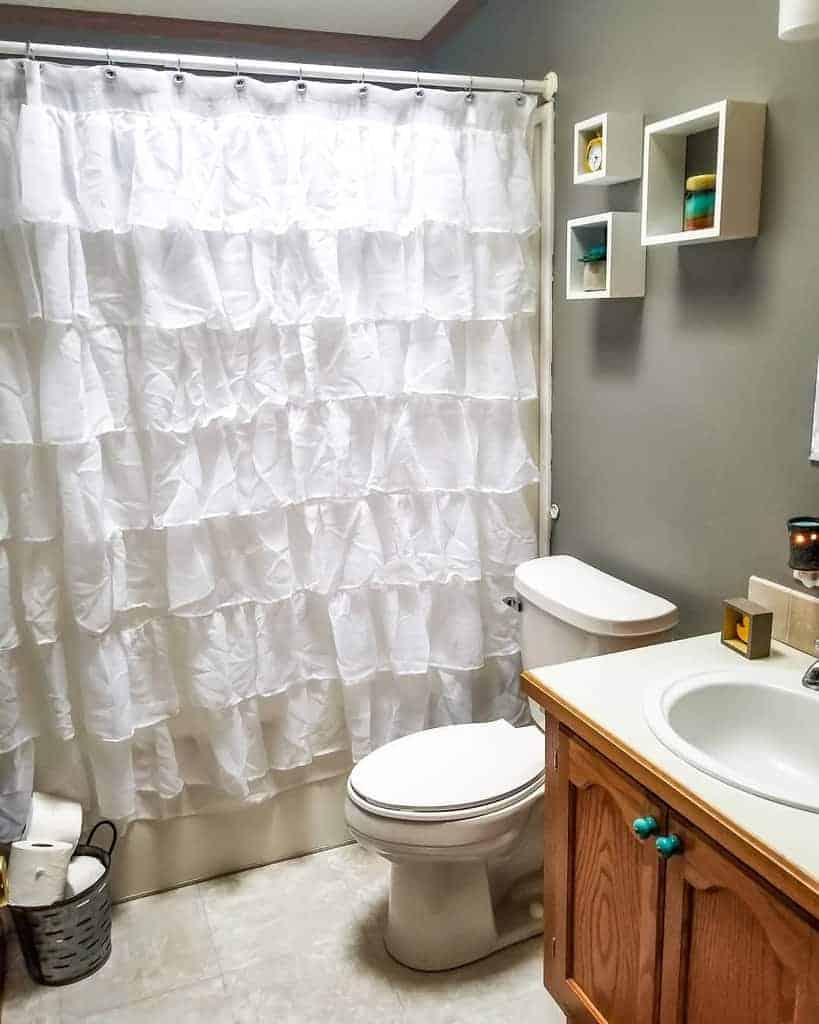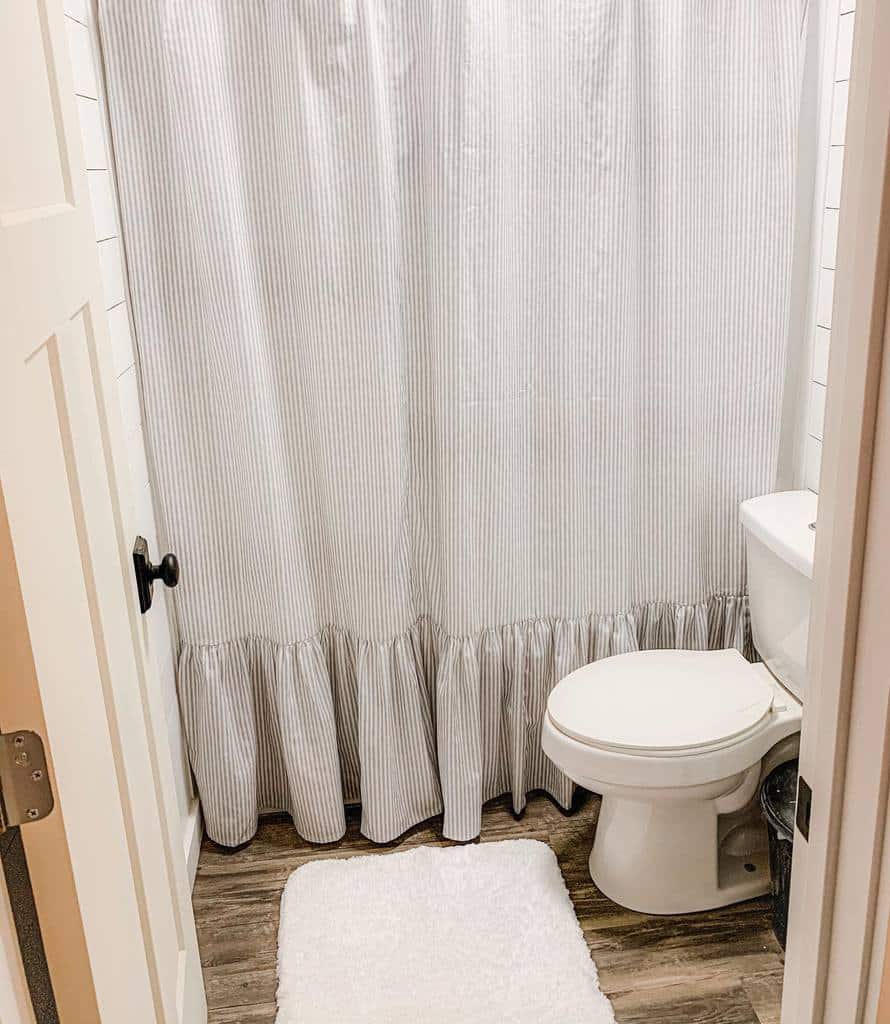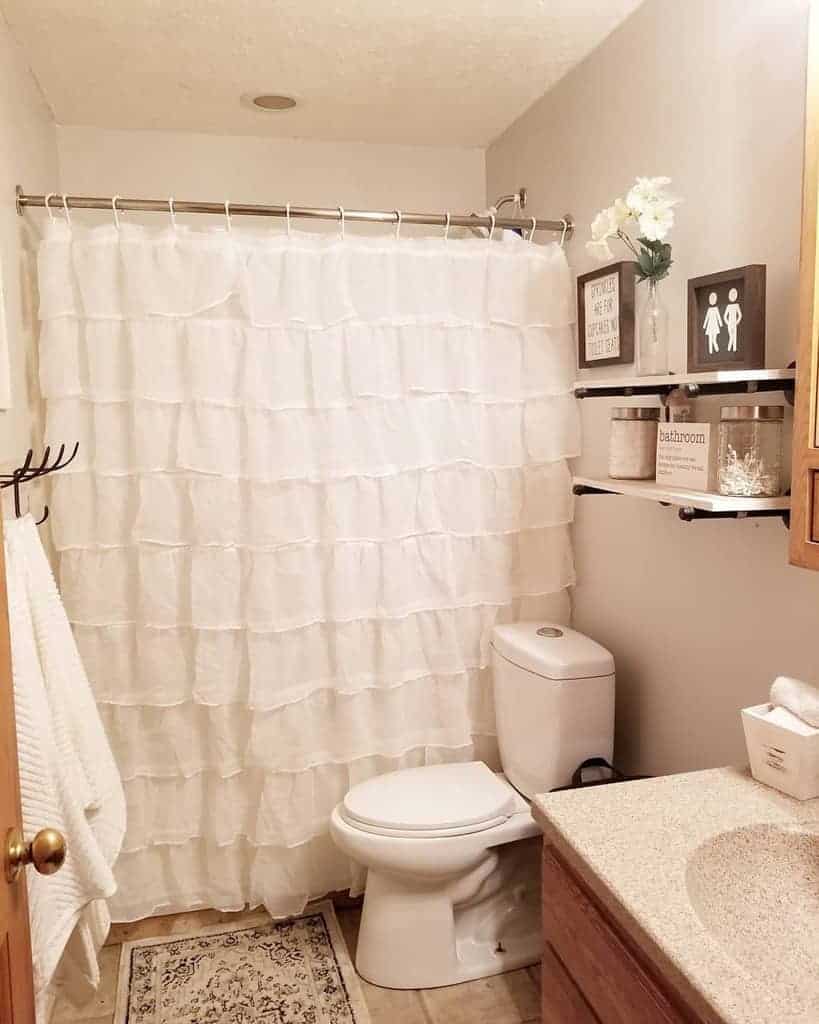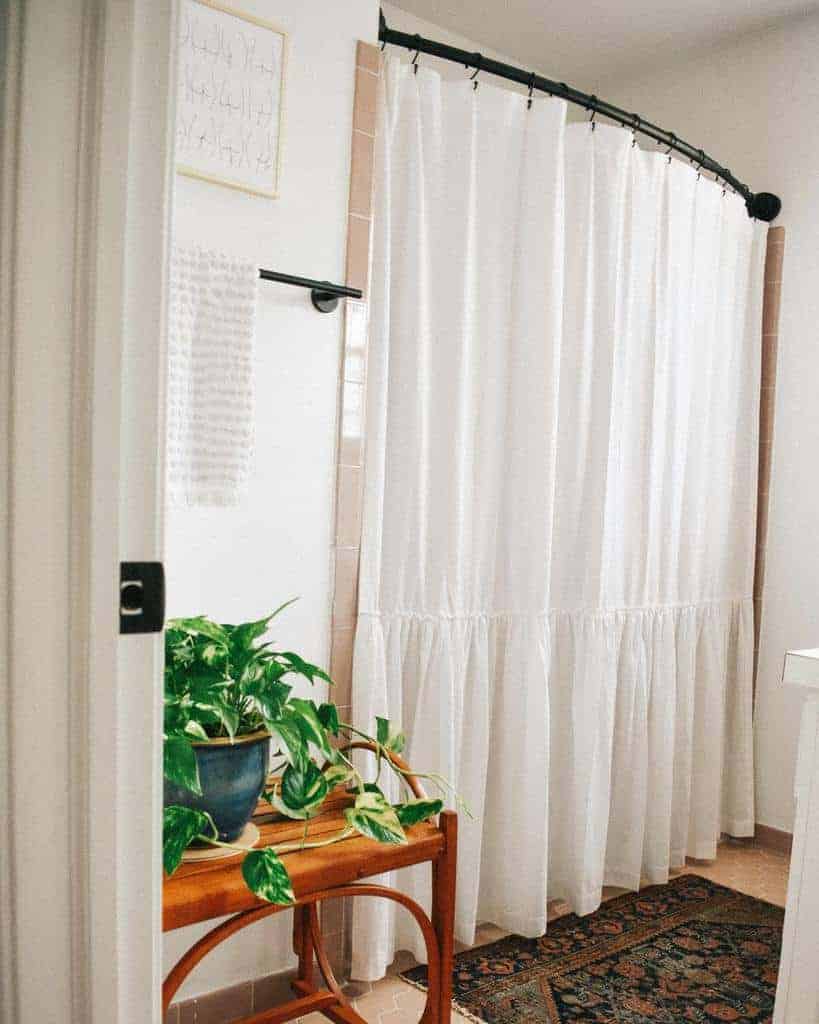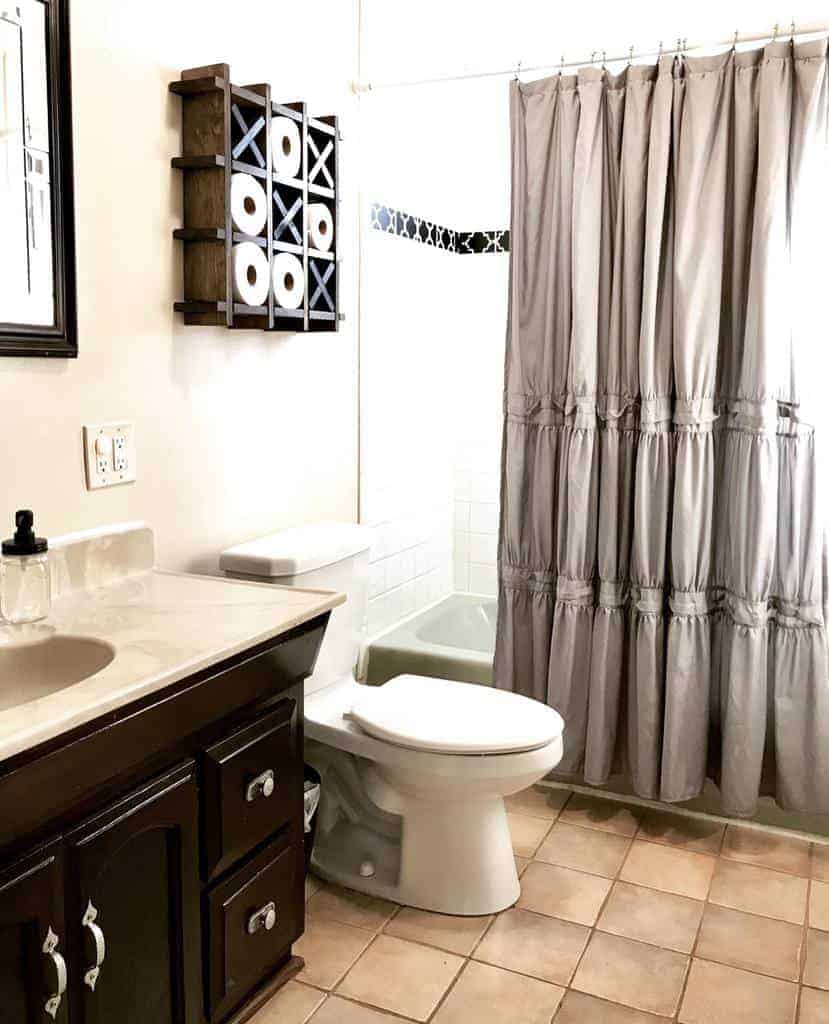 12. Blossom with Classic Floral Patterns
Floral shower curtains infuse bathrooms with femininity and charm. To achieve harmony, pick a pattern aligning with your current decor and hues. For a serene atmosphere, juxtapose vibrant floral designs with neutral walls or tiles. Opting for pastel-toned florals like blush or lavender lends a delicate elegance. Complement with coordinated bath mats and towels to elevate the entire look.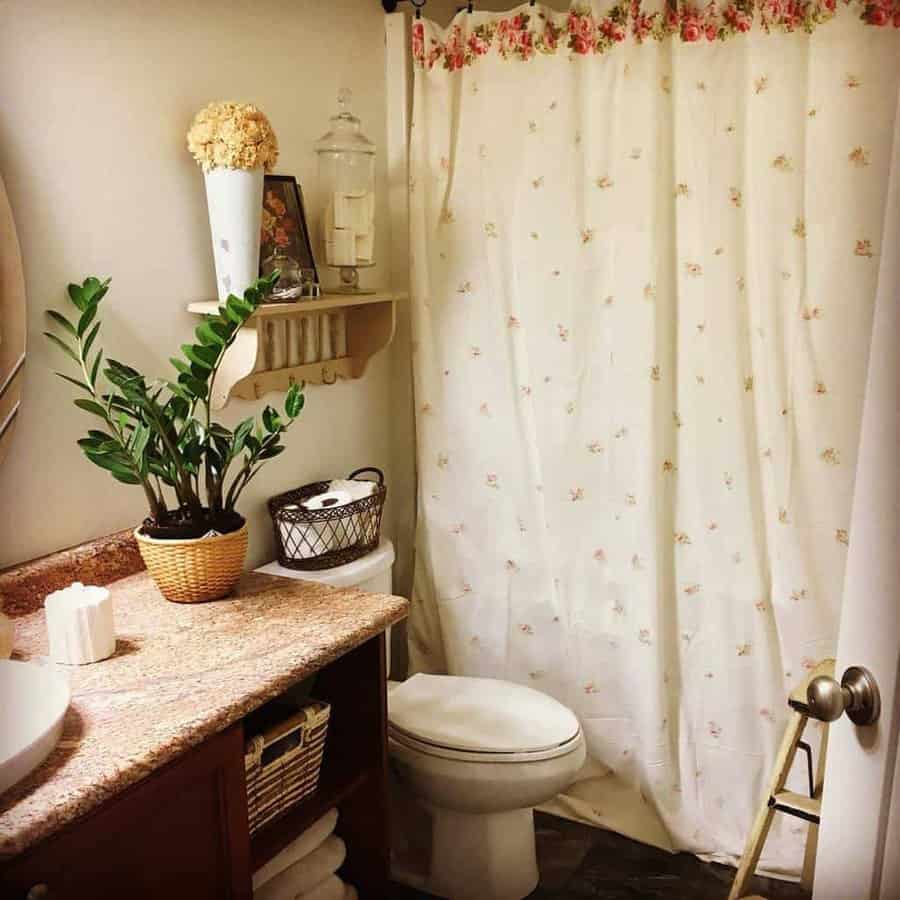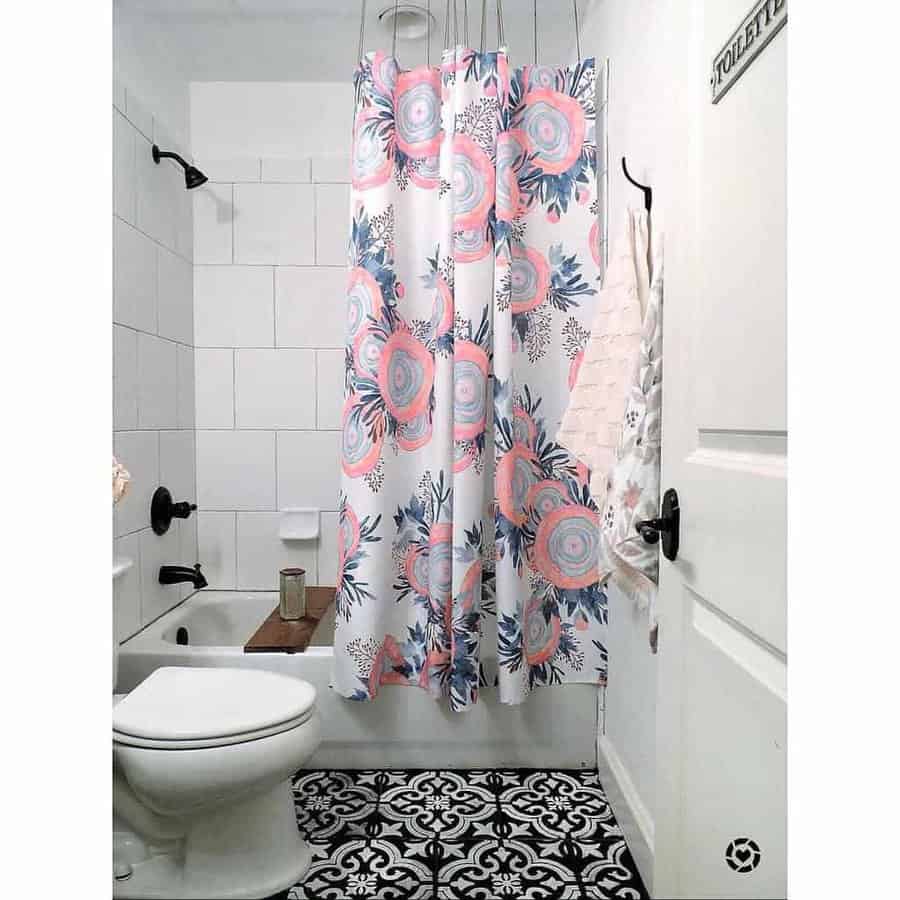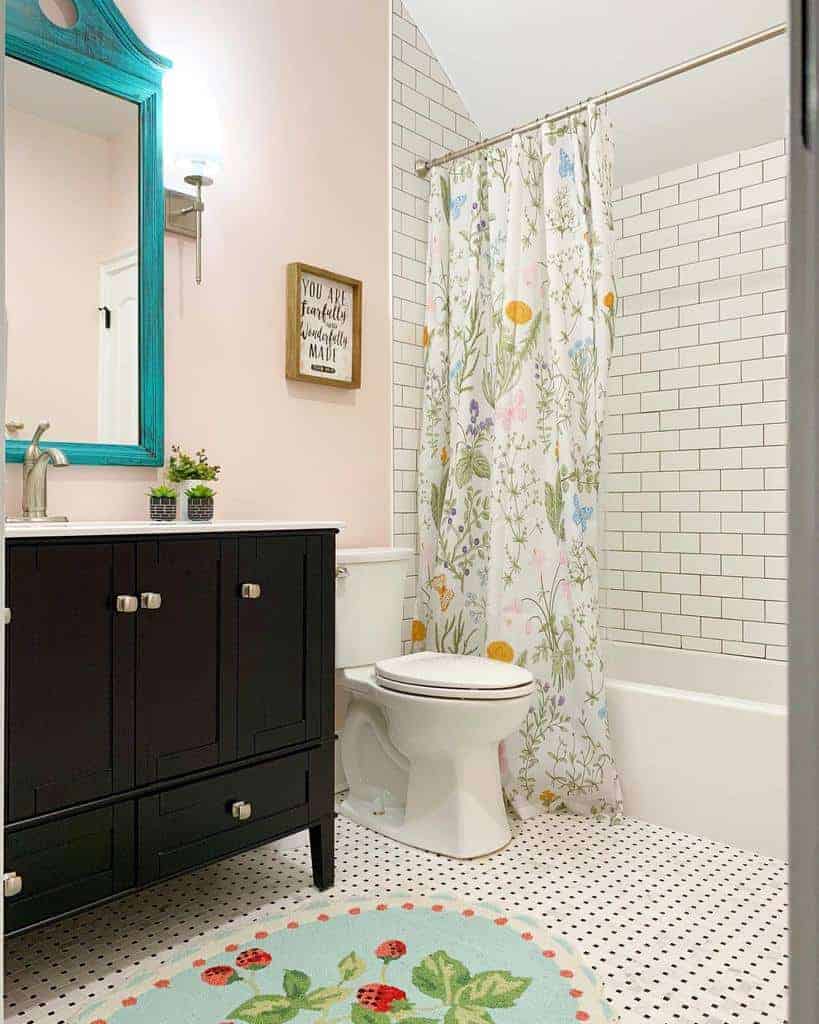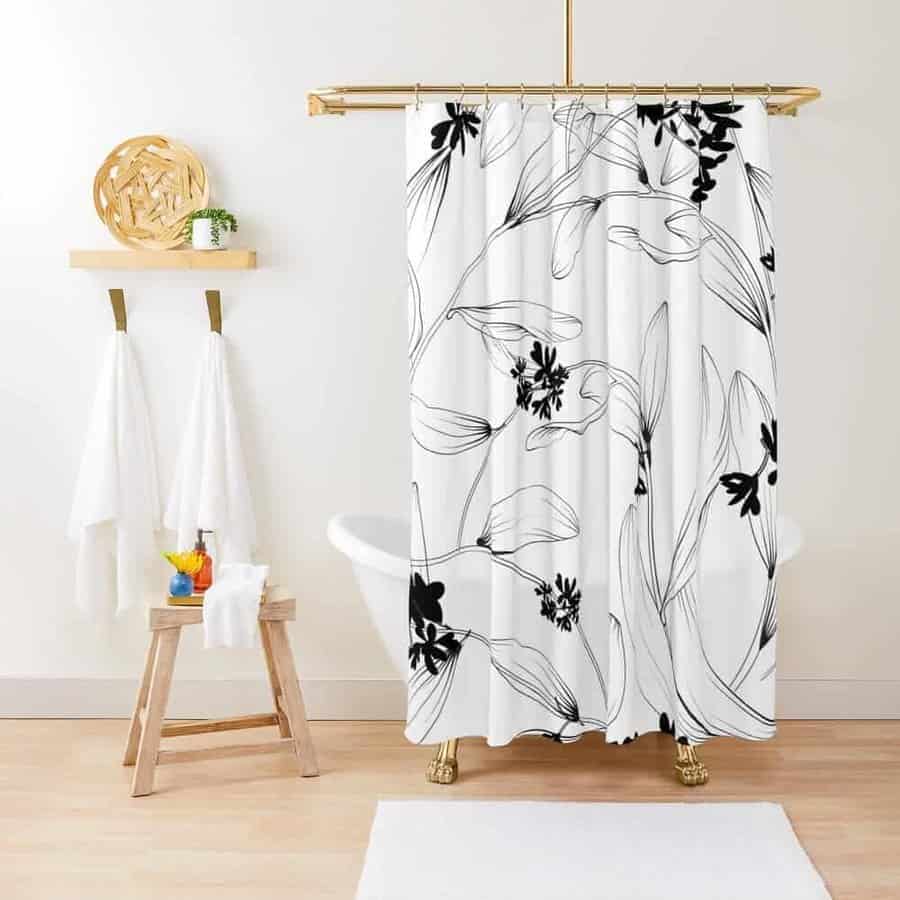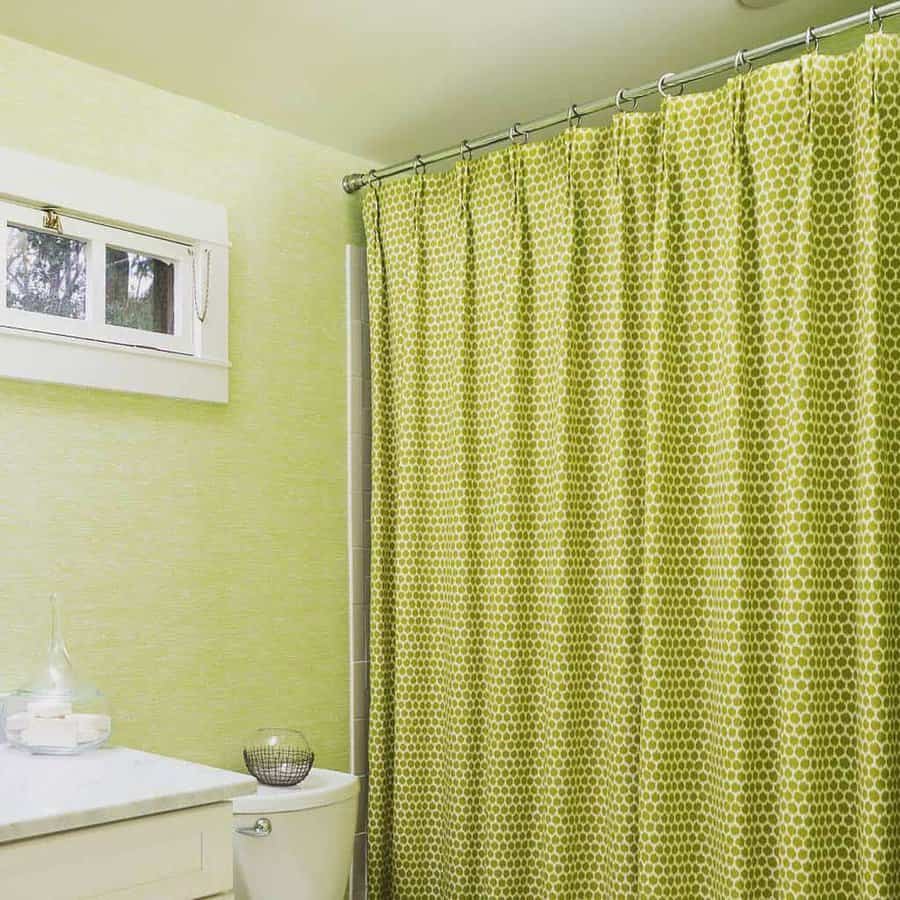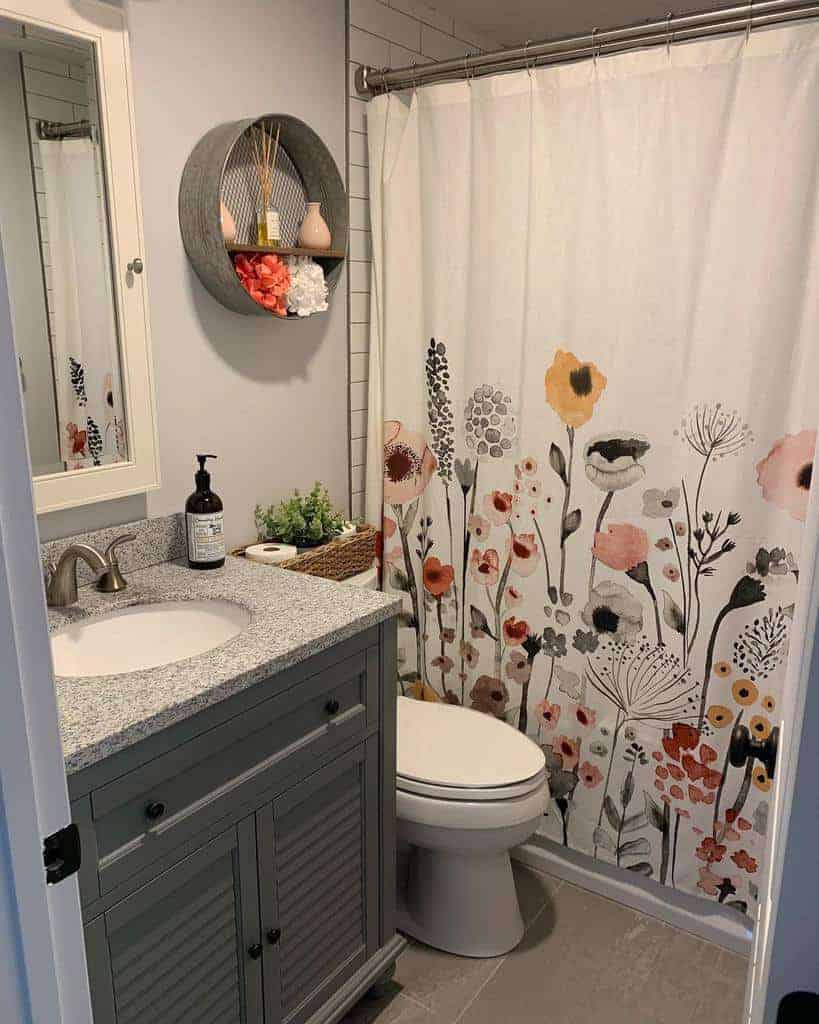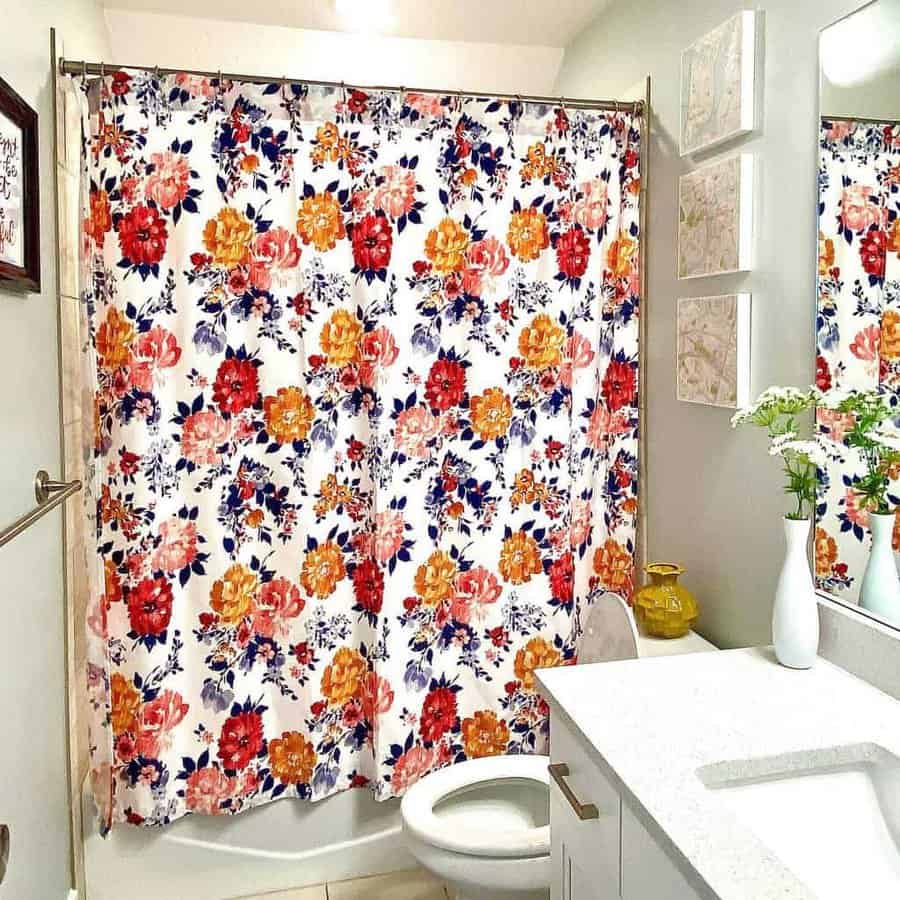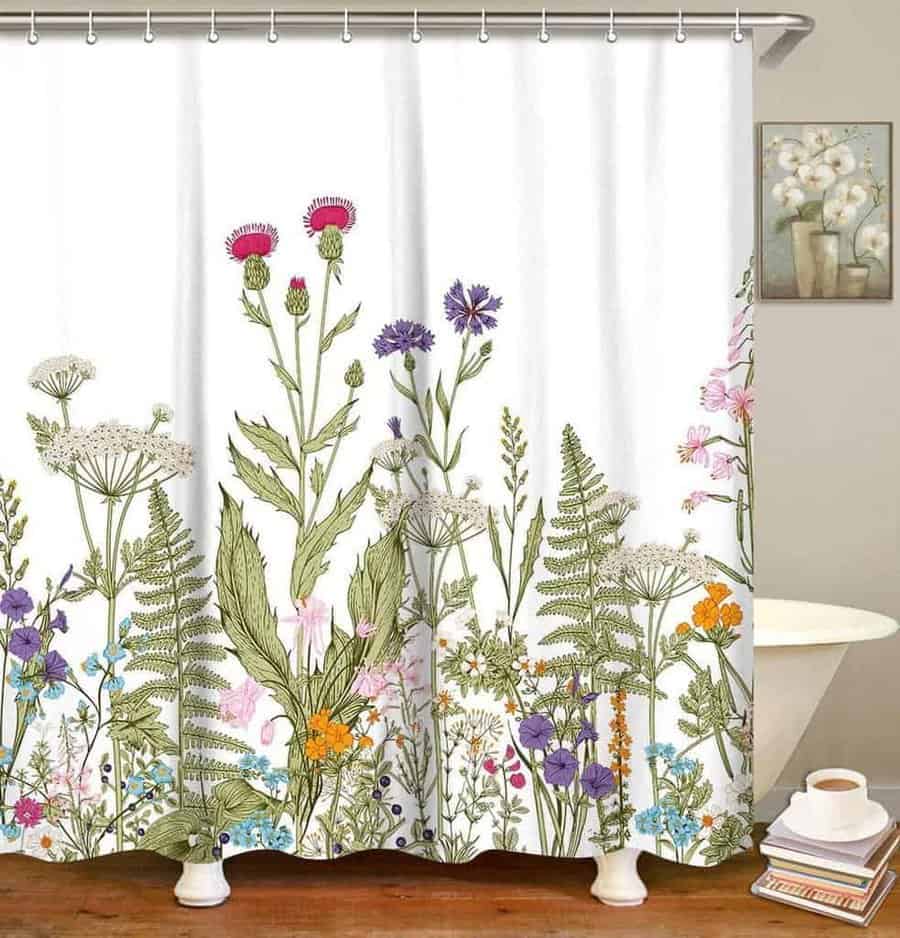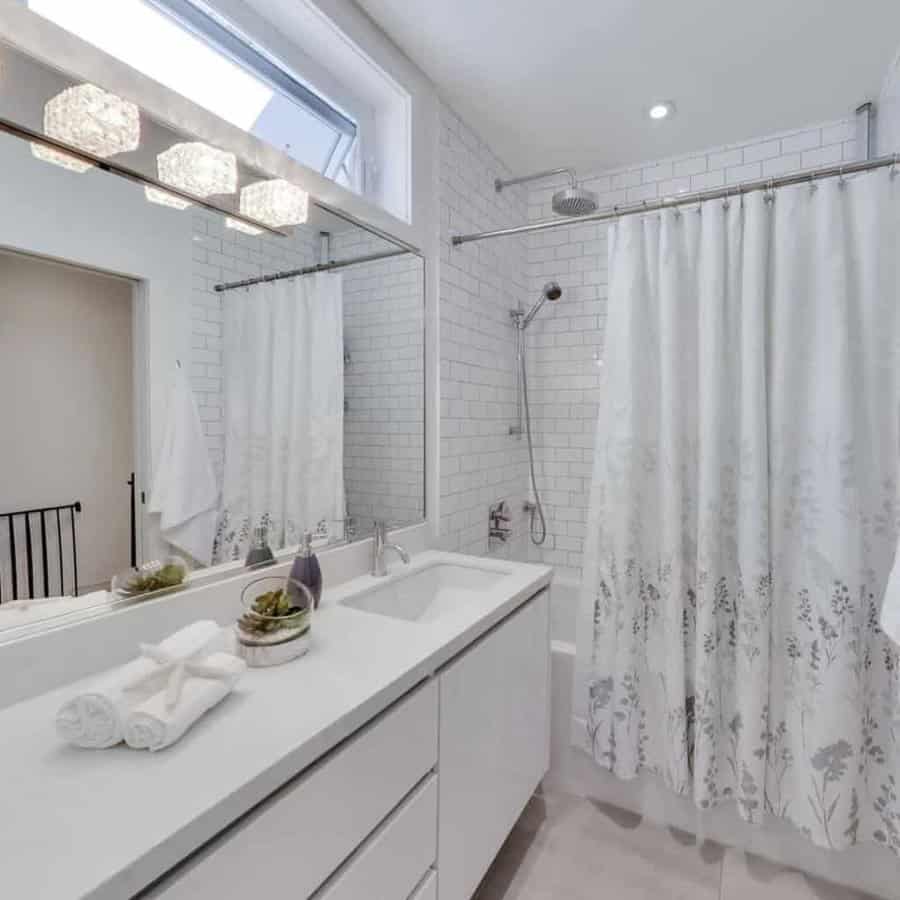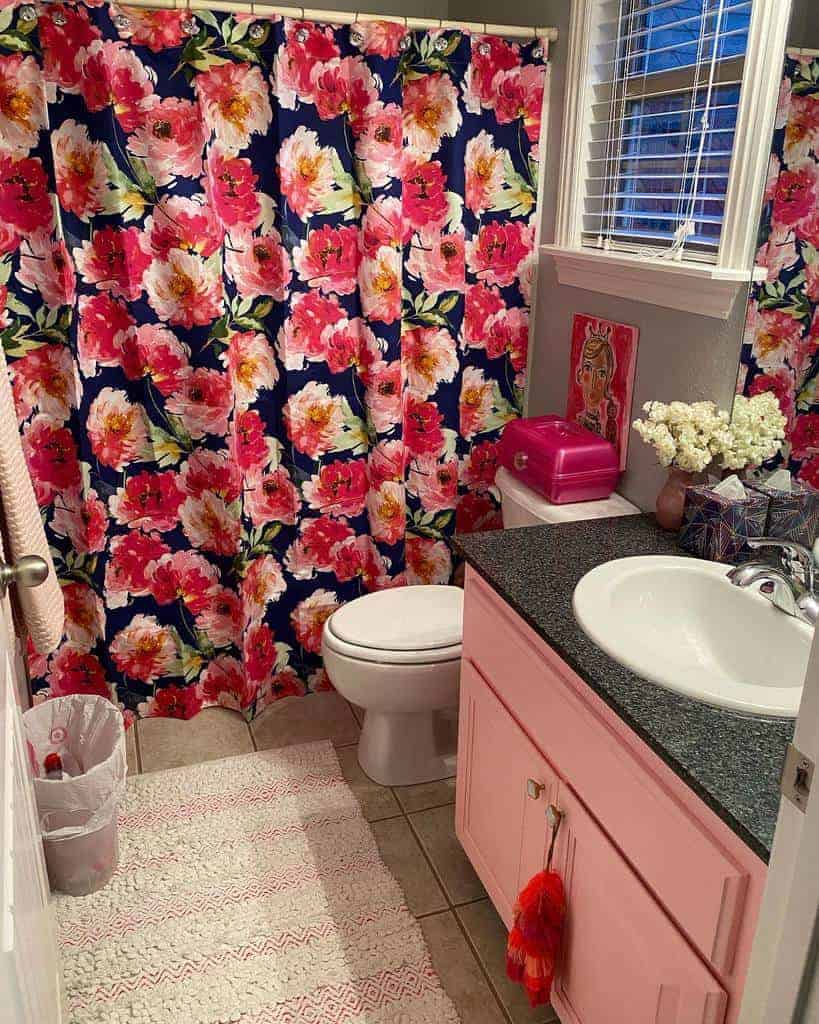 13. Enjoy Greenery with Faux Plant Trails
Introducing faux trailing plants on glass shower doors effortlessly melds nature with tranquility, turning ordinary bathrooms into spa-like retreats. This trend offers the freshness of greenery without maintenance worries. Whether you gravitate towards lifelike renditions or abstract designs, these plant trails are a distinctive touch, enhancing your bathroom's ambiance.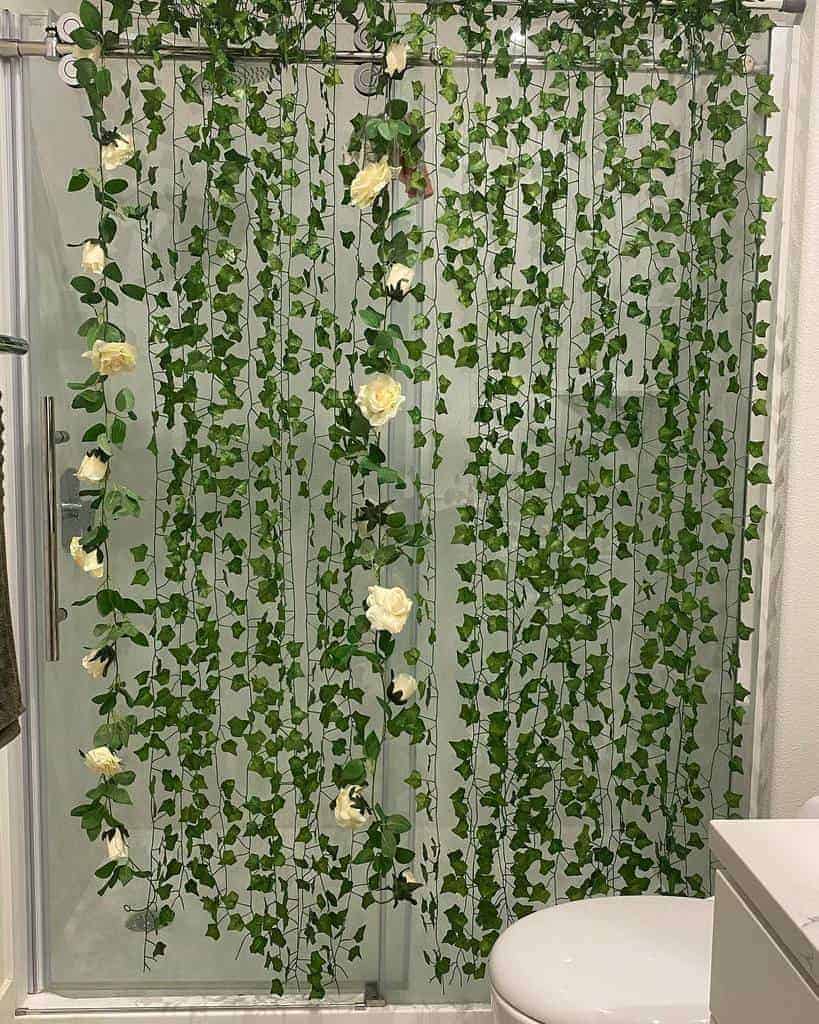 14. Vacation Vibes with Tropical Patterns
A tropical shower curtain instantly evokes a serene, vacation-like atmosphere in your bathroom. Vivid green foliage and bright flowers bring a sense of lush relaxation. Whether you favor bold prints or subtler designs, this curtain offers a delightful escape with every shower. It's a cost-effective method to refresh your bathroom, transporting you to a tranquil getaway daily.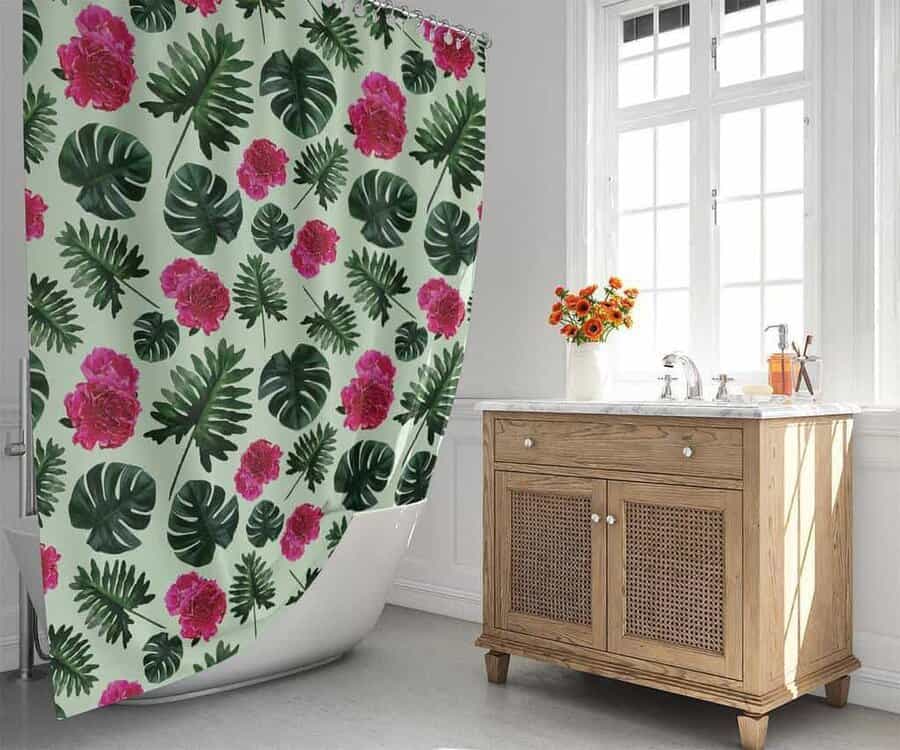 15. Bold Statement with Geometric Shapes
Geometric shower curtains offer a striking blend of style and personality, instantly modernizing your bathroom. Select shades that echo your decor or pick vibrant patterns for a standout look. Versatile by nature, these designs suit various aesthetics, from minimalist to opulent. For a chic touch, pair with gold accents and patterned tiles.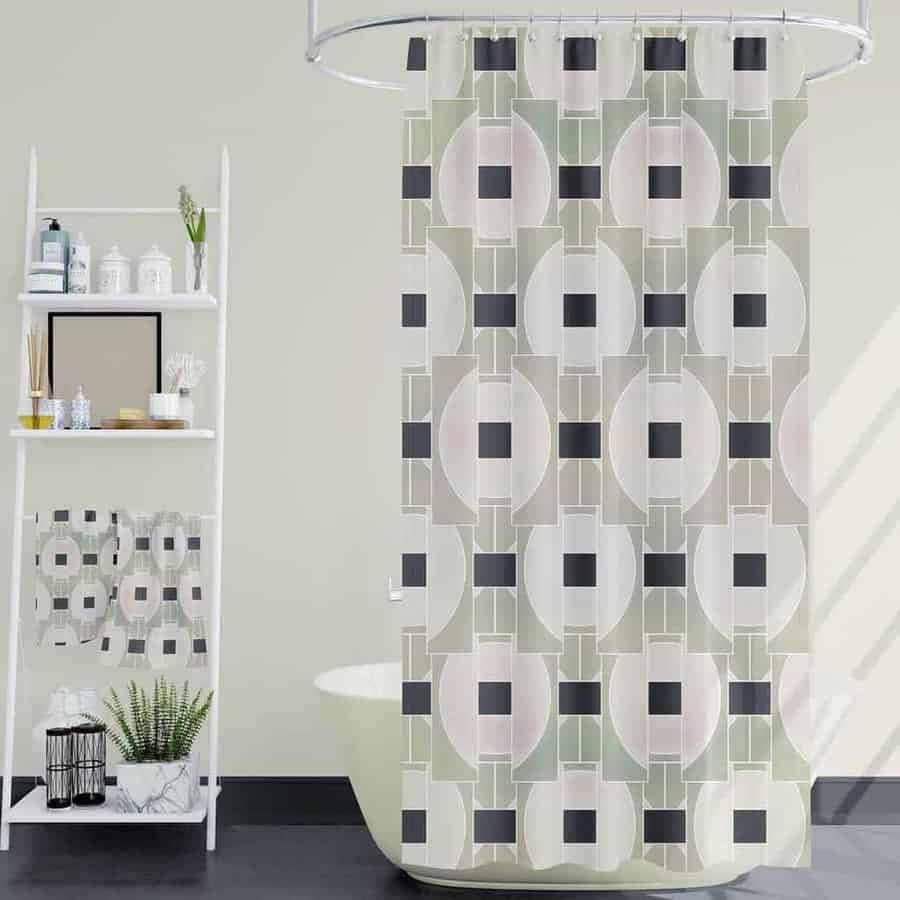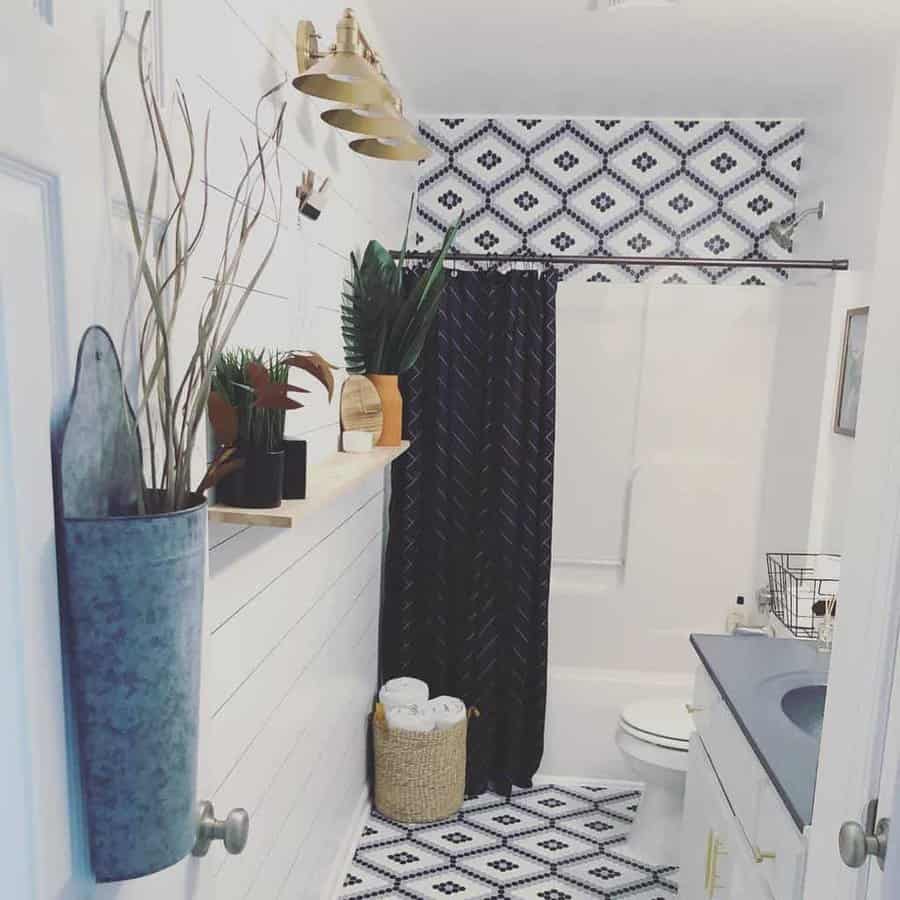 16. Timeless Appeal of Striped Curtains
Striped shower curtains offer a blend of modern simplicity and timeless elegance. Their clean lines can elevate any bathroom without overpowering it. Versatile in design, they harmonize with various color schemes. Opt for classic black and white, tranquil blues, or even vibrant hues. A striped curtain anchors your decor, effortlessly imparting a refined ambiance.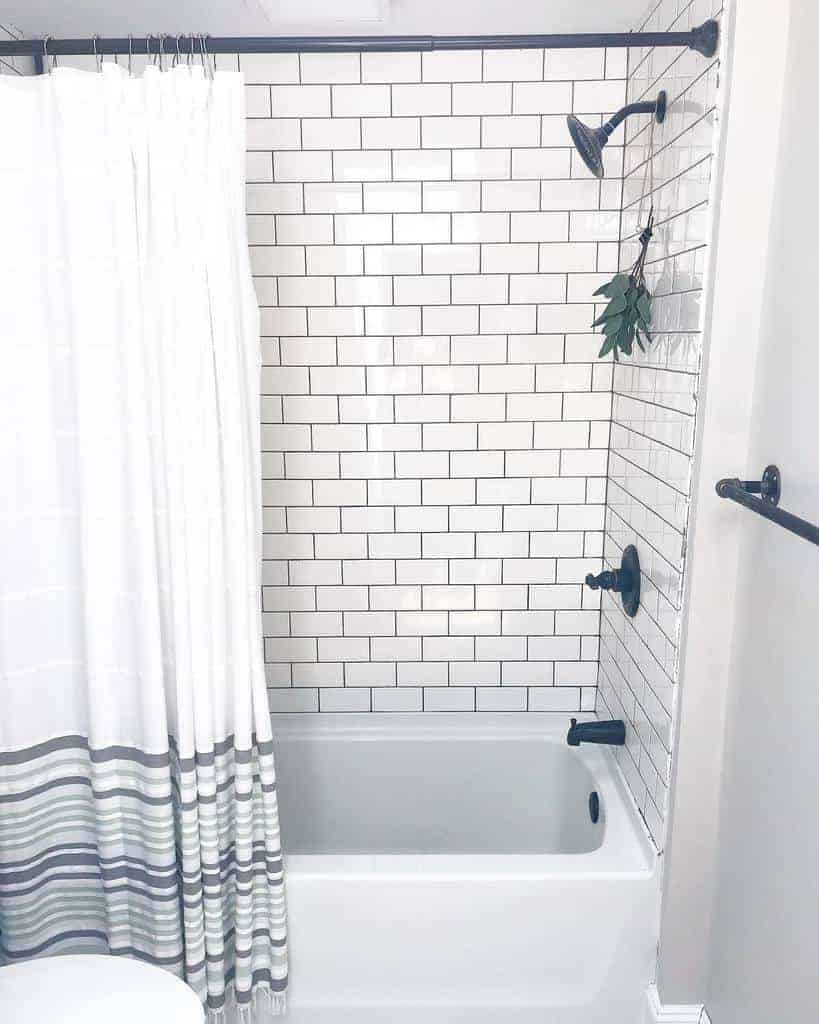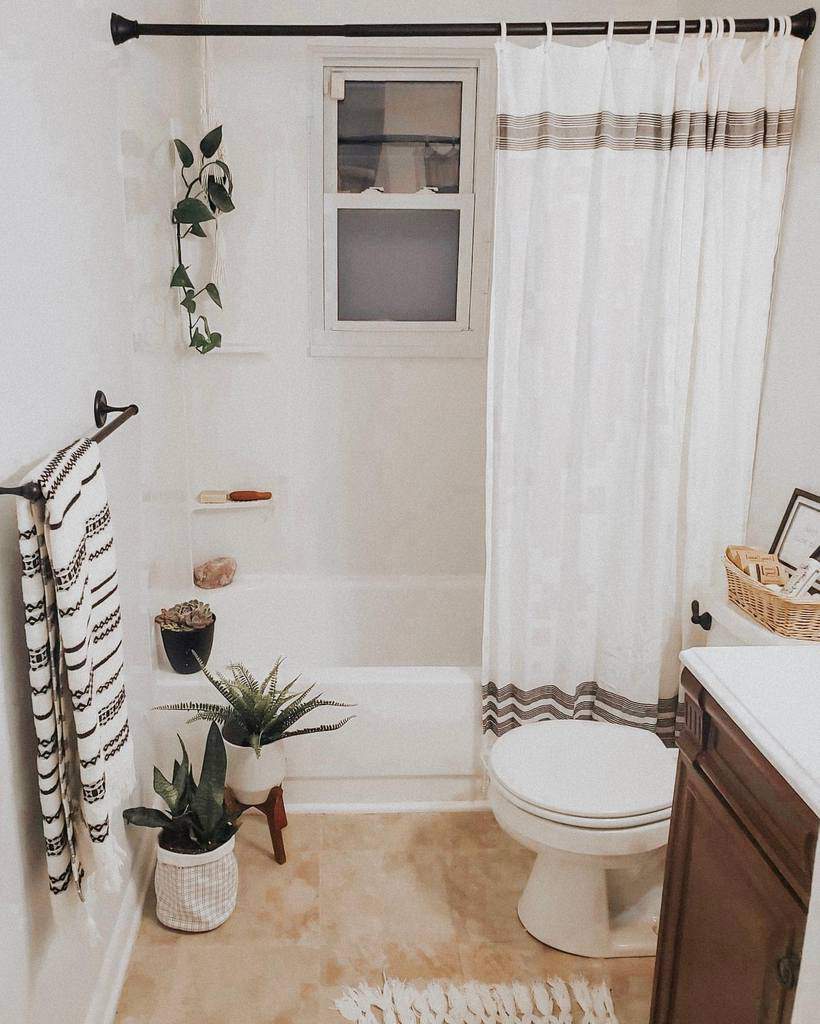 17. Rustic Charm of Barn Door Designs
A barn door-themed shower curtain exudes rustic charm, instantly transforming your bathroom into a cozy countryside haven. This design pairs well with wooden accessories and neutral hues, enhancing the natural aesthetic. For a contemporary twist, combine it with sleek metal finishes. Whatever your preference, this curtain style infuses warmth and character, evoking feelings of a tranquil rural escape.
18. Celebrate Seasons with Themed Curtains
Seasonal shower curtains breathe fresh life into your bathroom, letting you celebrate various holidays in style. Opt for a Halloween design with eerie motifs for a playful touch or embrace the festive spirit with a Christmas curtain adorned with snowflakes and reindeer. Swapping out these curtains as seasons change offers a dynamic decorating approach, keeping your space both timely and vibrant.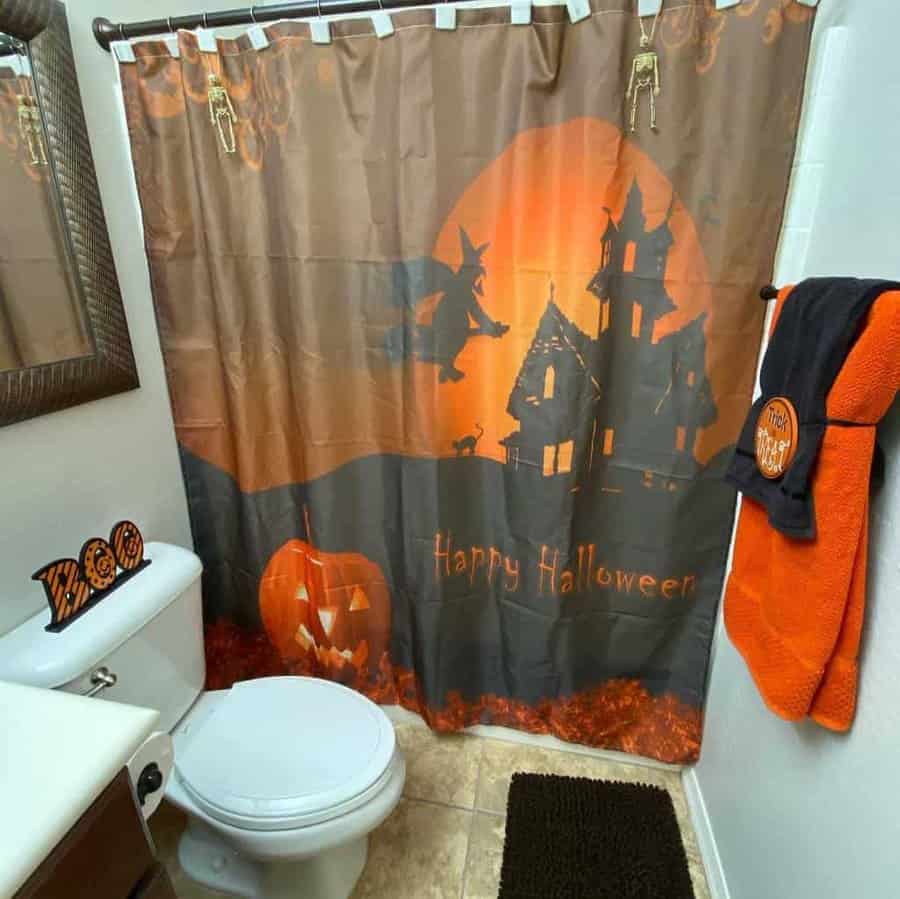 19. Relive Childhood with Cartoon Themes
Introduce a dose of nostalgia and joy into your bathroom with cartoon-themed shower curtains. Whether it's beloved characters from classic animations or quirky doodles, these curtains infuse a childlike wonder, making showers a delightful experience. Ideal for children's bathrooms, they can spark imagination, and perhaps even inspire a love for storytelling. From timeless characters like Mickey Mouse to more contemporary animations, there's a design to suit every preference. When paired with matching towels and bath accessories, you create an immersive theme that might just make bath time the favorite part of the day. So, embrace the magic of childhood and let these curtains turn every shower into a whimsical adventure.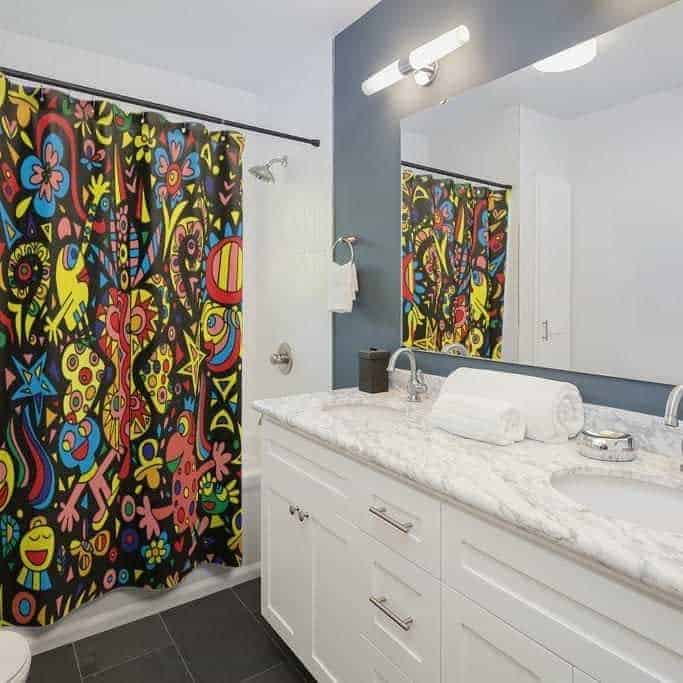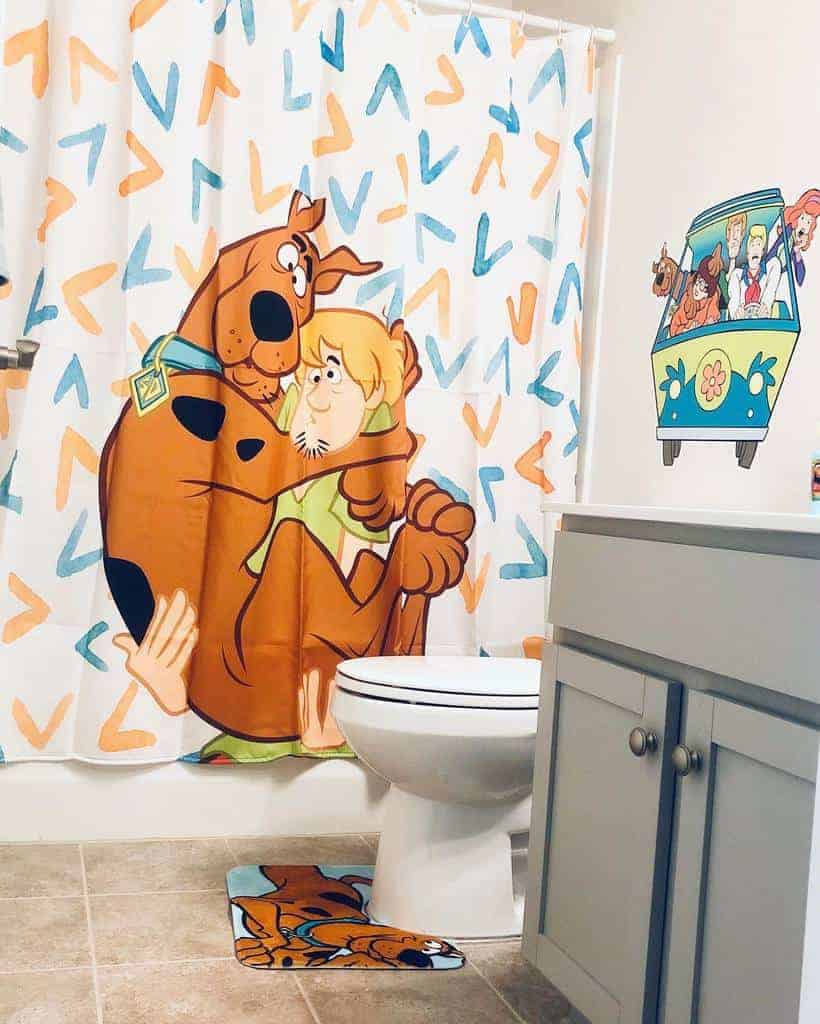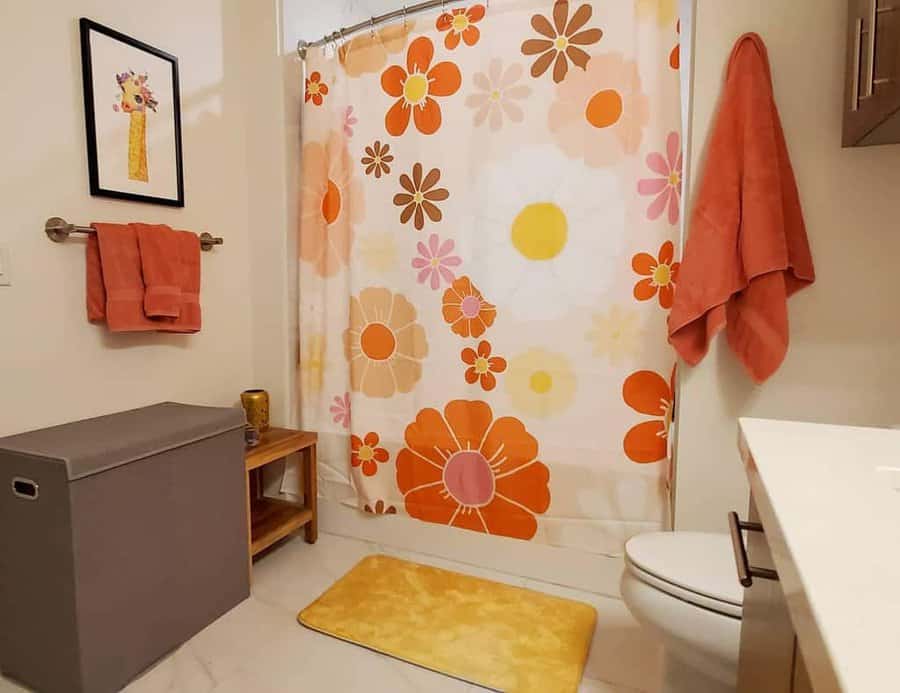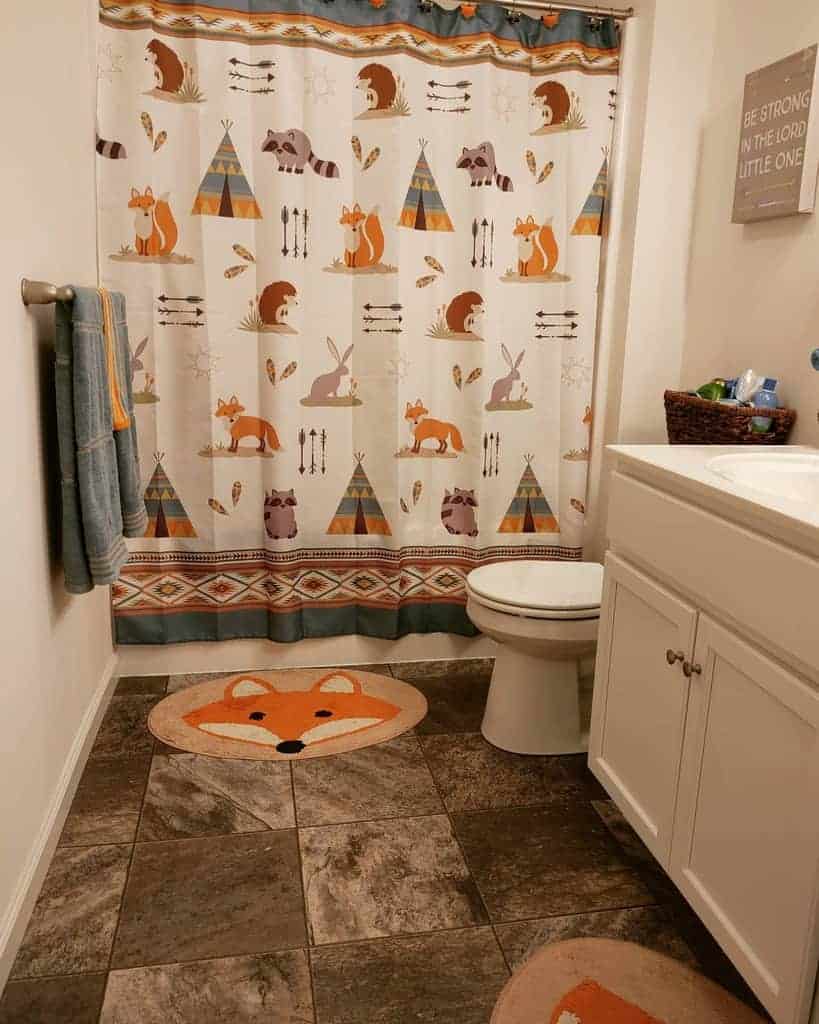 20. Speak Volumes with Typography Designs
Elevate your bathroom with typography shower curtains that seamlessly blend visual appeal and meaningful words. Whether you prefer bold fonts or intricate calligraphy, there's a design to match your style.
Choose playful reminders like "Sing like nobody's listening" or motivational quotes such as "Carpe Diem" to set the tone for your day. Personal affirmations or beloved book excerpts also add a personal touch. Coordinate your bathroom accessories for a chic haven of wisdom and wit. Let your shower curtain inspire everyone to embrace each day with joy and positivity.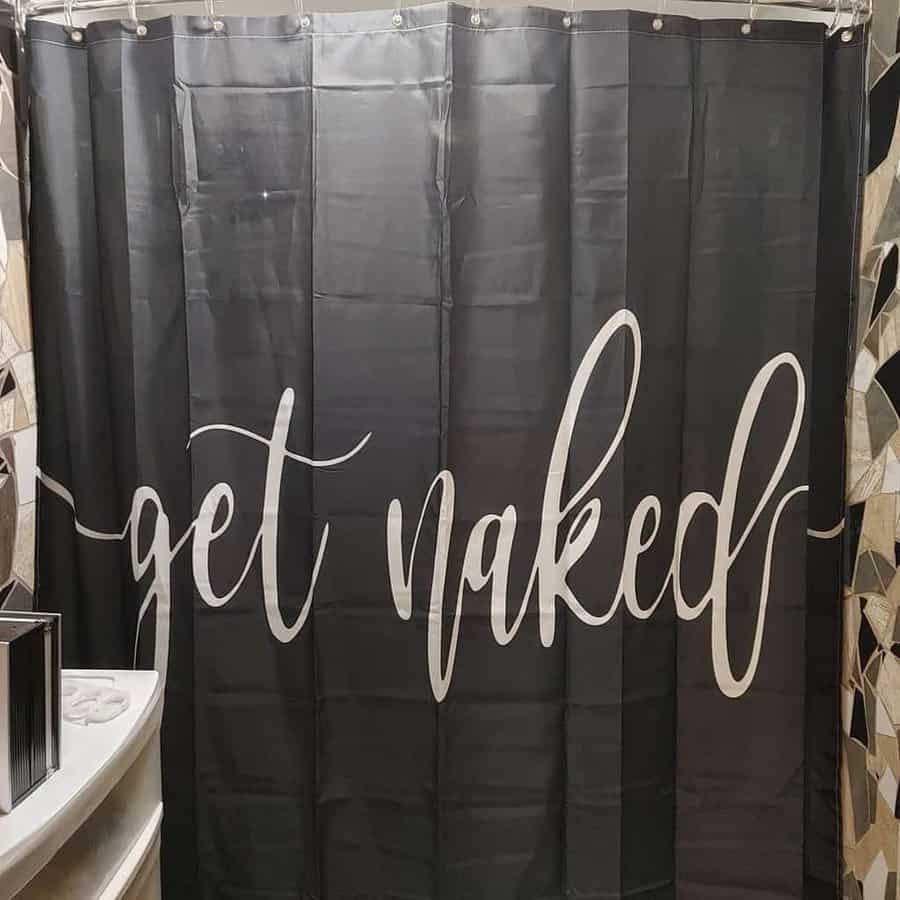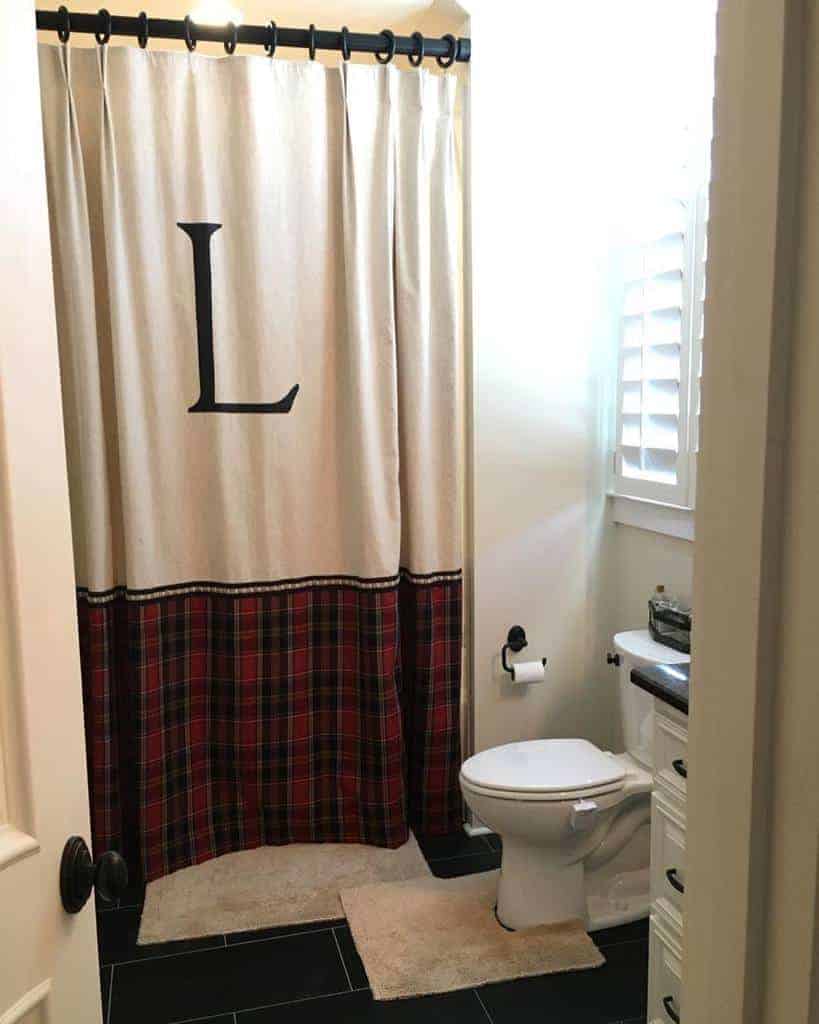 21. Dive into Art with Abstract Patterns
Transform your bathroom into a captivating gallery with abstract shower curtains inspired by modern art. These designs engage the senses, turning daily routines into visual adventures.
Abstract patterns offer boundless interpretations, from serene watercolors to dynamic brush strokes. Each curtain is a unique work of art, ensuring your bathroom stands out. To enhance the effect, consider pairing your abstract curtain with modern fixtures or let it shine against neutral backgrounds. With this balance, your bathroom becomes a space where art and functionality merge, creating a daily escape into a world of color and imagination.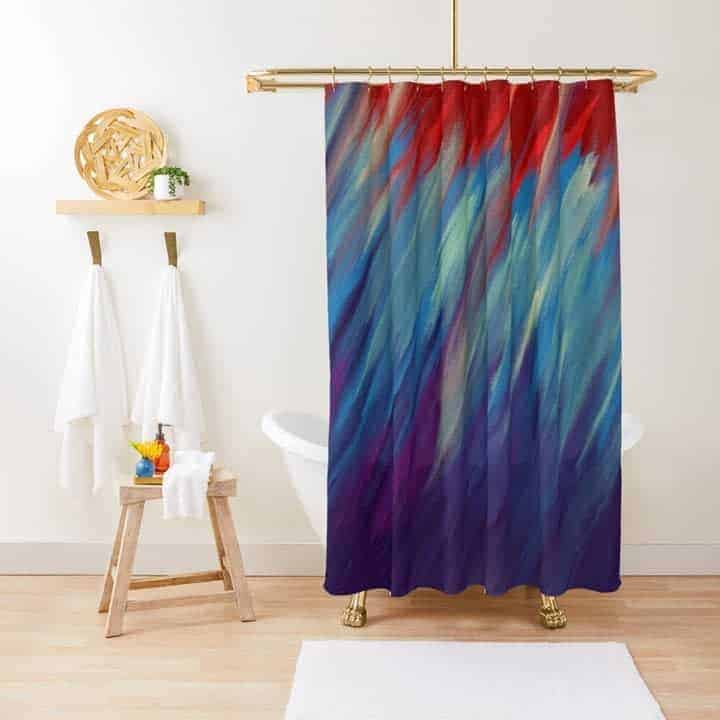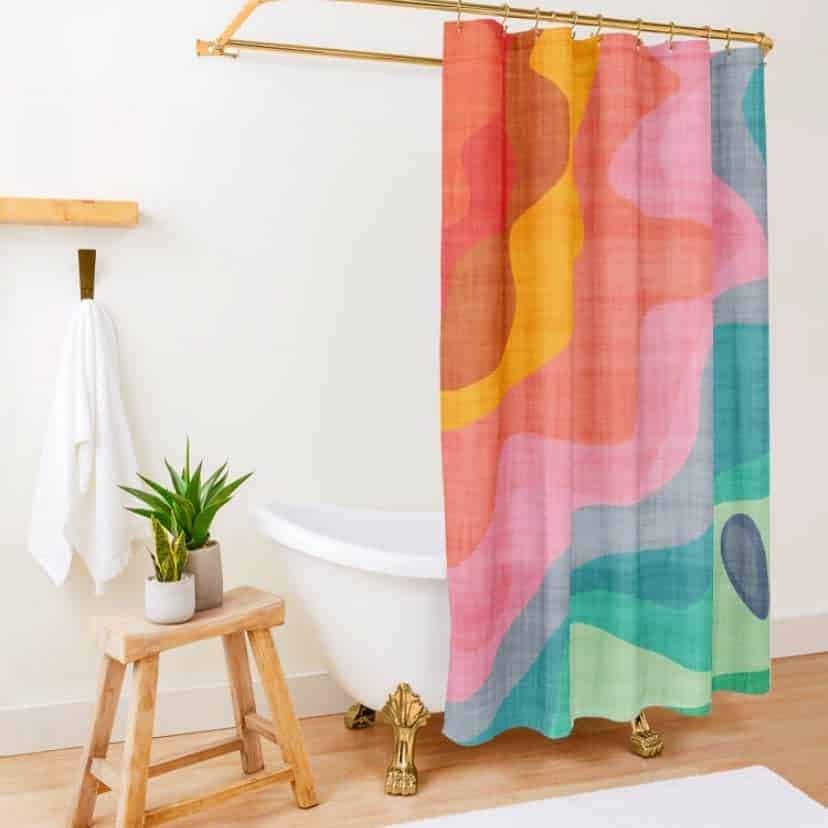 22. Fun Flair of Pompom-Adorned Curtains
Embrace whimsy with pompom-adorned shower curtains! These playful embellishments add boho-chic elegance and a comforting tactile element to your bathroom. Pair with terracotta pots, wooden accents, and soft lighting for a cozy bohemian vibe that turns every shower into a mini vacation.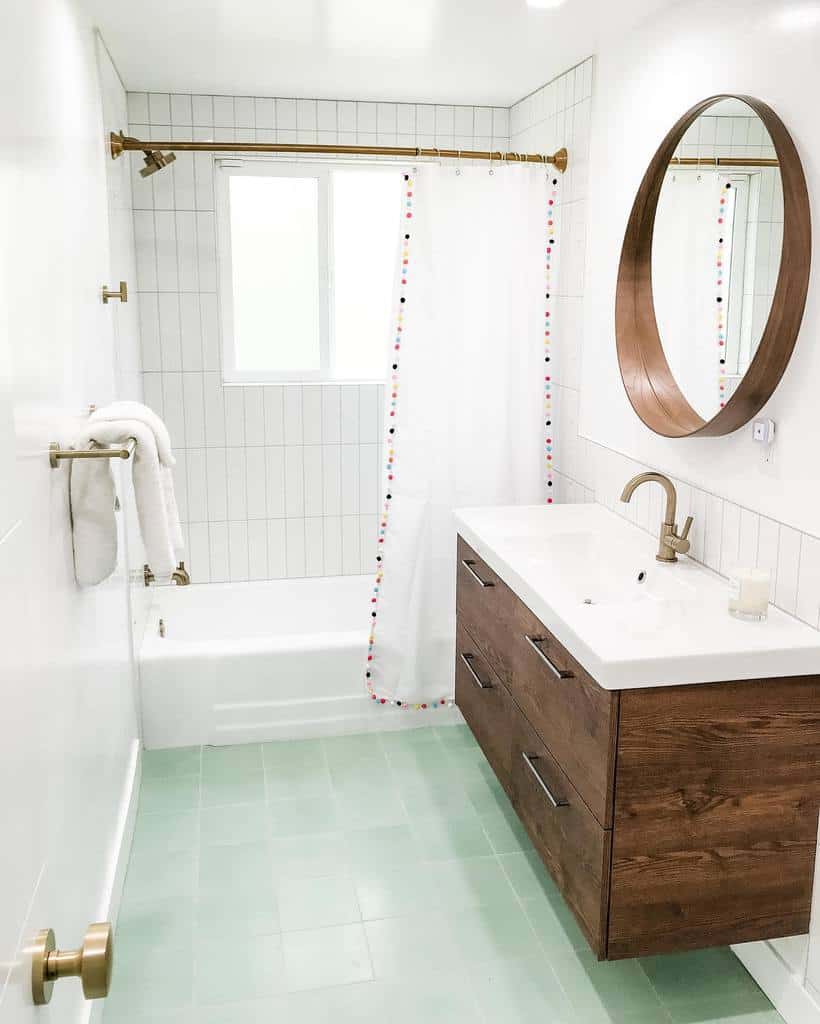 23. Ancient Charm with Aztec Patterns
An Aztec-inspired shower curtain introduces vibrant geometric patterns and historical motifs to your bathroom, transforming it into an artistic space. For a cohesive look, pair the curtain with earthy tones, such as browns and reds, and complement with Southwestern decor like terracotta pots and woven baskets. This design effortlessly merges with both modern and traditional settings, making your bathroom a blend of history and contemporary flair.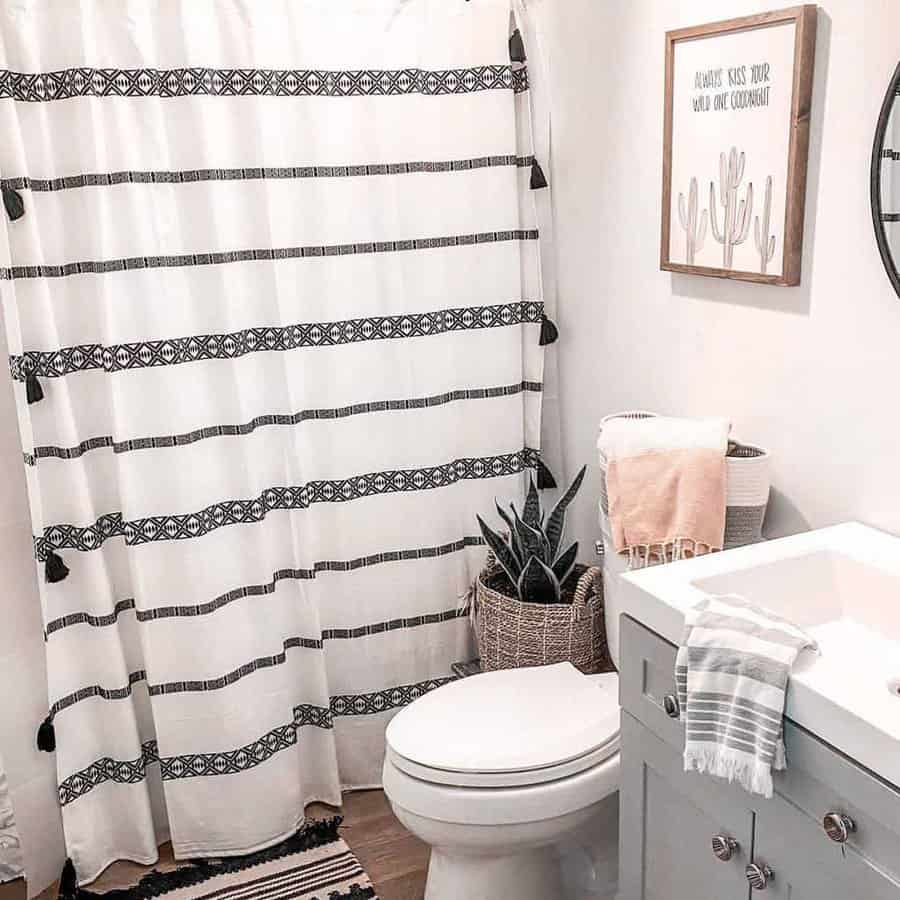 24. Pure Serenity in Minimalist White
Elevate your bathroom with a minimalist white shower curtain, lending sophistication and an airy ambiance. Its neutral canvas complements vibrant towels or patterned rugs, allowing for versatile decor choices. Refresh your space by swapping the white curtain with different styles to maintain an elegant and contemporary feel. Enhance the effect with muted metals or natural wood accents for a timeless aesthetic.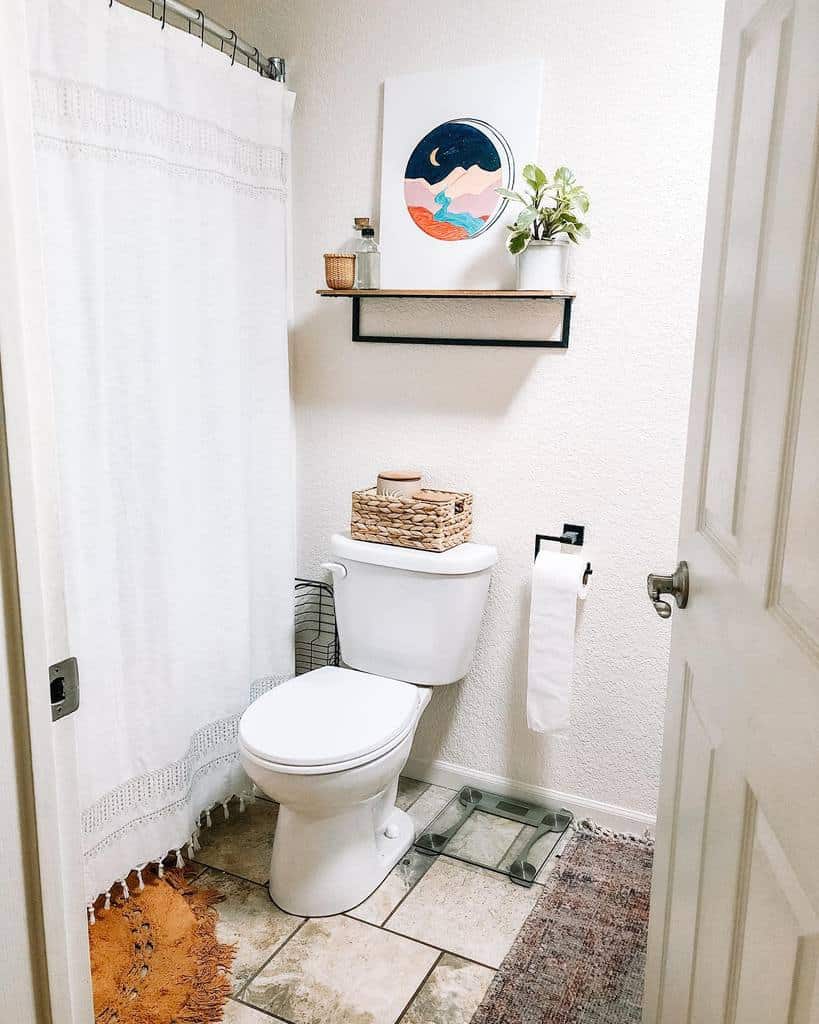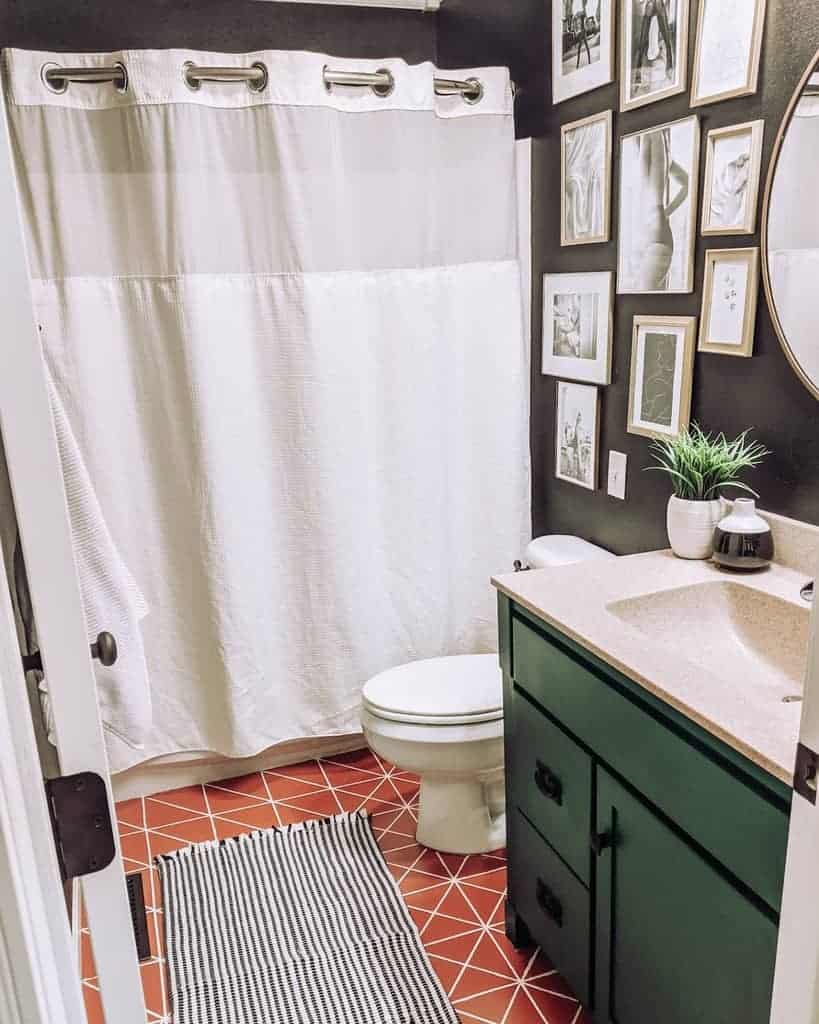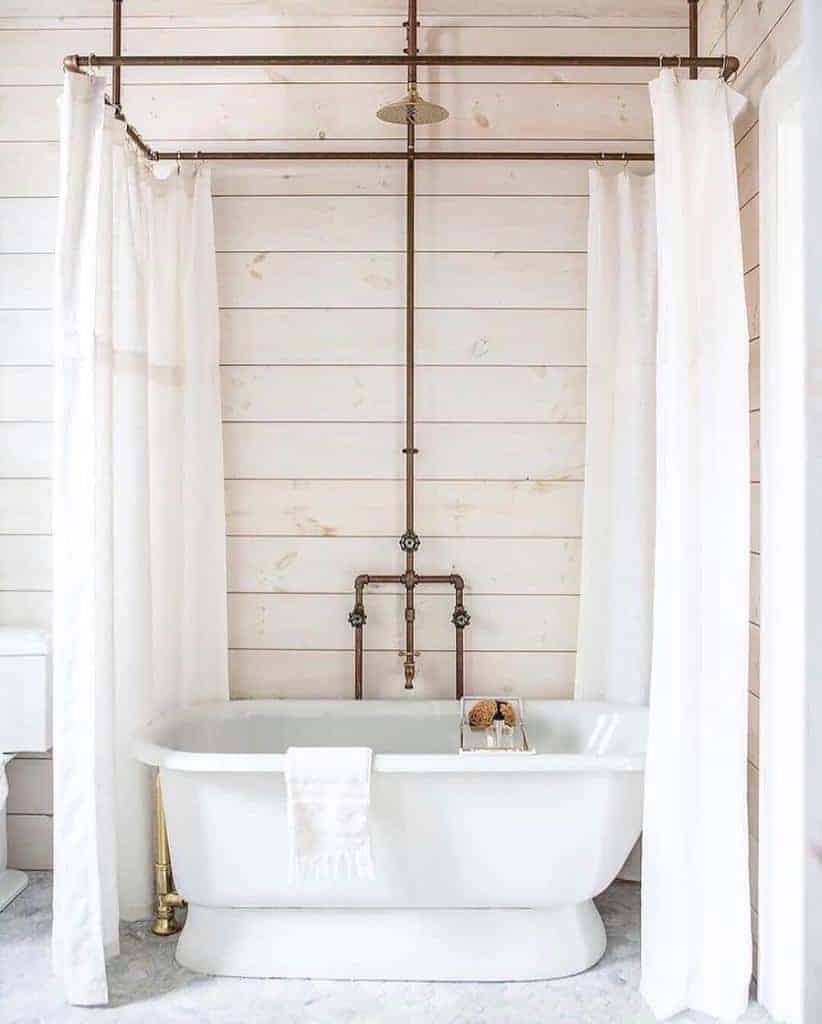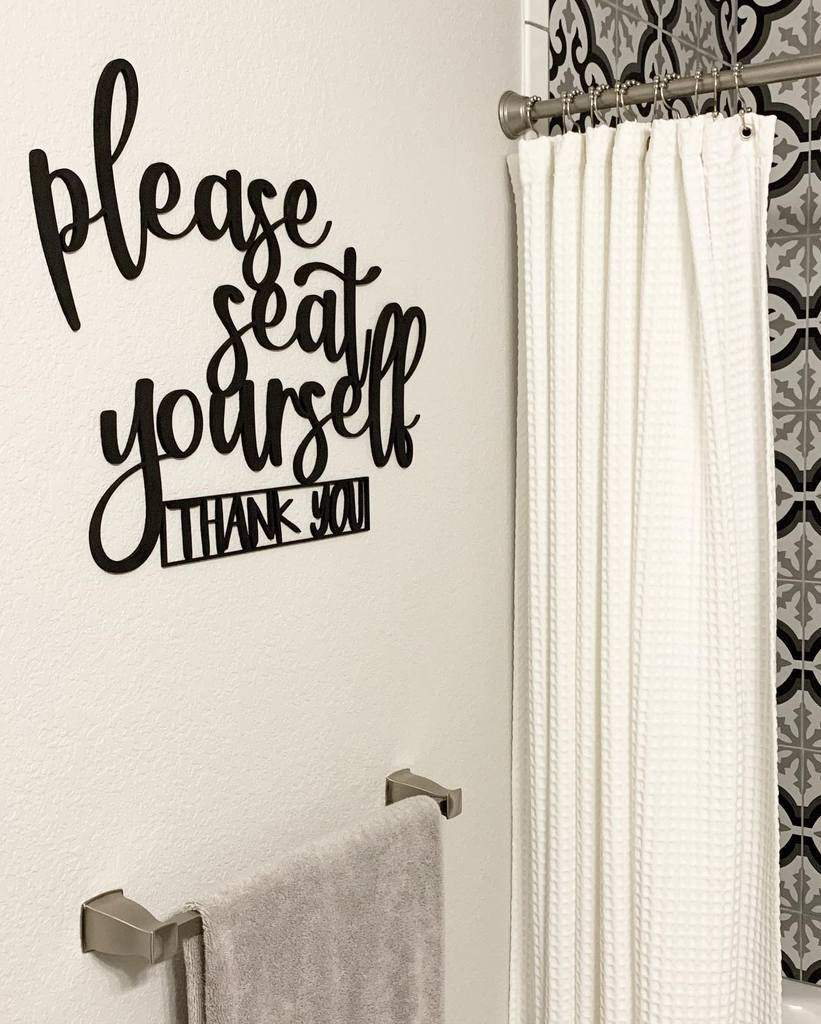 Shower Curtain FAQs
What can I use instead of a shower curtain?
You can install a glass door. You could embrace the idea of having nothing holding the water in and creating an entire wet room. A rolling or folding panel can be opened up when using the shower and put away when not needed.
Do shower curtains need to touch the floor?
The average length for shower curtains is 72 inches in length. You should hang it 75 to 77 inches above the floor. This will make the curtain hang low enough to block water while also keeping it off of the floor. If you prefer to have it touch the floor, you can. However, if you have your curtain touch the floor, you risk getting mold, mildew, and the bottom getting dirty.
Are shower doors or curtains better?
The best option is a glass door. You can easily clean it, which keeps your bathroom more sanitary. If you choose glass panels, you'll have a minimalist aesthetic that helps your bathroom to look modern.