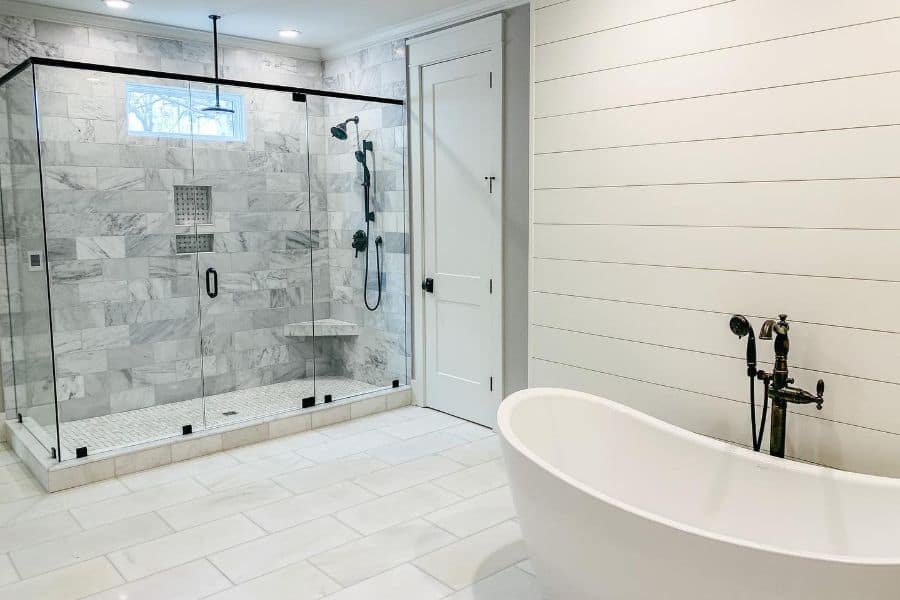 60 Walk-In Shower Ideas for Your Bathroom
by — Andra DelMonico

Published on June 14, 2021

Updated on October 25, 2023
"There's no half-singing in the shower, you're either a rock star or an opera diva." – Josh Groban
If you are planning a bathroom remodel, then you need to consider turning your tub and shower combo into a walk in shower. Then place a separate tub somewhere else in the bathroom as a separate usable space. Walk-in showers have become overwhelmingly popular as more people appreciate the increased space and modern look.
These walk-in shower ideas will get you inspired to change up your bathroom's design to include a walk-in shower.
1. Elegant Black and White Designs
For a classic yet contemporary shower design, consider black and white. Make subway tiles stand out by using contrasting grout or opt for graphic tiles to add a bold touch. A black-framed glass partition defines the shower space while maintaining an open feel. Pay attention to taps, fittings, and accessories for added elegance, and this monochrome style complements various bathroom themes beautifully.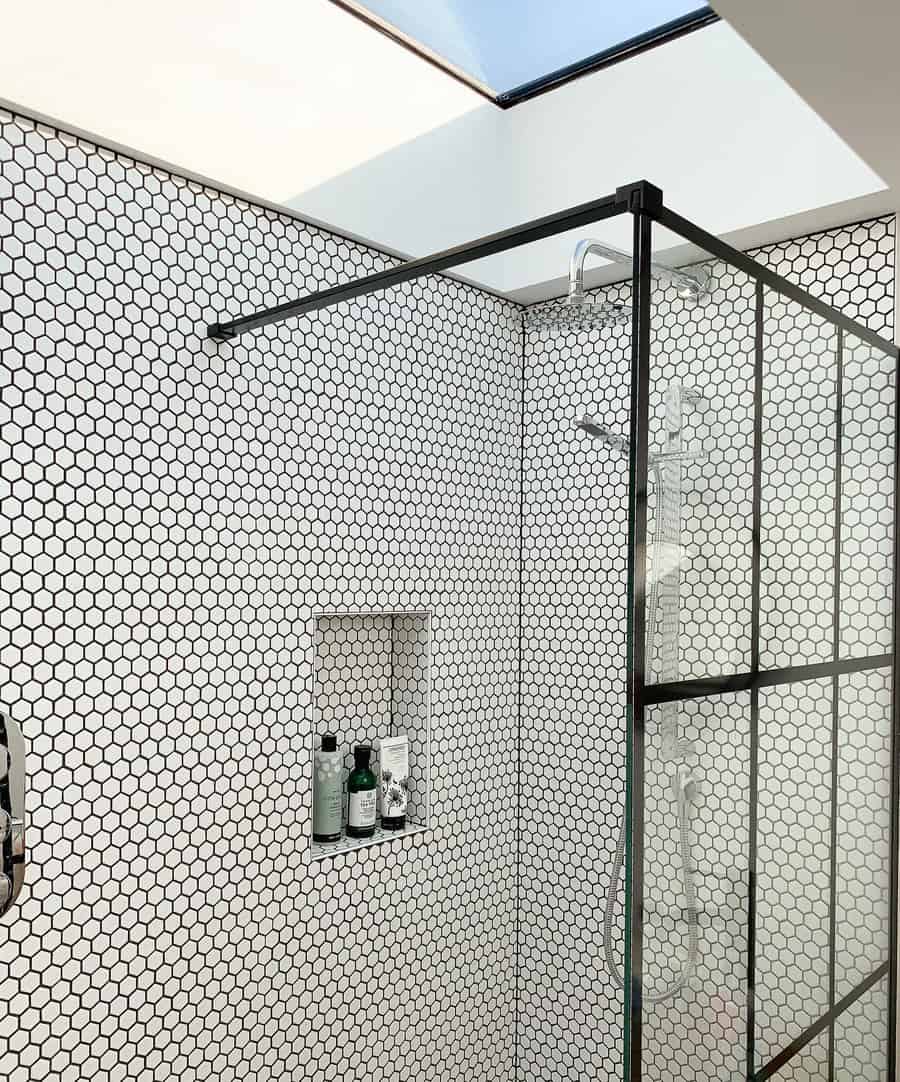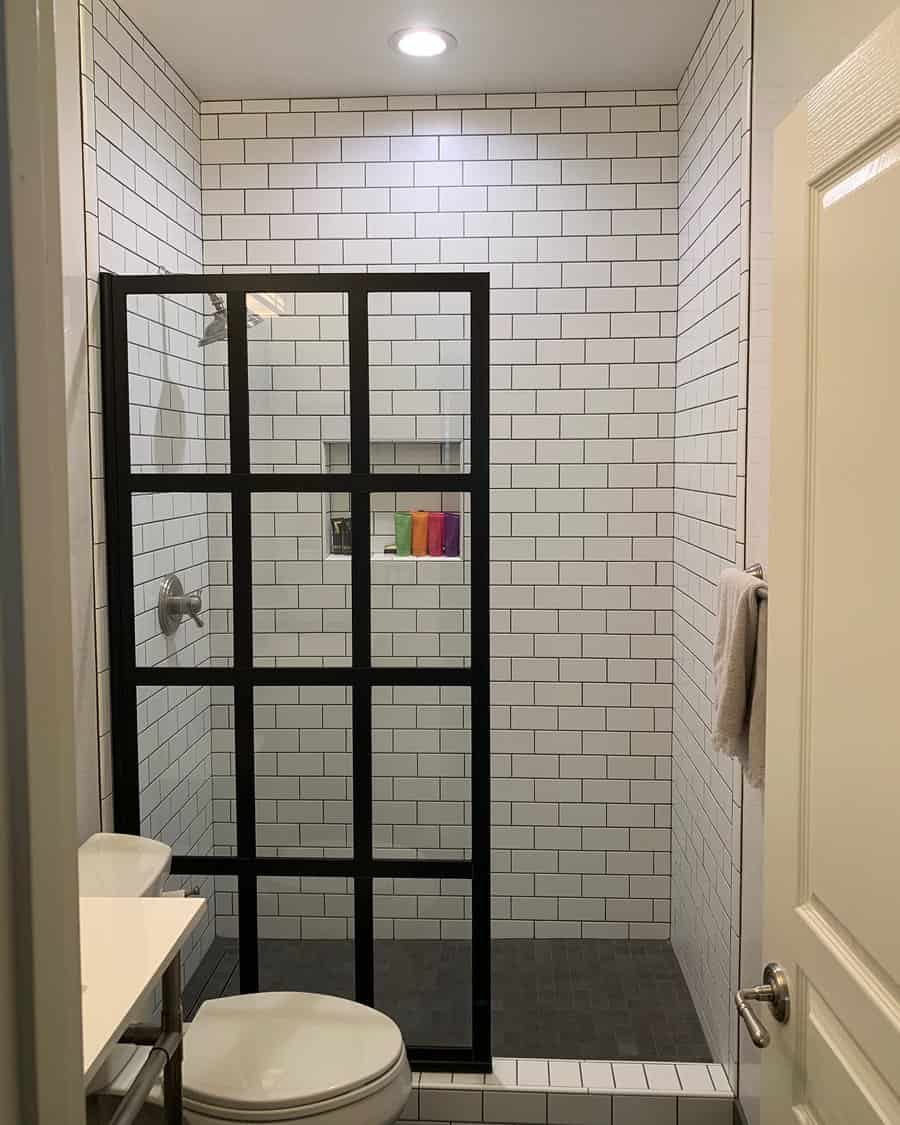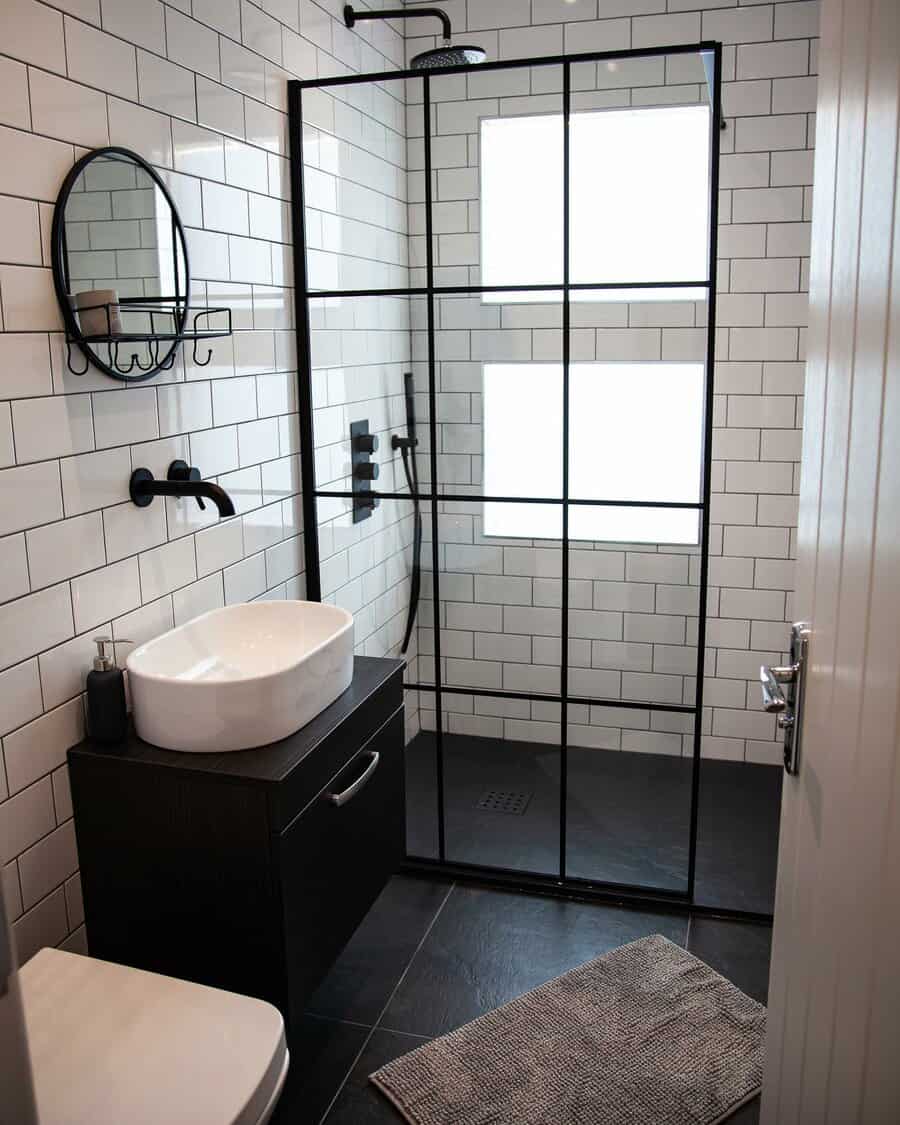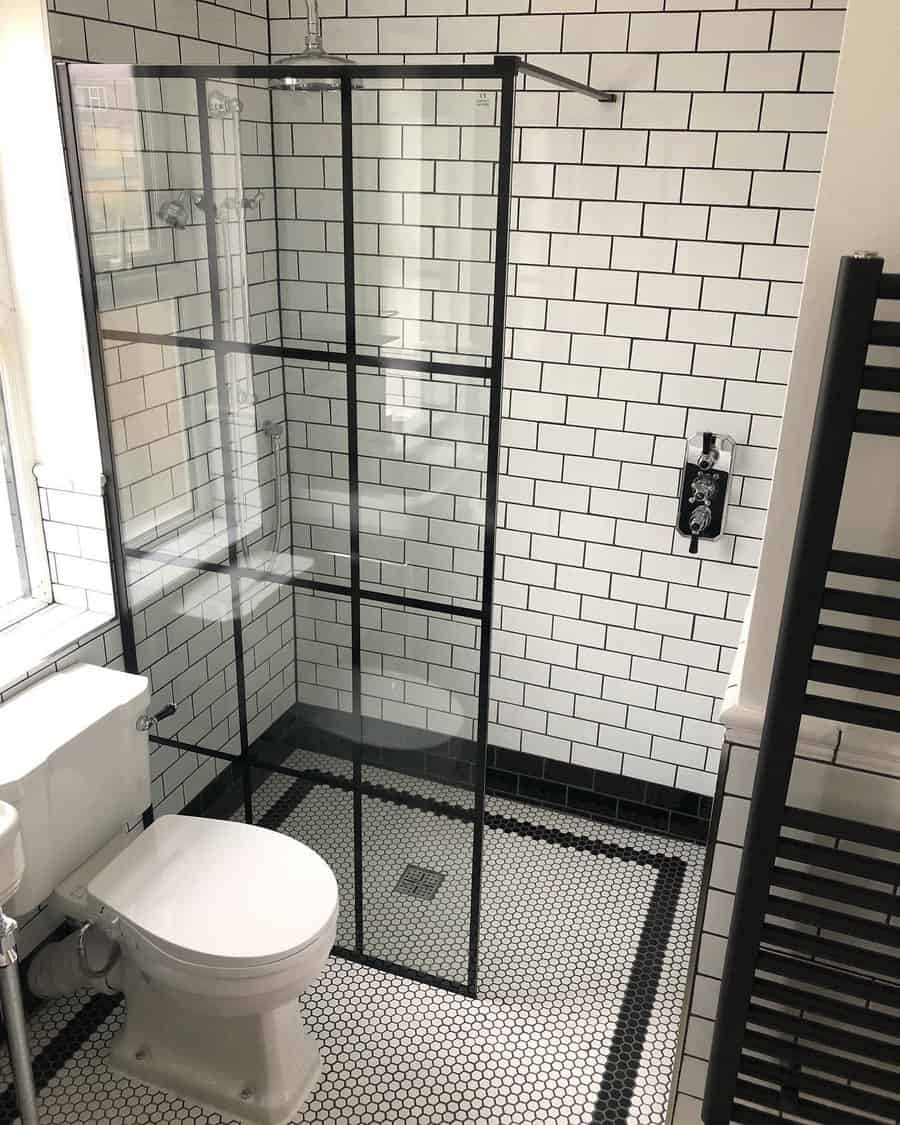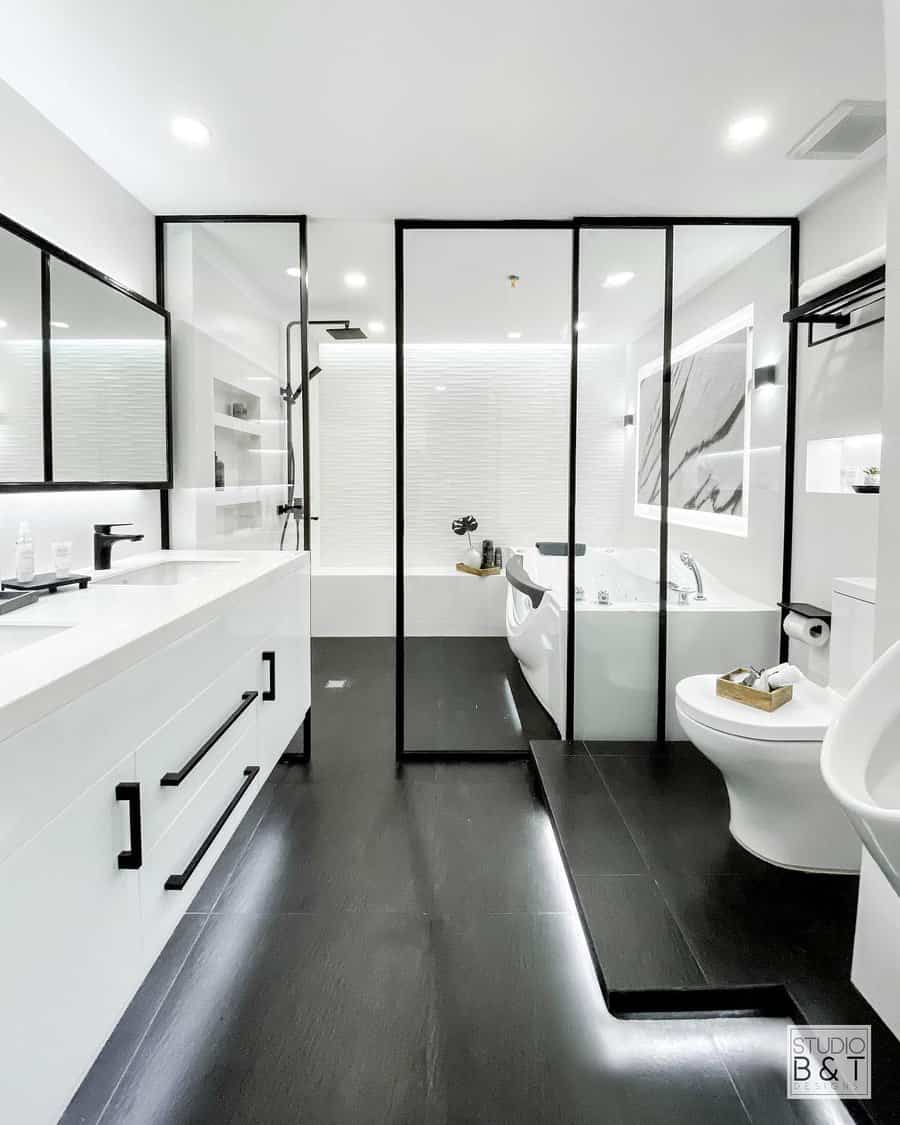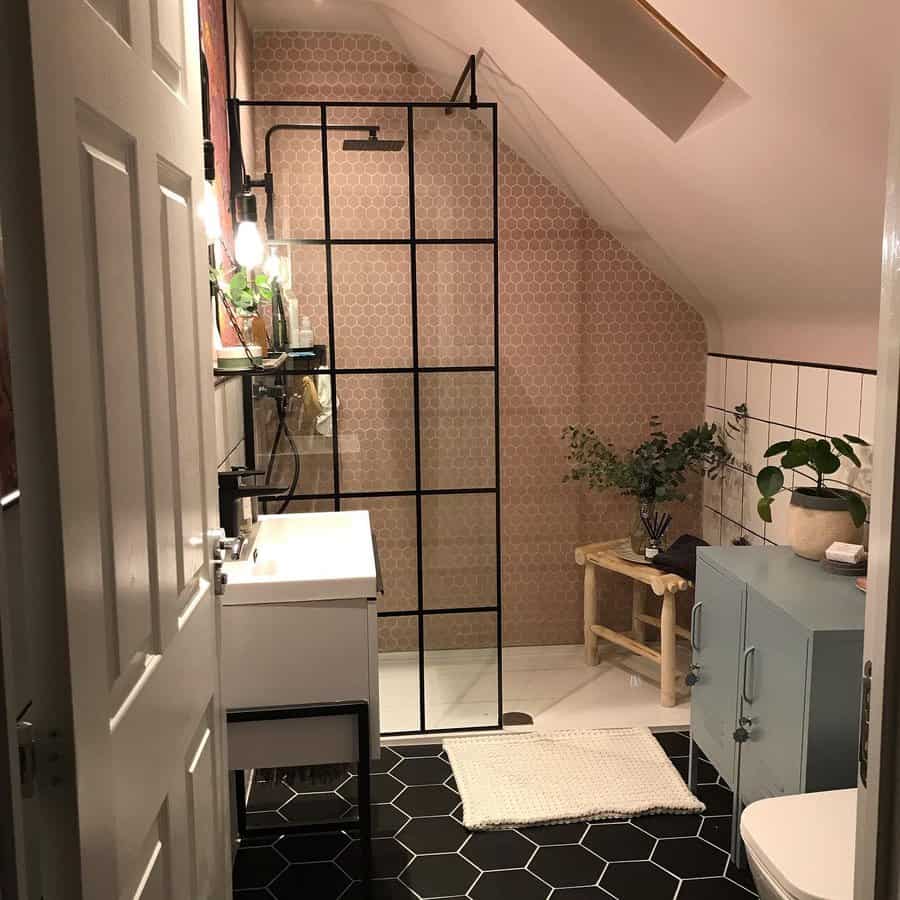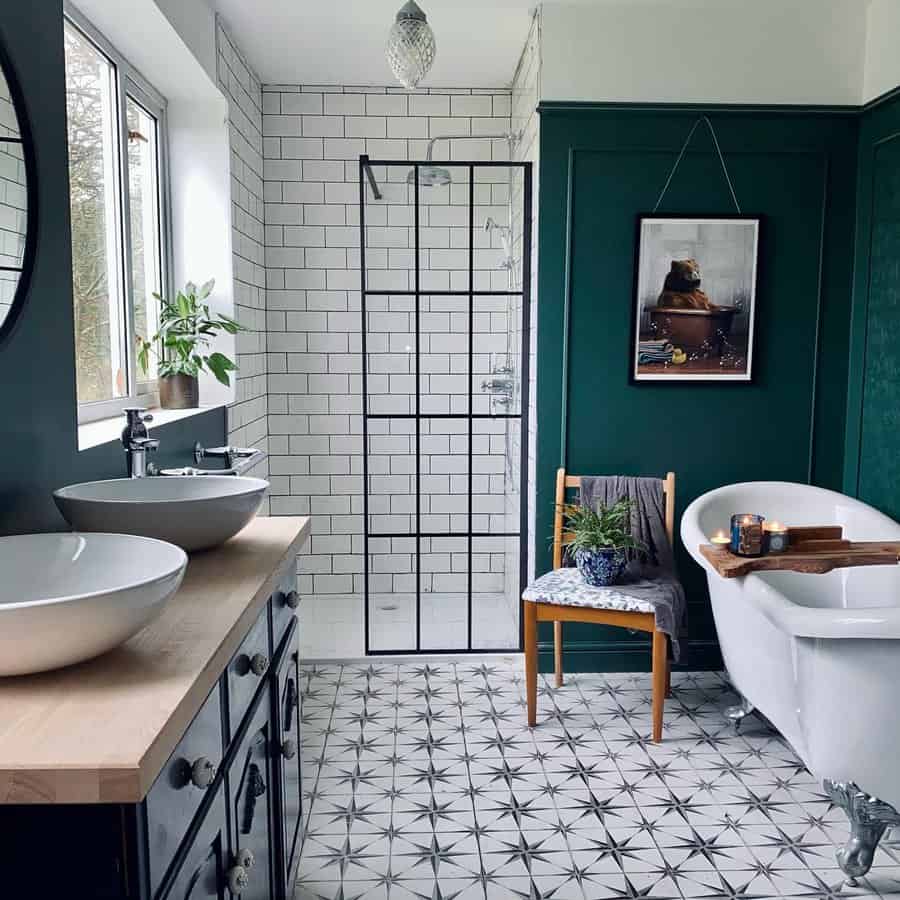 2. Organize with Recessed Shower Shelves
When transforming your bathroom with a walk-in shower, consider incorporating recessed shelves. These shelves keep your shower essentials within easy reach, maintaining a clean and organized space. To create a spa-like atmosphere, opt for herringbone-patterned tiles, which add a captivating visual accent to your bathroom. Customize the design with stylish marble or granite in various styles and colors, enhancing the elegance of your shower.
For added ambiance, introduce recessed fixtures within the herringbone pattern or utilize LED tiles that change colors, turning your shower into a unique experience. Recessed shelves also provide space for candles or decorations, blending style and functionality in your walk-in shower for a modern and organized appearance.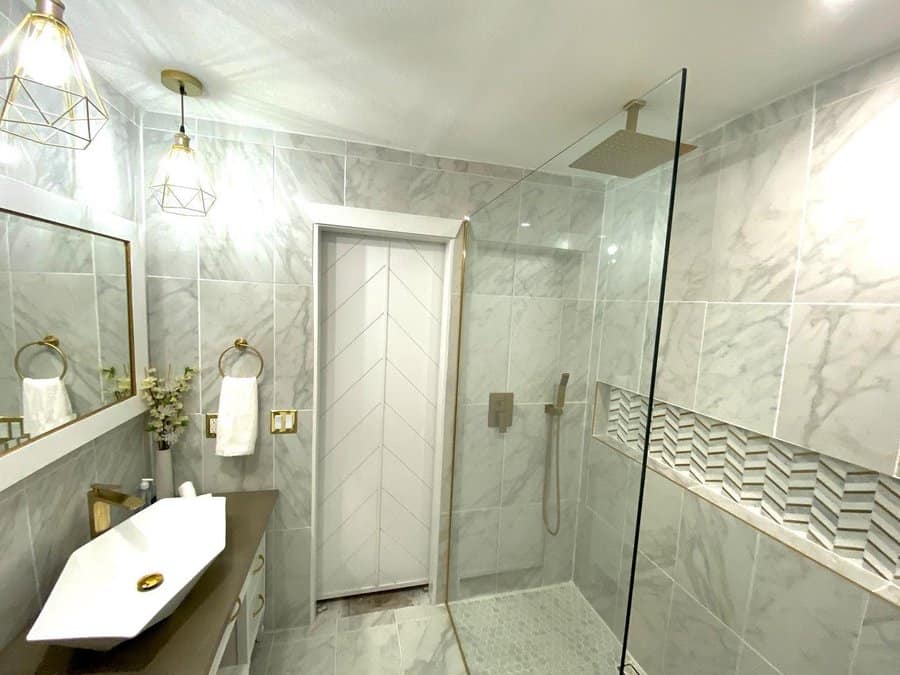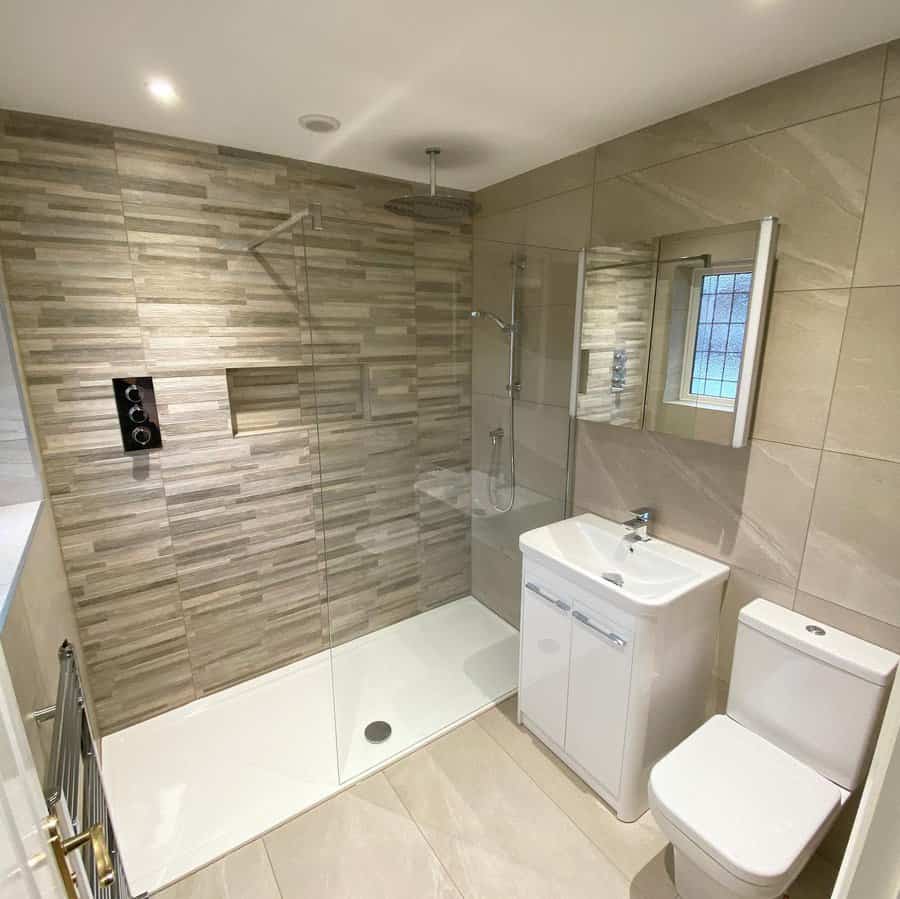 3. Stylish Herringbone Patterns in Showers
To create a spa-like atmosphere in your bathroom, herringbone-patterned tiles in your walk-in shower are a fantastic choice. This classic tile arrangement adds a captivating visual accent to enhance your bathroom's overall ambiance. Incorporate stylish marble or granite in various styles and colors to customize your design without sacrificing elegance.
Boost the space's brightness by incorporating recessed fixtures within the herringbone pattern or consider integrated LED tiles that change colors, transforming each shower into a unique, personal experience. This design element complements various bathroom styles, creating a luxurious and welcoming space.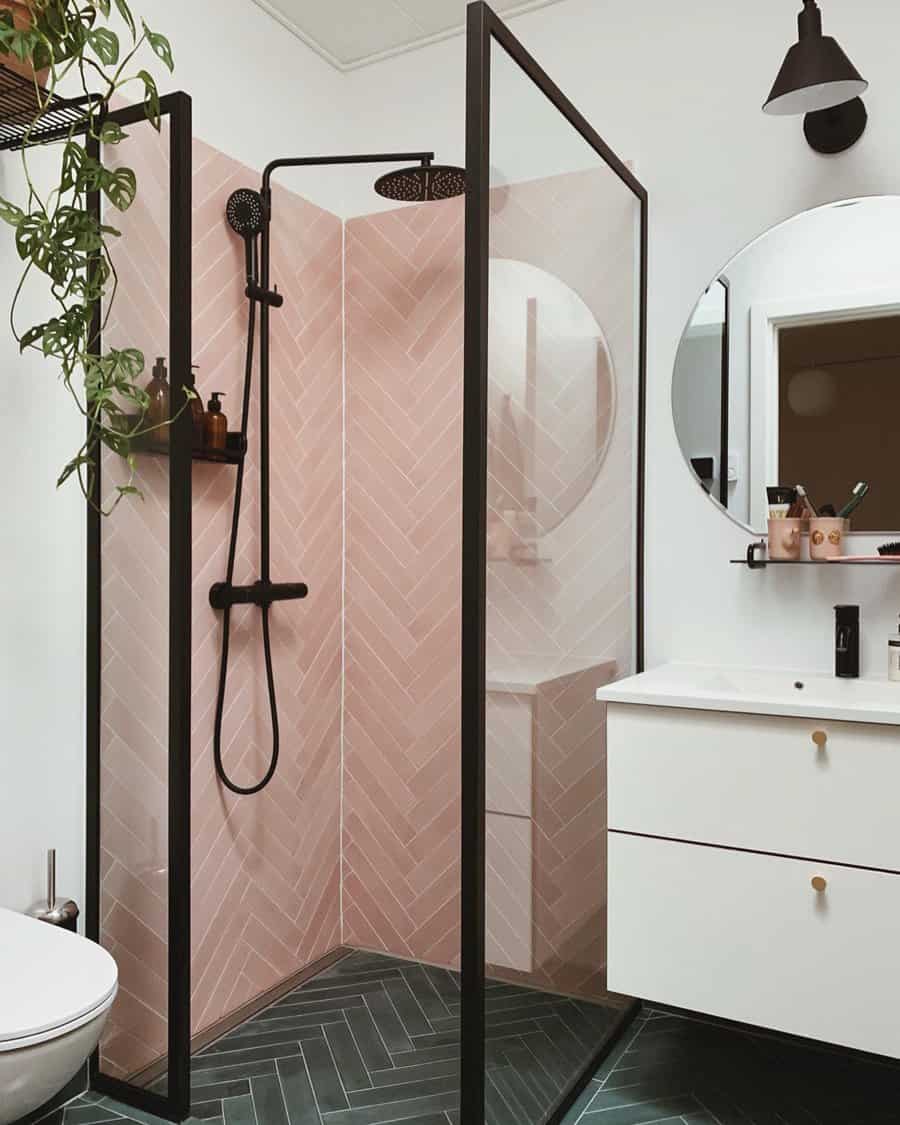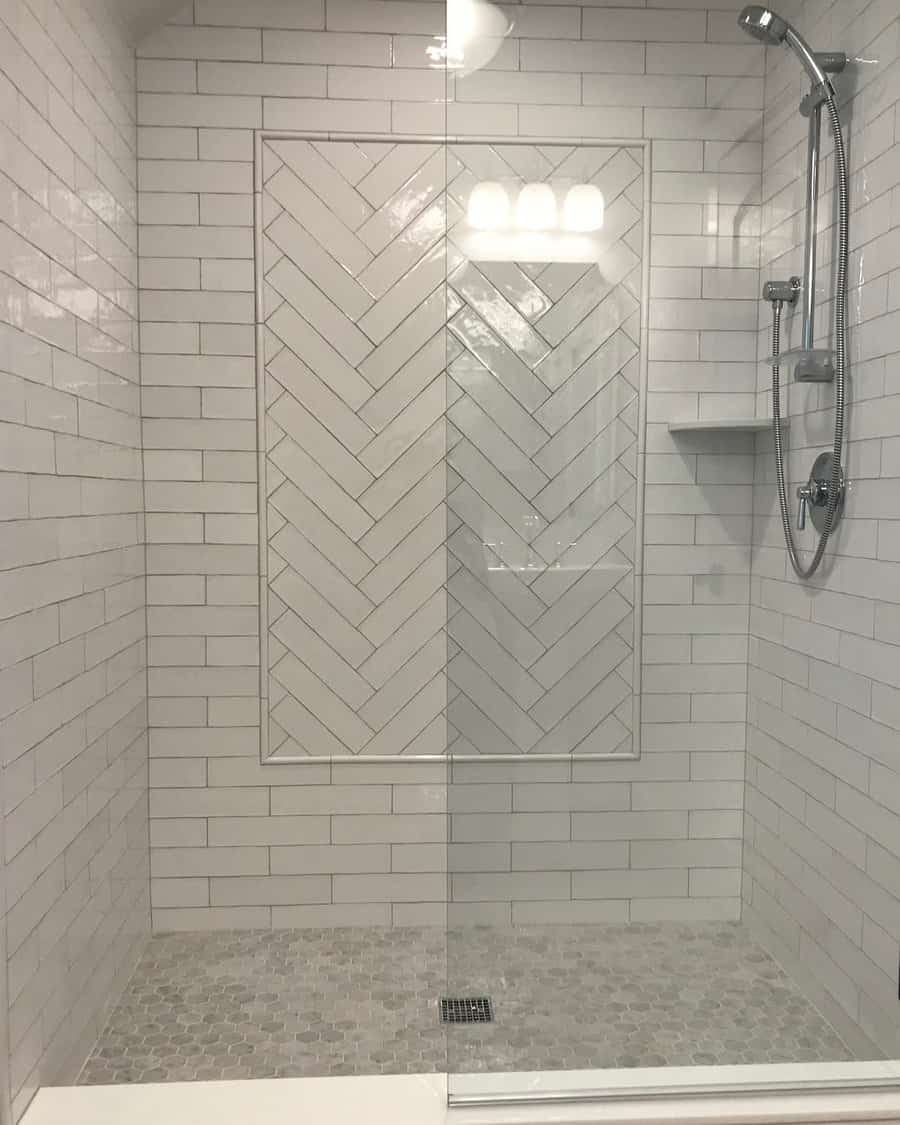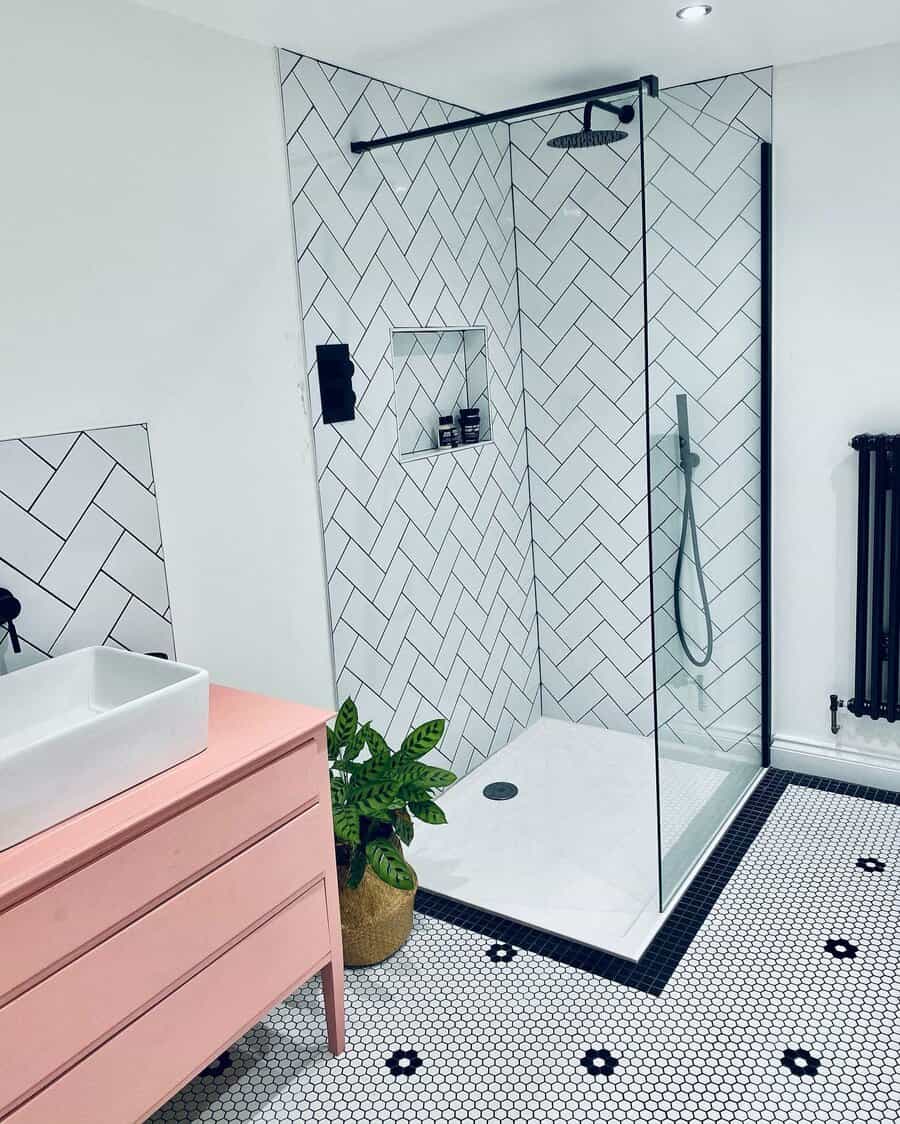 4. Create a Cozy Enclosed Shower Space
To fashion a captivating focal point in your bathroom, consider the addition of an enclosed walk-in shower. A glass door, when complemented with the right accessories and tiles, can create an expansive and elegant modern look. For a bold touch, experiment with daring patterns, and unique shapes like hexagonal tiles, or introduce wooden accents to enliven the atmosphere.
To evoke a spa-like experience, consider an enclosed walk-in shower with a rain showerhead, delivering maximum comfort and luxury to your daily routine. This design element brings a sense of sophistication and relaxation to your bathroom space.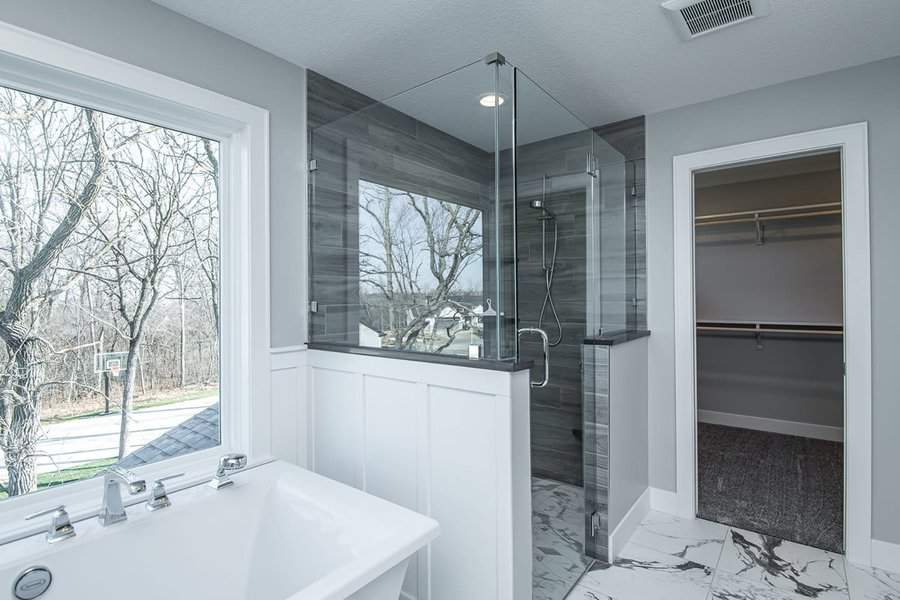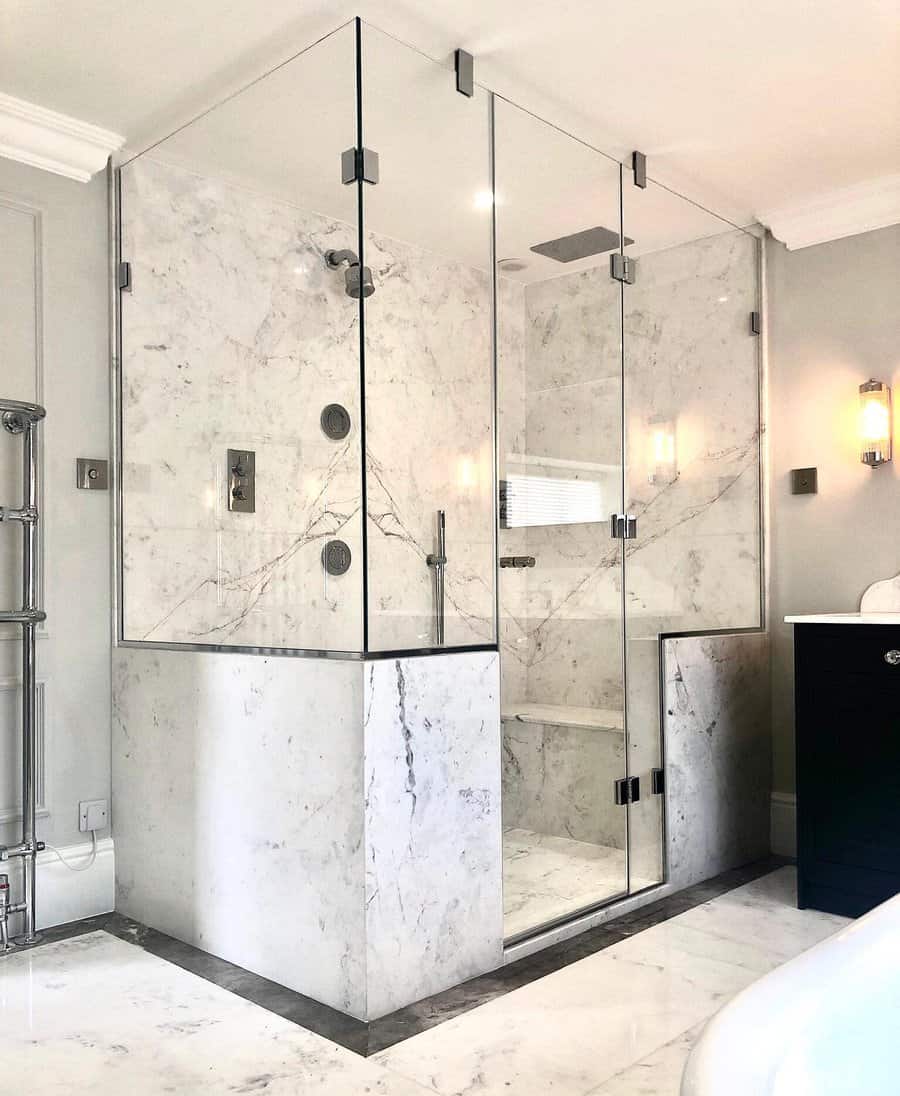 5. Serene All-White Walk-In Showers
For a truly luxurious all-white walk-in shower, employ smart interior design ideas. The combination of soft white walls and a floating white and wood vanity strikes a balance between classic elegance and modern aesthetics, turning your shower space into an oasis of serenity. Extend the all-white theme to the back wall of the shower for a bright, inviting atmosphere, even in compact spaces.
Add convenience with all-white shelves for easy access to bath products and accessories or incorporate white marble accents for a timeless finish. Regardless of your choices, an all-white decor scheme can wonderfully transform any walk-in shower into a stunning sanctuary.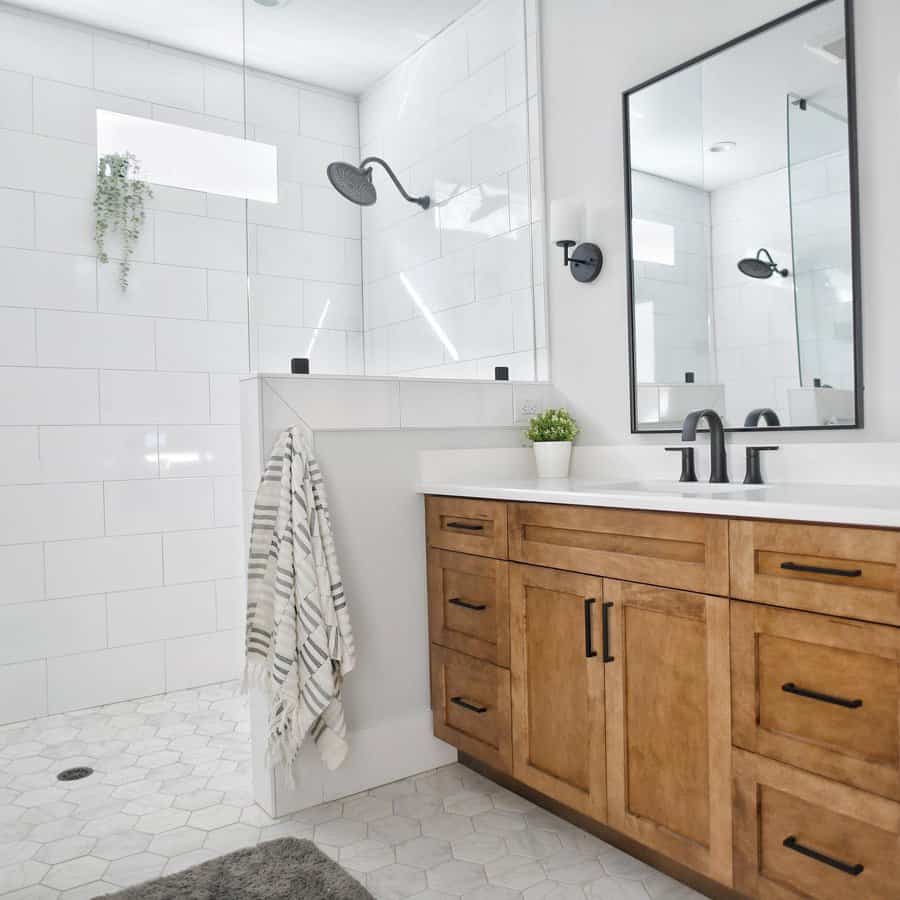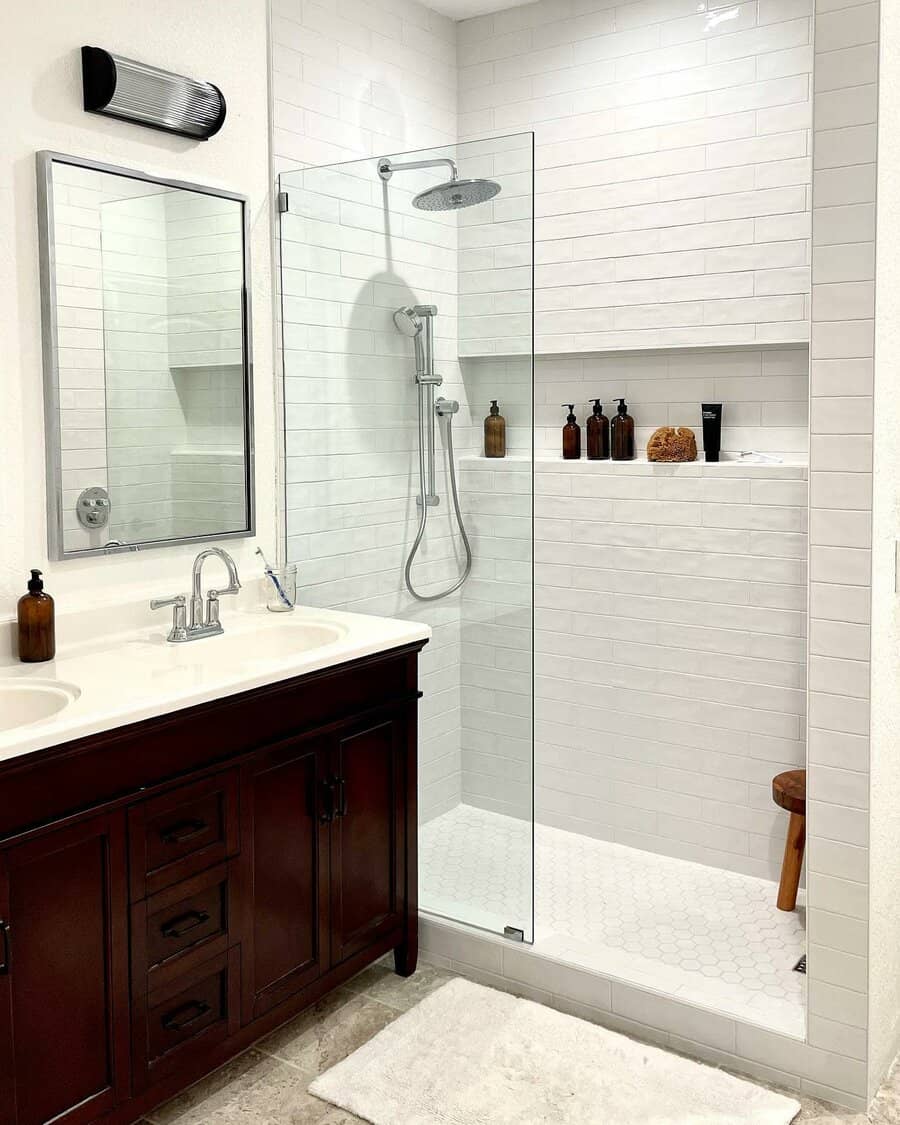 6. Maximize Corners for Efficiency
When redesigning or designing a bathroom, consider utilizing the corner space for a walk-in shower. Installing a corner shower seat adds flexibility and a touch of luxury. Enhance the efficiency and aesthetics with a glass splash screen to minimize water splashes and create a sense of spaciousness. Elevate your design with distinctive materials like textured tiles, membrane covering panels, corrugated metal sheets, or tempered curved glass walls for a creative touch. Making the most of corners ensures your walk-in shower maximizes both style and functionality in your bathroom space.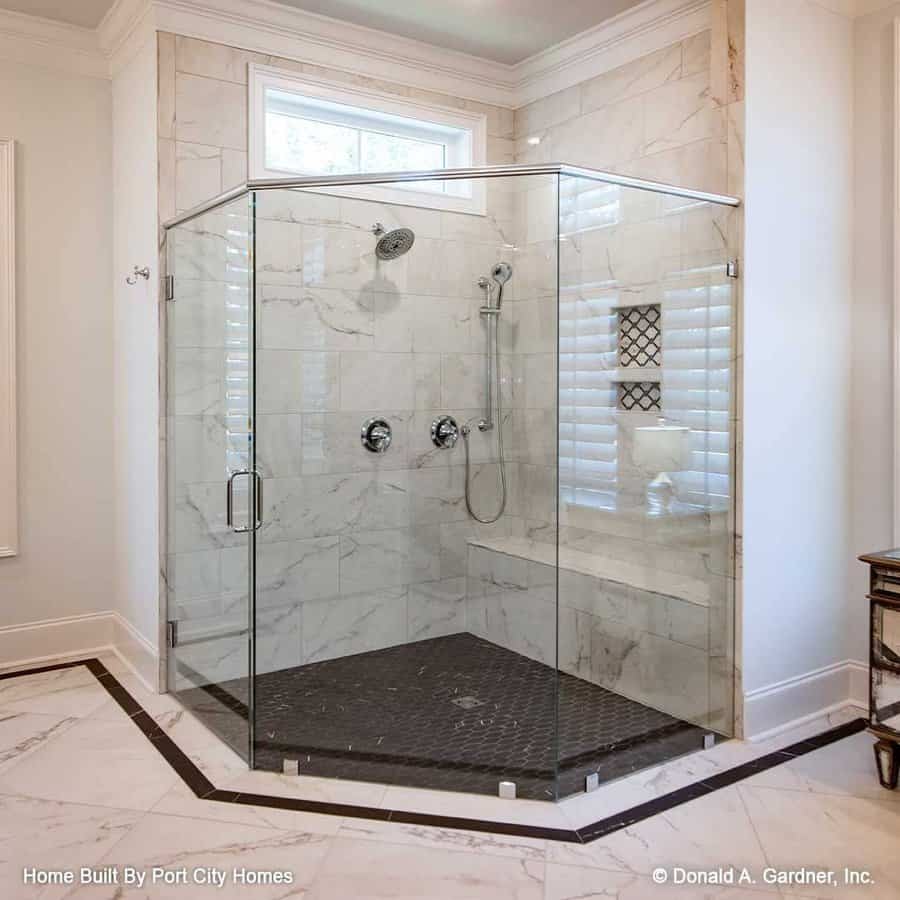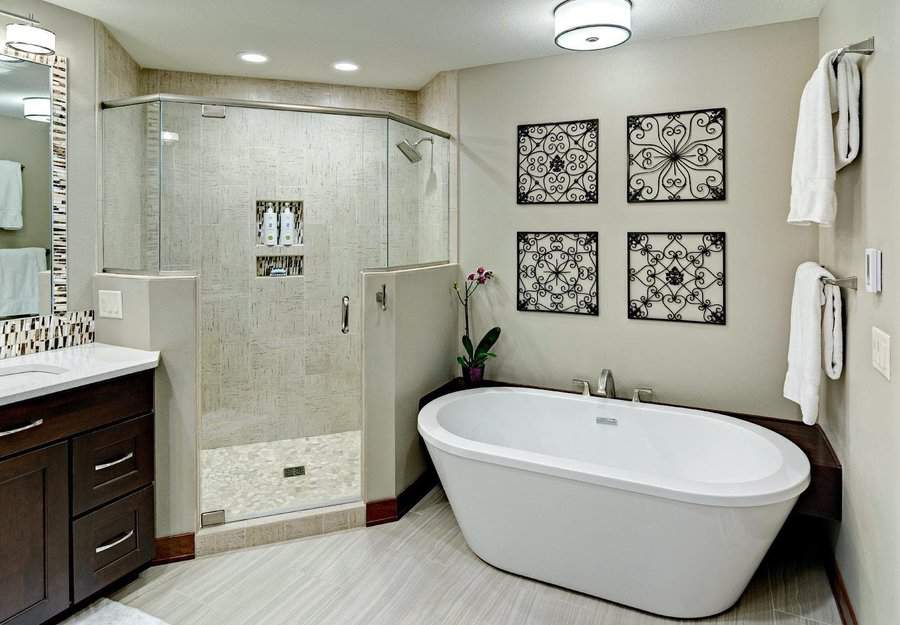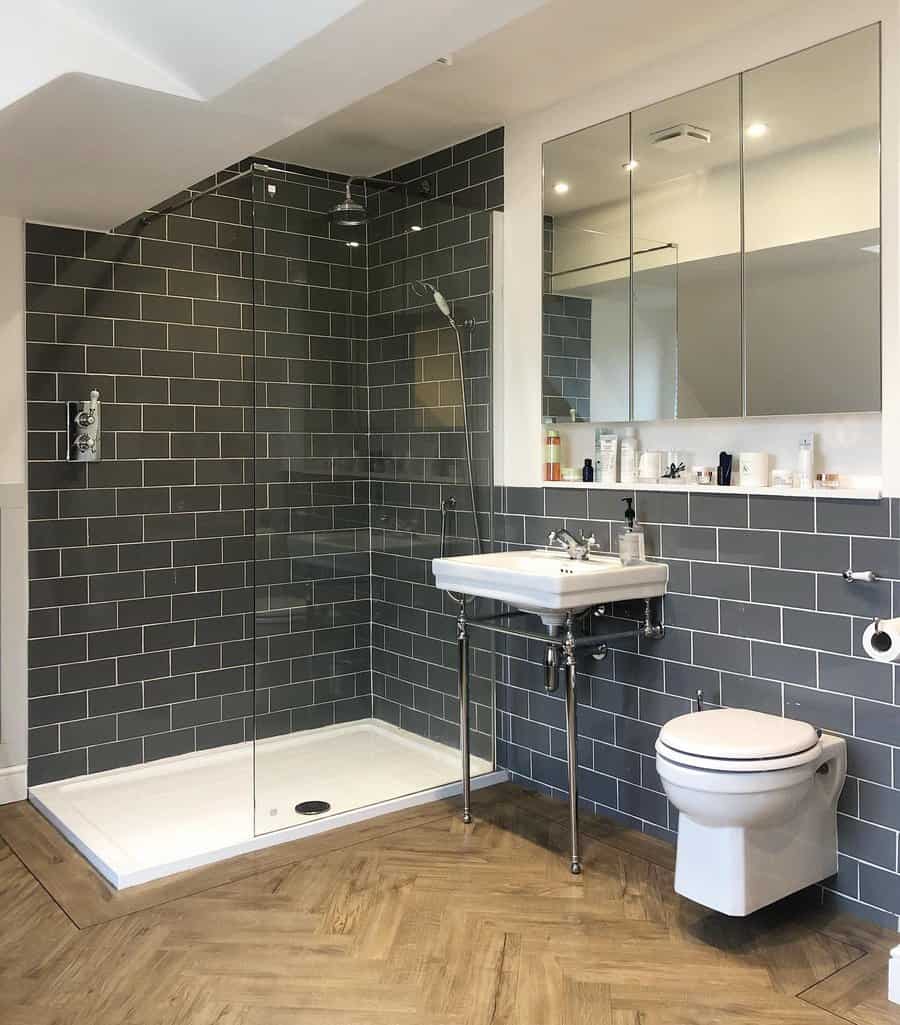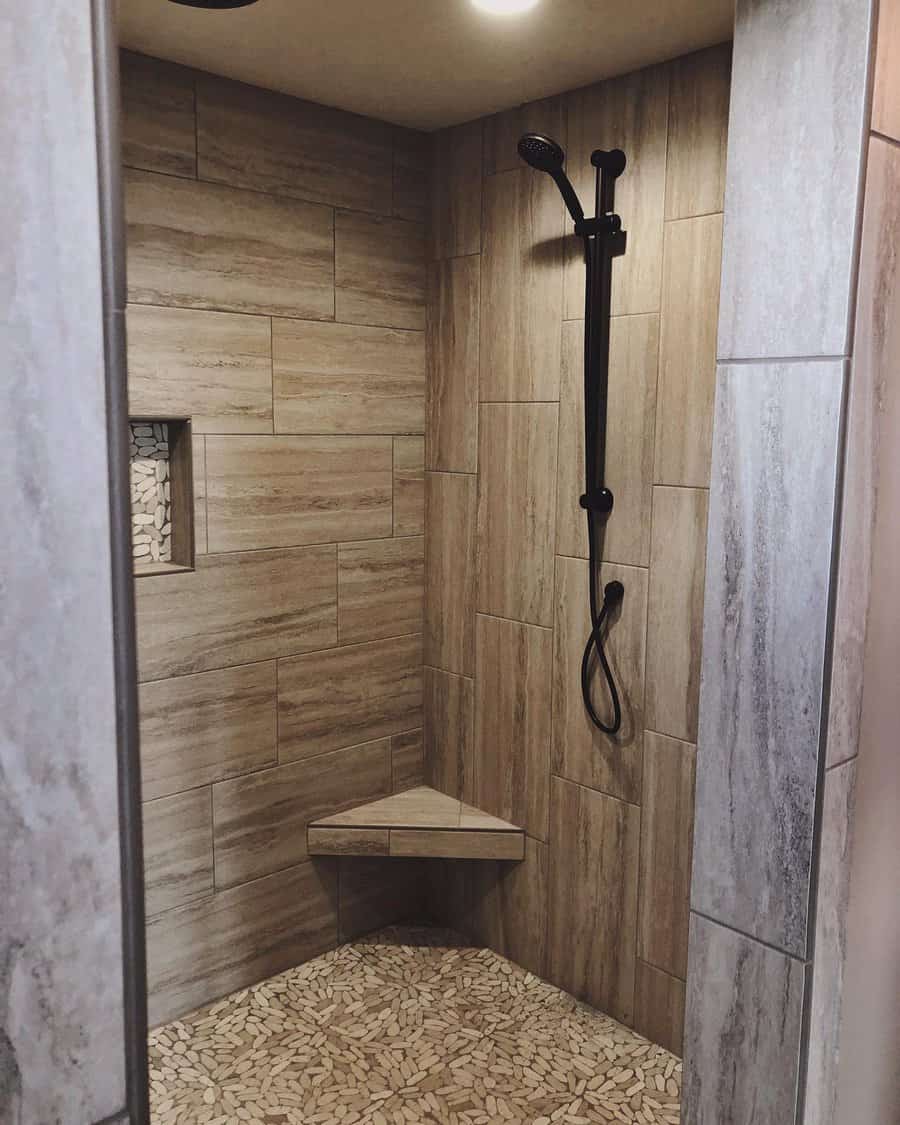 7. Sleek Black Fixtures for Contrast
For a statement-making walk-in shower, opt for black fixtures to bring a bold and elegant design to your bathroom. This choice creates a luxurious, spa-like ambiance. To enhance the aesthetic, keep wall details minimal and introduce dark flooring to contrast with the walls and fixtures, resulting in an eye-catching finish for your walk-in shower space. Black fixtures not only provide contrast but also exude a sense of sophistication, adding a touch of drama to your bathroom design.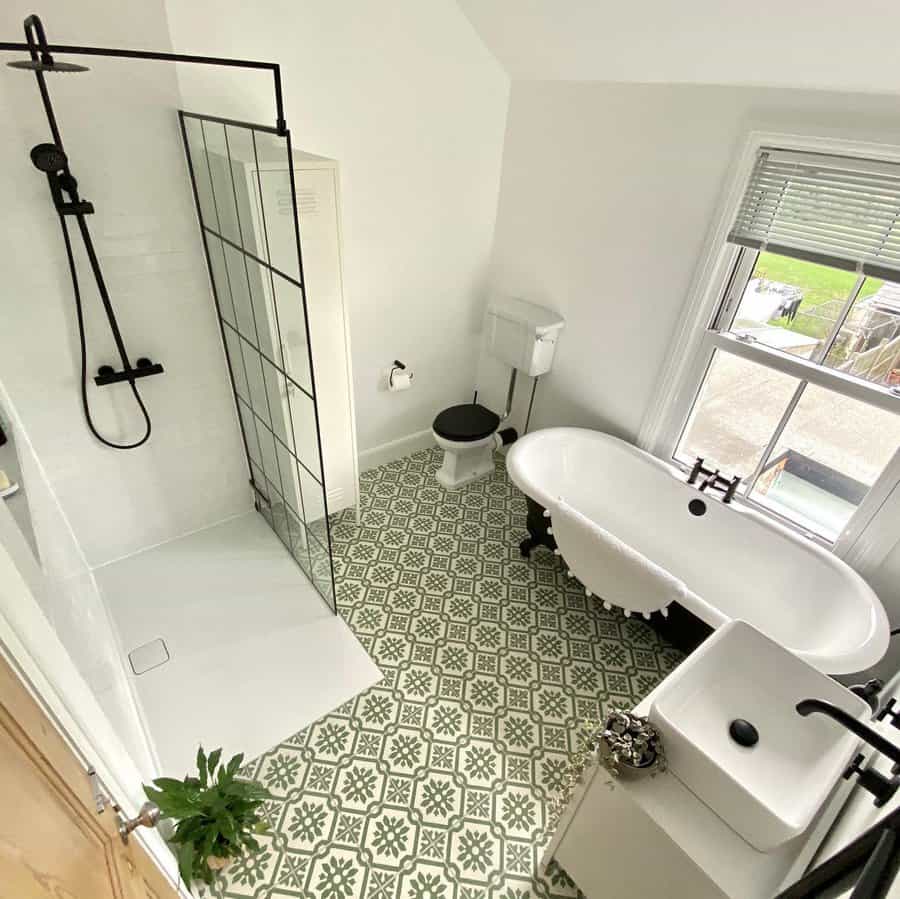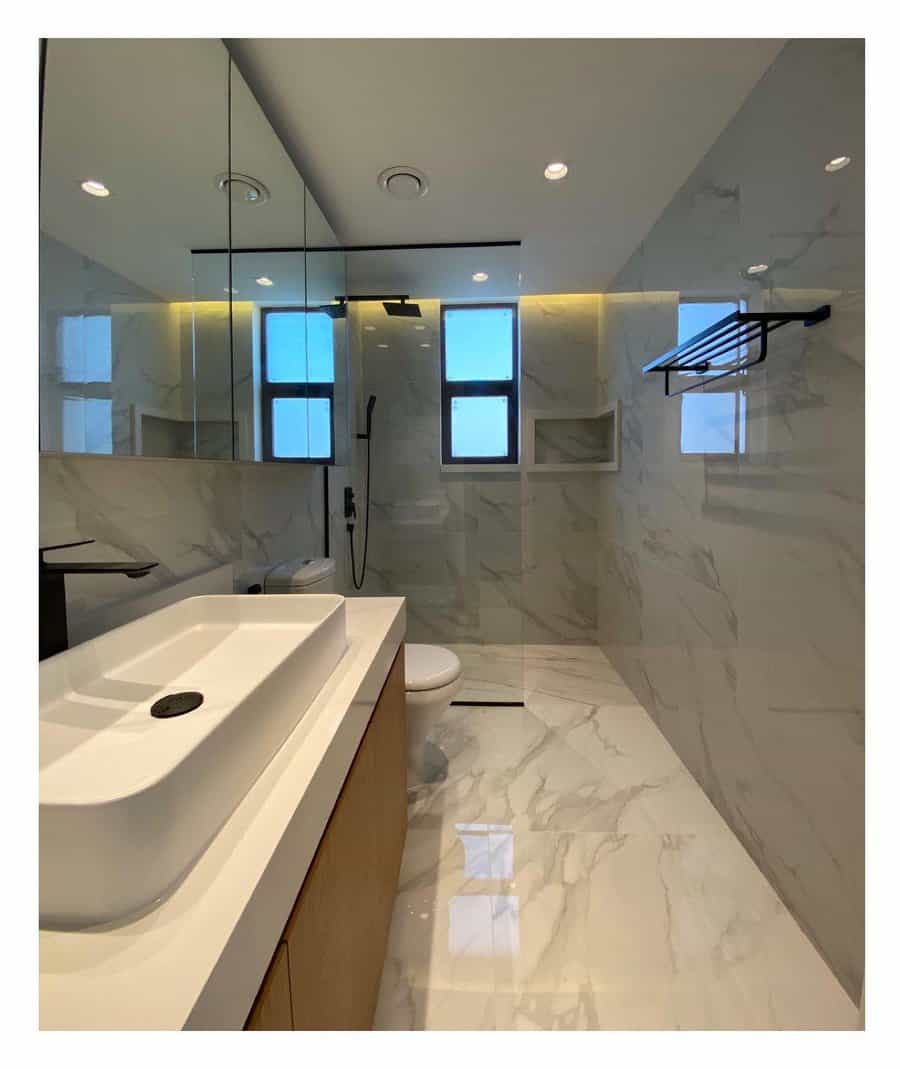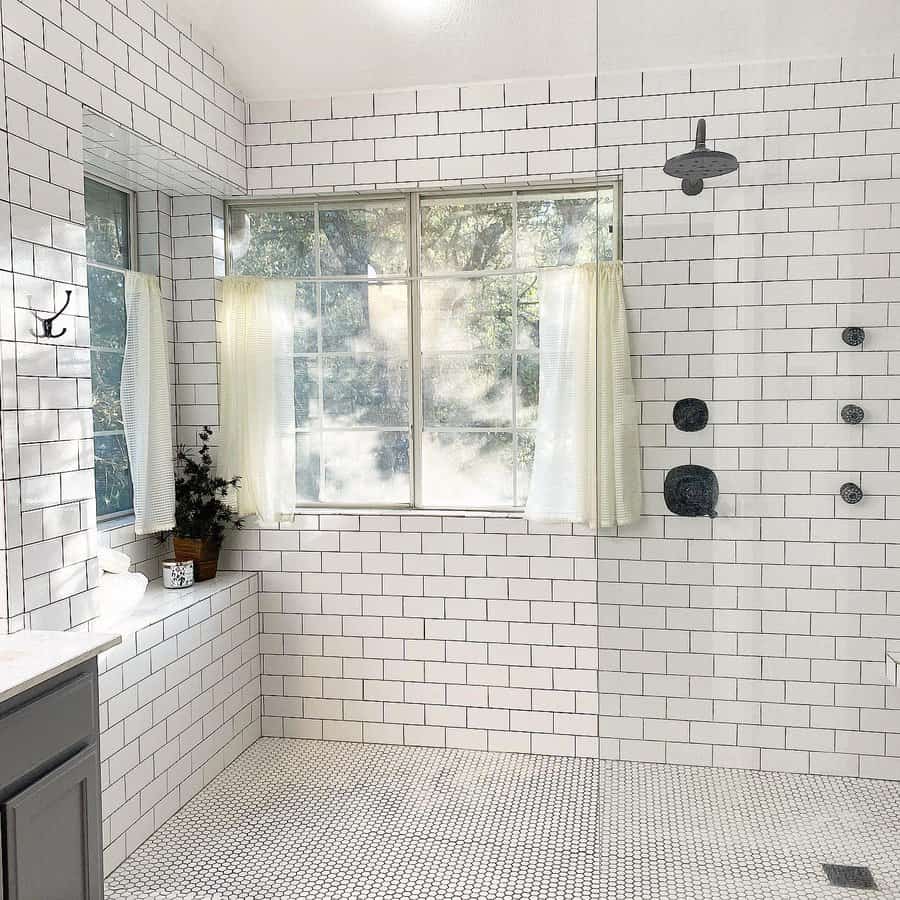 8. Set a Moody Ambiance with Dark Tiles
To set a captivating mood in your walk-in shower, consider dark tiles, such as charcoal hexagon tiles in varying shades of grey. These tiles allow for creative architectural designs and complex geometric shapes. Enhance the overall aesthetic by incorporating splashes of color, such as dark-loving plants like ferns, and coordinating shower curtains or mats to tie the design together.
Select colors that complement the dark tiles to achieve a truly striking and harmonious look. Dark tiles can transform your walk-in shower into a space of intrigue and style, enhancing the overall bathroom atmosphere.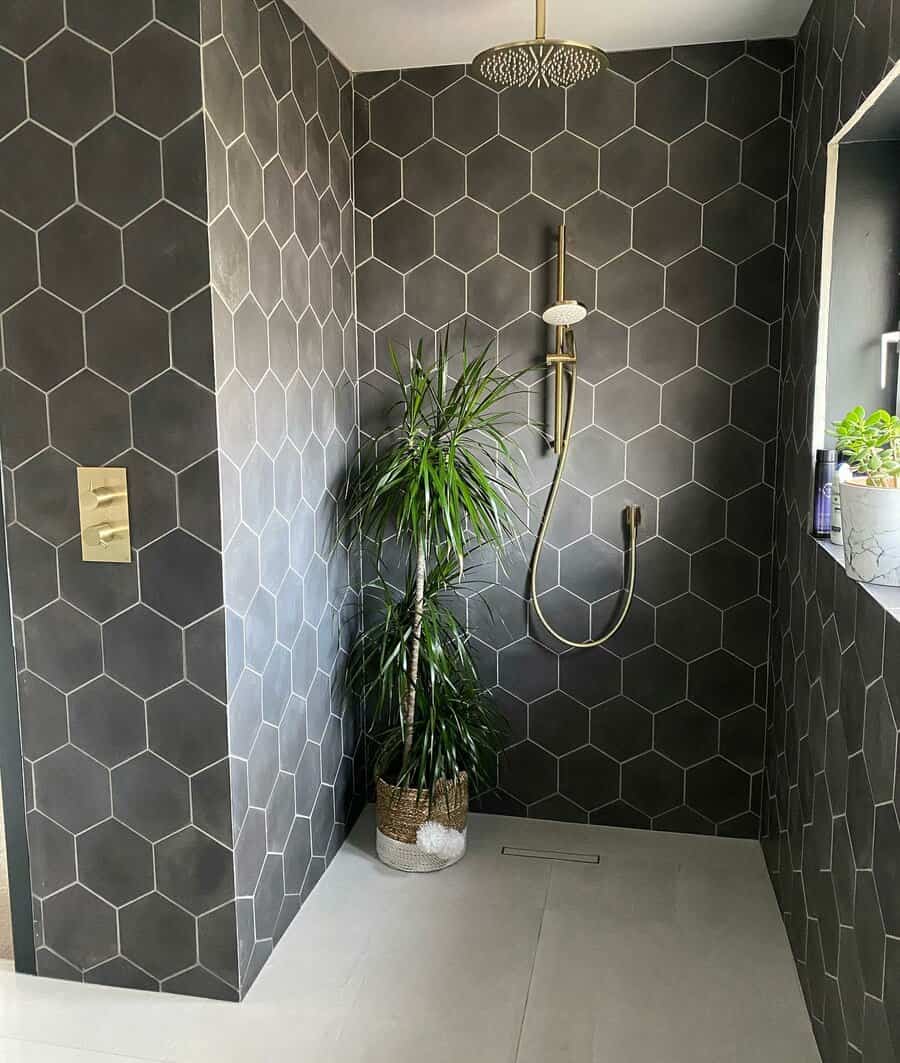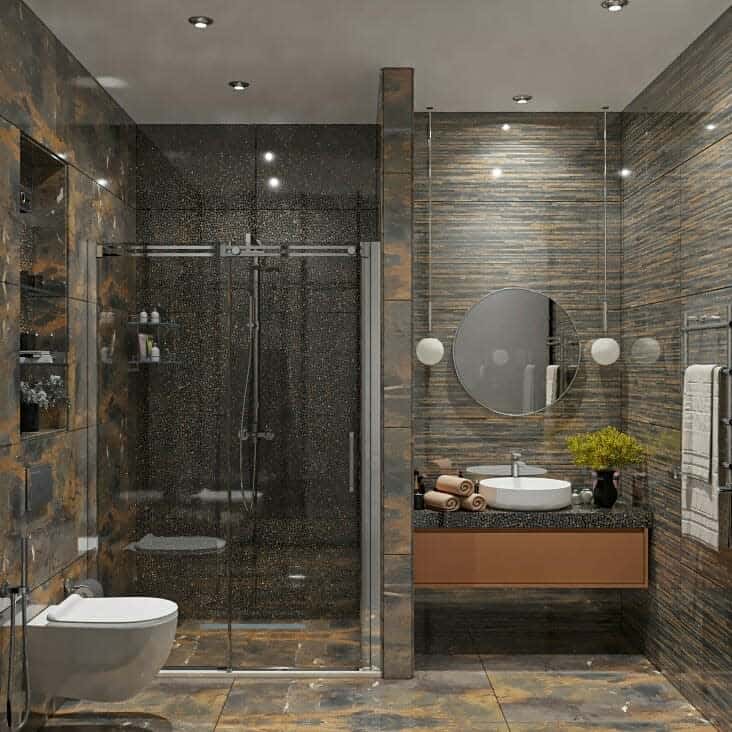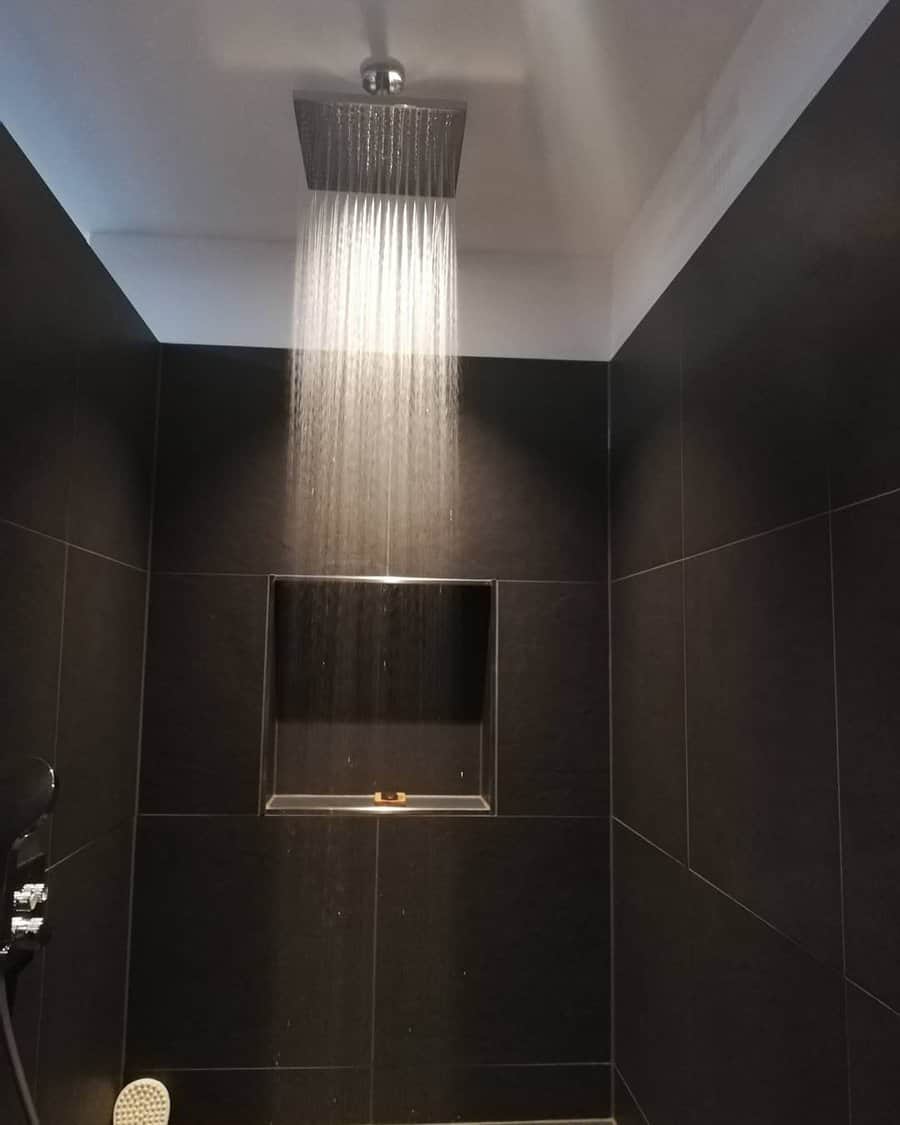 9. Explore Shades of Chic Grey
Designing a grey walk-in shower offers a vast array of possibilities. The versatility of grey tiles and shades allows for the creation of a unique atmosphere. To enhance your shower's aesthetic, consider pairing grey with cool or neutral tones such as stainless steel and grey marble.
For a cool and stylish ambiance, experiment with contrasts like grey walls paired with white accents, combining grey marble on the walls with white floor tiles, or incorporating grey and white patterned tiles. The endless possibilities with shades of grey enable you to craft a shower space that exudes sophistication and style, complementing various design elements in your bathroom.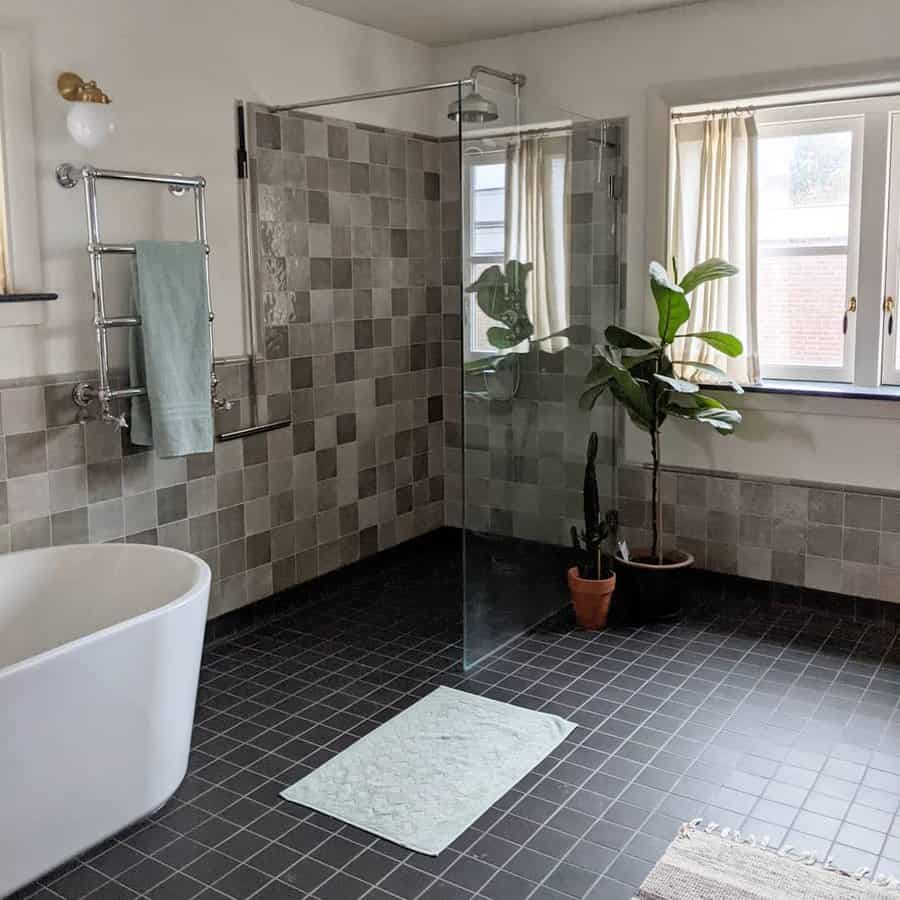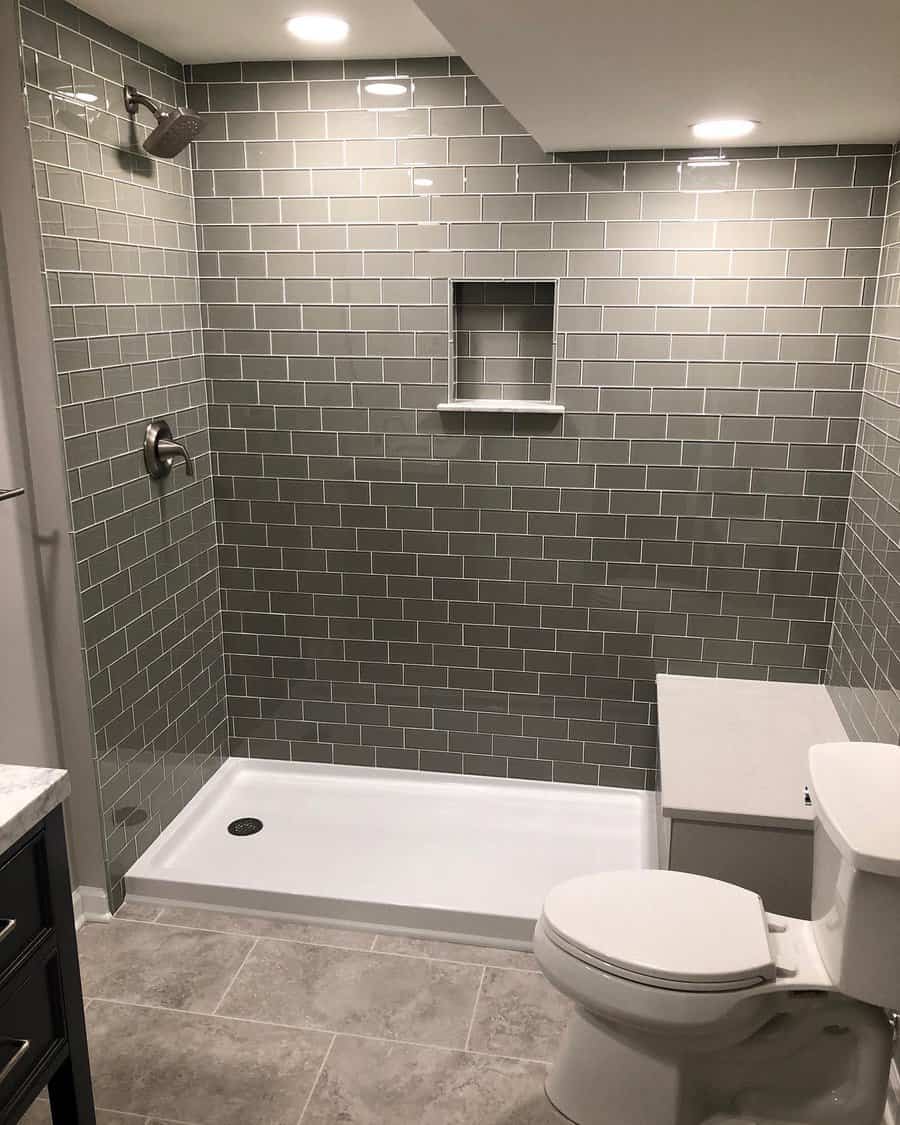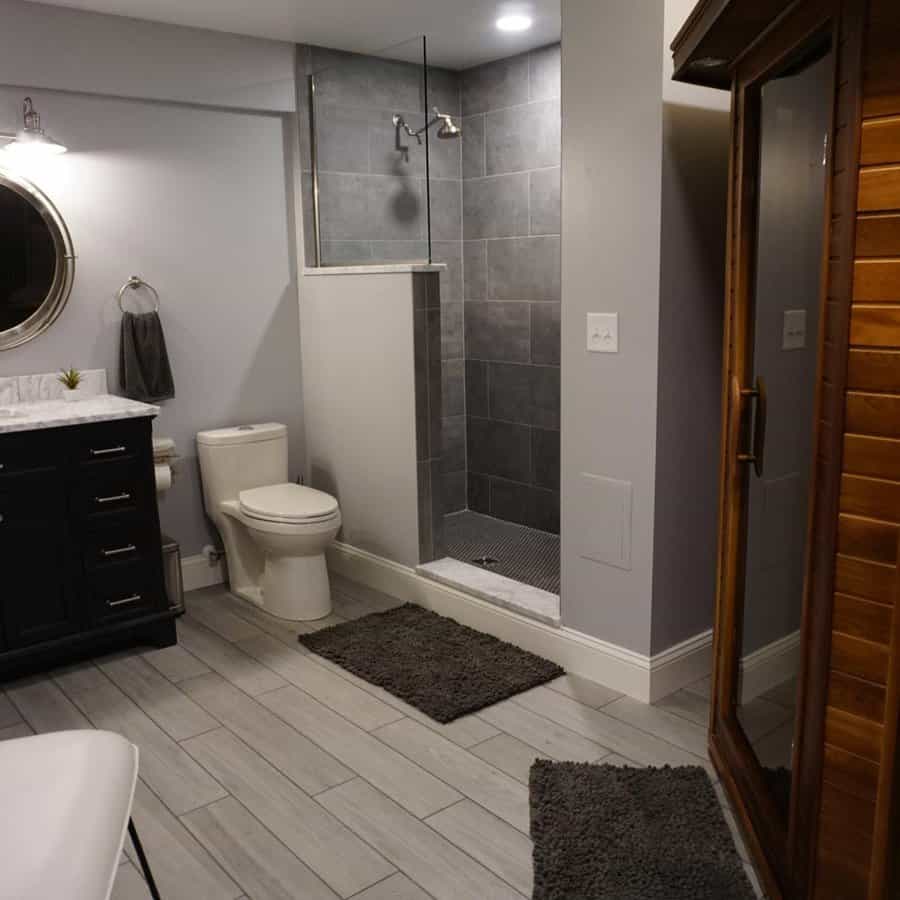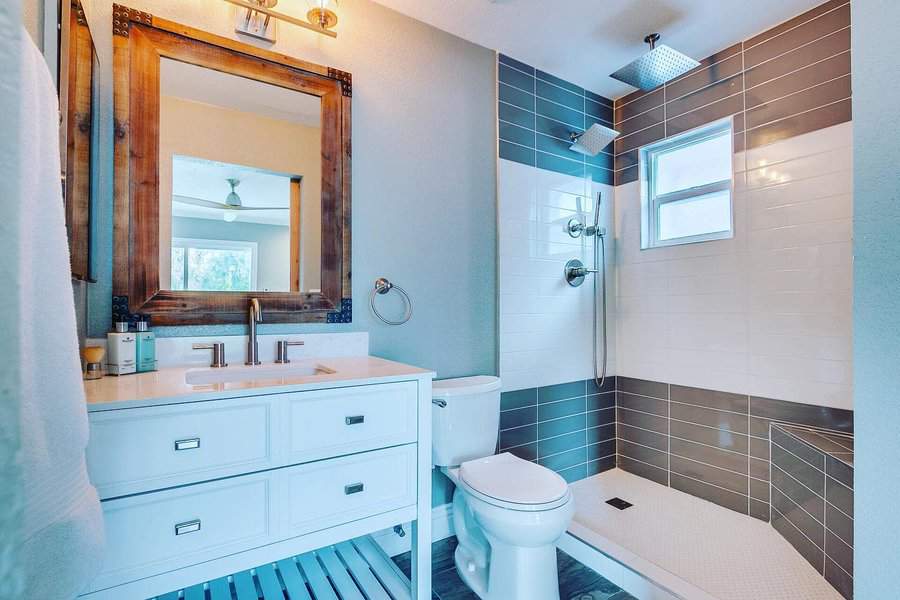 10. Frame Walls to Define the Shower Area
For a creative and visually appealing walk-in shower, consider framed walls as a strategic solution. These walls serve to aesthetically define the shower area in your bathroom while drawing attention to its beauty.
Additionally, they introduce texture and dimension to plain walls, allowing customization with various colors and design styles. Starting with framed walls, you can effortlessly craft a luxurious and unique shower space in your home, complementing your overall bathroom design with a touch of sophistication and style.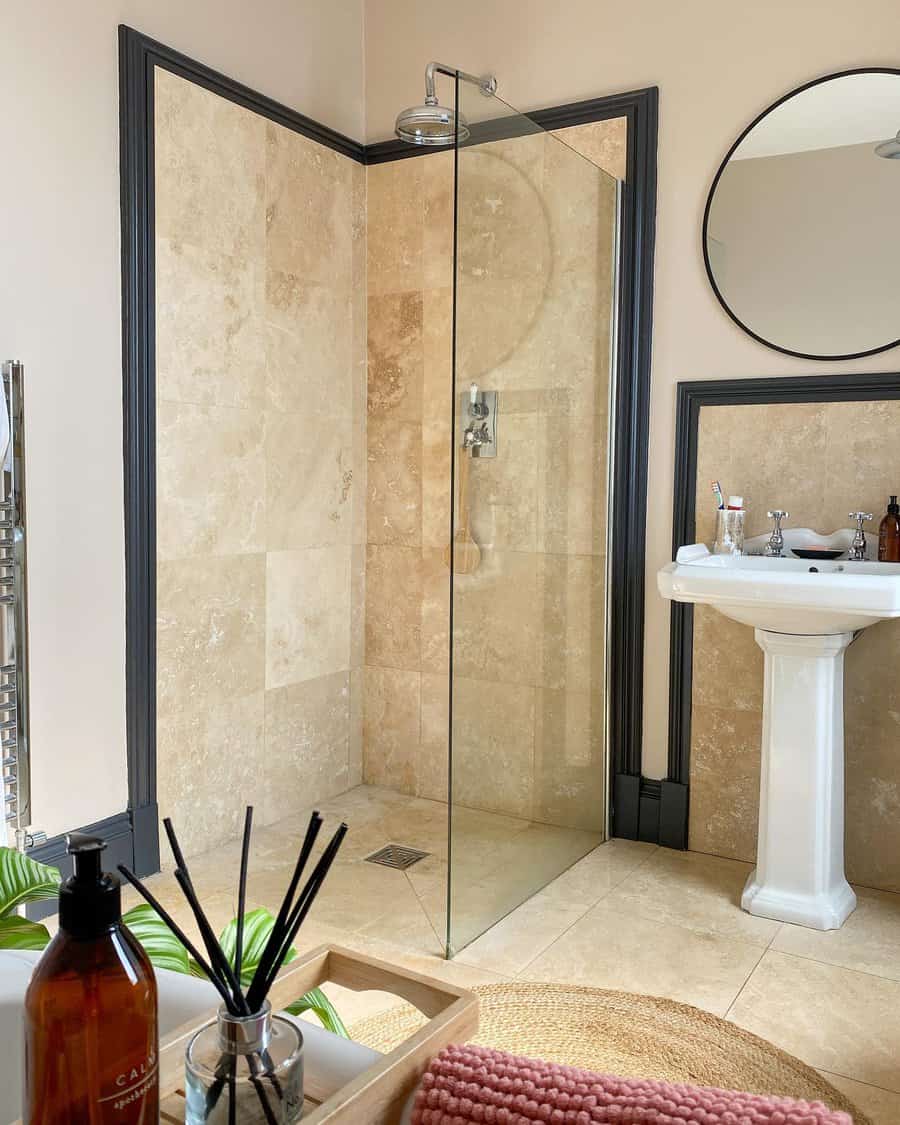 11. Embrace an Open Shower Concept
Introducing a doorless walk-in shower to your bathroom can infuse it with a modern and artistic ambiance. While these showers have an open design, they require careful planning for the perfect aesthetic and functionality. When creating a doorless shower, focus on the width of the entry point; it should be wide enough for easy access yet narrow enough to contain steam within the shower area.
To achieve a successful doorless walk-in shower, consider using bright colors or accent tiles to make it a focal point against a neutral wall, and incorporate built-in storage for convenient access to toiletries and towels while maintaining a chic appearance. This design element enhances your bathroom's overall appeal and ensures a pleasant shower experience.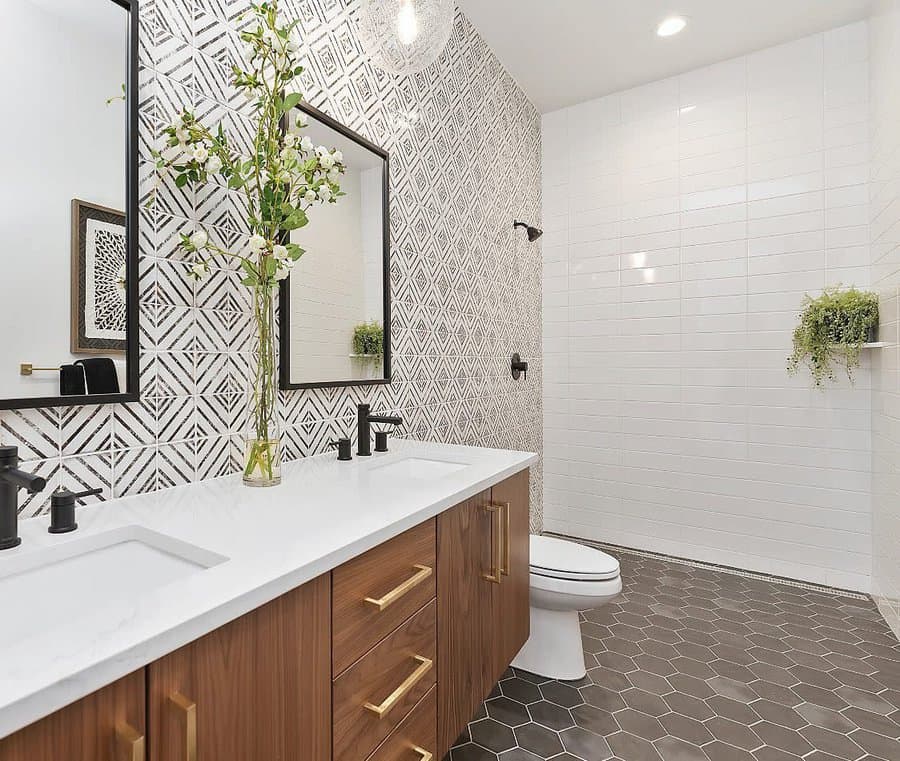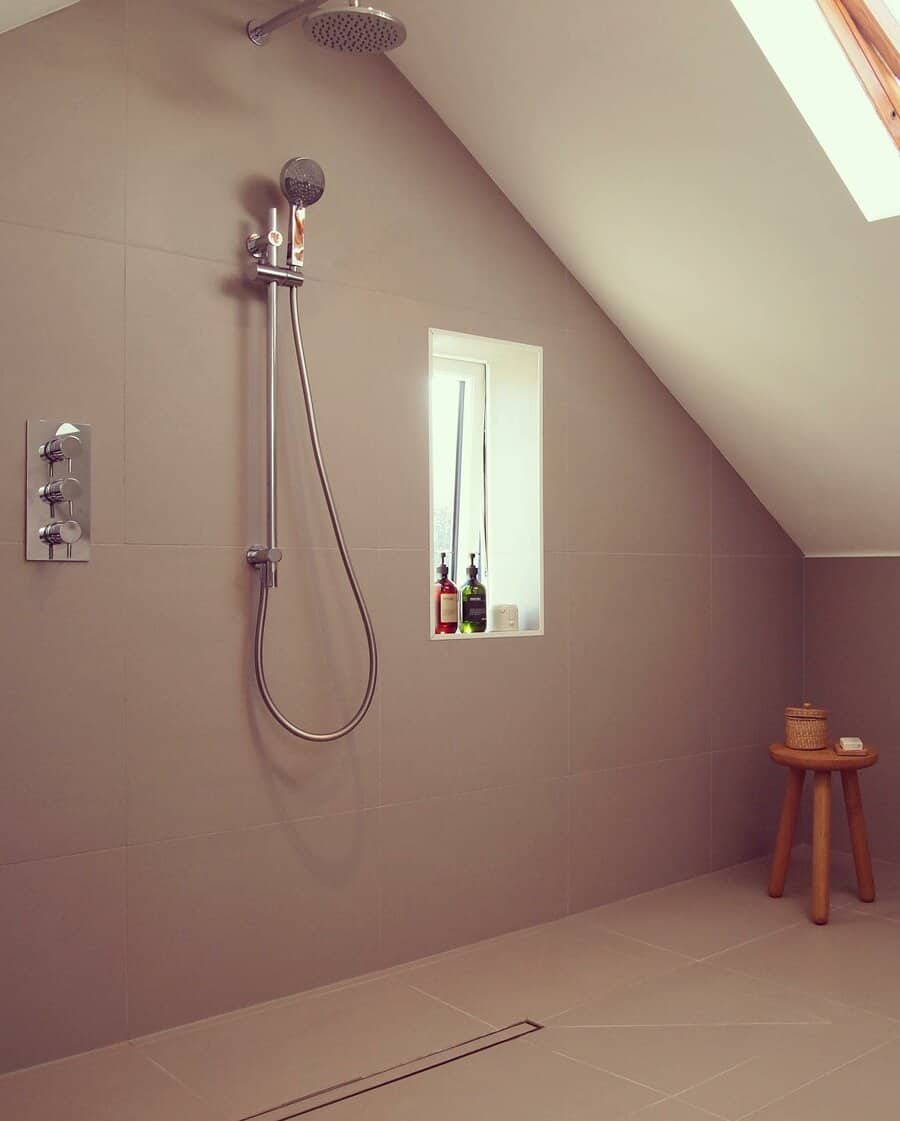 12. Luxurious Choices: Opt for Marble
For an infusion of sophistication and elegance in your bathroom, marble is the ultimate choice for creating a luxurious walk-in shower. Whether you opt for marble walls or floor tiles, this material elevates your bathroom's aesthetic, exuding an air of opulence. Enhance your marble walk-in shower with custom fixtures like wall-mounted shower heads, directional sprays, and bench seating to maximize comfort and functionality.
If you want a truly unique experience, adorn the space with spa-inspired elements like aromatherapy candles and a Bluetooth sound system. Ensure that the marble design complements the overall bathroom ambiance, achieving a seamless and elegant look.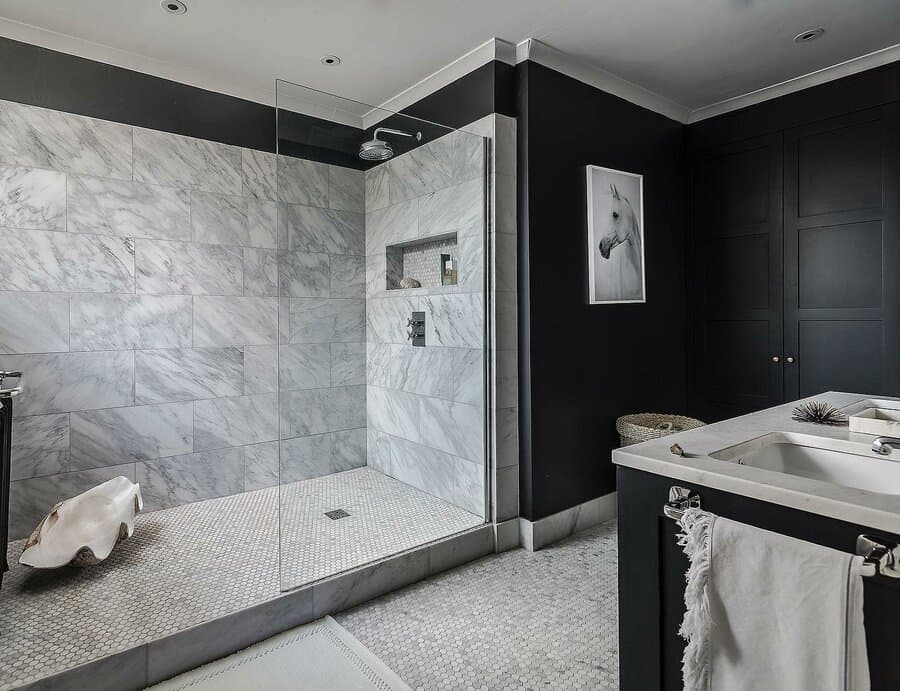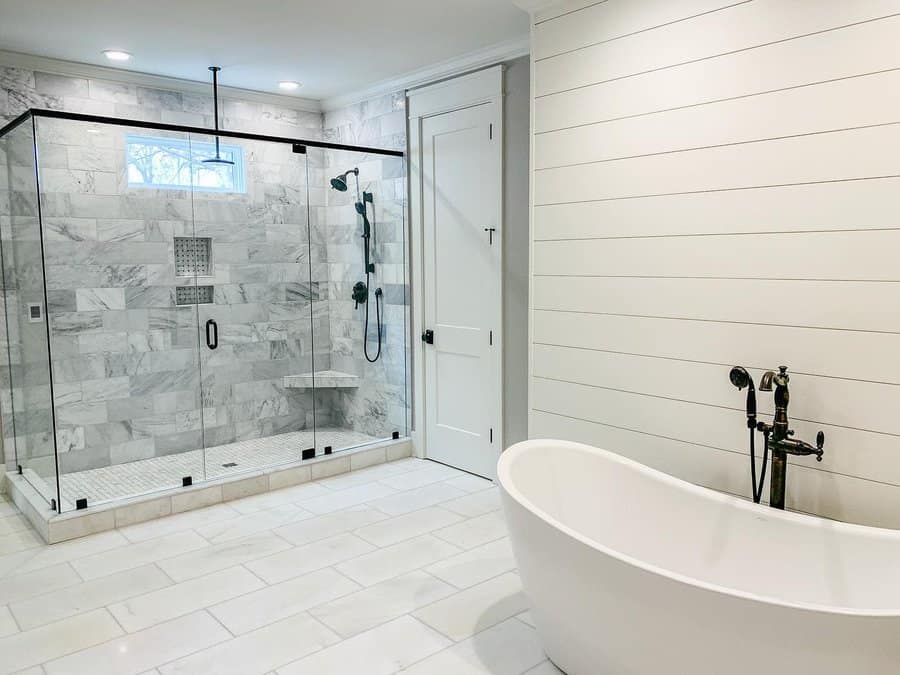 13. Accent with Mesmerizing Mosaic Tiles
To craft an attractive and inviting walk-in shower, mosaic tiles provide a versatile option. They come in various colors and textures, allowing you to create a muted yet characterful look, or opt for bold statements with mosaic tile strips that add flair and visual appeal. Whether you choose a subtle or splashy approach, mosaic tiles introduce warmth and style to your walk-in shower. To complete the look, consider complementary design elements like coordinating wall colors, fixtures, and lighting to create a cohesive and visually pleasing shower space in your bathroom.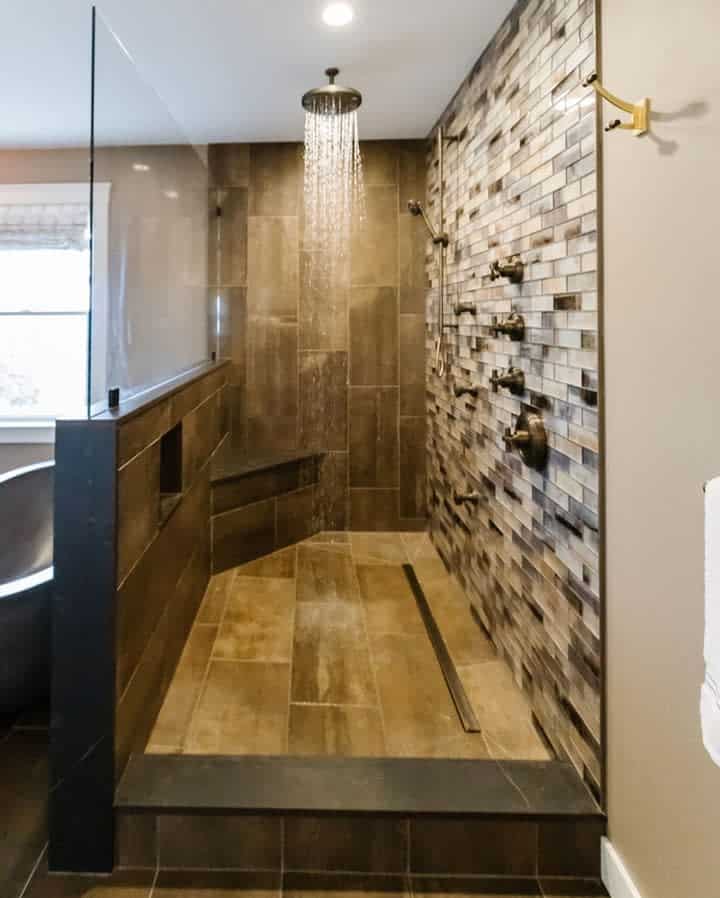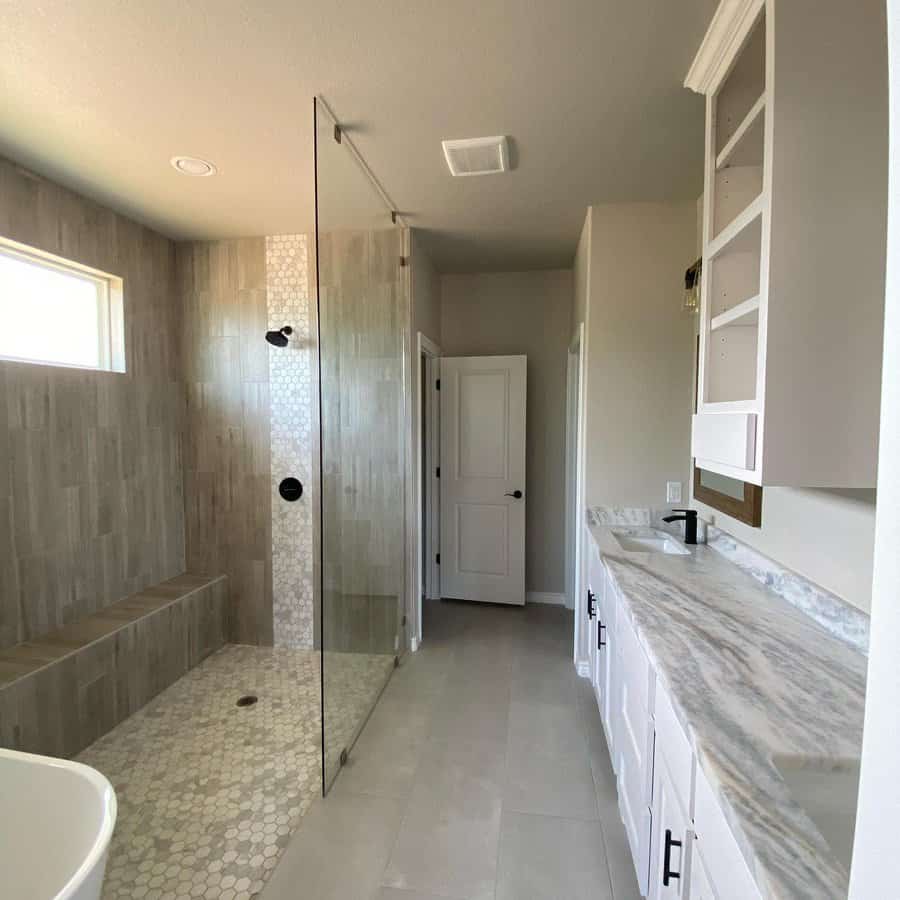 14. Transform into a Tropical Paradise
Turn your bathroom into a tropical paradise with a lush walk-in shower. To achieve the feeling of a tropical jungle, incorporate natural elements like plants and greenery into your design. The addition of vibrant, leafy plants creates a welcoming and exotic atmosphere within your shower space. Enhance the tropical ambiance with small touches such as scented candles, art pieces, and pebbles to make a stylish statement.
By following these straightforward tips, you can effortlessly transform your bathroom into a stunning and unique tropical oasis. Don't forget to coordinate the color scheme and materials with the overall tropical theme for a harmonious design.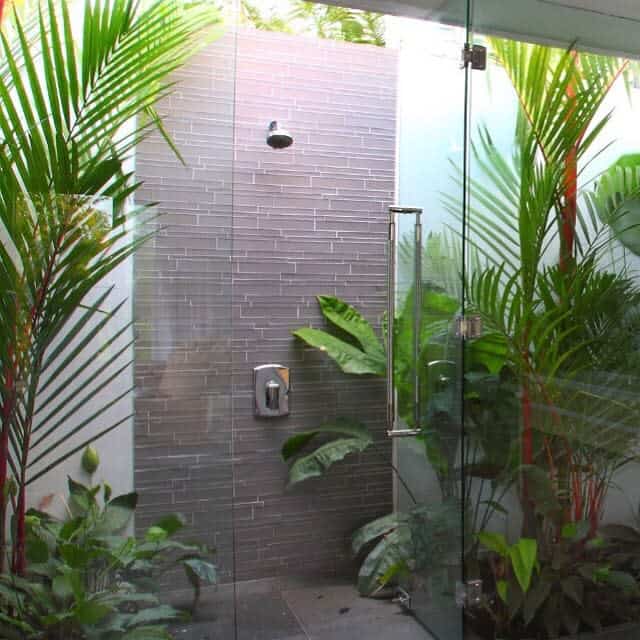 15. Add Opulence with Gold Fixtures
To add a touch of glamour to your bathroom, consider incorporating gold fixtures into your walk-in shower. Gold accents in the form of faucets, shower heads, and wall tiles can create an opulent atmosphere that leaves a lasting impression. Look for gold-plated finishes in materials like brass and bronze, as they bring depth and texture to the shower walls.
The reflective properties of gold also contribute to a brighter, airier room, giving your bathroom a modern feel. Whether you opt for gold accents on the wall tiles or an all-encompassing gold theme, this design element is sure to bestow your walk-in shower with a luxurious and unique appearance. Make sure to coordinate the gold fixtures with other bathroom design elements for a cohesive and elegant look.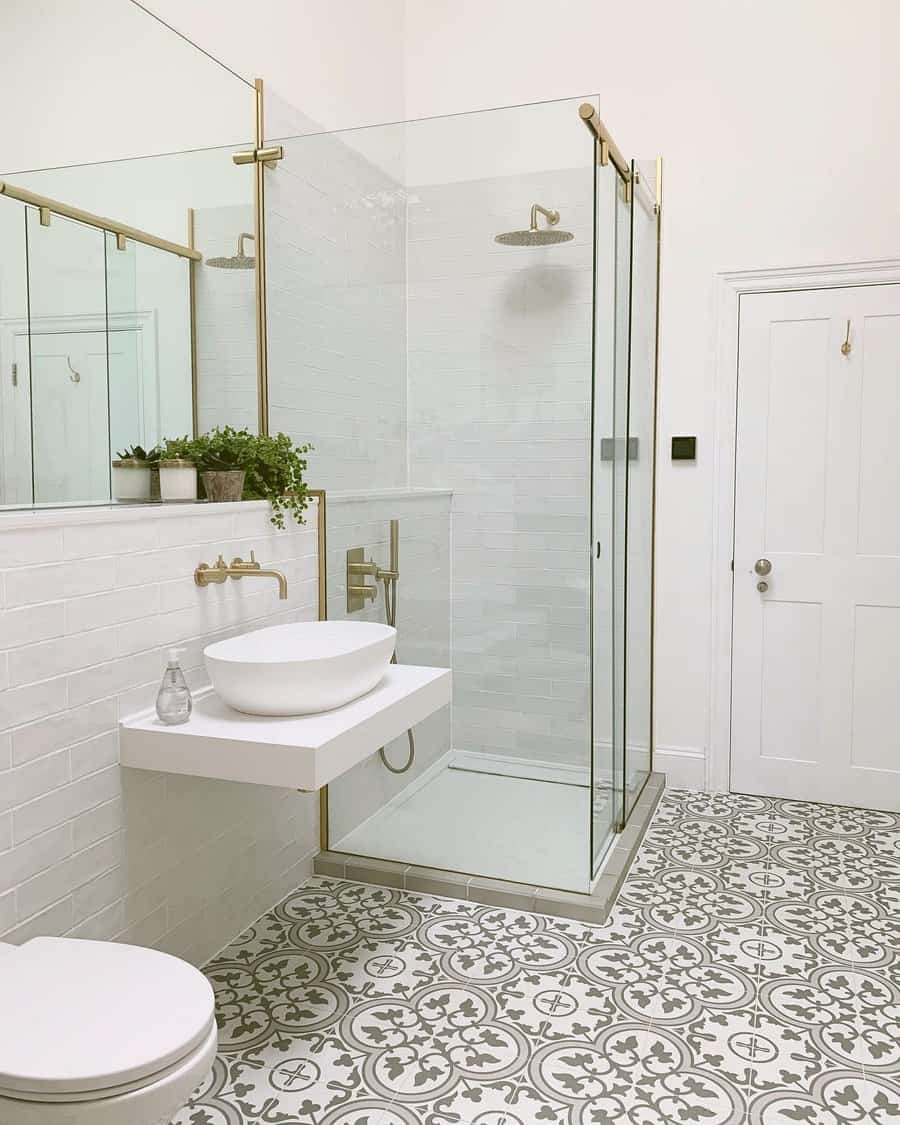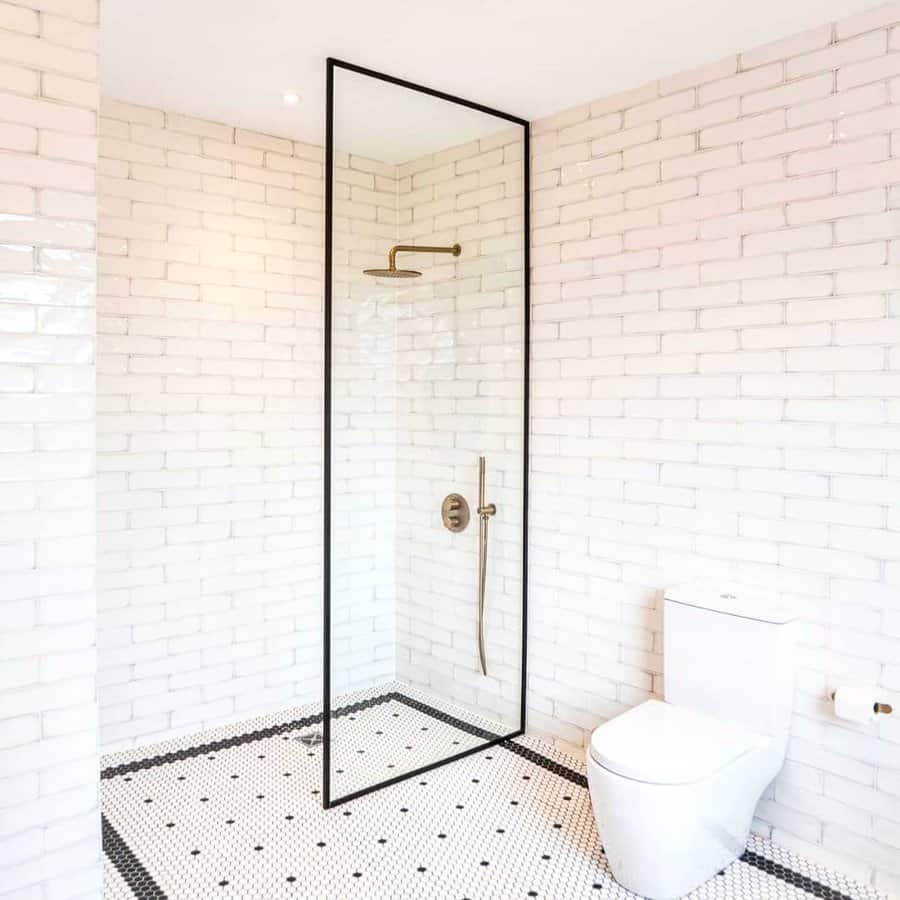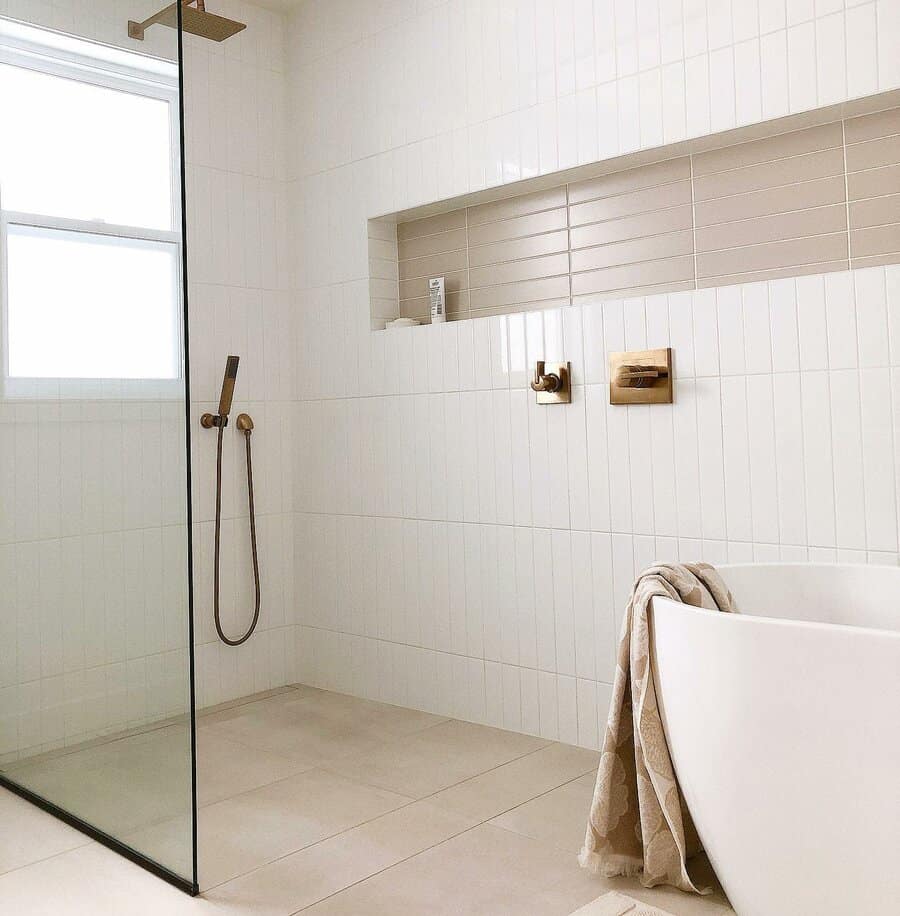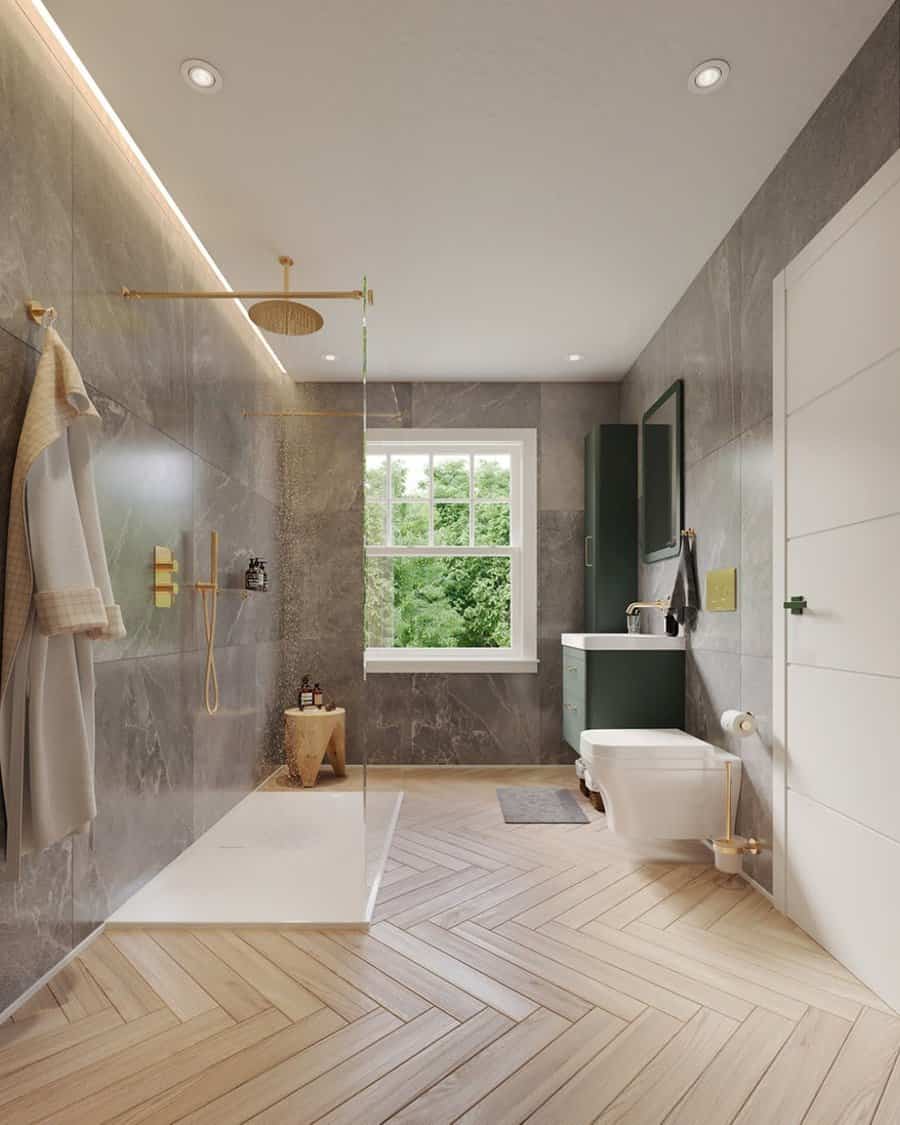 16. Convenience and Comfort: Shower Benches
Incorporating a shower bench is an excellent way to create a modern and functional shower space. Not only does it provide a spot to rest and relax while showering, but it also serves as multi-purpose furniture, offering extra storage or even elevated seating. To make your shower bench a standout feature and a reflection of your style, consider creative materials such as stained glass, concrete, or travertine.
For the ultimate spa experience at home, accompany your bench with handheld showerheads and multiple body jets to ensure maximum comfort and relaxation. When adding a shower bench to your walk-in shower, it's crucial to coordinate the design with other elements in your bathroom for a cohesive and comfortable shower space.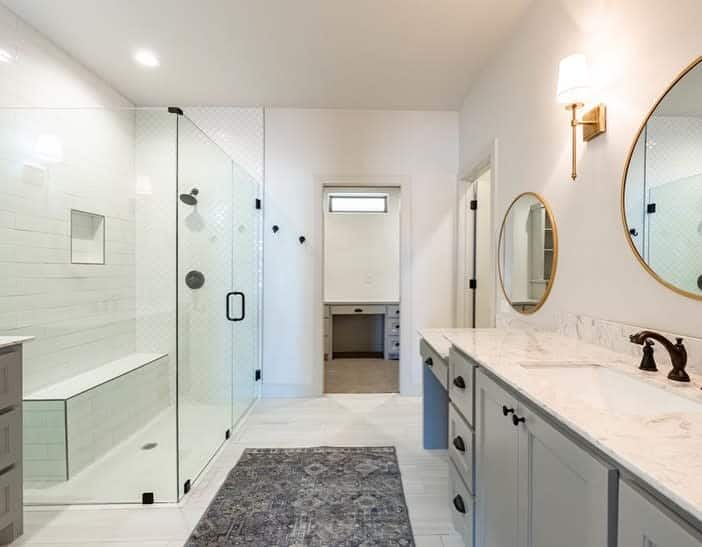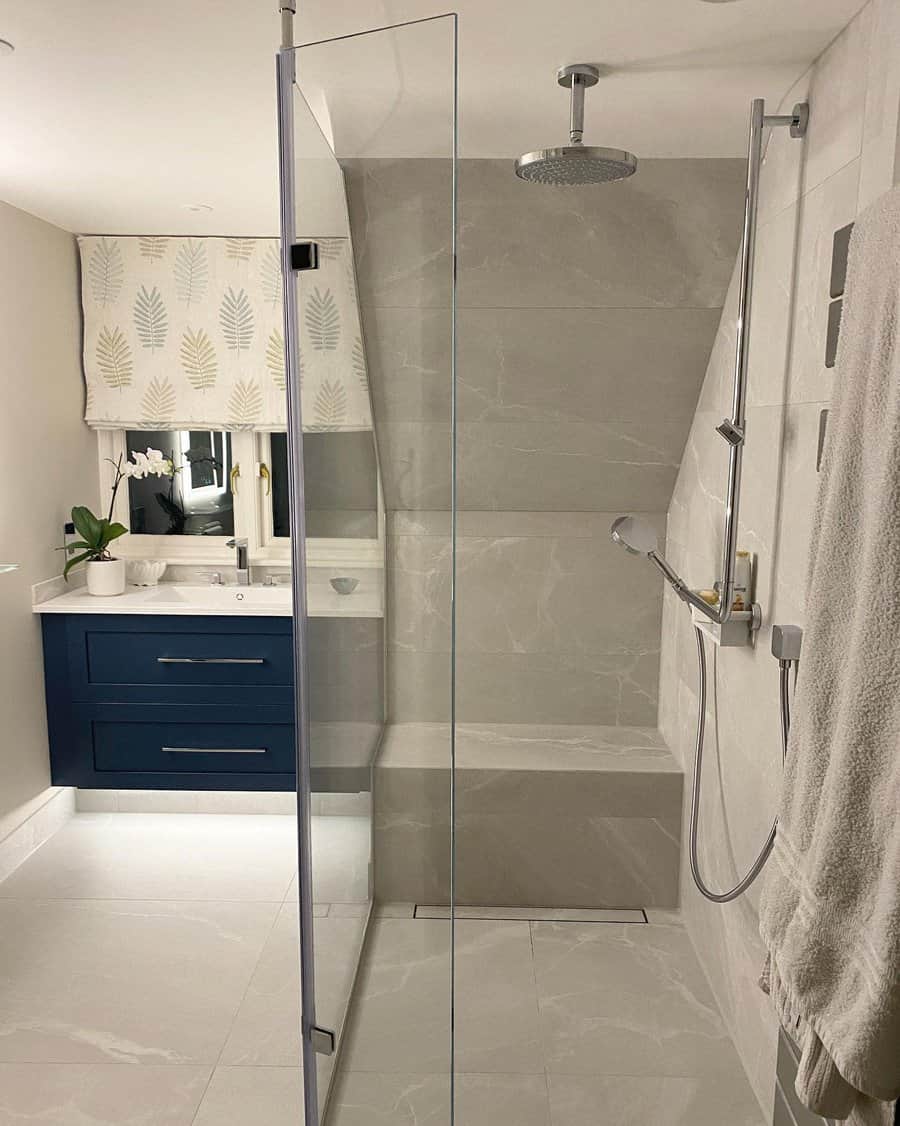 17. Rustic Charm for a Cozy Retreat
For a warm and textured rustic vibe in your bathroom, explore creative shower ideas that lend character to the space. Opt for a walk-in shower constructed from rough-cut stones to introduce natural elegance and tactile appeal. To elevate the rustic feel, adorn the shower with stone tiles on the floor and walls. For a modern yet rustic touch, faux wood tiles are a great choice.
Alternatively, make a bold statement with concrete tiles, especially in bathrooms aiming for an industrial style. Whichever approach you choose, these walk-in shower ideas will help bring your bathroom vision to life. To complete the rustic charm, coordinate the design with warm lighting, wooden accents, and earthy color schemes to create a cohesive and inviting bathroom retreat.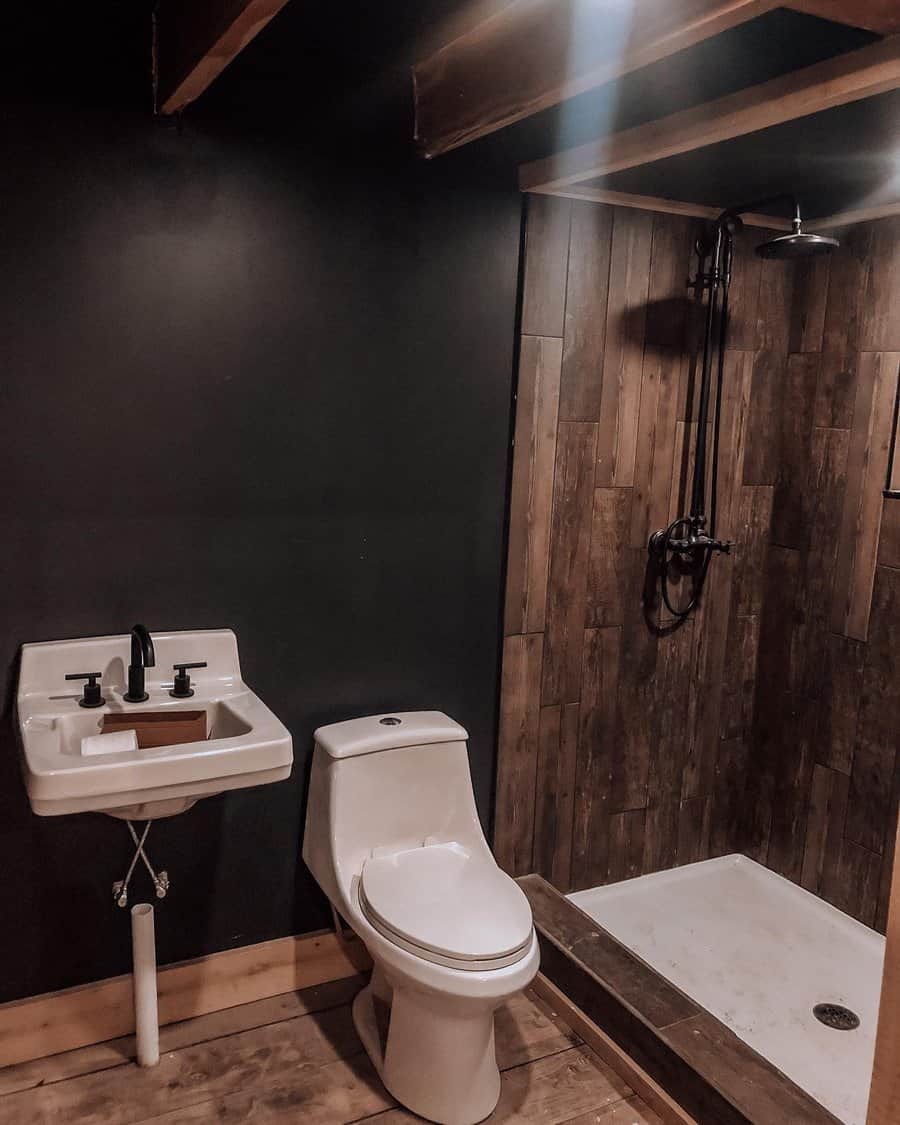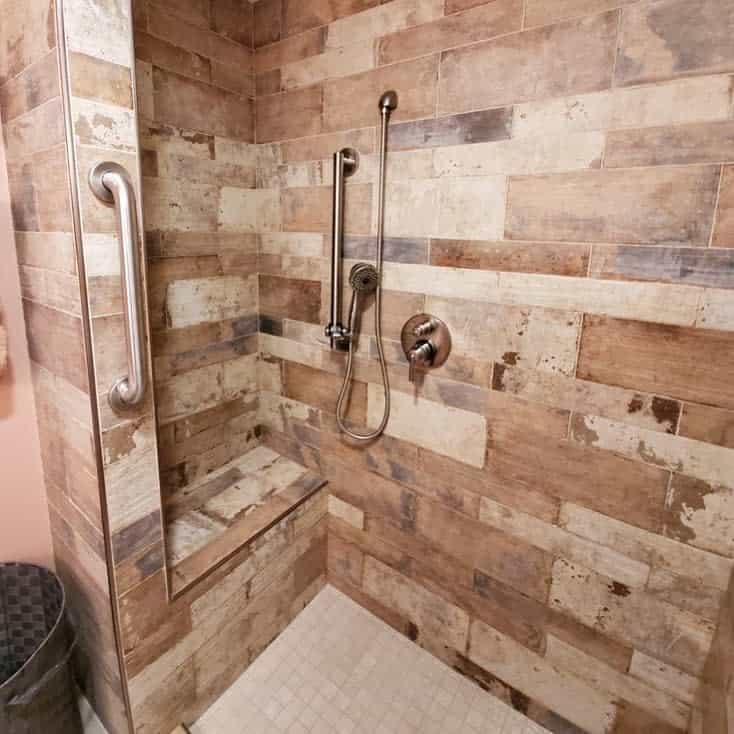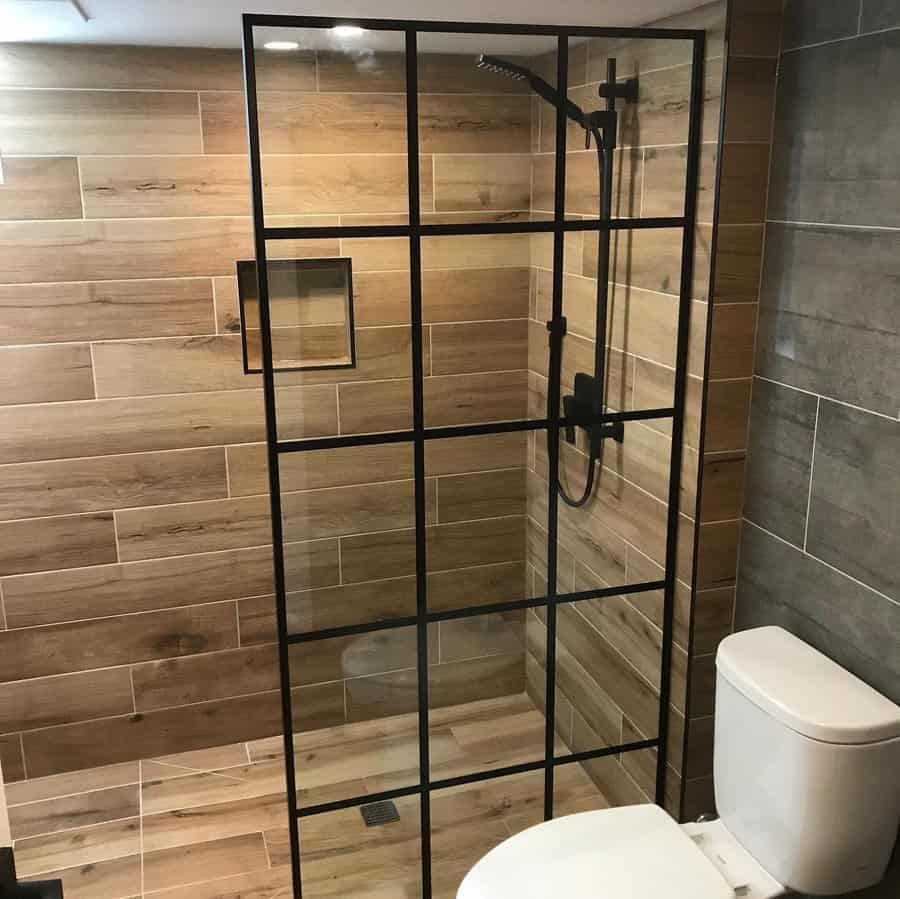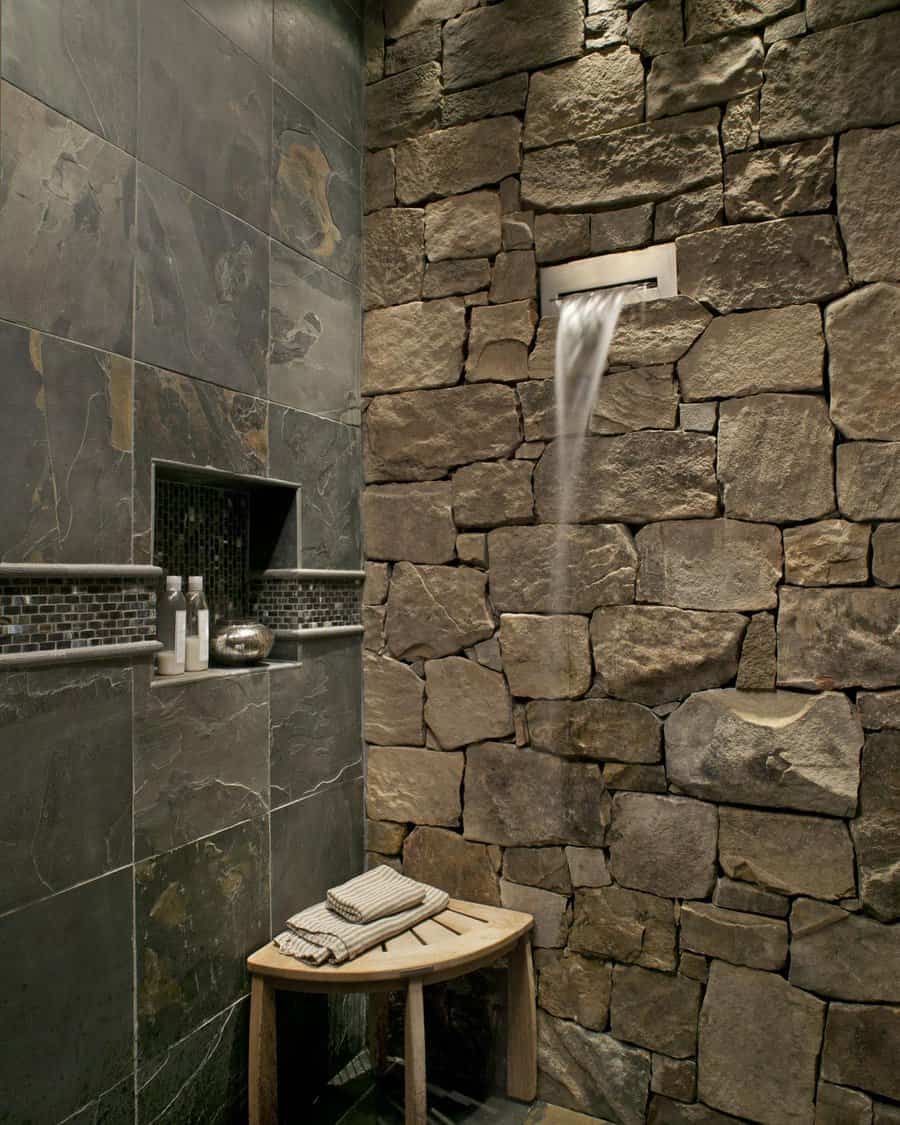 18. Airy Elegance with Light-Washed Concrete
Revitalizing your bathroom without extensive renovations is possible with light-washed concrete tiles. These tiles, whether in traditional grey or a colorful blend, bring an airy ambiance to your space while adding texture and character. To create a modern and spa-like retreat, consider using these tiles in a floor-to-ceiling pattern within a walk-in shower.
Opt for an open-plan style by omitting solid walls and incorporating sleek metallic frames around each side of the shower. To complete the airy and elegant look, complement your design with bright lighting, minimalistic fixtures, and neutral color accents, making your bathroom a welcoming and rejuvenating haven.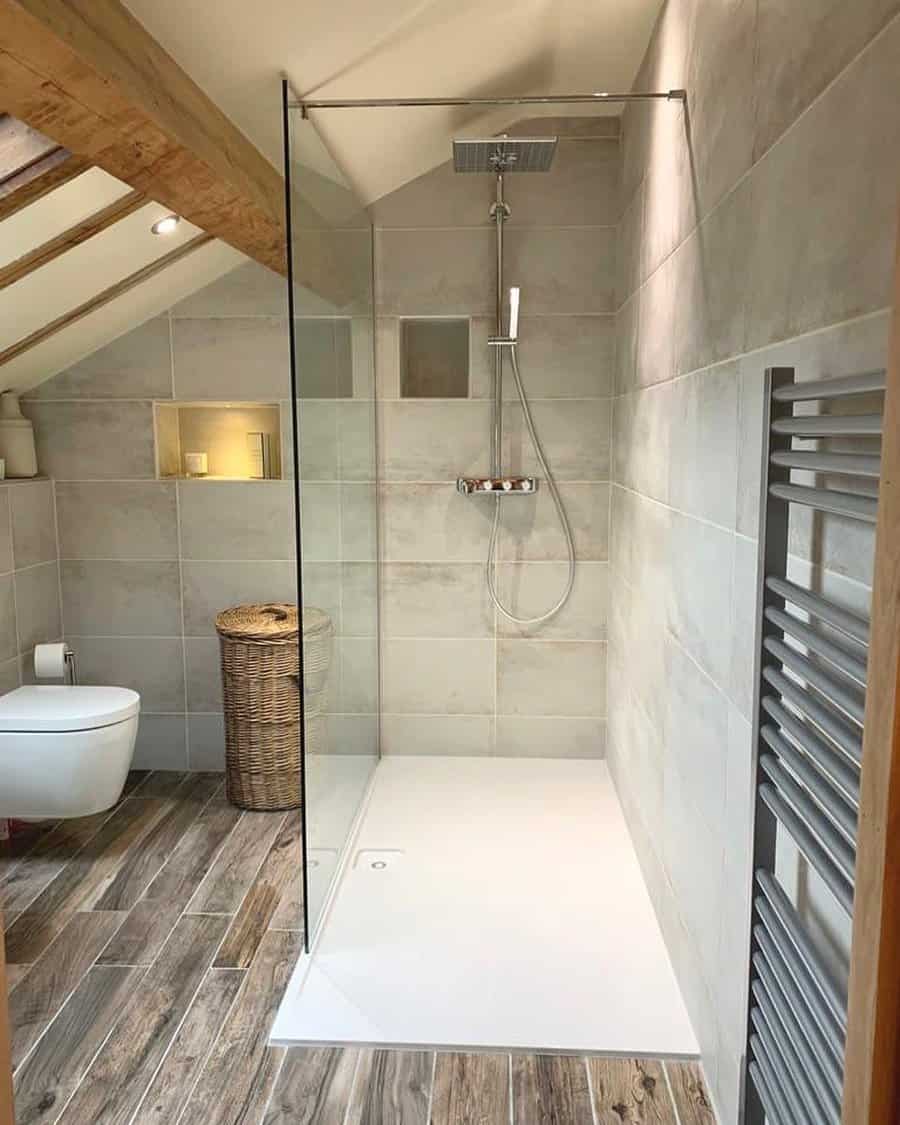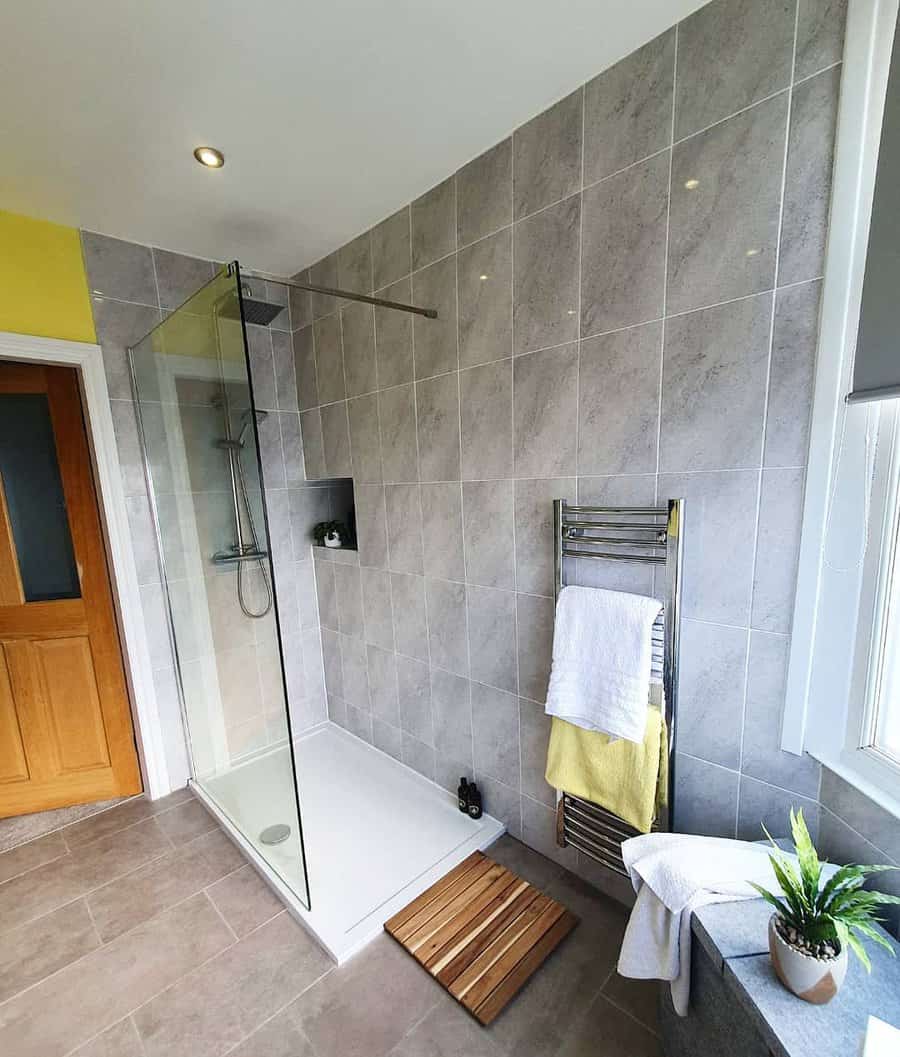 19. Emulate Art Deco with Beveled Tiles
When exploring art deco-inspired walk-in shower ideas, beveled tiles are a timeless choice that adds a unique angular dimension to your space. To achieve an authentic Art Deco look, consider stylish patterns that make the most of these beveled tiles, such as vertical lines or geometric shapes placed strategically behind the bevels. For a more eye-catching effect, opt for intricate mosaics and geometric elements in classic Art Deco colors, creating an opulent and luxurious atmosphere.
To fully embrace the Art Deco style, ensure that your shower design harmonizes with other elements in your bathroom, like Art Deco-inspired lighting, fixtures, and accessories, for a cohesive and elegant look. Beveled tiles, when combined with careful attention to detail, will transform your walk-in shower into a true work of art.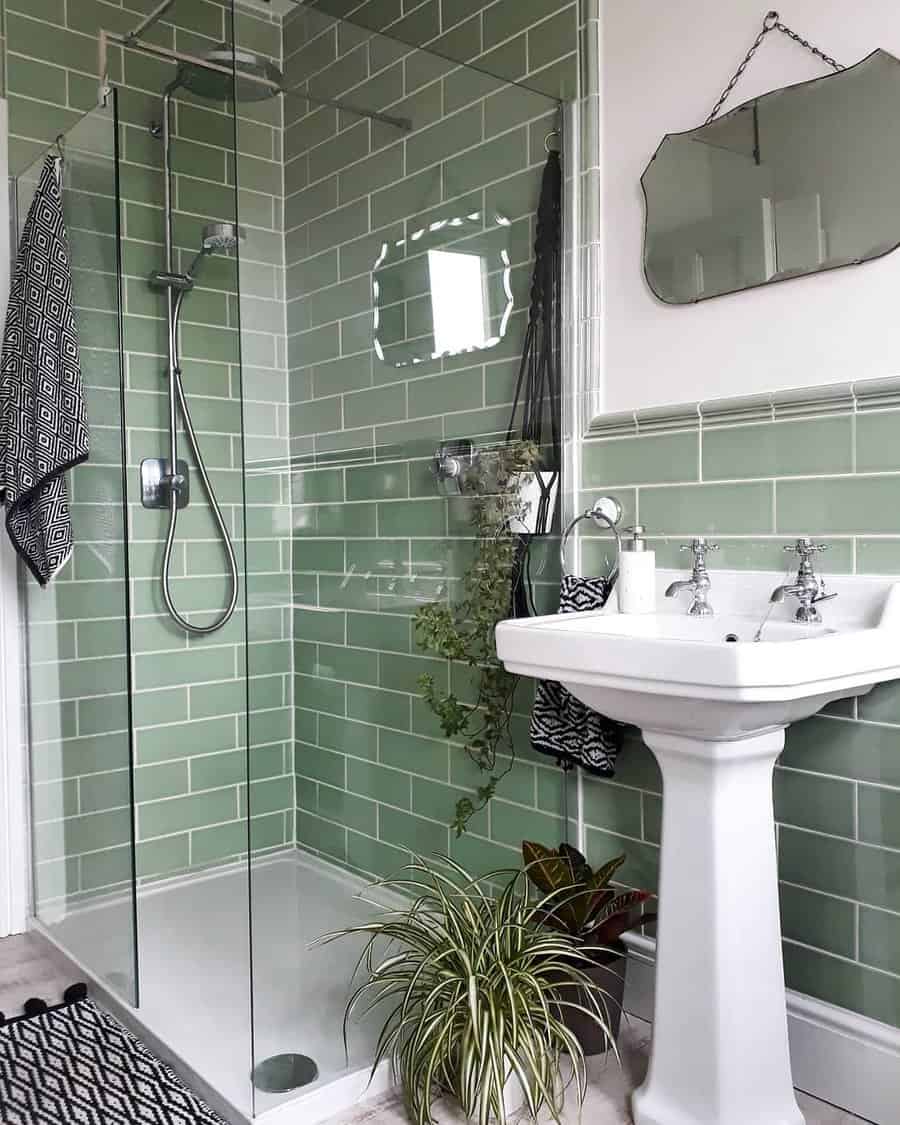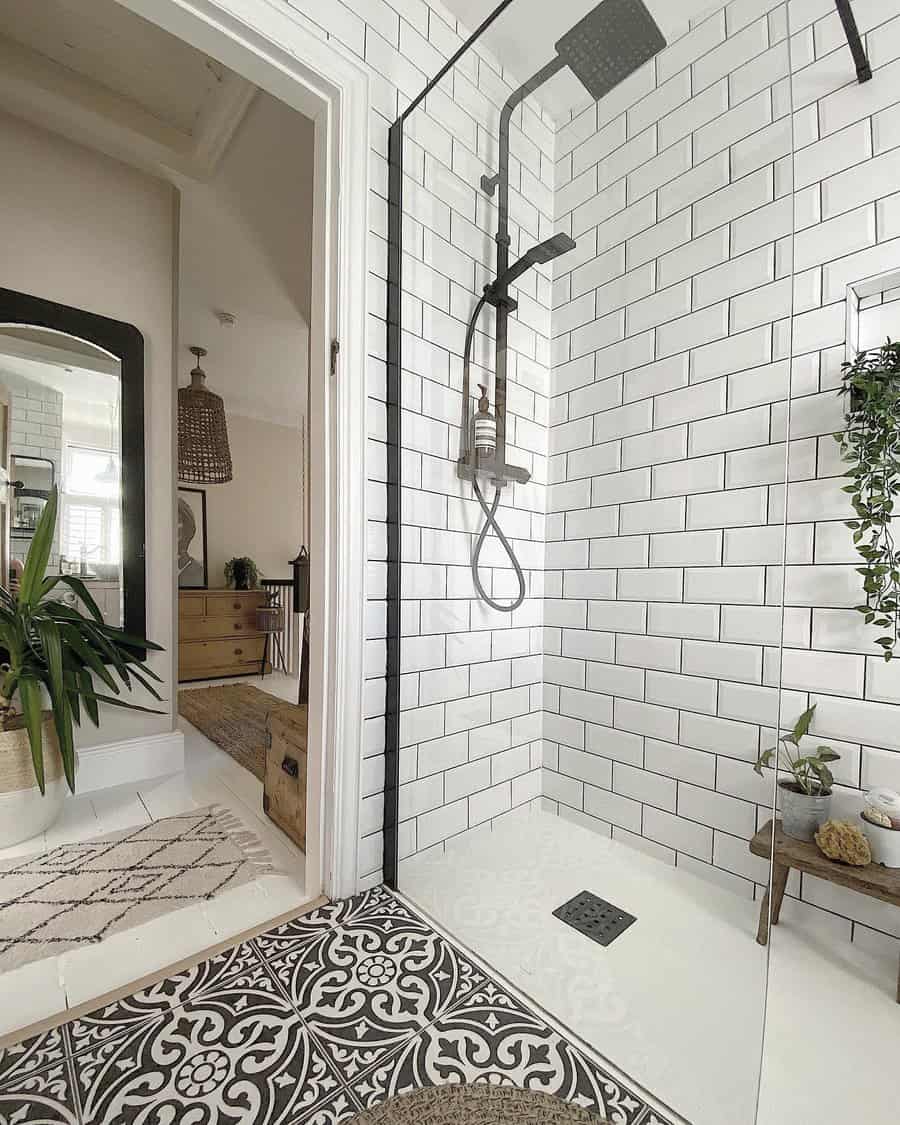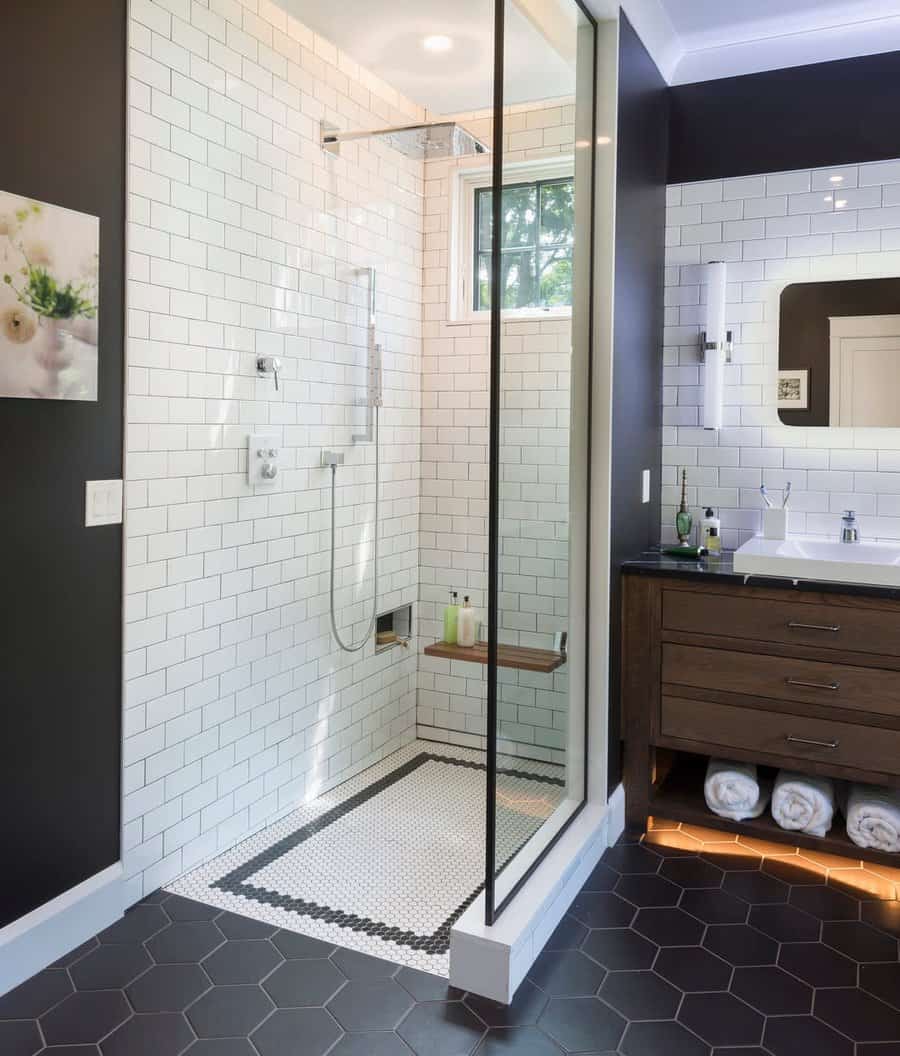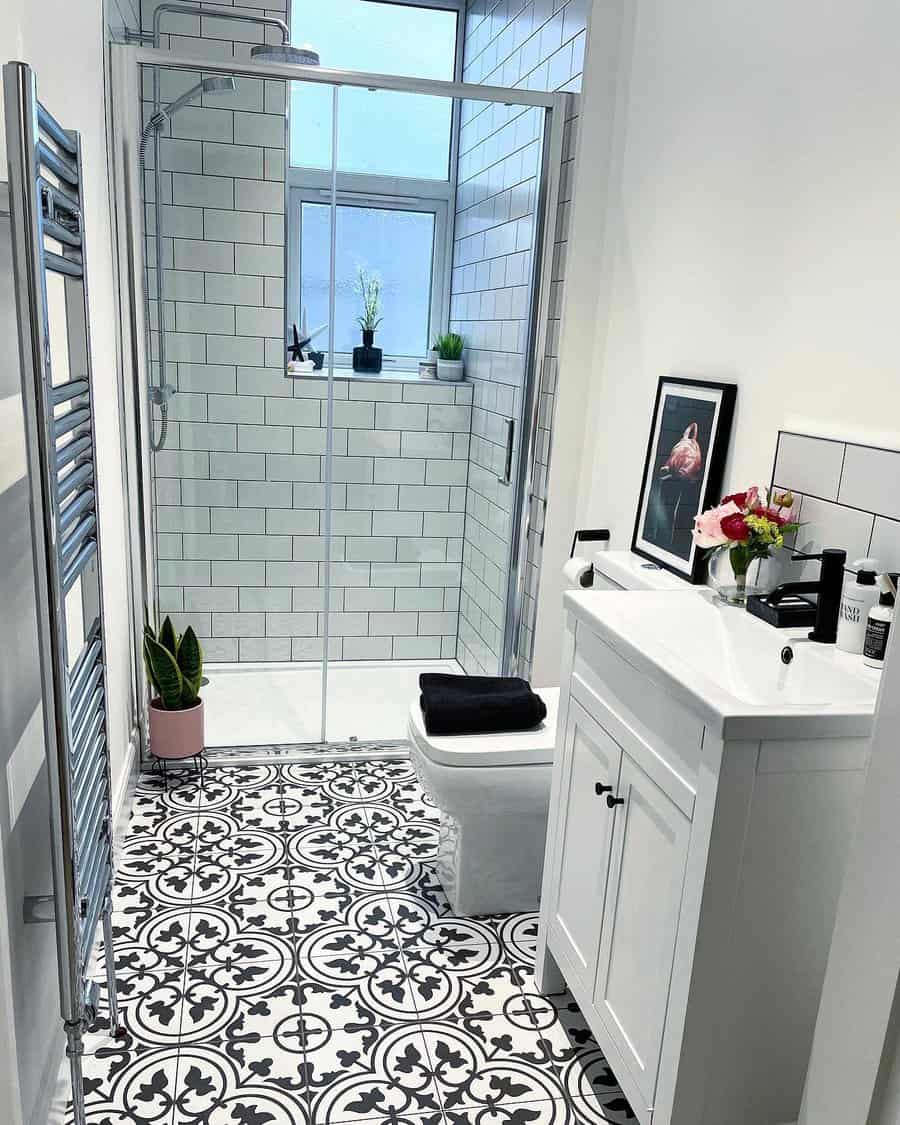 20. Get Creative with Decorative Tile Accents
To create a tranquil and visually captivating walk-in shower, consider decorative tiles as a key design element. Opt for tiles that exhibit visual interest and serve to define the space as a walk-in shower. Experiment with diverse geometric designs to infuse a unique and personalized touch into your shower area. Introducing glass elements into the tile design can impart an airy and open ambiance.
For a modern twist, textured tiles and decorative grout lines are effective in adding character and sophistication to the space. When incorporating decorative tiles into your walk-in shower, be sure to coordinate them with the overall bathroom decor, including fixtures, lighting, and color schemes, to ensure a harmonious and inviting atmosphere. This approach will elevate your bathroom into a chic and welcoming retreat.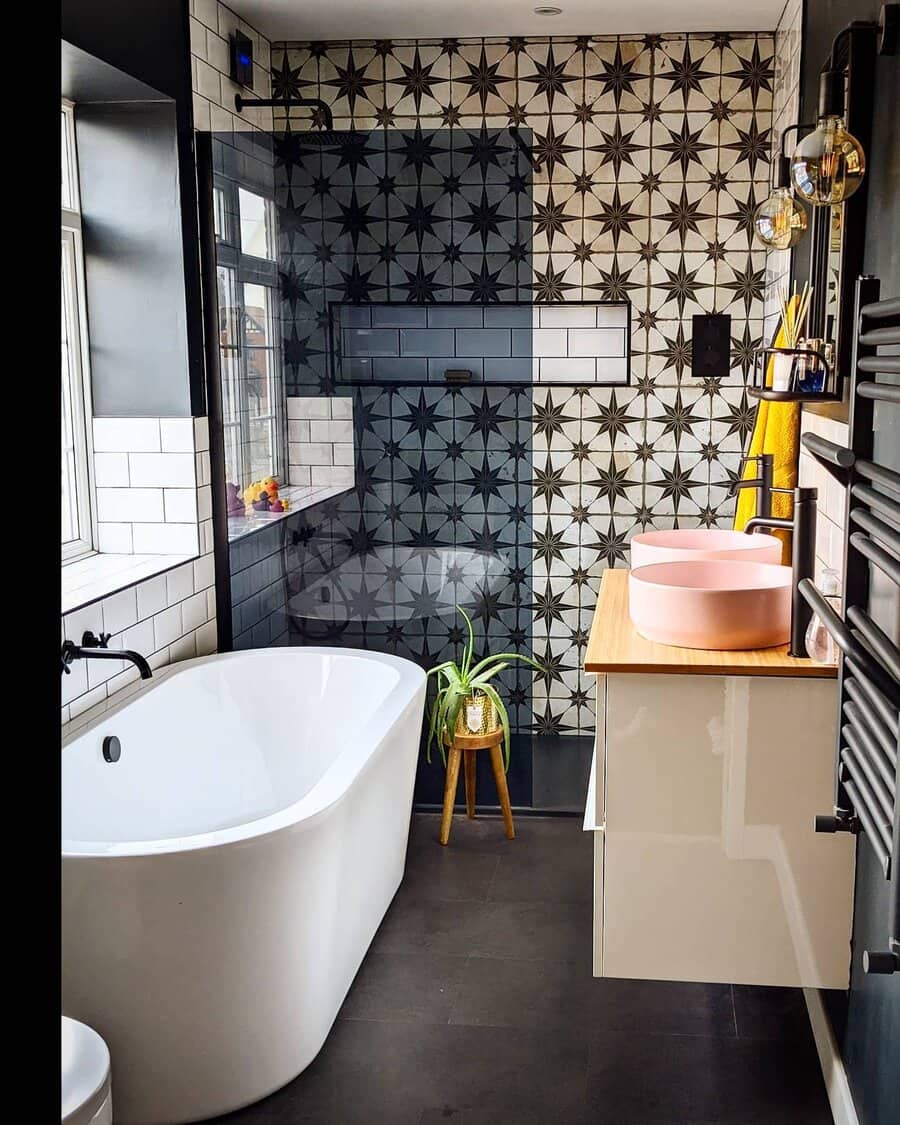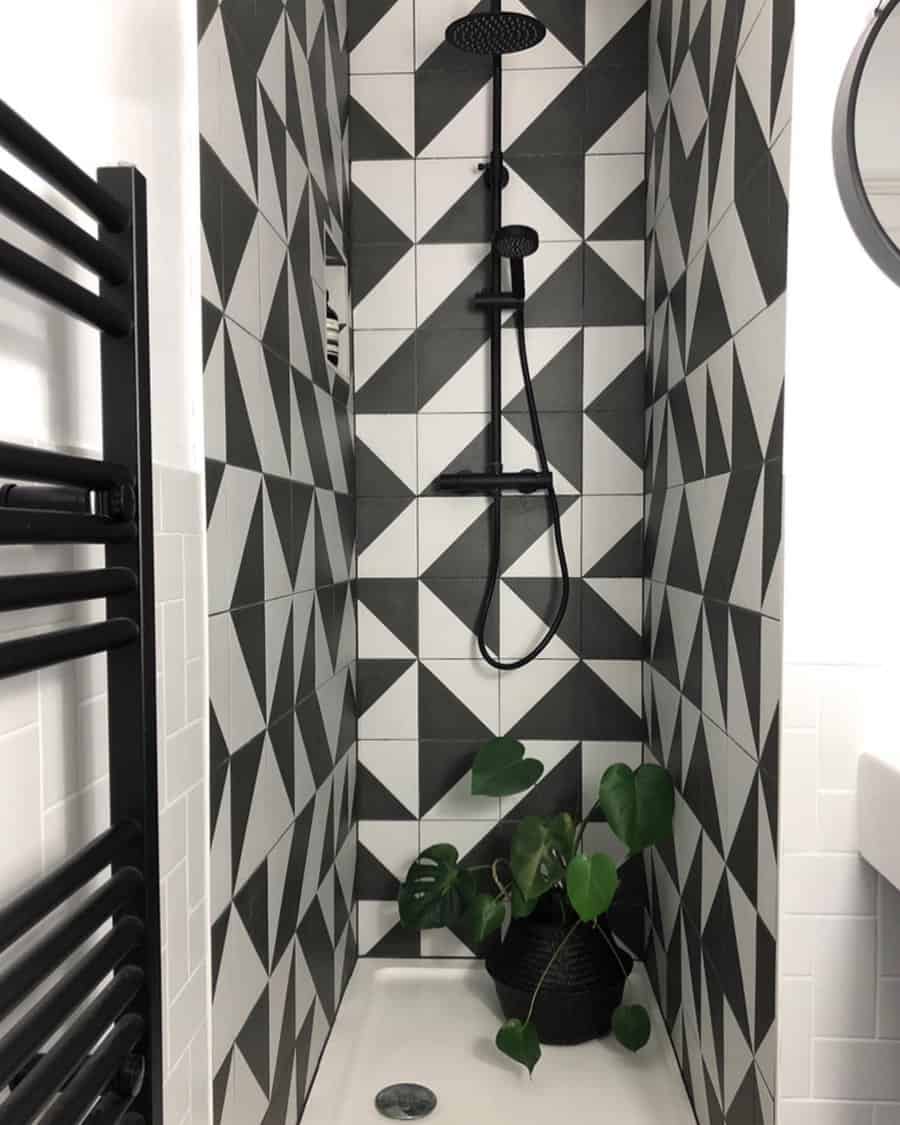 Walk-In Shower FAQs
How much does it cost to put in a walk-in shower?
The cost of your walk-in shower will depend on the size and type of shower you have installed. You could opt for a prefab option that you simply place into your shower. These typically cost around $1,000 to $3,000. If you want a fully customized shower, this will cost much more. Your new shower could cost $10,000 to $20,000.
Is a walk-in shower worth it?
What's nice about a walk in shower is that you design the shower to fit the bathroom. This makes for a better-designed shower, which improves the appeal and value of your bathroom. You'll appreciate the improved design because it will make your bathroom more functional and pleasant to be in.
Does a walk-in shower need a door?
You don't have to put a door on your walk in shower. However, if you choose not to have a door, you'll likely need to have your shower custom designed. A doorless walk-in shower can be built in a corner or in place of an existing bathtub and shower combo. Your doorless shower needs to be designed to prevent water from pouring into the rest of your shower.