The Top 63 RV Decorating Ideas
We all know an RV owner who just throws a few extra pillows in their camper and calls it good. But with the rising popularity of road-tripping and van-living, RV interior design is a growing market.
Most of the trends you use in your home can be translated to an RV. However, there are some special considerations you'll want to make when selecting which decor is right for your camper or pull-behind trailer.
If you're ready to get started reimagining your RV interior, keep reading for our favorite RV decorating ideas of the moment.
1. Micro Utility Sink
One innovative addition that can make a big difference is a micro utility sink strategically placed in a corner. This small but mighty feature brings convenience and practicality to your space while adding a touch of modern flair.
Whether you're washing dishes, doing laundry, or simply need a convenient spot to clean up, a micro utility sink in a corner placement maximizes the functionality of your RV. Its compact size ensures it won't take up too much precious space, making it ideal for small living areas.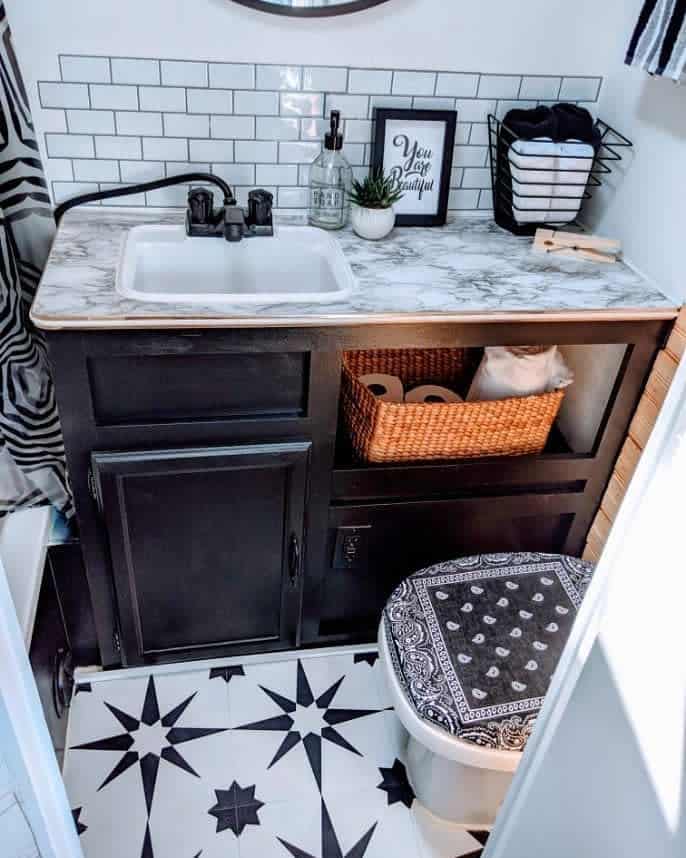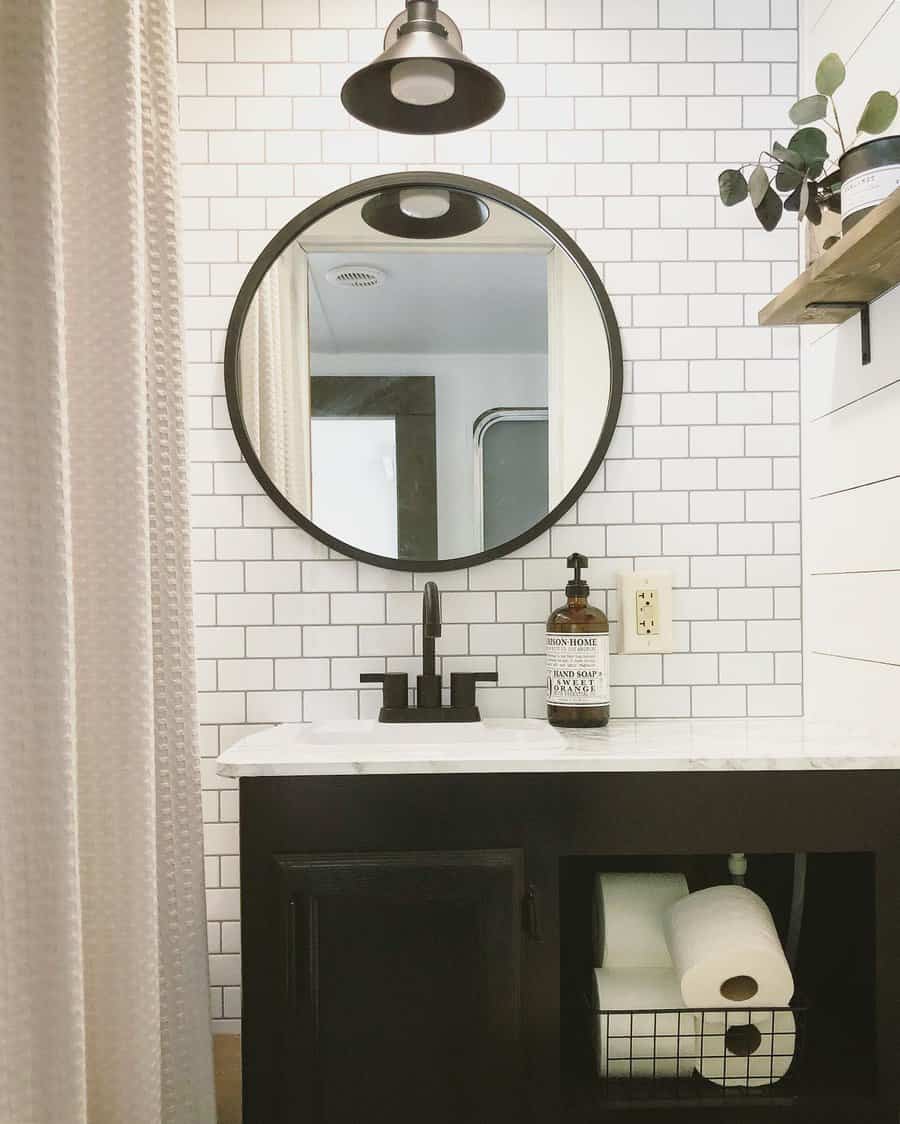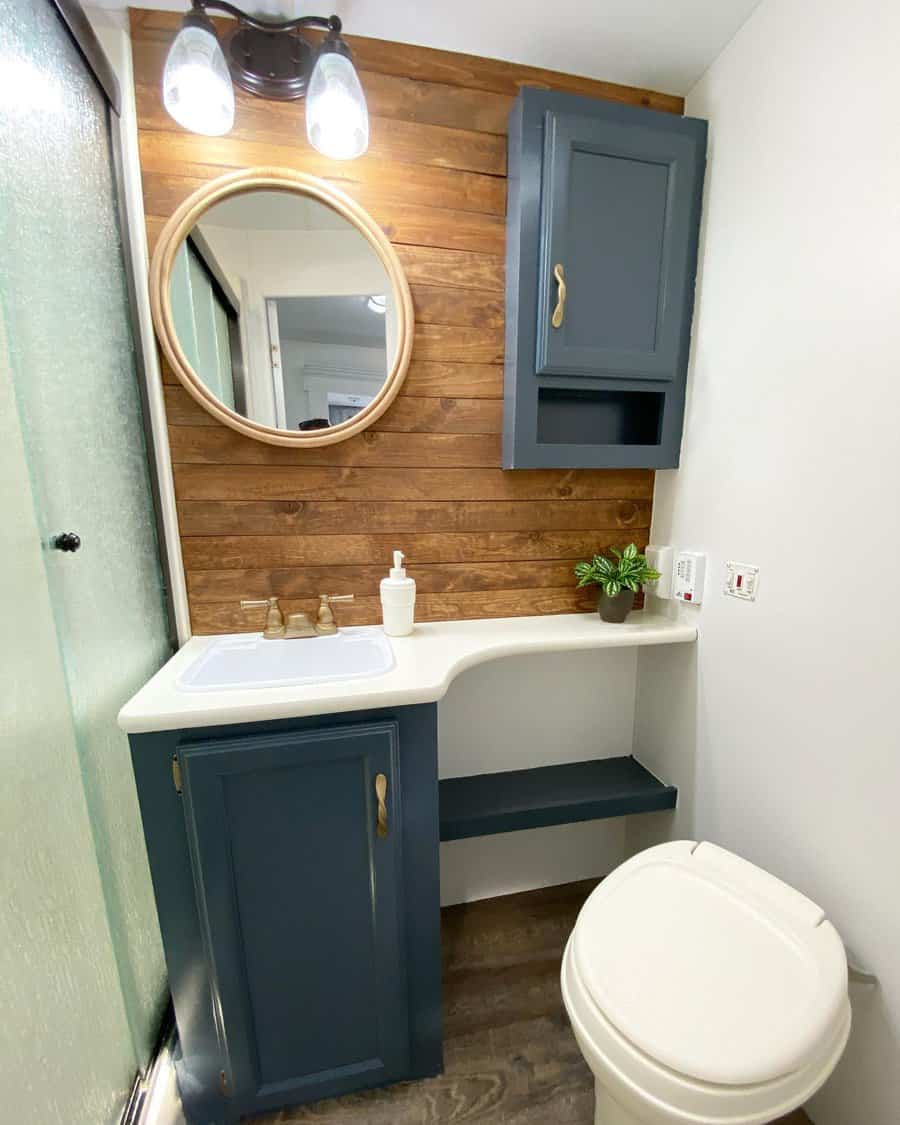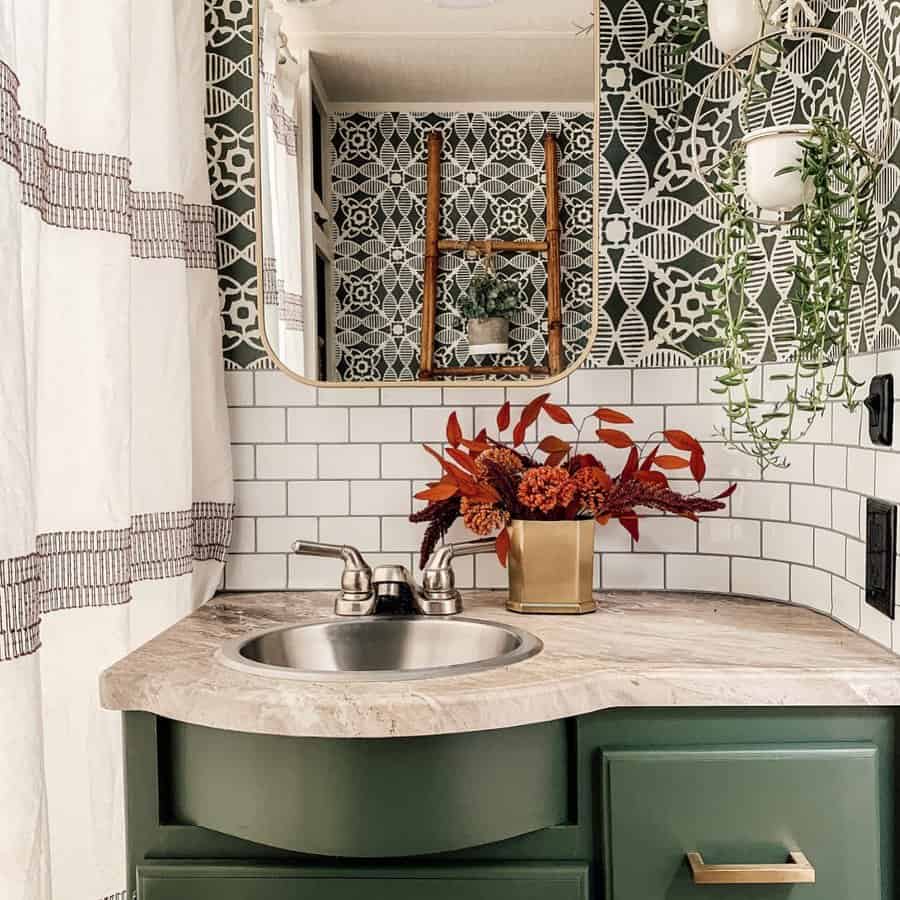 2. Loft Bed
A loft bed is a perfect solution for maximizing space in your RV, allowing you to create an additional sleeping area without sacrificing precious floor space. Not only does it offer an innovative sleeping arrangement, but it also adds a unique and exciting element to your RV decor.
Imagine climbing up a ladder to your cozy loft, nestled under the ceiling, with a view of the stars through the skylight above. It's like having a hidden retreat in your own home on wheels. The loft bed can be customized to suit your style and needs, whether you prefer a sleek and modern design or a rustic and cozy atmosphere.
Add some soft, twinkling string lights or curtains for privacy, and you have a cozy nook that is both practical and visually appealing. The loft bed not only provides a comfortable sleeping area but also opens up possibilities for additional storage or a dedicated workspace beneath.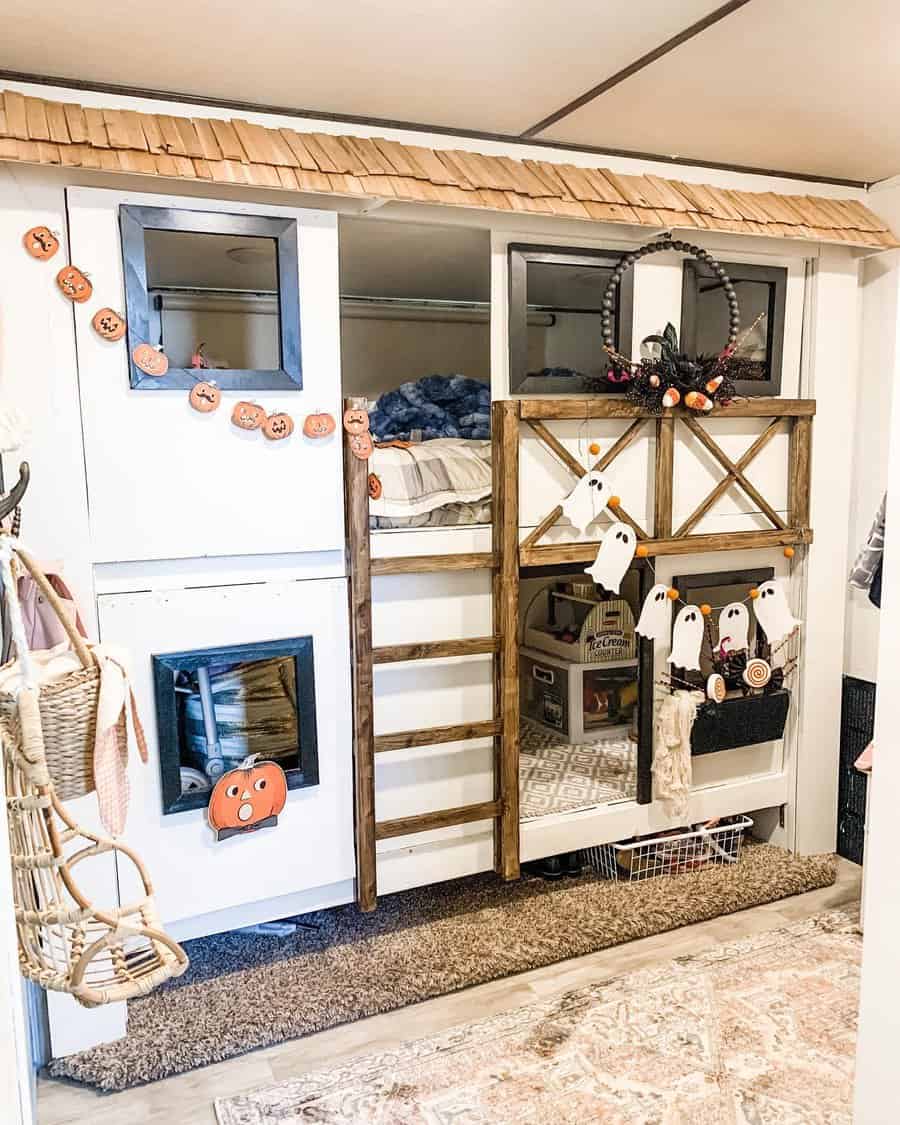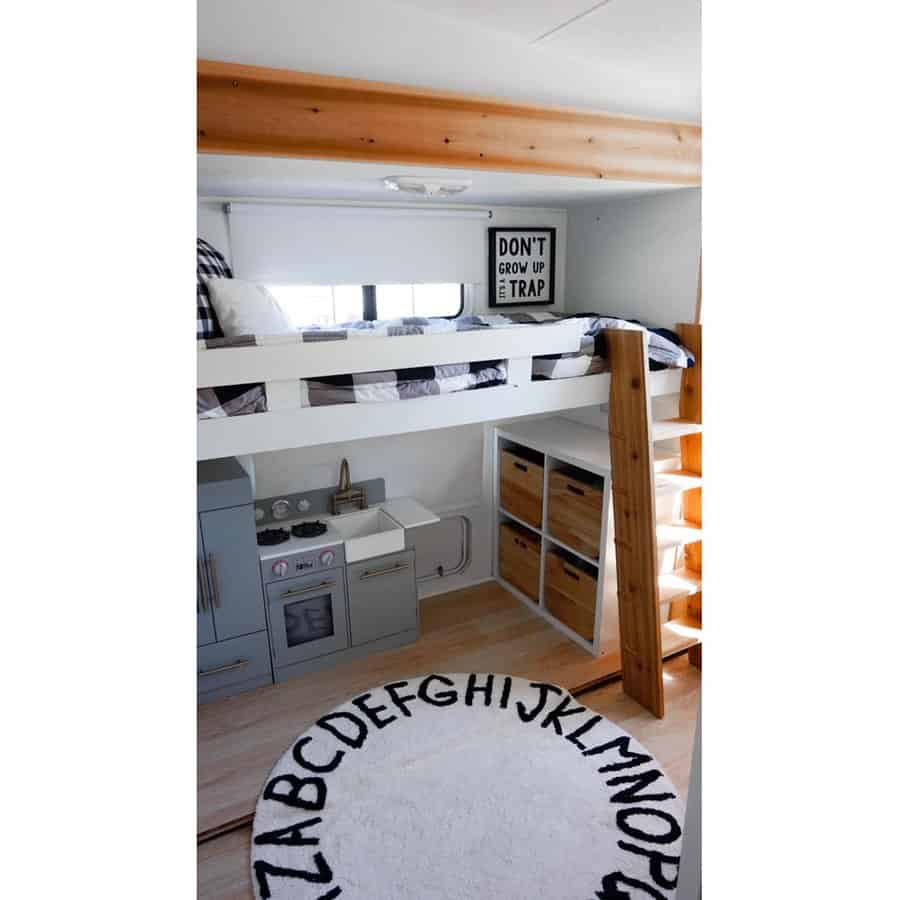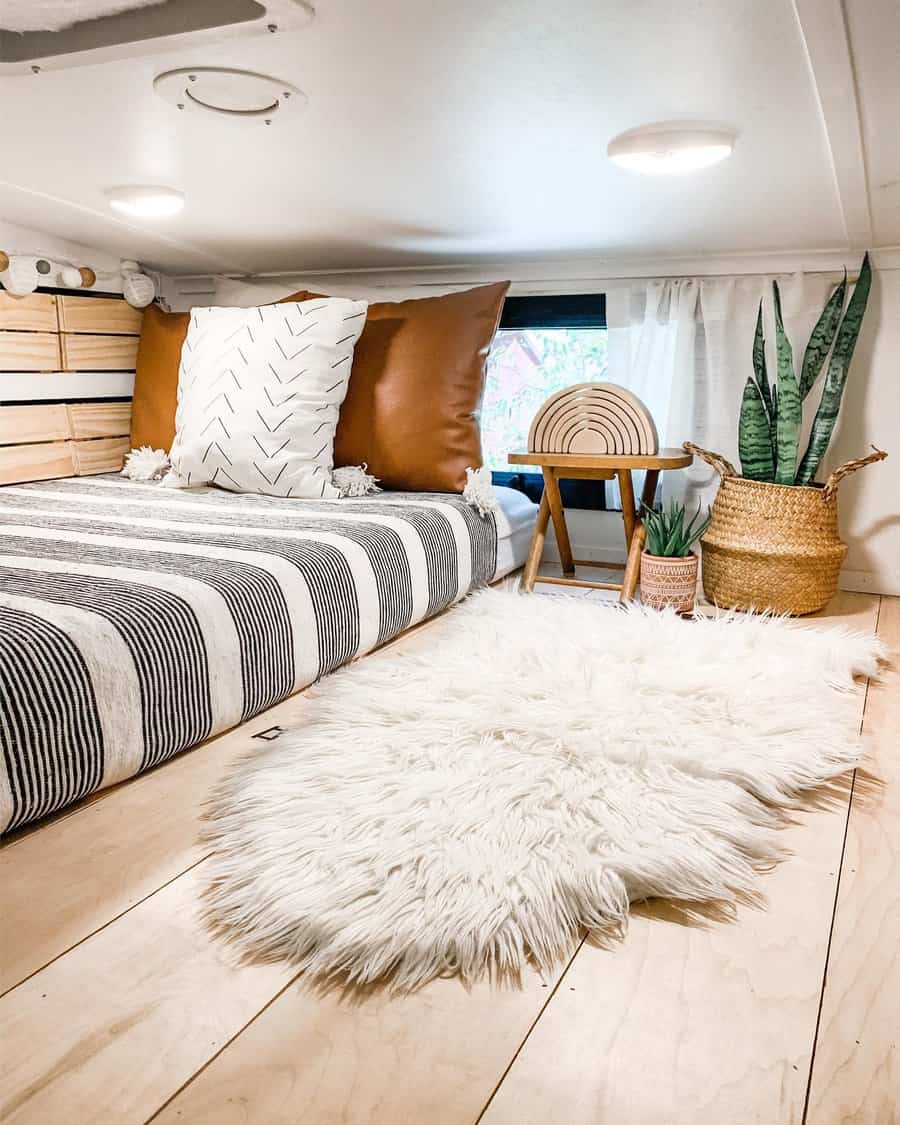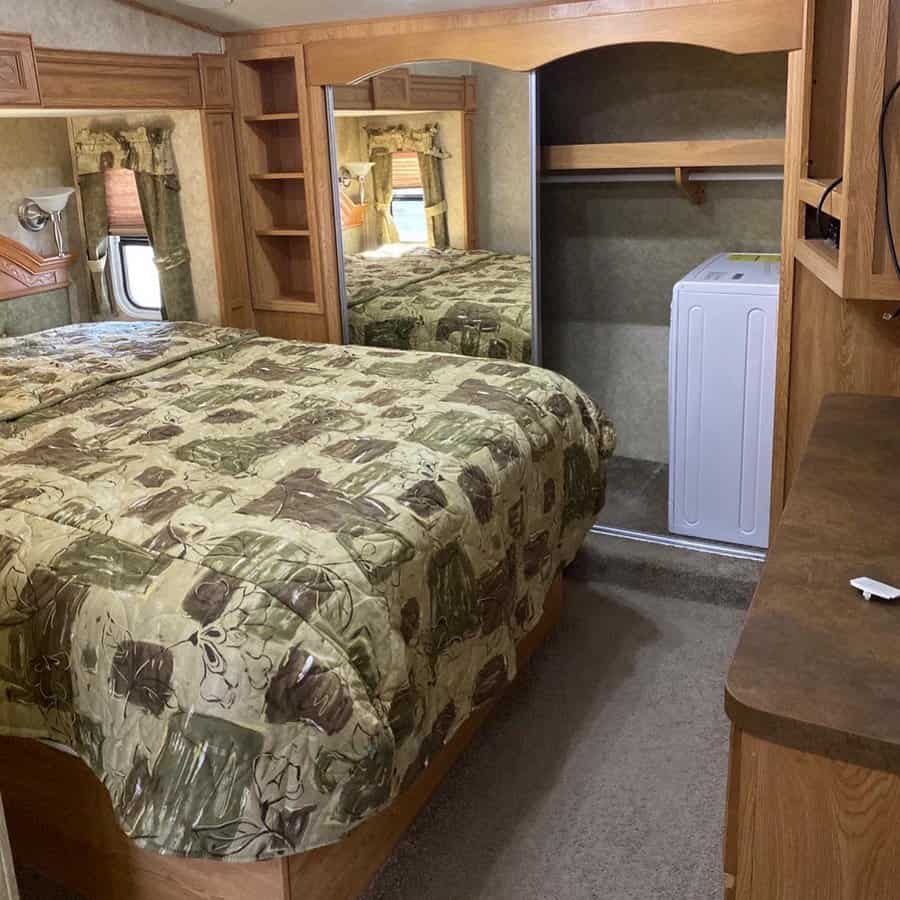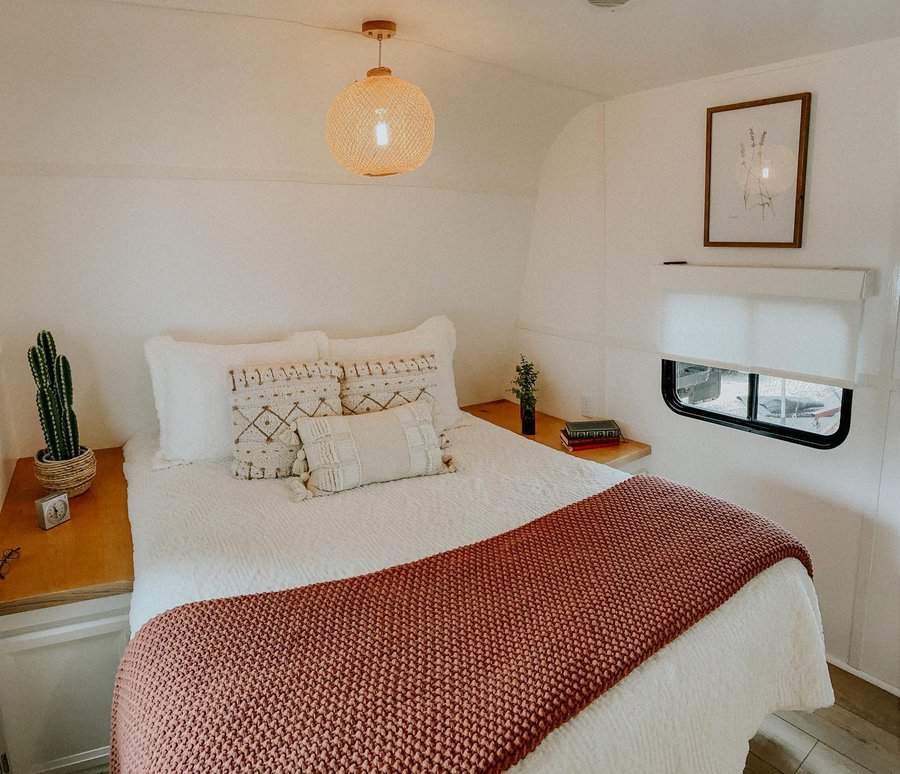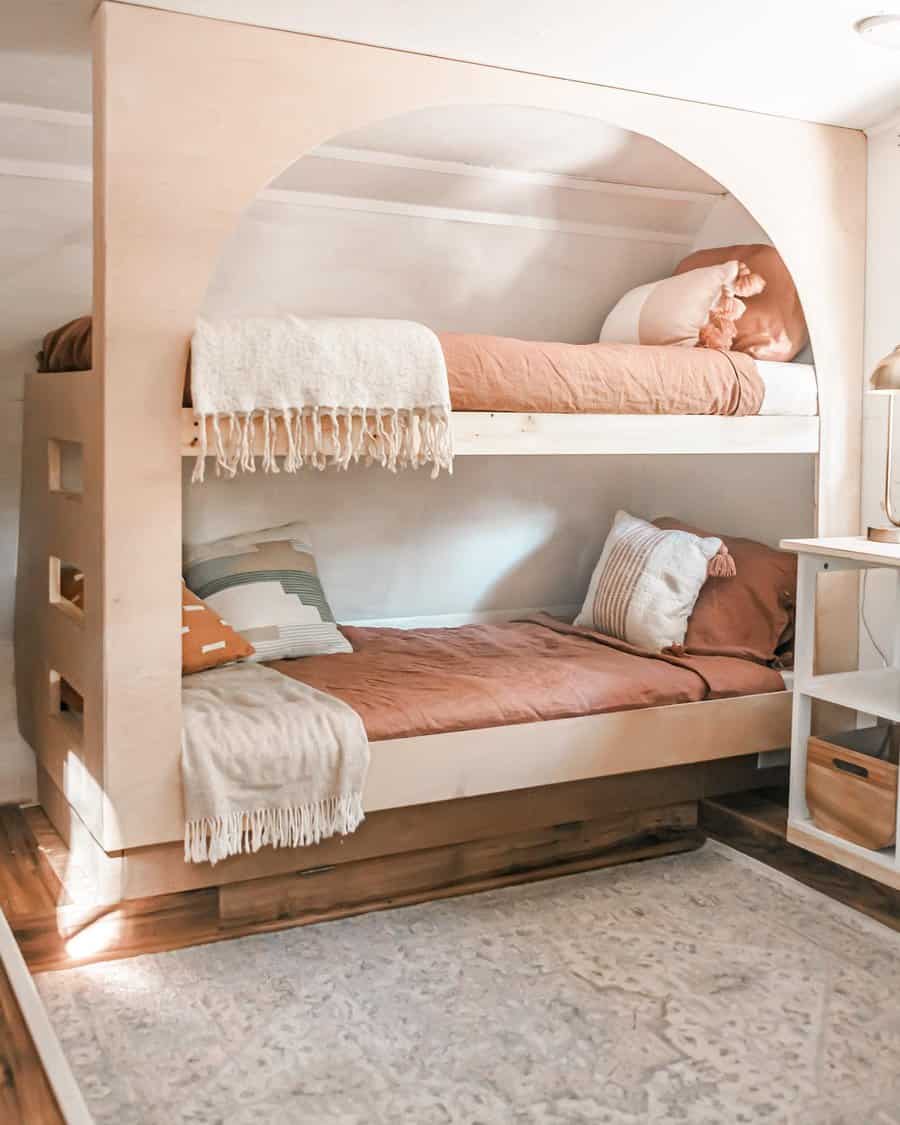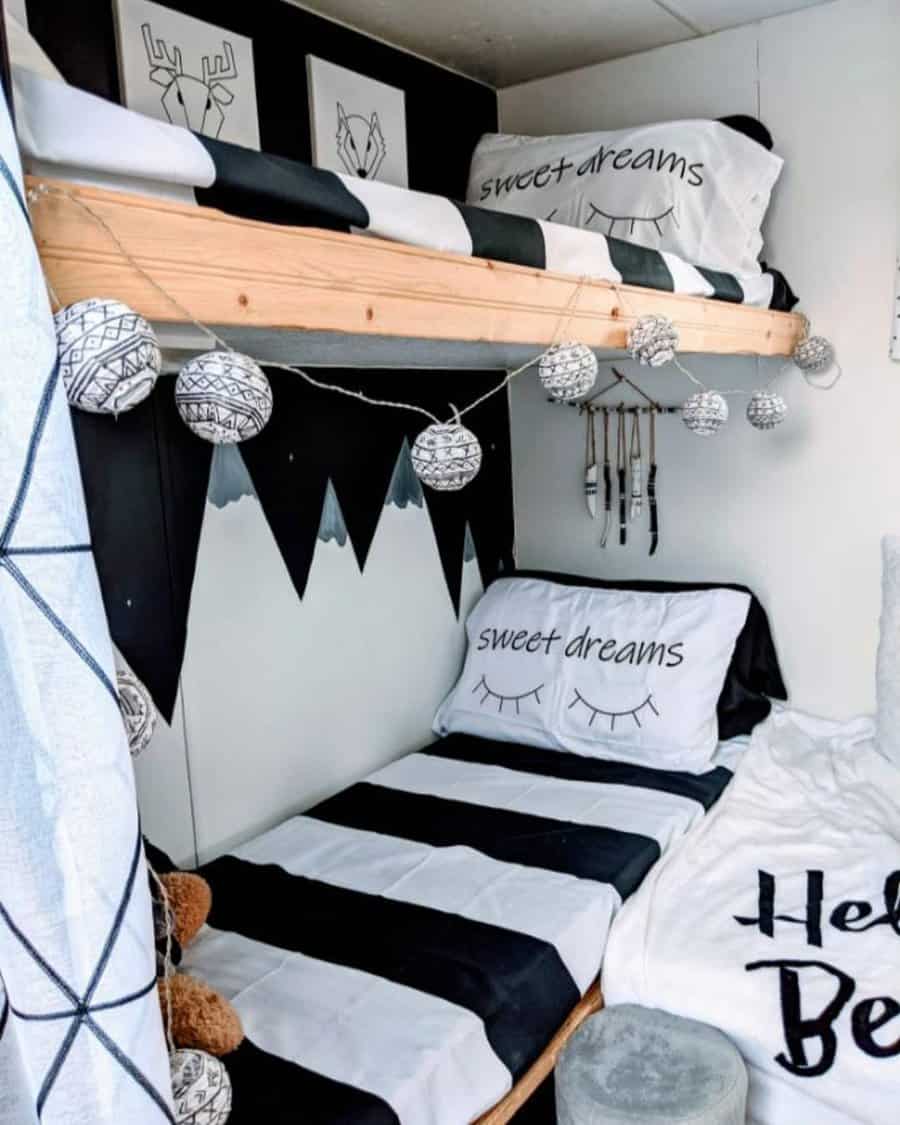 3. Floating Wall Shelves & Racks
Floating storage not only maximizes your space but also adds a touch of modern flair to your mobile home on wheels. Install floating shelves along empty walls to display decorative items, books, or travel souvenirs, infusing your RV with personality and charm.
These shelves create the illusion of a larger space while keeping your belongings organized and easily accessible. Consider adding floating racks in the kitchen area to hang pots, pans, and utensils, freeing up valuable cabinet space and adding a sleek and functional element to your cooking area, bathroom, or bedroom.
The beauty of floating wall shelves and racks lies in their versatility and adaptability to any RV layout and style. Choose shelves and racks that complement your interior decor and make a statement while providing much-needed storage.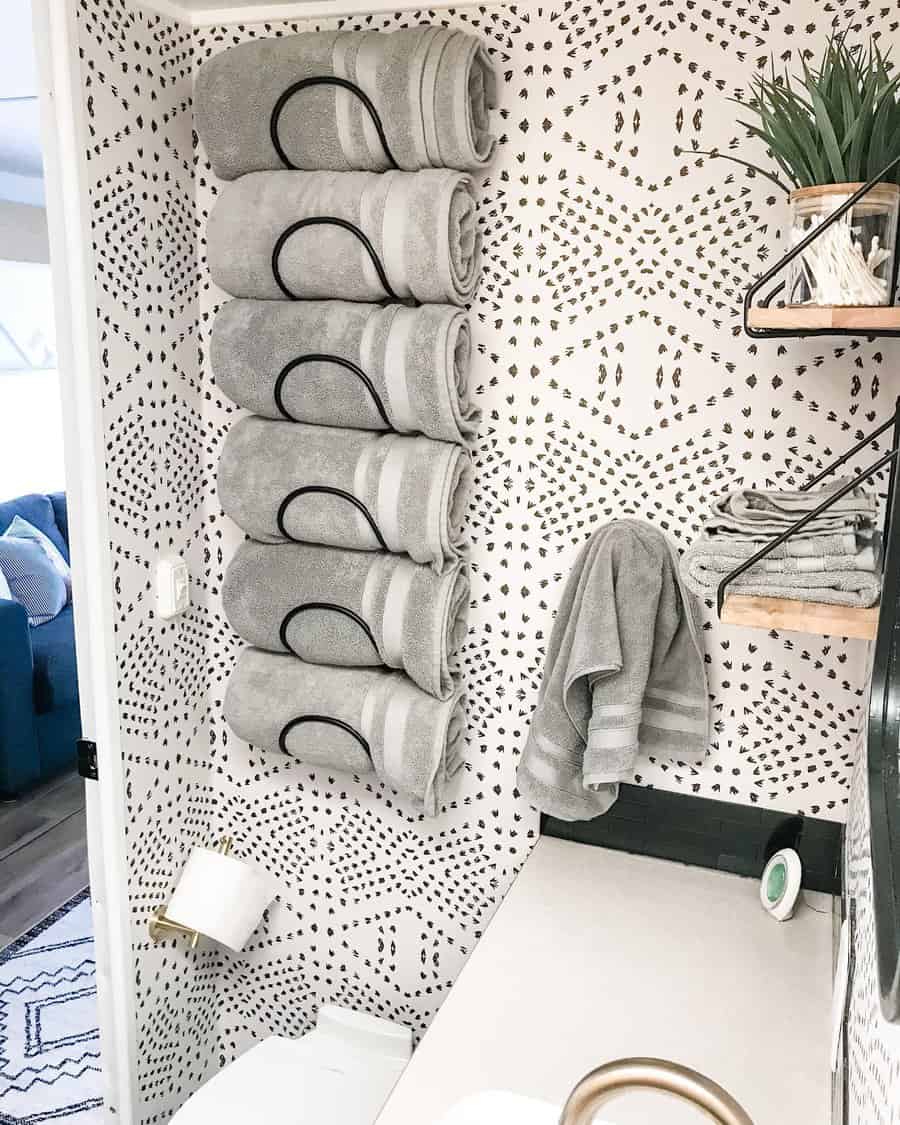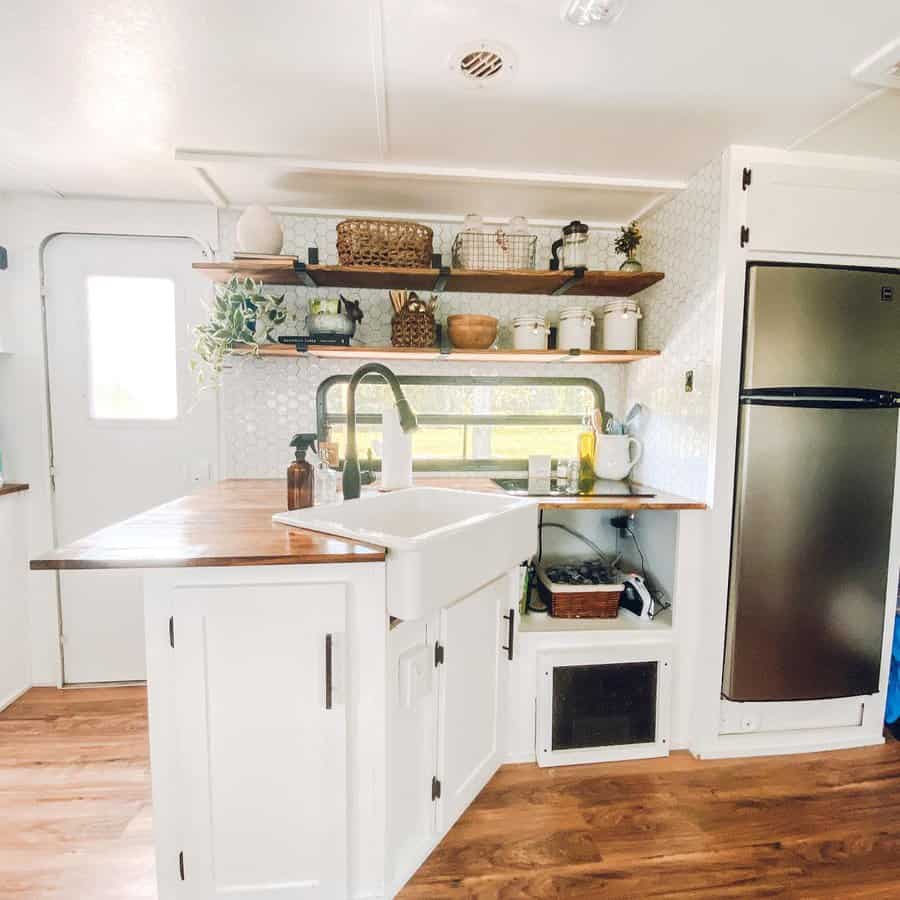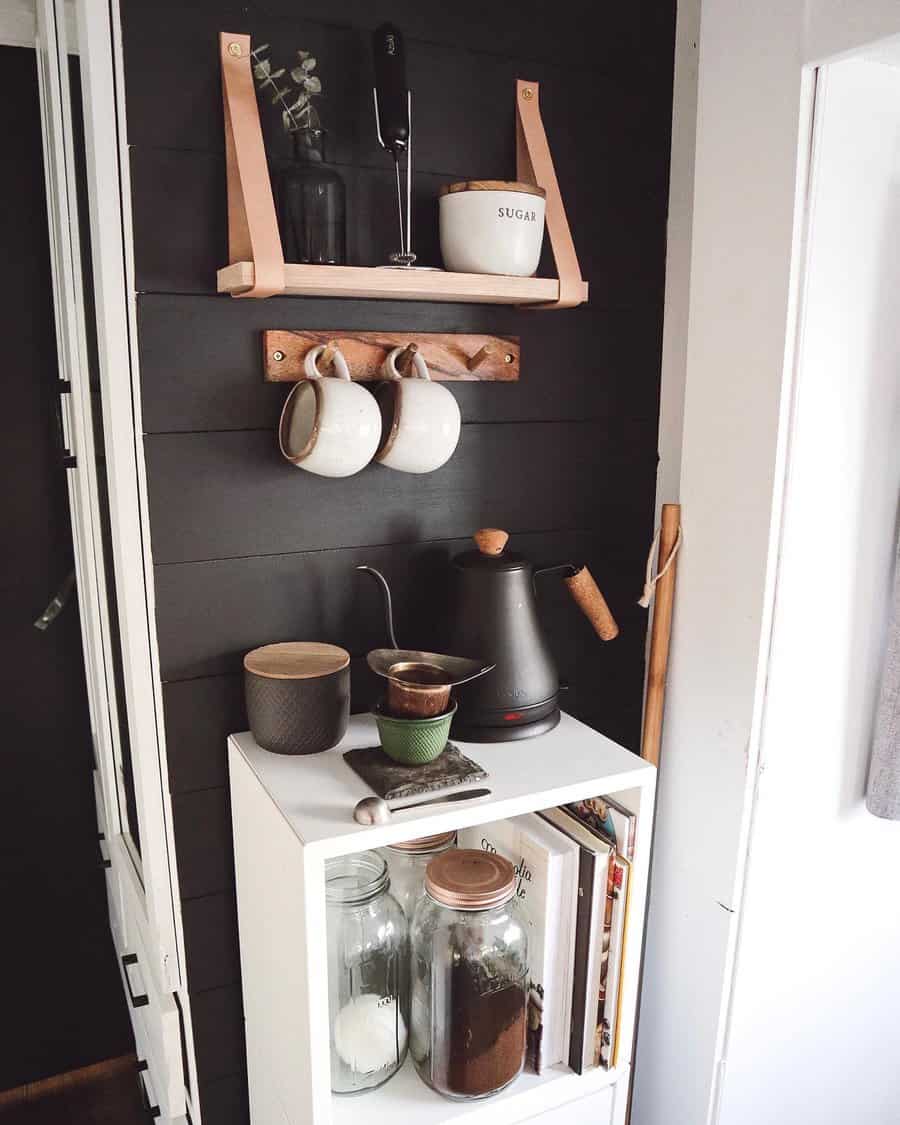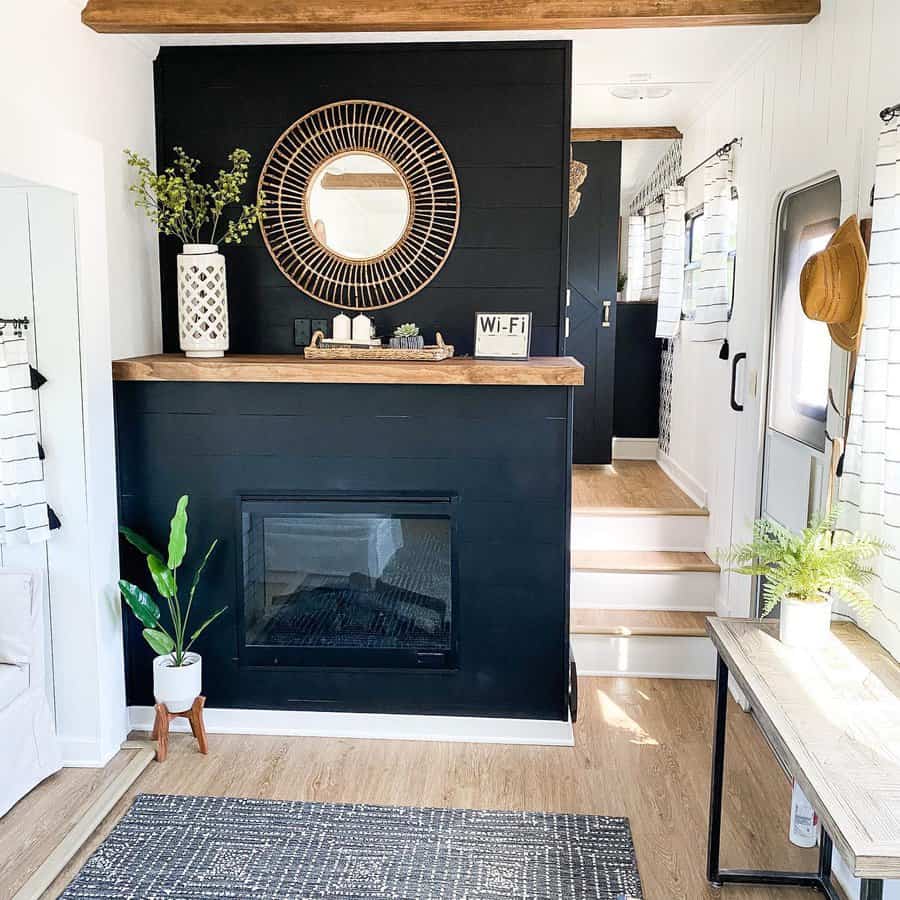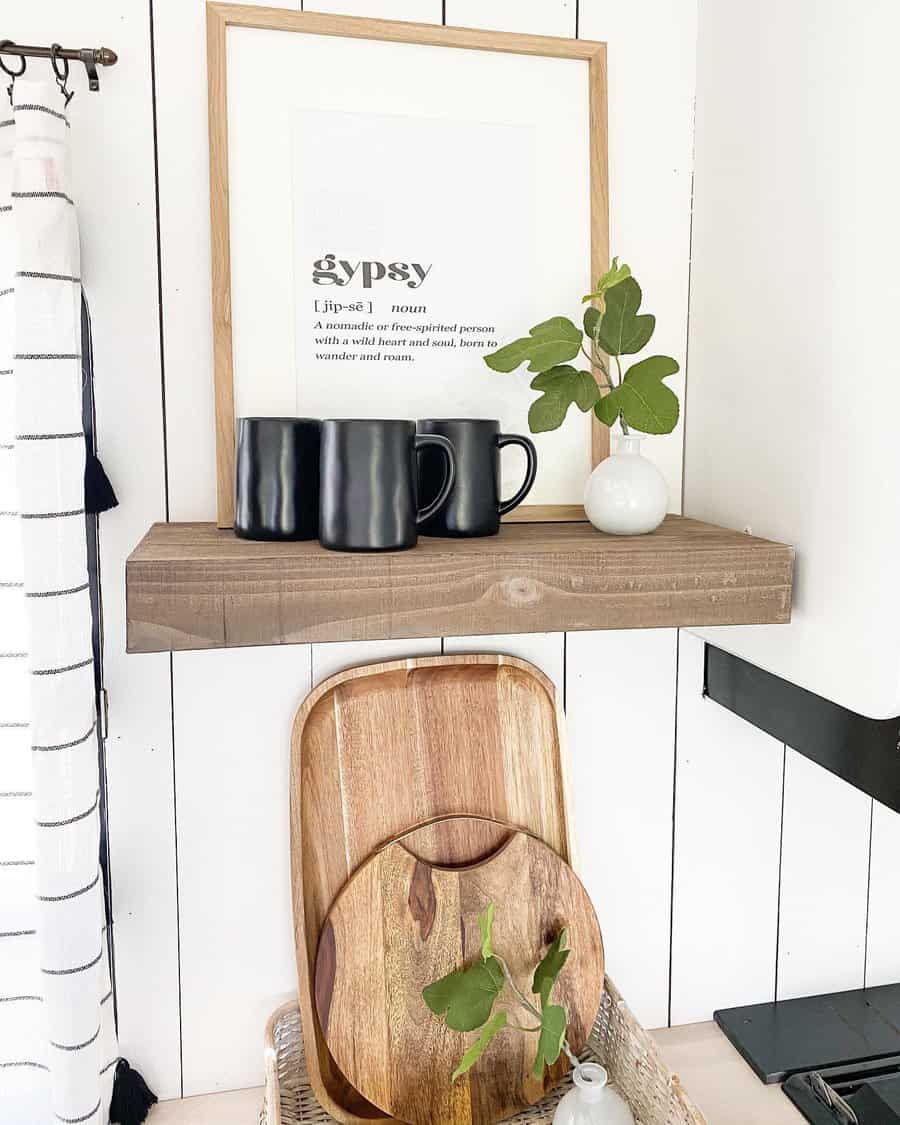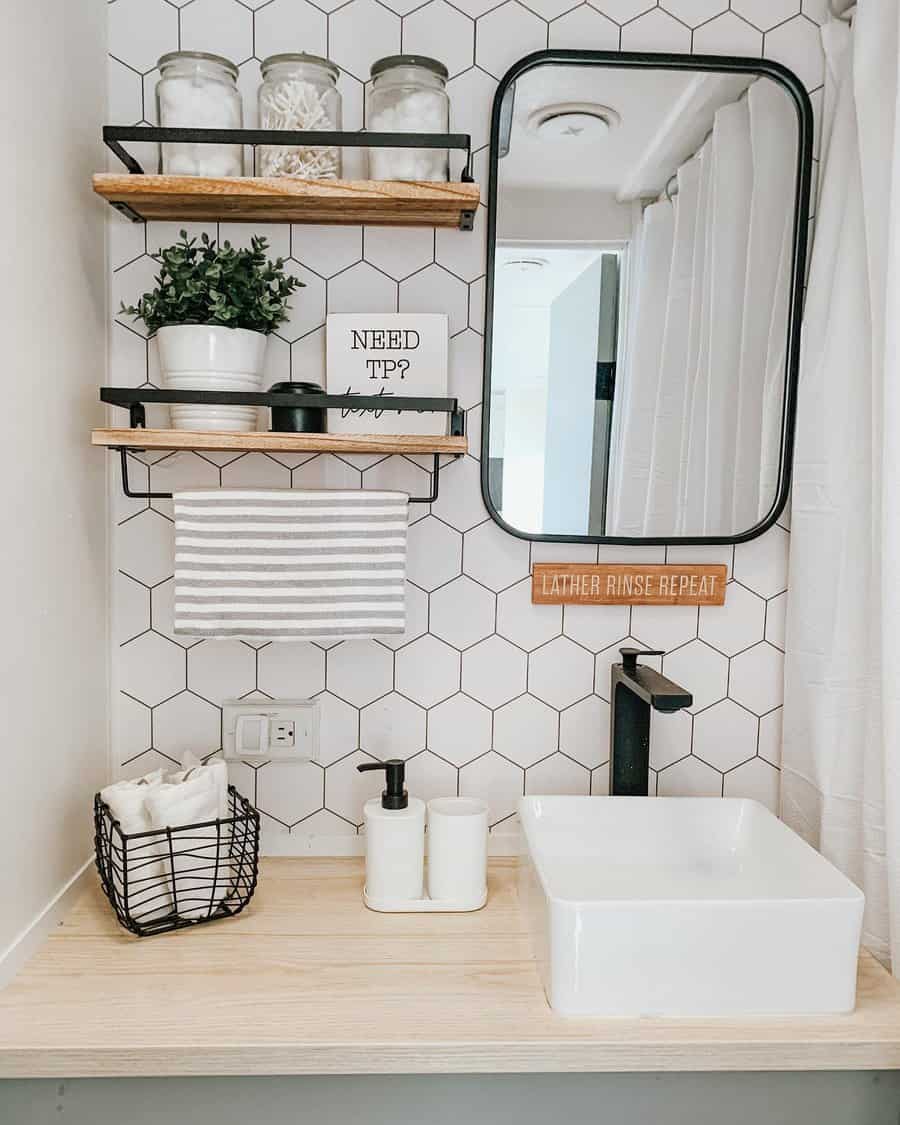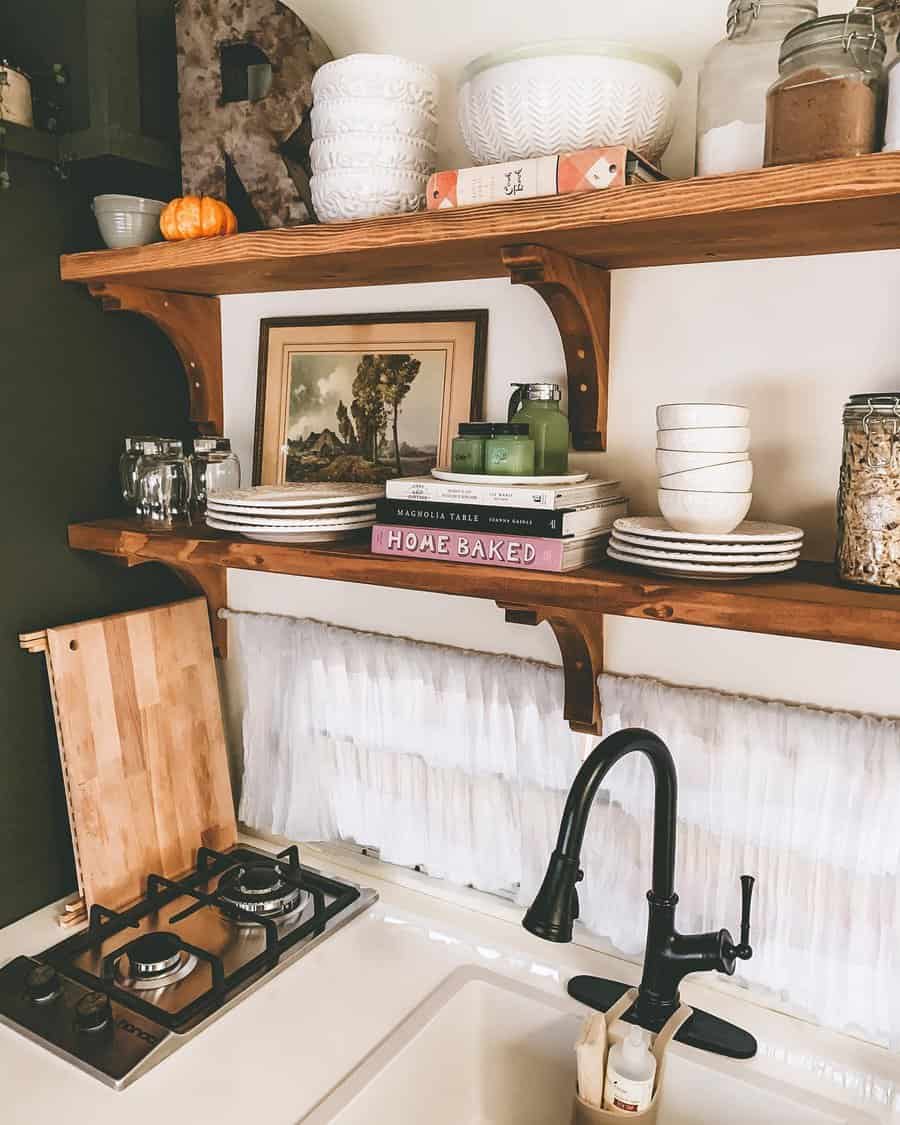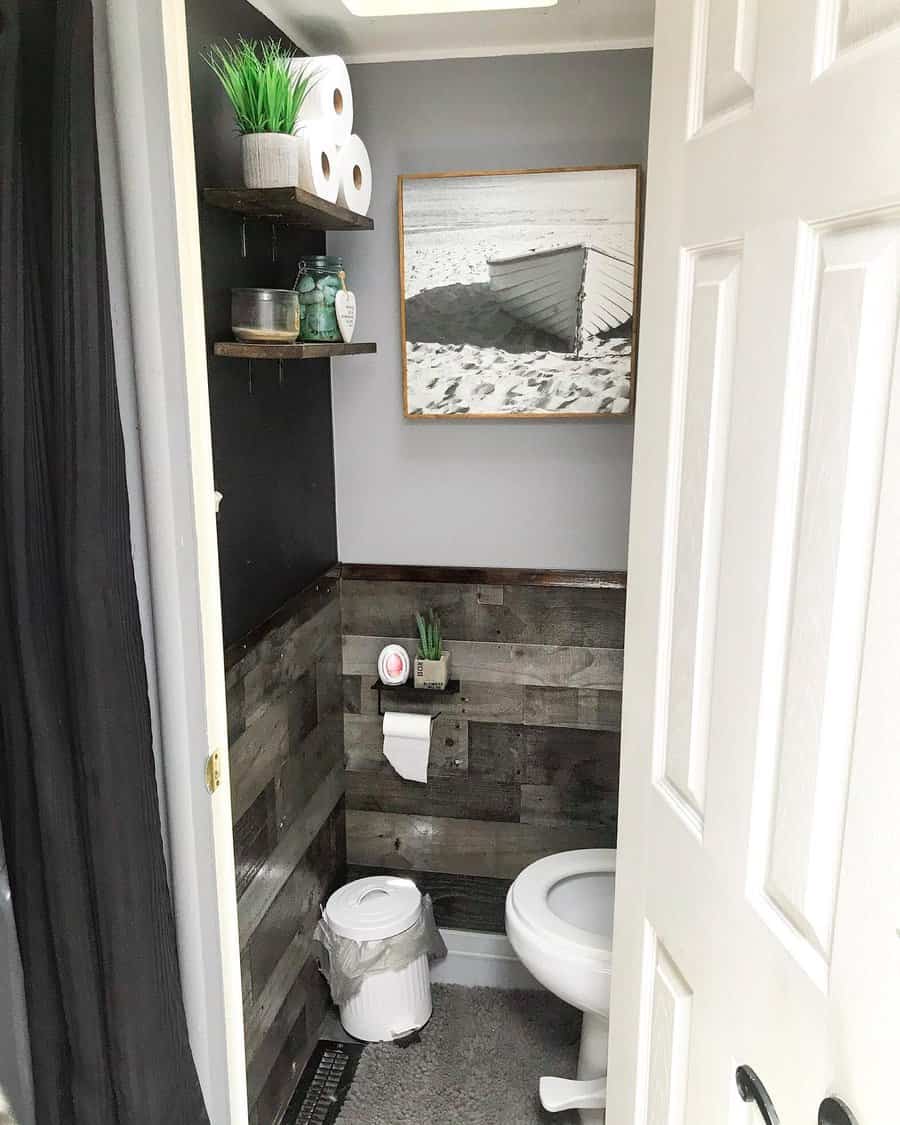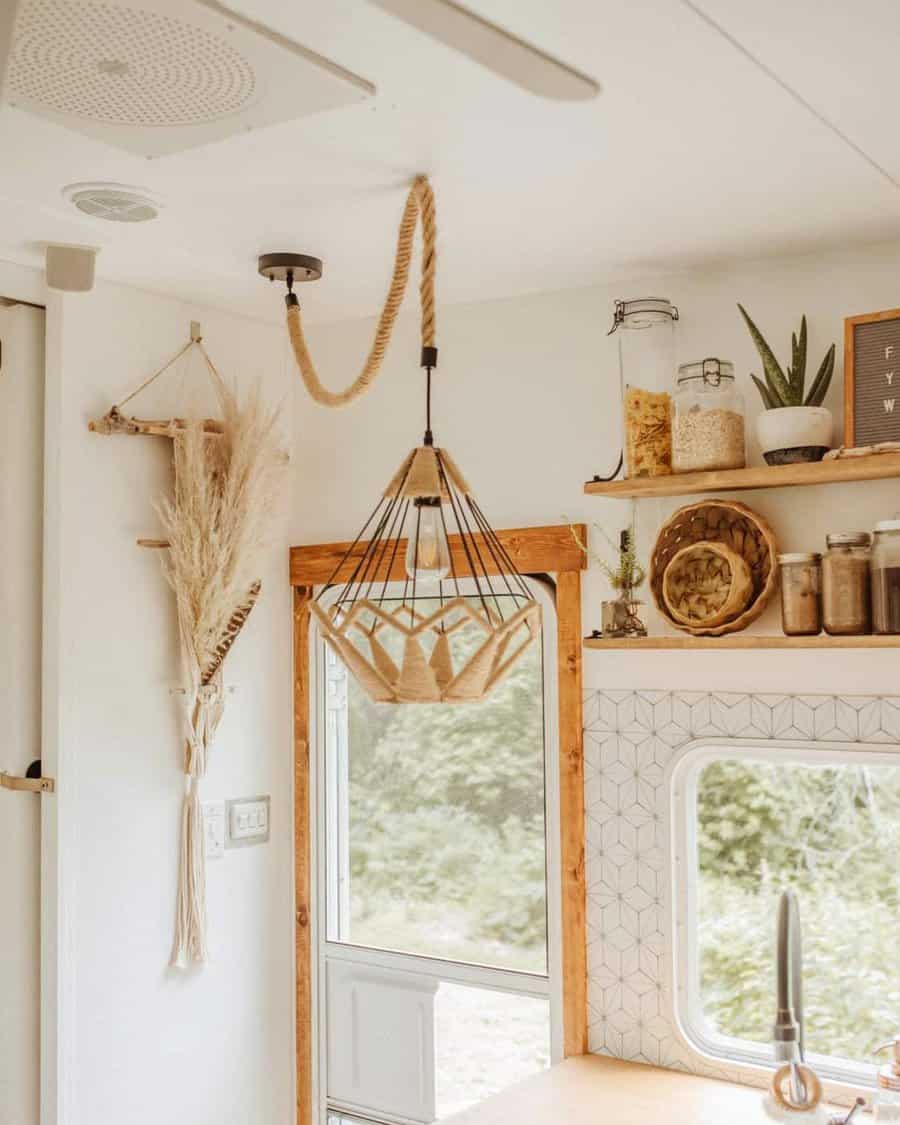 4. Cozy Bohemian Throw Pillows
These vibrant and eclectic cushions instantly add a pop of color and visual interest to any space, making them the perfect focal point for your RV decor. With their intricate patterns, bold hues, and playful textures, Bohemian throw pillows create a sense of adventure and free-spiritedness, transforming your RV into a boho-chic sanctuary on wheels.
Mix and match different patterns and sizes to create a dynamic and inviting atmosphere that reflects your unique personality. Whether you place them on your sofa, or bed, or even use them as floor cushions, these pillows effortlessly infuse your RV with a touch of wanderlust and bohemian charm. Let the colors and patterns transport you to far-off destinations and inspire your nomadic spirit.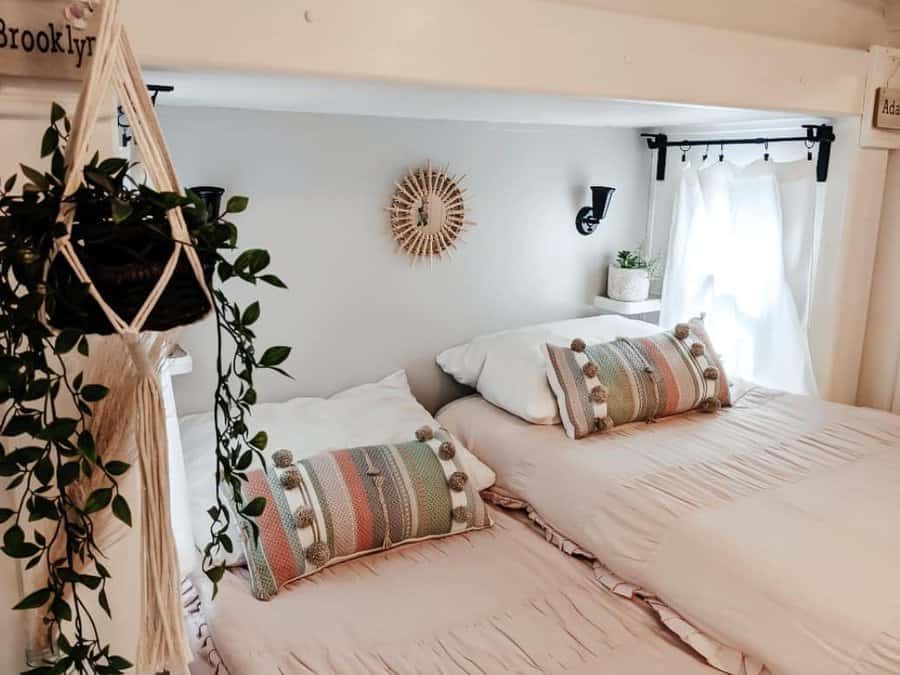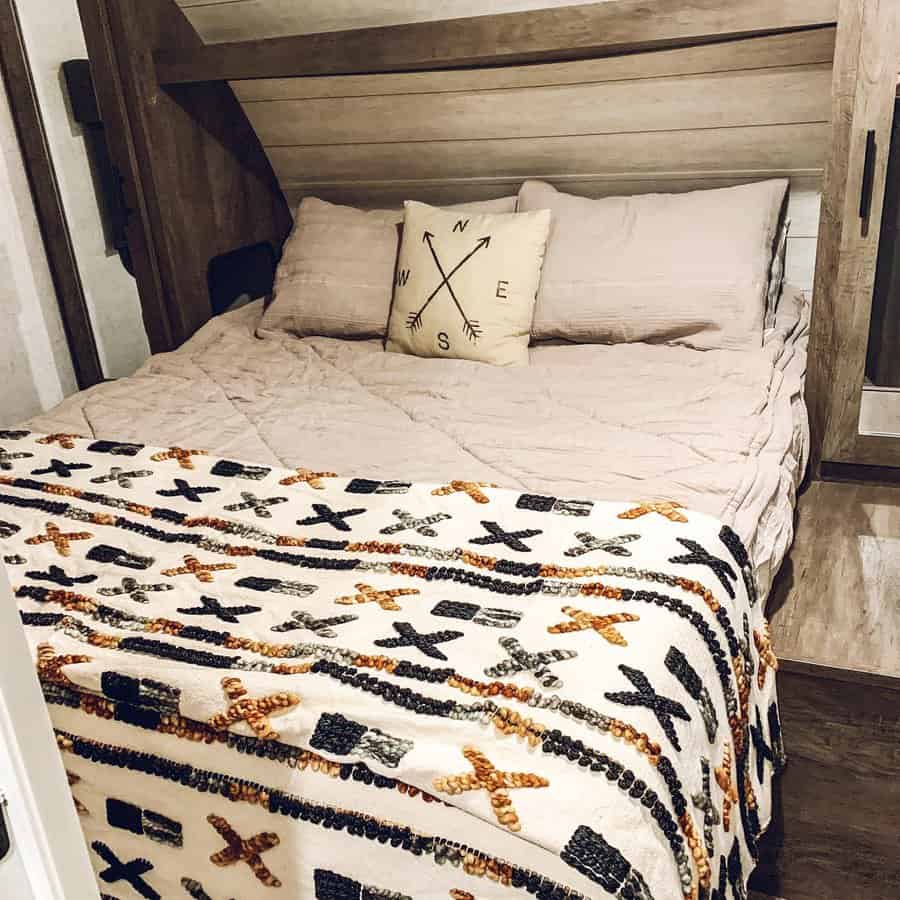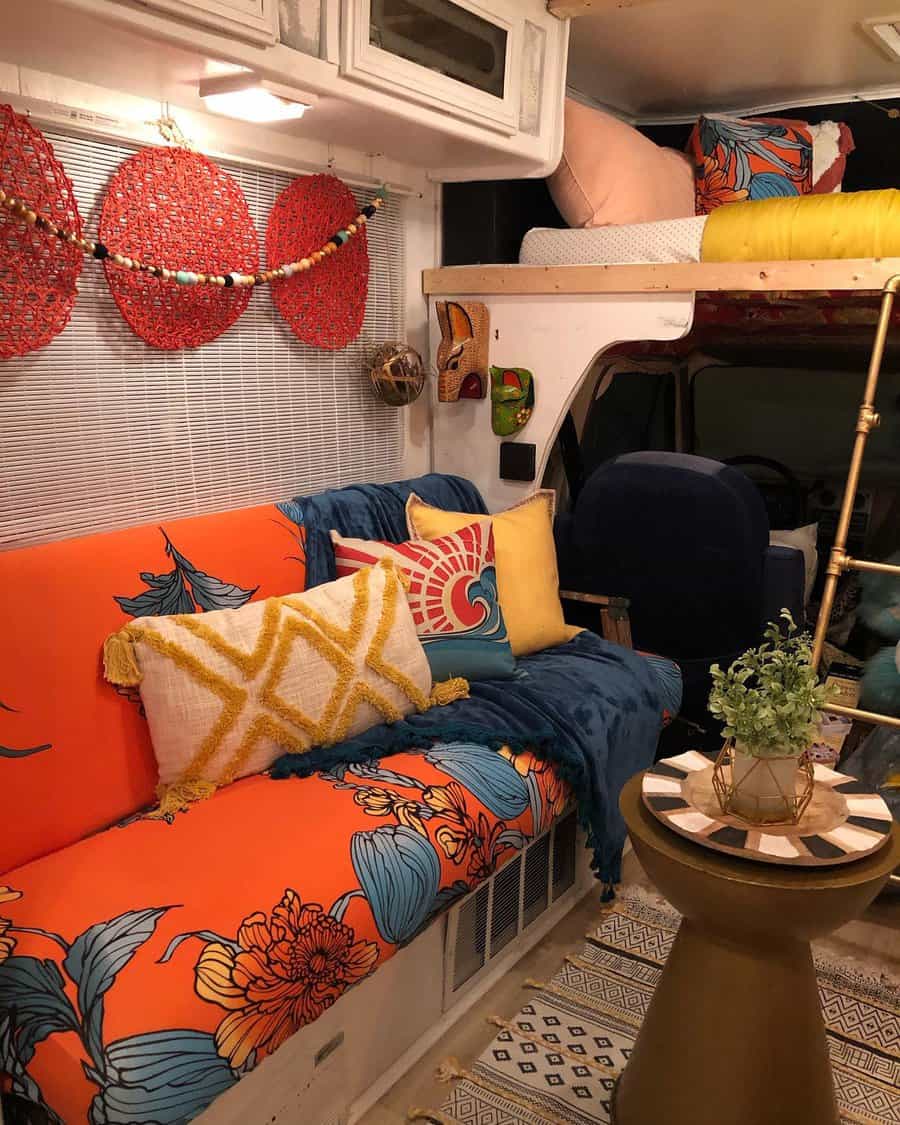 5. Sheer Curtains
These ethereal and lightweight window coverings not only provide privacy but also allow the sun's gentle rays to filter through, creating a bright and airy atmosphere inside your mobile abode. Sheer curtains add a touch of elegance and softness to your RV's interior, while still maintaining a sense of openness and connection to the outdoors.
The translucent fabric gently diffuses the sunlight, casting a warm and inviting glow throughout the space. Choose sheer curtains in soft and neutral hues to create a soothing and calming ambiance or opt for vibrant and playful colors to infuse your RV with a sense of personality and style.
With their delicate and flowing nature, sheer curtains are versatile and easy to install, allowing you to customize your RV's windows to suit your taste. So, let the sun's radiant beams dance through your RV's sheer curtains, illuminating your journey and creating a serene and inviting sanctuary on the road.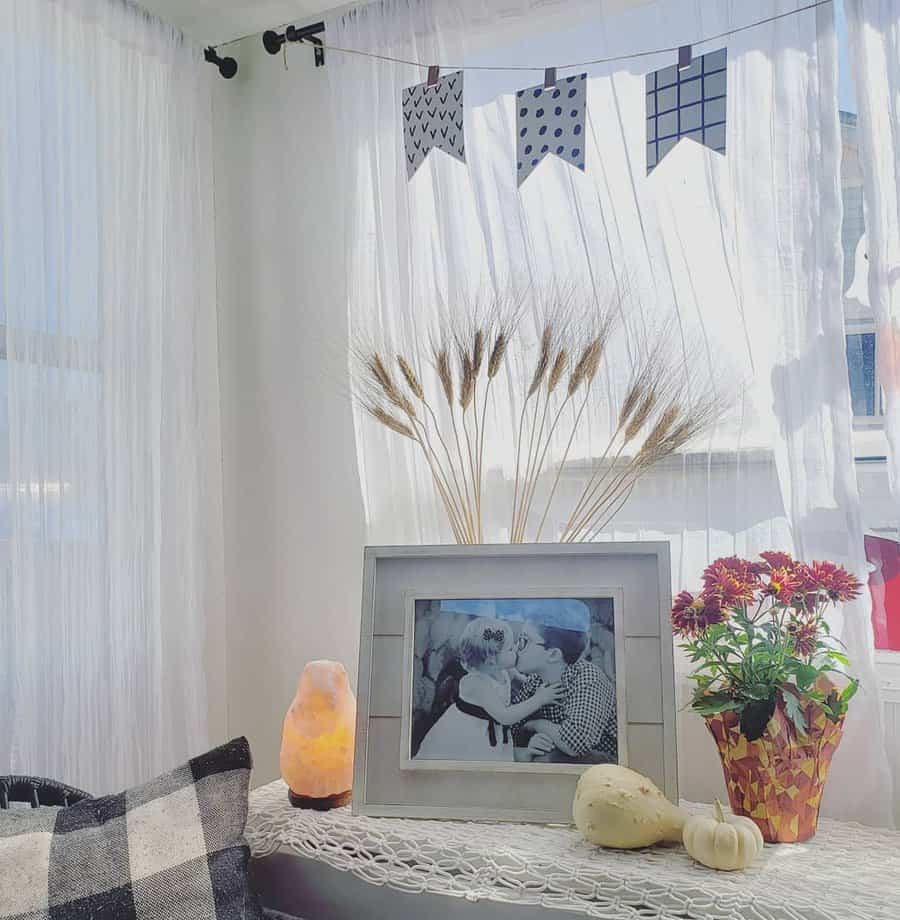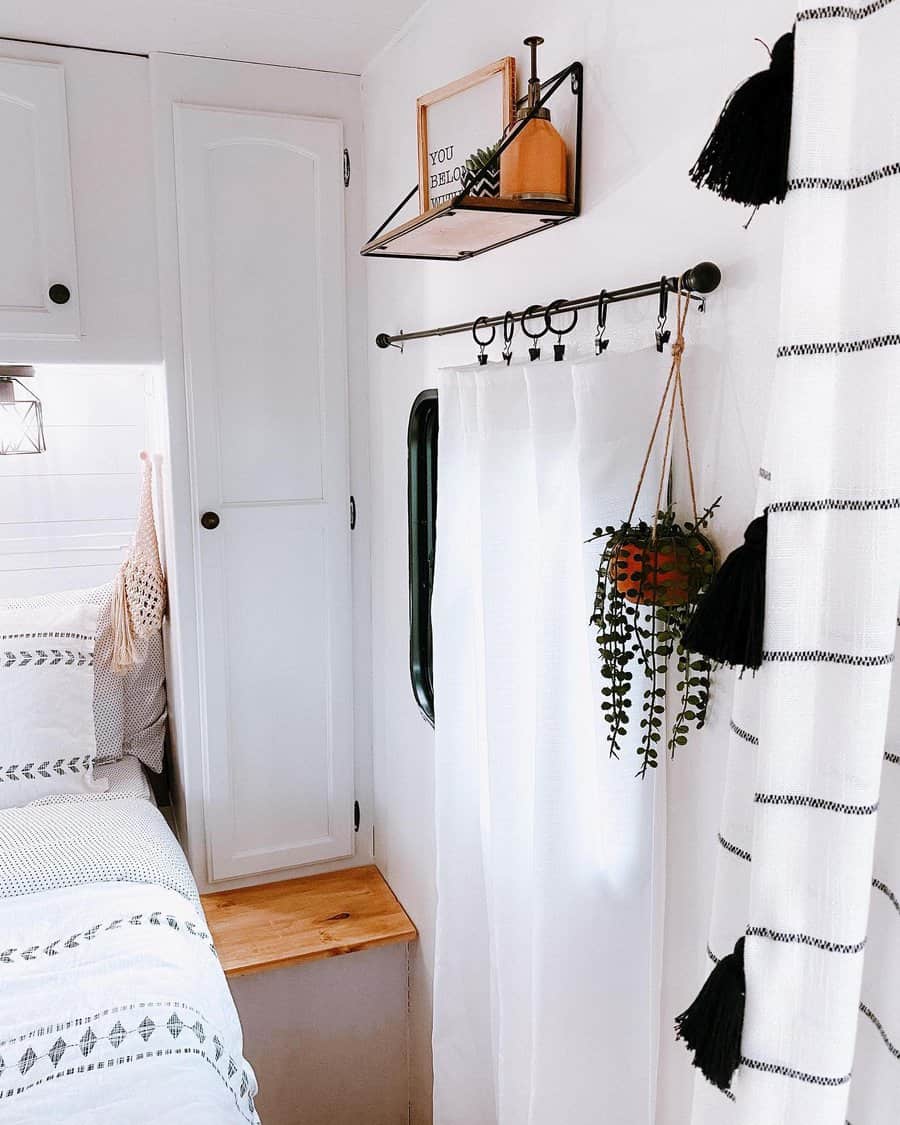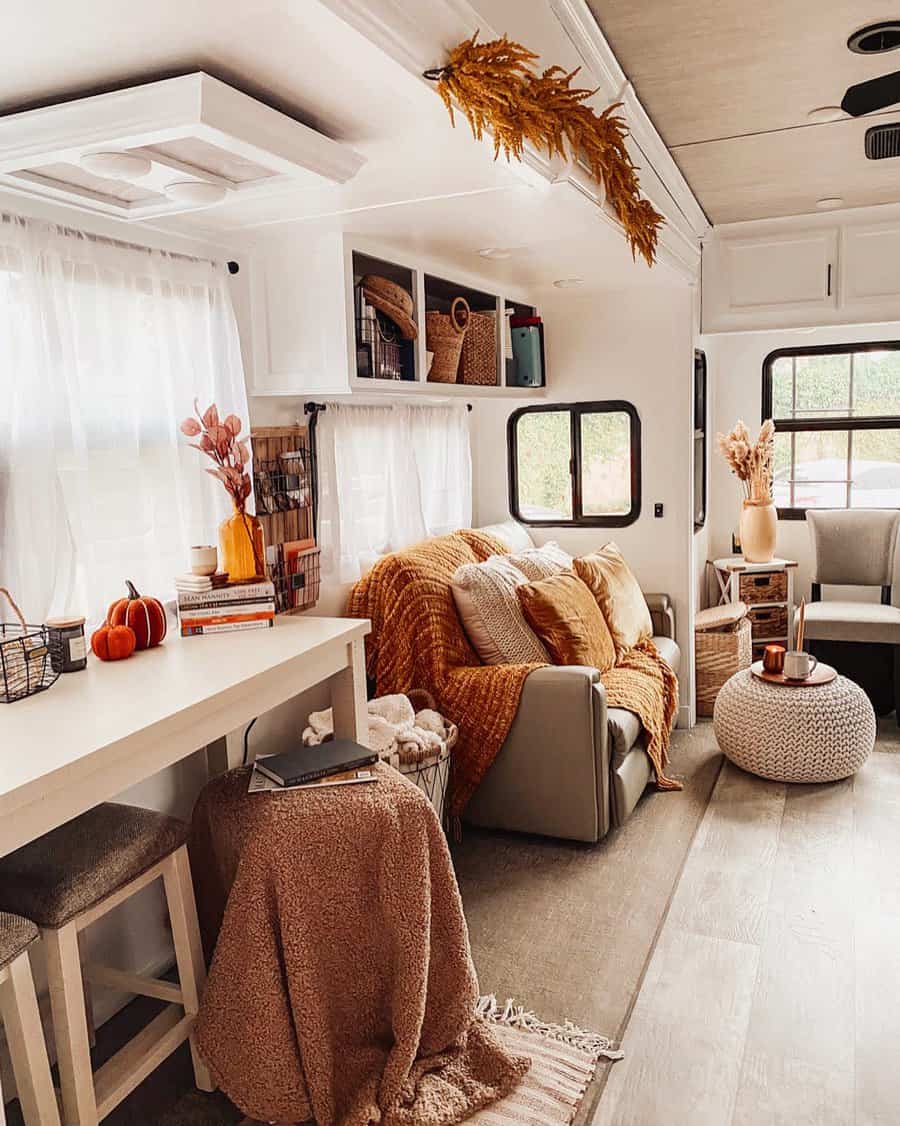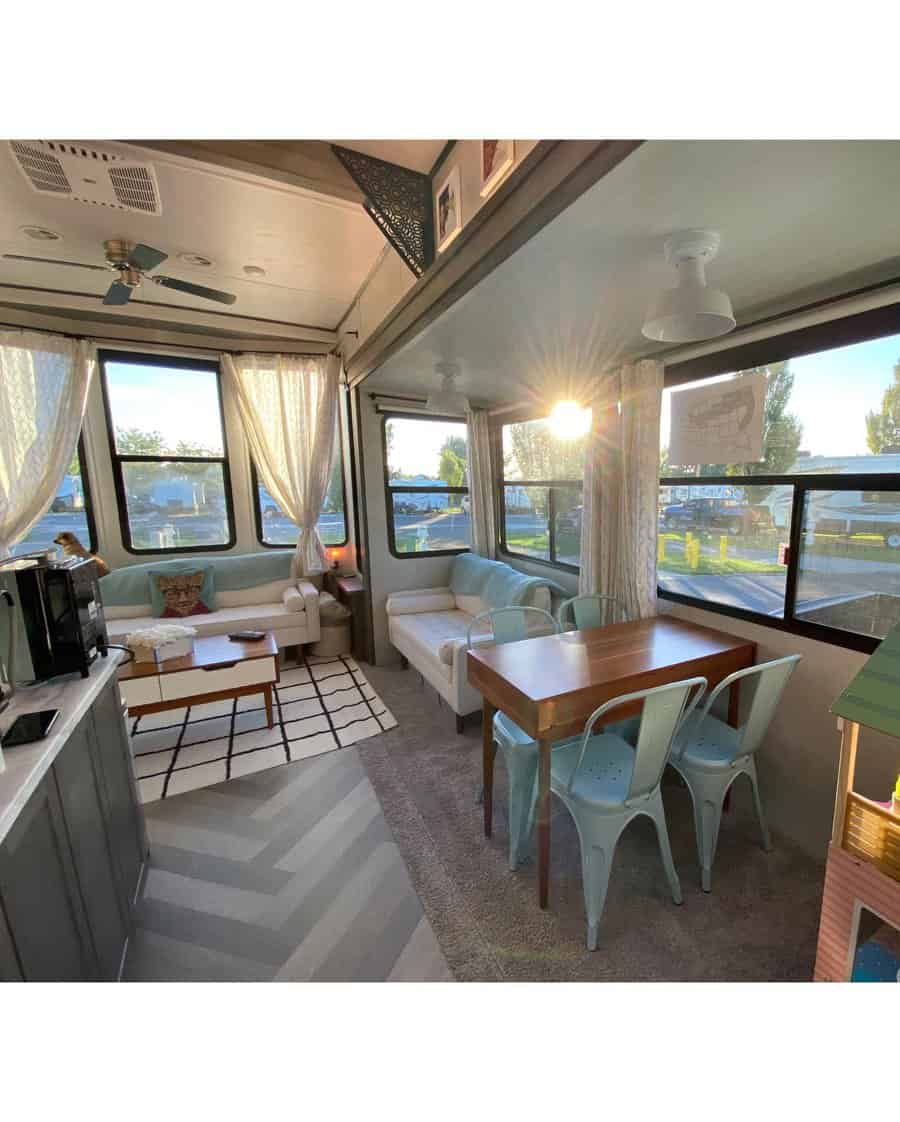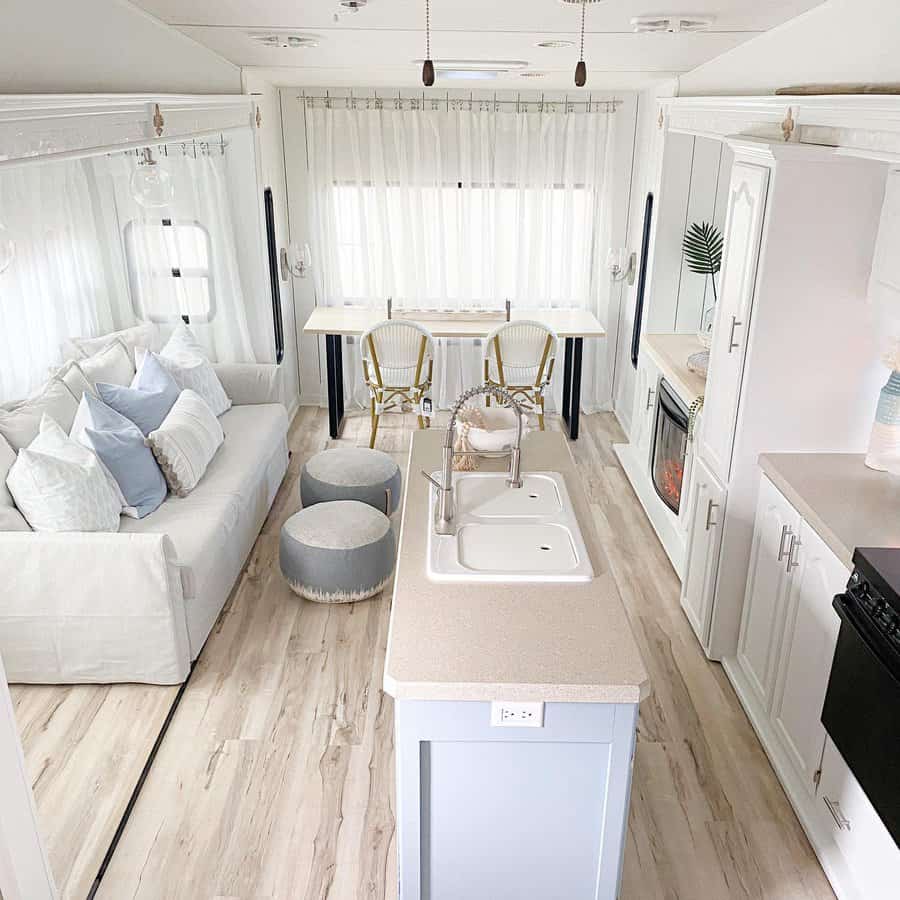 6. Foldable Table
This compact yet practical piece of furniture can effortlessly adapt to your changing needs. When not in use, it conveniently folds away, allowing for more floor space and easy maneuverability within the limited confines of your RV.
Whether you're enjoying a delicious meal, working on your laptop, or simply gathering with loved ones, the foldable table provides a designated area for various activities. Choose a sleek and modern design that complements your RV's interior, or opt for a rustic-inspired table to infuse a cozy and welcoming atmosphere.
With its collapsible nature, the foldable table ensures that you can enjoy functionality without compromising on style.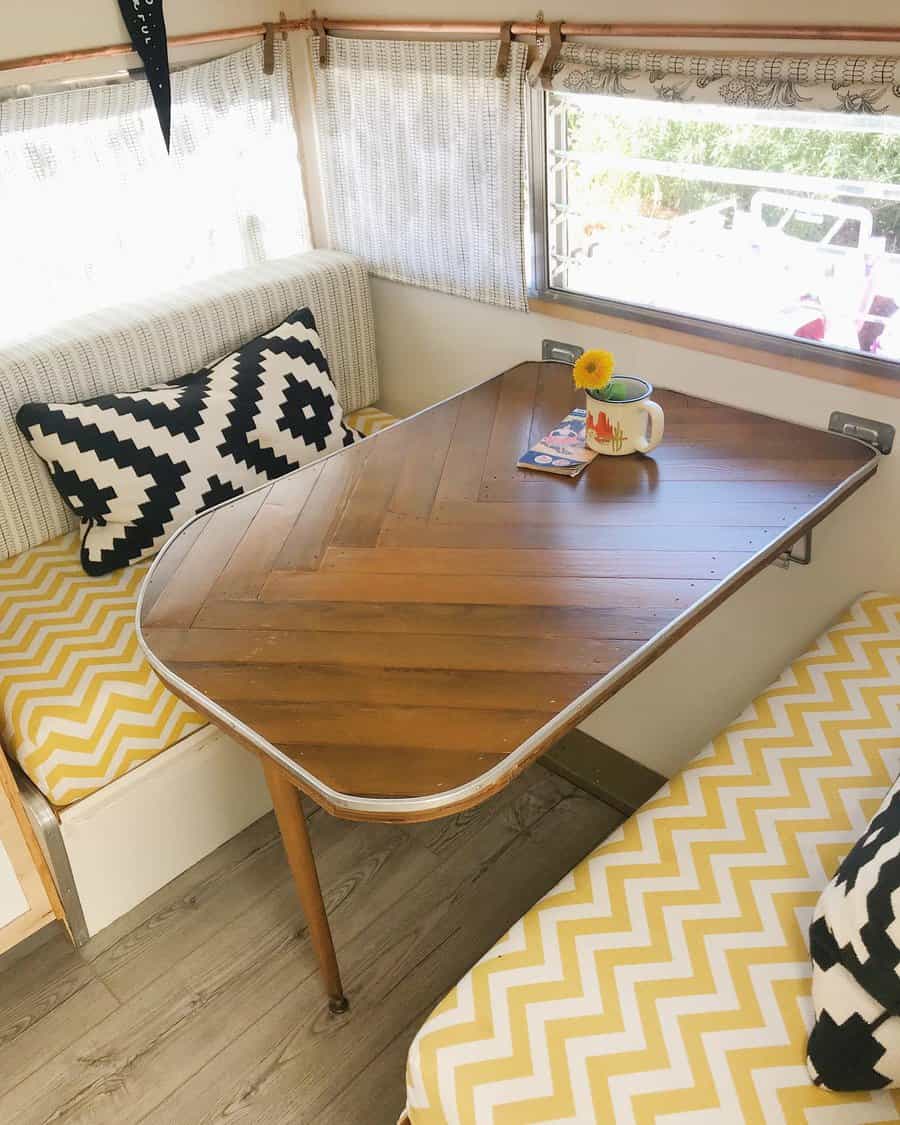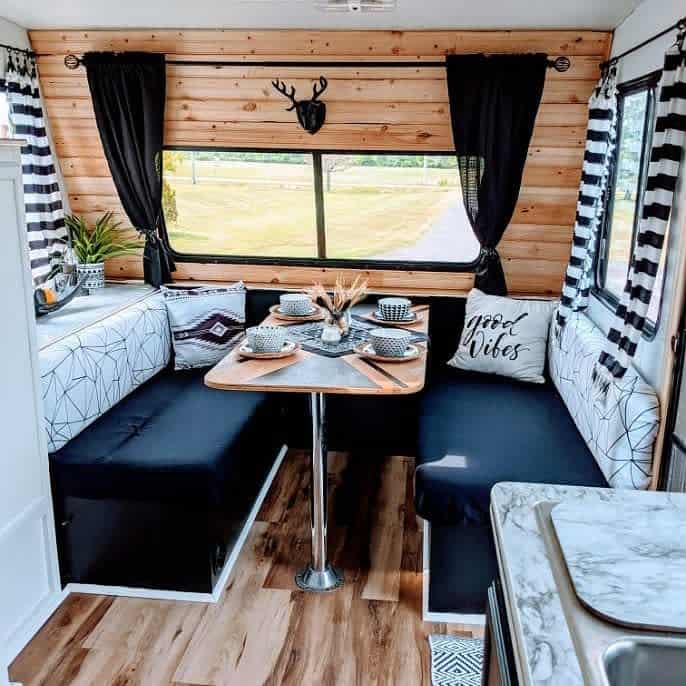 7. Overhead Storage
Get creative and transform those empty spaces into functional storage solutions that add both practicality and visual appeal to your RV. Install overhead cabinets with sleek doors or open shelves for displaying decorative items and storing essentials.
Opt for lightweight materials to ensure optimal weight distribution and ease of use. Consider adding stylish baskets or fabric bins to keep smaller items organized and easily accessible. To add a touch of personal flair, incorporate decorative accents like hanging plants, string lights, or artwork to make the most of the vertical space.
Whether you're storing kitchen supplies, outdoor gear, or travel essentials, overhead storage is a game-changer in optimizing the functionality and aesthetics of your RV.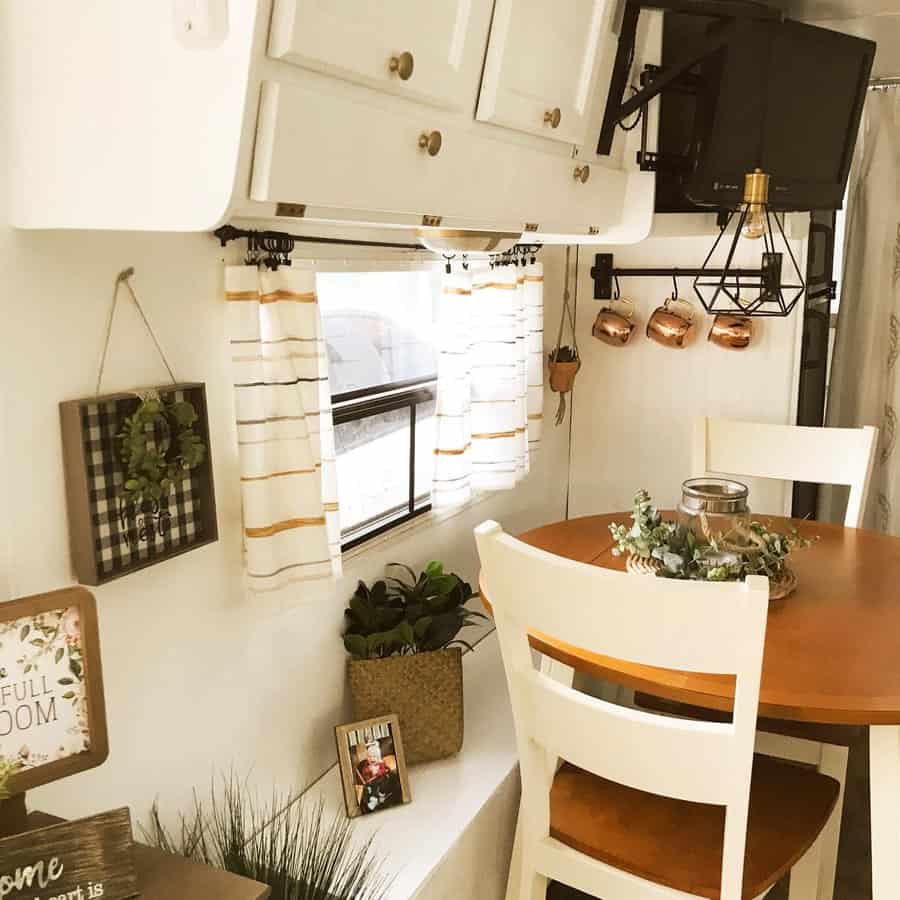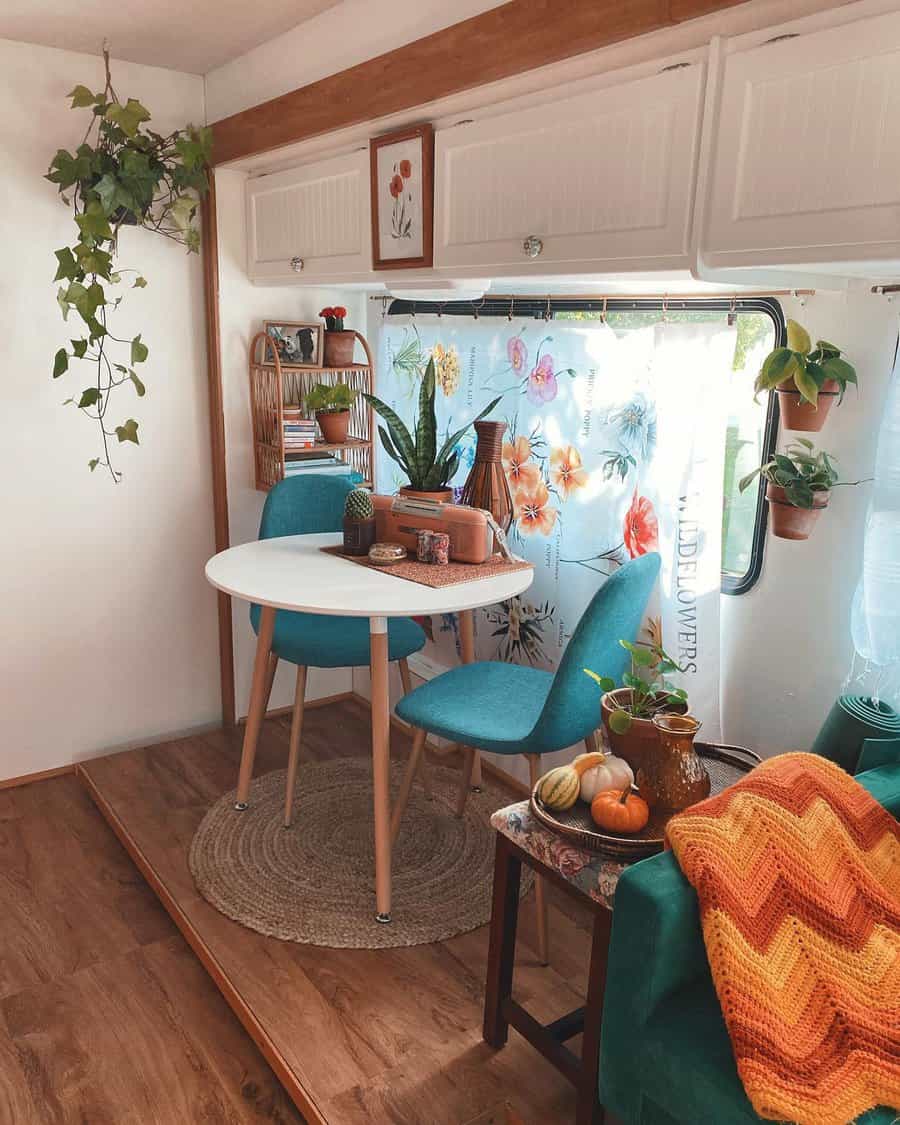 8. Recessed Kitchen Bar
This innovative idea not only maximizes space but also adds a stylish and modern element to your mobile home. A recessed kitchen bar allows you to create a dedicated area for dining, food preparation, or even as a multipurpose workspace. With its seamless integration into the surrounding cabinetry, it adds a sleek and streamlined look to your RV's kitchen.
Imagine enjoying a delicious meal or sipping your morning coffee at the bar, while appreciating the efficient use of space and the added convenience it brings to your RV lifestyle.
The recessed feature keeps the bar from encroaching on valuable floor space, ensuring that your RV feels open and inviting.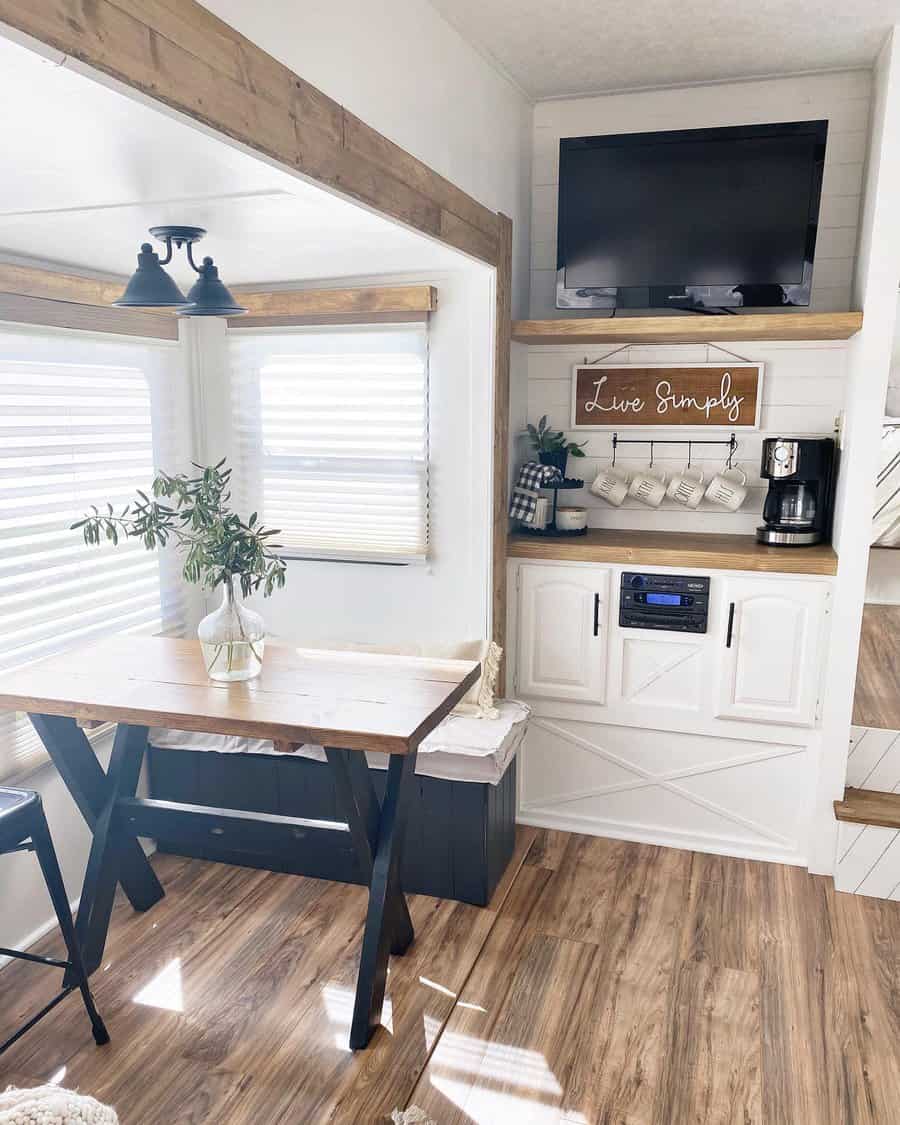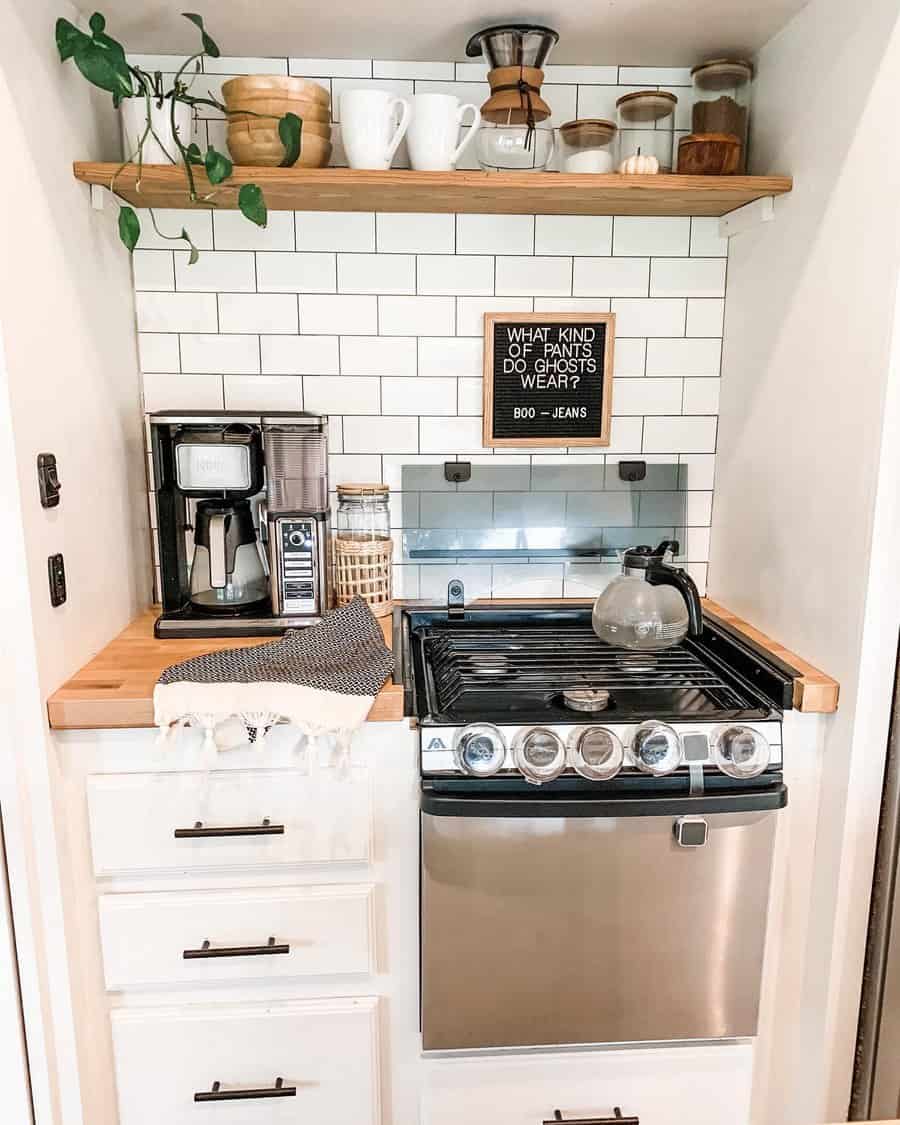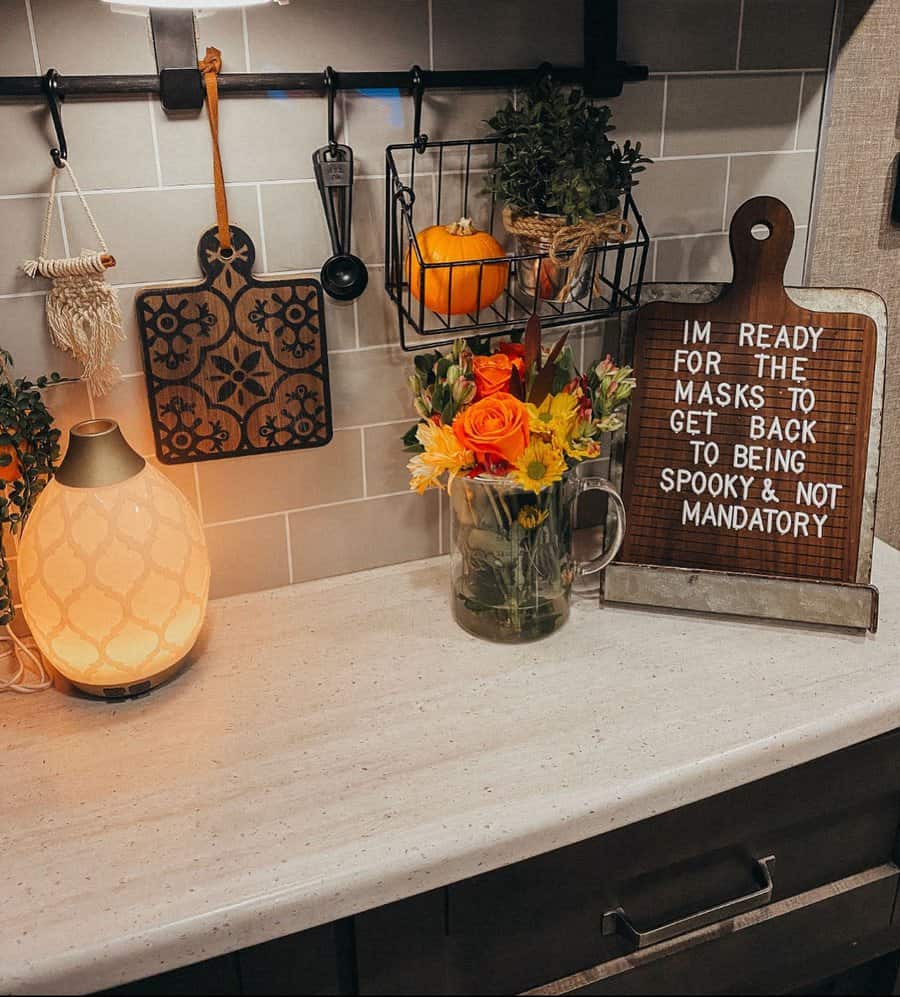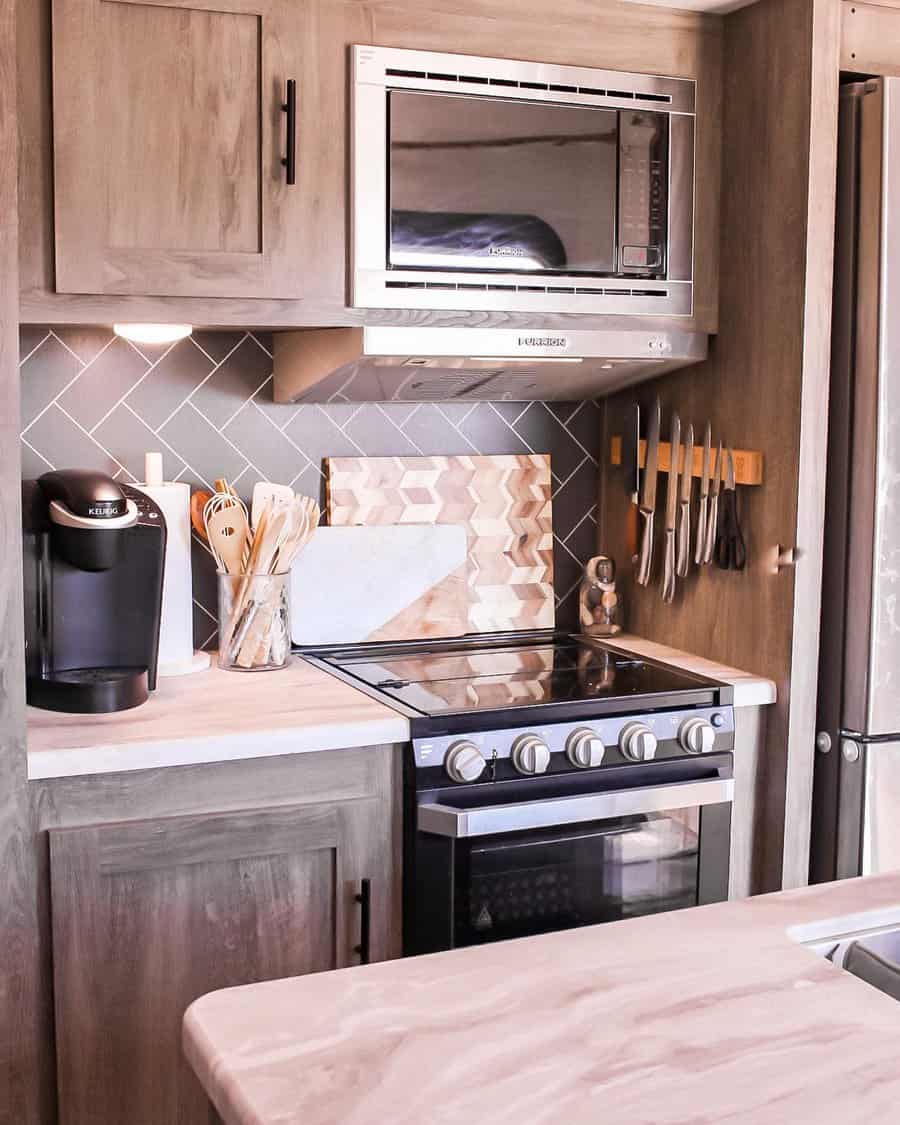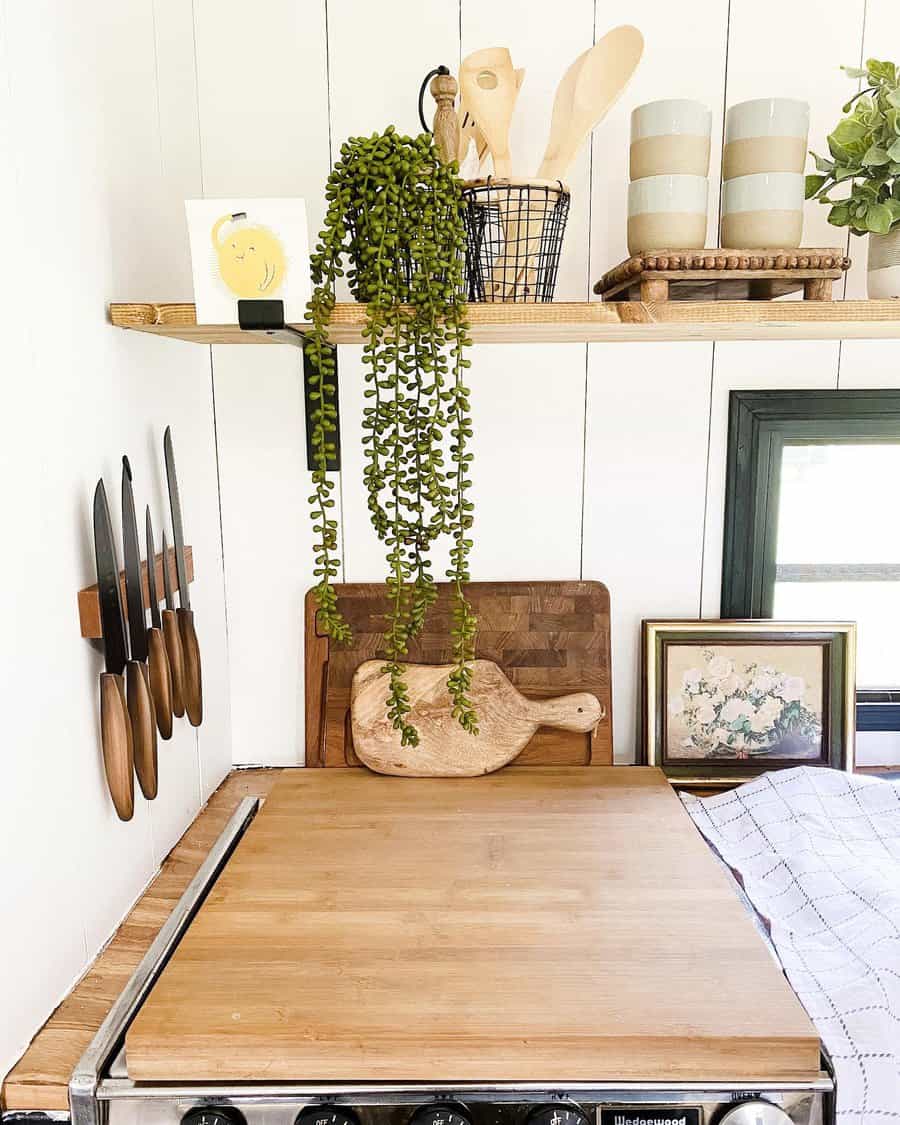 9. Plush Rug
A soft, luxurious rug not only adds warmth and comfort underfoot but also injects a touch of style and personality into your mobile abode. Choose a rug that complements your overall RV decor, whether it's a trendy bohemian pattern, a chic geometric design, or a timeless solid color. The right rug can tie together your living area, dining space, or bedroom, creating a cohesive and inviting atmosphere.
Plus, it's a practical solution for adding insulation and soundproofing, making your RV feel even more like a home away from home. From vibrant hues to neutral tones, there's a plush rug out there to suit your individual taste and RV style.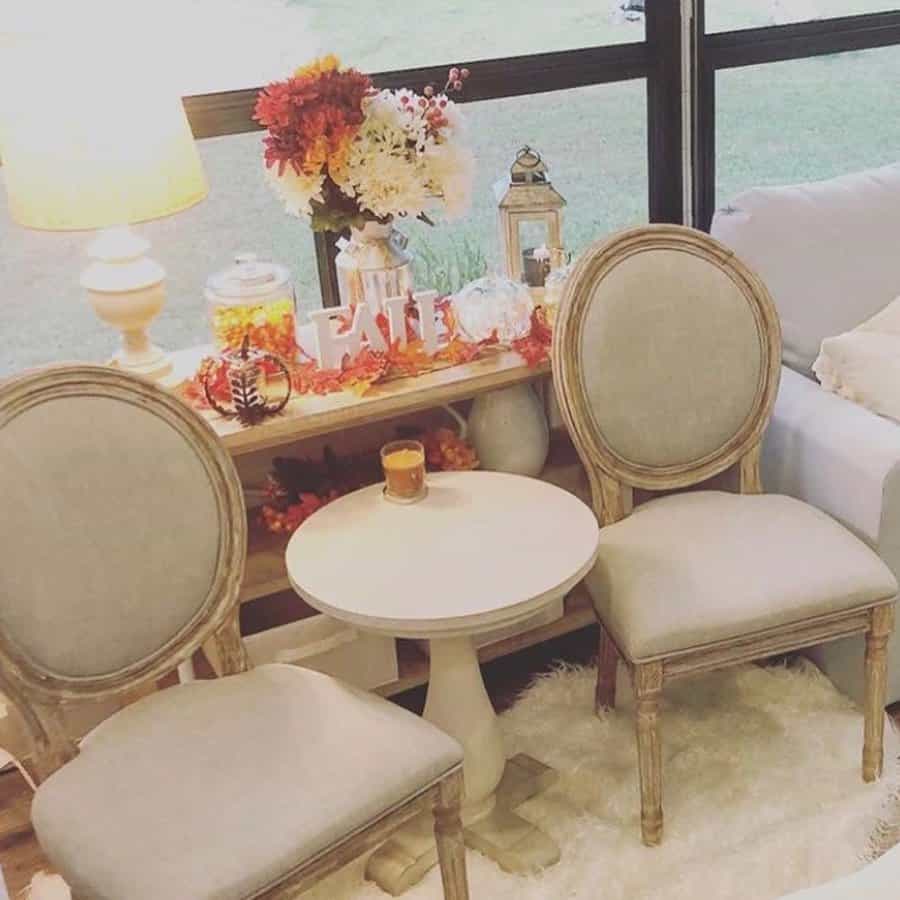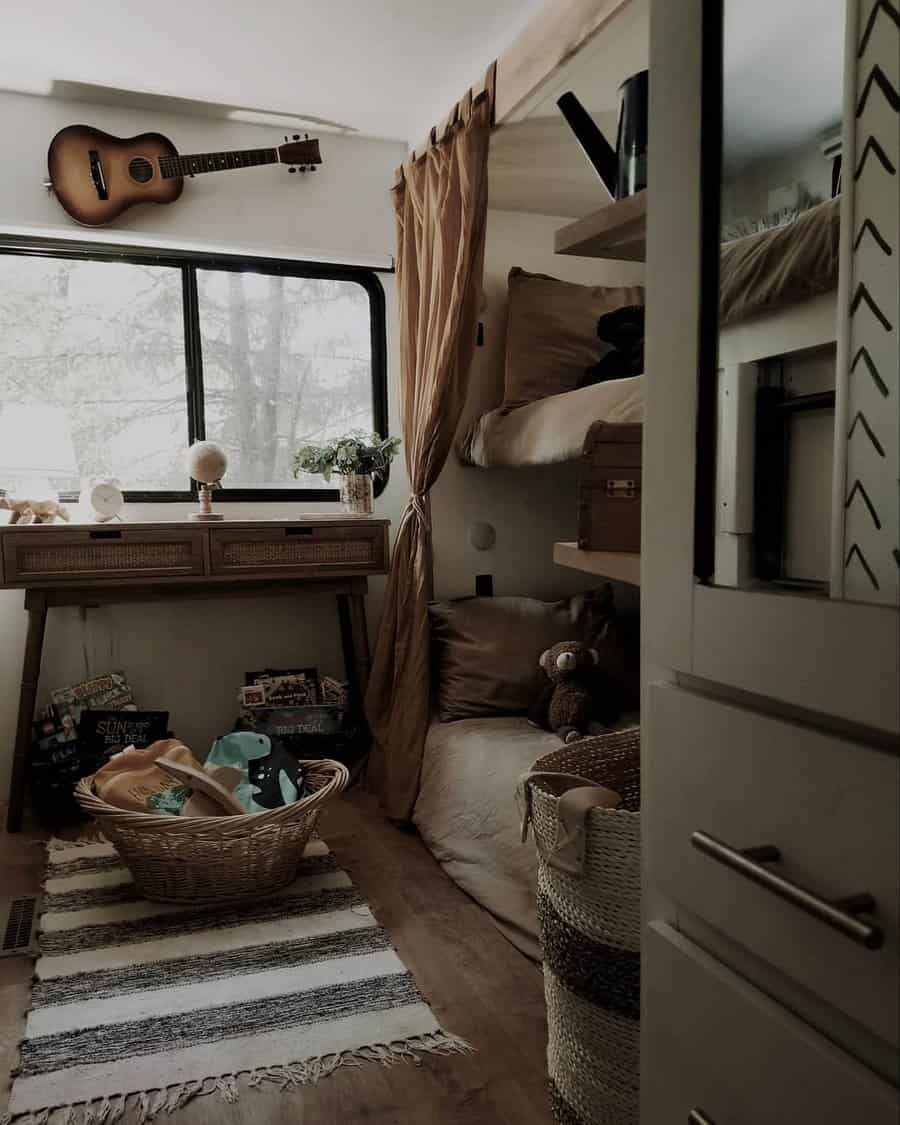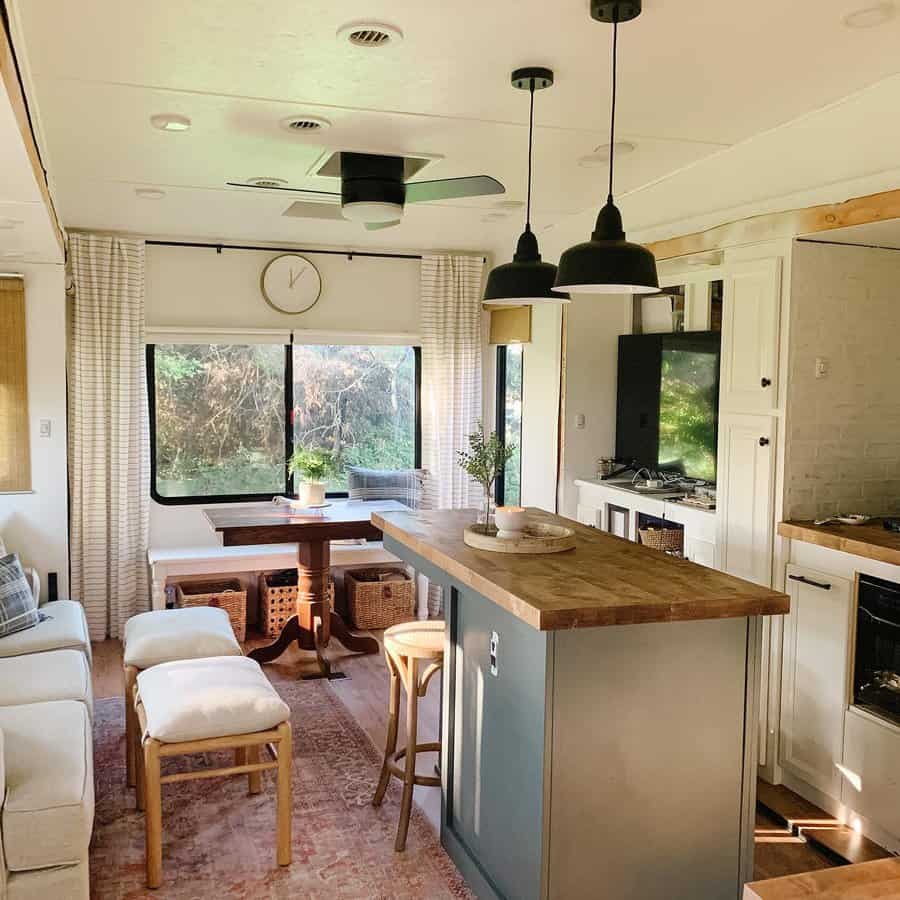 10. RV Window Bench
Add a touch of comfort and functionality to your RV with a charming window bench. This clever and space-saving idea not only creates a cozy seating area but also utilizes the often-overlooked space around your windows. Imagine lounging on a plush cushion, sipping your morning coffee, and enjoying the scenic views outside.
The window bench not only adds extra seating but also serves as a stylish storage solution. Incorporate built-in drawers or cabinets underneath the bench to stow away essentials like extra blankets, books, or even camping gear. Customize the bench with soft cushions in vibrant patterns or cozy neutrals to reflect your personal style.
Enhance the ambiance with decorative throw pillows and blankets that add a pop of color and texture. The window bench becomes a versatile spot for relaxing, reading, or simply appreciating the beauty of your surroundings.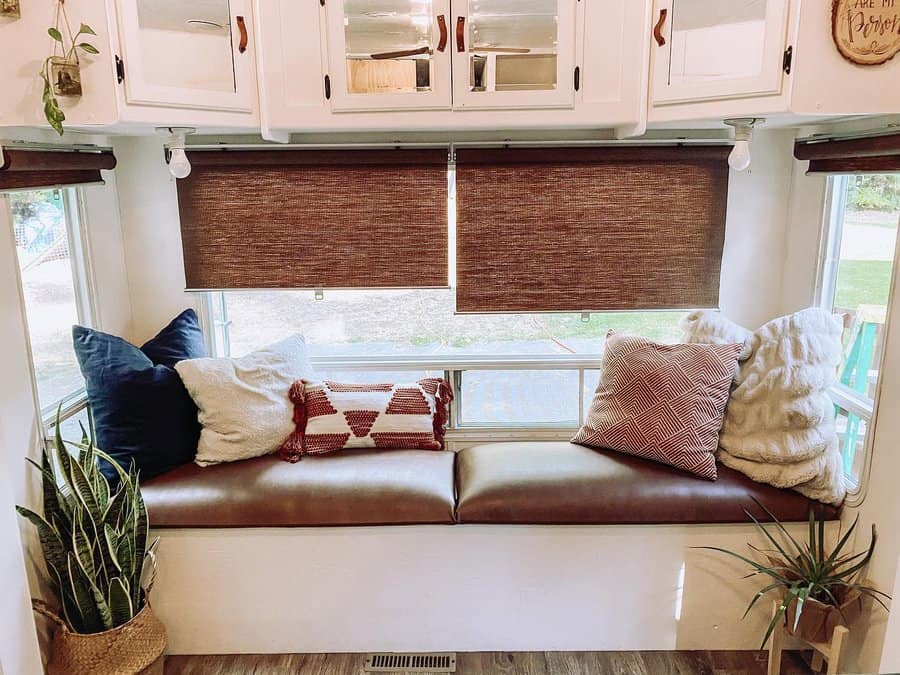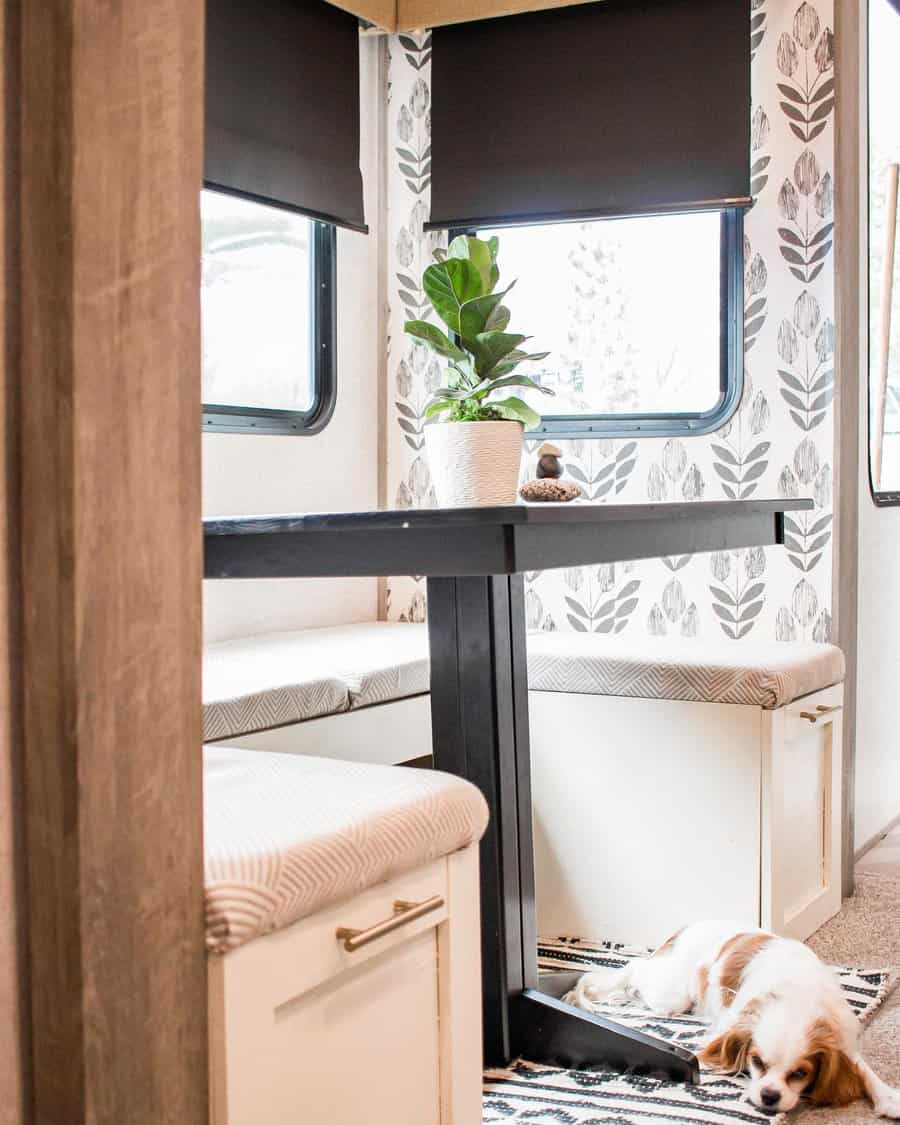 11. Living Room Set
Gone are the days of cramped seating arrangements and limited comfort. With standalone couches, you can create a cozy and inviting space where you can relax and unwind after a day of adventures on the road. Opt for plush and comfortable couches that provide ample seating for you and your fellow travelers.
Consider choosing couches with built-in storage compartments to maximize space efficiency and keep your RV organized. Play with different colors and patterns to add personality and flair to your living room.
Whether you prefer a sleek modern design or a cozy rustic vibe, there are plenty of options to suit your style. Don't forget to accessorize with throw pillows and blankets that add an extra layer of comfort and style.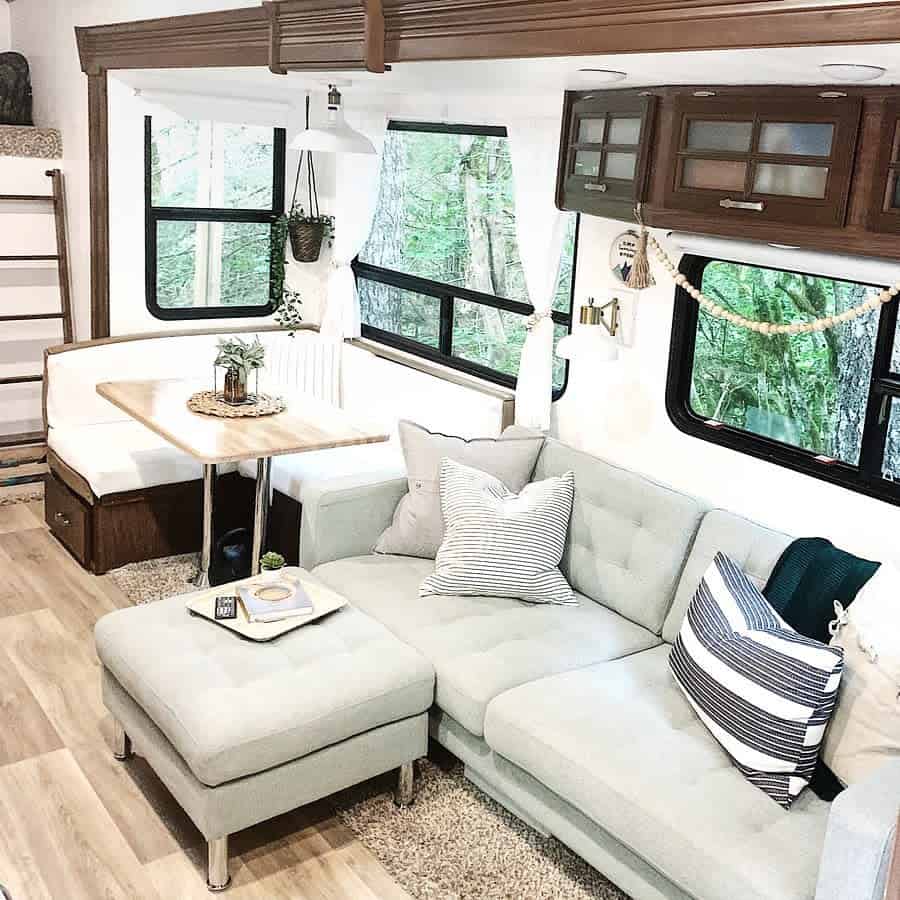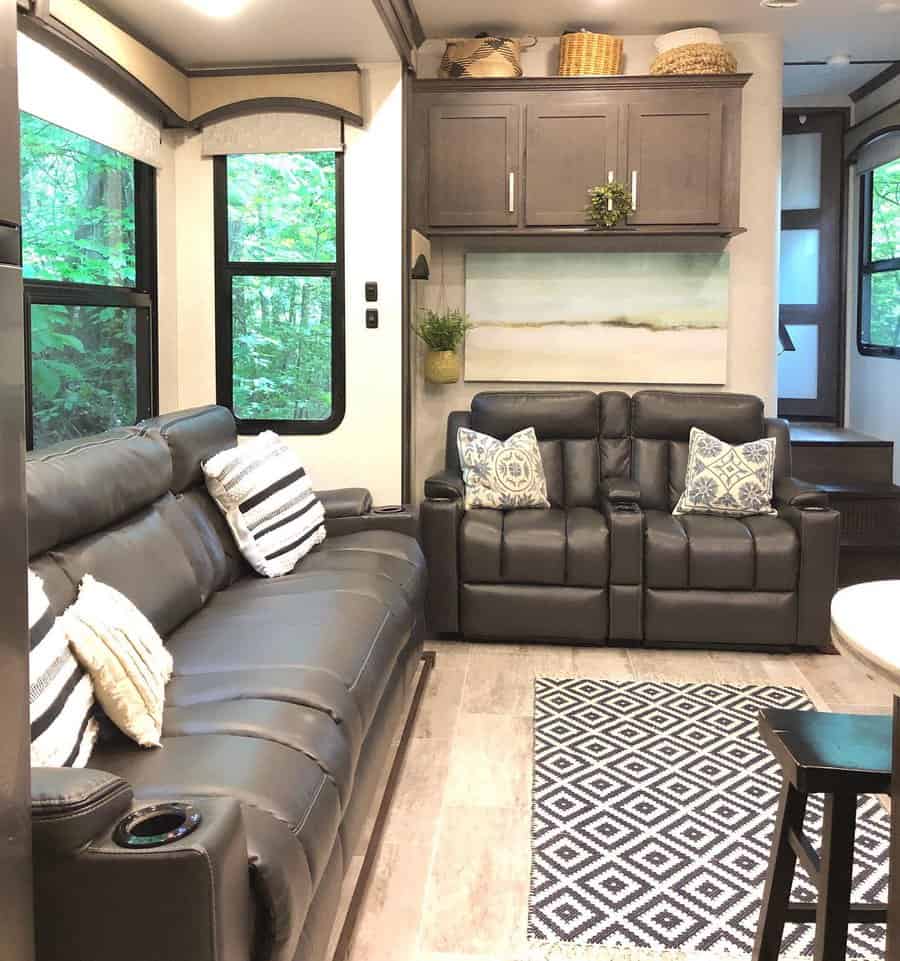 12. Vintage Wood Wall Art
Transform your RV into a whimsical haven on wheels with enchanting vintage wood wall art. Embrace the charm of yesteryear by adorning your mobile abode with carefully selected pieces that evoke nostalgia and character.
Opt for die-cut wood wall art that showcases intricate designs and patterns, bringing a touch of artistic flair to your compact living space. Imagine vibrant florals, intricate mandalas, or mesmerizing geometric shapes adorning your walls, adding depth and personality to every corner.
For an extra touch of visual interest, explore the world of 3D quotes that can be strategically placed throughout your RV. These cleverly crafted pieces will not only inspire and uplift but also serve as a reminder to embrace the joy of the open road.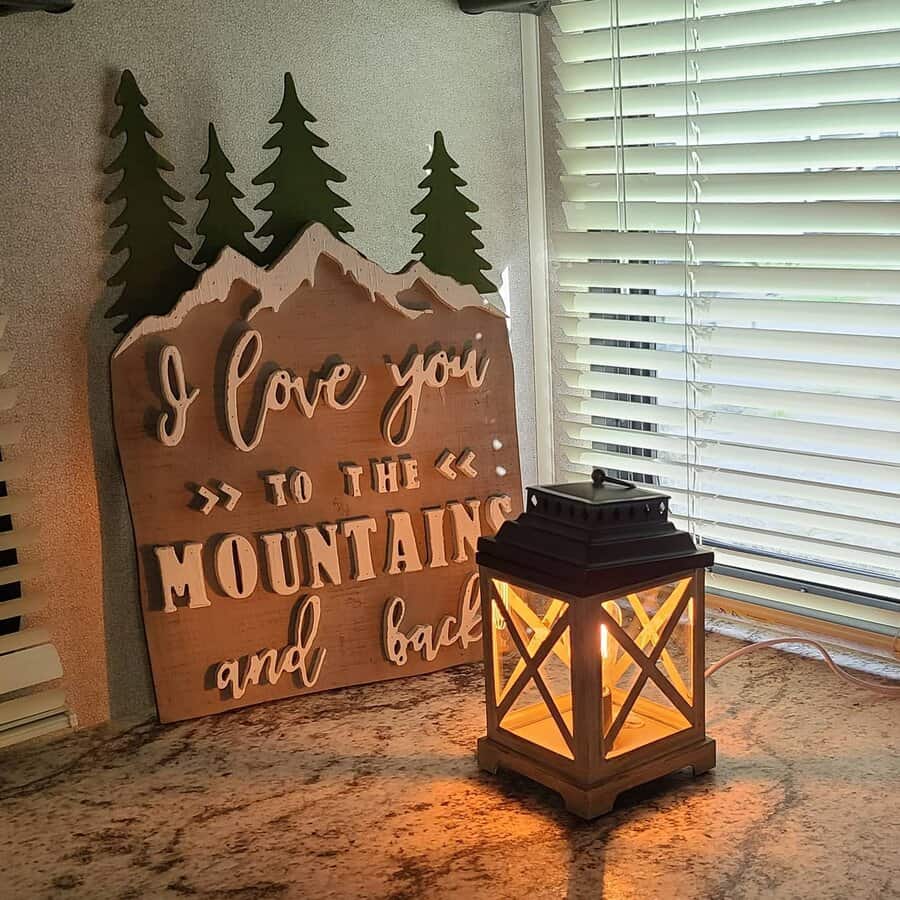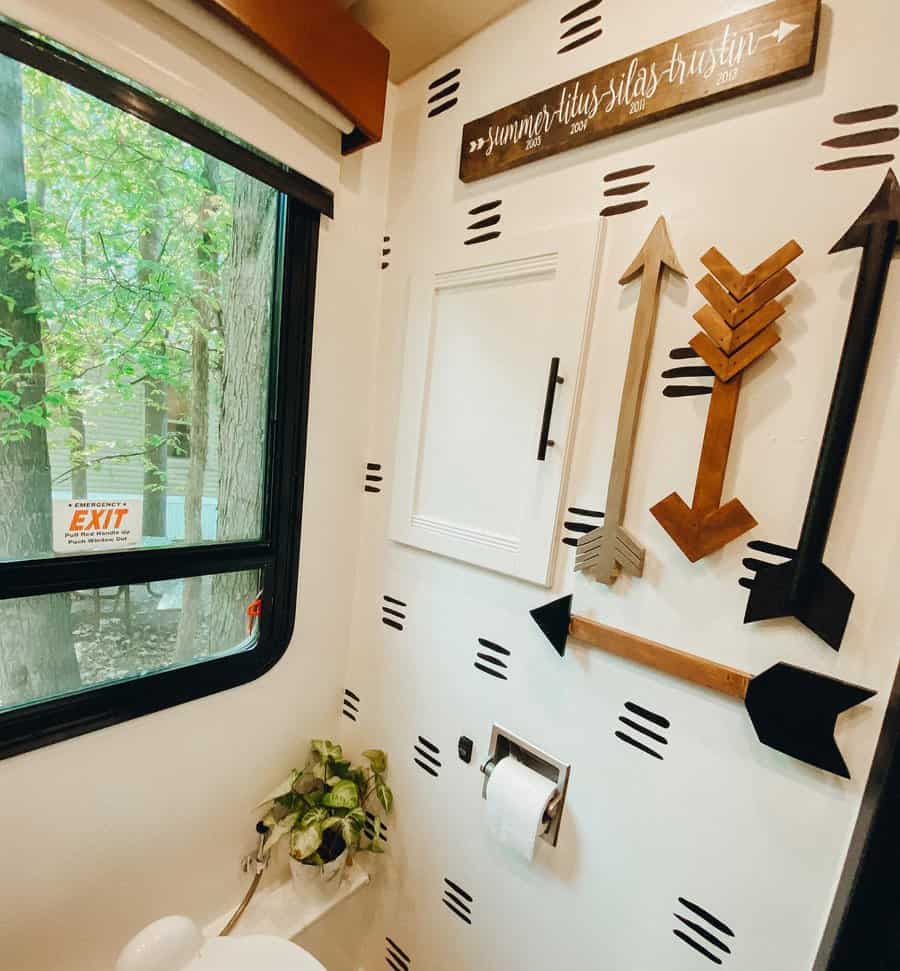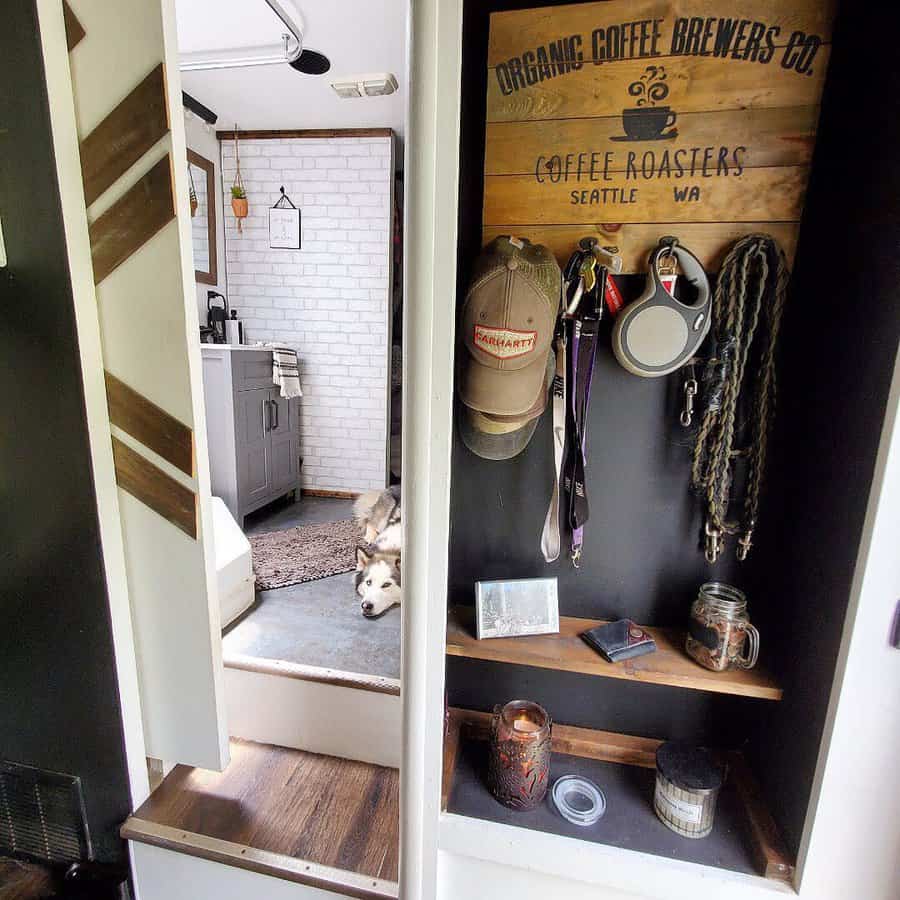 13. Built-In Furniture
Incorporating built-in furniture allows you to maximize every square inch of your RV while adding a touch of modern elegance. Just imagine the convenience of having custom storage solutions that perfectly fit your needs, from hidden compartments for your travel essentials to spacious cabinets for all your belongings. But functionality doesn't mean sacrificing comfort.
Simply add futons or cushions to your built-in seating areas, and you'll have a cozy spot to relax after a long day of adventures. Embrace the rustic charm of wooden pallets and repurpose them into beautiful and practical elements throughout your RV. From creating shelving units to building modular storage systems, these versatile pallets will add a touch of eco-friendly style to your mobile abode.
Opt for multi-functional pieces that serve multiple purposes, such as a table that transforms into a desk or a bed that doubles as a seating area. With clever design and thoughtful execution, your RV can become a space where style and functionality coexist harmoniously.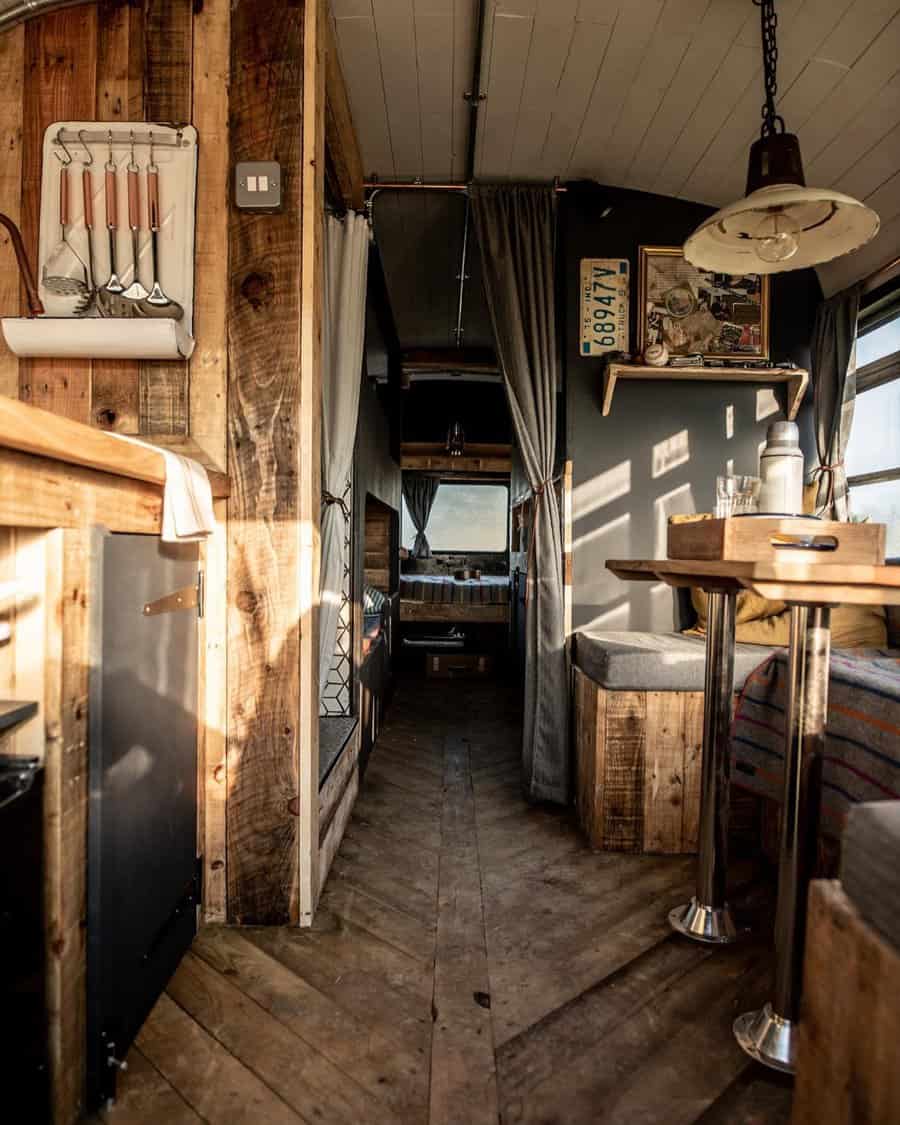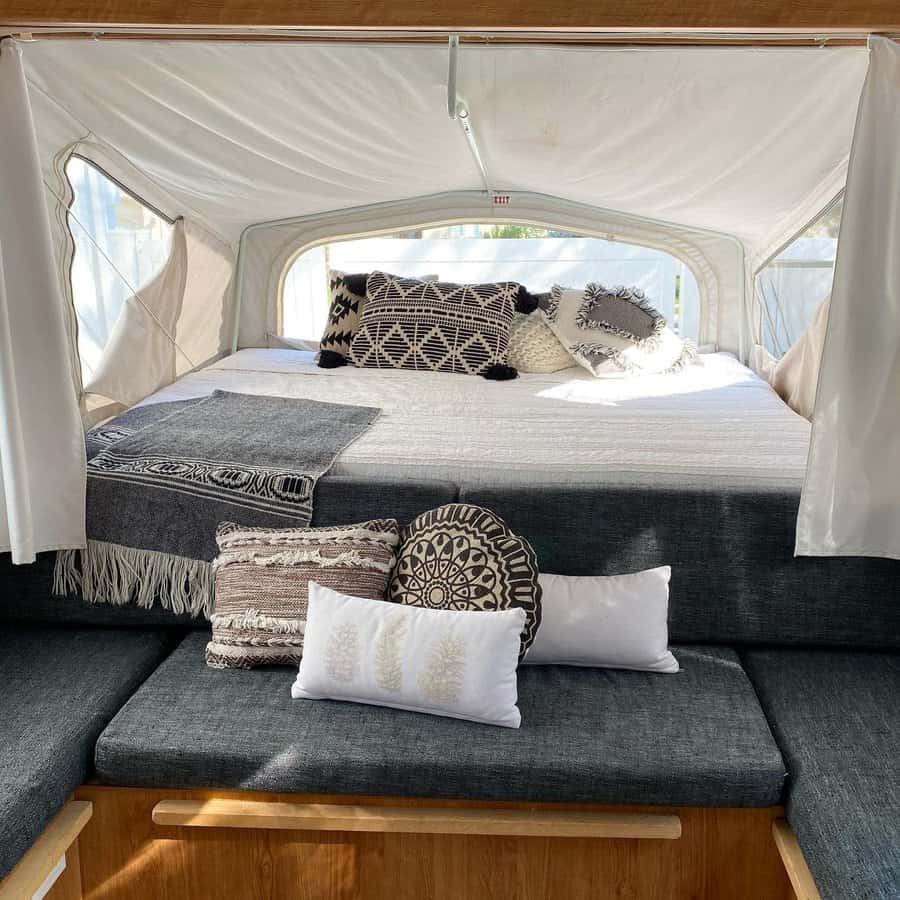 14. RV Accent Wall
Transform your RV into a stylish and personalized haven with the magic of decorative wall accents. Elevate your interior design game by adding eye-catching details that will make your RV stand out from the rest. Consider incorporating wall trimmings to add a touch of elegance and sophistication. From ornate crown molding to sleek and modern trim, the options are endless.
If you're looking to infuse your space with personality, printed wallpaper can be your go-to choice. Choose from an array of captivating patterns and designs that reflect your unique style and create an atmosphere that is both cozy and visually captivating. Another option to consider is deco tiles, which can instantly add texture and visual interest to your walls.
Whether you opt for mosaic-inspired tiles or intricate geometric patterns, these decorative tiles will give your RV a touch of artistry and charm. So, let your creativity run wild and transform your RV into a haven of style and comfort with these decorative wall ideas.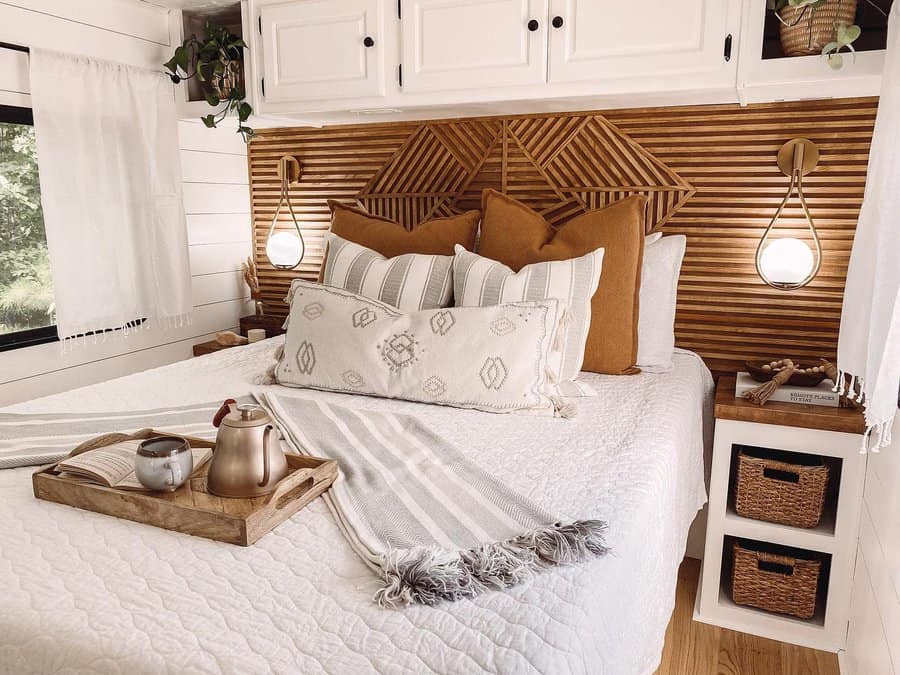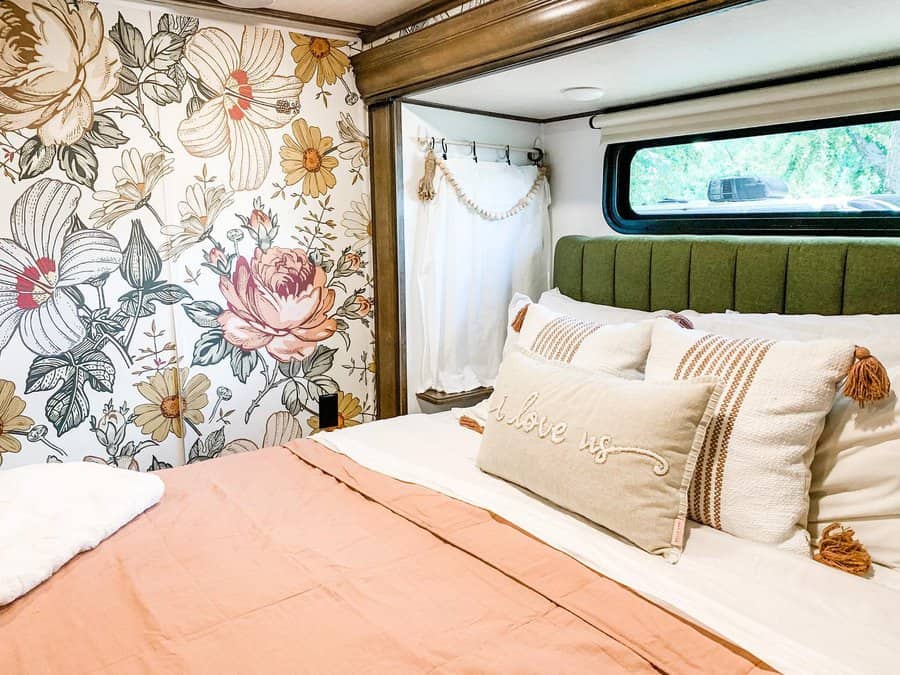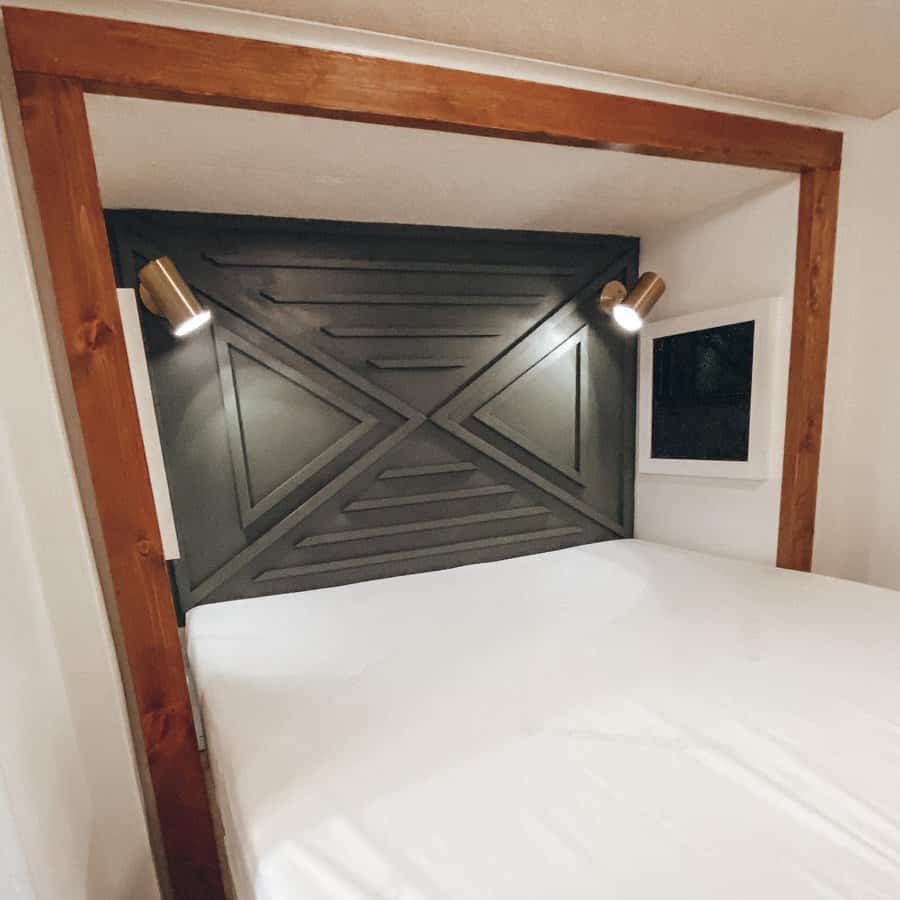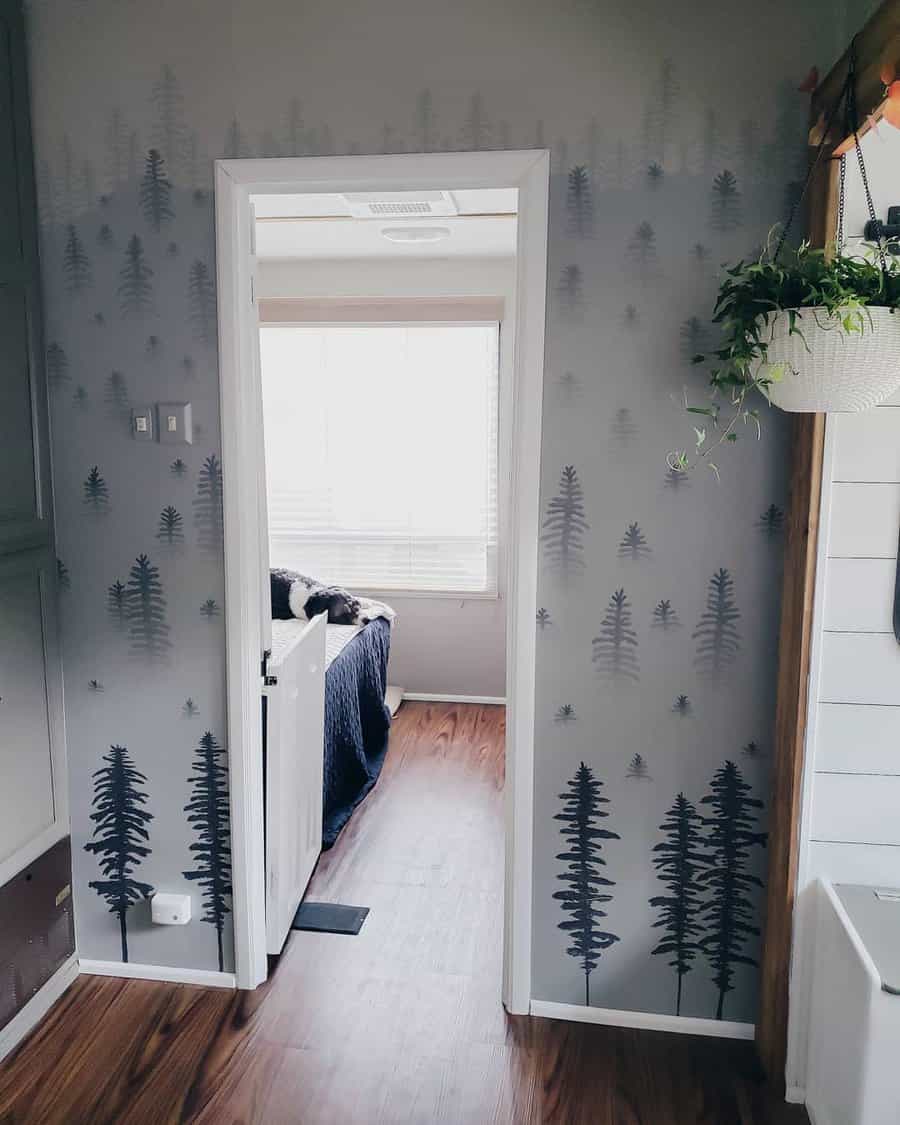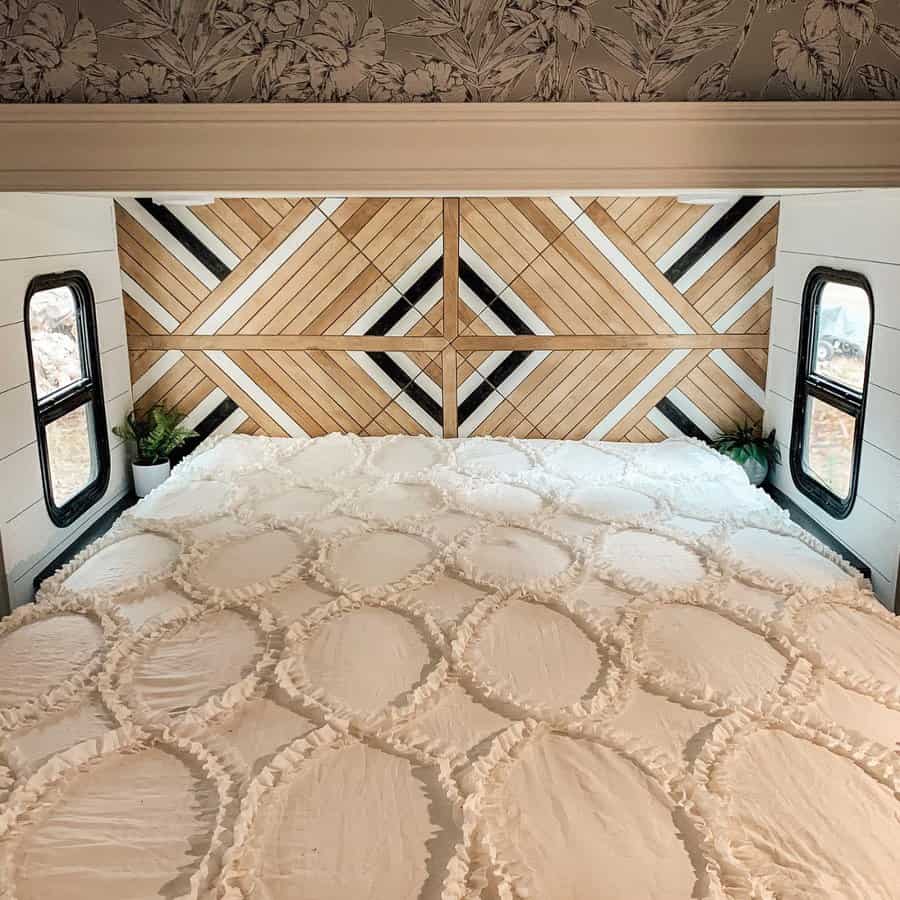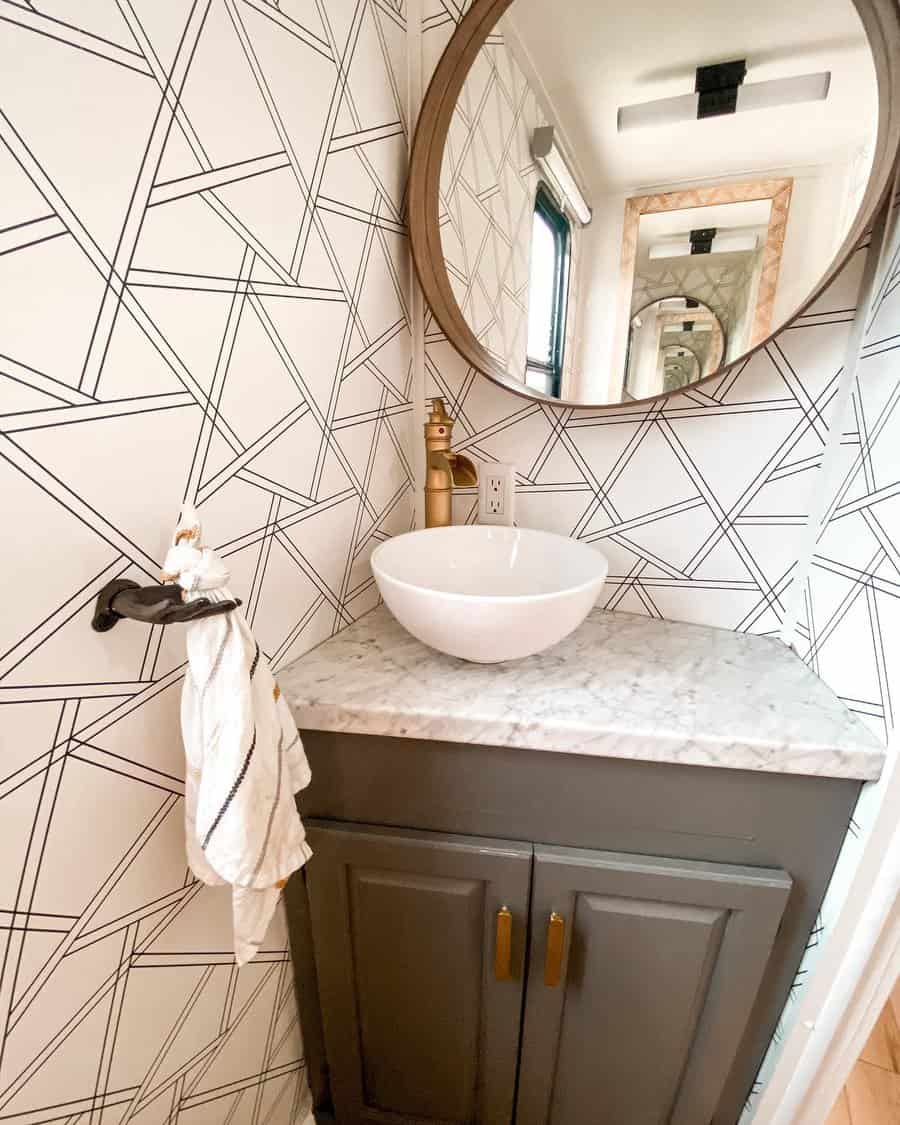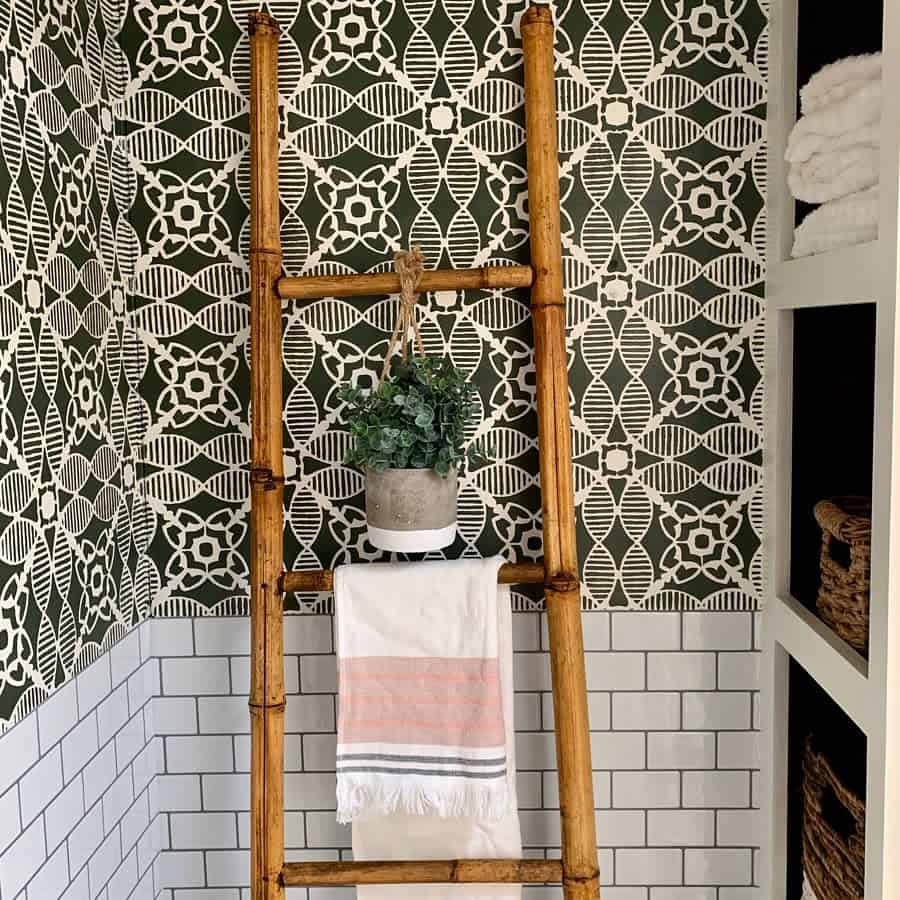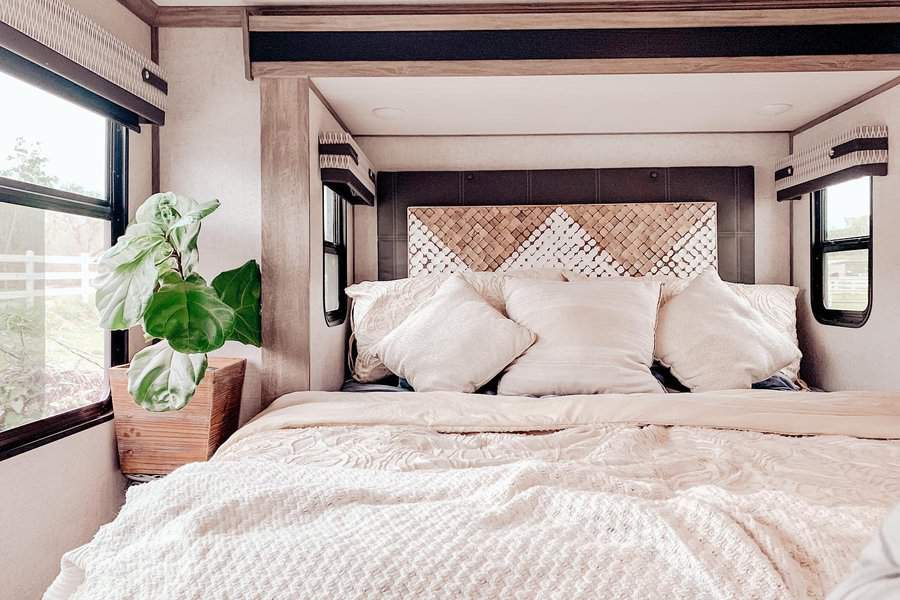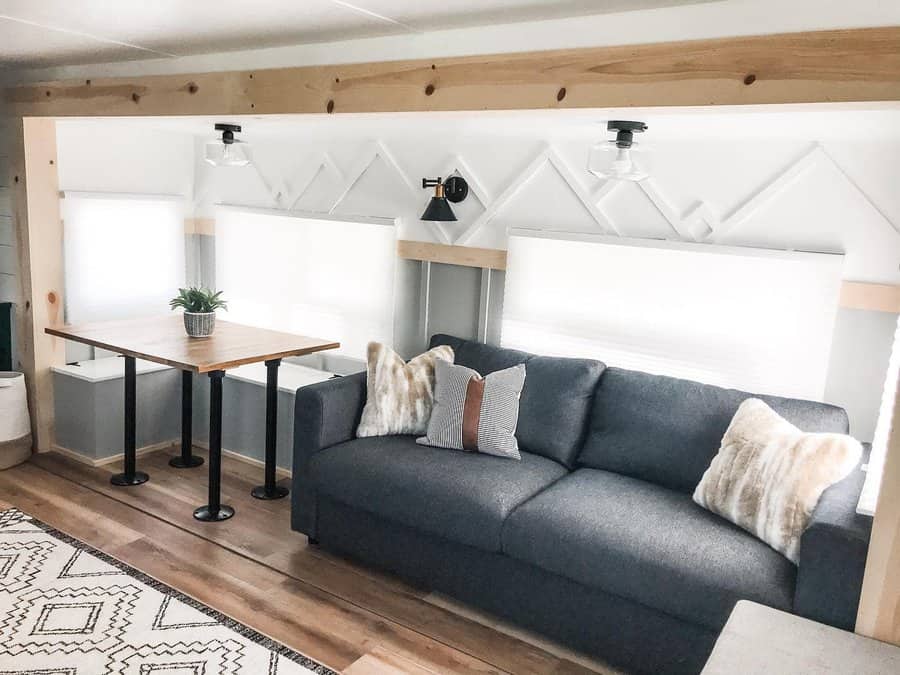 15. Macrame Plant Hangers
Embrace the bohemian spirit and add a touch of whimsy to your RV with the charming beauty of macrame plant hangers. These intricate and handcrafted designs not only bring a sense of artistry to your space but also serve a practical purpose by elevating your indoor plants.
The beauty of macrame lies in its versatility, allowing you to create unique hangers that complement your RV's interior style. Hang them near the windows to let the sunlight kiss your plants or suspend them from the ceiling to create an eye-catching focal point.
Macrame plant hangers bring a natural and organic element to your RV, allowing you to showcase plants that can sometimes be space-consuming. Whether you opt for earthy tones or vibrant colors, these plant hangers will add a touch of bohemian flair to your mobile home.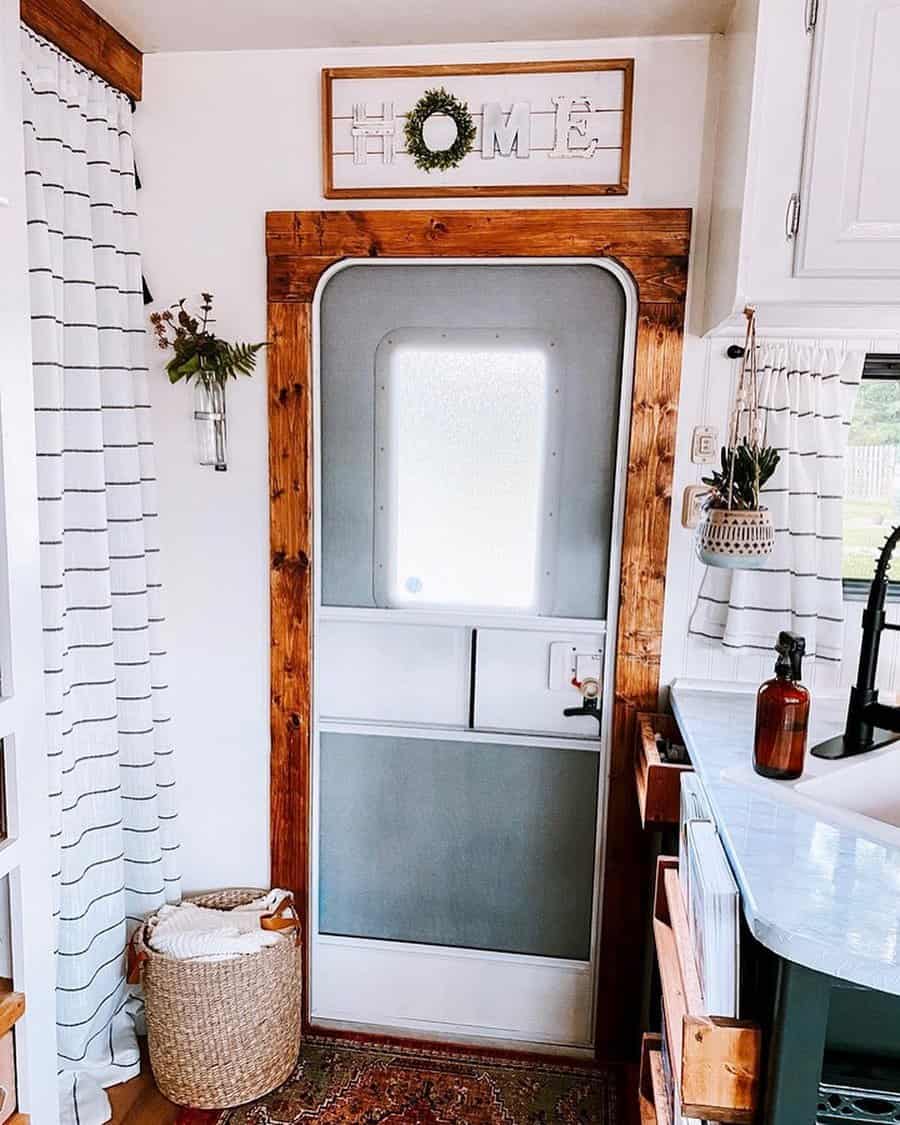 16. Corner Bath Shower
Turn your RV bathroom into a cozy oasis with a cleverly designed corner bath shower. This innovative solution maximizes the available space in your RV, allowing you to enjoy the luxury of a relaxing shower without compromising on functionality. The corner placement of the shower creates a seamless and efficient design, utilizing every inch of your bathroom.
With its smart utilization of space, you can enjoy a refreshing shower experience while still having ample room for other bathroom essentials. The corner bath shower is practical and adds a touch of modern elegance to your RV interior.
Choose from various sleek and stylish shower designs, including glass enclosures or space-saving folding doors, to create a contemporary and inviting atmosphere. Don't let the limited space in your RV hinder your comfort and style.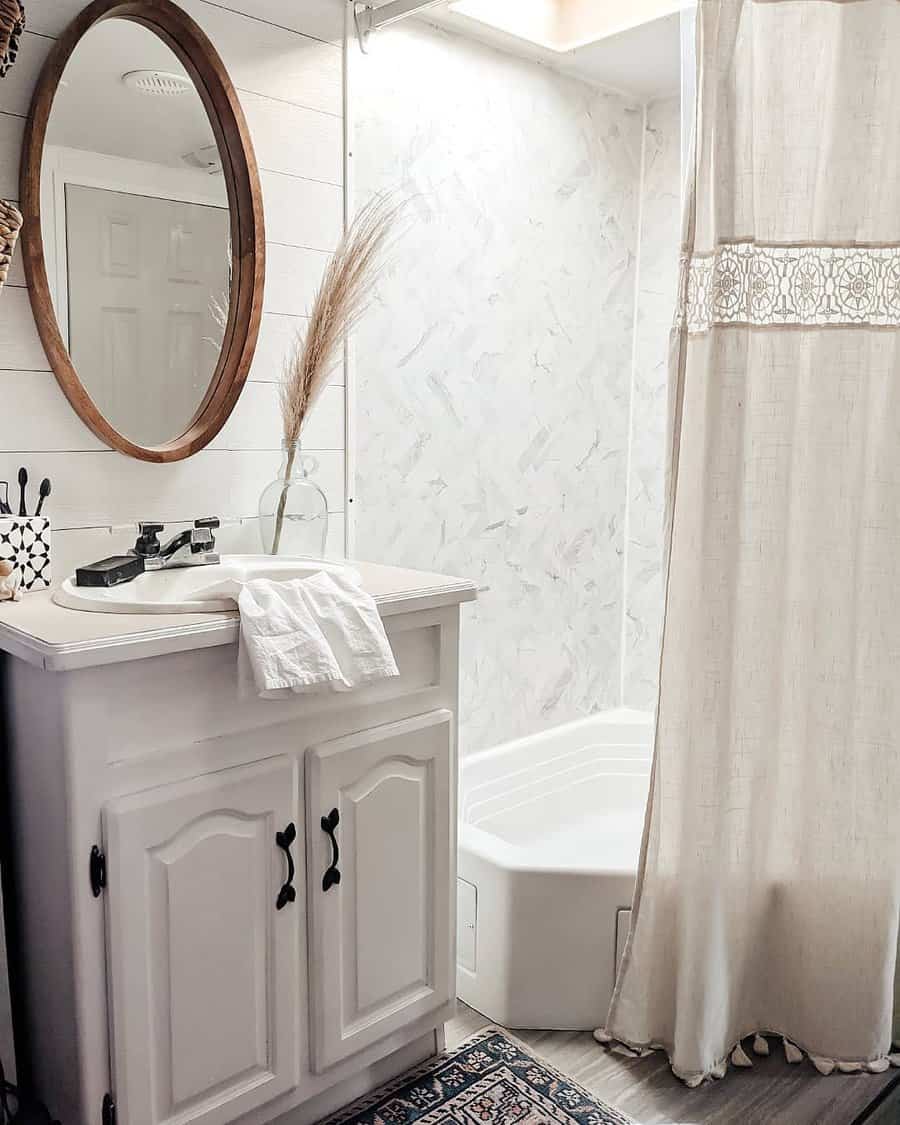 17. Corner Coffee Bar
Utilizing a corner of your RV, you can transform it into a charming coffee nook that combines style and convenience. Start with a small table or countertop, ideally made from durable and easy-to-clean materials like wood or laminate. Enhance the aesthetic by incorporating a reclaimed wood pallet fence as a backdrop, adding a rustic and cozy touch to your coffee bar.
Install hooks on the fence to hang mugs and accessories, keeping everything within easy reach. Don't forget to include a compact coffee maker or espresso machine, as well as a collection of your favorite beans or pods. To complete the look, add a few decorative touches such as potted plants, wall art, or string lights to create a welcoming ambiance.
Whether you're sipping your morning brew or enjoying a quiet moment with a book, this RV corner coffee bar will be a delightful addition to your mobile home, providing both style and functionality in one charming space.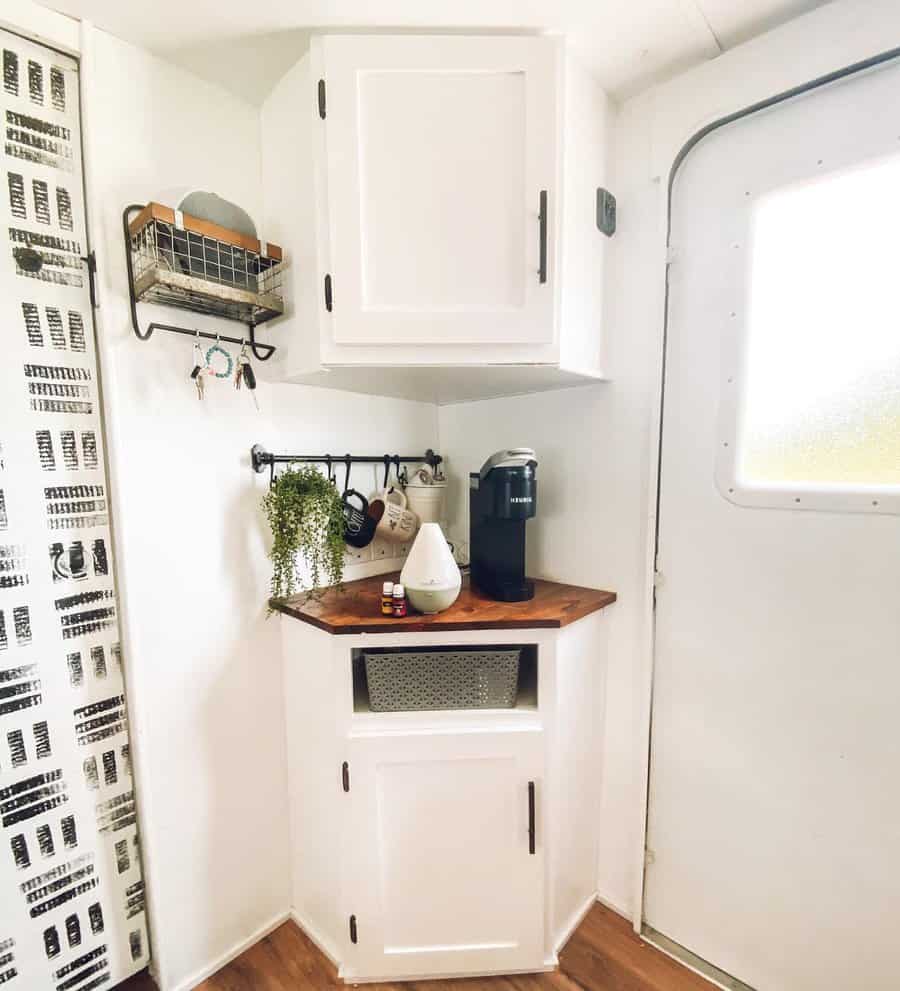 RV Decorating FAQs
How do you decorate an RV for the holidays?
Decorating for Halloween or Christmas isn't easy in such a small space. You might not be able to fit a real Christmas tree into your RV but you can still enjoy a bit of festivity.
Hang themed string lights from your camper ceiling — use Command Hooks to make installation quick and easy. You can even hang part of your ornament collection using this method.
Another low-profile decoration you can use is a door wreath (we recommend hanging it inside your RV for obvious reasons!). Remember that wreaths aren't just Christmas decor. You can find fun designs for every season and holiday imaginable.
Can you paint an RV exterior?
Yes. Painting the outside of a camper van is very similar to painting any vehicle. Fortunately, though, the finish is a bit more forgiving than on a passenger car.
The most important step is to thoroughly clean the RV (a power washer works well for this project).
Use an automotive-grade formula in your chosen color. While you can use a brush and roller, a sprayer will make quick work of your RV's new paint job.