The Top 63 RV Decorating Ideas
We all know an RV owner who just throws a few extra pillows in their camper and calls it good. But with the rising popularity of road-tripping and van-living, RV interior design is a growing market.
Most of the trends you use in your home can be translated to an RV. However, there are some special considerations you'll want to make when selecting which decor is right for your camper or pull-behind trailer.
If you're ready to get started reimagining your RV interior, keep reading for our favorite RV decorating ideas of the moment.
1. Bathroom
Decorating an RV bathroom is far from easy. On top of working with an unbelievably tiny space, you also need to consider the unique plumbing system found in most camping trailers.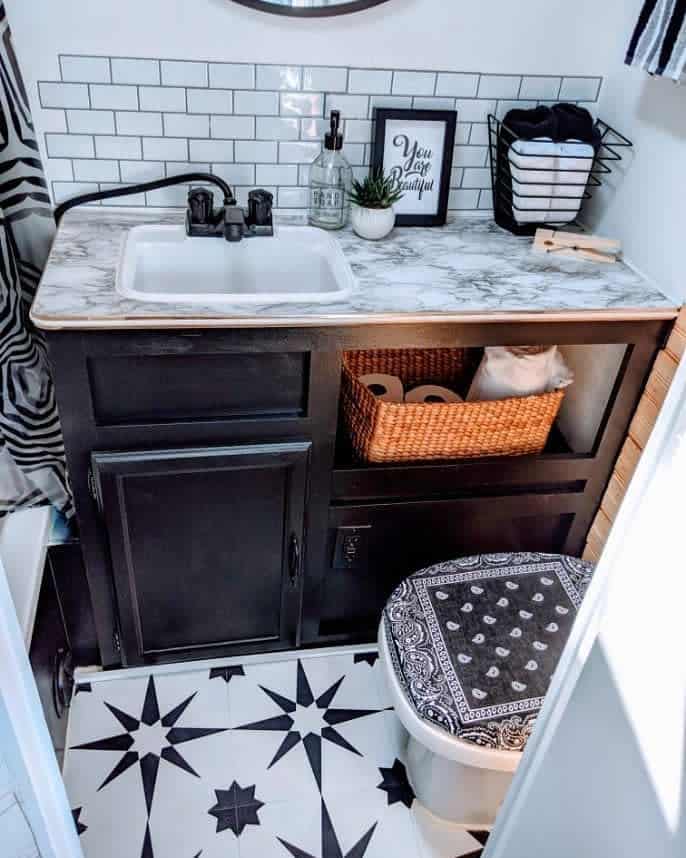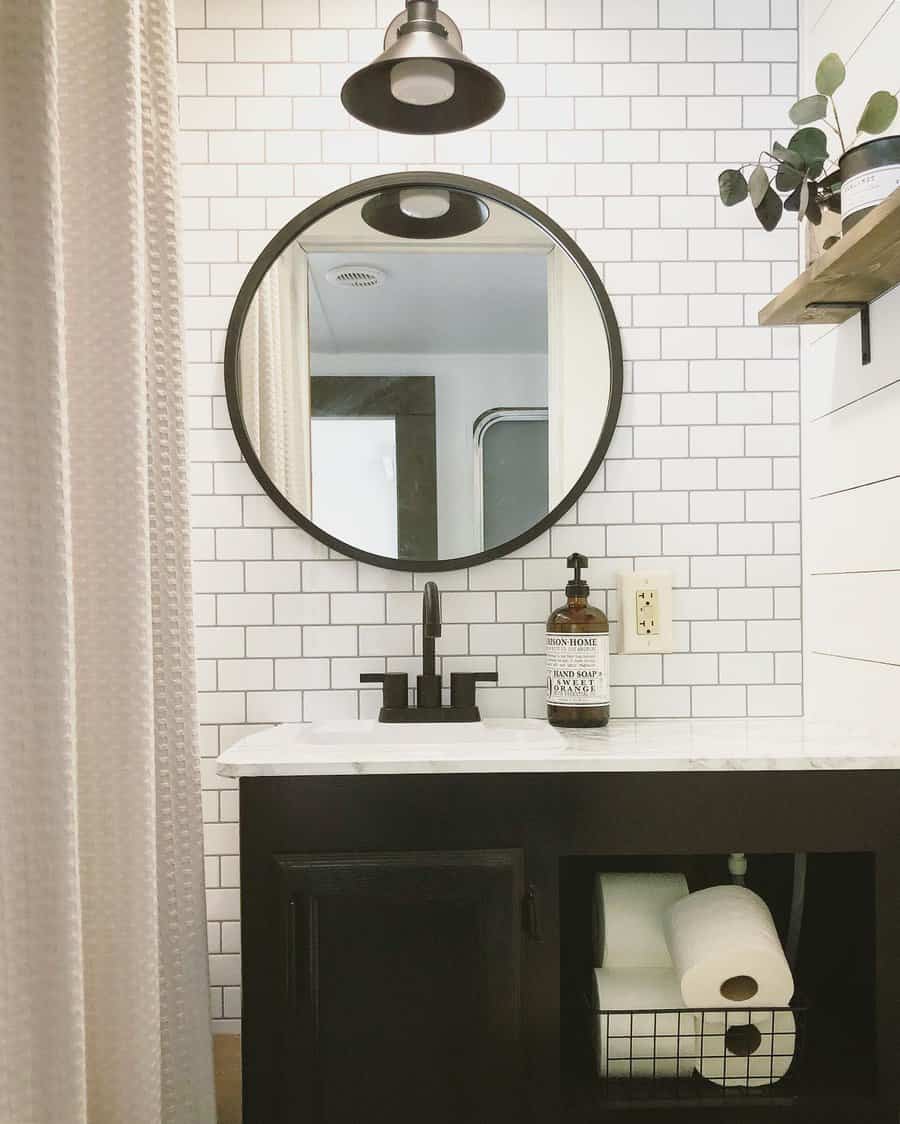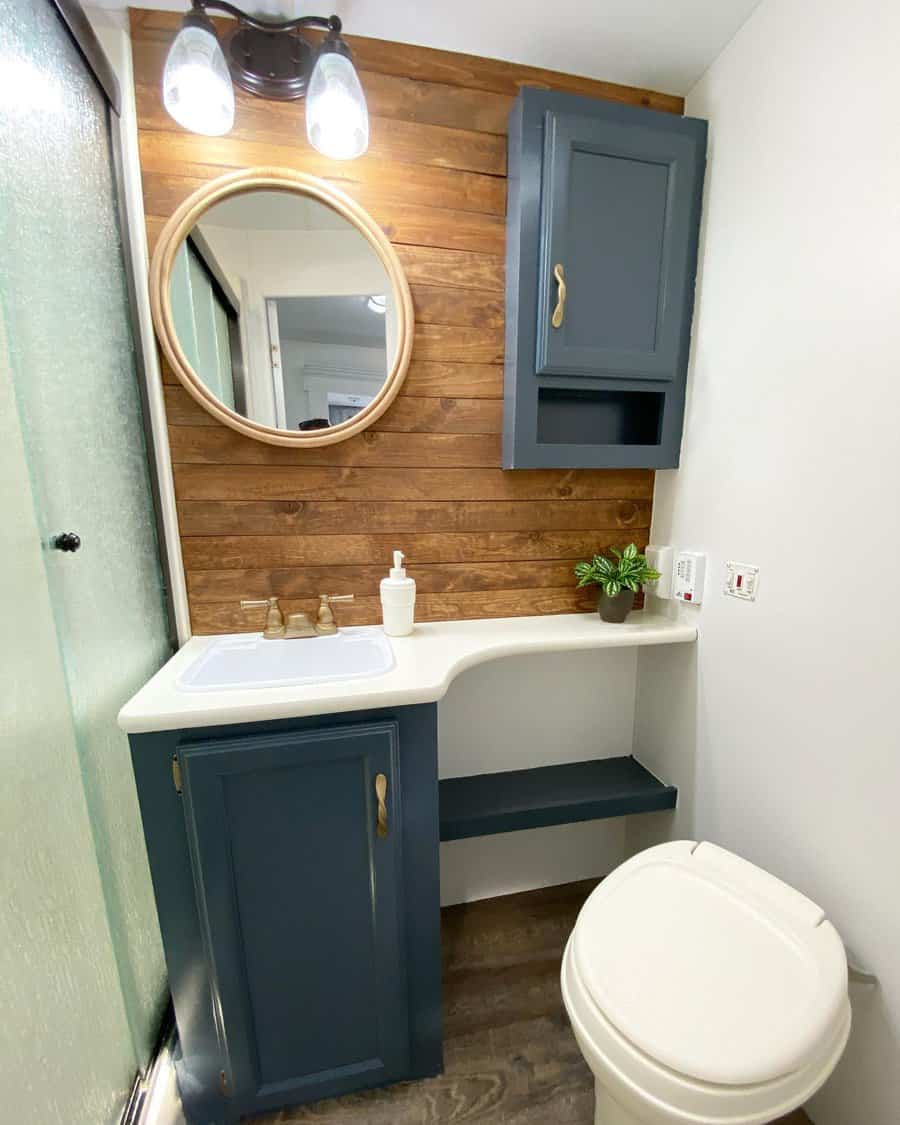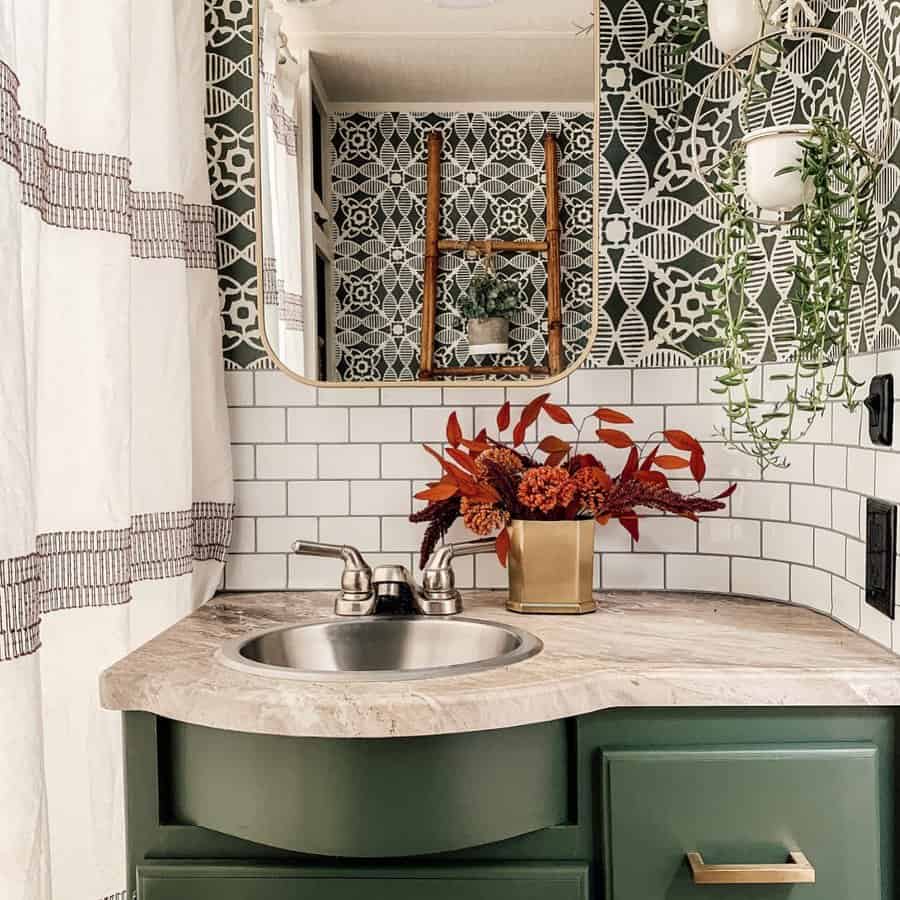 Keep the surfaces in your bathroom light and simple. White subway tiling is a great option for a backsplash — use wallpaper or paint as an accent. Opt for a plain shower curtain over one with a busy pattern.
Aesthetics aside, it doesn't hurt to make your bathroom storage travel-friendly. Install shelving with a lip or miniature railing to keep small toiletries from sliding off when the camper is in motion. Invest in a magnetic closure for your medicine cabinet or drawers so your bathroom essentials don't go flying!
2. Bedroom
In an RV bedroom, it's not uncommon to have space for a mattress and little else. Even if you have a spare foot or two on each side of your bed, the last thing you want is to fill it up with unnecessary decor.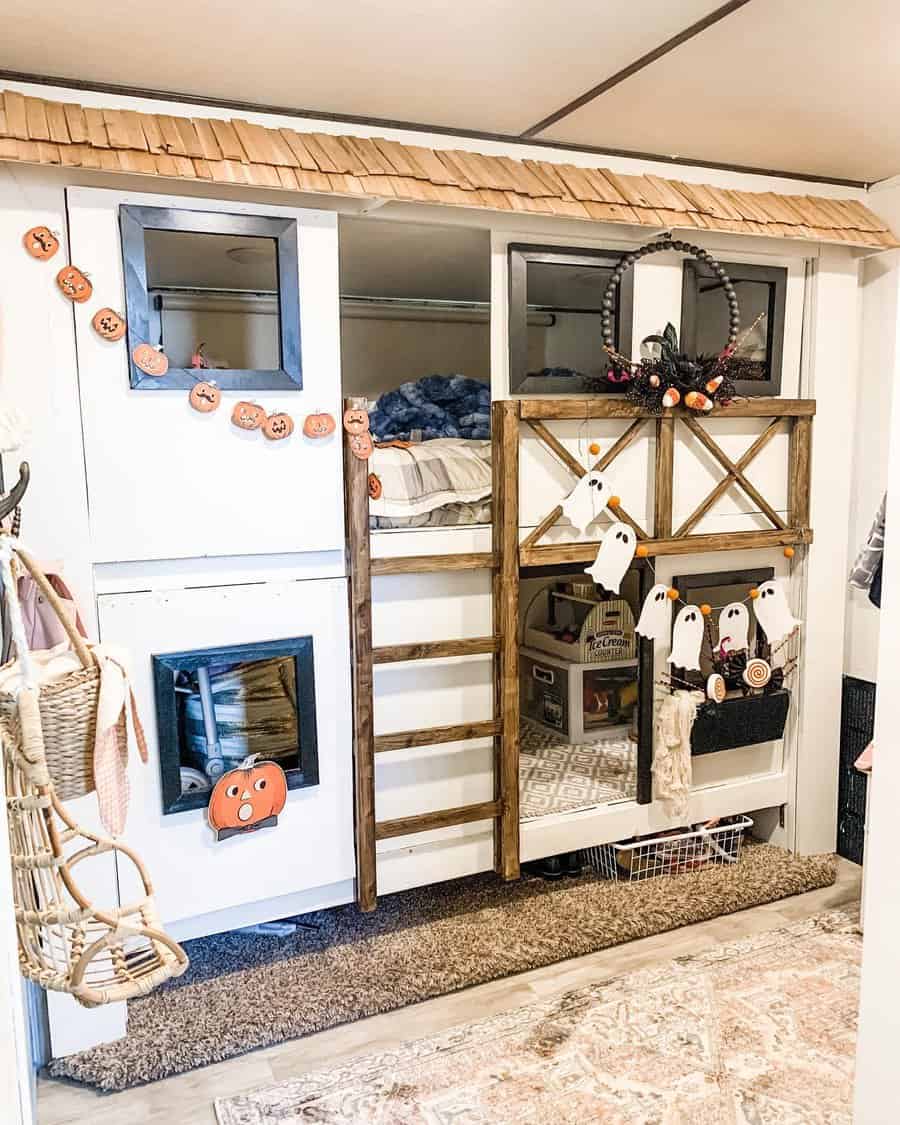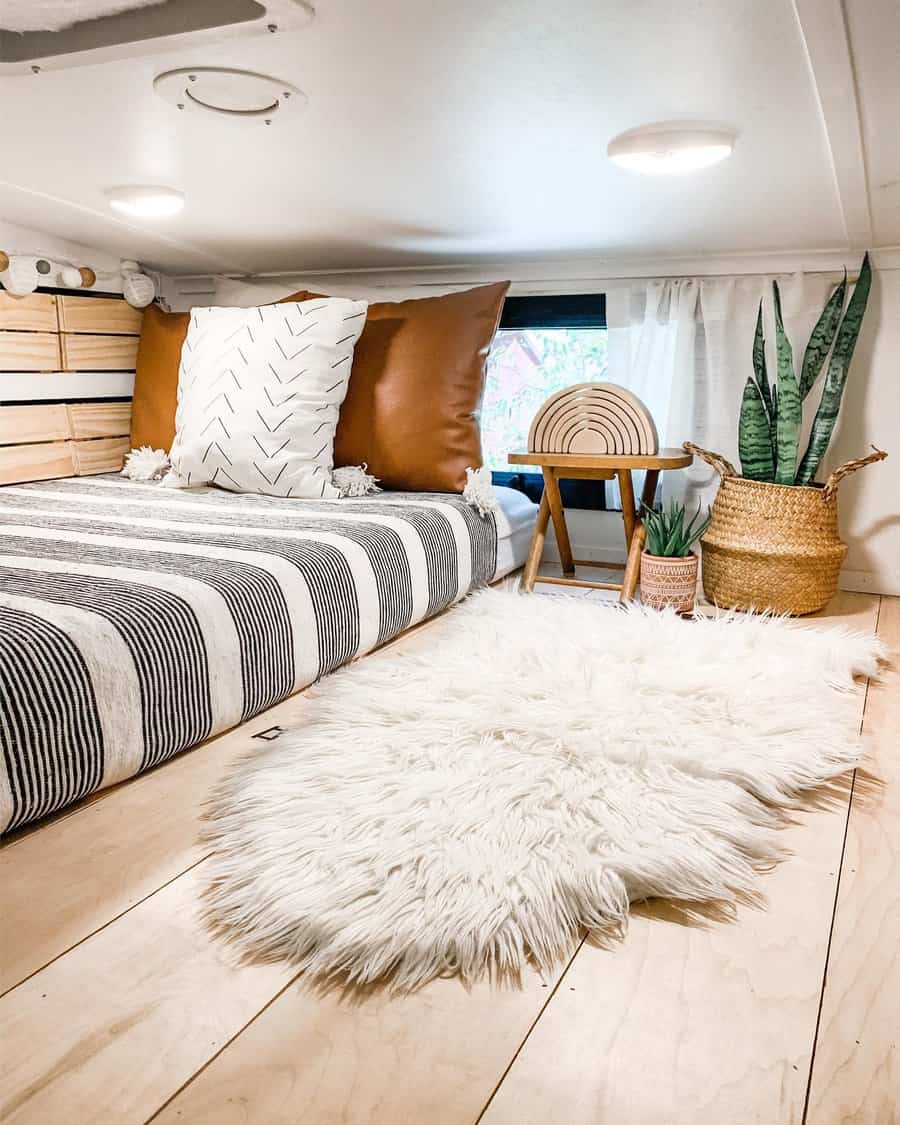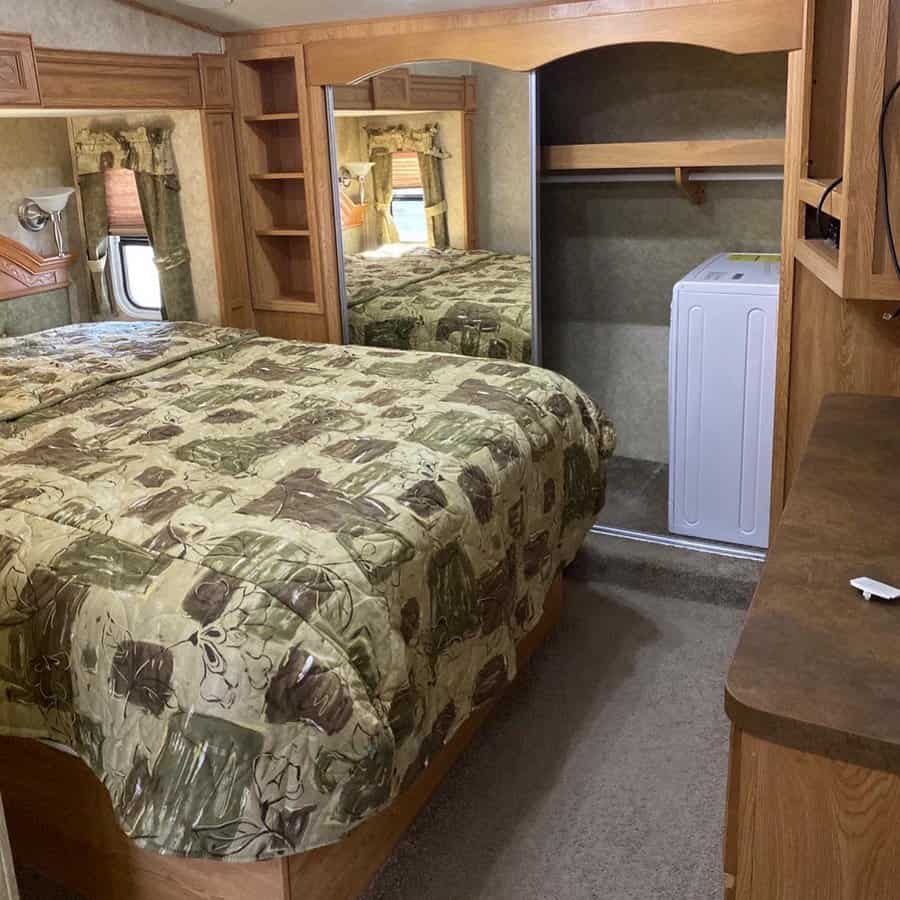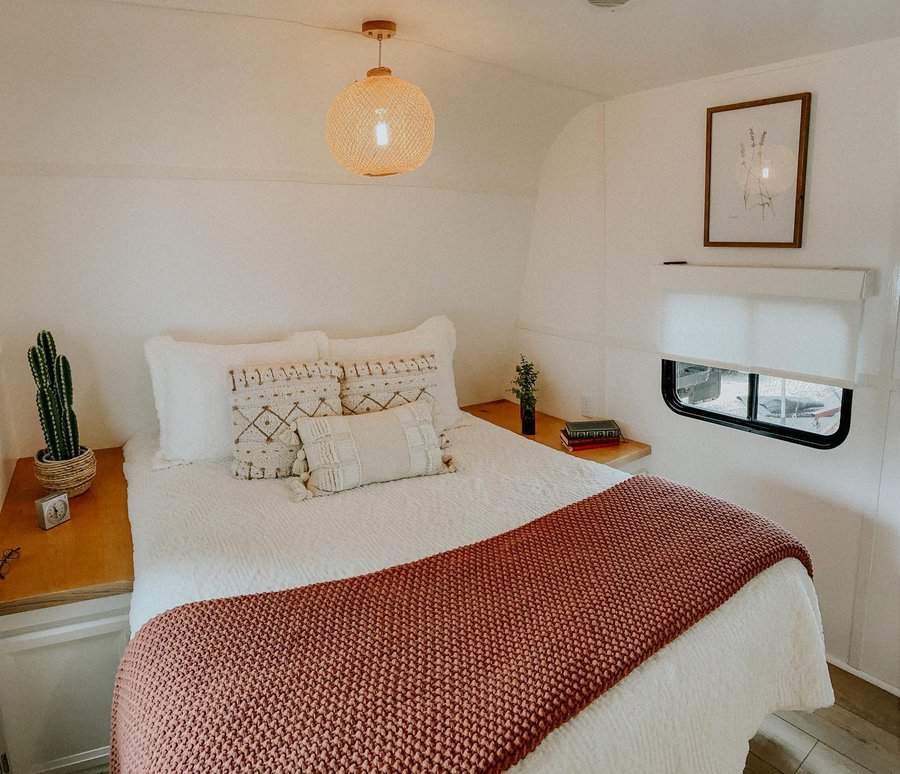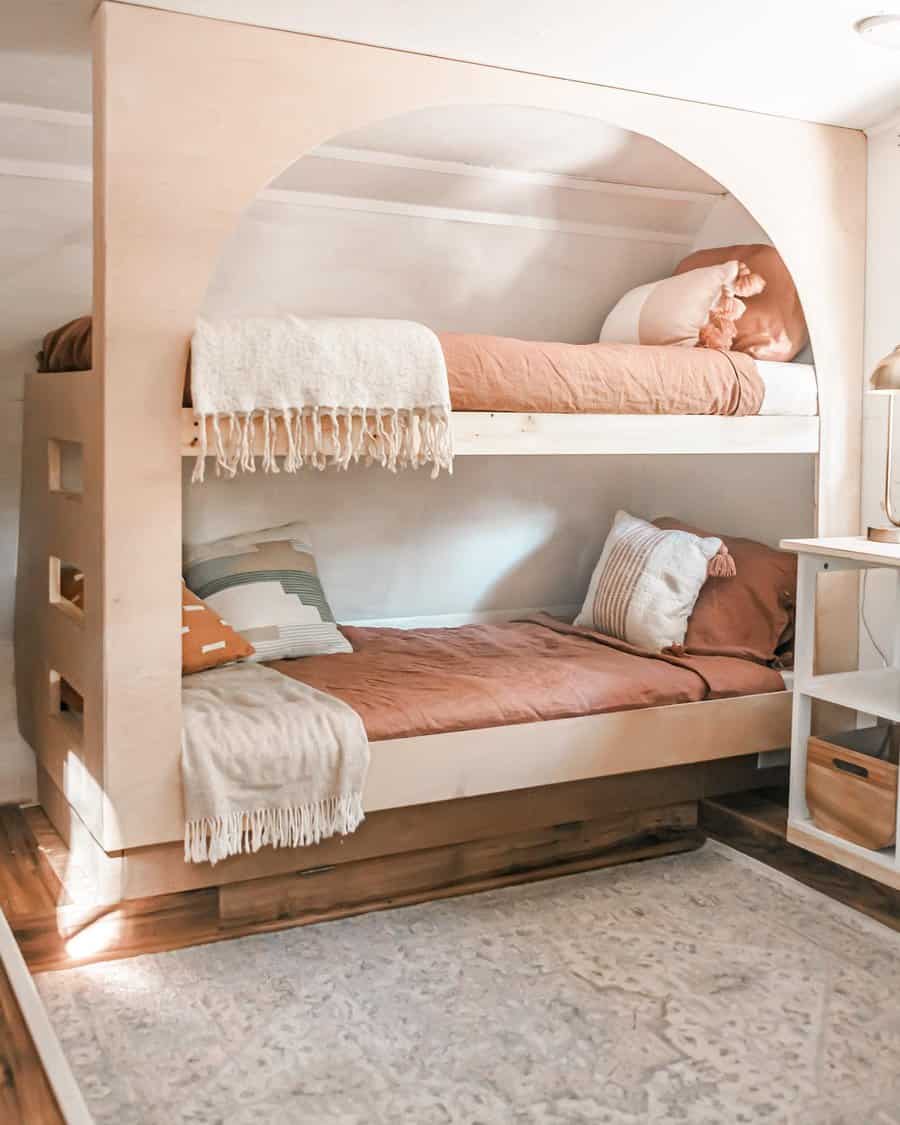 Hidden storage is one of the most useful things you can include in your camper's living space. Choose an RV-friendly bed frame that lifts to store excess bedding or clothing.
Mount floating shelves or cabinets over your bed for additional storage. If your RV bedroom is undergoing a full remodel, ask about building shelves or a closet with pocket doors into the existing walls.
3. Black and White
If you don't want to muddy up your camper interior, then a simple black-and-white color scheme might be ideal. You'll never need to worry about your RV decorating ideas going out of style.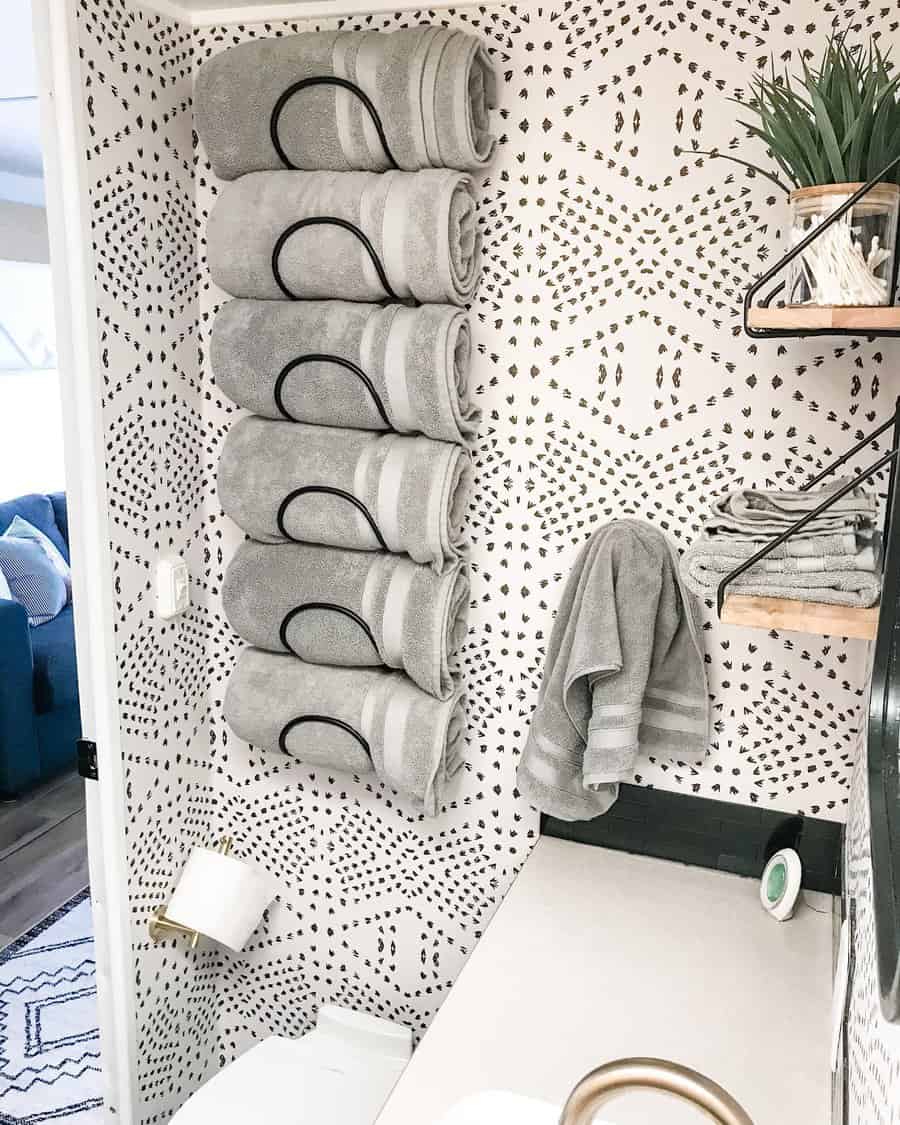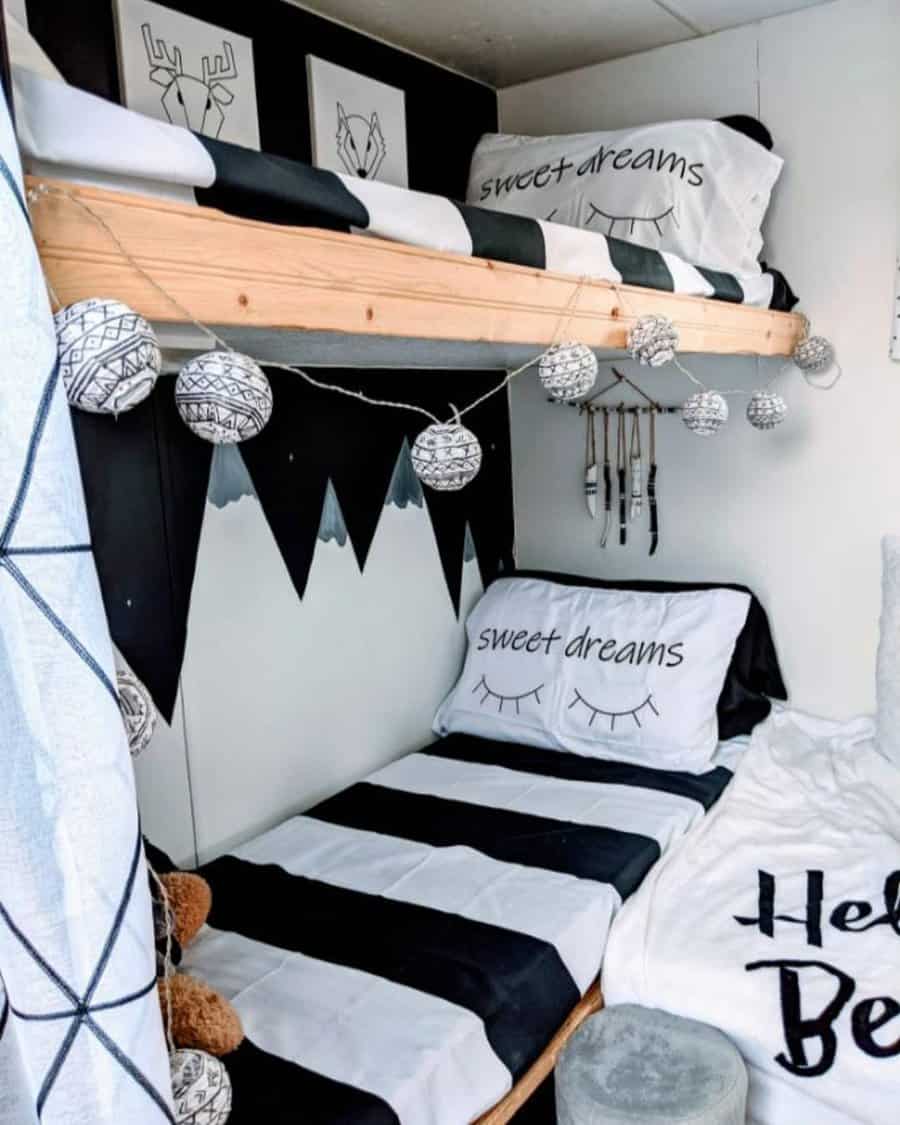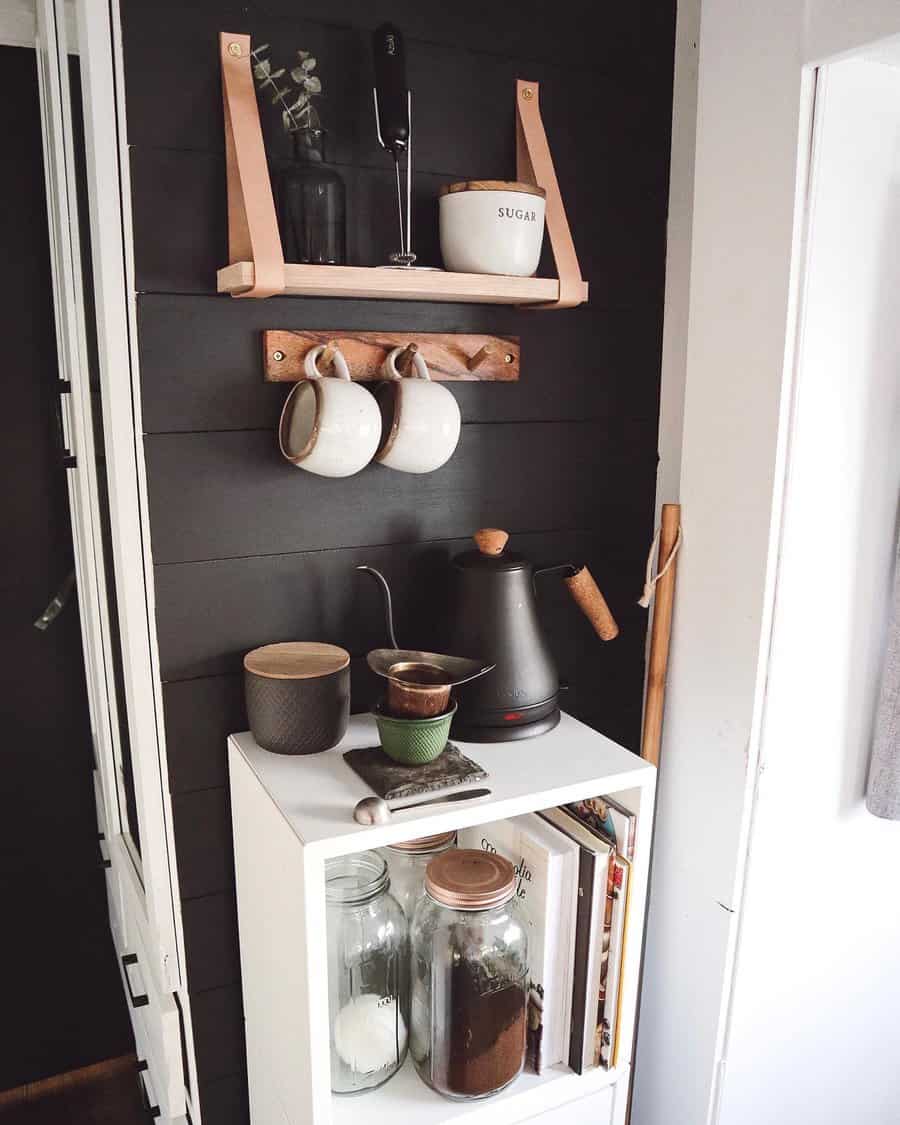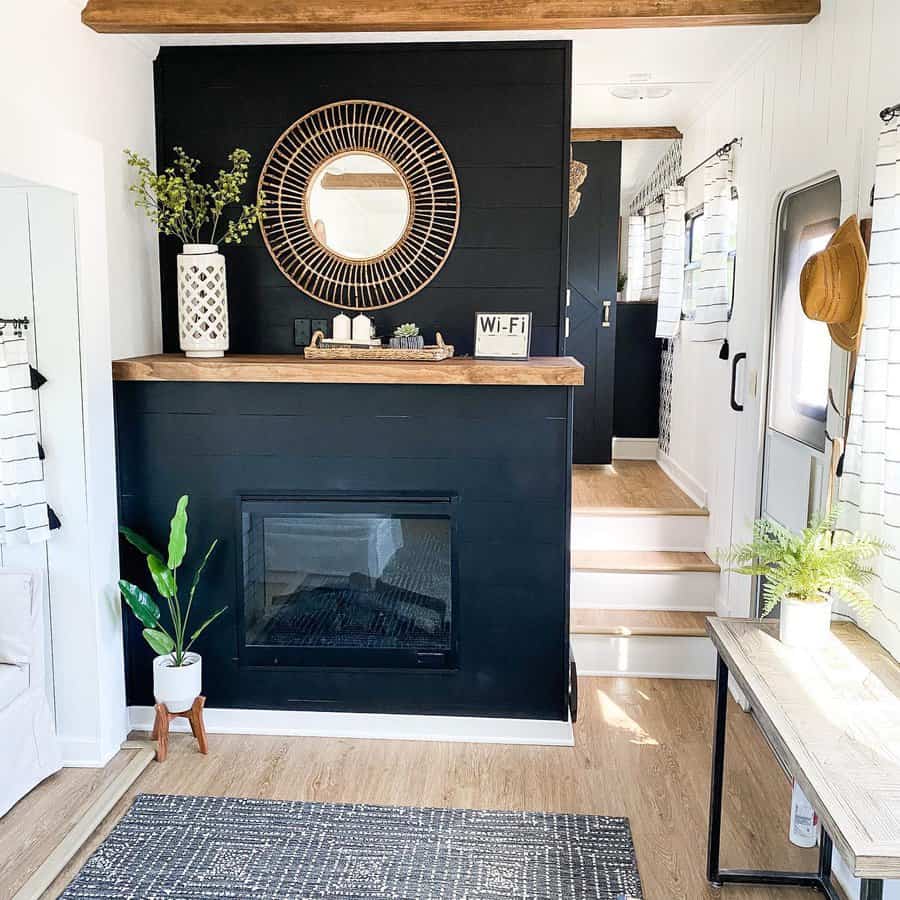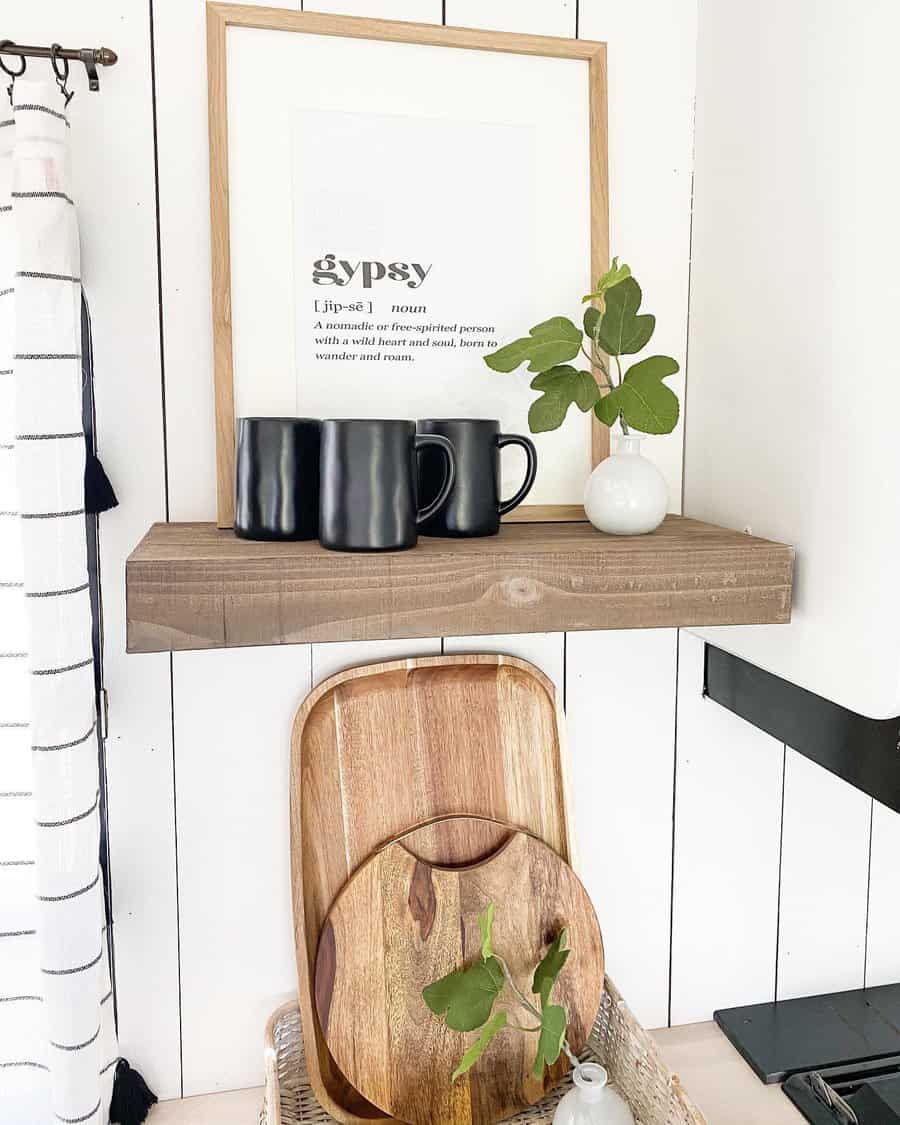 While light colors will make your camper feel big and bright, you shouldn't be afraid to use black. Black accents will only amplify the airy feel of white walls and furniture.
With a stripped-down palette like this one, finishes are nearly as important as the colors themselves. Matte black offers a much more contemporary appearance than one with a satin or gloss finish. Applying matte paint to an interior RV wall can also create the illusion of a bigger space.
4. Boho
Life on the road often goes hand in hand with the Bohemian aesthetic. Even if RVer isn't your full-time occupation, you can still decorate your van's interior like it is.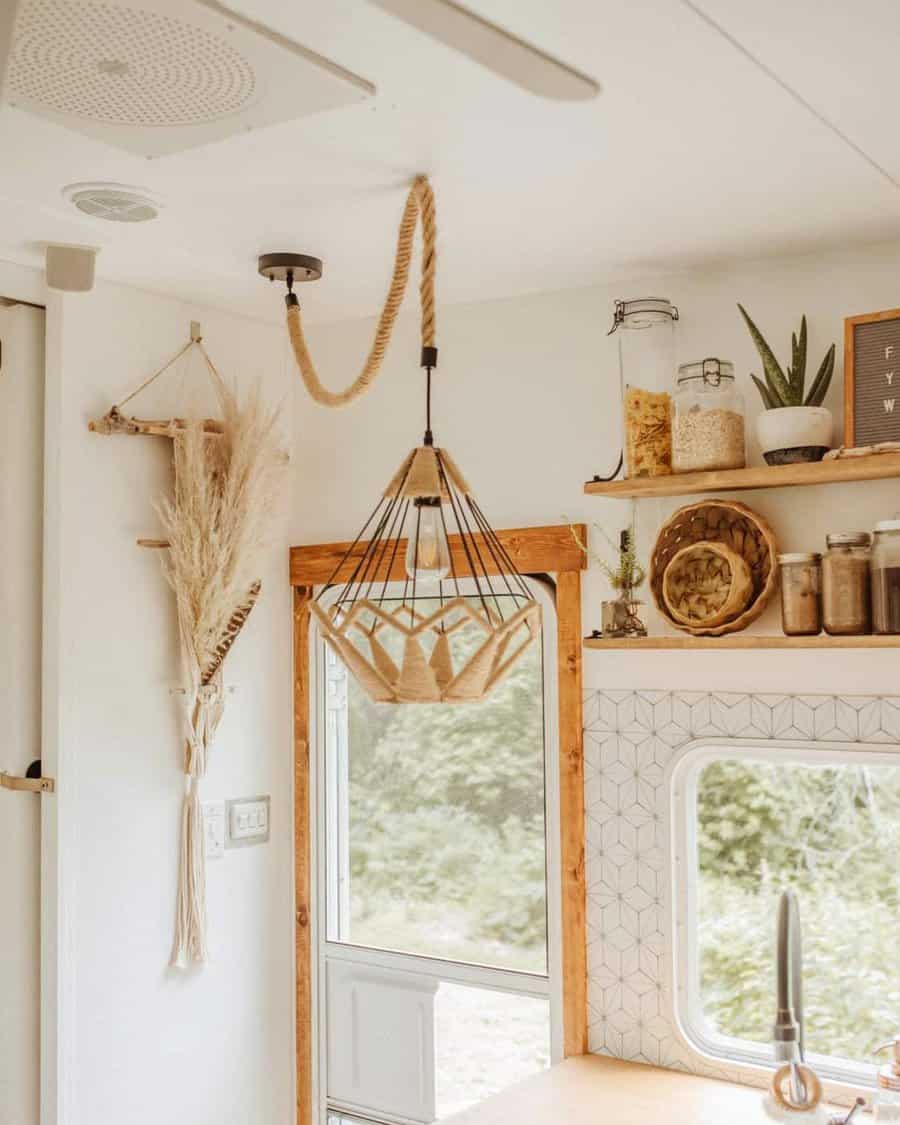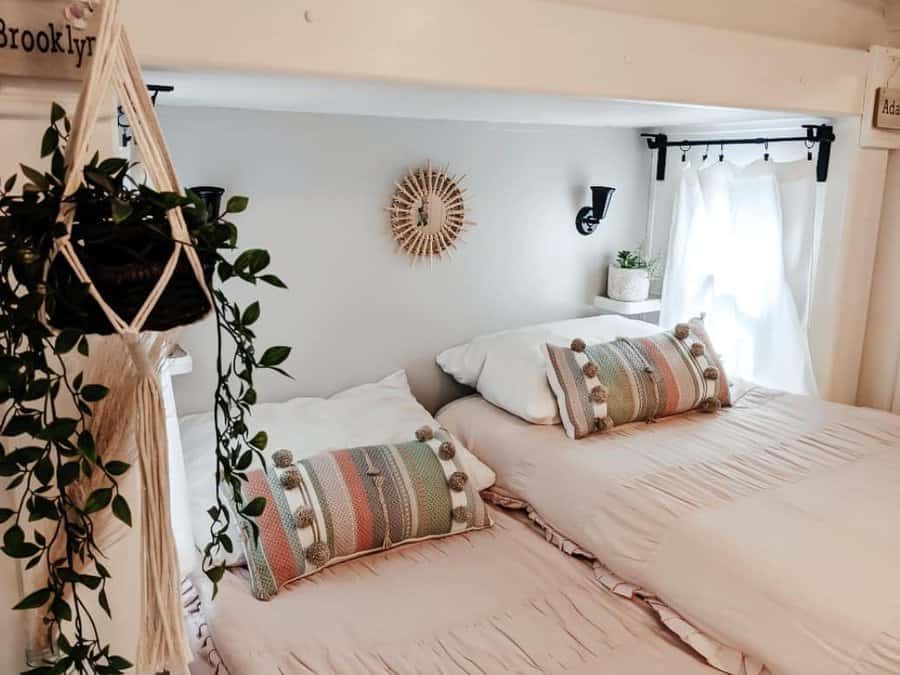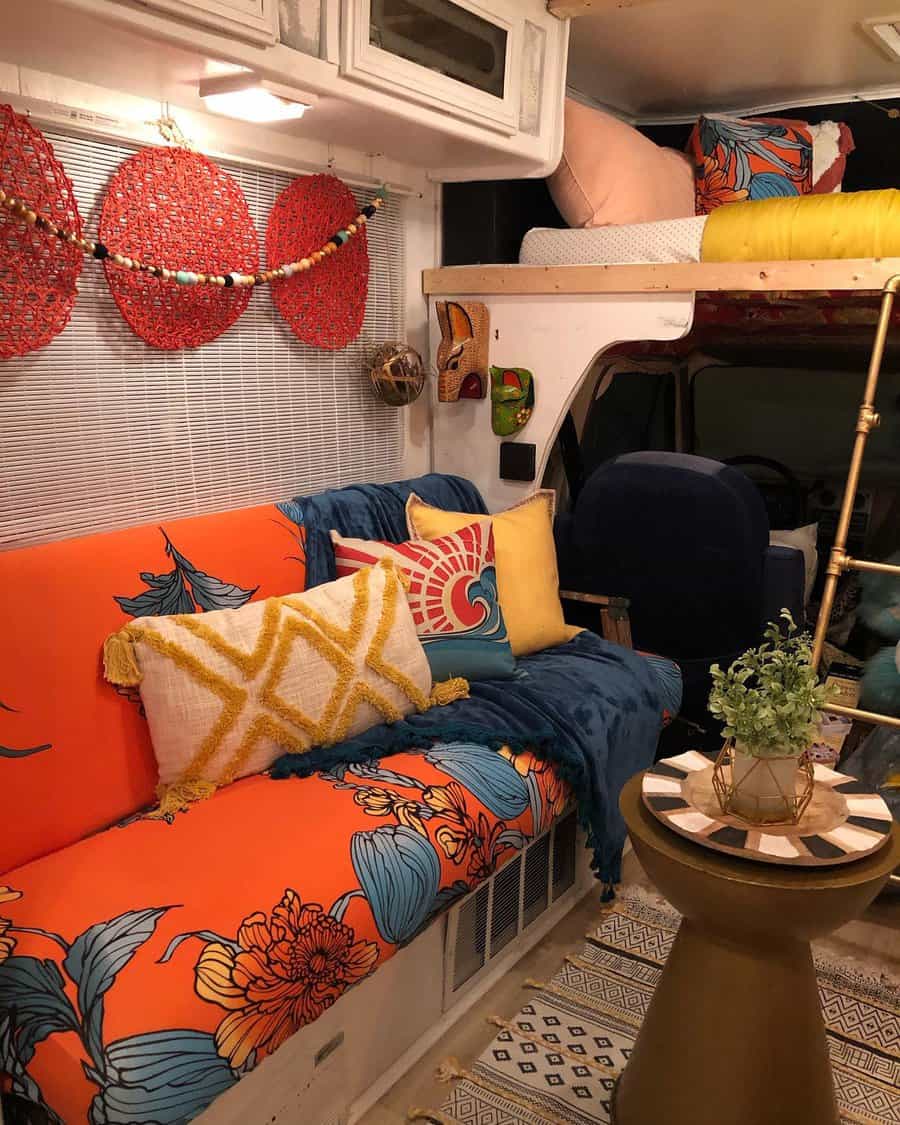 The ideal palette consists of white paired with earthy tones. Your decor should include a range of creams, tans, and browns, plus other natural shades like rust red or forest green. Texture is also important. Choose from organic materials like wood, leather, living plants, and pottery.
Don't leave your camper walls bare. Fill up the vertical space with macrame art, woven window curtains, tapestries, and other fabric wall coverings.
5. Bright and Airy
One of the biggest challenges in remodeling a travel trailer is the lack of space and natural light. You'll want to be conscious of these factors (and actively counter them) in the new design.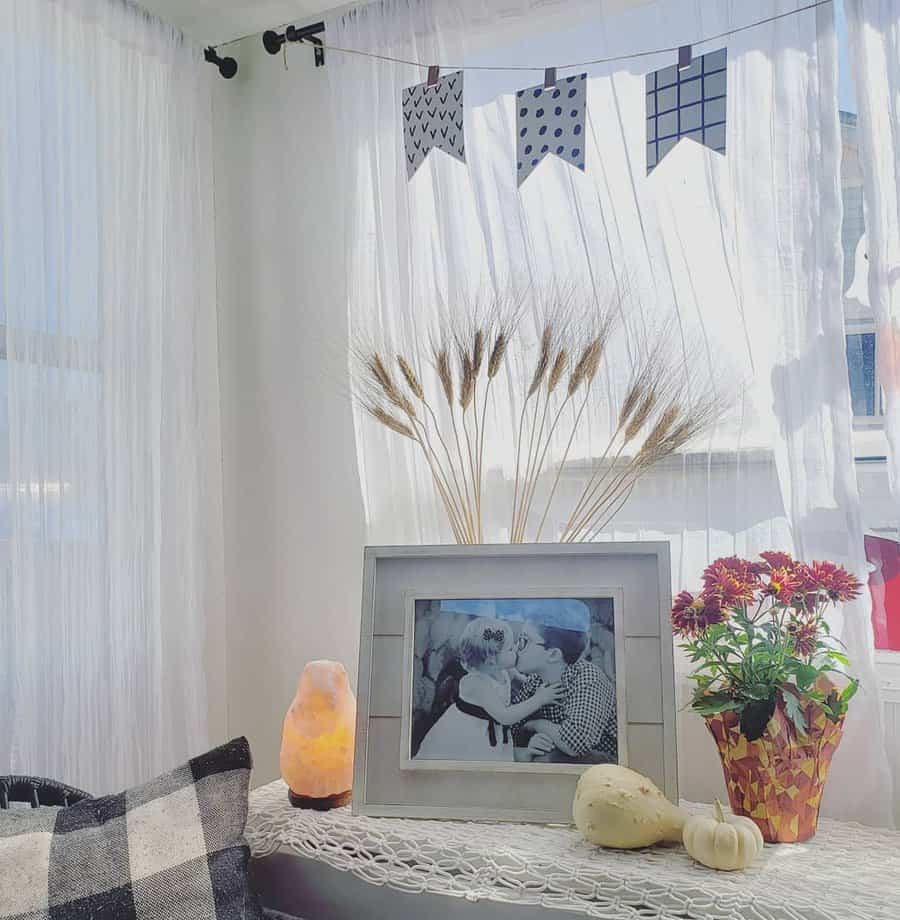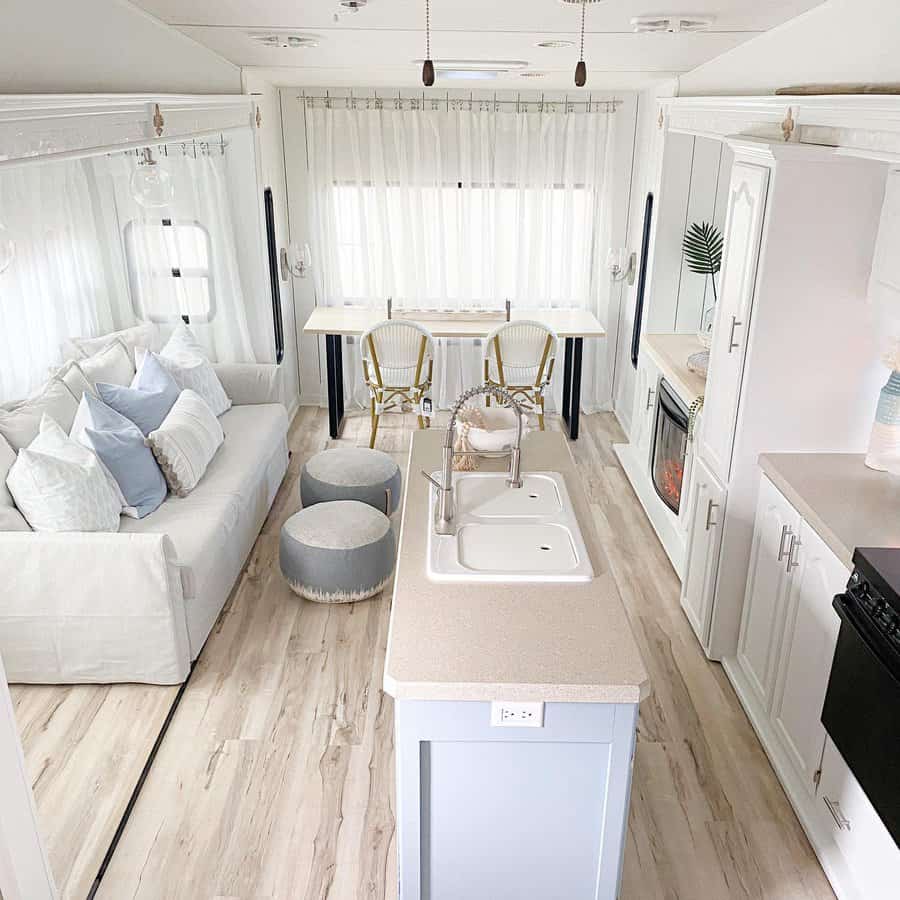 You might be tempted to keep your RV interior as plain as possible. To nail the bright and airy aesthetic, though, it's important to include some softness. Sheer curtains, plush throw pillows, and area rugs are a few ideas to try.
Adding warmth to your camper's interior design can have a huge impact on the overall atmosphere. Sunflower yellow, leaf green, and robin blue are all wonderful accent colors that will breathe some life into your RV decor. Light-colored wood is another great option.
6. Dining Area
The RV dinette is one of the most functional places in the entire vehicle. Not only is it a hub for mealtimes but it can easily double as a home office, work table, or extra kitchen counter space. It's important to have a plan for your dining area before investing in decor.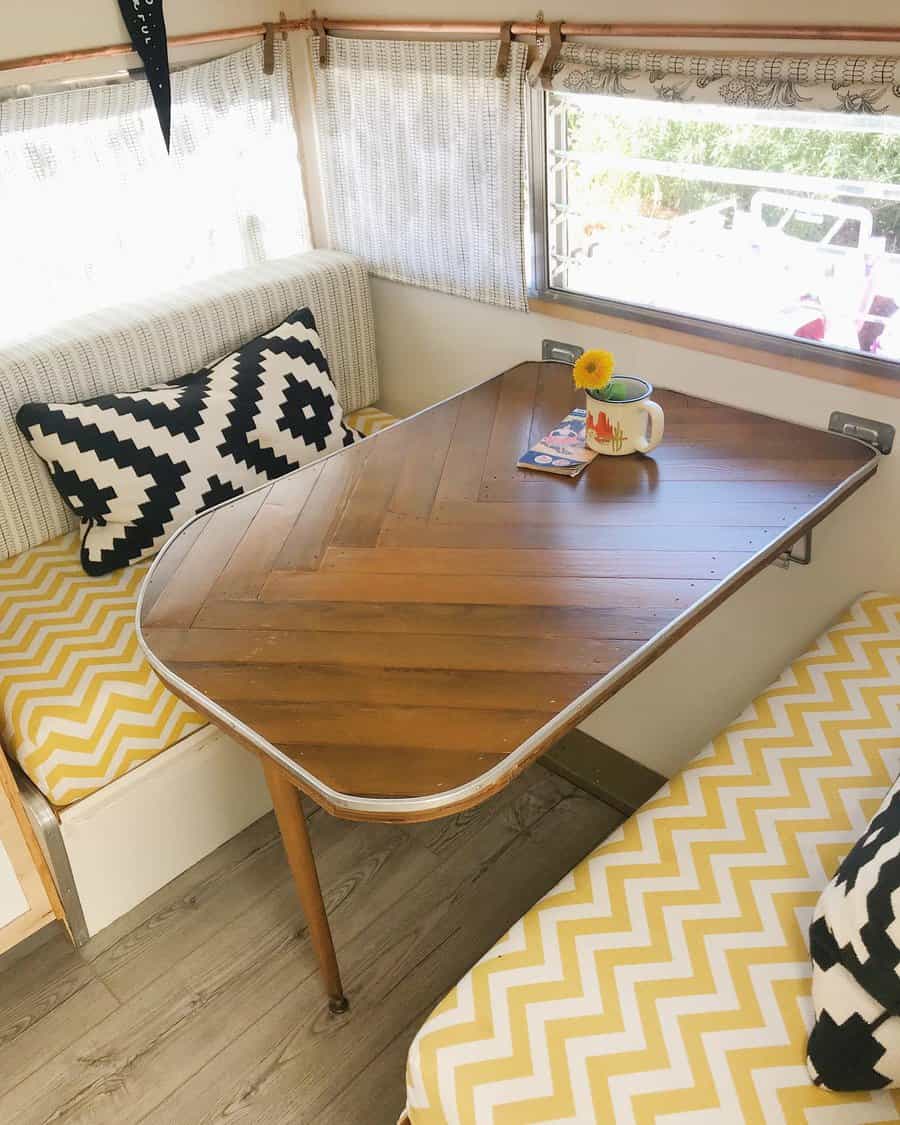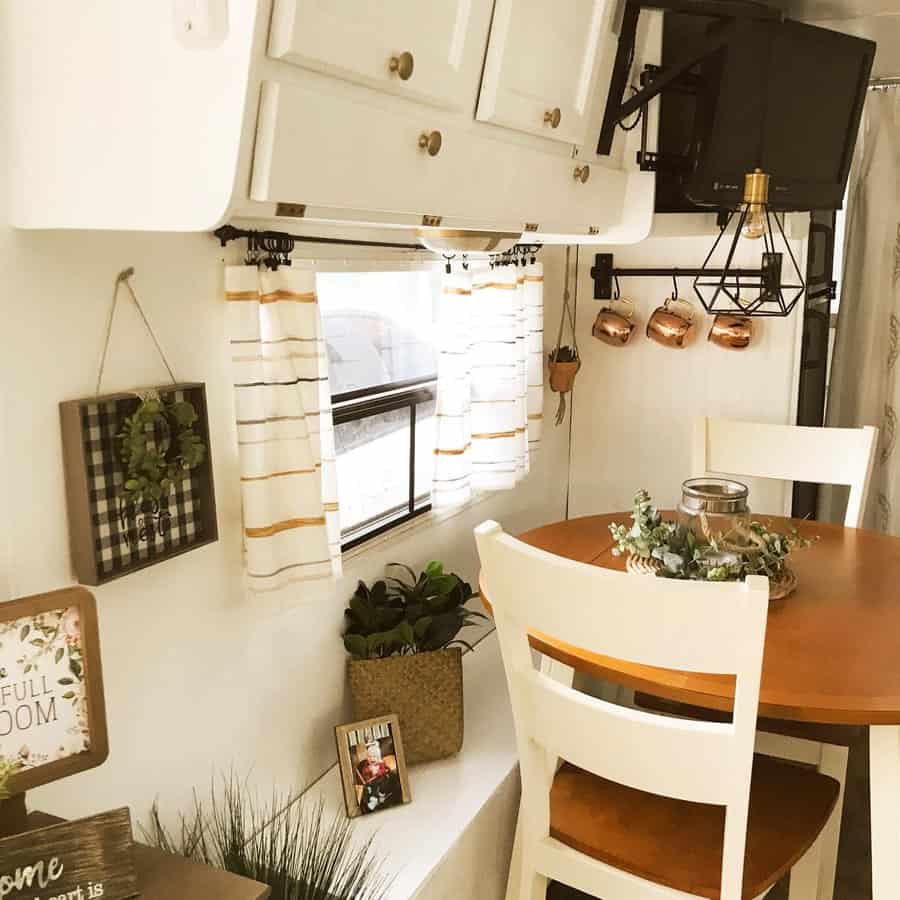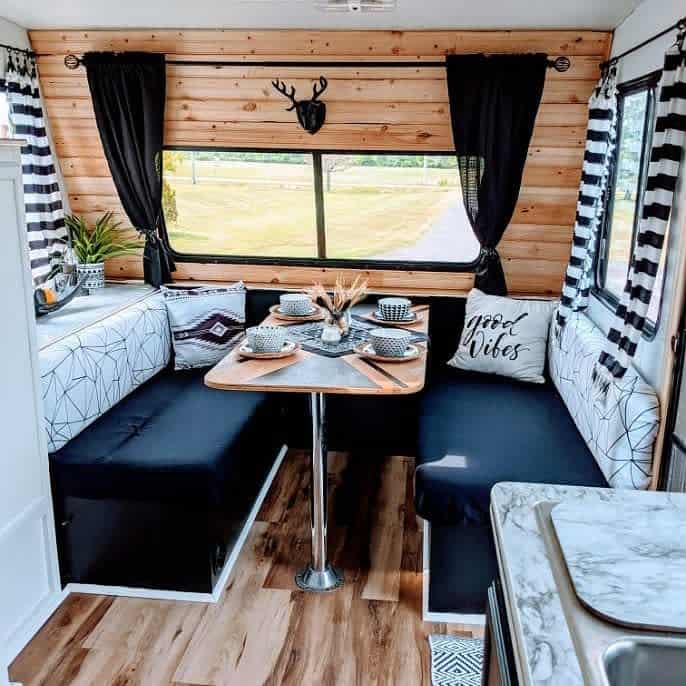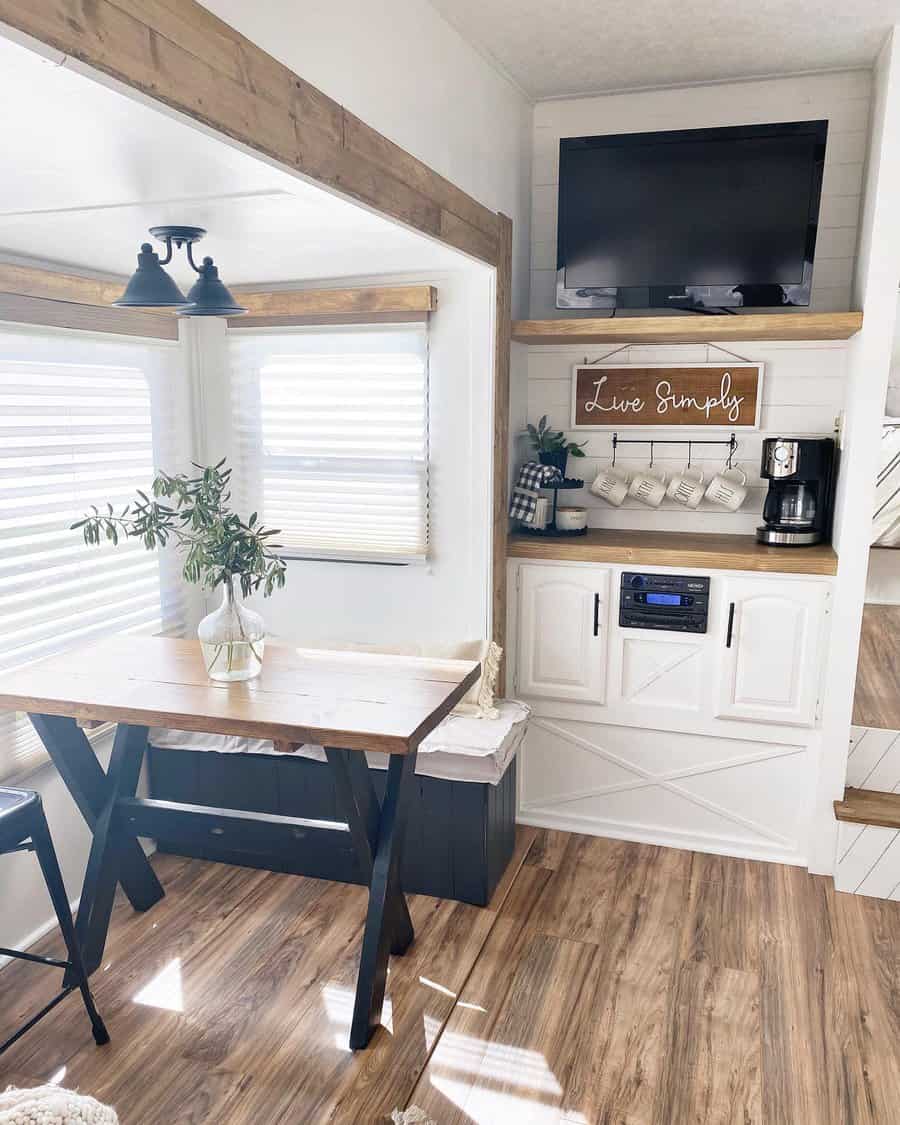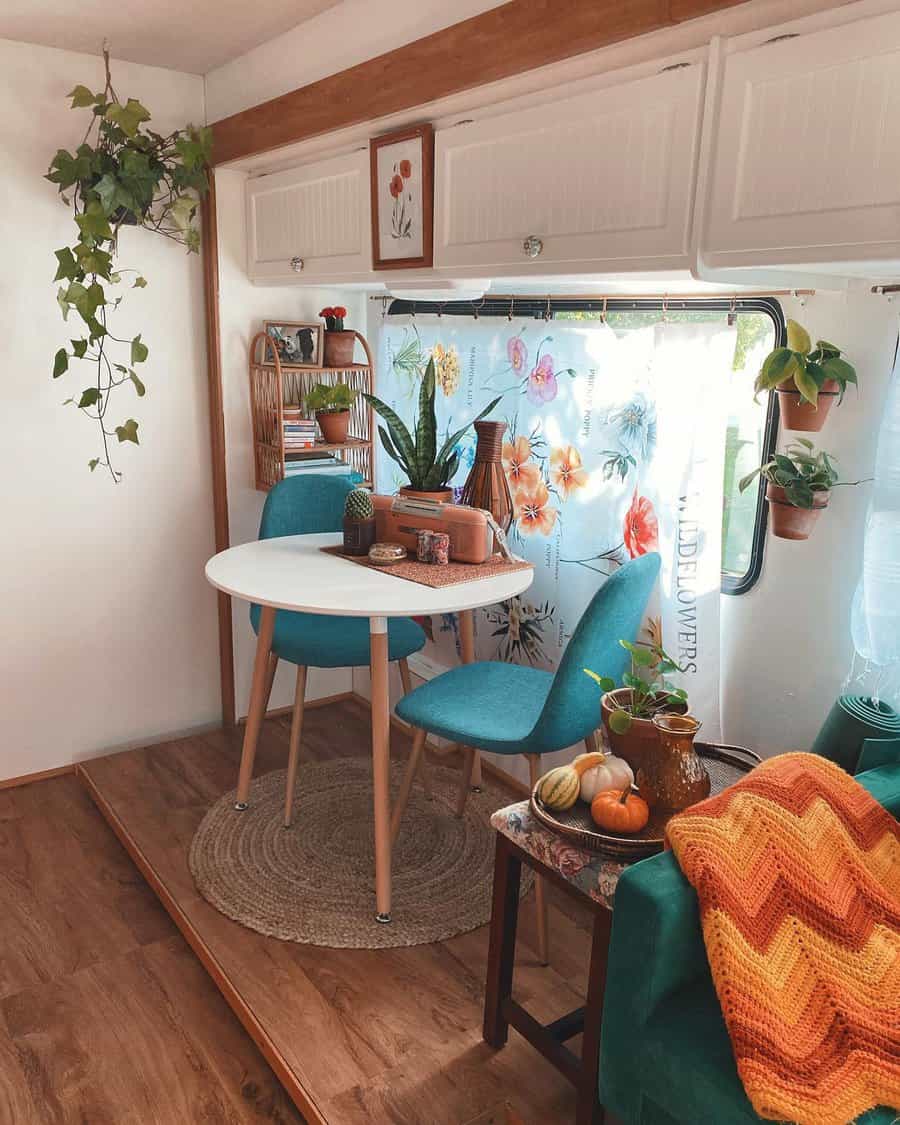 Whether opting for a traditional booth or individual chairs, stability and durability should be top priorities. If you want to maximize floor space during your RV makeover, folding dining furniture is a great option.
Once the necessities are accounted for, you can add personality with wall art, potted plants, and statement lighting.
7. Kitchenette
A full-size kitchen is unheard of in even the largest recreational vehicle. But you can do a lot with a kitchenette by prioritizing storage and multi-purpose elements.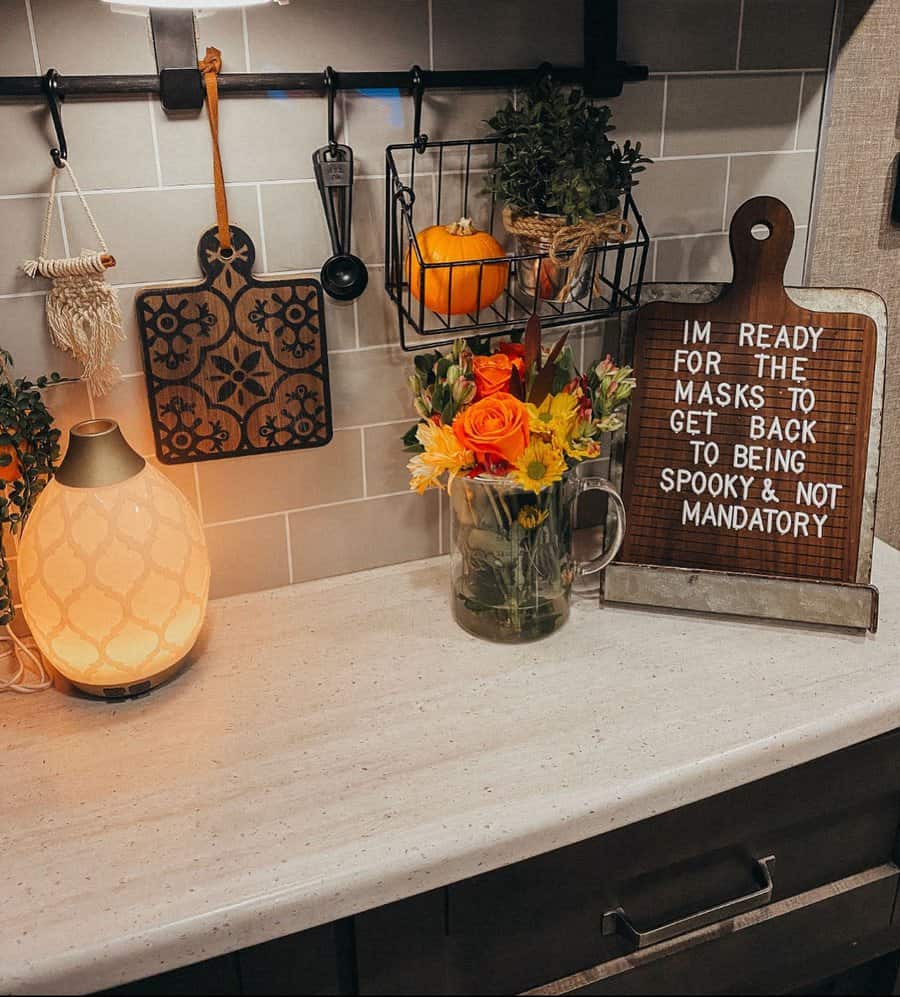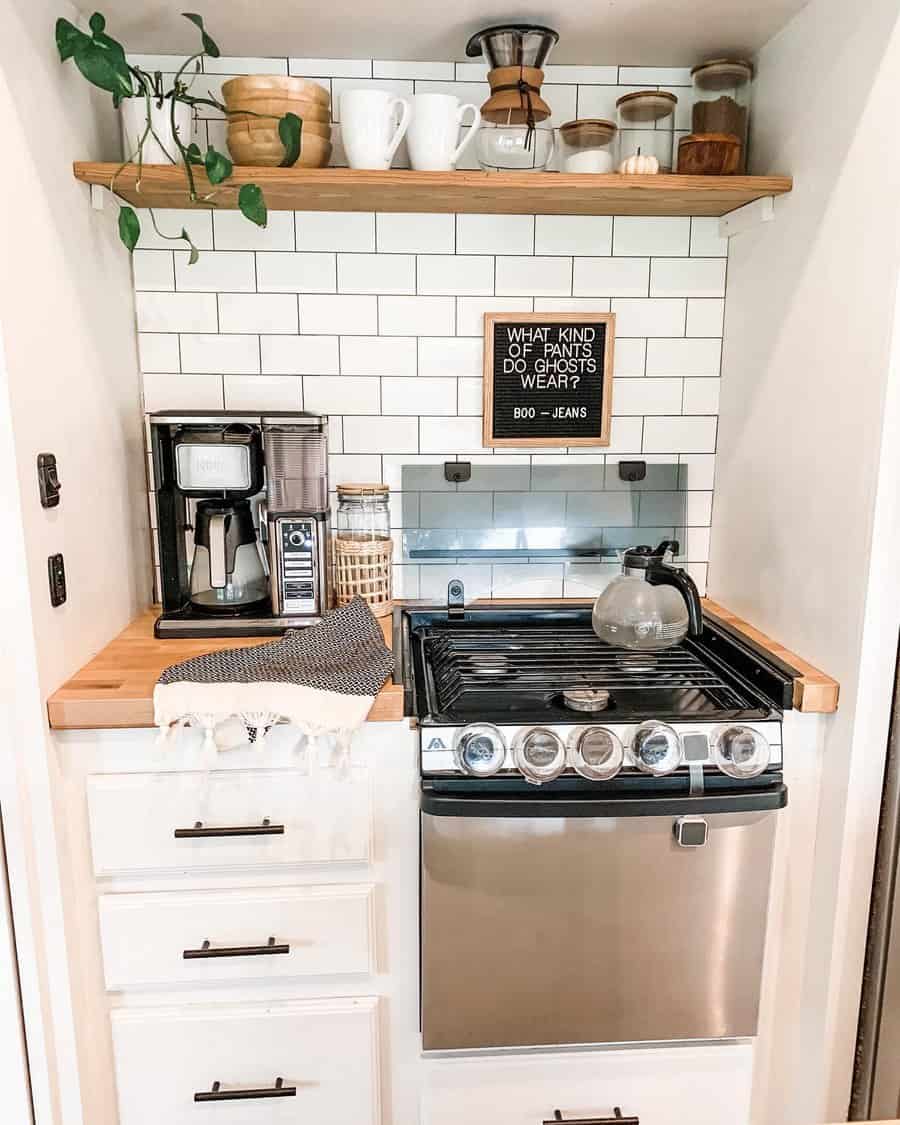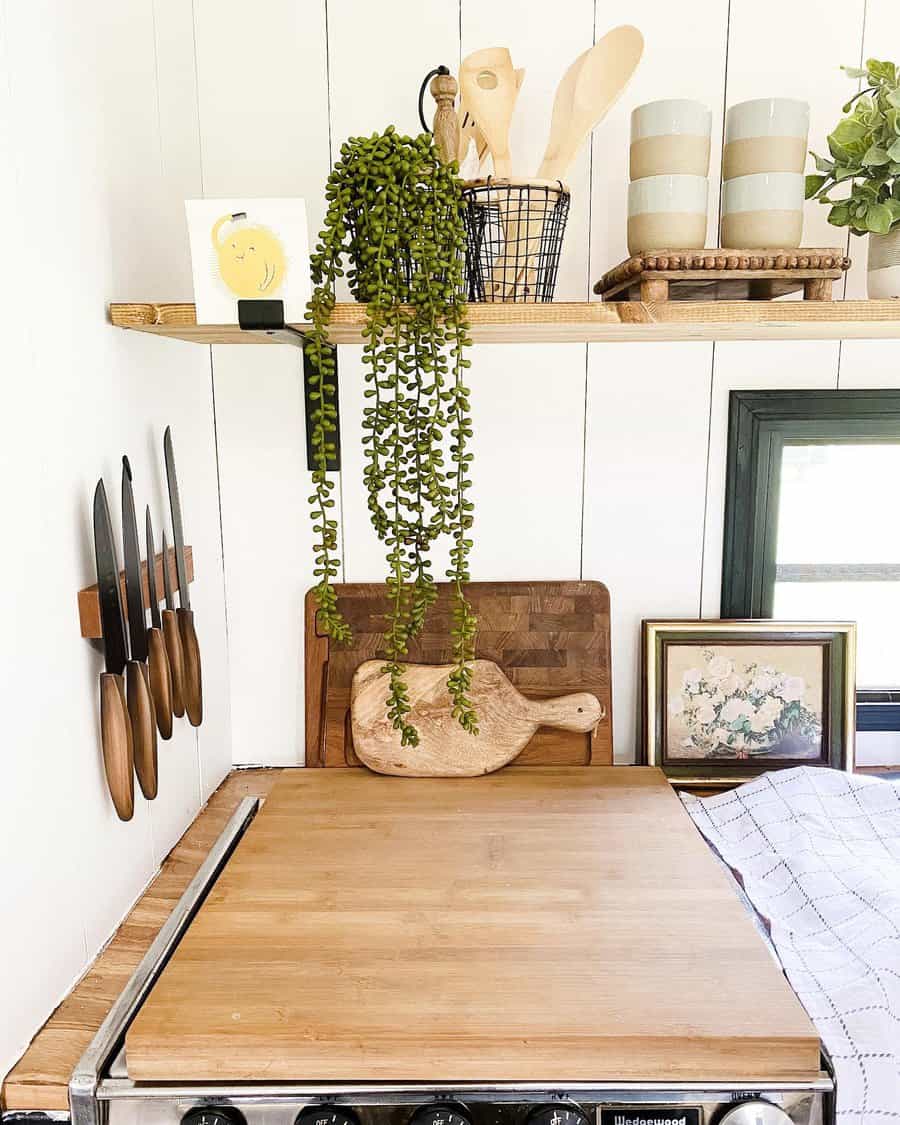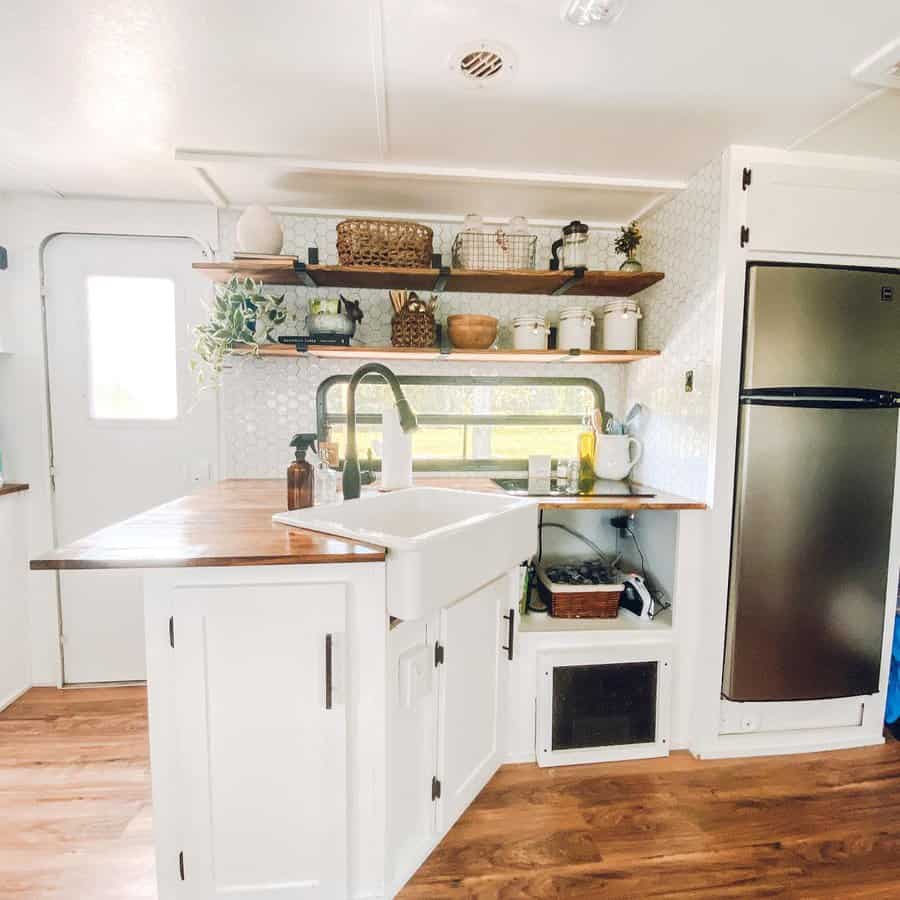 While cabinets are the most secure storage option when on the road, don't hesitate to install additional hanging storage for better organization in your RV kitchen. Wall-mounted baskets and hooks are incredibly versatile alternatives to normal shelving.
Fill your kitchen space with low-profile decor. You can also incorporate your personal style by swapping out existing fixtures like overhead lighting, plumbing, and appliances with more aesthetically pleasing versions.
8. Living Area
Few campers feature a designated family room. When you're camping, the great outdoors is your living room! Yet there are many times when having a proper living space is invaluable — such as long road trips or full-time RV living.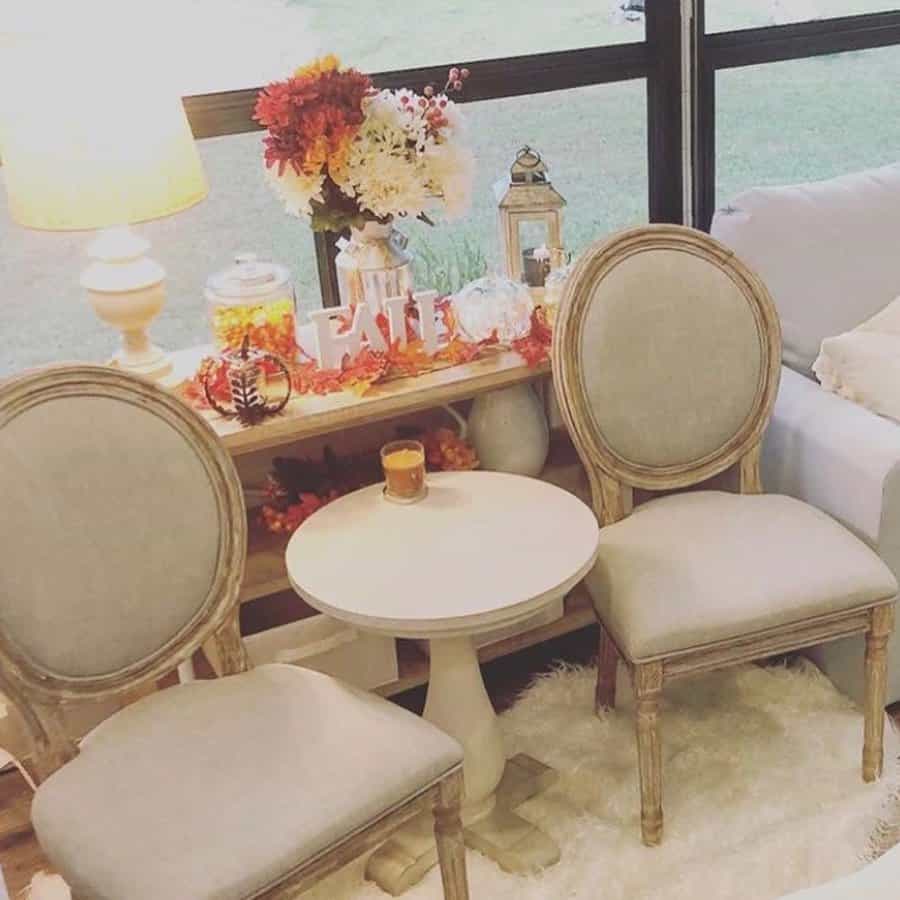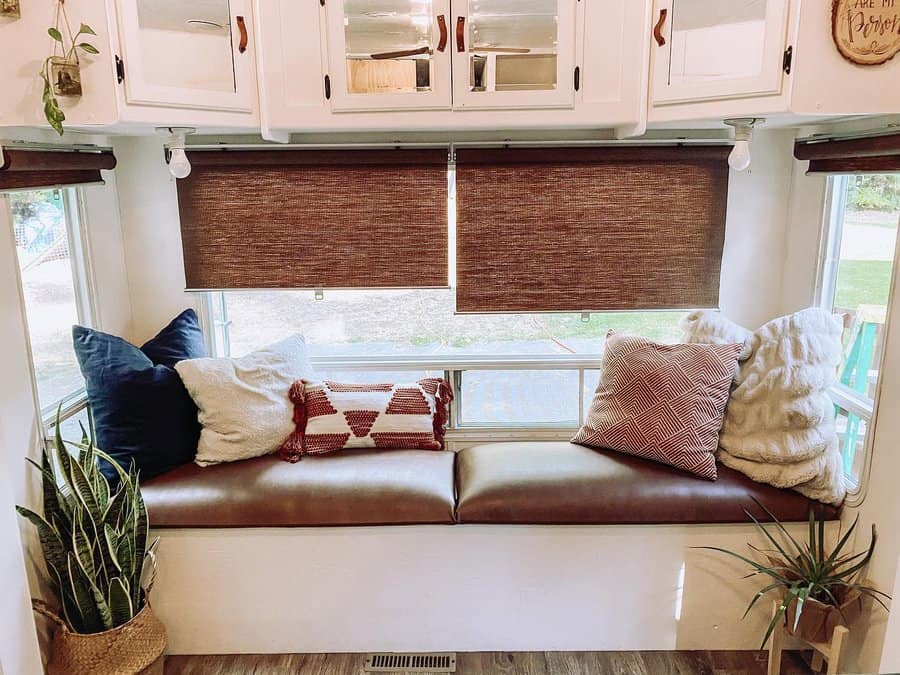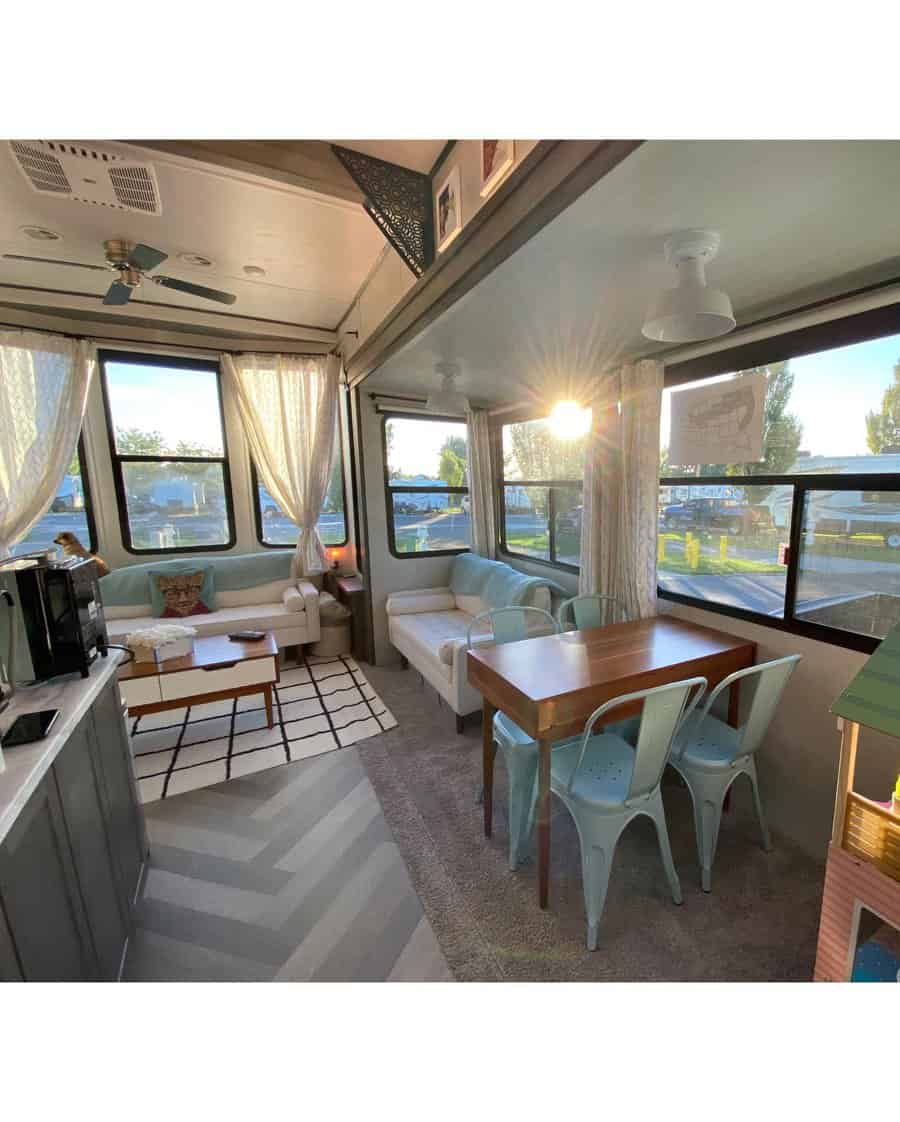 Realistically, your travel trailer or RV probably doesn't have enough room for a separate living room. This is why it's so important to design a space that serves multiple purposes.
Making a few tweaks to your dining or bedroom furniture will let you transition the space to daytime lounging. Details like throw pillow covers or a convertible coffee table will be the finishing touches.
9. Modern
Modern architecture is famous for its clean lines and overall simplicity. You can't do much about the structural shape of the average motorhome. So modern RV renovation is all about using sleek finishes from start to finish.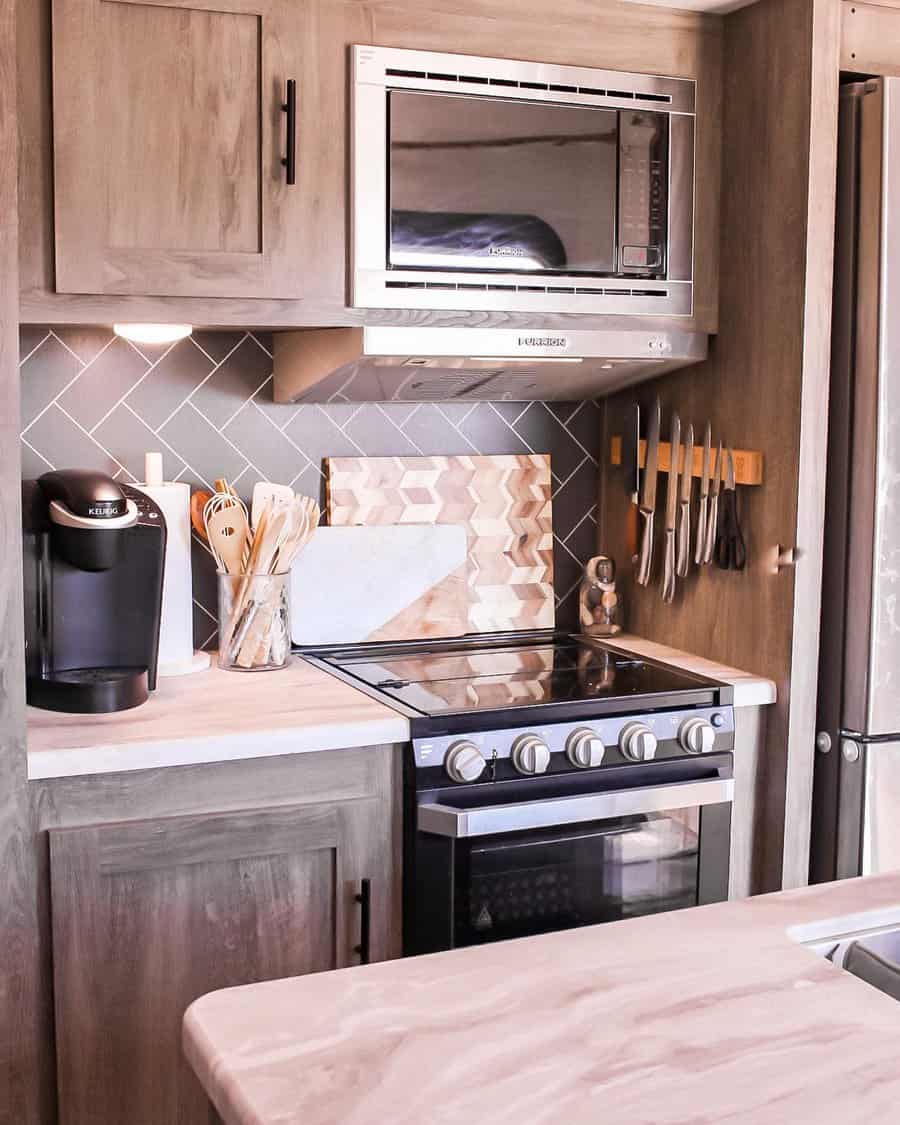 The easiest way to transform your RV's interior is with a coat of paint or a layer of wallpaper. Protect the kitchen and bathroom with coordinating backsplash tiles. Don't stop at the walls — your camper doors, cabinets, and trim deserve a little love, too.
Furniture should be as basic as possible. Rather than cluttering up the space with lots of decor, focus on upgrading elements that are already there.
10. Neutral
Regardless of how much time you spend in your camper, there's nothing wrong with sticking to more basic RV decorating ideas. If you want to get creative with your travel trailer's design without overpowering the space, a neutral color palette is a great compromise.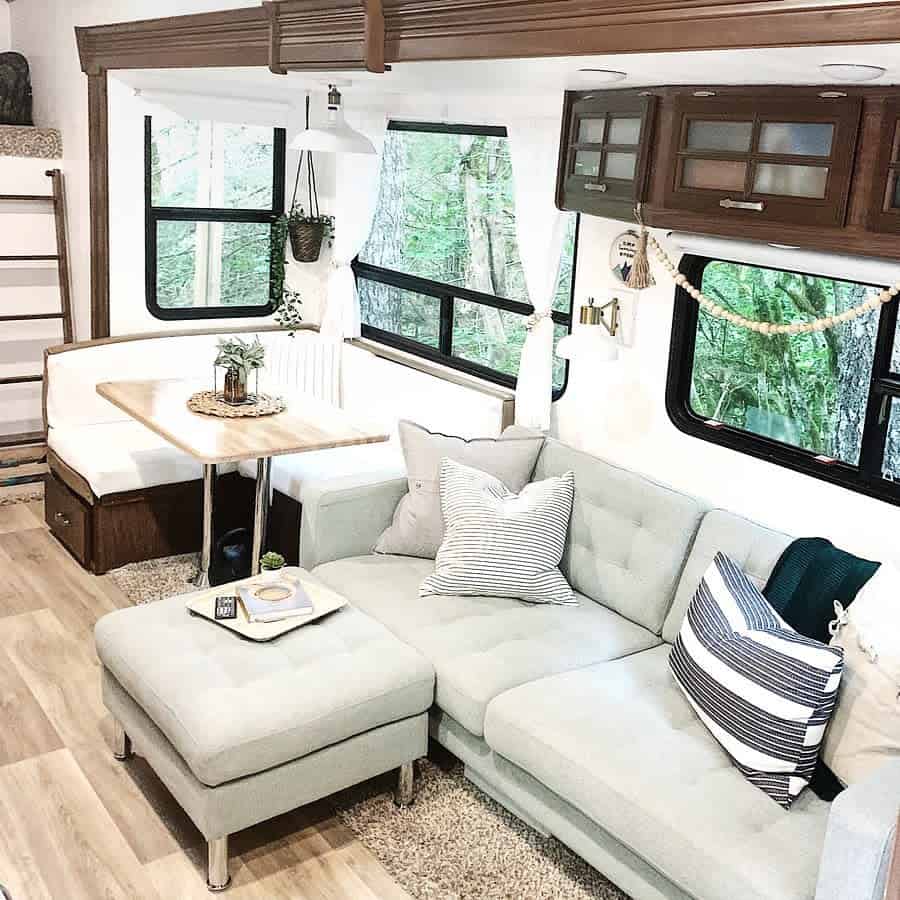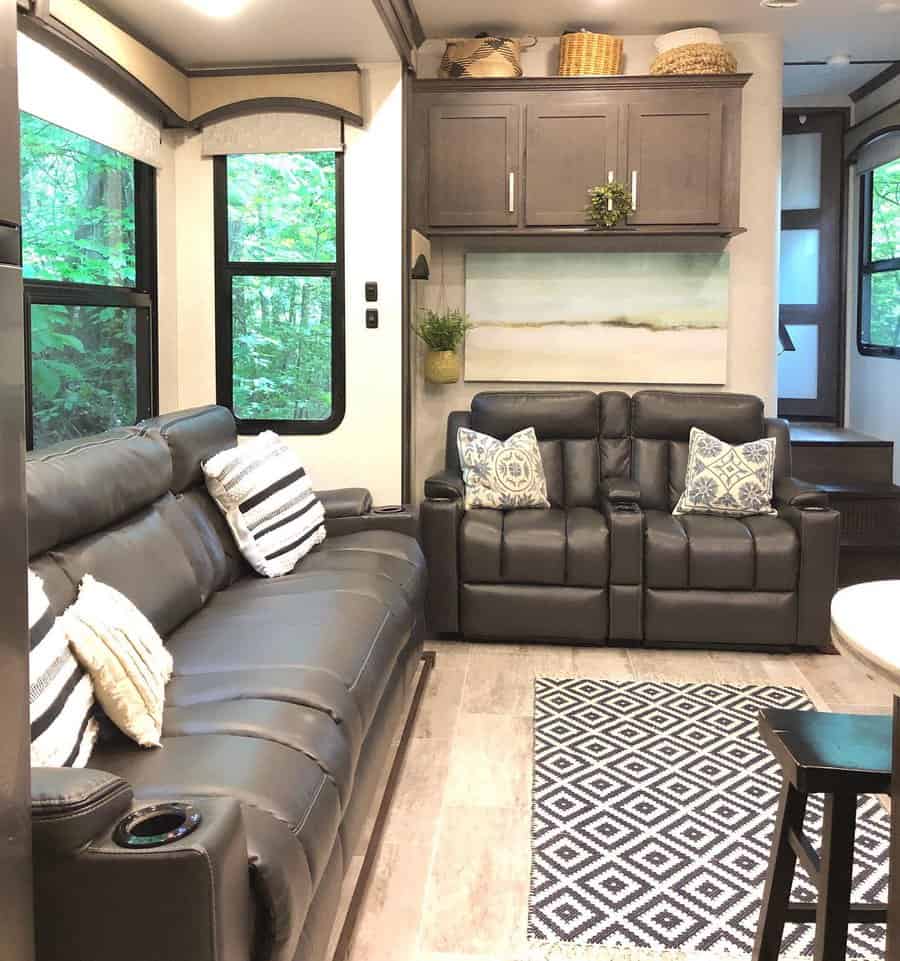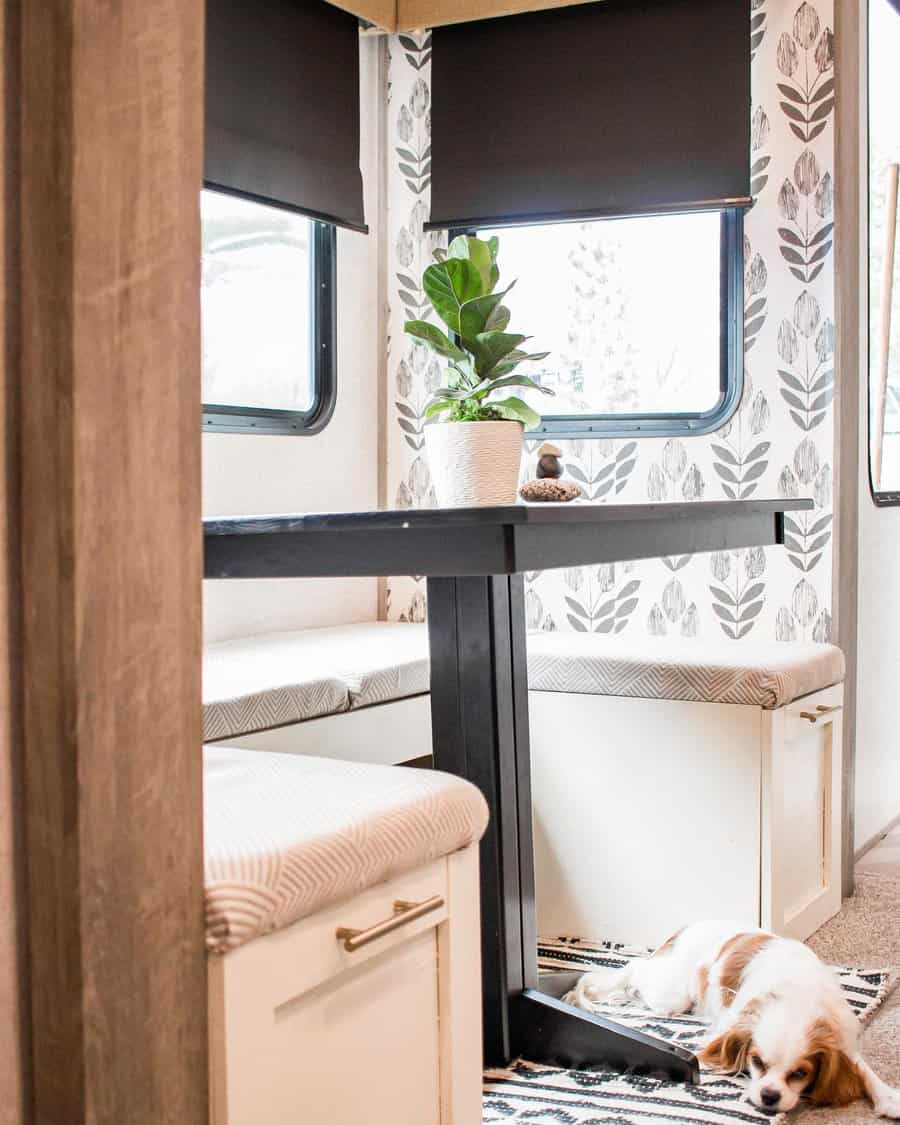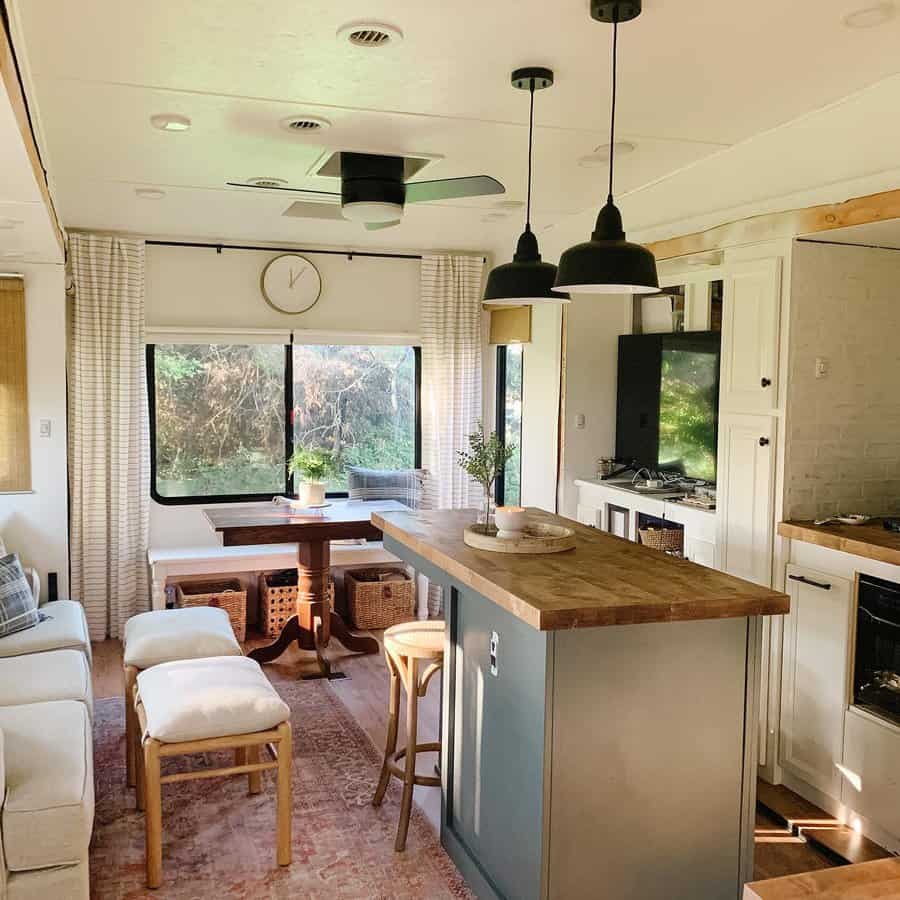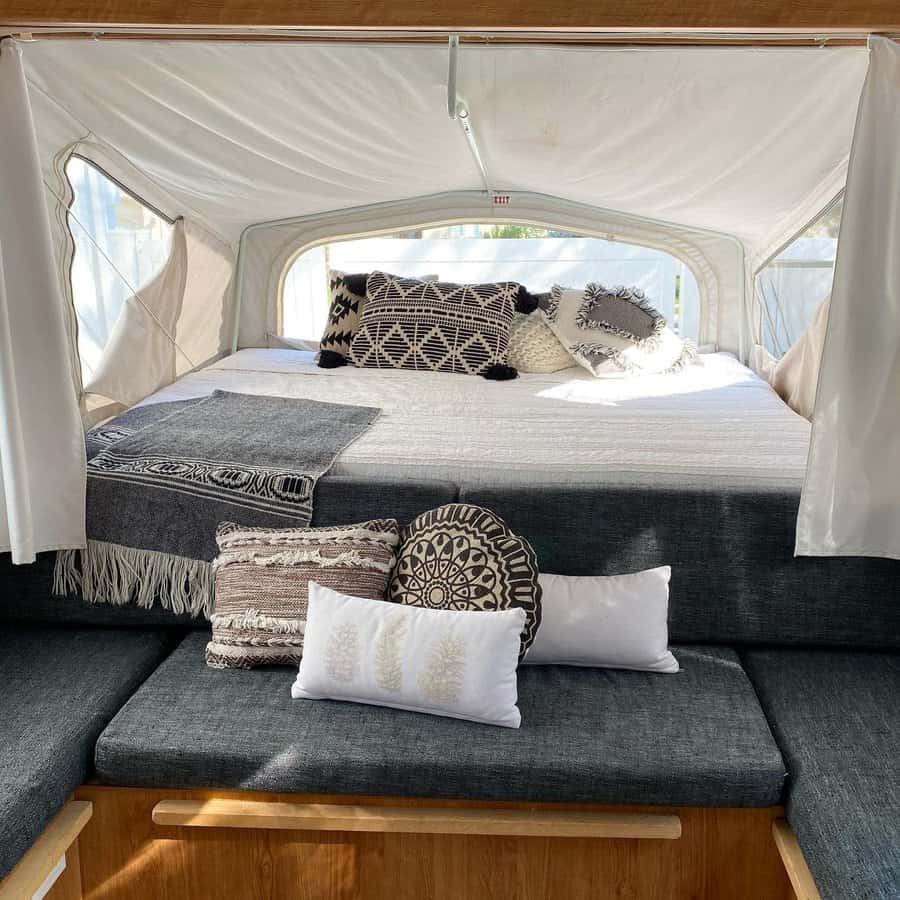 Of course, white and black are neutrals. But you also have a wide range of creams, browns, and greys to choose from. Don't hesitate to incorporate other muted shades in your design as accent colors.
As a general rule, you want to use exclusively warm or cool colors in a single space. This is especially important when working with neutrals. If a shade feels like it just isn't working, try playing around with the color temperature.
11. Rustic
Much of the joy of RV ownership is the ability to travel to all corners of the great outdoors. So why not decorate your travel trailer to reflect your favorite scenery?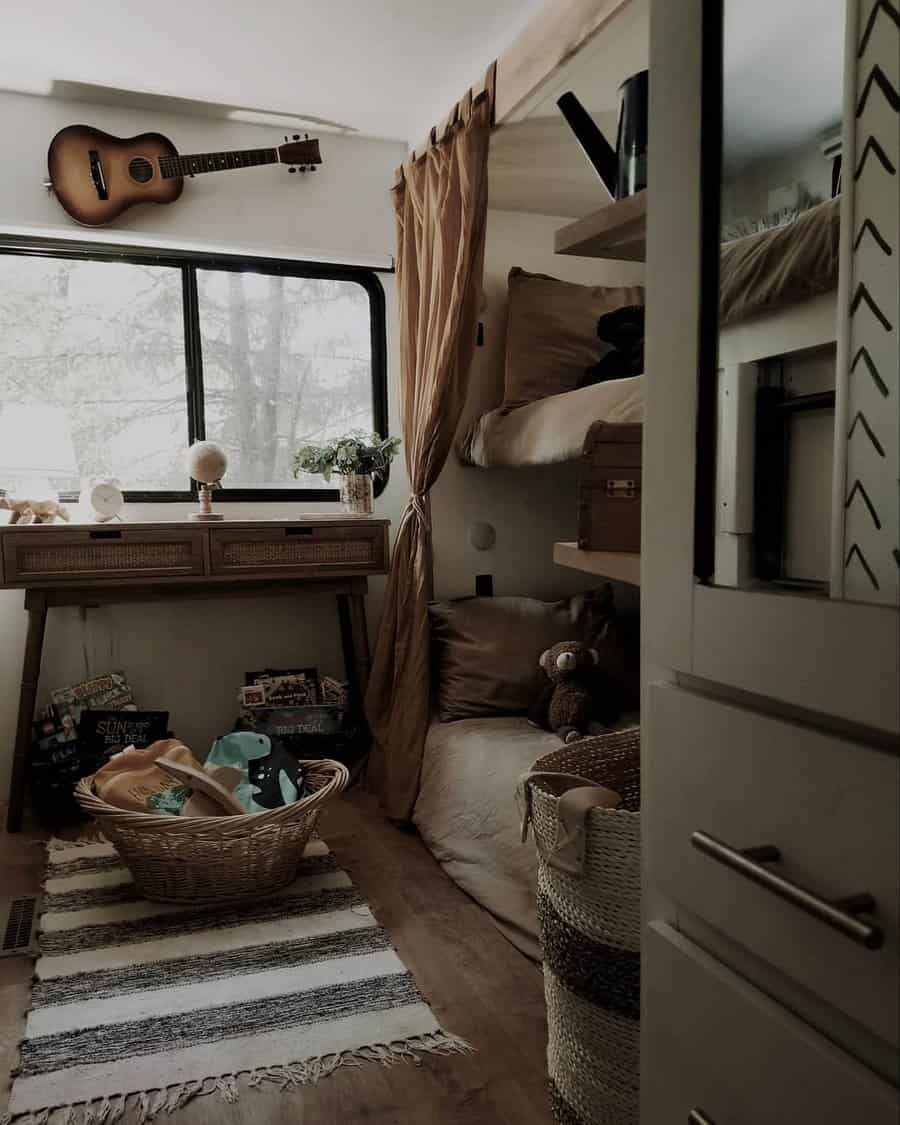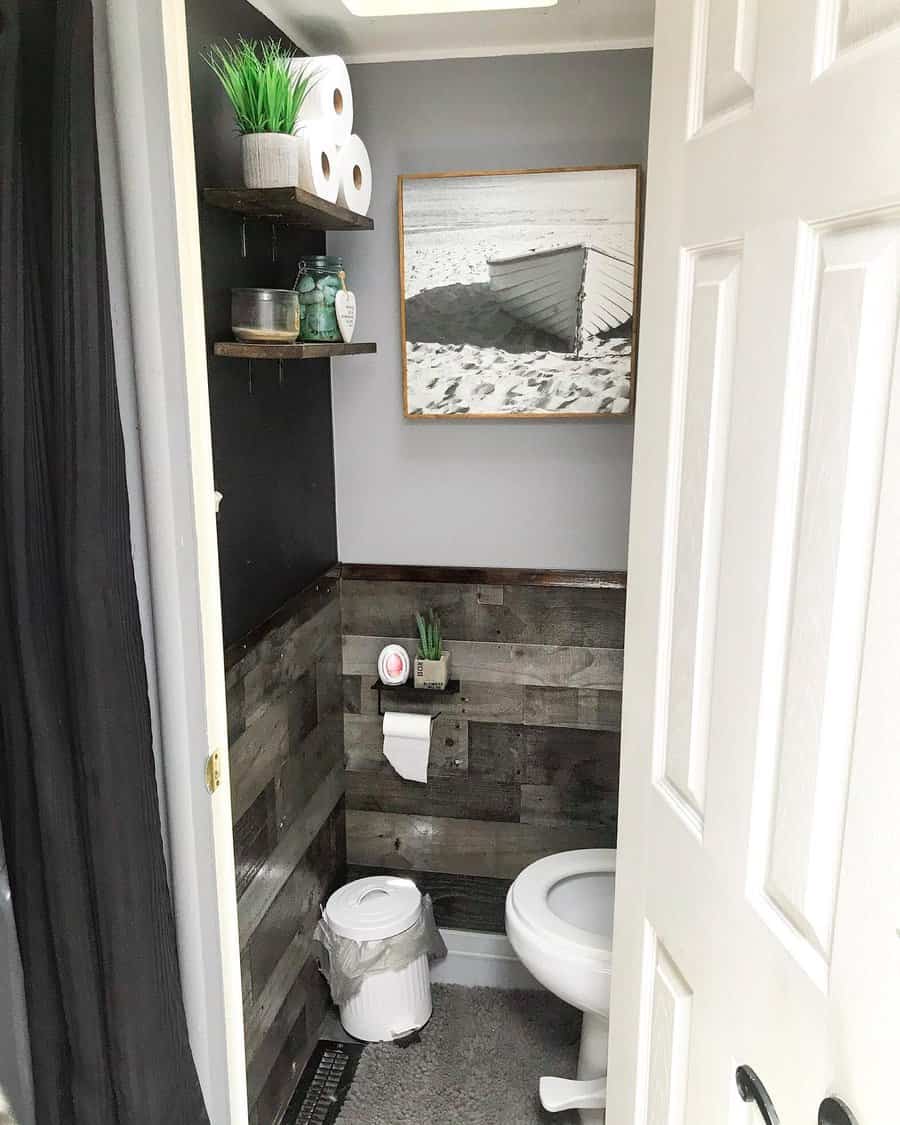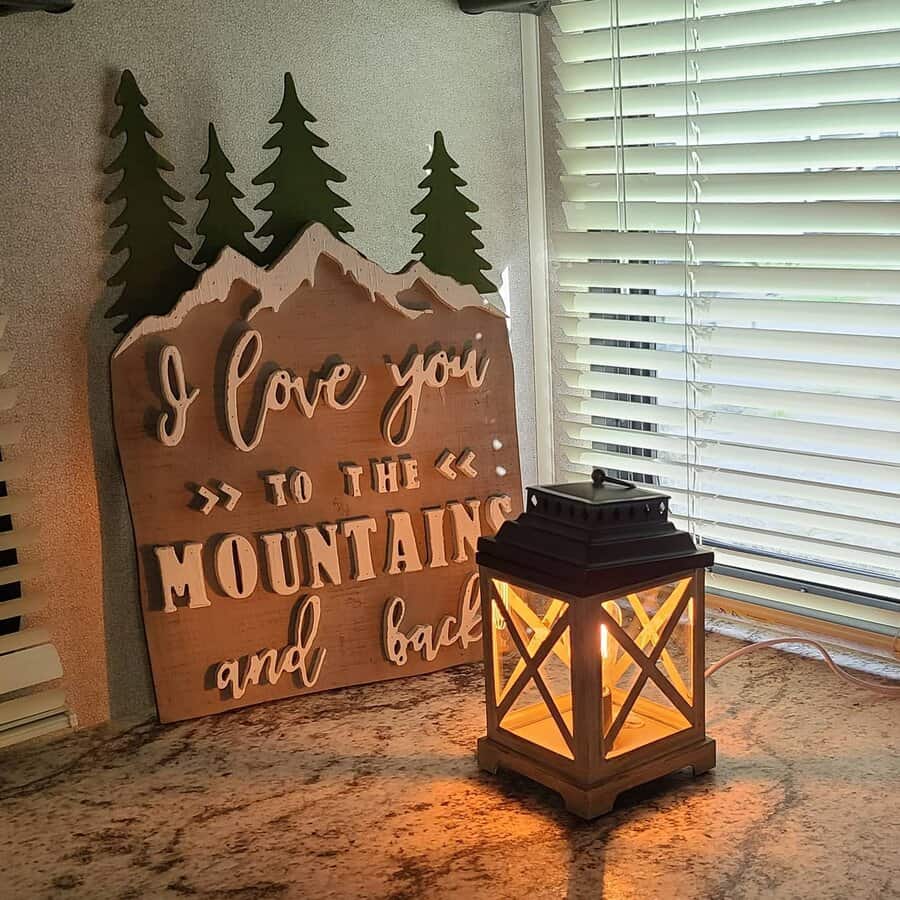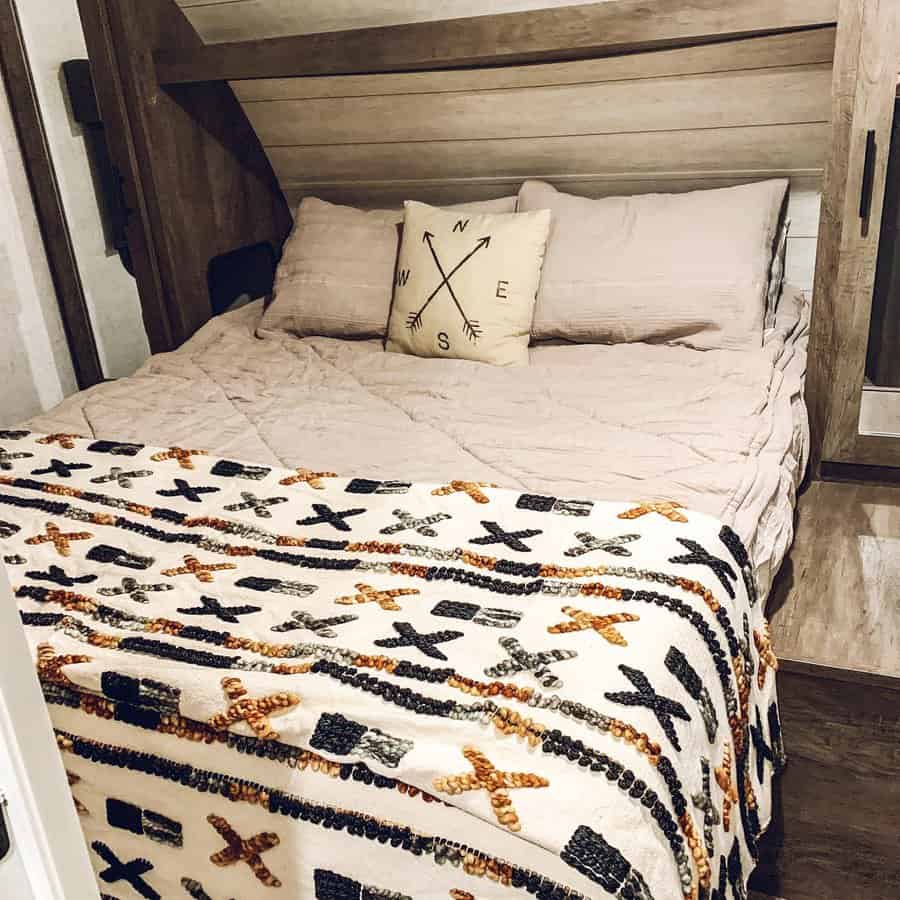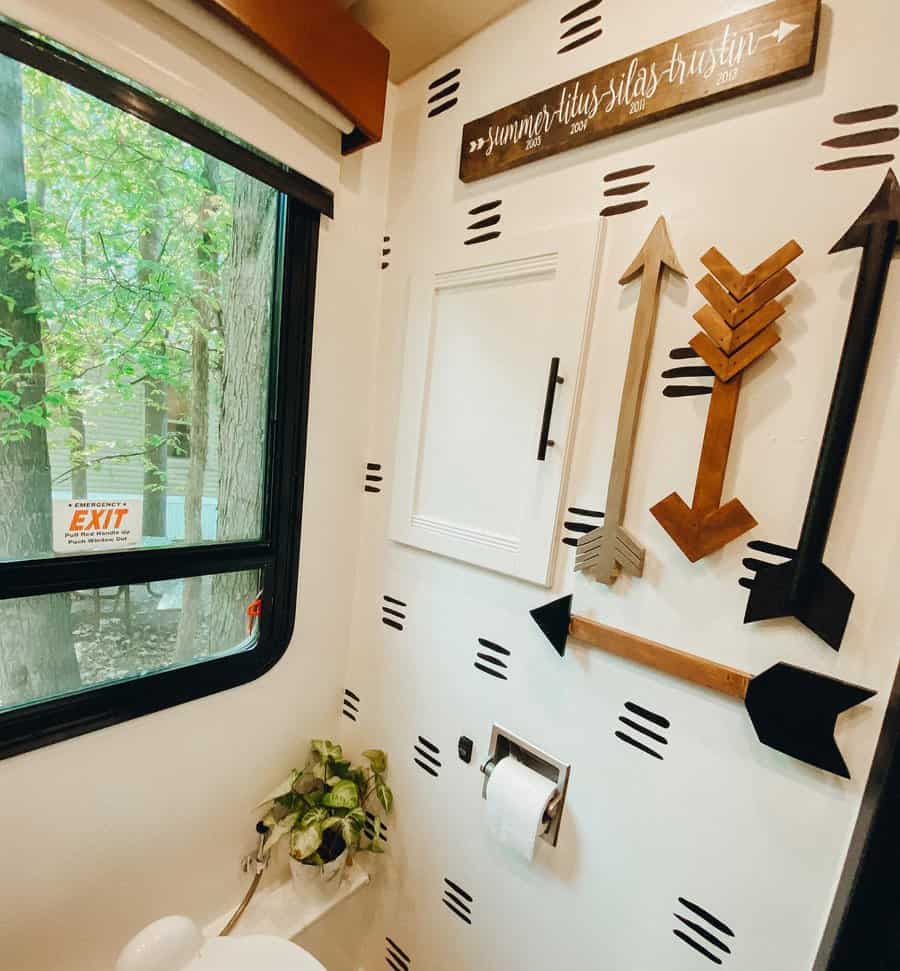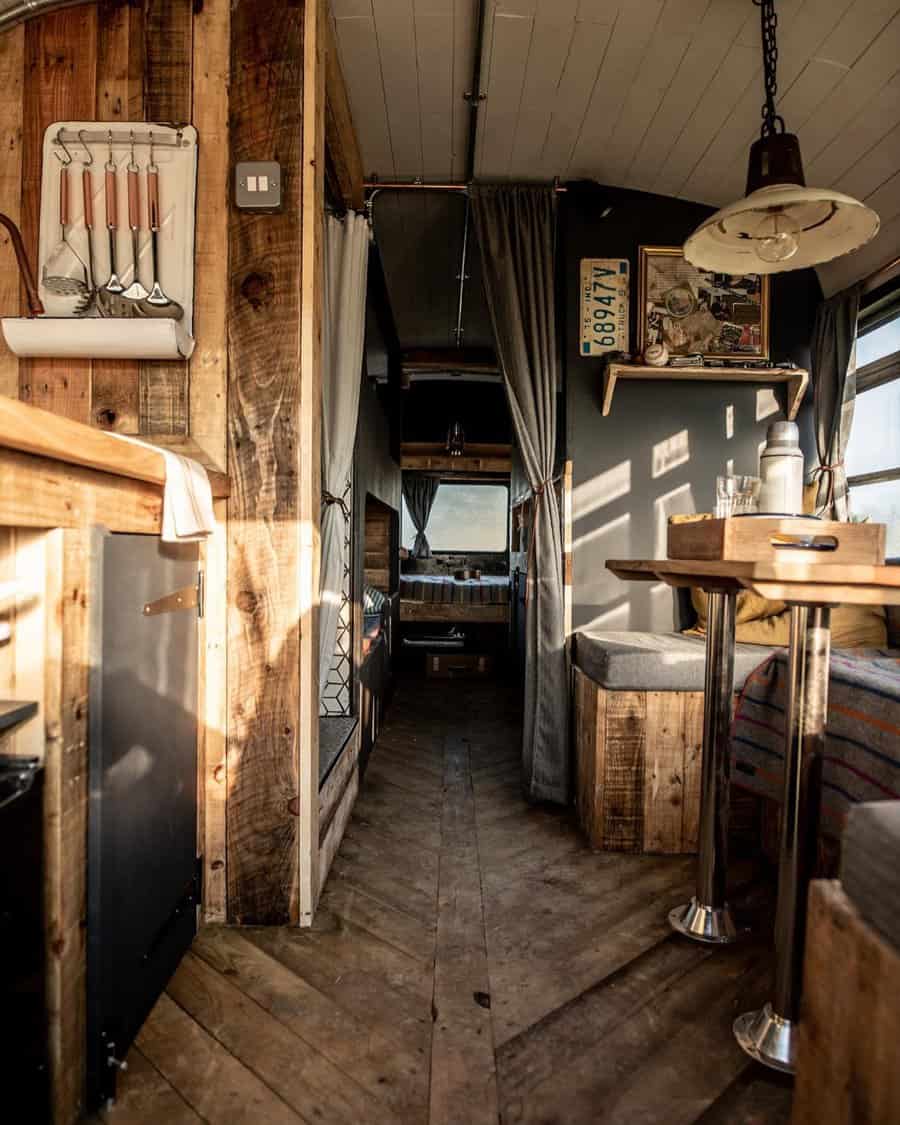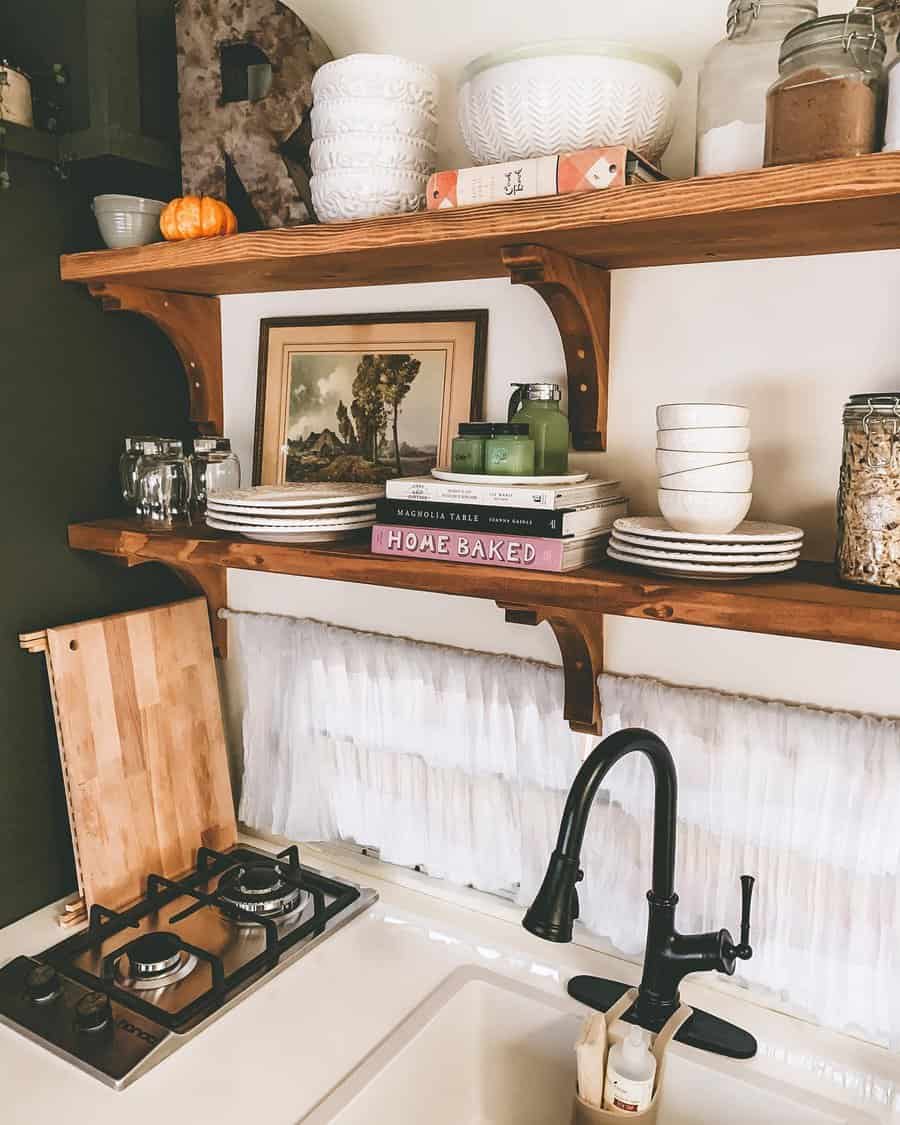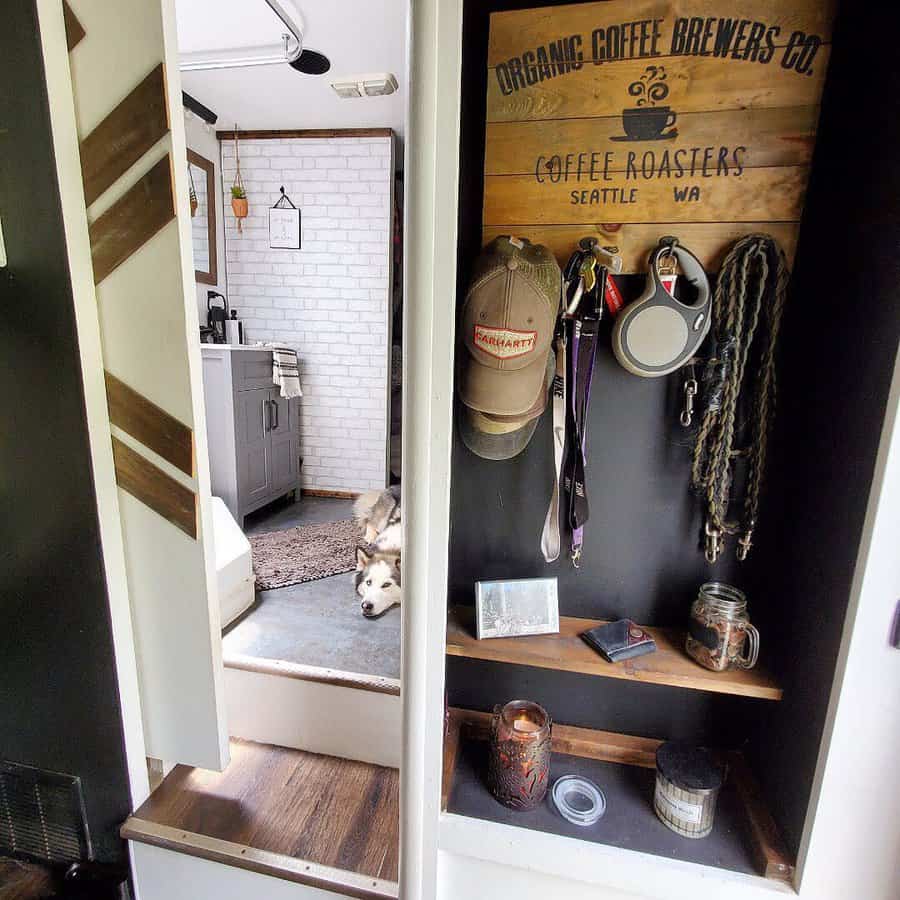 Rustic decor is nothing new. Discover inspiration for your own rustic design by researching what cabin and homeowners have done with their own living spaces. If you want a more subtle aesthetic, combine rustic decor with elements of modern design.
Some elements you'll want to consider for your rustic RV are reclaimed or live-edge wood, leather, and cast iron. Look for decor featuring campsite- or wilderness-related motifs.
12. Scandinavian
Scandinavian decor is a branch of modern interior design. It shares a similar fondness for simplicity, functionality, and simple color palettes. You'll also find organic materials like wood and stone used frequently throughout this design trend.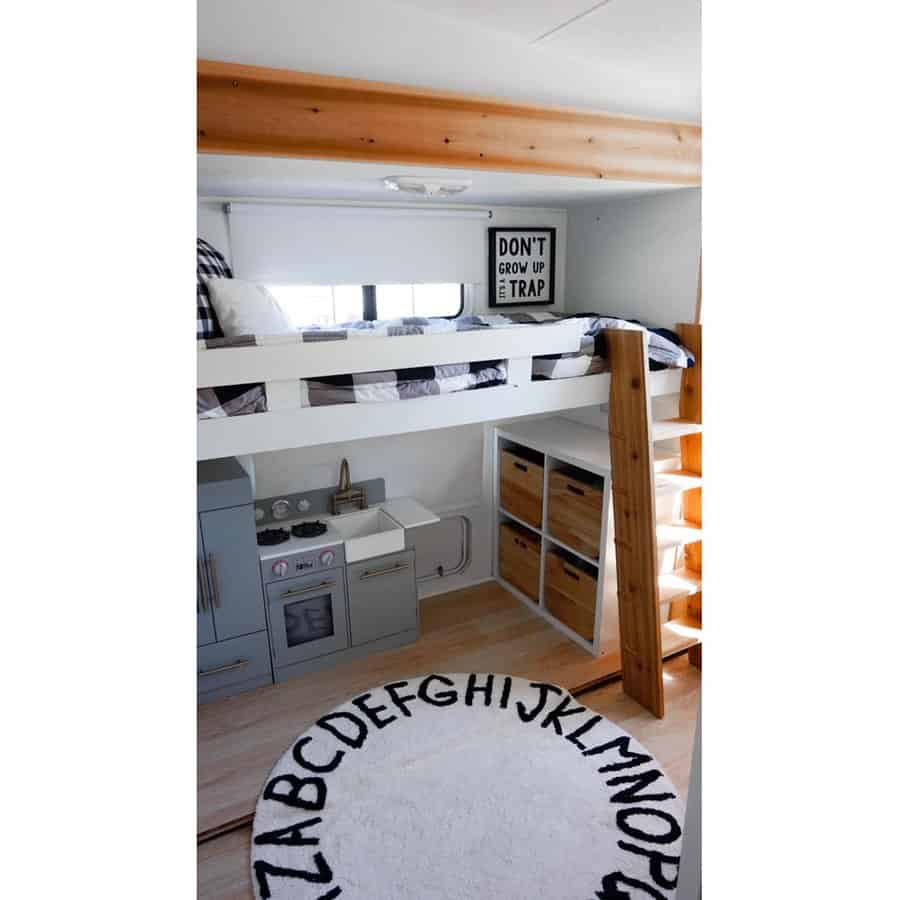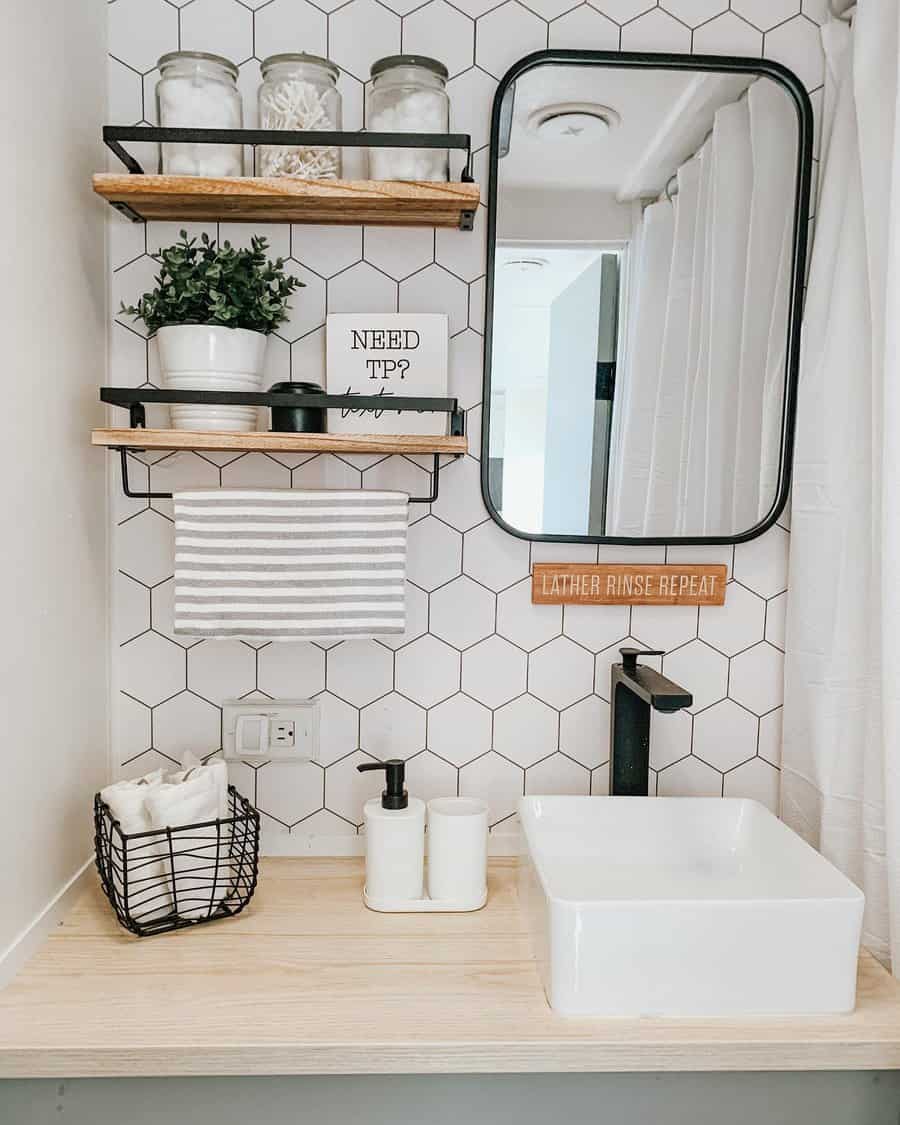 You might notice some overlapping between Scandinavian and Bohemian decor — the latter is more based in maximalism. Modeling your RV interior after Scandinavian decor is a great idea if you like modern design but prefer a more earthy vibe.
Stick with white or cream for your interior walls. Geometric shapes make great accents. You can bring some softness to the space by laying an RV carpet in the main living area.
13. Wall Covering
Because the average travel trailer is so short on space, adding bulky decor to your RV interior isn't ideal. Whether you're looking to add color, texture, or something else entirely, wall coverings can liven up your mobile space without consuming physical space.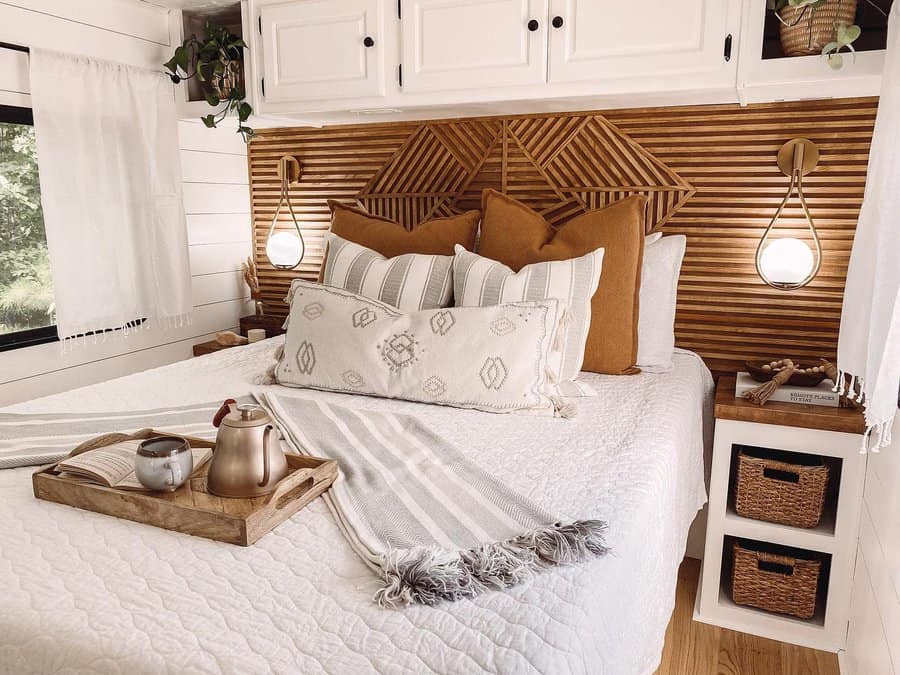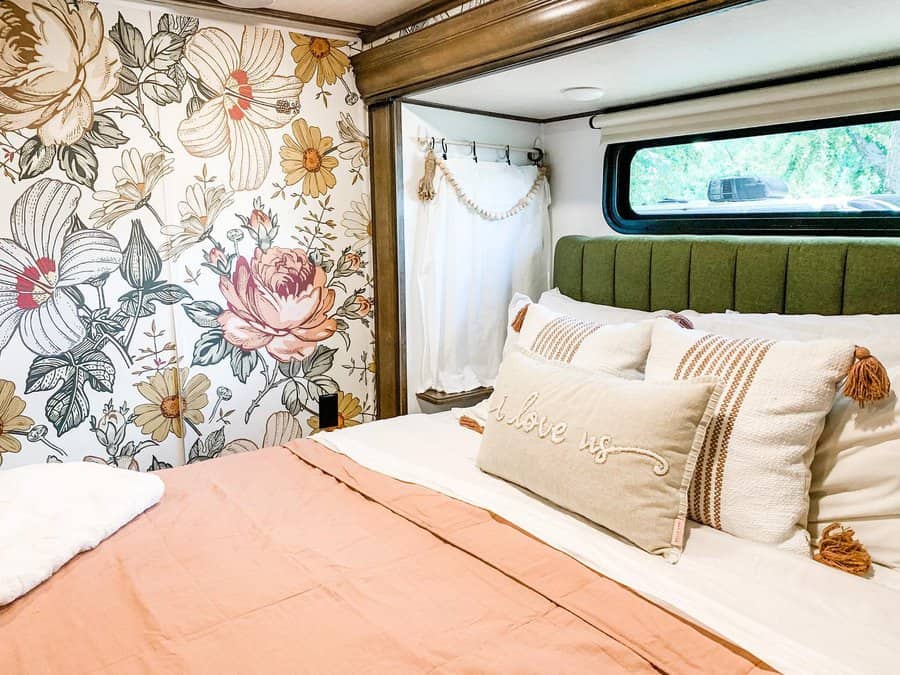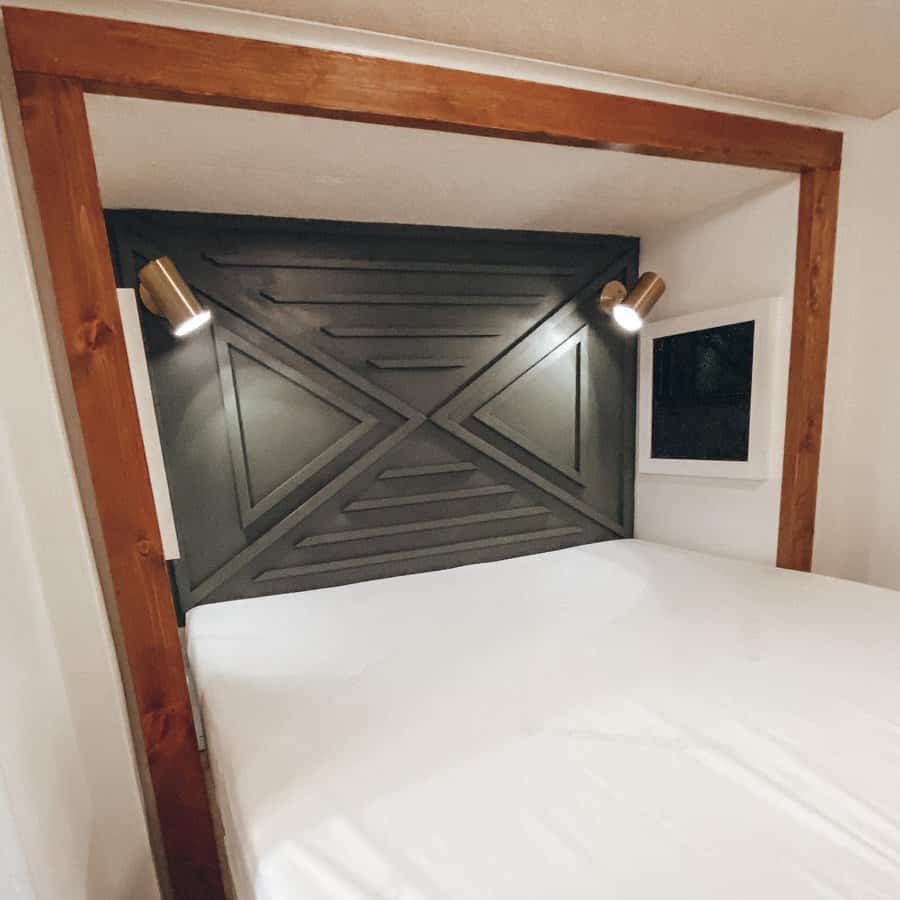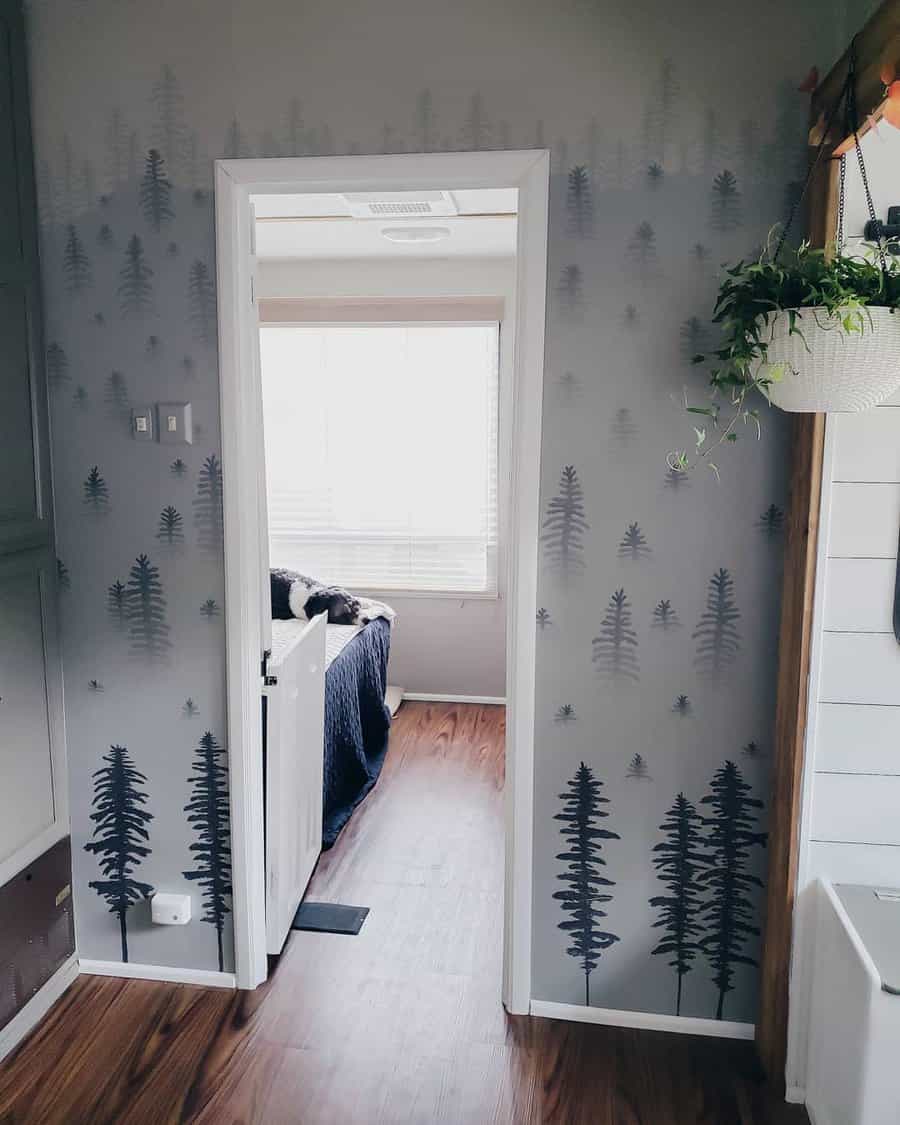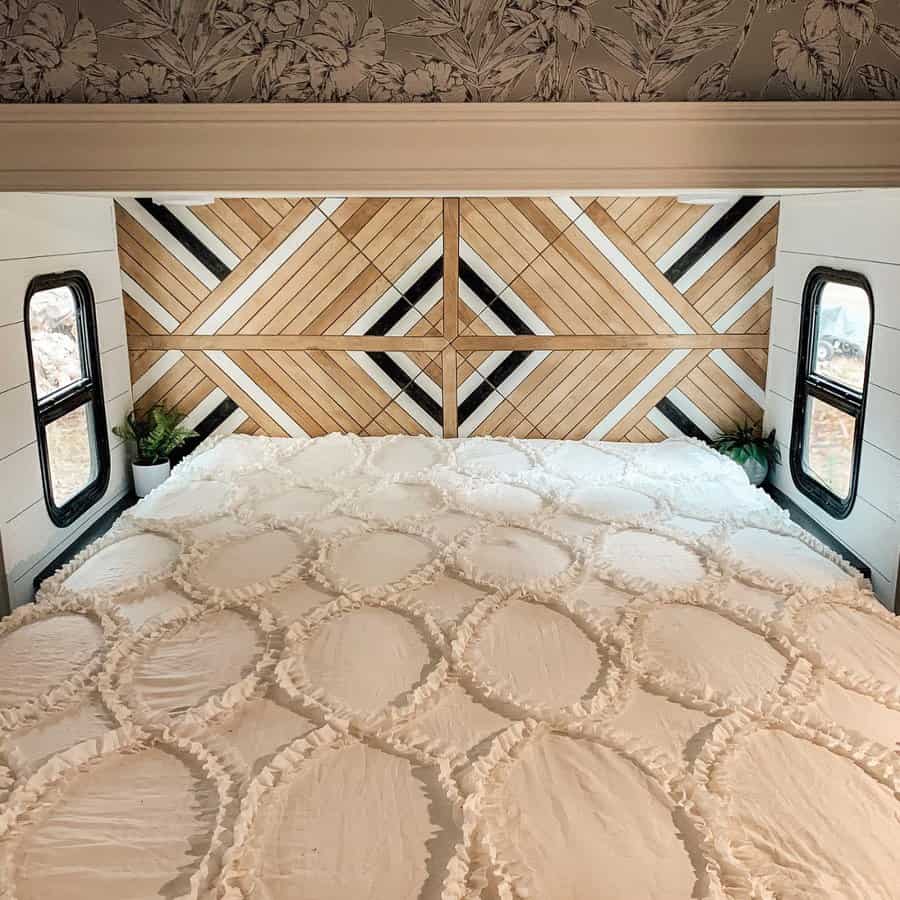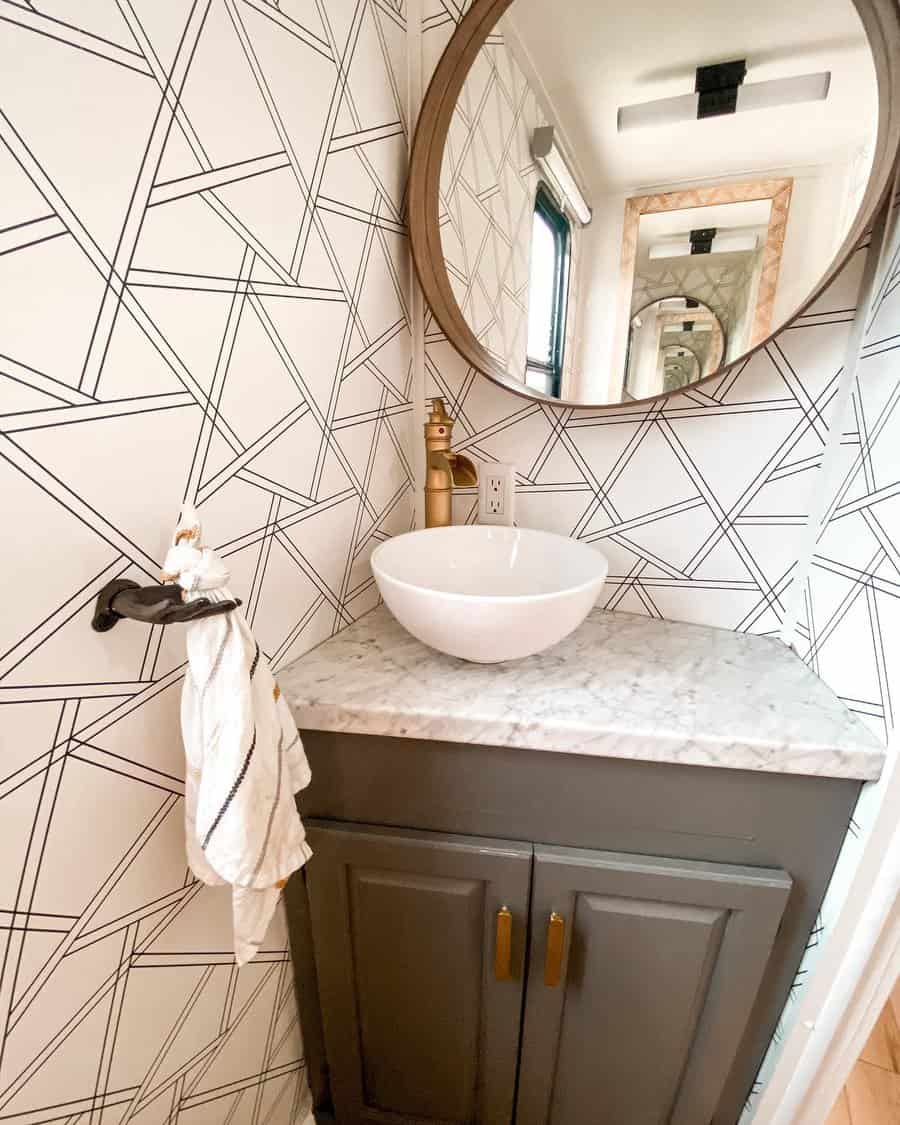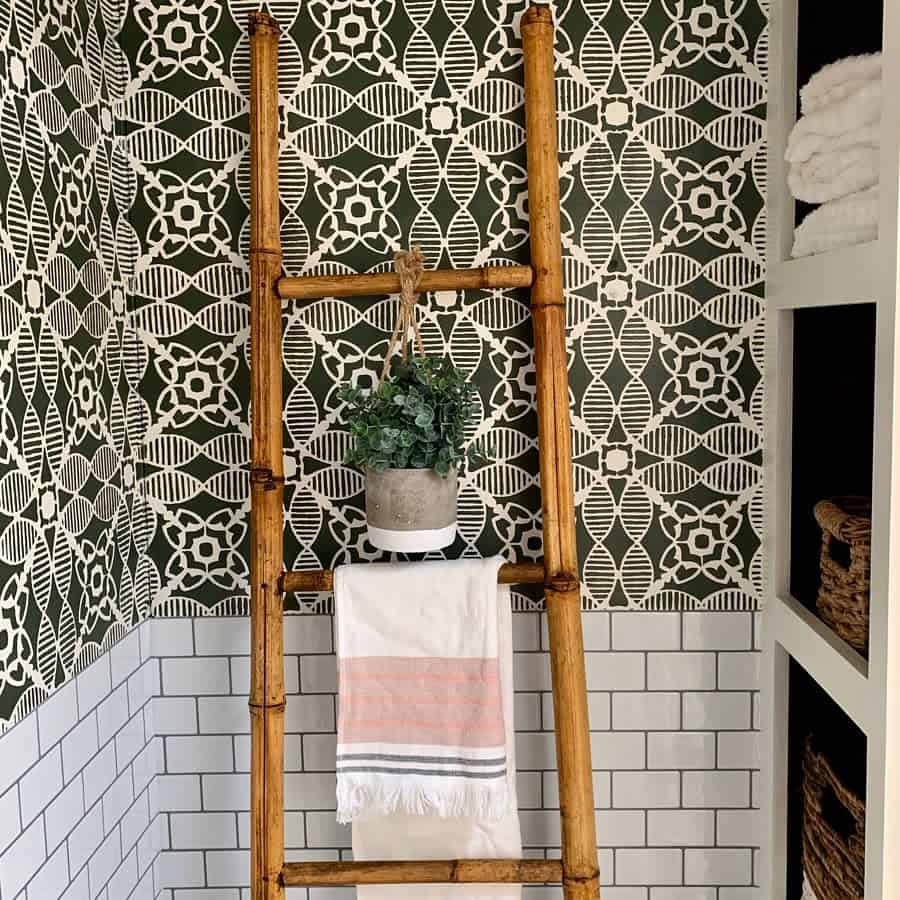 Wallpaper is a classic option for adding a pattern or mural-style image to any vertical surface. While you can use traditional wallpaper in an RV, peel-and-stick wallpaper will be much easier to install.
Another excellent option is to mount a wood panel over an interior wall. This type of installation can be used as a basic accent wall, backsplash, or in place of another household element like a headboard.
14. Wall Decor
Even if wallpaper isn't your style, adopting an RV lifestyle doesn't need to mean living with blank walls. There are plenty of travel trailer-friendly options for wall decor out there if you know where to look.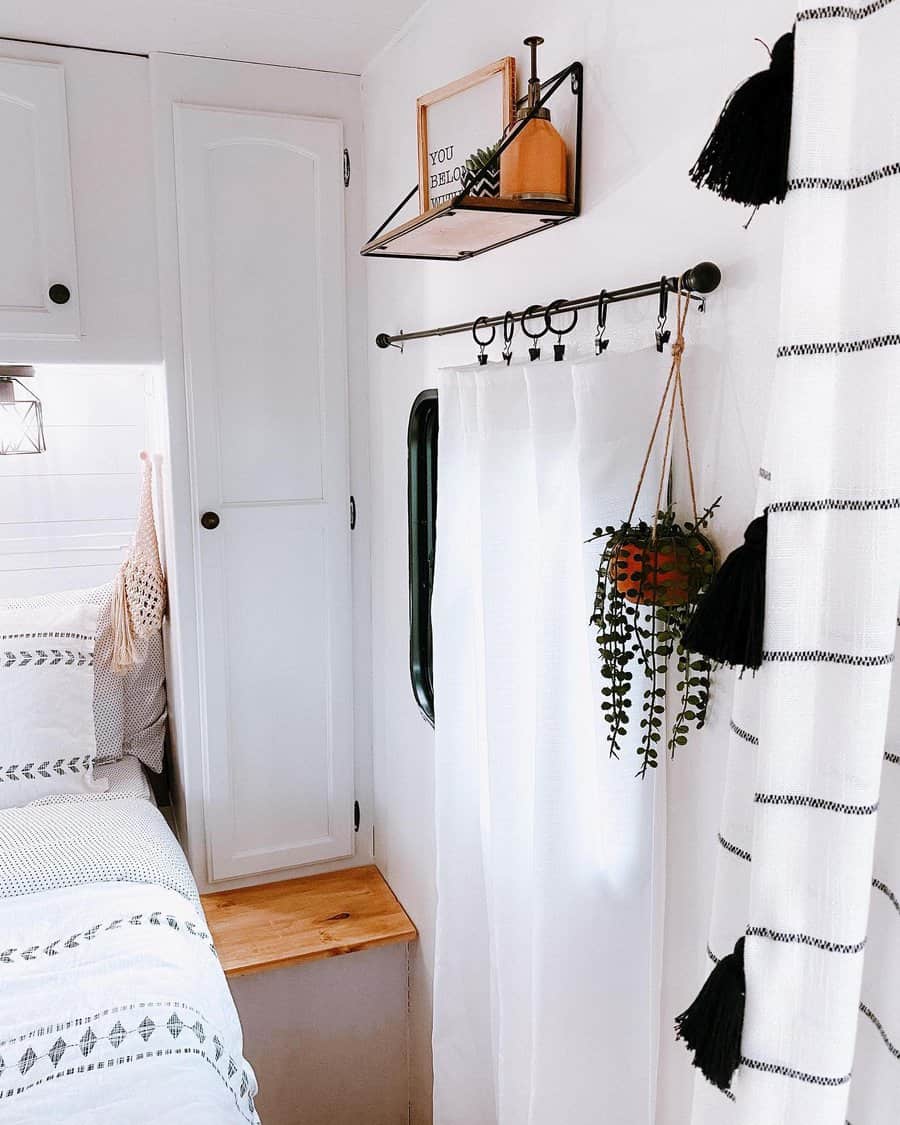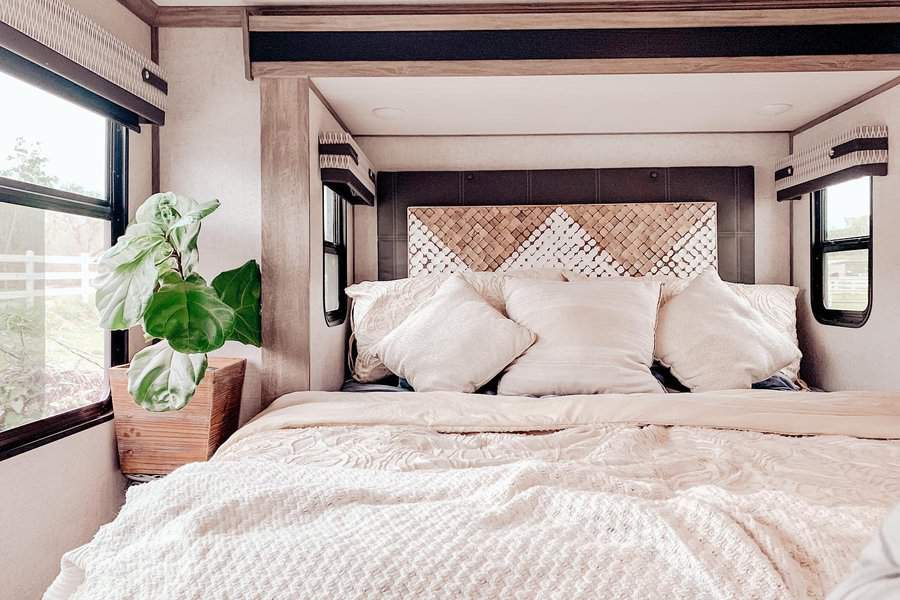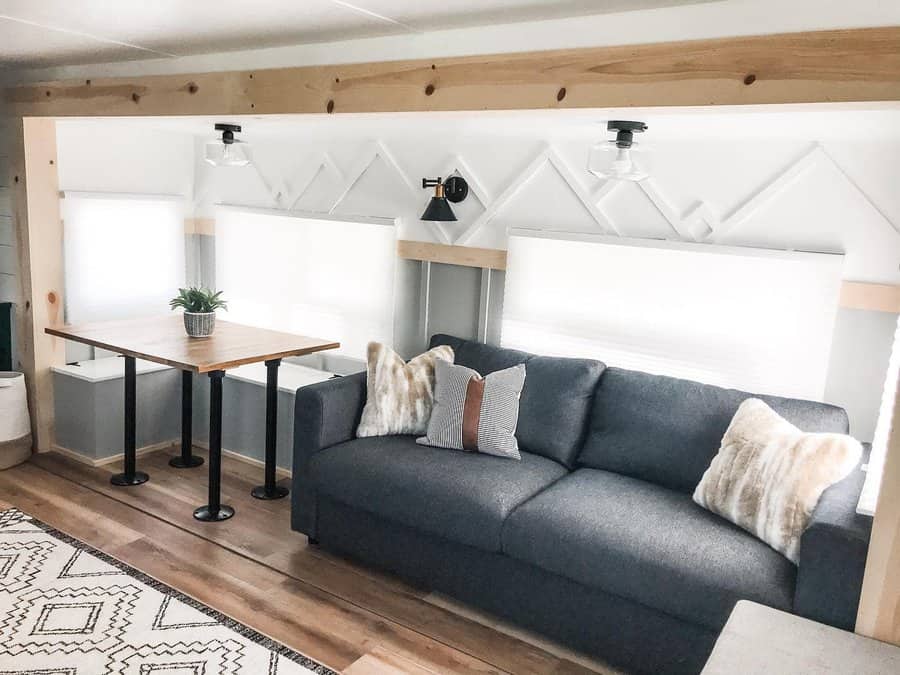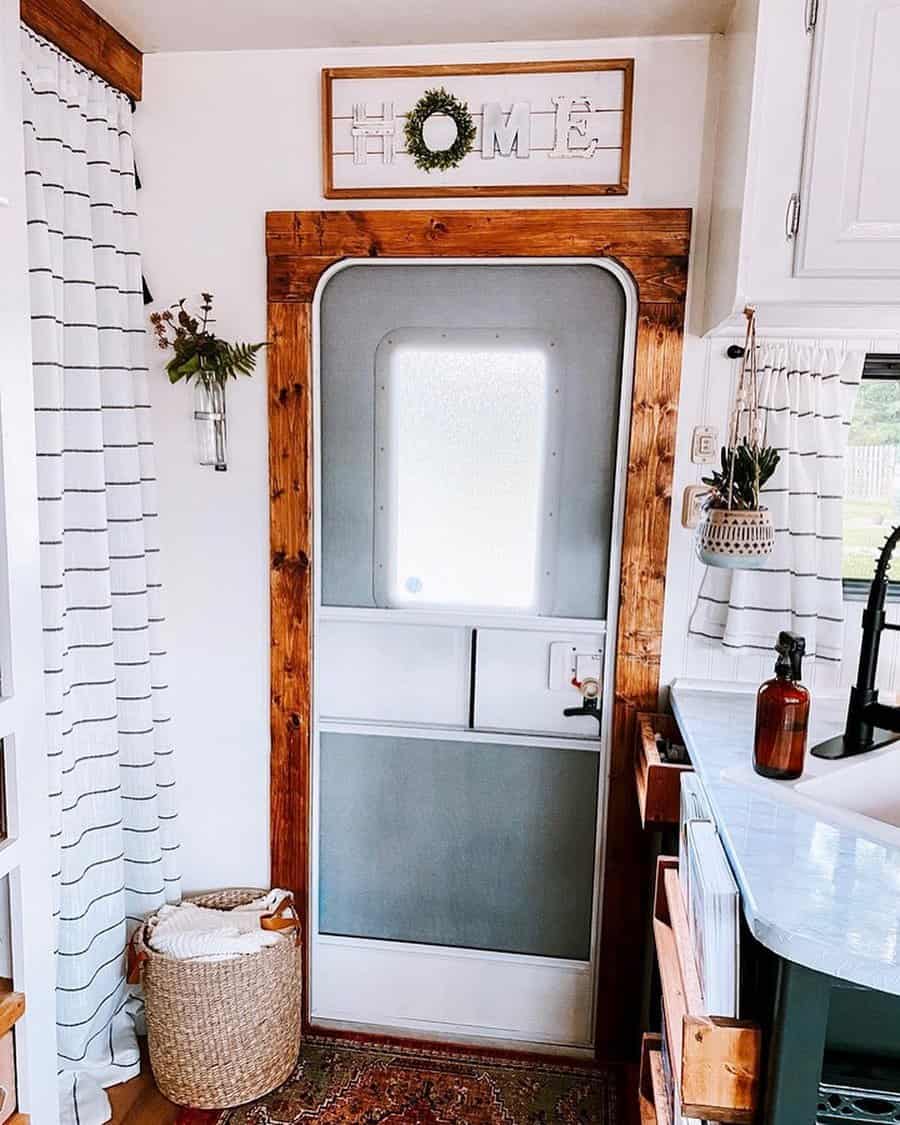 Hang wall-mounted RV decoration in out-of-the-way spots like above a door frame or above the toilet. You can also make your decor functional by installing wall decor that doubles as storage space — examples include floating shelves, drawers, and decorative hooks.
Other examples of functional wall decor include mirrors and sconce lighting. Mirrors in particular are an excellent choice because they can make your RV interior feel larger and brighter than it actually is.
15. Warm Colors
Many homeowners gravitate toward cool colors because they feel clean and modern. In a small space like a camper trailer, though, warm colors can give your decor some much-needed vibrancy.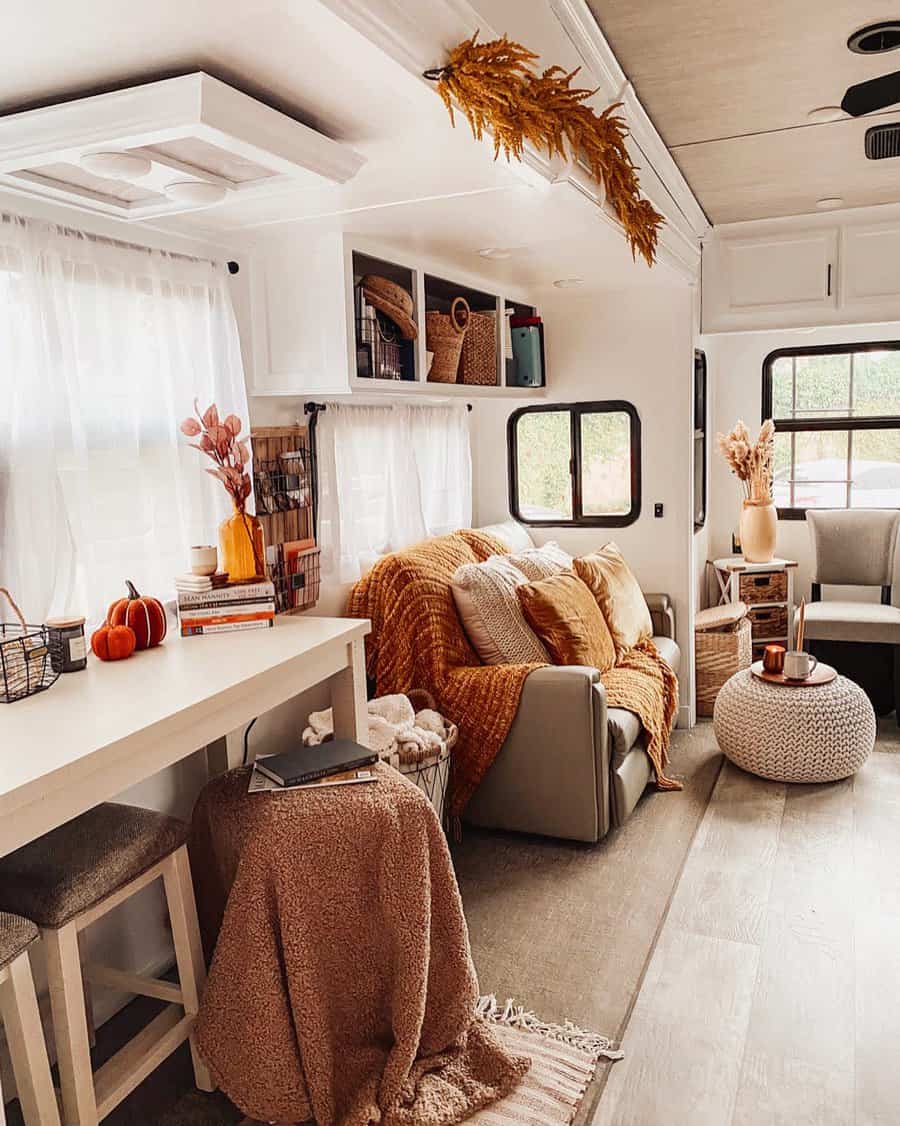 Warmth can come from obvious sources like sunny yellow or poppy red. However, you don't need to include bright shades in your camper makeover to capture some warmth. Most organic materials trend warm, including wood, greenery, and leather.
Another reason to incorporate warm colors in your RV redesign is that these shades create a cozy atmosphere. Whether you're camping on the weekends or RVing full-time, having a space that feels like home can make all of the difference on the road.
16. White
What is the simplest way to make any RV room feel significantly larger and brighter? Paint it white.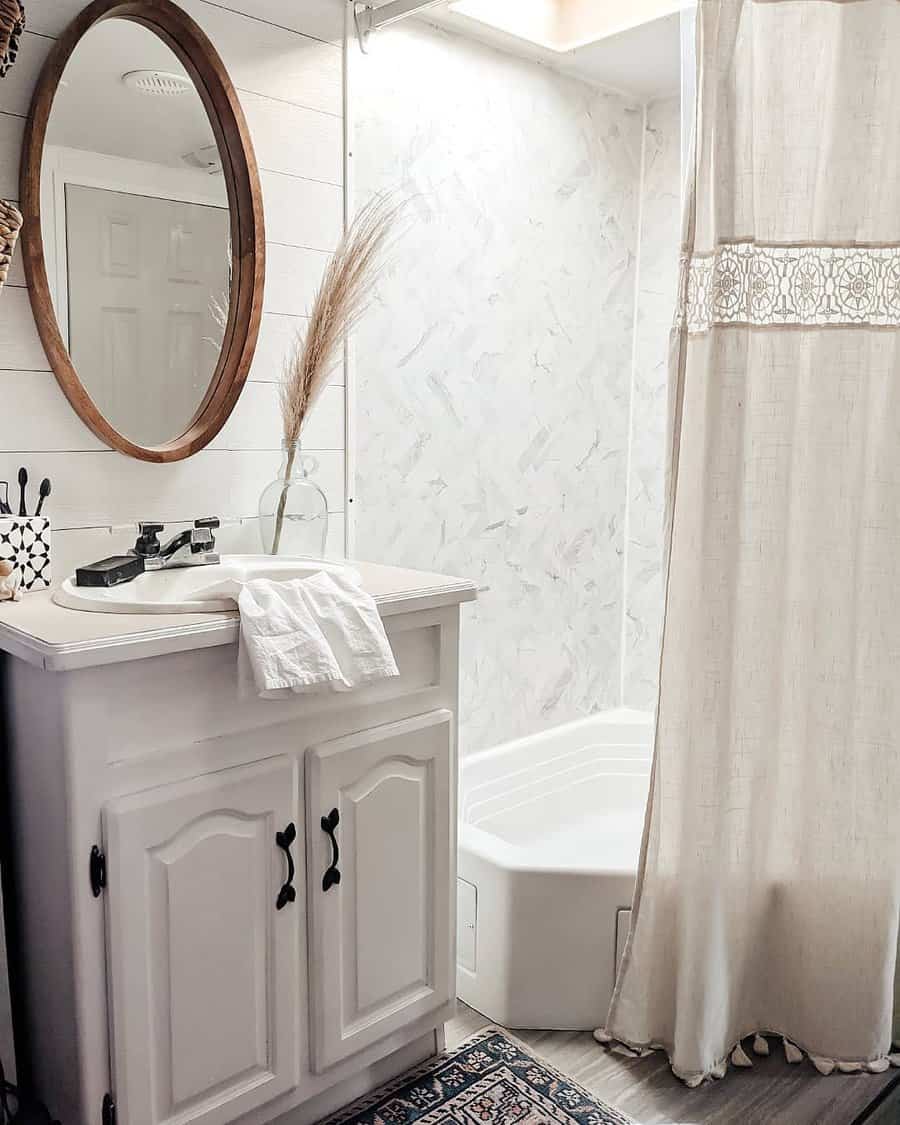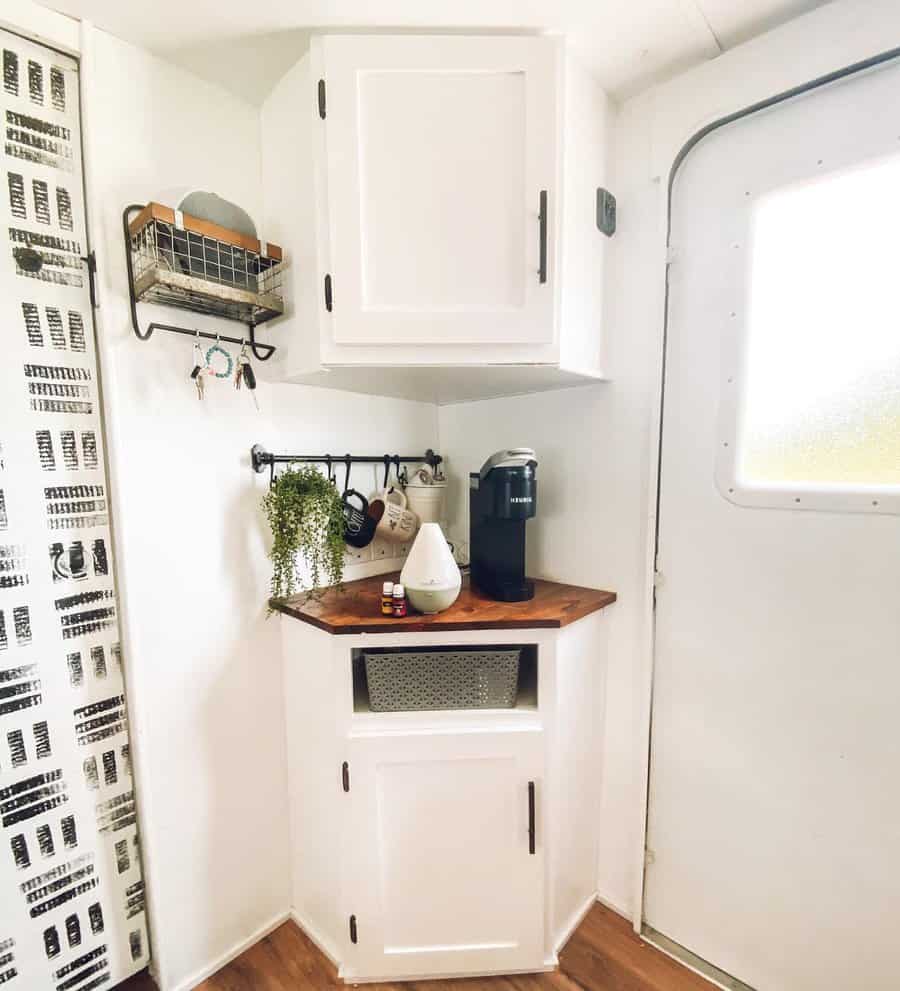 White interior decor isn't just for tight quarters. But using this color (and other light shades) helps reflect light around the space and creates the illusion of more elbow room.
You certainly don't need to use exclusively white decor in your camper trailer. Pops of brighter colors can make the optical illusion more dramatic by contrasting against your white walls, furniture, and bedding. Reach for accent pillows and other small pieces for these hints of color.
RV Decorating FAQs
How do you decorate an RV for the holidays?
Decorating for Halloween or Christmas isn't easy in such a small space. You might not be able to fit a real Christmas tree into your RV but you can still enjoy a bit of festivity.
Hang themed string lights from your camper ceiling — use Command Hooks to make installation quick and easy. You can even hang part of your ornament collection using this method.
Another low-profile decoration you can use is a door wreath (we recommend hanging it inside your RV for obvious reasons!). Remember that wreaths aren't just Christmas decor. You can find fun designs for every season and holiday imaginable.
Can you paint an RV exterior?
Yes. Painting the outside of a camper van is very similar to painting any vehicle. Fortunately, though, the finish is a bit more forgiving than on a passenger car.
The most important step is to thoroughly clean the RV (a power washer works well for this project).
Use an automotive-grade formula in your chosen color. While you can use a brush and roller, a sprayer will make quick work of your RV's new paint job.