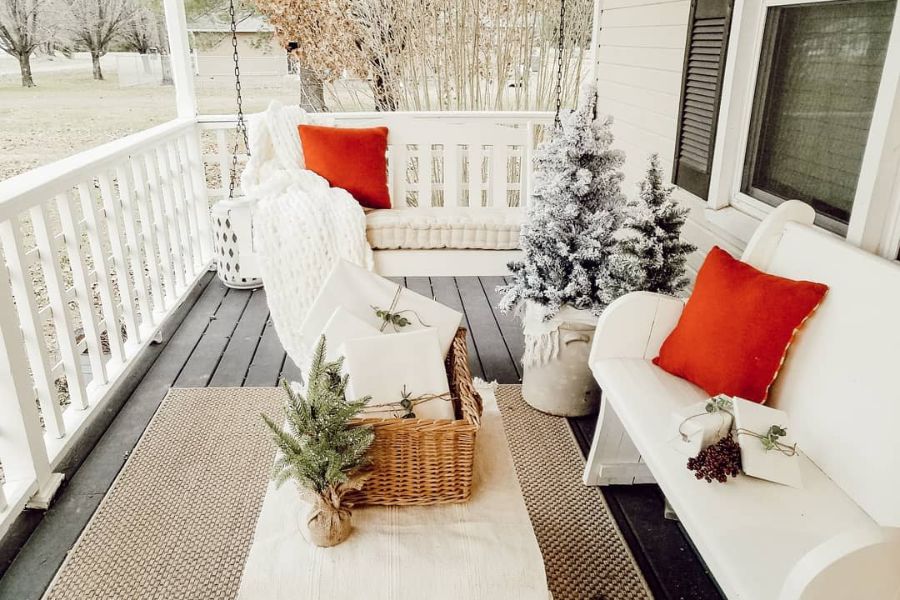 53 Christmas Decorating Ideas
"I'm totally the decorate early, start listening to Christmas songs super early' guy. I've just always been that way." – Drake Bell
After Halloween's costumes and Thanksgiving turkey, we enjoy the most looking forward to the time of the year. The holiday season is a time for love and family. Decorating your house is one of the best ways to get in the holiday spirit. How you choose to decorate is a reflection of your creativity and style.
These Christmas decorating ideas will help you get started. You could have one approach to the outside of your home and then another for the interior. You could even have different themes for each room.
Perhaps you have a peppermint candy land in your kitchen, a white winter theme in your dining room, and a rustic country Christmas in your living room. So, how will you decorate your home this Christmas?
1. Utilize Natural Decor
Christmas decorating can be a fun and exciting way to spruce up your home for the holidays! Get creative and natural with natural decors, such as cut pine cuttings from outside used as an accent on tables inside. Decorate old wine glasses with ropes or macrame for a natural look.
You can use these pieces as centerpieces for your holiday festivities or just to lighten up the home with a subtle festive touch. No matter what natural decorations you choose to bring into your home for Christmas, you are sure to have beautiful holiday decorations that guests will love!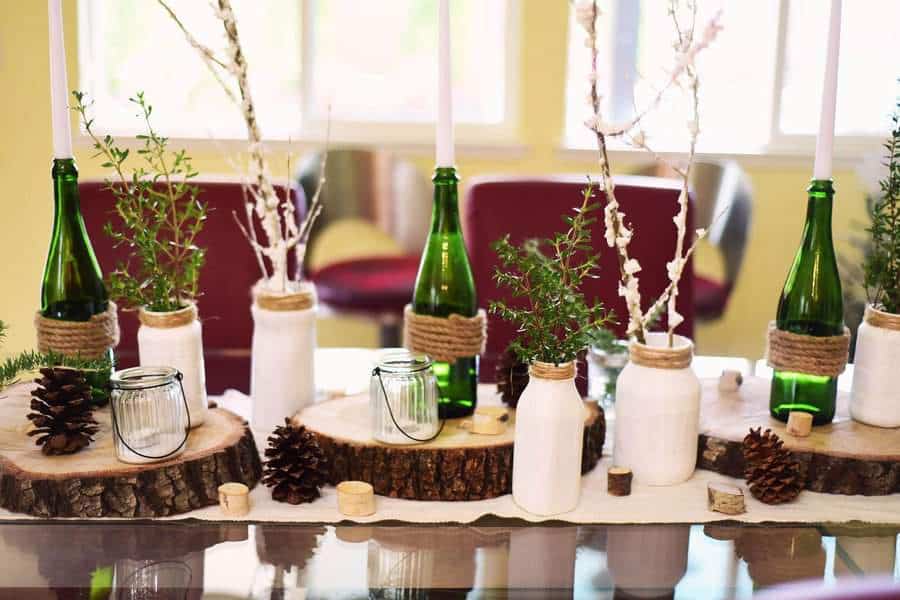 2. Be Creative With Paint
For a unique take on the holiday season, paint a canvas with your favorite festive image – snowflakes and Santa are always good choices. If you want to hang it up or place it on your fireplace mantel, it'll be sure to fill your home with holiday cheer. You can also make your own
DIY-painted Christmas socks! Using wooden, mini, or regular-sized pegs and some red and white craft paint, you can put together fun and quirky decorations that will catch everyone's attention. N
o matter how big or small your holiday decorating project is, DIYs are always a blast to make (and look at!) so have fun experimenting with these creative decorating ideas.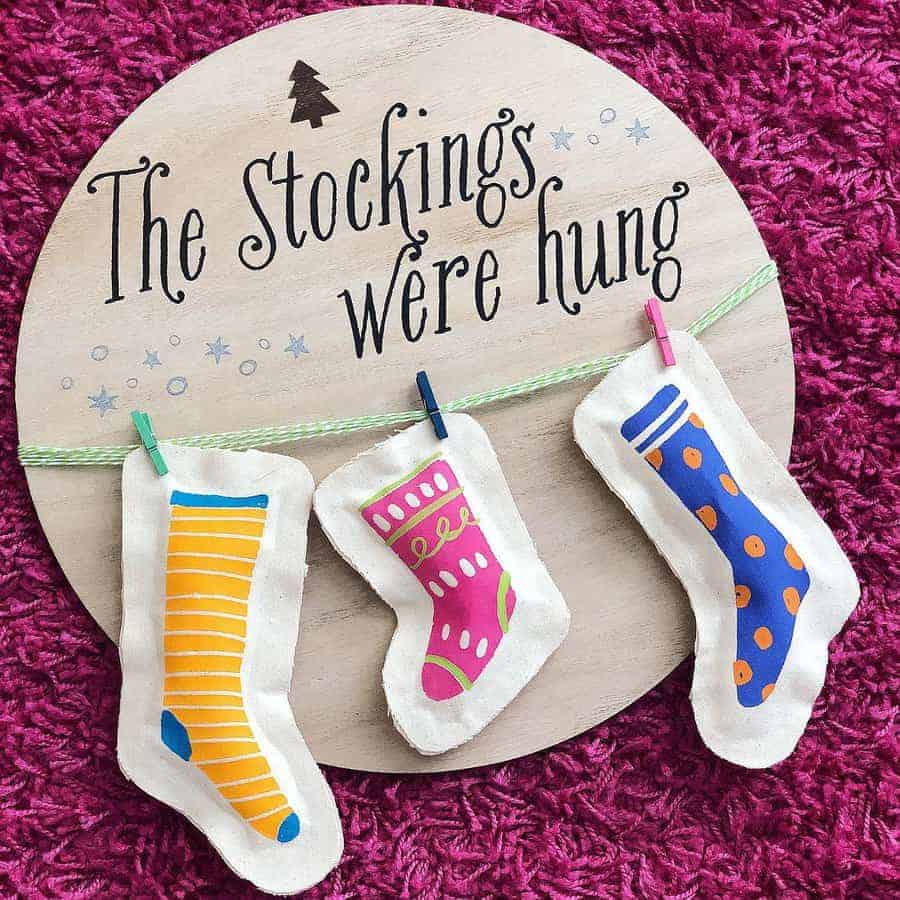 3. Dress Up The Stairs With Garlands
The holiday season is all about getting creative, and what better way to express your creativity than by decorating your stairs? Place garlands of Christmas lights around the banisters, add a festive ribbon up the stairs or hang ornaments off each spindle.
Not only will you impress guests with your inventive touches, but you'll end up with a beautifully decorated staircase that looks just like it came from a magazine. With some careful planning and handy bits and bobs, stairs can be transformed into one of the most eye-catching areas of the house in no time at all.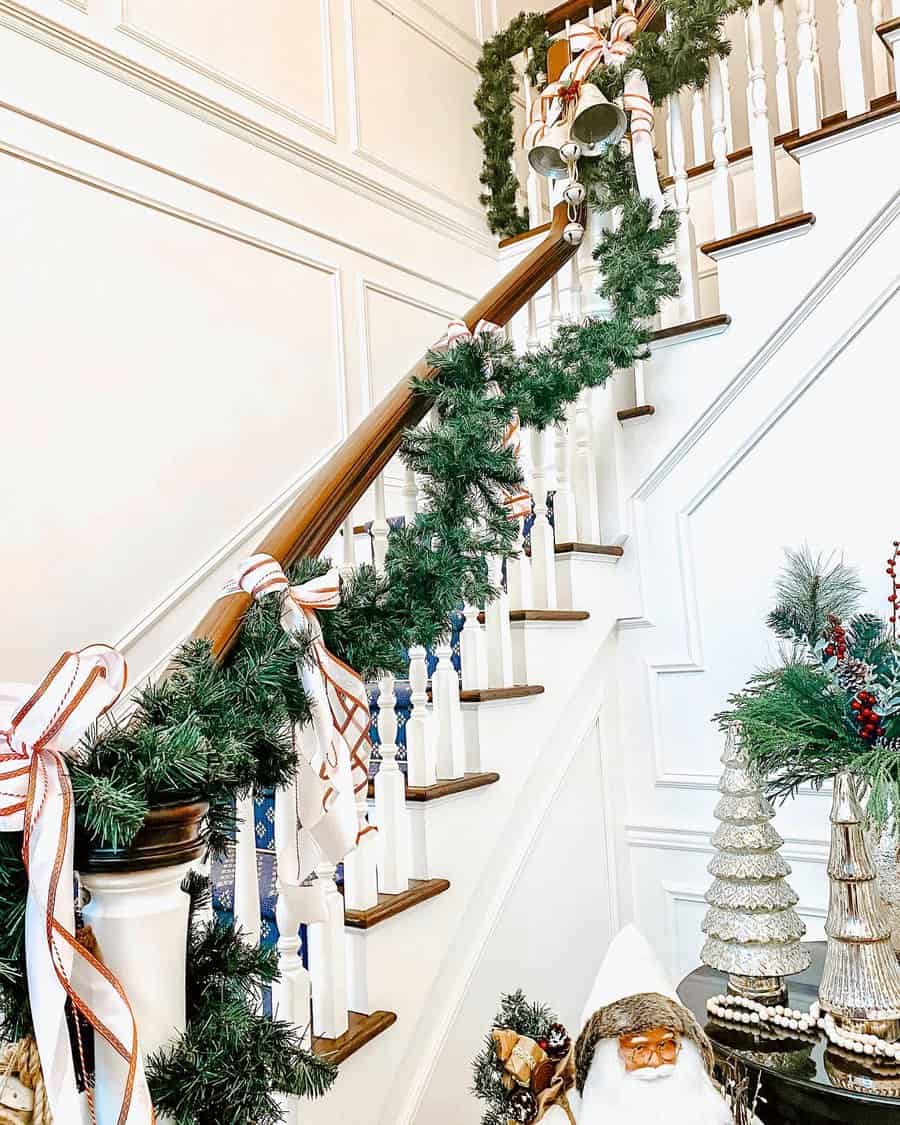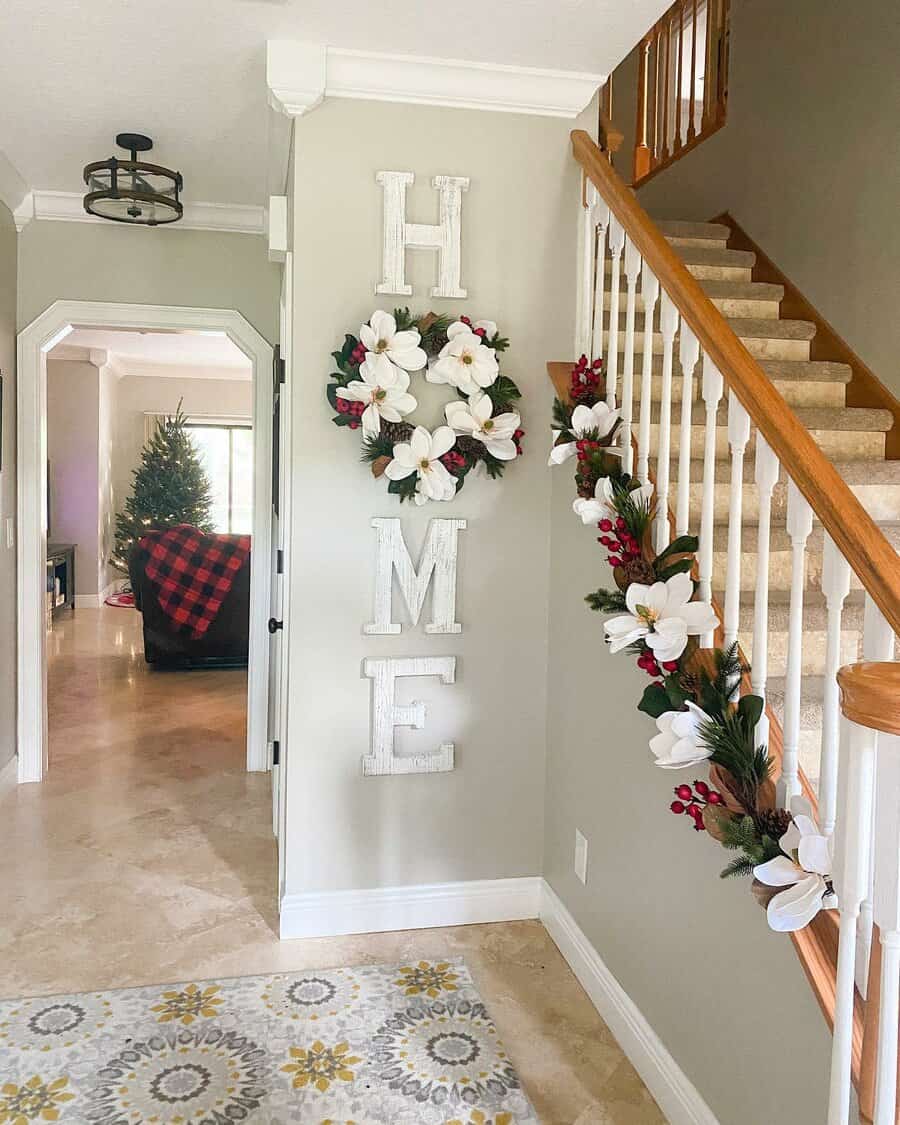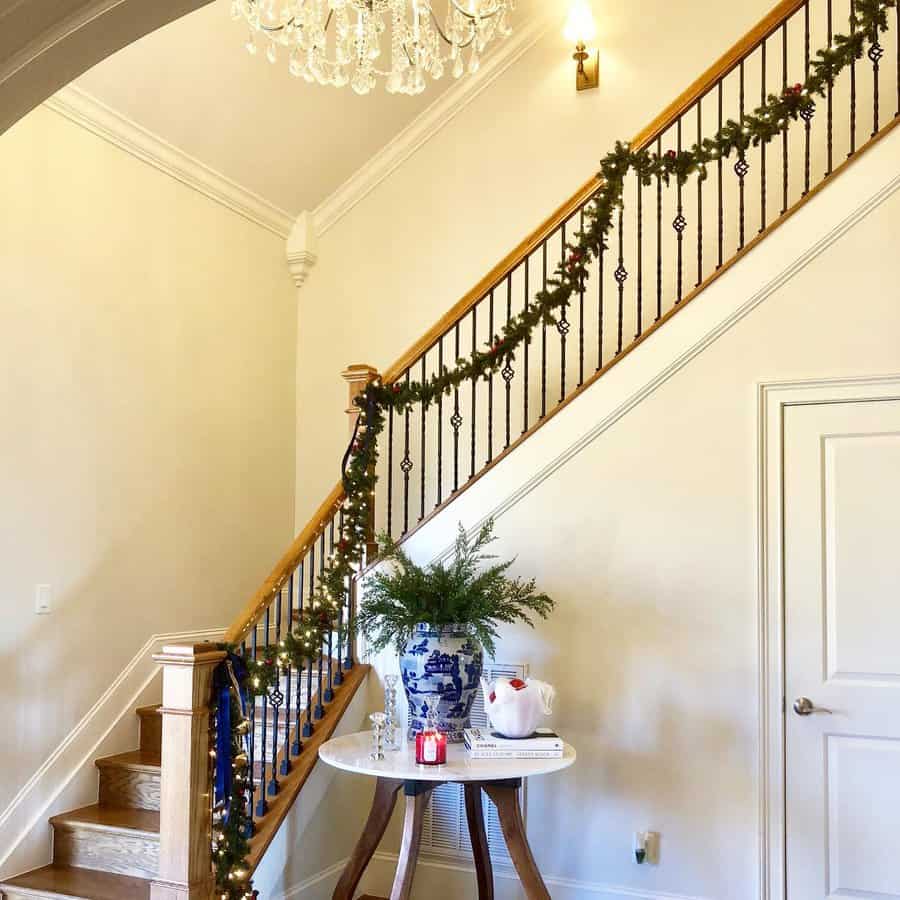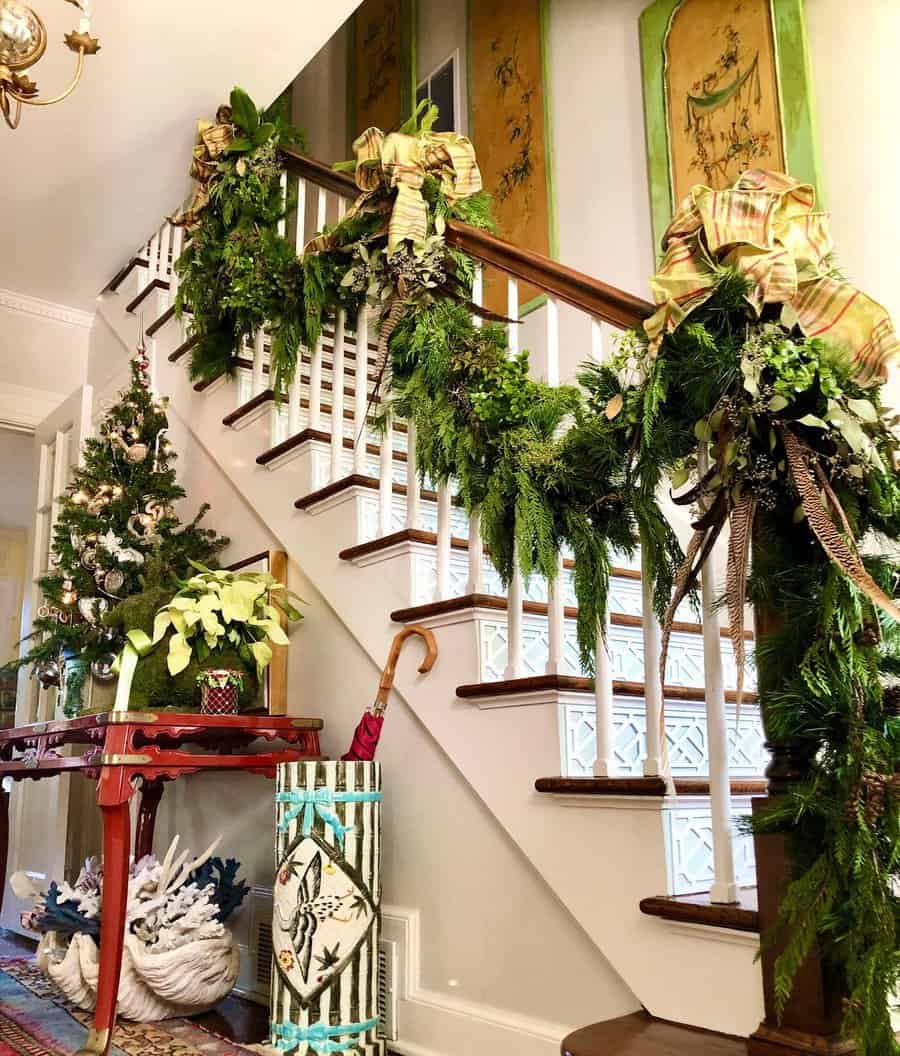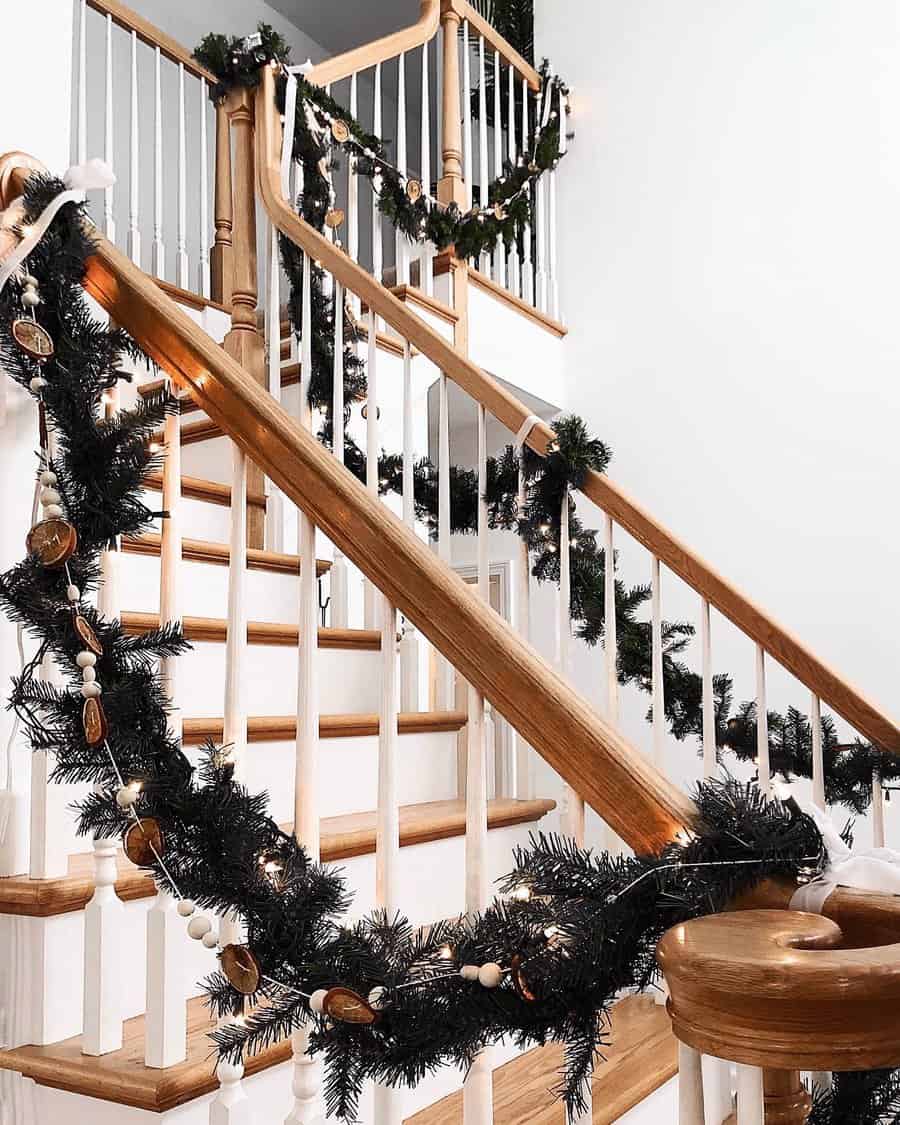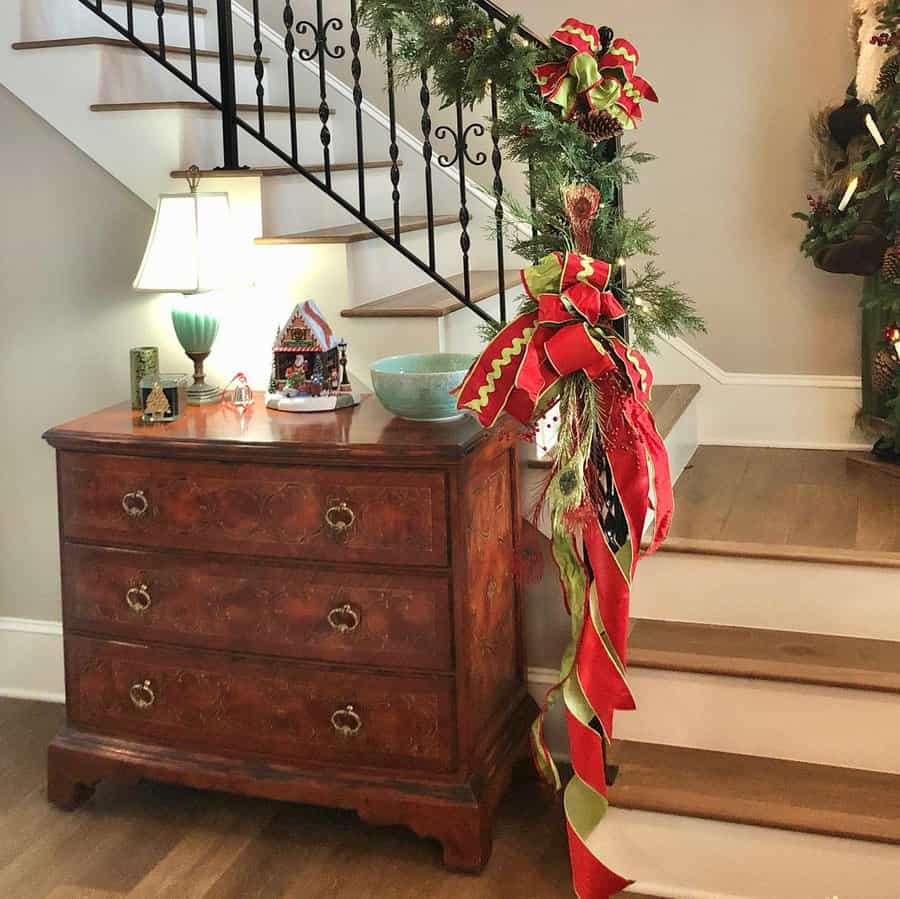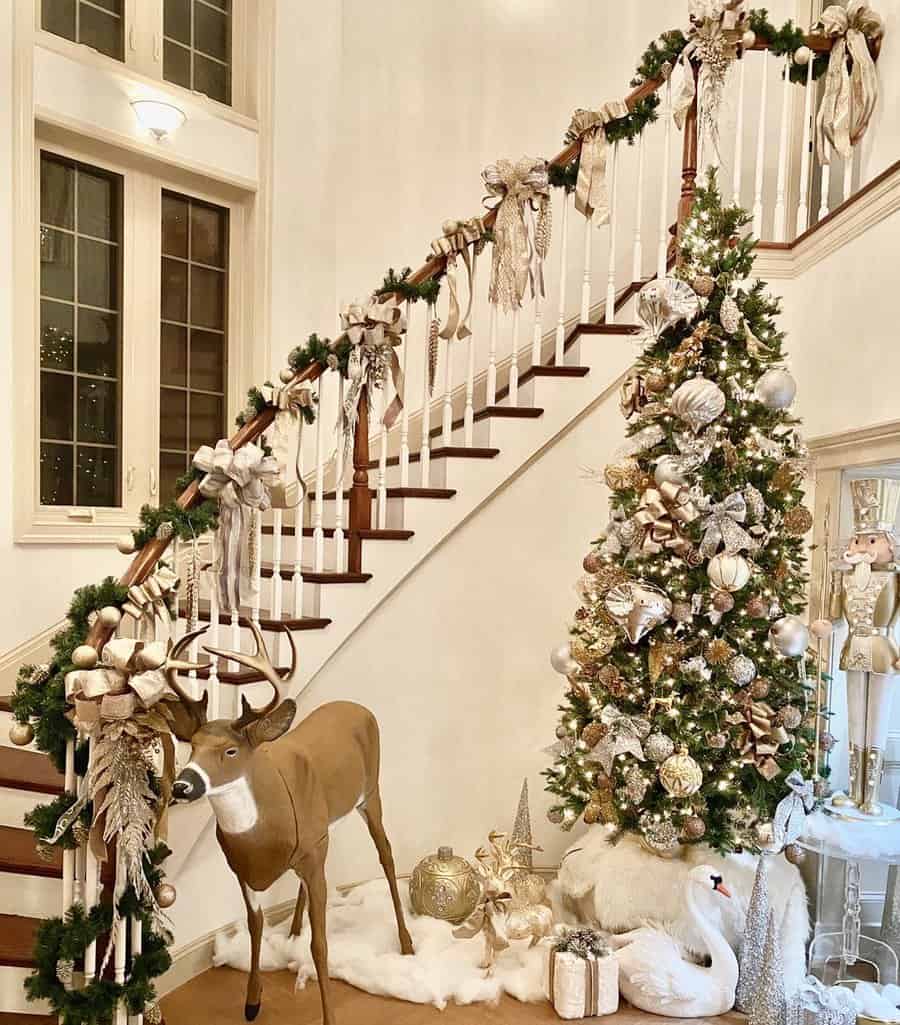 4. Personalize Your Christmas Tree
When it comes to Christmas decorating, there are almost endless possibilities for personalized touches! A personalized Christmas tree is one of the best ways to give your home a festive and unique look – simply choose a theme like a gingerbread or snowflakes, then pick decorations that fit that theme. Want to add some extra pop?
Switch up the color theme from traditional greens and reds to pastels such as pink, teal, and lavender! You can also dress up the outside of your house by attaching personalized outdoor decorations – personalized wreaths and window garlands will take your holiday display to the next level. No matter what kind of holiday decorating you do, make sure you have fun with it and create a space that reflects your style.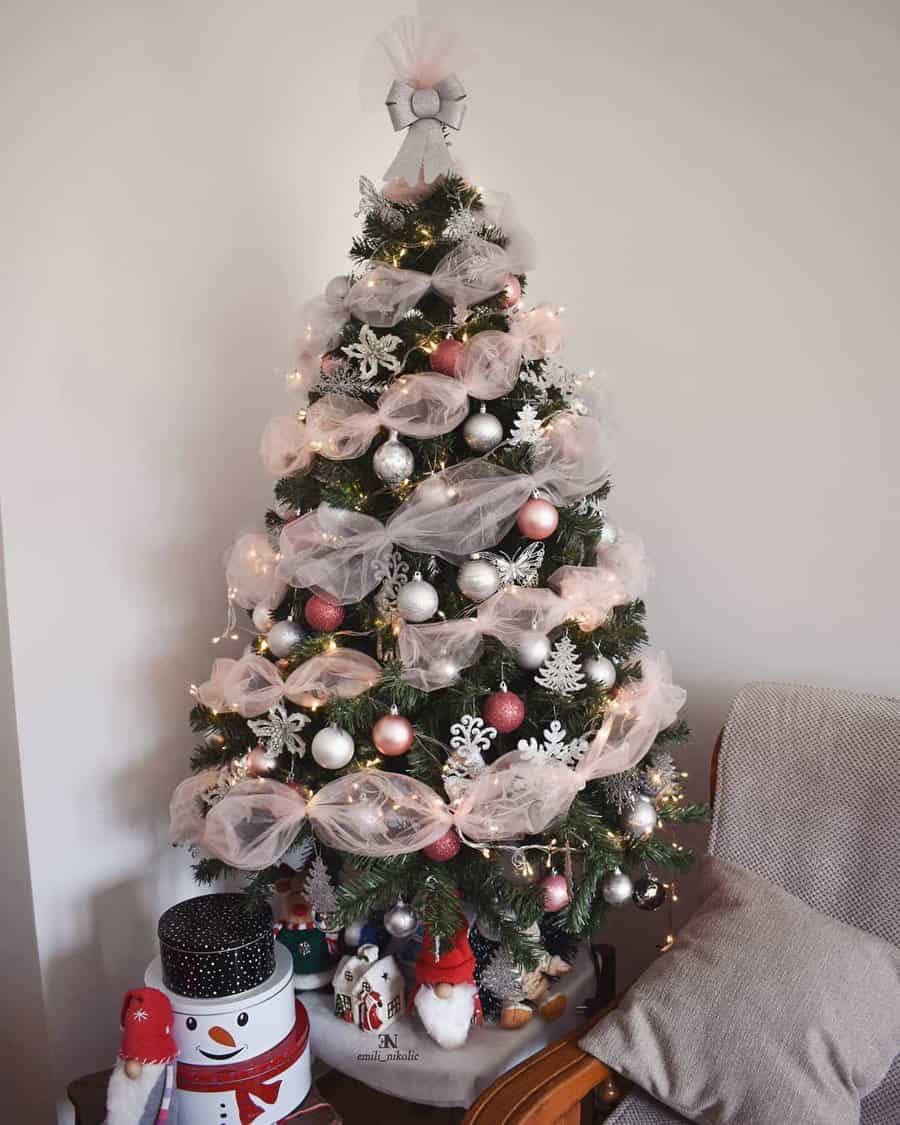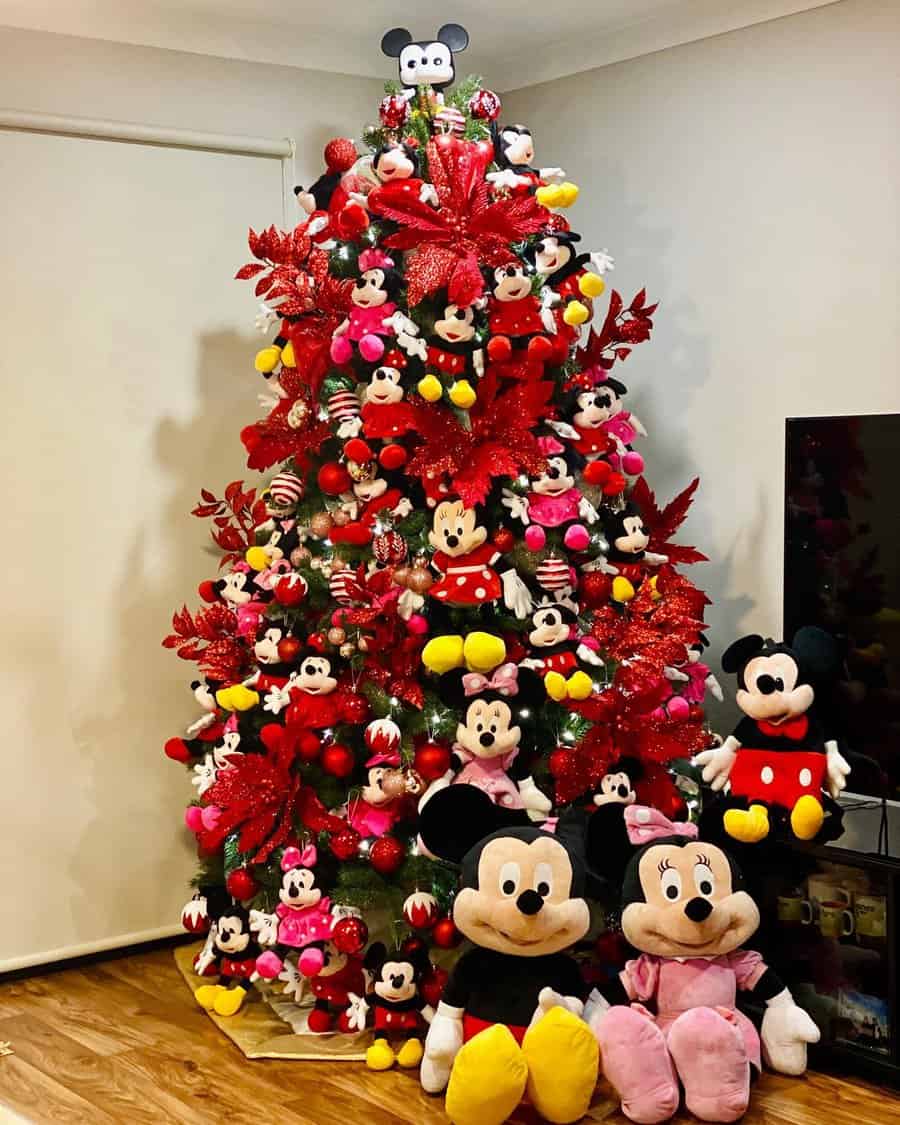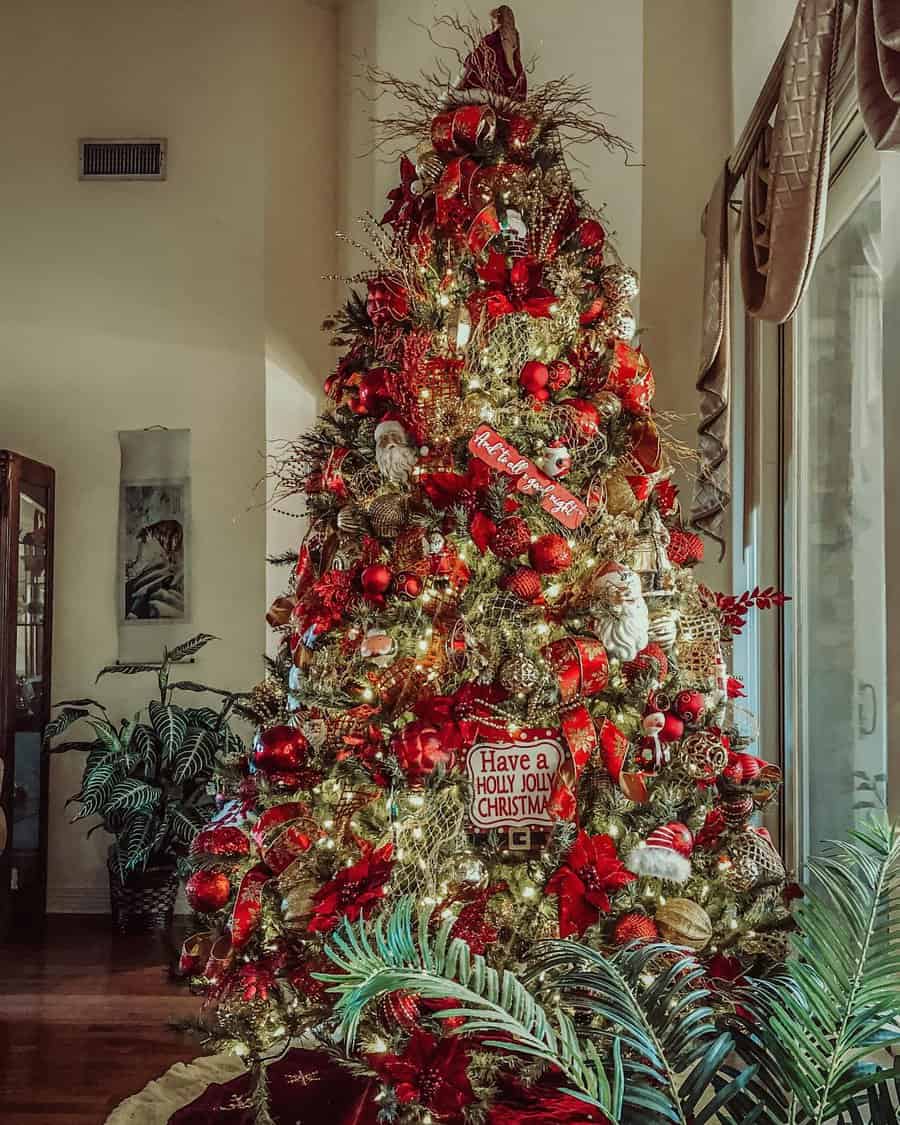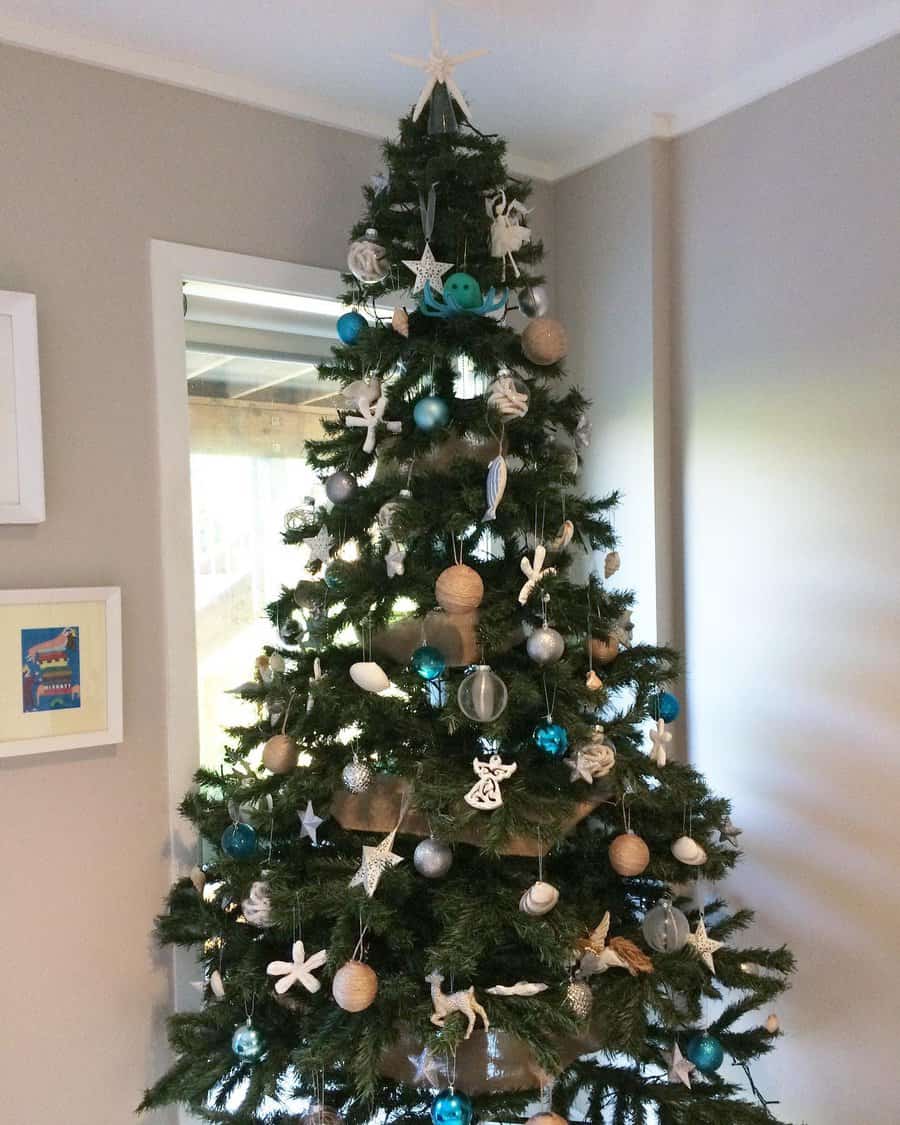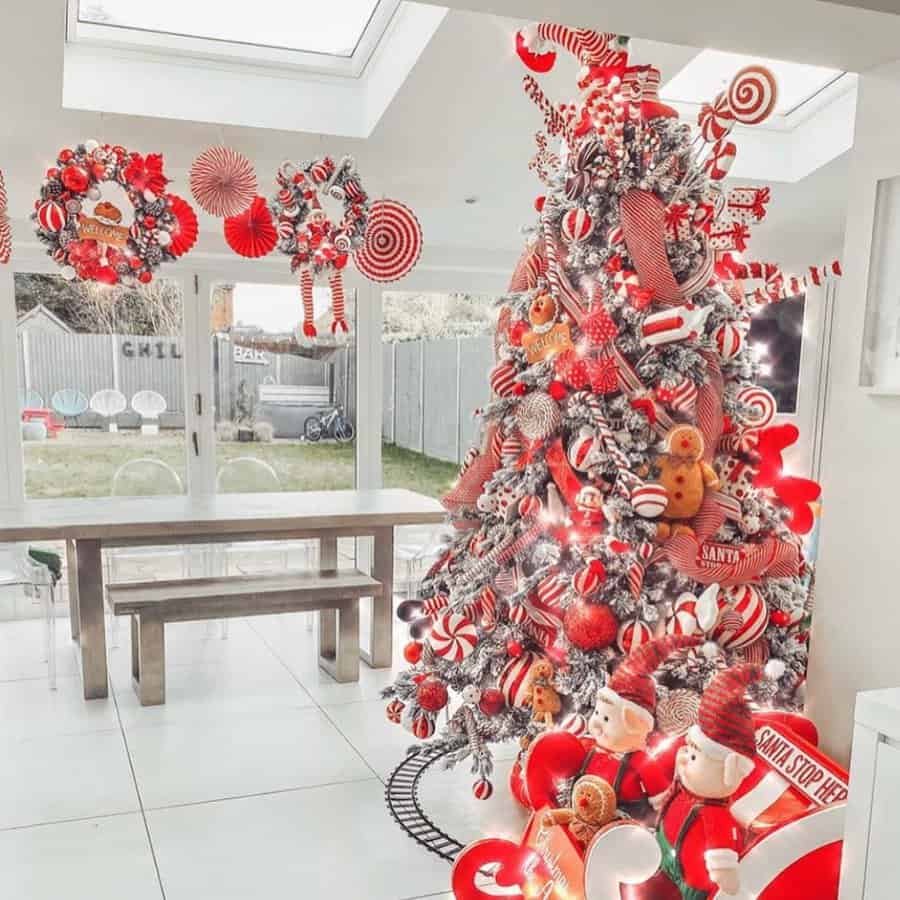 5. Hang Holiday Wall Art To Set The Mood
Instead of simply setting out holiday decorations, why not try something a bit more creative? Holiday wall art can be used to create a truly eye-catching display that your guests will love. Unleash your inner artist and use words for art – it's easy to spice up traditional phrases or famous Holiday quotes with some colorful choices.
For example, "Fa La La La La" could easily lead to a framed piece of Christmas art that shows all five phrases in beautiful script. There are countless different options, so have some fun with it and come up with something unique!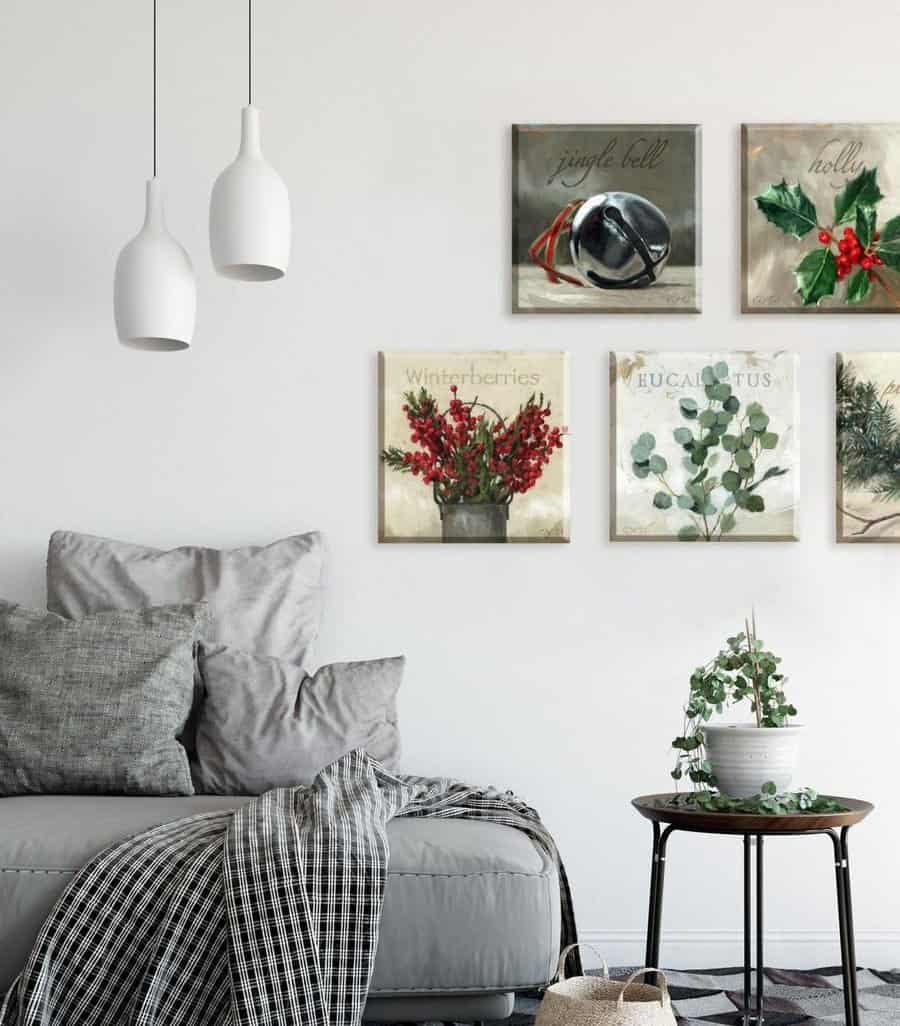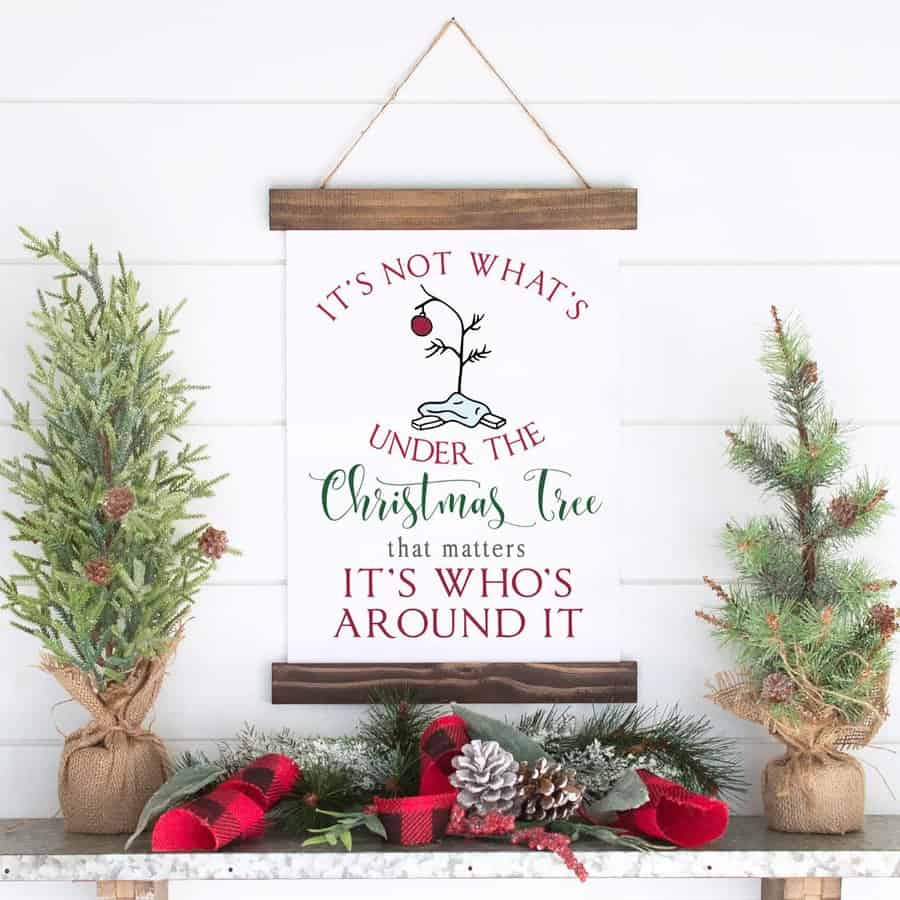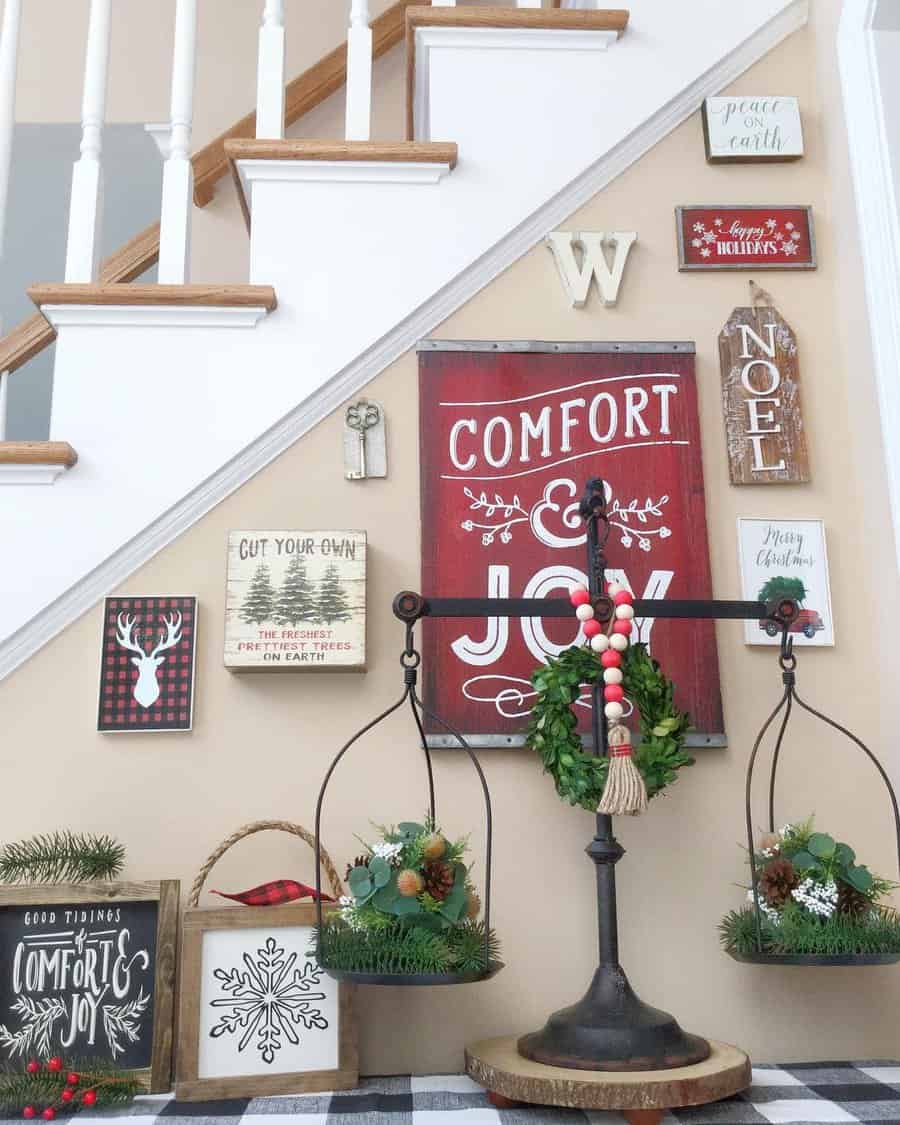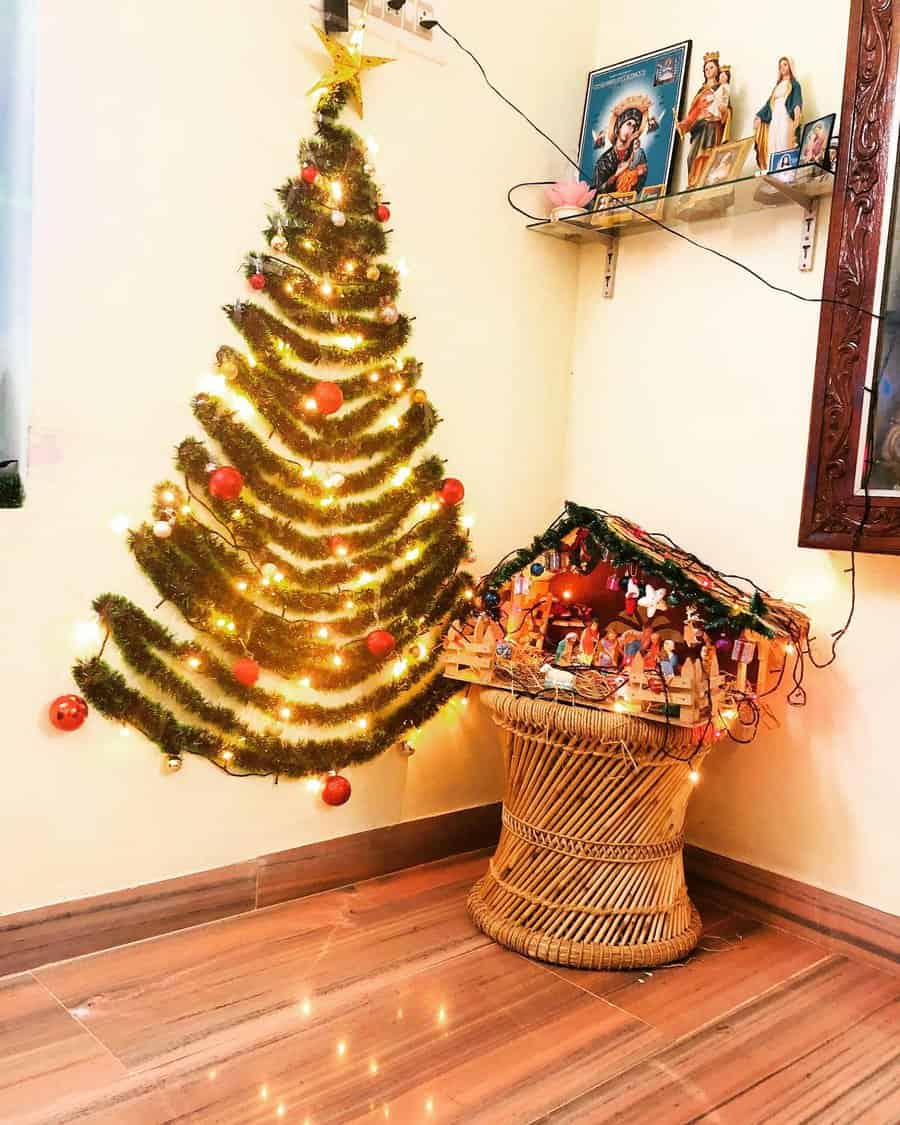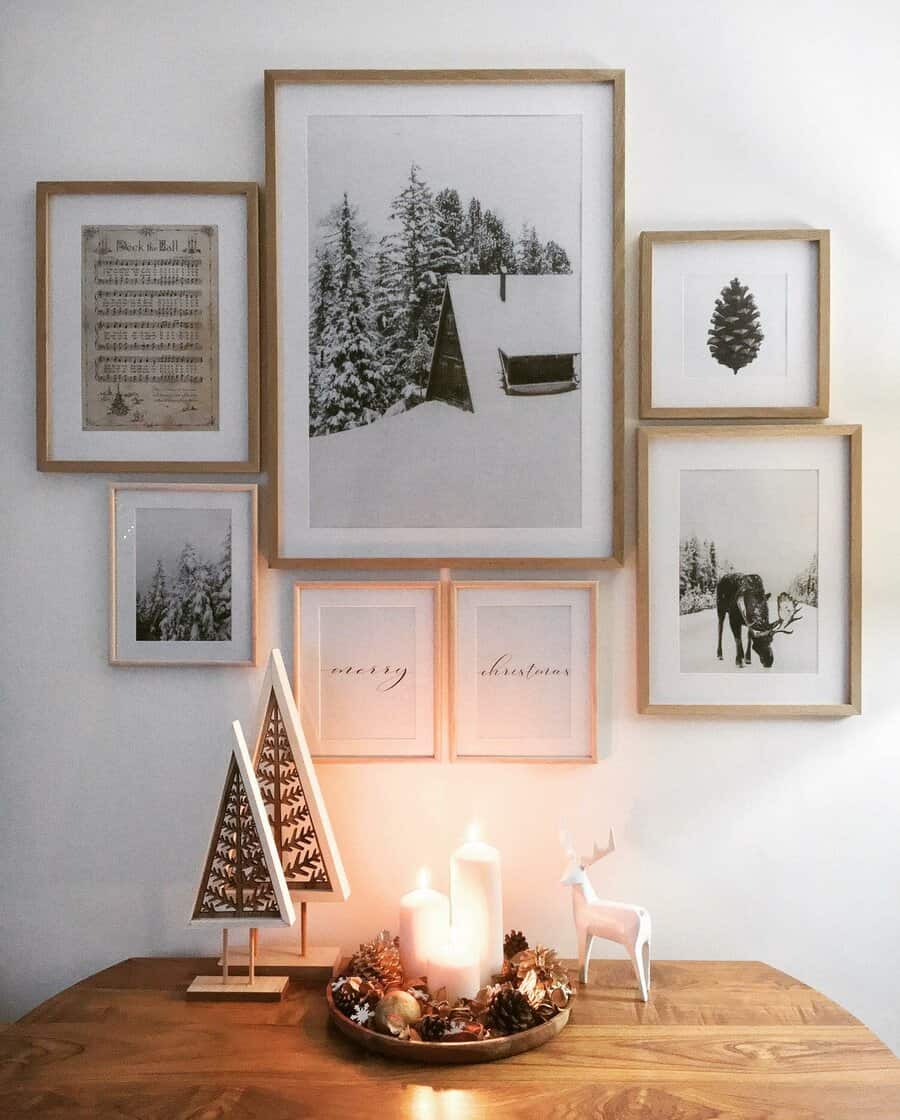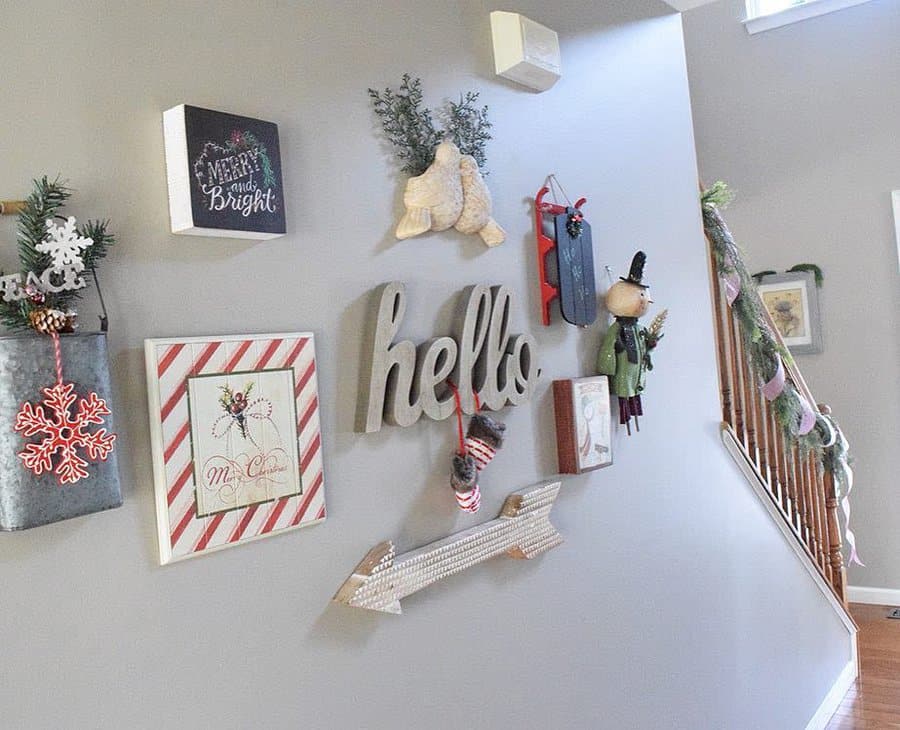 6. Choose An Unconventional Christmas Tree For A Change
If you're looking to try something unconventional this Christmas, why not start with the centerpiece of any living room – the Christmas tree? Go against tradition and embrace a fresh look with a white faux tree.
Add colorful ornaments like honeycomb balls, pom-pom garlands, shiny stars, and more to create an eye-catching design that is sure to turn heads. Celebrate the season in style this year with an unconventional Christmas tree!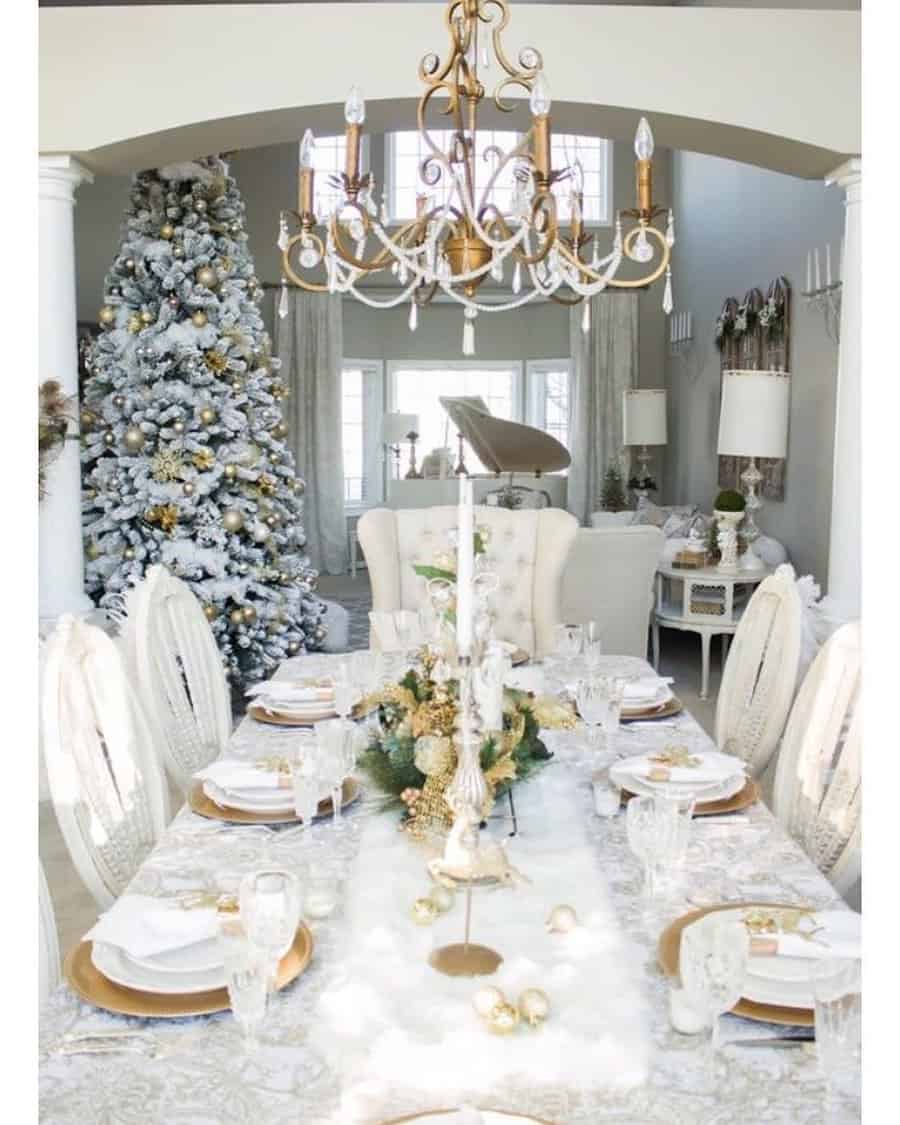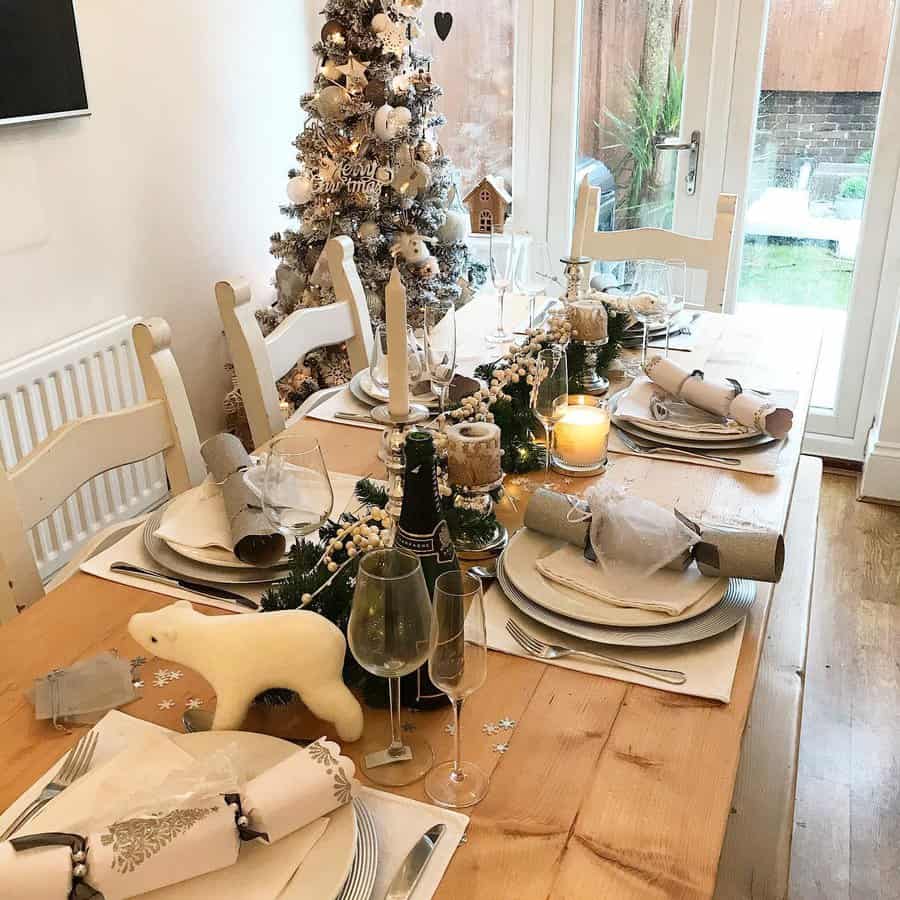 7. Christmas-ify Your Patio
When it comes to Christmas decorating, don't forget to spruce up your patio too! Transform your patio into a winter wonderland with some festive decorations. Hang string lights and garlands along the railings if you have an outdoor patio.
Utilize colors like reds and greens to bring Christmas cheer. If you want something unique and creative, white paper snowflakes hung around the patio make for an enchanting look, especially when illuminated at night.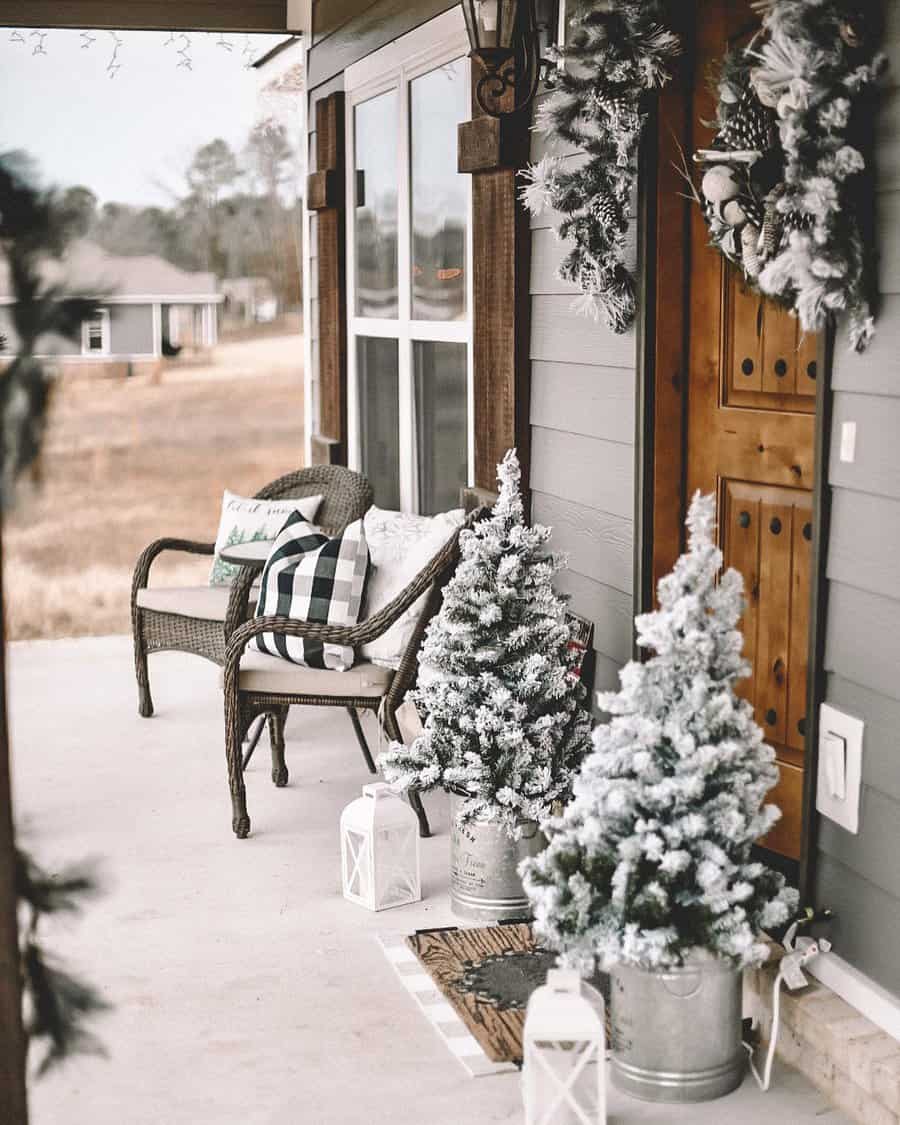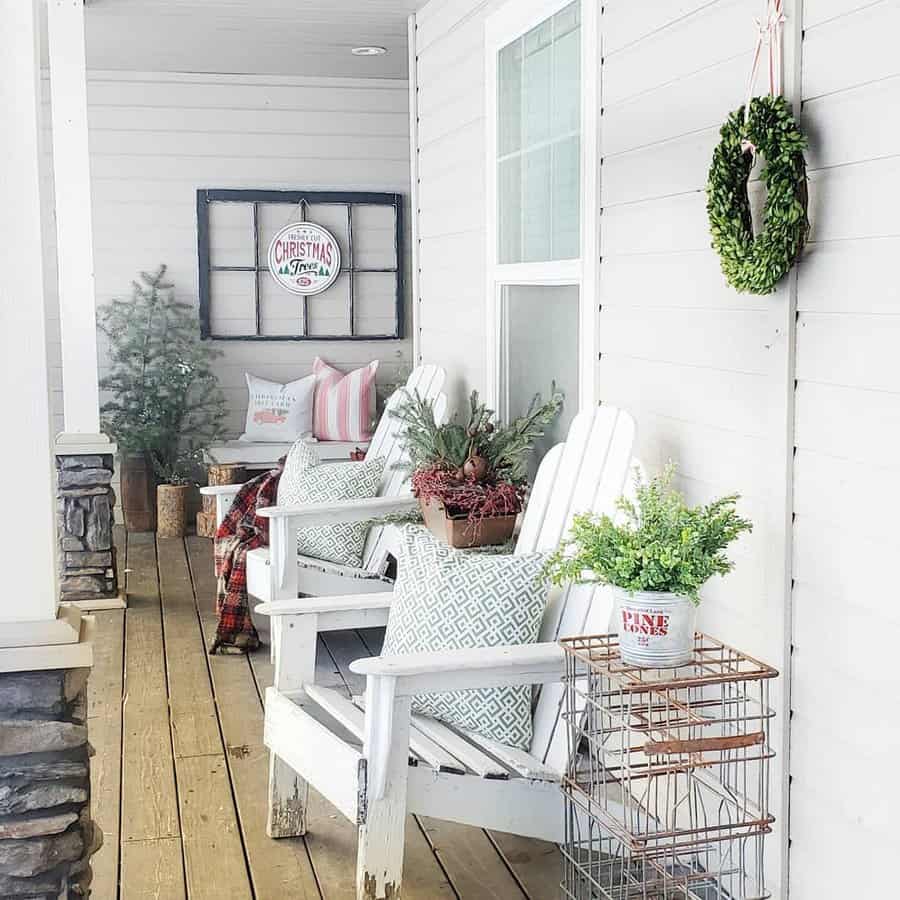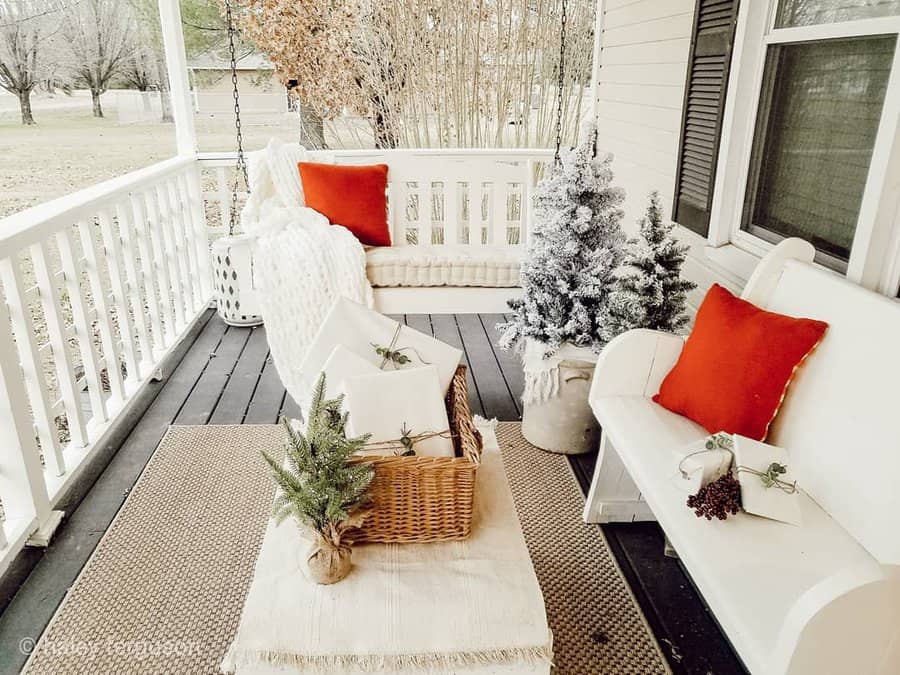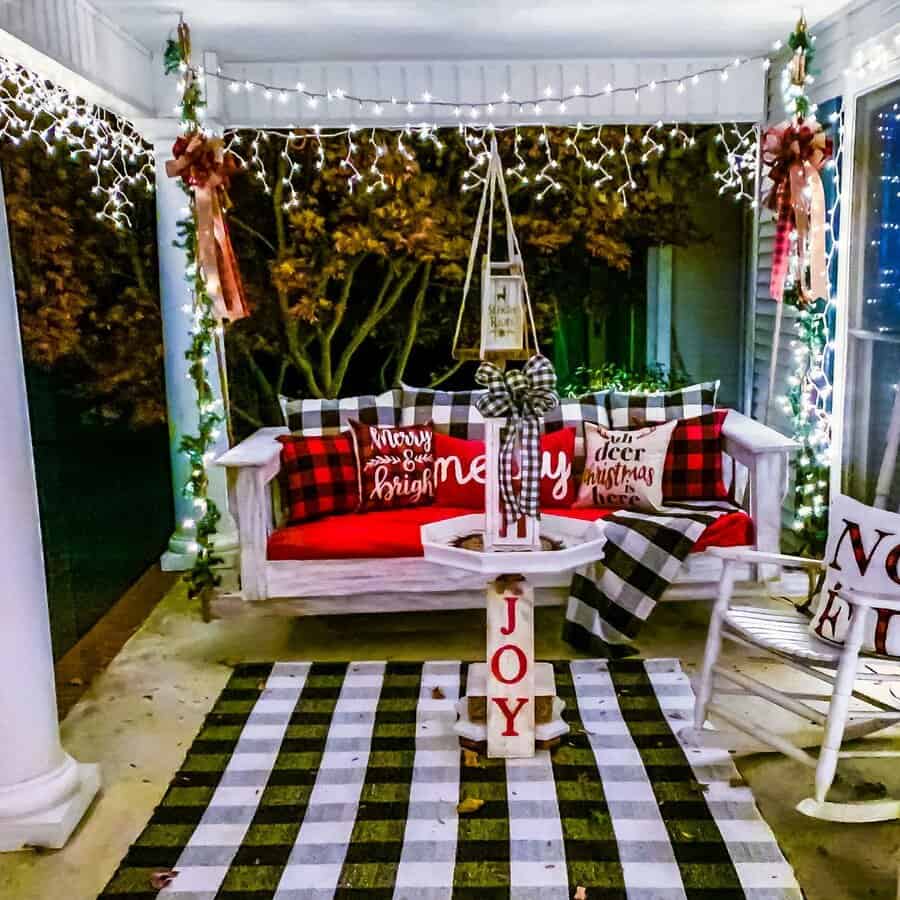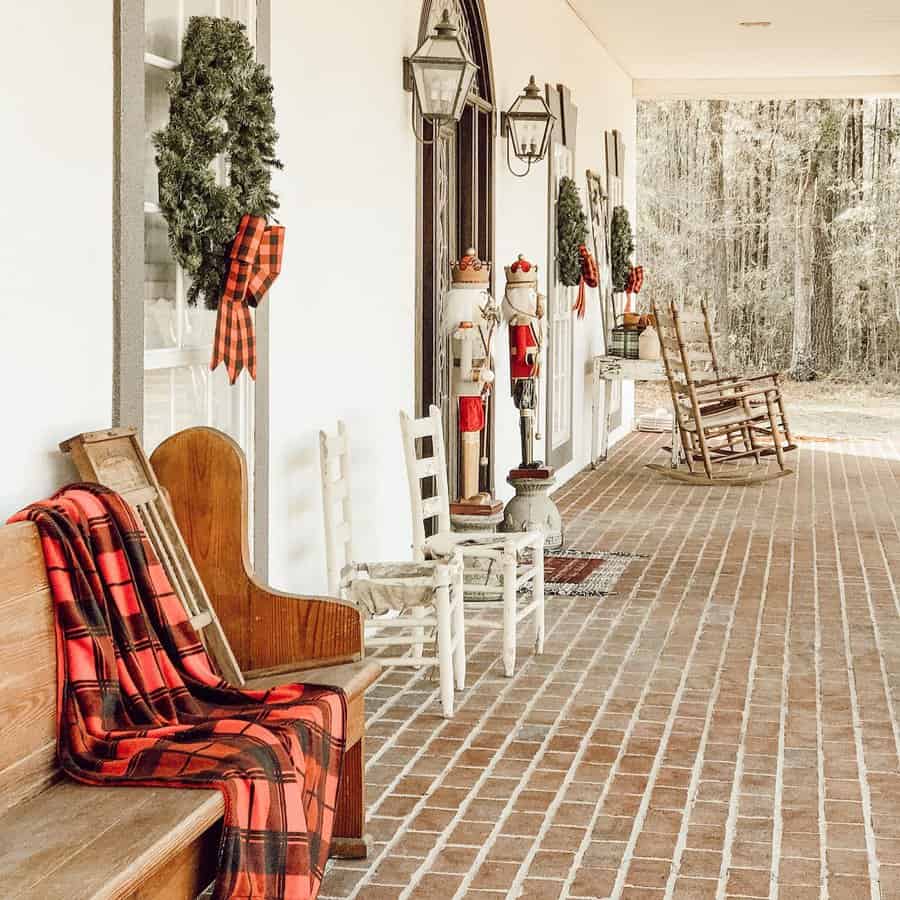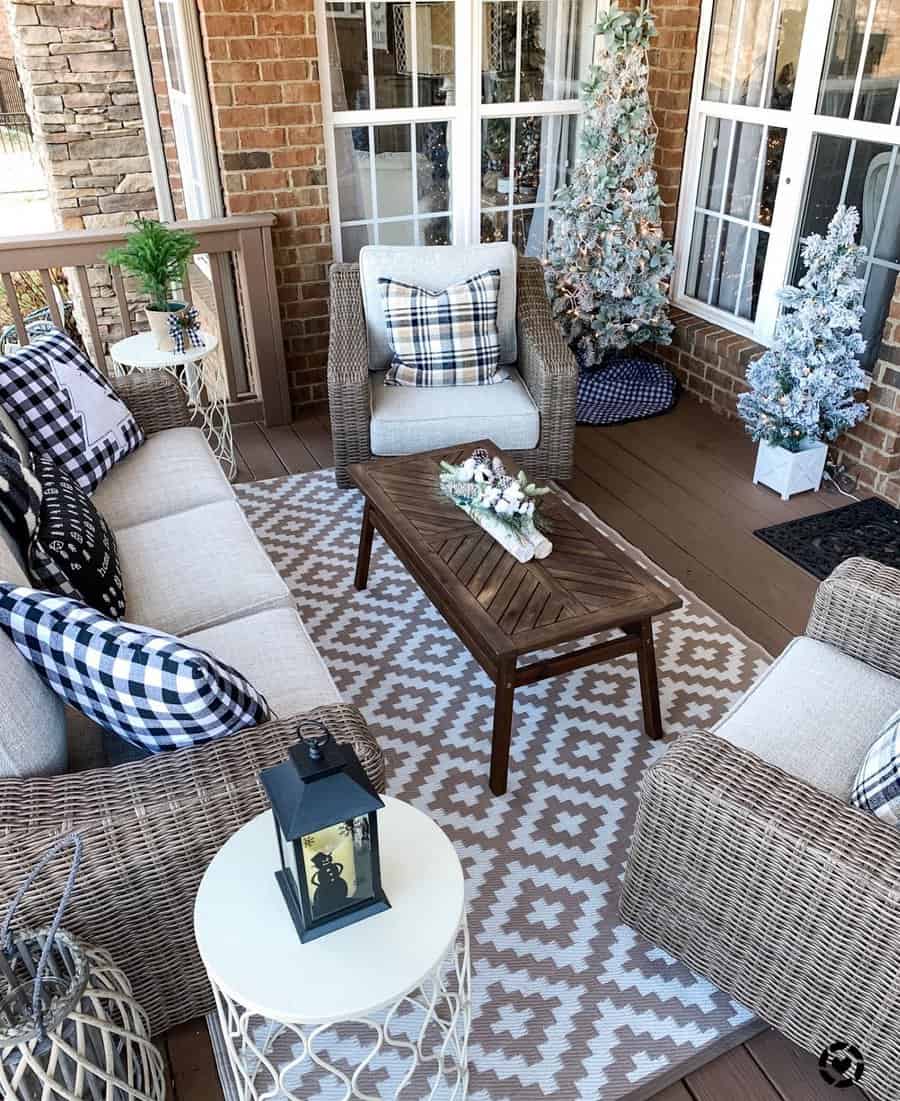 8. Turn The Fireplace Into The Heart Of The Home
Let the fireplace be the heart of the home! If you're looking for ideas to decorate your home this holiday season, consider decorating the fireplace with festive decorations and socks. Adding a stocking for each family member is a great way to add some personalization to the decor.
Don't forget to top it off with a Christmas tree too! You can get creative with the tree and choose a theme — such as all-gold ornaments or decorate in blue and white.
Then, accentuate your chosen theme with string lights and sparkling tinsel. Whatever decorating style you choose, it'll no doubt bring cheer and warmth this holiday season.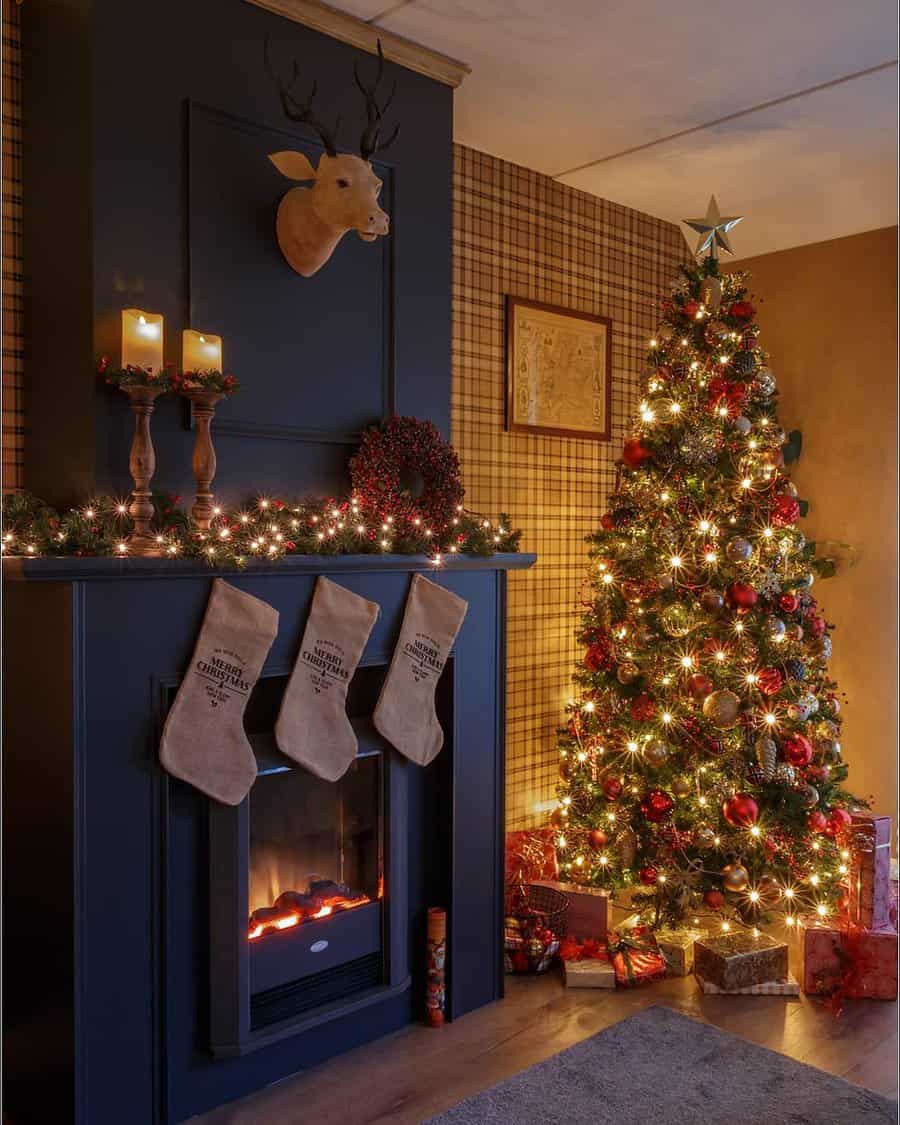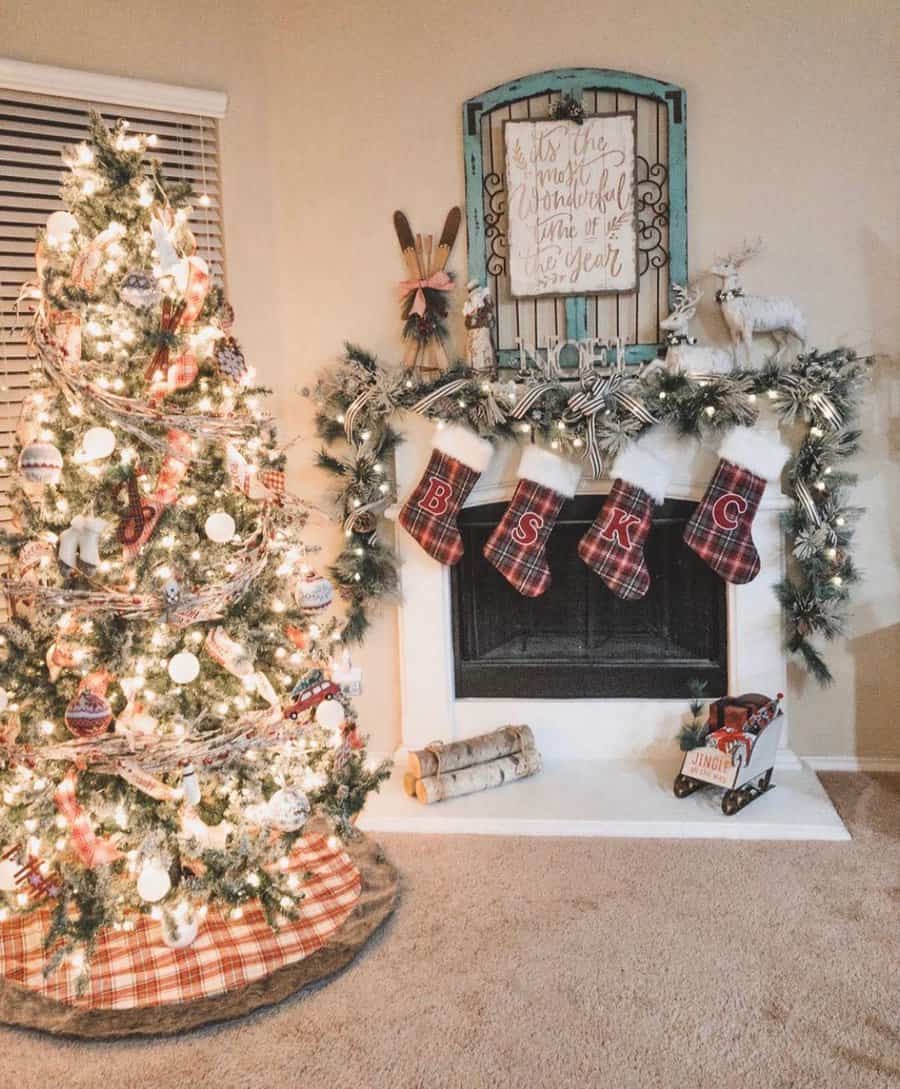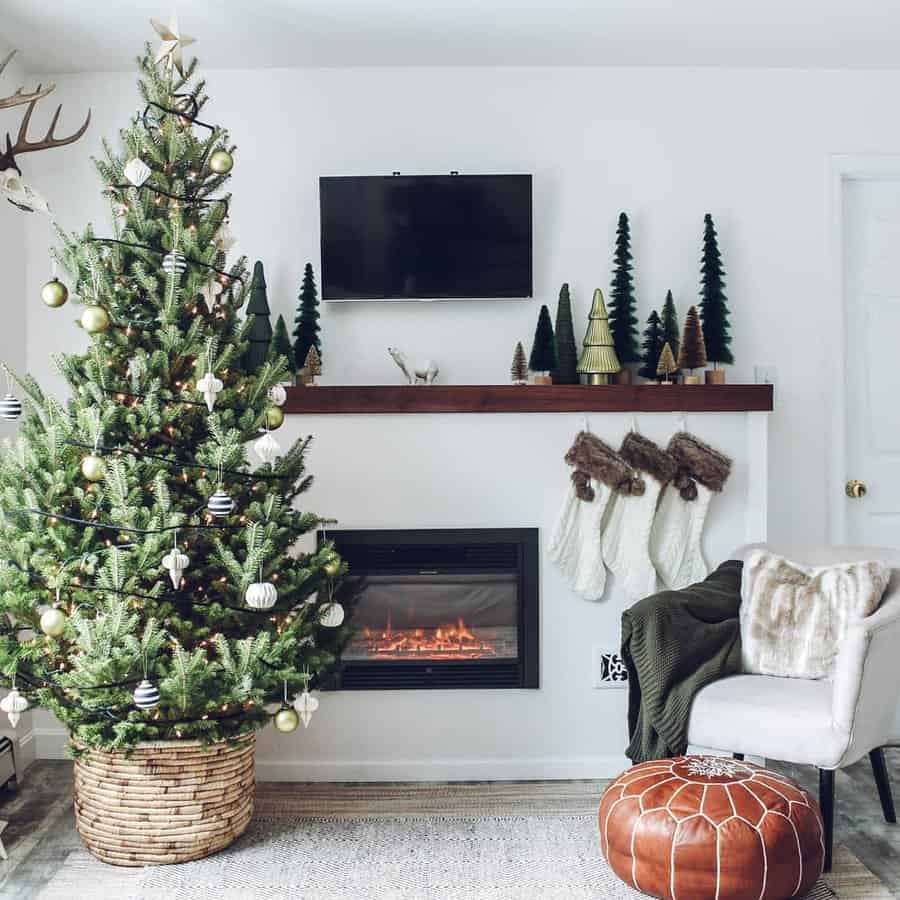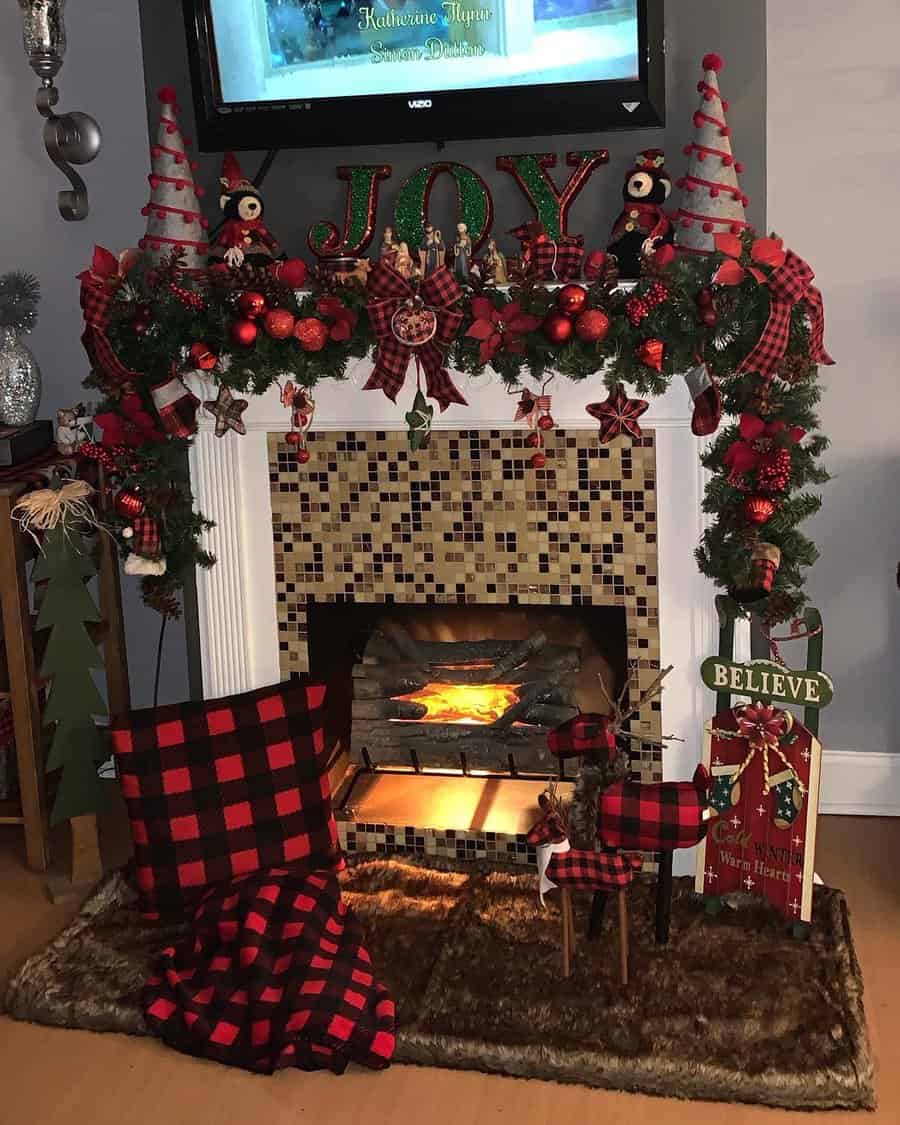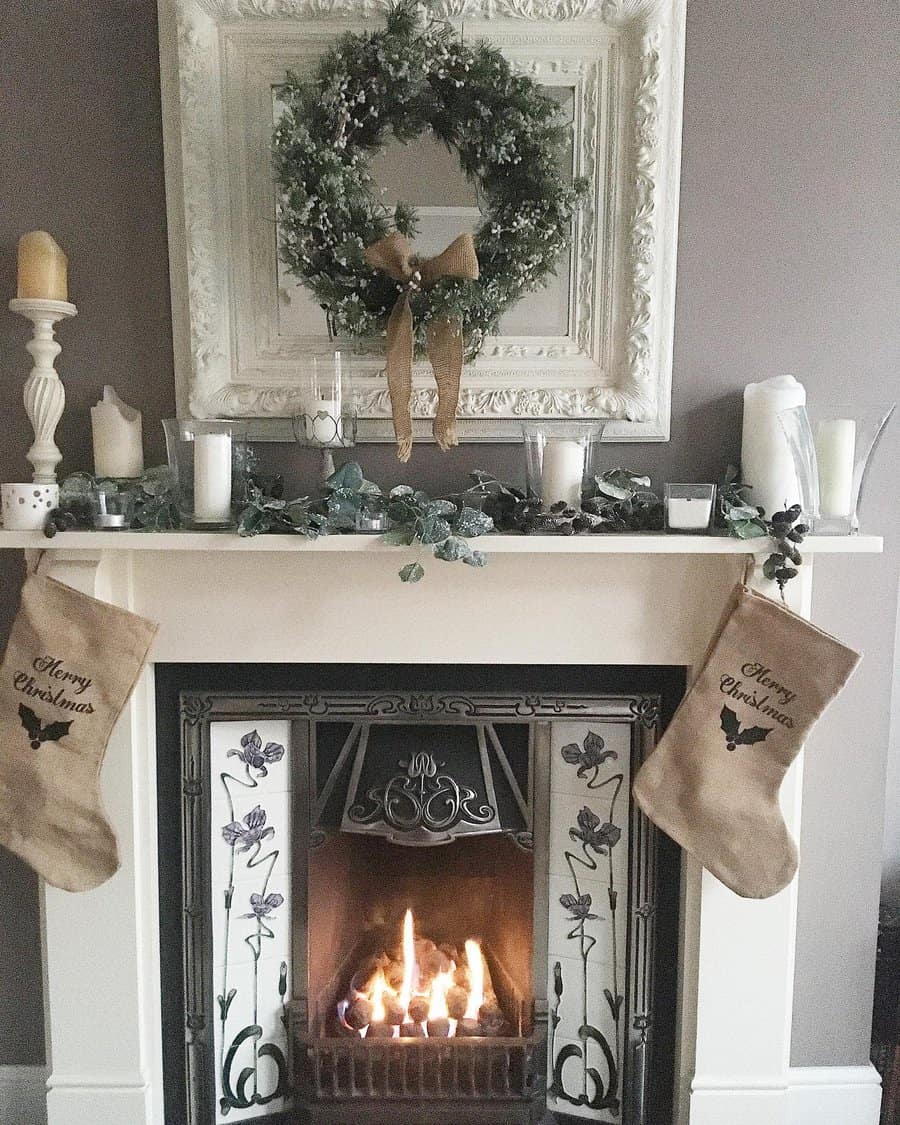 9. Opt For Minimal Table Decor
Christmas is a wonderful time of year, and decor is an important part of the holiday spirit! If minimal styling is more your style, why not opt for some simple yet creative decor ideas for your holiday table? Add sparkle with metallic accents from gold and silver candles or glassware.
Try string art decorations or geometric paper shapes for a modern look; the minimal contrast can add festive cheer to any setting. For those looking for simple dining table decorations, a few sprigs of pine or holly greens teamed with small candlesticks are all that's needed to create a timeless look. G
et creative this Christmas season with minimal holiday decor!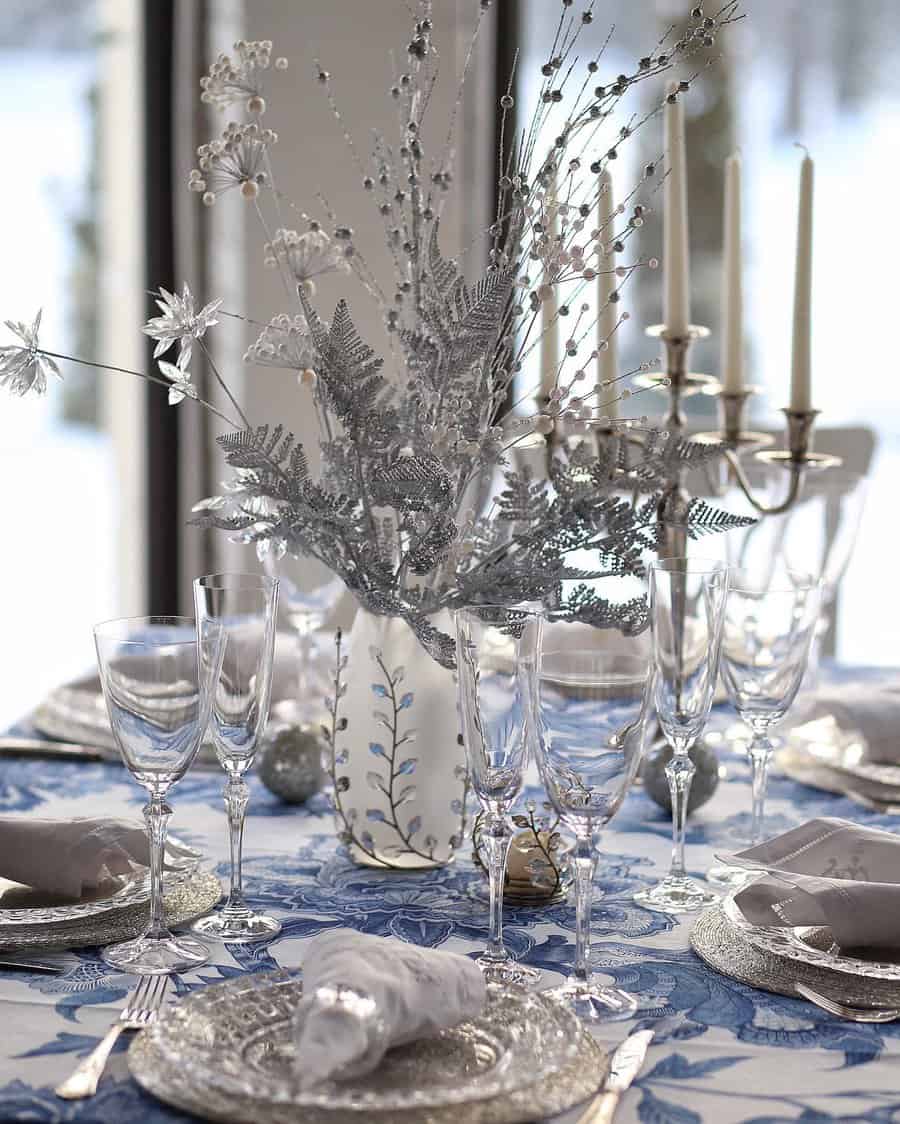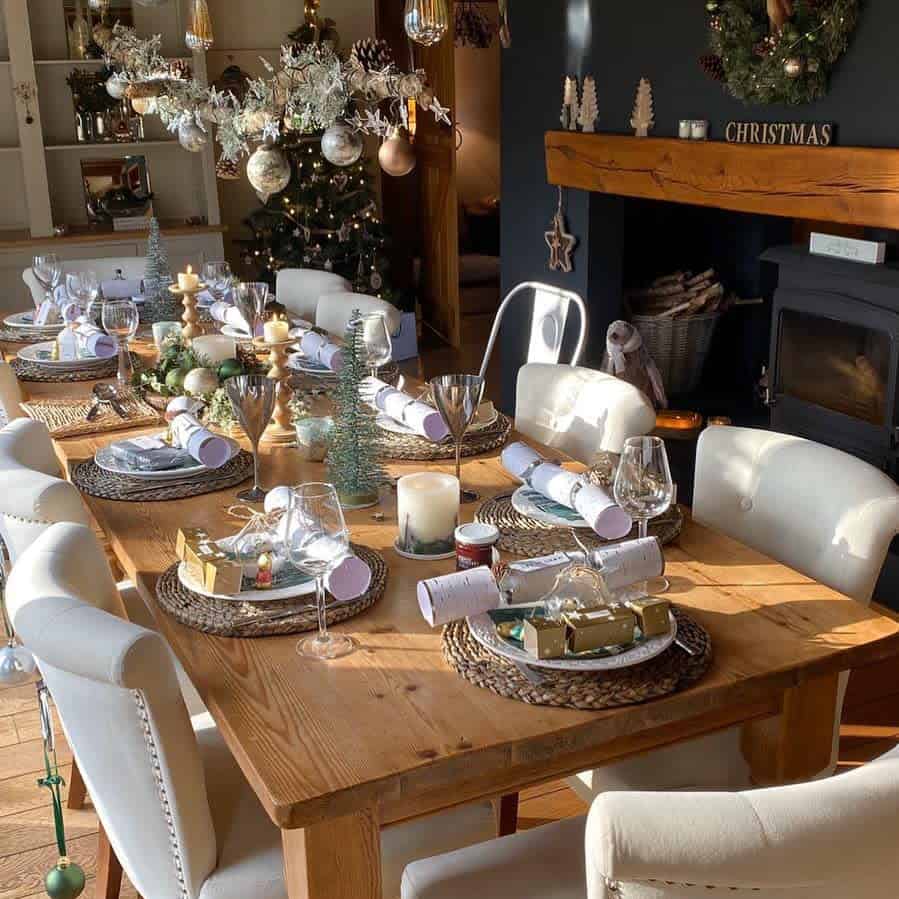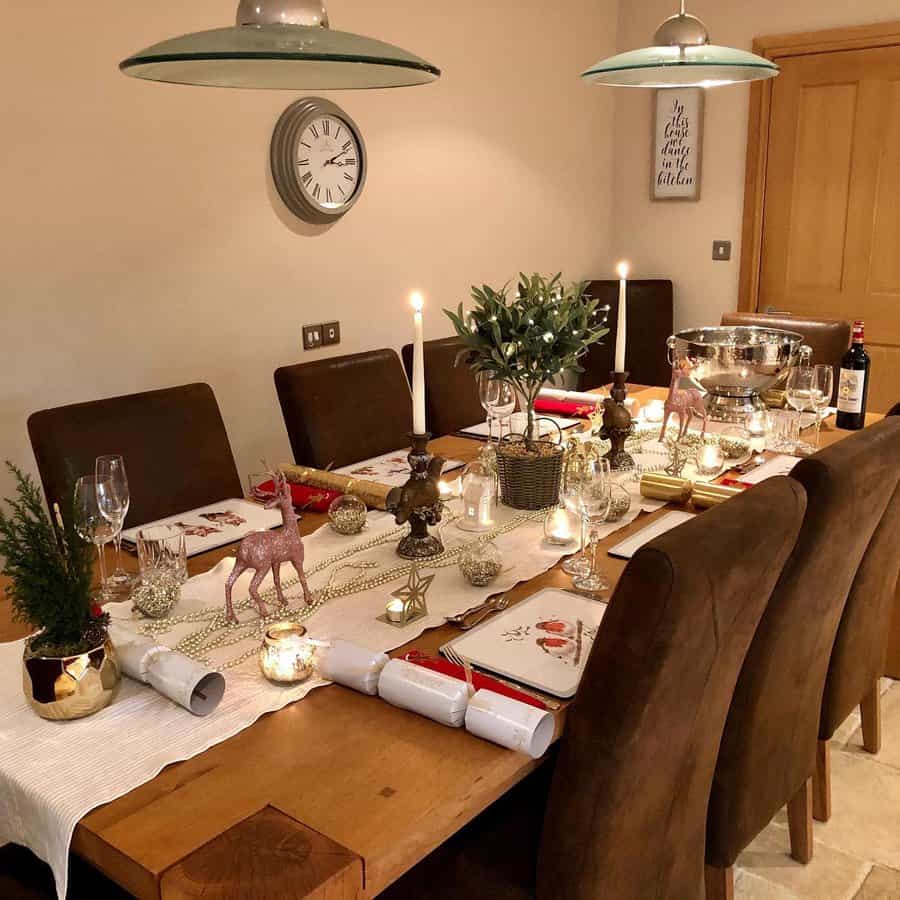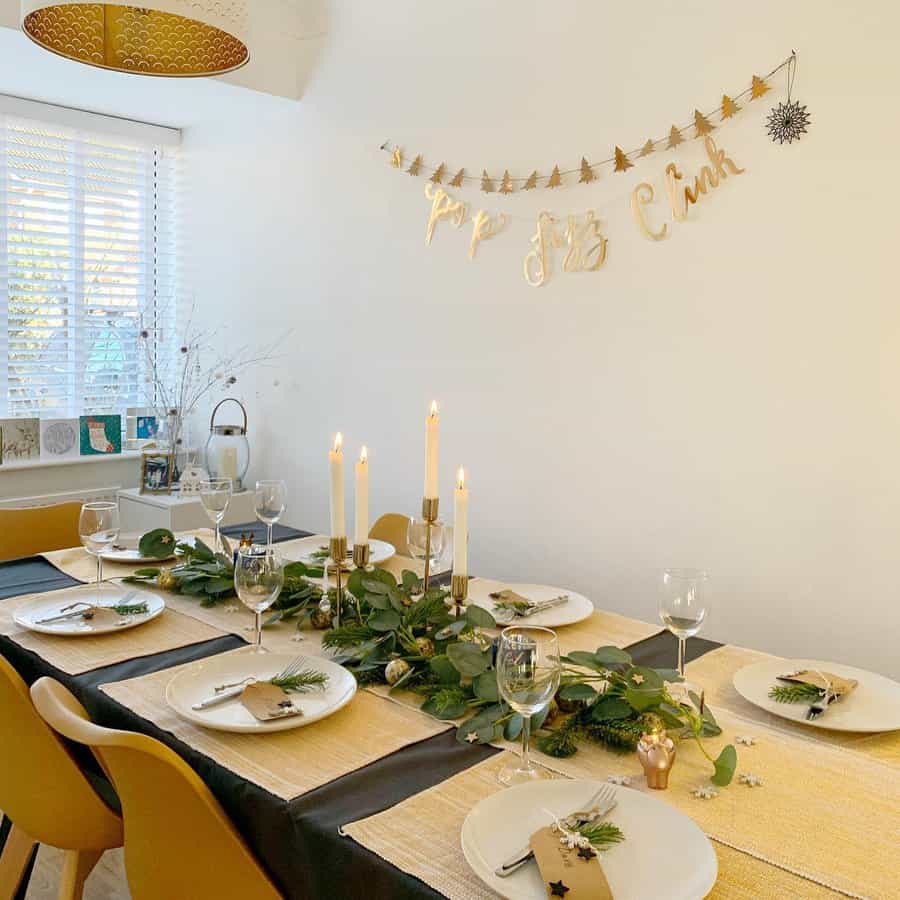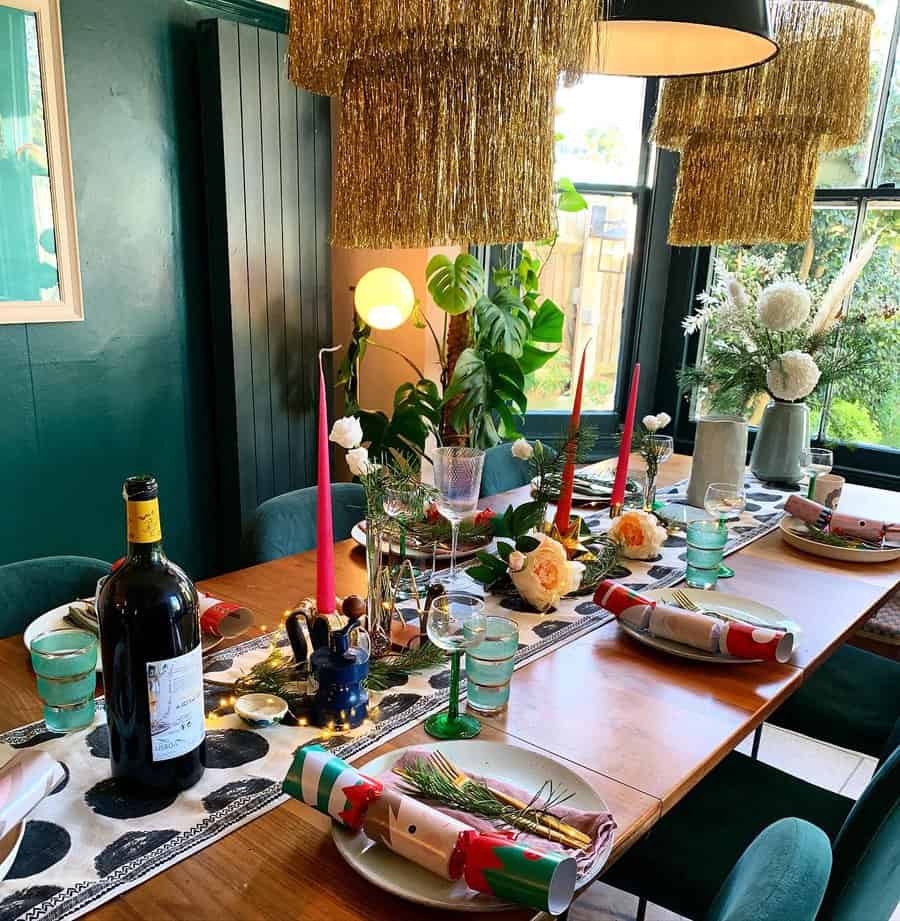 10. Greet Your Guests With A Warm Welcome
Christmas is a time to make your home festive and joyful with decorations! Start at the front door – hang a pair of elegant wreaths flanking the entrance, pile on the garlands, and add plenty of decorative touches in between.
While traditional red-and-green works for most front door décor, you could also be creative and choose something individual like purple and silver or black and gold. Whatever style you choose will certainly impress your guests as they come over!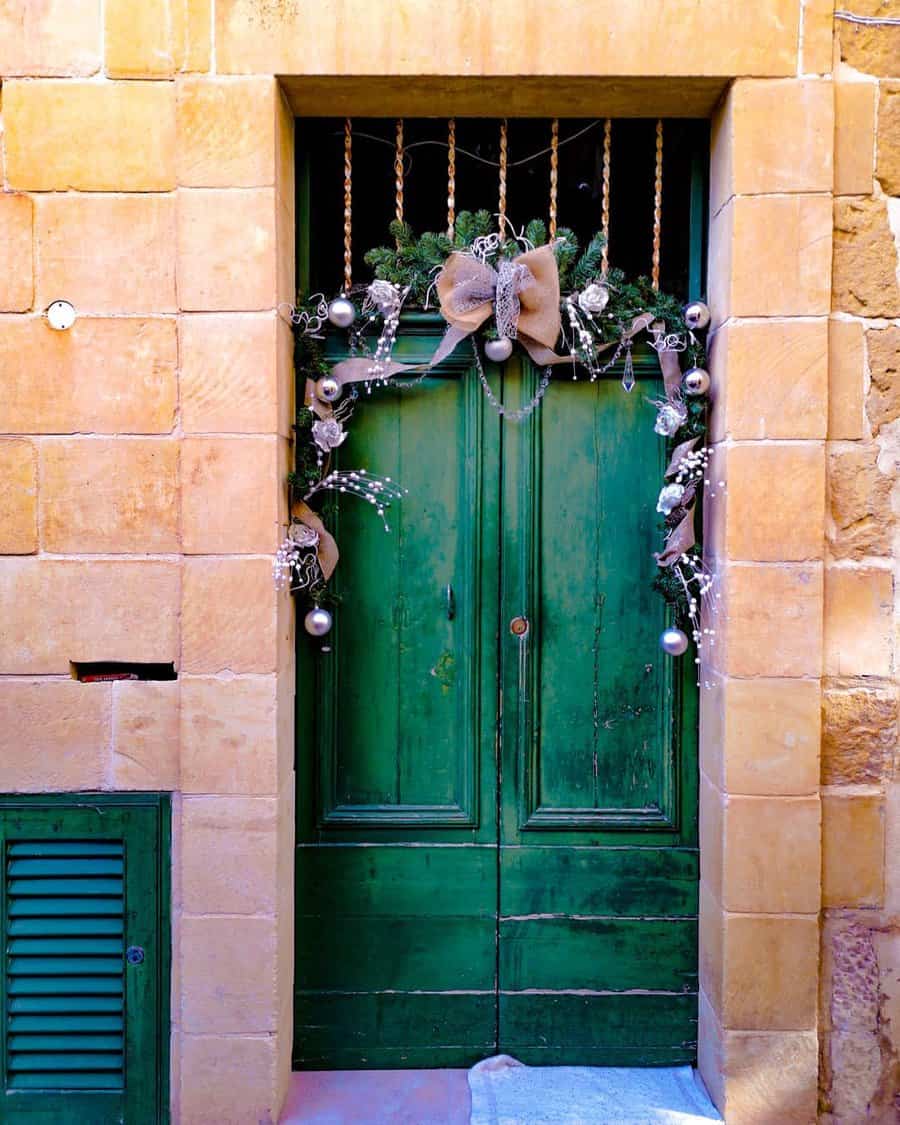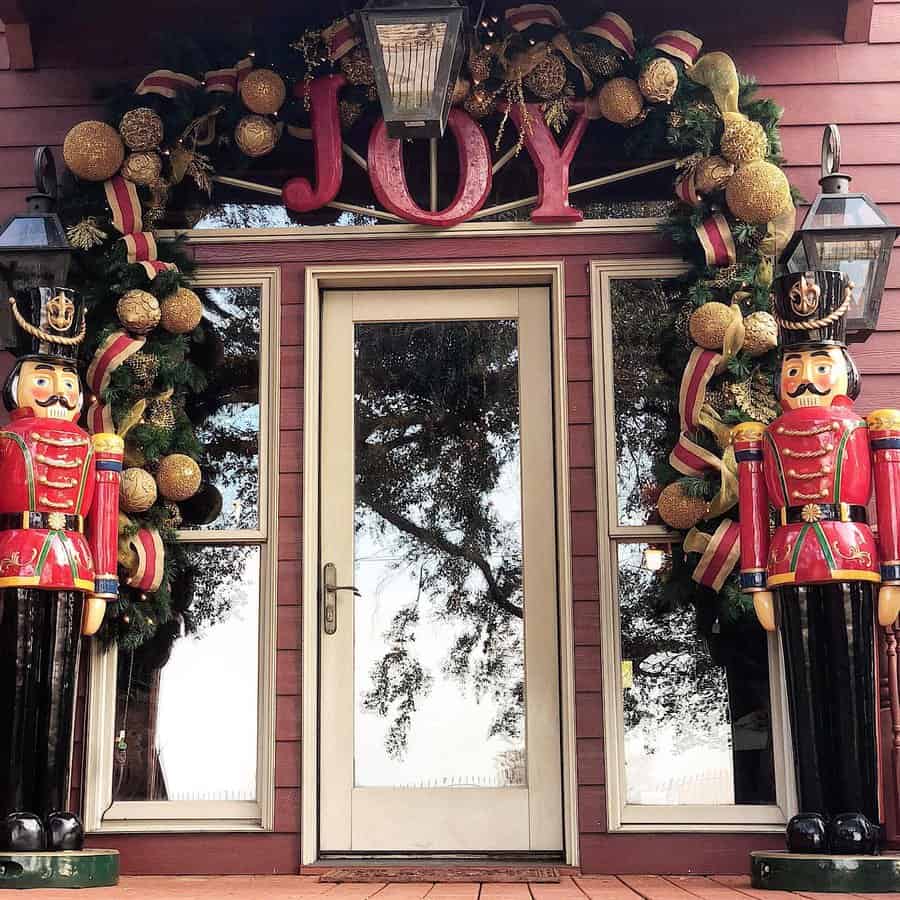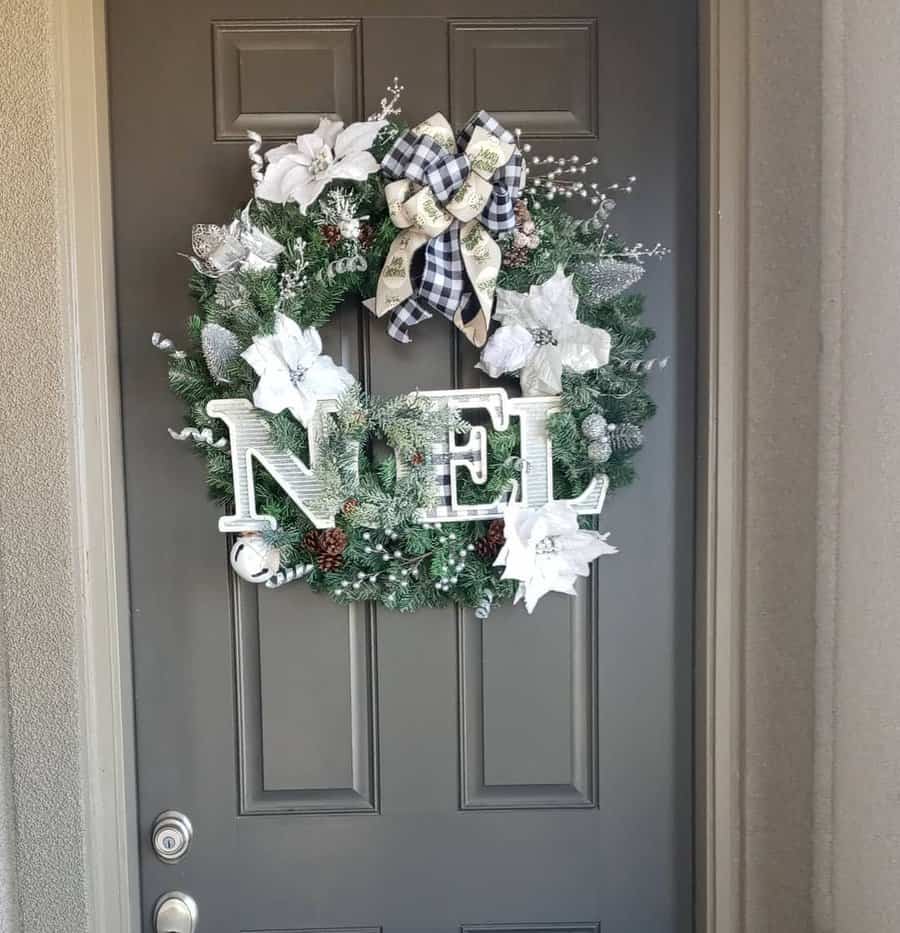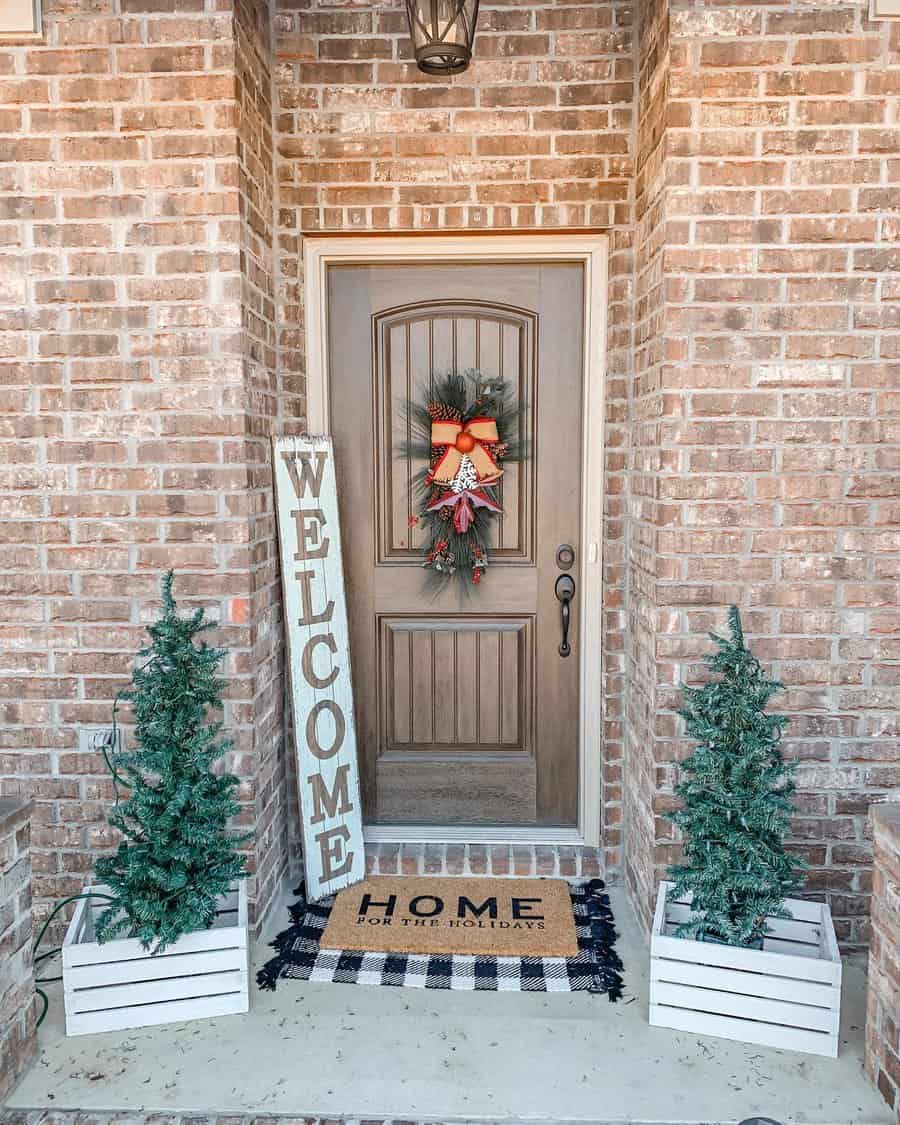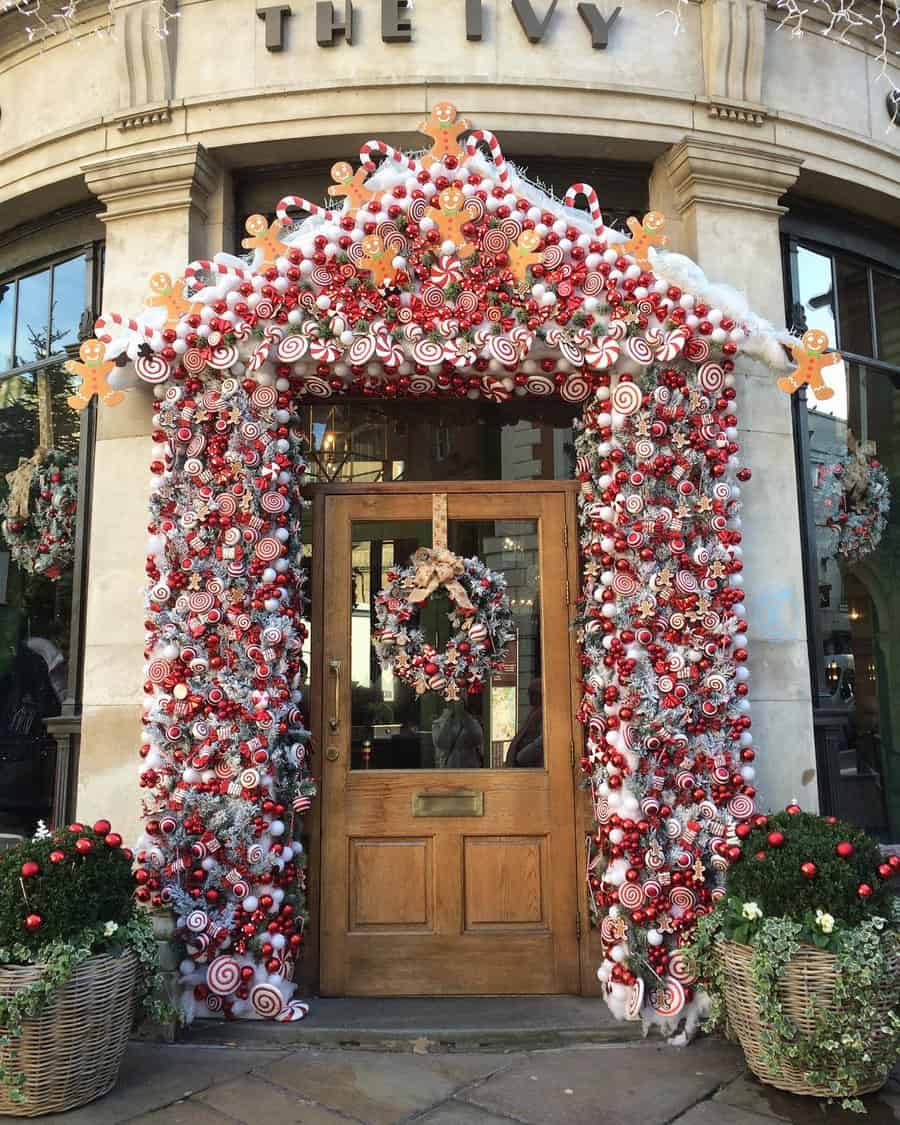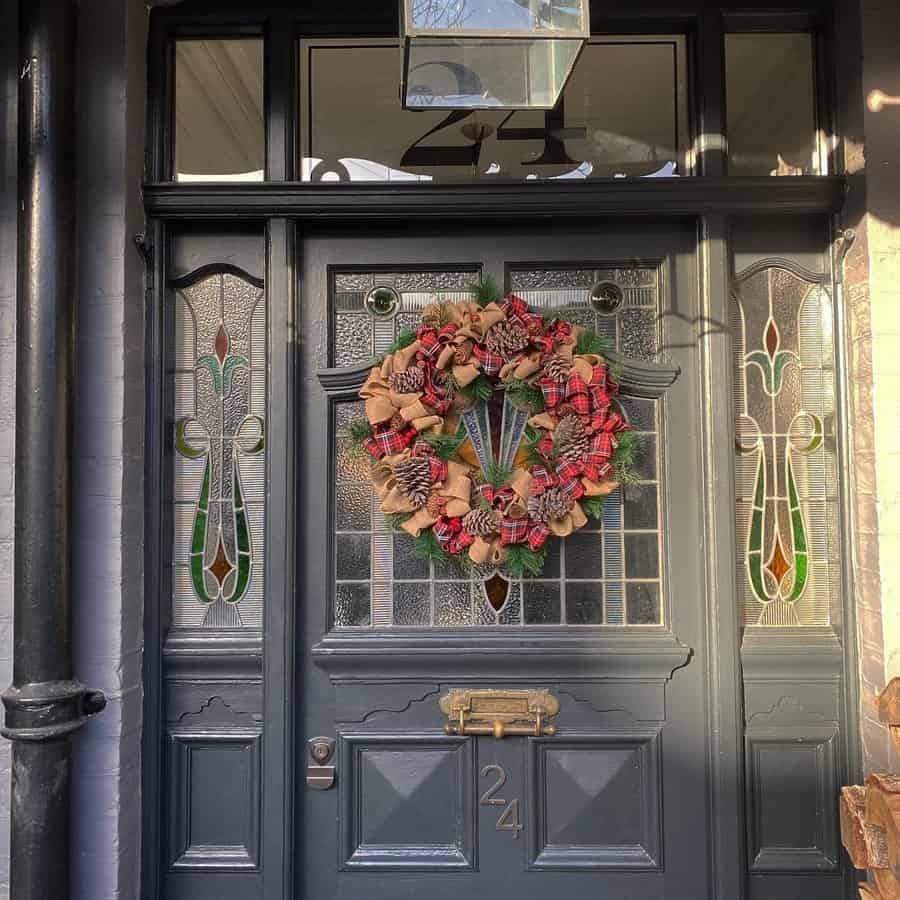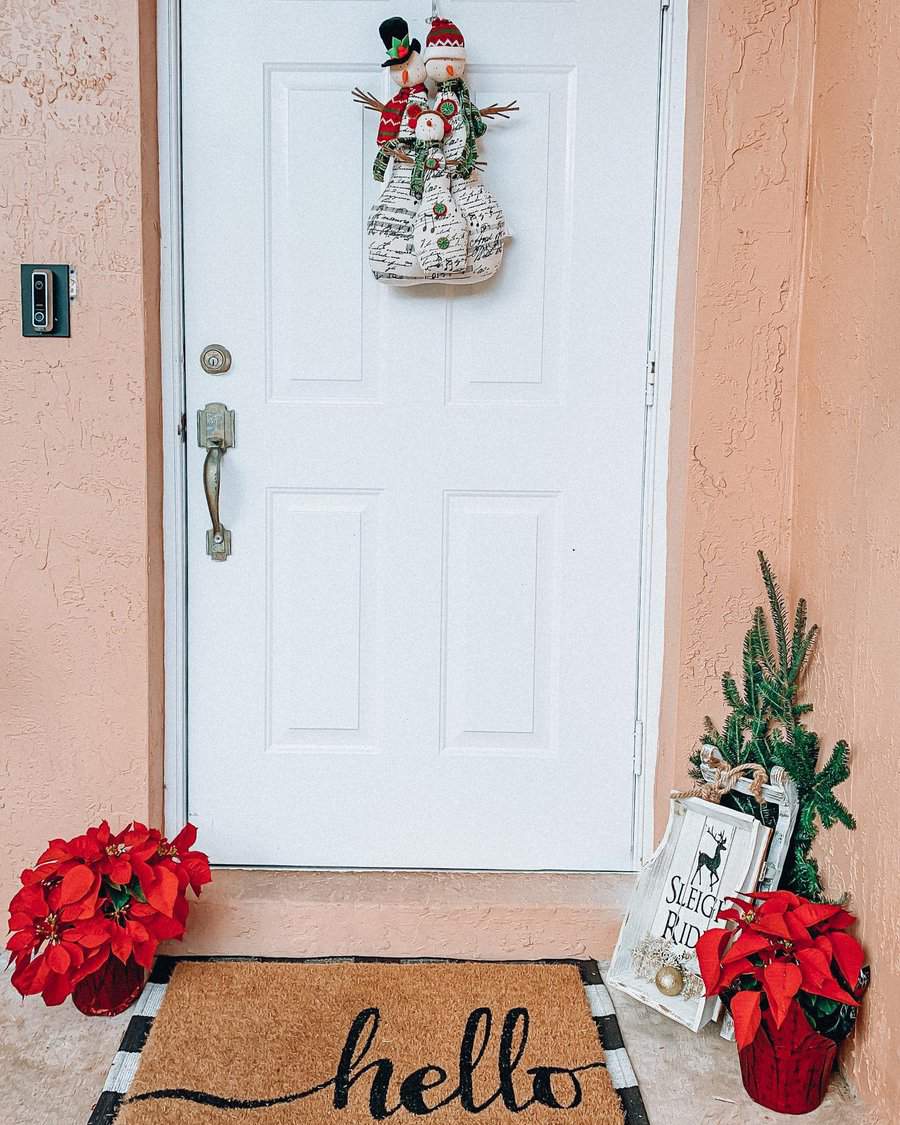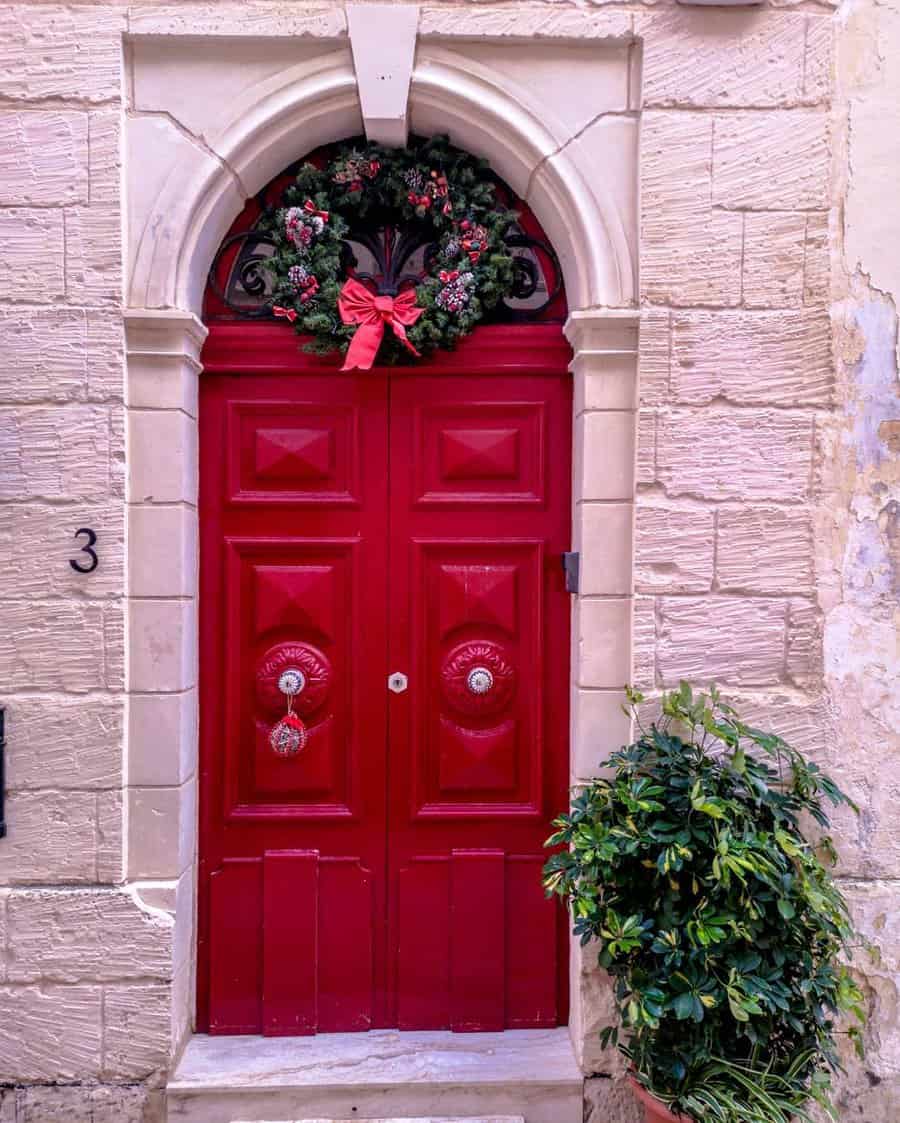 11. Go Monochrome
If you're looking for new Christmas decorating ideas, the monochrome decor is the way to go. White and gold are a classic combination that always looks elegant, while black and gold add a bit of edge to your decorations.
You can also keep it warm and cozy with a white and wood theme, complete with rustic textures like jute string lights or dried oranges with cinnamon sticks. Whatever monochrome look you choose, it's sure to bring festive vibrancy to your home and make it an extra special holiday season.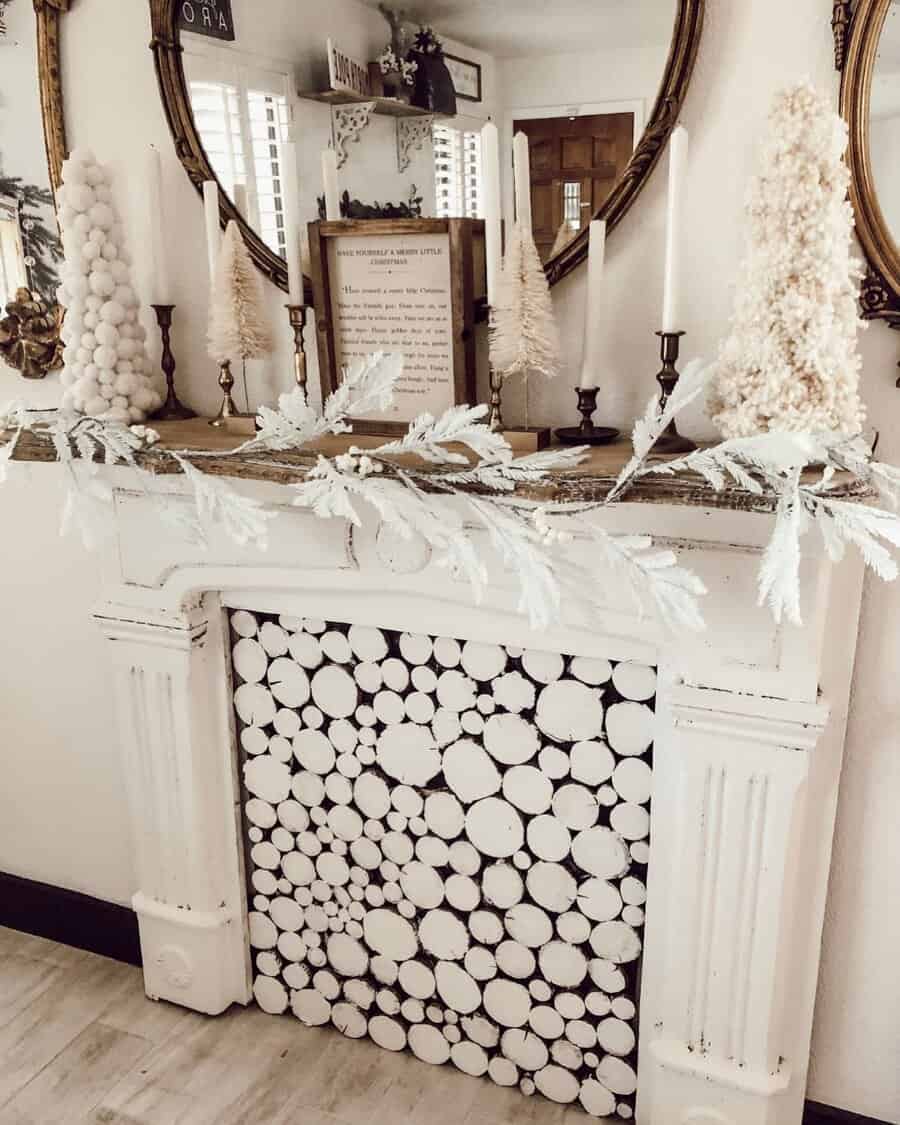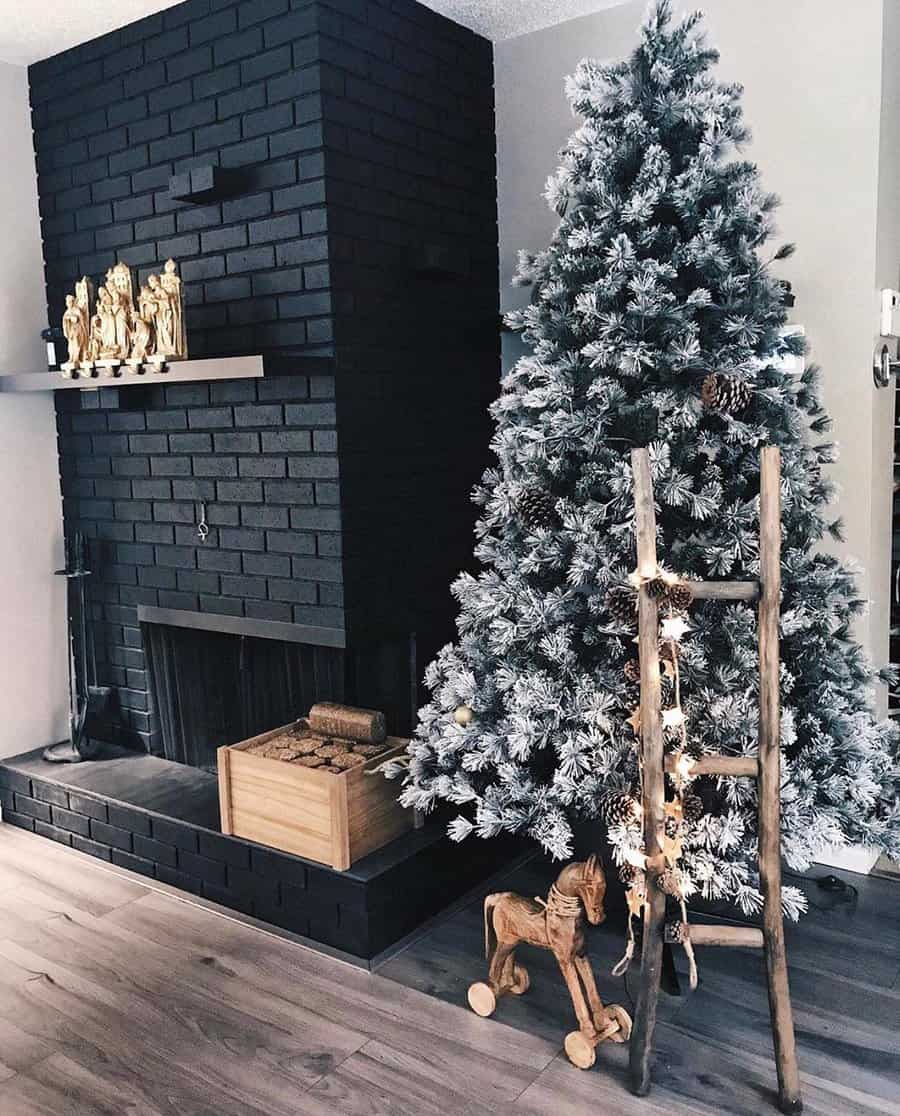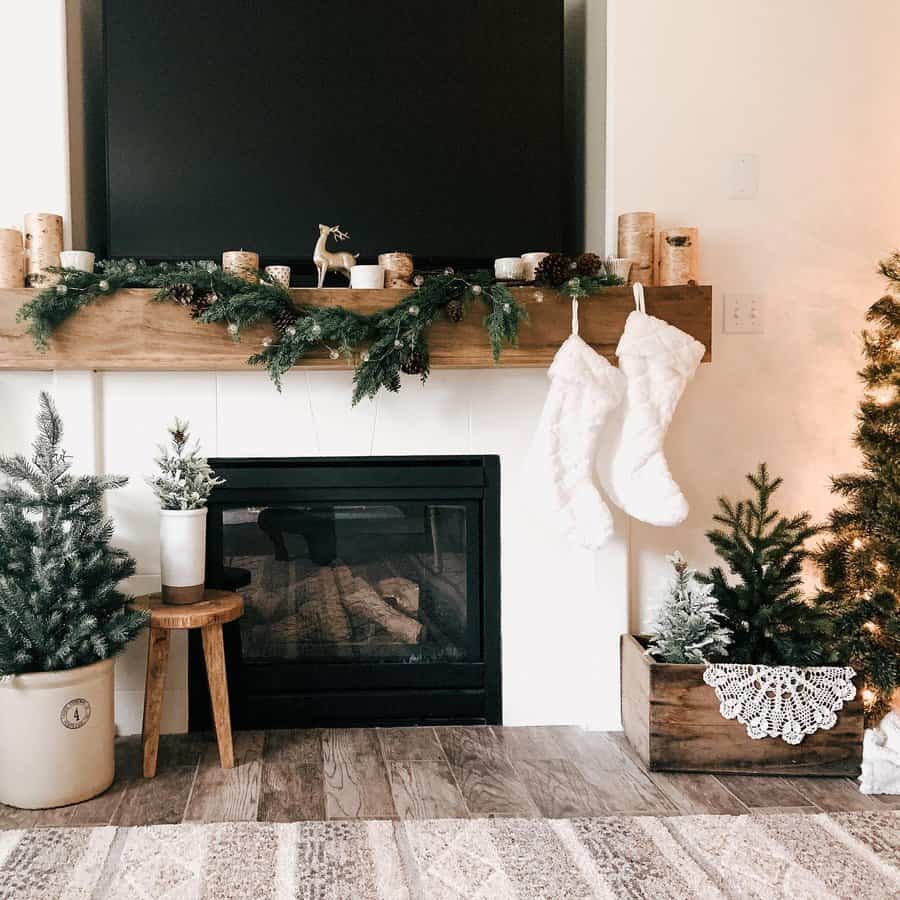 12. DIY Your Own Wreath
Christmas time is the perfect time to get festive and have some DIY fun! Get creative and make your own wreath for your home. By crafting your own unique wreath, you can customize it with a personalized touch making it one-of-a-kind.
Start with something basic like a grapevine or twig frame and design from there. Gather an assortment of seasonal items such as pine cones, fresh or artificial greenery, holiday ribbon, ornaments, berries, etc., to decorate with.
Whether minimalist or maximalist in style – DIY'ing your own wreath is a great activity that can be enjoyed by all!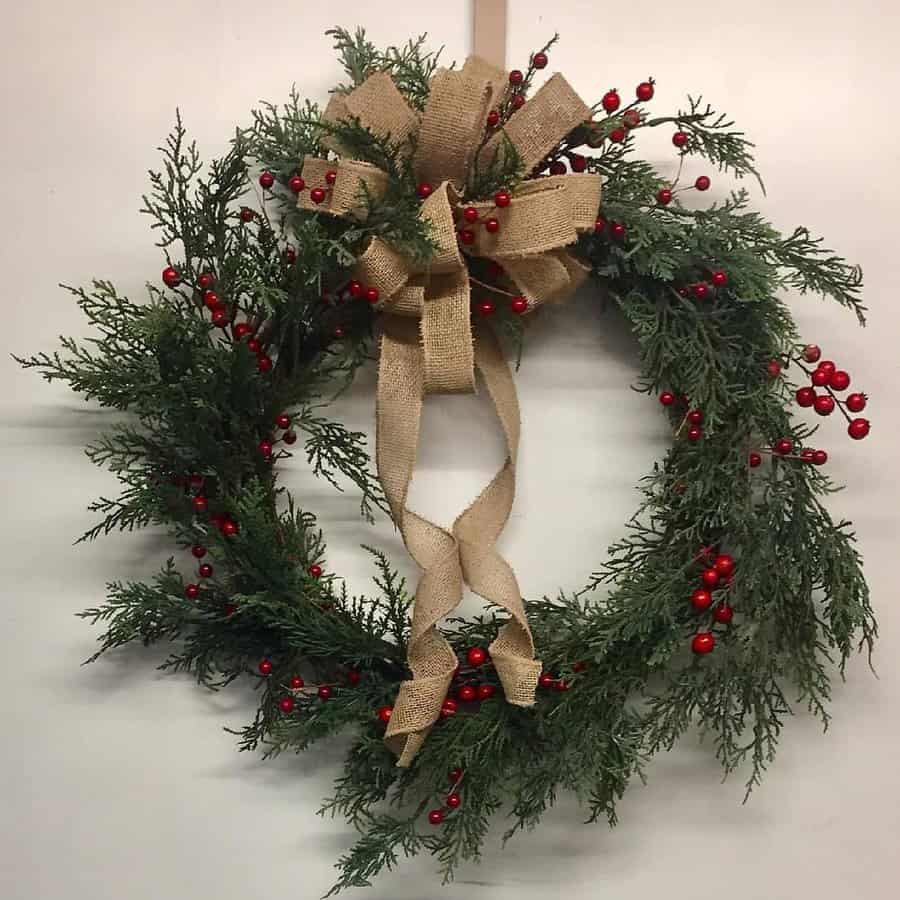 13. Style With Thrifted Finds For A Rustic Look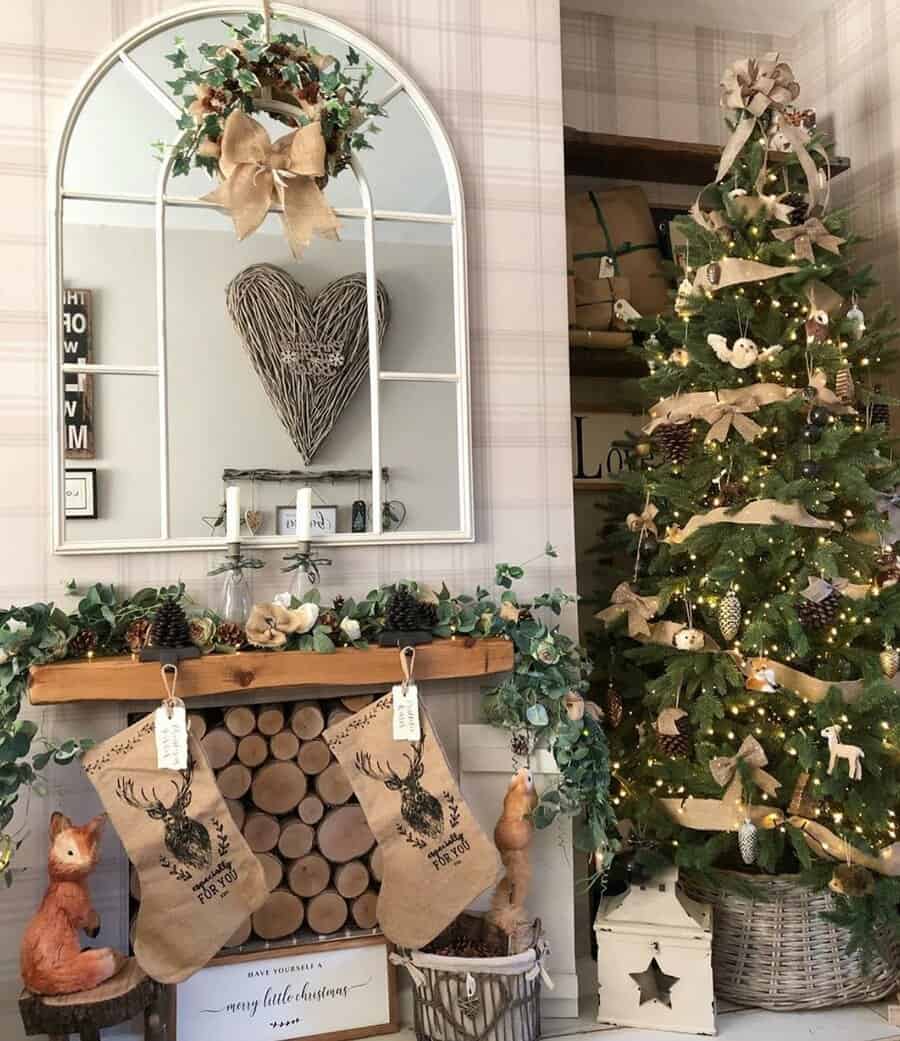 FAQs
How can I make my living room look Christmassy?
Start with greenery in the major areas. Set up a tree, hang garland, and place a wreath on your door. Then hang other decorations throughout your home. Place decorative items on tabletops, counters, and shelves. Finish with a candle that has a scent you associate with Christmas. 
Should your Christmas tree match your room?
You went through the trouble of setting up and decorating your tree. It should be the focal point of the room. You can do this by arranging your furniture to work around the tree. You should also add decor around the room, but it shouldn't be so much that it takes away attention from the tree. 
How do you make your house cozy for Christmas?
Make the space feel warm and wintery. Add fur and woven throw pillows with an oversized throw blanket. Add greenery around the room. This could be a Christmas tree, a wreath, or garland. Add soft string lights around the room for a warm and dreamy glow.