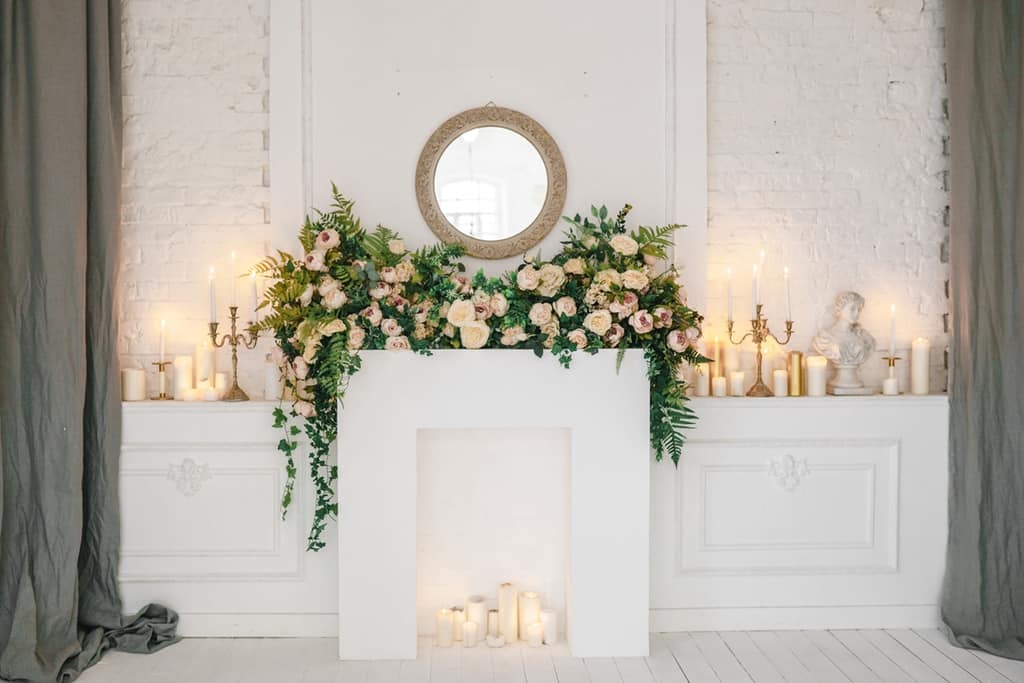 16 Ways to Decorate an Unused Fireplace
A fireplace in a home is a place that holds fond memories. Whether working or not, it will always be the place to hand socks at Christmas time. The Christmas tree normally stands next to it, and that's where our little ones gather to find their presents on Christmas mornings.
A fireplace mantel will always hold pumpkins and candy for Halloween decorations. Even if a fireplace is not operational, it is a centerpiece in any home and should not be wasted space. There are creative ways to make the fireplace stand out and claim back the spotlight it deserves.
See also: 77 Fireplace Décor Ideas 
Here are 16 awesome ideas for you to give your unused fireplace a total facelift. One of them will surely match your décor style, so we hope you will feel inspired to let your fireplace take center stage and shine, as it should!
PAINTING
First things first. Start your fireplace remodel by giving it a fresh coat of paint. You may choose one single color for both fireplace and wall or contrasting colors.
If you decide on a single color for both fireplace and wall, then the mantel should stand out. Give the wood mantel a refresh by sanding it and applying a varnish coating, or paint it in a different color, contrasting with the wall and the fireplace.
Once this is done, you can start decorating the empty space inside the fireplace. Check out these decorating ideas:
1. CANDLE LIGHTS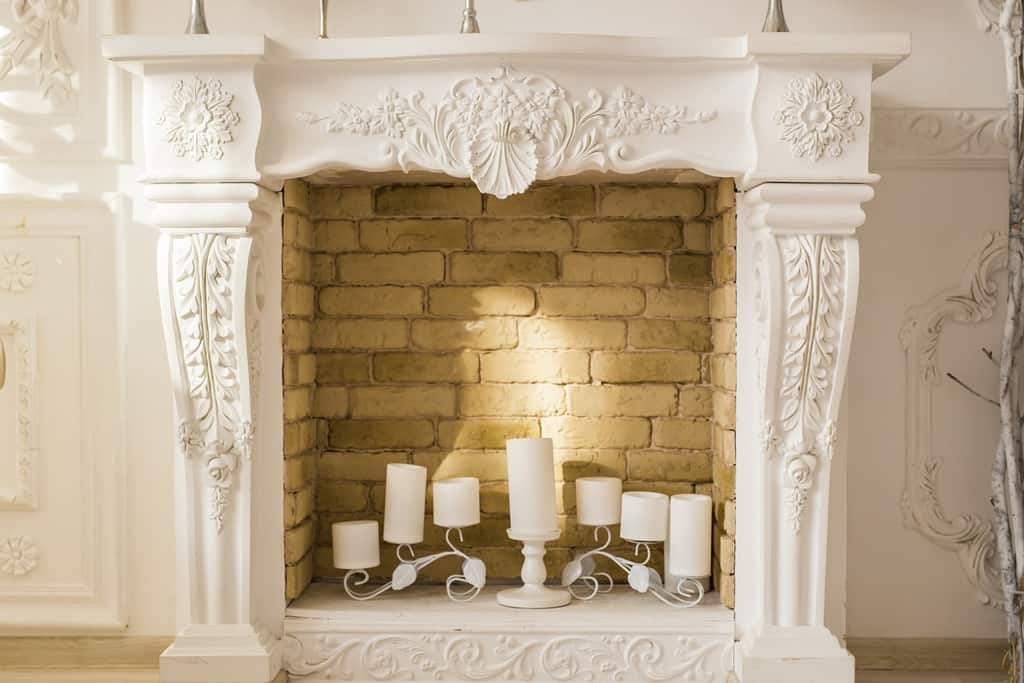 Not an out-of-the-box solution. But the reason why many people do it is because it looks good! Candles are an accessory that can match the color palette of your home and complement the décor. It's a great way to add style to a fireplace that would otherwise be dead space in the room.
Place various scented candles of different sizes in the fireplace, and you will see the amazing visual effect when you light them all. For an elegant look, choose one single color that matches your furniture. Same color, same shape, but different sizes.
If you prefer a vibrant and informal look, however, choose various colors and shapes. The effect is great, just the same. The only thing missing after you light the candles? A good glass of wine…
2. AN INDOOR GARDEN
If you're thinking of placing potted plants in the interior of the fireplace, do it with style! Choose vases and greenery of different sizes and shades, so you'll have different layers of green.
Add string LED lights in between the pots, so that there is a diffused light that comes from behind the vases. The effect is awesome, and the light won't hurt the leaves if you don't place it directly over them.
3. SHELVES AND DÉCOR PIECES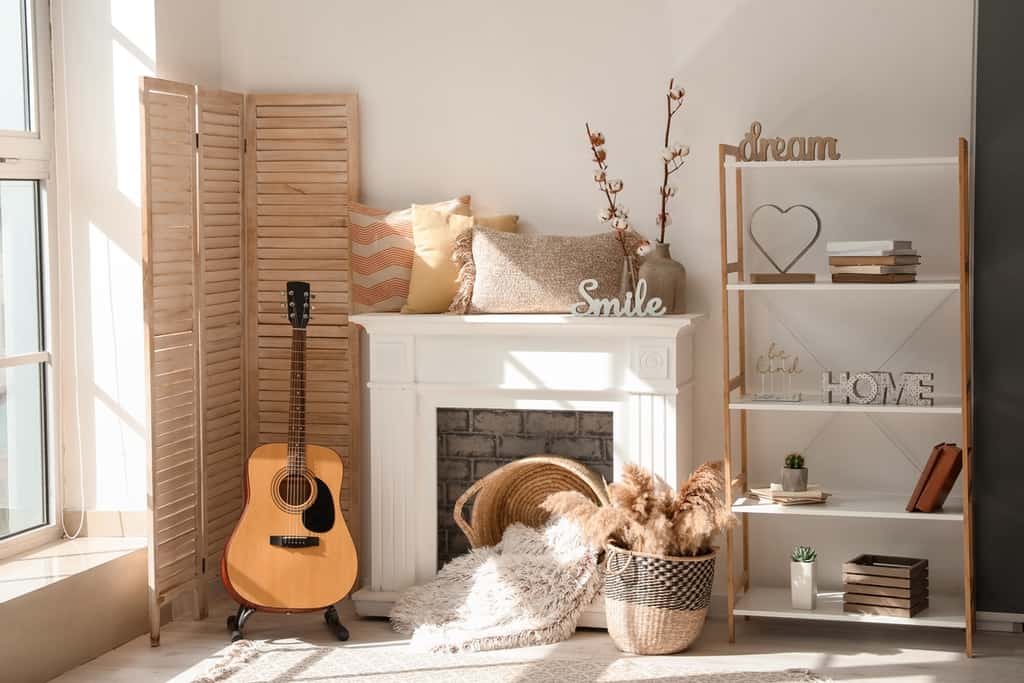 Why not transform your fireplace into your little art gallery? Again, we need to start with the basics: a facelift on the fireplace. Start by painting the fireplace and mantel in one single color, and add a shelf inside the fireplace, in the same color, so that everything looks like one single piece of furniture. An all-white or all-black fireplace is an elegant choice!
Now, what will make this space stand out is the inside part of the fireplace. Paint it in an accent color (i.e., an all-white fireplace with a black background). By doing so, you will set the stage for the star of the show: the décor pieces. Add a few books, a small statue some framed pictures and this fireplace will be a feature wall with style!
If you have a brick fireplace and do not want to paint over it, keep it as it is, and add a wooden shelf. The décor will then have to match the style: go for a few books, wicker baskets with dry flowers, some ceramic pots, and there you have it. A farmhouse décor for a rustic fireplace.
4. MIRROR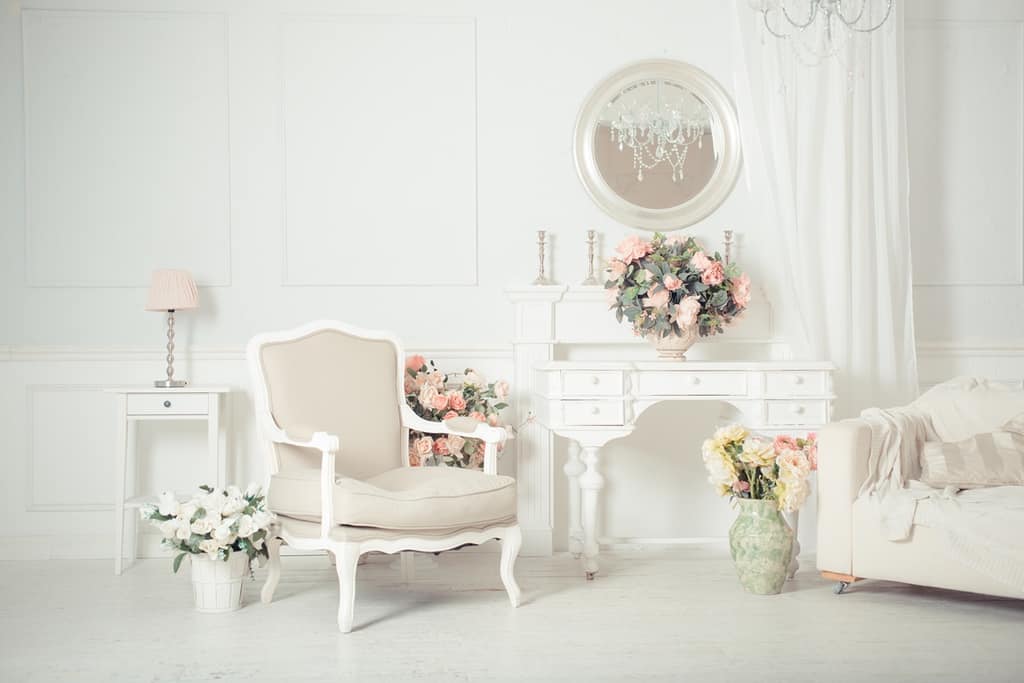 If you don't want to fill the fireplace space, cover it with style. Mirrors are a great solution for that. Mirrors bring light and an amplitude feel and can be an interesting piece to add to a fireplace.
There are two ways you can use mirrors in a fireplace: either by covering the fireplace completely or by adding mirrors to the interior walls. If you choose to do so, decorate with one single vase right in the middle, with a beautiful flower arrangement (it can be faux flowers) or potted plants instead (as long as they have volume and can stand out in that space). You will see that one single décor piece will create an awesome visual effect against the mirrors behind it.
5. TEXTURE AND COLOR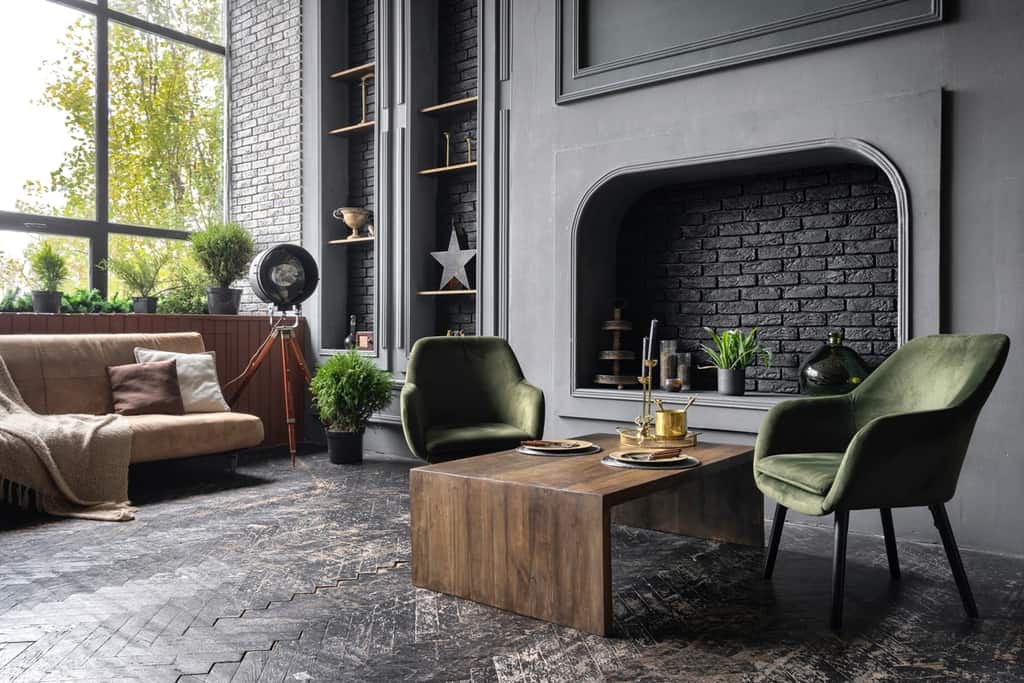 You can cover the internal walls of the fireplace with wallpaper, to bring out texture and color that complements your décor. Decorate it with pieces that match the design style of your home: wicker baskets and natural materials for a farmhouse, rustic style; silver pieces and statues for a classic style; natural stones for a Boho chic look.
6. BOTTLES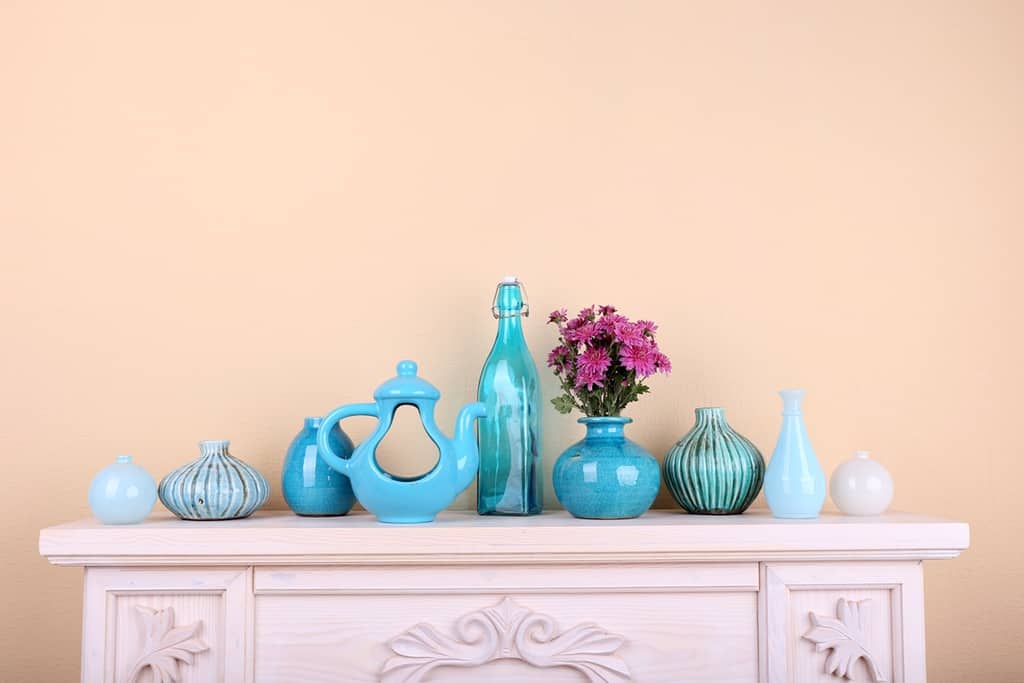 You can have a monochromatic fireplace and bring in light and style by filling the inside space with several bottles of different colors, sizes, and shapes. This is an interesting option for modern spaces, that also harmonizes with minimalist décor.
7. STYLE AND SOPHISTICATION IN BLACK AND WHITE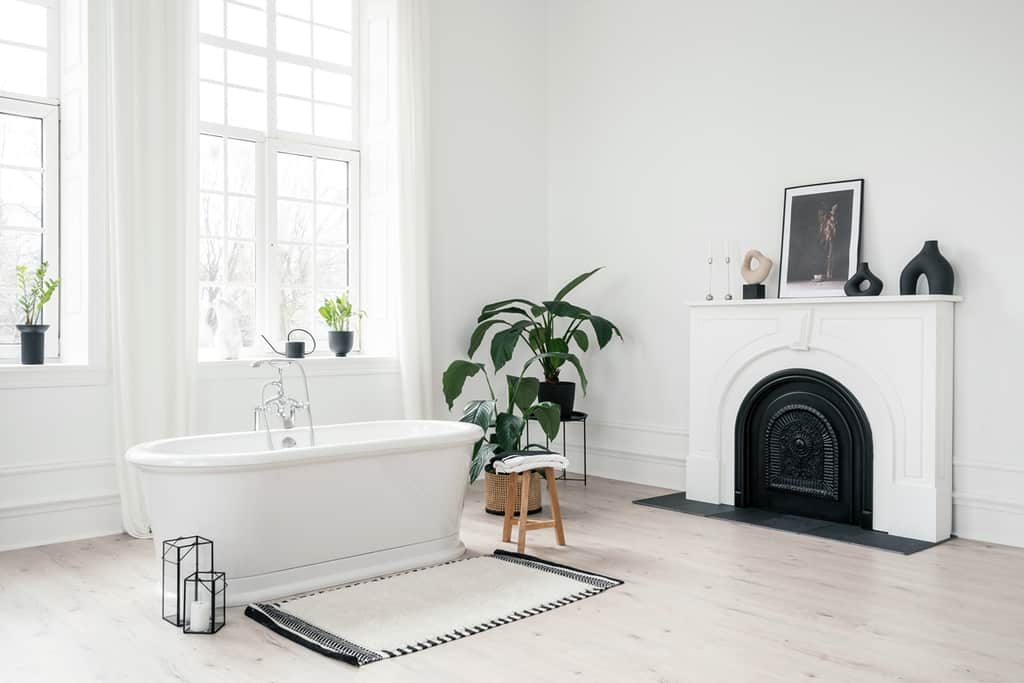 White and black are the perfect combo for stylish, sophisticated spaces, either for modern and minimalist designs as well as for traditional homes. If you want the fireplace to stand out and be the centerpiece of the room, paint it all-white, and add a black background to the interior walls, that will highlight one single piece of white décor, which you can place right at the center of the fireplace.
Keep the space clean by adding all-white décor pieces on the mantel, which will complement this style choice perfectly. The pièce de resistance of the whole ensemble will be a vintage crystal mirror over the fireplace. This will bring elegance and a unique touch of style and sophistication.
8. BOHO CHIC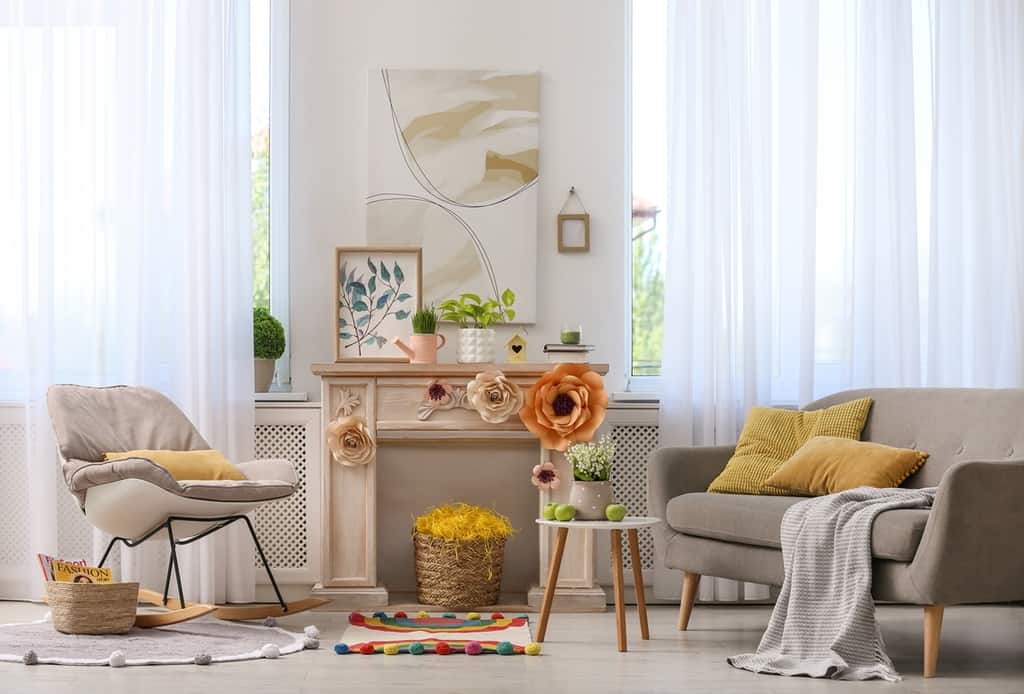 Cover the interior of the fireplace with a beadboard panel and decorate it with vintage suitcases and framed paintings. Add some dry flowers for a soft, feminine touch. Decorate the interior of the fireplace mantel with candles, a couple of books, and a stylish, delicate lamp. Place a vintage mirror above the fireplace, for the final touch.
9. BLACK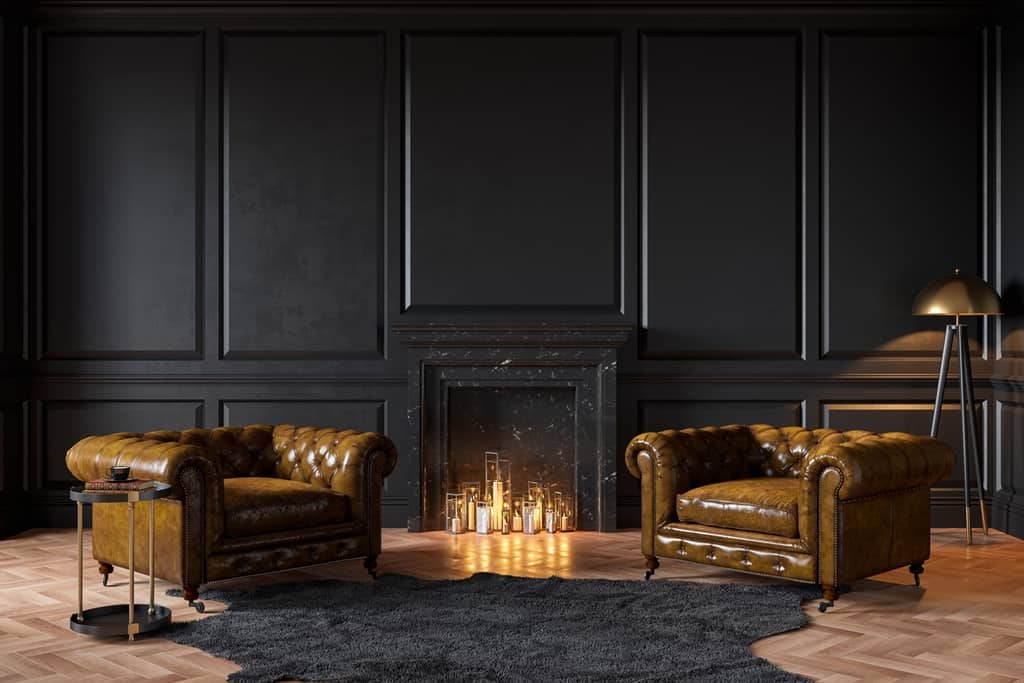 Have you ever thought of having a black fireplace, on a black wall? For an ultra-sophisticated space, paint the entire structure black: fireplace, mantel, and the surrounding wall. Decorate the interior of the fireplace with white candles of various sizes, that will stand out and break the dark tone.
Adorn the mantel with a bronze centerpiece and place crystal vases at both ends of the mantel, with tall, ornamental flowers or foliage. This will bring a unique touch of sophistication to the entire ambiance.
10. WINE BOTTLE RACK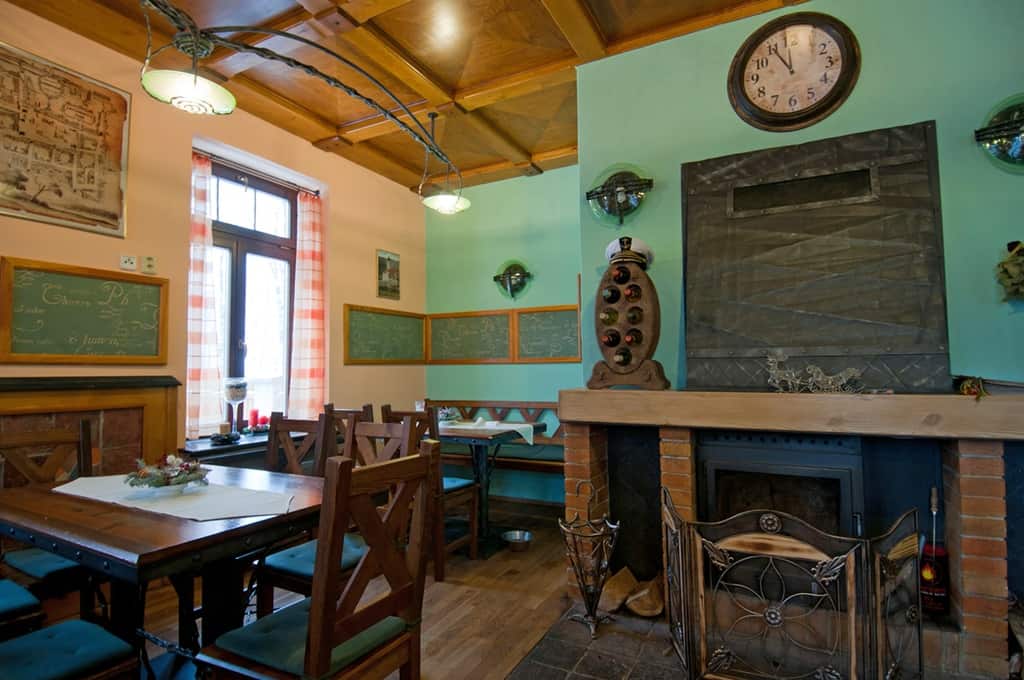 Why not store your favorite wine inside the fireplace? There are so many beautiful wine racks you can choose from, that will match your design style. Add some big, soft cushions on the floor in front of the fireplace, to complement the décor.
11. FAKE LOGS WITH STRING LIGHTS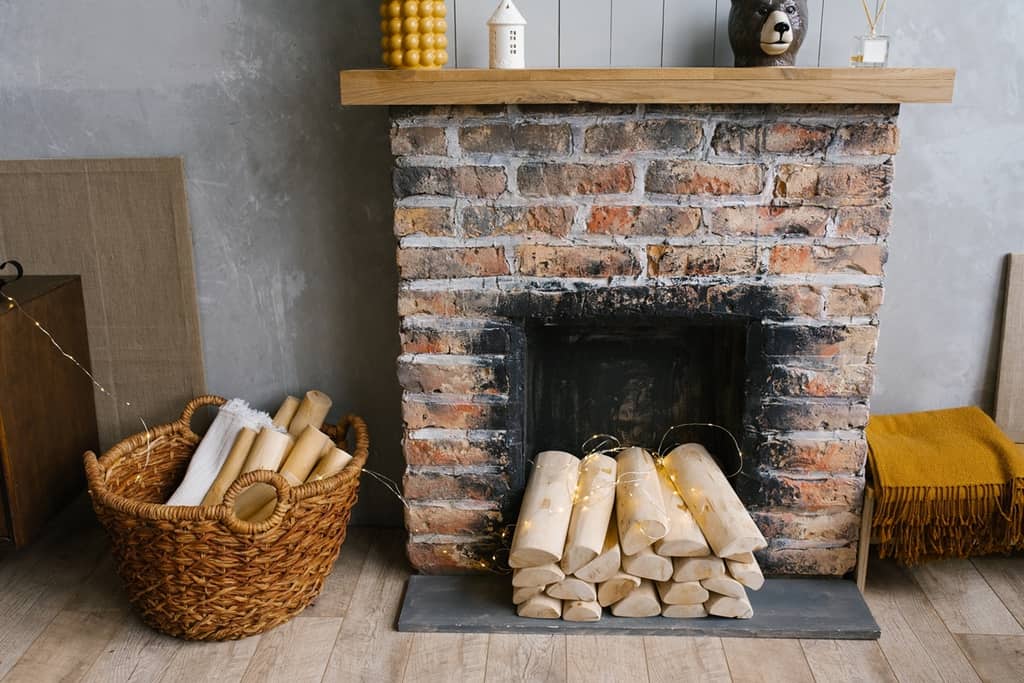 Do you want your fireplace to look like it works? Then place some fake logs in it, and decorate with string lights, for a fun, cozy touch. If you want a real fireplace effect, there is the option of electric log heaters with flame projection.
12. FAKE IT WITH STYLE!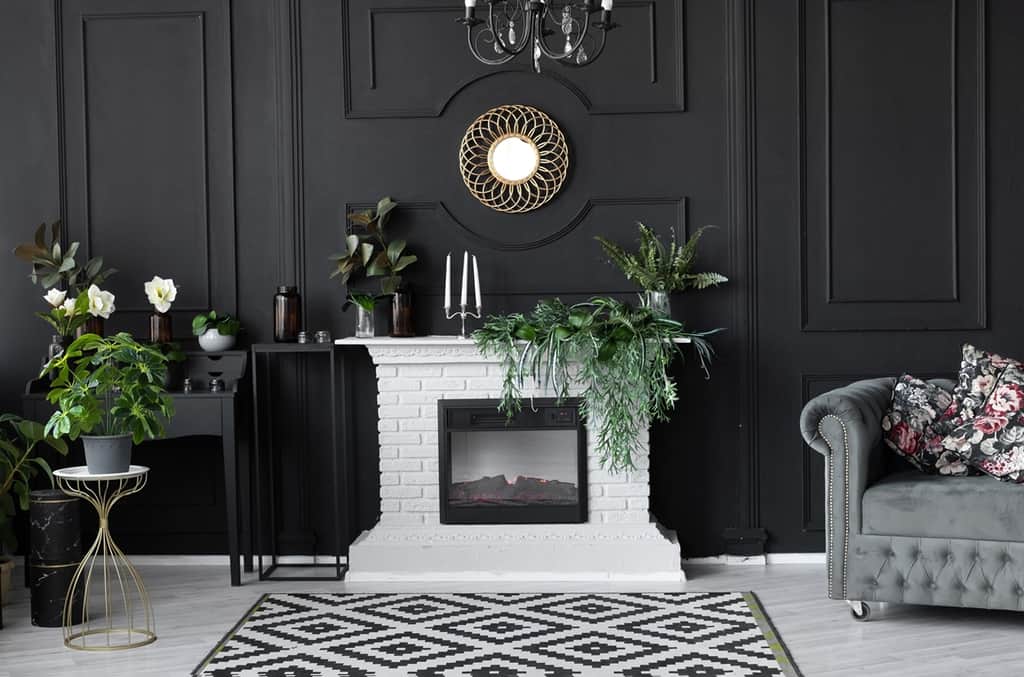 If you want your unused fireplace to look like it works, simply cover it with a fireplace screen. There are some very fancy vintage covers, made of cast iron, that are absolutely gorgeous!
They will cover the entire space and make a huge visual impact in your living room, that's for sure!
13. YOUR OWN LITTLE ART GALLERY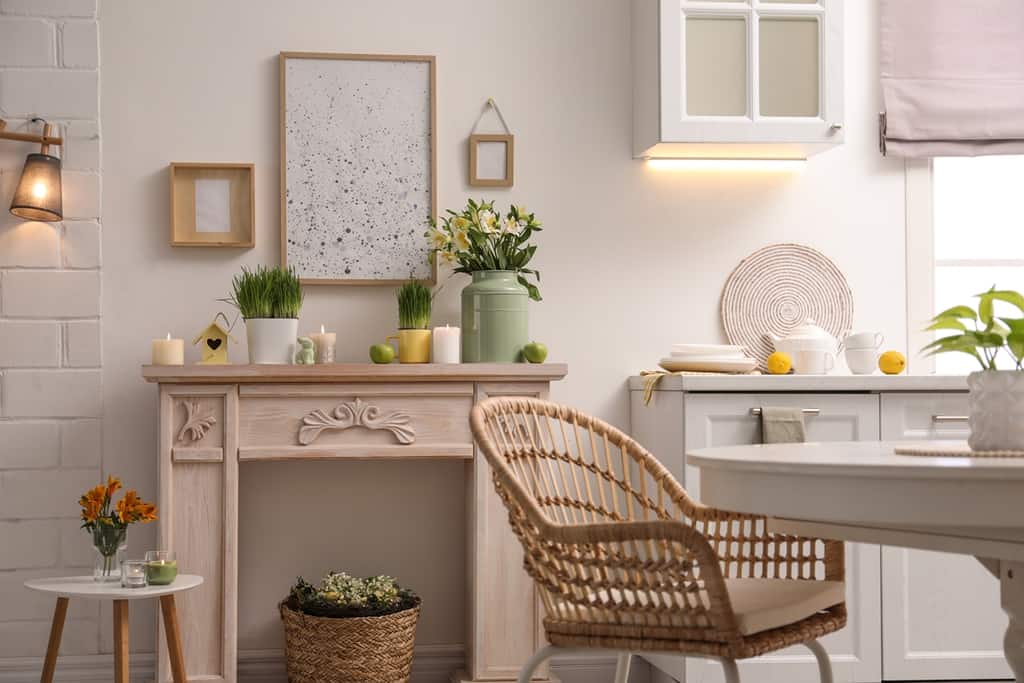 Transform the little space inside an unused fireplace into your own art gallery. Think of the space as your blank canvas, and use your imagination to display artwork, which you can change from time to time.
14. GO BARE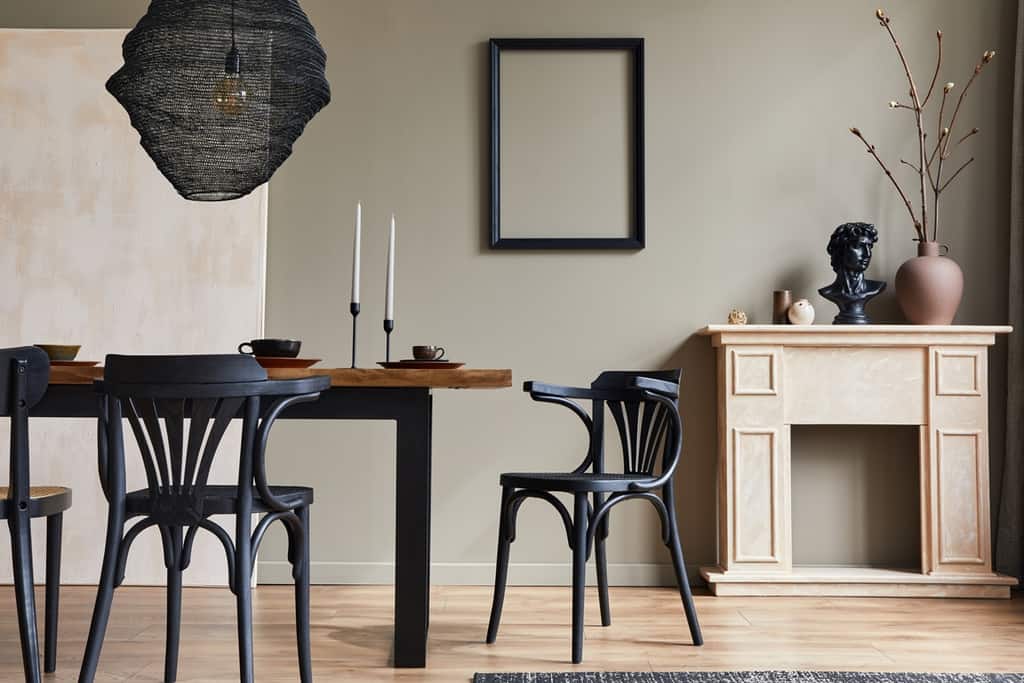 Don't want to be reminded that there used to be a fireplace in that space? You don't need to go to the extreme of drywalling it. Simply remove the mantel and paint the interior of the fireplace and the surrounding wall in the same color.
Use the empty fireplace space to place an accent piece such as a vase of flowers or a décor piece that takes over the space, like a large coral décor.
15. RUSTIC LANTERNS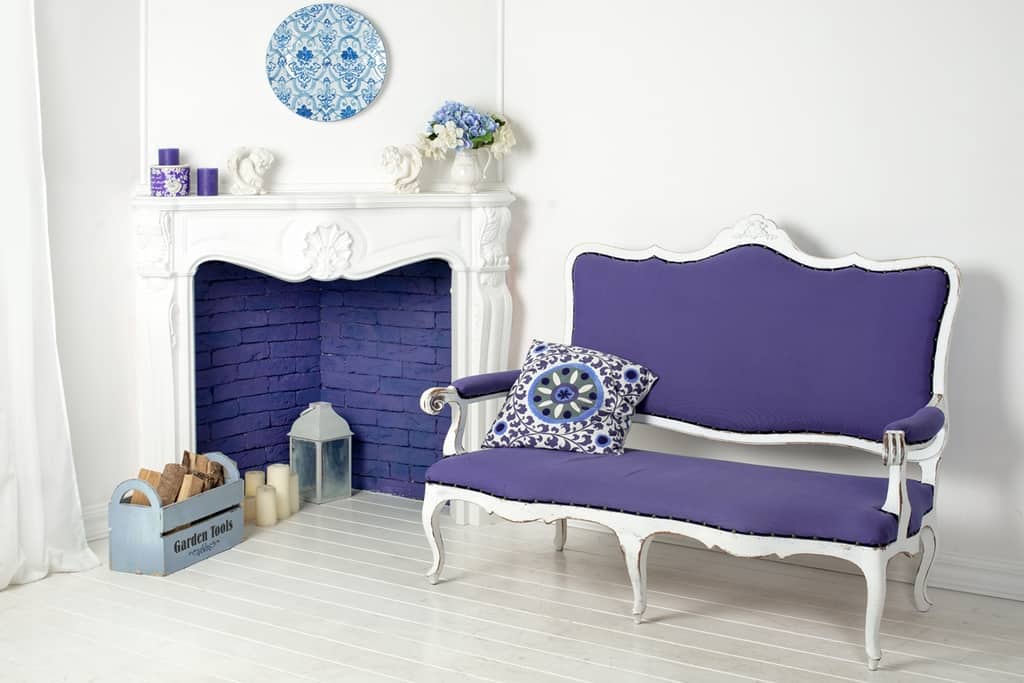 They are so warm and inviting, and great pieces to fill an empty fireplace. You can place several lamps of different sizes, and when you light them, you will have a gorgeous visual effect. A simple and affordable solution that is full of charm!
16. NATURAL STONES AND CRYSTALS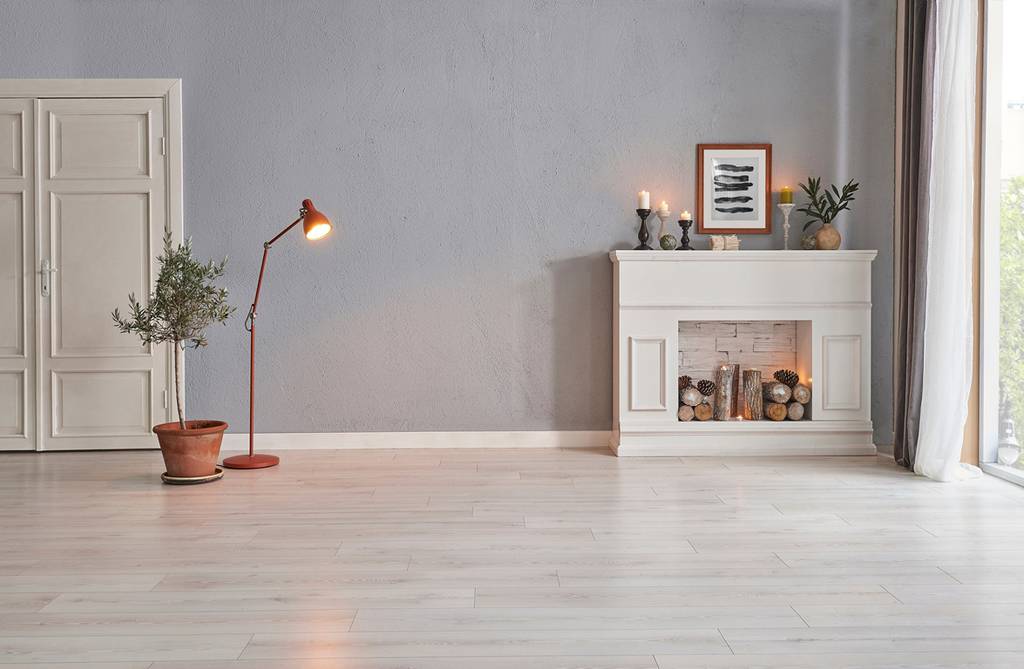 If you want that natural vibe in your space, place some natural stones and crystals in the fireplace. If you add some string lighting, the crystal stones will be translucid by the light and this is an awesome effect!