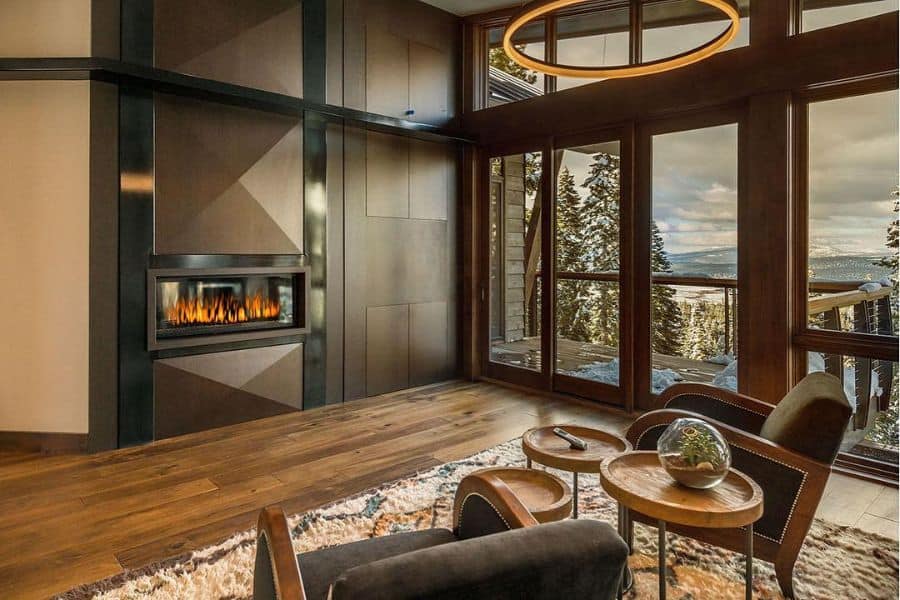 61 Must-See Fireplace Ideas
Interior designers are constantly finding ways to reimagine classic architecture. The humble fireplace is a great example of this phenomenon.
Past households relied on fireplaces to heat their interior rooms and cook meals. Today's fireplaces are almost exclusively about aesthetics. These shifting priorities have birthed a wide range of fireplace designs that look nothing like their predecessors.
Not sure where to start with installing or refurbishing a fireplace of your own? Keep reading for our favorite fireplace ideas that encompass every style under the sun.
1. Basement
The basement might not be the first place you would install a fireplace. But it's actually one of the most functional elements you can include in a newly finished basement.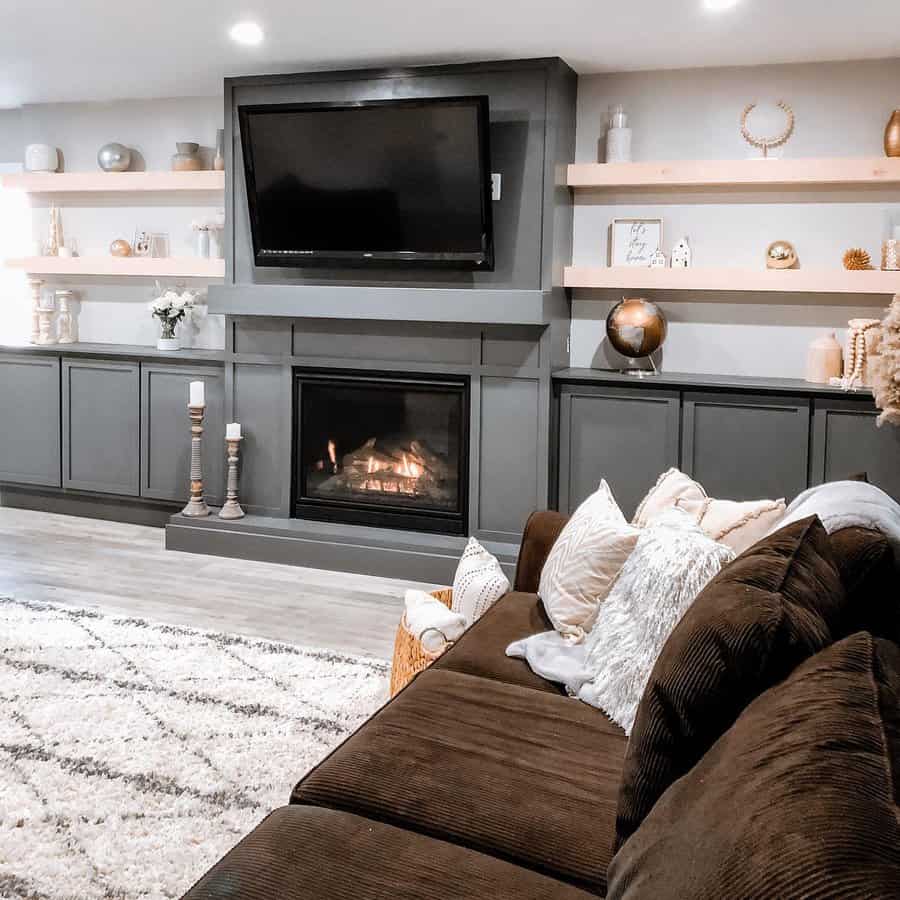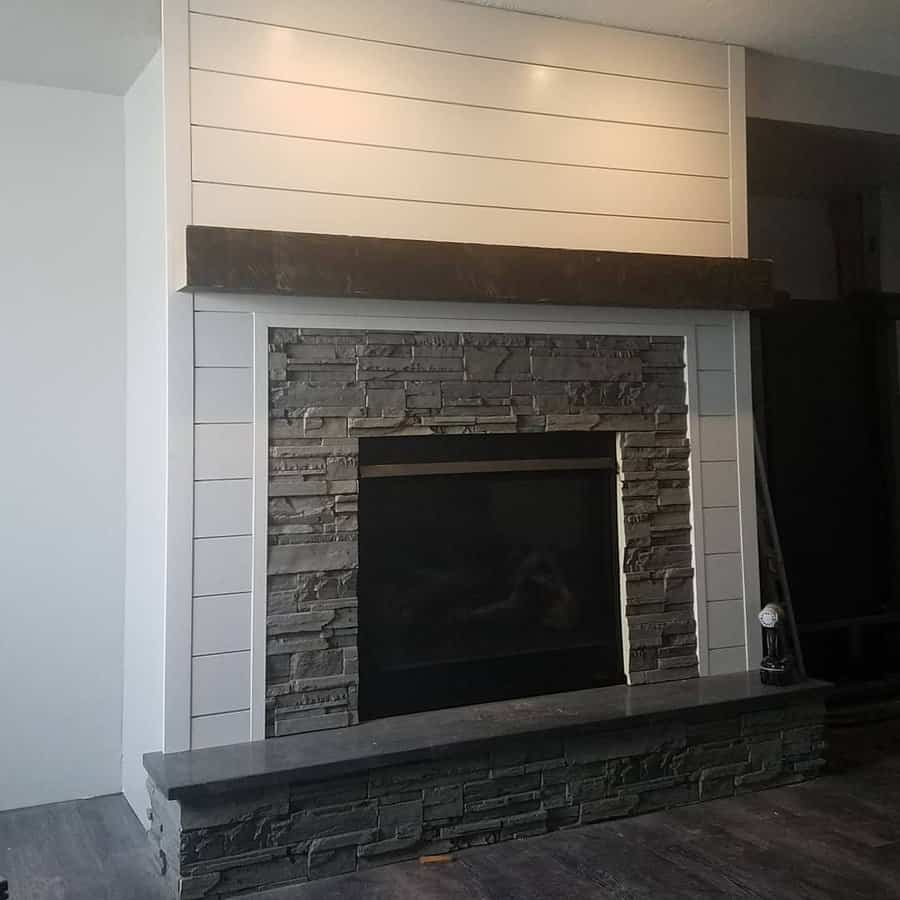 Most basements feature relatively low ceilings. Combine this factor with a cozy fireplace and you have a family den that's more comfortable than any other room in your home.
A basement fireplace can heat a multi-level home without taxing your HVAC system. Light the fireplace when spending time in your finished basement to warm up the space without wasting energy and raising your utility bills.
2. Bedroom
There's no better way to make a master bedroom feel warm and inviting than with a built-in fireplace. Whether your style is vintage or modern, a fireplace is sure to make your bedroom look (and physically feel) super cozy.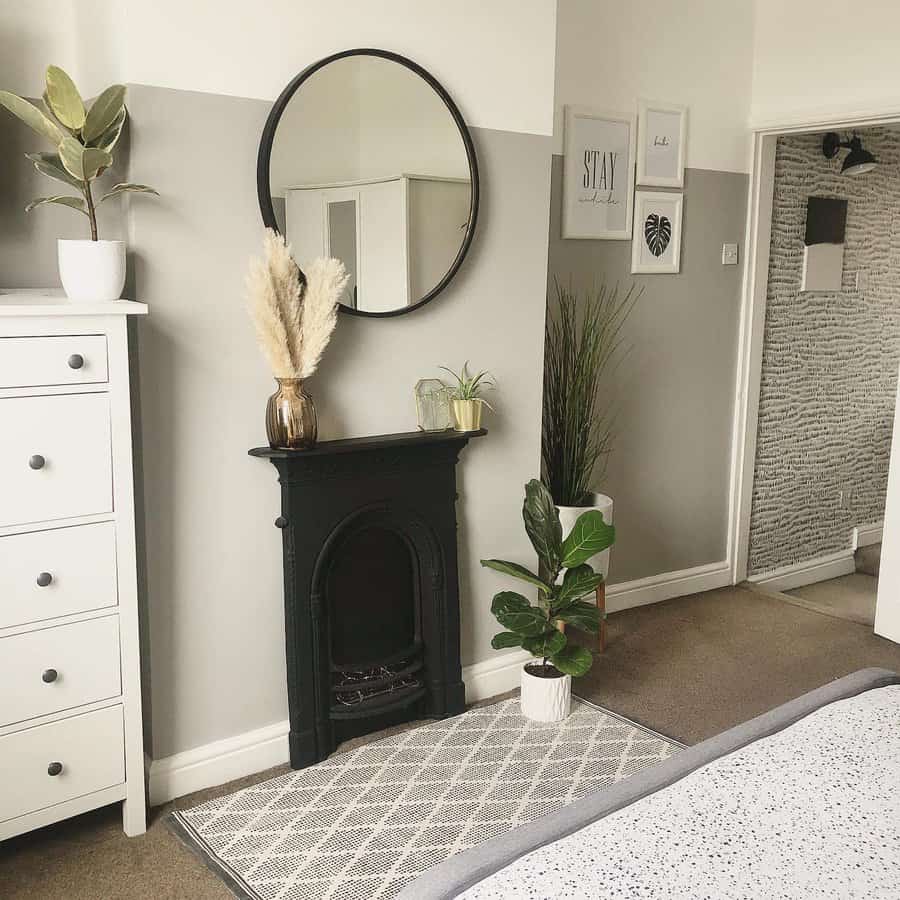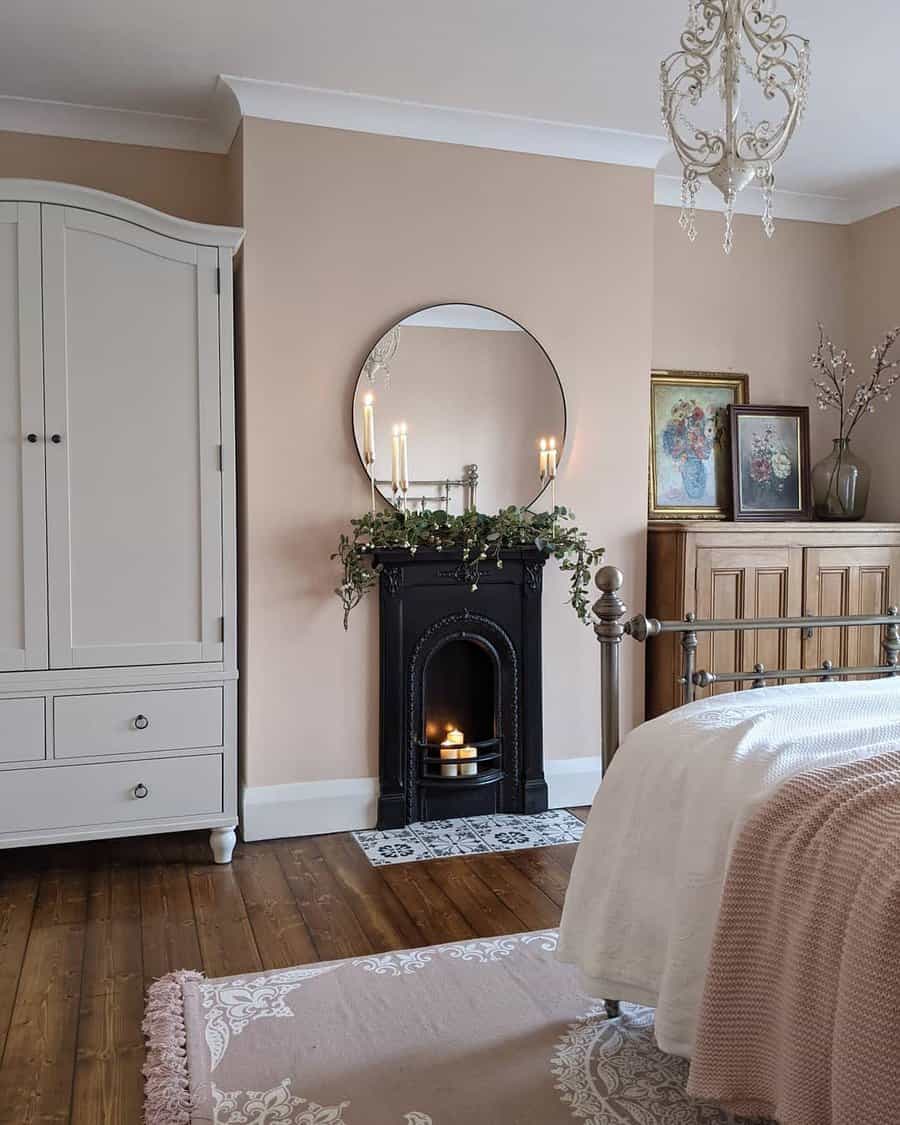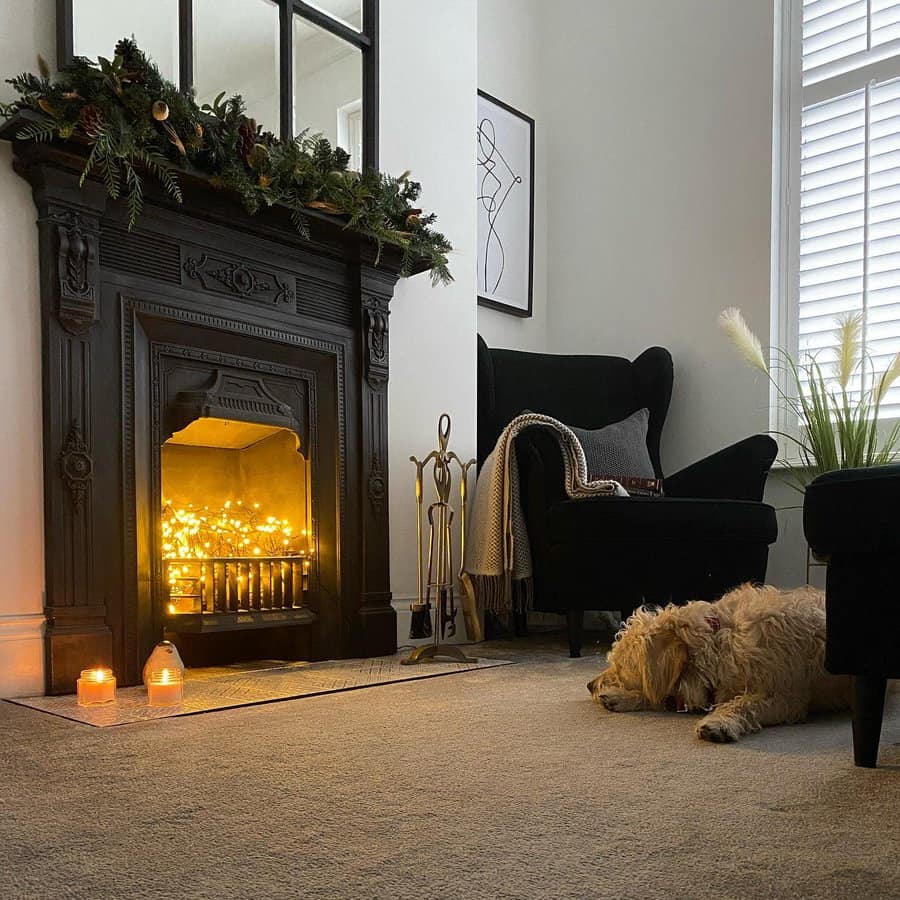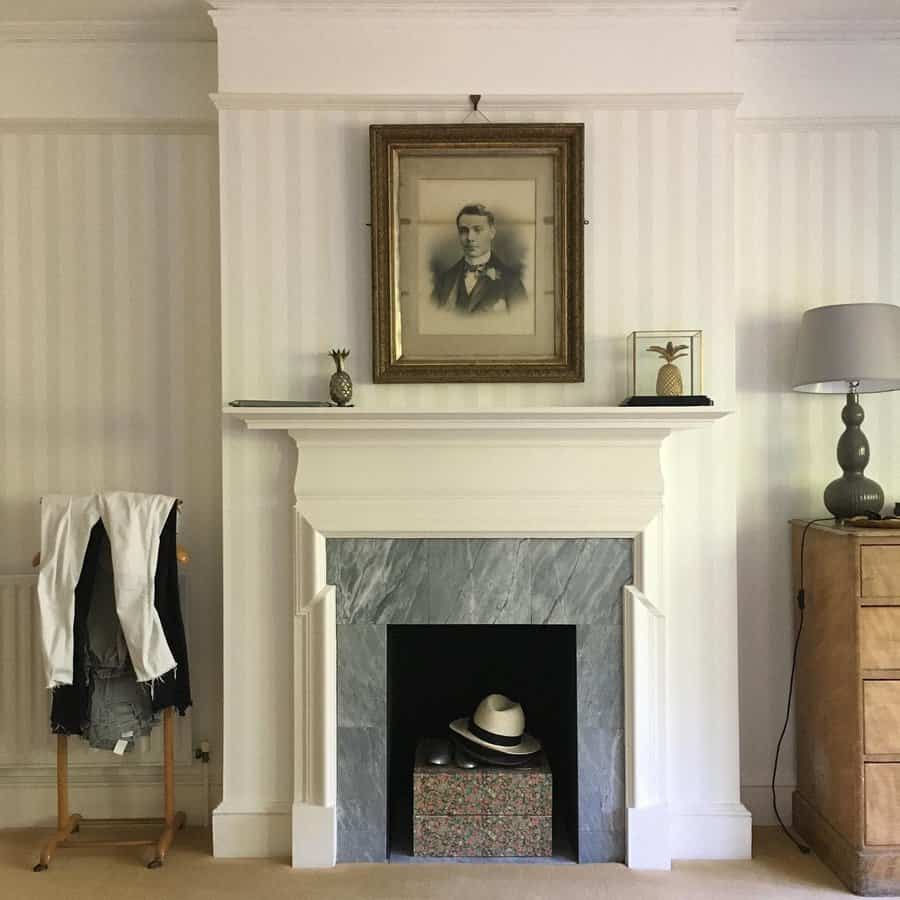 Your bedroom fireplace should be the centerpiece of the room as a whole. Arrange your bed frame opposite the fireplace. Hang a statement mirror or flatscreen TV over your fireplace mantel.
Many vintage homes include fireplaces in every main room. You may not need a functional fireplace in your bedroom today. But you shouldn't plaster over the hearth altogether. Seal off the chimney and fill the fireplace with decorative candles or twinkle lights.
3. Brick
It's hard to imagine a traditional fireplace without a brick surround. This style is especially common in American homes from the 18th, 19th, and 20th centuries.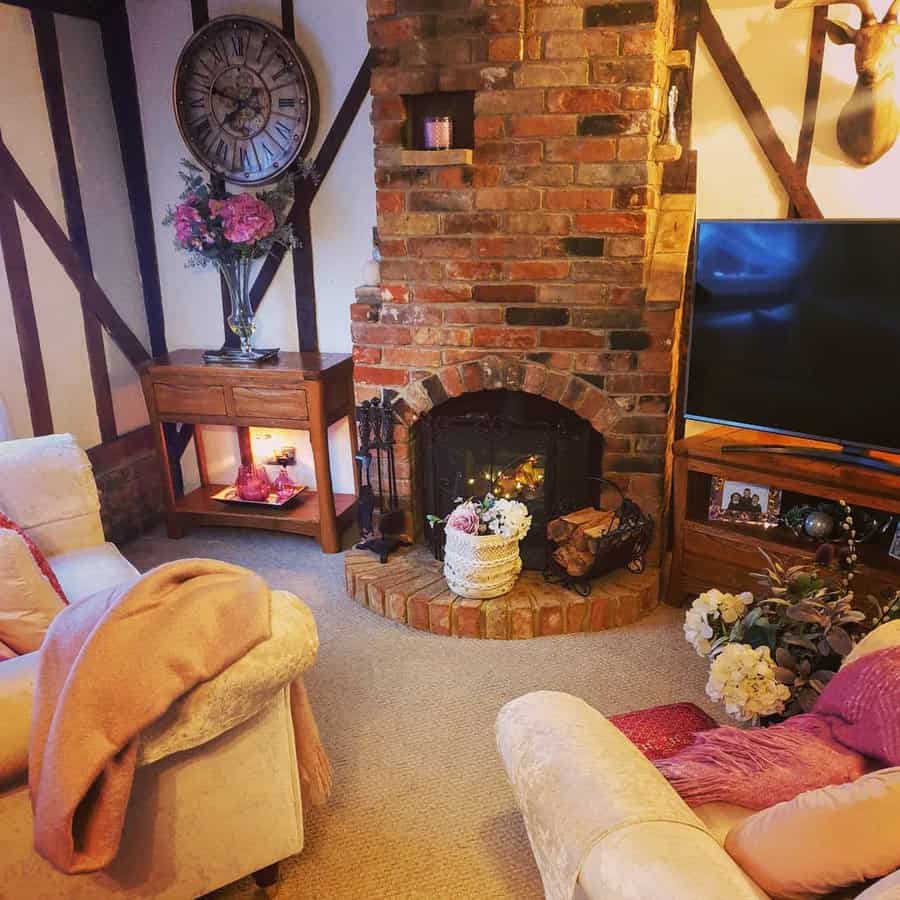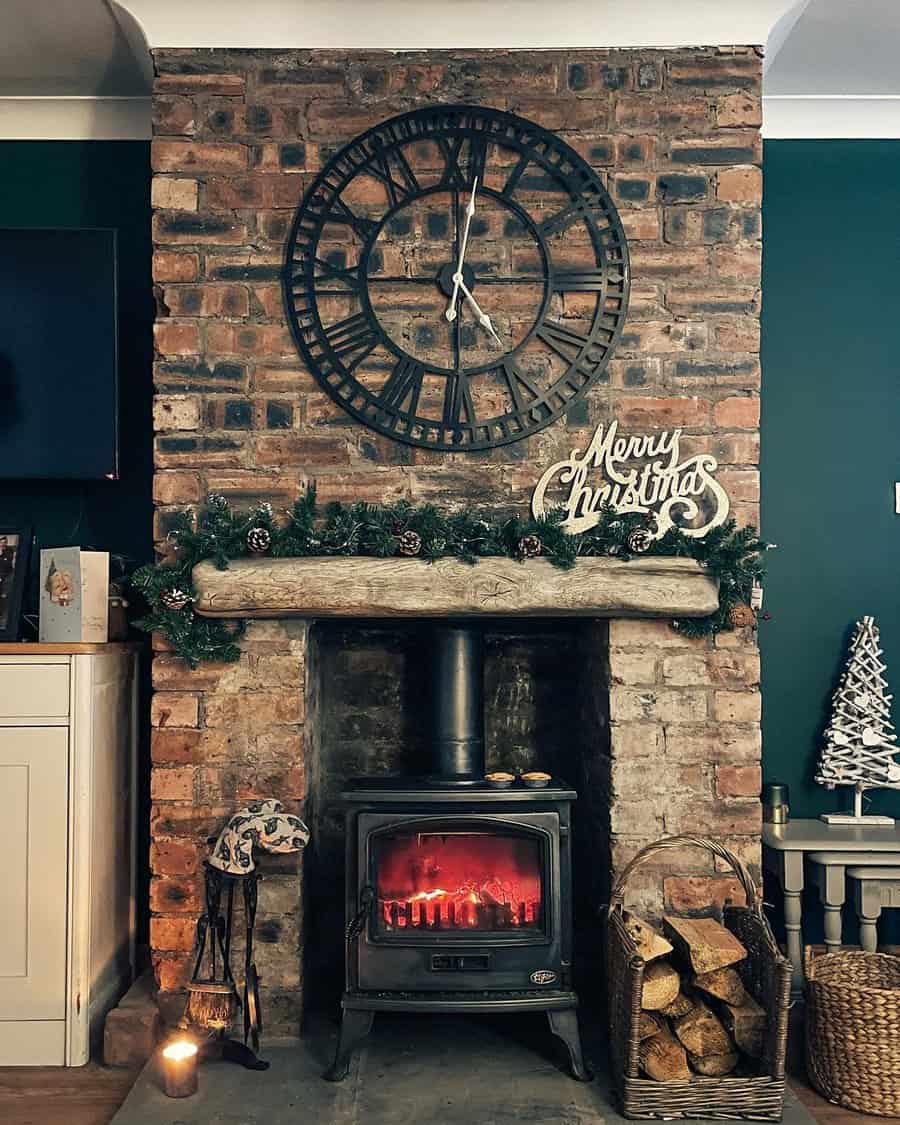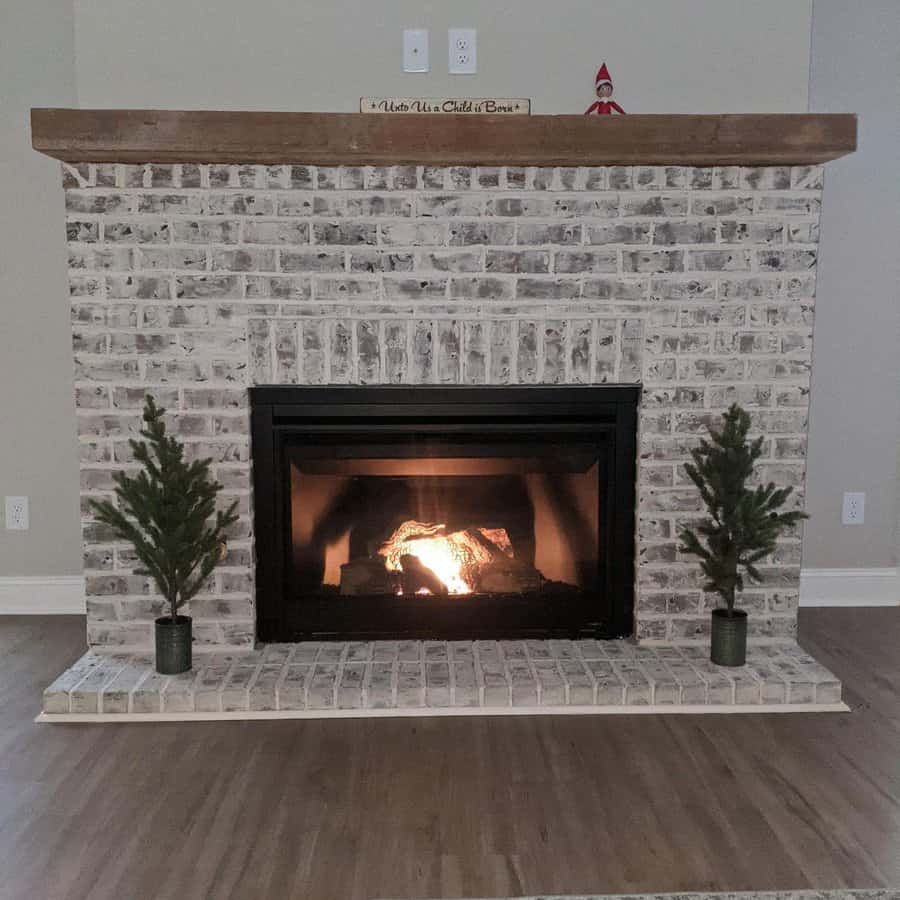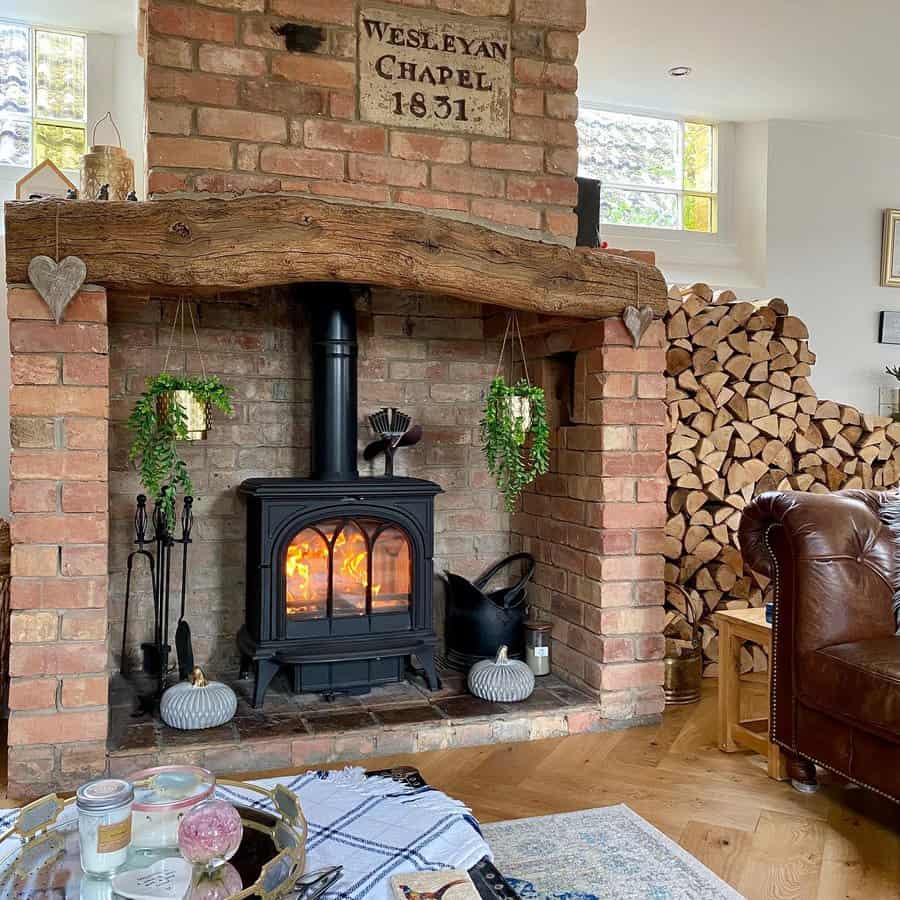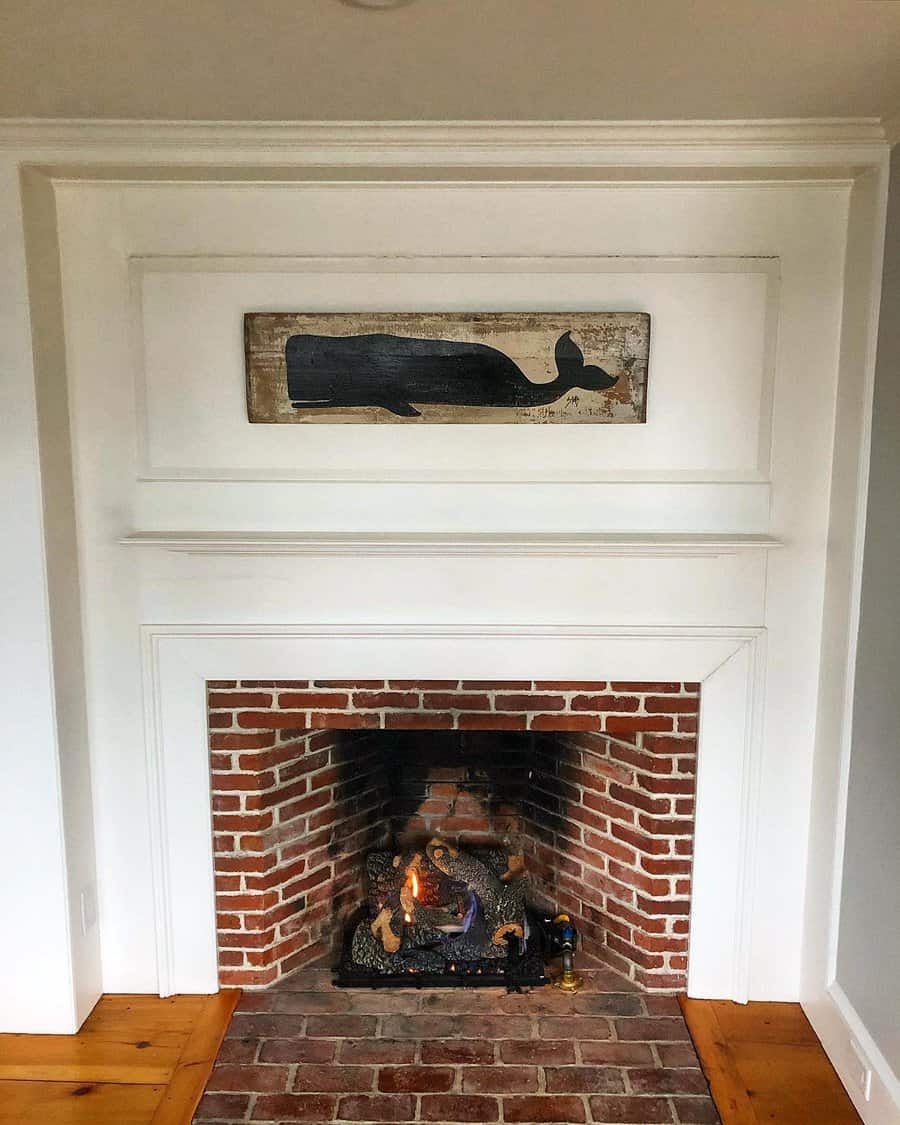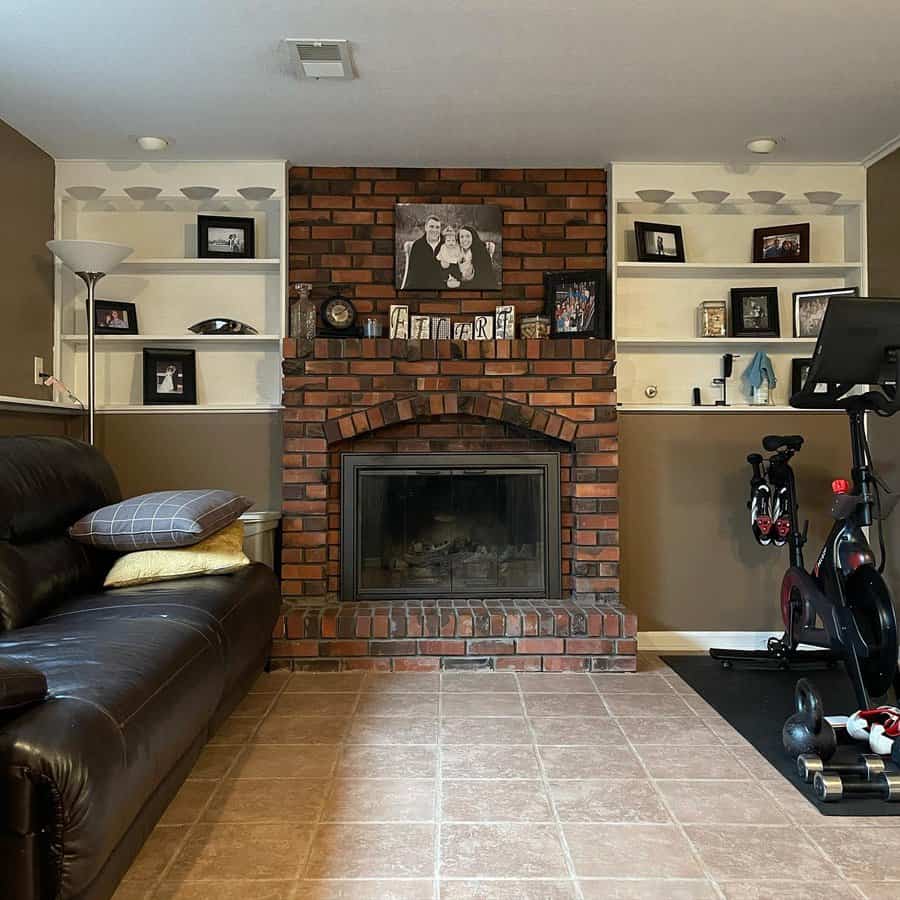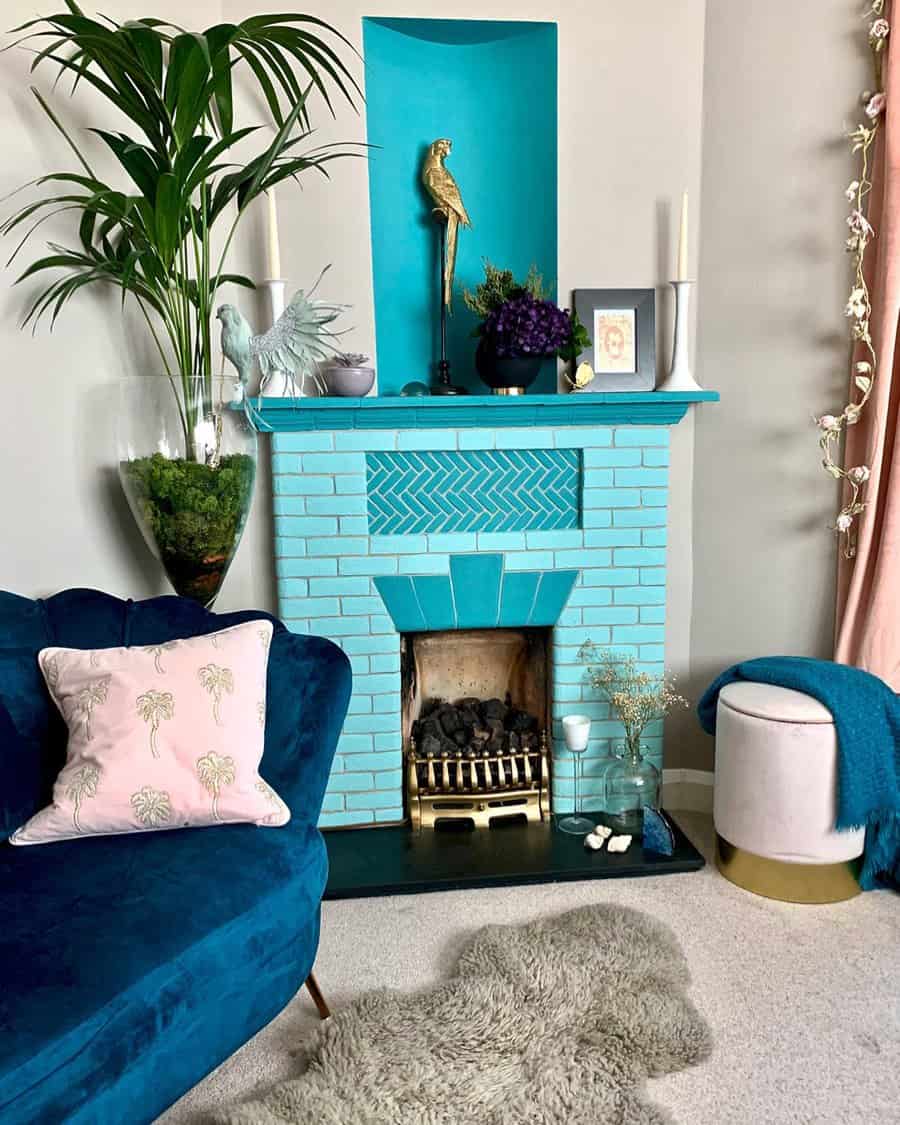 You can freshen up a brick fireplace with a coat of heat-resistant paint or just a good scrubbing. Lean into the aged look with a live-edge wooden mantel and other rustic-inspired decor.
One of the most impactful ways to style an old brick fireplace is by combining it with ultra-modern decor. The fireplace will warm up your room design while contrasting nicely against the sleek elements surrounding it.
4. Christmas Decorations for Fireplace
As children, we tend to associate fireplaces with Santa Claus and classic Christmas carols. So it would be a shame to ignore your fireplace mantel when decorating your home for the winter holidays.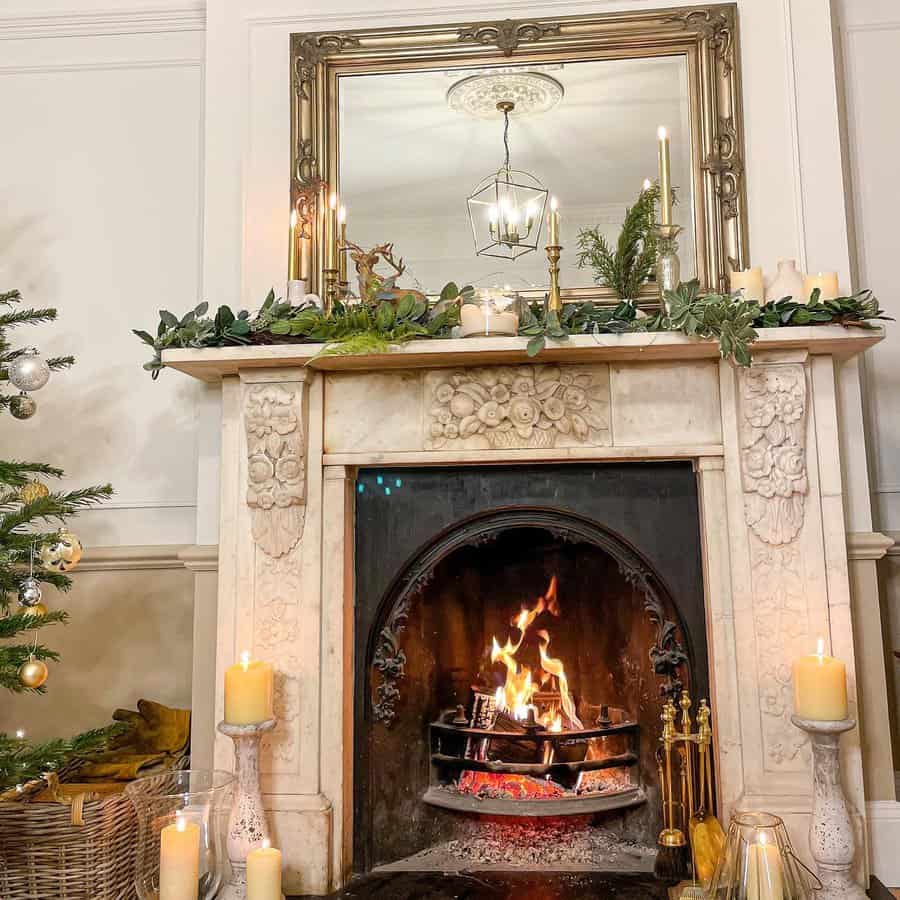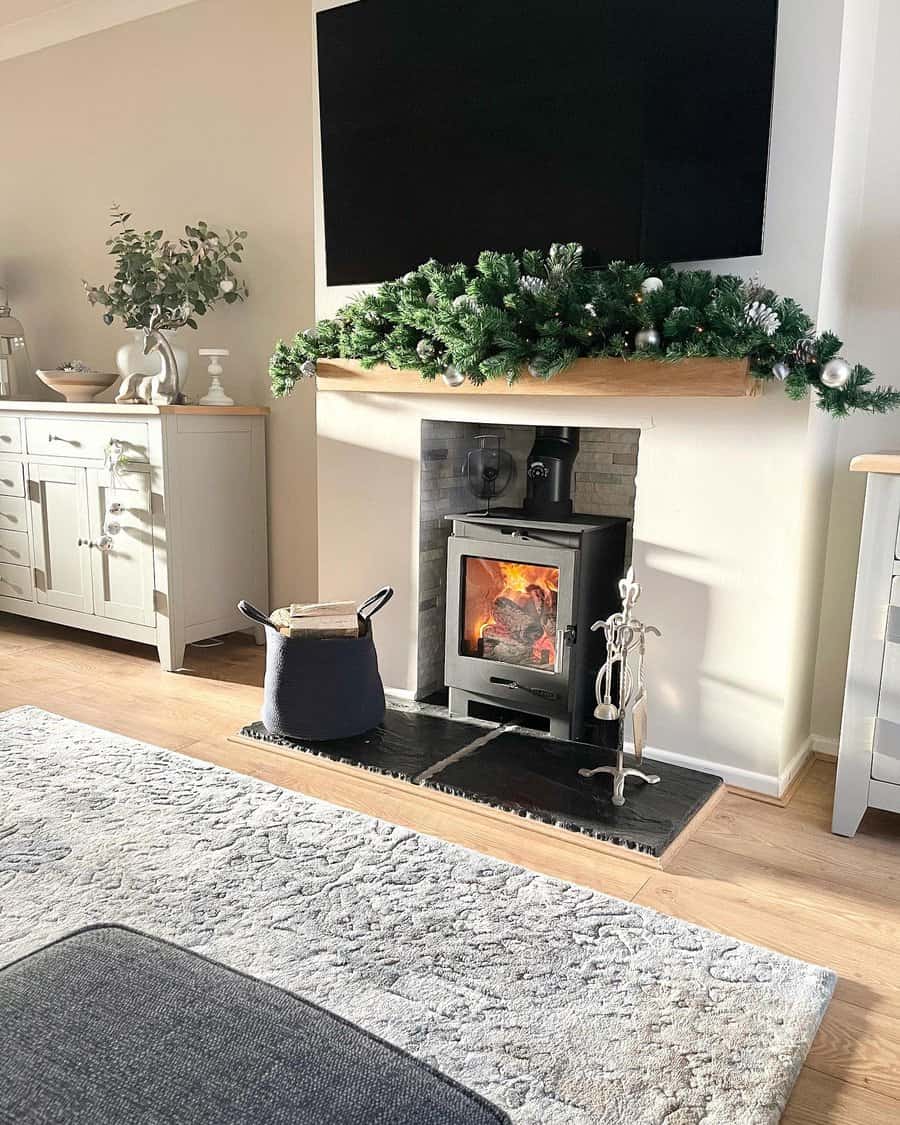 You can't pass up the chance to hang Christmas stockings across your fireplace. Ornaments can also be hung from your mantel. Arrange candles or string lights around your fireplace surround. Or place them inside if your fireplace is non-functional.
Seasonal decor doesn't need to be Christmas-adjacent. Drape bare evergreen garlands across your fireplace mantel accented with dried flowers or pinecones for a more neutral aesthetic.
5. Contemporary
Despite the fact that fireplaces are becoming less popular overall, it's hard to ignore the luxurious aesthetic of more contemporary fireplaces.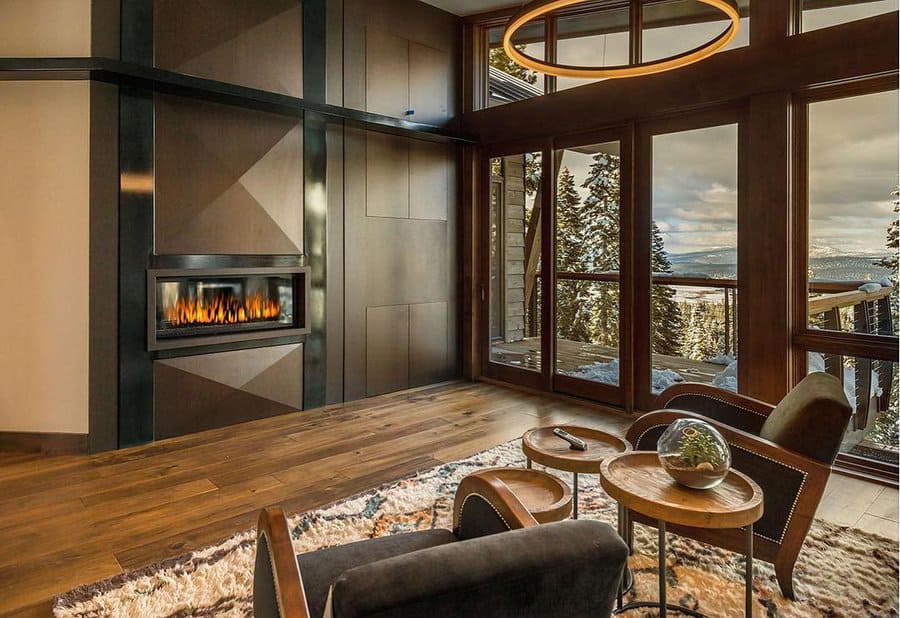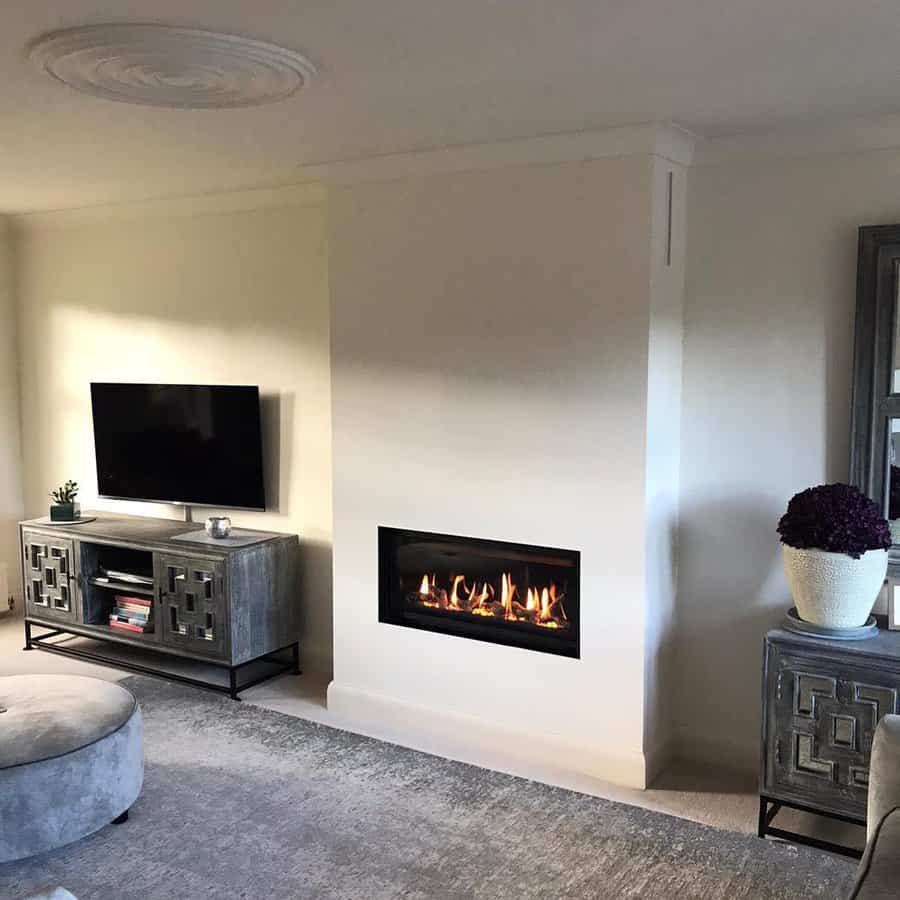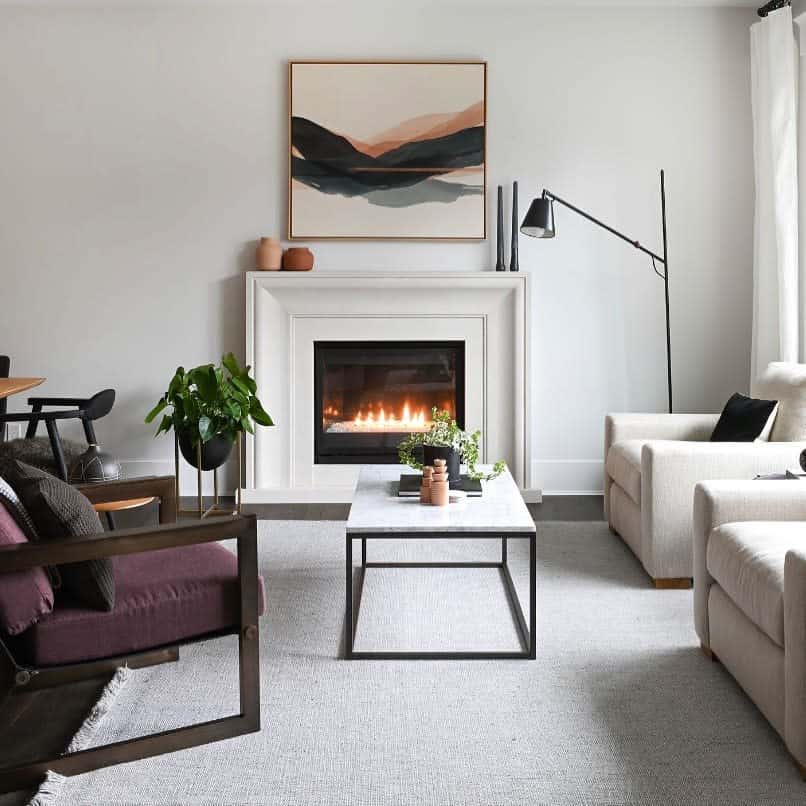 Contemporary fireplaces are distinguished by their low-profile surrounds and sleek finishes. Don't overload the mantel with unnecessary decor that will weigh down the appearance of your fireplace wall.
These models often require less upkeep than their wood-burning counterparts. Most rely on gas or electricity instead. If you prefer the look of a wood-burning fireplace, place a faux wood stack inside your contemporary fireplace hearth.
6. DIY Fireplace
Whether you're undergoing a fireplace makeover or starting from scratch, hiring a professional might not be necessary.
The availability of ready-to-install inserts and standalone units makes it easier than ever to DIY your favorite fireplace ideas.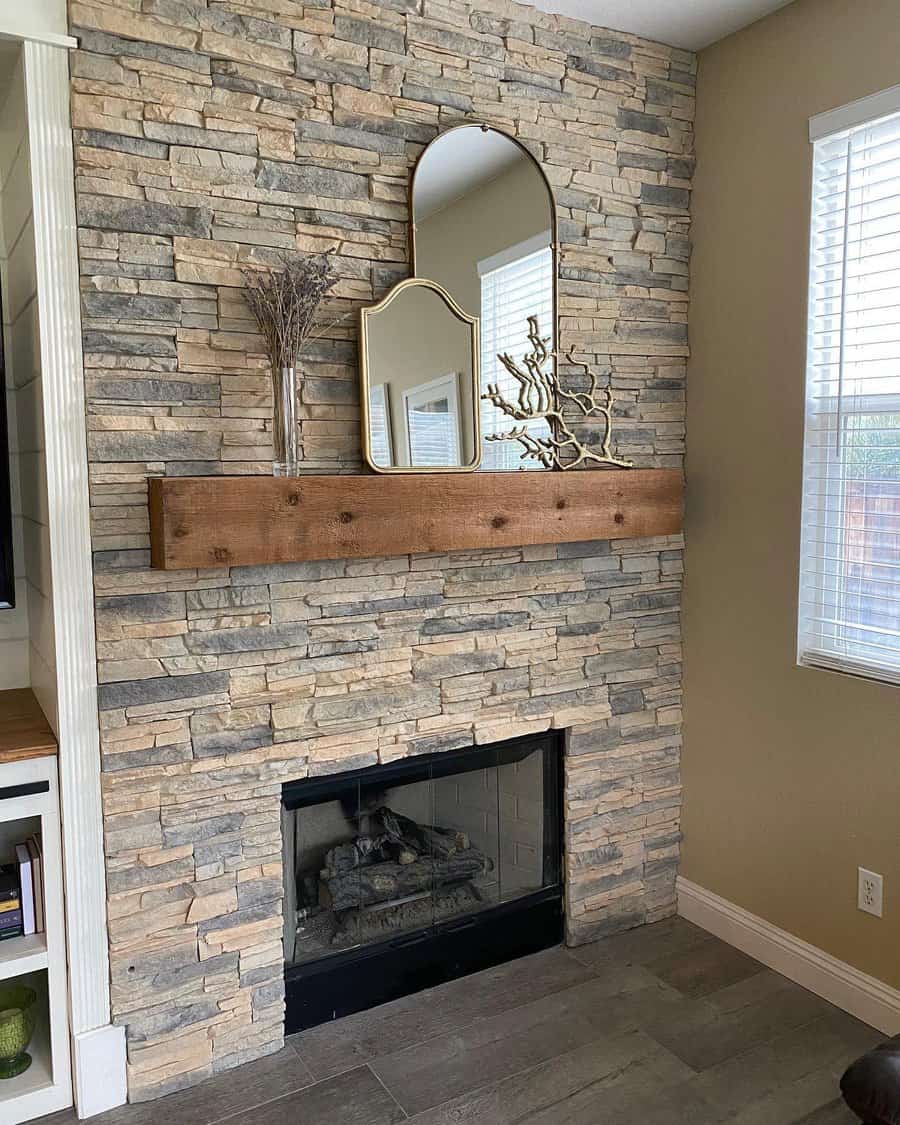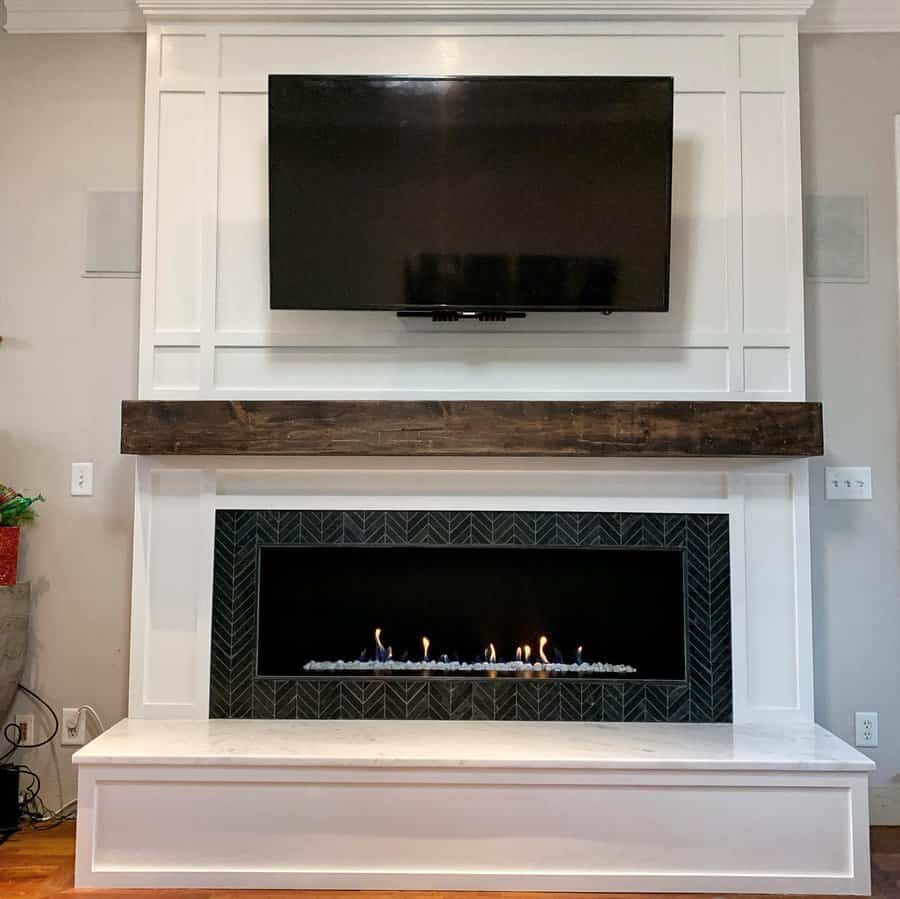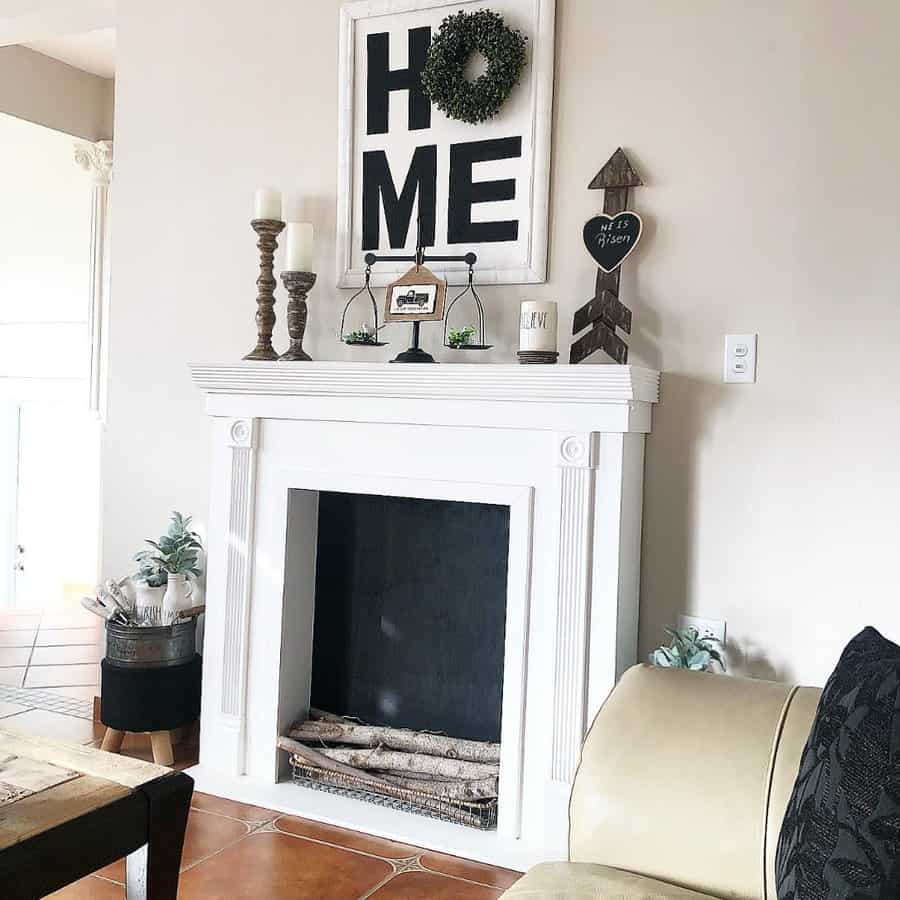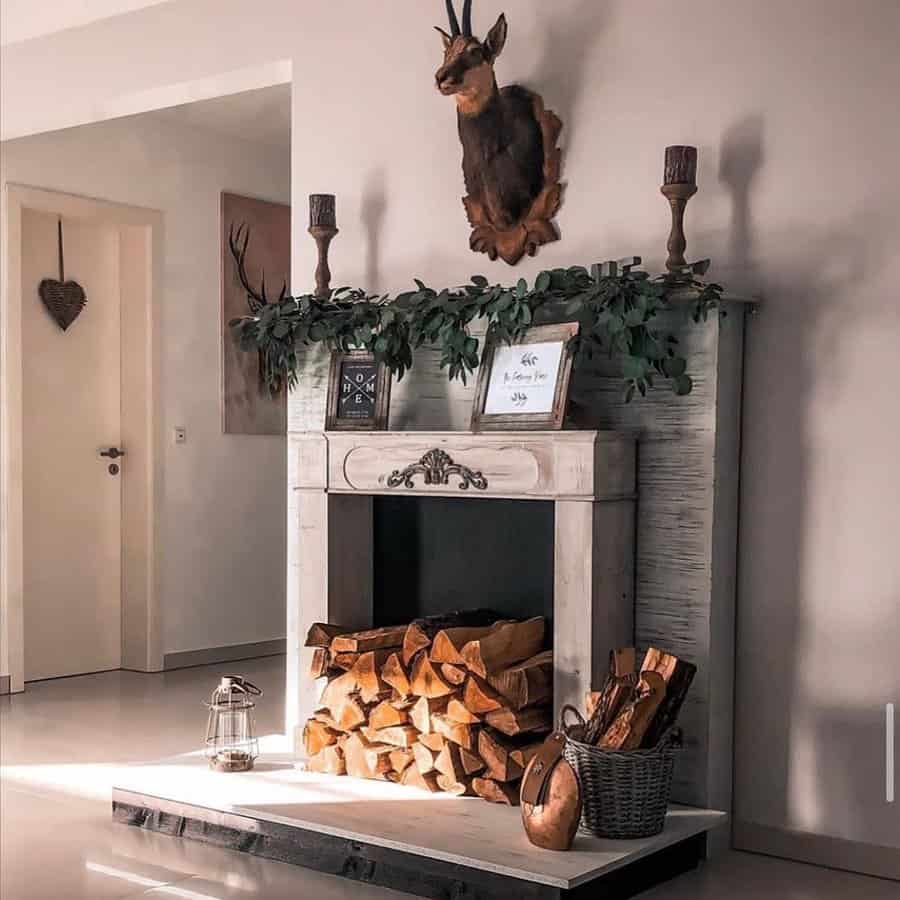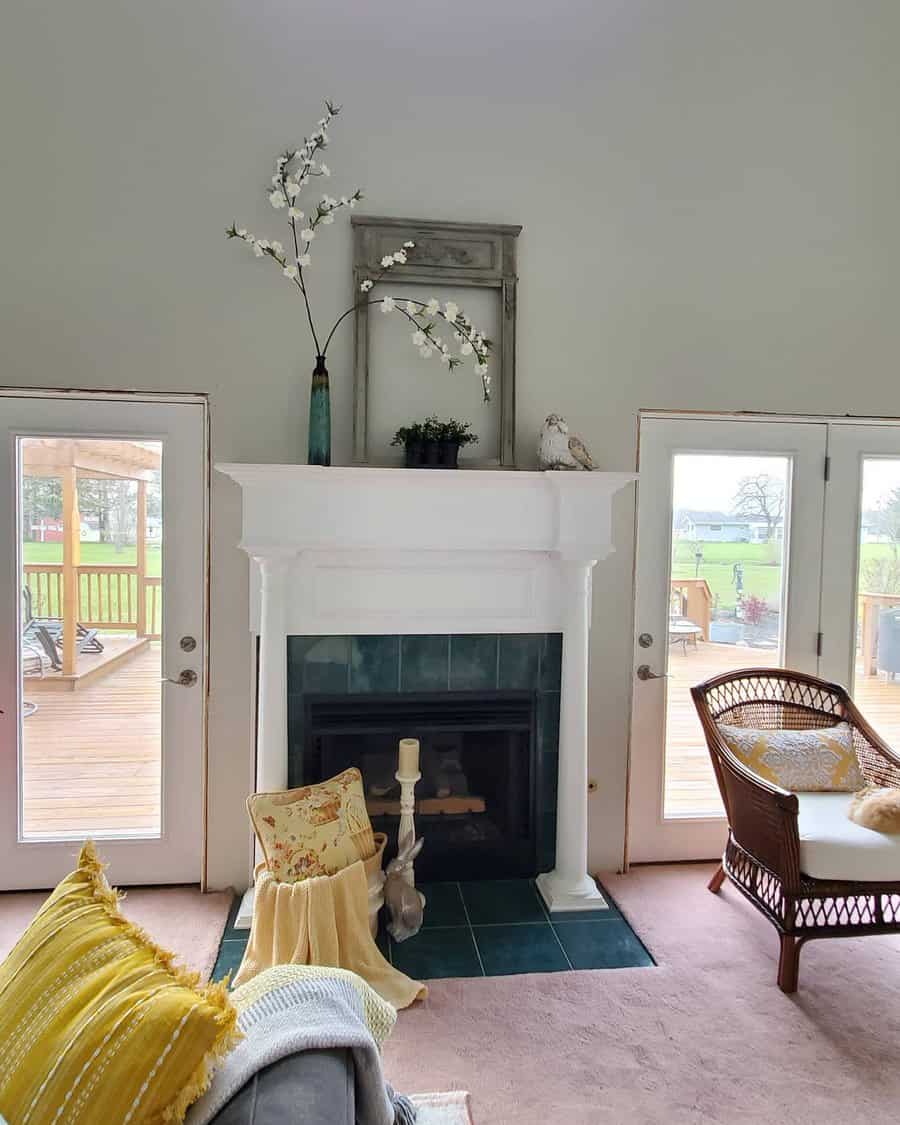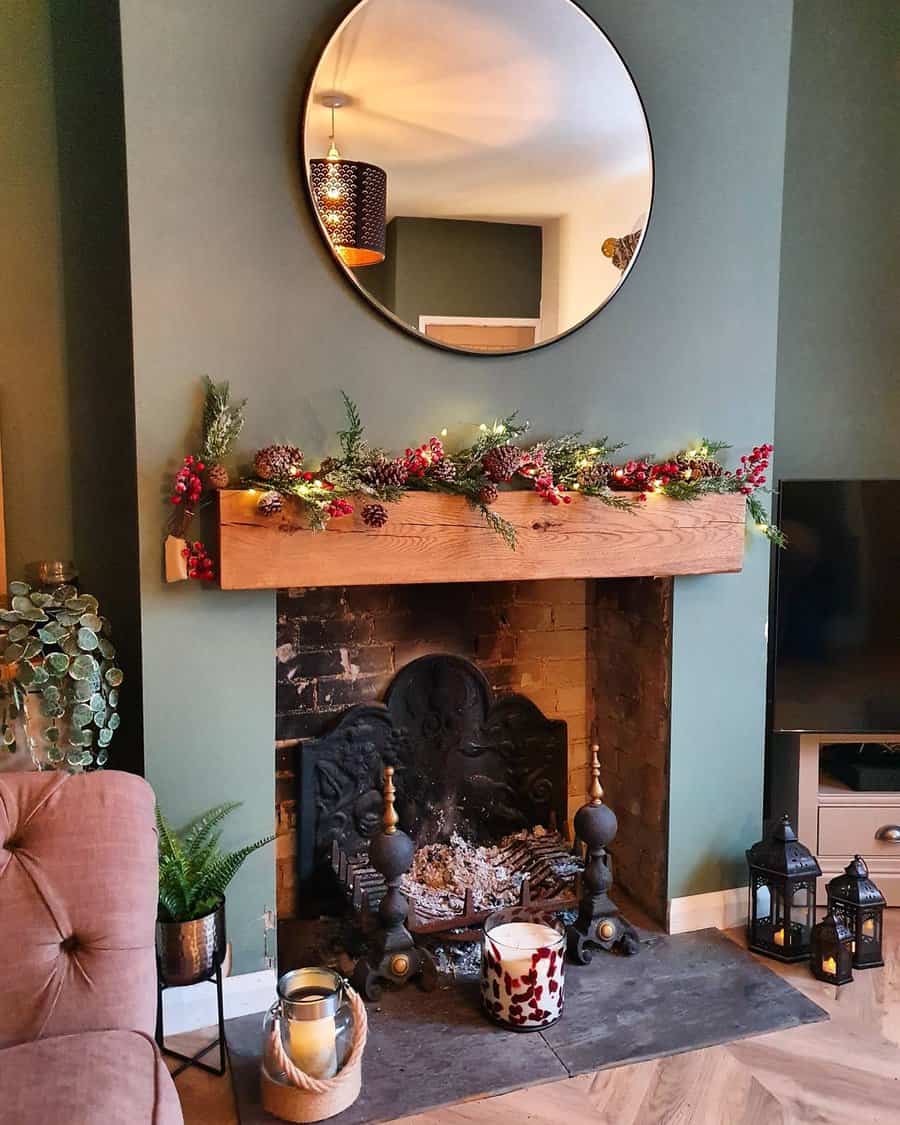 Many people resign themselves to never owning a fireplace because their home lacks a chimney.
But most electric and ethanol fireplace units don't require ventilation at all! In other words, these fireplaces can be installed virtually anywhere in the home.
If the classic look of an empty hearth is what you're really after, there's nothing wrong with building your own faux fireplace.
Fill the opening with stacked wood or battery-powered candles for a stylish fireplace without the flame.
7. Farmhouse
It's hard to imagine a proper farmhouse without a crackling wood fireplace. While modern homes no longer rely solely on these fixtures to heat every room, you can still give your contemporary fireplace a homegrown aesthetic.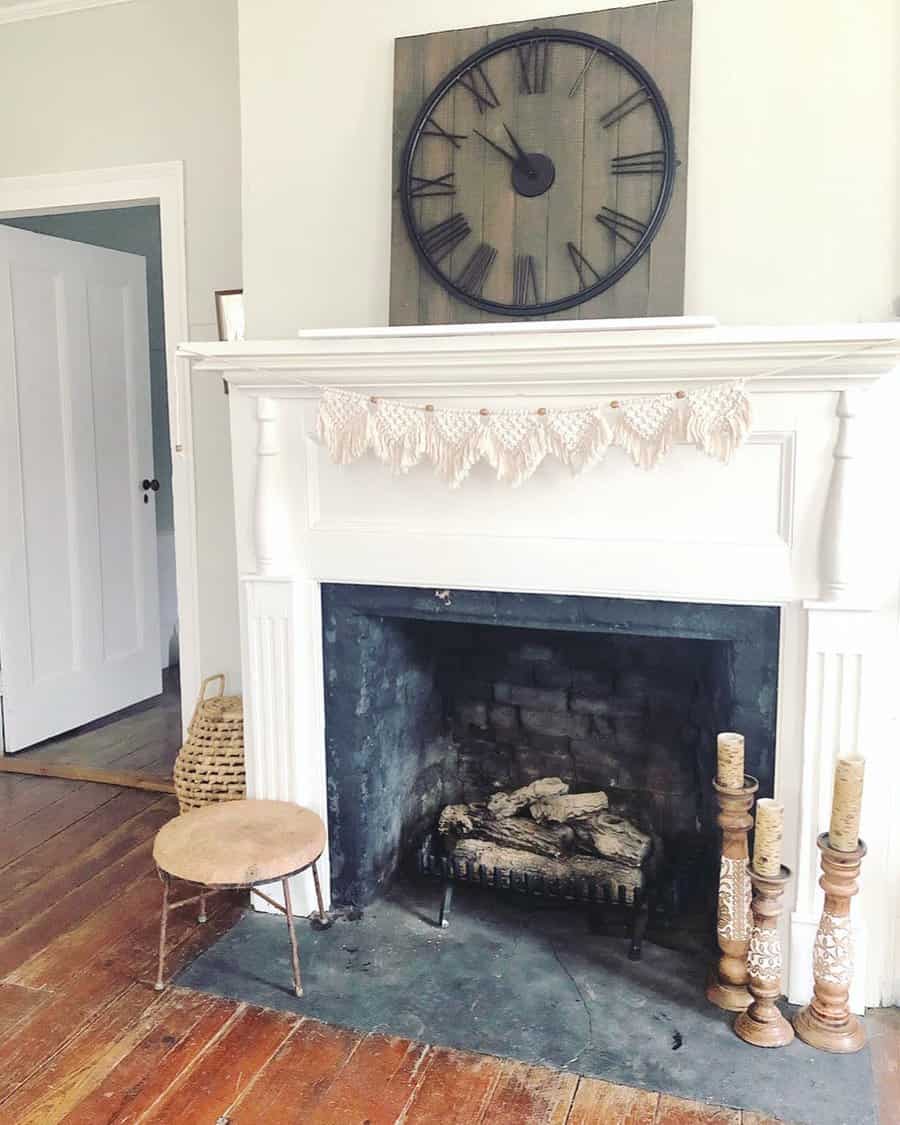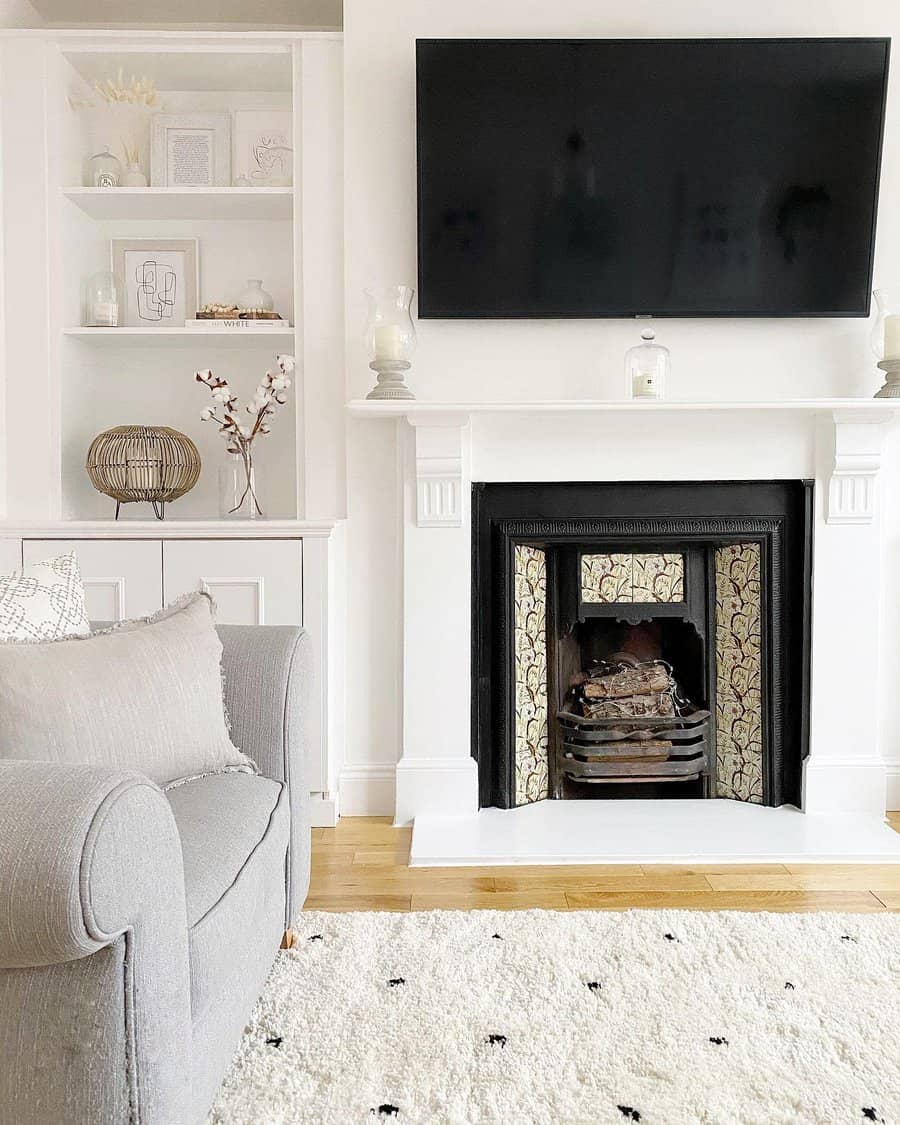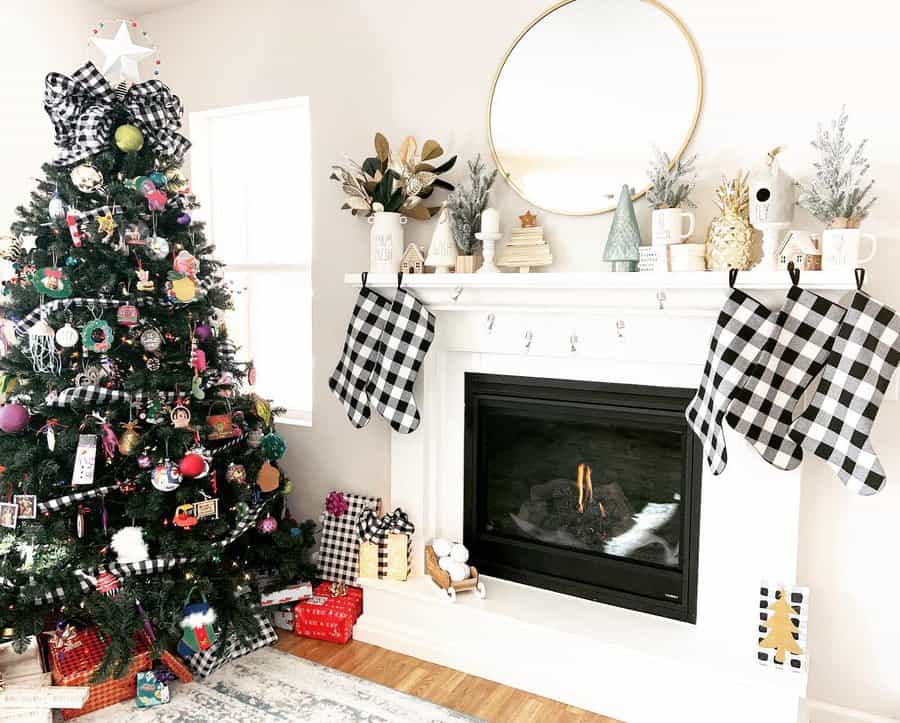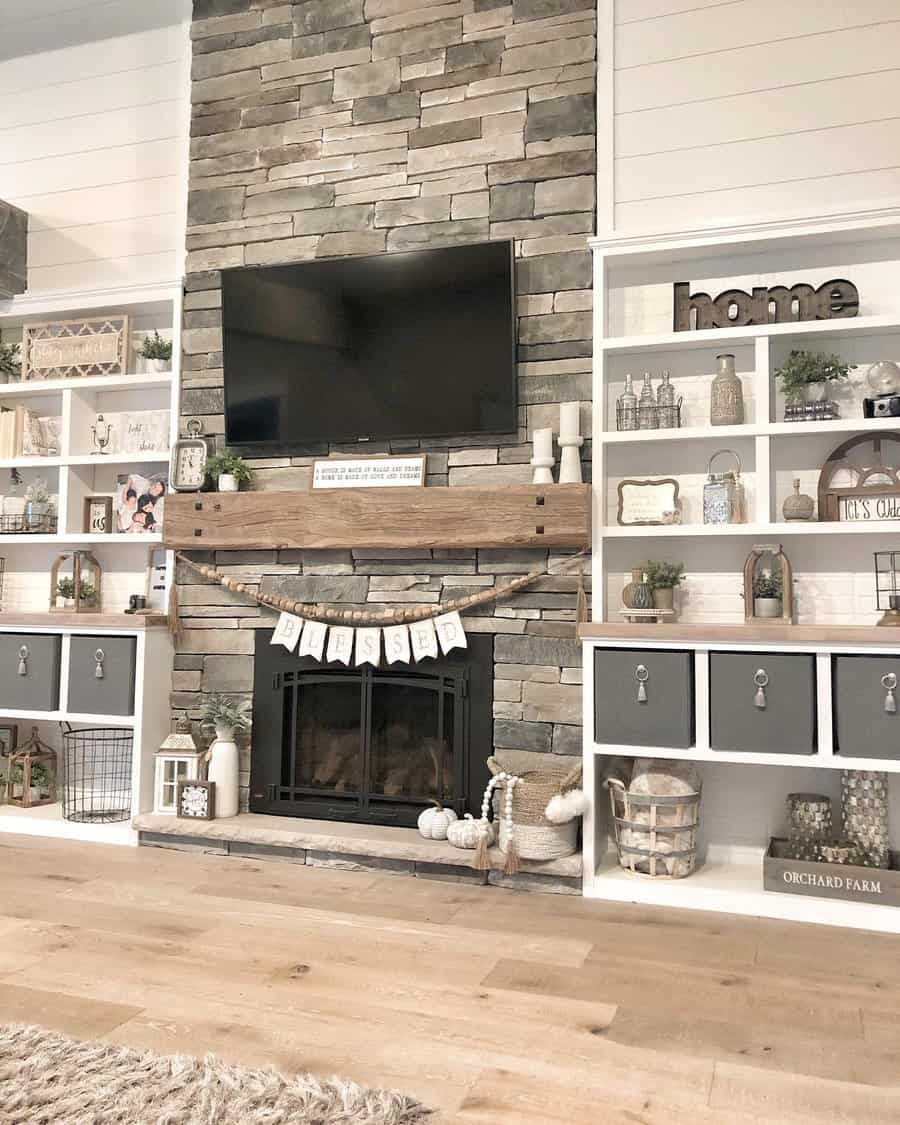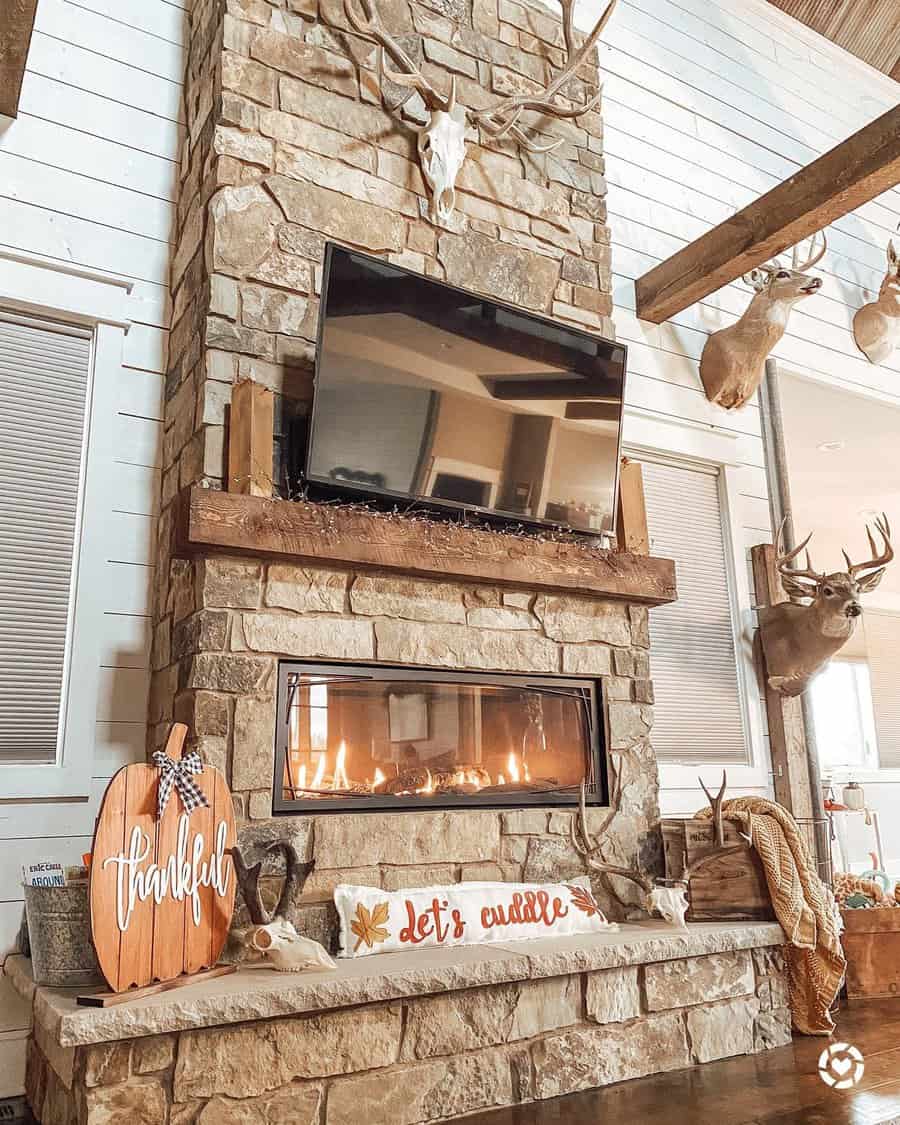 Bright, neutral shades are seen throughout farmhouse decor. Finish your fireplace design with light-colored natural stone or whitewashed exposed brick. Weathered shiplap is another great option for your fireplace surround.
Of course, you can't have an authentic farmhouse hearth without stacked firewood. But you can incorporate some modern convenience into your home design with a gas fireplace and fake logs!
8. Fireplace Finish Ideas
A lot can be done with an existing fireplace besides framing it with red brick. Finish your fireplace surround with marble tile or wood panels for a fresh, modern aesthetic.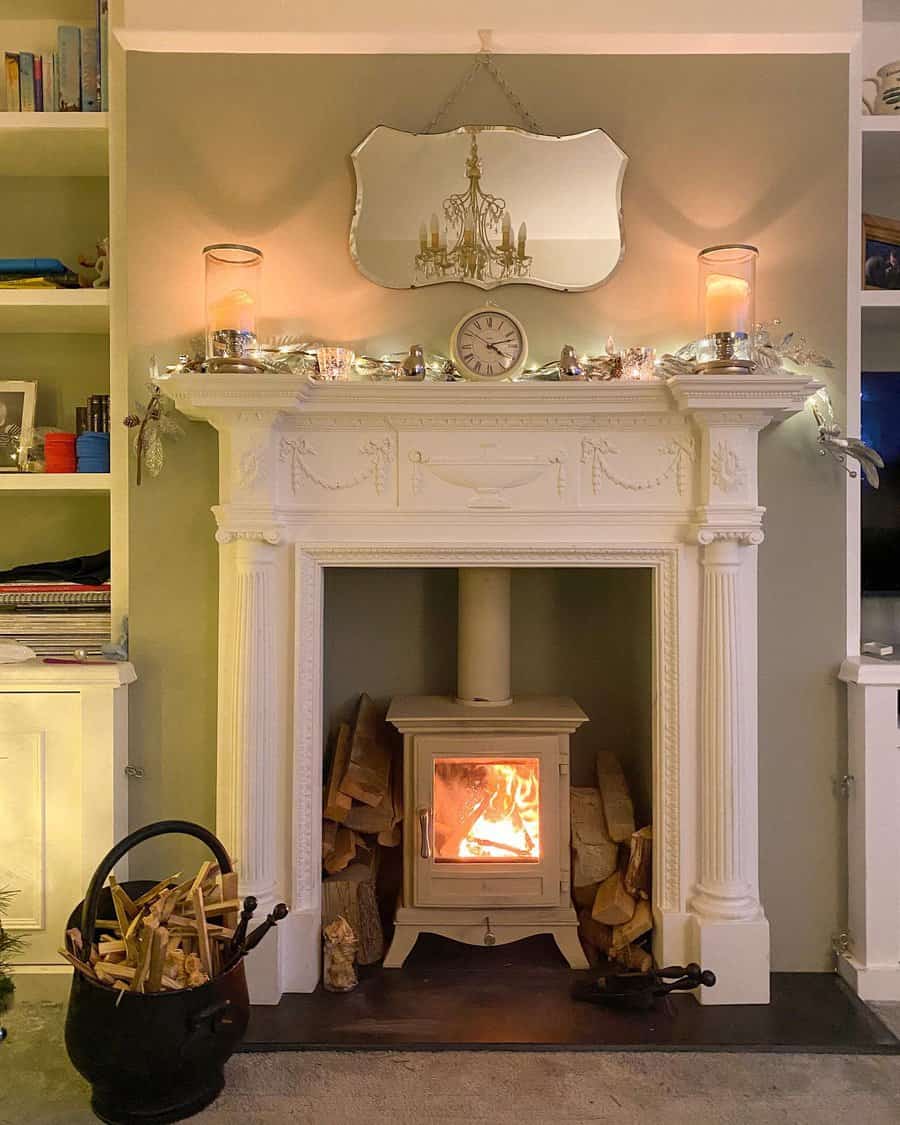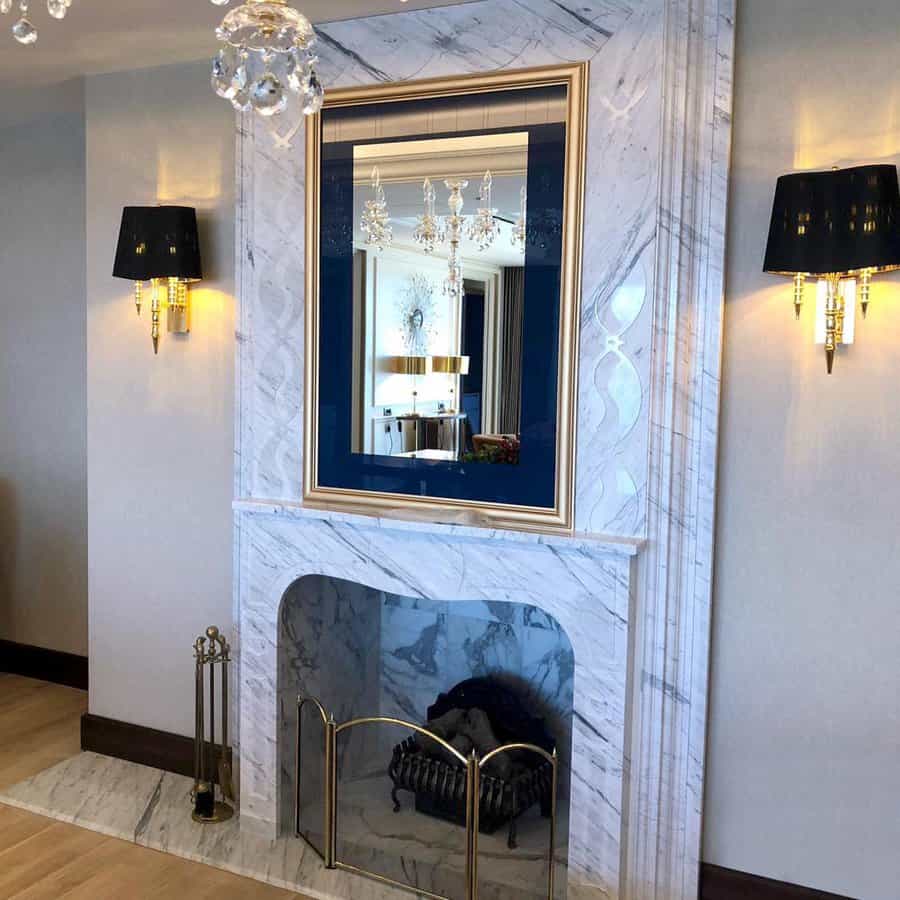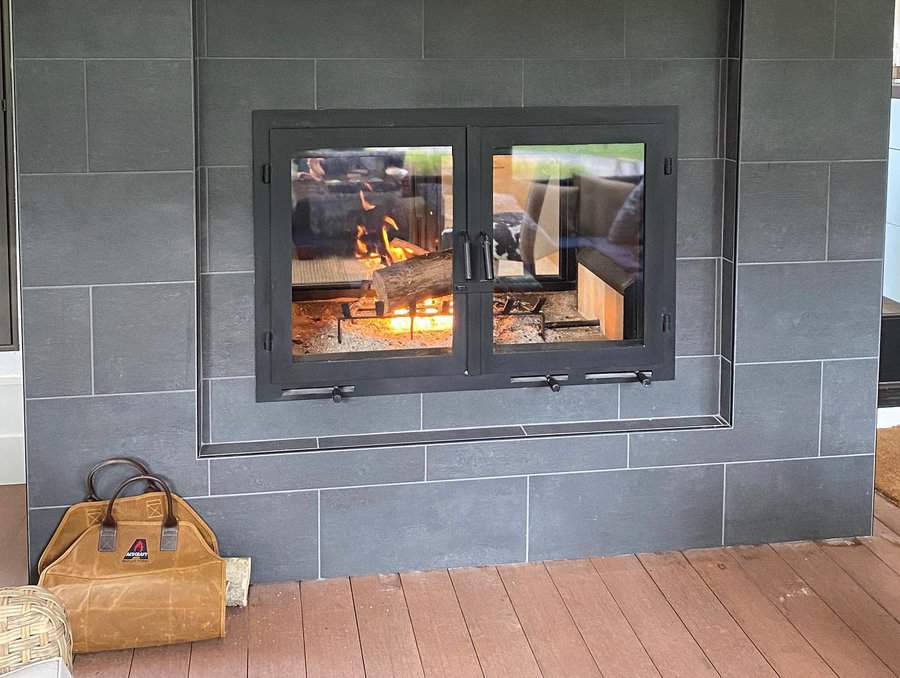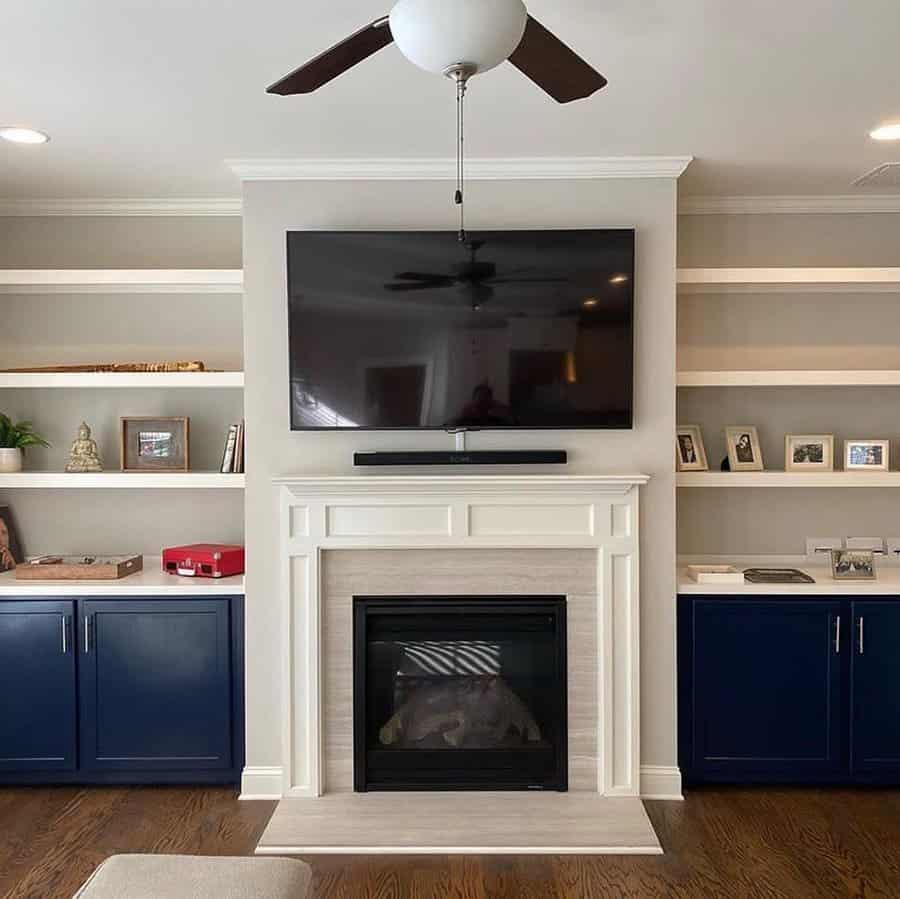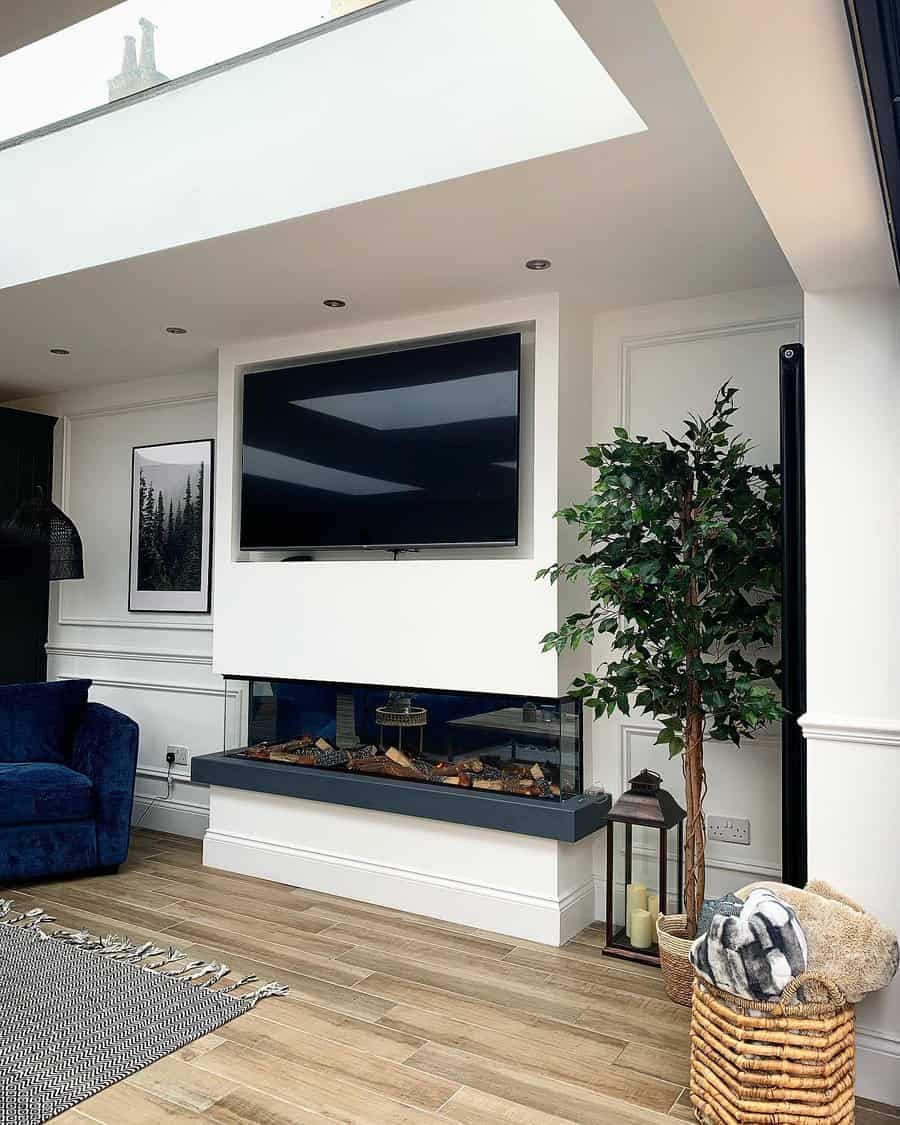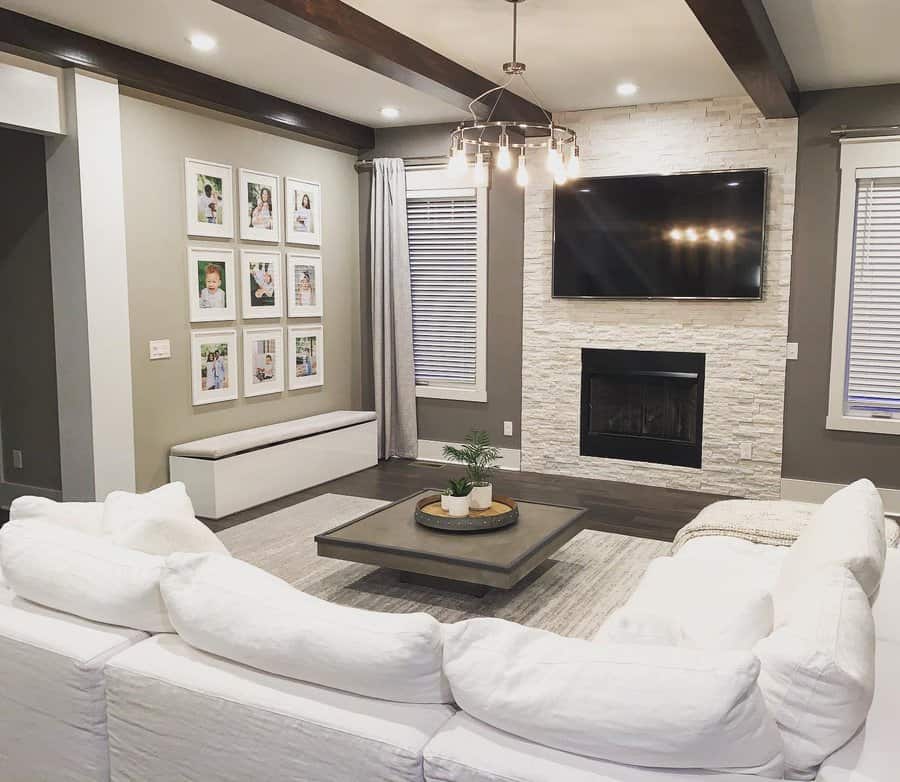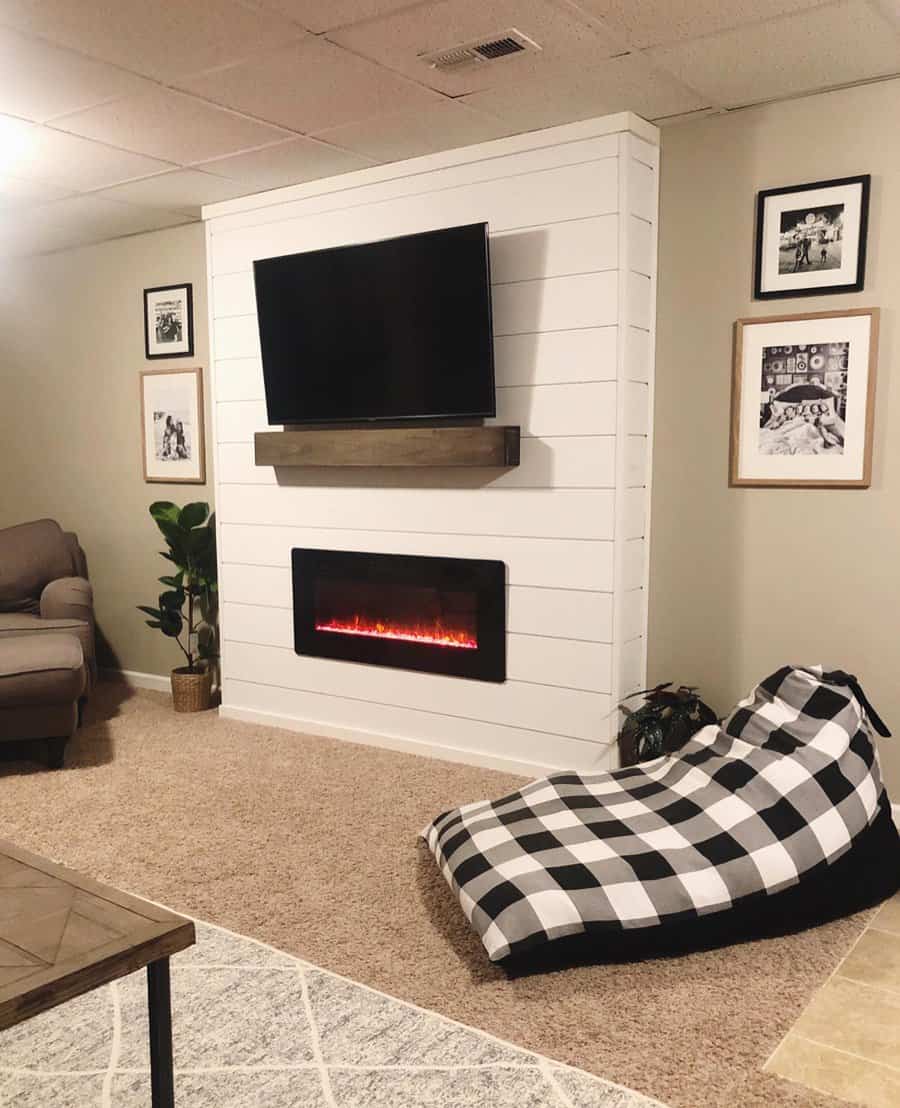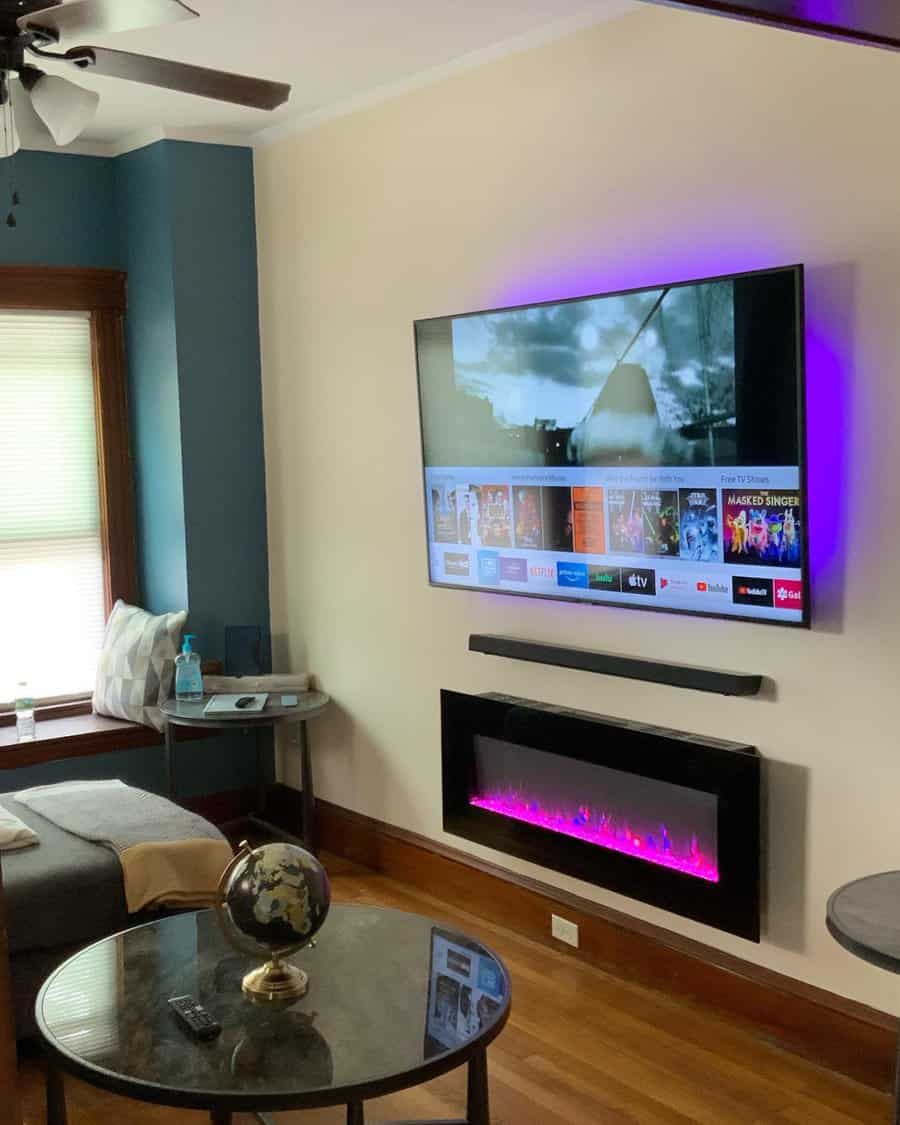 You don't need to use the same material for your entire fireplace design. Contrasting colors or textures will add dimension to the hearth, mantel, and surrounding wall.
The idea of keeping an open flame in your living or dining room might be weighing on your mind (especially if you have small children or curious pets!). Install an enclosed fireplace insert or stove for greater peace of mind.
9. Living Room
Yes, you can install a fireplace in any room (even the bathroom!). But the vast majority of fireplaces are found in a living room.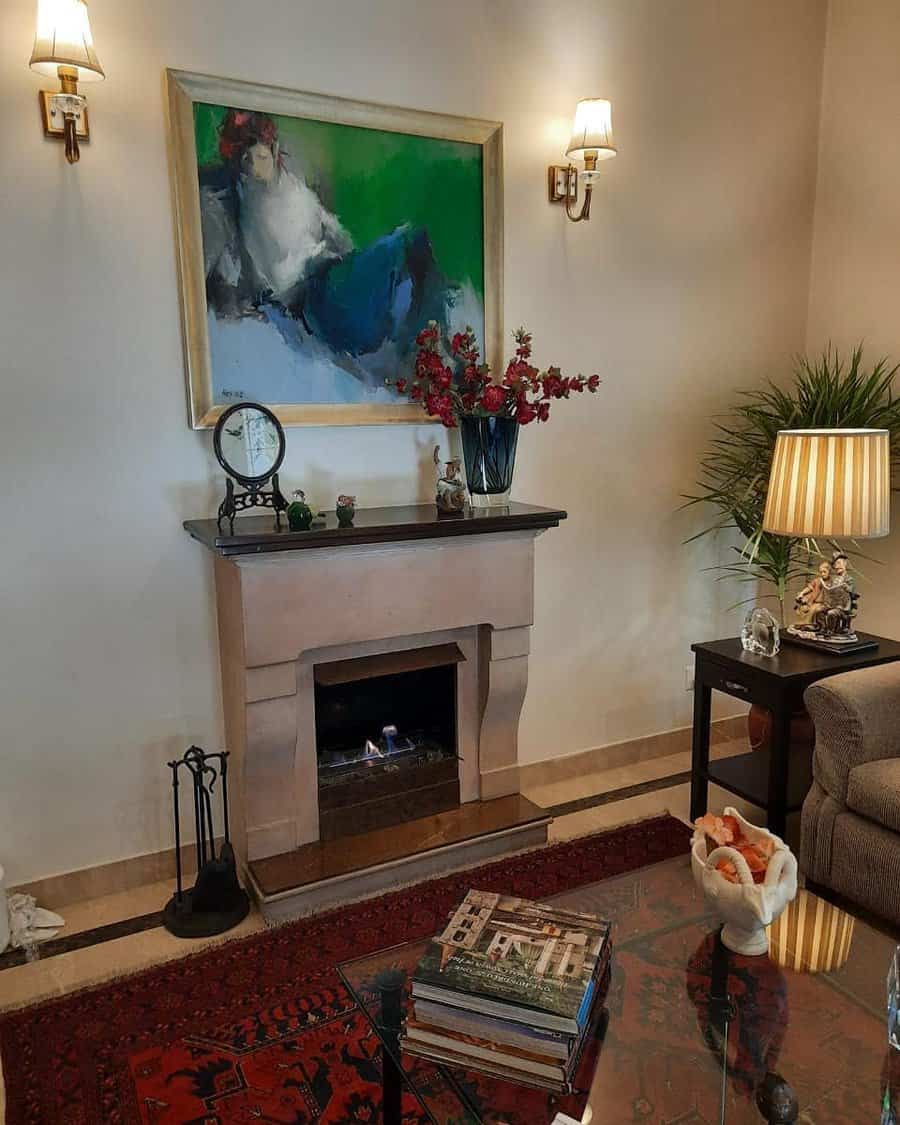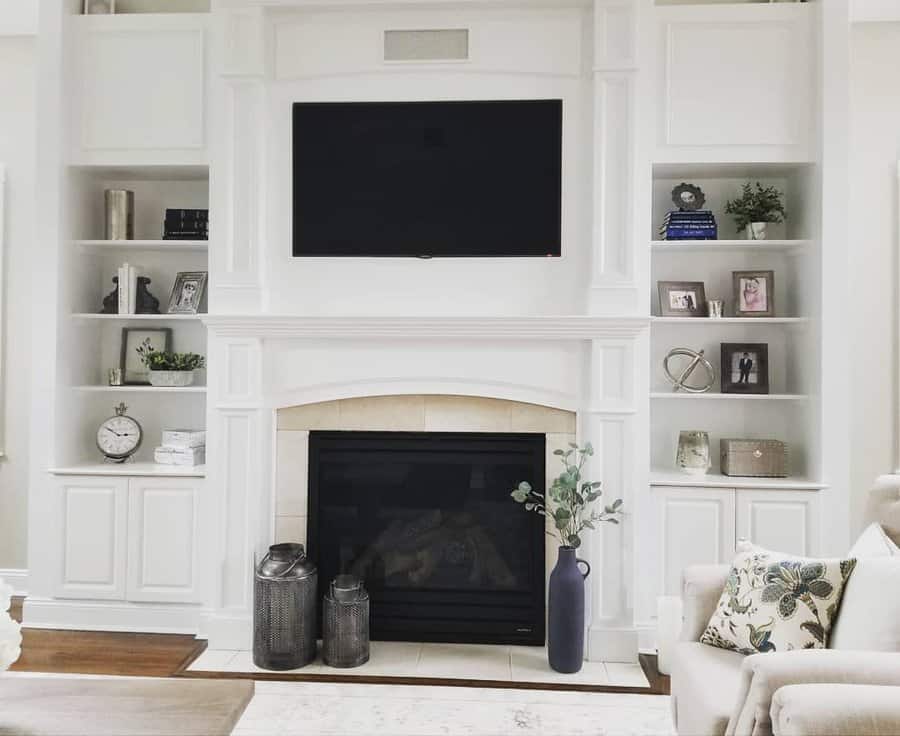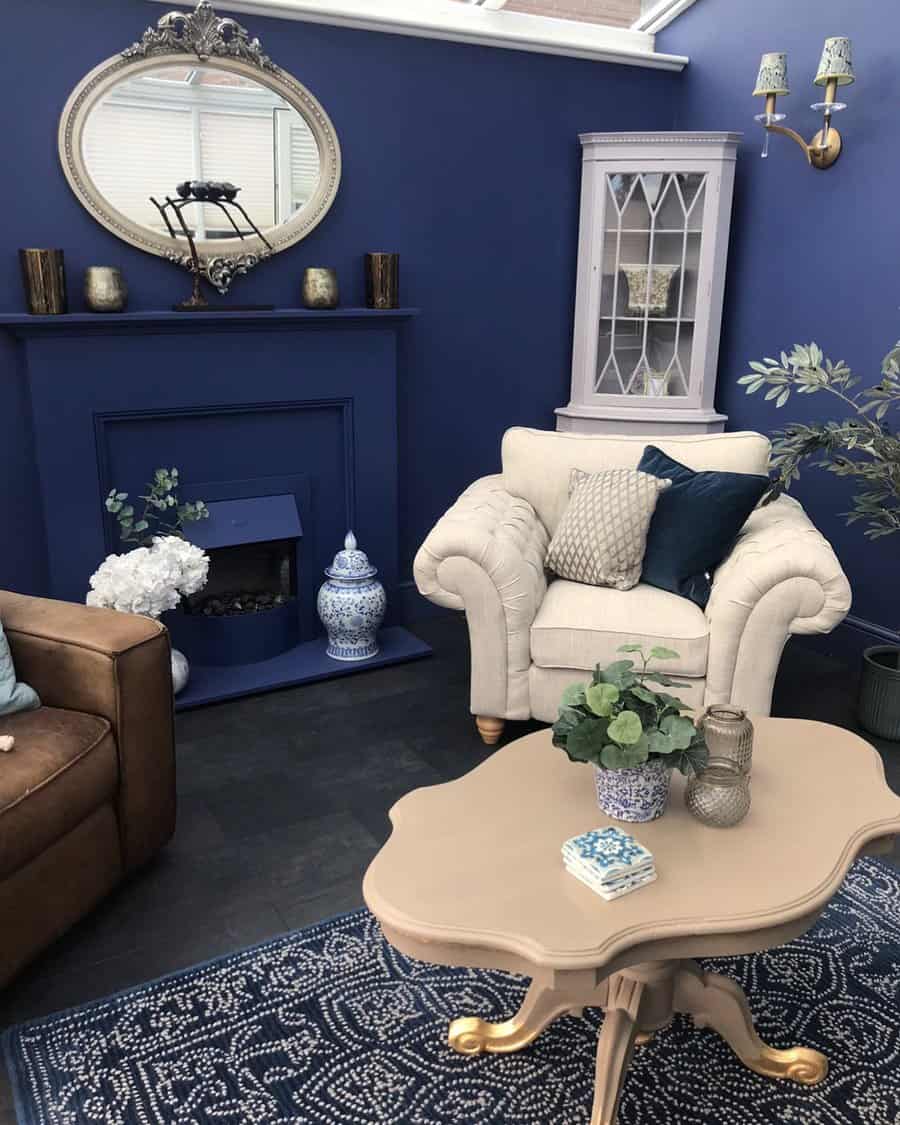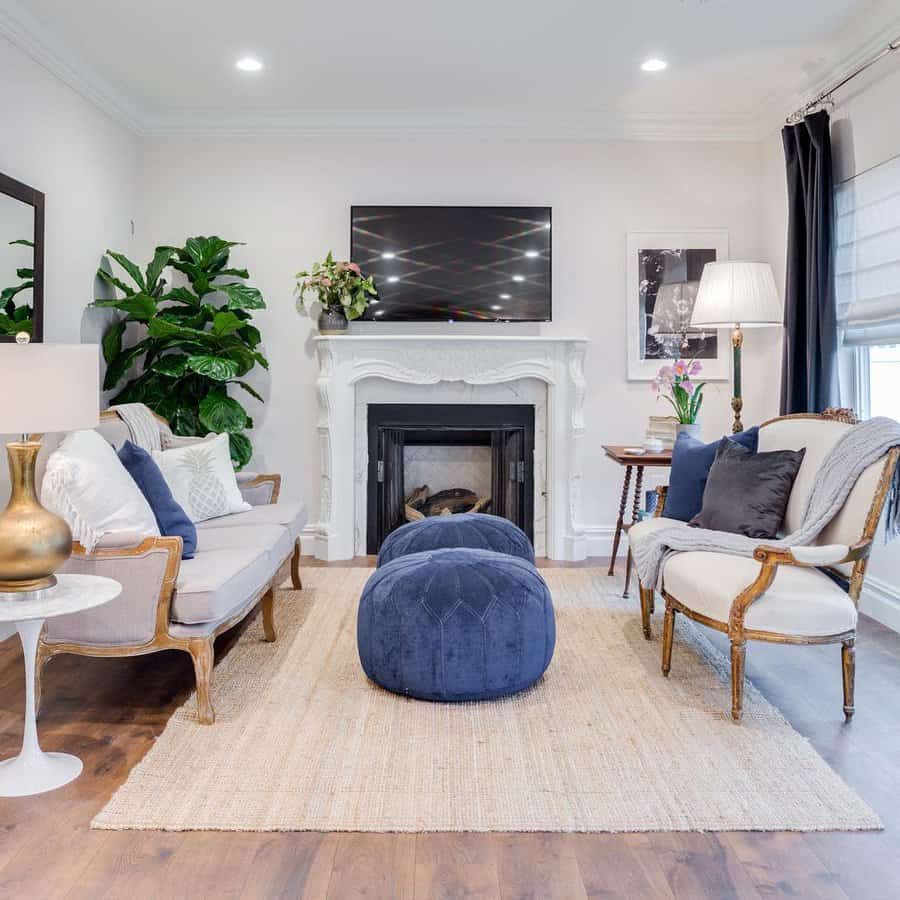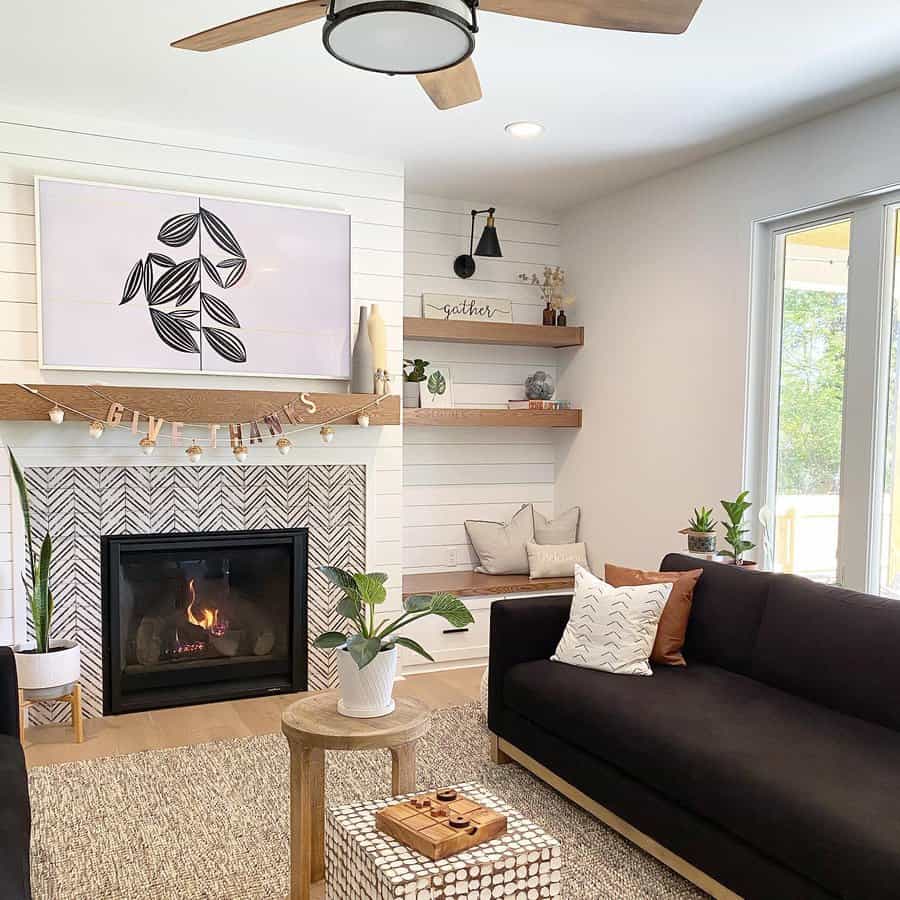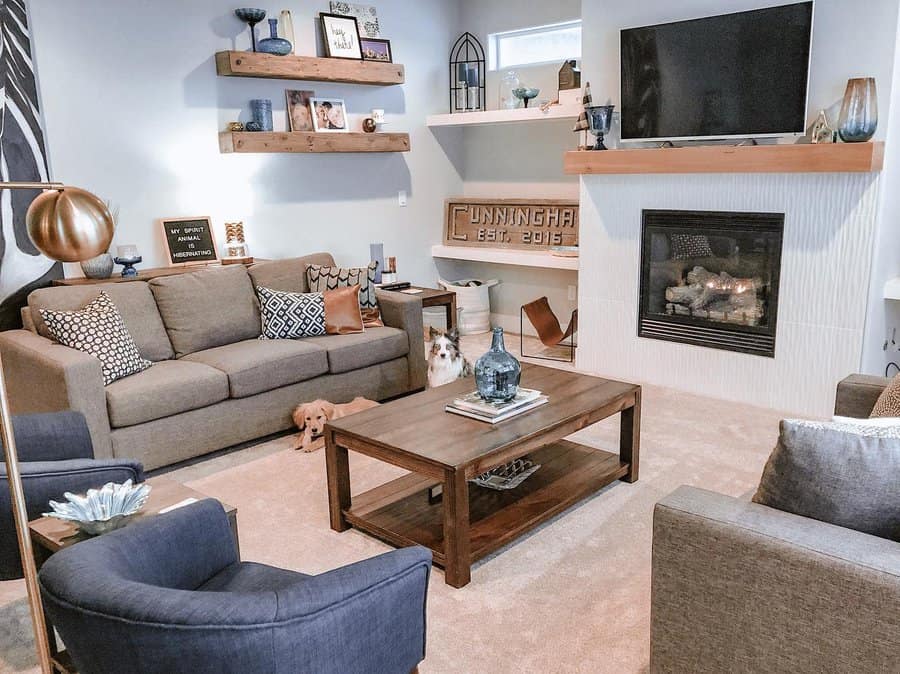 Fireplaces tend to be the centerpieces of their respective rooms. Chances are, though, your living room is already designed around a TV. Combine the two by mounting your family TV over the fireplace mantel.
A living room fireplace can be large or small. The most important thing is that your fireplace design suits the space and its proportions. If your particular fireplace produces heat, be sure there's enough distance between it and your furniture for maximum comfort and safety.
10. Modern Fireplace Ideas
Although modern fireplaces function like any other. But they tend to be much simpler, sleeker, and trend-forward than their counterparts.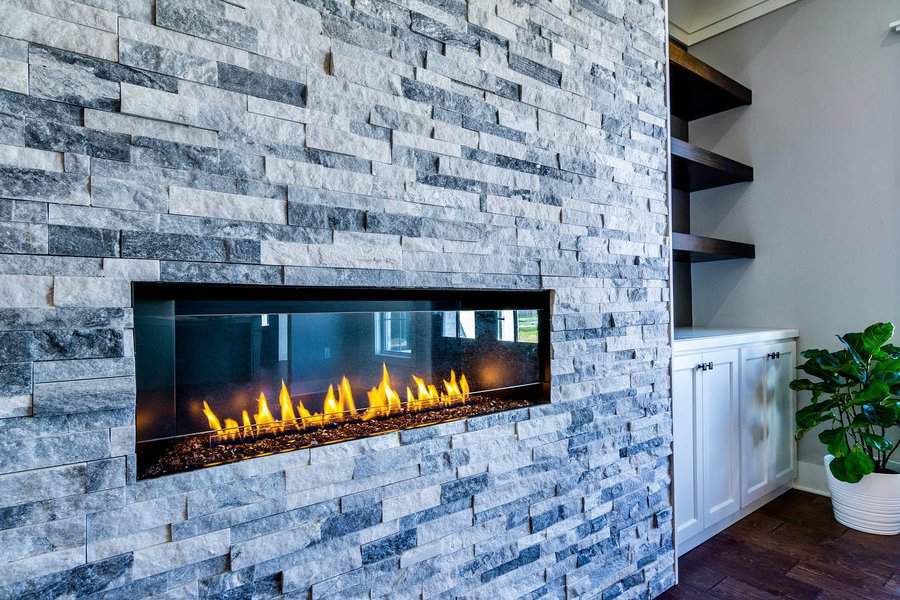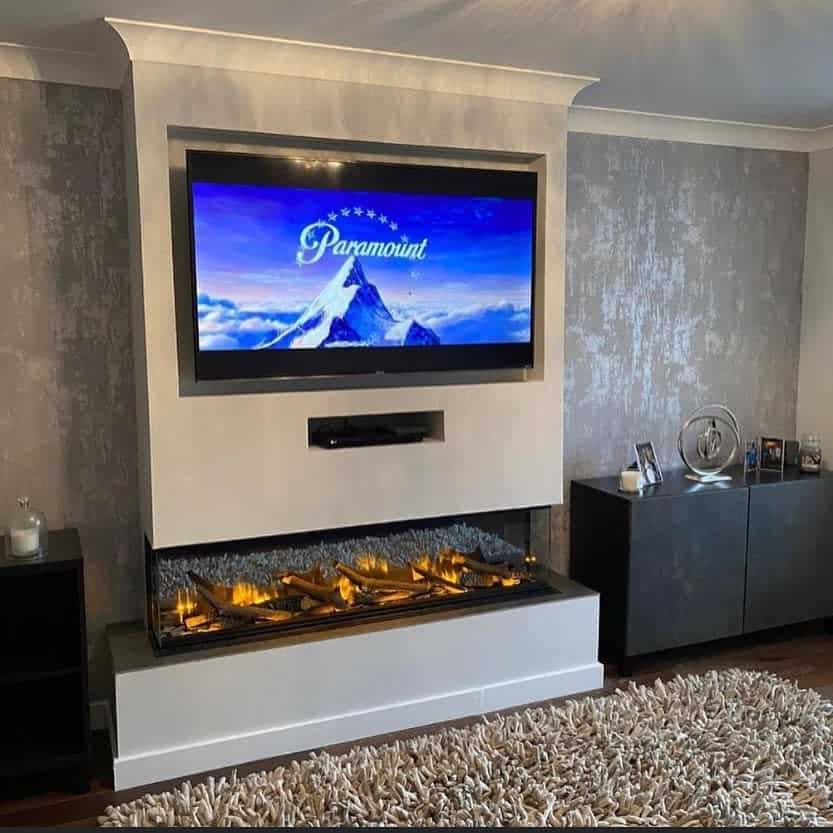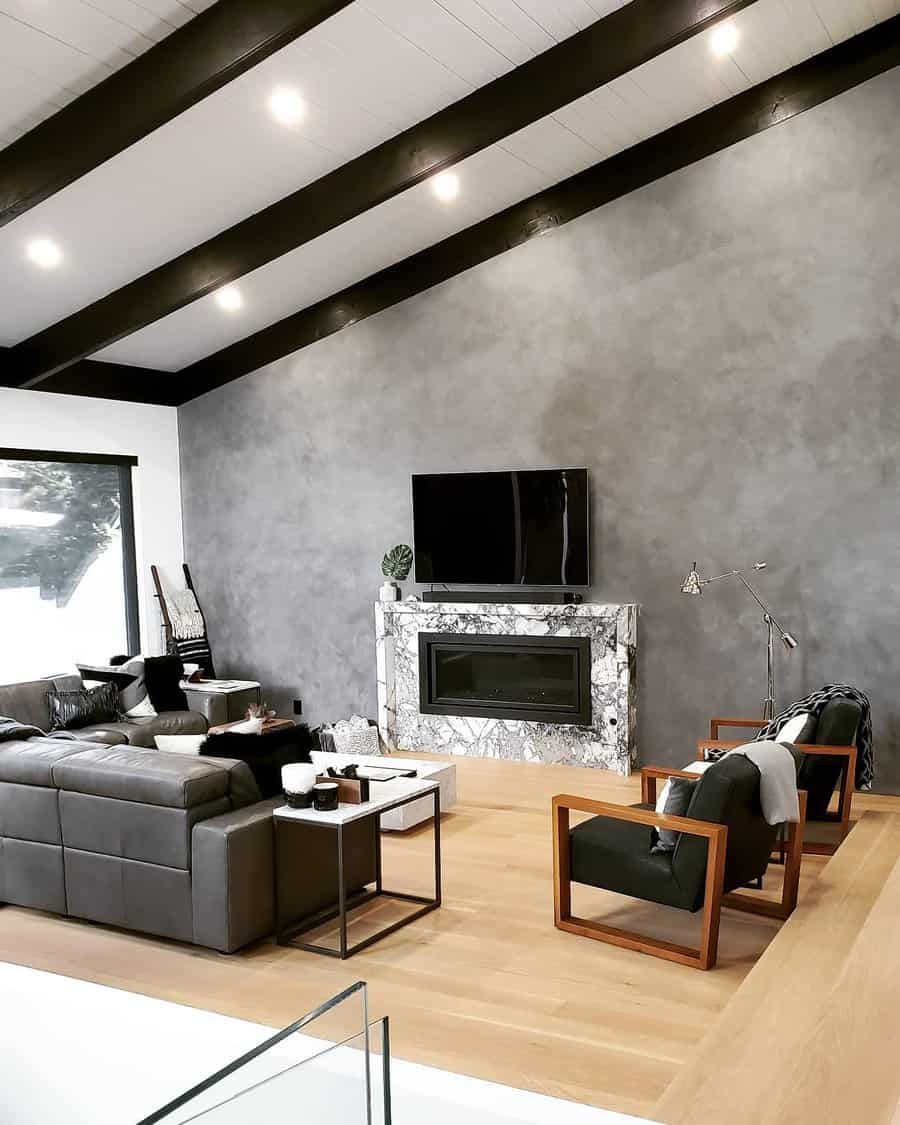 More often than not, modern fireplace setups rely on gas or electricity rather than wood. An electric or gas fireplace insert can be installed in an existing wall or used as a unique room divider.
Instead of traditional brickwork, give your home an industrial edge with a modern stone fireplace. Marble tile or cement can be used to cover your fireplace surround and the wall above. Add a wood mantel to warm up the design overall.
11. Rustic
With the exception of sleek linear units, nearly all fireplaces come with a touch of rustic charm.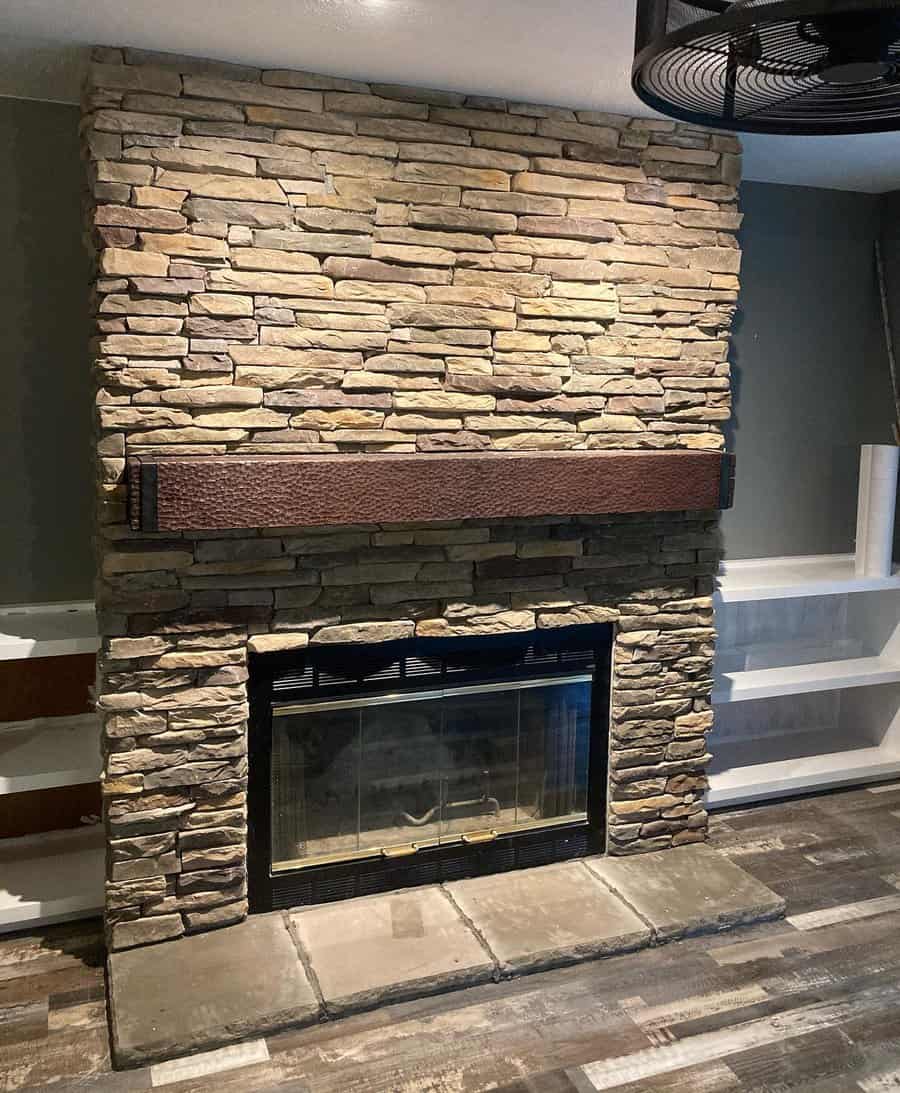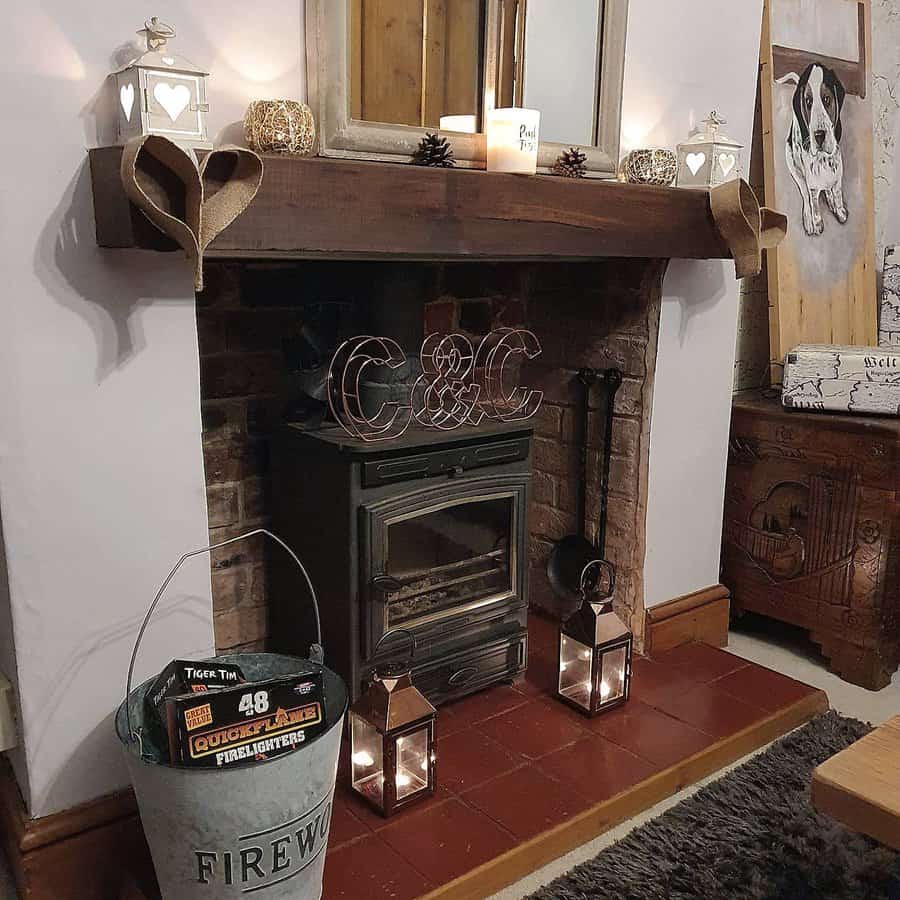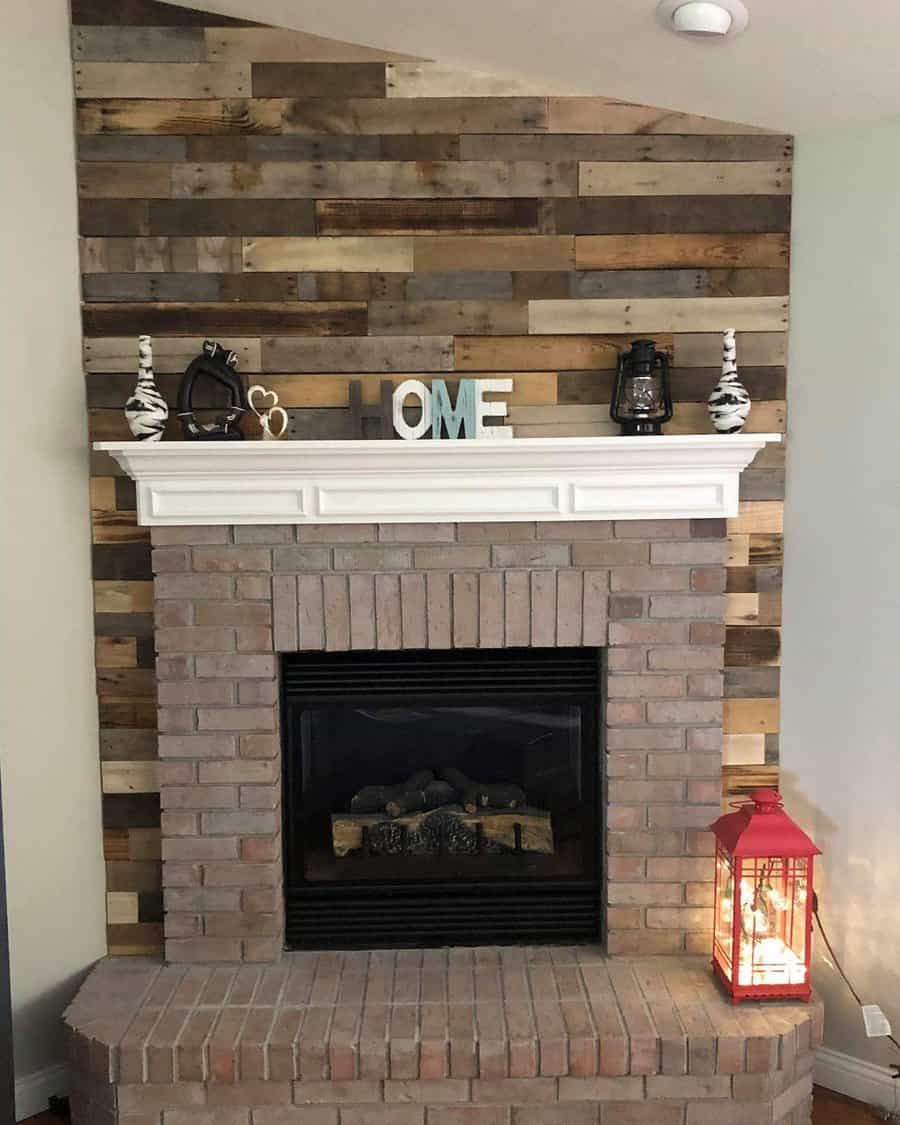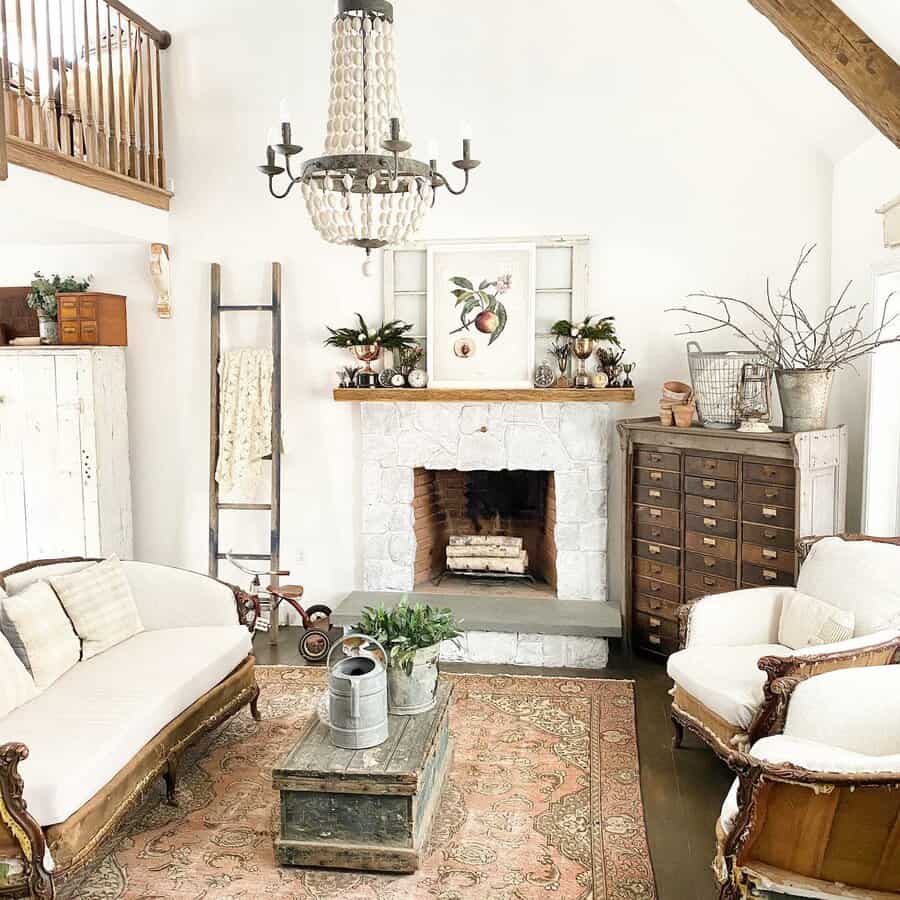 Stacked stone or natural-toned brick is the perfect choice for any rustic fireplace remodel project. These materials can be used across the entire fireplace or as an accent finish on the interior walls.
You can't go wrong with a reclaimed or live-edge wood mantel. Arrange antique fireplace decor around the mantelpiece. Even if an electric or gas fireplace is right for your home, ensure the hearth looks the part with a set of decorative logs.
12. Stone
Brick fireplaces are considered timeless for a reason. But not everyone wants to recreate the classic storybook fireplace in their own house.
A stone fireplace is an updated version of this trend that will look right at home next to most contemporary decor.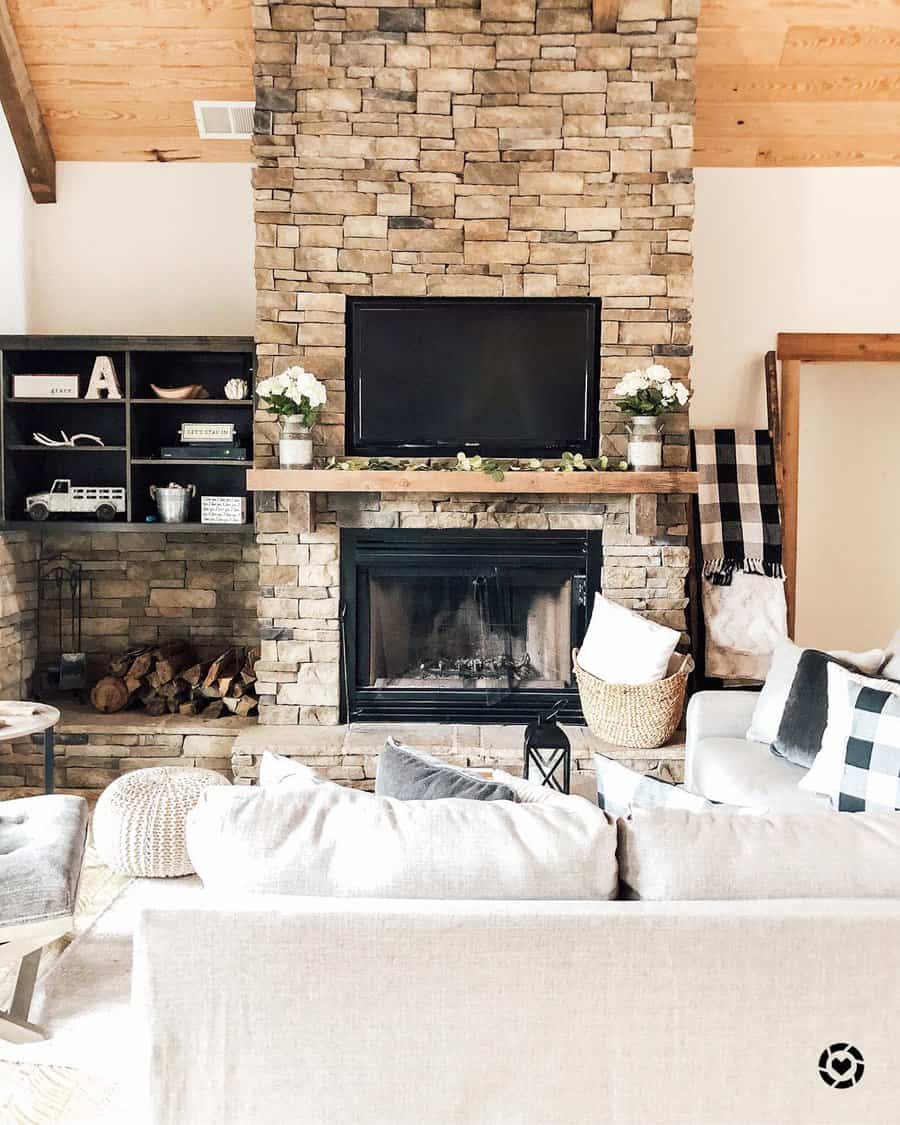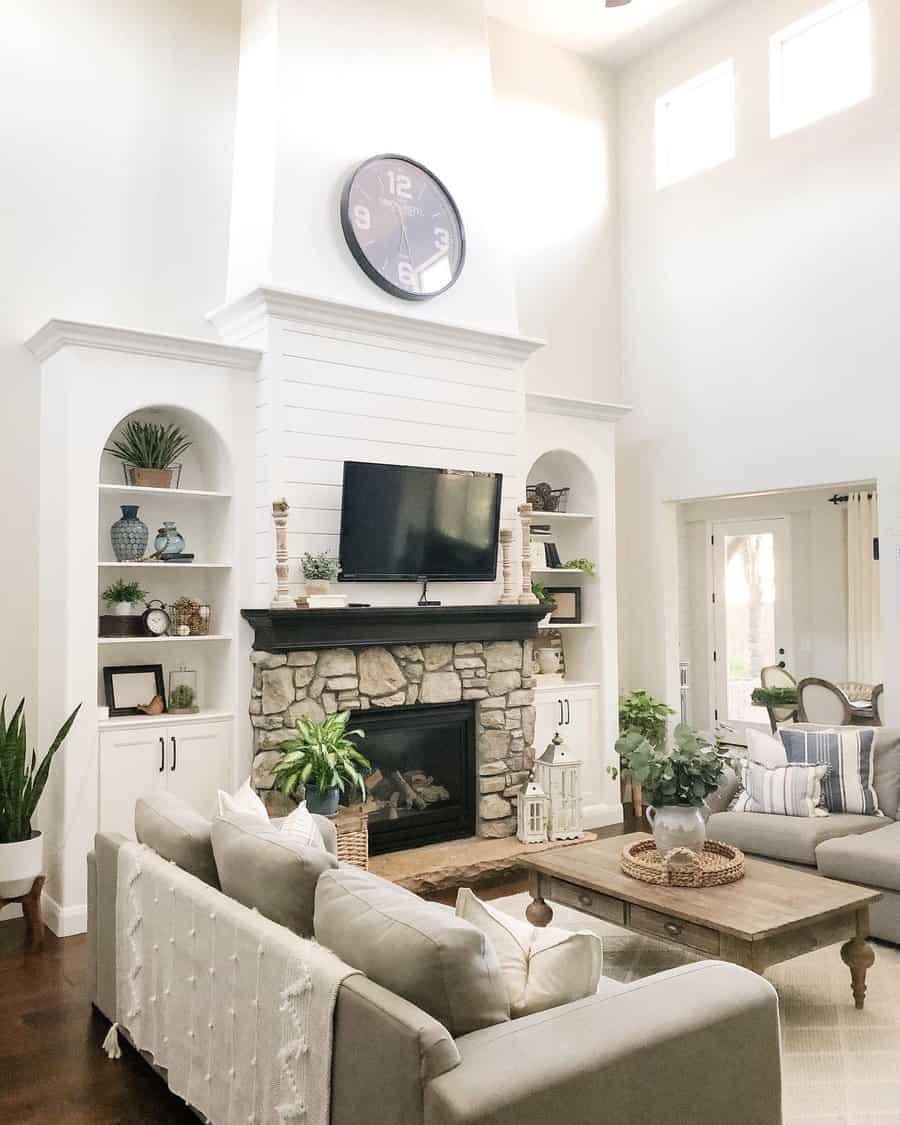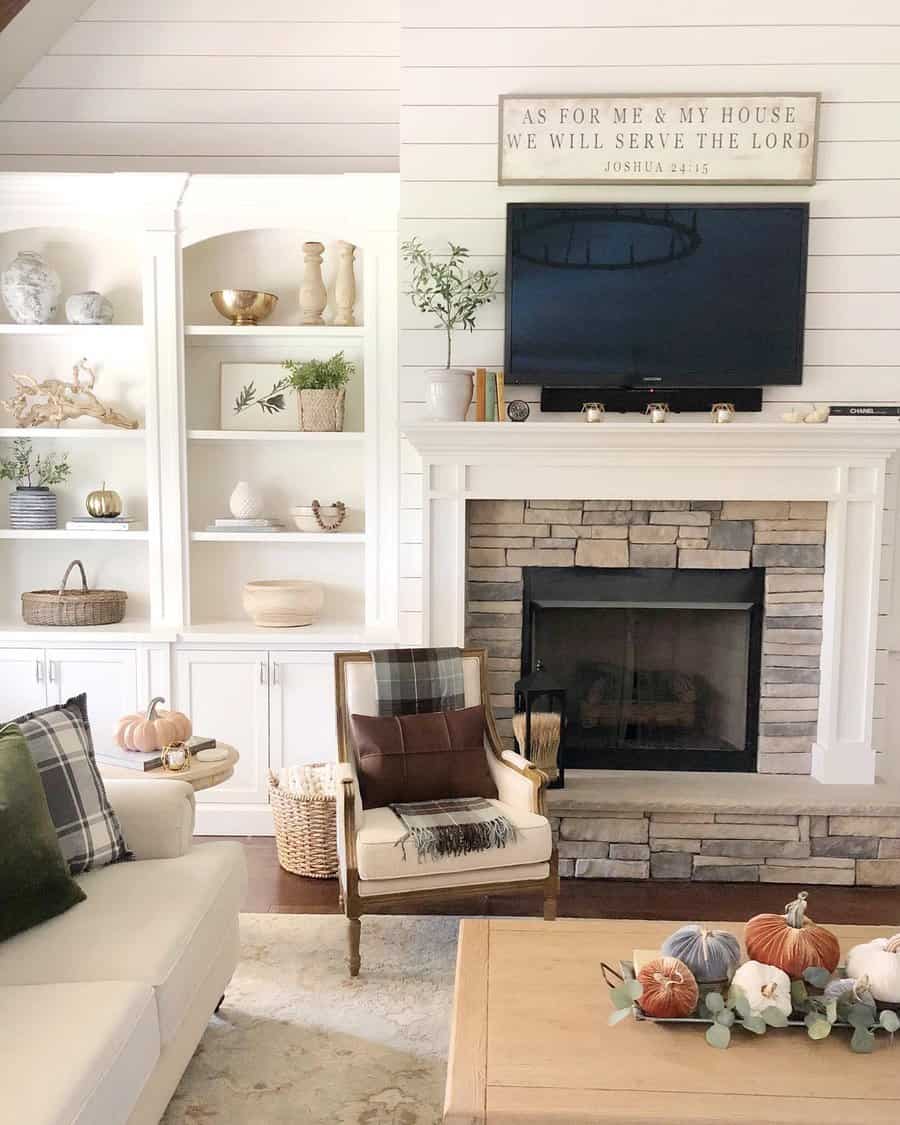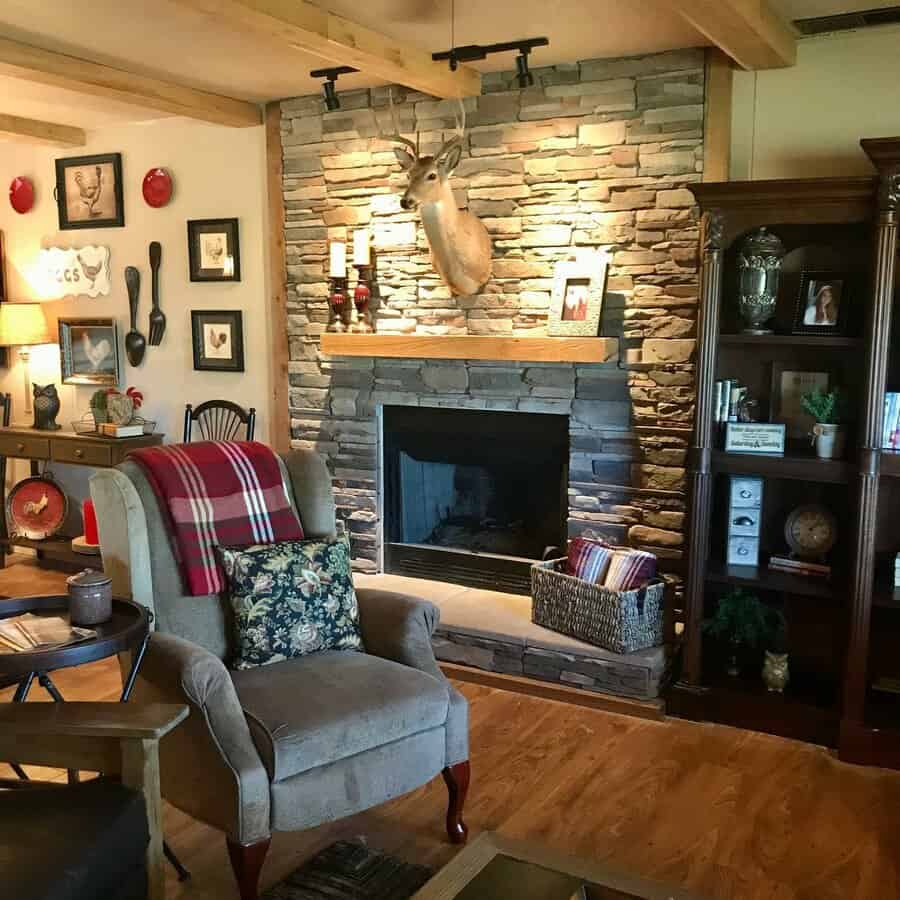 While you can use polished slabs in your stone fireplace design, the rough-hewn look is far more popular. For a fireplace surround that appears to be taken straight from the wilderness, smooth river rock is a great option.
Stone is also the ideal finish for an outdoor fireplace or fire pit. Few materials are as durable, versatile, and — quite literally — built to sustain the elements as natural rock.
13. Tile
We use tiles throughout our homes to protect and beautify the surfaces around us. Yet tile is sadly overlooked in most contemporary fireplace ideas.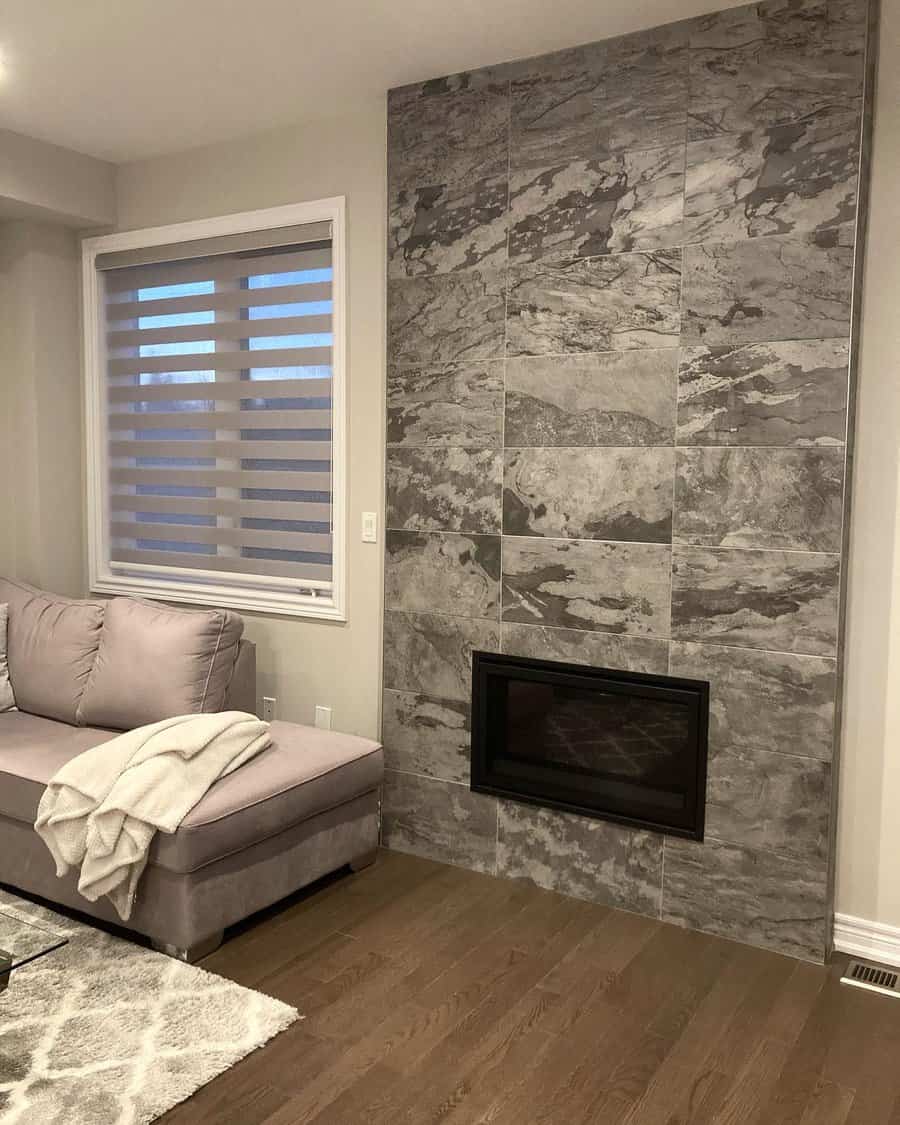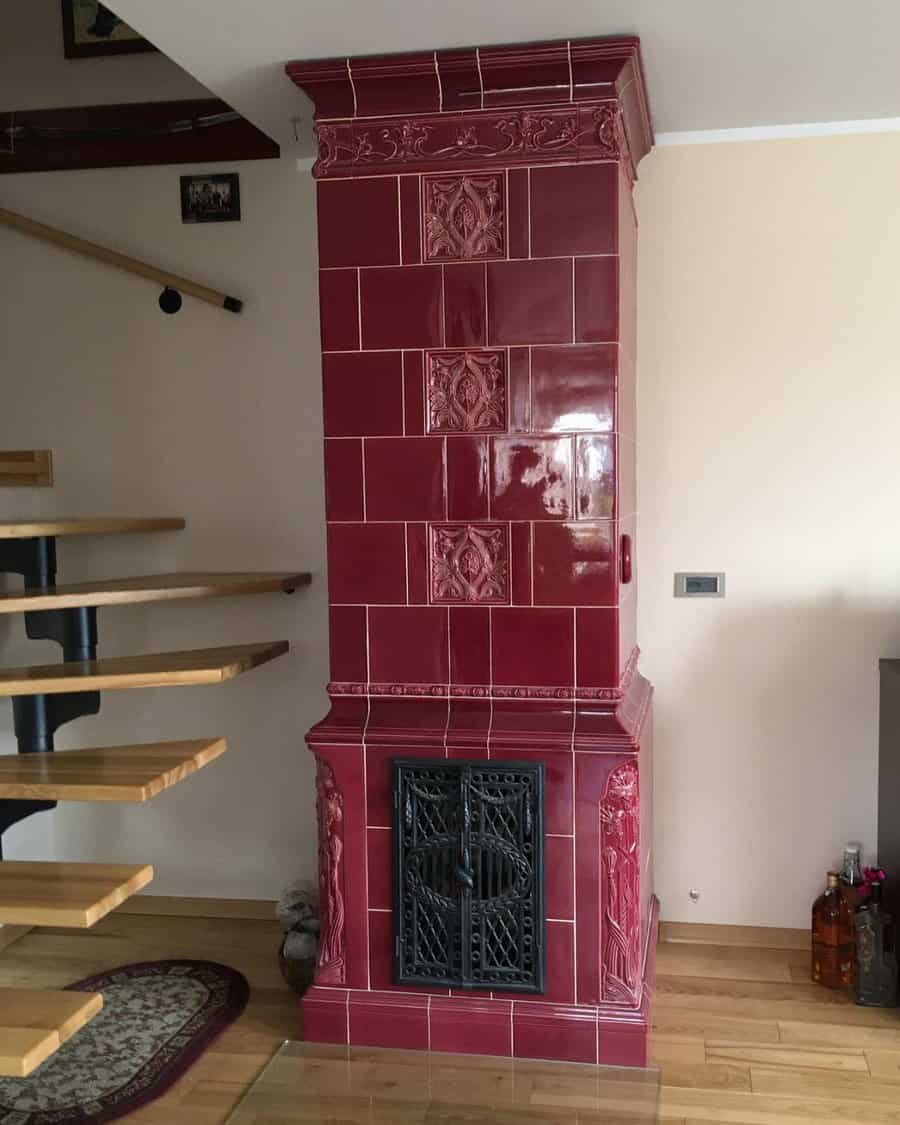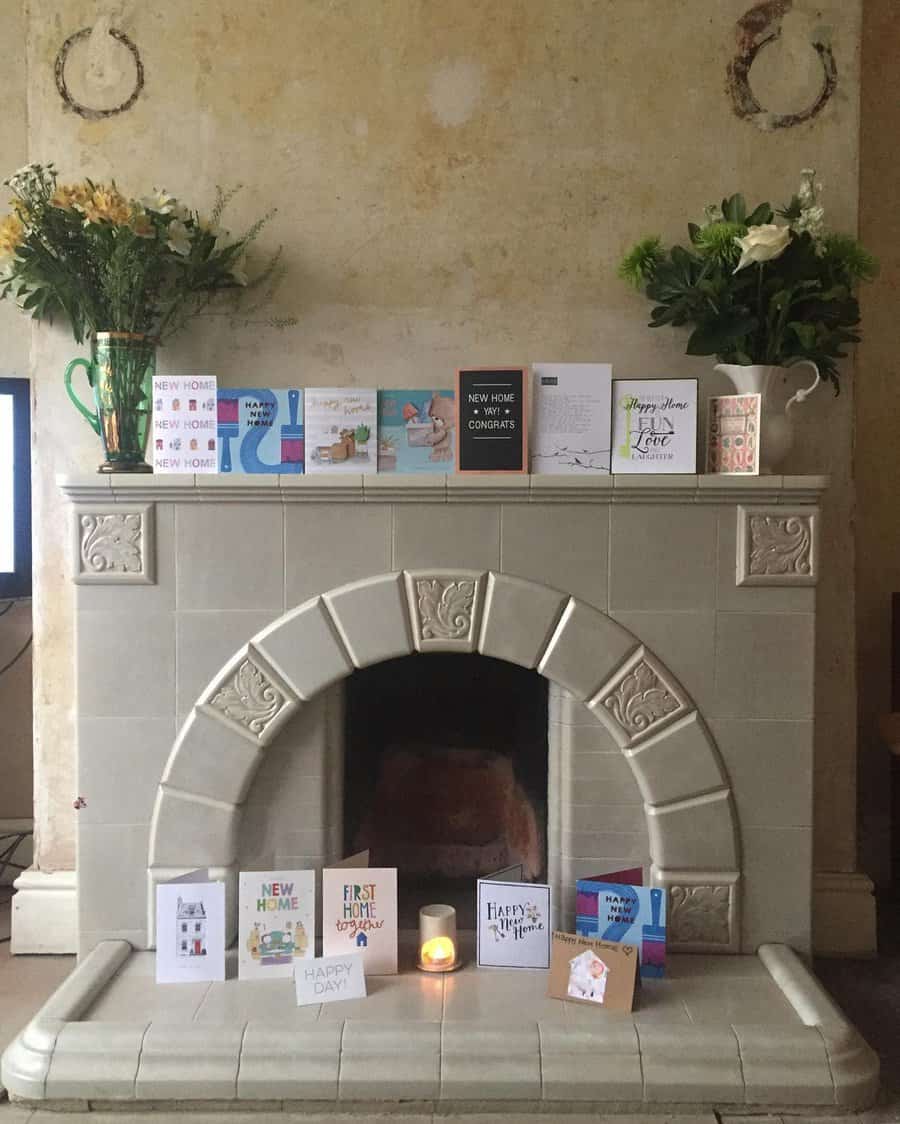 Ornamental tile can be used to frame the opening of your fireplace. Or you can cover the entire exterior with luxurious marble tile or another natural stone.
Not just any tile will do. Before lining your fireplace with your favorite pattern or design, be sure that your chosen tiles can stand up to the heat! This won't be an issue if you have a newer fireplace insert that doesn't produce ambient heat.
See more fireplace tile ideas here.
14. Wood
Wood is only supposed to go inside the fireplace, right? Not if you adopt one of these stylish wood fireplace designs for your own home.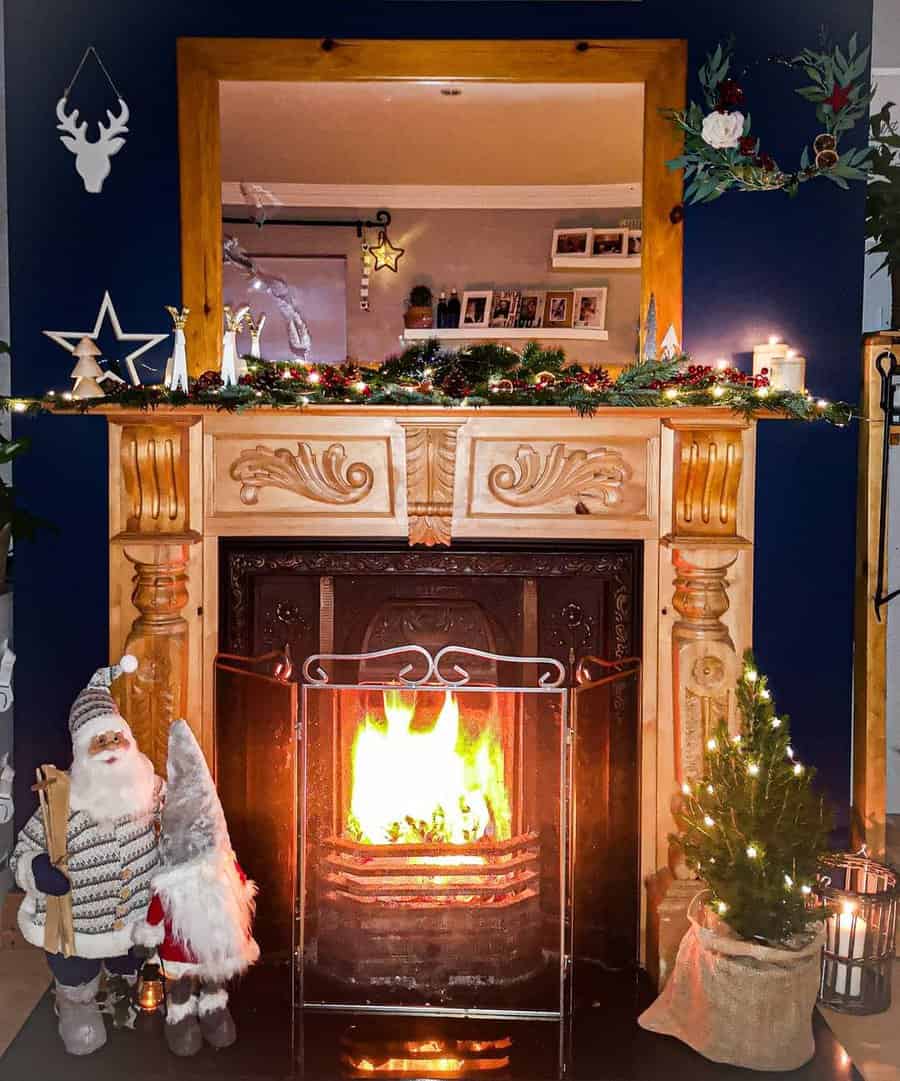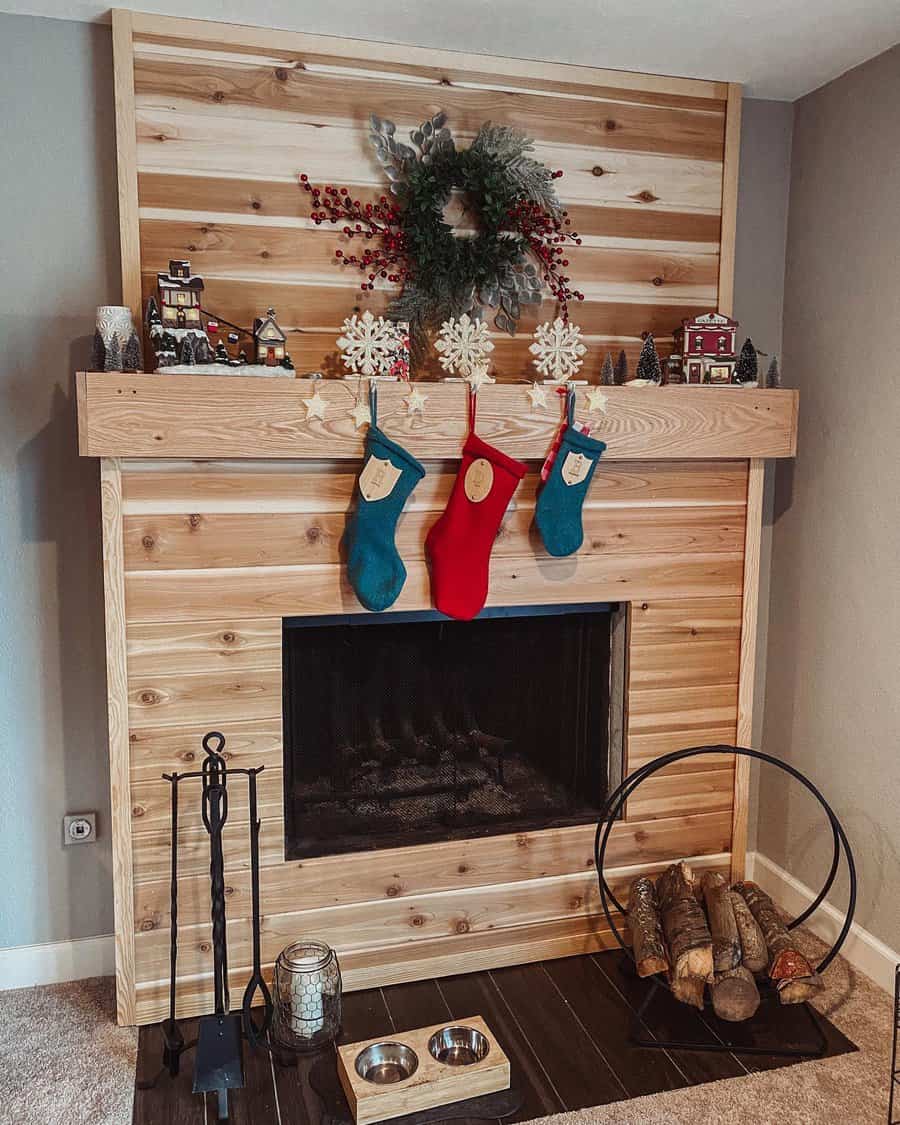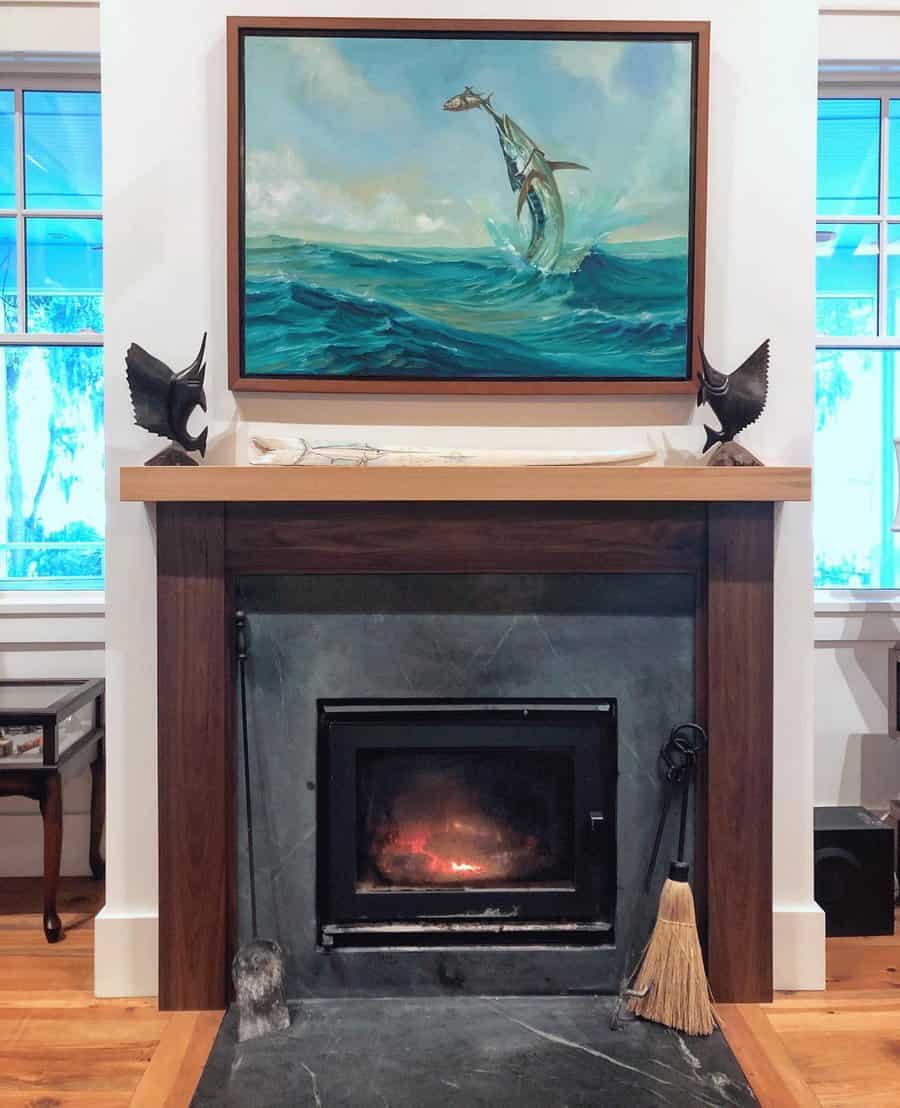 We all know about wooden mantels. These designs can range from incredibly simple to extremely ornate. Natural wood matches every style of decor and can be paired with brick, stone, and a host of other materials.
Another popular idea uses smooth wood panels to cover the fireplace surround from floor to ceiling. This design is the perfect addition to any modern space that could benefit from a bit of warmth and texture.
Fireplace FAQs
Is it safe to hang a TV over a fireplace?
Yes, if you protect the TV from the fireplace's heat. The fireplace surround should be insulated enough that you don't need to worry about heat seeping through the wall behind your TV. However, hot air may rise out of the fireplace itself and damage your TV.
A hefty mantel will create a barrier between your TV and any hot air escaping from your fireplace. Many homeowners also mount their TV in a recessed cubby built into their fireplace surround for extra protection.
Will a fireplace add value to a home?
A fireplace isn't a drawback for most homebuyers. But you shouldn't expect your property's value to increase just because you added a new fireplace.
Fewer homes are being built with fireplaces than in previous years. This is partially because potential homeowners don't want to deal with the upkeep. Plus, high-quality aftermarket fireplaces are becoming more available and affordable.