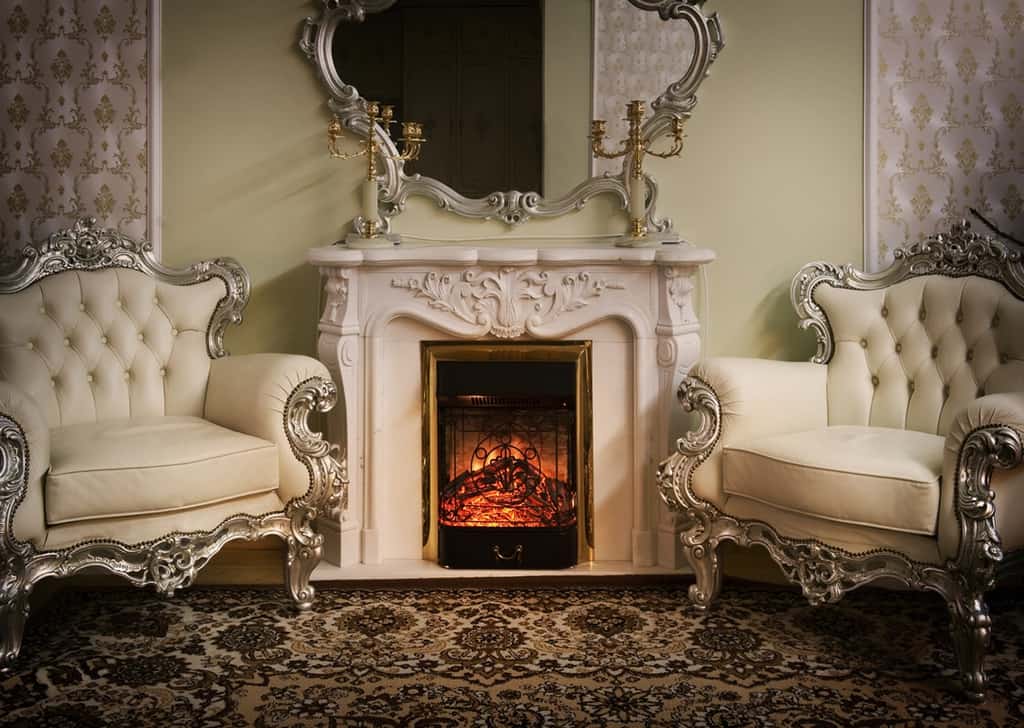 How to Update a 1970s Stone Fireplace
A fireplace has two basic functions in a home: heat the room and bring a sophisticated decorative touch. However, some become outdated and need a serious makeover in order to go back to being the focal point of the living room.
There are many ways to solve this problem, from replacing an old wood-burning fireplace with a gas insert or electric fireplace, or restoring the fireplace completely. In this post, we will give you some ideas of how you can update your 1970s stone fireplace.
FIRST THINGS FIRST
When engaging in fireplace remodeling, there are two main concerns: Safety and the aesthetic quality of the materials. Make sure you consult with a professional before starting any project, especially if the fireplace has been out of use for a long period of time.
The lack of maintenance is a fire hazard. Make sure you have a professional check if there is chimney obstruction or any other damage.
Once you have safeguarded the safety of the fireplace, it's time to think about materials and aesthetics.
Read also: 16 Ways to Decorate an Unused Fireplace
THE 1970s DÉCOR STYLE
Antique stone fireplaces are typically clad in granite or marble. You will also find natural stone cladding and bricks.
But you can update it to any kind of décor style. Check out these ideas: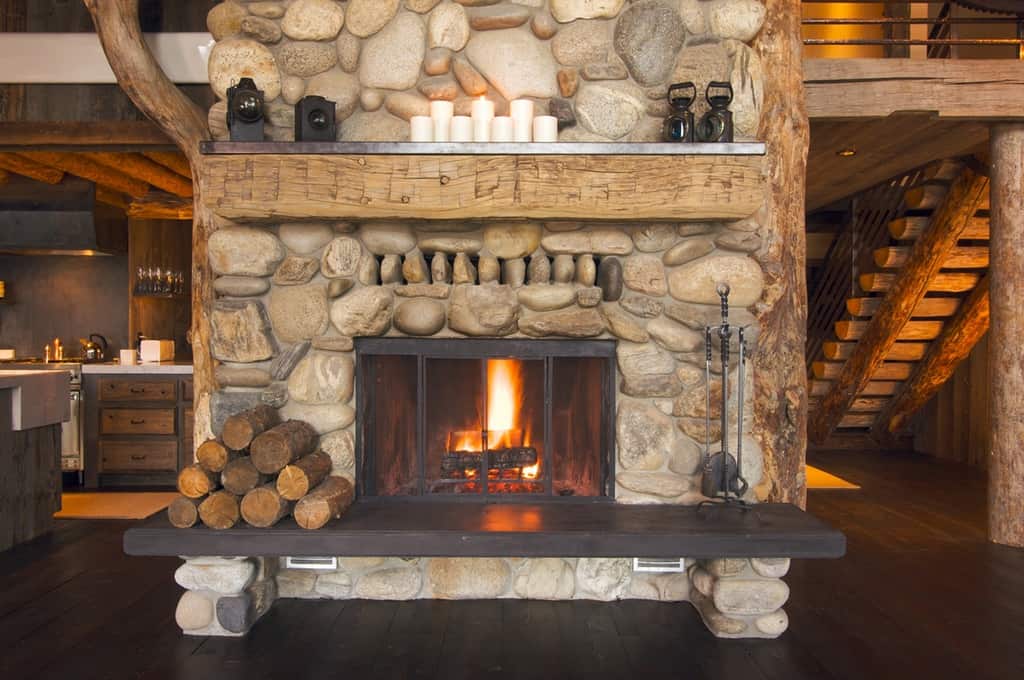 The rustic style brings back the charm of wooden huts, nicely decorated with warm and earthy tones, fabrics, and handcrafted items. For this style, a fireplace coated with porcelain or wood is perfect. Stone veneers are another great option.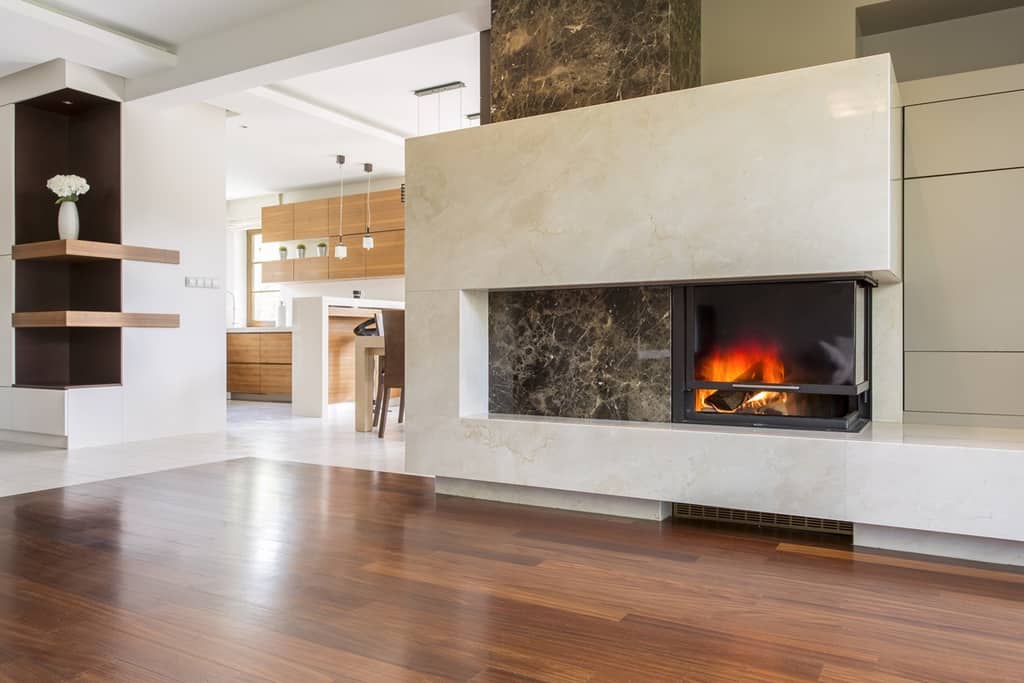 The industrial style brings urban charm to interior design. A fireplace adds warmth and balance to the sobriety of concrete and metals. Coverings that go well with this style are porcelain tiles or concrete.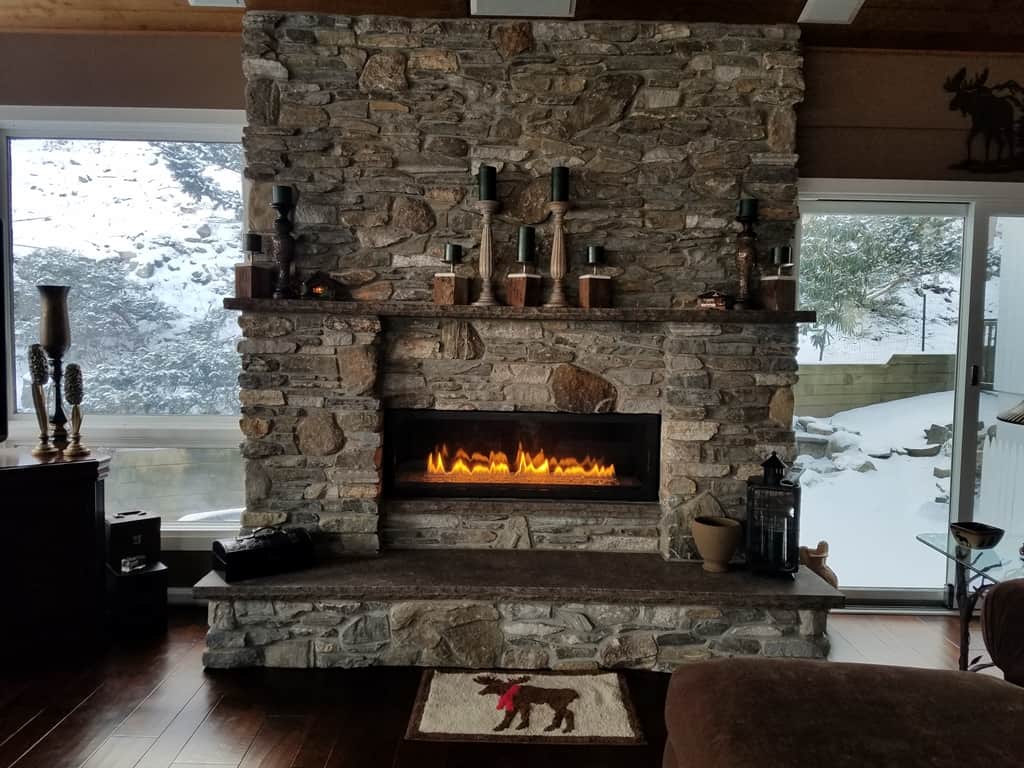 There's a variety of stamped concrete designs to cover an outdated fireplace. This textured concrete replicates stones and is a rather affordable solution that requires low maintenance.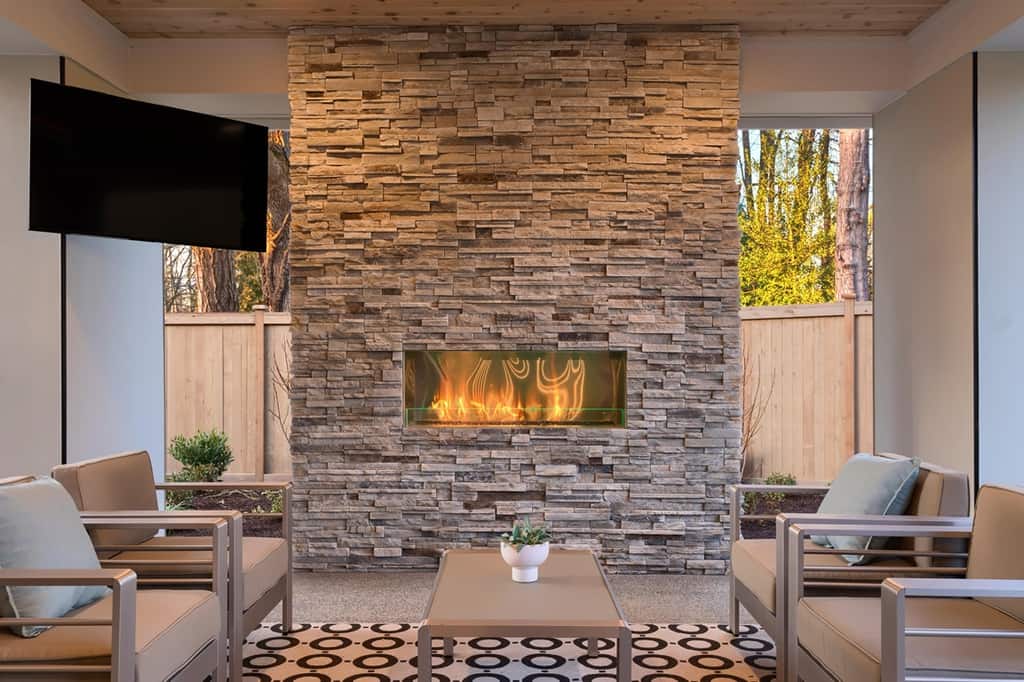 Neutral colors and minimalist design make up the modern style. To create a contrast with a darker color palette, you can choose marble cladding. Another option is to use porcelain tile with an oxidized metal effect, inspired by the beauty of corten steel.
PAINT
You may choose to simply give your old brick fireplace a fresh coat of paint, which can be spray paint or clear chalk paint wash. Of course, you will need heat-resistant paint, but your fireplace will look brand-new!
OPT FOR AN ELECTRIC FIREPLACE INSTEAD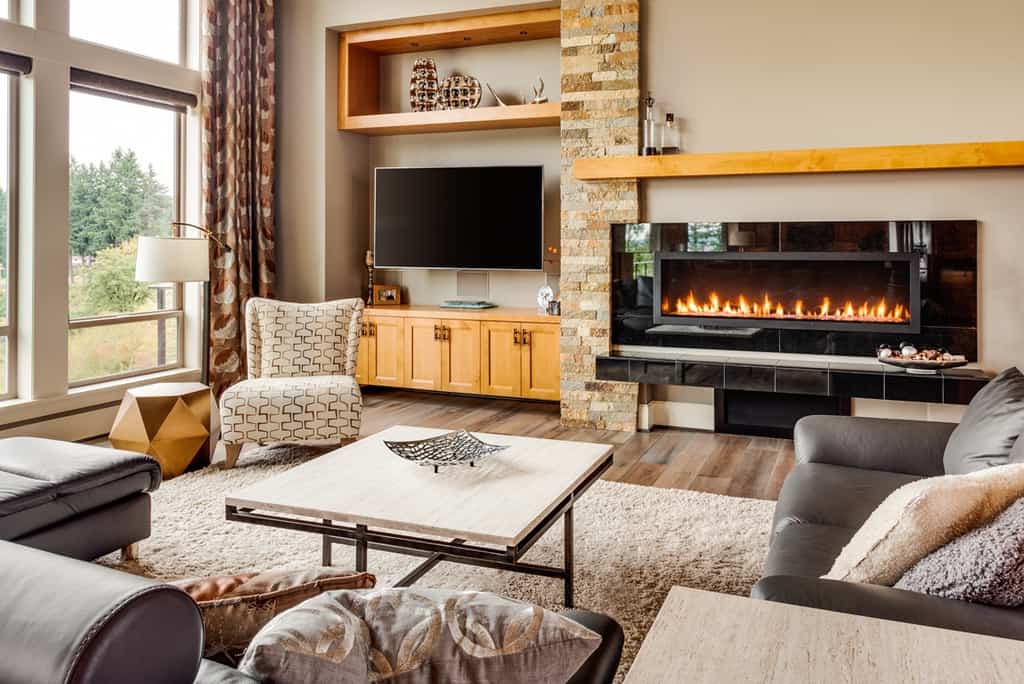 This is a great solution if you do not want to go through the hurdle of dealing with the safety issues of a wood-burning or gas fireplace, and want a simple, practical, and easy-to-use heating device that looks great!
DÉCOR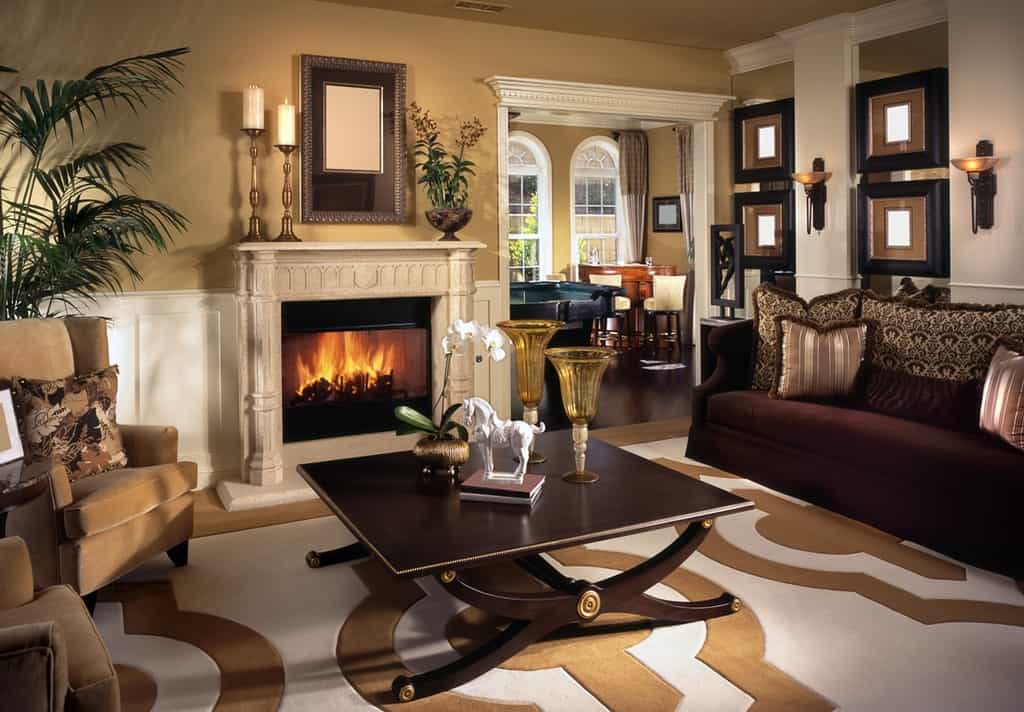 If you're going for a full facelift to your fireplace, think about décor pieces that will complement the space. Let's start with the basics:
Fabrics bring texture, and rugs bring warmth. Just be careful to position the fabrics a safe distance from the fireplace. If you have windows next to the fireplace, consider an electric fireplace, which does not release flames.
Add a blanket on the sofa, and invest in different covers for the cushions, so you can vary in colors and prints whenever you want to change the overall look of the room.
It is almost impossible to imagine a living room with a fireplace, without a nice pair of armchairs or a big comfortable sofa. You can add small bean bags and ottomans, that can double as seating or footrest.
Wood-burning fireplace has its unquestionable charm. But if you want to invest time and money in remodeling your 70s style fireplace, one of the things to consider beforehand is where you are going to store the wood. Can it be kept indoors? Should you build a cool nook next to the fireplace and display the wood as a decorative feature?
Storing firewood indoors has become more and more popular, and some homeowners repurpose built-ins or use steel log hoops and firewood racks as décor pieces. From the aesthetics point of view, logs do look great when stacked beside a fireplace, and it is definitely very practical to have them at hand whenever you feel like using your fireplace.
But there are a few things to consider before you decide to invest in this design trend:
Wood attracts bugs, and it can host all kinds of critters. These are uninvited guests you might bring inside your home, along with the logs.

Wood logs need proper ventilation and, for this reason, should always be kept off the ground.

If you buy wood from a gas station, hardware store, or supermarket, you will most likely need to dry it out. Keeping it indoors may lead to another uninvited guest: mold!

Experts say that firewood should be stored outside and should always be kept at least 3 feet away from any structure, so do not stack it against your home.

Firewood should never be stored next to tress, either, because insects could crawl over the tree and cause severe damage.
This being said, you have to consider where to buy the logs, where to dry them out (outside, in the sun, partially covered allowing air circulation), and where to store them. As a matter of fact, you can store your logs next to the fireplace, but only for the wood you intend to use in the next day or two. So, you may have a cool rack to store a few logs next to the fireplace, but only for a couple of days before burning them.
A fireplace mantel is one of the most charming places in a home, not only because of the fond memories of Christmas socks hanging waiting for those delicious Christmas candies, but also for the décor pieces that reveal a bit of the homeowners' life story.
From potted plants, crystal vases, sculptures, modern art, or craftwork, to lots of memories in framed pictures, little notes from the kids when they started writing, or a marriage invitation engraved on a silver tray, these are all elements that reflect your lifestyle and are precious ornaments to any mantel.