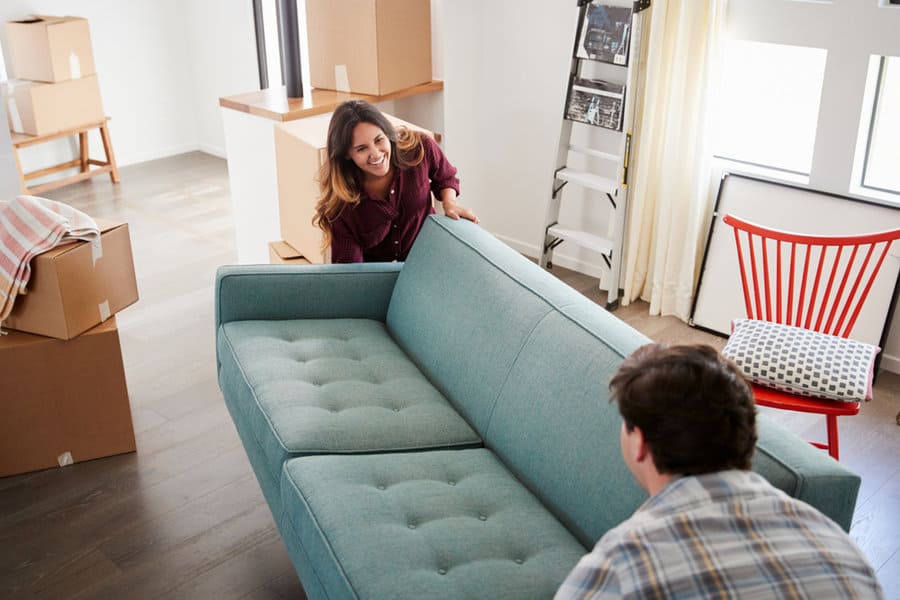 How to Arrange Living Room Furniture
Creating a harmonious, inviting and functional living space is all about the right arrangement of your furniture. Whether you're moving into a new home, redesigning your current one, or just want to shake things up, understanding the basics of furniture arrangement can transform your living room into a place where you love to spend time.
This article aims to guide you on how to make the most out of your living space. We'll delve into key aspects of layout planning, aesthetic considerations, and practical functionality. From balancing visual weight to optimizing for conversation and traffic flow, we will help you unlock the potential of your living room. Let's start this journey to create a living room that not only looks great but also suits your lifestyle and needs perfectly.
1. Identify the Room's Focal Point
In every living room, there's usually a central element or feature that draws attention, also known as the focal point. This could be a feature inherent to the room like a fireplace, a large picture window offering a stunning view, a striking piece of artwork, or even a television. The focal point sets the tone and character of the room and often dictates the arrangement of furniture.
Identifying this element is the first crucial step in arranging your living room furniture. Once you have determined the focal point, you can start placing your furniture in a way that highlights and enhances it. For instance, if the focal point is a fireplace, you might place your main sofa facing it, with armchairs flanking either side, creating a cozy, inviting arrangement.
Remember that the furniture doesn't need to align perfectly with the focal point. The goal is to make it stand out while providing a logical, aesthetically pleasing setup for the furniture. Consider the focal point as the 'anchor' for your arrangement, bringing balance and harmony to your living room.
2. Consider Traffic Flow
In the process of arranging your living room furniture, it's crucial to keep in mind how people will move through and interact with the space. The arrangement should facilitate easy and intuitive movement, not hinder it. This idea is referred to as traffic flow.
Maintaining clear pathways around the room ensures that people can comfortably and safely navigate through the space. When you're positioning your furniture, imagine the natural path someone might take from one doorway or entrance to another, or from a seating area to a bookshelf or entertainment center. These are your traffic lanes, and they should be kept unobstructed.
It's essential to make sure that no piece of furniture juts out into a walkway or blocks access to another part of the room. Similarly, try to ensure that no one has to squeeze between furniture pieces or shuffle sideways to move around. This can feel awkward and disrupt the room's comfort and functionality.
It's not just about practicality; considering traffic flow also influences the feeling of openness in your living room. A room where movement is easy feels more spacious and welcoming.
3. Balance Visual Weight
The principle of balancing visual weight is fundamental to achieving an aesthetically pleasing and harmonious living room arrangement. Visual weight refers to how much an object draws attention in a space. This is influenced by its size, color, design, and placement in the room.
When arranging furniture, consider the visual weight of each piece. For instance, a large, dark-colored sofa has more visual weight than a small, light-colored armchair. If all your heavy pieces are on one side of the room, the space can feel unbalanced and disjointed.
To prevent this, aim to distribute large and small furniture pieces throughout the room. A well-balanced room might have a large sofa on one side, balanced by a pair of smaller chairs and a side table on the other. This not only helps to even out the visual weight but also creates an eclectic, engaging look.
It's also worth noting that visual weight doesn't only apply to furniture; it extends to decor as well. A large piece of wall art, a bright rug, or a striking light fixture all contribute to the overall balance.
4. Use Rugs to Define Areas
Area rugs are more than just decorative elements; they play a significant role in defining spaces within your living room, especially in open-concept homes where different functional areas merge into one large space. The use of rugs can create distinct zones while maintaining a cohesive look throughout.
For example, you might have a large, open living room that includes a seating area, a reading nook, and a dining area. Using different rugs in these areas can help distinguish one space from another. Each rug acts as a visual marker, signifying a separate functional area.
In your seating area, a rug can anchor all the furniture — the sofa, armchairs, and coffee table. Ideally, the rug should be large enough to at least accommodate the front legs of your seating furniture. This helps create a unified, cozy area where people can gather and socialize.
5. Leave Space for Conversation
One of the primary functions of a living room is to facilitate comfortable and engaging conversation. This purpose should be central to your furniture arrangement. The way you position your seating can greatly affect how people interact in the space.
A key principle here is proximity. If seats are too far apart, people may have to raise their voices to talk, which can disrupt the relaxed ambiance of your living room. On the other hand, seating that's too close may make people feel cramped and uncomfortable.
A good rule of thumb is to position chairs and sofas no more than 8 feet apart from each other. This distance allows for easy conversation without having to shout or lean forward uncomfortably. In smaller living rooms, this gap may be reduced, but there should still be enough room for people to move around.
Consider arranging your sofas and chairs in a semi-circle or a U-shape. This type of arrangement encourages face-to-face conversation. If your living room is large enough, you might create multiple conversation areas – each providing a cozy, intimate space where small groups can chat.
Additionally, remember to place side tables within easy reach of each seat for guests to set down their drinks or books. This small detail adds greatly to the overall comfort and convenience of your living space.
6. Prioritize Proportion and Scale
When arranging your living room furniture, it's important to consider both the size of the pieces and their proportion to each other, as well as to the room itself. This concept, known as proportion and scale, can greatly affect how a room feels and functions.
Proportion refers to the relationship between the size of one object in the room compared to another. For example, a large sofa next to a tiny coffee table may feel out of balance, while a pair of armchairs might be in perfect proportion with a modestly-sized side table.
Scale, on the other hand, deals with the size of an object compared with the size of the room. A room feels most comfortable when the furniture is scaled to its size. Large, bulky pieces can quickly overwhelm a small room, making it feel cramped and claustrophobic. Conversely, small furniture in a large room can feel lost and insignificant.
For instance, if you have a small living room, opt for furniture that fits the scale of the space. A loveseat or a sleek sofa may work better than a large sectional. Choose slimline armchairs over bulky ones, and consider using multipurpose furniture like a coffee table with storage or nesting side tables to maximize space without adding clutter.
If you have a large room, on the other hand, you have more flexibility to accommodate larger pieces. However, even in a big room, the furniture should still be in proportion to ensure a balanced look.
7. Utilize Multifunctional Furniture
When designing your living room, maximizing space and functionality is key, especially if you have limited square footage. One effective way to achieve this is by incorporating multifunctional furniture into your arrangement.
Multifunctional furniture serves a dual purpose, offering not only its primary function but also additional features that add convenience and versatility to your living space. These pieces are designed to save space and provide clever storage solutions.
For example, consider a sofa or sectional with built-in storage compartments underneath the seats. This allows you to store blankets, pillows, or other items out of sight, reducing clutter in your living room. Similarly, an ottoman with a removable top can serve as both a footrest and a hidden storage space for magazines, remote controls, or extra blankets.
Another option is a coffee table with adjustable or lift-top features. This type of table can transform into a dining surface, creating a convenient spot for eating or working from the comfort of your sofa.
Additionally, consider a daybed or a sofa bed that can serve as a comfortable seating area during the day and convert into a sleeping space for guests at night. This eliminates the need for a separate guest room, saving valuable space.
8. Reflect Personal Style
Your living room is a reflection of your personal style and taste, so it's important to arrange your furniture in a way that truly represents who you are. While considering practical aspects of furniture arrangement, don't forget to infuse your own personality and preferences into the design.
Start by identifying your preferred style. Are you drawn to a modern, minimalist aesthetic, or do you prefer a cozy, traditional vibe? Maybe you love eclectic, bohemian elements or sleek and contemporary designs. Understanding your style preferences will guide you in selecting furniture pieces and decor that align with your vision.
Consider the colors, patterns, and textures that resonate with you. These elements can be incorporated through upholstery, cushions, curtains, rugs, and artwork. If you're passionate about a particular theme or have a collection of unique items, find ways to display and integrate them into your living room design.
Moreover, think about the activities and functions that matter most to you. If you love hosting game nights, ensure you have ample seating and a designated area for games. If you enjoy reading, create a cozy reading nook with a comfortable chair and good lighting. Your living room should be tailored to support your lifestyle and hobbies.
9. Leave Some Breathing Room
When arranging your living room furniture, it's important to leave some breathing room and avoid the temptation to push all the furniture against the walls. Creating space between the furniture and the walls, even just a few inches, can make a significant difference in the overall feel of the room.
Leaving space between the furniture and the walls helps to create an open and inviting atmosphere. It allows the room to breathe and prevents it from feeling cramped or confined. This simple adjustment can make the space feel more visually balanced and spacious.
Instead of lining up all your furniture along the walls, try pulling some pieces away and creating conversational groupings in the center of the room. For example, position your sofa and chairs facing each other with a coffee table in the middle, forming a cozy gathering spot. This arrangement fosters a more intimate and engaging environment for conversations.
Additionally, leaving space between furniture and walls allows for better traffic flow. It makes it easier to move around the room and access different areas without feeling obstructed. It also provides an opportunity to incorporate other elements like floor lamps, plant stands, or accent tables to enhance the visual interest and functionality of the space.
10. Consider Lighting
Lighting plays a crucial role in creating the right ambiance and mood in your living room. When arranging your furniture, it's important to consider both natural light sources and artificial lighting options to ensure an optimal lighting scheme.
First, take advantage of natural light by positioning your furniture in a way that allows the light to flow into the room. Place seating areas near windows to maximize the benefit of natural daylight. This not only enhances the overall brightness of the space but also creates a pleasant and inviting atmosphere.
However, it's also important to consider the potential glare or excessive sunlight that might impact certain seating areas. You can address this by incorporating window treatments like curtains or blinds that allow for light control and privacy while still maximizing the natural light.
In addition to natural light, plan for artificial lighting to provide adequate illumination throughout the room, especially during the evening or in areas with limited natural light. Assess the different functional zones within your living room and determine the type of lighting required for each.
Consider a combination of ambient, task, and accent lighting. Ambient lighting provides overall illumination and can be achieved through ceiling-mounted fixtures, chandeliers, or track lighting. Task lighting, such as floor lamps or table lamps, is essential for specific activities like reading or working on a task. Accent lighting, like wall sconces or spotlights, adds depth and highlights architectural features or artwork.
Strategically position light sources near seating areas, side tables, or reading nooks to ensure optimal functionality. Additionally, use lighting fixtures to enhance the overall aesthetic of your living room, considering styles and designs that complement your decor and personal taste.