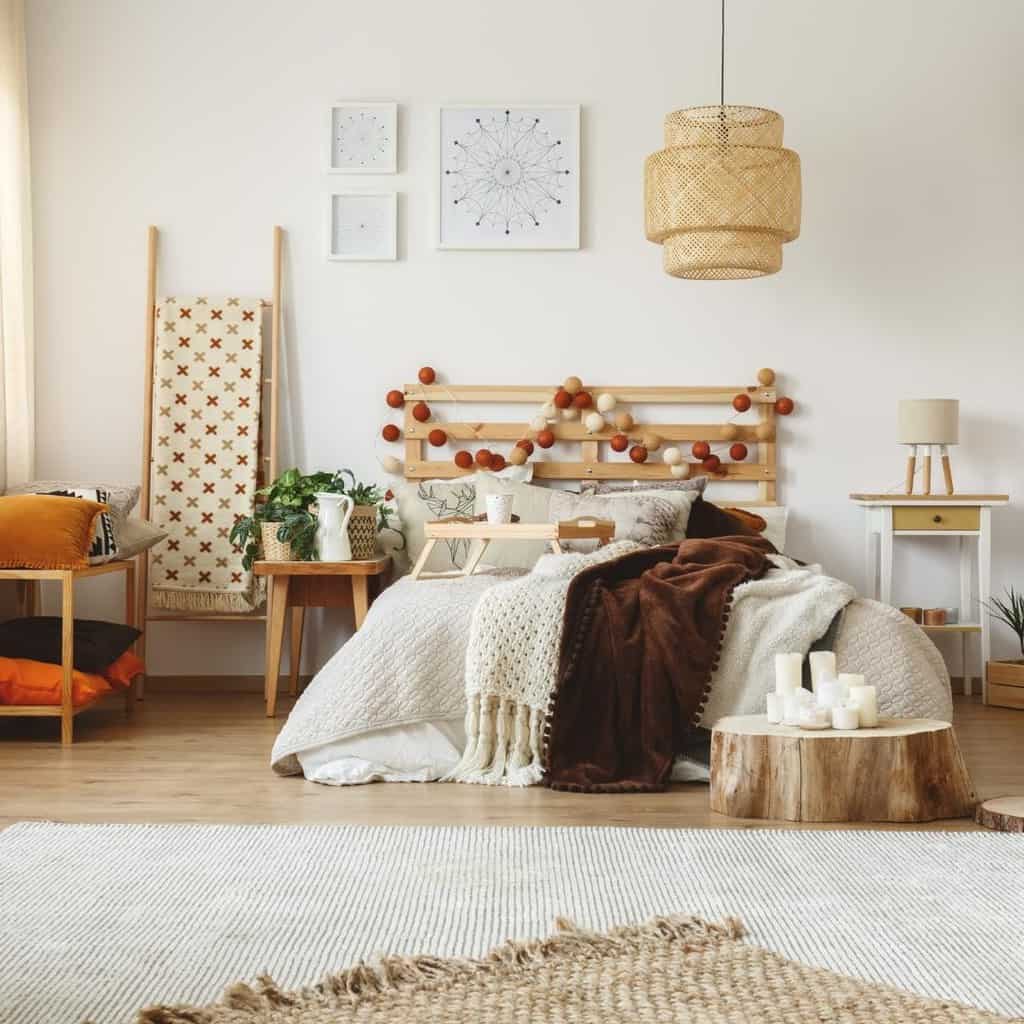 32 Basement Bedroom Ideas
If you have an unused basement, consider transforming it into a cozy guestroom. Or maybe your teenage kid would like a bigger space to sleep and hang out with friends.
Here are some ideas for cool basement bedrooms!
1. Minimalist Design
There are numerous ways to make a budget-friendly remodel in your basement and transform it into a safe and pleasant livable space. The first thing you need to do is seal the walls. Make sure you prevent water leaks that can develop into mold, and apply specialized paints to plug all the holes.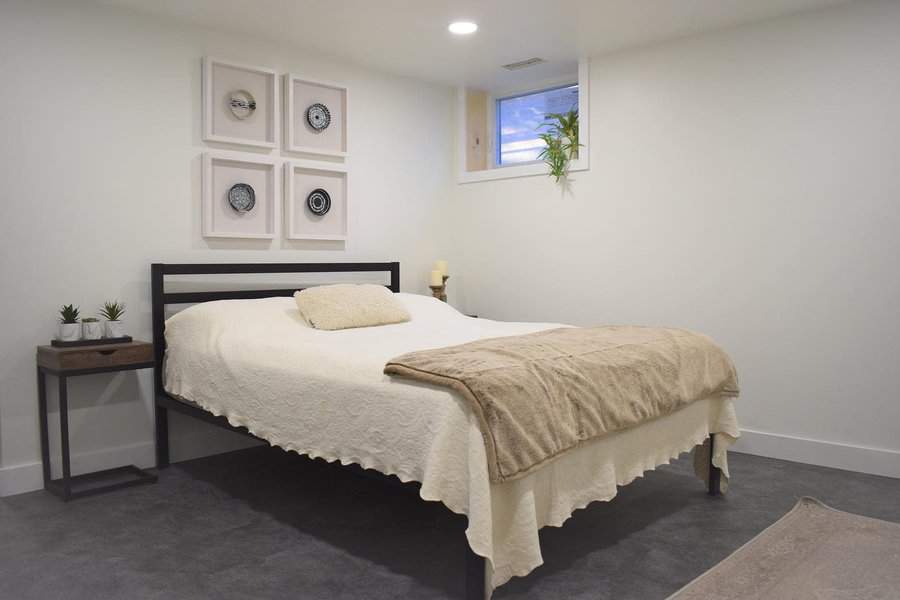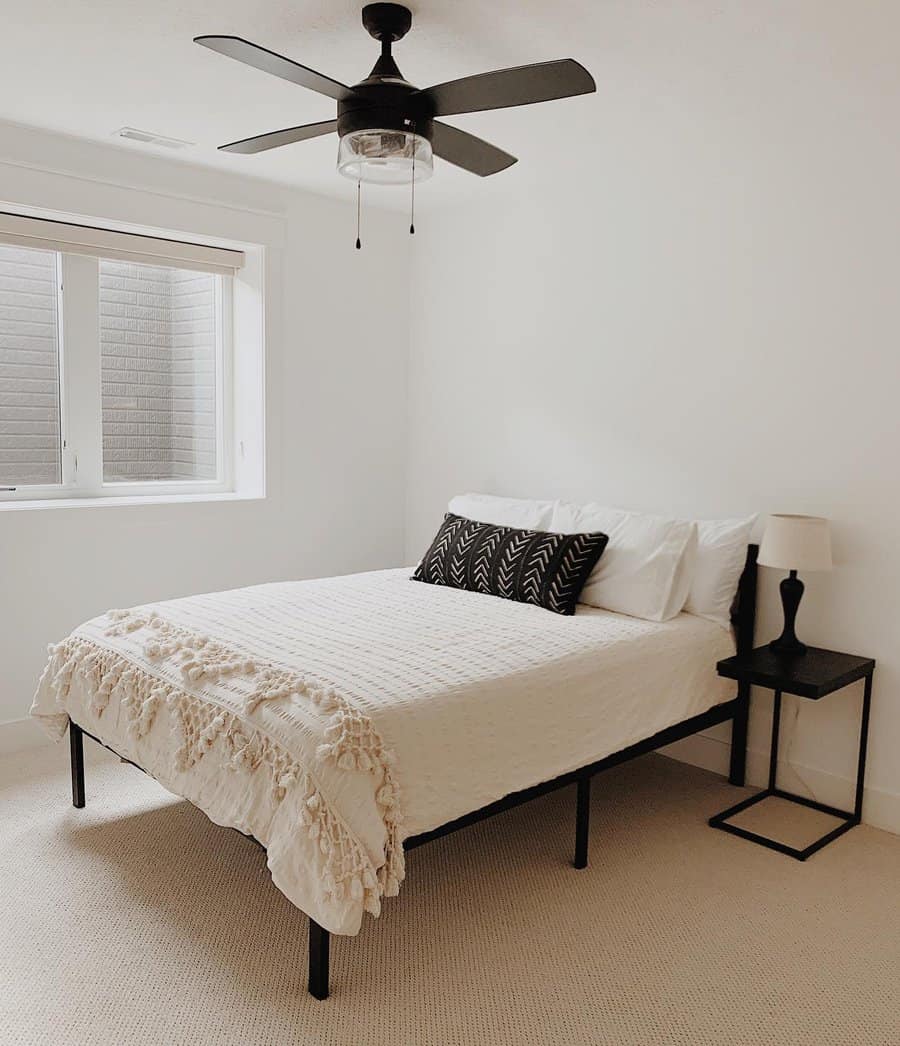 It is also important to ensure proper ventilation and provide heating as well. Once you cover the basics, you can think of the décor. There are many affordable options, and we will give you some tips and decorating ideas below.
2. Carpet
If you do not want to spend too much money on flooring, carpets are the solution. If you choose to carpet the whole room, remember to choose a waterproof basement carpet pad to protect your carpet. Carpet padding is a way to make your carpet last longer.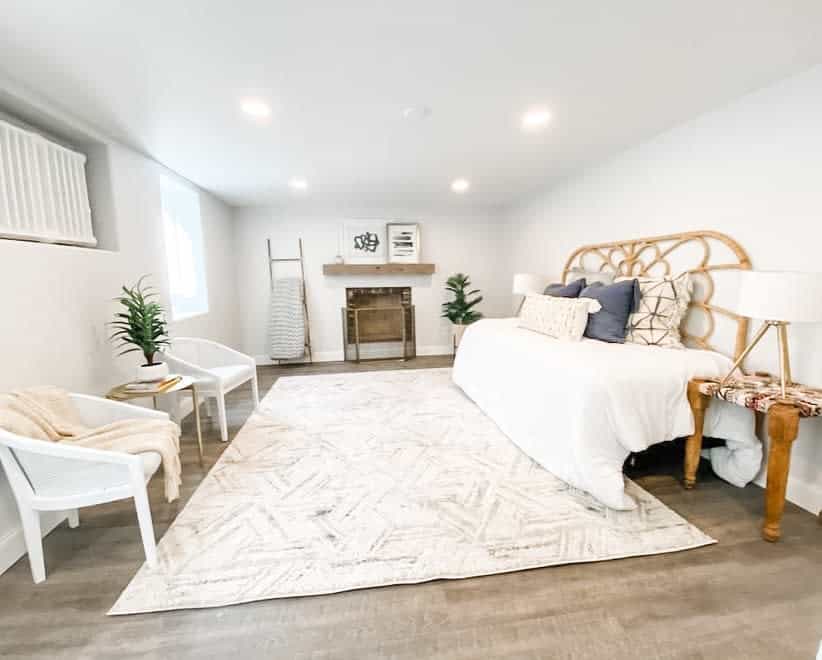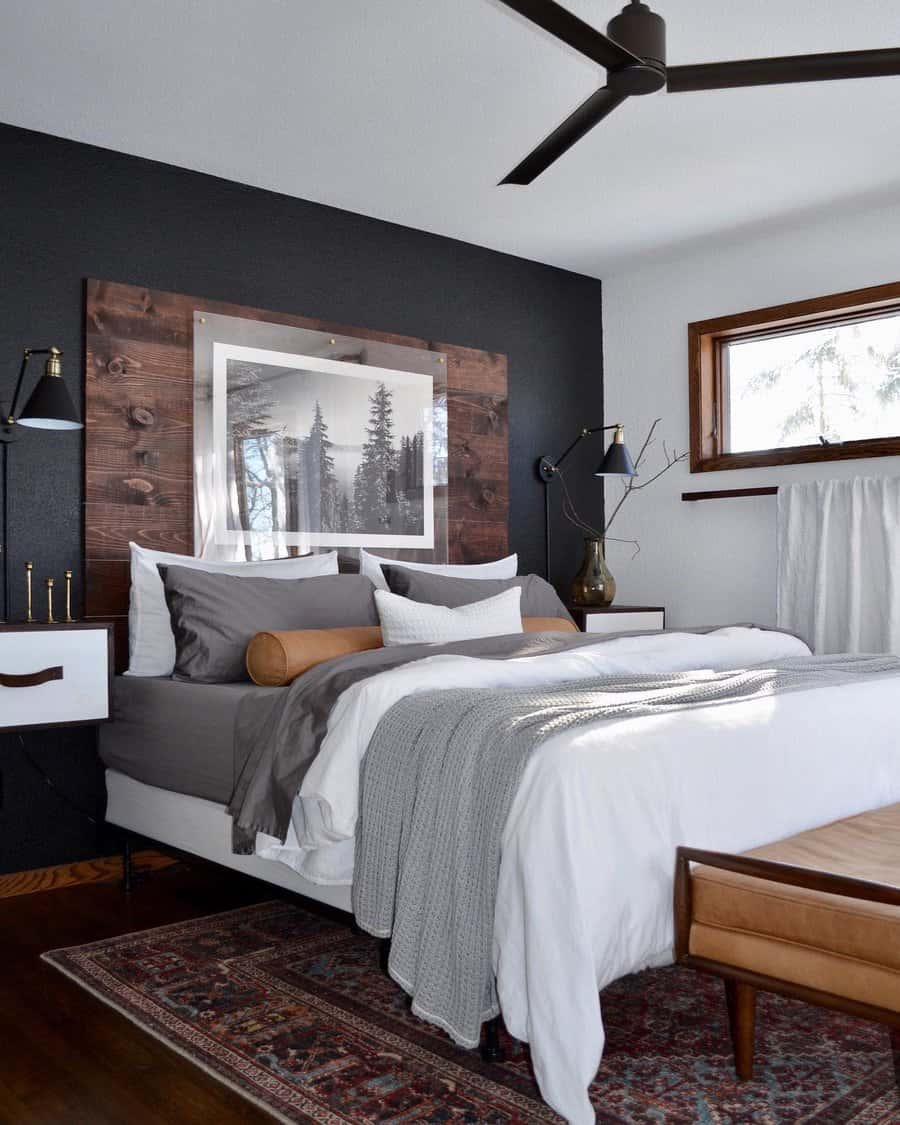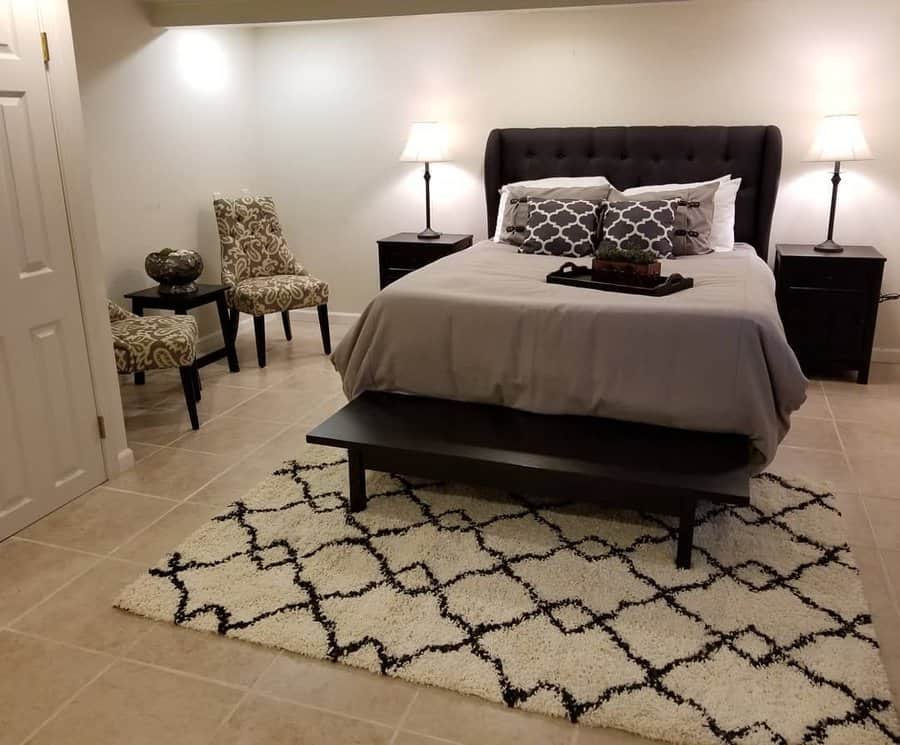 Since basements are frequently susceptible to moisture, you may choose to lay a permeable remnant carpet, instead of installing a wall-to-wall carpet. The advantage is that it comes out for outdoor cleaning and airing, which is something you should do at least once a year.
You can have large rugs that cover a great part of the room and make a cold space feel warmer and welcoming. Wool is the best choice for basement rugs, because of its lanolin-coated fibers.
Synthetic fibers are also a good call, because of their "breathable" quality. Nylon carpets may not be the best option, because even though they are durable, they are not moisture and stain resistant.
3. Decorating
From rustic to classic, there are many affordable ways to furnish a basement bedroom to give it a cozy vibe. Sofa beds are a great option in case your basement bedroom is a spare room or even a man cave, that functions occasionally as a guest bedroom.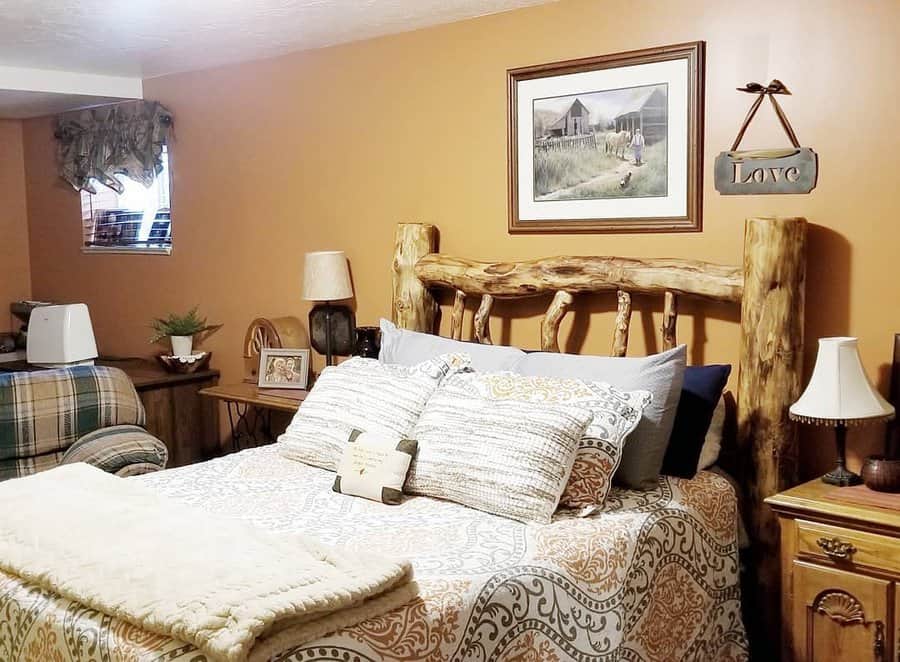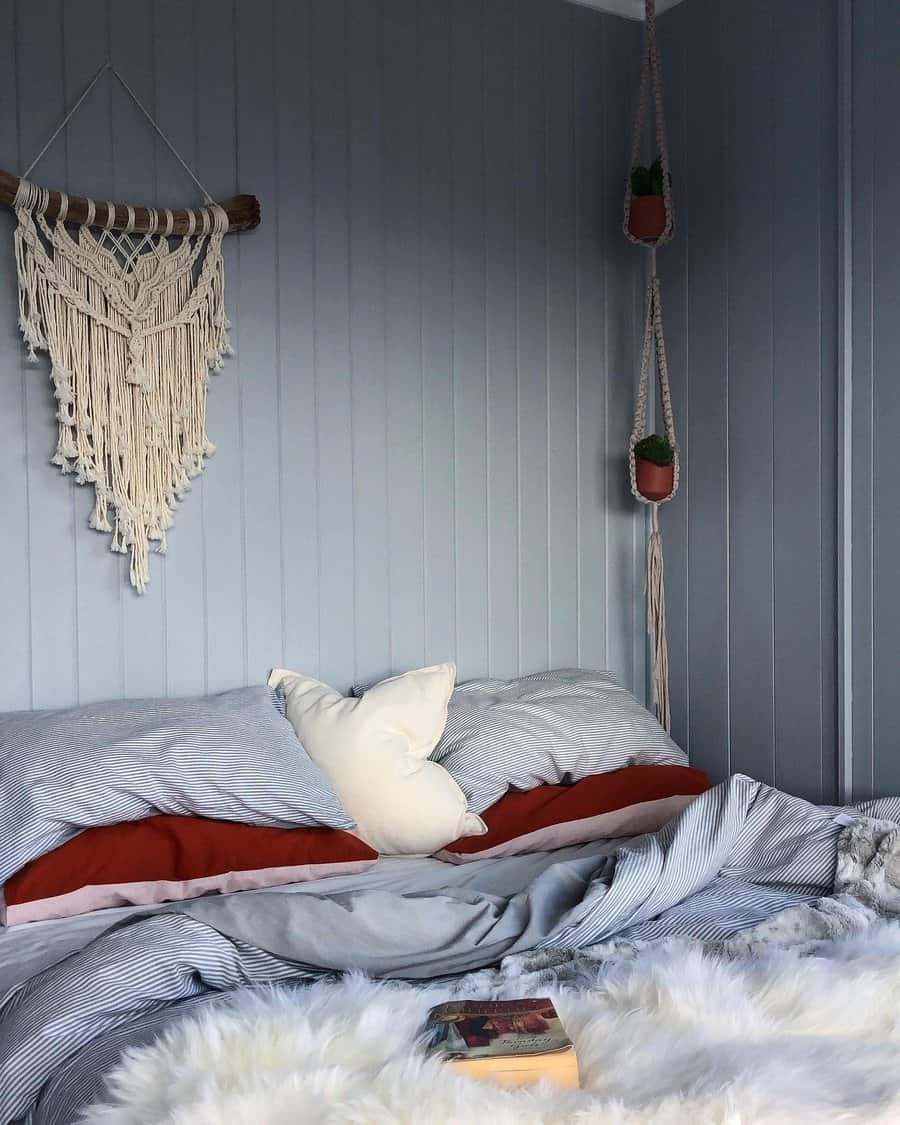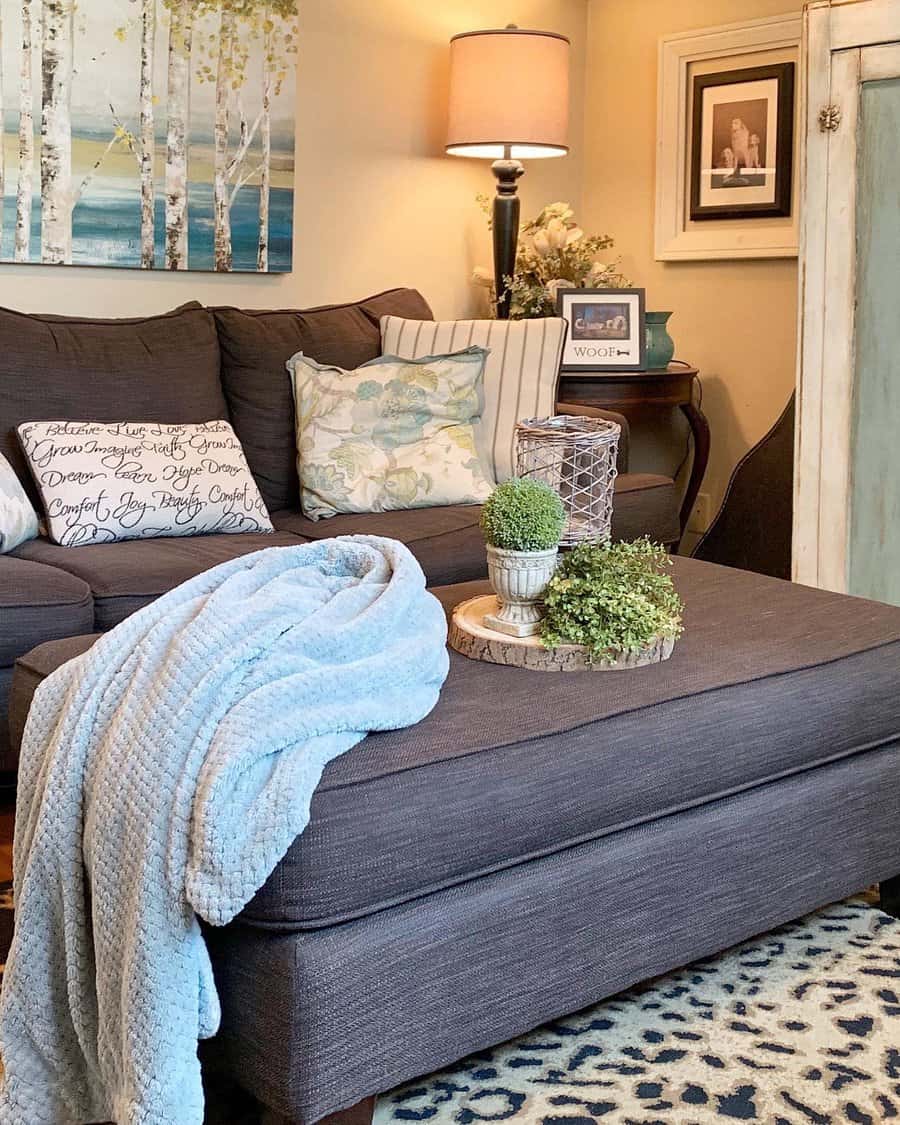 Just remember to let light into the room and brighten it up with mirrors.
Just like in any space, decorating pieces make the difference: wall sconces, bedding, pillows, nice pictures on the wall, these are all décor elements that make a huge difference in transforming a cold space into a cozy, personalized room.
4. Guest
When it comes to guest bedrooms, you should consider some essential elements to make your guest as comfortable as possible. Make sure you have some hanging space, a mirror, some storage, and a nightstand with a lamp for night reading. If there's enough room, it's ideal to have nightstands on both sides of the bed.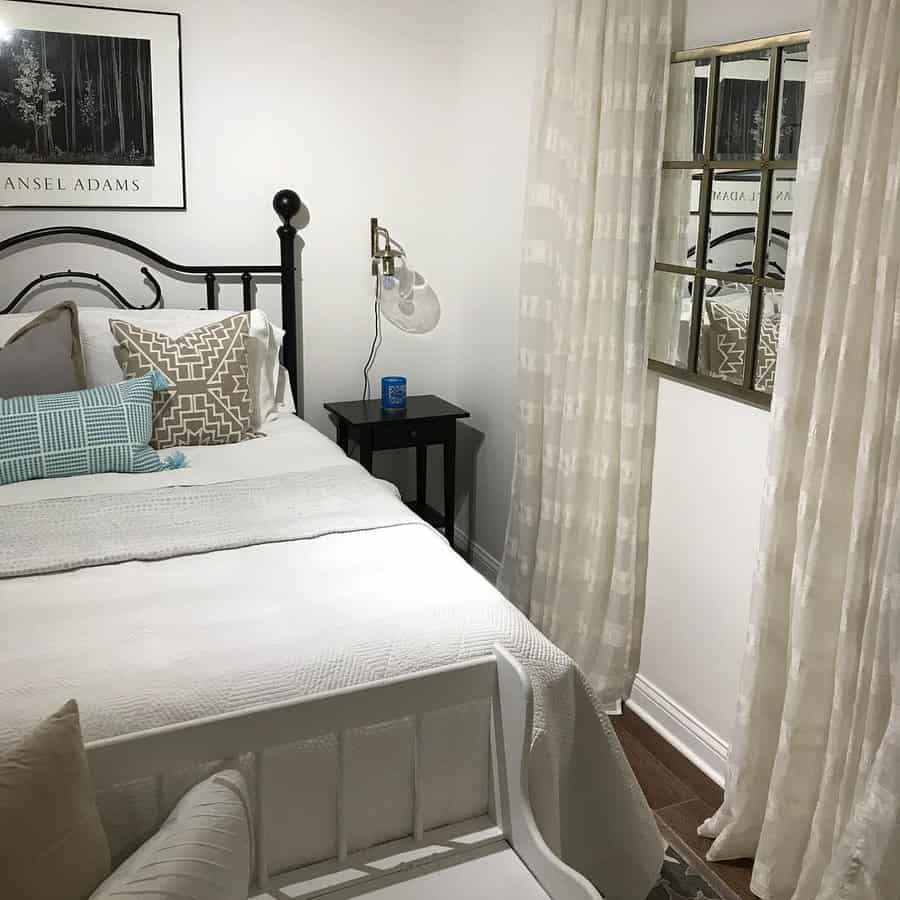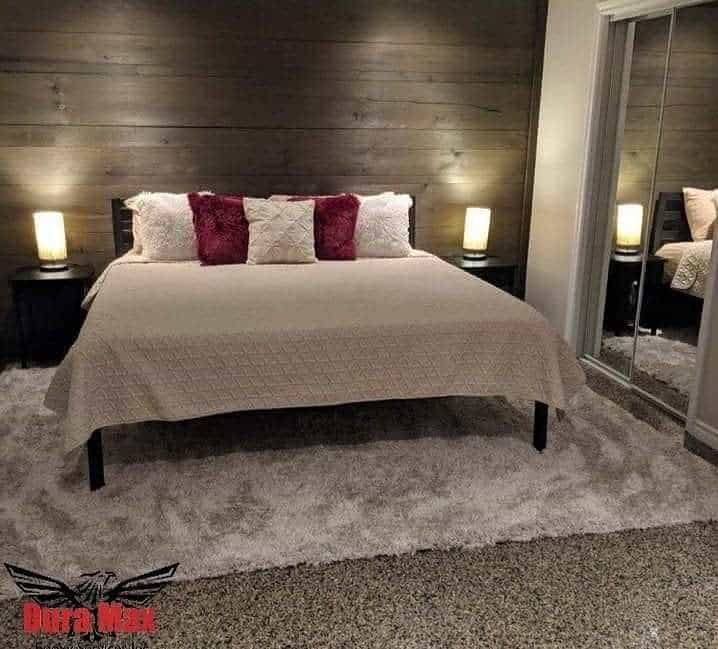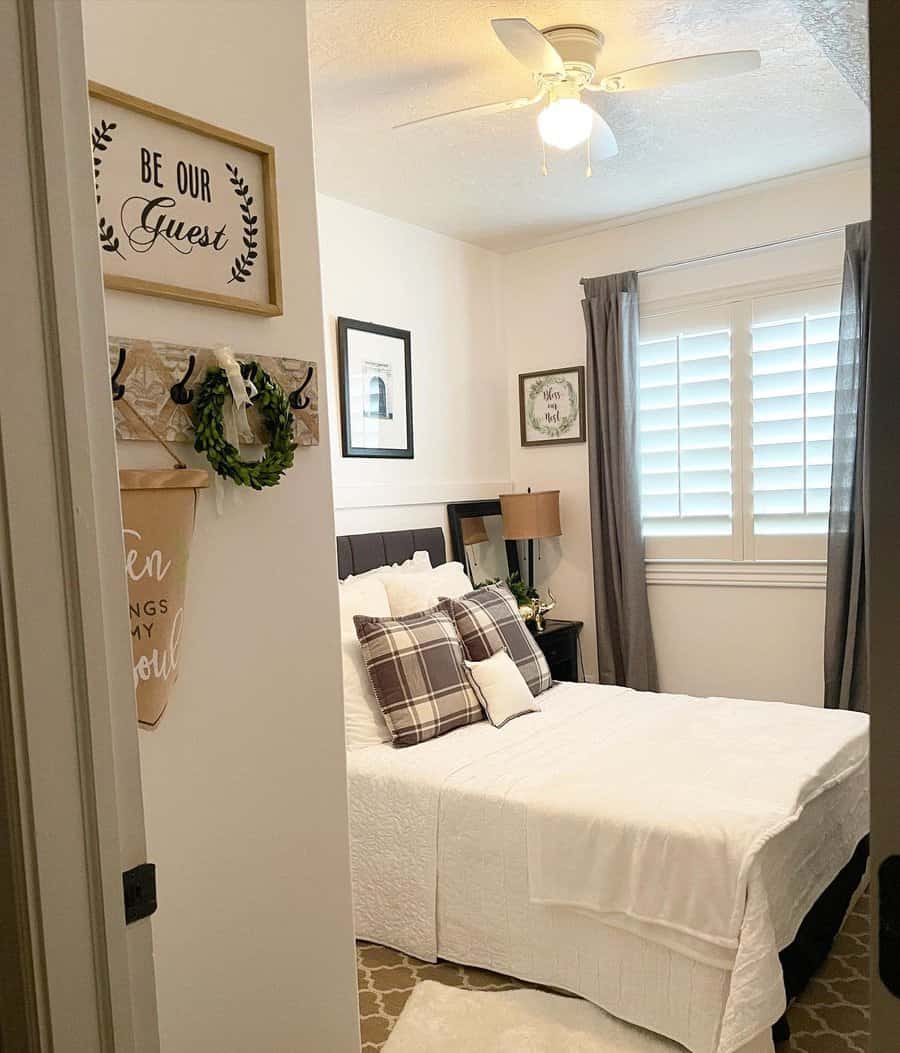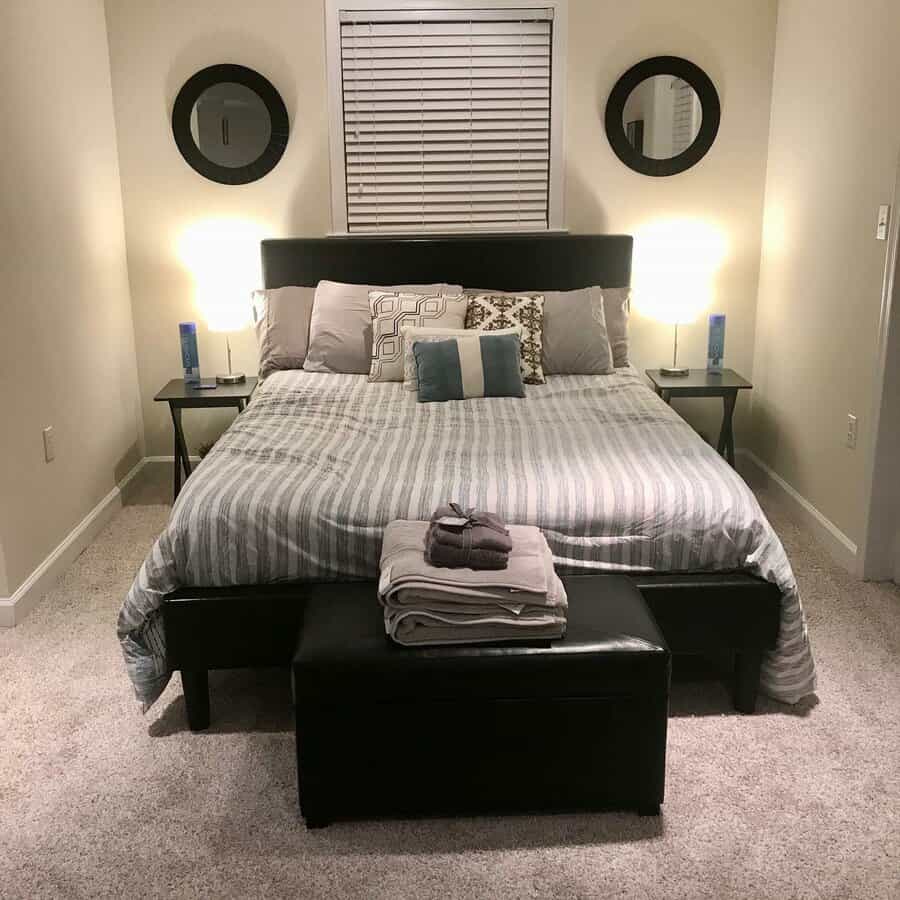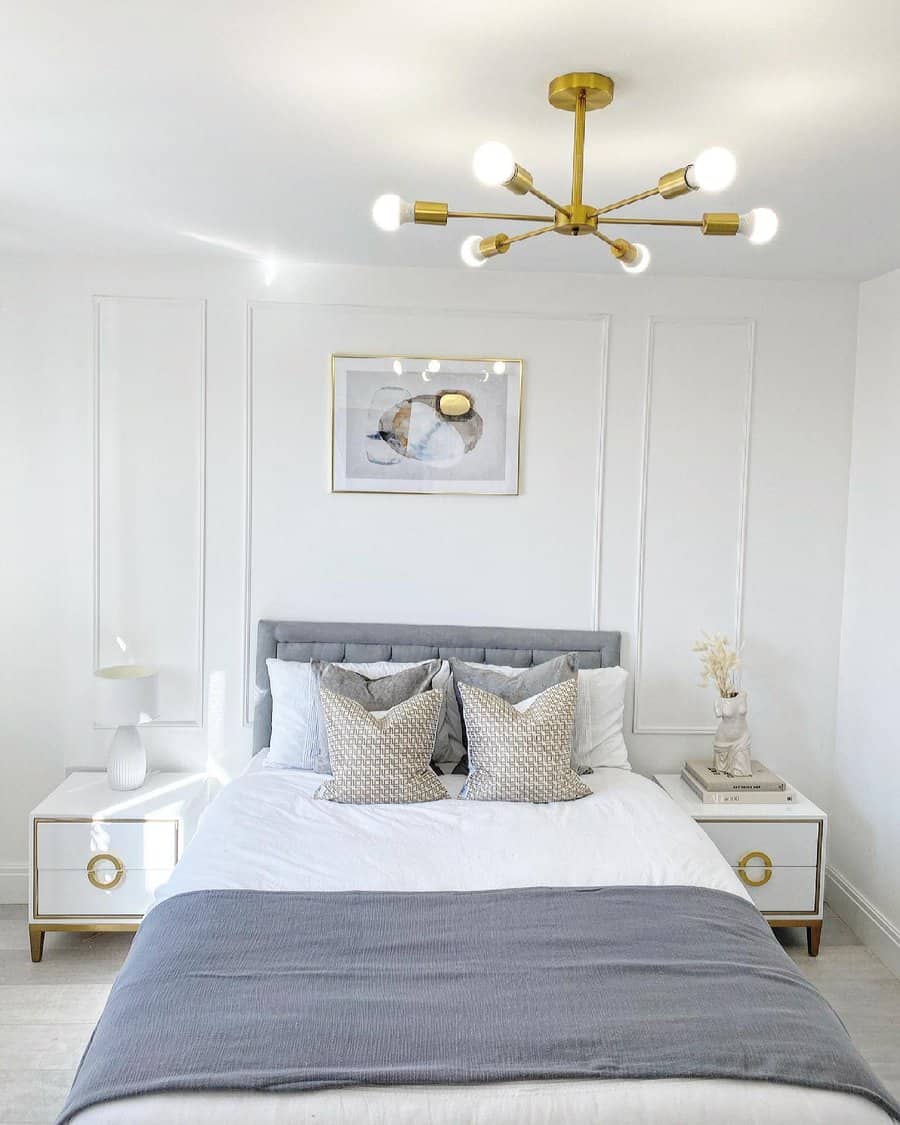 Since basement bedrooms tend to have smaller windows and low ceilings, maybe the best way to go is neutral tones, with some accent pieces to add that pop of color and brighten up the space.
5. Minimalist
You can't go wrong with minimalist décor style. Simplicity and clean lines can be very sophisticated, with a few accent color items to complement the monochromatic palette, which is characteristic of minimalist designs.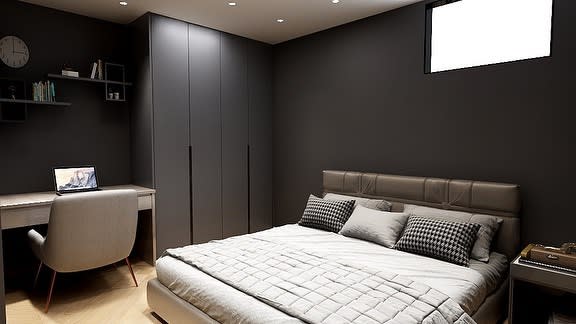 It is important to create an uncluttered space, so think of storage solutions for your specific needs, and explore different patterns for finishes, prioritizing quality over quantity.
6. Modern
When it comes to modern design, you can have a neutral wall color paint, with one accent wall in different colors and textures. Choose simple, sleek line furniture for the headboards, dressers, and nightstands.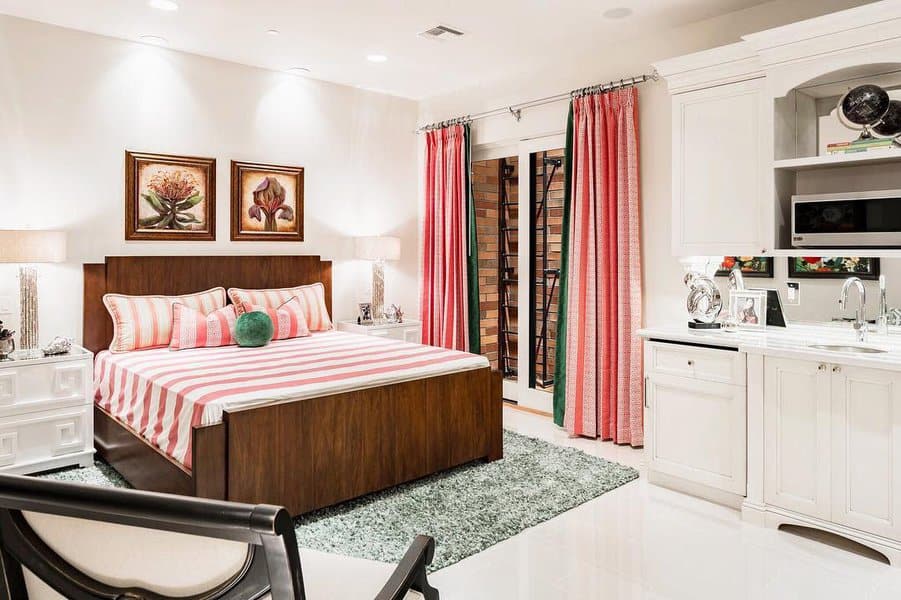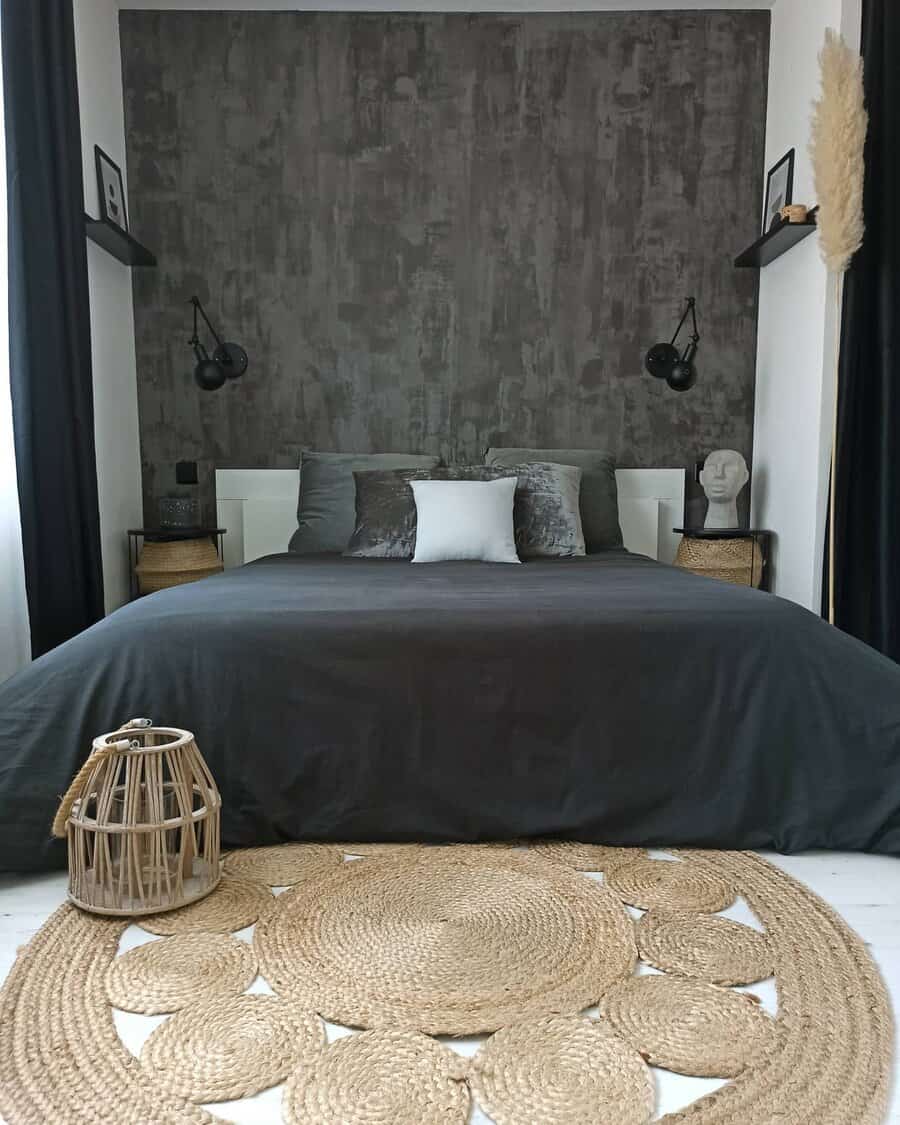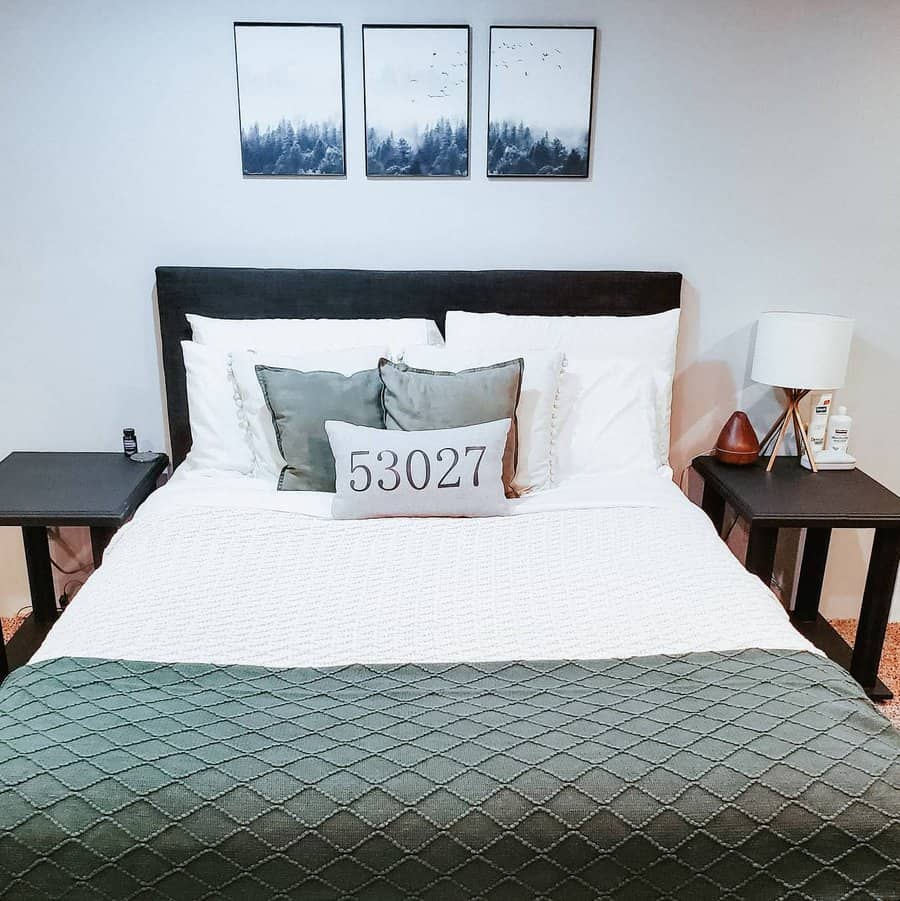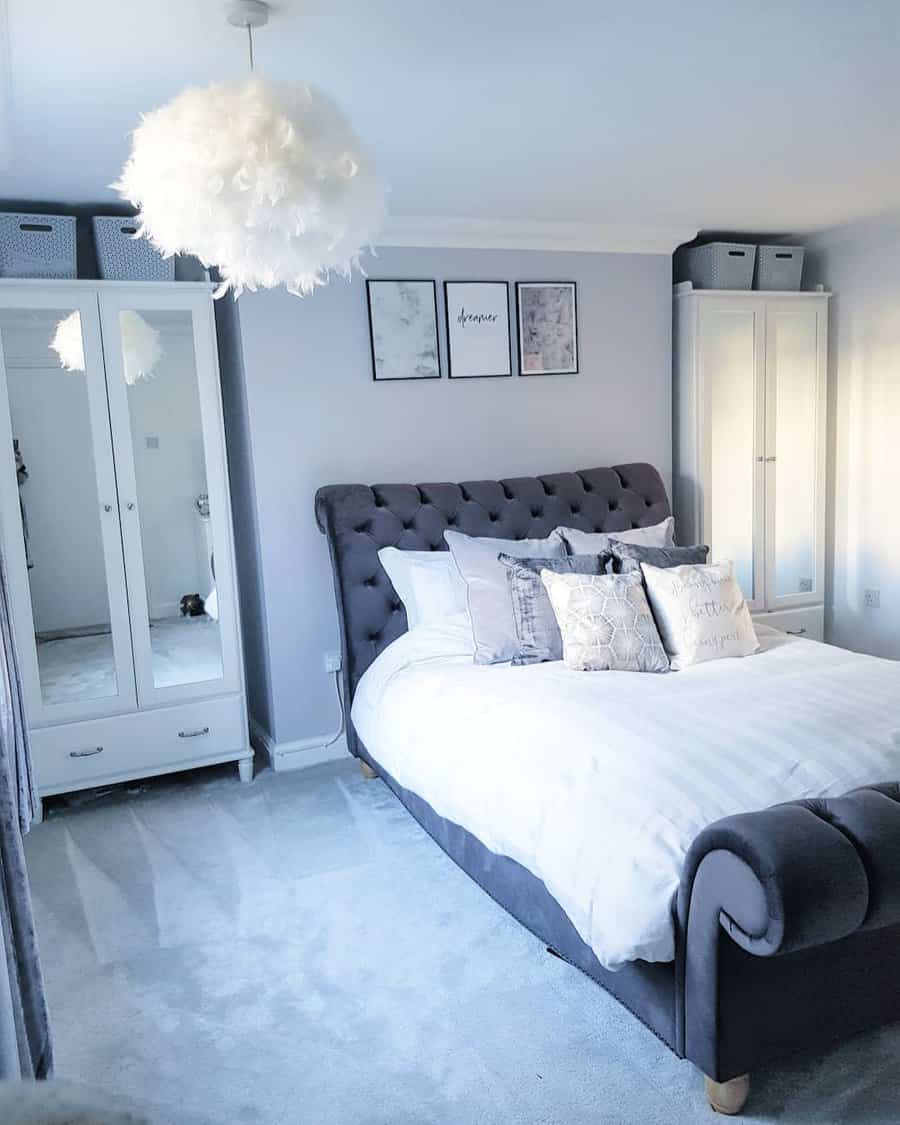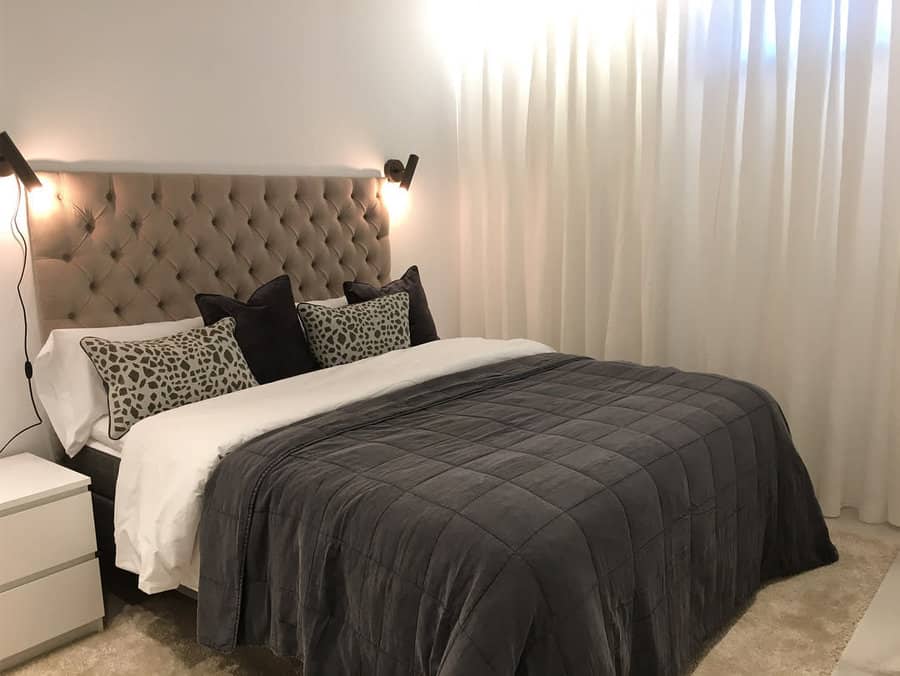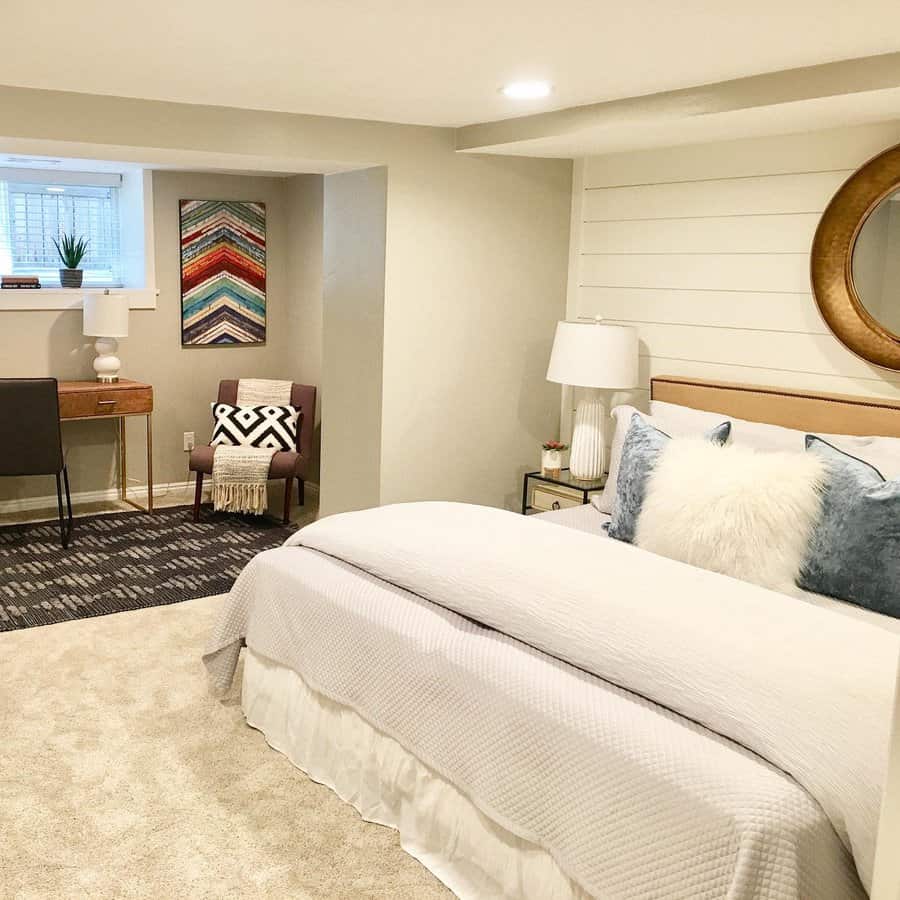 In modern design, less is more. Don't overwhelm the space with furniture and decoration pieces. Keep it simple and extremely functional, with enough storage space to allow for a clutter-free ambiance.
7. Paint
Why not use bold colors for your basement bedroom walls? You can balance with neutral-tone rugs and sleek furniture, with neutral finishes such as bedding and pillows.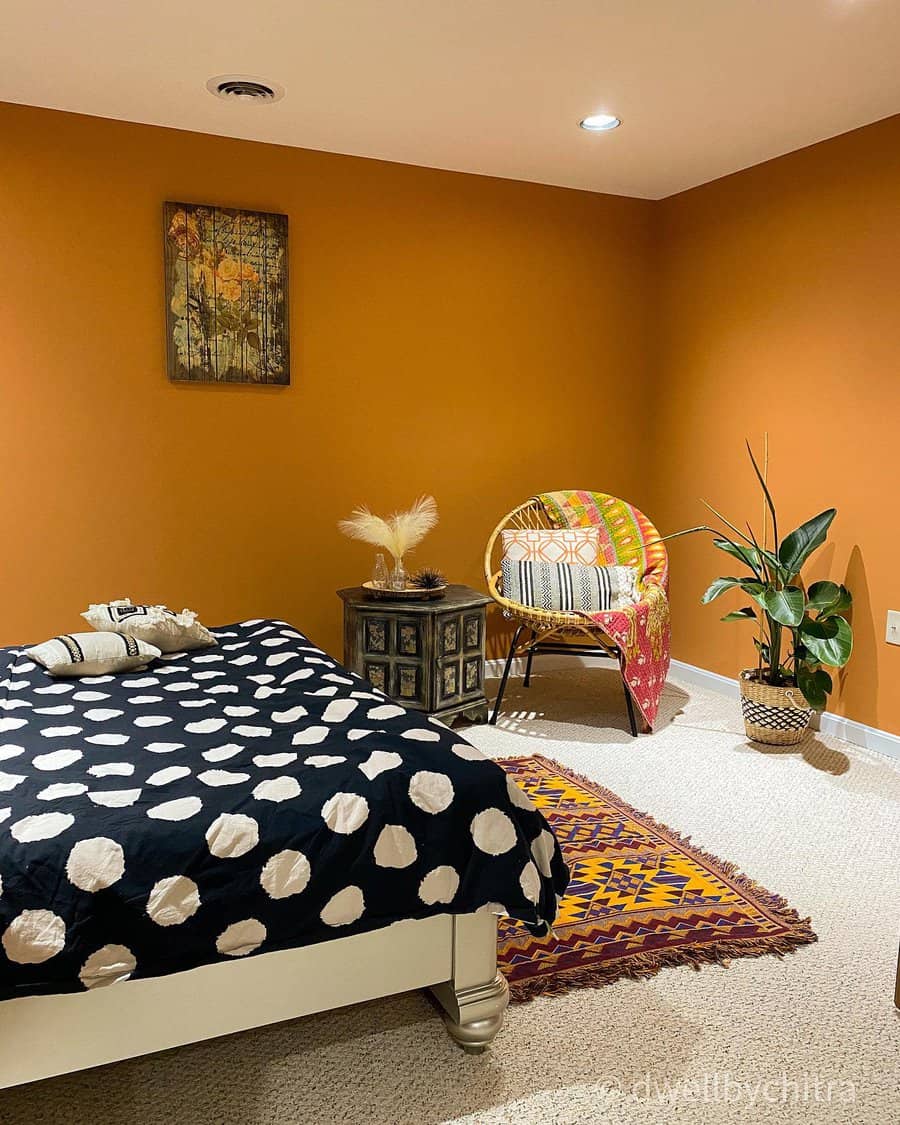 When it comes to basement painting, you may want to take a few measures to prevent moisture or possible leak damage. Consider applying one or two coats of basement sealer. In addition to applying a masonry waterproof product, choose high-quality waterproof paint.
8. Small
Small spaces can be cozy if you choose the right color and furniture. Stick to the essentials: the bed, a side table with light, some hanging space, and, if possible, a small seating area.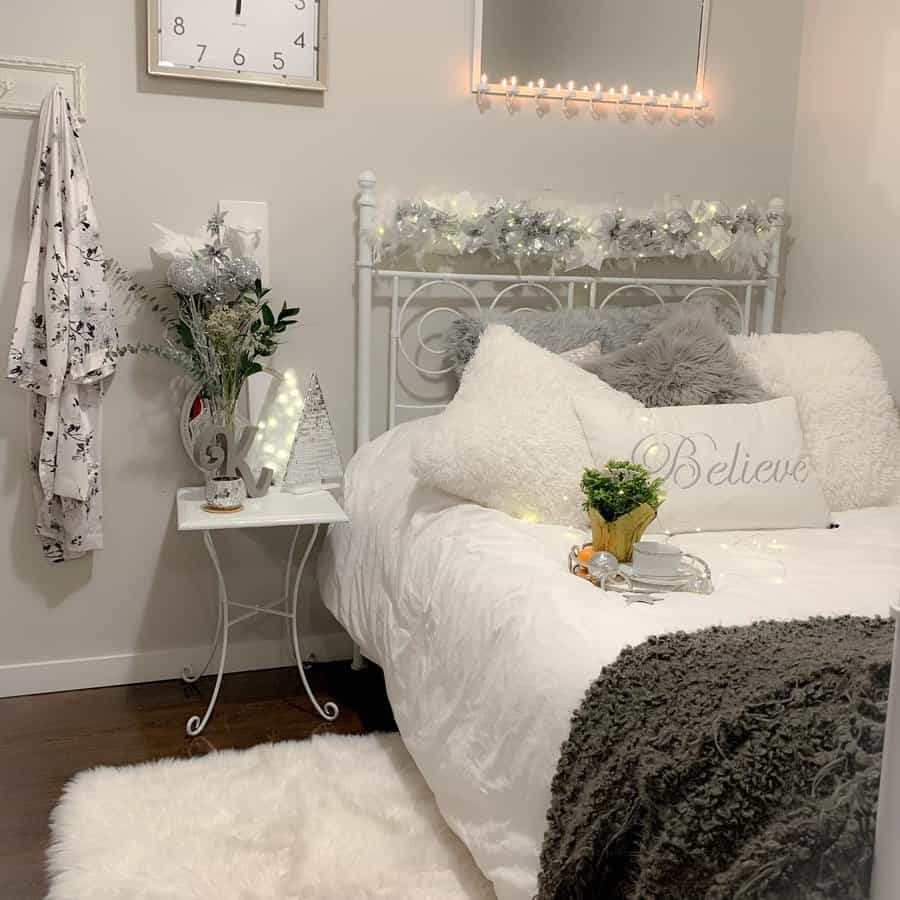 Remember that the smaller the space, the more you need to keep things tidy and organized. Make sure you have room for storage, to keep it free from clutter.
9. Unfinished
It is possible to make a cozy space in an unfinished basement. Just make sure to finish your walls properly to avoid moisture, leaks, or excessive cold in the winter. First, make sure you have proper insulation. Then, seal cracks and gaps, and make sure there are no leaks.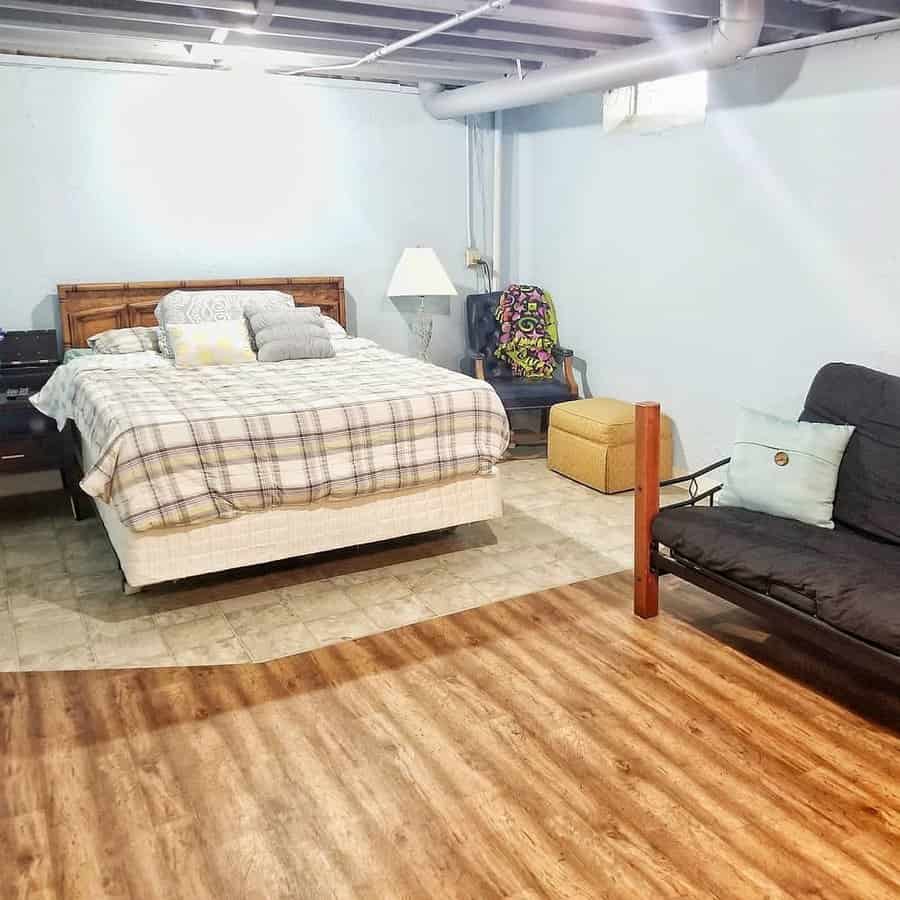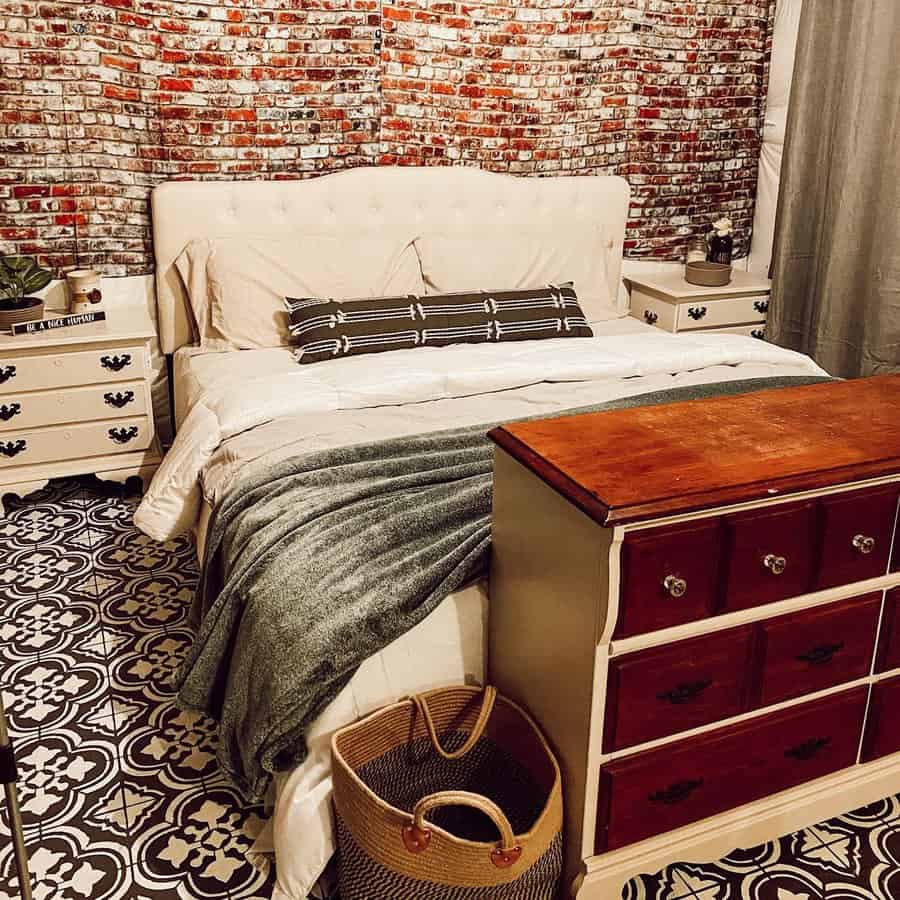 Provide enough ventilation for constant natural airflow. You can also consider an HVAC or HRV system, to remove moisture and provide fresh air. For chilly basements, radiant heaters are a good option. They can be installed below the floor or along baseboards.
Space heaters are also an affordable solution, providing they are certified and meet safety requirements. Look for safety features, such as an overheat sensor. If you want to leave them on overnight, make sure to plug them directly into an outlet, and keep a safe distance of at least three feet from any combustibles.
10. Wall
Accent walls are a great focal point in any space. Even with simple furniture and all-white bedding, an accent wall makes all the difference!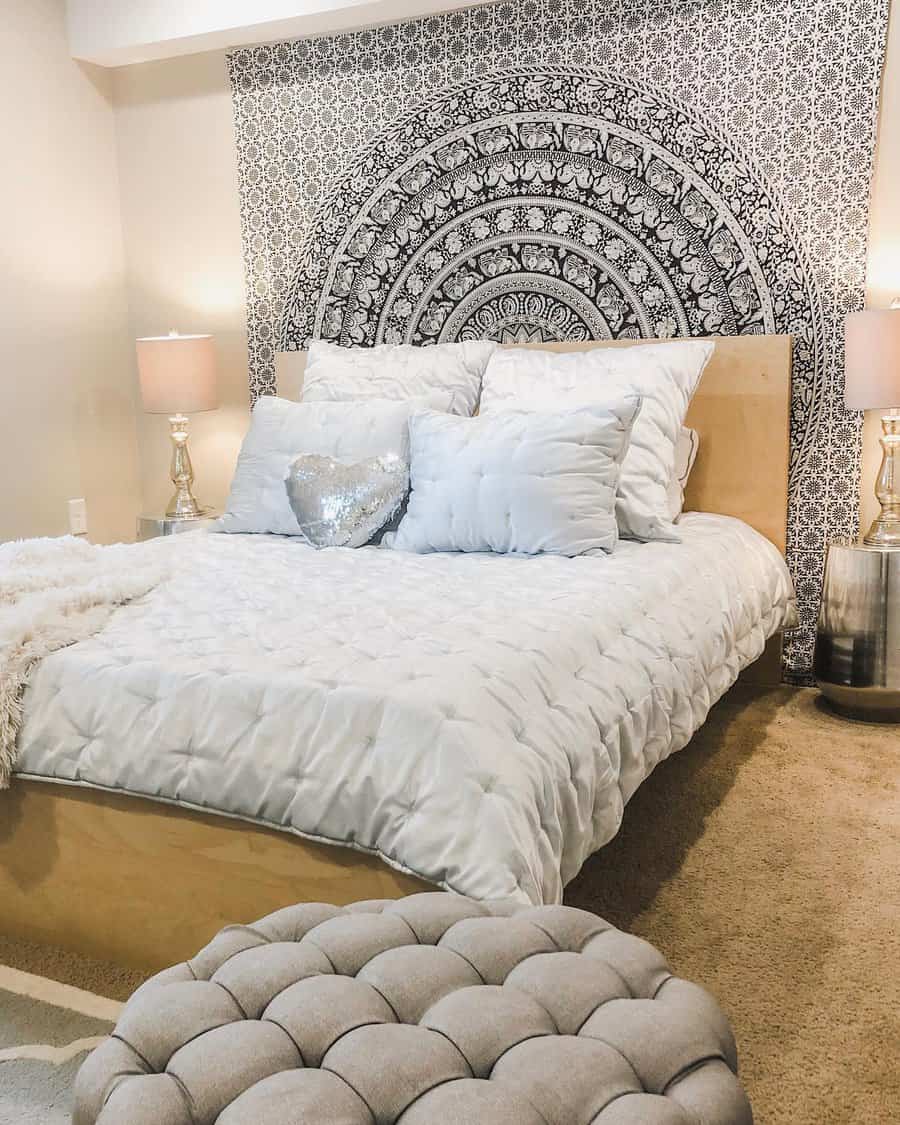 The options are countless: Wallpaper, artwork, tiles, vertical gardens, tapestry, wall panels with LED lights, just to mention a few.
11. White
Your bedroom is your sanctuary. White is the perfect color if you want a serene, calm look.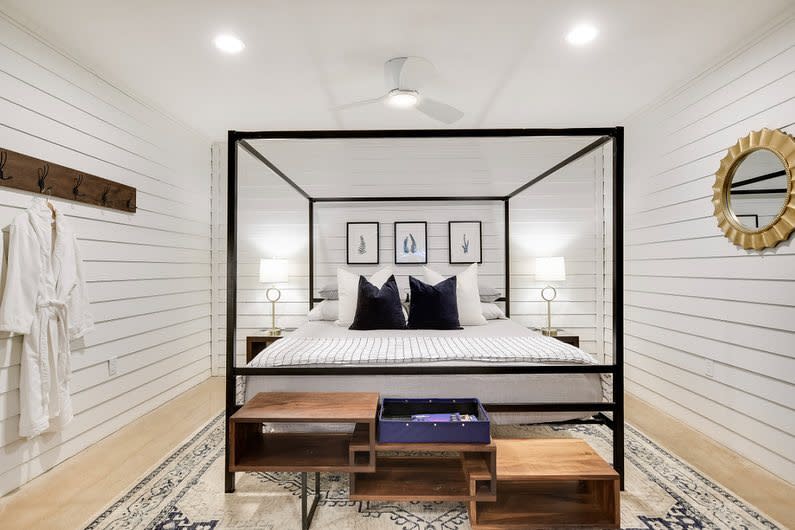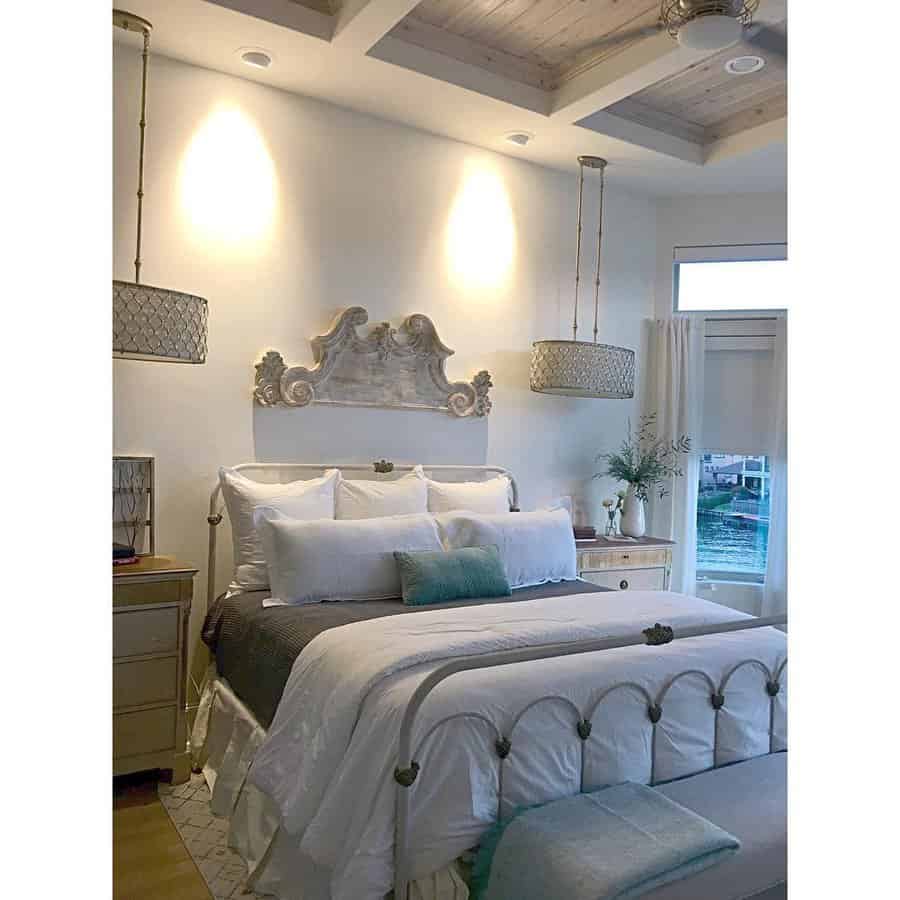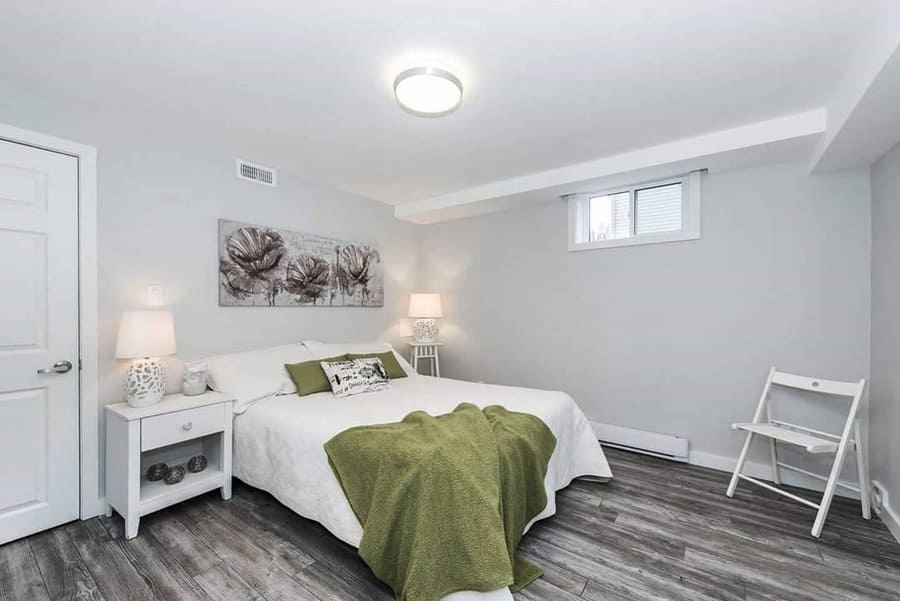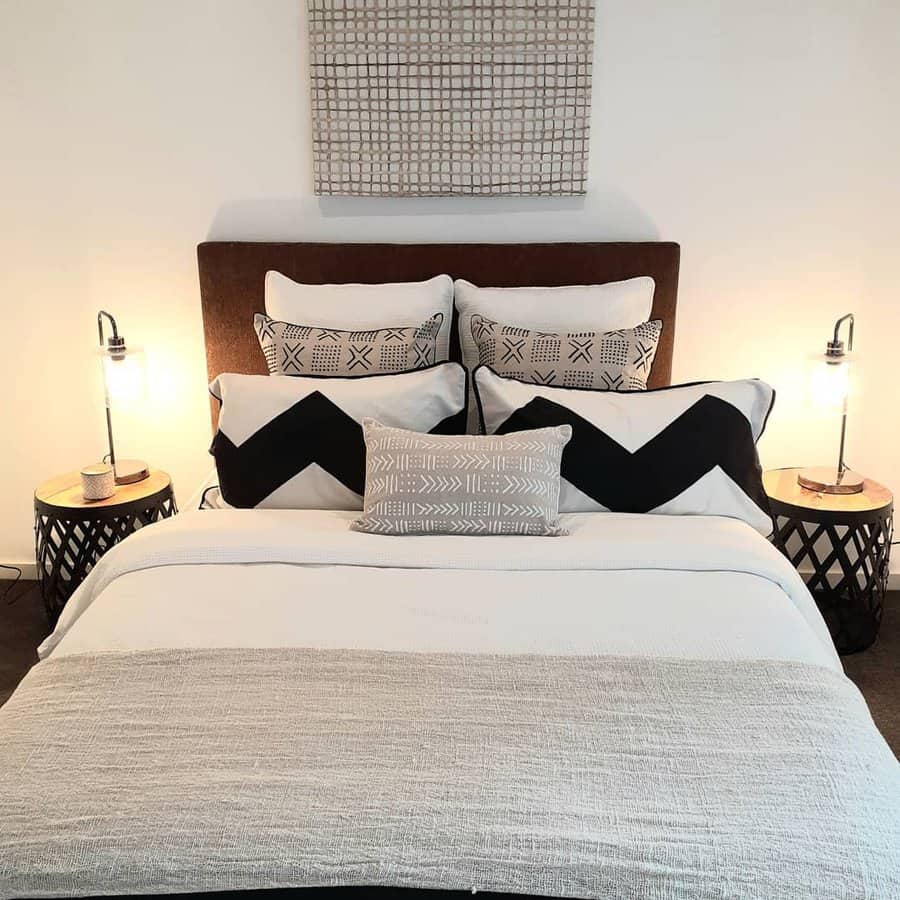 Even if keeping your walls and furniture all-white, you can let your imagination and creativity run free with some accent pieces. You can have a dash of color with pillows and bedding or add some natural wood furniture for a nice contrast.
With these tips, we are sure you will have a cozy and safe basement bedroom. Make sure to come back for more!
FREQUENTLY ASKED QUESTIONS
How can I ensure safety in a basement bedroom?
First of all, make sure you have at least one window, not only for ventilation purposes but also as an egress window, to allow for firefighters to get in should there be an emergency. Look for moisture and possible leaks and make sure you have proper insulation.
What kind of framing should I use in my basement?
Metal studs are better suited for humid environments. Opposed to wood studs, they do not warp or rot. Galvanized metal studs do not rust, mold, or attract termites. On the other hand, however, they are not suitable for load-bearing walls.
How to prevent the musty smell in a basement?
Besides the unpleasant smell, moisture affects the air quality and can cause asthma, allergies, and other respiratory conditions. Excessive moisture also attracts cockroaches and dust mites and contributes to other potential health hazards, such as mold. Make sure there are no leaks and keep the room clean, ventilated, and dust-free.
It is recommendable to use a dehumidifier, they are the easiest way to remove moisture. One old trick is to use white vinegar or baking soda that will absorb the odors. There are also products specially designed to absorb moisture and tackle musty odors. Consider having air purifiers as well, which can remove dust, bacteria, pollen, smoke, pet dander, and mold spores.