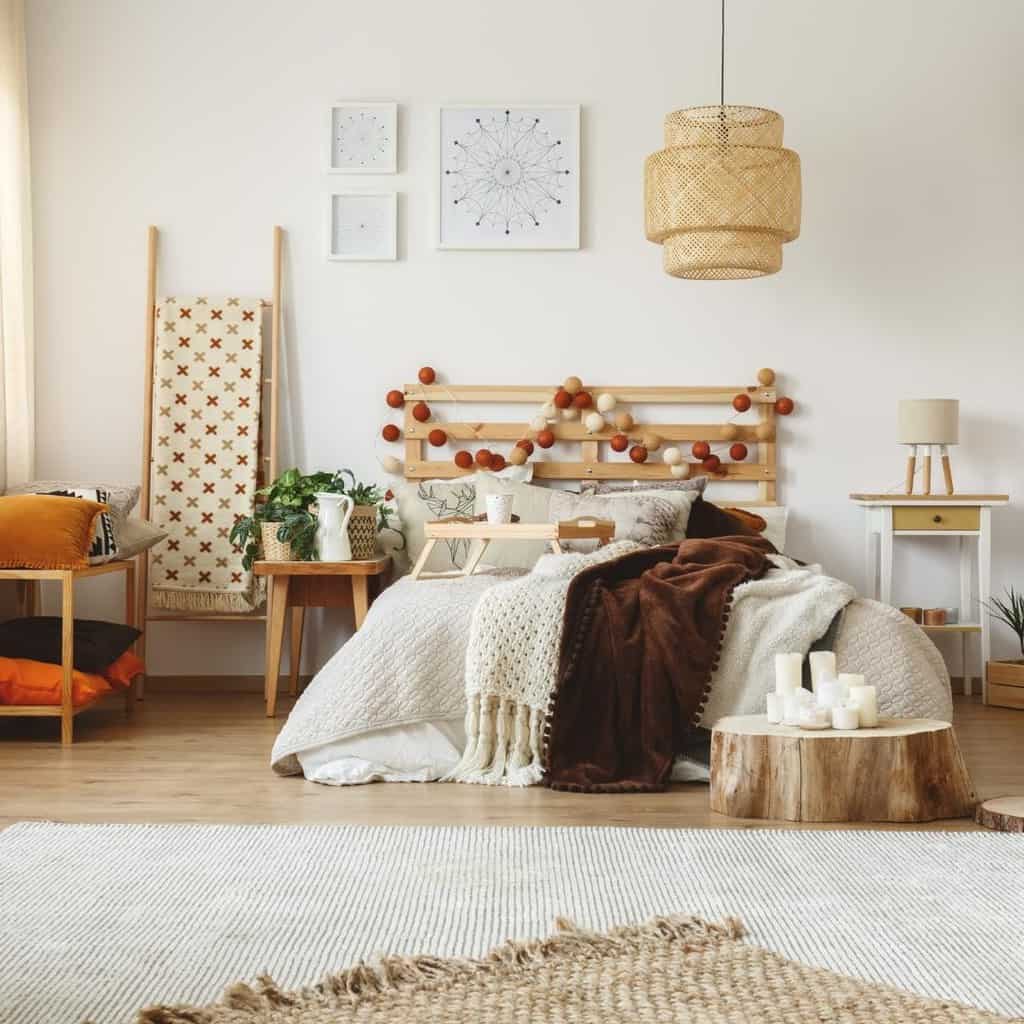 31 Basement Bedroom Ideas
by — Liz Bittar

Published on February 16, 2022

Updated on September 29, 2023
If you have an unused basement, consider transforming it into a cozy guestroom. Or maybe your teenage kid would like a bigger space to sleep and hang out with friends.
Here are some ideas for cool basement bedrooms!
1. Coastal Retreat Inspiration
Turn your basement into a coastal-inspired oasis with some simple yet effective design elements. Incorporate framed decorative ceramics, warm wood tones, and rustic accents, complemented by faux plants to create a refreshing atmosphere.
Enhance the coastal vibe with blue-toned decor for a seamless, elevated look that can blend with various home styles. This transformation offers a cozy escape within your basement, proving that it can be a welcoming and stylish space.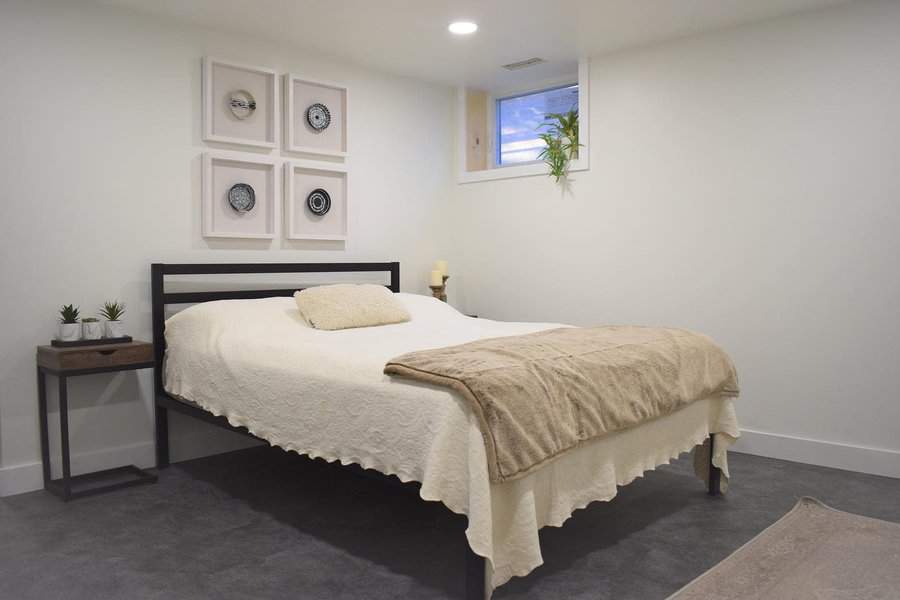 2. Minimalist Rustic Decor Ideas
Transform your basement bedroom into a cozy and inviting rustic retreat with a minimalist touch. Consider distressed wooden wall panels, rustic interior accents, and woven blankets to infuse character and warmth into the space.
Create a serene and rejuvenating atmosphere by focusing on simplicity and embracing the rustic aesthetic. By carefully selecting decor elements and paying attention to detail, you can turn your basement into a snug hideaway that exudes charm and comfort.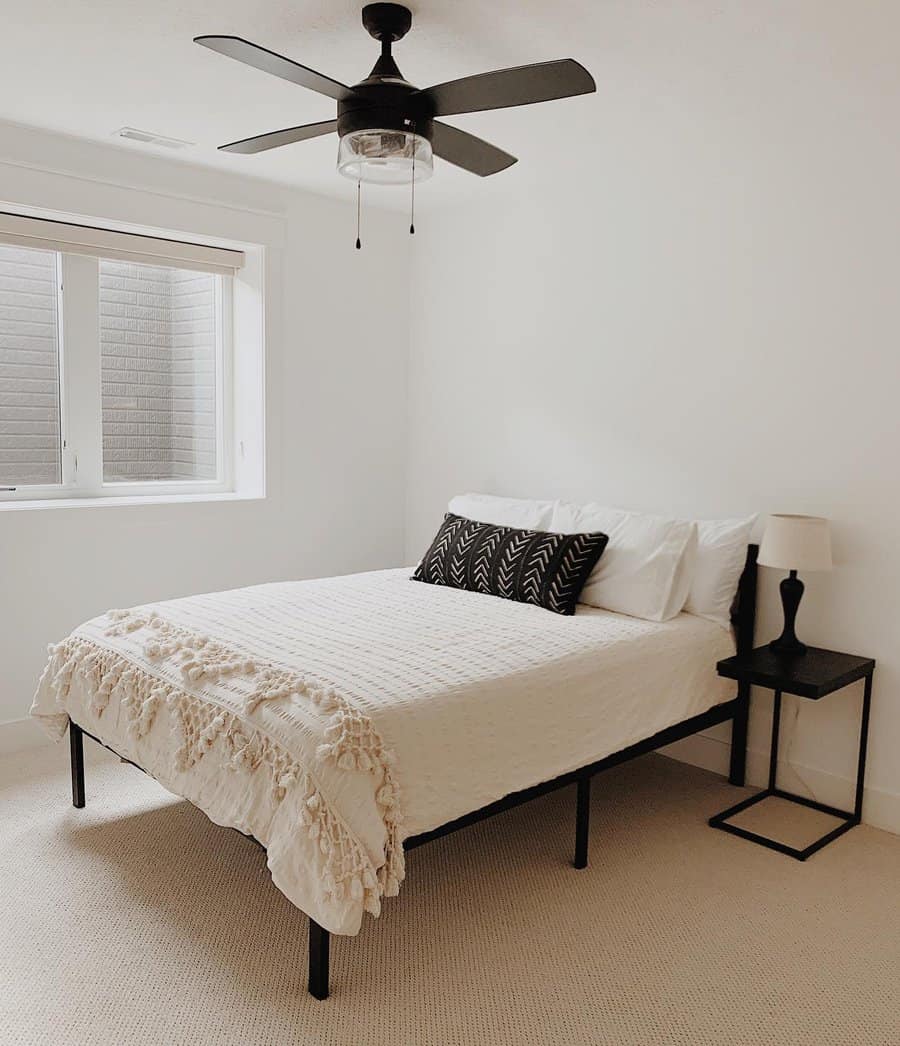 3. Rustic Lounge in the Basement
Create a cozy rustic retreat in your basement bedroom with simple yet effective design choices. Consider a comfortable sofa bed, rustic brick walls, and rattan furniture to infuse warmth into the space. Whether you use it as a guest room or your own private retreat, the vintage vibes of this rustic basement bedroom provide a homely atmosphere.
Incorporate soft lighting, plush textiles, and earthy color palettes to complete the look, ensuring your basement lounge is a welcoming and relaxing space for you and your guests to enjoy.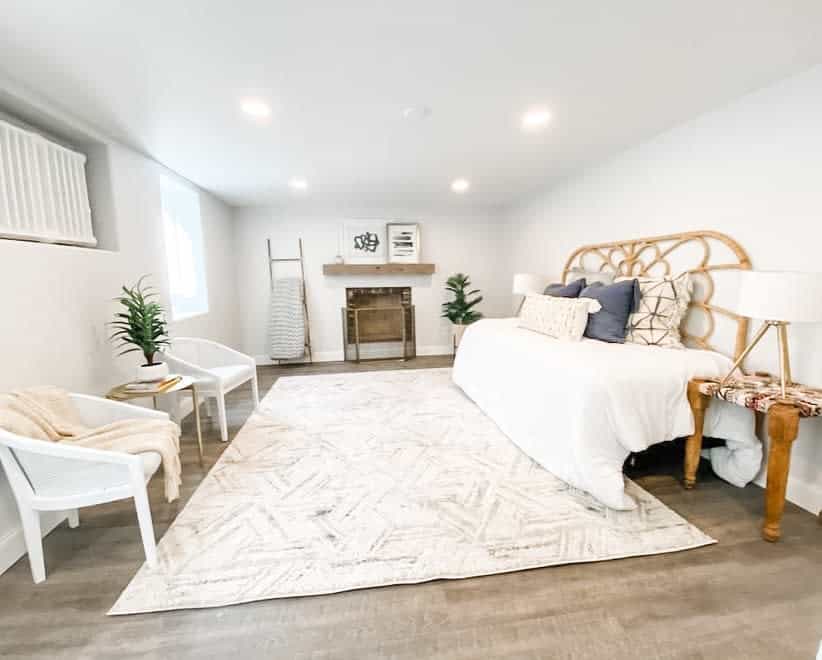 4. Industrial-Eclectic Style Inspiration
Elevate your basement bedroom with an industrial-eclectic style that combines boldness and sophistication. Achieve this look with white and grey bedding, minimalist bedside lamps, and industrial accents like brick wallpapers and simple, industrial-style furniture.
Whether you prefer an all-white retreat or a moodier industrial living space, this design will spark conversations. Incorporate various industrial materials, such as metal, wood, and concrete, to add depth and texture to the room. Don't hesitate to be creative and mix and match elements for a unique and stylish basement bedroom that stands out.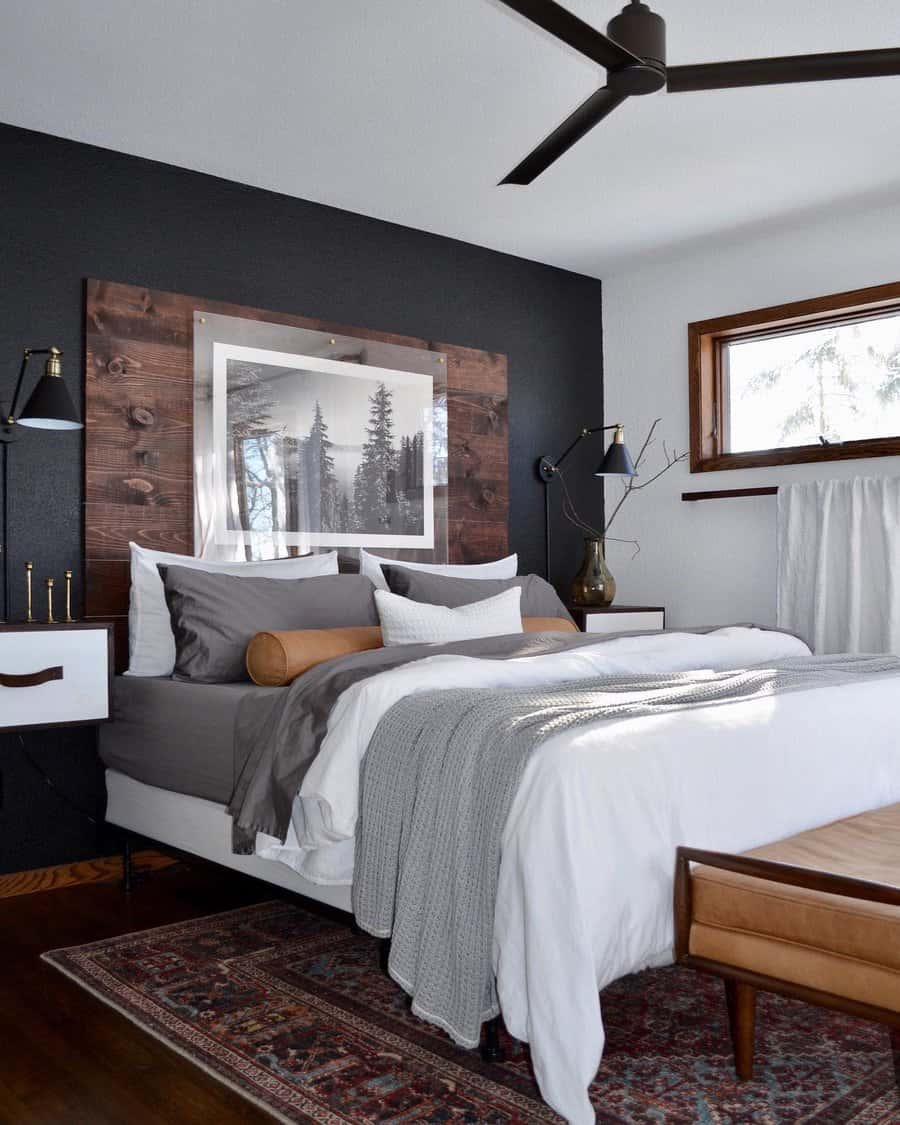 5. Styling for Low Ceilings
Embrace the challenge of low ceilings in your basement bedroom by crafting a contemporary interior that feels spacious and up-to-date. Opt for pale walls and modern furnishings to prevent the room from feeling cramped.
Add a decorative carpet or rug to make a stylish statement and draw attention away from the ceiling height. Incorporate vibrant accents like throw pillows and artwork to infuse life into the space, creating a welcoming atmosphere for both guests and family members. With the right design elements, your basement with low ceilings can exude elegance and comfort.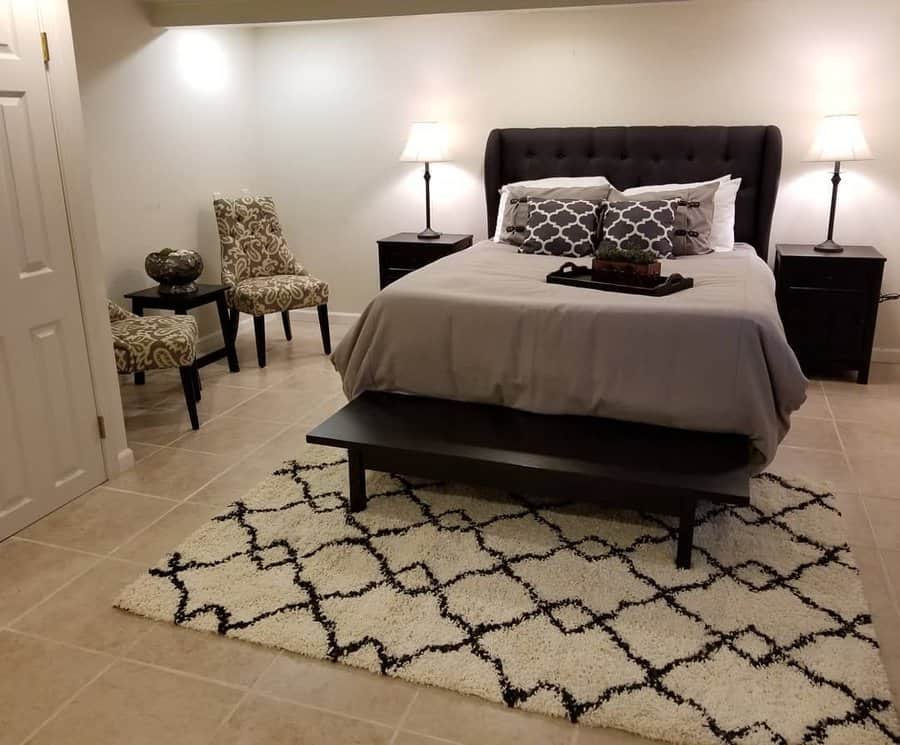 6. Scandinavian Basement Design
Turn your basement bedroom into a serene Scandinavian oasis, perfect for unwinding and relaxation. Achieve this design by focusing on minimalism, incorporating light colors, and using natural materials. Add a stylish touch with a naked bookshelf adorned with plants to introduce a pop of color and tranquility.
Enhance the cozy atmosphere with a rattan lamp for a touch of whimsy and warmth. With the simplicity and functionality of Scandinavian design, your basement can become a welcoming retreat for relaxation and comfort.
7. Cottagehouse Theme Decor
Crafting a cottage house-themed basement bedroom offers endless possibilities for creating a cozy and unique space. Start with a raw wood bed headboard as the centerpiece and complement it with wooden furniture to anchor the cottage house theme. Enhance the ambiance with rustic decor pieces and soft textiles, such as plush shag rugs, to add warmth and character. By combining these elements, your basement bedroom will exude a charming and inviting cottage house atmosphere that is uniquely your own.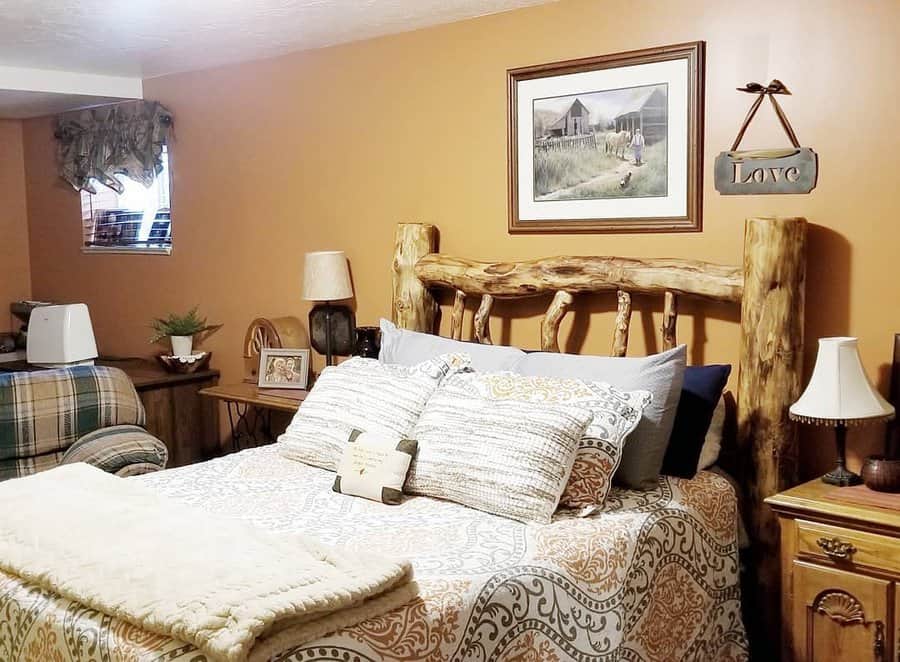 8. Enhance with Wood Panels
Unlock the rustic charm of your basement bedroom with minimalist design elements. Incorporate distressed wooden wall panels and rustic interior accents to infuse character and warmth into the space. Opt for minimalist decor choices and cozy woven blankets to maintain a clutter-free, inviting environment. By carefully blending rustic and minimalist aesthetics, you can create a basement bedroom that serves as a serene hideaway for relaxation and rejuvenation.
9. Macrame Accents for Coziness
To create a cozy basement bedroom, incorporate macrame wall hangings, plant hangers, and light blue walls. Macrame adds texture and an eye-catching design element to the room. Hang plants in macrame hangers to enhance the ambiance and make the space feel like a sanctuary.
Complement the macrame details with light blue walls to create a harmonious and inviting atmosphere. Consider adding prints and artwork that coordinate with the macrame accents to complete the cozy look of your basement bedroom.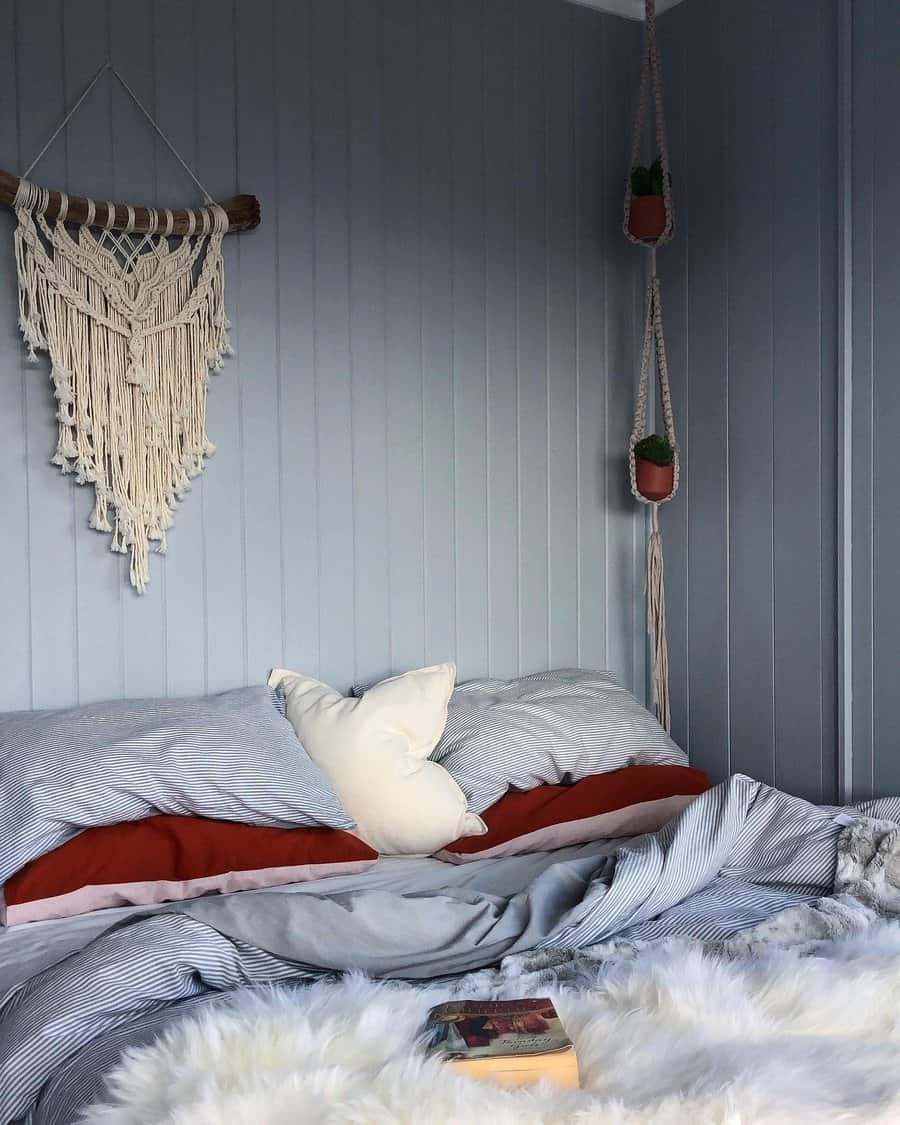 10. Modern Farmhouse Bedroom Ideas
Turn your basement bedroom into a modern farmhouse haven by blending distressed furniture with rustic charm. Achieve an open and inviting atmosphere while staying true to the modern farmhouse aesthetic. Incorporate vintage-style fixtures to add personality and depth to the room's design. Enhance the ambiance with wood accents, such as wicker baskets, rustic headboards, or patterned rugs, to authentically capture the modern farmhouse vibe.
Let this design inspire you to create your dream basement bedroom, ensuring it reflects the perfect blend of modernity and rustic charm.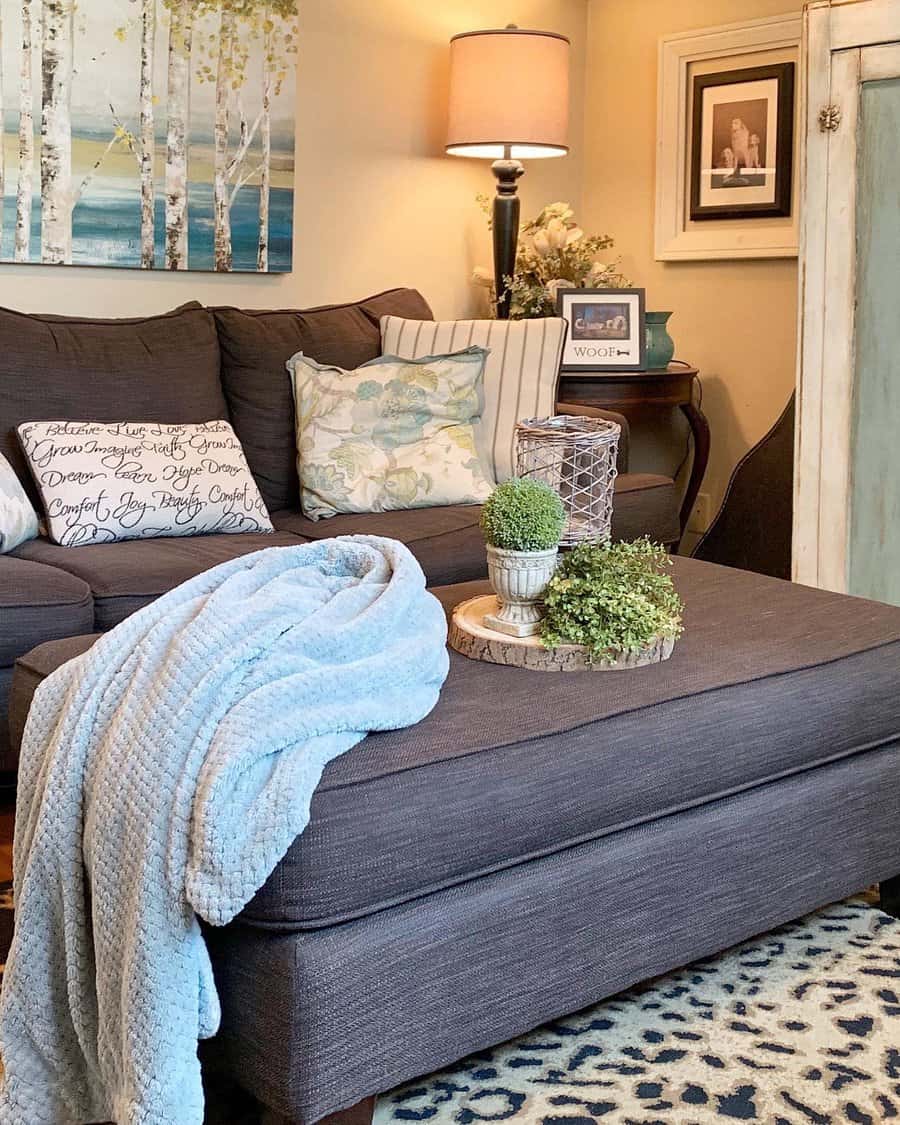 11. Nostalgic Coastal Decor Touch
Create a basement bedroom with a nostalgic coastal ambiance reminiscent of summers gone by. Start with white curtains as a soothing backdrop for teal throw pillows and matching all-white bedding. The combination of soft blues and faded whites evokes warm memories of seaside vacations. To complete the look, add character-rich accents that infuse the room with a sense of nostalgia and undeniable warmth. This basement bedroom becomes a tranquil escape, providing a break from the everyday and a cozy retreat where you can unwind and relive treasured moments.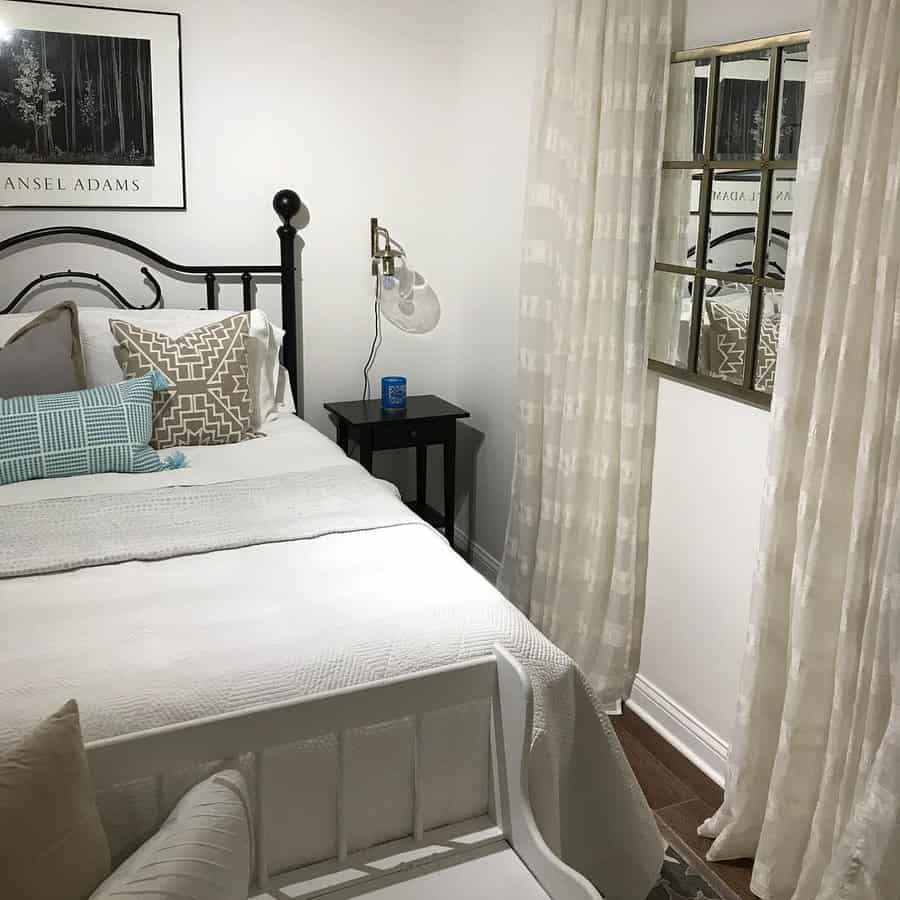 12. Cabinhouse Interior Design
Embrace cabin-style interior design in your basement bedroom for a cozy retreat. Opt for warm carpet flooring to create a comfortable ambiance. Use neutral earth tones on the walls, furniture, and bedding to enhance the cabin house feel. Consider adding a full-length mirror door with hidden storage for winter clothing and boots to maximize space. Add rustic lanterns and soft woven throws as finishing touches to make your basement bedroom irresistibly inviting.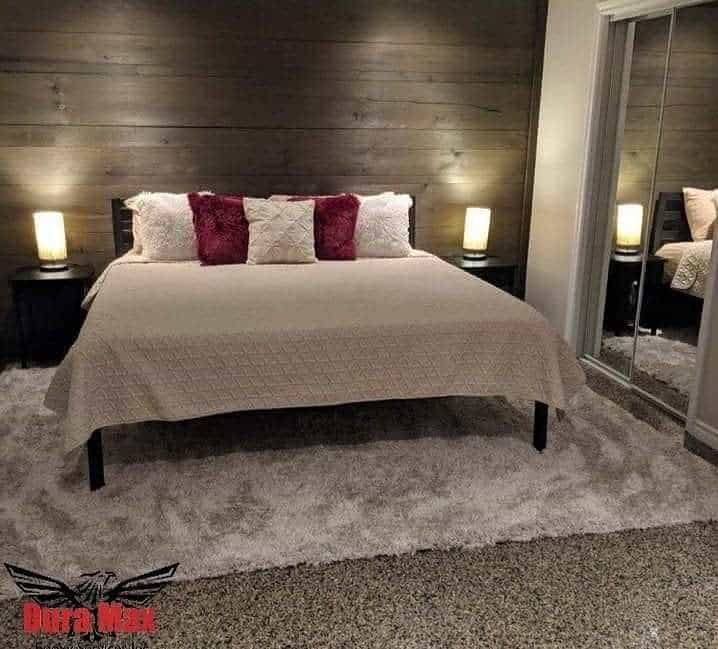 13. Express with Quote Walls
Infuse your small basement bedroom with personality by adorning the walls with framed quotes. This budget-friendly option adds a creative and unique flair to your space, making it inviting for guests and uplifting for yourself. With a wide variety of quote styles, sizes, and frames available, you can easily find one that fits perfectly within your bedroom's dimensions. Enhance the effect by selecting quotes that resonate with you, complementing the overall design and color scheme of your basement bedroom for a cohesive and inspiring atmosphere.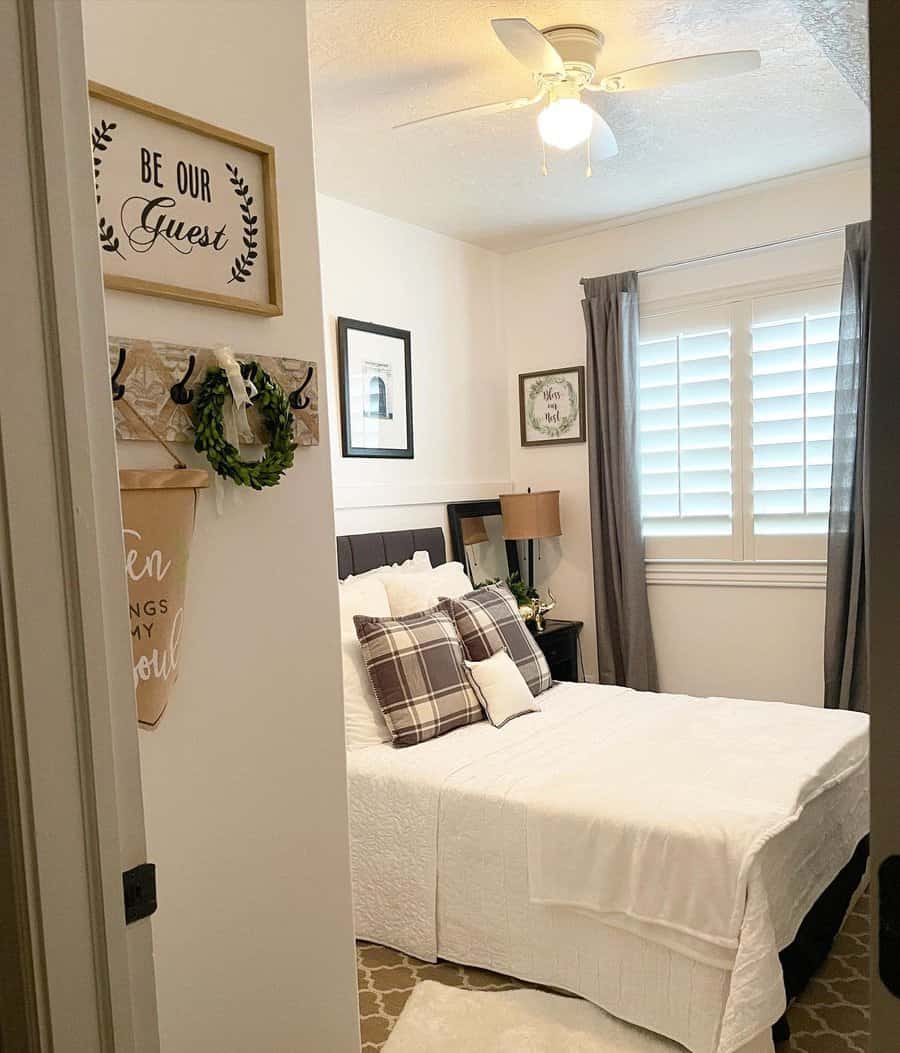 14. Mirrored Wall Décor
Elevate your basement bedroom with mirrored wall decor that adds a touch of luxury and spaciousness. Strategically placing round wall mirrors can reflect light and create the illusion of a larger, brighter space. Consider using carpet flooring for added warmth and comfort. Install windows with blinds to control natural light, creating a cozy atmosphere for various purposes, whether it's a reading nook, music practice room, or a tranquil retreat.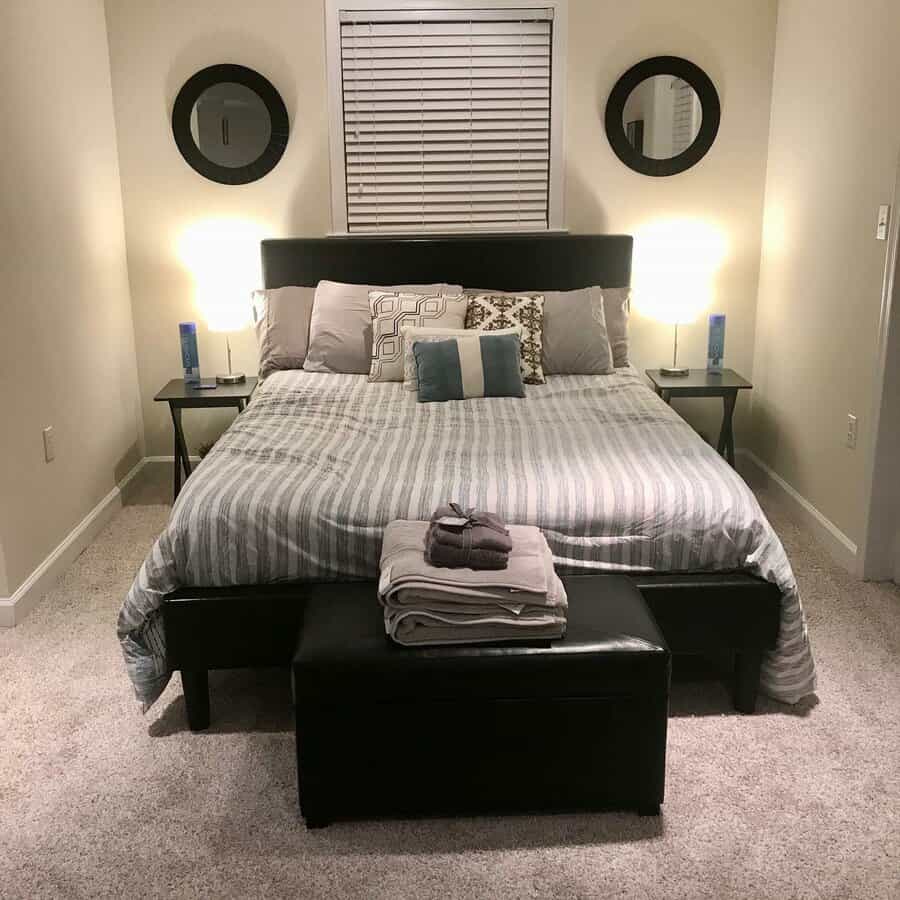 15. Elegant White & Gold Interior
Achieving an elegant white and gold interior in your basement bedroom can transform it into a truly magical space. Opt for a bed with a dimpled headboard for ultimate comfort and style. Embrace natural light by using white curtains that allow sunlight to filter in, creating a serene atmosphere.
To complete the dreamy look, consider hanging a white iron spider chandelier; its intricate details will illuminate the room in a unique and beautiful way. The combination of white and gold exudes sophistication and luxury, turning your basement bedroom into a serene and enchanting retreat.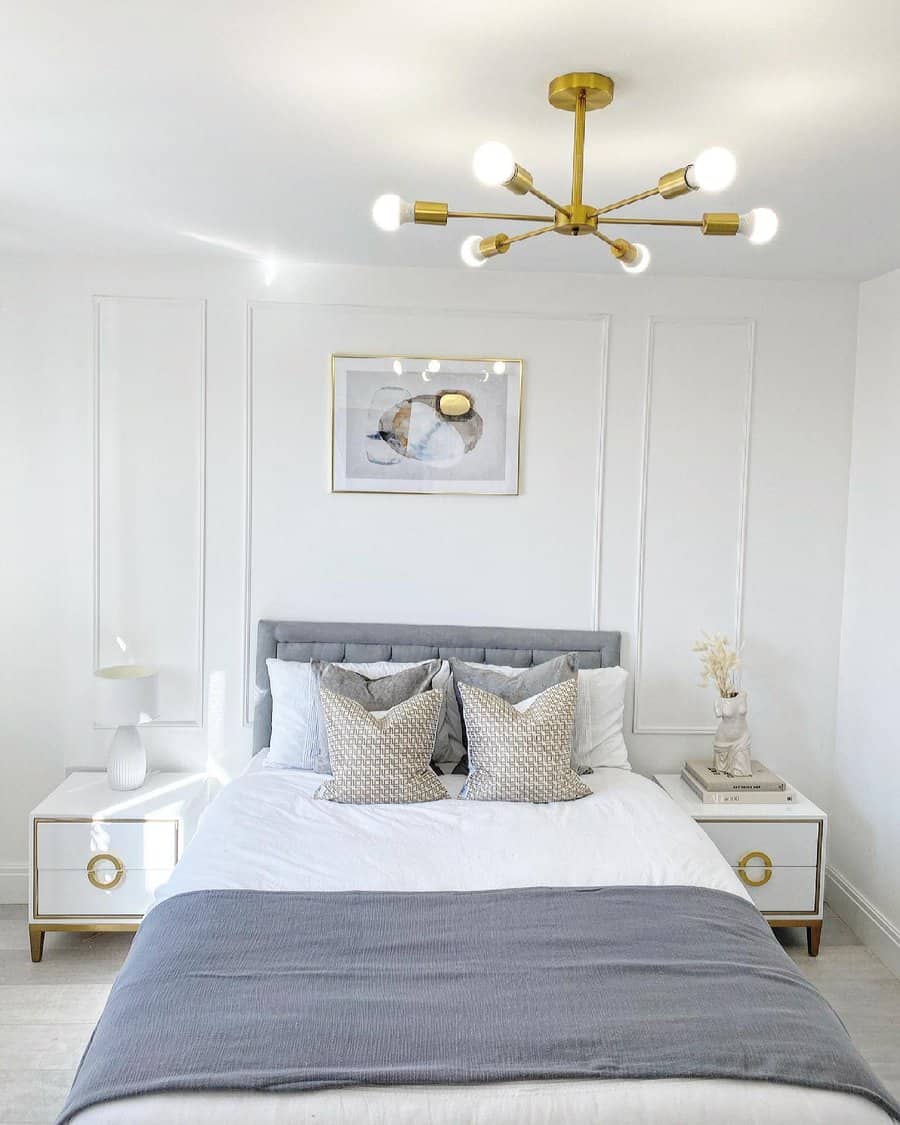 16. Chic Dark Grey Basement
Incorporate a modern minimalist vibe into your basement bedroom with rich dark grey walls and simple furnishings. Enhance the aesthetic with a high window that adds a touch of brightness to the room while maintaining a sense of mystery. Whether you prefer traditional or quirky decor, this versatile canvas allows for various design styles to flourish. Elevate your comfort and relaxation by embracing the allure of a chic dark basement bedroom.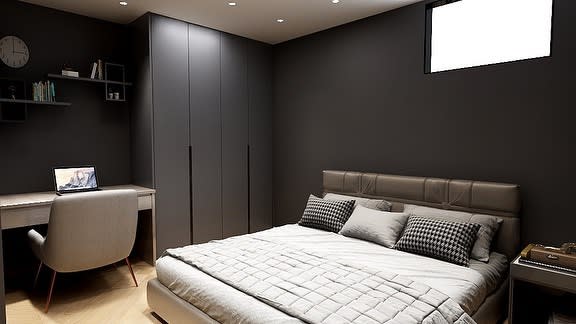 17. Carpet Flooring Choices
When designing your basement bedroom, consider using carpet flooring to enhance comfort and reduce noise disturbance. To achieve a contemporary look, focus on minimalist interior design with a color palette of whites, greys, natural wood, and creamy tones. Add a pop of color and texture with printed bedding in your favorite bold hue. This combination creates a serene and inviting space for rest and relaxation, ensuring you wake up refreshed each morning.
18. Easy Kitchen Access
A basement bedroom with a kitchen offers a unique opportunity to transform a potentially dim space into a captivating retreat. Natural light from a well-placed window can make the room feel open and inviting. Consider optimizing the layout with corner shelves, stylish lighting, and creative wallpaper choices to add a personal touch to your basement oasis. When executed thoughtfully, a basement bedroom featuring a kitchen and a window can become the jewel of your home.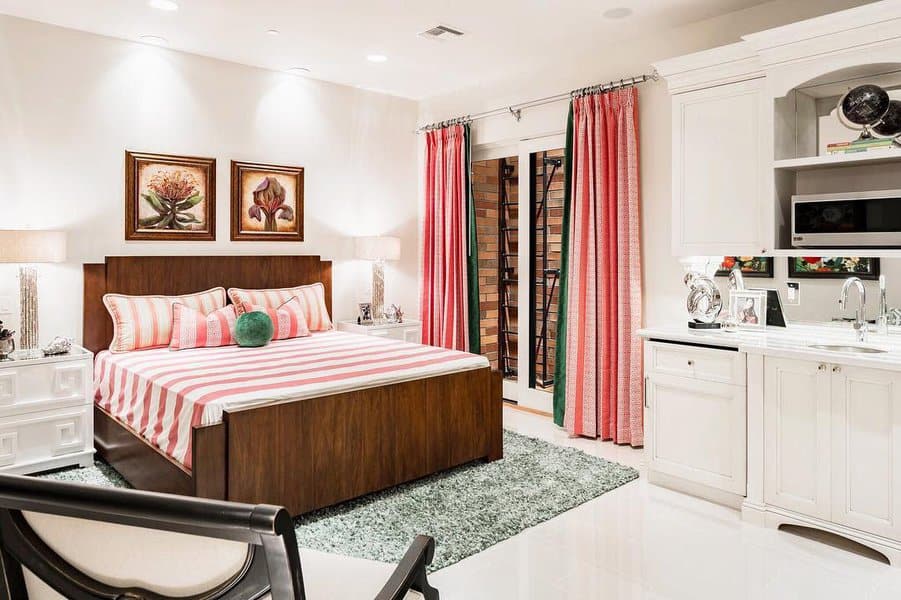 19. Stylish Concrete Accent Walls
Transform your basement bedroom into a trendy haven with the addition of a sleek concrete accent wall. Pair it with industrial decor elements and a chic round rattan floor mat to elevate your underground oasis. Worried about it feeling cramped? Fear not! This design blend ensures your basement bedroom feels open and welcoming.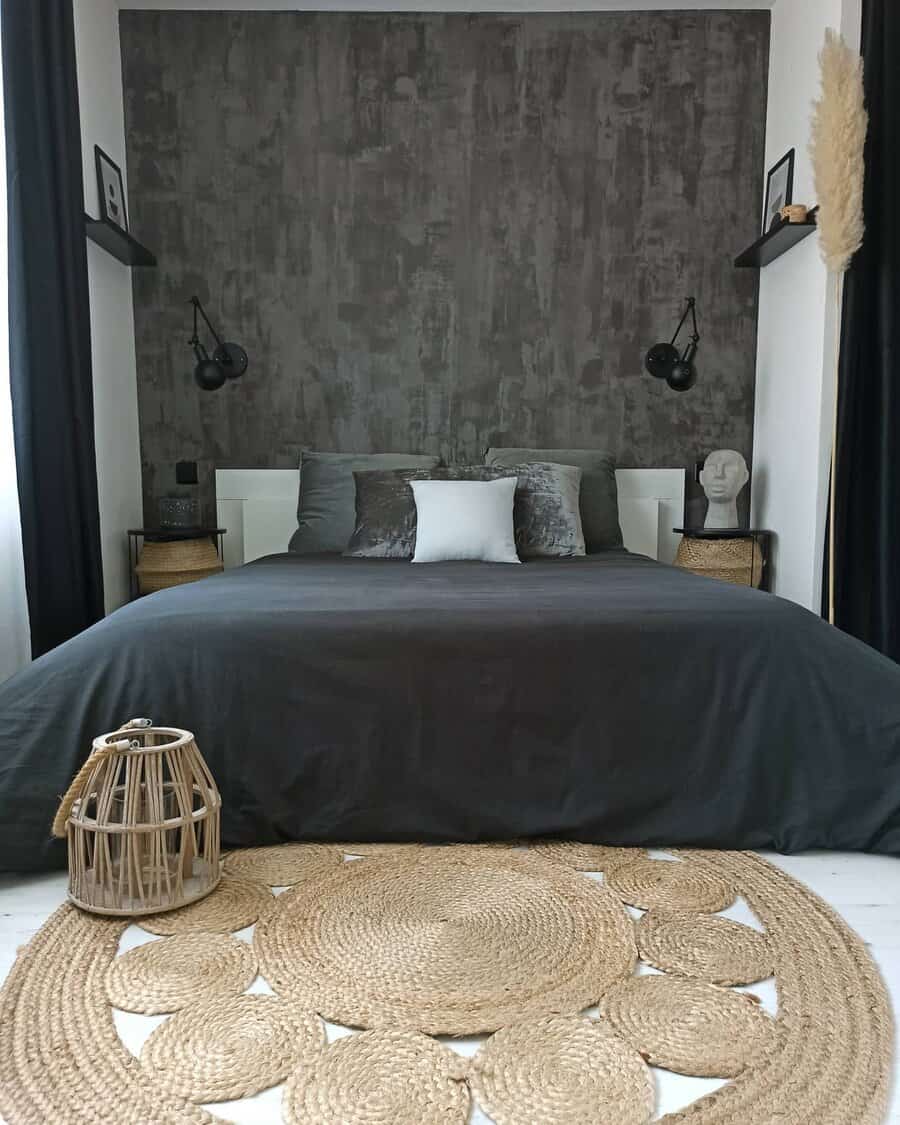 20. Framed Artwork Gallery
Create a welcoming and personal touch in your basement bedroom with a curated framed artwork gallery on one wall. Combine this with a cozy knitted blanket in soothing natural colors on the bed to enhance comfort and style. Position a bedside table with a lamp and diffuser for gentle, relaxing lighting, making your basement bedroom an ideal space for relaxation and rejuvenation.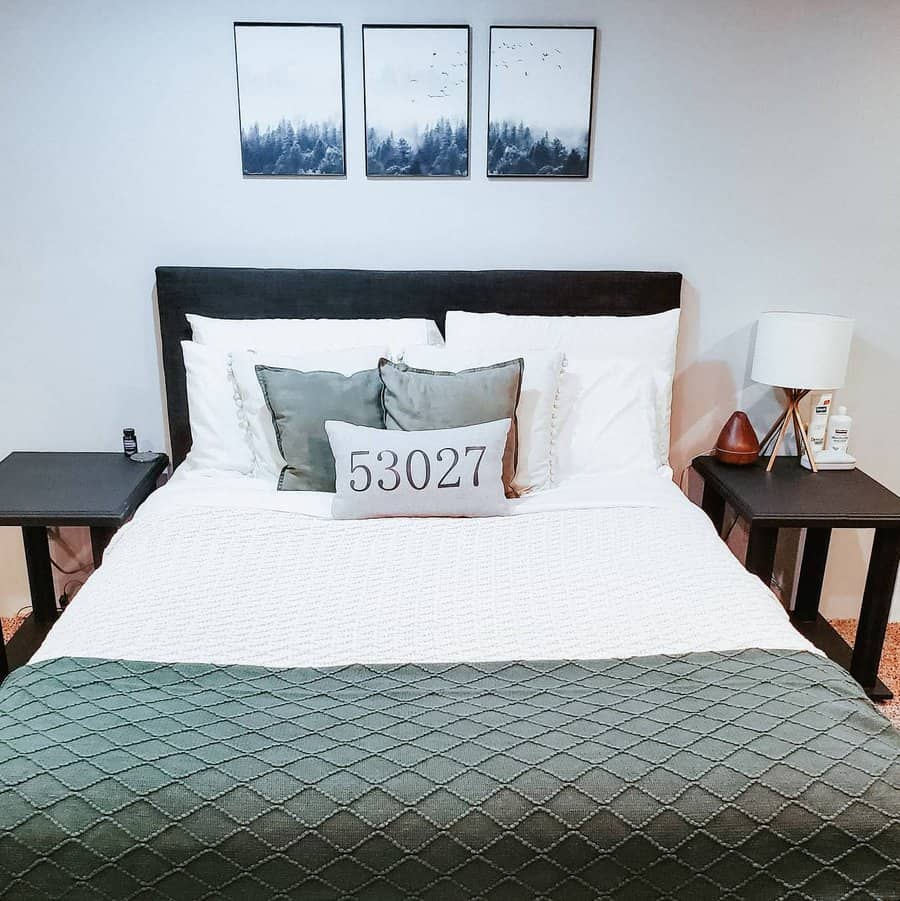 21. Closet with Full-Length Mirror
To create a peaceful sanctuary in your basement bedroom, embrace the shabby chic-inspired decor. Install a closet with a full-length mirror to maximize space and enhance functionality. Incorporate a statement chandelier for added charm and rustic elements like distressed wood cabinets and an aged metal bed frame to achieve a cozy yet sophisticated ambiance in your underground retreat.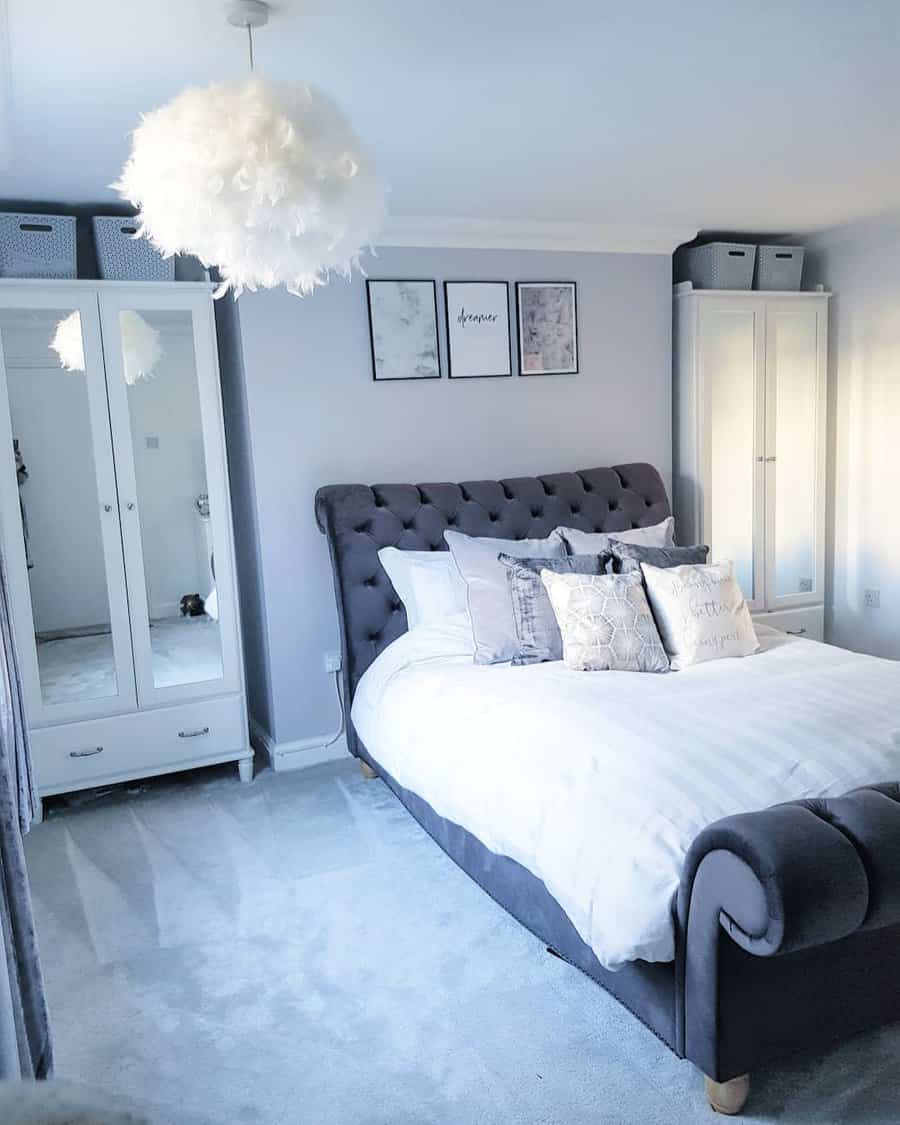 22. Window Curtains for Ambiance
Create a serene basement bedroom with shabby chic aesthetics. Enhance the sense of space by incorporating a closet featuring a full-length mirror. Elevate the ambiance with a striking chandelier as a focal point. Infuse rustic elements, such as weathered wood cabinets and an antique-style metal bed frame, for a cozy yet elegant atmosphere. To complete the look, explore soft, pastel color palettes and vintage-inspired textiles for bedding and curtains.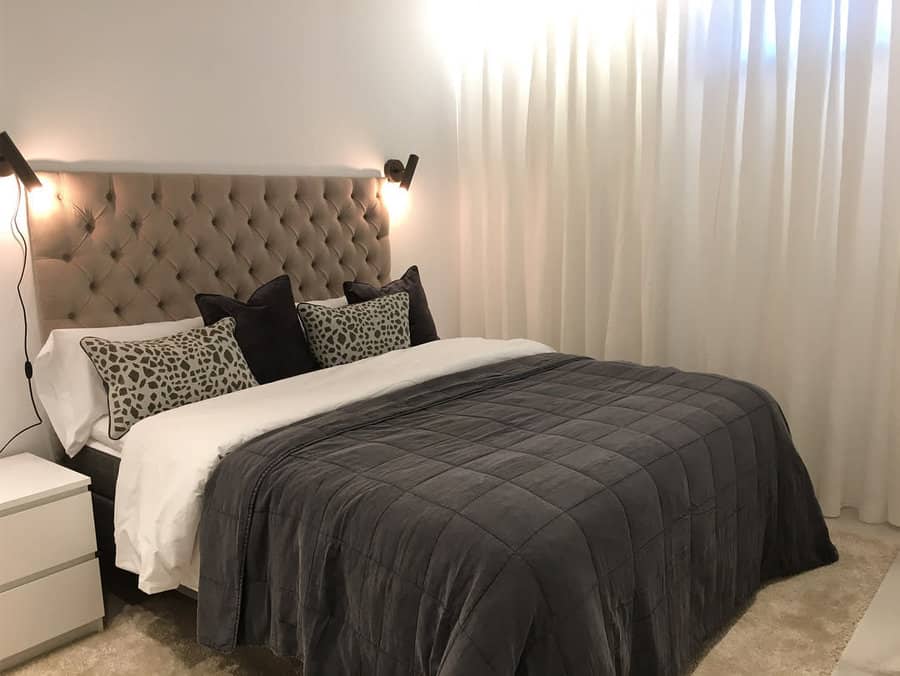 23. Texas King Bed Space
Turn your basement bedroom into a dreamy retreat with a spacious Texas king-sized bed, perfect for reading, napping, or relaxing. Illuminate the space with modern lamps to create a soothing ambiance for quiet evenings. Consider adding a coffee table to complete the look and provide a surface for books and decorations, making it an inviting space to unwind or socialize. With the perfect blend of comfort and style, your basement bedroom will become your personal oasis.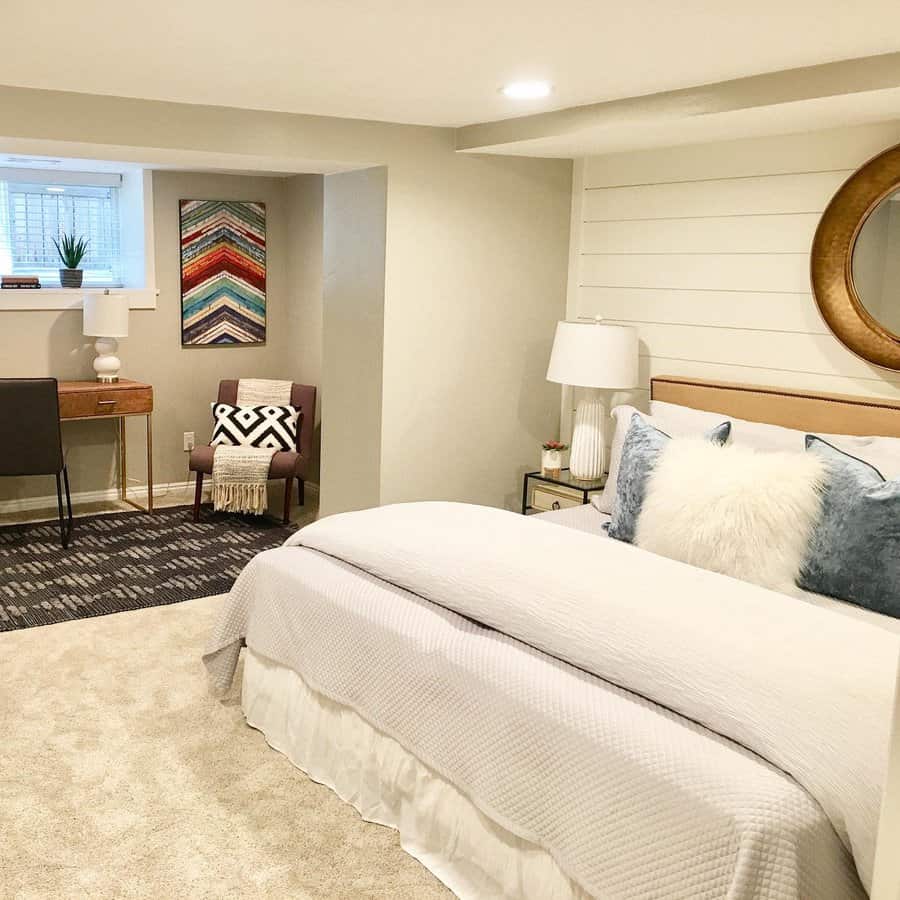 24. Vibrant Mustard Yellow Walls
Brighten up your basement bedroom with inviting mustard yellow walls that add a sunny touch to the space. To complement this vibrant color, consider a bohemian-inspired interior design that incorporates rich textiles, earthy tones, and natural materials. This transformation turns your basement into an enchanting hideaway, perfect for restful nights and personal moments of reflection. Customize the space to create an environment that brings joy to your heart.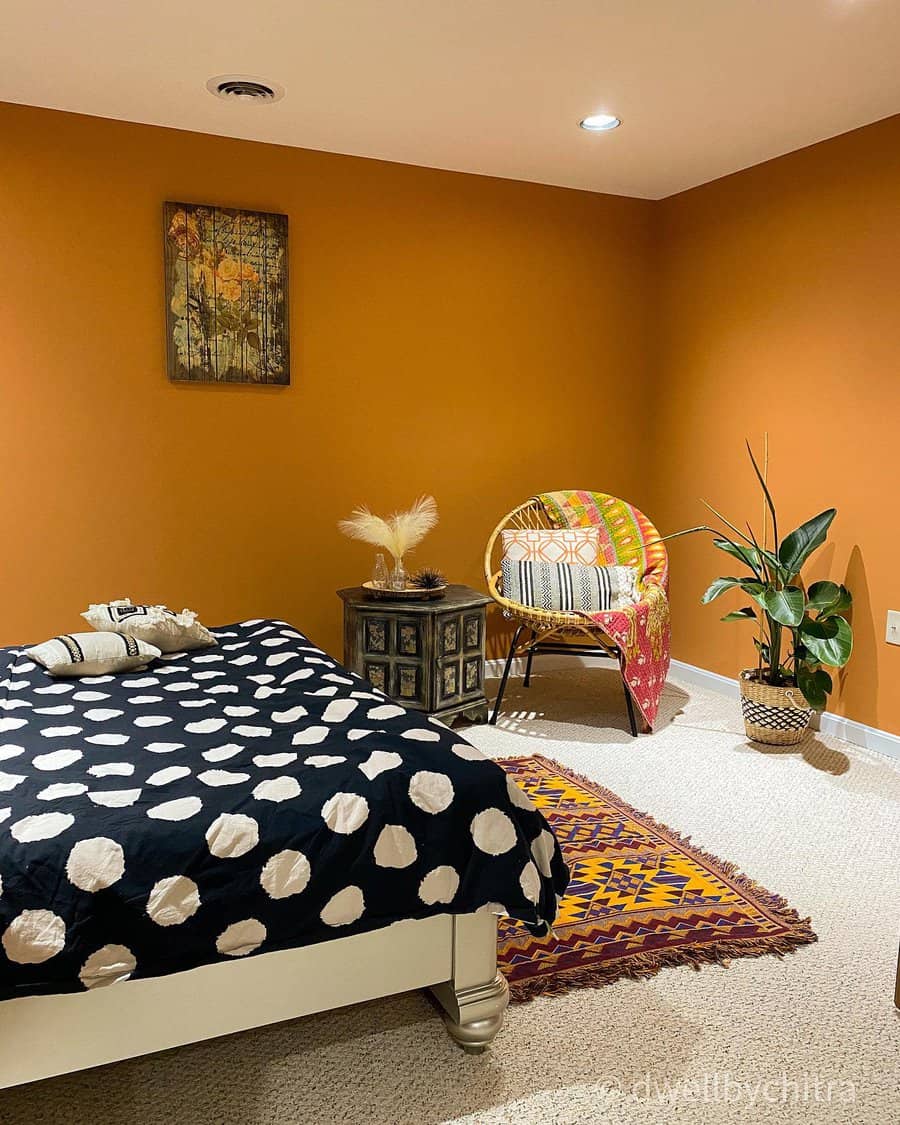 25. Monochrome Glam Inspiration
Revitalize your basement by embracing a monochrome glam design, infusing it with luxury and sophistication. Opt for a silver and white color palette for everything from bed linens to window treatments to create an elegant atmosphere.
Enhance comfort with a faux fur throw pillow, and add printed wall art or a rug to achieve a cohesive look. Elevate the ambiance with unique lighting fixtures that accentuate different areas of the room. Your basement bedroom will become a personal oasis, ideal for unwinding during long, tranquil nights.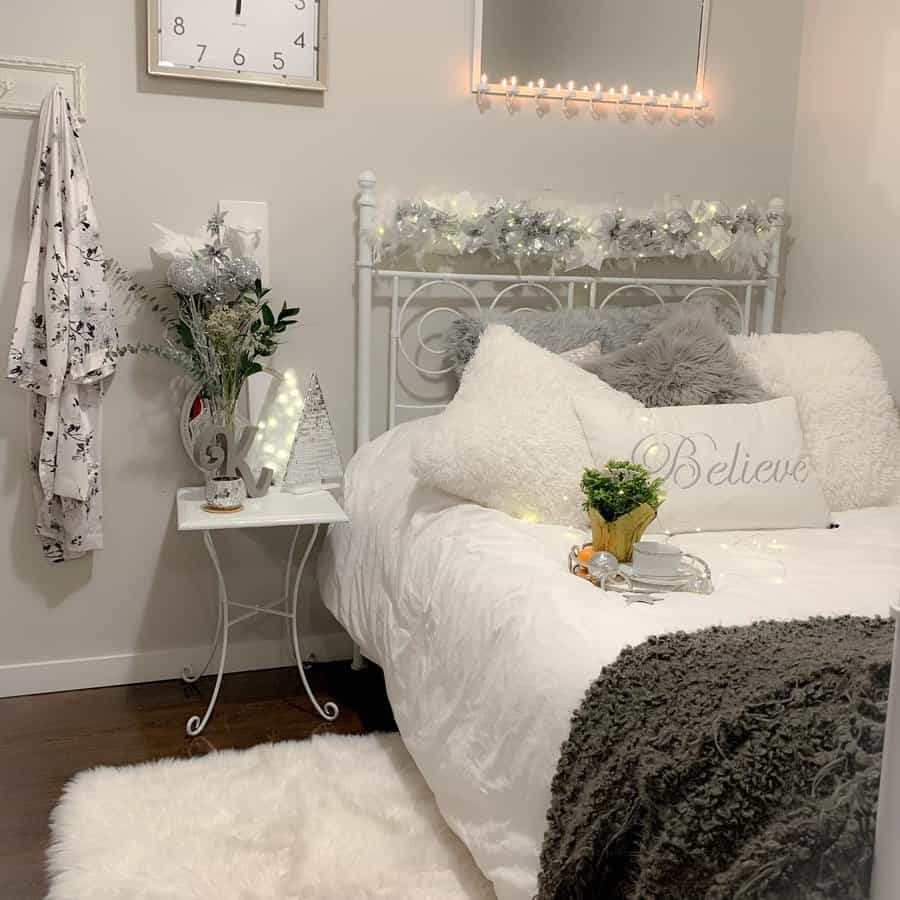 26. Contemporary Modern Design
Embrace the unique challenge of a basement bedroom and turn it into a peaceful haven with a minimal modern design. Start by selecting furniture with clean lines and minimalistic aesthetics. Opt for a restrained color palette to create a serene atmosphere in the absence of natural light. To enhance the look, add a few carefully chosen decor pieces that align with the modern style.
Tackling your basement bedroom with this approach allows you to achieve a chic and simplified interior design that's both stylish and functional.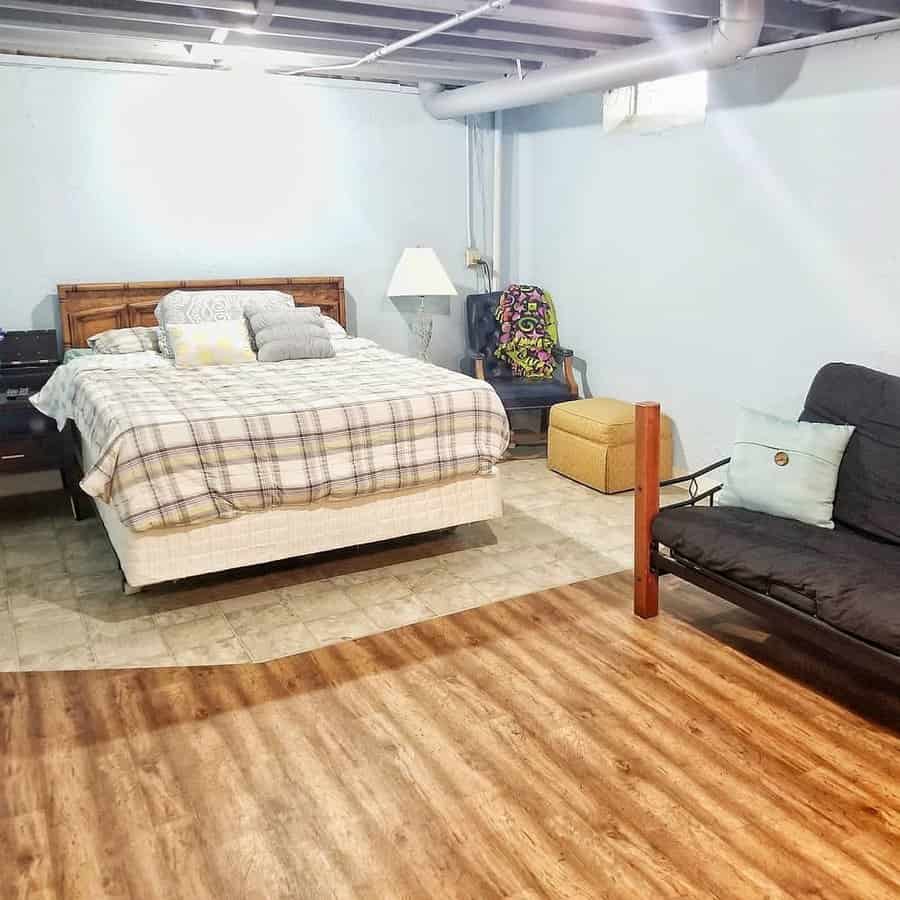 27. Decorative Tiles for Chic Look
Infuse life and personality into your basement bedroom with decorative tiles, adding texture and color to walls and surfaces for an elegant touch. Complement this look with vintage wood furniture, which not only brings a unique style but also creates a comforting atmosphere.
Consider incorporating faux plants on side tables to add decorative charm without the need for maintenance. By combining these elements, you can transform your basement bedroom into an inviting haven for relaxation, achieving a chic and cozy ambiance.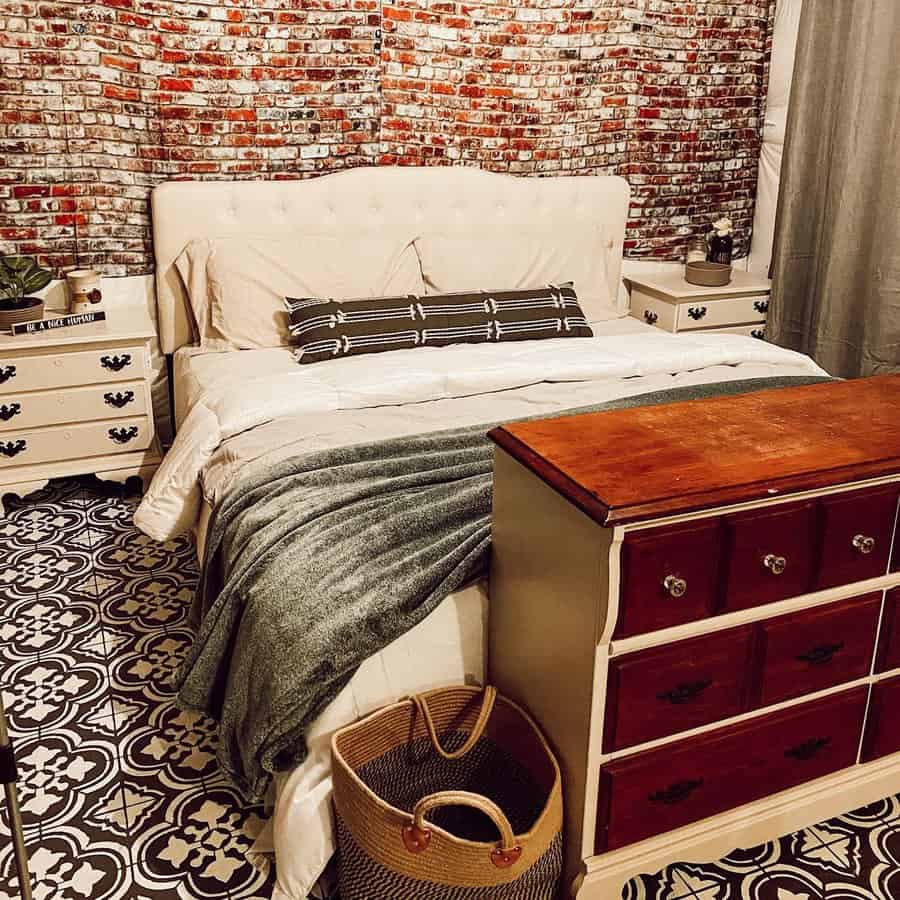 28. Bohemian Mandala Tapestry Decor
To create a cozy bohemian retreat in your basement bedroom, incorporate a vibrant mandala tapestry and bohemian-inspired furniture. The eclectic energy of bohemian design will infuse life into the space, turning it into a peaceful oasis. If bohemian isn't your preferred style, opt for a simple white-themed basement bedroom with airy white curtains, minimalistic furniture, and few accessories. To add coziness, consider adding small plants and battery-operated lighting, taking the room's size into account.
Regardless of your style choice, transform your basement into a sanctuary that reflects your personality and sparks creativity.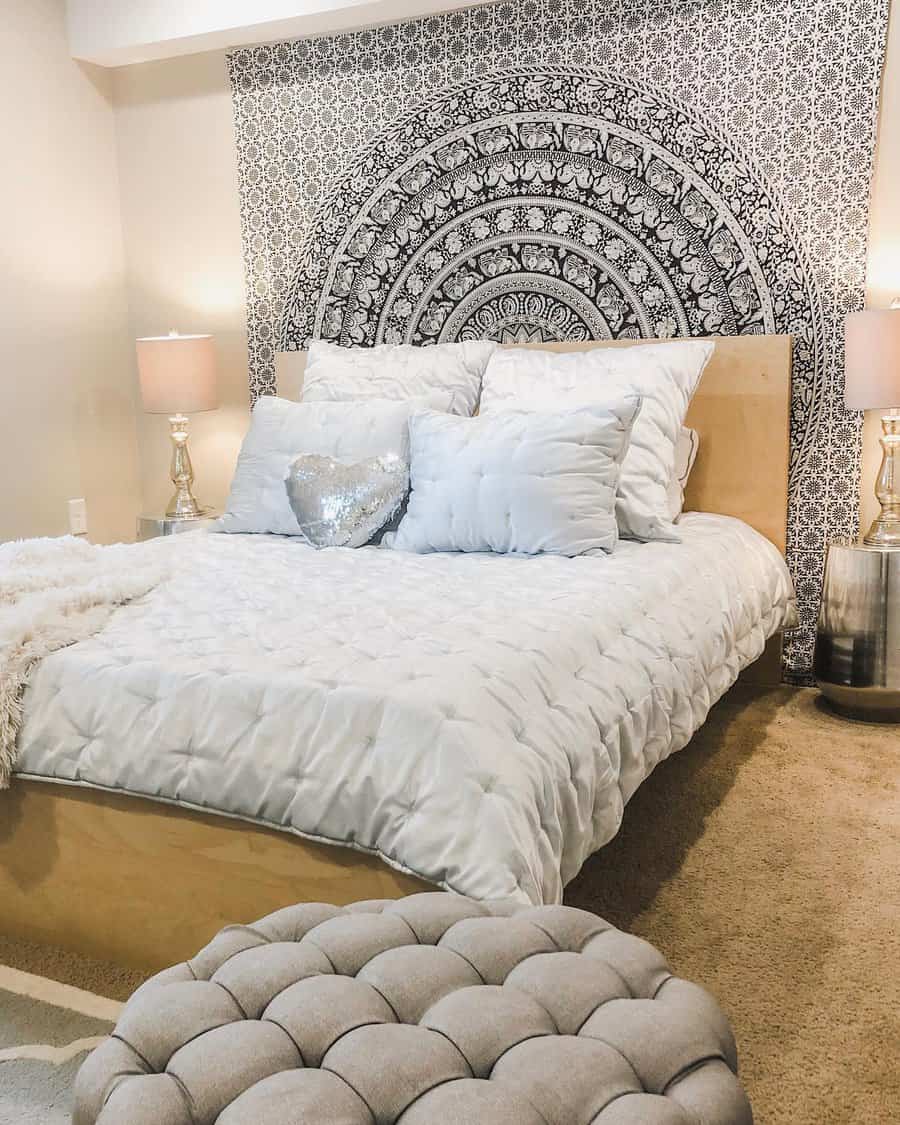 29. Cozy Canopy Bed Ideas
Incorporating a canopy bed can transform your basement bedroom into a serene and elegant retreat. To maximize its impact, choose sheer curtains that allow light to filter through while adding a touch of luxury to the space. Consider complementing this setup with a modern industrial coffee table featuring shelves for added storage and style. This dual-purpose table helps define separate zones within your basement, creating a versatile and inviting environment that maximizes both form and function.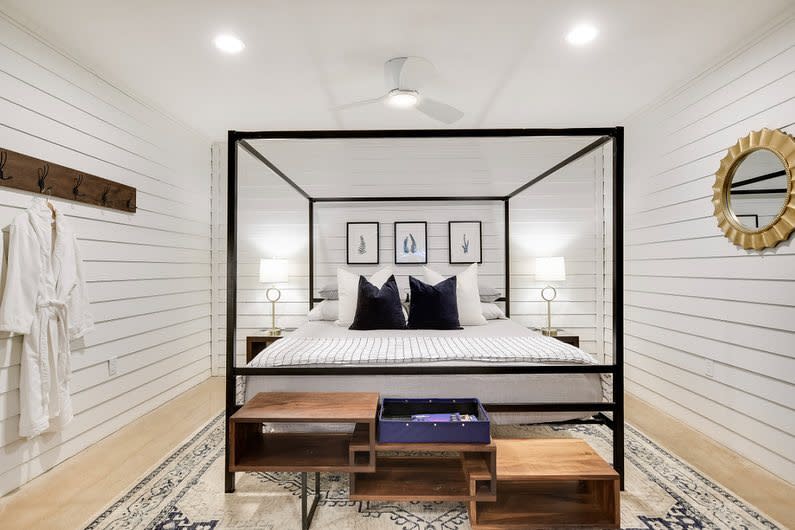 30. Shabby Chic Basement Vibes
Achieve the inviting charm of a shabby chic basement bedroom with these tips. Start with a distressed Victorian bed, upholstered in warm ocher, and complement it with a plush mattress for coziness. Enhance the ambiance with two hanging bedside lamps featuring ornate cutout designs, casting a muted golden glow for serene reading moments.
The shabby chic interior design brings old-world charm to your basement, creating a timeless and tranquil environment. Incorporate these elements to transform your space into a peaceful retreat.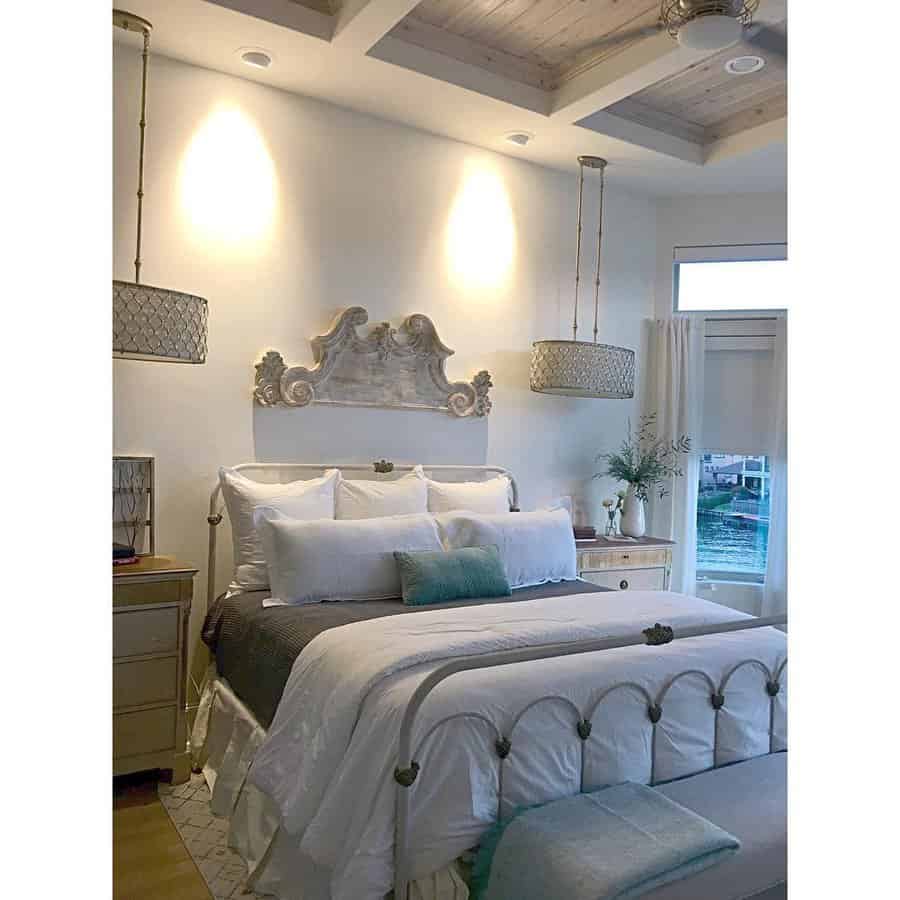 31. Classic All-White Bedroom
Design your basement bedroom as a serene all-white oasis with a touch of fresh green accents. Opt for white walls, furniture, and bedding to create a soothing atmosphere. Add allure with a billowing green blanket on a spacious white bed, inviting you to enjoy comfort and serenity. Whether it's for guests or your personal retreat, this classic all-white design provides a canvas for your creative inspiration in the basement.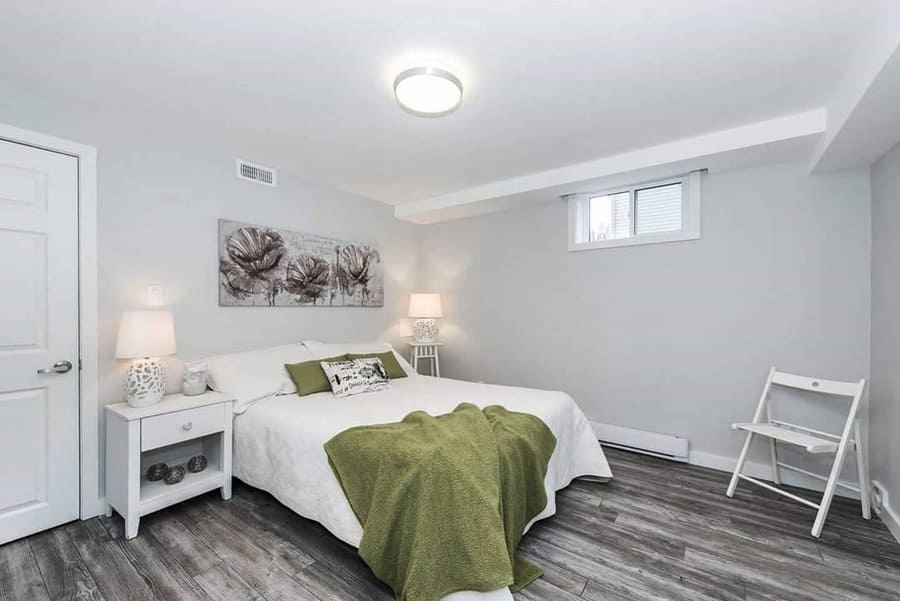 FREQUENTLY ASKED QUESTIONS
How can I ensure safety in a basement bedroom?
First of all, make sure you have at least one window, not only for ventilation purposes but also as an egress window, to allow for firefighters to get in should there be an emergency. Look for moisture and possible leaks and make sure you have proper insulation.
What kind of framing should I use in my basement?
Metal studs are better suited for humid environments. Opposed to wood studs, they do not warp or rot. Galvanized metal studs do not rust, mold, or attract termites. On the other hand, however, they are not suitable for load-bearing walls.
How to prevent the musty smell in a basement?
Besides the unpleasant smell, moisture affects the air quality and can cause asthma, allergies, and other respiratory conditions. Excessive moisture also attracts cockroaches and dust mites and contributes to other potential health hazards, such as mold. Make sure there are no leaks and keep the room clean, ventilated, and dust-free.
It is recommendable to use a dehumidifier, they are the easiest way to remove moisture. One old trick is to use white vinegar or baking soda that will absorb the odors. There are also products specially designed to absorb moisture and tackle musty odors. Consider having air purifiers as well, which can remove dust, bacteria, pollen, smoke, pet dander, and mold spores.