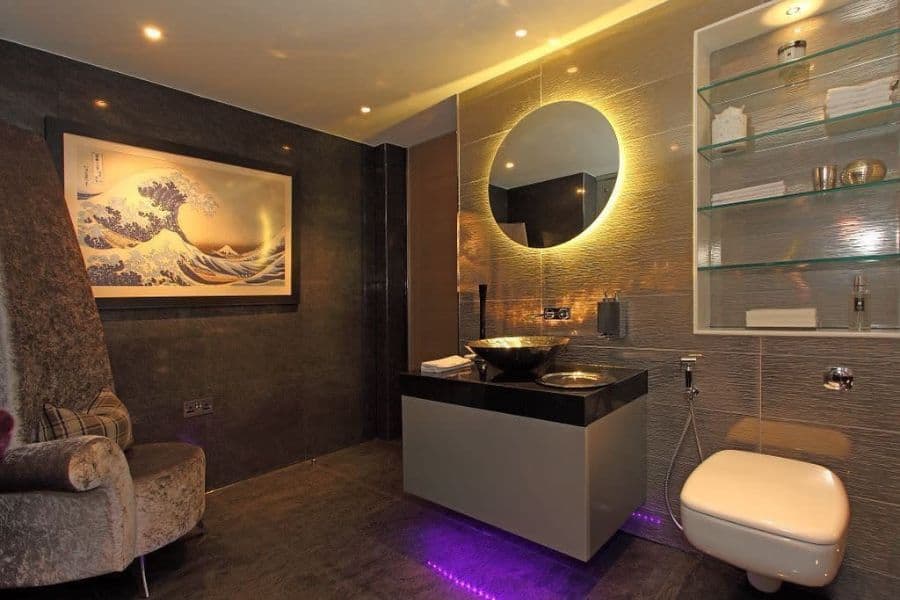 45 Bathroom Lighting Ideas to Brighten Up Your Space
No one likes a small bathroom, right? But what if the reason your master bath or powder room feels claustrophobic actually has nothing to do with the square footage? Instead, it could have everything to do with your bathroom lighting!
Curated fixtures and high-quality light bulbs can make a room feel like a completely different space. This is especially true for rooms without windows — i.e., most bathrooms.
There are far more options for lighting your home's bathrooms than you probably realize. Keep reading for our favorite bathroom lighting ideas and tips for utilizing them within your own interior design.
1. Install Multiple Recessed Lights
If you're looking to achieve superior bathroom lighting, multiple recessed lights are the way to go. Strategically scattered around the bath area, multiple recessed lights help ensure a well-distributed light and create an ambiance perfect for everything from daily tooth brushing to luxurious bath services.
Not limited to bathrooms, multiple recessed lights also work great in kitchens, living rooms, and bedrooms alike. Step up your lighting game today with multiple recessed lights!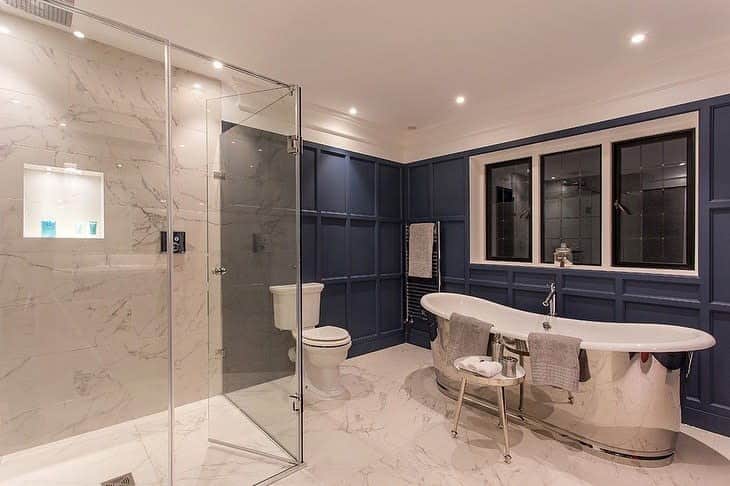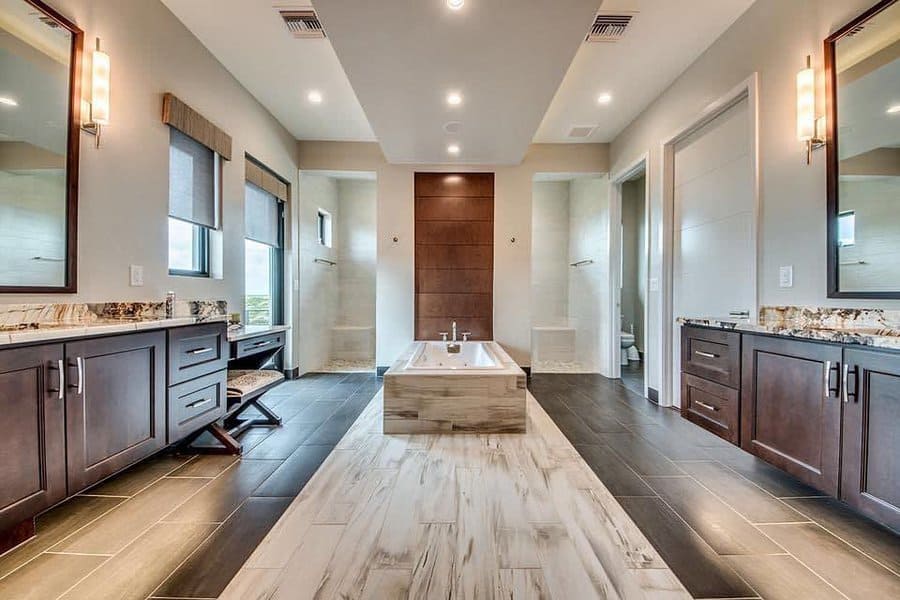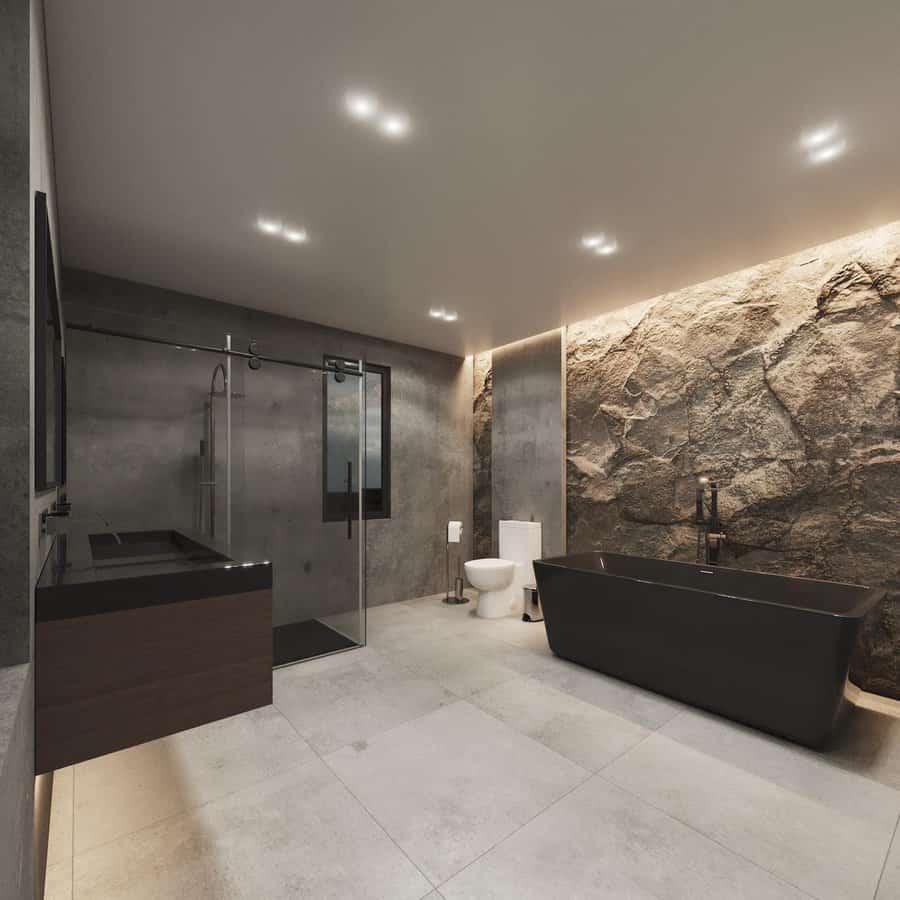 2. Add A Mirror Where The Lights Are Facing
Nothing adds to a bathroom's ambiance quite like the perfect lighting. One way to create an illusion of more lights in a small space is to make sure mirror surfaces face the lights, giving off the mirror reflection that illuminates the room.
It's amazing how much light and life you can bring into a smaller space simply by directing mirror surfaces toward your main source of light – whether it be sconces on the wall or recessed ceiling fixtures.
As a result, even what was once a small dark corner can become warm and inviting with the right type of lighting and placement. That's why thinking strategically about bathroom lighting is key to creating an ideal atmosphere.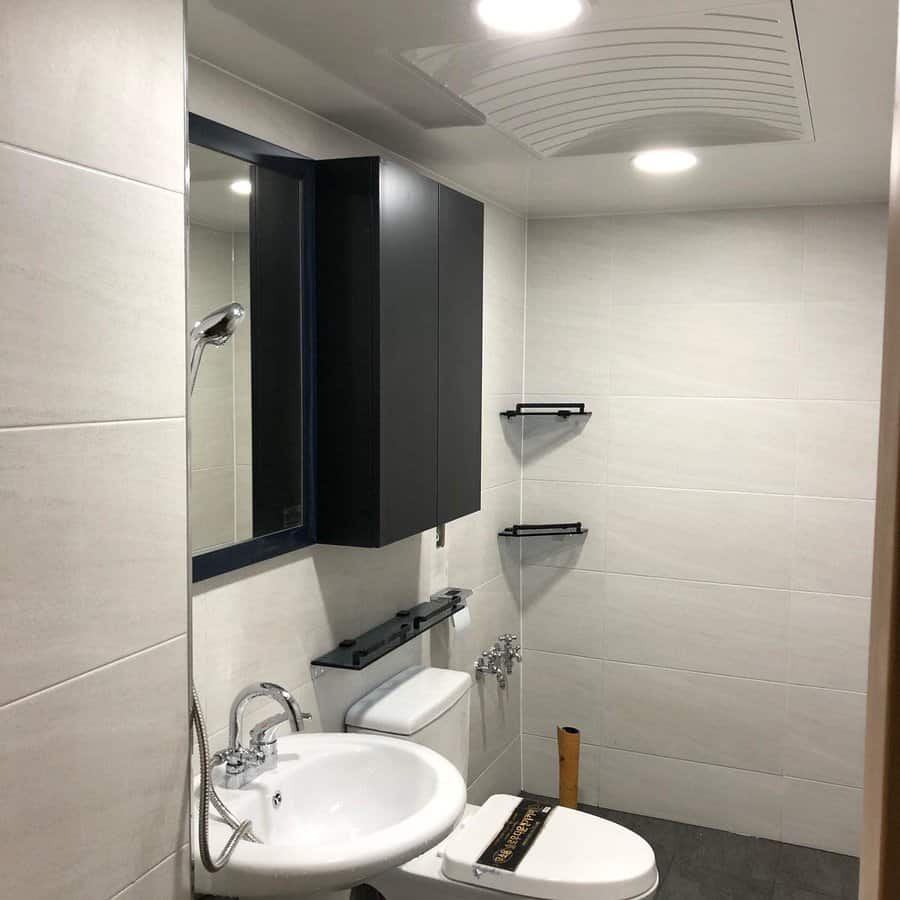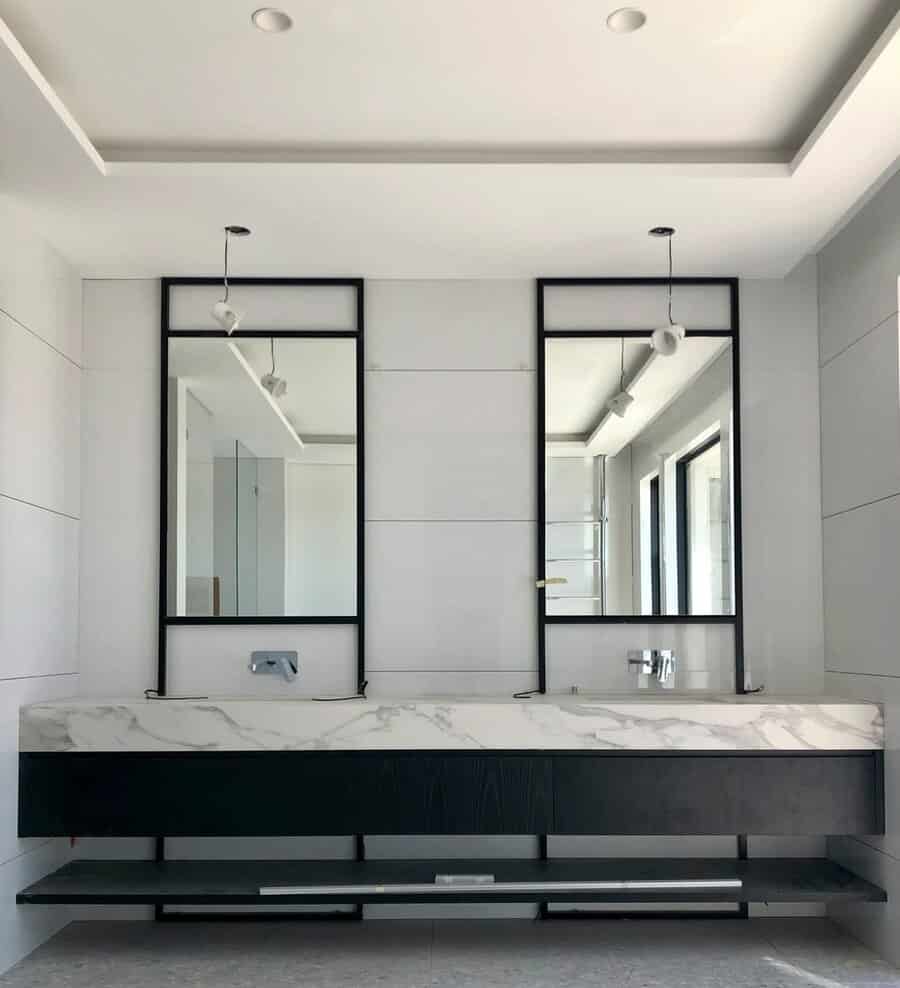 3. Create Soft Light With LED Strips
LED strips on the ceiling or wall-lights can become a subtle design feature and add a touch of ambiance – perfect for those sleepy mornings. With LED lights you can also create a soft lighting effect which gives that feeling of relaxation and comfort, without too much of harsh light.
LED bathroom lighting is no longer just practical; it's a chance to turn any bathroom into an oasis.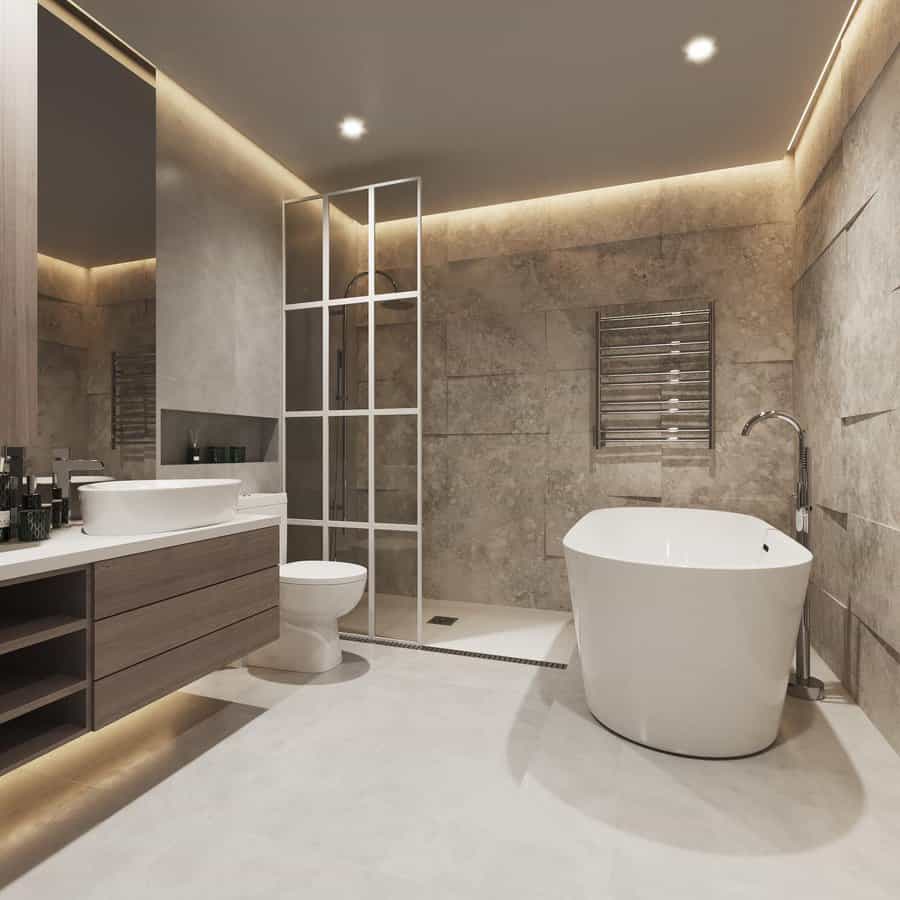 4. Put Up A Chandelier
Bathroom lighting can make a real statement in your home. Chandeliers are the perfect way to give your room an elegant and elevated look while providing ample light for daily tasks.
Installing statement chandelier lighting brings a touch of glamour and sophistication that you can't find anywhere else. With the right chandelier adding an extra touch of class to your bathroom, it's sure to become the highlight of your décor.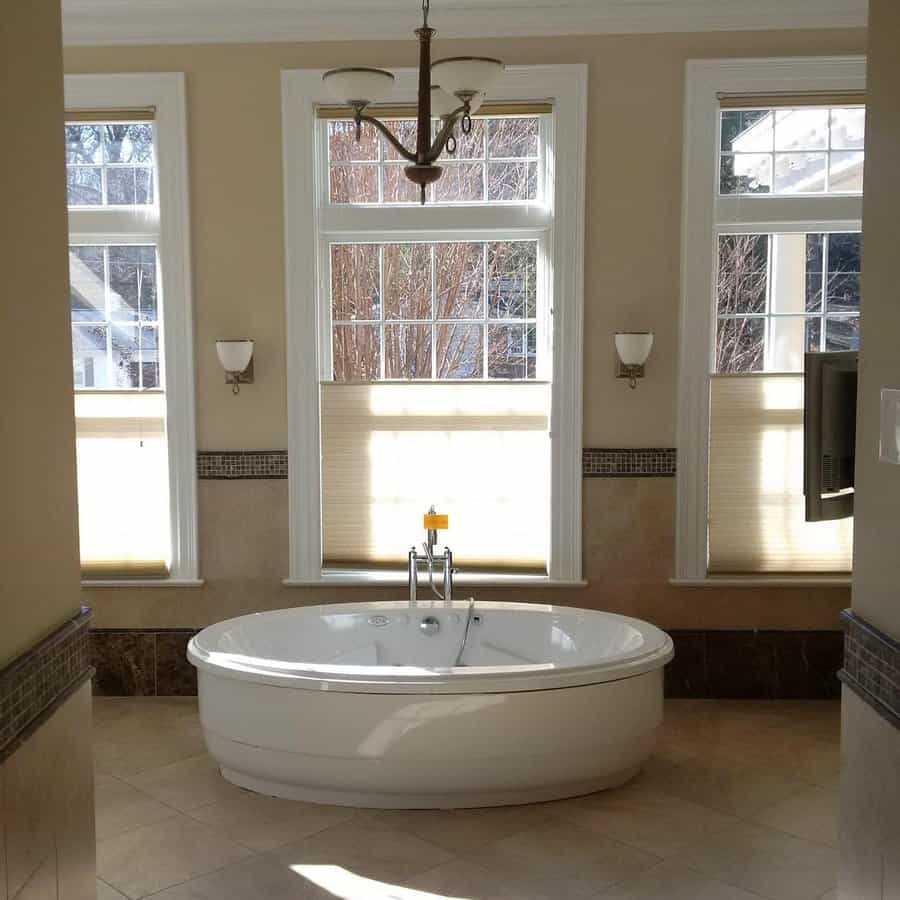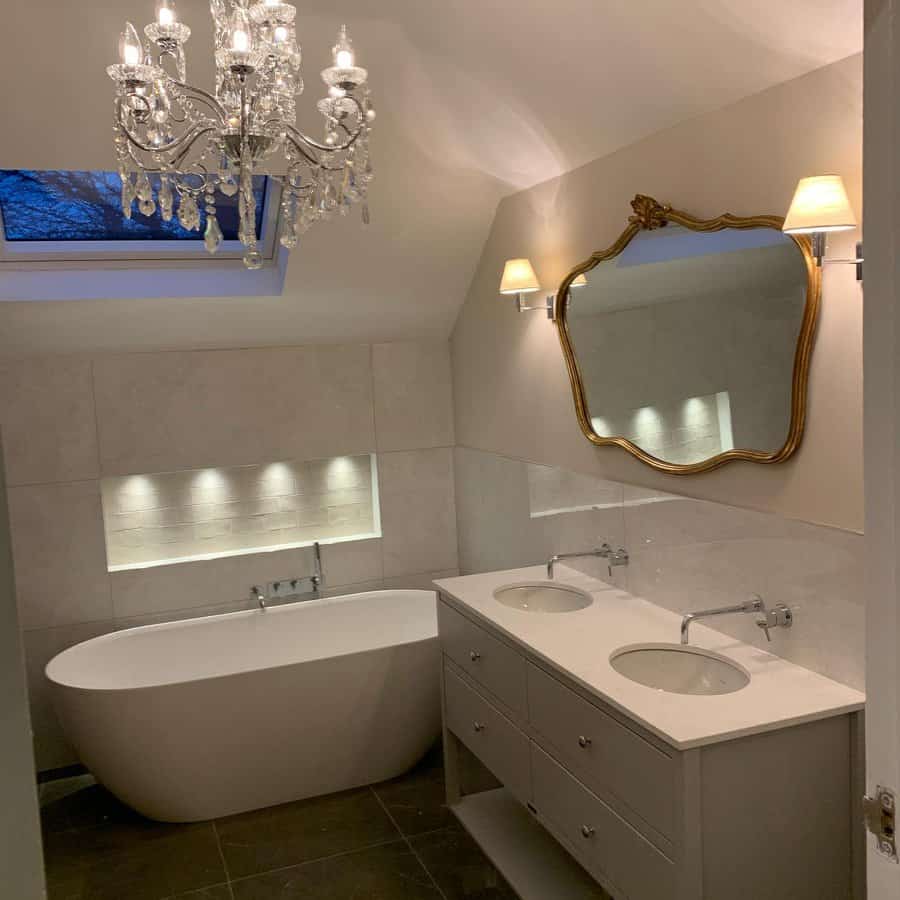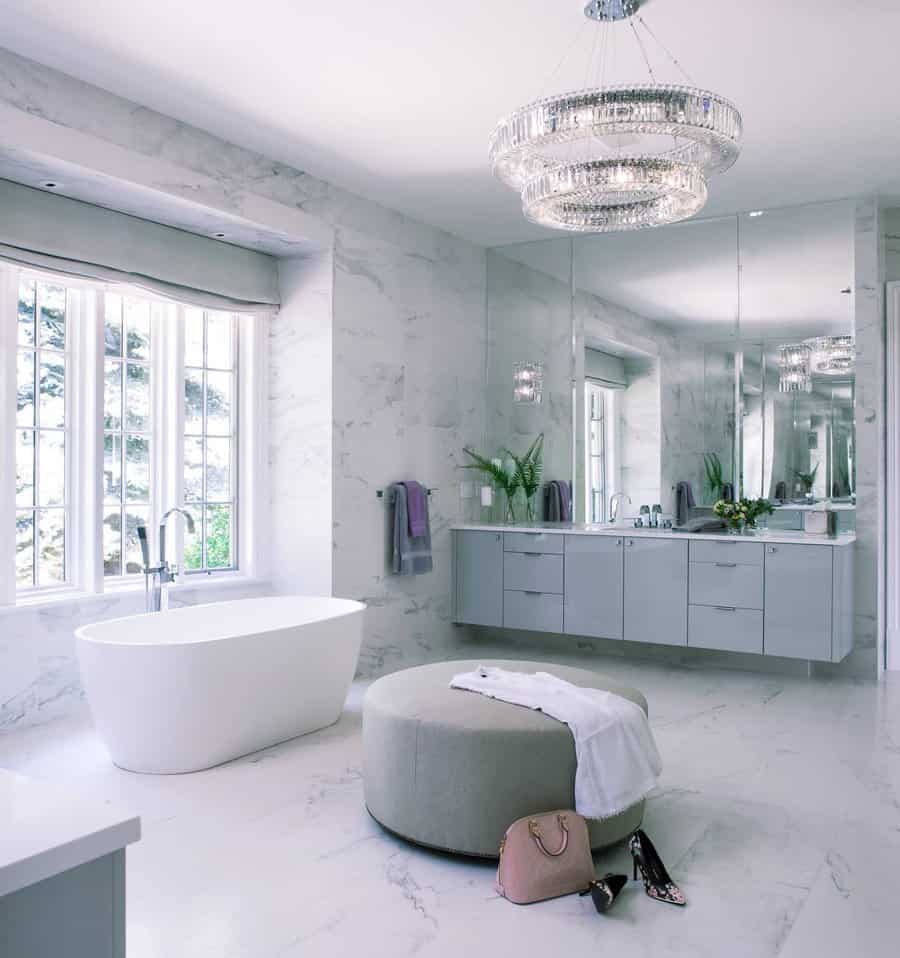 5. Add Pendant Wall Sconces
Pendant wall sconces offer a modern and minimal look that can create a truly stunning accent to the bathroom. By having pendant sconces on either side of the mirror puts it as the main focal point and brightens up the entire room for a contemporary finish.
With this kind of lighting, you don't need to worry about harsh fluorescents or over-the-mirror lighting taking away from your overall design; pendant wall sconces will put everything into perspective!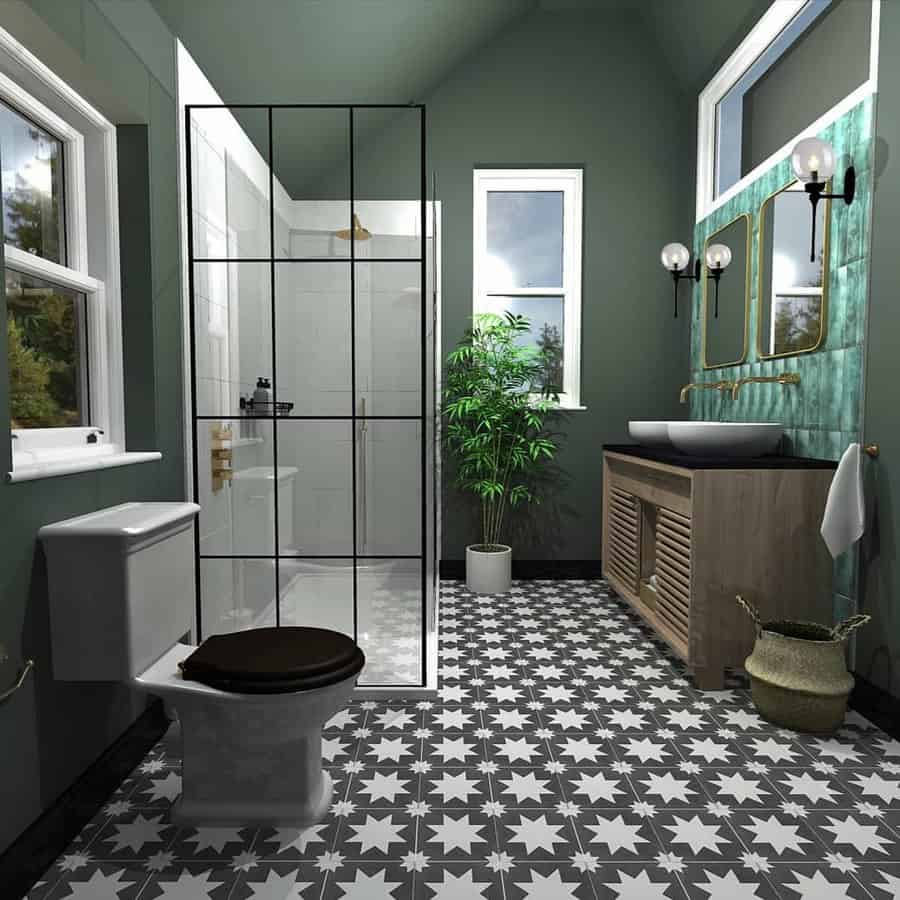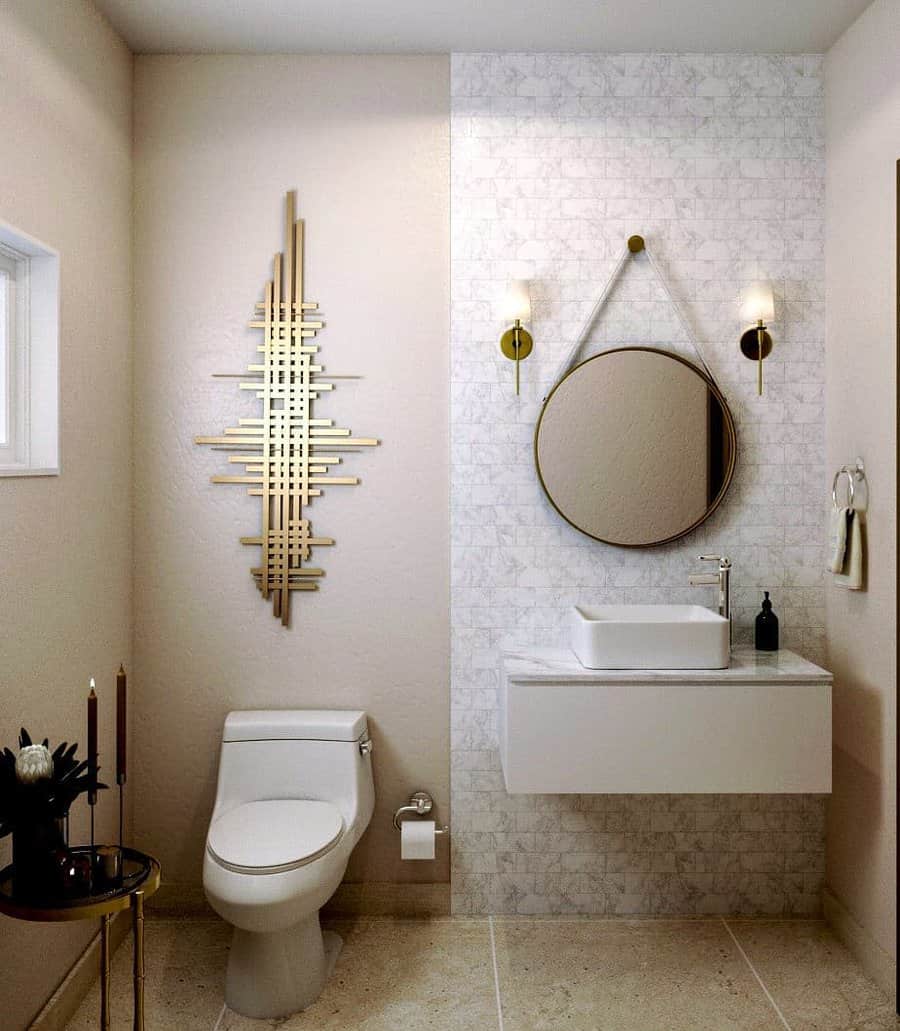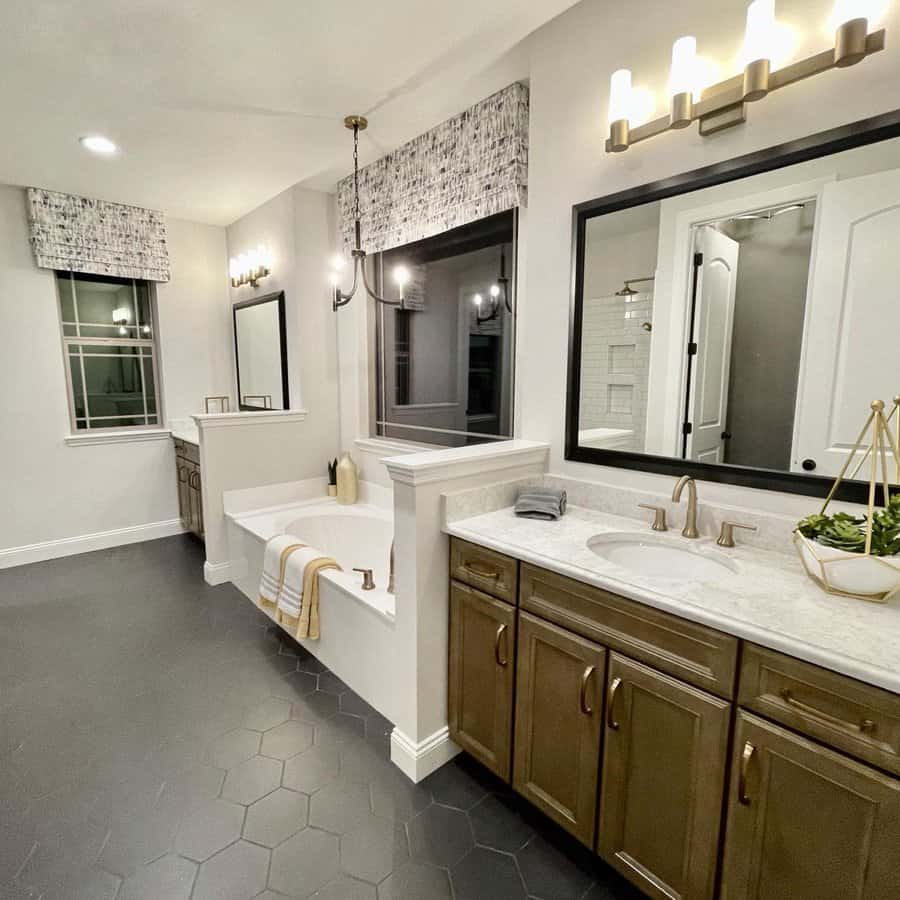 6. Illuminate With Modern Jewel-like Lighting
The bathroom can be so much more than a functional space. Adding geometric pendant lamps with jewel-like detailing creates an inviting, soothing atmosphere and adds just the right amount of accent to take your bathroom's design up a notch. Choose one or several designs for maximum effect and watch as your bathroom becomes the highlight of your home!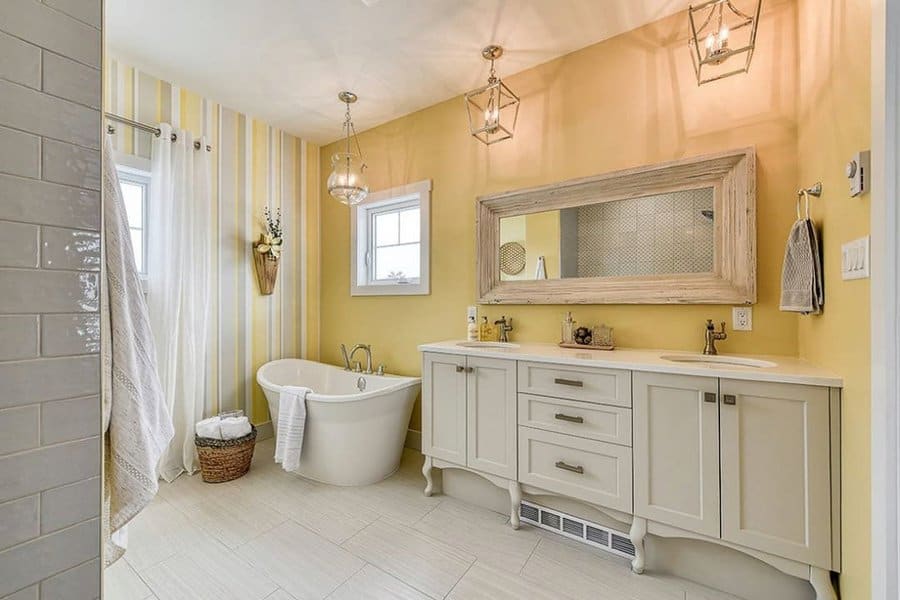 7. Go Retro With Glass Pendant Lamps
Retro glass pendant lamps lend a stylish and versatile touch to any bathroom. Whether you're looking for something subtle that blends in with the aesthetic of your home, or something which stands out as a bold feature – retro glass pendant mirror lamps are sure to make an impression.
With 6 retro designs and many colors and sizes to choose from, retro glass pendant lamps offer the perfect finishing touch to your modern bathroom!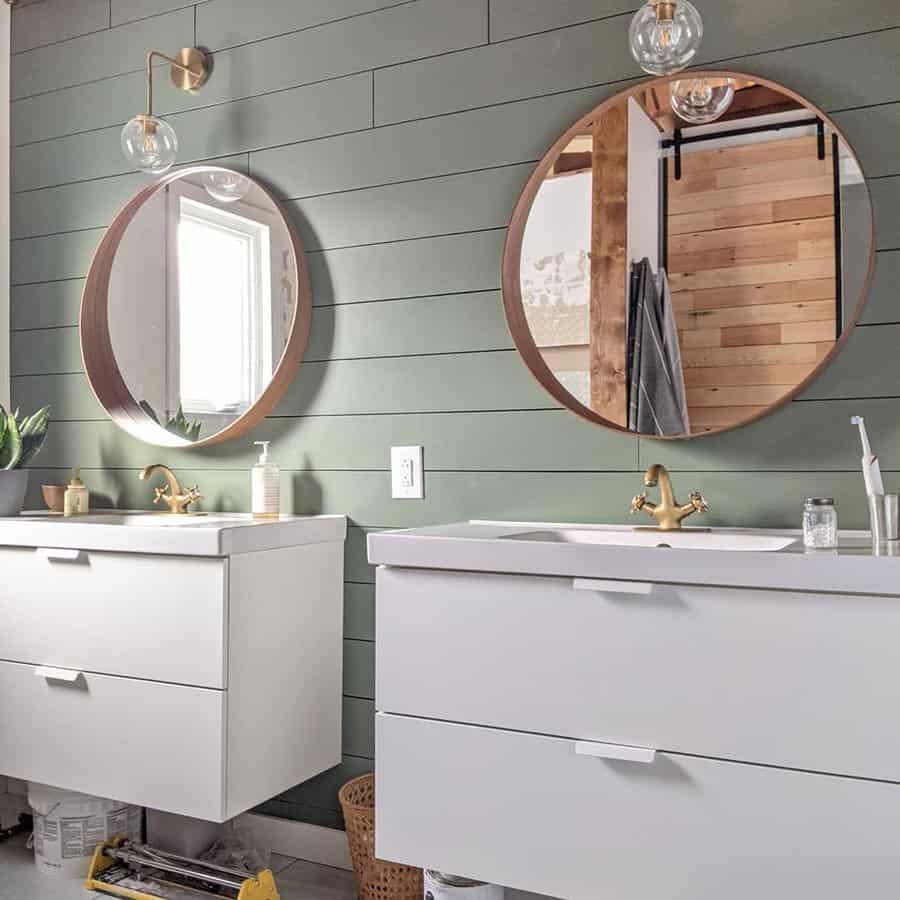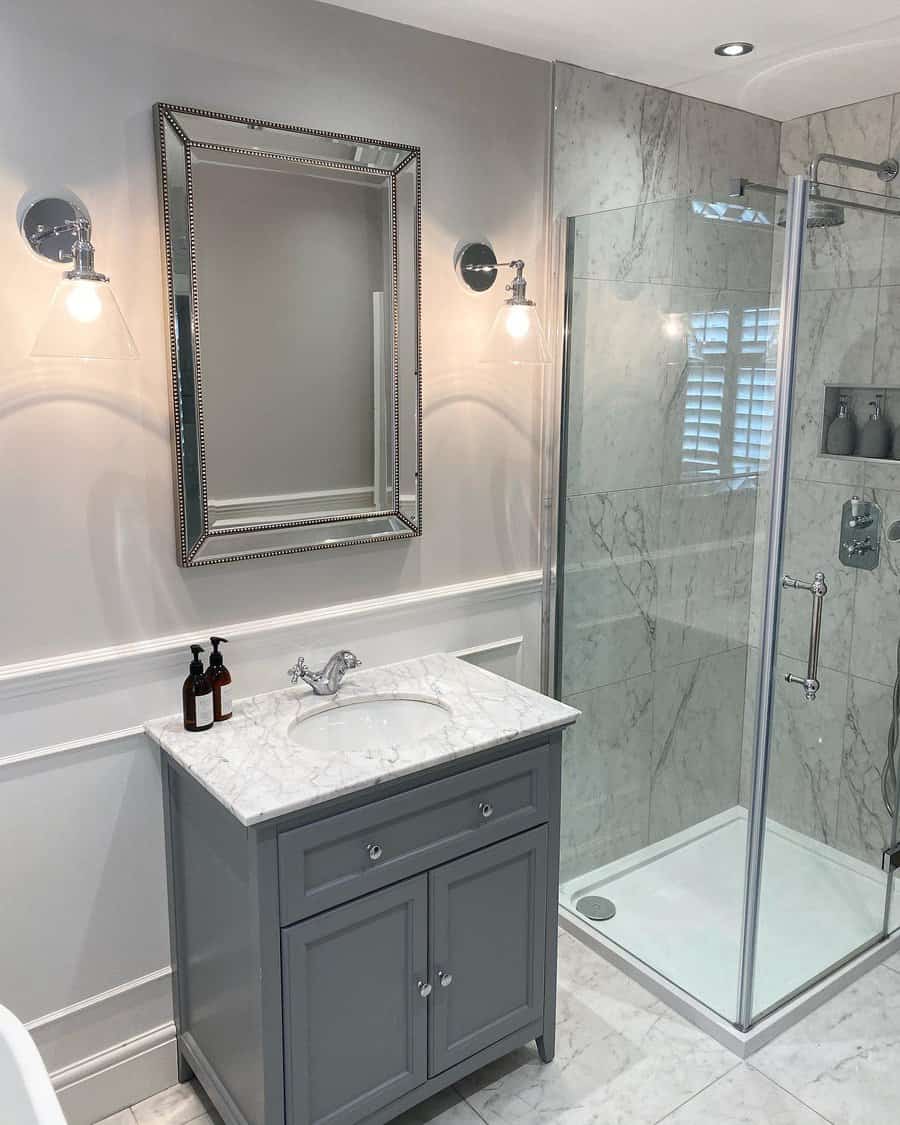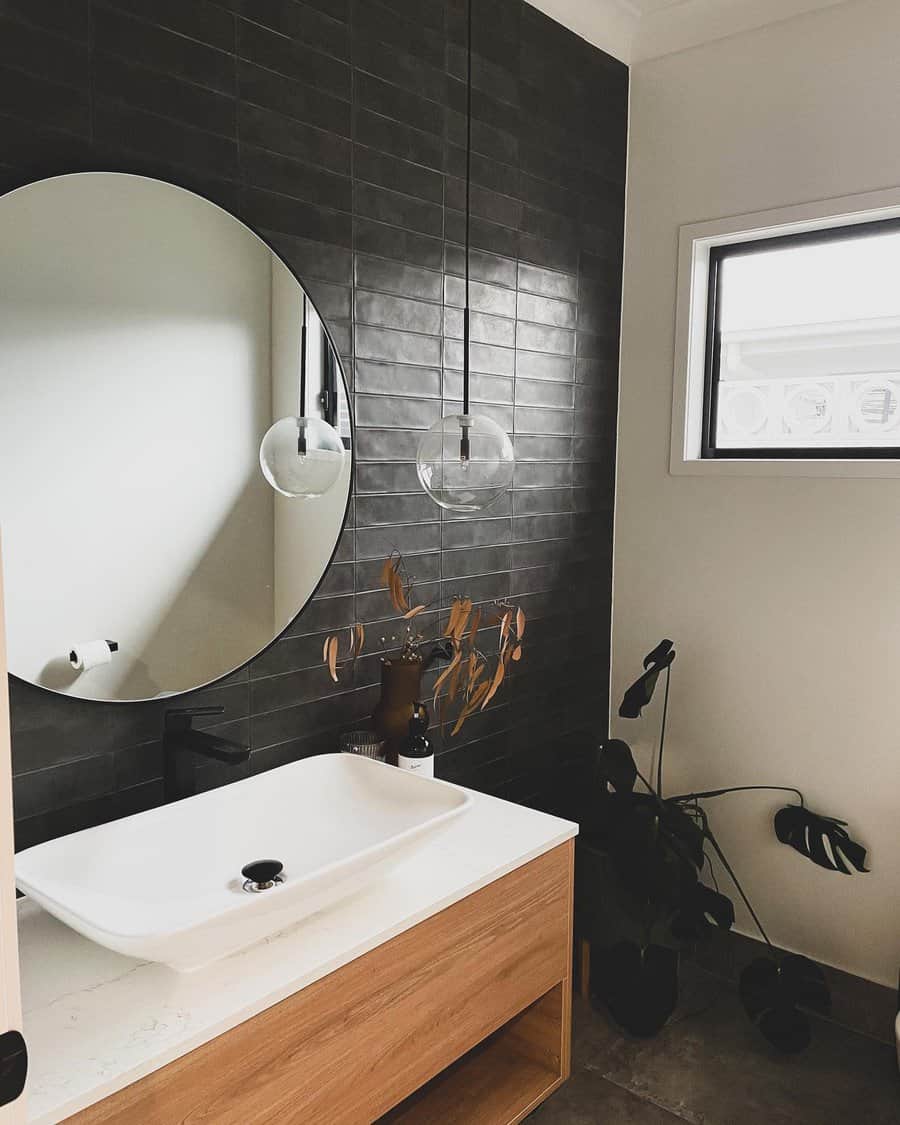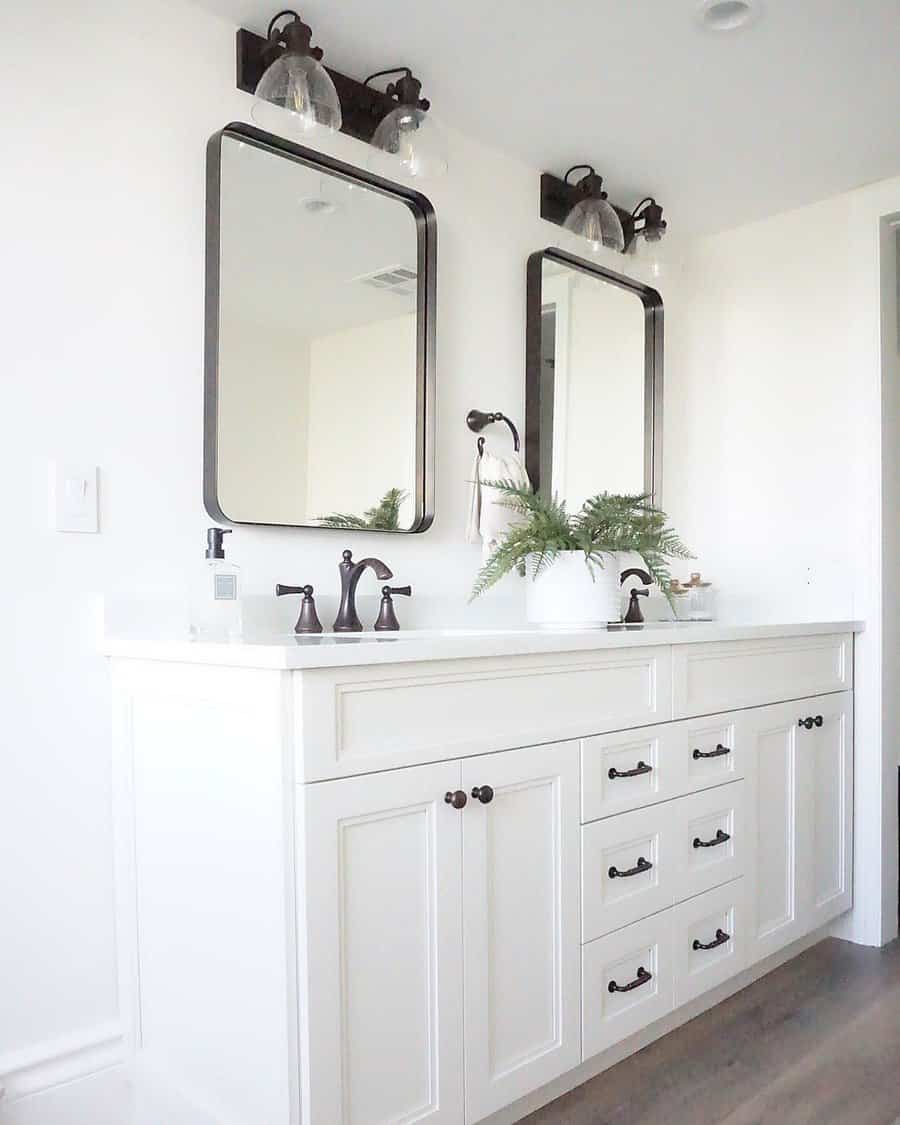 8. Keep It Simple With A Geometric Lighting
Adding the perfect pentagon minimal chandelier to your bathroom can make all the difference in transforming it into a clean and modern interior. With this unique pentagon style, you'll be able to brighten up the bathroom with both a contemporary design and timeless elegance all at once.
The pentagon minimal chandelier is sure to make an instantly noticeable statement, filling the room with radiant light and a cozy atmosphere. No matter what size of space you have, this pentagon-shaped chandelier makes it possible for you to restyle any room into one that reflects just the essence that you've been dreaming about. Your home will never look better than with effortlessly beautiful bathroom lighting.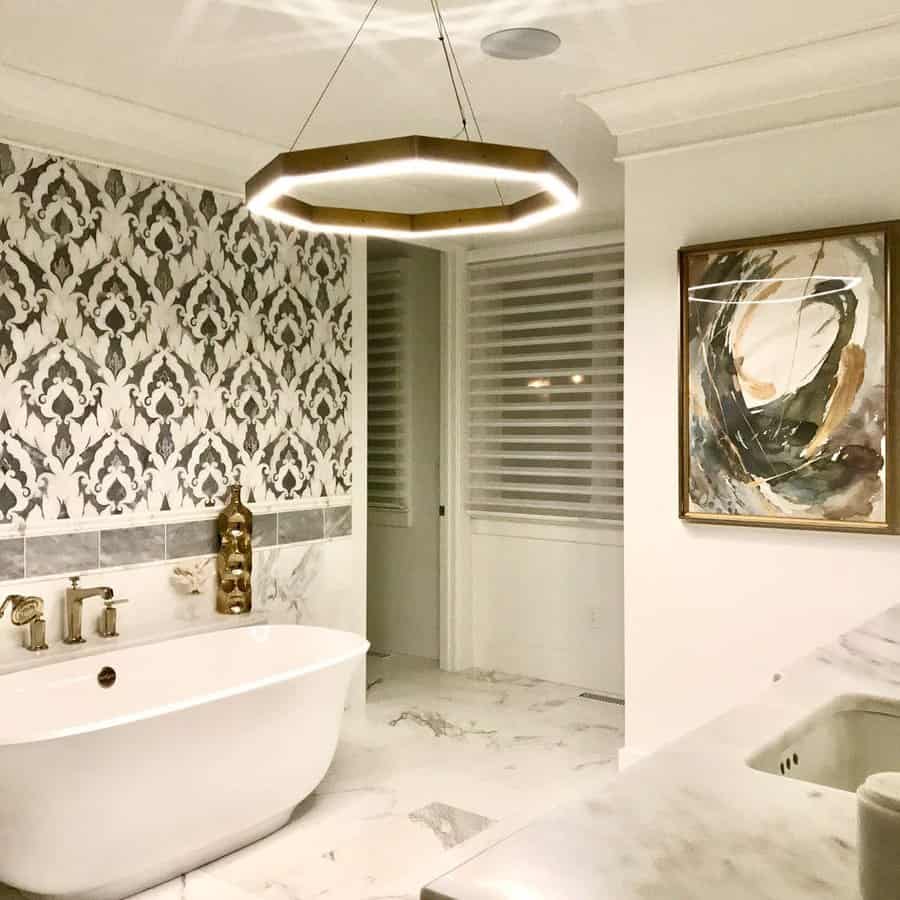 9. Attach Sconces To Full-length Mirror
Sconces attached to a full vanity mirror create a unified, seamless look that is perfect for the modern bathroom. These sconces create bright and inviting light around the mirror, putting an end to any shadows and allowing you to see yourself clearly from every angle.
The sconced vanity look also allows for flexibility in terms of the actual sconces being used, so you can easily switch things up depending on your desired mood or theme. With sconces attached to a full vanity mirror, bathroom lighting can be both beautiful and practical!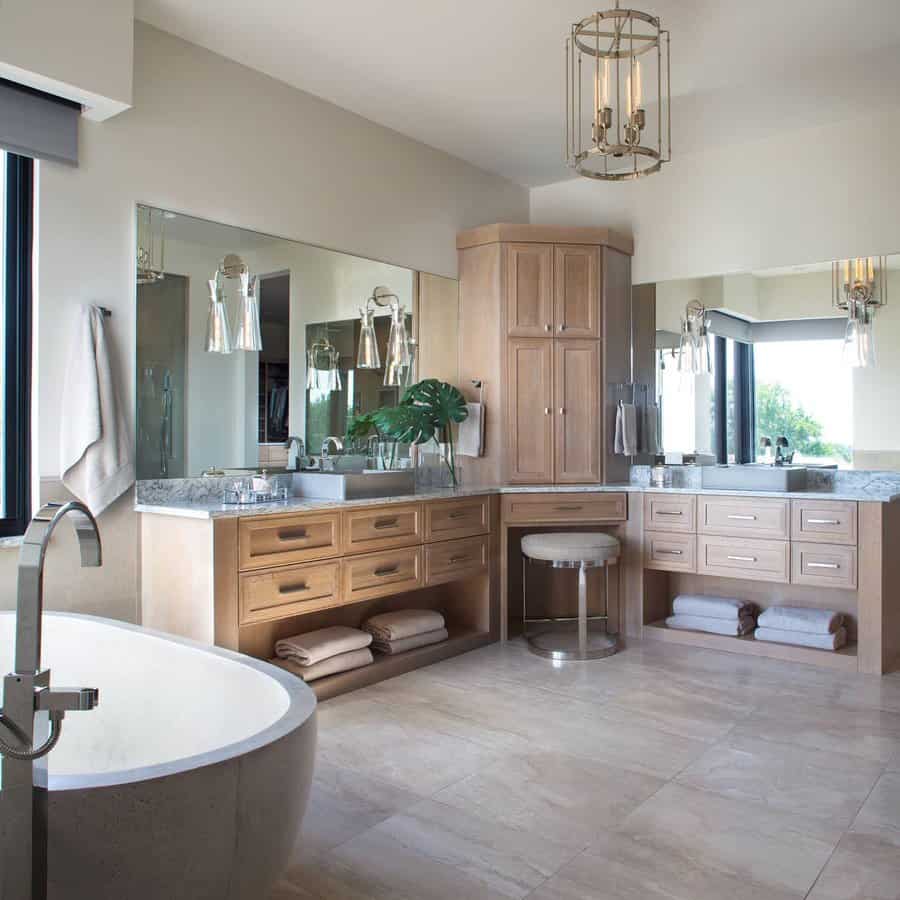 10. Complement Soft Elements With Black-framed Sconces
One of the most dramatic yet timeless options is black framed sconces. Their bold, striking stance makes them a perfect contrast against a bathroom that typically has more soft elements and colors.
Not only will black sconces help to create a new dynamic, but they can be combined with other styles to liven up any layout. From modern and industrial to rustic and romantic, black framed sconces give you the power to take creative control of your bathroom lighting.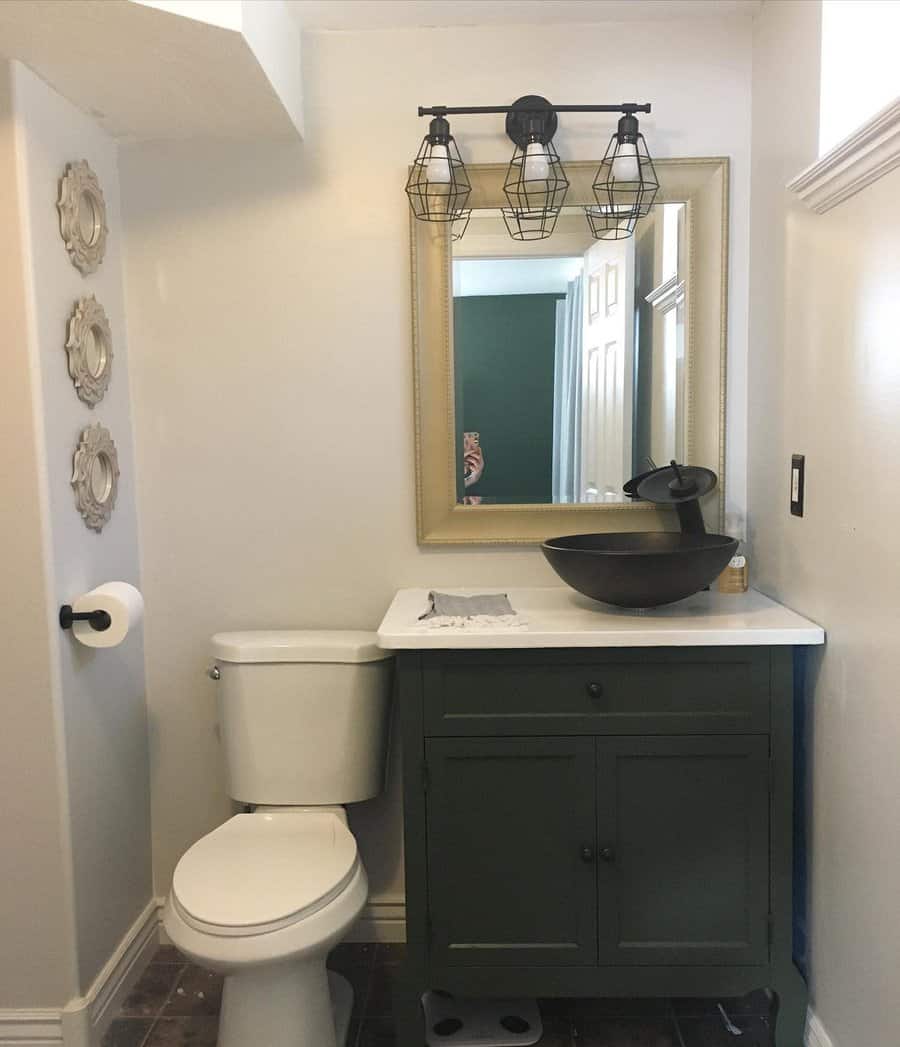 11. Set The Mood With An LED Mirror
For a brighter look and feel, LED mirror lights are the perfect way to meet all your illumination needs. More luxurious than LED strips and easier to install, LED mirrors provide a pleasant soft light and help give your room a polished appearance.
Whether you're looking for a bright light to help with makeup application or just want gentle illumination while you brush your teeth, LED mirrors can truly help you set the mood.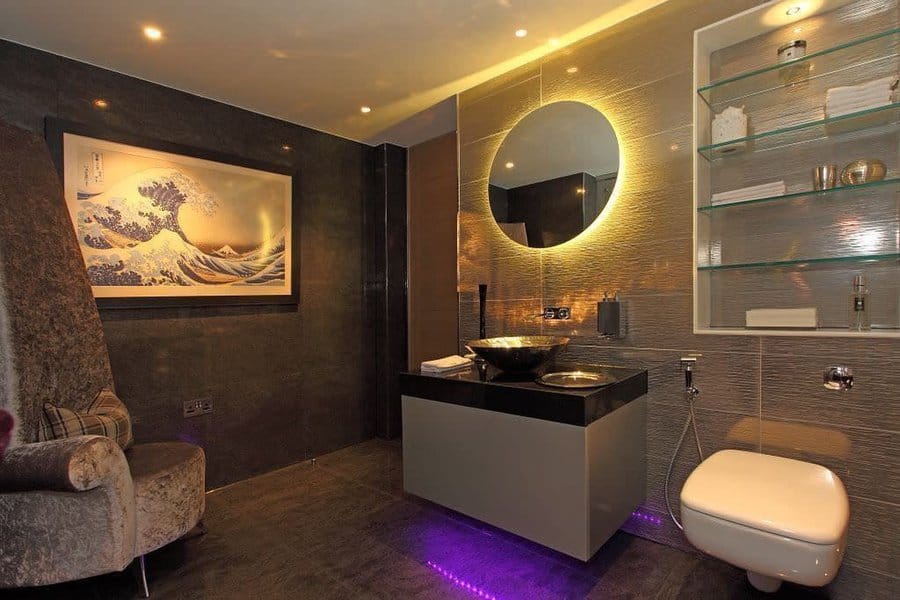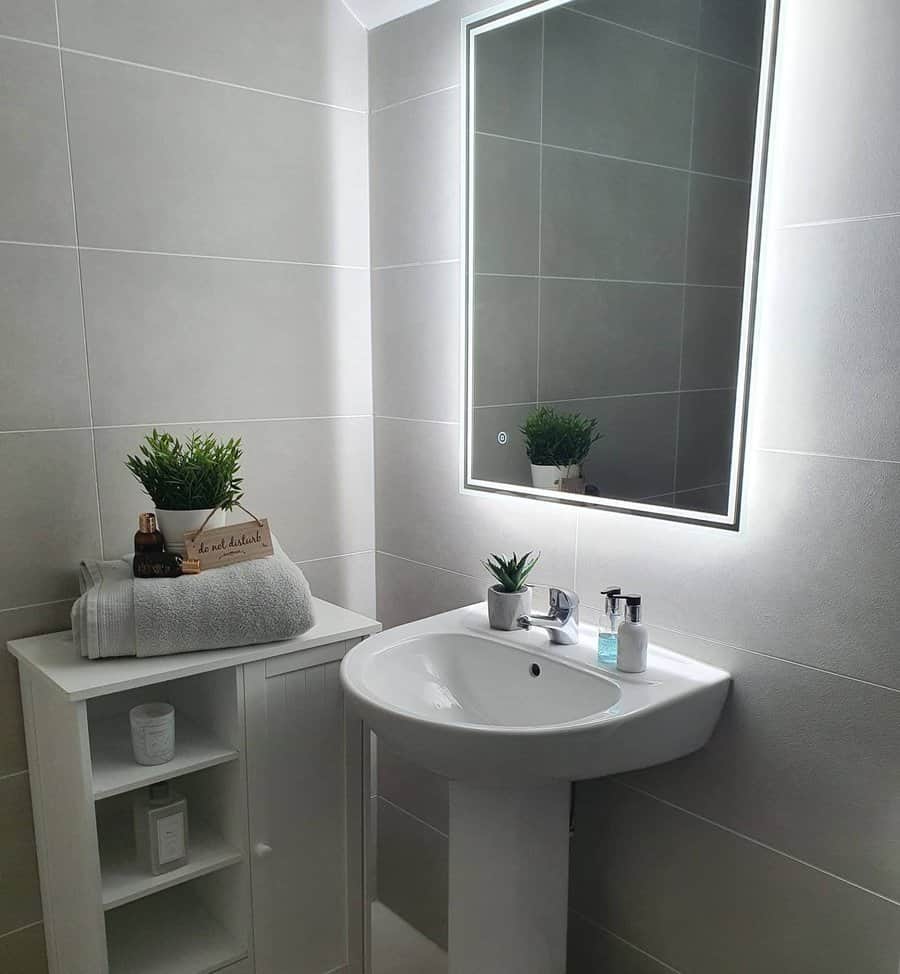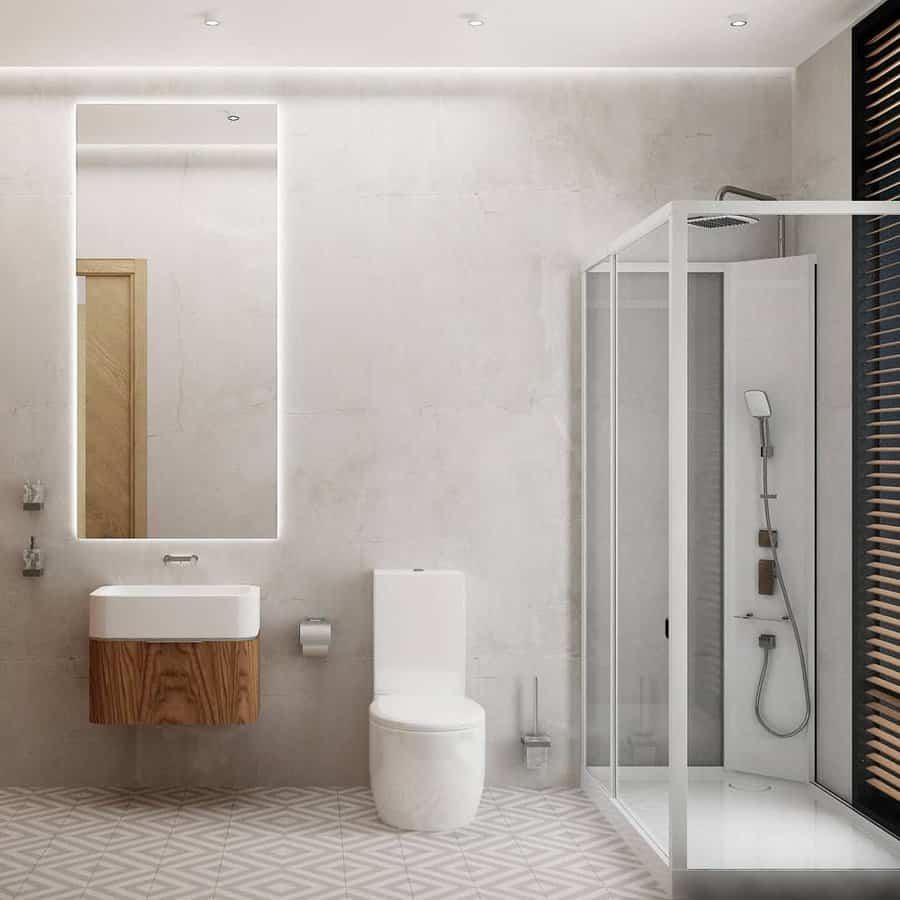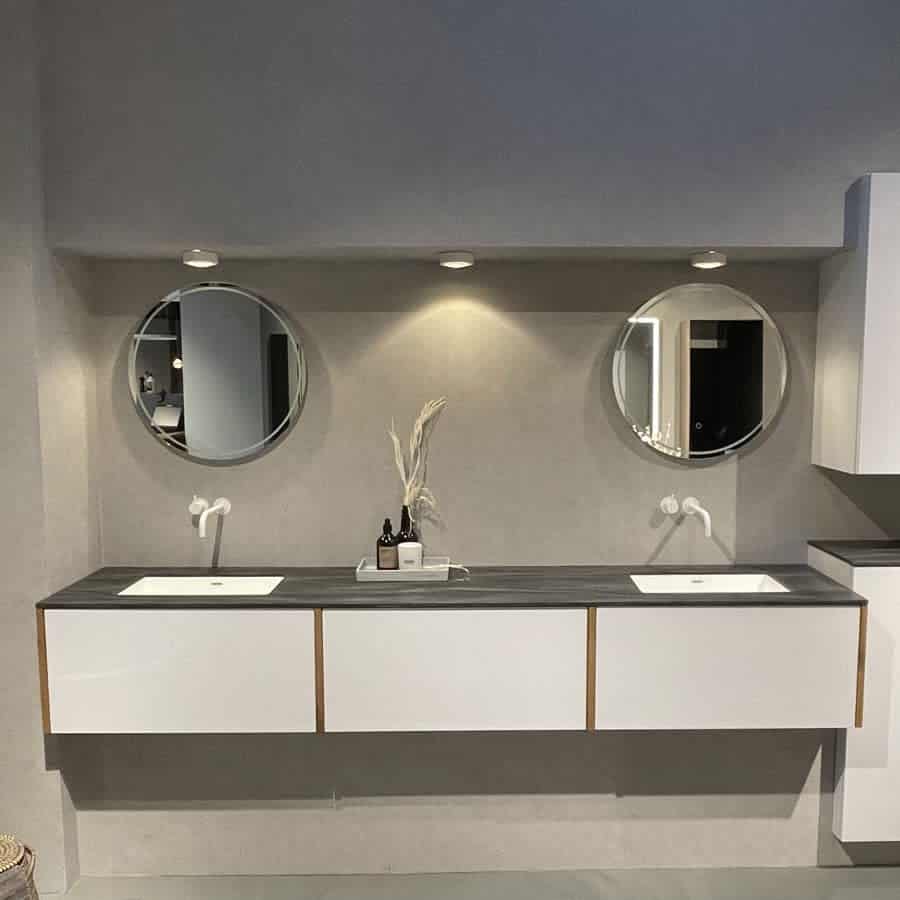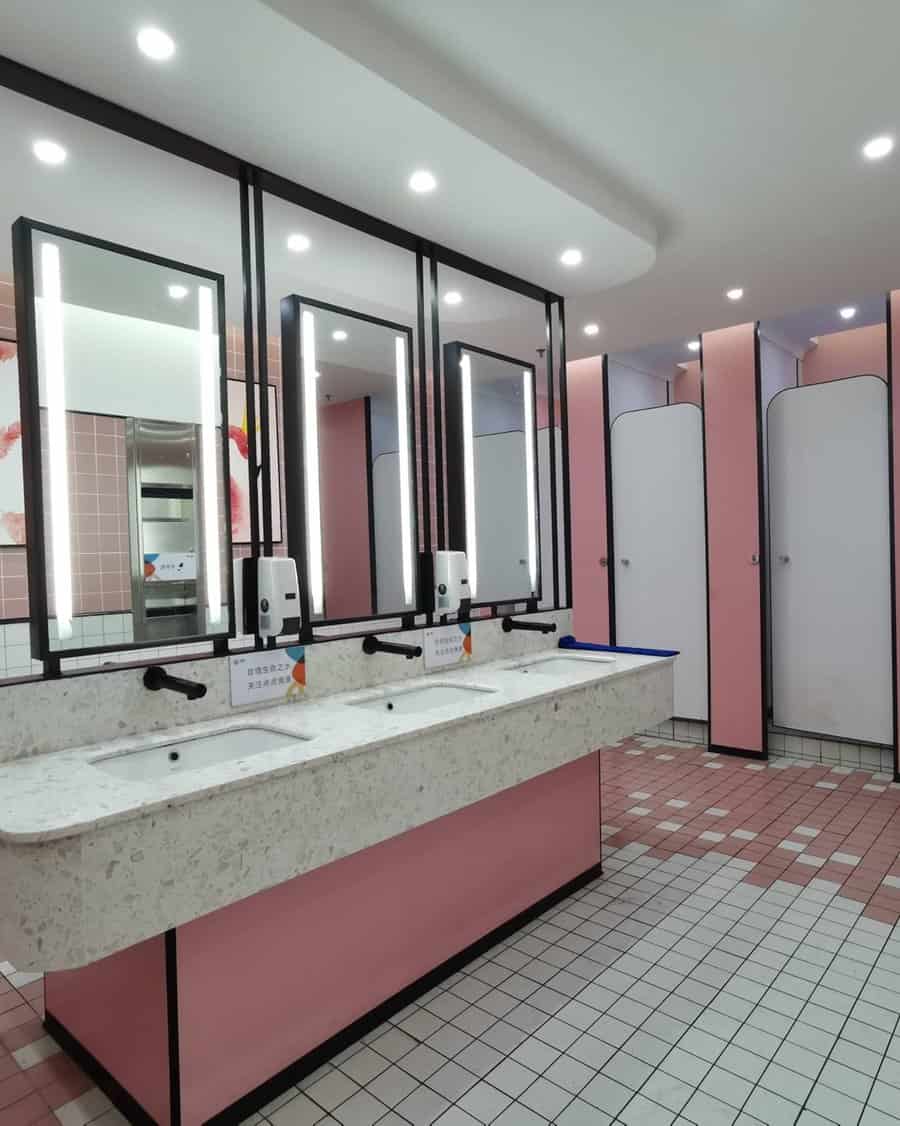 12. Be Subtly Maximalist With A Mini Chandelier
The perfect mini chandelier in your small bathroom can bring fanciful style and luster while making it feel chic and inviting. Bathroom lighting is a great way to add an extra touch of sophistication to your smallest of spaces.
A mini chandelier is an excellent accent to a small bathroom, providing both light and glamour to any environment. With the right mini chandelier, you can have a spacious feel in an area with limited square footage.
Whether you're looking for luxury or a budget-friendly option, there are mini chandeliers that are sure to create the perfect atmosphere for any bathroom.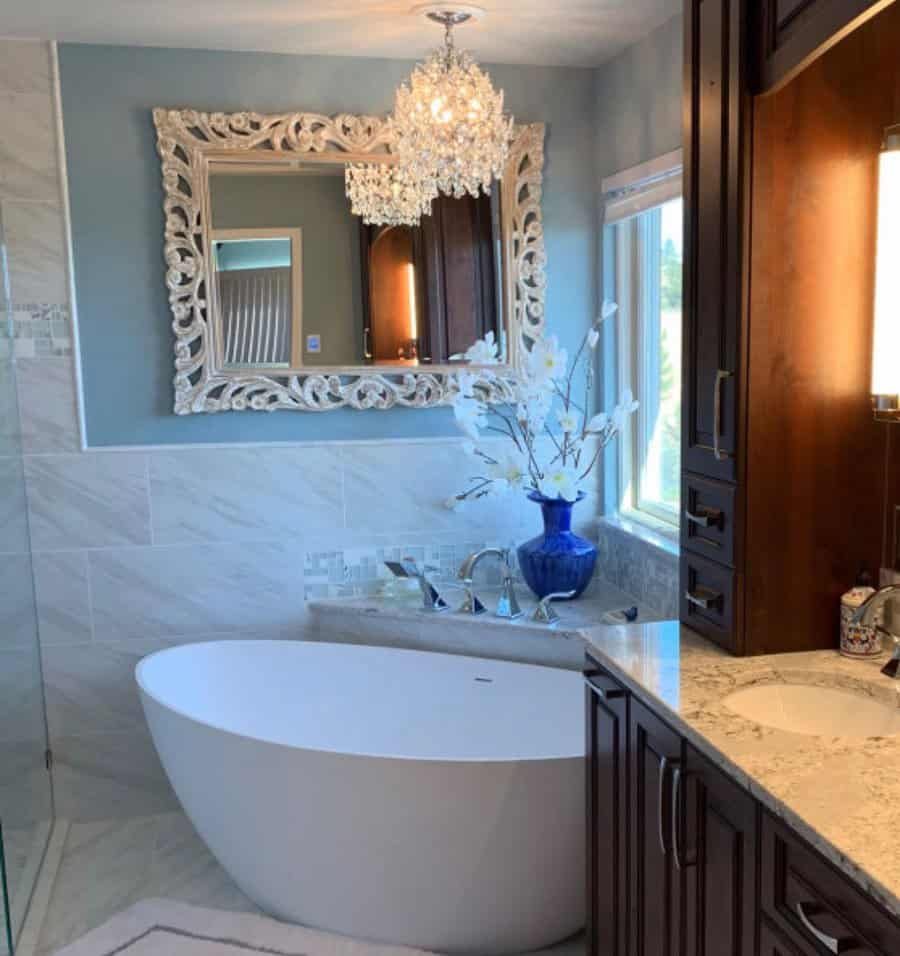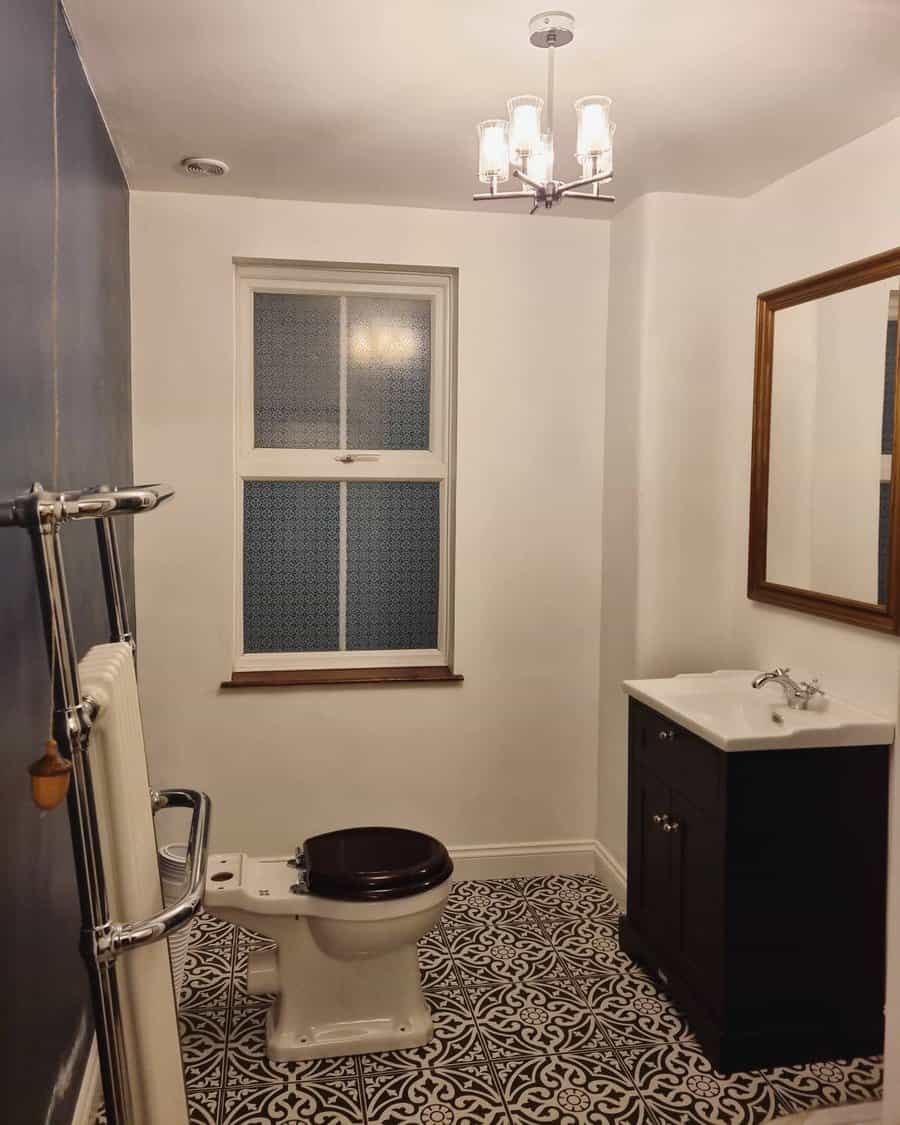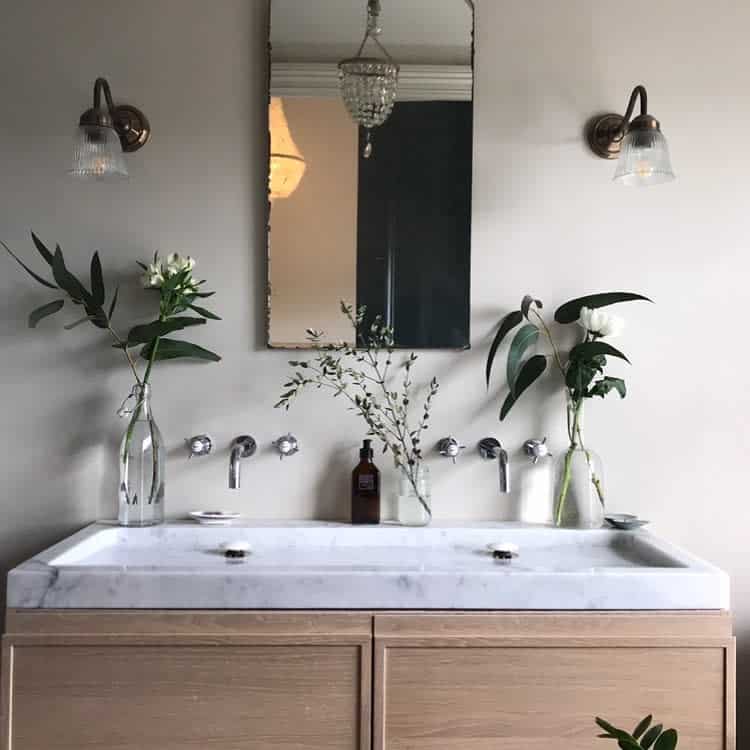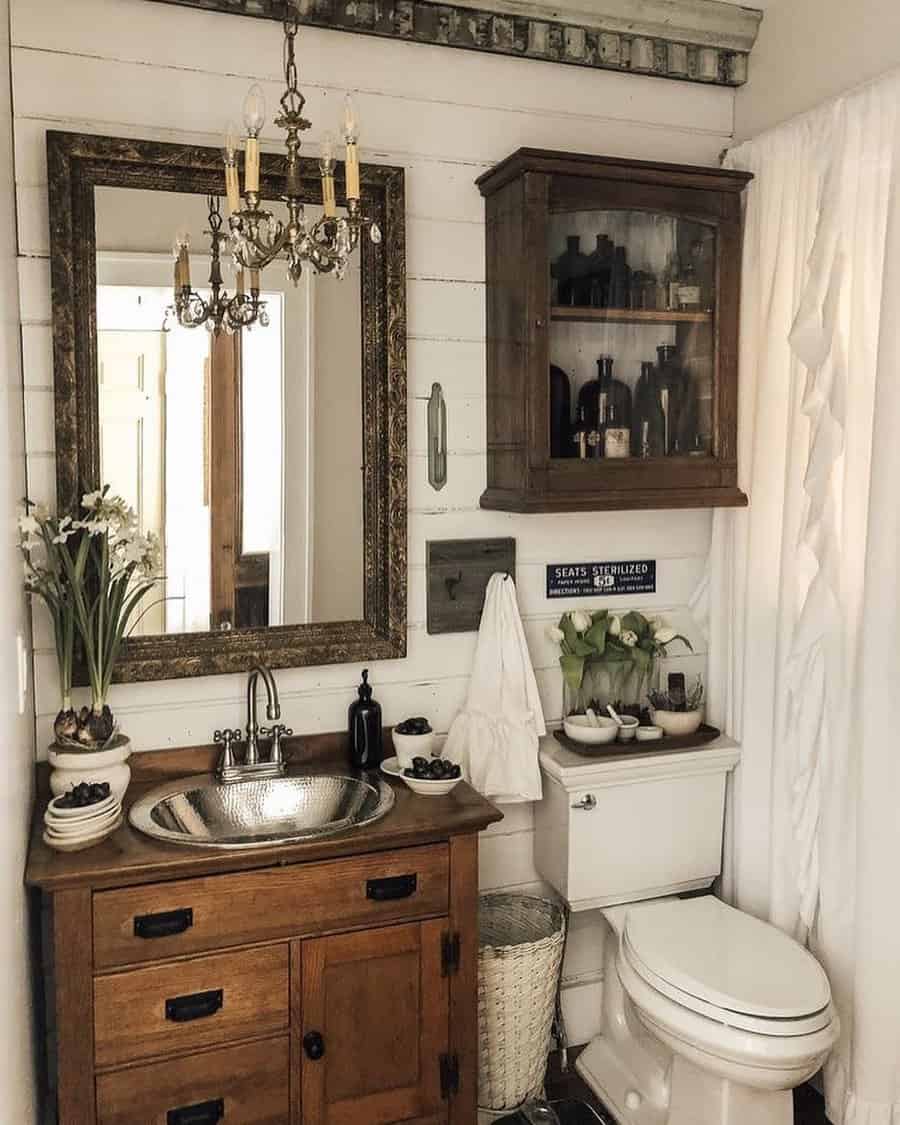 13. Glamorous Gold Crown Chandelier
When it comes to modern contemporary bathroom lighting, few statements make as bold a statement as installing a gold crown chandelier. This breathtakingly beautiful piece radiates class, elegance, and modern sophistication in any setting.
The golden color sparkles warmly and the intricate details of the chandelier add an air of modern refinement that will elevate any boring bathroom into a modern masterpiece. Installing this luxurious fixture will instantly turn your bathroom into an oasis of modern style and sophistication; you'll never want to leave!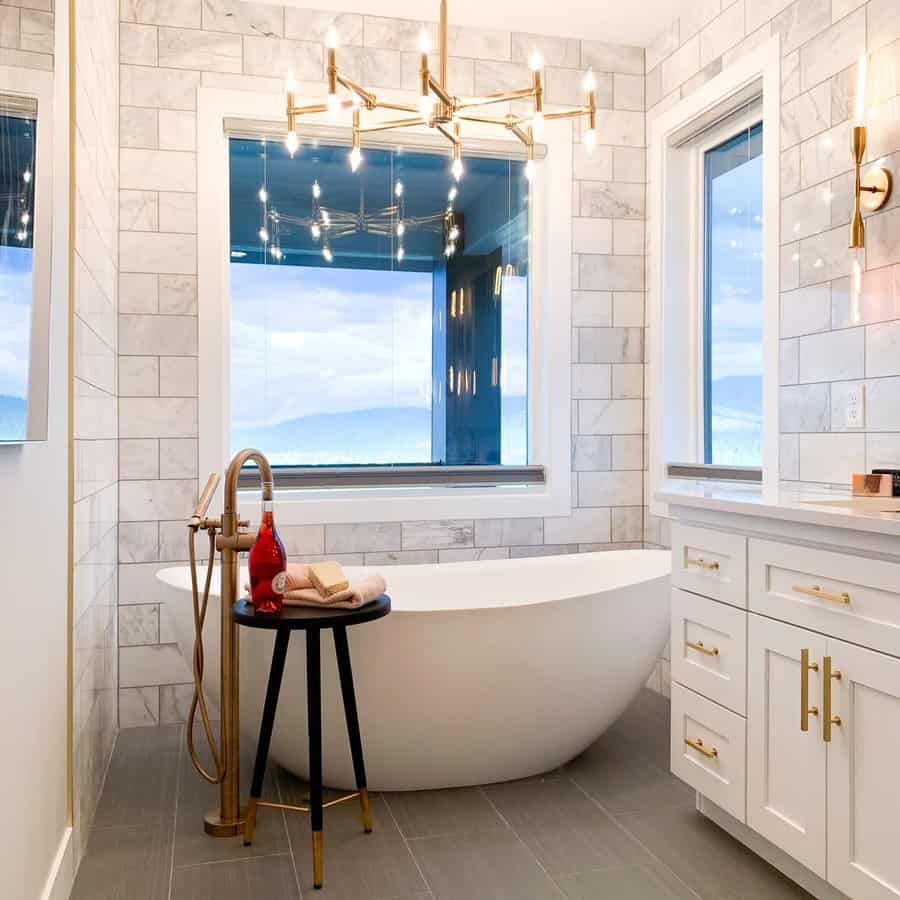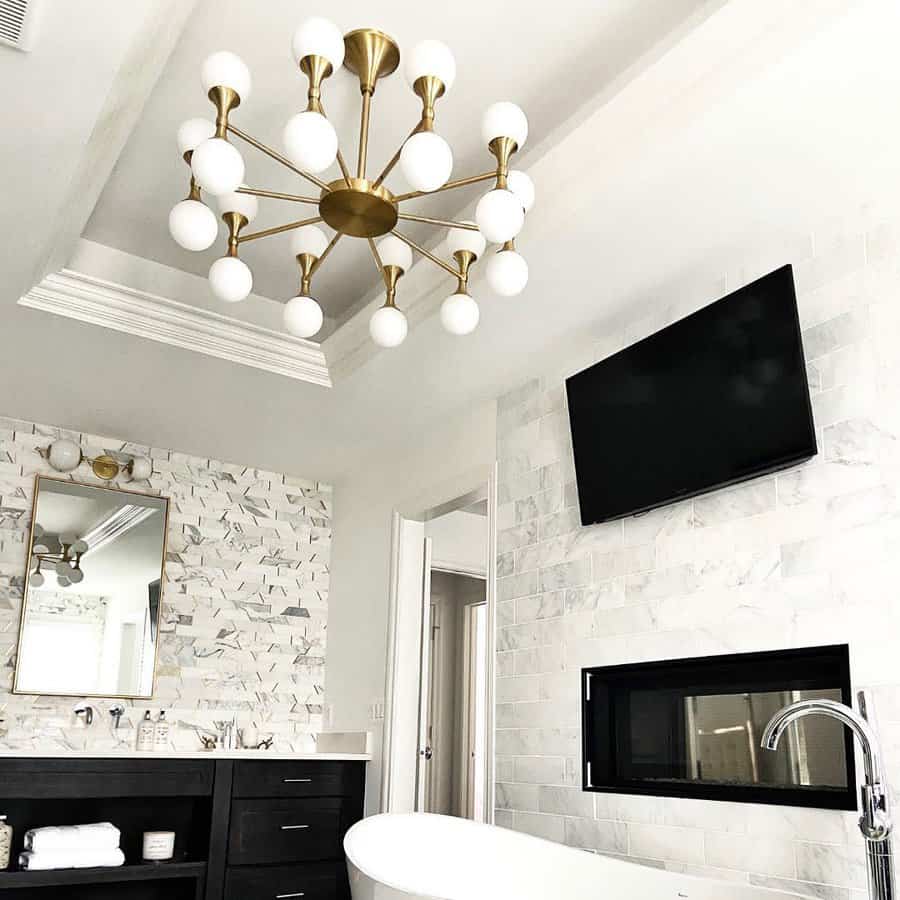 14. Boost Nostalgia With Vintage Fixtures
For traditional and transitional bathrooms, vintage pendant sconces make a great option for lighting. Not only do they provide bright, clear overhead lighting to allow anyone in the space to properly see everything they're doing, but they also offer an aesthetic splash that isn't too overbearing or excessively modern.
Pendant sconces come in a range of vintage styles with long cords connecting the sconce's pointed light source to any wall surface and adding an extra touch of character. Whether you choose multiple vintage pendant sconces or just one, bathroom lighting can be anything from functional to fun depending on your desired style.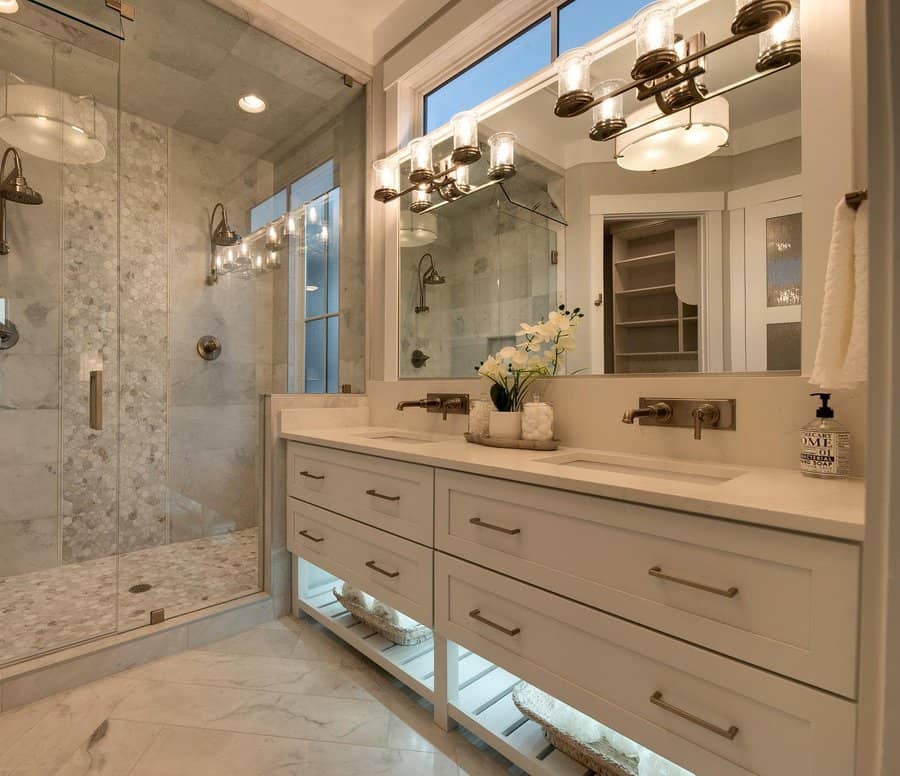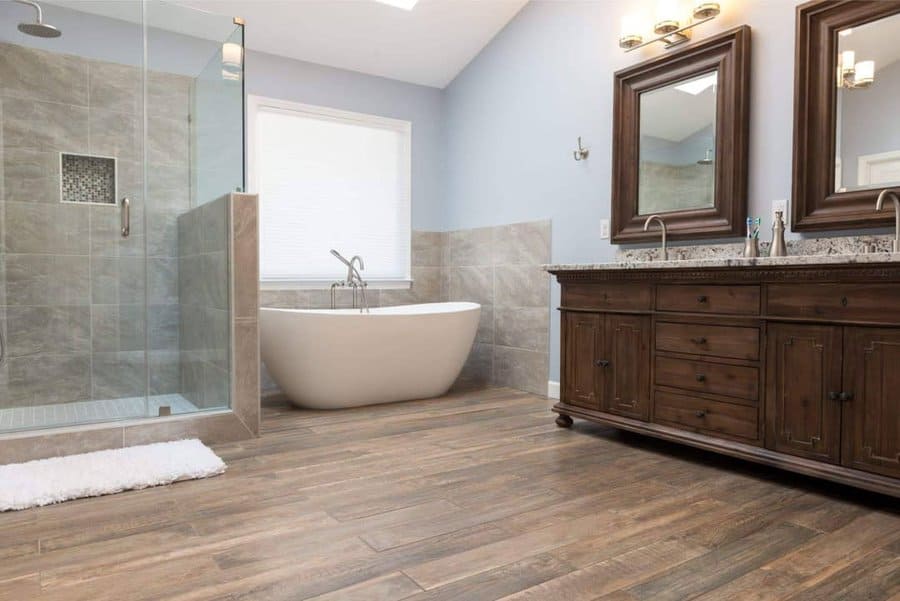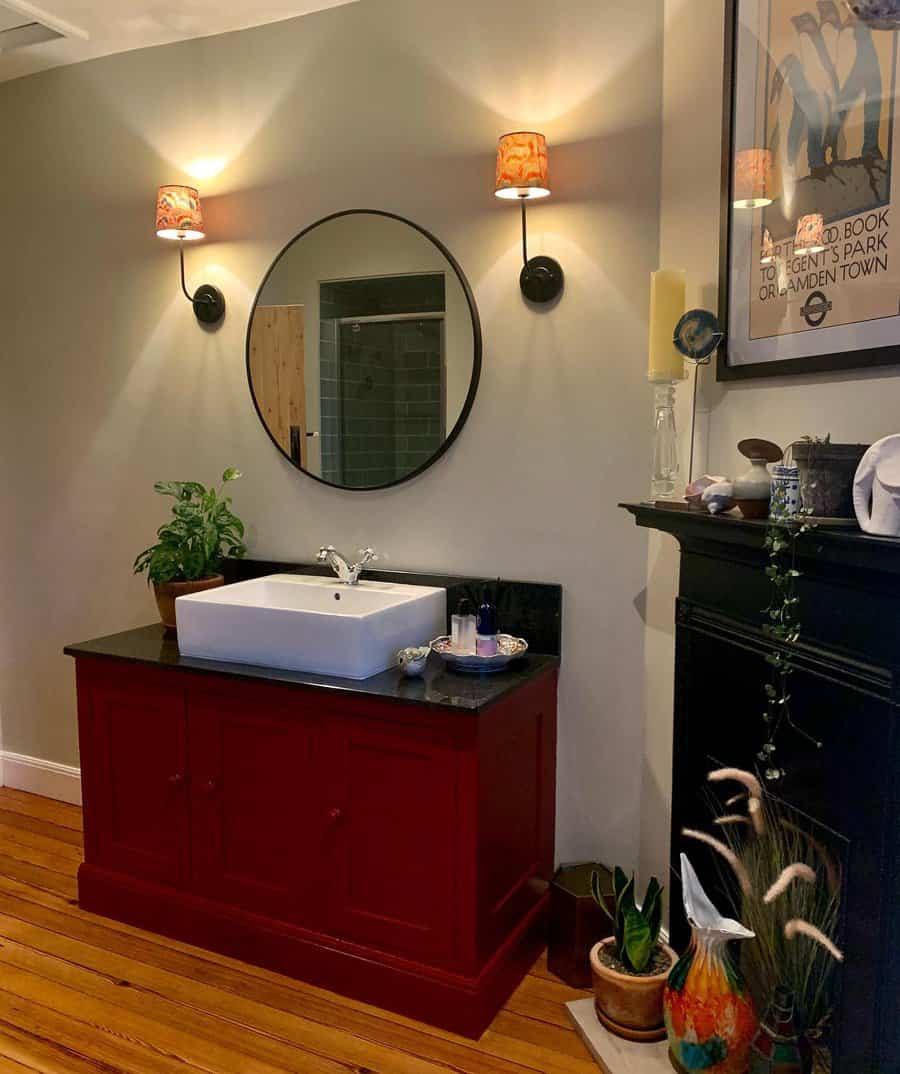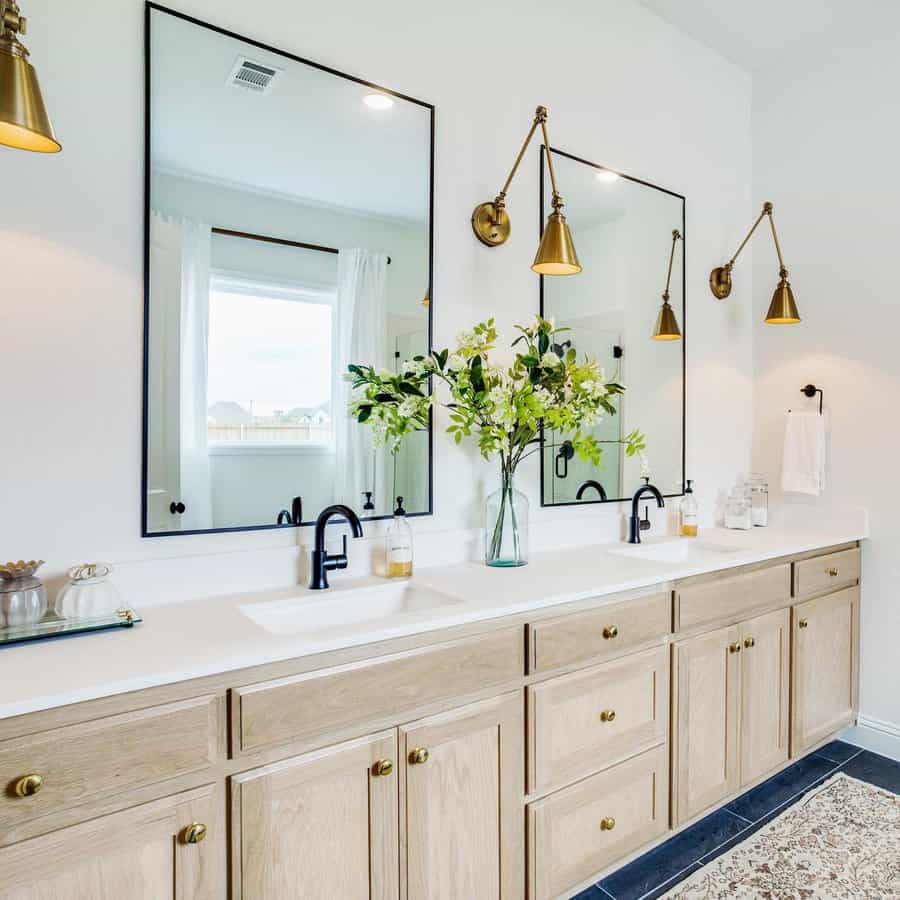 15. Layer Pendant Lamps
Transform your once dimly lit bathroom into a place of beautiful serenity! By adding layer pendant lamps in different heights, you can create a chandelier-like effect that will fill the entire space with gentle light.
Not only is this trend incredibly elegant, but it also serves a practical purpose: the multiple layers ensure that all areas of the room are optimally lit – letting you take part in an unparalleled experience of personal pampering!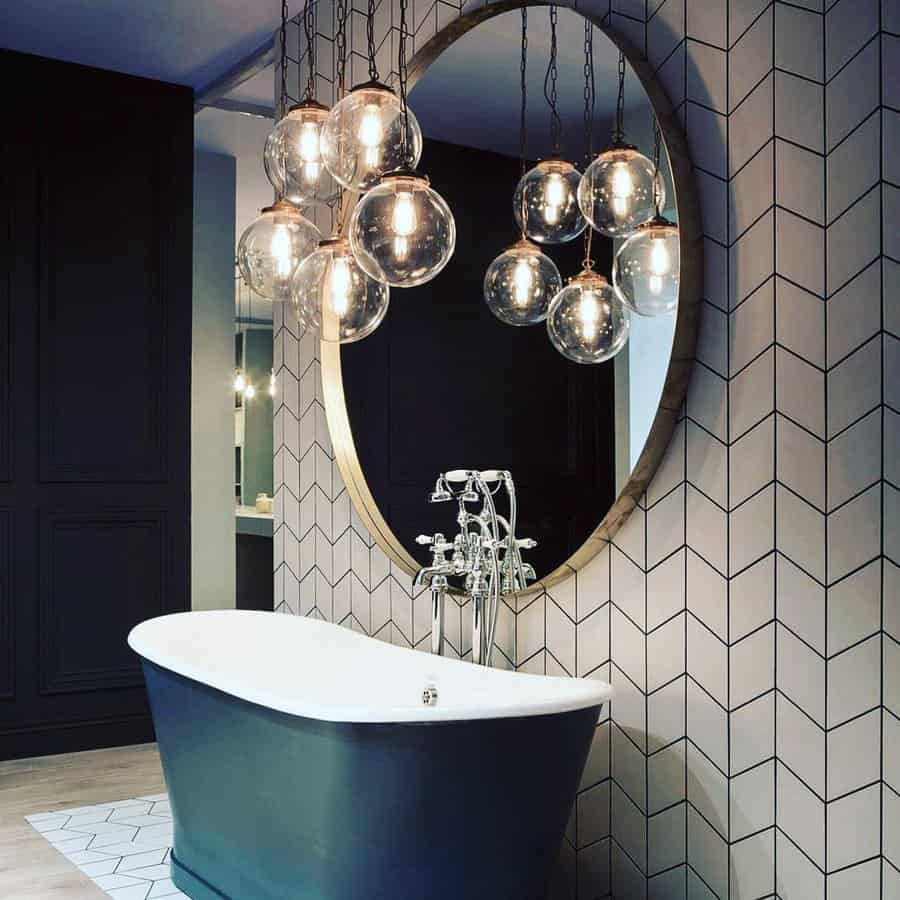 16. Hang Extended Wrap Lights
Illuminate your life with extended wrap lights in your bathroom. These extended bulbs do more than just provide simple lighting; they bring ambiance, warmth, and style to any space.
As the extended lights wrap around the modern fixtures in your bathroom, the light is closer to your face — giving you an even, brighter illumination than a traditional light bulb would be able to provide, for an even better look.
Transform your ordinary bathroom lighting into extraordinary extended wrap lights, and enjoy a cozy yet chic atmosphere in a flash!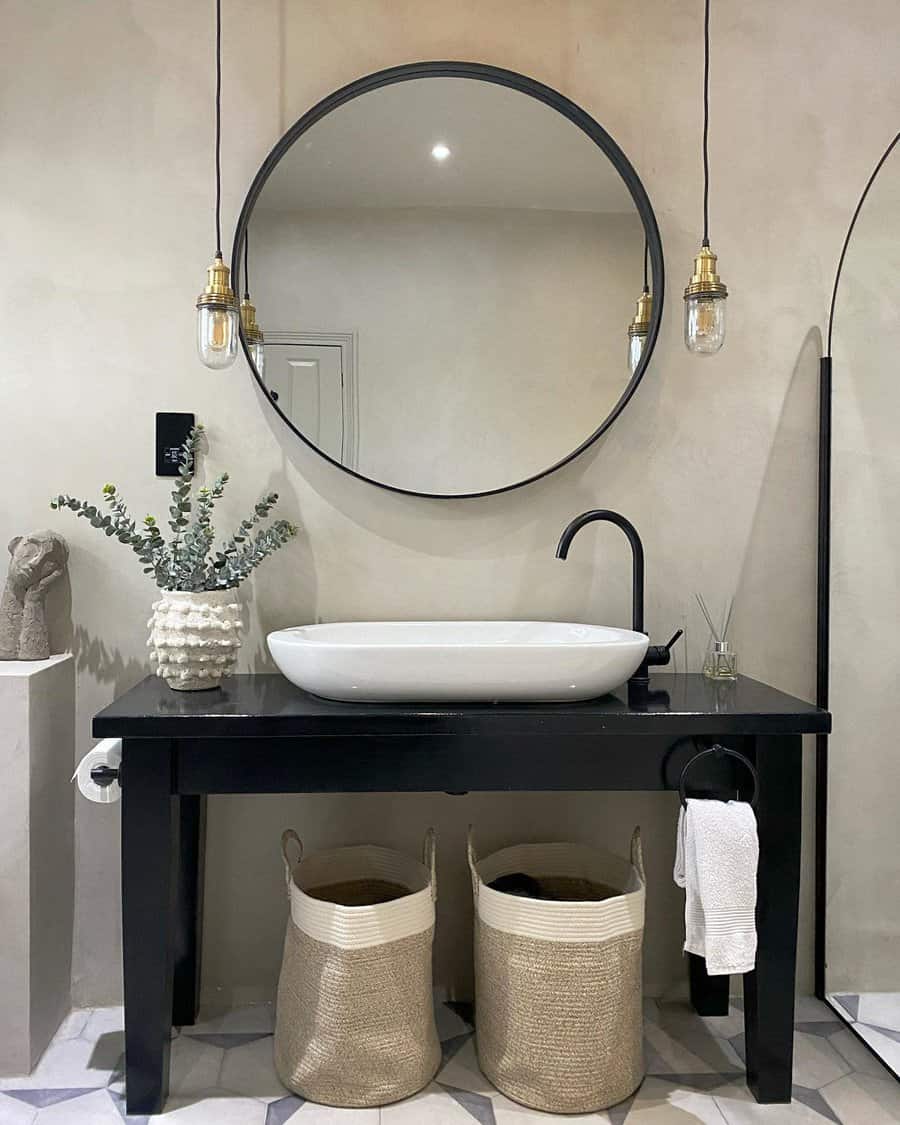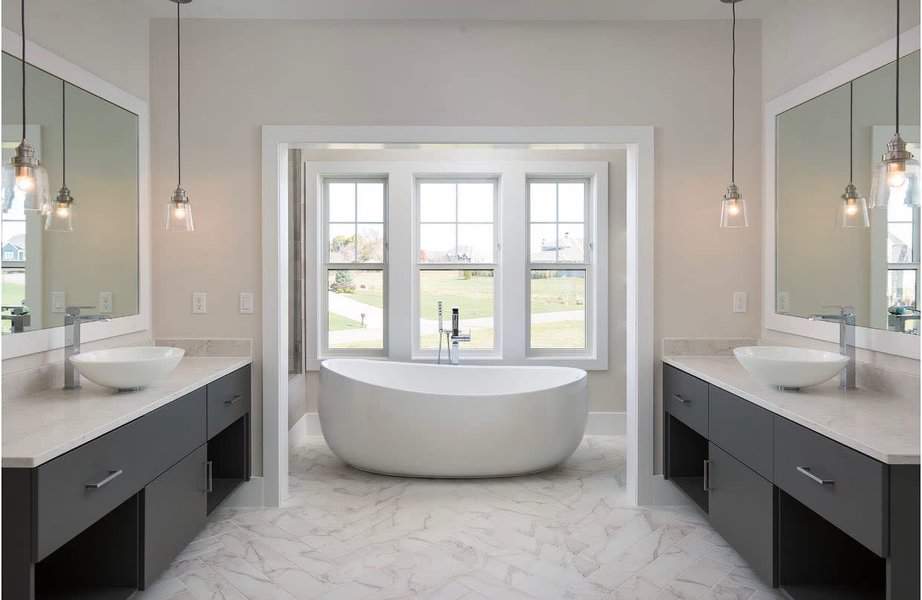 17. Opt For Industrial Lighting
When it comes to creating a dramatic, industrial-inspired look in your bathroom, industrial metal dual sconces can add a touch of edginess. Not only are they versatile enough to pair with any existing décor but they immediately give that industrial air to the room and create an unparalleled atmosphere.
Whether you're going for a relaxed vibe or a more luxurious setting, industrial metal dual sconces allow you to bring it up to the next level with their bold design.
With industrial metal dual sconces, every bathroom is bound to get a unique persona of its own!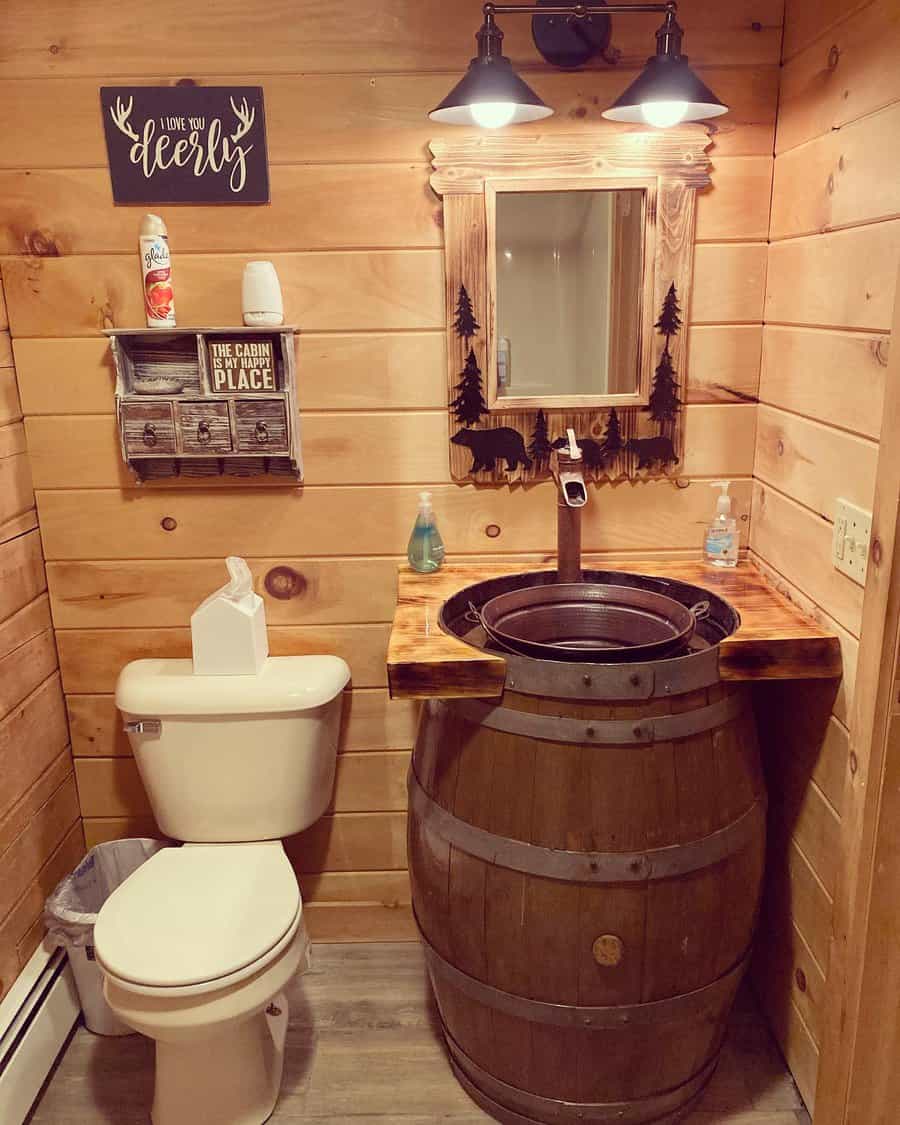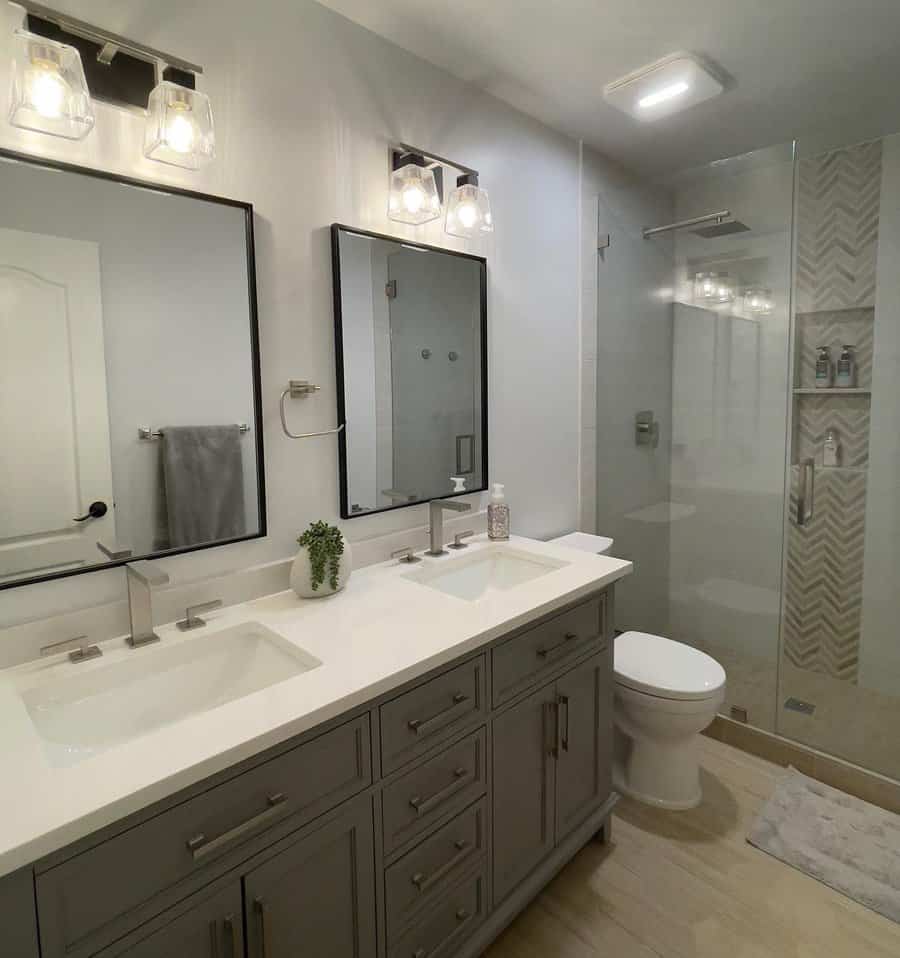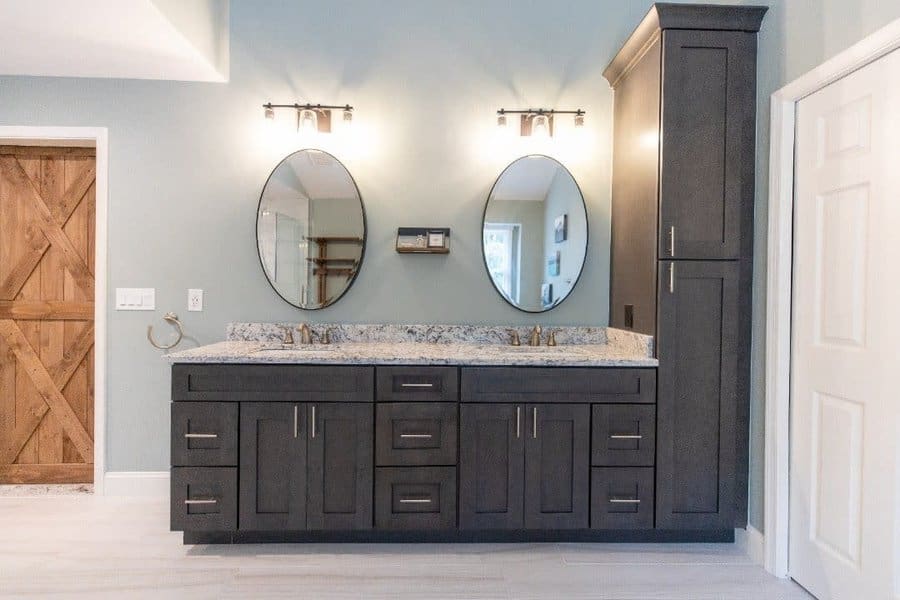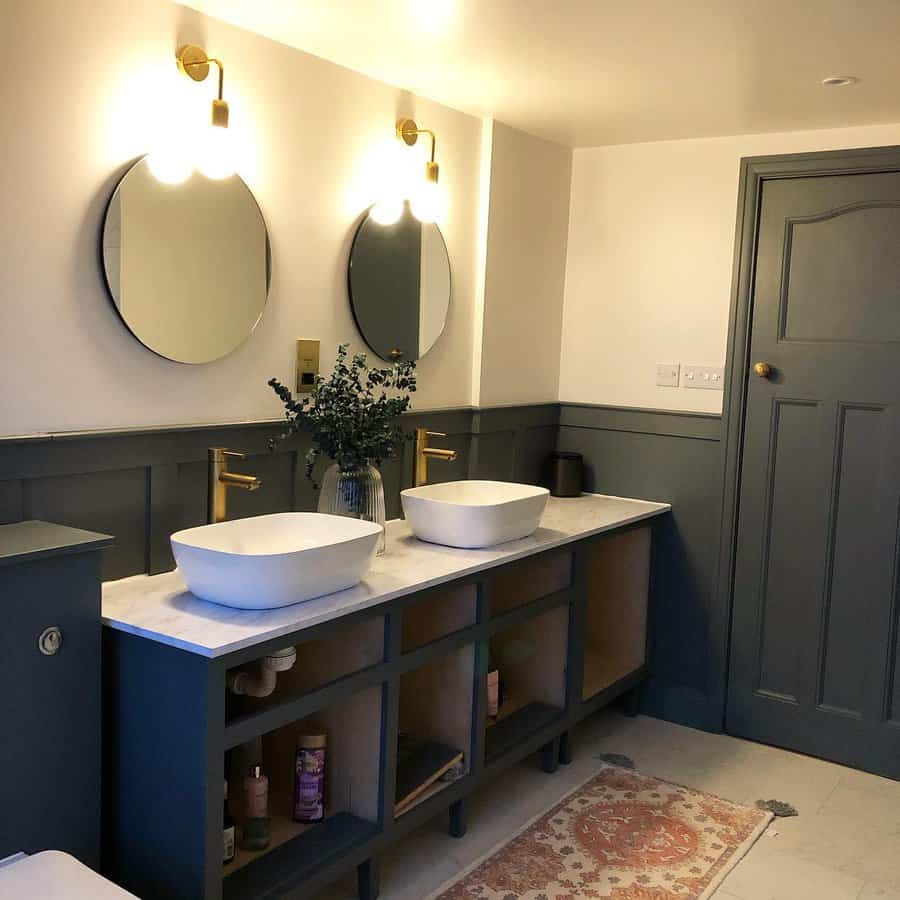 18. Subtle & Sleek With Strip Sconces
Adding the right touch of lighting to your bathroom can make a tremendous impact on the overall atmosphere and feel. For minimalist design lovers, a pair of minimalist strip sconces on either side of the round wall mirror can go a long way in creating an inviting space.
Soft and warm, strip sconces give off just enough subtle light – perfect for taking care of one's daily needs whilst giving off a gentle glow that feels like home. And even better if you opt for dimmable ones!
With their sleek, unobtrusive design, minimalist strip sconces complement perfection with any modern minimalist theme.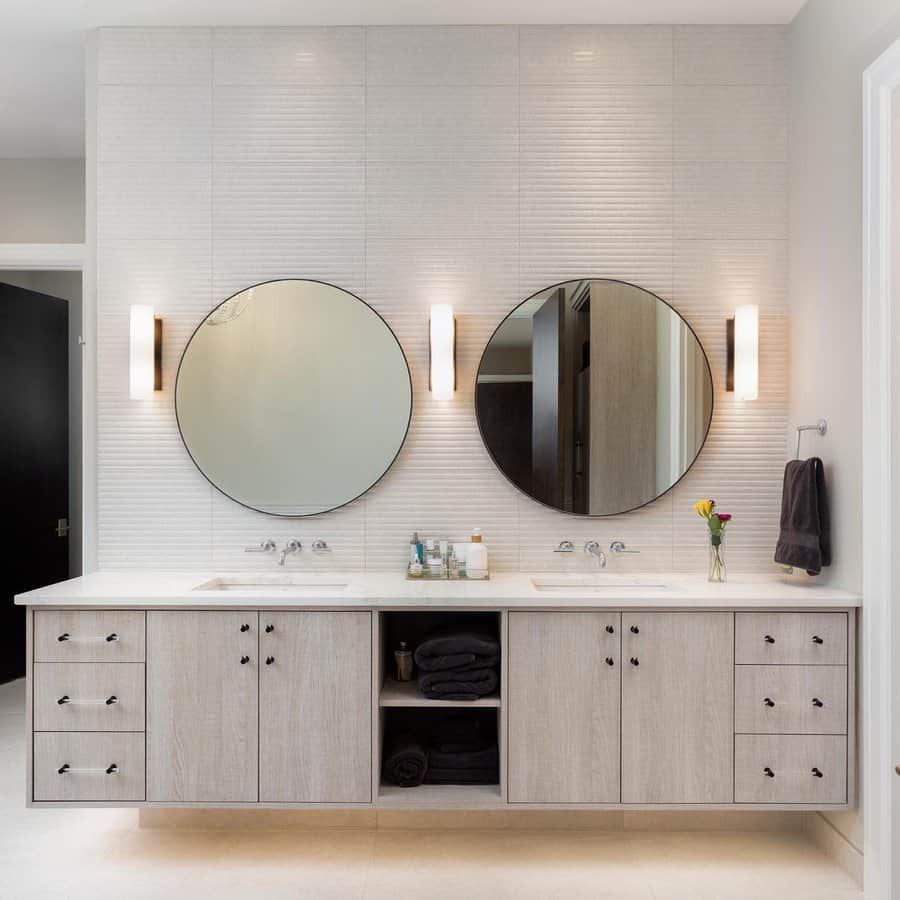 19. Relax With Warm Lighting & Walls
When you want to turn your bathroom into a warm and cozy haven, creating the right atmosphere with excellently chosen lighting is key.
Warm lighting is the perfect way to make this space feel inviting – when coupled with beige walls and neutral accents, the ideal bathroom oasis can be created. Utilizing warm tones in your bathroom design will help create a relaxing environment where you can wind down and escape the stresses of everyday life.
From warm overhead lamping to cove lighting tucked behind crisp white molding, simply switching up your bathroom lighting can turn it into a warm, welcoming sanctuary.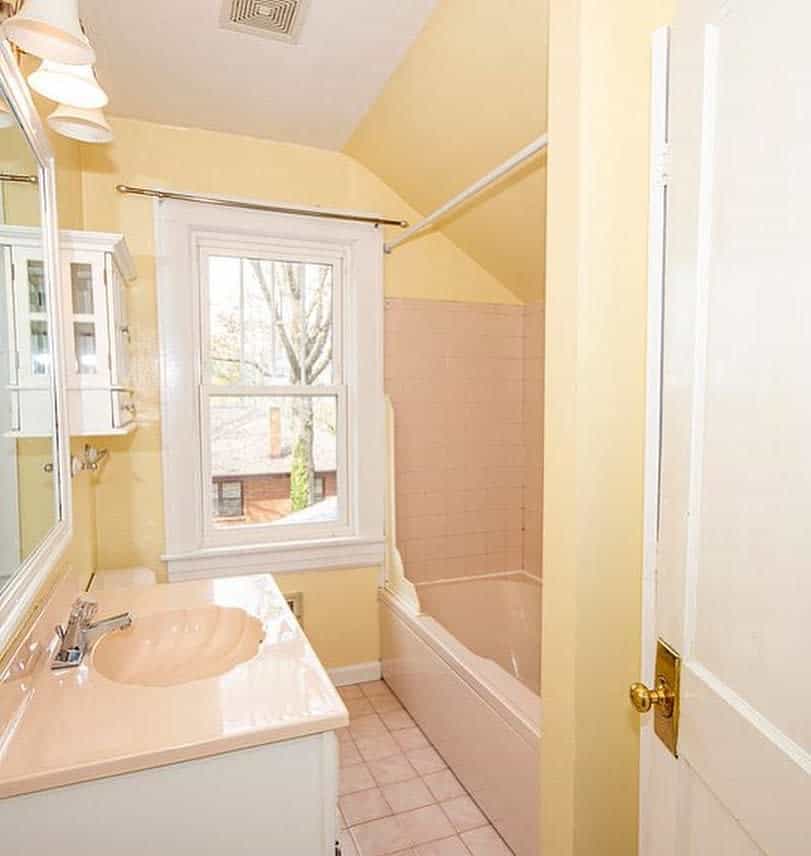 Bathroom Lighting FAQs
What type of lighting is best for the bathroom?
Bathroom lighting isn't just about illuminating the space. The right bathroom lighting is both flattering and makes everyday tasks like applying makeup significantly easier!
The best type of lighting for the average bathroom is a soft white bulb. These bulbs tend to be between 2700K and 3000K. Look for light bulbs with a CRI of 90 to 100 for the most accurate colors and tones.
Should vanity lights point up or down?
Technically, vanity lighting can be installed either way. But each orientation produces slightly different results.
If you're interested in producing a soft, ambient glow throughout your bathroom, then uplit vanity lighting is ideal. This option is gentler on the eyes and reflects light off the ceiling and walls.
For better visibility at your bathroom vanity, lighting that faces down will serve you best. A downlit vanity fixture is a great source of task lighting for things like skincare or makeup application.