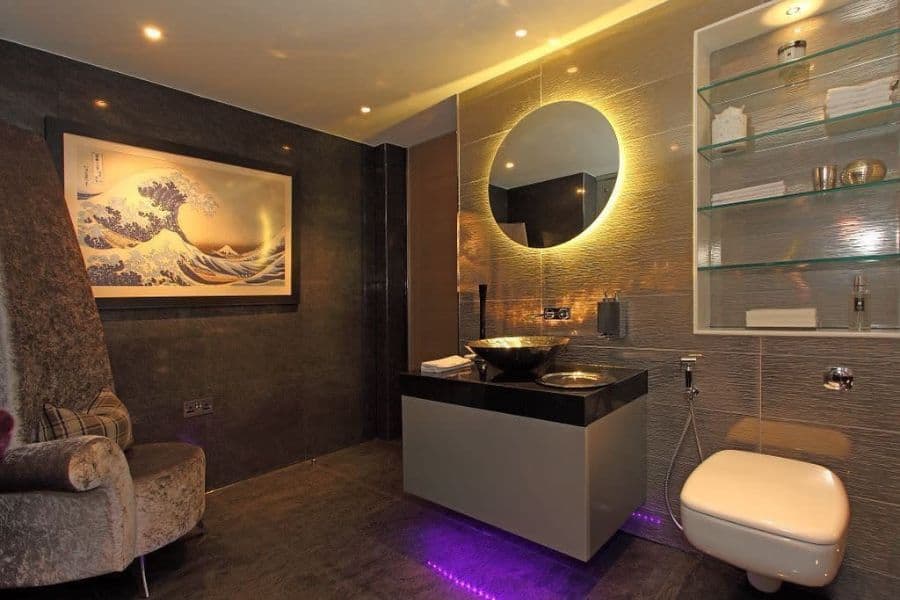 45 Bathroom Lighting Ideas to Brighten Up Your Space
No one likes a small bathroom, right? But what if the reason your master bath or powder room feels claustrophobic actually has nothing to do with the square footage? Instead, it could have everything to do with your bathroom lighting!
Curated fixtures and high-quality light bulbs can make a room feel like a completely different space. This is especially true for rooms without windows — i.e., most bathrooms.
There are far more options for lighting your home's bathrooms than you probably realize. Keep reading for our favorite bathroom lighting ideas and tips for utilizing them within your own interior design.
1. Ceiling
Ceiling light fixtures often make up the bulk of a room's illumination. No matter how much lighting you have surrounding your vanity, a well-lit bathroom requires overhead light as well.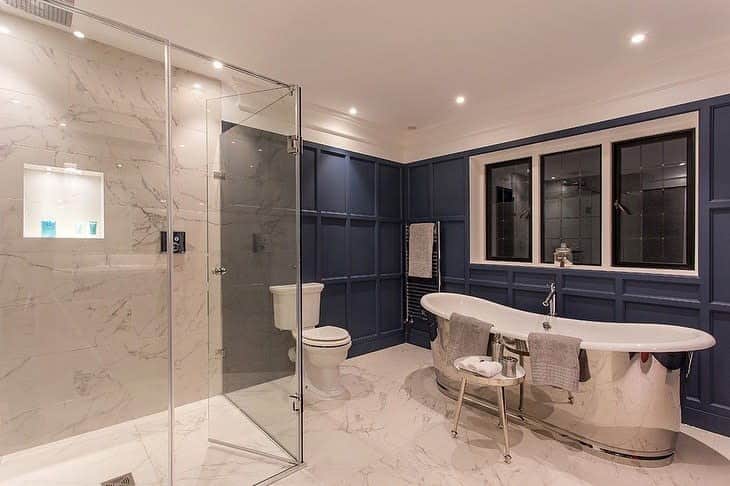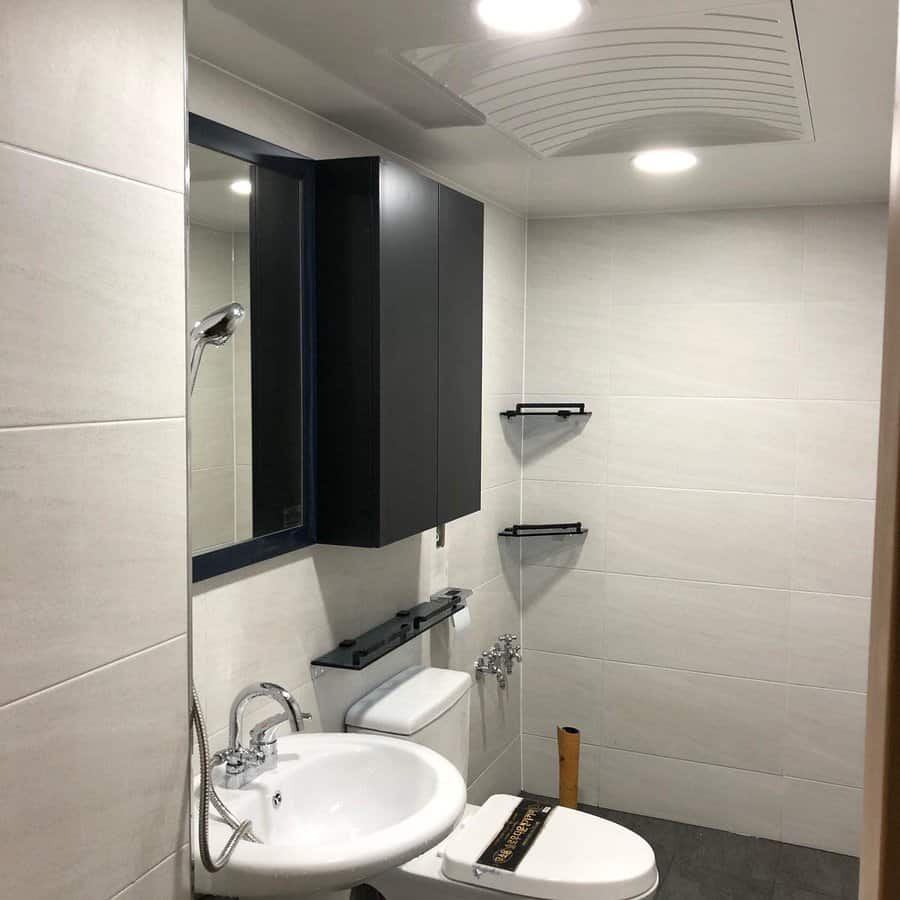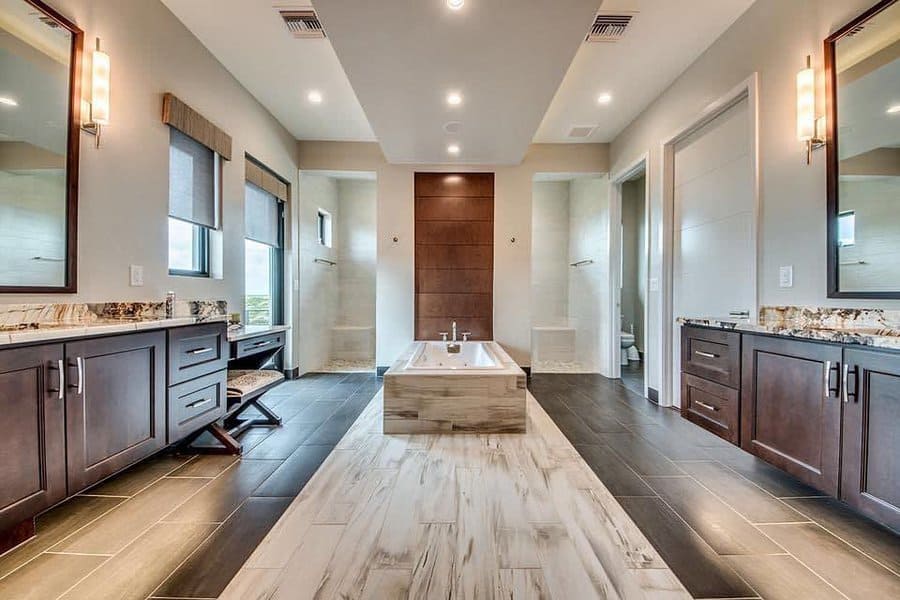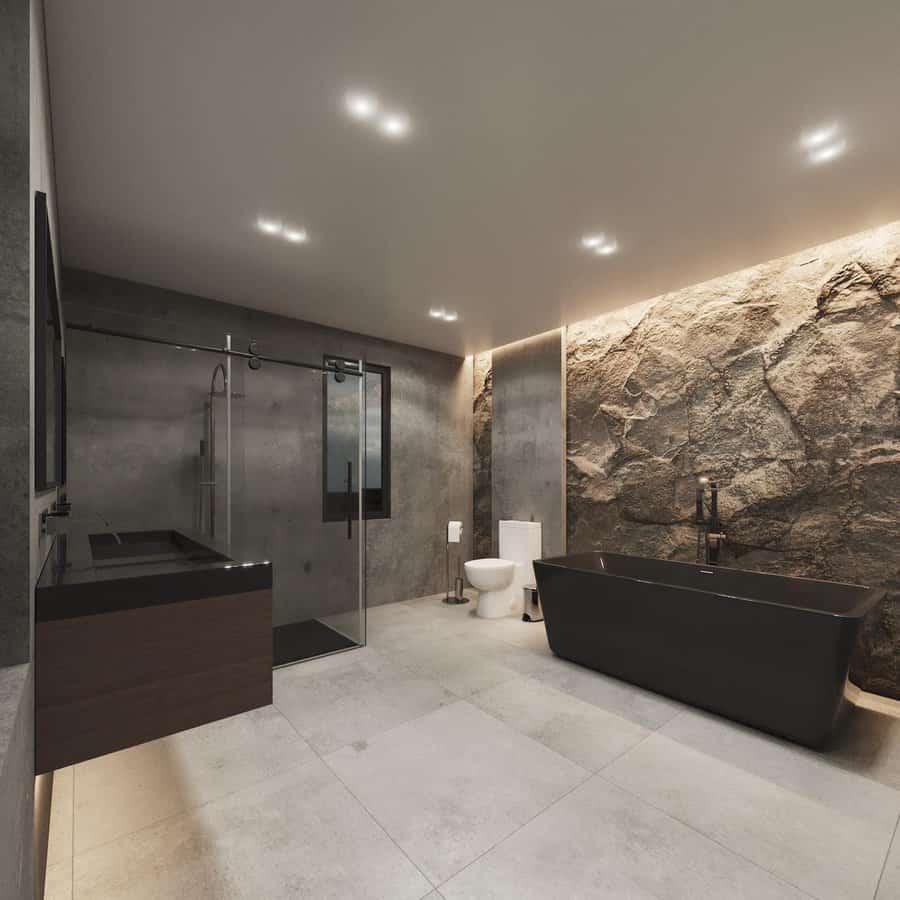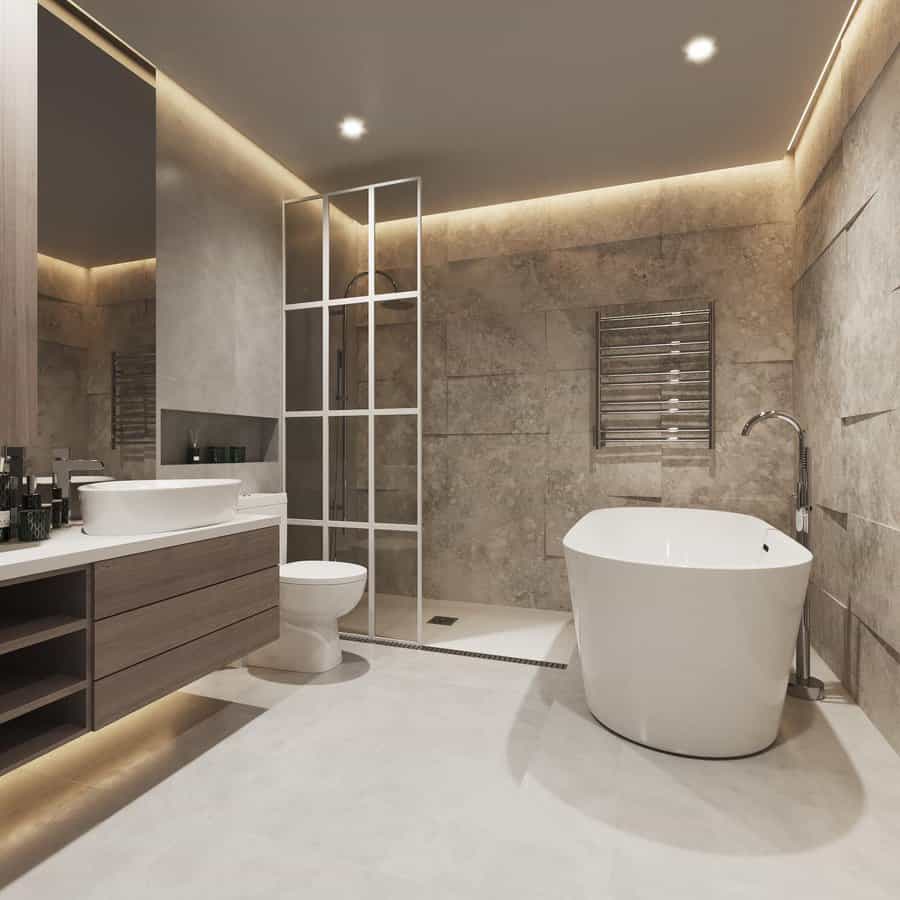 Recessed lighting might seem like a boring choice for your bathroom ceiling. But few light fixtures are quite as versatile as old school can lighting. These fixtures can even be installed directly above a shower stall or bathtub.
If your bathroom is as much a peaceful getaway as it is a practical part of your home, invest in dimmable lights. With this simple upgrade, you can customize your bathroom lighting to fit the moment.
2. Chandelier
A chandelier might not be the first type of light fixture you'd consider hanging in your bathroom. Yet there are many ways to incorporate this dramatic lighting idea in your master bath or powder room.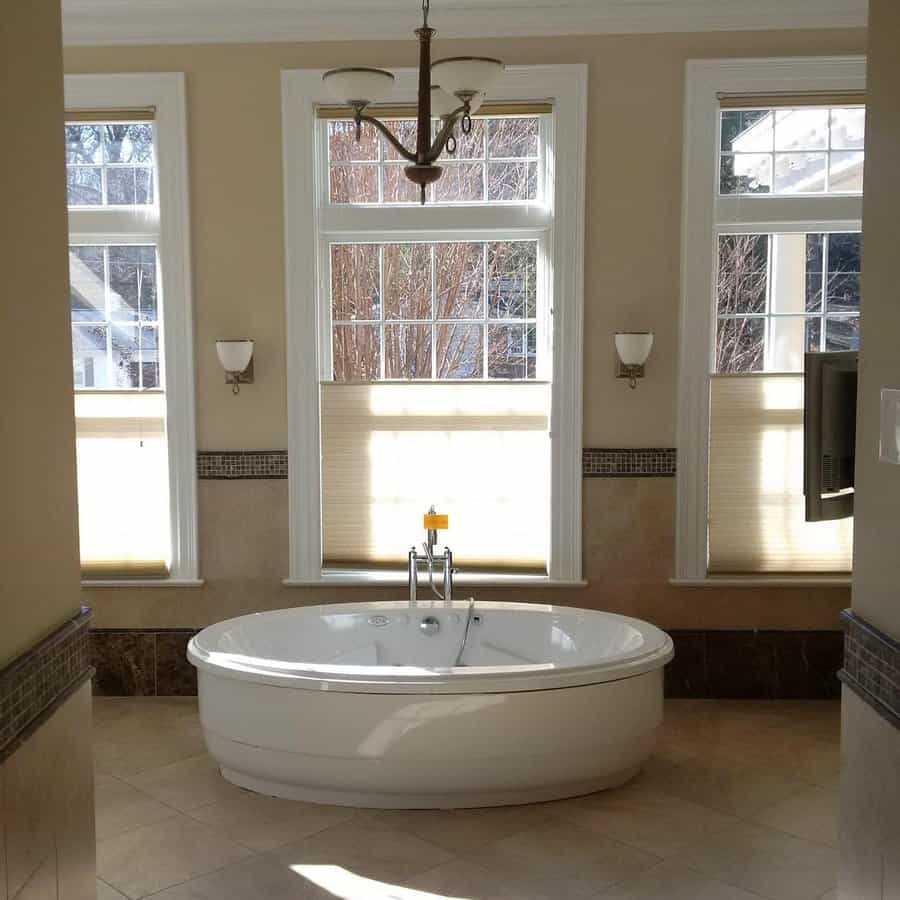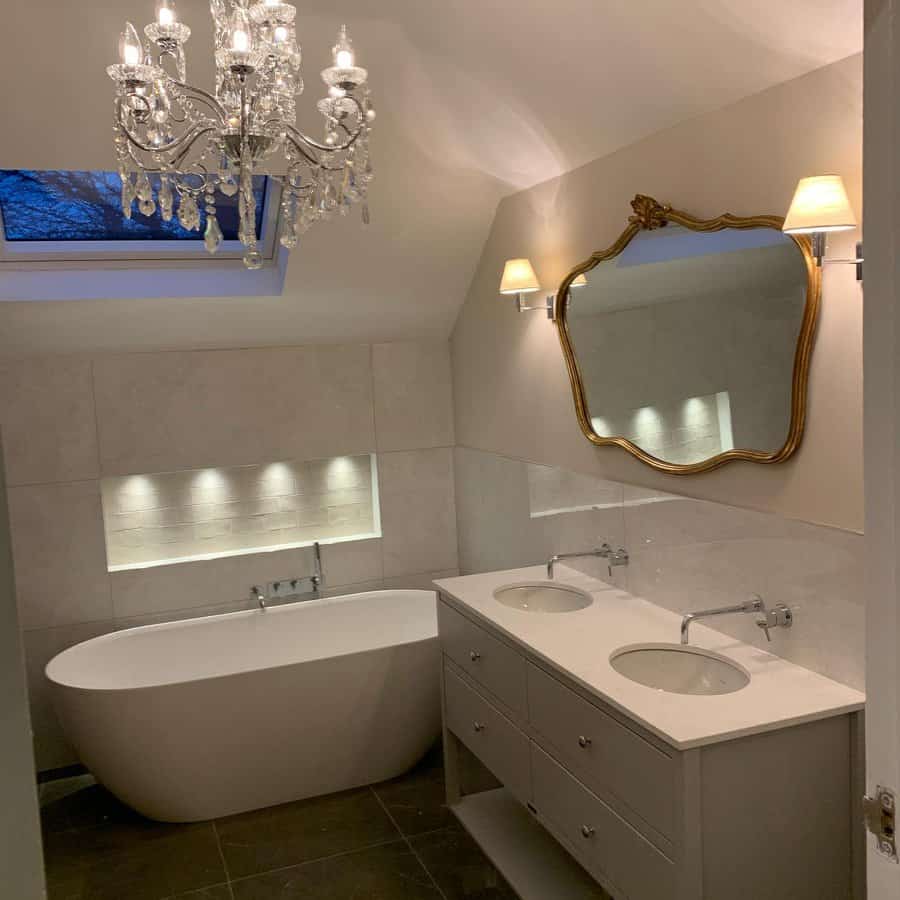 Chandeliers are perfect for spaces with tall or vaulted ceilings. However, with the right length of chain, you can get away with hanging a chandelier from a normal height ceiling as well.
Be sure to select a chandelier that is appropriately sized for the space. Chandeliers come in all shapes and sizes, so there's no excuse for installing one that is too big or too small for your bathroom design as a whole!
3. Contemporary
Contemporary interior design is based on what is most popular at any given moment. So it can be hard to pinpoint which trends to include in your own home. Lighting is an easy way to give your bathroom a contemporary touch without completely overhauling its design.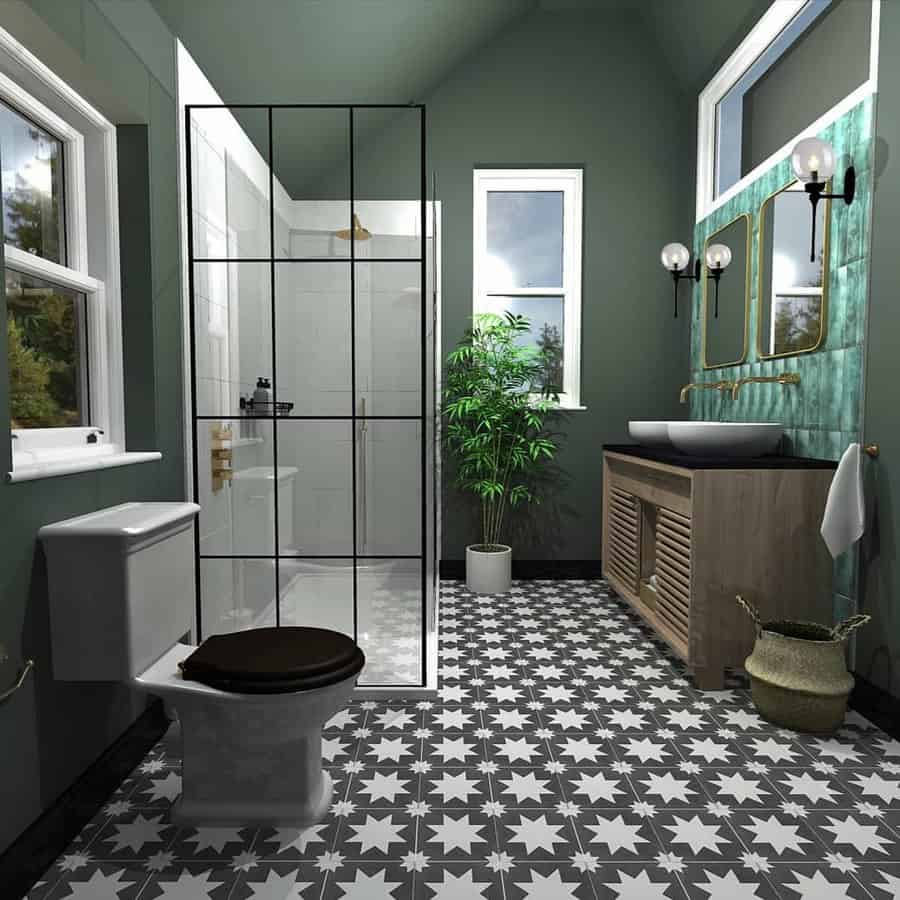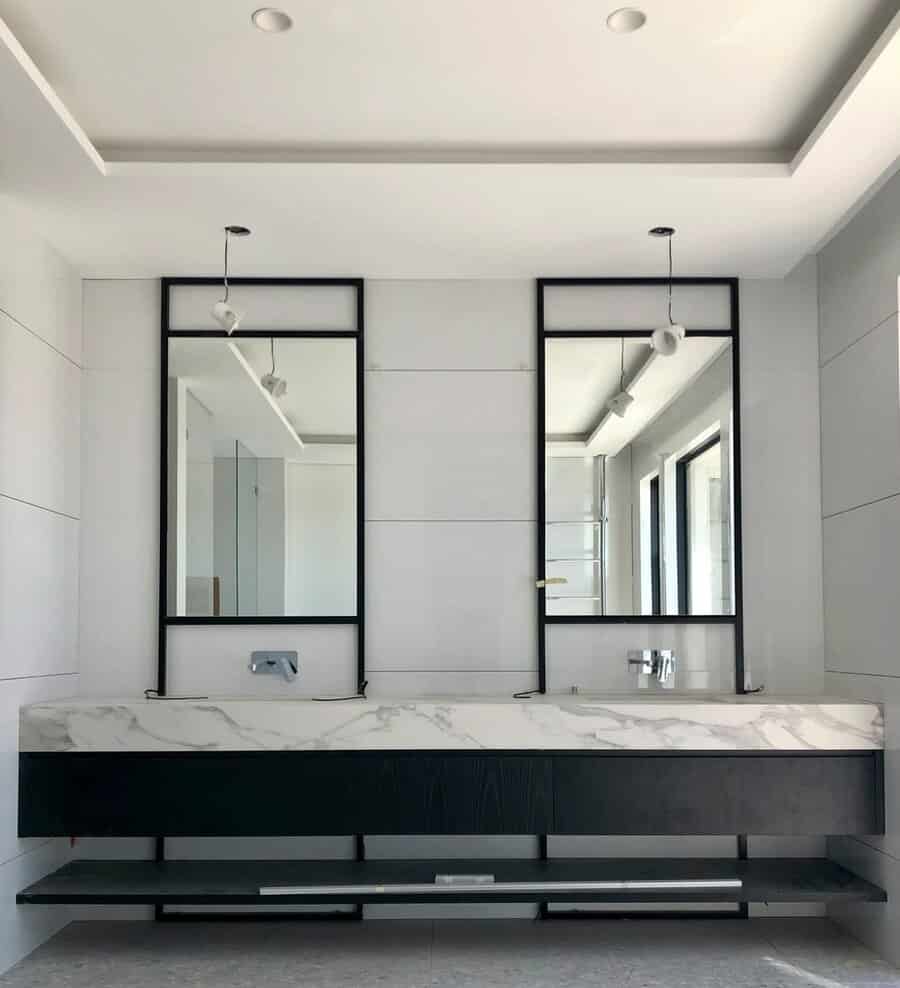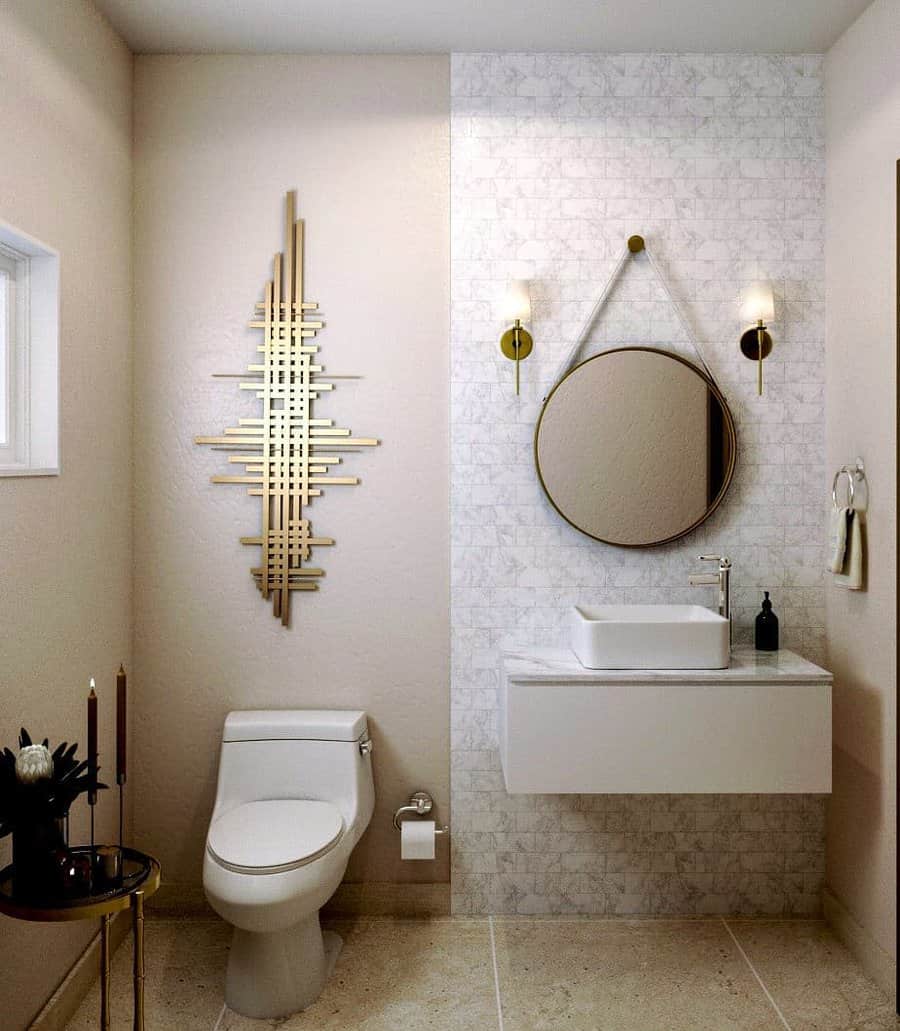 Wall sconces are popular in both traditional and contemporary bathroom design. Use matching sconces on each side of your vanity mirror for decorative task lighting.
Another big trend in contemporary design is exposed light bulbs. Edison bulbs are a must-have for any industrial- or rustic-inspired bathroom. But clear glass bulbs can also be used for a more luxurious look and feel.
4. Luxury
Whether you have a luxury budget or not, bathroom lighting ideas that are decor in and of themselves will give your home an elegant appearance. This doesn't necessarily mean installing the most over-the-top light fixture you can find.
Even the simplest lighting can feel luxurious if it plays off of the rest of the room.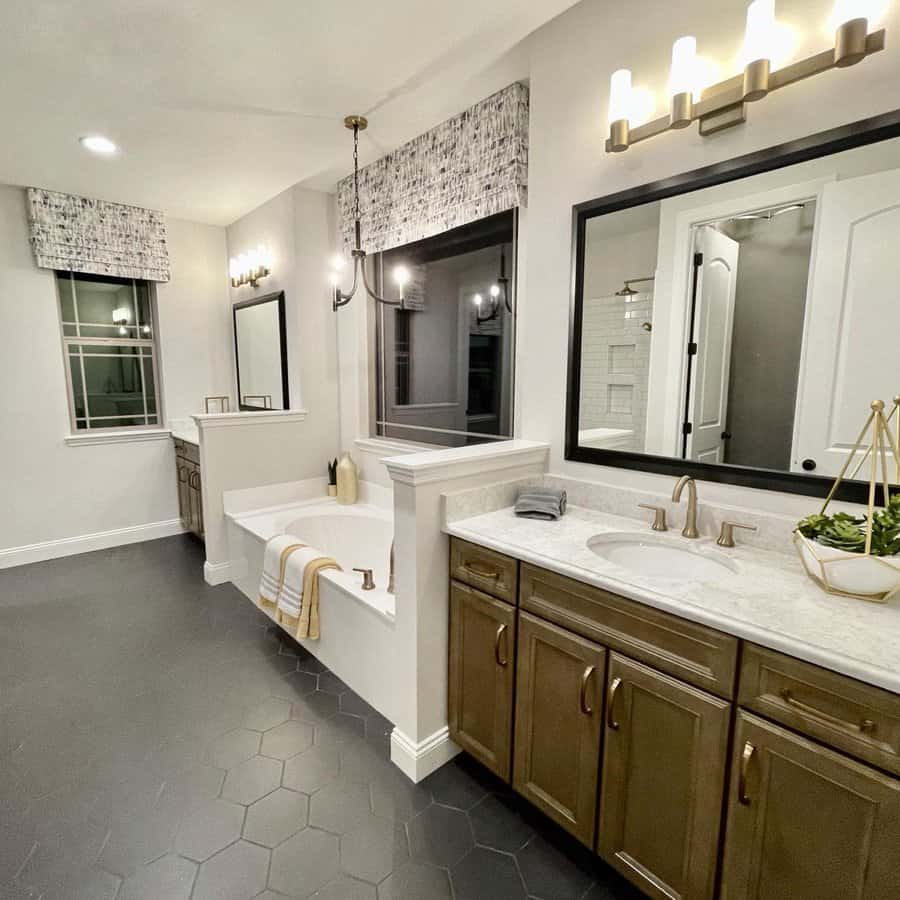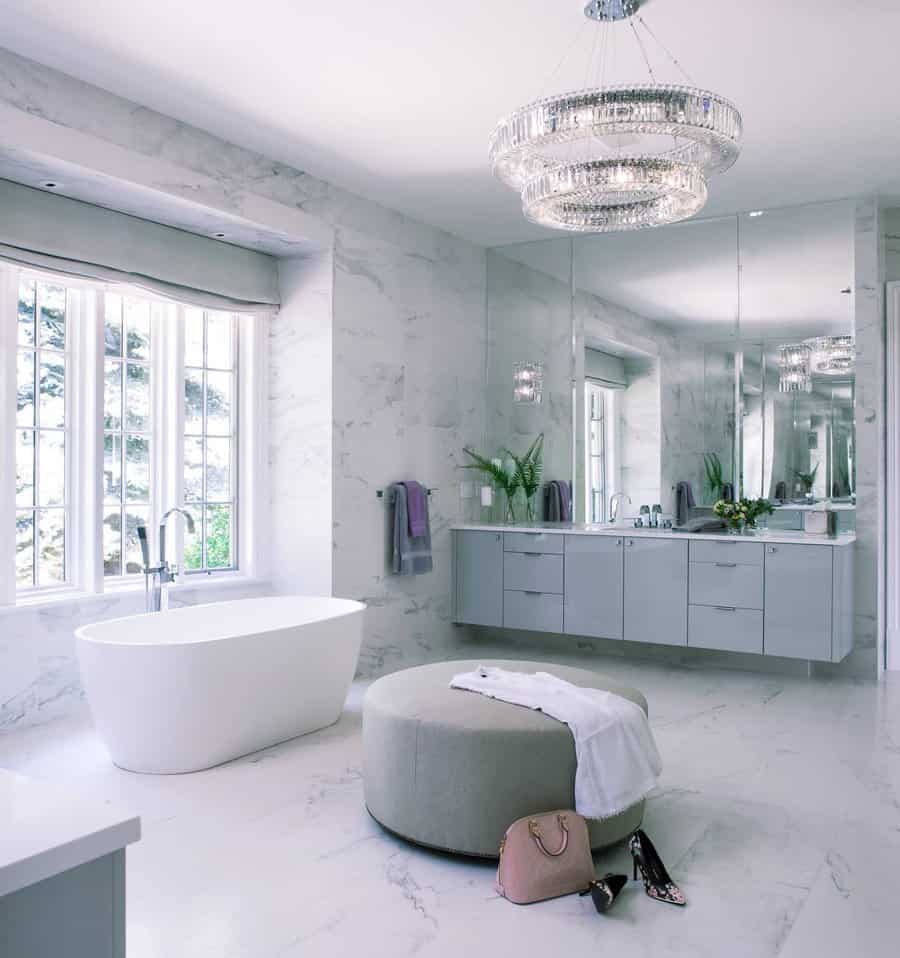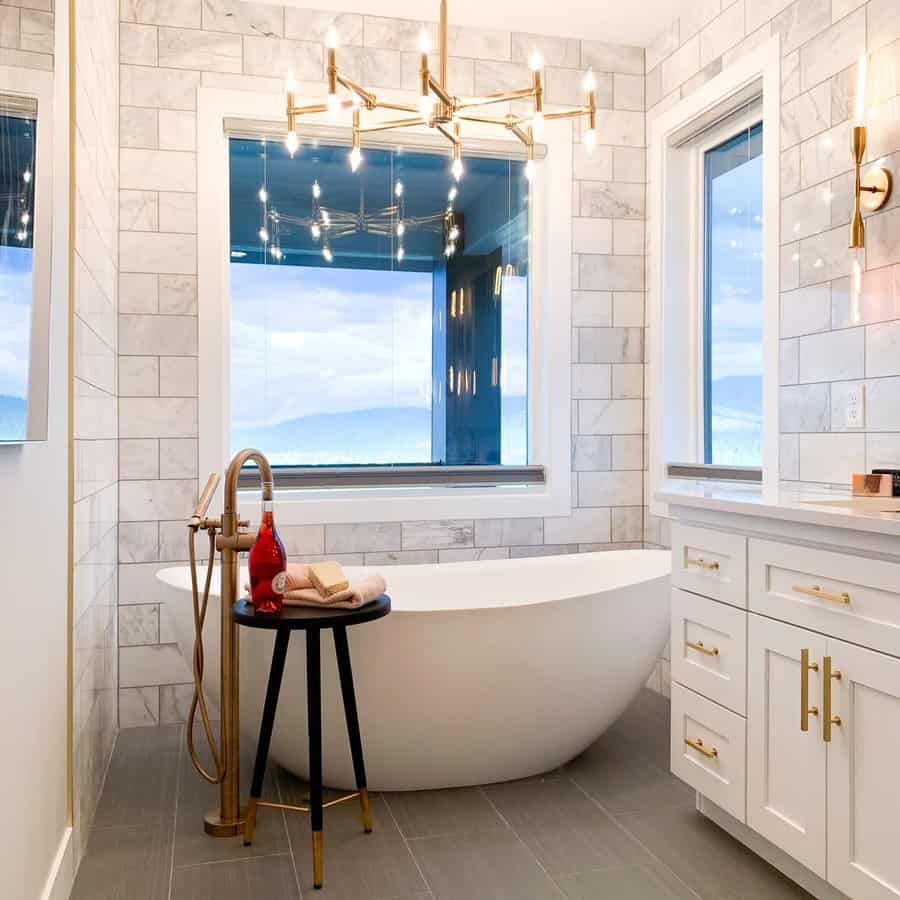 The finish of your bathroom lighting is as important as the overall design. Metallic finishes pair well with luxury decor. Incorporate glass or crystal into your bathroom fixtures to really illuminate the space!
Accent lighting is also key to creating a luxurious bathroom design. A backlit mirror or built-in light strips could take your master bathroom to the next level.
5. Master
The master bathroom is often an extension, both functionally and emotionally, of the home's master bedroom. So it's important to create a bathroom design that suits your aesthetic and lifestyle needs.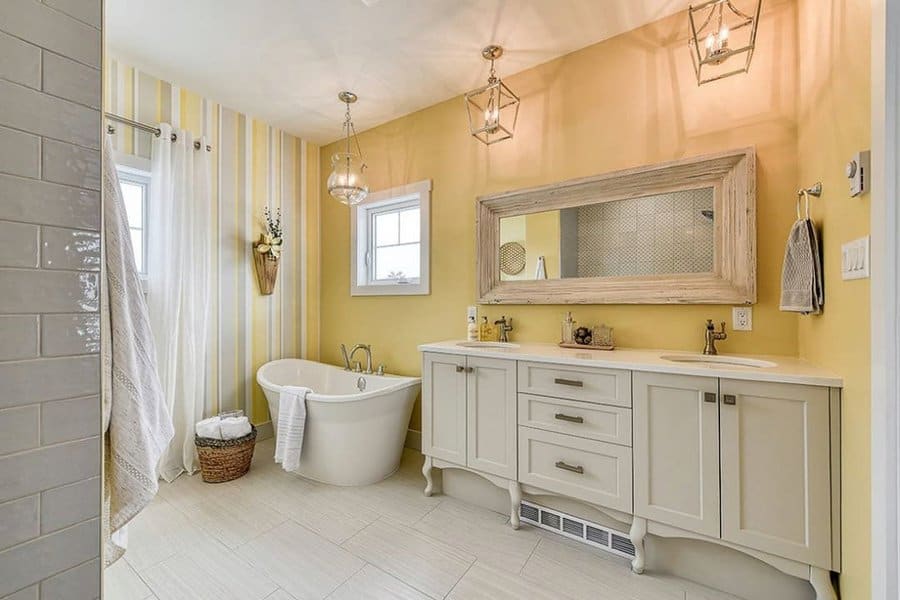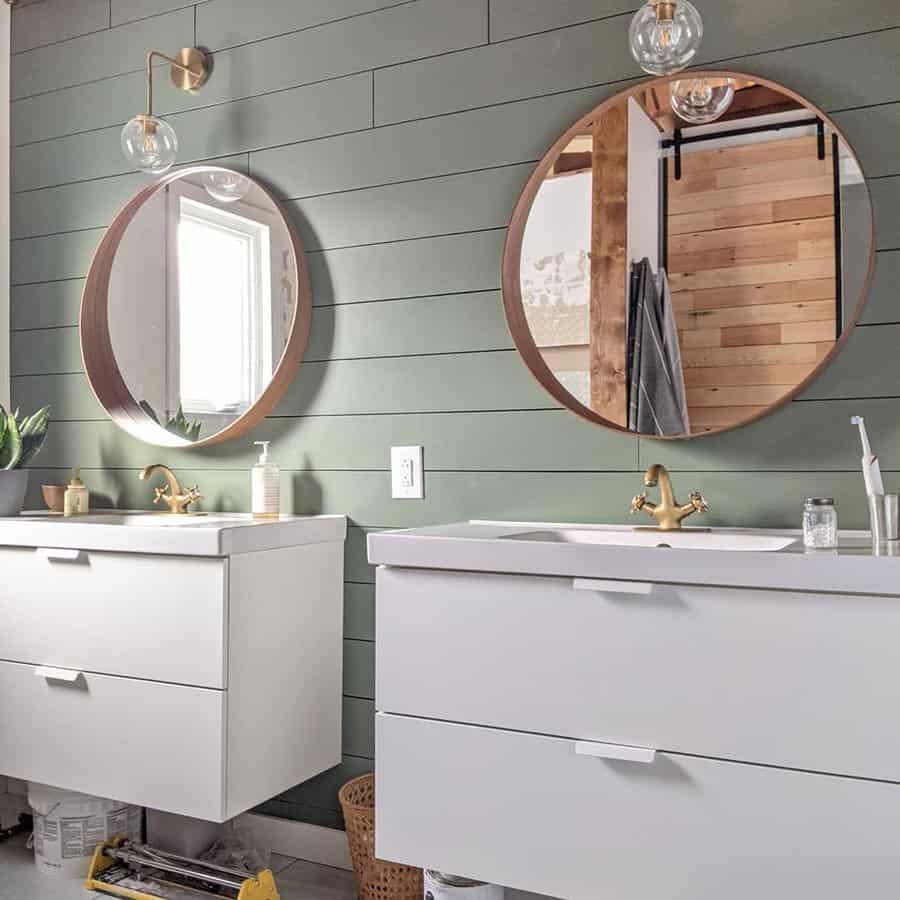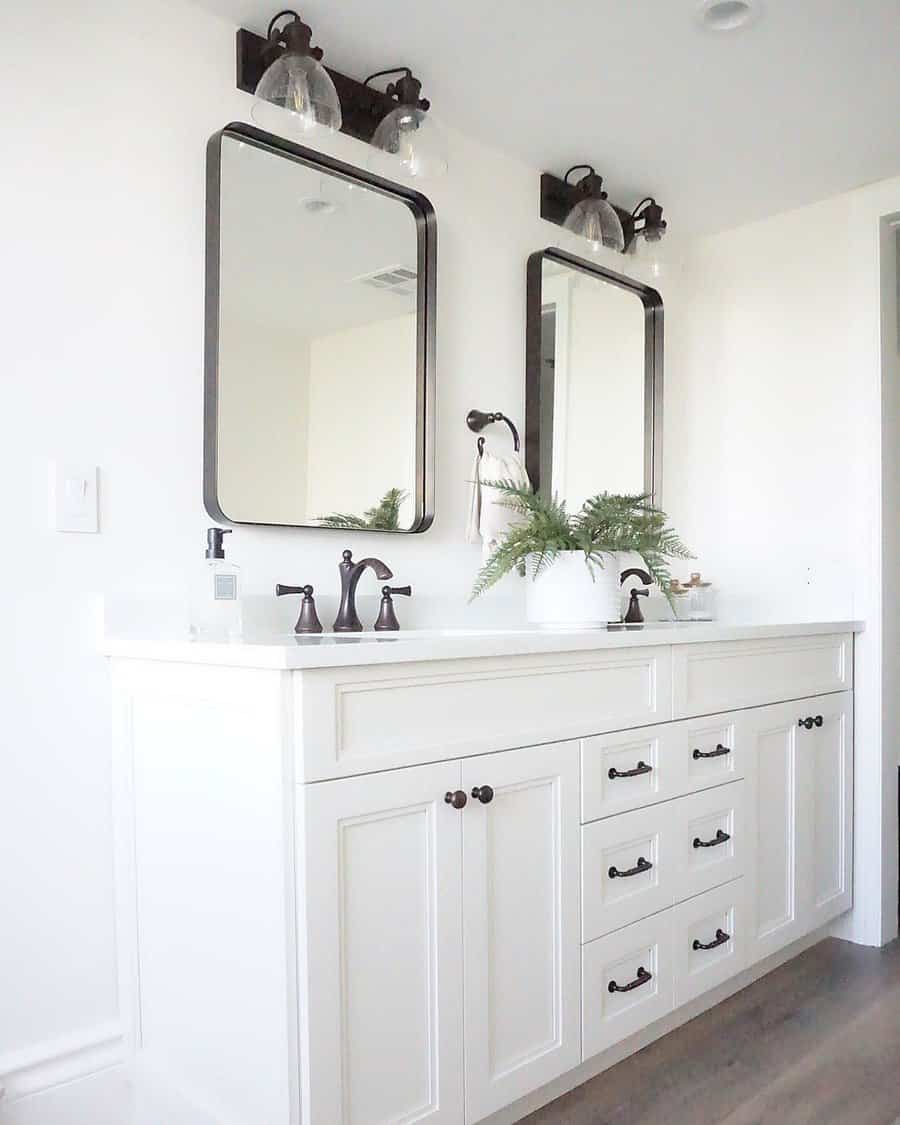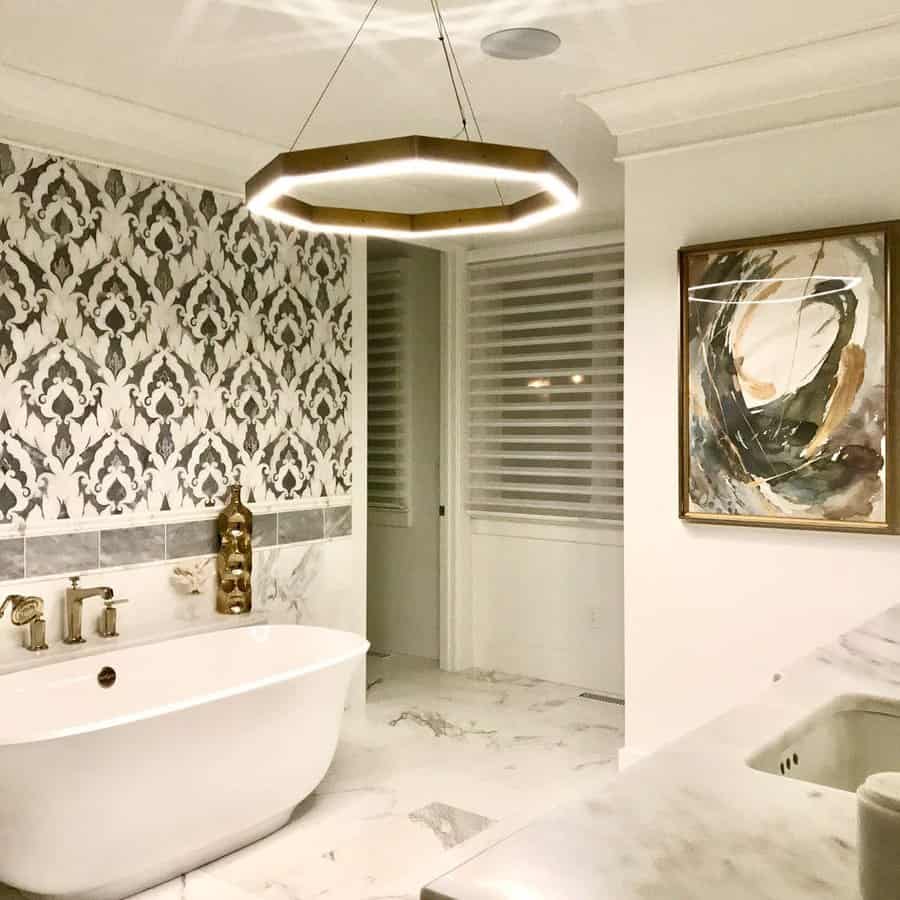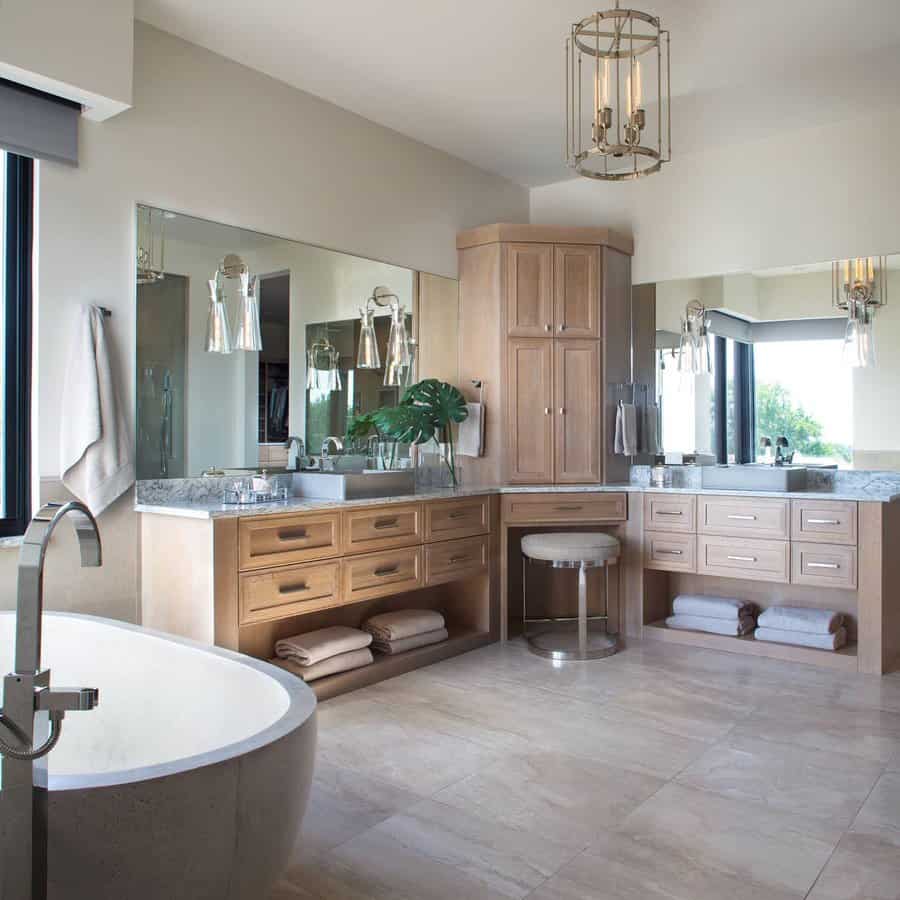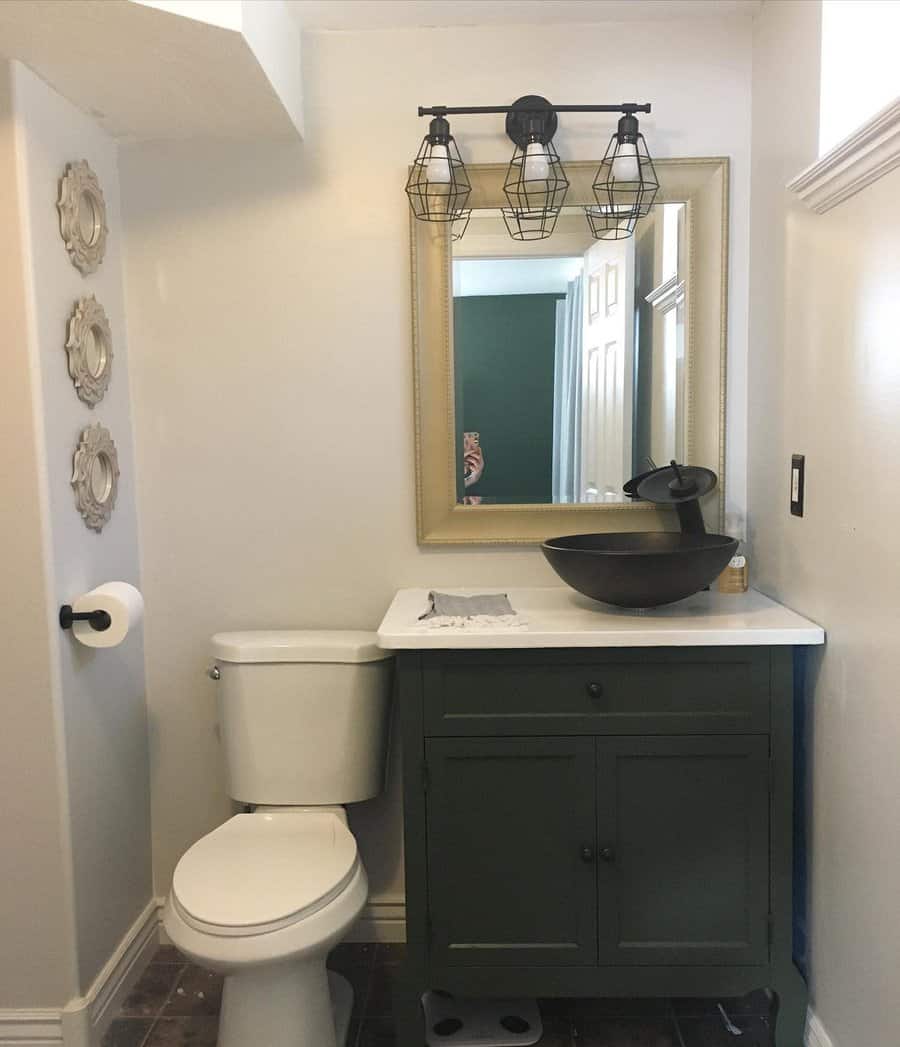 Even the smallest master bath can benefit from more than one light source. While your bathroom lighting design should share a common theme, don't limit yourself to fixtures that are exact replicas of each other.
In bathrooms with "his-and-her" sinks, matching sconces can be installed over each vanity mirror. Consider mounting a recessed light above your bathtub or shower for better visibility.
6. Mirror
If you can only choose one location within your bathroom to upgrade the lighting, it should definitely be the mirror. But a traditional wall sconce or overhead light fixture are not your only options.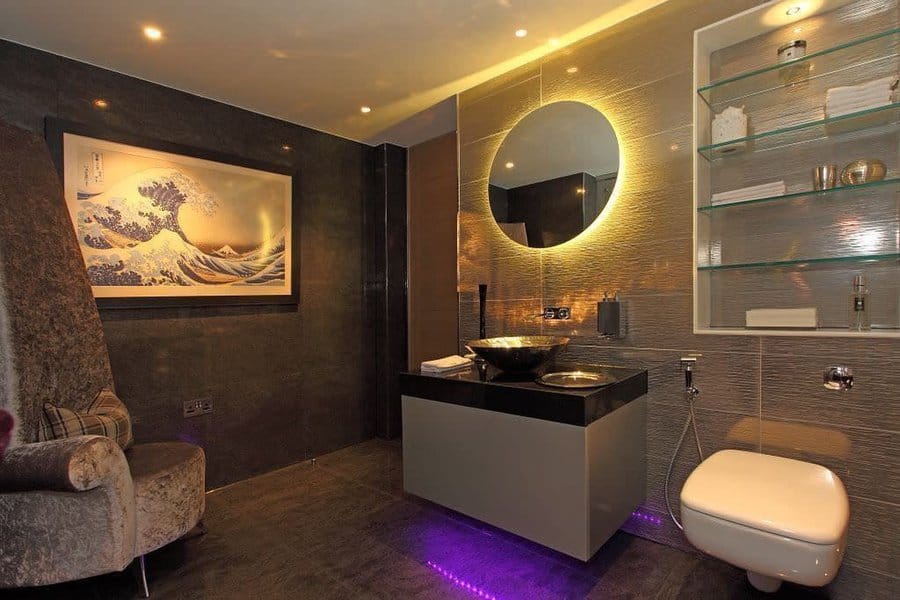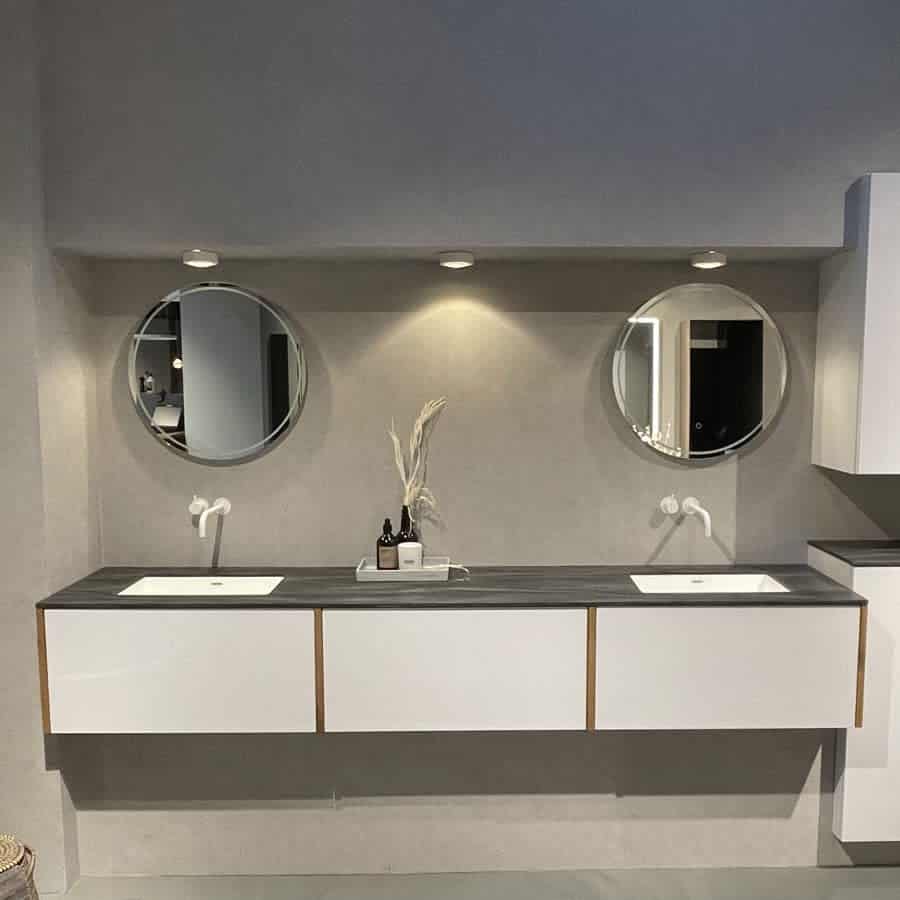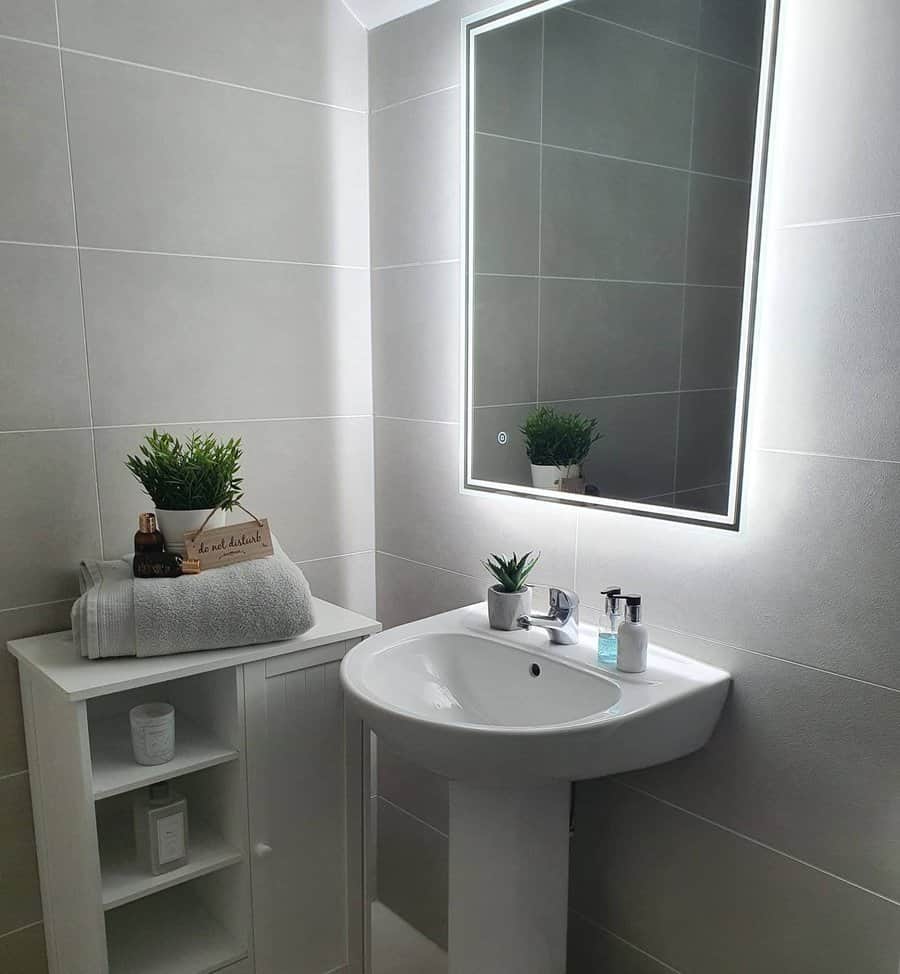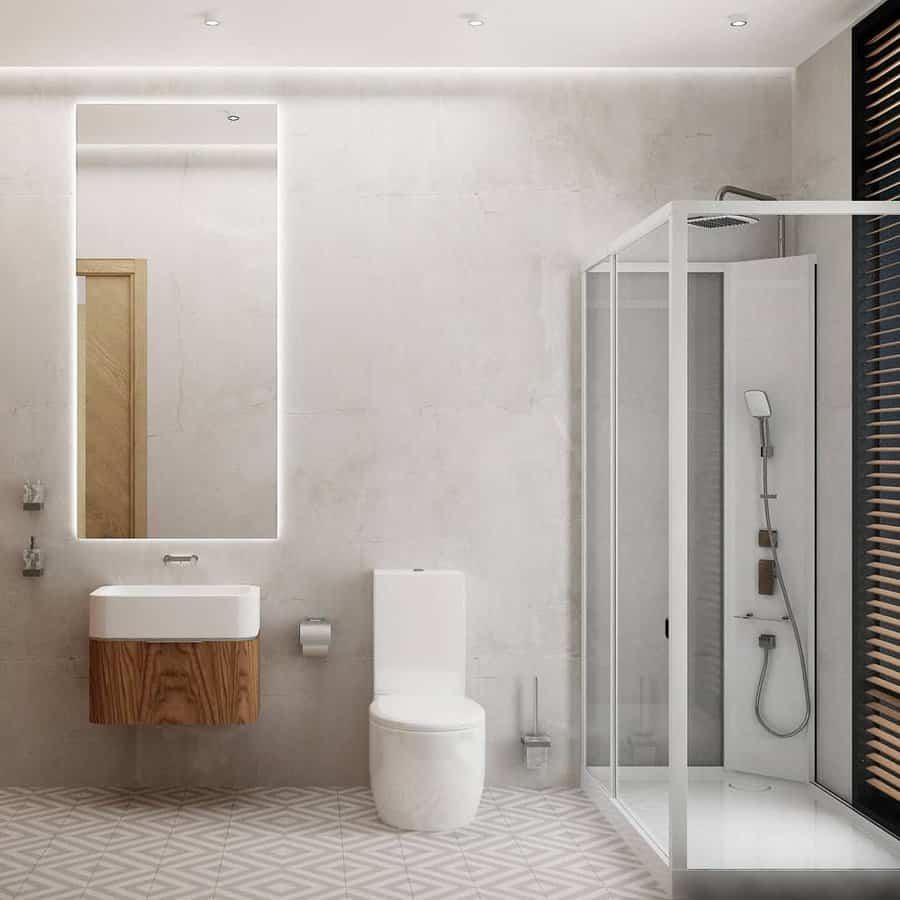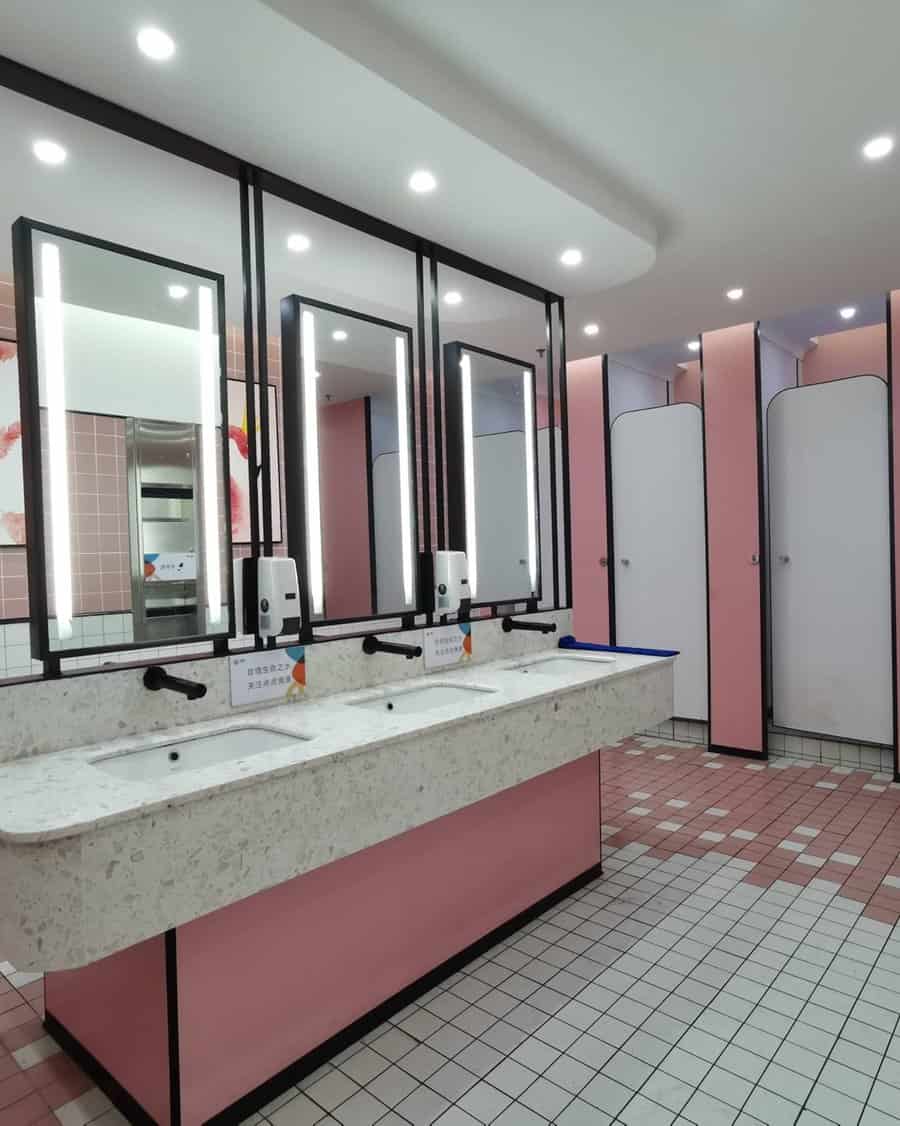 There are countless high-tech mirrors featuring built-in lighting on the market. Not only is this style of mirror highly functional. It can also lend your bathroom a uniquely modern aesthetic.
Do you want to continue using your current bathroom mirror? Install hidden LED lighting behind the mirrors' edge to imitate this look instead!
See more bathroom mirror ideas here.
7. Modern
Modern decor is largely inspired by design trends from the 20th century. You can find tons of ideas for your own modern bathroom remodel in Art Deco and mid-century modern design.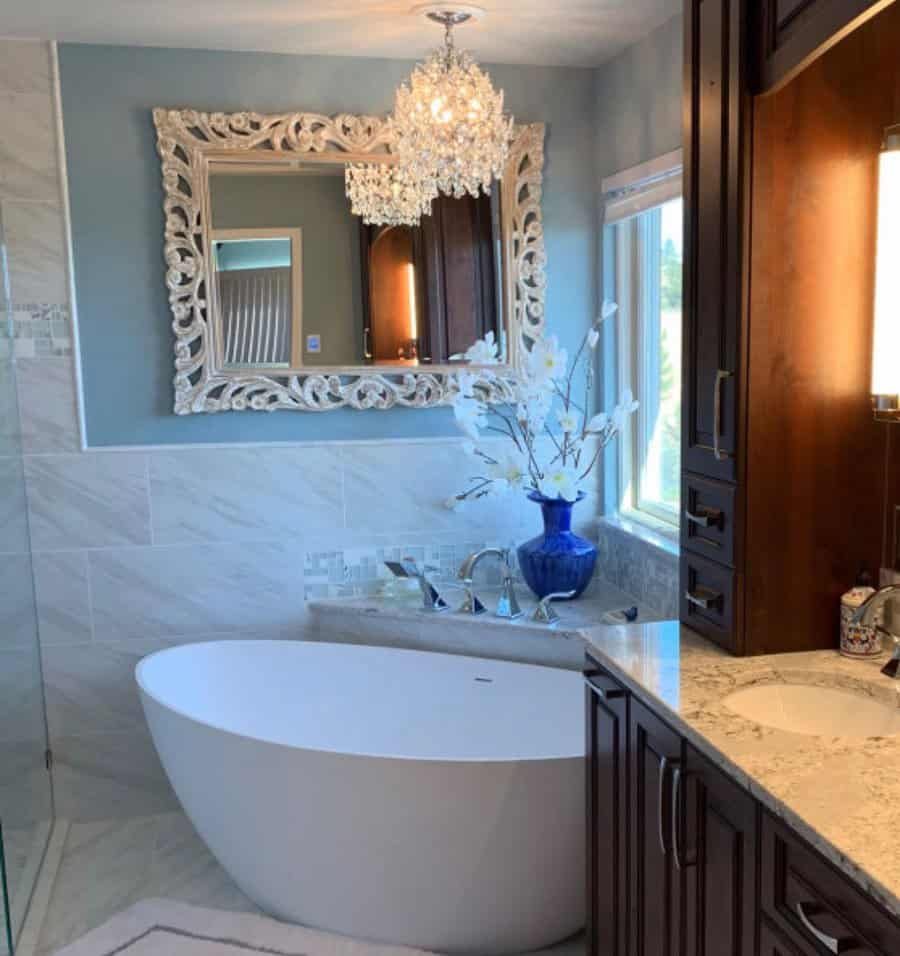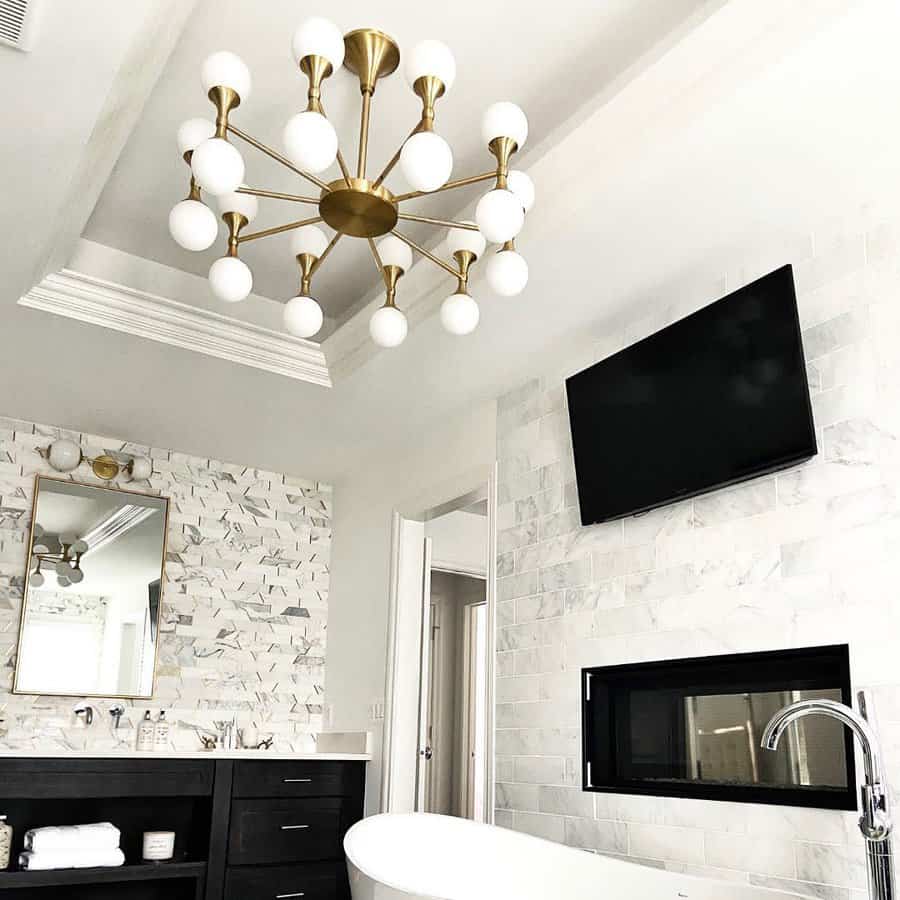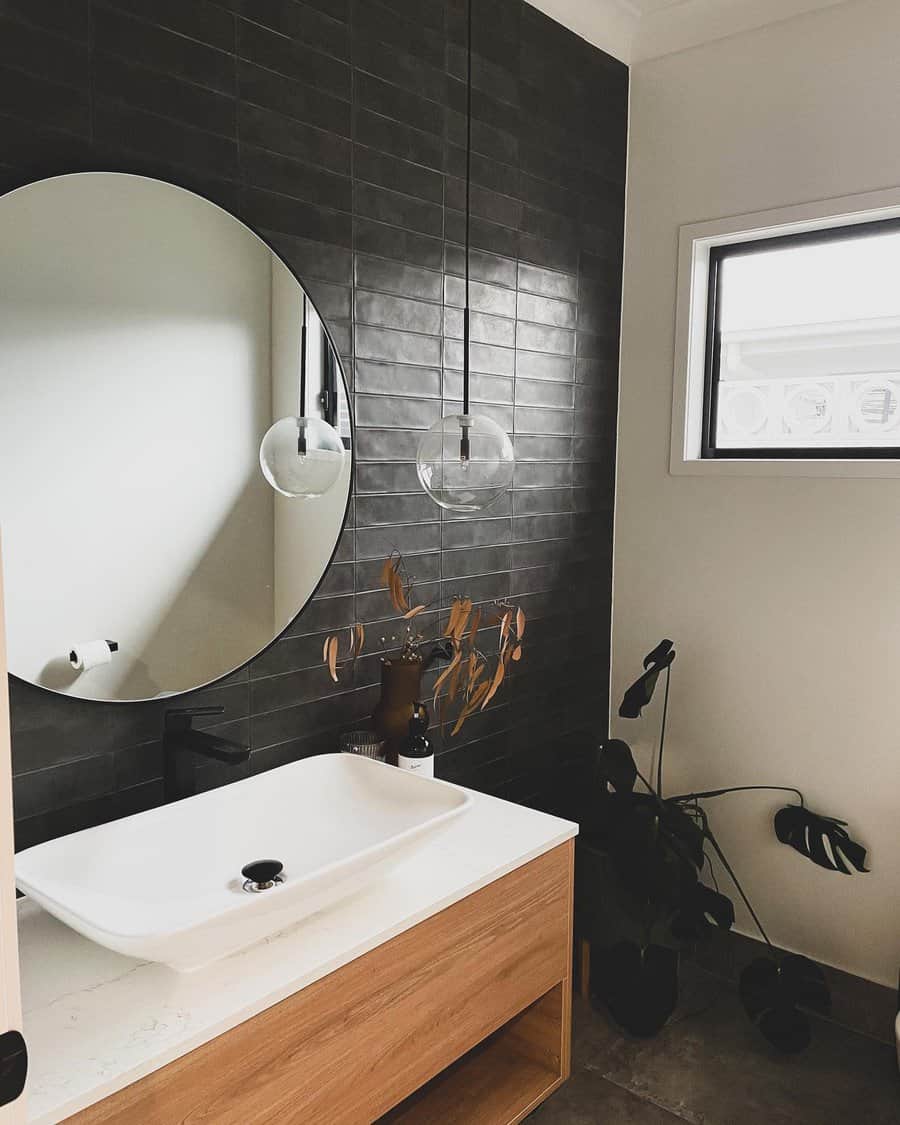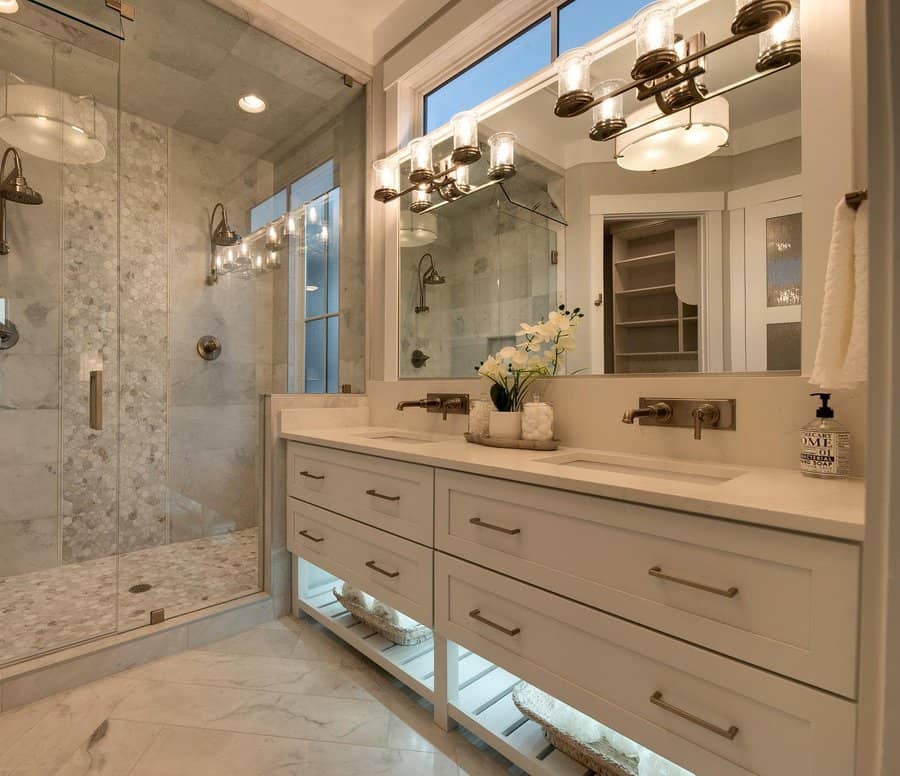 Minimalist wall lights can be installed throughout your bathroom space for full illumination. Ambient light is also an important part of many modern spaces. So look for ways to incorporate LED strips around your vanity or shower stall.
While many of the best modern bathroom lighting ideas are almost imperceptible, you can still include decorative lighting in your design. A simple flush mount or pendant lamp hung in the center of your bathroom can add a touch of charm to the space overall.
See more modern bathroom ideas here.
8. Pendant
Pendant lights are very similar to chandeliers. But the more compact design of most pendant lights makes them an even better candidate for lighting up a bathroom.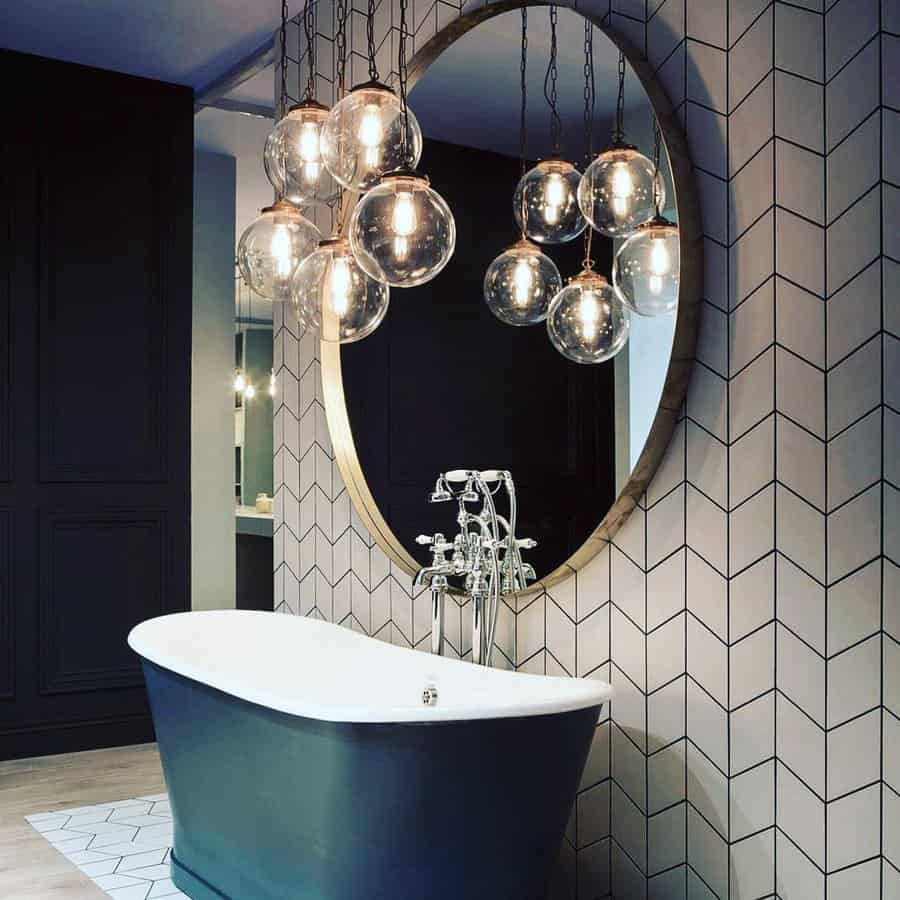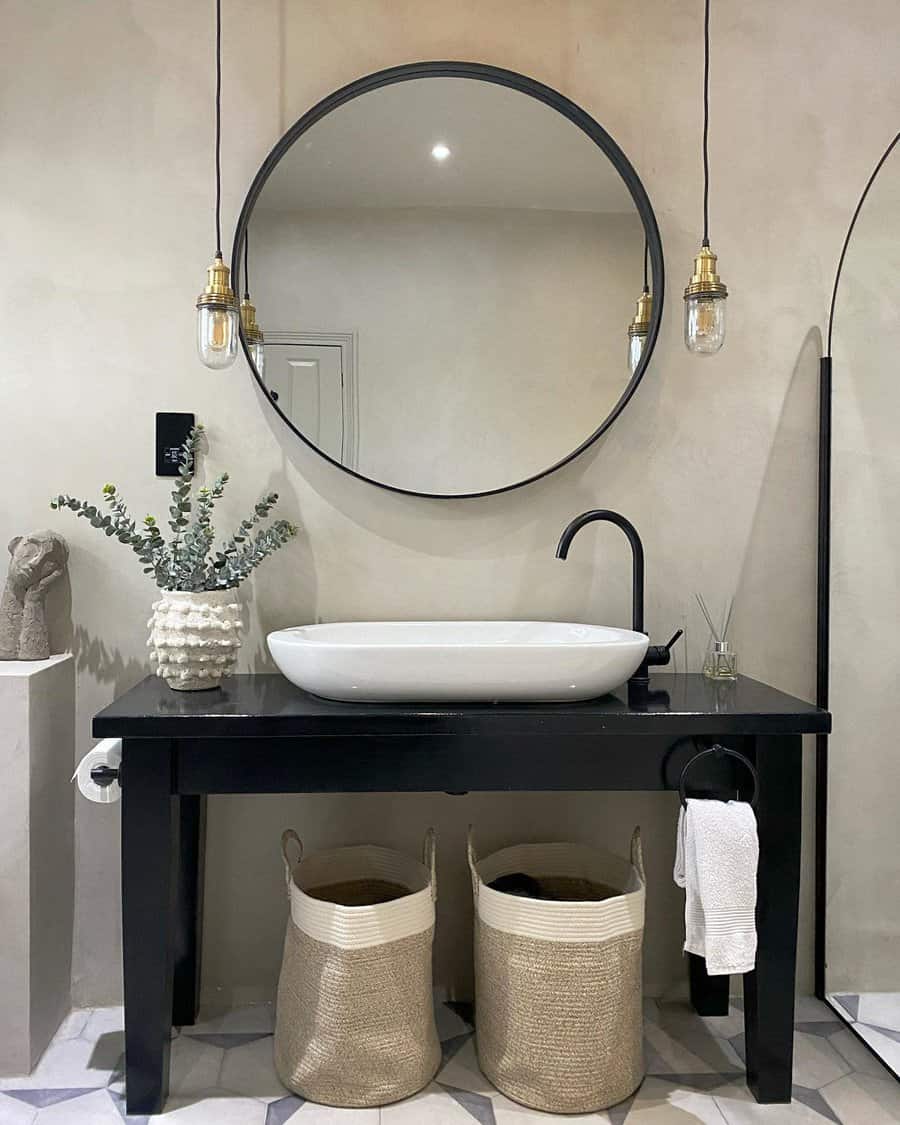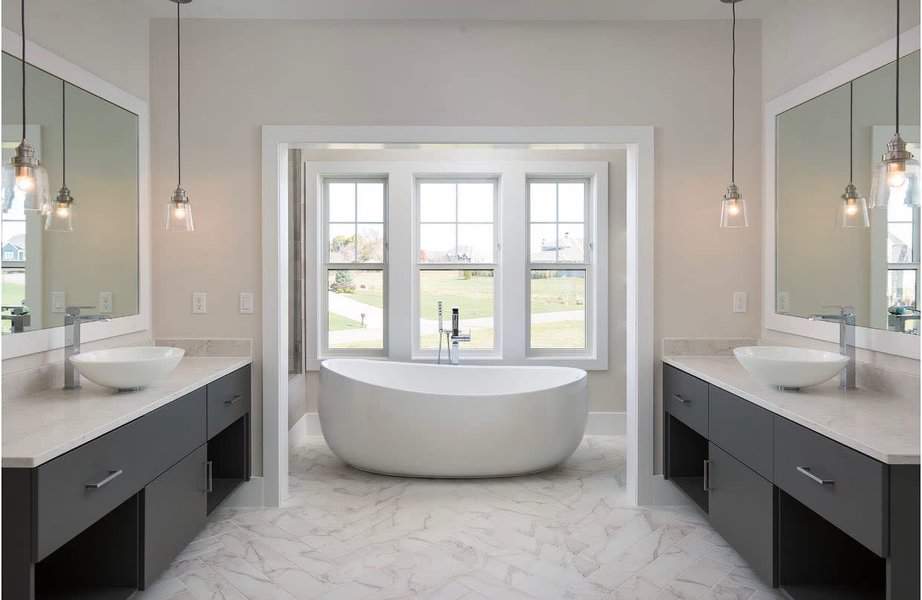 Any light fixture that hangs from the ceiling and features a single bulb is a type of pendant lamp. There's literally no limit to the materials, shapes, and sizes that pendant lights can come in.
Pendant lighting isn't just a great choice for an overhead bathroom light. Small pendants can be hung in place of traditional wall sconces to illuminate your vanity area. This is a wonderful option if your bathroom lacks the space to mount fixtures to the wall.
9. Rustic
Rustic bathrooms are remarkably diverse. And the lighting ideas that can be used in these spaces are just as varied!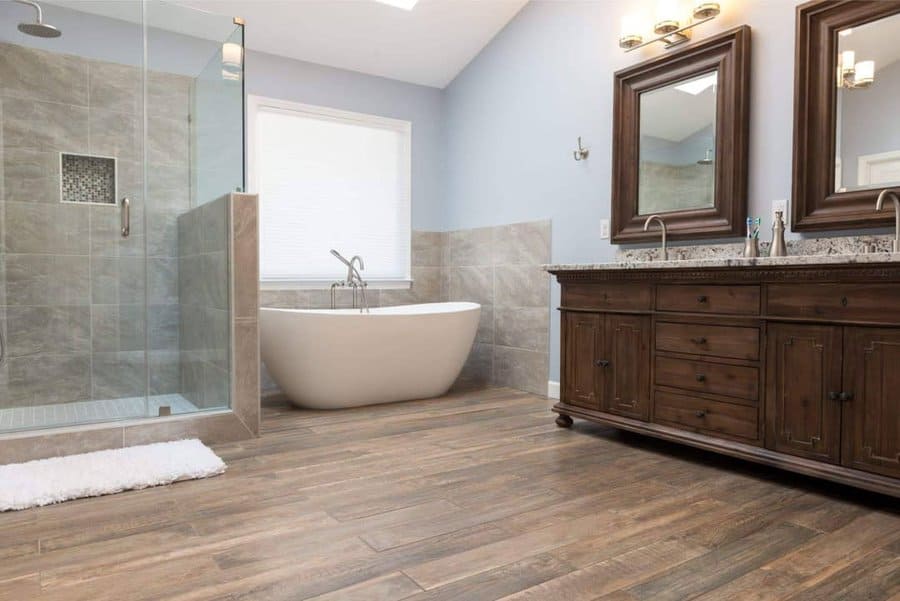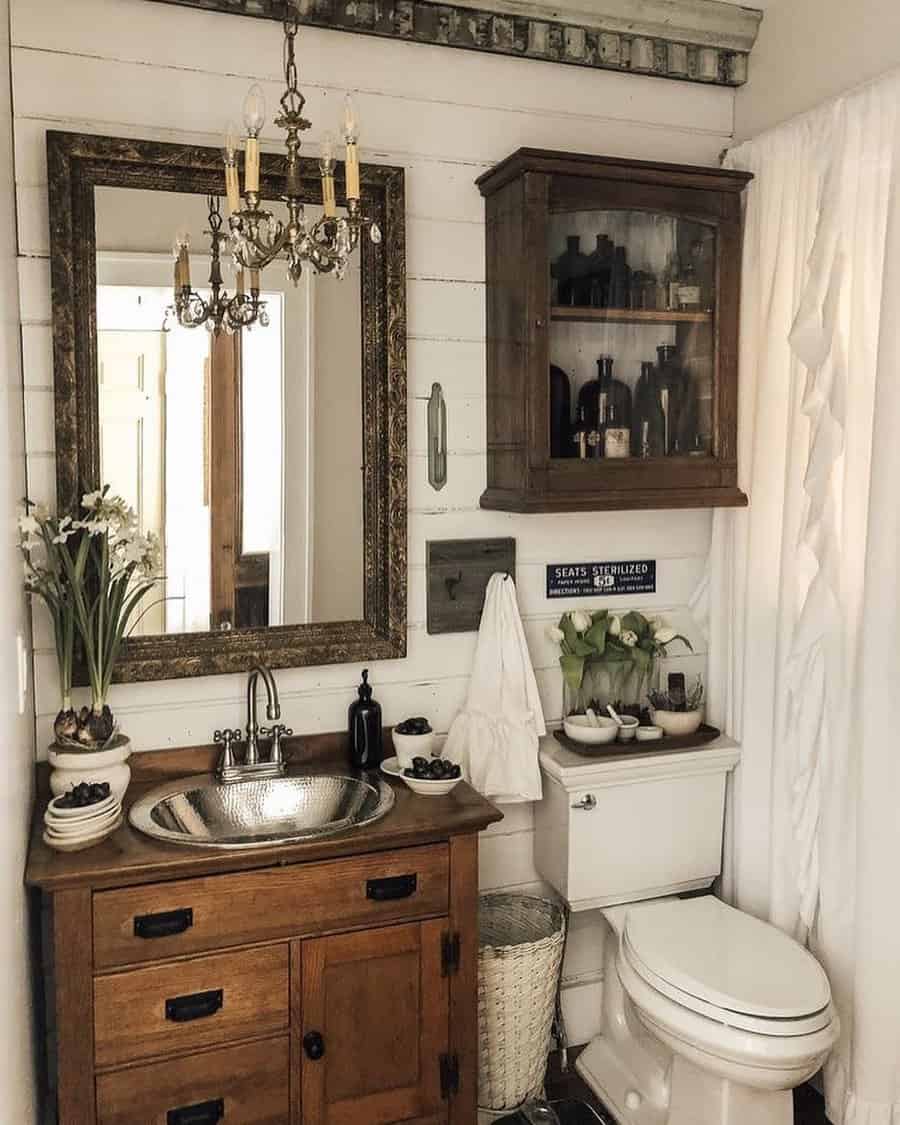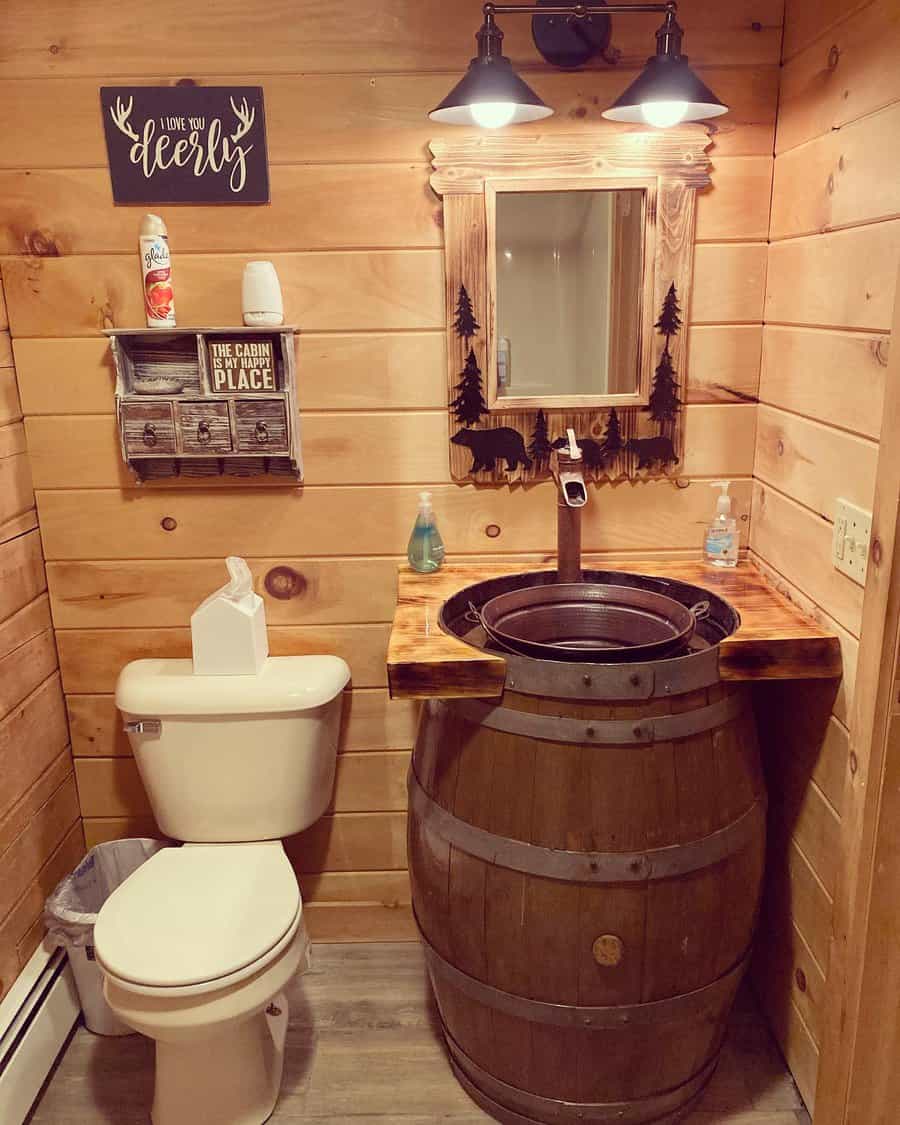 Materials like cast iron, aged bronze, and reclaimed wood are all wonderful options for rustic lighting. Incandescent light bulbs (with visible filaments) will give your design vintage appeal.
Industrial-style light fixtures will look right at home in your rustic bathroom design. You can repurpose authentic lights from a barn or ship to illuminate your bathroom. Or opt for replicas with a weathered finish.
See more rustic bathroom ideas here.
10. Traditional
Despite the nondescript name, traditional interior design is just as unique as any other decor style. Traditional design is based on classic elements from the 18th and 19th centuries. Most — but not all — traditional decor is inspired by European homes.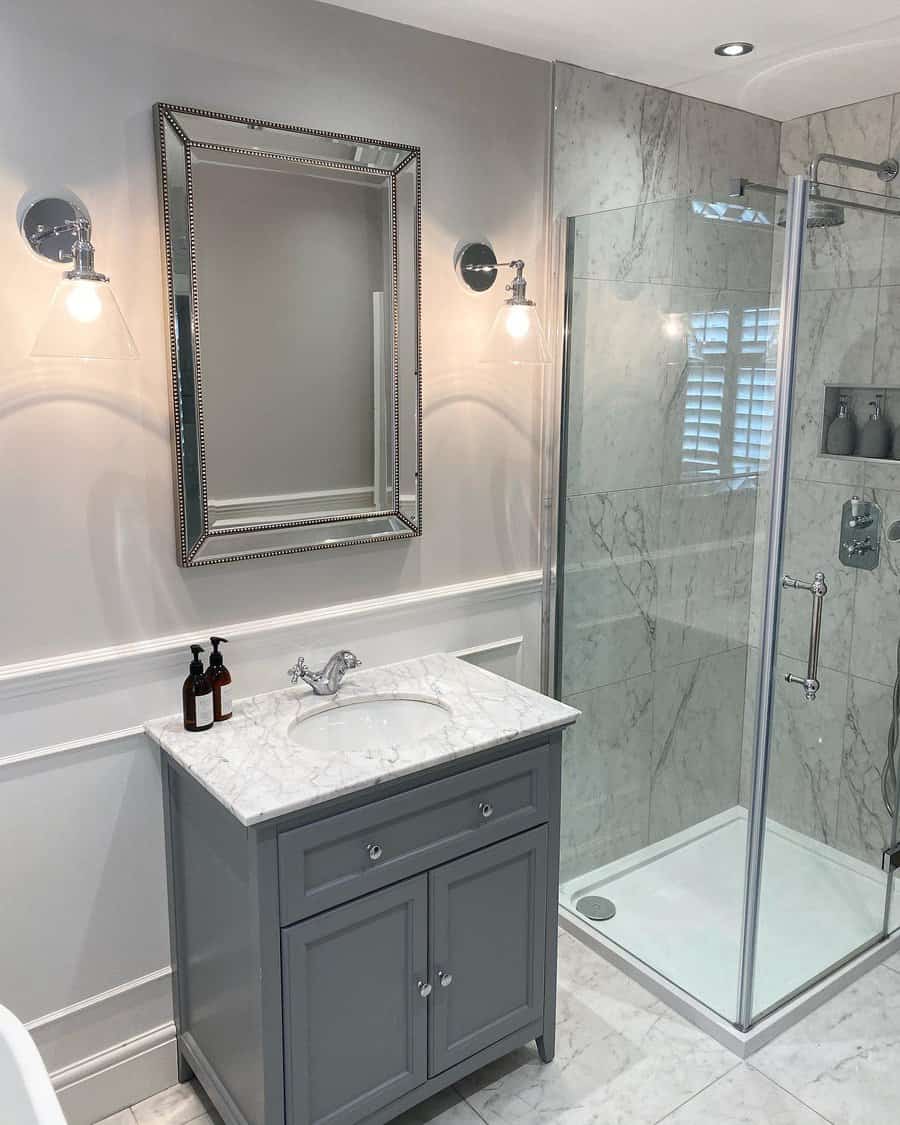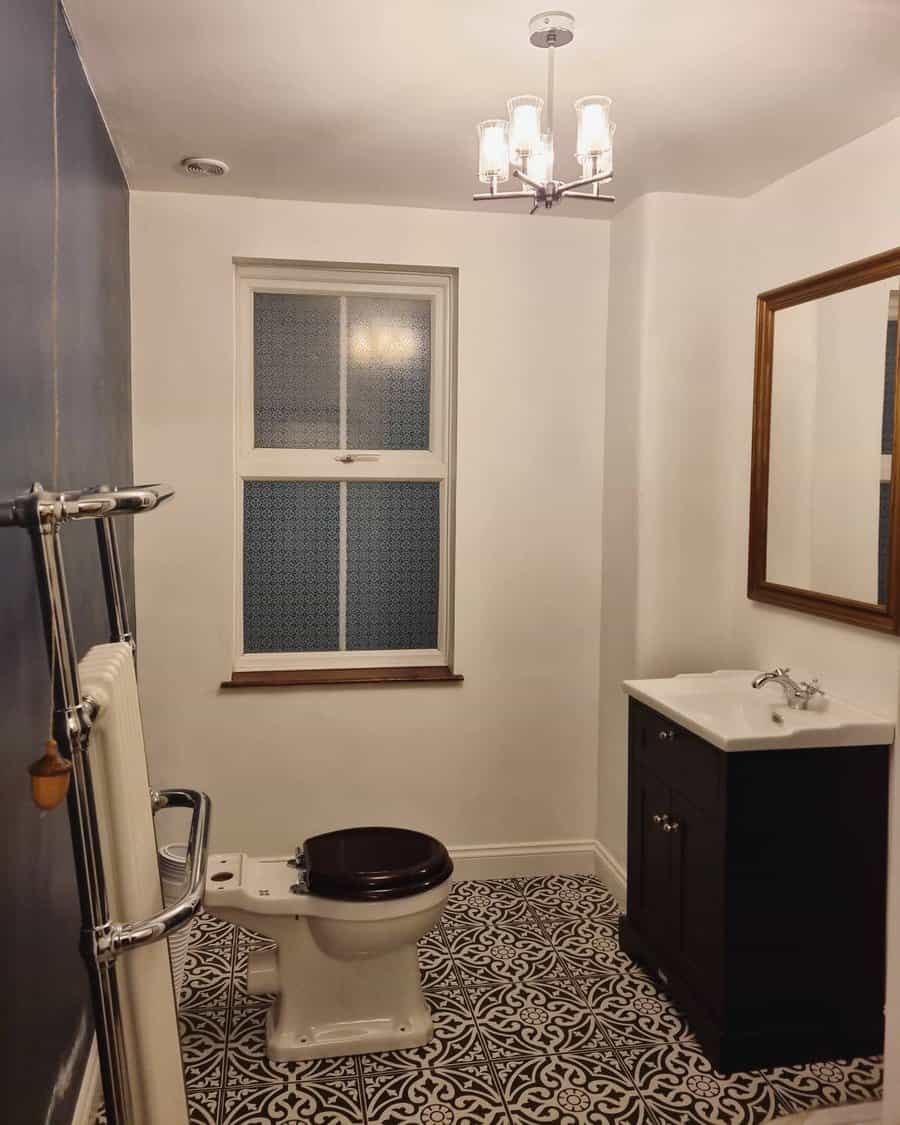 Traditional light fixtures tend to be larger and more ornate than those of today. Candle-shaped light bulbs can give your glass wall sconce or chandelier an even more authentic look and feel.
The finishes of your bathroom light fixtures can help anchor your design in the 21st century. Something like polished silver over aged bronze will give your traditional bathroom lighting a contemporary edge.
11. Vanity
No matter how bright your bathroom lighting is as a whole, you shouldn't ignore the space surrounding your mirror and sink. After all, the bathroom vanity is where many of us do our best work!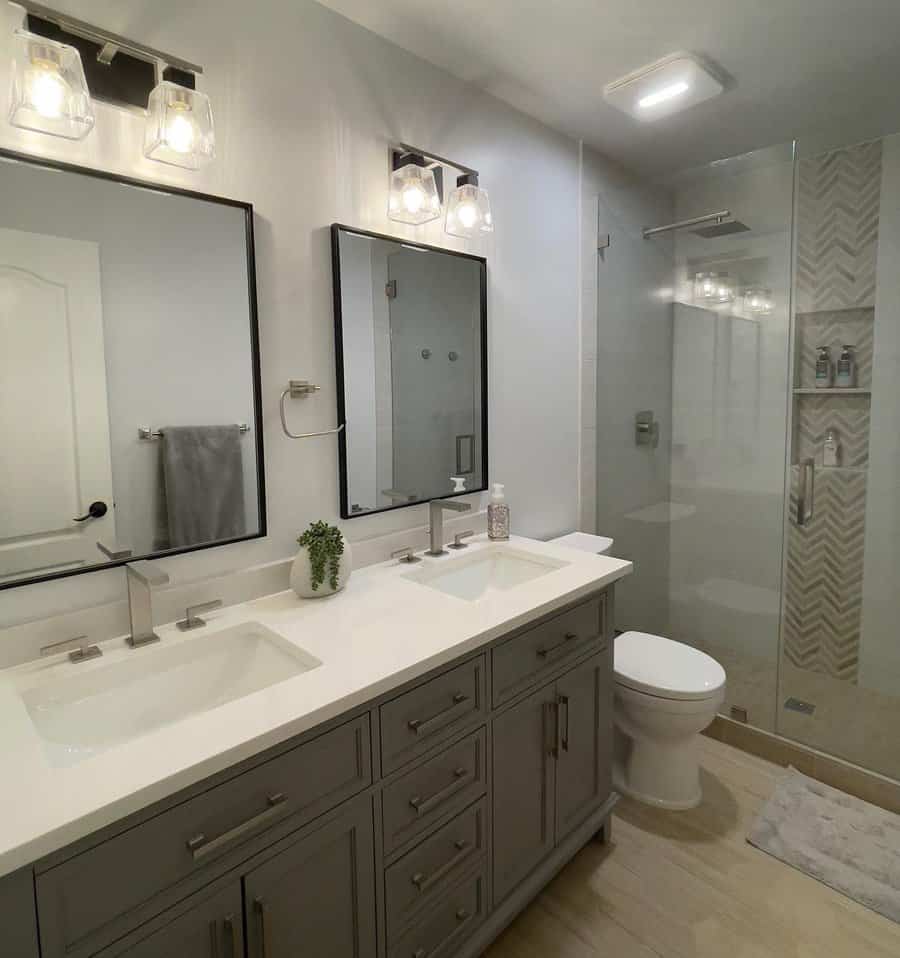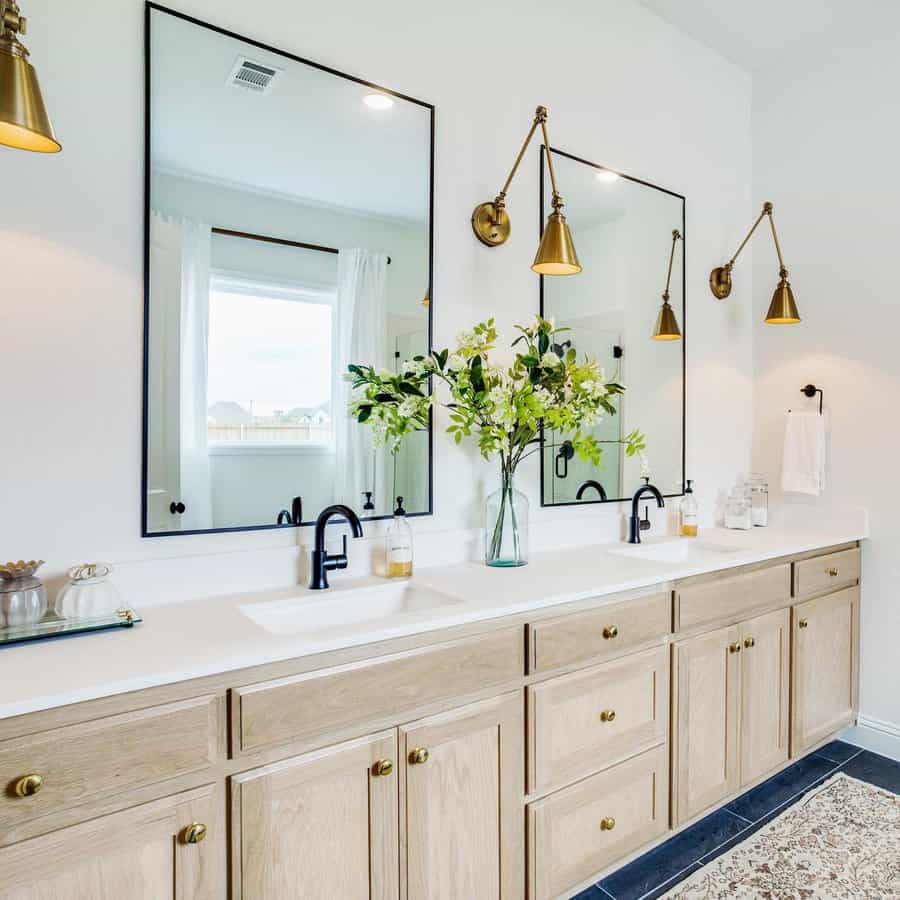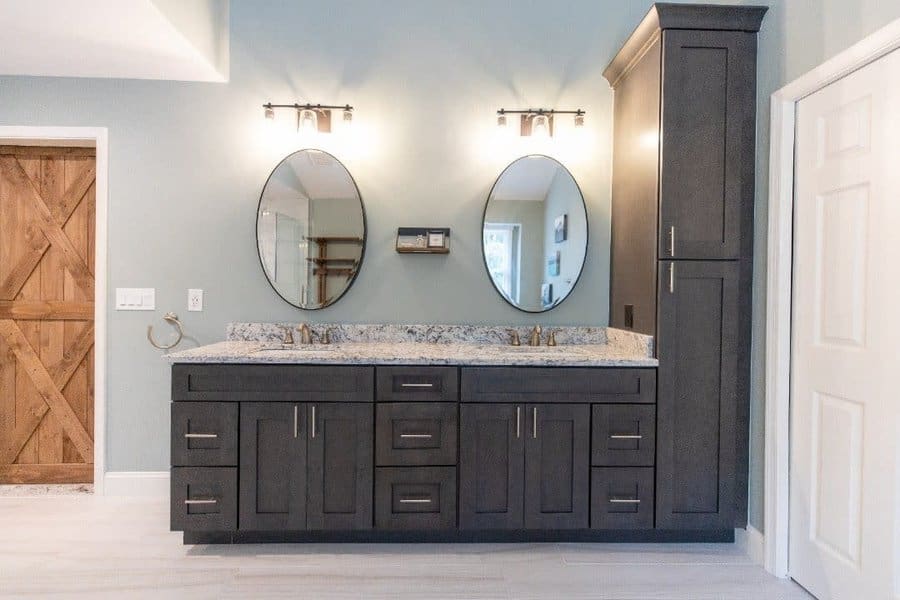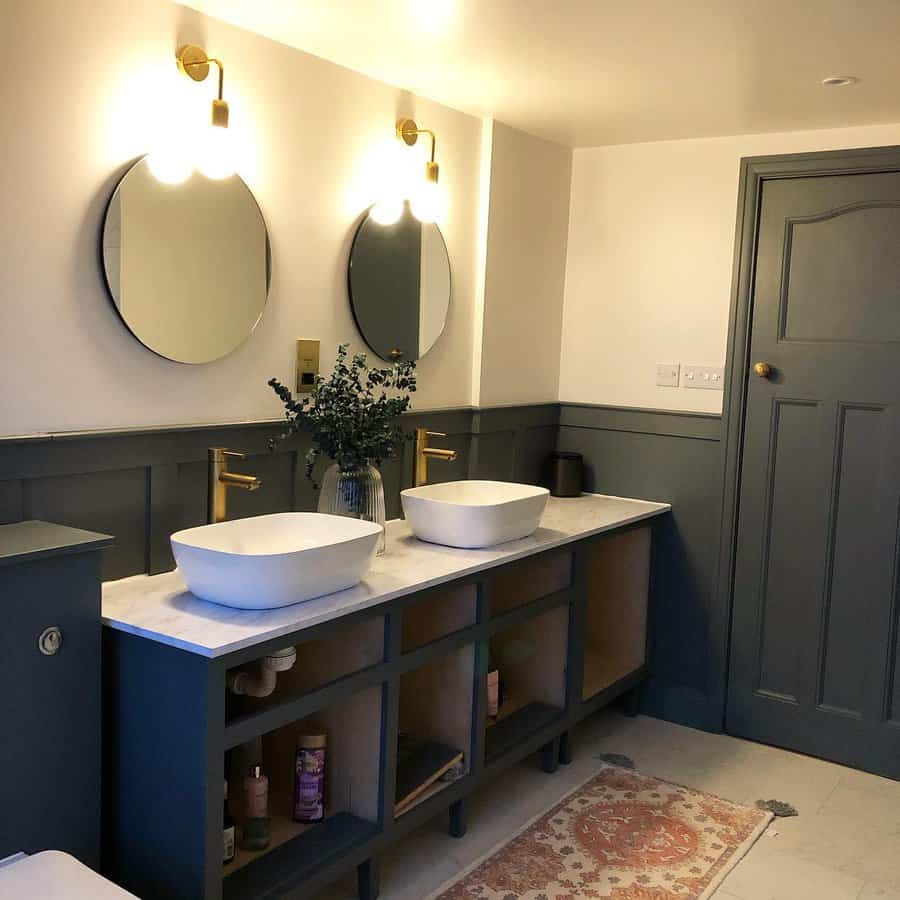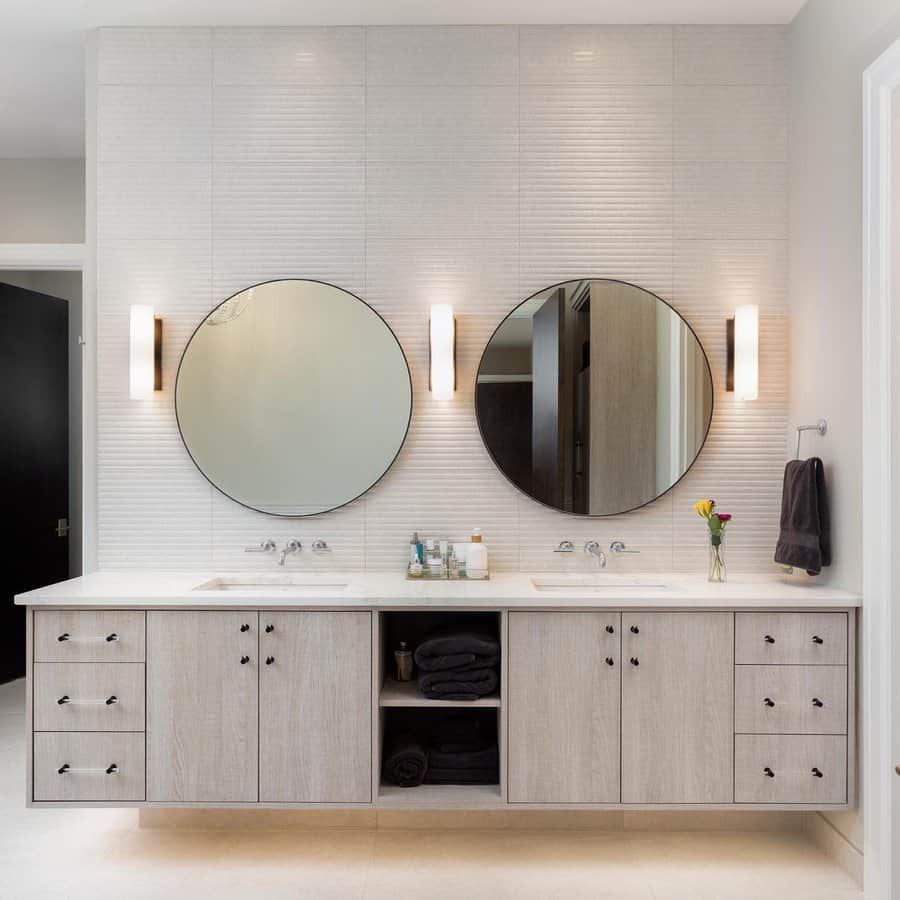 How your vanity lights illuminate the area is just as crucial as the overall look of the fixtures themselves. Symmetrical lighting on either side of the vanity will provide better visibility than an overhead fixture.
If you do opt for an overhead vanity light, be sure the fixture is no wider than the mirror below it. A fixture that is too large will throw off the balance of your vanity space — the mirror should always be the star of the show.
12. Wall
Few bathrooms look their best with overhead lighting alone. So it's important to supplement your bathroom ceiling fixture with a few wall lights as well.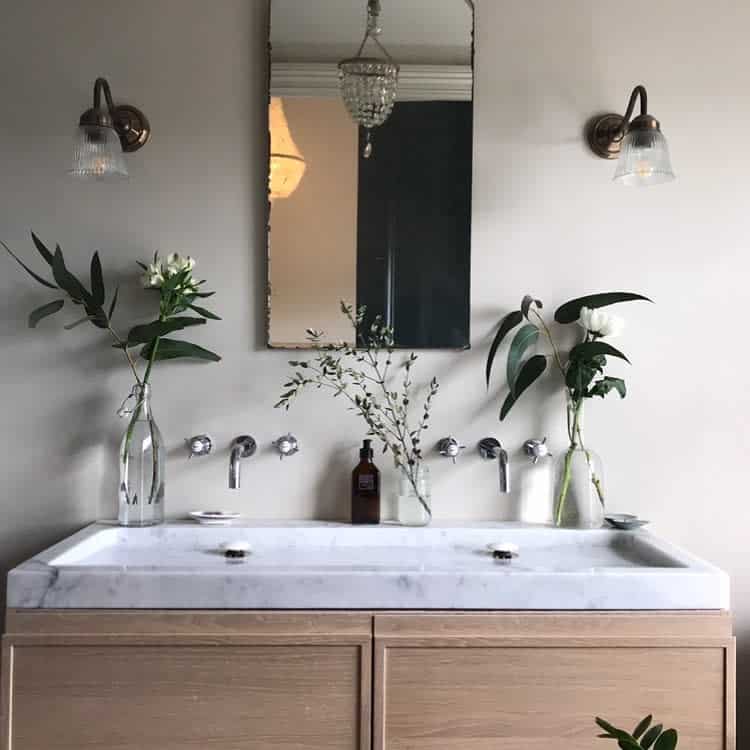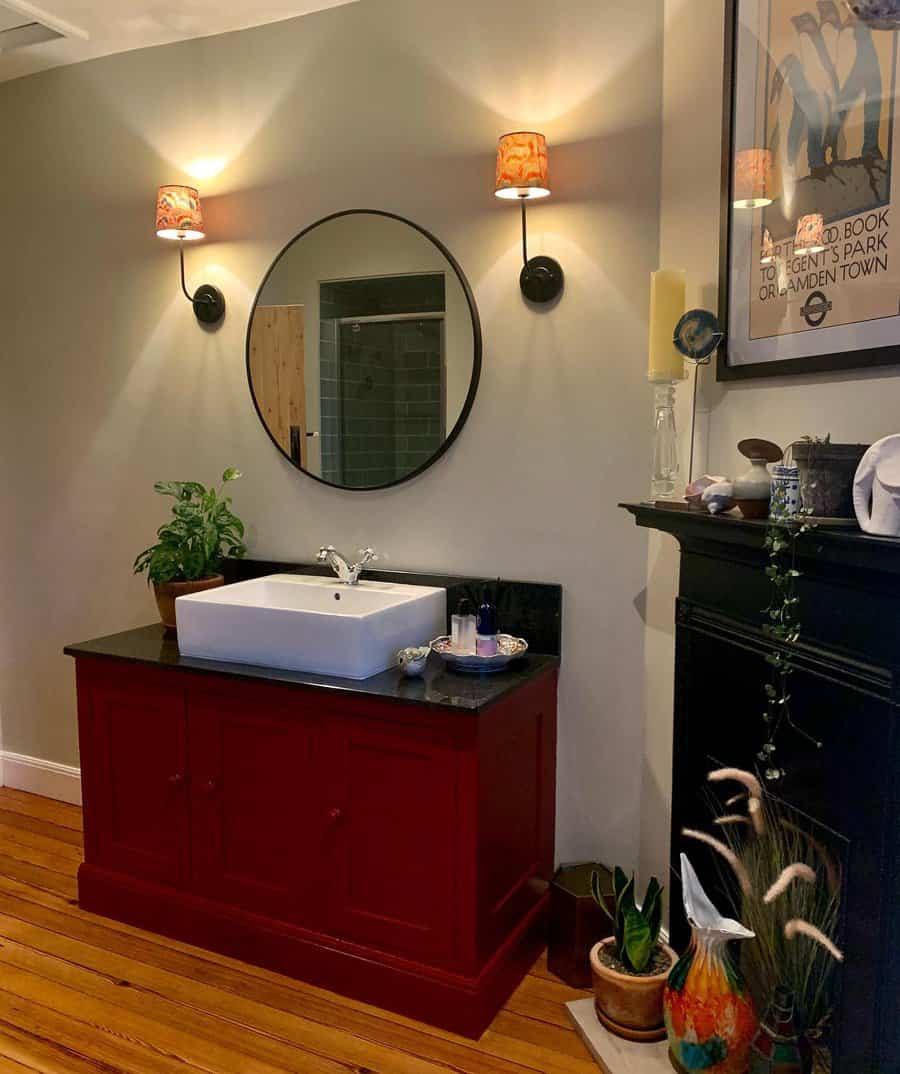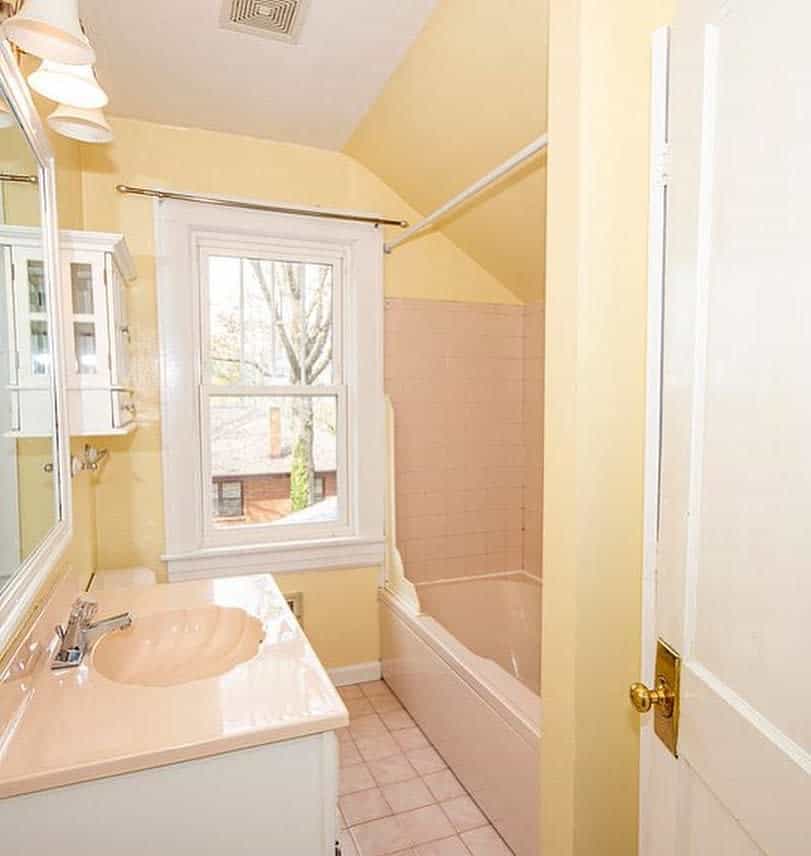 The hardest part of installing wall-mounted lighting is deciding where to mount it. Beware of placing bathroom wall sconces near doorways or anywhere they will pose a head-banging risk!
In most bathrooms, the best place to install wall-mounted lighting is above or on either side of your vanity mirror. Experiment with the exact placement of your new lighting to find a spot that both looks great and illuminates the space most efficiently.
Bathroom Lighting FAQs
What type of lighting is best for the bathroom?
Bathroom lighting isn't just about illuminating the space. The right bathroom lighting is both flattering and makes everyday tasks like applying makeup significantly easier!
The best type of lighting for the average bathroom is a soft white bulb. These bulbs tend to be between 2700K and 3000K. Look for light bulbs with a CRI of 90 to 100 for the most accurate colors and tones.
Should vanity lights point up or down?
Technically, vanity lighting can be installed either way. But each orientation produces slightly different results.
If you're interested in producing a soft, ambient glow throughout your bathroom, then uplit vanity lighting is ideal. This option is gentler on the eyes and reflects light off the ceiling and walls.
For better visibility at your bathroom vanity, lighting that faces down will serve you best. A downlit vanity fixture is a great source of task lighting for things like skincare or makeup application.