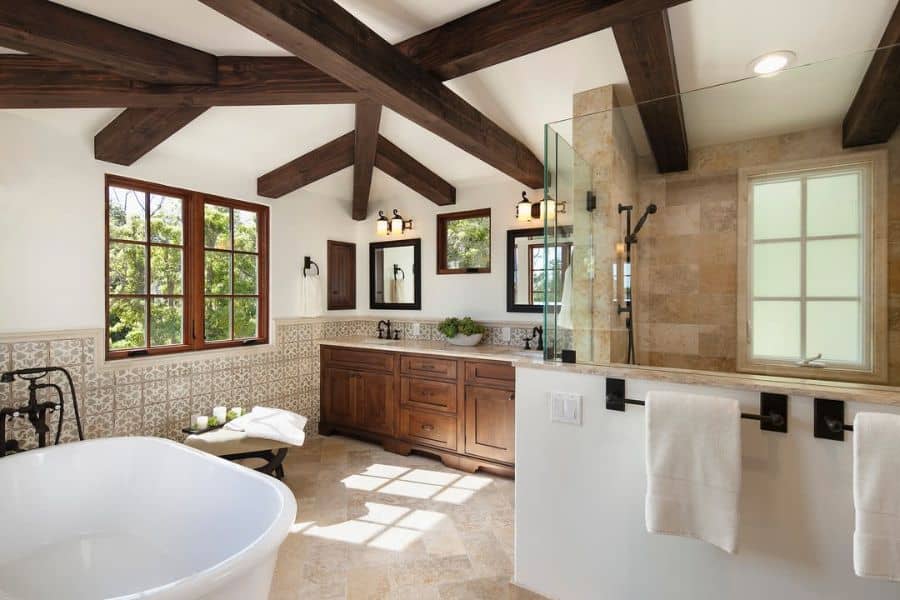 The Top 48 Bathroom Ceiling Ideas
by — Andra DelMonico

Published on August 2, 2021

Updated on October 13, 2023
When was the last time you looked up while in the bathroom? If you're like most people, you probably can't think of a time when you purposefully looked up. It's just that white space above you that you forget about.
While there isn't anything wrong with this, you're missing out on the potential for a unique and bold design statement.
Modern bathroom ceiling ideas say goodbye to the old and tired popcorn ceiling and embrace techniques that you typically find in other rooms of the home. Give your bathroom a refresh by changing up the ceiling in your bathroom.
1. Embrace Rustic with Shiplap Ceiling
A shiplap ceiling introduces a rustic charm that elevates your bathroom's ambiance. With its unique wooden board design, shiplap brings both texture and depth, making the room feel cozier. To enhance this design, pair the ceiling with vintage or farmhouse fixtures. Remember to seal the wood properly to ensure longevity in the moisture-rich bathroom environment.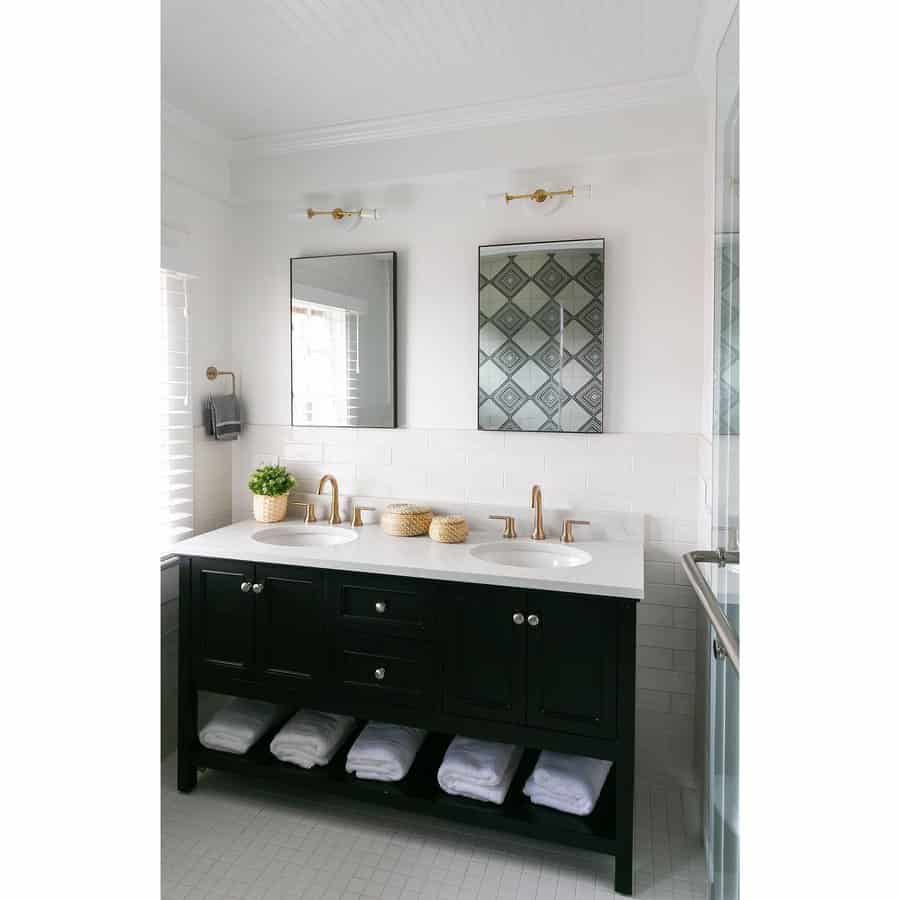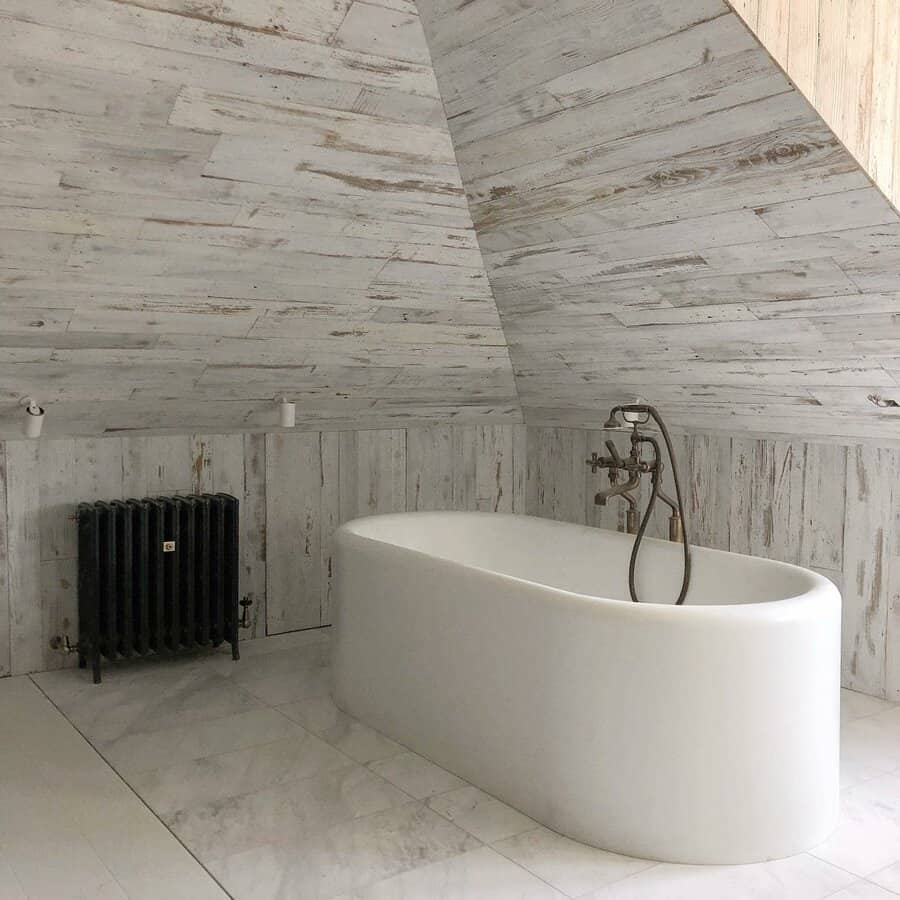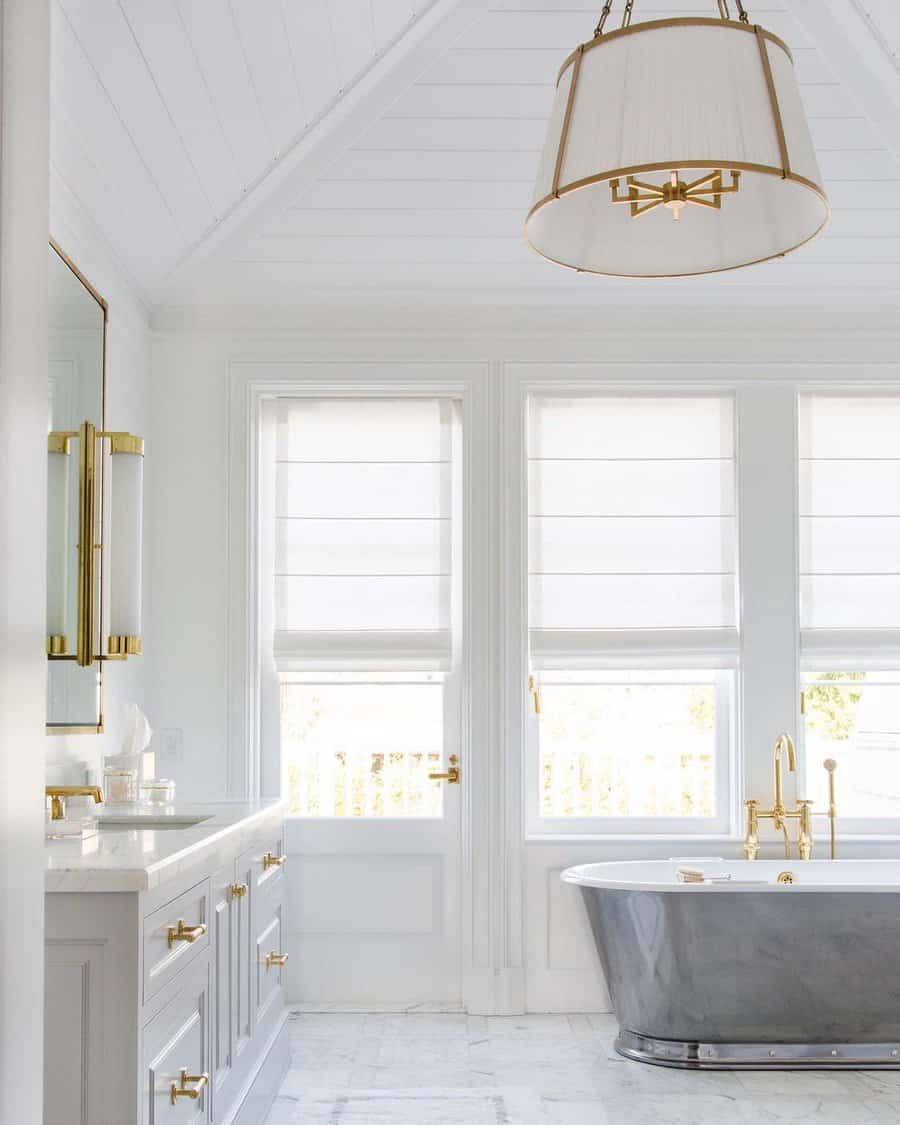 2. Enjoy Natural Vibes with Treated Wood
Introducing a treated wooden ceiling offers both texture and a rejuvenating natural ambiance to your bathroom. Opting for water-resistant treatments guarantees durability in the damp bathroom setting. For a harmonized aesthetic, consider complementing the wooden ceiling with matching wooden accessories or flooring, either in its natural shade or stained to fit your decor.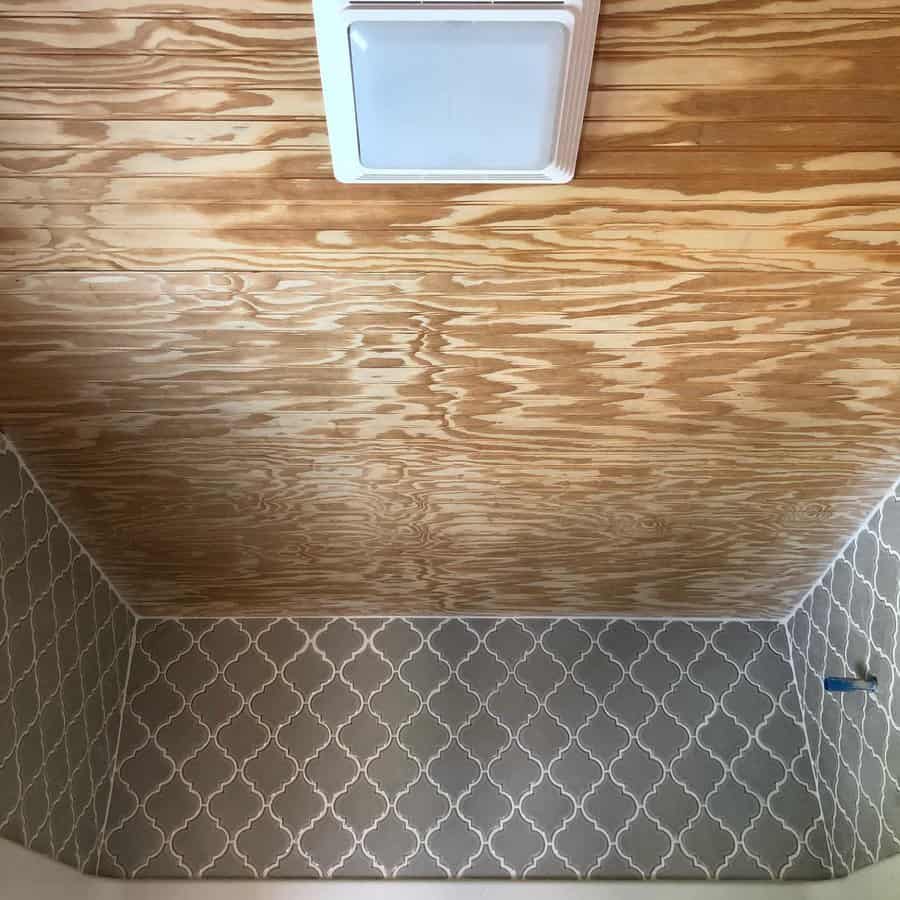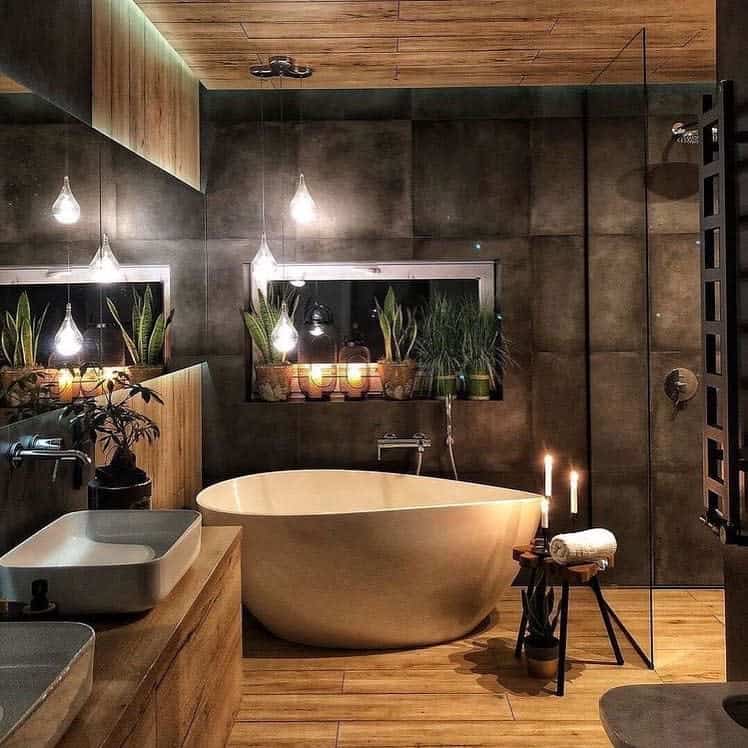 3. Enhance Texture with Ceiling Beams
Ceiling beams infuse a rustic farmhouse charm into bathrooms, amplifying warmth and character. Depending on your decor preferences, beams can remain in their natural state or be painted to harmonize with your color scheme. Beyond aesthetics, these beams can serve a functional purpose, acting as a mount for light fixtures or other decorative elements, seamlessly blending form and function.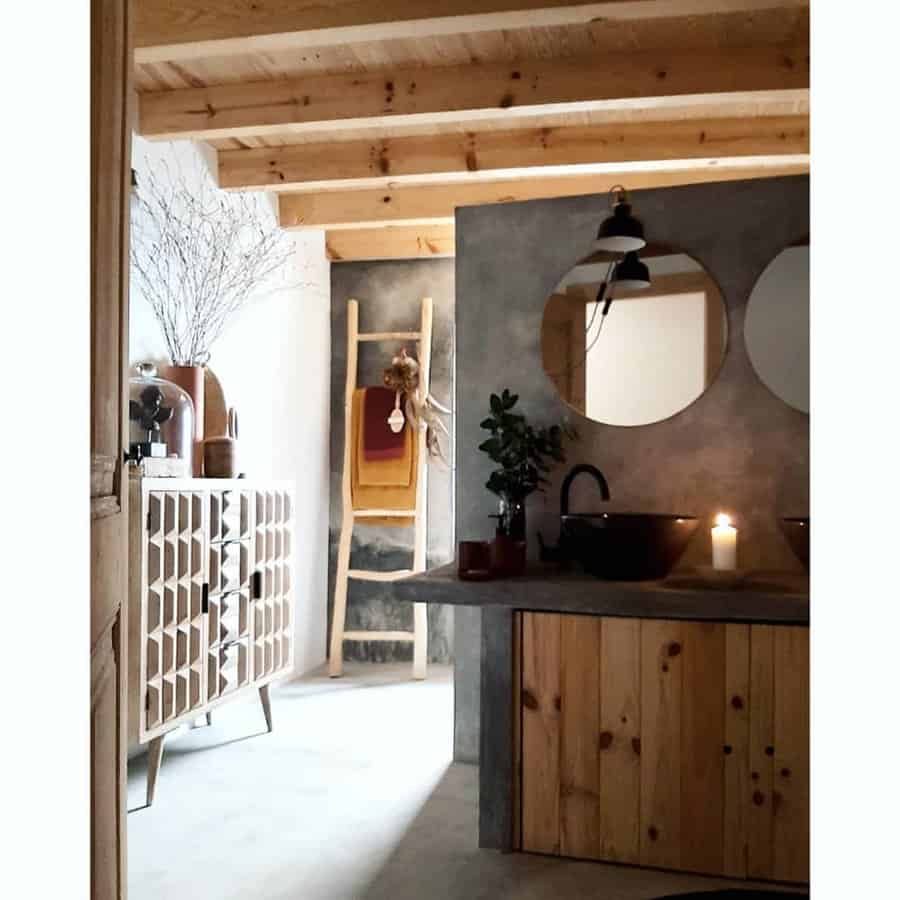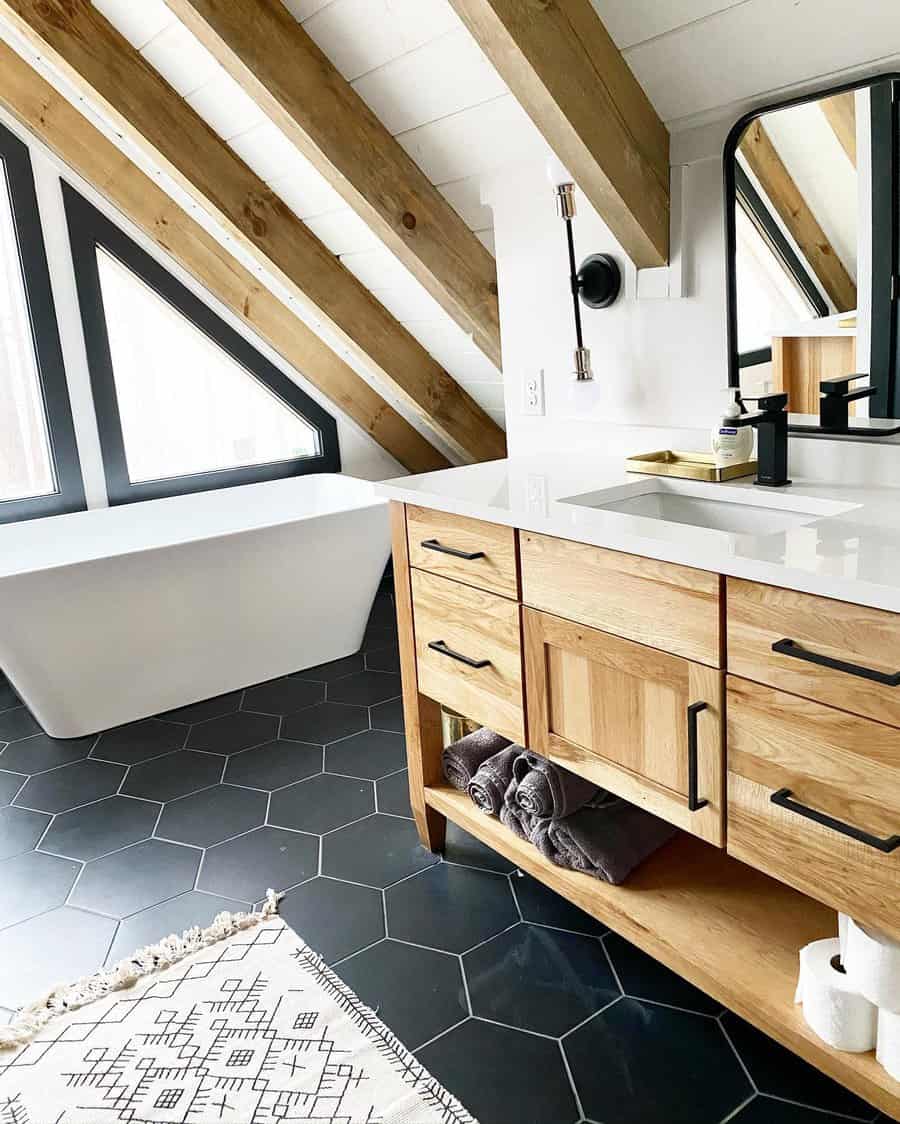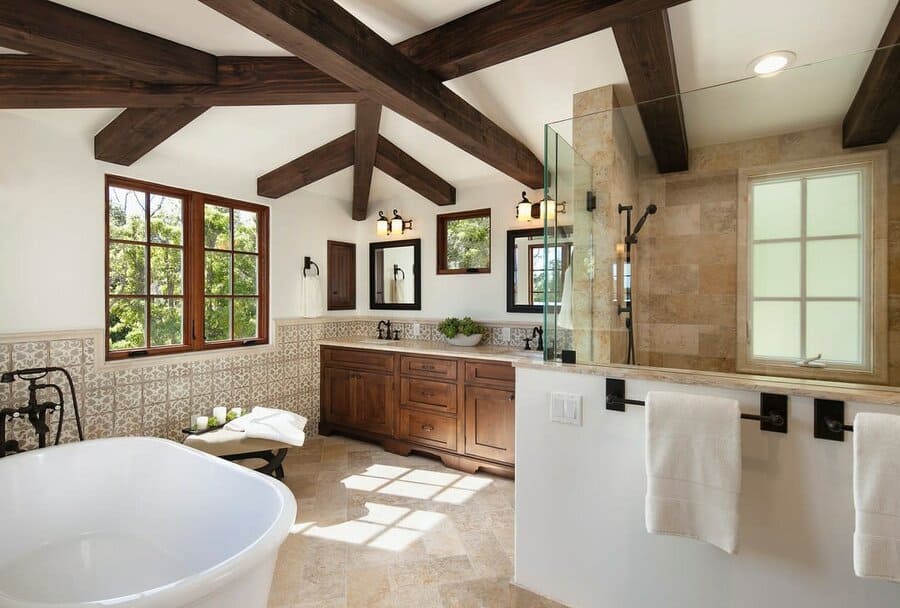 4. Illuminate with Skylight Windows
Skylight windows effortlessly infuse luxury into your bathroom, drawing in ample natural light that enhances the room's spaciousness and ambiance. This not only creates a serene environment perfect for relaxation but also serves as a striking design element. For impactful results, select a skylight size and design that complements your bathroom's dimensions and style, turning it into an elegant focal point.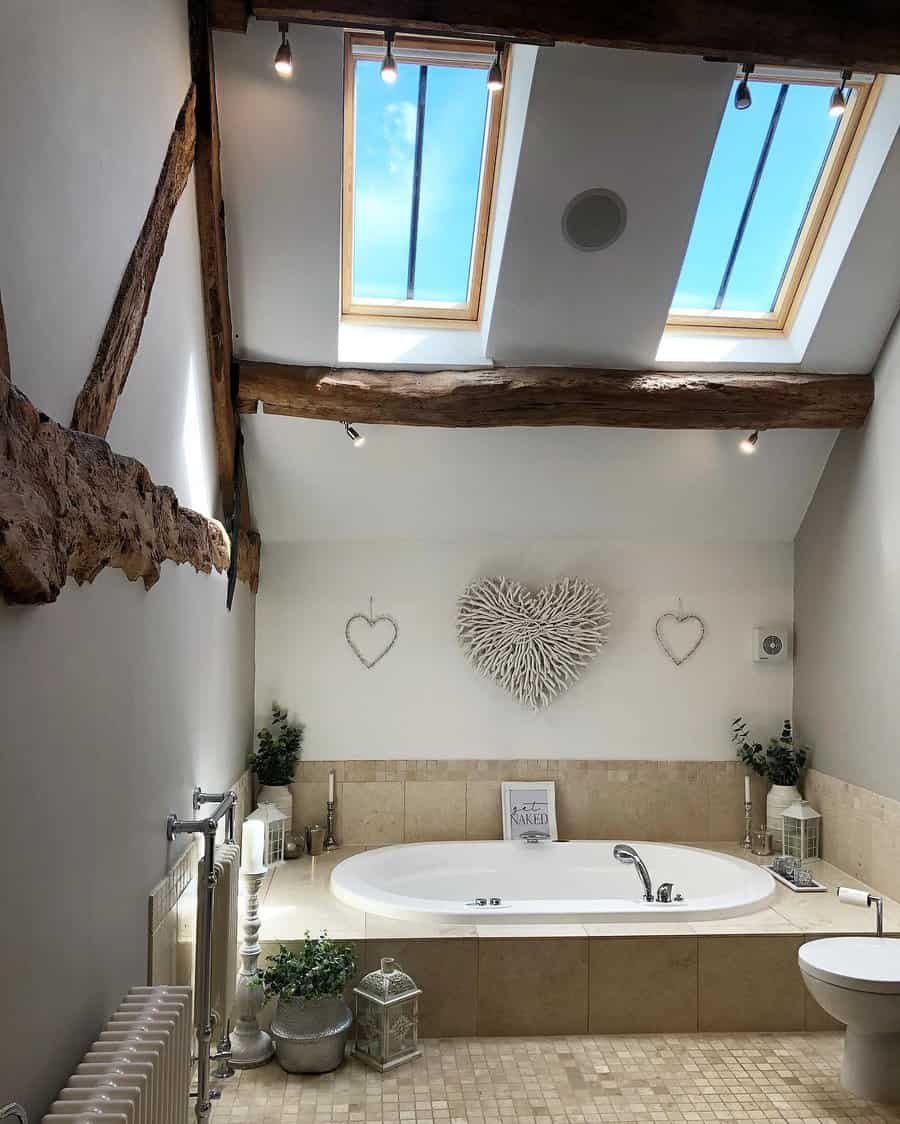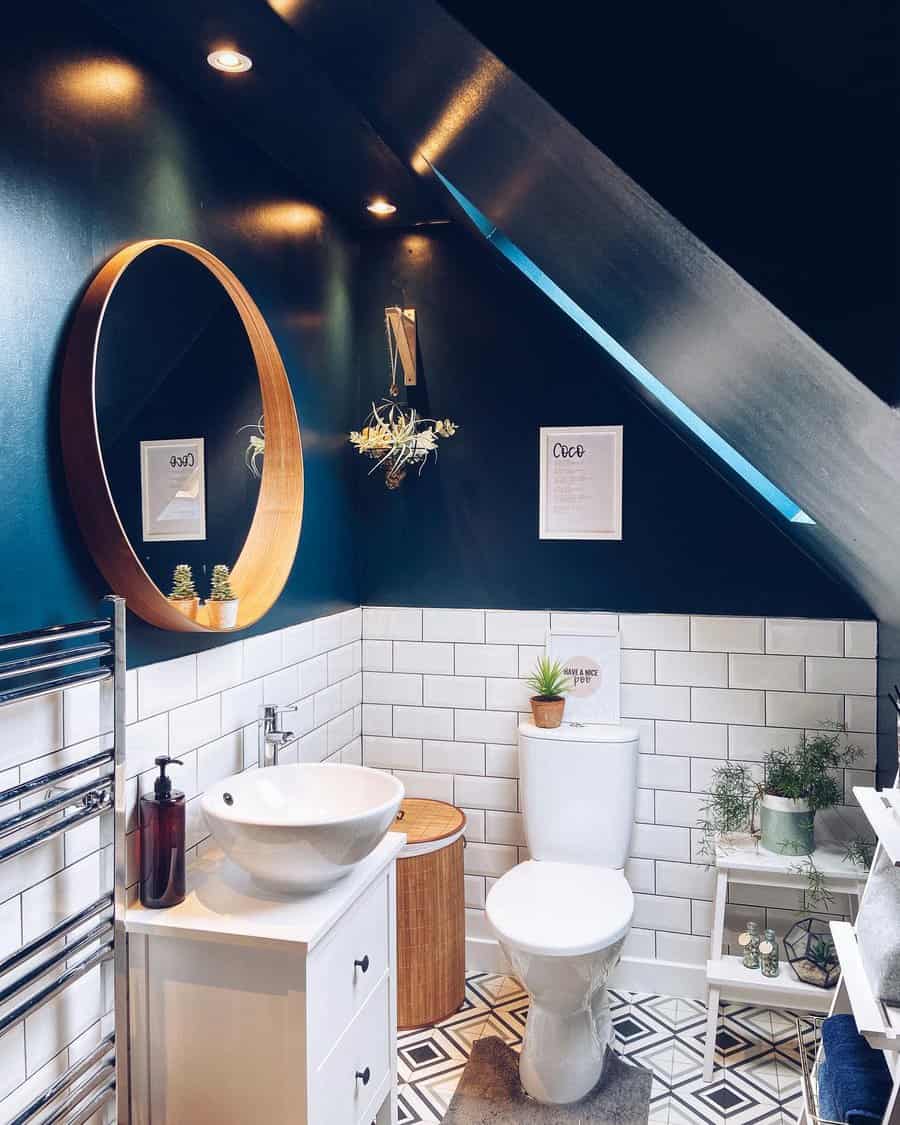 5. Brighten Edges with Strip LEDs
LED strip lighting, when aligned along the bathroom ceiling edges, exudes an elegant, modern glow. Besides enhancing the aesthetics, it offers practical illumination perfect for meticulous tasks like makeup application or shaving. Opting for LEDs ensures energy efficiency and longevity, merging style with eco-conscious choices.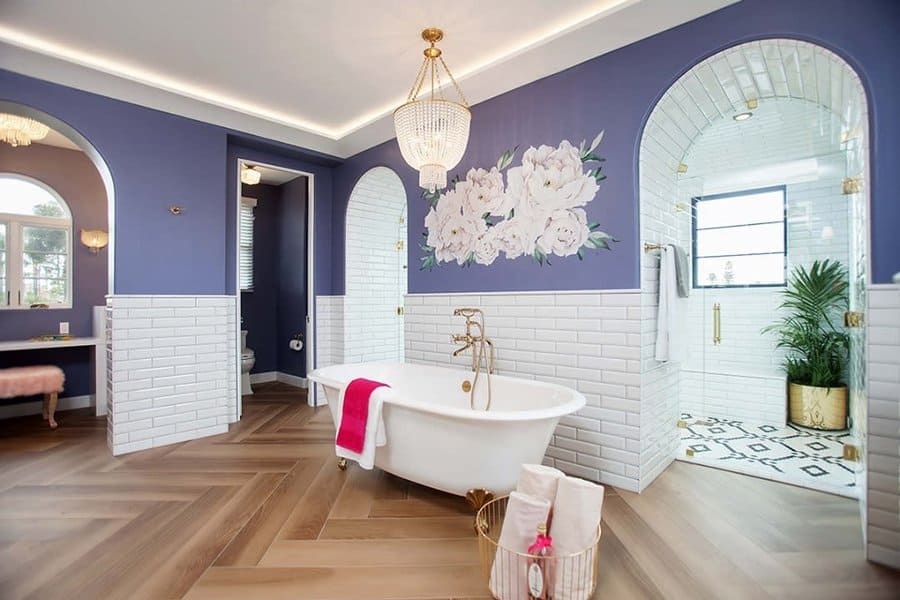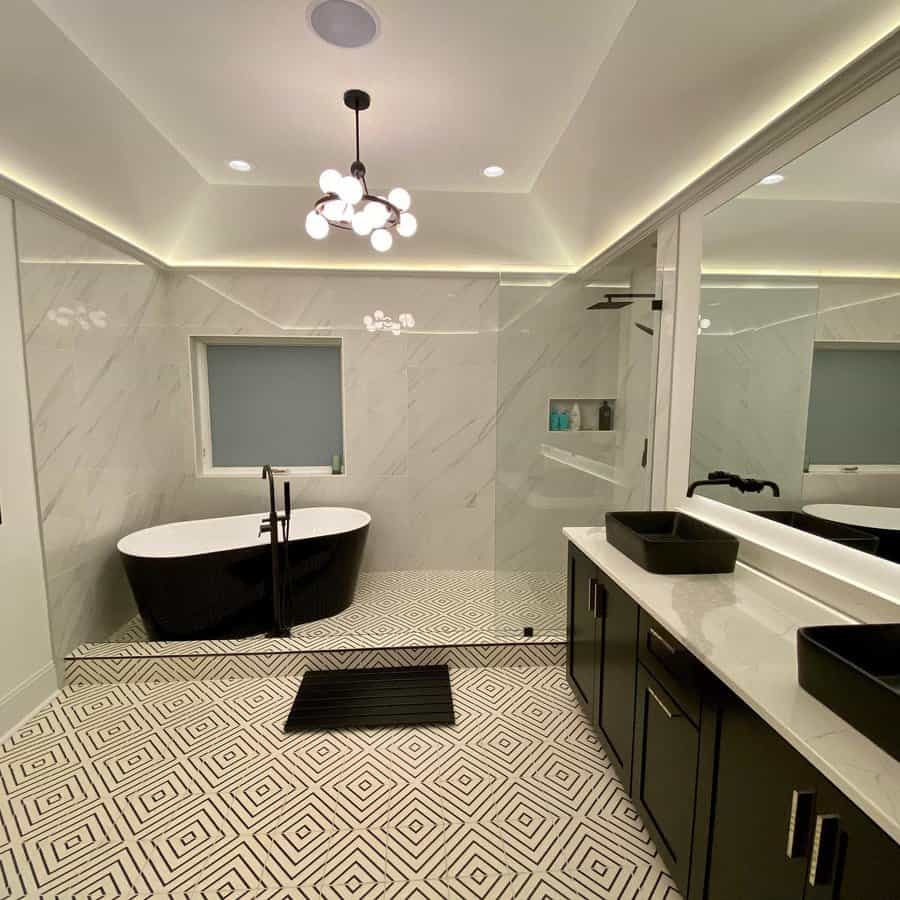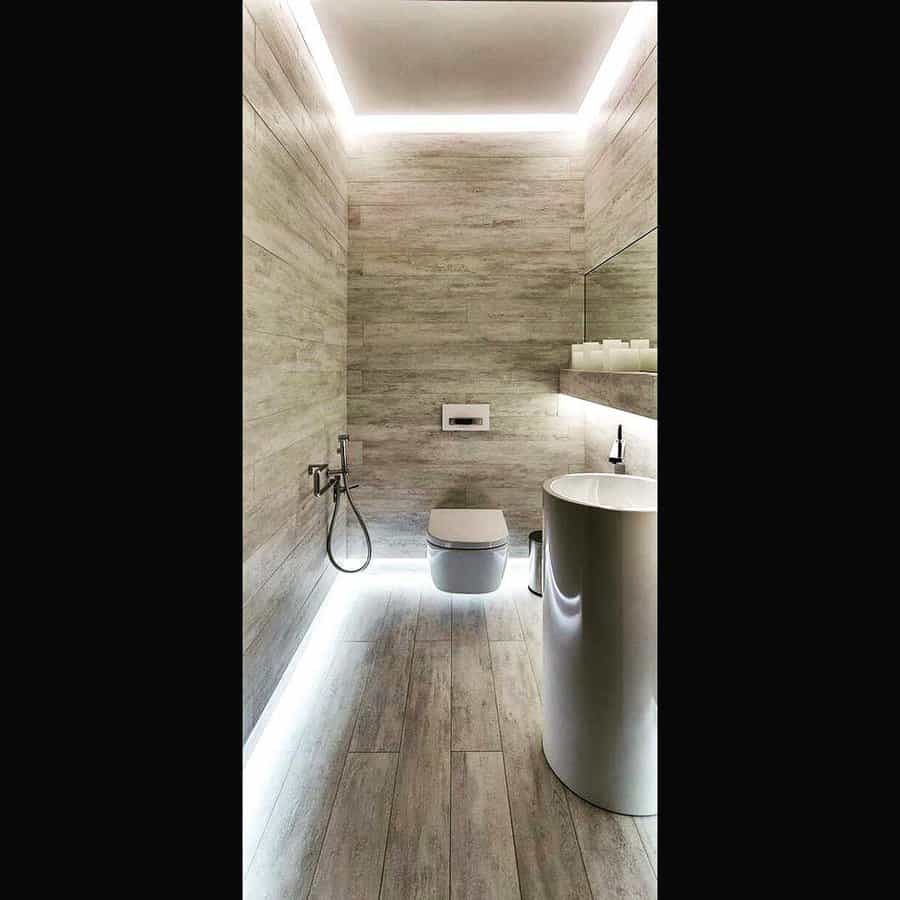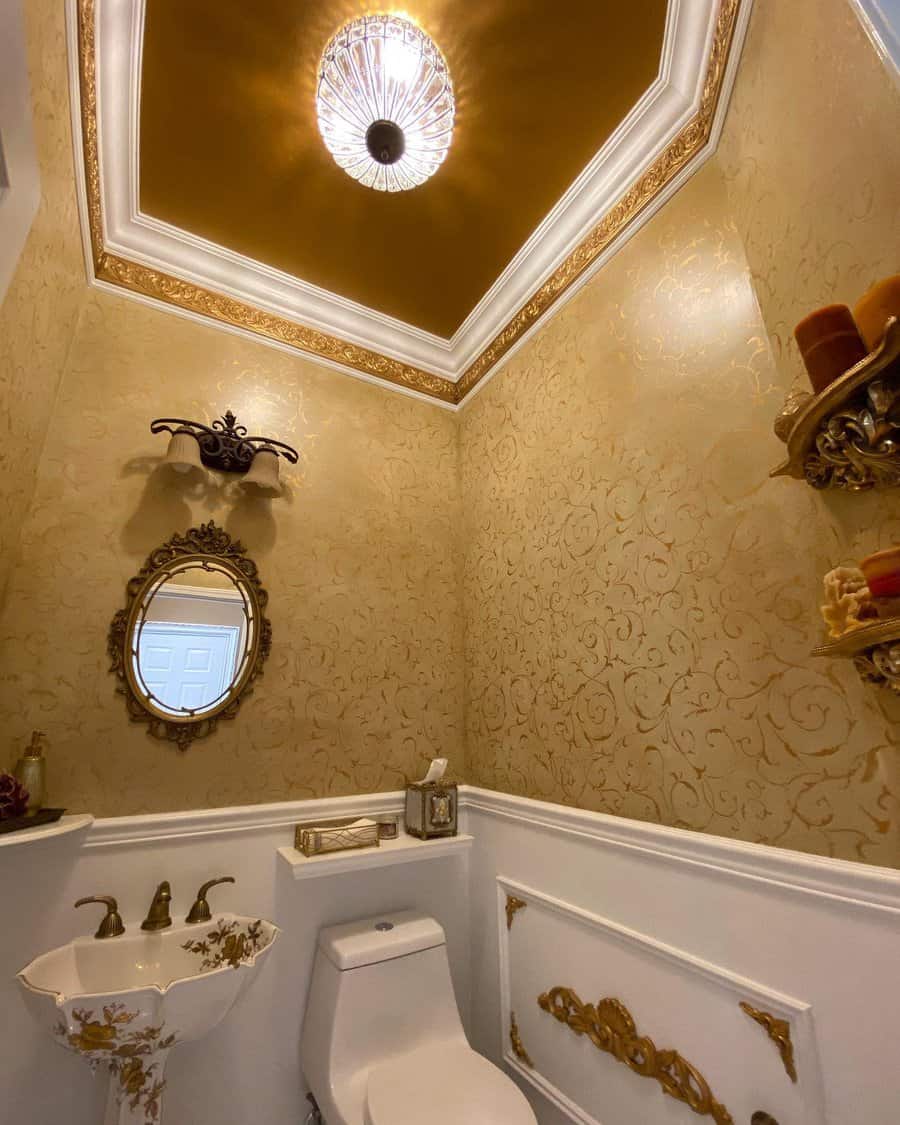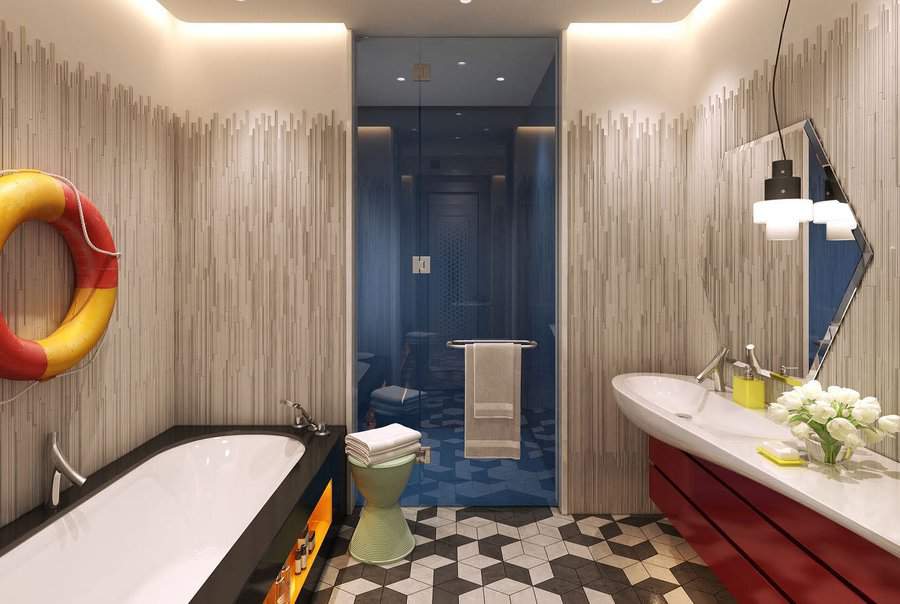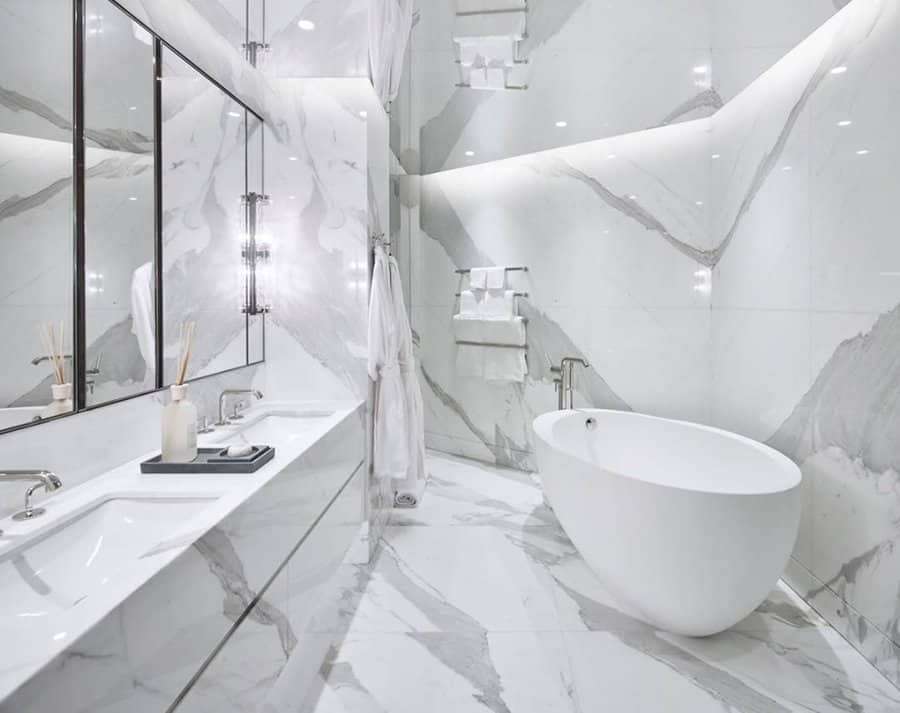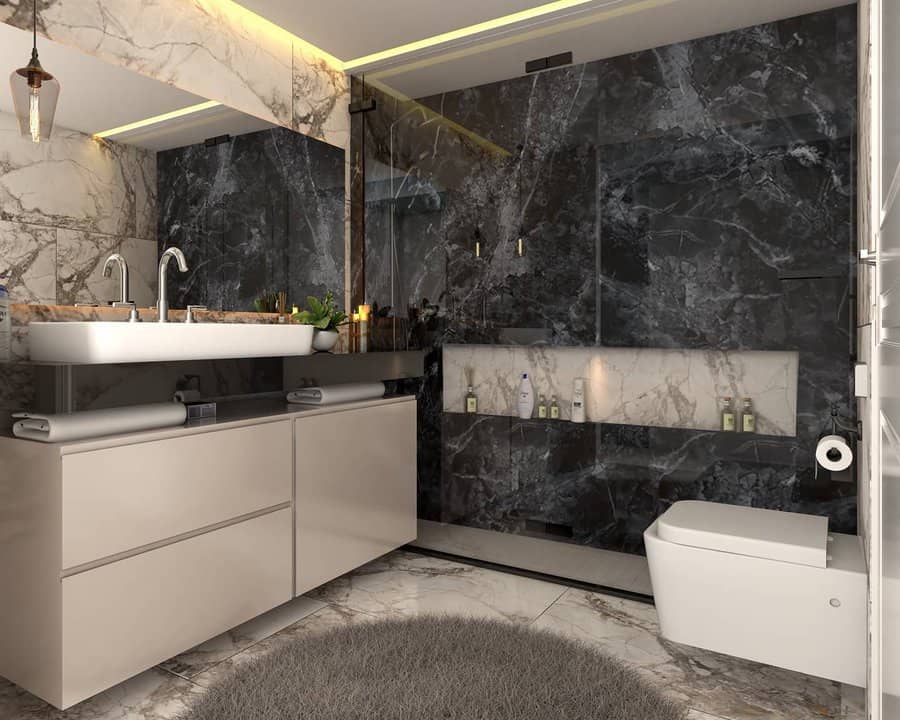 6. Create Drama with a Dark Ceiling
Dark ceilings, encompassing shades from deep greys to black, introduce a dramatic depth to bathrooms, elevating the space's dimension and mood. This design choice not only imparts luxury and intimacy but also pragmatically conceals water stains or marks. To strike a balance, consider lighter walls or fixtures to complement and contrast the bold ceiling choice.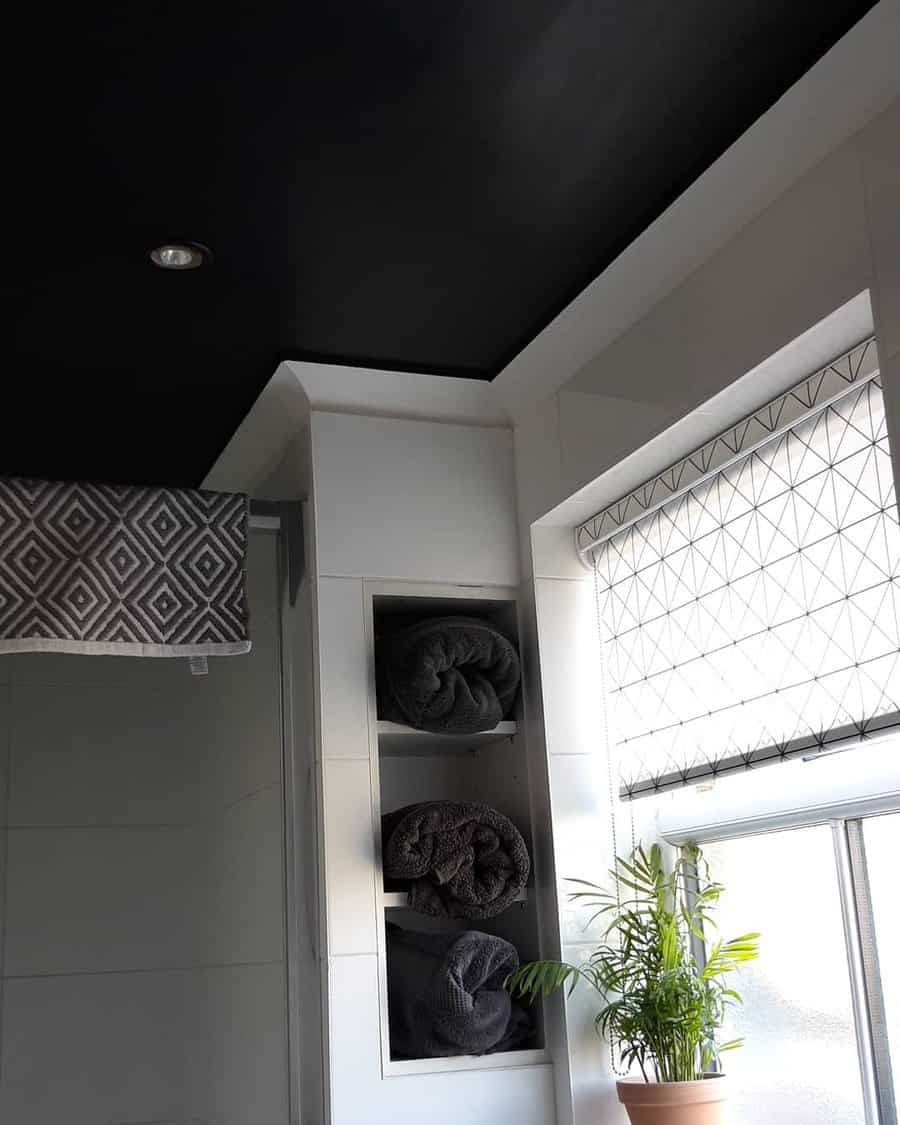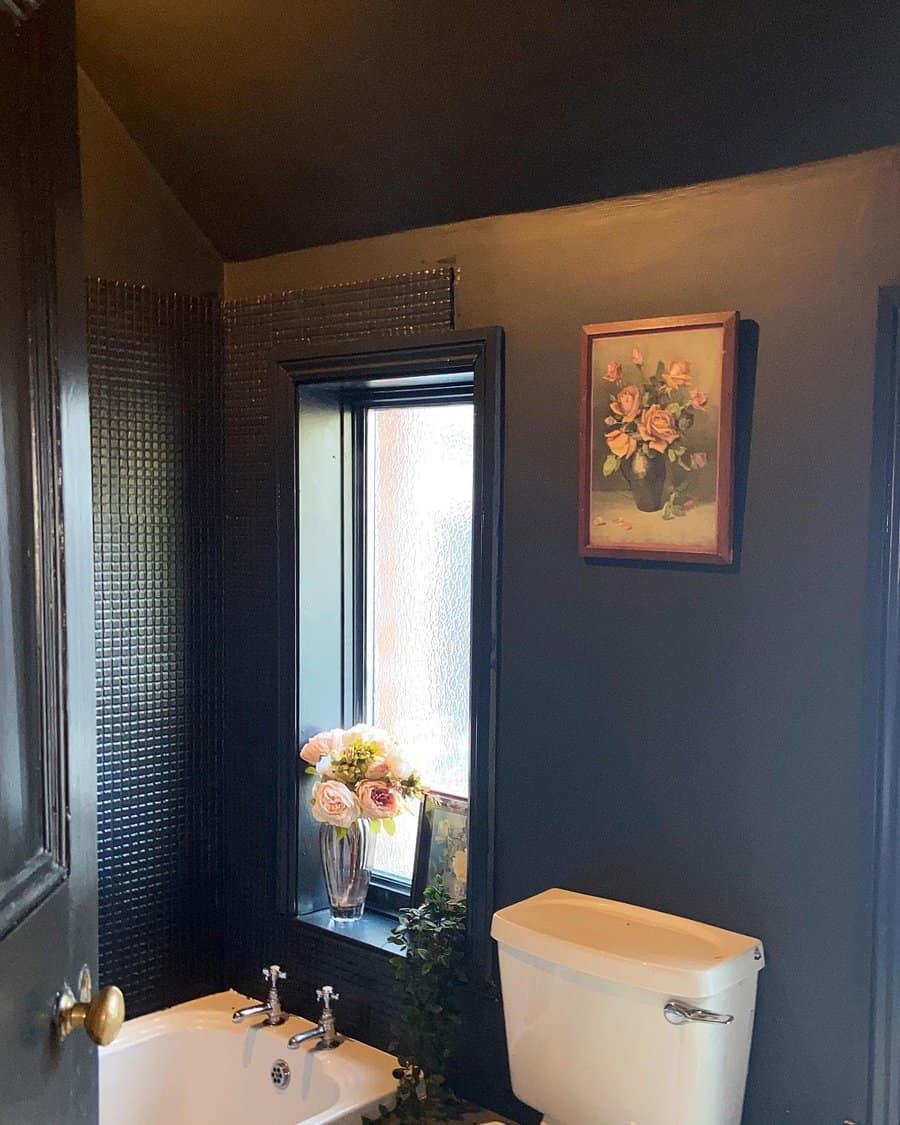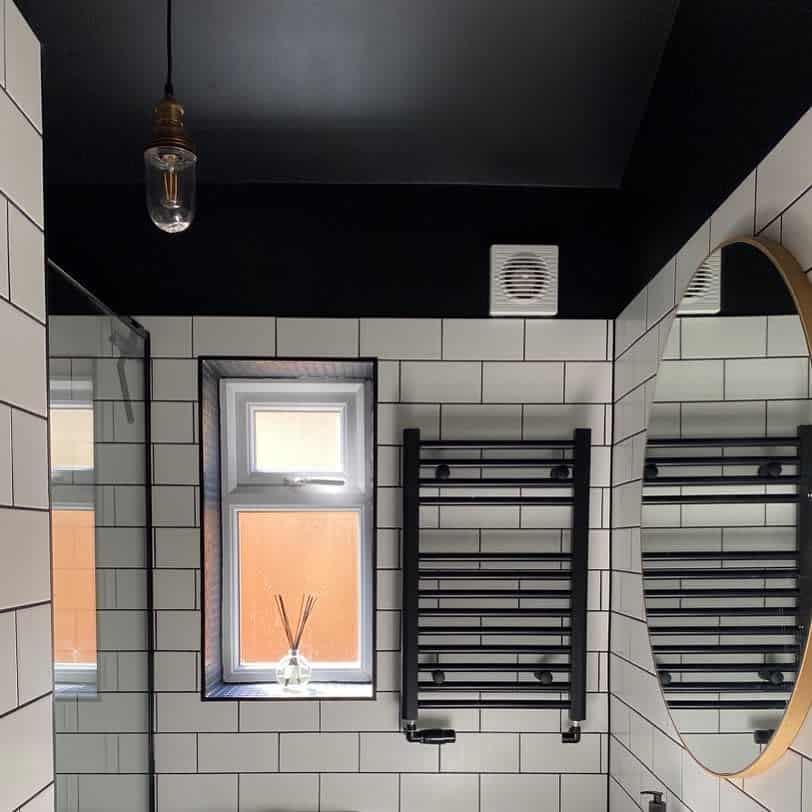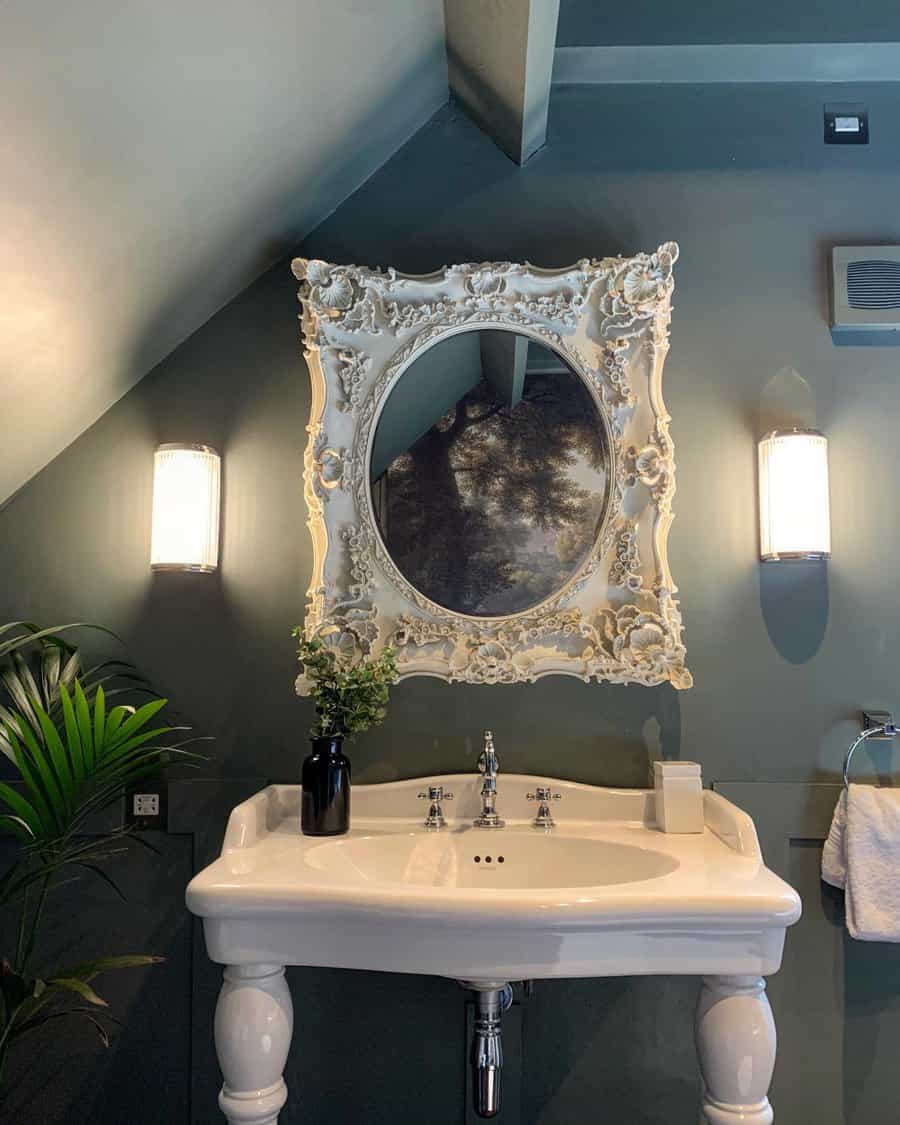 7. Dive into Dynamic Color Blocking
Color-blocking on the ceiling, using distinct shades from the walls, is a refreshing way to revitalize a bathroom's aesthetic. Pairing muted pink with army green, for instance, merges soft femininity with bold contrasts. Beyond the style, color-blocking can visually elevate the ceiling, giving the illusion of a more spacious bathroom. When experimenting, choose colors that resonate with your personal taste and bathroom fixtures.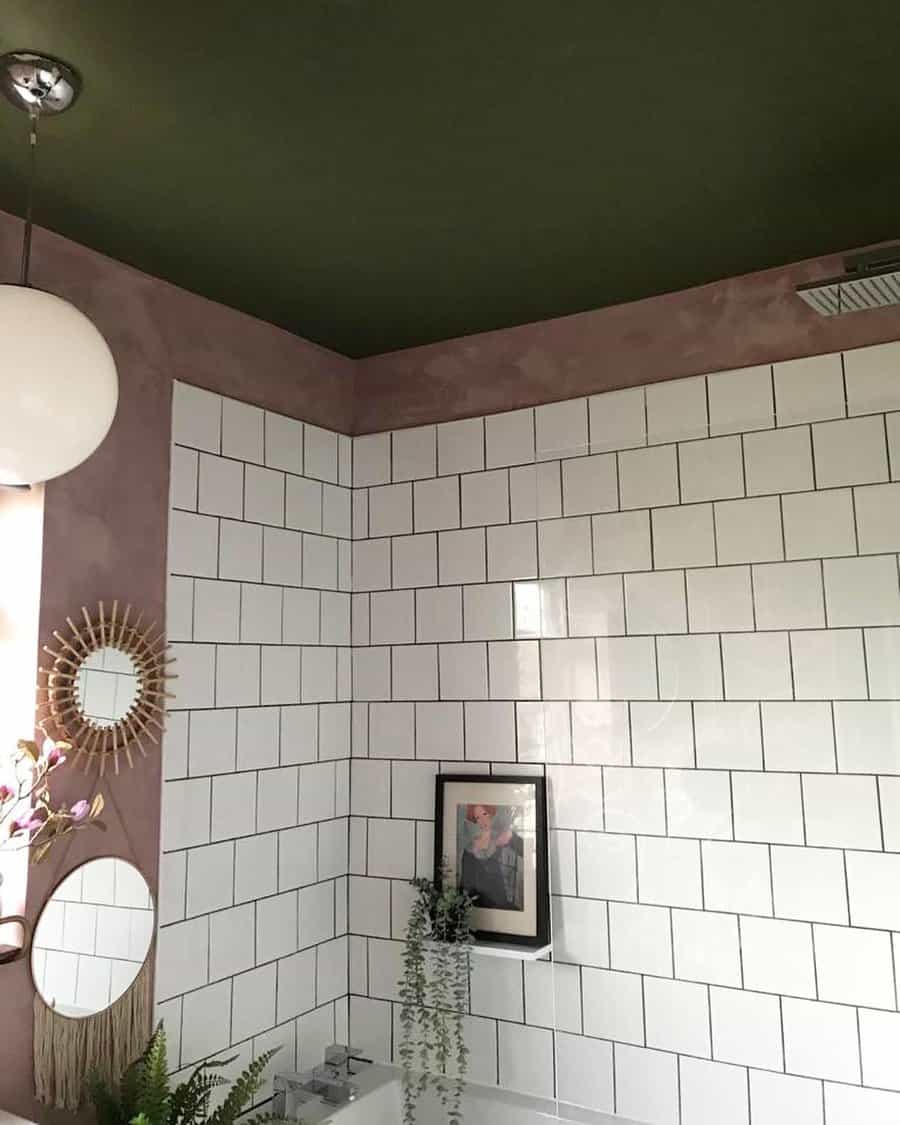 8. Amplify Space with High Ceilings
High ceilings in a bathroom pave the way for a sunroom-like ambiance. Maximizing natural light through large windows or skylights instills a luminous, spacious feel. Introducing greenery, with potted or hanging plants, bridges the gap between indoors and nature. Complement the height with a statement light fixture, be it a chandelier or pendant, to anchor the elegance of the room.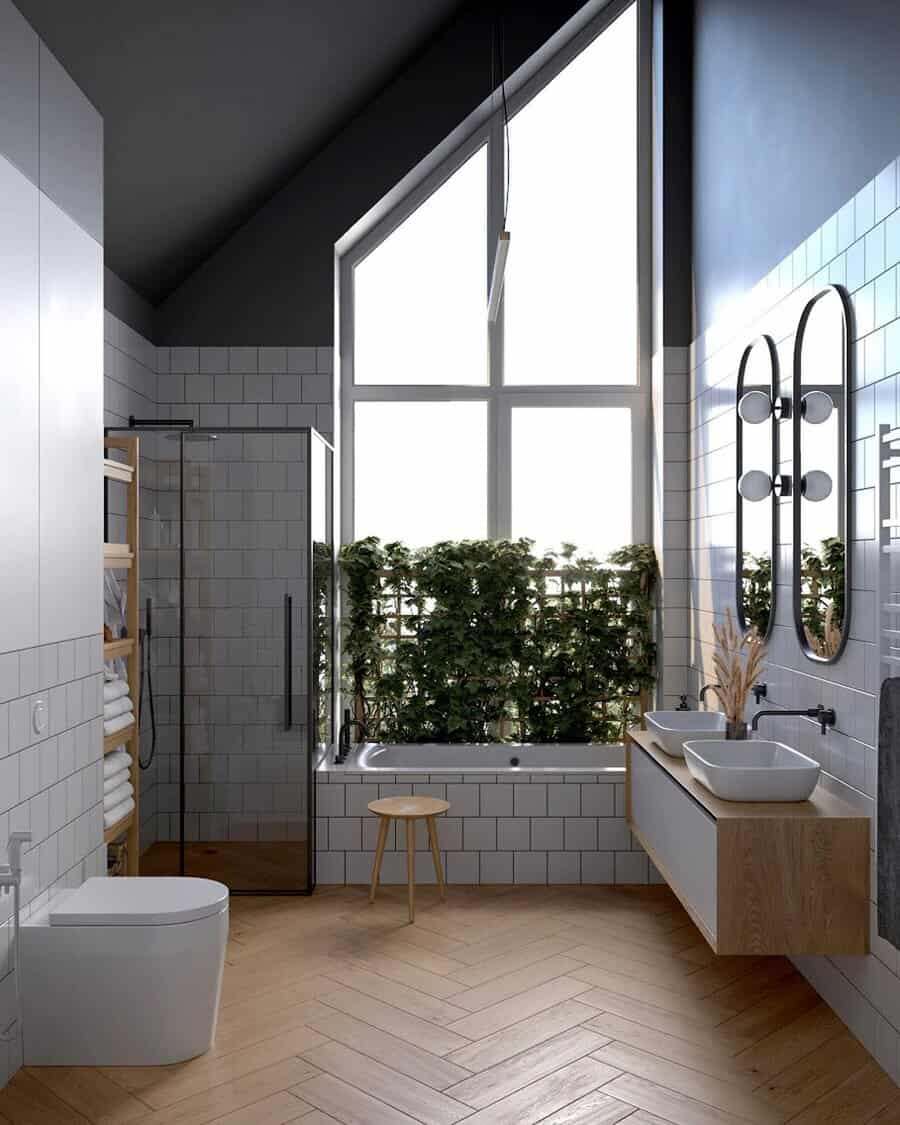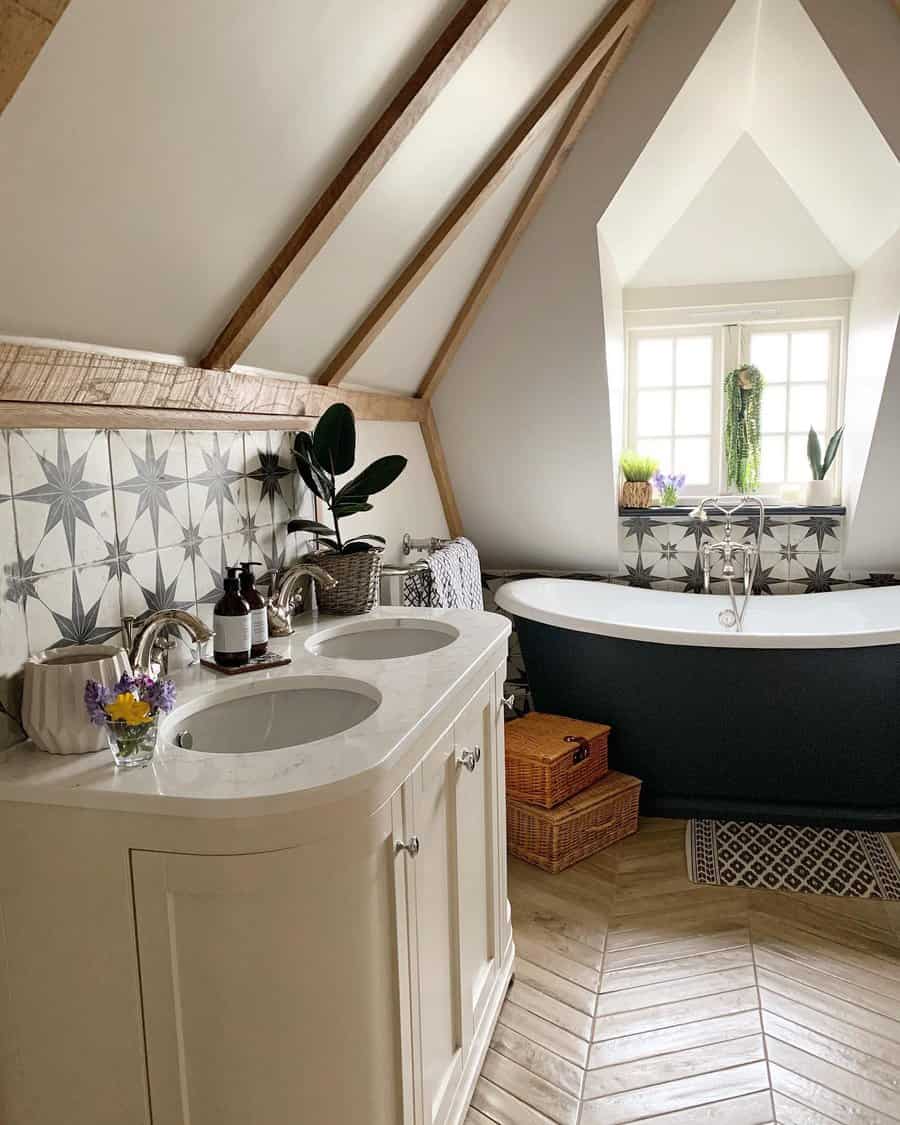 9. Add Intrigue with Cut-Out Designs
A cut-out ceiling paired with frosted glass effortlessly introduces elegance into the bathroom. Beyond its unique design allure, it diffuses natural light, offering a soft glow optimal for both energizing mornings and tranquil evenings. Customizable to any bathroom's dimensions, integrating additional lighting fixtures can further elevate the brightness and utility of the space, culminating in both style and functionality.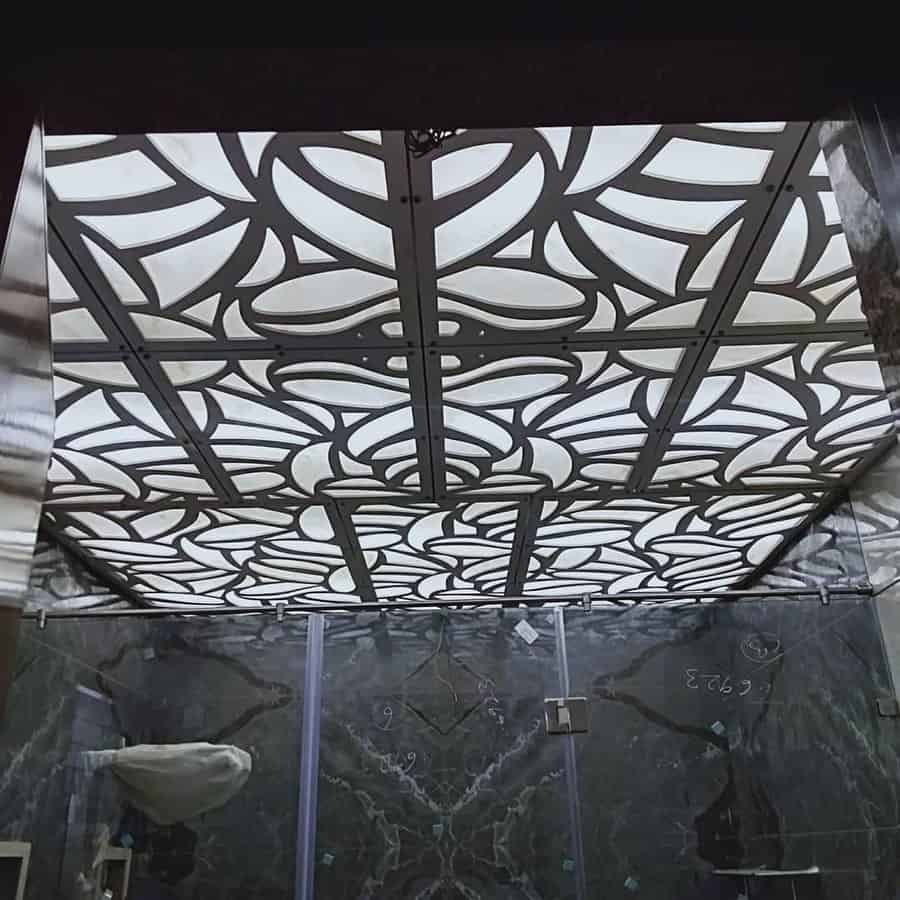 10. Refine Elegance with Ceiling Trimmings
Ceiling trims or moldings can transform a bathroom into a luxurious sanctuary. These decorative elements, whether intricate or simplistic, offer an enhanced focal point complementing the room's decor. Especially beneficial for bathrooms with high ceilings, trims can visually heighten the space, making it appear grander. To achieve coherence, select trimmings that resonate with other architectural details in the bathroom.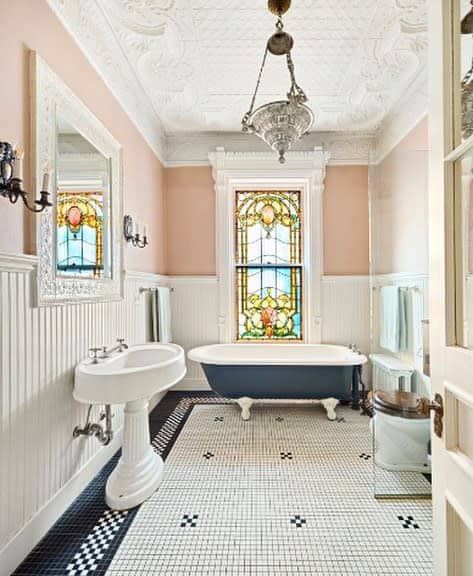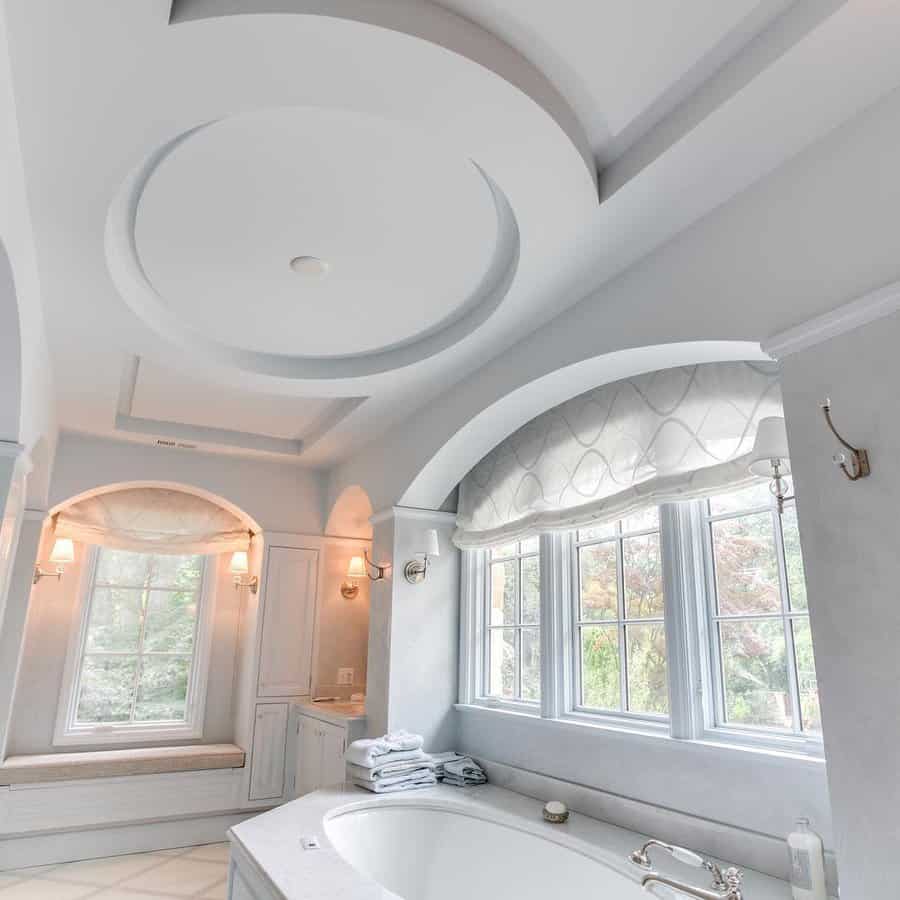 11. Elevate Luxury with Ceiling Chandeliers
Infusing a bathroom with a chandelier's elegance transforms it into a lavish, spa-like haven. Positioned above the bathtub, vanity, or centrally, it becomes an eye-catching centerpiece. Beyond its opulent aesthetic, chandeliers cast a soft, ambient glow, enhancing the room's warmth. For a dazzling effect, opt for a design featuring sparkling crystals that refract light beautifully.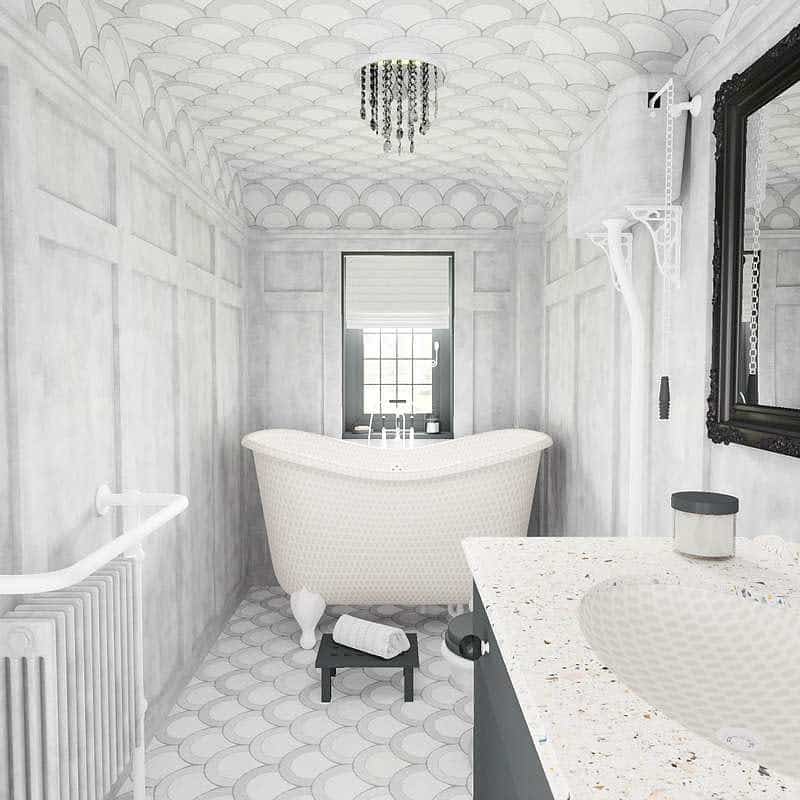 12. Soak in Serenity with Santorini Blue
Embrace the tranquil vibes of Santorini with a blue ceiling, a refreshing choice that evokes vacation memories. This hue introduces a lively contrast, especially when paired with pristine white walls and floors. To diversify, mix in varying patterns or shades for a spirited atmosphere. A Santorini blue ceiling effortlessly infuses a luxurious and calming ambiance into any bathroom setting.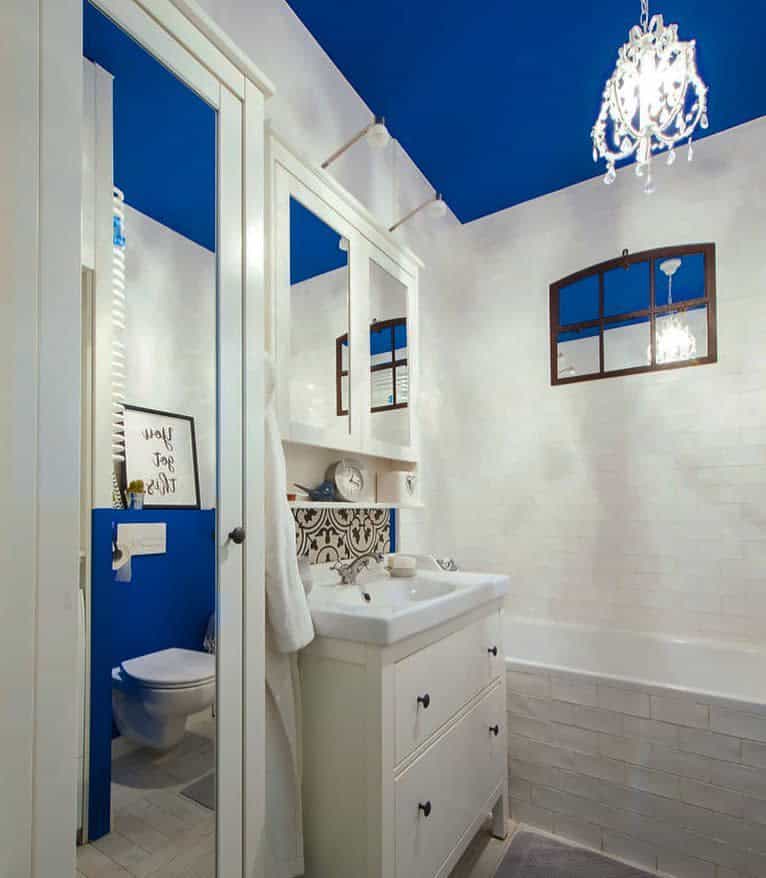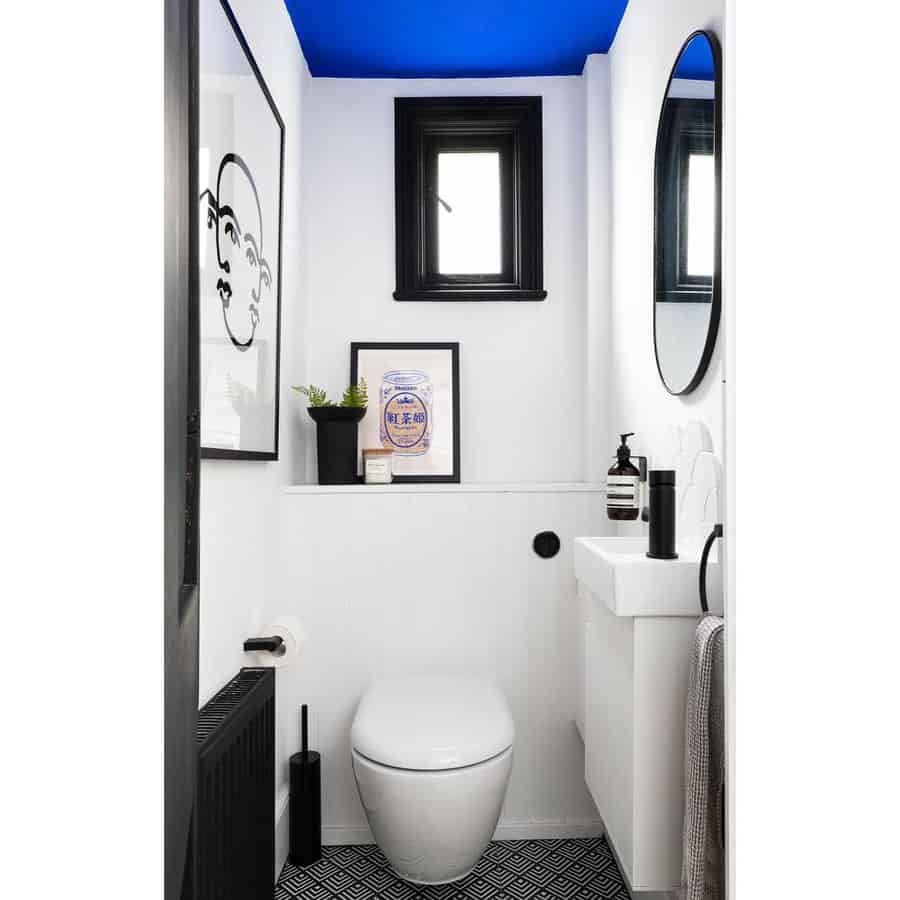 13. Indulge in Feminine with Dainty Pink
For a charming girls' bathroom, a dainty pink ceiling offers a soft, feminine touch that instantly elevates the space. This delicate hue infuses both warmth and whimsy, making it a delightful choice. Complement the ceiling with coordinated decor elements, such as towels or a shower curtain, to weave a cohesive and enchanting aesthetic throughout.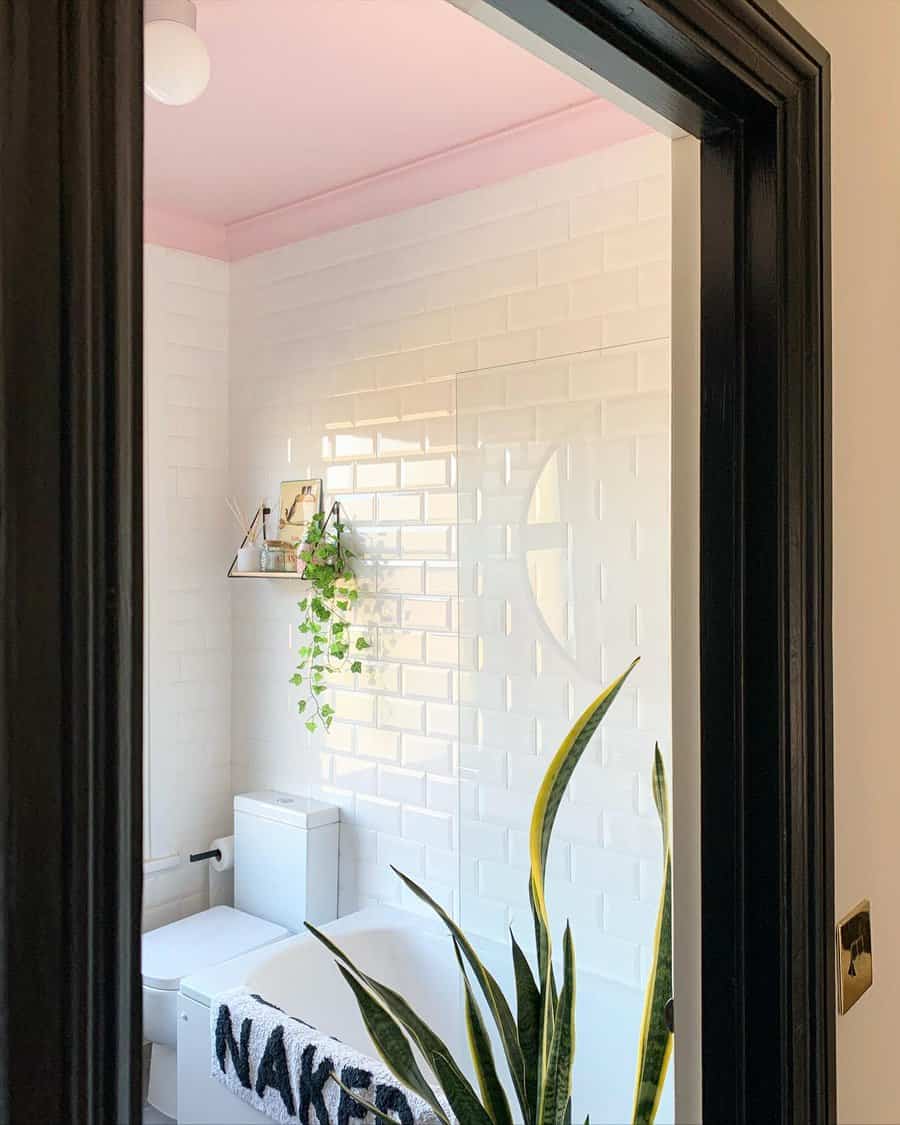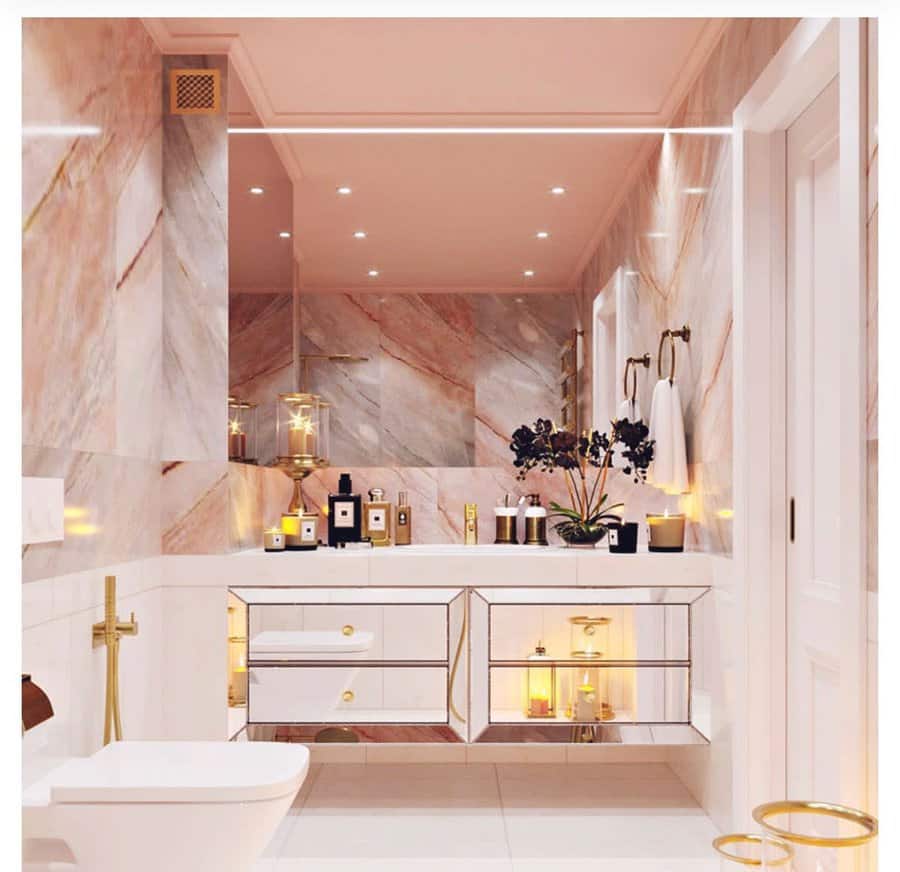 14. Inspire with Ceiling Mural Artistry
A ceiling mural introduces an artistic flair to any bathroom, transforming it from ordinary to extraordinary. For a transcendent experience, consider celestial themes like stars or zodiac constellations, setting a dreamy ambiance that encourages relaxation. Ensure the mural resonates with the rest of the bathroom decor for a harmonious and captivating space.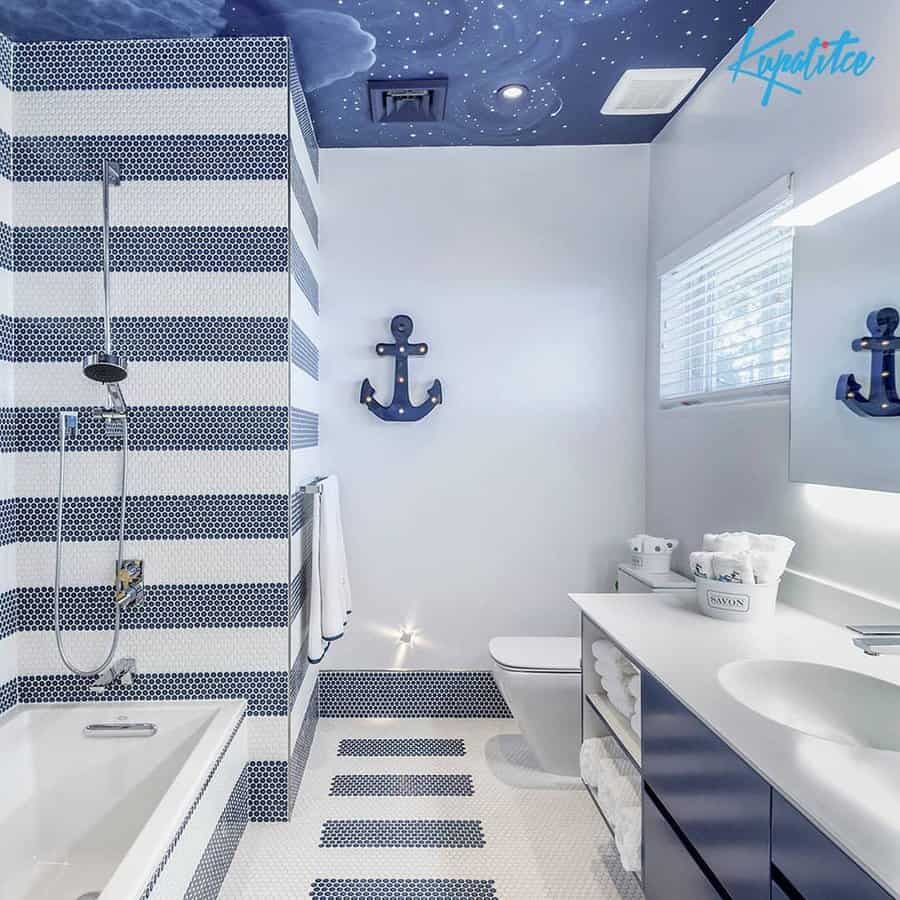 15. Play with Eye-Catching Striped Patterns
When it comes to designing your bathroom, the ceiling is often an overlooked area that can be transformed into a stylish and unique feature. One creative bathroom ceiling idea is to incorporate a striped design. A striped ceiling can add depth and visual interest to your bathroom, making it a standout feature in your home.
The stripes can be subtle and understated or bold and eye-catching, depending on your personal style and preference. This design is perfect for adding a touch of personality and style to a plain or neutral bathroom. Striped ceilings can also work well in bathrooms with lower ceilings, as they can create an illusion of height and space.
With a striped ceiling, the possibilities are endless, and you can experiment with different colors, widths, and patterns to create a truly unique and stunning look.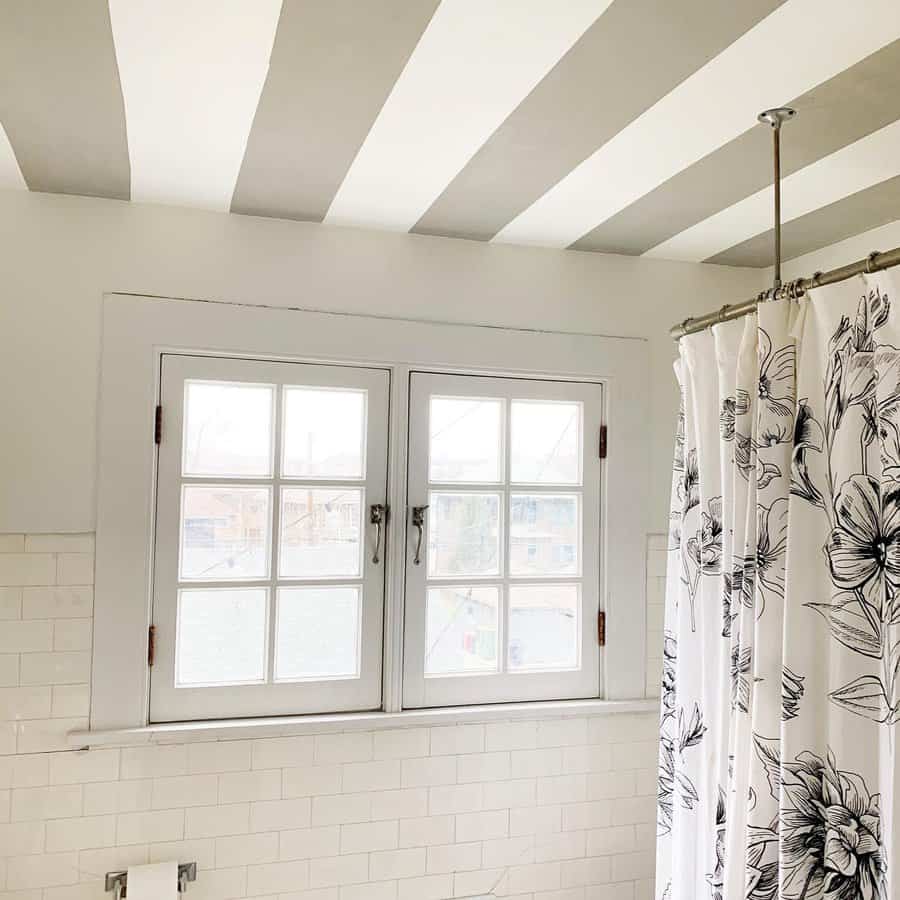 16. Cozy Up with a Warm Ceiling
A warm mustard ceiling introduces an inviting depth to any bathroom, challenging the usual design norms. When harmonized with neutral walls and fixtures, it becomes an elegant focal point. Enhance the coziness by integrating natural wood elements or similar warm-toned accessories. This unexpected shade not only adds character but also masterfully elevates the bathroom's ambiance.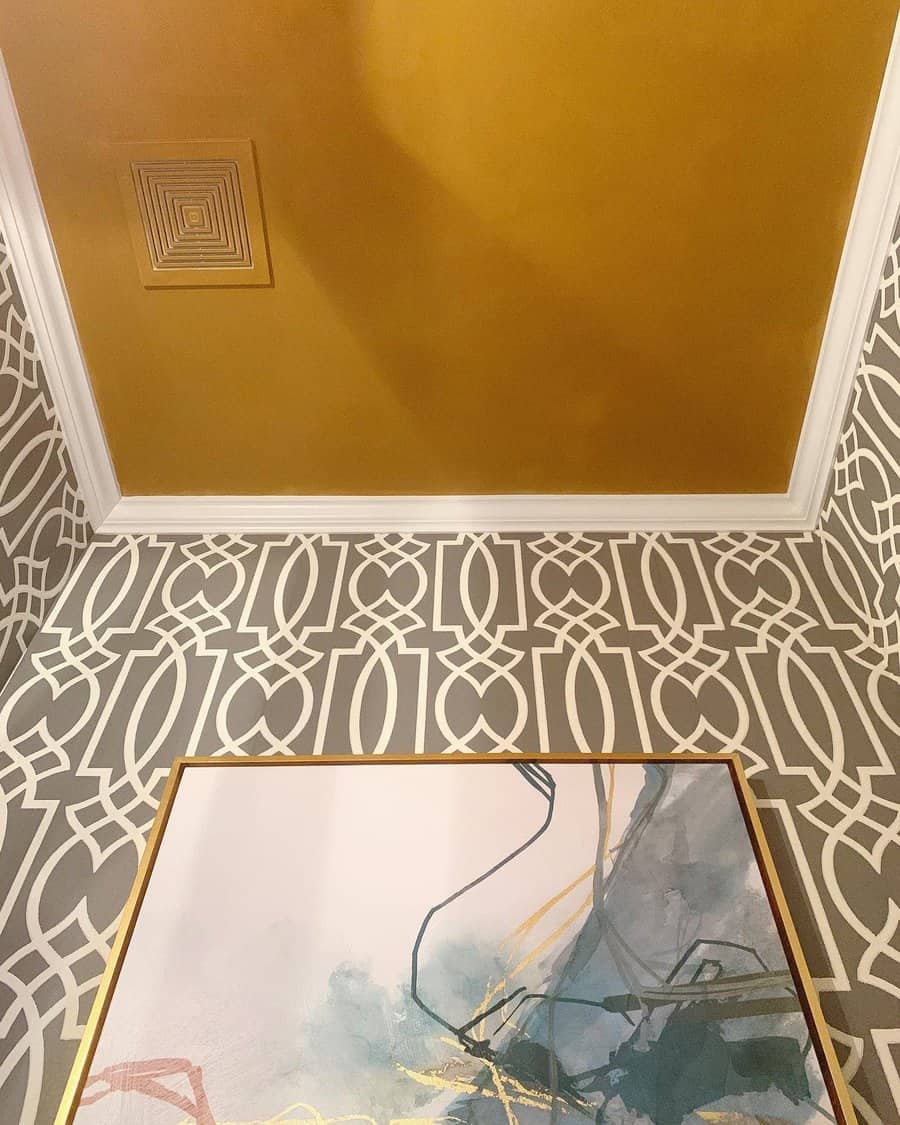 17. Modernize with Hexagon Ceiling Tiles
Hexagon tile ceilings offer a contemporary twist to bathroom design. Beyond their conventional use on floors and walls, these tiles on the ceiling create a captivating geometric pattern, adding depth and intrigue. To ensure a seamless look, align your ceiling's design with other bathroom elements. Given the plethora of colors and materials available, you can tailor the hexagon tiles to perfectly match your aesthetic.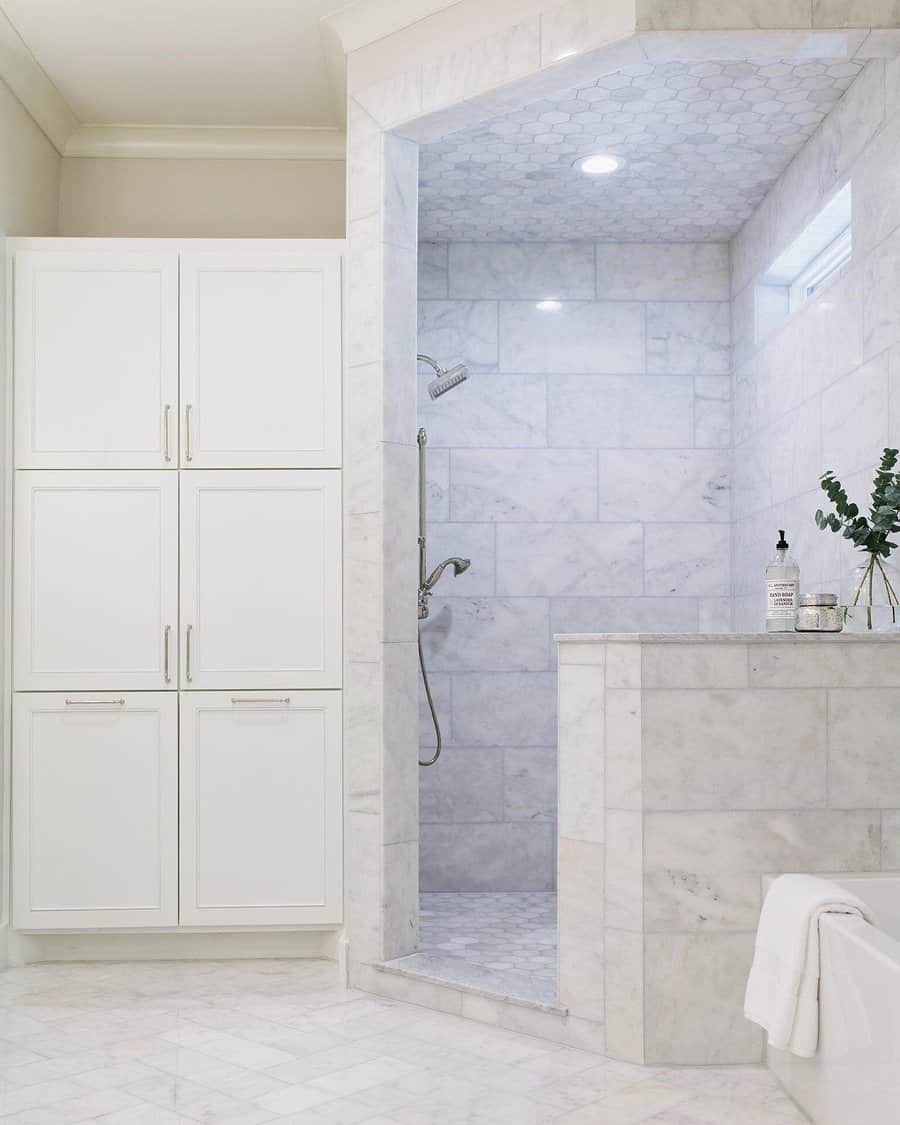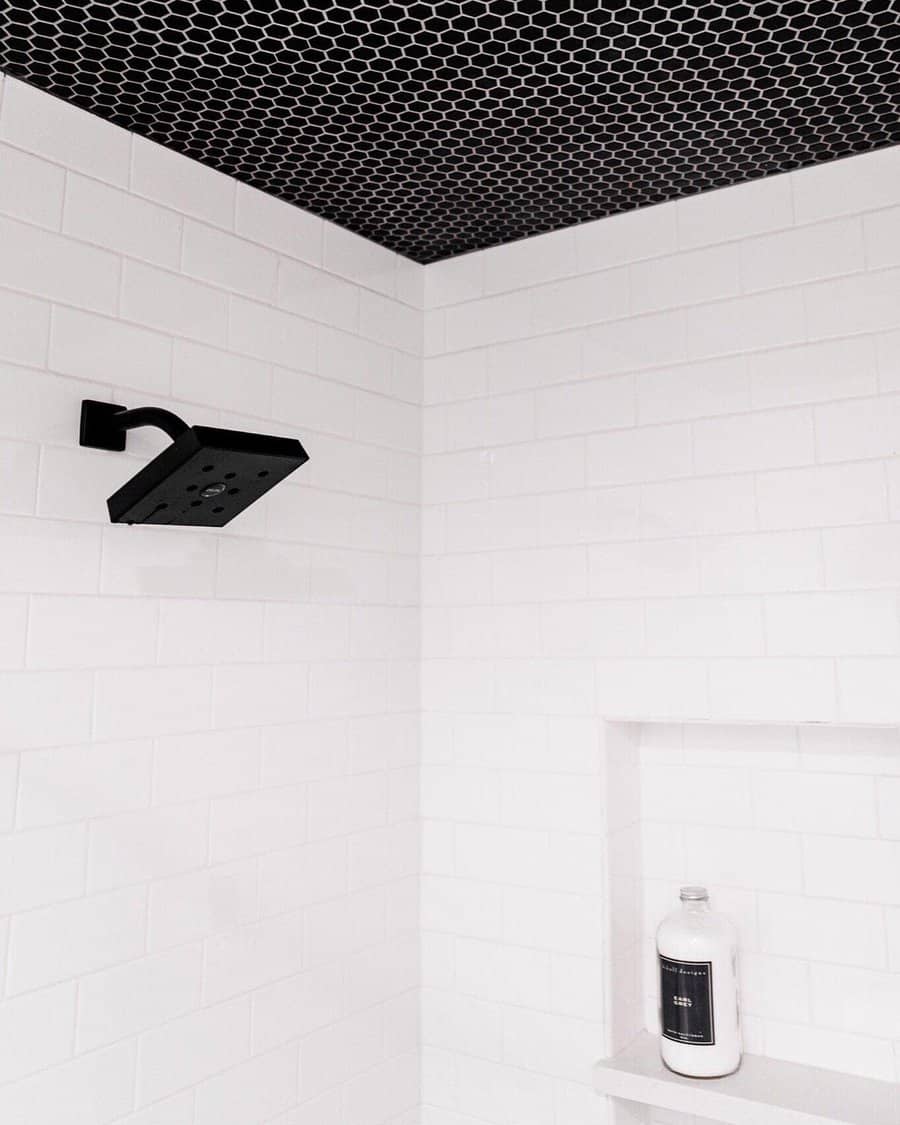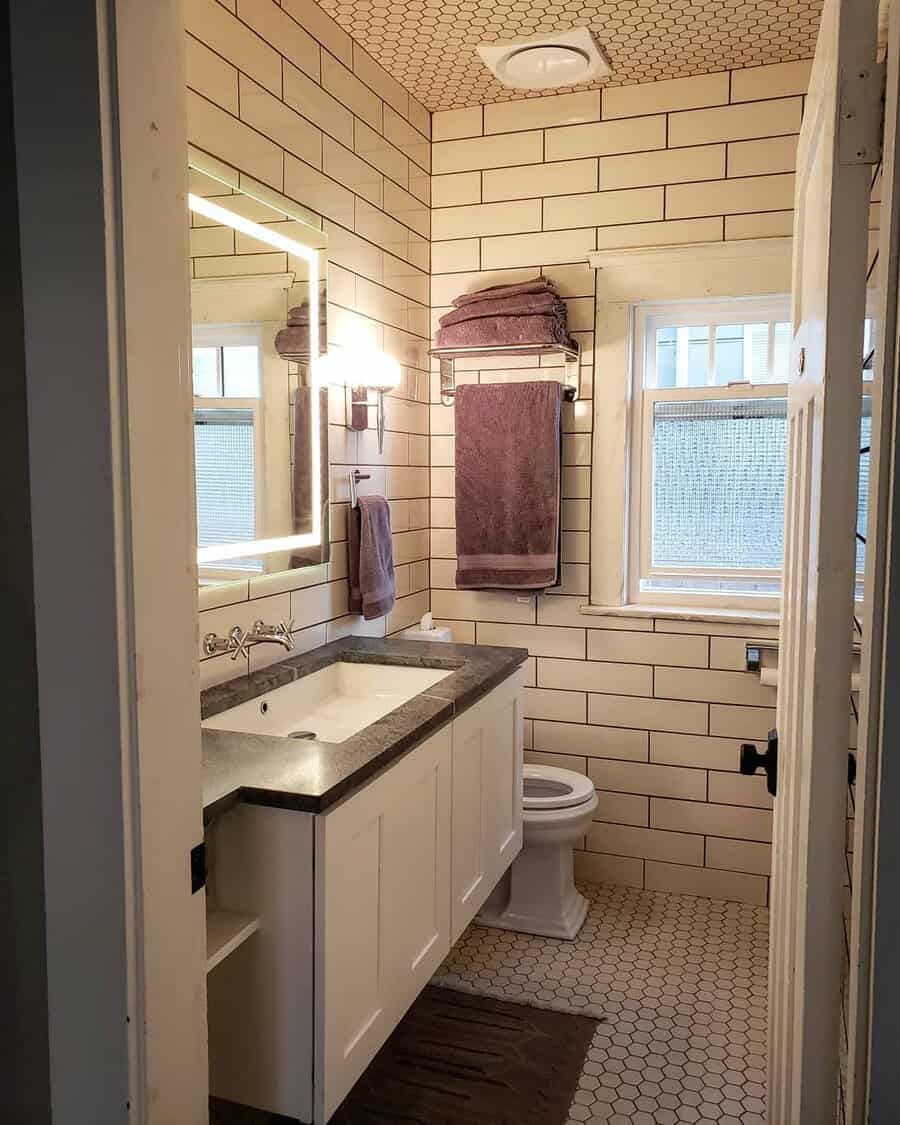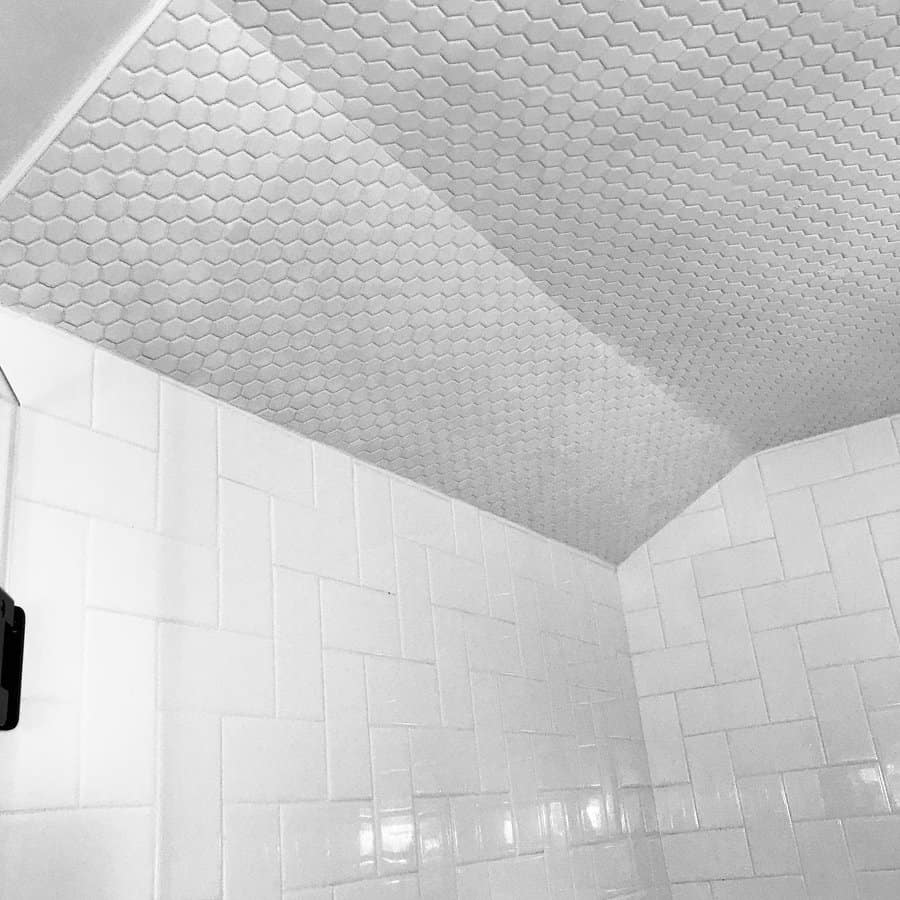 18. Go Bold with Graphic Ceiling Tiles
For a striking bathroom transformation, consider graphic tile ceilings. These tiles not only infuse color and pattern but also elevate the overall design. Whether your bathroom is neutral and needs a statement ceiling or already has vibrant decor, there's a graphic tile to match. Especially beneficial for smaller bathrooms, they can visually expand the space upward. Plus, their easy installation and maintenance make them a cost-effective choice for a bathroom refresh.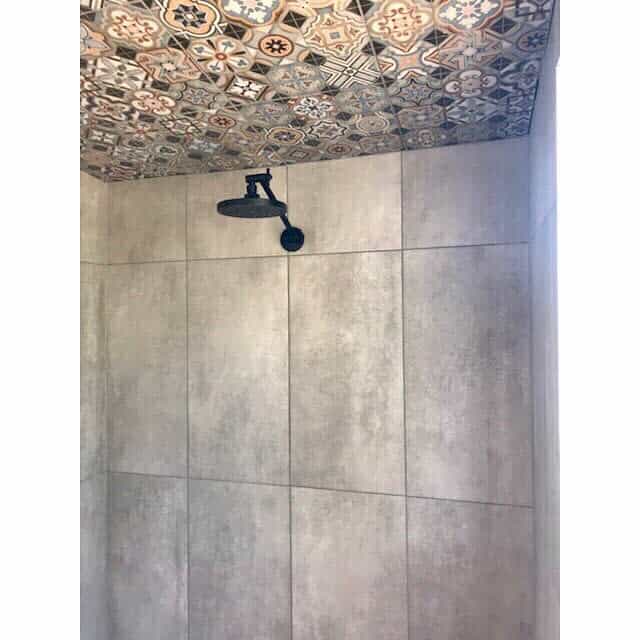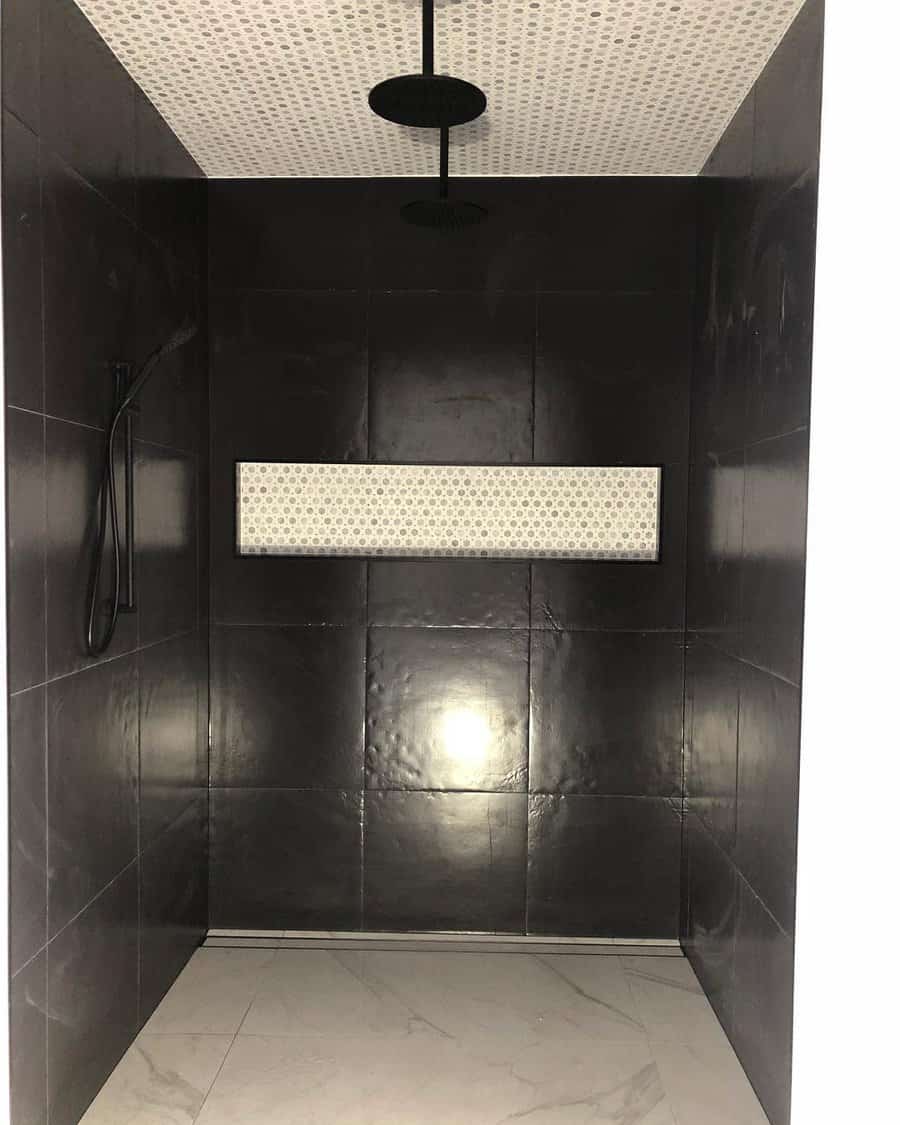 19. Dazzle with Mosaic Shower Designs
Elevate your bathroom aesthetics with a mosaic shower ceiling. Using small tiles, you can craft intricate patterns or designs, adding both texture and intrigue to the space. Beyond its aesthetic appeal, a mosaic design can lend an illusion of greater depth and height, enhancing the room's spaciousness. Whether you're aiming for a vibrant pop of color or a subdued elegance, mosaic ceilings can be tailored to fit any design preference, making your bathroom far from ordinary.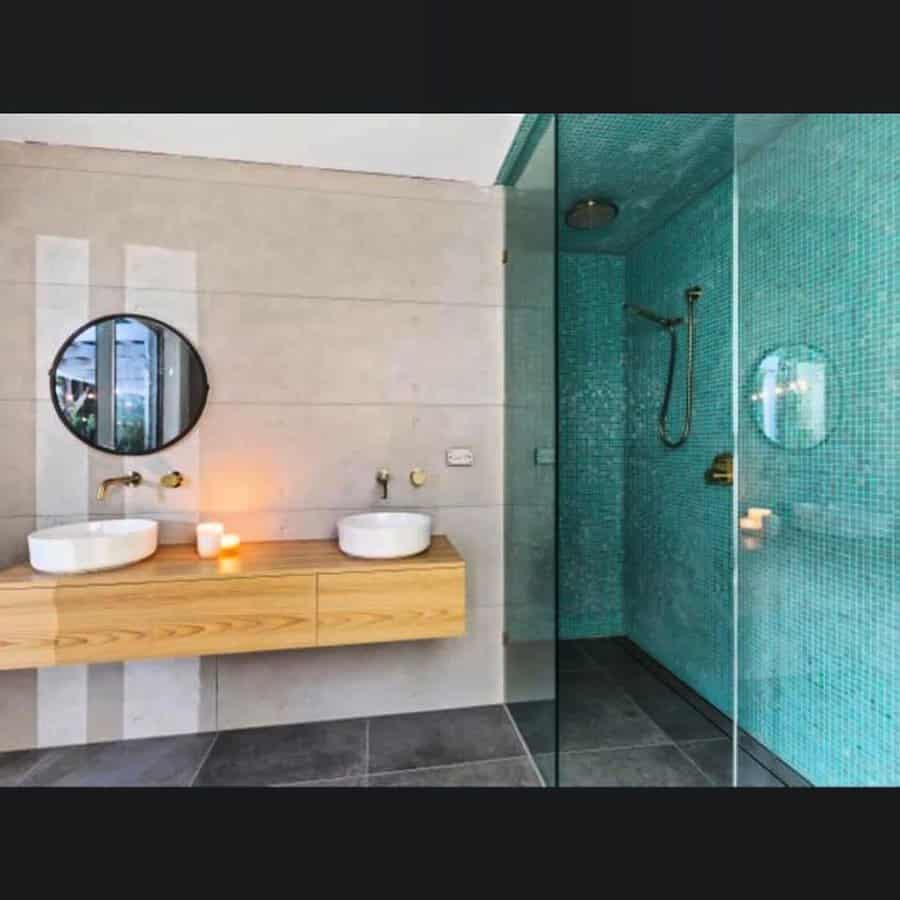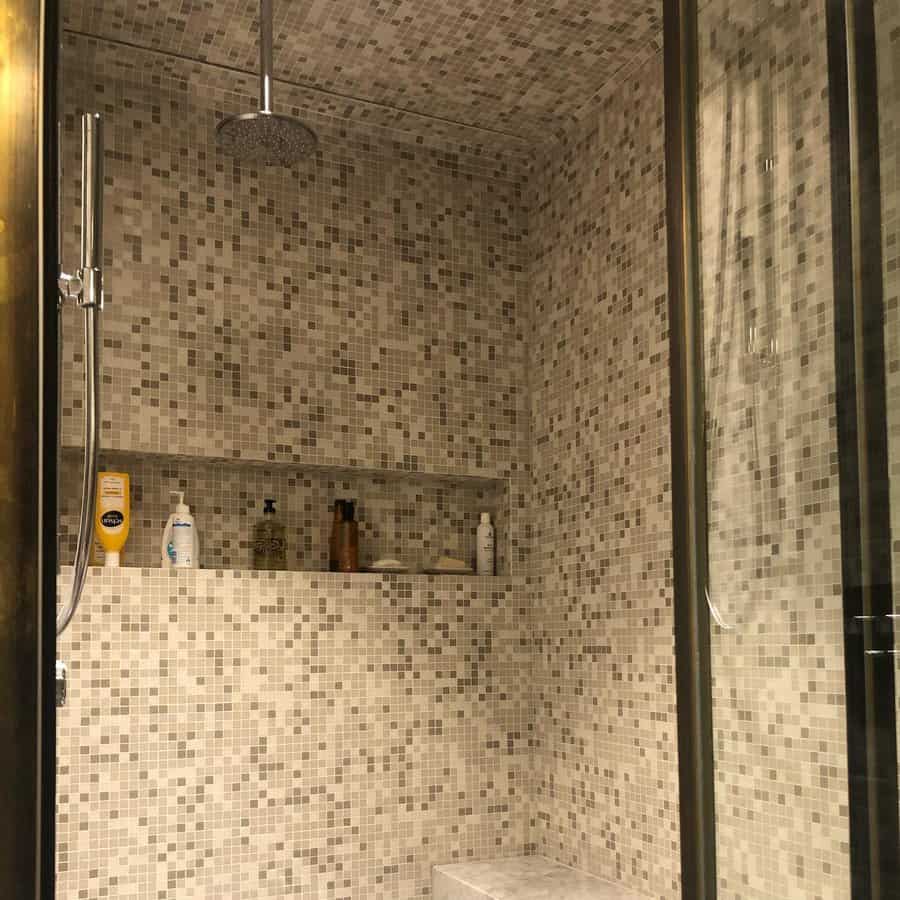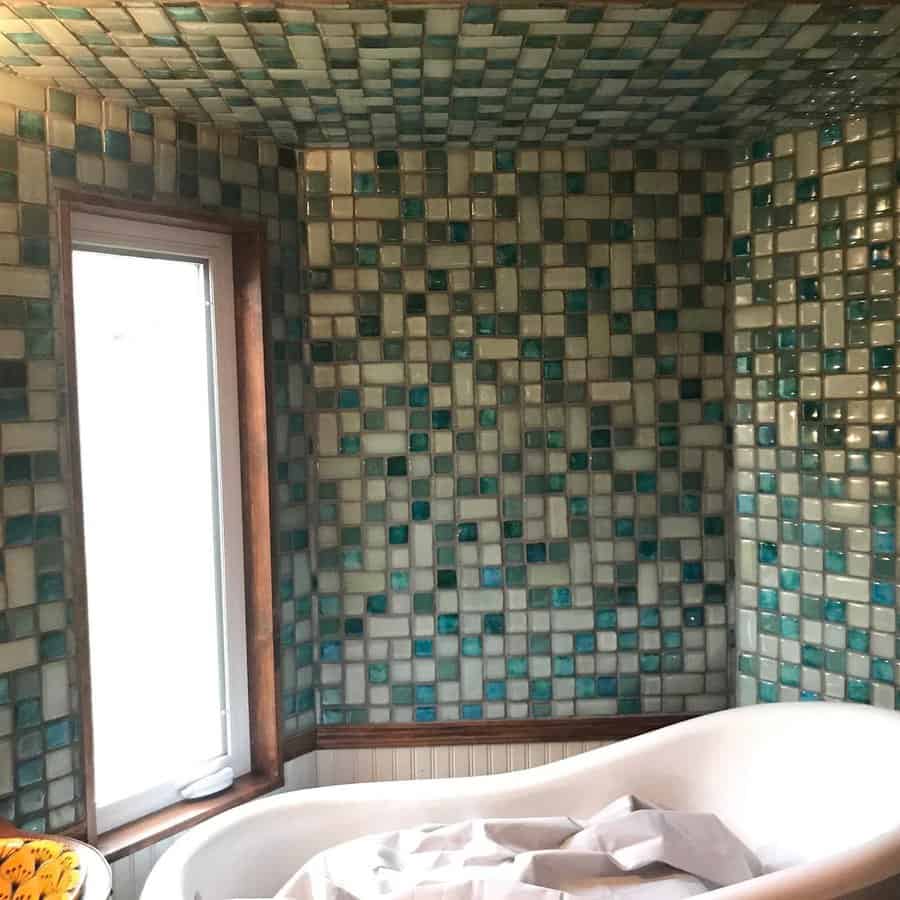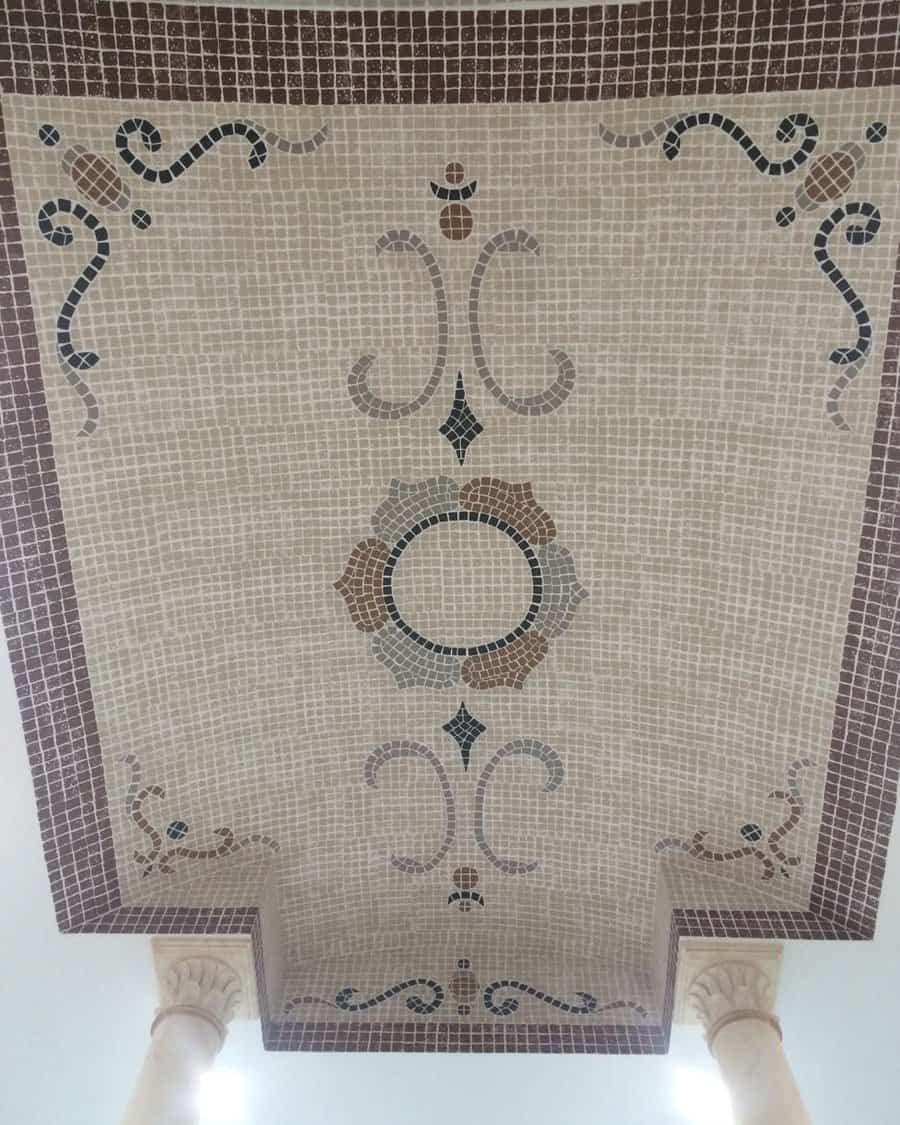 20. Exude Opulence with Marble Ceilings
Elevate your bathroom ambiance with a luxurious marble ceiling. Beyond its aesthetic allure, marble lends an airy spaciousness to your bathroom, especially when applied to the often-overlooked shower ceiling. From timeless white marble to bolder patterns, you have a myriad of choices to mirror your personal aesthetic. Besides its visual charm, marble is practical — it's both durable and easy to maintain, making it a perfect fit for upscale bathroom designs.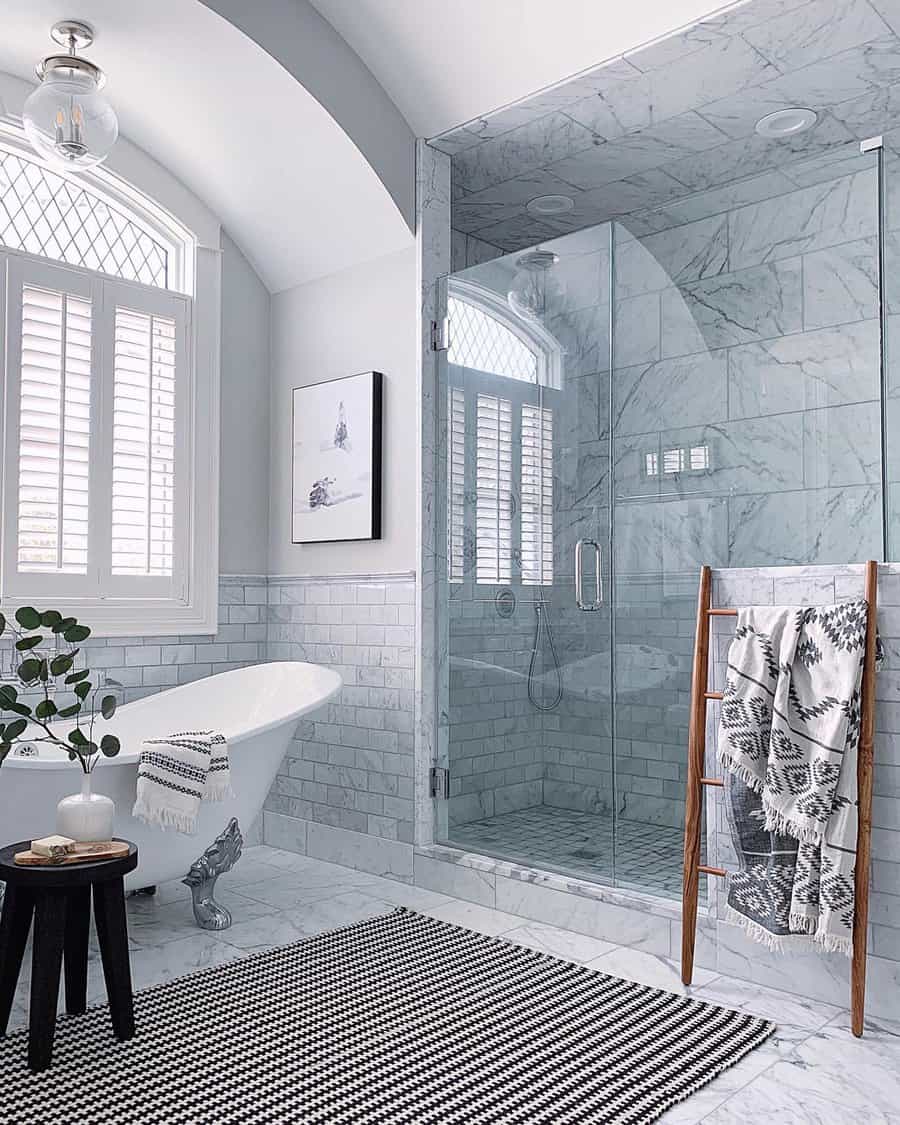 21. Get Cozy with Wood Paneling
Dive into the realm of rustic sophistication with wood paneling for your bathroom ceiling. Frequently overshadowed by other design aspects, the ceiling holds significant potential in transforming the aesthetic of your bathroom. Incorporating wood panels evokes a sense of warmth, countering the cool undertones often associated with bathroom tiles and fixtures.
This organic element brings a juxtaposition between contemporary sleekness and natural coziness. The grain and texture of wood introduce a tactile dimension to your space, making it both visually appealing and inviting. Wood's adaptability lets you choose – a light, Scandinavian-inspired touch, or a deep, rich mahogany for added drama. Whatever your choice, wood paneling promises a sanctuary-like ambiance that blends comfort with modern design.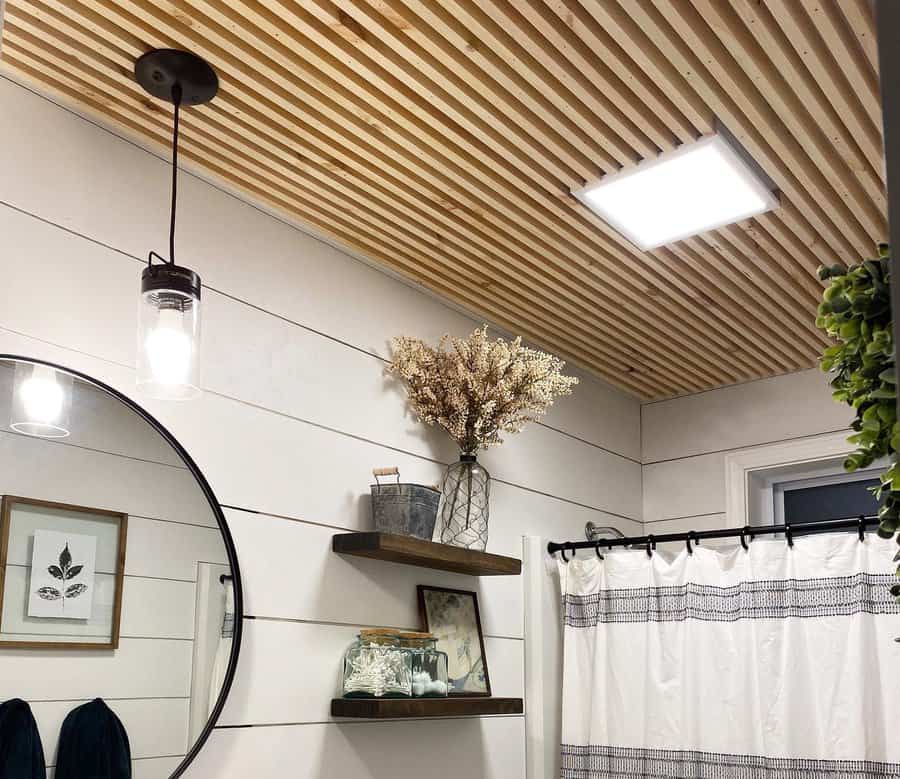 Bathroom Ceiling FAQs
What is best for a basement bathroom ceiling?
The most common type of ceiling in a basement bathroom is to use drop ceiling tiles. These create a false ceiling that is lower than the actual height of the ceiling. The suspended ceiling creates a space so that you don't disrupt the wires and plumbing that typically run on the basement ceiling.
How do you waterproof a bathroom ceiling?
If you decide to paint your bathroom ceiling, then you can waterproof it by choosing a semi-gloss or satin paint. These paints have a shiny finish that resists water better than flat finish paints. When choosing other materials, look for ones that state they are impervious to moisture.
Should you tile a shower ceiling?
You don't have to tile a bathroom ceiling. However, if your bathroom is very humid for a large portion of the day, then tiling the ceiling is a smart idea. However, you don't need to tile the ceiling. The only other reason to tile the ceiling is if you have a tiled accent wall that you want to extend onto the ceiling.