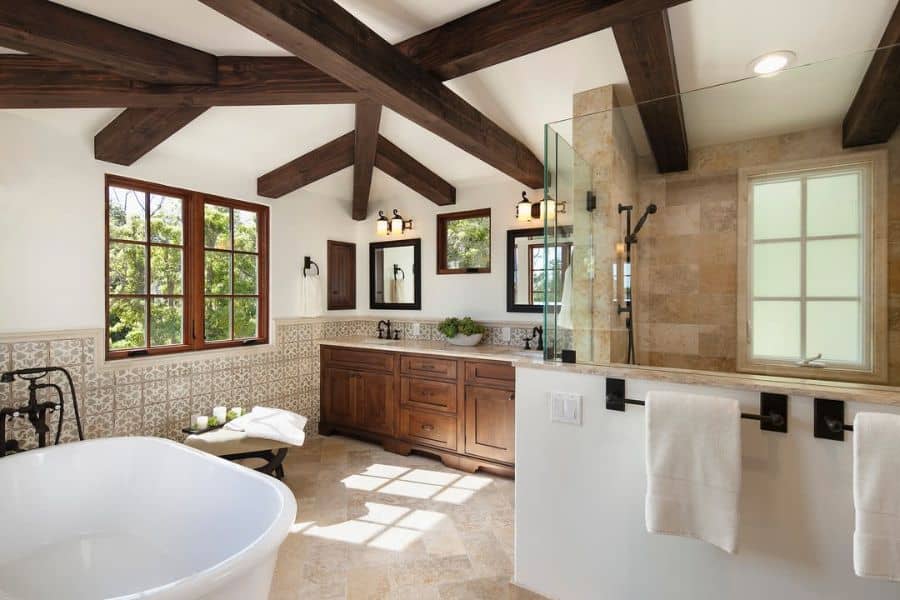 The Top 48 Bathroom Ceiling Ideas
When was the last time you looked up while in the bathroom? If you're like most people, you probably can't think of a time when you purposefully looked up. It's just that white space above you that you forget about.
While there isn't anything wrong with this, you're missing out on the potential for a unique and bold design statement.
Modern bathroom ceiling ideas say goodbye to the old and tired popcorn ceiling and embrace techniques that you typically find in other rooms of the home. Give your bathroom a refresh by changing up the ceiling in your bathroom.
1. Beadboard
Using a beadboard ceiling will look right at home in your farmhouse or country chic bathroom. These wood strips create panels that lock together for a continuous covering of planks.
The wooden ceiling can be left raw, but this might leave the wood vulnerable. Whitewashing it or painting it crisp white will brighten up the bathroom and help it to feel bigger.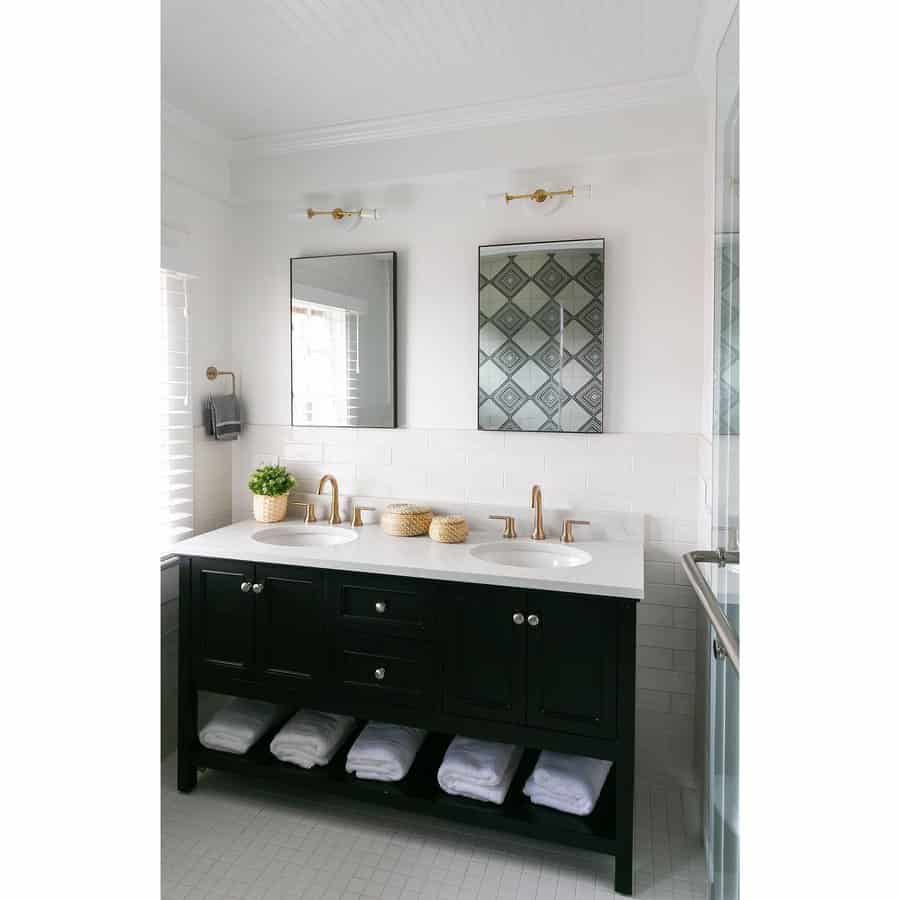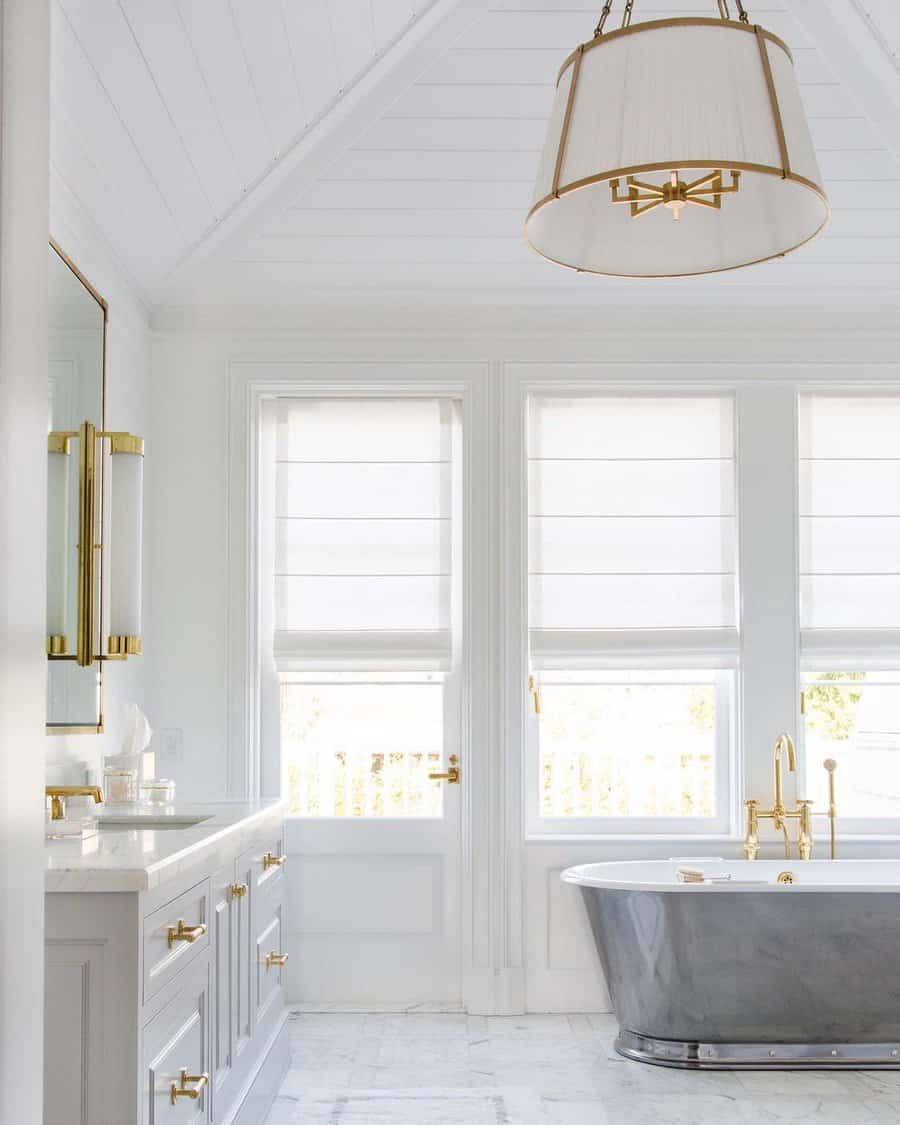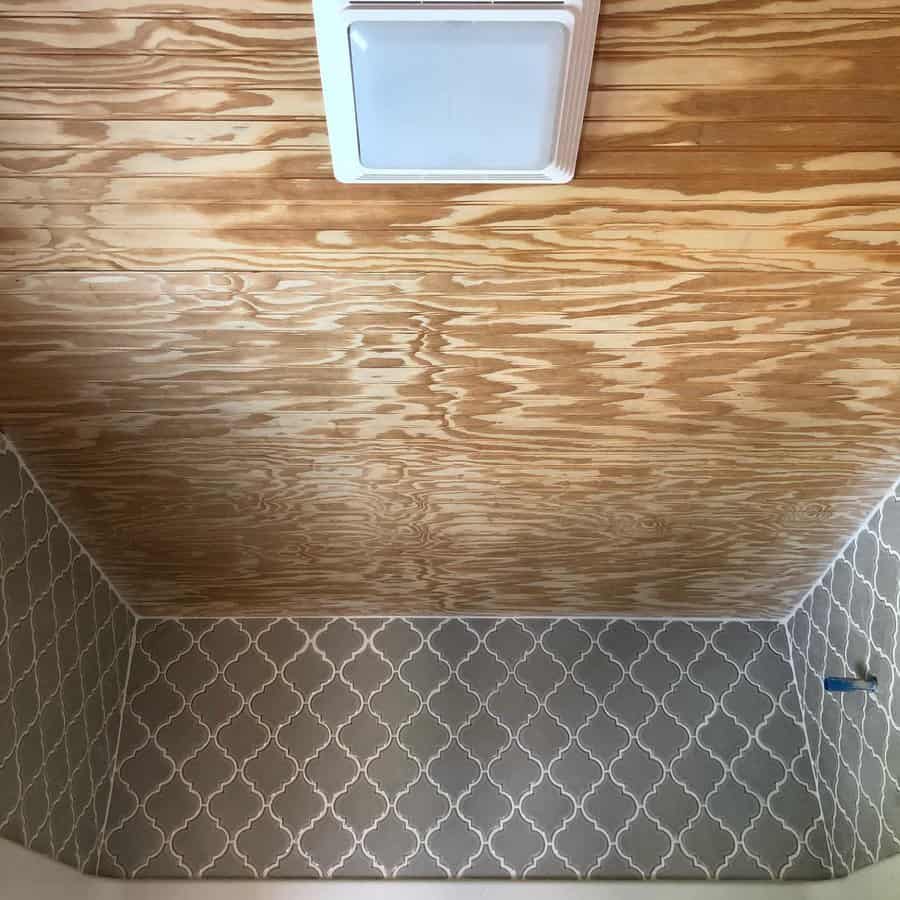 While you could make your beadboard from scratch, it will be a lot of work. Instead, buy premade panels that you can easily glue or staple to the ceiling.
2. Beamed
Wooden beams are typically a feature that you see in the living room, dining room, or kitchen. You might also see them in the bedroom. The one place you don't expect to see them is in the bathroom.
If you have beams in other rooms in your home, then don't be afraid to have them in the bathroom. You can add faux beams that don't require you to mess with the ceiling joists.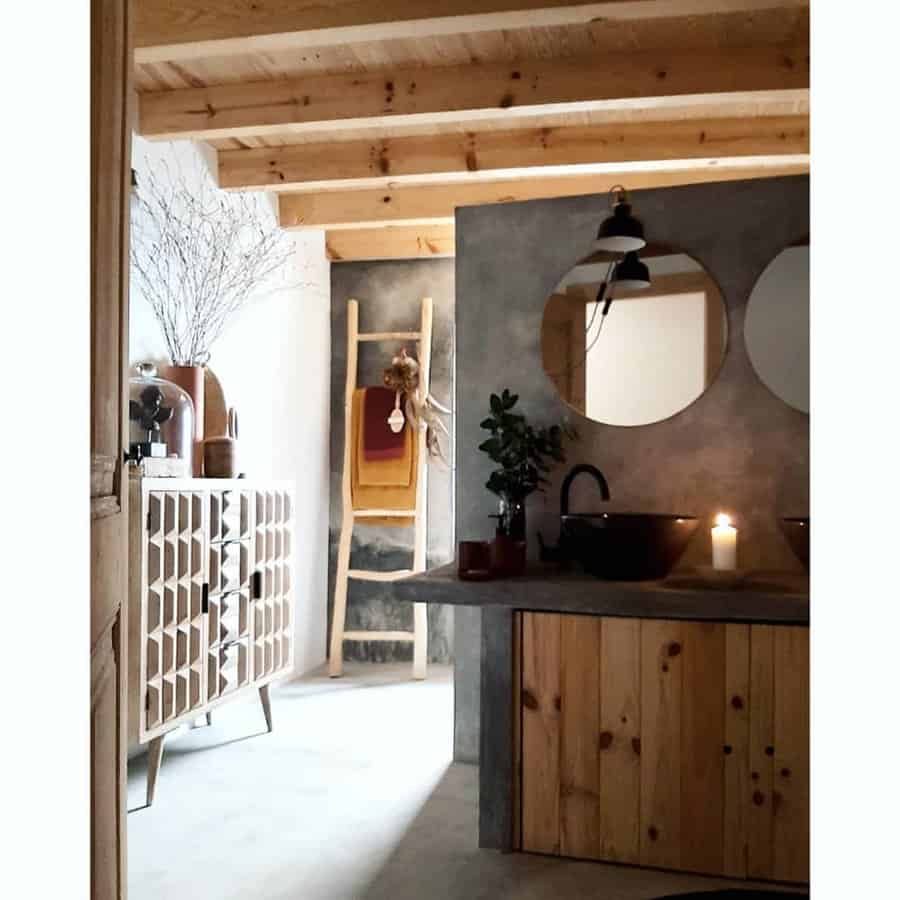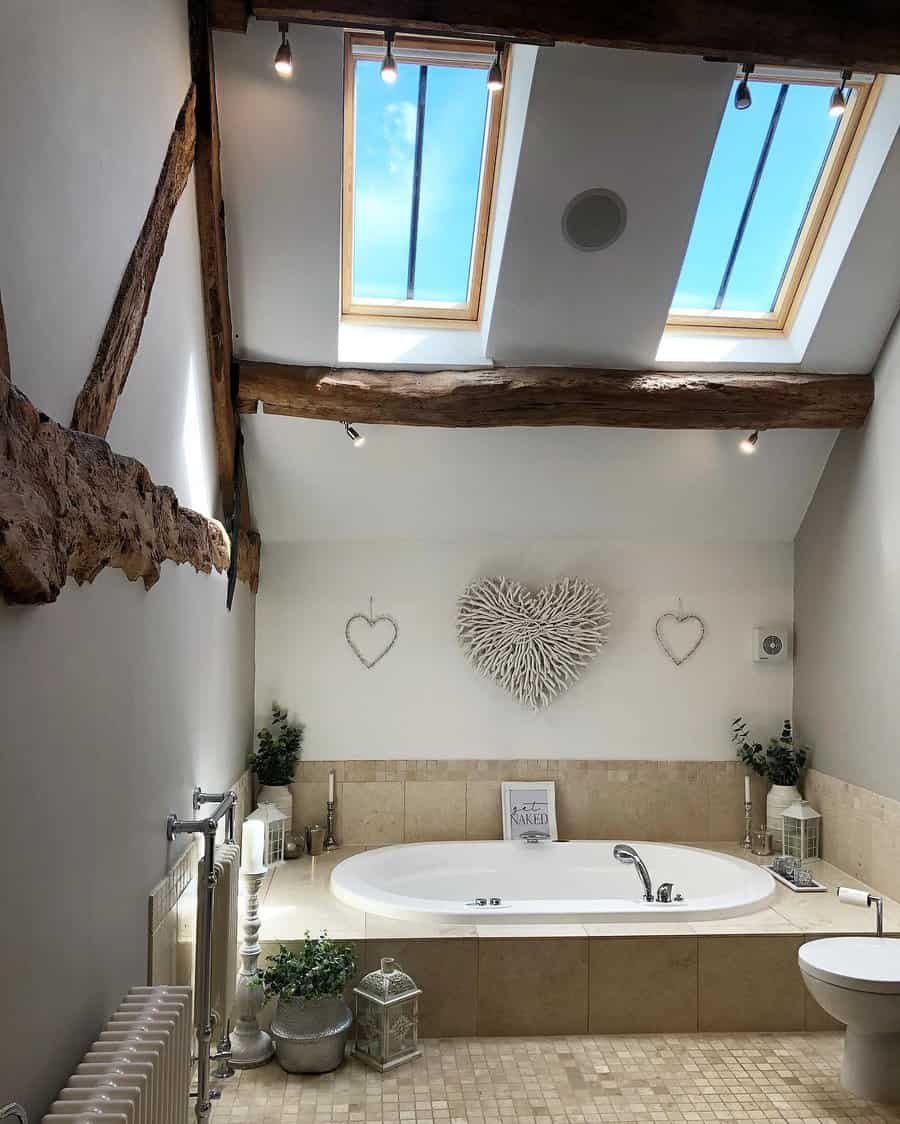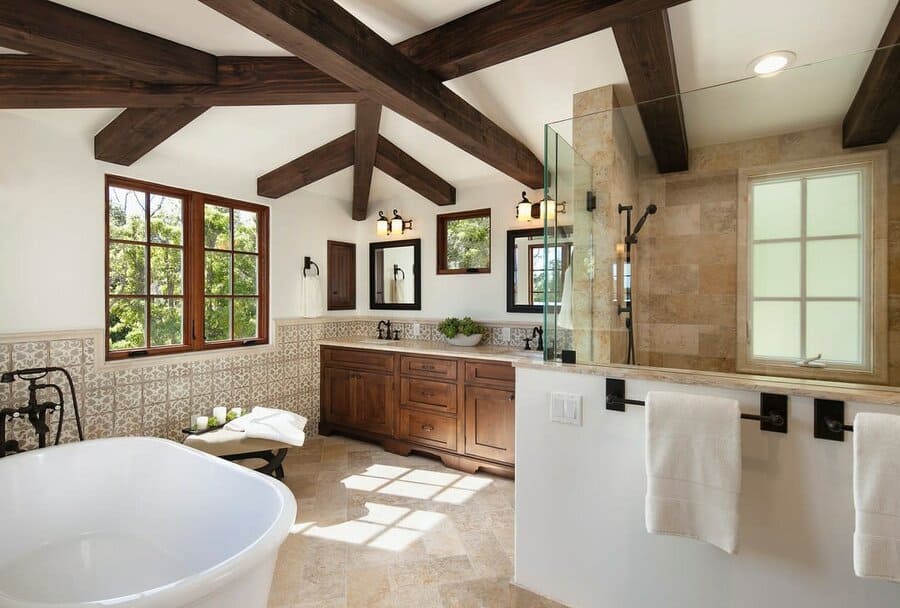 This is perfect for a farmhouse bathroom look. Use a similar wood throughout the rest of the bathroom. You could mirror the wood on the ceiling by adding a wood floor. Mount wood shelving on the walls. Add a wood countertop to the vanity.
3. Cove or Tray
If you already have a tall ceiling, then you have plenty of overhead space to work with. Add an elegant and sophisticated bathroom design by building a tray effect.
You can do this to an existing ceiling by building a box or ledge around the outside of the room. This creates a lowered ceiling around the outside of the ceiling and the original taller ceiling in the middle.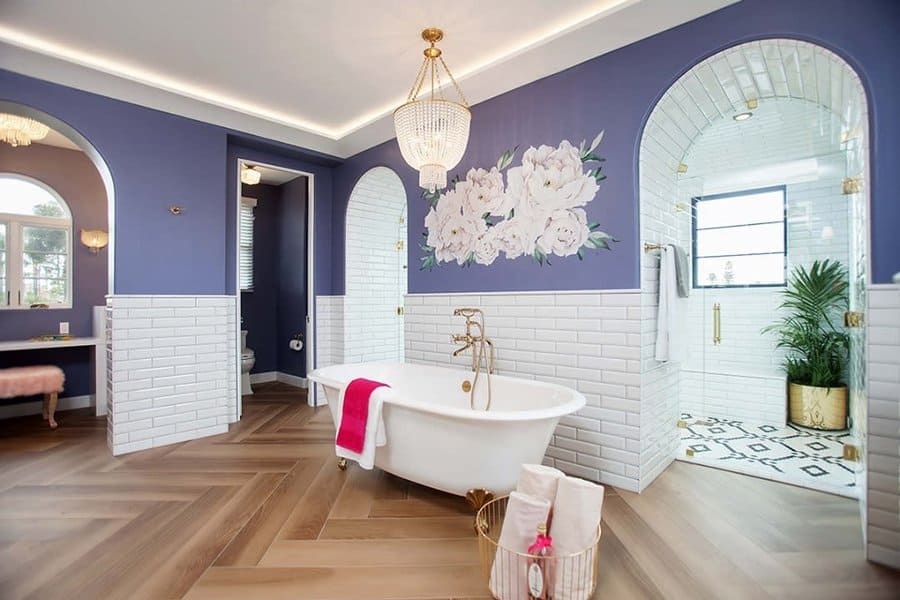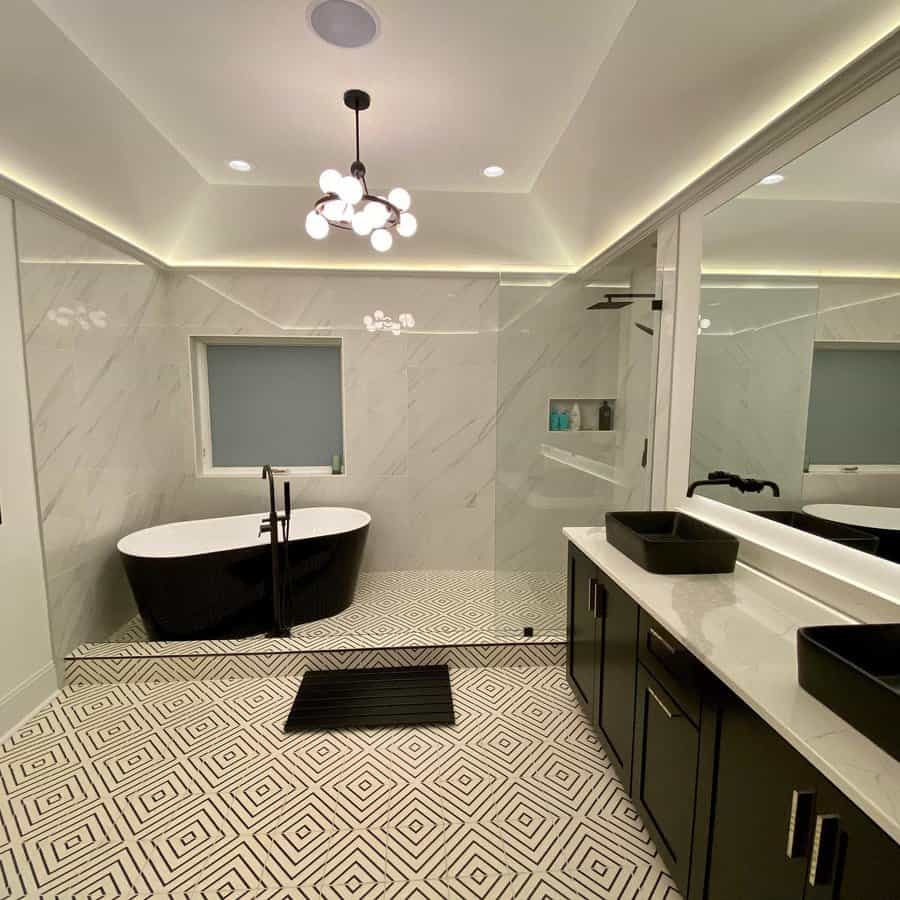 This is also your chance to add a custom lighting effect to the ceiling in your bathroom. Add LED strip lighting to the edge of the tray so that it illuminates the elevated tray portion of the ceiling. You can change the color of the light to create a relaxing mood in the bathroom.
4. Dark
If you're not afraid of a painted ceiling, then consider painting your ceiling dark blue or black. The darker ceiling creates a stark contrast to white walls. Paint the entire ceiling a single color, including the shower ceiling.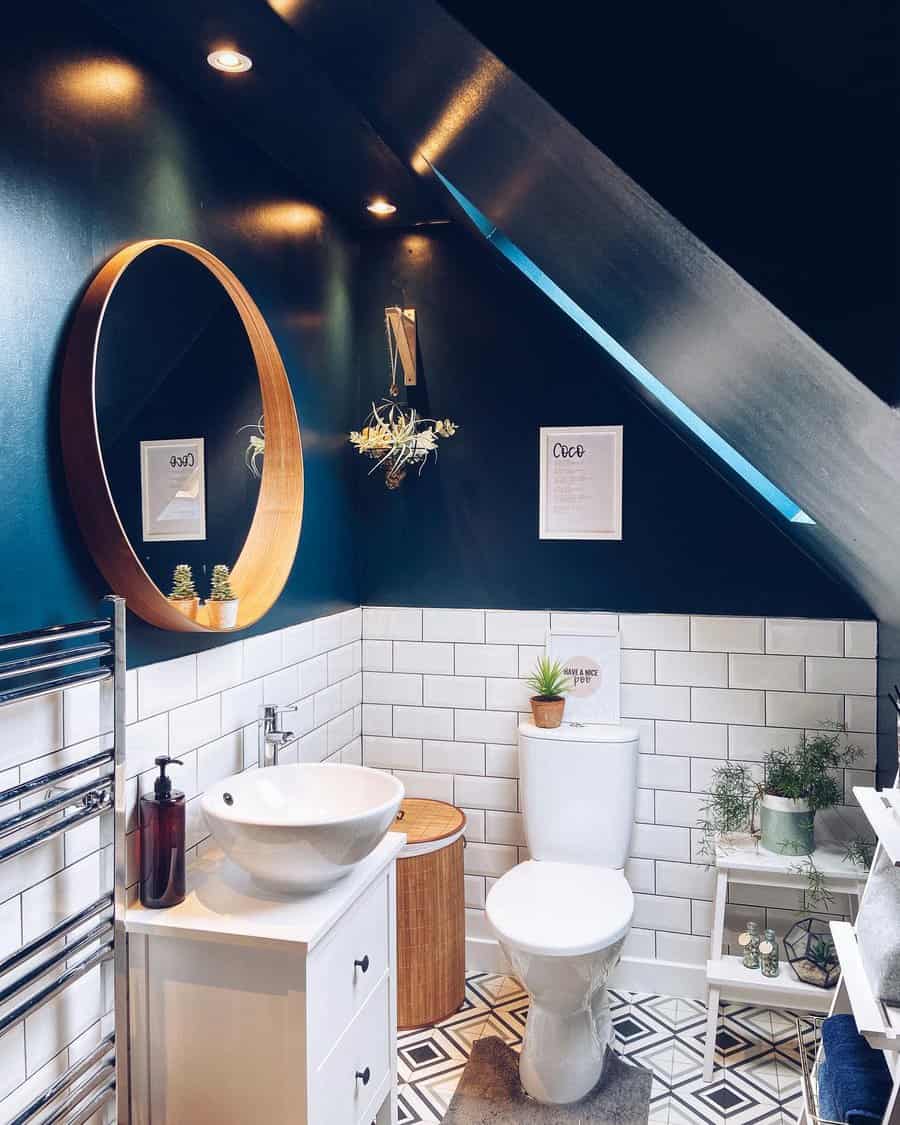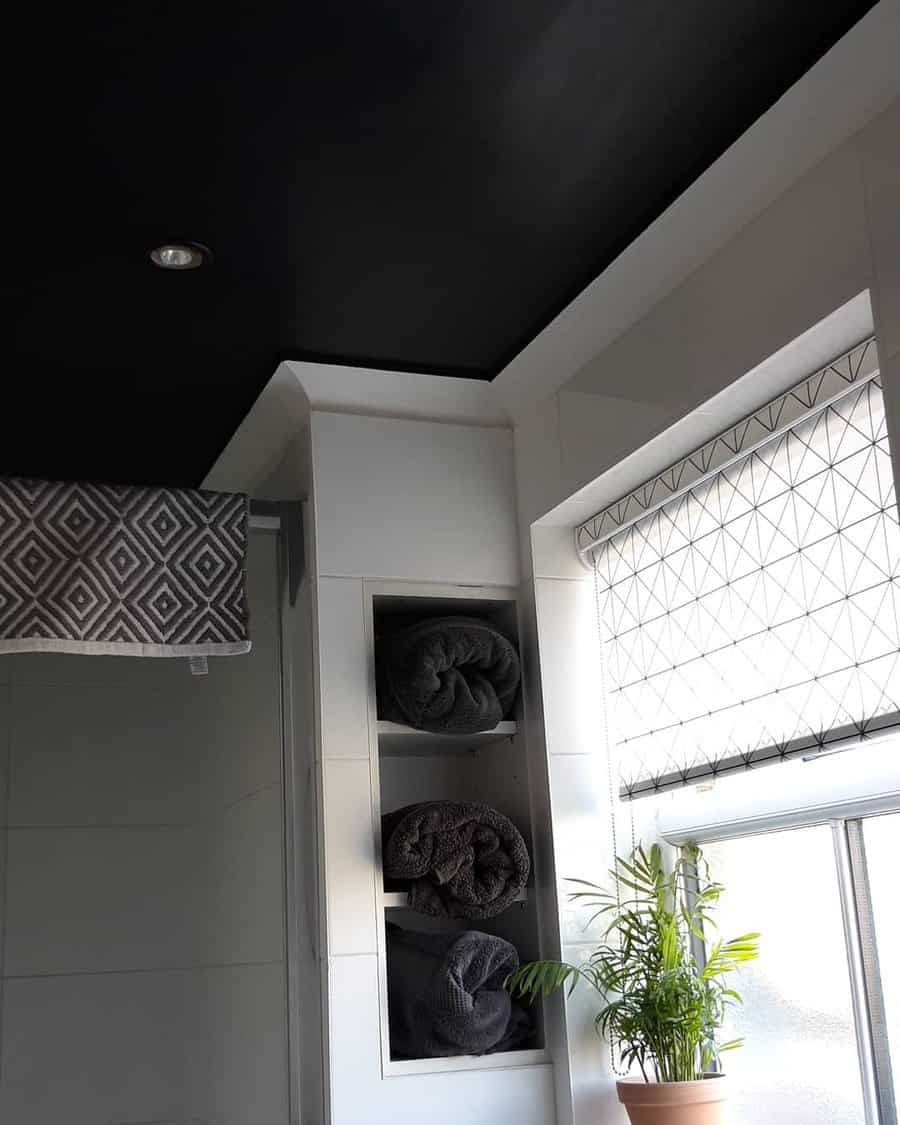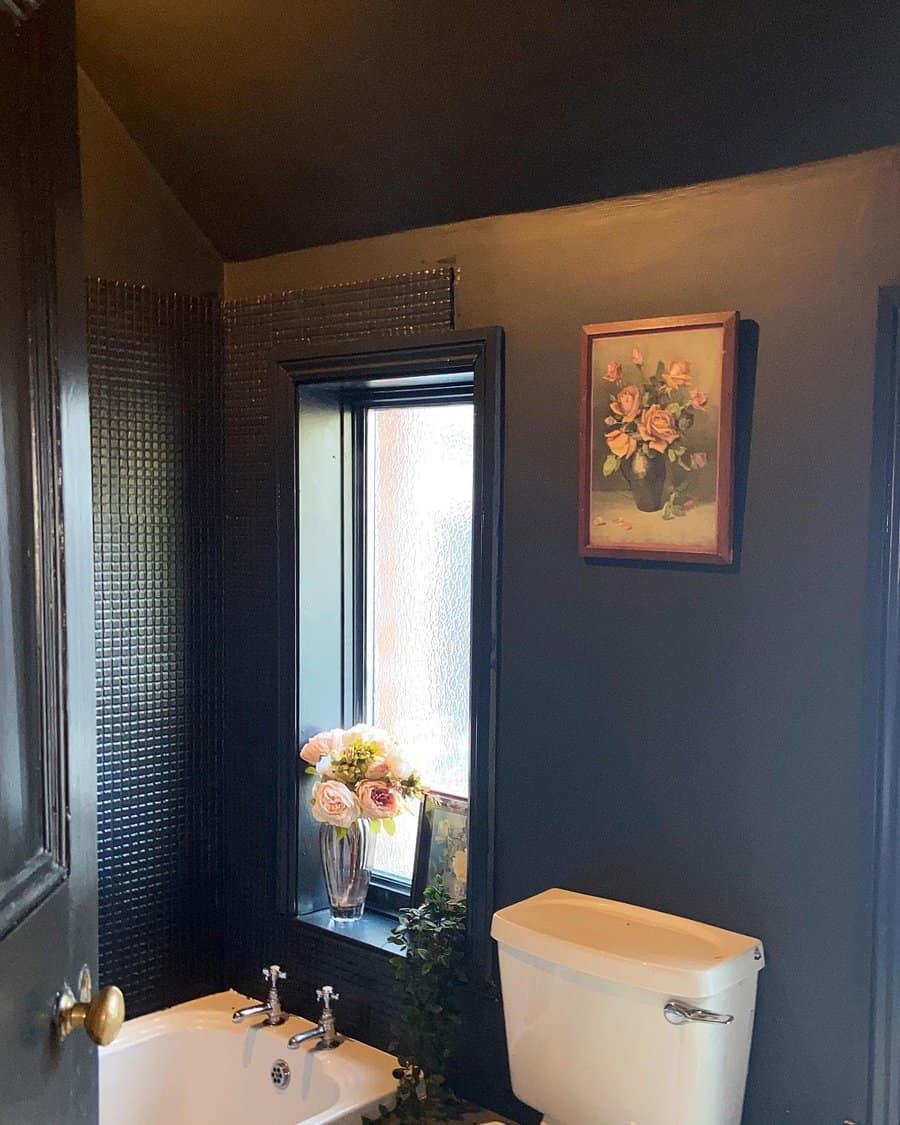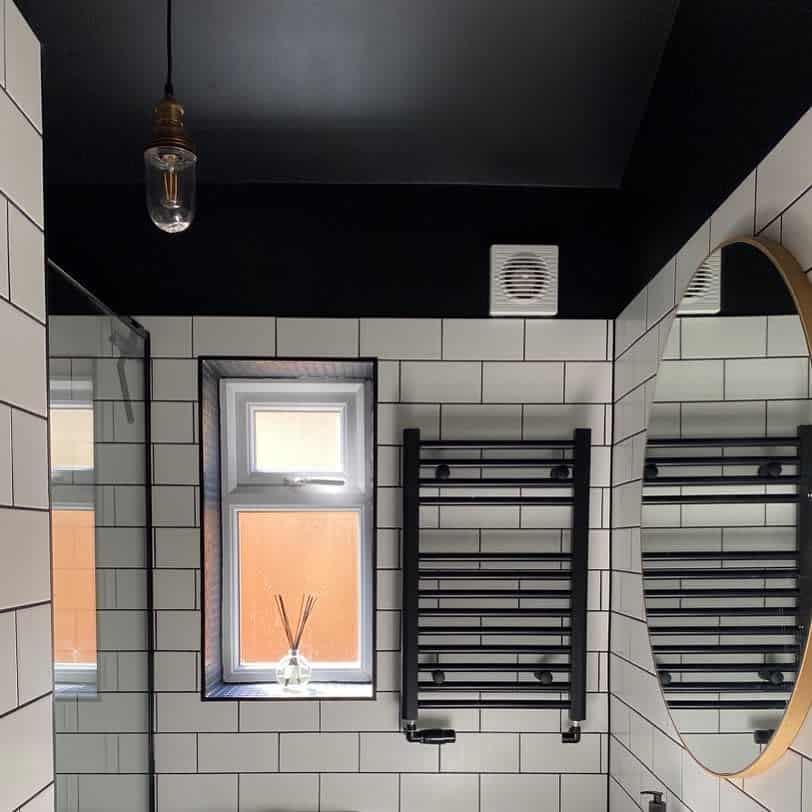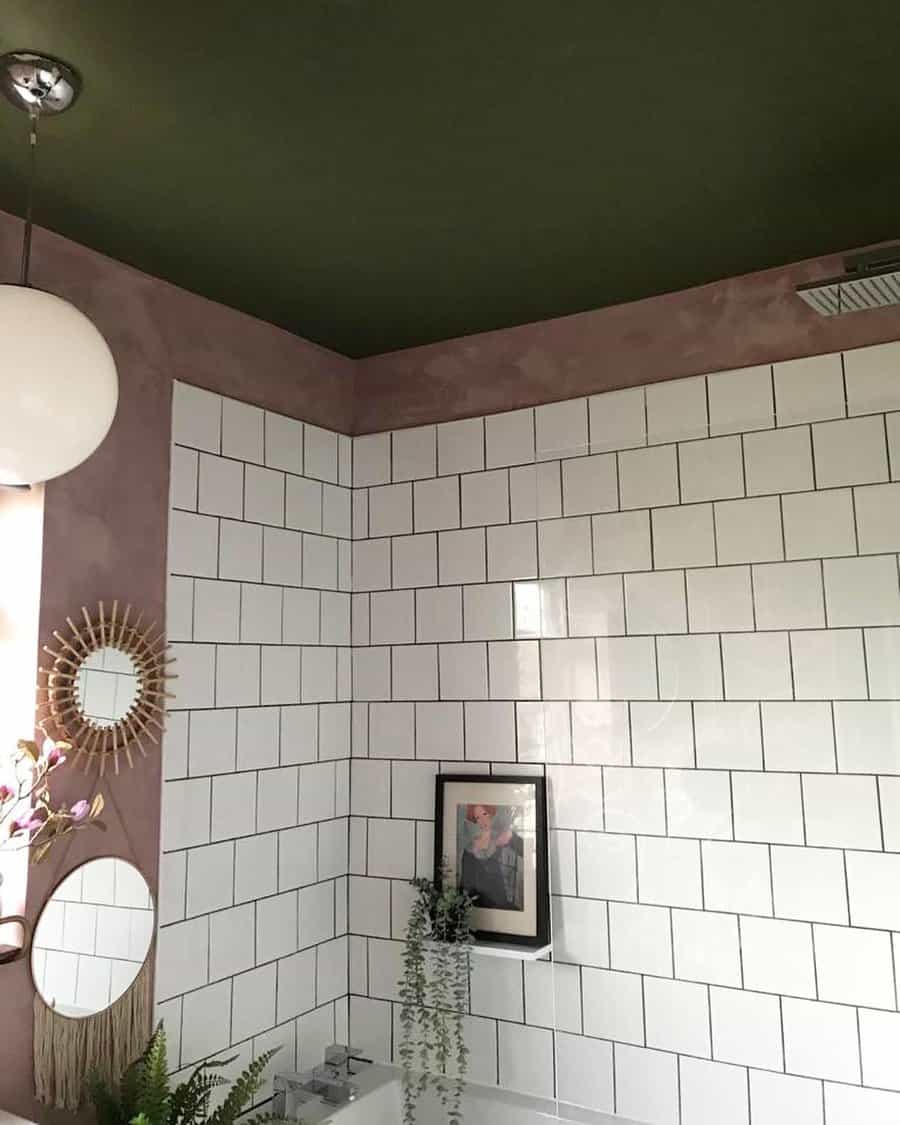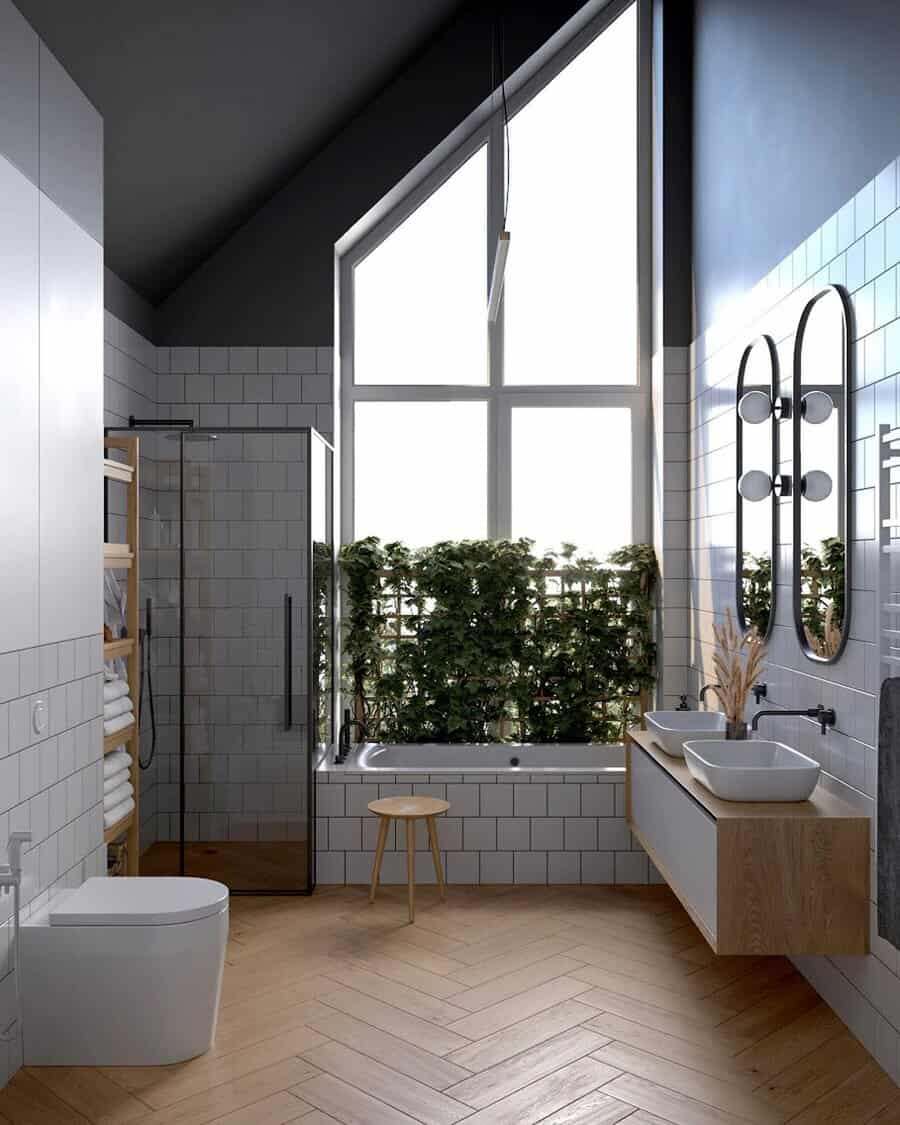 This is popular in small bathroom ideas because it creates the illusion of a taller and larger bathroom. The darker color can create a void effect that gives the illusion of the ceiling being taller than it really is.
The darker color is a bold design choice that you typically find in upscale homes. Doing it in yours can increase the perceived value of your home.
5. Illuminated
Adding more bathroom ceiling lights helps to make the space more functional and brighter. Add light fixtures around the vanity mirror. This makes it easier to get ready in the morning.
Adding ceiling lights in the shower creates a statement lighting effect and makes the shower area safer.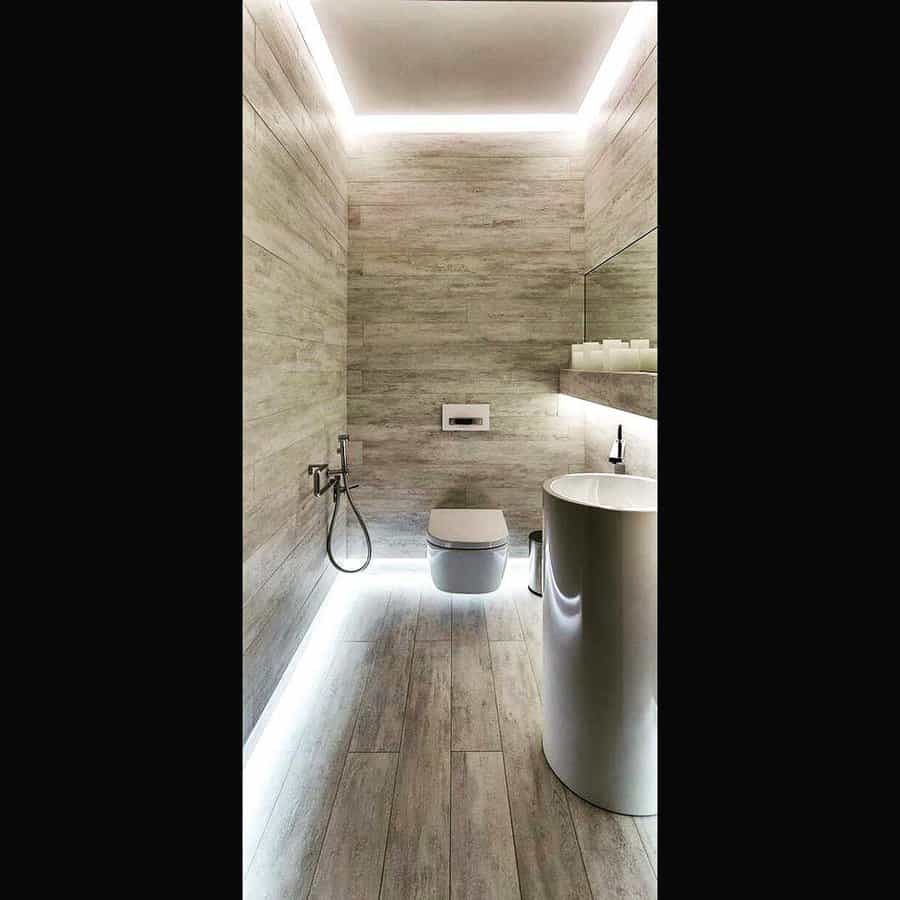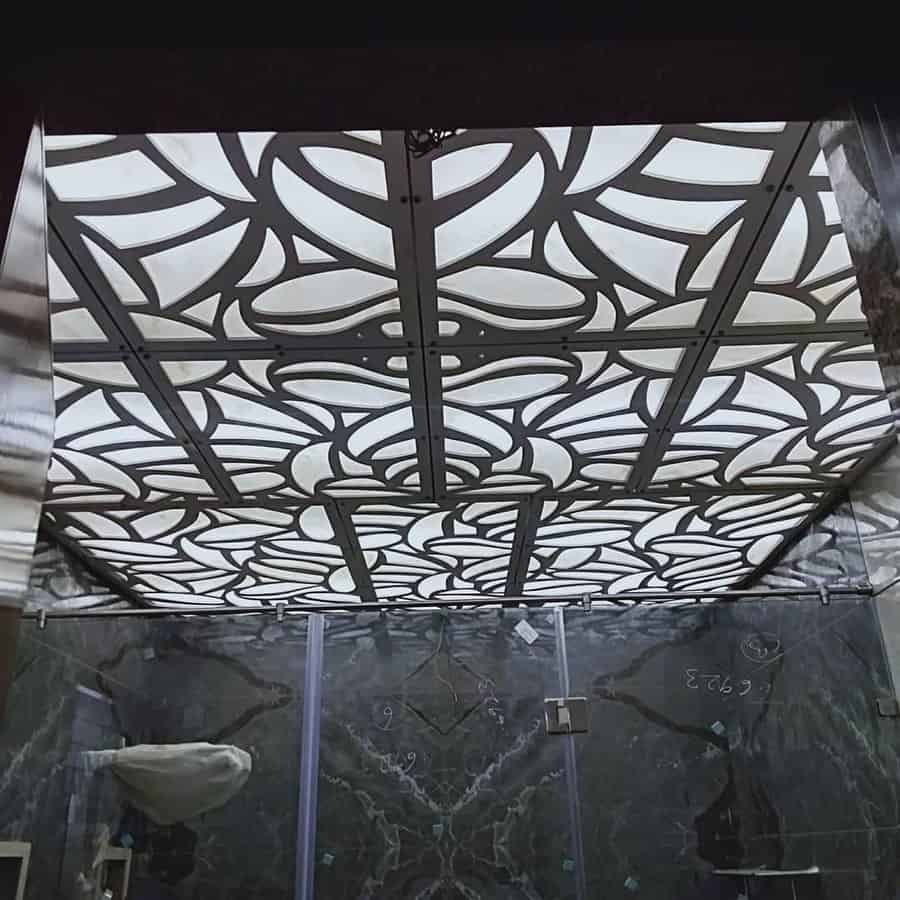 When adding more lights to your bathroom, try to create layers. You should have ambient light that illuminates the entire bathroom, task lighting that's focused on the vanity, and accent lighting that is decorative. The accent lighting is perfect for leaving on when you have guests.
Read also: 45 Bathroom Lighting Ideas
6. Luxury
When looking for luxury bathroom ideas, look for the unexpected. Luxury is about creating an experience and a sense of opulence through the use of materials and design.
You could create a custom lighting effect with LED strip lighting. Or you could have LED or fiber optic cables that create a starry night effect. Instead of having the standard recessed lighting, you can hang an elegant chandelier.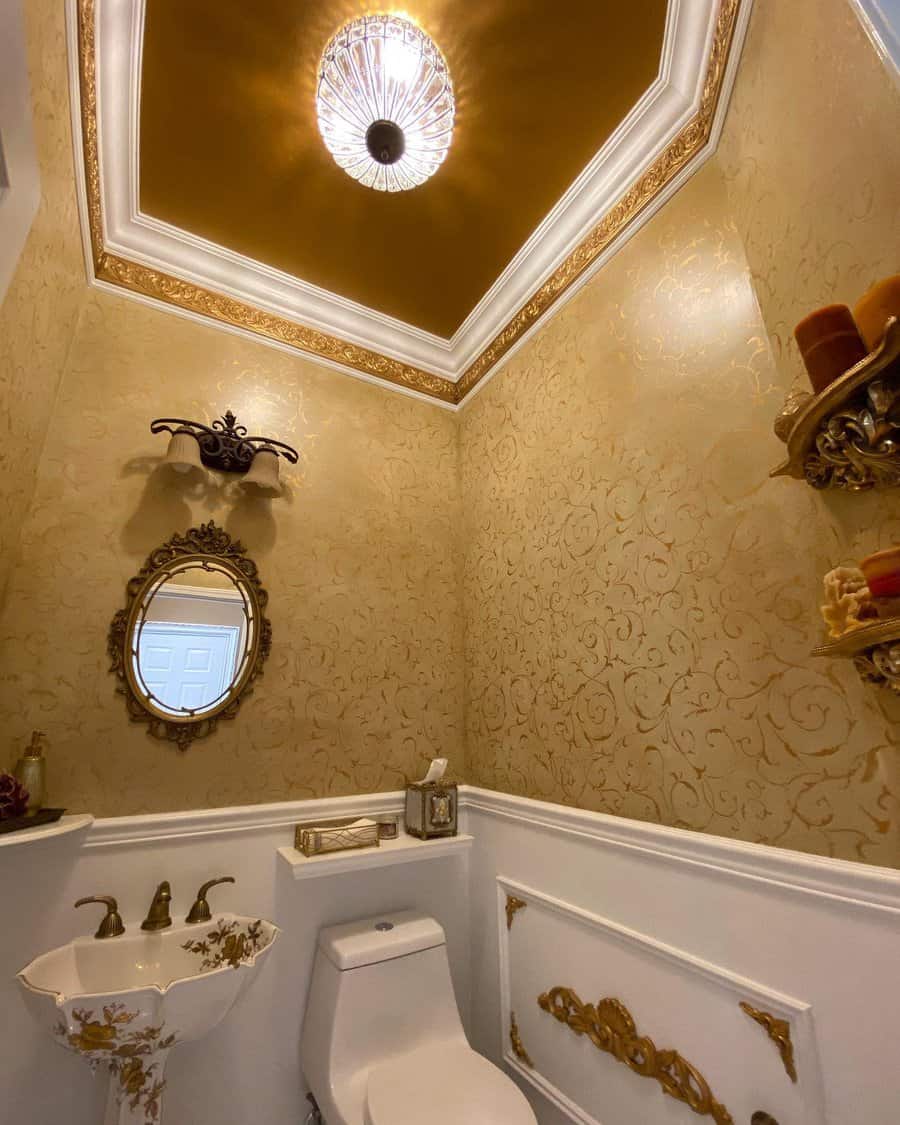 Adding arches is another way you can create a sense of luxury. Curved lines are harder to build, so they are more expensive, which gives your bathroom an upscale feel. If you have a larger budget, consider adding a skylight to your bathroom. This adds natural light.
7. Modern
Modern bathrooms upgrade plain drywall and turn a boring old powder room into a spa-like atmosphere. They also use a combination of materials. Add skinny wood beams to the ceiling. They don't need to cover the entire ceiling, and they should have some space between them.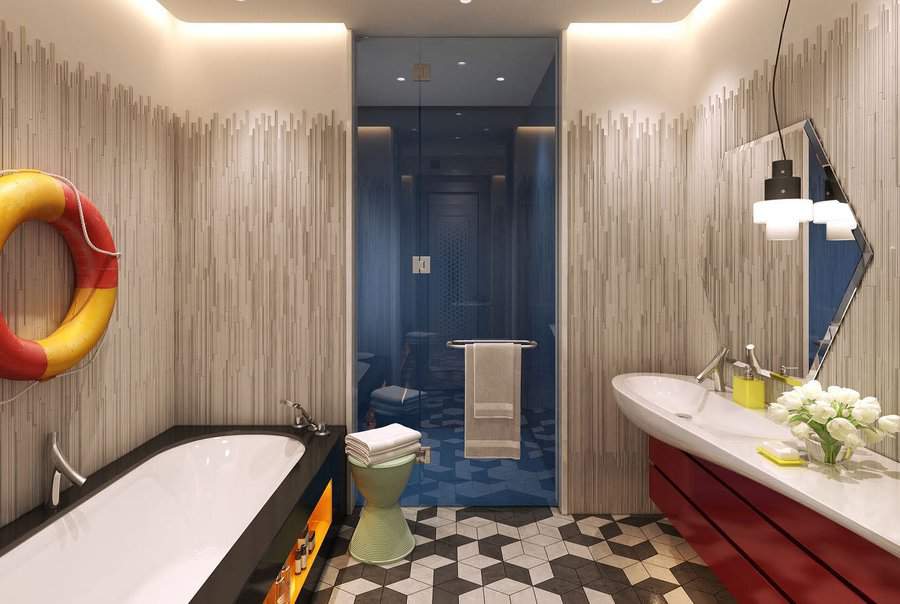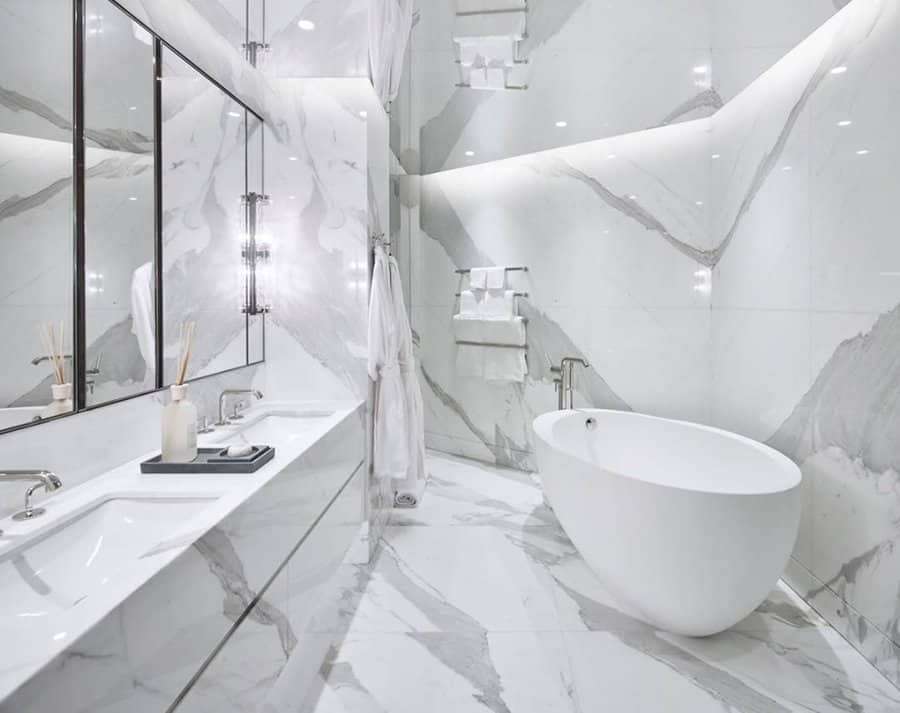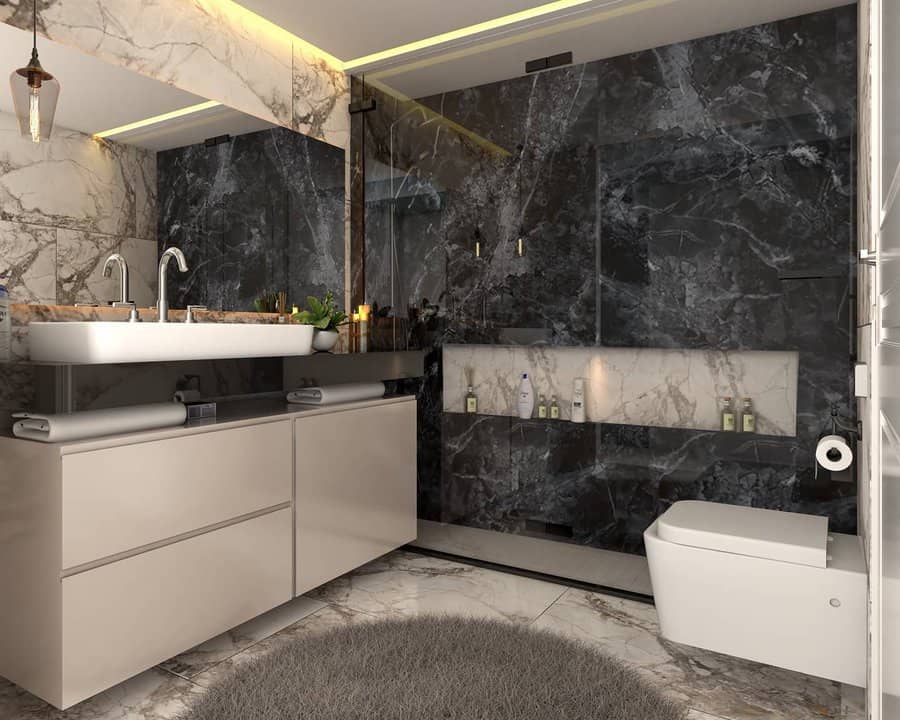 Use the ceiling to create different visual zones in the bathroom. Add the wood accenting to the ceiling over the vanity. Then add another set over the tub.
Use metal or tile over the shower area. Install LED lights on the top of the wood to have it glow upward and softly illuminate the ceiling for a subtle glow.
Read also: 29 Modern Bathroom Ideas
8. Molding
Adding crown molding to the rooms in your home can give it an upscale and elegant feel. Elevate your master bath by installing crown molding at the top of the walls in your bathroom.
You can also add millwork to the ceiling. This works well if you have pendant lights, a chandelier, or a ceiling fan in the ceiling.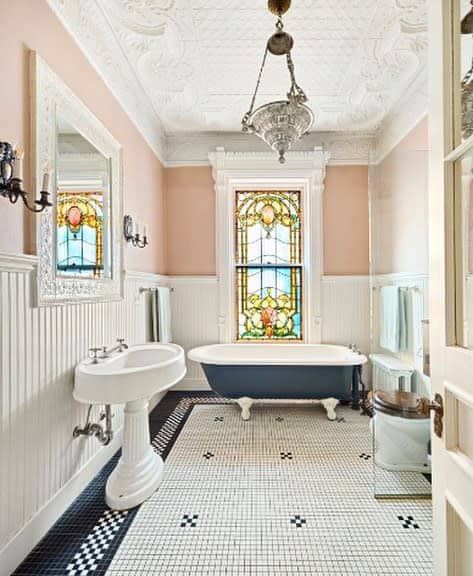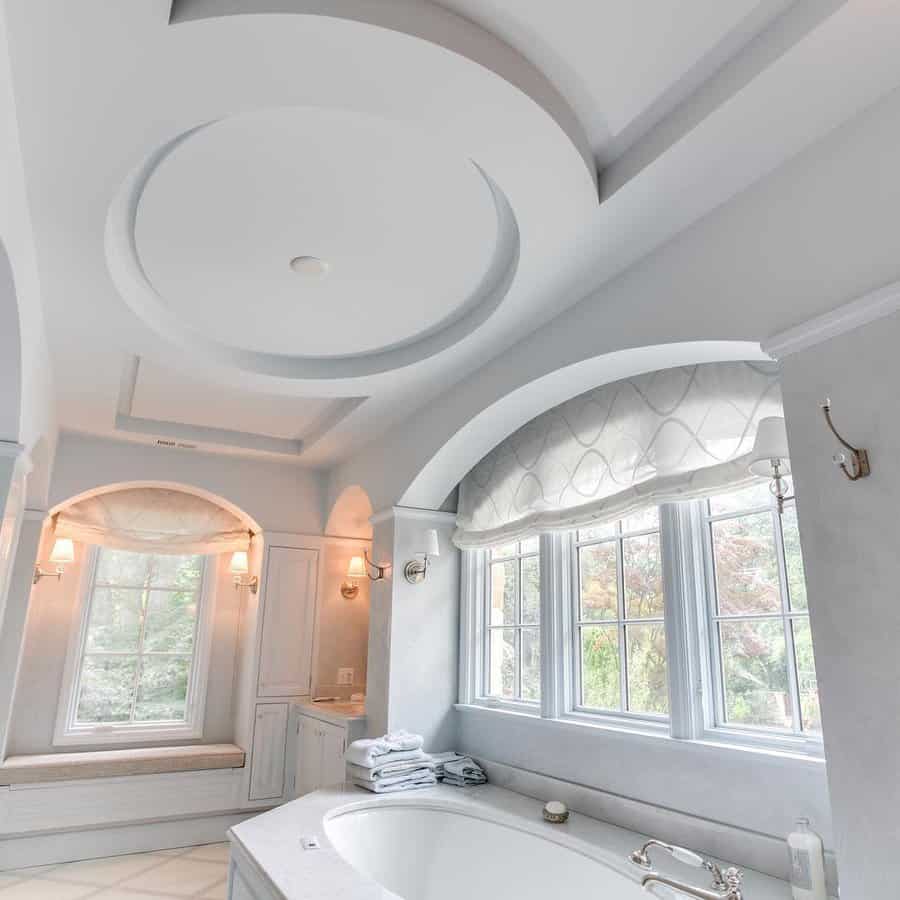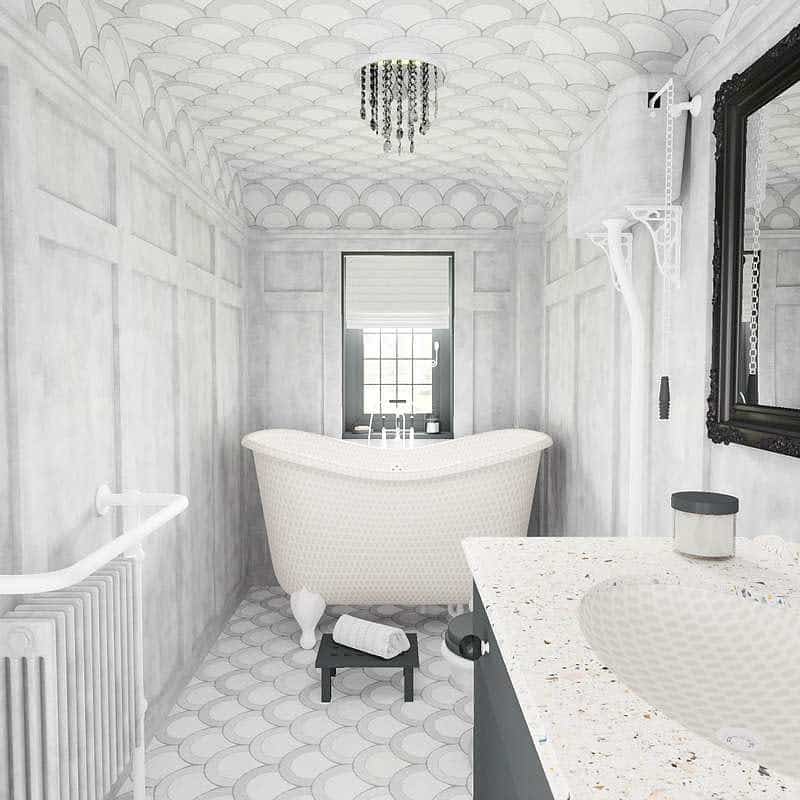 The molding you choose should be a minimum of four inches wide. This is best for a more casual space. For a more formal look, choose a wide molding that's up to nine inches wide.
9. Painted
Paint isn't just for the walls anymore. Modern bathroom ceilings embrace color, and the easiest way to accomplish that is with paint. What's nice about this trend is that it works for both large and small bathrooms.
You can paint the entire ceiling or paint a design. Don't be afraid to use a darker color that would normally be too dark for the space. This will add sophisticated drama.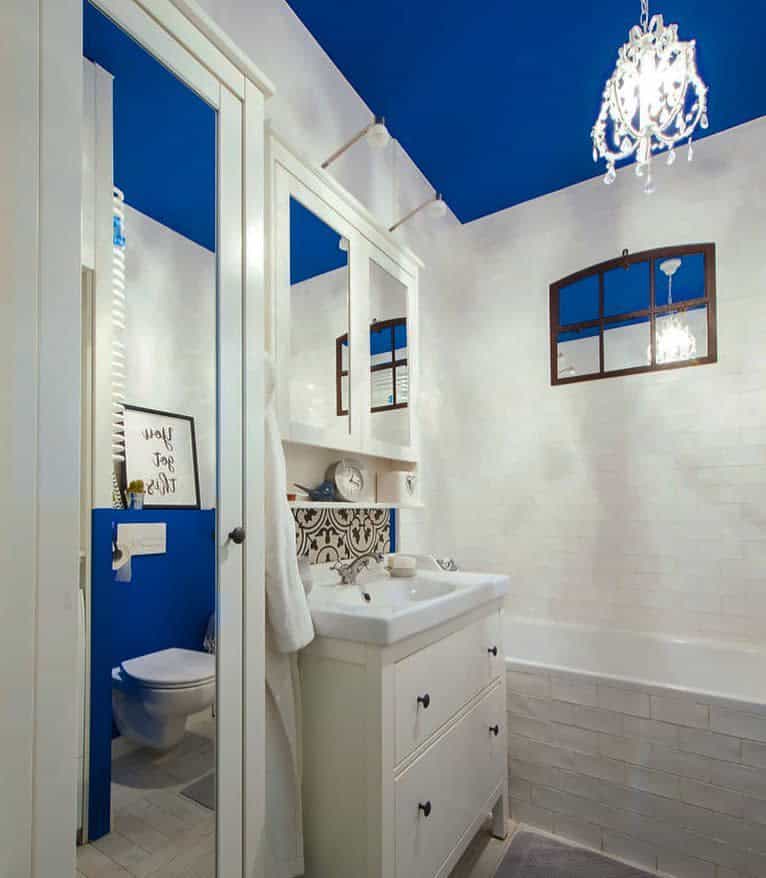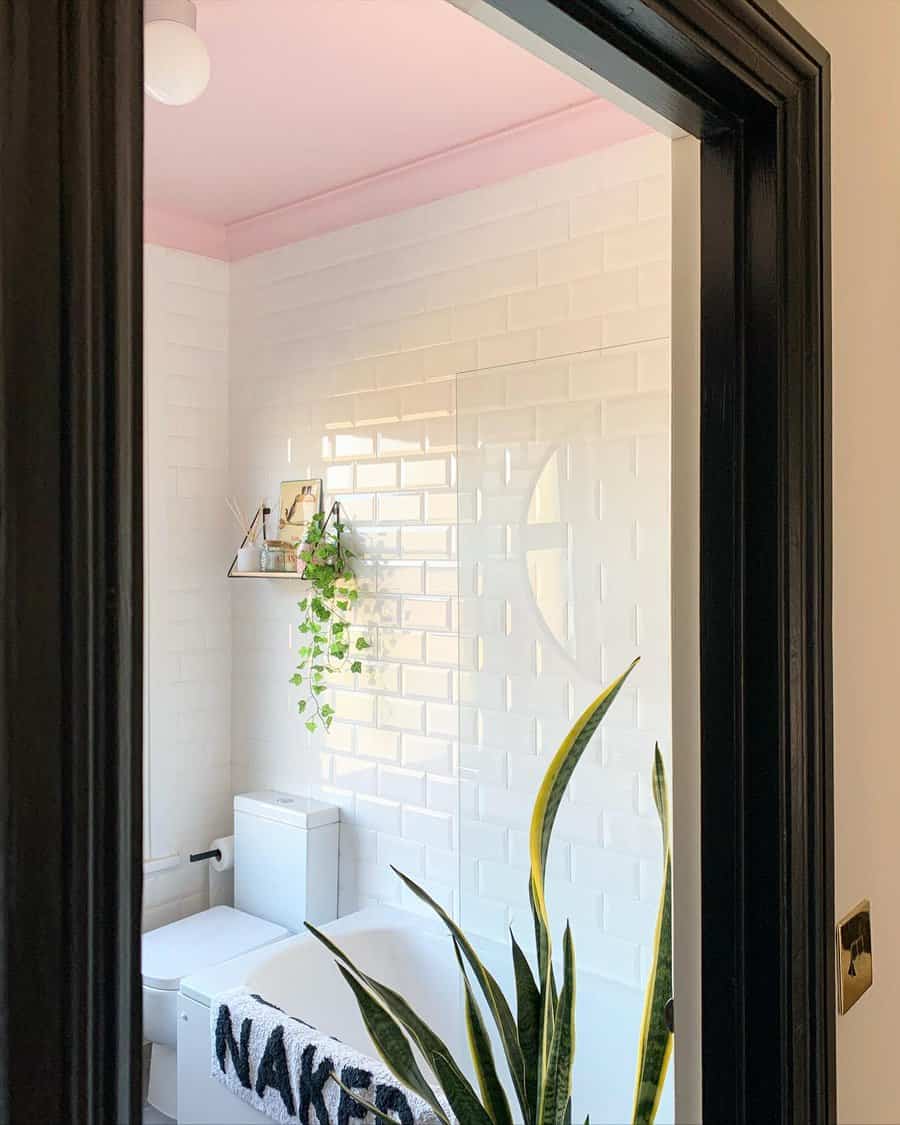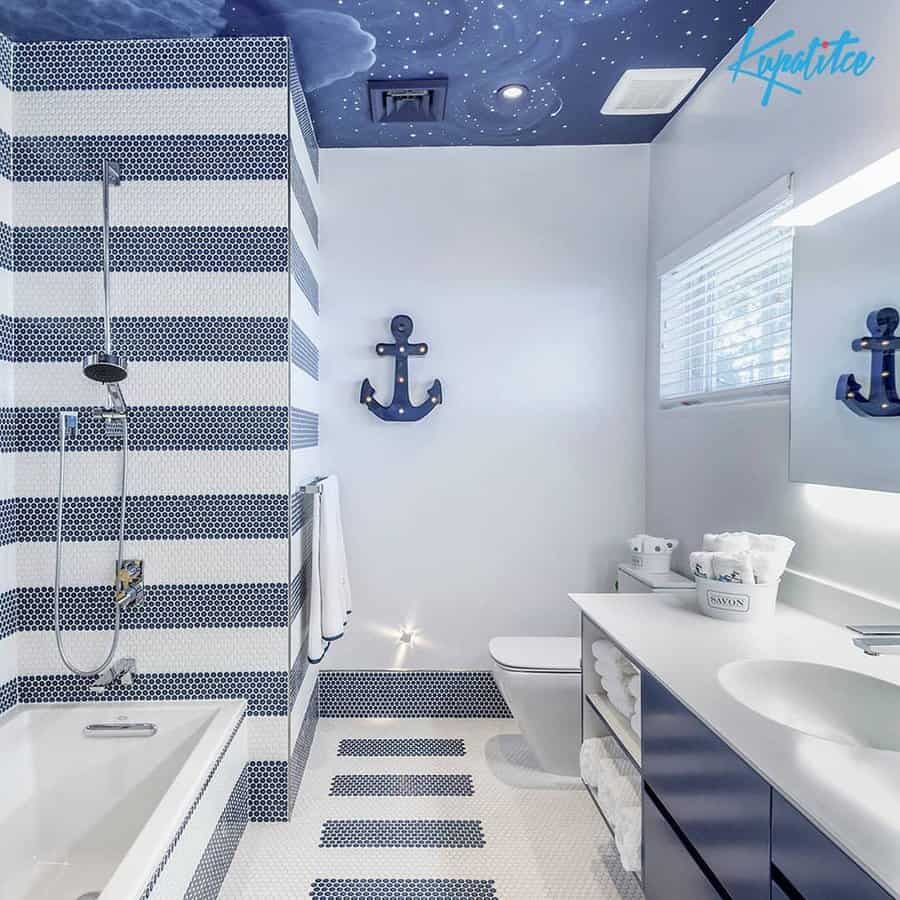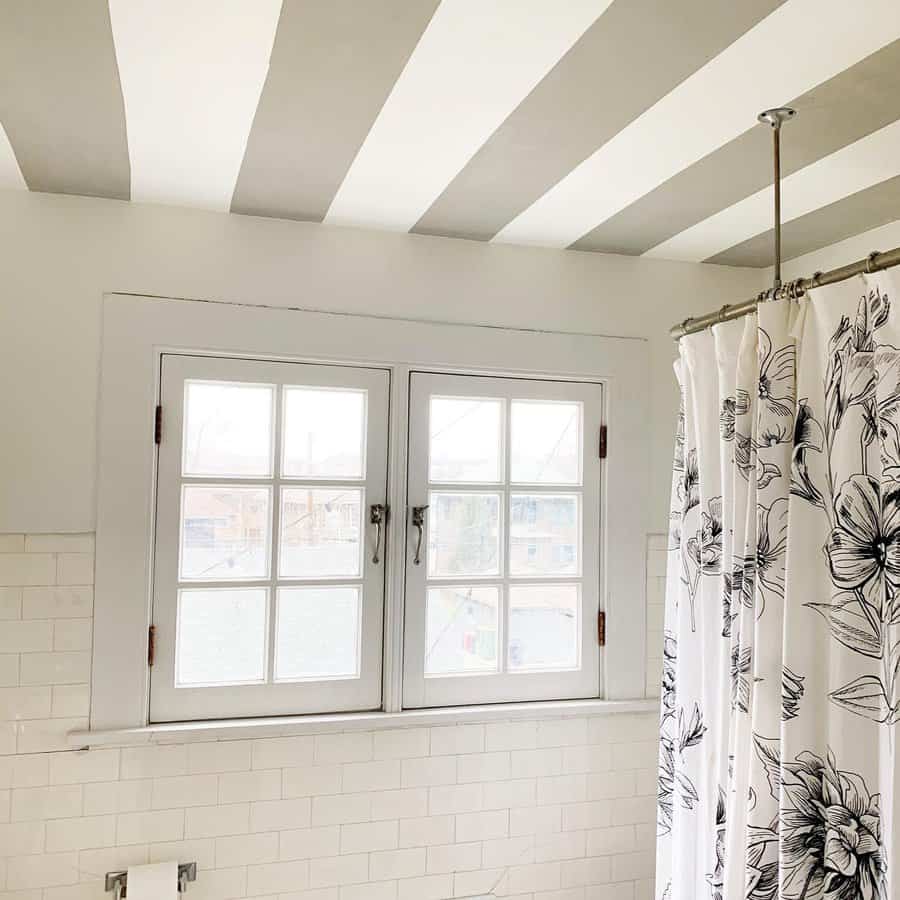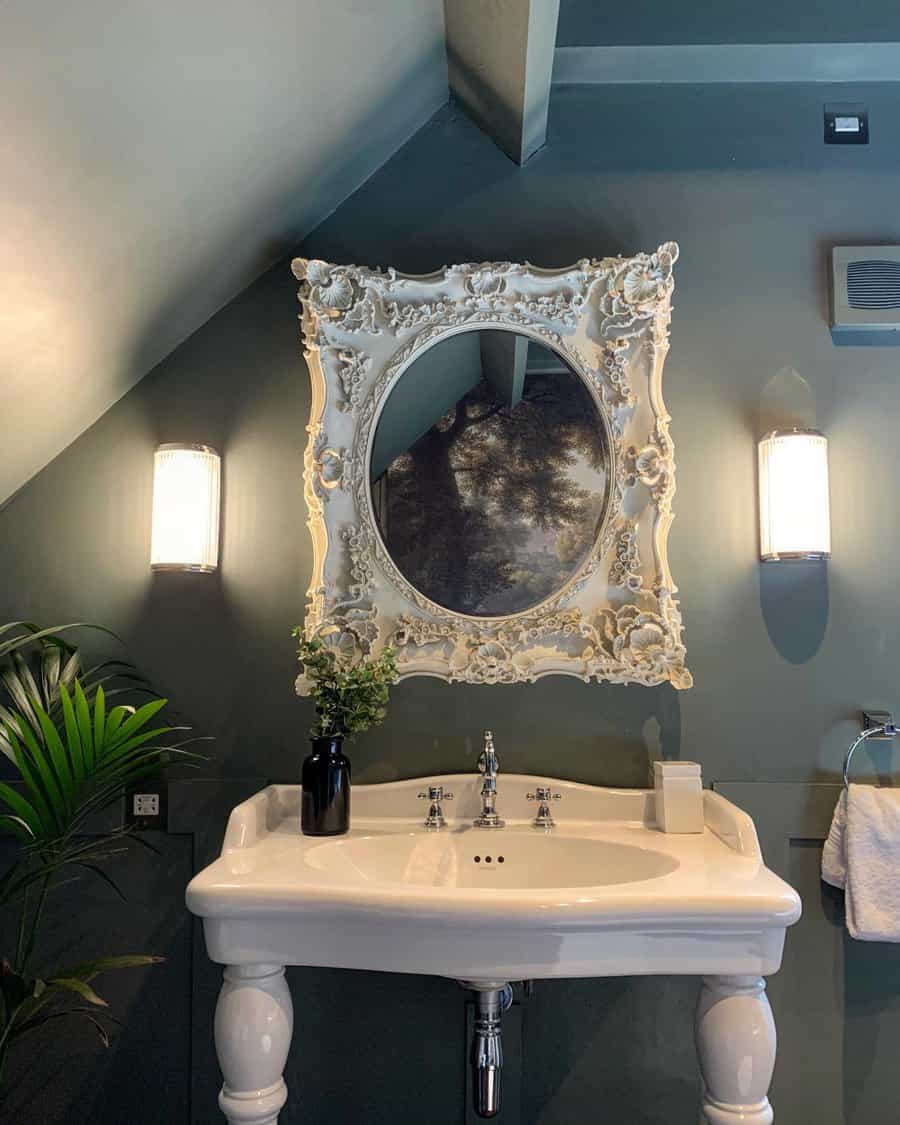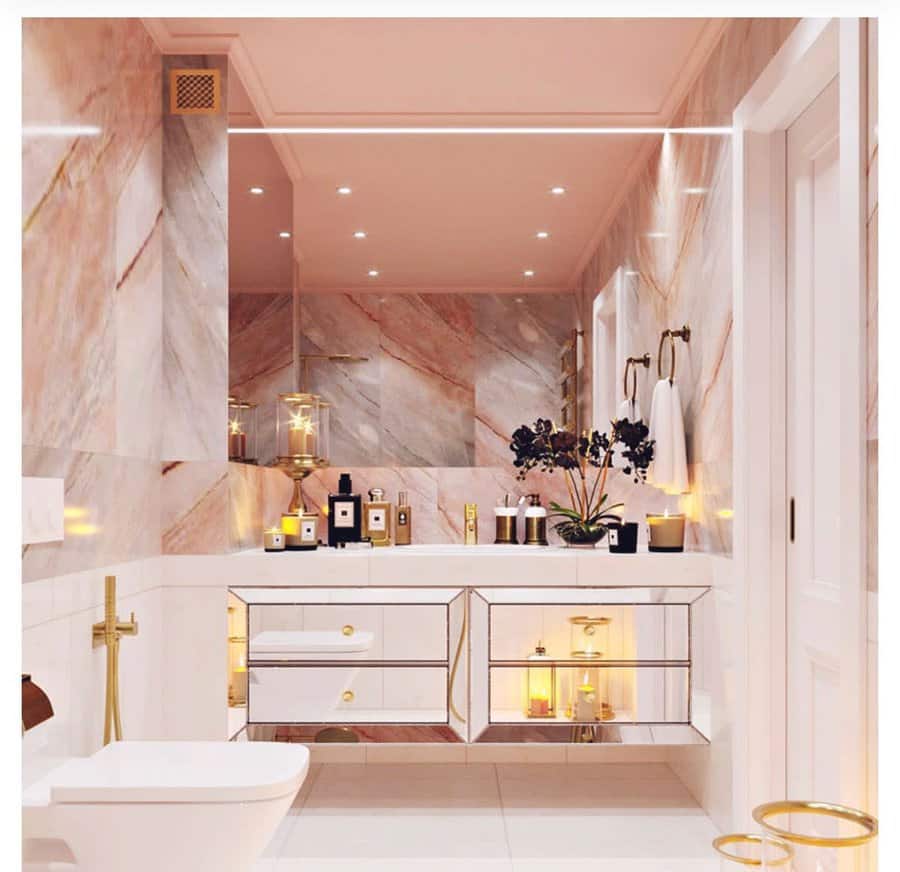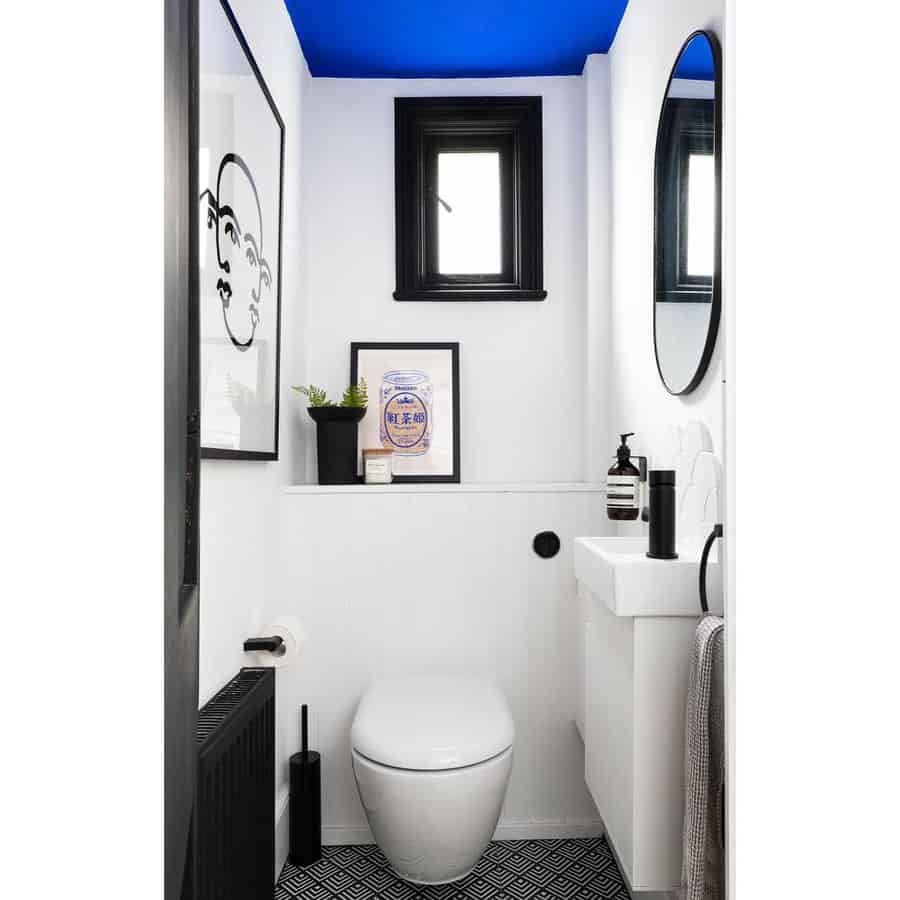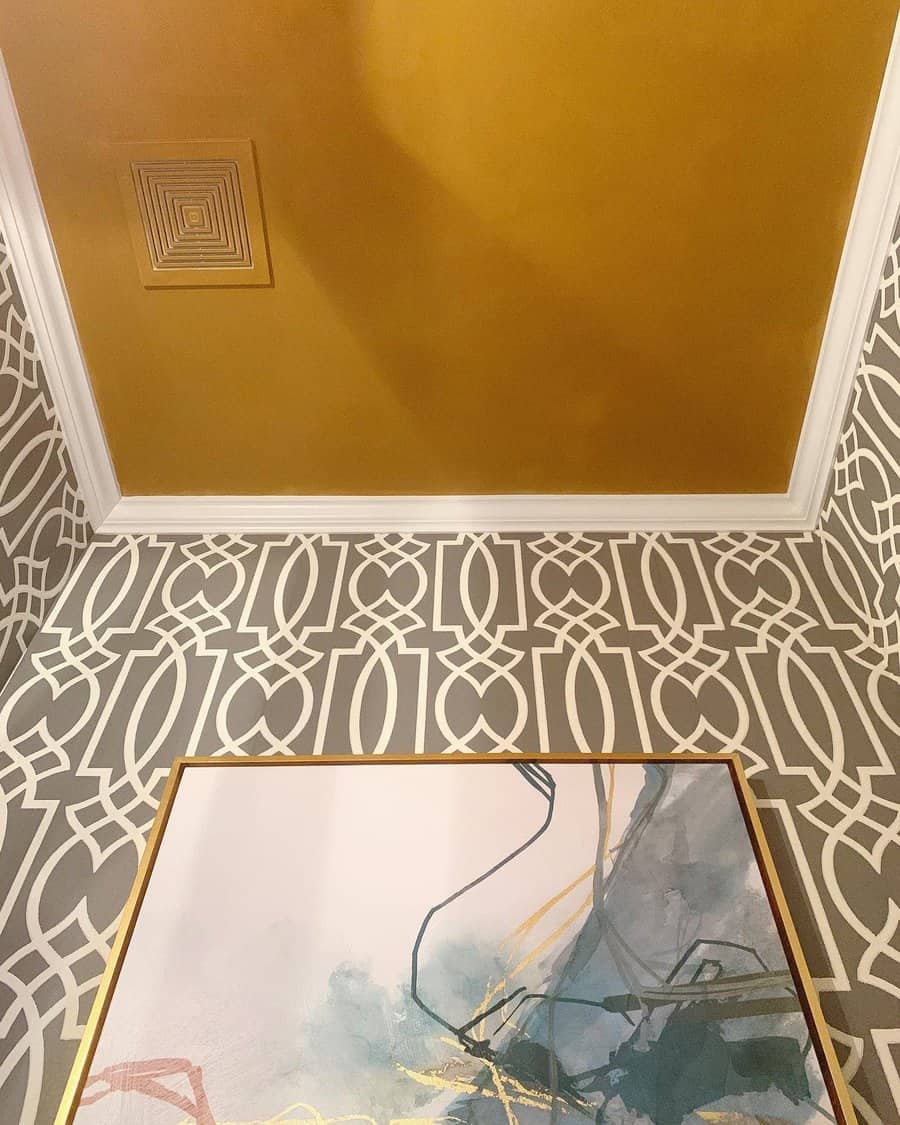 Choose your wall paint carefully when painting your ceiling. It's best to either leave them white or use the same color as the ceiling. White paint helps to keep the space feeling bright. Using the same color creates the illusion that the ceiling is taller than it really is.
10. Shower Room
Turning your bathroom into a wet room is a popular modern design choice. It's perfect for small bathrooms that don't have a lot of room for everything individually.
In this type of bathroom, the entire room becomes the shower with a drain in the middle. You'll want to consider tiling the walls higher than you would to protect them from splashing.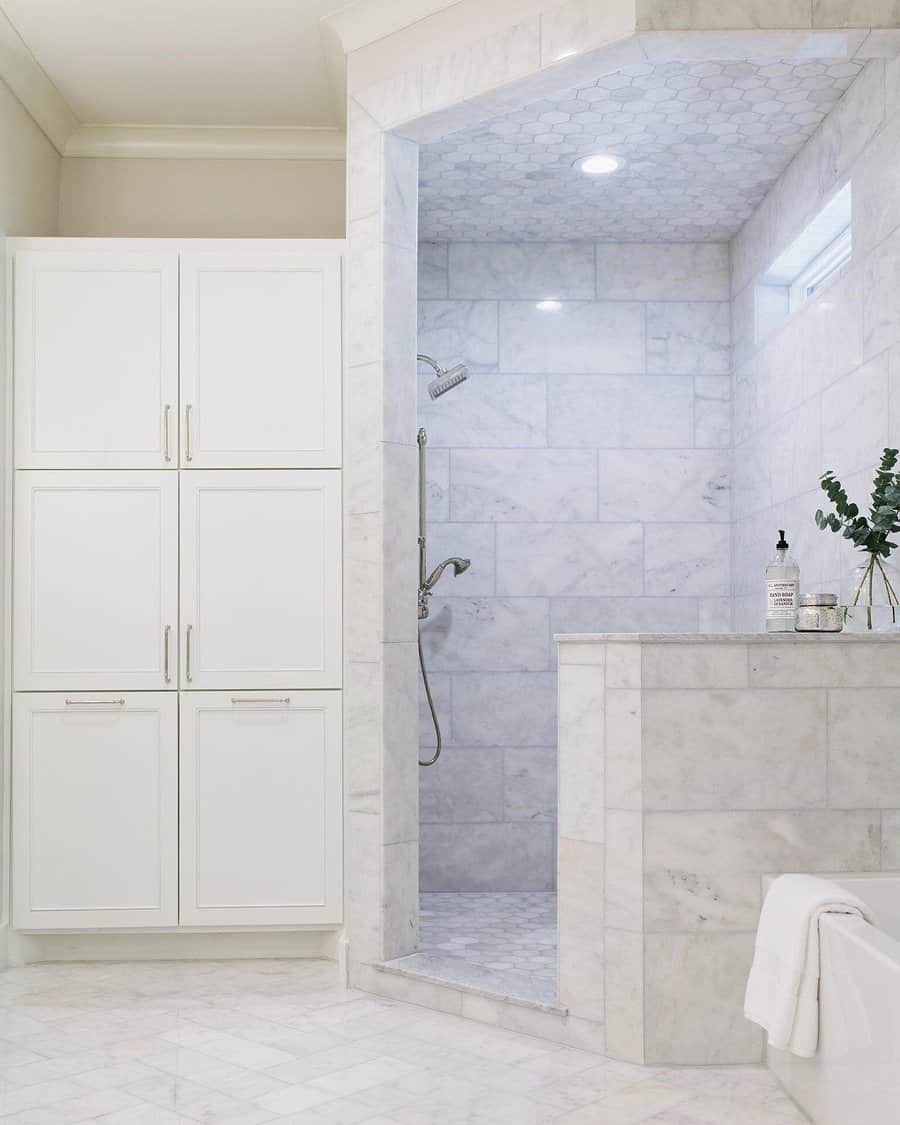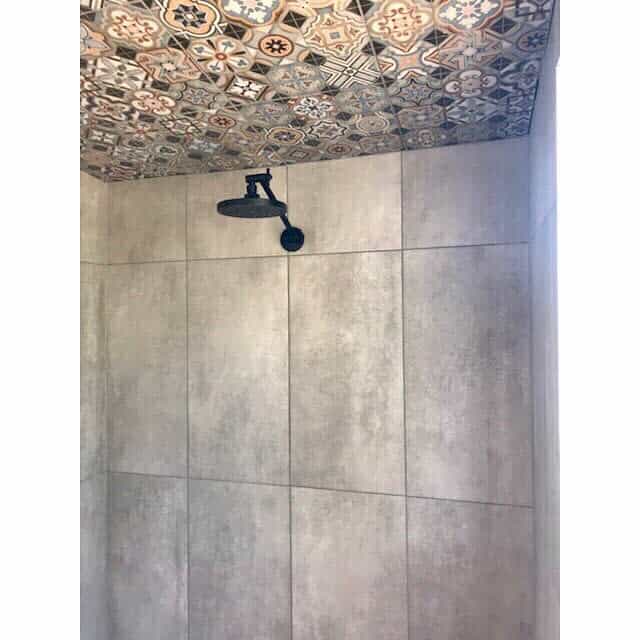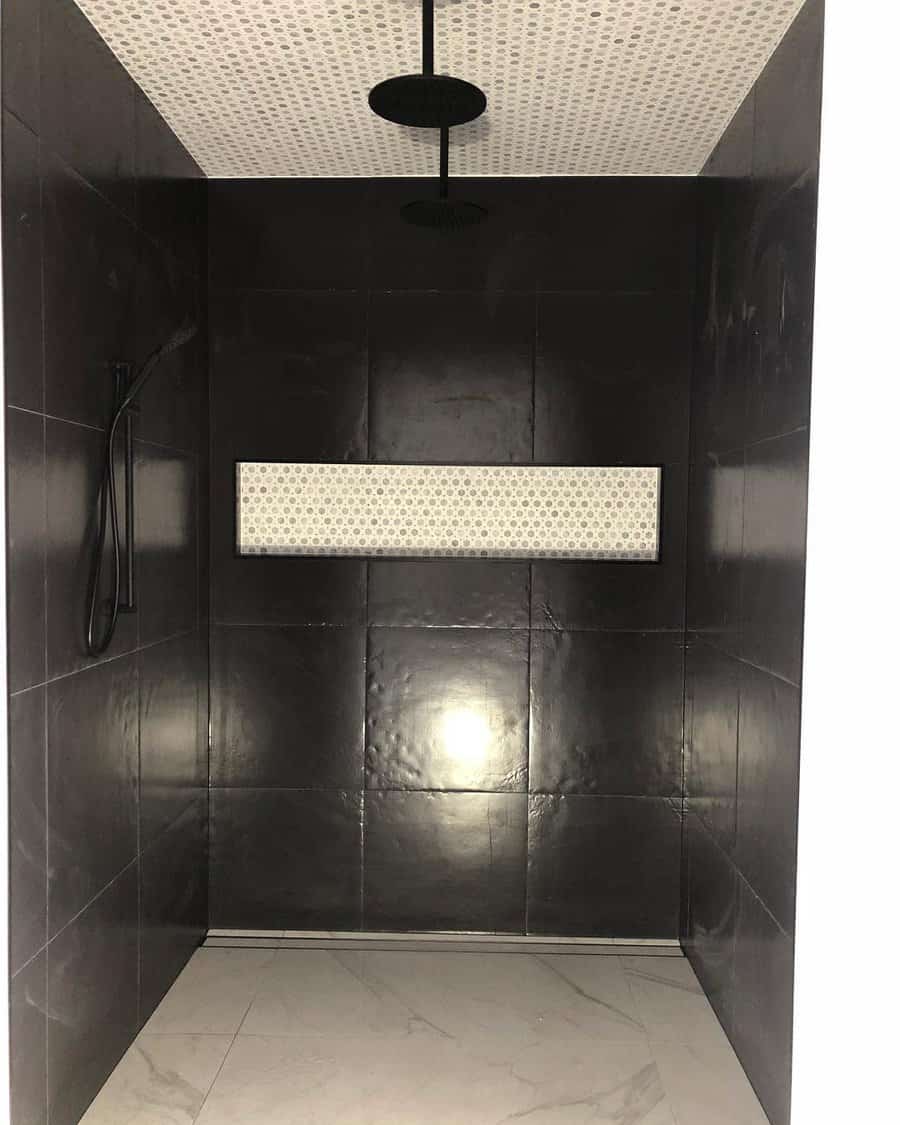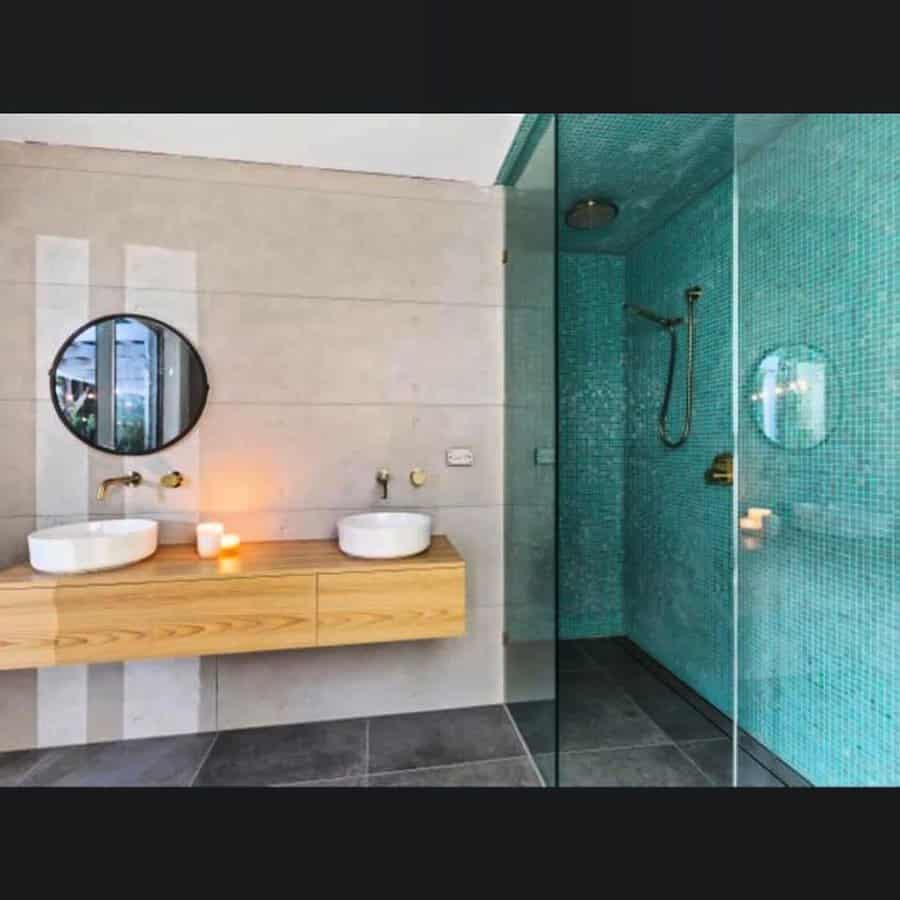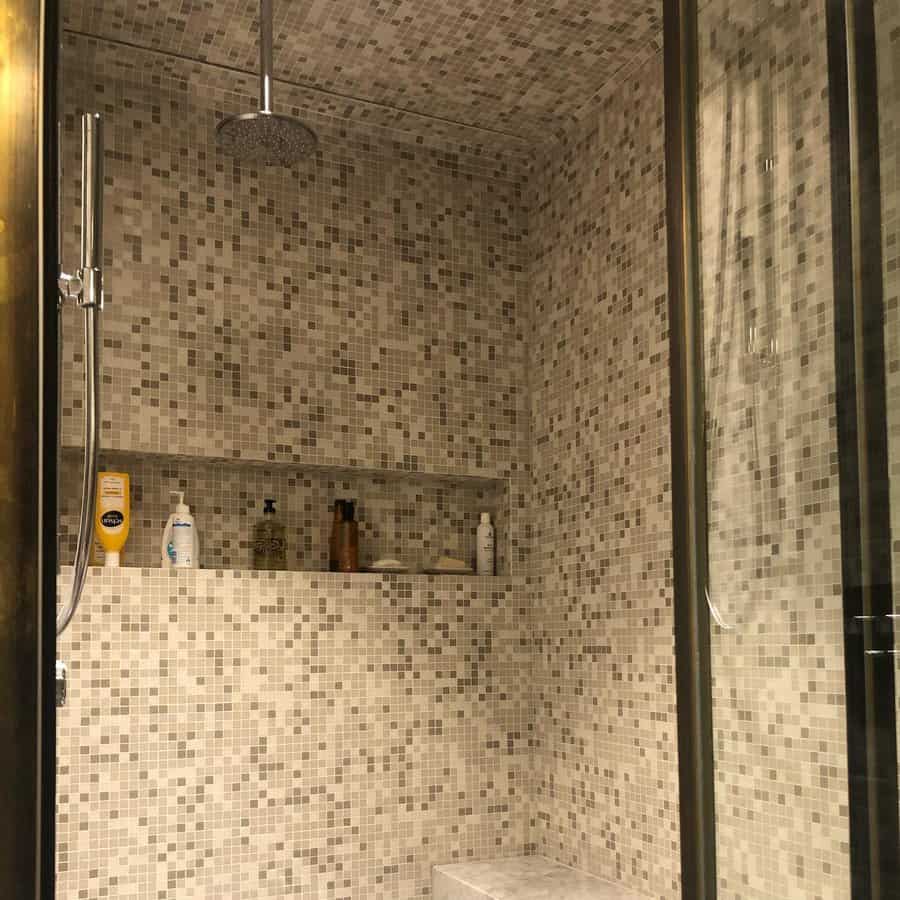 A large tile works best for this. You can then use them as ceiling panels. This bathroom ceiling design creates a uniform look throughout the entire bathroom.
11. Tiles
Most people skip using ceiling tile because it is unnecessary. Unless there is a large amount of moisture gathering near the bathroom ceiling, you don't need to use tile to protect it. If you want to create a unique look, then you can use tile to make a bold design statement.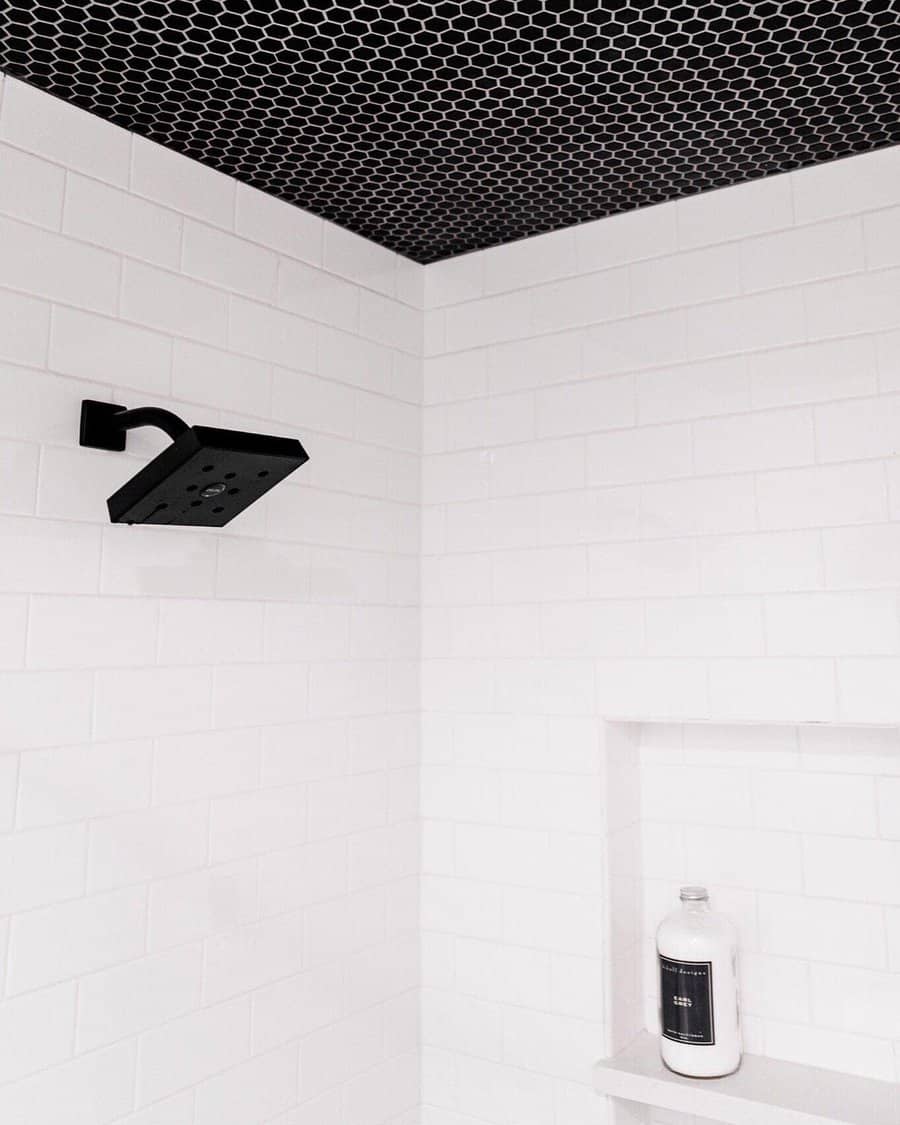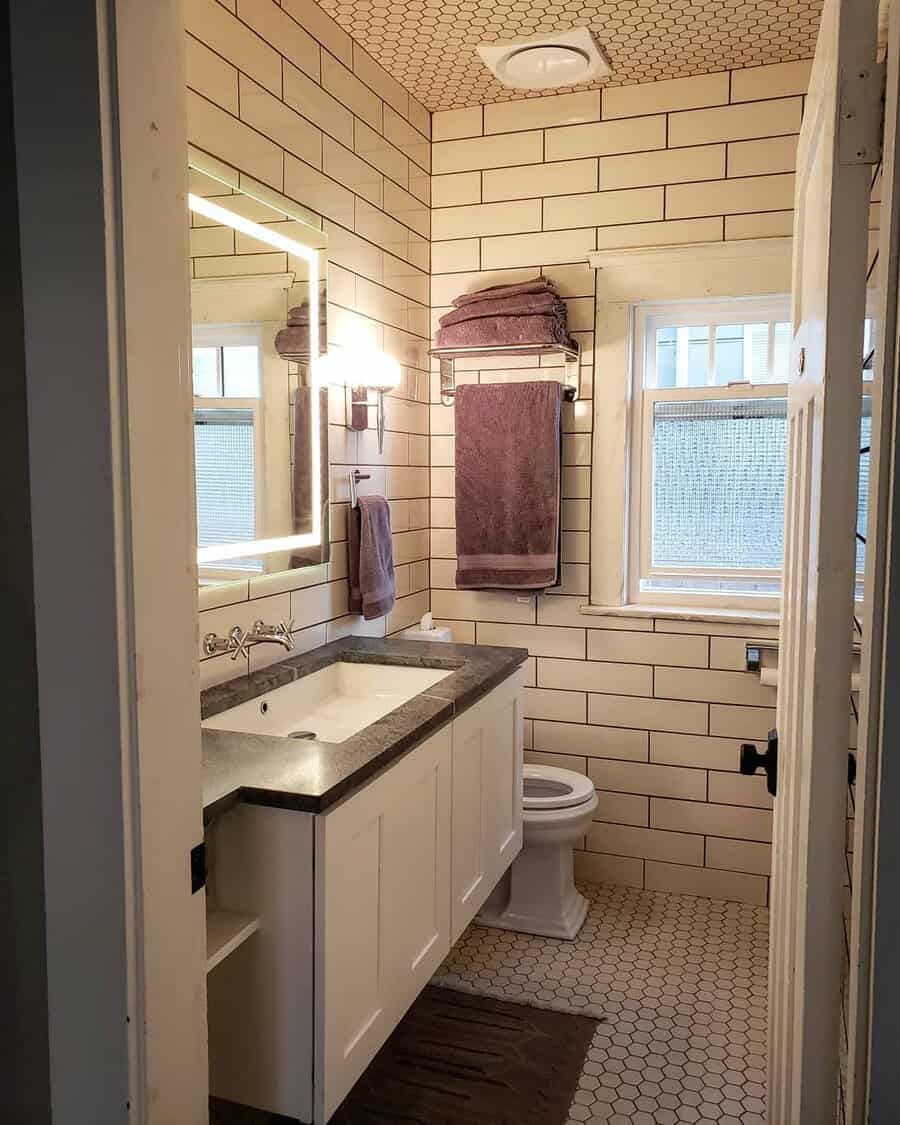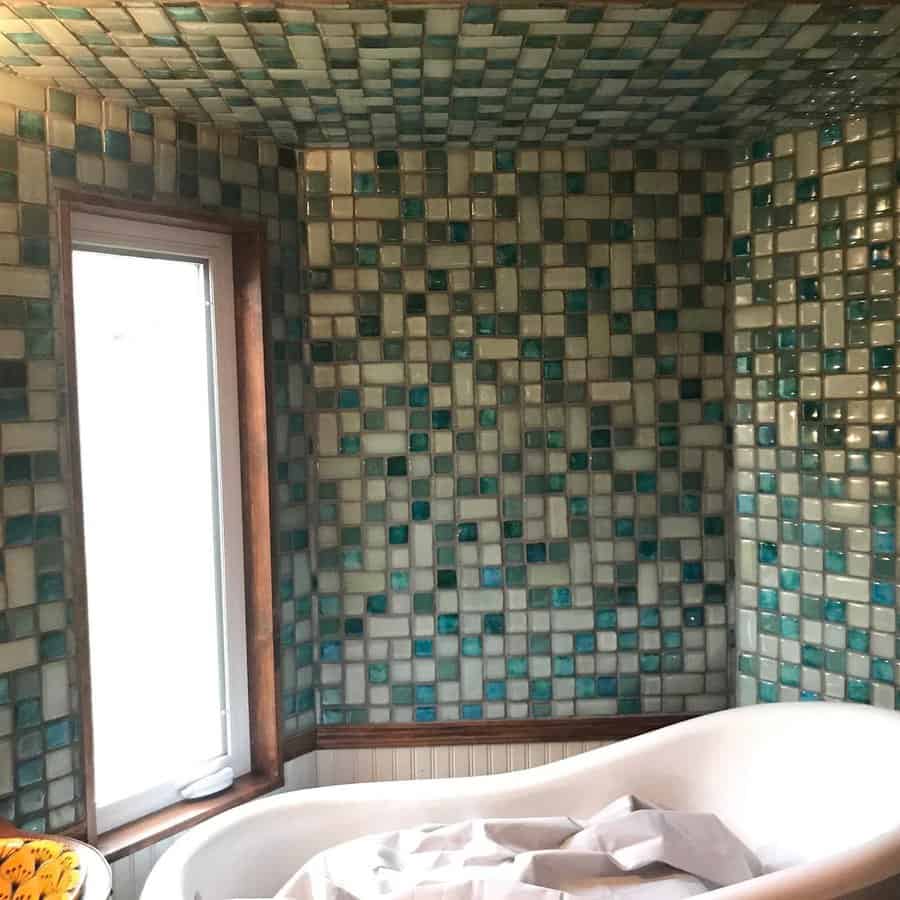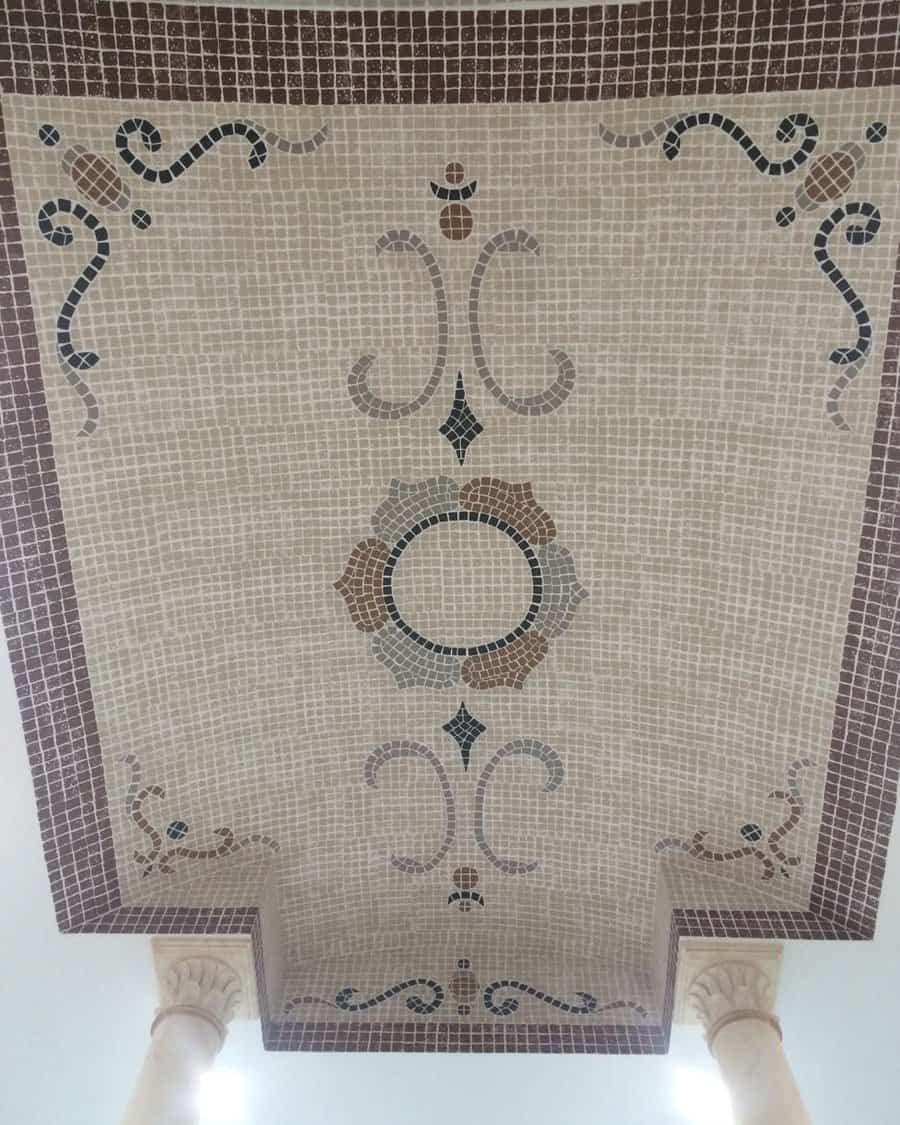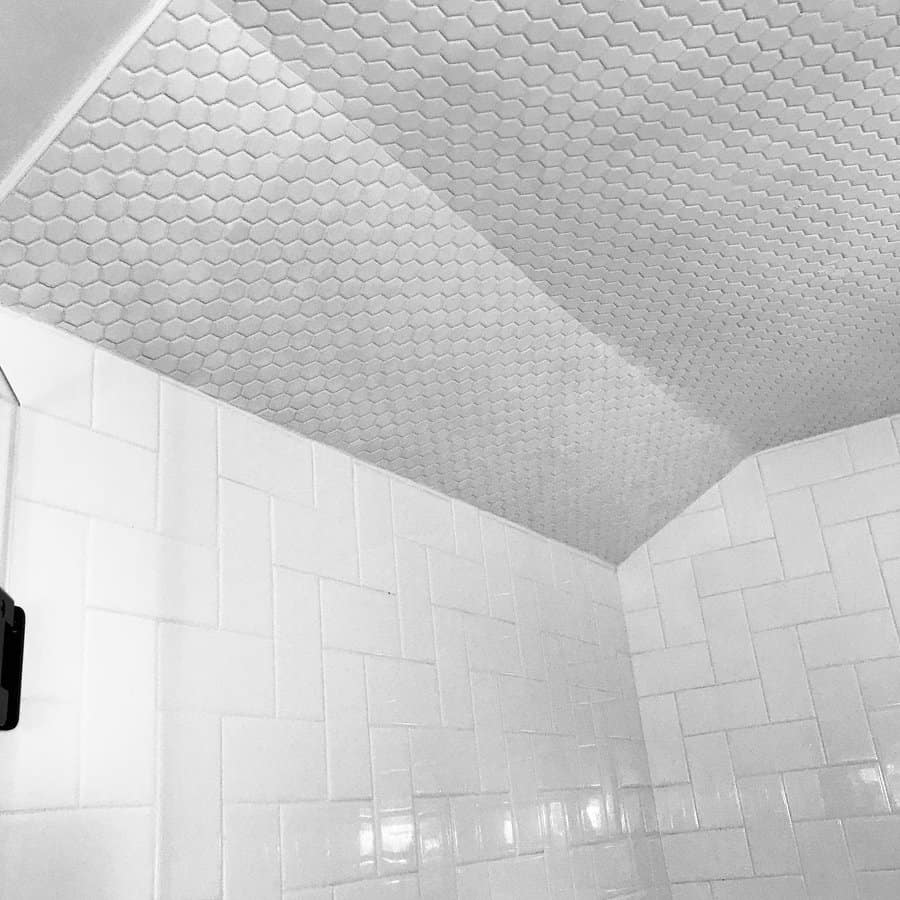 Metal ceiling tiles are perfect for a retro look and will also increase the light in an otherwise dark bathroom. The metal will reflect the light back down. Choose one with a stamped design for a vintage feel that will also add visual interest.
If you prefer a more subtle look, you could use a white tile, such as subway tile. Use it on the walls and then continue it up and across the ceiling.
Do not try to use mosaic tiles on the ceiling. This highly colored and patterned tile will be overwhelming and close the bathroom in.
12. Vaulted
Make your bathroom look and feel larger by increasing the height of the ceiling. Unless you are doing an entire home remodel, you're limited by the height of the roof above the ceiling.
However, this isn't necessarily a bad thing. You can raise the ceiling in the bathroom to be a sloping ceiling. It won't be a true vault, but it will add height.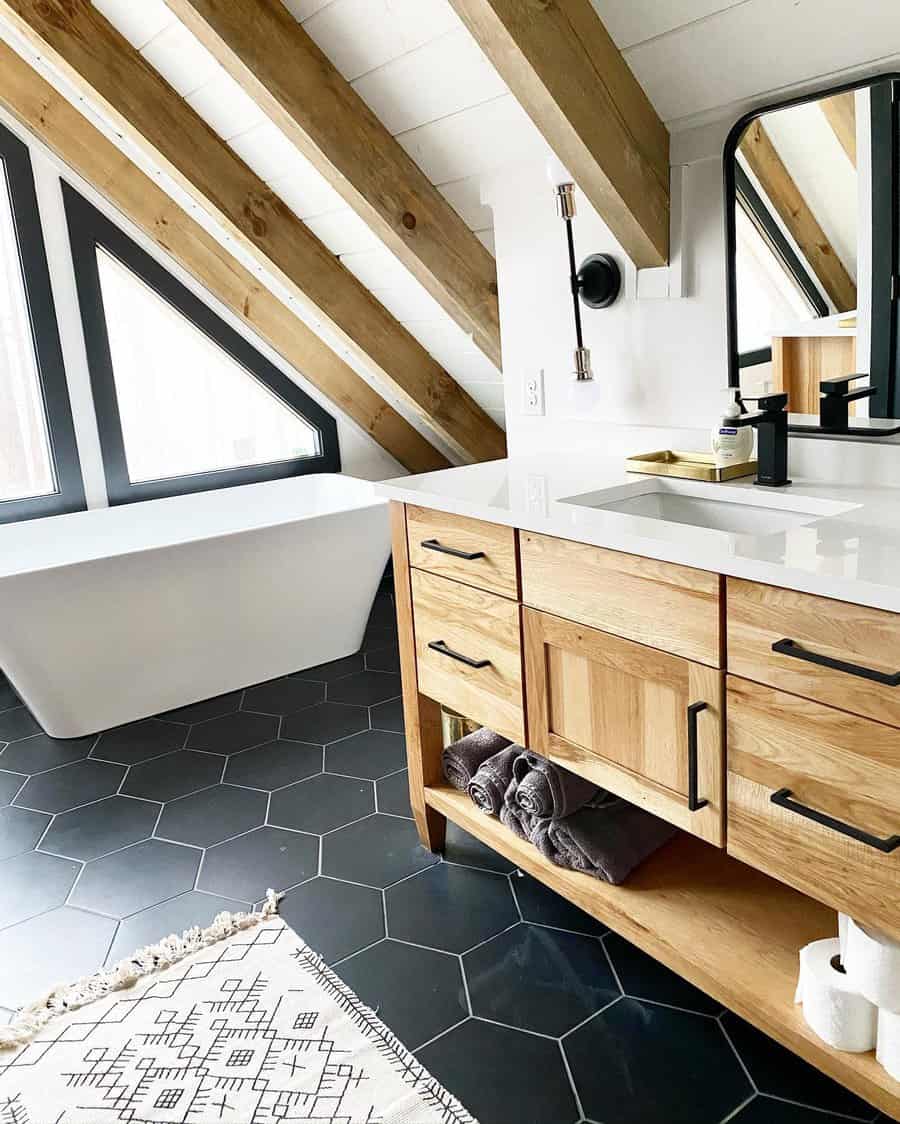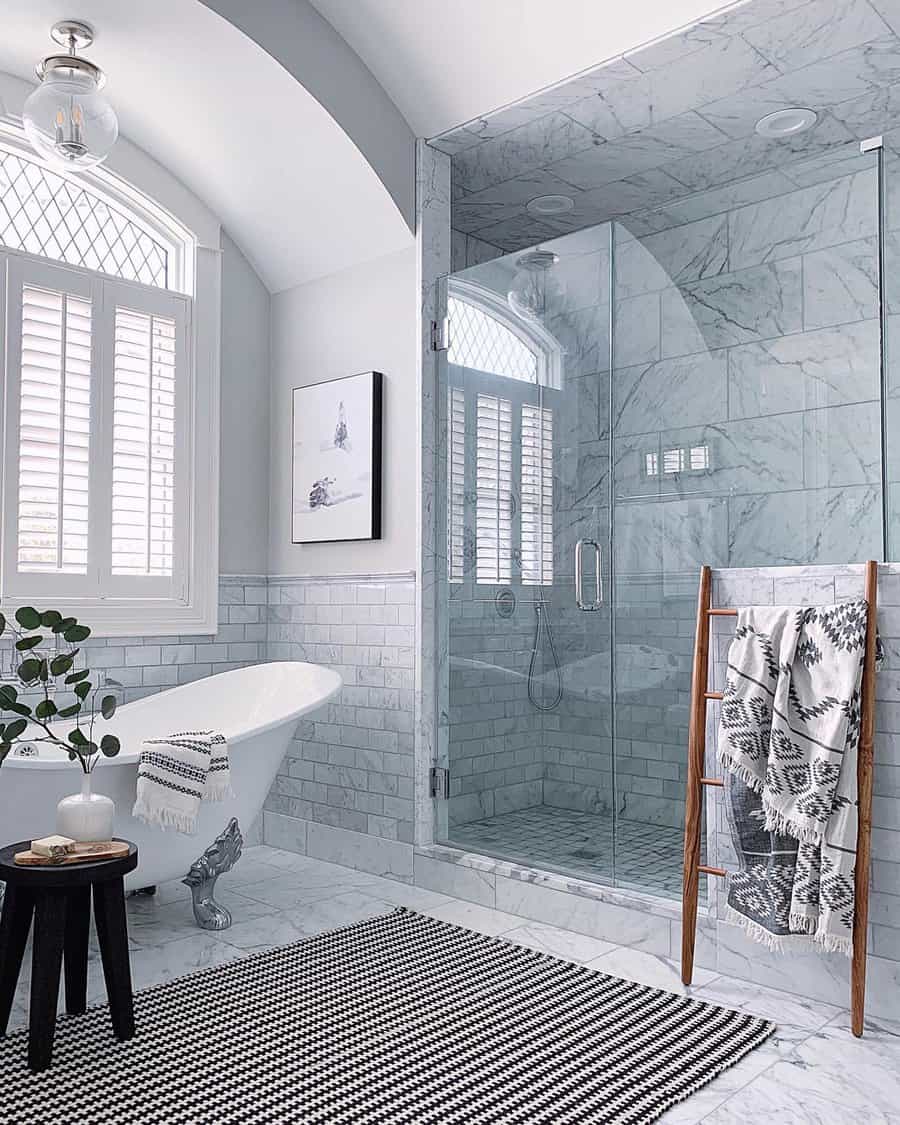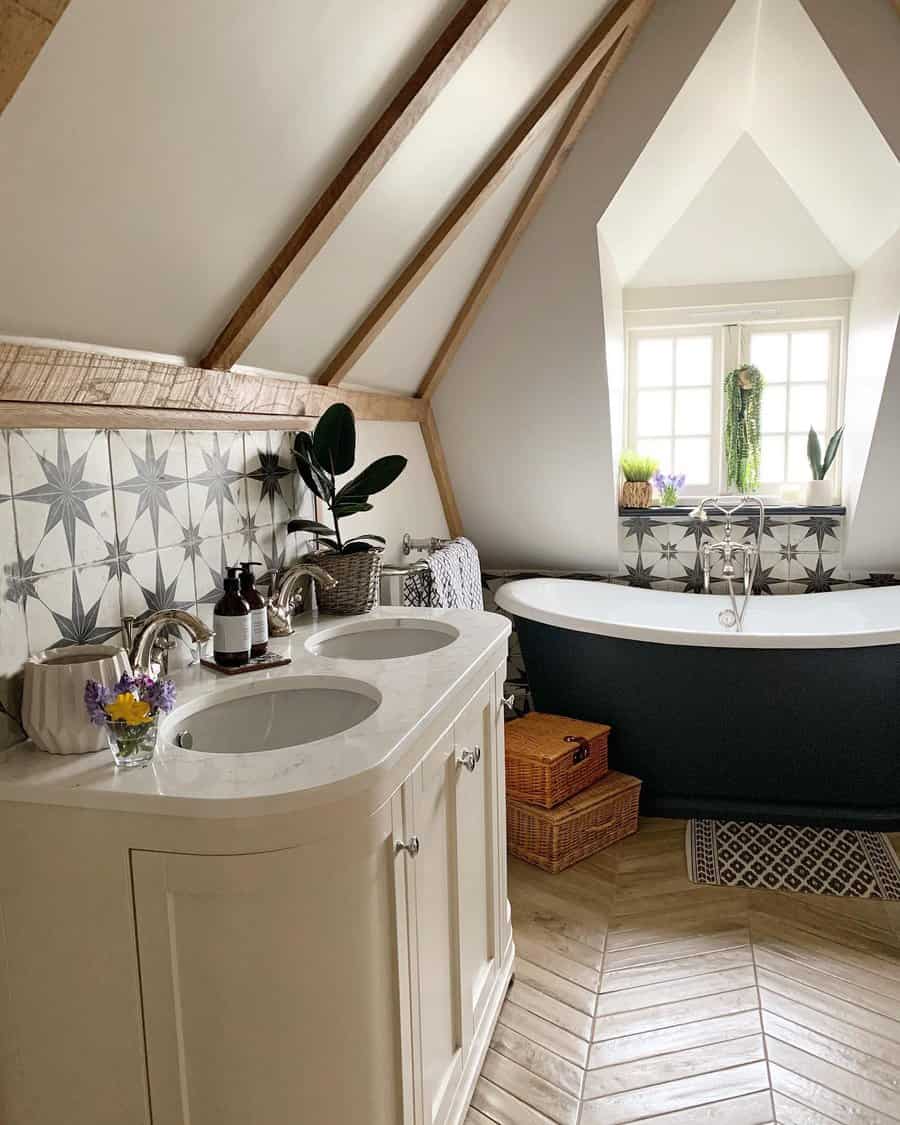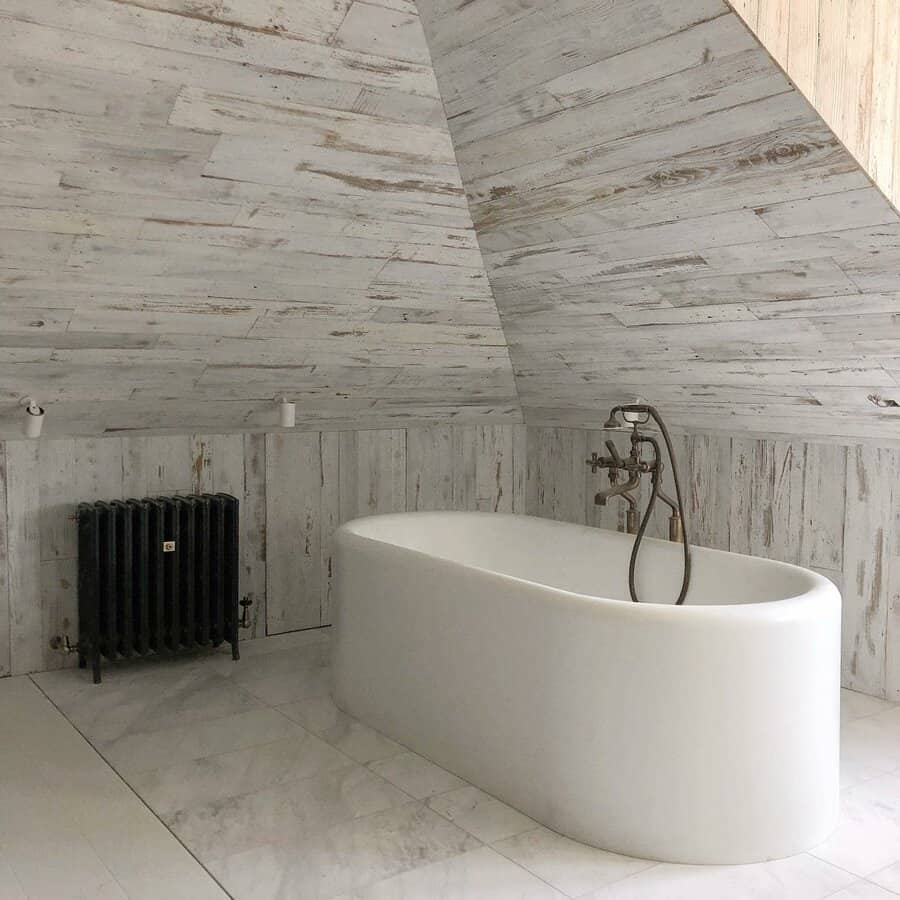 Make sure the sloped ceiling doesn't interfere with the use of the bathroom. You don't want to sacrifice space over the shower or toilet so that people have to hunch or duck to use either.
13. Wood
Adding wood to the ceiling in your bathroom can give it a farmhouse or cabin feel. Keep the wood light in color to help the bathroom feel light and bright.
If you're doing a bathroom remodel, you can add wood beams and vault the ceiling. If you aren't doing an entire remodel, then you can add wood paneling to the ceiling. This is a thin and lightweight finish that will cover the existing ceiling.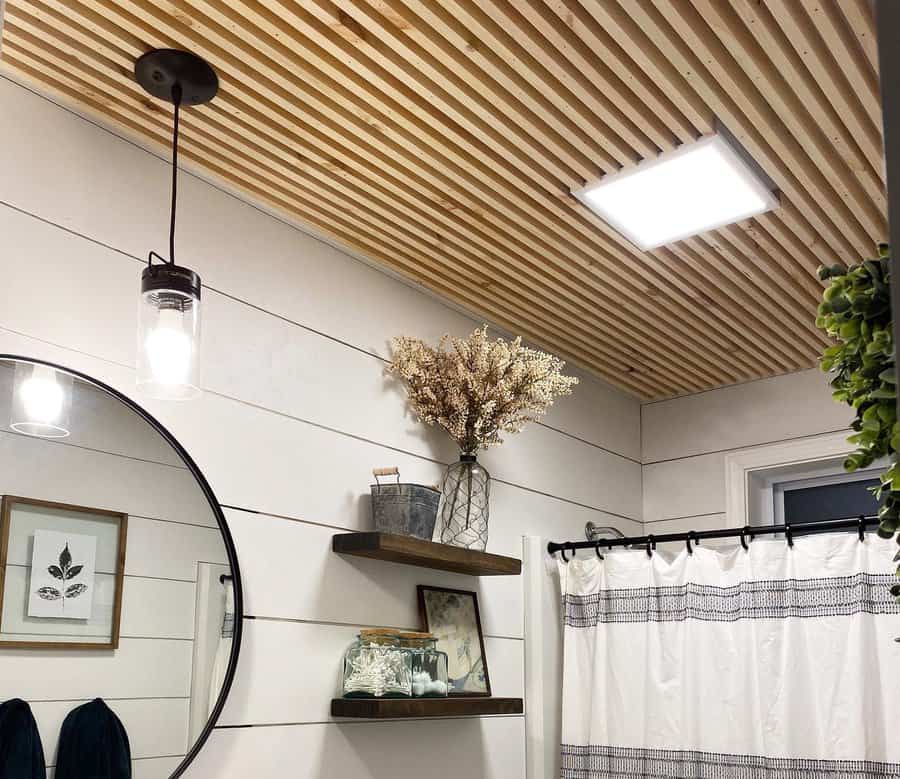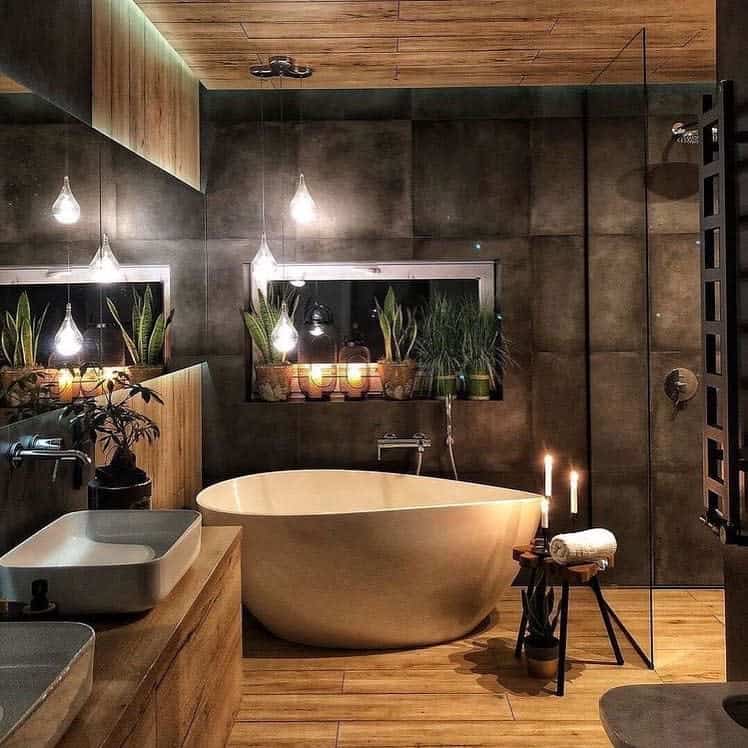 Choose wood that matches the rest of the bathroom and home. A wood ceiling can have an elegant feel with a coffered or tray design. Shiplap or paneling will give it a homier feel.
Finished and stained wood will look more upscale, while rough-hewn or salvaged wood will give it a rustic aesthetic.
Bathroom Ceiling FAQs
What is best for a basement bathroom ceiling?
The most common type of ceiling in a basement bathroom is to use drop ceiling tiles. These create a false ceiling that is lower than the actual height of the ceiling. The suspended ceiling creates a space so that you don't disrupt the wires and plumbing that typically run on the basement ceiling.
How do you waterproof a bathroom ceiling?
If you decide to paint your bathroom ceiling, then you can waterproof it by choosing a semi-gloss or satin paint. These paints have a shiny finish that resists water better than flat finish paints. When choosing other materials, look for ones that state they are impervious to moisture.
Should you tile a shower ceiling?
You don't have to tile a bathroom ceiling. However, if your bathroom is very humid for a large portion of the day, then tiling the ceiling is a smart idea. However, you don't need to tile the ceiling. The only other reason to tile the ceiling is if you have a tiled accent wall that you want to extend onto the ceiling.