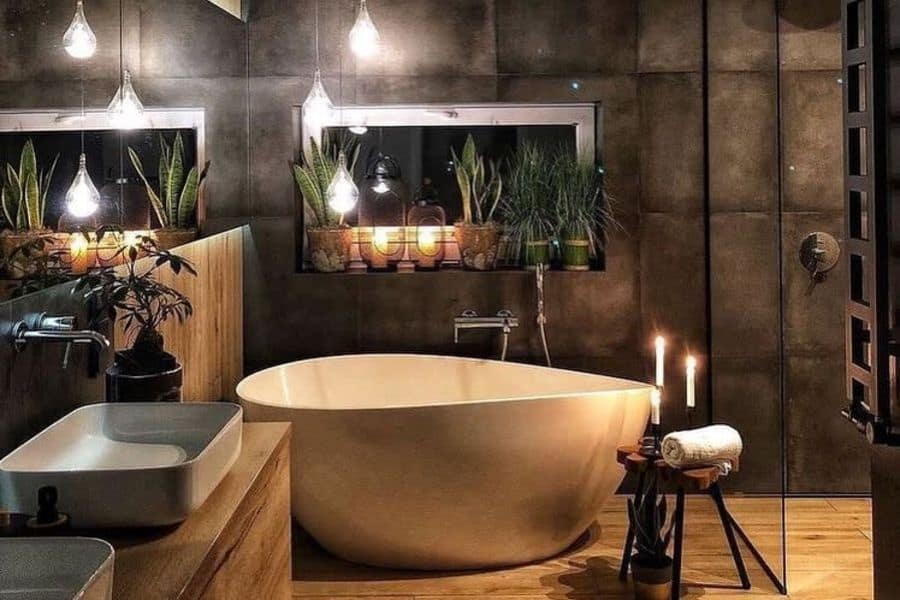 The Top 79 Wet Room Ideas
Wet rooms are one of the biggest trends in contemporary bathroom design. Despite their popularity, many homeowners are just now catching onto what makes these spaces so special.
Unlike a traditional bathroom where the shower is separated from the rest of the space by a curtain or partition, wet rooms are entirely open-concept. The whole room is lined with tile and features a drain in the middle.
While a true wet room isn't everyone's cup of tea, this design trend offers tons of inspiration for making your bathroom look and feel like a million bucks. Keep reading for our favorite wet room ideas you can try for yourself!
1. Contemporary Wet Bathroom
Elevate your bathroom to a whole new level of sophistication with a contemporary wet bathroom design. Opt for sleek and glossy porcelain tiles that create a seamless and luxurious look.
To add a touch of glamour, incorporate metallic accents throughout the space. From gleaming fixtures to shimmering accessories, these metallic elements will catch the light and add a touch of elegance to your wet bathroom.
Consider incorporating brushed nickel, chrome, or brass finishes for a modern and polished aesthetic. With clean lines and a minimalist approach, a contemporary wet bathroom design offers a sleek and refined atmosphere that will leave you feeling pampered and indulged.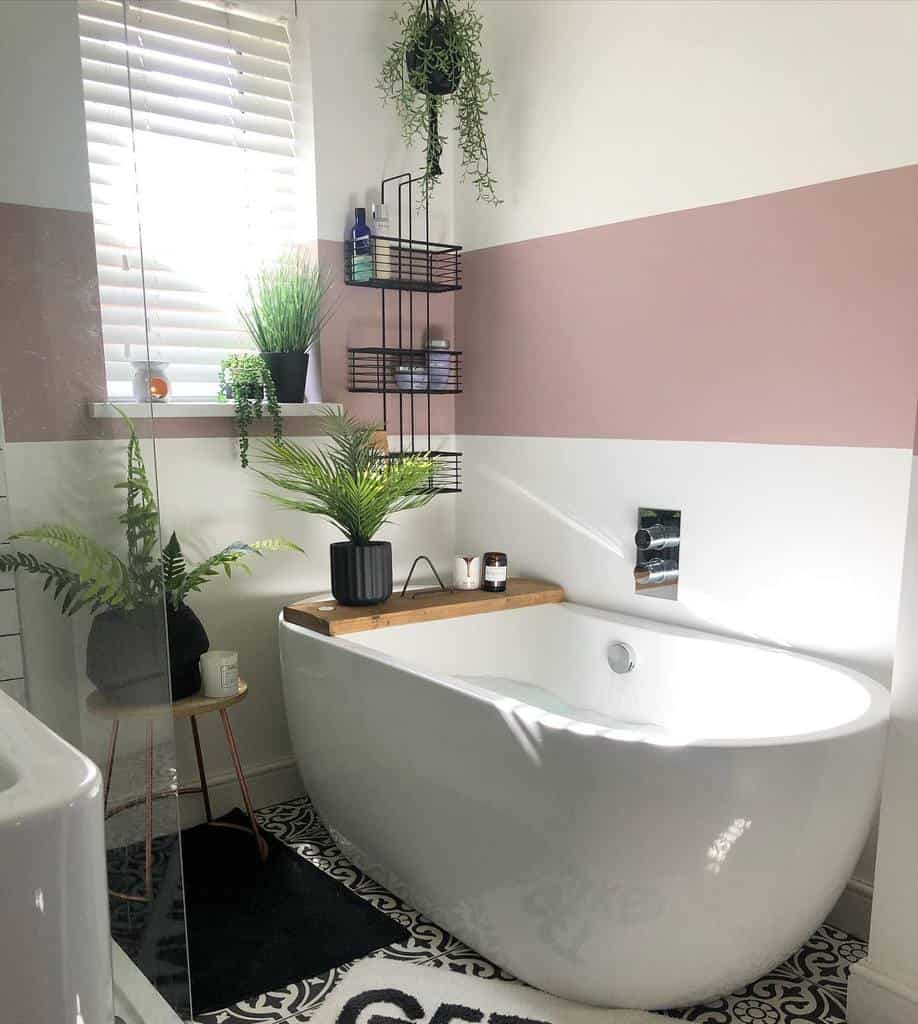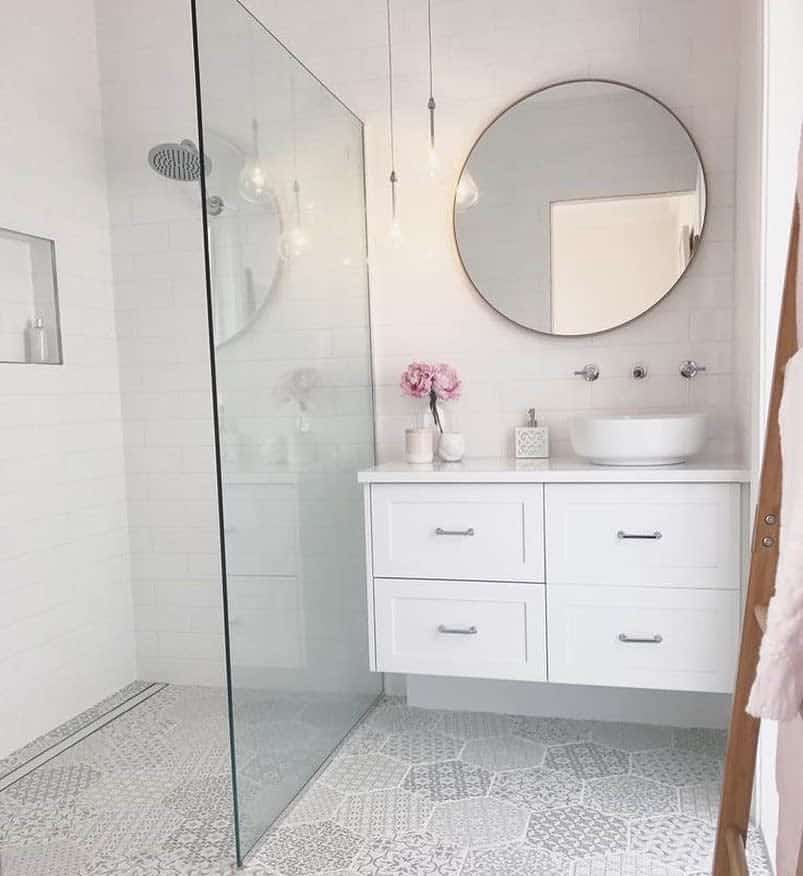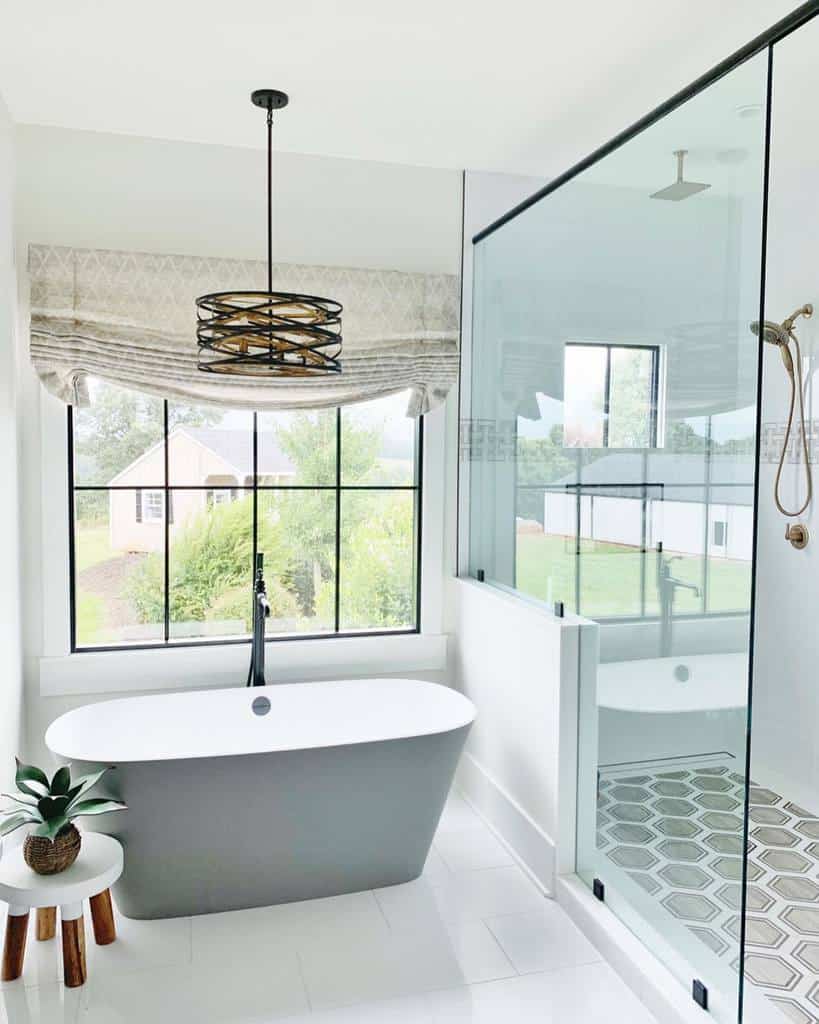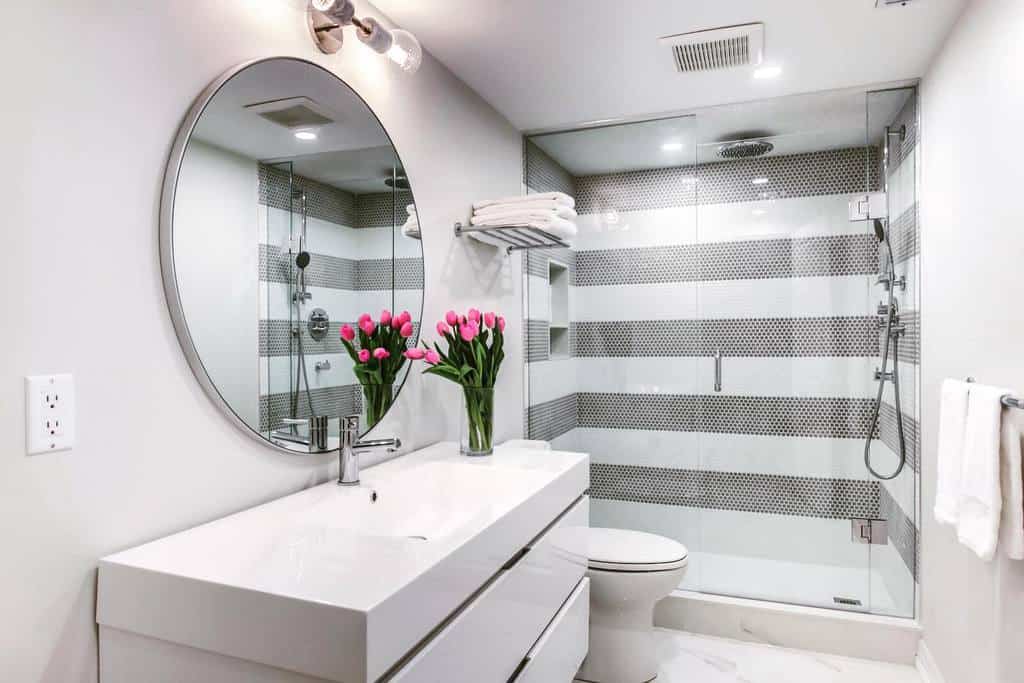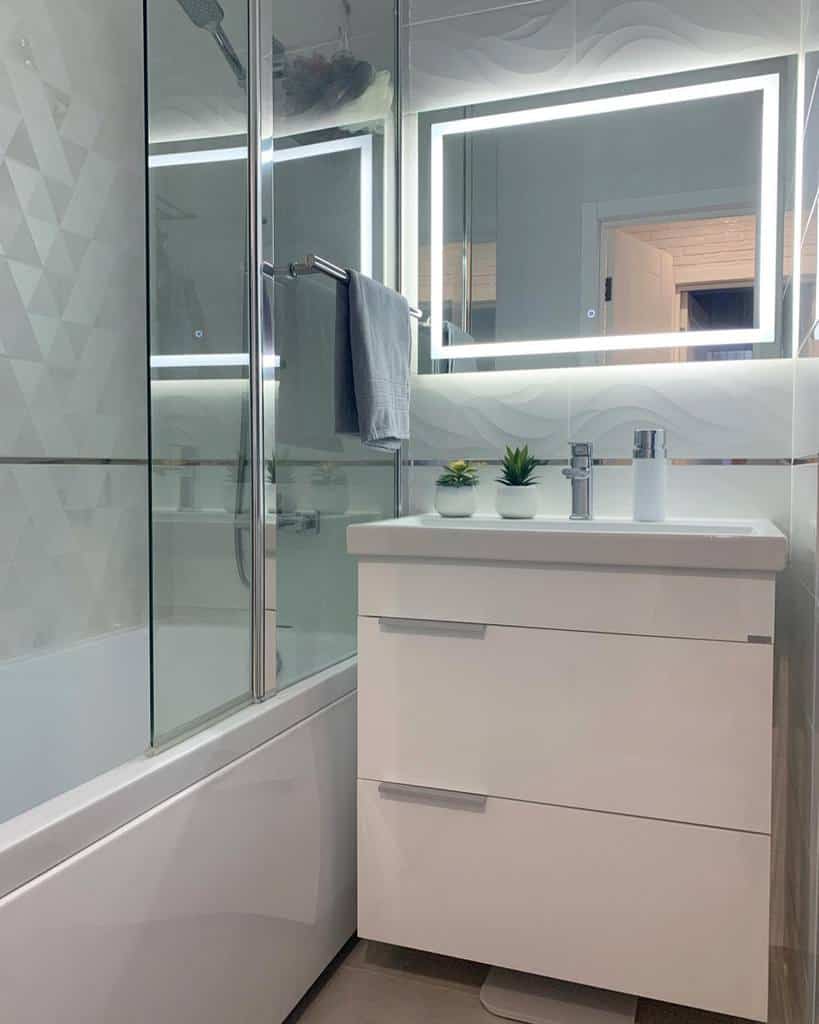 2. Art Deco Wet Bathroom
Step into the glamorous world of art deco with a stunning wet bathroom design. Opt for graphic tiles with intricate patterns or mesmerizing motifs to create a focal point in the space. To add an extra touch of sophistication, consider using beveled tiles that exude a sense of luxury and depth.
The art deco wet bathroom combines sleek lines, rich textures, and exquisite detailing to create a truly captivating experience. With its timeless allure and geometric flair, this style is perfect for those who appreciate the finer things in life and want to infuse their bathroom with a touch of old-world charm.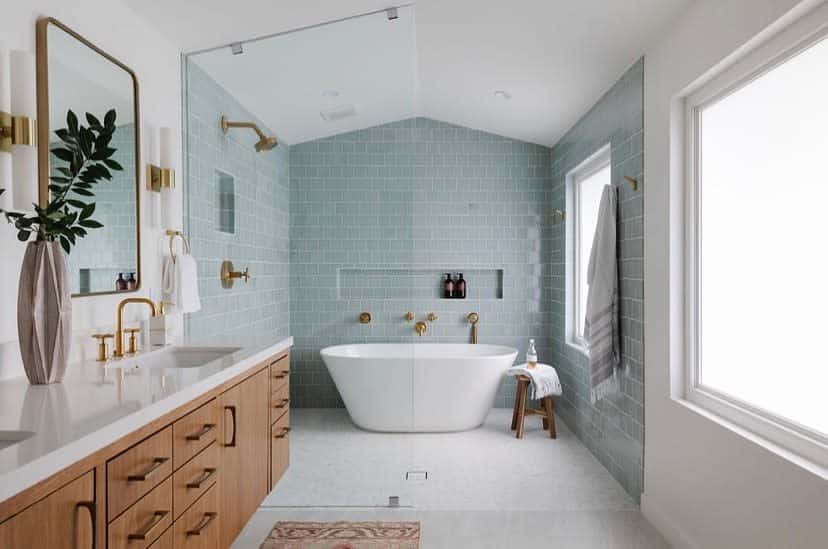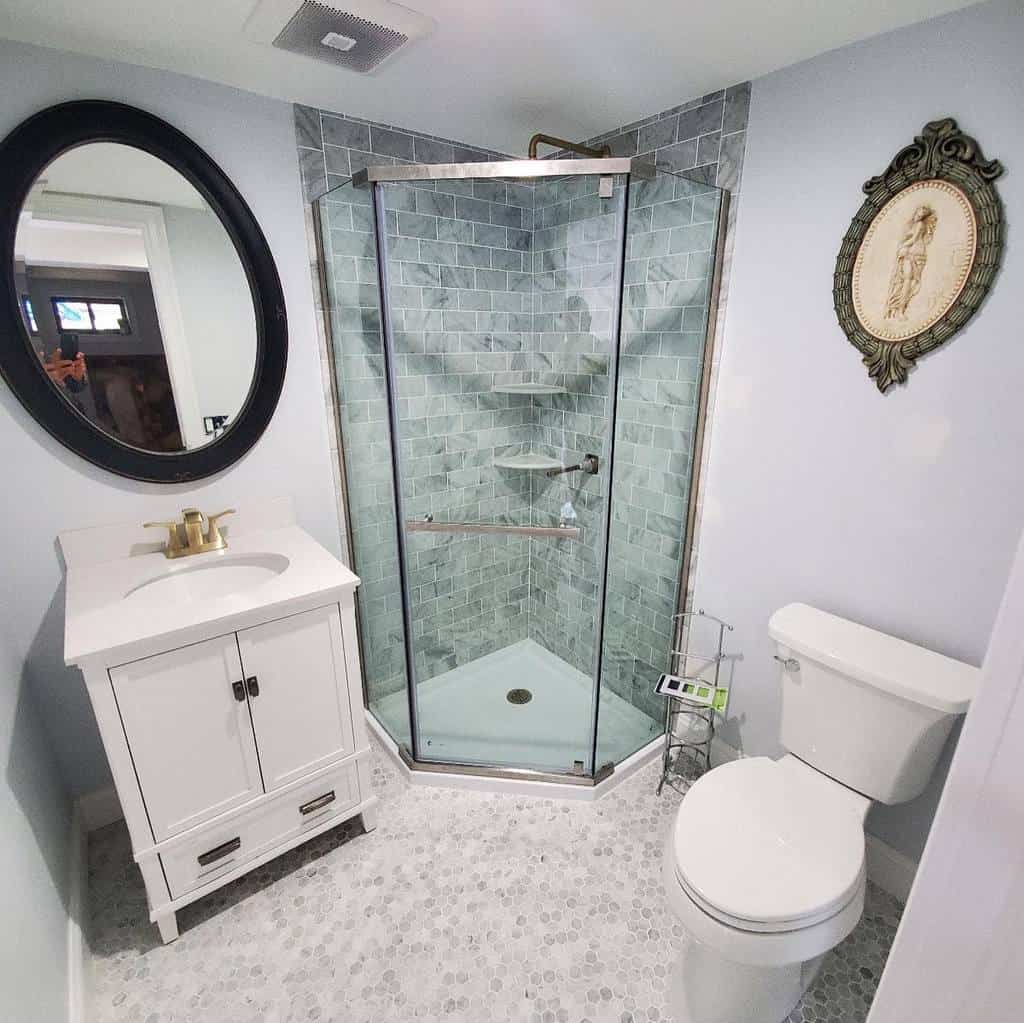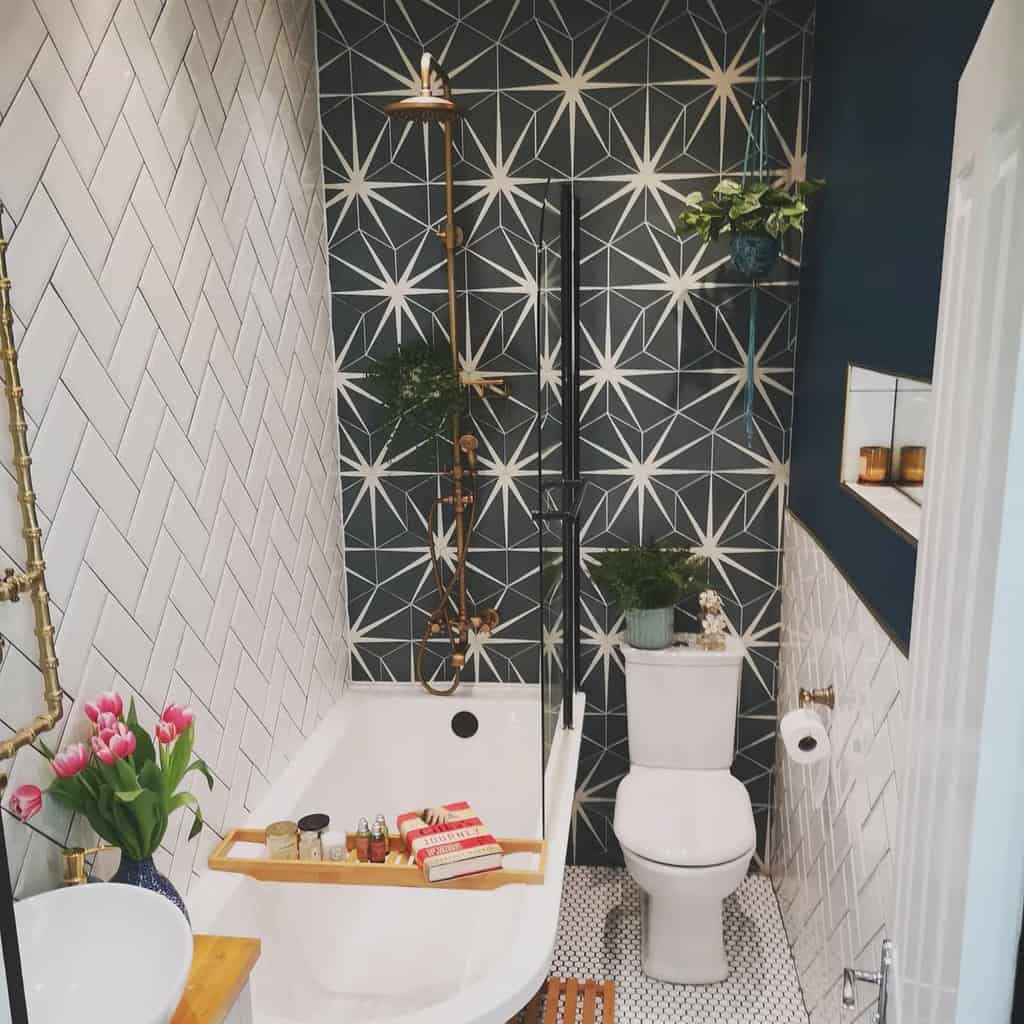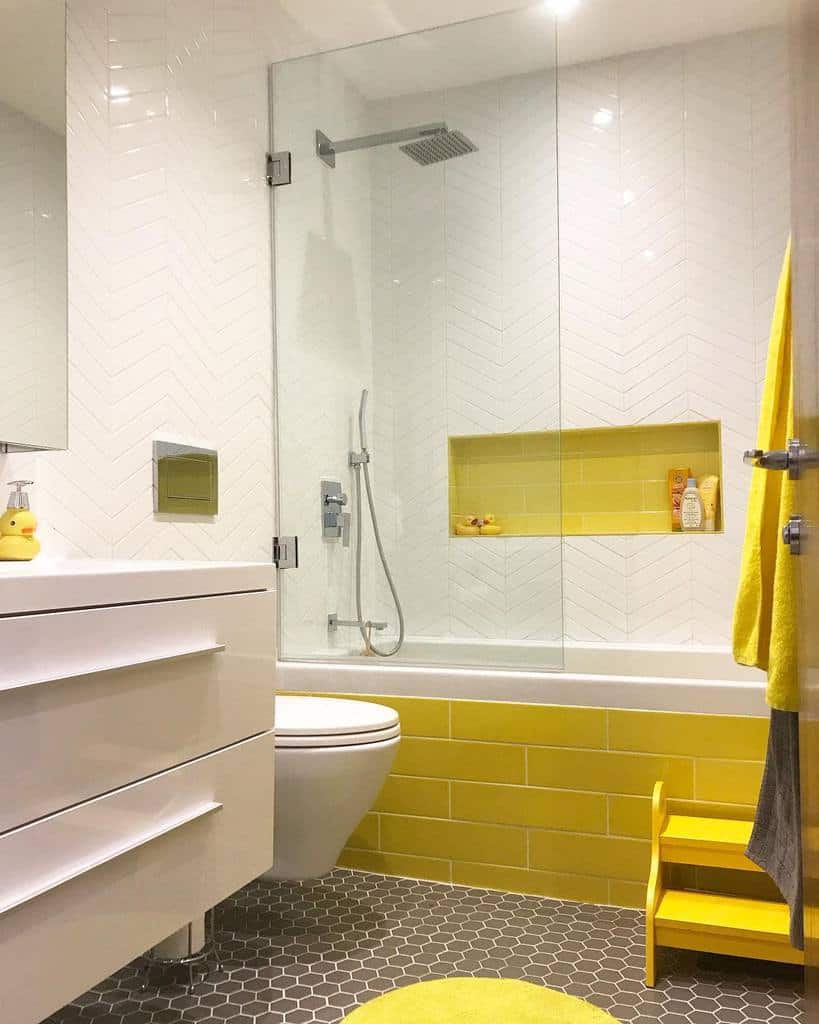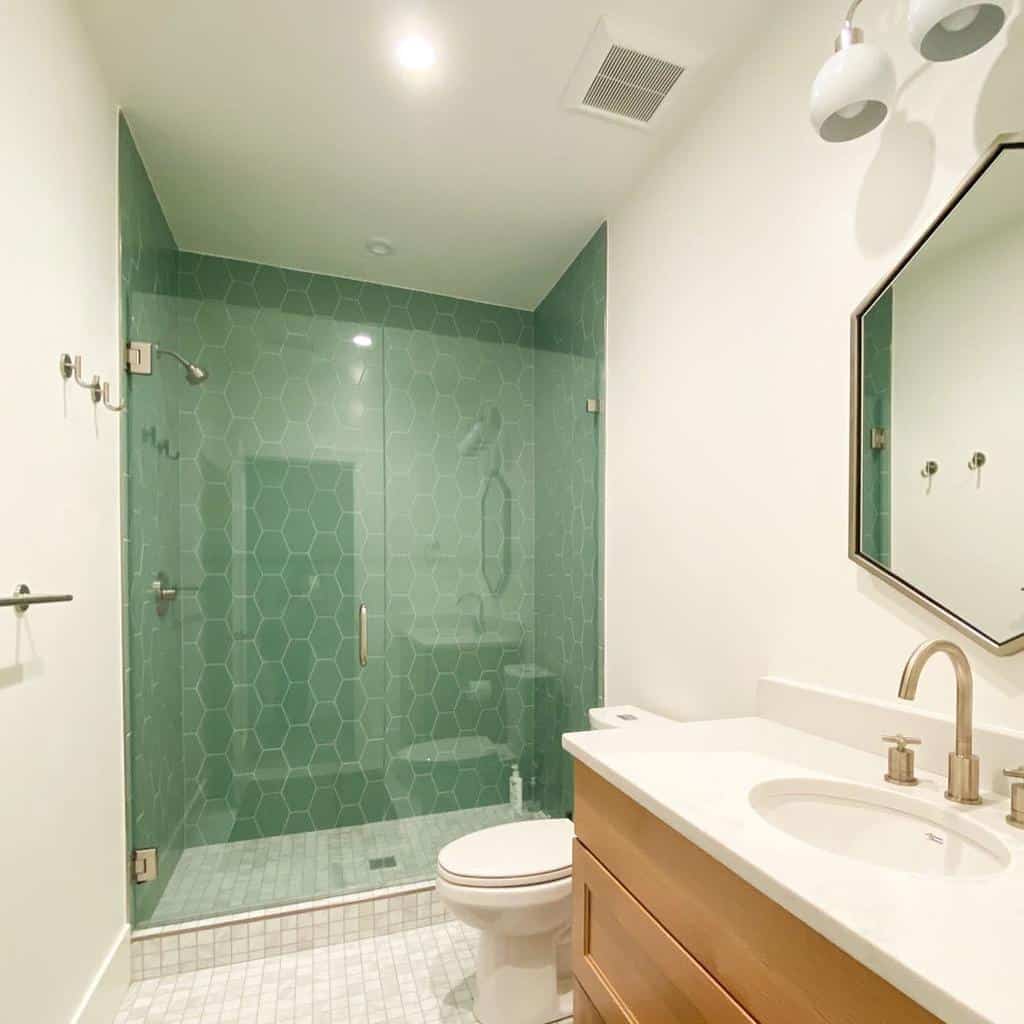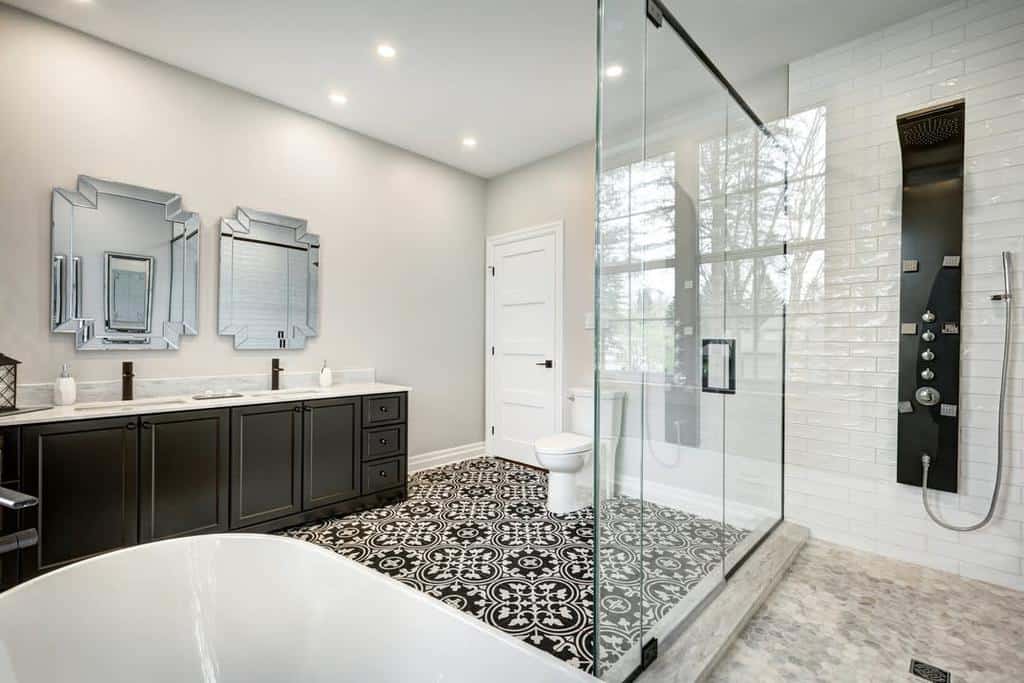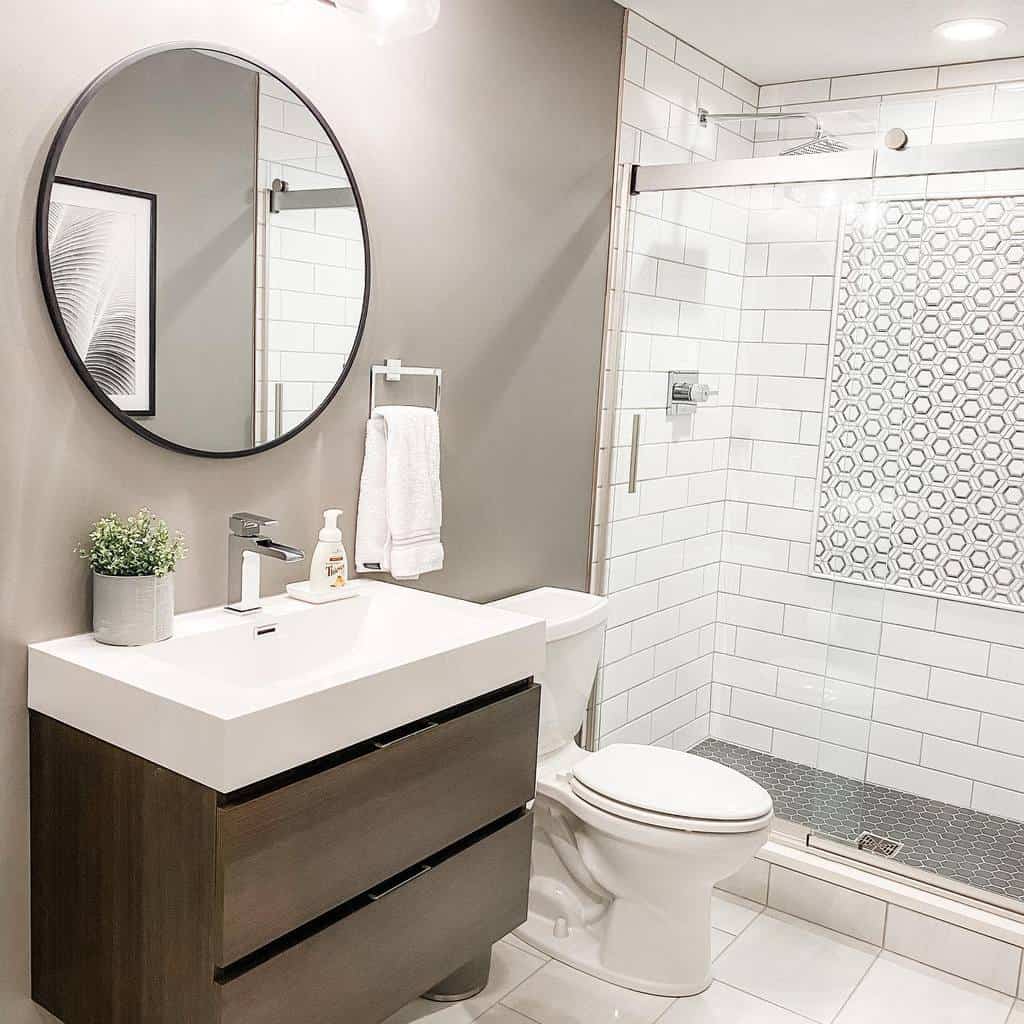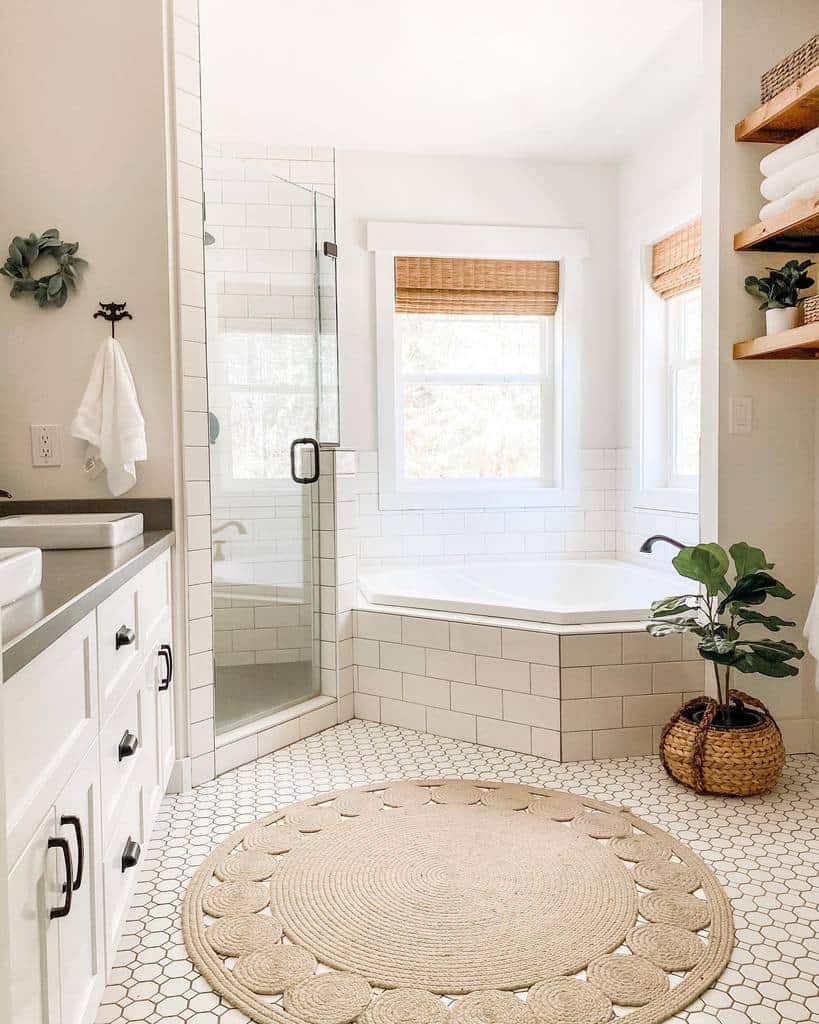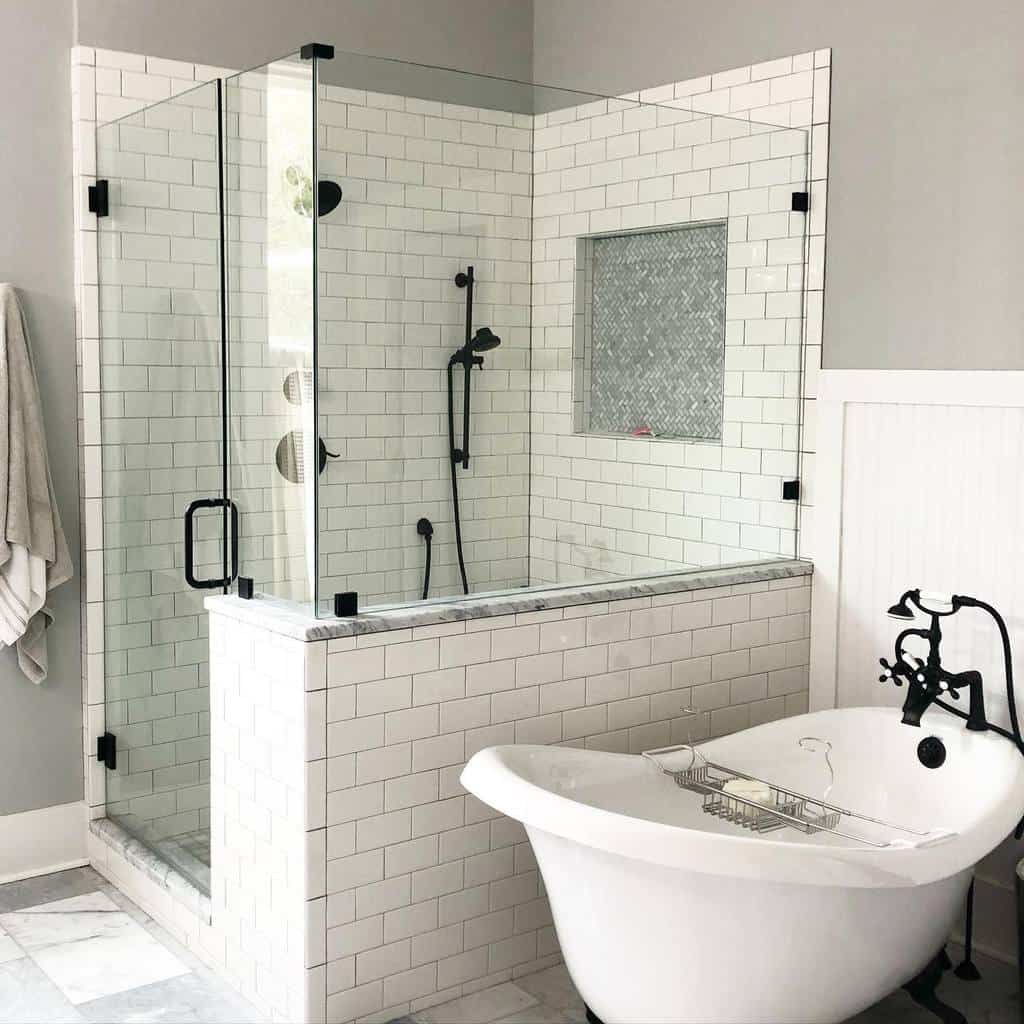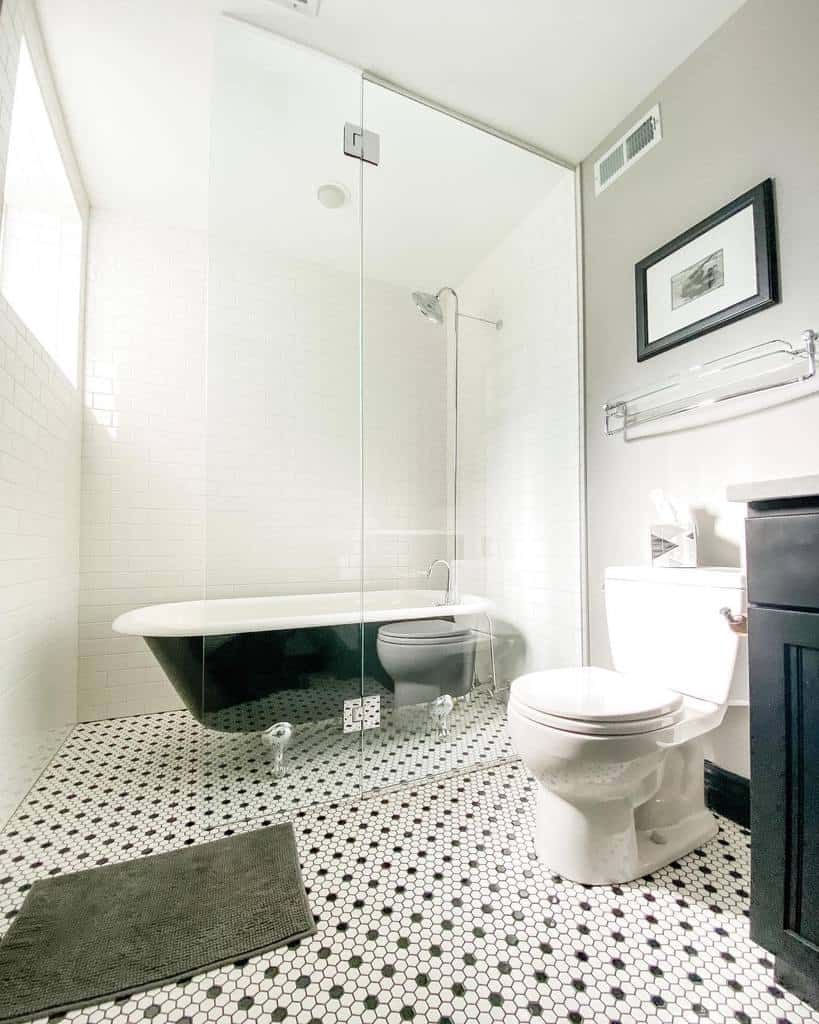 3. Minimalist Wet Bathroom
Embrace the beauty of clean lines and a neutral color palette to create a serene and calming space. Opt for a monochromatic scheme using shades of white, gray, or beige to evoke a sense of tranquility. Keep the decor minimal, focusing on essential elements only, to enhance the feeling of openness and simplicity.
Incorporate a frameless mirror to add a touch of elegance and create the illusion of a larger space. With a minimalist wet bathroom, you can achieve a sleek and refined aesthetic that promotes relaxation and a clutter-free environment.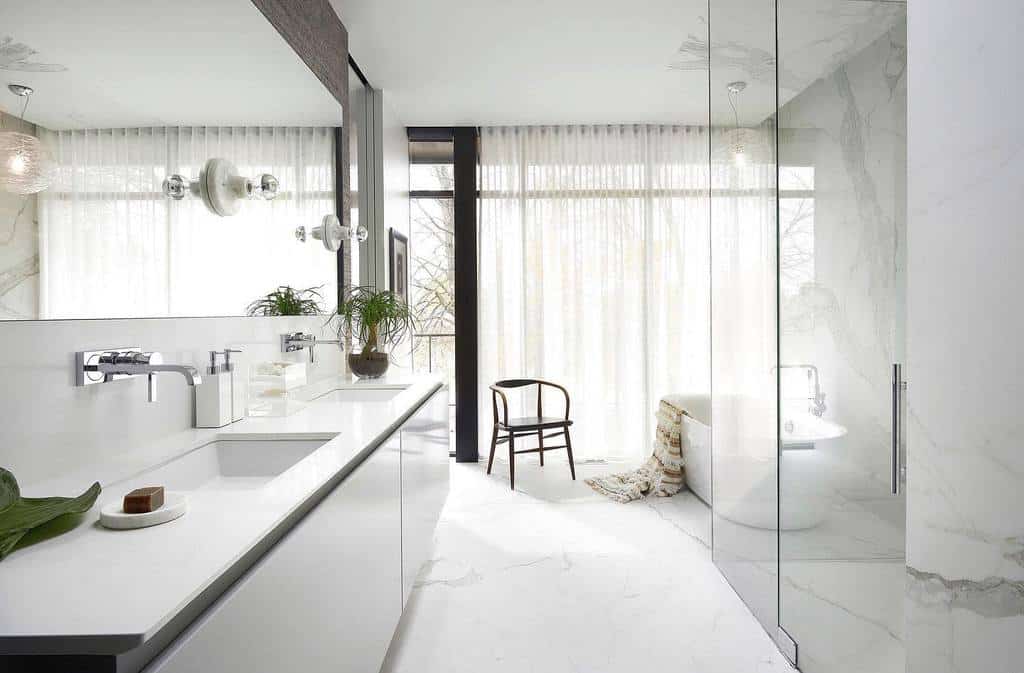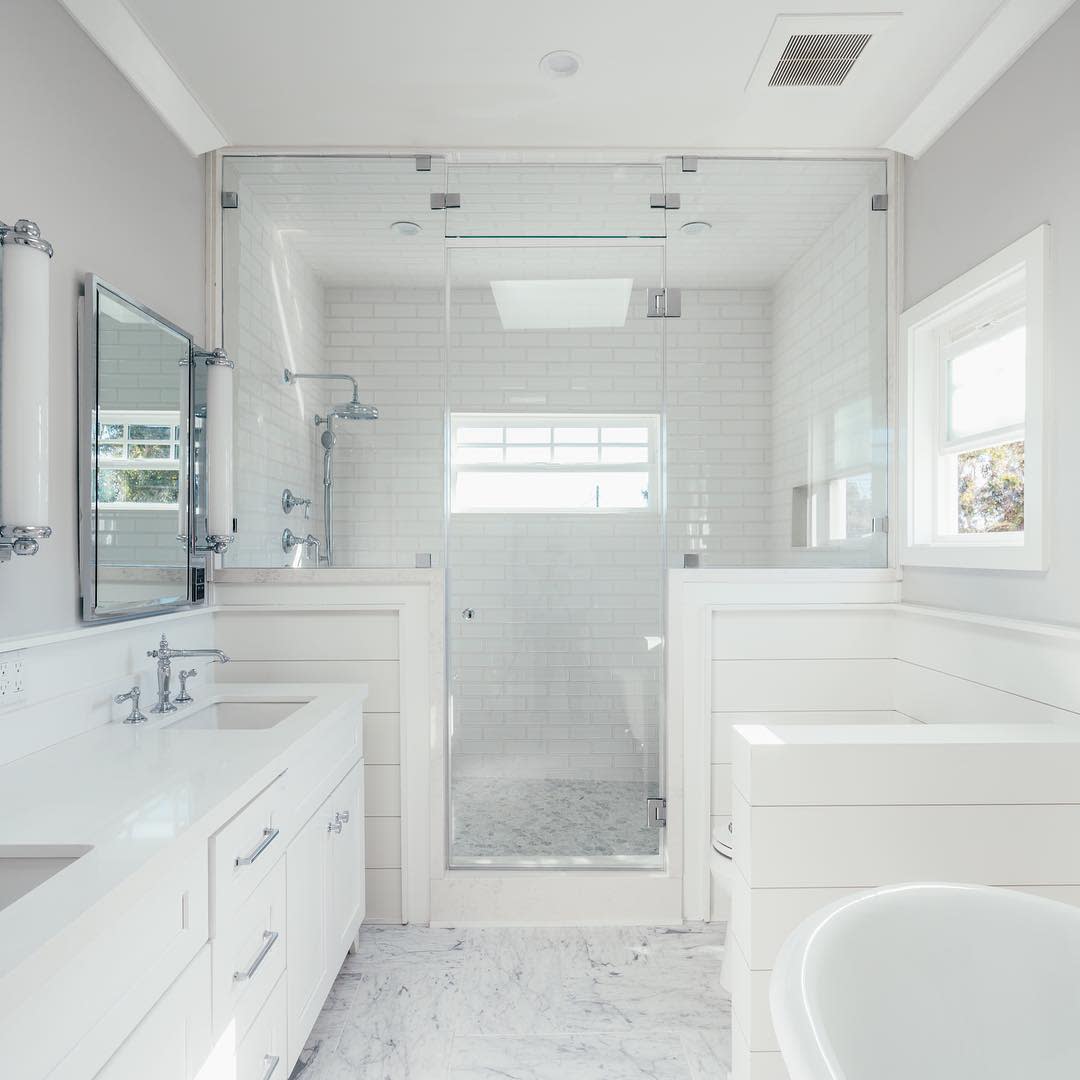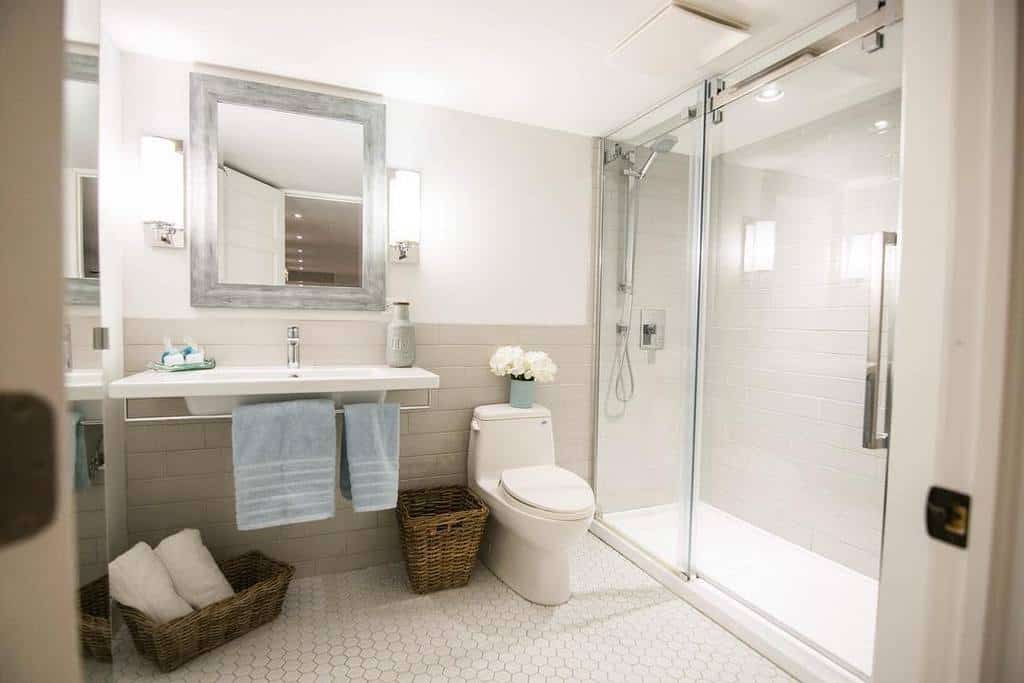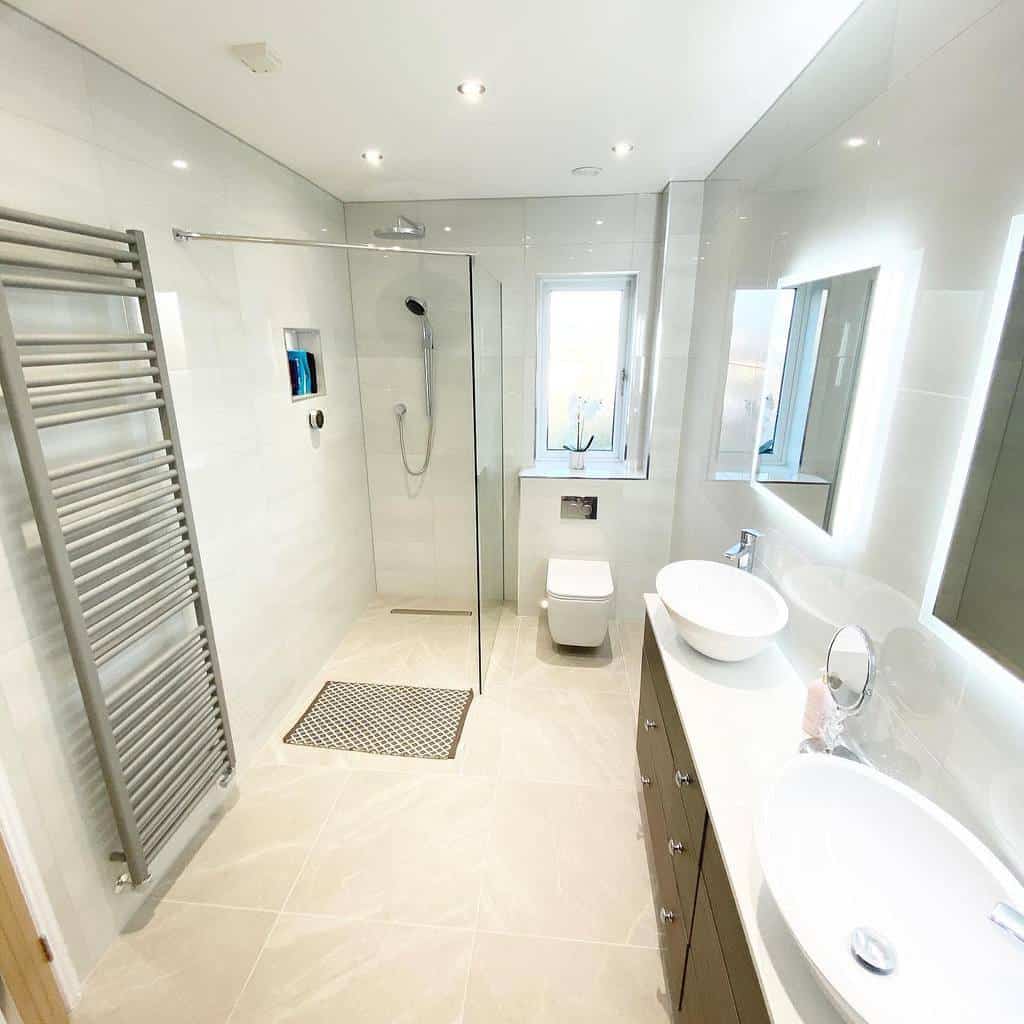 4. Marble Accented Wet Bathroom
Incorporate the timeless beauty of marble by opting for stunning marble flooring or a sleek marble countertop. The smooth and lustrous surface of marble adds a touch of opulence and sophistication to the space.
To enhance the visual impact, consider incorporating marble accents throughout the bathroom, such as marble tiles in the shower area or a marble backsplash behind the vanity. The natural veining and variations in color of the marble create a captivating and unique aesthetic.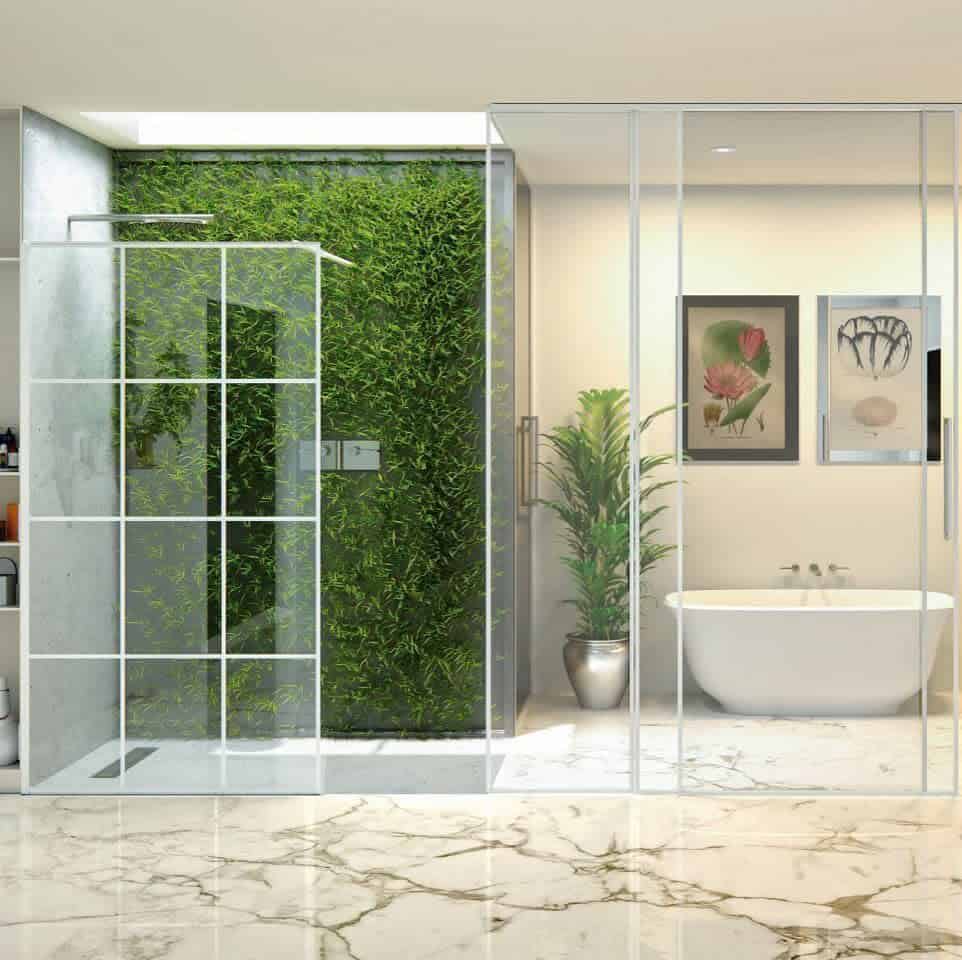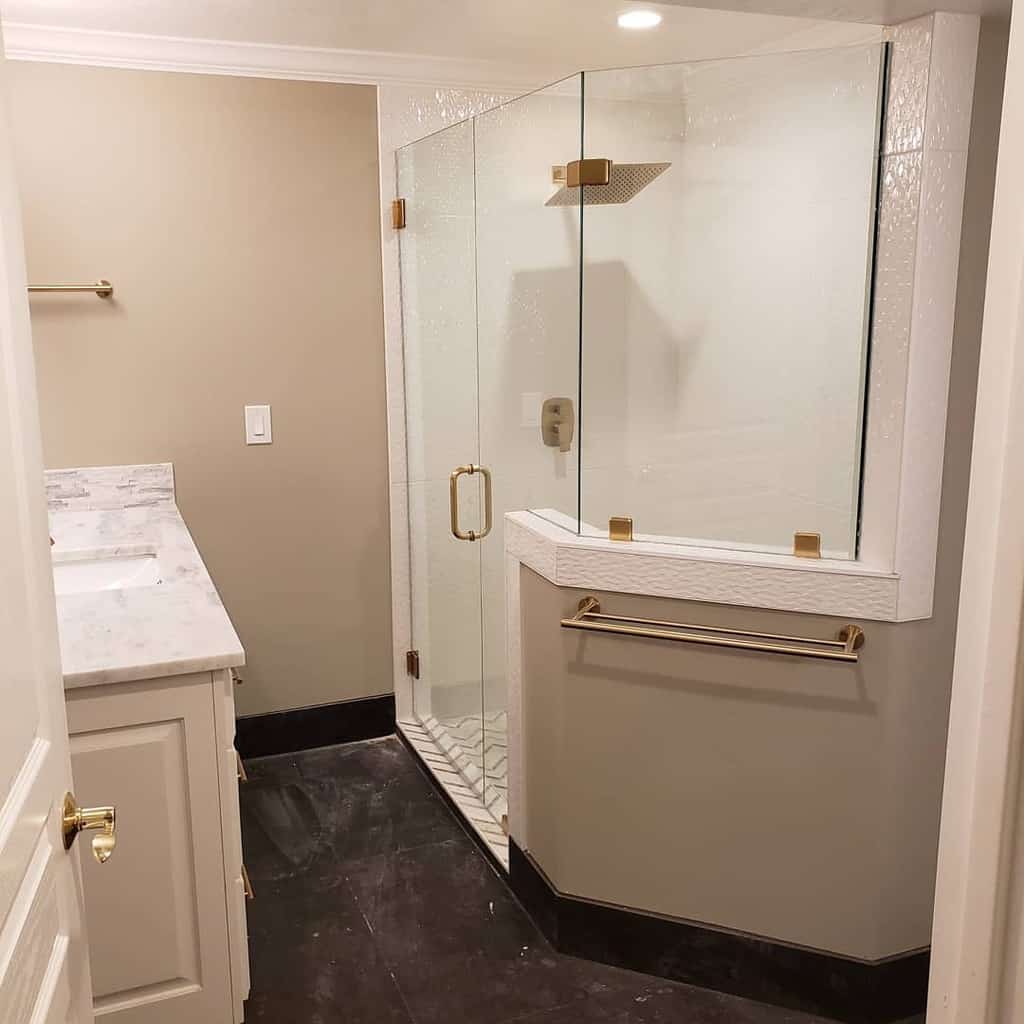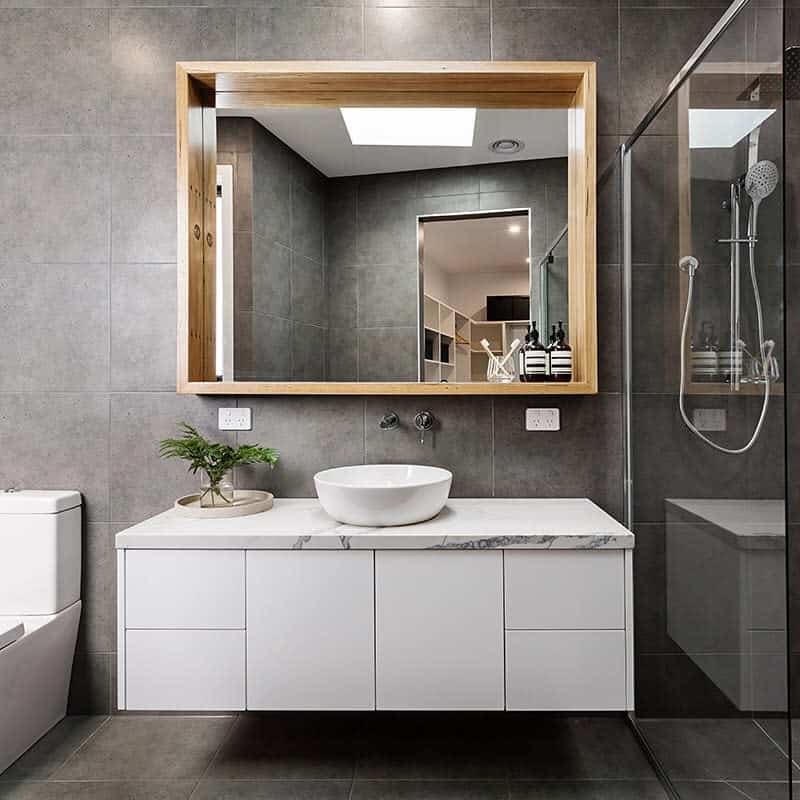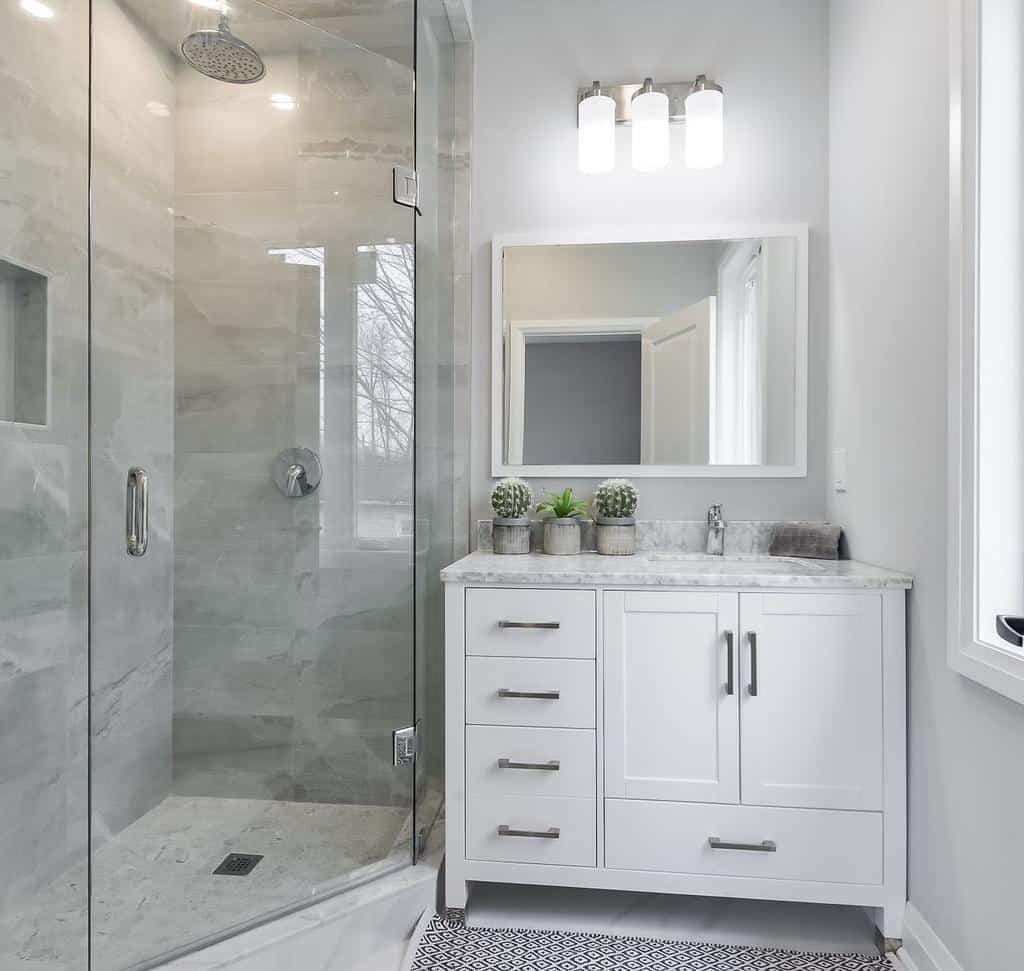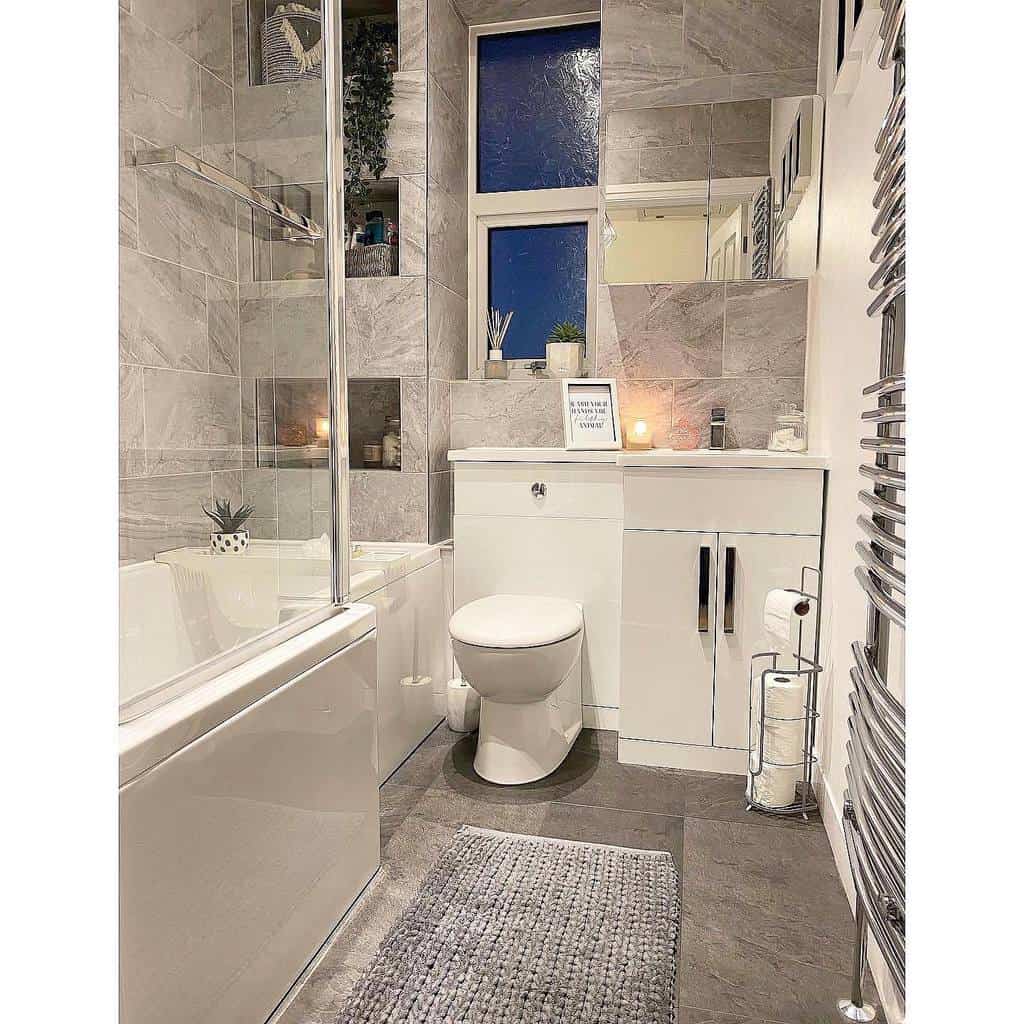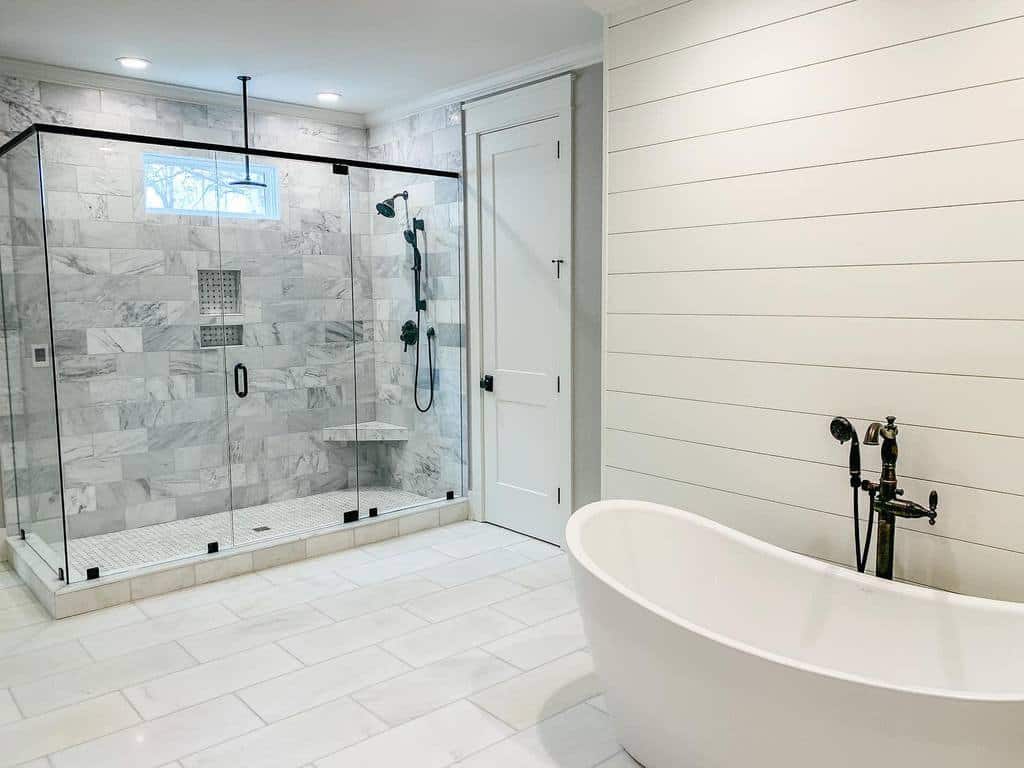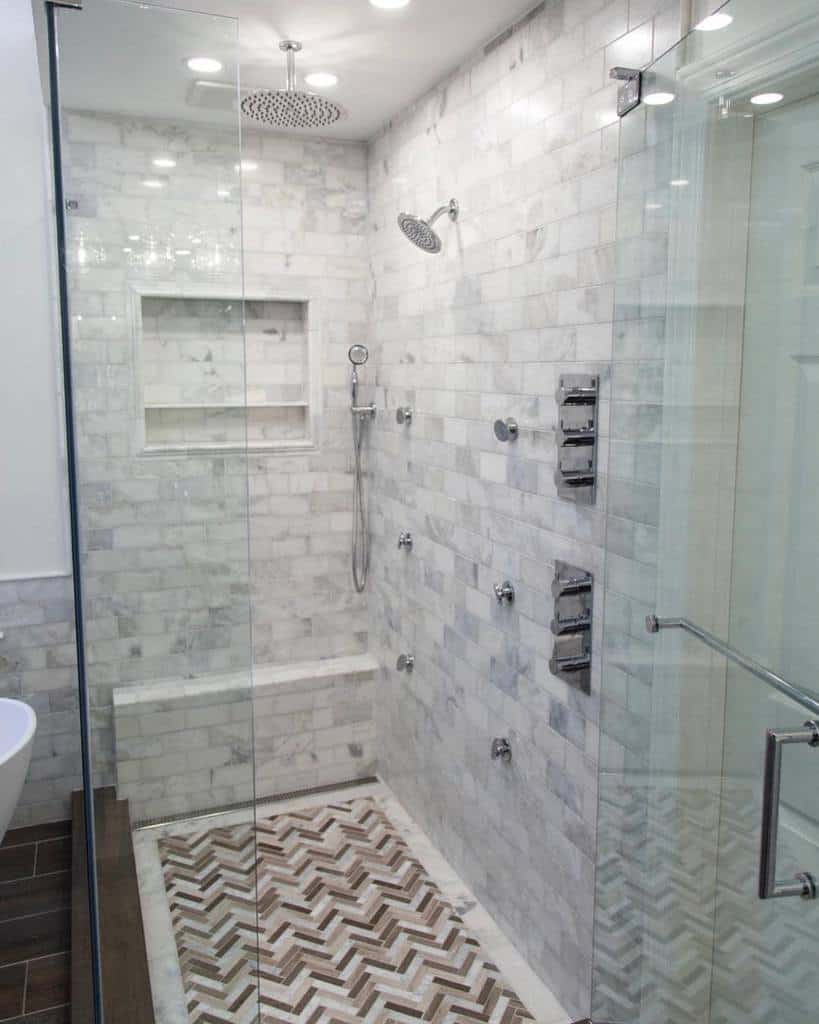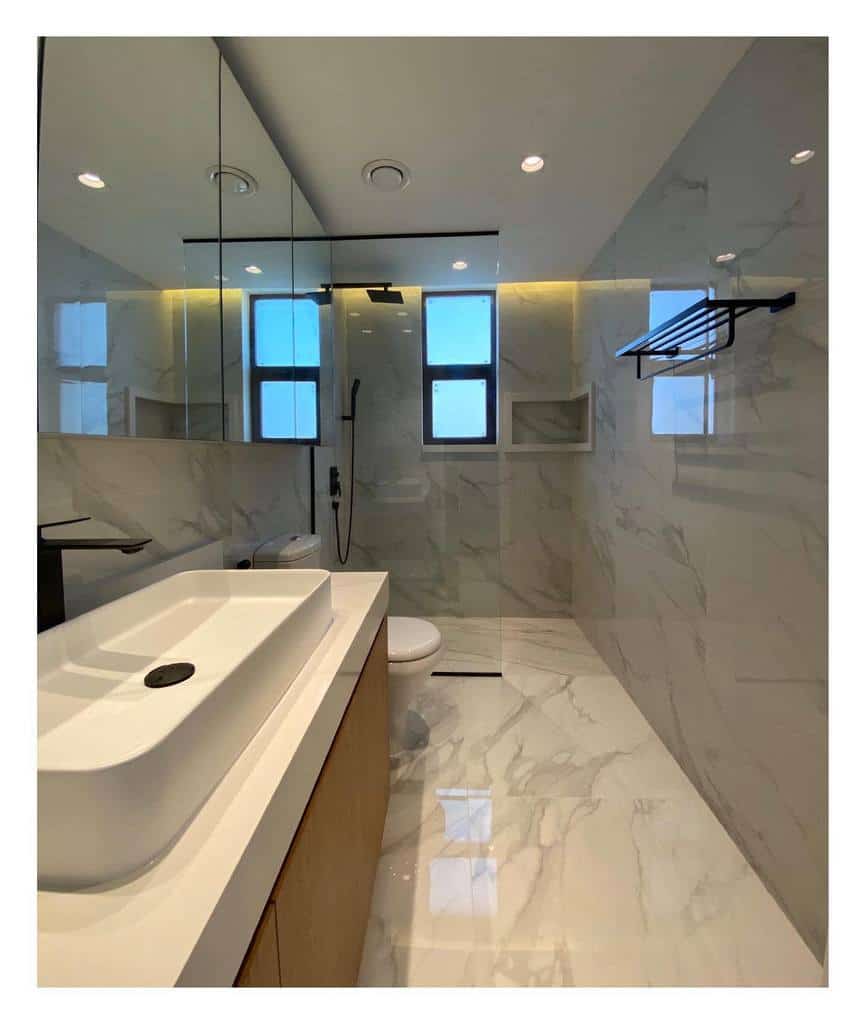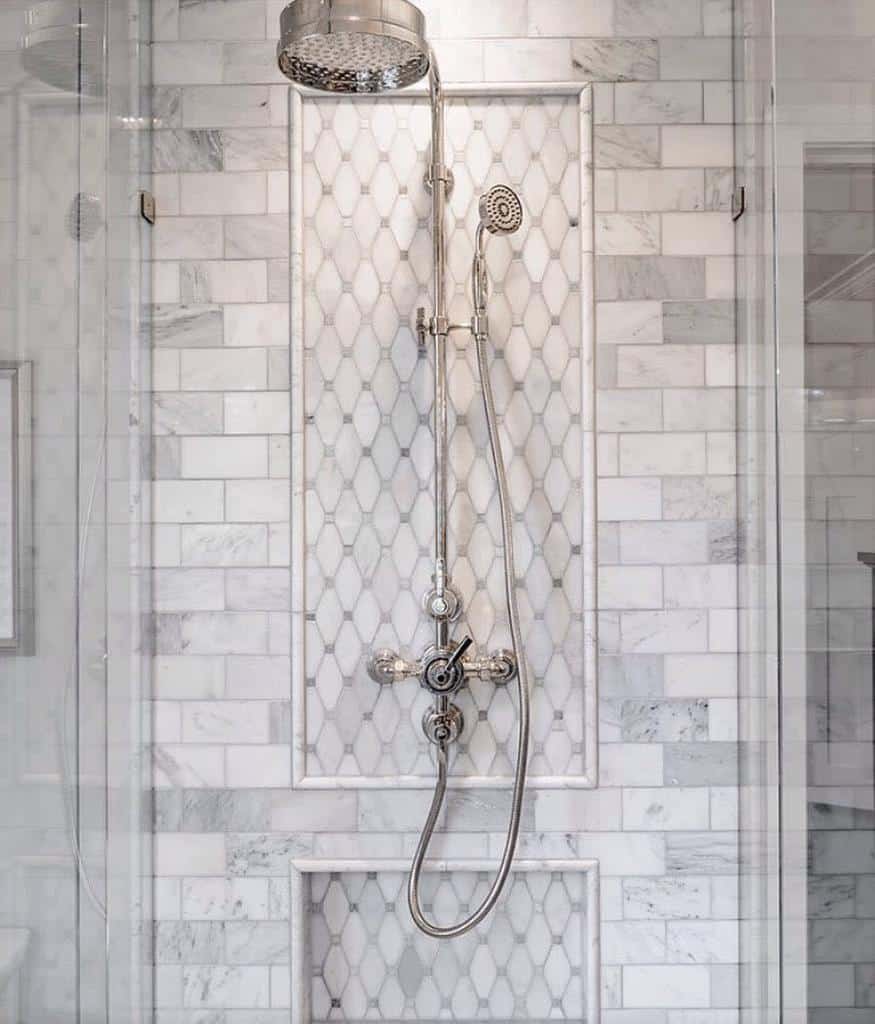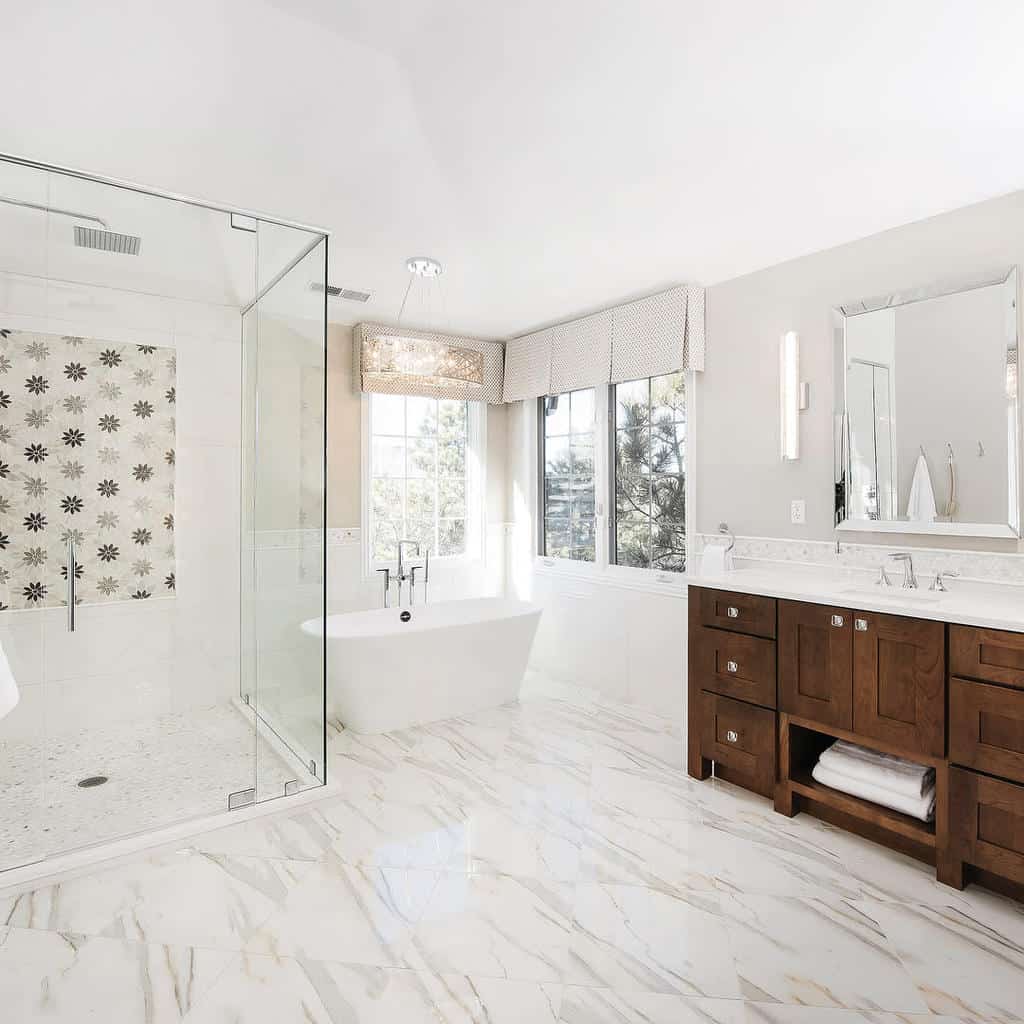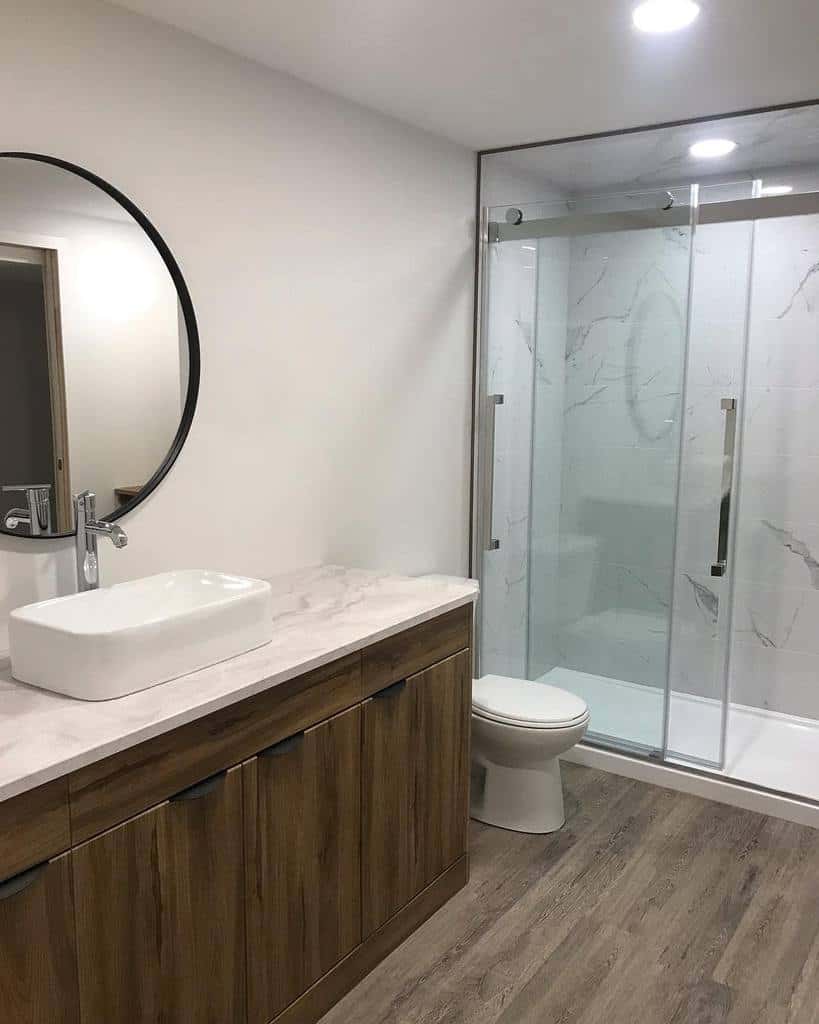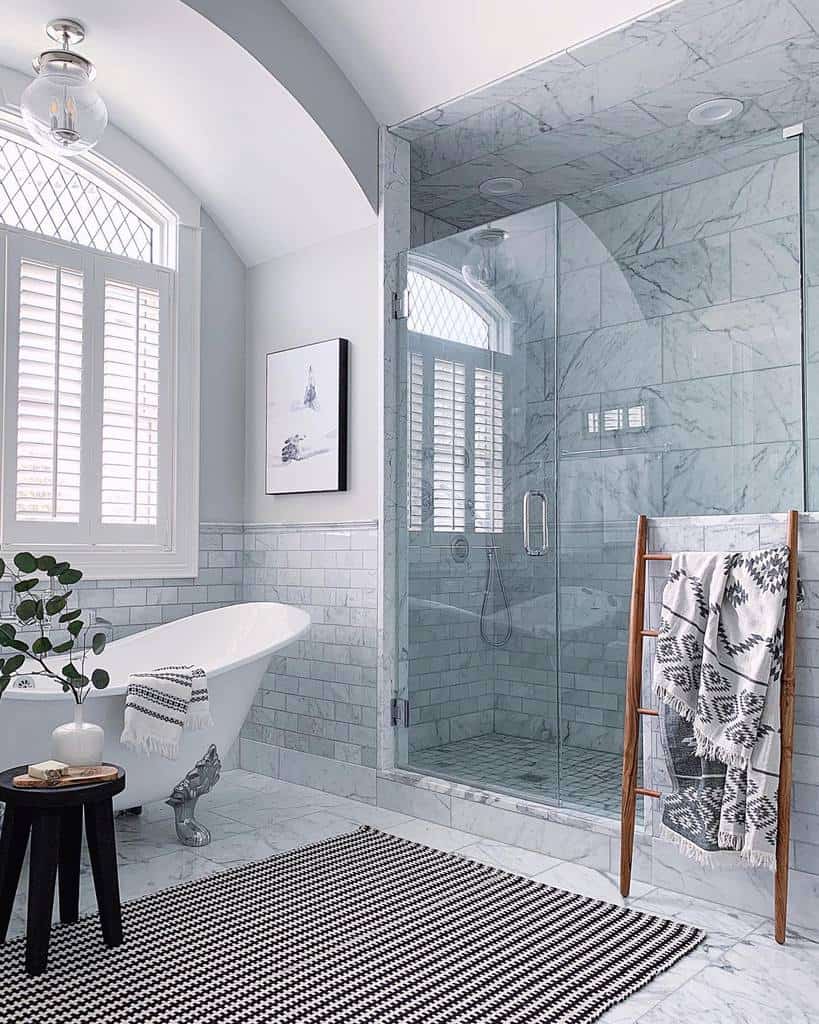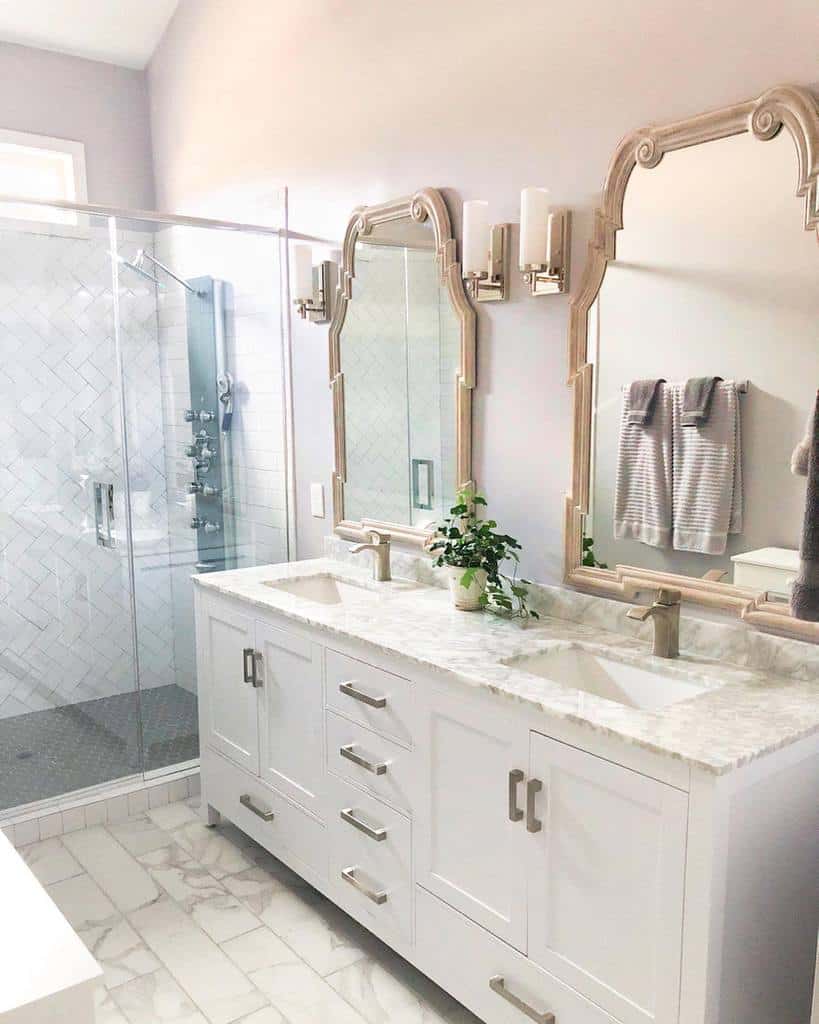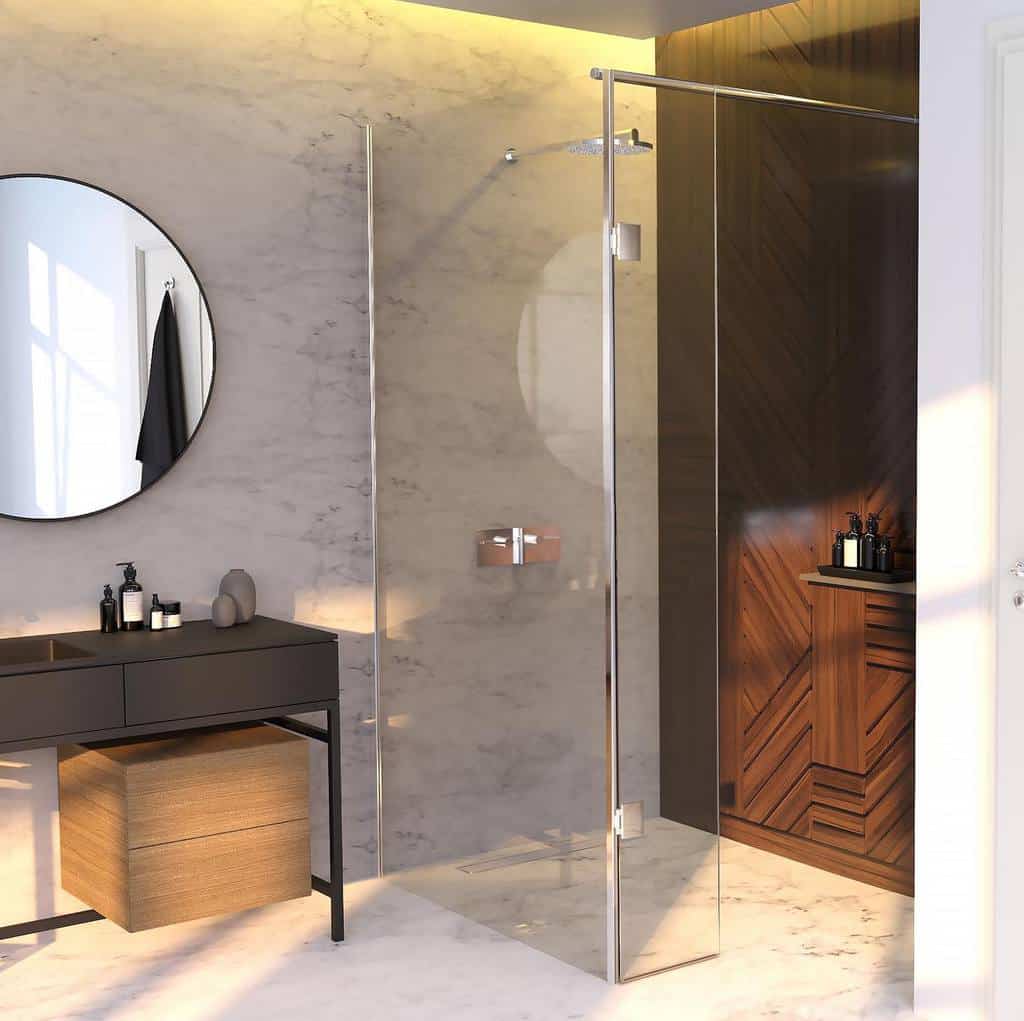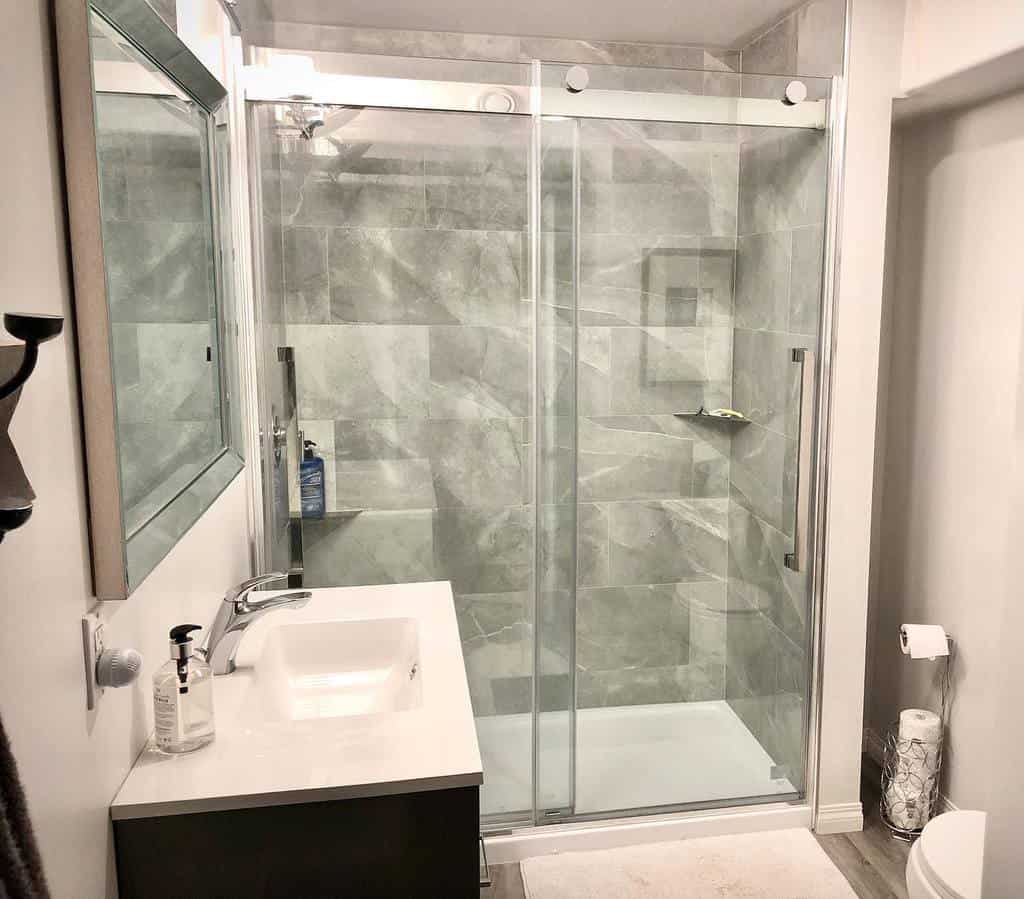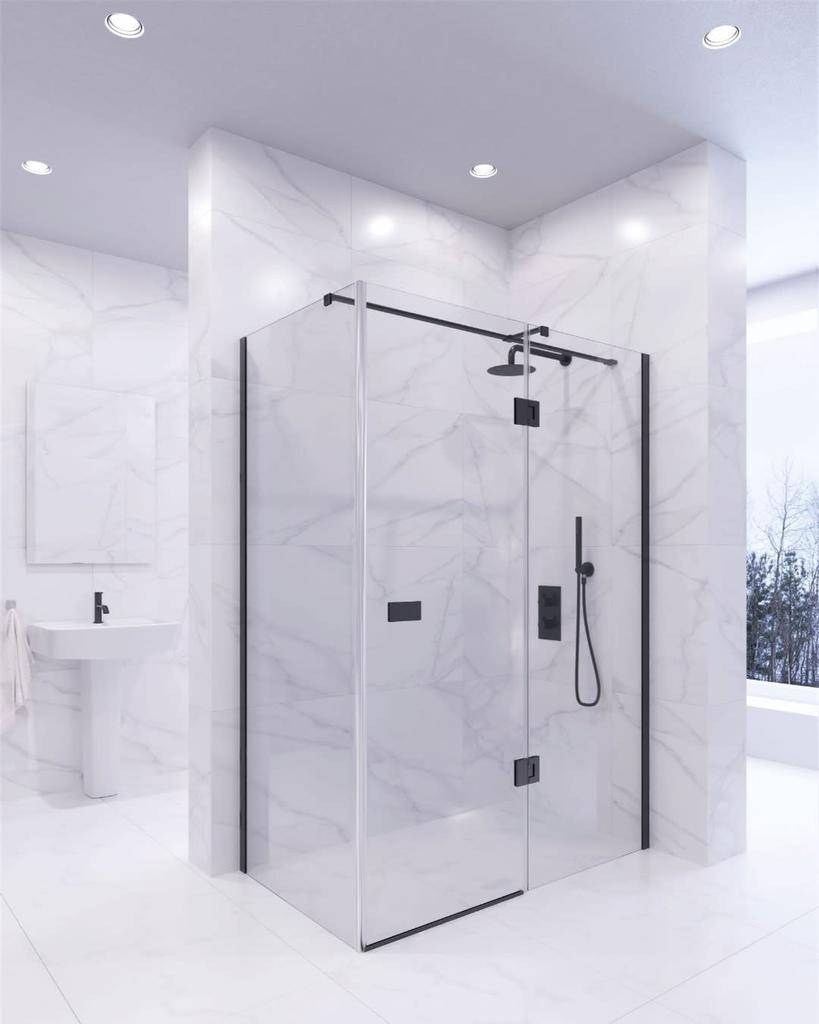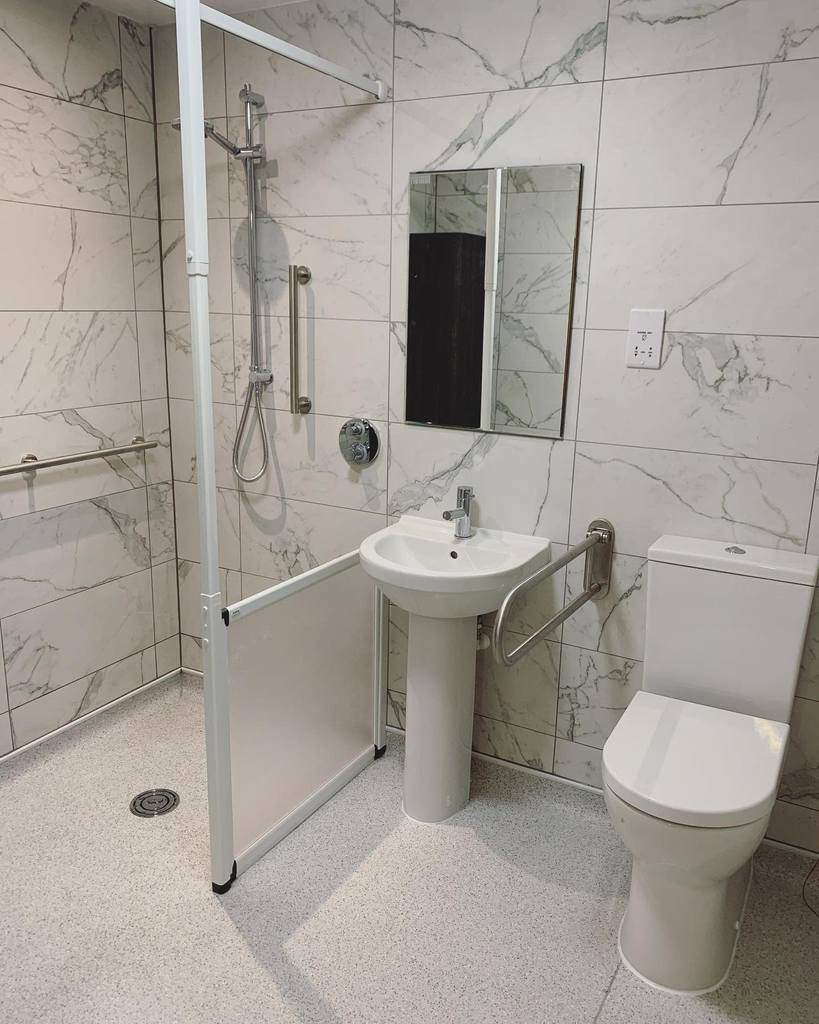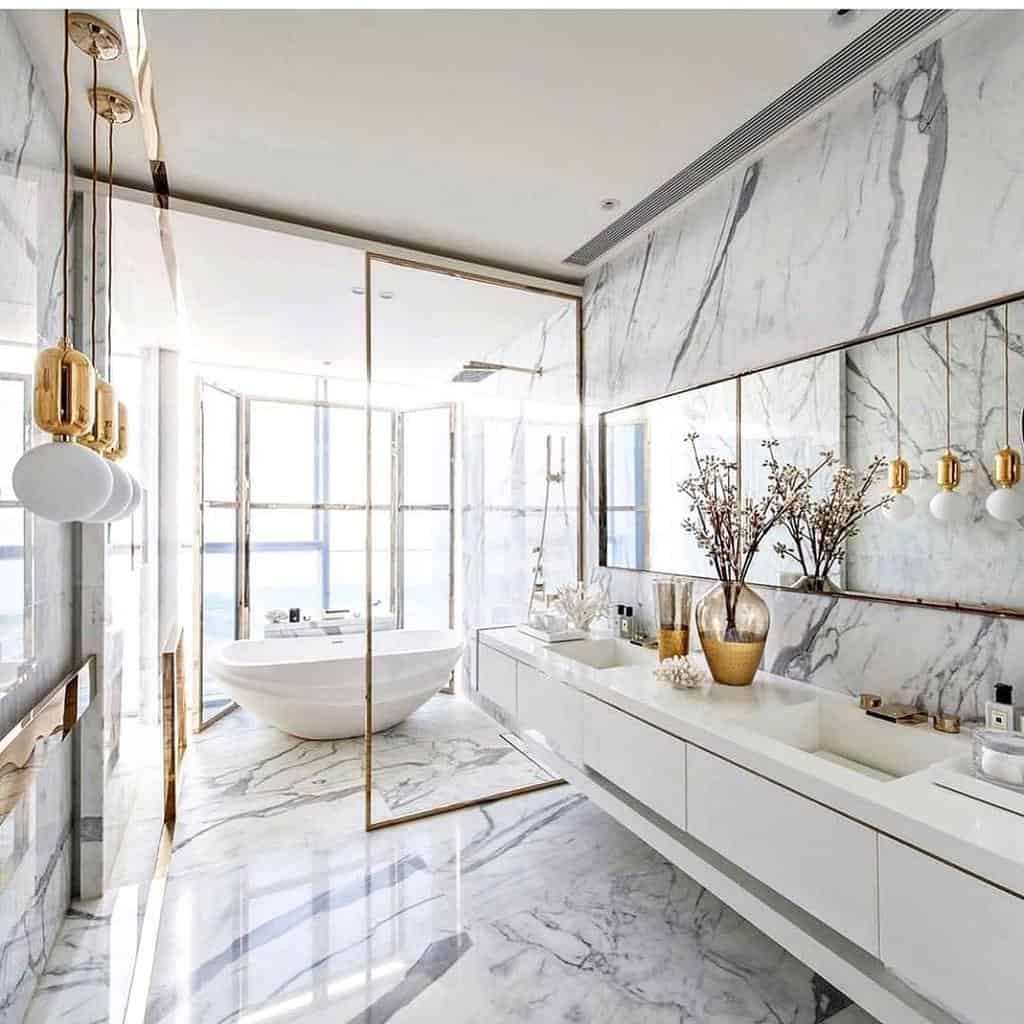 5. Brutalist-Style Gray Wet Bathroom
Capture the essence of industrial minimalism with a limewash concrete wall that exudes a raw and textured appeal. Embrace the power of gray by incorporating various shades and tones throughout the space, creating a monochromatic and cohesive look.
From the floor tiles to the fixtures, let shades of gray dominate the palette, evoking a sense of sophistication and contemporary elegance. With a brutalist gray wet bathroom, you can achieve a visually striking and harmonious space that combines the raw beauty of concrete with the sleekness of a monochromatic color scheme, resulting in a truly chic and modern bathroom experience.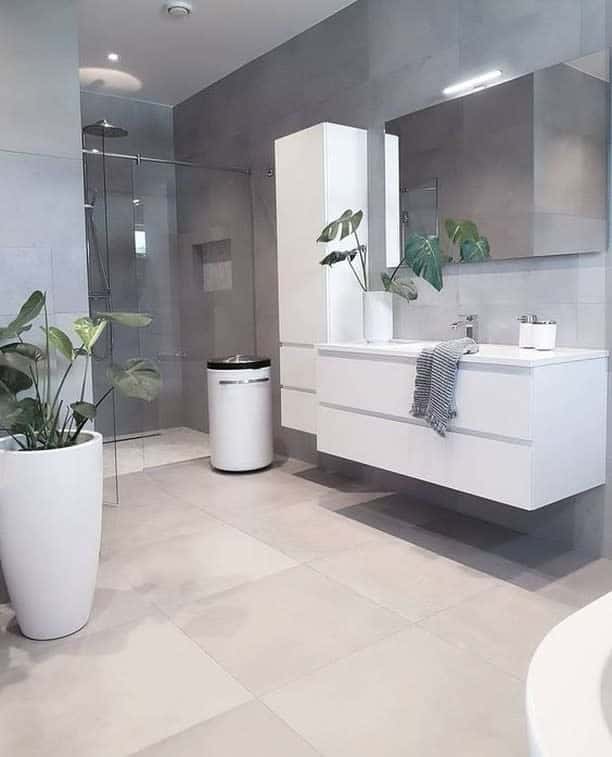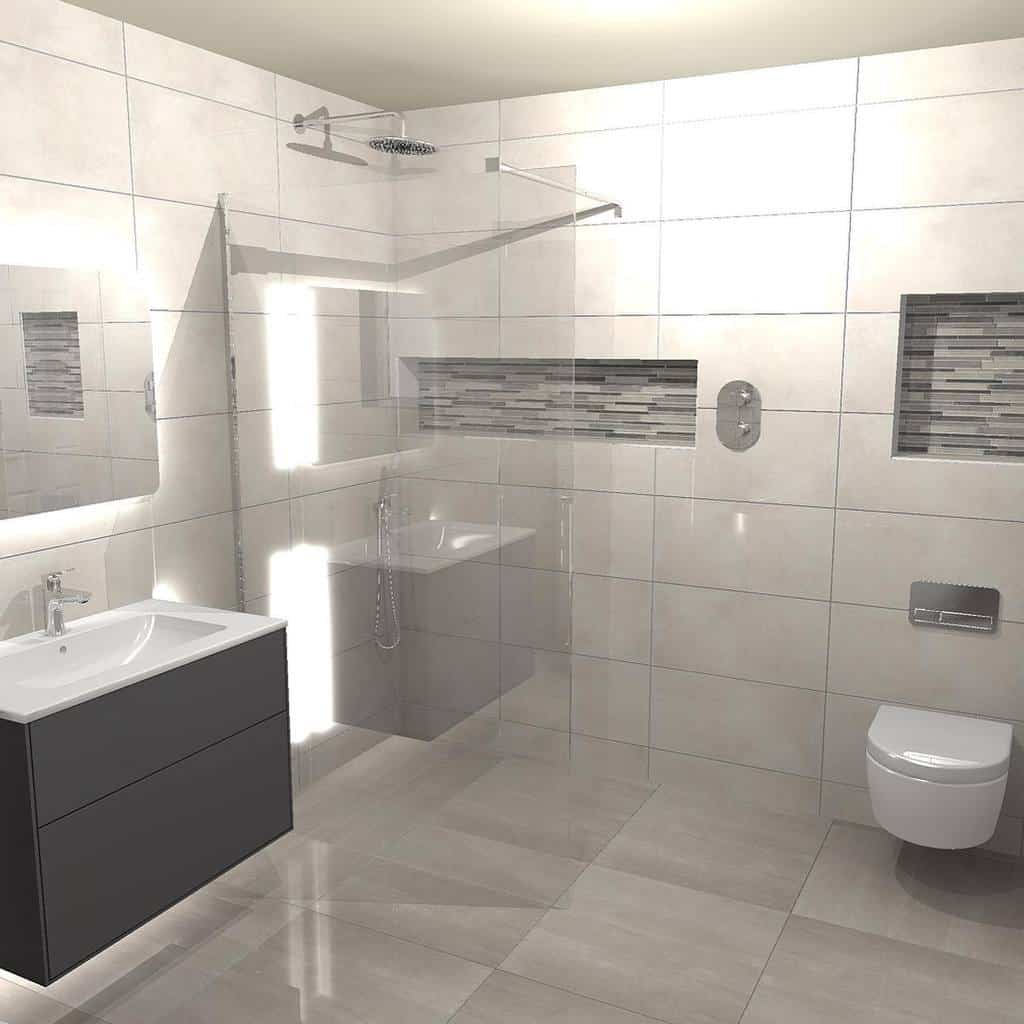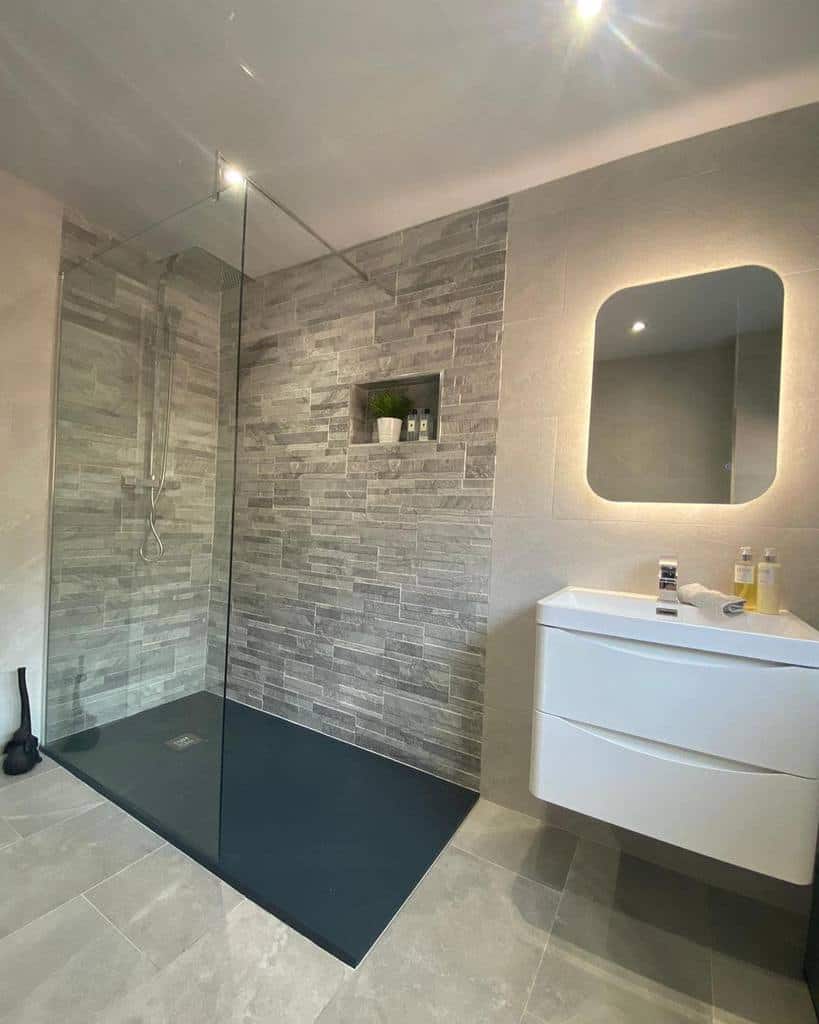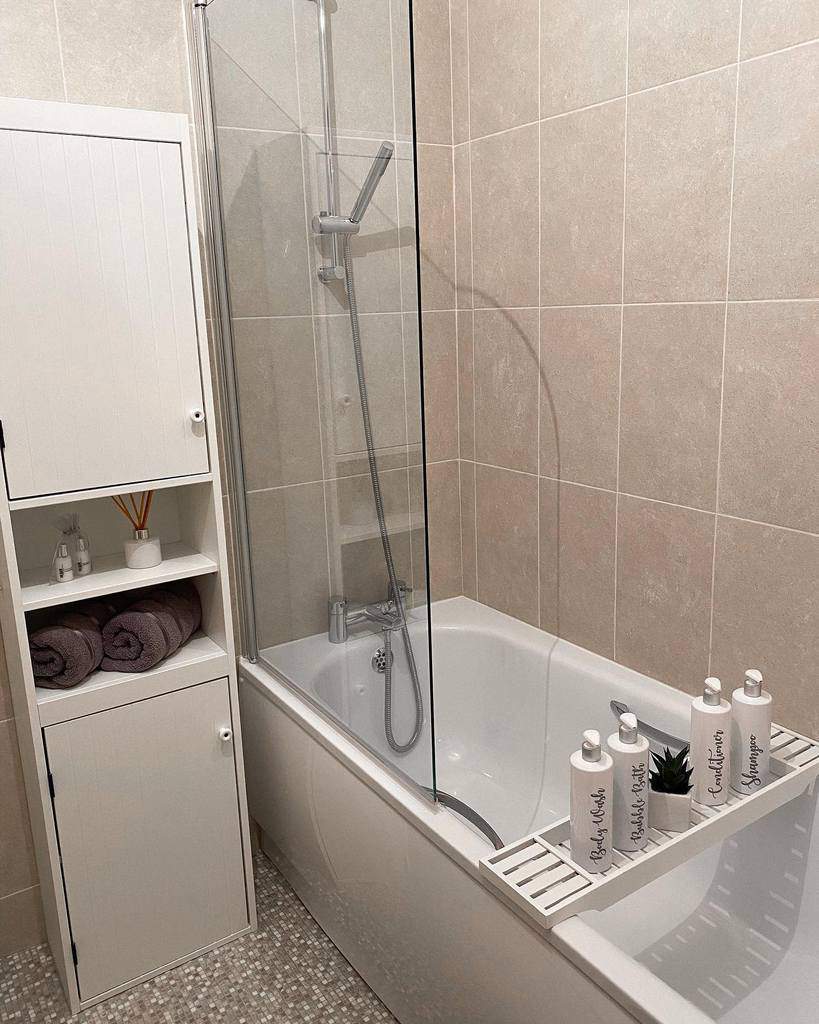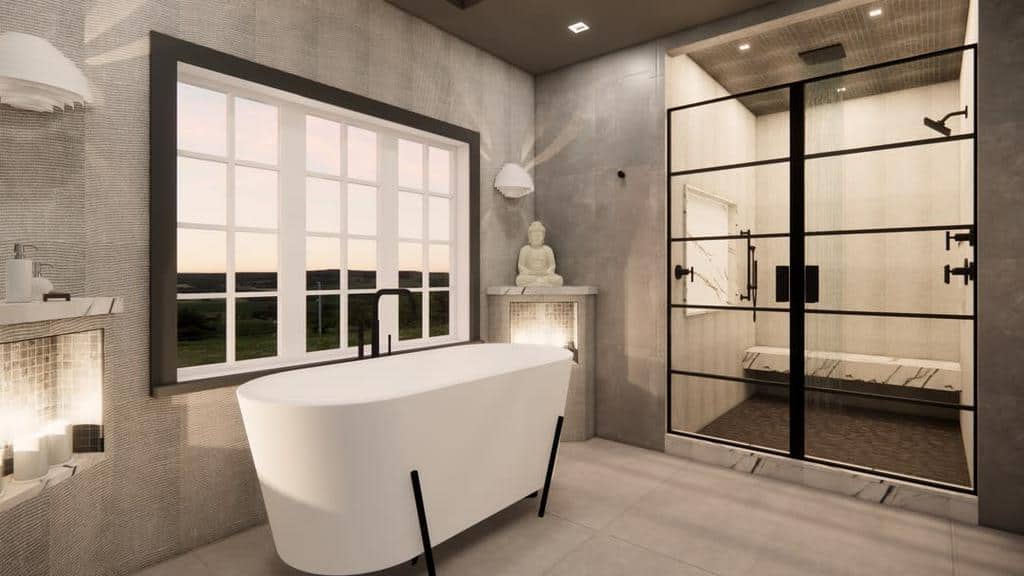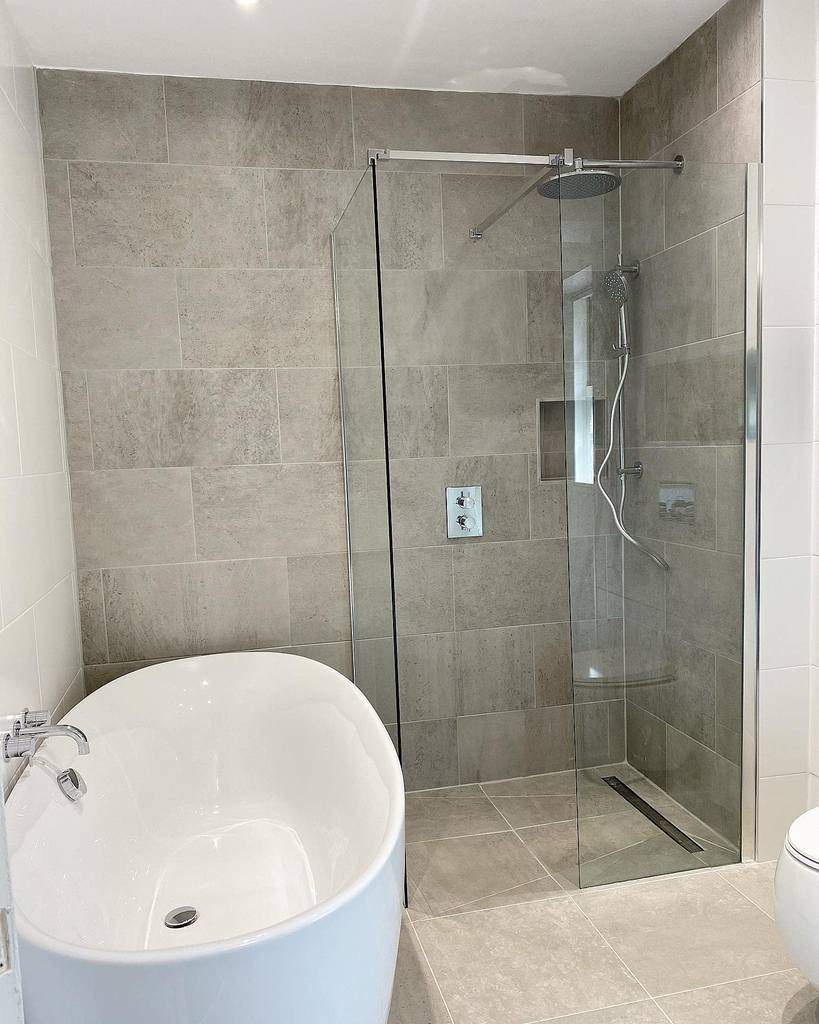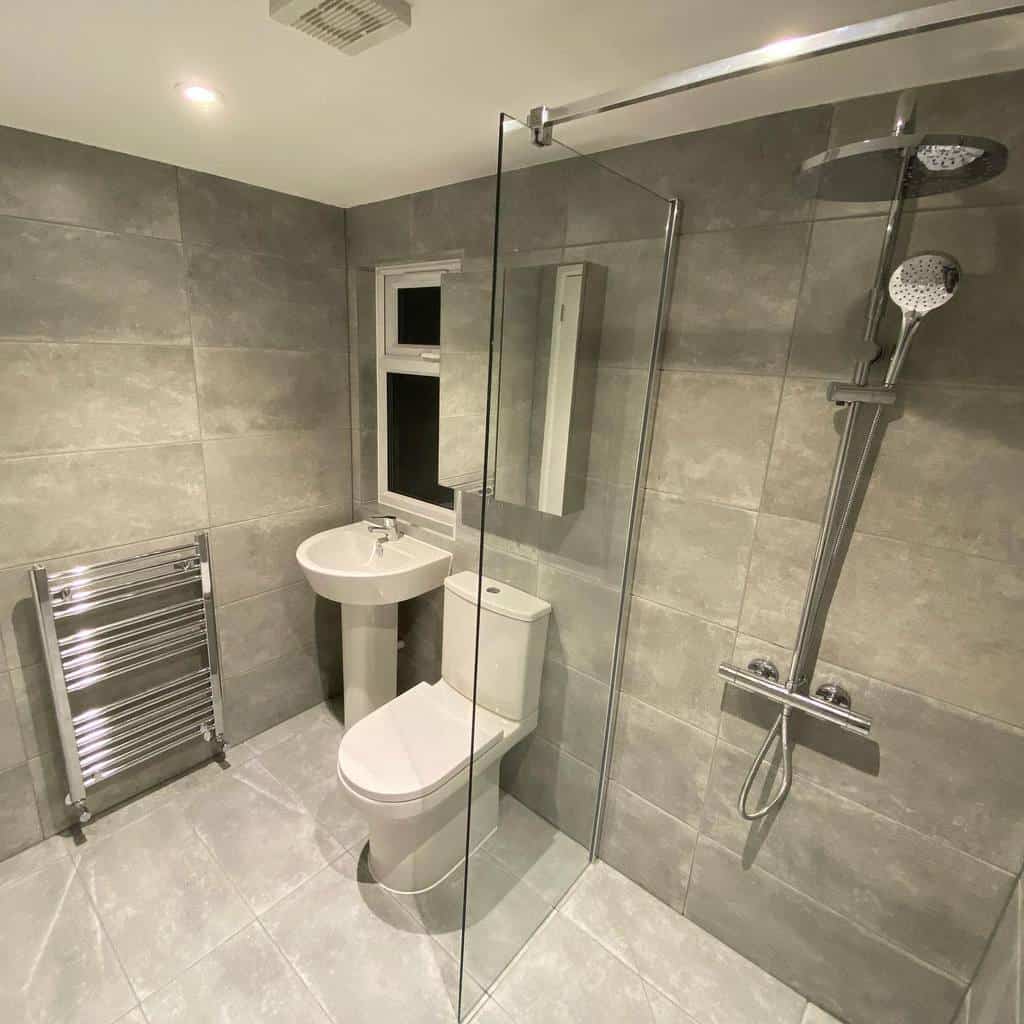 6. Herringbone-Patterned Accent Wall
This classic design choice adds a touch of sophistication and visual interest to your wet bathroom. Whether used for flooring or as an accent wall, herringbone tiles create a stunning focal point that draws the eye and sets the tone for the entire space.
The interlocking pattern of the tiles adds depth and texture, transforming a plain surface into a work of art. Choose from a variety of materials, such as marble, ceramic, or porcelain, to suit your personal taste and desired aesthetic.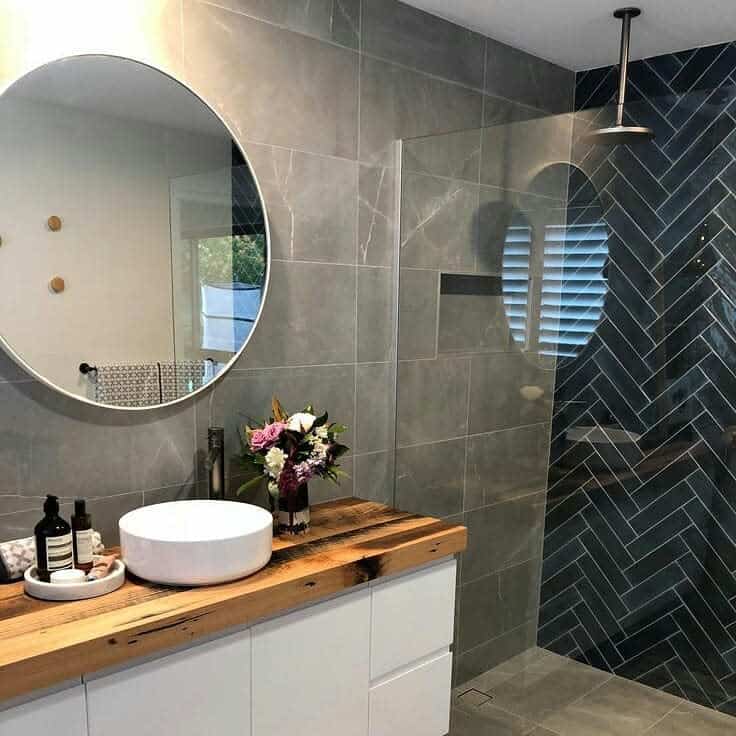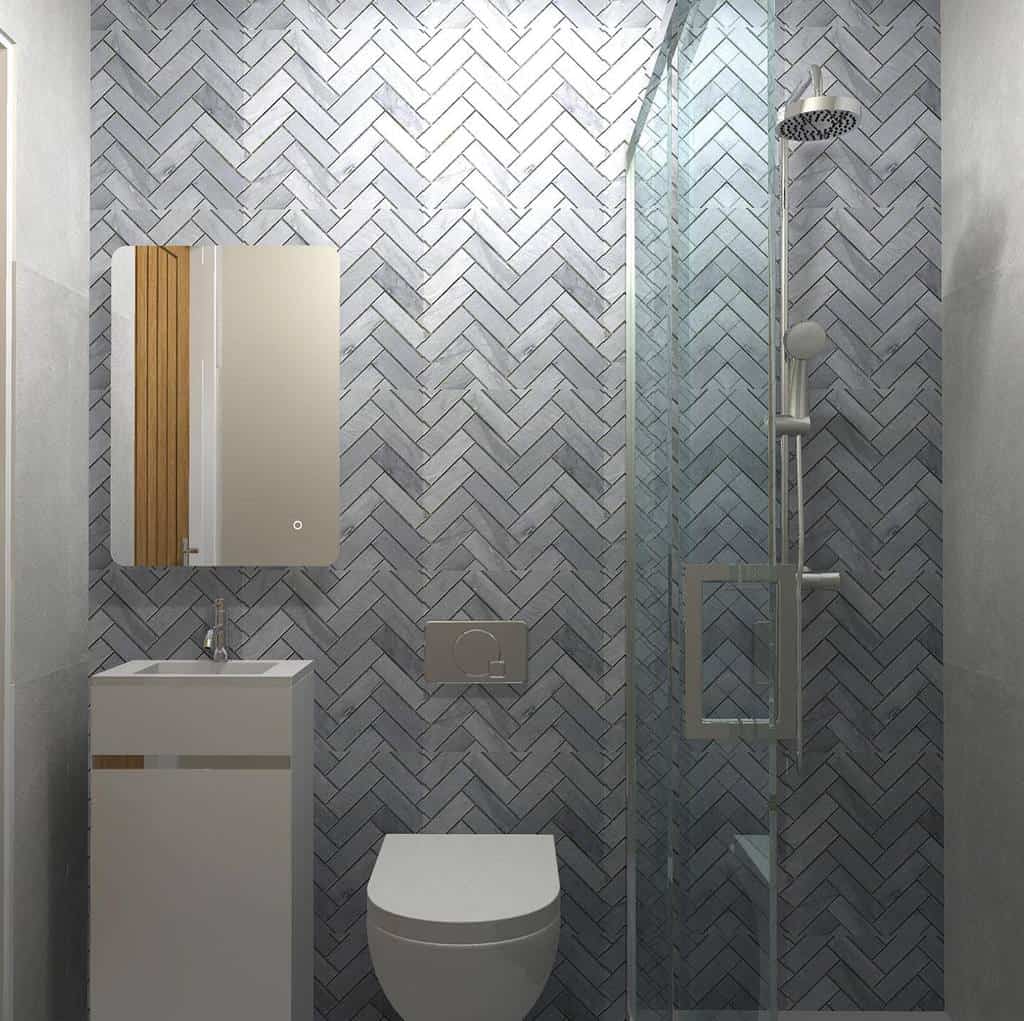 7. Mosaic Tile Accent Wall
Upgrade your bathroom design with a captivating and chic wet bathroom concept featuring a stunning mosaic tile accent wall. This eye-catching element adds a touch of artistic flair and becomes the focal point of the space, instantly grabbing attention.
Whether you opt for bold and vibrant colors or a sophisticated monochromatic palette, the mosaic tiles bring visual interest and a sense of luxury to your bathroom. Their intricate patterns and shimmering textures create a mesmerizing effect, transforming your bathroom into a captivating sanctuary.
With a mosaic tile accent wall, you can infuse your space with personality and style, making a bold statement that leaves a lasting impression.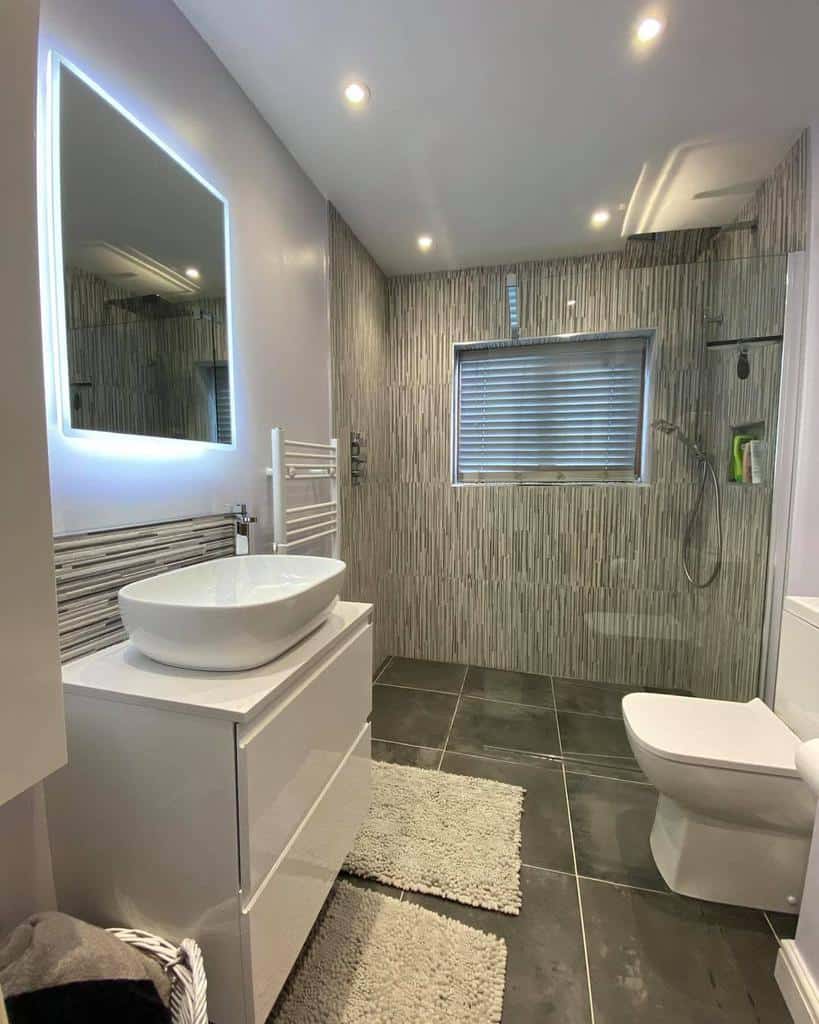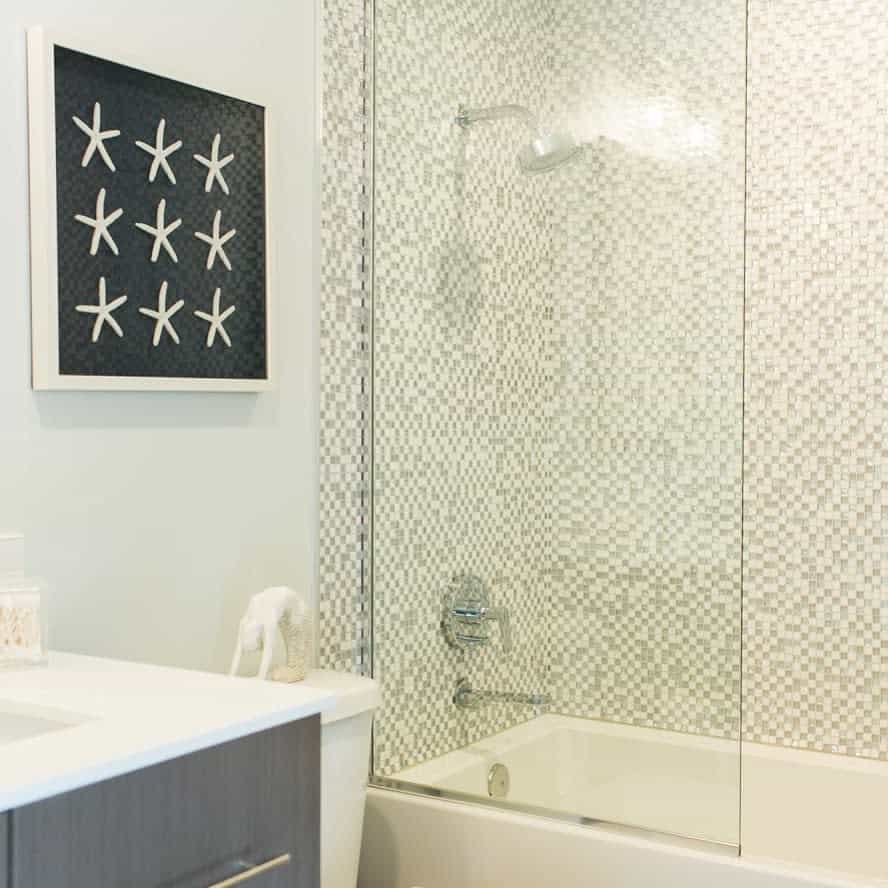 8. Luxury Dark Wet Bathroom
Indulge in the opulence of a luxury dark wet bathroom that oozes sophistication and elegance. Opt for dark tiles to create a dramatic and intimate atmosphere. Whether it's sleek black marble or rich charcoal tiles, the dark color palette adds a touch of luxury to your space. Accentuate the moody ambiance with statement lighting fixtures that cast a warm and inviting glow.
Incorporate high-end fixtures and fittings in metallic finishes like brushed brass or polished chrome to elevate the overall aesthetic. To enhance the lavish feel, consider installing a rainfall showerhead and a luxurious freestanding bathtub as the focal point of the room. With a luxury dark wet bathroom, you can create a captivating retreat where you can unwind and immerse yourself in pure indulgence.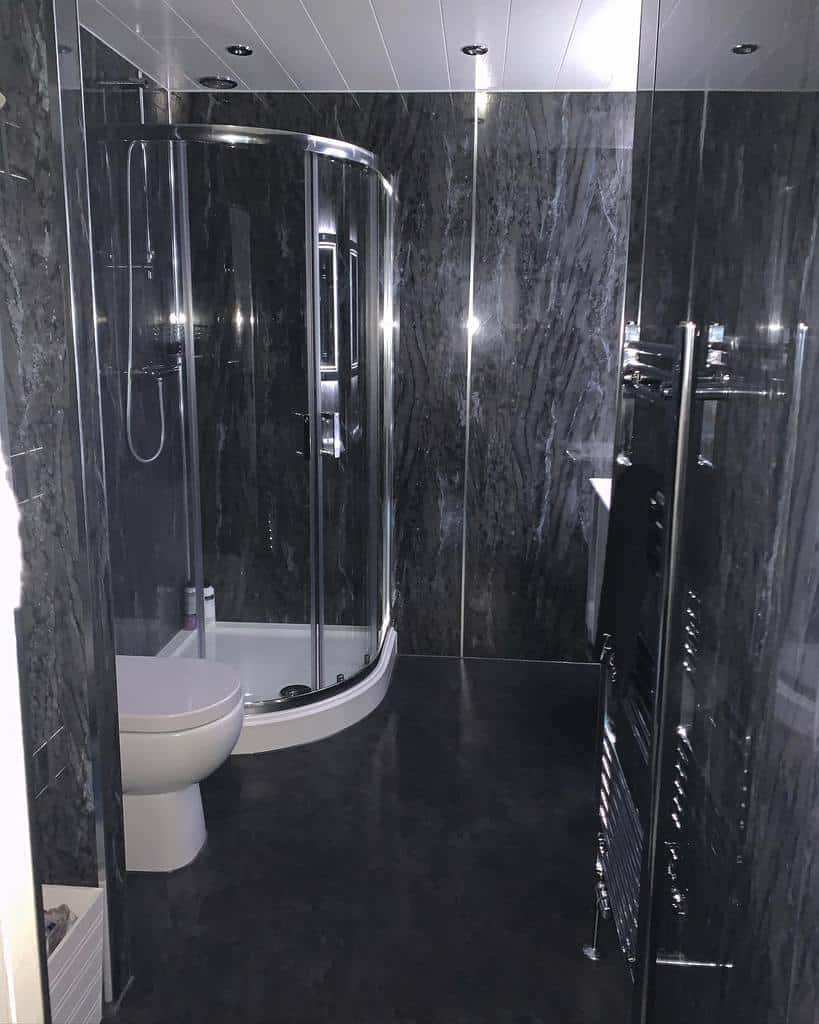 9. Modern Farmhouse Wet Bathroom
Step into a world of rustic elegance with a modern farmhouse wet bathroom. Embrace the timeless charm of shiplap walls, creating a cozy and inviting atmosphere. Opt for a white-washed wood vanity that adds a touch of warmth and character to the space, while offering ample storage for your bathroom essentials.
To infuse a breath of fresh air, adorn the room with lush green plants that bring a vibrant touch of nature indoors. Complete the look with a soft and plush rug that adds comfort underfoot and ties the entire space together.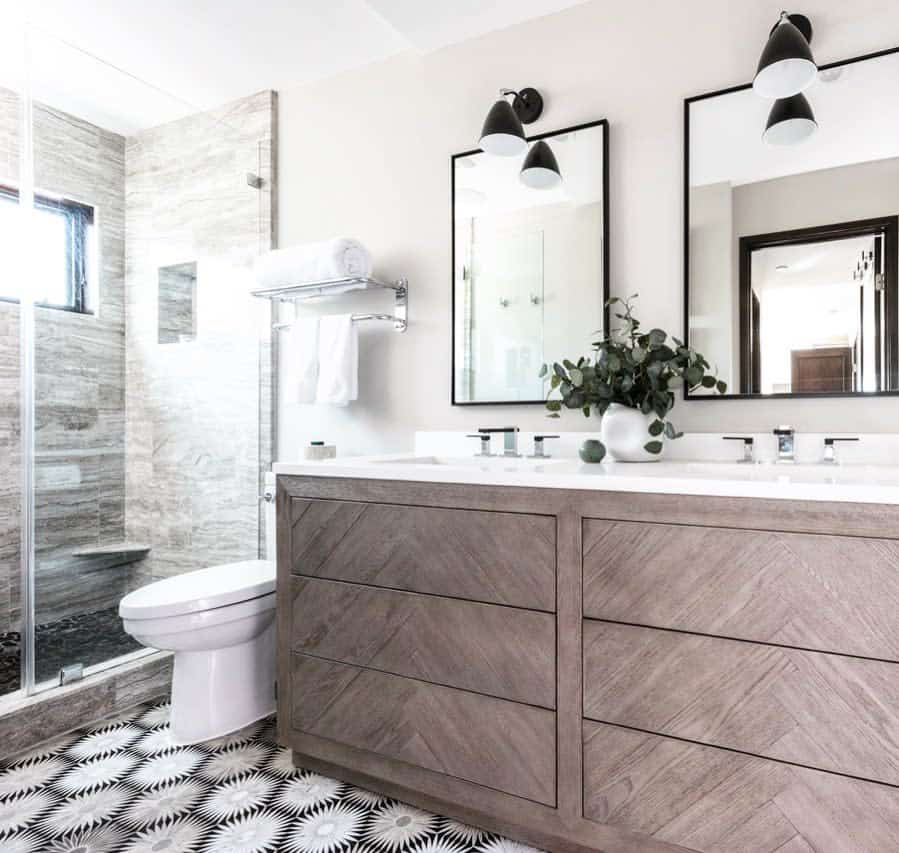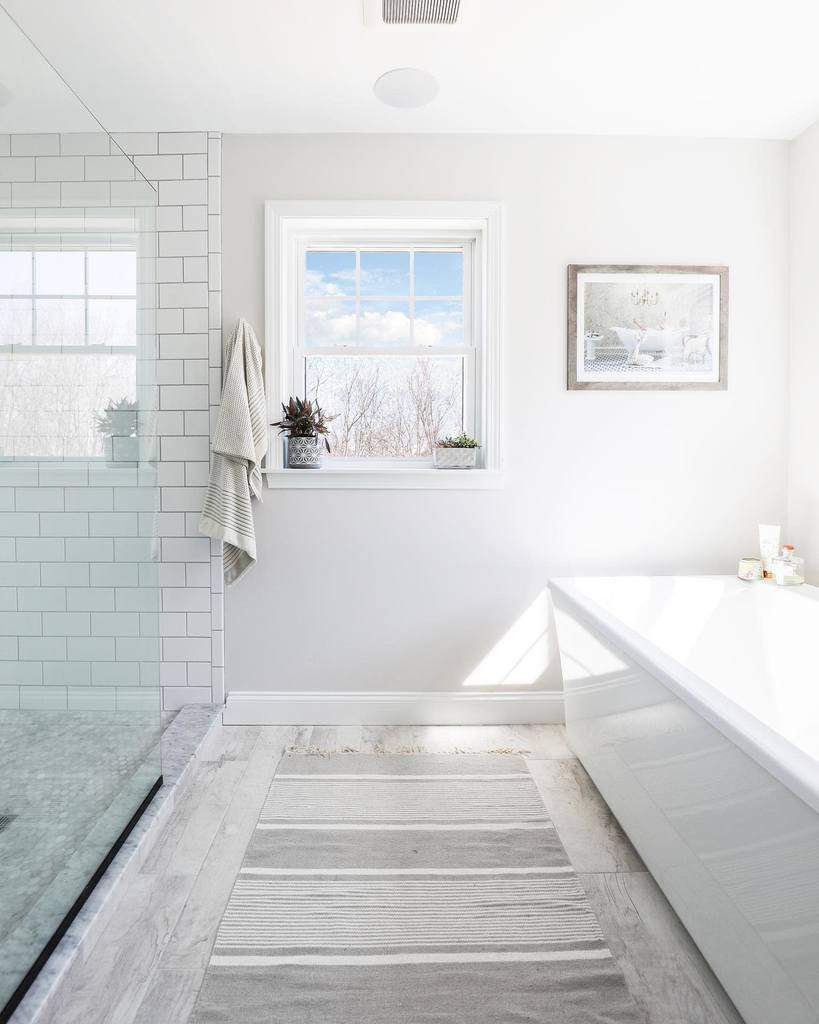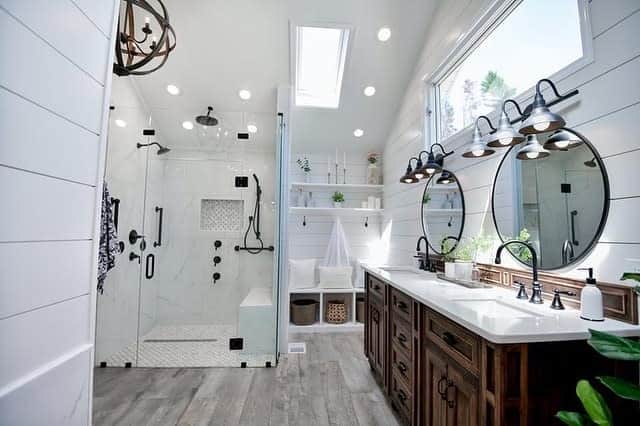 10. Modern Wet Bathroom Concept
Create a sleek and modern oasis in your bathroom with the concept of a modern wet bathroom. Welcome a neutral interior palette that exudes elegance and sophistication. Opt for beige tiles to add warmth and a touch of natural beauty to the space. Keep the design minimalistic with clean lines and a clutter-free environment, allowing the beauty of simplicity to shine through.
Incorporate sleek fixtures and fittings that complement the modern aesthetic, such as a wall-mounted sink and a frameless glass shower enclosure. With a modern wet bathroom, you can achieve a harmonious blend of contemporary style and timeless sophistication, creating a serene and luxurious retreat within your home.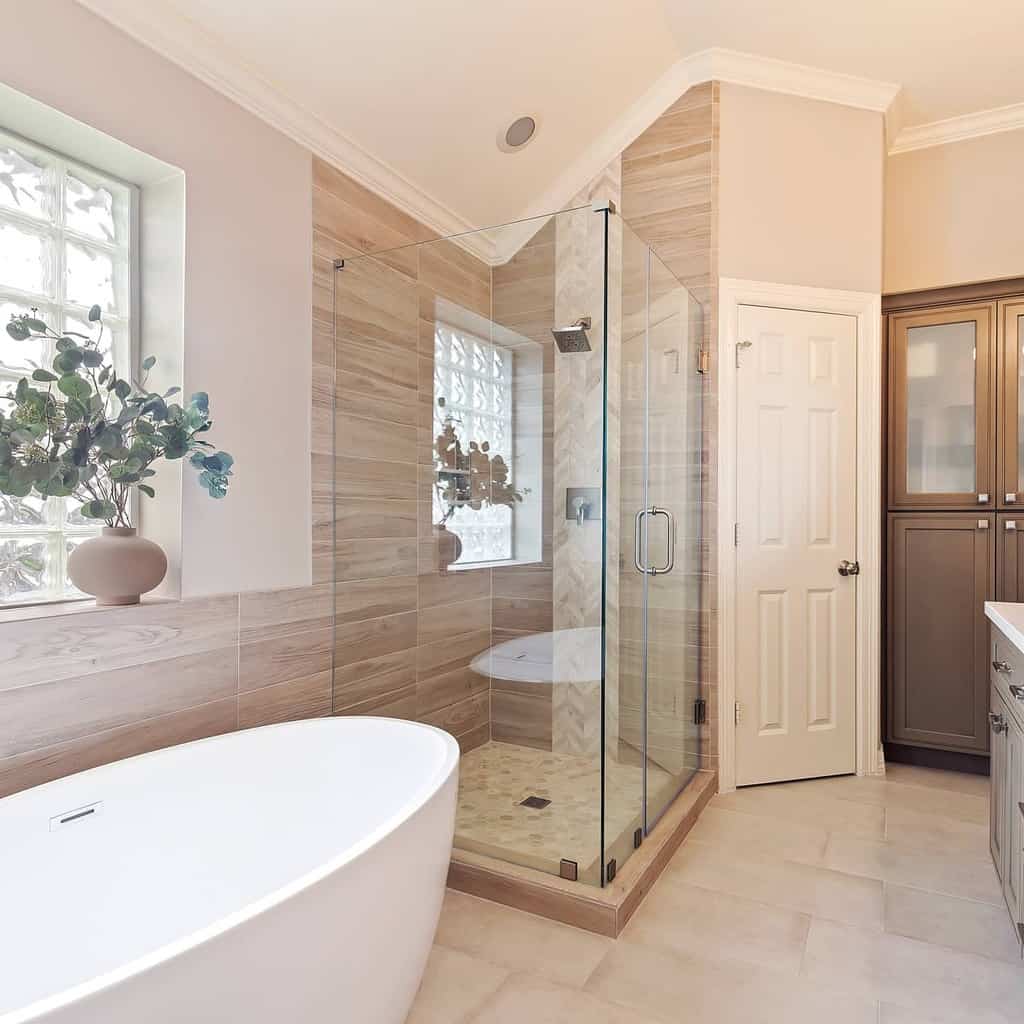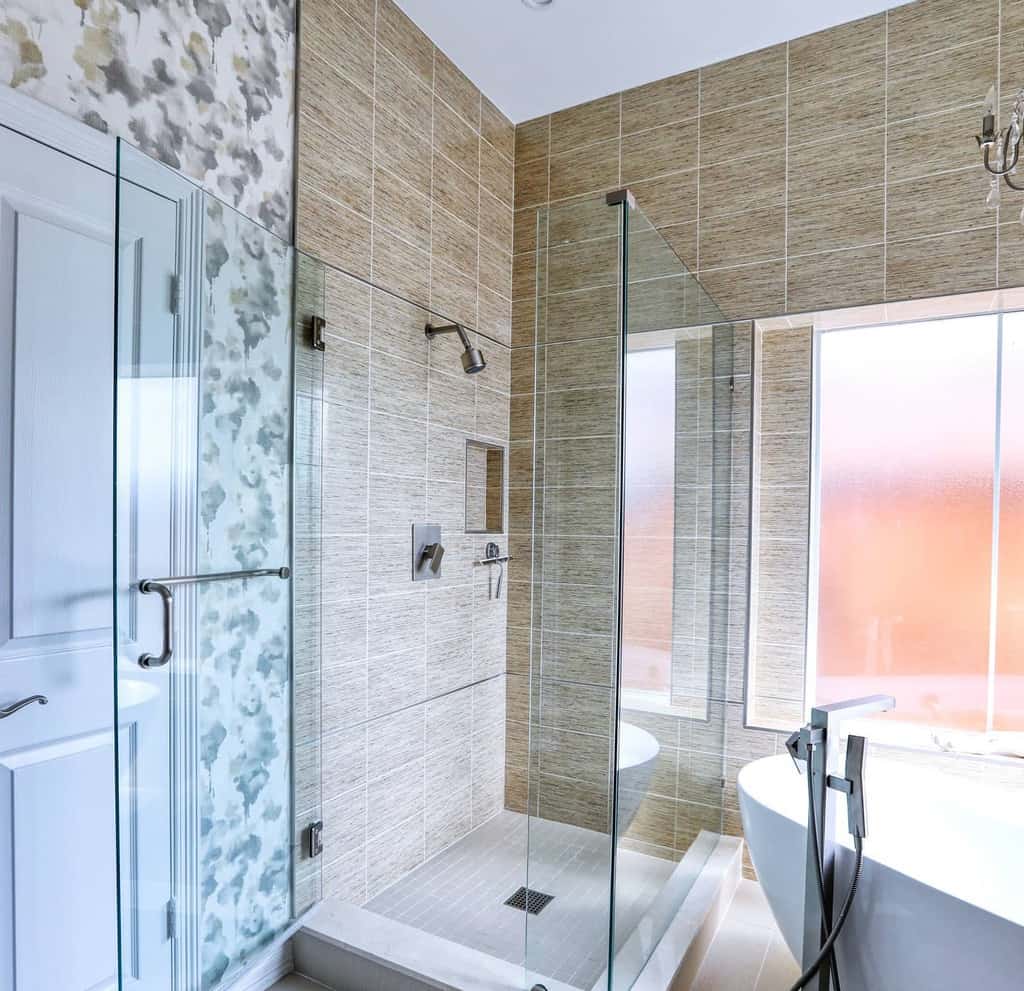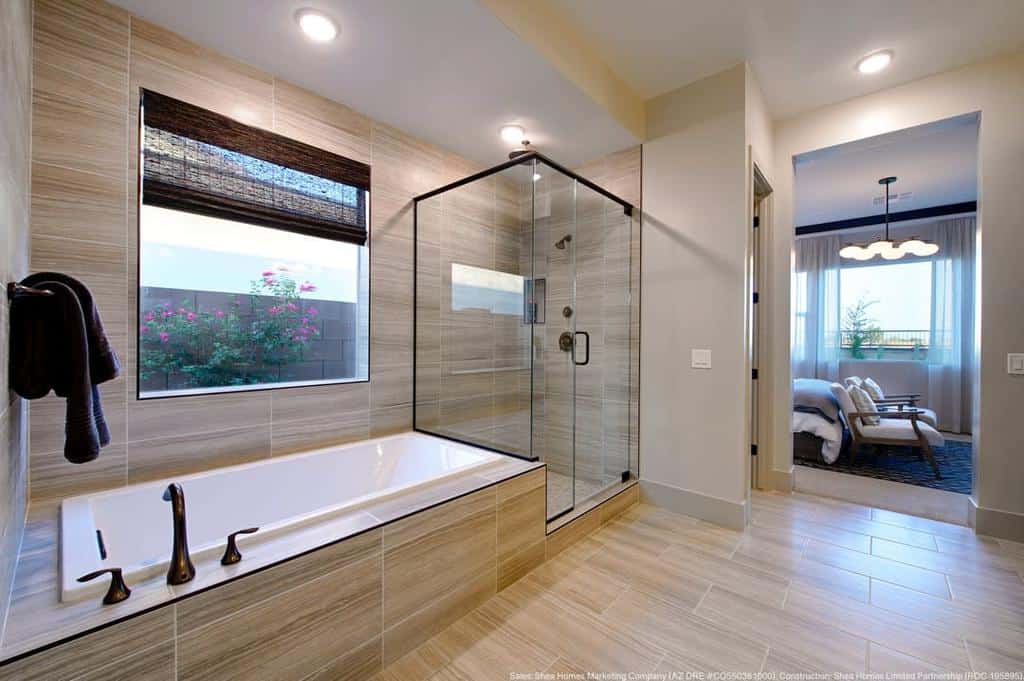 11. Black and White Wet Bathroom
Create a bold and timeless aesthetic in your bathroom with the concept of a black-and-white wet bathroom. This monochromatic palette offers a versatile and sophisticated look that never goes out of style. Opt for sleek black fixtures and accents against a backdrop of clean white tiles, creating a striking contrast that instantly elevates the space.
The simplicity of the color scheme also helps to minimize visual clutter, giving your bathroom a sleek and organized feel. Incorporate black and white patterned tiles or a mosaic feature wall to add texture and visual interest. With a black and white wet bathroom, you can achieve a chic and contemporary design that stands the test of time while creating a serene and elegant atmosphere.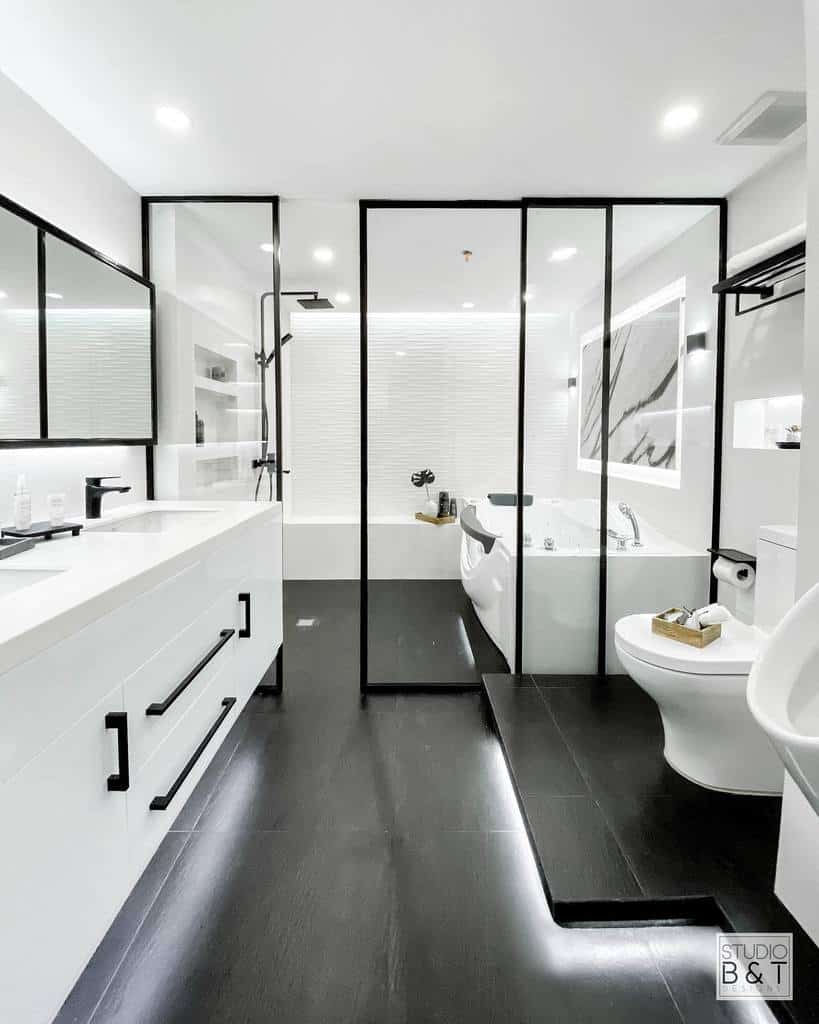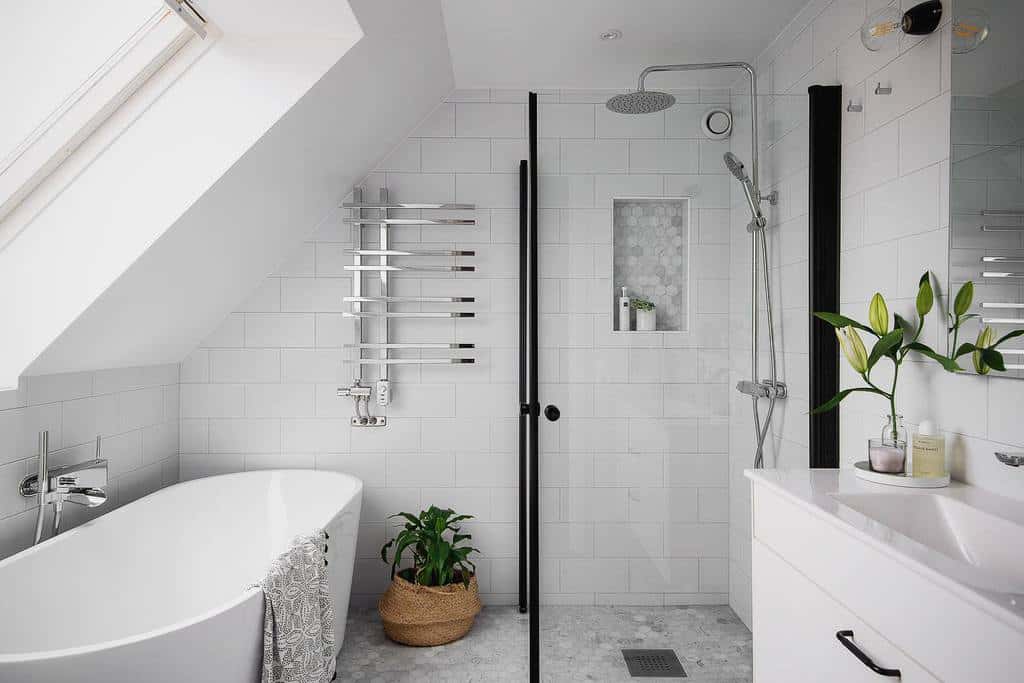 12. Rustic Wet Bathroom
Embrace the timeless beauty of wood with luxurious wood LVT (luxury vinyl tile) flooring, which offers the perfect combination of durability and natural aesthetics. Complement the warm wood tones with a stunning wood countertop, adding a touch of rustic charm to your bathroom space.
Complete the look with earthy and textured elements like stone or brick walls, creating a cozy and inviting atmosphere. Incorporate natural materials and accessories such as woven baskets, linen curtains, and vintage-inspired fixtures to enhance the rustic appeal.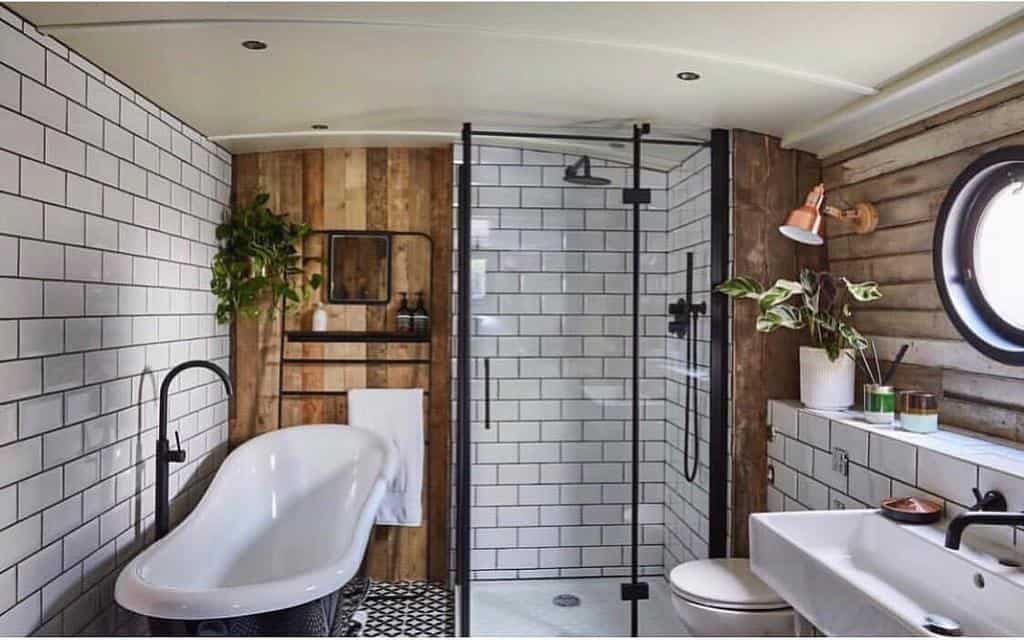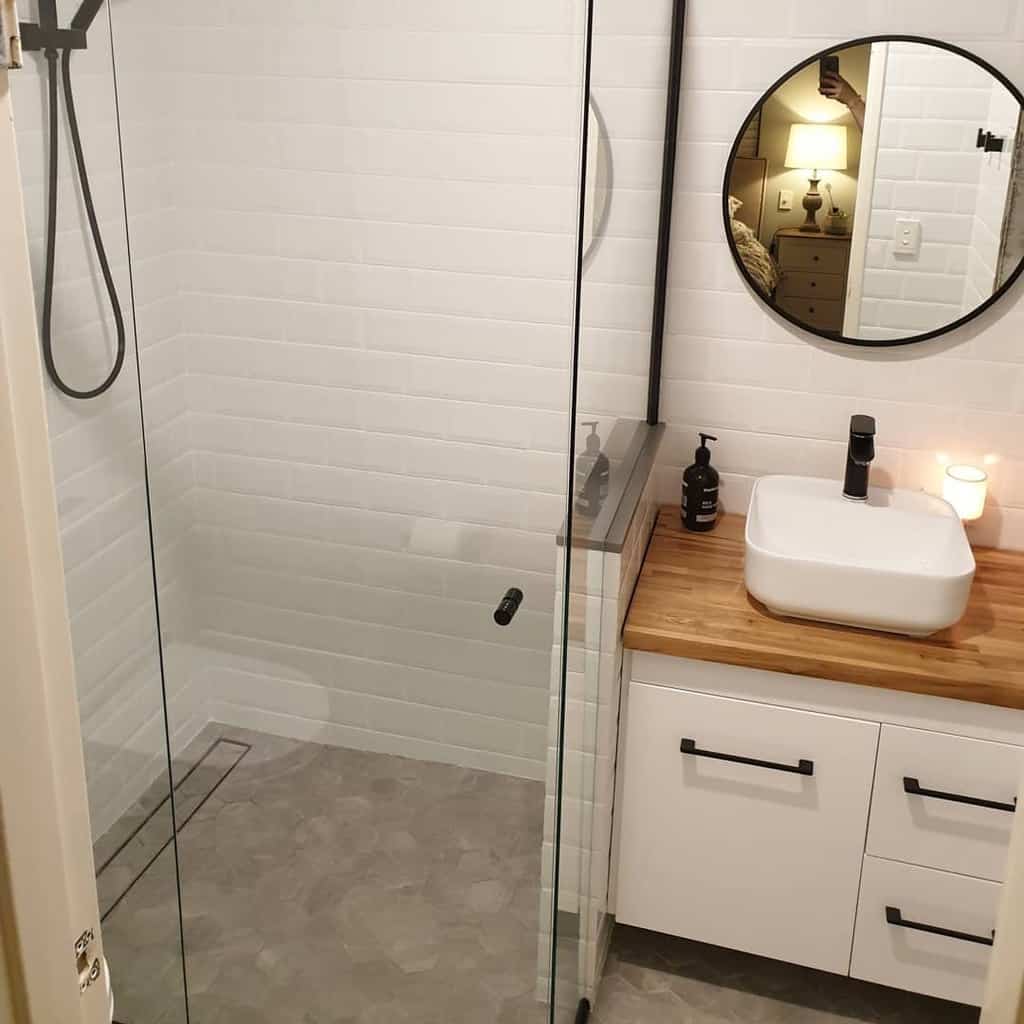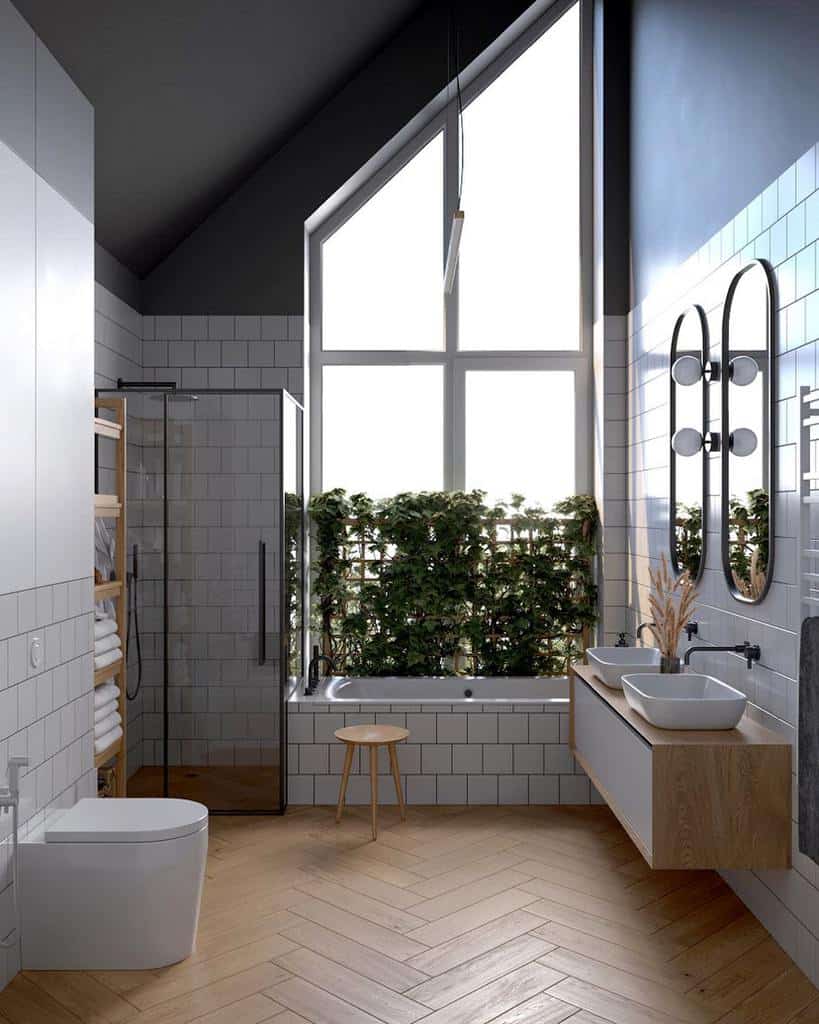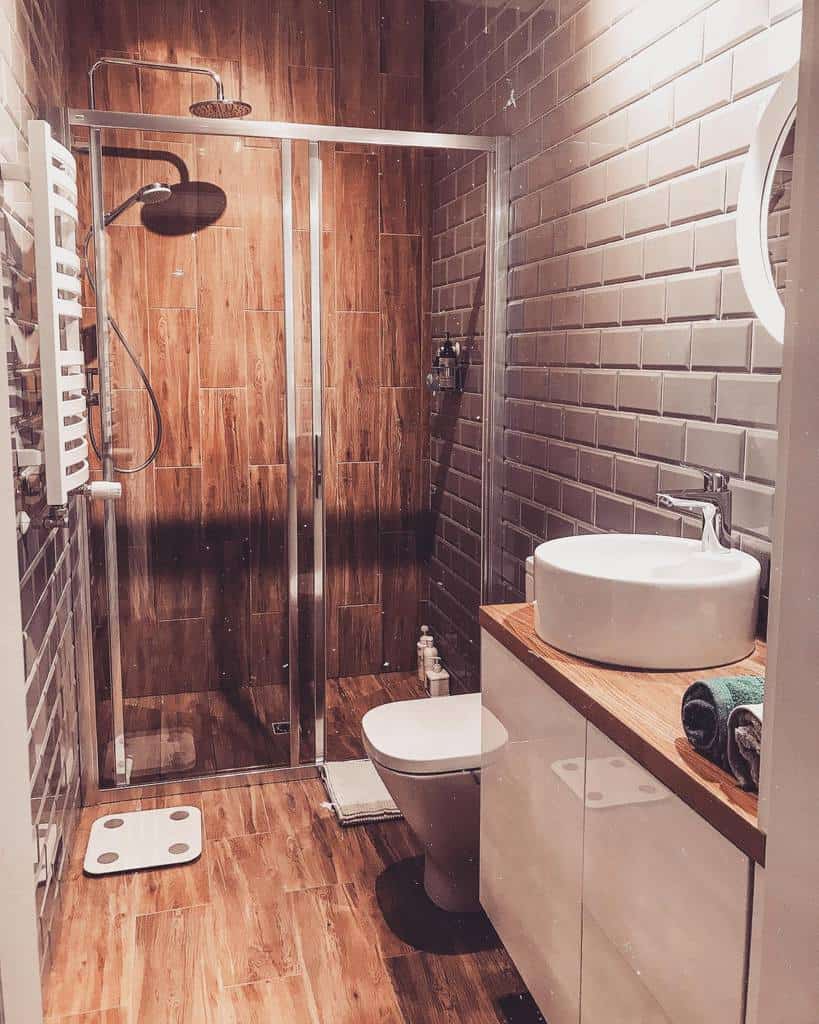 13. Grid Splash Screen
This innovative feature acts as a stylish and functional partition, creating a visual statement that resembles a modern window. The grid pattern adds a touch of architectural interest to the space, while allowing natural light to filter through, creating a bright and airy atmosphere.
This clever design element not only adds privacy but also serves as a striking focal point, effortlessly combining form and function. Whether you opt for a sleek black grid for a dramatic effect or a metallic grid for a touch of glamour, the grid splash screen is sure to bring a unique and eye-catching element to your wet bathroom, making it a chic and sophisticated retreat.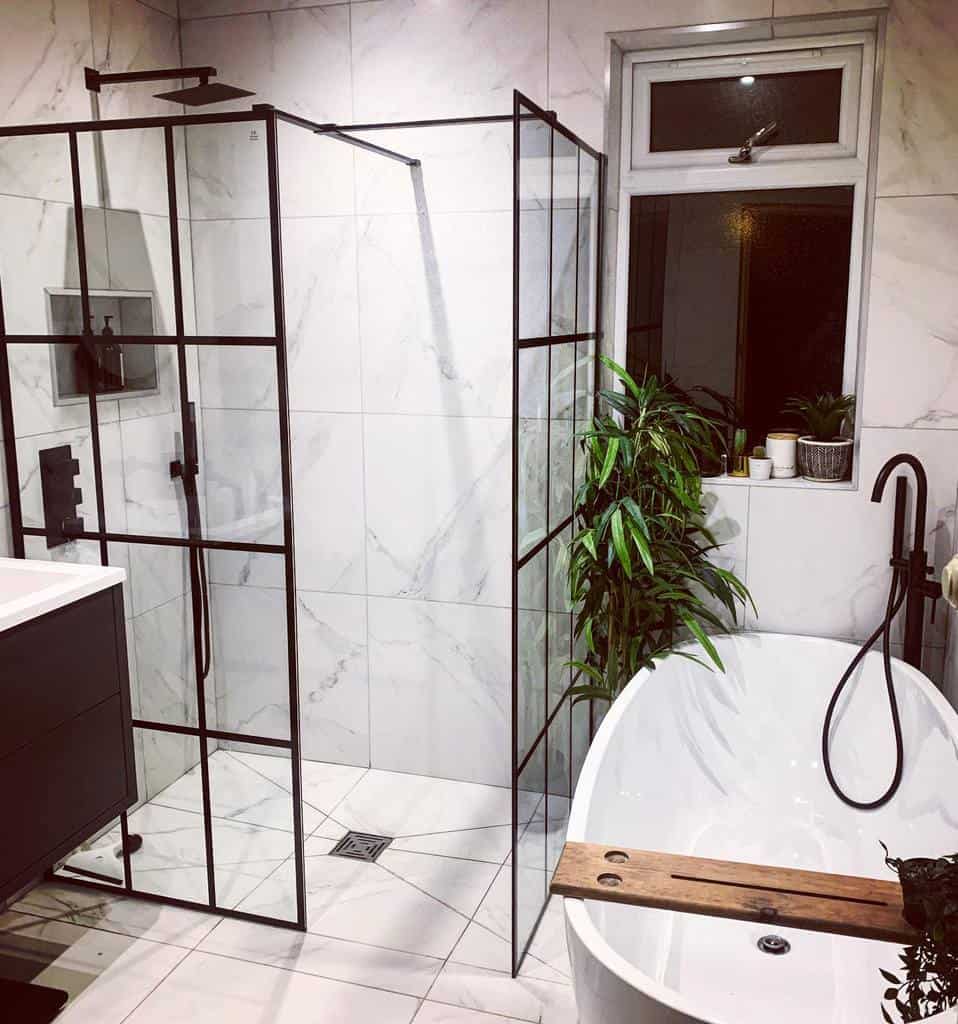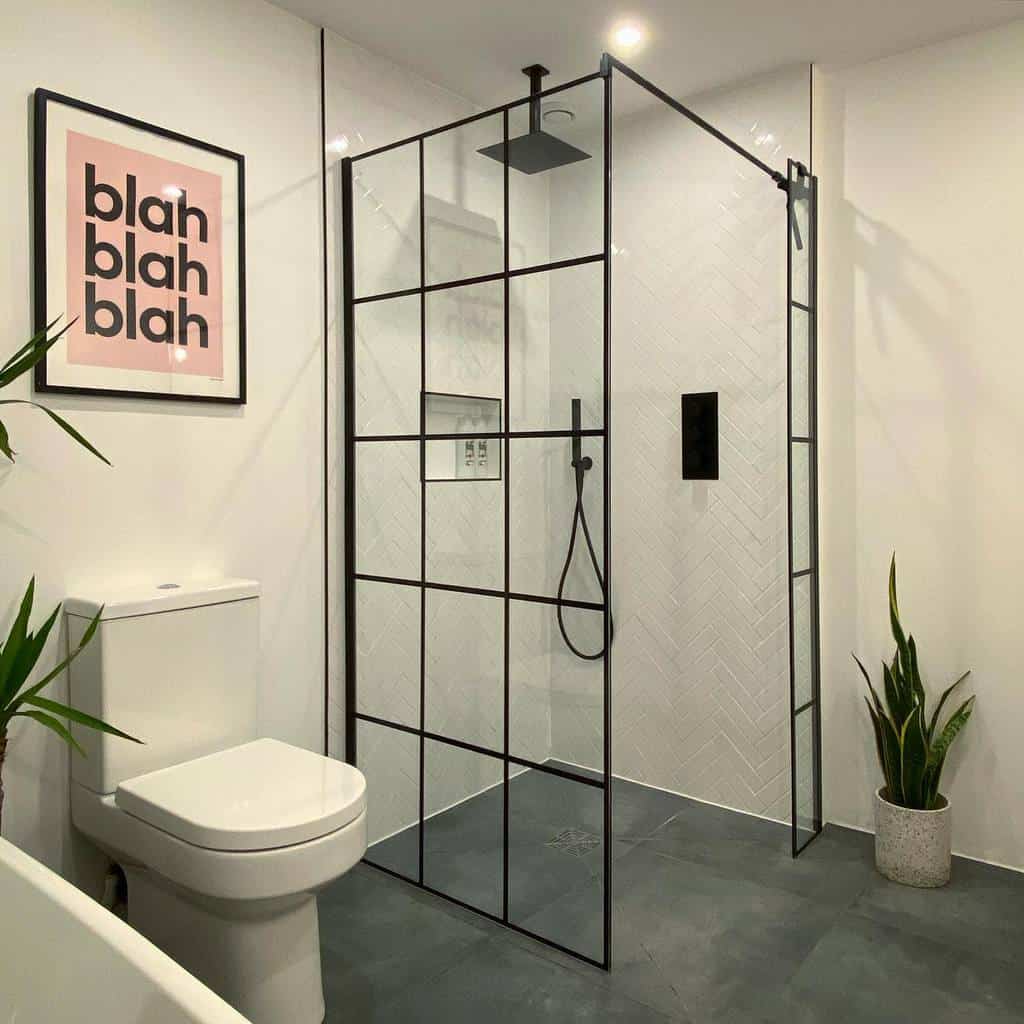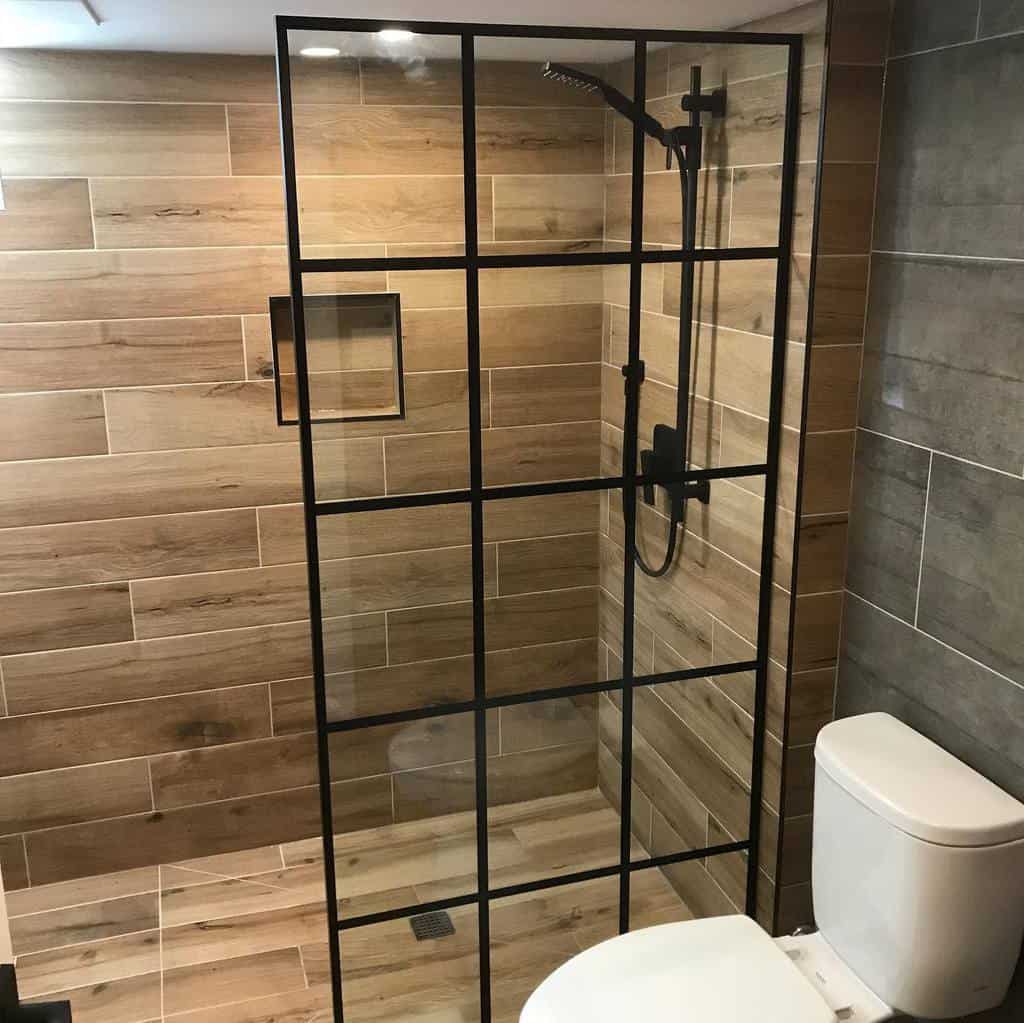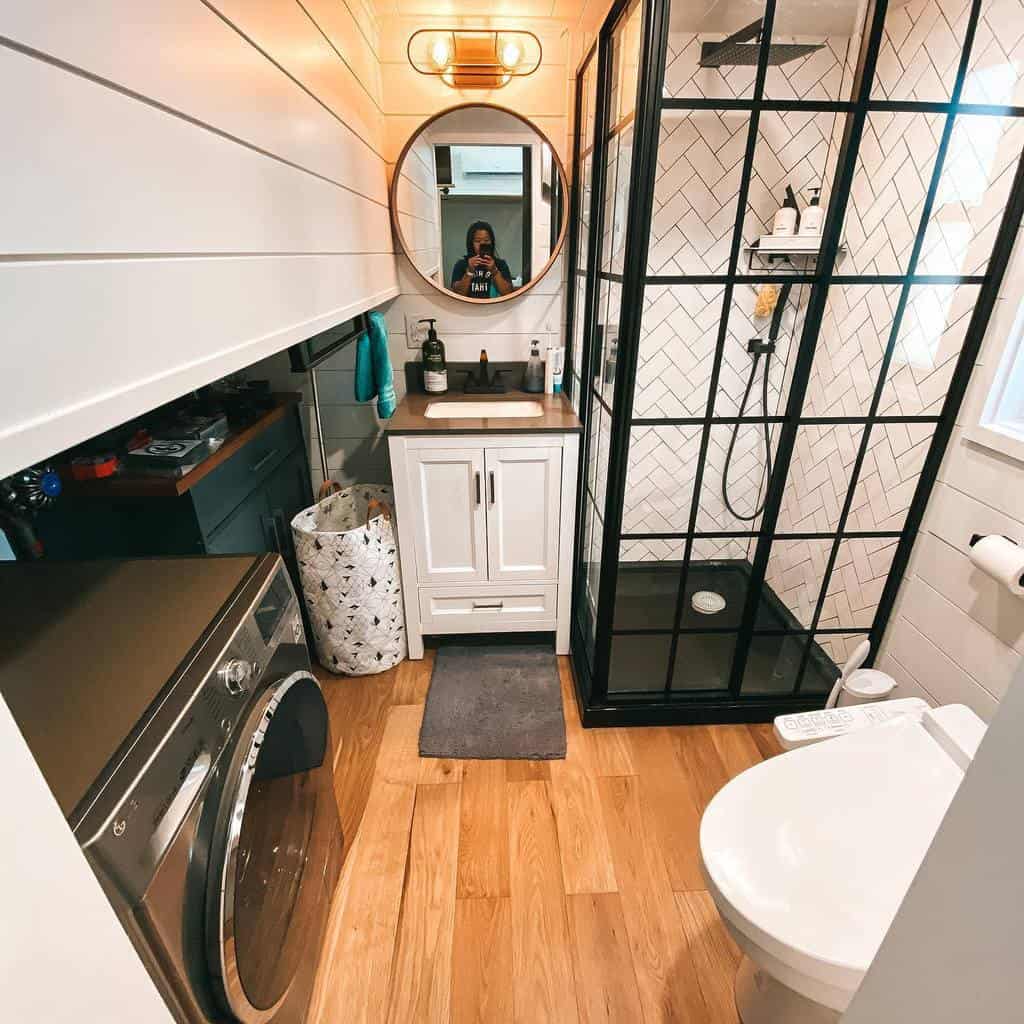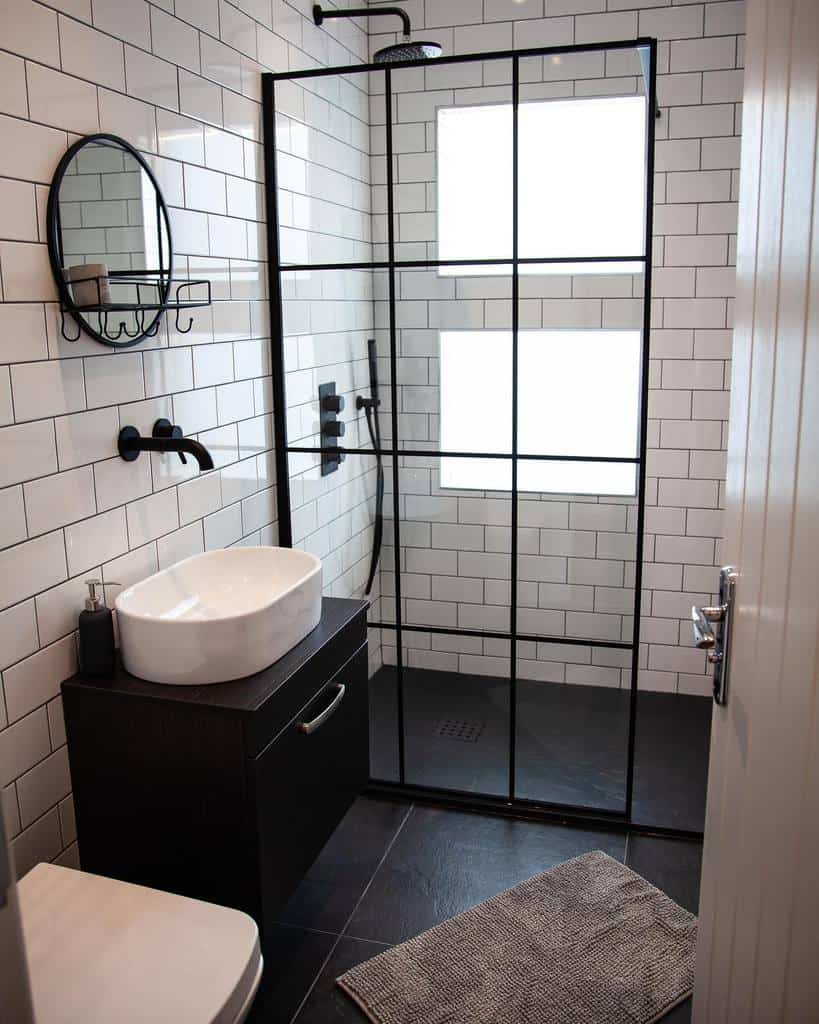 14. Decorative Wall Accent
Step into the realm of luxury and elegance with the captivating concept of a wet bathroom adorned with decorative tiles. These stunning tiles can transform your bathroom into a true work of art. Whether you opt for intricate patterns, bold colors, or a combination of both, decorative tiles create a mesmerizing focal point that sets the tone for the entire space.
Choose from a wide range of styles, such as Moroccan-inspired designs, geometric patterns, or even hand-painted tiles for a personalized touch. These tiles not only elevate the aesthetic appeal of your wet bathroom but also infuse it with character and charm.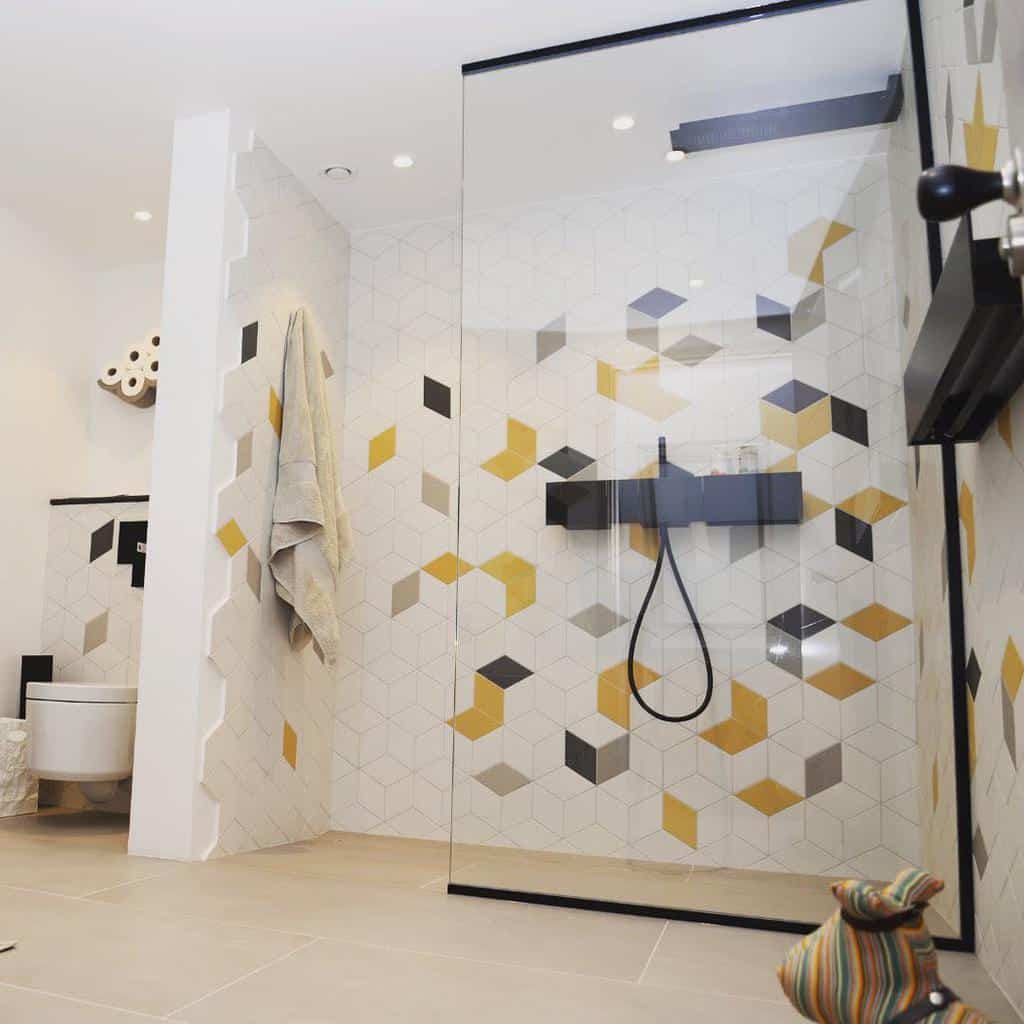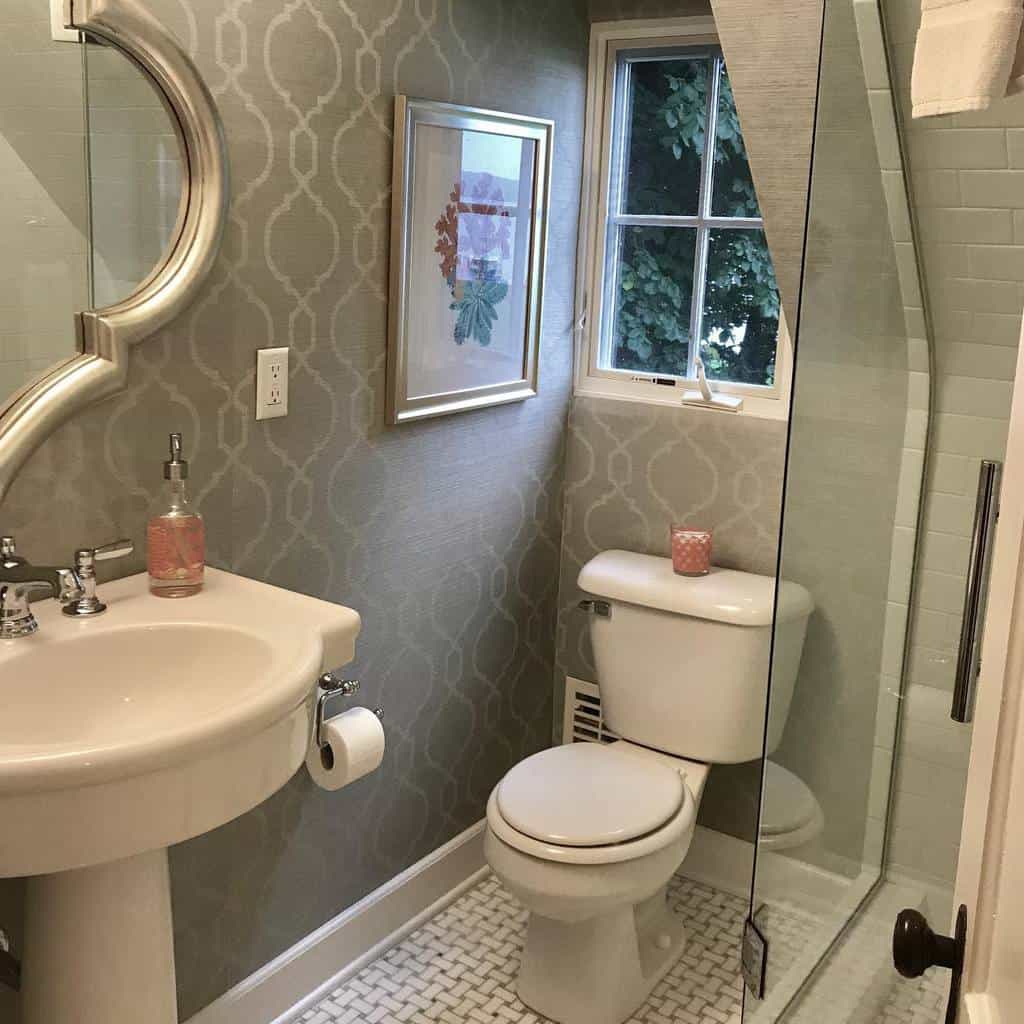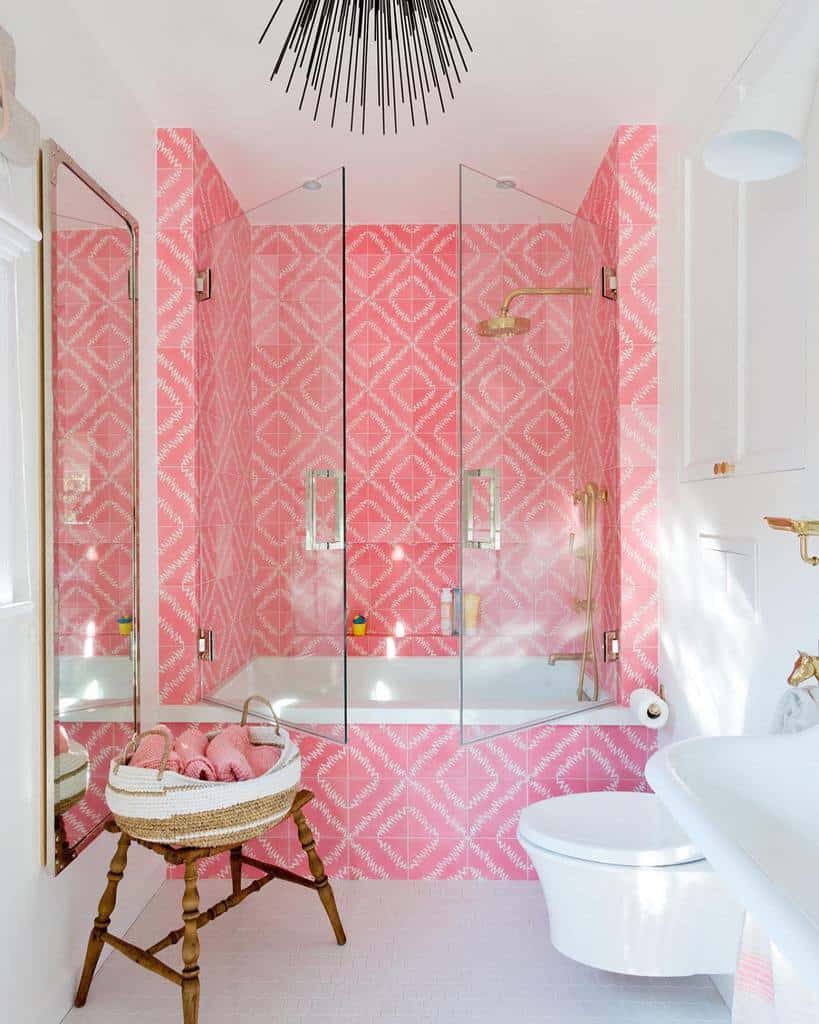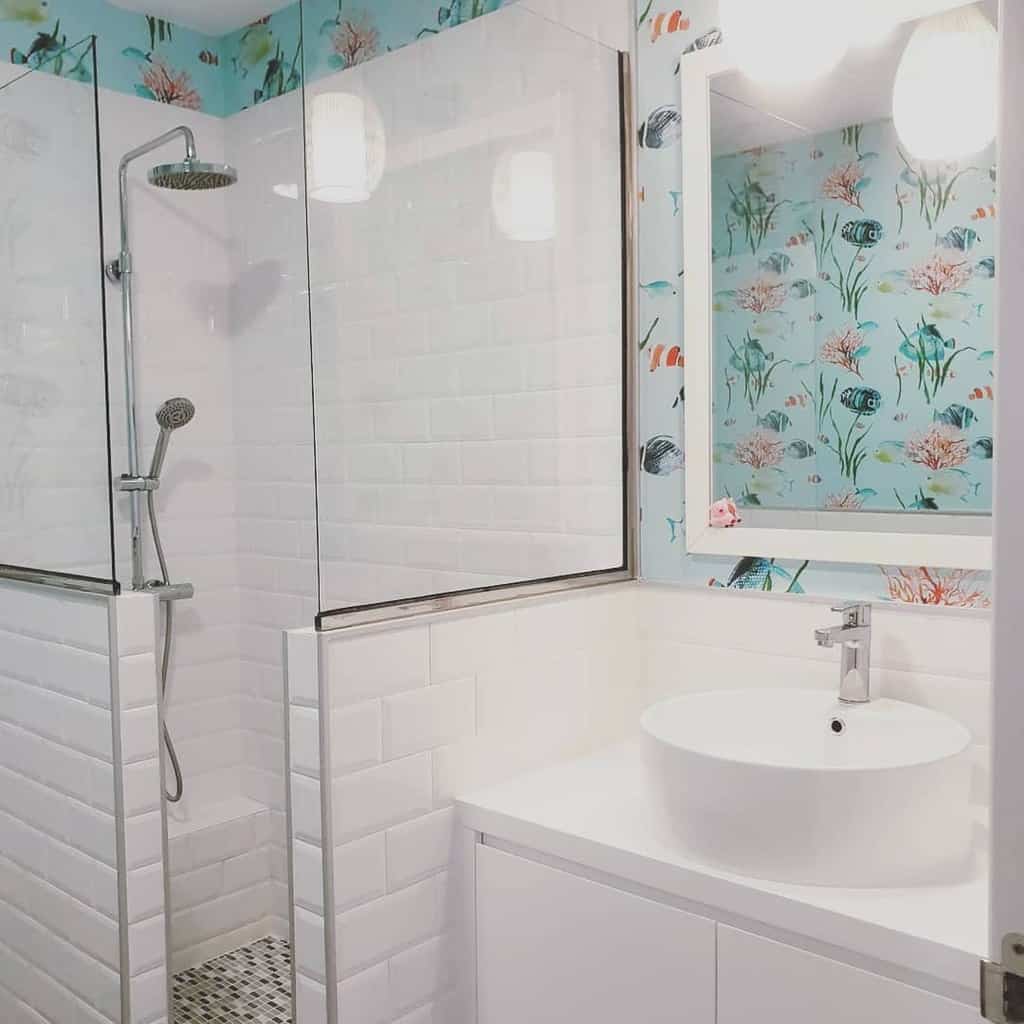 15. Gold Fixtures
The shimmering allure of gold adds a sense of opulence and sophistication to the space, creating a chic and stylish atmosphere. From faucets and showerheads to towel bars and vanity hardware, incorporating gold fixtures brings an element of glamour that instantly transforms your bathroom into a lavish retreat.
The warm tones of gold beautifully complement various color palettes, whether you prefer a monochromatic scheme or a vibrant mix of hues. Pair gold fixtures with neutral tones for a timeless and elegant look, or combine them with bold colors to create a striking and contemporary aesthetic.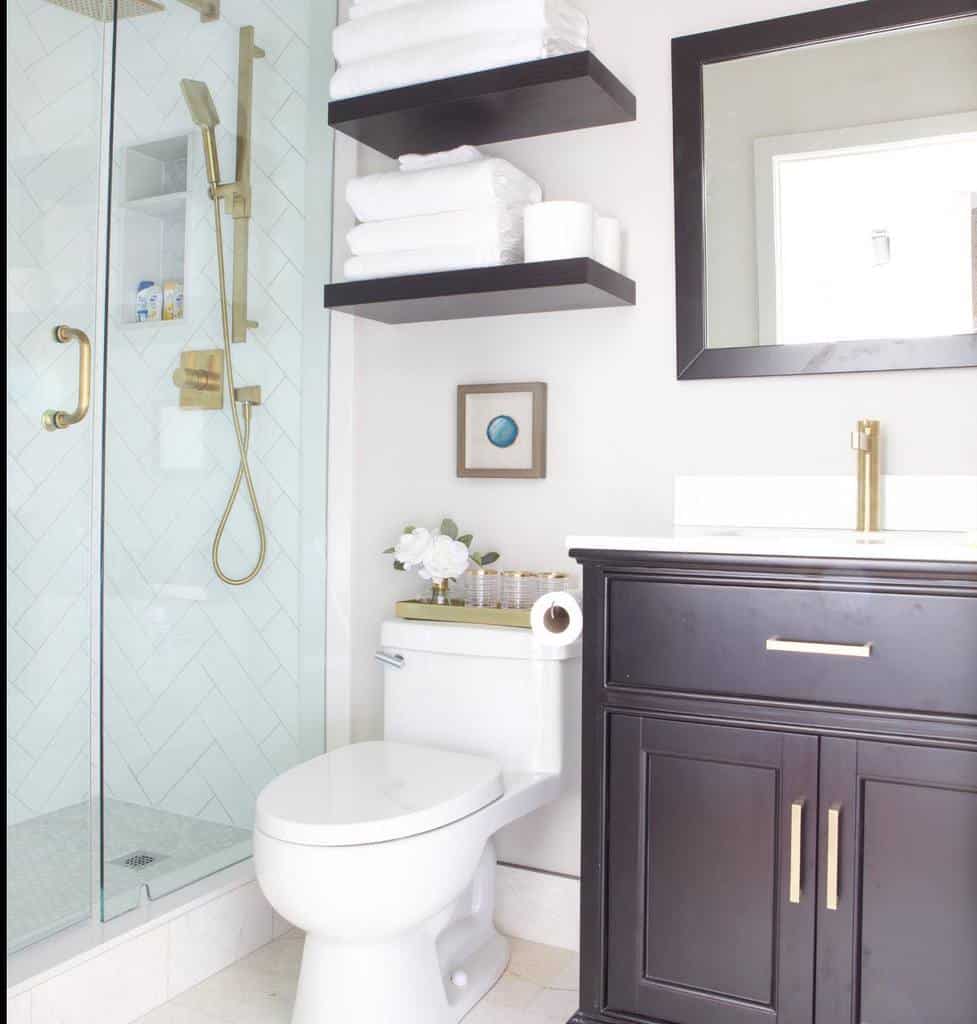 16. Coastal Wet Bathroom
Embrace the soothing and serene vibes of the seaside by incorporating a palette of blues and whites. Paint the walls in a tranquil shade of blue to mimic the calming ocean waves. Opt for white tiles to create a clean and fresh backdrop, reminiscent of sandy shores.
Introduce a touch of warmth and texture with wooden accents, such as a driftwood-inspired vanity or a wooden stool. Complete the coastal look with nautical-inspired accessories like seashell-shaped soap dishes or rope towel holders.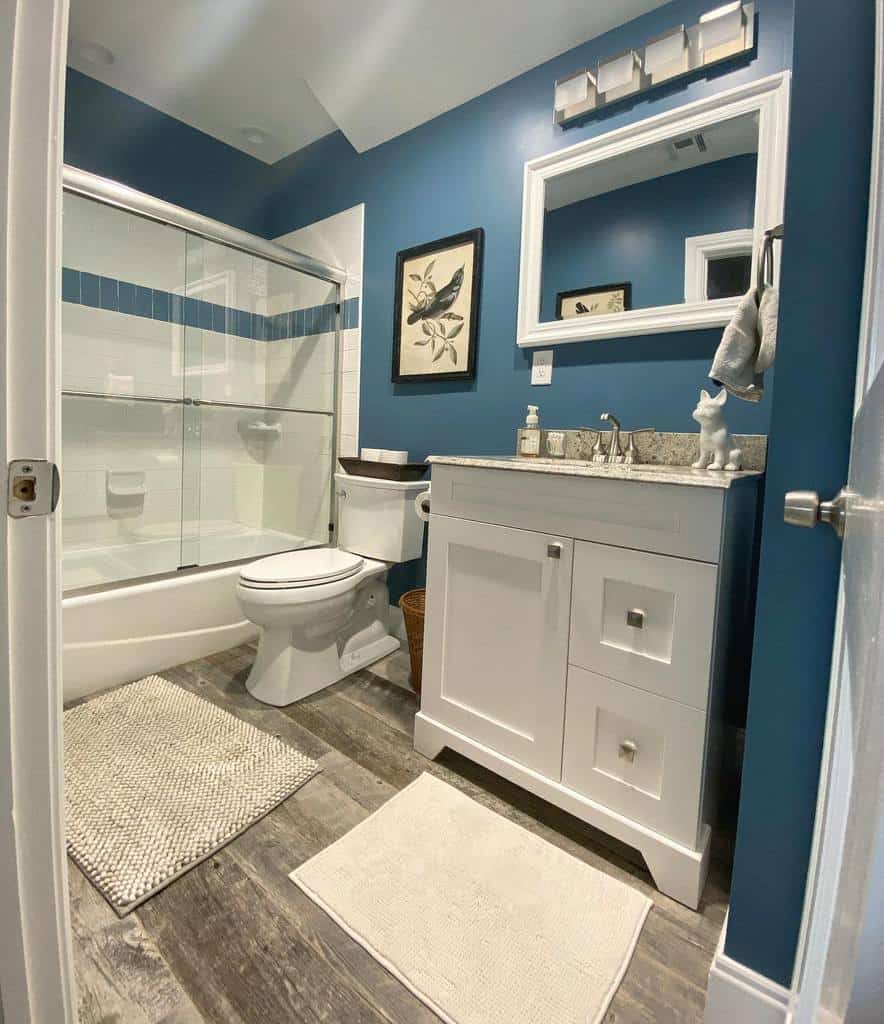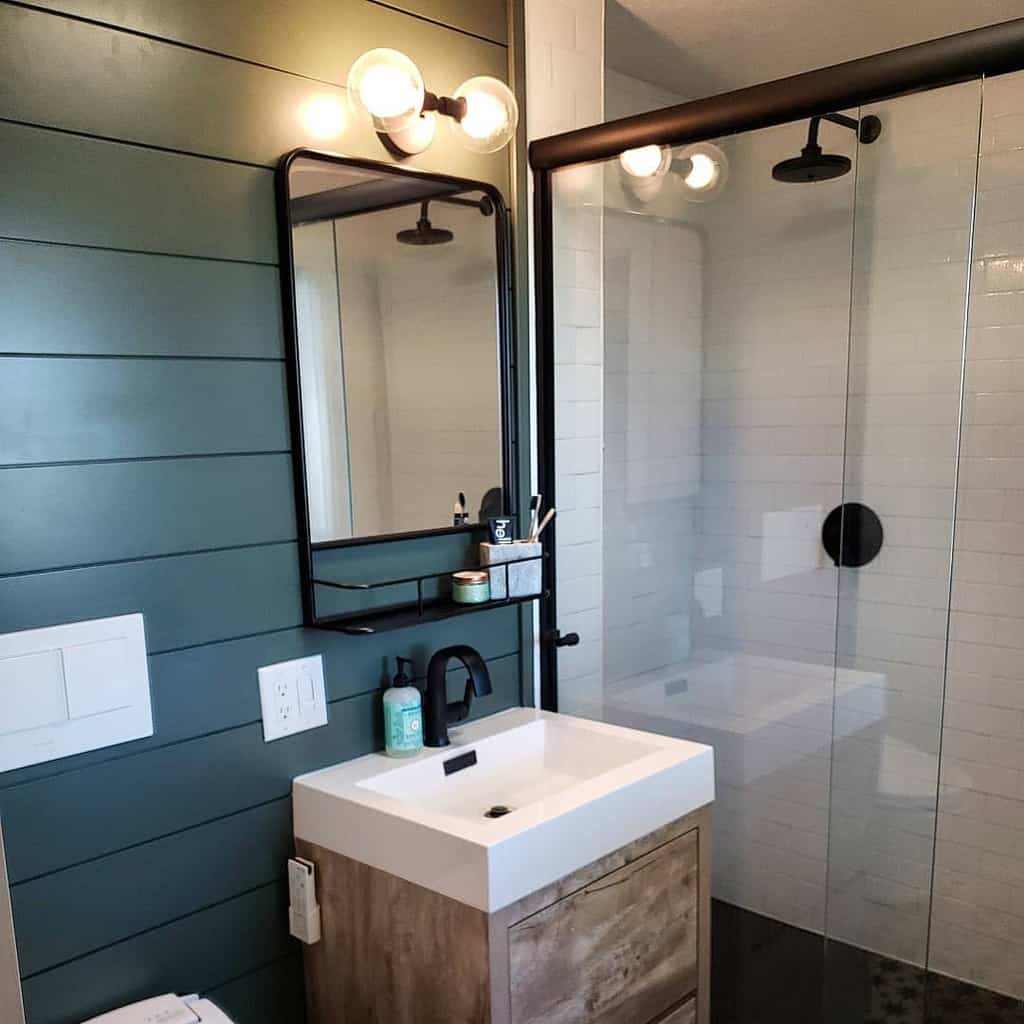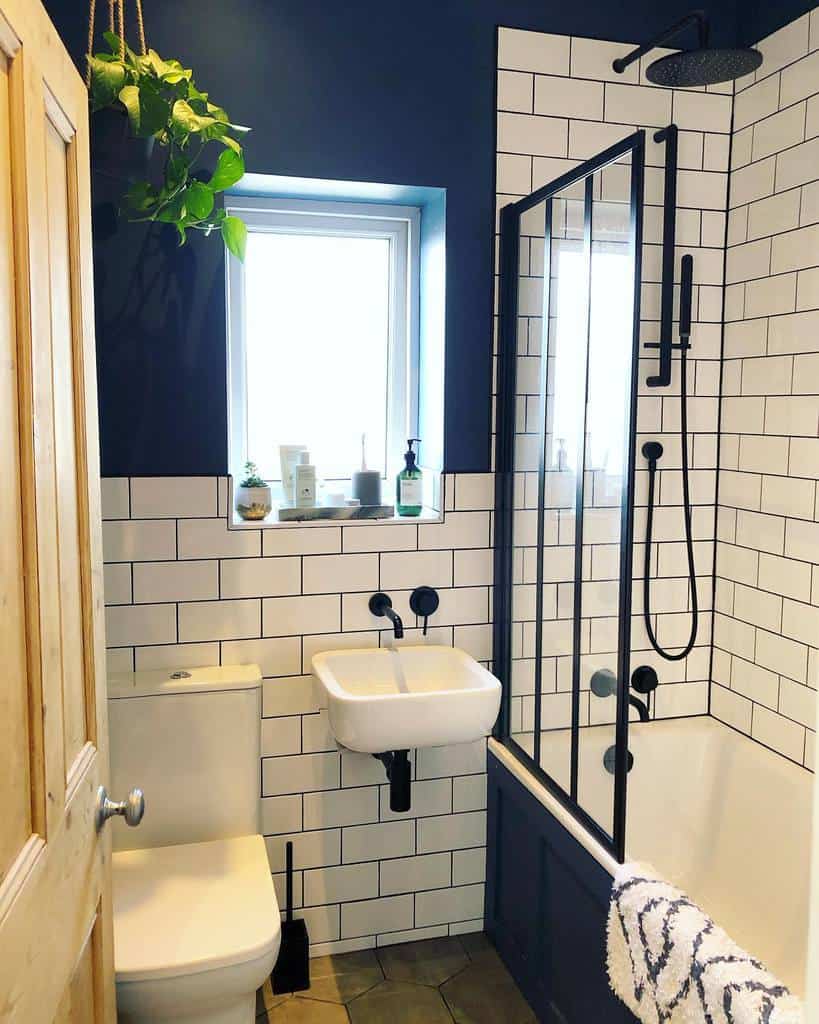 17. Industrial Wet Bathroom
Step into the realm of modern elegance with an industrial wet bathroom that effortlessly merges raw aesthetics with chic styling. Set the foundation with sleek and resilient concrete tiles that exude an urban charm, providing a visually captivating backdrop.
To infuse warmth and character, introduce the timeless beauty of wood through accents like a reclaimed wooden vanity or shelving, adding a touch of natural sophistication. Embrace the raw beauty of unfinished fixtures, allowing the industrial elements to shine. Enhance the ambiance by incorporating lush green plants, creating a harmonious blend of nature and urban life.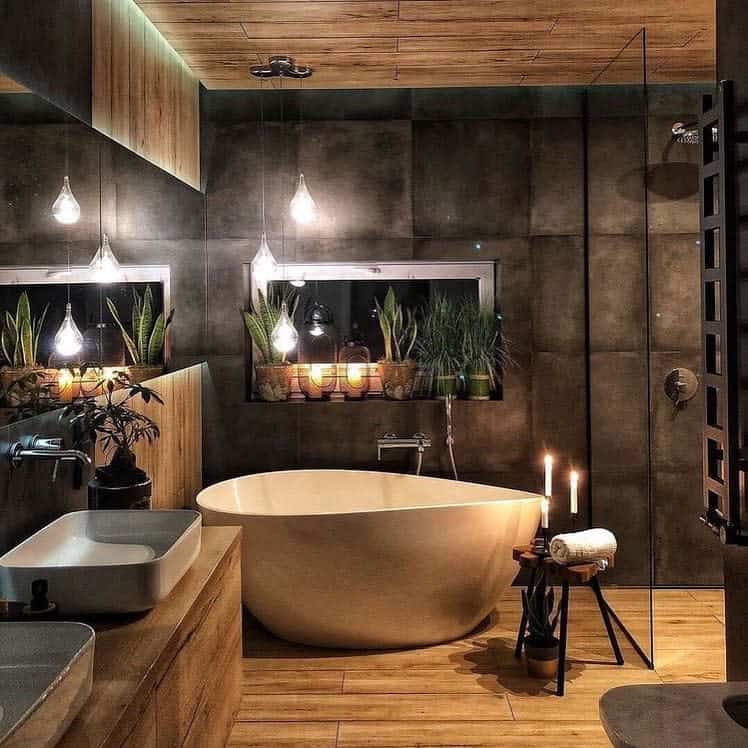 18. Black Fixtures
Transform your bathroom into an edgy and modern oasis with the sleek and stylish touch of black fixtures. Embracing the monochromatic beauty of a black-and-white interior, black fixtures bring a bold and contemporary element to your wet bathroom. From matte black faucets to black showerheads and hardware, these fixtures create a striking contrast against white tiles or walls, elevating the overall design aesthetic.
The combination of black and white creates a timeless and sophisticated look, while the edginess of black fixtures adds a touch of drama and personality. With their clean lines and minimalist appeal, black fixtures make a statement in any wet bathroom, showcasing your design sensibility and creating a space that exudes modern elegance.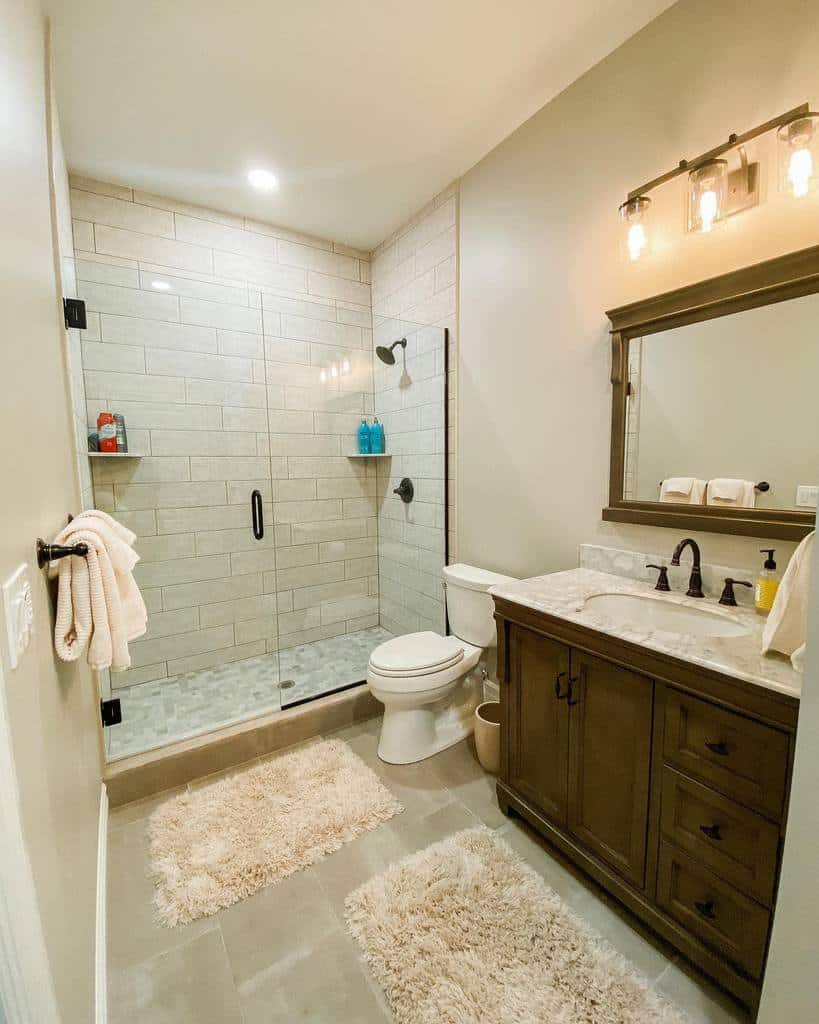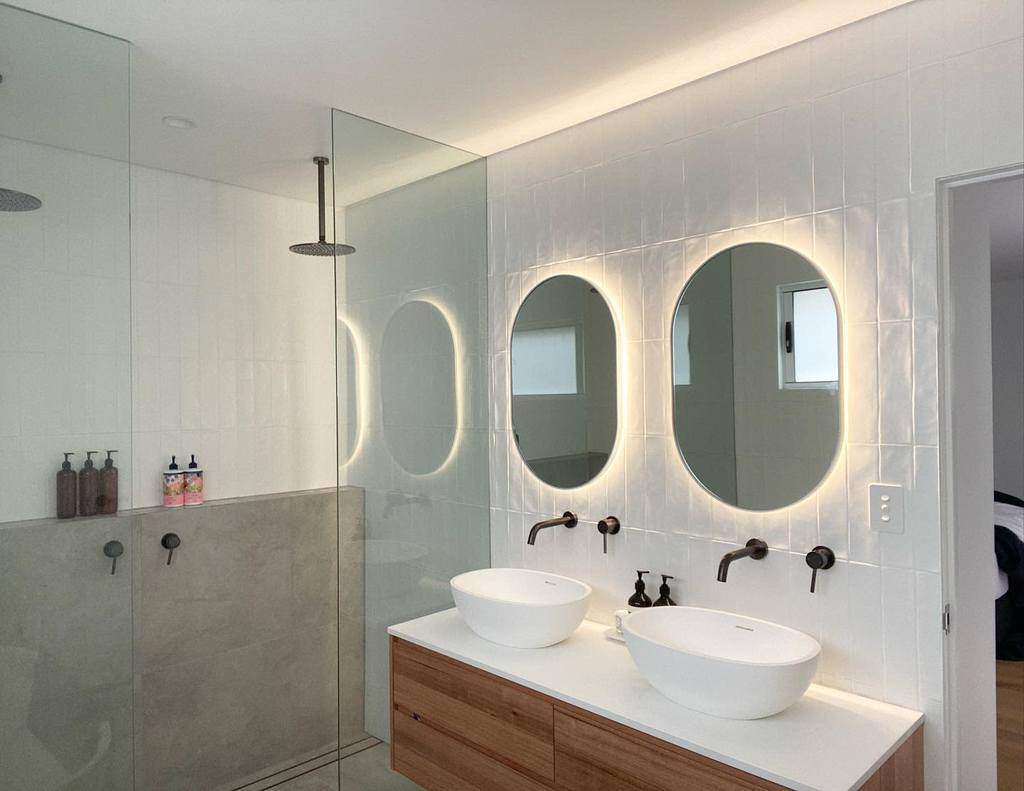 Wet Room FAQs
While the two terms are often used interchangeably, there is technically a difference.
Walk-in showers are sectioned off from the rest of the bathroom — either with a partition or floor-to-ceiling shower enclosure. On the other hand, wet rooms are completely open.
Are wet rooms dangerous?
Many homeowners worry that installing a wet room will mean dealing with a wet, slippery floor. It's true that water can get all over the floor in a wet room. But most feature special slip-resistant floor tiles for this exact reason. Grab bars and other safety tools can also be installed for greater peace of mind.
How do you add privacy to a wet room?
Wet rooms lack privacy by design. So if you often find yourself showering while someone else uses the bathroom to get ready, a wet room might not be the best option for your household.
If you enjoy the openness of a wet room but want a bit more privacy, consider including elements of a walk-in shower in your design. A partial shower screen will offer a bit of alone time without interfering with your open floor plan.