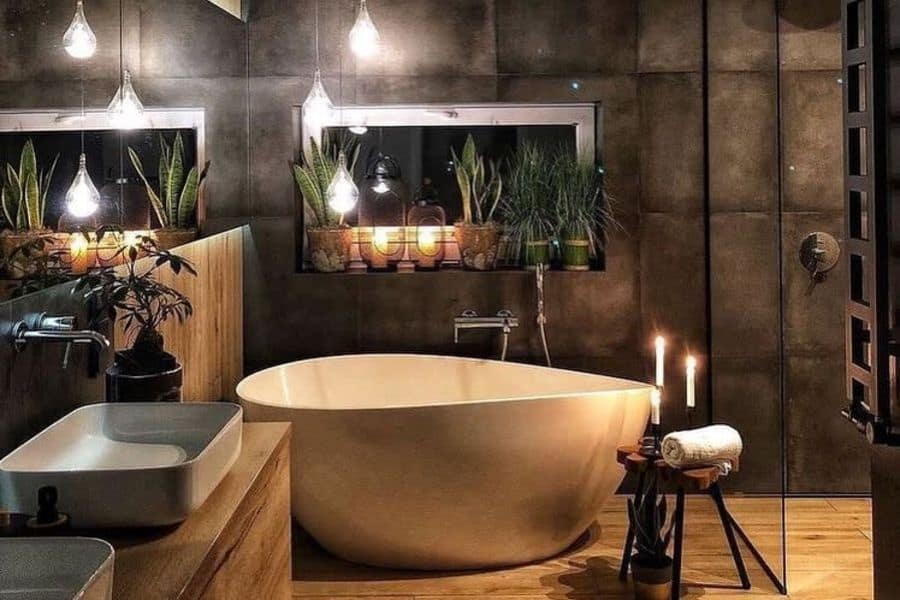 The Top 79 Wet Room Ideas
Wet rooms are one of the biggest trends in contemporary bathroom design. Despite their popularity, many homeowners are just now catching onto what makes these spaces so special.
Unlike a traditional bathroom where the shower is separated from the rest of the space by a curtain or partition, wet rooms are entirely open-concept. The whole room is lined with tile and features a drain in the middle.
While a true wet room isn't everyone's cup of tea, this design trend offers tons of inspiration for making your bathroom look and feel like a million bucks. Keep reading for our favorite wet room ideas you can try for yourself!
1. Bath
You don't need to give up your bathtub to have a wet room. While this layout isn't as common as a dedicated shower room, it's no different than designing a traditional bathroom!
There's nothing stopping you from keeping your showering and bathing areas separate. However, the easiest way to incorporate a tub in your wet room design is to add it to the existing shower area.
It's important that your bath doesn't impede the shower's drainage. Opt for a freestanding tub that allows water to easily drain around it. Check with your contractor for the best location for your tub in relation to your shower tray.
2. Grey
Grey was one of the biggest trends in home design of the last decade. While this color has fallen to the wayside in favor of bolder palettes, there are ways to use grey in a timeless manner.
Many homeowners opt for grey decor because it's not as harsh as white yet still offers a clean finish. Grey is especially useful in a wet room design because it easily hides stains and watermarks.
Don't be afraid to use multiple shades of grey in your design. Play around with texture by using patterned tiles or stone in your bathroom renovation. Add warmth to the final look with wood grain accents or gold-toned fixtures.
3. Luxury
Thanks to its open floor plan, the average wet room is already a space of luxury. To elevate your master bathroom design even further, keep things simple and invest in high-quality finishes for the entire room.
Ensure your bathroom fixtures match — no detail is too small to overlook. Hidden storage will keep your wet room looking its best even during day-to-day use. Hang an oversized mirror to make your bathroom look as large and bright as possible.
If you're lucky enough to have a window in your wet room, fill the area with lush greenery. You can also use a natural-looking grow light. Potted plants will make your bathroom feel like a private oasis and keep the air clean.
4. Marble
Marble is very popular in wet room construction (and not just because of its luxurious appearance). This natural stone's durability and versatility make it a great choice for many applications.
Looks-wise, marble is subtle enough to act as a neutral pattern while still adding tons of unique texture to any space. Many homeowners use marble to bring depth to an all-white bathroom remodel. But this material also pairs wonderfully with wood grain or metallic finishes.
Marble tiles can be installed on the floor, walls, and even ceiling. However, marble is slightly porous. It must be sealed to prevent water from seeping underneath and causing damage. Routine care will ensure your marble wet room tiles look great for years.
5. Modern
Modern interior design is all about finding a balance between simplicity and aesthetics. Pay attention to how you use shape in your bathroom layout. A floating vanity, toilet, or shelving are all highly functional options for creating a clean, multidimensional space.
Choose materials that add texture while maintaining a sleek profile. For example, gold or brass shower fixtures can transform a bathroom design with minimal additions. Add some mood lighting with built-in fixtures around your bathroom cabinetry or shower stall.
While your open shower area is certainly a design asset, you still want to give the room some structure. Install a shower screen partition or divide the space up with contrasting tiles.
Read also: 29 Modern Bathroom Ideas
6. Rustic
Whether you're country-bred or just love the farmhouse aesthetic, the rustic trend isn't going to die off any time soon. Combine rustic elements with more contemporary decor for a wet room design that will last.
Few materials are as rustic as reclaimed wood. While real wood is too porous for use in a wet room, there are tiles available that mimic the pattern and texture of wood grain. For a softer, farmhouse-inspired look, use subway tile to line your shower stall.
Brickwork is another excellent way to give your bathroom an au naturel appearance. Replace the existing fixtures with cast iron and highlight exposed plumbing for an industrial edge.
Read also: 46 Rustic Bathroom Ideas
7. Shower
In many cases, the point of a wet room is to make the shower tray blend in with the rest of the bathroom. But there's nothing stopping you from ensuring your shower is still the star of the show.
Line your shower area with contrasting tiles in your favorite color or pattern. If the rest of your design is fairly minimalist, even the most basic tile will stand out as a statement piece.
It's a good idea to include some built-in storage when planning out your wet room shower. Recessed shelves offer a place to store toiletries and washcloths within easy reach. You can also invest in a stylish shower seat for extra comfort and stability.
8. Simple
Not everyone is a fan of over-the-top home decor. The good news is that most wet room ideas are simplistic by their very nature. With an open-concept bathroom design, the minute details are what really matter.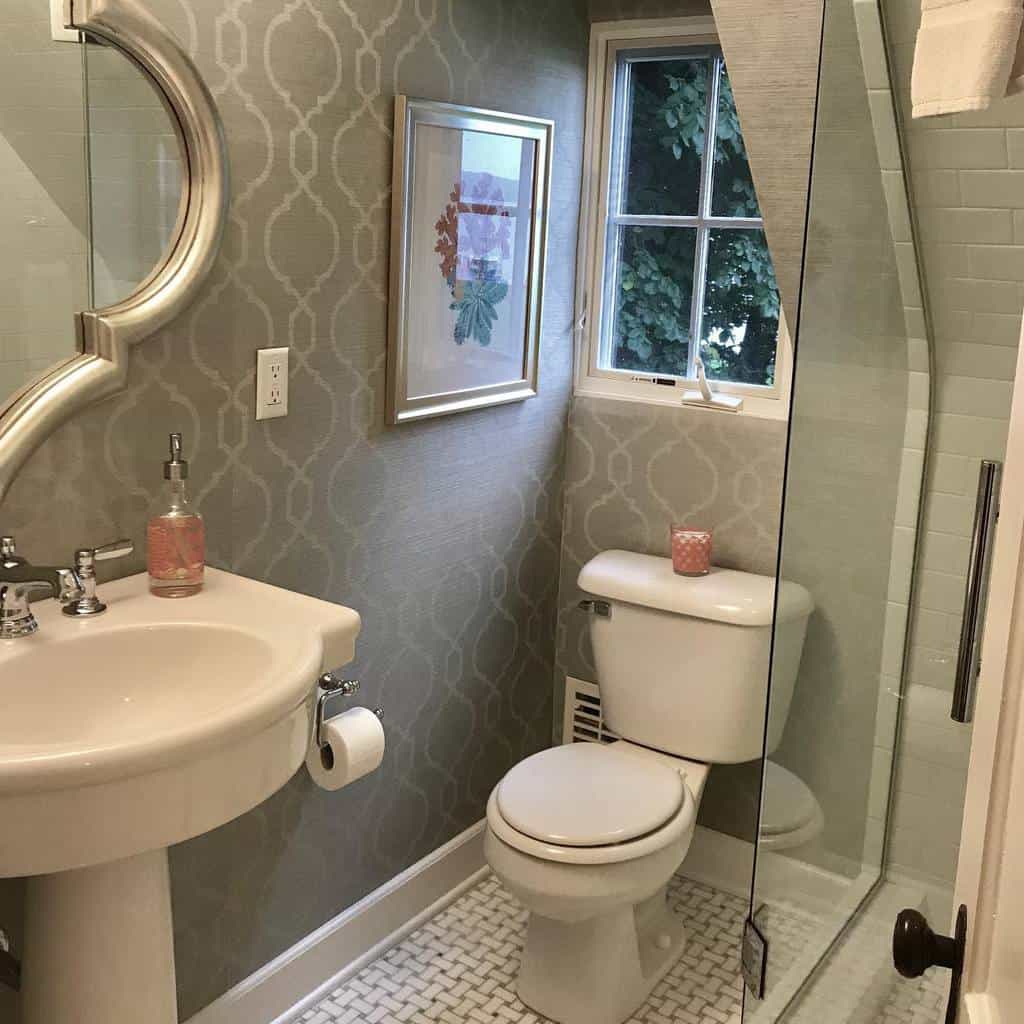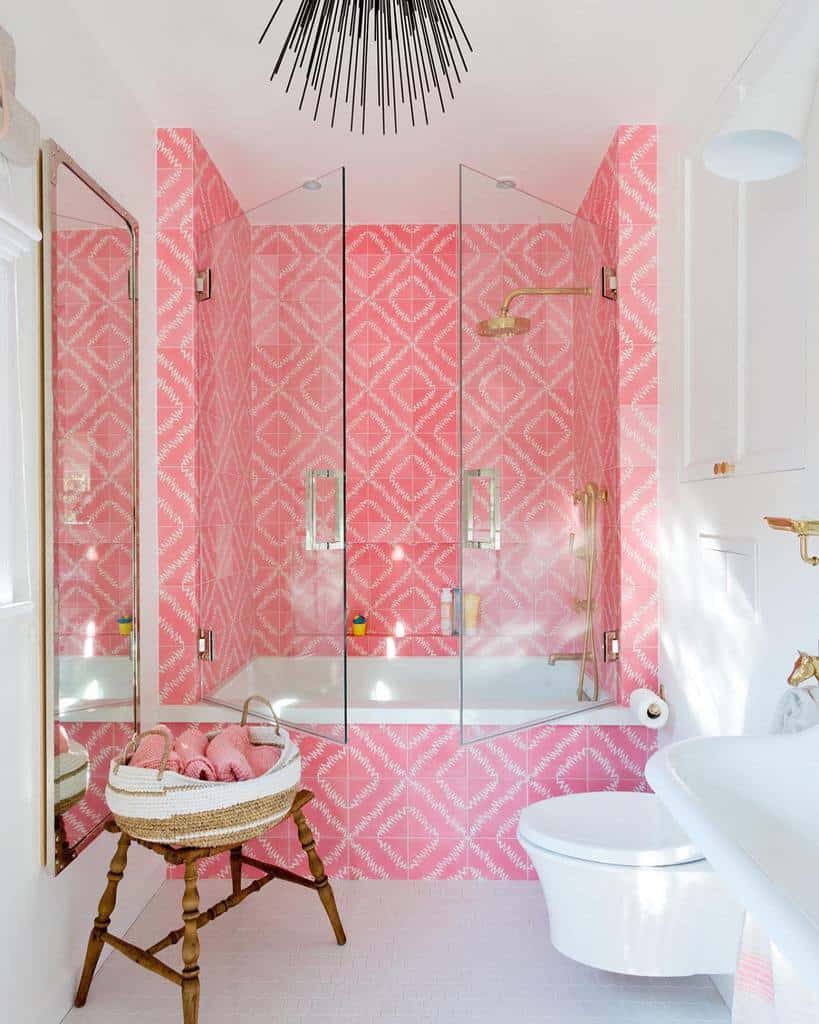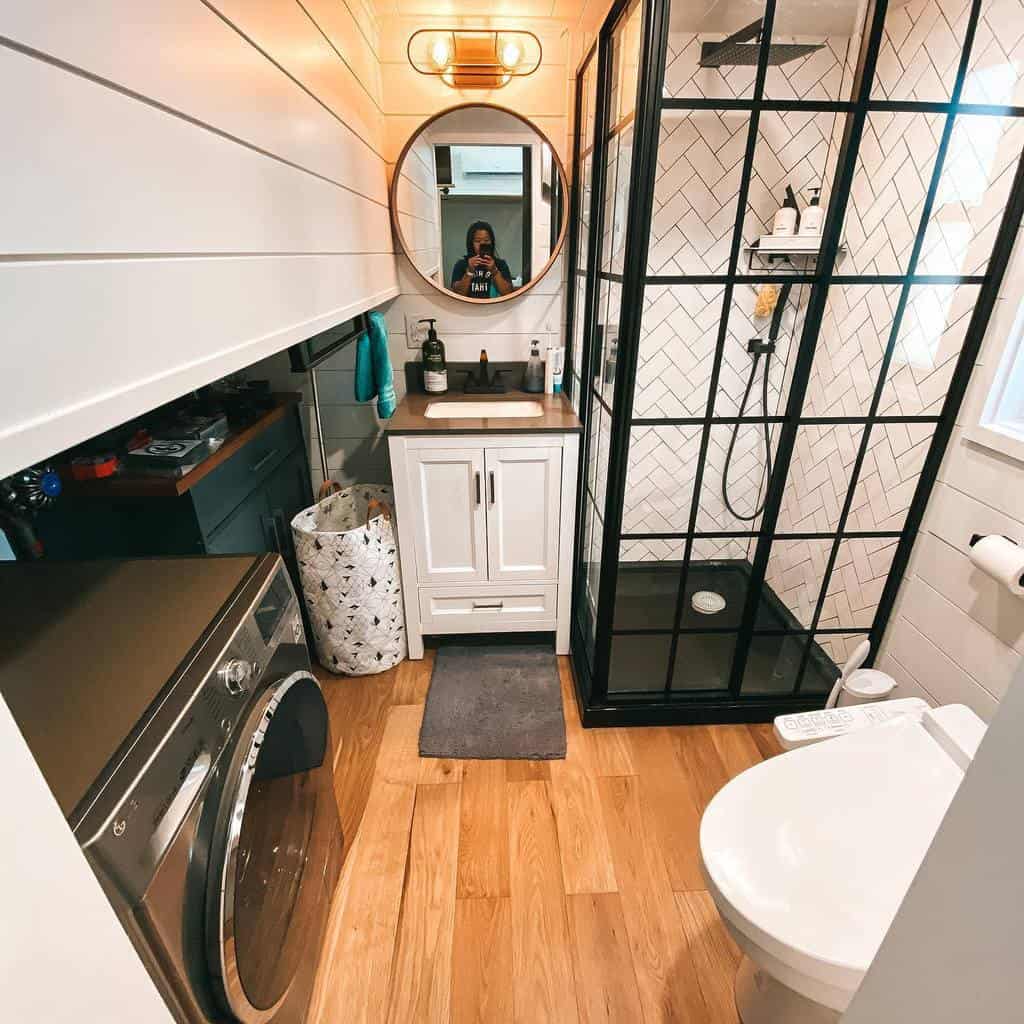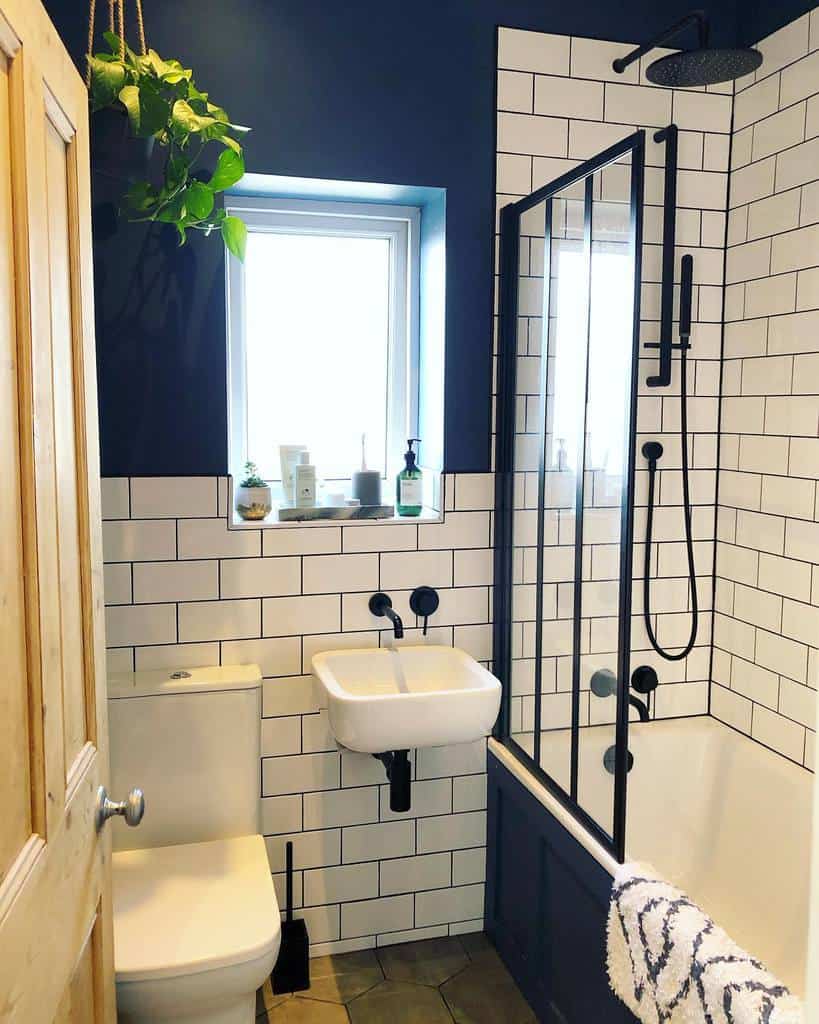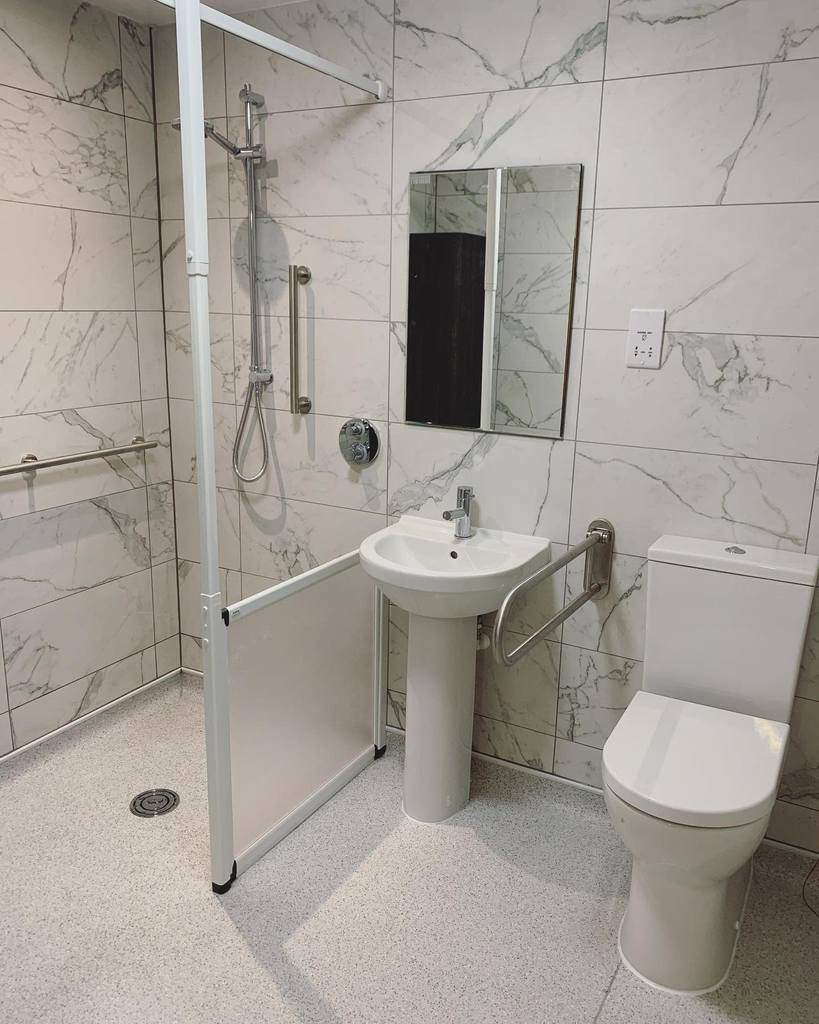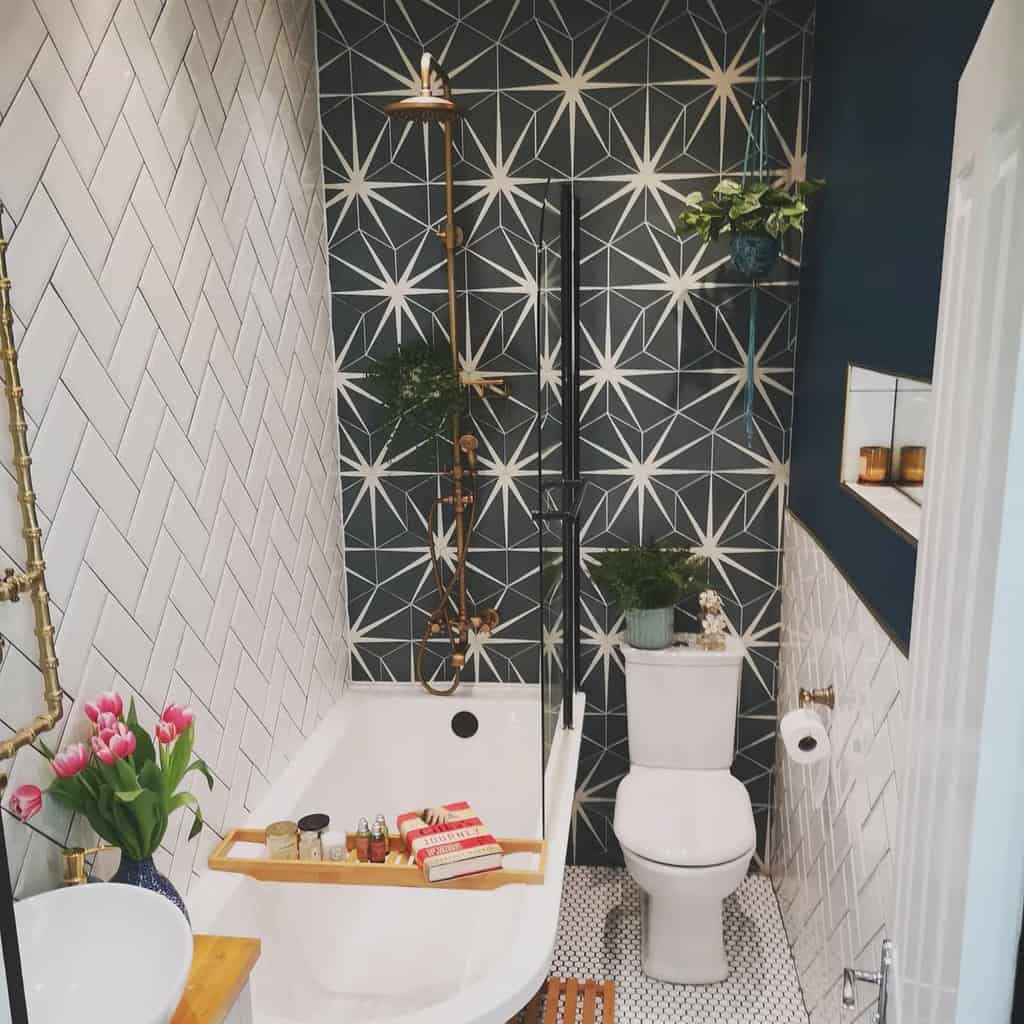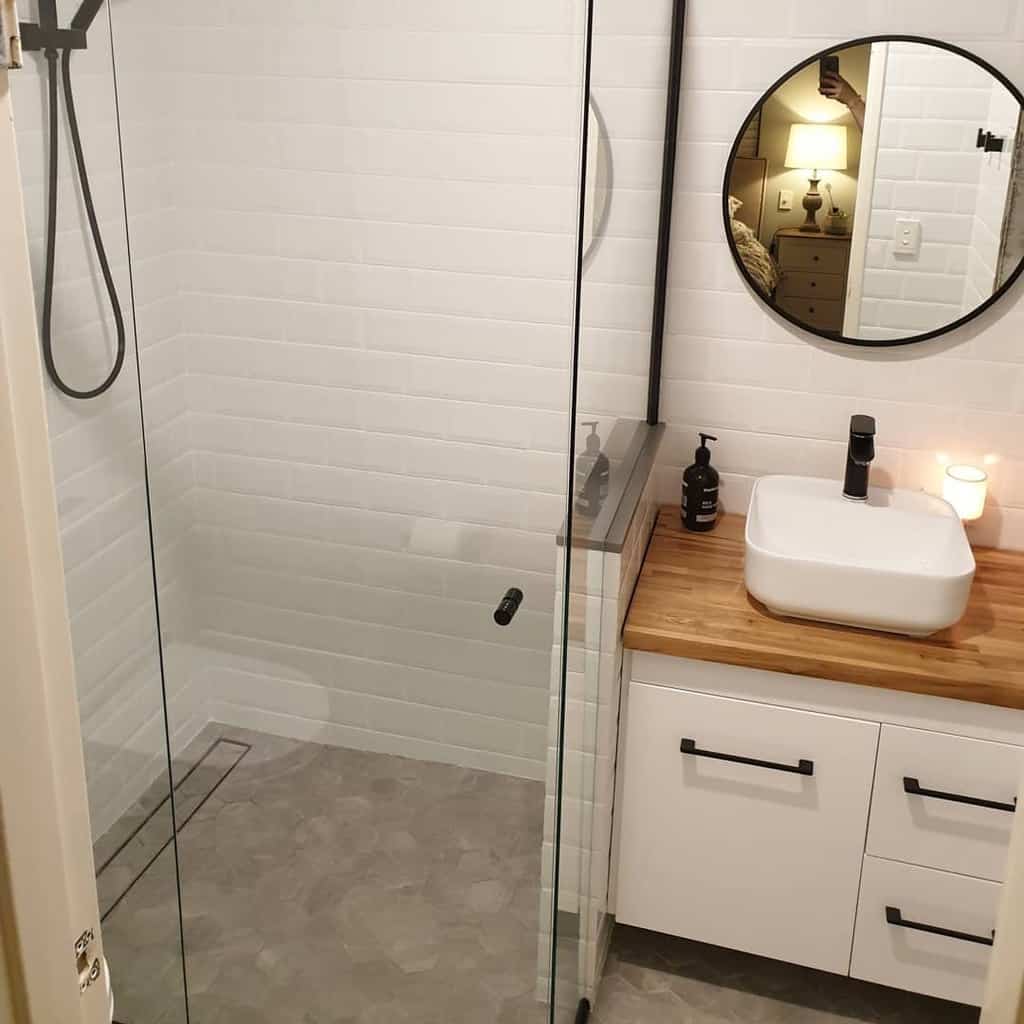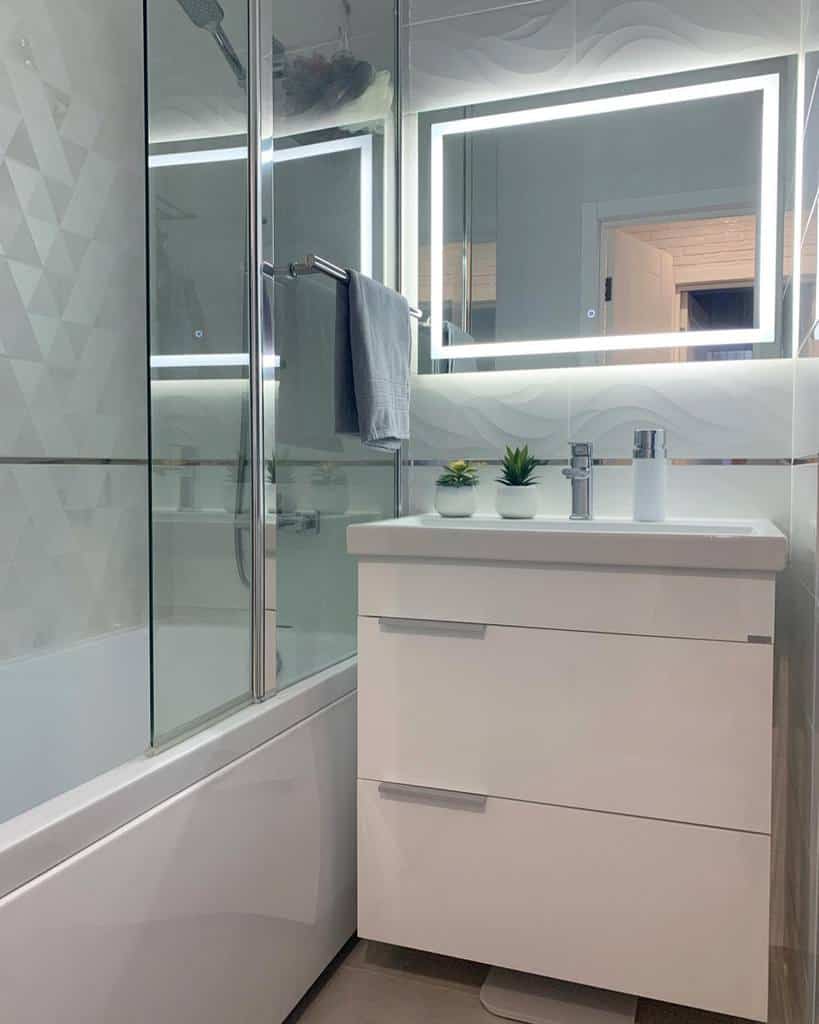 Whether subtle or dramatic, the tiling you choose for your wet room will play a big role in the final product. Choose a light, neutral color like white or grey. Stone tiles provide texture without overpowering your shower room.
If you include a shower screen in your wet room design, opt for clear or frosted glass with minimal ornamentation. Keep storage simple with over-the-toilet shelving or a large vanity.
9. Tiling
The defining characteristic of any wet room is that water can end up almost anywhere. Tile is the obvious choice to prevent water damage. Many wet rooms feature tile from floor to ceiling.
Remember that you don't need to use the same tiles throughout your wet room design. Create geometric patterns with mosaic tiles or give your wet room shower a rustic finish with faux wood panels. Use different colored tiles for an accent wall or to break up the space as a whole.
You can use ceramic tile for your wet room walls. However, this material is too porous to last long as flooring. Most contractors recommend using porcelain or stone tiles for a wet room bathroom floor.
Read also: 66 Shower Tile Ideas
10. White
If you value simplicity in your home decor, then an all-white master bath is a no-brainer. It's easy to match fixtures like your tub and toilet to each other. And white tile is a classic finish that will make the space look clean and bright.
Install a black-trimmed shower screen to divide the space physically and visually. Organic elements like wood and potted plants will bring some warmth to your otherwise monochromatic design.
Subway tile is a great way to add some depth to your shower room without sacrificing your color palette. Use grey, black, or navy grout for the greatest contrast. Or add some vibrancy with patterned floor tiles over your shower tray.
Wet Room FAQs
While the two terms are often used interchangeably, there is technically a difference.
Walk-in showers are sectioned off from the rest of the bathroom — either with a partition or floor-to-ceiling shower enclosure. On the other hand, wet rooms are completely open.
Are wet rooms dangerous?
Many homeowners worry that installing a wet room will mean dealing with a wet, slippery floor. It's true that water can get all over the floor in a wet room. But most feature special slip-resistant floor tiles for this exact reason. Grab bars and other safety tools can also be installed for greater peace of mind.
How do you add privacy to a wet room?
Wet rooms lack privacy by design. So if you often find yourself showering while someone else uses the bathroom to get ready, a wet room might not be the best option for your household.
If you enjoy the openness of a wet room but want a bit more privacy, consider including elements of a walk-in shower in your design. A partial shower screen will offer a bit of alone time without interfering with your open floor plan.