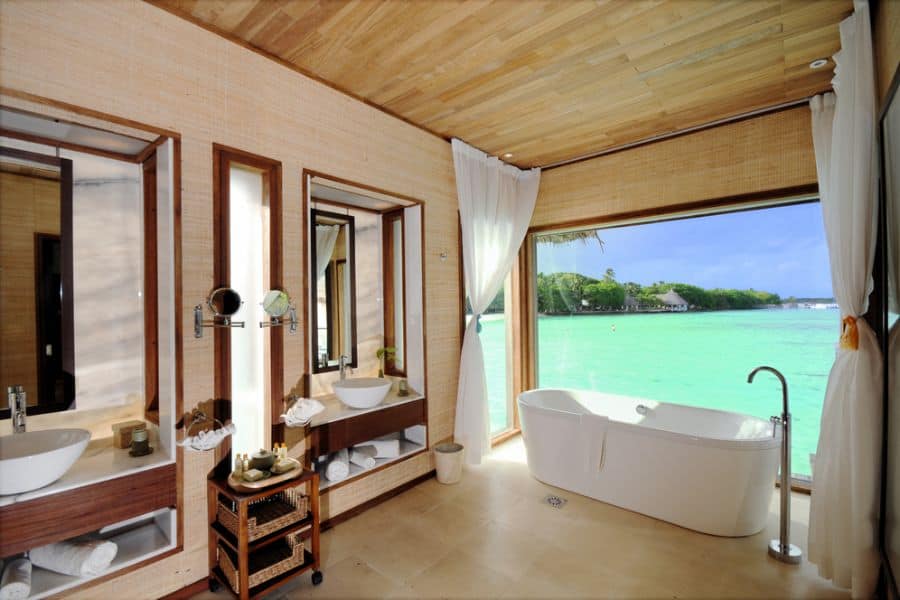 Nothing is more relaxing than taking a vacation to the coast. It doesn't matter if you head to Martha's Vineyard, the Jersey Shore, or the white sand beaches of Florida.
The salt air smell, warm sun on your face, and calming soundtrack of the waves lapping on the sand will have you longing to go back.
What if you could have that sense of relaxation and calm in your own home? Well, you can with a beach theme bathroom. This gives your bathroom a coordinated and welcoming look.
These beach bathroom ideas will help you get started creating your own beach oasis in your bathroom.
1. Coastal
Your coastal bathroom design should feel fresh and bright. Keep things light with light blue or white walls. Then use wood to add natural texture.
Strategically place darker blue or black accents to create depth. Keep the darker colors low to keep the bathroom feeling large.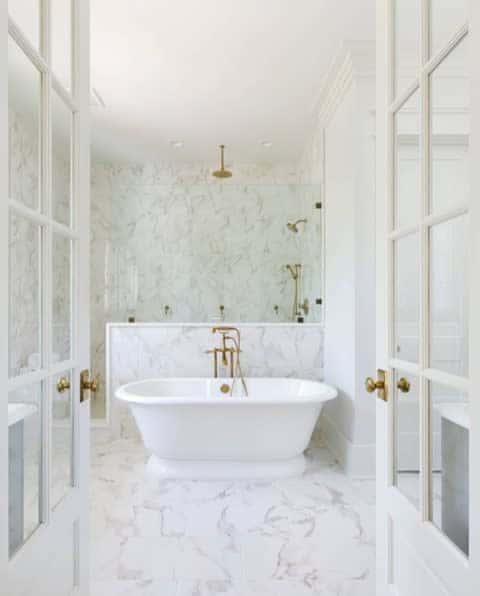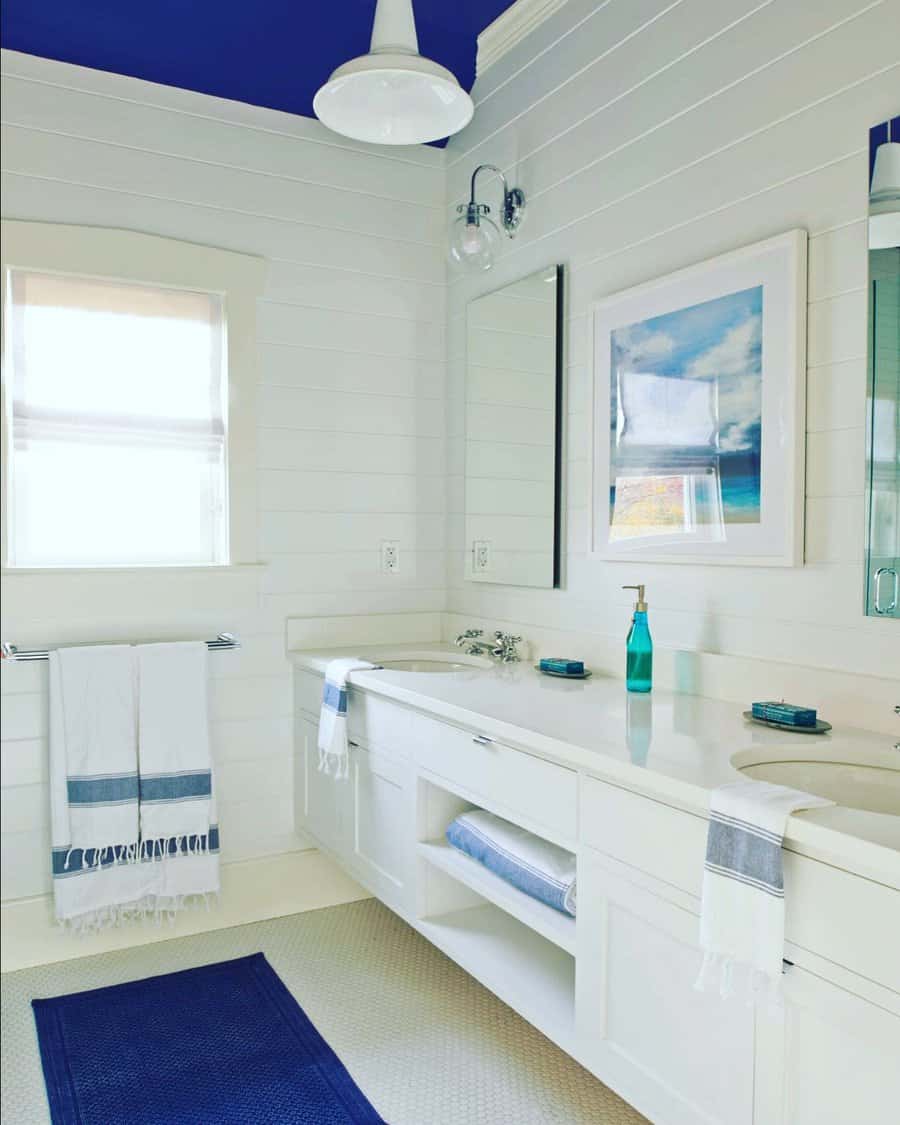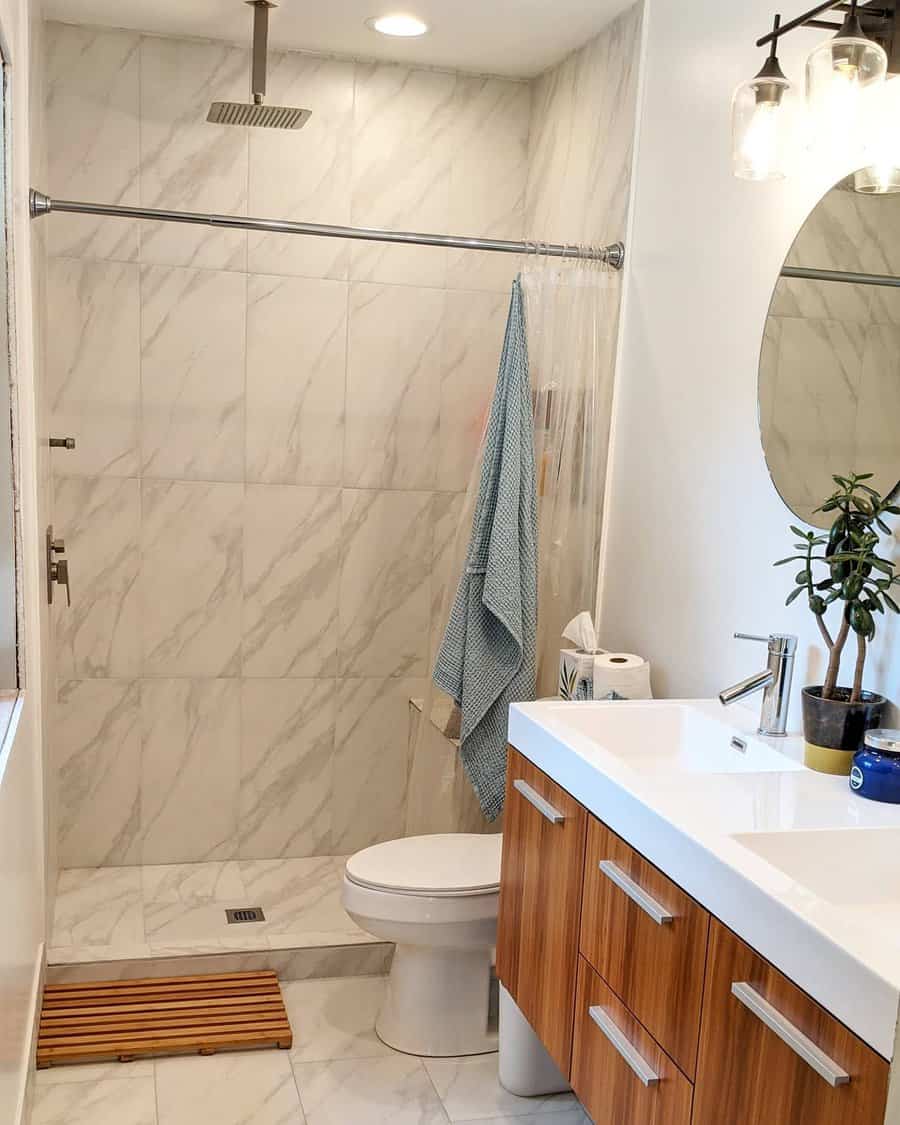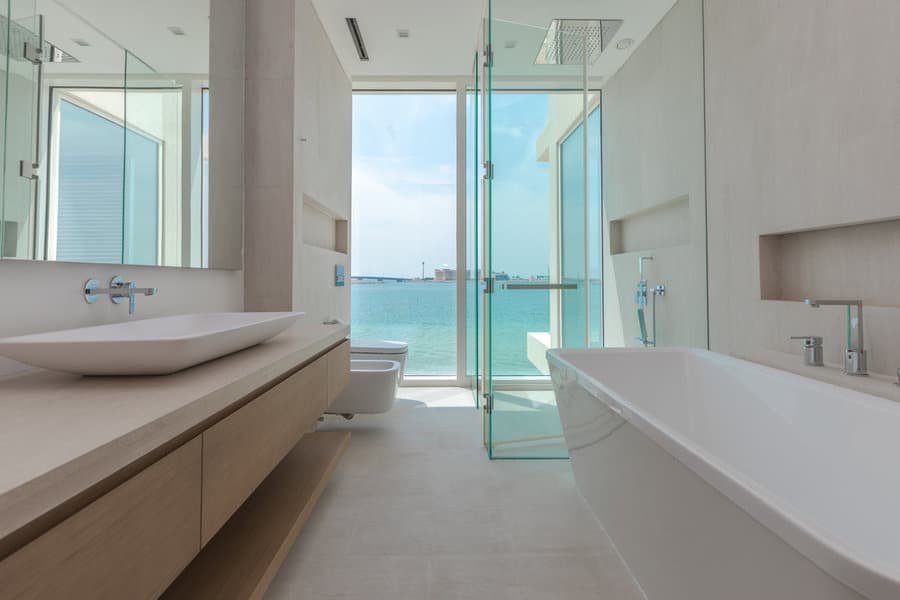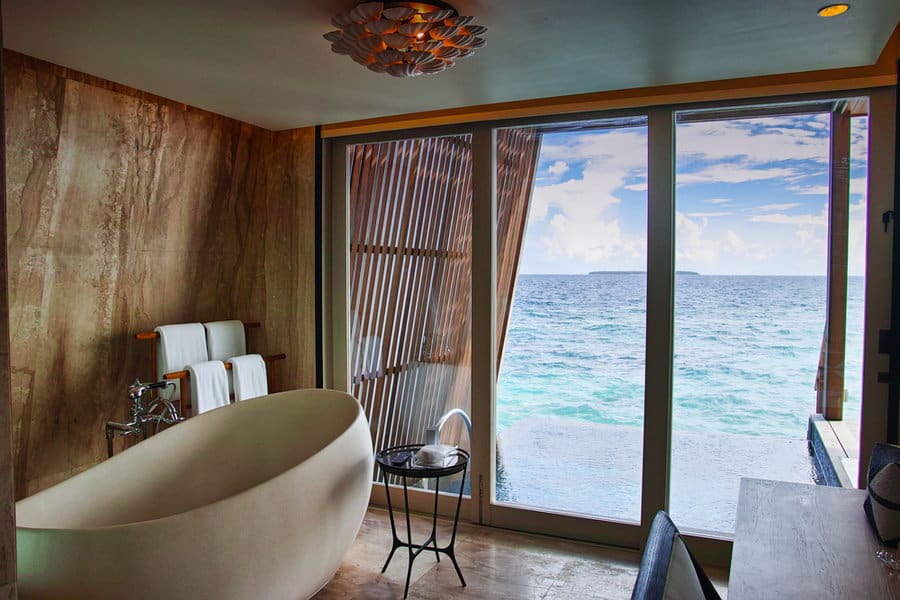 Coastal decor could be teal and turquoise vases and glassware. Rustic wood can also look beautiful by adding warmth. Look for pieces that have a weathered look, as if they were left out on the coast until they are salt-worn and sun-faded.
2. DIY
You can create your own beach-themed bathroom by collecting items when you go to the beach. Hang a piece of driftwood that you found as wall decor. If you only find small pieces, you can turn them into a frame for a picture.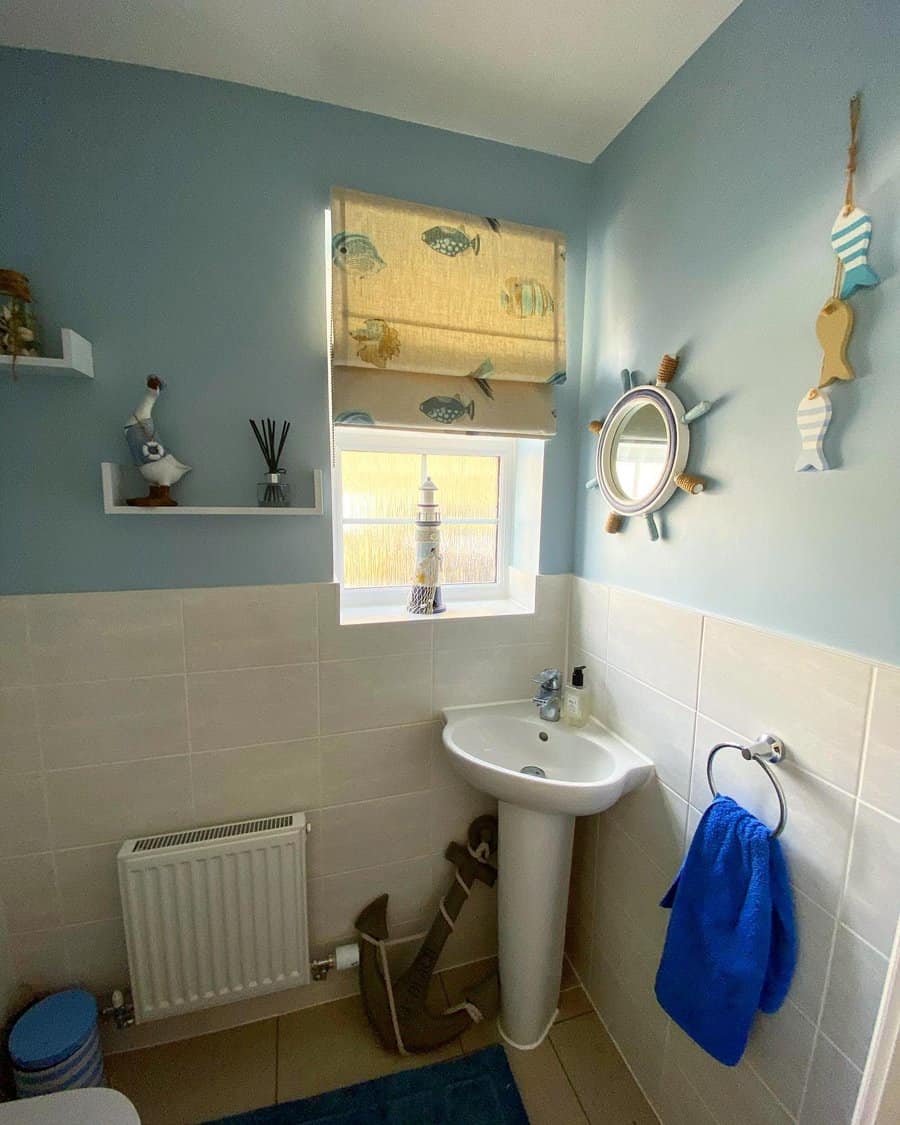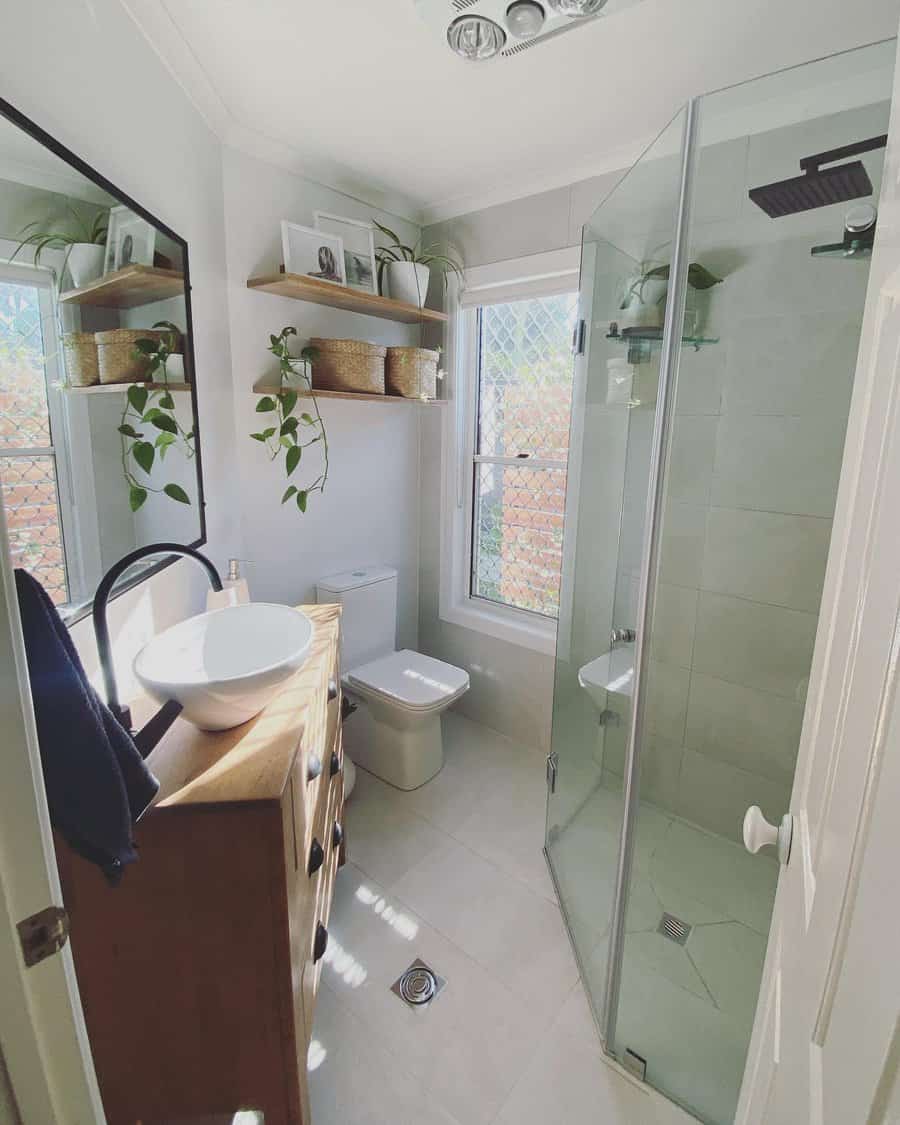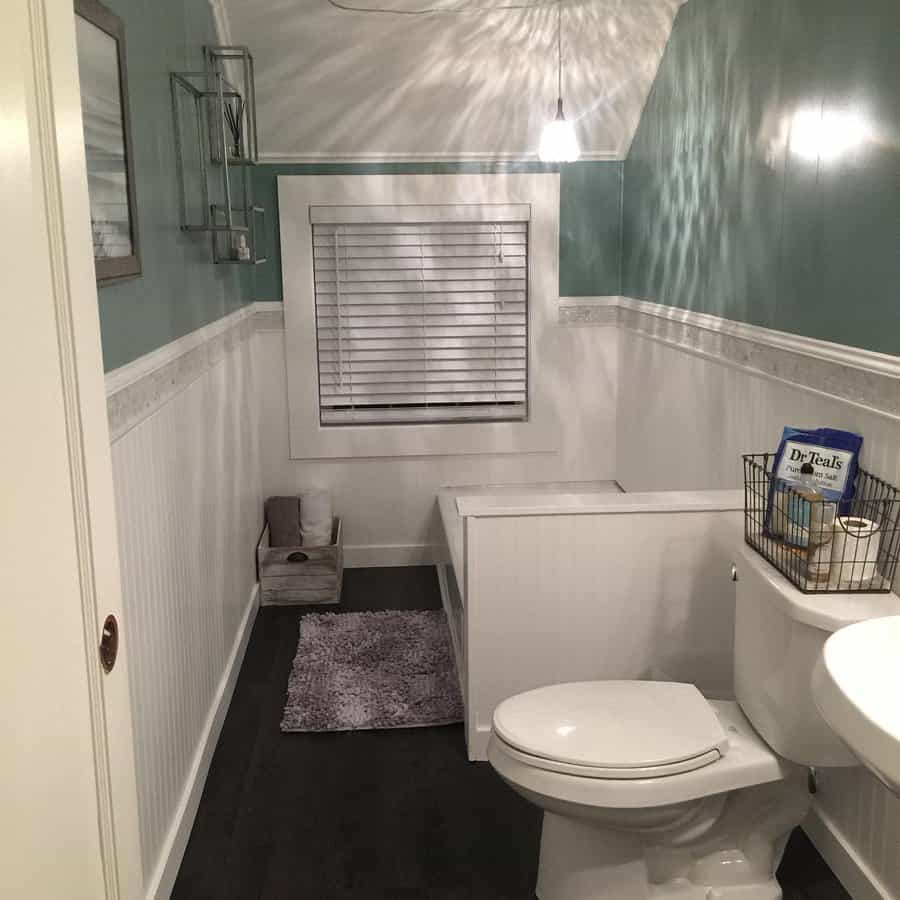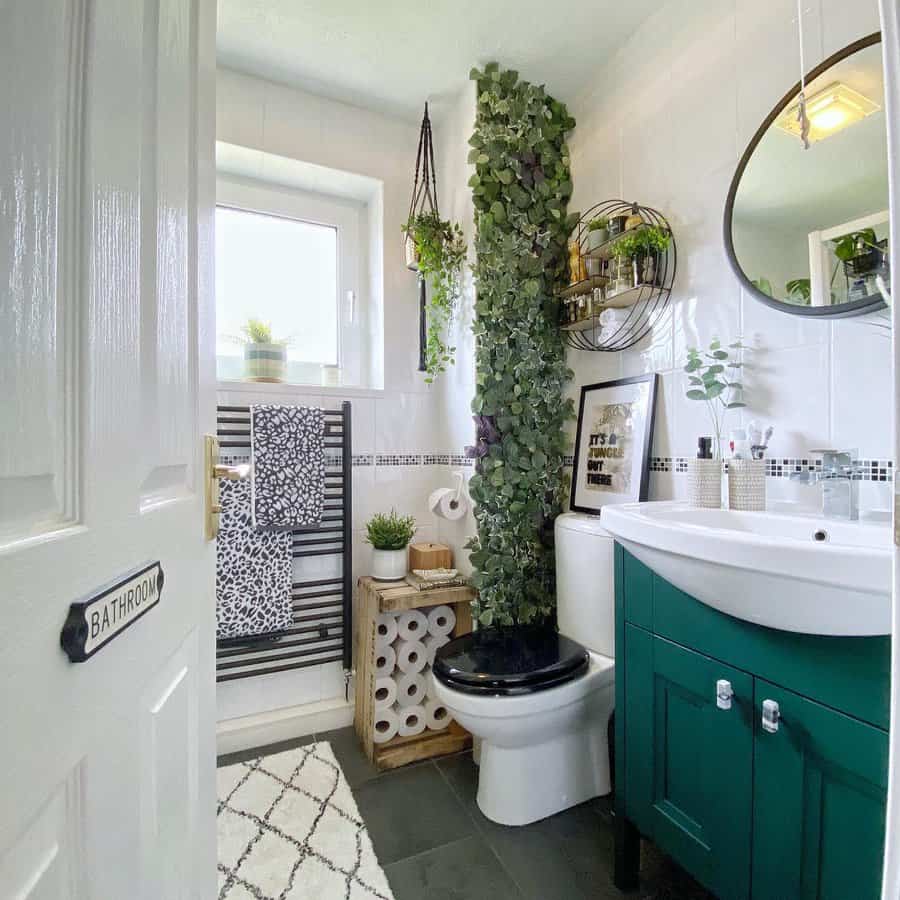 You can use anything you find as a themed bathroom idea. Perhaps you collect shark teeth or sea glass that you can display in elegant glass jars. Or you could collect shells and make a shadow box arrangement.
If you have sand dollars, starfish, or something else that you want to display, use trim wood. Purchase thin strips of wood and mount them on the wall in rows. Then you can set your most prized finds on the shallow ledge.
3. Elegant
People typically associate a beach bathroom with a more casual and laid-back lifestyle. However, not all beach bathroom decor has to be kitschy. You can create an elegant feel in your bathroom that still channels a coastal vibe.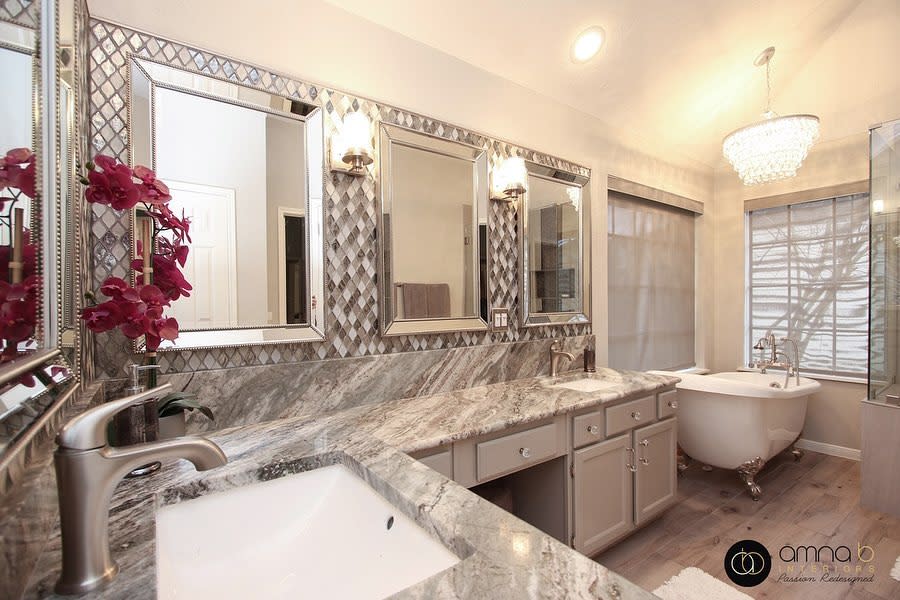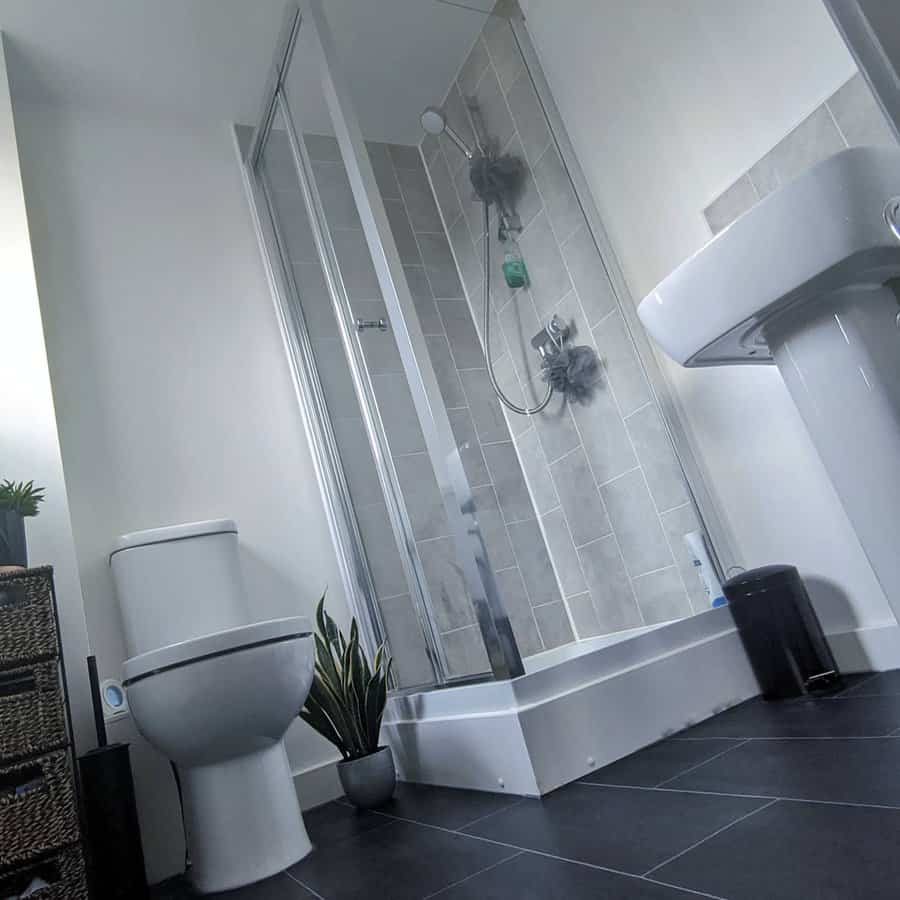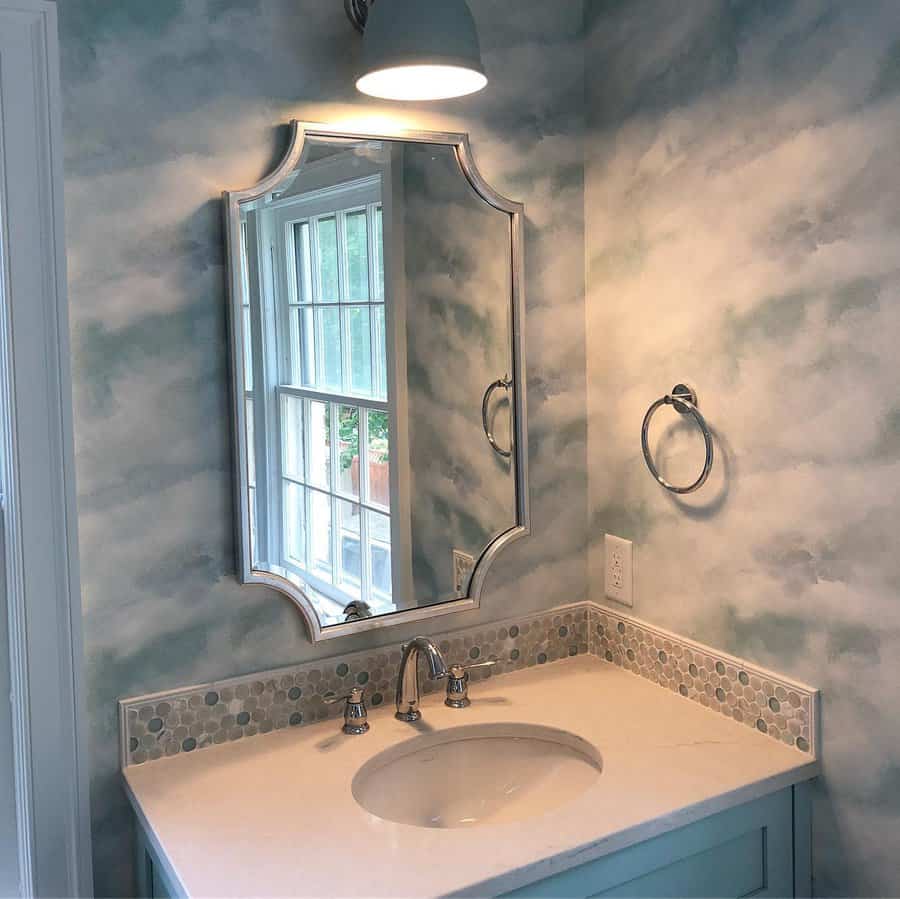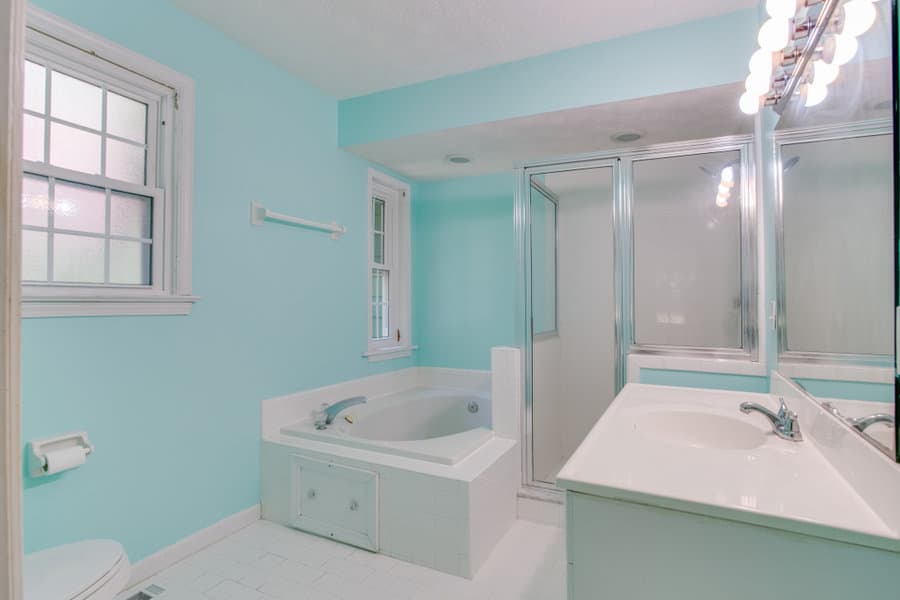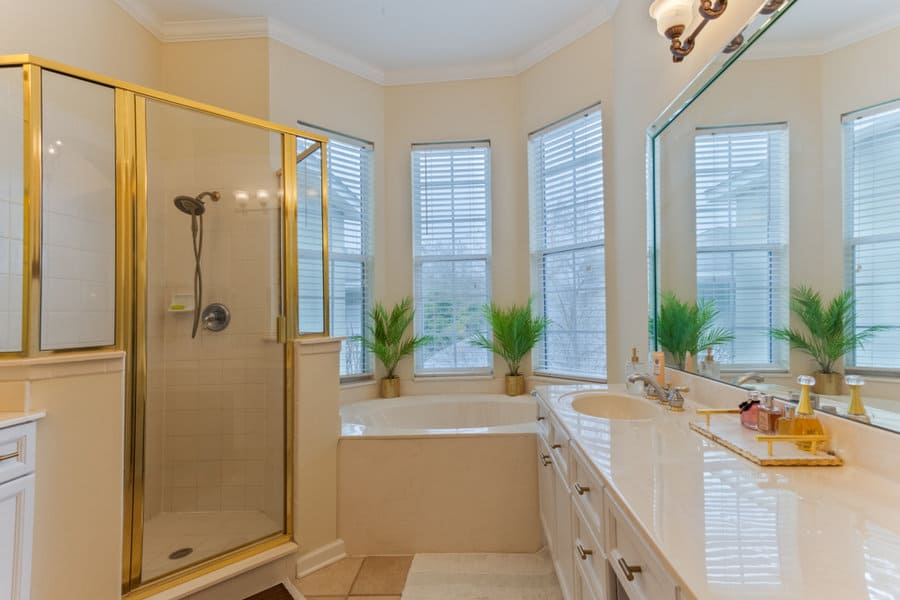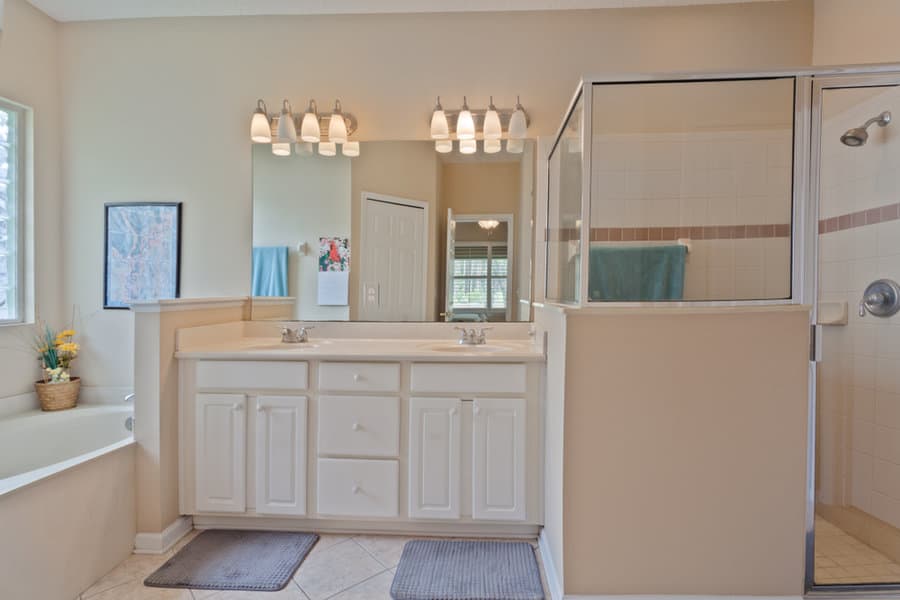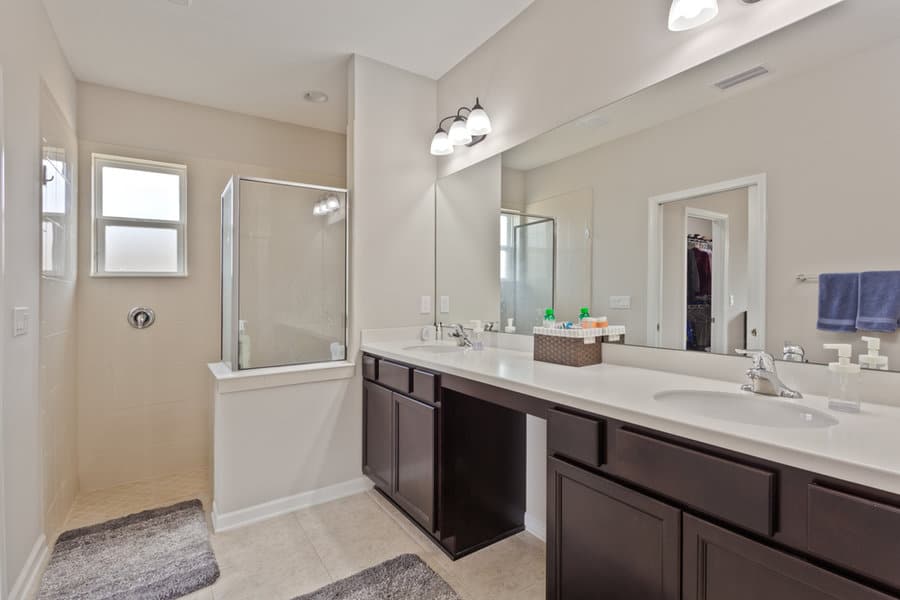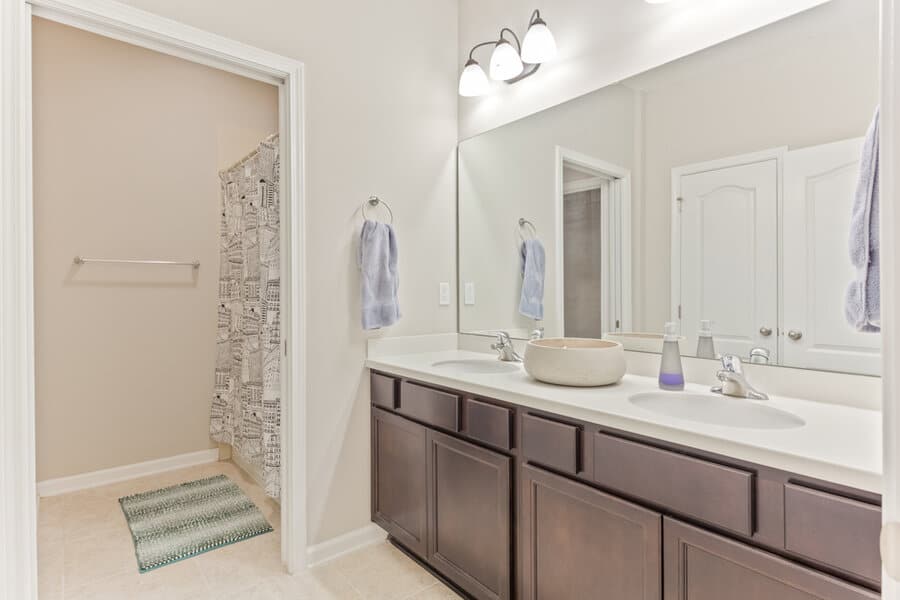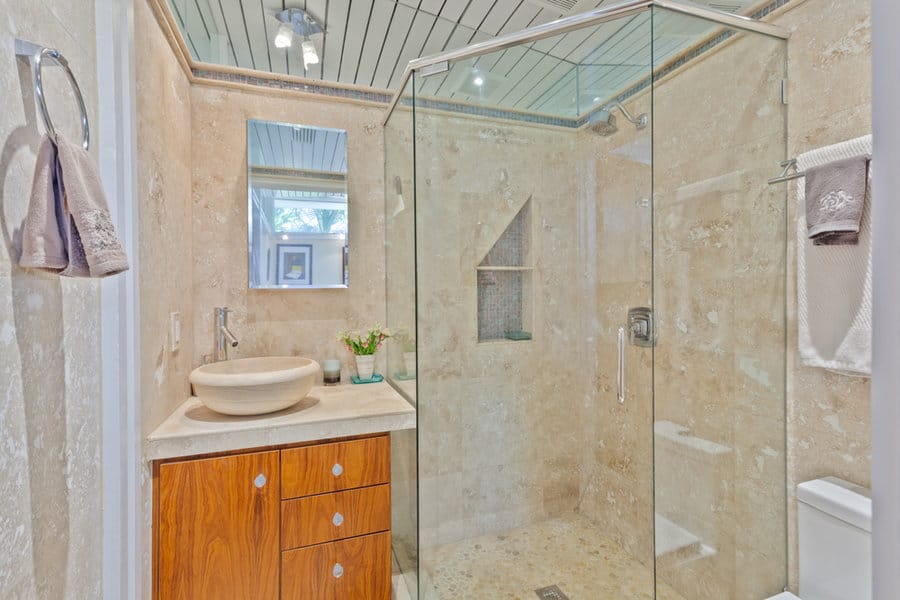 Hang a framed mirror for the vanity that uses traditional nautical rope and brass accents.
Use light fixtures that are brass and mimic the look of lights on vintage sailing yachts. Use expensive hardwood for the floor and vanity countertop. African Blackwood is a beautiful choice.
Keeping your bathroom elegant yet beach-inspired is a balance of using similar but higher quality materials than what you would find at the beach.
4. Nautical
Nautical bathroom ideas are similar to a beach or coastal bathroom but focus more on boating. This approach works well in a small bathroom. Dress up the bathtub with a shower curtain that has an anchor, nautical flags, or a nautical compass on it.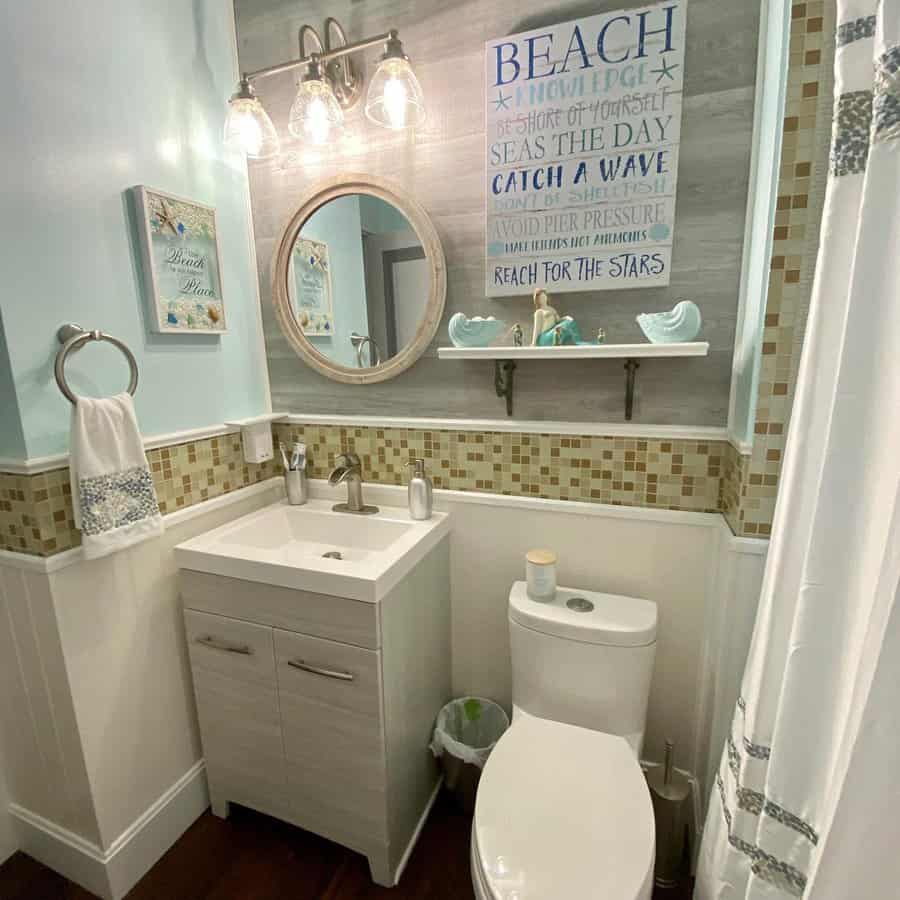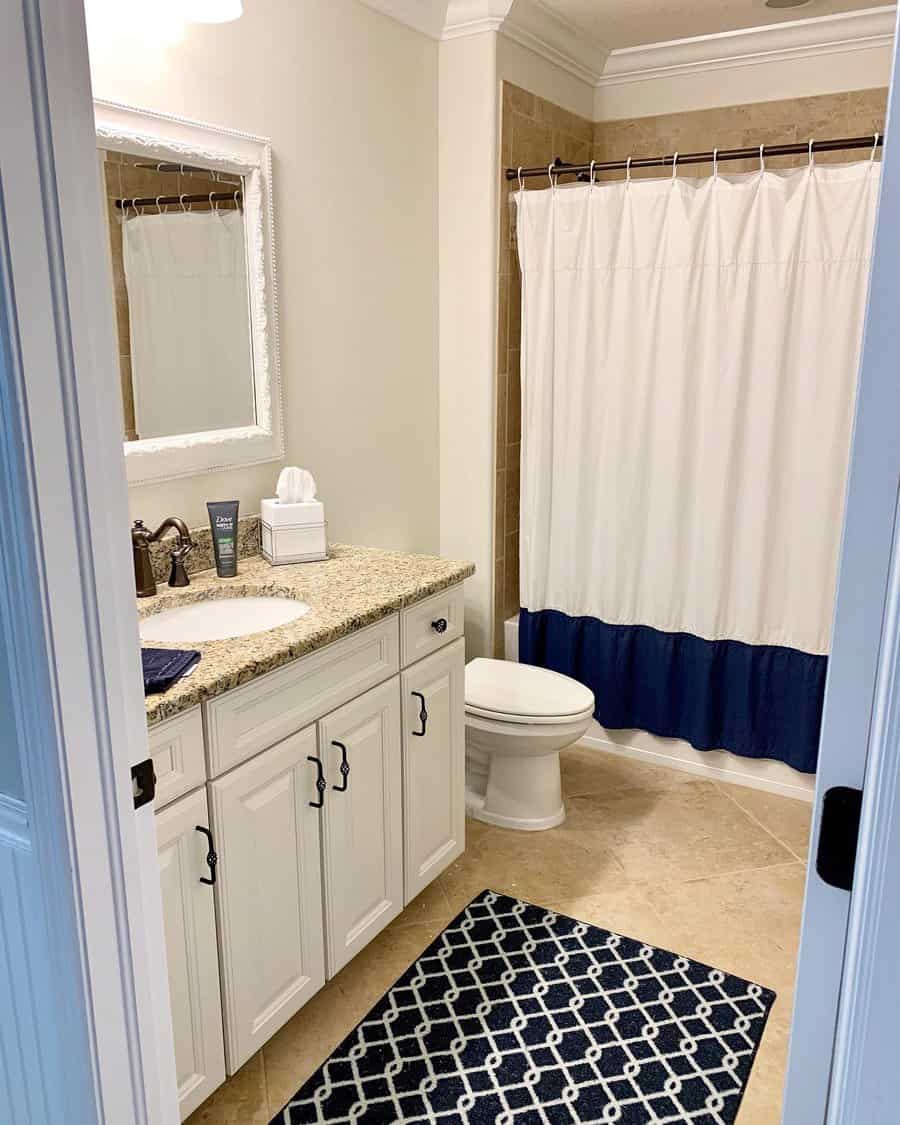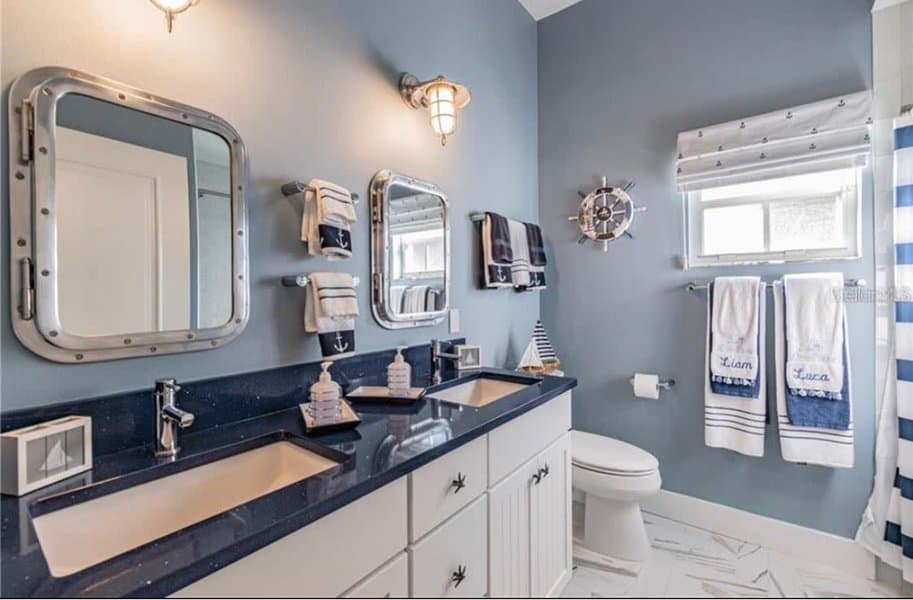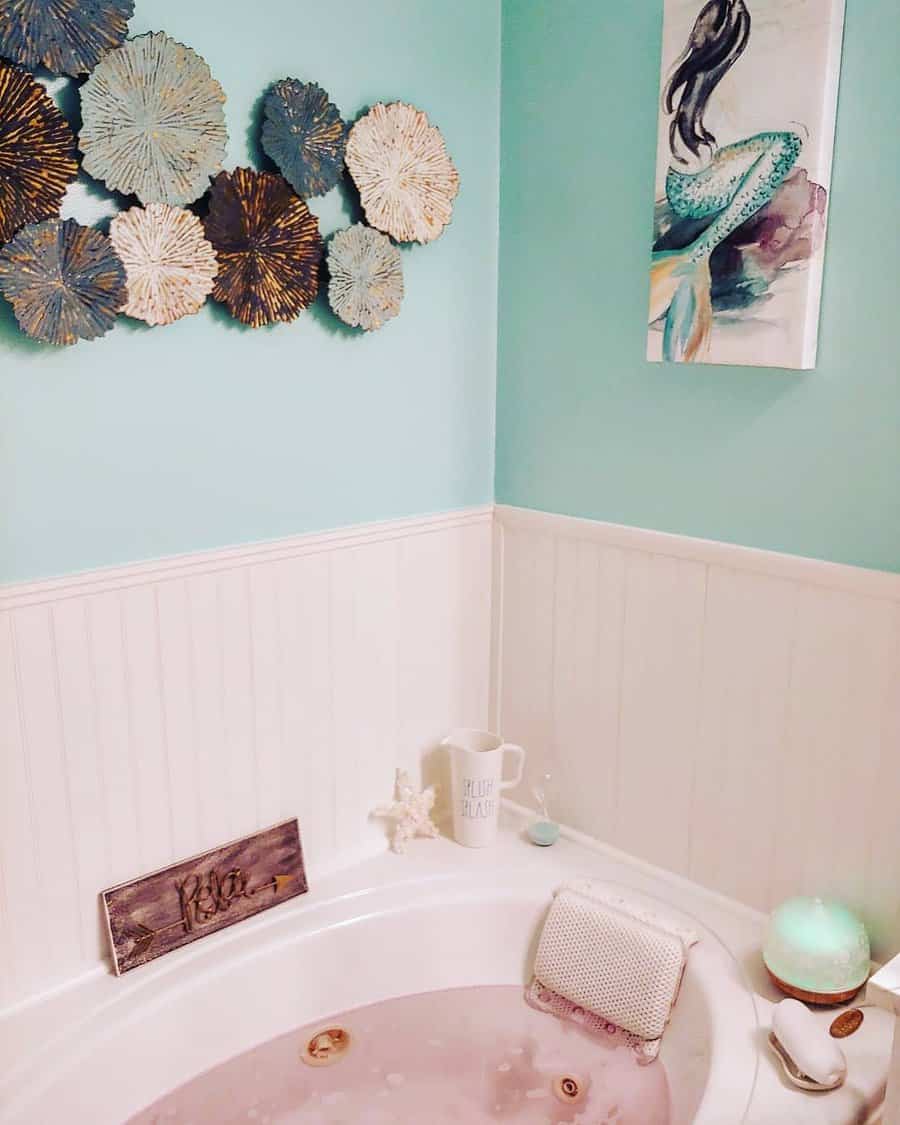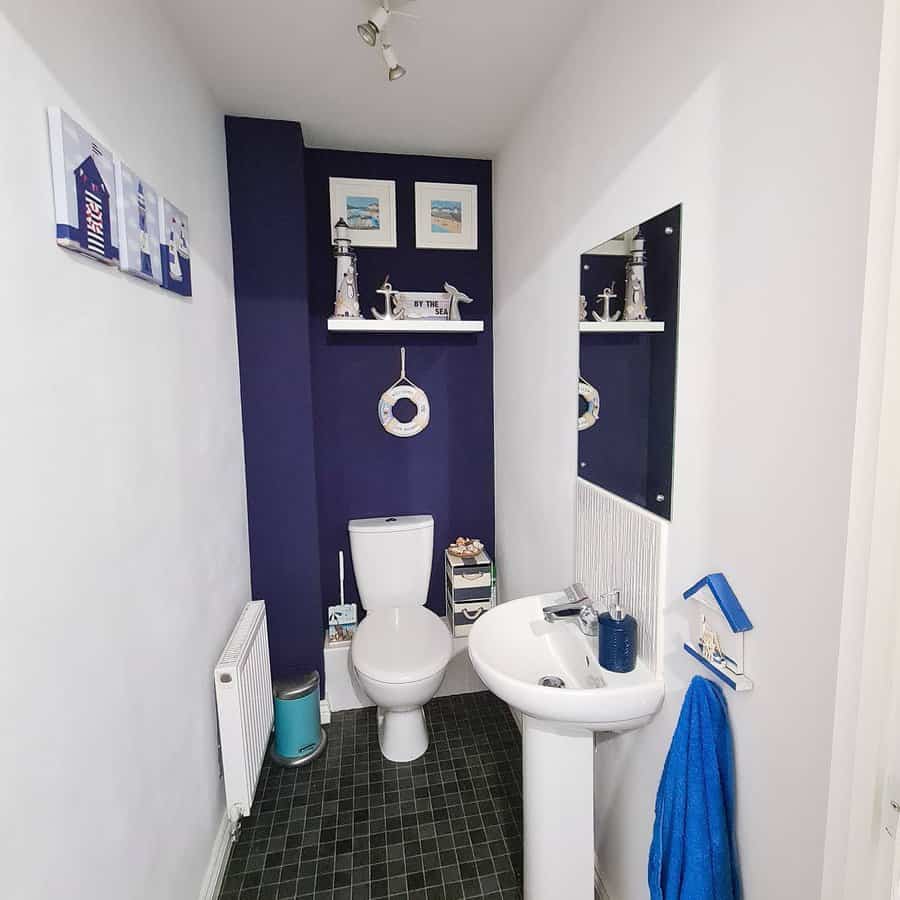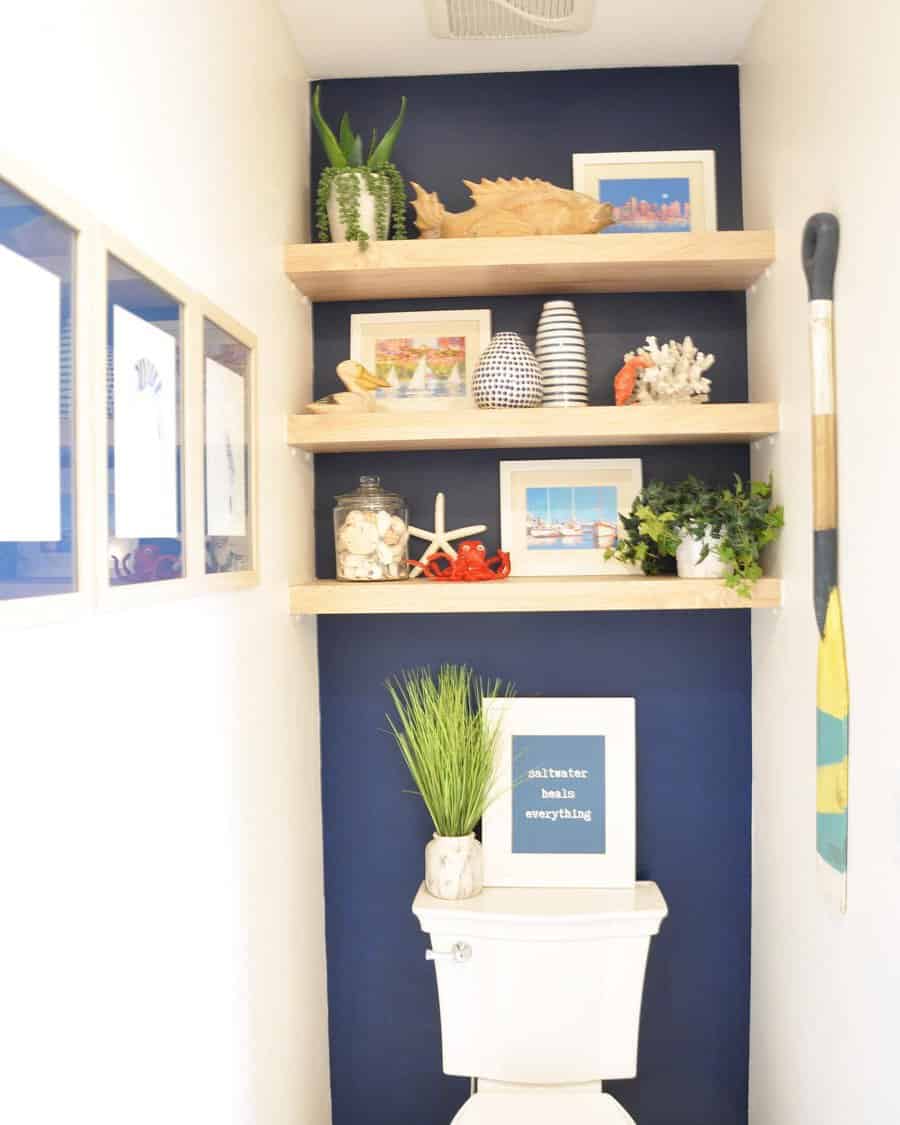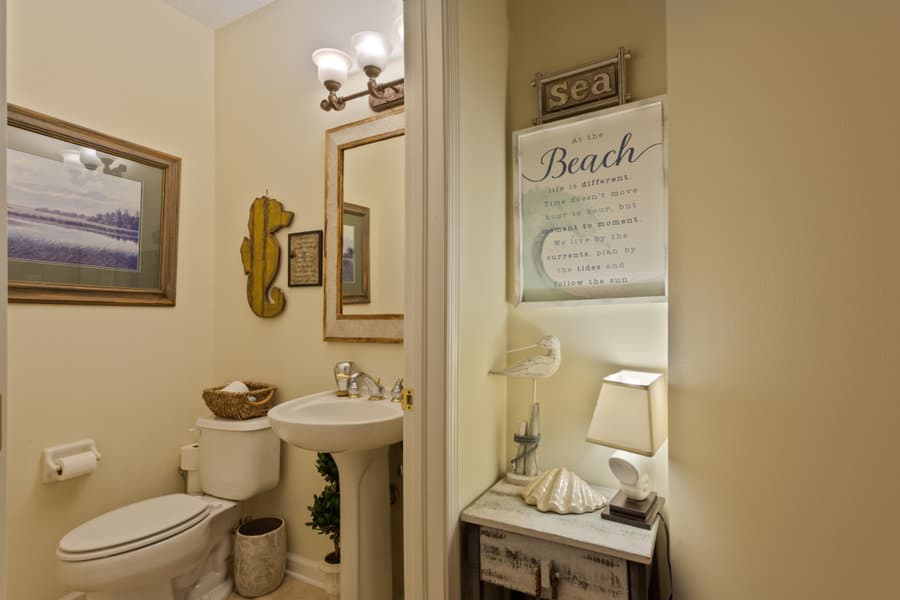 You could also use wallpaper to make a bold statement. Try out wallpaper with vintage-inspired sea creatures.
If your bathroom has a window, use rough linen as the curtain. Mount shelving that has a high gloss varnish to look like the well-cared-for wood of the old sailing yachts.
5. Ocean
Embrace the serenity of the ocean in your master bathroom. Start with calming blue walls that will create a relaxing space that's perfect for releasing the day's stress.
Make it into a beachy bathroom with ocean accents. You could have a sand dollar or starfish theme. Choose decor that's bright white for the perfect contrast to the blue.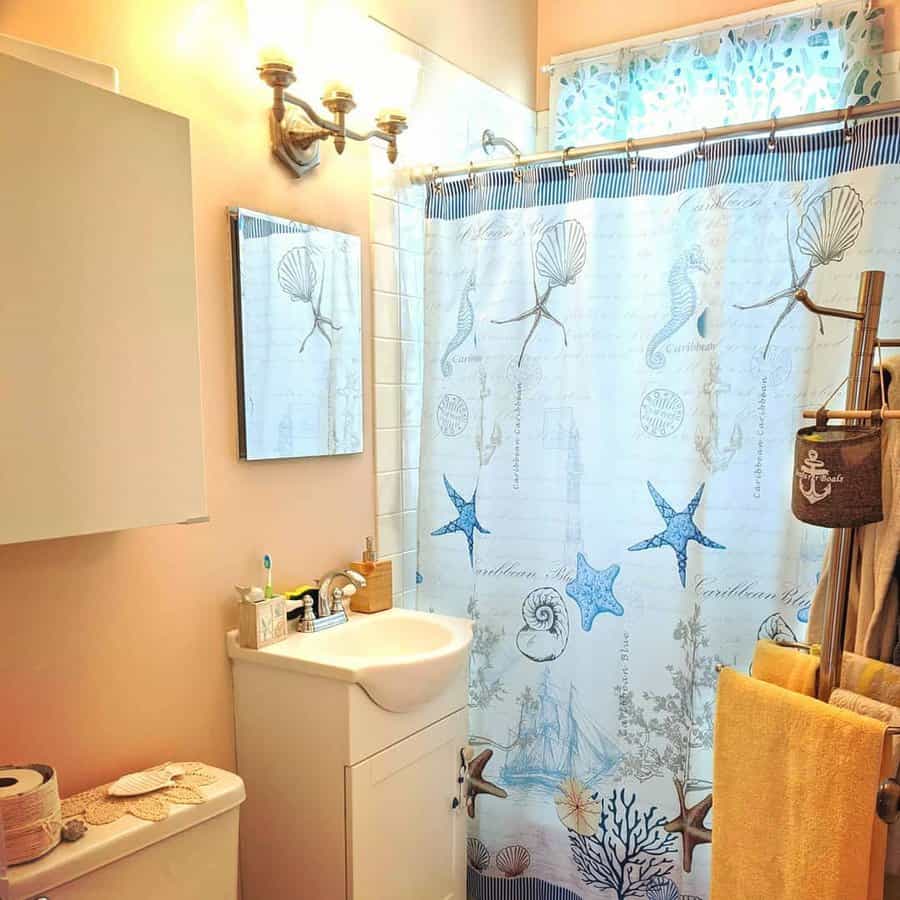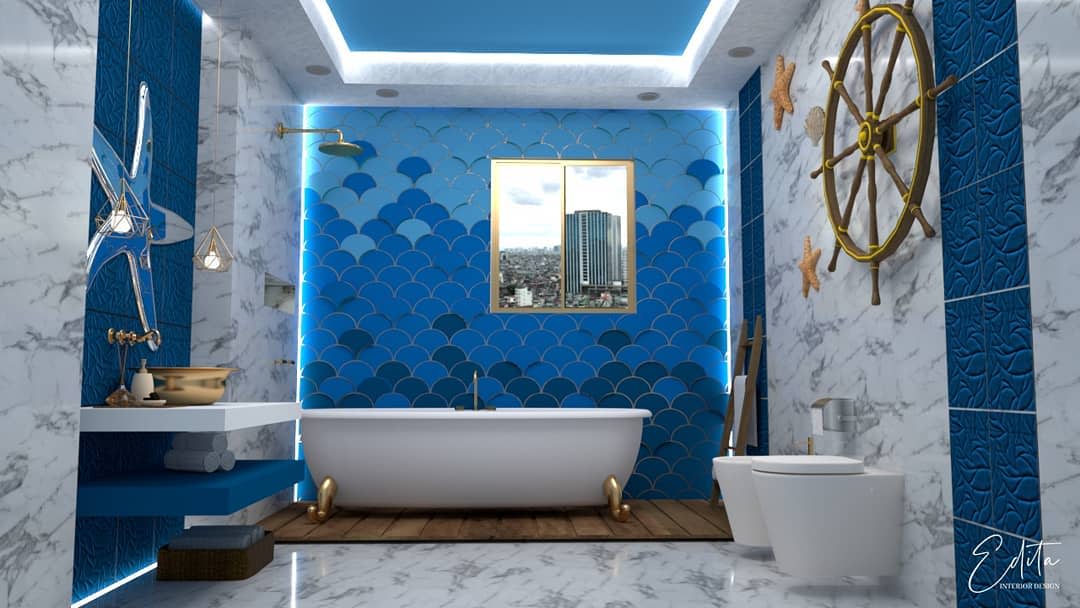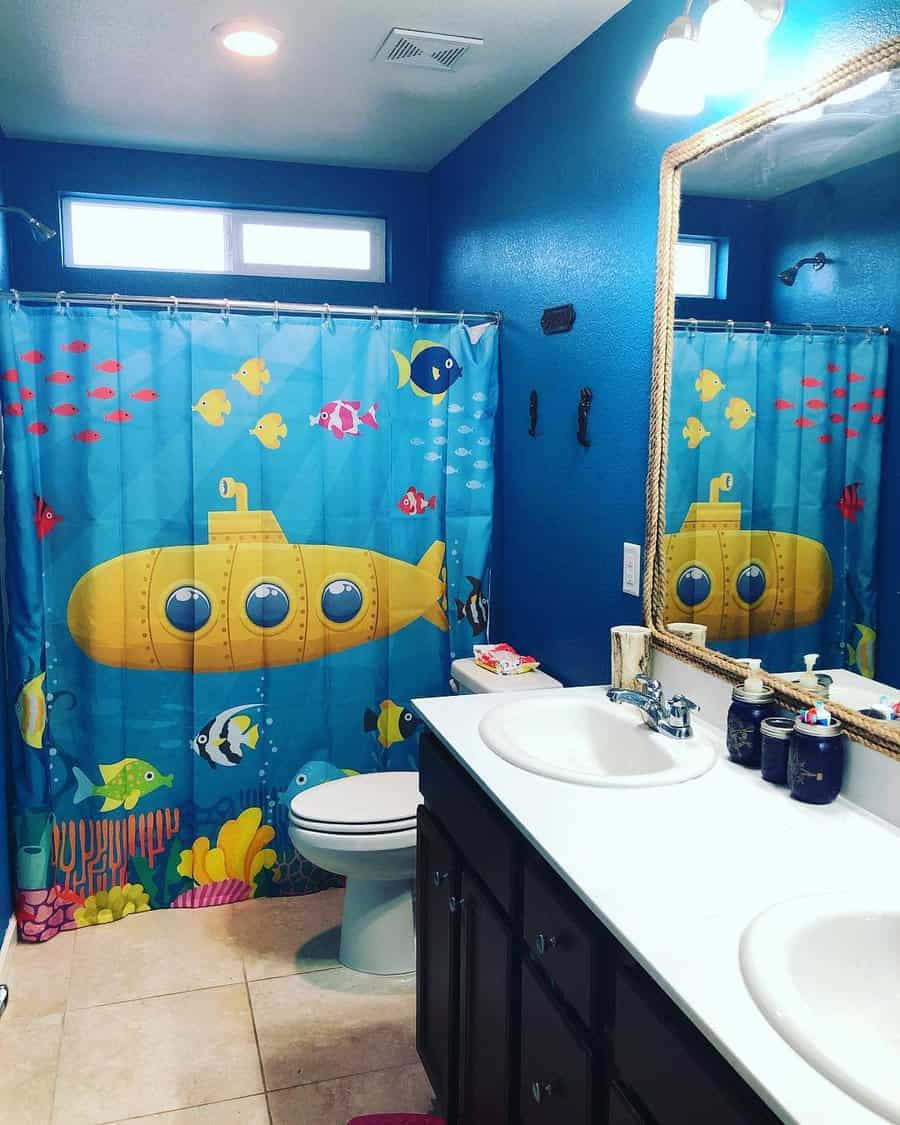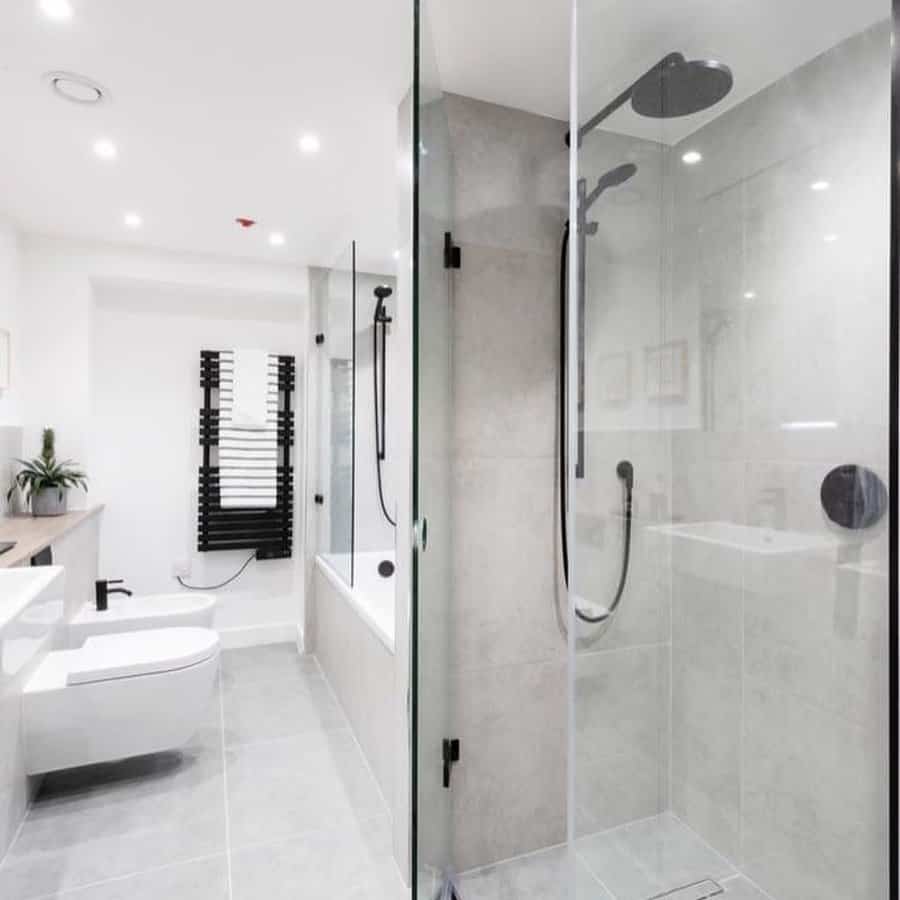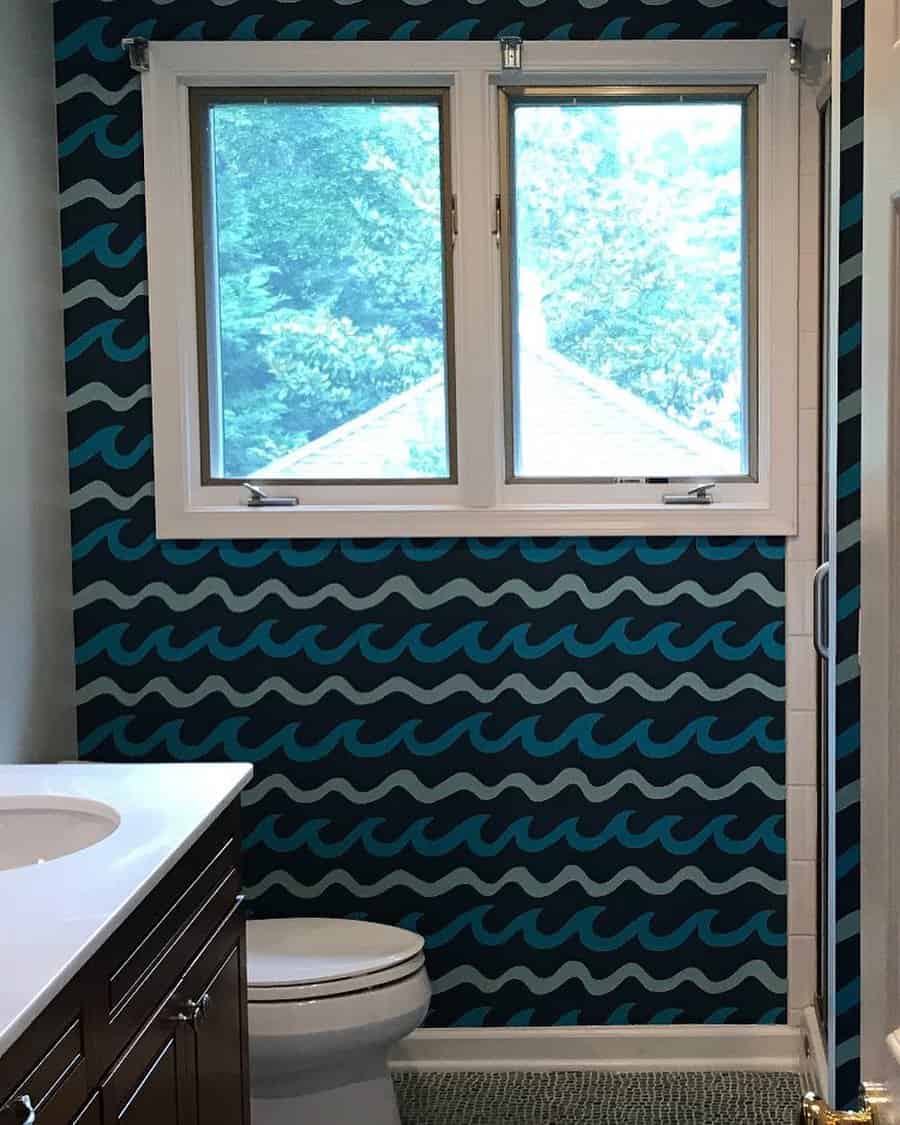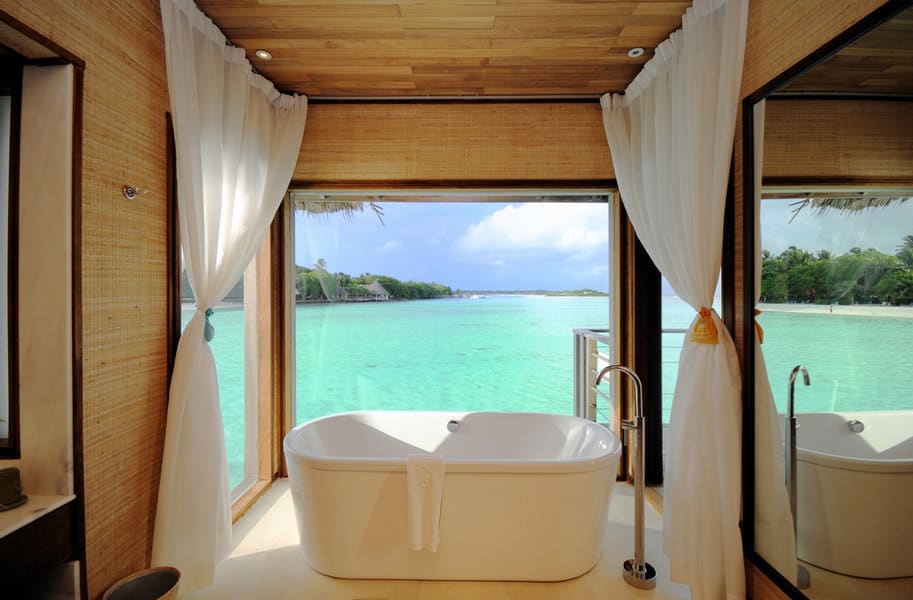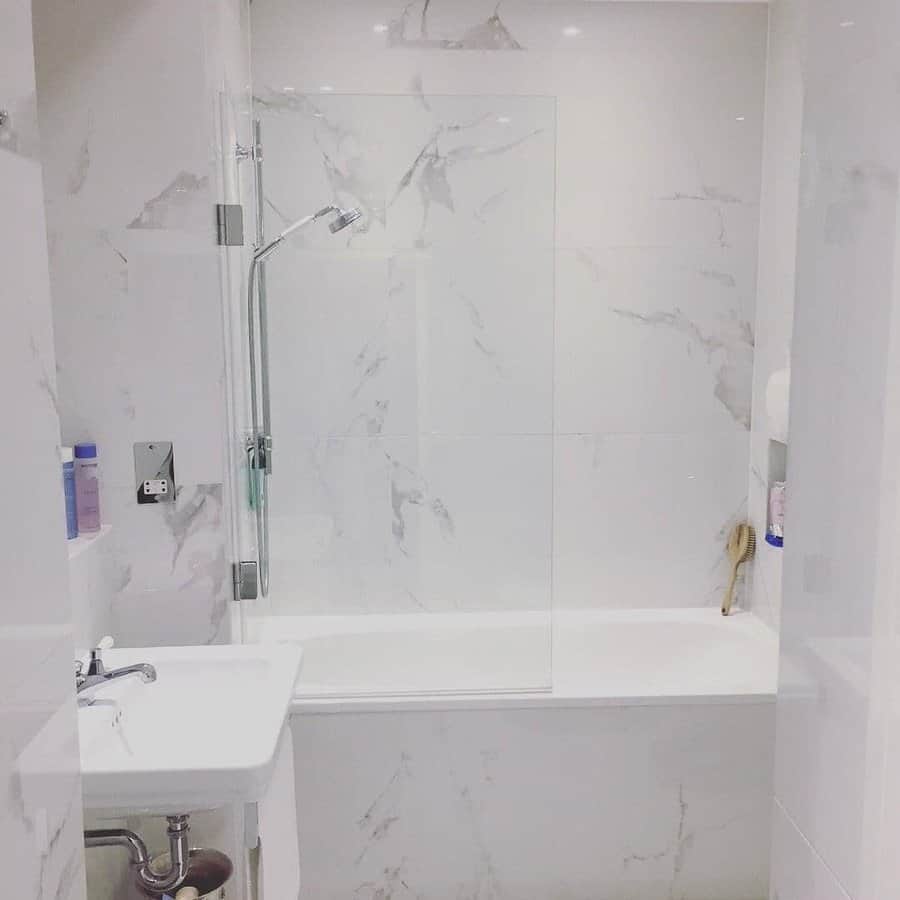 Multi-colored blue tile is another idea that will create a beautiful look in your bathroom.
Choose tile that comes in several shades of blue. Then create a varied design that integrates all of the different shades. This will mimic the look of the ocean with its constantly changing hues and shades.
6. Tropical
Escape to your own tropical oasis in your beach house bathroom. Embrace the beach style of the tropics with lush plants, mosaic tile, and rare seashell accents.
Use bamboo or teak slats for the shower floor. Change out your shower head for a rain-style one.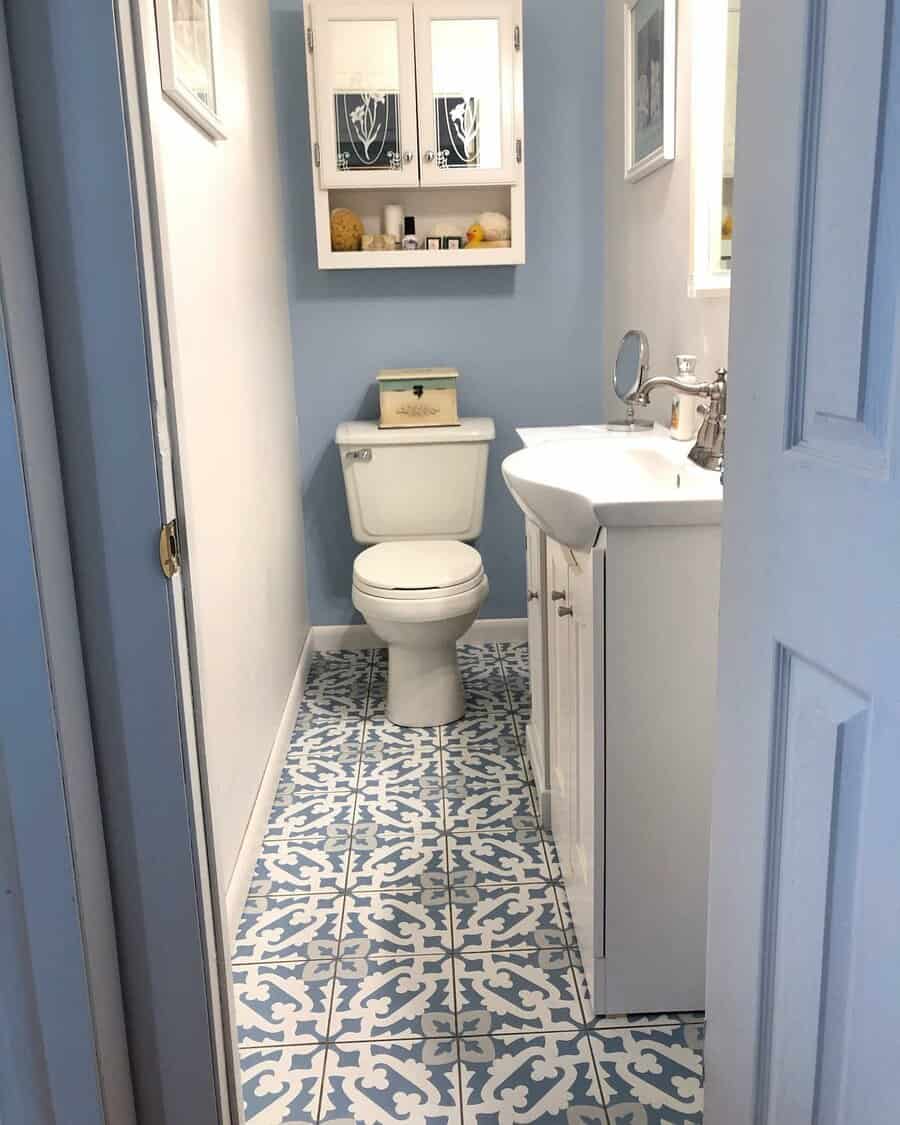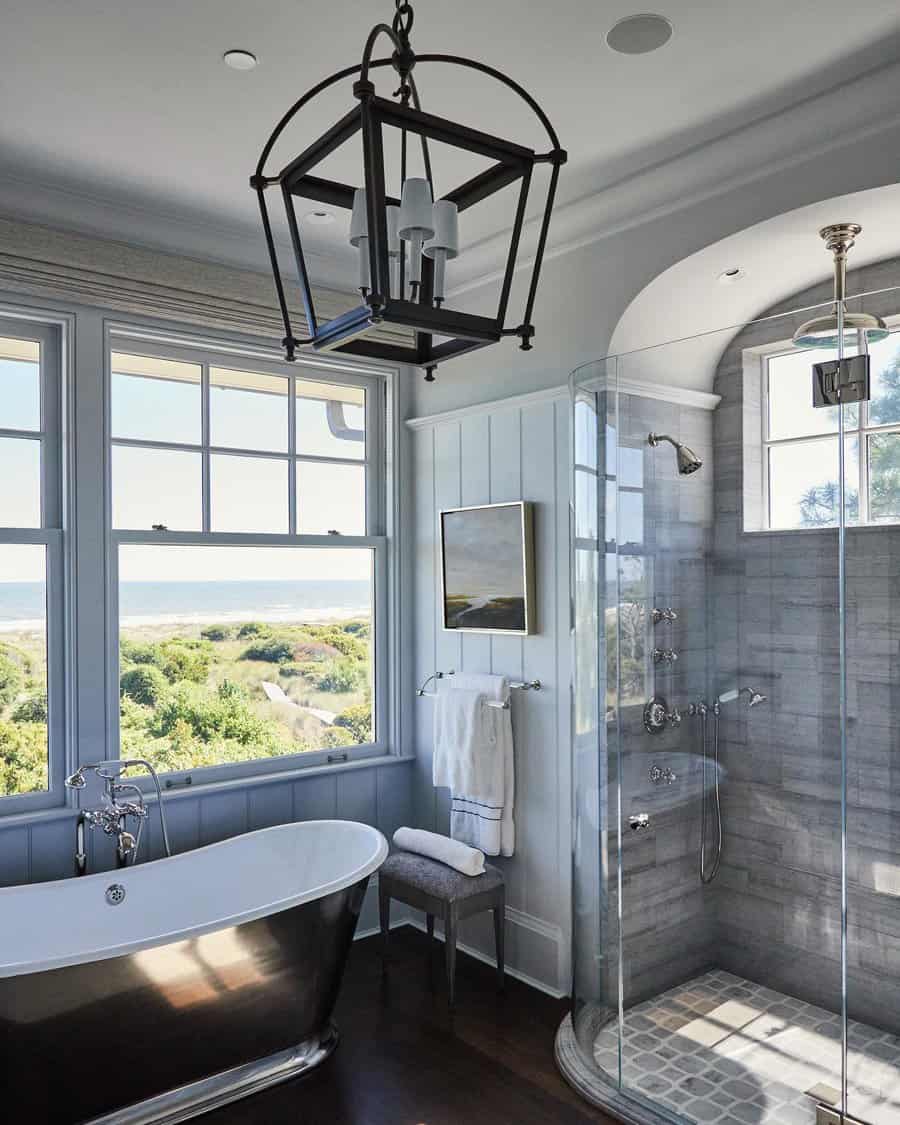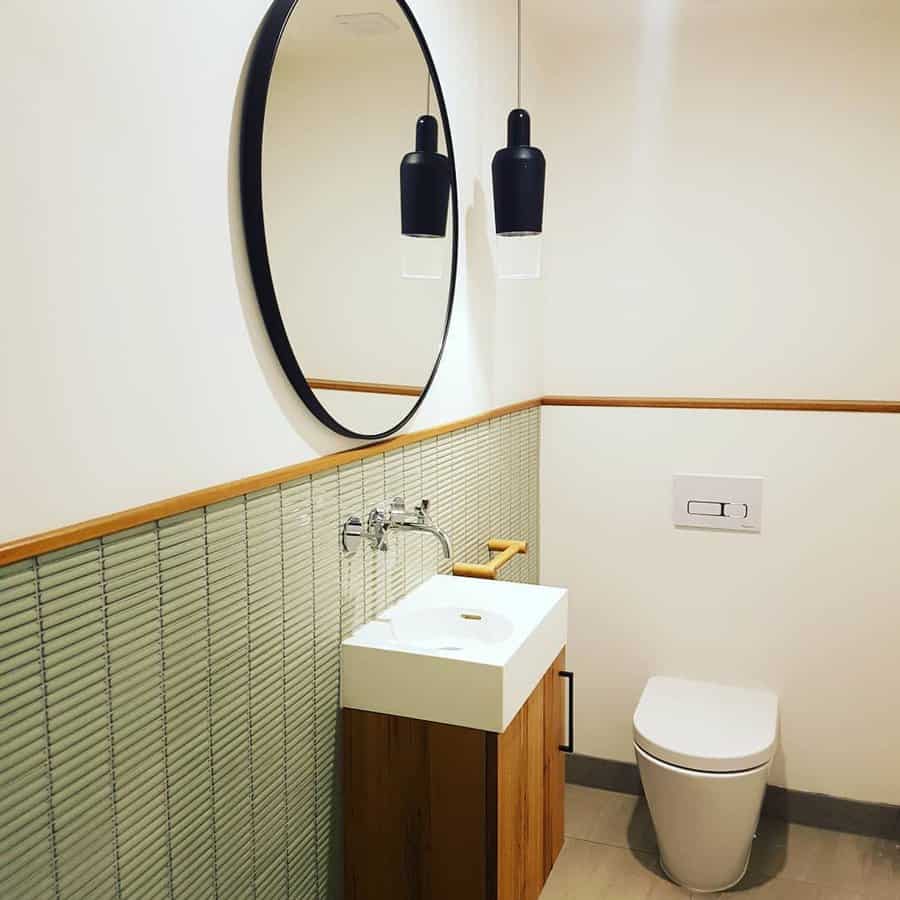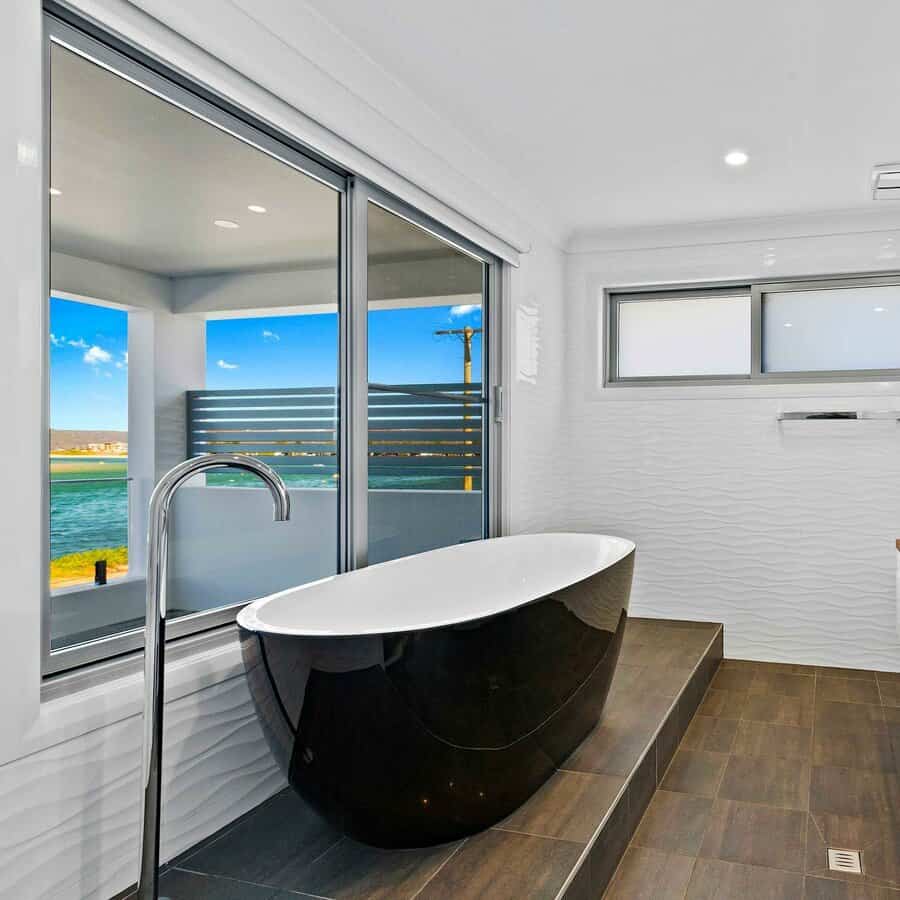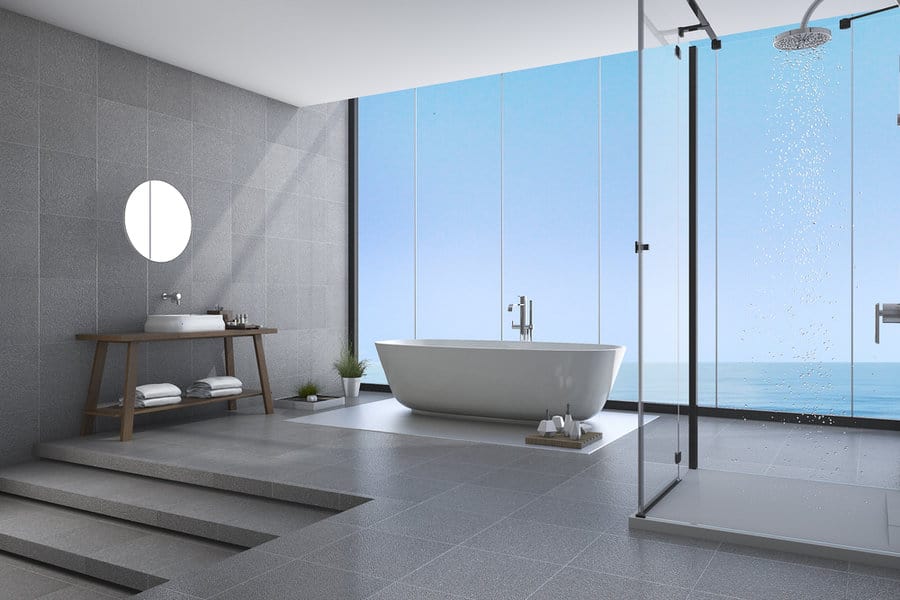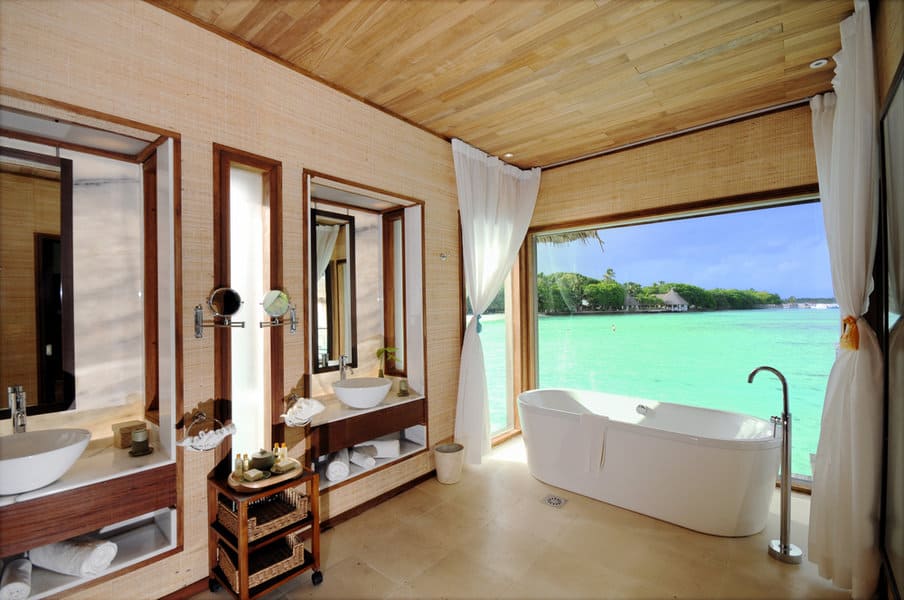 Create a bright but filtered light to mimic the feeling of relaxing under the perfect shade tree on the beach. Use materials that aren't overly polished, such as soapstone or slate for the countertop and tiled areas.
7. Turquoise
Channel the ocean colors of the tropics by using turquoise in your beach-inspired bathroom design. A simple approach is to paint the walls. However, you could do so much more. Try painting the drawers of your vanity instead.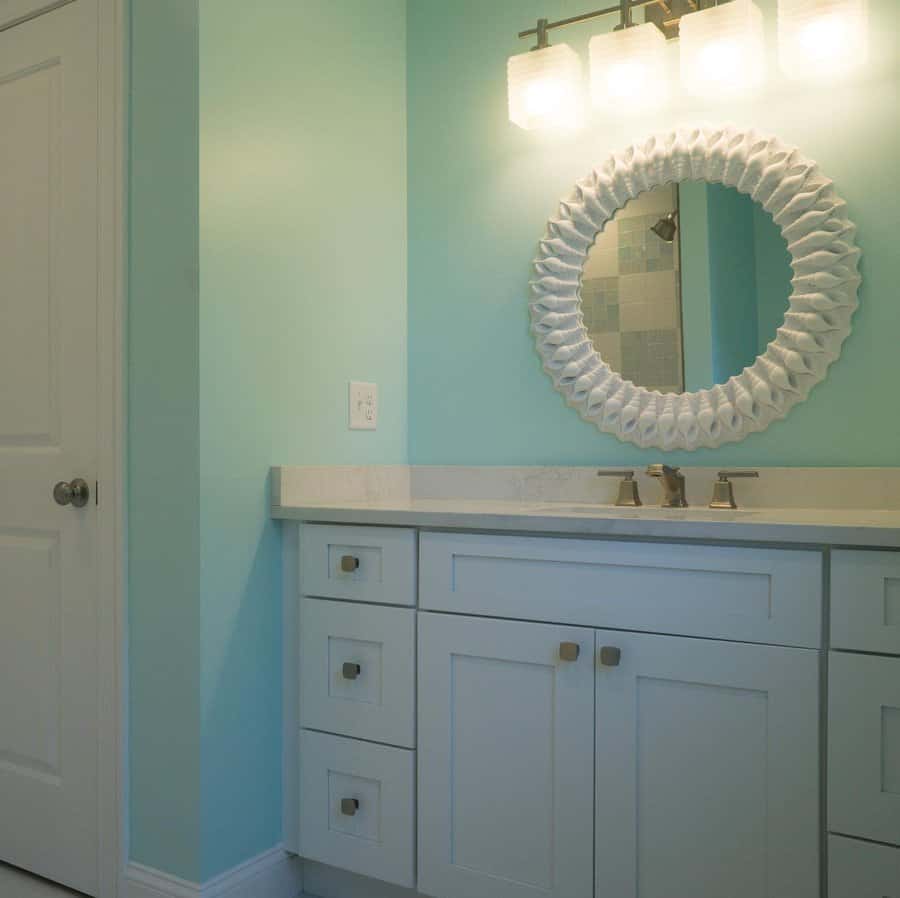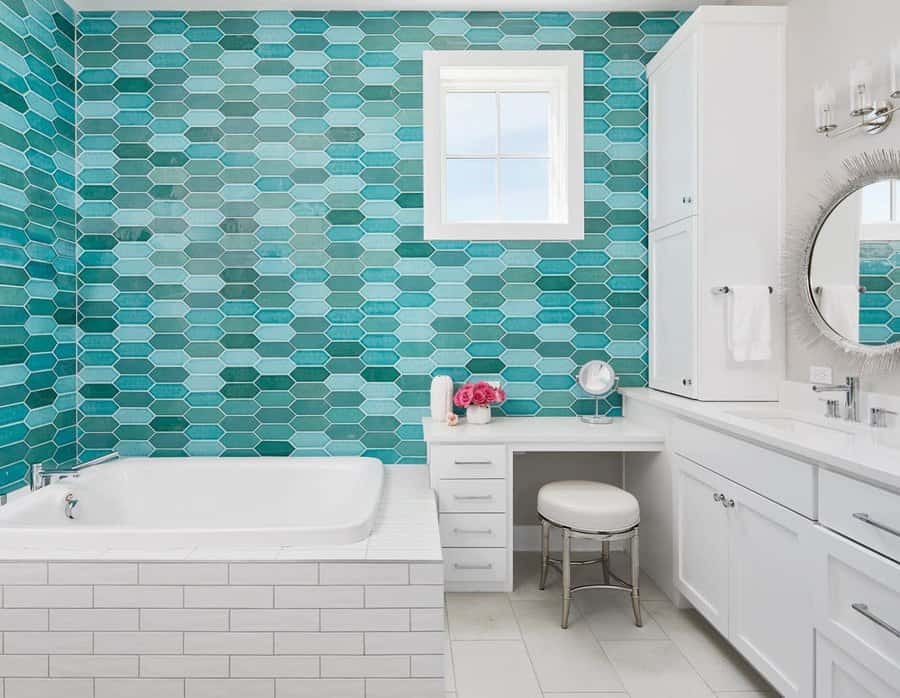 You could also replace the tile in your shower. Look for a handmade tile that has varying light and dark shades. This will mimic the colors of the water in your bath.
A classic square or rectangular-shaped tile will keep your bathroom feeling modern. For a trendy statement, consider a geometric or fish scale shape.
8. Vintage
Channel the shore houses of the northeast with a vintage-inspired beach bathroom. Replace your modern vessel sink and floating bathroom vanity with a pedestal sink.
Add a tile or laminate floor that looks like aged wood. Then cover the walls with a bold vertical stripe.
Another option is a mural-style wallpaper that mimics the looks of an actual seascape on the northeast coast.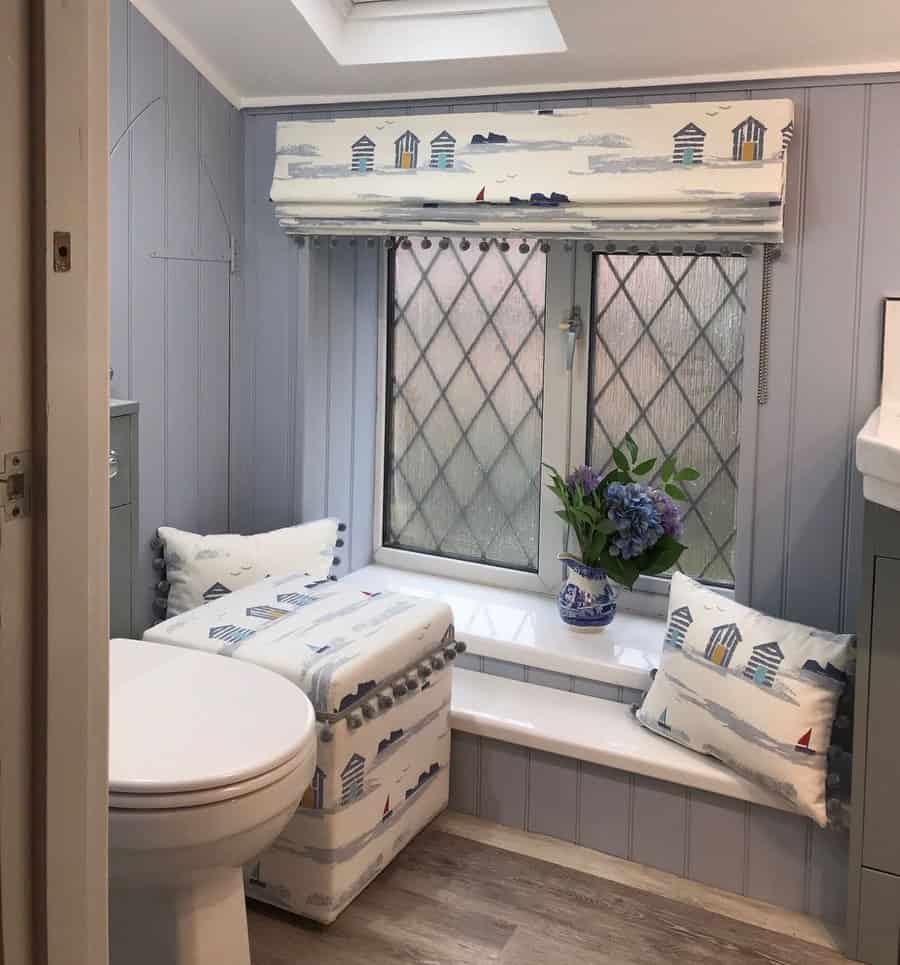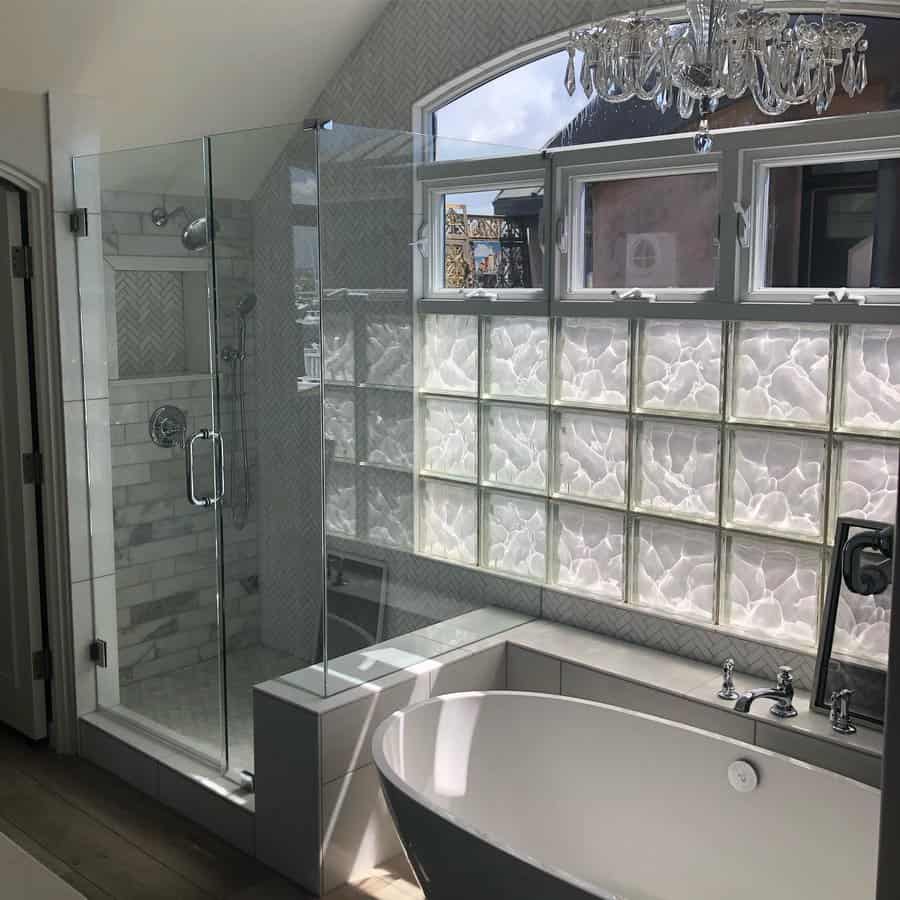 This look works well in a powder room where you only have the sink and toilet. You can give up the counter space without hindering your lifestyle.
9. White
All white bathrooms are always popular but run the risk of looking sterile and boring. Giving your white bathroom a coastal theme is an easy way to add natural texture to break up the all-white walls and tub.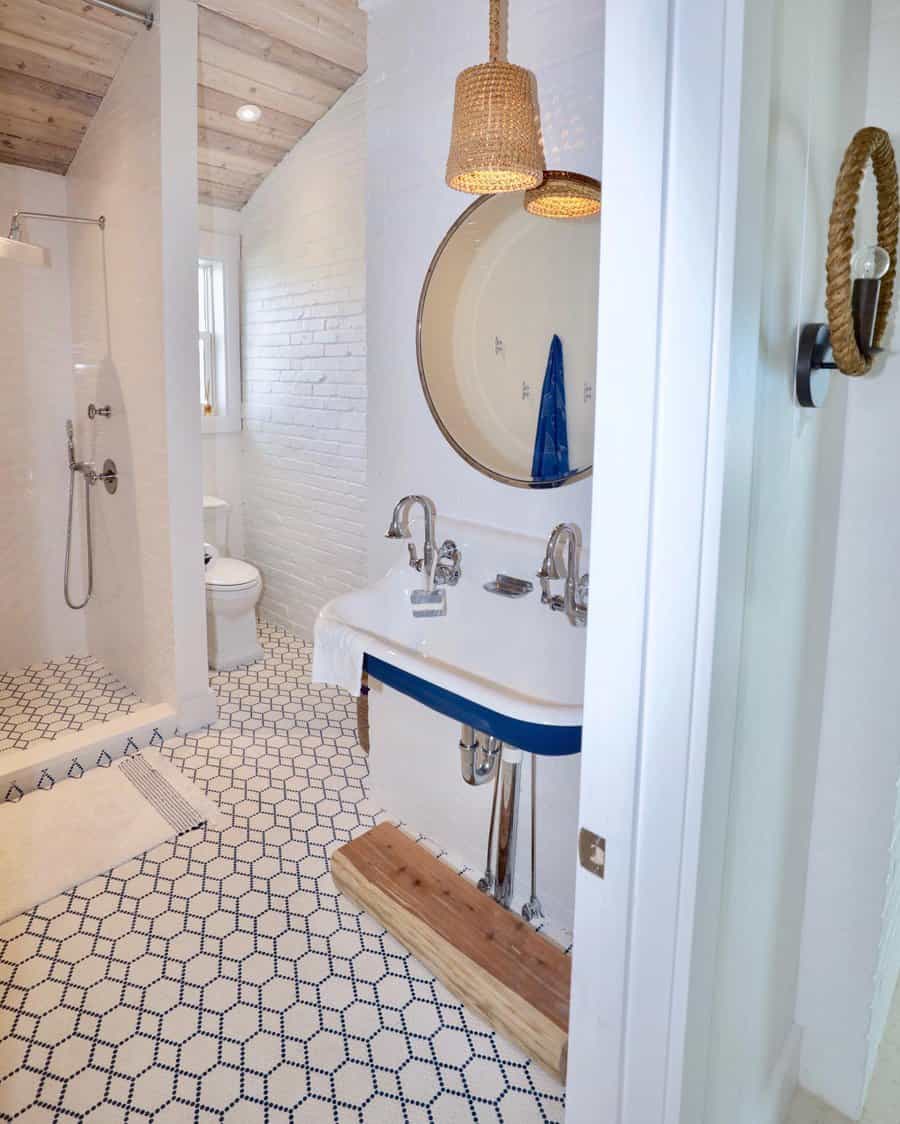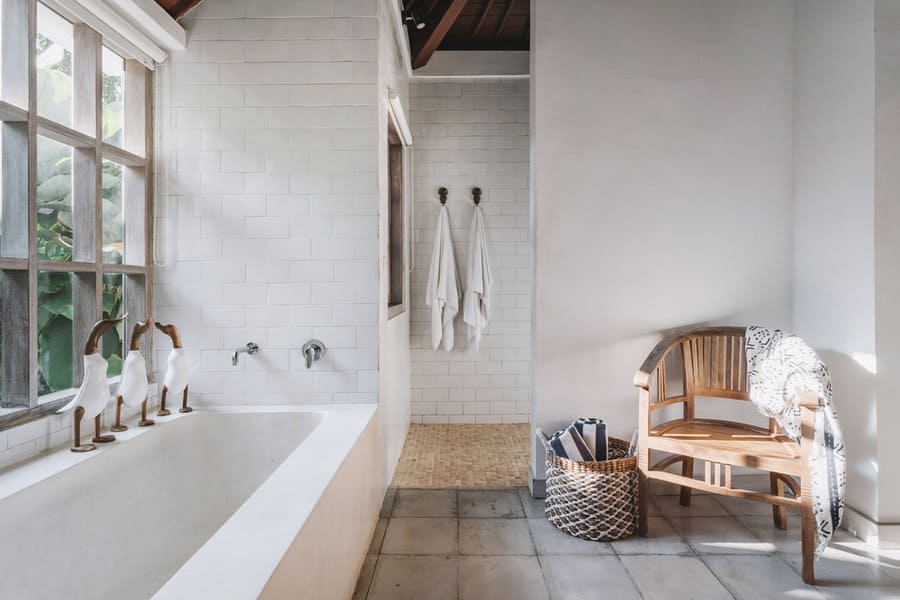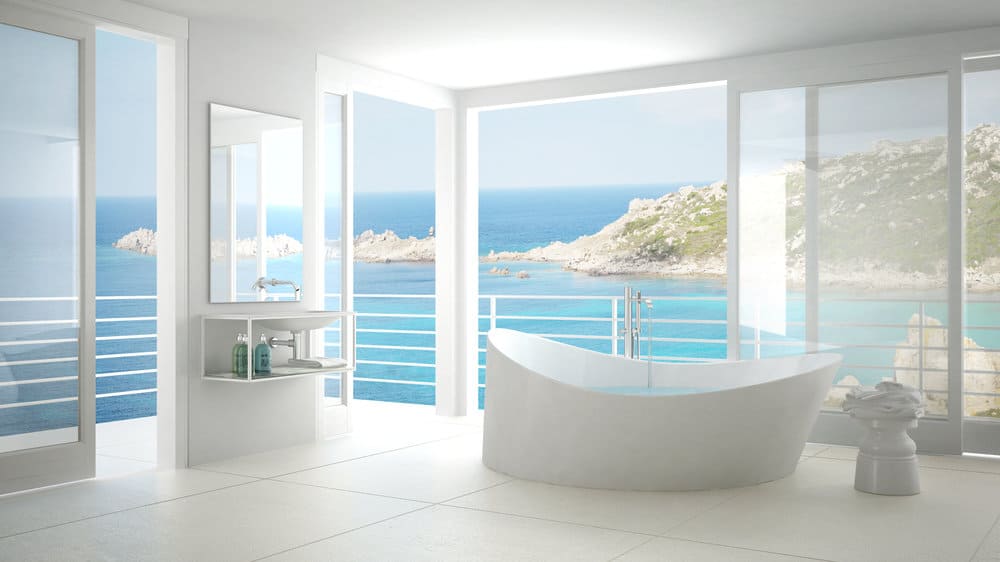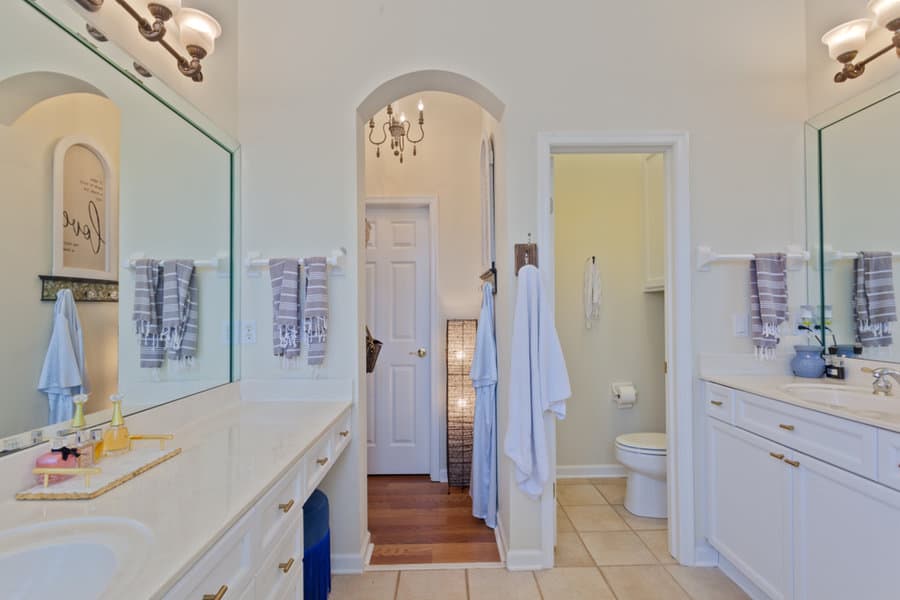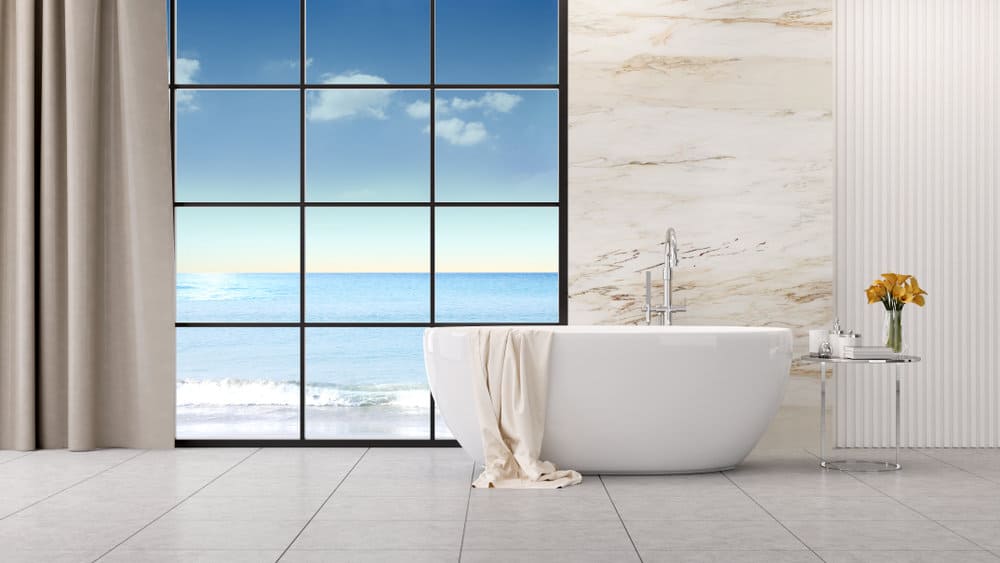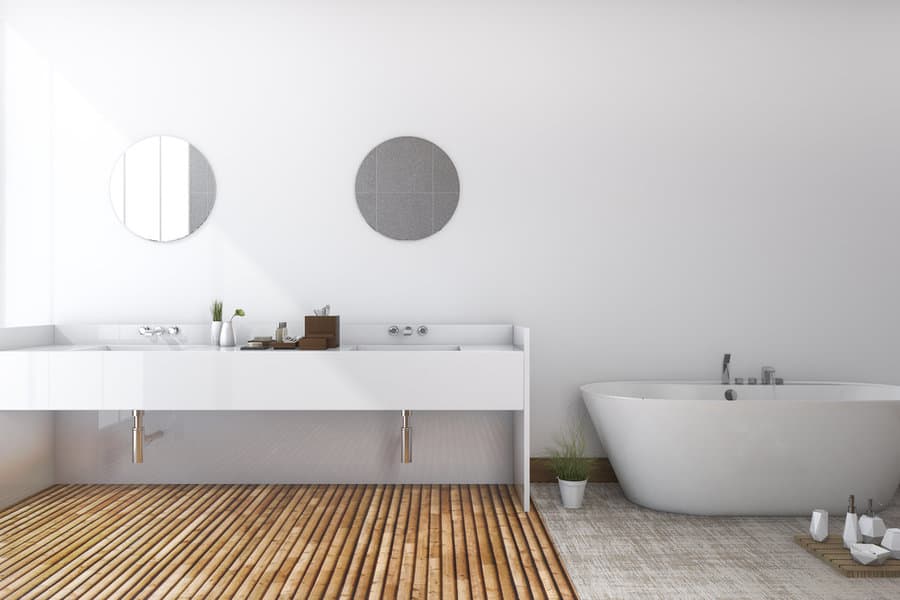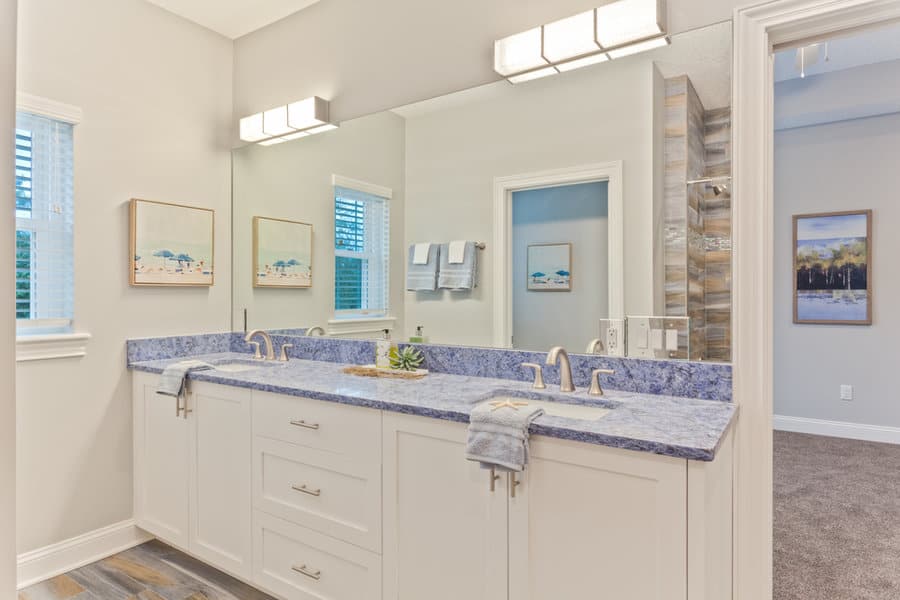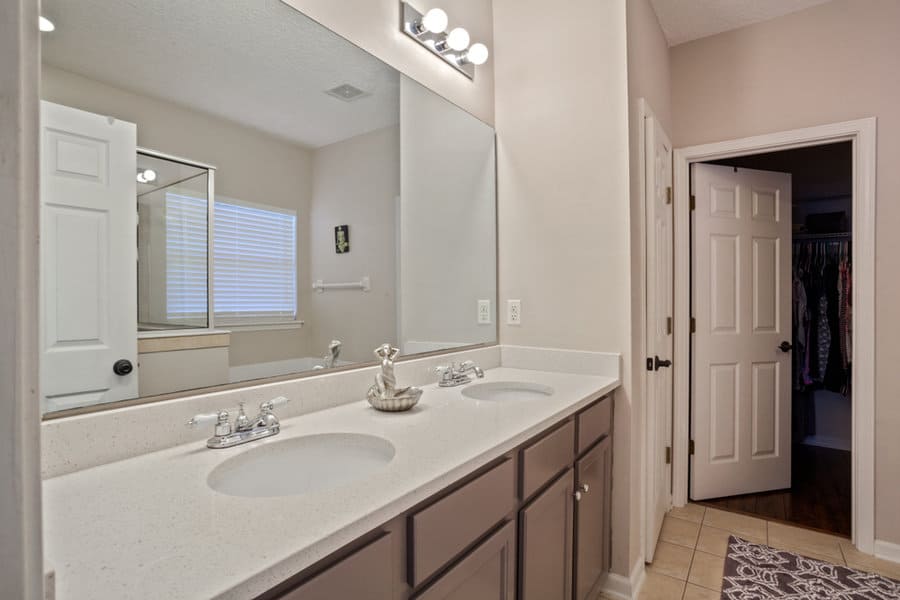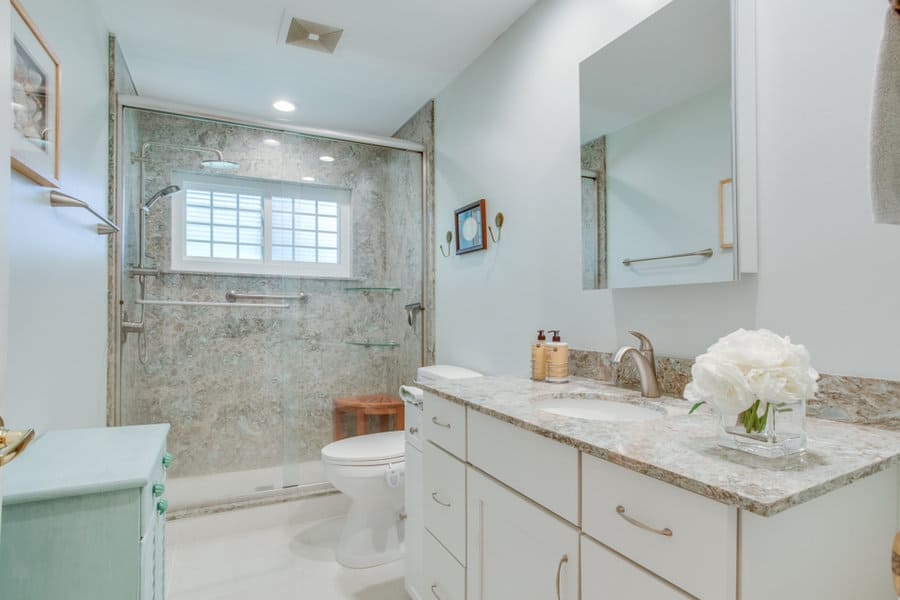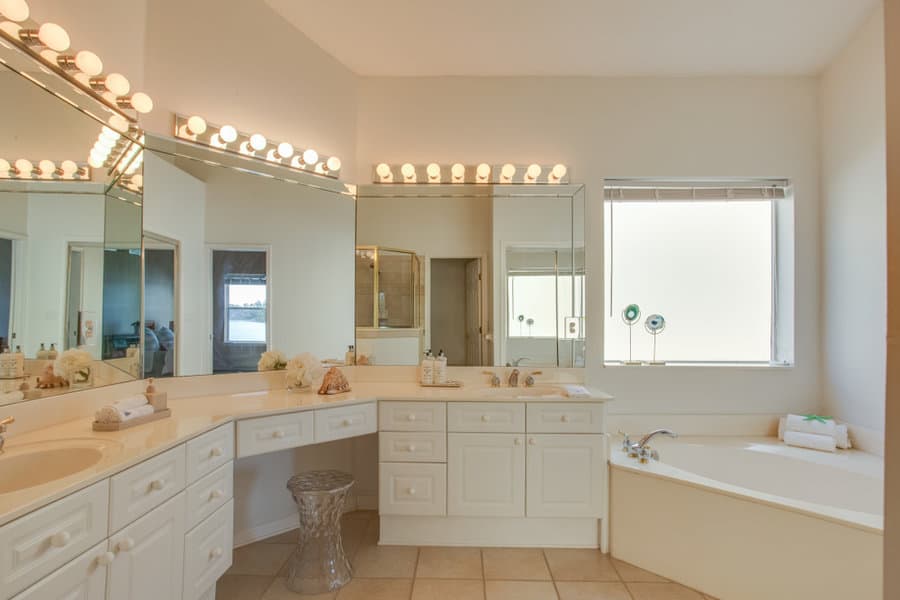 Start with a clean palette of white tile, walls, and vanity. Then add beach bathroom decor made from natural materials.
You could have a traditional nautical line made from natural fibers used as trim around the vanity mirror, along the vanity, or used to fasten the shower curtain to the rod.
A jute or hemp woven rug on the floor will be durable and add natural texture.
10. Wood
Adding wood to your bathroom is a perfect way to incorporate warmth and texture into the space. You can also make it feel more like a beach bathroom.
The obvious choice is to use driftwood in your beach decor. Mount a piece on the wall, use a piece as a candle holder, or mount hooks for a one-of-a-kind towel rack.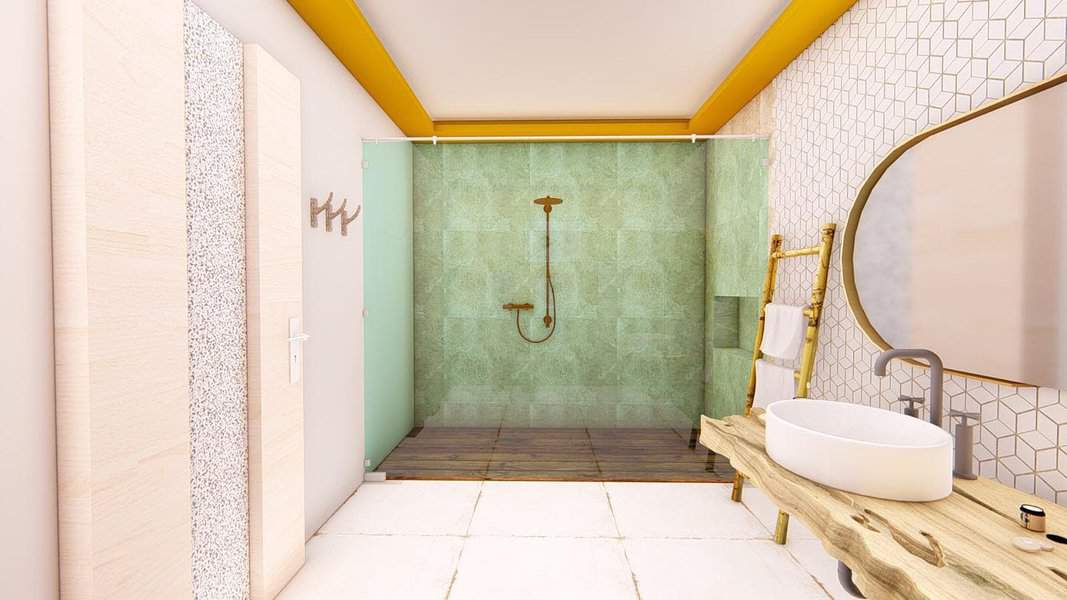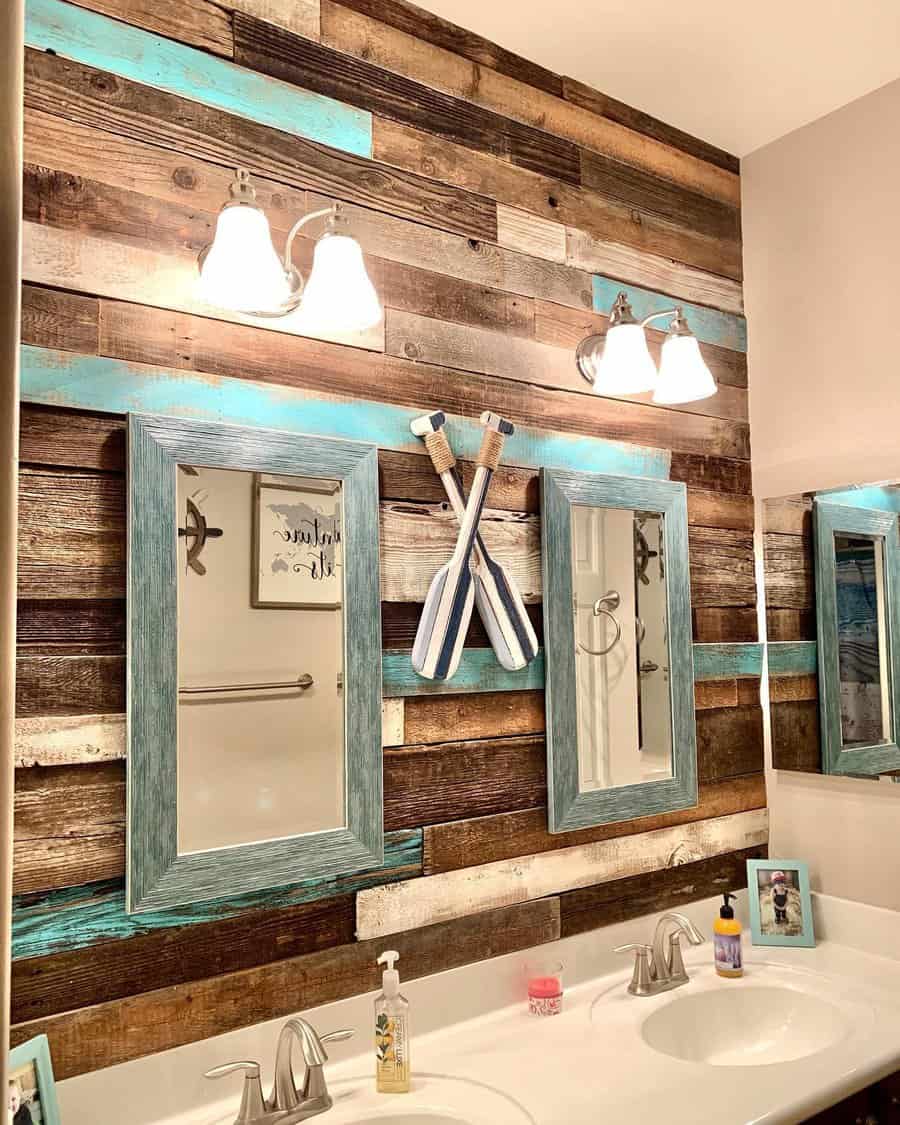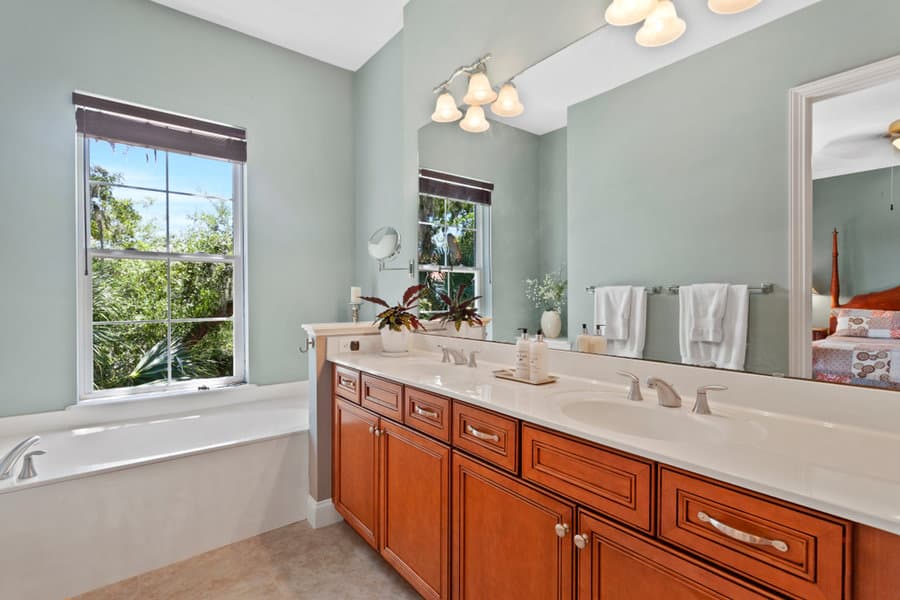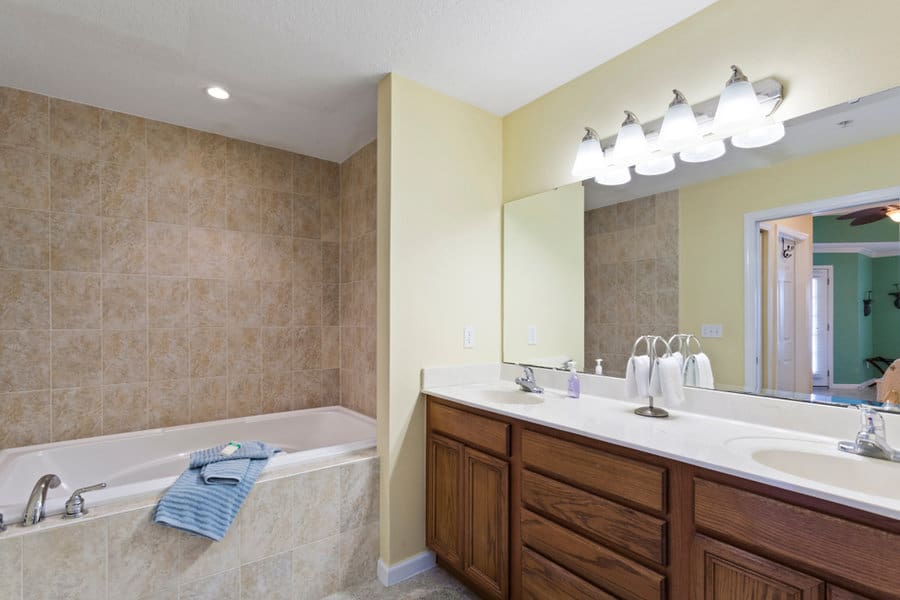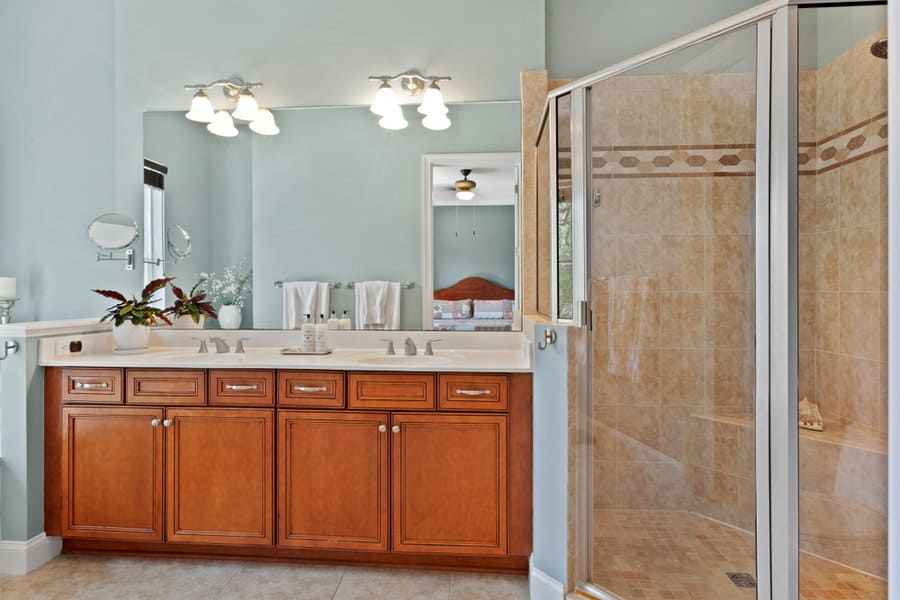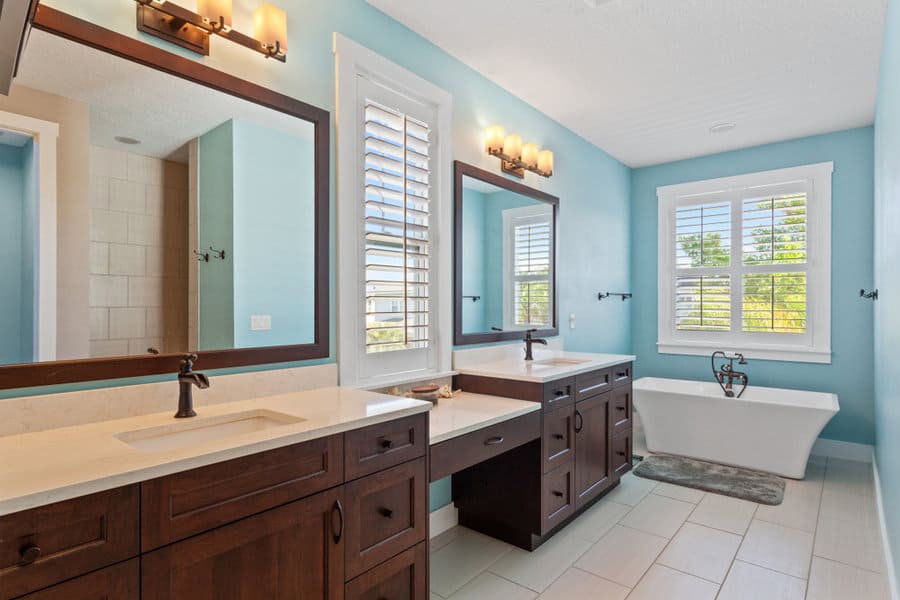 Depending on the nautical look you're going for, you could have a wooden vanity in either light or dark wood. Lighter woods in a blonde, honey, or copper tone will give your bathroom a bright and tropical feel. Darker woods will give it a more northeast coast feel.
Beach Bathroom FAQs
How do you make a bathrooms beach-themed?
The easiest way to invoke feelings of the beach is to use colors that you'd find at the beach or ocean. This includes shades of blue and green that reflect the colors of the water. Then use white or neutrals to emulate the color of the sand. Then include natural woods to channel the look of boats, beach furniture, or decking.
How can I make my small bathroom look luxurious?
Use materials that are affordable but look expensive. Use faux marble for the vanity countertop. Or a faux marble tile for the shower floor and walls. Splurge on key pieces in the room to give the impression of luxury without breaking the bank. You could use an expensive tile for your accent or around the vanity. Another option is to use more luxurious lighting and plumbing fixtures.
What colors make a small bathroom look bigger?
White is the best color for making your bathroom feel bigger. It's the lightest color you can use and reflects the most amount of light. This helps your bathroom to feel brighter and more spacious. If you prefer a color other than white, stick with pastel or light-hued colors. Bright yellow, seafoam, and lavender are all light colors that will make your bathroom feel larger.