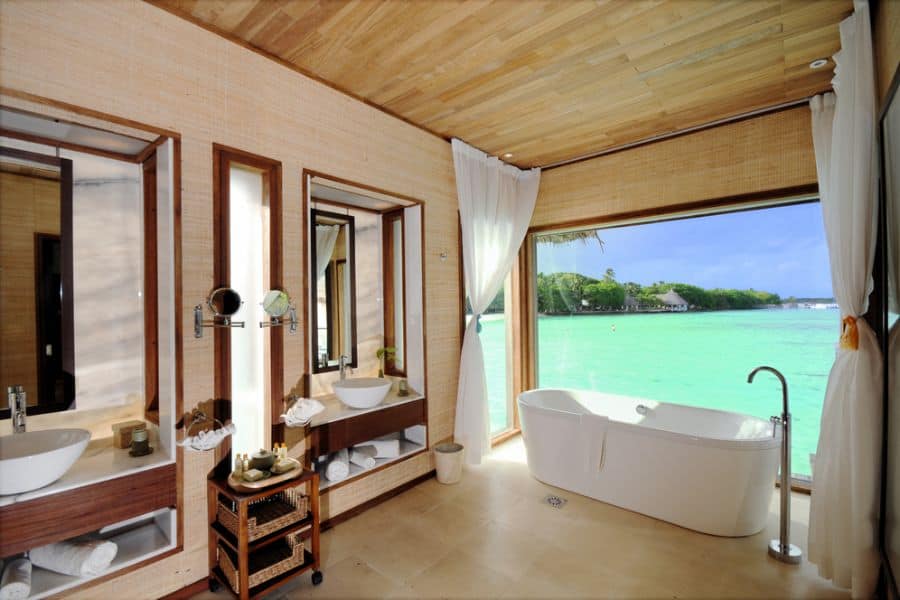 Nothing is more relaxing than taking a vacation to the coast. It doesn't matter if you head to Martha's Vineyard, the Jersey Shore, or the white sand beaches of Florida.
The salt air smell, warm sun on your face, and calming soundtrack of the waves lapping on the sand will have you longing to go back.
What if you could have that sense of relaxation and calm in your own home? Well, you can with a beach theme bathroom. This gives your bathroom a coordinated and welcoming look.
These beach bathroom ideas will help you get started creating your own beach oasis in your bathroom.
1. Keep It White & Bright
Beach bathrooms can be the perfect sanctuary for calming and refreshing your mind before you hit the sand. An all-white interior with natural light flooding in will give your bathroom a bright and open look, which is ideal for creating an airy vibe.
Neutral tones, potted plants, and beach decor all enhance this feeling and make sure you're ready to relax right away! So no matter how small your bathroom may be, all it takes is a few subtle touches to create the perfect beach atmosphere that encourages peace and rejuvenation.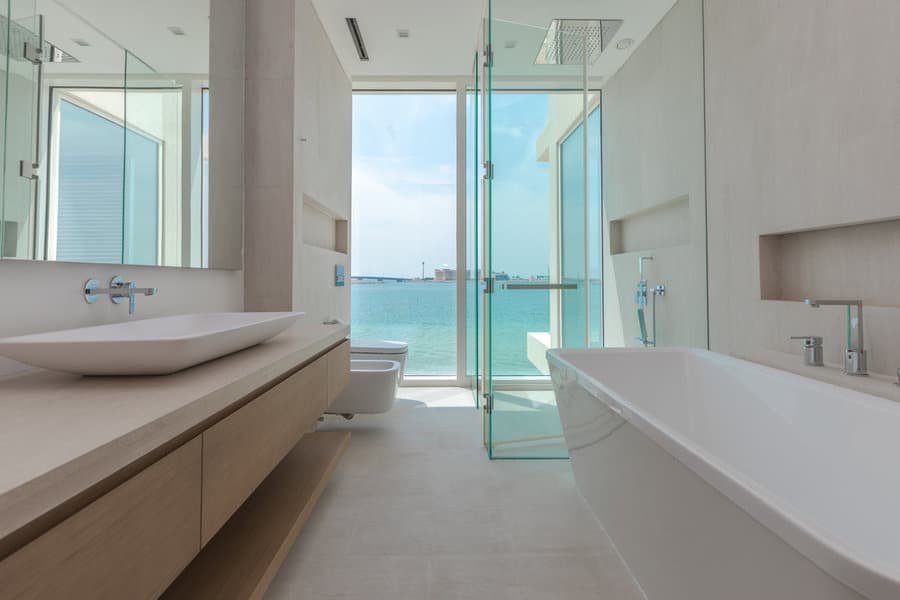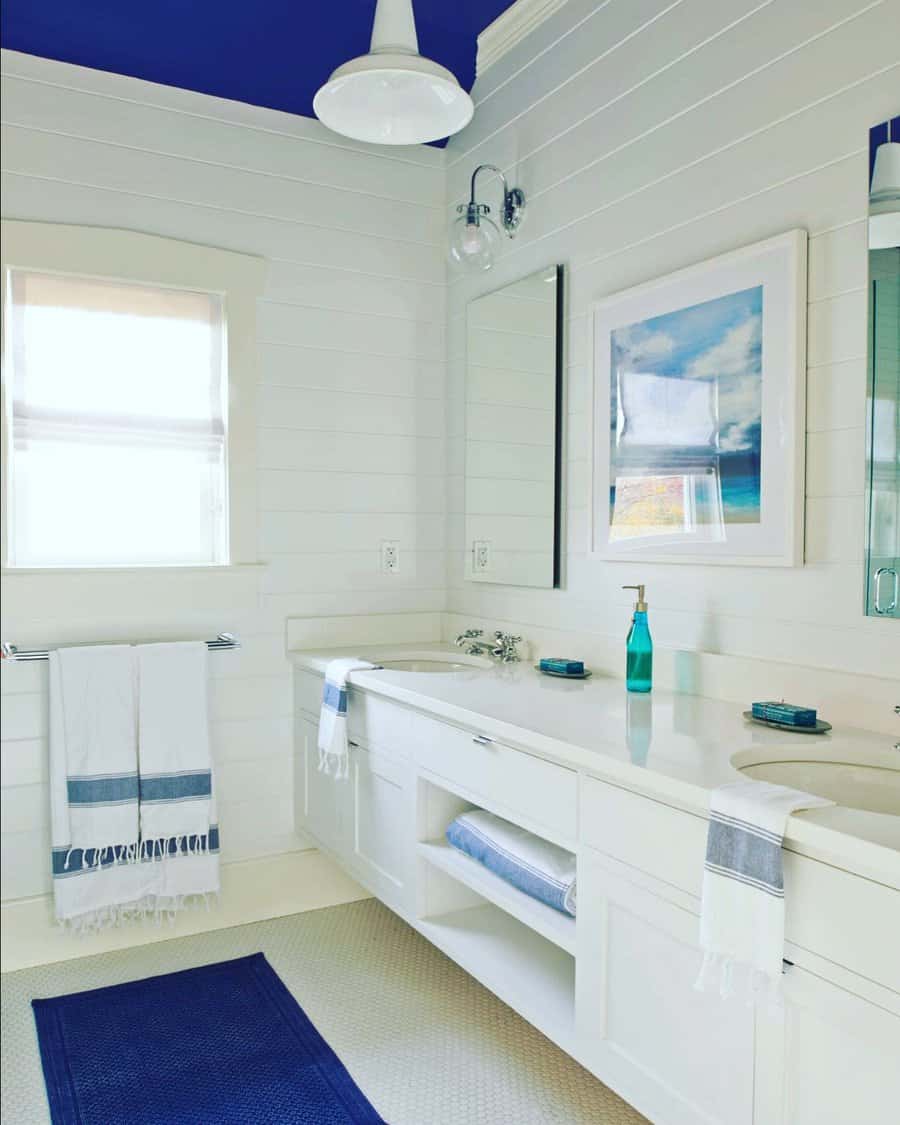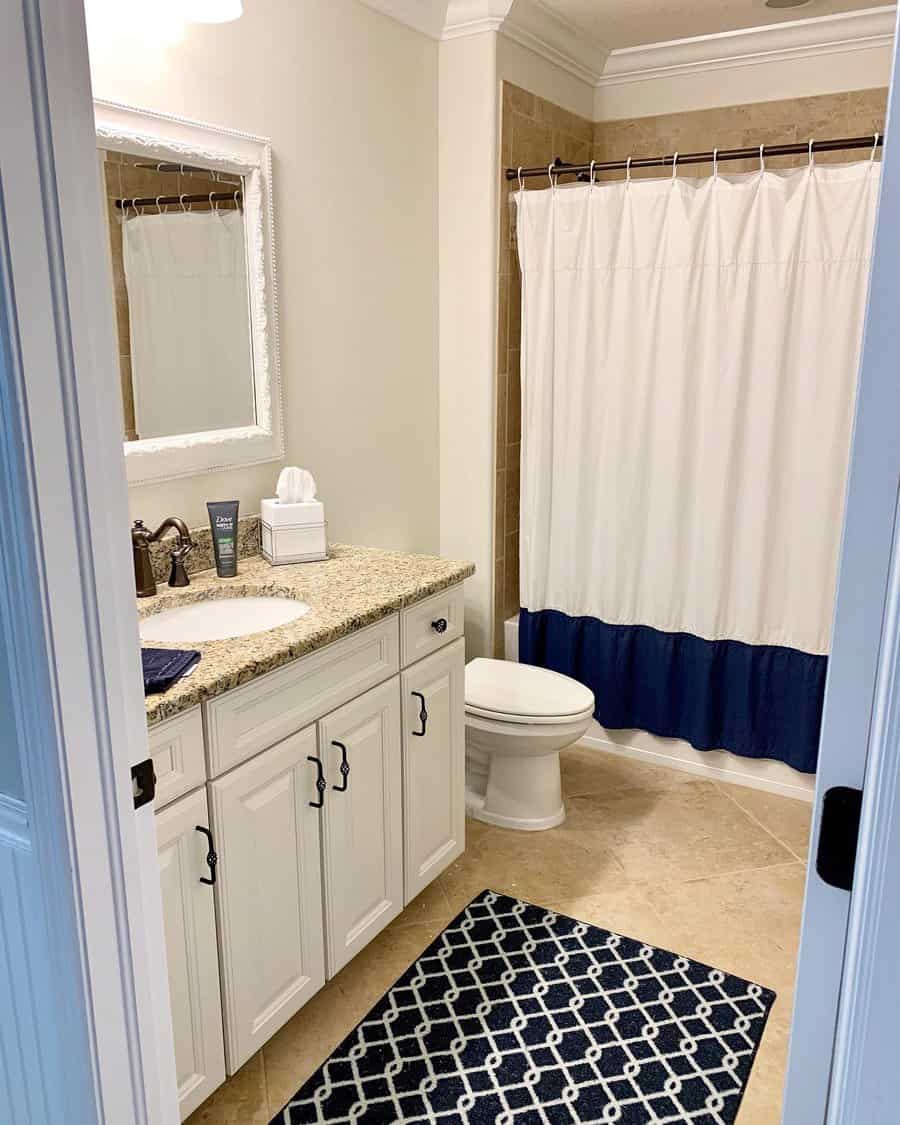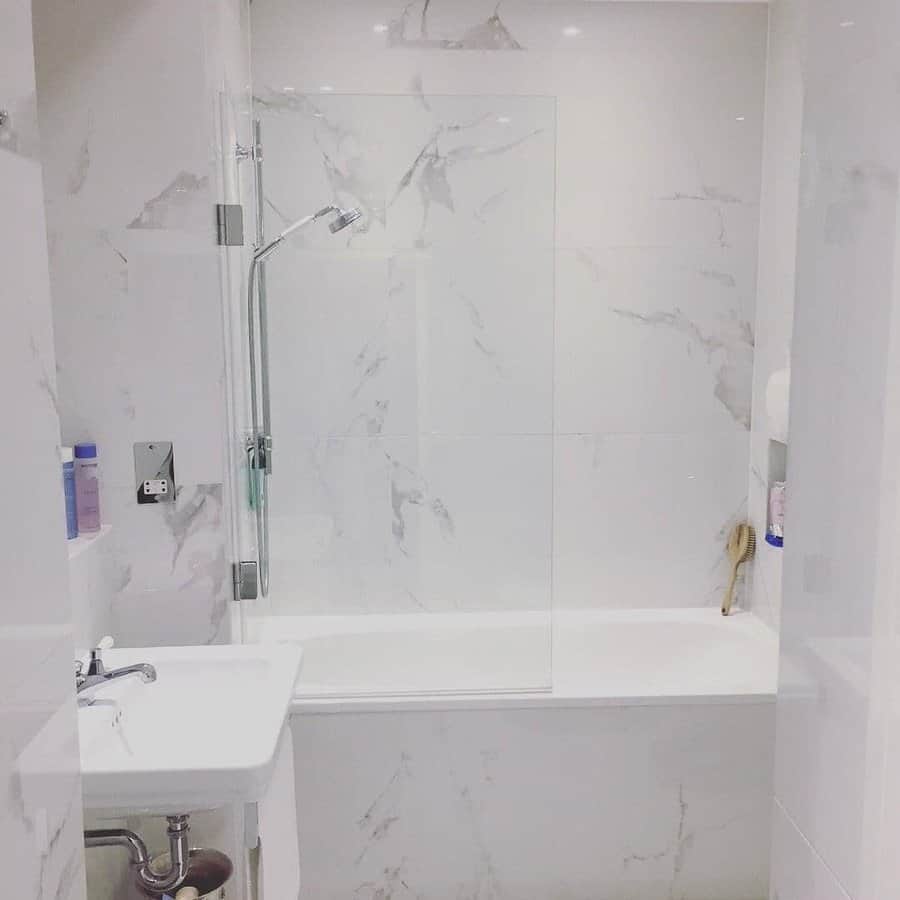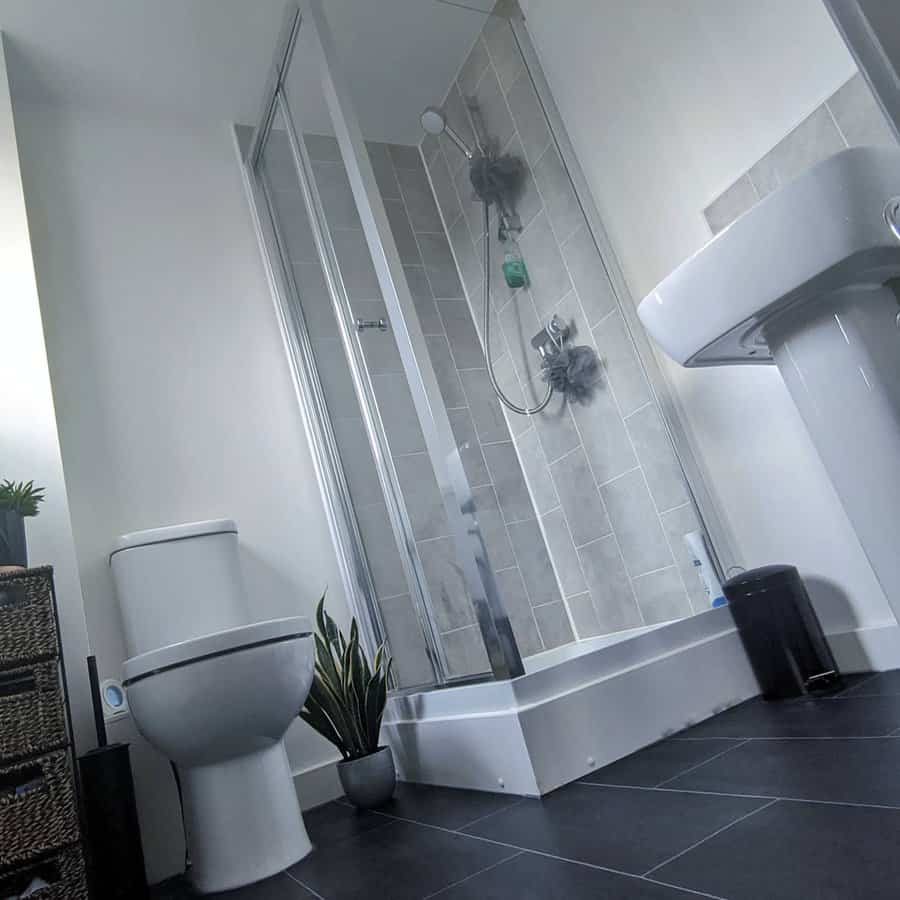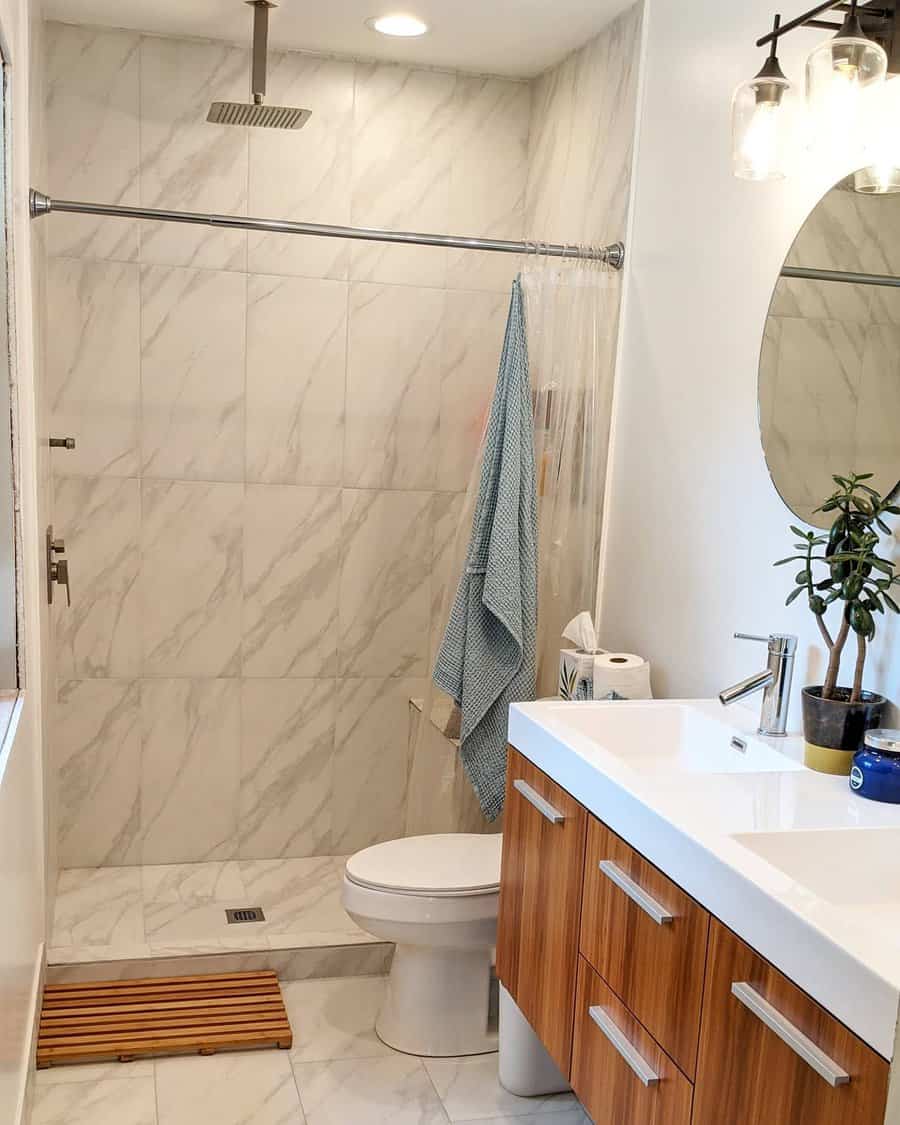 2. Install A Glass Door To Reveal The Relaxing View
Why not make the most of your stay by installing glass sliding doors in the bathroom, to take advantage of the gorgeous natural beauty this location has to offer? Not only does glass bring about a sleek contemporary look, but it allows for an extraordinary view of the tranquil waters and the golden sand.
Imagine taking a hot shower while enjoying a panoramic display – glass sliding doors are the perfect way to make that happen. So don't just settle for any traditional bathroom setup when planning your beach visit – choose glass sliding doors as a unique way to enhance your experience.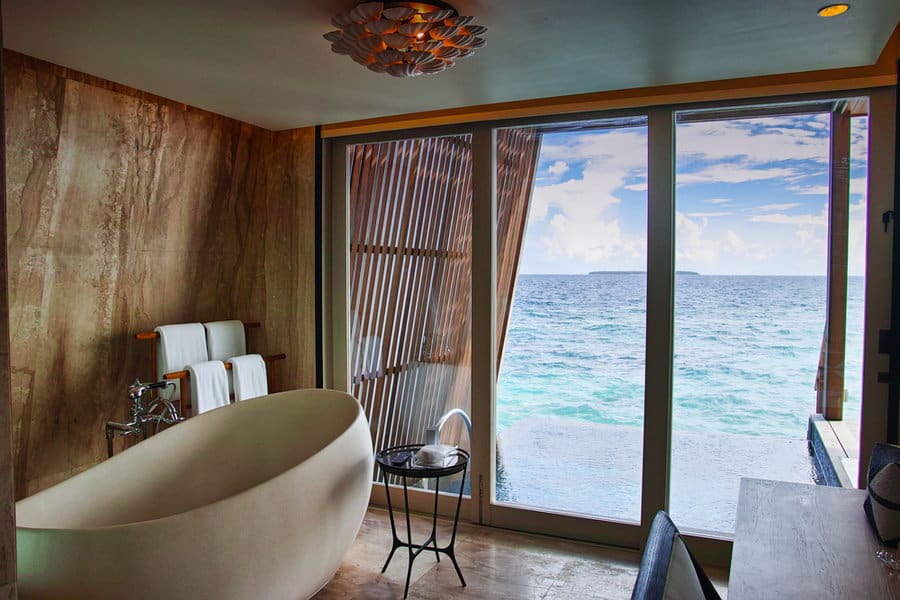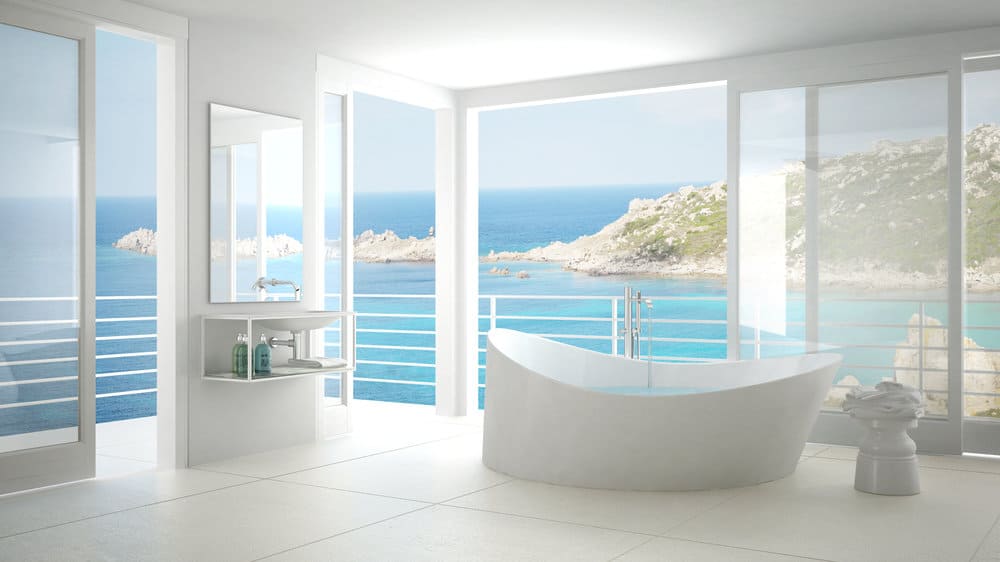 3. Hang Coastal Wall Art
When designing a beach-inspired bathroom, coastal wall art is key! Adding some vintage touches with items such as a coastal-patterned shower curtain will bring about an inviting atmosphere in no time.
Let's not forget to add some driftwood elements – you can easily refinish them to complement the coastal wall art. All in all, a careful selection of coastal wall art and a few thrifted items will provide the perfect getaway feeling that you were looking for in your beach-styled bathroom.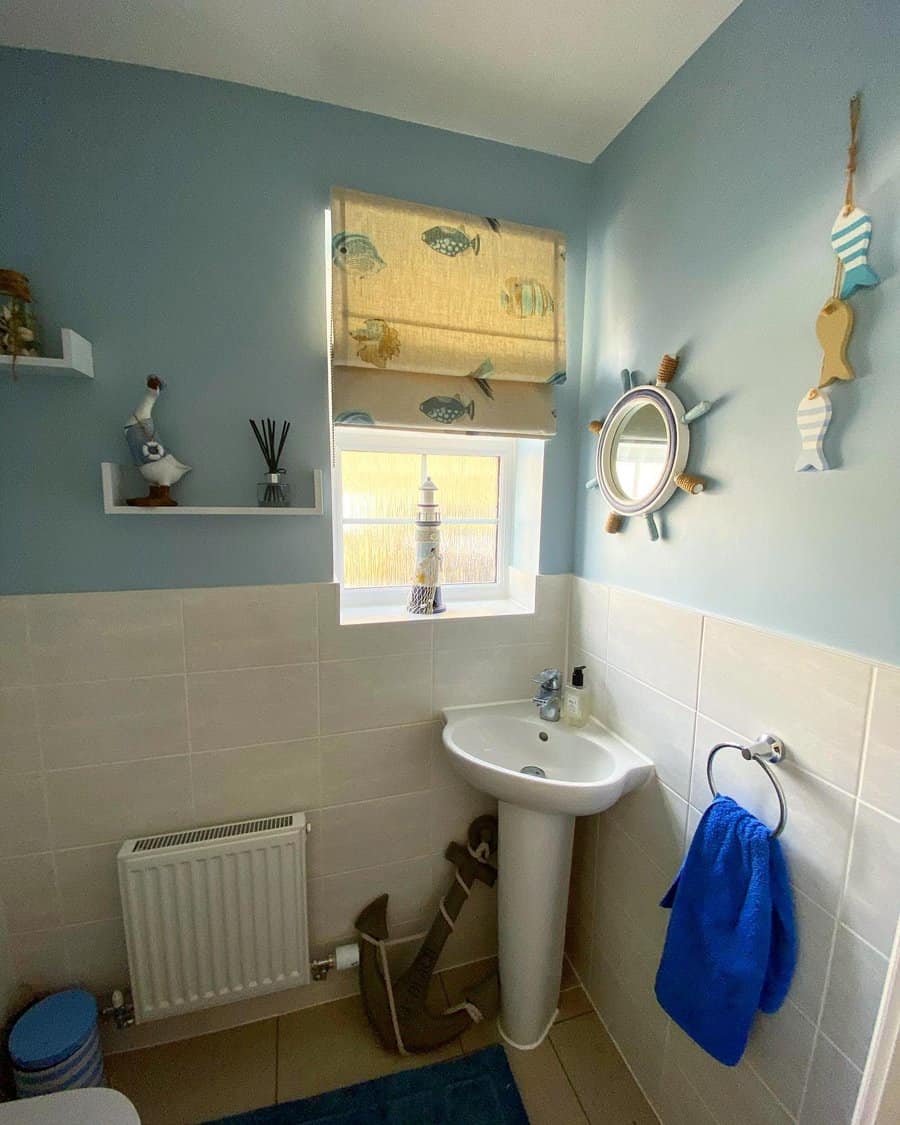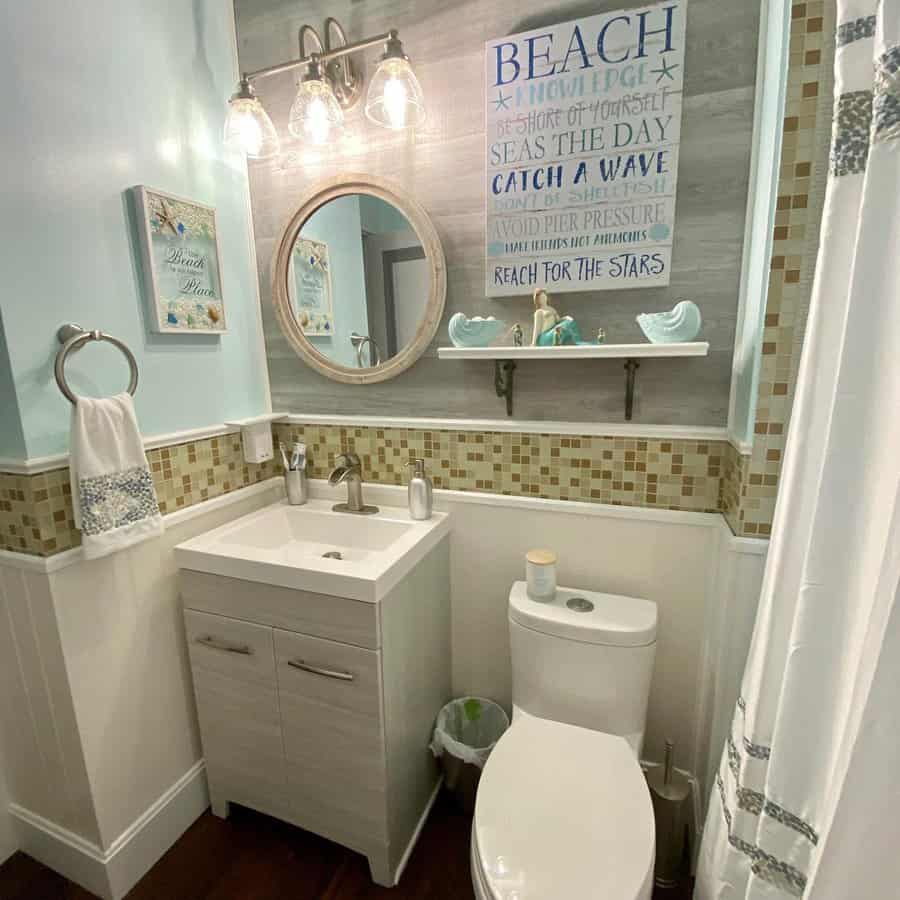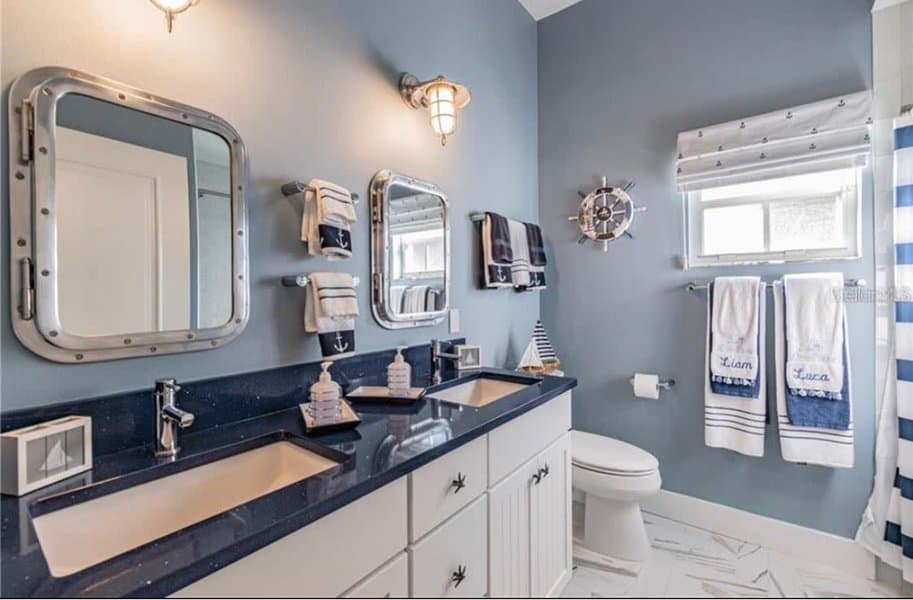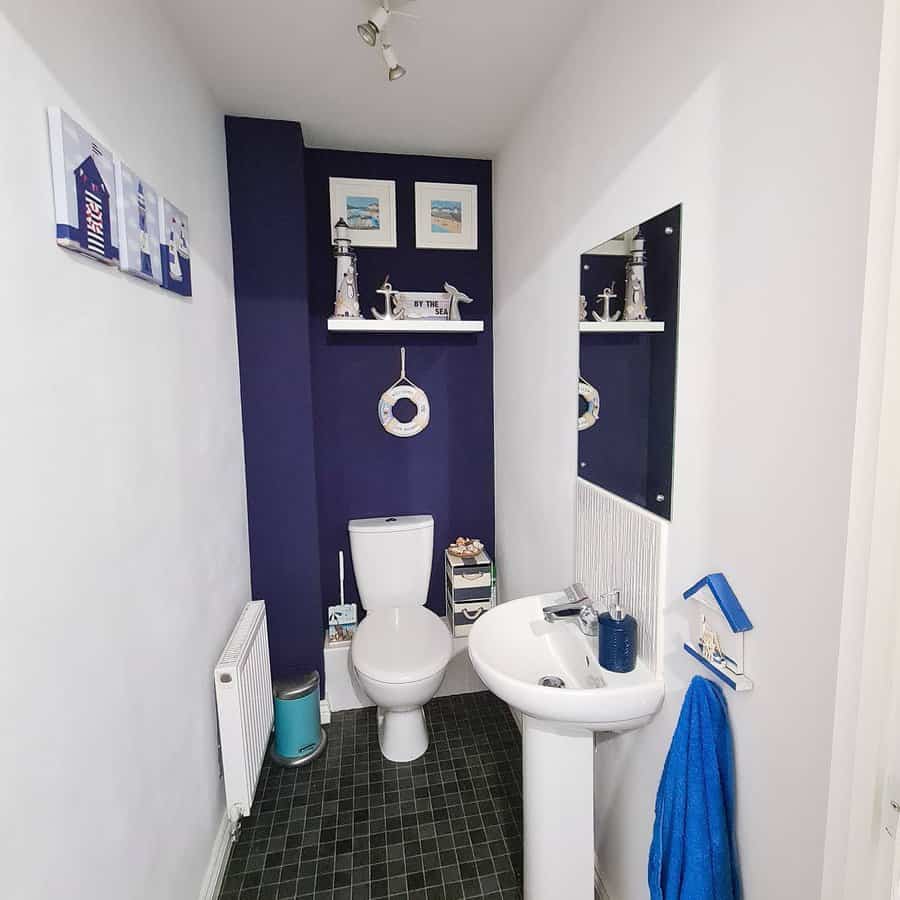 4. Incorporate Plants For An Airy Feel
When designing your beach bathroom, incorporate plants for a fresh and beachy look. One way to go about this is by hanging plants. They can add vibrant pops of color and life while also saving on space–and they look stunning when the summer sun hits them through a window or laced curtains.
Potted plants can also make an excellent choice as they provide an inviting feel to the room. There are so many options available, so be sure to pick some that fit the aesthetic you're going for.
For something serene yet slightly rustic, incorporate pottery in neutral shades along with hearty greenery like fiddle-leaf figs and pothos vines that cascade down from lattices or containers on ledges above. It's an easy way to add warmth to your space!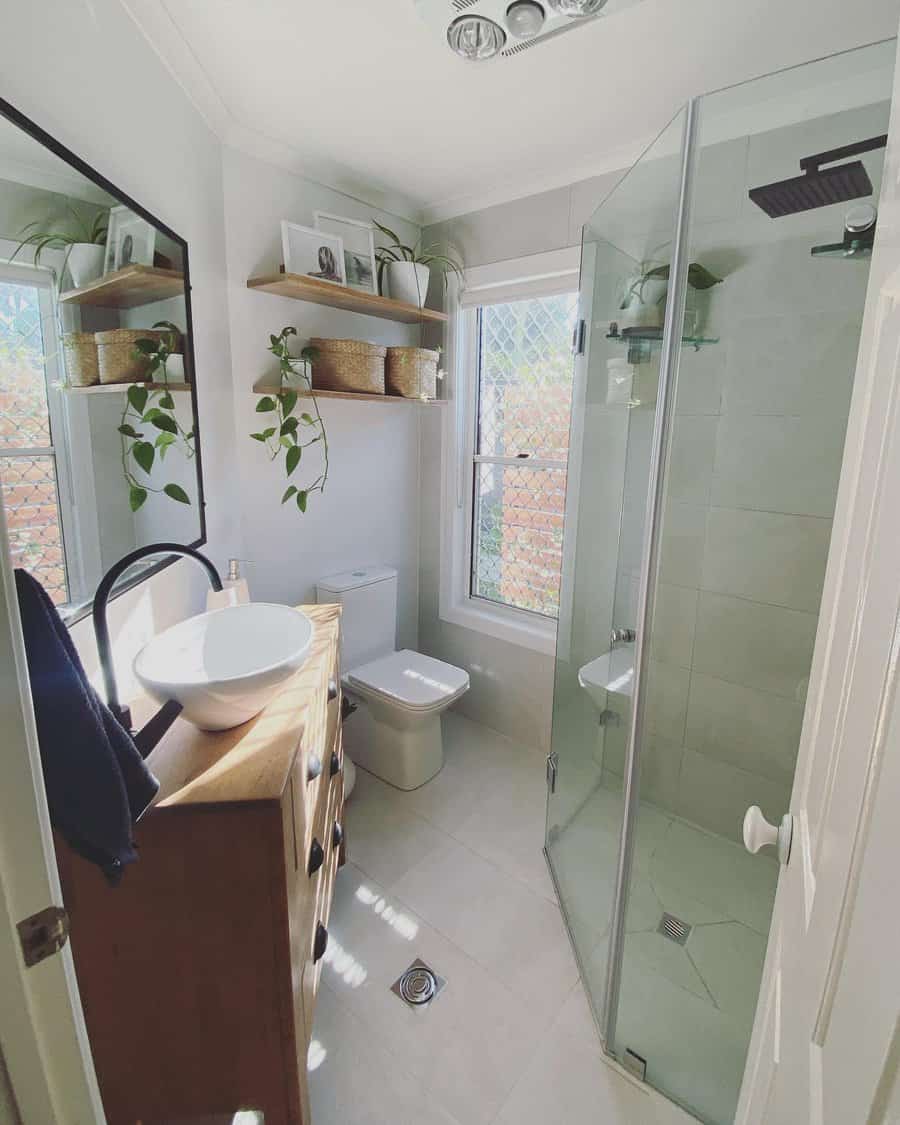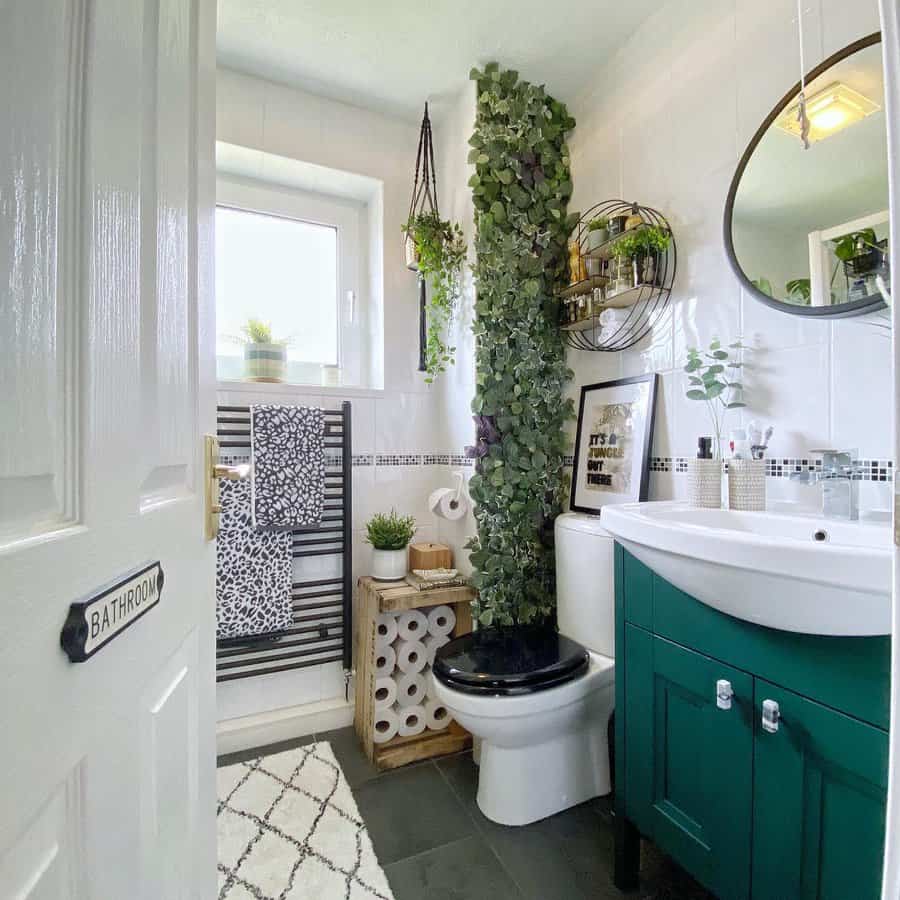 5. Be Playful With Lighting
The beach bathroom is often viewed as an afterthought, but with some creative ideas, it can be transformed into an inviting and dramatic space. Layers of dramatic lighting are essential for setting the perfect mood.
Start with dramatic pendant lighting in the center of the room then work toward the edges with sconces that radiate away from the central light. Wicker accents and lush plants add texture and sophistication to this oasis-like space.
The right accessories can also go a long way in making your beach bathroom look full and complete, so choose items that not only look good but make you feel relaxed as you prepare for a day at the beach.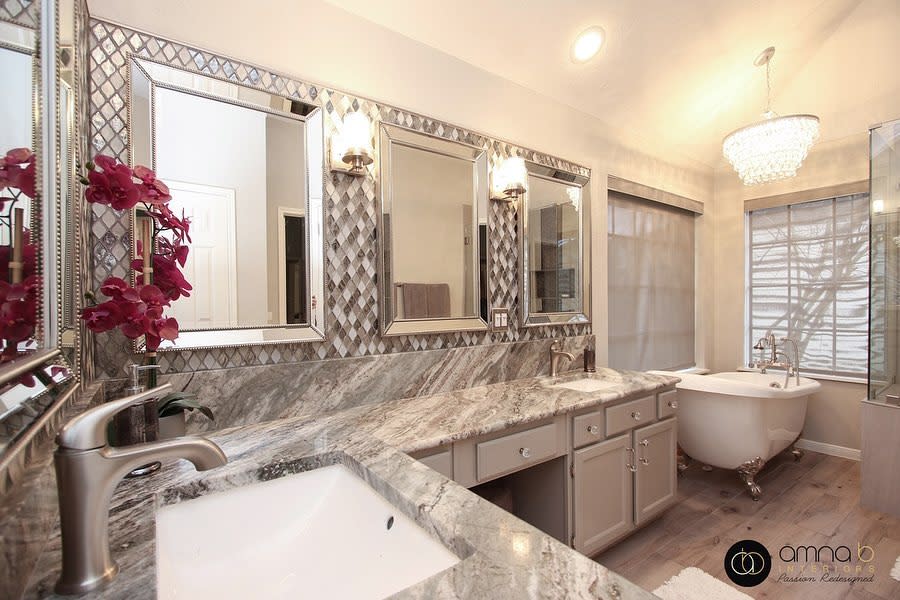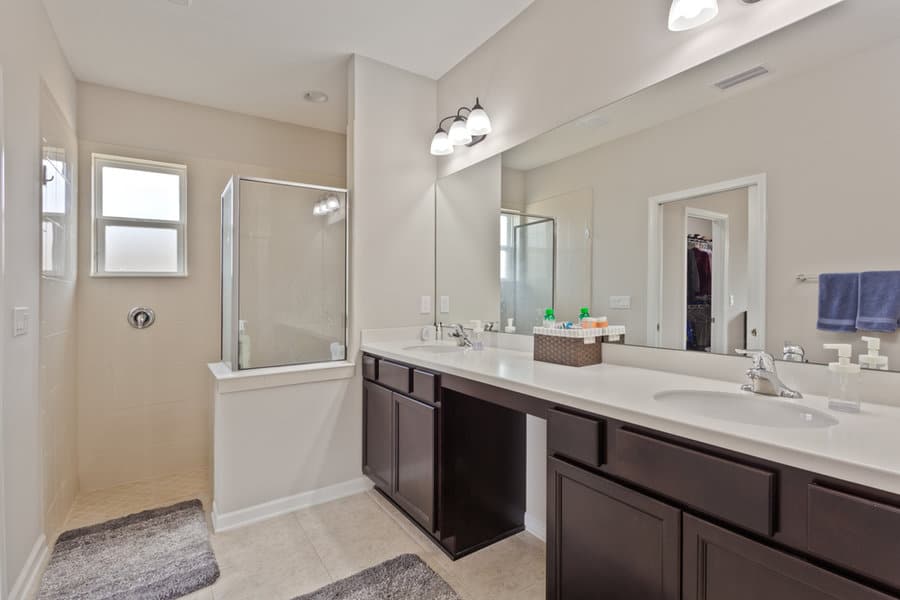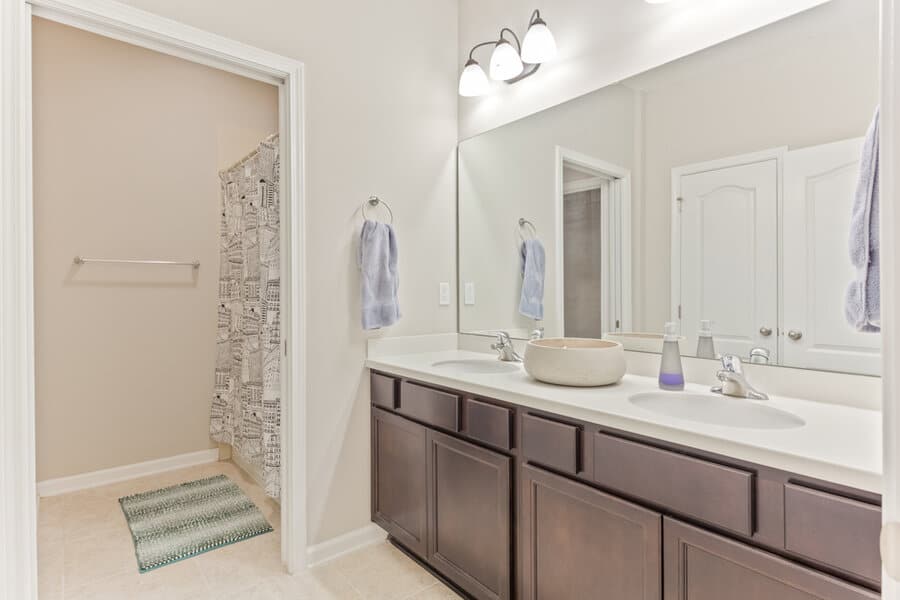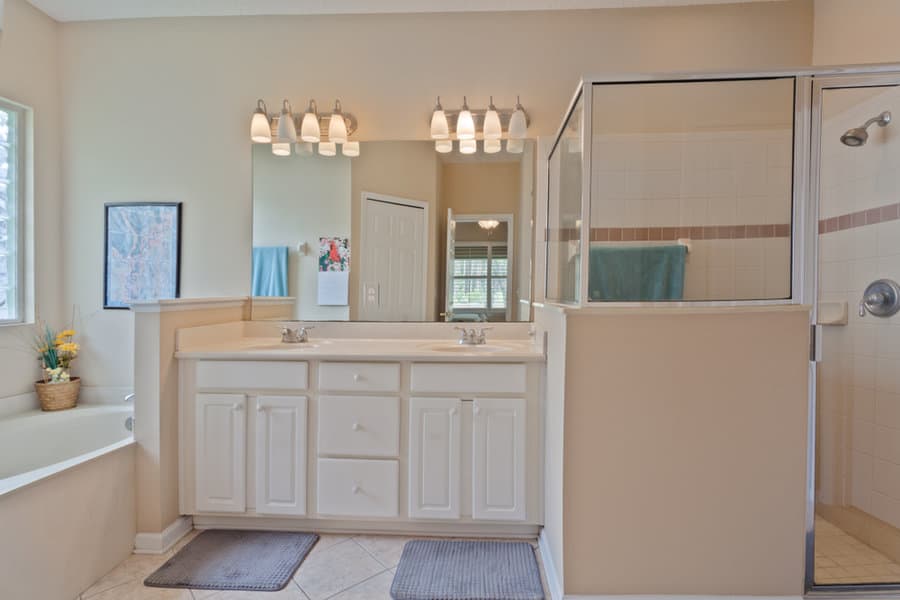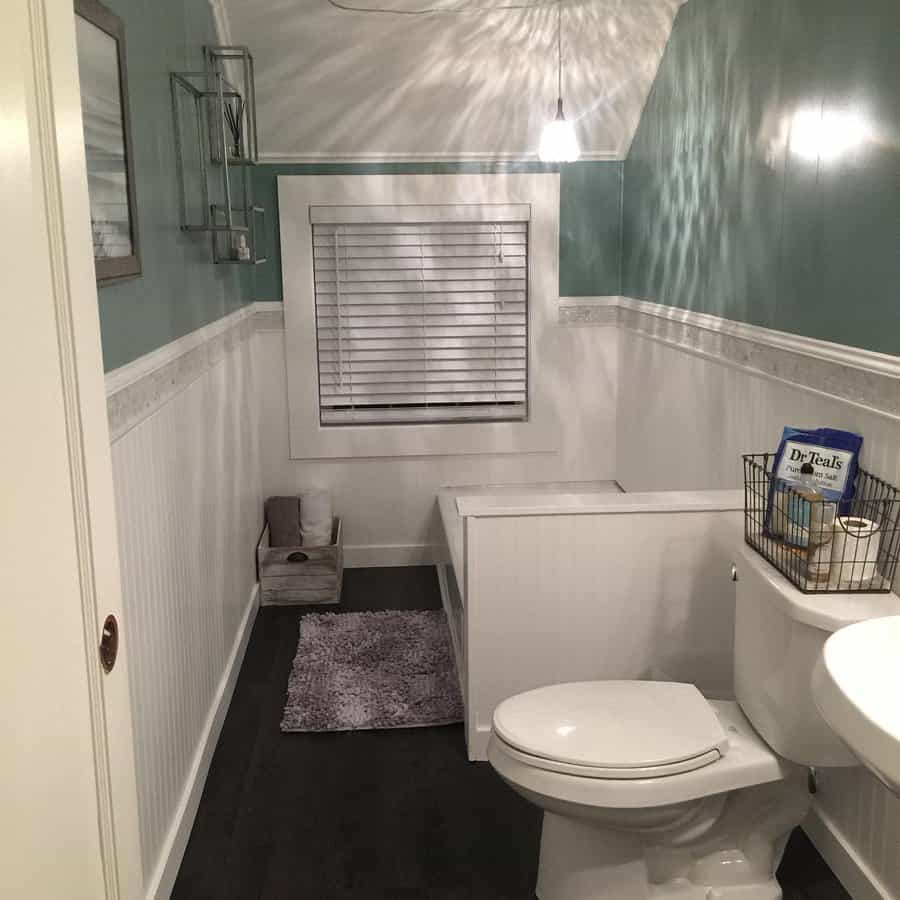 6. Give The Walls An Abstract Treatment
Quirky and eye-catching abstract walls can create a unique texture that's perfect for any beachside room or cottage living. Whether it's an abstract mural, decoupage wallpapers, or art pieces and old photos arranged intricately on the wall, abstract treatments give the bathroom an interesting character that will wow your guests.
Your beach bathroom will instantly attract attention because of its unique abstract wall treatment – so don't hesitate to tap into your artistic side!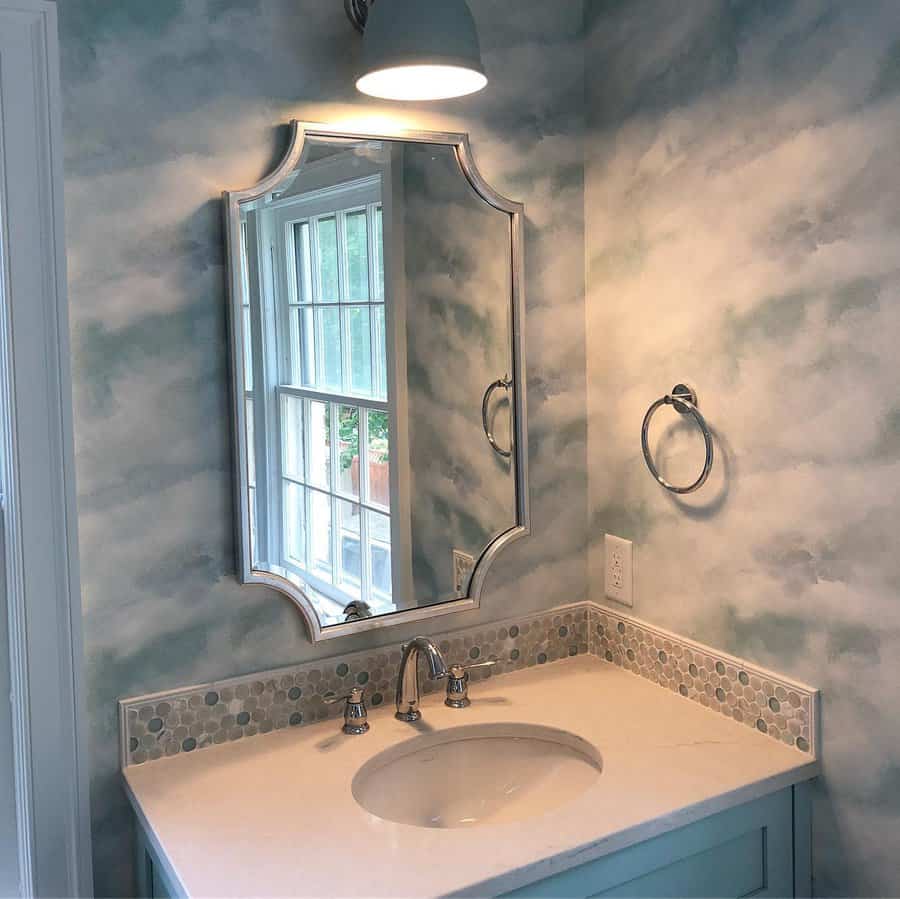 7. Go For Gold Fixtures
Creating the perfect beach bathroom can be quite a challenge, but gold fixtures, balanced against white walls and bright light, can bring it all together. Gold fixtures provide shimmering warmth to the space and will reflect light throughout the room.
When combined with white walls, gold fixtures conjure up visions of fun in the sun and relaxation, providing an ideal backdrop for your little slice of paradise. Add in a window or two to let in ample sunshine and open up the space, inspiring you to make the most of each day spent at the beach.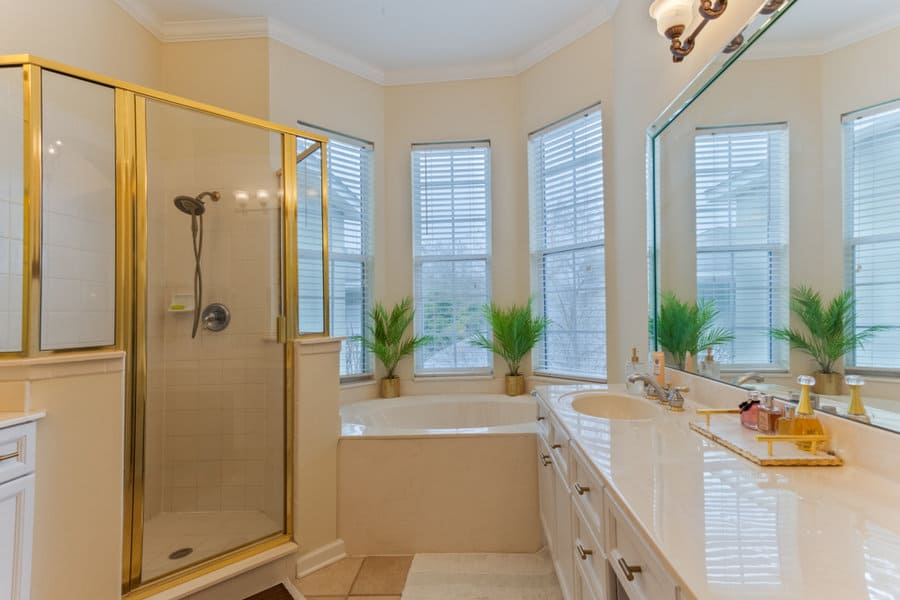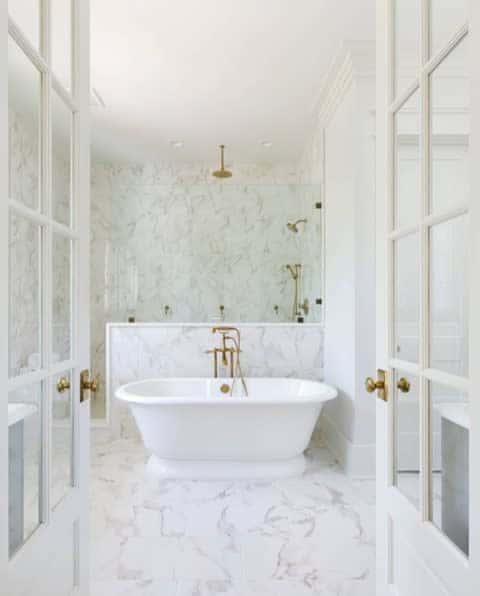 8. Paint The Walls Blue
Have you ever imagined having blue walls in your beach bathroom? Not only do blue walls add a pop of color to any room, but they're also the perfect touch to any ocean-inspired interiors. They really capture the natural beauty of the ocean and make any room feel like you're right at the beach!
An easy way to incorporate blue into your beach bathroom is by incorporating blue tile or wall paint. You can even use light blue tiles as an accent around your bathtub or sink tops and pair them with warmer colors like yellow, orange, or white for a coastal look that won't go out of style.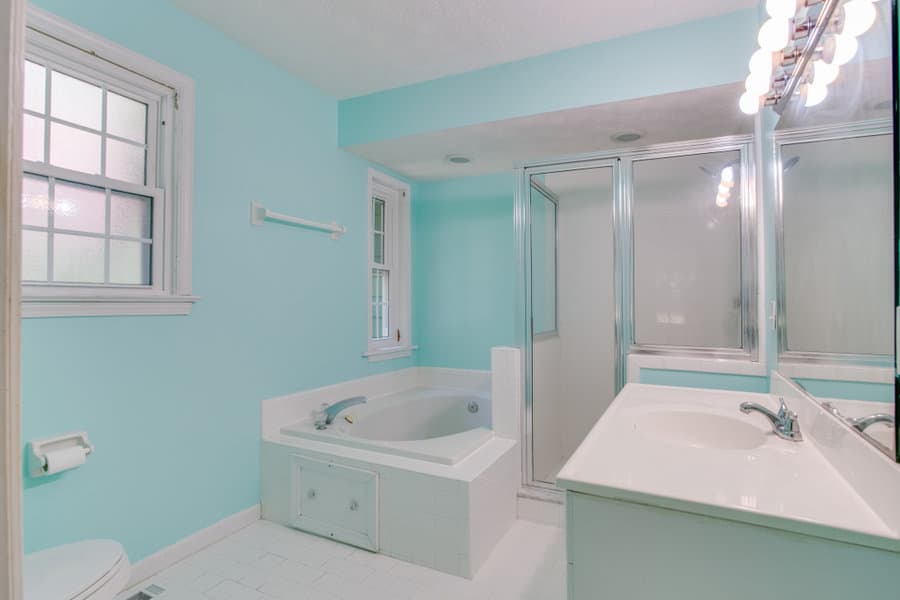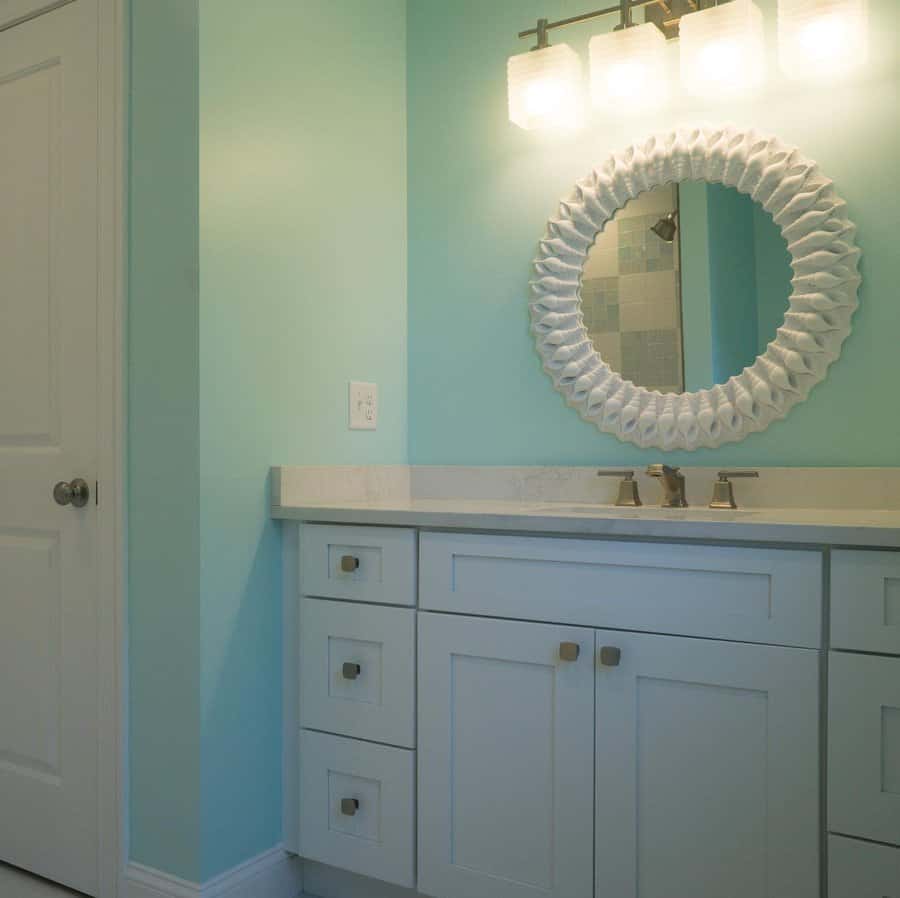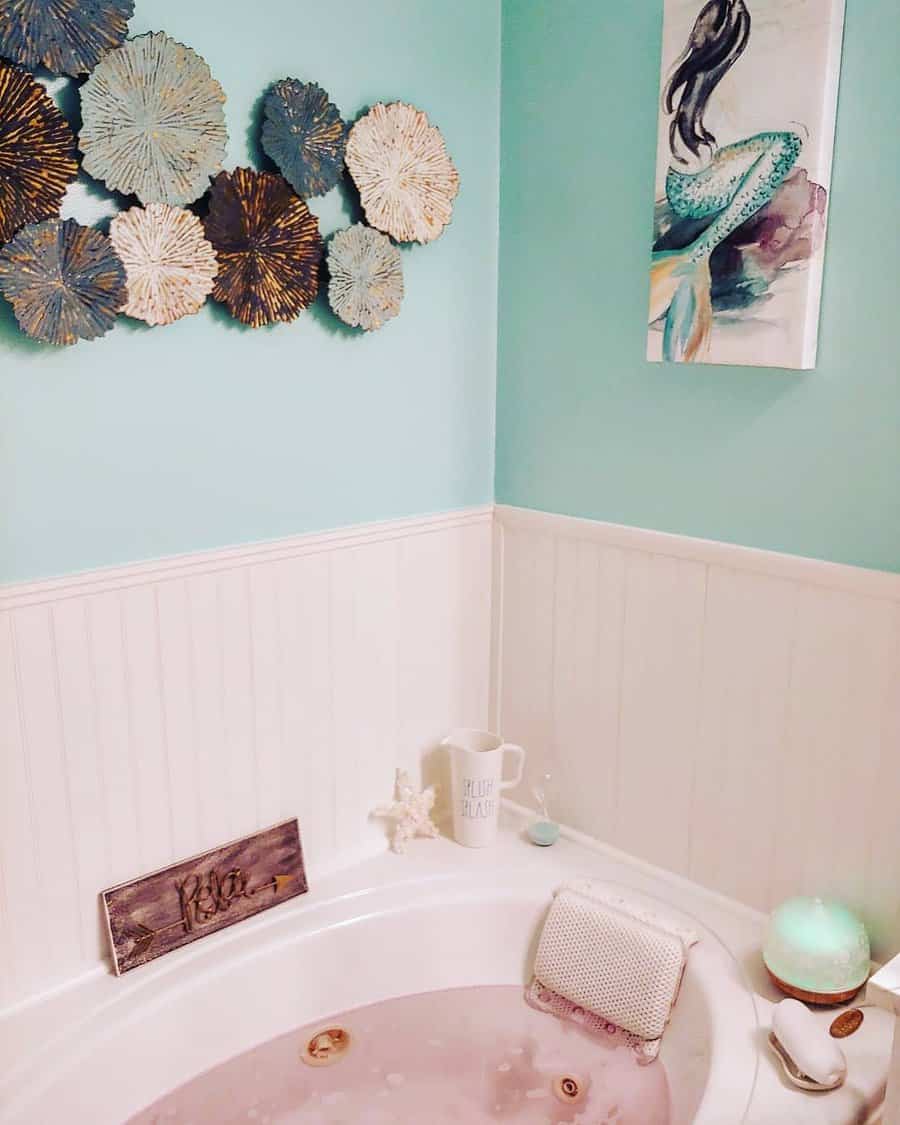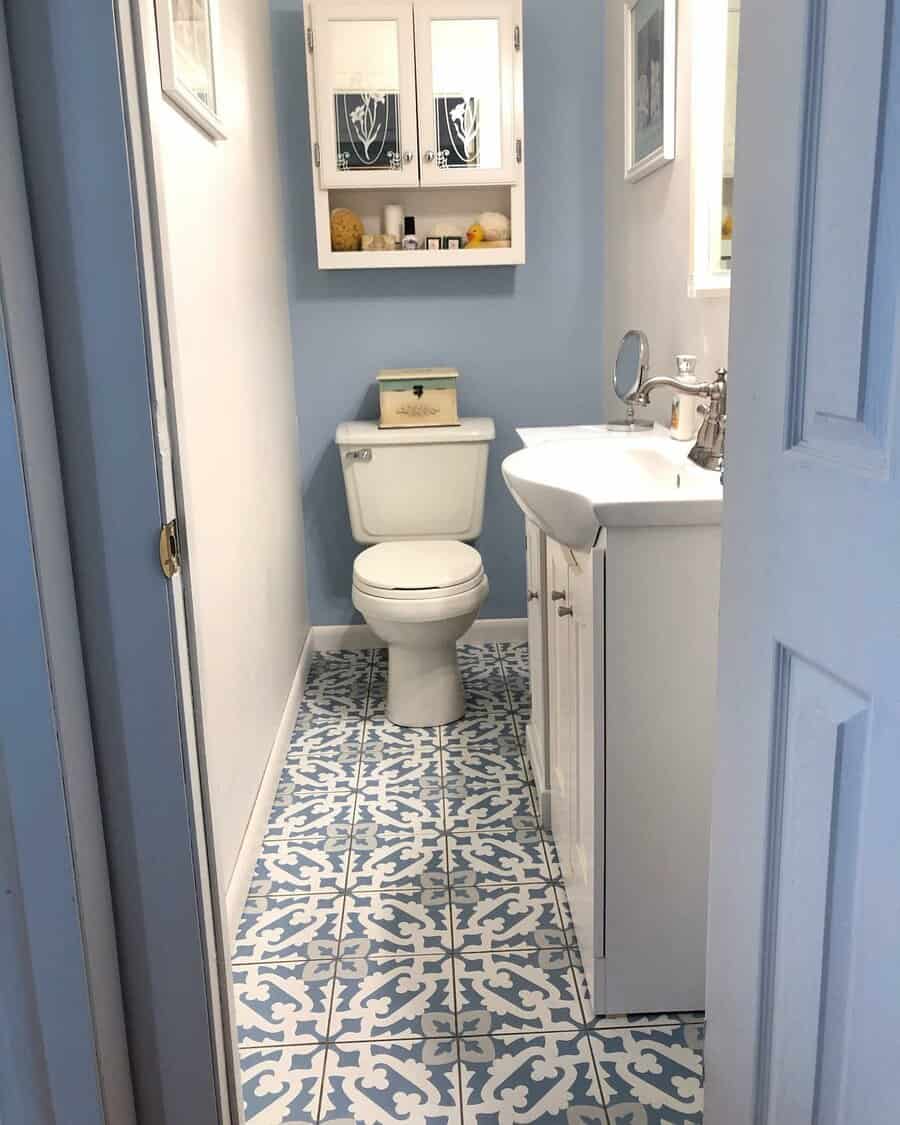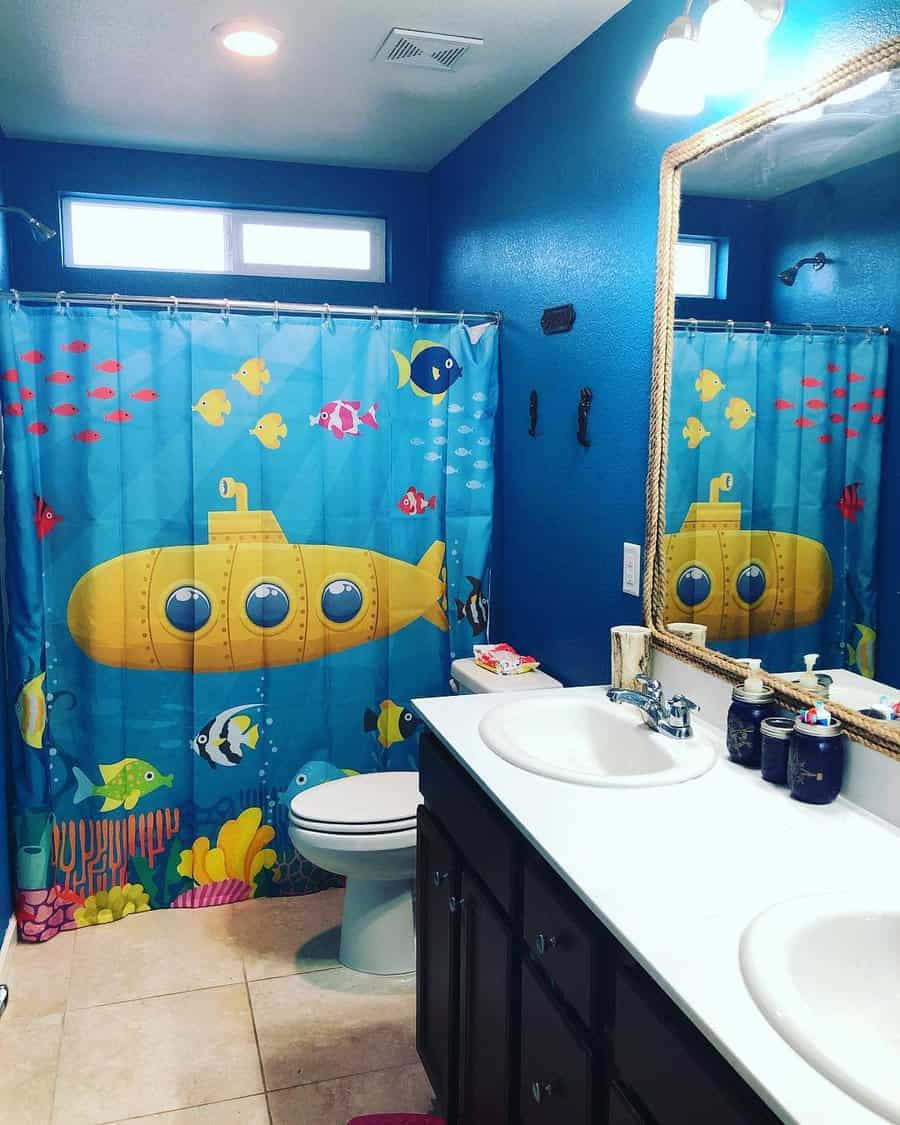 9. Pick Beige Walls For A Warm Ambiance
If you want your beach bathroom to remodel to be truly special, consider beige walls! This shade affords a warm and inviting ambiance, creating the perfect space for relaxation. Beige colors evoke thoughts of sand and the warm waters of the ocean, allowing you to be whisked away even when stuck indoors.
Try adding textured rugs, hanging plants, and even some pieces from nature like shells or other items collected from your local beach for a unique addition to any beach-style bathroom.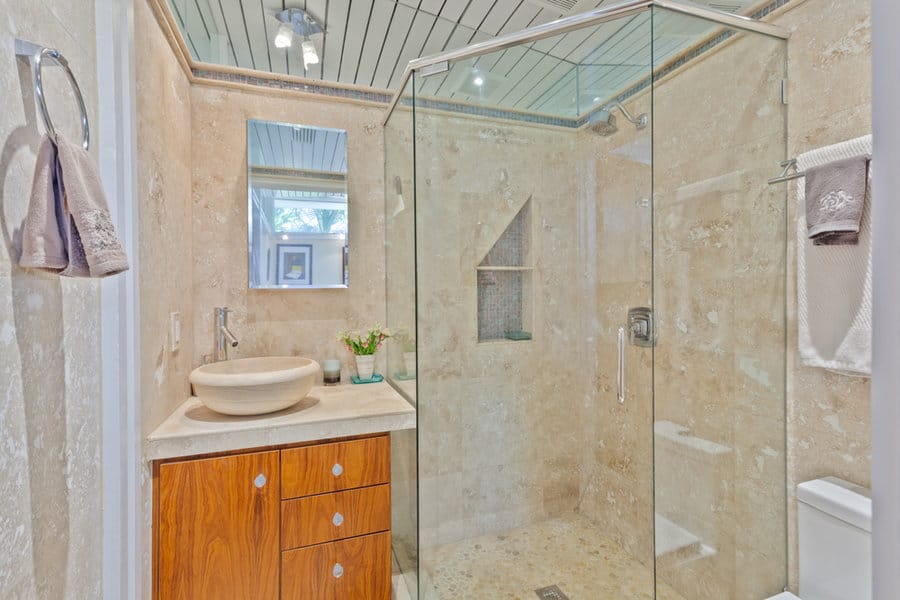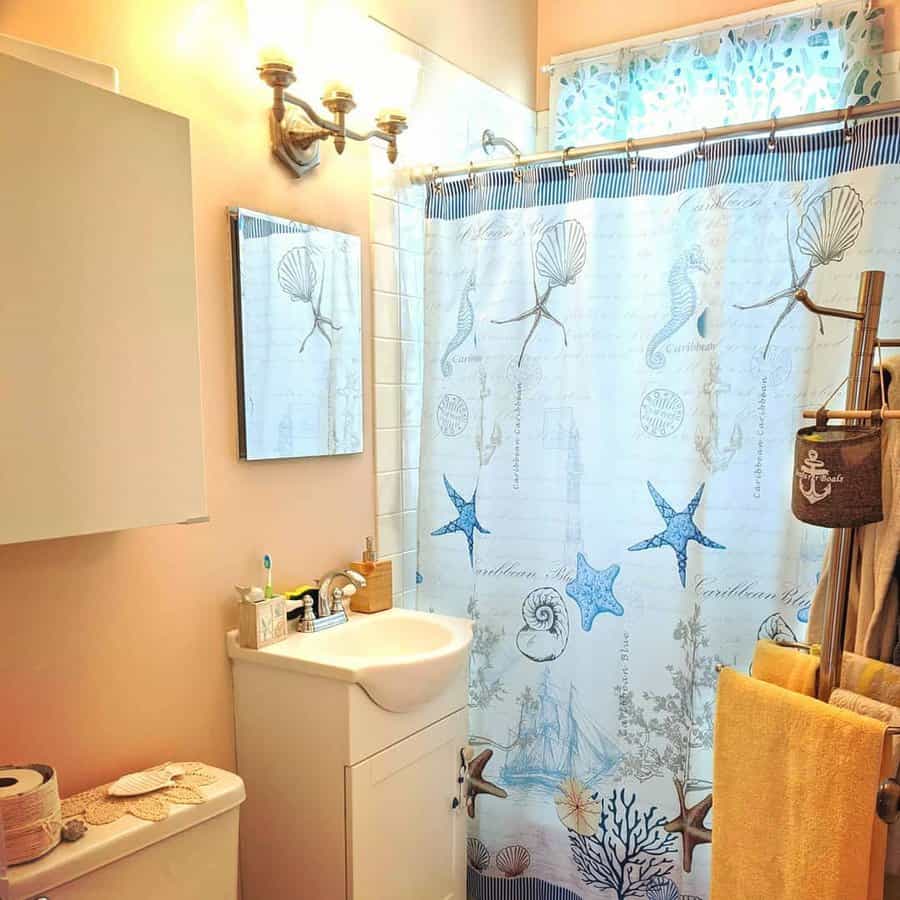 10. Style With Coastal Decor
Nothing quite sets the coastal-inspired atmosphere as well as a beach bathroom. If you're trying to recreate the coastal feel, utilize coastal décors such as distressed wood shelves, white and blue accents, and nautical trinkets. To add, placing a rustic wooden or porcelain vanity in the middle of a tiled bathroom can give it the perfect coastal flair.
You can even add some decorations such as small plants and patterns for an extra touch of coastal style. With these ideas, you can achieve an amazing beach bathroom experience in no time.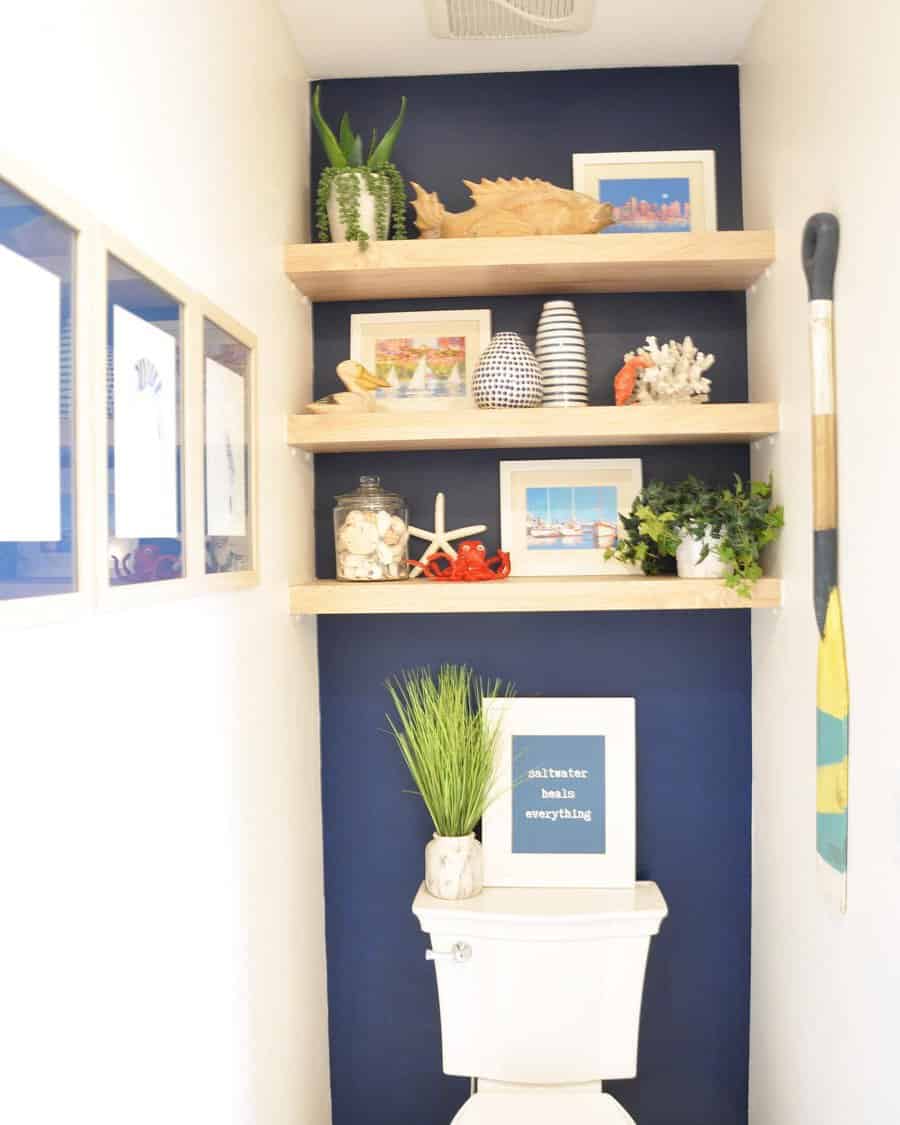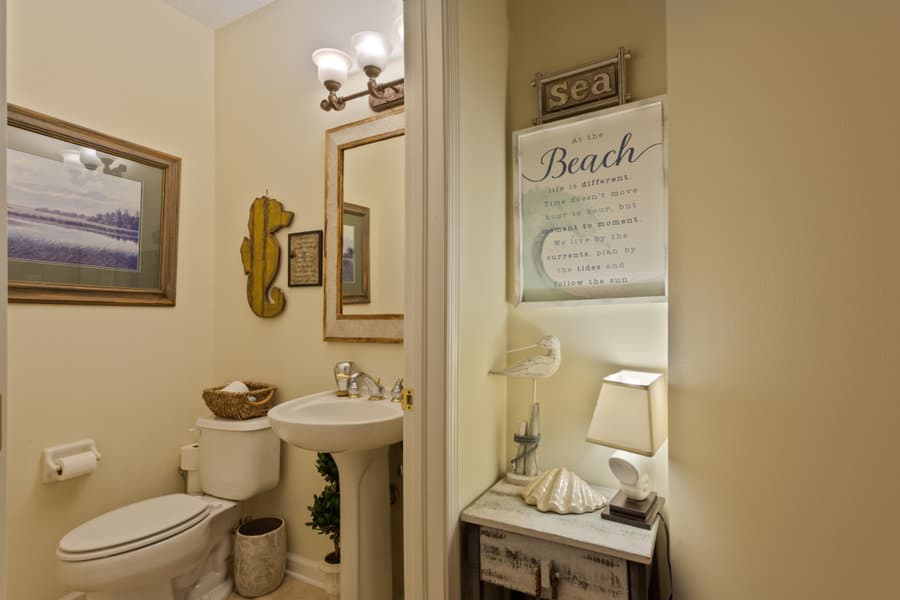 11. Be Creative With Printed Wallpaper
When it comes to designing beach bathroom spaces, creative printed wallpaper really helps set the tone. Whether you're going for a modern oasis or a sun-soaked holiday vibe, printed wallpaper is a great way to bring visual interest and decorative detail to the walls.
When browsing printed wallpapers, colors of deep teal and sandy yellow hues can help create an uplifting atmosphere in your beach bathroom. With printed wallpaper, your bathroom will become an artful gathering place filled with life, energy, and spirit!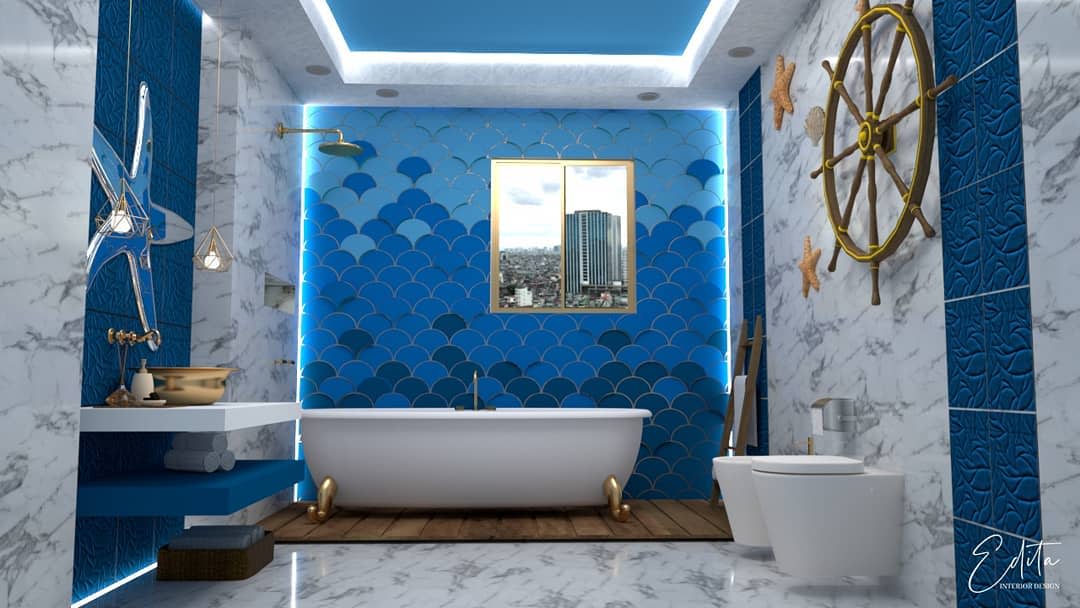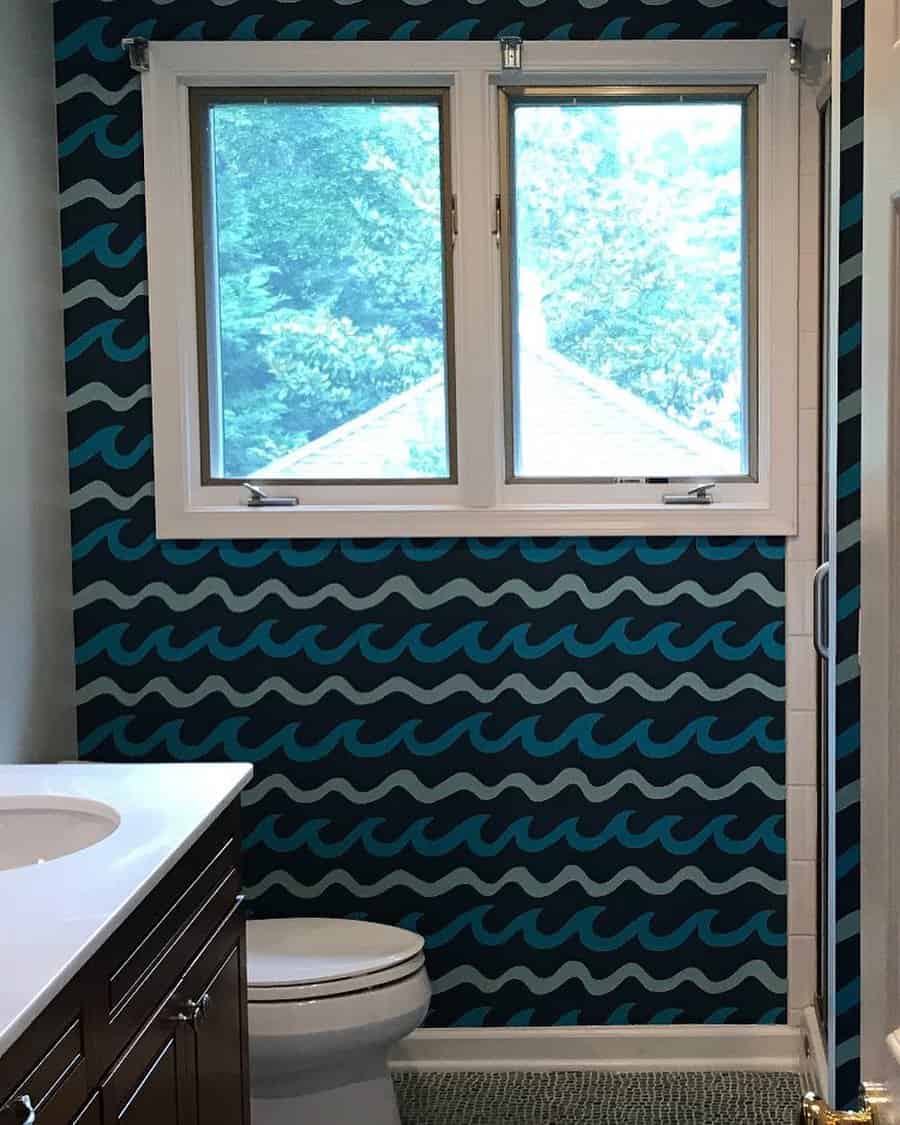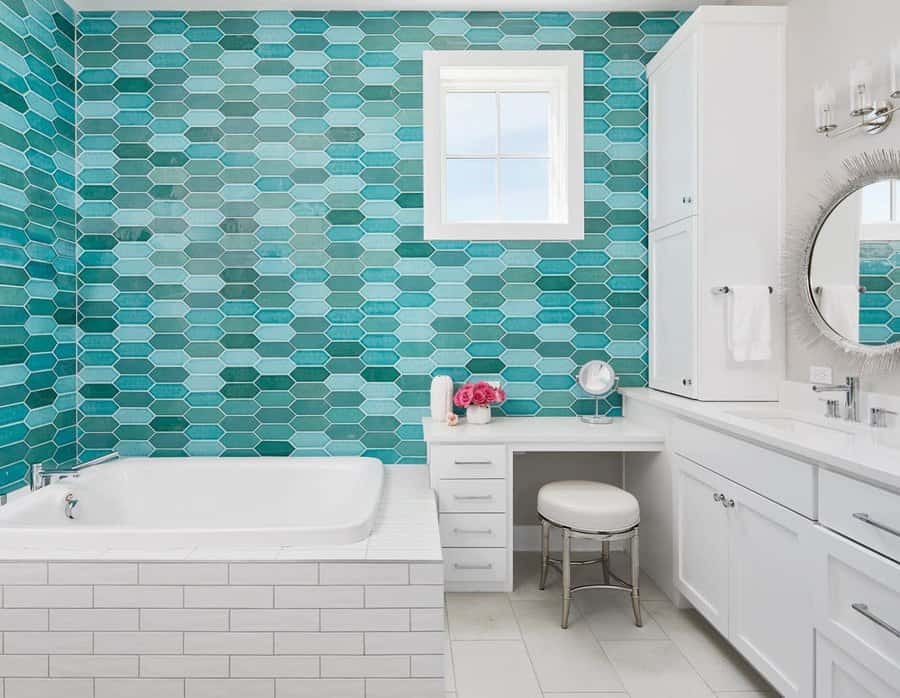 12. Keep It Minimal With Black & White
If you're looking to give your beach bathroom a minimalist edge, white walls are the perfect foundation. They will keep the look light and airy, which is especially important for smaller spaces.
Accentuate white walls with black fixtures and accents like a modern showerhead and door handle. Choose natural colors that evoke nature for smaller accents like towels or tumblers for a coastal vibe or you could even add in some bright accent colors for some extra flair.
Whatever direction you decide to go in, a minimalist beach bathroom can really bring together the perfect beach vacation experience!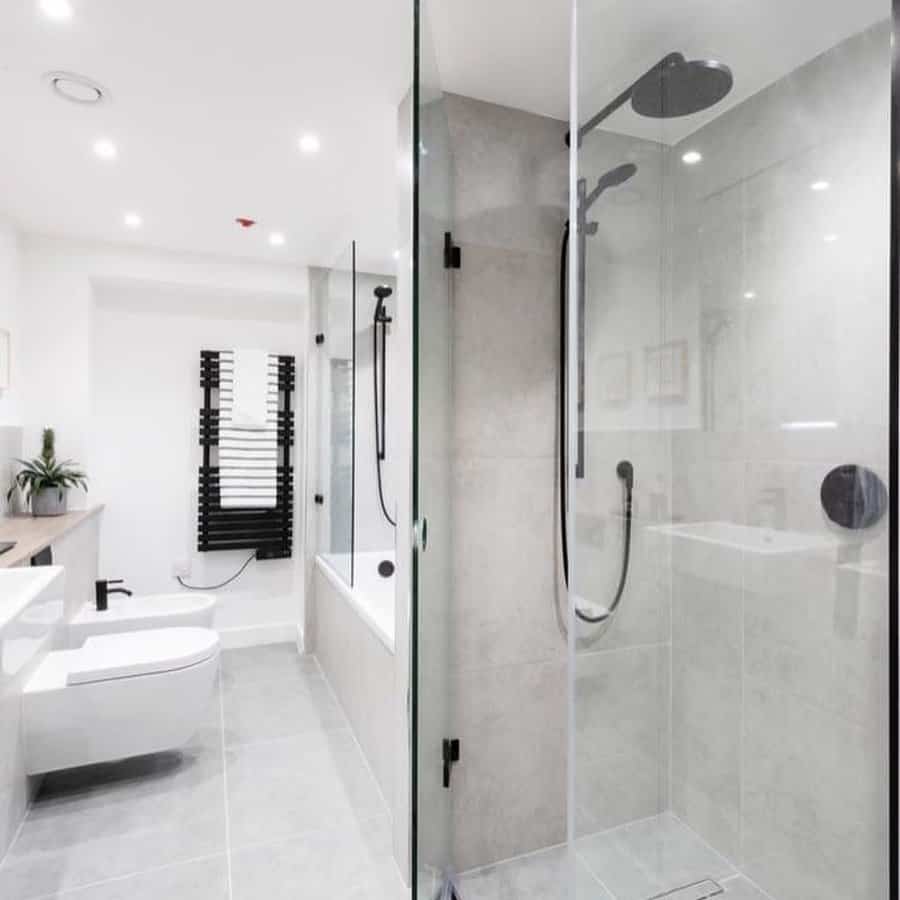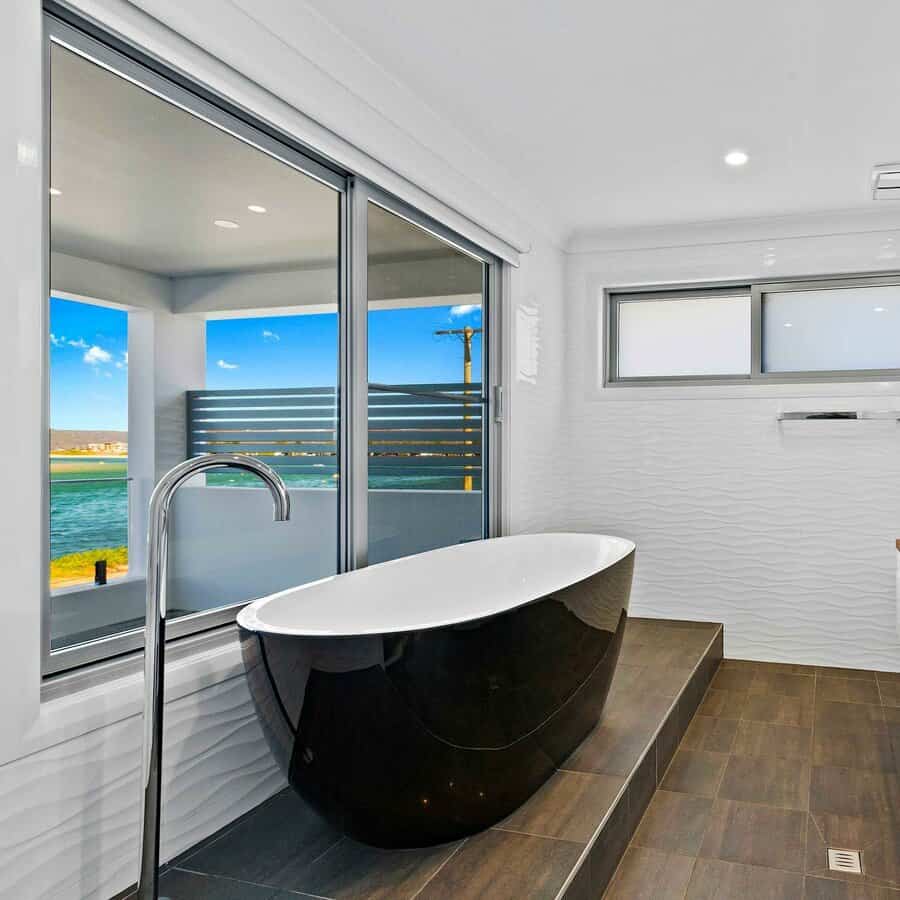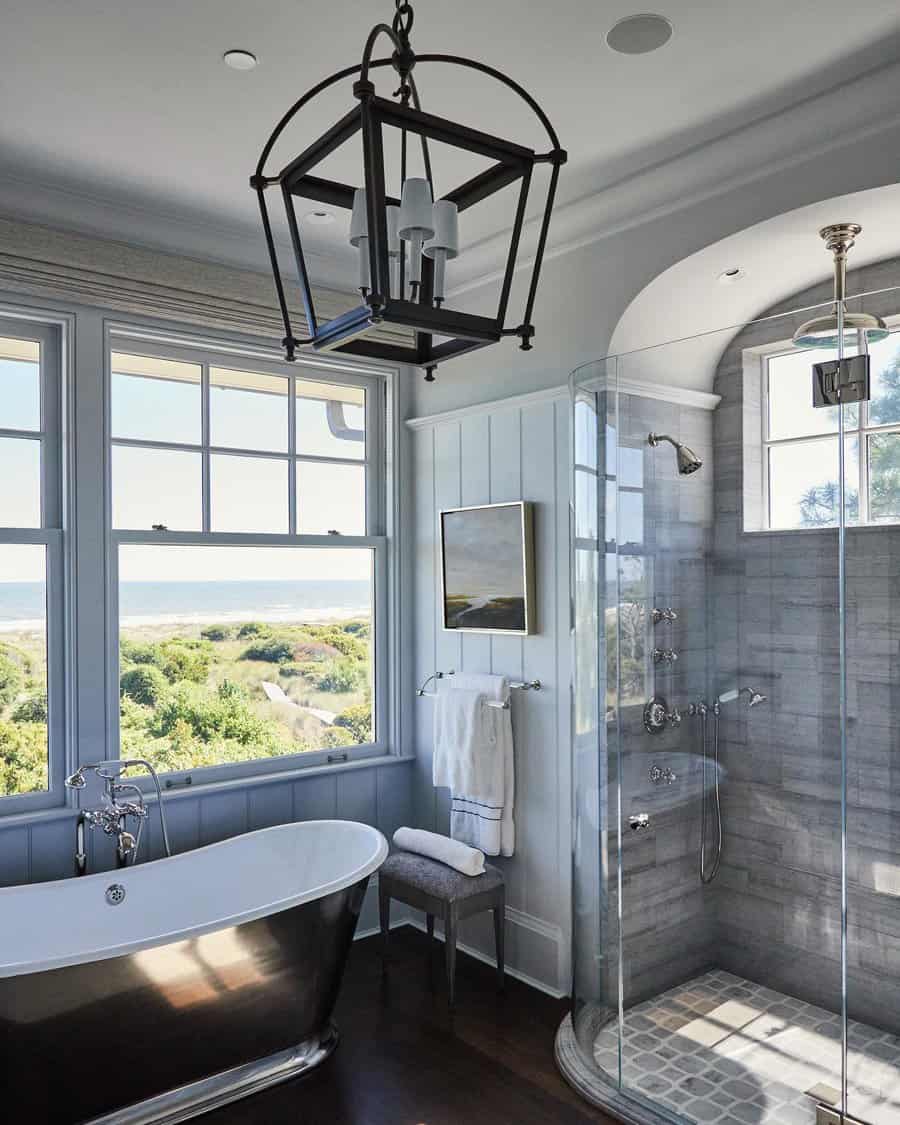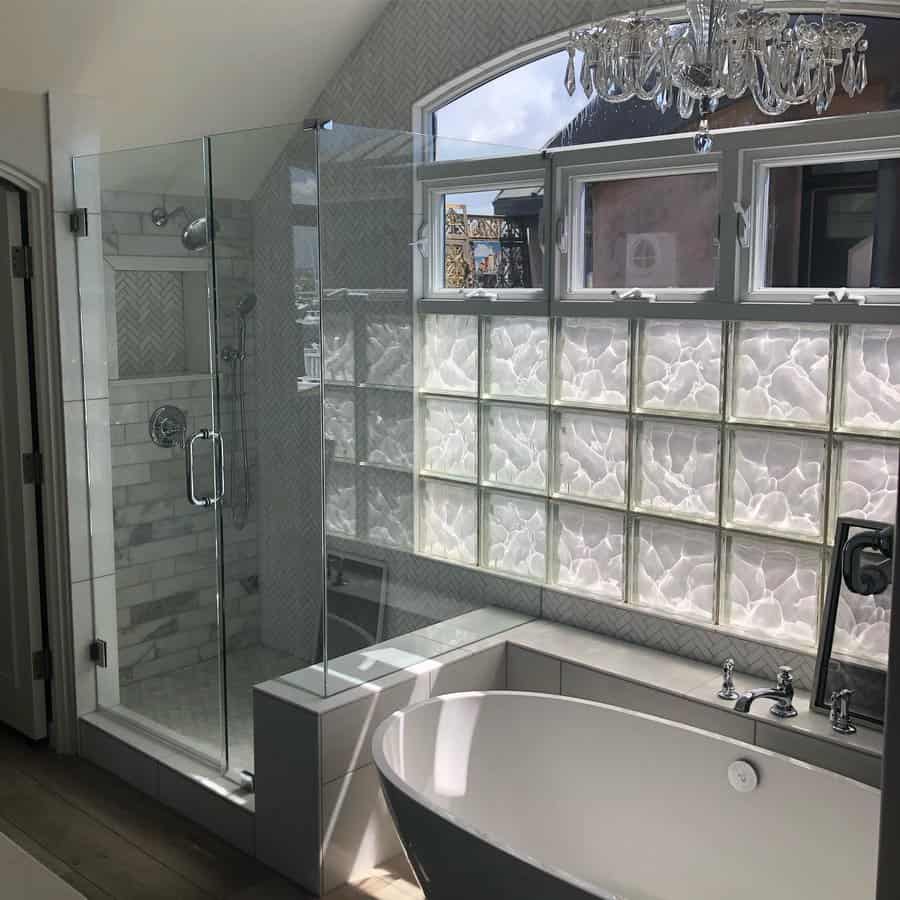 13. Incorporate Sheer Curtains To Diffuse Light
A beach bathroom adorned with sheer curtains is a stunning choice – it looks beautiful and lets in massive amounts of diffused natural light! Try lightly colored sheer curtains to make sure that the room still feels airy and open.
To complete the look, opt for light-colored wooden walls that pick up on the sun's energy. This beach bathroom will be warm, and inviting, and create a calming atmosphere that your guests will remember fondly.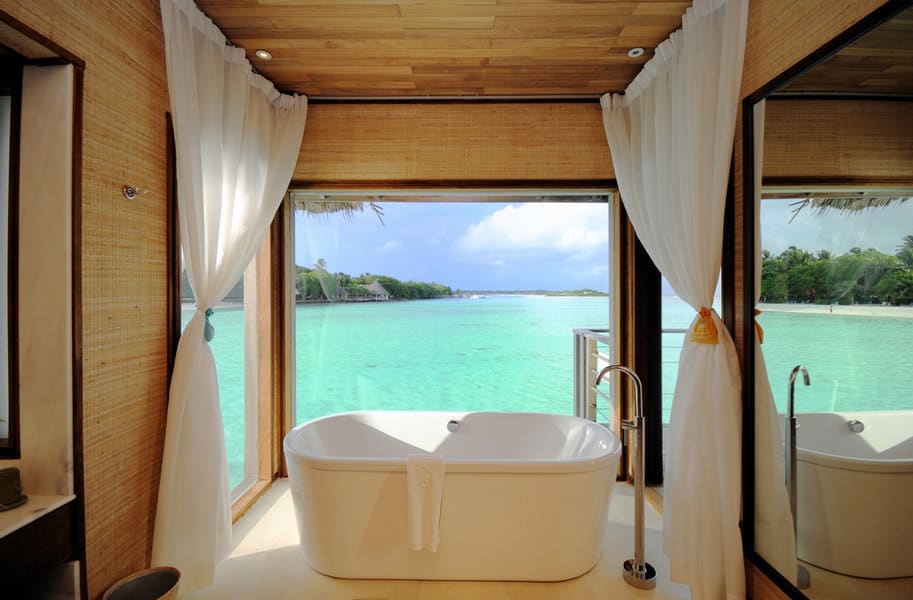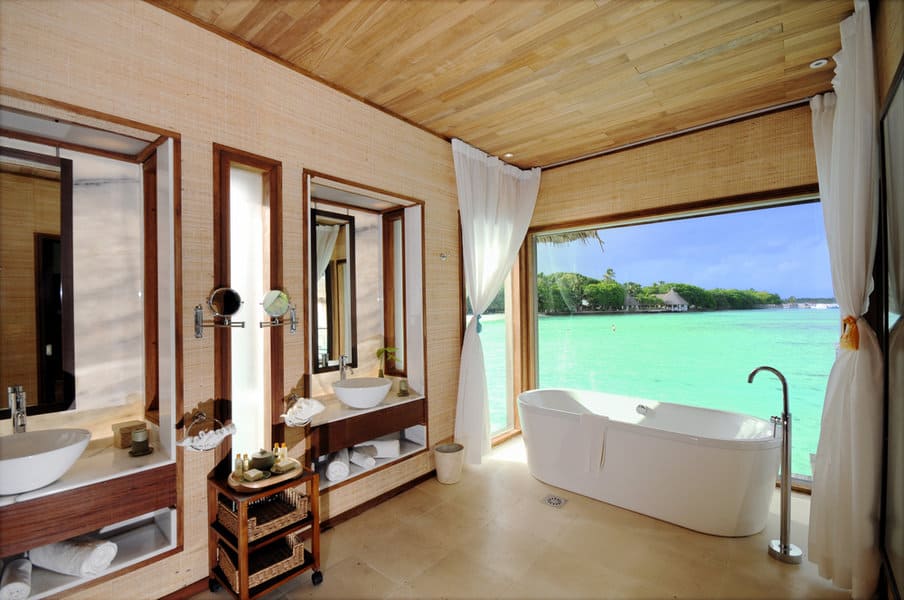 14. Install Mosaic Tiles For Accent
Bringing the beach right into your home is easy with mosaic tiles. If you're looking for a creative way to channel waves and sand, mosaic tiles are the perfect solution! To create a bathroom that radiates calm waves of relaxation, dark mosaic tiles will make a bold statement.
Paired with white walls, the contrast between colors creates an elegant and soothing feel. Softer colors such as whites, blues, and beiges add texture to the wall without becoming overwhelming. Add mosaic tiles as accent pieces to round off your beachy paradise.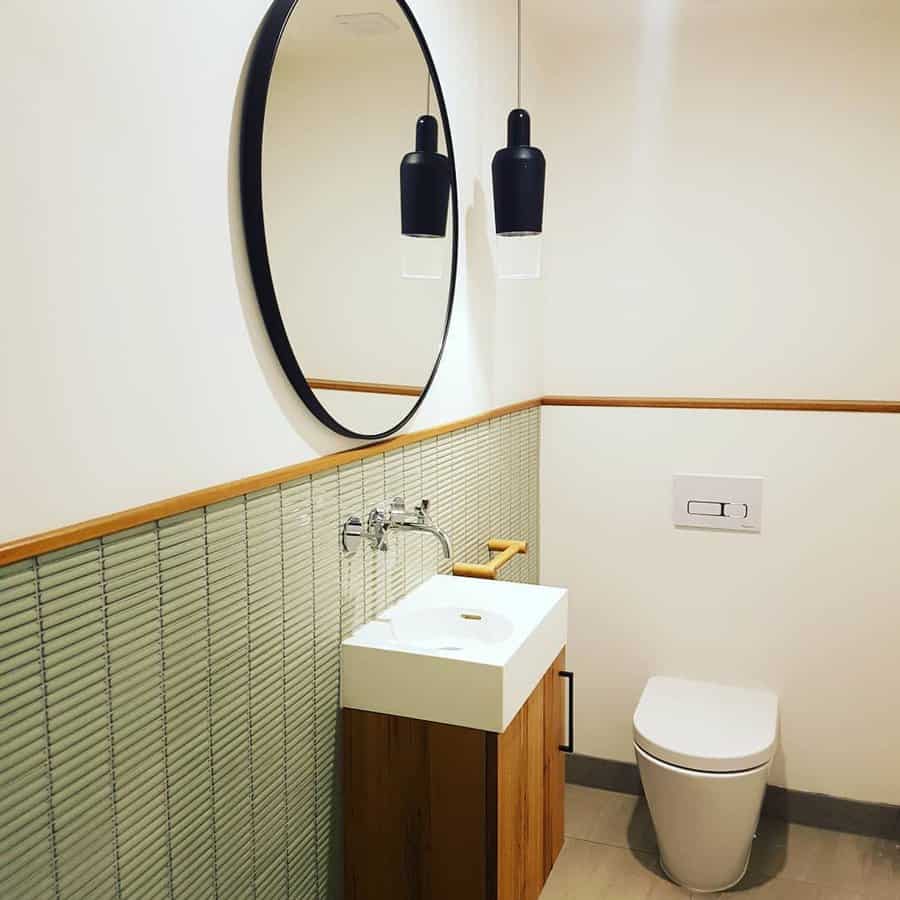 15. Shiplap Walls For A Shabby Coastal Chic Look
Picture this shabby coastal chic look: shiplap walls, white painted wood, and maybe a few nautical accents to create the perfect beach bathroom. The shiplap walls create a lovely texture and an inviting atmosphere.
The paint, pure white, helps keep the bathroom light and airy and reflects views of the beach. If you're feeling adventurous with your style you can add some fun fish or starfish wall art to make it extra special!
There's no need to overthink this – shiplap walls will give your beach bathroom just enough character to make it feel relaxed yet polished.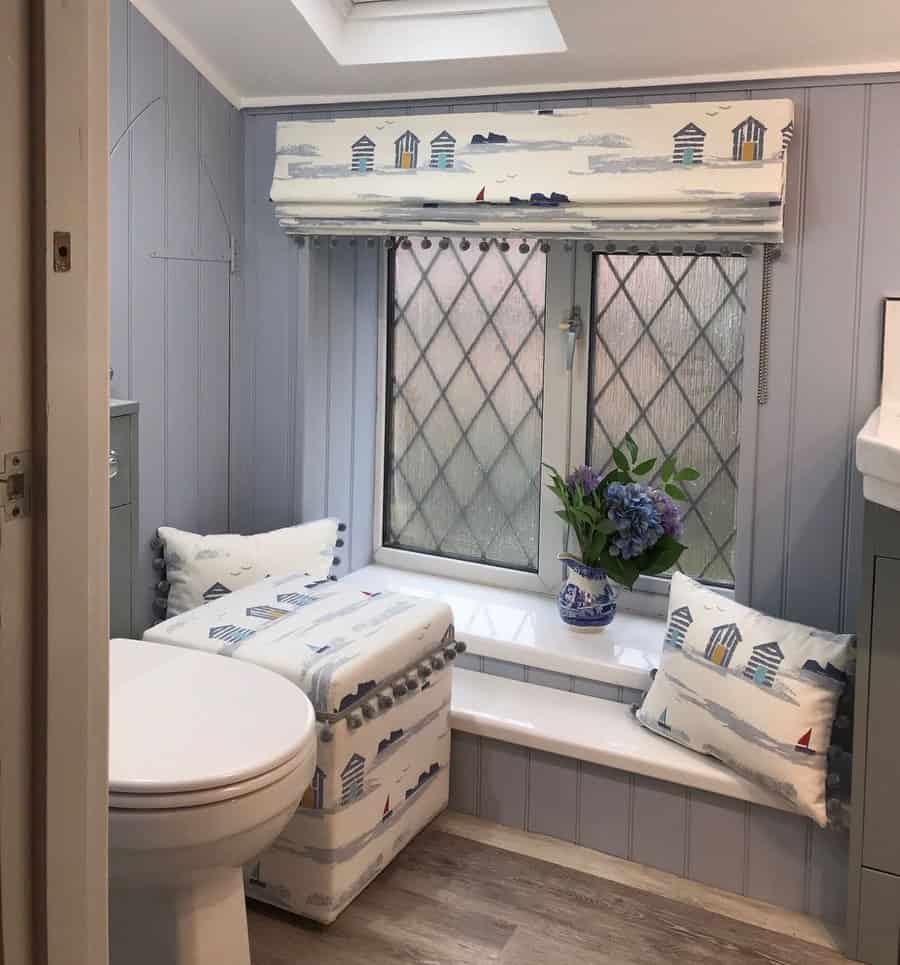 16. Go Rustic With Wood & Wicker
Create a beach escape at home with a rustic bathroom design. Rich wooden furnishings such as vanities and wooden wall cabinets, wooden floors, and light fixtures set the background for your oasis. Add some texture with woven baskets on shelving units, or if you want to bring in more of a natural feel, add wooden accents like mirrors framed by wooden pieces or wooden drawer handles.
To complete your beachy look, paint the walls white – it'll give that warm, coastal vibe and provide the perfect backdrop to show off your wooden furniture.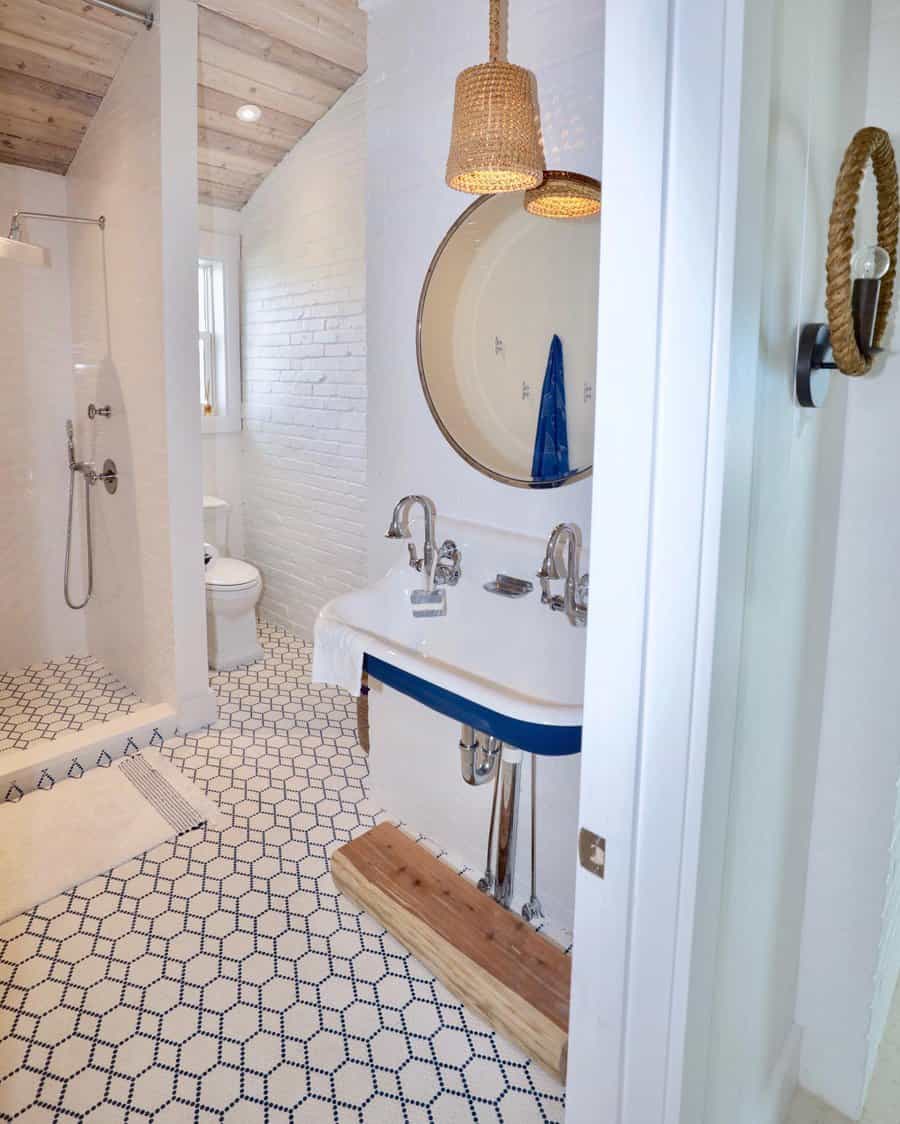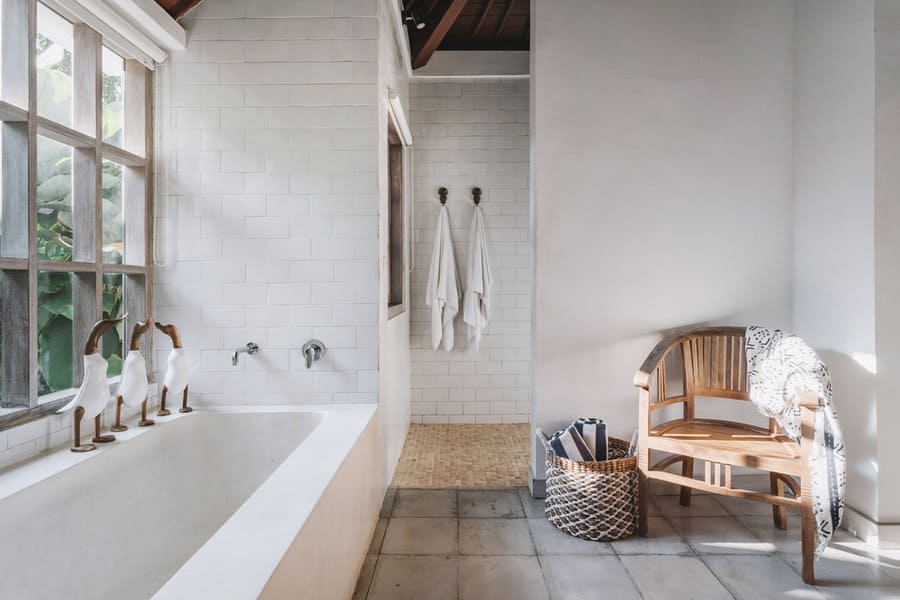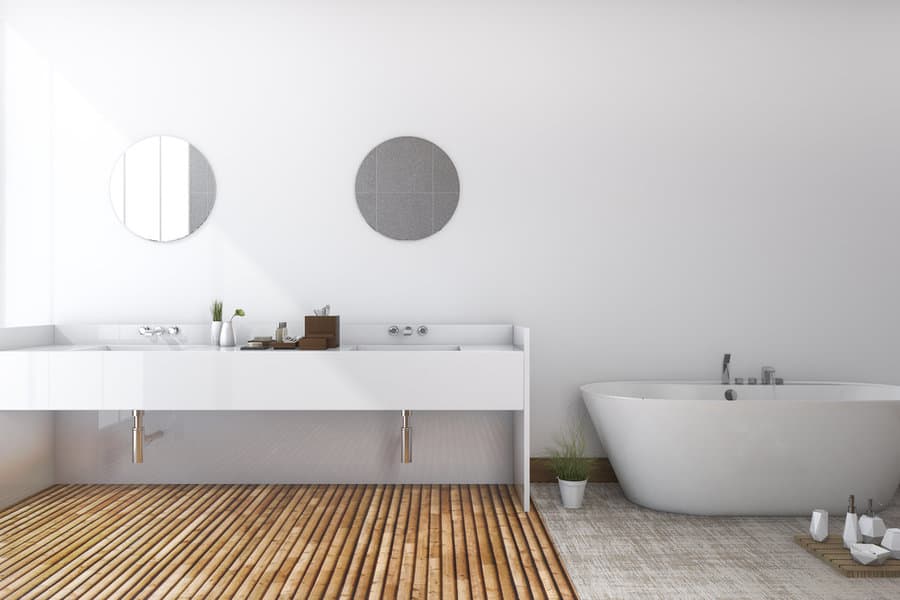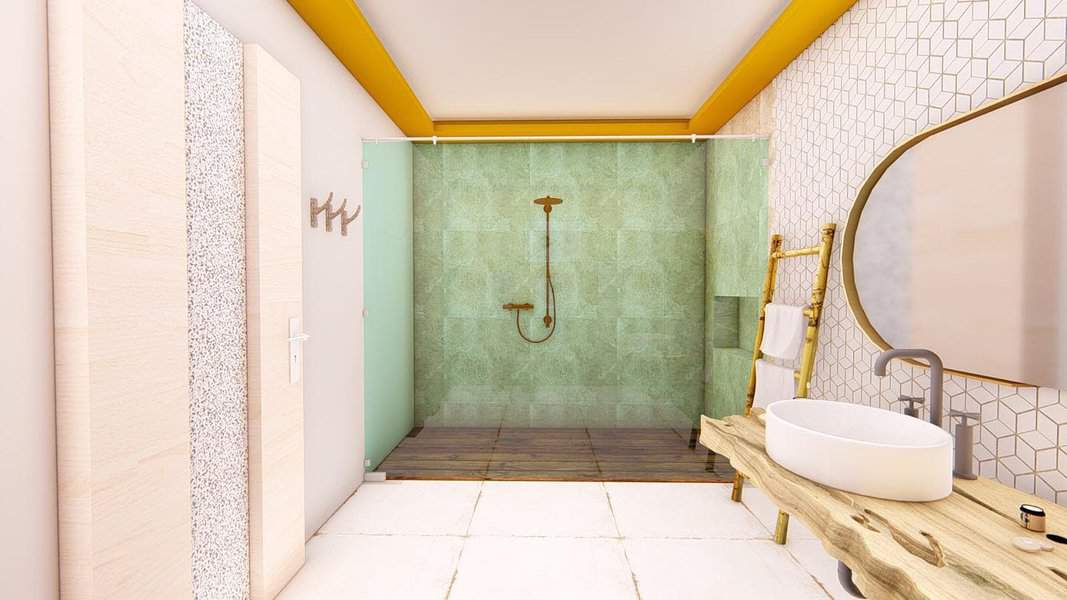 17. Install A Wide Mirror To Open Up The Room
Adding a wide vanity mirror to your beach bathroom can be a great way to create the illusion of a larger space. With nothing more than light and reflection, you can open up the room and create a bright and airy feeling.
When choosing the perfect wide mirror for your beach bathroom, be sure to consider how it will seamlessly meld with the style of your bathroom. Whether you opt for a modern frame or antique-style accents, you'll be sure to enjoy how this simple addition transforms your entire space.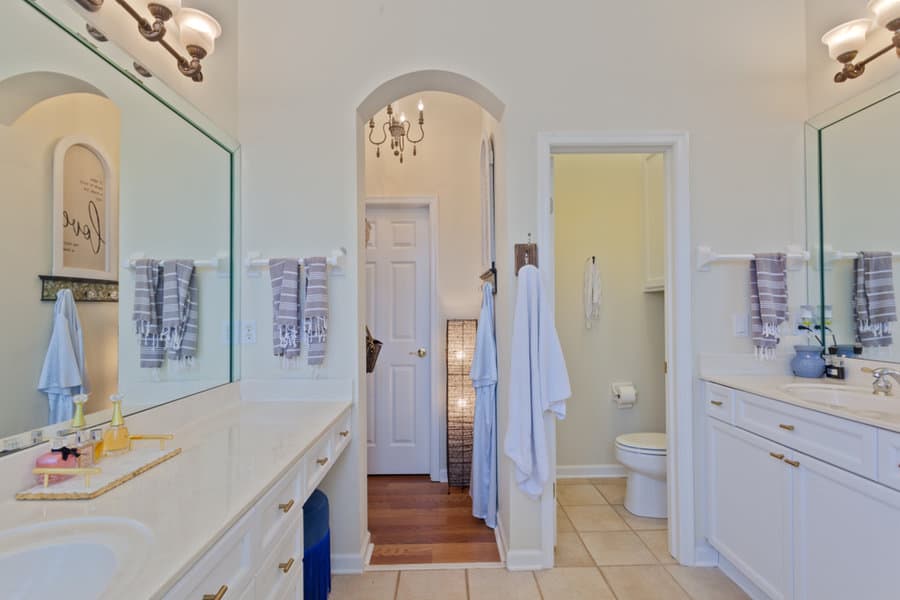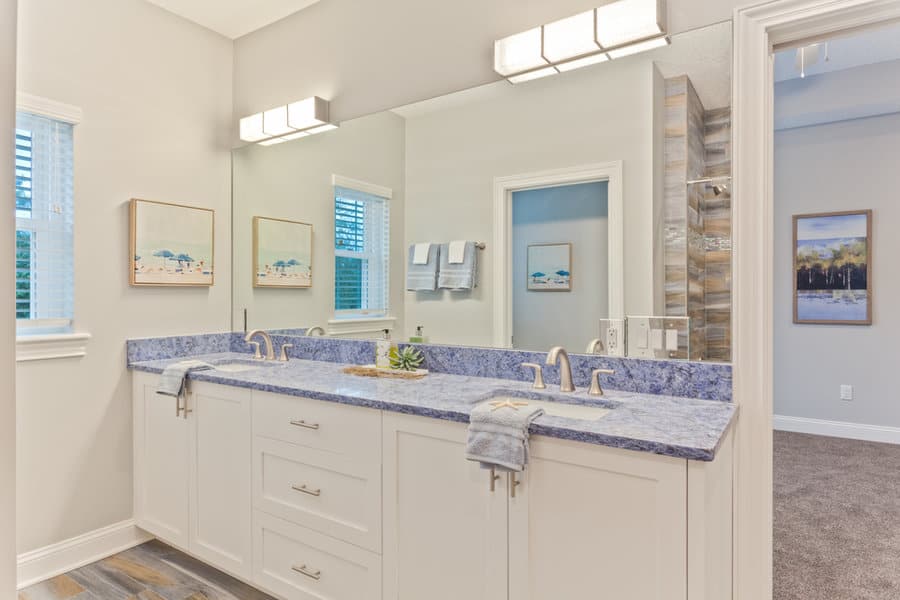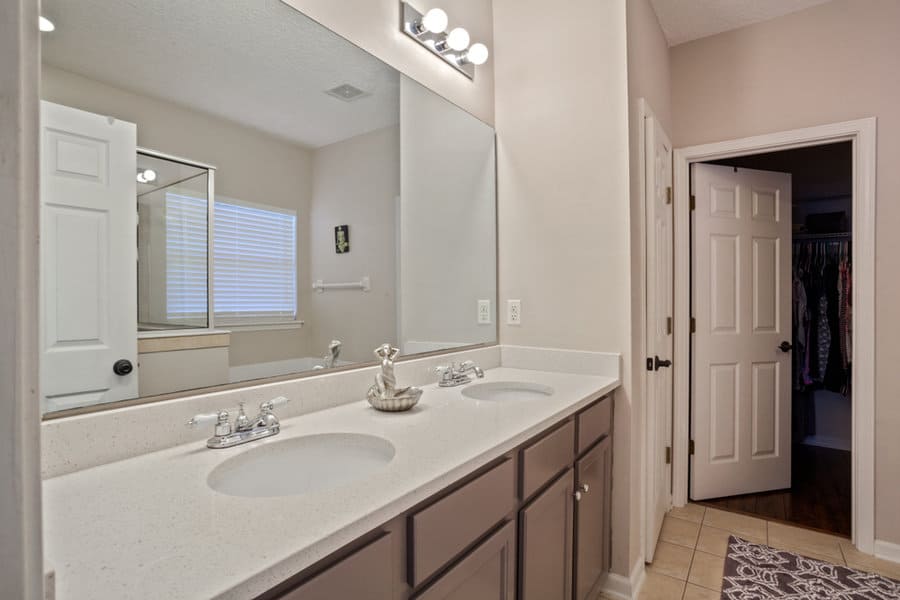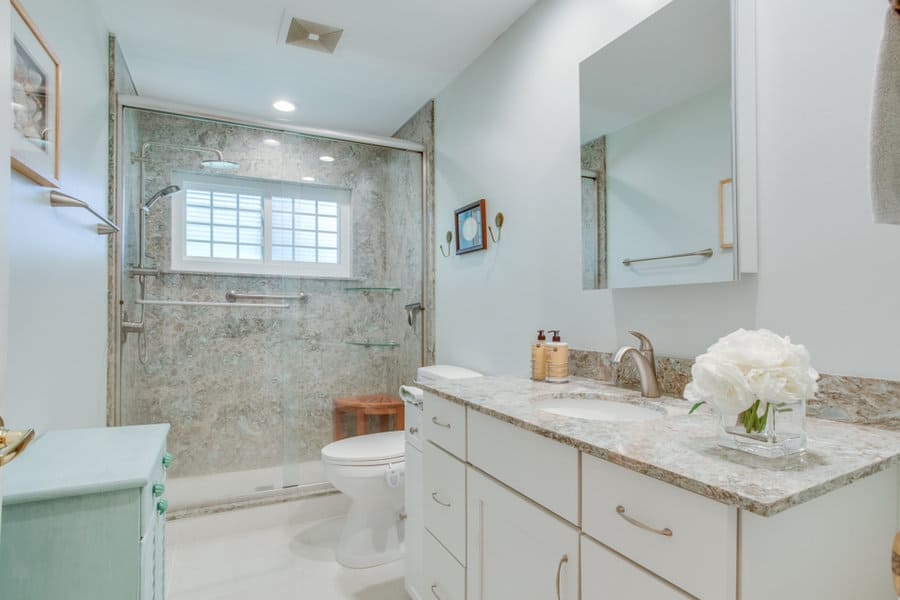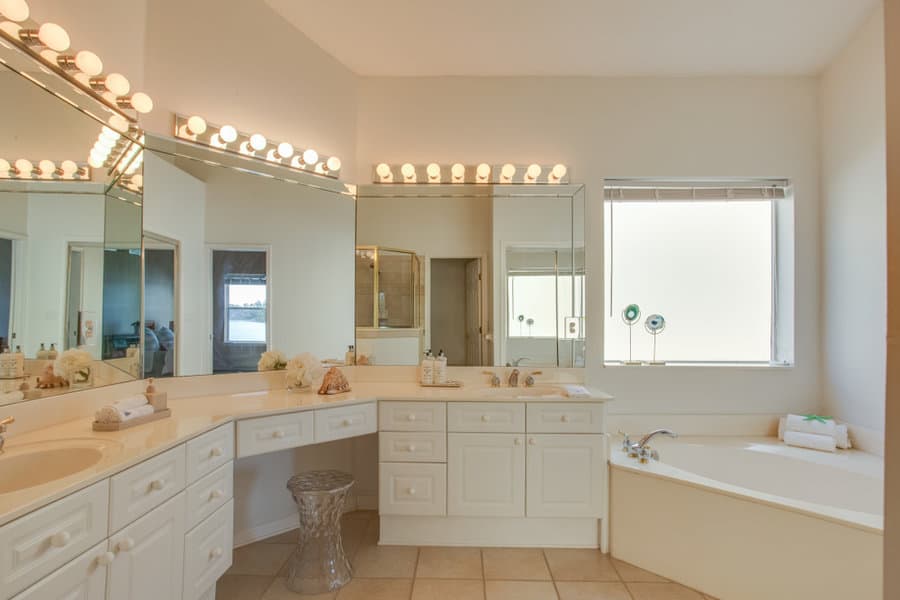 18. Say Yes To Tall Windows
Installing tall windows in your beach bathroom is a great way to infuse modern style with the splendor of nature Maximize the brightness of this space by incorporating light décor and accent pieces that will give your space a unique ambiance.
You can also hang sheer curtains from tall windows, creating a floor-length curtain effect that adds softness and coziness to your bathroom. Not only does this enhance privacy in areas where tall windows are present, but it is also a decorative way of brightening up the room.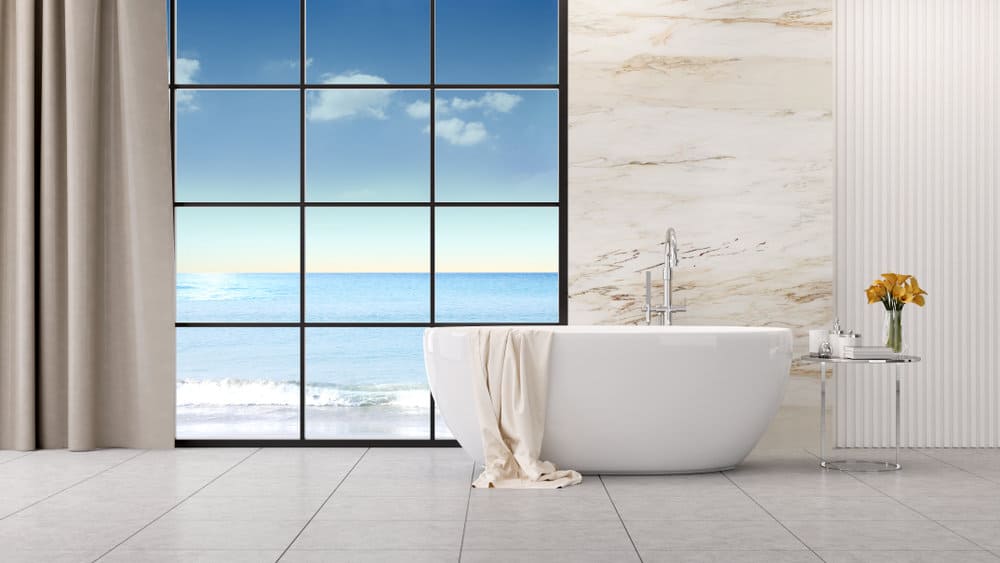 19. Dark Wood Elements For A Northeast Coast Vibe
A beach bathroom with dark wood elements evokes a nostalgic and comforting feel. To really enhance the northeast coast vibe, try installing a dark wood vanity as the focal point of the room—the deep tones of dark wood against vibrant coastal colors will instantly transform your space into a relaxing coastal retreat!
Accessorizing with fresh flowers and hanging washed-up shells or driftwood adds to the intricate details of your nautical bathroom.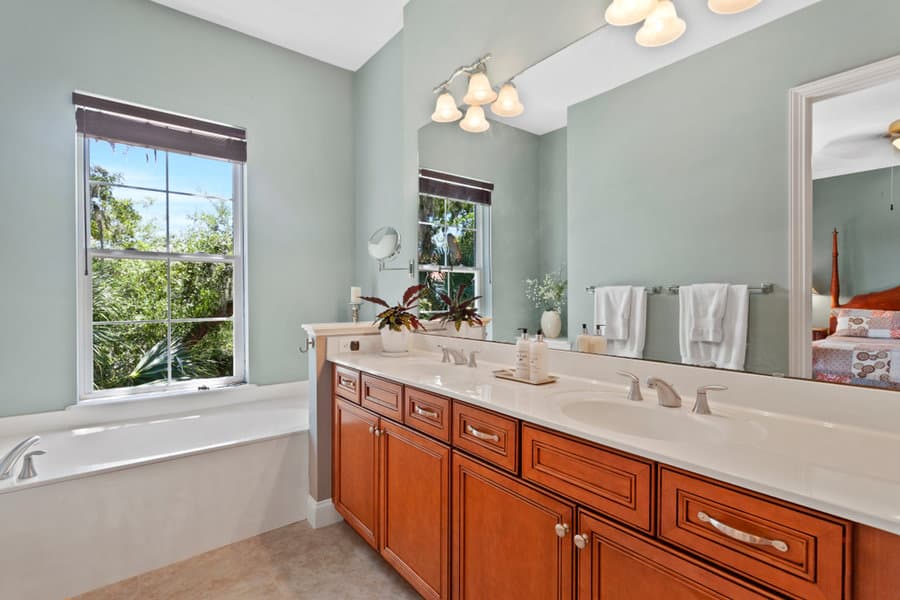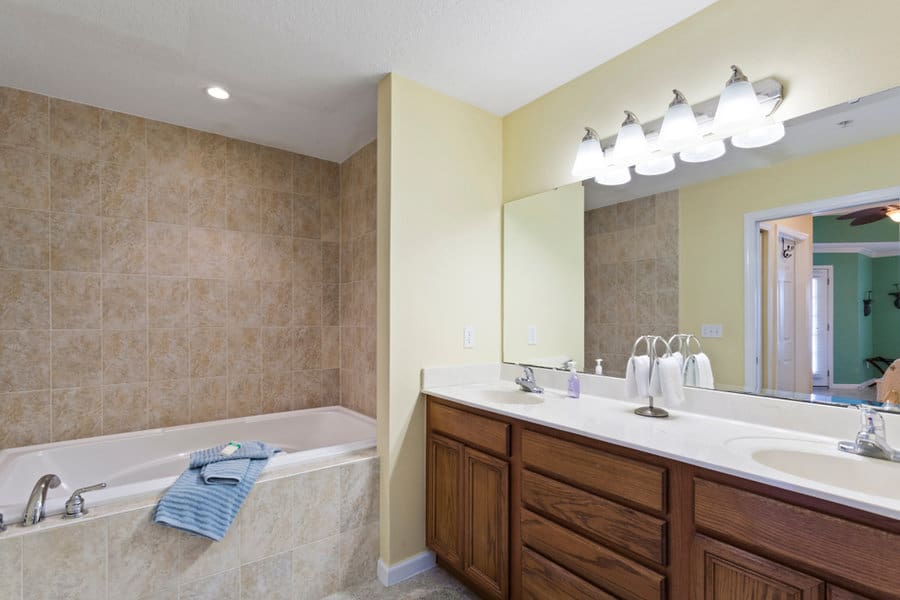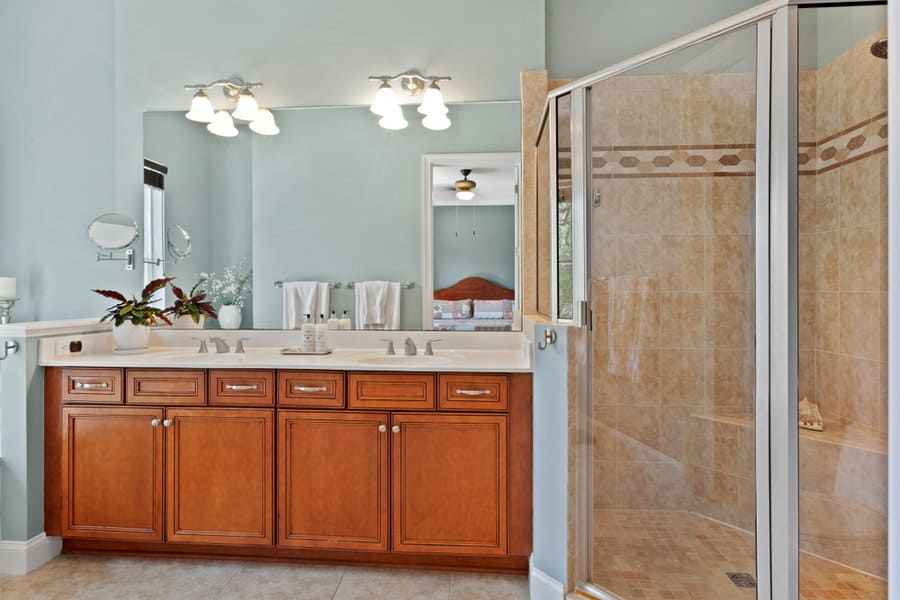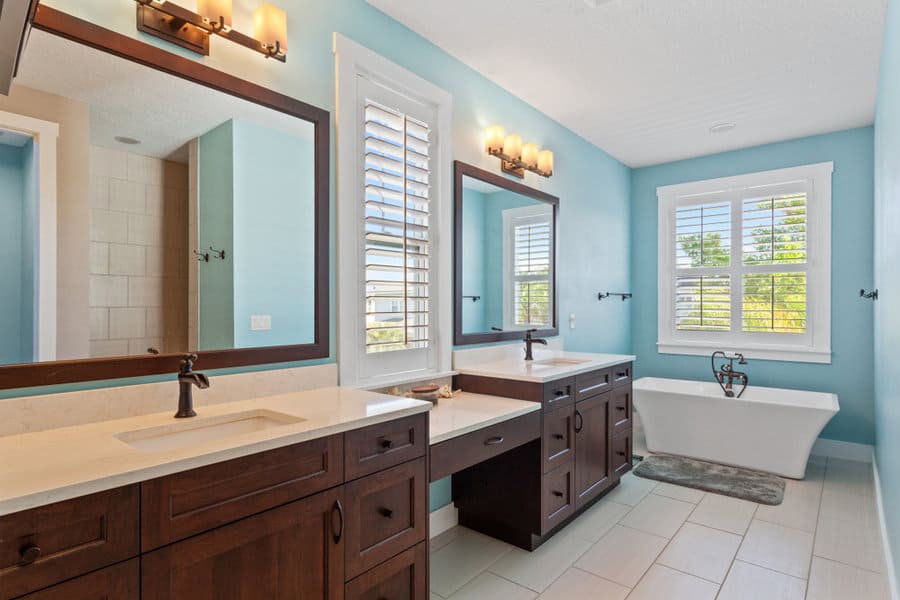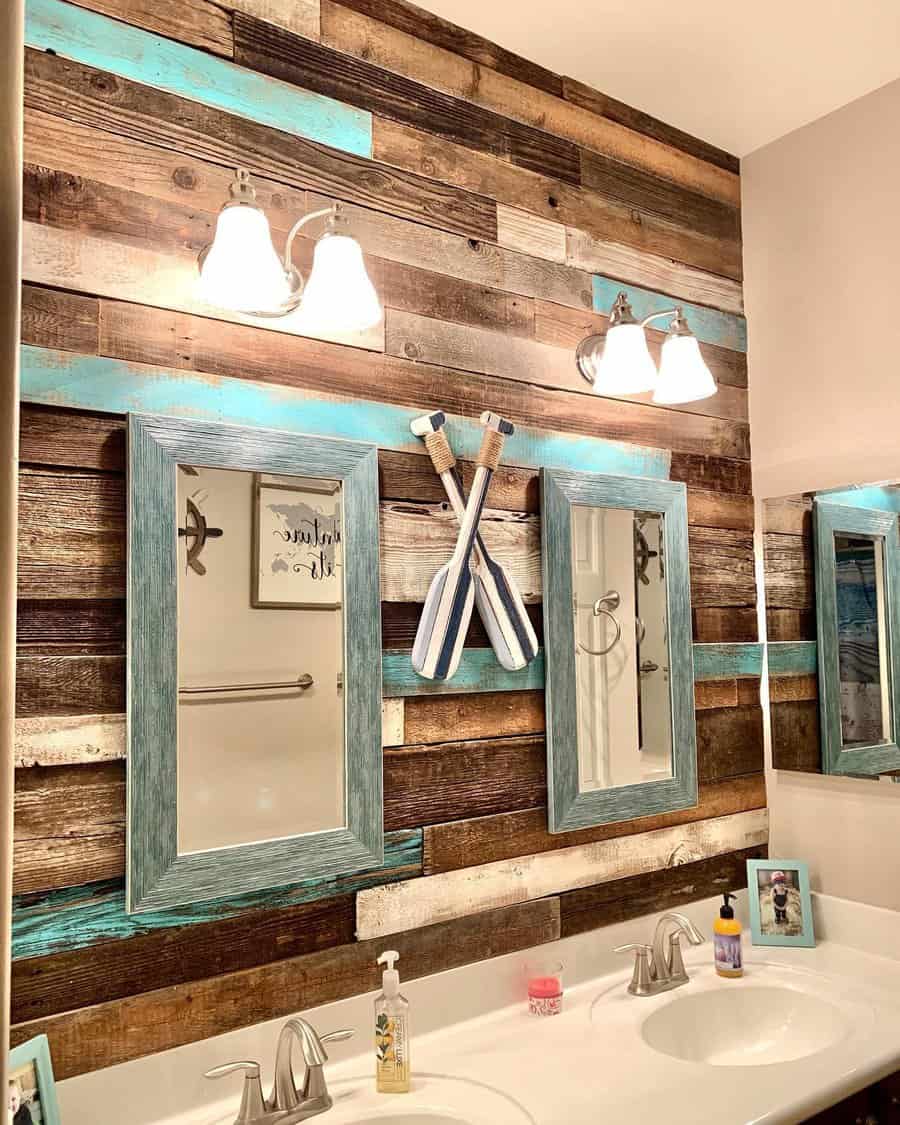 20. Grey Color Palette For A Scandinavian Aesthetic
With grey walls, a beach bathroom can be transformed into a tranquil Scandinavian oasis. Choose minimal furniture and accessories like grey towels, modern storage containers, and plain ceramic vessels for sink and shower—all elements that will create peaceful vibes perfect for afternoon sea salt soaks.
To take it one step further add clean-lined wall hangings or hand-drawn prints with calming blues or muted greens for subtle pops of color. You'll find your grey beach bathroom quickly becomes the coziest room in the house.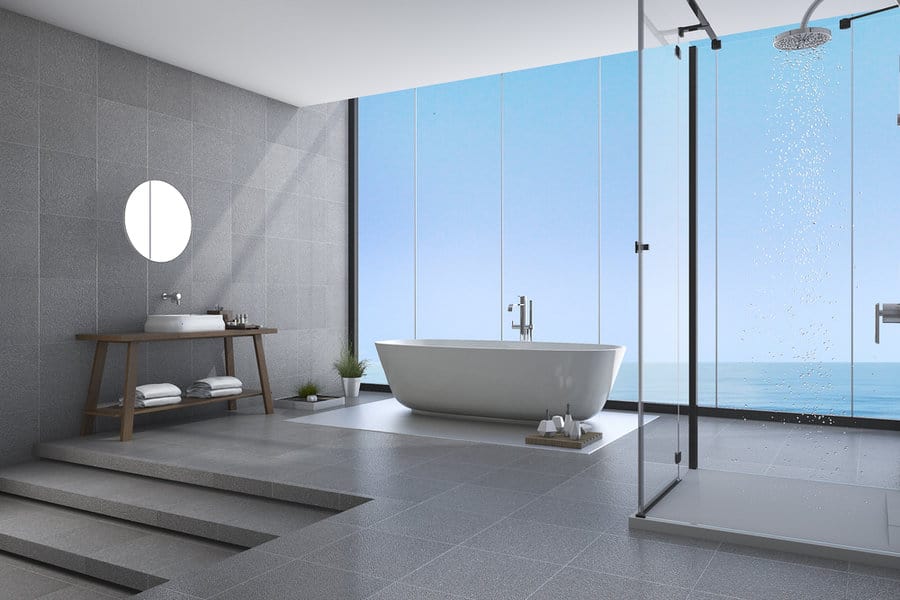 Beach Bathroom FAQs
How do you make a bathrooms beach-themed?
The easiest way to invoke feelings of the beach is to use colors that you'd find at the beach or ocean. This includes shades of blue and green that reflect the colors of the water. Then use white or neutrals to emulate the color of the sand. Then include natural woods to channel the look of boats, beach furniture, or decking.
How can I make my small bathroom look luxurious?
Use materials that are affordable but look expensive. Use faux marble for the vanity countertop. Or a faux marble tile for the shower floor and walls. Splurge on key pieces in the room to give the impression of luxury without breaking the bank. You could use an expensive tile for your accent or around the vanity. Another option is to use more luxurious lighting and plumbing fixtures.
What colors make a small bathroom look bigger?
White is the best color for making your bathroom feel bigger. It's the lightest color you can use and reflects the most amount of light. This helps your bathroom to feel brighter and more spacious. If you prefer a color other than white, stick with pastel or light-hued colors. Bright yellow, seafoam, and lavender are all light colors that will make your bathroom feel larger.