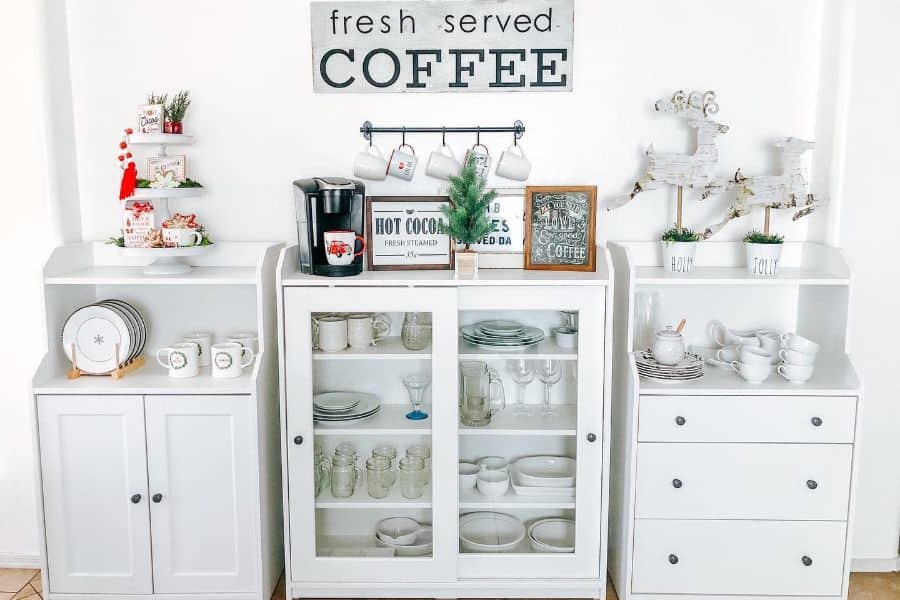 The Top 88 Coffee Bar Ideas
How do you take your coffee (or tea)? Even if you start your days with a black cup of joe, brewing your own coffee can require an arsenal of tools.
You can let your kitchen counters succumb to a mess of coffee grounds and empty mugs. Or you can design a coffee station that streamlines your mornings and makes even the most basic cup feel like a trip to your favorite cafe.
Below you'll find some of the best coffee bar ideas and tips to recreate them in your own home!
1. Chalkboard
We all know a charming local coffee shop with a clever chalkboard sign or illustrated wall menu. So it's only natural that you'd want to include a chalkboard element in your own coffee bar design.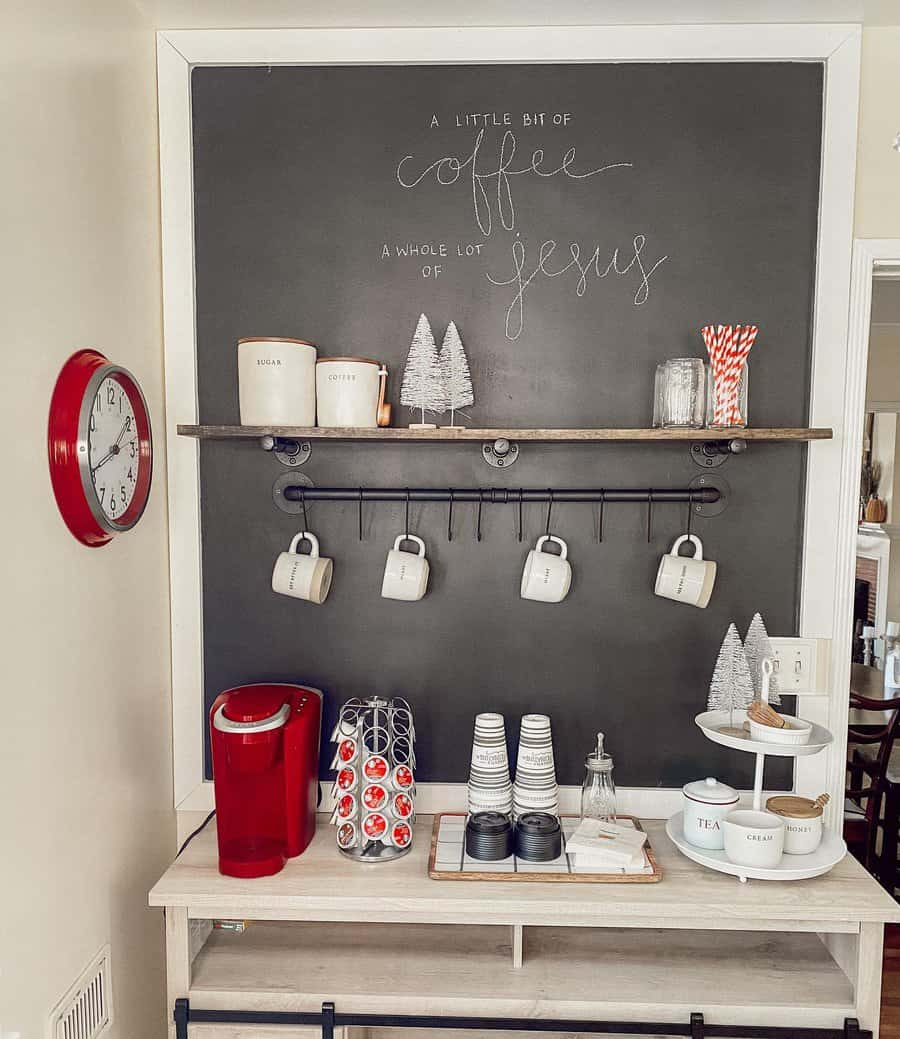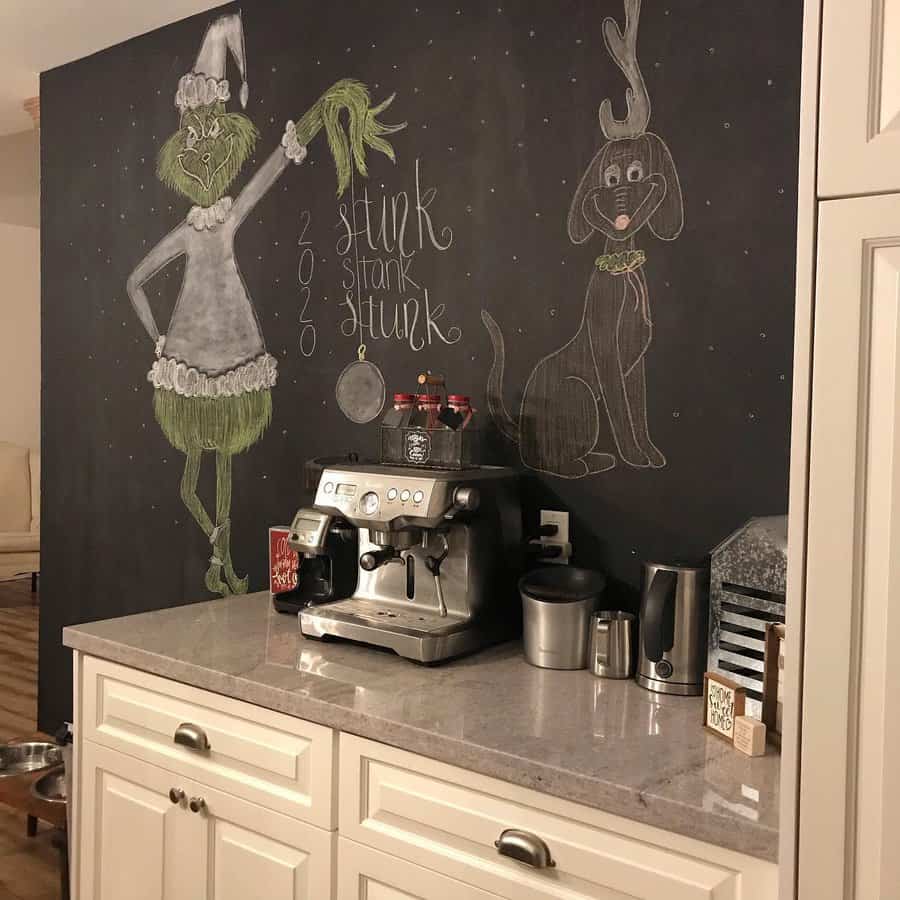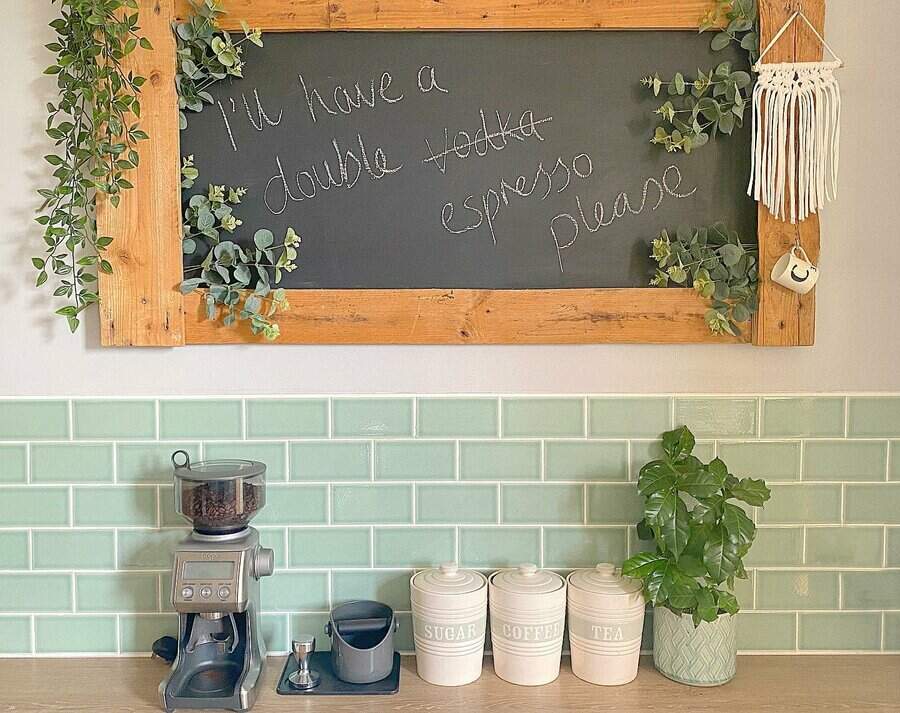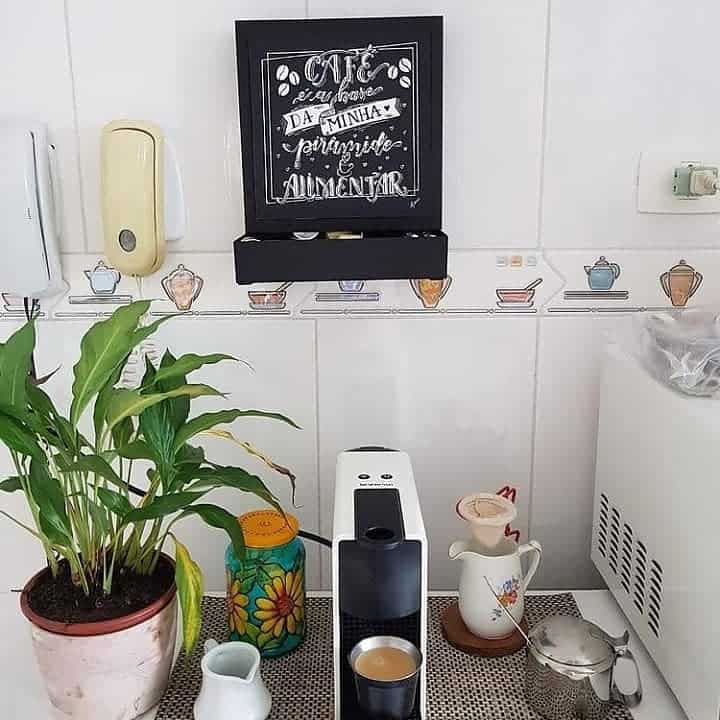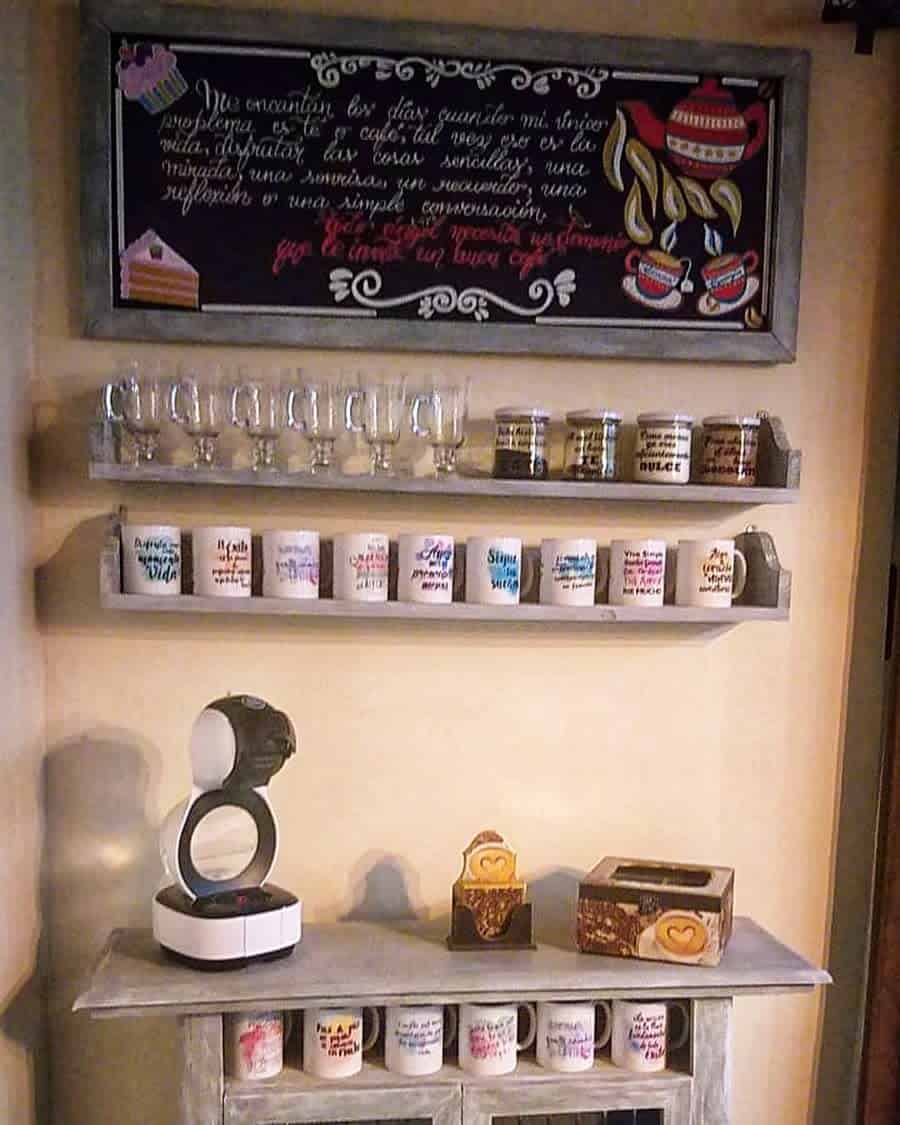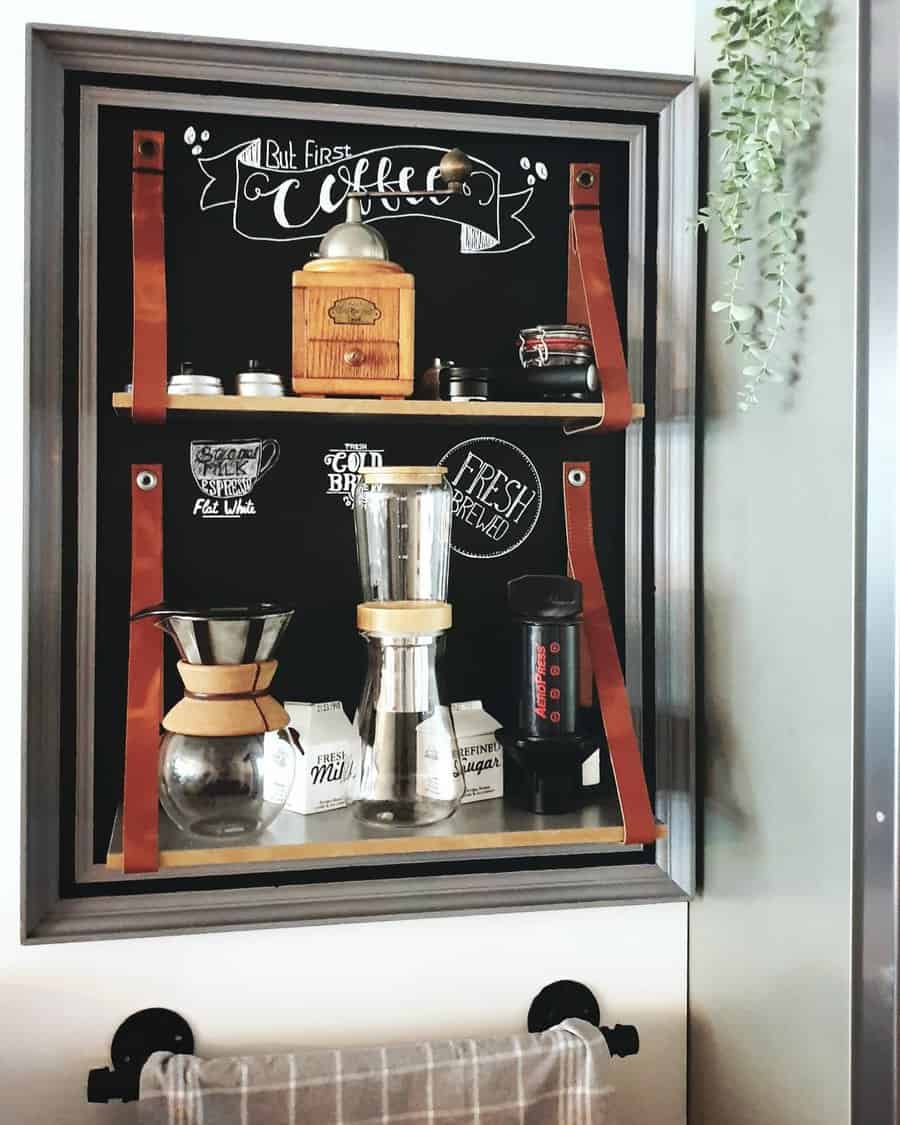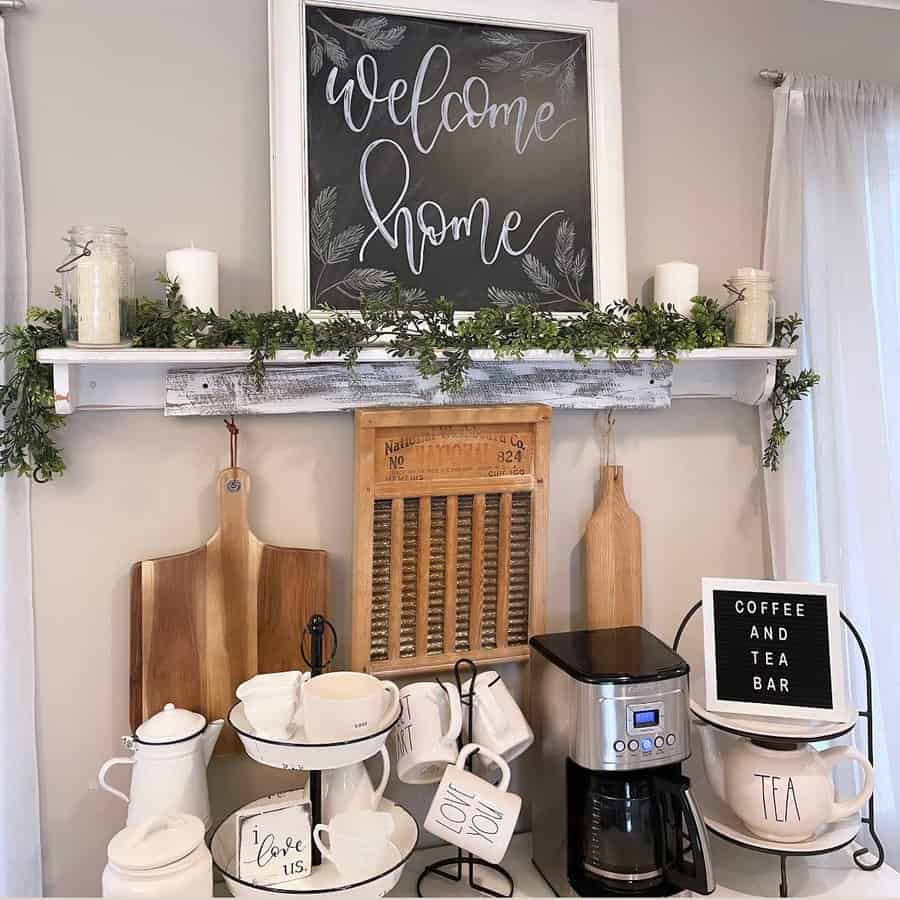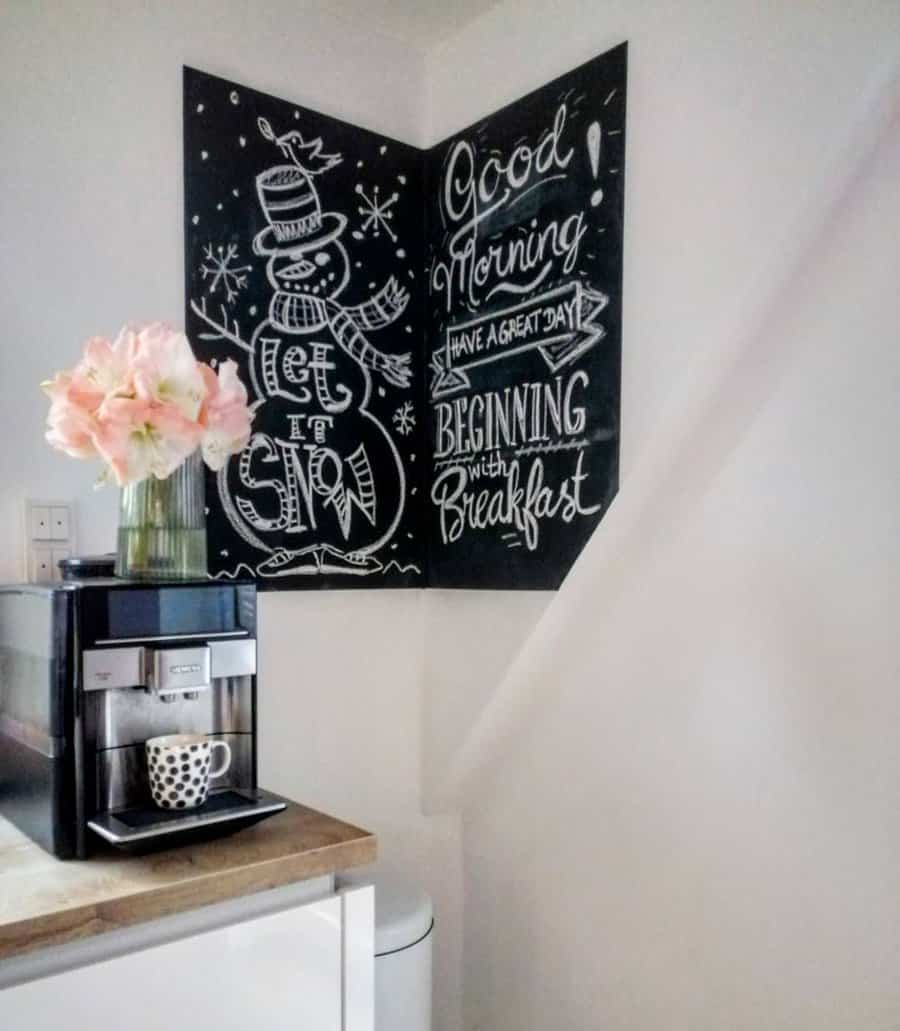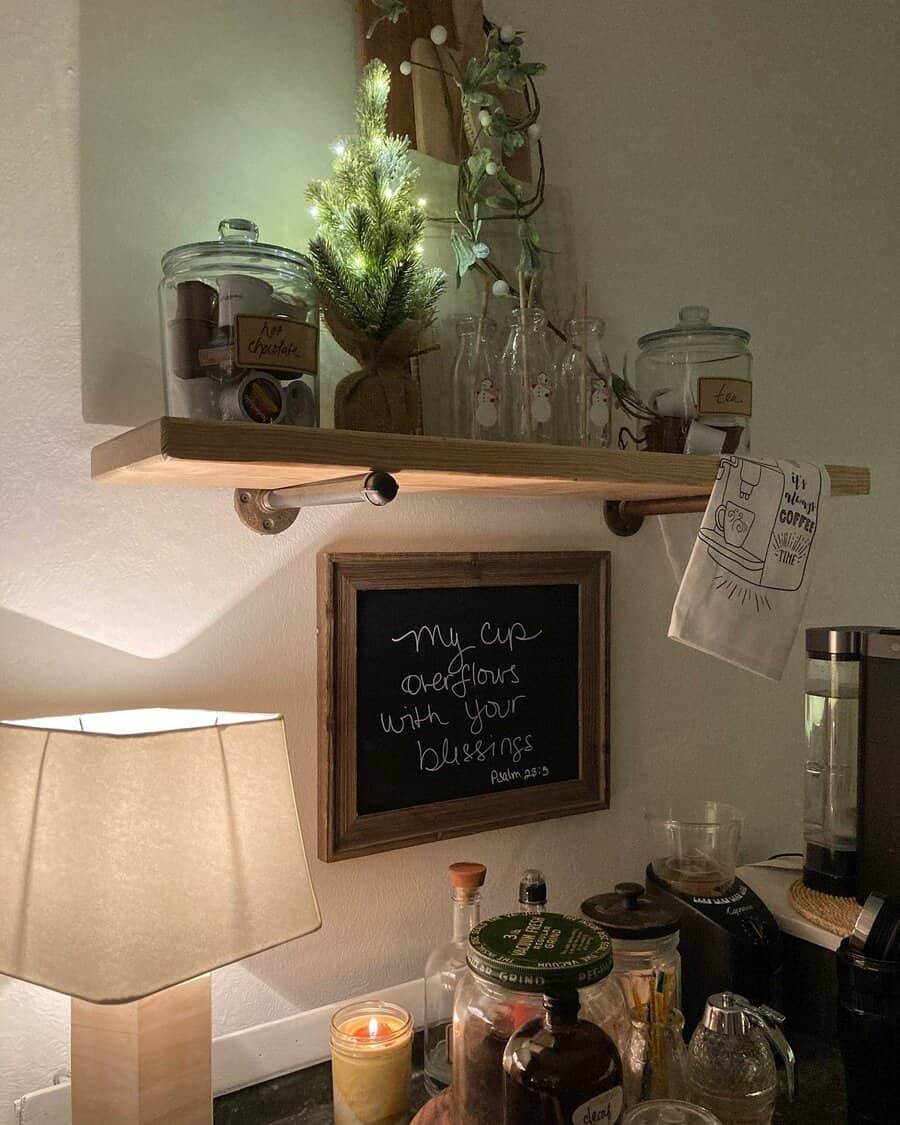 Chalkboard paint makes it incredibly easy to add a functional writing surface to your living space. Most chalkboard paint can be used on walls and furniture. You can make a custom message board with a piece of framed wood.
Much of the appeal of including a chalkboard in your coffee station is the customizability. However, don't be afraid to use stencils to add semi-permanent designs to your chalkboard — seasonal motifs are a great option!
2. Christmas
Children celebrate the winter holidays with hot cocoa. Adults celebrate the season with hot coffee (and maybe an occasional cup of cocoa!).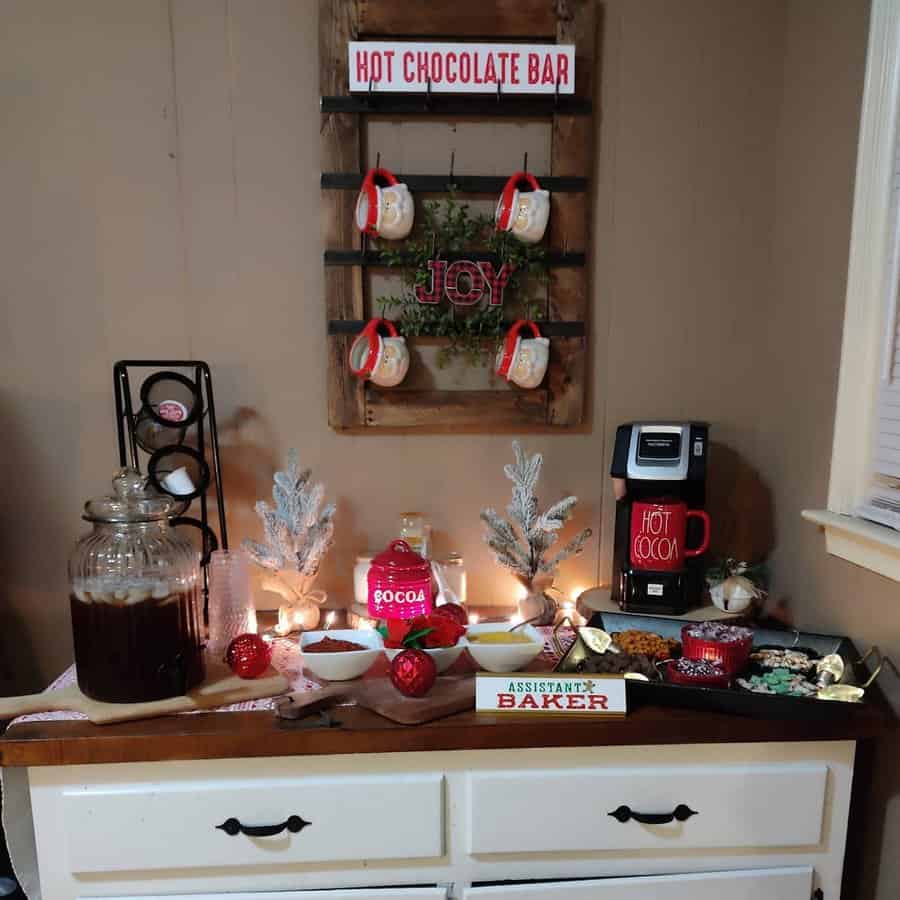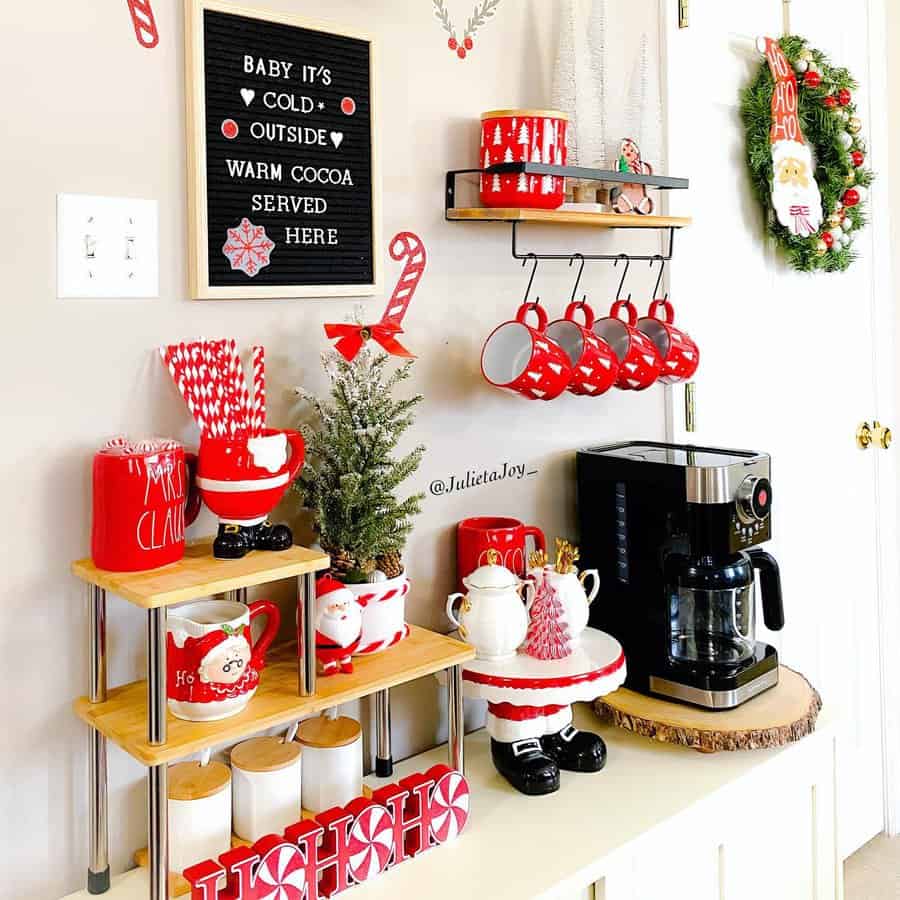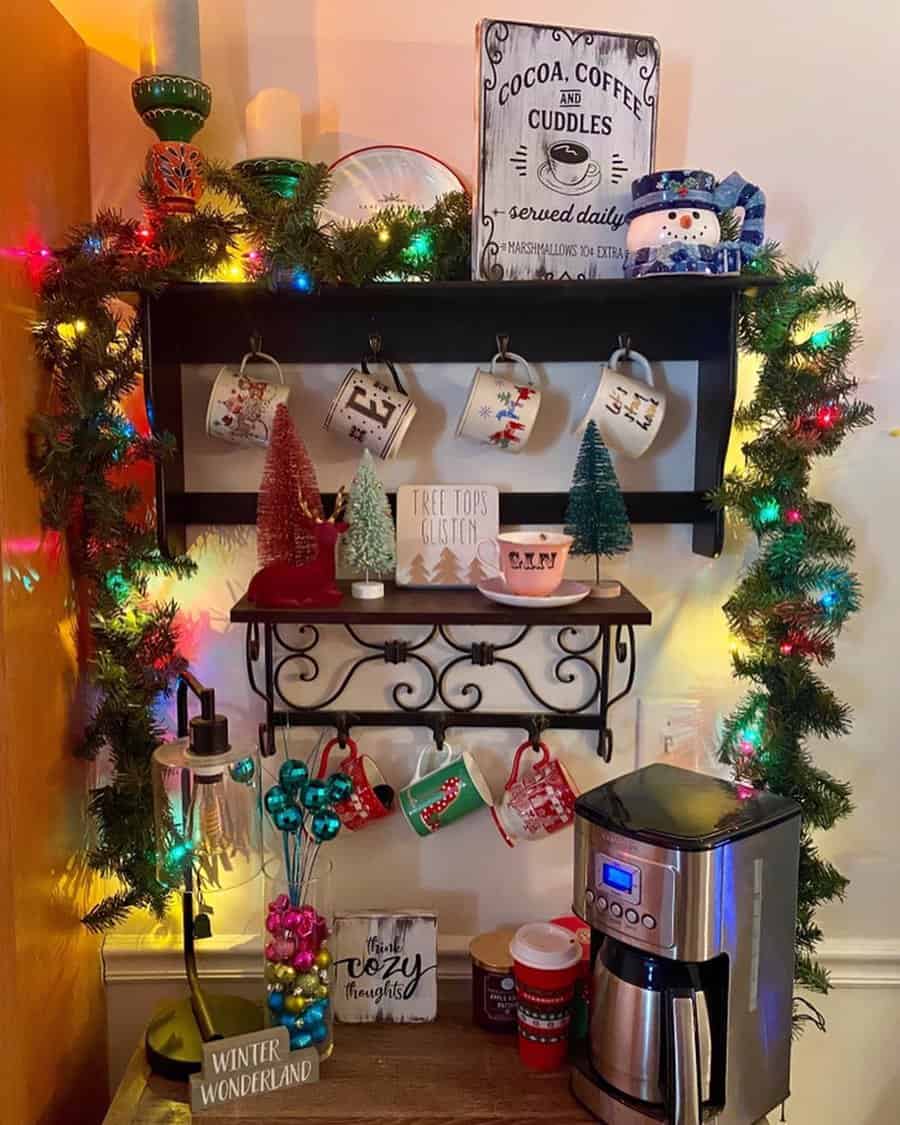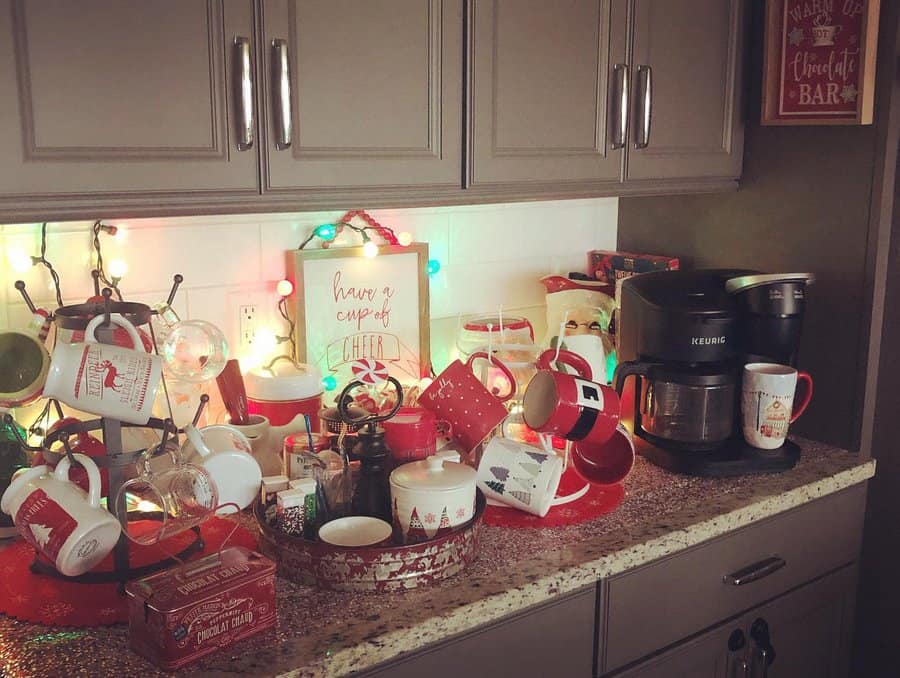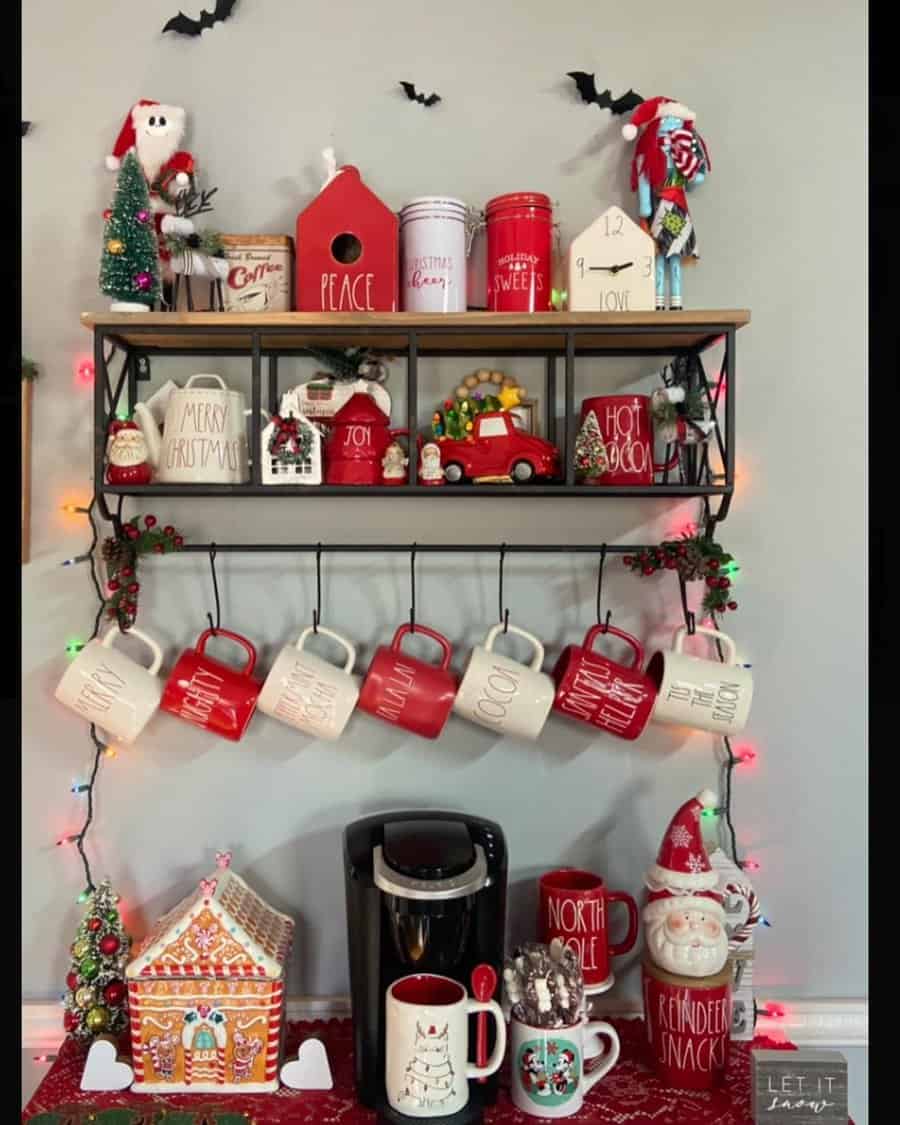 Aside from stocking your coffee station with seasonal flavors like peppermint, gingerbread, and eggnog, take the time to update your decor for the holidays. Set out your favorite holiday coffee cups and arrange Christmas ornaments throughout the area.
If space allows, your home coffee bar is the ideal place to display a small Christmas village or miniature tree. Tinsel and twinkling lights can be strung across the coffee station for maximum holiday cheer.
3. DIY
Yes, you can go to your local kitchenware or furniture store and purchase a ready-made coffee bar table. Yet many of the best coffee bar ideas are the result of individual creativity and DIY skills.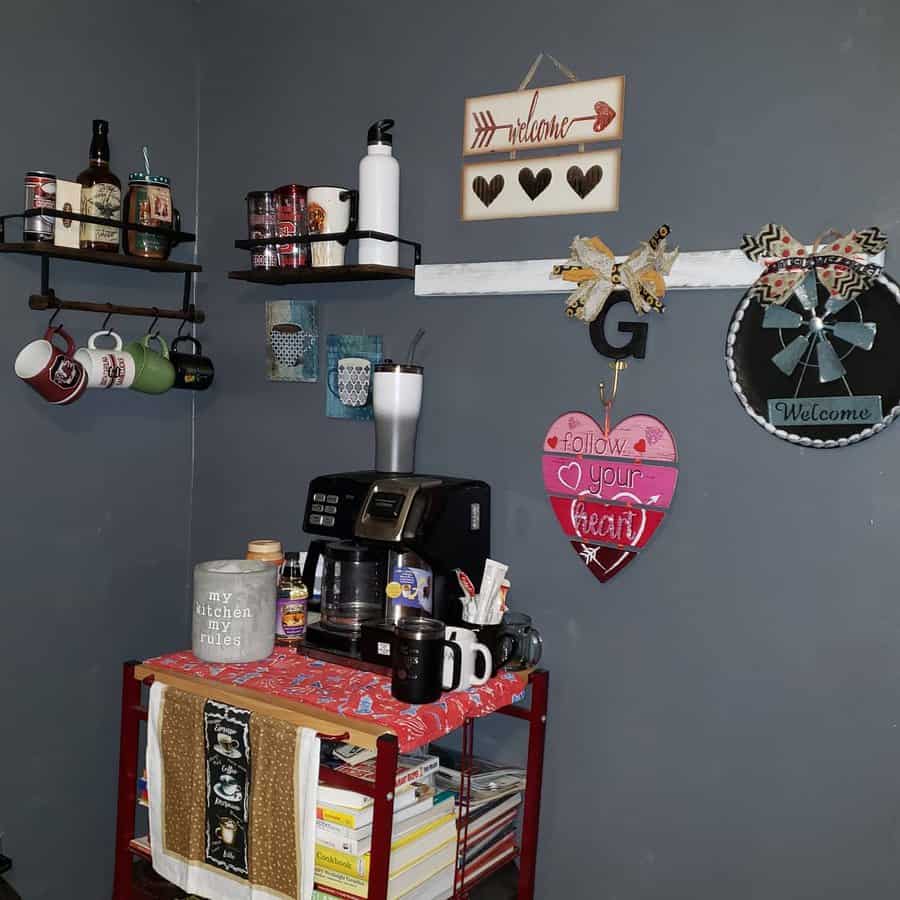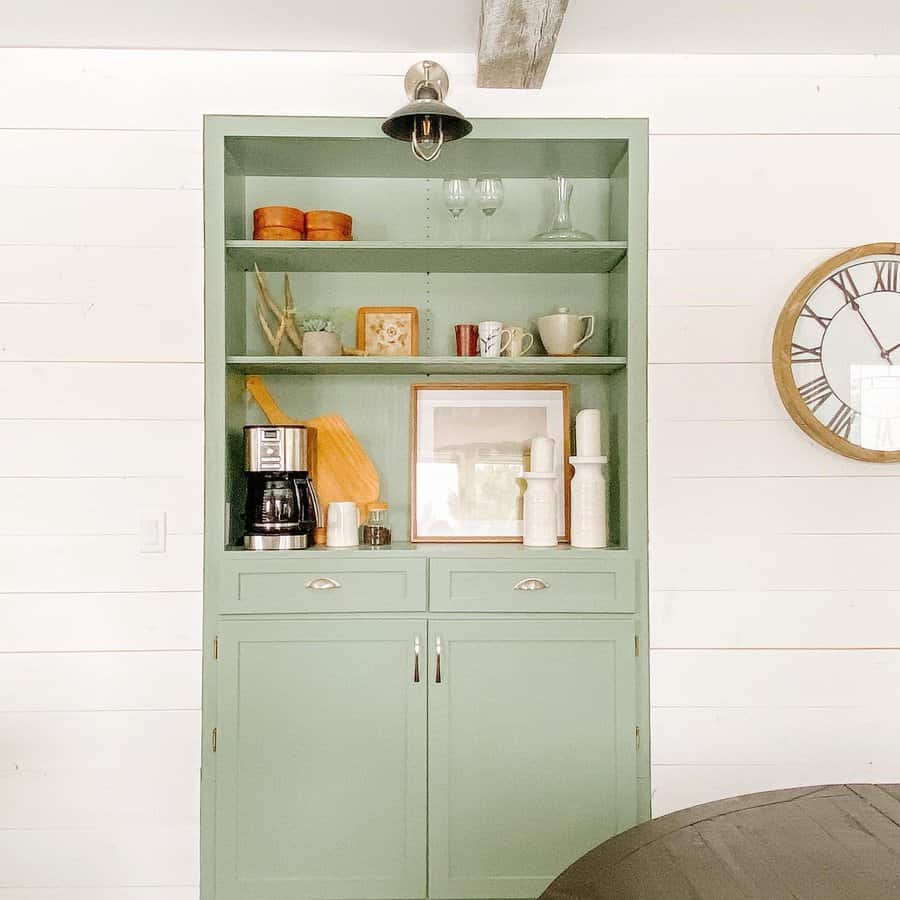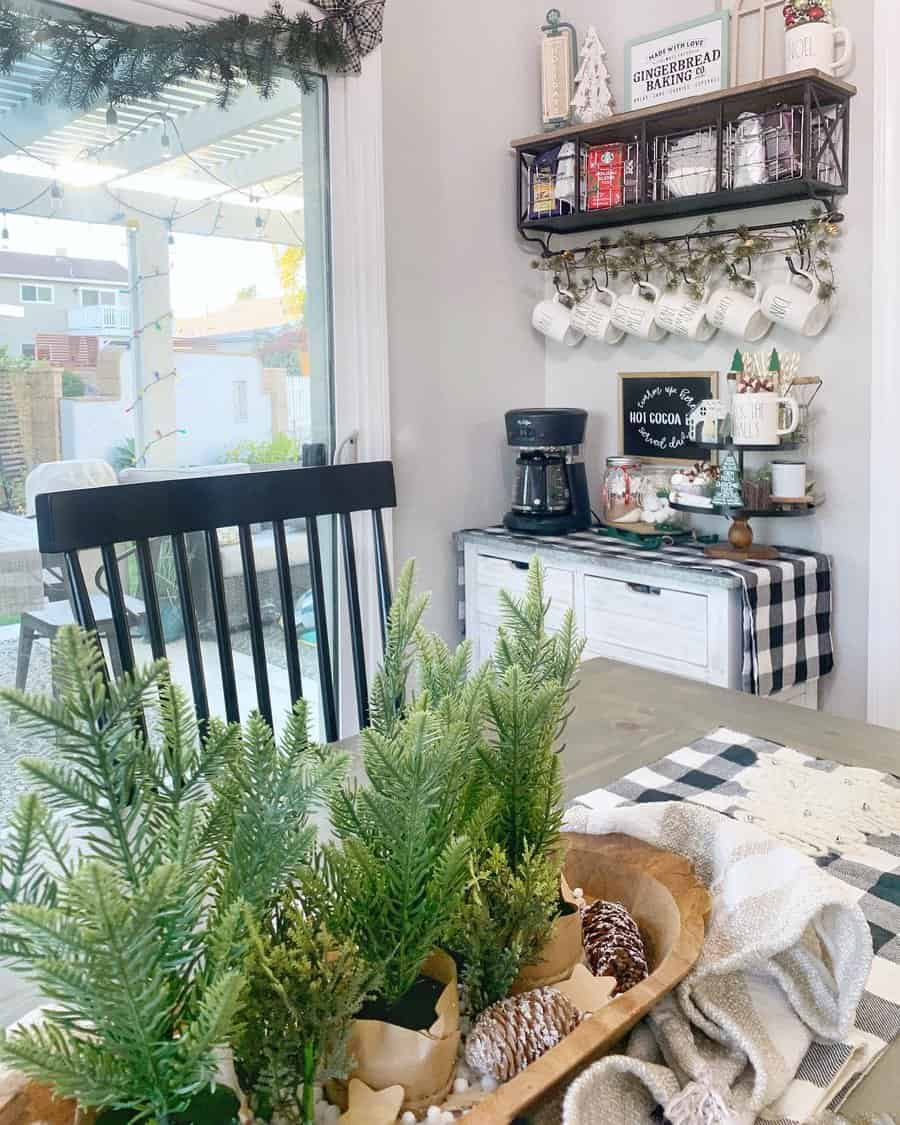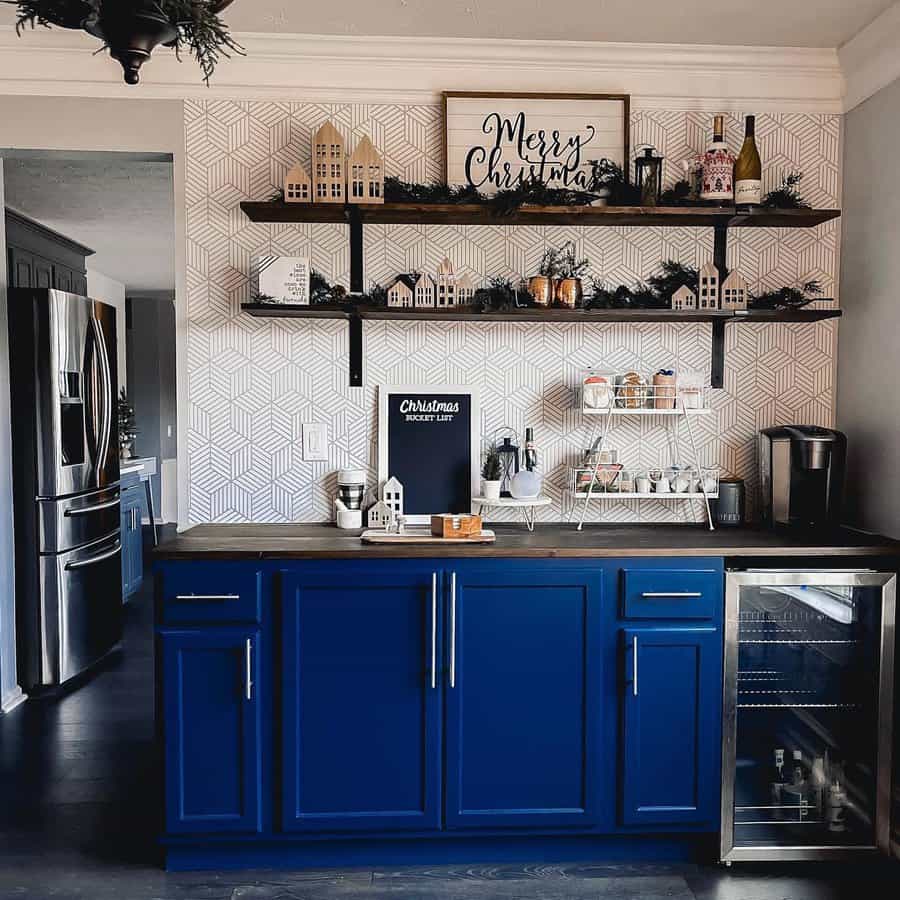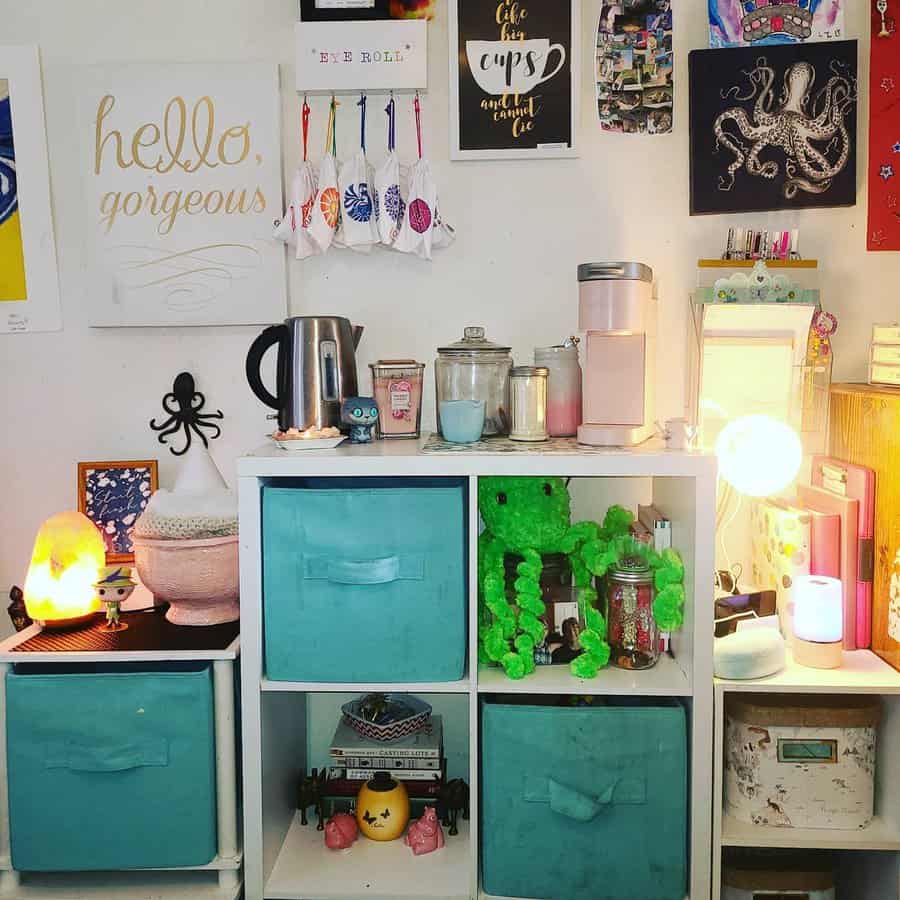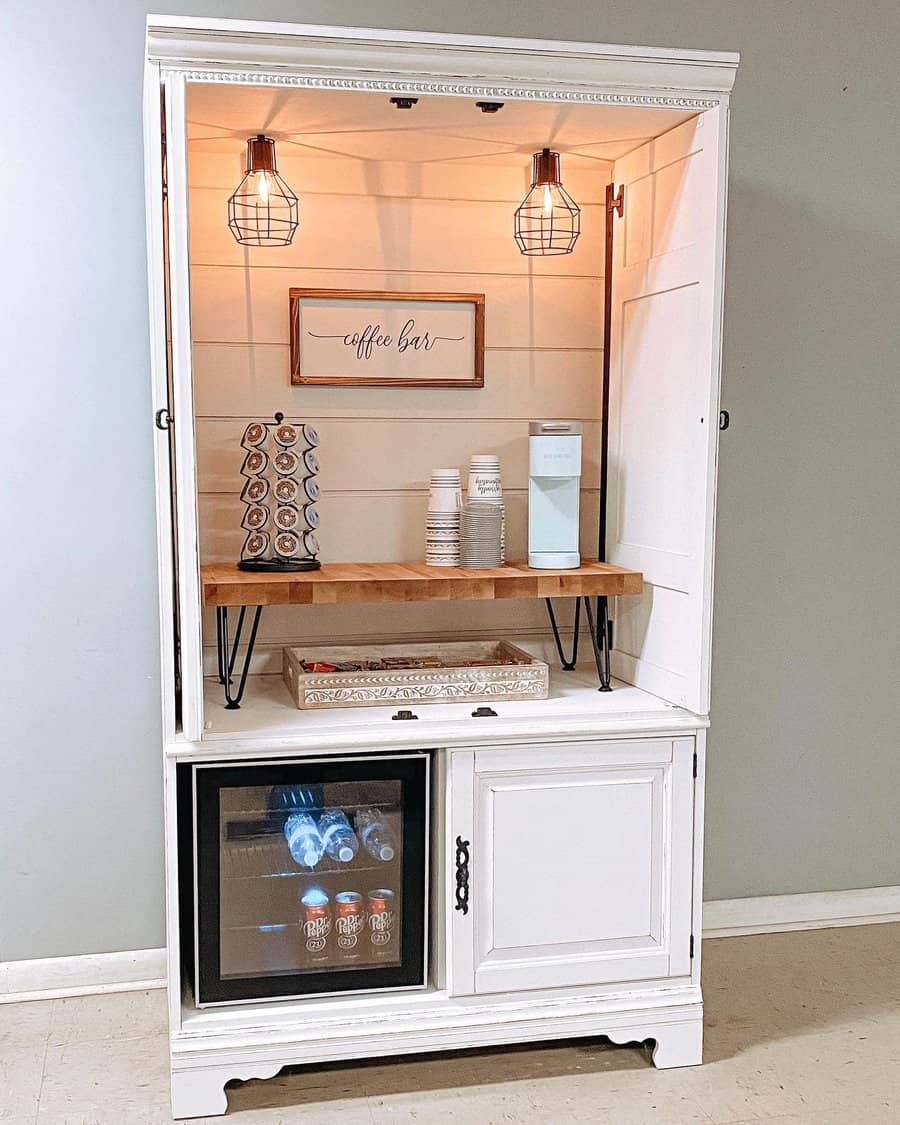 The perfect coffee bar is one that meets your household's needs, and the easiest way to achieve that is to design your own.
Start with a compact hutch or console table that matches your home decor — new paint and hardware can always be used to give an old piece of furniture a new look. Install hooks, extra shelves, and access to a power source for all of your coffee supplies.
4. Dining Area
The kitchen counter is the most obvious location for a coffee maker. But placing your coffee station in your dining room can be a great way to free up kitchen space and make your dining area feel more inviting.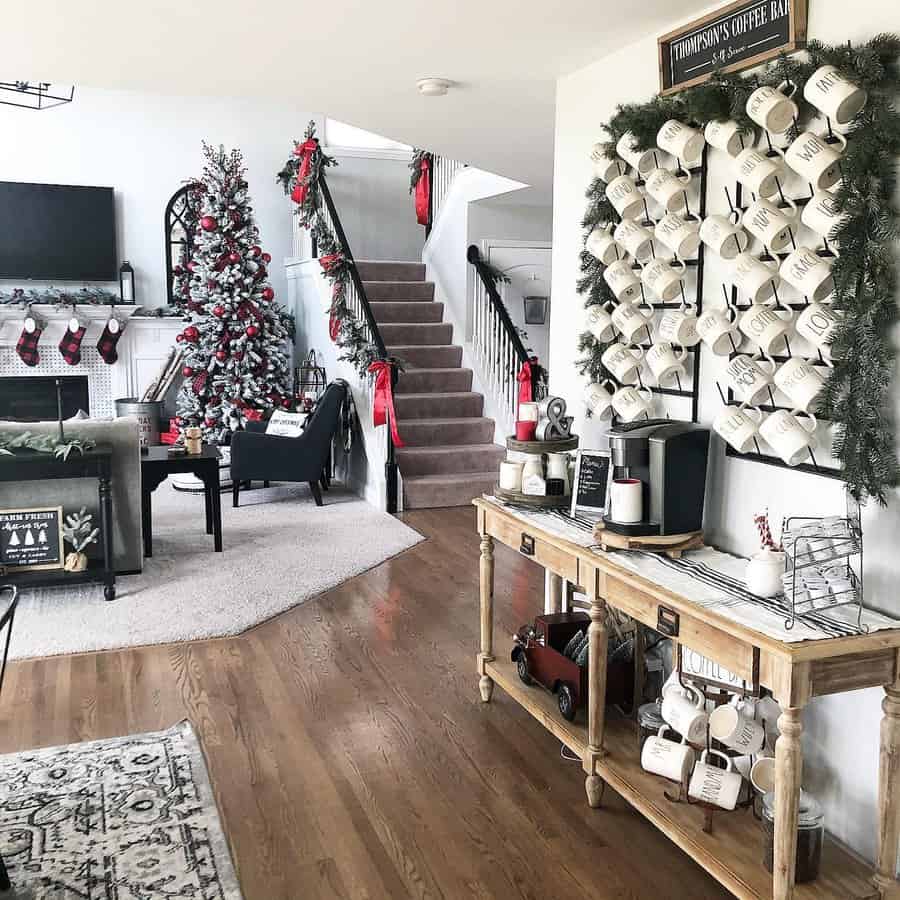 Set up your coffee bar using a thin console table or buffet. If your coffee bar station has drawers or cabinets underneath, you can use the space for miscellaneous serveware along with your coffee essentials.
While your coffee bar should coordinate with your dining room decor, it's okay to draw attention to the area with a cute sign or mug rack.
5. Farmhouse
Farmhouse decor is largely about curating a space that is as warm and cozy as possible. Naturally, an at-home coffee station fits right in with this goal.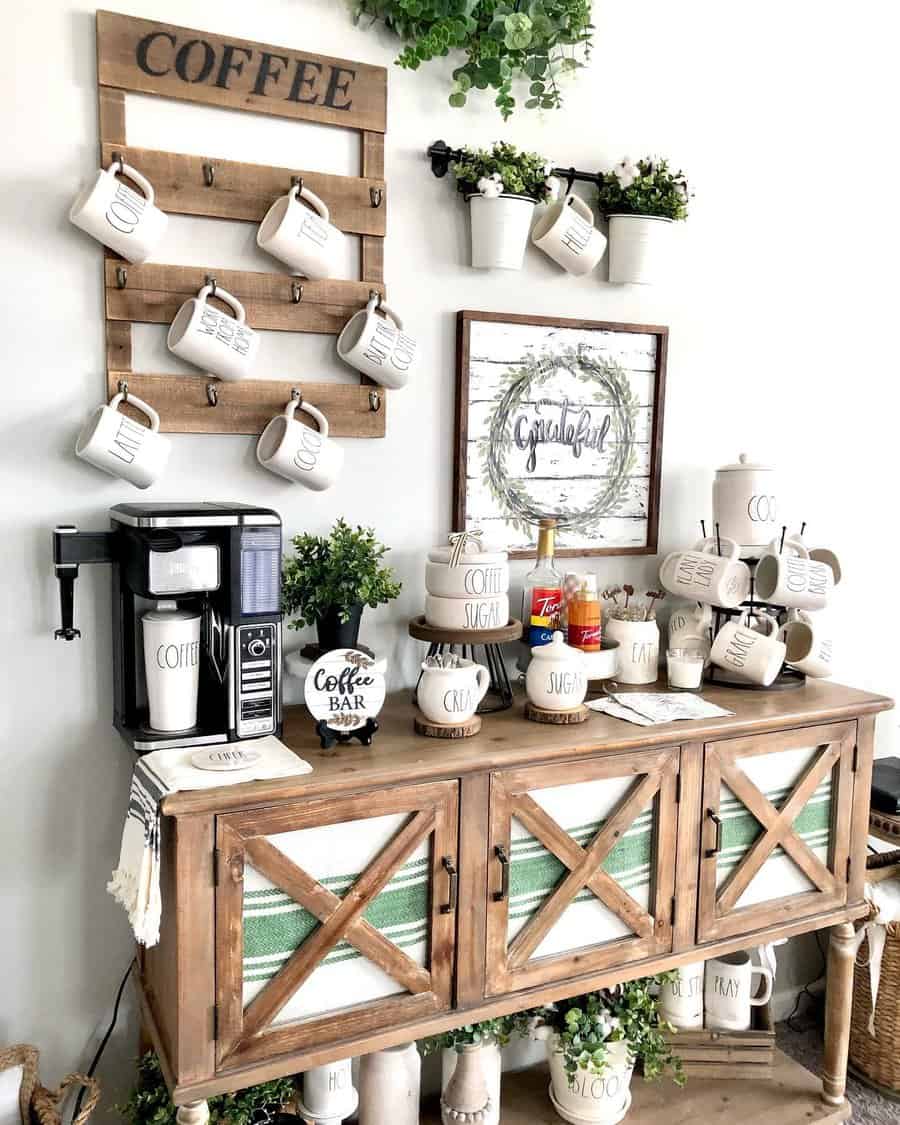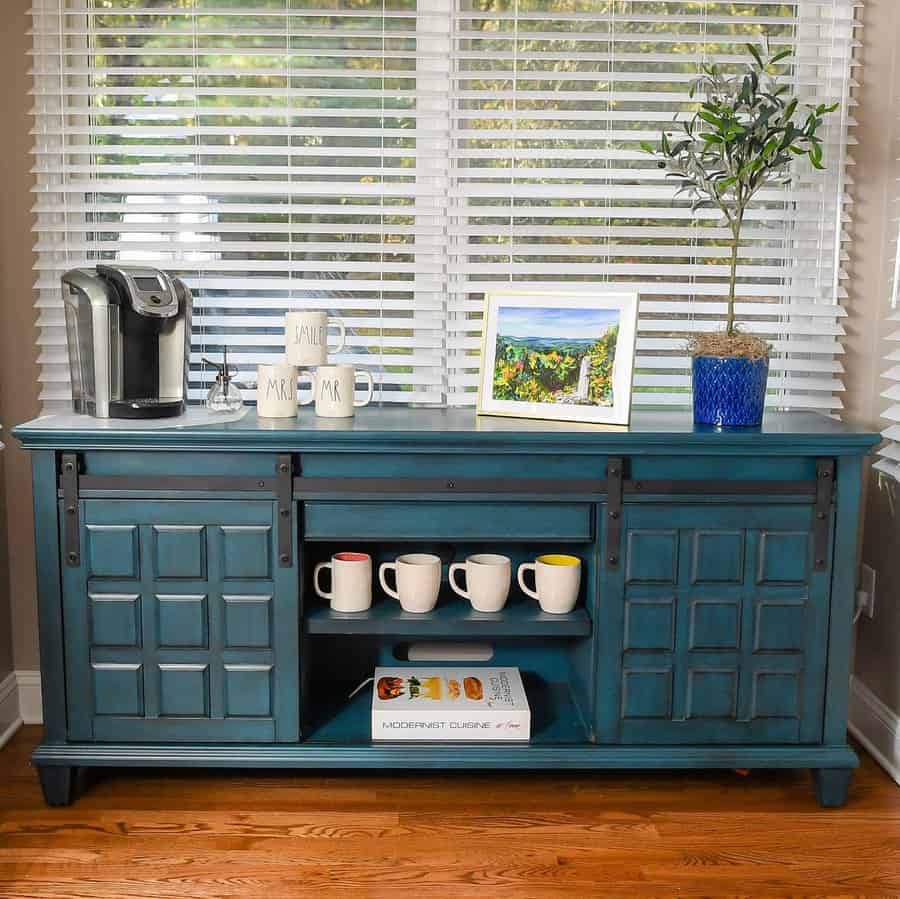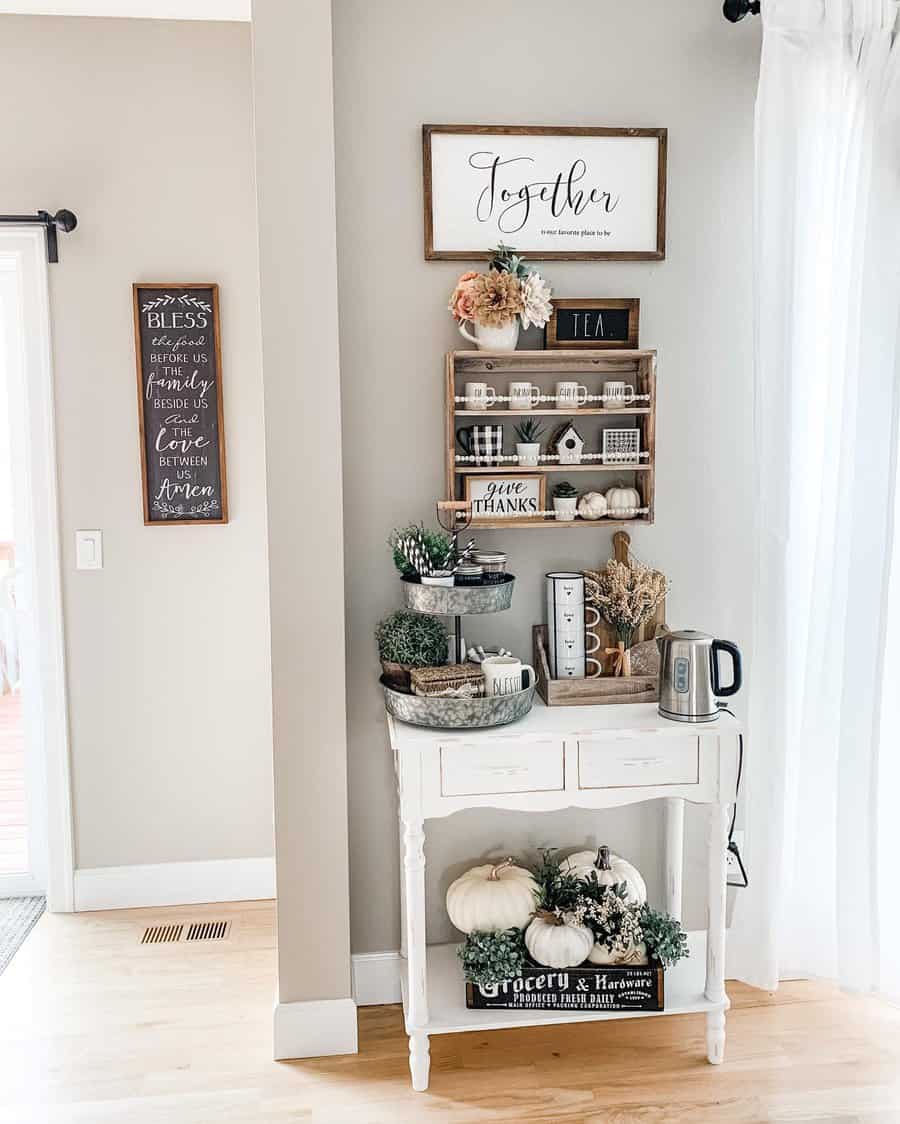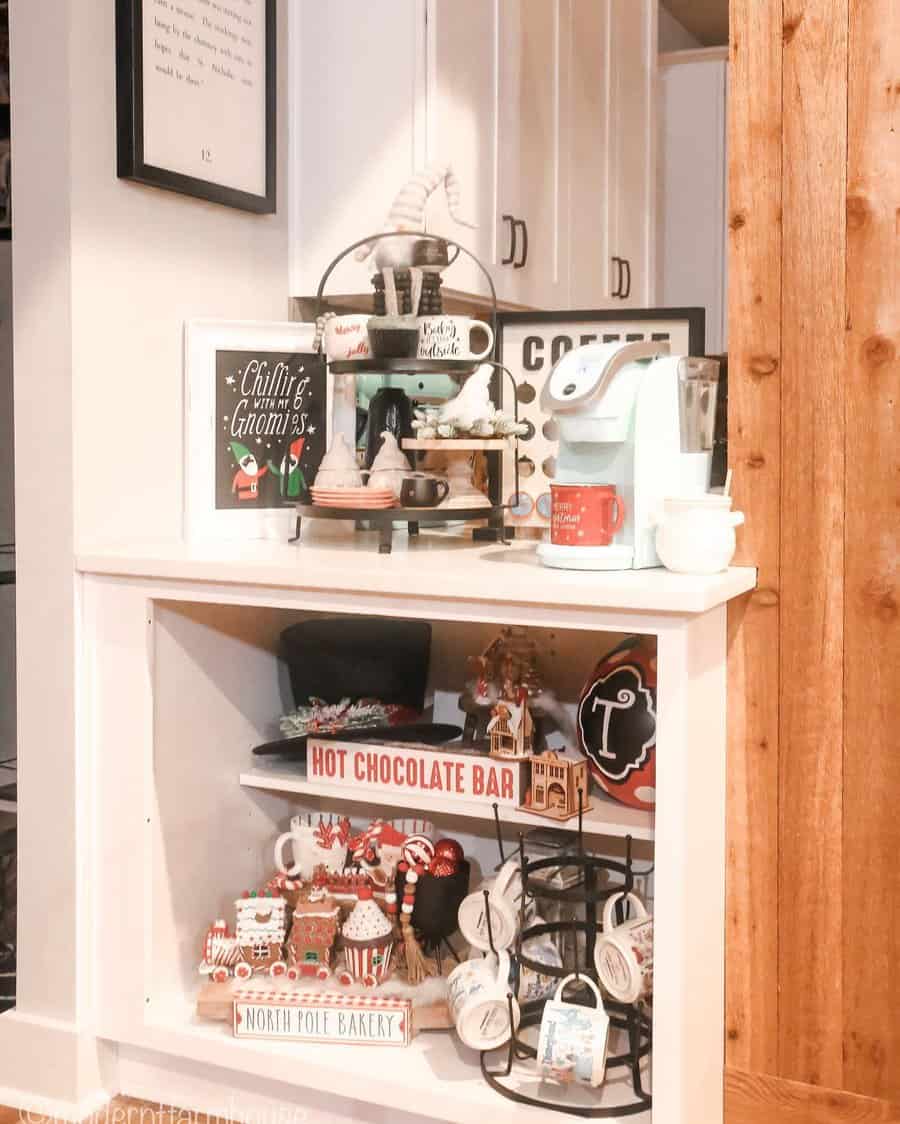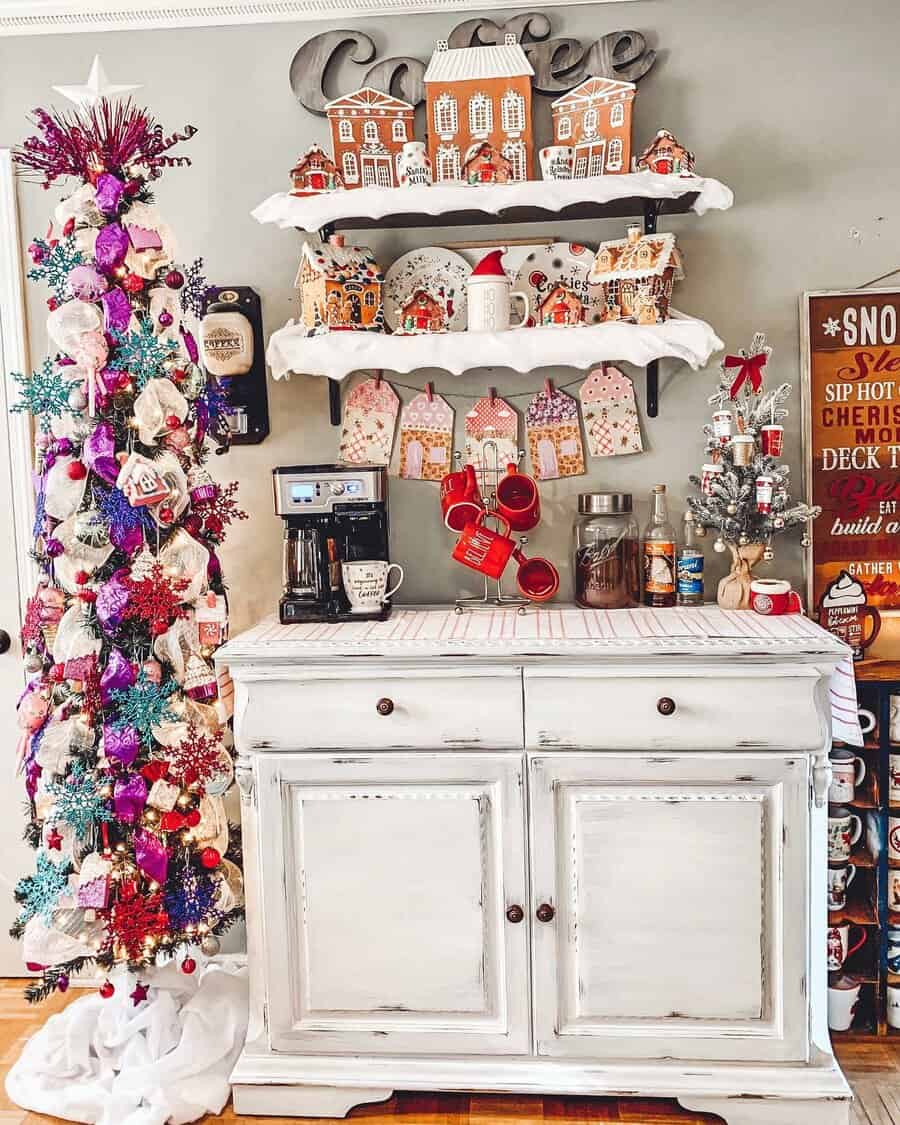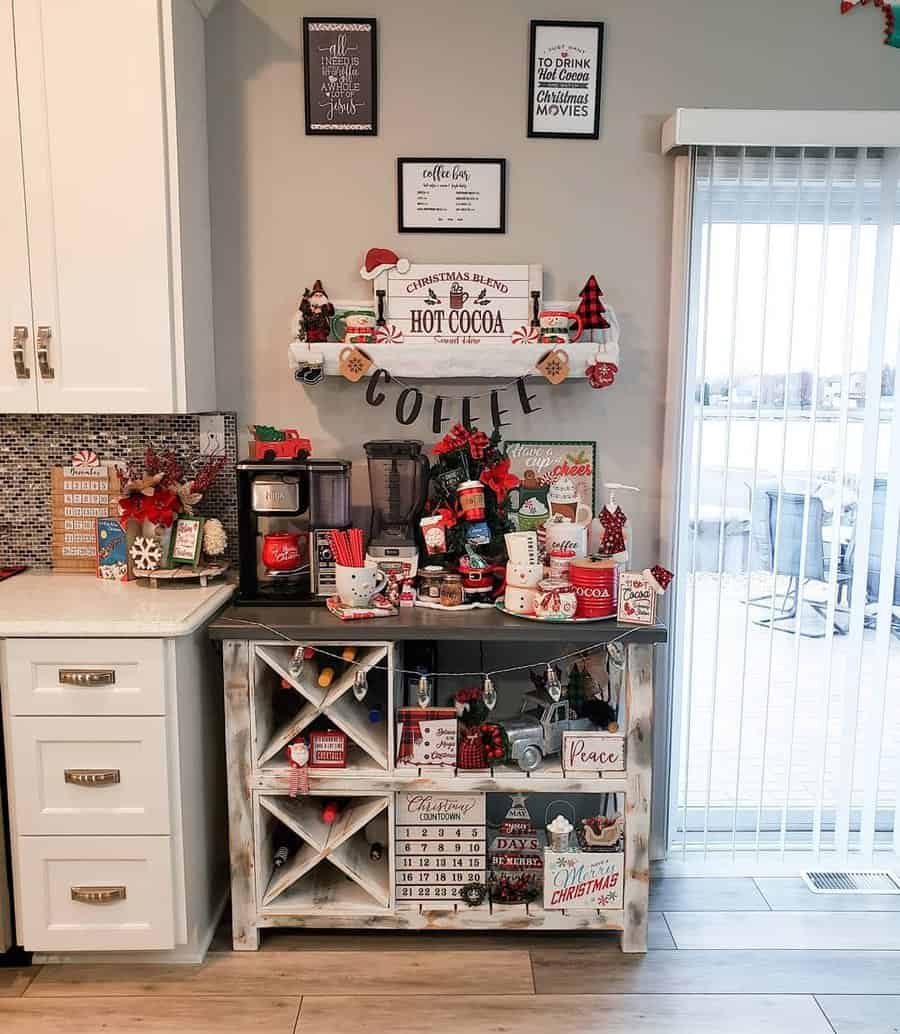 Furniture with a natural wood or whitewashed finish is ideal for a farmhouse coffee bar. You can use vintage furniture for your station setup or mimic an aged appearance using chalk paint and finishing wax.
Farmhouse-style coffee bar decor often features repurposed materials and antiques. Hand-painted pallet wood can be used to create a custom sign or mount a mug rack. Include small details like rustic tea towels and mason jars in your DIY coffee bar.
6. Kitchen
The kitchen is by far the most convenient room to keep your coffee maker in. Why not expand your kitchen coffee nook to include everything you could possibly need for a morning pick-me-up?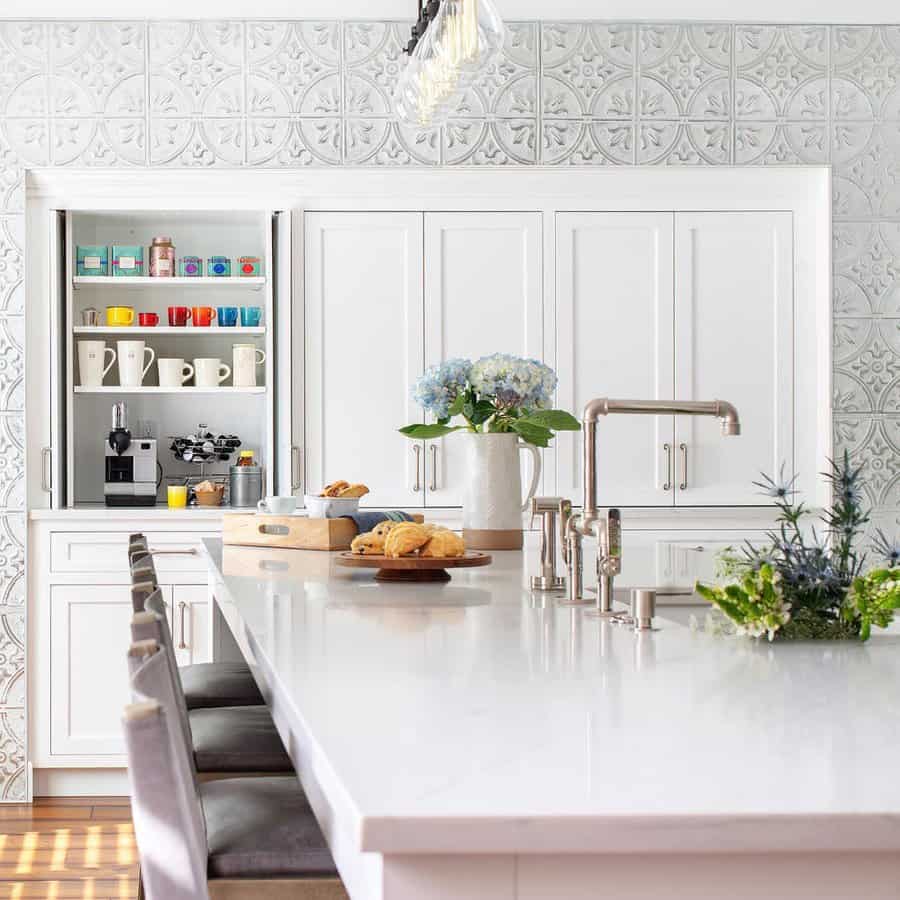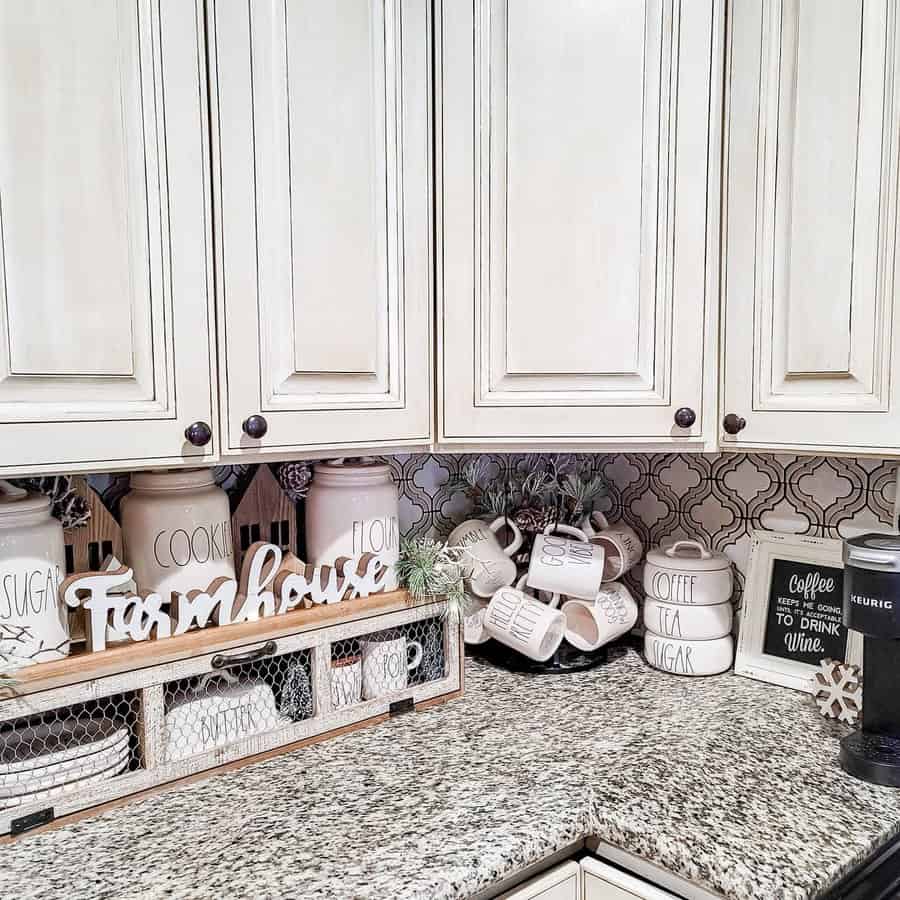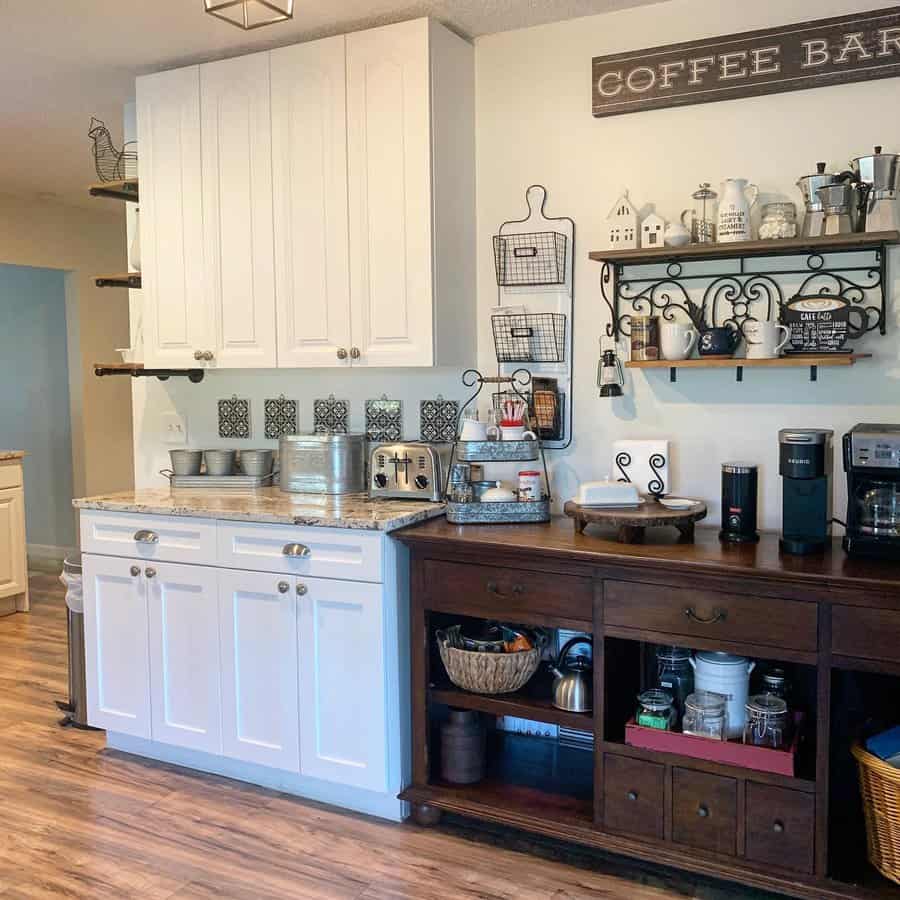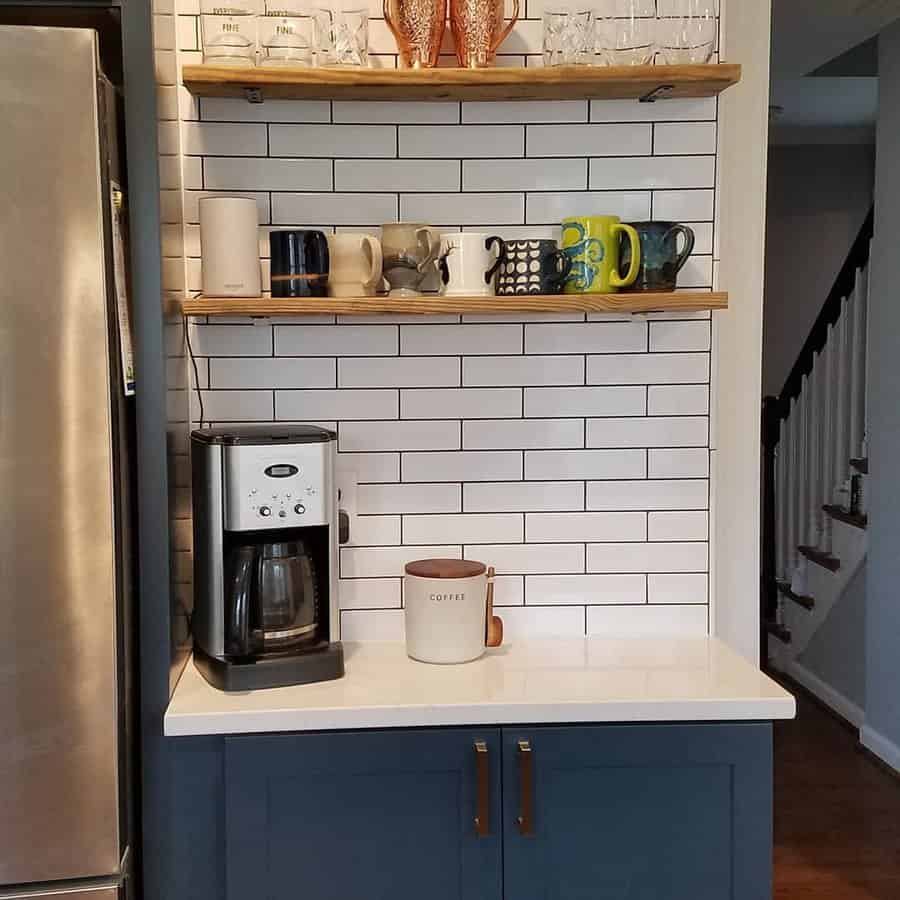 Keep all of your coffee-making supplies in one area and include thematic decor to tie everything together. Organization and visual appeal are what differentiates a proper coffee bar from a regular kitchen setup.
Your kitchen coffee bar doesn't need to be out on display 24/7. Consider placing your coffee accessories in a butler's pantry or large cupboard to keep your kitchen neat and tidy throughout the day.
7. Luxury
It doesn't matter if you own an early-model Keurig or a high-end espresso machine. The most luxurious coffee bar ideas are all about attention to detail.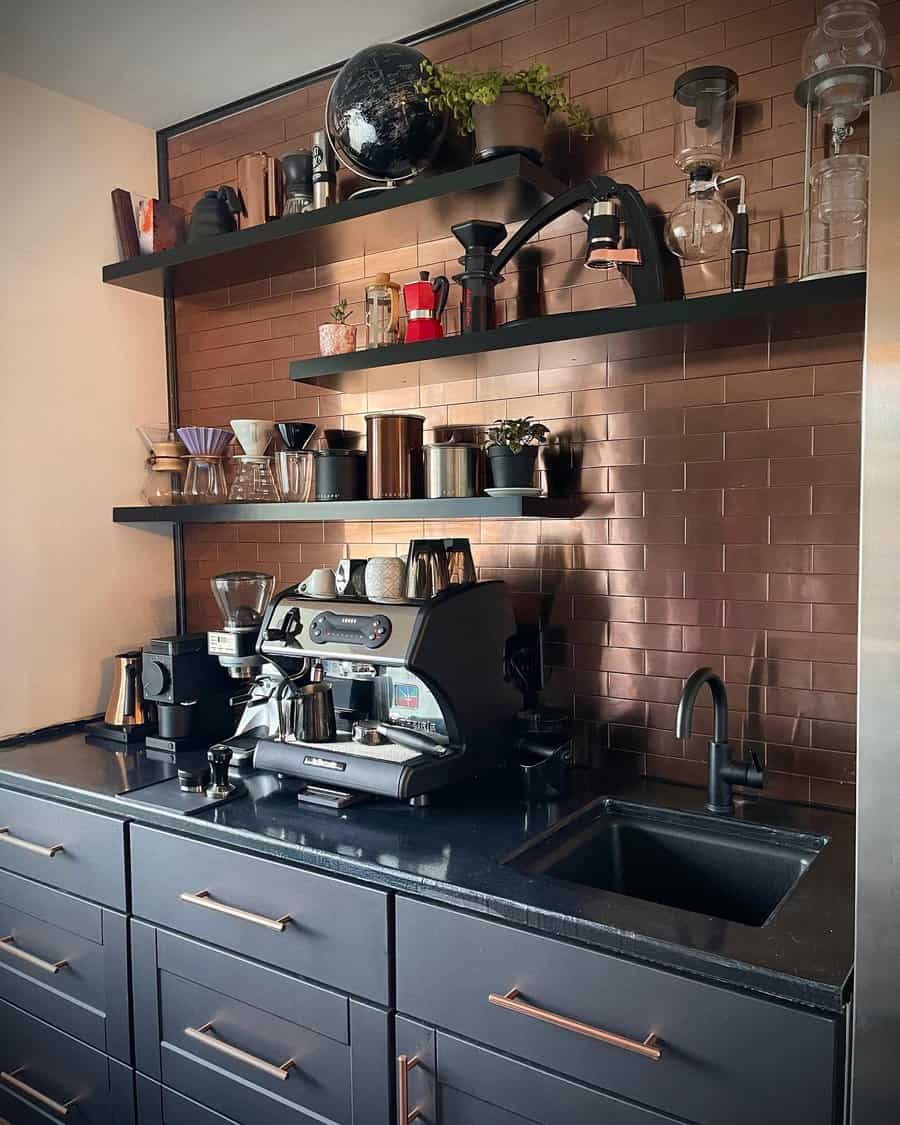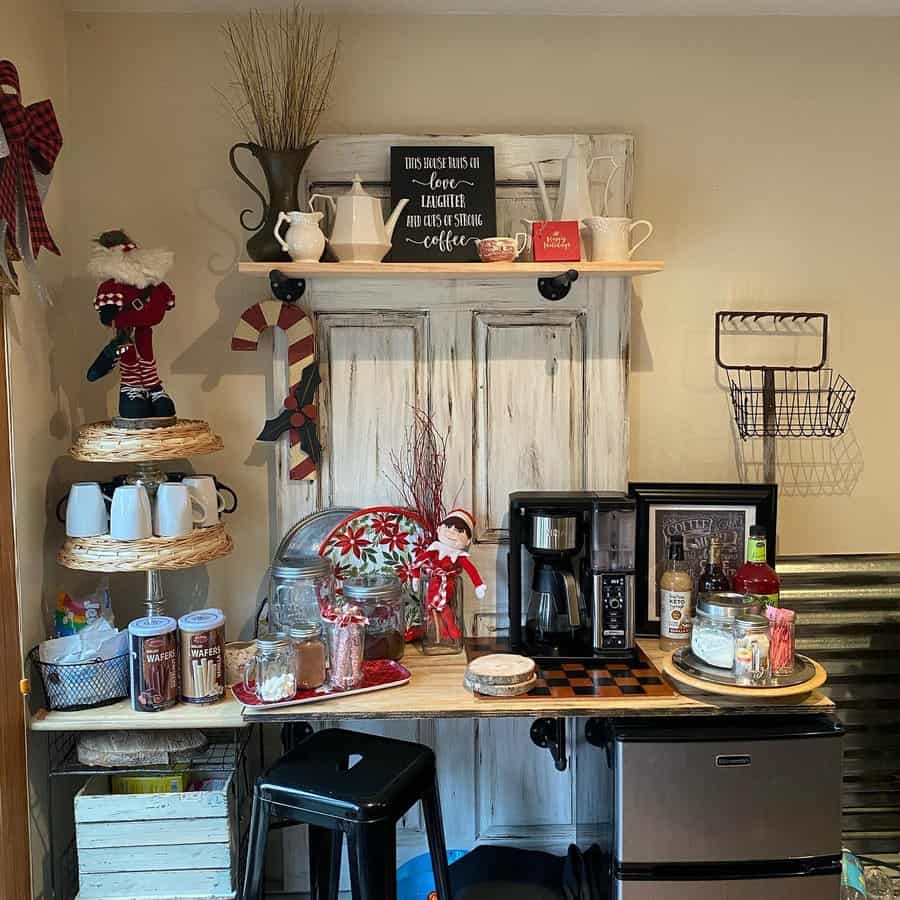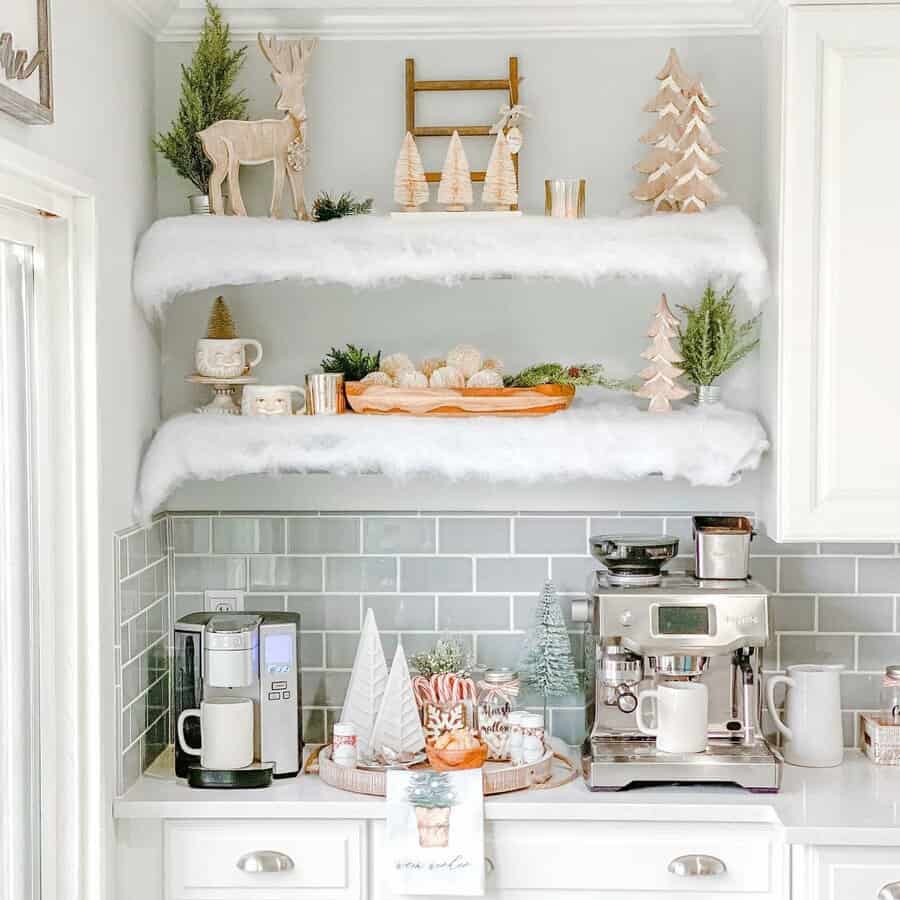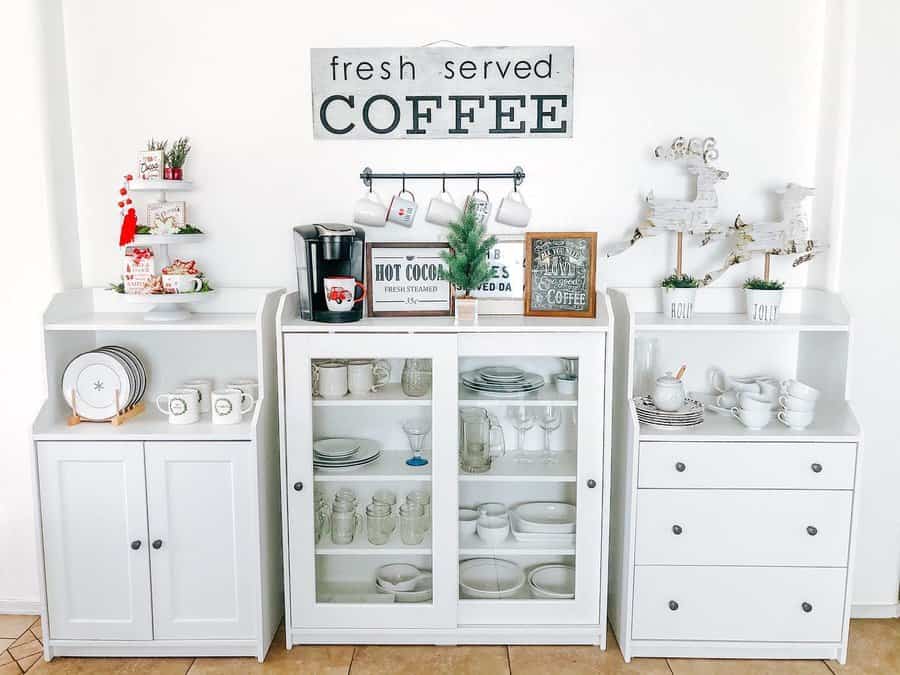 Opt for simple furniture and decor that offers a cohesive aesthetic. Modern elements like a glass console table and sleek floating shelves are excellent investments.
While decor is crucial to creating a stylish living space, you don't want to overdo it. Clutter is the enemy of luxury design, especially when it comes to a mess-prone area like a coffee station. Prioritize organization and storage when designing your luxury-inspired coffee bar setup.
8. Modern
Modern decor is not a monolith. There are numerous trends and styles contained within the modern design movement. Borrowing ideas from any or all of these trends is not just okay but encouraged!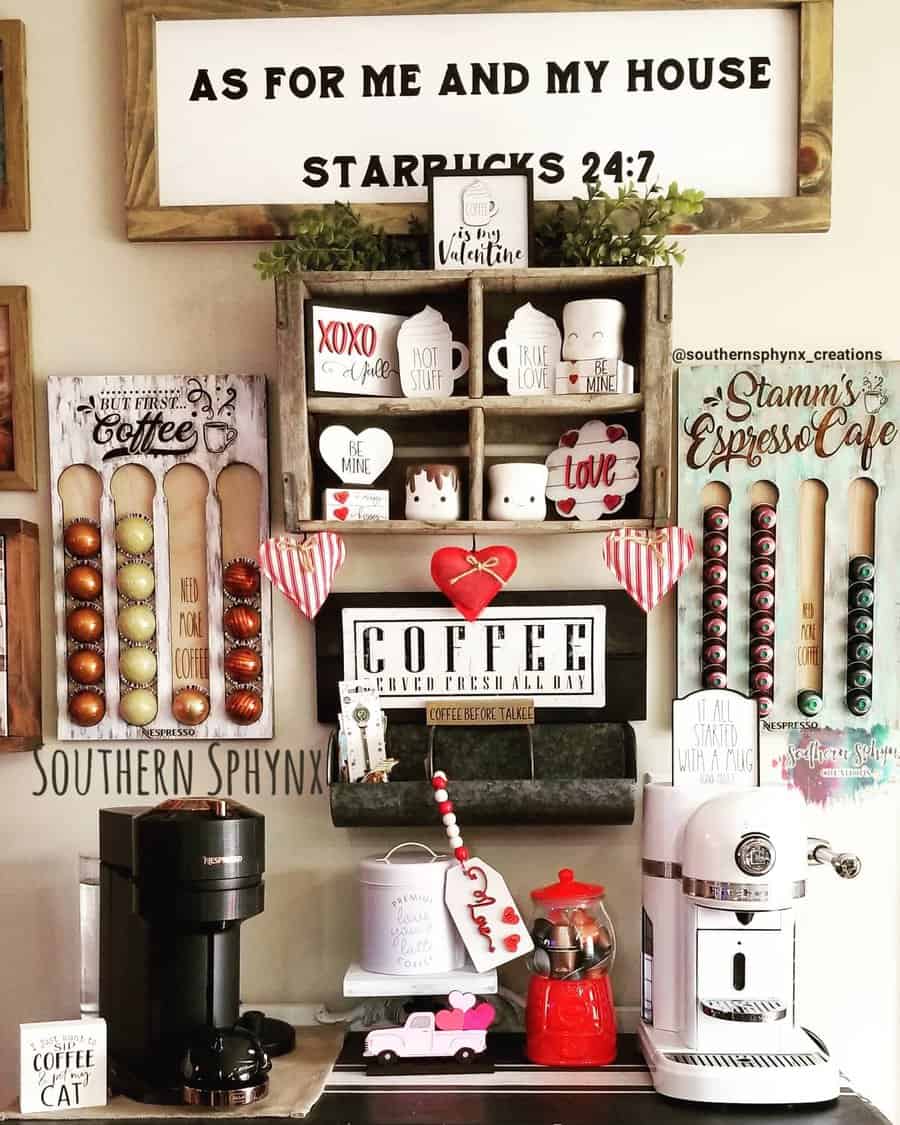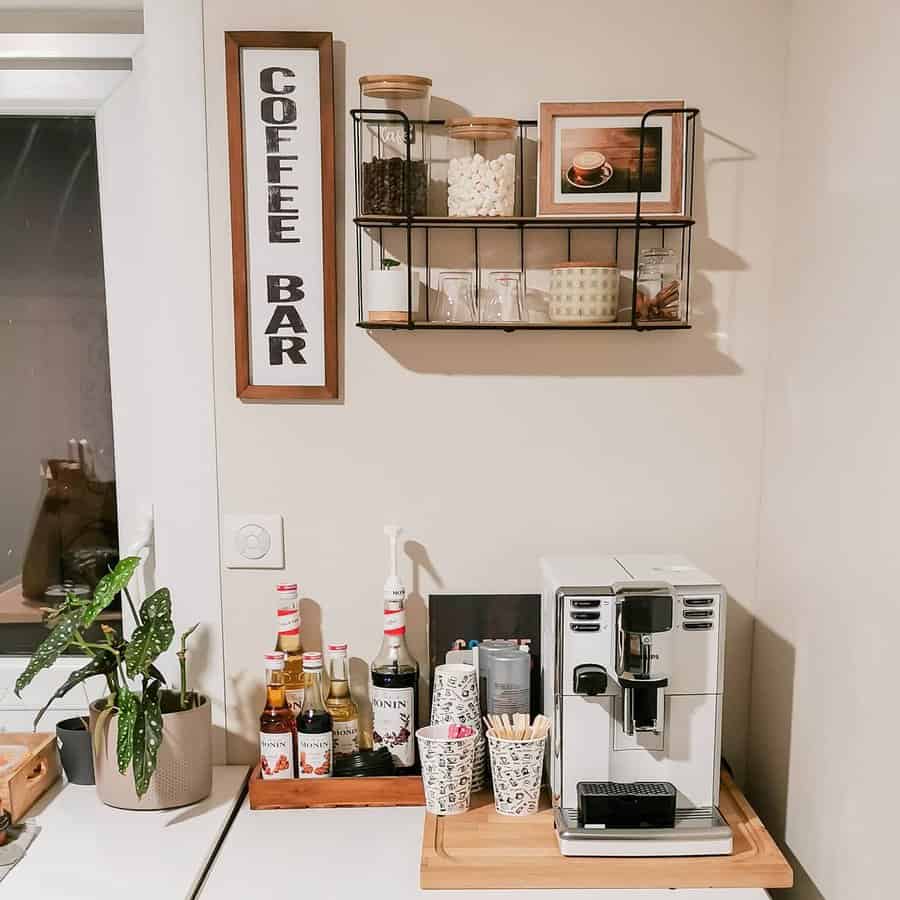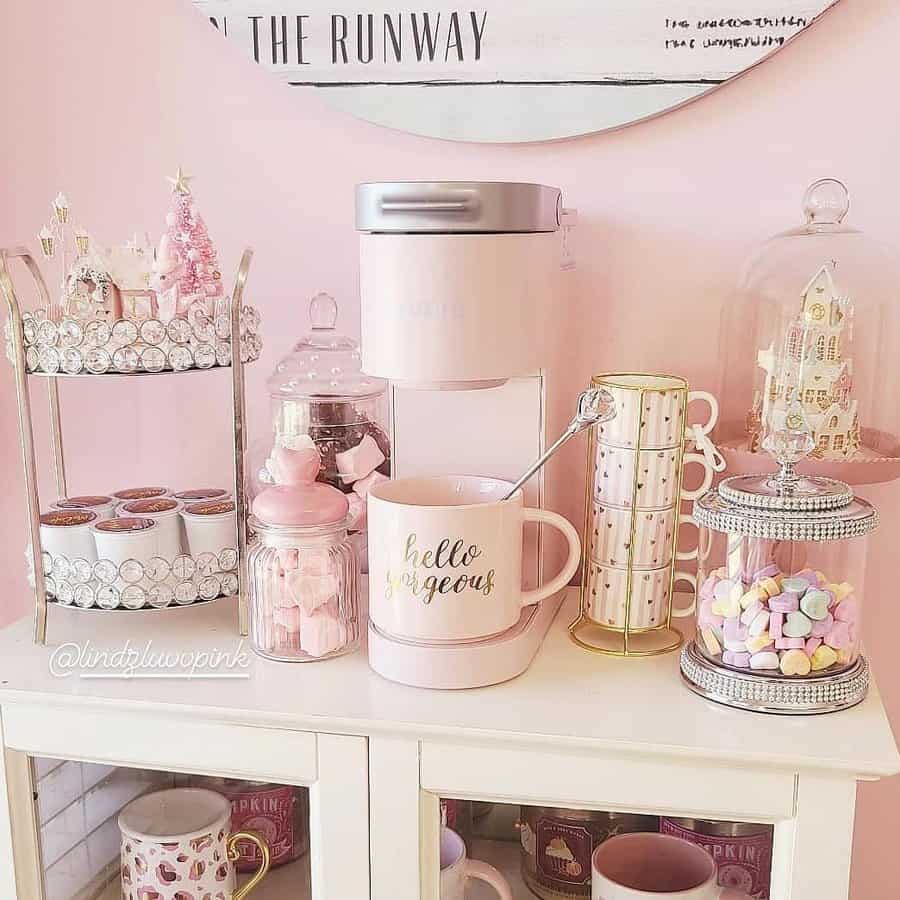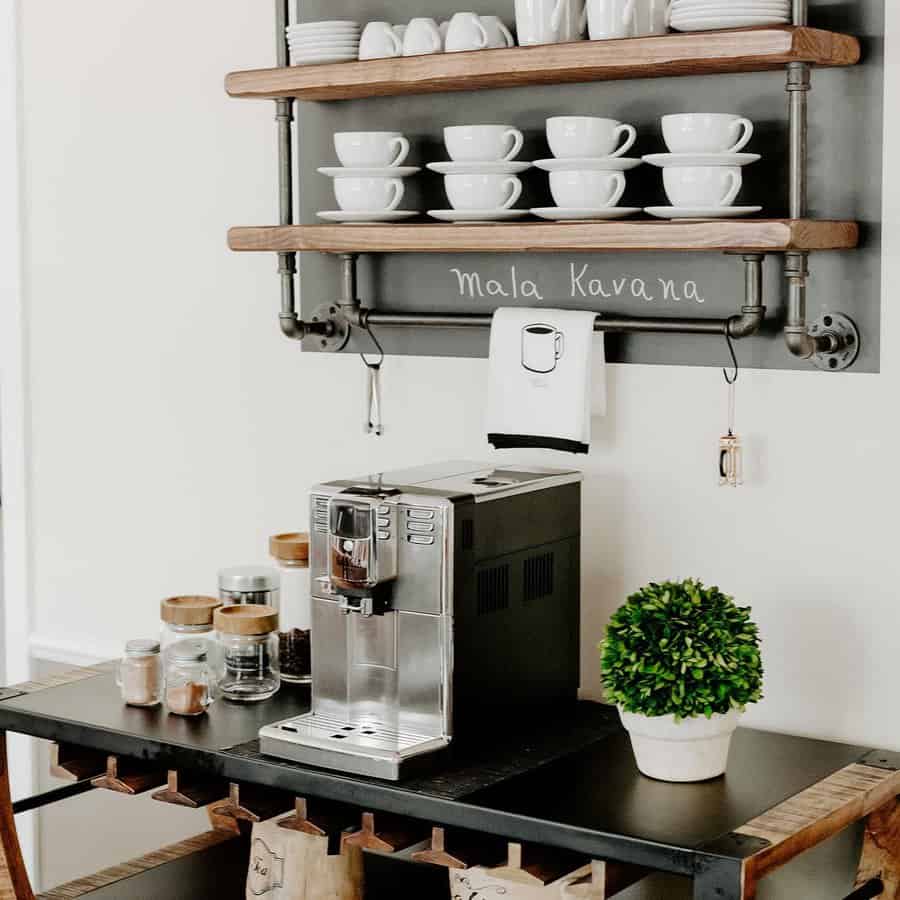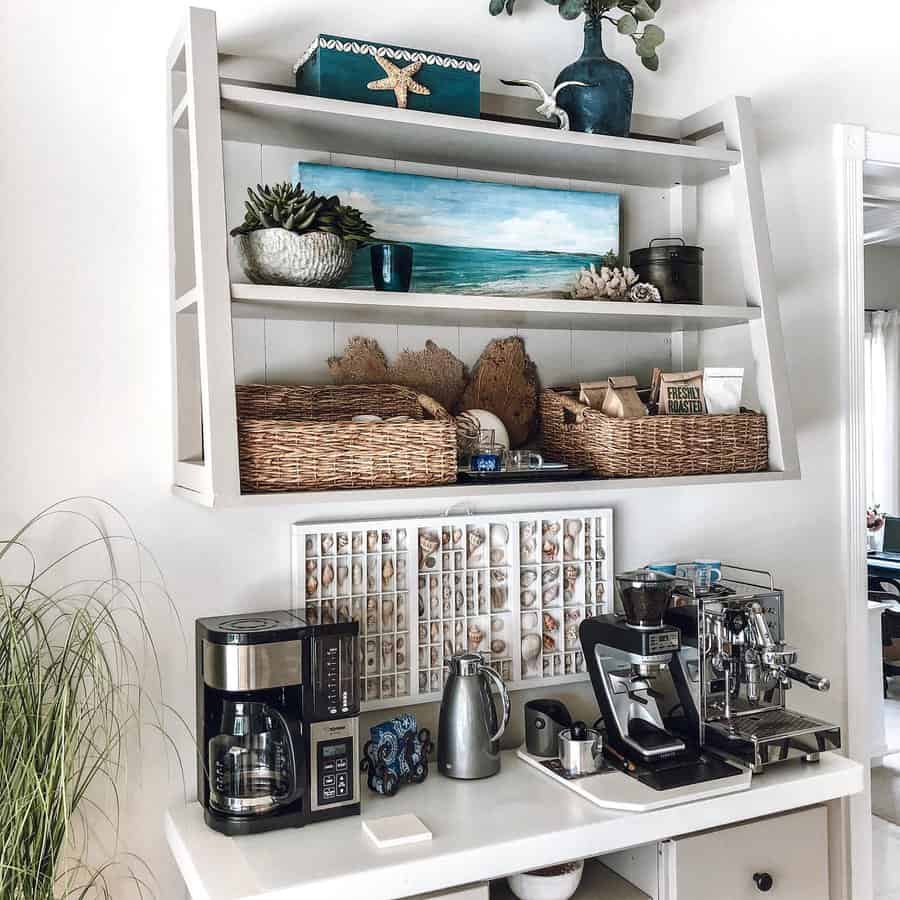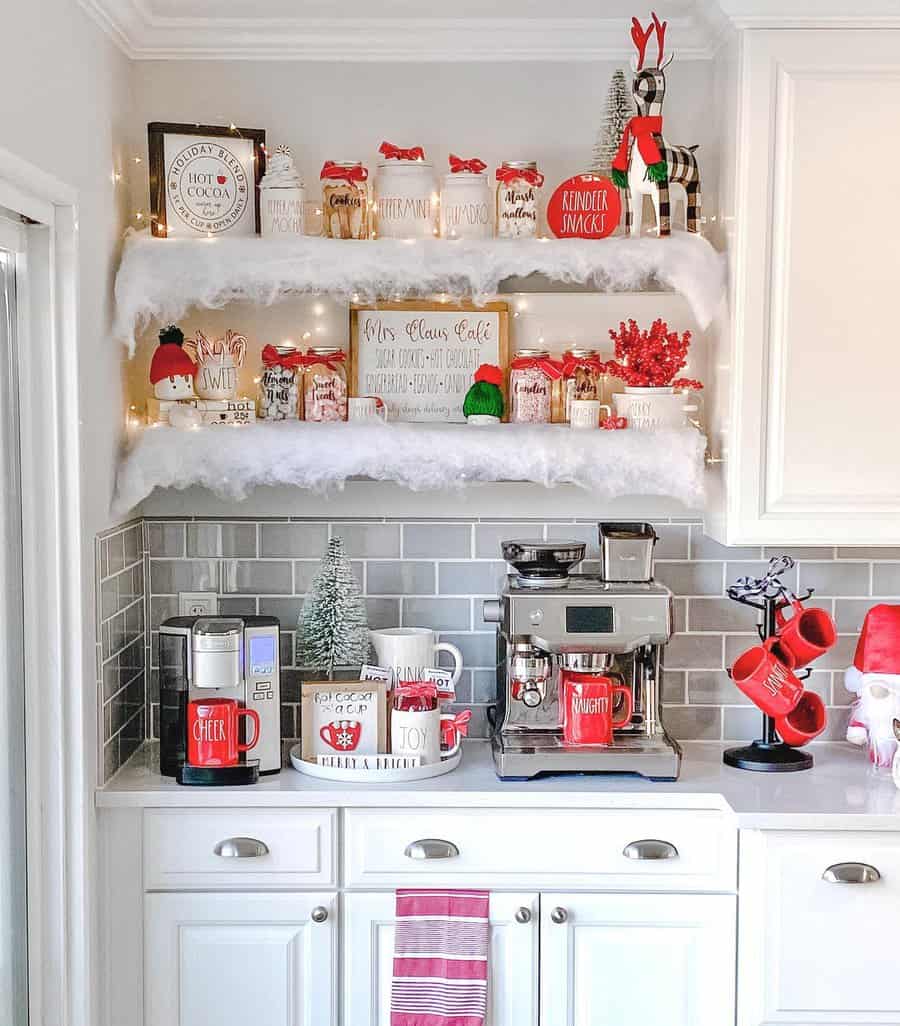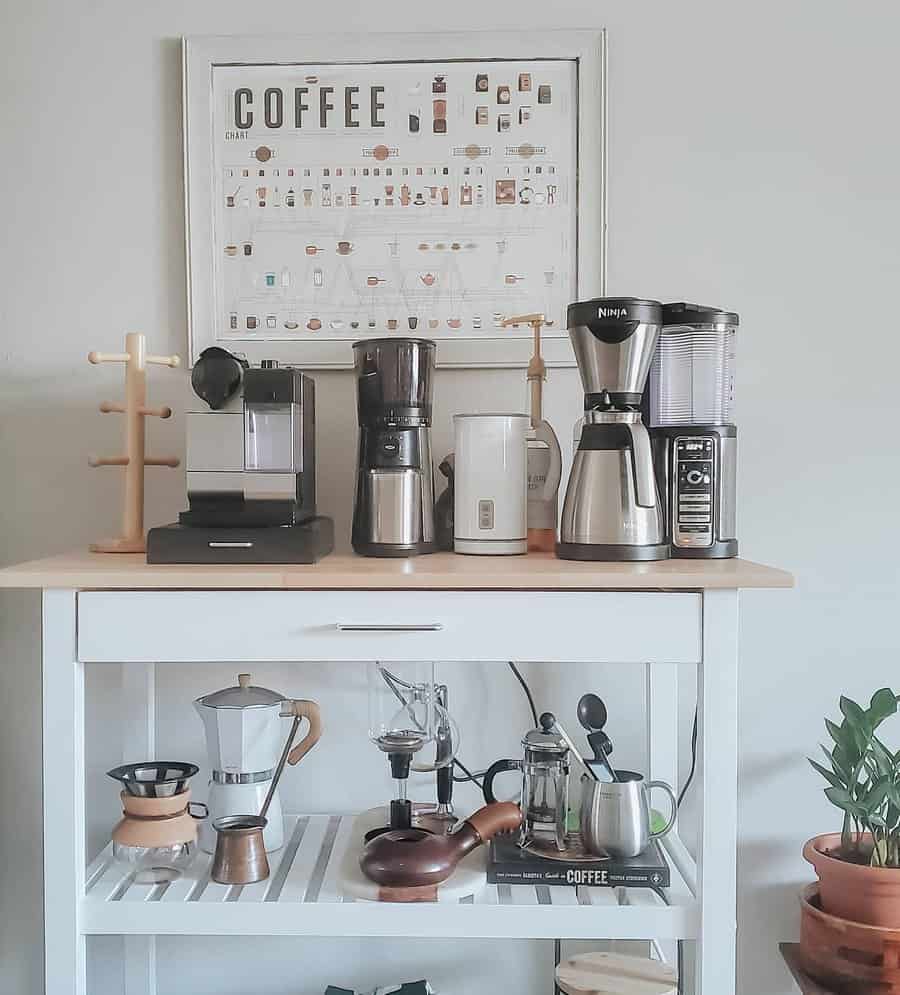 Regardless of your go-to aesthetic, modern decor is all about sleek shapes and finishes. One of the easiest ways to give your coffee corner a modern touch is with a monochromatic color scheme.
Take a minimalist approach with your coffee bar surface. Invest in special storage solutions to hold coffee pods and other necessities. Display pop artwork and unique decor over your coffee station with a floating shelf.
9. Pallet
Reclaimed wood is a beloved material among home designers and DIYers alike. If you're looking for inspiration to create your own DIY coffee bar, getting your hands on some pallet wood is a great place to start.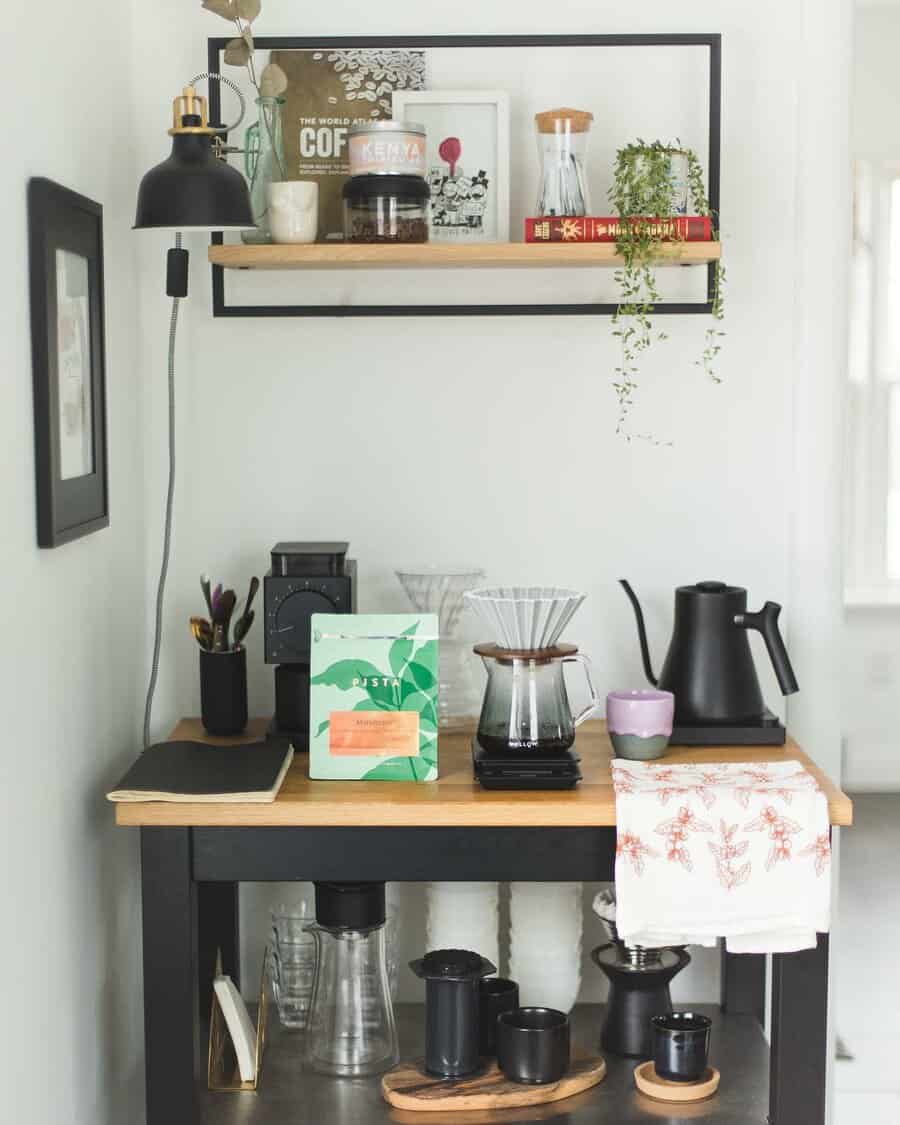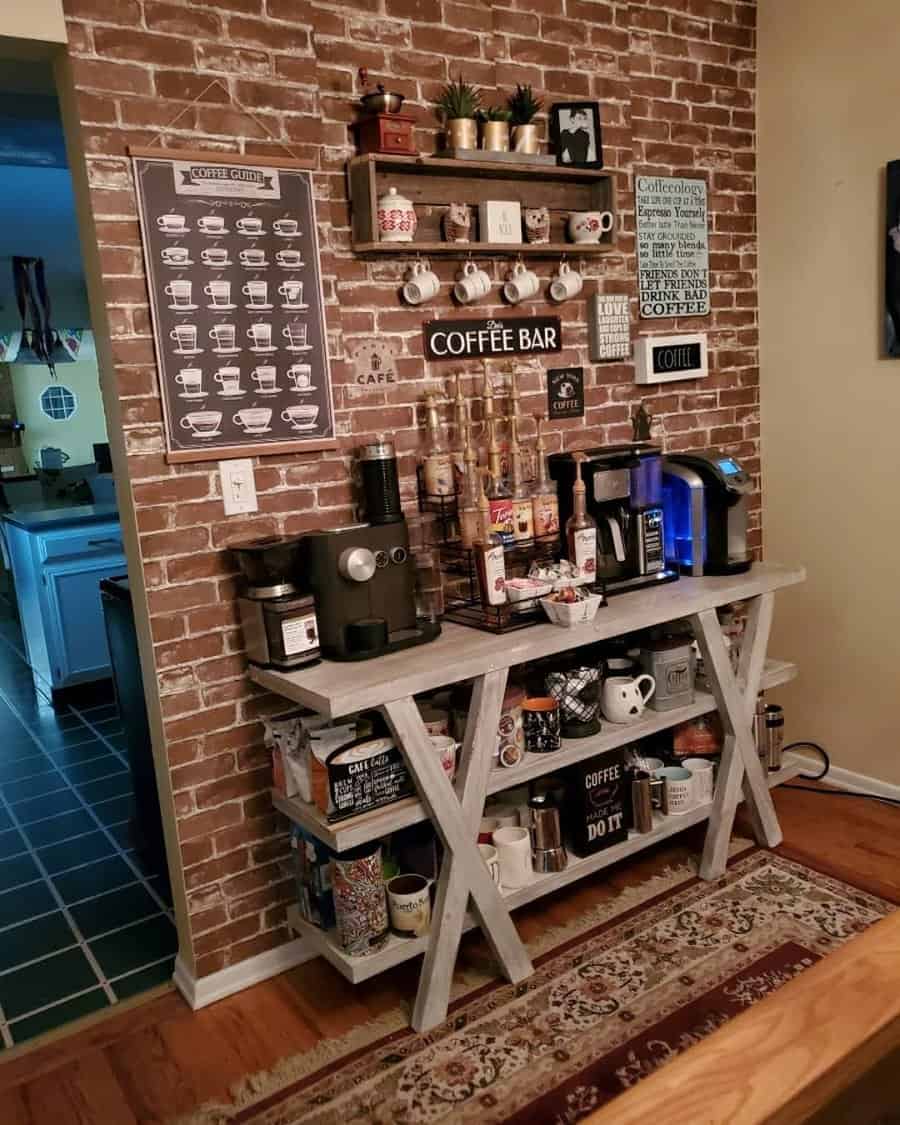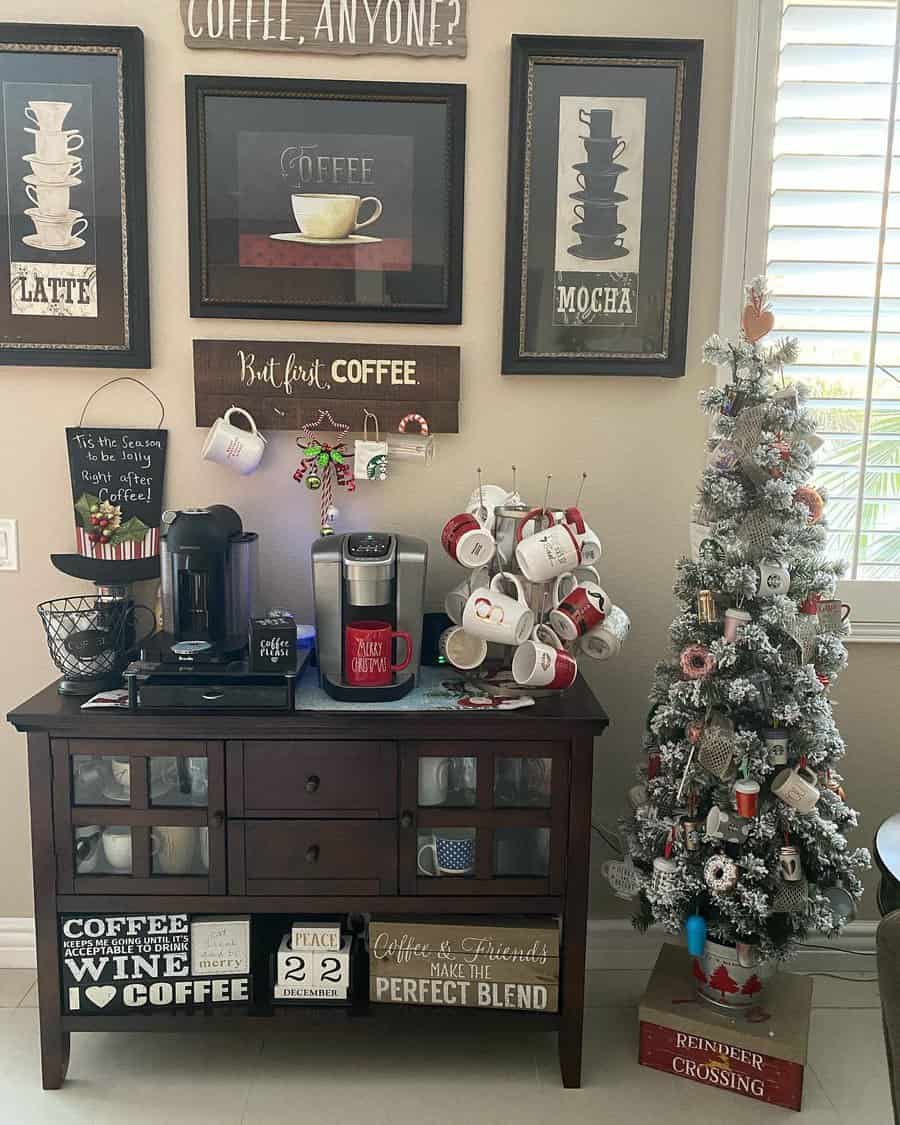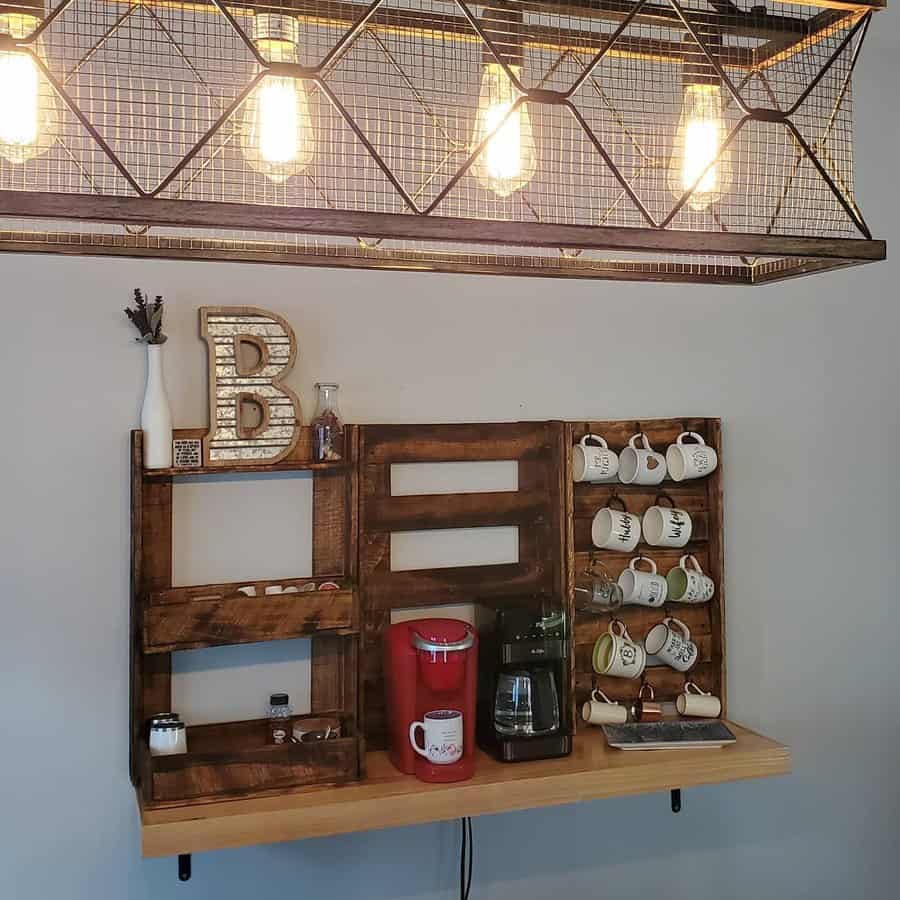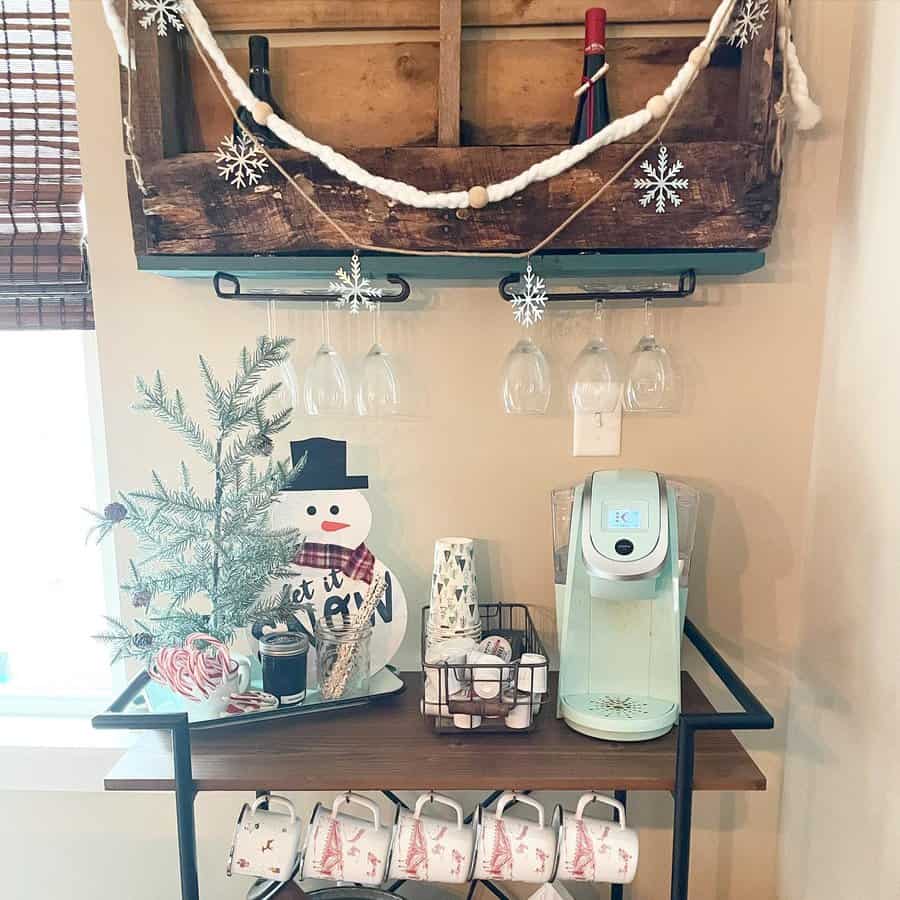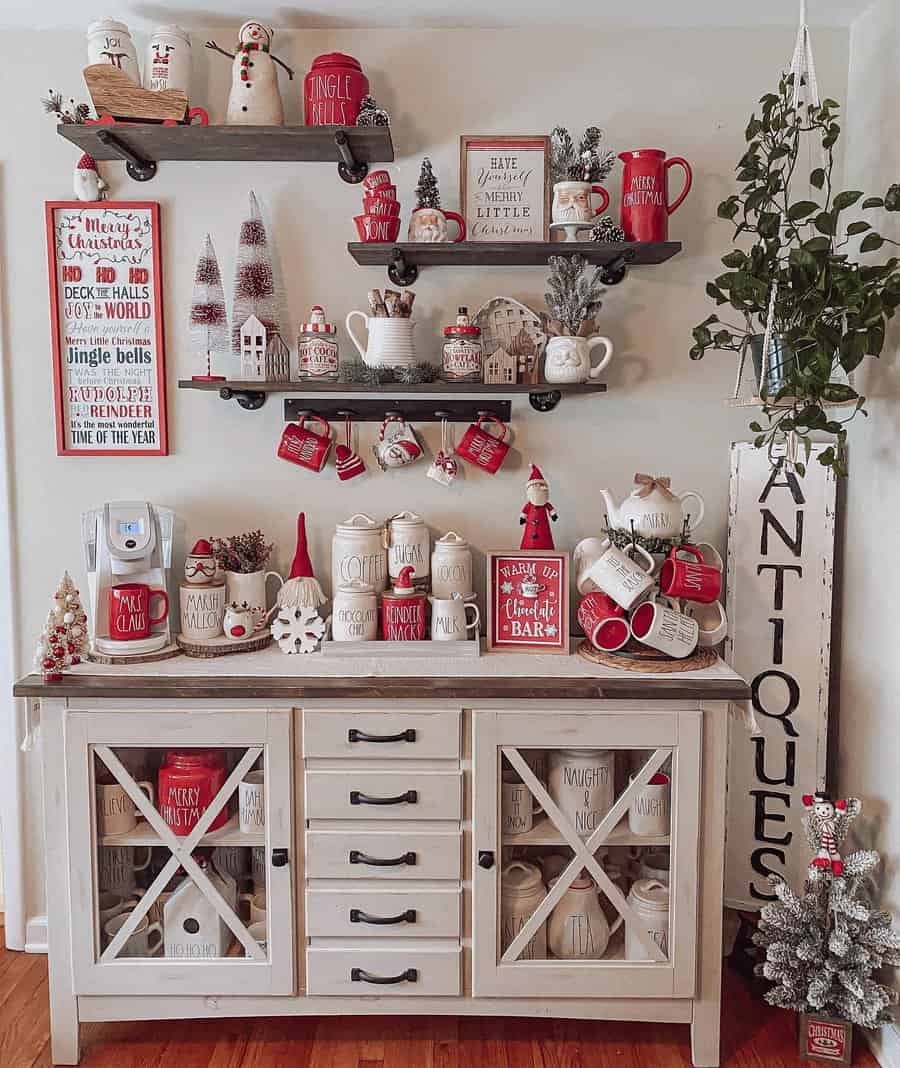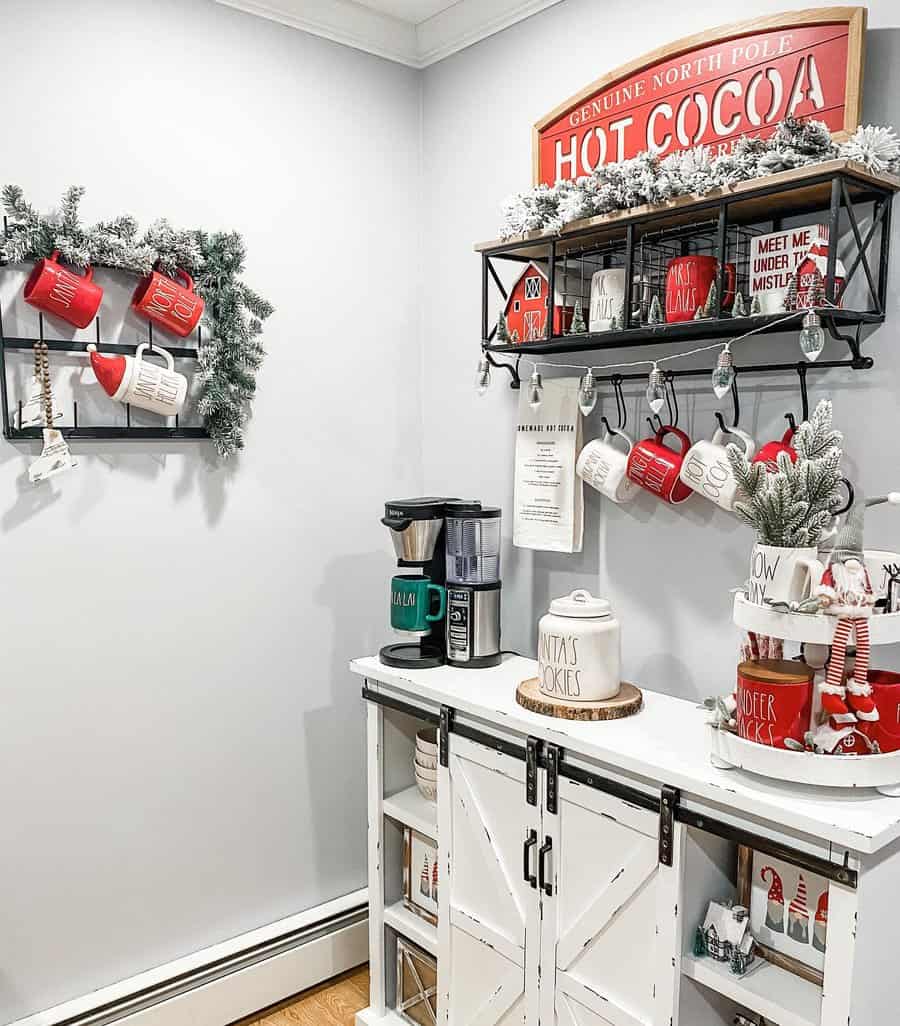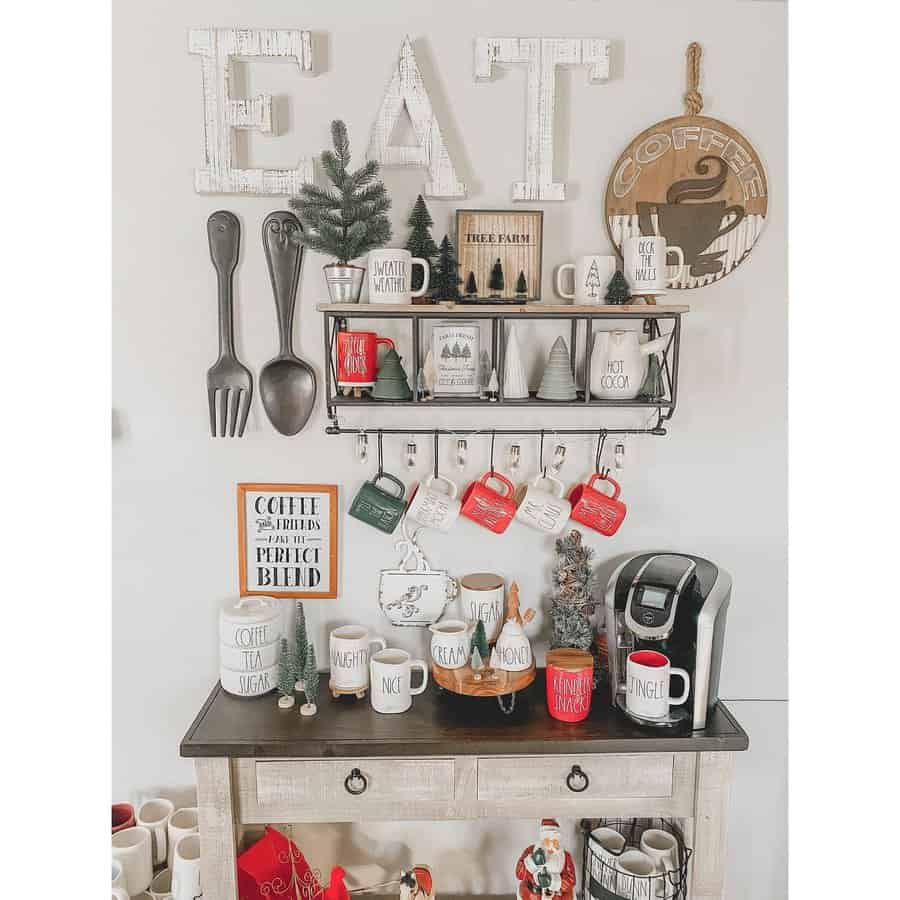 Reclaimed pallet wood is an excellent choice for a cottage- or farmhouse-inspired coffee bar top. Replace your existing coffee station surface or add pallet wood on top to protect the original finish.
Another great coffee bar idea is to use recycled pallet wood to construct floating shelves or coffee mug storage. Leave the raw wood finish intact or paint your new wall decor to match your home decor.
10. Rustic
You'll see many of the same design elements in both rustic and farmhouse decor, including vintage furniture, aged finishes, and reclaimed wood.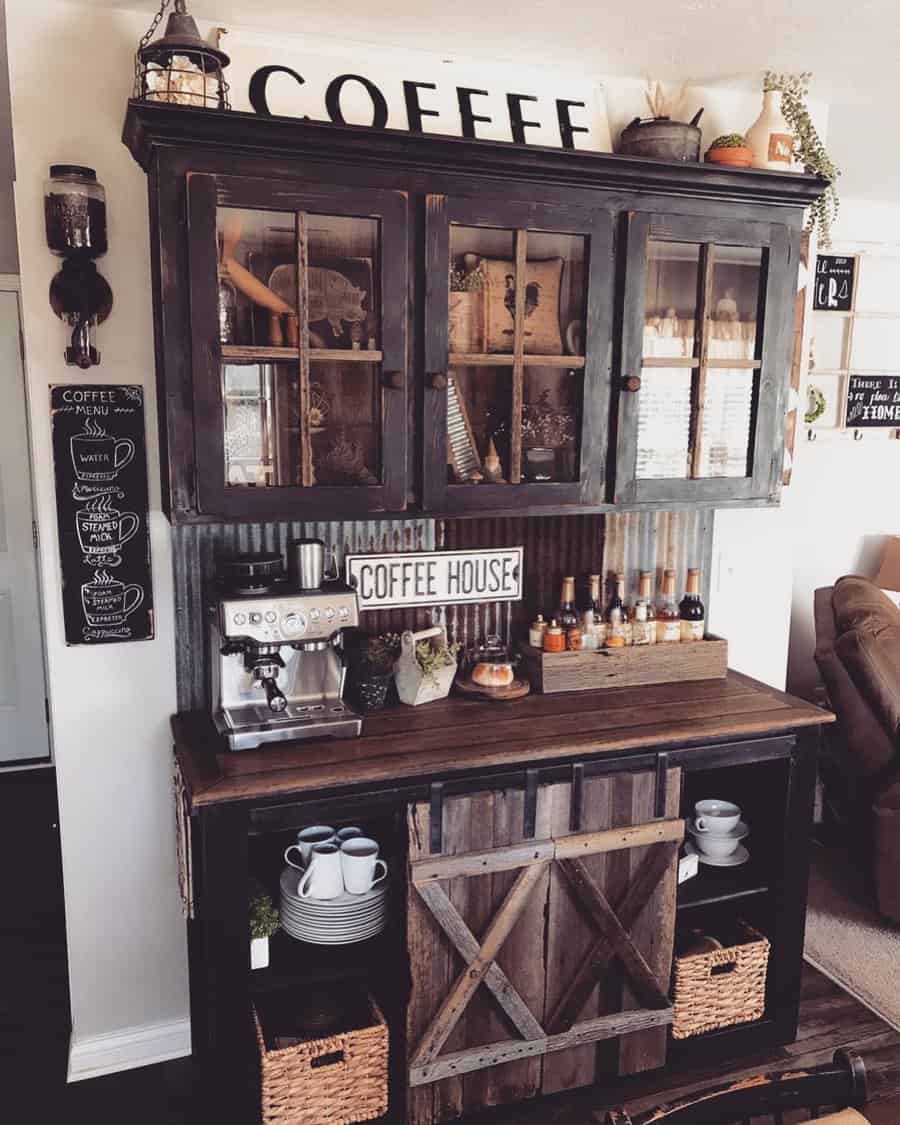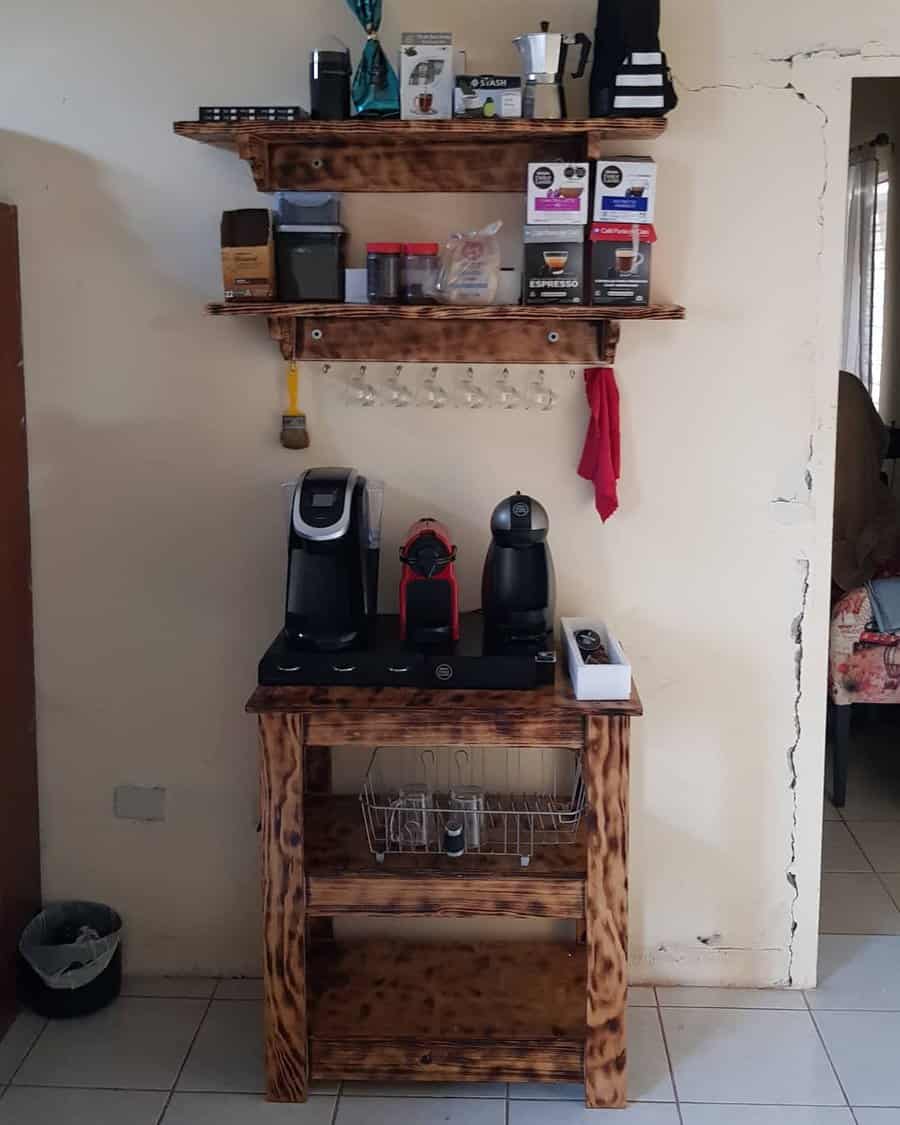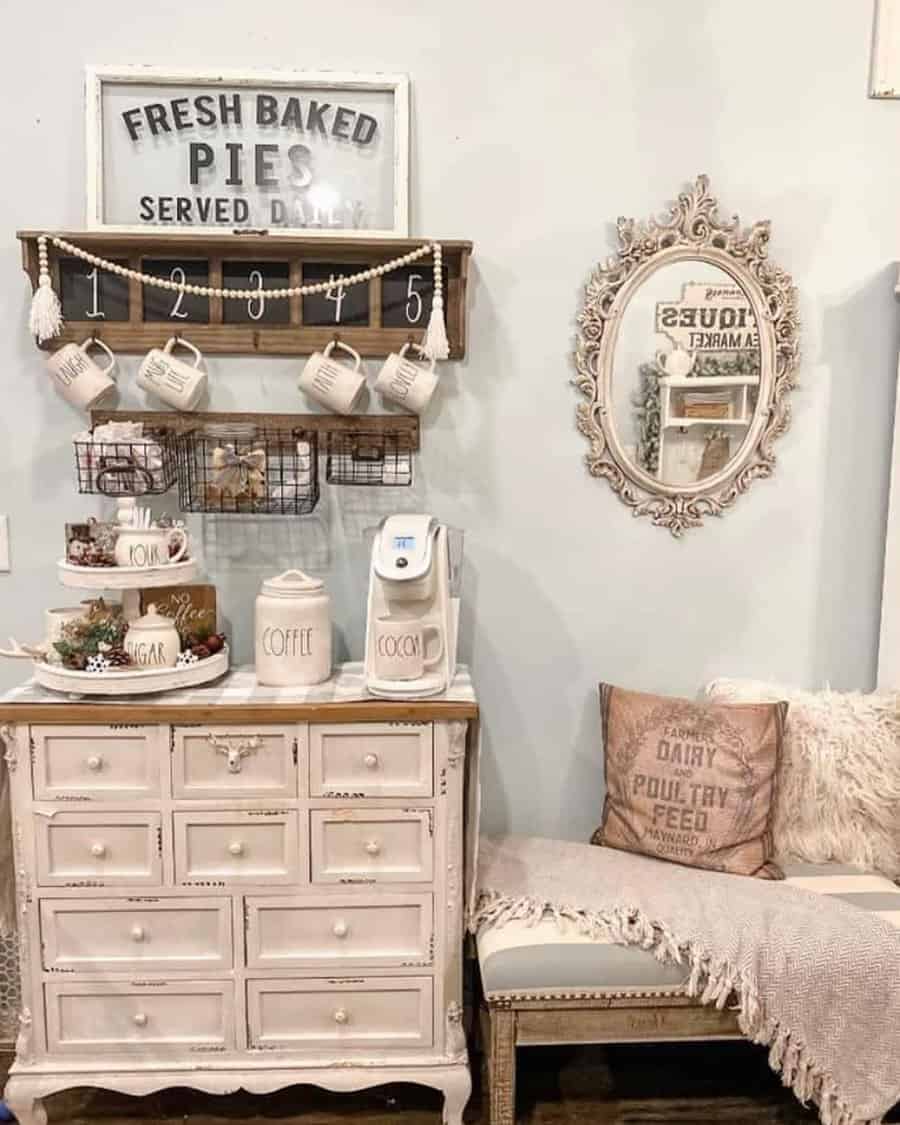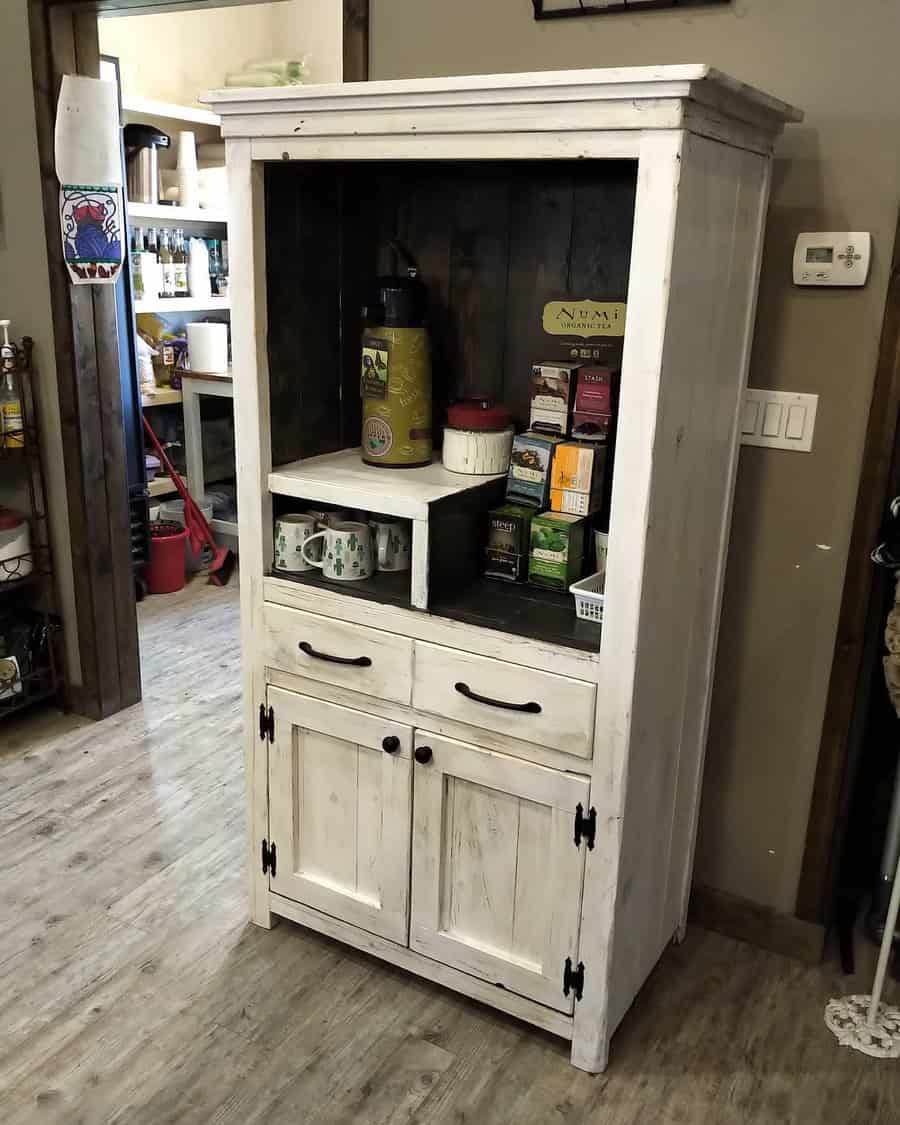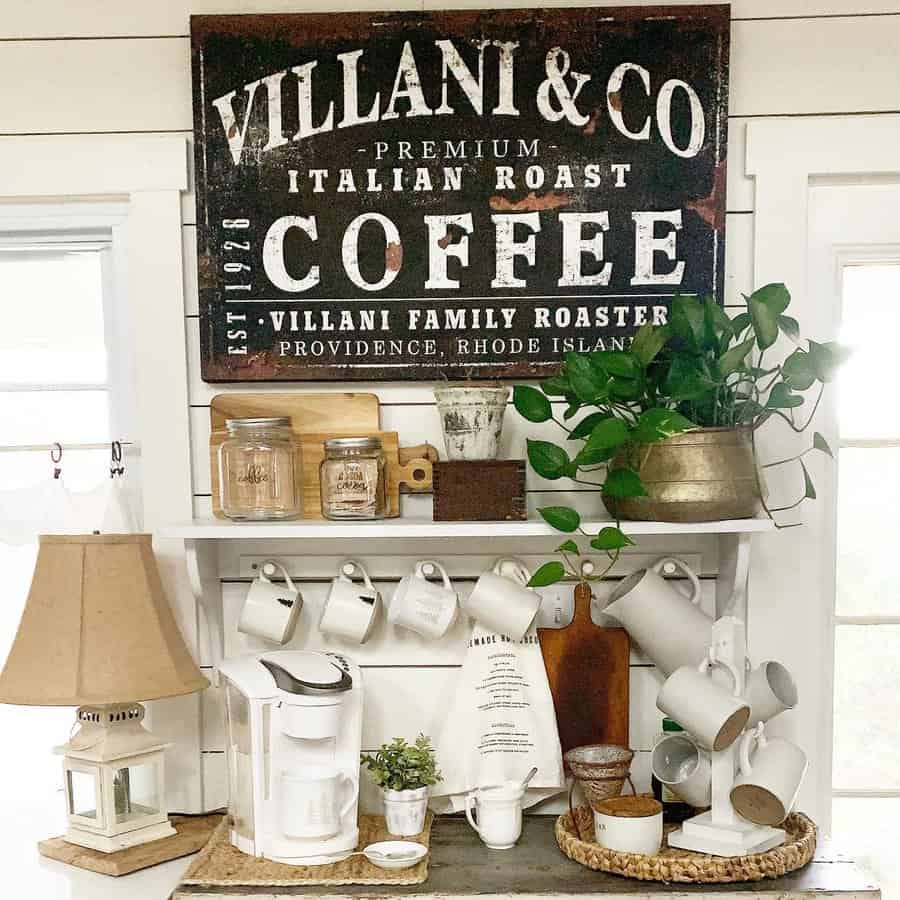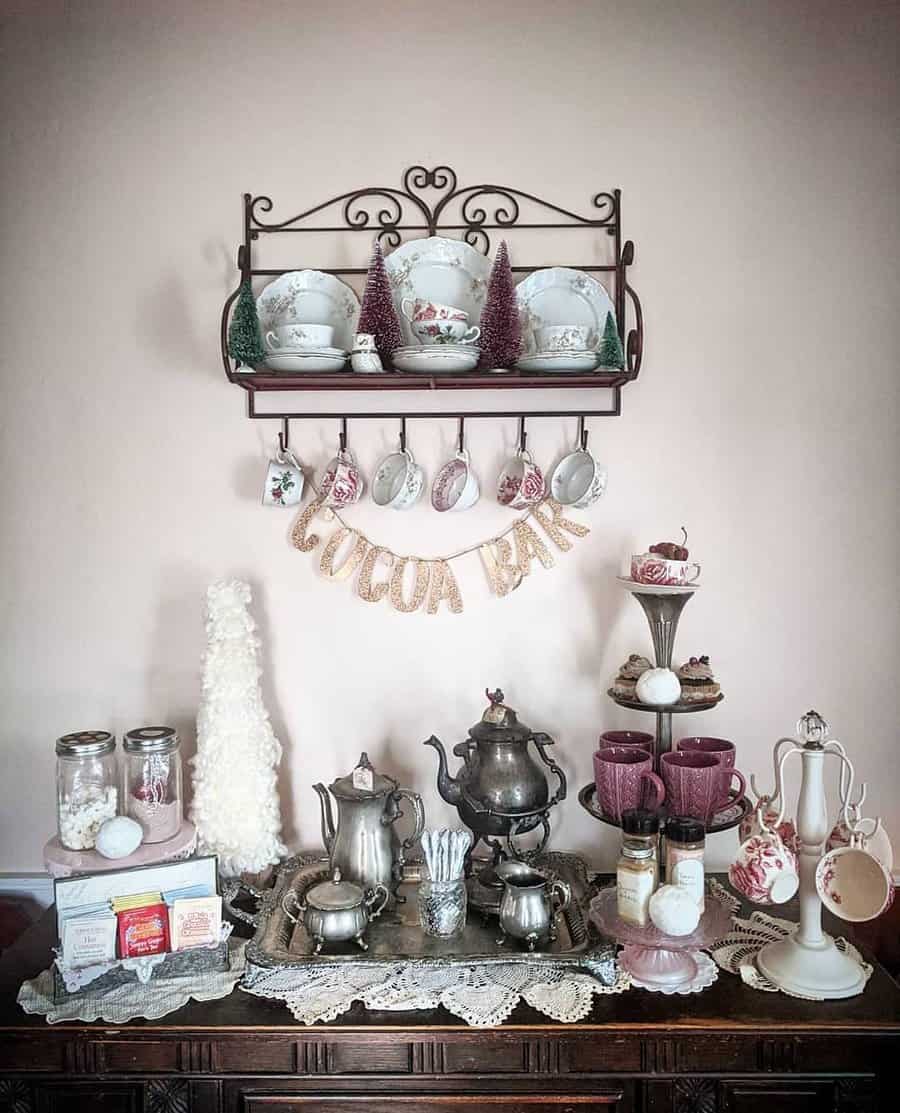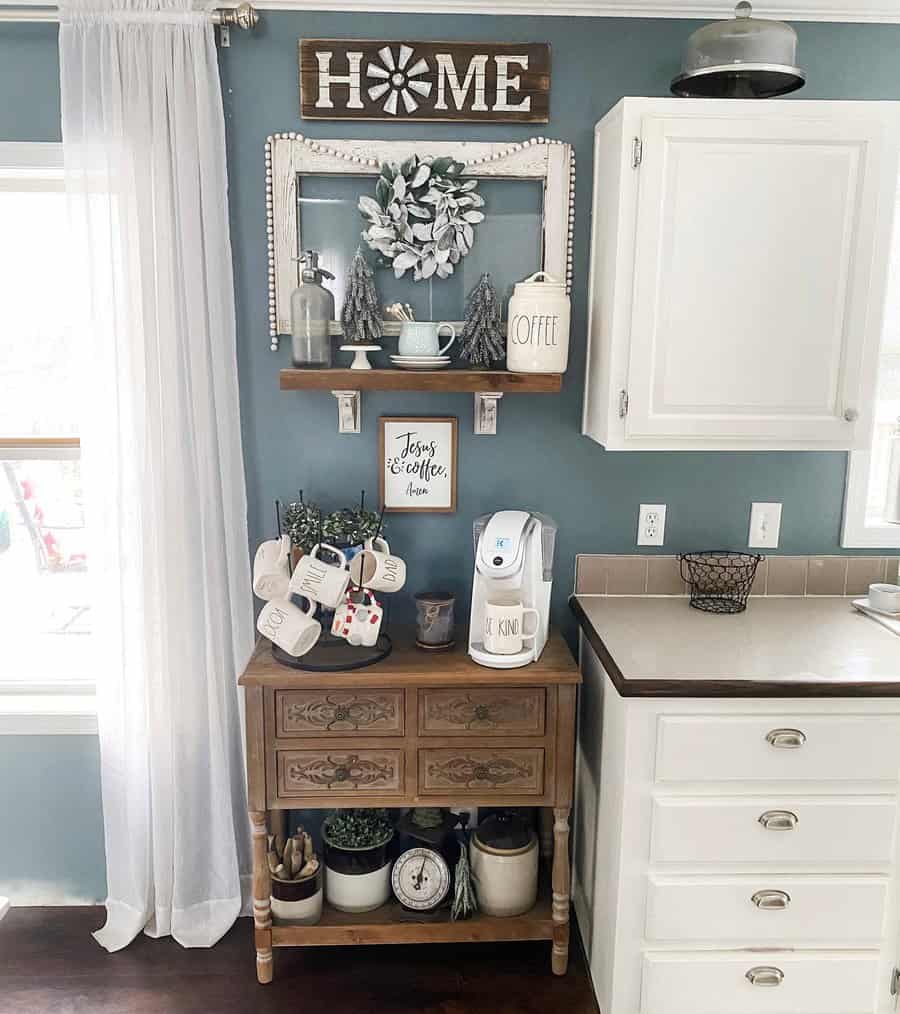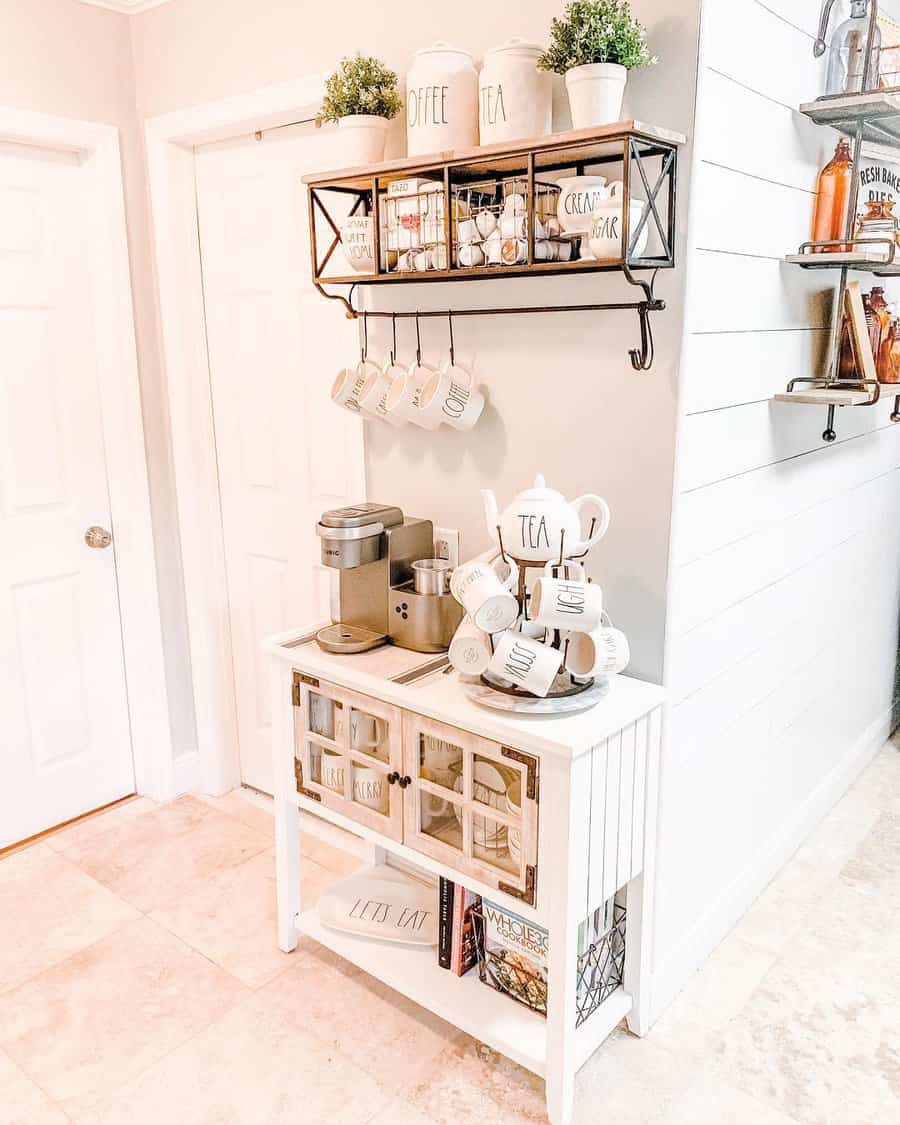 While contemporary farmhouse decor tends to have a more polished look, rustic decor remains au naturel. You can also create a rustic coffee bar with aspects of the French countryside or American Southwest.
Your first step should be deciding if you want your rustic coffee station to have a light and airy aesthetic or a more masculine one. From there, you can curate your coffee setup to match.
11. Small
It doesn't matter how much love you hold for the perfect cup of coffee. Devoting a large portion of your home to a coffee bar isn't always realistic.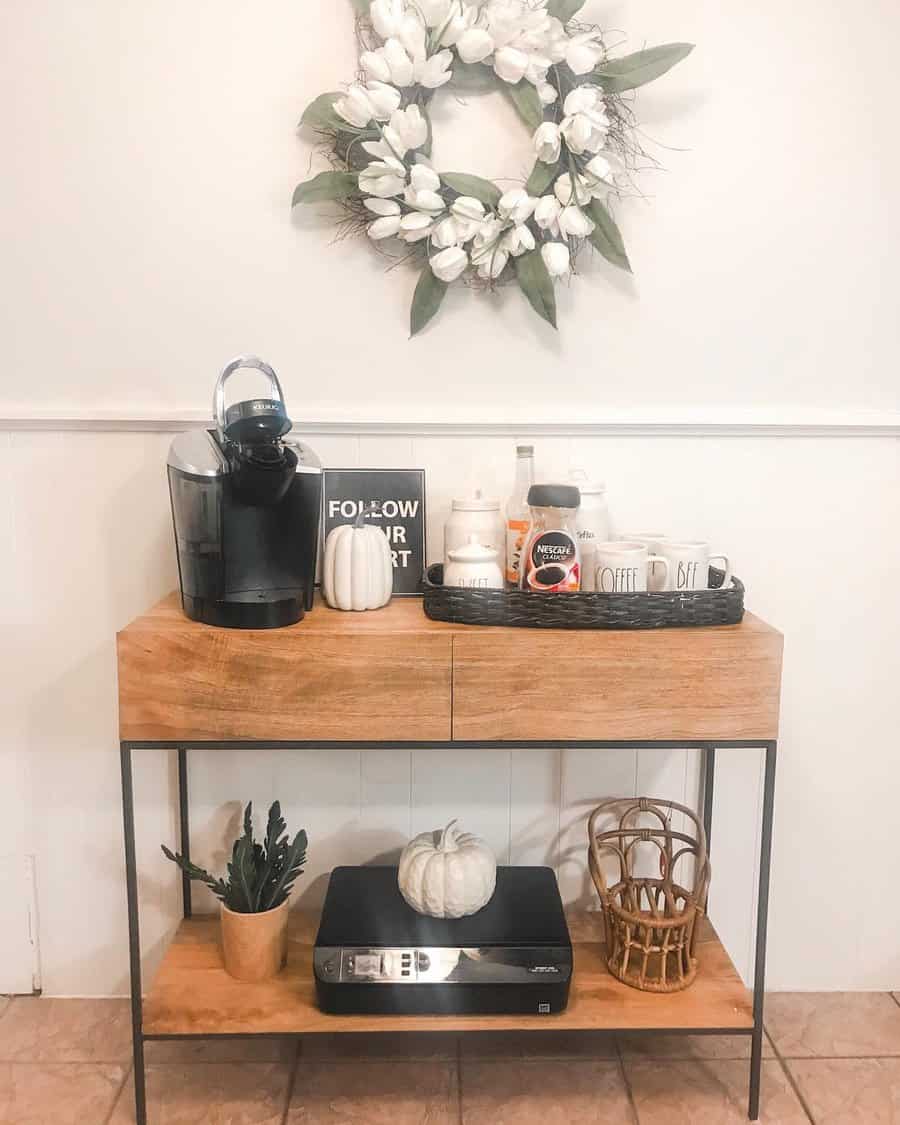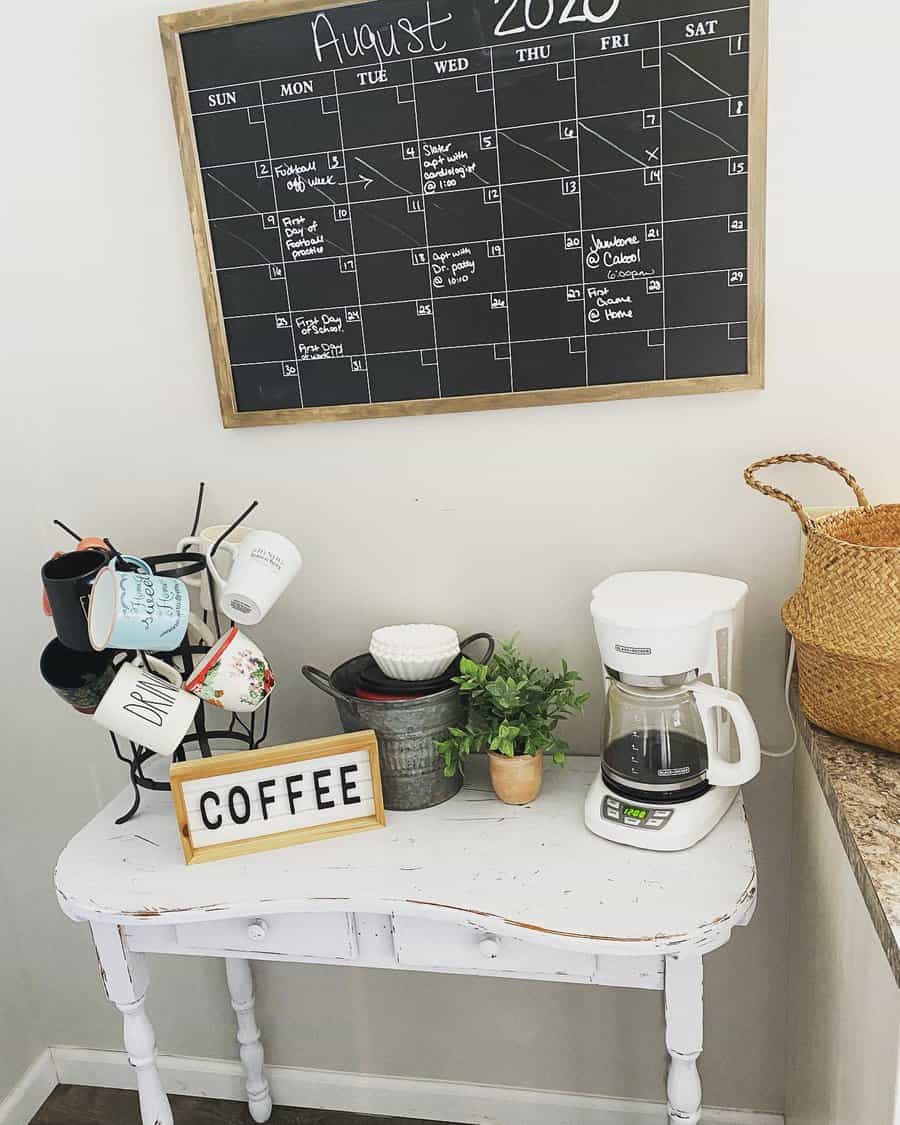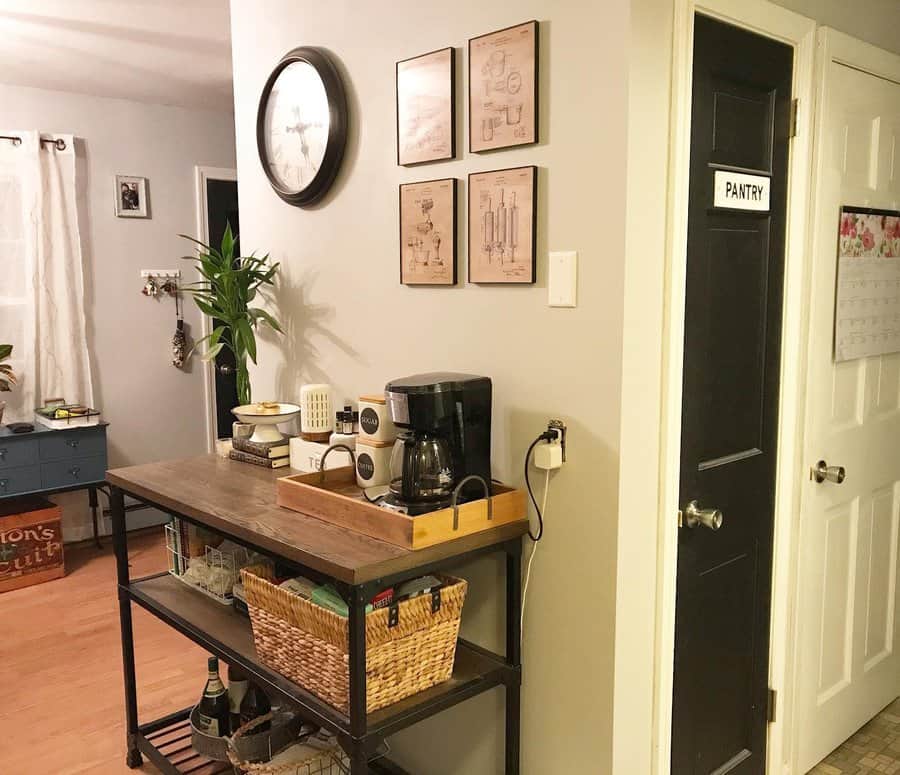 A small coffee station can be just as efficient as a full-size one. Look for an unused corner in your kitchen, dining room, or pantry that can be converted to a DIY coffee bar.
A bar cart is an extremely convenient and versatile piece of furniture, whether you're mixing cocktails or brewing a morning coffee. Using a bar cart is ideal if you drink pour-over coffee (or prefer a cup of tea) rather than relying on a traditional coffee machine.
12. Stylish
Most people don't set up an at-home coffee station solely out of convenience. Coffee bars offer a unique aesthetic that can make your home feel cozy and on-trend.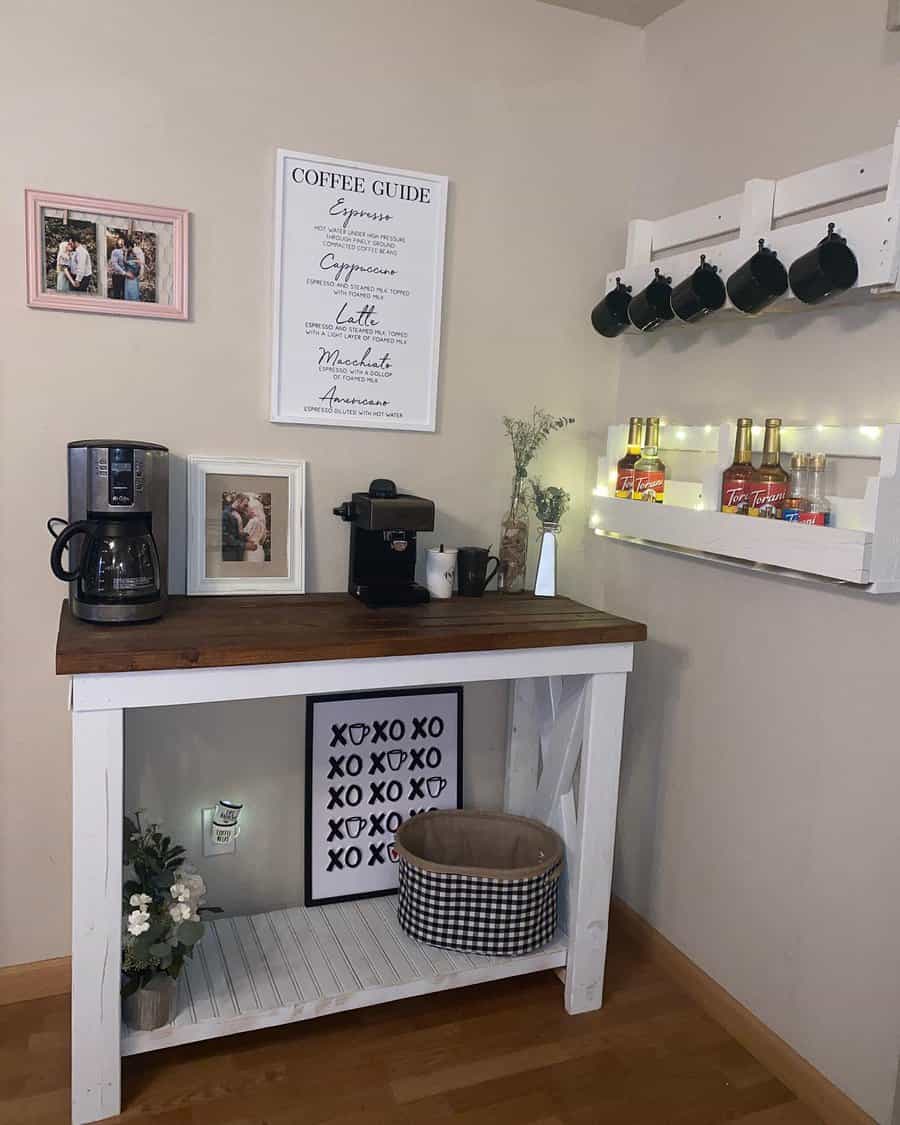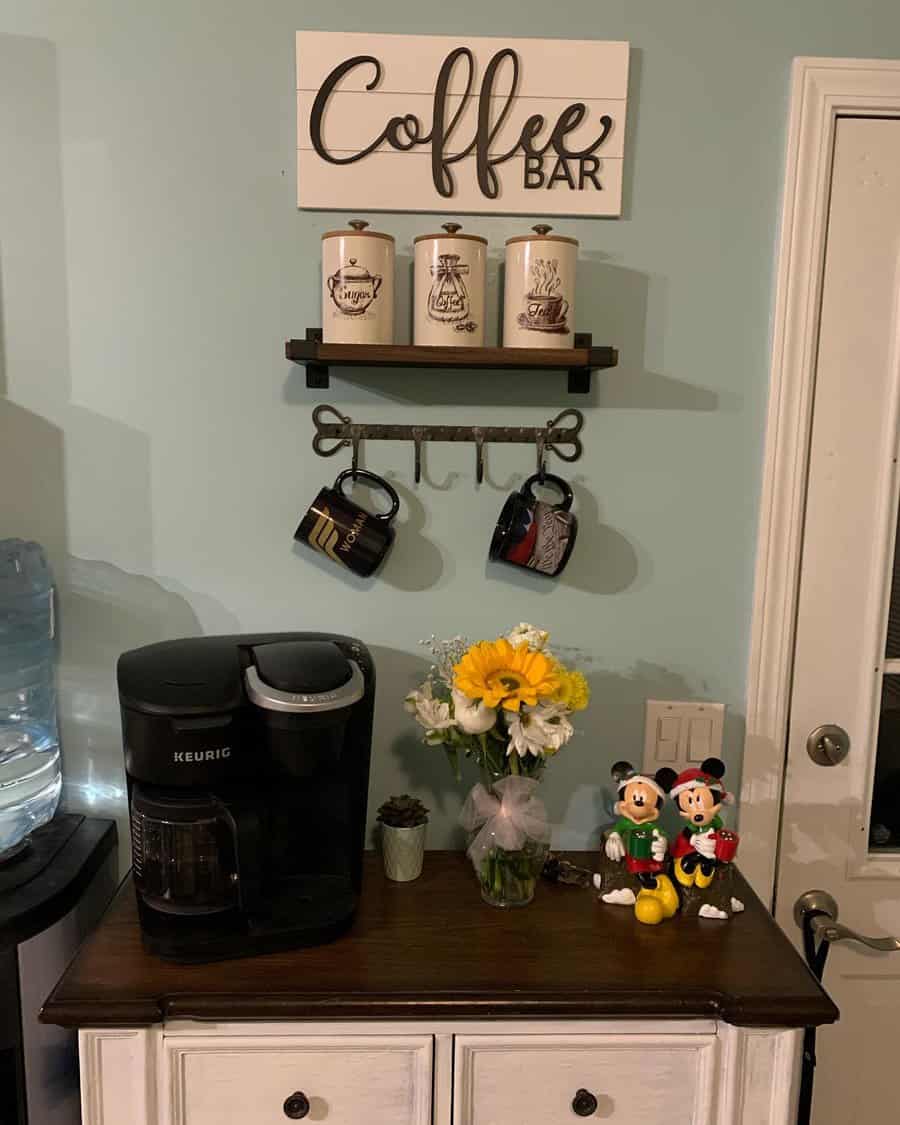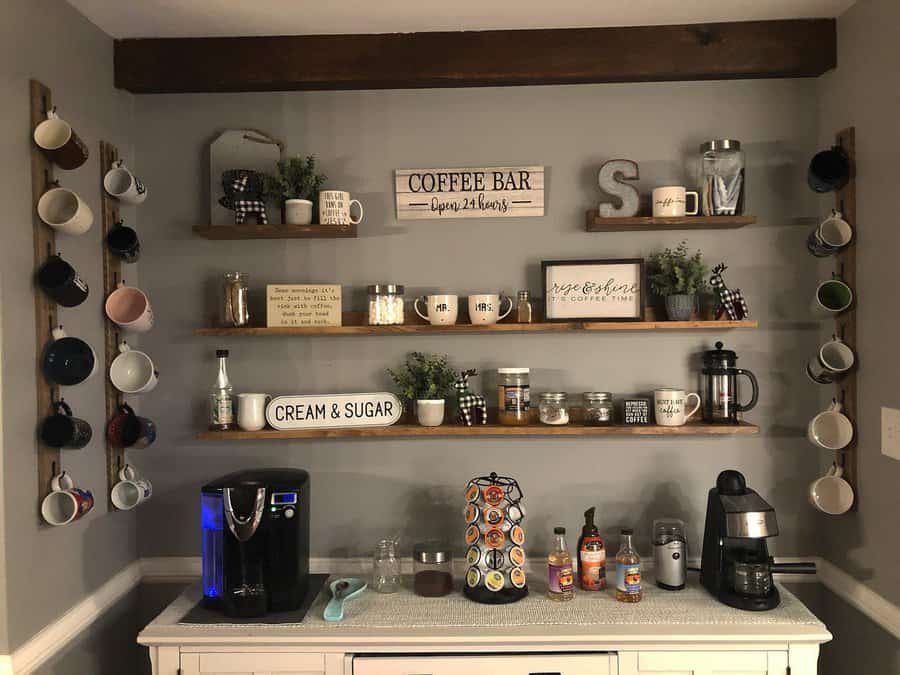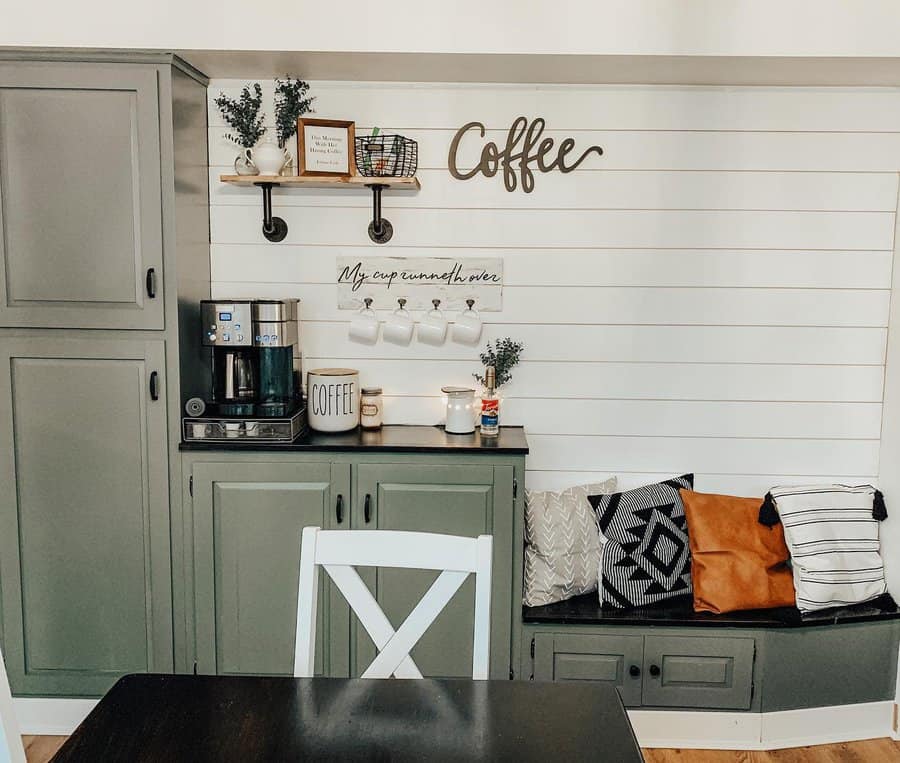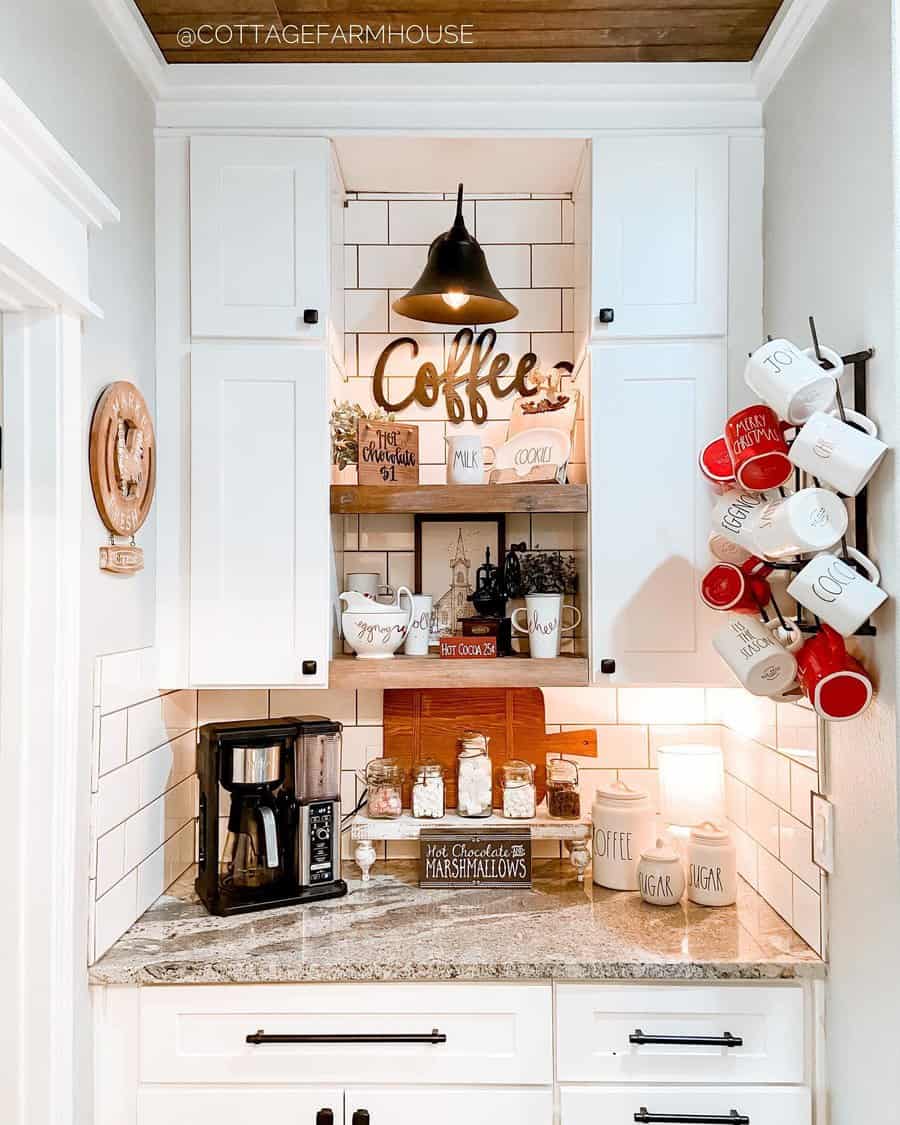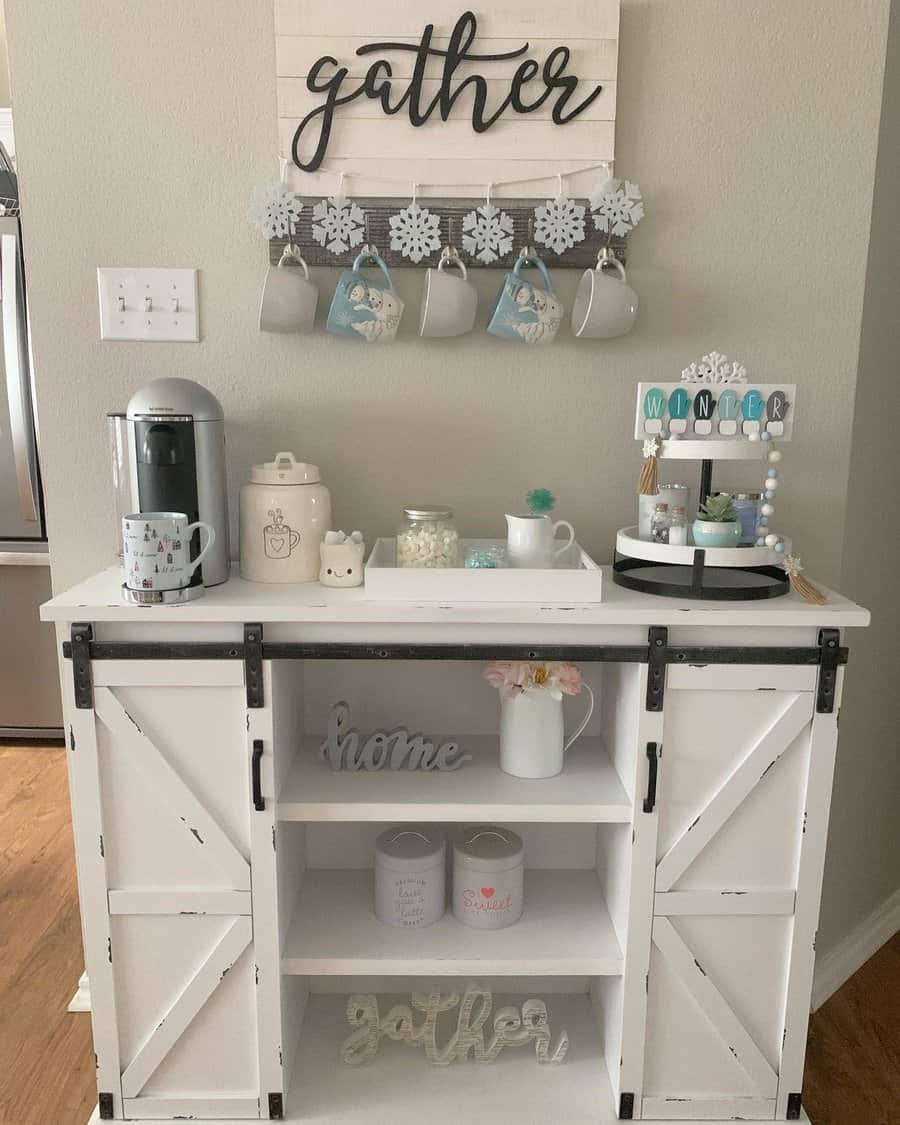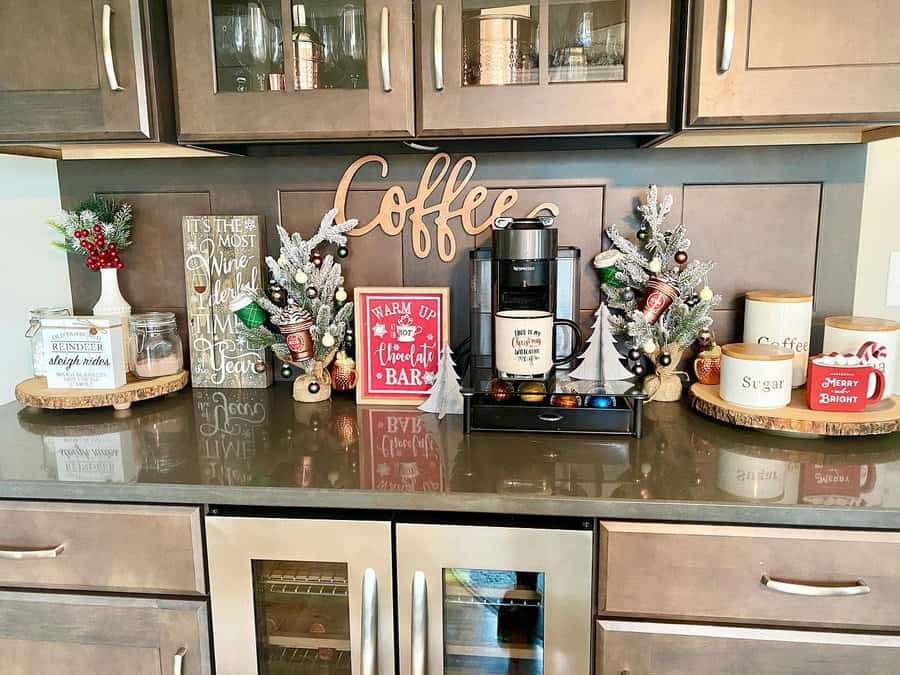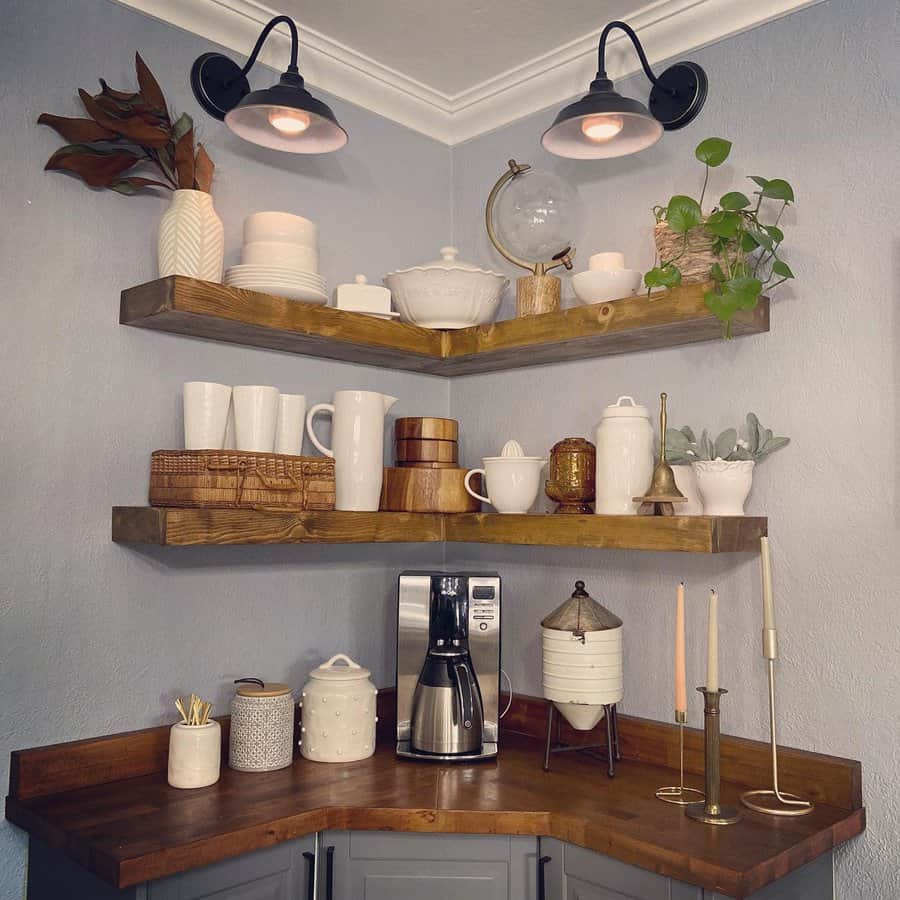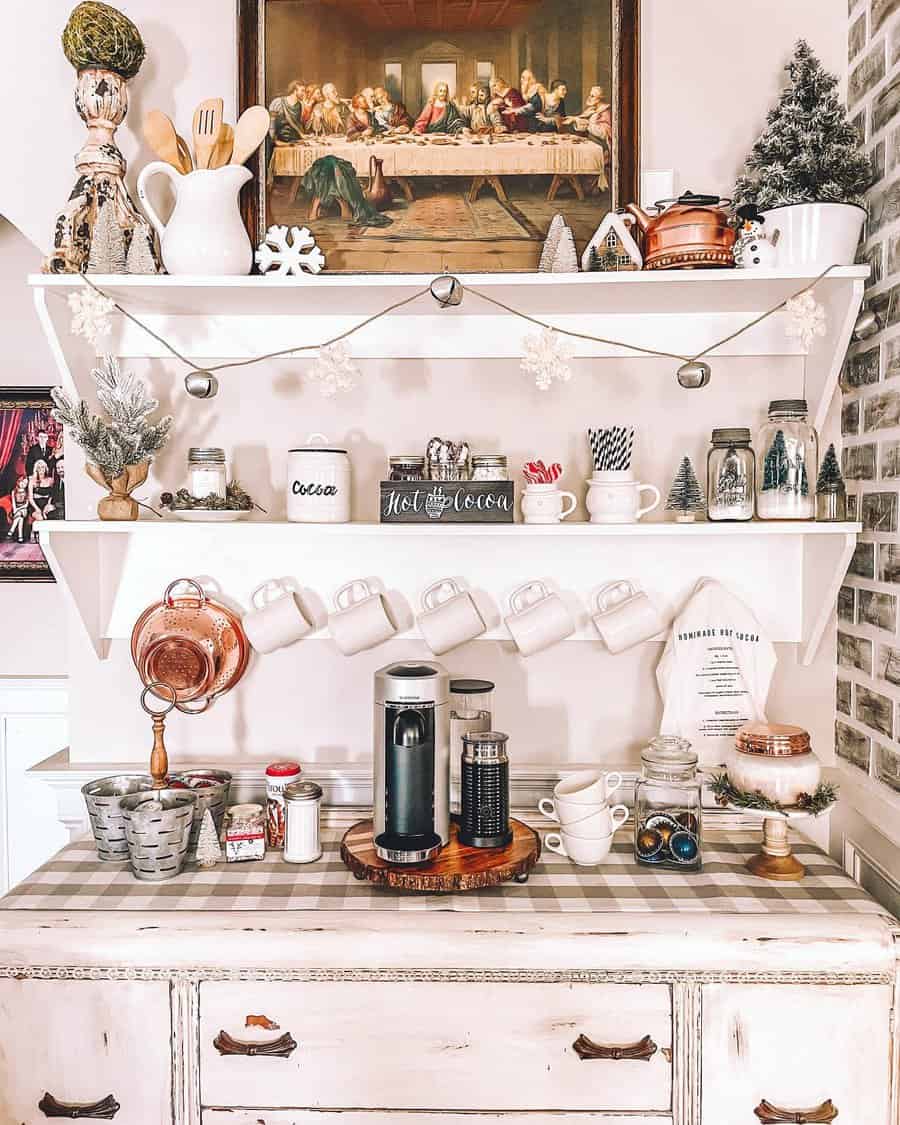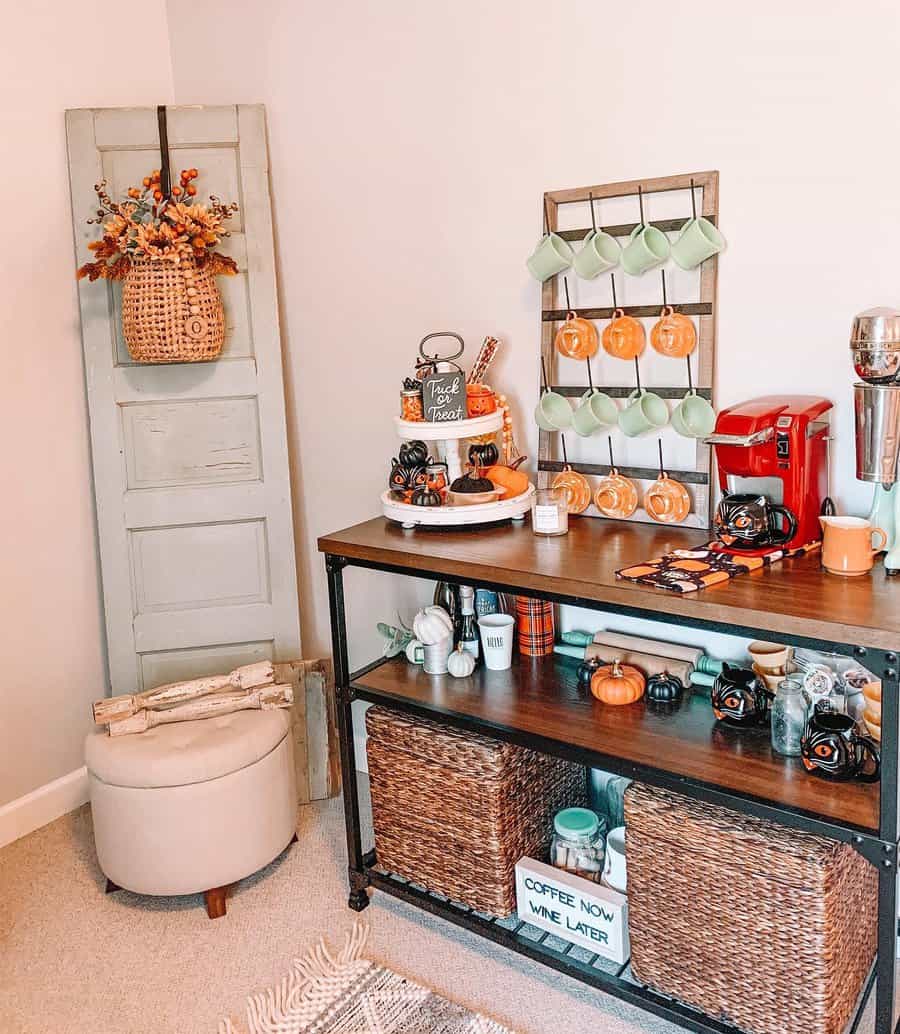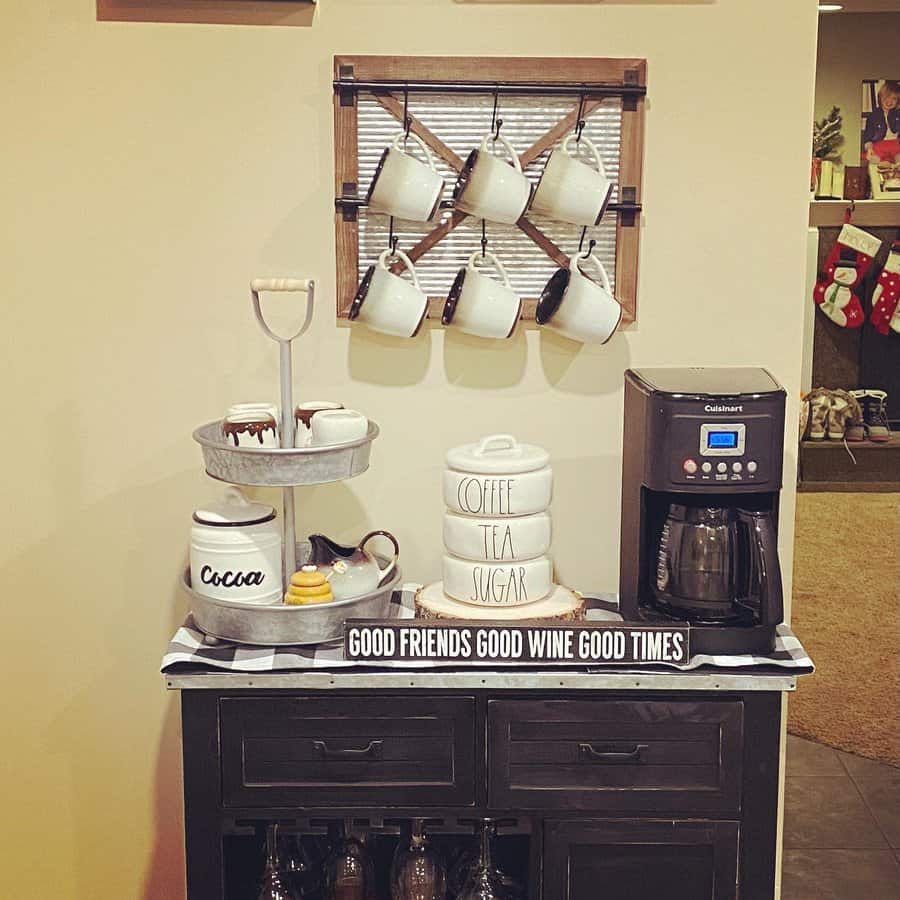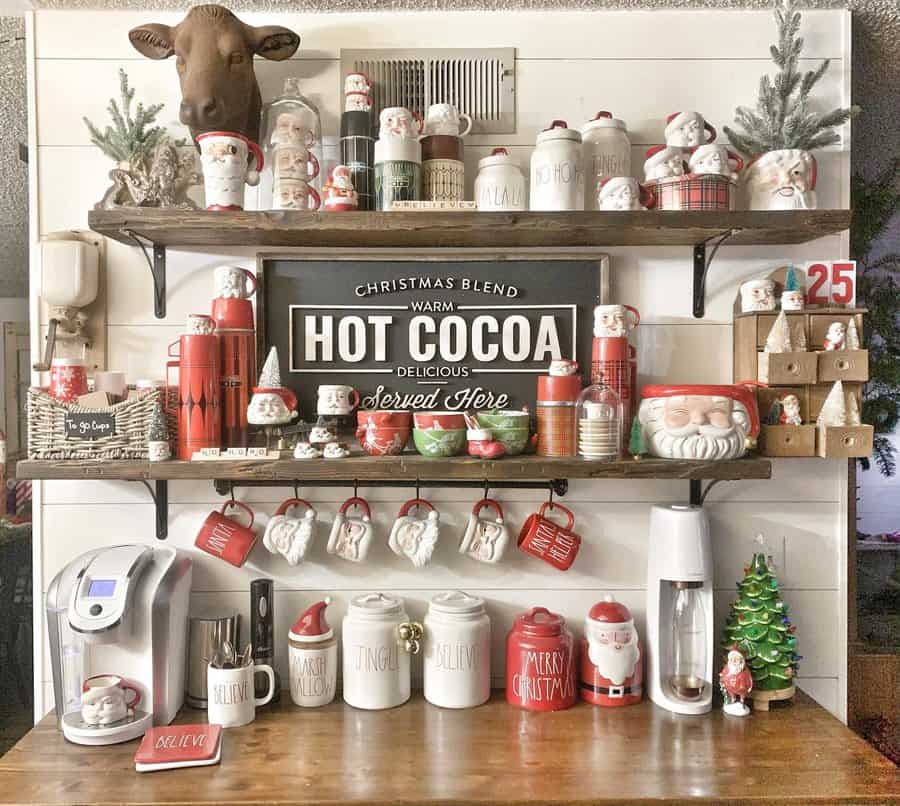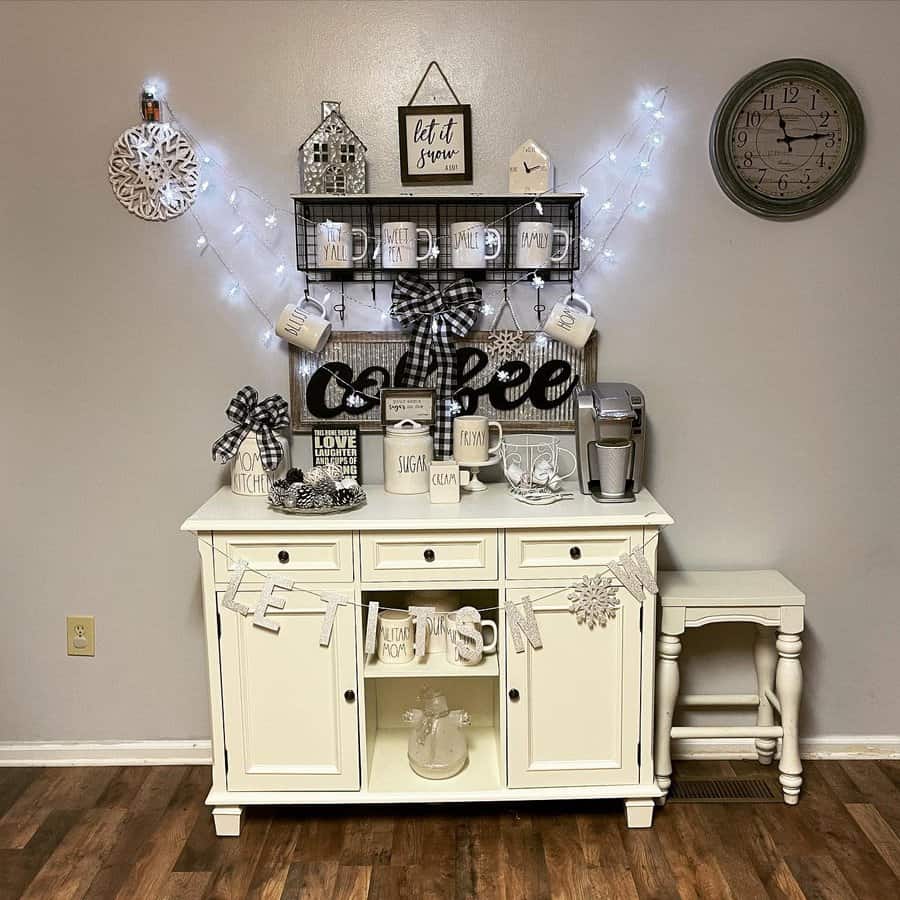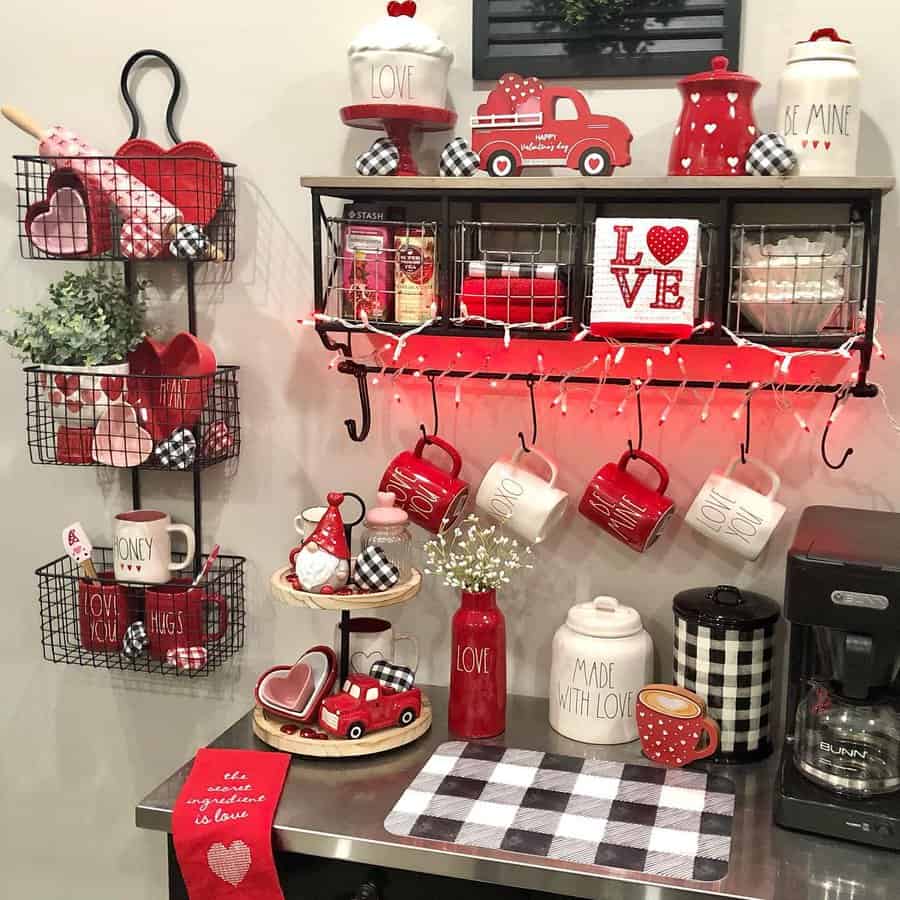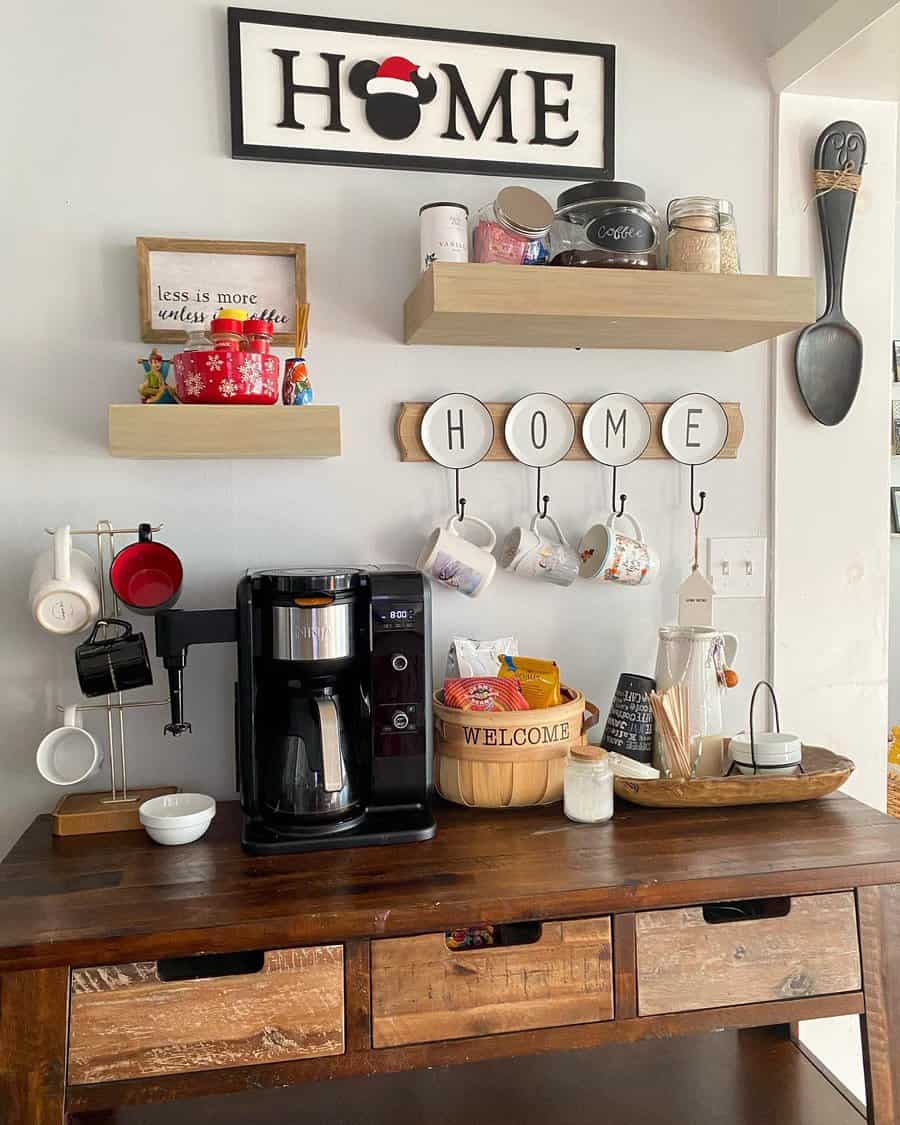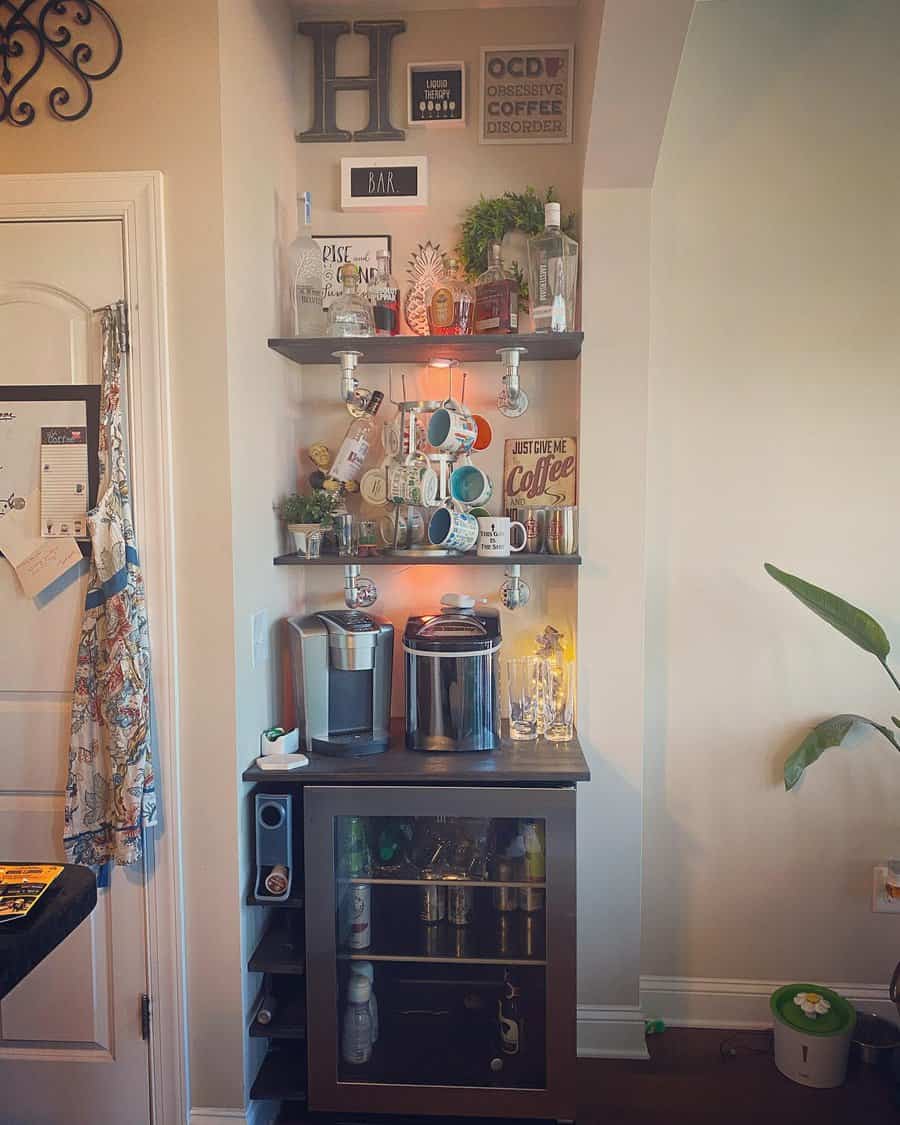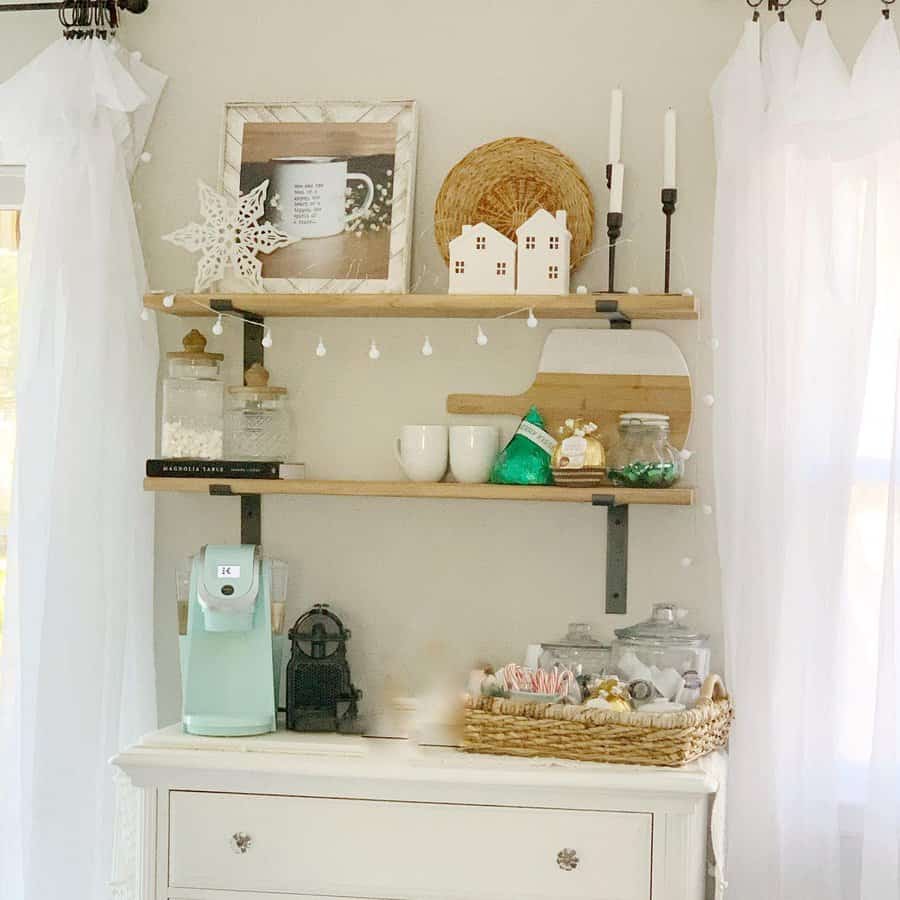 Of course, you need the essentials — there's little point in putting together a coffee bar without some kind of coffee maker. Invest in stylish baskets and wall-mounted mug hangers to store your must-have coffee accessories.
Once your coffee bar is fully stocked, you can move onto the fun stuff. There's no shortage of fun and quirky coffee-related artwork that can be displayed above your station. Complete the look with miscellaneous items like candles, potted plants, and more.
13. White
A home coffee bar does not need a high-concept aesthetic to look great. An all-white design is clean, contemporary, and easy to adapt to whatever space you have available. You can also take a white coffee bar in several different directions.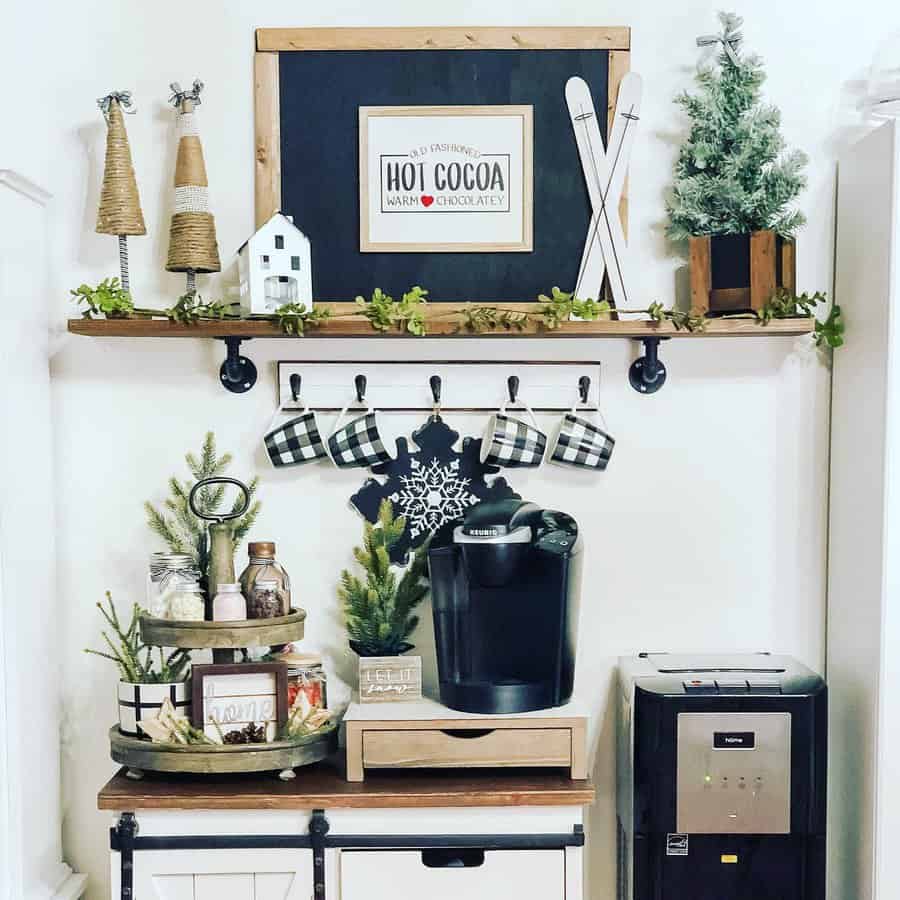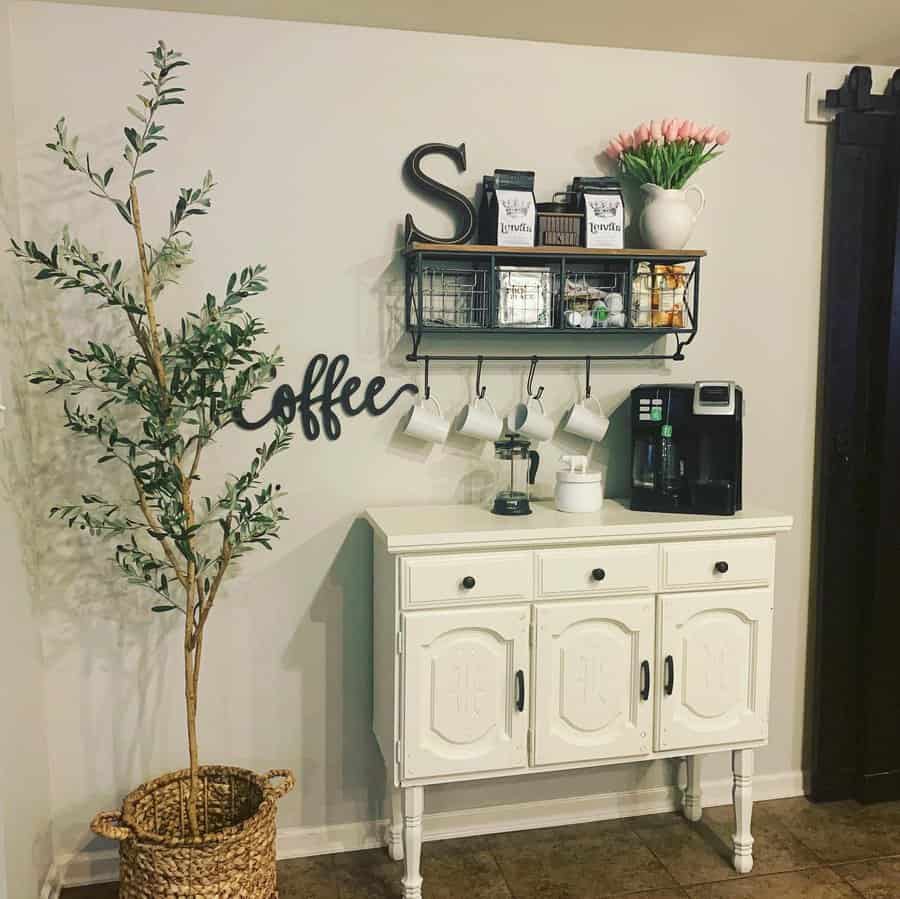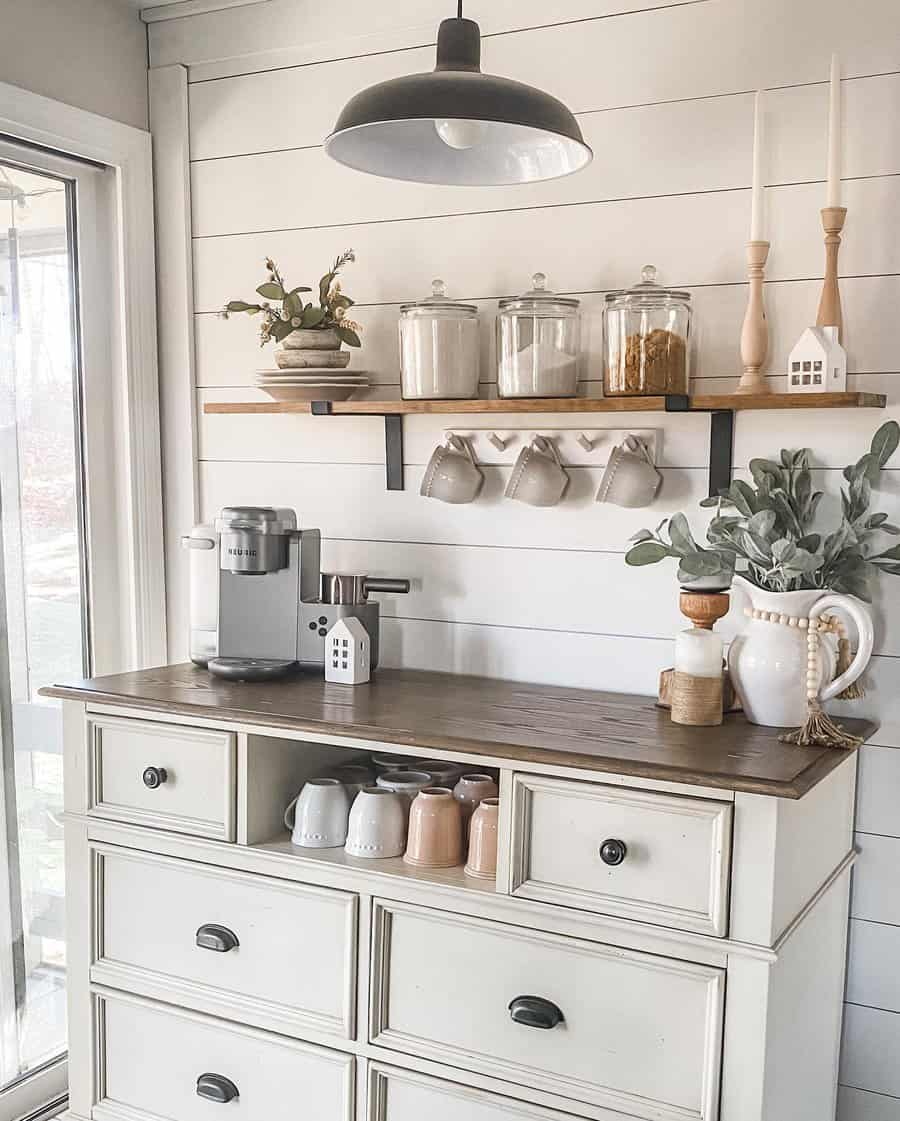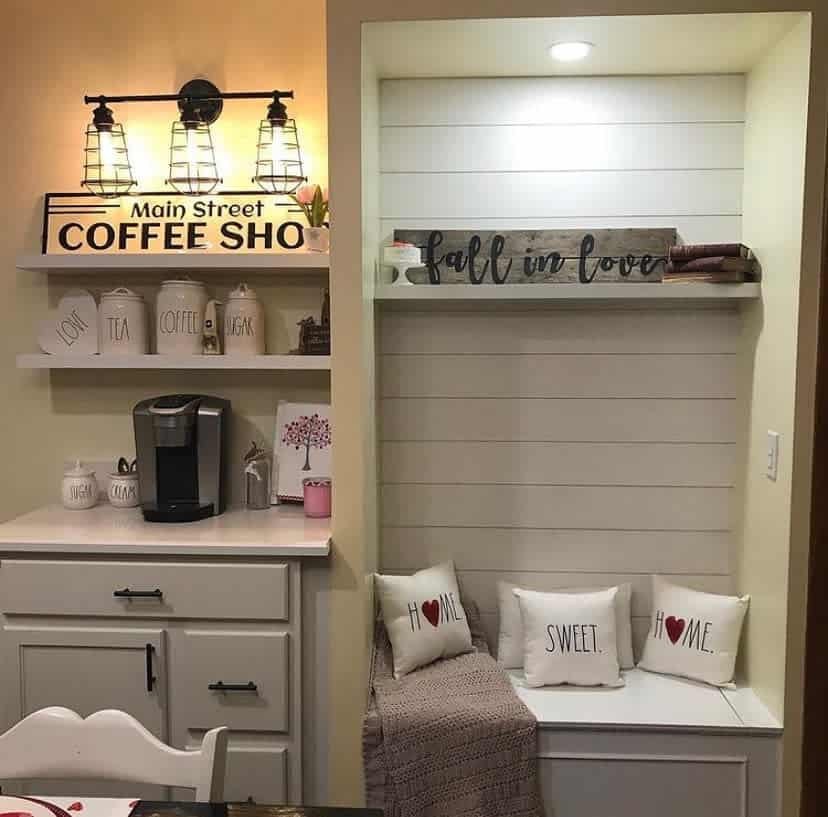 Pairing white decor with wooden accents will add much-needed warmth. This combination is often used in rustic designs.
Sleek light fixtures and minimal decor will give your coffee station a modern appearance. If the look of wood grain isn't your style, use materials like polished metal or marble instead.
14. Wood
Whether you're thinking of setting up a full-scale coffee station or mobile bar cart, wooden furniture goes with everything.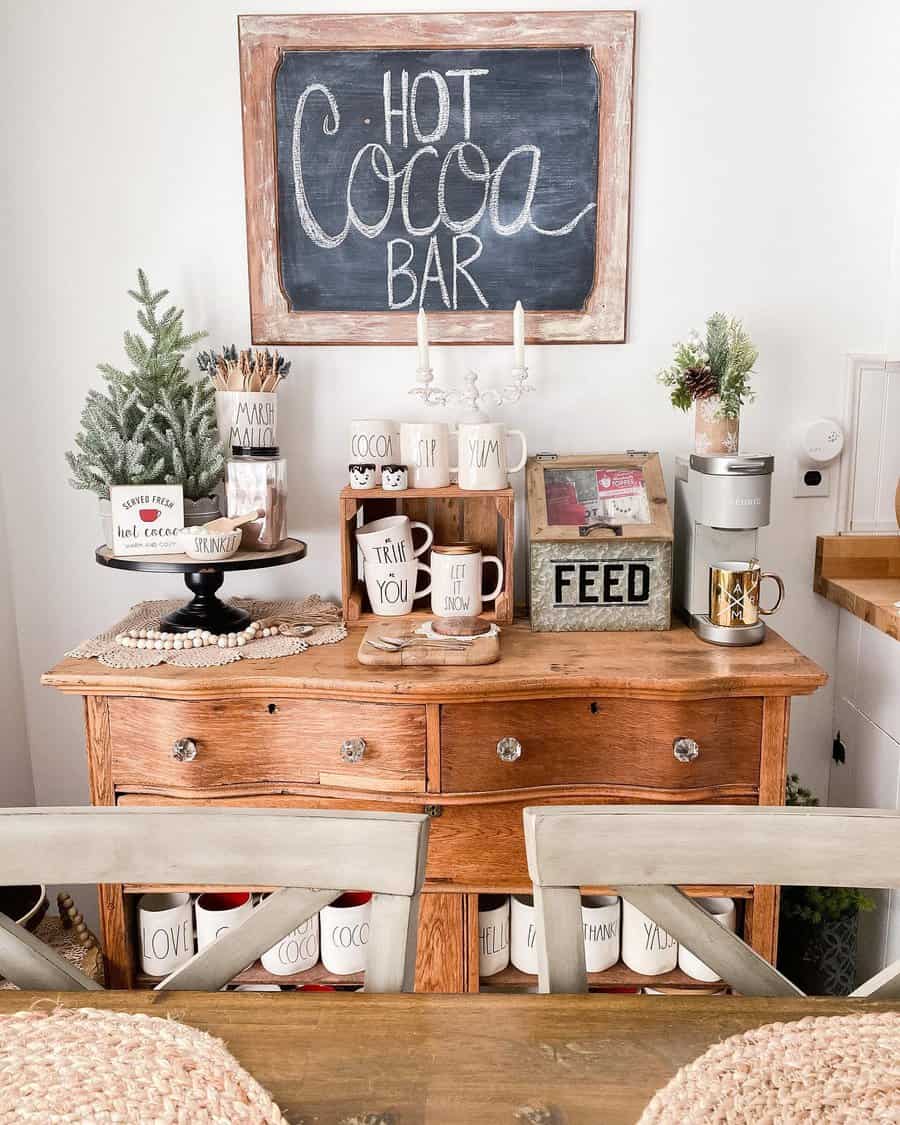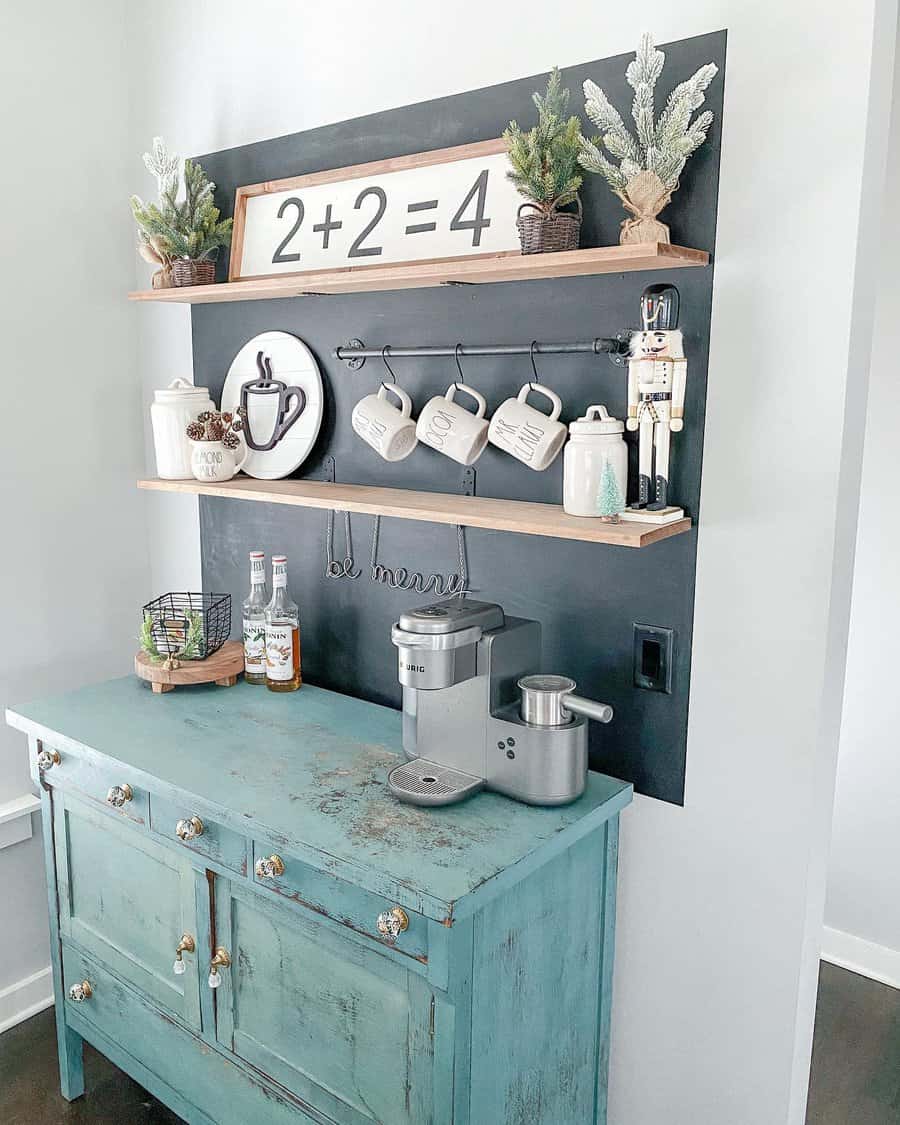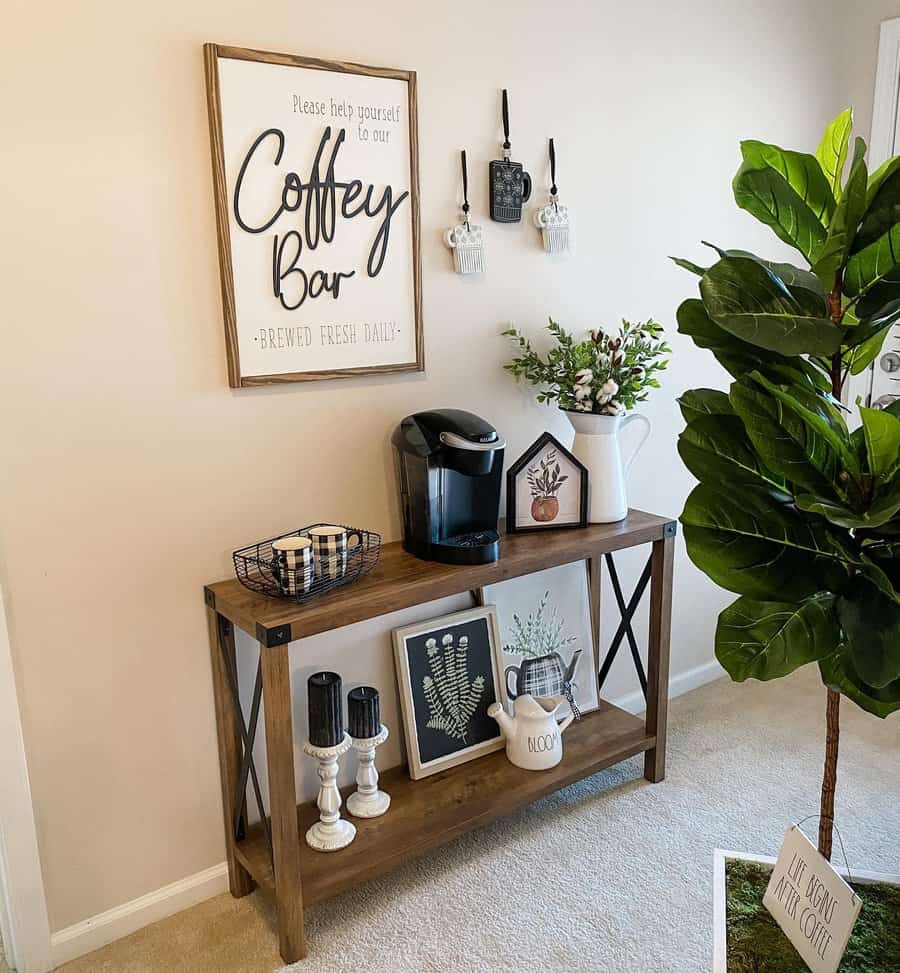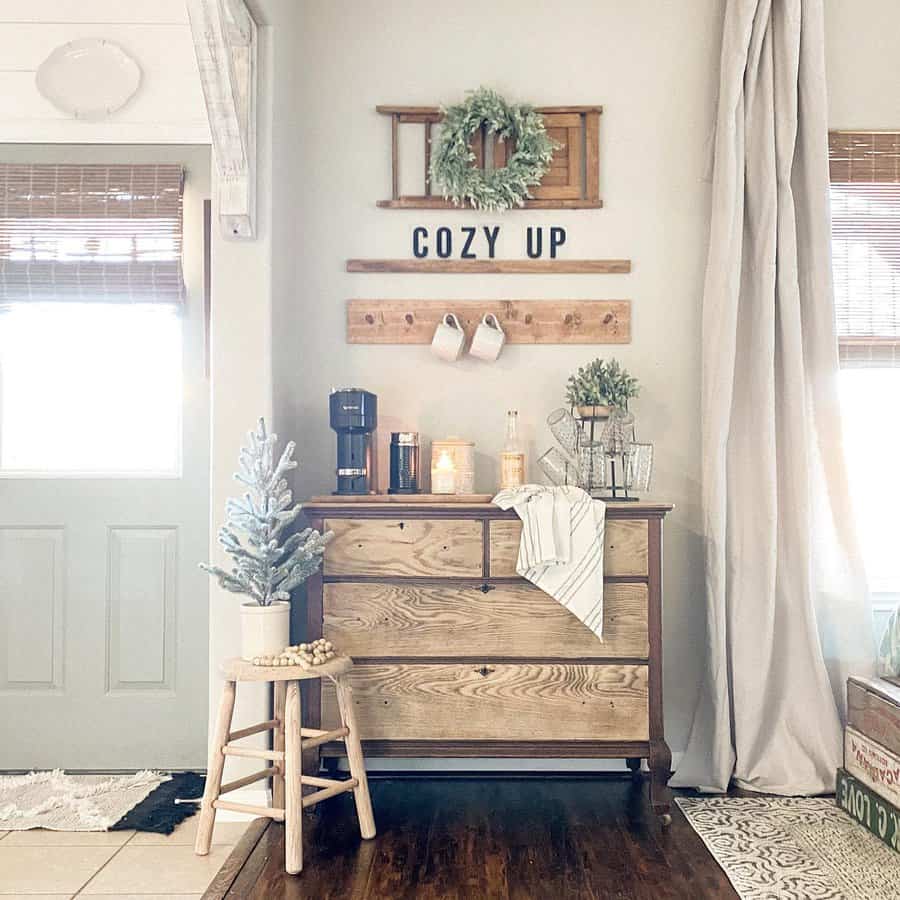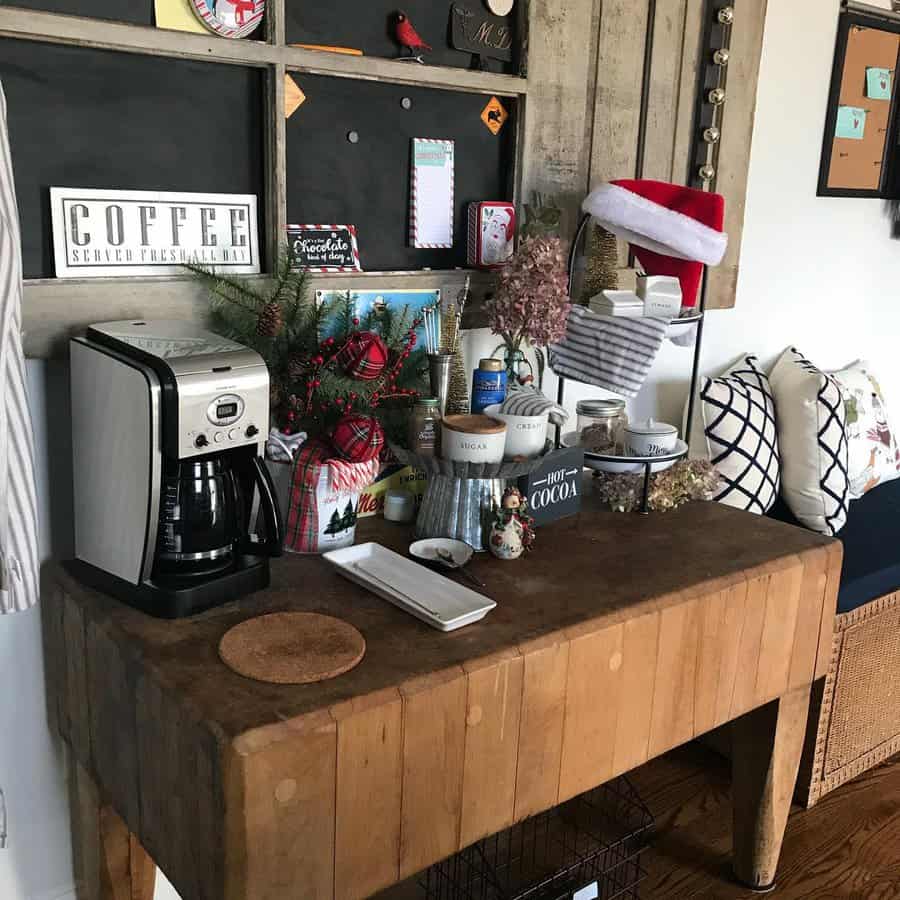 There's a good chance your coffee bar will take a beating with daily use. Rather than spend money on brand-new furniture, try your hand at creating a DIY coffee station by painting or refinishing an old dresser or accent table.
The natural wood elements don't need to stop there. Supplement your coffee bar storage with wall-mounted shelving or add a personal touch with your favorite framed artwork.
Coffee Bar FAQs
What is the ideal coffee bar height?
Traditionally, a coffee bar is about 40 to 43 inches tall. This is taller than the average kitchen countertop, making it easier to perform detailed tasks like grinding coffee beans or creating latte art.
Keep in mind that this is just a general rule. There is nothing wrong with a coffee station that is shorter or taller than this height. It's far more important for the bar to be comfortable for the coffee lover who will be using it every morning!
How do you prevent coffee stains on furniture?
Coffee is nearly as notorious as red wine when it comes to hard-to-remove stains. This is something you'll want to account for when finalizing your at-home coffee station idea.
The best strategy is to prevent coffee stains from happening at all. You can apply a wipeable sealant or cover the top of your coffee bar with waterproof contact paper to stop spilled coffee in its tracks.
Keep a spare rag in your coffee station for quick and easy clean-up if a spill does happen. Vinegar is an excellent household cleaner that can be used on wood furniture stains.