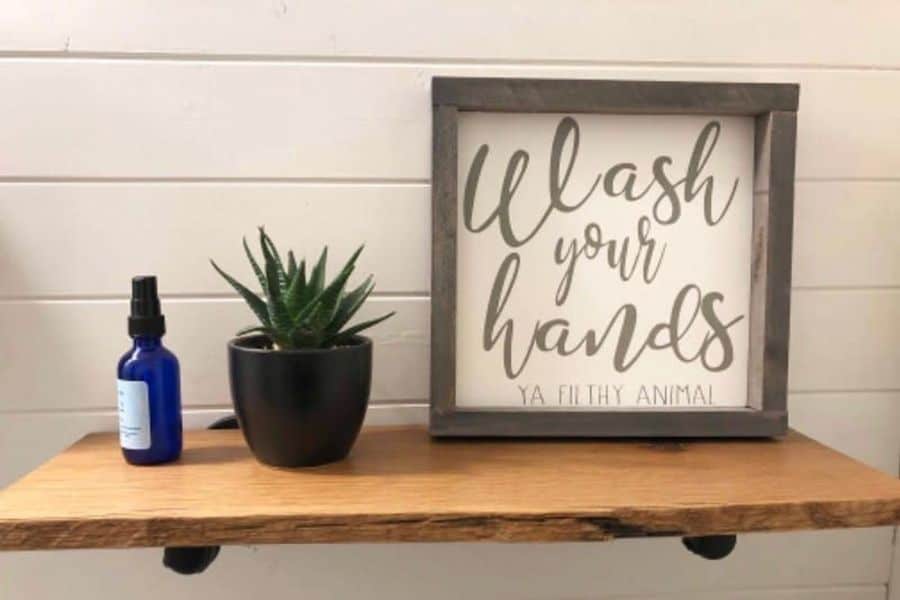 39 DIY Wood Sign Ideas for Your Home
by — Kari Apted

Published on April 26, 2021

Updated on July 12, 2023
Wood signs are an easy way to share your inner voice at your business, home, or event.
Wood sign ideas run the gamut from refined to rustic. Farmhouse style practically requires the presence of at least one rustic wood sign in each room.
Wood signs are available nearly everywhere these days, but it is also fun to make your own DIY sign. In fact, making a reclaimed wood sign is the perfect way to use scrap wood from another DIY project.
We've collected 39 images of the best wood sign décor options available today. Check them out to see how your home décor can be heightened with a wood sign.
1. Signs for Business Purposes
When creating a wood sign for a business, consider the needs of the people who will read it. Make simple positive declarations, such as "Dream Big" or "Choose Joy."
You can also share a longer inspirational quote on your signs, to encourage your coworkers or customers. Funny signs add a bit of levity to your place of business, and are particularly welcome in dentists' offices and other high-stress locations.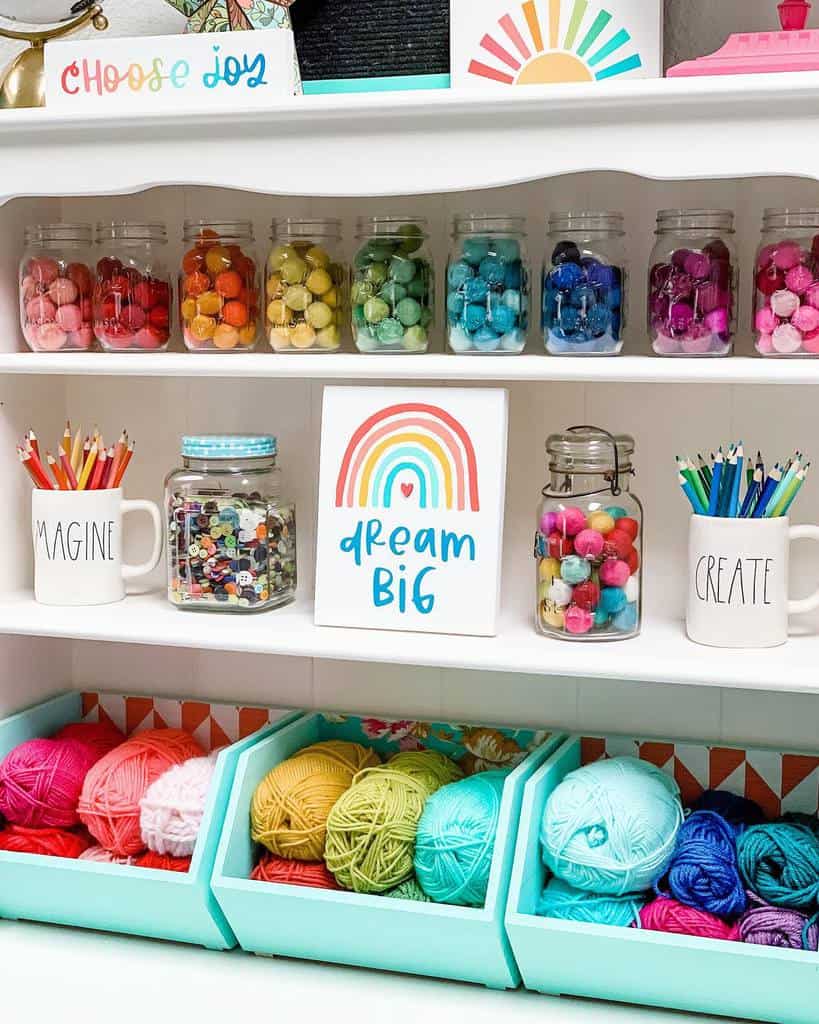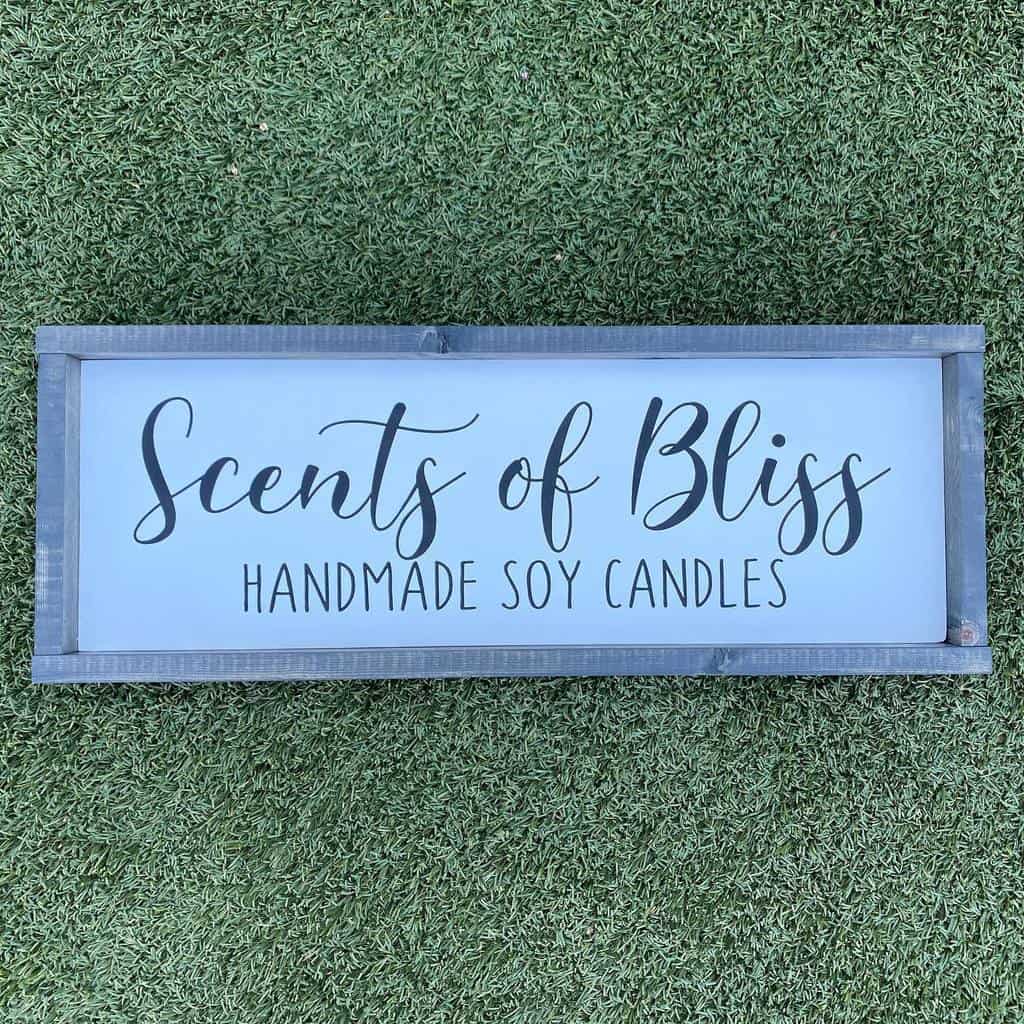 A handmade wood sign is a personal way to label different areas at work, such as the break room and restrooms.
Combine a reclaimed wood sign with a decorative wreath for a warm front-door welcome to your hair salon, restaurant, or boutique. A friendly, rustic wood sign can soften up décor that seems too formal or impersonal.
2. Coffee Wood Signs
Coffee is one of the most popular themes for wood sign décor. Whether you hang the sign in your kitchen or over the coffee bar at work, a coffee-themed rustic wood sign helps lead coffeeholics to their brew.
Brown wood tones already go well with the idea of coffee, and a little black or white paint might be all you need to finish the job.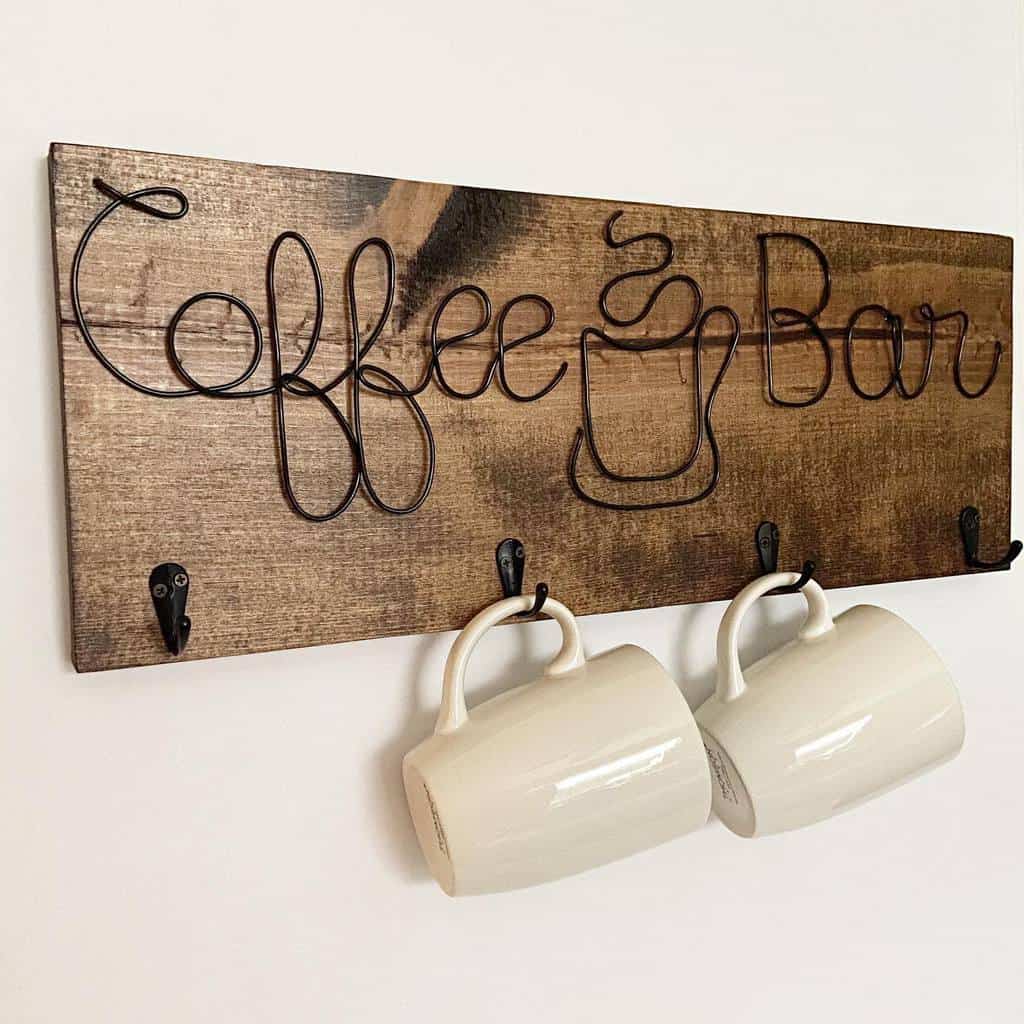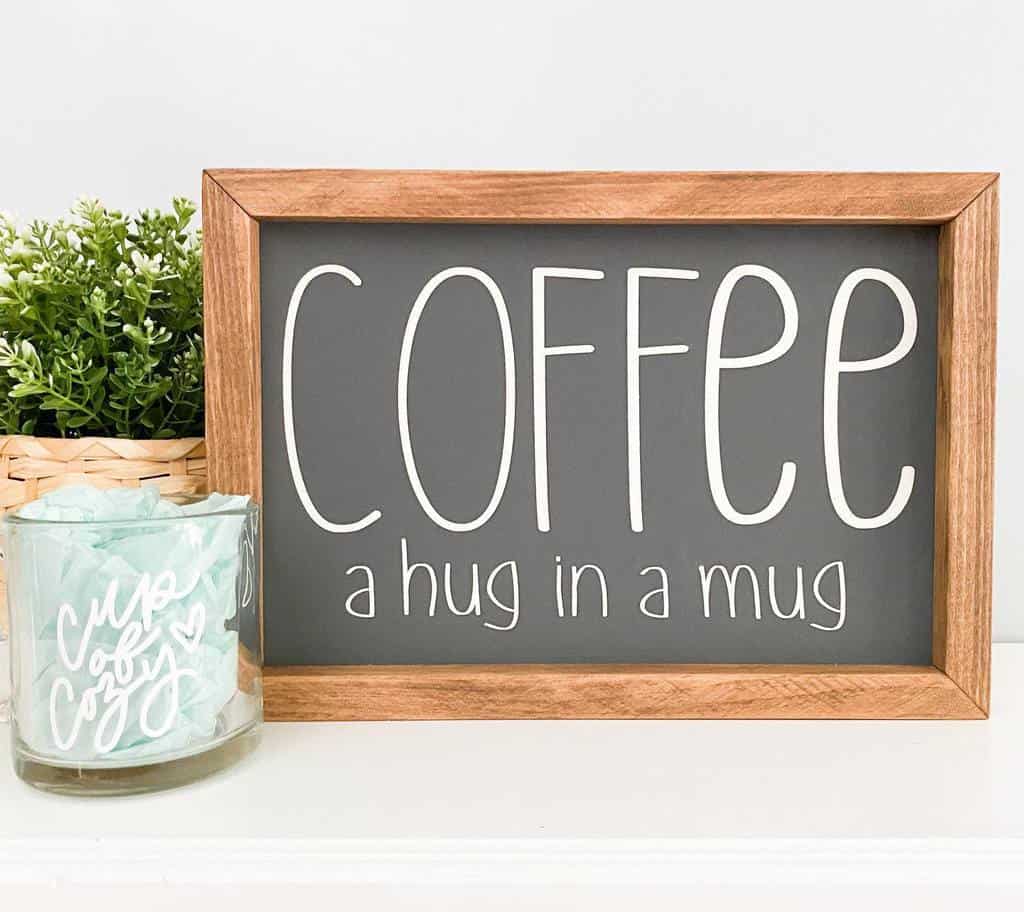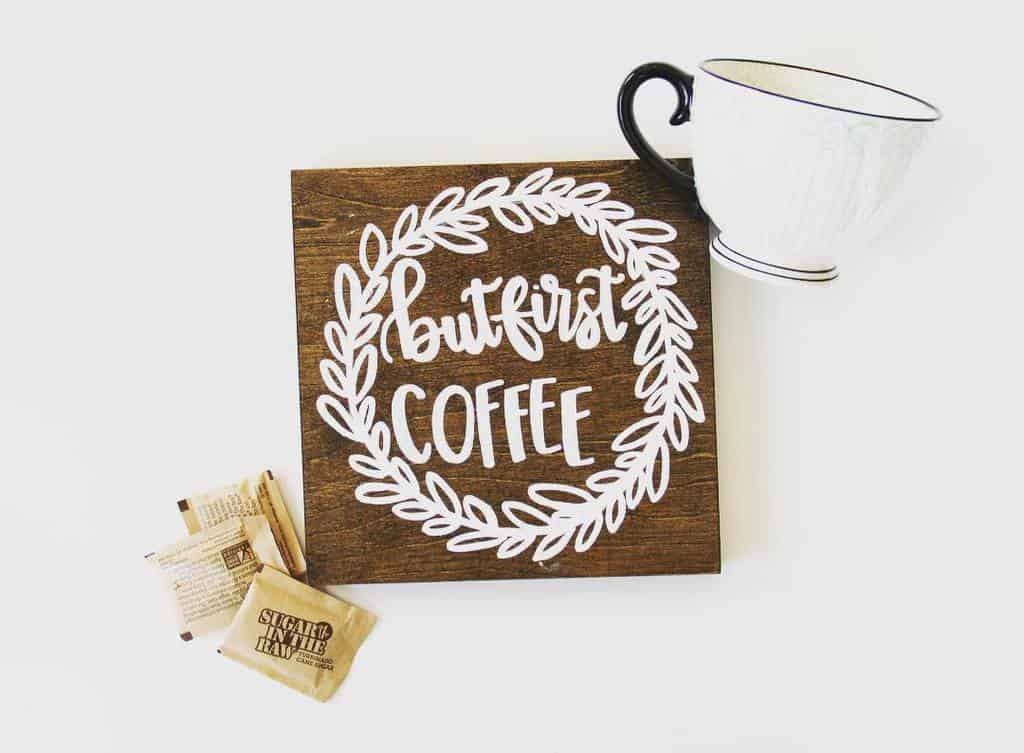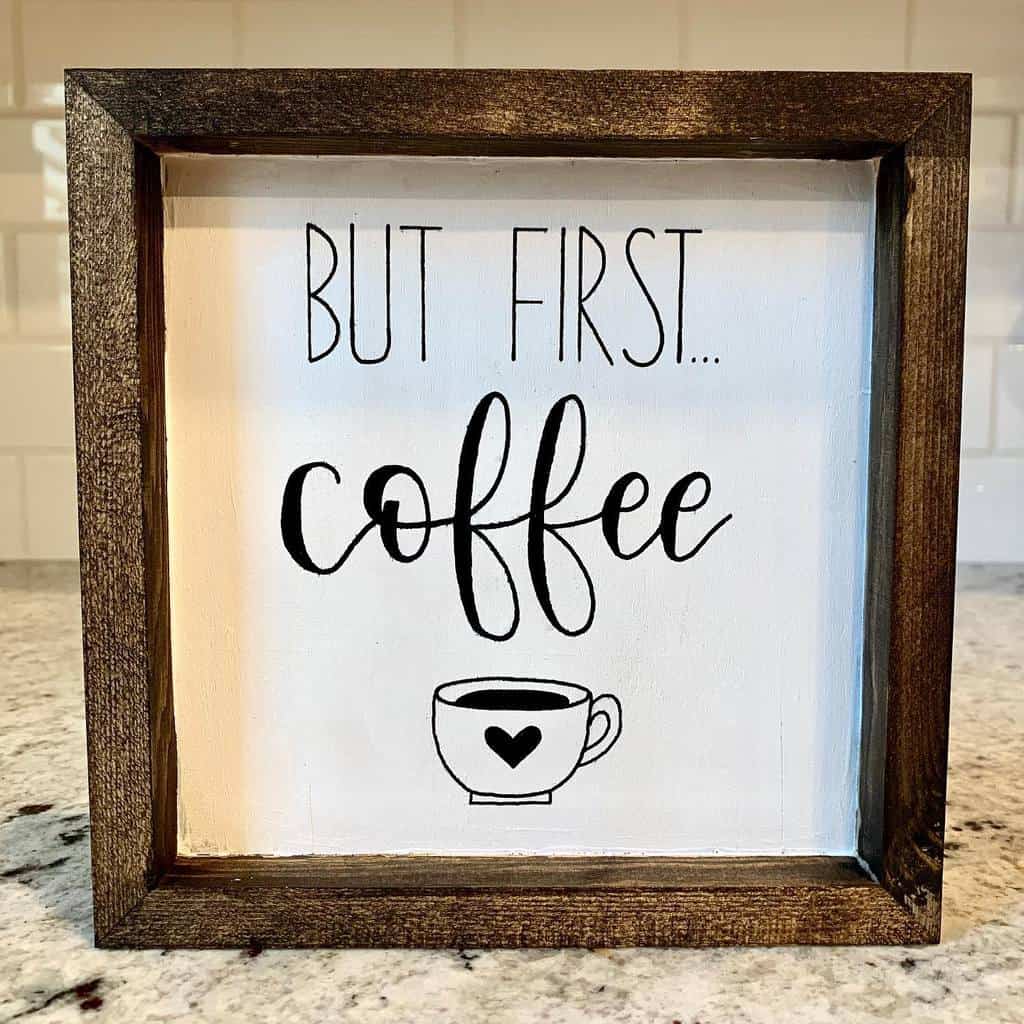 If one person at work or home always makes the coffee, stencil his or her name on the sign. In addition to artwork depicting a steaming cup of joe, catchy phrases help your coffee painted sign stand out. Clever coffee text ideas include:
Perk up!

But first, coffee

Espresso yourself

Better latte than never

Take time to smell the coffee

Coffee is always a good idea!

Coffee – the breakfast of champions

Keep calm and make coffee

Life begins after coffee

Depresso: the feeling you get when you're out of coffee.
3. DIY Wood Signs
One of the most beautiful things about wood sign décor is that it's fairly easy for any DIYer to make their own modern or rustic signs.
Even though thousands of pre-made signs abound, letter stencils, vinyl letters, and other simple craft supplies make it possible to create a sign that says exactly what you want it to say. The availability of free or cheap pallet wood also makes rustic wood sign art a budget-friendly DIY project.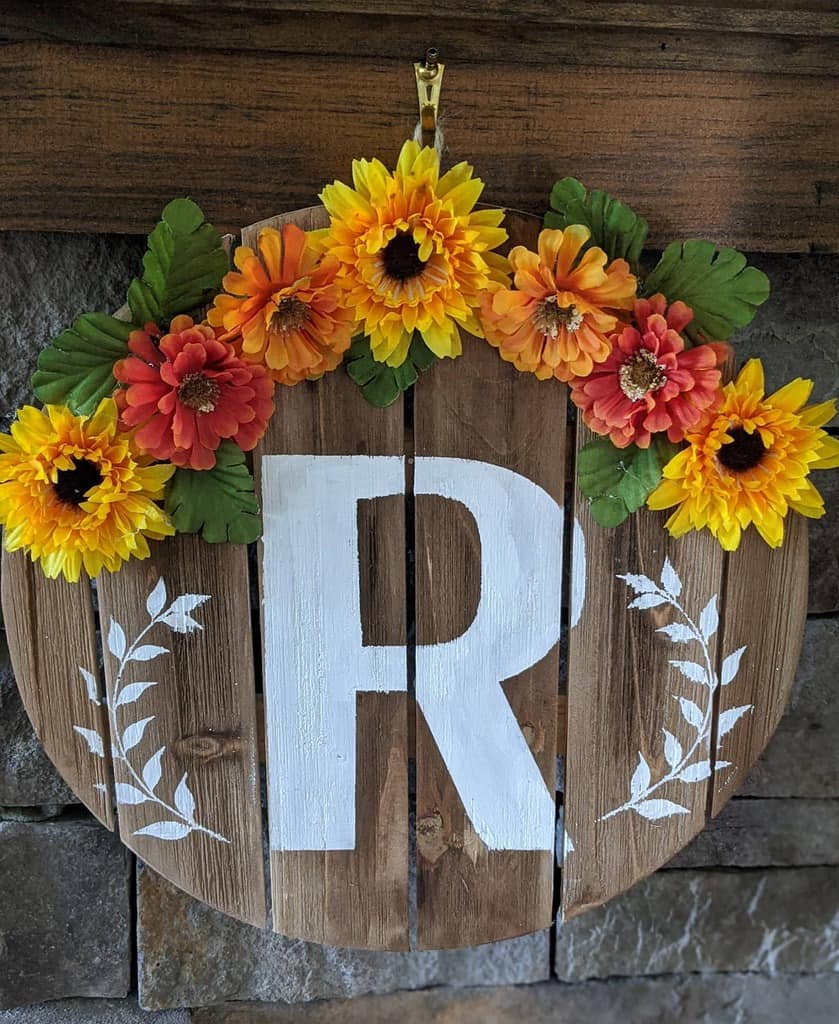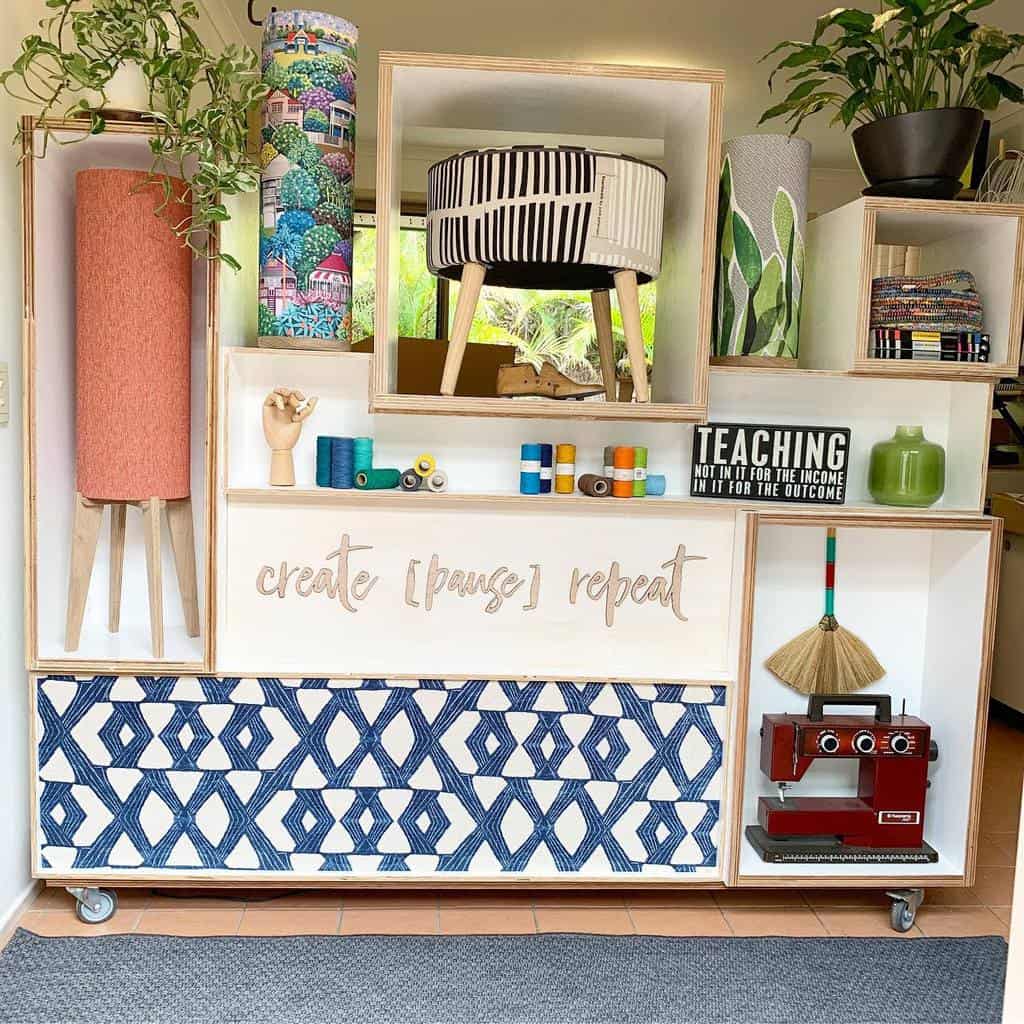 Once your wooden sign has its lettering in place, embellish your sign with ribbon, flowers, shells, tacks, or other decorations. Use wood glue to add a frame or attach a rope hanger with a brad nailer. Paint a portion of the sign with chalk paint if you plan to change what it says on a regular basis.
4. Family
Rustic wood signs are a staple in today's home décor. Whether it's a big welcome sign on the front porch, or a tiny pallet sign reminding bathroom-users to wash up, signs add a lot of personality to your décor.
Some simple rustic wood signs for the home simply have one vinyl or stencil drawn word: family.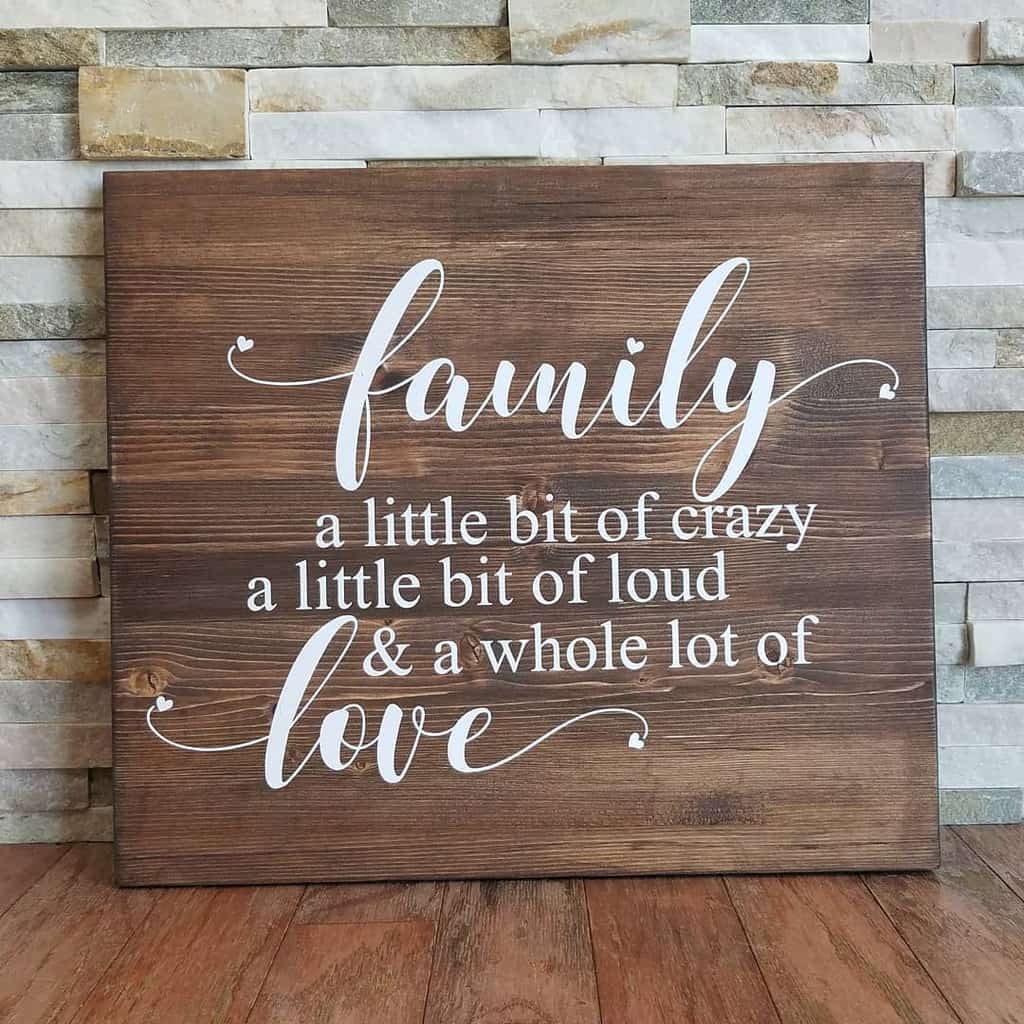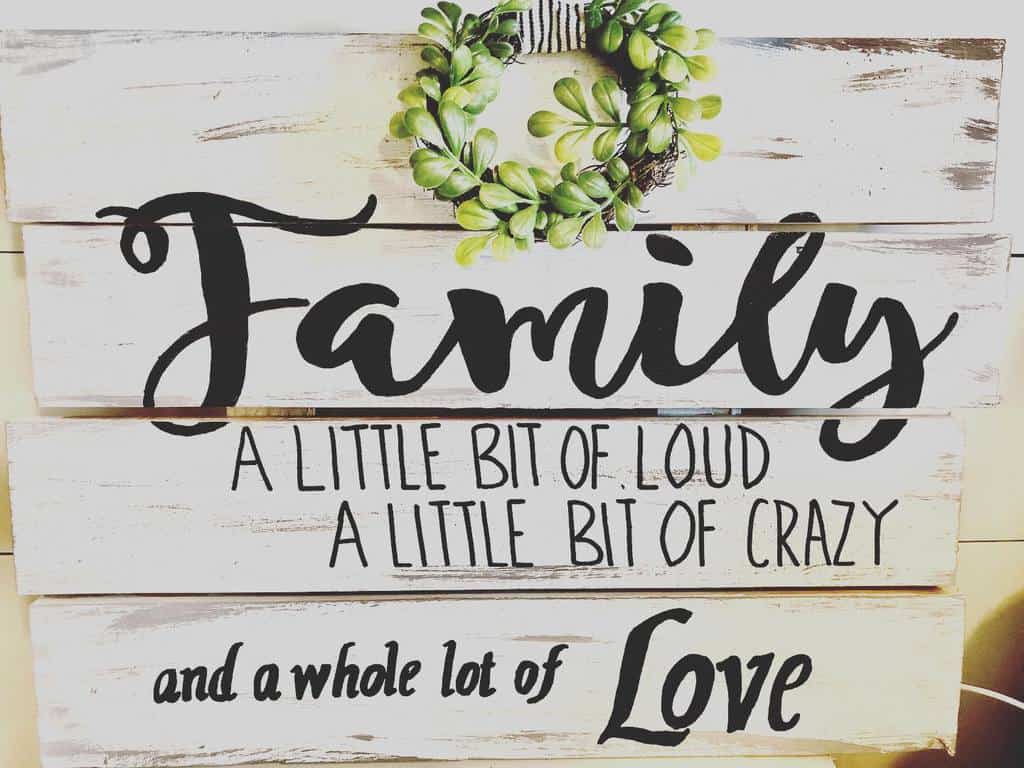 Unless you have a vinyl cutting machine and transfer tape, it's probably best keep sentiments short when creating a custom sign for the family.
If you have a steady hand, use a long-bristled round paint brush to paint the family's last name or monogram on a pre-cut wooden board.
Add metal clips to a long plywood plank or pallet and paint your kids' names on it to make a sign that doubles as a children's art gallery.
5. Farmhouse
Farmhouse sign options usually incorporate white or black paint onto rustic wood surfaces.
Often, a farmhouse wood sign has a white background with black stencil or wood letters, surrounded by a natural wood frame.
This favored form of wall art is at once classic and rustic, conveying a glimpse into the homeowners' personalities.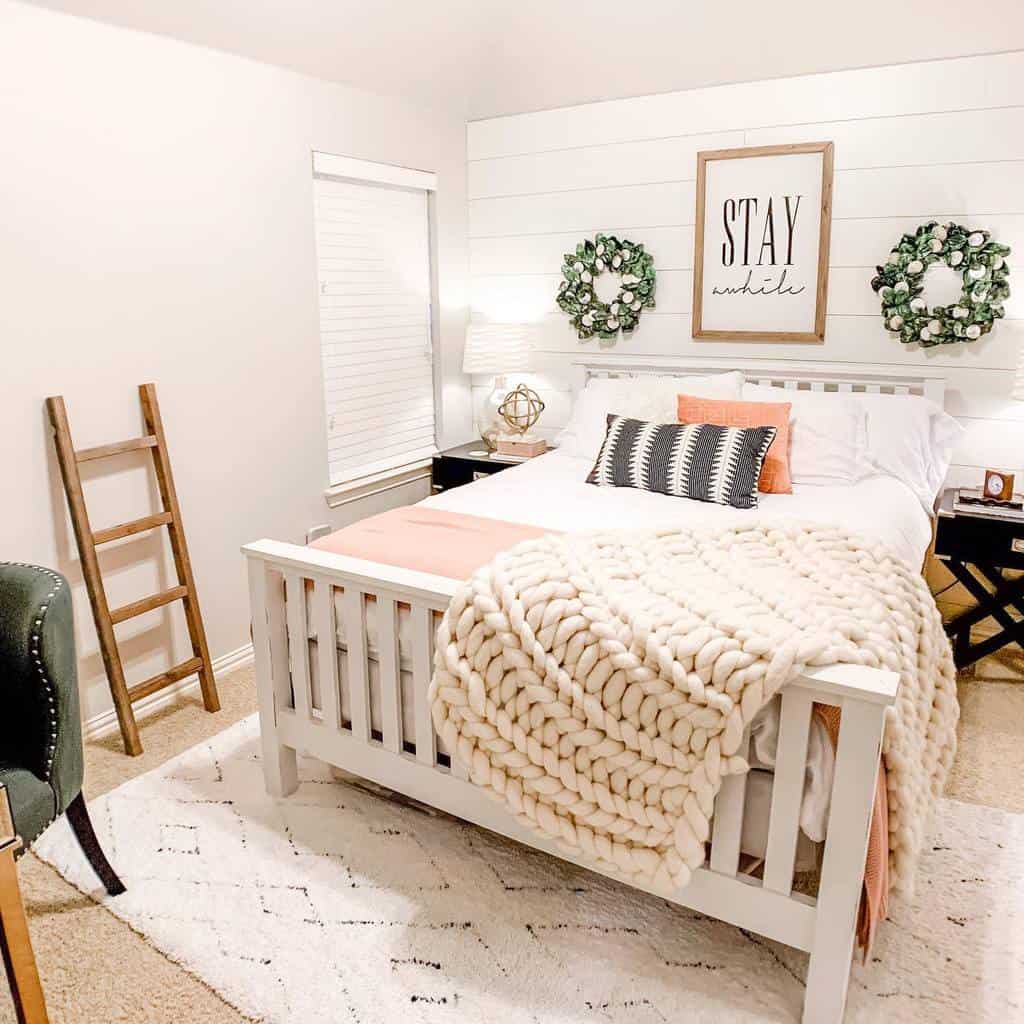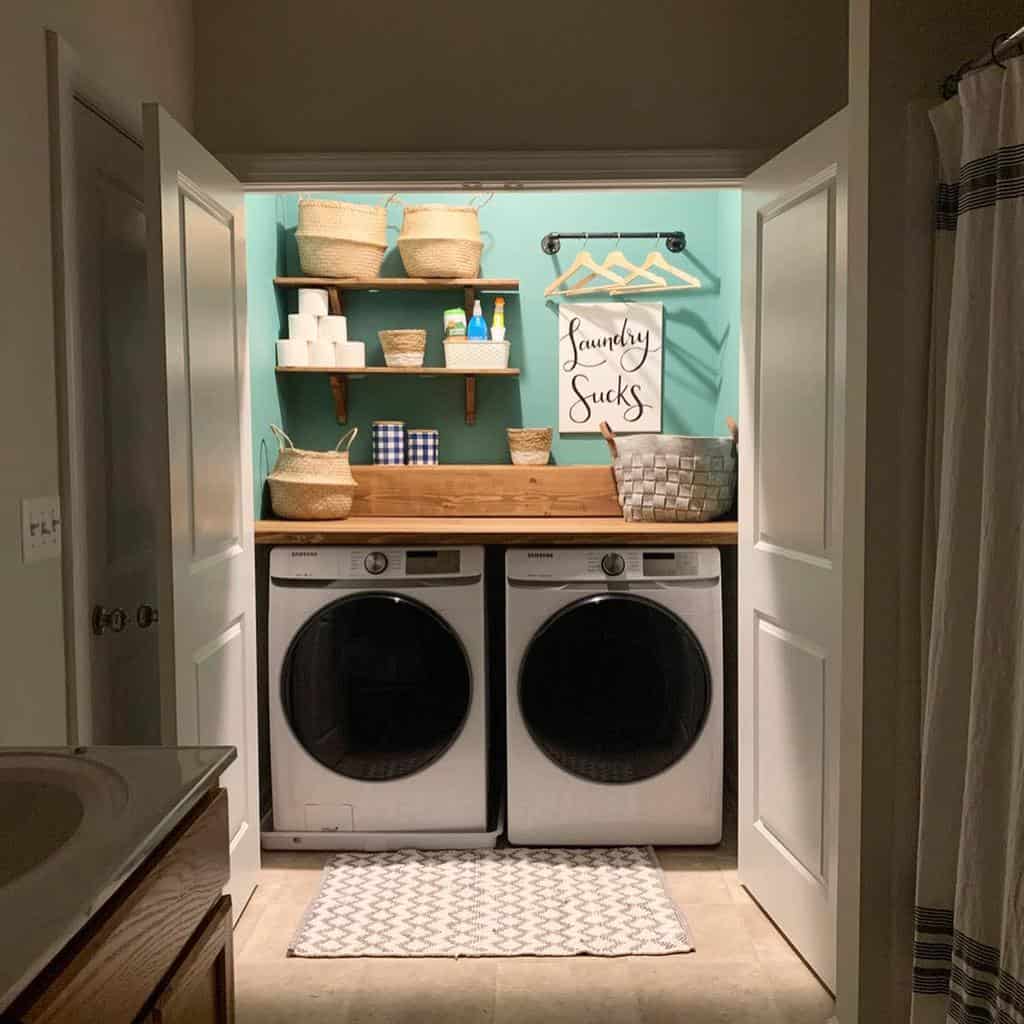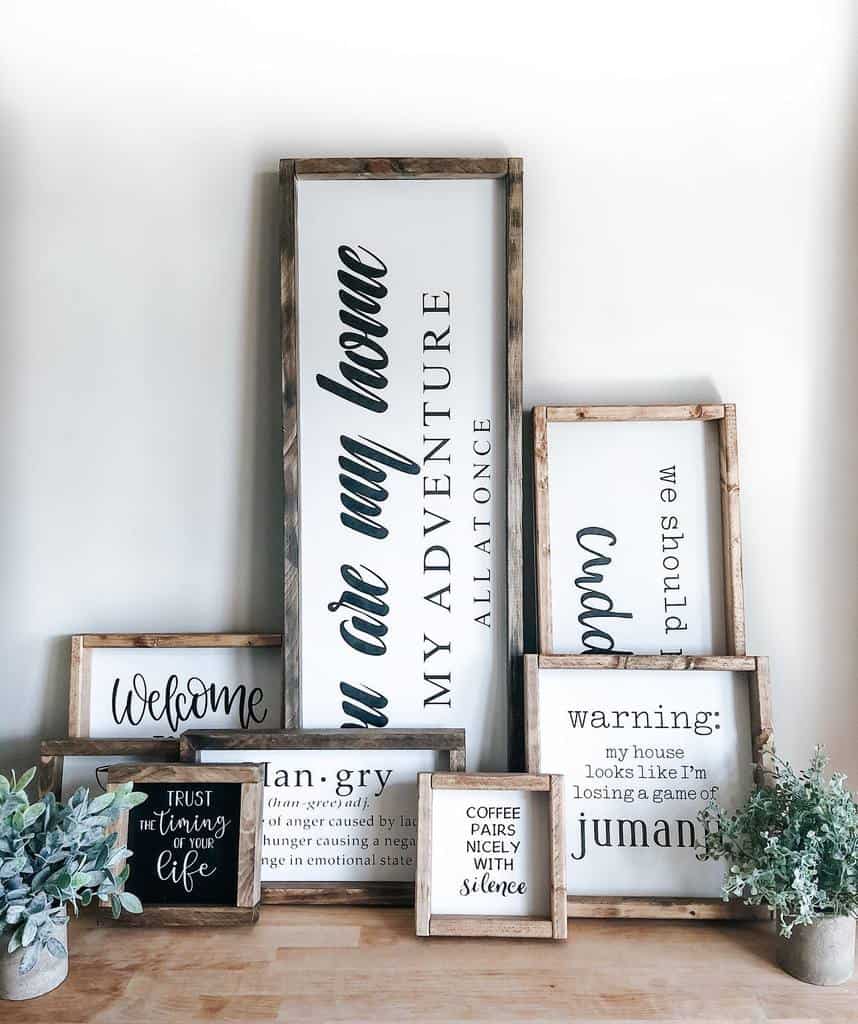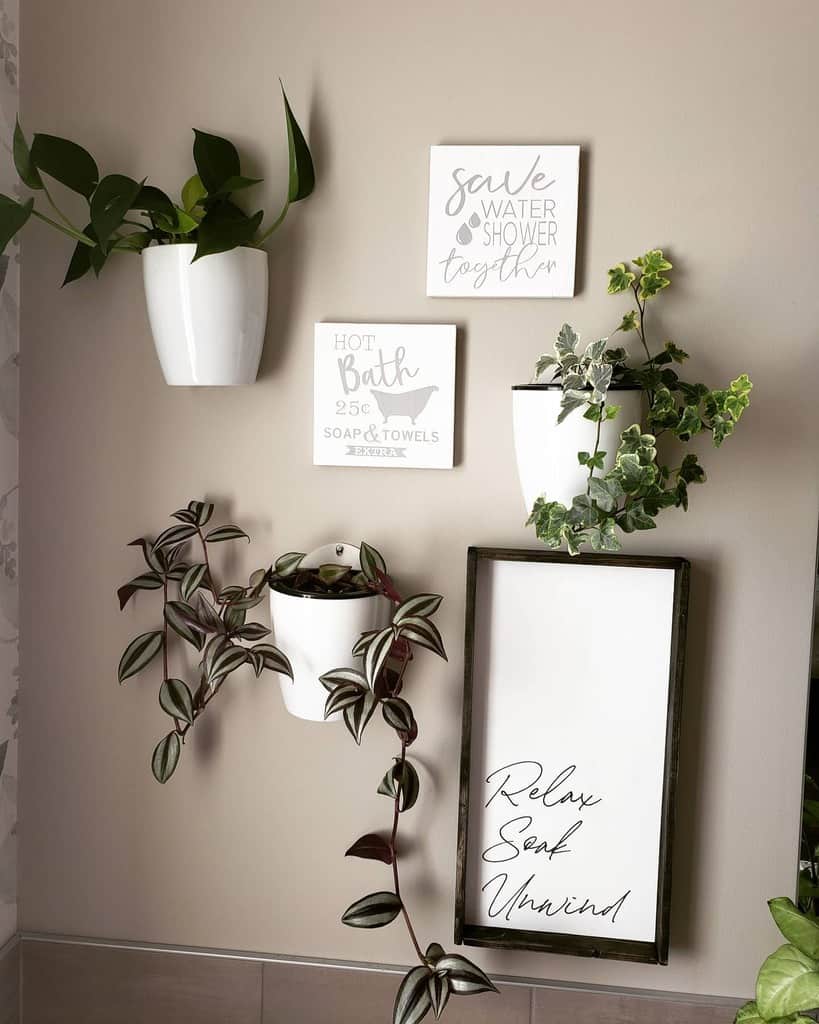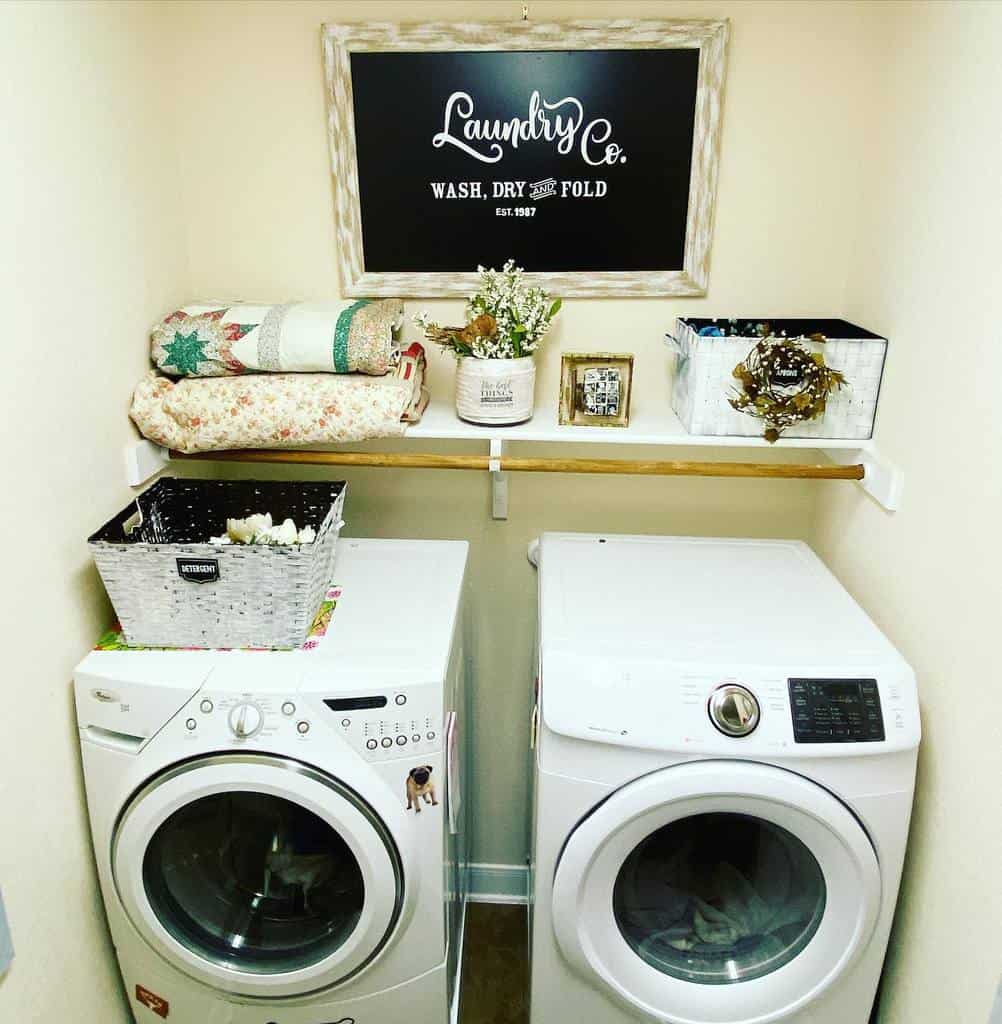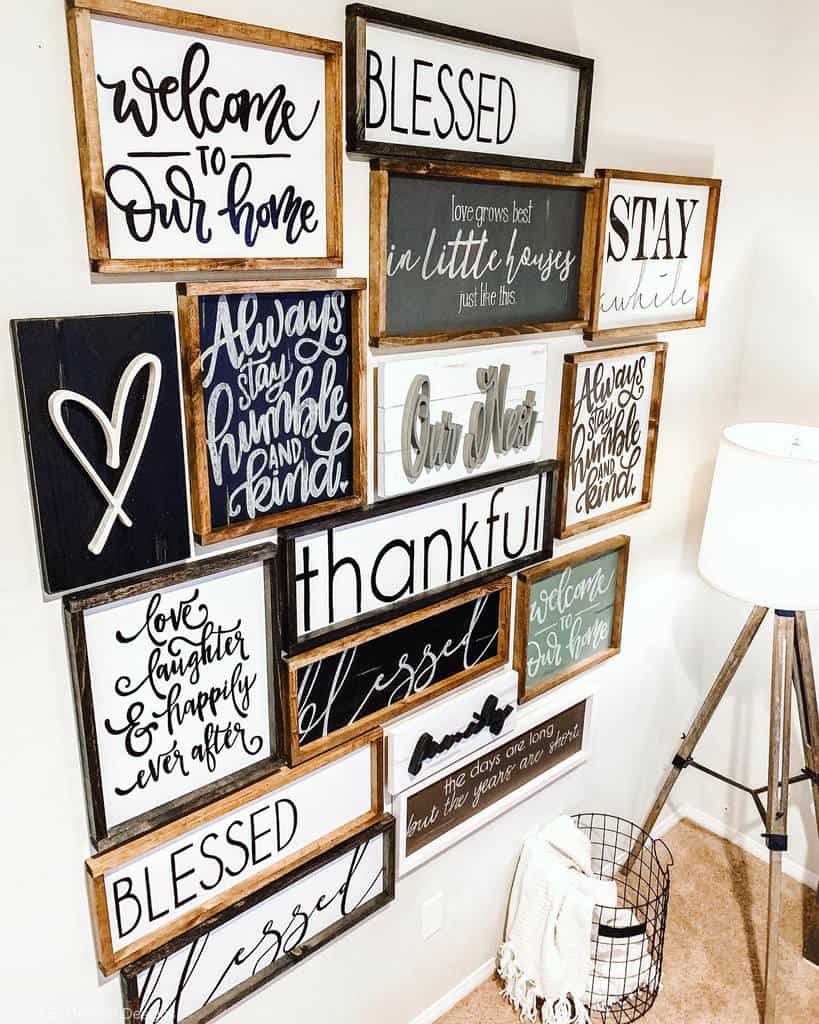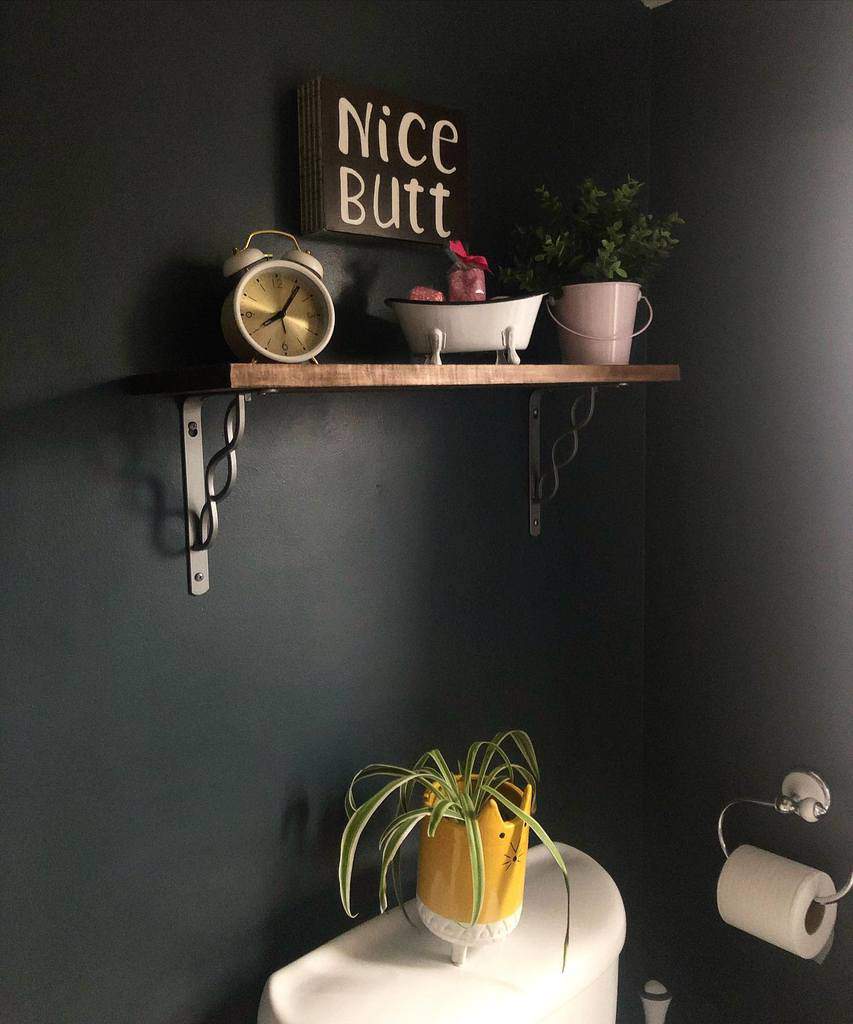 Farmhouse sign groupings are popular on kitchen, laundry room, living room, bedroom, and bathroom walls.
Intersperse your signs with other forms of wall art, such as planters, wreaths, or paintings. Holiday farmhouse and pallet signs add a country flair to your holiday home décor.
Hang up a pumpkin-painted pallet sign for fall. Display a wood stain board painted with a line from your favorite Christmas carol over the fireplace in December.
6. Kitchen
Assorted signs and statements have long been a part of kitchen décor, from antique tin advertisement signs to today's pallet sign designs.
Many kitchen wood signs convey humorous statements, such as, "Keep this kitchen clean—eat out" or "Today's menu: eat it or starve."
Other signs may simply refer to favorite herbs or carry short-but-sweet sentiments about gathering together with friends and family.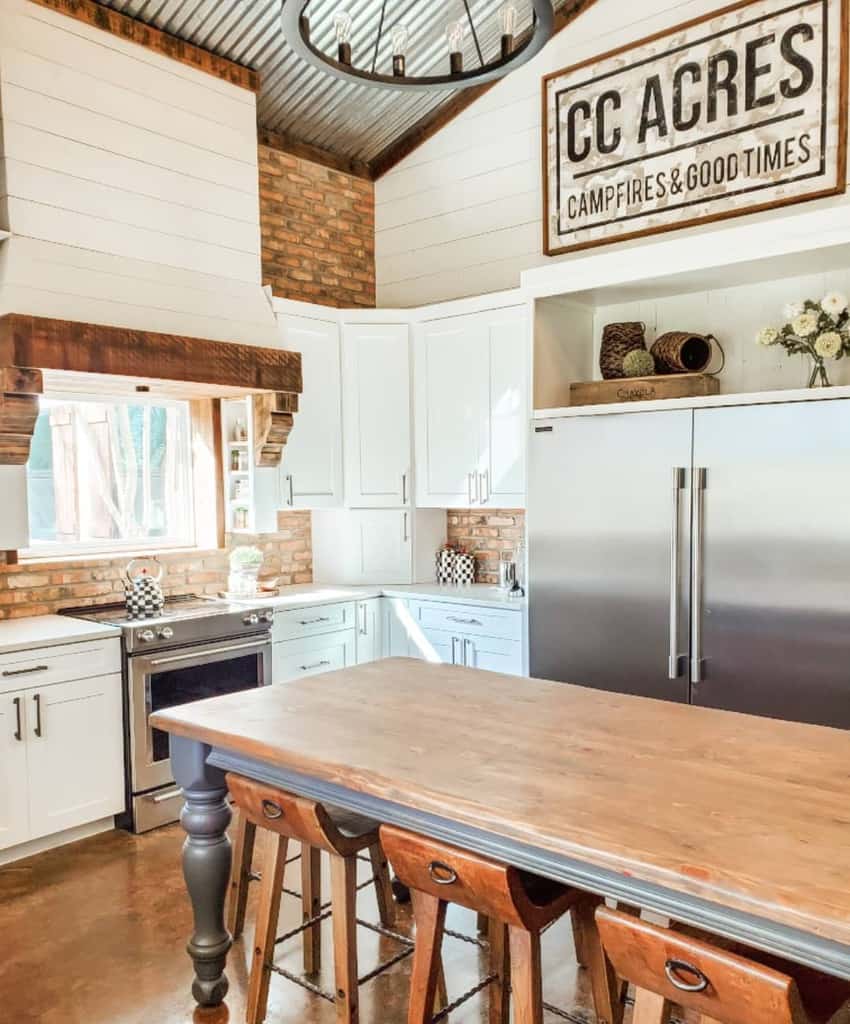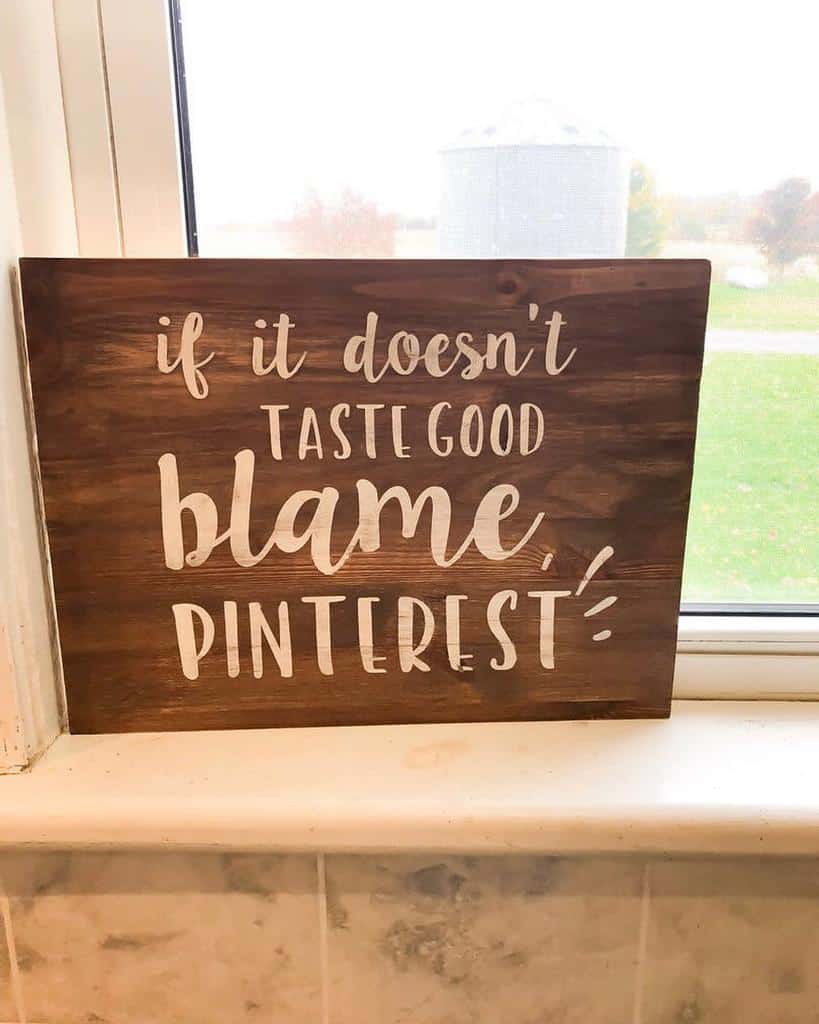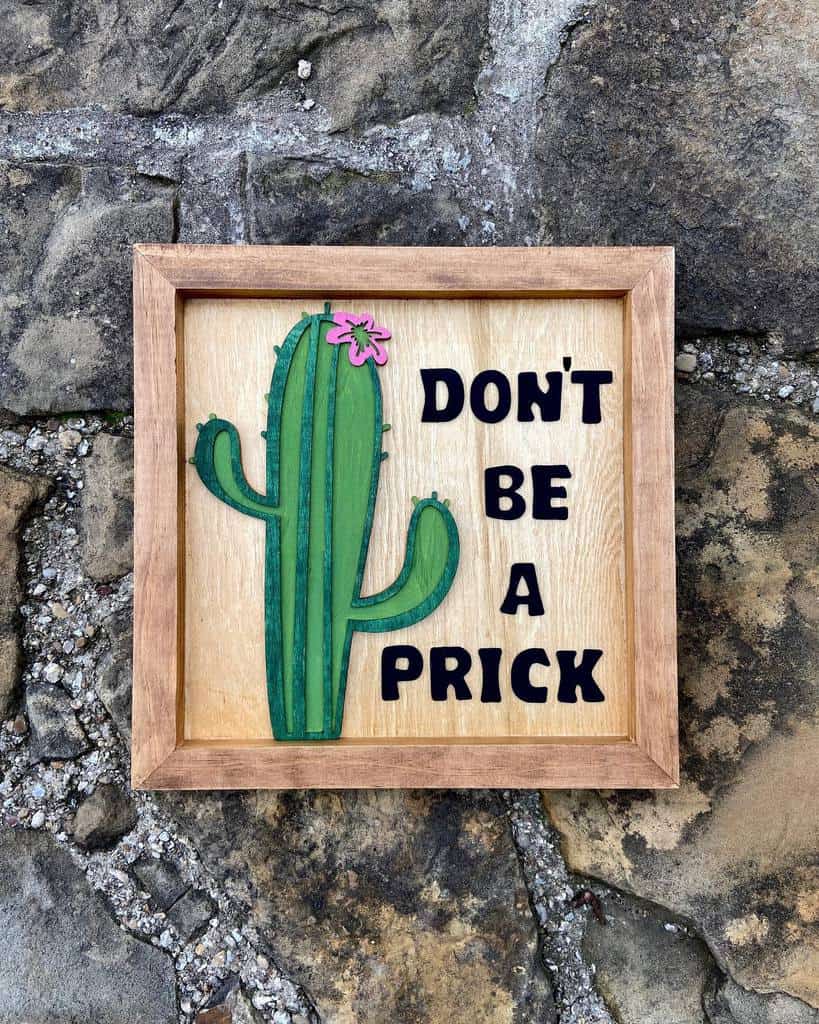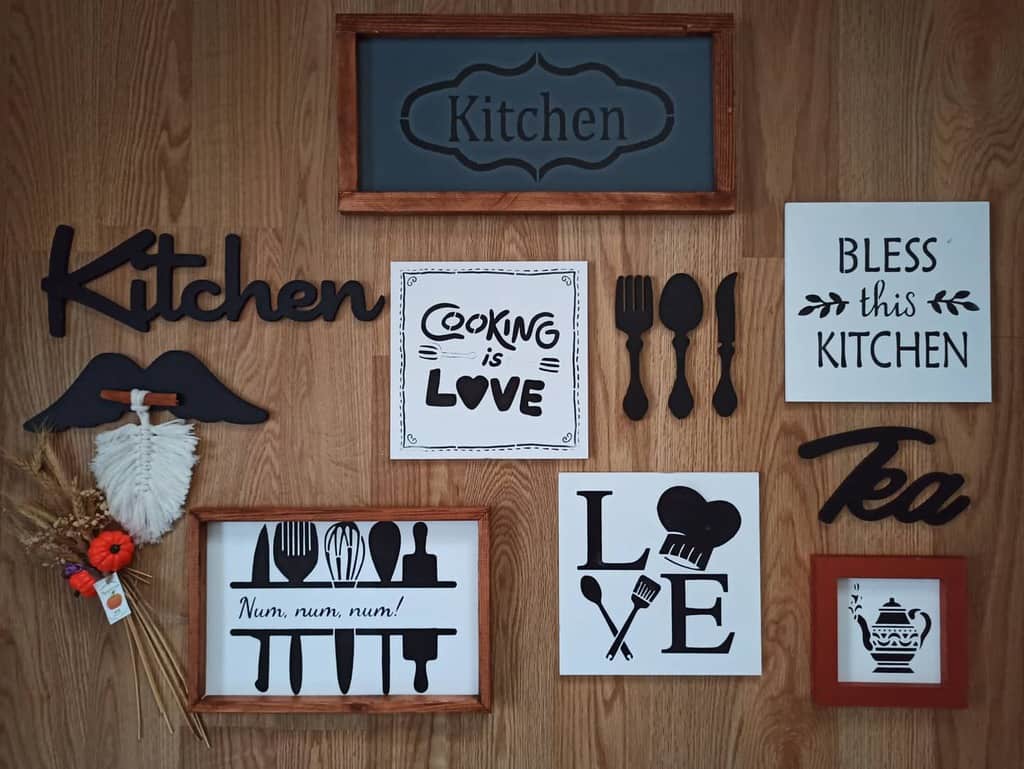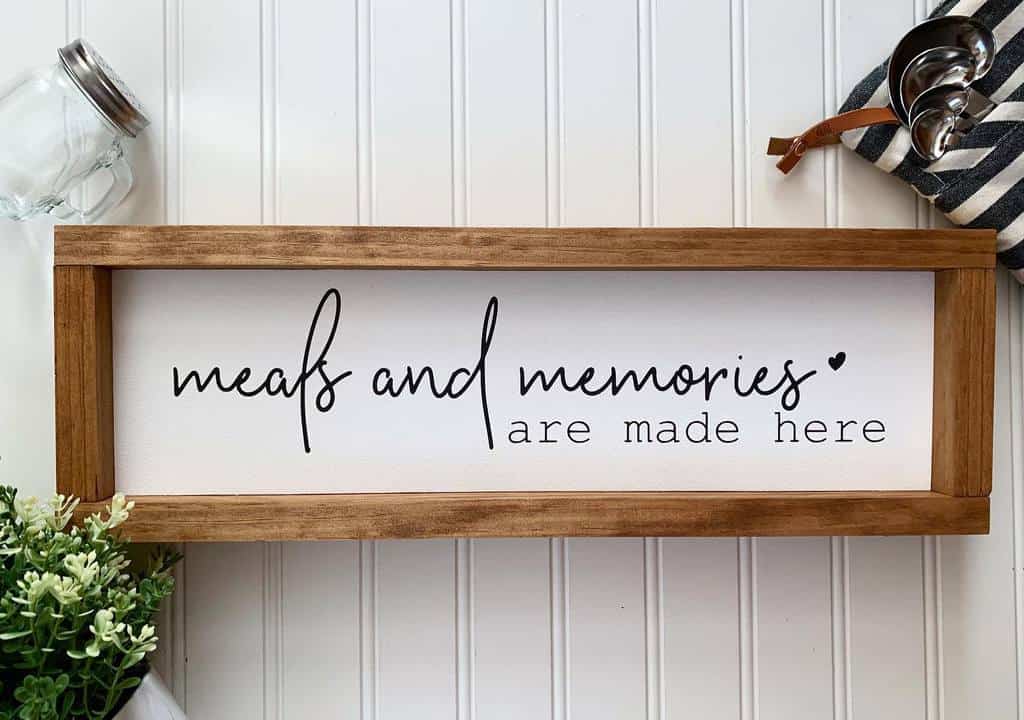 Wine-themed wood signs also look great in the kitchen. Use decoupage to affix wine labels to a pallet wood sign or turn a smooth cutting board into a simple wooden sign.
Although black, white, and natural wood tones work best with farmhouse style, you can use any color of paint that coordinates with your kitchen.
Chickens, roosters, pigs, cows, and other farm animals often appear on country kitchen signs.
7. Quotes
Quote options for your farmhouse sign or pallet sign are unlimited. Think about what words or phrases capture the spirit of the room and its occupants, then let your imagination go wild.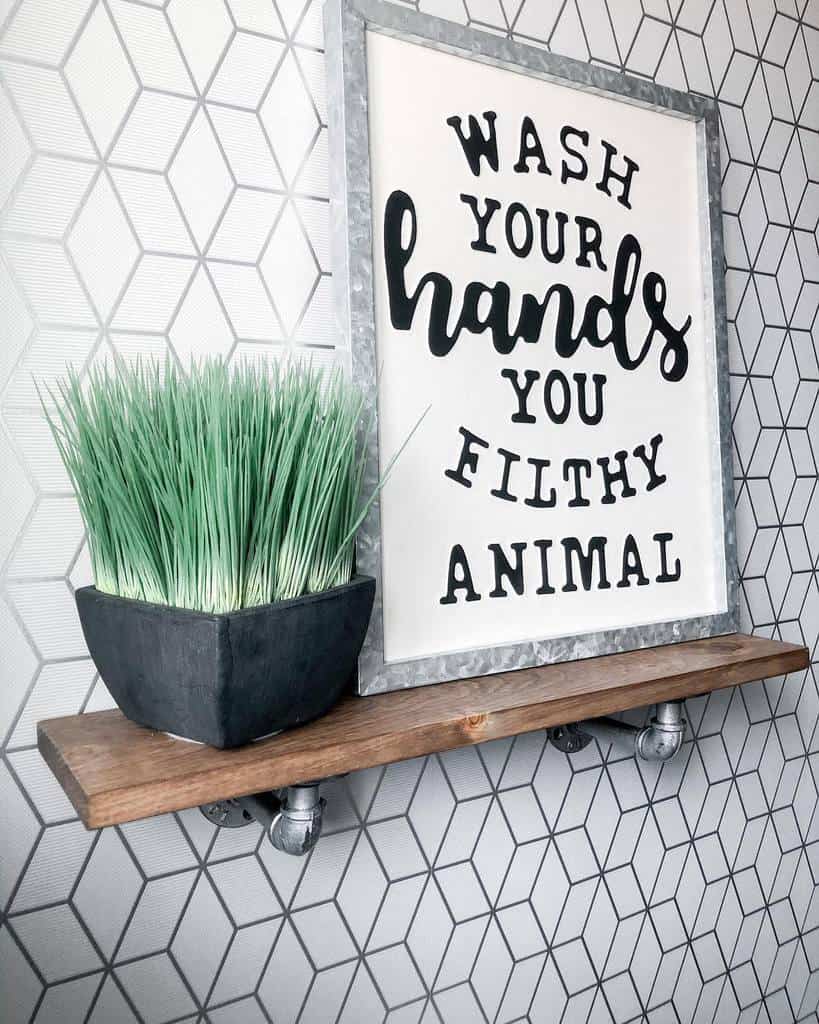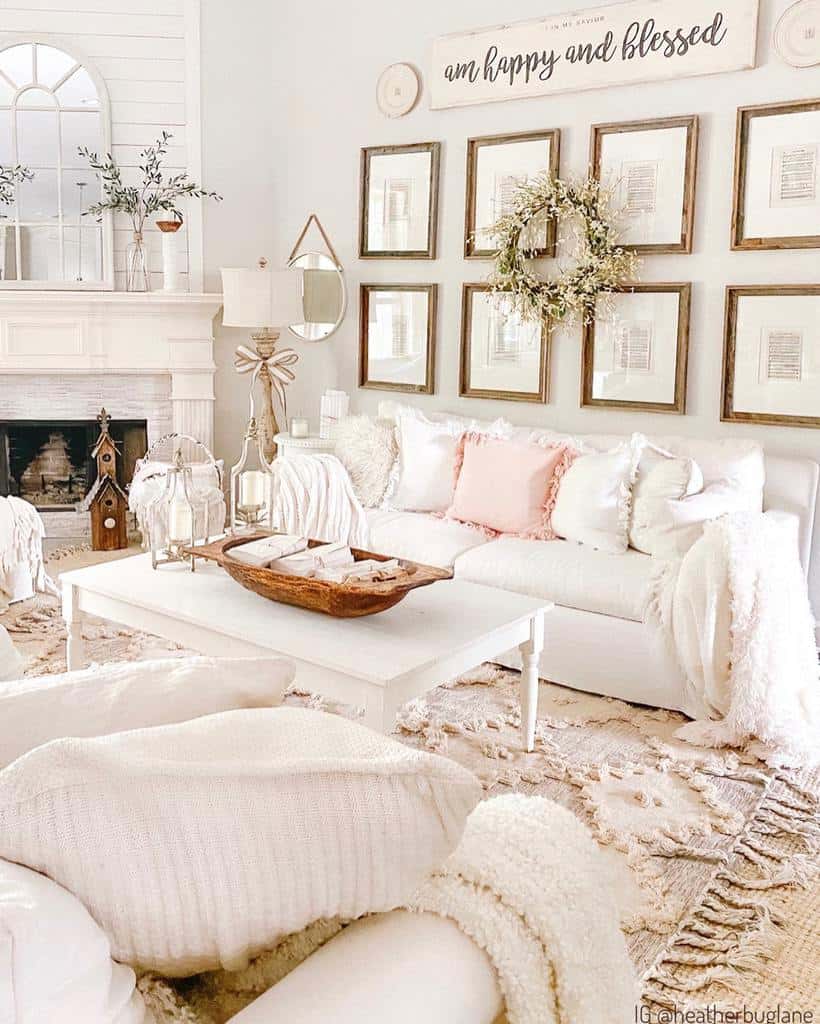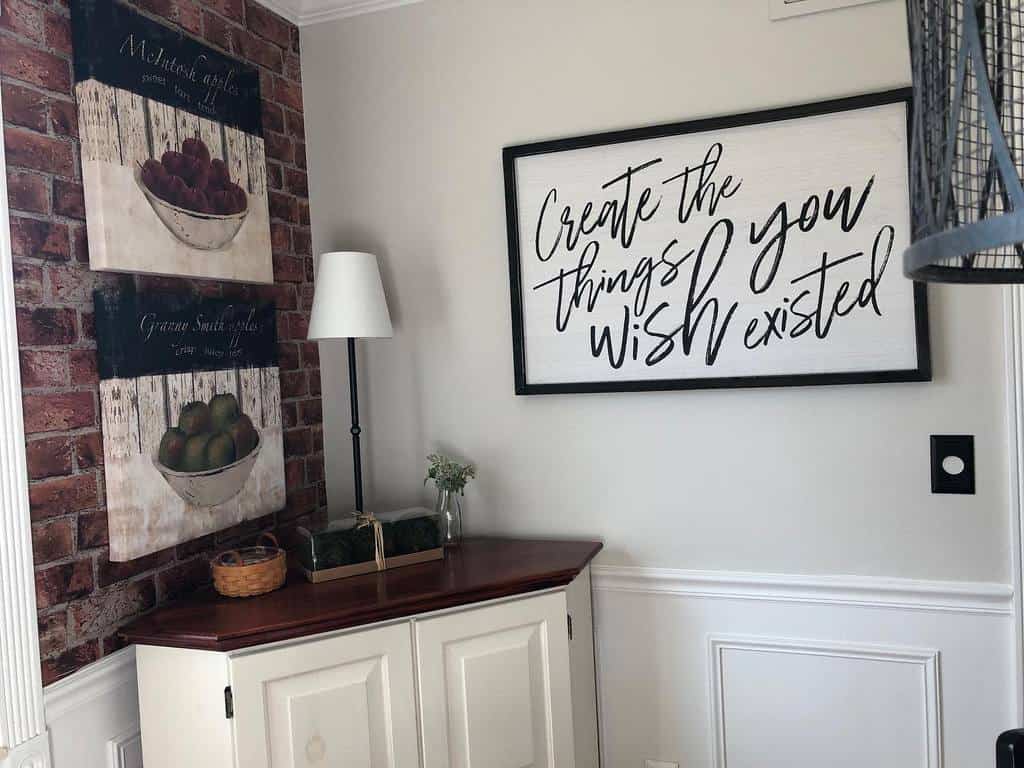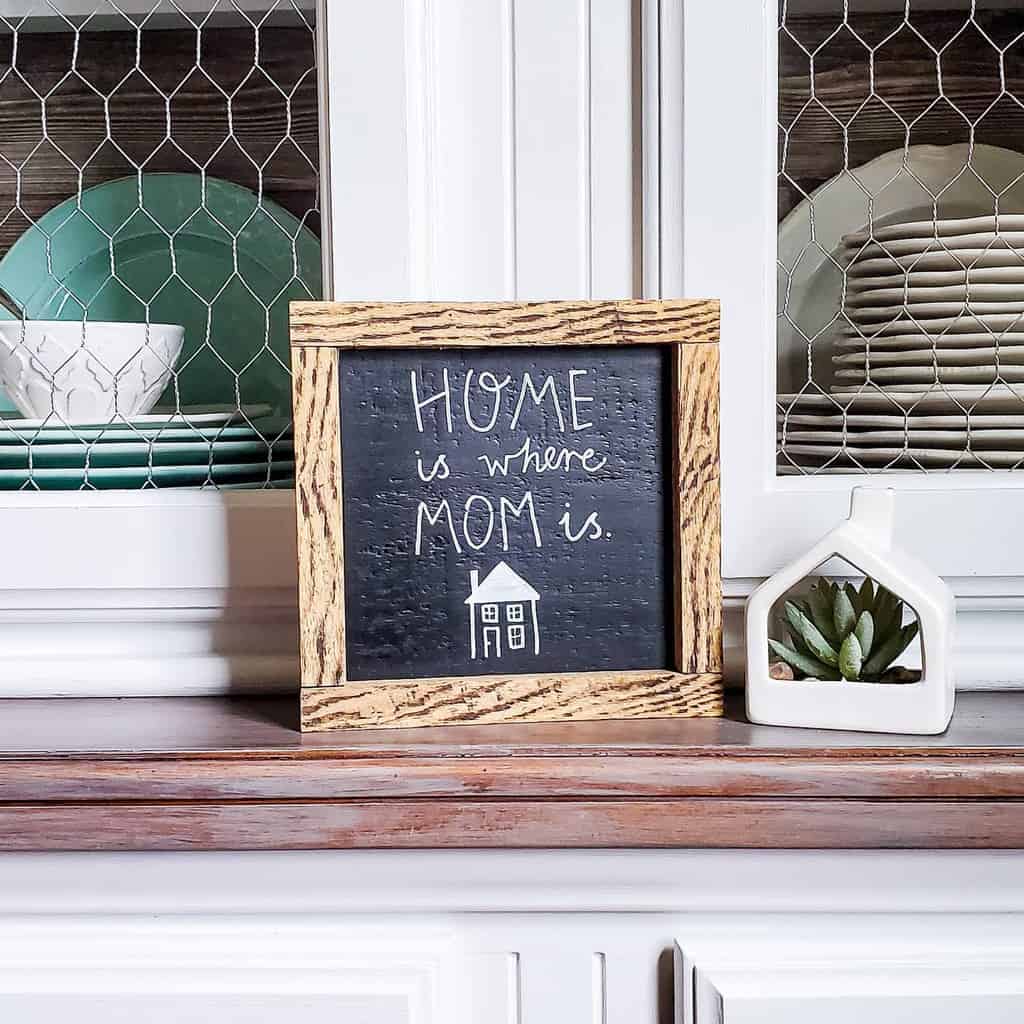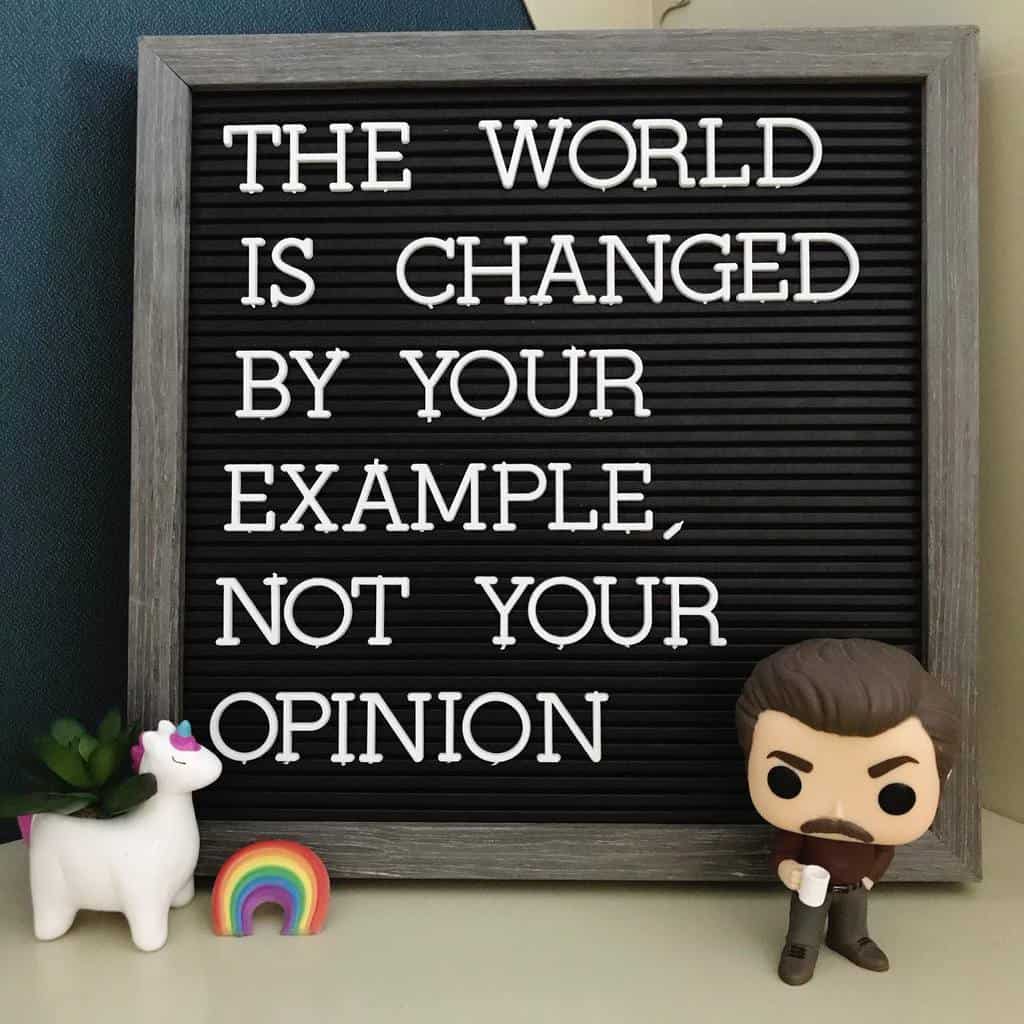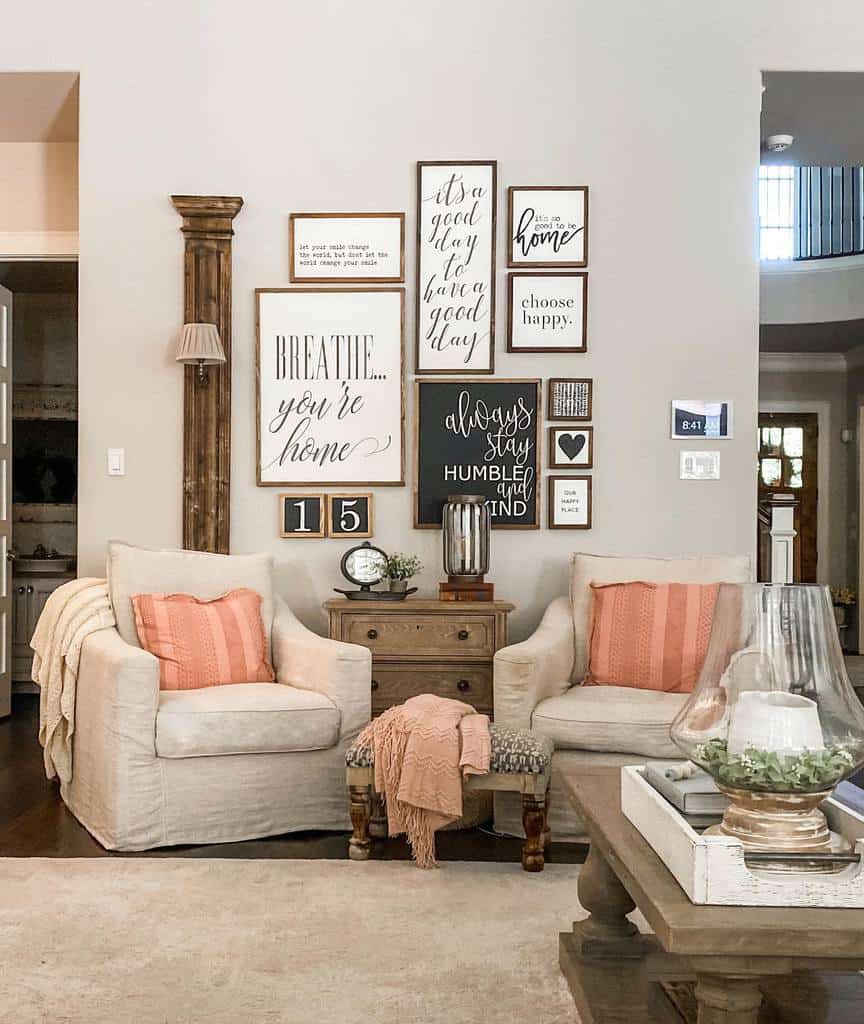 Fun or meaningful quote options include:
Home Sweet Home.
Grateful, thankful, blessed.
This is our happy place.
Family: Where life begins and love never ends.
I have found the one whom my soul loves. (Solomon 3:4)
8. Rustic
The word "rustic" can refer to things made in simple fashion, or to things that hail from rural or country areas. This type of décor may not be fancy or elaborate, but it carries a welcoming warmth that is devoid from more formal settings.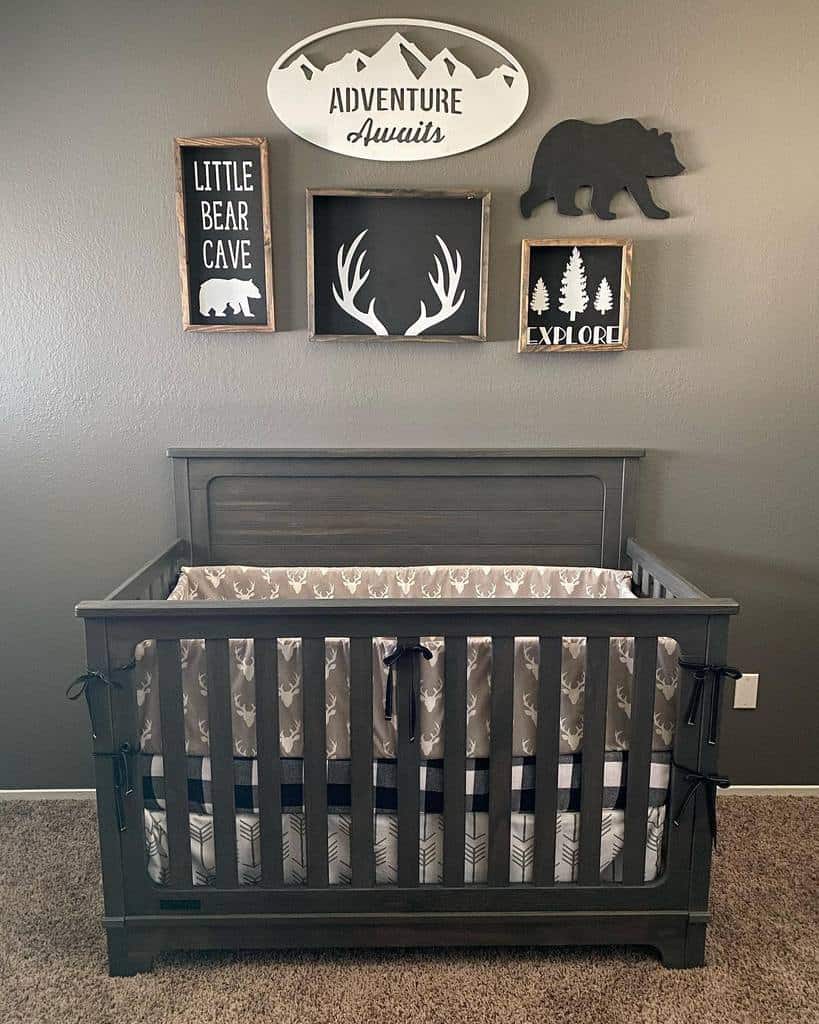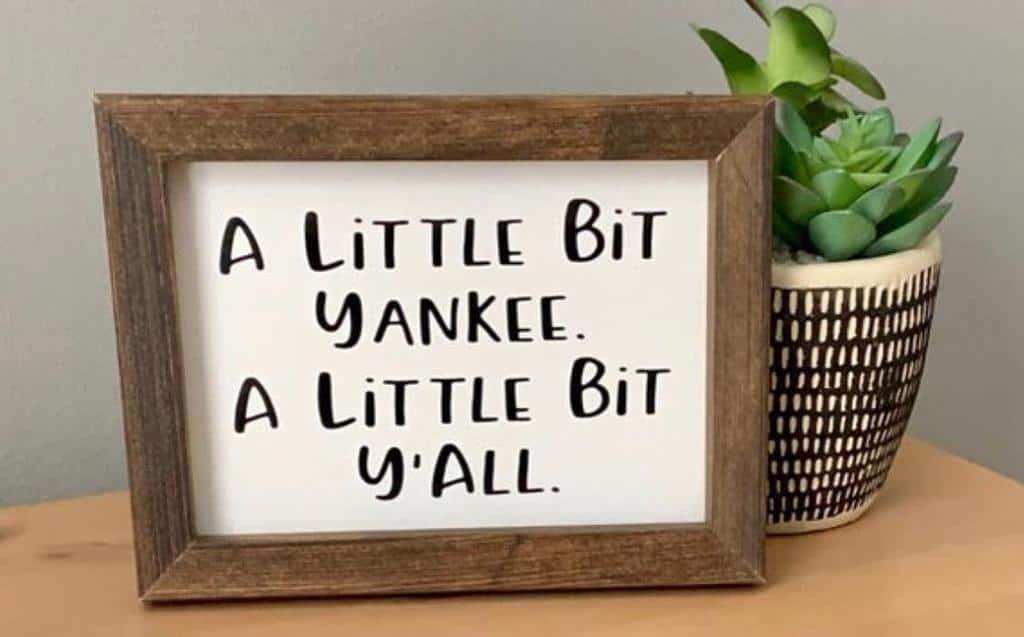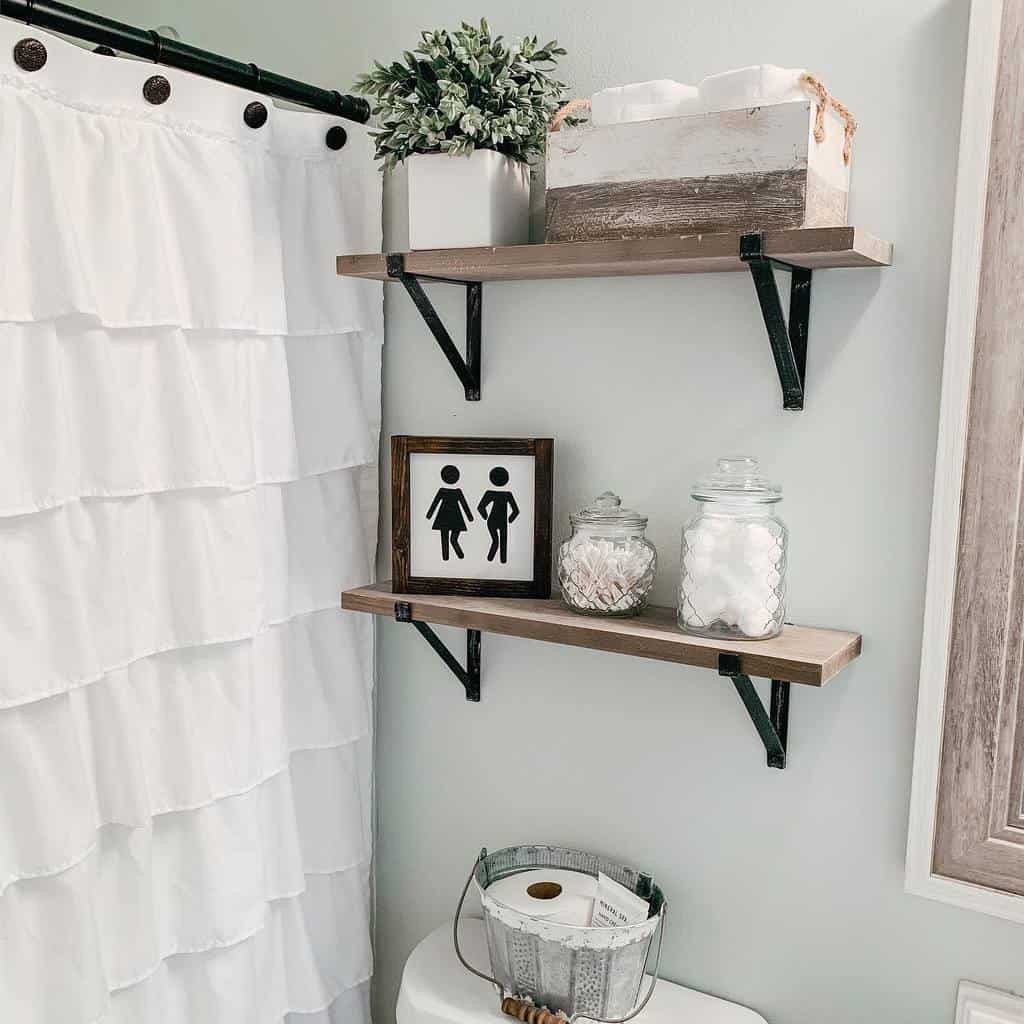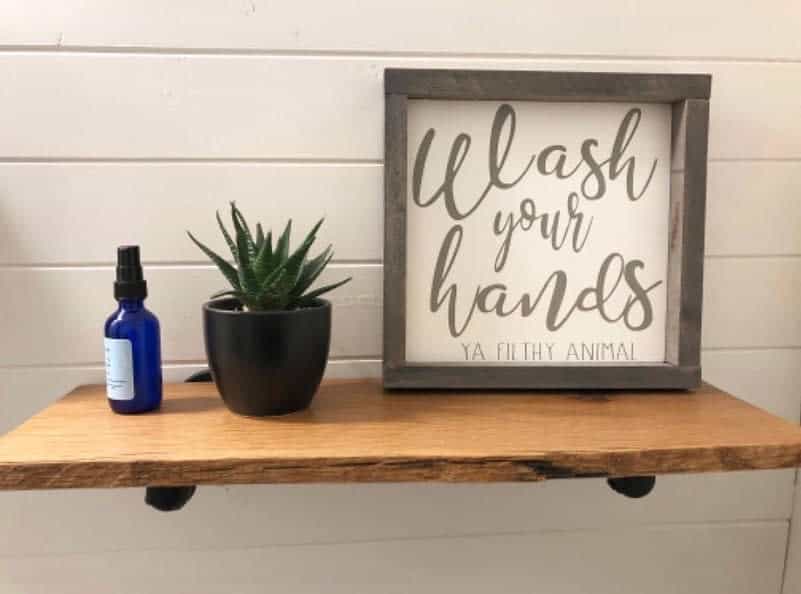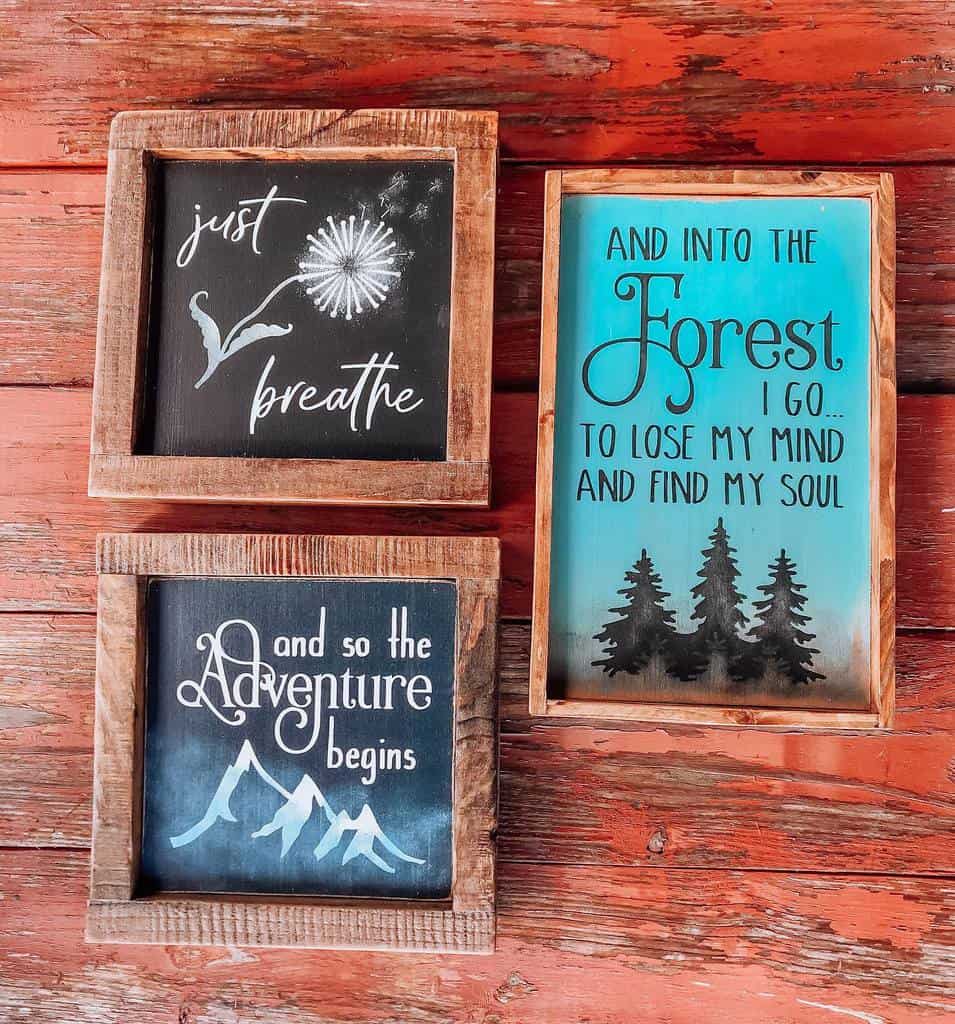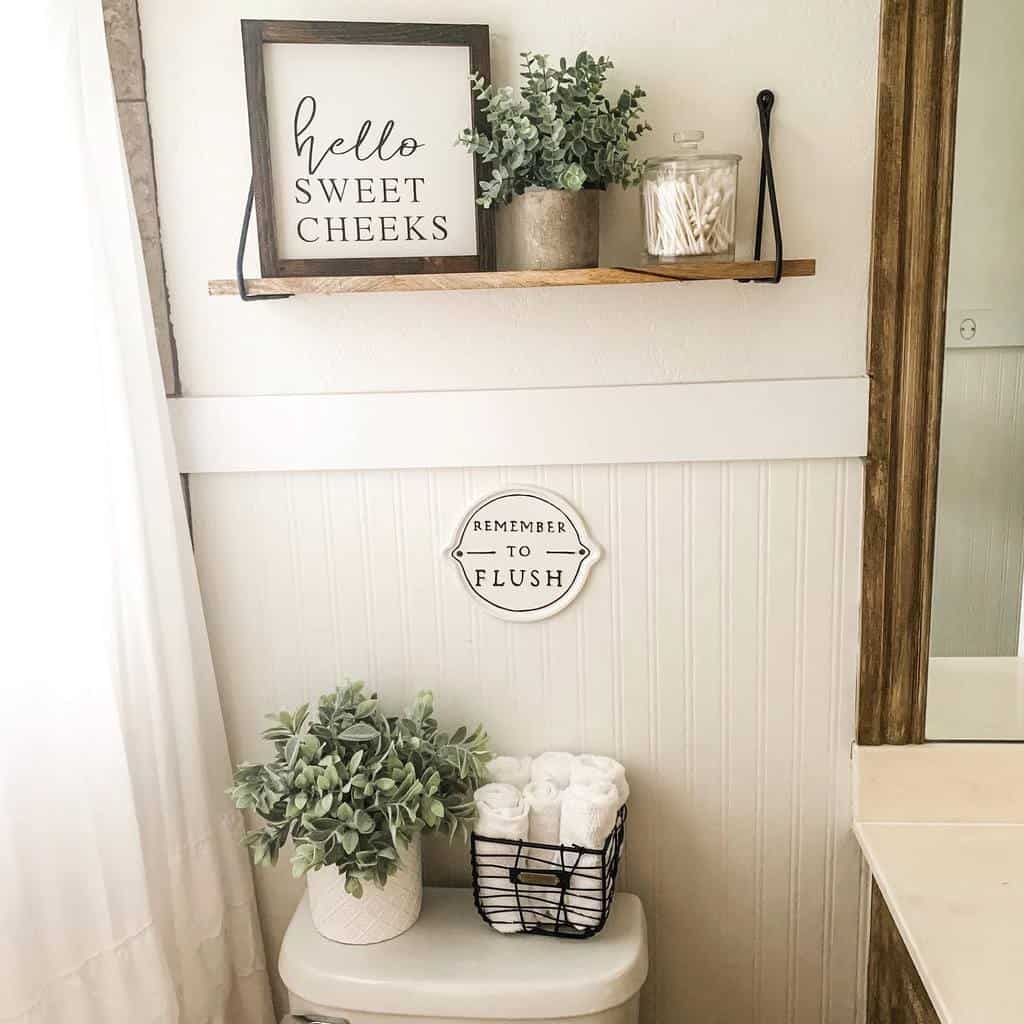 Rustic wood signs often feature rough-hewn wooden frames and simple fonts. Metal accents include dark bronze, stainless steel, and copper—with or without its classic green patina.
Include wilderness elements, such as bears, pine trees, rivers, and mountain ranges on your rustic cabin signs. Distress any paint finishes to provide a naturally worn look that's a welcome part of rustic décor.
9. Wedding
A somewhat rustic look is welcome at weddings and receptions now. In fact, rustic weddings set inside a barn or warehouse are the ceremony standard in some areas of the country.
Even weddings held in the city usually incorporate a bit of rustic décor. Many a young ringbearer carries a hand-lettered sign down the aisle to announce the bride's arrival.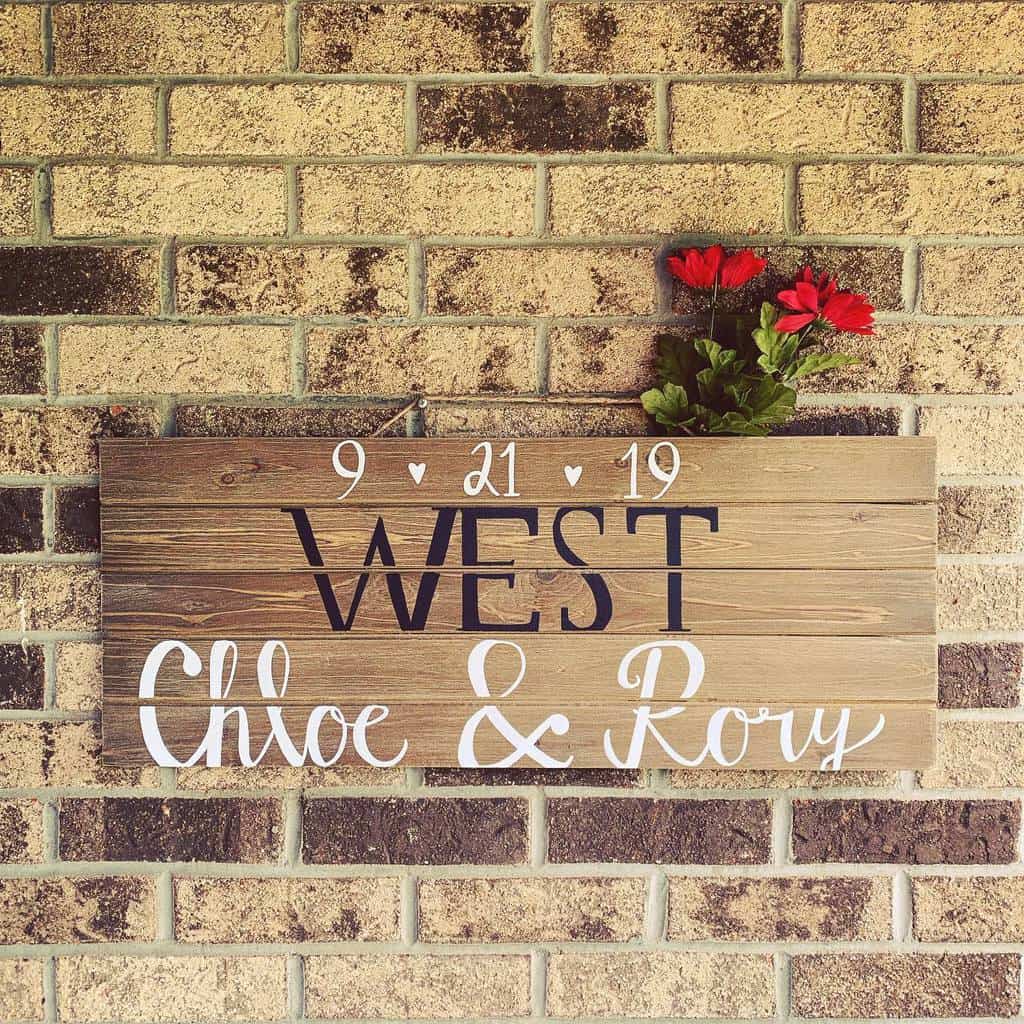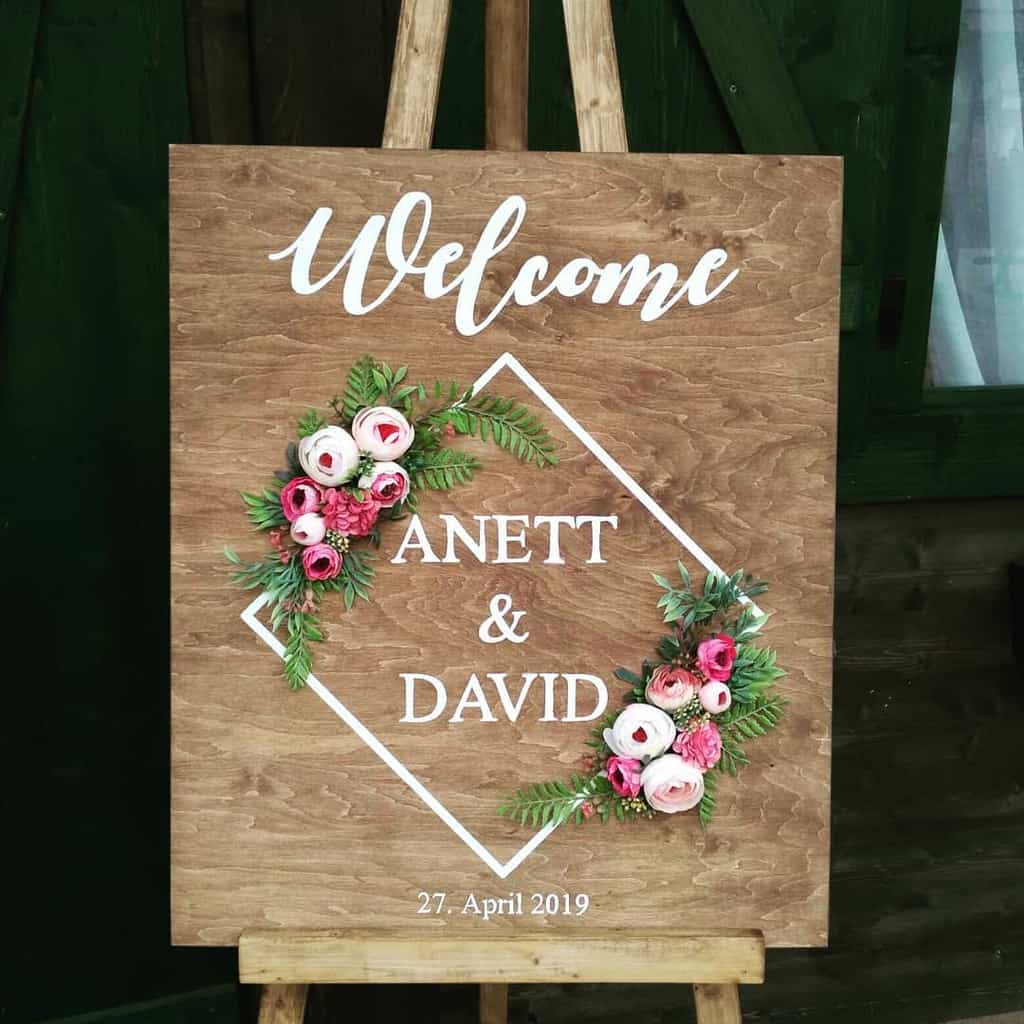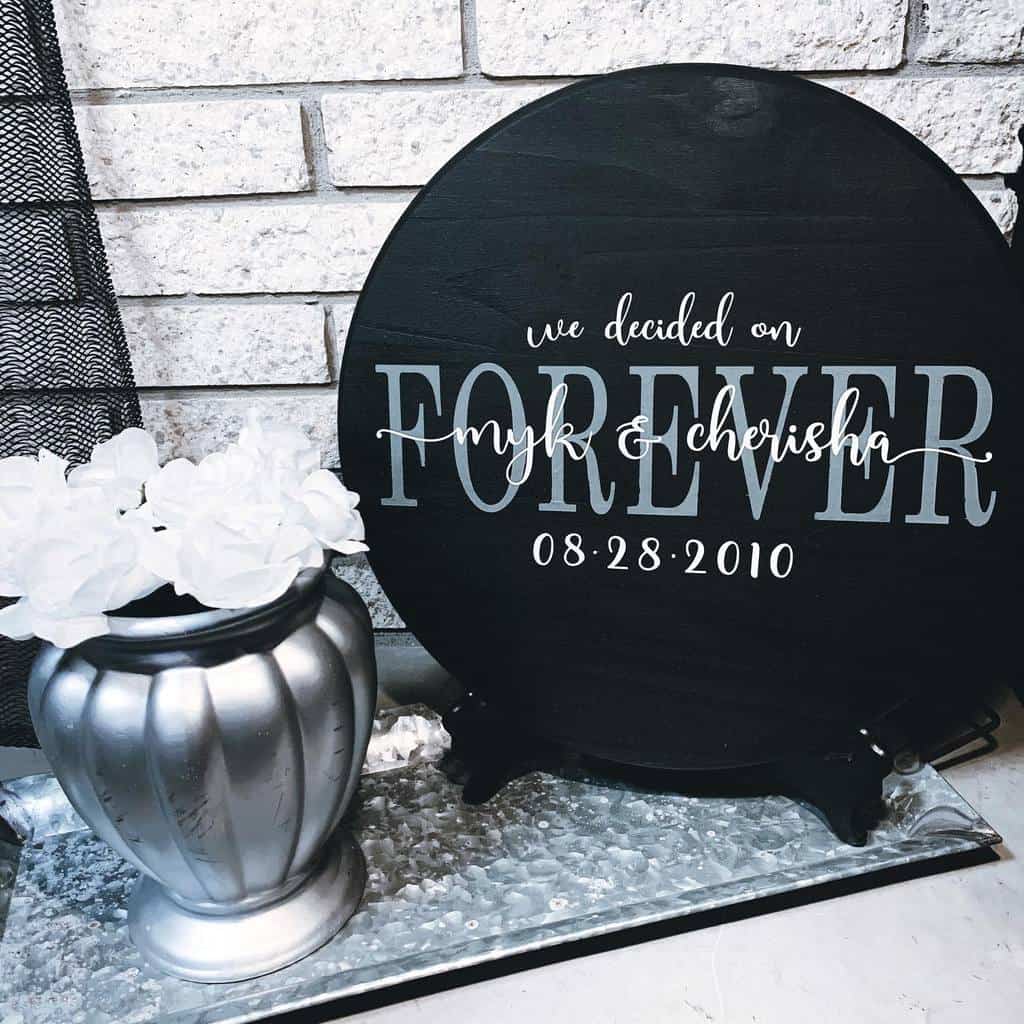 Outdoor weddings are the perfect settings to showcase beautiful wood signage. From the welcome sign to directional signs, these rustic touches are useful and decorative.
Mix a little country and bling by using shiny metal lettering on reclaimed wood. Accent with dimensional rhinestone gems, sequins, and lace or plenty of fresh flowers.
10. Welcome Sign
A wood welcome sign is the perfect way to first greet your guests. Traditionally, a welcome sign hangs on your front door.
However, a newer style is to paint "welcome" on a tall, narrow plank and prop it beside the door.
Use a small seasonal wreath to replace the "o" in "welcome" or embellish the sign with rope, ribbon, or artificial flowers.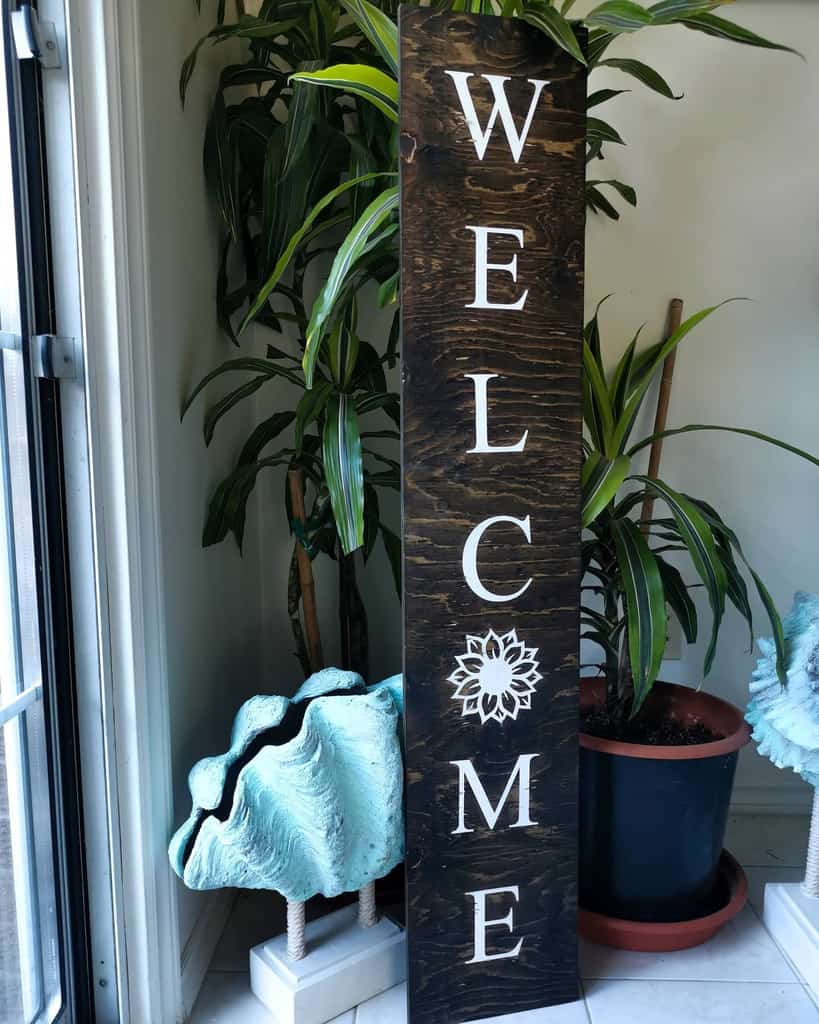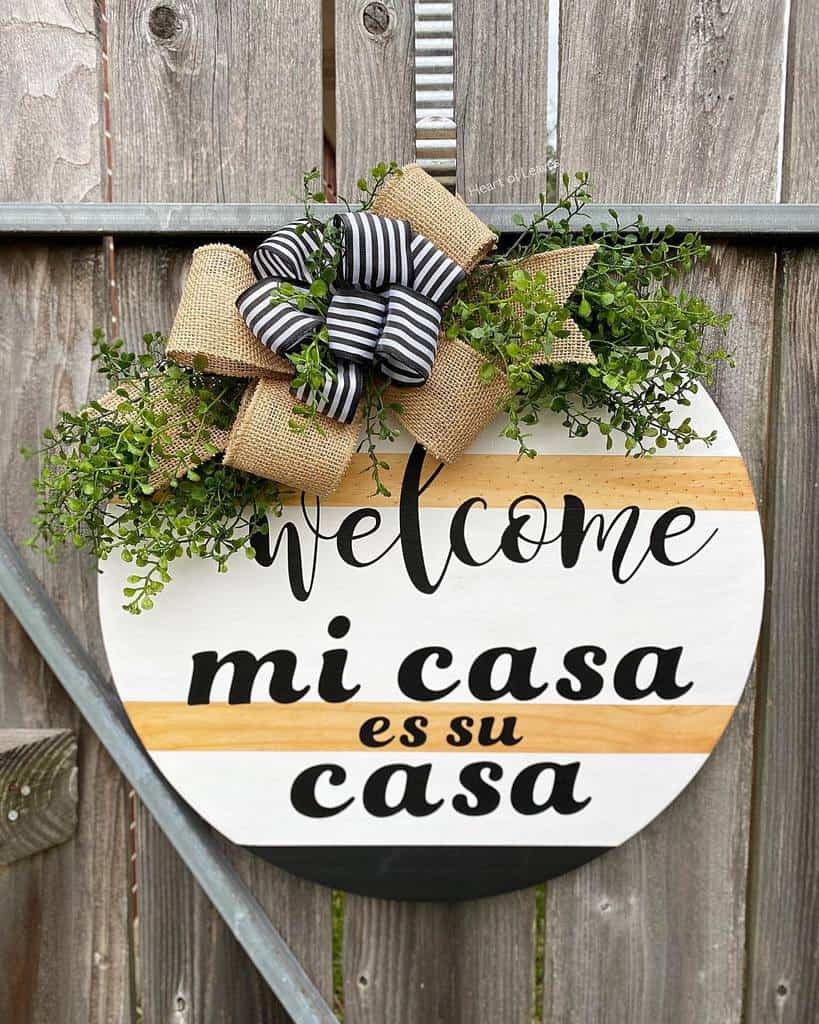 For a smaller greeting, tuck a hand-painted welcome sign into the middle of a wreath.
Combine a welcome sign with your family name and house number and hang it at eye level on or beside the front door.
If you have a generous and well-furnished front porch, you might want to make a "Welcome to our porch" sign instead of a more generic greeting.
If "Welcome" feels too formal, make a "Hello" sign instead.
Read more: 55 Welcome Sign Ideas
Wood Sign FAQs
What is the best wood for sign making?
The best type of wood for sign making is one that is durable and attractive. Redwood has traditionally been considered the best material to make a custom wood sign. Other good woods for a DIY wood sign include teak, cypress, Spanish cedar, white oak, locust, and Osage orange.
What paint to use for an outdoor wooden sign?
Any type of paint will work for an indoor wooden sign. However, for outdoor durability, latex paint is recommended.
How do you convert handwriting to wood?
Use a copier to enlarge the handwritten font to the size that fits your sign. Print it. 

Cover the back with graphite (use a graphite stick or a regular pencil). You can also use a sheet of graphite paper instead. 

Tape the paper where you want the words to appear on the sign. 

Trace over each letter, pressing hard enough to transfer the lines onto the wood.

Go over the lines if needed, then begin painting. 

If you prefer, use paint pens to form each letter.