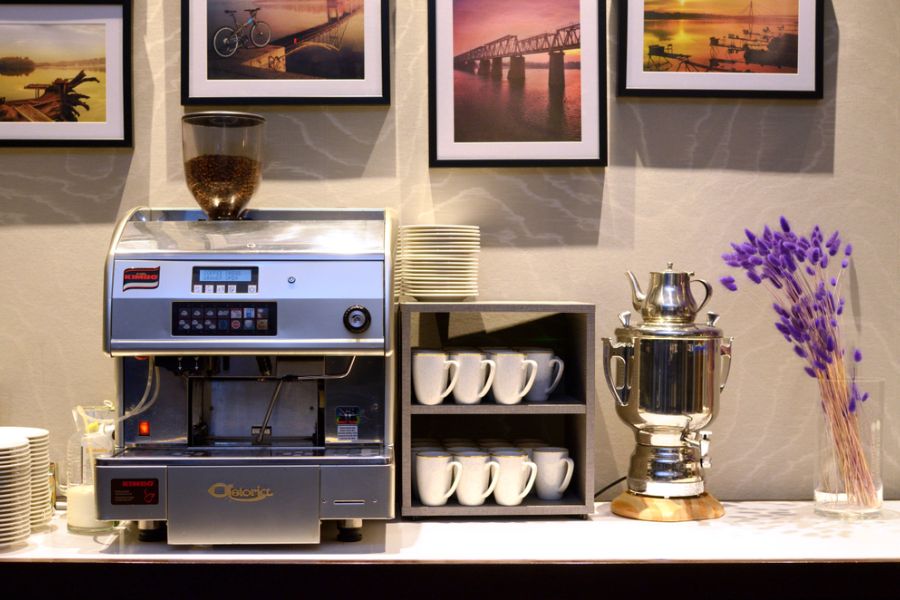 78 Coffee Station Ideas for Home
by — Kari Apted

Published on March 9, 2021

Updated on September 26, 2023
Good ideas start with brainstorming. Great ideas start with coffee.
If you're a coffee lover, a home coffee station is always a great idea. Brewing your own signature java at home is not only efficient, it's also considerably cheaper than daily trips to the coffee shop.
You probably already have the perfect counter, corner, or shelf for creating a coffee bar at home. A huge space is not required; you just need enough room for the coffee essentials.
Scroll through our best coffee station ideas and start brainstorming on how to create your own perfect home coffee nook.
1. Cabinet Countertop Coffee Station
Utilize your cabinet's countertop to craft a stylish coffee station that consolidates your coffee essentials. Choose a color scheme that harmonizes with your kitchen decor and ensures ample storage space for mugs and accessories. Consider adding decorative jars or chalkboard frames to personalize your station, reflecting your unique style and enhancing the overall kitchen ambiance. This simple yet effective design can streamline your morning routine and elevate your coffee experience.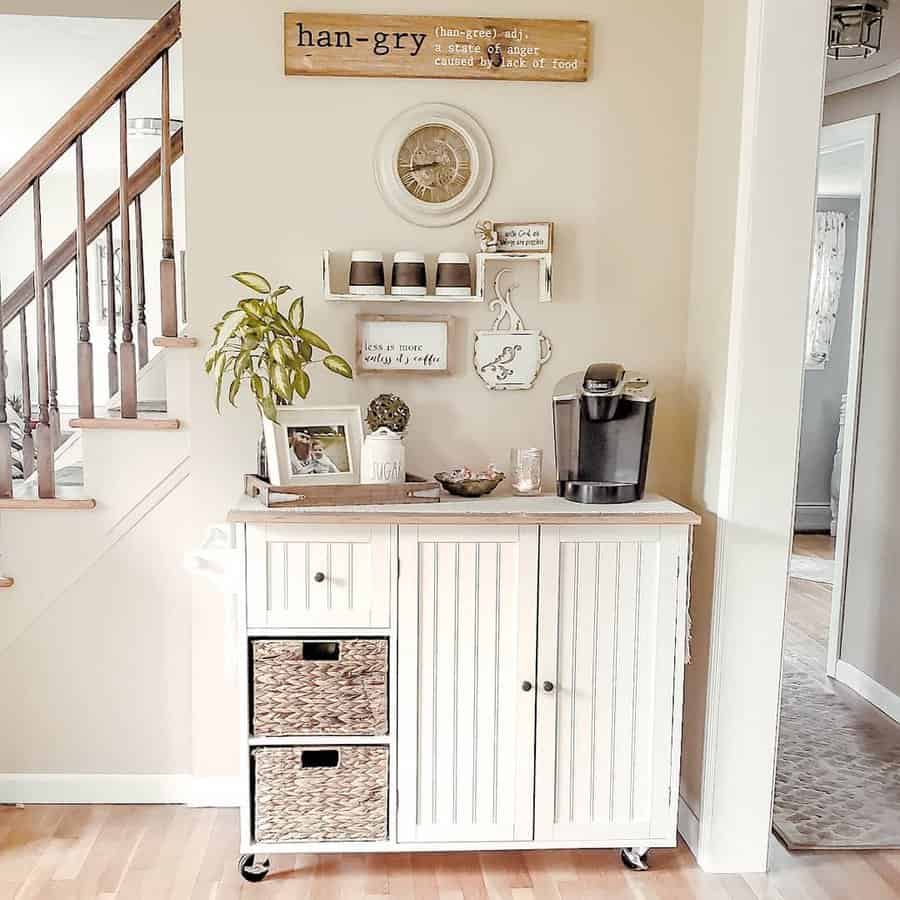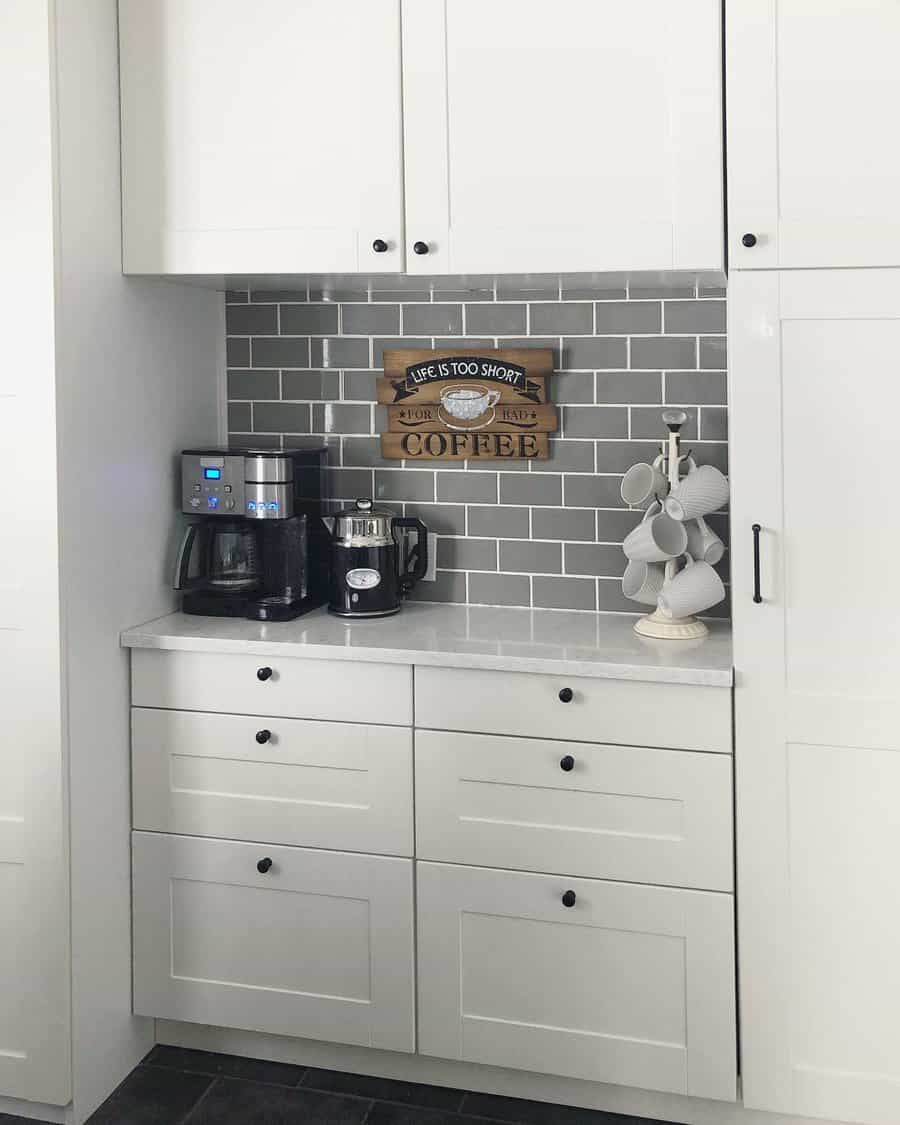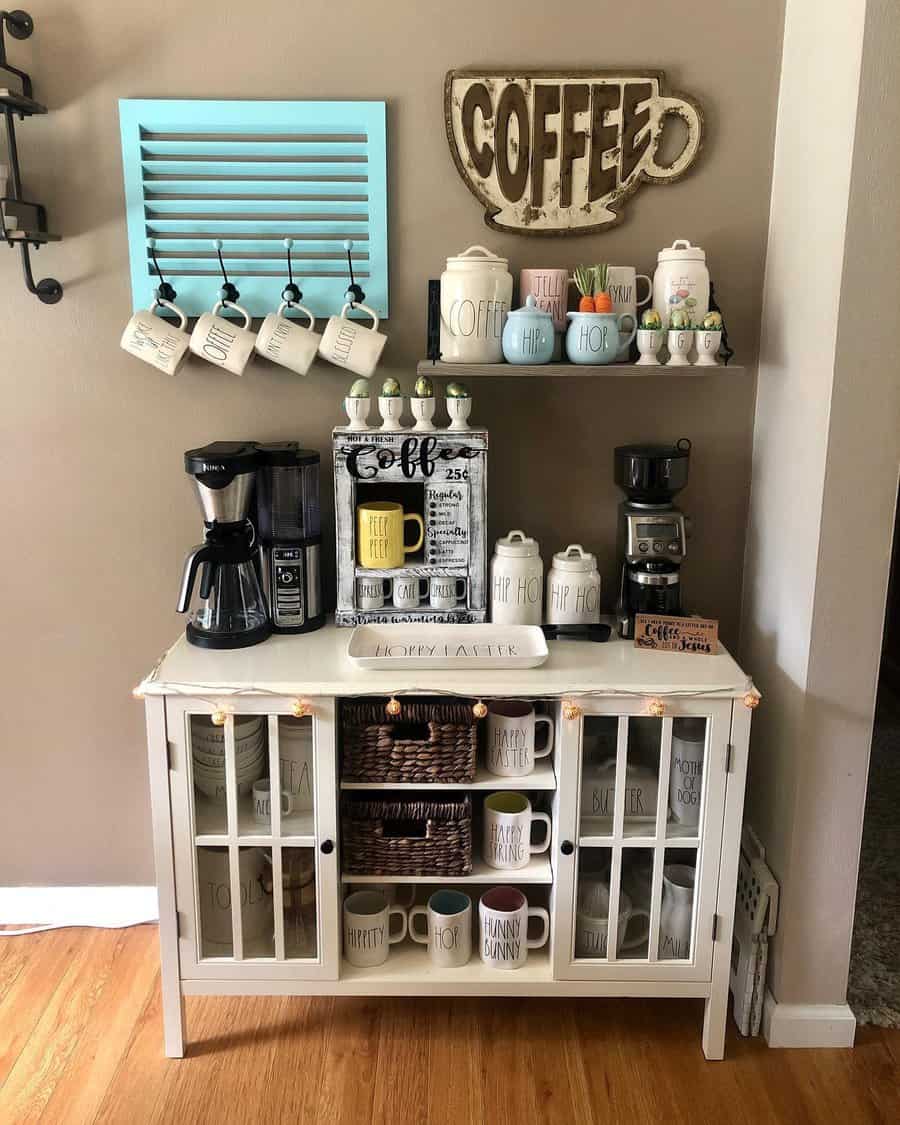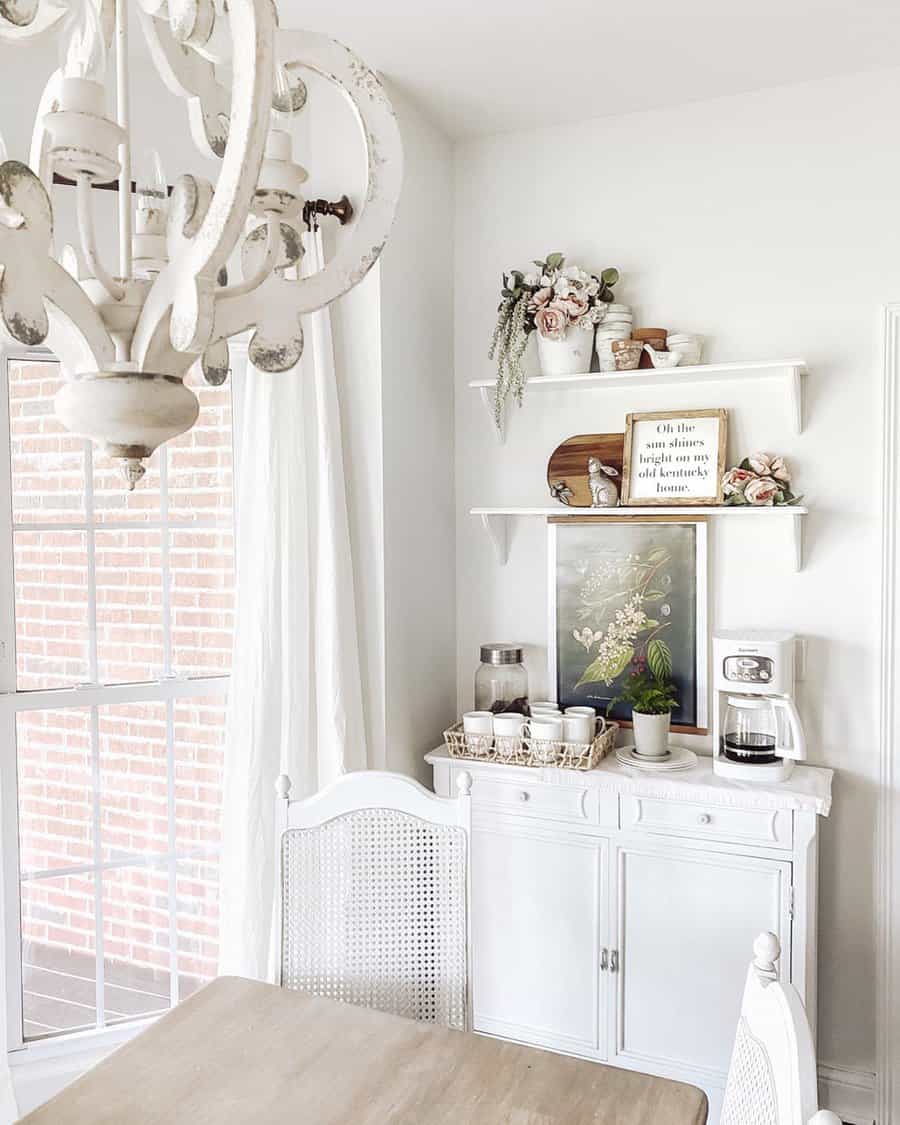 2. Vertical Space Coffee Maximization
Maximize vertical space in your kitchen by creating a coffee bar with floating shelves. These shelves are perfect for organizing coffee makers, mugs, beans, and accessories while also serving as a stylish display area. Opt for integrated shelves to keep your coffee essentials within easy reach.
Floating shelves not only add functionality but also enhance the overall aesthetics of your coffee station. Personalize your space with decorative accents that match your style. This clever home coffee station idea ensures you'll never have to rush for your morning brew again, all while elevating your kitchen's design.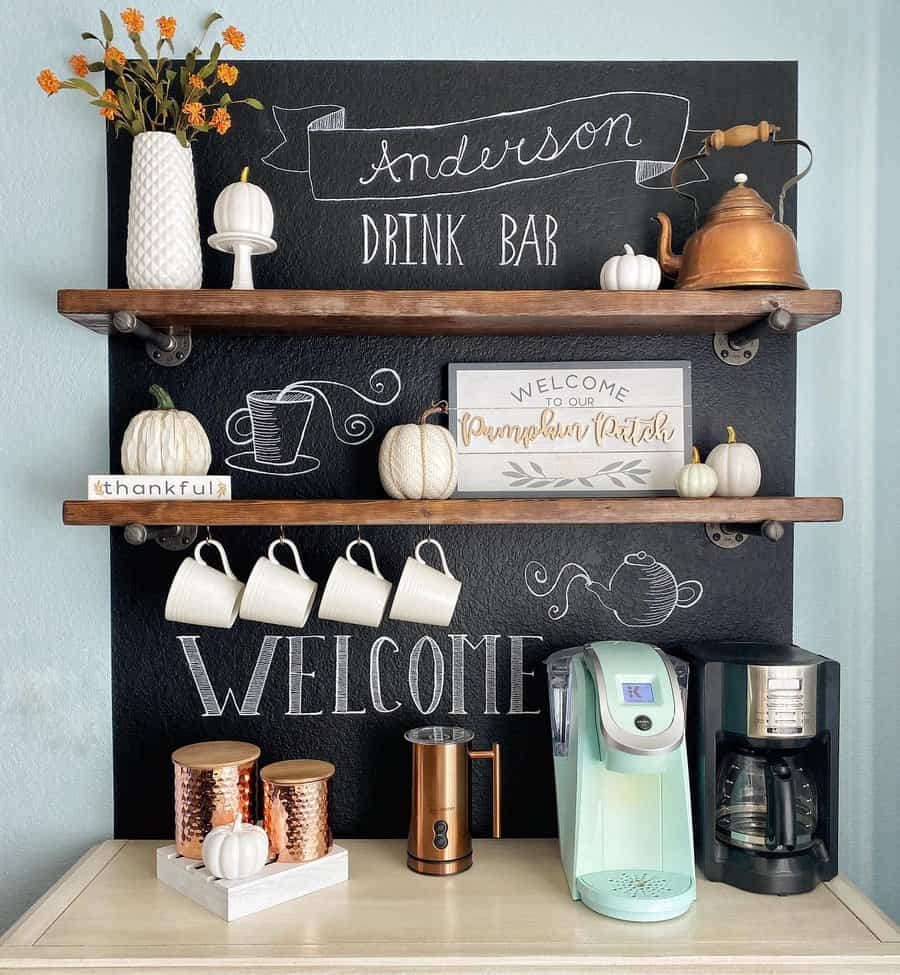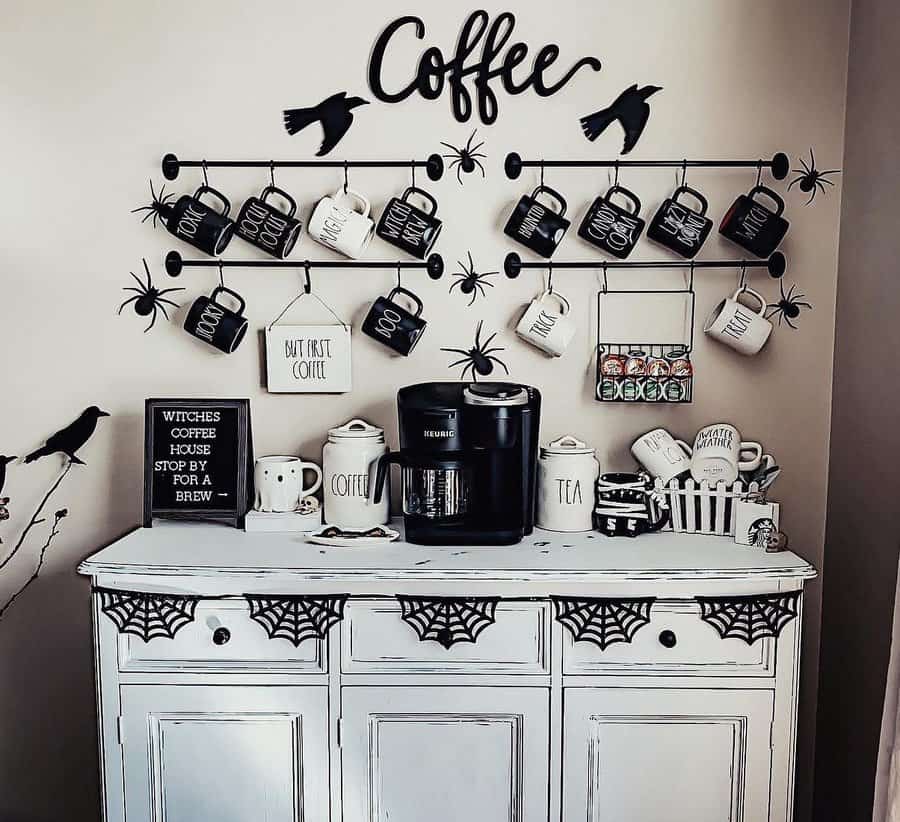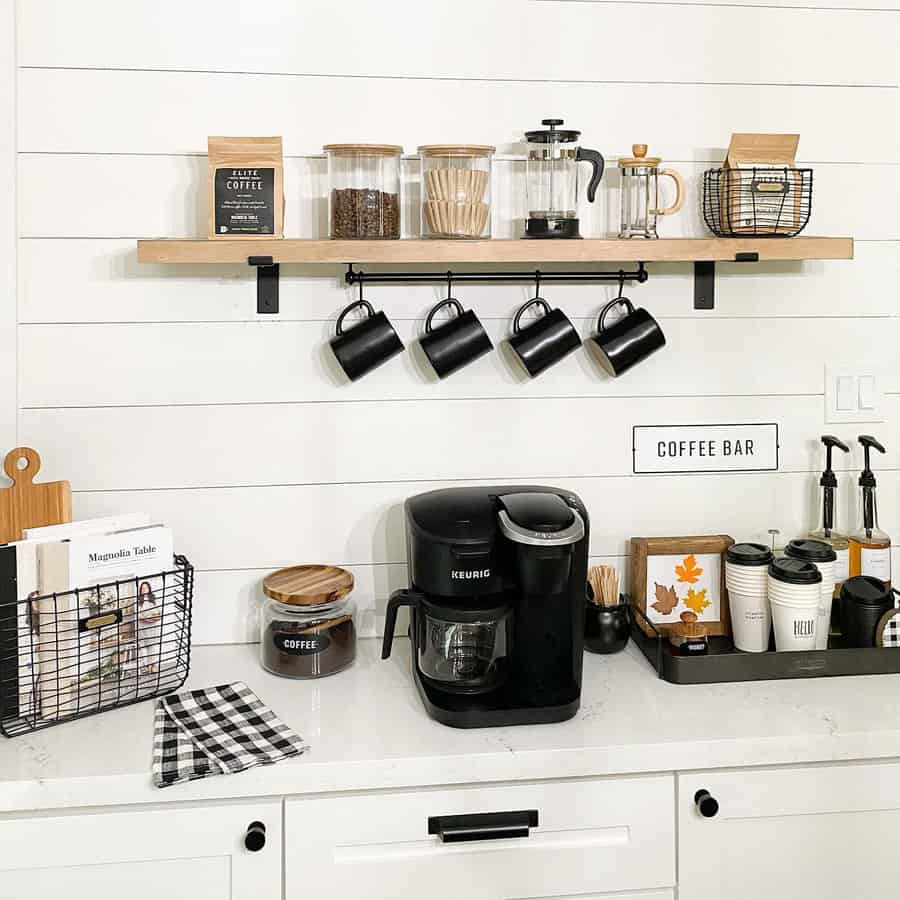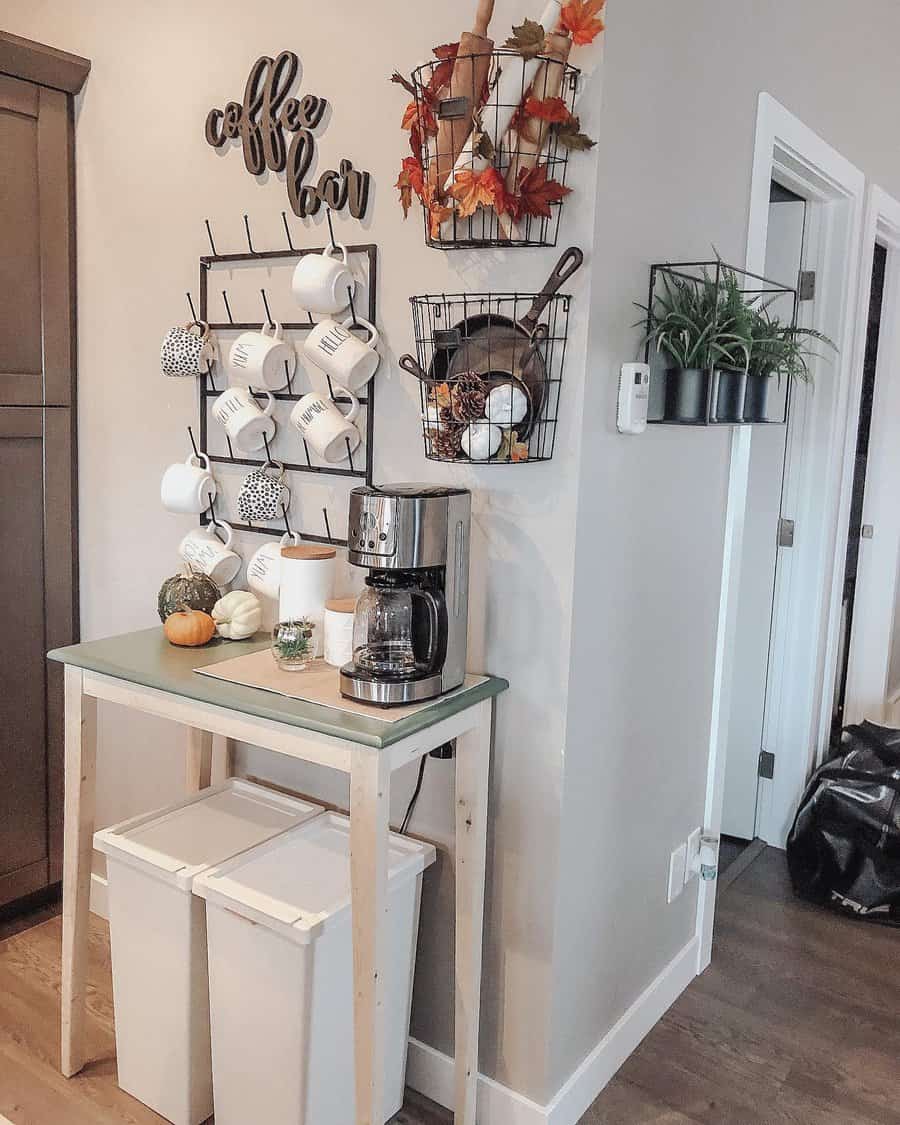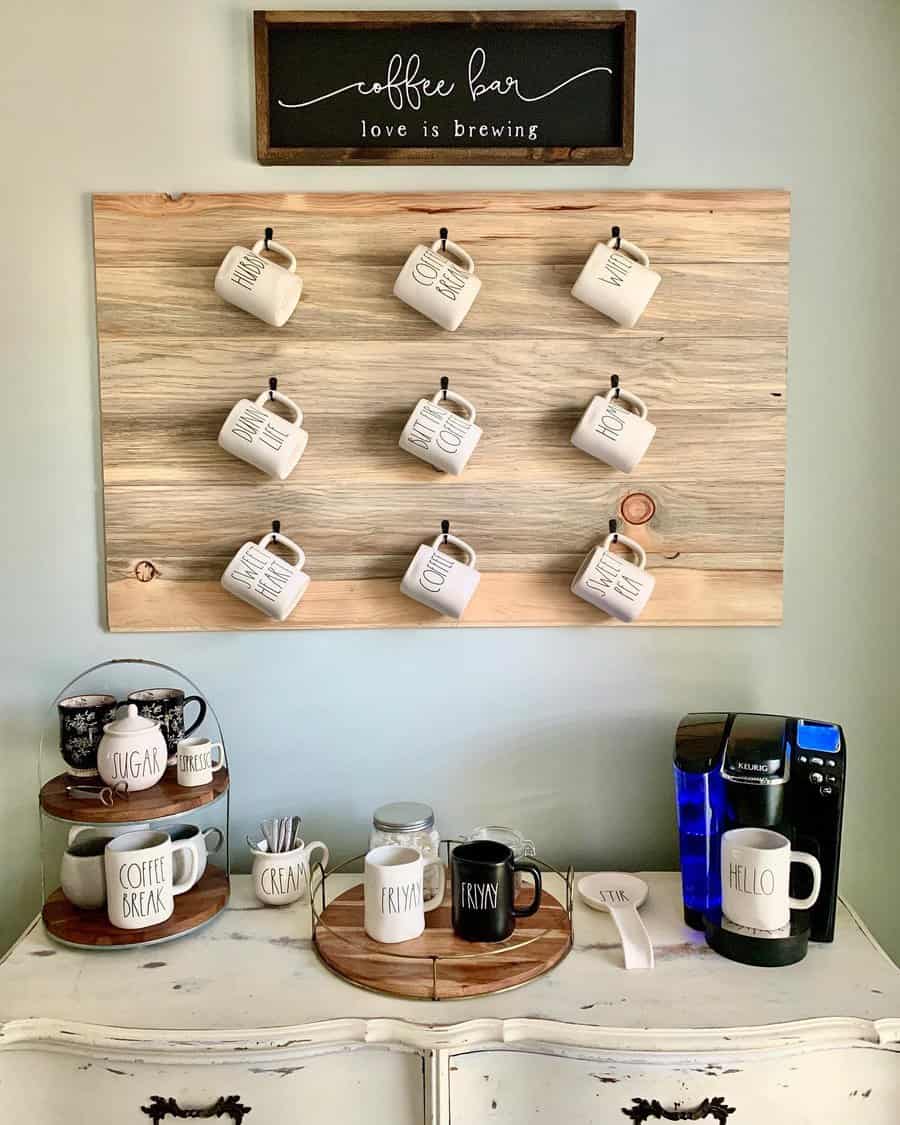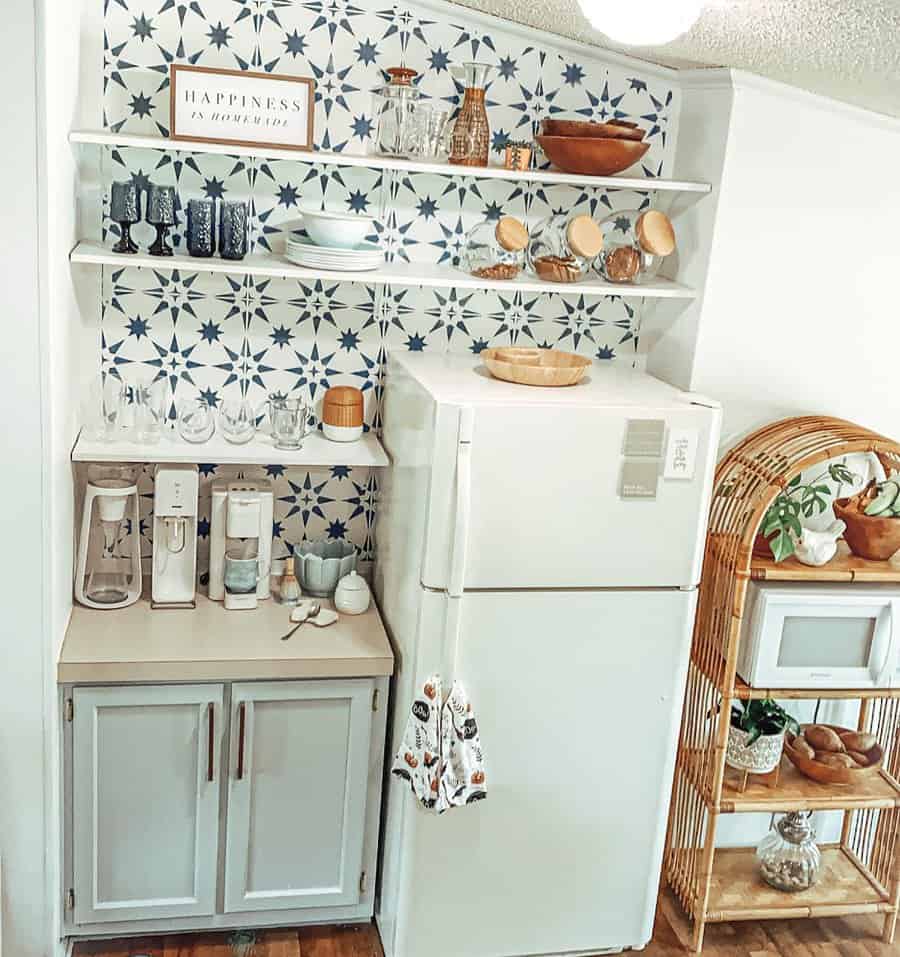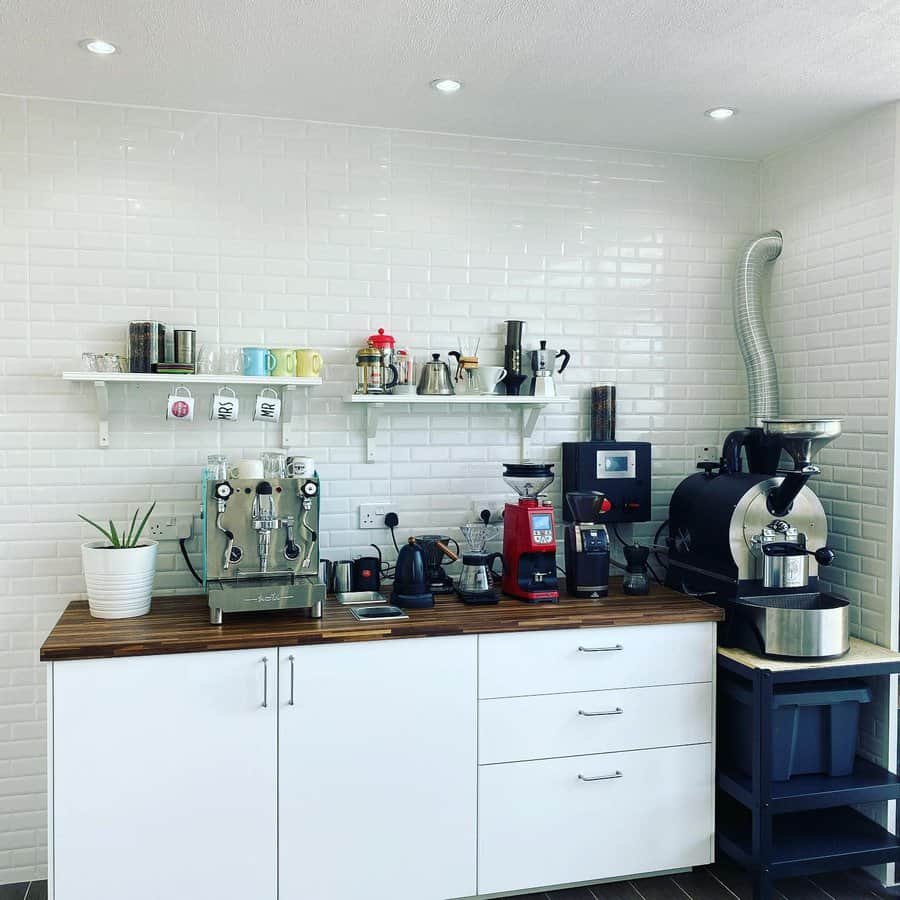 3. Kitchen Countertop Takeover for Coffee
Transform your kitchen countertop into a welcoming coffee station by utilizing an unused corner. Opt for unique storage solutions like vintage crates or wall-mounted shelves to keep everything organized. Add a personal touch with curated mugs and decor items to make it truly special.
For added convenience, consider including travel mugs, a thermos carafe for all-day hot beverages, and even an espresso machine for the serious coffee enthusiast. With these thoughtful additions and a dash of creativity, you can turn your kitchen into a charming and functional space for serving homemade coffee delights to your guests.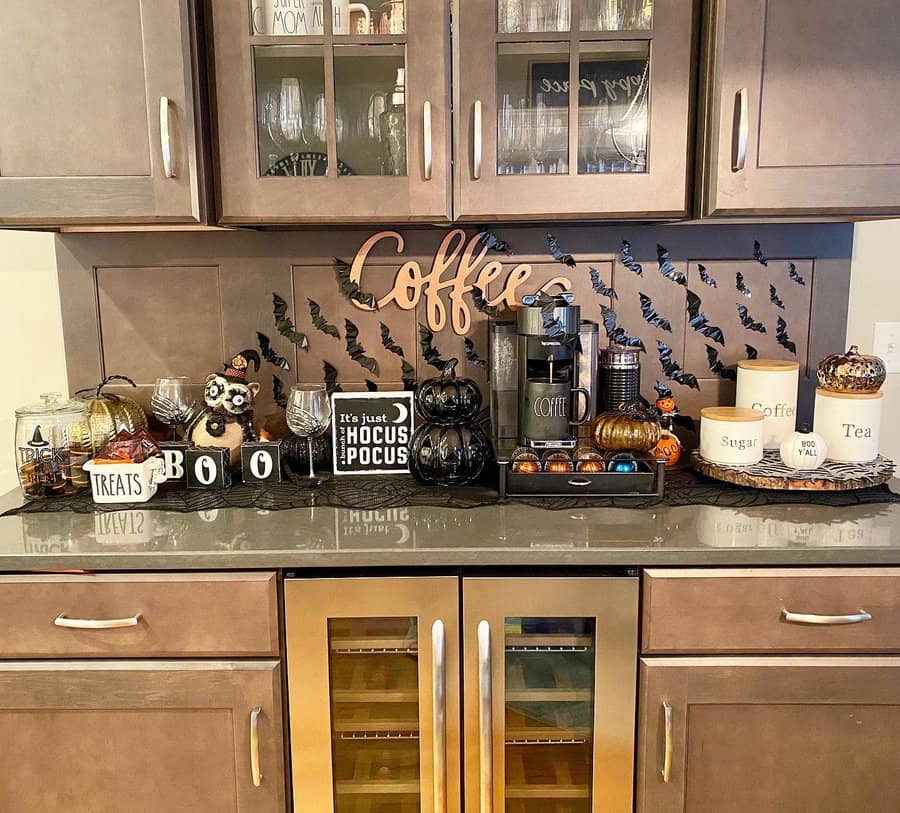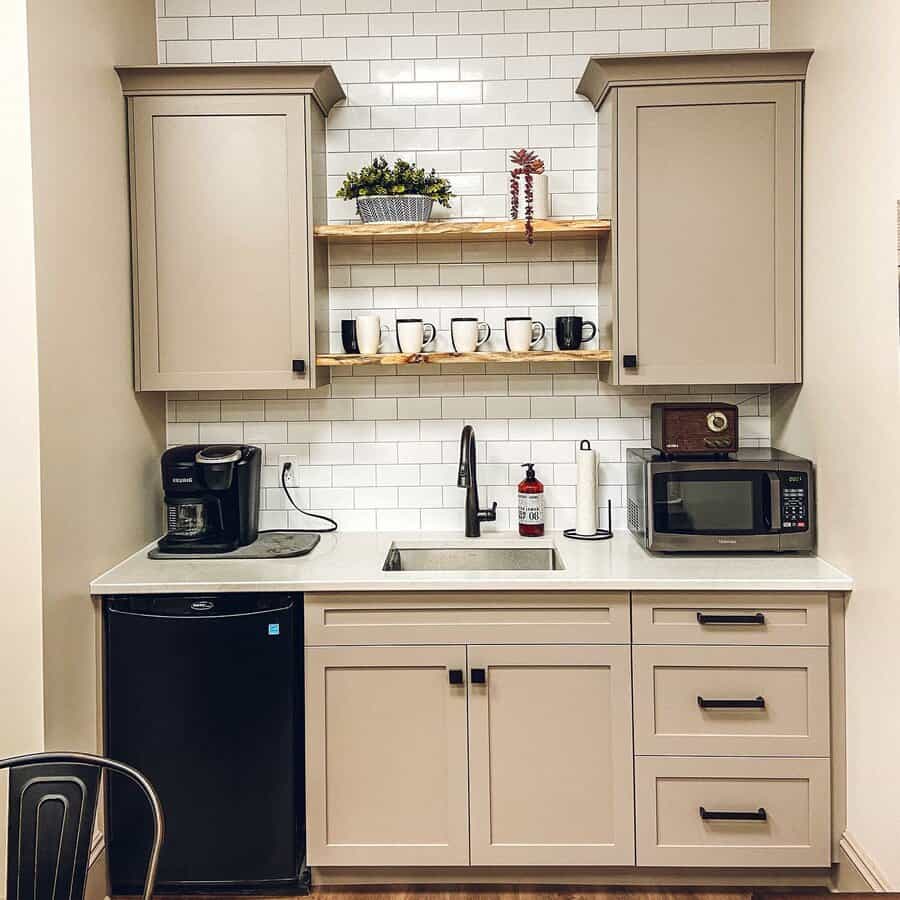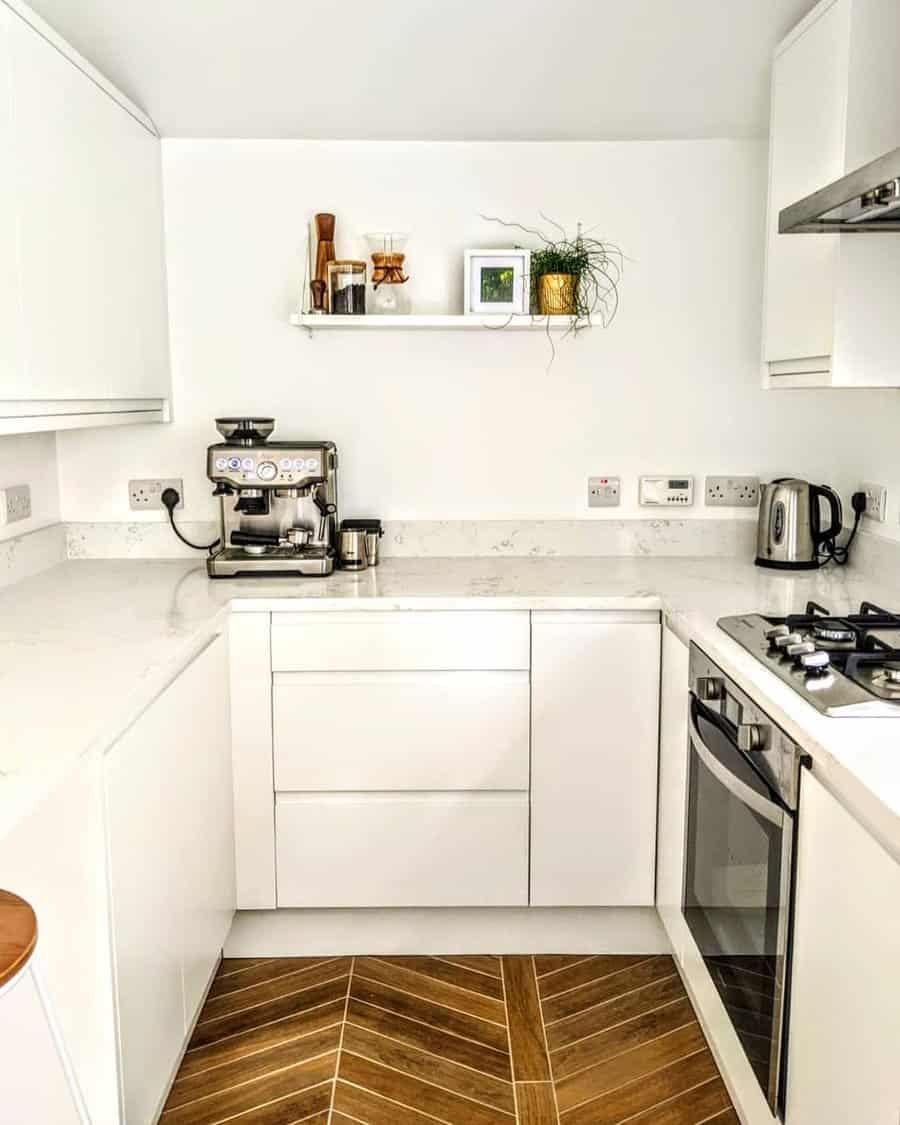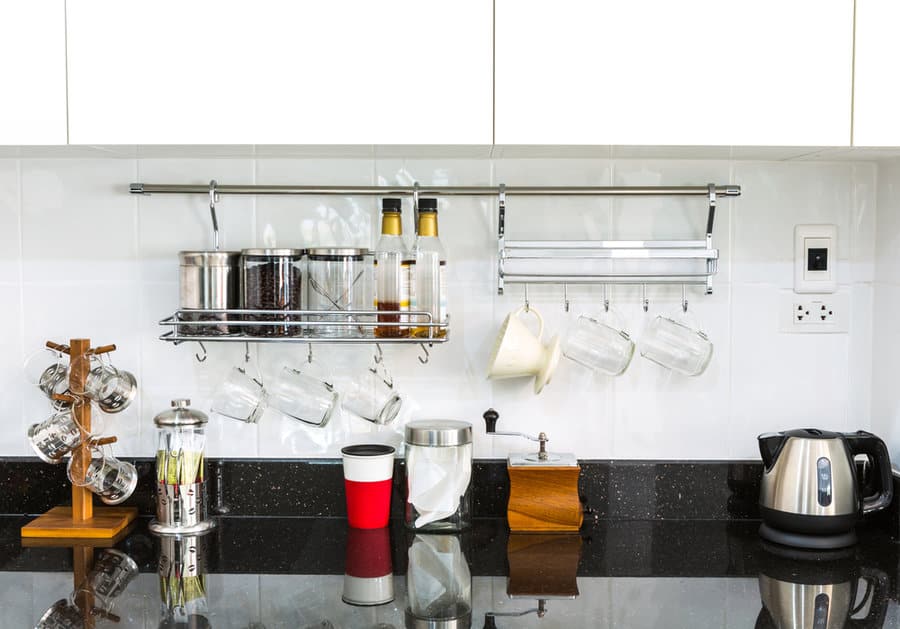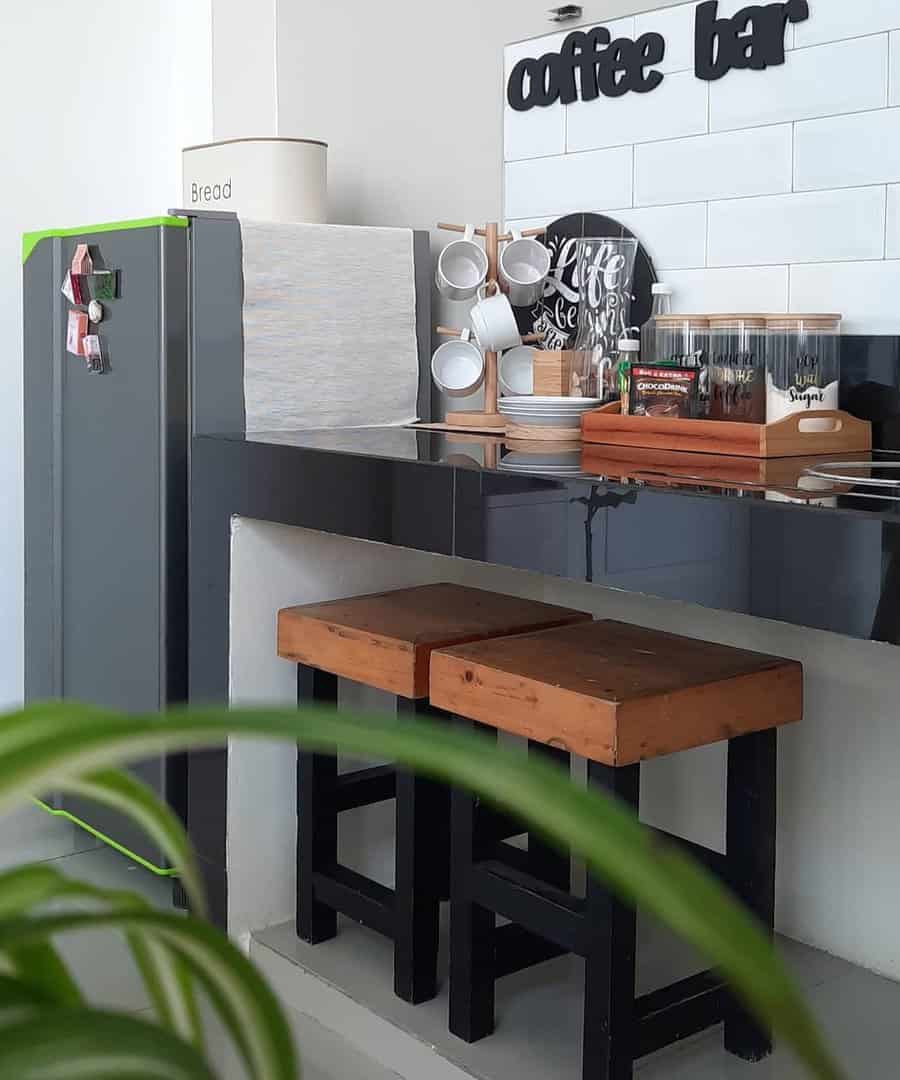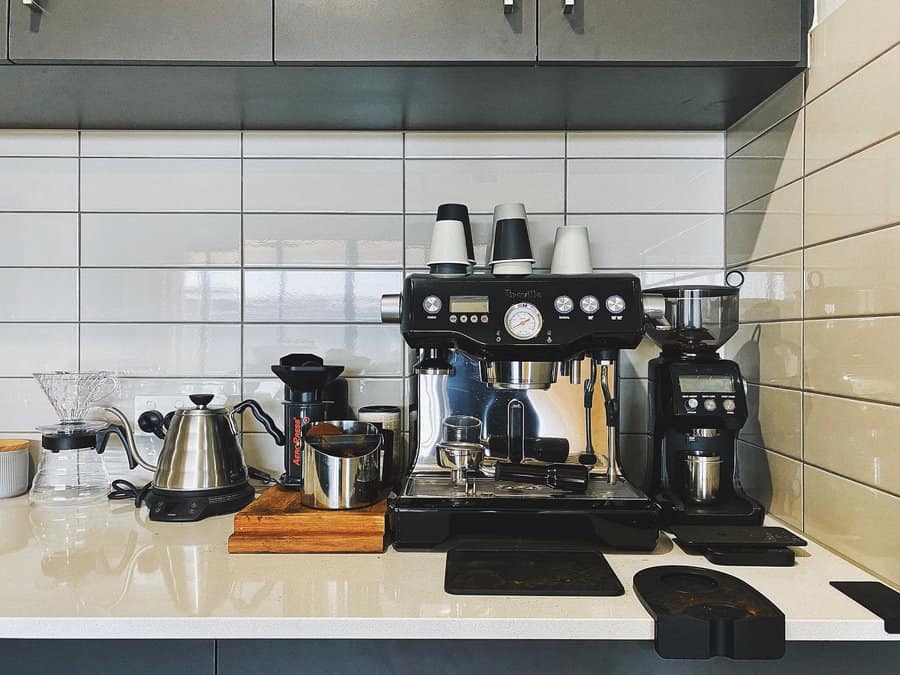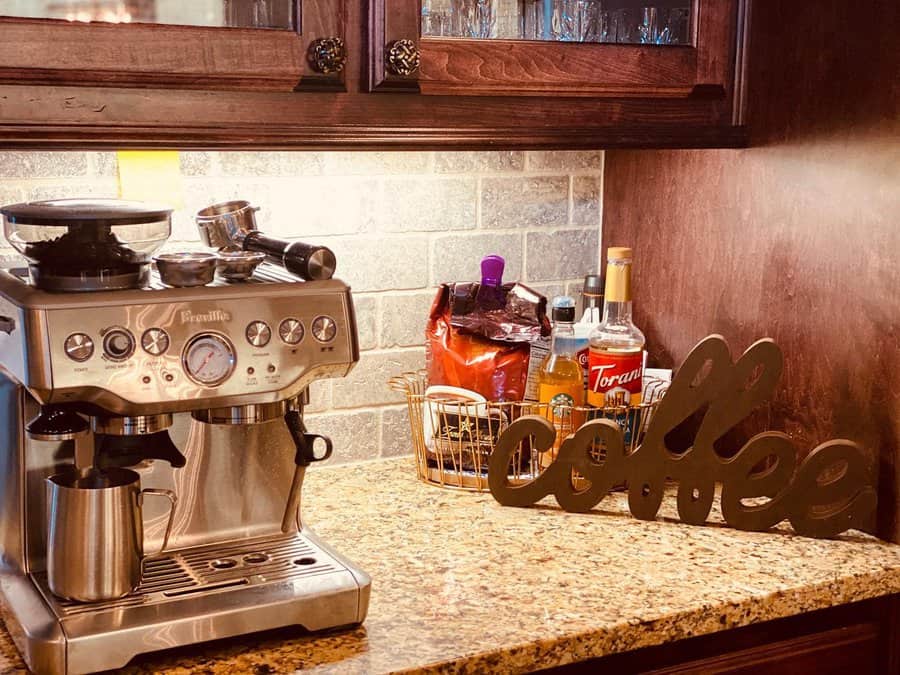 4. Recessed Coffee Bar Station
For a stylish and space-efficient coffee station that elevates your kitchen's aesthetics, consider a recessed design. This option keeps countertops clutter-free and imparts a sleek and polished appearance to your space. To create the perfect recessed coffee bar, cut an insert panel into the wall and design storage for coffee machines, mugs, and other essentials.
One of the key advantages of a recessed coffee station is the additional countertop space it provides, perfect for food preparation or serving snacks when entertaining guests. This design not only enhances your kitchen's visual appeal but also ensures you have everything at your fingertips for crafting delicious coffee drinks.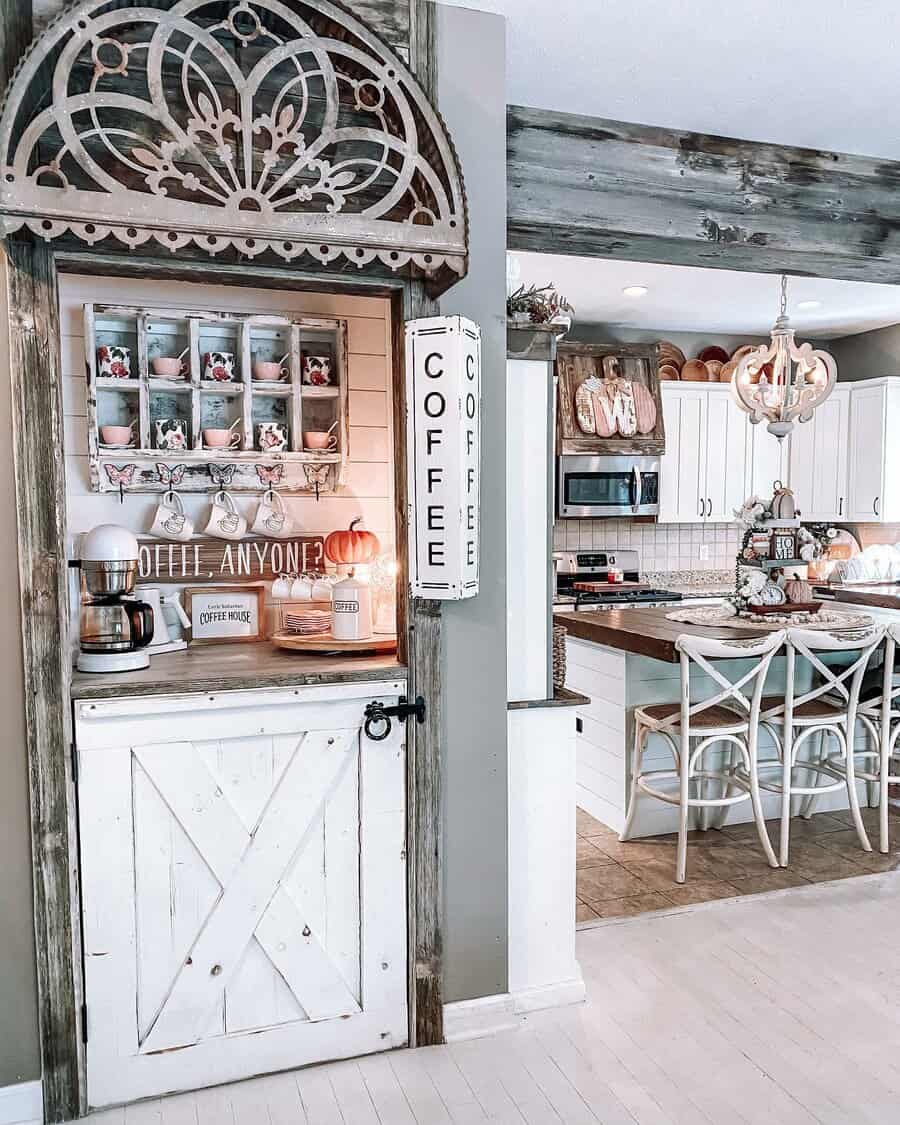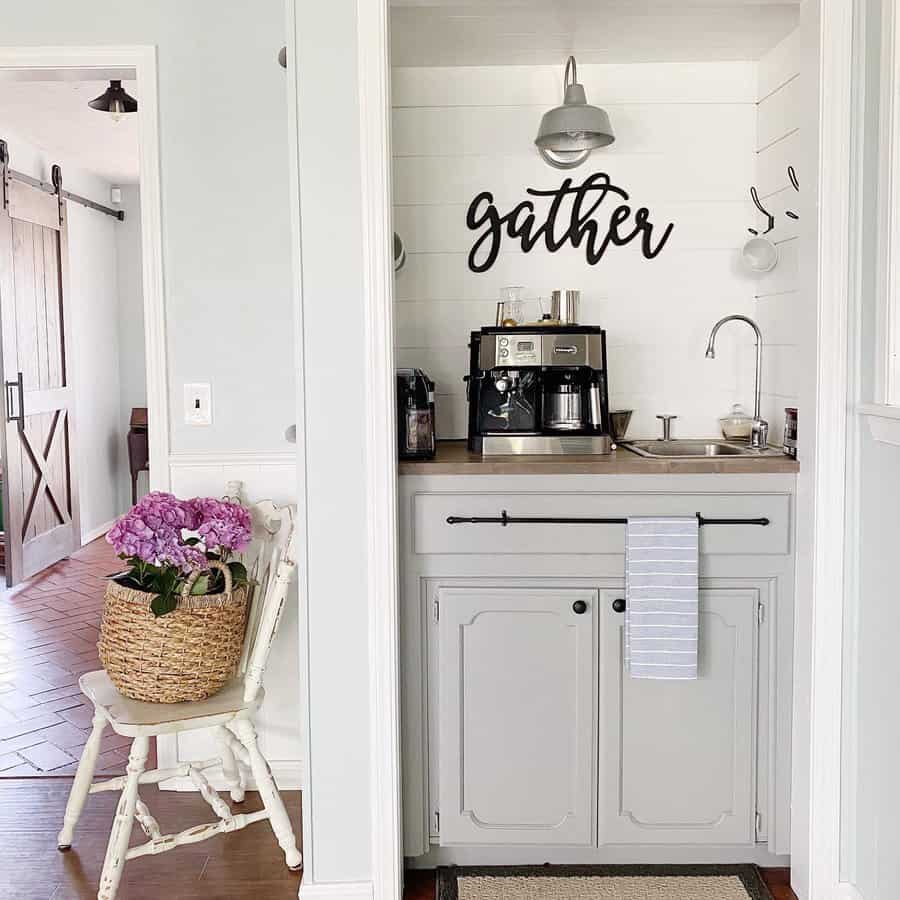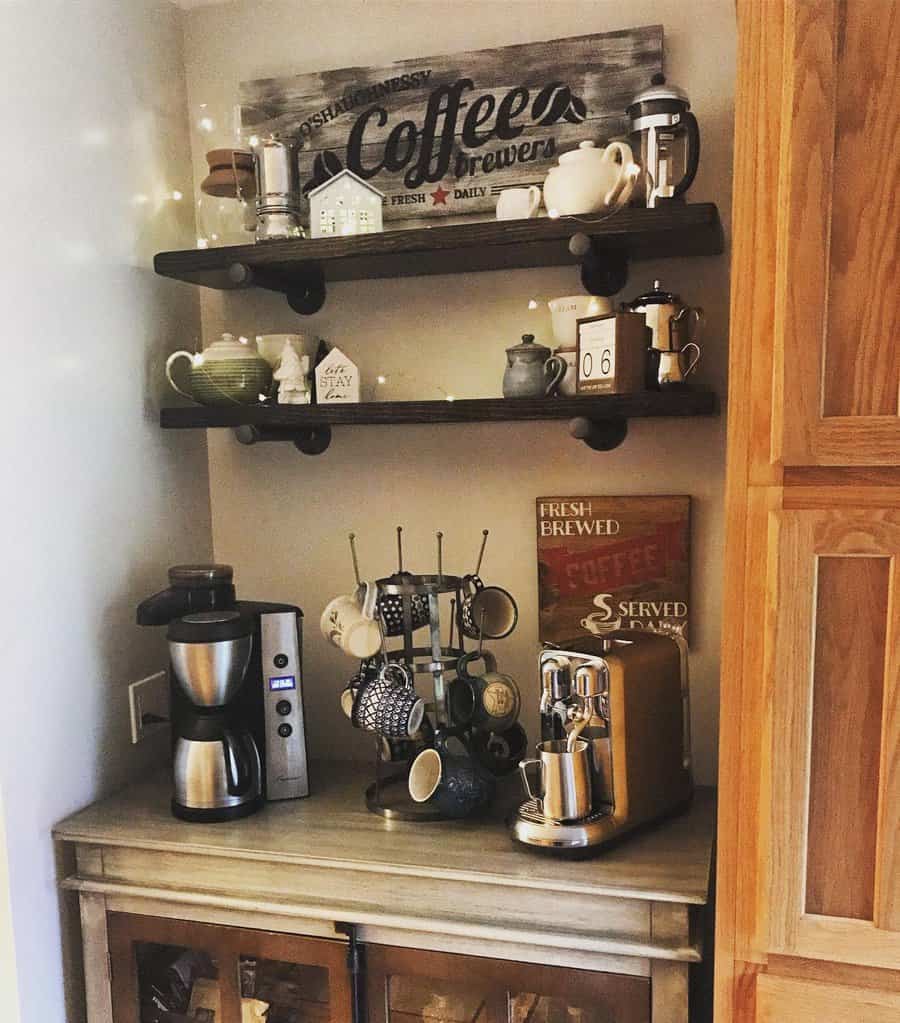 5. Coffee Wall Art Display
Transform your coffee station into a captivating masterpiece by exploring creative display options. Embrace wall art to craft a custom focal point in your kitchen. Consider unique choices such as captivating map artwork, a charming lattice made from framed used coffee bags, or playful wordplay adorning your walls.
To enhance the visual appeal, introduce bursts of color with bistro-style chalkboard mugs and vibrant storage jars. These thoughtful details will tie the room together, creating an inviting space for brewing delightful coffee, whether for yourself or to share with your guests. Elevate both the aesthetics and atmosphere of your coffee haven with these artistic touches.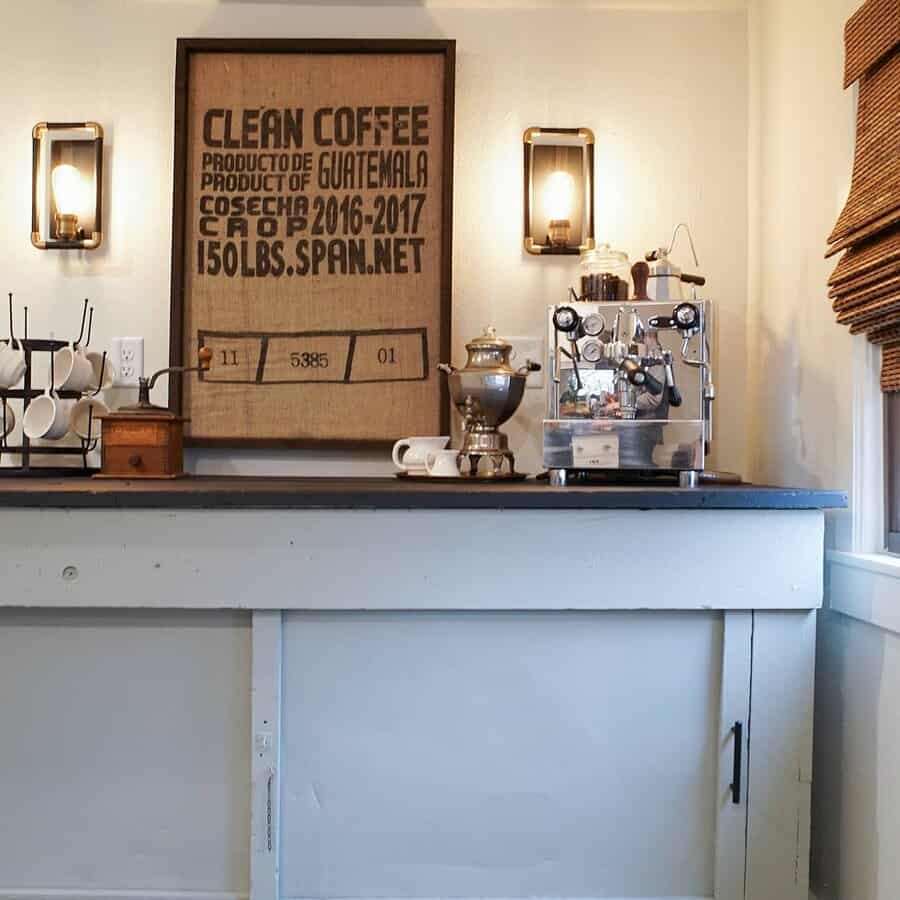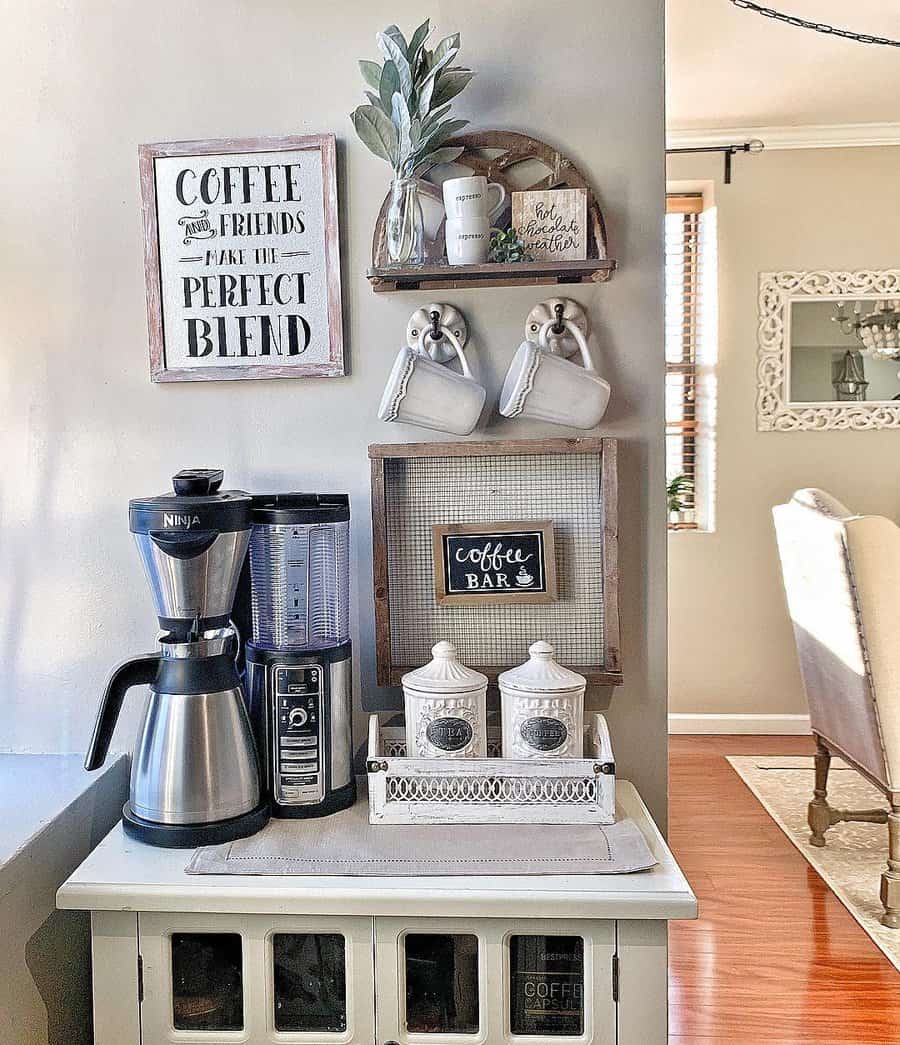 6. Cozy Small Corner Coffee Nook
When space is limited, craft a charming small corner coffee nook to satisfy your caffeine cravings. Begin with a petite corner table, ideal for housing specialty coffees, teas, and compact mugs or cups to infuse a personal touch. Don't hesitate to incorporate small plants or tasteful decorations for added character.
Enhance organization with floating shelves and dividers, ensuring your essentials are neatly arranged. With these simple additions, you can create an inviting home spot where you can savor a steaming cup of coffee, even in the coziest of spaces. Enjoy the warmth and comfort of your personal coffee retreat!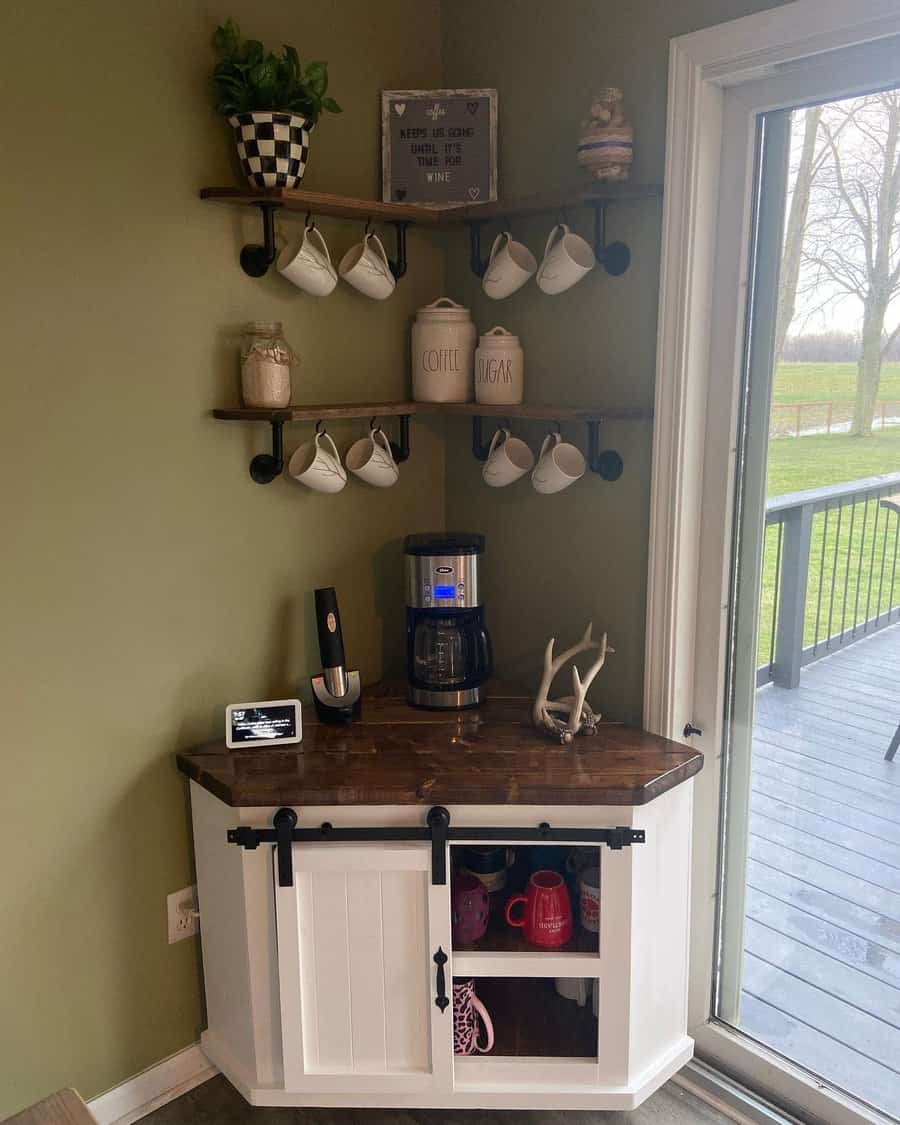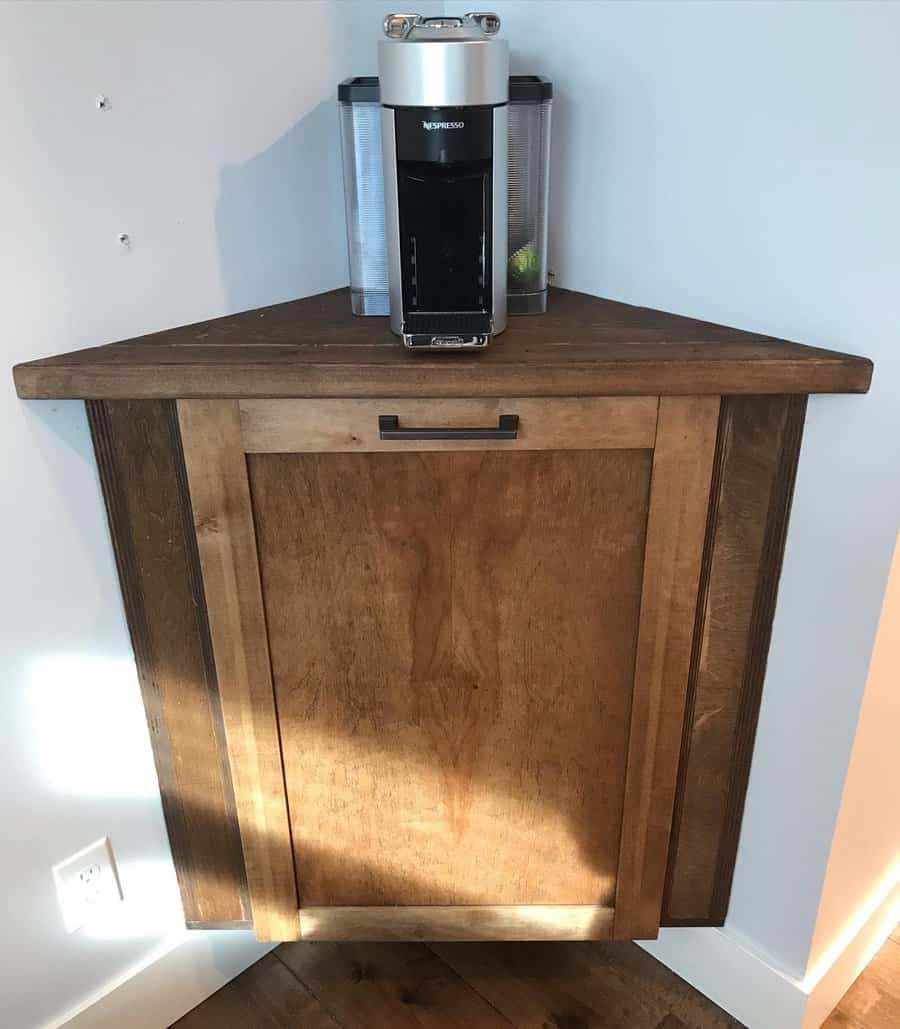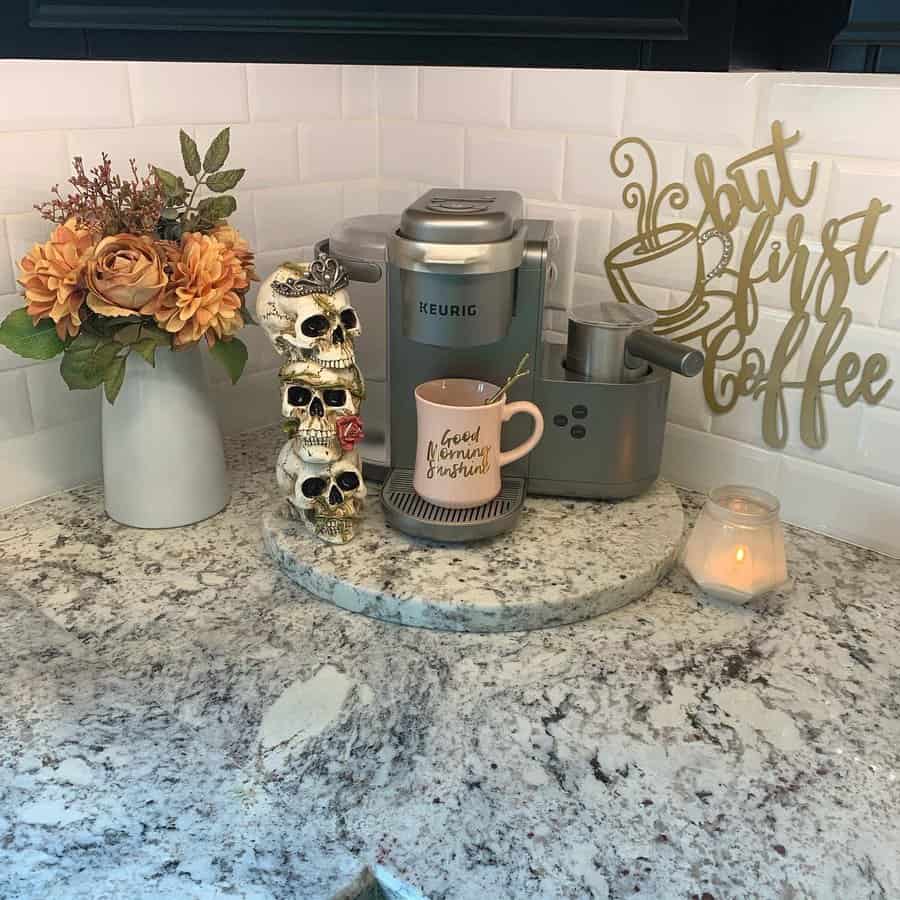 7. DIY Crate Coffee Station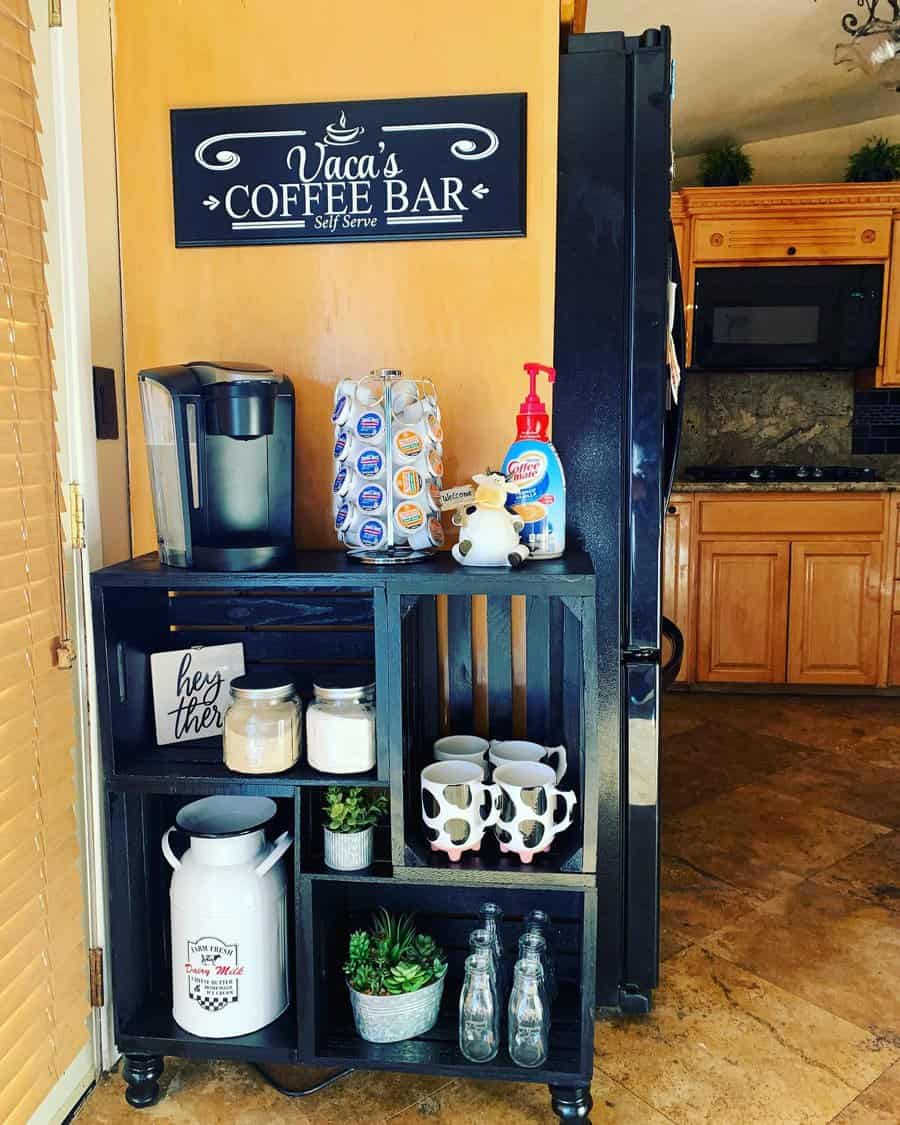 8. Tray Rack Coffee Organization
Elevate your home coffee station with a tray rack setup, combining functionality and aesthetics. This unique display not only showcases your coffee essentials but also infuses your kitchen with visual interest and style. An assortment of mugs, flavored syrups, and teaspoons on the tray rack becomes a captivating conversation starter when entertaining.
When kitchen space is a concern, opt for a tiered rack as a space-saving solution that still allows for effective item display. For those seeking additional storage options, explore a rolling coffee station equipped with hooks and shelves, providing flexibility to adapt to your evolving needs. Enhance your coffee experience with a well-organized and visually appealing tray rack coffee station.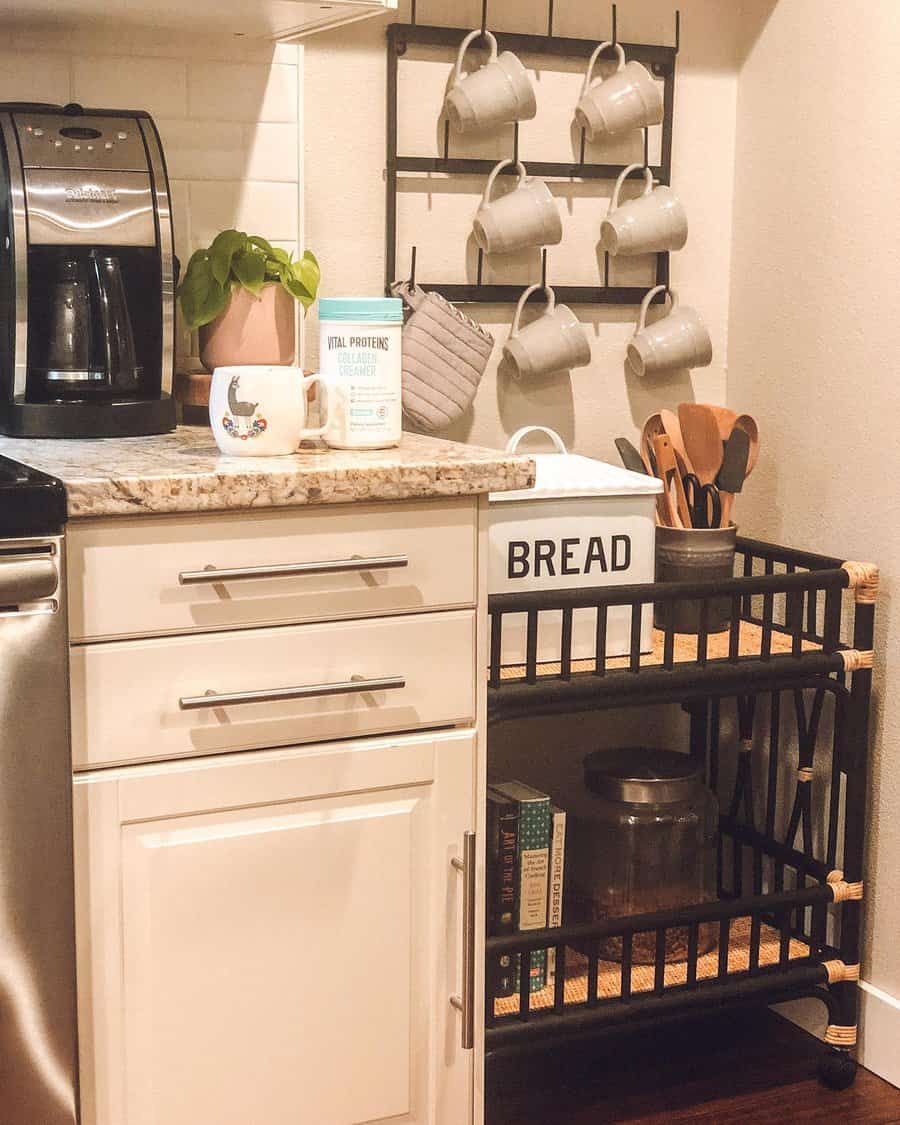 9. Apothecary Drawer for Coffee Pods
Achieve coffee station organization perfection by adopting the charming aesthetics of an apothecary. Store your assortment of specialty coffees conveniently in a dedicated drawer, ensuring easy access to your favorite brews.
Implementing an apothecary-style drawer for coffee pods not only enhances visual appeal but also simplifies selection. Label each section to keep track of your coffee pod varieties, whether it's dark roast, light roast, flavored, or decaf. This streamlined approach ensures your morning routine starts without delays or excuses, delivering a hassle-free coffee experience that caters to your taste preferences.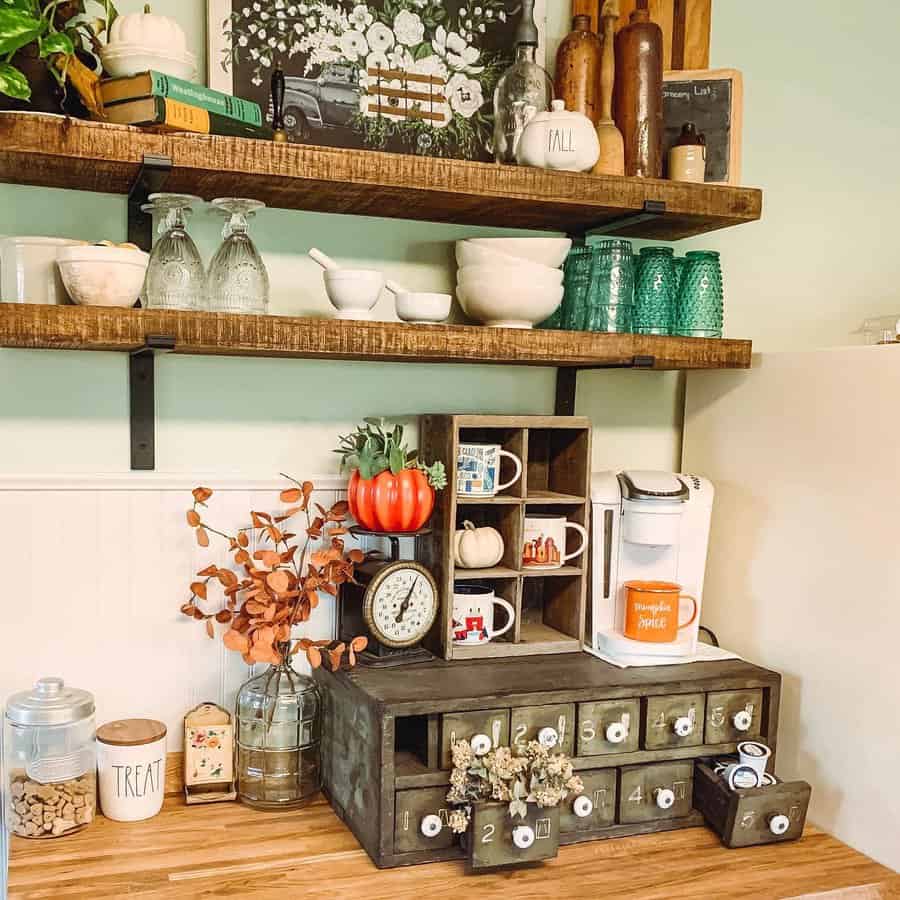 10. Wall-Mounted Coffee Countertop
Simplify the creation of your home coffee station with a wall-mounted countertop for a swift and effortless setup. This solution offers a convenient spot for crafting your ideal morning brew.
Whether you're a dedicated coffee enthusiast or an aspiring home barista, consolidating your coffee supplies in one location can streamline meal preparation and elevate your coffee experience. All it takes is a selection of wall-mounted bins, mugs, and other accessories to establish a dedicated space where you can relish and share the joy of one of the world's oldest beverages with loved ones. Enjoy the ease and functionality of your coffee haven!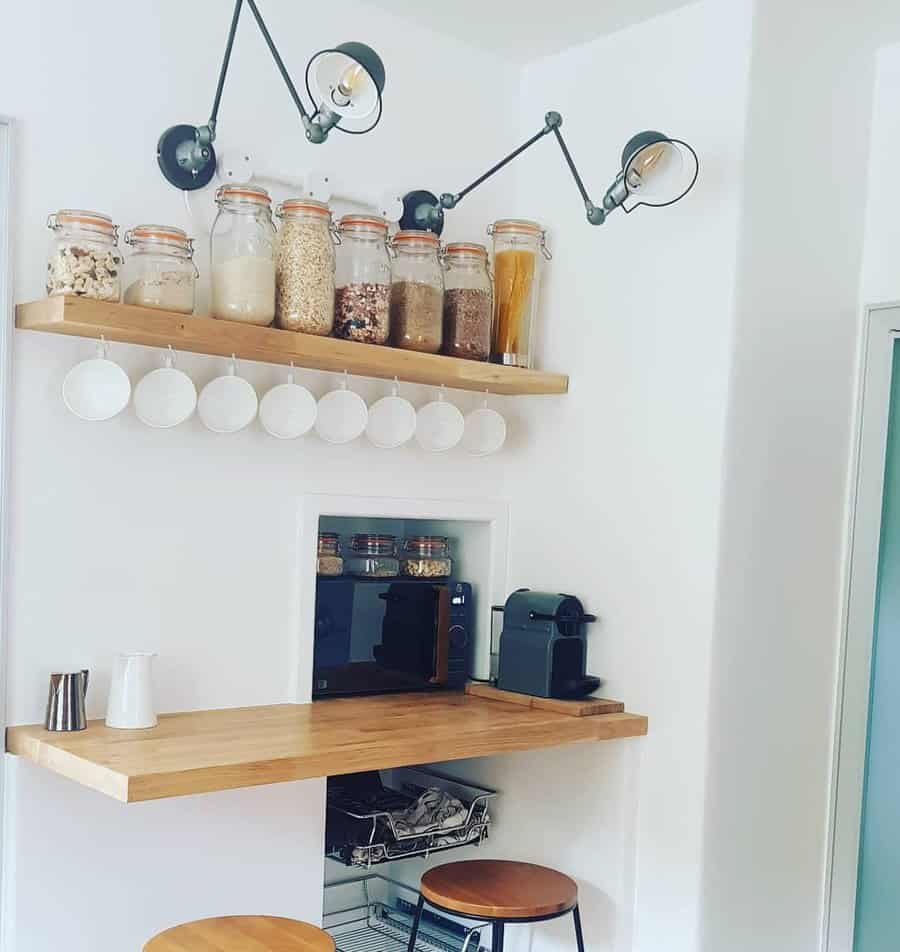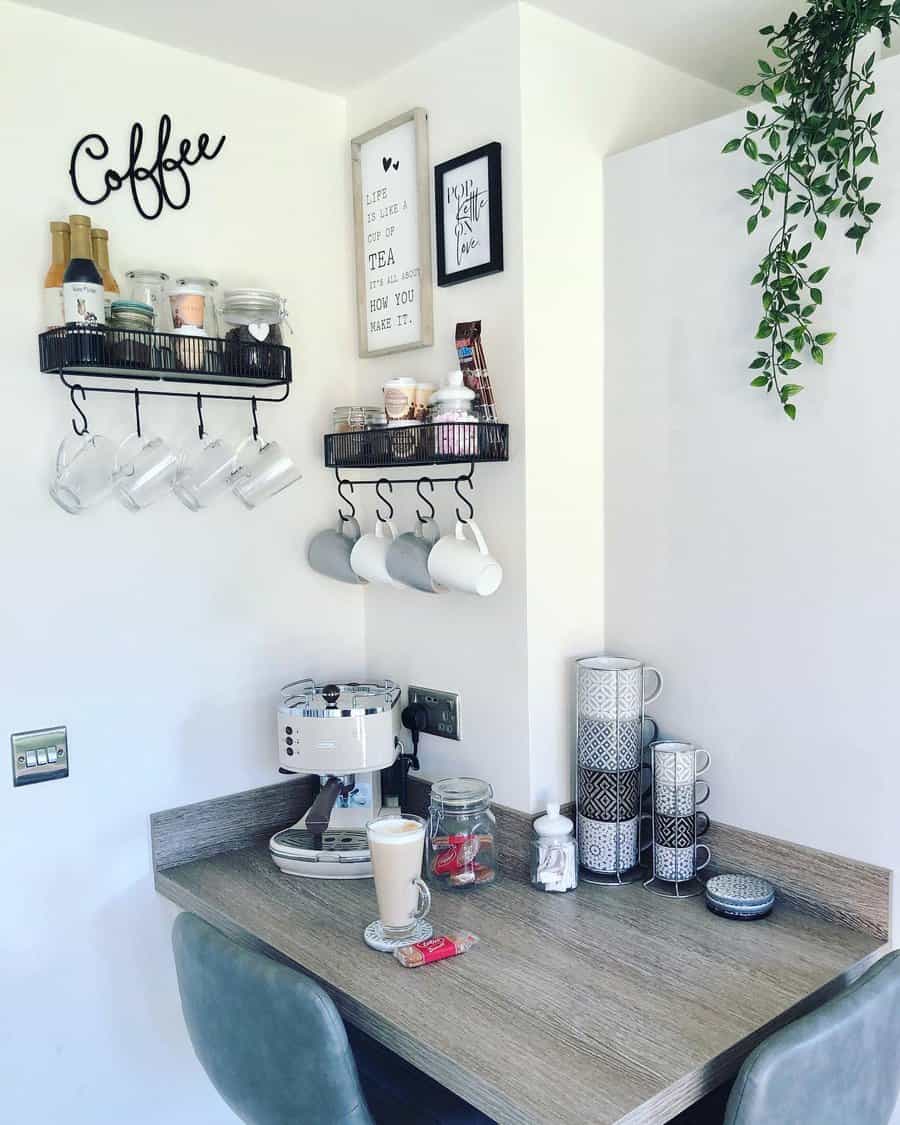 11. Rustic Coffee Bar Setup
Embrace rustic charm in your home coffee station for a cozy and inviting ambiance. Incorporate earthy textures, reclaimed wood, and vintage-inspired elements to achieve a warm and welcoming atmosphere.
Whether you're a coffee connoisseur or an amateur barista, organizing your coffee essentials in a rustic setting adds a touch of nostalgia to your daily routine. Consider rustic shelves, weathered mugs, and antique accents to create a unique coffee haven that captures the essence of comfort and tradition. With this setup, you'll enjoy the soothing and functional aspects of your coffee oasis.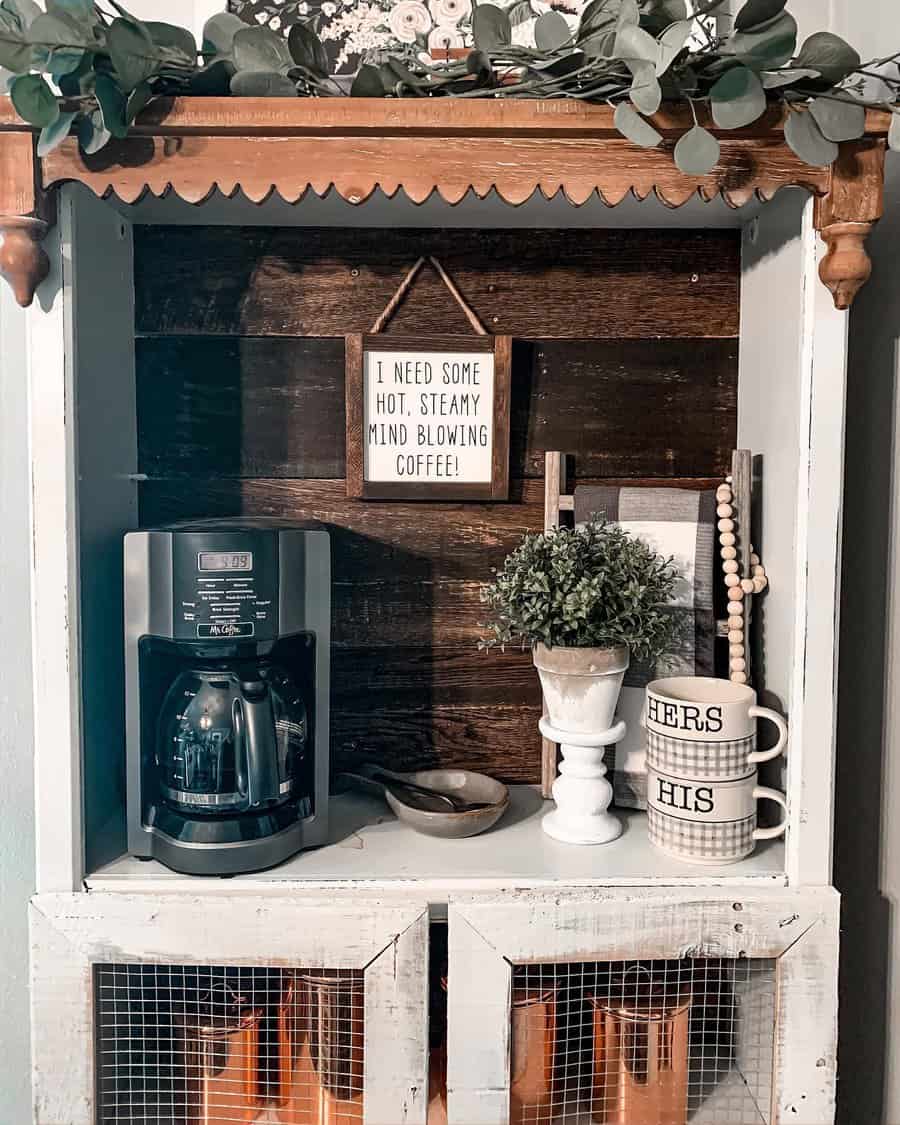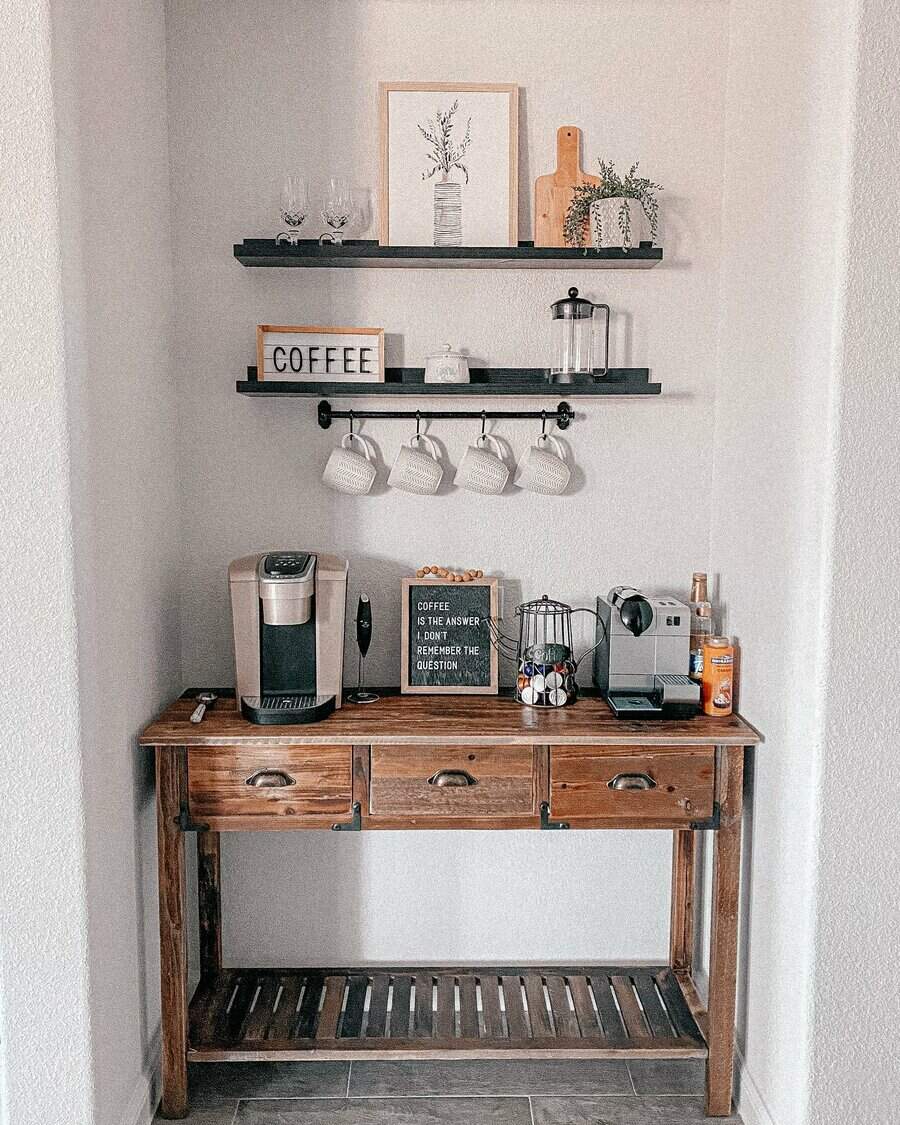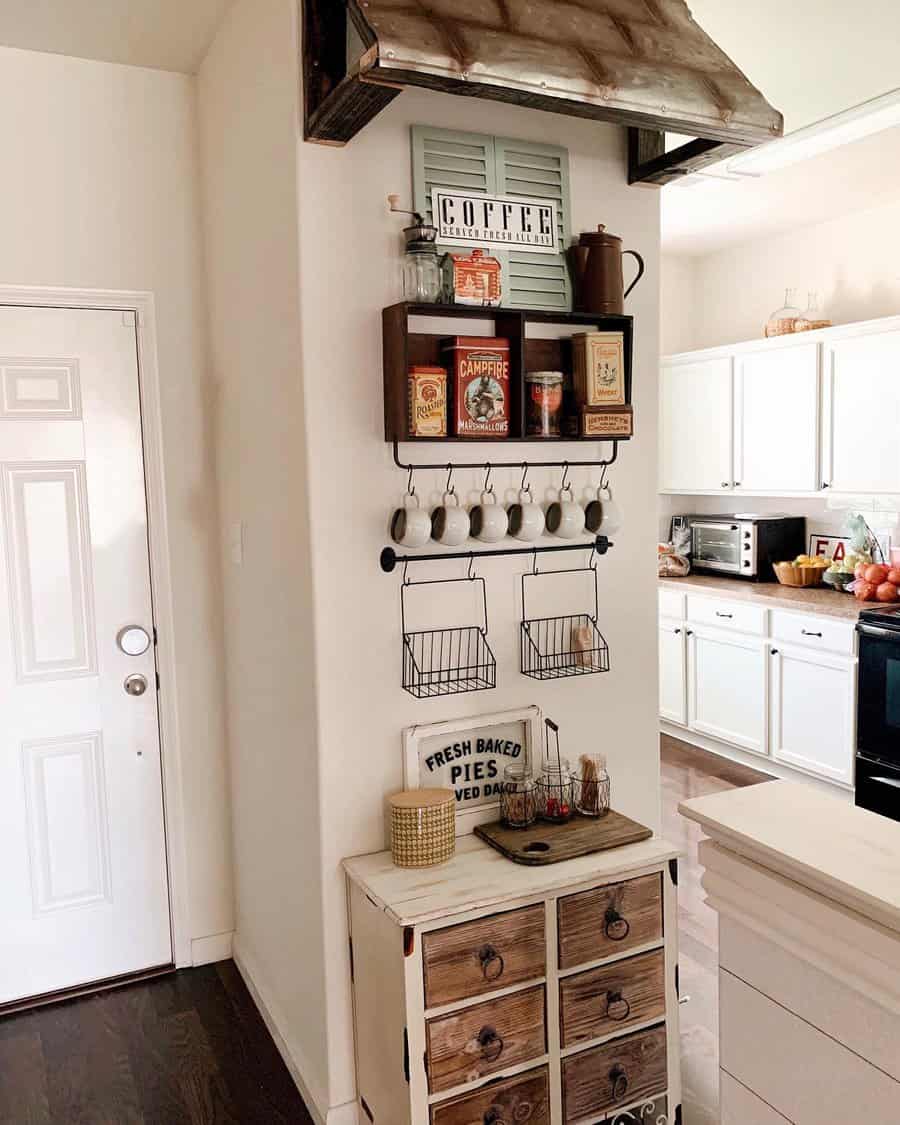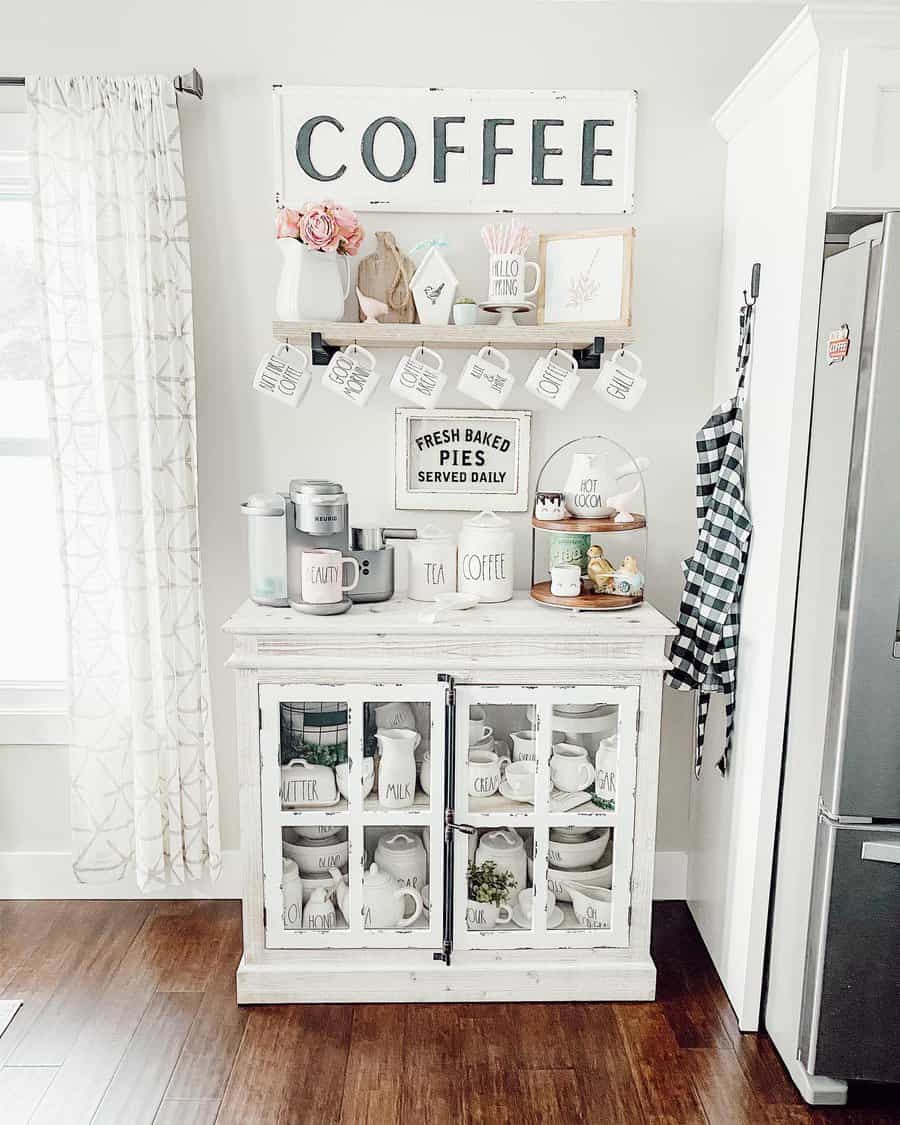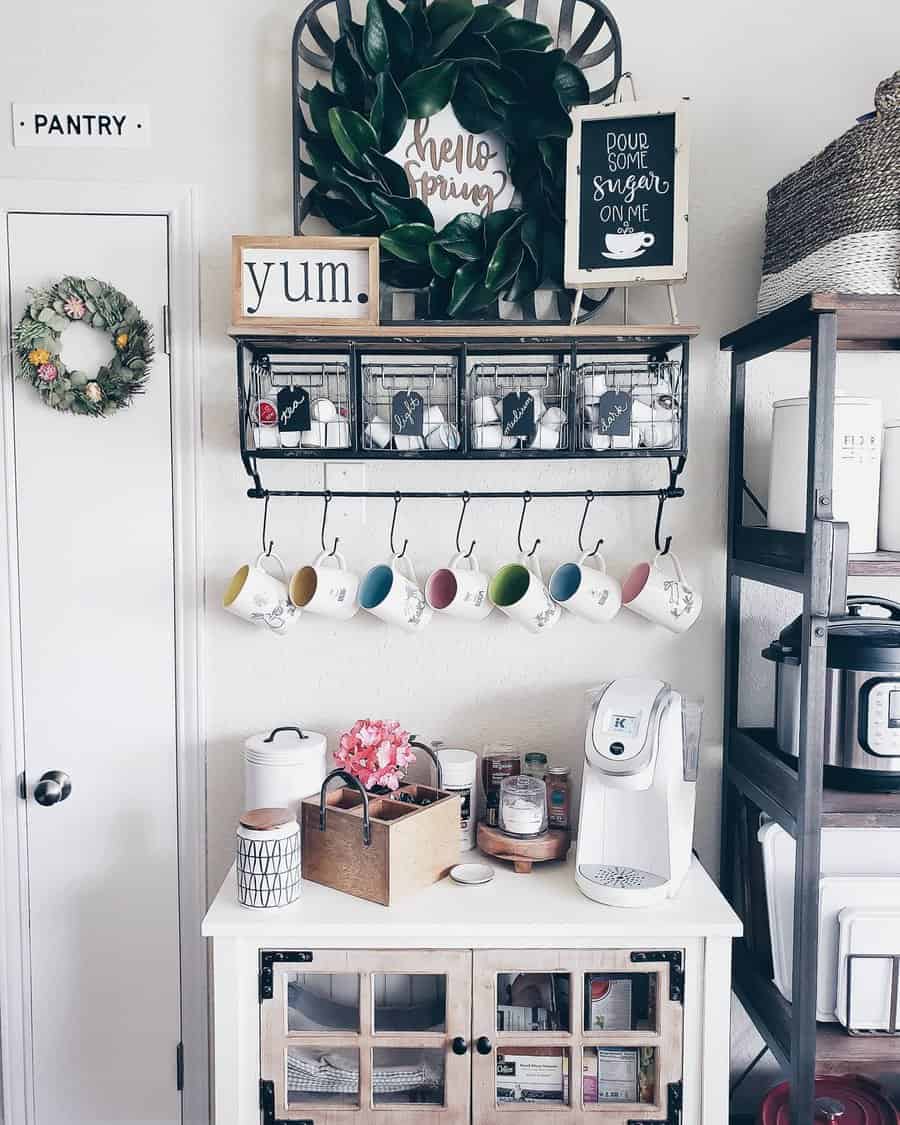 12. Standalone Coffee Station Design
For a harmonious start to your day, a well-organized standalone coffee station is indispensable. Reserve a dedicated space with a standalone countertop, separate from the daily kitchen chaos.
This arrangement guarantees your morning brew is prepared without disruptions and creates a tranquil environment to relish those first sips of coffee. Optimize your compact, yet meticulously organized coffee bar with creative planning and clever organizational strategies that seamlessly marry style with functionality. Your coffee haven will be primed for any occasion, enhancing both the aesthetics and efficiency of your daily coffee ritual.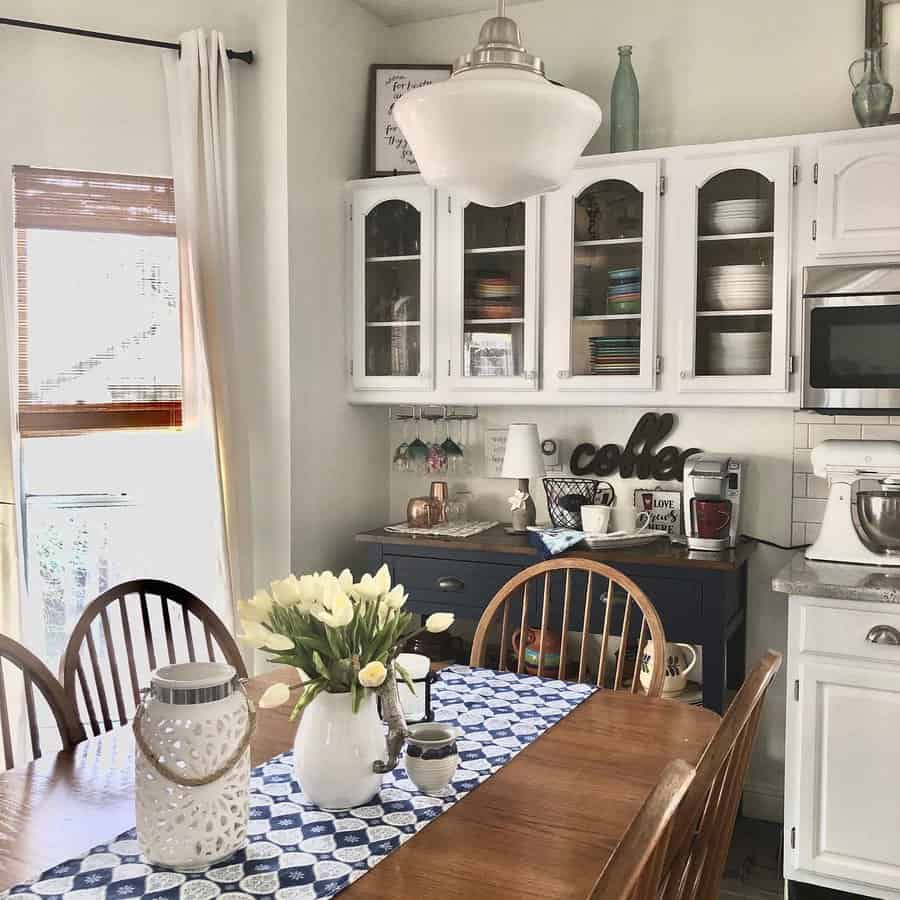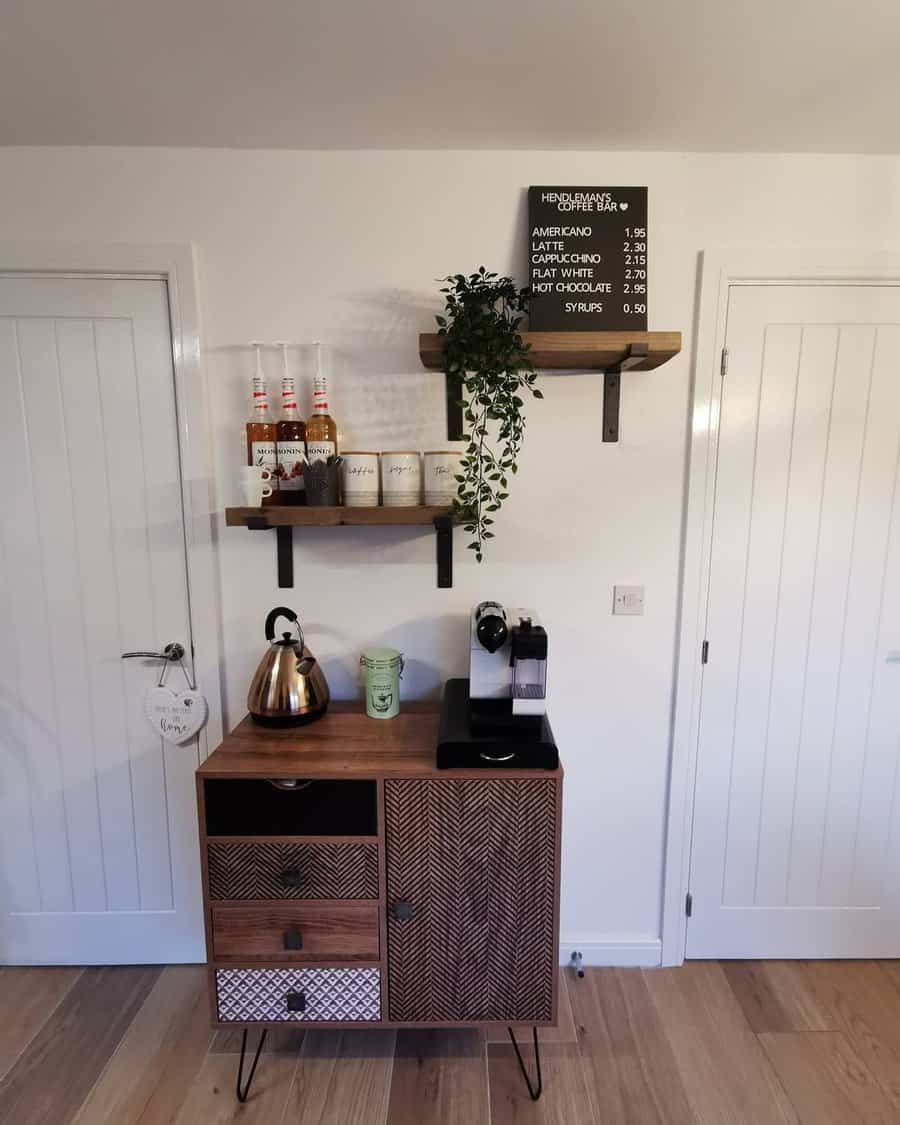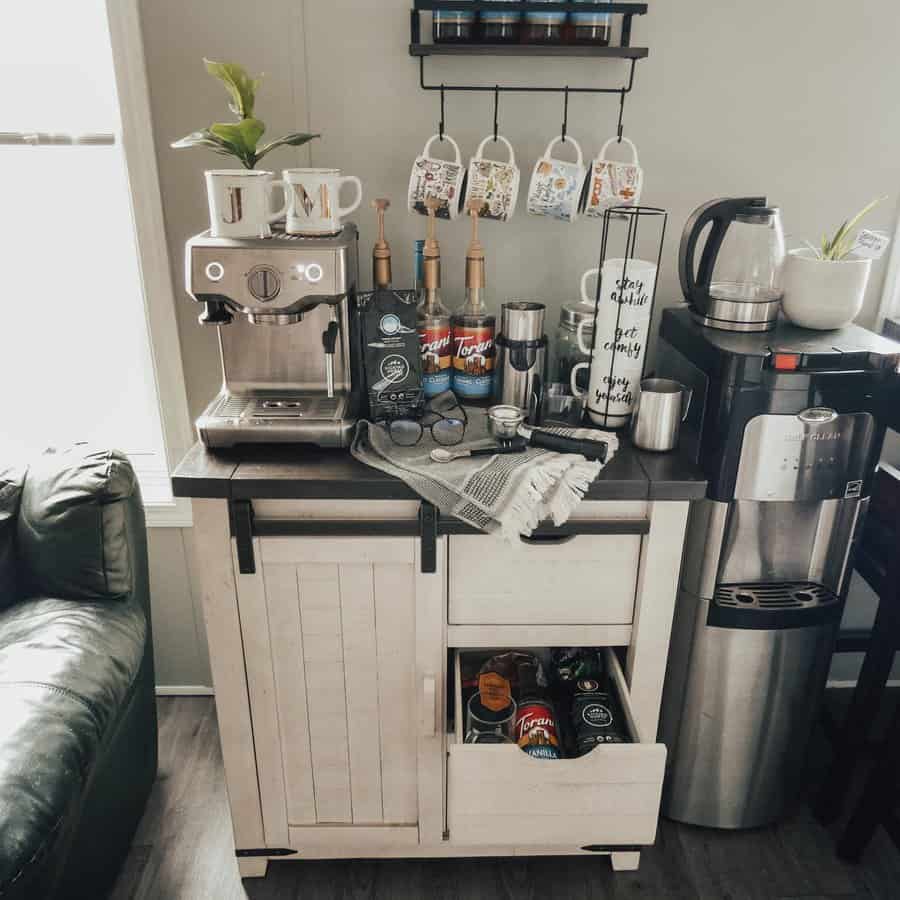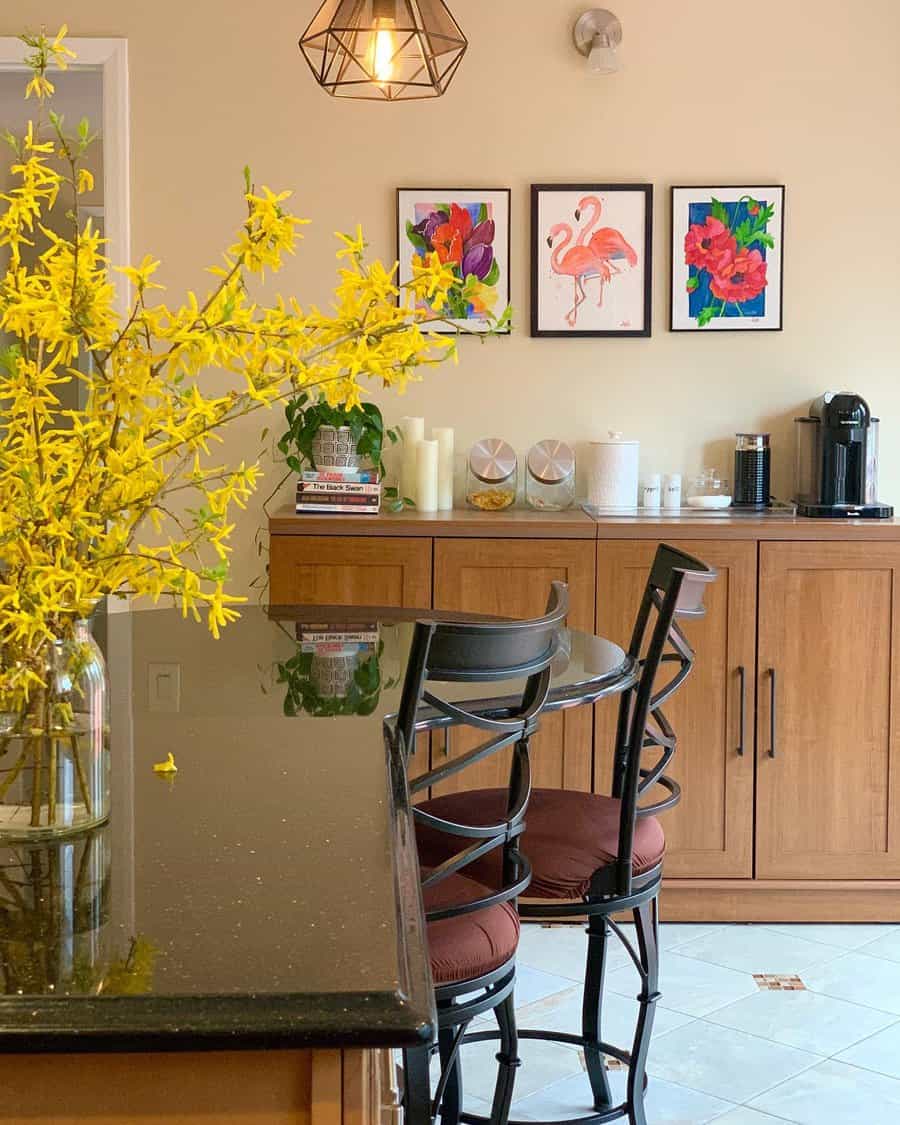 13. Coffee Pod Drawer Organizer Investment
To optimize your morning routine, invest in a coffee pod drawer organizer as the foundation of your well-structured coffee station. With an organizer nestled inside the drawer, you'll achieve maximum coffee efficiency.
A meticulously organized coffee station ensures swift access to all your essentials, enabling you to focus on crafting the perfect cup of coffee. Bid farewell to frantic searches for supplies and welcome the ease and tranquility of your morning ritual, making the most of those precious spare minutes. Start your day smoothly and savor every moment with a thoughtfully organized coffee pod drawer.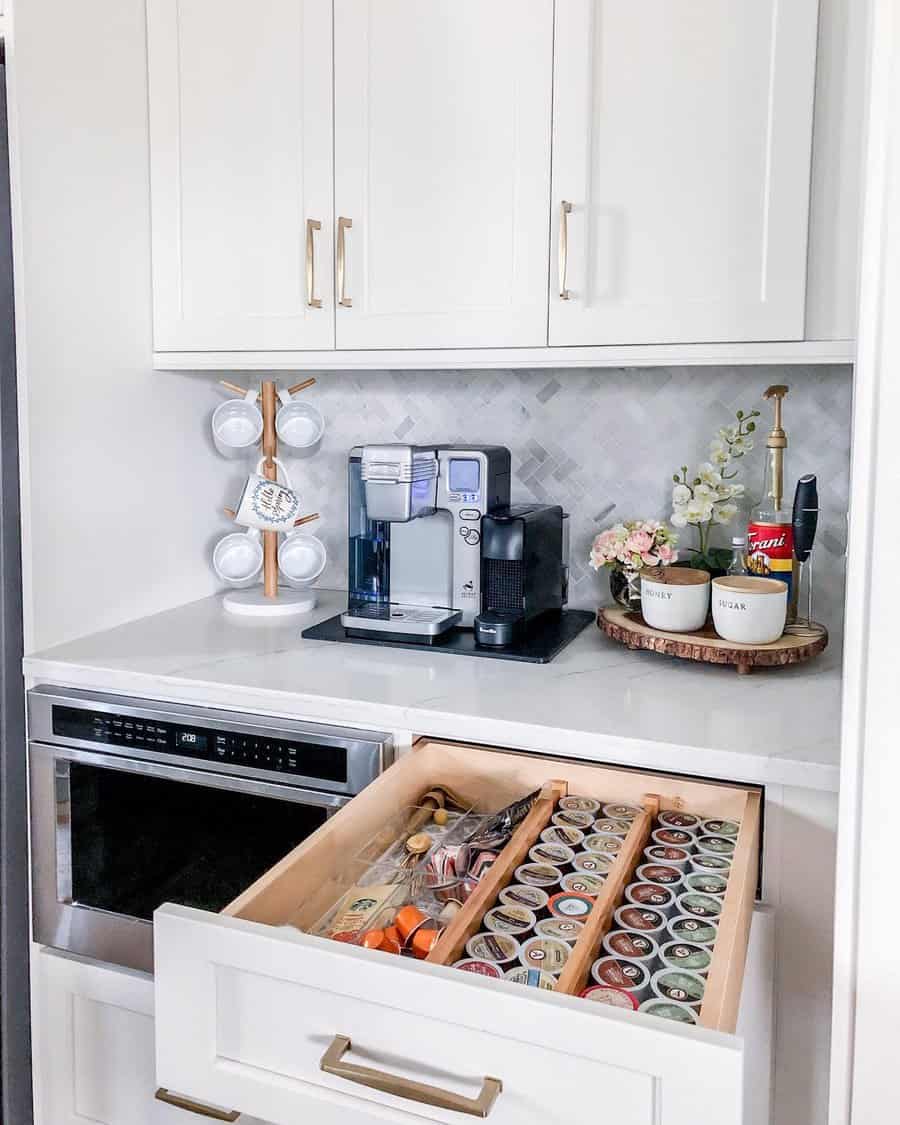 14. Labeled Organizers for Coffee Essentials
Elevate your home coffee station effortlessly by embracing labeled organizers for every coffee essential, from k-cups to French Press accessories. Arrange them conveniently on a nearby shelf, ensuring you're never in a frantic search for the right tool again.
These labeled organizers not only enhance the aesthetics of your brewing station but also contribute to its efficiency. Enjoy a sleek and tidy coffee haven, granting you more time and peace of mind to savor that flawless cup of Joe. Simplify your coffee ritual with thoughtfully labeled organizers that combine both style and practicality.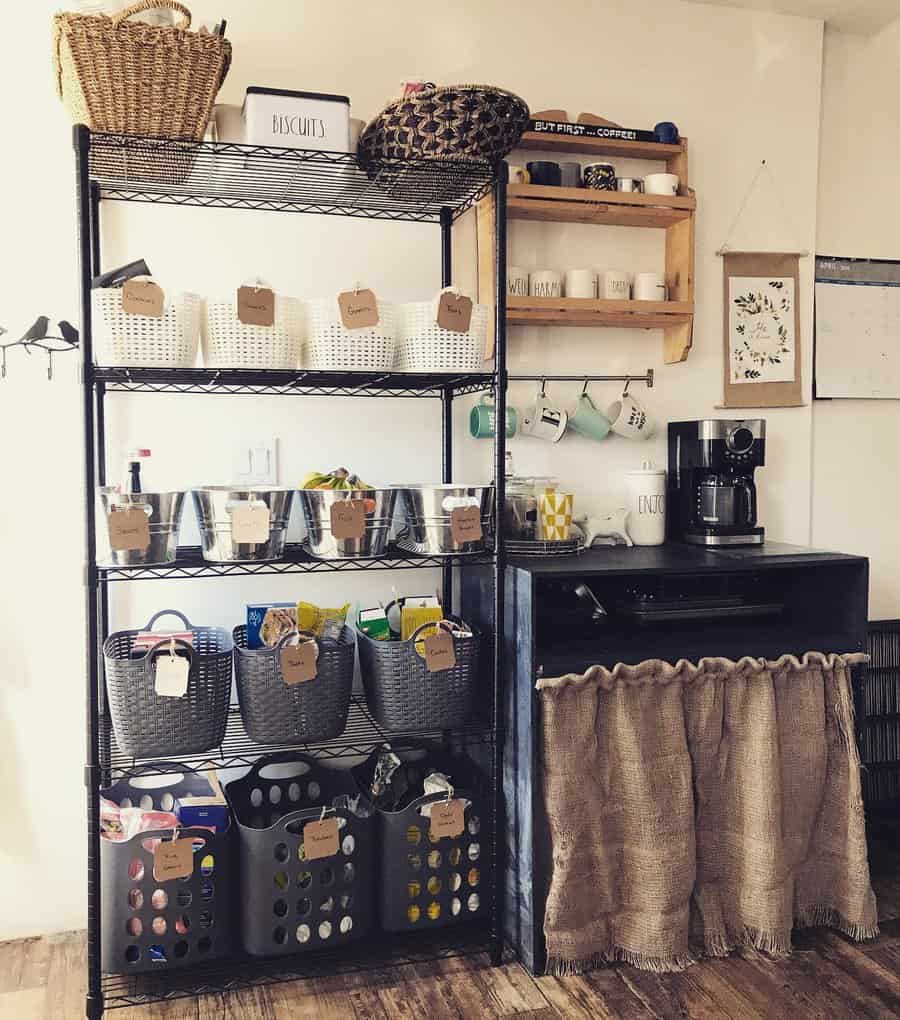 15. Seasonal Decor Sets Coffee Mood
Create a captivating coffee station to enhance your kitchen's ambiance and streamline your mornings. Elevate the experience with chic accessories and seasonal decorations, simplifying coffee organization.
Experiment with vibrant mugs and elegant trays for displaying enticing coffee flavors. Add a touch of allure to your kitchen with seasonal accents like artisanal flavored honey and trendy kitchenware. Whether your kitchen is spacious or compact, infuse creativity into your coffee organization to savor each morning with your favorite cup of joe. Embrace your coffee station's versatility and elevate your daily ritual with style and flair.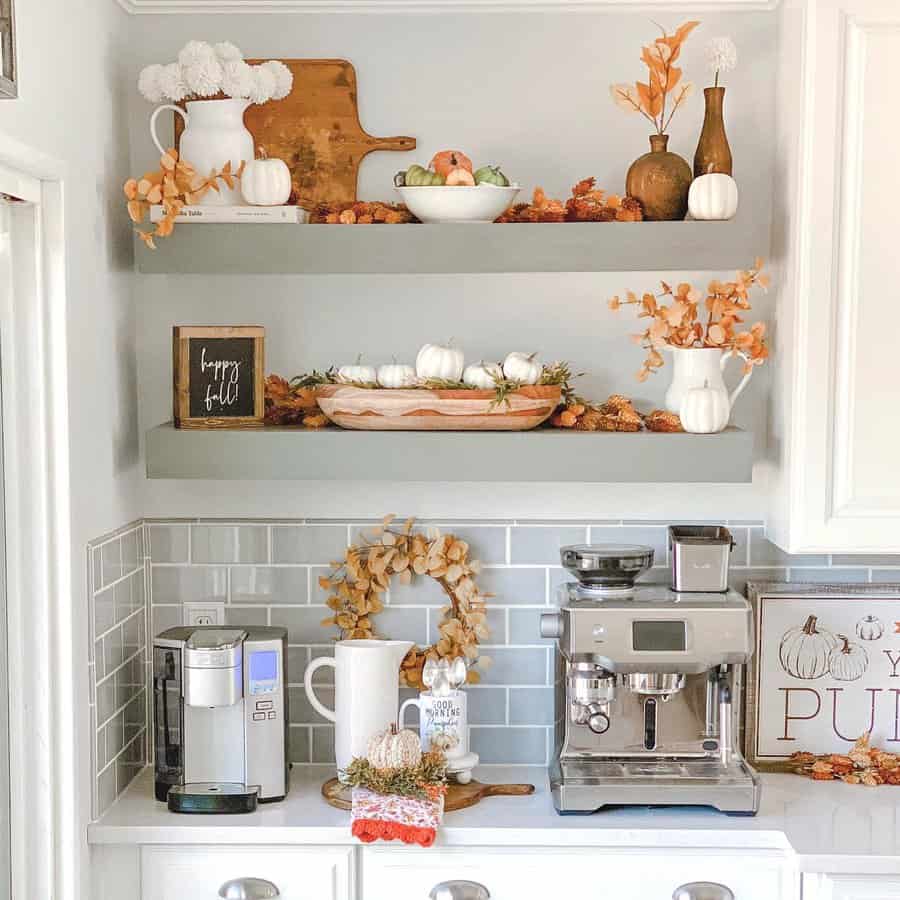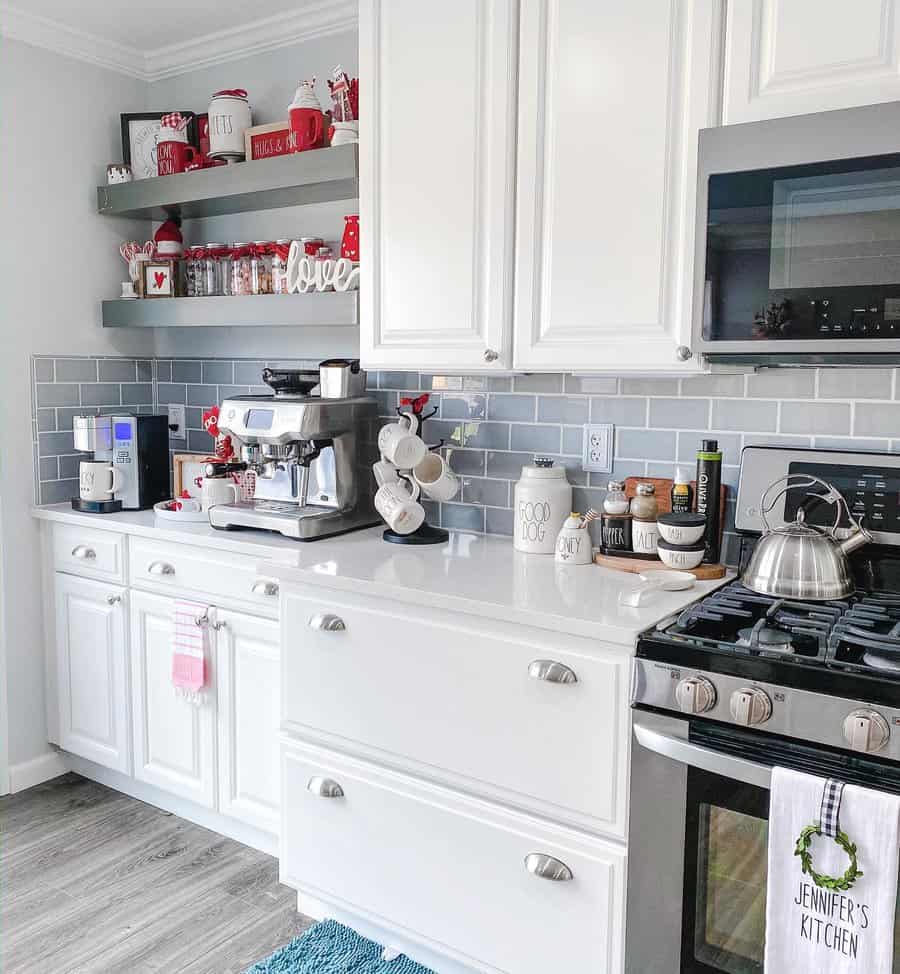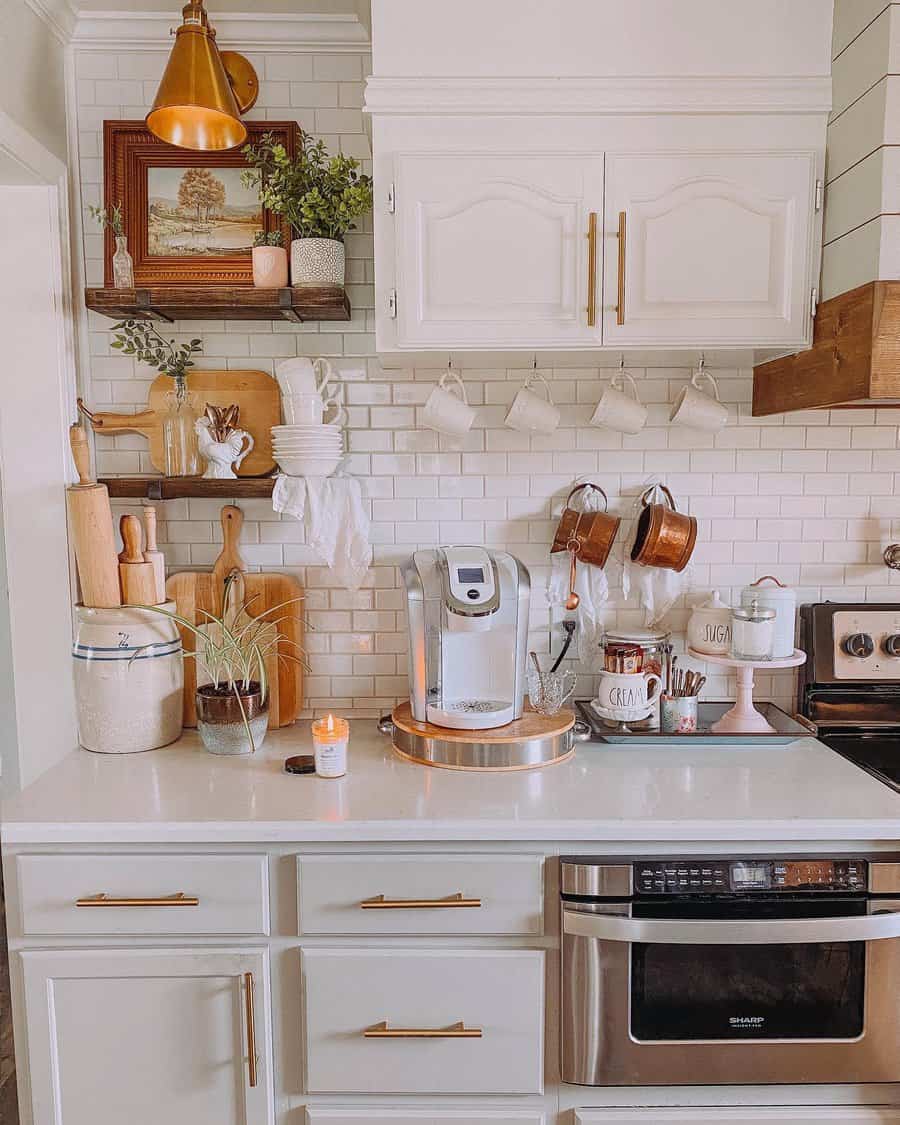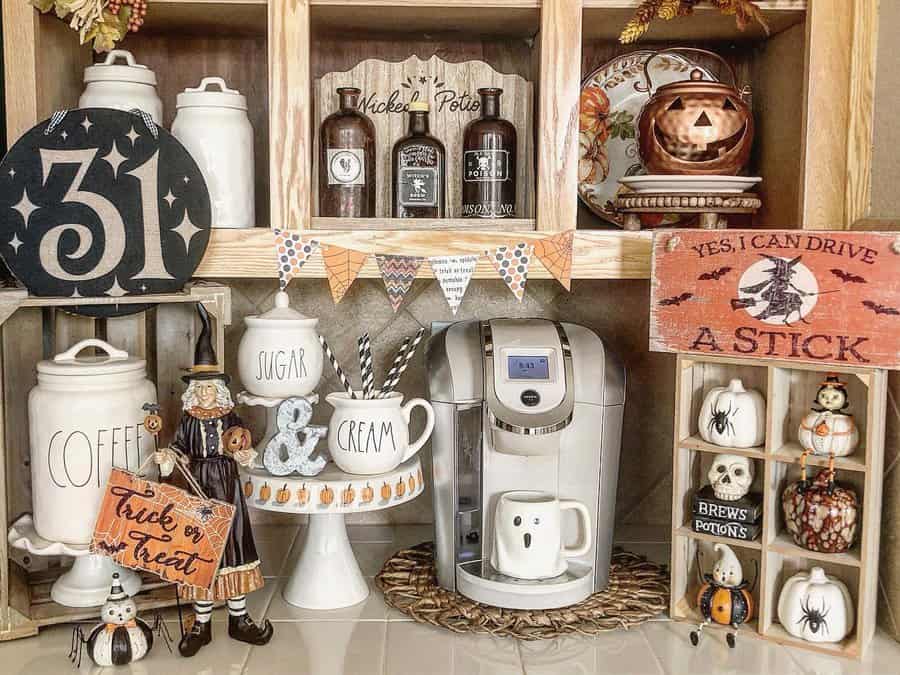 16. Living Room Coffee Oasis
Elevate your living room with a coffee station that showcases your style and promotes home organization. Through thoughtful decor selections and functional accessories, your living room can evolve into a welcoming hub for friends and family.
Explore chic, complementary pieces that foster an inviting ambiance and optimize countertop storage. Crafting a captivating living room coffee station need not break the bank; embrace creativity by repurposing thrift store finds into distinctive treasures. With dedication and ingenuity, your living room can undergo a delightful transformation from cluttered to captivating.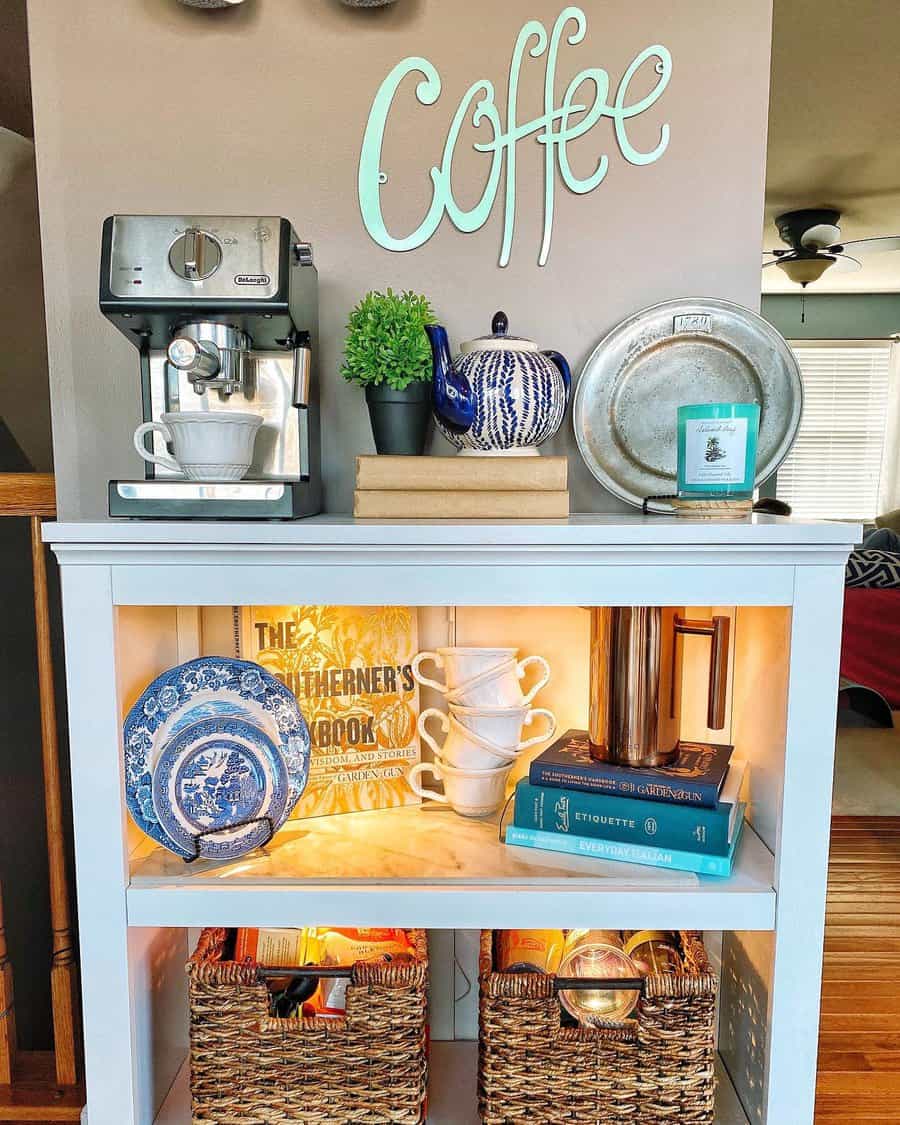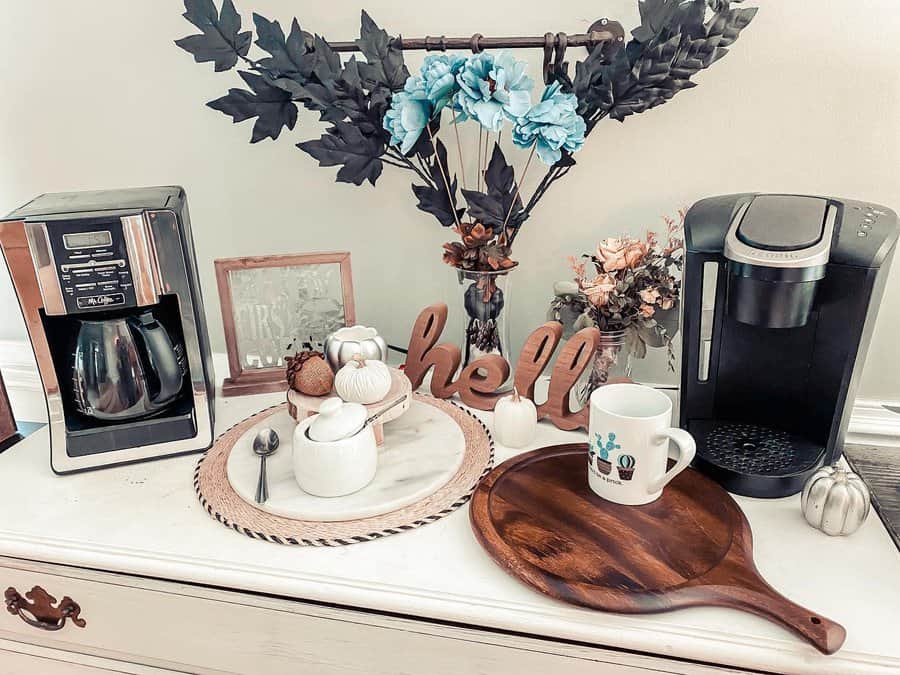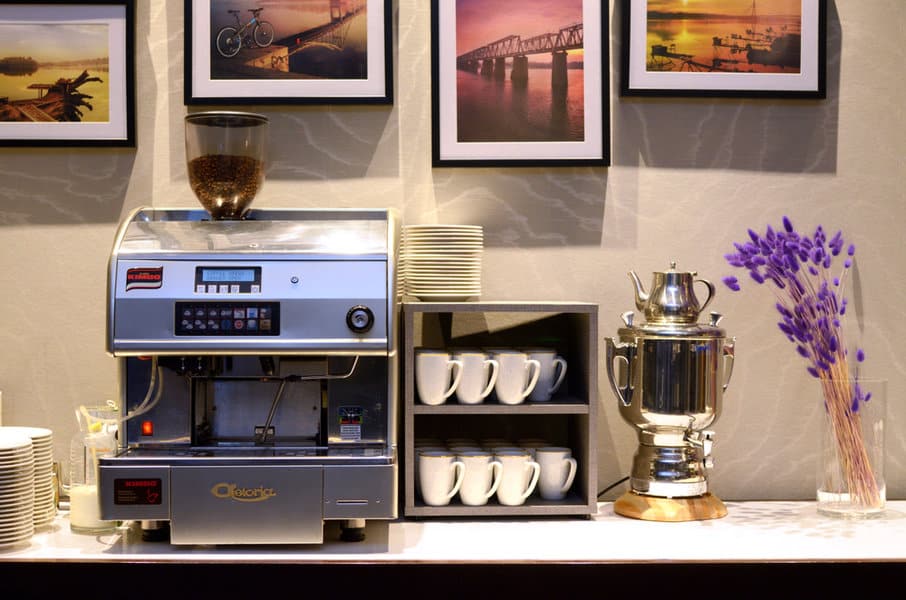 Coffee Station FAQs
What should be included in a coffee station?
A fully functional coffee station will include the following:
Coffee maker

Coffee beans (whole or ground)

Coffee grinder 

Coffee mugs

Spoons

Sweeteners

Creamer

Napkins
Where do you put a coffee maker in a small kitchen?
A side counter or shelf is an ideal home for a coffee maker in a small kitchen. Ideally, it should be close to your water source. Use a small bar cart if you lack adequate kitchen counter space.
How tall should a coffee bar be?
Standard bar counters are 42" high while standard kitchen counters are 36" high. Therefore, either of these heights—or somewhere in between—would be ideal for a DIY coffee station.