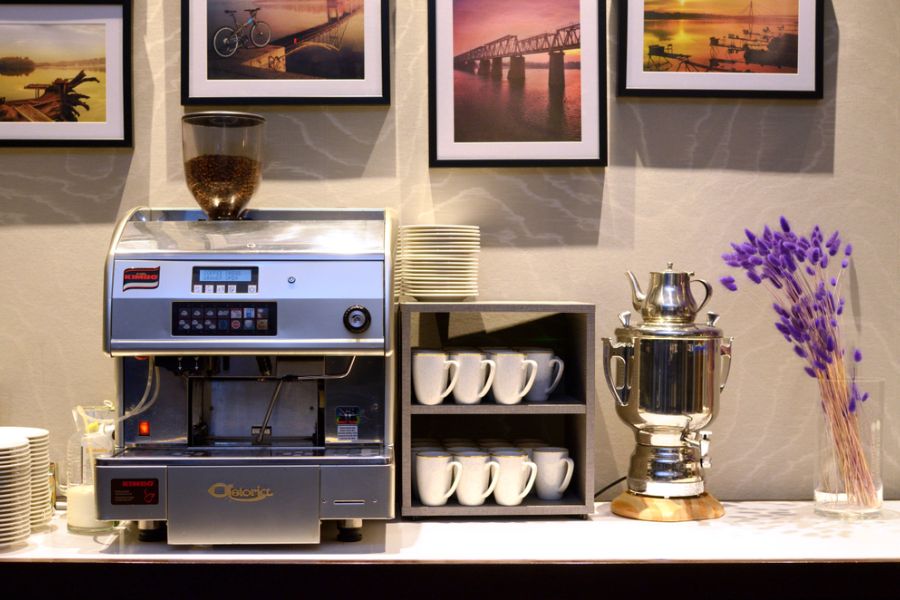 78 Coffee Station Ideas for Home
Good ideas start with brainstorming. Great ideas start with coffee.
If you're a coffee lover, a home coffee station is always a great idea. Brewing your own signature java at home is not only efficient, it's also considerably cheaper than daily trips to the coffee shop.
You probably already have the perfect counter, corner, or shelf for creating a coffee bar at home. A huge space is not required; you just need enough room for the coffee essentials.
Scroll through our best coffee station ideas and start brainstorming on how to create your own perfect home coffee nook.
1. Utilize Cabinet Countertop
Creating a home coffee station is a great way to utilize the countertop of a cabinet and keep your beans, grounds, and other brewing items together in one place. Whether it's an old bread box, wall-mounted shelving unit, or something else entirely– having a designated area to store your go-to mugs and all the necessary accessories can make mornings much more convenient.
Have fun with the setup process by picking out a color scheme that complements your kitchen decor, making sure you have plenty of room to store whatever you may need for the perfect cup of joe. This type of project encourages customization and can be adorned with anything from decorative jars to chalkboard frames– no matter what you decide just make sure that it reflects your personal style!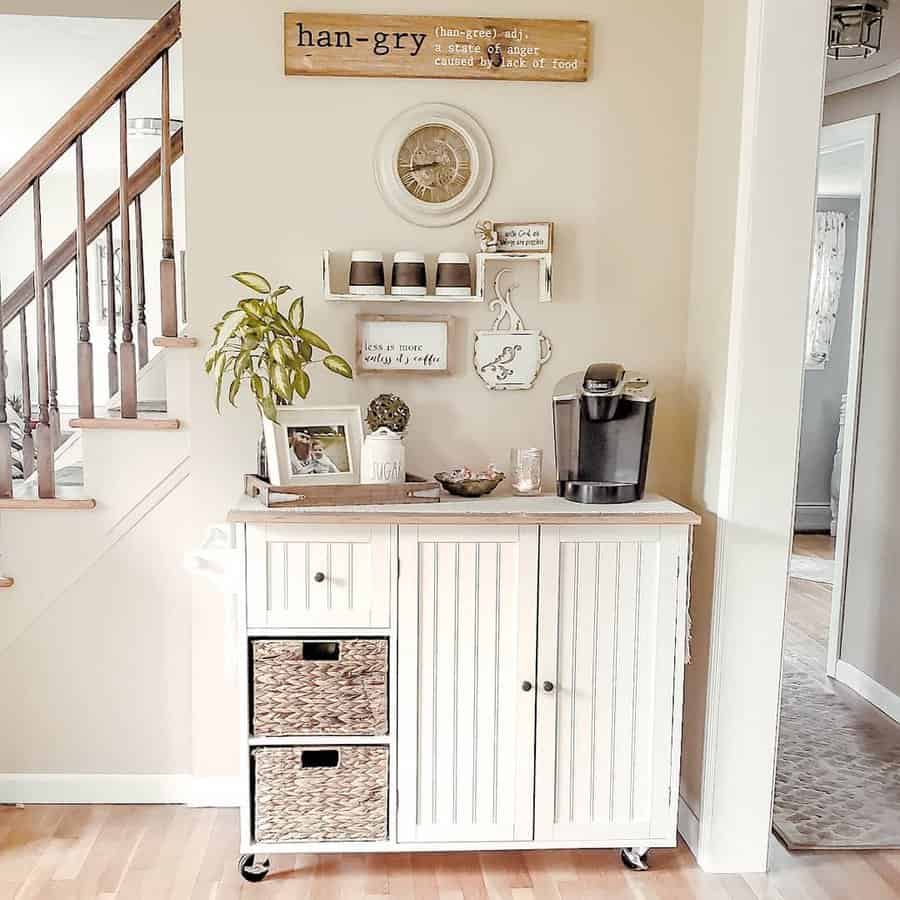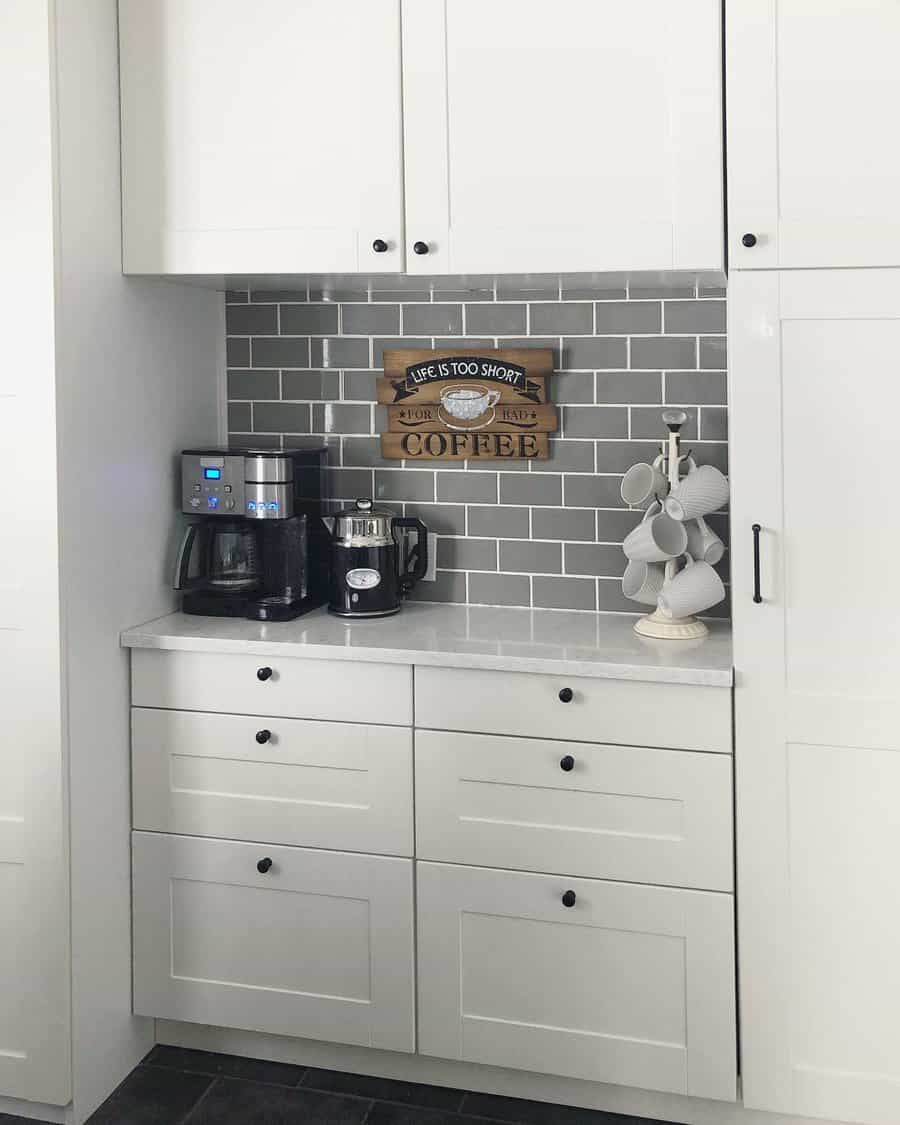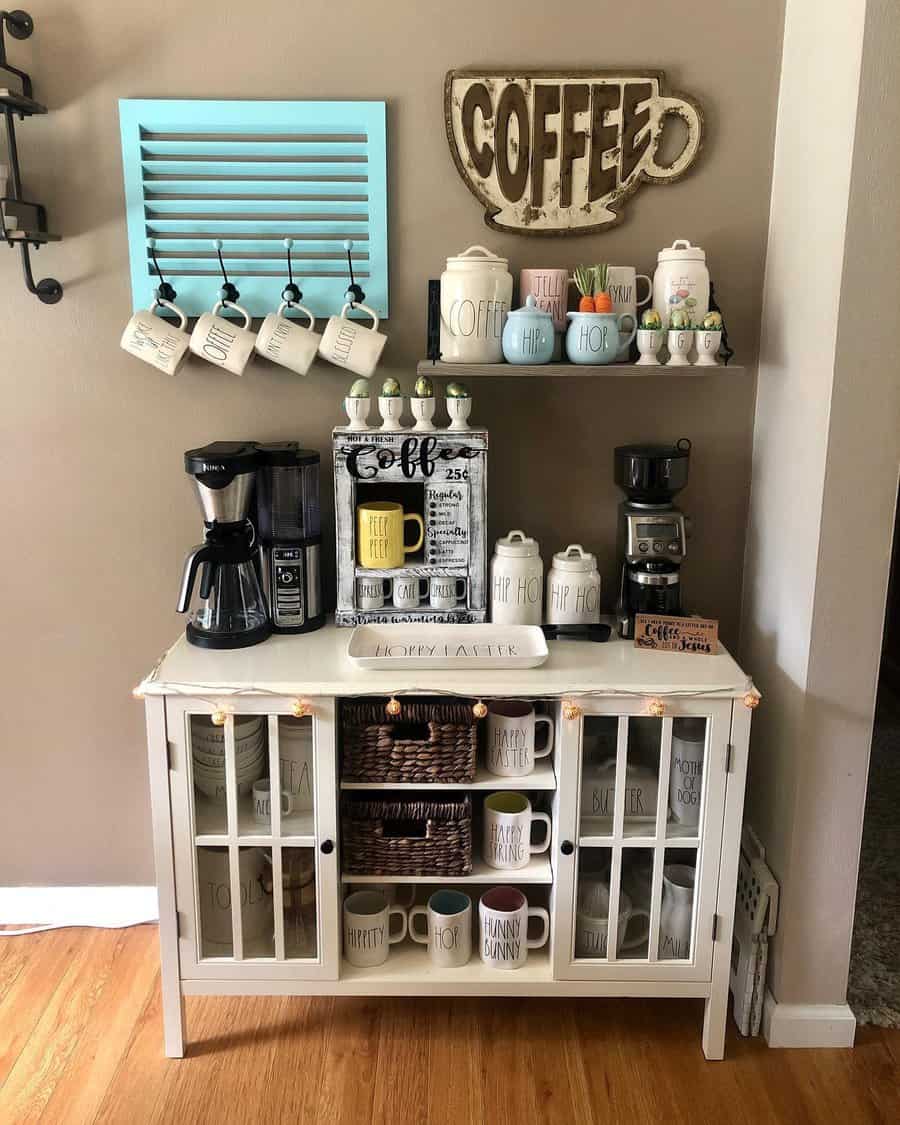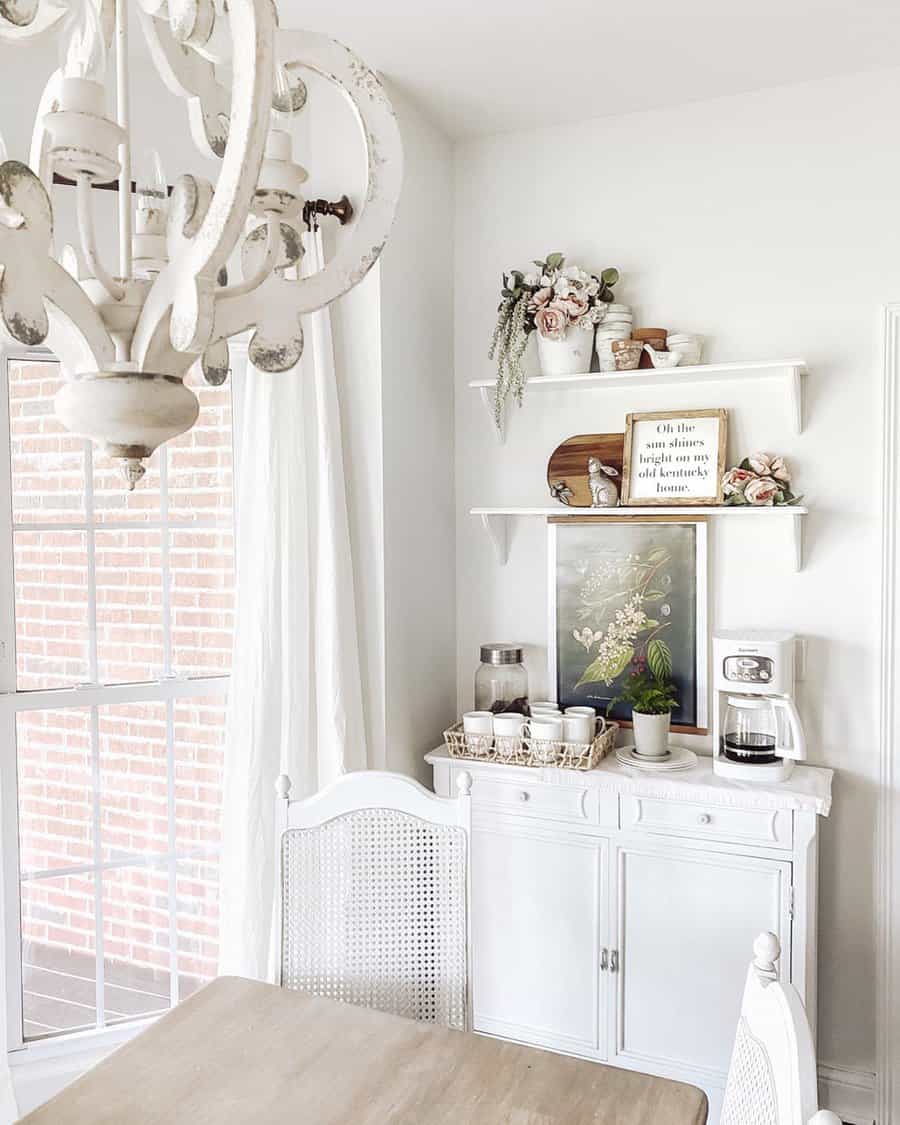 2. Maximize Vertical Spaces
A coffee bar with floating shelves offers an innovative way to organize all supplies, such as coffee makers, coffee mugs, coffee beans, and other accessories. Integrated shelves provide designated space for storing coffee bags and multiple mugs as well as displaying art pieces.
Additionally, they make the area look a lot more stylish than traditional cabinets. Furthermore, you can customize it according to your taste by adding extra decorations or personal trinkets. With this simple home coffee station idea, you won't be rushing for coffee ever again!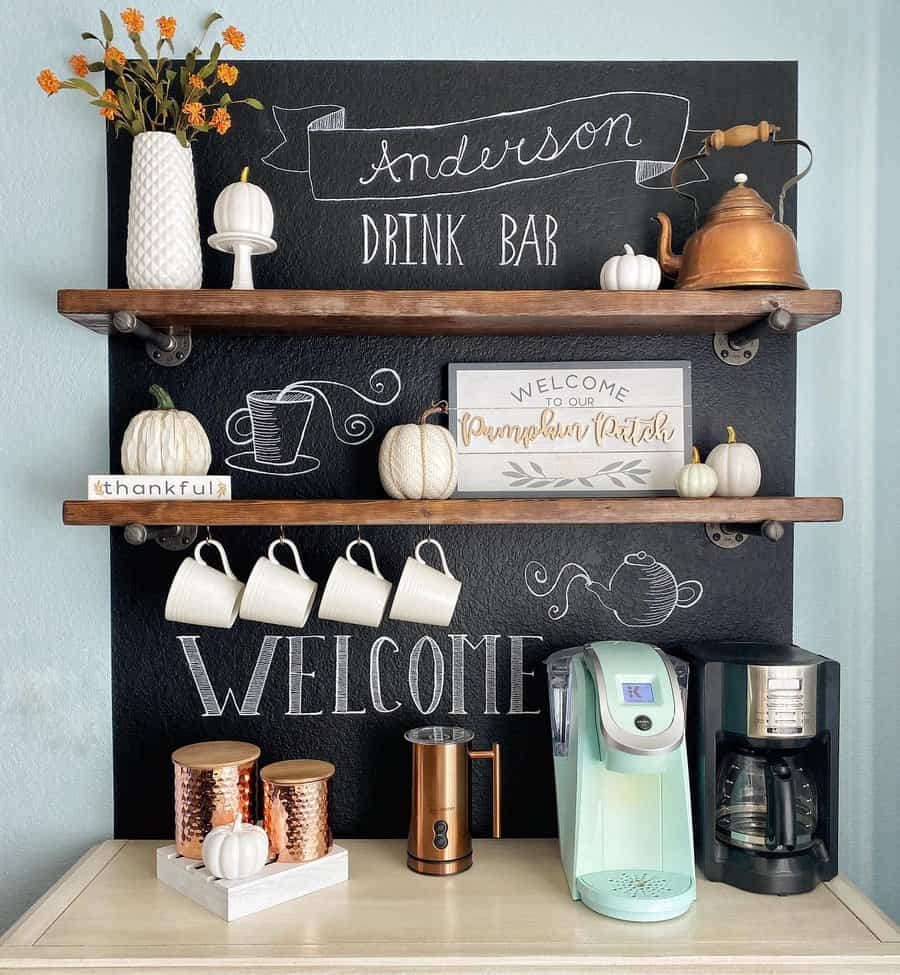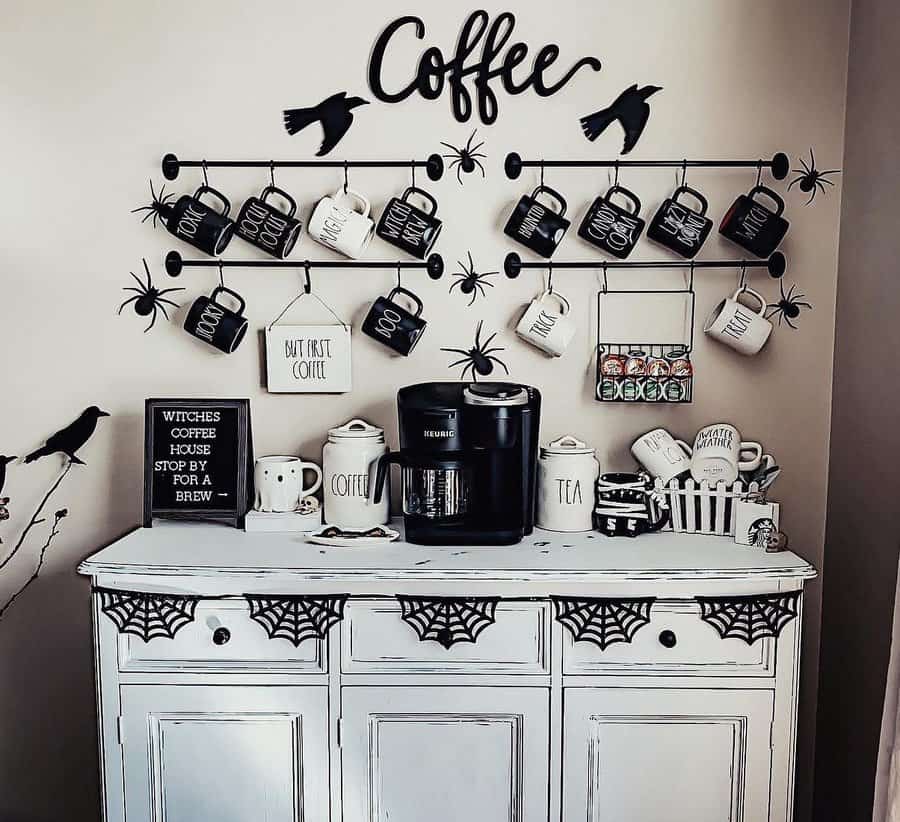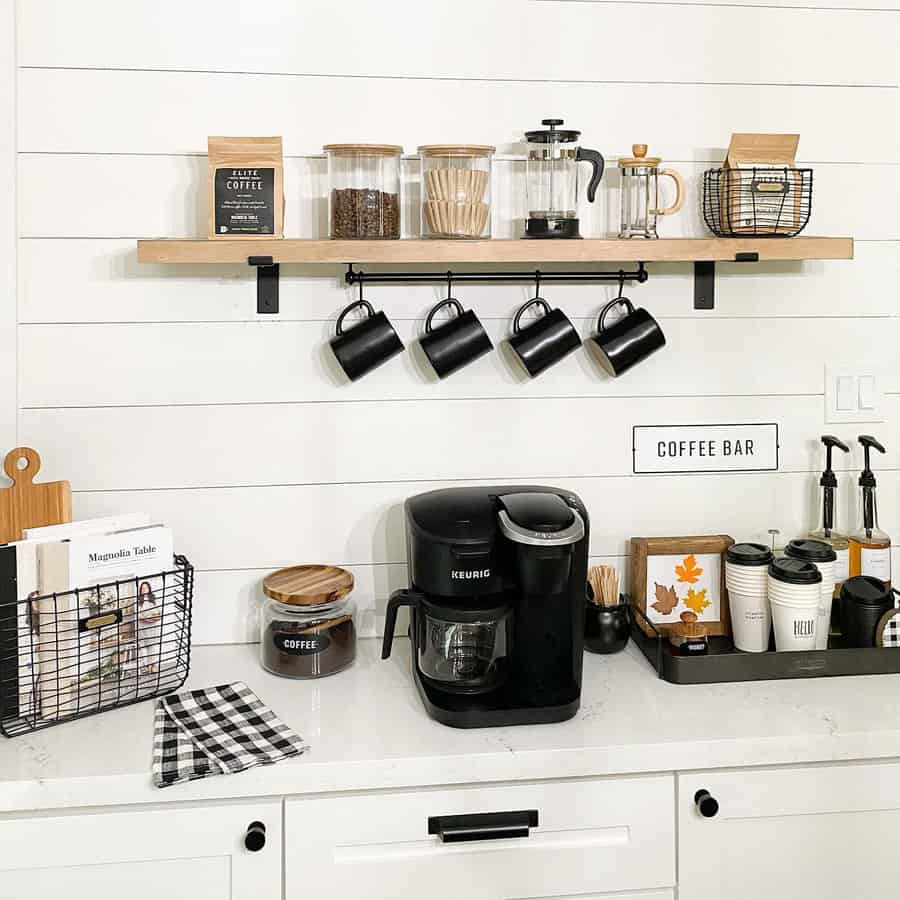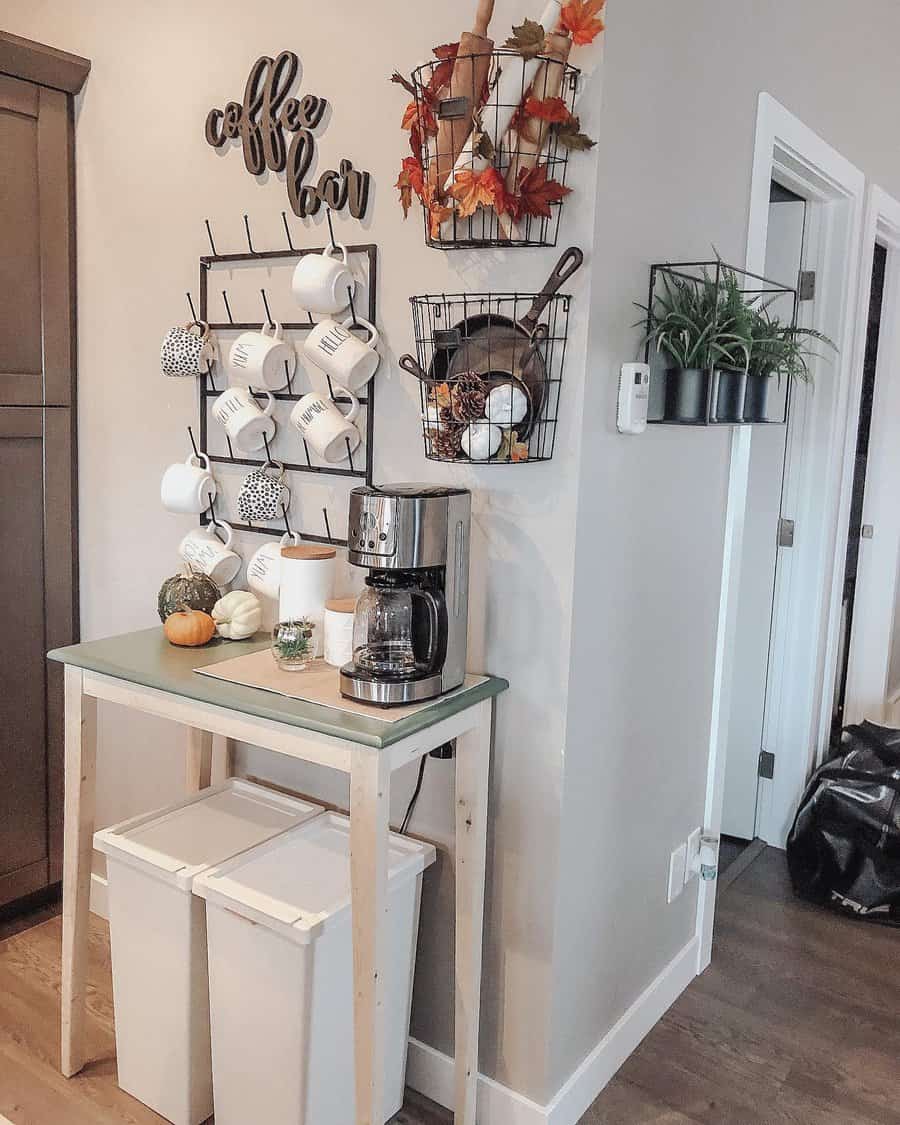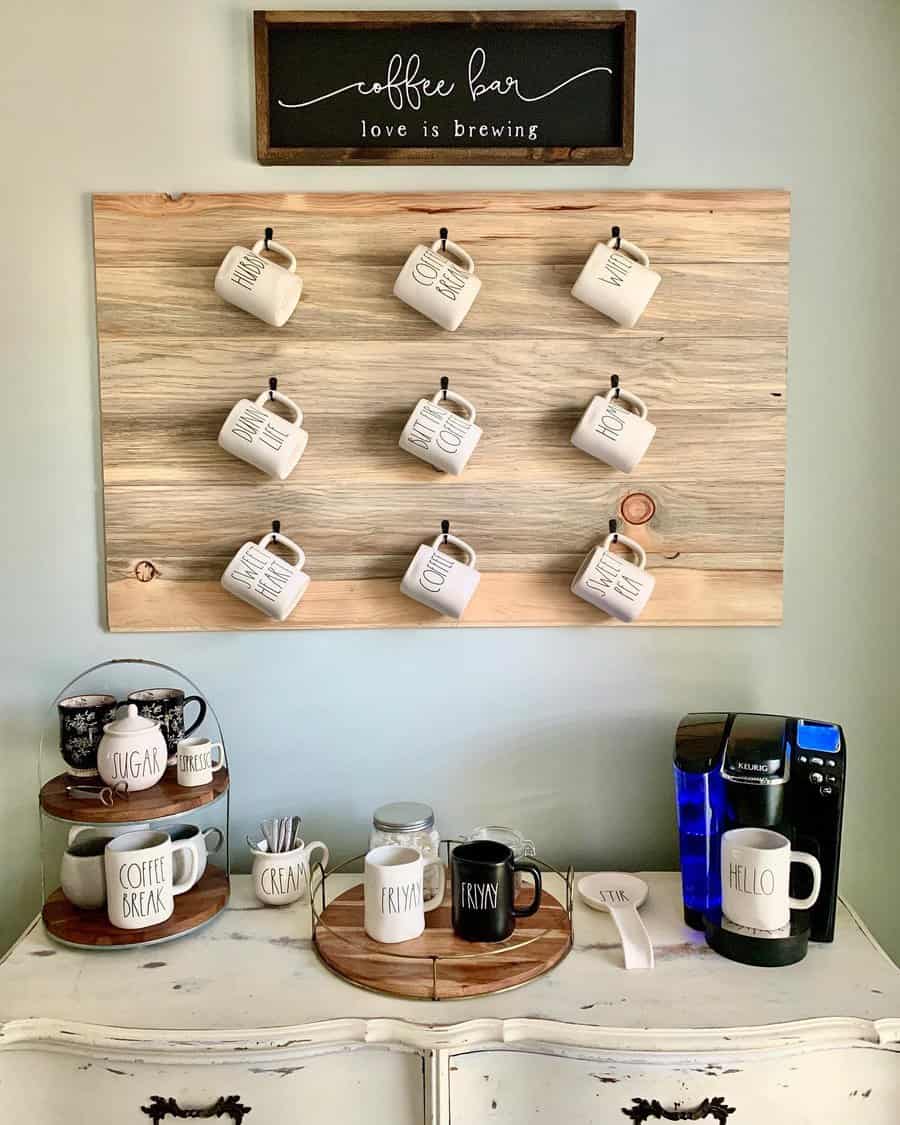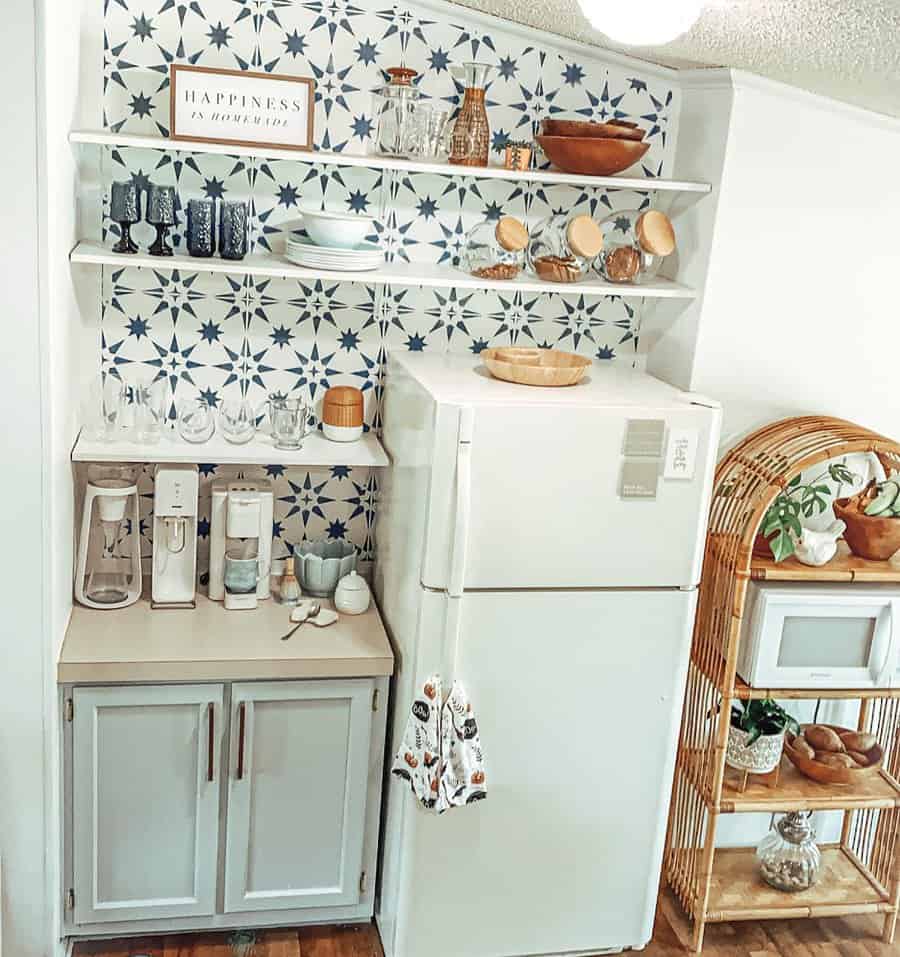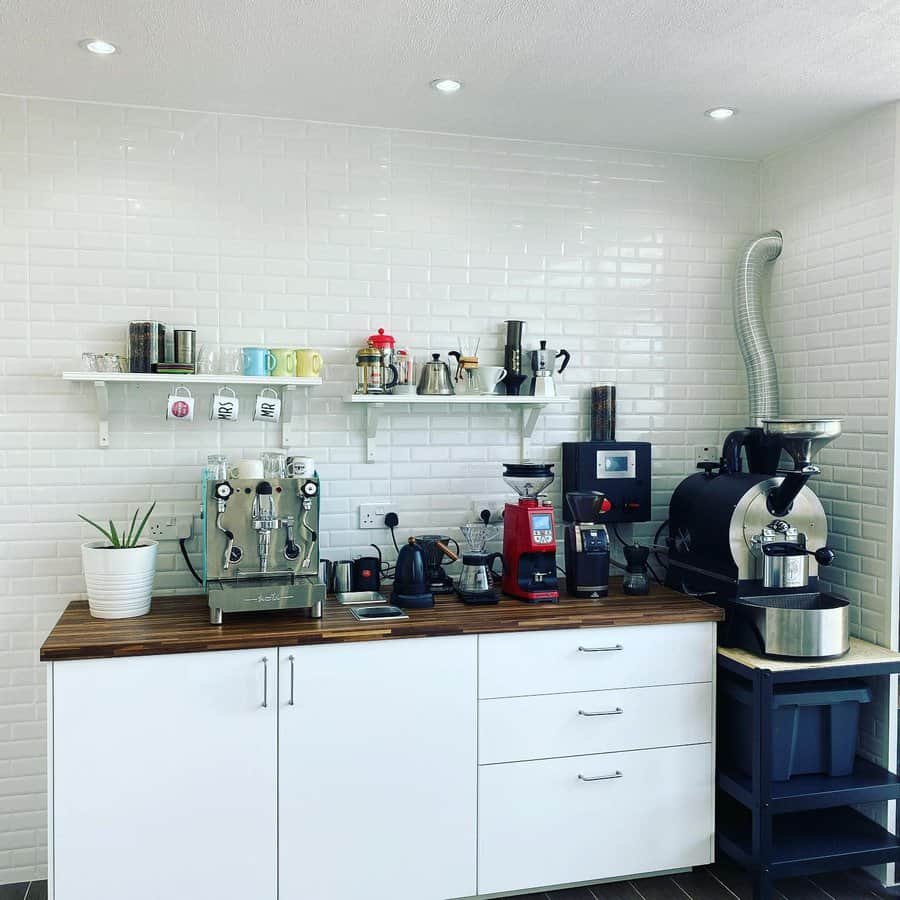 3. Take Over The Kitchen Countertop
The easiest way to take over the kitchen countertop and create a cozy coffee station is to take over an unused corner. Choose unique storage solutions, like repurposed vintage crates or wall-mounted shelves, to organize everything you'll need. Try adding personal touches, such as mugs and other ephemera, to make it feel even more special.
For convenience, it might be helpful to include travel mugs, a thermos carafe for hot beverages throughout the day, and perhaps even an espresso machine for those who take their morning coffees seriously. With a few simple additions and some creativity, you can transform your kitchen into a convenient and inviting space for entertaining guests with your homemade java selections!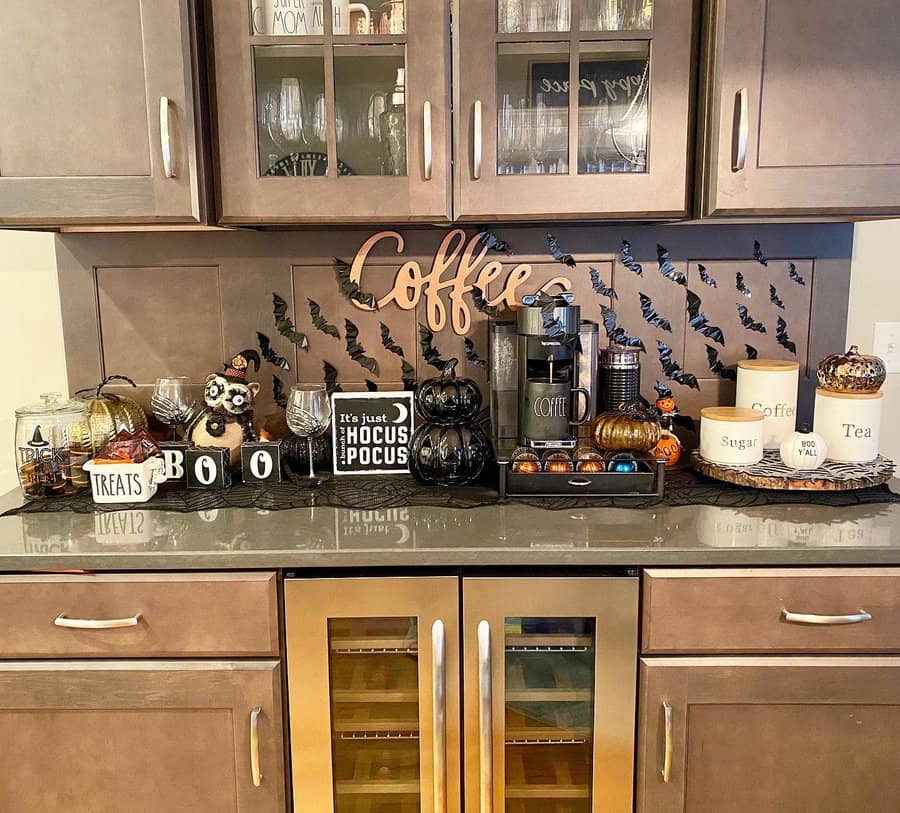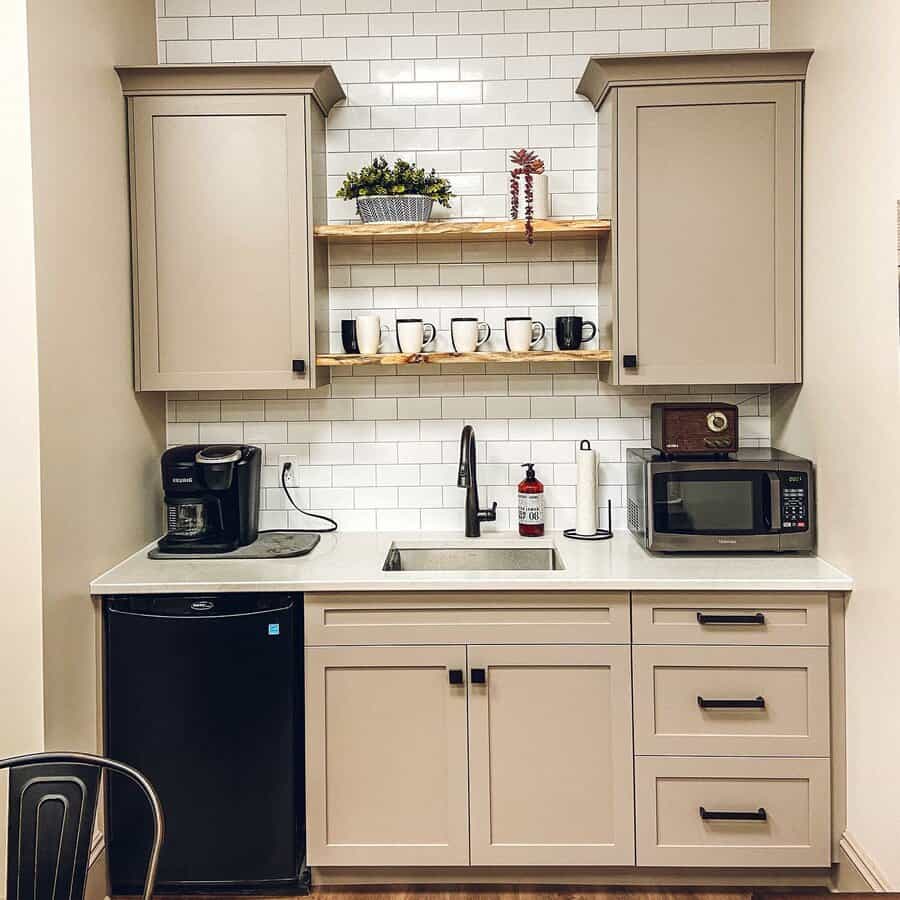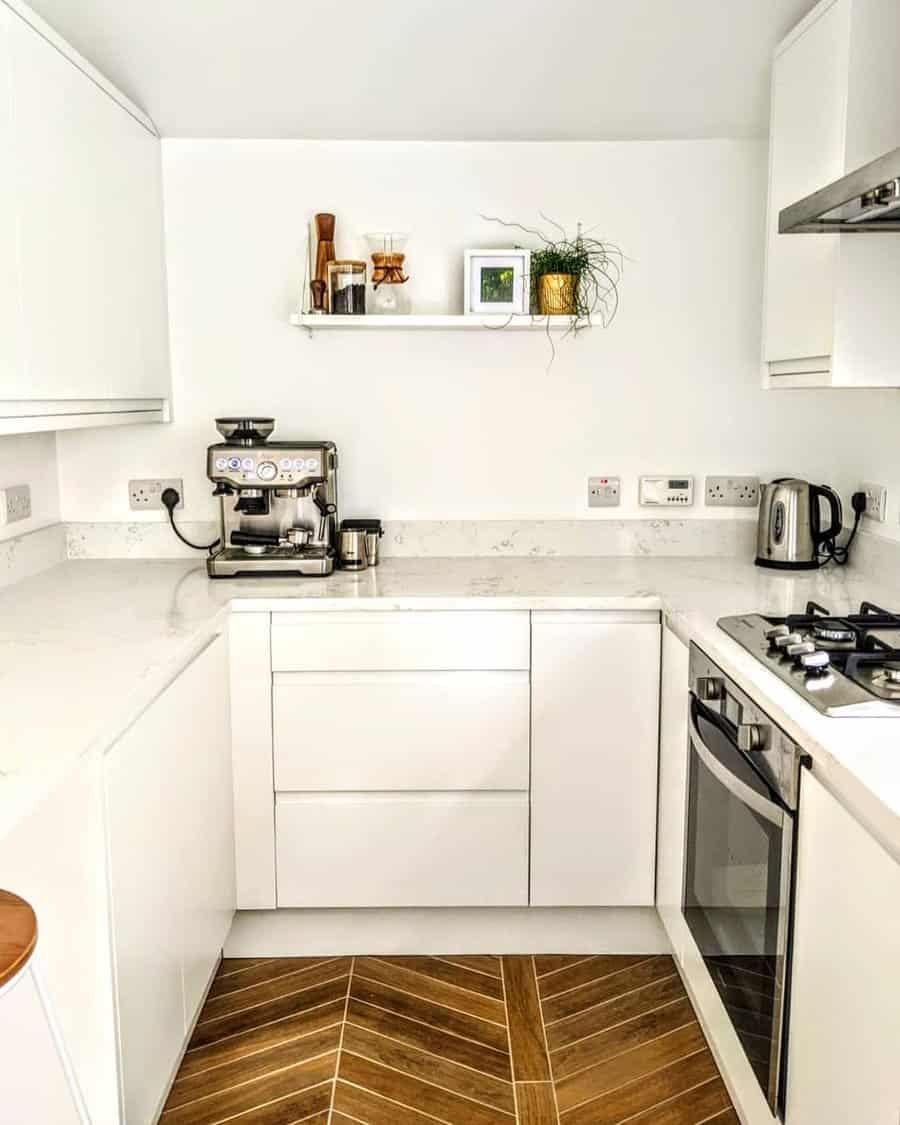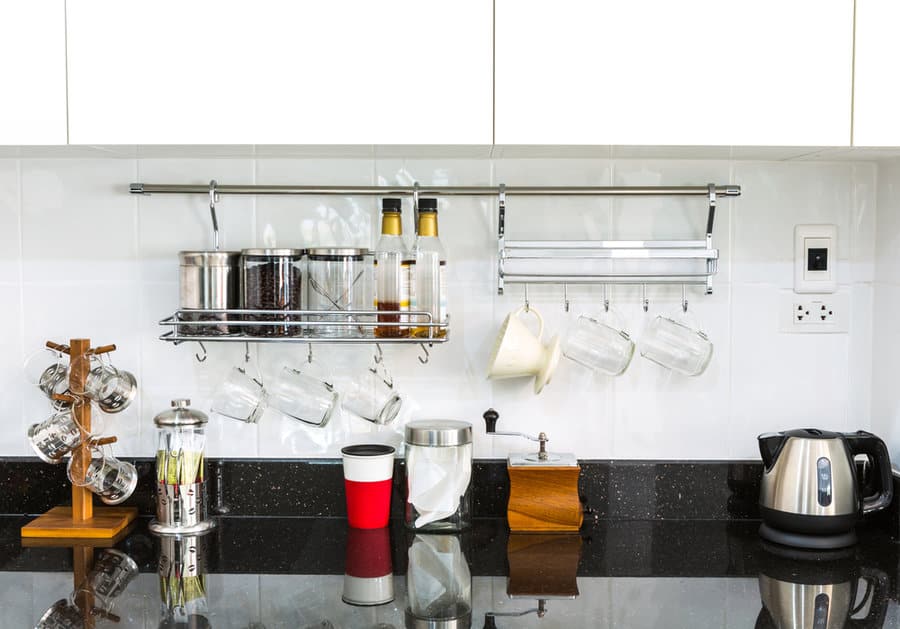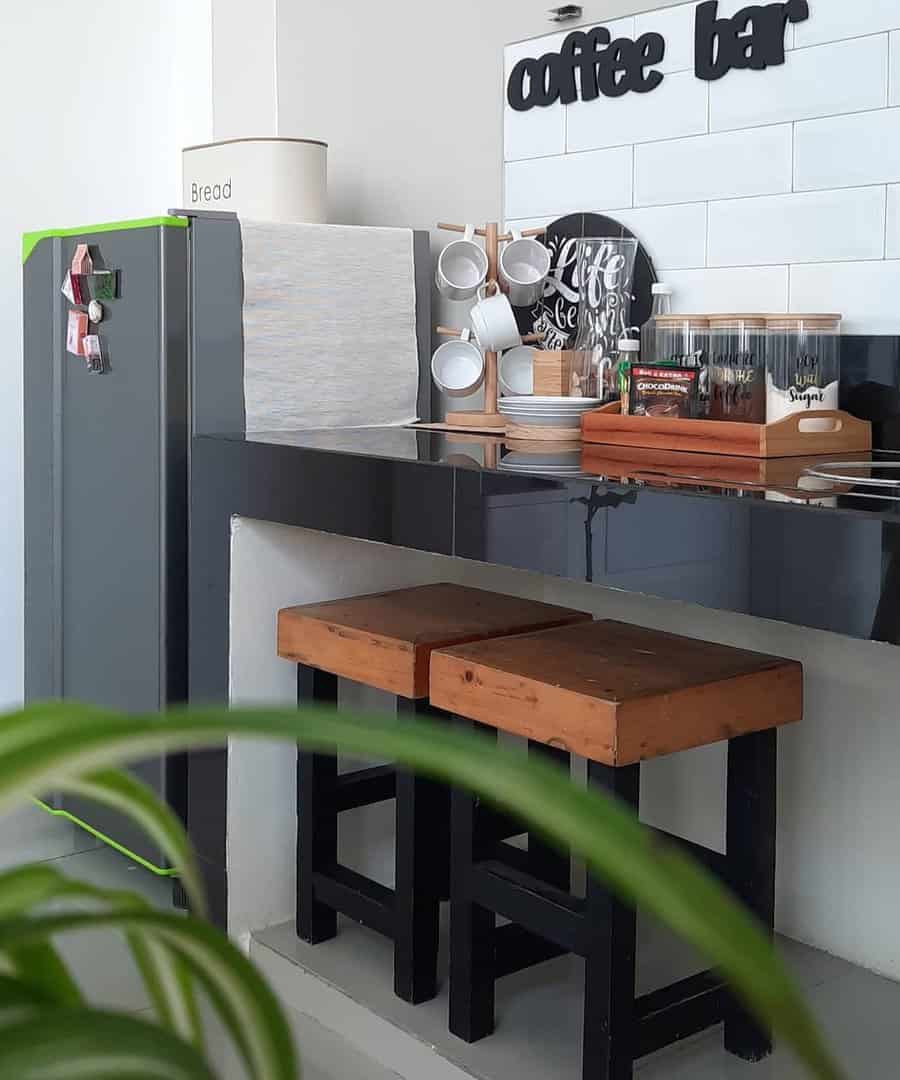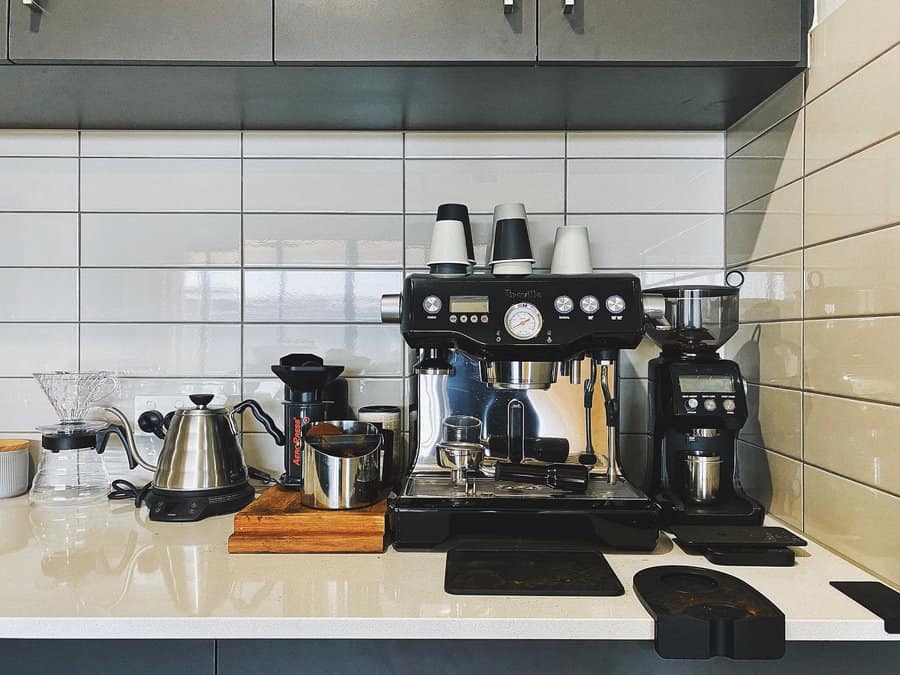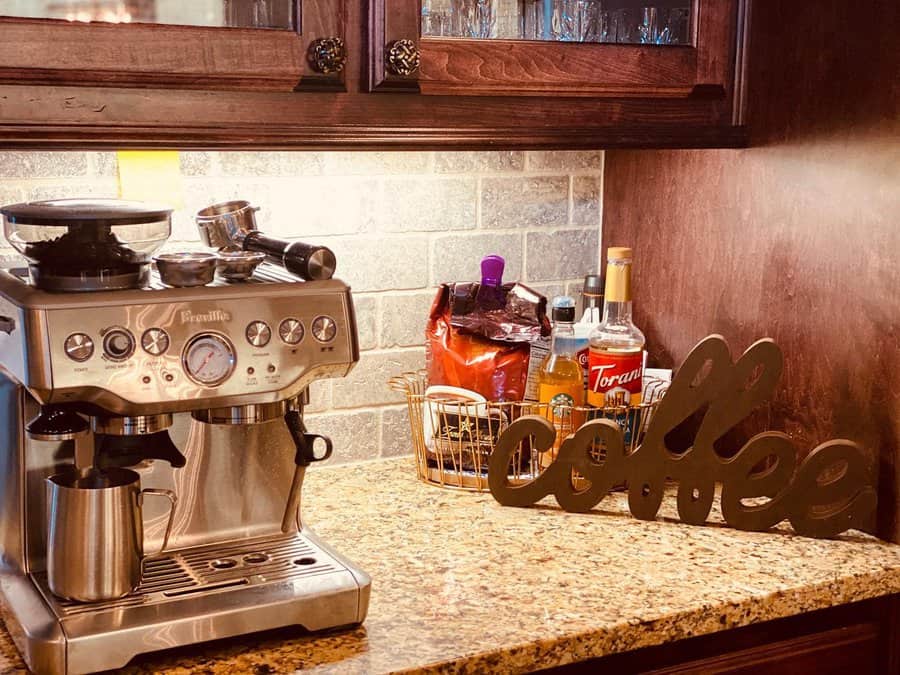 4. Recessed Coffee Bar
Those looking to spruce up their kitchen while incorporating a creative and space-efficient coffee station should consider recessed options. Taking advantage of recessed spaces can help keep countertops uncluttered, providing a sleek and professional look to the area. An ideal recessed coffee bar can be achieved by cutting an insert panel into the wall and creating storage for all necessities such as coffee machines, mugs, and more.
An added bonus about recessing the coffee station is that it allows for more countertop space to use for food preparation or setting out snacks when having visitors over. A recessed coffee bar is a great way to make sure your kitchen looks good and you have everything you need for making delicious drinks.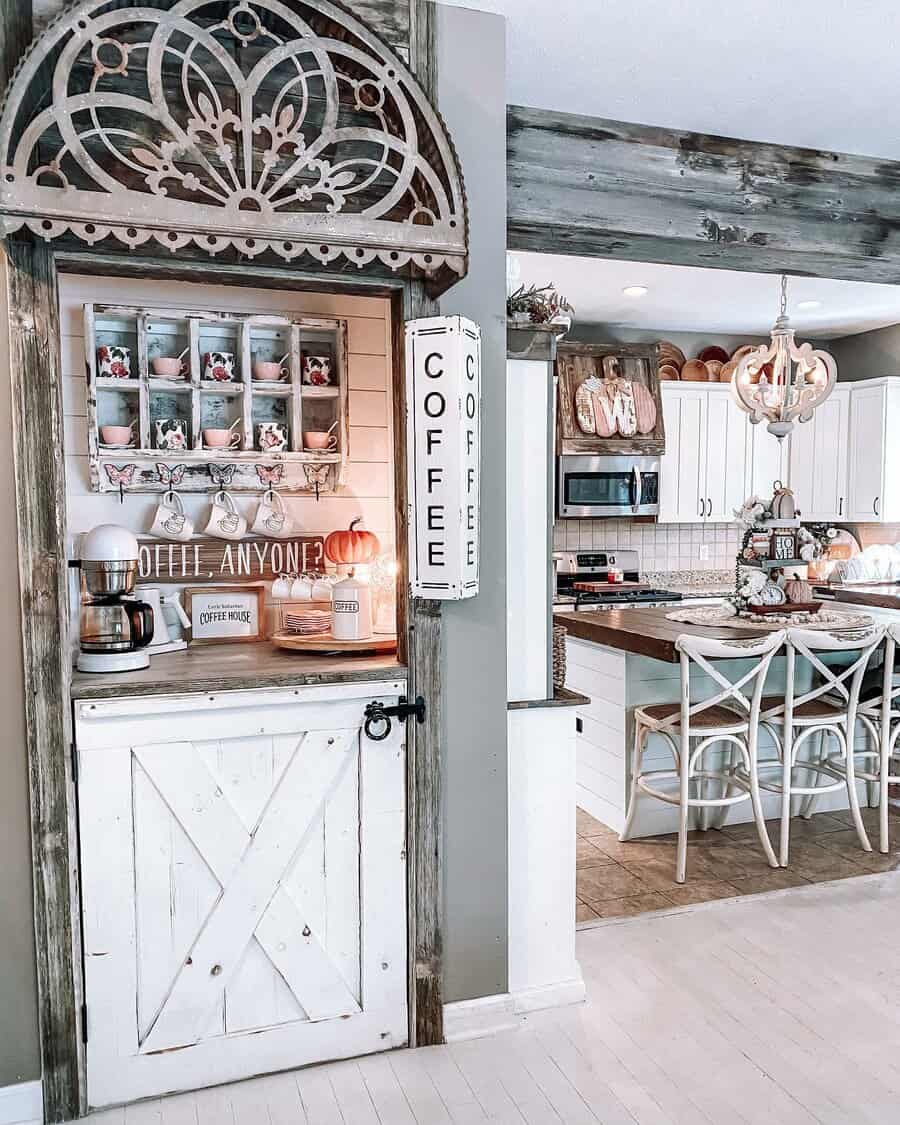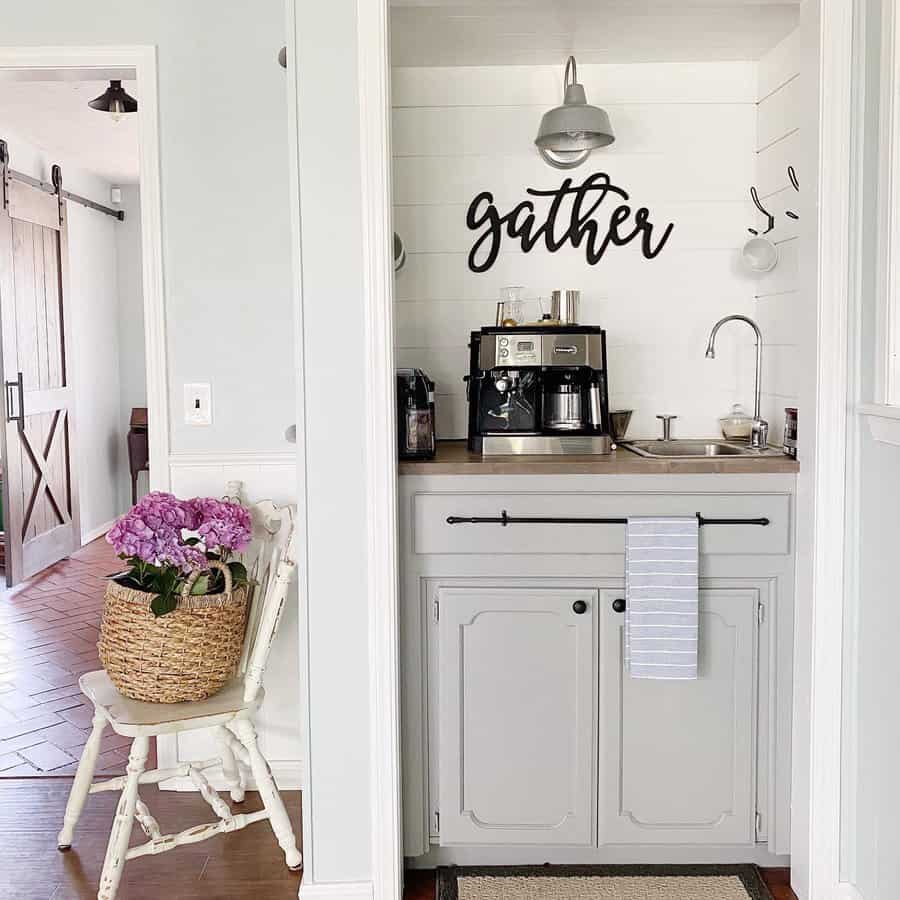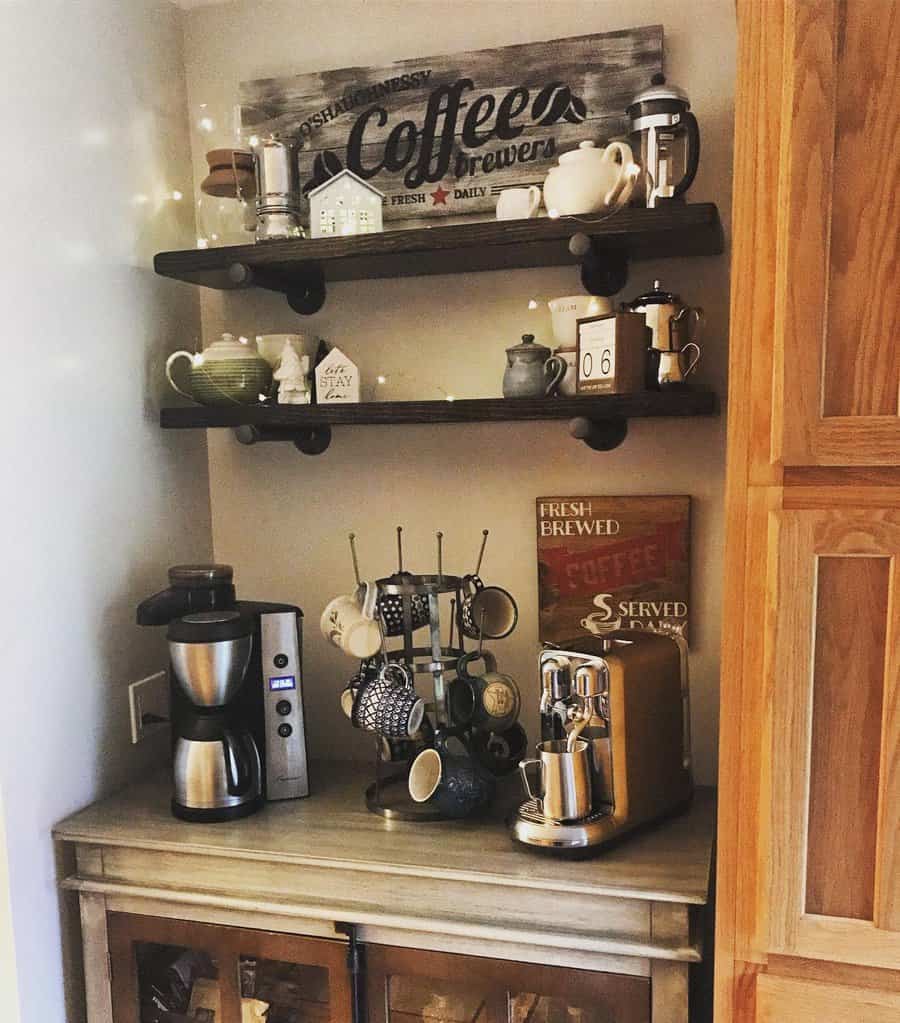 5. Display Coffee Wall Art
Turn your coffee station into a work of art with creative display ideas! Utilize wall art to create a custom showpiece in your kitchen – whether it be beautiful map artwork, a hanging lattice made of framed used coffee bags, or witty wordplay on walls.
Then add pops of colors with decorative accents like bistro chalkboard mugs and colorful storage jars. Incorporating thoughtful details will give the room a pulled-together feel and make it the perfect spot for brewing up delicious java for you and your guests!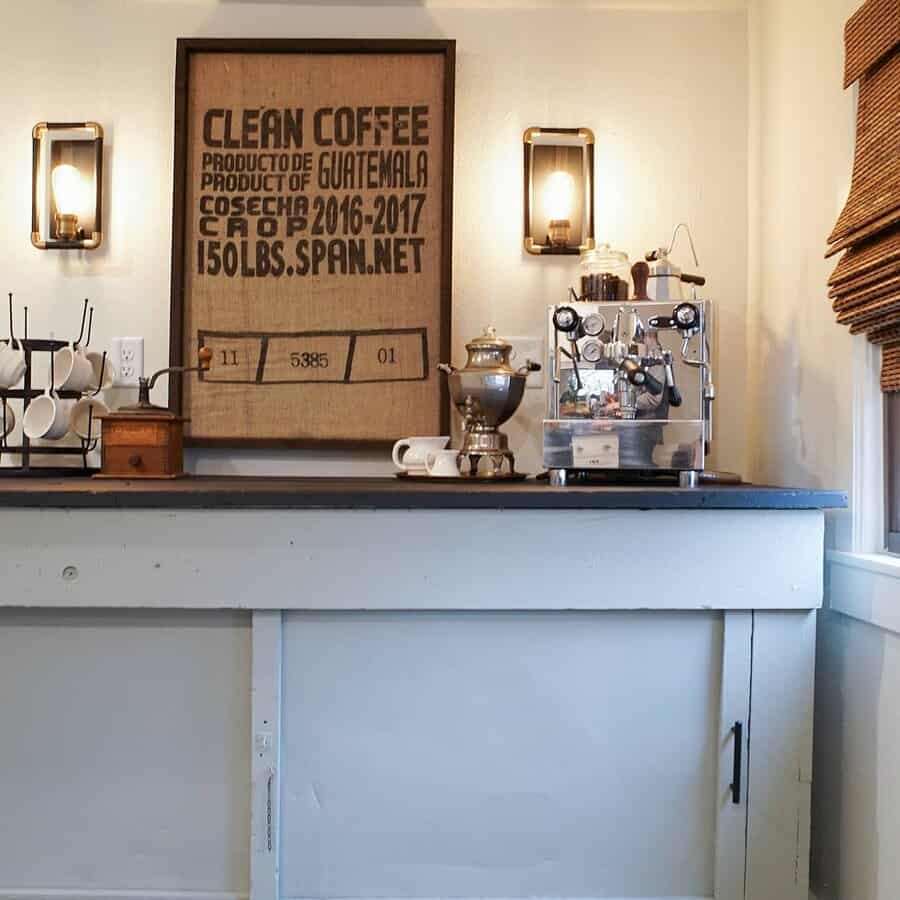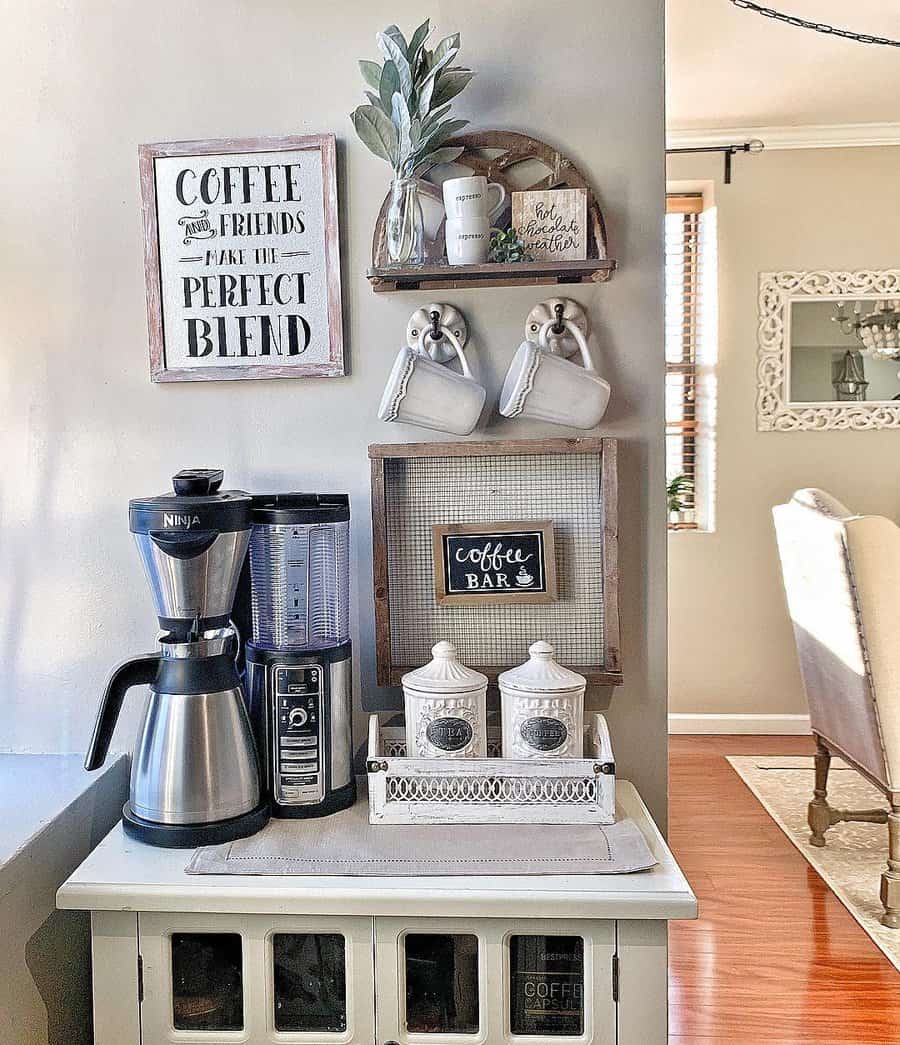 6. Small Corner Coffee Bar
If you're looking for a creative way to set up your small home coffee corner, consider devising a small corner coffee bar. A small corner table is a perfect place to start; you can use it to store your favorite specialty coffees and teas, small mugs or cups for a personal touch, and even small plants or decorations that can add a unique flair.
With just a few items – like floating shelves and dividers for extra organization – you've got yourself an inviting spot in your home to enjoy a hot cup of joe!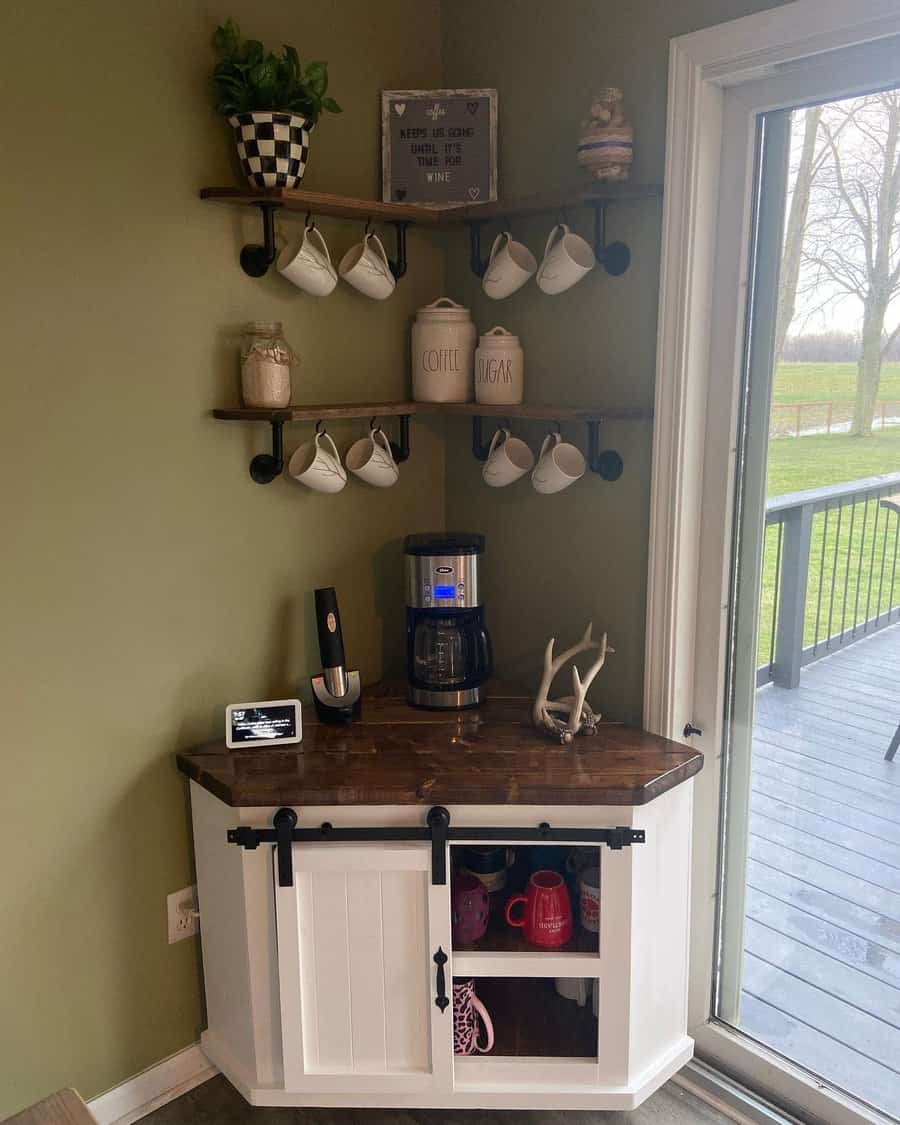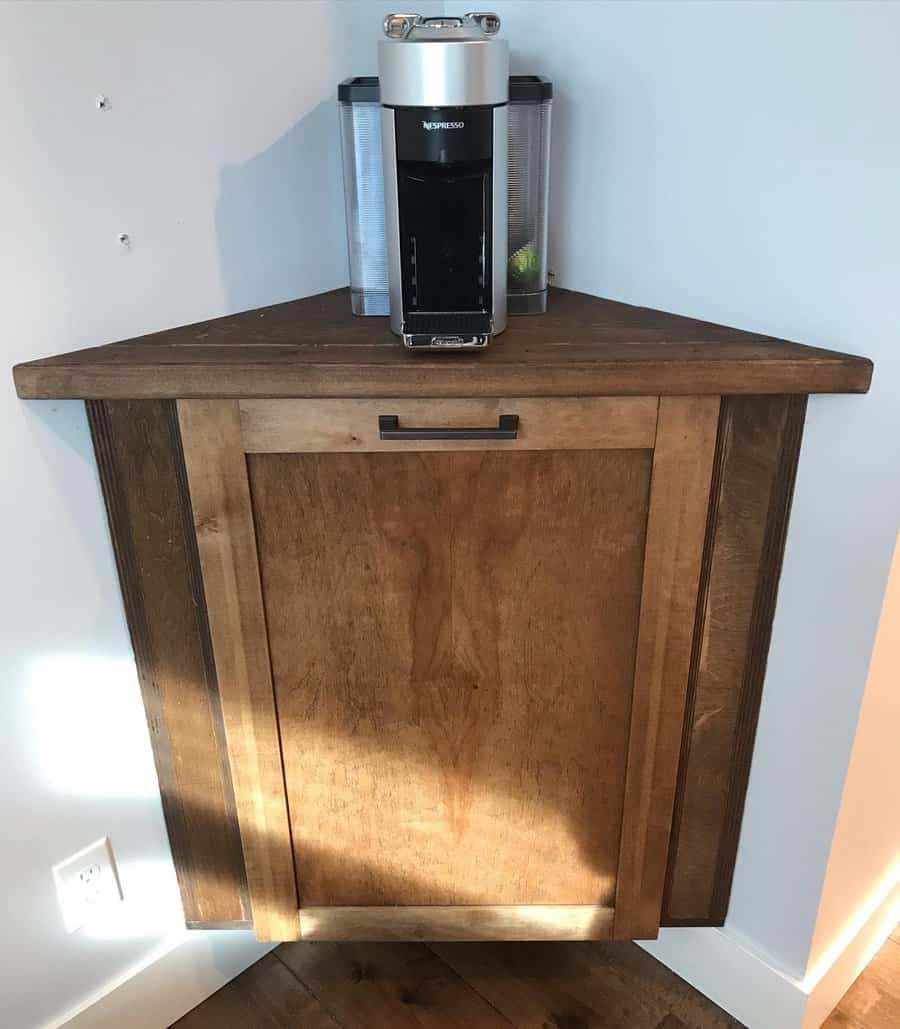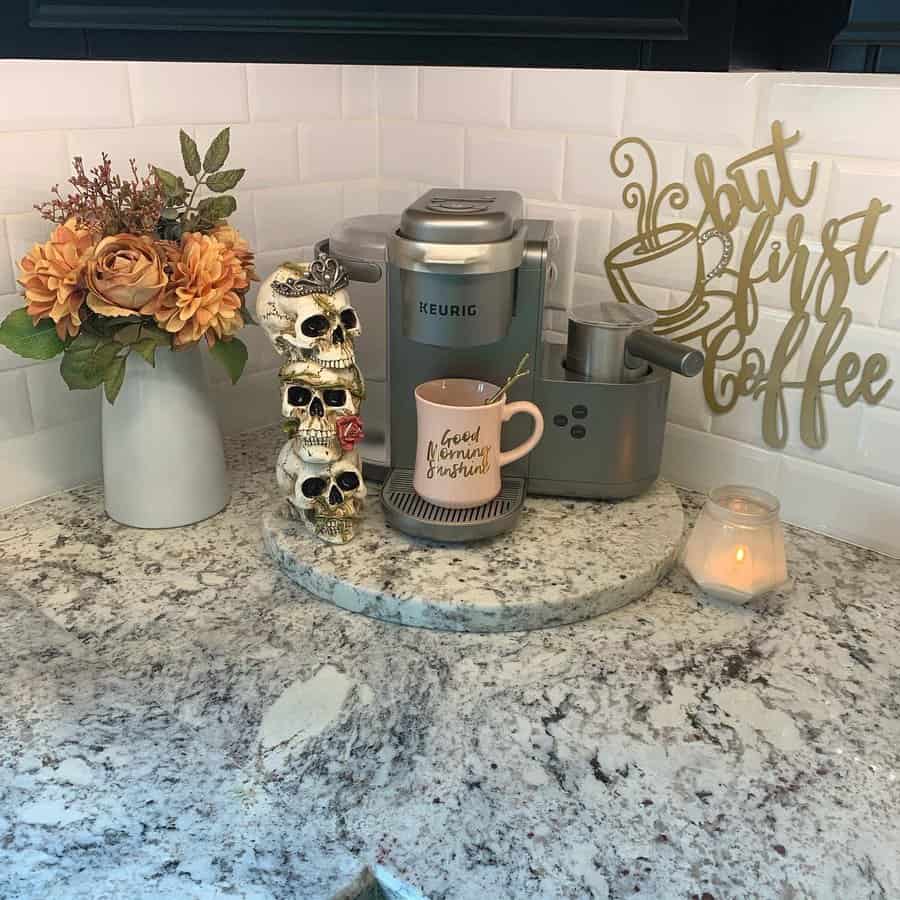 7. DIY A Coffee Station With Crates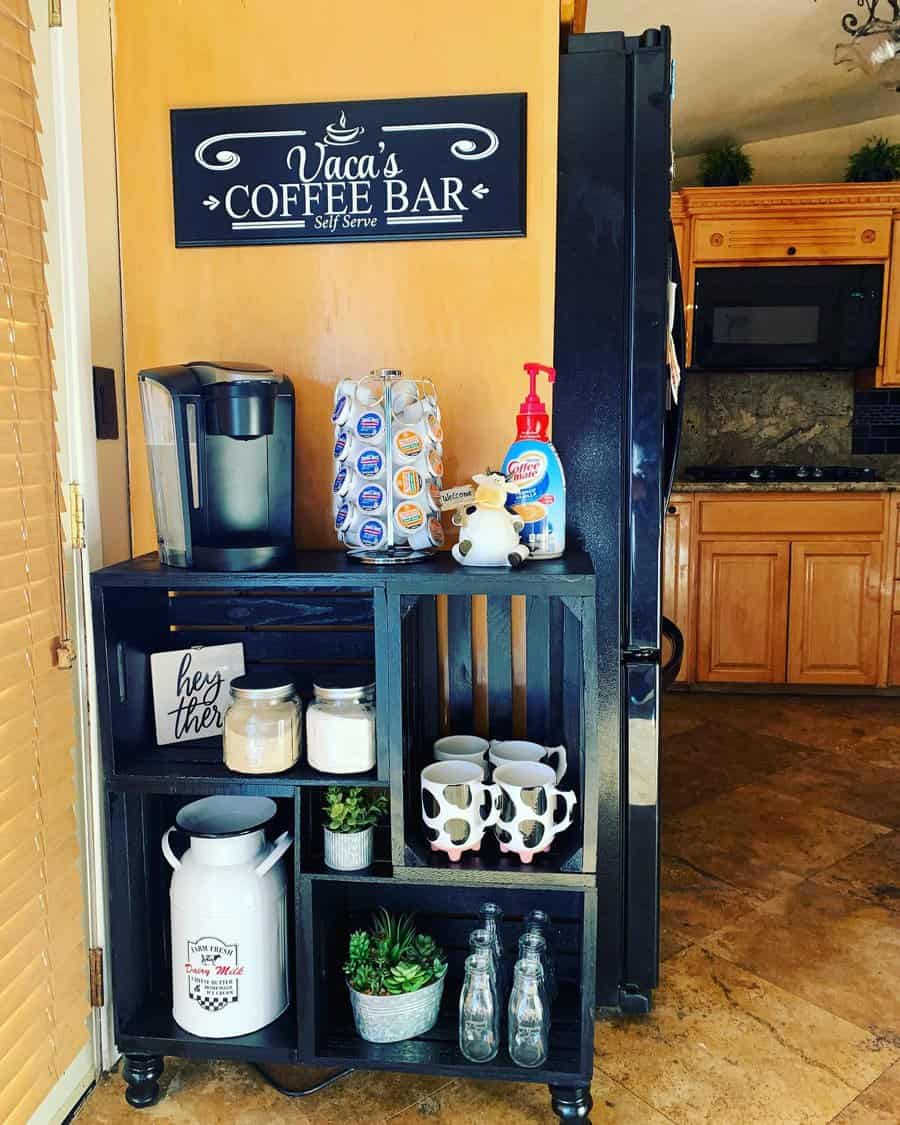 8. Use A Tray Rack
If you're looking for some great home coffee station ideas, opt for a tray rack coffee station. Not only does it create a unique display of all your coffee essentials, but it adds visual interest and style to your kitchen. A tray rack with an assortment of mugs, flavored syrups, and teaspoons will be a conversation starter while entertaining guests.
If space is limited in your kitchen, try adding a tiered rack instead as an effective way of displaying items while helping to save on counter space. For those looking for additional storage solutions, consider adding a rolling coffee station with hooks and shelves that can be moved around depending on your needs at the time.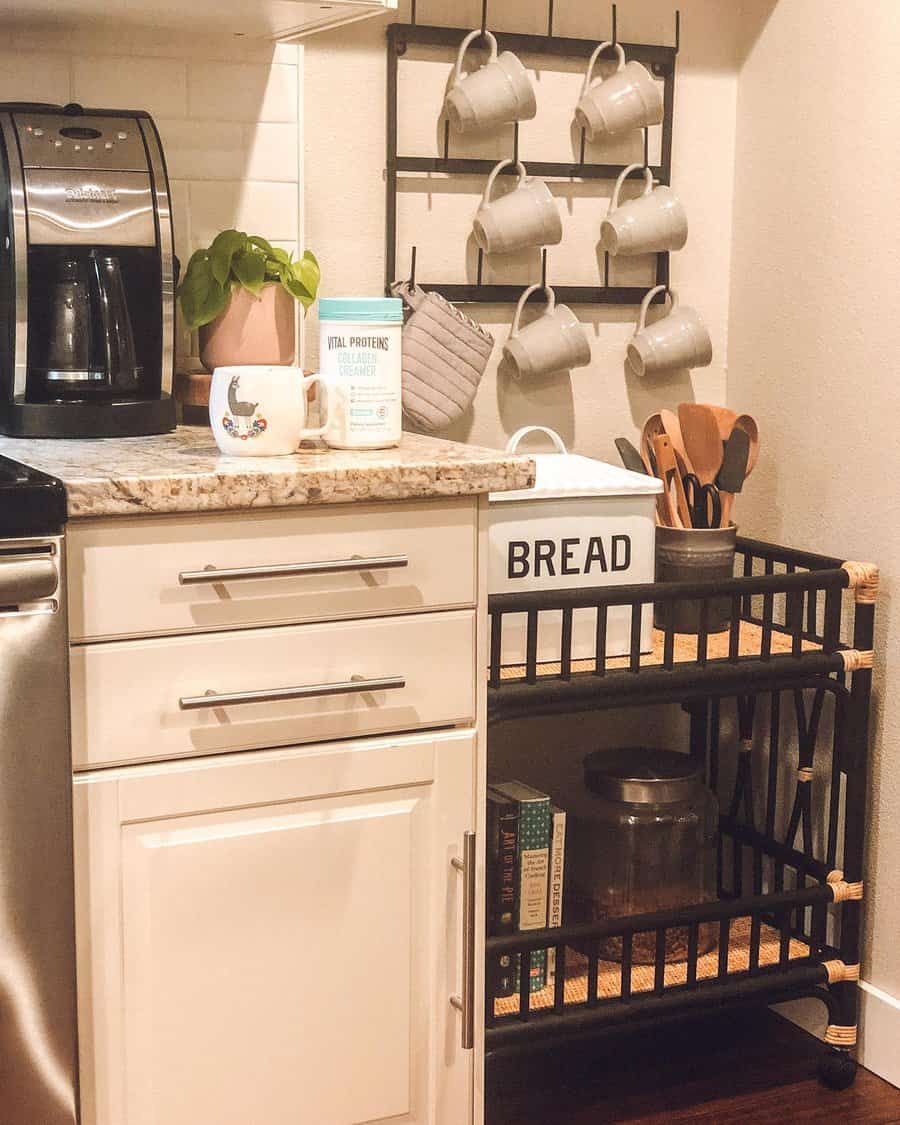 9. Use An Apothecary Drawer For Coffee Pods
Need to get your home coffee station organized? Consider styling it like an apothecary, with a range of specialty coffees conveniently tucked away in a drawer and within reach. Utilize an apothecary-style drawer for coffee pods, allowing the different types of coffee to be more visually appealing and accessible.
Labeling each section accordingly will also help you stay on top of which pod belongs to which type of roast. Whether you favor dark roast, light roast, flavored, or decaf, having your pods easily found and ready to go will start your day off without delays or excuses!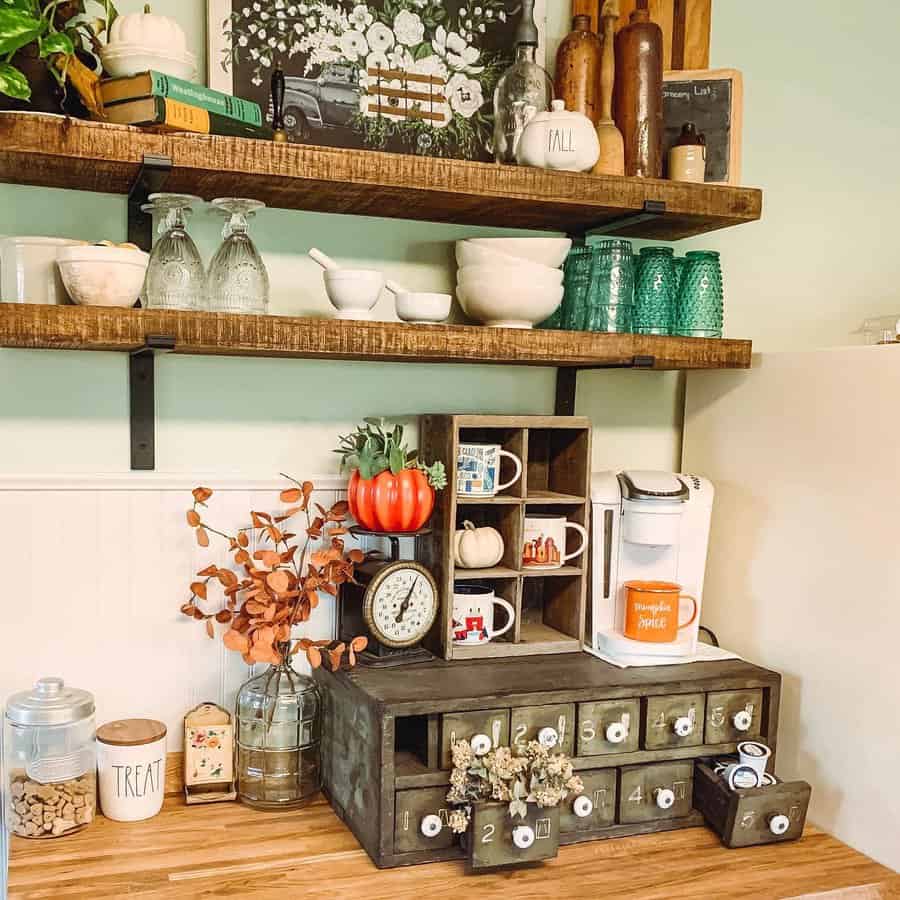 10. Wall-Mounted Countertop
Creating your own home coffee station does not have to be complicated or time-consuming. With the right wall-mounted countertop, you can quickly and easily set up a convenient spot for brewing that perfect cup of coffee each morning.
Whether you're an avid coffee drinker or a passionate at-home barista, organizing your coffee supplies in one place will make meal preparation less stressful and more enjoyable. All you need is just a few items like wall-mounted bins, mugs, and other accessories to establish a space to enjoy, savor, and share one of the world's oldest beverages with family and friends.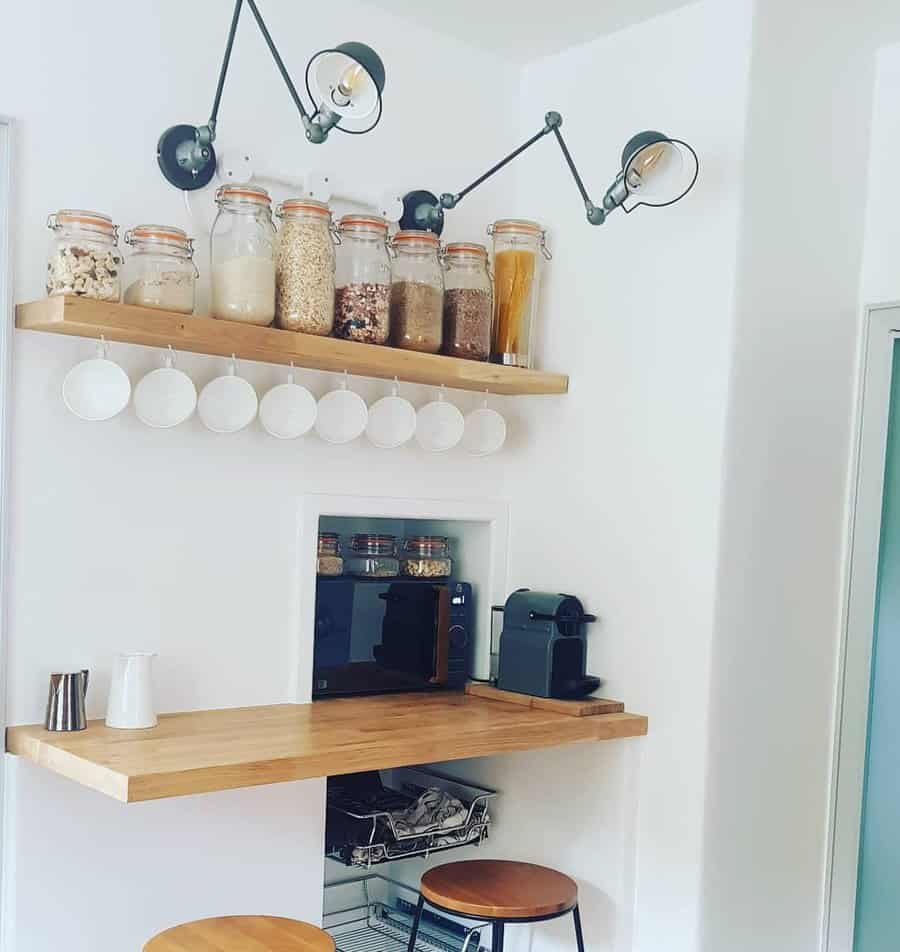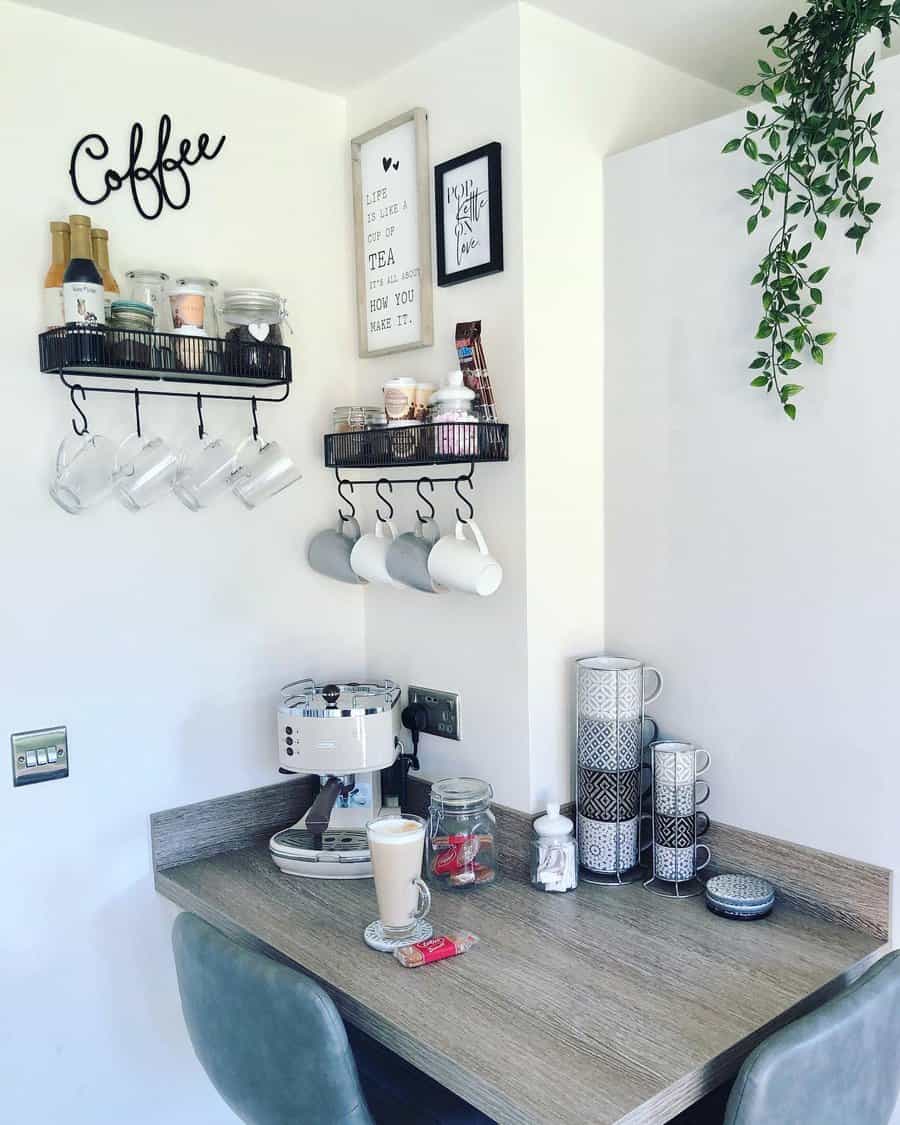 11. Rustic Coffee Bar
Creating your own rustic coffee bar at home can be a fun and creative way to give your mornings an extra boost! To start, you can pick out a distressed cabinet countertop and place it in your kitchen near where you normally make coffee. You can then fill it with all the essential coffee accessories like mugs, creamer, sugar, and stirrers. Use rustic décor such as wooden flower pots and burlap ribbon to add some farmhouse-style elements to the space.
Finally, if you want your station to truly stand out, why not add some greenery or chic decorations to really bring an air of rustic charm? With the perfect organization essentials in place, your rustic coffee bar will be ready for operation!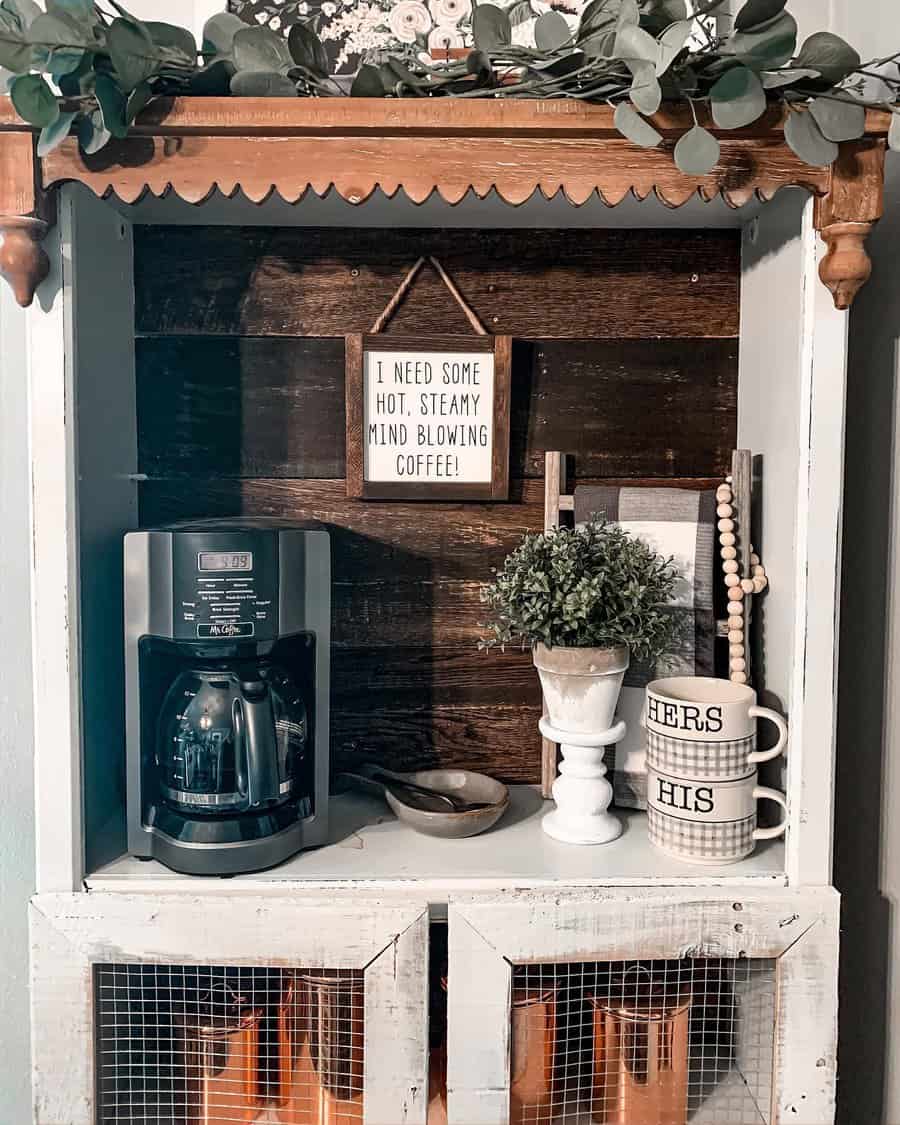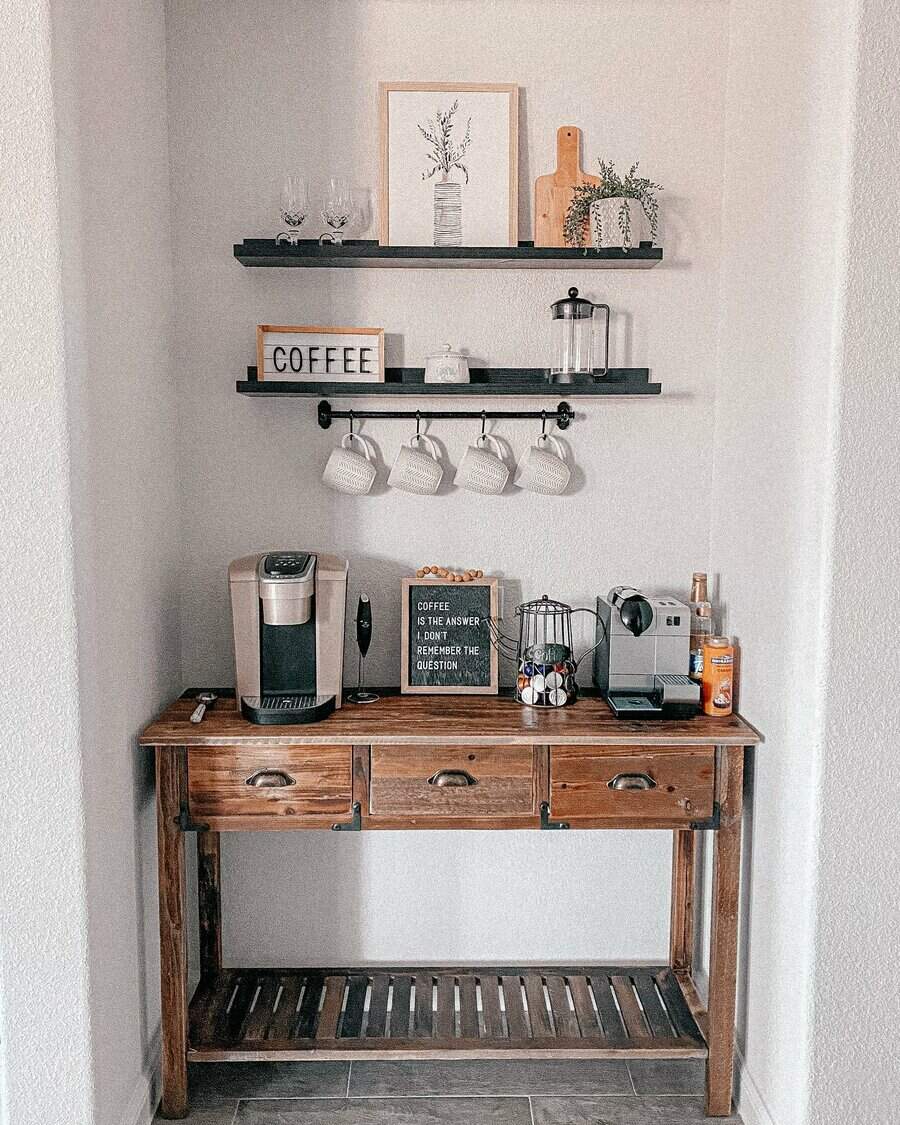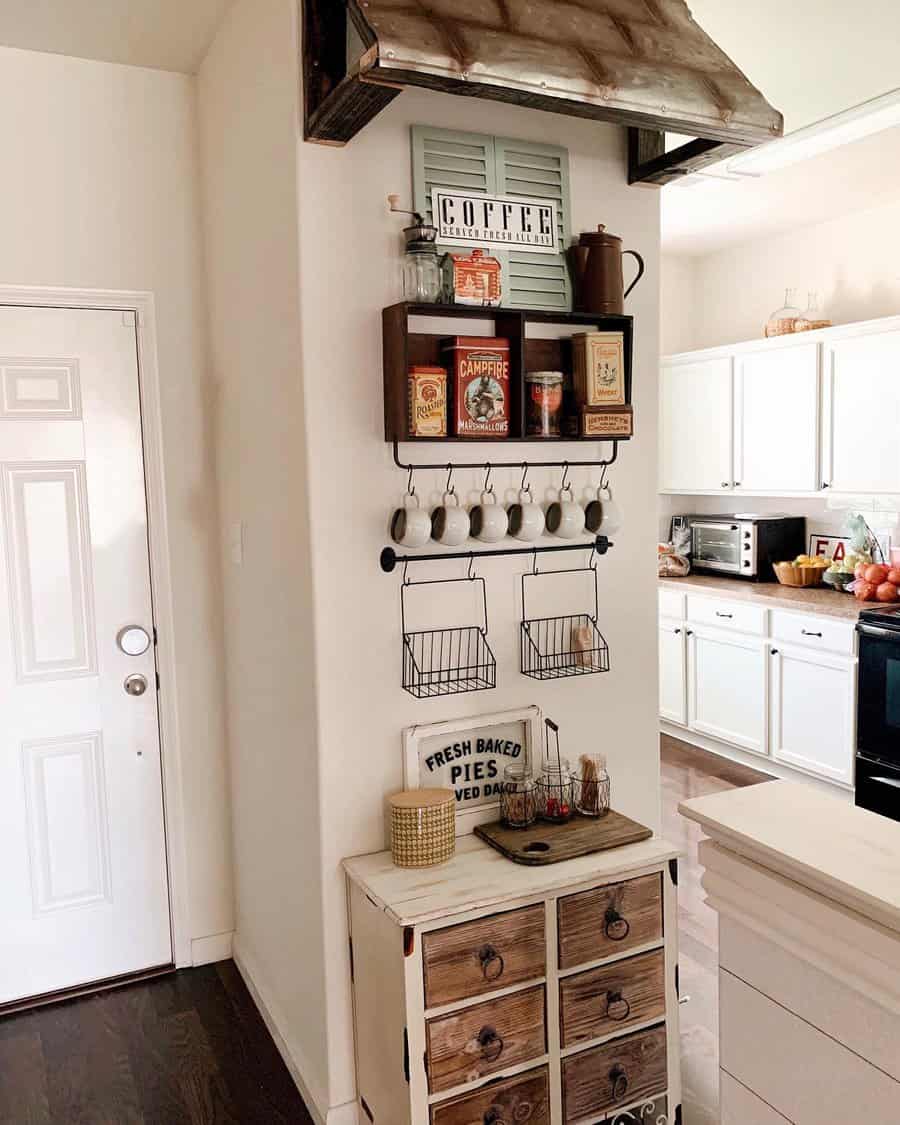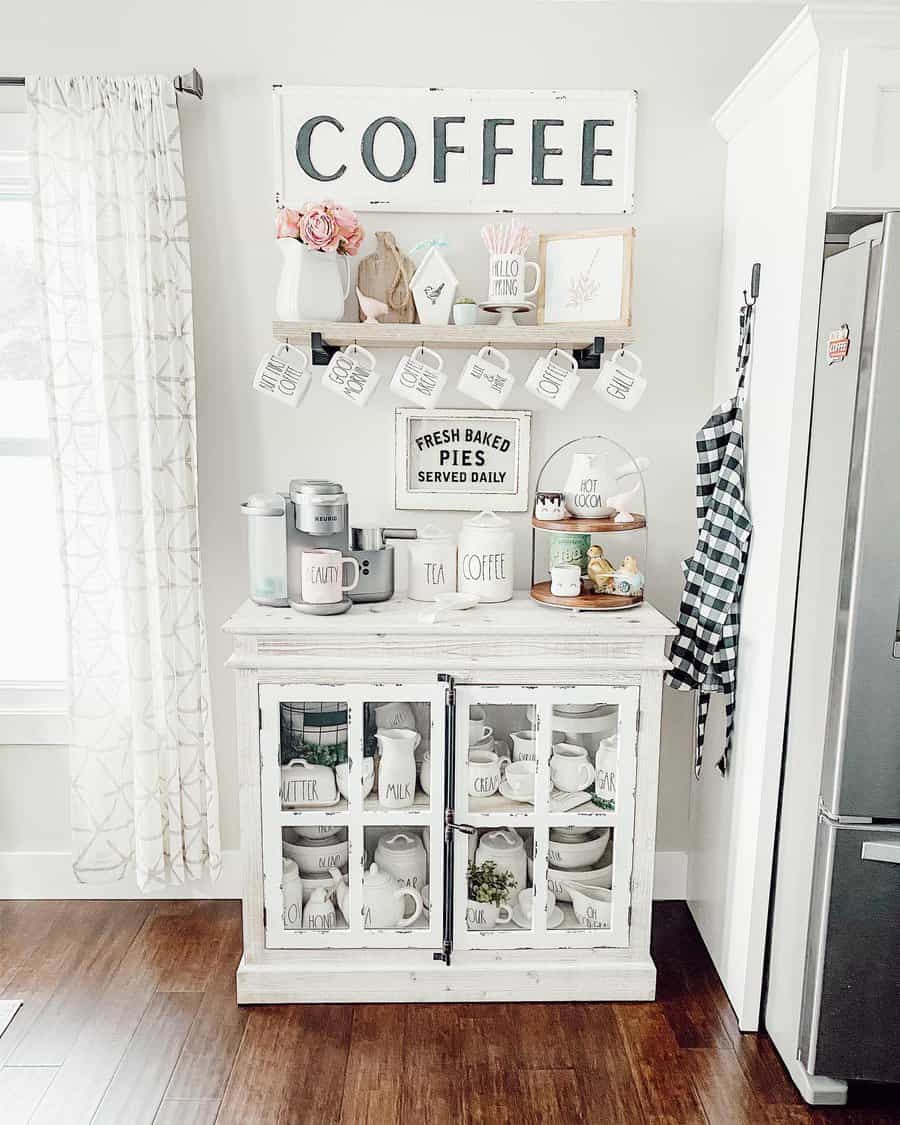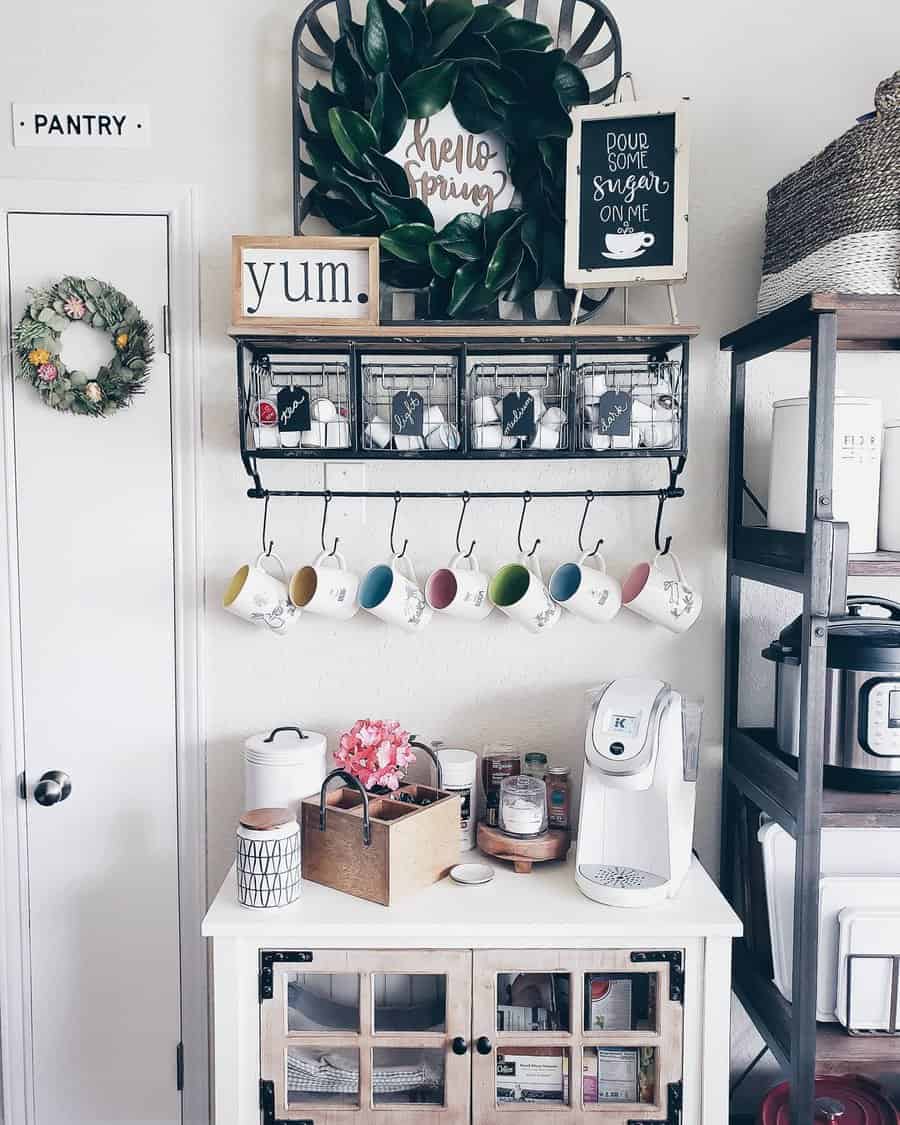 12. Standalone Coffee Station
If you need to start the day off on the right foot with a cup of coffee, home coffee station organization is essential. Designate a standalone coffee station with an inviting standalone countertop located away from another everyday kitchen bustles.
This will help ensure your morning brew isn't jostled or forgotten while simultaneously creating a warm and welcoming atmosphere where you can unwind and relax as you savor your first sip of joe in the morning. Your compact yet perfectly organized coffee bar will be ready for any occasion – all it takes is some creative forethought and a few helpful organizational hacks to blend both style and function.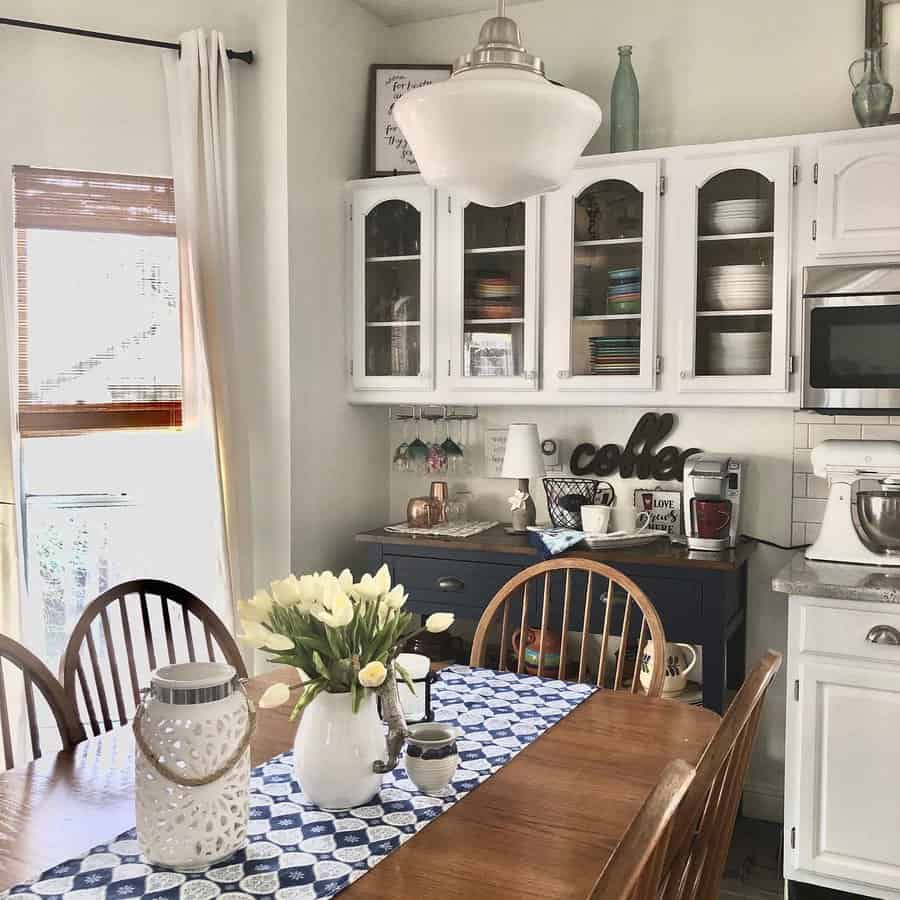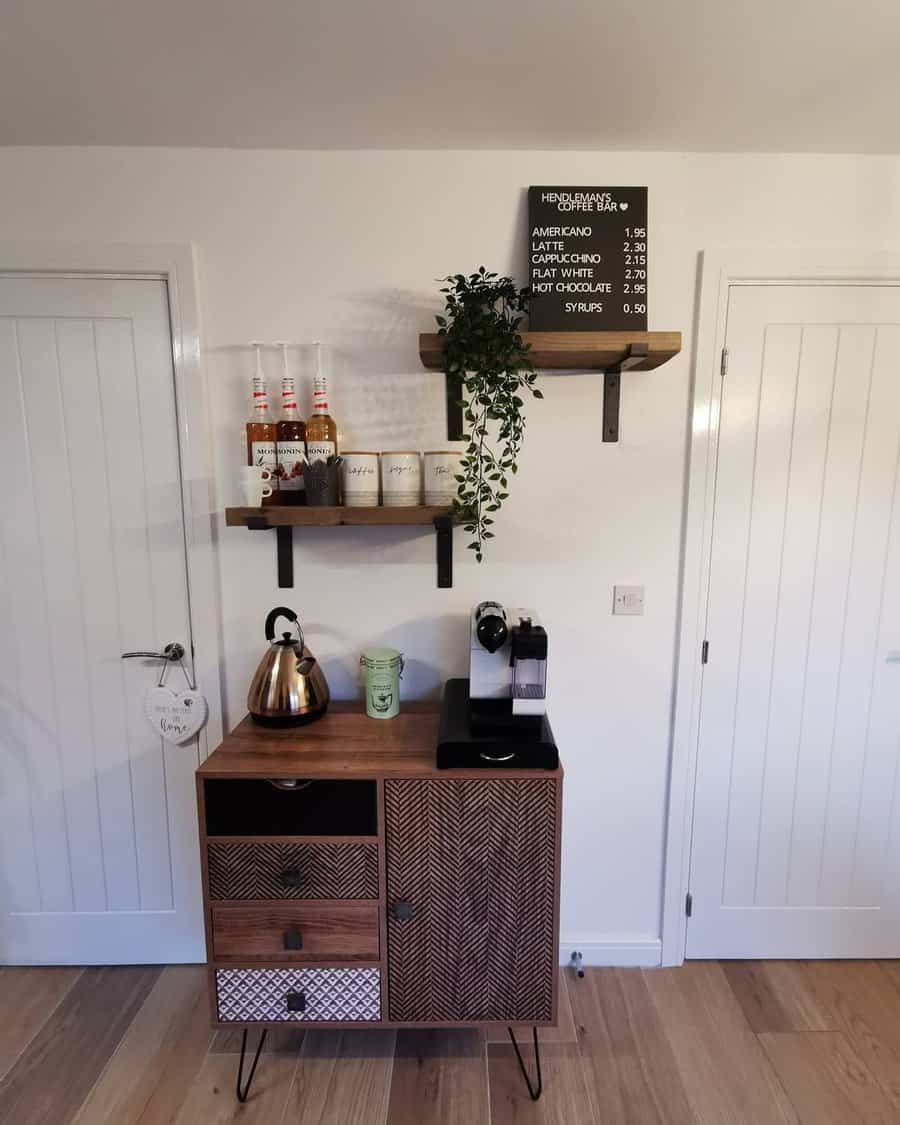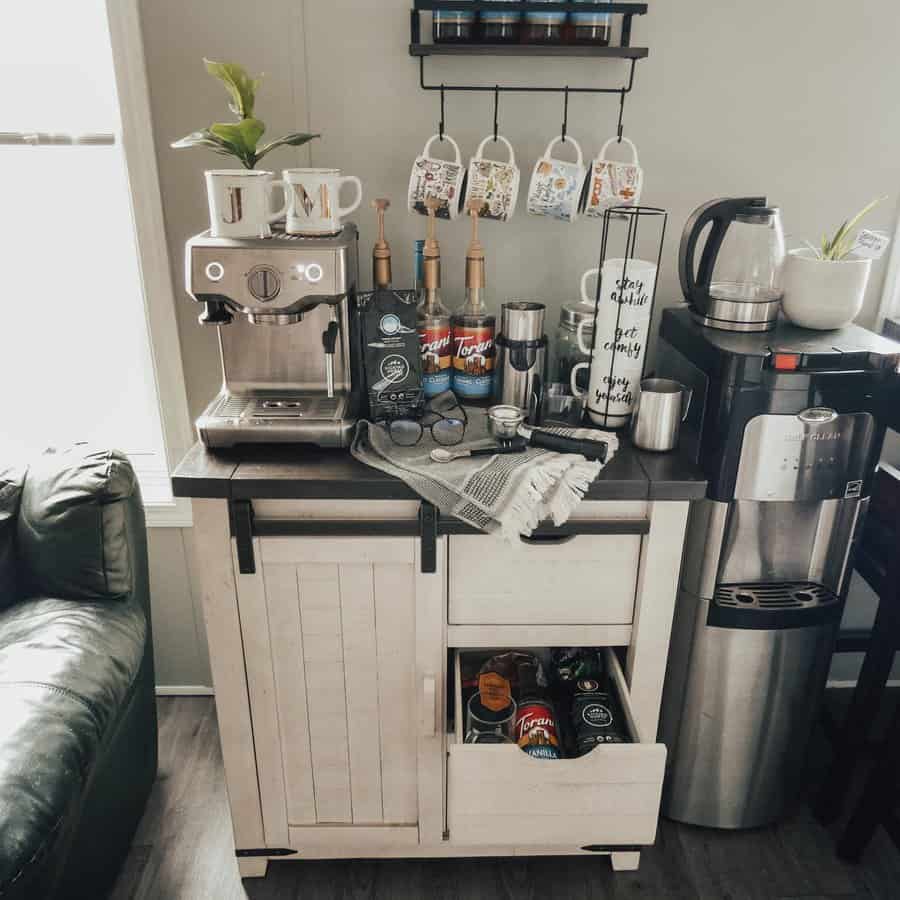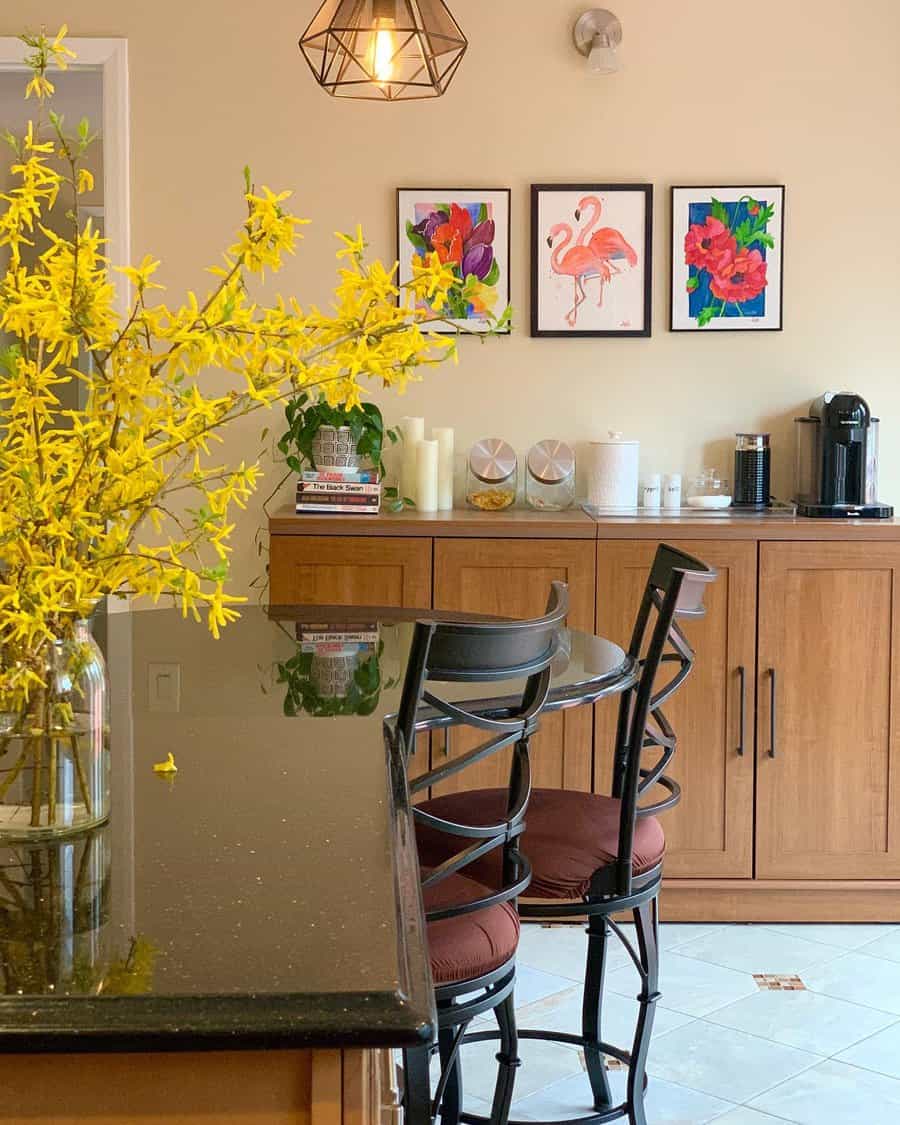 13. Invest In A Coffee Pod Drawer Organizer
Creating the perfect coffee station to make your morning routine run smooth and seamlessly starts with a little organization. Buying a coffee pod drawer organizer can be the perfect place to start, with an organizer inside the drawer for maximum coffee efficiency.
An organized coffee station will make finding everything you need easier and faster. Allowing you to focus on brewing that perfect cup of coffee and start enjoying any precious spare minutes in the mornings instead of frantically searching for what you need.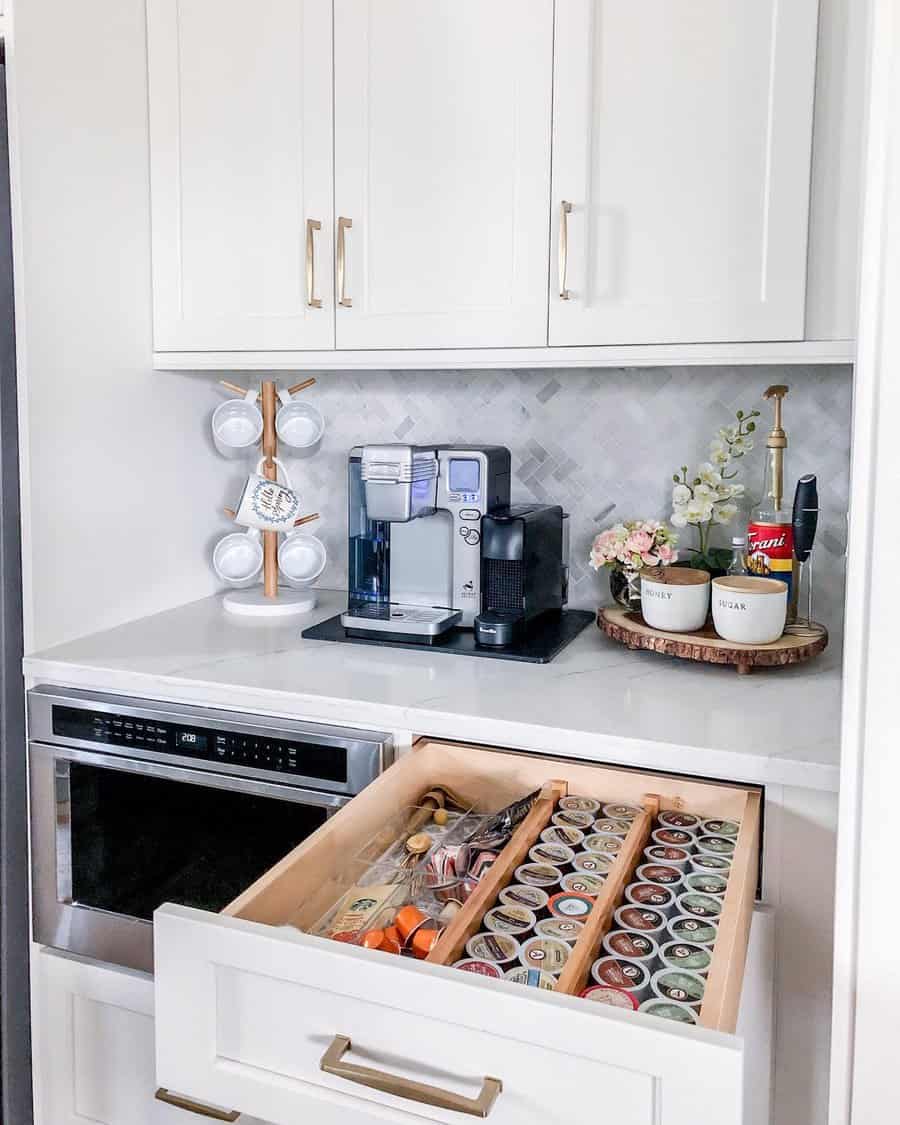 14. Add Labeled Organizers For Your Coffee Essentials
Taking your home coffee station to the next level doesn't have to be a hassle. Start by picking labeled organizers for all your coffee essentials, from k-cups to French Press accessories. Place them on a shelf close to your machine, and you'll never go searching for the right piece again!
Your labeled organizers will keep your brewing station looking sleek & neat, giving you more time and peace of mind to enjoy that perfect cup of Joe.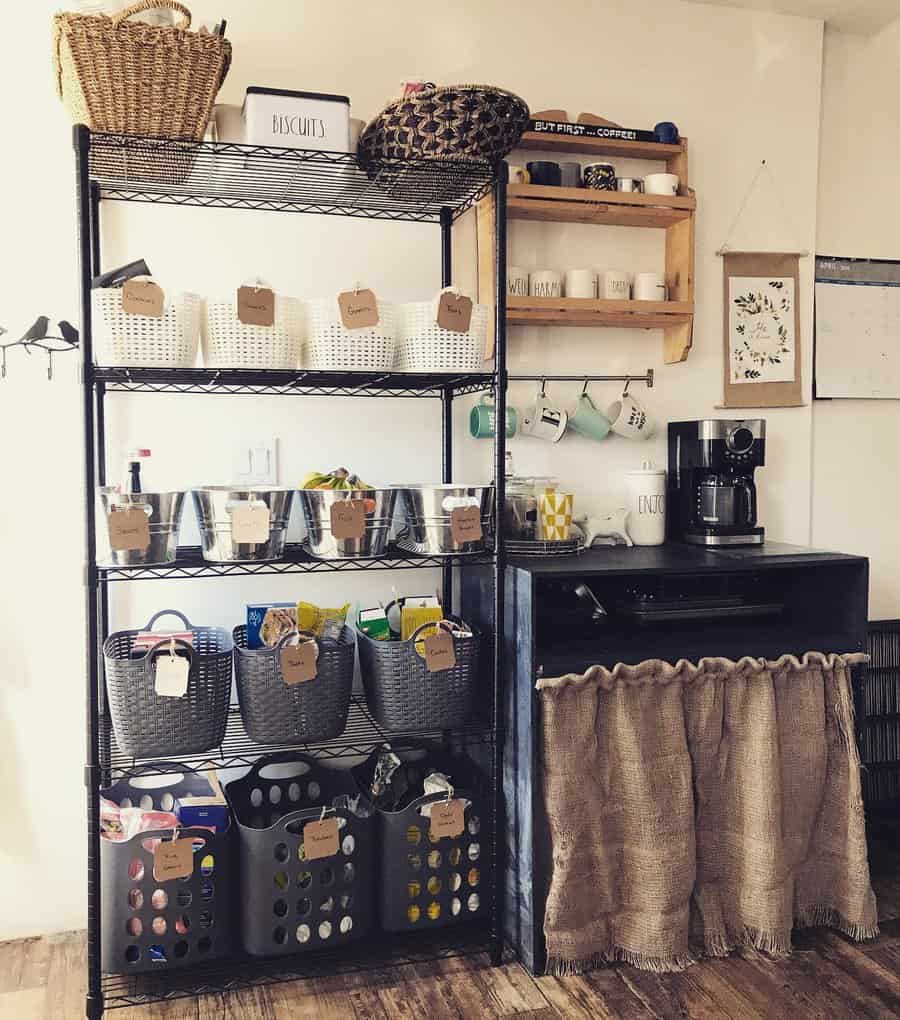 15. Set The Coffee Mood With Seasonal Decor
Setting up a kitchen coffee station is the perfect way to jazz up your kitchen while making mornings extra efficient. From picking out chic accessories to adding seasonal decorations, organizing a kitchen coffee station has never been simpler!
Why not try displaying some colorful mugs and arranging unique coffee flavor displays on pretty trays? Amping up the kitchen decor with seasonal decorations such as intricately flavored honey or trendy kitchenware can make the scene that much more special. Regardless of how big or small your kitchen is, getting creative with kitchen coffee organization will have you enjoying every morning with your favorite cup of joe even more.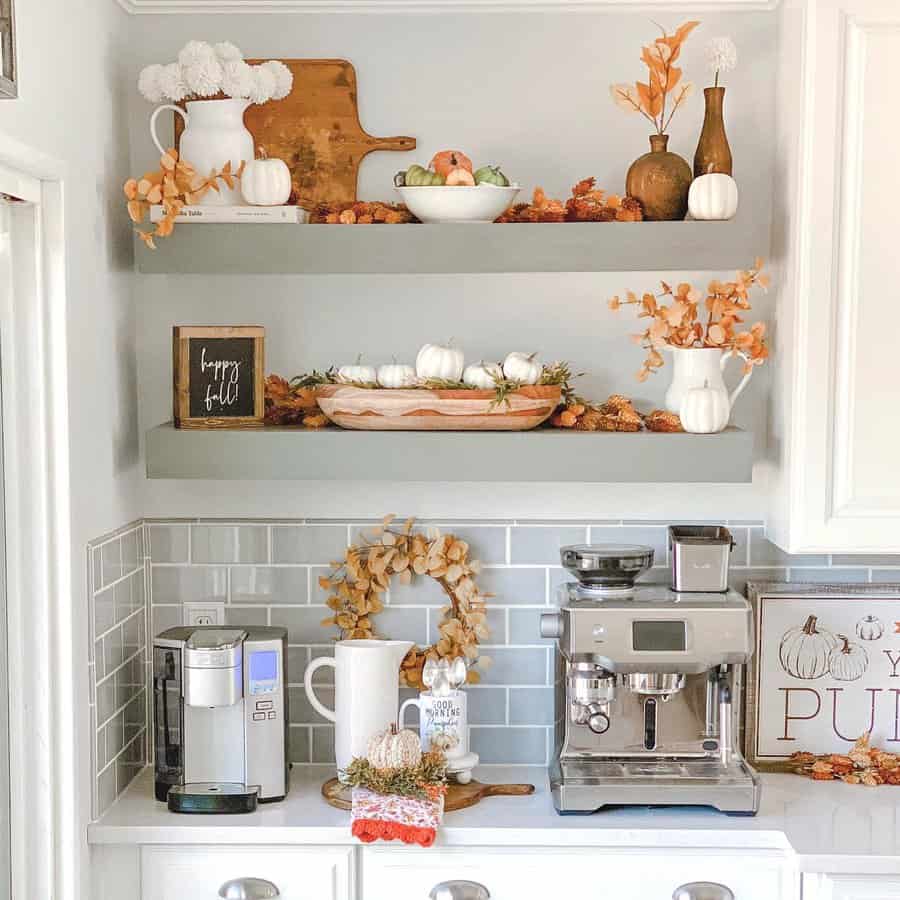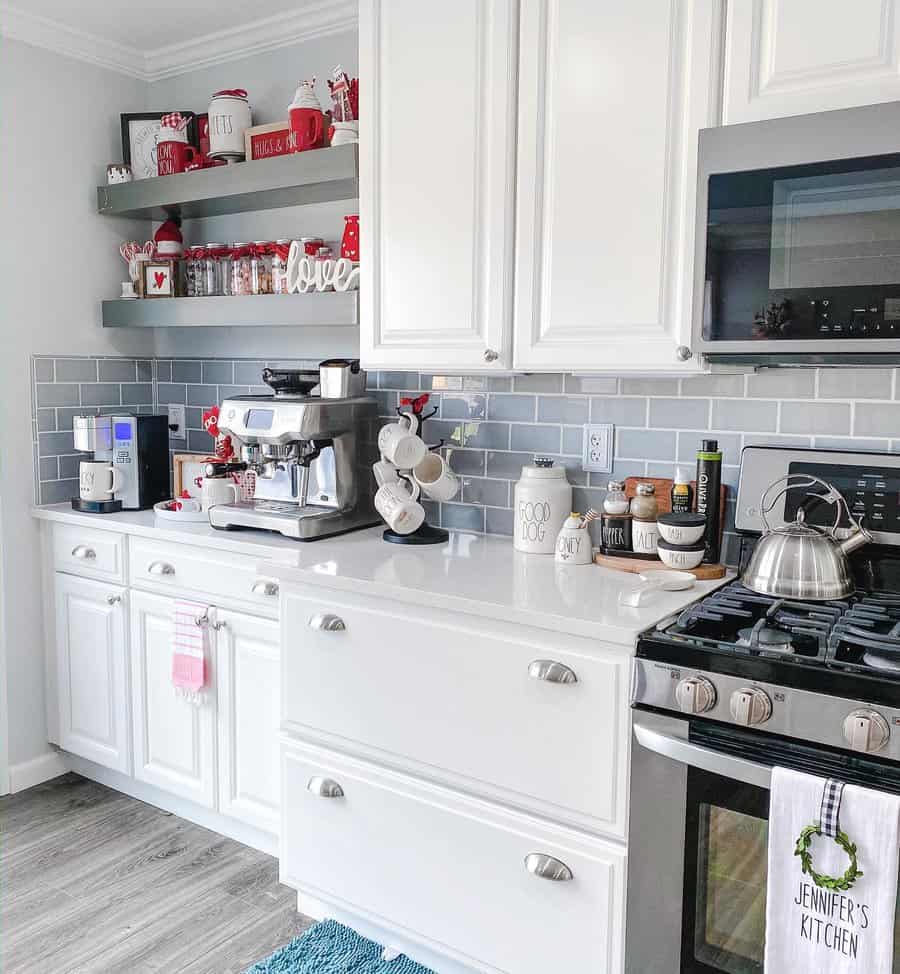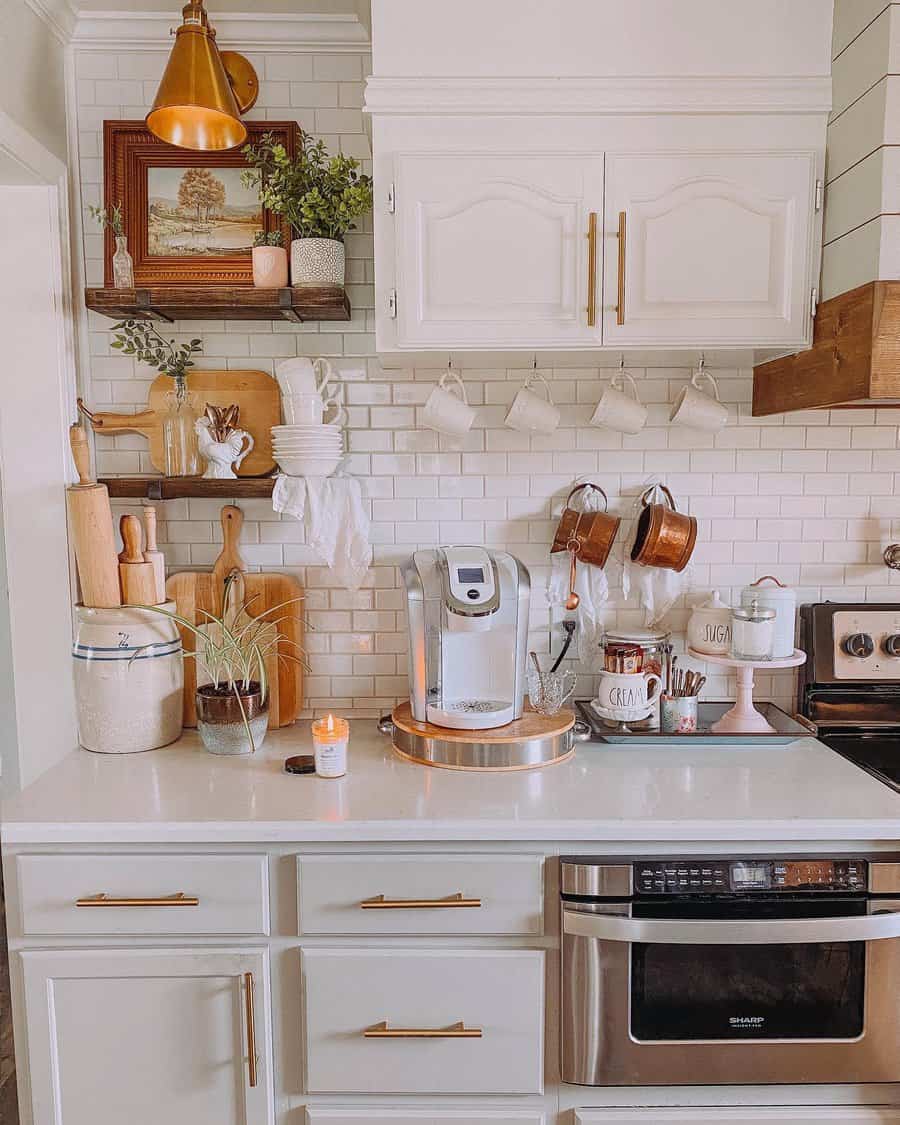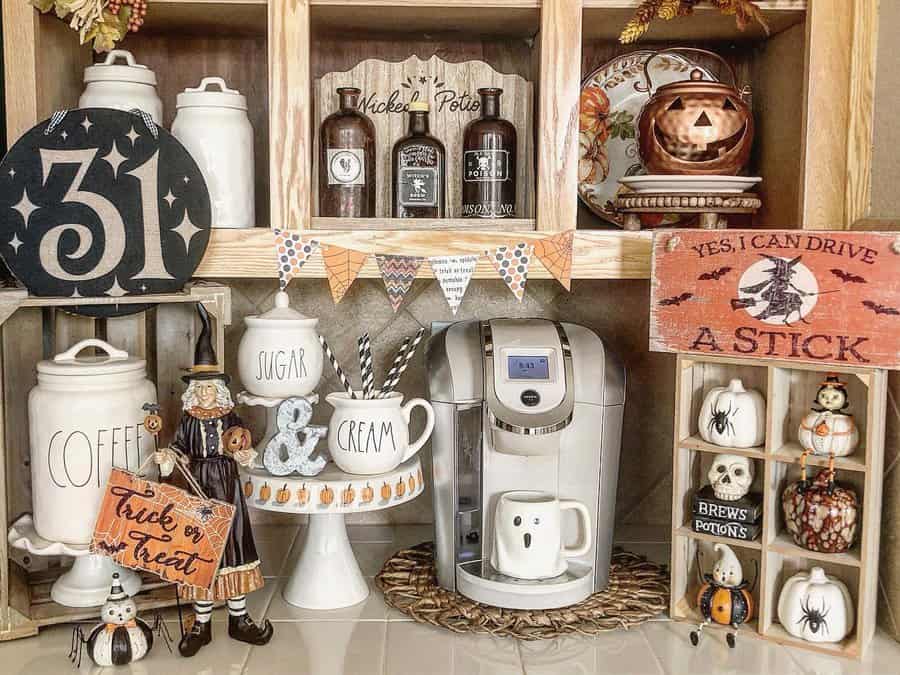 16. Living Room Coffee Station
A living room coffee station is the perfect way to show off your style while keeping your home organized. From carefully chosen decor to functional accessories, your living room can become a destination for friends and family.
Consider utilizing chic complementary pieces to create an inviting atmosphere and help maximize countertop storage space. Your living room coffee station doesn't have to be expensive; let creativity be your guide as you incorporate thrift store finds that turn into unique treasures. With some time and effort, your living room can be transformed from messy to marvelous!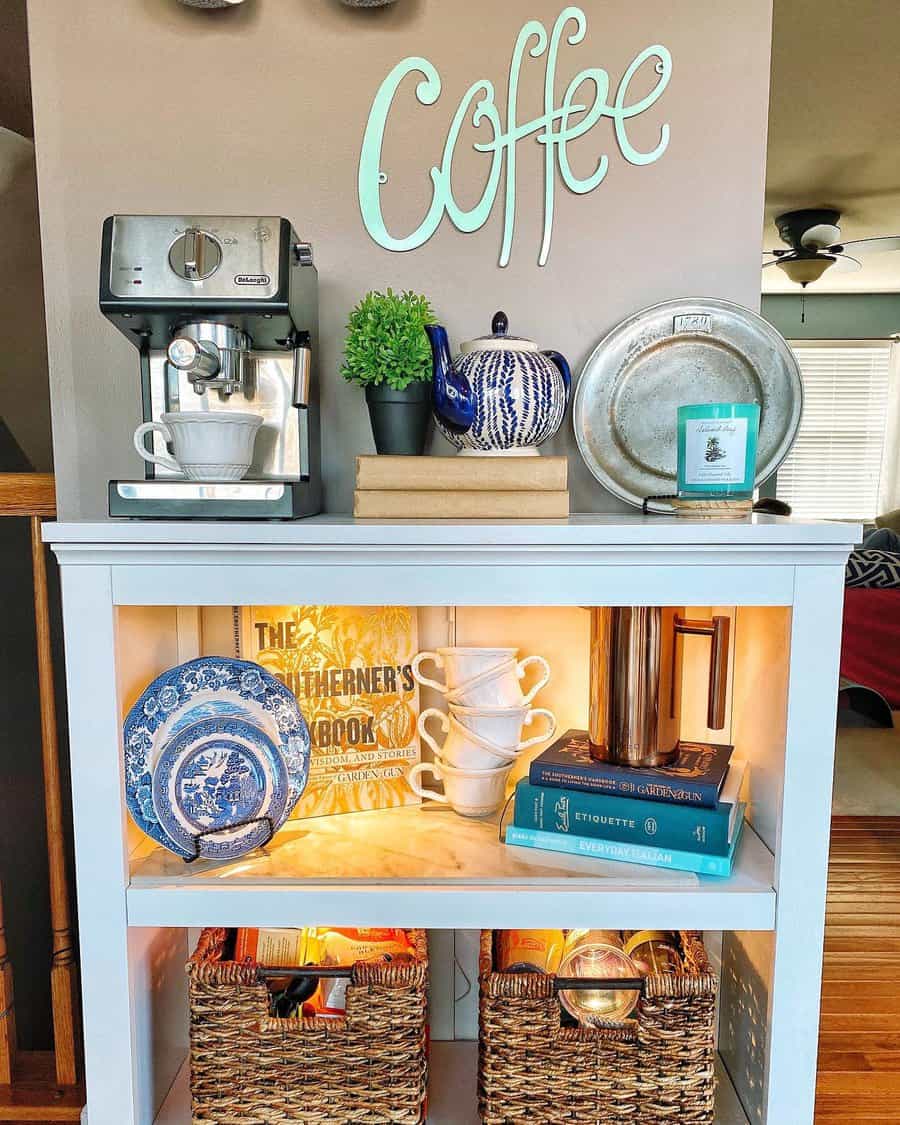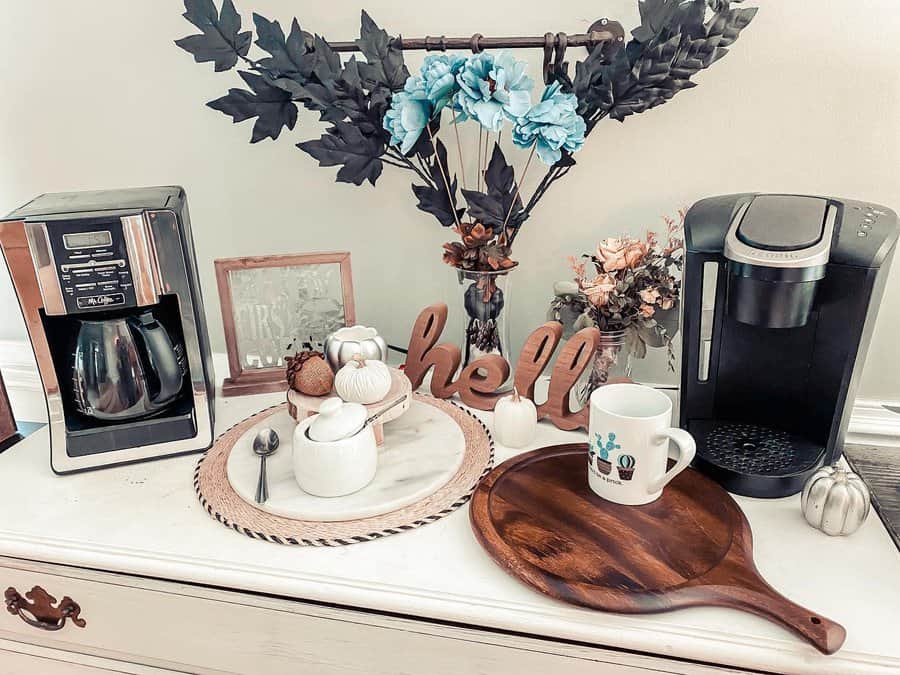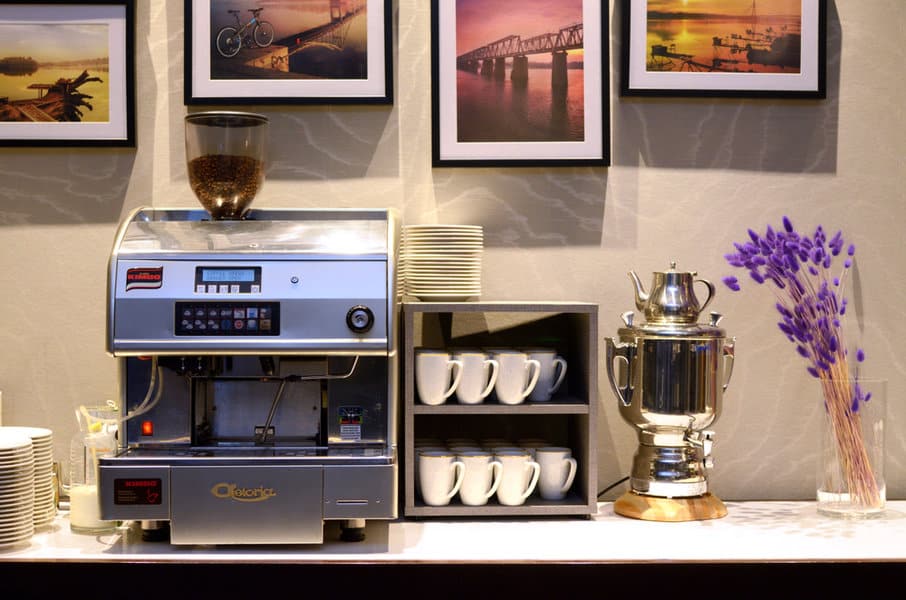 Coffee Station FAQs
What should be included in a coffee station?
A fully functional coffee station will include the following:
Coffee maker

Coffee beans (whole or ground)

Coffee grinder 

Coffee mugs

Spoons

Sweeteners

Creamer

Napkins
Where do you put a coffee maker in a small kitchen?
A side counter or shelf is an ideal home for a coffee maker in a small kitchen. Ideally, it should be close to your water source. Use a small bar cart if you lack adequate kitchen counter space.
How tall should a coffee bar be?
Standard bar counters are 42" high while standard kitchen counters are 36" high. Therefore, either of these heights—or somewhere in between—would be ideal for a DIY coffee station.