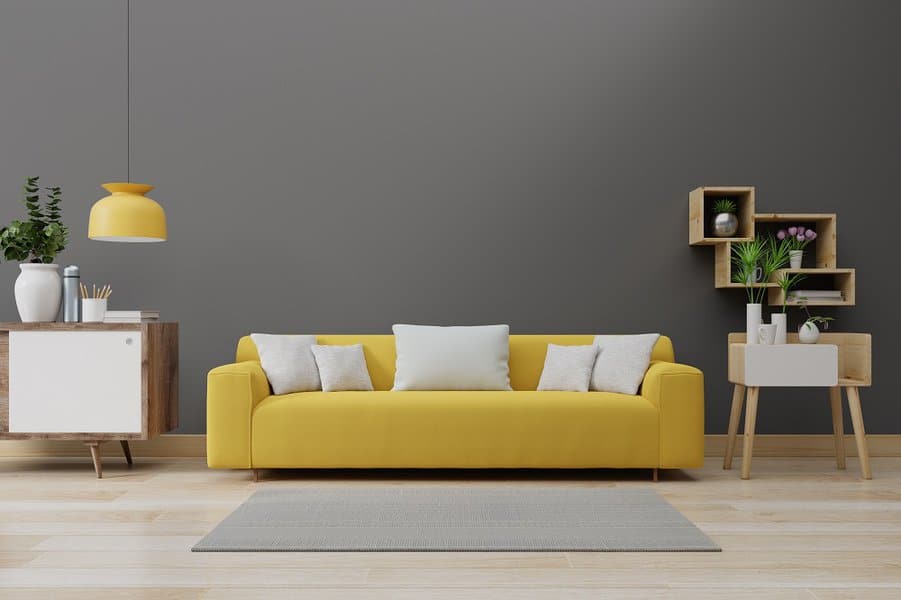 What Color Furniture Goes With Grey Walls?
by — Kari Apted

Published on May 31, 2022

Updated on June 6, 2022
Grey is a hugely popular neutral color. It's a color that comes in a huge range of shades, from dramatic charcoal to barely-there dove grey. Each grey color also has an undertone, which may be subtle or obvious. Warm greys have a red or yellow undertone while cool greys have a bluish tint.
So, what color furniture goes with grey walls? You really can't go wrong with any color of furniture when grey is the background. However, some pairings seem to work a bit better than others. Choose from the following furniture colors to create an agreeable grey based room.
Beige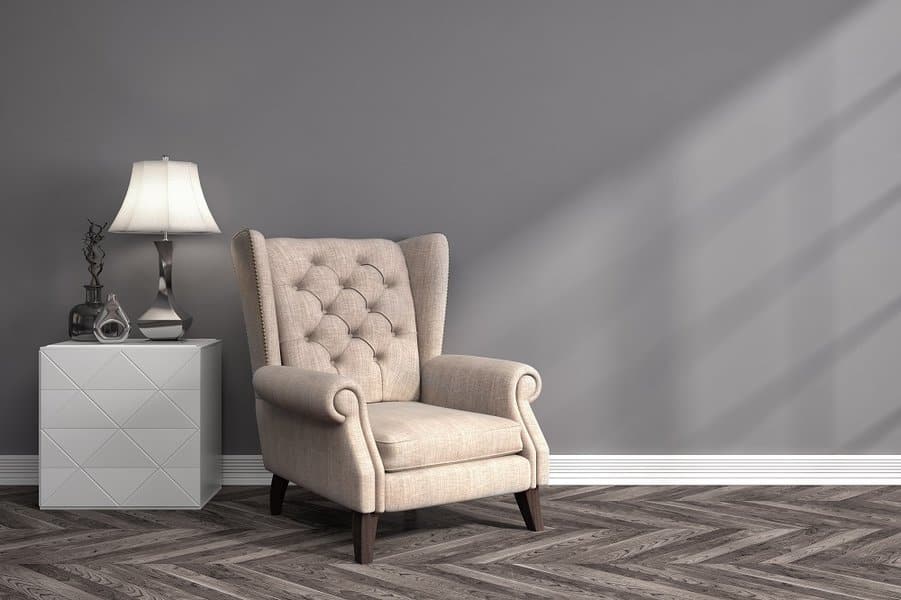 You might think beige or taupe is a bad pairing with another neutral like grey. However, depending on your interior designer skills, it's possible for two neutrals to cohabitate nicely in one space.
Beige color furniture looks best against a warm grey wall color like Sherwin Williams' Repose Grey. This color is a perfect "greige" or combination of grey and beige paint. To emphasize the grey in your color scheme, include a darker shade of charcoal grey in your area rug, throw pillows, and curtains.
Black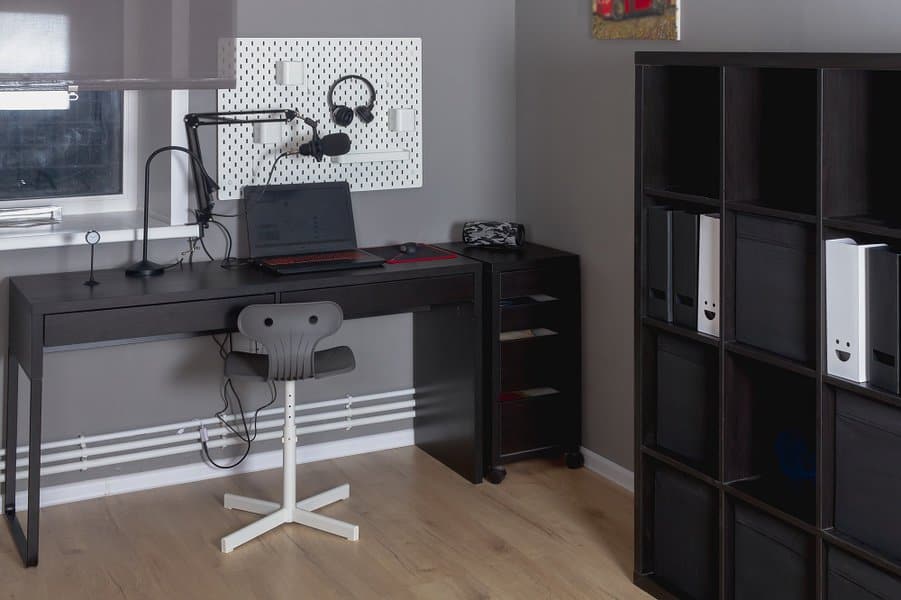 Black furniture always looks elegant next to grey walls. Black is a sophisticated color that, like grey, goes with virtually anything. Black color furniture is equally good with light grey or dark grey walls, depending on the look you're going for. You can also mix and match black and grey furniture pieces.
Using black color furniture with grey walls creates a monochromatic color scheme, especially when grey is represented in several different shade options. Find an area rug that includes multiple shades of grey, black, and touches of white. A big area rug that includes these hues will bring together your monochromatic color scheme. 
Blue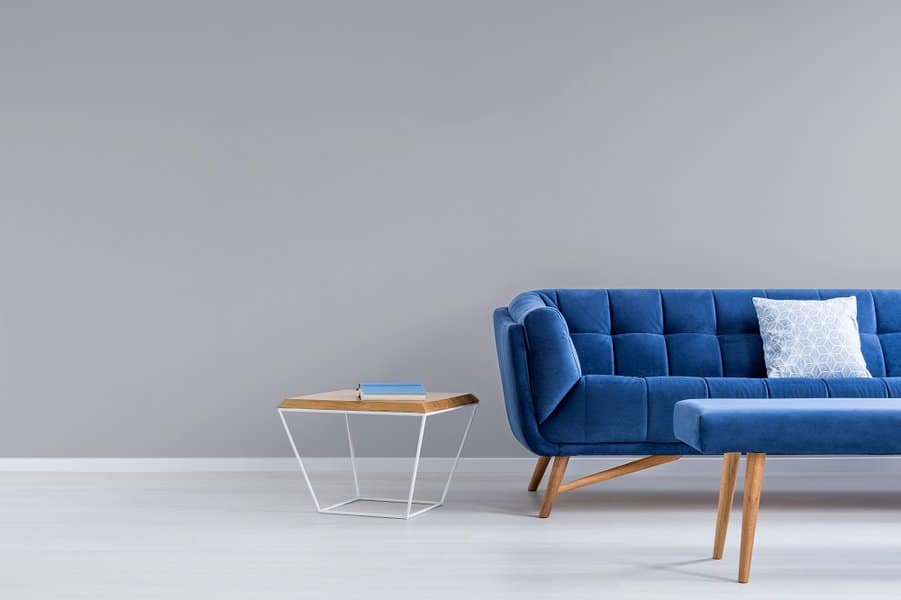 Blue is a peaceful color in its lighter shades, but can be dramatic when it's dark or bright. Brilliant cobalt blue or sealike turquoise are two colors that really stand out, and either works well against dark grey or light grey walls.
For the best blue pairing, choose slate grey for its cool background tint. Slate grey comes in pale and dark grey versions. Light grey slate walls and soft powder blue are a soothing combination in a bedroom or living room.
Green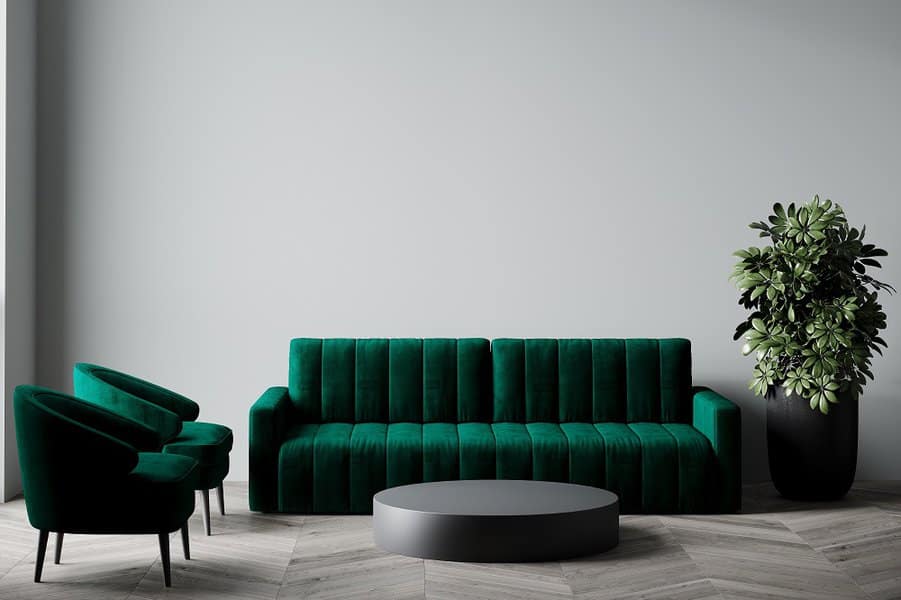 Earthy shades of green are a great choice when you're wondering what color furniture goes with grey walls. Sage and other soft, soothing greens carry a calming vibe next to grey. Olive green furniture is excellent against grey walls, and you can add to that natural ambience with brown woods and other warm neutrals.
Brighter green furniture colors can also be used with grey walls. Think jade, emerald, or grass green against a neutral grey wall. Because red is on the opposite side of green on the color wheel, red is a good accent color for a green and grey living room. An earthy brick red or dark terra cotta accents will make the green stand out from the grey walls.
Grey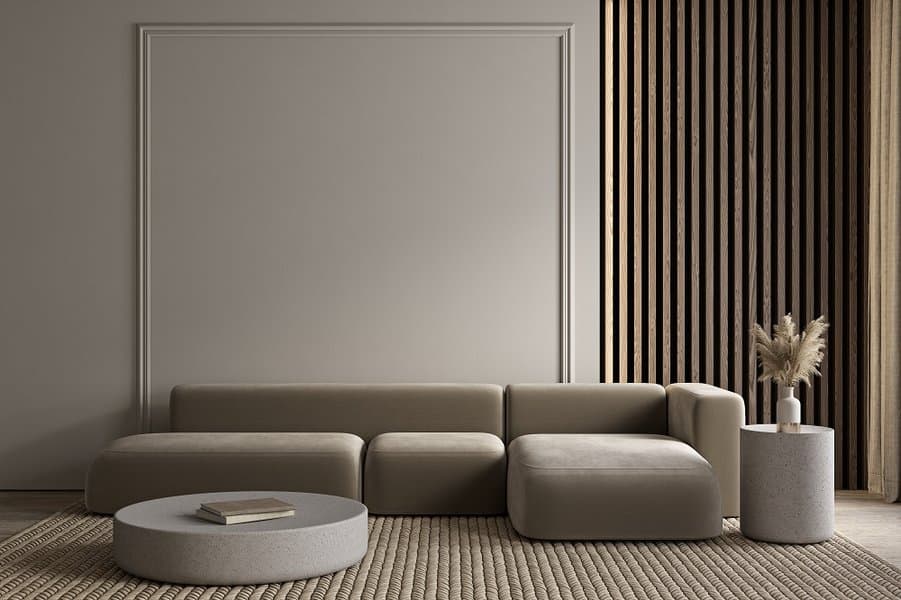 Grey might not immediately come to mind when you're wondering what color furniture goes with grey walls. After all, as a neutral, grey furniture against a grey wall sounds dull. But the truth is that varied shades of grey make an elegant color scheme, especially in a formal living room or primary bedroom.
If you're going for a grey monochromatic color scheme in the living room, choose at least one piece of grey furniture that  has a highly textured or printed pattern. Pair a grey sofa with printed side chairs and hang shimmery grey color curtains on the windows. These features are what keeps a grey room from being boring, and are a fun way to add detail when you'd prefer not to introduce a whole new color. 
Red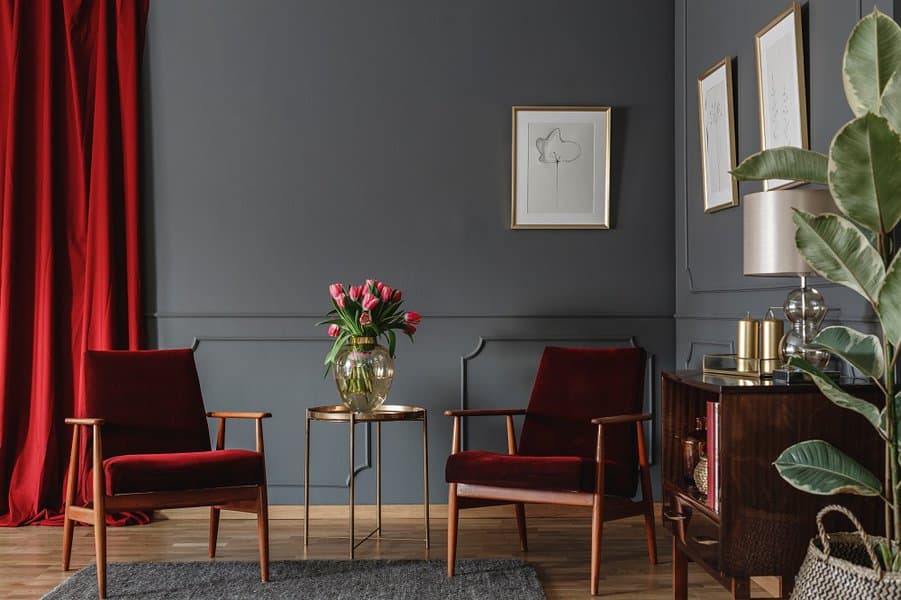 Choose red furniture if you want a bright, exciting look in your grey living room or bedroom. Red is also ideal if your grey wall room has an Asian flair, especially if you add gold accents.
Furniture upholstered with dark reds, like burgundy and maroon, have long been popular living room ideas. If a large red sofa seems a bit much, use smaller touches of red, such as a red bookcase or accent chair.
White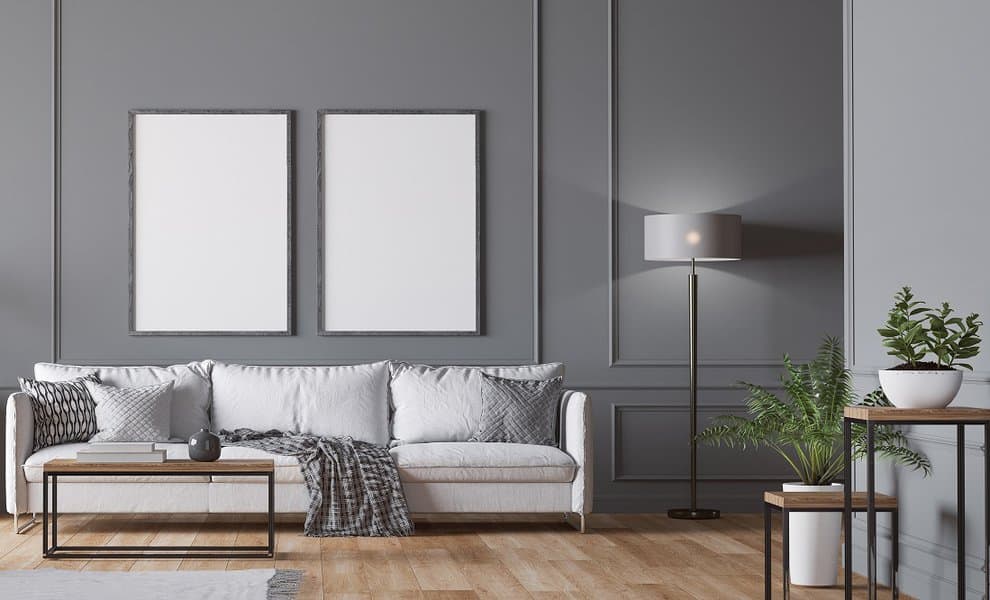 White will always be a top furniture or wall color choice when you're going after a fresh, clean vibe. White walls with grey trim or grey walls with white trim are both good when you want to include white furniture in the living room. White furniture is a flexible design choice as it looks great against a light grey wall or a dark grey wall.
Warm grey color paint looks better with a warmer shade of white furniture, such as cream or ecru. Keep your warmer color palette consistent with an ivory curtain color instead of a bright white curtain. 
Read also: 42 White Living Room Ideas
Yellow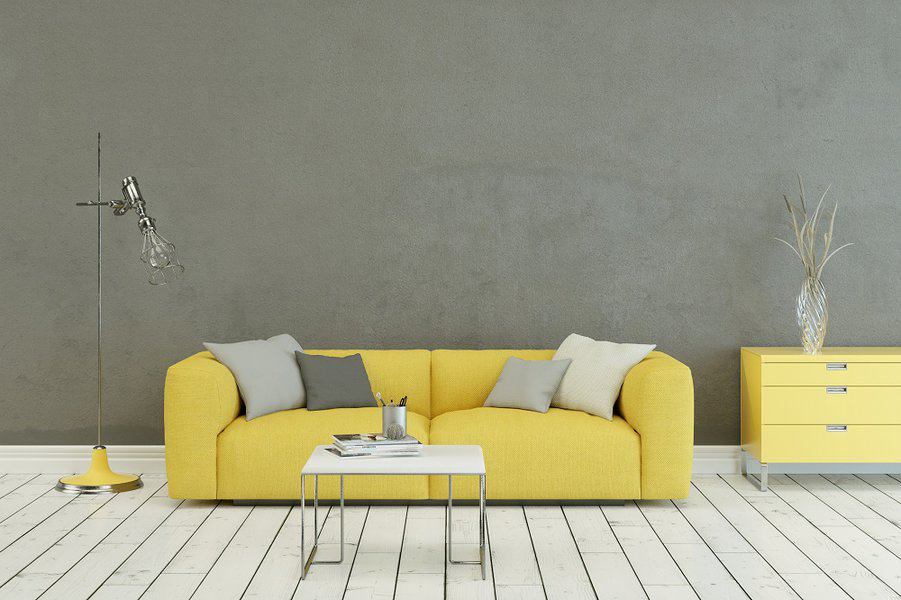 Yellow is a bright color that adds a cheerful, whimsical ambience to a living room with grey walls. Pure butter yellow, bright primary yellow, or deep sunflower gold are all great upholstery living room ideas to pair with grey.
If you feel that yellow is a too bright color to use on a large piece of furniture, use it as an accent color. Perhaps paint one accent wall your chosen yellow color and include it in your curtains, throw pillows, and other home decor accents. 
Grey Walls and Furniture Color FAQs
Does dark furniture go with grey walls?
A darker shade of furniture can go quite well with grey walls, especially if the walls are a lighter shade of grey. Both cool and warm color grey paint go well with dark brown or dark blue furniture. In fact, this pairing is one of the more sophisticated grey living room ideas, especially when the interior design plan includes shiny metal, glass, or mirrored accents.
What color wood goes with grey walls?
The best shade of wood for your gray wall color scheme depends on the grey paint's color and value. If the room with grey walls has a wood floor, that will also influence what color wood furniture looks best. 
Keep in mind that dark wood furniture and floors will make your grey walls look lighter, while light shades of wood will  make the grey paint color appear darker. If your wall color has warm undertones, go with a warm color wood such as cherry, chestnut, cedar, red oak, or walnut. If your grey walls have a cooler undertone, go with cool color wood such as ash, birch, hickory, poplar, or pine.