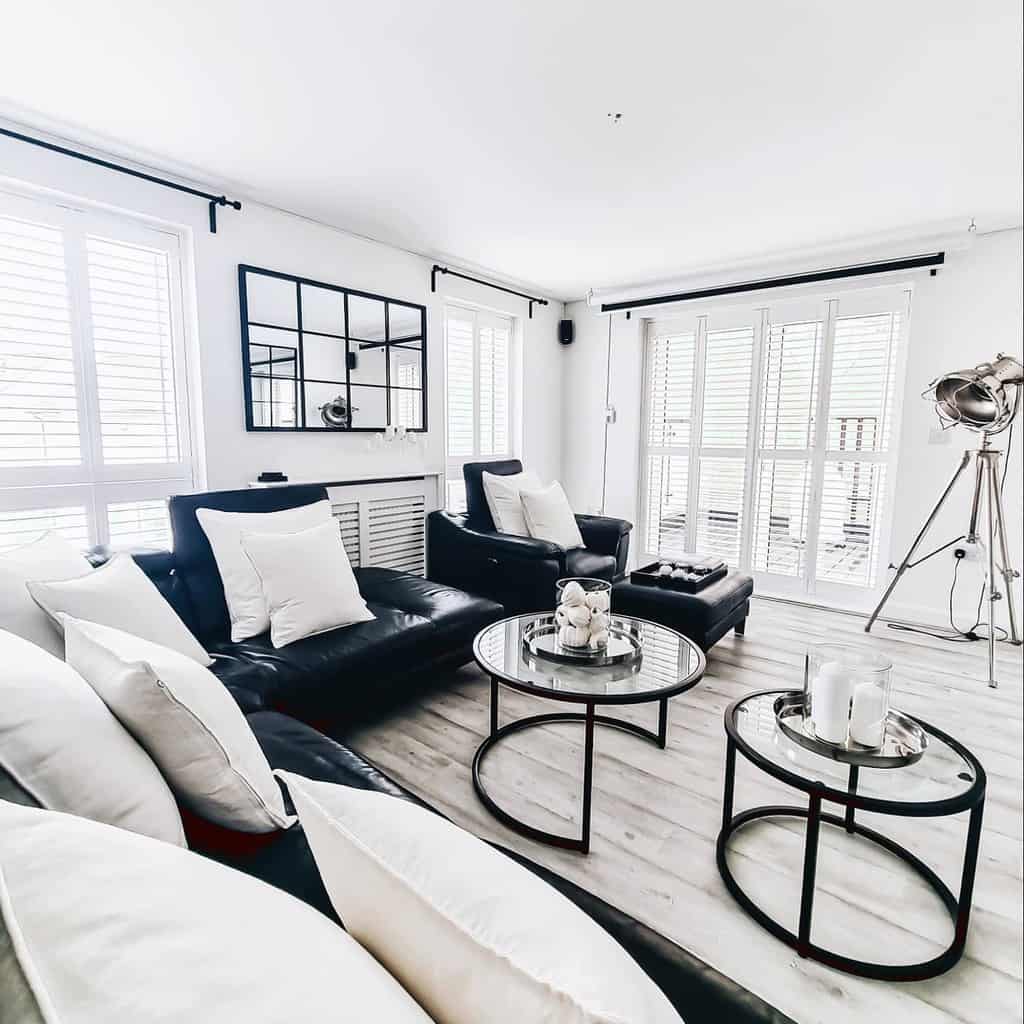 42 White Living Room Ideas
Despite their impracticality, all-white rooms aren't going away. Homeowners can't resist decorating their homes with this ultimate neutral. White gives your home a clean and bright design that helps it feel more extensive and radiant. However, all-white designs are more complicated than painting the walls and adding white furniture. 
These white living room ideas will help you create a beautiful interior design in your home that won't fall flat or be boring.
1. Play With Lighting
Create a warm, inviting atmosphere in the white living room by incorporating string lights and pendant lamps to add a soft glow. To elevate the atmosphere further, consider installing a stunning chandelier to provide additional light and set a luxurious tone.
Optimally arranged string lights and pendant lamps can help create a cozy ambiance while providing functionality. Strategically placed lighting fixtures can yield dramatic results in your white living room, making it look like something out of an interior design magazine.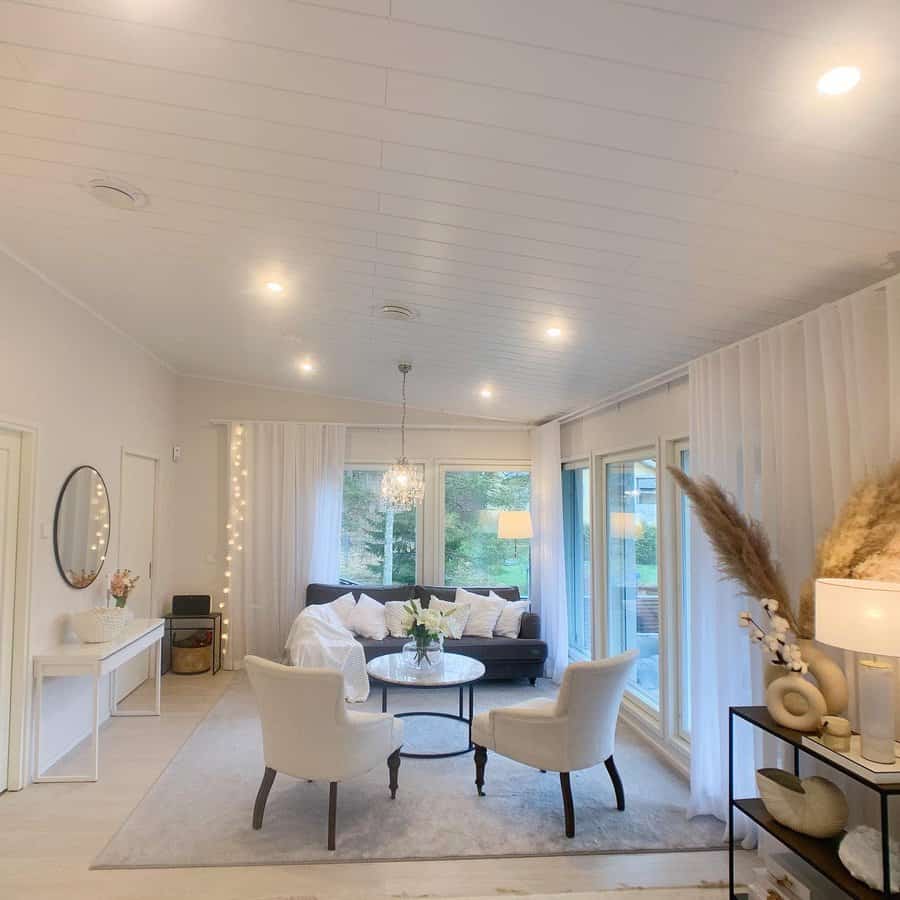 2. Add A Cozy Rug
Adding a cozy rug to the floor of your space might be just the thing. Not only will it provide texture and warmth, but it can also help pull the décor together. Consider a solid color rug to anchor the room, or go uplifting with a patterned design that complements the rest of your furniture.
Whether a large area rug or a smaller accent piece, adding this cozy dwelling staple will make all the difference in making that white living room feel more like home.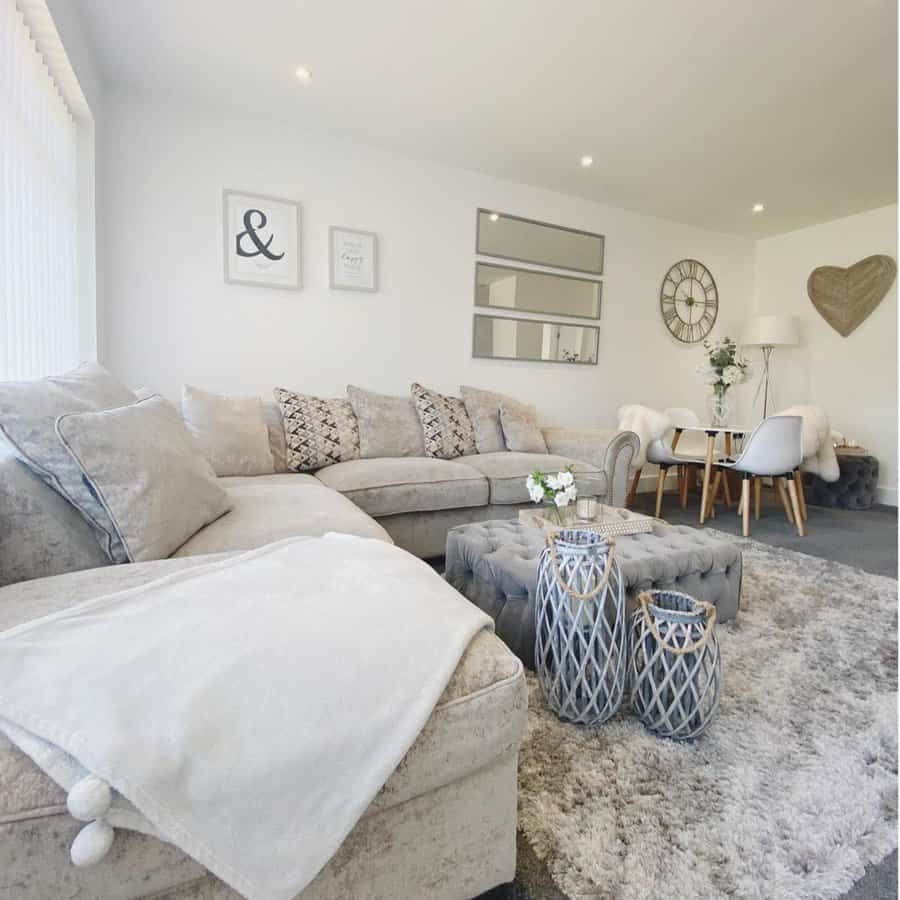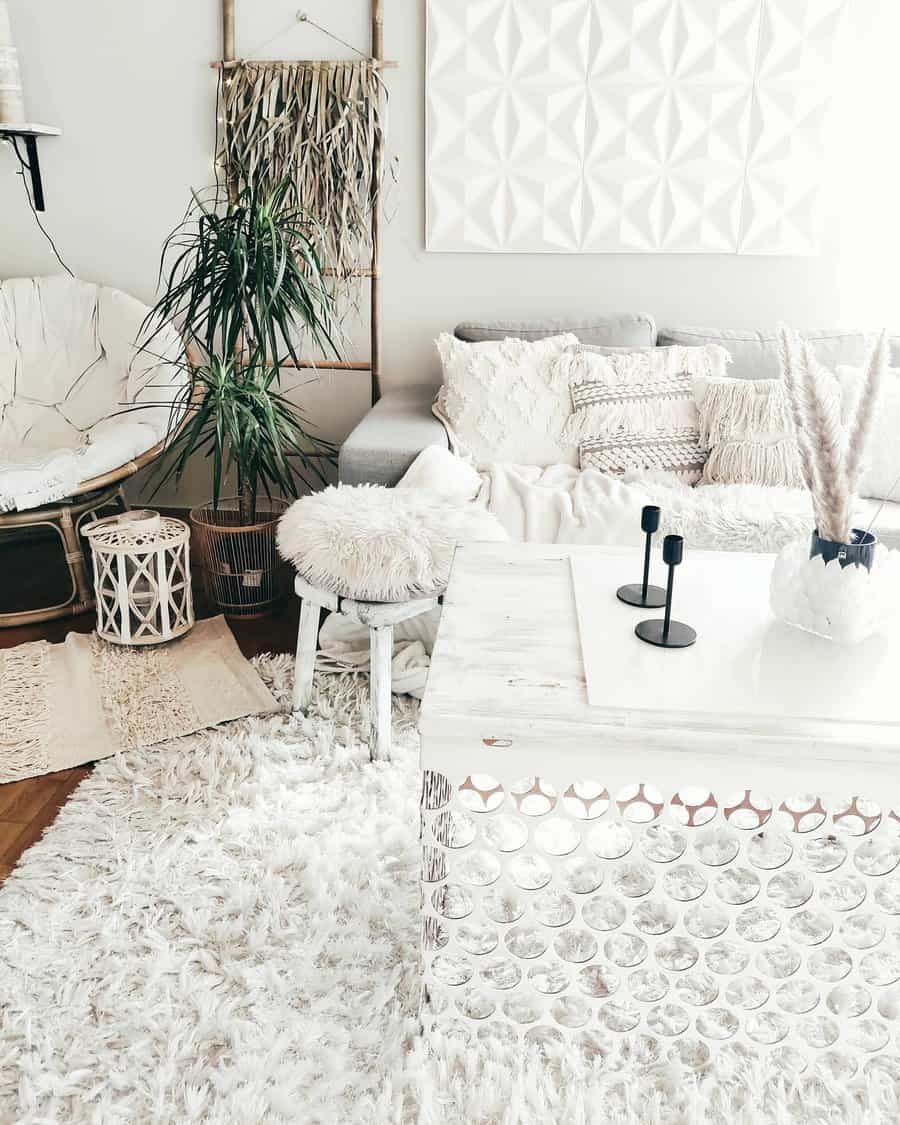 3. Go For White Limewash Walls
A white living room is a classic choice that serves as a blank canvas for creativity and imagination. The white limewash walls draw the eye toward interesting furniture pieces, while the minimalist design ensures a clean look.
The possibilities feel endless when it comes to decorating white living rooms – from statement rugs to cozy couches and playful accents, all the elements come together to create something truly unique. With white living rooms, boredom doesn't stand a chance!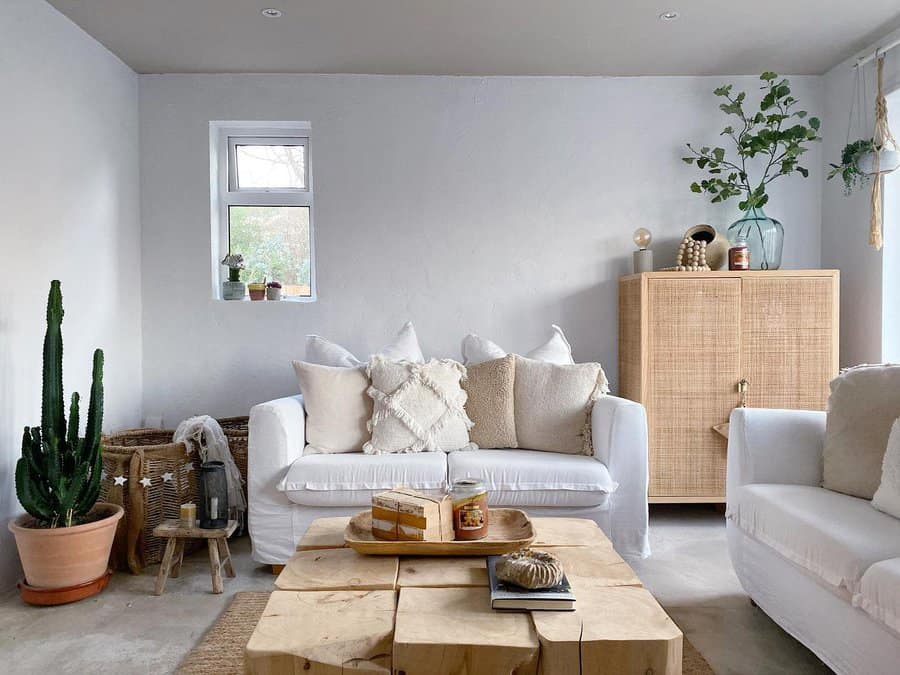 4. Make It Rustic
Creating the perfect rustic white living room starts with the rattan pendants, illuminating the room with a warm glow that sets the tone for a cozy ambiance. From there, incorporating woven mats and raw wooden furnishings brings a softer touch while maintaining a rustic style.
White walls and whimsical accent colors provide just enough visual interest to bring it all together in perfect harmony.
Whether you're entertaining friends or finding time to relax, this look will make your living room space both inviting and inspiring.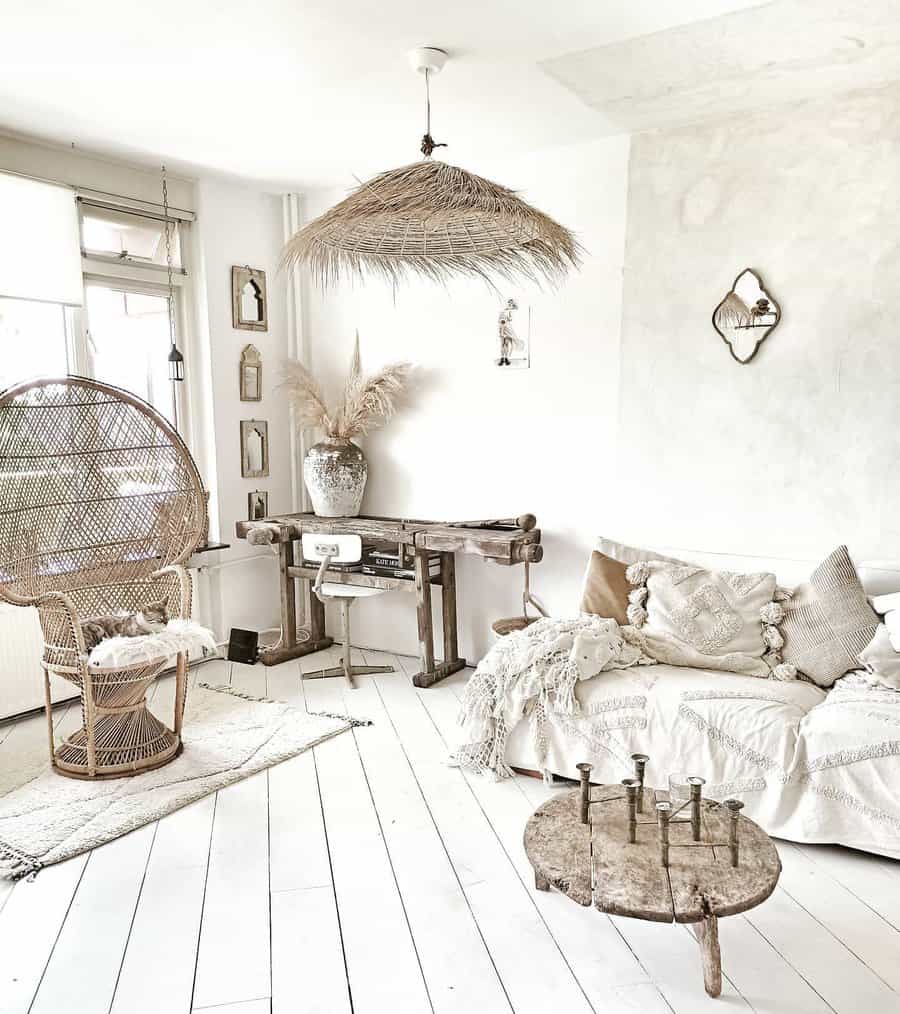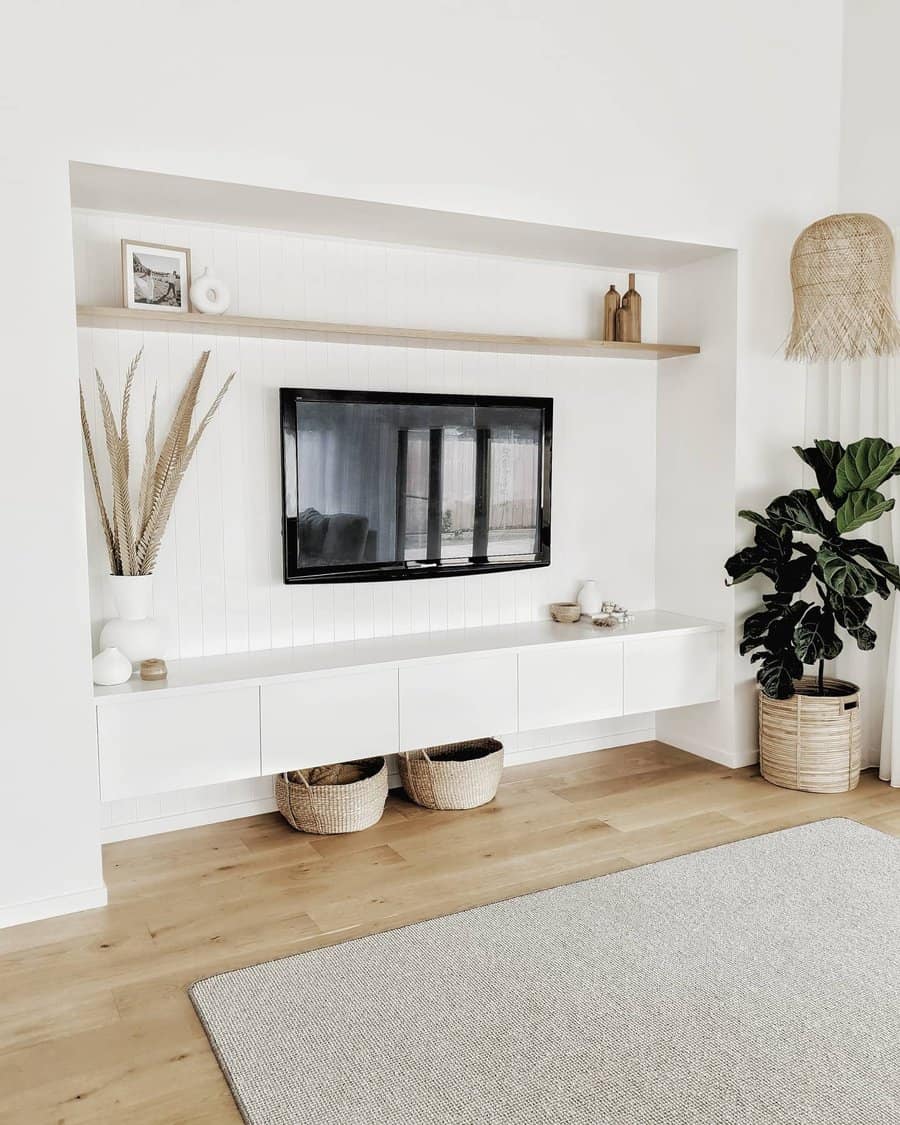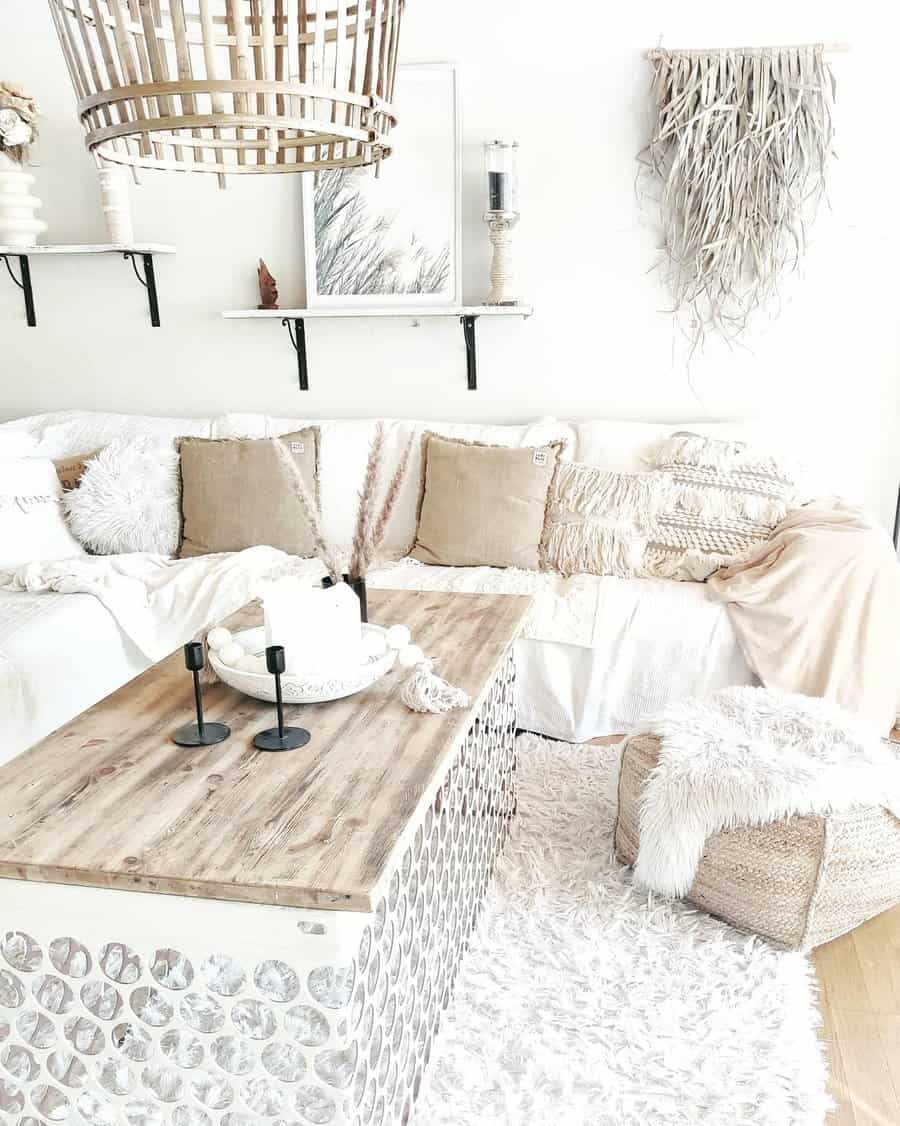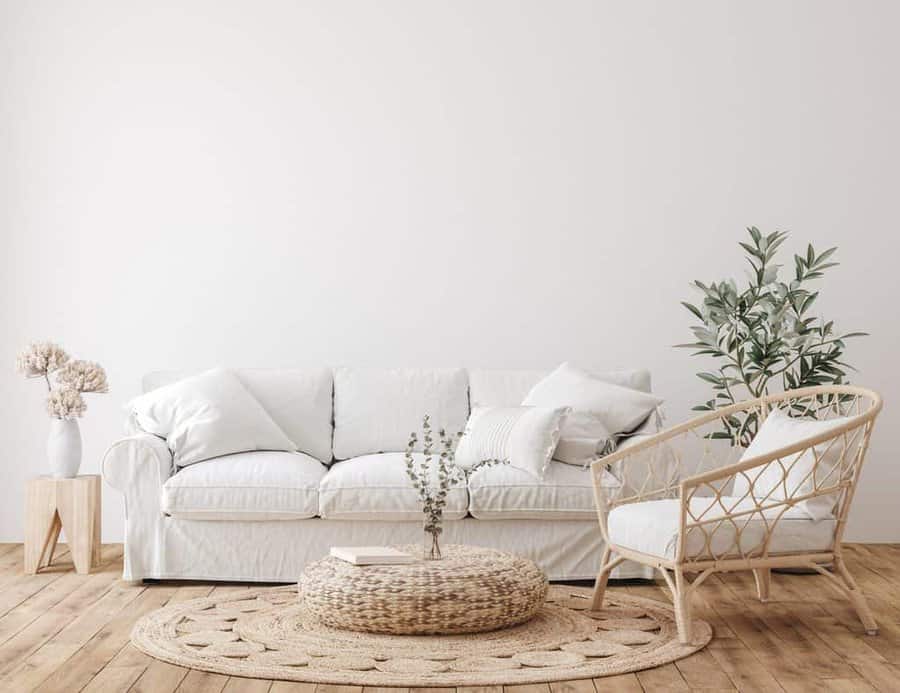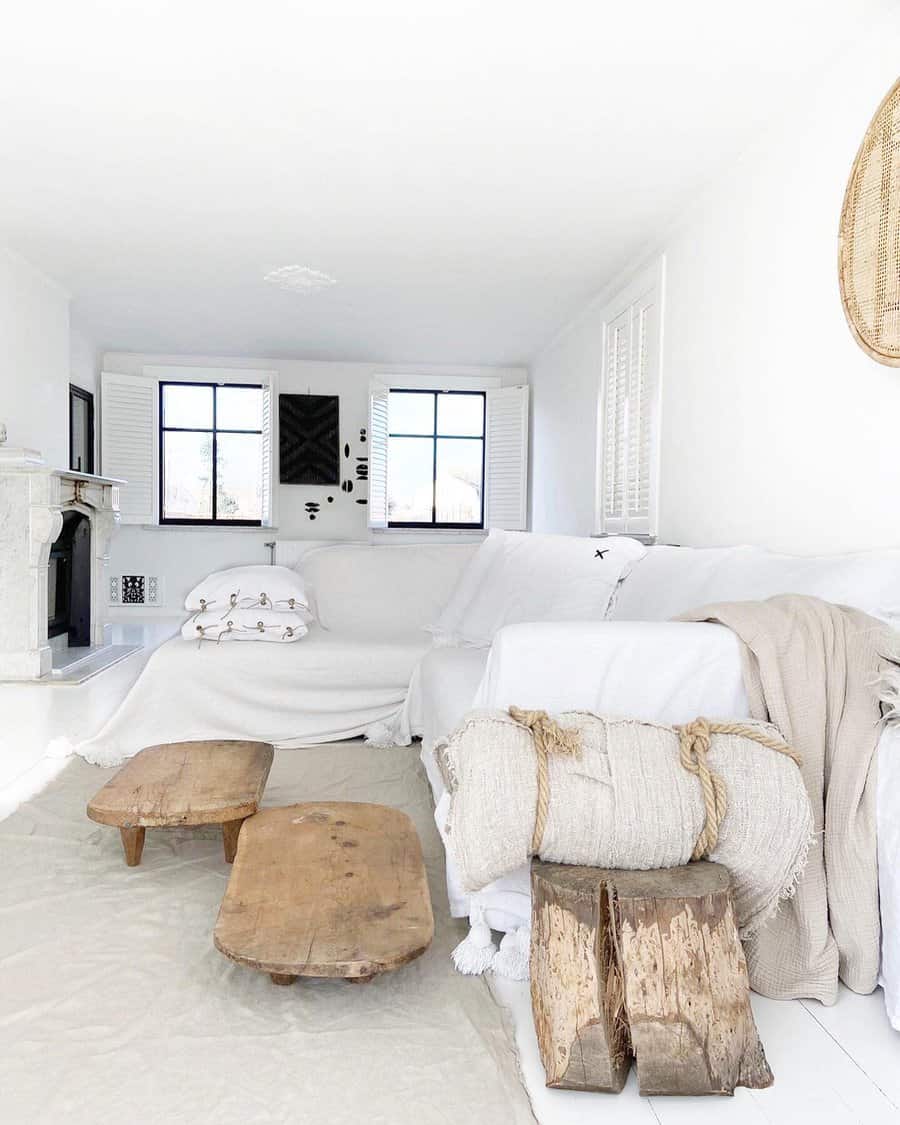 5. Opt For Scandinavian Furnishings
Scandinavian influences make a white living room the perfect choice for a modern, minimalist design. Crisp whites combine with gritty greys to create a clean and stylish canvas.
On top of this, Scandinavian interior choices such as minimalist furniture, cozy textiles, and natural decor items add a perfect touch of texture and warmth to a white room. For those looking to make an impression, the white living room is a chic and timeless choice that will last for years to come.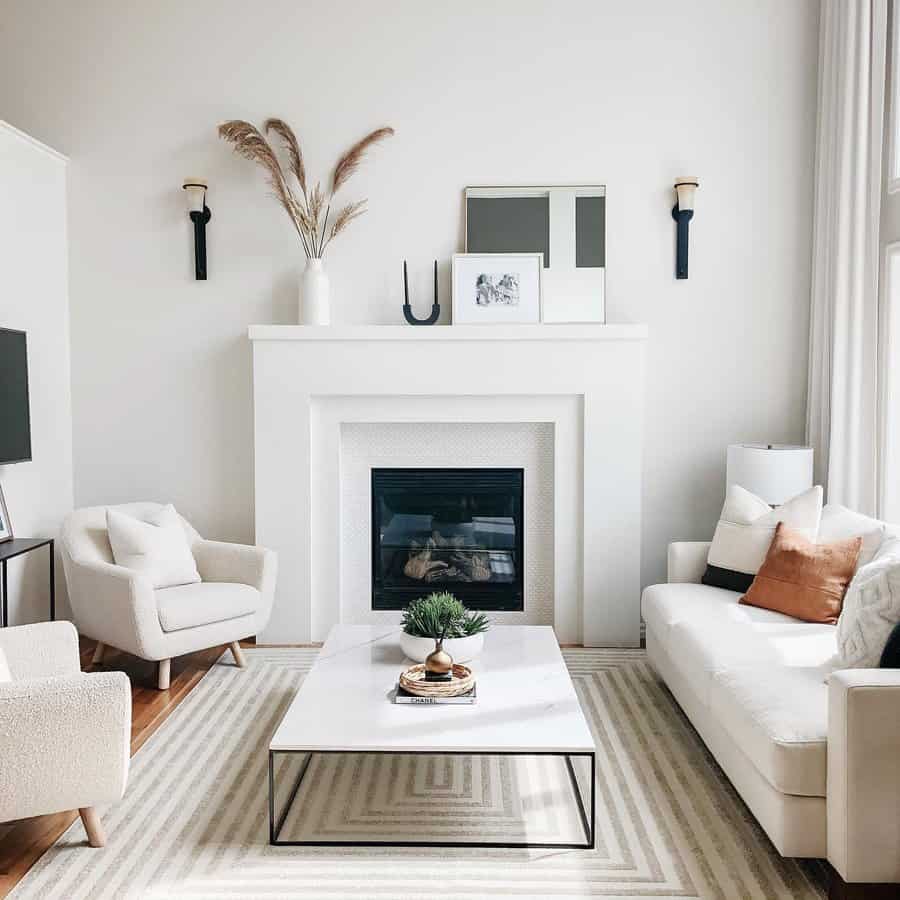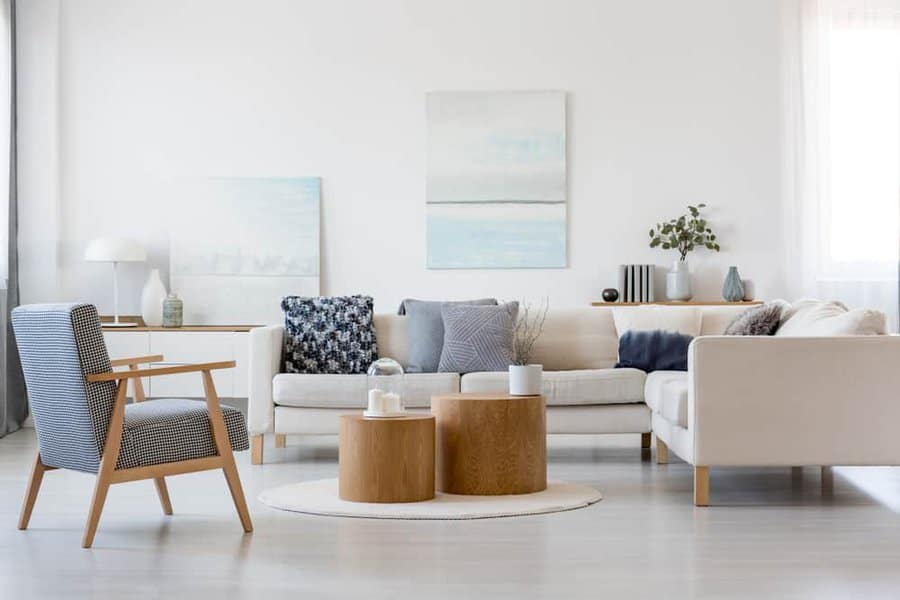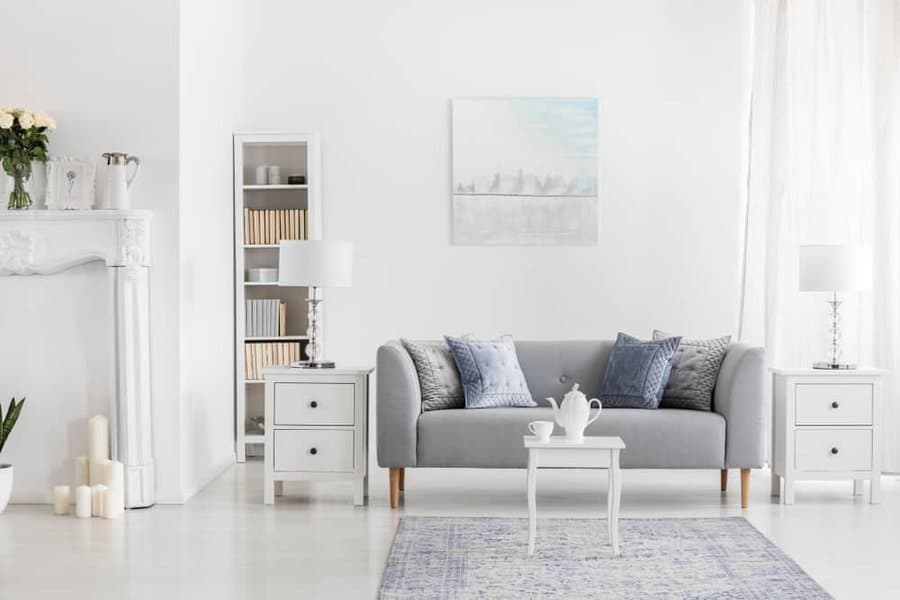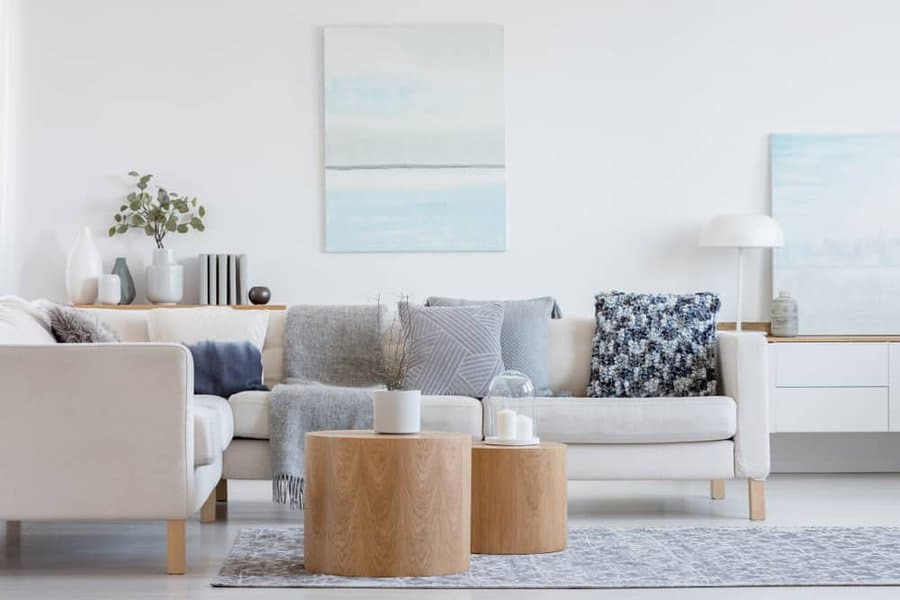 6. Open Up The Room With White Walls
A white living room creates a light and airy atmosphere, perfect for those who love bright and minimalist vibes. The white-painted walls make the entire area look extra bright, not to mention the beautiful greenery popping against it!
A white living room can be great for those with lots of houseplants – the white helps really emphasize they're a natural beauty.
Creating a white living space is an easy way to refresh your decor, letting you transform the house into a modern paradise!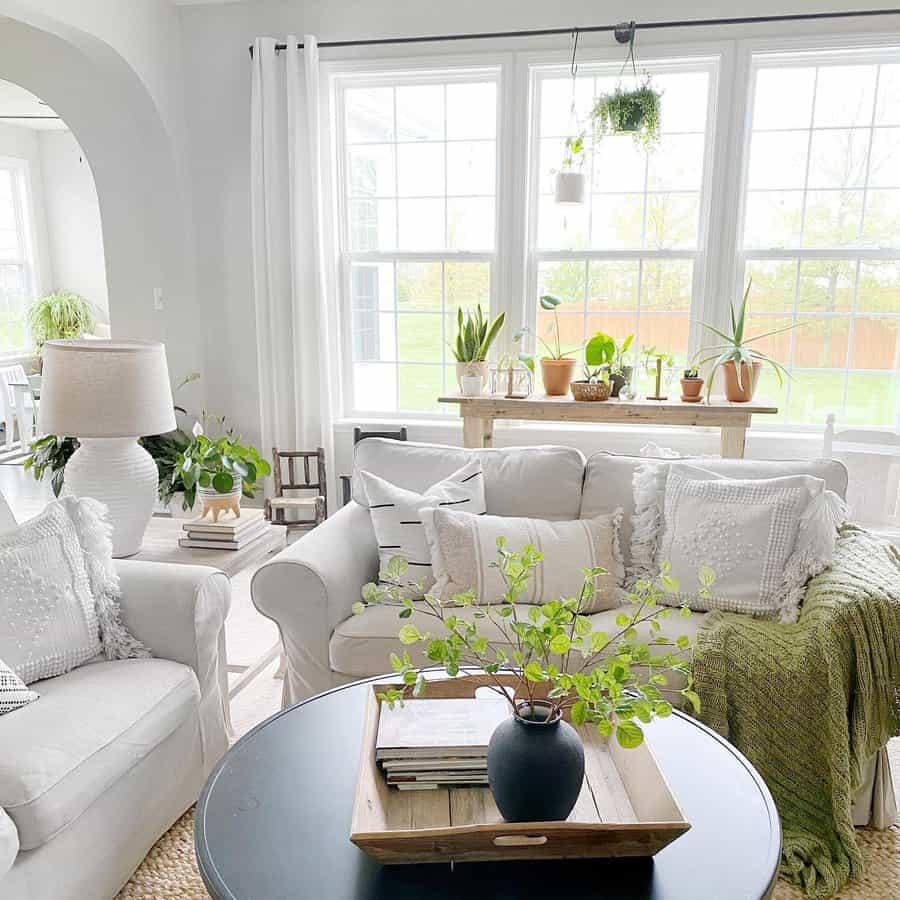 7. Pair White Walls With Wooden Flooring
A white living room can be so soothing and calming, the perfect ambiance for an uplifting and restful home. To create an inviting atmosphere, wooden flooring offers a beautiful soft contrast to the white walls. For a more rustic feel, use wooden furniture to bring in some warm tones, while keeping your color palette light and airy to achieve a bright, airy space.
Brighten up the room with highlights of green plants and colorful cushions; these will give your living area a beautiful lift up from the peaceful white-on-white backdrop.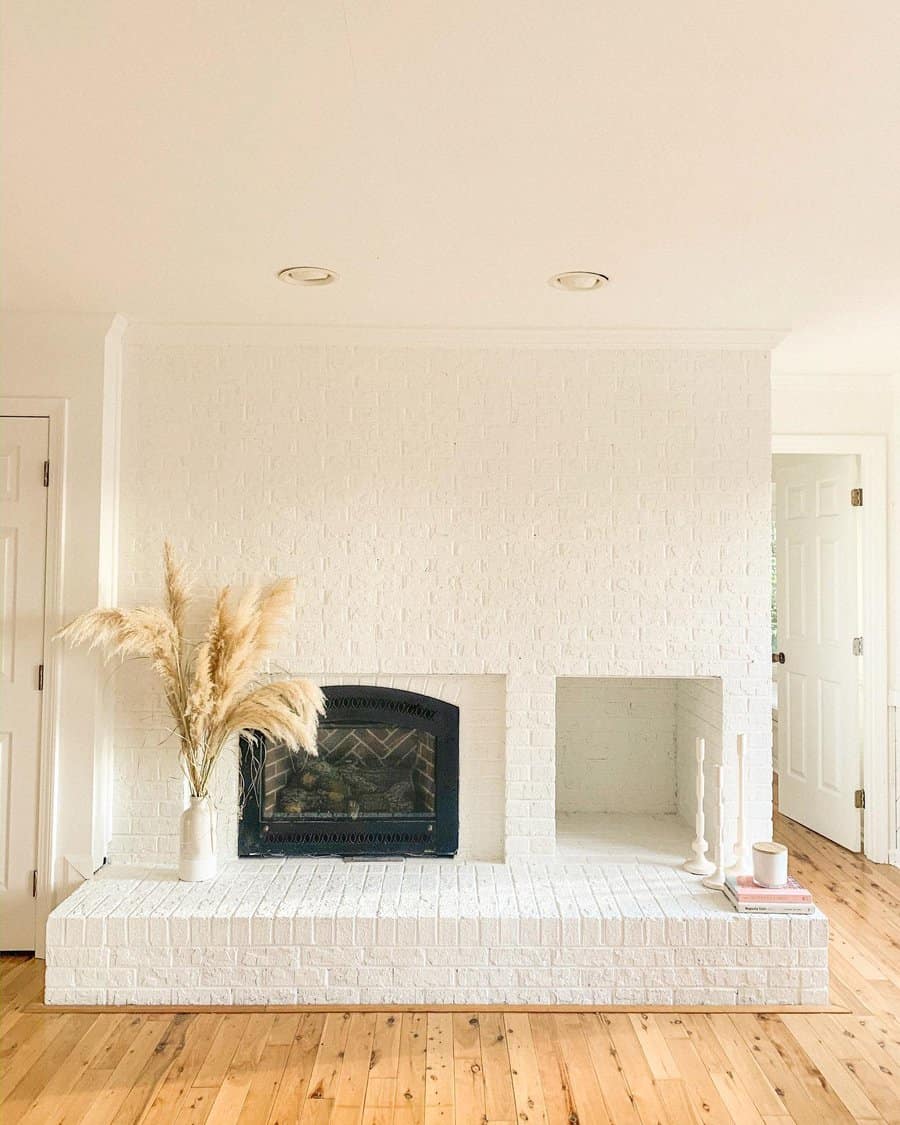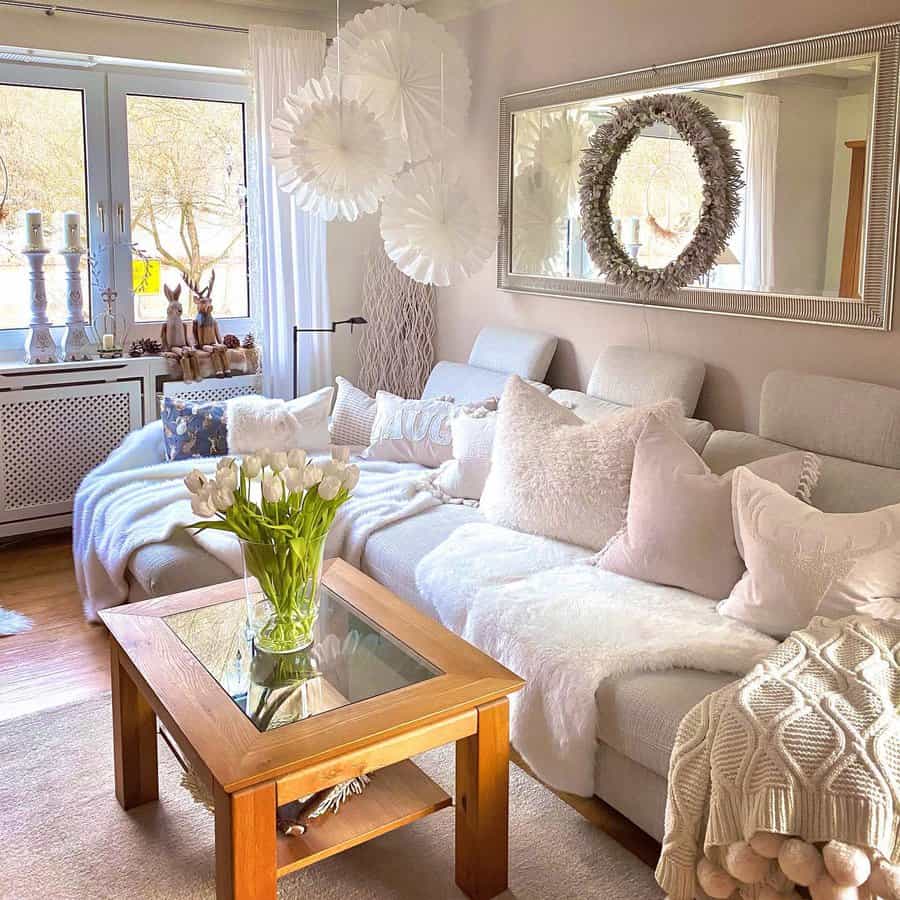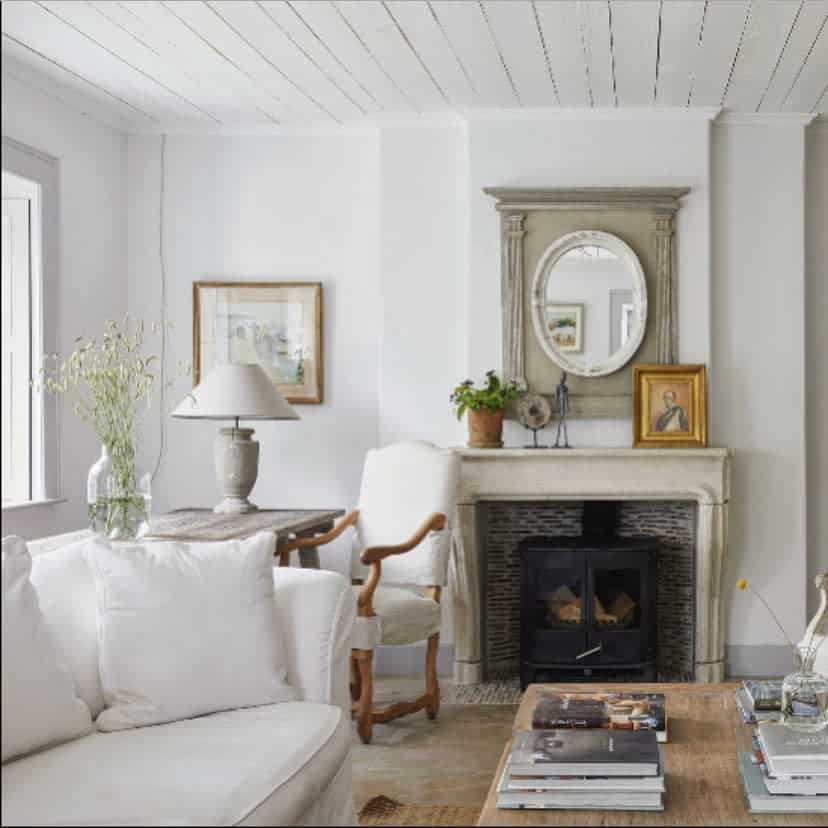 8. Choose Sheer Curtains For Diffused Light
A white-washed living room can seem daunting to decorate, but it can turn out to be truly stunning with the right touches. Hang sheer curtains for a diffused light that's both bright and open.
Enjoy a peaceful, airy atmosphere in your living room with sheer whites; add inviting pops of colors with accent pillows, art, or rugs. Let the light in and open up your living room to a pleasing retreat!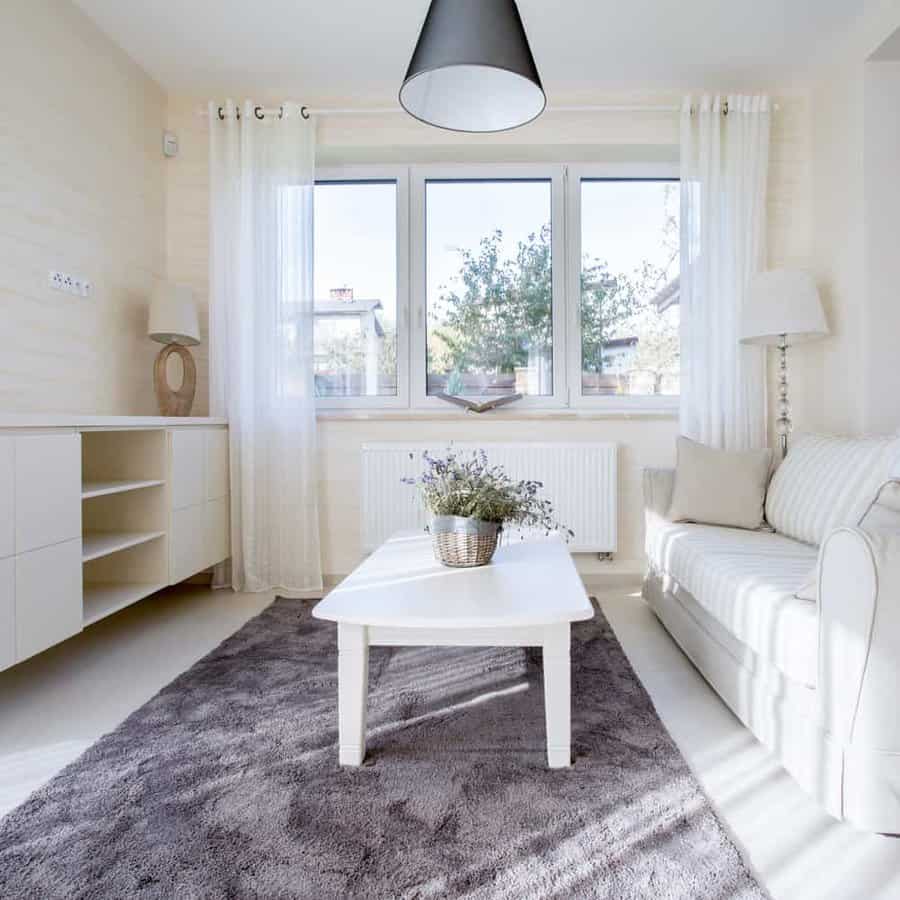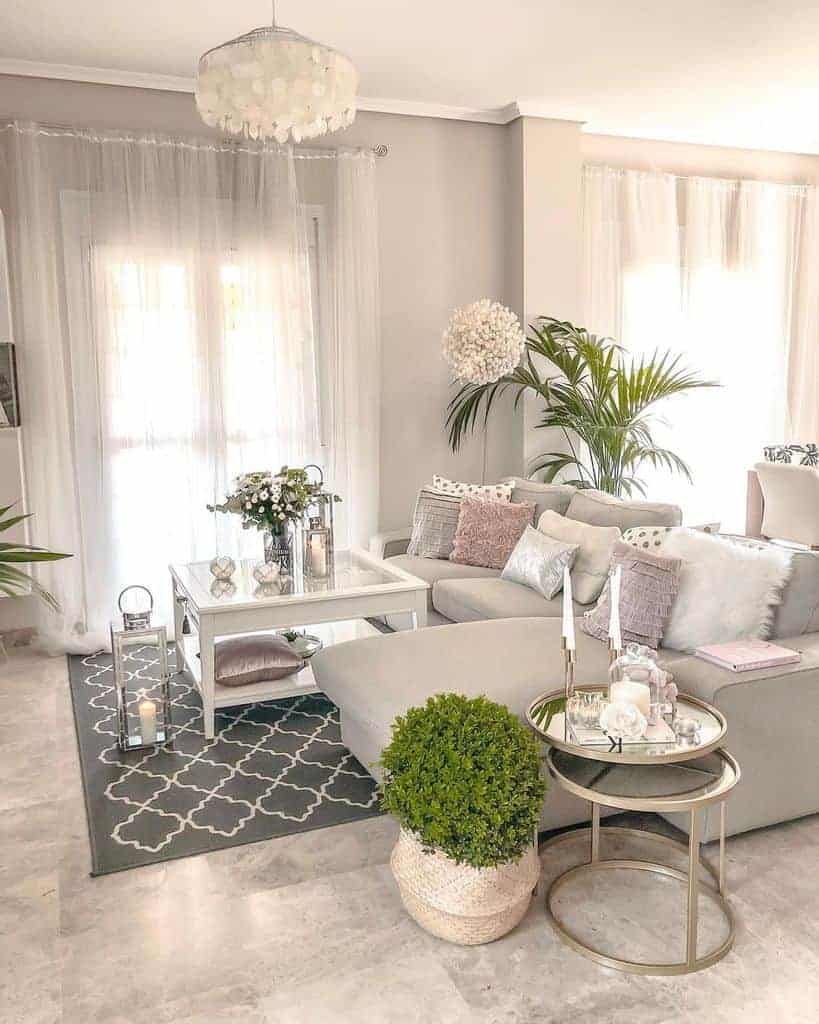 9. Create An Accent Wall With Neutral Bricks
Adding an accent wall to a white living room can be a great way to accentuate the already present features of the space. One of the most creative accent walls made for a white living room involves bricks that are painted to match the color of the white walls in their current state.
Sure, simply painting all of the walls the same shade of white can create a memorable atmosphere, but accentuating one wall with bricks will give your living room an added edge that is sure to turn it from just another room into something truly spectacular!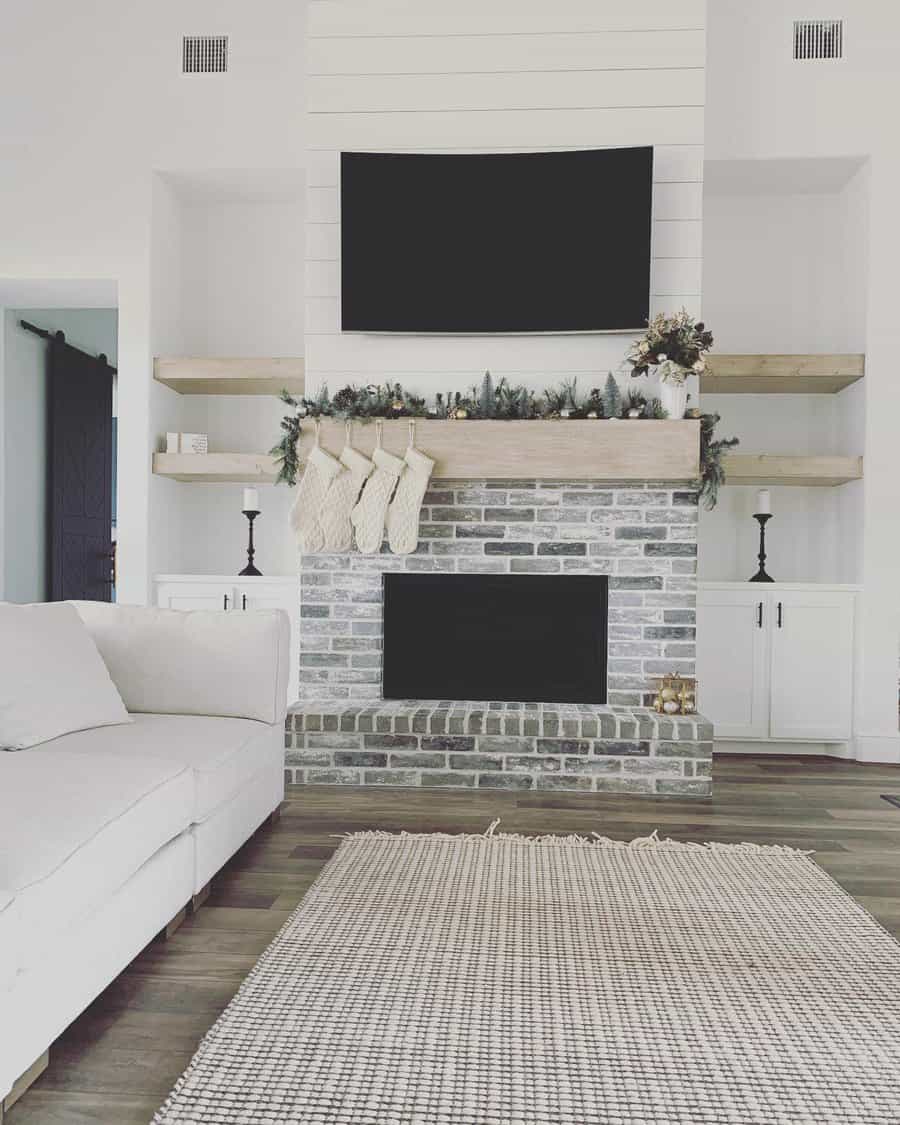 10. Go Country-house Style
A country-house-style interior in a white living room can be a beautiful way to create a peaceful, calming vibe. To achieve this look, keep the walls in pristine white and add wooden ceiling beams to help define the room's shape.
An area rug in an earthy tone is also essential to bringing texture and interest to the space. Finally, accessories like baskets or throw pillows can bring subtle hints of color while still maintaining the relaxed atmosphere of the country-house style.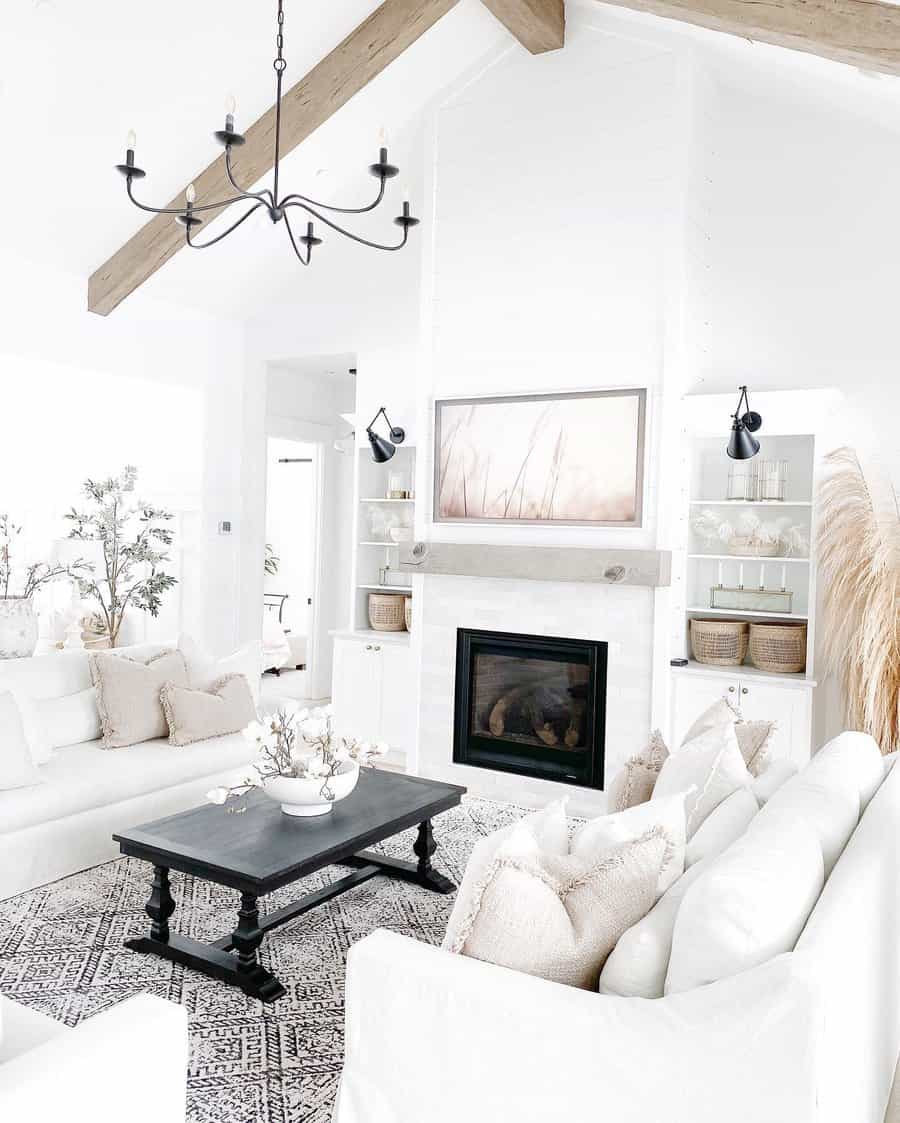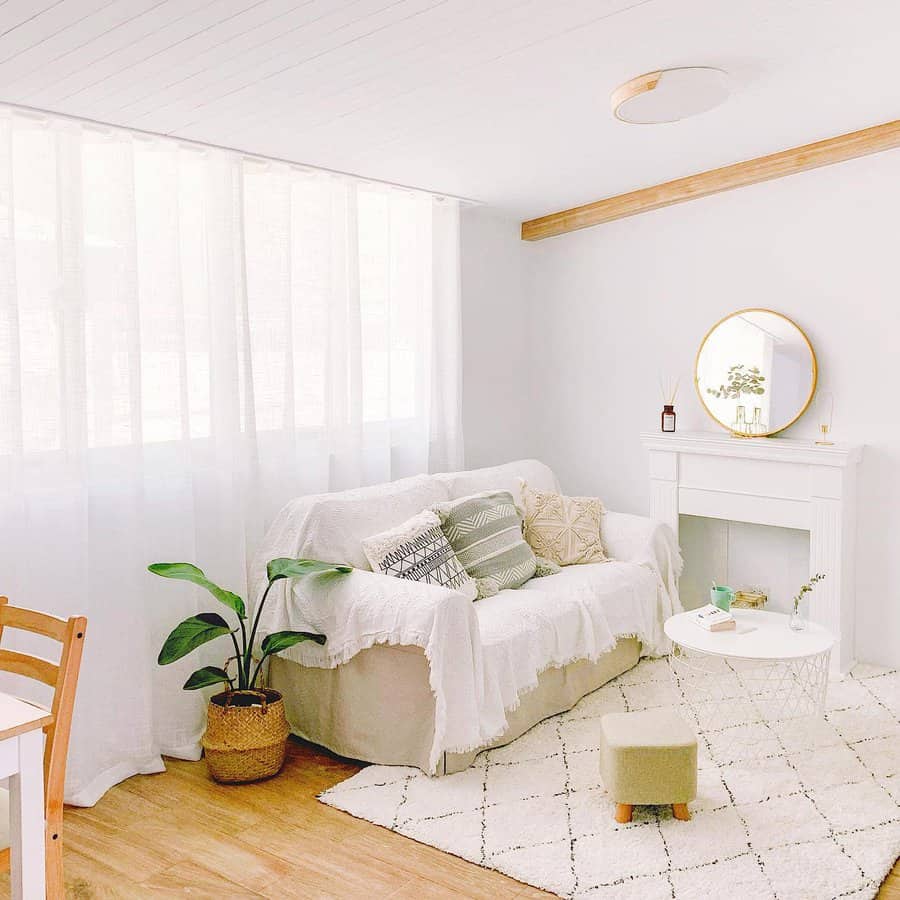 11. Add Seasonal Decor
A white living room is an ideal blank canvas for interchangeable seasonal decor; add cozy throws and pillows when it's cold, and get creative with floral-patterned wallpapers or drapes when the weather's warm.
Hang up a few wreaths during the autumn months, then switch them out for some vibrant hanging flowers in spring — the possibilities for lively customization are endless!
Or why not keep things simple and invest in a minimalistic style that you can use year-round? Either way, a white living room is a perfect backdrop to make small adjustments seasonally.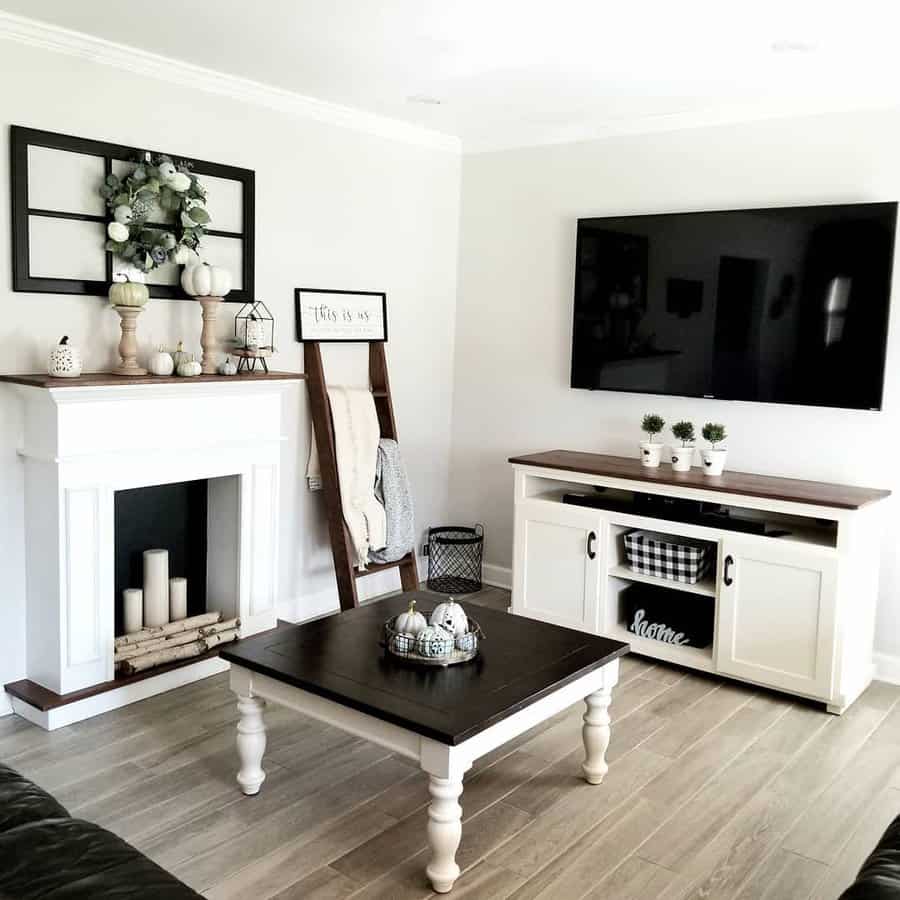 12. Play With Prints
A monochromatic living room can make a fresh, modern statement. To achieve this look in the white living room of your dreams, begin with a textured area rug for a subtle layer of warmth and dimension. Layer that with monochrome printed throw pillows for added comfort – each unique in its pattern, but unified by its monochrome palette.
The blank canvas of the white room allows you to be creative and bold with items chosen – from furniture to decor depending on your style and personality. Take some risks and find joy in transforming the space into a place of tranquility and peace.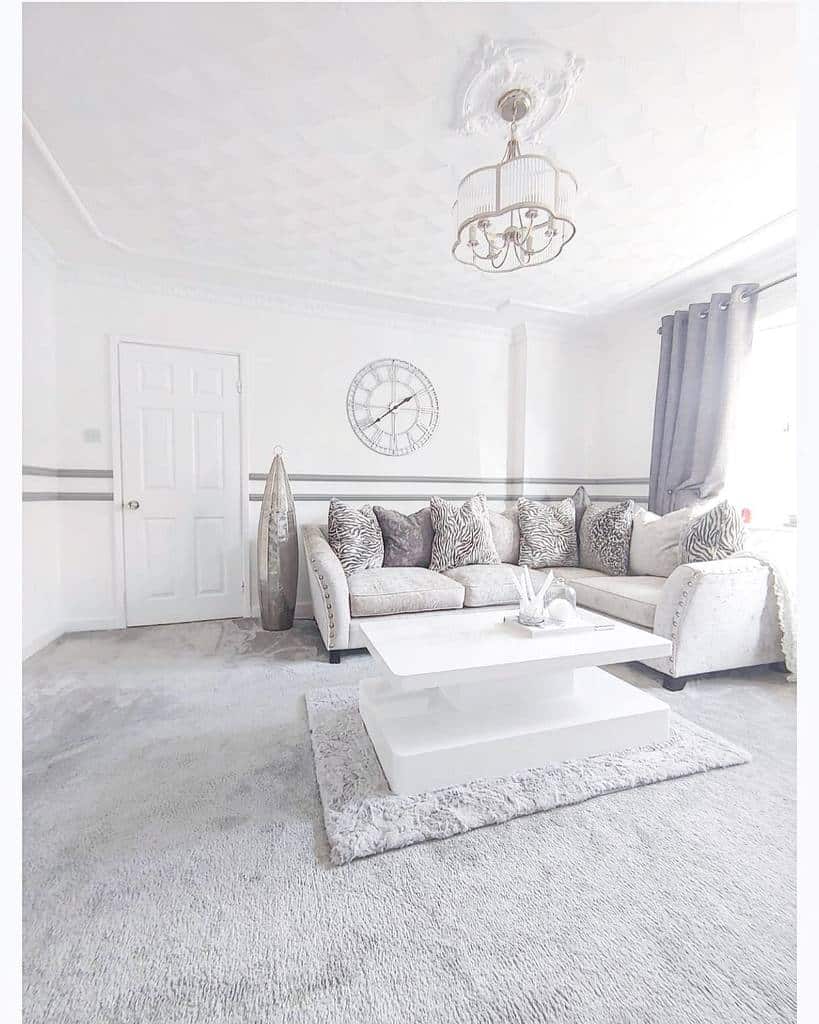 13. Incorporate A Statement Wall Mirror
A statement wall mirror can instantly draw the eye and act as a centerpiece in a white living room. Hung up behind a sofa or couch, it provides an interesting focal point that is sure to impress guests.
The size of the statement wall mirror can also be used to add space and openness to a living room, making it feel much more expansive than it actually is.
Don't be afraid of using this piece as wall art, instead of just for practical purposes. It couldn't hurt to get creative with your statement wall mirror and make your white living room truly stunning!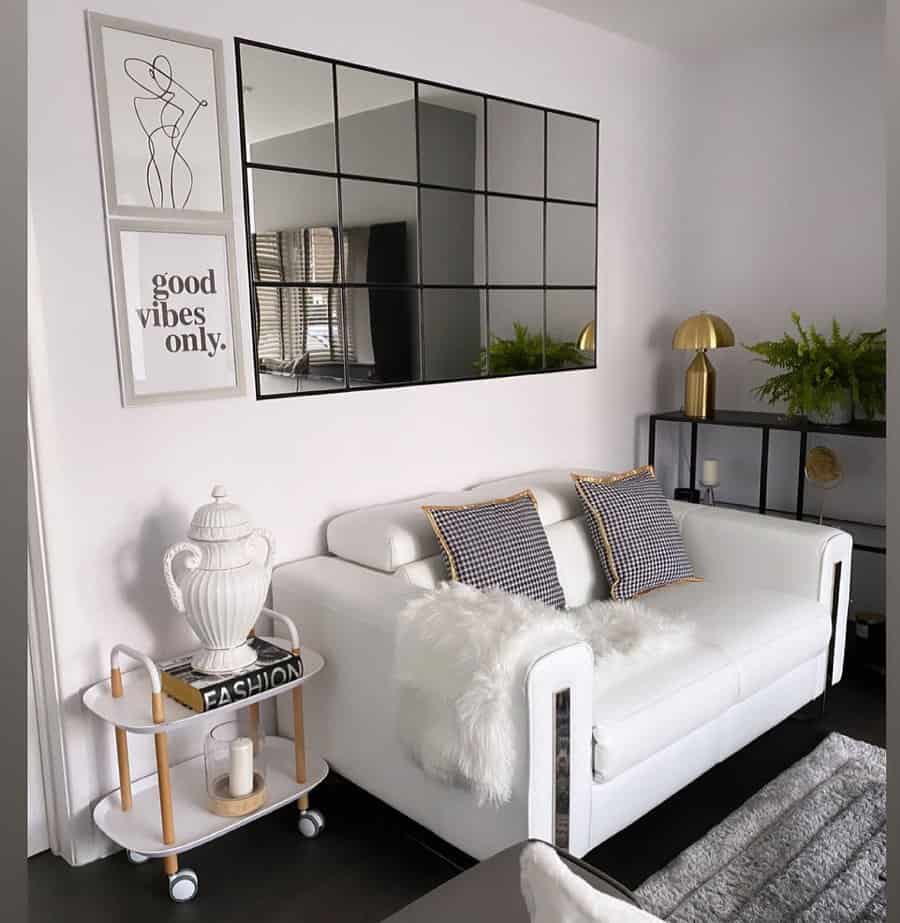 14. Build Full-length Windows
A white living room is like a blank canvas, full of possibility and potential. Maximize the impact by installing full-length windows or high-ceiling windows to allow more light to naturally flow through and brighten up the room to its full glory.
Strategically placed mirrors and reflective glass can perfectly accentuate the amount of light available and create a spacious yet cozy atmosphere that is perfect for relaxation and entertaining guests.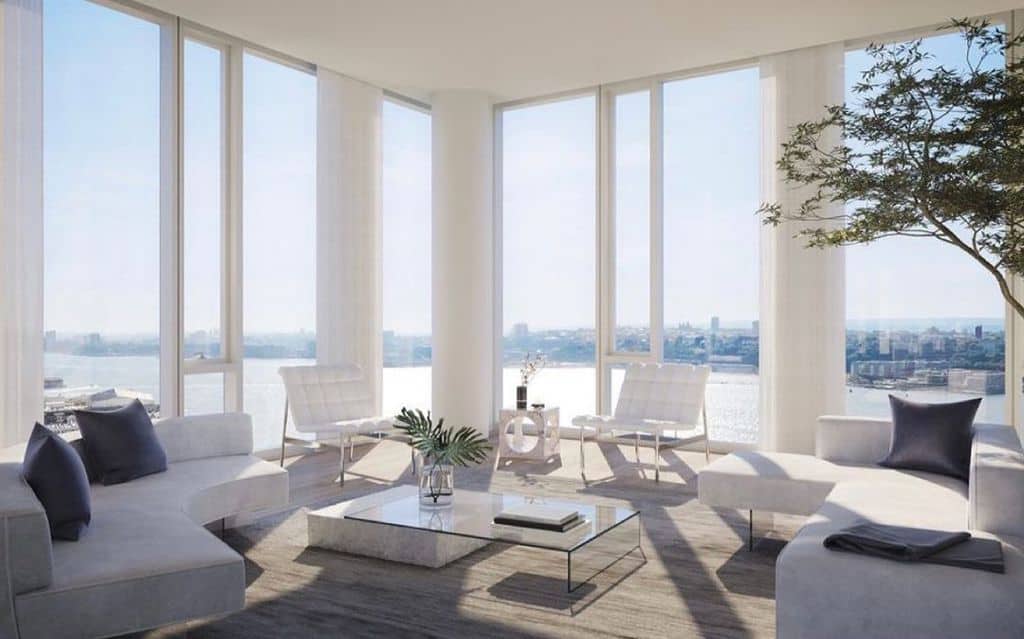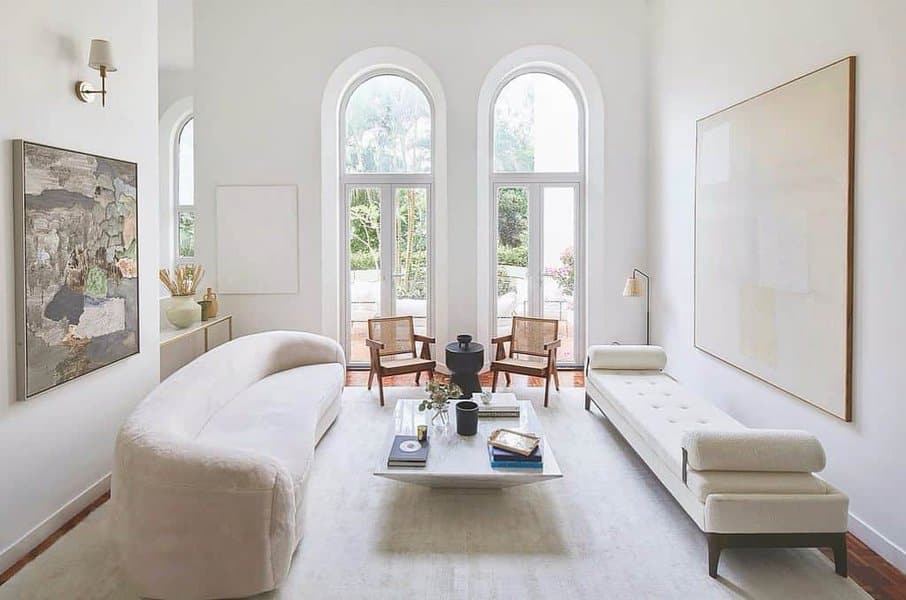 15. Pair With A Sage Green Color Palette
Invite an element of soft balance and contrast into your white living room with a white and sage green color palette. Consider adding plants throughout the room, from hanging plants to a few potted varieties next to white armchairs.
You can bring in some life that will perfectly complement the white walls and furniture while keeping the white space brightened up with a hint of natural pop.
Placing two white sofas facing each other and connecting them with a white coffee table gives your white living room texture for your guests to appreciate as they step in.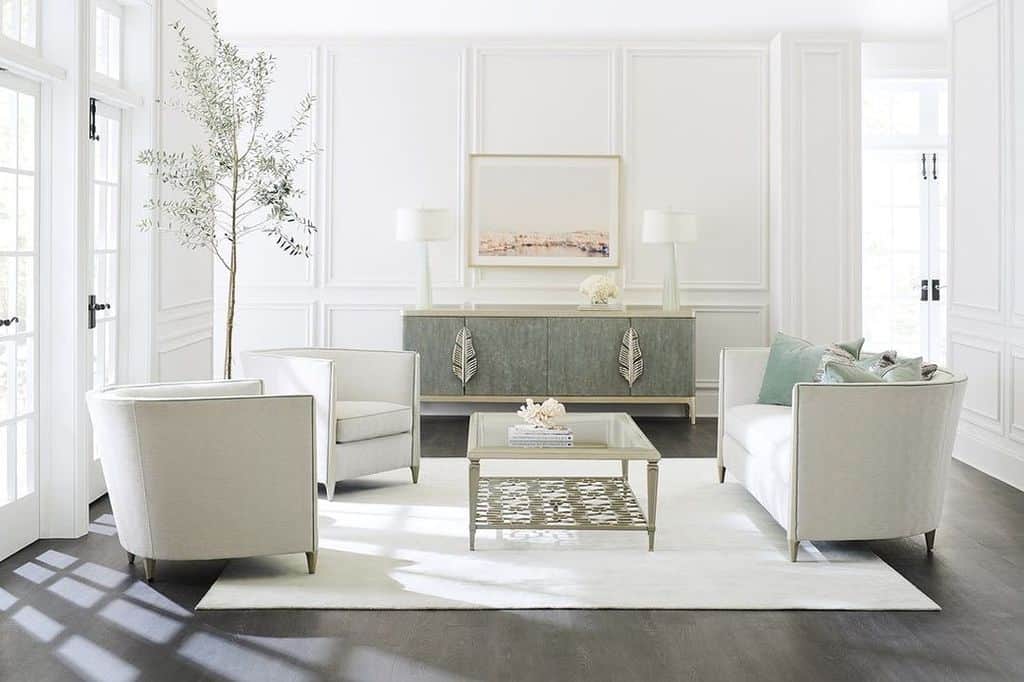 16. Get A Statement Lamp
A white living room can offer an inviting yet sophisticated aesthetic. With statement pendant lamps and simple furniture pieces, this timelessly chic look will brighten up your home with a peaceful yet vivid atmosphere.
Not to mention, as minimalism becomes increasingly important in interior design, a white living room is the perfect canvas to experiment with ever-changing trends and enjoy the beauty of both simple and statement pieces of furniture.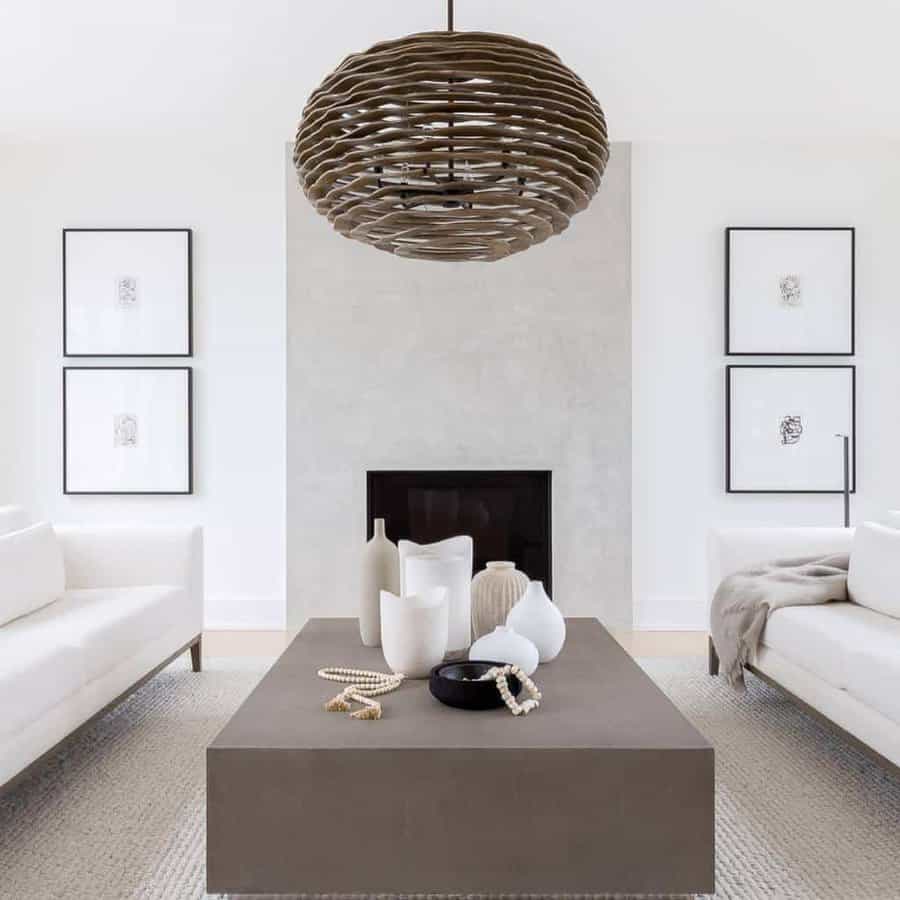 17. Keep It Clean & Minimal
Who says minimalistic interiors don't have to be interesting? A white living room can be a blank canvas of creative potential. It is easy to design with little-to-no prints and straightforward furniture, allowing you to focus on the details that will truly make your living room stand out.
Whether it's a unique wall feature, or some tasteful accessories, with minimal distractions you are free to craft the perfect white living space for lasting elegance.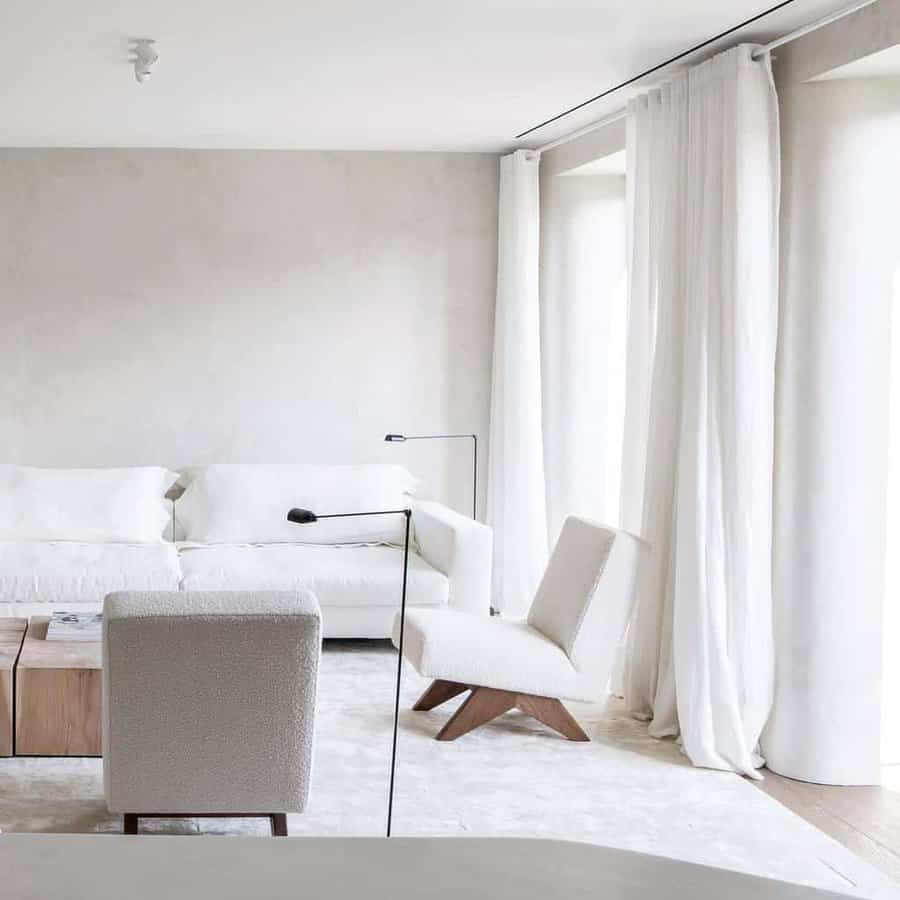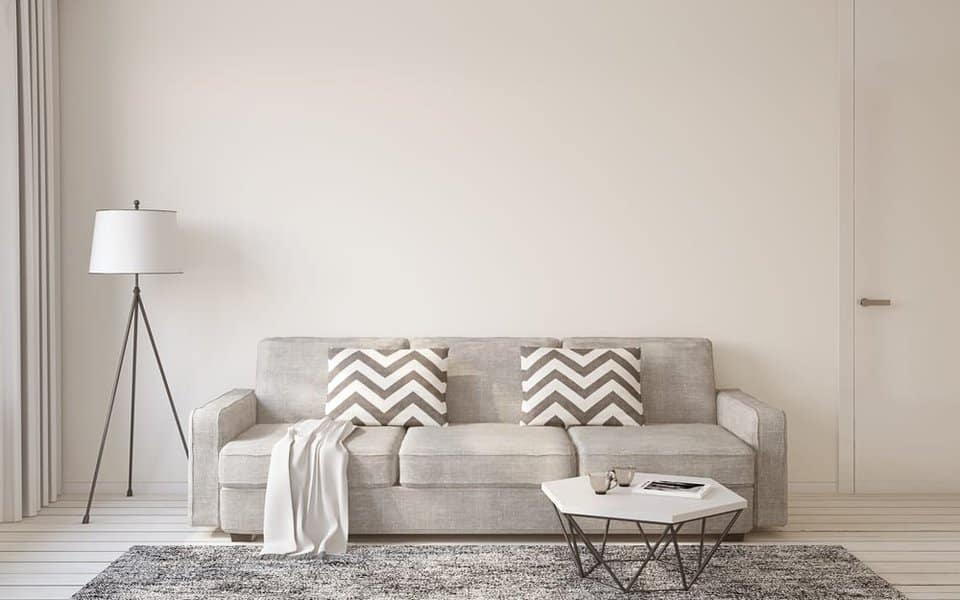 18. Create An Artwork Wall
If you're looking to inject some personality and creativity into your white living room, curating artwork for an artwork wall is a great way to start.
For a unique experience, create a visual story by grouping artwork pieces that are connected in theme or subject matter – for example, your artwork collection may include art referencing colors of nature, abstracts from cities around the world, family photographs or prints from important moments in life.
With careful thought and effort put into the artwork wall design, you'll be able to set the mood of your living room and bring it to life with artwork that speaks to you.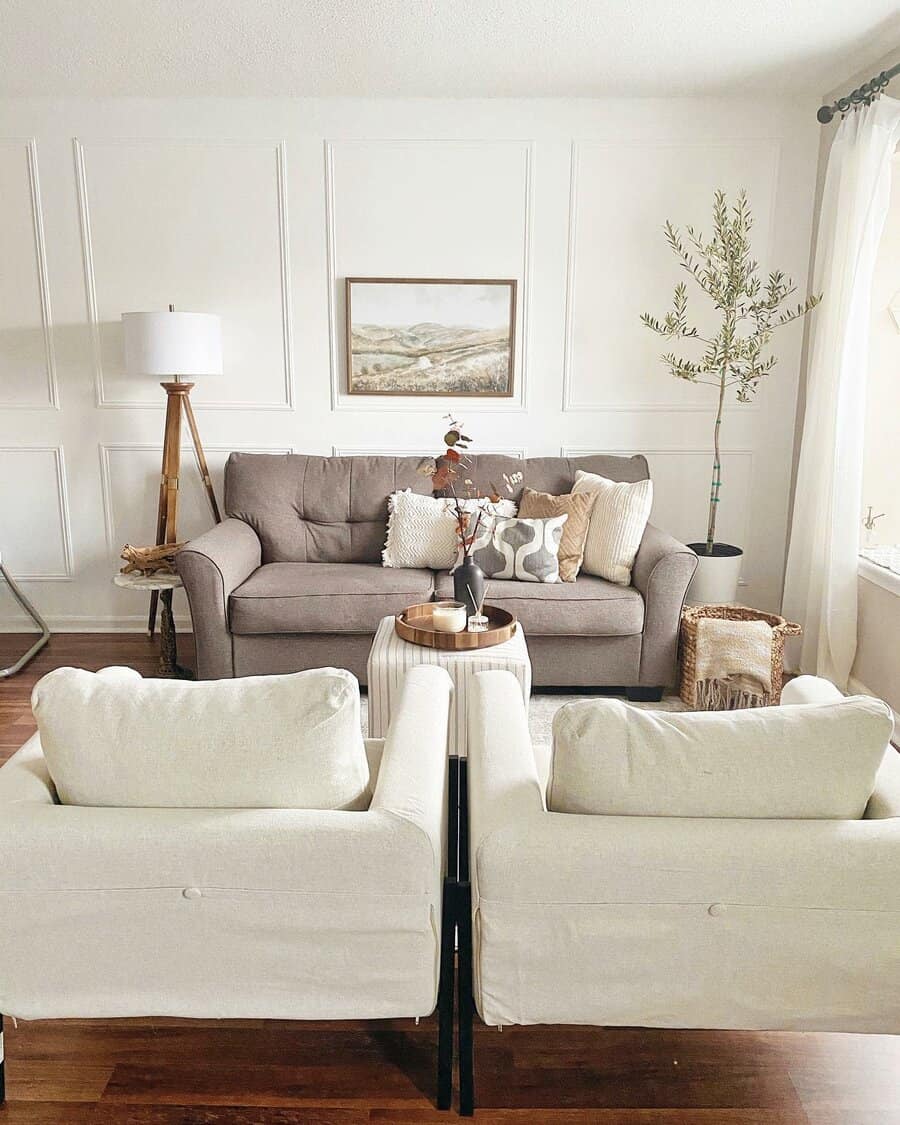 19. Frame The Doors With Black For An Accent
Give your white living room the contemporary and stylish look you've been dreaming of with black-framed doors. You'll be amazed at how something so simple can add a special accent to a light-colored room and make a lasting impression.
They go with practically every design style, from coastal to beachy, and no matter what, you'll be sure to enjoy the atmosphere they bring.
These black-framed doors are exactly what you need to give your home the vibrant touch its been missing.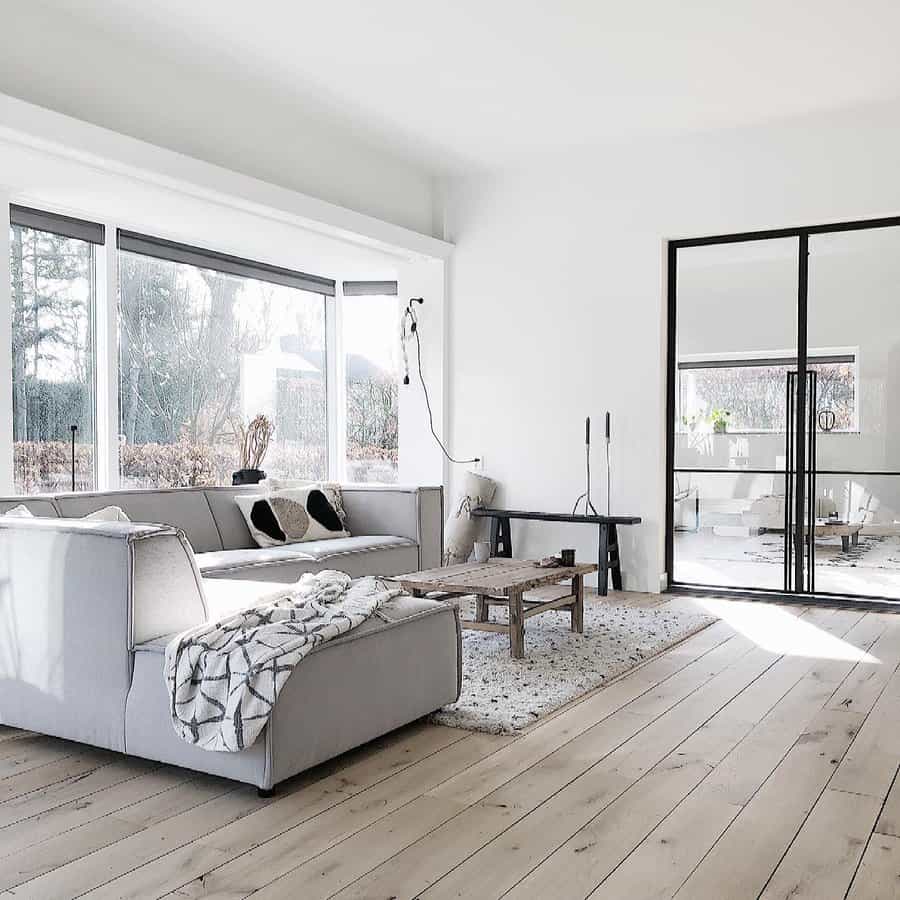 20. Decorate With Dried Flowers
Warm feelings of nostalgia and reminiscence come to mind when creating a white living room. Imagine dried flowers from last summer tucked in a pot on one of the shelves, lasting all-year-round and adding a subtle hint of color.
Complementing this, hang a beautiful eucalyptus wreath on the wall for an understated yet stylish touch that brings life to the room. White never felt so inviting.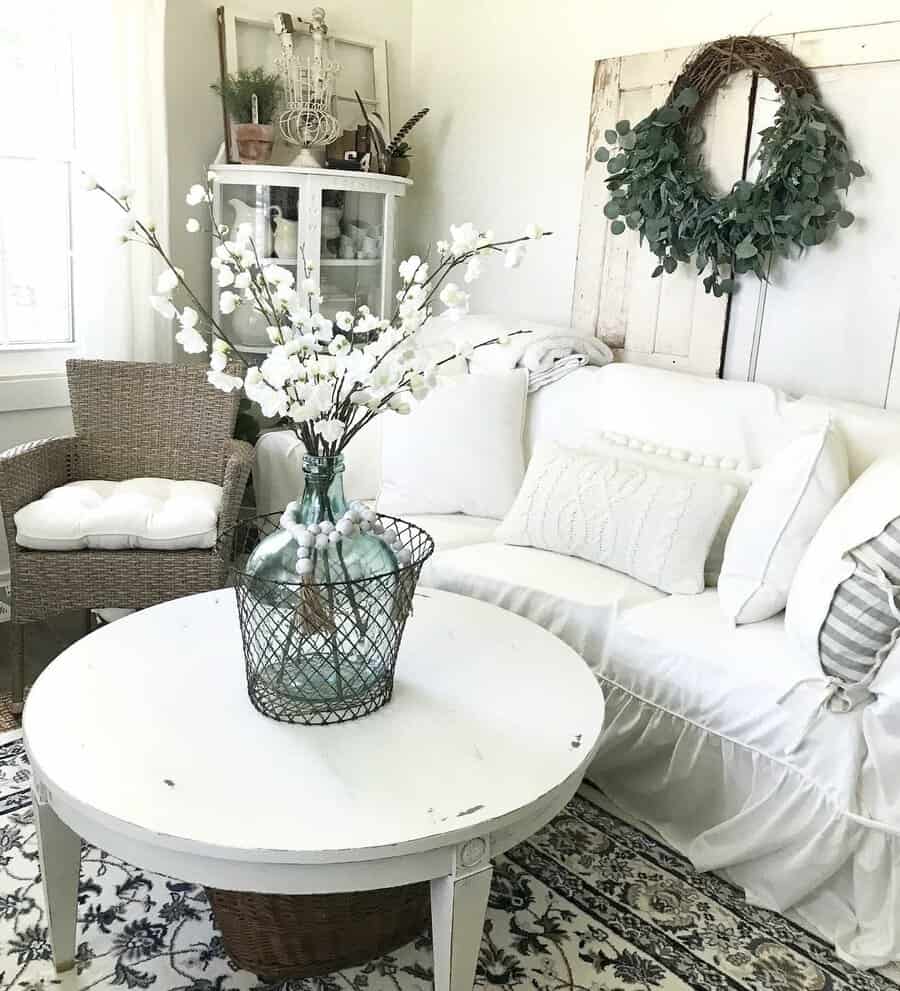 21. Go Rococo
A Rococo living room utilizes furniture with intricate carvings, plush yet durable textiles, and beautiful crochet motifs for an inviting atmosphere.
To add even more grandeur to the room, consider heavy velvet curtains to add depth and light-savvy color combinations. Delicate crochet details, often in antique or delicate floral motifs, will add tactile, feminine touches to the otherwise commanding atmosphere of rococo.
This kind of white living room would surely draw anyone's eye – so get ready to feel like the royalty you are!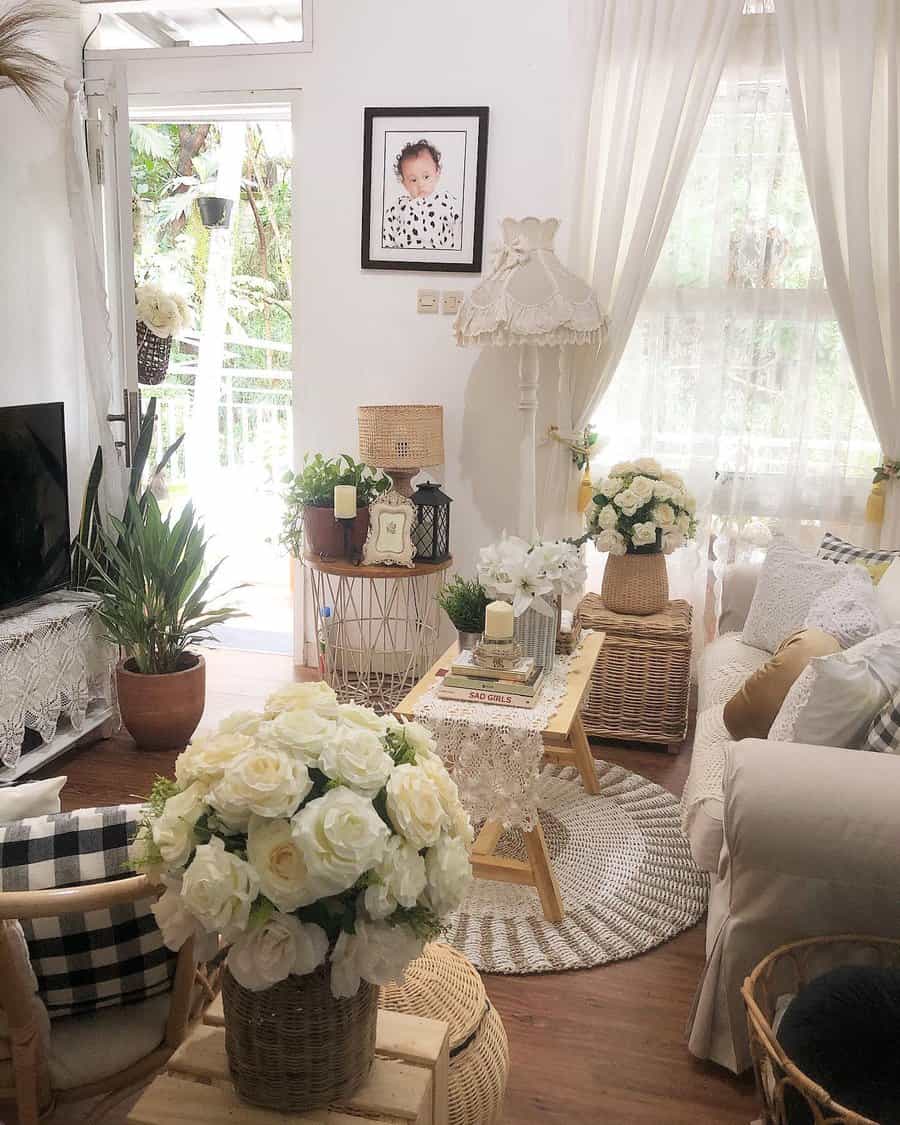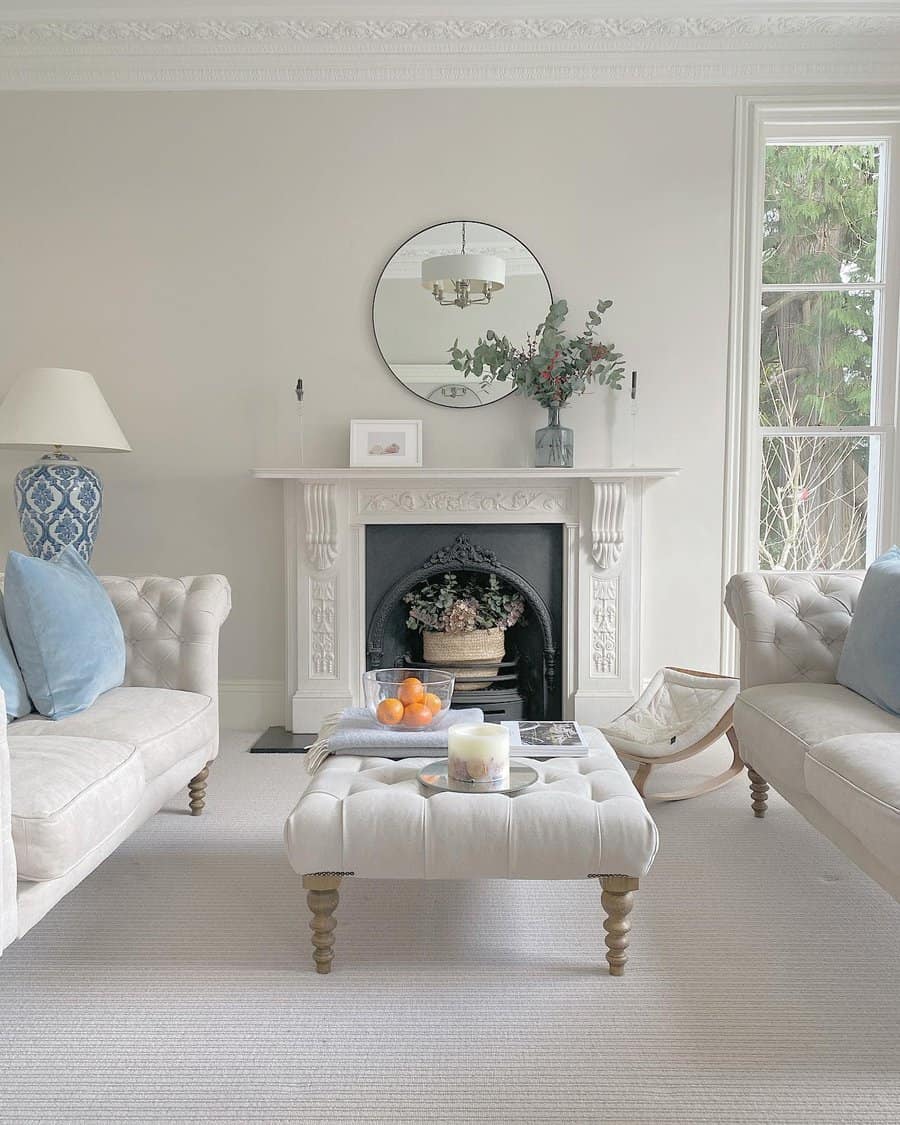 22. Throw Some Blankets For Texture
The idea of a white living room conjures an image of serenity and peace, but why not throw in a few creative elements to set it apart from the average?
A throw blanket draped over the back of a chair or couch can easily add an unexpected pop of color, while a faux fur rug in front of the fireplace will bring some added warmth and texture.
With the perfect combination of comfort and style, you'll be able to create a unique white living room that will make it stand out among others.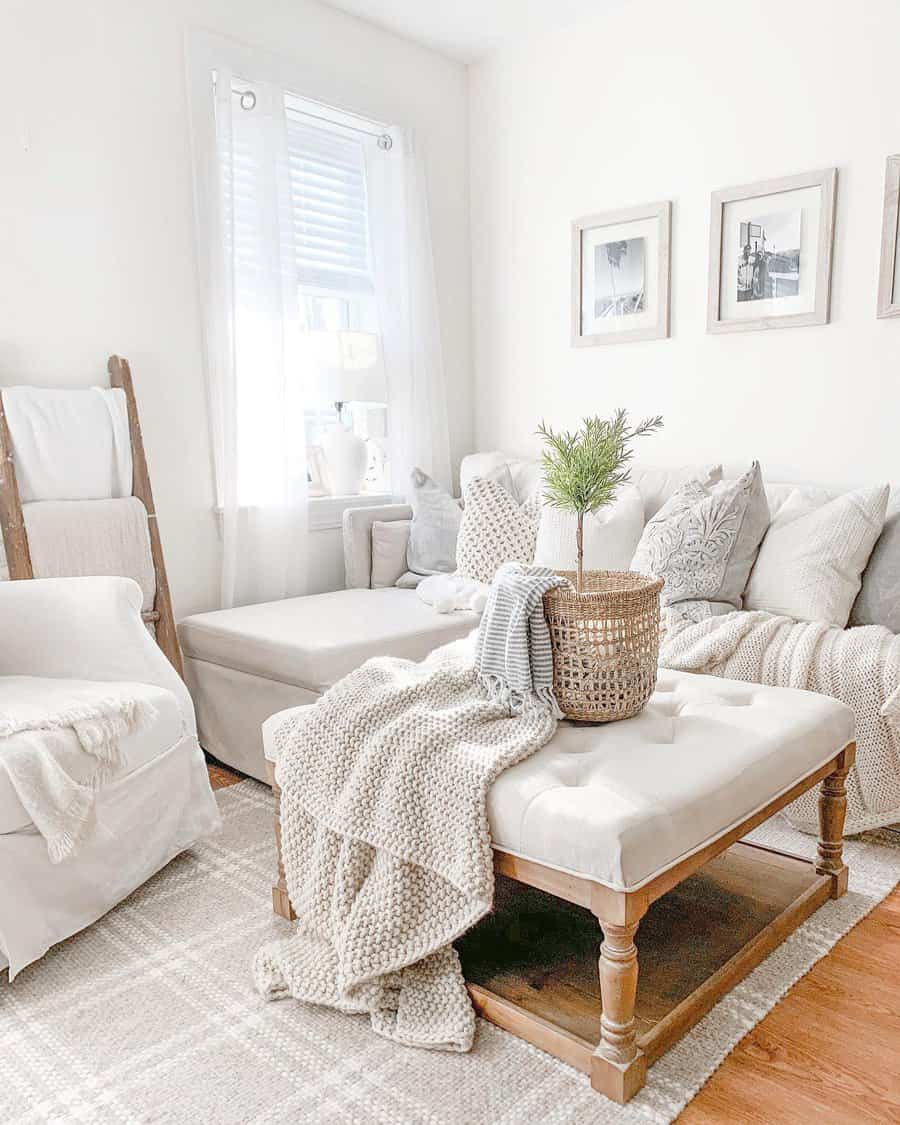 23. Turn The Room Into A Coastal Haven
A coastal-inspired living room is the perfect way to bring a touch of seaside charm into your home. With just a few blue and beige elements you can create a bright, airy feeling for your white living space.
Think coastal with accessories like coral and shells, raffia poufs, and light wood furniture for a coastal interior design that's beachy but never boring.
The lovely combination of ocean blues and sandy beiges will make your white living room feel like an inviting refuge from the rest of the world.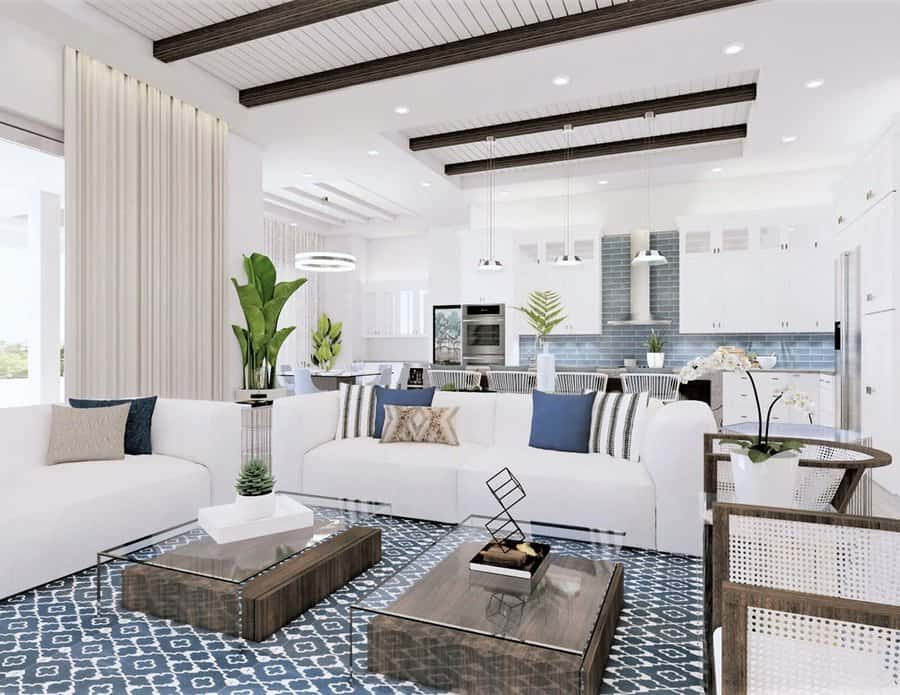 24. Repurpose Old Frames Into Wall Art
Brighten up your white living room with old frames made into wall art – why not try arranging old photos and posters inside them to add a touch of nostalgia?
Draw attention to the new found artwork by displaying pieces in bold colors, like striking reds, brilliant blues and sunny yellows. Not only does this create a unique focal point, but it'll also bring a pop of color to an otherwise neutral palette. The old frames will give that extra oomph needed to make your living room stand out.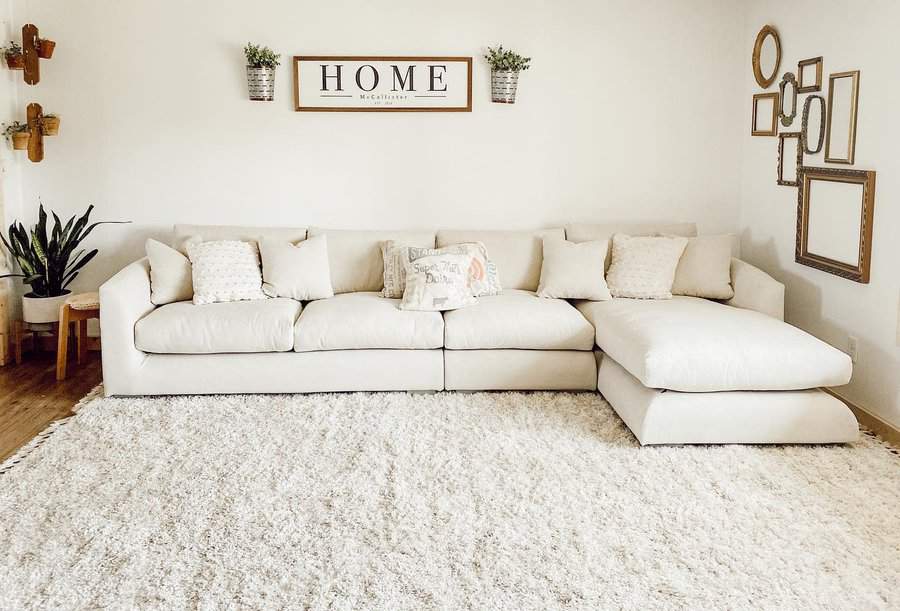 25. Install Floating Shelves
To make the most of a white living room, floating shelves are a great way to bring some personality in – fill vases with fresh flowers, books that showcase personal interests and small art pieces as décor on the shelves.
The right balance between style, texture, pattern and colour can create the perfect mix of everything that's meaningful to you!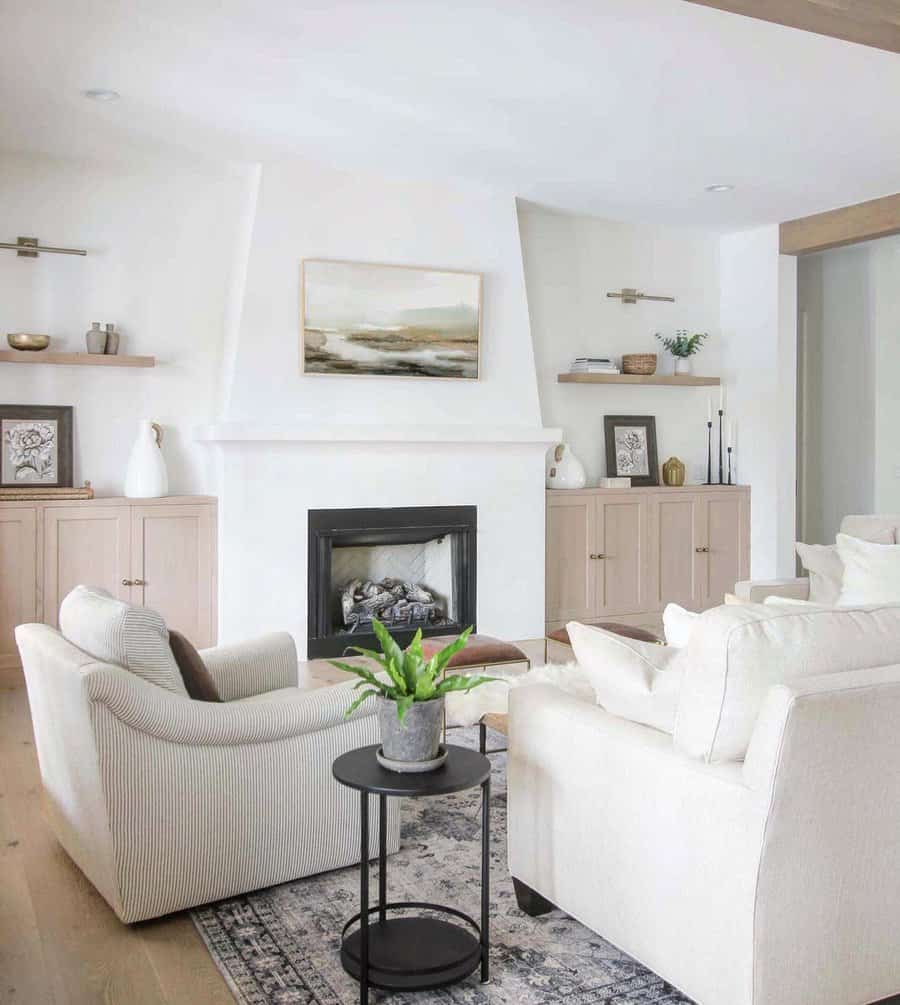 FAQs
How do you make a white living room look cozy?
To make an all-white room feel cozy, you need to add texture and tactile elements to the room. Add furniture that looks soft, such as a plush sofa that has overstuffed cushioning. Spread a plush rug on the floor. Add soft, warm lighting that comes from multiple angles for a layered lighting effect.
Is white color good for a living room?
Designers will tell you that white is the most popular color for the living room. However, this might reflect professionally designed living rooms over actual living rooms. White is a good color for your living room, but it is best used with other colors. An all-white living room doesn't always work with a homeowner's lifestyle if they have pets or children.
How do I make my white walls not boring?
The best way to make an all-white room less boring is to add visual interest to the space. You can do this by adding subtle texture and pattern, even if it is white on white. Add white decor to the walls to decorate the walls. It's also helpful to add layered lighting to the room.