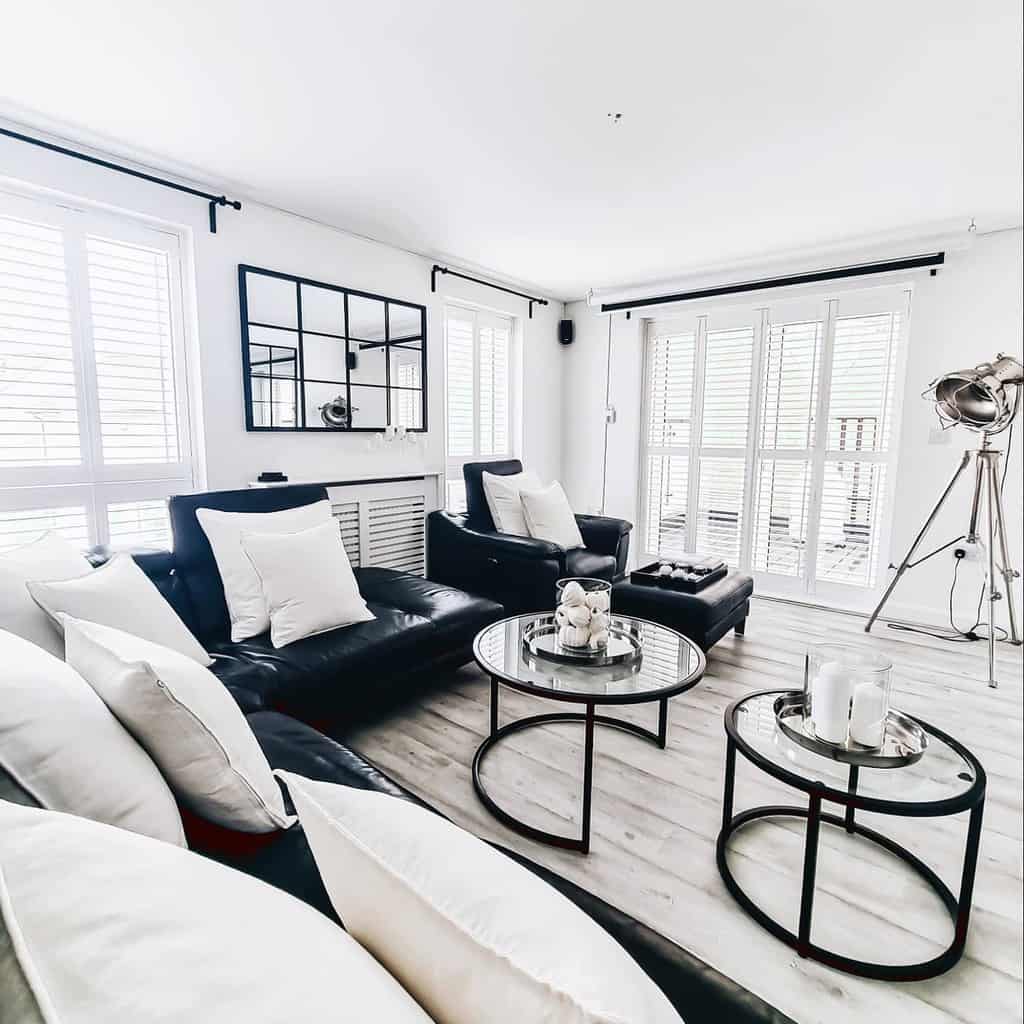 42 White Living Room Ideas
Despite their impracticality, all-white rooms aren't going away. Homeowners can't resist decorating their home with this ultimate neutral. White gives your home a clean and bright design that helps it to feel larger and brighter. All white designs are more complicated than painting the walls and adding white furniture, though.
These white living room ideas will help you create a beautiful interior design in your home that won't fall flat or be boring.
1. Apartment
The standard color scheme for apartments is to have white walls and a light-colored neutral carpet. Instead of painting the walls or doing a lot of work to restyle your apartment, embrace the white interior.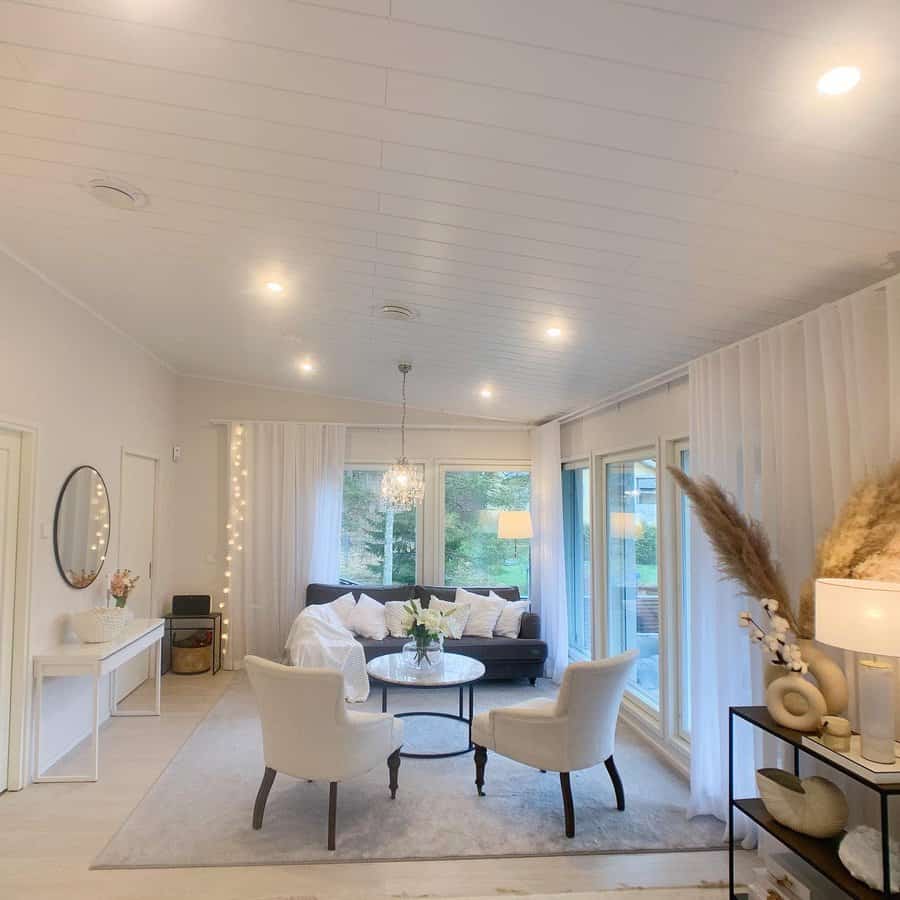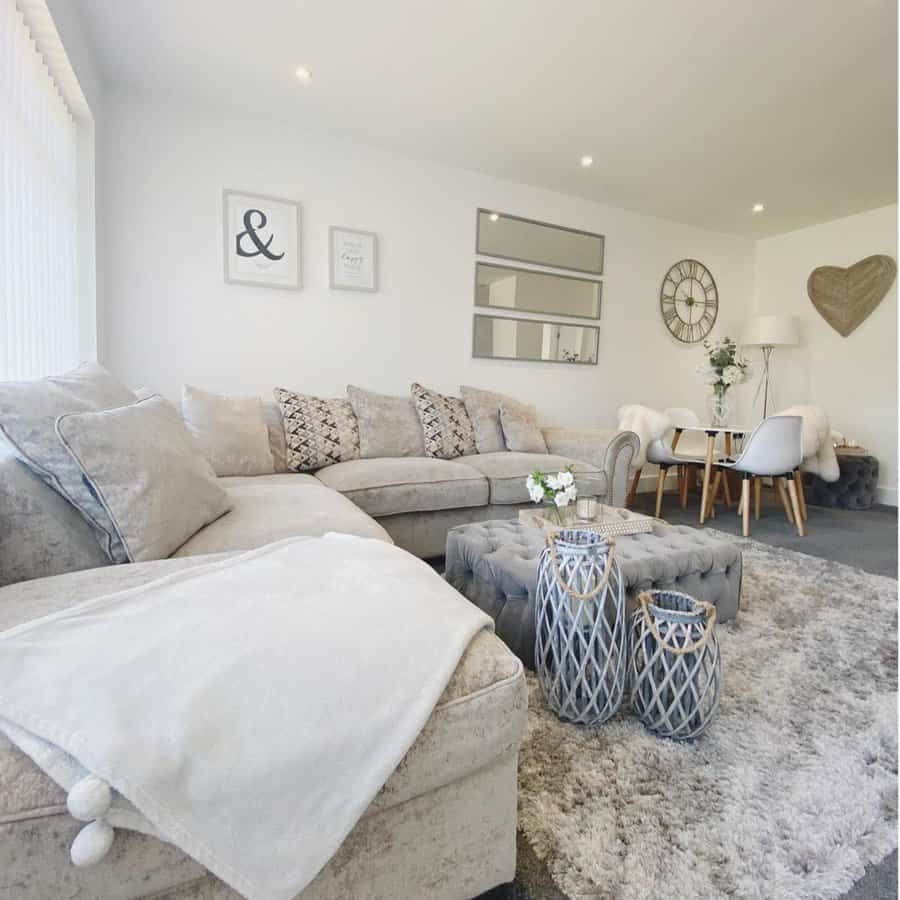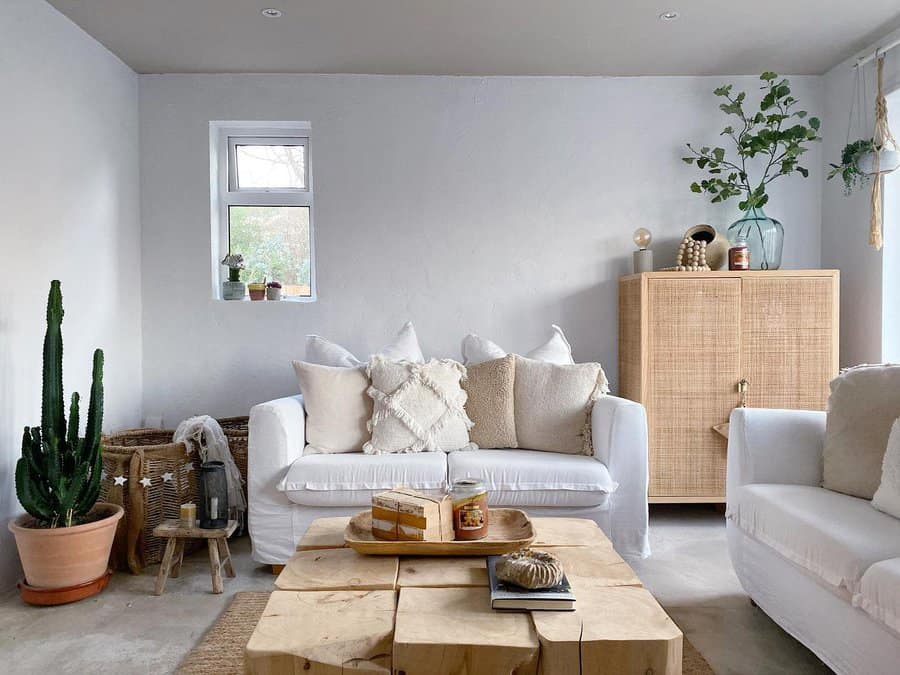 Leaving the walls white makes it easier to move out and helps to reflect the natural light. All you need to do is add white furniture, rug, and textiles. Because apartments tend to have smaller square footage than single-family homes, using mainly white will help the small space feel bigger.
2. Boho
The bohemian home decor style is typically associated with bright color schemes. However, recent trends have merged bohemian and minimalist styles to create a more subdued design style. Gone are the bold colors, and in their place are whites and neutrals. The style features plenty of handmade items curated from all over the world.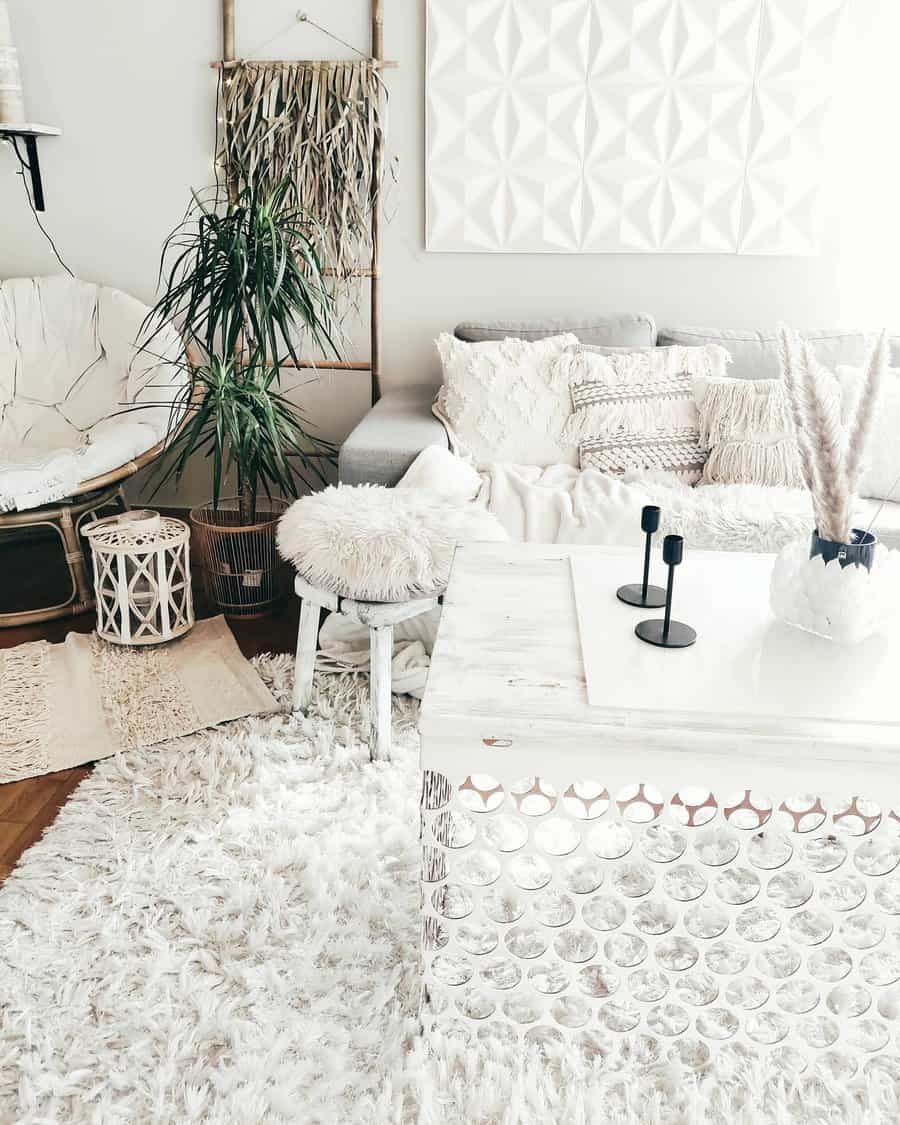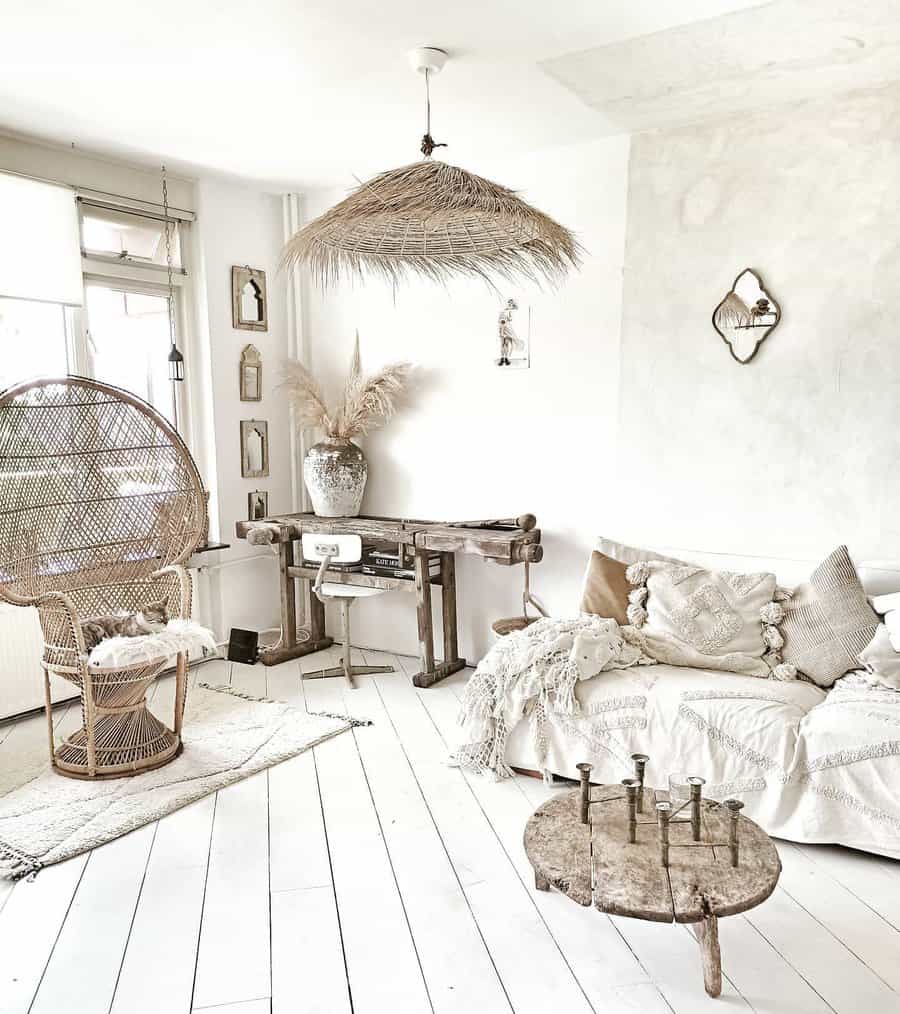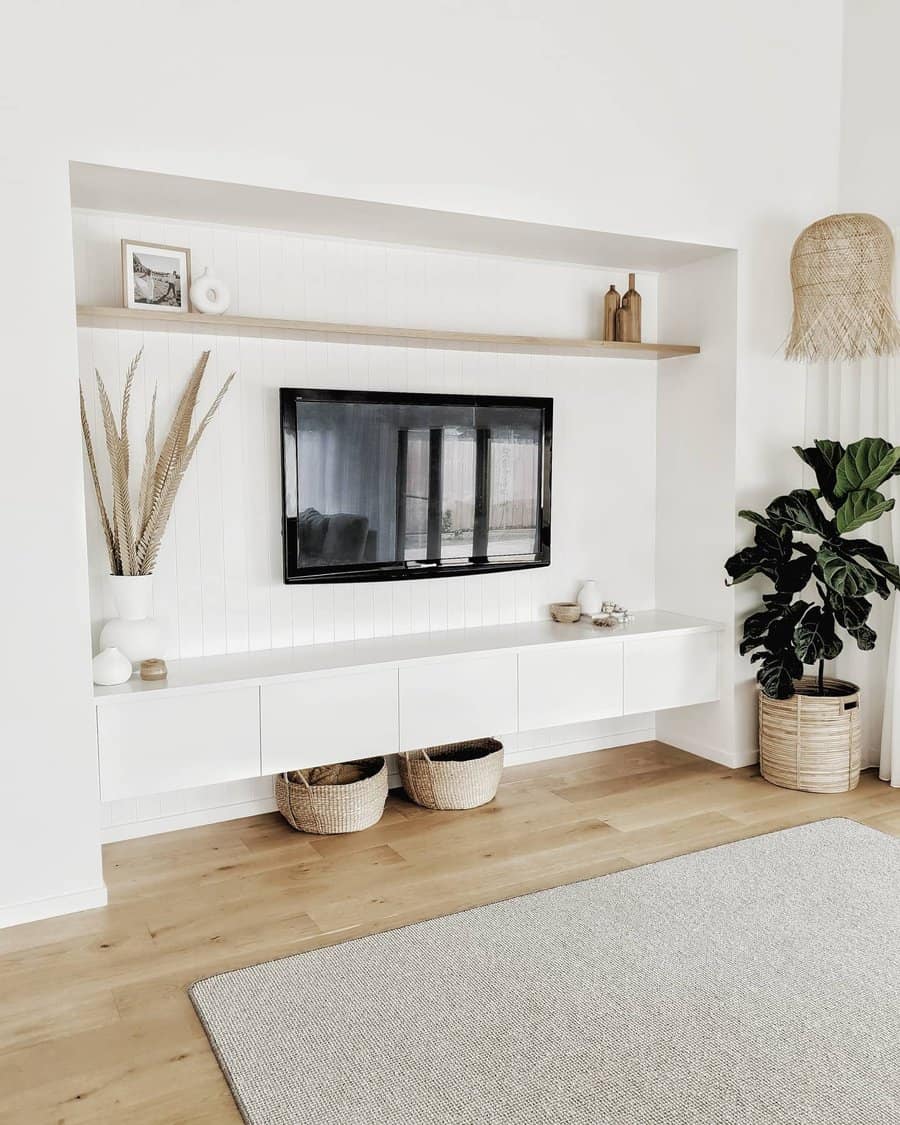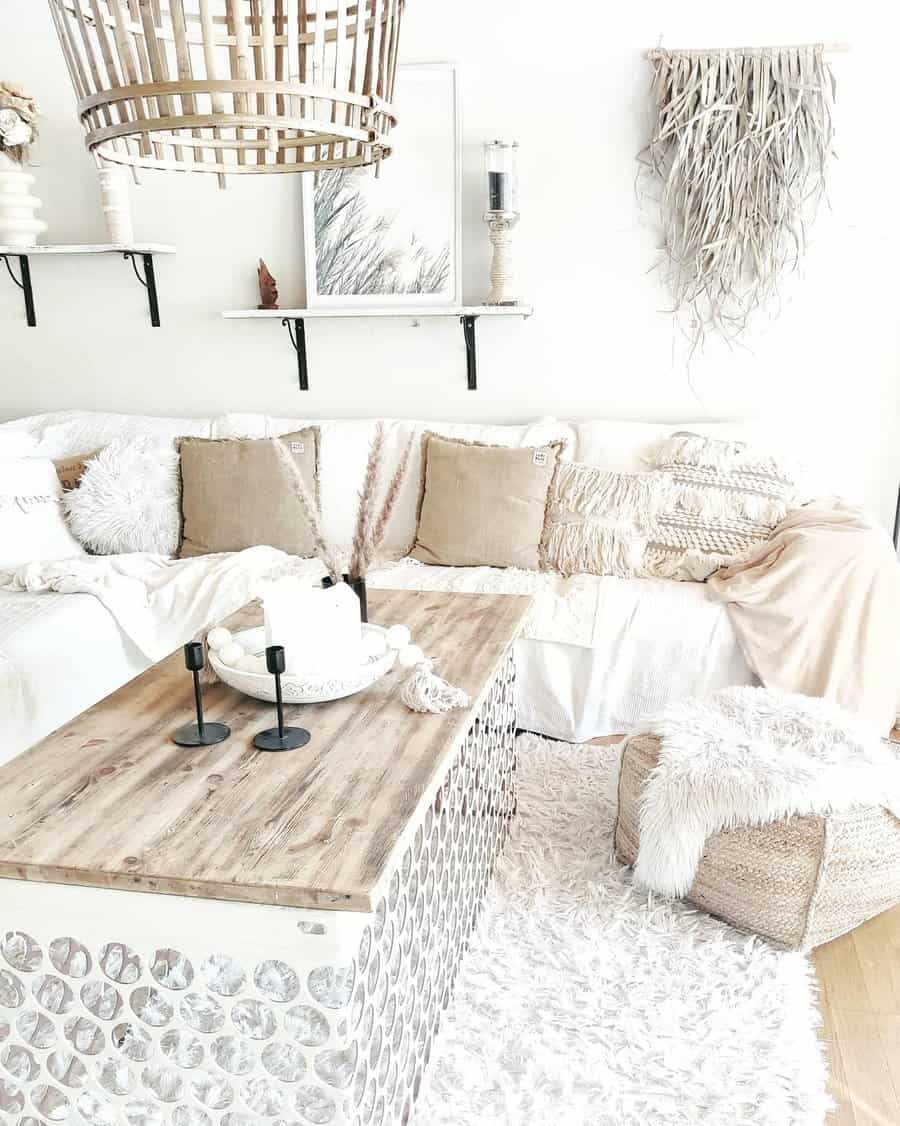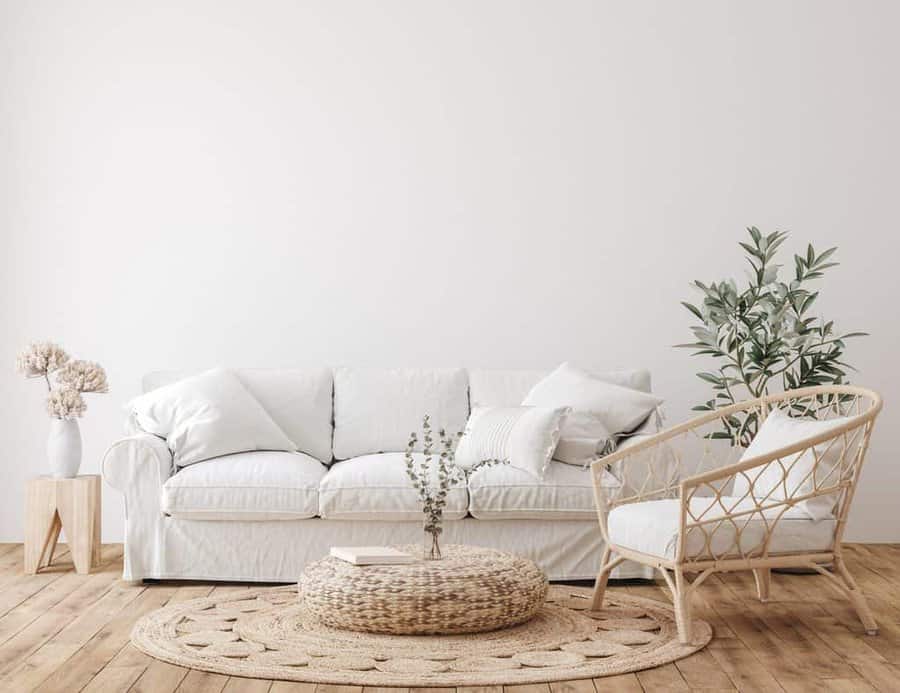 The wood tones add warmth and richness to the room without taking away from the white color scheme. To bring life into the design, use house plants. Place an indoor plant in a dead corner, on the coffee table, or anywhere else you'd like to accent. Use handmade pots made from white clay, porcelain, or white glaze to continue the white color scheme while also adding texture and depth.
3. Coastal
Typically, coastal themes feature shades of blue and green. However, you can create a successful coastal look using a white color scheme. This approach will keep your living room from feeling too nautical or tropical, which may not make sense for all homes that aren't located in these geographical regions.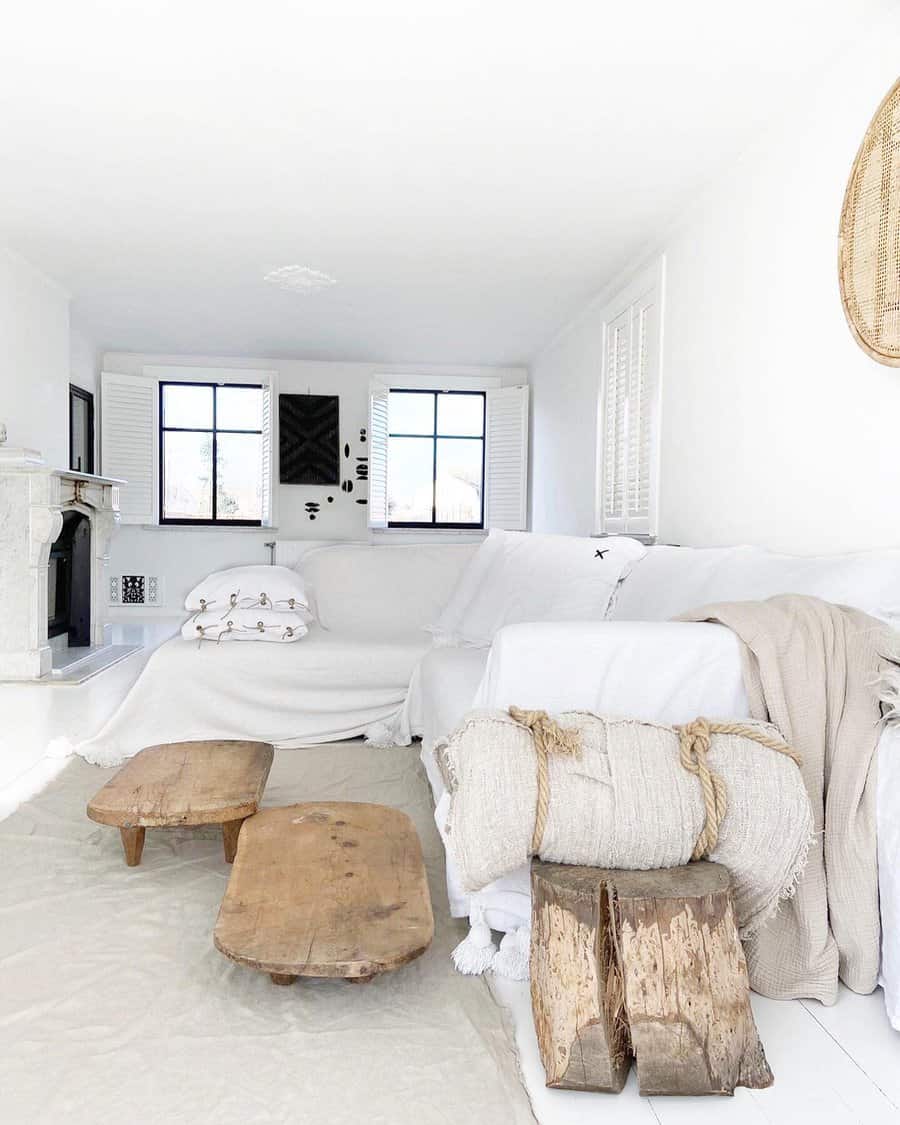 Instead of using pure white, stick with cream shades that are softer and warmer. Add wood accents but focus on using weathered wood. It could have a slightly grey hue and worn paint as if it was left on the beach and suffered sun, sand, and salt exposure. Additionally, use driftwood in your decor for a touch of authenticity.
4. Contemporary
If you're looking for a simple and clean design that looks timeless, then it's time to consider a white color scheme for your contemporary living space. Arrange a plush sofa that is in a white color and upholstered with durable yet comfortable material.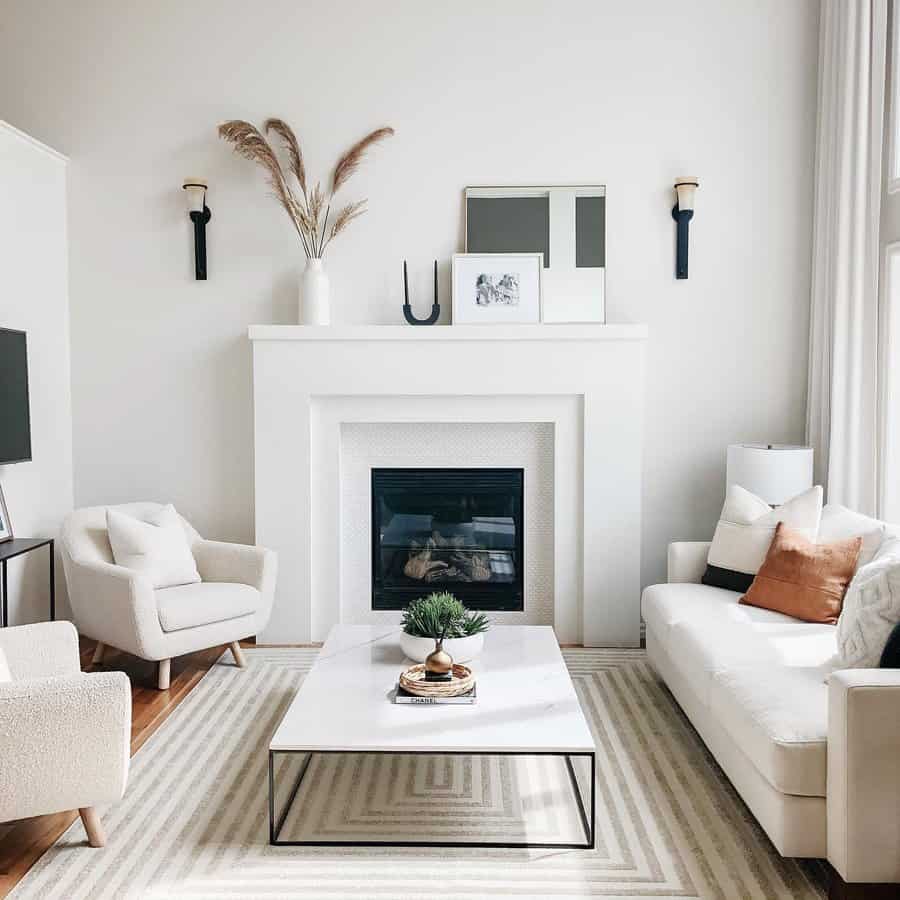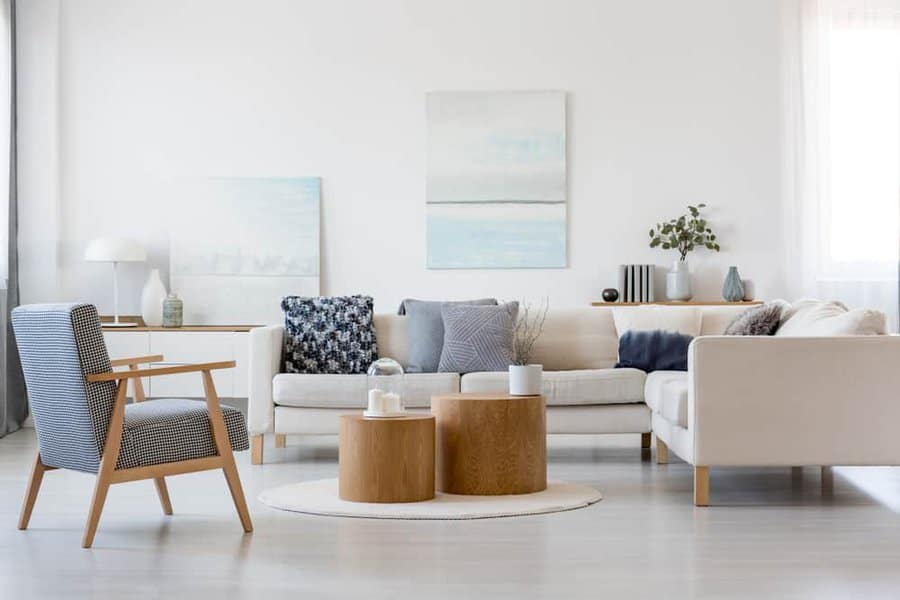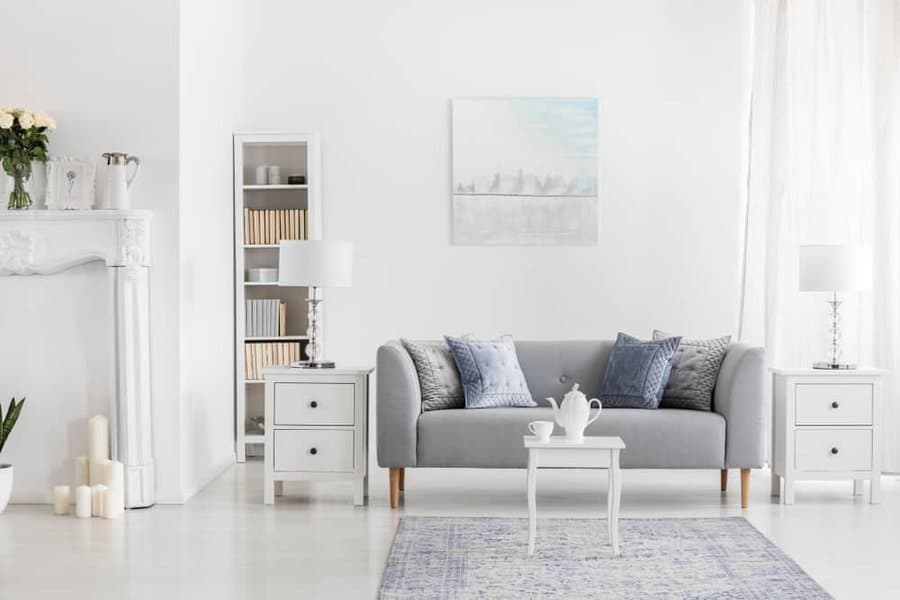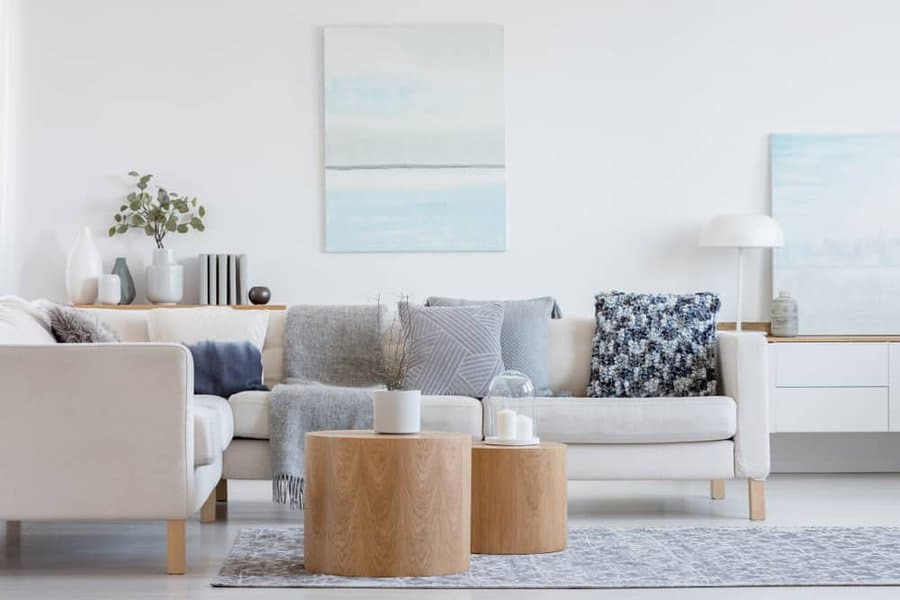 Mix neutrals in with your white furniture. The different shades won't detract from the white aesthetic but will help with adding depth and definition to the room. A contemporary approach to your living room is a good idea if you also have a home office in the space. The timeless design works well in an office for a professional look.
5. Country
A country cottage design is soft and delicate, as if you could walk out of your living room and into a beautiful English country garden. Use white textiles that have a subtle floral motif. Choose wood furniture that has a whitewash treatment. Add delicate accents like lace trim.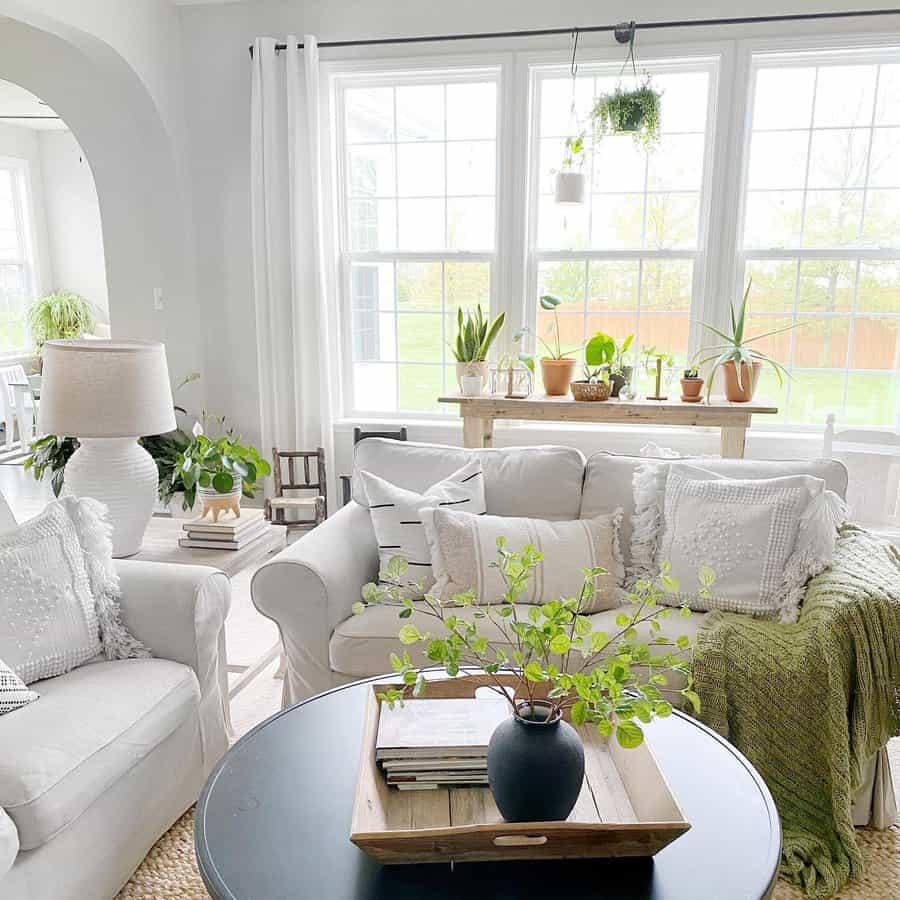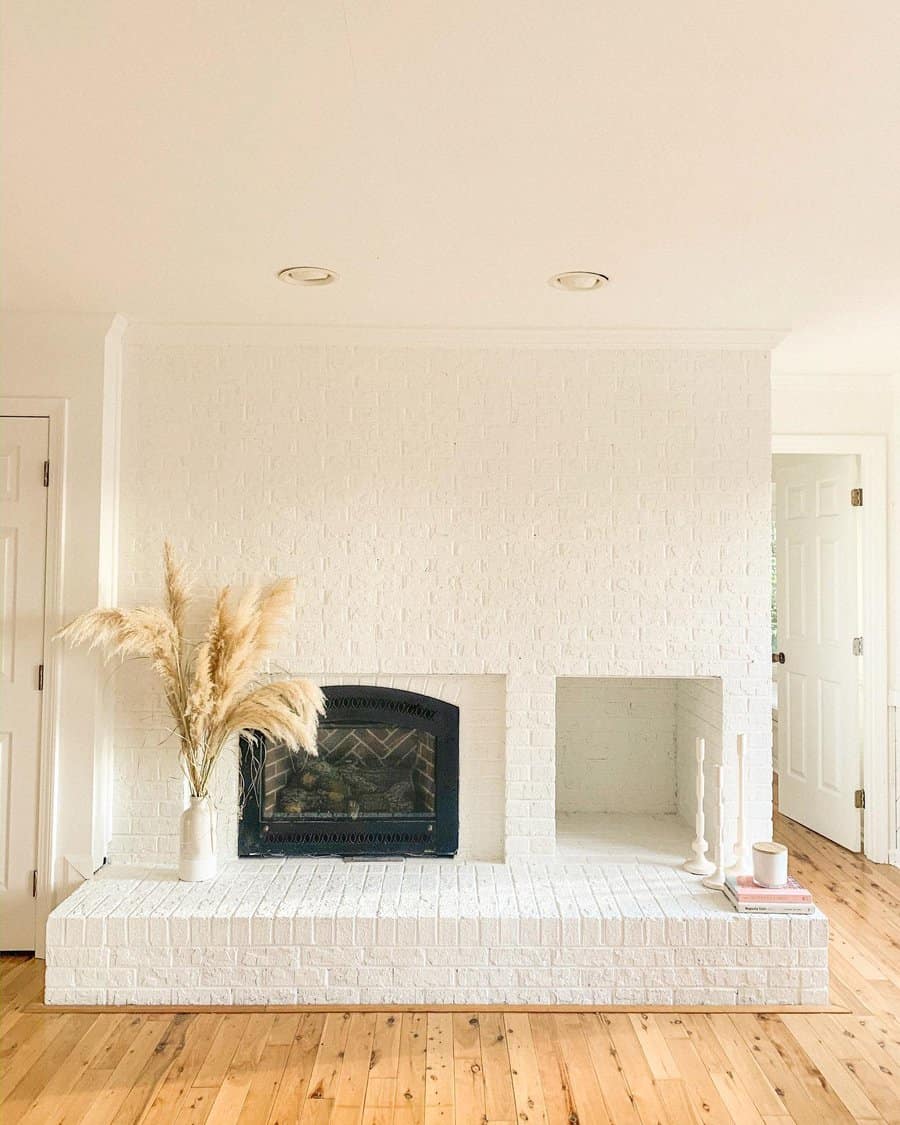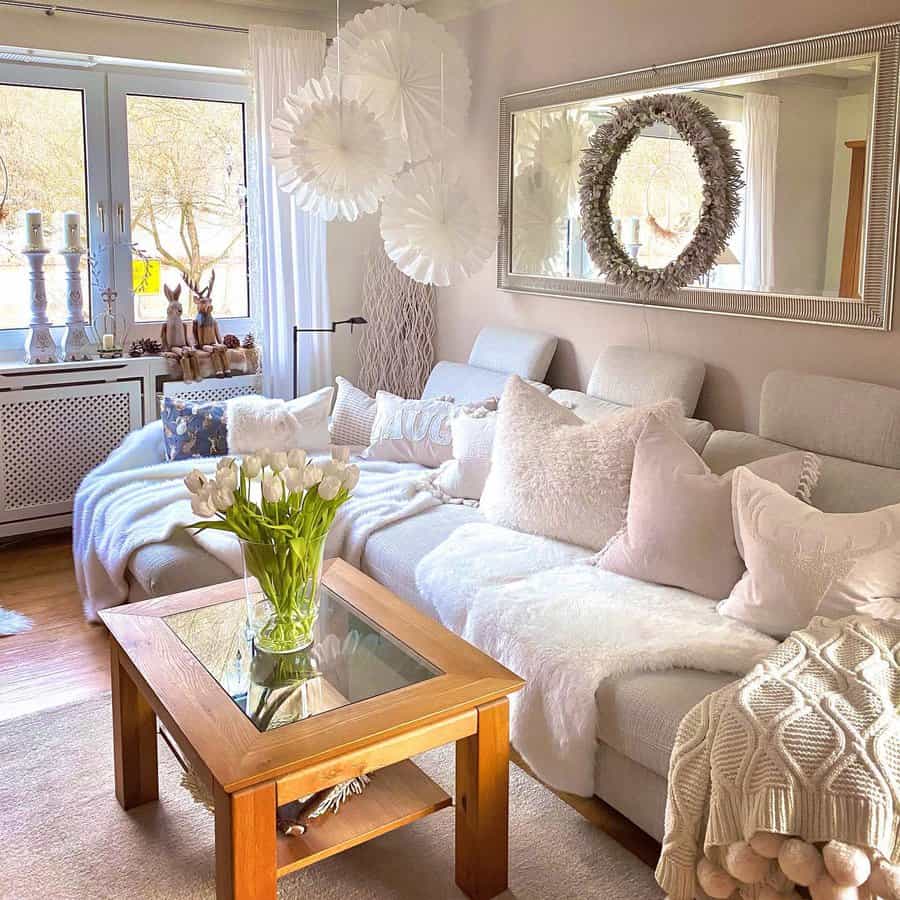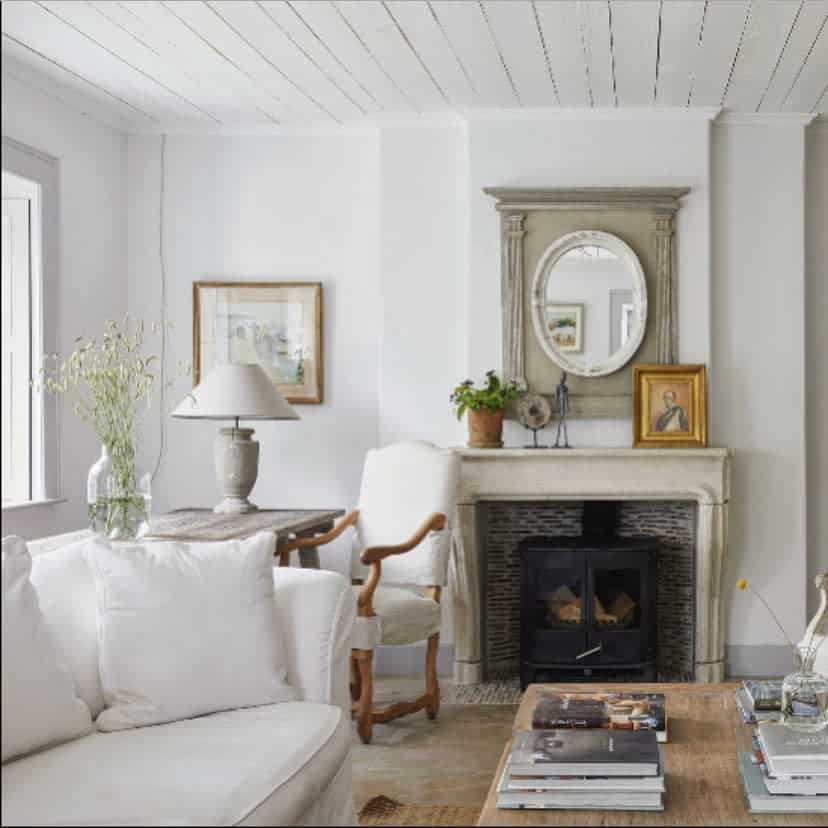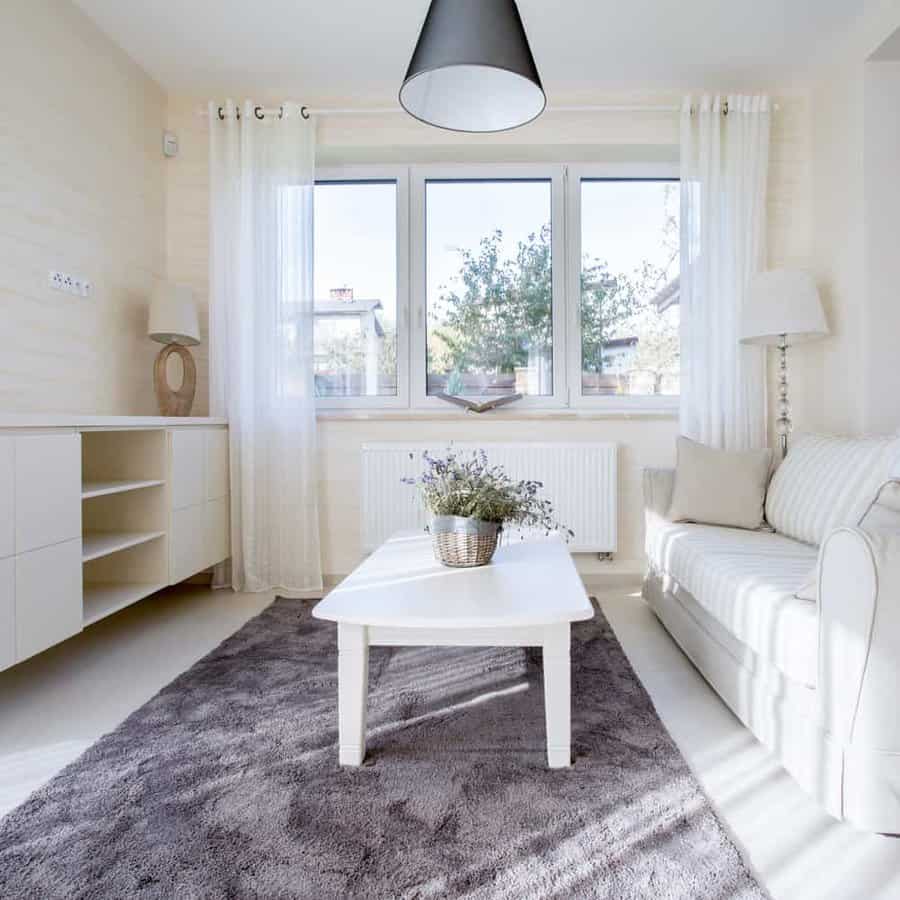 Furniture pieces should be simple but not plain. It should like humble but not worn and used. Country design is more elegant than farmhouse and higher quality than rustic. Don't be afraid of a bit of clutter, as this is the perfect room for displaying your collection of figurines, vintage plates, or teacups.
See more country living room ideas here.
6. Farmhouse
Instead of rustic, give your white living room a farmhouse design. This unassuming and almost humble design style is perfect for someone who wants a comfortable living room that makes anyone feel welcome in your home.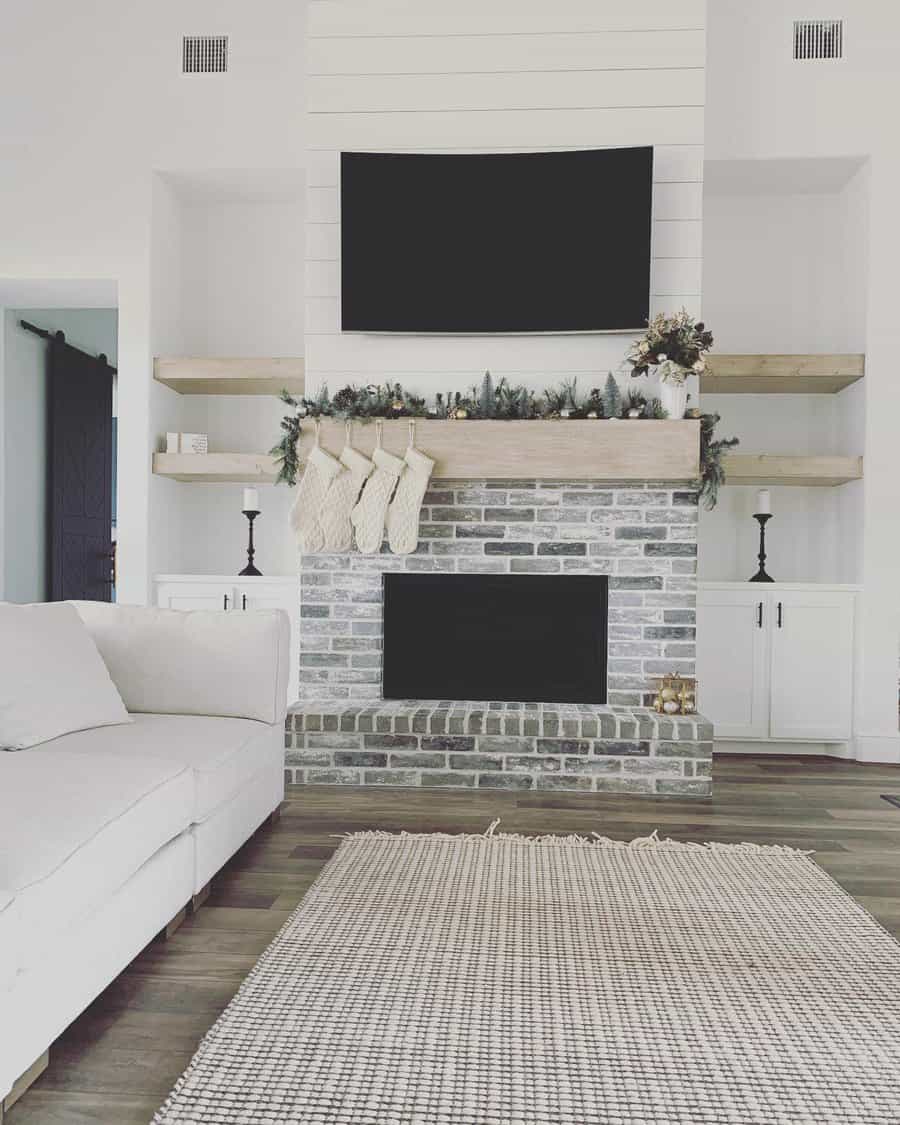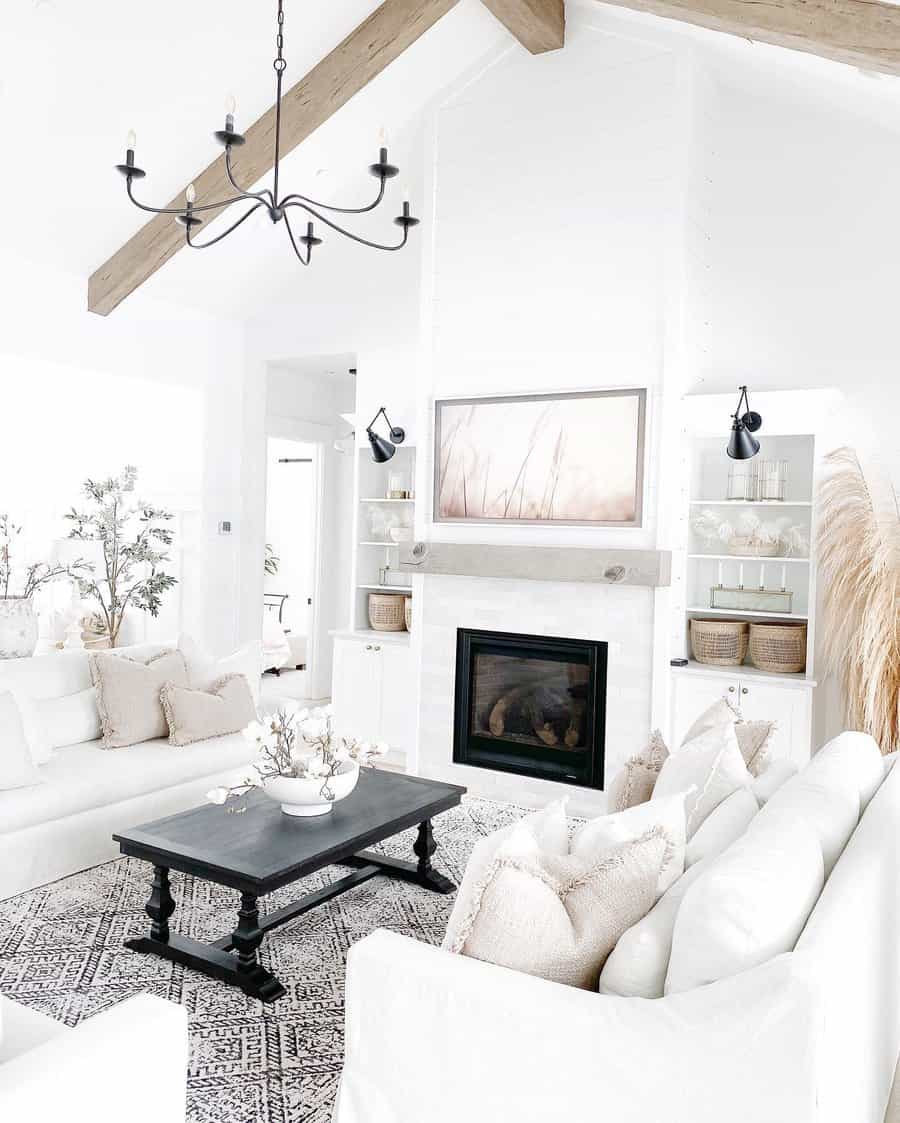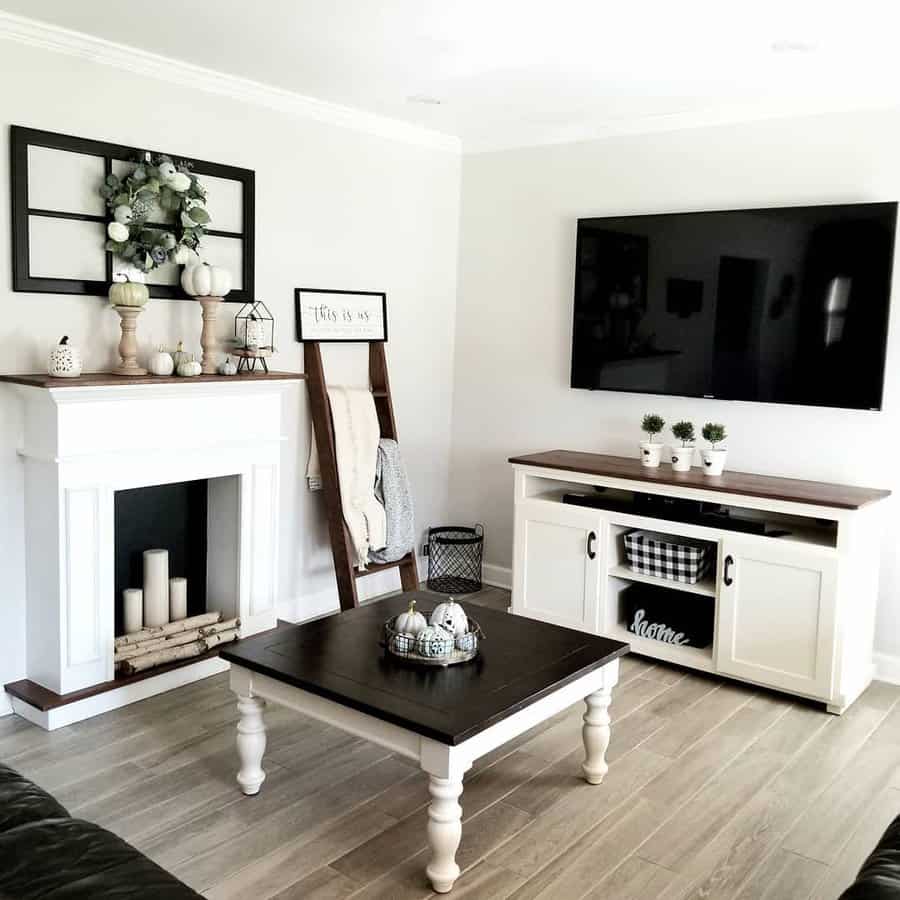 Focus on practicality and reuse. Farmhouse decor is often the tools used around the property. While furniture items can look well-loved and lived with, they shouldn't be as beaten up as rustic designs. Instead of living plants, add season produce, grains, or wildflowers for a pop of color.
7. Glam
Just because you choose a white color scheme doesn't mean your living room has to be plain or boring. Your white living room will be anything but dull with a glam approach. Add luxurious fur accent pieces. Embrace polished metal accents. Highlight the space with crystals to add maximum drama.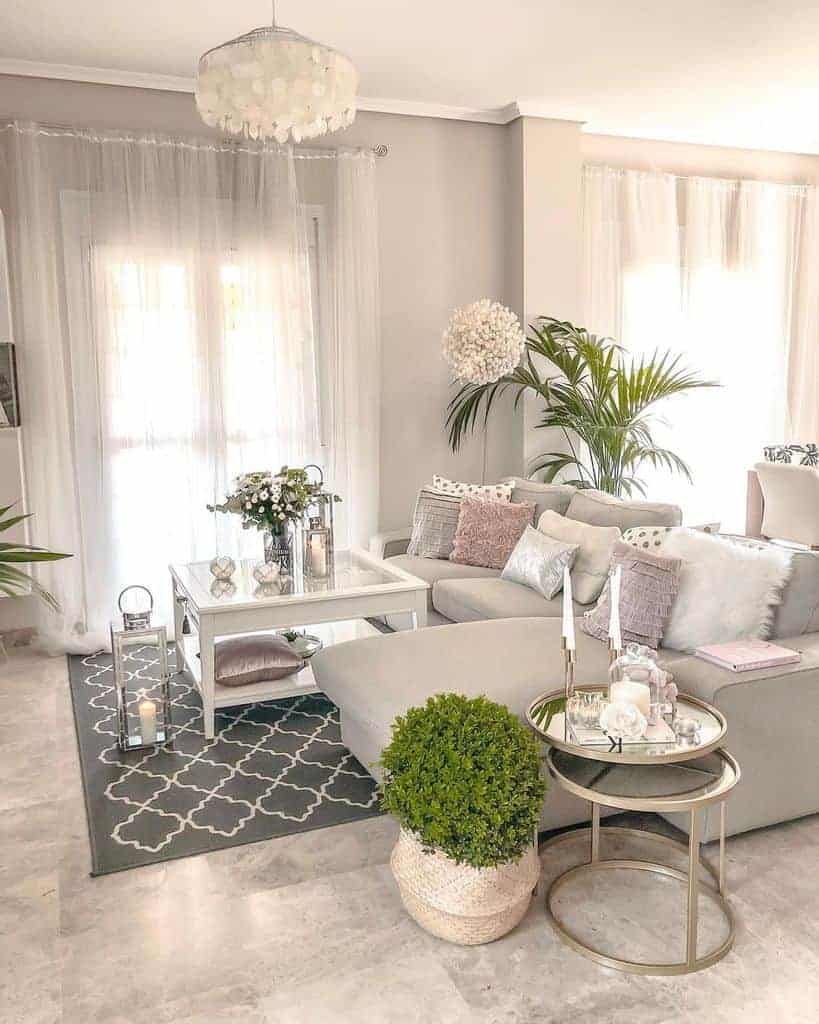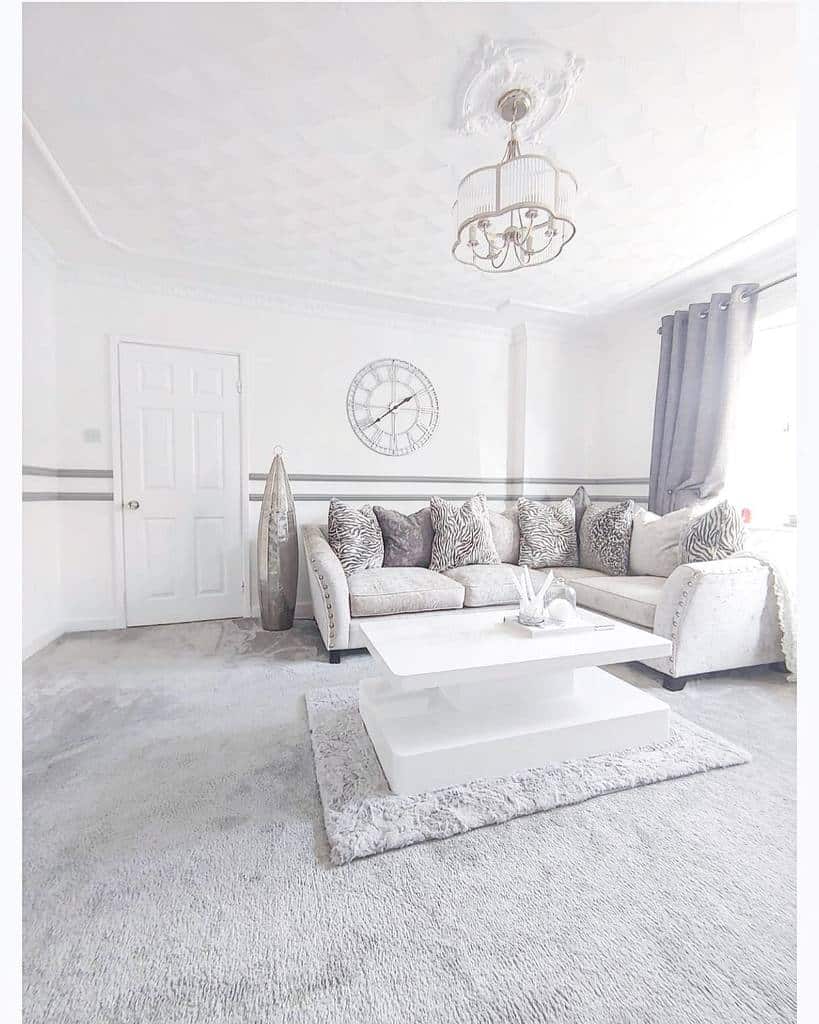 Glam is Hollywood excess that takes sophisticated elegance and makes it slightly over the top and tacky in a delightful way. Perhaps you have clear acrylic chairs that have Swarovski crystal trim. There could be a faux fur rug with extra long fur that feels deep when you walk on it.
8. Industrial
When you see industrial design, it's typically dark and moody looking with a lot of gray and black. However, this isn't your only option. A white industrial living room can look brighter and more approachable.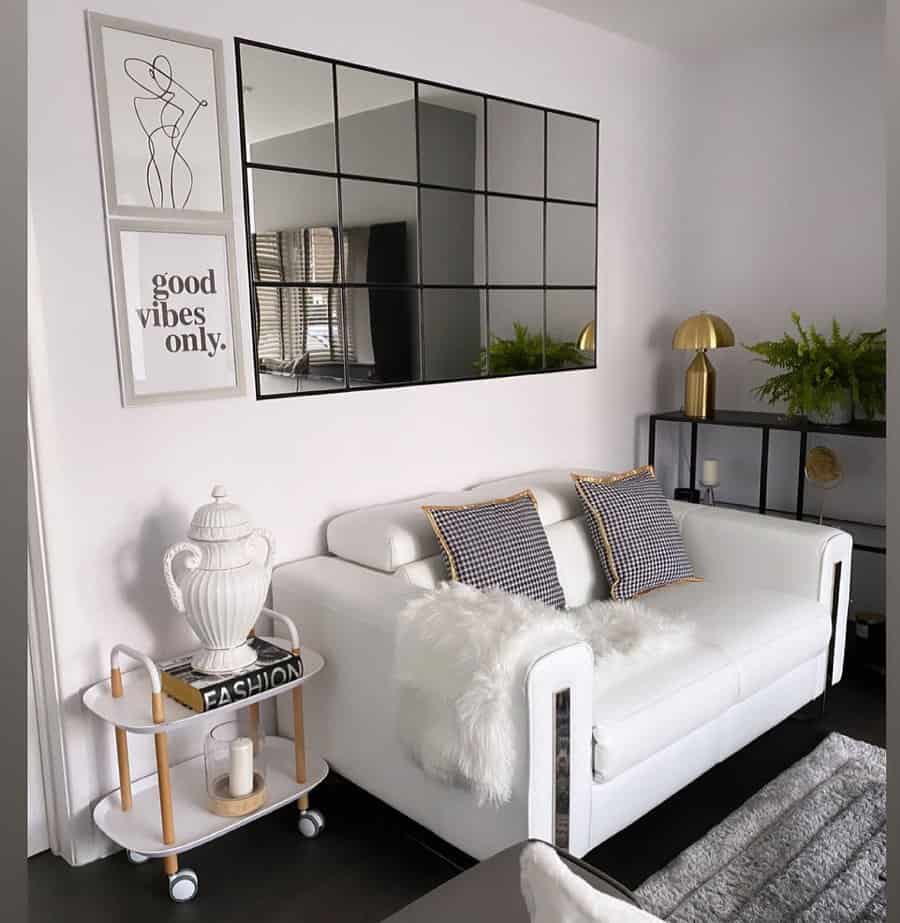 Keep the same style, and don't be afraid to use black accents. Just inject more white elements. It won't be an all-white living room like some other design styles, but it will be brighter than traditional industrial. An easy approach is to paint the walls white and fill the space with black, gray, concrete, metal, and wood elements.
See more industrial living room ideas here.
9. Luxury
White is often associated with luxury, and you can easily achieve this look in your living room. This is a perfect approach if your living room and dining room share a common space. Stick with the white color scheme, but use elevated materials and construction. Gold is often associated with a more expensive design, so use it for the fixtures.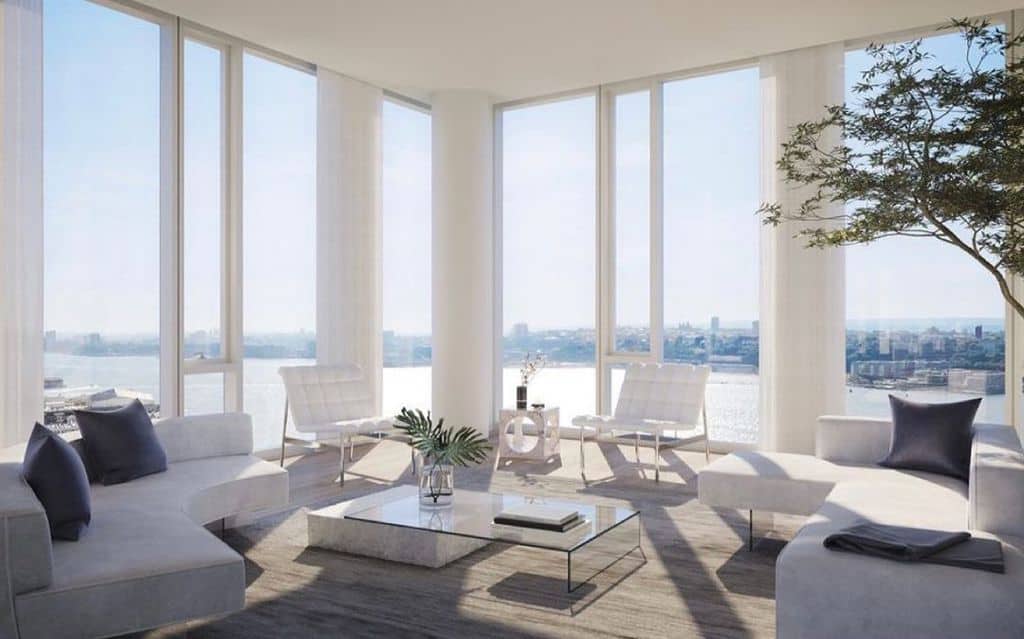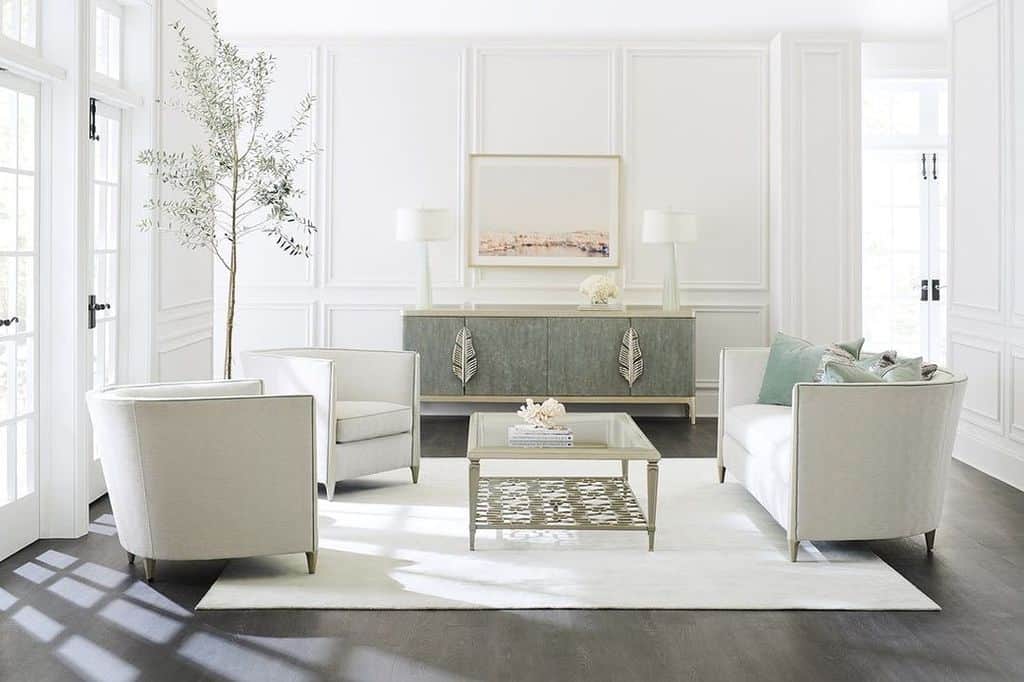 Replace concrete and stone with marble or granite. Replace white cotton curtains with window treatments made from velvet or silk. Train the curtains to have perfect folds and decorate the curtains with opulent trim.
10. Minimalist
Taking a minimalist approach to your living room will help your living room feel bigger because it will have more open space and less furniture. Instead of having a large wrap-around sofa, you could have a few accent chairs.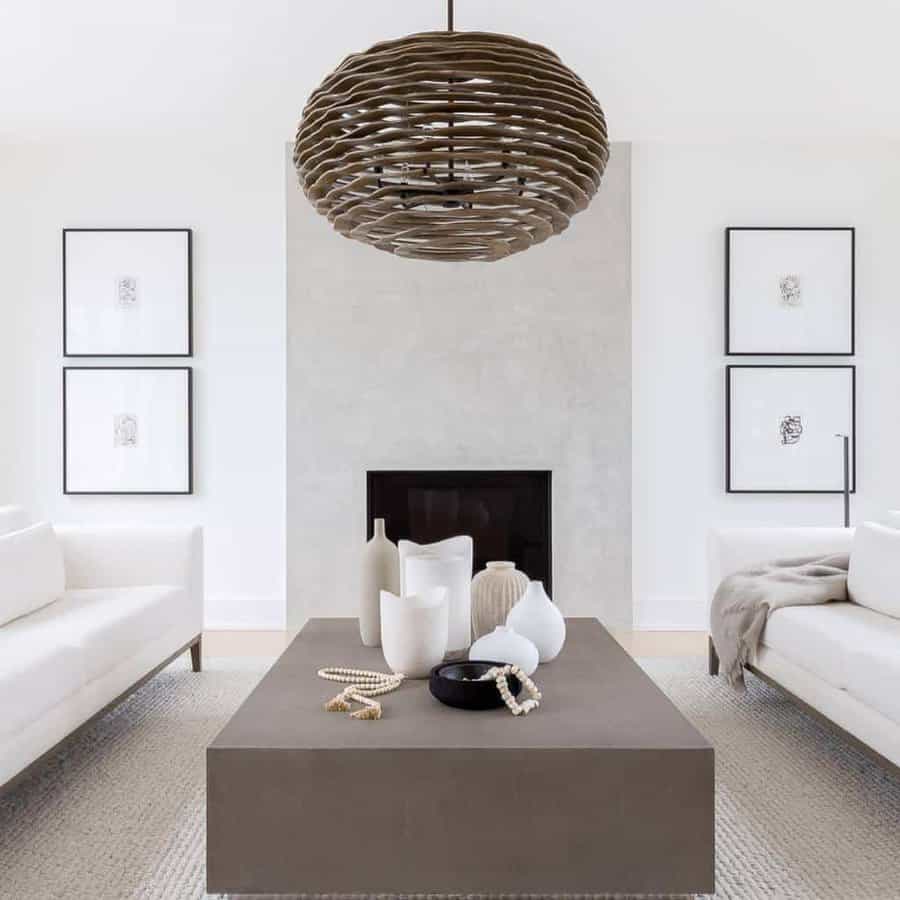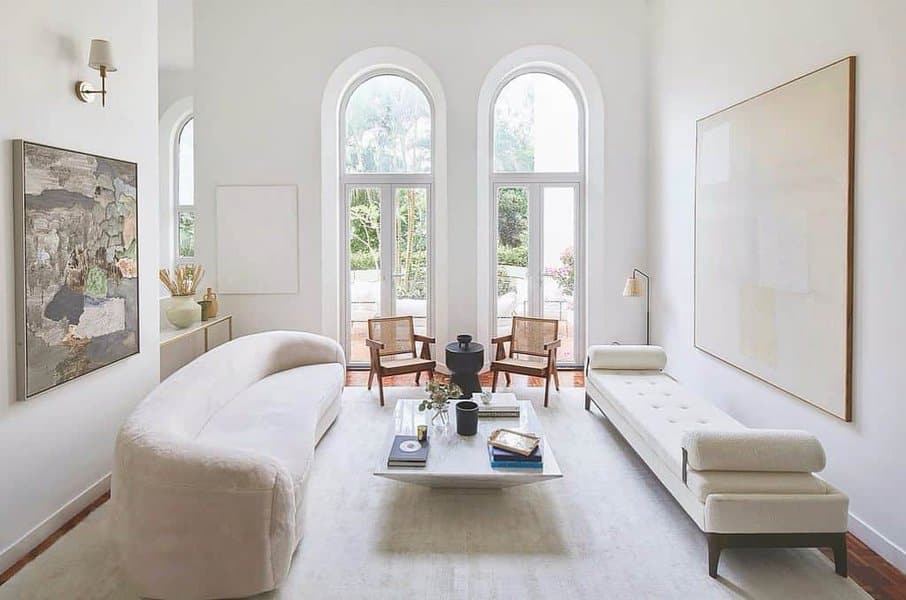 Choose a white paint color that is as pure as possible. This is not the design style to be using cream or white with a yellow, peach, pink, or orange undertone. Use high-quality materials like expensive stone, leather, or handwoven rugs to keep your minimalist living room from looking cheap.
11. Modern
If you love the sleek and clean aesthetic of modern interior design, you'll be happy with a modern living room. Embrace open space by using a limited number of furniture pieces. Choose furniture pieces that aren't overstuffed and instead have a structured design.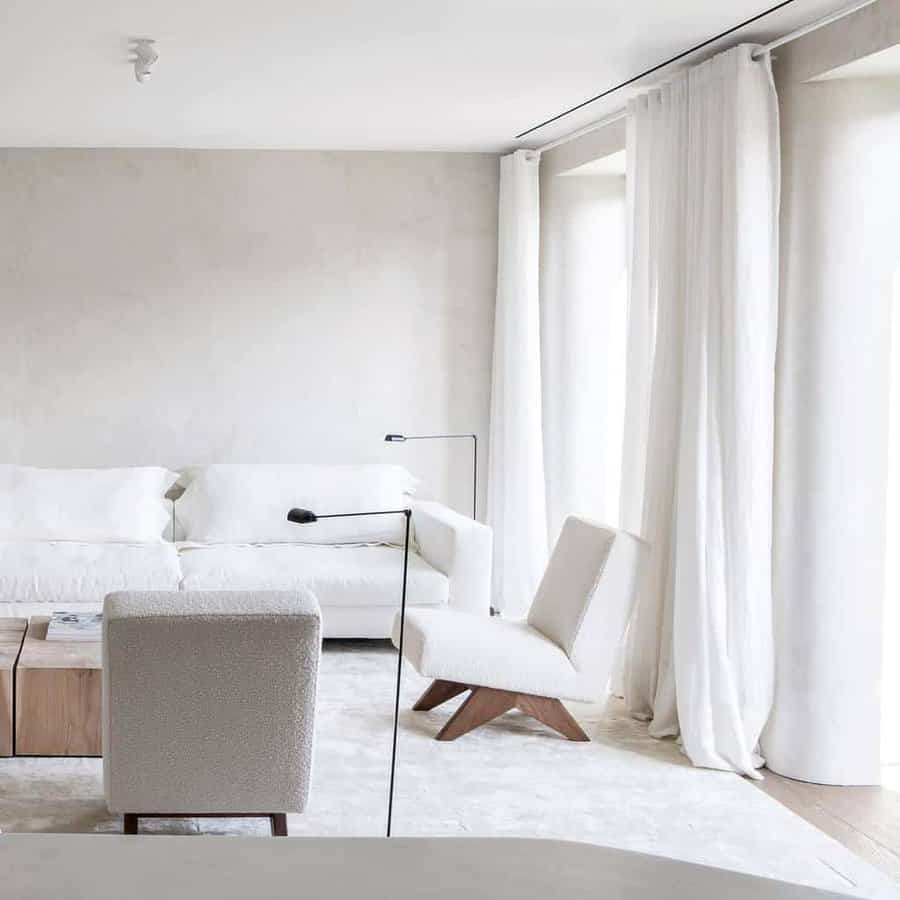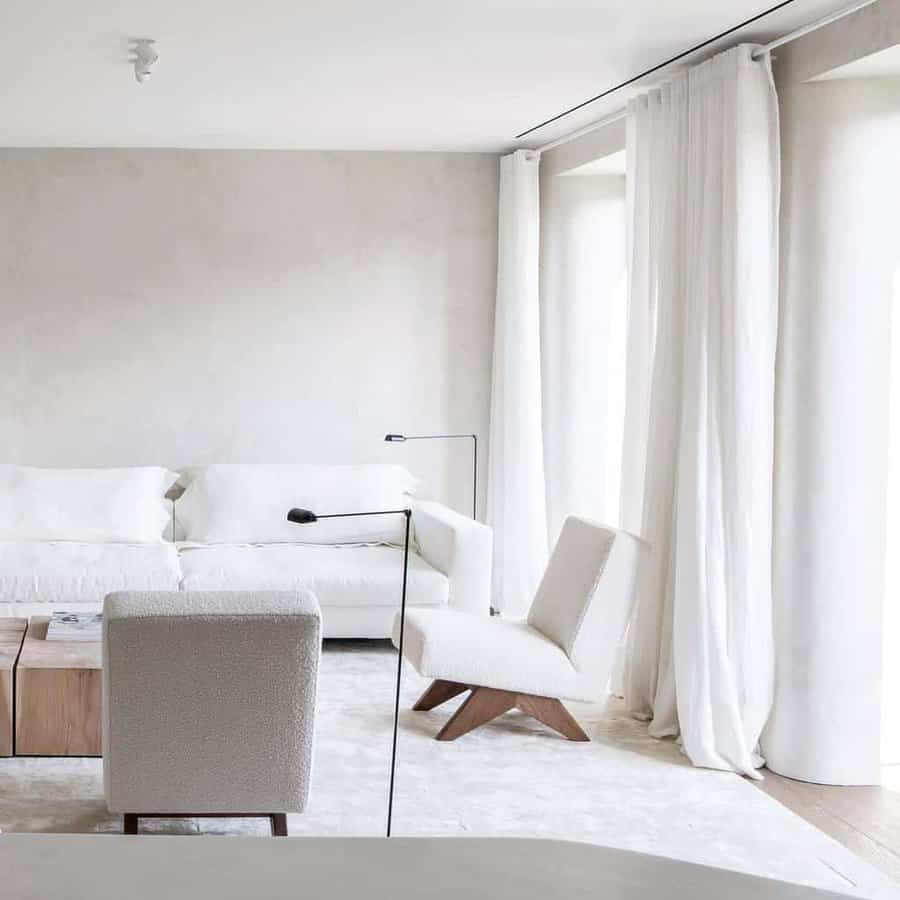 Instead of wood, it could have a metal frame or legs. Don't feel obligated to fill the space and keep the clutter to a minimum. Whether you embrace straight or curved lines, they should be long and elegant with minimum design or ornamentation.
See more modern living room ideas here.
12. Neutral Accent
While an all-white living room sounds clean and beautiful, it does have its drawbacks. When you have white paint on the walls and white furniture arranged, it can look cold and sterile. What you need are texture and layers. This adds softness and depth, making the space feel more welcoming and comfortable.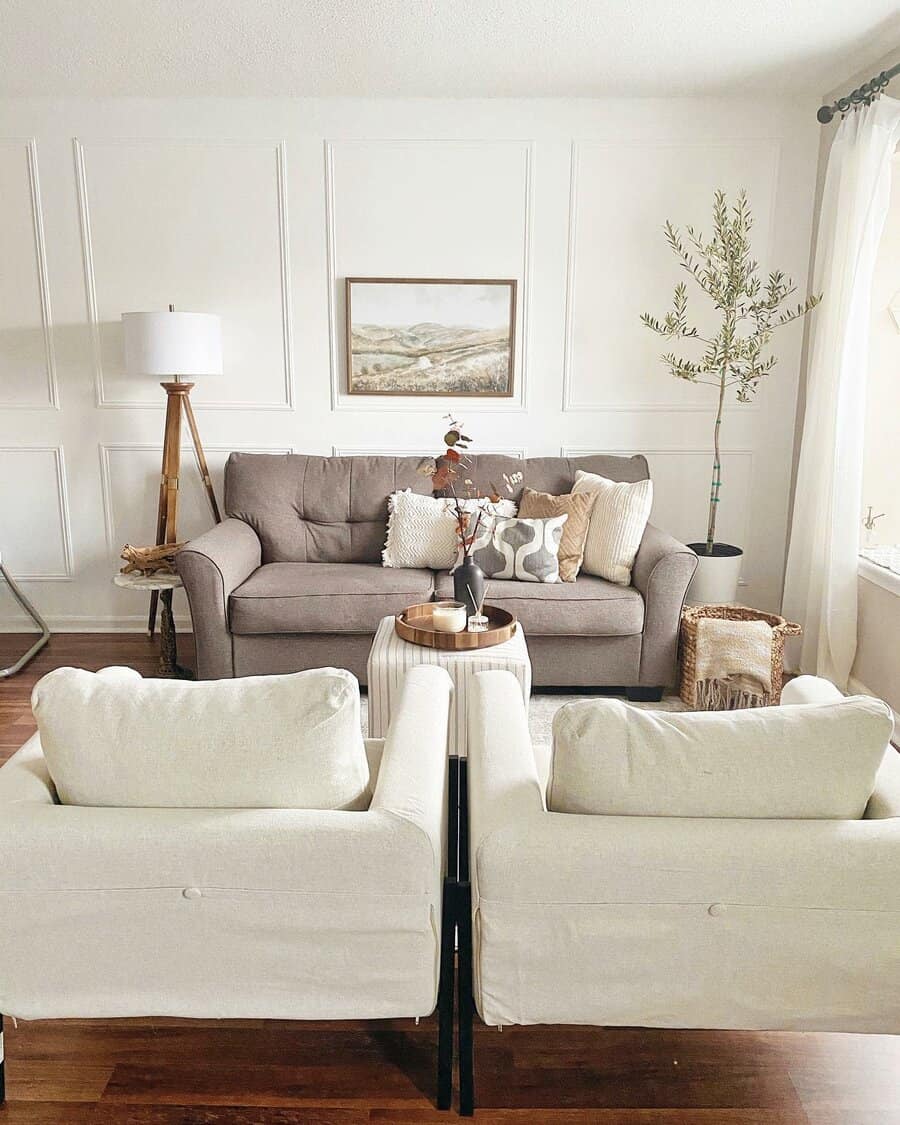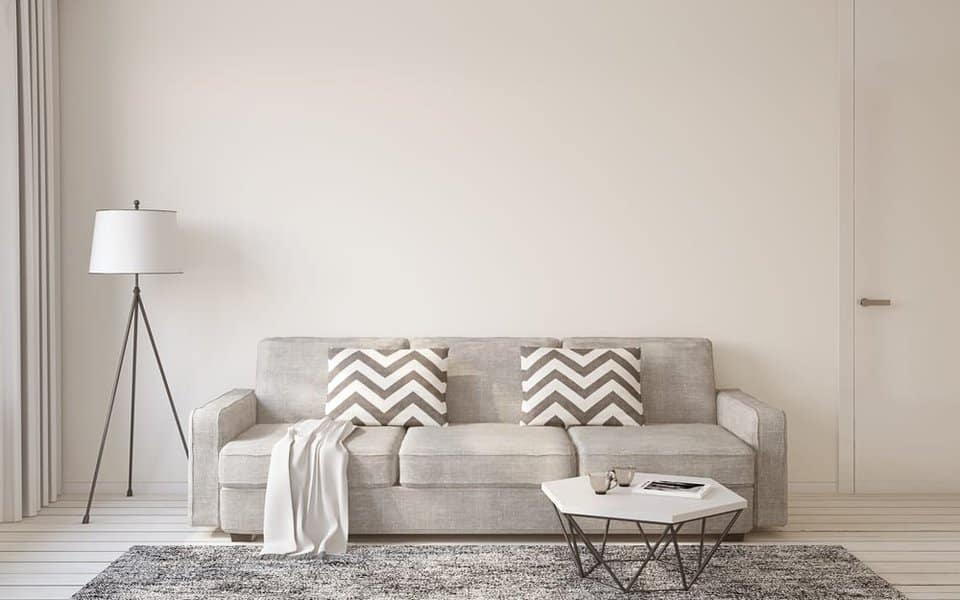 Add natural accents to the room, such as wood, stone, plants, and fabric textiles. Place a few plants, choose accent furniture made of wood, and add soft textiles made from cotton, linen, mohair, or wool. This could be throw pillows, blankets, curtains, or an area rug.
13. Scandinavian
Scandinavian interior design is about creating a clean and minimal design that blends beauty and functionality. For your living room, focus on creating a well-lit space that's more than just a white room. For example, interior designers may add a gray sofa but pair it with a wood or stone coffee table.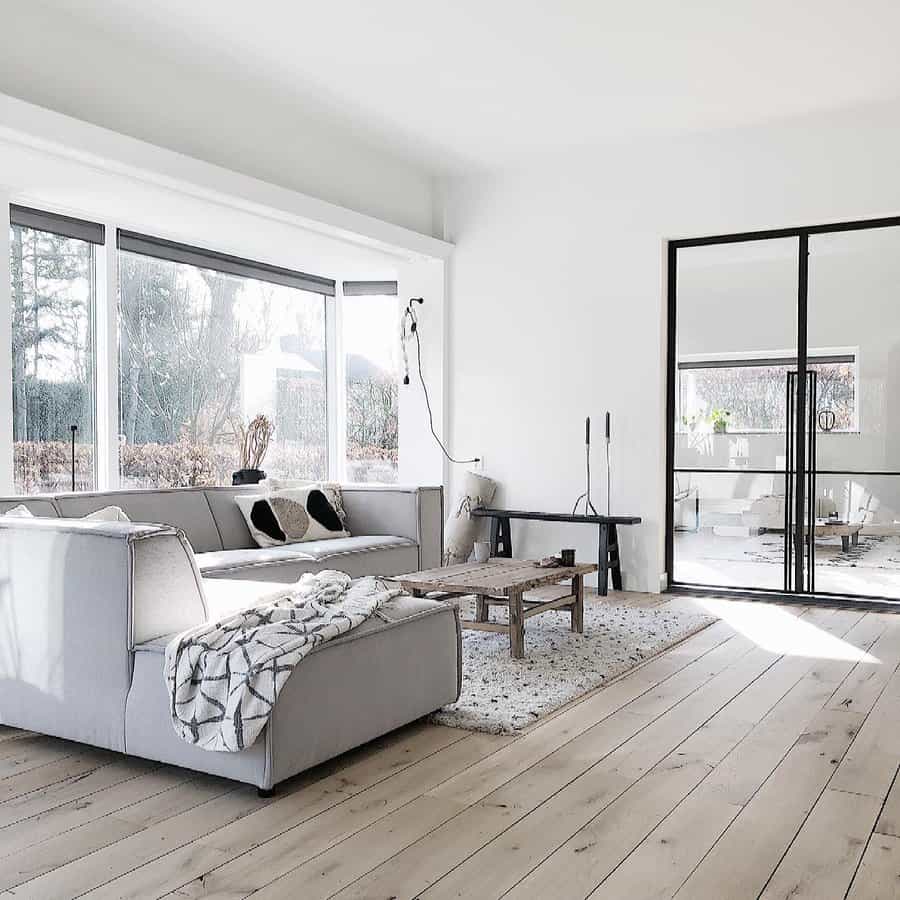 If you're unsure how to create a clutter-free Scandinavian design, you can look at living room ideas that feature this design style. Then model the elements that you see.
14. Shabby Chic
For some, rustic decor can look too run-down and drab. To give rustic an upgrade, consider using shabby chic. This is a blend of rustic charm and chic modern design. Use living room furniture that's slightly worn and antique-looking. Then add feminine and elegant touches that are beautiful but also unassuming.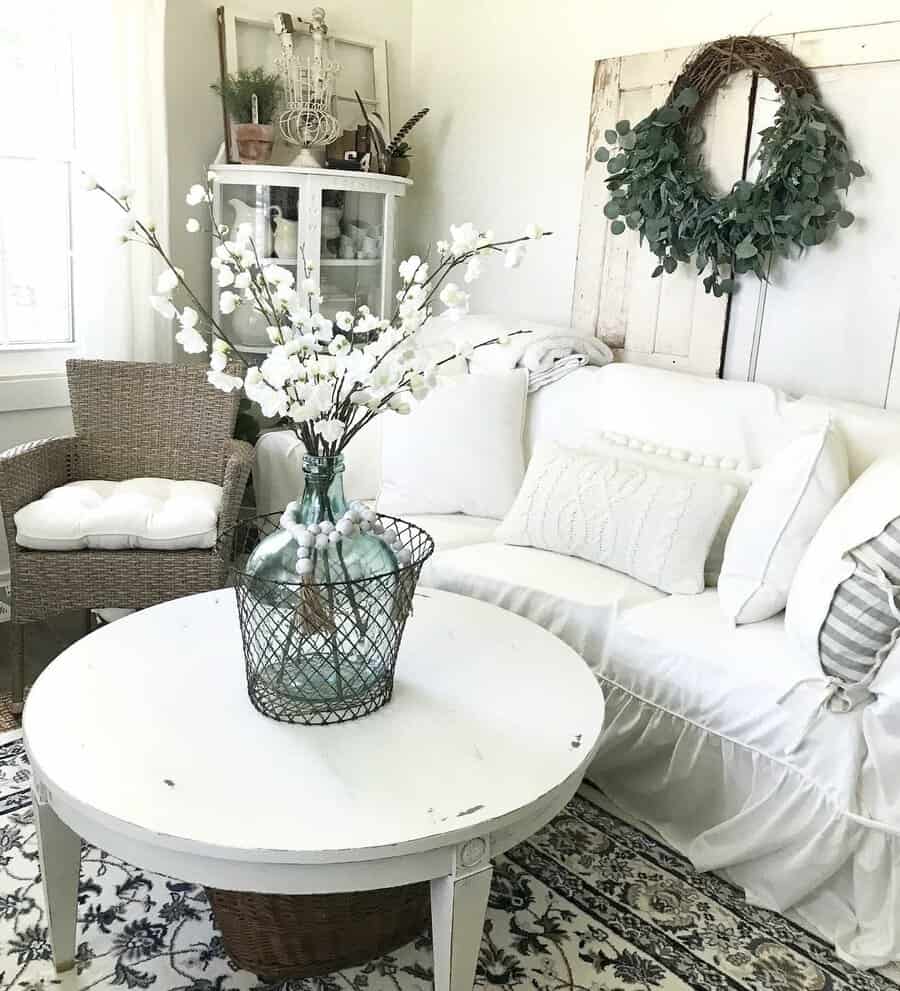 The space should look comfortable, lived in, slightly feminine, and a little country. Add delicate materials like lace and fine materials like porcelain. Just choose vintage and worn pieces instead of perfect and brand new.
15. Small
If your living room is small, sticking with a monochromatic white color scheme is smart. Using only white helps everything blend together, preventing the room from feeling closed in or cramped.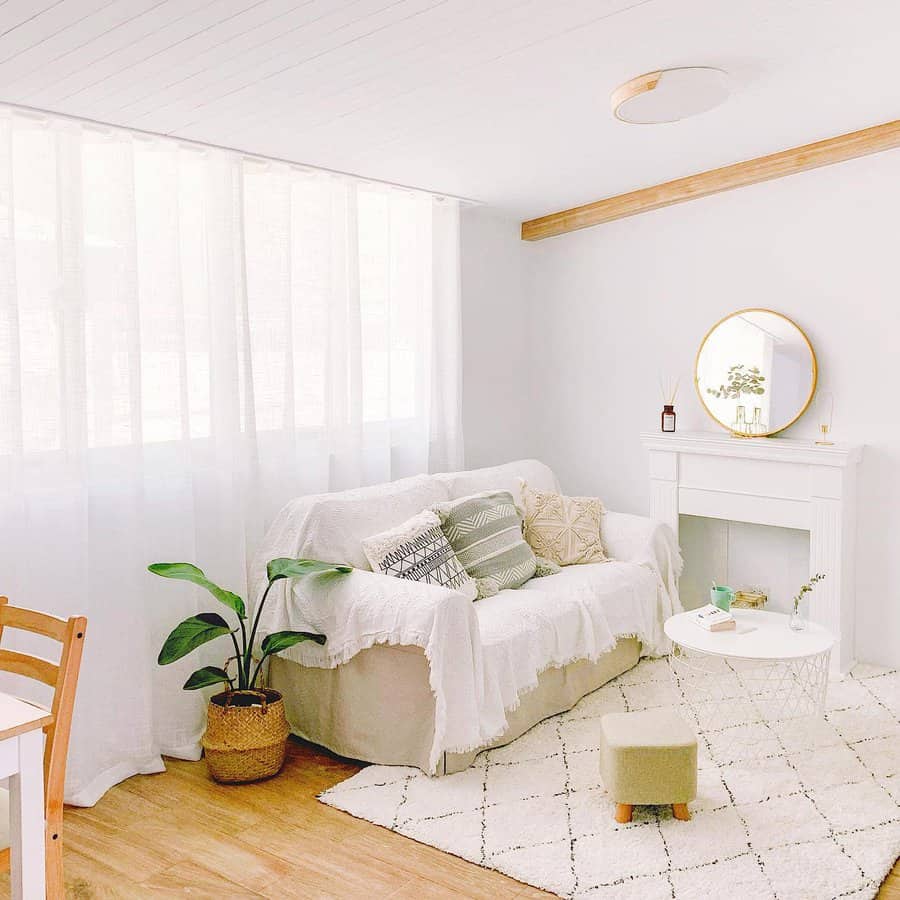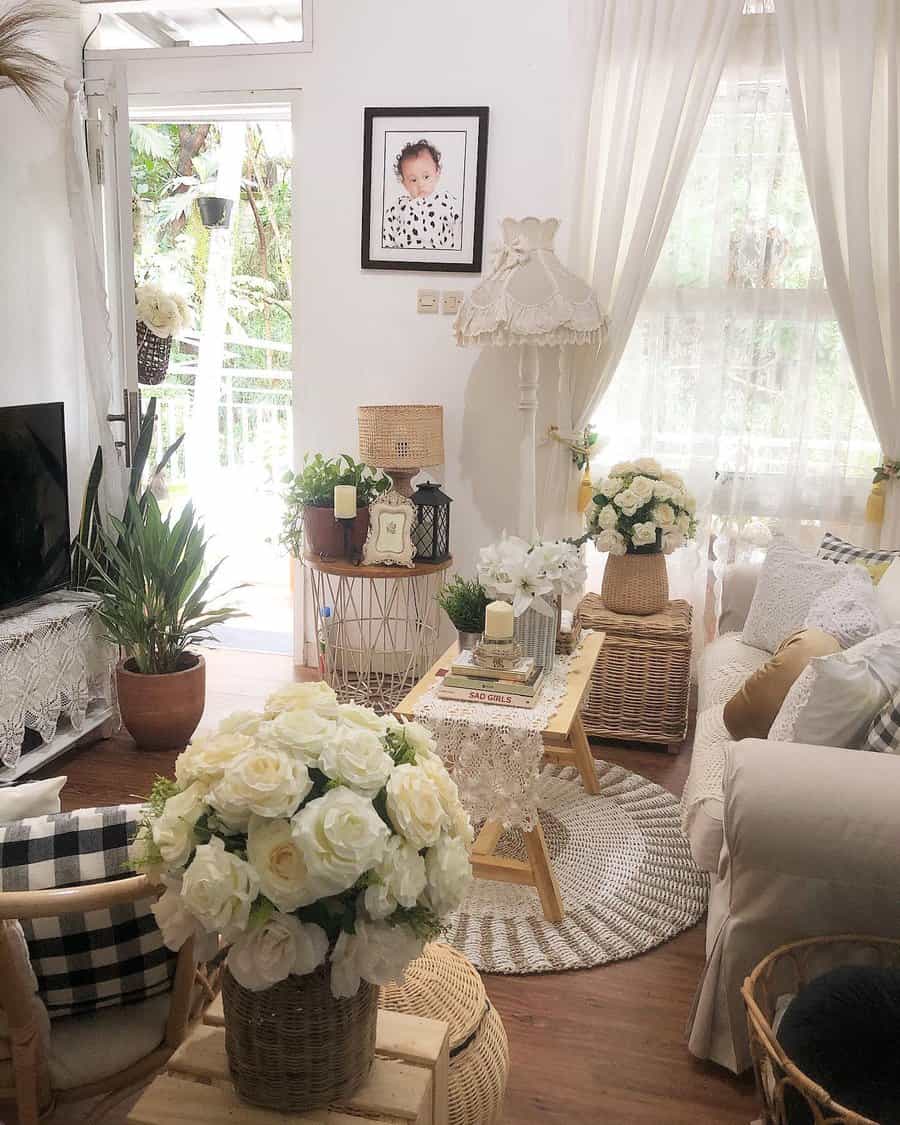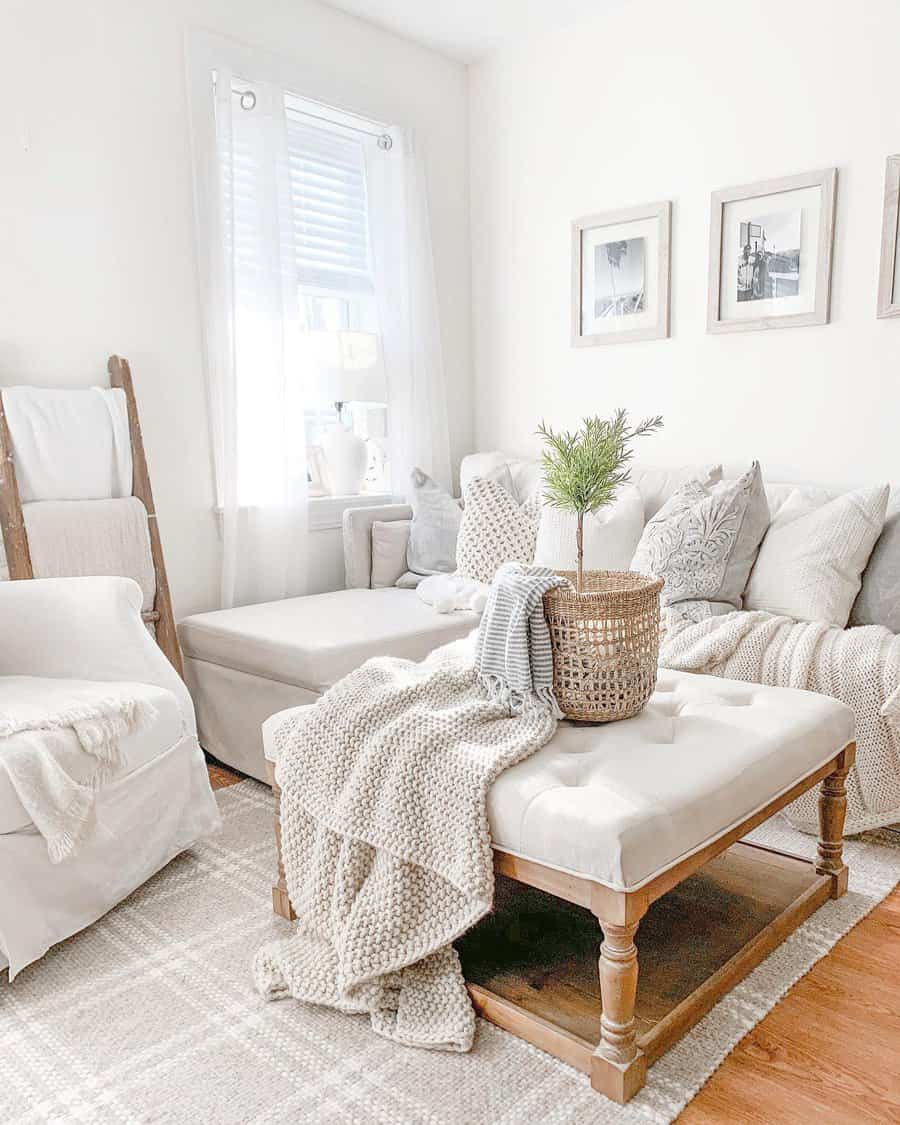 White is also excellent at reflecting light, helping your small room to feel brighter and thusly bigger. Hang a mirror on the wall and bounce the natural light around, making the room feel more spacious. To help your small white living room feel bigger, arrange furniture that is low in height and scaled down to fit the room.
See more small living room ideas here.
16. Traditional
Using a white color scheme for your traditional living room can give a traditional aesthetic a fresh and approachable take. Style your living room with traditionally designed furniture but uses white or cream upholstery.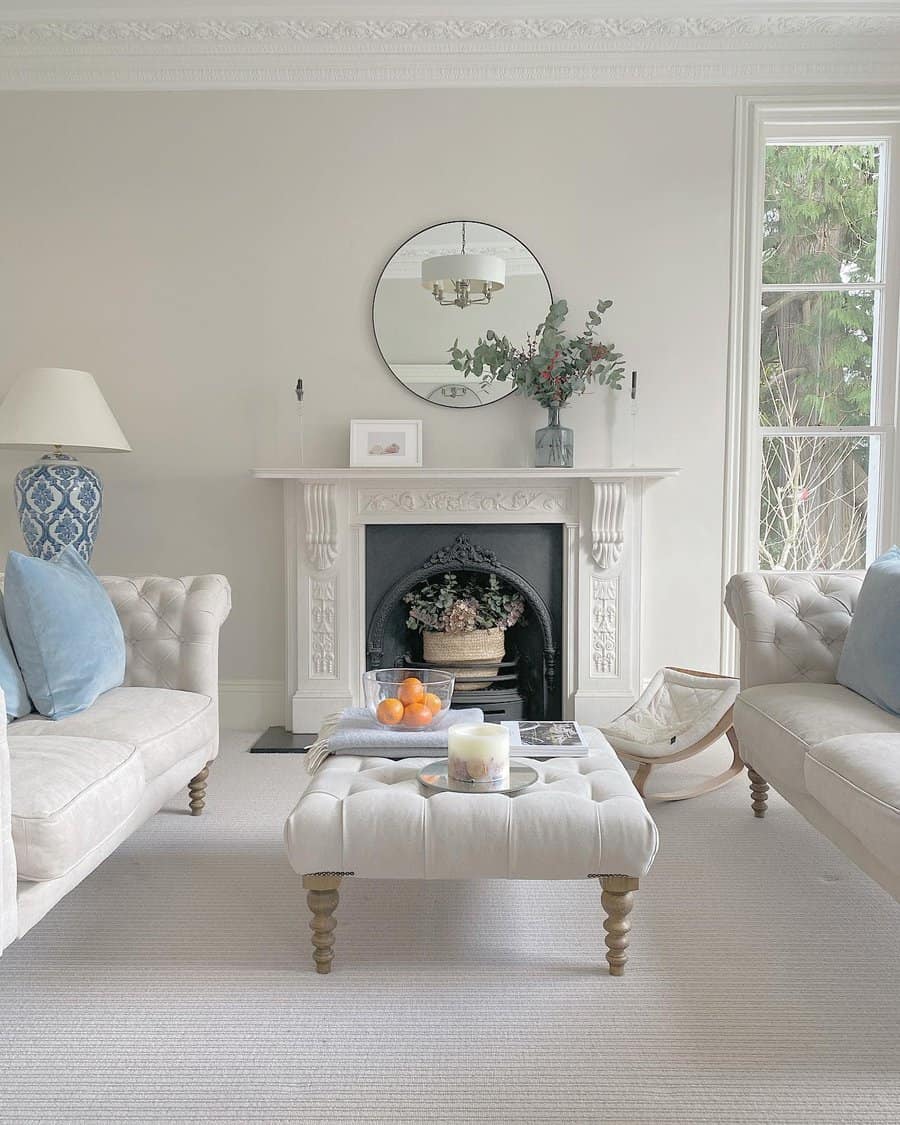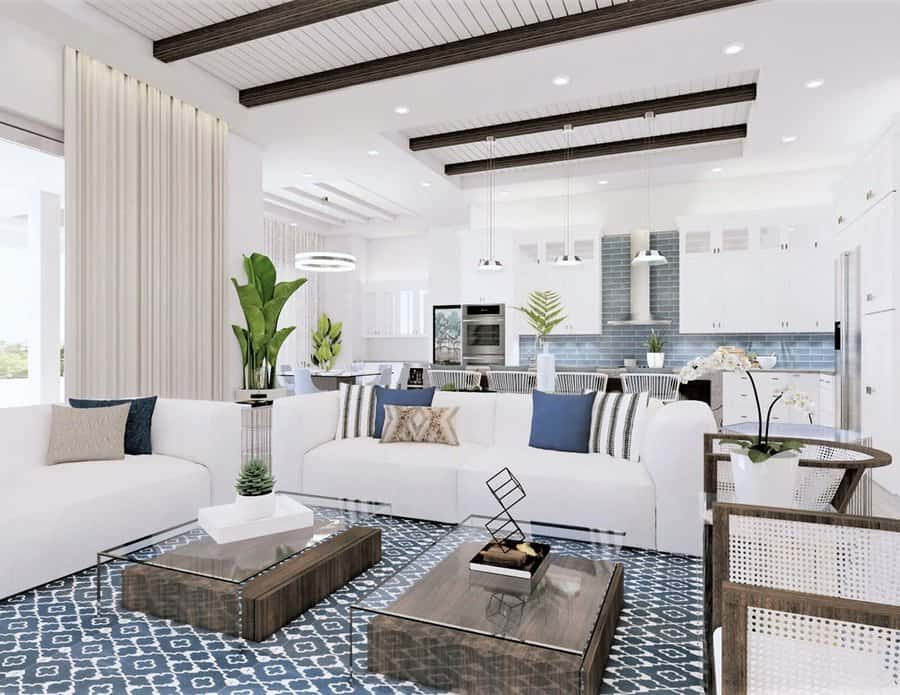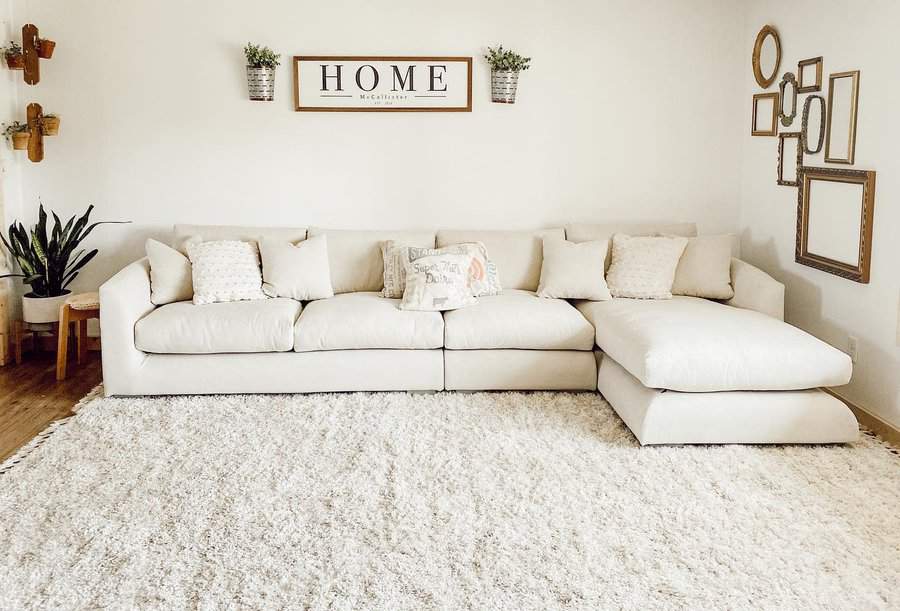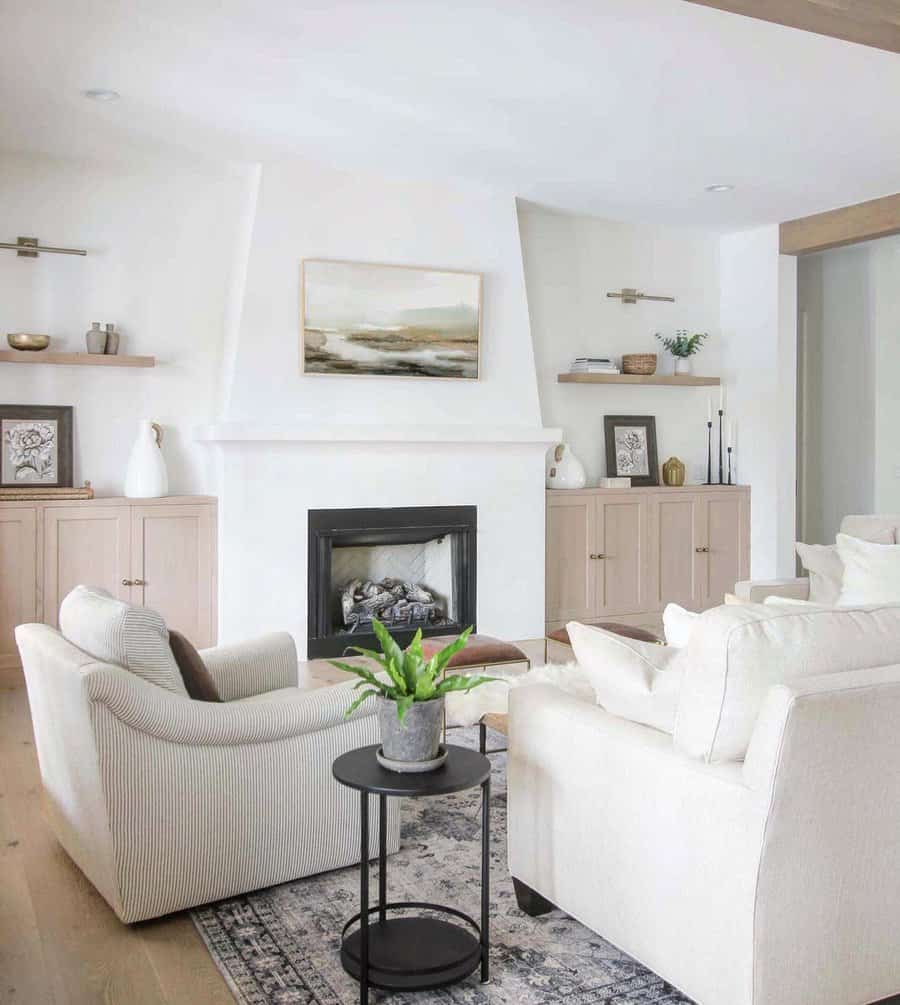 Pair the white furniture with a white rug, curtains, and wall decor. Soften the look with classic elements, such as a chandelier, natural wood accents, and greenery. Traditional furniture typically has a wood frame and is on legs. The upholstery will be tufted. Place armchairs on the other side of a coffee table to create an intimate conversation space.
FAQs
How do you make a white living room look cozy?
To make an all-white room feel cozy, you need to add texture and tactile elements to the room. Add furniture that looks soft, such as a plush sofa that has overstuffed cushioning. Spread a plush rug on the floor. Add soft, warm lighting that comes from multiple angles for a layered lighting effect.
Is white color good for a living room?
Designers will tell you that white is the most popular color for the living room. However, this might reflect professionally designed living rooms over actual living rooms. White is a good color for your living room, but it is best used with other colors. An all-white living room doesn't always work with a homeowner's lifestyle if they have pets or children.
How do I make my white walls not boring?
The best way to make an all-white room less boring is to add visual interest to the space. You can do this by adding subtle texture and pattern, even if it is white on white. Add white decor to the walls to decorate the walls. It's also helpful to add layered lighting to the room.